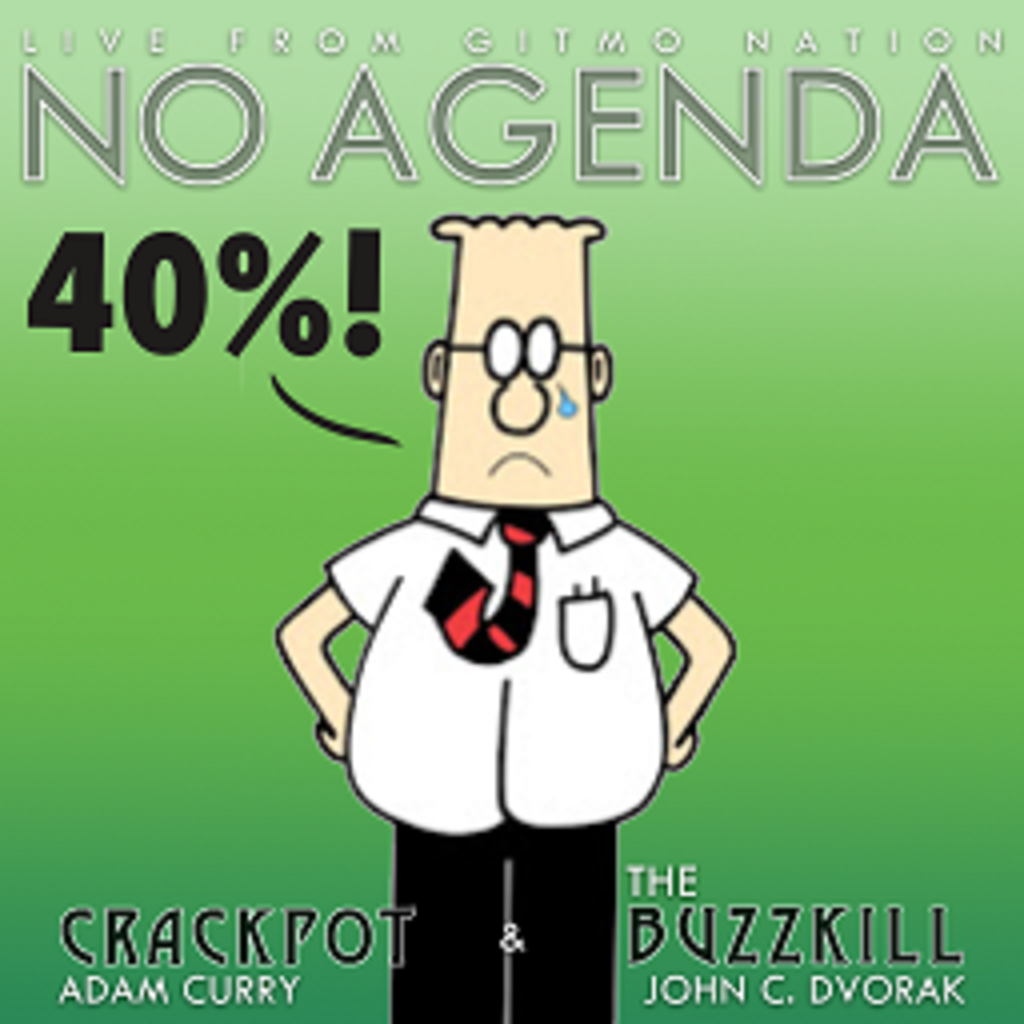 September 9th, 2018 • 2h 9m
1067: Double Header
Transcript
The transcripts of No Agenda are automatically generated and therefore, not fully accurate. Discretion is advised.
Click the text to start playing from that position in the show. Click the timestamp to copy a direct link to that position to your clipboard in order to propagate the formula.
good good good good good Adam curry
Jhansi Devorah award-winning nation
media assassination episode 67 this is
no agenda the Khan Valley live the tape
I'm John Steve all right
[Music] John Steve all right
whoa so you're in Italy in fact I am as
we speak I am probably nursing a
hangover from my sister's 25th wedding
anniversary which is still their lucky
it's Italian alcohol so it should be
good yeah so what we've done here is we
put together a couple of interview shows
I did an interview with Scott Adams and
Jasper alright so Dane Jesper is the CEO
of sonic net which is a now he's a he's
an independent guy he's kind of David to
the the behemoth AT&T Goliath no yeah
he's actually stringing fiber just all
over the kind of parts of the East Bay
in San Francisco and I think a Santa
Rosa where this operation is and they've
always been the like the low-cost to
internet provider we've used them as
backup here and why why not his primary
are they it's just not business quite as
fast right the old version the old DSL
stuff was not as fast as Comcast right
but this will be a lot faster this is
gigabit fiber to the home of tth baby
yeah so when that comes in that'll make
a little I think they'll now I have to
very high speed networks so I don't
don't worry as much their parent and the
price is gonna be like 50 bucks a month
oh that's nice yeah that that's very
competitive if that's in line with the
well is he also gonna try and sell TV
services life uses too if that we touch
this morning oh good good good good and
just kind of I mean I'm gonna listen to
I'm listening I probably have already
heard this by the time I get to Italy
cuz of course I have a copy listening
the plane
but has has it been a challenge for him
with the behemoths has anyone tried to I
just want a little tip there is it and
one tried to buy him or muscled him out
is not yet but apparently more recently
they're trying to pass some legislation
to make it tougher on the little guys
well that's an American it's very common
okay specifically if they were chopping
down lines in our break-in cable but no
there were no takers saboteurs take us
into it well first of all we got Scott
Adams the famous cartoonist Bert we're
gonna talk about him in a second after
the first interview the first interview
is gonna be Scott Adams oh you're gonna
do Scott Adams first yeah interesting
choice okay I like it well talk to me
about Scott Adams we all know Scott
Adams he's a Dilbert guy and he's does a
lot of stuff on periscope and he's never
really been interviewed like this and
I've known him long enough so I could
ask some questions that I don't think
other people would do now what do you
mean he's never been interviewed like
this really good interviews where he
talks well you have to listen to this
interview but there's a lot of stuff
that he doesn't normally talk about
first of all I don't think I've ever
heard of all I don't think I've ever
just a sit-down audio only interview
with Scott Adams I don't think I've ever
heard that audio only where you focused
on just audio I don't think I have
either yeah this may be the first but I
seriously doubt it and this took place
at his house yeah went to his house all
right I'll tell you what rather than
talk about it let's get into it
here's my interview with Scott Adams all
right I'm here with Scott Adams so
you've been cartoon you made your money
as a cartoonist correct and I met you 25
years ago at Pacific telephone yeah you
were an engineer and you were you were
actually the first guy who showed me the
Internet the first guy who showed me the
wow I didn't realize that yeah we had a
loan not the internet by but the web the
web right yeah yeah we had a little lab
I was working that was my day job and we
were showing people this this thing
called the World Wide Web and it was it
was the most one of the most informative
times of my life
it was in 93 as I recall that sounds
right yeah yeah and Dilbert was out a
little had been announced but not hadn't
heard out enough that I could quit my
day job right but you were the anyway
you showed it to me you were impressed
but you obviously weren't blown away so
much that you went out and bought a
bunch of domain names like the smart
money did no it's worse than that
it's worse than that so we would bring
customers in and we'd show them all our
cool phone company stuff that wasn't
interesting to anybody and they were
just their eyes would glaze over and
then at the end as just sort of a
dessert we'd say oh and there's this new
thing coming called
we call that the World Wide Web then now
the Internet and there were exactly two
websites you could get to that's at the
Smithsonian and some other thing and we
would show them that we could see the
website at the Smithsonian and look at a
couple of still pictures and people
would commander their chairs and they
say can I do that and we'd say do what
you know touch the mouse and make this
they needed to touch it they stood up
their eyes got big and they said how can
we get this and there was no application
and and I remember thinking my goodness
this is gonna be huge it has that X
Factor where people want it even though
it's terrible like early cell phones
right everybody wanted a cell phone but
they were terrible and I cornered our
top engineer in the phone company and I
said hey if I wanted to invest in this
coming thing this worldwide web internet
thing what's the one company I should
put all my money in and he looks at me
and he goes Cisco I go okay what are the
other companies and he goes Cisco
he goes everything's gonna be Cisco for
the next 15 years or whatever it was and
so I did not buy Cisco and it's the
worst financial decision I've ever made
huh well I didn't buy Cisco either but I
didn't have some guy telling me to buy
it it was pretty obvious in hindsight
you can see what happened all the all
the points you could
done that it could have done that I
could have done this it's the worst I
mean just if you had bought Apple when
Steve Jobs first showed up and kept the
stock right you'd be loaded especially
about $10,000 with you making a few
million dollars but that having kind of
been involved in the stock market over
the years the thing is you can't hold
the stock that long you just won't do it
you'll just say oh it's not going to go
any higher than it because you can't do
it it's impossible unless somebody else
buys the stock and puts it into trust
and you don't even know you have it that
it's a very problematic so any way that
you did leave eventually how long were
you there at Pacific Bell well eight
years there then before that eight years
at a big bank and I was doing Dilbert
for about six of those years that I was
still at the phone company so I was
doing two jobs and writing a book at the
same time and we were working day and
night you were getting your inspiration
from the phone company yeah that plus my
memories of the the bank so that the big
aha of the the bank so that the big
was when I when I moved from a bank to a
phone company and you'd say to yourself
well they have nothing in common two
completely different companies and then
you watch that the same management
problems the same way people think the
same way people treat you it was just
shockingly similar and that was really
the inspiration behind Dilbert is the
realization that these things were
universal and there were people trapped
in jobs all over who probably thought
there's nowhere else that this is
happening as this could not be happening
anywhere else it's impossible it happens
everywhere else it's impossible it happens
that was a GE well you had I thought we
thought the comic strip was genius
because it was the only one that
actually addressed kind of day-to-day
work a day office working issues
everything else was you know was like a
it didn't it was cowboy stuff or just
stupid animals making punchlines that
you know cracking up to or trying to
crack you up with him one-liner no III
don't want to claim genius and
inspiration totally because I'll take a
little bit but I also have an MBA
and one of the main things you learn in
Business School is listen to the
customers give them what they want
that's the sort of thing that artists
don't do and when Dilbert came out and
the email was coming out at about the
same time or getting popular about the
same time people started emailing me
because I put my email address between
the panel's of the strip and they'd say
we we love your comic when dill burrs in
the office we don't care for it that
much when he's just at home doing
generic things which is as you said what
most comic strips were about it's just
about whatever
Dagwood and so I listen to the customers
and completely retooled the strip to
make it a workplace trip so that the
reason that Dilbert succeeded and it's
very rare that a big comic will break
out is that I applied business
techniques to the artistic realm could
somebody else do a cartoon and have a
breakout nowadays in this market where
the syndication is different maybe you'd
like one of the last actually succeeded
before the door was closed well you know
there's only one giant cartoon every ten
years or so you know that's it's
actually very rare you know there's you
can count on one hand the mega cartoons
and if somebody were to start down today
I'd probably tell them to start on the
internet and see if they can get an
audience and then if they can try to
also get syndicated because for those
who don't know us syndication is you
sign a deal with a company that's a
syndication company and then you they
sell it to all the newspapers so you
don't have to do all the selling to the
individual newspapers so yeah I would
start with the internet first see if you
can get an audience refine your art and
then try to get syndicated next so it is
possible you think totally possible but
you know the market is shrinking in
terms of the physical newspapers
yeah but Dilbert's bigger than it's ever
been because as long as there's one big
newspaper in every market you know it
runs in that paper and of course the
internet market is growing every day so
so it's growing there no matter what
where'd you get your drawing skills my
mother you get your drawing skills my
was a landscape artist and my father
doodled little cartoons that were more
like stick figures but very funny and
their own little weird way so I think I
had you know a little bit of genetic
advantage there but anybody who's seen
Dilbert knows I'm not an artist with any
kind of a capital A so it was really
brute force and the the first original
comics that I submitted if you saw them
you'd say there's no way this guy is
gonna get hired or syndicated this is
looks like an inebriated monkey with a
crayon what's what's going on here but
it was just brute force I just practiced
and until I could do it
ooh what do you what kind of sense of
humor do you think you have well
probably it's a combination of
observational plus engineering in other
words to make something a look clever
you sometimes you have to look at it as
an engineer as in what would be the
weird way to accomplish this in the in
the cartoon realm if you've got a
character who's got a problem and it's a
cartoon so they they can kind of do
anything there's no real limits what is
the funny engineering solution and it
might involve you know killing somebody
it might involve you know aliens who
could involve anything so but you have
to start as you said earlier was
something that everybody goes oh that's
like I've been there if you don't get
that part right it's hard to get much
else right people have to recognize and
identify with the situation then you can
extend it but you got it you got to get
them first I have a theory that your
humor is absurdist this explain
absurdist and you spot the absurdities
in the art and the office environment
for example and most everything every
punch line you deliver is based on
something that's just it's it's beyond
the pale and so far as pure absurdity is
concerned I I'm gonna agree with that
with different words I call it a
cognitive blind spots so I'm looking for
places where otherwise more people are
doing something that the
observers would say that doesn't look
smart you know I know you went to
college you know I know you're smart why
are you doing that and that explains you
know 75% of management and and you know
the reason for that is that people are
paid to manage but sometimes there's
nothing to do or you don't know what to
do and you end up just saying well
what's the fad you know yeah I worked in
the government so I know some of that
from another perspective is still the
same you were fired from packed Pacific
telephone I'm gonna tell you this story
that I was told by one of your old
associates all right you remember her
Nina yes yeah neither who was the the
real-life model for my character Alice
in the comic strip yes some boneheads
came into the company on some normal
kind of a well let's put this guy in
because he can he's gonna reorg this and
he's gonna do that it's gonna straighten
things out and he was naive and he said
I guess he went through one I've seen
this happen a different operation
somebody goes in there they start doing
a checklist what does this guy do
who's this who is this guy Scott Adams
what does he do and nobody was there and
I've seen this happen recently to other
in other companies where somebody's
actually very important to a company you
were at the time important the way it
was told to me to the salespeople
because the comic strip was popular
enough that they would drag you out on
sales calls as a lure which happens with
any company that's got any brains right
bring a lure in and oh you get to meet
Scott Adams and by the way you can buy
some of these some of the gear or some
services and this bonehead came in and
he just unceremoniously got rid of you
and some sort of a cleanup very much
like you see in that movie the office
and you didn't make a fuss or object or
anything you left and then they found
out about it they their upper two people
that knew better they wanted you to come
back and you said you know I don't need
to come back I'm gonna stay I'm gonna
stay gone and that was the end of it
that that's pretty close all I did a
little little context to it my
co-workers once I started getting famous
and started to get a little bit of money
with Dilbert it was obvious that I was
going to
leave and it didn't make sense to keep
my day job but they wanted me to stay
like as you as you said that was good
for sales customers would would come in
and they were Dilbert fans and so I
helped and they actually made me an
offer and they actually made me an
Anita the one that I just mentioned the
real-life Alice from the comic strip
said how about this deal I'll go to our
management and I'll say you don't even
have to show up unless you don't want to
except for these sales calls and
otherwise we'll do your work you know
we'll do the engineering stuff that was
your main work and my co-workers said
yeah we're up for that we'll do the work
you just come in for the the times you
want to basically and I said so you're
like a fellow without being without
having the designation right in the
sense and so Anita took that to the boss
you're talking about and made that deal
and he said I'm okay with that and he
checked with me and I said yeah that's
I'm okay with the two but here's the
thing I don't want to be a burden so the
day that you need that budget you're
paying me for something else you just
have to ask and I'll leave the same day
and one day he was he had some other
project that he thought was more
important and he called me in and said
you know this would be a good day and I
said okay that's the deal you just have
to ask I don't I don't need a reason you
just have to ask
and so I I left peacefully and yes I did
get a call from I believe it was the CEO
CEO were president I think it was a CEO
at the time who was surprised to find
out that I had been asked to leave ah
well it's your version is obviously more
accurate than mine but mine's still good
here's a good yeah you were 90% there
yeah i when it happened I since I knew
at the time I thought well this is gonna
be interesting because it's because how
is he gonna because I thought that
cartoon was derivative from the work
experience and you're getting daily
material just by going to work showing
up and I was wondering how you were
gonna handle that and you've handled it
quite nicely I don't see any difference
actually well I was getting literally
thousands of emails a day in the
beginning with
suggestions and it was a huge burden to
respond to I tried to respond to all of
them back in those days and there was
just material coming in and it would
always remind me of something I had
experienced so I was always looking for
that if somebody suggested something I'd
never heard of that usually didn't work
for me but if I said oh yeah that
happened to me then it was a cartoon
where I don't see a lot of stuff from
you is a convention life you know I
there's there's a cartooning reason you
don't see Dilbert go to conventions a
lot and the reason is I don't like
drawing backgrounds okay to draw the
convention stuff in the back you either
have to be I don't want to interrupt you
but since you're now doing everything on
the computer can you have like a stock
couple of backgrounds you just drop in
so you don't have to do it now that any
of that work well people would notice
the stock backgrounds I do do a stock
exterior building that I reuse but yeah
I'd have to draw it in the first place
and I'd have to change it every time you
know but you're right it's a lot easier
now with the computer when did you
switch I switched let's see if I could
remember the year it was probably in
that 2004 ish range give or take II hear
and it was because I had a problem with
my drawing hand I had spasms in my pinky
when I tried to draw from overuse it's a
weird thing called a focal dystonia and
went to the doctor and said what's this
what's going on with my pinky I can't
draw anymore and by pure luck the world
expert literally the world expert on
this specific condition lived in my town
and was in my my HMO at Kaiser and you
know my doctor knew him and and and next
thing I know I'm talking to the world
expert on this problem and I said what's
the cure and he said we don't have one
you know basically changed jobs so I
agreed to be part of
you know the test group they were trying
different things to see if they could
make some progress but in the meantime I
thought well I'm done unless I can
figure out a solution for drawing and so
I drew left-handed for a while which I
can do but it's slower I'm slightly
ambidextrous but not terribly in a bit
dexterous and then I thought you know
I'll bet there's by now something you
can draw on the computer that maybe my
hand would act differently yeah cuz the
the weird thing about this hand problem
is that it was actually a mental problem
that expressed itself in the hand so the
hand was fine and the reason I knew that
is when I drew with my left hand my
right hand would spasm because my brain
would say hey you're drawing again spasm
spasm spasm and the you know the expert
I mentioned confirmed that it's more of
a brain problem than a hand problem and
so when I drew on the computer even
though the drawing looks just like
drawing it's just you're drawing on a
screen and you're using a stylus the my
brain did not recognize it as drawing
for whatever reason it just didn't
trigger that very specific response and
then over time I learned through the
hand exercises and gradually building up
to using my hand with a regular pencil
just very very quick tests you know hold
the pencil down for a quarter of a
second and release it before the spasm
until I could do a second than two
seconds and I did that for months until
I believe I'm the first person who's
ever remediated or solved that problem
focal dystonia I think I'm in the
literature my doctor told me oh well
that's good and bad I guess yeah it did
move you over to the computer which
probably eventually sped up you what
work talk about you know lemonade out of
lemons it probably cut my work load by
at least over fifty percent yeah
and that's been just a huge advantage in
my life as you can imagine yeah well
most artists I know personally have all
they all switch or the confused one way
or another except for one I know that's
always been a computer artist but
they've always benefited from the
there's a
the two-edged sword they benefited from
the productivity because you know
especially graphics guys couldn't change
the backgrounds you really quickly they
don't that we do everything but then
there became so much computer-generated
stuff that came out to compete with them
they're all singing the blues and men
even had to quit then that it was weird
to watch the Deaf UNAM anon do you have
Tourette's I do not why do you ask
because you have elements of it almost
identical to Adam Curry who who talks
about his Tourette's constantly we
talked about on our show quite a bit
maybe I do what what are the symptoms I
thought I should be swearing out loud
for no no no that nobody had yeah I
think in my whole life I've run into one
person that has that form of Tourette's
really and he was on an airplane being
dragged off it was terrible I felt bad
for the guy
well you dragged me off an airplane not
give you some of that guy no he was
cussing before they drugged him off but
it's mostly twitches oh I have lots of
twitches yeah that's Tourette's well
it's nice to know I got that too well I
don't want it yeah well you've got all
these ailments I hate to bring it up but
the reason I say that is because there's
a commonality with all Tourette's even
the most minor of Tourette's sufferers
and I know people that have you know
they they have all kinds of twitches
Adam fights it because he has to used to
TV a lot so he had to when he was at MTV
he had to fight it but everyone who's
ever had even a little bit of Tourette's
neat-freak really I can't say I'm a knee
freak that says Adam says the same thing
but he is yeah I would soar you I'm here
at your house that's where we're doing
this you saw me picking up stuff off the
floor when we got here yeah true stories
I wanted to bring it back the Braga's
met you just mentioned him you know you
might want to look into it you did have
some ailment that was disconcerning
though where you couldn't talk for a
month or something like that yeah so the
voice problem was also a spasm of the
vocal cords and I lost my voice for
three and a half years I couldn't speak
oh it was three it was it was that long
yeah for three and a half years I
couldn't have a conversation or be
understood on the telephone or give a
speech or anything
and it turns out the focal dystonia and
the voice problem are actually related
because they're both brain problems
they're not they're not the hand and
they're not the vocal cords they're just
that's just where the spasm is and but
it's well known that they travel in
pairs so if you have one of those
problems it's not unusual that you might
have a second one in some other place on
your body but Tourette's never came up
so maybe you don't have Tourette's but
if I just saw you on the street didn't
know who you were now I think I do so
thanks for that so what happened and
that this I just don't want to get in no
way all that whole up now if I do I have
an excuse to swear up people for no
reason Adam does that too but he neither
you or him have that form of Tourette's
that is according to you that's a that's
a very specific until I start doing it
and then I've got it get I don't want to
do all in this but did three years yeah
three and a half years I could make
noise but we couldn't understand that
what what happened what when did was the
breakthrough what was that like when you
came out of it well the the quick
version a lot of people have heard this
story so let me give me the fast version
so it took a long time to figure out
what it was because regular general
practitioners have never seen it you
know it's very rare it's called a
spasmodic dysphonia and how do you
explain it to anybody
well so I'm trying to tell people that
I've got this problem and they hear it
the first things that people think are
that you have a mental problem because
if one of the odd characteristics is
that you can talk okay when you're alone
oh wow
so if you imagine that imagine telling
your doctor or can talk fine as long as
nobody's listening but if people are
listening it's like this now that's a
bad impression of me trying to talk so
obviously they're gonna say ok mental
you're you're getting too worked up
because of people or something like that
but I was sure that wasn't it because I
didn't feel like that right I didn't
feel any different talking to people and
so I rejected you know valium and I I
tried some Botox shots there was a
treatment where they give you a Botox
shot through the front of your neck
this needle that you don't even want to
hear about it it's an ugly process and
you have to do it every month or so but
that didn't work too well for me and so
I said a Google Alert for the spasmodic
dysphonia once I'd figured out it was
what it was which I figured out also
from Google because I had the hand
problem so I I said oh the hand problem
is called a focal dystonia I wonder if
there's something called a voice
dystonia so I put in that search that
search keywords and it popped up with
spasmodic dysphonia because that was
close enough so Google actually
diagnosed me and showed me a video of
somebody who had exactly the same
problem so now I had a name for it
so I took that name put it into a Google
Alert while I was talking to doctors one
after another getting my head scanned
and all kinds of things and finding you
know no nothing nothing and one day I
get an alert that says there's some
doctor in Japan who's got a surgery to
fix it I tracked down the top doctors
you know I was a stanford at first they
said hey is this real he said I don't
know if that's real but we get some
exaggerated complaint or exaggerated
claims from that particular doctor maybe
you should talk to this other guy at USC
he's doing something I talked to him dr.
Gerald Burke and he was doing an exam
what new / experimental surgery in which
they would rewire some of the nerves in
your neck they split they cut them so
therefore I know two months or something
you can't speak because your brain is no
longer connected to your vocal cords
it's the weirdest thing you can't you
can try but just nothing happens and
then the Rees placed root kicks in after
about eight weeks I might have the weeks
wrong but something like that and then
you can talk or it doesn't work those
the - oh great
right it's either gonna work or just
doesn't work and then there wasn't there
was a moment almost exactly on the day
that they predicted that the nerves
could grow back together because they
they know what rate they grow at that I
could talk very weakly and
did you have the cutting done yes I had
the surgery and took a couple weeks to
recover from the surgery and then I
could talk just faintly and just for a
little while before being sort of
exhausted by it and then it took a few
years to get you know full fluency back
because you also lose fluency if you
don't speak for three and a half years
you actually can't form sentences you
know all the words but you can't do it
effortlessly so talking is actually
difficult for years and only I would say
in the last two or three years maybe I
feel like I'm back to top fluency yeah I
wouldn't know the difference I mean from
you 20 years ago or 93 which is I guess
2025 years ago you sound the same well
that's a that's an ordeal we will won't
continue do you exercise
I do yeah I'm quite committed to
exercise I'm a lifelong exerciser and I
try to do it five times a week and be
active on the other two days when did
you become a Republican I am NOT a
Republican I'm not either
so never I guess I am a I've went from
Democrat to Republican with Reagan to
independent and then there I didn't
realize a better one than that which is
unaffiliated which is what I am now when
I was a young man I thought I know
enough about politics I'm gonna register
and I'm gonna vote and I cast my vote
proudly for Jimmy Carter and a few Lee a
few years later I said to myself I
shouldn't be voting what I'm not adding
to this I'm not adding to the
intelligence of the vote you know I like
that I can vote I'm glad to other people
do it but I'm not adding anything to the
intelligence of the outcome and I don't
think that's changed but I like the
topic of politics I'm sorry I voted one
Carter - I wasn't McGovern supporter if
you didn't believe in that yeah so I'm I
vote and I am not a member of a party oh
you don't vote at all but you you do
like to give your opinions and you seem
to be a I don't know if your if you
would want to take this as the as a
descriptor a Trump apologist I hate that
phrase a Trump apologist I hate that
yeah well I'm called one too and I'm not
I don't consider myself to be one yeah
the the the reason I hated it is like it
assumes that you would support him no
matter what he did and that you're just
sort of always always on the team in my
case most of my writing and talking
about President Trump started during the
campaign and mostly I talked about his
persuasion skills because that's another
area that I have a lot of experience I'm
an I'm a trained hypnotist when did that
happen would you become a trained
hypnotist my early twenties I thought
hey is this some kind of superpower that
I could just learn and so I learned it I
was influenced by my mother who had been
hypnotized by her family doctor in my
small town and my mother gave birth to
my little sister and reports that she
was awake and took no painkillers and
didn't feel pain mmm
now that's unusual you can't most people
would not have that experience but about
two and 5-wood or one in five and it
made me think what is this thing you
know what is this power that you could
you can do that kind of thing and so I
learned it and sure enough it is a
superpower like nothing I've ever seen
it changes your entire worldview and
that's the biggest change it changes how
you perceive the world and and you stop
perceiving people as rational once you
can reprogram them so easily you realize
that they're they're rational minds are
not really running the show and that's
just an illusion so you've gotten
philosophical about it yeah I guess it's
philosophical in the sense that my
worldview changed by how easily I could
reprogram other people using a set of
tools that are pretty well understood
and that I've been studying persuasion
in all of its forms from you know
selling to marketing to design even
anywhere I can find that
on it for 30 years probably as part of
writing as part of creating the comic
it's it's an important element so you
saw Trump as some sort of do you think
he is a genius or a savant what I saw is
that he used the tools of persuasion
more effectively than I've ever seen it
done now part of the reason he's so
effective is that he seems immune to
shame he's he's willing to say or do
anything and generally I believe that
you know he's aiming his impulses at
least you know his public office
impulses at legitimately legitimately
making the country a better place in his
view of how that how that looks
and so his he'll cut some corners he'll
do some things people don't like he'll
ignore the facts if it's convenient but
he tends to persuade in the right
direction meaning that if you're someone
who likes the borders to be tight if you
like a strong military and you don't
have to by the way I'm not telling you
you should like those things but if you
do and lots of people do he's he's
certainly the the right person for that
you think he's trained like you are you
think it's just a part of his being a
Salesman all his life because during
sales training if you were ever a
Salesman you end up picking up a lot of
a lot of persuasion persuading personal
persuading gimmicks well keep in mind he
wrote the book or or at least he read it
the the book the art of the deal yeah
and so if your brand is negotiating
that's really persuasion and or a
special form of it so we know that he's
at least has an interest in it and that
would be enough over the years if that's
what you're if you're always dealing in
that domain you would pick up a lot of
stuff because the thing with persuasion
is it's not hard to learn you just have
to be paying attention to it and
absorbing it where you can but he also
had this is a weird little tidbit his
pastor when he was a kid his family
pastor for the church
they went to was norman vincent peale
funny I remember that vaguely yes yeah
and norman vincent peale was one of the
most famous american authors and he
wrote the power of positive thinking
right and probably is the person most
responsible for popularizing the idea
that the way you're thinking about your
situation can have a huge influence on
your success so if you think right
you're gonna get better results than if
you're thinking wrong and you we just
watched Trump think his way into the
presidency in the sense I mean the the
optimism the positive thinking the the
inability to be swayed by any problem is
seemed like he was just completely
unaffected at least in public by you
know things that would have killed most
people yeah and so there's that
influence but you when you see the
technique you see how often he uses
visual imagery you see how often when
it's available he'll use fear persuasion
you know the the terrorists are coming
to get you the you know there's crime
criminal coming across the border etc
and you see him talking past the sale
which is one of his most common tricks
so if you're talking about how the the
wall will be built and how it will be
funded and those things you're already
talking past the decision of is it going
to be a wall so he does this a lot of
topics he'll make you engage on the
details of the thing before you've
decided there will be a thing and that's
a classic persuasion technique and you
don't see other people doing it as
consistently as he does you don't see
them use visual stuff you don't see him
pick emotional topics he knows where the
emotion is and he can read a crowd like
like nobody his presentations are I
don't know how many of the speeches
you've watched a few yeah I probably
watched three complete from the early
ones which we couldn't carry an hour he
could do about thirty five minutes of
material and then he would start to
repeat himself then he got when he got
to the hour he was
role in his speeches I think are
phenomenal they really controls the
audience and he gets a lot of people in
the guys you know you were a public
speaker the bigger audience is the
better audience yeah
the small audience is hard you can't
meet the six people right they're not
gonna laugh they're not gonna do
anything but you've got ten thousand
people or twenty or thirty in his case
you have you you can have a lot of fun
yeah I think history will record that
you know he's not everybody's cup of tea
so he's sort of a love him or hate him
thing but in terms of his public
speaking best ever
uh well it depends on your definition of
best ever
well best everything most effective yes
being able to hold the crowd and
entertain them make them want to come
back make them talk about it make them
maybe people make people focus on the
topics he wants you to focus on to
control the headlines for a week it's
all there he's got some I only read this
once I don't know exactly but he has a
personality disorder of some sort that
makes him only knee like three to four
hours sleep a night
that's a personality disorder well
apparently it is by today's standards
and I thought you would say it's an
advantage but he's a very interesting
character I have to agree and people
have you found that because you look
like you are the truck and I'll use the
term again Trump apologist that you've
lost any business whatsoever oh sure
yeah probably forty percent of my income
evaporated and 75 percent of my social
circle yeah I'm quite an outcast and my
and I I don't do public speaking anymore
because it's too dangerous
you know I wouldn't feel comfortable if
there was any publicity and you put me
in front of a big crowd right now
because it only takes one person to say
that guy said something good about the
president's persuasion skills he must
die so I don't think it's safe to be in
public when people like you are branding
me a Trump apologist that's not me I
will say this that I ran into you when
it when I first met you did make some
assertion when I first met you did make some
you wanted to become a public speaker
because you thought that was just some
really cool goal I ran into you on the
road at the same speaking event I was a
speaker and you were a speaker to some
event this was I don't know if you
remember this but I do because you were
grousing and I'm HEA grousing yes
possible is unbelievable
and you had run into the same phenomenon
that I had run into which is part of
actually what you discuss in the cartoon
more or less which is the boneheads that
put together these events and then they
hire you to be a speaker and then you
for something you say something you do
something and you insulted the CEO
somehow vises by making some offhanded
remark good did I do that that day I
think so well apparently they've never
seen Dilbert if they hired me and didn't
expect me to insult their CEO indirectly
or directly it's I thought it was
getting to the point where you stopped
doing public speaking at that point
no I I've sort of pulled back from it a
few times for just because I was busy
with other stuff but at the moment you
know I and then I had to stop when I
lost my voice for a few years but at the
moment is just not safe yeah huh
I was wondering if that was gonna affect
you at all affected our podcast by I
think about 40 percent 30 to 40 maybe in
terms of fall-off people just don't want
to listen anymore they they're they're
too happy being kind of hypnotized by
mania can you cook
I can Bluff my way through some things
it's not my favorite thing to do would
it happen to your investments in the
restaurants well the I can't tell you
the real story because there's actually
there are a variety of legal problems
that you end up running into if you own
a restaurant and you have deep pockets
meaning that unscrupulous people will
find reasons to go after you that you've
never even heard of and I mean literally
you've never even heard of them and I'm
pretty worldly you know I've been
involved in lots of businesses
as I said I've got an MBA worked at big
companies I know a lot of stuff I've
heard of a lot of stuff but the problems
that I had legally are things I had
never heard of and and if I were and I
can't tell you because you make
settlements and you agree not to talk
about him right but I had to settle a
few and it looked like there was going
to be no end to it like literally there
would just be no end to it the
additional ones that could come and I
made a business decision to dig it down
now the first restaurant was wildly
popular we built the second one at the
peak of the market literally I signed
the lease the day that the twin towers
were coming down it was 9/11 timing yeah
timing and when that happened the
economy fell apart and the place for the
second restaurant was in a place that
big companies that agreed to move into
it was just going to be a gold mine it
was the greatest location and they all
pulled out they all pulled out because
of the economy well that was a bad era I
mean you first had the dot-com crash and
then you had the y2k fiasco and then as
if things were straightening out boom
you have the twin towers I still want
you to punch so I signed the lease at
the literal top of the the market I got
the most expensive leash you could ever
possibly get at the same time that the
economy went to its lowest point in in a
long time you became a vegan no
vegetarian I'm a pescetarian at the
moment a fish eater yeah eat a fish if I
have to I don't love it but it's good
for me have you used the vagin character
and your cartoon ever I feel like I have
I know I had a vegetarian character at
least once
based on me I don't know if I've had a
vegan don't remember opportunity I'll
work that it you did a thing you're
promoting this thing called the blight
Authority yes which is your one of your
pet projects yeah so bill pulled a is
he's the founder and primary mover of
this and blight spelled BL IG HT
just refers to it generally in this
context anyway in urban area where it's
all run down and it's just crime and
abandoned buildings and stuff and so
what bill does is he finds funding to go
in and just clear it out and just you
know bulldoze it and wreck it and bring
it down to dirt so that the crime goes
away but then there's also an
opportunity opportunity to build
something there and so where I'm helping
the most is helping him try to get the
word out that there's this opportunity
there's this land available there can be
more of it because you know there's lots
more blight that can be knocked down and
I'm helping him just publicize the the
possibilities so the website blight
Authority calm as in ideas and forum
section where people are suggesting
ideas and funding and things that could
be done with those areas and you'll see
more about that we're going to do a lot
more talking about that did you get a
degree in engineering no but I played an
engineer at Pacific Bell because they
ran out of engineers that's true story
they've literally had a hiring freeze
they needed engineers for the project I
ended up working on something called
ISDN for those people old enough to
remember that and they just had a line
yeah and my boss just said well you're
not a you're not an engineer but can you
connect computers to equipment with
cables and figuring out the software and
I was like well probably if I have help
so I worked in a technology lab the most
incompetent employee who ever worked in
in a laboratory but a lot of help so the
the smart people I worked with covered
for me were you funny at school
oh maybe only in my own opinion I did
doodles of my teachers and and my fellow
students they were of course whatever's
the obscene version of the 12 year old
doodle most of them were obscene in some
way or another were you a good student
you think did you get high grades a
species as you go to what college did
you go to I was a valedictorian oh but
you gave us
I did and that sounds more impressive
than it really is you have to understand
there were only 40 people in my
graduating class still another 40 yeah
one out of 40 and then I went to
Hartwick College for my undergraduate
degree in economics and then later when
I was working I went at night and had my
company paid for it and I got my MBA at
Berkeley I'm going to I want to get some
opinions from you I'm gonna go down a
list and name somebody and then you're
just gonna say if you have anything to
say about them people yeah all right
maybe a couple of things - can I slander
them yeah of course it's fine good so
podcast and whoa yeah why wouldn't I
pence fence and ideal vice-president you
know I've said my book when Bigley I
talked about how pence was an inspired
choice because you want a vice president
that is solid you know he's got the
resume so he looks like he could take
over if you need it but he's the boring
version of the number one you know
candidate and if you stand pence next to
Trump Trump is like the you know the
full color of multimedia circus and
pence is like whatever you have left
after you take all the interesting
things away from Trump you know if you
started with Trump and subtracted
everything that makes him interesting
you'd have pence yeah so he's a perfect
choice as the Emergencies spare the
backup you think he could win if you ran
for president and Trump wasn't running
no no I don't but as a he just he
doesn't have the personality for it but
because if you look at what trauma had
to do to break through the field I mean
it was his outrageousness he is his
willingness to take positions that were
further than other people were talking
about those are all the things that
helped him you know well it also helped
him get about a 1 to 2 billion dollars
worth of media attention
yeah which they're still worked about
but they keep continuing this process of
giving him media attention he found he
found the weakness in the model which is
if it's interesting they can't not cover
it yeah so you just make sure he's the
most interesting story I think they
could have covered Bernie more I mean
they because he was kinda interesting ok
another name Kellyanne Conway well I
don't I don't know her by the way I
didn't meet the president he did invite
me oh yes you did they did invite me
into the Oval Office few weeks ago and
what was the point of that way he was he
you know he actually didn't say except I
guess my book when Bigley was popular
among people at the White House and I
think it was just August and Congress
was in recess and he was just sort of
working supporters you know it was just
solidifying his base if he will
especially the people who talked about
him write about him and but I don't know
Kellyanne Kellyanne Kellyanne Conway
except what I watch on television but I
did feel I remember when Hillary lost
and people were so sad that you know hey
we could have had a woman president and
I was thinking well what about you know
Kelly I'm didn't run for president but
she just you know helped the president
get elected like why are we ignoring
that so in terms of her skill level very
high and she's she's stuck it out with
the president so loyalty level looks
very high so I only know what I see on
TV but I like what I see back to the
president meeting do you think he read
your book Bigley did he was any because
usually people that they read your book
to have some reference them they'll make
he was familiar with the content enough
that that we could you know that I knew
that he knew what I was writing about
that's all I know for sure did you have
fun did you get a free lunch is your
lunch we didn't have lunch uh it was it
was probably the experience I'll never
be able to top in terms of the most
interesting matchbooks home they had
these match books you can take home oh
yeah I was just loading my pockets with
everything there wasn't no I didn't take
anything there wasn't no I didn't take
I didn't record it on my secret phone in
my pocket or anything actually I didn't
have a phone with me and they take your
phone away you know if you're a visitor
you don't get to bring the phone into
the yeah I don't want anything you
record competing with with the CIA's
recording for all the bugs in the rent
right so yeah it was just the most
interesting thing I have ever done he's
very engaging very charismatic and just
talking to him for a few minutes was
like a life life experience huh well it
sounds like fun
what do you think as another one another
name Rachel Maddow Rachel Maddow is
insanely smart and talented and really
good at what she does now if you don't
like that political bent then you know
you wonder you know off the air and her
critics will howl so I don't agree with
her politics or a point of view and a
lot of things but you can't deny the
talent the talent is extraordinary yeah
she was she's done to most with anyone
over there once that Olbermann left
what about MSNBC in general they they
seemed to me like the the version of CNN
that went too far like like whenever you
see something on CNN that seems like
well they're there they're taking that
opinion a little too far or well you
know that feels a little biased and then
you turn on MSNBC and you go oh what is
this what fresh hell is this so they
just seem like the exaggerated version
of CNN Jerry Brown
I really don't follow local or
California politics
he's been the governor most of your life
yeah and I haven't followed it at all
too bad so I guess I have yeah I can't
form a coherent opinion of him here's a
generality what do you think of Silicon
Valley billionaires well one of the
weird aspects of my job and I think you
is aspects of my job and I think you
say the same as you end up meeting a lot
of billionaires yeah I was thinking the
other day how many billionaires do I
know personally it was like 20
billionaires well you know if I wanted
to I could you know get a hold of them
with an email and it's hard to meet a
billionaire who isn't interesting that
that's that's the first thing and I
don't know if it's because I'm aware of
they're billionaires or that or whatever
made them a billionaire is what also
makes them interesting but you you talk
personally and privately to a
billionaire and you walk away thinking I
think I learn something almost every
time I think you might be right I never
thought of him as being interesting
I think mode I think yeah they are
interesting most almost every one of
them most almost every one of
many of them are very focused which is
the thing that you see with a couple of
these guys I mean Bill Gates for example
the most focus guy he's got supposedly a
form of autism that makes him that way
you must have the good one yes it's a
considered one I'll give you an example
Marc Benioff yeah founder of Salesforce
so I did give us before I lost my voice
I gave a talk there and I hung out for
maybe you know half an hour because we
were killing time before the event
started and I got to chat with him at
some depth privately and I'll tell you I
have never met anybody like him like
he's just not like other people and I'm
gonna explain that I mean that in a good
way he seems to be operating on this
whole other level of he uses the word
intention and you know without getting
to whoo about it he seems to have just a
superior grasp of how it all works and
when I say how it all works I mean how
it all works he just seems to be
operating on a different level that's
what I took from that and so this the
interesting exchange
I probably shouldn't talk about it but
since it makes it him look good I will
anyway where one of his top lieutenants
was talking about a slide show he goes
hey I've got this slide show we're gonna
show he looks at it Marc Benioff and he
looks at the first page and he goes
you know put something on the first page
here about you know our philanthropic
you know that 1% thing where they they
give away one percent of their profits
and try to spend one percent of their
time on philanthropic things charitable
things he says put that in the first
page and there's lieutenant pushes back
it's like well you know I've got that
it's it's it's in the body of the thing
he goes no move it up to the first page
and then the lieutenant pushes back
again and he goes now move it to the
first page and he pushed out of it again
and he just looked at it was like first
page it was like he was so and so clear
on what mattered right and in
representing the company with that first
really mattered those kind of guys were
sure CEOs liked and there's a lot of
them and a lot of Mart billionaires they
still have these characteristics so
they're the guys who are really kind of
an meta quality control
they're the ones who you know I felt
this way when they fired John Lasseter
from Pixar who was who was the creative
genius I was fired for hugging too much
I'm it was part of the me to movement
and I think that he was the guy who was
saying no no no put it on the front page
that's the same kind of a guy and there
I think they're into all office
environments you know and when they you
lose that guy whether he's the CEO
usually they are the company just kind
of just falls apart yeah and and just to
be clear it wasn't about the quality of
the slide deck he wasn't talking about
that it was it was it was as much about
training this this lieutenant what's
important and how to how to put it
forward okay another one why do you
think the Silicon Valley billionaires
are all Democrats well they're not all
Democrats but you got your you've got
your people who are willing to tell you
about their politics and you got your
people who may be a no yeah there are
three no there don't like to talk about
anything because they know because they
know the majority are Democrats right
which still begs the question why do you
think there's so many Democrats and in a
place where there's so much wealth it
doesn't it doesn't support it's not
supposed to add up that way
yeah I don't know I think you'd have to
get inside their heads to know that I
don't know what the filtering mechanism
is that got us to that point good
question I don't know what's your
favorite TV show do you watch much TV
favorite TV show the really the only one
I record at this point is the five on
Fox News and also the Greg Gutfeld show
in part because I know Greg but the five
is probably the best the best produced
show with the best characters and the
most consistently entertaining really
because the the the model that they
built of these engaging characters sort
of teasing each other and talking about
the news is it's just the best thing on
TV huh well that's a shocker to me
didn't see that coming no I sure did not
I mean I like my game of Thrones but
they're not on now so what about books
what do you like to read
besides persuasion books um I hate to
say it but I don't read a lot of books
there are many years I've written more
books than I've read and that's
literally true part of it is that you
can glean the essence of most books
pretty quickly you know it from other
sources but part of it is also that I
don't enjoy fiction so so pure fiction
and I can now give you the the real
reason for that so for years I couldn't
tell people the real reason I didn't
like fiction there's a lot of people
that don't like fiction so let's start
with that well that's good to know
basing not alone if you're my dog
running around the background there that
scan your spare noise the things that I
can imagine just by closing my eyes
because I am a professional creative I
believe that every human capability has
this big range you know where most
people are average and some people are
terrible and some people are great so in
the same way that I'm terrible at music
let's say I have no musical ear
whatsoever my ability to imagine is
probably hard too hard to know for sure
but probably extraordinary just
based on the volume of new ideas I
created any in any moment and I'm a very
visual visual imaginer and so I can
create my own fiction in my head just by
closing my eyes and it's better and more
interesting more tuned to me than a book
and books are work I'm closing my eyes
is not and I get exactly what I want
anytime I want
now I feel sorry for anybody who can't
sort of build an entire story in her
head instantly but I can you started
with with the ISDN crowd but you were
kind of a techie or do you think that
you're never worried techie i I was a
programmer at a very low level in other
words I did it professionally but when
we what were you programming in usually
just well basic and doing easy things
for the the deck you know the VAX back
in the day so programming a basic was
just for internal you know financial
reports and easy stuff and I built a few
utility programs they got used and I
built some video games and in my own
time actual you know graphic video games
but it took me so long to build one that
the entire industry had moved to so far
in the six months it would take me to
build one that no longer look like like
a game anybody would ever buy so I
couldn't I couldn't keep up with the
companies that we're doing so I was tech
to go that way but I I think I'm more
I'm more about the talent stack which I
talked about the the idea of building
lots of different talents and stacking
until you have something that's unique
even if even if you're not great at any
of those things so I'm certainly not
great or even really good at anything in
technology but I'm pretty comfortable
around it you know when you came you saw
me working with a bunch of new equipment
put together a new studio set up for
myself and I like that stuff yeah right
so you have kept up but you're a seem to
be a Mac head at the moment I've gone
back and forth for most of my career I
was a double platform guy because you
just needed you just always needed the
other needed you just always needed the
you know if you're doing a lot of
licensing and working with people around
the world you can't have one platform
but at the moment the Mac pretty much
gives me everything I need so I
abandoned Windows and you use the iPhone
exclusively yeah I like the whole you
know I want to start stop you there
because you already credited Google with
pretty much saving your life when it
came to the research on this dysphonia
yeah and now you end up turning your
back on them and going with an iPhone
well Apple does a real good job of
making all my all my devices work
together and you know somewhat
seamlessly Google also does but just a
little less user interface love so that
makes a big difference to me what kind
of car do you drive
I've got a 2011 x5 BMW and an SUV ah
that's it you don't have a second car
low why do I need two cars just me get
bored yeah I don't like cars I'm not a
car guy oh so if you go out to dinner
what kind of what level of restaurant do
you go to you go to a high-end place
low-end place a hamburger place what do
you like if I'm your gourmet you collect
wine I don't drink at all and when I did
I didn't drink wine I'm not an alcoholic
I know you you're thinking that you're
all thinking that right now aren't you
did he stop because he's an alcoholic
no I developed I developed a some kind
of weird reaction to it and then I just
stopped and realized hey I don't need
this I feel better if I just never have
a drink I'm just hello there it would
save money if we went to high-end
restaurants I can tell you that so the
answer your question is my girlfriend
Christina and I have tried a bunch of
you know top restaurants just for the
experience of it and they weren't really
that good I got to say they weren't
better than a mid-level restaurant I
don't know why people go to these top
Michelin star restaurants I won't name
names why not they were they were not
impressive but I will tell you that the
French Laundry was impressive that just
knocked my socks off yeah but other than
that my socks off yeah but other than
now I like a good a good Italian
tablecloths restaurant and I'm happy so
I went through a whole couple sheets
here and I hate to do this but I'm gonna
do it anyway it's because of I had this
theory about interviewing I was working
on it would it it was mainly to preclude
what I'm gonna ask next which is what
should I've asked you that I didn't ask
well you haven't asked me about my
startup which well let's do that so that
the startup the name of the company is
when hub when hub all one word and the
app were focusing on right now is called
interface by went up and if you can
imagine it's like a tinder for experts
meaning that it's people who are online
and available right now for a video call
and it could be any topic so anybody can
sign up for an expert anybody can use it
to make a connection and it's a dating
app and no it's not a dating OS for
experts it's for anybody who wants to
charge for their time on a video call so
it could be a consultant it could be an
expert on some technology but it could
also be some psychologist it could be
your you know just somebody who's
visiting your grandmother who's who
needs some medical care and maybe the
kids want to call in and the
professional just takes the call and
says yeah I'm checking on your
grandmother she's taking her pills it
could be any kind of medical financial
any realm
it could be just somebody who wants to
spend time with somebody while they're
eating because they're lonely you know
somebody might just say I just need
somebody to talk to you and anybody can
set their price and the experts will be
determined by you know ratings just like
any other any other service you'll get a
star rating from the people who use you
and we think it could change everything
from education to health care to you
know could help people with PTSD if they
have somebody to talk to you could
reduce suicide because you've got
somebody to talk to you it could be
quite transformative who's we we is the
the team
and whose idea was this to begin with or
you just the money guy so I'm more than
the money guy and it's the third product
that the same team has developed so
we've done our pivoting this specific
idea was Nick Galliani who's our CTO and
co-founder and he initially had the idea
and we refined it from there but I get I
get pretty involved in the the look in
the field and the business end of it
when this began I think we're about
three years into it the new product is
only just the same out yeah it's it's
been in stores the original version was
crypto only in other words you had to
pay in our own crypto it was an ICO
still as an IC oh by the way and now
we're on an exchange or two and where we
can take credit cards now what's the
crypto called is the when whe N and L a
token the exchange you can you can buy
that now you a fan of crypto Oh fan is
probably too strong a word
I think the blockchain is probably here
to stay or whatever it evolves to but
I'm no blockchain expert and I think it
has this use we'll we'll see the battle
between you know government control and
people who want to you know be free of
government control we'll see who wins
it'll be interesting the government
always wins it feels like it feels like
that's how it's gonna go yeah I don't
see any any other alternative because
otherwise you have chaos not that I'm
rooting for the government anyway I
think that I'll do it I think we've got
everything covered unless you get
something else you didn't want to throw
in there cuz it's free
well free air timing probably promoted a
book Bigley and you got any new books
you're working on like a cartoon book
maybe something new do Dilbert
compilations so there's there's always a
new Dilbert compilation the latest one
is cubicles that make you envy the dead
it's reprints and Dilbert calendar will
be coming out and
months and there's always something I
got to buy what's the dog goober
characters little devil where'd that
come from
the dogbert's you have a you have a
devil character oh well that looks like
dogbert's oh you're thinking of cat
birth the in the in the comic the cat
bird is the director of human resources
and I made that character a cat because
your human resources director doesn't
care if you live or die just likes
playing with you okay well on that note
we'll end I want to thank you for
letting us letting me interview you
well thanks for coming all the way out
here and it was fun
yes great catching up we'll talk again
[Music] great catching up we'll talk again
imagine all the people who could do
[Music] all the people who could do
no no no stop bow take a bow oh yeah a
bow that was fantastic I mean there's
stuff in there that he isn't I've never
heard him talk about that so that's
because as far as I know he never has it
does I decided a couple of things I
think he doesn't even like to talk about
but he was very relaxed and he was very
meaningful to chatting about everything
what I liked knowing that we both have
Tourette's it makes me feel very
confident and very good about myself and
my friend Scott my brother from another
mother my shaken brother from another
mother my shaken brother from another
yeah as he said in there he says now I
can use it as the way you do as you hike
us on purpose and you say it's the
Tourette's just to try you know when a
sister estimated beside the point
we don't have an interviewer I'm sorry
we don't have a donation segment because
this has been taped in advance so we
want to mention everybody who helped us
out on this particular show that your
donations will be moved to the next show
and you'll be credited then on an extra
long segment on us on Thursday yes and I
love that we're just keeping our streak
going this seems to be the new way for
us we've done different things in the
past when we took a day off like wow we
took a day off and I think this is good
you know it's it's this is this is
another side of us of the show which i
think is very complimentary and I'd like
these I like the people you chose and
let me just remind everybody that to
support our show and this work that goes
on please remember us at let's go to the
interview with Dane hey Jon hey Dane so
much network you have to be here we have
you know still have to turn that all the
time but half the town is poles and the
circle certainly a lot of interest in it
there's a lot of respondent so let's
start with discussing what you guys are
doing at Zhan
in terms of rolling out this fiber and
it's fiber-to-the-home
yeah we're building primarily fiber to
the home networks we also do connections
to schools and libraries municipalities
and and smart city and traffic signal
applications and we build to cell towers
but those are all kind of the
applications layered on top of the base
foundation which is the fiber to the
home network
now before you when you just around the
time you guys announces and what is the
monthly charge for this fiber to the
home so the fiber to home service is
it's $40 a month for the first year
after that introductory time it goes up
by 10 as the month-to-month rate is 50
currently so and this is gigabit
symmetric so 1,000 megabits down and up
to the home along with a home telephone
line with all of the voice features like
you know caller ID and voicemail
we've even integrated Robo call blocking
which is a real annoyance and unlimited
nationwide calling and unlimited calling
to fix lines in 66 countries so if you
have business or relatives in you know
England South Africa Japan etc your
calls to those countries are are no
charge as well so it's it's a you know I
think a really innovative well it's
probably all in Christ's point compared
to everything else and the only and I'd
like don't mind you going on and on
about because one of the purposes of
conversation like this is to inform
people that this sort of deal I'm
assuming you're not losing your but on
this when it's finally when all said and
done it and as you cost it out over time
or you wouldn't be doing it at all yeah
I mean what's what's exciting for me
about the business is that you know the
delivery of Internet and of telephone
service the costs of of those have
really declined substantially although
consumption particularly of Internet is
climbing but the cost of delivering it
are declining
and but most consumers you know you're
moving into a new place you bought a
house you're renting a new apartment and
you kind of have this moment where you
go oh shoot I got a call the cable
company and get my internet and then
they railroad you into a big bundle of a
bunch of TV you know linear conventional
TV offerings and you know you end up
spending you know maybe it's you know 70
80 $100 the first year but in the long
run I think the average household on you
know Internet telecom TV they're
spending over $200 you know set-top box
rentals regional sports networks local
broadcast fees I mean this is really an
archaic way to do this and we see a
really interesting and disruptive
opportunity and you know people want
really fast internet you know no
nonsense a couple of companies around
the country and in Canada and Canada for
example to cows has been rolling out a
which was usually a very old internet
company that was involved with shareware
and I'm the Downloads and they had a
stock I acquired some of their stock by
accident when it was $3 uh-huh it was $3
because it's accidentally well I was
accidental because I was I had a company
that was sold to somebody else's
somebody else I have this shot these
shares you know how it goes and so it
skyrocketed to about $60 Oh and I
couldn't figure out why they were you
know they were selling to I guess ISP
web addresses or you know yeah domain
registry right and then all of a sudden
but when they started skyrockets when
they started putting in fiber they
started putting in fiber and I think
it's fiber-to-the-home it's the same
thing now yep so I have to assume this
there's a lot of potential here not
before I get into the details of the
technology I want to ask about the about
the wiring itself in Albany and Berkeley
and I guess you're putting some in San
Francisco in the neighborhoods where
you're putting this there's two or three
things I've noticed one you have a lot
of trucks and the trucks are very well
Brandon I might add I've seen examples
of that not being the case with other
companies so on the side of all the
trucks you have it has the sonic logo
and the price yep it's actually quite
funny it's like a bad billboard and it
is and so they're floating around and
they're stringing because we have
telephone poles around most of this area
there's some underground but most of its
telephone poles and it's like now these
there's so much stuff hanging from these
poles and what you guys are stirring it
looks heavy so yeah what are you
stringing it so I'm gonna ask what are
you stringing up to place is it do you
have to pay a fee to the pole companies
what kind of wire is this is it a big
heavy glass cable with a bunch of fibers
in it is it plastic what yeah so yeah
it's you touched on a lot of areas there
and let me try and dive into some of
that stuff we are building mostly in
residential locations where the
utilities are Ariel that is overhead on
wood utility poles and if you look at
those poles traditionally they've hosted
you know electricity up at the top and
then cut in the middle of the pole
telecommunications you know big old
heavy copper telephone wires and then
typically about a foot above that
slightly smaller coaxial cable
you know copper television cable wires
amplifiers taps all the components of
the coax television network and those
two networks have then been adapted to
deliver in addition to phone and TV
they've been adapted to deliver the
Internet as well now what we're building
is an all-new all optical end-to-end
network so this is dielectric cable so
it's plastic and glass it's smaller
diameter and lighter weight than the
copper infrastructure the metal
infrastructure that's up there but it
starts with a metal what's called a
messenger cable so there's a stainless
steel cable that runs from pole to pole
and then the fiber cables themselves are
lashed to that with it with a lashing
wire and then all of that is spliced up
at convergence points cabinets where
where we split the the light to the
different homes in each neighborhood and
then adjacent to your home on the pole
closest to your home there'll be a
little terminal that comes off with a
set of plugs at the bottom of it and
those then are equipped with a drop
cable that comes to your house now one
of the complaints we have gotten has
been that you know this infrastructure
is ugly and I think you know what's
happening is it sort of has been ignored
for a long time and you know if you look
up there there is a lot of pre-existing
telephone and cable infrastructure and
then we come along and put up a new
cable maybe is only one of them and
maybe it's smaller diameter than what's
already up there but it draws the
attention to the fact that you know
there's more cables going up there and
so it does create some practical
considerations about you know how many
times can this be done how much
infrastructure can we put up that
without this getting too unsightly now
AT&T K well the poles are unsightly
anyway but they're also kind of pleasant
there because you know that if somebody
runs into one there it's not like you
know these underground cables will think
when they break or something bad happens
it could take days to get them fixed
yeah maintenance is maintenance is
easier there's pros and cons fixing
things that break is faster but aerial
cables are more exposed to damage you
know fires sometimes the transformers on
the poles will light on fire hole and
burrow up yeah that happens and then
when they blow up then all the oil it's
not transform runs down the pole that
oil ignites and the pole incinerates
we've seen electrical fires from street
lights on poles damage cables and we
have issues with squirrels I had that I
have comcast linemen I bet your hours
have two systems because what I do
happen and I was having nothing but
trouble was you defect the reason I went
to Sonic in the first place was to
because the Comcast line was really
flaky and it took about a year until the
right guy came out and he found that the
cave guy came out and he found that the
had been attacked by a squirrel yep they
brought it well and there's it it's
interesting because copper networks when
you have issues with with you know
rodents in the ground squirrels up in
the air there's water incursion and the
problem is that the issues can really be
transitory and insidious and really hard
to troubleshoot and so you end up with
experiences like yours with fiber it's
pretty much either fine or it's broken
and there's no concept of sort of the
the the attenuation that's caused by
water on a metallic signaling system and
so fiber has much higher reliability and
better failure modes that that lead to
you know one of things that we see in
our in our customer service center is
customers that are on copper
technologies like you know VDSL and
adsl2 plus and Potts voice
they'll call technical support much more
frequently because cuz there's issues
with those copper wires and we have to
dispatch much more frequently with fiber
it's way more reliable so what you'll
find you know you're you're getting the
fiber service installed the cable will
become your backup and you'll find that
the fiber is so reliable you shouldn't
need to utilize the cable and I just I
just saw a tweet from one of our
customers and he said he posted some
stats out of his home network where he
monitors latency and DNS performance and
he says hey can you see what day I
switch to Sonic and there's a it's got
this sort of widely variable latency on
his commercial cable connection at home
and then a move to Sonic fiber and it's
just this rock-solid low latency and so
you'll enjoy the fiber connection it's
really the right technology for for
broadband access my partner at the no
agenda show Adam curry has a fiber I
think as AT&T or Verizon I know who's at
who it is it's in Austin Texas and early
AT&T or Google it
in Google he would Google guys were
flaky and Google seems to be losing
interest you might want to comment on
that but we he was having we were having
trouble and it turned out that he was
losing packets and he's got a very high
speed internet and he had to disable
turns out that we looked up and did a
lot of research and it turns out you
disable ipv6 it yeah they it is they
begin this yeah I was gonna say I don't
know you know what would be wrong with
the ipv6 we have seen in some cases you
know ipv6 is unfortunately I mean it's
not new but its new from an
implementation perspective for many
vendors and you know sometimes you'll
see ipv6 implementation issues in a
router in a Wi-Fi access point or even
in a client device workstation and an
Ethernet interface and so ipv6 kind of
brings out some you know it shouldn't be
new it's been a long time but sometimes
brings out bugs that expose themselves
because of it's sort of newness and then
the other issue where you will
experience issues is in Wi-Fi so you get
this great connection of the house
but then if your Wi-Fi is poor if you
don't have a good access point and a
router configuration then the Wi-Fi
becomes the weak link what's neat for me
is in the past the wide area network the
uplink to the Internet
was always the slowest connection you
think back to the days of dial-up and
computers were mighty slow back then but
they were way faster than these you know
ultra slow dial-up connections we had
man computers get faster DSL came along
cable came along but until you get to
gigabit you know ethernet connected
Internet at full gigabit speeds the the
internet connection was always the
bottleneck and the local area network
whether it was the ethernet of the Wi-Fi
was generally not a problem well now we
deliver a gigabit symmetric to the house
and you know people are saying well you
know why is it going 150 megabits on
this computer and it turns out they're
using computer and it turns out they're
a USB 2.0 Ethernet dongle or why is it
going you know
only 300 megabits over here well you
know you've got a Wi-Fi capacity issue
or you've reached the capacity possible
with that Wi-Fi spectrum so interesting
new problems I'm happy that you know the
wide area network and the technology the
fiber and the protocols in G pond and
Ethernet that we run over it aren't
generally not the bottleneck anymore and
that's transformative in my opinion well
I will say a couple of things in your
behalf even though for the most part I'd
say 90% of the people listening to this
conversation can't get sonic there in
other parts of the country but you guys
actually have a real customer service
operation where if I call I usually get
some guy who's not only helpful but very
knowledgeable yeah so I'm assuming these
guys aren't in India no we do everything
here in the San Francisco Bay Area
so our headquarters are in the North Bay
all of our call center customer service
dispatch fleet you know yard field force
everything is is local folks and you
know I think one of the things that is
very infuriating particularly to those
of us that are a little bit more
technically minded is when you call for
customer service and you reach somebody
who knows very little they've had little
training and they're equipped primarily
with a script and somebody sat down and
figured out that you know these are the
thing these are the top 10 reasons for
problems so we're gonna make everybody
go through this but yeah it's
frustrating it's infuriating and you
know from our perspective we don't equip
our staff with scripts we we give them a
lot of training in the the concepts of
troubleshooting you know listening to
what the customer has already tried and
hearing the customers theories about
what might be wrong because often they
know and and then beginning to isolate
the problem well how do we split this
problem in half and figure out what was
the problem in your Wi-Fi or is the
problem in your
routers the problem in your router is it
in the connection the internet you know
where do these problems exist is it a
site you're trying to access is a
protocol like you know you've got issues
of things that are over ipv6 and ipv4
and so investing in kind patient
articulate people who will just hear out
the consumer and collaborate with them
to find a solution is really a
refreshing experience and we've had I
had a customer reach out to me and he
said you know will you please like start
a credit-card company over 80 if if you
could start a transmission shop that
would be great because the customer
service experience that people have
especially with companies that are
providing telephone customer service
which is is generally you know outsource
to a large call center the experience is
not an enjoyable one and and quickly I
think that these companies benefit from
that if you don't call because you know
that the experience is going to be
negative they save the dollars that they
would spend on the labor for that phone
call and if you instead try to solve the
problem yourself you know or ask your
nephew for help or something like that
McCall and you know if they create an
experience that's painful it reduces
costs well that works for them in an
environment of monopoly and and
unfortunately when it comes to internet
access in America I think most folks are
subject to at best a duopoly and and
that smells like an opportunity to me
and and that's that's exciting but we
need to do more than just present you
know faster better cheaper more reliable
product we also pair that up with the
right values around privacy neutrality
and the right values around customer
service and and the integrity of the
organization and you know that is in a
lot of ways the opposite of much of the
way that our industry has been
performing and consumers really really
react well to that and love that
they then tell all their neighbors and
that's good business those neighbors
then sign up so you know it's not just
about the values it's also the business
around here I don't understand why
everybody on the Block doesn't get the
system because it's crazy not to if you
yet unless you don't use the internet or
you don't care but you know that's just
me now yeah back on the technical
aspects of this so now you had now what
what kind of gear what kind of what kind
of what piece of equipment at your head
end let's call it sits there that does
this in the first place who makes this
and and what is it yeah so that the
technology that we deploy and and I
think this is pretty uniform for for
carriers building fiber-to-the-home
in the u.s. the technology is called
gigabit passive optical networking or
Jeep on and a a pawn or passive optical
network brings a dedicated fiber to your
house that Fiber goes up the street to
the you know head of your neighborhood
and goes into a passive splitter and
that passive splitter combines the the
light from your home and typically 32
others onto one fiber-optic strand that
goes to a central point a cabinet or
central officer data center facility and
in that facility we have a optical line
terminal or olt which uses the jeep on
protocol to talk to a customer premise
device an optical network terminal think
of it as a modem basically that that
outputs it as a modem basically that that
symmetric Gigabit Ethernet and sometimes
this is integrated with or what's called
a residential gateway that will do the
routing and network address translation
firewalling Wi-Fi and and those make up
the components the vendors that make
this equipment you know as a variety we
use equipment from ad Tran
in most of our network but there are
other vendors like calyx and Nokia and
an Ericsson that make equipment that
that does this and this allows us to
deliver you know a true symmetric
gigabit to to the customers and it's
it's neat technology you know if when it
comes into the here it goes into one of
the what what is the device that the
fiber goes into then it delivers a
Ethernet cable out to me yep so that's
the optical network terminal so think of
it as the modem or converter box fiber
from from the pole or the street outside
is dropped to the home we drill a hole
in the house we cock up the hole so it
doesn't leak we bring the fiber into the
home and that fiber is terminated and
plugged in to the optical network
terminal that outputs Gigabit Ethernet
and the couple of things is that the
fastest way is there any chance of going
to ten gigs well funny you should ask
we we just began offering for commercial
customers a two gigabit product and so
it delivers multiple one gigabit
ethernet ports and a total of two
gigabits of aggregate throughput and so
for customers that are you know we we
would think of them as you know small
business or home office customers they
can now opt for a two gigabit connection
a little more costly it's ninety dollars
a month but but that's pretty amazing
frankly for a couple couple gigabits
connectivity the technologies are
evolving a G pawn it was this successor
to what's called broadband pawn or beep
on b-pawn had basically the capacity to
deliver nominally about 20 megabits to
each household on a 600 megabits shared
segment Jeep on delivers a gigabit on a
2.4 gigabit
a segment there are upcoming
technologies XTS pawn and ng pawn to
which can deliver from 10 gigabits to 40
gigabits to the premise and these will
be adopted first to serve businesses
that have greater than 1 gigabit needs
and then as the economies of scale ramp
and the equipment becomes more
cost-effective you'll see those
technologies come into residential
deployment now what's great is that we
change that the optical line terminal in
the cabinet or central office and we
change the optical network terminal the
equipment in the home but the fiber
network itself which is the most
expensive part by far do you mean the
why is yes yes the fiber cables that
we're placing out on poles are I
hesitate to say future proof but but
they are future proof with regards to em
easier no increasing capacity over time
and so what you'll see is you know we're
today one gigabit is a typical consumer
product for fiber networks I think
you'll see that advance to higher speeds
in the future and what's great is that
we don't have to swap out and rewire the
optical network and and just like the
you know the telephone the twisted-pair
telephone network you know it's had a
life of over you know in specific cables
over 50 years the coax network there's
coax cable that's delivering gigabit
with Doc's s31 today that was placed
15-20 years ago and you'll see the fiber
optic network with a you know
realistically you know 4050 year
lifespan you know where cables last at
least that long and and were able to
simply iterate the equipment's on the
ends now AT&T came along just before you
guys started this program door-to-door
with sales guys who were like bros I
don't know if you know this and they
went door-to-door around here anyplace
where you guys were headed to pre-sell
some something some fiber was fiber they
emphasize fiber and I said is it fiber
to the home and there's no no no no it's
this fiber to the curb one of the
limitations of that and by the way it
wasn't anything
the offer was mediocre I was very
disappointed in the offer I thought it
was not because I thought maybe good
good backup or something but I found it
not to be the case a Comcast is better
deal yeah what what a number of
incumbent carriers are deploying is
fibre to the node technology so
sometimes it's called fiber the curb but
it's generally not your curb it's more
typically a cabinet that serves a
neighborhood and it might be anywhere
from you know a thousand feet to three
thousand feet from your home and then
vdsl2 is used over the copper pairs okay
so you know next generation faster DSL
is used to deliver typically anywhere
from 12 to 75 megabits
yeah they were claiming 50 as though I
was going to jump at that yeah and you
know that's exciting when you have leave
me if I was missing if I was out in the
middle of nowhere Kansas I'd be very
happy with that well and what's
frustrating about it is when they go
door-to-door and they say we're bringing
fiber to your neighborhood would you
like to sign up for this package that is
you know television internet and phone
and so on and would you like mobile
while you're at it and the the lead end
of the conversation is we're bringing
fiber to your neighborhood that's not
tribal to the home that's just moving
the decimal access multiplexer that that
previously was in the central office now
it's moved a bit closer it's in a
cabinet you know a sort of lawn fridge
that some unfortunate person has on
their front lawn in order to deliver
faster DSL service but it's not
transformative in the same way that
fiber all the way to the premises you
have caps on the gigabits
no we don't we've got a reasonable use
provision it's a residential product so
we don't allow folks to resell it and so
it wouldn't be okay for somebody to like
set up a wireless ISP off their roof and
you know so the intention is reasonable
household use but there's no caps on
that consumption and if I want to put a
server on it because you got so much up
speed is that allowable it isn't
permitted in the the way that we've set
the terms up because we'd consider that
a commercial use and you know frankly
for forty dollars a month we can't have
we can't cover costs if a lot of our
customers deploy servers that output
you know half a gigabit gigabit
consistent peak traffic and there is a
you know there is a reliance in the in
the pricing when you're selling a forty
dollar month product the assumption is
people are gonna use it in the way that
a typical household uses it they're
gonna stream a bunch of 4k TV they're
gonna have a bunch of connected devices
they're gonna download you know movies
and big updates they're gonna upload a
certain amount of video and photos and
so on but you kind of build your
business model around assumptions about
consumer behavior if somebody sets up
three racks and a data center in their
garage and starts pushing out a lot of
traffic then that breaks the business
model for us so we put some you know
reasonably used provisions in there it's
not a Kappas to any specific amount of
use it's basically that you can't resell
it and so a commercial use like hosting
or becoming a Wireless ISP would you
know basically saturate those
connections and we'd look at that go hey
wait a minute what's this what's this
fellow John doing what if you take 290
dollar deal the same the ninety dollar
deal is a you know it's a it's a small
office home office configuration so it's
intended for consumption so intent is
tended to be mostly used for downloading
why don't you just capped or not cap but
why don't you just
make the whole system asymmetrical are
people that desirous of gigabit up most
you know that sucked down gigabit let
alone you know you could push it up but
it's going to go to a slower downloading
you know that environment the upstream
speed and moving away from a symmetric
connection is actually really really
useful in a household being able to you
know take a bunch of videos and pictures
with your cell phone at you know in an
event and then come home and your cell
phone connects to the Wi-Fi and quickly
uploads all that content you know to to
be able to back up your home network and
all of your home computers on a regular
basis to a cloud backup service you know
having a lot of outbound capacity
enables a lot of interesting uses and
you know what we see is you know these
days with the availability of AWS and
and cloud services for hosting and for
people starting a business you know we
don't see a whole lot of demand for or
abuse of the they upload capacity do you
and so that's that's the goal
do you contemplate ever did maybe for
your customers having a cloud-based
backup program somewhere cuz you know
before you go on though because you do
have I know what the out with your
former system I have not fully utilized
it but everyone's why play around with
it and I'm not that interested in
putting up a server because it's
actually a lot of work but you do have a
say you do have a website capability at
the home office where I can have a
domain put there and I can serve pages
and do some miscellaneous chores from
the from sonic net yeah one of our you
know one of the things that we've
pursued is to try to you know how can we
add more value to what we're delivering
and so every customer gets a domain name
so we cover the registration for the
first year
they get hosting they had a whole bunch
of email boxes we've tried everybody
with an electronic fax line so there's
like a ridiculous amount of capability
that we load in and these are all things
that for us are very low cost to add and
and that we've layered into the product
but on the other side we don't have to
solve every problem there's a lot of
great services out there on the Internet
and there are some things like for
example cloud backup well there are some
great solutions for cloud backup and I
you know I use personally for all of my
data I use Dropbox to synchronize all my
systems and I really enjoy that and it's
a great solution
I don't think sonic can or should try to
replicate a service like that and you
know the the bottleneck the problem that
really really needs to be solved is
building new infrastructure in the last
mile to every single home on business
and to the degree that we can add
services to our product you know add
features to our product which you know
reduce costs or increase usability that
are not too hard for us to add we do
when they get complex we say well you
know there's there's a lot of great X
out there on the internet we don't need
to be that I mean a big one is
television you know we do not have an
IPTV product in a conventional way and
that was an interesting decision that we
made a few years ago and we said where
is the television industry going well
it's it's going to become Internet TV
you know you're going to choose between
YouTube TV and Hulu TV and sling you
know subscription video on-demand
services like Netflix and prime and so
we shouldn't be in the television
business shouldn't be in the television
it's a look backwards and so with each
feature capability we kind of run them
through a set of filters and say well is
this something we can do
yeah well should we do it is there
someone else doing it can we do it you
know at low cost and add value and and
that's the the decision maker we engage
in the the decision maker we engage
now saying that guys are actually gonna
ask you about the television part of
this equation which is there are third
parties out there that would come in and
say well you know we can do all that
work and it will cost you $10 a
subscriber and we charge them 20 or you
charge them 20 and then we take 10 from
that kind of thing like a micro services
architecture on a bigger scale this is
that possible
you know the challenge in in television
is twofold
you know one is the cost of content you
know consumers want 150 200 250 channels
that's going to clewd ESPN and Disney
and and regional sports nets and those
things are costly and they're
particularly costly for buyers who are
not buying at scale so a disruptive new
market entrant is gaining a foothold
struggles with content costs that are
very high compared to an entrenched
incumbent and then on the other side is
you look at the technology platforms
like you know direct TVs Genie
and dishes hopper and Comcast's x1
they're good platforms base they invest
a substantial amount of resources in
differentiating those platforms making
them really really good and for a for a
carrier like us the field of potential
sort of set-top boxes and interfaces the
software the middleware that runs on the
set-top boxes they're not great and and
as you as you look at the cost of
content the quality of the experience
and then more importantly you look at
where is the industry going where do
consumers want to be and I would say
that you know you look at Millennials
today and they've never had a
conventional cable subscription the idea
that you would pay they don't even know
how to turn on the antenna and mostly
their sets well true yeah off the air
isn't a whole nother topic but the you
know a whole nother topic but the you
point is that that industry is changing
a lot and the way that it is inevitably
going to go is over the Internet
there is so much more choice and the
idea that you would buy a bundle that
would have a big teeth big heavy weight
TV package and you might commit for one
or two years to that product is really
going to be supplanted with a set of
apps you know one that brings you a big
channel lineup that you like maybe
that's Sony's view product or YouTube TV
product then piecemeal you might add
things well you know you want to watch
Handmaid's Tale you're gonna subscribe
to Hulu you want to watch some of the
Amazon Prime originals you might be a
prime subscriber and you know Smart TVs
are getting easier and cheaper equipment
like the Apple TV and the Roku or making
this easier for normal less technical
individuals and and that's where you
know entertainment is going is towards
streaming and so we don't do a
conventional television solution over
the fiber today for that reason now we
do have customers that you know they
they have cable TV today they would like
a conventional television experience and
we really see two solutions one is keep
the cable for TV but get a fiber
internet connection dump the the slower
less reliable cable internet and then
the other is we're happy to sell a