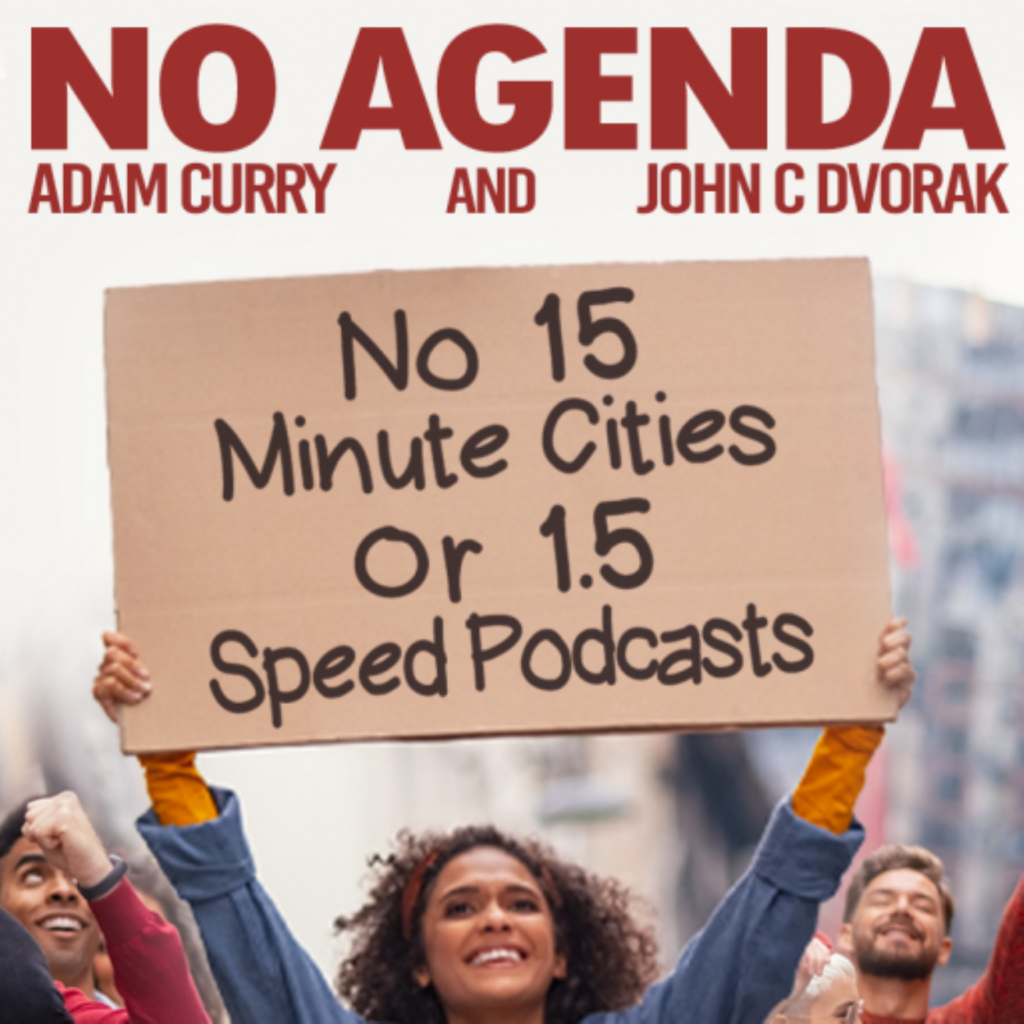 February 26th • 2h 52m
1533: Rage Bait
Transcript
The transcripts of No Agenda are automatically generated and therefore, not fully accurate. Discretion is advised.
Click the text to start playing from that position in the show. Click the timestamp to copy a direct link to that position to your clipboard in order to propagate the formula.
John C Dvorak: Hey, you can turn Cleveland into Paris. Adam curry
John C. Devora.
Adam Curry: February 26 2023 This is your award winning keep
on nation media assassination episode 1533
Unknown: This is no agenda shifting from
Adam Curry: flat to C n broadcasting live from the heart
of the Texas hill country here in FEMA Region number 16. The
Morning everybody I'm Adam curry
John C Dvorak: I'm sorry.
Adam Curry: And you're sorry and I'm not are you still laughing
about my my Joe says You're still laughing about that. Do
you don't know that that by the way for people who are on the
pre stream that was a genuine Jhansi Dvorak laugh not awesome
version. Yeah, pretty much. Yeah. Do you want to do it over?
Are you good with where we know I want to do it. Okay. All
right, I'm ready. Hit it.
Unknown: Adam curry
Adam Curry: Jhansi Devorah February 26 2023. This is your
award winning give our nation media assassination episode 1533
This is no agenda shifting from bad to she and broadcasting live
from the heart of the Texas hill country here in FEMA Region
number six. In the morning, everybody. I'm Adam Perry
John C Dvorak: and from Northern Silicon Valley, where it's
snowing everywhere. I'm Jhansi Dvorak.
Adam Curry: It's actually snowing in California. Oh, it's
John C Dvorak: snowing quite a bit. It was a blizzard warning
down in SoCal,
Adam Curry: but I mean it's snowing. Were
John C Dvorak: you not blizzard? Literally a blizzard warning.
Oh, what
Adam Curry: are we going to drift into over the years? Shut
down the power. Shut it down.
John C Dvorak: So they had to shut down?
Adam Curry: They will not they will. So So Is it snowing where
you aren't? Because that's that's pretty new.
John C Dvorak: A couple of days ago, so flakes may have fallen.
There were some nice bolts of lightning though. They were
stunners. But the snow up in Oakland Hills snowed in the
little model train they got up there. Oh, snowed in Mont ham
snowed in? Well, this daughter came up with a good
pronunciation for Mount Tamil pious mount to monopolists. I
think.
Adam Curry: Don't call it mount tam is when everyone calls her
that's not
John C Dvorak: a cam. Yeah, yeah. I like mount to
monopolists.
Adam Curry: So this is clearly global warming. Yeah, just
record low. Just want to make sure to record
John C Dvorak: lows, record low highs, in other words to high
temperature record for all time. All time ever. Yeah. Well,
including the Paleo this thick period, I think but in San
Francisco. One example record low of all time. Well, please
Adam Curry: tell me that there's a warm please. Yes. Please tell
me there's a report telling us that this is because of global
warming. I will need that report.
John C Dvorak: To be honest about it. I looked and looked
and no one wanted to bring it up. I found it.
Adam Curry: Oh no. You got one. Where's it and it
John C Dvorak: came it didn't come from any of our sources. It
came from Al Jazeera. This is California cold reverse Al
Jazeera.
Unknown: Oops sorry. California is experiencing an unusually
cold and wet winter with flooding and mudslides in a
state longer affected by drought and wildfires. People here say
they've been warned to prepare for more extreme weather in the
coming days.
I think that is one of the biggest concerns is we are
looking at a lot of rainfall snow, the snow will melt and the
wind and we worry about the mudslides and flooding since
we've had it twice already.
Experts say powerful winter storms mixed with spells of
extreme heat and dry weather are symptoms of climate change.
Adam Curry: Wait who was an expert? I just want to hear who
that was. Again, we
Unknown: make sure experts say powerful winter storm experts
was mixed with spelled out do you
Adam Curry: think they just add that at any report? They call up
an experts expert, expert, expert expert. Tell me what do
you think? Oh, yeah, AJ,
John C Dvorak: you know, the funny thing is nobody else did
that. They didn't try to pull that because it would become you
know what? Yeah, but Algis you're through it? And so yeah,
you can see what they're all about.
Adam Curry: I want to say a big in the morning to the former
podcasters who are joining us today. Tell me more the pod
fasters people who have deliberately now stopped
listening to podcasts that 1.5 or double speed and I've former
podcasters and I've gotten tremendous results have been
reported. This is the one I love the most. Do you have your mic?
Just make sure I'm gonna make sure you're holding on to it.
John C Dvorak: I've got a tight grip on it. That's what it
sounds like also the mic now
Adam Curry: people are finding that they have more patience now
with their children and spouse. Please, this is the truth. I'm
getting these messages, saying, you know, I, I was always
listening at 1.5 speed. And I always felt that normal
conversation with like, get to the point. Come on child. What's
your problem about the homework?
John C Dvorak: Oh yeah, cuz you can't get the kid to speak to
1.5
Adam Curry: No. And this is what it does to you.
John C Dvorak: This is what it may be. This may be an element
of one of our producers Cheryl who sent in this following note.
Oh, okay. Hi, gents. Thanks for the amygdala maintenance. I'm
responding to a recent segment regarding listening speeds for
podcasts. There you go. I've stopped listening to most of the
rage bait people like that term. Yes. I listen to you guys at
normal speed because you both speak at a reasonable rate. But
there are many people I listen to it 1.25 Because they talk
slow.
Adam Curry: Some people talk slow.
John C Dvorak: 1.5 is most often too fast for content absorption.
We've We've pointed that out before. But good lord, some
people desperately need to pick up their pace, all caps. I don't
need drama. But I do need people to get in there freak and point
without droning.
Adam Curry: Well, that's not that. Yeah, that's not a
question of people not speaking fast. That's a question of a
boring podcast. Drop it from your list.
John C Dvorak: As she signs off with a northern girl who talks
fast and zones out when people talk slow.
Adam Curry: Well, Roman sent me a note and reminded me and that
we have discussed this on episode 1200. Which I really
don't remember. But
John C Dvorak: I do remember us talking about this before? Well,
Adam Curry: the interesting thing Romans note was in the in
the show notes for episode 1200. And his point at the time was
the end of this book, the mission the men in me. And in it
an army psychologist describes what the brain goes through
three phases saturation, incubation and illumination when
learning something new. And so he questioned if listening at a
higher speed than natural could extend the phase of saturation
and inhibits the transition to incubation and illumination,
thereby slowing or stopping your ability to learn at all. And I
think there's something to that. Hmm, it's an if anyone wants to
reread it. I mean, it's, there's really, the revolution is
happening here. People are slowing down their podcasts, and
we're leading the charge for some odd reason. Then it's good.
It's much better if you
John C Dvorak: miss a lot of intonation stuff, especially
when you're trying to do something that's light. Even
though I don't know if news deconstruction is technically
light, but it was you trying to do something light or light
hearted? Yeah, there's a lot of is a lot of it's in the new AMI
and intonation timing is completely ruined by 1.5.
Adam Curry: And so yeah, so you won't laugh anymore, you'll stop
the jokes will become less funny. And let's face it, our
comedic stylings are what's holding this ship together? See
a pregnant pause. A pregnant pause. Another thing. Another
thing you won't get if you have that your app chopping out
silences. Anyway, that's all fine. Hey, I spoke to our vice
count, the executive director of Project Veritas. You want to do
that now and you want to wait for some of
John C Dvorak: you might as well do it now. I'm kind of
interested.
Adam Curry: We spoke for about an hour. Yeah, we spoke for an
hour on the holidays is gonna take it's gonna take me an hour.
We spoke for about an hour. He's Vikon by the way, sir Daniel
striker. And he has been the Executive Director of Project
Veritas for a year. And so this is this is his story. And I 100%
believe that I hate to say 100% Do you so many people 100
John C Dvorak: complain about this and you keep doing it? I
know. I don't believe I've ever said that.
Adam Curry: No, no, not you know, this is not you. This is
everyone else. This is okay. percent.
John C Dvorak: I don't know what what is it always like that
little 100 thing that you see as an emoji?
Adam Curry: It's the it's the white version of 100 which is
the black version of 100% and Scott Scott to Galloway,
Professor G. He says it all the time and that's why I'm picking
it up from and it's annoying me he'd be like 100% 100 pissant
cara 100% Okay, go on off of that. Get me off of that.
Please.
John C Dvorak: I don't notice it. Sorry. So he I don't hear it
that much from anyone I don't listen to garlic Galloway, I got
one new one I've caught don't I will bring up later in the show
is because it comes up in a clip, okay. And they're using on
PBS to an extreme
Adam Curry: to an extreme, there's one you use one extreme
you use to an extreme to an extreme. And so we here we
dissect things don't wait, we get nitty gritty. So an
executive director is Executive Director, CEO and a nonprofit
are almost interchangeable. Often it's exactly the same
thing. But in this case, the executive director reports to
the CEO, the CEO was James O'Keefe. And our Vikon was quick
to point out he is the ninth operating person because that's
really what he is, in this case, in 12 years a Project Veritas.
John, I think you want to say he's like to see subsidises? Oh,
yes. That's what he said. He was brought in, he was hired by
James O'Keefe, to help them with with the data in line with the
day to day management, because, again, he's the ninth operating
officer in 12 years at Project Veritas, I think we can identify
that that's an indicator. Yes, 140 staff have turned over in
the last seven years. Another indicator? That's a big one.
That's a really big one. They actually have to do some
headcount reduction. He was brought in to do this. Oh,
hatchet, man. Yeah, a bit of a well, he also brought in HR.
Hello, this is where the problems begin. So you know, so
people have a way and a place now to go and complain. So he
knows. So I don't think he really knows James O'Keefe. I
don't I certainly don't. But from his description, this is
very much. I mean, after listening to, after listening to
his story, and he was he was just talking and talking. The
way James O'Keefe runs the business is, especially for
creative people. If you don't like it, if you can't get it
done, you're fired, which I've heard all my life in mainstream
television production. So it doesn't faze me. It comes and
goes, Yeah, I'm sure that this is not the pleasant for younger
people who have not witnessed this management style.
John C Dvorak: Roseanne Barr used to be notorious oh really
in the writers room. He just yelling at some poor writer
you're and it was always the same phrase. I'm thinking you're
so fucking fired? Yes, yes. Say
Adam Curry: yes. People have no right I bet the writers room to
this day are still like that on many shows, writers rooms are
brutal. So so when you know so now they have a lot of middle
management now or management, I should say a Project Veritas.
Even if you look at their form 990 They have a chief strategy
officer. What What kind of position is that even a Chief
Strategy Officer, this is marketing, basically marketing,
a business development or donor stewardship.
John C Dvorak: Also marketing, also marketing in most jobs or
marketing,
Adam Curry: certainly in a nonprofit environment, you're
marketing to your donors. So the other part of the way James
O'Keefe runs is look, I've got to do this. I'm raising money.
I've got to go to this shoot, I need a jet. Get it Now get me
the Presidential Suite. I need everyone up there for meetings.
So in effect, very similar to bill in my mind, where Bill
Gates says, hey, I can fly private jets because look at all
the good I'm doing. For Nancy Pelosi, you know, like I can fly
anywhere I want I can I'm doing good. Does that make sense?
John C Dvorak: Yeah, it does, actually.
Adam Curry: And this is not this is not crazy for someone who
starts a company like this and organization, what they're now
1213 years, whatever they've they've they've been been
running and building is, you know, this is how you run
things. And the more management come came in, and at a certain
point if if the CFO says no, you can't do that, and the CEO fires
the CFO without the board and the board is all jacked on being
precise. And you know it is look this if your nonprofit 501, c
three and C four, you have to report and you have to and you
have a fiduciary responsibility. So that's where things got out
of whack and it just came to this I'm paraphrasing what are
what are our vi count there? So it just came to a head where the
board said no, no, you cannot you can no longer have this
power to just fire and spend it Do whatever you want, then the
suggestion was, Well, my favorite. Yeah, well, we'll give
you a title like President, which I loved. I've been the
president of all my companies, because you have, you're totally
in the executive team, but you have no responsibility. I'm just
the president. No, no, no, I'm doing anything else. And you
should get a private plane budget, whatever the guy needs
to operate, because he's also doing most of the fundraising.
It appears to me. Yeah. But but that mechanism of removing him
as CEO that just set him off? And he's like, no, no, no, this
is a coup, which of course it is. And I'm not going to I'm not
going to come back. And so he's not officially resigned. He's,
he's, you know, everyone's still on the payroll, although now
parts of the staff are literally down the street at his apartment
working out of his apartment with him. So it's, it's one of
those almost like, what's it like the office where Michael,
you know, starting something new, and he goes to me, and he
has half the staff in his apartment, these things are not
good. And it's come to a head where the best solution would be
for James to come back and everyone to work it out. I don't
think anyone sees that happening at all at all at all.
John C Dvorak: Well, it was a nice experiment. It went on for
13 years, personally, and I don't want to get any flack for
this. But I don't think they accomplished the damn thing.
Adam Curry: Well, and this, this was kind of my point when I was
talking to him like, you know, so as a corn gone. That was his
first expos egg. Has Has Pfizer stopped doing what they're
doing. Now, it seems like we got a big cheerleading squad for
everything. But I mean, the same with us. I mean, nothing we
exposed the chat doesn't change anything. It changes people's
minds. I think that's what we're
John C Dvorak: what we're not trying to change the world.
We're trying to get people to line up dotata correctly Speak
for yourself. Well, you might be but not to me, believe me.
Adam Curry: No, I understand. I understand. So, you know,
John C Dvorak: I think they're trying to change the world, it
seems to me
Adam Curry: Yes. And the end, they end there's a huge belief
in the journalists, and I think they're looking at possibly a
new face for the organization, which is an interesting move. If
they if they did it fast enough, I think they, they could
possibly do that. And that's and that's, that's the downside is,
you know, the people who work there really believe they're
saving the world doing all these things, and that it's about the
work and it's not about James, and to which I respectfully said
to our vi count, bro. James is Project Veritas I don't I don't
see how anything else. And I think they're prepared to go
through a rough patch, and start and try to reboot without him.
John C Dvorak: It's not impossible. It's been done.
You're you have a super charismatic leader who gets
booted out and somebody else comes in who can carry the load.
rare, very rare, very my conclusion to that possibility.
Rare, it can't happen. But it's a dream world kind of thing. If
you got still got cash flow and everything coming through, yeah,
you can probably coast for a year or two, you better get that
guy fast. I don't know if you can do it. And then again, you
have to take a look at what you're doing. Here's Project
Veritas just kind of a more serious version of candid
camera. I mean, they don't tell you when to turn around the Hey,
look over there. There's a camera. Yeah. I mean, I just I'm
very disappointed in I mean, I like what they've done. I like
the Pfizer thing. I liked the whole thing. But again, it
accomplished nothing. The mainstream media's got to stick
up their ass about any of it. So if they come up with the real
scoop, which they've done, literally, yeah, it doesn't get
picked up by anyone. It's so it's, it's outside the
mainstream, it's fringe.
Adam Curry: It's like the Twitter files, you know, they
might as well not exist. They just might as well not. It's
good for everyone else like hey, you know, that's right. But
that's about it. And the biggest problem with running this type
of organization, because I had the 2021 filing over $4 million
in legal fees. And he let me in on the on the financials. He
said, Oh, no, we did. We spent 7 million the last year on legal
fees. Yep, this is the problem and doesn't matter who's going
to do this. You need that type of backing, and and fundraising
quite honestly, to make to make something like that work.
John C Dvorak: It seems to me that the only way you can make
something like that work is it is actually a legal office that
didn't have a city area.
Adam Curry: Law office that
John C Dvorak: has a law firm and major New York law there and
has a subsidiary that goes and does those videos. There you go
take them on. That's the way to go. And
Adam Curry: Rudy Giuliani should
John C Dvorak: be doing that. Yeah, yeah. Or yeah,
Adam Curry: he won't. But so I guess what I might take
John C Dvorak: away from is they have to run everything through
legal and legal says no to everything.
Adam Curry: But you know, no, O'Keefe, you're not gonna see
funding, I think a lot of donors, although, you know, they
say, oh, no, we've got donors secured. I know, I know, our
Vikon believes it. I have no,
John C Dvorak: I might have some secured for the short term. I
don't know. I've never seen O'Keefe do a sales pitch, but
he's probably pretty decent.
Adam Curry: He's well, apparently, he's one of the
problems was that one of the board members had a pretty
exclusive get together. And and O'Keefe was there. And then you
know, the next day or whatever he's yelling, like, you need to
send everyone who was there this email? Well, no, do this. This
was like, casual. These are my people, you know, it's an
introduction. No, you need to send this email to all of them.
So when you get into that level, where you're you're yelling at
your board, because you want to fundraise through their network
kind of directly? This is not how it works. Or in my
experience, let's put it that way.
John C Dvorak: Yeah, well, no, you can't exploit some of these
these networks. They they're very sensitive to it. Extremely
sensitive. This is like the these are the networks that fund
museums. Yeah.
Adam Curry: I think you're right, actually. Yeah.
John C Dvorak: You notice like they've you talked to some I
know people that have fundraiser,
Adam Curry: O'Keefe hangs out with, with Bobby Kennedy, Jr.
You know, he's up in those levels. Yeah, these are the
people that fund museums. I agree. I agree.
John C Dvorak: And when you talk to these guys who are
fundraising that they talk about? Oh, yeah, we picked we
brought in $15 million last month. They were short. Yeah.
Right. I'm thinking oh, geez, yeah. Me what's going on anyway,
Adam Curry: whatever. If there's any ulterior motive behind any
of this, and it's still very possible, even on the O'Keefe
side, I'm not I'm leaving any everything open to
possibilities. I do not think that you can resurrect this,
even and I know who they're talking to, even with the UN,
which I've promised not to tell, even with a new name to come in
a new face. I just don't I think it's too tough. And for O'Keefe
to continue, yeah, he needs the law office that he I'm sure he
can fundraise from a lot of the same people but he'll need the
law office, that's what you need. Otherwise, it's just a non
starter, he can get lots of people to do the work. So it
just seems like we got a lot of so many of these cool projects.
You know, and, and the alternative media just turned
out to be you know, like a lot of big money problems behind the
scenes. Like Crowder Shapiro Oh, this you know what I mean?
John C Dvorak: Well, they they're they're swinging for
they're not like you know the no agenda team or you have a late
we stay lean we stay I mean, we are especially to we don't we're
not turning it into anything other than what turns itself
into in other words that the like the no agenda shop, for
example, very few people would allow that they don't wouldn't
let him shop just go out and make no agenda. Just make mugs
do it in house and that cost money and it costs as overhead
and it costs extra people. It's just these are the mistakes they
make. Yeah, and we get some mistake to make mugs if you're a
podcaster. You podcast you don't you're not in the mug business.
Adam Curry: No merch merch,
John C Dvorak: get oh, call me up and you're gonna see some
merch.
Adam Curry: I don't want no merch. Yeah, you know, and as
the world turns towards a great title for a sitcom, As the World
Turns, and more and more people go to Soros for funding. I mean,
my God, man, how many district attorneys how many? How many
politicians have not been hanging off the Soros Open
Society Institute. And now that guy is so toast that just
imagine going to pitch Soros. And this is real time. This has
not edited and he's just trying to get a word out in this case.
I think he's trying to say something. I don't even know
what he's trying to say. About gold warming but just listen
listen to this. This is what you'd have to deal with. Yes,
Mr. Soros would really like some funding for our global warming
project
Unknown: increase the level of the oceans
Adam Curry: Okay, thanks sign the cheque old man.
John C Dvorak: Wow,
Unknown: that guy's so
John C Dvorak: toast. He's gone.
Adam Curry: That's, you know like we have that's we have a
senior moment. This is like my man is already dead moment. Like
he's just he's just like death rattle so sad anyway, so it was
a good clip. Yeah, thanks. It seems like everything is well
actually I know what you have today but what I'm seeing is a
major shift to from Russia to China. Now everything that's
going on we there's a China element to it. And China is now
also well, let's listen to the headline. Are you ready? Get
ready, everybody. This is a mainstream media headline.
Unknown: A special edition of the CBS Evening News. We're here
on one of the largest warships in the world, a US Navy aircraft
carrier that has just returned from the South China Sea. And
just today CBS News learning the Pentagon plans to increase the
number of troops in Taiwan as the independent Island hopes to
hold off Chinese aggression. Tonight aboard the USS Nimitz,
with 5000 of America's concern tonight about the possibility of
a new cold war with China with China.
Adam Curry: Among the name it's like got 5000 soldiers were at
war warship war war war. CBS CIA broke us war. Listen to this,
these transitions feeds. This one here. How closely
Unknown: is Xi Jinping and China watching the war in Ukraine
Adam Curry: go see this is how we do it. Xi
Unknown: Jinping is likely watching the war in Ukraine very
closely very because it has both economic implications for China
diplomatic implications for China and military implications
for China.
To China. Yoshihara has spent his career studying the Chinese
navy. He says Xi Jinping is learning lessons as the Chinese
President considers invading Taiwan.
The first is the nuclear saber rattling that Putin engaged in
at the outset of the conflict. Now, while Putin's nuclear
threats did not stop the west from helping you
Adam Curry: notice the subtle explosions in the background,
while they're talking here, it's just it's so so deep
Unknown: saber rattling that Putin is engaged in at the
outset of the conflict. Now, while Putin's nuclear threats
did not stop the west from helping Ukraine, I think it was
clear that the United States and its NATO allies, were very
cautious took Putin's words seriously. And so Xi Jinping
might learn that it might be to China's benefit to similarly
engage in early nuclear threats.
Republican Congressman Mike Gallagher is a Marine veteran
and chairs the new house committee focused on China,
one of the lessons of Ukraine is that when dictators tell you,
they're going to do something you should pay attention,
President Biden, oh, to defend Taiwan, setting the US stop.
Adam Curry: We've had lessons by watching Putin.
John C Dvorak: Putin said he's not going to invade Ukraine. In
those early days, he says nonsense, and I'm like, we're
not gonna do anything to it. He said, I can find clips. Yeah. So
this guy says, Oh, the guy says that we're supposed to pay
attention. So we should just backed off. I mean, make up your
mind.
Unknown: A good point he they're going to do something you should
pay attention
press. Well, they paid attention to it in Biden has pledged to
defend Taiwan setting the US and China up for a possible conflict
this decade,
really escalated into a conflict between our navies that would
entail a level of destruction and death that we haven't seen
for a long, long time.
Adam Curry: Oh, you sound almost giddy about destruction and
death we haven't seen for a long, long time on getting all
worked up just thinking about it. And it's across the
political spectrum we have dusty Johnson from Where's you South
Dakota? I think he took over louie Gohmert No, no, no. Who
was South Texas, Texas? Well listen to this guy, dusty
Johnson.
Unknown: Let me now bring in Congressman dusty Johnson. He's
a Republican from South Dakota. And he's a member of that House
Select Committee on China. It's good. Just it's good to hear
from you. Thank you for coming on. Let me start with. We heard
from Mike Gallagher, the chair of the committee that you're on,
can't get weapons there fast enough? What does that look
like? And what is the balance between helping Ukraine and
helping Taiwan that you'd like to see
Adam Curry: balance?
Unknown: Well, your other guests were right about a depletion of
the stockpile. So I do think we want to be strategic and forward
looking. You know, Churchill, I think called the United States,
the arsenal of democracy. And clearly that is still true. But
we do need to, to arm the Taiwanese. This, the threat from
the Chinese Communist Party is only growing, we have seen their
pattern of aggression, get, I think, more provocative. And so
this is something the select committee is gonna be spending a
lot of time discussing.
Adam Curry: So I'll play one more just to identify that the
narrative is shifting from Russia to China. Taiwan is the
new Ukraine, but maybe, you know, maybe Taiwan is the new
I'm sorry. that Japan is the new Poland or maybe that's the
Philippines. Here's here's the guy from Texas moron. I think
he's the one that replaced louie Gohmert
Unknown: Vladimir Putin is national address
this week appeared to confirm the war in Ukraine is not ending
anytime soon. Yesterday top lip and diplomat from China they're
in. In Moscow. Are we entering
Adam Curry: a new phase of this war? A Ukraine phase?
Unknown: I certainly believe so. Make no mistake that this war in
Ukraine is is about more than just the conflict between Russia
and Ukraine, and about more than just that geographic region.
Truly, this is becoming a proxy conflict between the United
States and China, the two dominant superpowers,
how about that?
Adam Curry: What? Yes, no,
John C Dvorak: no, no, this one it was on you what your I think
what you can claim here is that it was on his mind. But this is
not a proxy conflict between the US and China. This is
Adam Curry: this is this is what they're saying. This is exactly
what this is
John C Dvorak: what they're thinking, Well, of course,
Unknown: yes, Truly, this is a proxy
Adam Curry: conflict between the United States is becoming it's
becoming truly it's becoming a proxy conflict. Yes, graphic
Unknown: region. Truly, this is becoming a proxy conflict
between the United States and China, the two dominant
superpowers economically throughout the world. And what
most people seem to forget in this conflict is, look, if if we
can't push back hard against Russian imperialism and Russian
aggression, in this instance, we're gonna see greater issues,
we're gonna have to deal with down the line by a growing Axis
of Evil, that being Russia, North Korea, China, Iran, those
entities and those countries that say, we don't want freedom,
we don't want individual liberties. And we're going to
capture the rest of the rest of the world and push our agenda on
them. And so we've got to understand that we have to, we
have to push the Russians back out of Ukraine. And if we don't,
we're going to end up in a situation where there's greater
conflict to deal with, and greater responsibility that
we're going to have to, we're going to have to take on so. But
listen to the Russian invasion here, it won't stop at Ukraine.
If we don't stop them. The Ukrainian stop is going to
continue through other other countries. Oh, no, it's
Adam Curry: going over here. It's going all over Europe.
John C Dvorak: I don't know. You know, they pushed and pushed his
NATO thing about section five or rule 10 or whatever it is. And
yet yet these guys keep saying stuff like this, which is bull
crap. Well, and by the way, this bull crap about if this happens,
and that happens, and this happens is that happens. This is
what got us in the Vietnam War, according to everybody at the
time. Oh, yeah. Well, Vietnam falls in next is the domino
theory. And it was the domino theory and so the whole world is
going to be communist overnight.
Adam Curry: Well, let's go to the source of this bullcrap. Her
name is Anne Applebaum. She is the one that keeps propagating
the actually I've two clips and it's worth playing both of them.
Now she's married to an ambassador. I think she's a
troublemaker.
John C Dvorak: She's also the head of a lot of these kind of
Soros backed operations. I'll listen
Adam Curry: listen to her credentials, which MSNBC Velshi
Velshi will read them off.
Unknown: Joining me now is Anne Applebaum. She's a Pulitzer
Prize winning historical historian, a staff writer for
The Atlantic, a senior fellow at the Johns Hopkins School of
Advanced International Studies, and the Agora Institute. She's
the author of several Well important books, including
twilight of democracy, the seductive lure of
authoritarianism, red famine, Stalin's war on Ukraine and Iron
Curtain the crushing of Eastern Europe 1944, the 1950s, do you
think she has her head up or brought about this six, there
may be no one with greater specialty. And what is happening
here and thank you for this evening here in Ukraine, I have
to ask you now a year in what you see happening, as we look at
the situation in Ukraine, what do
Adam Curry: you see happening?
Unknown: I mean, it's a very, you know, it's a very difficult
war to assess, because on the one hand, what's been achieved
is so extraordinary and was so unexpected, and yet there is
still so much further to go. I mean, this war will end when
Russia has understood that it was a mistake. And that means a
John C Dvorak: voice. What? She's got the voice, she's got
the voice of the of the women that have you know, that
advertising, whatever you want to call it. That same? In the
same meal? You Yes, yes. Samantha Powers, that woman that
was an NPR ever all of them? Yeah.
Unknown: I mean, this war will end when Russia understood that
it was a mistake. And that means we need to get to that point.
And that means Ukraine needs to take back its territory, it
needs to convince Russia that it can't win. And we aren't quite
there yet.
Adam Curry: Okay, so I like what I'm hearing because they're
waffling like, well, you know, Ukraine has to this will all war
when Putin realizes they've made a mistake, and Ukraine has to
make them realize that, but let's go to what I'm really
looking for is the lie. The lie because whatever Putin only ever
said this about the Russian Empire. He said, Anyone who
doesn't regret the passing of the Soviet Union has no heart.
Anyone who wants it restored, has no brains. That is in the
New York Times 20th, February 2000. So that second part, just
like very fine people, that second part is never mentioned.
It's always anyone who doesn't regret the passing of the Soviet
Union has no heart. So and that is the only thing he has ever
said about this. I'm sorry. In addition to that the demise of
the Soviet Union was the greatest geopolitical
catastrophe of the century. This is a preamble to that statement.
As for the Russian people, it became a genuine tragedy tend to
millions of our fellow citizens and countrymen found themselves
beyond the fringes of Russian territory. And then anyone who
doesn't regret the passing of the Soviet Union has no heart.
Anyone who wants it restored, has no brains. Now, let's go to
Anne Applebaum. She has all the credentials, she lives in the
milieu. And she wrote the literally wrote the book on the
Russian Empire,
Unknown: the likelihood of Vladimir Putin invading a NATO
country or even sending a missile into a NATO country
seems lower now that they've got most of their military in
Ukraine right now. But you are saying that that that message
hasn't gotten through? Why is that? Why does Vladimir Putin
not look at this and say, this is an abject failure for Russia.
So this was never about NATO. That was a lie that he told to
our security community and to convince us not to help Ukraine.
Adam Curry: Guess what, they were fooled. This was
Unknown: always about him. It was about his vision of a
reconstructed Soviet Union of a new Russian Empire. And it was
also always about his desire to consider to destroy the forces
of democracy, and liberalism and open society that he saw
developing in Ukraine, and which he perceived as a threat to him
personally. He's somebody who has a lot of nostalgia for the
Soviet Union for the for that period. He's somebody who sees
democratic language democratic activism, and of course, the
kind of democratic revolution they had in Ukraine as a threat
to him. So this has always been about crashing Ukraine and
crashing that movement. And he hasn't achieved that. He's
attached a lot of his prestige to that. There's a lot of doubt
about it around him. We know that the Russian business
community in the security community don't are not 100%
behind this war, but he personally believes that his
power is connected to winning it and so he has not yet been
convinced that he won't win. And there are there are back channel
conversations and we know he's not at that stage yet.
John C Dvorak: So we have cheese liar.
Adam Curry: Yes. A massive liar.
John C Dvorak: Yeah, back to the China thing. I have a clip.
Don't overlook this. These are the clips. McCrone is going to
China. Oh,
Adam Curry: yeah. He's the big piece of peacemaker, a
peacemaker McCrone, so, let's
John C Dvorak: go to McCrone, China peace in Ukraine
Unknown: French president Emmanuel Macron says he traveled
to China in just over a minute. Discuss the war in Ukraine why?
On Friday, China released a peace proposal. Beijing is
calling for an end to Western sanctions on Russia, and he's
urging Moscow and Keith to hold tours. Acropolis says it's
important for China to put pressure on Russia to end the
war and withdraw from Ukraine. President Alexander Lukashenko
has also announced he'll visit Beijing in the coming days. But
a rooster is one of Russia's closest allies. Last year Minsk
allowed the Kremlin to use its territory to launch attacks on
Ukraine. Let's take a close look at China's peace proposal now.
It follows talks between the top Chinese diplomat Wang Yi and
Russian President Vladimir Putin. Beijing is calling for an
end to Western sanctions on Russia, and urging Moscow and
Kyiv to hold talks. My proposal calls for the establishment of
humanitarian corridors for civilians, and steps to ensure
grain that can be safely exported from Ukraine. It also
warns against the use of nuclear weapons in the conflict, as well
as attacks on nuclear power plants.
Adam Curry: Oh, yes, of course.
John C Dvorak: That seems a lot different in the reporting a
China's out to get us.
Adam Curry: Well, we have to gaslight the American people
into being afraid of the
John C Dvorak: show. That's why I had to go to Al Jazeera
England to get that clip as part two coming up.
Unknown: But Andy mark is a senior research fellow at the
Center for China and globalization Think Tank. He
says peace in Ukraine is in the best interests of China and the
wider international community.
I think China as a major economy, one of the largest
economies in the world certainly benefits.
Adam Curry: Wow, this guy sounds like Janet Yellen. Is this a
financial guy? Like a banker?
John C Dvorak: Yeah, probably the same milieu
Adam Curry: Yeah, yeah. Oh,
Unknown: a major economy. One of the largest economies in the
world certainly benefits. From an end to hostilities unit. Of
course, this will improve global sentiment, economic prosperity
and put the world back on a path to economic prosperity has
benefits all countries, especially larger countries like
China, I think that's one. Certainly I think from a
reputation prestige perspective, playing a role in bringing this
conflict to a close by when no other major power has been able
to do so certainly, I think would burnish China's
reputation. But we also have to recognize that there's only so
much an honest broker can do and sometimes we both sides have to
fight to a certain amount of exhaustion before there can be a
negotiated settlement and whether we're at this point yet
or not, I think remains to be seen
John C Dvorak: that you mentioned Yeltsin, by the way or
Yellen Yeltsin Yeltsin. Chris Hedges of journalists is good.
The left wing journalist is very well regarded. You said Yeltsin.
Oh, really, Yellen. Yeah, idiot. Somebody sent me the clip. I
didn't, I forgot to put it on here. But maybe he's listening
to the show.
Adam Curry: I have. Here's a Secretary of State, Abe Lincoln,
on the Russia and China narrative. Oh, we're also
hearing from the intel community that China. Mind you. This is a
second clip, we've heard the intel community, the intel
community community, the intel community, the community keeps
telling us keeps telling us. So we're hearing from the Intel
Committee, who is the this is this is these are serious news
organizations. And they just throw it out there. Oh, we're
just hearing from the intel community. There's 15
organizations in the intel community. Why don't you just
say CIA spooks who are inside your organization? Oh, we're
also hearing from the intel community that
John C Dvorak: China and the intel community happens to be at
this desk. Right. Next right over here. Oh, we're also
Unknown: hearing from the intel community that China is
considering lethal aid to Russia in support of their efforts. How
concerned are you with that? And what sanctions are on the table
for preventing it? So we are concerned? And in fact, that's
one of the reasons that I made it public last week. What we've
seen from day one is, if you go back to before the invasion
started, just a couple of weeks before that. Vladimir Putin and
President Xi Jinping of China had a meeting and they said they
had a partnership with no limits. We were concerned from
day one, that that partnership might result in China providing
lethal military assistance to Mike for use in Ukraine. So
we've said from day one, don't do it. We have information
recently that they're now thinking about doing it. And so
we tried publicly, to as well as privately to warn them against
it. There is no point in adding fuel to the fire. China's trying
to have it both ways. They're trying to present themselves as
neutral and a party for peace, while at the same time aiding
and abetting Russia's war effort, what
sanctions are on the table, net them from providing this aid.
Well, they're At a multiplicity of possible, listen to get into
the details, but what we said to them greater details, you know,
meeting I had with our Senior Foreign Policy official in
Munich last week is that this would be a serious problem in
our relationship. So they're just
Adam Curry: setting it up and it's all for one thing.
John C Dvorak: We're the ones setting it up. Yes. And this is
Adam Curry: all for the military industrial complex who weave
right in through the CIA broadcasting systems and let you
know that you know, we really need we don't need more money.
John C Dvorak: We actually we need to sell more jets to chuck
No, no, no, no, no. Went up to Japan to
Adam Curry: hold on. You know, I got a clip. I got a clip.
Unknown: The production line at the Lockheed Martin plant in
Arkansas is gearing up to turn out one new rocket every 10
minutes.
Adam Curry: We can't kill enough people want every 30 minutes.
Unknown: It's part of the $30 million year 10
John C Dvorak: What was it? 30 or 10. I thought he said
Unknown: the production line at the Lockheed Martin plant in
Arkansas is gearing up to turn out one new rocket every 10
minutes.
Adam Curry: 10 minutes.
Unknown: I'm sorry, it's six an hour. It's part of the $30
billion in weapons the US has committed to Ukraine, but just a
fraction of the Pentagon staggering $858 billion defense
budget. This is darn close to being the biggest defense budget
that we have ever had. Since World War Two. The only time the
US spent more on defense was at the height of the wars in Iraq
and Afghanistan. We
Adam Curry: can do better boys.
Unknown: Oren Thompson of the Lexington Institute says nearly
a third of that is spent on weapons
that is the amount of money that outstrips the entire economy of
most European countries.
Yet the Pentagon is hard pressed Ukraine supplied with ammunition
for a couple of key
items the stockpile is getting low what is low mean? We're at a
level where the risk for other war plans becomes great
Adam Curry: what I love this statement so what is what we're
supposed to think we need new factory well we need it because
of China but I just love how he says well other war plans we got
we got war plans we got you want some more plans. Just get my
folder for some more war plan. Doug
Unknown: Powell is getting low. What is low mean? We're at a
level where the risk for other war plans becomes great.
Other war plans hired Marine colonel Mark Kassian of the
Center for Strategic and International Studies, says
Ukraine's use of artillery shells far outstrips the
Pentagon's capacity to make
that using about as much in a month as
we produced in the year, if the US can't keep Ukraine supplied
in its fight against a decrepit Russian military. What would
happen to American forces in a war against the number one
threat
was critically short of a couple of key munitions, particularly
long range, anti ship missiles
can see and recently directed a war game in which the US tried
to stop a Chinese invasion of Taiwan to the US. And these four
games actually run out of these long range anti ship missiles.
Yes, the US ran out of these missiles in the first few days
of the week, look
John C Dvorak: at Hold on a second. Let's stop and start
analyzing this right now. Are these missiles any good? Well,
they take out a ship or they're just shooting them left and
right. Are they are they artillery shells being fired by
the Ukrainians joke? Are they just firing them randomly?
Likely they used one. In one month, they used up the entire
supply that it took us a year to manufacture? Well, you know, one
month,
Adam Curry: I would say that they shot off a third and the
other shoulder to Africa. Yes, I would say it's all in Africa.
Now. That's our third froze
John C Dvorak: that. That's a extrapolation of some logic. But
if but if you look at his straight up, and they tell you
that the Ukrainians have used these big candy shells, you
can't aim them. They either can't aim or they what they're
doing where they're no good and shooting him straight up. Who
knows what they're up to?
Adam Curry: It's no good. But we're drawing the line. We're
drawing the line now. And I think that's because, well,
here's the clip and then we'll dissect it. This is now we're at
ABC David Muir, who had an interview with the President. I
have a lot of clips, but I'll just cherry pick here.
Unknown: We know that Germans are now sending tanks in after
the US that it would send Abrams tanks as well. But we know
President Solinsky continues to say what he really needs are f6
teams. Will you send up 60s?
Look, look, we're saying what our seasoned military thinks you
need to know. He needs tanks in either Tillery he needs air
defense, including another Highmore. There's things he
needs now that we're sending him to put him in a position to be
able to make games this spring and this summer going into the
fall. I don't think he needs F 16. Now he doesn't need f 60s
Now,
is that a never?
Look, first of all, look, the idea that we know exactly what's
going to be needed to year to three now, but there is no basis
upon which there is a rationale according our military now to
provide F 60s, but you're not ruling it out. I am early enough
for now.
Adam Curry: For now, this is really interesting.
John C Dvorak: So first ways mu are pushing this?
Adam Curry: Well. Listen, I have the same question being pushed
by Stephanie rule over on MSNBC,
Unknown: President Zelensky has been pressing the US for f 16
fighter jets. And here's what President Biden said tonight,
when he was asked about that
we're sending him What are season military seasons now
Adam Curry: season military, the guy with the face mask,
Unknown: he needs to he needs to every he needs, including
another Highmore, there's things he needs now that we're sending
him to put them in a position to be able to make gains in the
spring, and this summer, going into the fall, you don't think
he needs F 16. Now he doesn't need f 60s. Now there is no
basis upon which there is a rationale, according to our
military now, to provide F 60s, but you're not ruling it out. I
am really enough for now.
Adam Curry: So that's MSNBC, replaying ABCs interview to
drive home the point no jets for Ukraine, and I can only think
that means we need to send them to Taiwan, or to Malaysia or
somewhere nearby
John C Dvorak: or want to send I don't think that's possible. But
I think that that whole thing's me, it'd be nice to send him
there. Because it's good sales. But this whole thing seems to be
orchestrated by General Dynamics. Well, that was their
goal was to sell the F 16. And they wanted they I understood
they're gonna stop making them. And
Adam Curry: also, they don't have enough. The first thought
that came to my mind was, no one wants to put more money into the
F 35. They don't have anything really ready to fund yet. Like,
it's like, we're not ready for that conversation. Because we'll
be you know, you send over the if we send over the F 16. What
do we have left?
John C Dvorak: We have stuff we won't send or like the F 22?
Would Yeah, yeah. This didn't like given that to anybody.
Because if your first thing it will happen to the F 22 is
somehow the Russians will end up with it.
Adam Curry: The whole thing. This is, I mean, we're being gas
lit about China being I mean, really big time, and it's just
report after report after report. Oh, China, oh, China.
It's all moving away from Trump. It's all moving away from
Ukraine. It's all moving towards China. So now, you know, it's
the it's the proxy war, the proxy conflict we have?
John C Dvorak: Well China has to do is just shut off all exports
to us, but they'd be screwed up that they won't do that because
it's for themselves. But I do have a bunch of clips. But
Adam Curry: one more things it before you. First, I
John C Dvorak: want to get this out of the way, which is your
prediction. Excuse me, that this war is going to be over soon.
Oh, um, yeah, I'm not personally I don't see it. But I will say
you have a confirming clip that I have here. And this is on the
Brooks and cape.
Adam Curry: That Brooks and K part that that can never be
taken as evidence or proof of anything. I have to
John C Dvorak: I totally disagree. This is this is Brooks
predicting his books predicting when the war will end. Oh,
Adam Curry: this is gonna are there sound effects in this 13
second bite, no doubt
Unknown: autocracy. And we could see that after we see what
happens with the spring offensive.
Do you see this stretching another year? David? For sure.
Yeah, but I see us holding still and hold the West holding firm.
Adam Curry: Go for another year? For sure. He
John C Dvorak: says he said for sure. I mean, it's over. Yeah, I
definitely say that's confirmation for you. All right,
this guy has never been right about anything. I have
Adam Curry: three clips to wind that up. And then then we'll be
done with the war is over. Because we had a big un get
together. Which right away the Russians disturbed the whole the
whole peaceful process. Security Council is called to order from
that. So we had the Ukrainian ambassador to the UN, and he
wanted a moment of silence for all the dead Ukrainians
Unknown: in the Security Council chamber. Ukraine's Foreign
Minister wanted to remember the cost of the past year, the cost
of Russia's invasion.
I kindly ask everyone to observe a minute of silence in memory of
the victims of the aggression,
that Russia is representative here interrupted the silence. He
had another idea perished all and lives.
And that is why we're rising to honor the memory of them all.
Adam Curry: So he said, No, no, we are rising for all dead, not
just your dead.
Unknown: The Russian version of history is that Ukraine started
all this, the Russian version of history. I love it. The minute
silence resumed, he had successfully sees Wow, what is
with these people? They were in this chamber A year ago,
exactly. When Vladimir Putin in Moscow chose to announce his
move on Ukraine. It represented a total rejection of this
chamber, this institution and the global order it tries to
preserve and this anniversary was a chance to count the cost.
Adam Curry: Right. So then they you know, they had a resolution
which says, Russia, bad Ukraine good. And everyone signed off on
a China didn't sign off on it. In Berlin, they, they drove a
Russian tank, that one that had been burned out, and placed it
in front of the Russian Embassy in Berlin as like, hey, you
know, this is what we're doing to you. And what happened was
quite the opposite to what was expected. People started laying
flowers on top of this Russian tank that had burned out, so
people are kind of done with this. In fact, before before I
play my, my, my coup de gras, the here's the, what's his face,
Hakeem Jeffries. Now we only really know Hakeem Jeffries.
Because he almost well, they he could have been speaker of the
house.
John C Dvorak: No, he didn't almost at all. Well, didn't
almost he couldn't have been if it was a serious thing did last.
Now the last thing the Democrats are going to really do if
they're actually going to choose a true one, if they had the
chance to would not be this guy's as he's a figurehead.
Adam Curry: So he's from Brooklyn, he's in Brooklyn. He's
doing a town hall on what looks like a throne. I don't know
where he was. And this guy, Jose Vega, who seems like he may be
an Instagramer, or whatever, I don't know him, and the audio
switches and switches back. So it'll sound a little boomy for a
moment. But he really railed on this guy about what's going on,
in particular, in regards to the lack of questions or even
willingness to understand the article that Seymour Hersh wrote
about the United States blowing up the Nord Stream pipelines.
Unknown: The UN Security Council had a meeting yesterday, and Ray
McGovern spoke to it. He is a former member of the CIA. And he
testified in support of Seymour Hersh, his article on the United
States bombing Nord Stream pipeline. If it is proven that
the United States bombed the Nord Stream two pipeline, as has
been asserted by Seymour Hersh and his article, will you call
for the United States to acknowledge and admit that that
was an act of war against Germany and Russia. And I'm
asking this because this may be the only way to prevent the rest
of us from being killed in a thermonuclear war.
Adam Curry: And this is the gaslighting that's going on,
we're gonna fry and I don't
Unknown: want to be fried. Don't you think the media should be
reporting on whether or not this is true? And don't you think you
should be inquiring into whether or not this is true,
Adam Curry: valid question from the constituent, but are we
going to answer?
Unknown: Well, thank you for the question. One, I've got no
information to suggest that the United States was involved in
bombing the Nord Stream pipeline,
because he wouldn't, you wouldn't you would have been you
weren't briefed on it. Or you got your chance to switch? Good
information because he explicitly says you weren't
fires.
So here's what I'll say about I think the President minds
leadership generally, as it relates to the Ukraine and
Russia, we
committed an act of war. What are you doing to respond to
that? We have the whole Biden accountable. Listen, you from
Brooklyn, right? You know when to call bullshit when you see
this is bullshit right now. And I see why happening right now.
That does not silence me. So you can hit me right now. I want you
to say something about the bombings because we're all going
to die from a nuclear war right now. At least put in inquire
into whether or not it's true. This war in Ukraine is gonna
leave us all dead. So what are you going to do because you need
to inquire I'm a New Yorker.
is what I'll say. We're gonna continue to stand with the
Ukrainian or against police.
We need courts. Get
your hands on beats we need.
Adam Curry: Well, you know how that ends? Of course.
John C Dvorak: Yeah, keeps going. Yeah, that guy gets
thrown and probably on his ass. And
Adam Curry: the worst part is you hear people applauding for
Hakeem Jeffries to continue so brave to continue with this
heckler. So brave. So we have people who realize what's going
on, but they've been gaslighted and thinking we're all gonna
fry. And in fact, yeah, well, that actually makes it more
interesting. A lot of people think that. So here, here's the
salvation. They are actually putting it together. This is the
Ukraine's prosecutor. He's the acting something or other. This
is from Deutsche Avella. And that'll be the last one we play.
This is about the I have a more clear, I don't know, the last
one I'll play. This is on the war ending. I'm just saying this
is where the war ends. And it ends with this new this new at
court, this new entity, and the crime, the crime is the act of
aggression center
Unknown: to investigate crimes of aggression against Ukraine by
Russia was is to be set up soon in The Hague in the Netherlands.
You mentioned earlier, the special tribunal that you want
to set up to try Russia for the crime of aggression. The ICC has
no jurisdiction about this crime. We know many Western
countries are rather reluctant. Do you think that this idea of a
special tribunal is gaining traction? And is it for you
because you want to see Vladimir Putin sit in front of a court?
First of all, I would like to mention that for any Ukrainian,
it doesn't matter in front of which court will see it whatever
Putin, whether it will be the International Criminal Court in
The Hague, or whether it will be special Tribunal for the crime
of arrest, you know, which I believe would be set up and
would be organized by the countries who who know that act
of aggression was committed, who know that there is a gap in
international law
Adam Curry: gap in international law, which,
Unknown: which does not allow by existing tools to punish the
aggressor for the act of aggression, and which know that
only establishing of special court or special tribunal bash
we could make Putin and his close surrounding liable,
responsible for committing crime of aggression because if crime
of aggression would not have been committed, there would be
no 68,000 war crimes committed then they are after
Adam Curry: you see, it's the act of aggression that resulted
in the war crime. So it is the OG first principle violation
Unknown: six months ago, we have no support, we have just
discussion. Now we have 20 countries who are ready to go
ahead. Now we are in in course of having the resolution of
General Assembly of United Nation which is prepared for the
next months in order to to support the idea of full or
comprehensive accountability of the of Russian aggressor,
including all war crimes committed by them, including
register of damage and compensation, compensation,
taking the money and including all other elements which not
only punish the aggressor by in all dimensions, but also should
deter any future aggressor, in any part of the globe from
committing aggression.
Adam Curry: Then you'll just be able to say to your parents,
you're committing a crime of aggression against me mom.
John C Dvorak: Well, that brings up this interesting little
tidbit says they're gonna do a war crime stuff. And this came
out from I think, a fairly neutral Al Jazeera who's doesn't
really have a dog in the Ukraine, Ukraine war crimes.
Unknown: Human Rights Watch has accused Russia of carrying out
indiscriminate attacks against civilians, and Ukrainian forces
of violating laws of war. It's gathered testimony about alleged
mistreatment and summary executions of prisoners of war,
as well as the use of banned weapons. Human Rights Watch says
Ukrainian forces used Euro gun cluster munition rockets in an
attack on Hasakah in Harkey region. From May to early
September, Ukrainian forces repeatedly attacked the city of
vizeum and surrounding areas while they were under Russian
control with cluster munitions,
Adam Curry: man we got to cut Algis ear off of our cable
network war crimes by by Ukraine of course cluster phosphates,
cluster bombs with phosphate we've all seen the video. Sure.
Now
John C Dvorak: I have two clips of Biden in Poland.
Adam Curry: I have a couple of those All right.
John C Dvorak: First of all, I want this these buoys jacked by
the way
Adam Curry: yeah, they put him on some extra
John C Dvorak: ease Yellin doses got hairy legs, he's got that
Yellin thing going on. So he so he but but the play These
strange songs I have one at the beginning and one at the end and
I don't know what why don't they play Hail to the Chief for a
Sousa band March something American or not hip hop. And I
here's the first part this is Biden Poland speech jacked one.
And this will be Biden being introduced to Polish audience
with the with the music.
Unknown: Ladies and gentlemen, please welcome the 46th
President of the United States of America, Joe Biden.
Adam Curry: Okay, so stop, I stopped this is wow. So for some
reason, someone in the Obama camp thought that it would
translate to do what you can do with President Obama. You can do
that with President Obama. You can do that with Joe Biden. No
one No one takes his his musical chops seriously, and even just
seeing how Trump would do it. This is crazy. Freedom, freedom.
Oh, yeah, it was so I can just see the meeting. It was so
impactful when everyone's singing along freedom, freedom
and has a president. He's gonna set them free.
John C Dvorak: I guess it's probably the same song they
played at the end, but they played it from a different
starting point, but but I have the medley of course, my famous
Biden medley of his commentary in his speech, and at the end of
this medley. It will play the beginning of the second version
of this this Outro Song which I just thought was ludicrous. But
here we go with Biden Poland medley
Adam Curry: Yeah, and if anyone can Shazam that in the troll
room, I'd love to know what it is. Hello. Hello, Cleveland.
Unknown: The questions we face for as simple as they were
profound. What do we respond? Or where do we look the other way?
Would we be strong? Where do we weak would be you we would we
the all our allies, democracy was too strong. Instead of an
easy victory he perceived and predicted food left with burnout
tanks and rushes forces and delay induced appetites of the
autoCrat cannot be appeased. They must be opposed. On a fresh
only understand one word. No, no, no. It's abhorrent. It's
abhorrent, but extraordinarily, as well as been the response of
the Ukrainian people and the world. One year after the bombs
began to fall Russian tanks rolling Ukraine, Ukraine still
independent and free and all those who didn't do defend
freedom around the world. Thank you. Thank you. Thank you for
what you're doing.
Adam Curry: Wow, it's like a real Americana song to anyone.
John C Dvorak: I just found it to be what are they doing? I
mean, bide managed to get through the speech without too
many flubs, except, there's only one word to understand. No, no,
no, that's three words. I hate to mention it.
Adam Curry: Is this Coldplay? Eiffel. Oh, that's so wrong.
Really? Hold on a sec. Is that is that let's see if it's called
play that would trip. Yeah, there it is. That's it. Yeah.
That's so wrong. Coldplay is king. Don't you know that?
Unknown: Coldplay?
Adam Curry: No, it's just it's like it's when it's the gay we
don't listen to Coldplay anymore. It's good. said Yeah,
not really gay, but it's just like wrong. It's lame. Lame.
It's lame. It's lame. It's lame. A Sky Full of Stars. Oh,
brother.
John C Dvorak: I that's what I'm shaking my head. Watch this. I
don't know this song. But cotton
Adam Curry: ball. I don't either, but Cold Play. Are you
kidding me?
John C Dvorak: This is this is your your Coldplay? Women in the
White House. This is the
Adam Curry: the White House You're right. Exactly. What
woman and I hate to say it that way. But what woman came up with
Coldplay? That's not a masculine song of freedom.
John C Dvorak: Jill Biden.
Adam Curry: I think you're right. goes home.
John C Dvorak: He's gonna go he's gonna skip it off to one of
the Obama aides that would just don't
Adam Curry: know. This is totally a Joe Biden. i What's
the guy's name from Coldplay?
John C Dvorak: I don't know. Yeah. Somebody the chairwoman
Oh, she'll bite who wore that crazy outrageous.
Adam Curry: Christmas. I love Chris. Chris Martin. I want
let's play his song. Maybe we can get a meet and greet.
John C Dvorak: Yep, challenge. Totally. Jill Biden.
Adam Curry: Yep. fan girl. fangirling. Over Coldplay told
you okay. I mean that in a certain way.
John C Dvorak: Yeah, we know who we are plenty of gay listeners.
Yeah. They invest. They know what we're talking about. I
Adam Curry: do. The first ones. I got Chris Martin. Yeah, pretty
good. Yeah, man. Oh, man. That is? I mean, that's. That's bad.
You don't want to be represented by Coldplay?
John C Dvorak: Well, I didn't see any commentary in the media
about any of it.
Adam Curry: Now. I have a couple other Biden clips because David
Muir did an interview with him. You have any? They're short, if
you have any desire to hear some China? No, that's too long.
That's not short. She spy balloon?
John C Dvorak: Is there any way this? Is there any or he says
look.
Adam Curry: Oh, and let me just grab any clip that
Unknown: Vladimir Putin told the Russian people this week that
China's President Xi is coming to Russia, likely as early as
this spring. I know the State Department and the Pentagon now
have both warned China not to offer lethal military assistance
to Russia in this war with Ukraine saying the US is
concerned that China is considering providing lethal
support to Russia. Would that cross a line for you? Book?
John C Dvorak: A needle drop.
Unknown: I had a very frank conversation with President Xi,
this past summer on this issue. And I pointed out to him my
conversation went like this. I said, Mr. President, this is not
a threat. It's just an assertion a statement. What I think the
reality is, you saw what happened when the rest of the
world Europe, in particular, saw the brutality of what Putin was
doing in Ukraine, Ukraine, us from Russia. And I said without
any government product 600 American corporations left, left
Russia and McDonald's to Exxon. Across the board, not really.
And I said if you are engaged in the same kind of brutality by
supporting the brutality is going on. I said you may face
the same consequence. I don't anticipate. We haven't seen it
yet. But I don't anticipate a major initiative on the part of
China providing weaponry to to to Russia.
John C Dvorak: What does he mention in the in this whole
interview that China is trying to be a peace broker?
Adam Curry: No, of course not. No, no, no, no, no, I can't take
something out. We can't have that. No, that was actually I,
by
John C Dvorak: the way, I'm starting to decode Biden's
tells, okay, he has, because he did it when he's really. When he
first got to Poland. He was being greeted at this big round
table. And I have some clips. I don't have money for today, but
I have them. And he's telling these stupid stories about his
dad and dignity and all the rest of it. And he has two things he
does. He says this is a true story. This is God's honest
truth. Yeah. lie. Lie. Oh, that is
Adam Curry: true. Oh, that it's that it's a true story. the
God's honest truth
John C Dvorak: or because that contrast? was no joke. I'm not
kidding. No joke, right? No joke. I'm not kidding. No joke,
because he'll say something that's not even remotely funny.
That's a blatant lie. Yeah. And then he'll throw in no joke.
Yeah.
Adam Curry: Right. But when he when he tells those stories
about his dad as a dad in a desert Joey sweetheart, I know.
I'd never believe that. Did his dad's a joey sweethearts and
him? I don't believe it. I don't know. Doesn't really matter. The
guy's toast. It's, I'm astounded at how good he's doing. He's
doing quite well, actually.
John C Dvorak: Well, when you hear him in at this big round
table thing is and no joke. He's just just a mess. And then they
get him in front of his audience and they were they've jacked and
would like to know what it is. But they got him jacked on some
speed balls. And he's screaming he's talks louder.
Adam Curry: Yeah, I guess pretty passionate. That's what we call
that a diplomatic speak.
John C Dvorak: And he's got the grouchy his look on his face and
his Polish speech. He's got to look at that guy. Always a
puppeteer. ventriloquist. His wife
Adam Curry: is bringing Chris Martin in on the soundtrack. Of
course, he's grumpy.
John C Dvorak: This downturn, Molly's just grumpy looking, I
mean, he's really grumpy looking. And he's yelling, he's
grumpy and yelling.
Adam Curry: So So from foreign policy to domestic policy. Let's
talk about East Palestine, shall we?
Unknown: I want to ask you about a couple of issues here at home.
It's been three weeks now since the toxic train derailment in
East Palestine, Ohio, that I like
Adam Curry: this alliteration. Everyone's using the toxic train
derailment. I kind of liked that. I liked that they've
chosen that
Unknown: now since the toxic train derailment in East
palestino. Ohio. As you know, the mayor says he saw you in
Ukraine. And he says it tells you he doesn't care about us.
They're asking Is the President coming to Ohio? Do you have any
plan to travel to Ohio? And have you talked with the mayor yet?
Adam Curry: Now? This one should be a pretty simple one. Yeah, of
course, I'm gonna come course we just have to work out the
logistics. And the mayor. Yeah, of course. I've talked to the
mayor.
Unknown: Let's put this in perspective. Within two hours of
that derailment, the EPA was in there within two hours to how
every major agency in the United States government that had
anything to do with rail and or cleanup, was there and is there
no, in addition to that I've spoken at length to the
Congress, persons, governors, the senators and governors
states of Pennsylvania and, and in Ohio, Ohio, Ohio. Yes. And
I've made it clear to them anything they need is available,
we'll make it available to whatever happens is the
responsibility of the railroad company who's made by the way
10s of billions of dollars in profits 1000s of billions of
dollars of profits.
Adam Curry: What an ass. By the way, 10s it just let's shift
that away from us. 10s of billions of dollars in profits,
those horrible railroad people who are responsible.
Unknown: So do you plan to travel there? And have you
talked with the mayor?
I can't recall that. I don't think I've talked to them. Or
I've talked to everyone else. Multiple times. Yeah. Talked
about the senators, both both governors I've talked to talk
to, and we made it clear that everything is available.
Adam Curry: Yeah. Just talk to anybody. Yeah. Not a nobody. Not
a good look. Not a good luck.
Unknown: Shoo, shoo, shoo, shoo, shoo.
John C Dvorak: You know what I think? If we had honest
government, you'd have the guy. Say, I've, I'm remiss for not
contacting these people. I'm very familiar with what happened
there. But to be honest about it. I'm very familiar with the
potential damaging effects of even breathing vinyl chloride,
it causes an irreparable and curable liver cancer that will
kill you in five days. And I have no plans of going anywhere
near that place.
Adam Curry: Yes, this is why you're a podcaster. This is
you're not gonna presidential adviser on his answers.
John C Dvorak: No, that's what I'd say. Yeah,
Adam Curry: I hear you. It was interesting to see a Wall Street
Journal now. Just to wrap up China. Now saying, Yep, looks
like it was a lab leak. That's where they're at. Did you Did
you see what Scott Adams did?
John C Dvorak: Ah, well, I believe you brought it up. Yes.
I'm very familiar with what Scott Adams did.
Adam Curry: I want to give him props. He pulled a Kanye. I kind
of appreciate that. I kind of appreciate it. And he literally
threw Dilbert under the bus for him to make yourself under the
bus then himself. Well, he is Dilbert. threw himself under the
bus has no qualms about being canceled.
John C Dvorak: Calls. No.
Adam Curry: Yeah. Well, I fear for him because once he finds
out that it's not that fun when YouTube kicks you off, because
then you really you're nobody, you know, you can't be Scott
Adams just on rumble.
John C Dvorak: He can't be. Can't be anybody on row.
Exactly.
Adam Curry: You can't be Scott Adams just just on locals. And
and by his own admission, he loves attention. But I thought
that was
John C Dvorak: funny. Wait, before you continue. I want to
hear this. But he I think believes that locals is really
the future.
Adam Curry: Yeah, so I think he has an investment in it as well.
John C Dvorak: Yeah. And so I think what you're saying is not
it's not fathomable bowl to him, know that you can get kicked off
YouTube. I don't think he understands it.
Adam Curry: Well. of it. He's making the same mistake Kanye
made Kanye thought that Oh, no, I'll just I'll buy. What was it?
The other social media network? The canvas Oh,
John C Dvorak: Oh yes, we forgot already. We
Adam Curry: don't even know what it's called anymore. The one
that was taken down, come on trolls Give it to me. So it's
this parlor? No. Oh, yeah, I'll just buy parlor. Oh, no, just be
on locals. It's the future. No, you won't parlay. Now what he
did purposefully. And I think he pushed it very, very, very if
not over the edge. You know, it was to me immediately. I'm like,
oh, you know, here's the most interesting part of this is this
clip that was going around of him saying, Oh, if you're a
white person, you should walk away from black people. Without
the context of the whole Clippy set it up that way. What was
most interesting is people saying this has to be a deep
fake. That was that was the telling moment to me. Wow.
People won't even believe something they can see and hear.
And, you know, Scott Adams is quite unique in his speech
pattern. There are a lot of people who thought it was a deep
fake and not true.
John C Dvorak: And I missed that doll.
Adam Curry: But the bottom line is he said, No, we're we're
effectively committing racism against white people. That's
pretty much the bottom line of what he was saying. He's He's
waffling around it a bit. But he says no one disagrees with me
on, on what on the facts of what I was saying. And he did a, he
says the only interview he'll do was with Hotep Hotep. Jesus when
I watched the whole thing, and it was really good that he said,
I did this exactly, for this reason, and I was gonna get rid
of Dilbert. Anyway, he's written out. He probably has as much
money as Kanye, probably up there in the $400 million range.
And he's just so he this is what he this is the postie. He may or
may not die on I don't think it's over for him. Honestly, I
don't think I think he has a there's a possibility that it
won't happen that way. Which would really show white
supremacy. Because he did the same thing as Kanye. But Kanye
is gone. And Scott Adams may just make it out. We'll see. But
anyway, props. I gotta say, I'm not a huge fan, because he's
full of shit. I don't like how he does stuff. In my personal
opinion, it just I don't like the messing with your audience
trying to, you know, play slippery Dickey on everything.
Well, here's what I said. Here's what I meant. But I got respect
for this.
John C Dvorak: It was definitely a moment that it'll be
interesting to follow. Yeah. Yeah, for sure. But the white or
black, it's a third rail.
Adam Curry: Oh, he totally, totally touch the third rail.
But anyone who does that you get my respect, just for doing it.
But don't think that it's going to be fun.
John C Dvorak: That's for sure.
Adam Curry: It'd be fun. Did you catch the National Day of hate?
Which I didn't get the memo?
John C Dvorak: Oh, that was a hoax
Adam Curry: was this hoax? Because here's how the news
reported I was a hoax. Really? Yeah. Well, how do you know it's
a hoax?
John C Dvorak: Well, I just looked at the aftermath and
everyone who do started getting associated with it. So they got
nothing to do with it. It was just a slam did Republicans.
Adam Curry: Well, here's what we got results. We'll do New
Hampshire first.
Unknown: Well, this weekend, the New Hampshire Department of
Safety is urging people in the Granite State to be vigilant
following online messaging from extremist groups. They say those
groups referenced today is being quote, National Day of hate
through the department. Though the department did not find any
credible threats or scheduled events. They advise people to be
more aware of this weekend. Anyone who witnesses suspicious
activity should immediately call
Adam Curry: 911. So that's just little old New Hampshire. You
know, just like that, just oh, well, you know, there's some
threats out there. That's what's going on in New York. Nah, they
took it to where it needed to go.
Unknown: Police departments in our area are ramping up patrols
this weekend, most specifically at synagogues on the Sabbath
response to anti semitic groups calling for a nationwide day of
hate and protests targeting Jewish communities as far as Jen
Adam Curry: Max. Well, how come they didn't? We didn't get that
message in New Hampshire. Laurie from Bloomfield
Unknown: here at Temple Nair to meet in Bloomfield Shabbat
services tonight, and tomorrow morning, we'll go on as planned.
A neo Nazi group calling for a day of hate Saturday won't deter
Rabbi Mark caps for noting the one year anniversary of the
Russian invasion of Ukraine.
The focus is going to stay on Ukraine tonight. Because, of
course, people need our attention, and we shouldn't let
terrorism take that away
Adam Curry: and turn it into a plus for Ukraine. Well done,
Rabbi.
John C Dvorak: We didn't even get any of these stories out
here. We already talked about snow.
Adam Curry: It's just as bad as hate. It's true.
John C Dvorak: There was a anniversary. I guess it was the
Same story that should have been talked about. So the National
Day of hate is the Malcolm X reopening of the
Adam Curry: Oh of the murder investigation. Yeah.
John C Dvorak: Here's a couple of clips. Malcolm X reopened
Unknown: this week marked the anniversary of the assassination
of Malcolm X since that day 58 years ago, there have been many
difficult and painful questions about who may have been involved
in his murder and what led to it. This week, Malcolm X's
family took new action, announcing their intent to sue
several federal and local government agencies for
allegedly concealing evidence about what happened. We want
justice served for alpha, Malcolm X, his daughter, Ellie
jasa Shibas, still searching for answers decades after his
assassination. At a press conference this week Shibas
surrounded by family and civil rights attorney Ben Crump
announced plans to file a $100 million wrongful death lawsuit
against the NYPD, the CIA, FBI and other government agencies.
They allege a conspiracy in connection with Malcolm X's
murder, and a subsequent cover up of evidence on February
21 1965, Malcolm X was killed in a hail of bullets, just as he
was about to give a speech in the Audubon Ballroom in Harlem
as his pregnant wife and children ducked for safety. He
was 39 years old.
Adam Curry: Yeah, that's a rather interesting timing to do
this now.
John C Dvorak: Yeah, and it will place part two and I have some
thoughts.
Unknown: Three men were arrested and convicted of the crime in
November 2021. After decades of doubts surrounding the case, and
following the release of the Netflix documentary Who Killed
Malcolm X, the Manhattan district attorney reopened the
case. Two men who were convicted of murdering Malcolm X in 1966.
were exonerated after serving decades in prison. And the
district attorney admitted that the FBI and NYPD at the time
withheld evidence,
the New York Police Department, the FBI, the district attorney
of New York, had factual evidence, exculpatory evidence
that they fraudulently concealed from the men who were wrongfully
convicted.
Yeah, yeah,
John C Dvorak: this is interesting, because this was
after the CIA allegedly killed JFK in a coup d'etat. In 1963,
they went on a killing spree. And I sent you a thing for the
show notes, which was the list of the all the people that
mysteriously died after the Kennedy assassination. Great
Adam Curry: list. In fact, if you print it out, there will be
floor to ceiling if you did a normal font type. It would be
it's long killed a lot of people vape.
John C Dvorak: And the thing about it is and then they went
on to kill Martin Luther King JFK, and in a few people in
between Hamza, but they were killing left and right. But it
was interesting, a lot of their own people got caught up and
mysteriously died themselves, including Wolsey have you as
always considered counting?
Adam Curry: Did you count all the names on this? No, I
John C Dvorak: was gonna count and I saw there's another list
as the secondary list. But what I
Adam Curry: like most about this is the cause of death, fall at
home, shooting accidents, shooting acts hunting accident,
John C Dvorak: and a lot of people shot in the head. And I
want to ask you or anybody else out there, how many people do
you personally know? Who were shot in the head and live? I
don't know anybody who was that? I know, personally, who was shot
in the head, and I'm pretty old. You're not as old as me, but
you've been around long enough.
Adam Curry: I do not know of a single person who was shot in
the head.
John C Dvorak: I don't know if there's two of us combined over
100 years of experience. We don't know. Not a single person.
But if you look at this list, yes. A lot of head shot and a
head shot in the head. It's unbelievable. I like the just
I'd like
Adam Curry: to died well while jogging that I'm gonna
John C Dvorak: I want us to pricker
Unknown: Yeah. While jogging,
John C Dvorak: so they so they were on a on a murder spree to
clean things up, and they did and it
Adam Curry: almost not worth it's almost not worth it. The
amount of people they had to kill for this to keep it quiet.
You know, they didn't keep recording. But you know what
this tells me this tells me that considering that this came from
a Netflix special, which of course always comes from a
podcast, we need to start a true crime. This is our exit
strategy. True Crime podcast who killed Hillary will be in the
future in the future of who killed Hillary and we'll build
this whole thing. of how she was killed.
John C Dvorak: Gonna be very dramatic when she dies at 93
which is what it looks like she's gonna happen.
Adam Curry: It doesn't matter we can put people in that frame of
mind it will be and then we can sell the Netflix rights when
when she's gone
John C Dvorak: to Brunetti
Adam Curry: says blockbuster written all over it and we can
get big parts be the dynamite
John C Dvorak: so so that kill this is worth people looking at
because that's not the Clinton kill this are the no no. This is
the real deal kill list and it killed a lot of famous people,
including a lot of their own agents.
Adam Curry: Yeah, that's not good. I mean, I mean, yeah,
there really was an up until, like, 96 even
John C Dvorak: know when you're the 70s
Adam Curry: None No. October 96. Lawrence Brantley who sold Jack
Ruby the gun that killed Oswald.
John C Dvorak: No, it goes good. There's another secondary list
that follows it.
Adam Curry: Well, that's what I'm talking about. What am I
missing here?
John C Dvorak: Oh, no, there's there's dead on there that are
after 9996 or 99. I'm sorry. I was thinking you said 690.
Certainly. Let's Yeah, it continued for a while. Loose
Ends lots of loose. Why take a chance.
Adam Curry: Now, to be fair, there's natural causes on this
too. Yes, but not that many. Well, they didn't kill Rose
Kennedy, do you think? No, no. No, she was old.
John C Dvorak: There was a there are a lot like that too. I
agree. And there's even like one or two that shouldn't even be
Adam Curry: chatty doesn't matter. We're gonna put a lot of
people on our list for Hillary Clinton to just a lot of them
just and we'll just throw like some podcasters on there. Oh,
yeah. You know, like Alex Jones No, no, he won't be dead. We
need we need some some dead guys
John C Dvorak: know you can say anything you want about the
dead. That's you know, a lot of people don't know about libel
law.
Adam Curry: Oh, if you're dead then you can label them Yeah.
Oh, really? Yeah, well, but how about defamation of character
you can't
John C Dvorak: a problem it here's the only problem you can
run into it I believe in a legal sense of whether you win Rush
Limbaugh Rush Limbaugh he'll be a suspect you could probably say
rush limbaugh was you could say anything you want about it. But
if there's an estate of vol involved at that sells merch
that that has the guy's an image or something like that merch and
you hurt their business, then you can get in trouble you then
you can get in trouble. But if there's no merch involved,
you're good to
Adam Curry: go. I wonder if who has the rights? And if they said
do they sell? I mean, I see lots of Malcolm X merch.
John C Dvorak: I think that's all public domain. Oh, maybe the
family has the race to the I would think
Adam Curry: you would think another tip here. Another tip
from your no agenda show. You can slander dead people. I like
it. I like it. We can have a whole whole I've just invented a
whole nother podcast, shaming slandering the dead during the
dead.
John C Dvorak: Deadwood I think a lot of people would listen
Adam Curry: to that for sure. slandering the dead, alright,
you've got all this January 6 stuff. I'm dying to hear it
because just so people understand when John and I do
the show twice a week. We don't have well we have 1000s of
producers. But we don't have line producers and people giving
us scripts and stuff. Now we do our own work we do our own
clips. Of course. Sometimes we receive clips from people we
have clip custodian be the first to say and but we never listen
to each other's clips. I don't even know what they are thrown
into a binder in alphabetical order. Sometimes the
misspellings even hard to find what what clip it is but when I
see Jan six footage PBS and I see a series you have my
attention.
John C Dvorak: So everybody on the left is hopping arms up in
arms about the fact that Tucker Carlson has got the first shot
at the 42,000 hours of January 6 footage. Yeah. Yes. And PBS is
no exception. They're very left nowadays a much more so than
ever before. And they have this little jarred dance the Lisa de
jour dance girl to do this, this kind of rundown and she's just
lopsided when it comes to being a lefty. Her face is lopsided.
Have you ever noticed that they have. She does such a good job
on this on the Friday show that they gave her the Saturday show
for a day to get oh So let's listen to the outrage January
six foot is just the intro.
Unknown: Some Republicans are once again re litigating what
happened at the US Capitol on January 6, relating to House
Speaker Kevin McCarthy sharing key video footage of the Capitol
attack with a Star Fox personality. Lisa deja Dan
brings us up to speed about how it happened. And what Tucker
Carlson hopes to find in the footage.
Adam Curry: It makes so much sense now, that out of the
Dominion discovery from the dominion lawsuit, which quite
plainly also stated that their own employees of demand thought
their software was crap, the machines were hackable results
could easily be changed. Instead, what came out of that
was this long narrative that was just hammered by competing news
networks, talking about how the fox people, they didn't ah,
they, they didn't believe anything, what Trump was saying.
And even Tucker Carlson like, oh, there was they were they
were publicly they were all Ford, but privately they
weren't. And so now somehow, there's a lie. We of course,
it's a lie. But now that they're turning this around, and making
it look like Tucker Carlson is going to even though he doesn't
believe it, he's going to make a case for Trump. Is that the Is
that what that?
John C Dvorak: That that angles in there? She does bring up the
insincerity. hoax around all these guys in this report of
hers, but you can tell it's very slanted and shamefully so I'd
say but here we go. Let's go with this. Listen to this to
January 6 footage to
Unknown: four months he asked for access.
You can't know whether the capitals surveillance cameras,
pan tilt or zoom.
And now Tucker Carlson has it. This week Republican Speaker
Kevin McCarthy granted the Fox News host access to 44,000 hours
of security footage from Capitol grounds on January 6, Carlson
controls a primetime hour on the most watched cable network
on the basis of a holy created myth about what happened that
day
and has been a megaphone for baseless conspiracy theories
that deflect blame, including the idea that rioters on January
6, were actually victims of a government false flag plot. He
sees surveillance footage as possible evidence, Carlson's
words over the last two years reveal the narrative he wants.
Ray Epps was standing in exactly the same place that a lot of
people who went to jail were standing, but he wasn't charged.
His name was taken off the FBI as most wanted list. Why is that
but evidence shows that wraps an Arizona man who was at the
Capitol was telling protesters to calm down.
Adam Curry: Watch that's a lie. total lie. Yeah, he was telling
the people who are calling him a Fed he was like calm down, and
they're going fed, fed fed. Wow.
John C Dvorak: Well, he was telling people let's go charge
that's charged the building he was urging everyone to go bust
in. So So we start off this report with a wait.
Adam Curry: Anybody Hold on one. Did any new information come to
light? Is there something that she had in her report that show
no it showed this then that's baseless
John C Dvorak: is everything is baseless in her report, but my
favorite thing is of course that what was she said baseless
conspiracy theory. Yeah. Does that mean all the other
conspiracy theories aren't baseless, or was she talking
about this? This kind of loaded language really bothers me by
the way, as well, just
Adam Curry: because you believe in the institution that is the
PBS I mean, you clearly believe in this
John C Dvorak: being fair was once the nation's treasurer. I
thought that was NPR. Oh, yeah. Okay. Well, same thing.
National. Okay, let's go with after after hearing the RE EPS
bowl crap. Let's go to clip three
Unknown: was telling protesters to calm down and Carlson's
allegation that EPS was working for the FBI has been debunked.
Overall, there's no evidence of undercover law enforcement
instigating the riders.
Yeah, I think the public should see what has happened on day it
in granting Fox News access. McCarthy keeps a promise to
hardline members in his conference, negotiations boosted
by Carlson himself. McCarthy told The New York Times this
week that the tapes belong to the public and he wants sunshine
on them. But Carlson is not a neutral arbiter he has condemned
violence but also defended the motivations behind it.
How for example, did senile hermit Joe Biden get 15 million
more votes than his former boss, Rockstar CrowdStrike for Barack
Obama.
Despite raising conspiracies, recent court filings show
Carlson and other top Fox News stars didn't believe some of the
pro Trump claims.
Adam Curry: No, there you go.
John C Dvorak: So what was that clip about when you throw that
gratuitous clip in there about Biden and Obama is this just
like this is a very poorly put together package Oh,
Adam Curry: that's that okay. That is by
John C Dvorak: oh by the way took a lot of Carlson stuff out
of this when I when I edited it.
Adam Curry: Now the reason that's in there is to show that
they're all in on the on the pillow, the big lie the big lie
that the election was stolen the big lie which of course is
exactly what is insinuating.
Unknown: So yeah, right.
John C Dvorak: On where was issued, for I think we're off
for Yeah,
Unknown: didn't believe some of the pro Trump claims in text
messages. Carlson wrote about a one time Trump advisor Sidney
Powell is lying by the way, I caught her. It's insane. Carlson
is not the first to access these tapes. They've already been
reviewed by the House Select Committee investigating January
6 More last Congress. Republicans accused the group of
cherry picking those clips on Fox did not air much of its
hearings.
Adam Curry: Wow, this is subpar, which is really
John C Dvorak: subpar. It's par.
Adam Curry: All right apart for them. You're right.
John C Dvorak: So this goes on. And this a this a long report,
actually. And it ends which I don't know what to get out of.
And they go back to the news. And then they bring in Brooks
and K part at the end. And what's the first thing they've
got to talk about?
Adam Curry: Do I get to guess we just play it?
John C Dvorak: Well, I think you know, which is the stupid
January 6 footage. But let's listen to these. I got two of
these. That's the end of it. And this is Brooks and K part. I
think they start with k part who just makes a fool of himself in
my opinion by what he has to say.
Unknown: Let's pick up where Lisa left off there. Jonathan.
This idea speaker McCarthy has handed over these 1000s of hours
of security footage to Tucker Carlson there are those who
argue just let everyone see everything and make up their own
minds about it. Is there validity to that? Sure,
simply because the speaker has given all of this footage to
Tucker Carlson if you're gonna give it to him, you should give
it to MSNBC, CNN give it to everyone give it to PBS give it
to everyone so that they can look at it. But you know what? I
don't need to see 44,000 hours worth of footage. I watched our
government being attacked by supporters of the former
president live on television in real time over several hours.
Adam Curry: No, okay, well done. That settles it. We'll take
we'll take your word for it. We
John C Dvorak: saw their riots. I did to watch my C span it was
people milling around me. Okay. So then they go to Brooks,
Adam Curry: I think that guy listens to Coldplay.
John C Dvorak: He absolutely
Adam Curry: yes to Brooks,
John C Dvorak: so now Brooks is makes it even. This is
unbelievable.
Adam Curry: Is that a que was
Unknown: and so the you want to pick the adware marovo de tiempo
Carl,
John C Dvorak: the What the Why that one. You want to you want
to listen to the Edward R. Murrow have to have our day
which is which he used as an insult, which no no laughter
laughed.
Adam Curry: Okay, only people over 60 I'm an exception
understand that joke.
John C Dvorak: And it's besides that I think it's I think is
beneath anyone is who's now it's just I think it's a low low shot
or whatever you call it low blow blow blow blow it's a low blow
here we go. And so do you want to pay realistic go sorry, he
had
Unknown: wear armor of our day Tucker Carlson you know, I think
I think in general opening it up as long as they predict the
procedures of this the capital security and as long as you
don't release those opening up widely, giving anything any
public official giving everything to one news
organization. That's just bizarre and against the rules of
what we do if one news organization it should be a dump
off the record, but just doing it out in front of the day it
just it's not done you give it to the public
Adam Curry: Oh even slips in a while off the record. Of course,
you know, I'm getting that okay, we get off the record all the
time. And that's normal and we get
John C Dvorak: that little young glad you caught that little
scores of course what but it was like, What are you talking
about? exclusives are exclusives that happens all the time? You
do quid pro quos. Yeah, they're gonna give you this and you stop
talking about me now they can't
Adam Curry: believe that they didn't get it. And and they know
that of course with this footage. You can make it look
like anything you want. You could make it look like the
cafeteria at Star Wars if you want
John C Dvorak: Oh yeah, you could do whatever.
Adam Curry: I'm sorry. Star Trek. Almost got in trouble for
that one.
John C Dvorak: Yeah. No, this cafeteria. Which cafeteria?
Yeah, Catherine. If you're thinking of that bar that's Star
Wars. That's the one that you want to refer to Star Trek.
That's not Star Wars Star Wars is the bar Star Trek is the is
the is the little place where they have their replicators
Adam Curry: neither of neither of us may be qualified to
discuss this.
John C Dvorak: I can. I've seen every one of these stories.
Adam Curry: Okay, it's the one where they have like the three
boob ladies serving drinks. Yeah. Star Wars Star Wars that
Star Wars? Yeah, I thought it was Star Trek. No, no. Star
Trek. Star Trek Deep Space Nine. Yeah, it's t it next generation.
It's one of those are oh my gosh, oh, it'll be emails for
the next three weeks. Are No, I'm sorry. I shouldn't have done
that. Shouldn't be done it? I know. I know. I know. I know.
John C Dvorak: All right, anyway, so that back to this.
They make good make a big fuss trying to obviously make it look
like it's going to be bull crap, whatever Tucker does. So that'll
be that. All right.
Adam Curry: Well, I have I have some some global stuff world
stuff beginning we were talking about Yeltsin. Also notice
Treasury Secretary, Secretary Yellen. She's been she's been on
a world tour. Going to Africa, you don't hear much about it.
going all over the world, but mainly mainly in Africa and
talking about the changes and talking about climate change. I
really don't understand why she is doing this. Well, I do. I
think I do understand, but doesn't really fit in her true
job description, that she's supposed to be addressing stuff
here at home. But she is on the promotional trip around the
world, mainly in Africa, telling people up, we're going to change
how we fund stuff. We're going to change development. We're
going to change we need the World Bank. We've how many times
we hear well, the World Bank needs to change its charter. In
other words, how can we take more money from rich countries
and put it in our pocket. But this, this was interesting,
because she's not just not just talking to countries anymore.
She's talking to at a at a more micro level.
Unknown: Last fall, I issued an urgent call ahead of the World
Bank and IMF annual meetings, the evolution of the
multilateral development bank's system. My reasoning was simple.
The world has changed. And we need these vital institutions to
change along
Adam Curry: with it. In other words, we need more money. The
bank must be bolder
Unknown: and more imaginative over its operational approach.
Adam Curry: imaginative, what can I come up with today?
Everyone's so creative.
Unknown: For example, we know that subnational entities can
sometimes have greater expertise and willingness to implement
innovative projects. So what if we made it easier for cities to
gain access to funding for climate smart urban
infrastructure? Operationally, we believe it's also important
for the bank to develop new measures of success, stretches,
clear targets that reflect its efforts to address both
traditional goals as well as global challenges. Wenting from
China has become extremely important in the case of Zambia,
China's debt is something like 14% of Zambia's GDP. It's the
it's the largest single creditor. And so China really
needs to come to the table and trying to really China's lack of
willingness to comprehensively participate, and to move in a
timely way has really been a roadblock.
Adam Curry: Alright, China, China, bad China, bad China. And
I expect from China, I must request that when the when the
main feature is playing you refrain from cleaning up your
office or throwing balls at Cannes or whatever you were
doing. I have to ask you to be quiet in the theater. All right.
But the other thing that she said was what if we could go and
finance cities, so no longer countries? No, let's go direct
to the city level, which has been a problem already in the
United States. There are cities that have taken money from Dinah
cities, actual US cities. And how about that coincidence if
the world bank wants to help fund some cities for climate
change? Well, what could we do? Oh, hello, Cleveland. What
exactly does that mean? 15 minutes city.
Unknown: Oh, J Cleveland says it hopes to be the first city in
the US to implement this model. And the idea is pretty simple.
Everything you need is within 15 minutes of where you live either
on foot or by bike or transit. It first took off in Paris
instead of centralized downtown's were
Adam Curry: what took off in Paris. I'm sorry. When you say
it first took off in Paris. Are they calling the the Parisian? I
don't do some French system, a 15 minute city now. That's
ghettoized. Lady.
John C Dvorak: Well, the 15 minutes is far as I know first
began in England, yes,
Adam Curry: in Oxford, and Oxford, but she She's pretending
like it's a big success in Paris. Maybe she
John C Dvorak: wants to go take a trip to Paris so she can do it
on the street
Adam Curry: report. Well, well, then I can't blame her
Unknown: foot by bike or transit. It first took off in
Paris instead of centralized downtown's where people work and
separate places where they live. Why shouldn't everything be
closer? Reduced? Proximity is greener, it's more sustainable
and it creates more solidarity between neighbors but you can't
start obviously. So it's purposing. existing spaces Mayor
Bibb said last night, it will be about People First not
developers. Well, city planners today told me they will aim to
find out how residents might want to see their community
change and make sure that the city's zoning Restriction
Policies are and their policies around development align. And
the first step for that is making a list
like grocery stores, schools, parks,
but also barber shop
Adam Curry: listen to this. Okay. I love this. First of all,
I'm so sorry to hear this Cleveland, you're about to be
destroyed. But now, now you hear one of these city planners and
you know he has a you know, like a collarless sweater. No, no
shirt underneath it. He's got you know, blown out your ear
from you know, big gauge. He's got a beard. He's
John C Dvorak: got gauged ears. Yeah, as
Adam Curry: your typical soy boy, guys running the city who
has some apparent power and his? Well, here's what we discussed.
And here's what we thought we would never ever. I mean, what
are the services that people need? I have seen these people
in Austin, they destroy your city sign.
Unknown: And the first step for that is making a list
like grocery stores, schools, parks, but also other things
like barber shops, cafes, a general list of amenities and
needs that we think as as city officials, we know and have
heard from residents that they want to be able to access but
the goal is for it to be iterative. We want to eventually
take this model to communities and have them and tell us what
exactly needs or amenities they really see as being valuable
that they want access to. And I
Adam Curry: love how he throws in barber shops. Oh yeah. You
heard something about black people sign is that what it is?
Oh, you have any barber shops because black people need barber
shops. This is going to destroy the city.
Unknown: And while they are finding some neighborhoods have
great access on paper maybe the quality is lacking due to busted
sidewalks or lack of bike lanes or bus Tod holes, and whether
it's squeezable talking about or food justice some neighborhoods
are just lacking all together here in Cleveland ultimately in
a 15 minute city not every 15 minute radius looks the same but
it serves people with opportunities to access the
things they want to get to in their day to day lives.
Adam Curry: So why not do
John C Dvorak: they mentioned that it like in the Oxford
experiment? They're going to find you get and find new money
if you leave your 15 minute segment
Adam Curry: the red zone is for white people only. The Blue Zone
is for black people only please stay in your zone citizen if you
want a barbershop you need to be in the blue this is racist. It
is xenophobic it is it separates people it puts them in boxes it
is already completely failed in Oxford people are up in arms
about it again the arms are up and and the world would shoot
and the World Bank led by Janet Yellen now for some reason is
going to support these cities and and and if you're in one of
them you should stop and oh and Oh, they got a new guy in to run
the World Bank. Oh, by
John C Dvorak: the way, Mr. Rolando? I think Nottage I got
to stop because now we got to back up to that comment about
Paris. That's the reason they're gonna they're gonna switch it
from Oxford words of flop of an idea and nobody likes it. Don't
even mention that. Hey, you can turn Cleveland into Paris.
Adam Curry: Wow that's great although LIC very slick but
Paris some of these sectors now in Paris are complete no go
zones you know this you keep your eye on Paris well so who do
you need to bring in to make this happen? You need someone
who understands micro-finance You okay, I have not heard you
with a cough like that in a long time and I
John C Dvorak: got parched throat earlier in the show. No.
Okay, something some voice I did or something. No. And I have
been trying to get rid of it. I'm now sucking on a lot
Adam Curry: you're acting is bringing your health down as
some voice you are doing.
John C Dvorak: I need a voice local lesson so I don't hurt
myself. So
Adam Curry: let's go to this bloom. Excuse me spreading.
Let's go to this Bloomberg report. When we meet the new
head of the World Bank hits a doozy.
Unknown: What do we know about his credentials for the job? Why
is he the right person for the job? Do
you think of the White House's mind? Well, the World Bank's job
is economic development and poverty reduction and he's spent
a lot of his time what he's not been running MasterCard or right
now his job is Vice Chairman of Atlantic general Atlantic on
these kinds of issues. He's
Adam Curry: his name is Ajay Banga. He is currently running I
think the microfinance finance section of MasterCard. He is a
World Economic Forum guy. He's the perfect guy.
Unknown: These kinds of issues. He's been a co chair of the
Partnership for Central America, where he worked closely with
Vice President Kamala Harris on to bring business and
development to Central America and try to stem some of the
refugees flowing north to the United States. But He's also
worked very closely with microfinance. He was in Citi
Group heading their strategy, microfinance went on a number of
years. So he's familiar with the whole process of poverty
reduction and economic development and at the same
time, has a lot of management experience in his time at
MasterCard, interestingly enough guy, he went to a school in
Hyderabad in India, that has produced not just Ajay Banga,
but also Shantanu Narayen of Adobe and Satya Nadella of
Microsoft. So they've all gone to the same elementary school
private school in Hyderabad, India.
Adam Curry: It's a cabal. It's a cabal, the Indian cabal they're
taken over
John C Dvorak: well he's also from it typical Indian the
Brahmin comes out of Indian Institute of Technology
Adam Curry: those and those guys when it comes to equity, they're
the ones you want right there so fair to all classes. Yeah.
John C Dvorak: I'd say though you want touchable so those we
do have a couple of dramas that listen to our show I'm sure the
correct commentary
Adam Curry: they cracked up over that no doubt. Yeah, 15 minutes
cities. I love the Paris example though, that that just blows me
away. That as far as I know. There's they've never been a 15
minute city. They're just making it up.
John C Dvorak: And parishes. Definitely not a 15 minute city.
Yeah. anyone's ever been there knows that.
Adam Curry: And it's gone. So down. Let me see. I haven't
actually Googled this out, you know. So if I look at the 15
Minute city, Wikipedia entry
it says right off the bat right off the bat here. The 15 minute
city was influenced by cities such as Paris.
John C Dvorak: Yeah, they're slipping it in check the days go
into the history of that comment and see when it began.
Adam Curry: Oh, well, is it okay home is delivered historical
walkability proximity as an inspiration for the 15 minutes
and advisor to an Hidalgo Professor Carlos Marino cited
Jane Jacobs model presented in The Death and Life of Great
American Cities.
John C Dvorak: excellent book.
Adam Curry: So the ongoing plan
John C Dvorak: a fabulous book it will have nothing to do with
anything they're talking about. Especially that gauged ear dude.
Adam Curry: Ah, Parisian Mayor Anne Hidalgo introduced the 15
Minute city concept in her 2020 reelection campaign. So they
just walked they backed it into it. That's what they did. said
well, you know,
John C Dvorak: luckily used the term 15 minutes city. While she
introduced the concept doesn't mean that she coined a phrase
Adam Curry: Let me see parody. This is I have the Guardian, The
Guardian from February 7 2020. And it says the Paris Mayor and
he does dal Gu has made phasing out vehicles and creating a 15
minute city a key pillar of her offering at the launch of her
reelection campaign. So she was in
John C Dvorak: 2020 Yep, she must have joy he got 23 years
what's happened so far as Paris turned into car free zone
Adam Curry: 2020 It's three years ago or three years ago I'm
John C Dvorak: sorry. I'm taking Tony was it was during
Adam Curry: COVID You know, so she just threw it in there.
Yeah, here it is called the veal Ducat the the quarter our city
not quite a 15 minute city I like it though. The quarter our
city
John C Dvorak: well, well, they you have to use 15 minute they
can't use quarter hour because then Millennials won't know what
you're talking about.
Adam Curry: With that. I'd like to thank you for your courage
say in the morning to you the man who put the C in the
baseless conspiracy theories ladies and gentlemen, please say
hello to my friend on the other end Mr. John
John C Dvorak: Good morning to you Mr. Adam Korean and Maureen
ship, see Bucha graphene near substitute water games and
nights out there.
Adam Curry: It's the morning to the trolls and the troll room.
Oh, we got a lot going on today. Hello there trolls you probably
heard us talking about him. If you have a modern podcast app,
which you can get now at podcast apps.com Don't go anywhere
that's new. Just get a podcast Apple podcast app.com You can
listen along to the live stream you got the troll room it alerts
you if using pod verse, podcast addict curio caster there's many
more there that you can use. And you can actually troll along hop
into the troll room and see how many trolls we have. Oh
I didn't get it. Oh, the Whoo. Whoo. What do we have? 2265.
Yeah, that's pretty that's about on par. Right?
John C Dvorak: That's the average,
Adam Curry: average, your average trolls, you're just
average nothing special. just average. Now if you want the
special stuff, then you want to go to our social network, which
is no agenda social.com If I don't know if we have any we
limited at 10,000. So that opens up after people of if you're
inactive for a year your account will be purged you'll get a like
a two week warning, I think and then you're done. So you can
either sign up there or you can get a master. I mean, these
things are common. Now everyone has a mastodon account, you got
to have one, get yourself a mastodon account, follow Adam at
no agenda social.com or Jhansi DeVore. I could no agenda
social.com and join the conversation. It's a lot of fun.
Our entire system here has value for value, that for those of you
who are about to power through this or about to just fast
forward. I would like to read a quick email from one of our
producers, who said and this is John. Hi guys, John here from
Ireland. So we're international on this one. Wow. He says as a
father to hopefully to hopefully be later this year. I was amazed
by the donation section. I had to send a quick note. Now that's
why you should listen to the donation section. Thank you in a
million thank you a million in advance as I was about to become
a vasectomy victim in a couple of years. All the best he says
John, there you go. He learned something important. He saved
something that he was dear to him. His his mask.
John C Dvorak: The other guy kept another guy away from the D
Nutting mill
Unknown: D Nutting mill
Adam Curry: yes well write it down then de no don't bother.
That's that sounds a little off off color but value for value
means that anything you do to support the show is appreciated
and you do it because you get something out of it. And this is
the point if you're not getting any value have no no agenda
don't support us don't do anything walk away. Listen to us
at five times speed hijack your nervous system whatever you do,
go away just go away from the Lopes that's right you That's
again right up there with Edward e Morrow everybody. Arm Yeah,
whatever.
John C Dvorak: Edward II Moreau.
Unknown: I was thinking l fell pretty
Adam Curry: well, another one half the audience doesn't
understand. There you go. Well, we're on we're on a collision
course.
John C Dvorak: And here we go talking about the old times.
This
Adam Curry: is the idea is if you get anything of value out of
the show, please give it back to us the easiest way of the of the
trifecta time, talent and treasure is to send us something
through Paypal or however you prefer. We of course will take
cash checks whatever you want money orders. And really, the
idea is that you determine the value, we can't determine what
it's worth to you. We also don't know what a lot or little is to
you. So you do that you determine all that. And you can
do it at our website, you can find out more to vorak.org/na or
you could do something like our artists who are artists are
putting together art for the show. We changed it up every
single episode. And they're working in real time and why and
these are pros a lot of these are really big pros, and often
amateurs who do pro work and we choose it right after the show
and it's really important because we have noticed that
having changing art that particularly for the promotion
of the episode is incredibly important works really well and
we want to thank fluffed comment who brought us the artwork for
episode 1532 We titled that beige in a new kind of gin we're
working on beige in and this was the one we had already teed it
up because we saw this as we were doing the previous donation
segment that this was a nice piece this was the graffiti as I
would say in Texas or in California graffiti. No agenda
even with a with the show number which we typically will not even
accept
John C Dvorak: because there's only one flaw in the piece.
Okay, which is you can't read the Vortech just says curry
Adam Curry: Raj says Devorah cuts in purple,
John C Dvorak: purple it's just hard to read.
Adam Curry: No right no okay. So if you want to have John on your
side make DeVore I can little bit bigger than curry well I
John C Dvorak: picked his piece from the get go because I like
to style a large when is somebody can pull it off it's
very difficult with that piece which is you know side of a wall
that is not the easiest thing for anybody to do and make it
look and it doesn't would that keep the composition high and
make the thing have a nice balance it looks good beautiful
piece
Adam Curry: in fact since we had mentioned it with the show
number in there fluff calm it did one took it away and and
replaced it with goat or something and it ruined the
piece we said NO NO NO NO NO NO NO NO we want the original piece
that's how that's how subtle it is really the sometimes the
difference can be ingested take much in the original composition
we liked it We also liked that which I think he used for the
newsletter the wave the wave by made Marriott
John C Dvorak: Yeah. To take off of a famous Japanese print
called the wave over somewhere other has to guess of everyone's
used it's been copied re purposed a million times and I
just never seen this type of this version of it. It's very
pretty. So I use it for the newsletter but we I think the
pieces we really liked it we never picked included Joey from
common lager.
Adam Curry: It was not appropriate as art but it wasn't
funny bit. Can you turn your speaker's down just a tad? Yeah,
slap him back. Yeah, it was our president on his ass as some
stairs of course. Where he usually winds up. We did like
that one. We also
John C Dvorak: fall up. Did another follow up? Yeah. On the
plane from
Adam Curry: Poland. Poland. Yeah, we saw it.
John C Dvorak: Wasn't that funny?
Adam Curry: No. No, it wasn't a good one. funny to see. Melvin
Gibbs Steen. With no agenda artists out of ideas homeless on
the street. That was funny. It was a couple of days Kenny Ben
also had a bar just out of ideas with just an easel with question
mark. The out of ideas really showed that you're you're out of
ideas even for out of ideas. Which is interesting.
John C Dvorak: Soon another one I thought that we liked.
Adam Curry: We did think the IO monk broken out of ideas. I
liked it with the artist with his head on the desk. Yeah, as
cute kind of like a stockbroker you know, out of ideas
completely lost like never gonna happen.
John C Dvorak: Sitting on the ledge ready to jump might have
been on a ledge. There you go. That would have been
Adam Curry: closer. I think I think that was really it. Was
anything else that we
Unknown: no
Adam Curry: no, I think you're right. We appreciate fluff
comment. And all of the artists who participated in doing this,
it's it's highly appreciated. It's very hard to do
John C Dvorak: they have their own. All the artists should
definitely be an account with no agenda social where they like to
what kidness and
Adam Curry: Yeah, talk about it and congratulate each other. I'm
sure there's lots of DMS that
John C Dvorak: didn't do anything really knew anything
about our activity.
Adam Curry: That would be roundly every day if we knew
about art. Exactly. That's right. Thank you, again, to all
of the artists who really do appreciate it. It's great work
all of it. And you can also see that in your modern podcast app
now on CarPlay, and Android Auto with some of them. And now we go
to a special thanks to everyone who came in above $200. Between
two and 300 is Associate Executive Producer, get it while
you can because inflation is going to move that up probably
the end of the quarter. And 300 or above is executive producer
of this episode. And we start off with Sir Dave deflecto from
Plymouth, Minnesota, with 1040 That is interesting. 1040
haven't donated for a while, but figure that it's worth at least
$5 a show. So this makes me good for four years. Oh, lots of
people do this too. Interestingly. Yeah,
John C Dvorak: by the way, this is a reference to 1040 tax form.
Adam Curry: Oh, yes. Does he say that?
John C Dvorak: No, that is what it is.
Adam Curry: That's kind of interesting. Huh? Okay, once a
shut up slave oh, wait a minute. Hope your exit plan doesn't kick
in the first kick Oh kick in first. Before what we're still
here bro. I'm calling out Joe Rogan Tucker Carlson and Glenn
Beck as douchebags I don't know why. I don't know if they
listen. Their producers do but I don't think they Listen sir.
Dave deflecto You won't maybe
John C Dvorak: the producers will appreciate it. You go Yeah.
Unknown: There you go.
Adam Curry: See, do we have an OG he wants a Sharpton OG
teleprompter? Which is the carryover. What's that?
John C Dvorak: I'm just wondering my my you got more
stuff on here. He will hold
Adam Curry: on Luke do his jingles
Unknown: exist? We much. We must they're all Jide about a
shutdown. The tortoise in the race theory is founded Kubrick's
movies. Lead singer Bono, Fran Drescher, Sigourney Weaver
suspect Johanna Sanaya Rush Limbaugh Rush Limbaugh Rush
Limbaugh the show rush Lombard host sister frame God Justice
Sonia Santa Maya,
Adam Curry: the owl rebel always giving always given given given
given given
John C Dvorak: Robert Woods up from azil is it azil or azulene
ezzell, Texas? Ah 5556
Adam Curry: I have a feeling it's actually I have a feeling
it's actually it
John C Dvorak: might be as Leo 55645 And he says ITM to freedom
sees 55645 donation today throws me over the top for knighthood
nice please Knight me a Sir Robert of the freehold and I
request inclusion of brisket and Bach. Yeah
Adam Curry: shiner bidorbuy got it. You got it
John C Dvorak: at the roundtable for all the Knights and Dames
who have given me the show out of their web wallet so far given
me the show out of their wallets so far. Okay, number fractal my
donation below. totals to 1022 the Ruger 1022 rifles the most
popular 22 in the United States, didn't plan it that way further
confirmation the best podcast in the universe exists in a nexus
of random number theories. Hello, Godspeed, gentlemen,
Robert.
Adam Curry: Robert. Thank you. We'll have you up on the podium
momentarily. Later. Rebecca comes in from Pinehurst North
Carolina, our favorite executive producer number 33333 lent
donation number one and you are the first who called it as such
for all Catholics to come back to mass lady Rebecca Pinehurst.
Thank you Lady Rebecca.
John C Dvorak: Sir David in Bellaire Texas could be
pronounced Bellary
Adam Curry: knots Bella
John C Dvorak: Charlie rose six DNA Shut up already as science
Numbers Station is which is the request for jingles enjoying the
amygdala shrinkage and balloon piercing let's continue to
unravel the media narratives the brainwashing is getting scary.
Sir David de France, French, the French The Fresh Prince of Bel
airy.
Adam Curry: Okay,
Unknown: tell me about the sexuality. It's in your DNA.
Already.
Adam Curry: Science and I didn't get the number station did I
Numbers Station sorry when I forgot to line
Unknown: in the standby 3333 33 or other lizer
Adam Curry: out there you go. I want you to sit next to one so
I'll grab a long one,
John C Dvorak: Sir John. So John If Cincinnati Ohio 33333 And he
says no jingles no karma good for you. We'll give him a double
up karma. Yes, we will. You've got karma John Craig in
Littleton Colorado 33333 We pull love you both. Since it's my
54th birthday I'm giving you my present just might make me a
night but it matters not you to matter the most. And value and
your value for value model. Oh,
Adam Curry: thank you, John. Craig. Sir David is in Grapevine
Texas. Switcheroo Oh, okay. This is credit my wife he says future
Dame Karen okay. And that is changed. Now. No jingles but the
best jobs karma you have too many 33 So I need to donate.
Yes, because people noticed this when they see a lot of 30 threes
they often go oh time. I was knighted during the 1500 drive
but was never deduced. Well, let's fix that right away.
Unknown: You spend deed due to the switcheroo
Adam Curry: for future Dame Karen my wife of 33 years and
they never had a fight obviously so she can be formally
acknowledged for the great lady. She's always been for our boys
and I will see she's a dame for her upcoming birthday. I need
the karma because after 33 years with my current employer
coincidence are complete enterprise technology department
was sold off. On March 1 I am both retired and starting over
with a new company doing the same old job. I need my Indian
overlords to keep me around for a couple of years any any help
is appreciated. There's been a ton of lesser 30 threes to these
are just motivational. As you're reading this will be in the hill
country drinking wine. Adam needs to get out more and visit
the locals. There's a cool speakeasy and hi I've been
everybody needs more smart cocktails in their life. Love is
lit the speakeasy in high is fantastic. The gate code is 1776
jobs jobs
Unknown: jobs, jobs, jobs jobs, jobs
John C Dvorak: blood to grow grapes and grape find sure NBS
in Chicago, Illinois. 301 71 ITM this donation brings me to Baron
status with a total of $3,333.33 donated his greatest podcast in
universe accounting attached I'd like to be upgraded to Baron NBS
of the trading floor no jingles all goat karma. Thanks for
everything you do gents. Sir NBS, you got it?
Unknown: You've got karma.
Adam Curry: Then we have Richard BAMs Berger, Elko, Nevada $300
He says he sent a note to notes at no agenda. show.com No wrong
wrong. No agenda show.net.net.net So you'll have
to send it because we didn't get it. Our first Associate
Executive producer is Dixon Craig from St. Albert
California. $250 and no notes so we'll give you a double of karma
as well. You've got karma
John C Dvorak: Angela Pickering and sour Lake Texas a lot of
Texans today. A lot of Texas and today. Sour Lake to Joe Biden
likes to go got hairy legs to 2875 I thought treating myself
to an Associate Executive Producer ship was a pretty good
way to celebrate my birthday this Tuesday. Hopefully I can
get a chance to hear John say the name of my town with disdain
funny because I didn't read the note but I did it anyway you did
sour Lake Lake Tax salary Lake Texas by the
Adam Curry: way for all the kids say that to your mom you got
hairy legs that's what you need to do I got area legs sir ignite
a big night films and killed devils Hill
John C Dvorak: oh by the way and let me finish your note. Oh I'm
sorry. You said that sour Lake is a sweet place to live so
screw me
Unknown: screw me on this sweet
John C Dvorak: sour get it?
Adam Curry: Yeah, I got it. Sir ignite of Ignite films in Kill
Devil Hills, North Carolina to 16 dot 23. This donation is in
honor of my friend and fellow na listener Paul and his girlfriend
Lauren. Paul dropped to a knee on February 16 2023 and proposed
marriage. Luckily for him, she said yes. So to Paul and Lauren
my smokin hot wife Sarah and I love you and adore you both and
we're excited for your union. Both of your potentials are only
enhanced by coming together as one We're excited to see what
this journey will bring for the two of you. No agenda nation,
raise your chalices of mead John raise your PBR high into the air
and salute this blessing union. Adam throw these young lovers a
little goat karma John we're still working on your big part.
Cracking buzz love you both keep up the great work here's your
goat kids got karma
John C Dvorak: North Carolina film makes it all about the
distribution. Survey ecologist in Toronto, California. See note
attached note 1533 Oh look, I have it right here. Yes, you did
his real you can tell your crackpot in buzzkill thank you
for your continued podcast of excellence. Your promotion of
podcasting 2.0 Your value for value model of funding and your
insistence on top audio quality. Make make your podcast a model
for me to follow. I have two podcasts that incorporate your
leading way of thinking fake called fake ologists audio chats
and fake ologists show on your favorite podcast 2.0 index app.
It also created my own video platform. Fake go tube DICOM.
Adam Curry: Catchy catchy I like it faecal tube.
John C Dvorak: I use your funded site where I post my top truth
videos and live stream may show no agenda nation is welcome to
check my sights. And thanks for hot linking them in your show
notes. Sir fake colleges of Toronto.
Adam Curry: I'm just looking at the chat the troll room. I just
saw lady Phoenix hinted phone boy that he needs to propose to
her. Like a little ring emoji. I'm just saying. I'm just saying
a lot of love in the air there. You know, there is love in the
air. I think you know, I think it's us. I think we promote love
in the air, don't you?
John C Dvorak: I hope so.
Adam Curry: These are our executive and Associate
Executive producers for episode 1533. A lot of people picked up
on the fact that it's a 33 episode. And we do have some
special 7373 73 donations coming up. John will explain what that
came from. But we'd like to thank these people because they
get a forever credit which is good for ever in perpetuity. You
are now officially executive producer or Associate Executive
Producer of the no agenda Show episode 1533 You can use these
credits anywhere credits are recognized, which means
LinkedIn, that's a good place to do it or IMDb, it's an actual
production credit. Go ahead, take a look. You'll see that
some pretty big wigs from Hollywood even have their
credits listed there. And thank you all for supporting the no
agenda show. John will take us through to the 50s as we get
ready for our knighting ceremony.
Unknown: Sure, sure. Sure. Sure. Adam.
John C Dvorak: Sure. Visa or surveys cerveza and Florissant
Colorado starts us off with $225.25. That's 500 quarters.
It's interesting. Sir Kevin McLaughlin bumps right to the
top of the 12345. What's he doing there? What he says look
is North Carolina December 7, two digits 12345 Zell plus
mechanics bank fail. Okay, well, Kevin, you're gonna head to toe
to toe that's all about Yeah, and anonymous in Naperville, in
Naperville, Illinois 101st time donation. So he's a de douching
Unknown: you've been de deuced
John C Dvorak: So Todd in Ripon Wisconsin 100 Jeff Jindra in
Andover, Minnesota nuts 100 In honor of a smokin hot wife
codenamed bombshell
Adam Curry: whoo you got to turn down your speakers more man it's
shuts up a lot.
John C Dvorak: I think is my mics too loud.
Adam Curry: Oh, is that it? Okay.
John C Dvorak: Yeah, cuz I made a mistake and turned it on to
Hi, Len quack and Qualcomm boom. Then Qualcomm Busch and