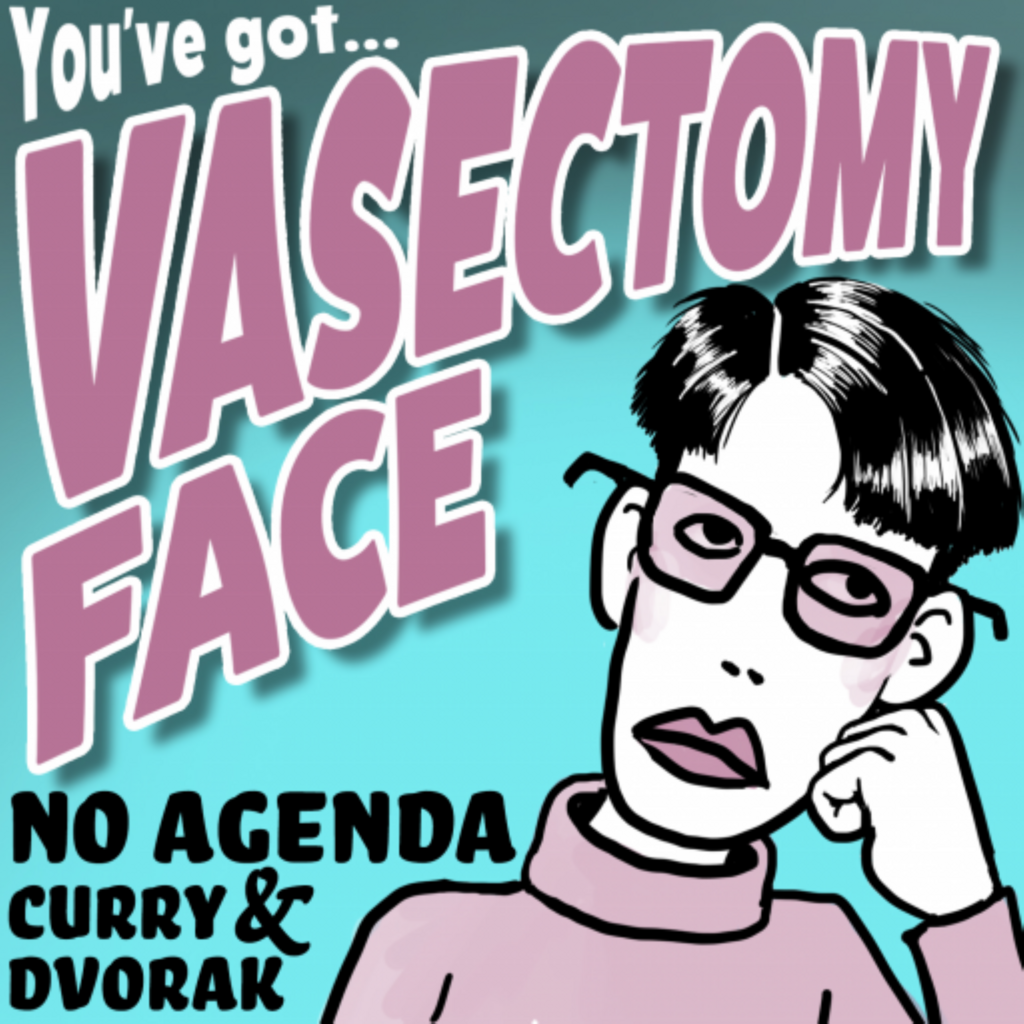 March 5th • 3h 8m
1535: Podspeeding
Transcript
The transcripts of No Agenda are automatically generated and therefore, not fully accurate. Discretion is advised.
Click the text to start playing from that position in the show. Click the timestamp to copy a direct link to that position to your clipboard in order to propagate the formula.
Adam Curry: I don't like schools. Adam curry Jhansi
Devorah they march this 2023 This your award winning nation
media assassination episode 1535. This is no agenda.
harboring you from Havana syndrome man broadcasting live
from the heart of the Texas hill country here in the region
number six. Morning everybody. I'm Adam curry
John C Dvorak: and from Northern Silicon Valley where I've
discovered that one teaspoon equals five milliliters. I'm
John C. Dvorak.
Adam Curry: Having grown up in in Europe and being completely
decimate alized. Is that a word? Yeah, Metro Metro sized, was
decimated. Now, that's always after the show where I'm
decimated. I you know, I have the biggest problem with ounces
and teaspoons and tablespoons. I mean, I can follow a recipe but
I have no idea. I mean, the fact that you figured out a teaspoon
was five milliliters that that that must be a fluke.
John C Dvorak: I've decided to make these opening show things
educational, I
Adam Curry: liked that I liked that we used to do Confucius
says I think the educational part is good. The and these are
handy tips you can use around the house and the kitchen. Too,
I'd like it as a good idea.
John C Dvorak: Well, the way you get around, I know what you're
talking about about this, you know, because you look at a lot
of recipes. There's European Wednesday, never, they don't
care about ounces or anything, pretty much. And so you got to
find a good one good program somewhere that's a converter.
And you just keep looking it up over and over and over again
until you get to know how many ounces are in a quart and how
many ounces are in a leader.
Adam Curry: Yeah, or you can just use, you know, not use
liters at all. Just Just use your ounces. Use your measuring
cups. The stuff that is tried
John C Dvorak: measuring cups have it on both sides now. Oh,
really? You again? Yes. Really? shrinkable usually has cups? No.
And the other side? Is the middle of the year out of
Adam Curry: here. Where can I get such a fine instrument,
Amazon? I need this in my life. Okay, now
John C Dvorak: let me get one of those cool measuring capsule,
when you put it in the dishwasher, it washes off all
the ink or whatever the paint that's on there. And what had
this what happened,
Adam Curry: whatever that stuff is, it's probably not not good
for you. Good. Ladies and gentlemen. This is a value for
value program. And I'd like to start off by explaining why we
are value for value, which means we do a show it creates value.
You receive that value if it's valuable to you, if not why you
listening go away. If it is then return that in time, talent or
treasure because we don't want creepy corporations. We don't
want ads we want to be able to speak freely. You know this was
not a not an ad for an Amazon measuring cup. But here is a
perfect example the perfect example of two things one, why
you do not want advertising in your programming because it will
it will take over the programming. And it also gives
us a perfect example of why tick tock is very, very dangerous to
the rest of advertising based media particularly Google,
Facebook, Twitter, etc. tock tick tock. Now you may have seen
this, this article but the Genesis is right here on NBC
Today Show. This is the McDonald's native ad hoax.
Unknown: Can we go from French fries to a fit guy? That's we're
finding out 100 days of nothing but McDonald's,
let's go. Go and eat her that correctly. Kevin McGinnis from
Nashville has quickly become a viral Tick, tick tick tock
sensation for documenting his very unique diet journey he's
eating as you heard nothing but McDonald's for 100 straight
days. And so far, he says he's loving it. We're gonna talk to
Kevin in just a moment. But first, here's how it all
started. I woke up this morning. And I weighed in at 238 pounds.
And I decided that that is absolutely unacceptable. So I
drove down to McDonald's. I'm going to eat nothing but
McDonald's for the next 100 days. But instead of eating
everything they give me I'm gonna go ahead and cut the meals
in
half. And he's here with us now, Kevin, good morning to you.
Morning. You found him on TV.
I was watching tick tock and oh yeah, well, cup of 2038 pounds.
He was disgusted with himself. He wanted to finally put his
foot down on his weight. So he put it on the gas pedal and
drove to McDonald's. And I thought, well, this is
interesting, and I'm following your 10 day journey so far. And
I think what really hooked me was that it's working.
Absolutely working. We're gonna come up with this idea.
Adam Curry: All right, let's just break this down. on for a
moment, in a no a no morning show world does Carson Daly get
to determine a segment about McDonald's ever, ever. That is a
plant from McDonald's. The guy's tick tock videos have McDonald's
logos on it superimposed. And then to add insult to injury, we
throw in the slogan Oh, I'm loving it. What a hoax. Now, I
will say, if I eat McDonald's just one time, I lose weight to
because I'm just a pass through guy in that case. So I mean,
that's very possible. But wow, what a scam. This is and it's so
blatant. Have you seen this?
John C Dvorak: I saw one. I saw one version of it. I didn't turn
it into a no agenda segment because I never thought I am
remiss because you're right. This is a native ad is very well
produced. I don't know if I call it a scam. I'd call it a native
ads, native ads. But they've they've managed to, to, it's
incredibly creative. I far as I'm concerned. Or kudos to
whoever dreamed this one out. And I know people that can do
this kind of work and they work in there. They're not normal
advertising people they are they are these these special. They're
definitely they're special. There's definitely stuff and
they come up with this idea, these ideas and then they have
to sell them to the client, which in this case would be
McDonald's. And then they have to then it's easier to it's
harder to sell to the client, McDonald's than it is to the
people taking the money. Yeah, they just take the money and
they follow orders.
Adam Curry: I think that it's going really well for tick tock
in the in the advertising world I have and it's also in the
shownotes an important slide from an agency pitch deck where
they are pitching a switching away from Facebook and Instagram
and others to tick tock and the slide is titled Why tick tock
why now, you know, the kinds of slides right, it's like, great.
Here's a slide. Why now an older audience is moving to tick tock
16 To 16k to 16.4% of viewers.
John C Dvorak: Wait, wait, where did this deck come from? I'm not
a tick tock deck. No, it's
Adam Curry: an agency deck. I'm not allowed to say which
John C Dvorak: agency deck you're not allowed. I promise.
The same. I'm sure this this this deck and they always
spelled de que these. This deck is is from the HBCUs by more
than one eight. I will Yeah, I
Adam Curry: would think you're right. Yes, I would hope so. An
older audience is moving to Tik Tok. 16.4% of viewers are 30 to
39 21% are 40 to 50 and 61% are female. I'd say that's a sweet
spot.
John C Dvorak: Oh, there you go. Add your Ching touch.
Adam Curry: Tick tock is the most downloaded app of 2022 in
2020. And this is this is meant to discredit the other ones in
2022 downloads surpassed Instagram and Facebook. So
that's that's, that is what you give a client or potential
client to say clearly tiktoks a better place on the move on the
trending Stranding. And here's the killer. More time is spent
watching tick tock videos then on Netflix viewer spend an
average of 99 zero minutes per day on GTalk Wow, we're lost.
We're lost. We're lost as a country. And this and this is
why we need to get rid of tick tock I don't know. I've gotten
so many so much pushback on this people saying no man that's not
true. Because all the Patriots on Tik Tok they hate that
because you know all the stuff is getting banned from YouTube
but on tick tock is not getting banned. Trust me brothers.
John C Dvorak: Hey, can I interrupt? Yeah, please do. So I
go on tick tock once every two days or so. And then I just just
to see because I'm cookie list. I'm not. I don't I just go jump
on it out of the blue. But sometimes I come in from
somebody else's. You know, somebody says Look at this. And
so I can think of a few people that we both know very well, who
watch tic tac all the time it seems you know who you are. So I
go on there and they will and I just listened to the stream. So
I watched the one thing okay when I can maybe I can get a
clip out of that. Maybe I can't. And now I let it go for about
five or 10 minutes so I can see what's coming up after an after
and after the mount of at least on this one stream that I
latched on to the amount of Democrat hate is on believable.
Yeah, it's one video after another there's this one or the
one I got the biggest kick out of his. I didn't record any of
these was this guy. So how did we elect this idiot? This guy's
a scumbag and it just says Biden walk and stay are staggering
around. And it's going on and on. This guy's just just
demeaning Biden as much as he can then clicks to the next one,
it'd be something very similar, right? And they're all pro
Trump. Oh, yeah.
Adam Curry: So it's definitely going on. But that's not the
reason that's why I think we can push back of course, of course,
but you know, the, the actual term is their Patriot friendly.
Okay. If this was a turn off for advertisers, then they will get
rid of it. Trust me. That's how it always works. I also did the
earth ritual, not this not necessarily tick tock related,
but the withdrawal smears, which is, I guess it literally is
Splenda, the sweetener or three tall
John C Dvorak: Splenda. Yeah, we
Adam Curry: talked about on the last episode we did. Now I
remember this controversy back in the pod show days 2006 2007
splendor was one of our first post read advertisers. And we
had a whole sheet that explained how to push back against the,
you know, it's going to kill you meme, which was out there. So
this this thing has been around for a long, long time. So why is
this researching now? Now, it may be that there's no competing
advertising products in the market. But I thought this was a
really good one. From one of our producers, Earther tall has been
made hugely popular by adherence of keto and similar low carb
diets. He said, like the carnivore diet. And I know this
to be true, because I know several new keto was always I
mean, I think the last five years, keto has just gone up and
up and up and up. You know, to me, it's just like, Oh, his
addict, it really is his people to go nuts over keto. And so
part of the keto diet is a healthy, healthy sampling of
earth or tall or Splenda, in your, I guess, in your coffee,
or your tea, or maybe you're cooking. And the accusation here
is that this is actually a way to bring down keto altogether.
Now, I'm not sure if that's 100% Correct. But I like the
association. Because we have to get rid of actual animal protein
and meat, you know, we have to prepare people for the future of
food.
John C Dvorak: Well, this trend is going just the opposite
direction. What do you mean? These diets are making people
eat just pure protein and fat
Adam Curry: Right? Right. So they want people off of that
John C Dvorak: well, to go as well this isn't gonna do it.
That's kind of a name where you go
Adam Curry: I'm just I'm just saying it's one answer to the
question as to why now and I just don't see a competing
product in the market yet it could becoming
John C Dvorak: could become a try these other things like with
sets of seven all or Steven suffer others, stevia, stevia,
stevia, stevia, and it's bitter. You know, it's sweet and bitter,
so that's no good. I don't know they got to esperto army or
whatever this called aspartame.
Adam Curry: Aspartame, aspartame, aspartame.
John C Dvorak: You know, you could just add sugar once in a
while? Yes. punani. Maybe, man, you know what I like for my
sweetener is maple syrup. Once you get used, for example of
using maple syrup. He used maple syrup and coffee. Yeah, match
made in heaven.
Adam Curry: Can I tell you a recipe that I do and you're
gonna go with that discussion? Okay,
John C Dvorak: Lloyd do it. You just did it for me. So I don't
have to do that. When I
Adam Curry: bake salmon in the oven. Yeah, on the top of the
salmon. I'll drizzle just a little bit of maple syrup. And
then cover that with lemon pepper. And then you bake it in
the oven with a little bit of broil the last three minutes. Ah
that was close enough. I'll take that. I'll take our ha You
should try it. If you'd like maple syrup. It actually kind of
add you
John C Dvorak: like maple syrup. I would put me I'll try maple
syrup on salmon. Yeah, just drizzle
Adam Curry: a couple drizzles couple drizzles. Dump it on
there. Quite nice. Why don't we just get into climate change for
a second because I've got some exciting things so exciting
about climate change. The the first, the first thing that I
have here really solves a big question that we've been looking
at is what is it with all of European countries moving into
Africa. Now we've had the French, the PA Macron. We've had
the Germans in there. We haven't had the Brits in there, but I'm
sure the Dutch are in there. Of course. We're also in there. The
US everyone everyone's in Athens Look at doing stuff. And you
know, of course we're, I'm sure China is part of the reason
Russia is part of the reason the US as part of the reach
everyone, but what are we really doing? And then this came across
my desk. Well, I don't really have a desk but my email, and
I'm like, oh yeah, this makes a lot of sense because Africa will
be the new source of green hydrogen, it will be the battery
content continent. This huge
Unknown: renewable energy forum is Germany's hope for a greener
future. It's not being built in Germany, though, but in Namibia,
one of Germany's former colonies. It's meant to produce
green hydrogen, the fuel of the future to get away from fossil
fuels. That's the promise. When he went to Namibia, Germany's
economy and climate Minister Oba Tabak stressed he wants a
partnership between equals and avoid a green energy
imperialism. Big trucks for those countries this
is crazy. This is becoming
like battery country industries like steelmaking, heavy
transport or chemicals can simply switch to electricity
from renewable sources. That is where green hydrogen comes in.
Green hydrogen right now is a lot more expensive than other
fuels, which is why it is sometimes called the champagne
of energy sources, partly because of infrastructure,
transit and safety issues, but mainly because massive amounts
of renewable energy are needed to create it. So we have to look
at countries with good preconditions. So because it
doesn't have enough wind and solar capacities, Germany wants
to import hydrogen and its derivatives. In order to do so
it has set up energy partnerships with a lot of
countries, many of them in the Global South. in Namibia, a
German company is planning this 10 billion euro energy project.
Wind and solar farms will power the process of electrolysis
water from the nearby ocean will be pumped in my pipeline. The
company promises that the local economy will benefit as well
with new jobs and access to energy and water. Minister
hubback stressed that Germany would only input energy that
Namibia doesn't need for domestic consumption and that
the project above all has to serve the citizens of the
African nation.
Adam Curry: Now I'm sure that all take place. I love green
hydrogen as the champagne of energy. I just love it.
John C Dvorak: Yeah, it's a good phrase. I like it. overprice
champagne. In fact, we did a sweet talked about this a couple
of months ago when this first started doing it. And what's
overlooked in this store is it kind of says, you know, some
wind and some solar No, I don't believe they are blanketing the
area with the solar panels from China, I might add Chinese solar
panels and they're pretty much covering up as much as the
countryside as they can and then create putting these factories
at the Create they use the electricity to use to sushi near
the coast. Yeah, to break up the water and put the hydrogen in a
big tanker and then hauled to Europe. This is dumb.
Adam Curry: I also don't think it's ever going to be enough
energy honestly. You nuclear Yeah, if they didn't nuclear, I
believe it. But how about they have maybe there's putting up
coal plants. And we'll just say, Oh, look at look at the shiny
solar panels. And this also explains South Africa, South
Africa's entire infrastructure is now on the verge of collapse.
If we can believe the reporting, this is another great country to
go in and do this. And maybe it's just greenwashing you know,
maybe who knows? What if it's, you know, 10 billion doesn't
seem like a lot by the way to create green hydrogen. None of
it seems like it's realistic. I'm not enough of a energy Maven
to know if the solar panels can create enough to actually create
hydrolysis that no and on any meaningful level
John C Dvorak: I'm pretty sure they can do a meaningful level
but you still have the problem with hydrogen it's a terrible
product isn't leeches through everything it's one of the ships
is going to catch on fire one of these days. It's just a pain in
the ass to work with.
Adam Curry: It's like Hindenburg ships.
John C Dvorak: Berg ship.
Adam Curry: Is that the only way to store and transport it?
John C Dvorak: I can't think of any other way. And at least if
it's coming from Africa, yeah, they got to put it on a boat,
man, they get it some pressurized containers. They're
not going to turn it into liquid hydrogen. That would really be a
pain in the butt. Because this is dumb.
Adam Curry: Well, I just I really kind of love that whole
story is how it was really, really, really, really good. And
it fits in perfectly. Now climate change is moving in on
us and it's moving in so fast that the The 15 minute cities
which we know are intended specifically to mitigate climate
change, now that the cat is out of the bag, like we were seeing
it and all over the world, certainly in the United Kingdom,
these 15 minute cities are actually happening. So the BBC
came out with a 10 minute piece to debunk that the 15 Minute
cities are, well, what they're doing is they're taking it from
No, let's, let's put it this way, what we know about 15
minute cities, the idea is that you should be able to take
public transport or walk to anything you need, anything your
life can, can provide that you are there is a necessity, within
15 minutes. Now, what comes on top of that is all these cameras
and barriers that make sure that you add fines and fines, it
makes sure that you can't travel outside your zone without being
fined. And that is based upon climate change. So what they're
doing now, and the BBC did a very good job of this, and I cut
that down to two minutes, which is still long, but it has all
the pertinent pieces in there. They are now twisting this and
saying, This is a conspiracy theory. 15 minutes City's
conspiracy theory none of its true, because their idea I know
see that they're twisting it by saying people are saying this is
climate change lockdown, which of course is exactly what it is.
But they're taking it one step further and saying you'll be
locked in your house. That's not what this is. 15 minutes cities
aren't about that. Have a listen.
Unknown: What if it could be different? What if we
Adam Curry: could create a new where we reclaim our time?
Again, this is the BBC health and
Unknown: wellbeing, food, medicine, education and leisure,
all within a 15 minute walk or cycle theory. The idea of 15
minutes cities have spread to Paris, Melbourne and South
Korea, attracted by the promise of lower car use and a better
quality of life. But it's also become the focus of conspiracies
that travel outside these neighborhoods would be
restricted sort of climate locked down. disinformation.
Researchers say this all started with the pandemic. So the idea
of climate lockdown first appeared in March 2020. When
news of the lockdowns in Wuhan as a result of the COVID 19
pandemic first broke into international news. And the
terminology came from a set of accounts in the US who were
linked to a fossil fuel think tank called the Heartland
Institute.
Adam Curry: Have we ever heard of the think tank, the Heartland
Institute be being no being the source of this 15 minutes? No,
John C Dvorak: no, the source as far as I'm concerned was Oxford.
Adam Curry: Thank you, Ben, the BBC.
Unknown: Really it was a reframing of very old vocabulary
that imagines this future of so called Climate tyranny or green
tyranny, where individual civil liberties are stripped away
under the pretext of solving climate change. 15 minutes
cities have been drawn into this narrative of insidious control.
In the UK, one particular target has been Oxford, where
misinformation has recently led to counselors receiving death
threats.
We've been receiving many calls and emails for worried residents
in genuine fear that they might be locked in their own homes.
Whereas the death threat,
criticism has also been leveled at the way the proposals have
been communicated.
There were no great efforts for everybody in the city to be made
aware of what's happening and some people still don't actually
know what's happening. You can see why certain people turn to
conspiracy theories. Theories
a wider point in all this though, behavioral change is
seen by many experts as a crucial part of achieving legal
and binding climate targets. The UK is climate change legally
binding climate targets committee has for example urged
the government to create plans to reduce demand for air travel
and help change people's diets. This recent concern and
conspiracy shows how these kinds of policies are communicated
maybe central to the
Adam Curry: love this so they're saying no, of course we're
trying to motivate people to change their diets which means
no more meat, fake meat etc change their travel which means
no airplanes don't go outside your zone shitless and and now
they're actually gonna say yeah, this is important work we're
doing AI success we
John C Dvorak: if you back it up a little bit. She says all these
crazy things which resulted in people complaining which she
better believe it. And S and she says that the pushback is a
conspiracy theory. Yes. She talking about
Unknown: there is a wider point in all this though. behavioral
change is seen by many experts as a crucial part of achieving
the UK is legally binding climate targets. The UK climate
change committee has for example, urged the government to
create plans to reduce demand for air travel and help change
people's diets. This recent concern and conspiracy shows how
these kinds of policies are communicated may be central to
Adam Curry: your rights you literally As these concerns and
consent, did you say an conspiracy? Think she said yes,
something
John C Dvorak: like that it was just like she passed it off as
though. First they say, we like to get people to stuck in their
houses in a little area when they can't walk too far, and
they can't travel, they can't, and we're going to eliminate air
travel, they're going to have to eat Beyond Meat. And, and and
people think that this is a conspiracy,
Adam Curry: the crazy nutters,
Unknown: this recent concern and conspiracy shows how these kinds
of policies are communicated, maybe central to their success.
What we find in research is actually if you're completely
transparent about nudges, so if you think about the idea that
some policy proposals are designed to change people's
behavior, and what the government thinks are positive
ways, if you actually state what the goals are of the nudge, be
transparent and honest about it. It doesn't reduce the efficacy
of those types of initiatives at all. Very interesting. This guy,
Hey, yeah,
John C Dvorak: we forgot about the nudges. We forgot to help
nudge agency and they did these nudges the England was based on
doing nudges. That's
Adam Curry: why I left it in. And the reason for that is
WhatsApp gate. Which is the the 100,000 messages that Matt
Hancock, over there in the UK, during a thing as December 2020
was discussing all of these nudges, but the nudges really
went much further, saying things like, hey, let's let's release
the new strain or a communicate the new strain will frighten
those, though, right? I saw that will frighten the pants off
everyone with the new strain. Now. What this tells me is they
weren't releasing new strains, but they were totally scaring
people. And when we do deploy the new variant, and I think
deploy the tried the messaging about the new variant, you know,
they're not actually deploying new variant, although I wouldn't
put it past these creeps. And then stuff like more mask
wearing might be the only thing to consider. Yes, effective,
free and has a very visible visible impact, wearing masks
and all settings outside the home and in more workplaces.
This is going to work for us. So that does show the lunacy of
these people.
John C Dvorak: And what is this about? legally required climate
targets whatever she said at the beginning of her speech? Oh,
Adam Curry: that's all agenda 51 stuff. That's bull crap.
John C Dvorak: What's that? What's? What's that? What
happens if you don't do it? Well get a ticket. Yeah, you have to
pay you have to go see a constable. What do you have to
do here?
Adam Curry: You got shamed. You could shame that the next
meeting in Paris. Hey, you I've not been doing your work. No
pure hairdo for you. Of course, this is exactly what you know,
agenda 21 is about and all of these, all of these agreements
at the United Nations level. Of course, all the climate stuff is
all legally binding. Because we have agreements. We have
resolutions, we signed off on stuff. And this is why you have
the Mayor of London, Sadiq Khan, who is pushing as another
climate change policy, which is what is this thing called? It's
the Ulez Ultra Low Emission zone Ulez that London should be an
ultra low emission zone Ulez. And what does that mean? Battery
cars, of course, are better hydrogen cars clean green
hydrogen high. So during people's Question Time, which is
an open forum, where people can question the mayor. He decided
it was best to shame these people who are against the idea
of only battery cars or hydrogen cars being allowed into London.
And he did it with a couple of good old tropes.
Unknown: So objections in 2006 we banned smoking from public
places and their objections. Now, what I find unacceptable,
though, is some of those who've got legitimate objections,
joining hands with some of those outside who are part of a far
right group.
Let's be frank, that's cool. Let's call a spade a spade. Some
of those outside are part of the fall, right? Summer, summer
deniers deniers summer Tories
Adam Curry: if you're against Ultra Low Emission zone, then
you are anti Vax anti COVID And you're a Tory.
Unknown: The man has a right to be heard right. Don't look this
way. In this people's question time, it's up to you to have a
change of views, lots of macrocell, please, otherwise we
will we can we could enter this very, very quickly.
Adam Curry: If you'd if you keep doing that, we're just gonna end
it. We're just gonna not talk any more to you. Okay, we can do
that whenever we want
Unknown: to those people, to those people who've got
legitimate concerns by the fact, some of you, I've got good
reasons to oppose you less. But you're in coalition with COVID
deniers, again, coalition. You may not like it. You may not
like it. You may not like it. You may like you're in coalition
with the far right. You're in coalition with vaccine tonight
as well.
John C Dvorak: So even if you're not far right, a vaccine denier
anything that's fringe from his perspective, and you have a good
reason for disliking this idea, and there's probably plenty.
You're no good. You're just as bad as those people. Yeah,
pretty. So this is not a question and answer time.
Adam Curry: Now, this is a scolding time.
John C Dvorak: This is nonsense. This guy stinks. I you know, the
fact that he's Mayor of London or anything, I mean, he's he's
like Trudeau. He's almost like a Trudeau.
Adam Curry: Yeah, only Trudeau won't let you yell at him like
that. He just won't he just won't show up for that stuff.
Now, I got one more clip here. And and this is really about,
about the warming of the earth. Well, maybe I should set up this
way. Have we seen incredible warming of California in the
past month?
John C Dvorak: Let me interrupt your clip edge. Okay. With a
clip. Oh, very good. And the clip will be just because
elucidates your point. Yes. I have. California under
California snowed in
Unknown: in the San Bernardino area of California residents say
they are frustrated by the response to winter weather
that's dumped record snowfall and back to back storms. People
are still trapped in their homes. Grocery stores are
running out of food. Some roads remain closed. Nina Clark works
at the Community Market in Big Bear where supplies are
dwindling.
It feels like it's the end of the world or something like
we're like we're just being completely ignored and forgotten
about.
And Tanya Henkelman is a coordinator of a civilian
response that's been collecting donations, and then using either
helicopters or snowmobiles to deliver much needed food. She
says Help is being coordinated
have notifications of newborns that have no food available.
kits that are starving. And it's heartbreaking to see how we
civilians have taken upon to do the job.
More snow is forecast
Adam Curry: this weekend. In the time that you've lived in
California, which has been quite a while. Have you ever witnessed
this type of record breaking snowfall?
John C Dvorak: I get no is it winter?
Adam Curry: Winter I mean there's trapped California
mountain residents plead for help snowed in and
John C Dvorak: nobody's giving him any help either. It's like
too bad. You know, your your gear is warming don't exhaust
Adam Curry: Exactly. How does that report gel with this one
from Deutsche Avella.
Unknown: A new analysis of global co2 emissions put out by
the International Energy Agency is a mix of both good and bad
news. Oh, the headline figure is a record high for energy related
emissions in 2022 to almost 37 billion tons. That's nearly a
full percent more than the prior year. On the bright side, rising
clean technologies, including solar cells and battery powered
vehicles help limit overall emissions. Oh, those
technologies are poised to play an even greater role in the
years ahead. That's according to the report. Alright, because
Jonah is an energy researcher at the Regensburg University of
Applied Sciences. He joins me for more, because thank you for
coming to the show. The IEA says that recovery from the COVID 19
pandemic is proving more sustainable than past crises. Do
you see that there is indeed good news in this report? Are we
just so desperate to find a silver lining, when overall
energy related emissions actually went up?
Now, I think it's really good news because the energy
transition is already working. Without this, we would have
three times more emission raising.
Adam Curry: It's already working, you're soaking in and
match so it's
Unknown: already helping and reaching our climate goals,
reducing energy independence in dependency, and stabilize our
economy. I mean, there are feelings of tons of co2 avoided
billions of euros that don't go through the pipelines to Russia
but remain in our economic and your European German economy.
This Stay here, they create jobs to create welfare. That's the
good side. But we also like to discuss the IRA, we need to
stabilize that by doing right policy making
Adam Curry: sure if I understand it, we've actually been too
successful because you know, people are trapped and can't get
out of Northern California, because it's all working so
well. I mean, and we still had, I mean, this should be warming
the crap out of everything, but it's not I'm baffled I don't
understand.
John C Dvorak: Because it's a hoax. I think you can go back to
the global cooling days and
Adam Curry: yes, I'm ready to believe that Oh, you don't even
believe it's because of co2. That makes more sense it just
logically because of more greenhouse gases, it's going
we're going into a global cooling that was the promise in
the 70s
John C Dvorak: but wasn't due to the greenhouse gases it was
reflections and and the reflection off especially about
off the north pole as more snow increase it reflected more heat
off the Earth had a bigger area so that area reflected the sun
and that would cause the cooling effect and once it began and the
once the I mean from what I've seen the glaciers have been
retreating. And I think that's true which is good. We don't
want glaciers they're no good
Adam Curry: they're annoying they get in
John C Dvorak: the way and then if those things stop retreating
and start going in the other direction we're in trouble
that's I'm on the lookout for Hmm good yes it's it's been the
weather here has been it's actually been quite nice around
here because what it does it rains for two days and is clear
and sunny for two days in a range like gal the current sunny
so you don't have flooding and but all that rain every time the
two days comes around. It rains here but then it goes up to the
mountains and dumps a ton like yesterday down five feet. Yeah
of snow in march up the mountain is snowing a lot. Well, is that
your weather report for yesterday?
Adam Curry: That's what I have for today. Yes, yes. That's what
I have for last time Ukrainian
John C Dvorak: stuff I want to get out with but I first of all
I want to get I have a series of clips. Okay. From Bill Browder.
Adam Curry: Oh, yes. Bill Browder is is the guy who got
kicked out of Russia got put on the no entry list. And
apparently all his money was stolen.
John C Dvorak: It's even it's worth reading his wiki page. I
recommend it's like reading a novel.
Adam Curry: Oh, yes. It's true crime drama. It's phenomenal.
What this guy's
John C Dvorak: absolves as you US citizenship. He's become a UK
citizen. He has diminished ski, whatever it is, the bunch of
laws were passed. Because his lawyer was murdered by the
Russians, and it's just a damn story. Interesting story. But
he, for all practical purposes hates the Russians. Oh, yes.
Yes. Yeah. Particularly the one behind the idea that we should
steal their money.
Adam Curry: Okay, are you gonna prove to me that I'm wrong? Is
that what this is about?
John C Dvorak: I don't know what you did. That was wrong. But you
said it was not you. We could do it. But he himself says we
can't. No, no. Sovereign immunity to
Adam Curry: correction, small correction. I said, they are
doing everything they can to change whatever international
law is to be able to do it. That's exactly what I said.
John C Dvorak: I'm not gonna disagree with that. But I don't
think they're, they're making that much of an effort that you
might believe, okay, I think there's this guy and a bunch of
other people making noise is not going to happen. It'd be funny
if it did, but let's listen to him. He's on. He's on. Mmm. Poor
show. Yes. And he's being interviewed by Walter Isaacson
statuary, Eisen, whatever his name is the guy who did the
Steve Jobs biography, the guy who's got the white hair and as
azimoff,
Adam Curry: wasn't it? No one says no,
John C Dvorak: no, I isn't. The guy who did?
Adam Curry: I hear you that he's a
John C Dvorak: he looks to be a spook, as far as I'm concerned.
The head of the Aspen Institute.
Adam Curry: Isaacson, Walter Isaacson, exactly controls.
John C Dvorak: So here we go. This is kind of interesting.
Then it goes on and goes. I've got a lot of clips, but the ads
are not short, but they're not long, but they're interesting
and I think you'll like it. This is Bill Browder, one money from
Russia.
Unknown: We could isolate Russia much further than we're
currently doing. If we said to everybody, you know, it's either
us or them, and and everybody always votes with their feet and
votes with the money when it comes right down to it. We
haven't put that to them. We haven't been toughen that way.
That's one thing we could do. There's one other thing which
I've been going around the world talking about, which I think
would make a big difference in the war in Ukraine, which is
that after the war started, the first thing the Western
governments did was we thought we froze $350 billion, oh,
reserves, the war has done one, at least a trillion, maybe $1.2
trillion of damage to Ukraine. Russia has done the damage, we
have custody their money, instead of just having that
money frozen, that money should be confiscated, and handed over
to the Ukrainians both for their defense and their
reconstruction. Good and broke it, he should fix it. That's
probably the single biggest thing we could do in the very
short term, to tip the balance and Ukraine's favor in this
whole conflict,
explained to me the mechanics of confidence skating, that central
bank was so good,
well, so at the moment, those reserves are protected by
something called sovereign immunity. Sovereign Immunity
means that anything that belongs to a country estate can't be
taken away, you can't like just move into the embassy because
you would like that property, because it belongs to that
country. And normally, that would be a reasonable thing. And
that's how international law has worked for the last many, many
years.
Adam Curry: Oh, this is good. So sovereign immunity, who who?
police's, the sovereign immunity,
John C Dvorak: this done by treaties and UN resolutions and
UN, men's un. So the UN is pretty much un and if you
violate it, you are sued internationally. And
Adam Curry: if you violate it, then you get a ticket, or what
do you get then?
John C Dvorak: But can rephrase what I saw a minute ago? Yes.
Yeah, you get a ticket. Okay. UK, here's what happens. If you
do it. For example, Switzerland has a lot of the Russian money
and they refused to do anything. Because they said, people will
lose confidence in them and Switzerland, you know, banking
community, we would we would, if we did it, we would our stock
market would collapse. And the bond market would collapse ever
really. China would take their money out if he goes on about
this. But that's what would happen. We would have an
economic collapse if we tried to pull this
Adam Curry: and I can just say one thing about that. And just
quickly, because I do have some a little prepared for this. I
didn't know you're gonna do Browder. I like it, I really do
like it. We did pretty much the same thing with the Iraq
invasion of Kuwait. And the lawfare blog, I put it in the in
the show notes as a pretty good explanation of how that worked,
where we literally took their frozen money and paid in
reparations to Kuwait. So it has been done in the past. But this
may be a different scenario. I'm not a lawyer, obviously. And it
could be done through Australia, because Australia does not
participate in the sovereign immunity system. So I mean, it
seems like a long shot to do it through them. But it's not not
the whole world is on board with this.
John C Dvorak: We're running the show here, Australia, it's got
nothing to do with this situation in Ukraine, it would
be ridiculous. But let's play out this next clip to Putin
Unknown: has redefined international crime. He has
redrawn the borders of Europe, he's invaded a foreign country
he's killed. He's been a mass murderer killed the unimaginable
numbers of people. And so we're sitting there in this situation
where he's reading redefined international crime. And we're
we're sitting there saying you and your money is still
protected. We need to redefine international law, to elevate it
to the level of his the way he's become an international
criminal. And what does that mean specifically? That means
that that laws have to be passed in a number of major developed
countries, which says that sovereign immunity always
applies in every single circumstance, except in the
circumstance when a country has invaded a neighboring country
and committed an act of aggression, which is being
defined as deliberations. So that's the one narrow
circumstance where sovereign immunity no longer applies. If
we did that, if the United States and the European Union
and Great Britain and Canada and Japan rewrote their laws to say
that sovereign immunity applies in all circumstances other than
those, then we could then confiscate their money.
Adam Curry: Just to add to that, I like that, it would mean a re
writing of the rules, which is what I said that they're working
on that, in November of last year 50 nations co sponsored a
resolution on establishing an international mechanism for
compensation for damage loss and injury, as well as a register to
document evidence and claims that's the crimes of aggression,
which is now somehow is going to be the basis of a war crimes.
It's not there yet a resolution is just a resolution, but I
understand what he's saying. And that would have to happen. And
you're saying, and maybe rightly so that we'll never do that we
will never will never commit to changing and getting on board by
getting rid of the sovereign immunity.
John C Dvorak: Yes, that's my position. Okay,
Adam Curry: that's good. Let's go on with Browder, which I
hadn't had didn't expect him on Browder's side of anything.
John C Dvorak: Yeah, there's that. Let's go three,
Unknown: if you wanted to confiscate the foreign reserves,
and you've talked about laws being passed in the West? Would
China and India have to go along? Well,
the thing is that all you have to do is get the countries that
have reserve currencies, revise their laws. So in other words,
we don't you know, if China, we don't keep our money in China.
So it's not a reciprocal thing. If you get the major reserve
currencies, the places where, where Russia keeps their money.
And by the way, there's one other great benefit to doing
this, which is that if we confiscate Russia's money for
invading a neighboring country, who else has got a whole bunch
of money in the West, that's I'm tryna potentially going to
invade a neighboring country, that's China. Now, some people
would argue that, that this idea is a dangerous idea, because
we're China will just like abandon all countries and keep
their money at home. But that just you know, if it's just the
US doing this, that might happen with the dollar. But if
everybody does it together that has a reserve currency, then
China will have to go along with it. They'll I mean, they have to
be scared of it.
Adam Curry: Interesting. Your mic is banging a lot. Believe
don't do anything. Yeah, we just want you grabbing it or
something. And it just did grab it. Yeah, yes. Stop grab a
router for Well, hold on. Yeah. Could they do that? I mean, it
makes no sense. I mean, doing that for Russia doing that for
any country would make everyone pissed off. It doesn't isn't
China's? Don't they have some version of reserve currency at
this point? Aren't they being used as reserve currency? why
many of those baskets? Yeah, the SDR the SDRs.
John C Dvorak: Yeah, but they got so much money in our bonds
that what they would do would dump all the bonds. Miss
definitely wouldn't. It would be bad.
Adam Curry: Just Just to follow up on that. Just because I have
these listed 7773 94 countries voted in favor of the
reparations resolution. Russia got 14 votes against and another
73 countries abstained. And this is in November, so it doesn't
seem likely. But Russia has threatened that they want to
dissolve the United Nations over this.
John C Dvorak: Well, that's pretty good.
Adam Curry: You know, I'm kind of all for that, too. I'm
confused. Now.
John C Dvorak: I want to bet we can do both. Yeah, that'd
Adam Curry: be great. All right. All right.
John C Dvorak: Now I have a clip that's called idiotic comment.
Unknown: This is clip flow for what about in the Middle East?
both Israel and the Saudis don't seem to be on board. What do you
what's the reason for that? And what can be done?
Well, I think it's it's really shameful, that the Israelis who
are Israel is a country that that was formed as sort of
reaction to a genocide are now seeing a genocide taking place
in another country and are not helping out that country. I find
that really unpleasant and, and disturbing. Wait, why is that?
Do you think? Well, their argument is that the Russians
are in Syria, Syria, poses a existential threat to Israel,
and therefore, they've got to play all different sides. I
think they could easily for example, the Israelis have an
Iron Dome defense situation, which prevents people from
bombing them. They should provide that Iron Dome defense
mechanism to Ukraine so that they're not the Ukrainian
infrastructure isn't destroyed, they can easily help the
Ukrainians with defensive weapons. What
Adam Curry: were the ones that provide the so called Iron Dome?
Not Israel's not going to get this Raytheon? Thank you.
Raytheon's the one who supply not even the US is Raytheon,
John C Dvorak: and the Iron Dome around Tel Aviv, specifically,
it doesn't work. It doesn't work a a it doesn't work. Be it's a
small area. Ukraine is the size of two massive countries like
France and Germany combined. Yeah. What are you gonna do?
How's that work? This is dumb. So when he said that I'm
thinking this guy's
Adam Curry: because he's saying the crap now then the other
stuff is crap mine is well,
John C Dvorak: yeah, like, well not like the other stuff. I
Adam Curry: like the other stuff. Again, of course you do
don't have to agree with everything you see want
John C Dvorak: to punish Russia?
Adam Curry: I don't know I want I just want to be right I don't
give a crap I don't want to post who is right. You don't want to
punish Russia. I would like the war to end so we can get on and
move over a different idea. Let's move over to China. Let's
get that going. Let's get something new happening here.
I'm tired of
John C Dvorak: clips six,
Adam Curry: six, did you do five? We didn't do five. Do you
want to skip? Oh, no, we
John C Dvorak: didn't do five sorry, five.
Unknown: And on the Saudi Arabian side. They really not
been a good ally to the United States. There historically, the
United States had a deal, which is that the Saudis keep oil
prices stable to keep the economy stable and in return.
And the United States provides a sort of military
Adam Curry: element home not entirely true. It was that we
that the Saudis would sell oil in dollars to keep it the
reserve currency of the world, not just to keep it stable. So I
don't know why he's omitting that important fact, blanket
Unknown: over Saudi Arabia so that they're protected. And the
military blanket continues to exist, but they haven't been
playing ball when it comes to oil. When the oil prices went up
because of Putin. What do they do? They cut production even
more. I think the Saudis aren't playing fair game. And nor is
the United Arab Emirates, the United Arab Emirates are hosting
scores of Russian oligarchs, numerous Russian oligarch yachts
are parked in Dubai. You know, this is another country that's
supposed to be an ally of the United States, and they're not
playing ball. And so there's a lot of blood pressure that we
could apply to, to our allies if we chose to do it. And United
States is a very powerful country. And, and I believe
shooting in all three cases,
Adam Curry: it's easy now suggesting that we go over there
and point a gun at their head, say, hey, yeah, and by the way,
how much do you think a military blanket really costs? I mean,
that's got to be very expensive blanket.
John C Dvorak: That'd be I don't know. I just find this guy's
comments about playing ball. And not playing ball.
Adam Curry: Yeah, well, they're not. They're not you know, we
know that the Saudis supposedly are selling oil to the Chinese
in the in their currency. Working stuff out.
John C Dvorak: Which of these things if that's only get
resolved, but that's all
Adam Curry: intentional. That's all to bring in climate change
or whatever your green hydrogen Add To me this intentional? Not
not from the dollar side. But oh, we just kick people off
Swift. Screw you. That China, I think that's what they would do.
Before anything out China, you probably would just kick off
Swift. Just like Russia. That's how stupid these people are, are
people.
John C Dvorak: To his right to left, let's listen to the
bullshit clip. One of the
Unknown: things you've always pushed for his going after
Putin's wealth, personally, tell me how did he get all that
money? And where is it and what can we do?
Well, so Putin doesn't keep any money in his own name. If he
did, then then whoever had the bank documents to show it could
blackmail him. Oh, so Putin has to rely on people he trusts, I
call them oligarchy trustees. And so when you see an
oligarchy, who's supposedly worth 15, or $22 billion on
paper, you can be pretty well, sure, that half that money
belongs to Vladimir Putin. And so when we sanction the
oligarchs, when we identify the biggest and richest oligarchs in
Russia, and we freeze their money, we're not just freezing
their money. We're freezing Vladimir Putin's money. And so
one of the reasons that I've been so forceful on the issue of
sanctioning Russian oligarchs is because we're sanctioning
Vladimir Putin personally. And so that we've done a good job
with that and and, you know, he says, Oh, this doesn't matter.
Well, he's, he's fuming when these oligarchs find their
assets frozen at different banks around the world
Adam Curry: that's my boat
John C Dvorak: Alright, so I found this to be one of the more
problematic and music that word clips Yeah, I
Adam Curry: agree with you on that one.
John C Dvorak: Let's start with the with the basic premise.
Putin has no money in his name because he could be blackmailed
you ever hear
Adam Curry: of the Panama Papers? You can hide that stuff
easily?
John C Dvorak: Well, what's the point of even hiding it? Right?
Adam Curry: He should have gone a different tracks except
Vladimir Putin has all his money in Bitcoin. That's what he
should have said that would have been much funnier, and much less
John C Dvorak: money but much more. It would be believable,
but say he has his money. goes he has $1,000,000,000.05 billion
I mean, they make it sound like he's got hundreds of billions a
trillion dollars. And he could be blackmailed somehow give you
blackmail again with that much money. I don't think so he's in
this Bill Gates doesn't hide his money this way. So why is he
hiding his money in the first place? But then the second thing
that really got me is that if half of the money that always
say there's a dozen oligarchs in particular, just take 12 Off the
top that are worth anywhere between 10 and 20, or $30
billion each, each one of them to half of their money belongs
to Putin. Why wouldn't they just get together and kill him? Well,
this, thank you. They just shoot Putin and you got you say you're
worth $30 trillion, or I'm sorry, $30 billion. And half of
that money actually belongs to Putin. Well, you and a bunch of
other guys, you shoot Putin, and now you're that 30 trillion, you
get the $30 billion to yourself. I mean, this is nonsense. It
makes zero sense what he said what Browder
Adam Curry: is doing here, and maybe that's part of his, his
Let's steal the money Gambit. He's continuing along the lines
of this is not about Russia. We don't hate Russia. No, it's only
one person one man, it's all of this the whole problem in the
world inflation, climate change. You know, Germany having to rape
Africa, that everything is the fault of just one man, one man
and one man only and that's Putin. It's Don't be mad at the
Russians. Be mad at one man, Putin, that this is what this is
about. For some odd reason. I guess we're going to build it up
and then try to explode a cigar or whatever, you know, that
we've tried in the past to kill him and then it'll be dingdong,
the witch is dead and everything will be over. It it's a real
it's a real build up here.
John C Dvorak: Yeah, well, that's a bad idea.
Adam Curry: Probably, but look at who's running the show.
Victoria Nuland, Jake Solomon
John C Dvorak: nadie Ryohei Putin, Putin spirit gets in the
way of their schemes. So let's go now here's one that you'll
enjoy. Just the last question router. Okay. Yeah. Now, this
war isn't going to end tomorrow, like some people that we both
know, think Da, five years meant minimum, here we go, oh,
goodness, you say this
Unknown: is gonna be a long war, the way it's going now. Envision
for me what it'll be like five years from now, if this thing is
still going on the way it is?
Well, this is Putin's Putin. His his vision, in my mind, is he
knows he can win the war. But he also doesn't care about the
lives lost from his side. He doesn't really care about the,
the destruction of his of his military equipment. In this in
his mind, what he's thinking is that we're going to lose
patience before he loses patience. He's thinking that in
these democratic countries where we have elections all the time,
where we grow tired, and where we have a limited bandwidth,
that eventually we're gonna stop supporting Ukraine. And that's
his only way out of this whole thing is just to outlast us. And
so well, wait, wait, but he'd be right.
That I think that that's my biggest fear. I mean, if you
look at the trajectory of the Ukrainians right now, they're
really causing just no end of hardship for Putin and his
military. And on the current trajectory, he thought that the
Ukrainians probably would eventually succeed over some
long period of time. And so but but that we, we've, we've heard
murmurings in the United States and in Europe, from far right,
from all sorts of strange characters saying no more money
for Ukraine, no more support for Ukraine. If those murmurings
that are, at the moment, very narrow sections of of the
political establishment become bigger sections. Putin may very
well be right. And that's that's the fear I have.
Adam Curry: Oh, goodness, well, you're right. This is the Brooks
rule goes into effect. So this thing has to end quickly. Or
maybe not. Maybe not because, you know, this is the result of
the war
Unknown: as the ongoing war in Ukraine continues, the
ones profiting on defense firms Lockheed Martin, a major
American defense company, has now announced a record breaking
annual production goal after a massive success of its High
Mobility Artillery Rocket systems
are high mass systems on the battleground.
Adam Curry: Yay, record profits everybody. Beautiful. Good job,
everyone.
John C Dvorak: Yeah, here's my Ukraine update. This is in prs.
Let's see. Where is it?
Adam Curry: I got it. Ukraine update
John C Dvorak: NPR got
Unknown: Ukrainian troops are helping civilians flee the
eastern town of Buck mood, which Russian forces have bombed and
shelled for months. And piers Joanna kisses reports. military
analysts say Ukrainian soldiers may be preparing to pull out of
the Besiege city.
Yeah, so far Ukrainian military officials say there are no plans
to retreat from Bach loot, even as Russian forces inch ever
closer. NPR recently spoke to soldiers in northwestern Ukraine
training to deploy to box loot. A soldier named Vadim, who
declined to reveal his last name for security reasons, says he's
planning to release members of his battalion already there,
because he will be there for several weeks and we will change
we already but British
and American military analysts say Ukrainian forces have blown
up key bridges and back loot signaling or retreat.
Adam Curry: Yeah, this this is trending. The idea that Ukraine
will be pulling out of Buck moot, and here's my version.
Unknown: Well, there's a lot of speculation around here about
whether Ukrainian troops are preparing to withdraw.
Officially, the Ukrainian position is that they are not
withdrawing. Most soldiers that we tried to speak to said no
comment when asked about any plans to withdraw other so we're
willing to speculate a little bit. And what they said was that
they were not withdrawing so far, but some of them thought
that it was more likely that Ukrainian forces would have to
pull out of that route, the not the main reason being that
although at the moment, it's still freezing at night. So the
ground remains reasonably hard. That is set to change in the
next few days, which means it's going to get much more muddy,
and the ground will be much softer at the moment that
Ukrainians don't really have a paved road that they can use to
go in and out of dark moods. There was a bridge that was
blown up a couple of days ago, on the road that they were still
using, they've replaced that with a pontoon bridge. But that
makes things very difficult logistically for getting in and
out of town at the moment, they're still also able to use
dirt roads, but that won't be the case not for wheeled
vehicles anyway, once it gets more muddy. So that's that's the
main difficulty that they're facing at the moment.
Adam Curry: What I could not find in any of the reports is
the location of Bach moot, which is smack dab in the middle of
the Donbass region. So I pull out from that to me would mean
there's your there's your new border. Now that's so dumb boss,
just give that let that rest it shit anyway. We don't want it.
Let Russia keep that. That could be that that could be the new
border. And maybe that would be the way out?
John C Dvorak: Well, if some parties, I would put our
government in that category of some parties insisted on
negotiations in ending this thing, instead of testing
military gear by the boat load at the expense of our taxpayers.
Yeah, that probably could happen.
Adam Curry: That seems to be ending. I've been looking into
why we can't supply Ukraine with any more ammunition. And I got a
reasonable answer here from defense one. Their audio? I
guess they are the website that reports on the defense industry.
John C Dvorak: Yes, it's got a very good newsletter. I
subscribed Yes, I subscribed where
Adam Curry: you get all the numbers, you know 100,000 For
100 100 million for Lockheed 400 million for Raytheon every day,
by the way every single day. US US and allied production of
artillery ammunition has emerged as a key problem supplying
Ukraine which burns through 1000s of shells a day fighting
Russia's invasion. Ukraine may lose the war to Oh, if it
doesn't receive enough supplies. This is what European Union
foreign policy chief Josep Borrell said February 20. Now
here's the problem. Obtaining the raw materials might be a
problem eventually, but not yet. He said at an event held by the
Center for Strategic and International Studies. That's a
great group. The US already maintains large stockpiles of
some of the key raw materials such as the precursor chemicals
for explosives. But now but how much of the other raw materials
the US should keep in reserve is an open question. The issue
really is stockpiling. The question is how much can you
afford to do like we can't afford to print more money. The
US has no shortage of raw materials used for artillery
shell manufacture. But the production capabilities
potentially taking the stress off the US could come from
Poland. And unlikely. What seems to be the problem is steel, that
we just don't have enough steel to make this happen. And as I
read through these pieces, I just see a lot of excuses.
People waffling around, does that mean that we can't get
enough or that phony baloney steal from China? Or are we
going to x bought the manufacturer of some of this to
Poland, Australia, other countries that want to do this
and this, it may
John C Dvorak: have the same issues, I mean, the steel mostly
is made in China and India nowadays. And, I mean, we could
do make steel, but we make you know, the Steel's, that when we
make steel, we make specialty Steel's, you know, high end
stainless steels and things like that, that you use for other
purposes, as opposed to artillery shells. Yeah. I mean,
this, this whole thing may be a test of our stress test for the
military industrial complex. And, you know, assuming a proxy
war, let's assume that we were in this I mean, you can just see
a meeting about this with a guy with a pointer. Let's assume a
laser pointer where they are we are fighting the Ukrainians are
our soldiers. And now we have to supply them, what are the
bottlenecks? What are the kinks? What are the what's the what,
how
Adam Curry: about this? Supply and demand artificial shortage?
They just, they just want to make more money?
John C Dvorak: Well, that that could be an element and when
that wouldn't be a shocker, no. But it could be a combination of
both.
Adam Curry: And and you know, the general word is how we have
to save some for China. We got it. Even the Secretary of the
Army was saying, Yeah, we shouldn't be given f 16. So
Ukraine, we got to send them to Taiwan. We got to get it ready
for China. 2027. We only have a few years left. There solidly
running the show here. The MICC companies, they have everybody
by the balls. That mainly the US taxpayers.
John C Dvorak: So there's you're talking about Ukraine. I do have
an ask Adam series.
Adam Curry: Okay. This is always fun. I wasn't
John C Dvorak: three clips. There's the one with the answer.
And then there's geopolitical, ignore those. That's number
three. This third clip Hold on.
Adam Curry: One of our favorite gambits here, ladies and
gentlemen, the ask Adam segment. All right,
John C Dvorak: okay. This is ask Adam, Ukraine supply ready, you
get it.
Unknown: In the early months of the Russian invasion of Ukraine,
Ukraine supply lines were abruptly cut off. One of the
supplies people could no longer get
John C Dvorak: is Russia.
Adam Curry: Ooh, one of the supplies people create again,
but again, this is a good question. The
Unknown: early months of the Russian invasion of Ukraine,
Ukraine supply lines were abruptly cut off one of the
supplies people could no longer get,
Adam Curry: ah, birth control pills.
John C Dvorak: I'll give you a point for that.
Adam Curry: Thank you. To
Unknown: the early months of the Russian invasion of Ukraine,
Ukraine supply lines were abruptly cut off one of the
supplies people could no longer get abortion pills. Were so
Adam Curry: close. Wow, I was gonna say Viagra at first but
then like, now you're
John C Dvorak: kind of on the right track. But yeah, but you
know, since this is kind of, let's make some points here.
abortion pills. NPR.
Adam Curry: Wait a minute, I thought that they were on the
last show. We we have Ukrainian men freezing their sperm so that
they can still build a country of young Ukrainians if they get
killed on the front lines. Then now the next show four days
later, we hear that abortion pills with a problem.
John C Dvorak: Just grow. Let's make it so we've worked. We had
these war reports over the last 15 years now. And again. Yeah,
we have to make sure that we angle this the right way. So
here's the bonus clip that follows all this other stuff.
Ask Adam geopolitical three.
Unknown: And the reason the first reason was
rape cases. Oh, the request that first sparked this donation of
pills was a plea on behalf of women raped by Russian soldiers.
Adam Curry: My goodness, I could have figured that one out. Oh my
goodness. It's all it's always some bull crap like that, isn't
it? They're raping the women. They're handing out Viagra so
they can rape all the women. No man
John C Dvorak: that things are changing that much.
Adam Curry: That's so lame. I thought I had something on this.
Oh, no. If we just get off Ukraine for a minute, I'm kind
of bored of it. There was I'm good. Yeah, you're good. It was
a similar Gambit being used in Iran. You know, because we still
have to kick Iran was asked for whatever, you know, I know it's
subjugate them to our deal or whatever it is now Iran is
coming back or Iran is trending, and it's trending with the
poisoning of the school girls.
Unknown: Let's bring you some breaking news coming out of Iran
where dozens of school girls across five provinces are in
hospital after a new wave of suspected poisoning attacks. Of
course, the authorities have said that it's Iran's enemies
are behind this. But that's pretty vague in itself. Are they
being any clearer about where the finger of blame is being
pointed? No,
for right now, there is no clear answer being provided by any
officials in government. We heard from the Iranian President
Ibrahim Bracy. During his speech on Friday, he accused Western
powers of carrying out these attacks to try and create
instability in Iran and try to create fear amongst the parents
of these girls of school girls in general in the country. We
know that the President has tasked the interior minister to
look into these attacks, and also trying to figure out what
is happening and to prevent them from taking place. We understand
that the various levels of intelligence apparatus is in the
country are also working with the interior ministry. But I
think it's important to point out that we don't have any clear
answers. And the officials haven't provided any evidence
that they've come up with that would prove Western powers to be
involved or foreign powers to be involved in these attacks. What
is clear is that they are increasing in numbers, which is
only making parents more worried. I've spoken to a number
of parents over the past few hours, who say they're clearly
worried about their daughters, and they're not sure if they
will send them back to school in the coming days.
Adam Curry: All right, what is missing from this report? Which
she says clearly a lot. What is missing from the report?
John C Dvorak: Well, to me what's missing is the day Ronnie
has don't want to girls to go to school. Pretty much like the
Taliban.
Adam Curry: Well, so that's why reports here eventually will
starve all that, you know, the the Taliban or do the regime
which we need to change and Iran is poisoning the school girls
don't want them to go to school. But what's missing? Is any
analysis of the poison being used. Not a single word.
John C Dvorak: Excellent. Not.
Adam Curry: Now, what do I think it could be? We go back to
Havana syndrome. Because you see all these videos of these girls
lying on on Cops filling up the hallways. And by the way, that
could be a total. You know, they're they're, they're
throwing babies out of incubators. That's also
possible. I don't know. You know, that would that would be a
good one. Yeah, it could be staged. It could be staged. But
I don't see them puking. And I don't see puke everywhere. I
don't see any of I don't see them going into convulsions just
lay in there. They're looking like, oh, I don't feel good.
Could this be a Havana syndrome weapon? We may be we may be
using that. It's just there's something screwy about this
story. And the end the lack of any type of toxic toxicology
reporting is telling I think so it's either phony. Or it could
be something like one of one of our Havana syndrome weapons,
which I think we've pretty much deconstructed the intelligence
agencies are using on each other.
John C Dvorak: Yeah, I don't I doubt if you have anything to do
with this is something else. But I just don't see why. What's the
point? I mean, I mean, we play these sorts of games, you know,
but that that's pretty granular. It seems to me, for us to be
involved. I think if we're going to zap somebody with these
things, we SAP a couple of high up guys and have some fun.
Adam Curry: That's why don't we do that to Putin. We should zap
him again. Now. Now you're talking Mr. Putin. Zap. Zap. And
you know what the military industrial complex doesn't want
Putin zapped we can't have that happening. What will happen to
sales if the war in Ukraine ends prematurely before positioned
for the war in China or the war over Taiwan or whatever we're
going to call it
John C Dvorak: the war in Asia that's been scheduled for 2020
successive ways off 2027 2027.
Adam Curry: That was 26. No is 2020. So that's what the CIA
told. told us was CIA guy.
John C Dvorak: Places seven Yeah, hold
Adam Curry: on. Birds. Bill Burns. Yeah, here it is
preparing
Unknown: countries are increasingly wary of China,
which is continuing its military buildup. The head of the US
Central Intelligence Agency is warning of China's intentions in
the Indo Pacific. William Byrne says President shooting ping
appears to be readying for an invasion of Taiwan by 2027.
We know as a matter of inter allegiance that he's instructed
the People's Liberation Army to be ready by 2027 to conduct a
successful invasion. Now, that does not mean that he's decided
to conduct an invasion in 2027 or any other year. But it's a
reminder of the seriousness of his focus and his ambition.
Burns warned she should not be underestimated. The Chinese
president is currently serving his third term in office. It
expires in 2027. Burns. She is closely watching Russia's
invasion of Ukraine, and is likely unsettled in a little
sobered by the performance of the Russian military. There you
go.
John C Dvorak: There was yeah, he needs a little action for a
reelection. Oh, totally. It's an old classic, classic Gambit. So
there was a when George Bush ran for reelection, and all of a
sudden we were on Orange Alert. Remember those things at the
airport?
Adam Curry: Yeah, yes. Was it was it just?
John C Dvorak: Yeah, it was just before the election, and
everyone condemned him for being using it as a political ploy to
get reelected. Right. Right. Guess what? It may, if I may ask
you to guess. Go ahead. I'll try. He, it was a political
ploy. Yeah,
Adam Curry: so the Treaty of the sea has been agreed to but not
signed. But this was a big thing this week at at the United
Nations. And the Treaty of the sea, pushes out a zone I think
it's 200 miles from which is like incredible amount 200 miles
from any country's economic, exclusive economic zone. And
that will be a protected zone that, you know, you can't fish
in and do all kinds of stuff. And, you know, it's like, it was
really kind of unclear what the point was of everyone making
such a big deal out of this. Although I do recall Hillary
Clinton being all jacked up on the on the Treaty of the see
years and years ago, actually. Here 2003 2003, we were playing
this,
Unknown: the 2003 treaty between Russia and Ukraine,
Adam Curry: our way is 2018 Sorry,
Unknown: designates the current Strait and this Sea of Azov has
shared territorial waters. But Moscow has been asserting
greater control over the area since its annexation of the
Crimean Peninsula in 2014, particularly since the May this
year, when it opened the new 19 Kilometer bridge linking the
peninsula to Russia and territory to the east of the
current strait.
Adam Curry: So it extends your economic zone essentially. So
although they didn't get a full on text of this resolution, the
United Nations everyone was all GD and all Jackson all happy
about it. And I'm like, What could this mean? Why is this so
important? And then I found this.
Unknown: So let's now talk about Ireland. There are islands with
an area of less than the Vatican City sometimes claimed back
three or even more countries, seemingly insignificant islands
holds strategic and economic treasure for countries. Every
Island offshore provides an avenue for military and naval
bases. The 200 nautical miles area around the island source
falling in a country's exclusive economic zone, which means that
the particular nation can lay exclusive claim to all the
resources available in this area. Now consider this. Our
country recently found that it has not one, not two, but over
7000 Islands, which were previously not accounted for.
The country which has hid the treasure is Japan.
Adam Curry: So Japan could extend its economic zone with
military hardware ours by an extra 200 miles. Wouldn't that
be convenient? For them? Yes, that's the point. Move towards
China. Vietnam,
John C Dvorak: we have situation. Sorry. What happens
when you have a situation this used to be a big deal back in
the Nixonian era, where you have two islands, Clem Moy and Matt
Sue. Yeah, that are across from each other when owned by
sequence Chinese and was Japan or was Korean? I don't know what
the two countries are. Yeah. But they're with the island
themselves, as you say any random two islands that are
owned by two different countries are within 200 miles of
Adam Curry: each. Yeah, that's a problem. No.
John C Dvorak: Well, there has to be resolved in the treaty. It
has
Adam Curry: to be resolved with violence. Come on. We're going
from via On some and not for and just any old treaty that's no
fun. We want some some action gotta get something going here
John C Dvorak: now Ma'am you really liked that woman that's
what I get a kick out of it you follow her? Oh,
Adam Curry: this is not a Paki Sharma. No, no, no, no, this
John C Dvorak: is this is he says just like her.
Adam Curry: Hello wi o n. That's racist of you to say but yes,
the Indian women often sound alike. Now she's gone to
something called first post or
John C Dvorak: then when she leaves wi O
Adam Curry: N Yes, she left lb IO and this is W IO n and so
they just put a replace a sound alike. Moment. I think I think
they all kind of sound like you know, I'm just saying no. And
yeah, well, the difference
John C Dvorak: is you'll be hearing from our Brahm and I
know
Adam Curry: the difference is this lady leaves long pauses in
between, I actually I left the first one in but I cut most of
them out because she really leaves you speaking of such more
response from my rant against pod speeding that is now the
official term pod fasting was not working for everybody. Pod
speeding is the act of listening to a podcast at more than the
normal speed. We have unscientific evidence, but a lot
of a lot of accounts of firsthand accounts of people
saying that it has hijacked their nervous system, they have
no patience with the people around them people they love
their spouses, their children, their co workers, that it makes
them jittery and they're just there are two more pieces that
came in that I would like to share. Because
John C Dvorak: I want to mention something here. Yes. I have
gotten some complaining notes about this about your obsession
with this. Yes, I'm just trying to save lives that's all and I
I'm backing you on this because I think it's interesting the
Adam Curry: people who are complaining There you go they
are already irritated by us even
John C Dvorak: talking about this irritated Yes. Thanks
Adam Curry: for opening my eyes to the pod speeding side effects
my pod fasting or pod speeding use case was this. I tried to
listen to the show live on pod verse on Thursday and Sunday
evening here in Germany, but my wife wouldn't let me listen to
the whole show. So the next morning, I would 1.25 it to re
listen to the bits I heard live and catch up on missed out
sections. This of course meant that I'm really fidgety on
Fridays on Mondays and now I know why and will not do it
again. How about that? And, and this final one from Muskogee
Earl of the Piedmont. The discussion about audio playback
speed has given me much to contemplate about my blind
parents. My dad lost his eyesight entirely when he was
12. In his adult life, he listened to 1000s of hours of
audio books, most of which he checked out for free from the
National Library for the Blind. At the time, the NLB provided
cassette players with playback speed control. In later years he
listened to digital audio books regardless of the format. My dad
routinely listen to audiobooks and eventually podcasts on
playback much greater than 1x speed. My dad died in 2019 he
was diagnosed with frontal temporal lobe dementia. Just
days Brian prior to his death, he struggled often with anxiety
and depression in his later years. Now my mom has been blind
since birth, she was a medical transcriptionist for nearly 50
years. For decades, her words per minute was 120 Plus, and she
often listened to dictation at speeds much greater than 1x. For
the last two years, my siblings and I have observed what we fear
are signs of decline in our cognitive ability. Your point
about resonance makes me wonder if long term exposure to
unnatural resonance can be a factor in cognitive decline.
I've consumed a lot of podcasts and audiobooks in recent years.
Other producers have noted playback speed was based on the
presenters or narrators and I agree some have slow cadence I
never listened to NA. at speeds greater than 1.0 normal rate is
perfect in fact off putting me to higher playback speeds. But I
think that maybe we've struck something here about depression
and anxiety. We could be saving lives with this John
John C Dvorak: Well, I'm gonna give it to you you're the one
doing it. But I'm a I'm interested in this this is
fascinating. We need to think about it probably there's gotta
be something to it because if you start listening to
everything at 1.5 or I don't know could you listen to it to
all some people do Sure. I think you could if you had the right
pitch kind of thing it was accounting for pitch so just
know
Adam Curry: that works and of the pitch control is built into
these systems. You know, it's like it rarely changes the
pitch. They
John C Dvorak: first they chop outside. Well, you sound normal,
but you're talking real fast. You start really fast like this
little bit of detail. Yeah, but understand by clear,
Adam Curry: the problem is not listening to the podcast, the
problem is the rest of the world. That's the problem. You
can get depressed if anyone's slow and not moving at your
speed. And you do a drive. You're not anxious. Yes, yes.
John C Dvorak: You should probably be listening to podcast
at point eight. No. Now I did get some notes from people
saying they listen to half speed now. Like a couple of drunk.
Adam Curry: People are just making fun of us by saying no
one listens at a lower speed. I don't even know. I don't even
know why they put lower speed in it. Except for Ben's point, Ben
Shapiro, maybe maybe?
John C Dvorak: Yeah, Shapiro. There's a couple other people.
Yeah.
Adam Curry: Anyway, I'm only doing this. I've given up on my
art or art of creating beautiful programming, given up on that.
Oh, by the way, we've been accused of being wrong. left at
least 20 times. You want to go through this? Because he has
this guy gives three examples.
John C Dvorak: Here we have a mayor culpa, we have to
apologize for being
Adam Curry: mayor, maybe maybe not. This is from black metal
cowboy. He says over the last several weeks of episodes. I've
never heard from this guy before. I've noticed instances
in which you want to be
John C Dvorak: getting weird notes from people that don't
show up in the database.
Adam Curry: Exactly. I've noted instances in which you and John
have made factually incorrect claims. I do not believe you're
doing so purposely to mislead your producers. You just don't
know you're wrong. Okay, the danger comes the Danger Danger.
Your producers hold you in such high value. They believe what
you speak is factually correct by default. This confirmation
bias leads them to blindly appeal to your authority and
propagate all of what you have said is factual. Below, I have
included three of the approximately 20 instances I've
noted over the last 15 episodes. I am not an expert in any of
these subjects as a mechanical engineer with over 20 years of
experience in the aerospace and defense industry, whose role is
currently evaluating and investigating design failures,
but critical thinking research is so critical thinking and
research regardless of the subject. Okay, so he feels it is
his duty to apply the same standards that have no agenda
show.
John C Dvorak: I'm glad to get the list of all 20 items. So
Adam Curry: he's approximately 20 He only has three. And he
starts off John offers his belief that vasectomy has
changed the appearance and mannerisms of men, likening them
to quote old lesbians he has he further claims this change is so
profound he can pick out men with vasectomy is from a crowd.
He also claimed vasectomy reversals are almost never
successful. This claim is incorrect. Hold on
John C Dvorak: now that claims it was what he's doing here.
This is dissected, does approach Yes, is to bring up all my
opinions, which had been verified by more than a few
people that and in fact, it comes from the books that were
written about this in the mid 20s 1920s. Were vasectomies were
considered considered a use a way of making yourself look more
useful. And and he's in he's taken that and then conflated it
with the with what he thinks is just a wrong opinion that that
vasectomies can't be reversed. I'm
Adam Curry: going to help you on this. Let's let's read on.
Roughly half a million men undergo vasectomy in the US each
year would have been nice if he included a source to this, by
John C Dvorak: the way, stop. I'm sorry to pull it care. But
go ahead. Go ahead. The guy writing in has had a vasectomy.
Adam Curry: Absolutely. That's why it's number one, no doubt
about it. But he I think he reads Wikipedia. Anyway, roughly
half a million men undergo vasectomies in the US each year
roughly 6% will decide to undergo a reversal. According to
Stanford Medicine, no link 90% of those procedures are
effective. Even if one were to debate the definition of
effective it is still wait, let me you'll love this. It is still
a far cry from John's quote. Almost never. Okay, since you
put that in quotes, black metal cowboy. We do have a transcript
tool which Thank you very much Steven B. Transcript tool where
I can search our transcripts going back about three years and
here is exactly what John said what you quoted. You quoted him
as saying almost never effective you know so now he's got to
reverse this. It which rarely works well you know, he doesn't
he doesn't he rarely works is the quote my friend not almost
never rarely works.
John C Dvorak: Yeah. If you're gonna be this kind of picky guy.
Exactly.
Adam Curry: By the way, I'm going to use this against you
all the time too, because it's really fast. Record regarding
vasectomy is changing. You won't
John C Dvorak: get very far.
Adam Curry: Hold on, is Did you also say old lesbians? I don't
know if you said old lesbians. No, you think so. You didn't say
old lesbians. You did not Now well I know Hold on, hold on,
hold on the exact opposite is true. Listen to this
John C Dvorak: noticing these guys started to have a youthful
look. as they got older they started looking like young
lesbians.
Adam Curry: Lesbians not all right, okay for you. For me,
study after study, most of which are infuriatingly paywalled has
shown there is no charge in hormone, no change in hormone
levels of men who undergo vasectomies. There are studies
that show emotional changes resulting from vasectomy ie
feeling less masculine, but those emotions are purely
psychological and revert over time. Studies aside by what
mechanic would have mechanics would have said to me invoke
these changes, John speaks up well, you've got everything
wrong so far. All of a second he does is prevent prevent storm
sperm from entering the semen. The testes still produce the
same hormones and release them. This guy is snipped. I agree
with you there. So your response other than he got all of your
quotes wrong,
John C Dvorak: besides getting all my quotes wrong, including
young lesbians. Okay, I don't care. I'm just telling you what
I think I and I, and I have been able to spot these other people
have to exactly and it's and it's been documented in a number
of books in the in the 20s when this was a very popular
procedure.
Adam Curry: And it was done specifically to give people a
young look correct?
John C Dvorak: Yeah, it was, yeah, it had specifically to
give people a min or a youthful appearance.
Adam Curry: The second one is about me, Adam pointelle. I love
doing this. Adam points out earthquakes are no longer
measured using the Richter scale and imply something nefarious is
at foot, or at least this is incompetence in reporting of
earthquakes. I am not a seismologist, but the answer was
easy to find. In fact, Wikipedia has a well known, highly
detailed overview on the subject. And then he goes into
the change that was made to the Richter scale. And all I said,
All I said was they used the momentum scale. And that was
changed to make the numbers much bigger than the Richter scale,
which is used in mainstream media to make things sound often
much worse than they are. When it comes to nefarious things
being at foot that is regarding the earthquake machine. As the
Secretary of Defense in 1987, I'm going to say Richard Cohen
specifically said we and other countries have earthquake
technology to evoke earthquakes. So there's no debunking on that.
But maybe in this one particular case, we didn't. I didn't delve
into the moment, the momentum scale versus the Richter scale,
so you should probably listen a little bit more before you jump.
Now the third one is my favorite. And this is not even
you it's about your wife, which is which is just gets me mad.
Yeah, he blames you, but it's from me. John claims eggs should
never be salted before cooking, because the salt makes them
tough. Is that? Is that what you said? It makes them tough.
John C Dvorak: This is Mimi's thing. I've never I mean, I've
said it by I'm always referring to her. She's the AIG expert.
She wrote a 700 page book too many eggs.com It's available for
free on a PDF, just sign up for it. And she is the expert on
Asus. She said this and other people have written down since I
mentioned it on the show. That then they all said the same
thing that eggs taste better this way.
Adam Curry: Now he says they're tough. They are tough. Did you
John C Dvorak: actually that's what Mimi said Mimi said. It
makes them tough. And there are other I think Gordon Ramsay also
subscribes to this thesis.
Adam Curry: This belief is found in many cookbooks and propagated
by many famous chefs. In addition to making them talk
they say salting eggs before cooking will turn them gay I
mean gray. Others make a contradictory claim that salt
will make them turn watery. However, numerous recent
experiments no link provided have shown only incorrect salt
does not impact color or texture. Regardless of how far
ahead of cooking salt was added. Added. cooking method and
temperature are the drivers of texture and color. In fact,
John's claim doesn't even match with how the chemistry works.
The egg proteins are mostly negatively charged which keeps
them apart until high heat is applied. The salt dissolves into
positive and negative ions which neutralize the charge of the
proteins, allowing them to coagulate at lower temperature
producing a more tender scrambled egg. Dude this is the
kind of stuff with Ken just drives me nuts. I love it drives
me nuts.
John C Dvorak: I wish this guy would take it that egg
commentary. Yeah, that was links Yes, and then help them posted
on the AIG blog that's floating around somewhere that egg blog
nice a blog, and it's posted. It'd be great. We use it.
Adam Curry: Yeah. All right. Now that we've been proven to be a
factually, I'd
John C Dvorak: like to know what the other 17 items are.
Adam Curry: If they're all of this severity, people should
still slip they suck these. By the way, let
John C Dvorak: me just say this. This is
Adam Curry: the black metal cowboy, a black
John C Dvorak: male cowboy you suck. These IDs is not even
close to being something worth complaining about.
Adam Curry: I agree. I agree. If you really want to complain
about something, do it Russell branded. Did you see Oh,
Russell? Russell Brand. Let's just set and I want to I want to
play this clip. Because it's the
John C Dvorak: one with Heilmann Yes. Oh, Heilmann couldn't get a
word in Edge. Hi, almonds a doofus. Now. Russell Russell
Brand is really sharp.
Adam Curry: You know? heileman? Yeah. Oh, yeah.
John C Dvorak: Yeah, I know Heilmann where you
Adam Curry: would you say in the past, you might even have
considered each other acquaintances or friends?
John C Dvorak: I would say acquaintances for sure. I never
been there was the rule is and anyone out there was an old
friend acquaintance. Whatever. Nobody's your friend unless
you've been to their house for lunch or dinner, or they've been
to your house for lunch or dinner.
Adam Curry: Now, I would say I've been to your house once for
dinner. I don't think we're friends.
John C Dvorak: No, no. Okay. It's not an exclusive thing. I'm
saying. If somebody if you say some as your friend, and they
you don't have that qualifier in their house, or they've been to
your house for lunch or dinner, then they are definitely not
your friend. Yes. I've been to plenty of people's houses for
lunch and dinner or whatever. And I don't consider them my
friends or their acquaintances or be somebody I might not even
like them. Yeah, exactly. That's different. Exactly.
Adam Curry: So John Holman who I think he's, he does mainly
reports. You know, he does opinion I think for morning,
Joe. Certainly. He's a part of the Morning Joe team, although I
think a lot of times not he's on remote. He's not always in the
studio. And but he also think appears on other shows. But he's
always very opinionated. And he's part of and this is the
context of what happened here. It was it was fantastic segment.
The context is that MSNBC, CNN, me, but also, I mean, anything
every news organization, cable network or otherwise, has been
trying to discredit FoxNews by saying they're such liars. They
didn't even believe the January 6, election stolen conspiracy.
Would they? They said they did on the on, on Fox News. But
privately they all said, Oh, they don't believe it. And this
has just been ongoing when he'd been debunking for a while.
Yeah. Which is just, it's annoying. When you're making
each other the news story is what you're doing. And you're
you're discrediting the entire news business. And and it took
Russell Brand and I appreciate this and part of it is because
of his accent, the use the words he uses his incredible command
of language, and something that that I didn't like, but I think
it's effective. He touches Heilmann all the time. Graduates
John C Dvorak: not sure what technique of persuasion that is,
it's dangerous
Adam Curry: because I would say get your hands off of me you lie
me, bitch.
John C Dvorak: That's what how am I said he would know that in
advance.
Adam Curry: Oh, maybe. Okay, because he was also calling him
Darling. Darling and he would touch his arm which like that's
really aggressive.
John C Dvorak: He was he was sitting for this is to back this
up. This is from the Bill Maher show just this last Friday.
Yeah. And and they had Russell Brand on him Russell Brand took
over the show. I mean, he's one of those guys. You'd be hard to
work with. Because he's a he's a mic hog, but he's really good at
it. And he's very good at it. Yeah. And so he's a he'd be
tough. He'd be one of those guys you don't want to work with no
because he's gonna dominate me he his ability to handle Seymour
Hersh. There was was one indicator, very good, very rare.
He is a natural at this. And I have to say he's fine. He's
feeling his oats. And when he sees somebody that's weak and
Heilmann is not Johann is a writer who doesn't you know, he
doesn't have the kind of broadcasting chops or
performance chops that a guy like Russell Brand has. Yeah.
And I and Russell Brand may actually be boosted on something
too, for all I know, although I don't see I don't know. I think
he's clean. I mean, he probably is
Adam Curry: He was on heroin for a while there. He's clean. But
he
John C Dvorak: is. He sees a weak guy. And he's just
steamrolls him. Steve steamrolled him.
Adam Curry: He did. It's a three minute clip, but it's well worth
it. Sean,
Unknown: I've not known you long, but I love you already.
But I have to say that it's
Adam Curry: actually I think he's a master NLP guy or
persuader, saying stuff like that. That right off the bat. I
don't know who you are by love you already. These are very
powerful, very powerful things he's doing. He's bright brand
has chops in this, John,
Unknown: I've not known you long, but I love you already.
But I have to say that it's, it's disingenuous to claim that
the biases that are exhibited on Fox News are any different from
the biases exhibited on MSNBC, it's difficult to suggest that
these corporations operate as anything other than mouthpieces
for their affiliate owners in Black Rock and Vanguard, unless
we start to embrace and then also make like just spiritually
if I may use that word in your great country. We have to take
responsibility for our own perspective. I've been on that
MSNBC May it was propagandists not crackery. It was absurd the
way they carried on and it was it wasn't the morning there was
no one called Joe then concentrate. They didn't
understand the basic tenets of June journalism. No one was
willing to stick up for genuine American here
Adam Curry: and listen to the audience. By the way, the
audience who you would presume be mostly leftists at the Bill
Maher show they are up there applauding for a lot of things
that if any other right of center person said would be
Whoa.
Unknown: Like Edward Snowden, no one was willing to talk about
Julian Assange and what He suffered, trying to bring real
journalism to the American people. Sit within the castle of
MSNBC, throwing rocks at Fox News is ludicrous. Make MSNBC
MSNBC
Adam Curry: that landed that landed that Joe
John C Dvorak: the moment one more thing you should note,
because we don't have visuals here. Heilmann is trying as hard
as he can not to cry off him
Adam Curry: and not to cry. Yeah, and he but he's also he's
leaning way back. He's like, Oh, and he's trying to get a word in
edgewise. You can't do that with a guy like brand. You got to
just sit there and let him finish but he kept
John C Dvorak: you have to prepare a zinger at the end.
Yeah, it's the only way you can do
Adam Curry: what you do calm and collected Exactly. The moment
Russell Russell darling, see, that's the mistake. That's a
mistake when Heilmann goes Russell darling he's trying to
eat trying to
John C Dvorak: mirror he's trying to play Russell's game
Bad Idea Heilemann get back to raw always a bad idea to do that
get
Adam Curry: back to writing bro this is not your not your
territory. It's not your battlefield.
Unknown: Darling the moment that you give me a specific example
an actual
Adam Curry: brand was prepared for this you could tell me just
Unknown: tell you what. I'd like to hear a specific example
approval specific example of an MSNBC correspondent or anchor
being on television saying something they knew was false
and we're saying behind the scenes to people this is I'm not
to go out and we know that we know that the election wasn't
stolen if he were cool but I will go on but I will go I will
go out on television and say the opposite. I will lie wait Give
just give me up give me this specific example example All
right, I'm with you.
Adam Curry: I think it's a false equivalency and this Bill Maher
who I don't know why he said well I think it's a false
equivalency so what he's what Bill Maher is saying is that
MSNBC never does that they never and the stuff about Julian
Assange well of course that's not what Russell Brand meant.
That wasn't the equivalency he's saying that MSNBC also has
propaganda that's that's what he said and Bill Maher's like what
he should have stayed out of it. That made I agree that made him
angry. This was a moment to sit back and just enjoy the ratings
Unknown: but I will go on but I will I will go out on television
and say the opposite. I will lie my answer would give just give
me up give me this specific example I'm just saying basic
example All right, I'm with you. I think it's a false equivalency
right all about bias. It's a possibility because you don't
actually know anything about any of these organizations. You're
talking about even MSNBC once Big fucking deal my
darling it was
Adam Curry: who now he shows he's mad by saying big fucking
deal. Hyman sinking, he's
John C Dvorak: drowning. Also talking faster than he normally
does. He's
Adam Curry: drowning. He's drowning
Unknown: about bias. It's a possibility because you don't
actually know anything about any of these organizations you're
talking about even on MSNBC once Big fucking deal, my
darling it was more than
that. You may have a single single
example. You want an examples, the ludicrous, outrageous
criticisms of Joe Rogan around ivermectin, deliberately
referring to his a hot medicine with a new perspective medicine.
Model turning on the TV saying if you take this vaccine, you're
not going to get it when clinically trolled.
Adam Curry: What does he mean by non responsive? What does that
what are you trying to say there? He says non responsive
the
John C Dvorak: Heilmann was saying non response. Yeah,
Adam Curry: what did you What are you trying to say?
John C Dvorak: I don't know. Because it doesn't make any
sense. He's very responsive.
Adam Curry: Yeah, I just don't understand exactly what he's
saying. I think he was
John C Dvorak: shorted out by then. All right,
Unknown: turning on the TV saying is you take this vaccine,
you're not gonna get it when clinical trials are sponsored.
You have to listen. Do you think you can improve America?
Determined validly condemning Fox News without acknowledging
that you're participating in the same game? Did you know just
listen to Bernie Sanders, somebody plainly legitimately
believes in his country and believes it's possible to change
but he's bound by corruption is bound by the lobbying system.
clear to you, Bill. That's one of the great pundits and experts
and comic voices for systemic change is required. Money has to
be taken out of politics. We need new political systems that
genuinely represent ordinary Americans so that we can
overcome cultural differences and bickering about Mitch
propagandists network is the worst is not going to save a
single American life not improve the life of a single American
trial not going to improve America's standing in the world.
And the world needs a strong America. I'll tell you that.
Adam Curry: Oh, man, oh, props. The Russell Brand. That was
dynamite. Was pretty really, really good. Really good. I
really enjoyed that. Phenomenal. Okay, let's do it. He's
John C Dvorak: one of those guys. I've run into these guys.
In you know, public speaking arenas or brands, Russell Brand.
No into these guys, this type of person. Yeah. So I mean, a type
of person who can you can't beat in an argument or a situation
where there's in a debate situation. And though just your
your, you can't do it. And I think Shapiro is kind of like
that in a debate. Oh, without a doubt without it. And so what
you do is you never get into this with them, ever.
Adam Curry: And the funny thing is that this this debate that
they're having is not the actual debate, this whole noise and
that's kind of too bad is the Dominion voting machines,
Dominion systems, they are suing Fox News for defamation. And
this is all coming out of discovery, you know, the text
messages, but what it's obfuscating is the fact that
Dominions themselves that our systems are shipped. You can get
wrong results. It's easy to hack into, you know, they're no good.
That's also in the discovery. All of this is obvious getting
that that's that's the sad part of it. That's the sad part. But
anyway, it was fun entertainment. We like bread and
games. That's That's who we are as a people. Before we take a
break, I'd like to delve into CPAC I think you have some
clips. I'll set you up. tonight. I'll just set you up on
Unknown: on. Tonight the race to 2024 intensifying as former
President Trump makes his case for the Republican presidential
nomination. We're going
to complete the mission we're going to see this battle through
to ultimate victory.
Trump taking center stage at CPAC. The Conservative Political
Action Conference a once must attend event for GOP stars now
dominated by his supporters.
We believe in it is very Trump centered around here.
It's not Trump 2024 Is Trump forever.
For more South Carolina governor turn candidate Nikki Haley
heckled by the crowd. Other possible GOP hopefuls like
Florida Governor Ron DeSantis, and former Vice President Mike
Pence skipping CPAC, highlighting the divide over the
party's future.
We are over here tearing each other apart. And
tonight as President Biden moles his reelection bid, he now faces
a Democratic challenger. Self Help author Marianne Williamson
launching another long shot campaign speaking exclusively to
ABCs Jonathan Karl,
the Democratic Party needs to be a conduit for the healing of
this country. But first the Democratic Party needs to look
in the mirror and heal itself.
Adam Curry: Nope, she wasn't at CPAC why she why why did Bring
her in
John C Dvorak: just a throwaway. What what channel was this? ABC?
I have no idea. We're just entertainment value. I have no
idea ABC Disney i Oh, no. I have mine reports from NPR in there
not that much different. They're not dissimilar. But they do have
a little more details about one thing or another, even though
they didn't they produced this before the Trump speech which we
can talk about CPAC. One
Unknown: CPAC is often let me put it this way, A Chorus Line
for Republican candidates where, you know, they audition before
politically active young conservatives who might want to
work in their political campaigns. As that been the case
this year, though, that's a
really good way to put it because it generally is
something of a chorus line of Republicans who are kind of
coming in trying to play to the sort of 1000s of conservatives,
usually young activists who get together they're part of the
conservative movement. Really a weathervane for the conservative
movement is what CPAC winds up being. But this time around,
really not many of those potential presidential
candidates showed up. We did hear from a couple of them, and
Nikki Haley was one She's the former South Carolina governor
who worked as UN ambassador in the Trump administration. Here's
what some of what she had to say she really tried to appeal to
the right wing of the party.
wokeness is a virus more dangerous than any pandemic
hands down. I have traveled the world and back, and I've seen
what's out there. America isn't perfect, but the principles at
the heart of America aren't perfect. And take it from me.
The first minority female governor in history, America is
not a racist country.
You know, there's a lot in that, obviously. And you can tell
there she's kind of trying to walk this line. You know, she's
throwing red meat to the base hoping to win them over. But
Donald Trump really has a real stronghold on a lot of that
base. She really needs to win over white collar Republicans,
who are the ones who are mostly saying that they want an
alternative to Trump.
Adam Curry: I find Nikki Haley an interesting entrant into this
because she's literally using DeSantis his line DeSantis is
the anti woke guy. That's all he talks about. He's the anti woke
Why would she jump and by the way, her voice. I keep how great
it really does head Zippy thinks it sucks. No, it's just
John C Dvorak: great. Yeah, you. She hasn't gotten any charisma.
Adam Curry: Zero charisma. She Riker
John C Dvorak: is milk writing voice. Not particularly
attractive. I'm sure she has to some people, but not
particularly attractive. She's not like you know, somebody you
want to really look at. And to be honest about it. And know
nothing. She's kind of a hawk. She's a little bit of a neocon.
Yeah. And I don't ever thought she was that supportive of Trump
when she was when she had been hired by him. No,
Adam Curry: no, she wasn't. Well, she was running for you
know, we've been hearing of her running for a long time.
John C Dvorak: She thinks that she's got the chops to run for
president. She she thinks that if somebody wants to have her
breasts, she's not going to get she's like Kamala Harris.
Adam Curry: How about this? Could she be a trial balloon for
DeSantis? Trying rice presidency? No, no, no, no. No
trial because DeSantis didn't speak with us a trial balloon to
see what sticks what works so that DeSantis can hone his
message.
John C Dvorak: Just a thought No. Synthesis so hesitant
shoulders above her head? I don't think he has anything to
do with it. All right. Let's go to part two.
Unknown: Mike Pompeo, former Secretary of State also spoke he
has been going through all the expected motions of someone
who's considering becoming a candidate. Did he try to
distance himself at all from Donald Trump?
Yeah. And I was really listening to see what kind of line he was
going to draw because it hasn't been clear how he's going to
distinguish himself. But he did try to make something of an
electability argument. Let's take a listen to that.
We lost three elections in a row, and the popular vote and
seven of the last eight. There are many reasons for this. But
one of them is I think they've lost trust in the conservative
ideas. And this is the task that's in front of us. And I am
convinced we can do it. Because we're right.
You know, Pompeo really took what was kind of an oblique shot
at Trump, but kind of veiled. Really, you know, he talked
about himself having been a Sunday school teacher and that
the country needs that kind of character. But his speech wasn't
exactly a barnburner. Neither was Nikki Haley's, really, and
they spoke both in front of kind of half empty audiences and
really got just warm receptions at best
to bedico. You've covered CPAC for almost two decades. And I
wonder what dishes confab pill drew about the state of the
conservative movement in America right now.
Yeah, you know, it's really fractured. You know, CPAC is
usually you know, an event that tells you where the movement is
headed, and it seems more like it's still something more like
Tepeyac a Trump Political Action Conference because it really
just highlighted that even Haley was sort of sandwiched between
two Trump's you know, Donald Trump Jr. went before her Lera
Trump perform President Trump's daughter in law went afterward.
So you know, the bigger news here this weekend almost was
that the people who didn't show up we're talking about Ron
DeSantis, the Florida Governor, Tim Scott, the South Carolina
Senator and Trump's former vice president, Mike Pence, who all
opted to go to a donor retreat in Florida hosted by the Club
for Growth, which is an anti tax group that's been involved in
Republican politics for a long time. And they're saying that
they want to really support somebody other than Trump. And
these candidates really need the kind of money that comes along
with that. But because Trump has such a stronghold on the party
infrastructure, in a potentially crowded field, he still looks
like the man to beat.
Adam Curry: You know what's missing from these reports? A
single sound bite from Trump.
John C Dvorak: They did this report before Trump spoke, he
spoke at the very end. And the report that you played did have
the sound bites from Trump. Yeah, but not this
Adam Curry: sound bite.
Unknown: Before I even arrived at the Oval Office, I will have
the disastrous war between Russia and Ukraine settled, it
will be settled quickly. I will get the problem solved. And I
will get it solved in rapid order. And it will take me no
longer than one day I know exactly what to say to each
other. I got along with very well as I got along very well
with Putin, even though I'm the one that ended his pipeline.
Remember, they said Trump is giving a lot to Russia. Really.
Putin actually said to me if you're my friend, and he'd like
to see you as my enemy.
Adam Curry: Now, what's interesting there? Is he slipped
in the I was the one that ended the pipeline. Cut about that?
John C Dvorak: I don't know what that means. It was talking about
Nord Stream. Yeah. And that's where obviously,
Adam Curry: I'm the one that ended the pipeline. Okay. And I
can I can means I can fix it before I come into the Oval
Office. Is that before you're elected, okay. Do it tomorrow. I
mean, I think that if he, how about this for a super Gambit.
He goes on a press tour, Sanjay with Putin. And Putin said,
Yeah, you know what, I talked to Don and yeah, we're gonna we're
gonna stop this thing now. Would that make Trump popular?
John C Dvorak: Yeah. But with Trump, if Trump could like, the
promises, the Logan Act are one of these things where you can't
do foreign diplomacy if you're a citizen, even though everybody
does it. Yeah.
Adam Curry: Can you do it as a former president?
John C Dvorak: Well, I mean, it all. They all done it.
Adam Curry: I'm Trump. I'm putting the dawn in the Donbass
everybody. Just see it. There is one surprise entrant coming for
in the 2024 election, supposedly, that I'm excited
about this guy.
Unknown: It's been a long time since the Kennedy name was
associated with a long shot outside her presidential
campaign. But those days could be making a comeback. On Friday,
Robert Kennedy Jr. Speaking at St. Anselm College, was asked if
he's considering a run for the White House in 2024.
I'm thinking about it.
Adam Curry: Passed the biggest hurdle which is at my wife has
green lighted. How about that?
John C Dvorak: I'd vote for him.
Adam Curry: I'd vote for him to I can't see. I'm sure he would
run Democrat, right. Yeah.
John C Dvorak: But I'm an independent. I have done non
affiliated vote for anybody.
Adam Curry: I am a politically homeless. I don't have to vote
for anybody either.
John C Dvorak: But I liked I liked him. I didn't I mean,
they'd ruin him in some way or shoot him as hard to say what
they do. The family
Adam Curry: does have a bad experience with running for
office and being it's just so
John C Dvorak: it's really dark divorce that many way back to
Trump. I listened to his speech, which was long. Yeah. And he had
a lot in he also won the straw poll, which I thought was
interesting, because as the last time, you know, the thing that
ran Ron Paul used to always win in the old days. And right, I
thought it was pretty good. We'd have some new stuff here, this
new bid about get a new bid. He does an April Fool's bid. He
goes on and starts with it's an April Fool's joke. And he cites
all of blunders and follow ups though. It was a it was it. It
needed a little work because it was the first time I've heard
this. But it was it was staged. It was it was it was okay. His
points are he really hits home with everything that a lot of
these guys just can't seem to come to grips with some of the
issues. He says we got to fix. But he's at the same time. We've
already seen him. He's kind of full of crap. I've not been a
fan since he refused to. to pardon. Snowden and Assange in
particular. Yeah. There is no reason for that. He should have
done it. And unless he had a gun to his head, when if he's got a
gun to his head in hell, we can just vote anybody in there
because they'll have a gun to their head. Yeah.
Adam Curry: Yeah. Well, it should be fun. I mean, we'll,
we'll probably make it with the show through the 2024. Like, I
don't know if we can do it again. That'll be the fourth
election. You and I have been through together.
John C Dvorak: 123. Yeah. Looks like we should probably call it
quits at four.
Adam Curry: I mean, goodness gracious. Goodness, gracious. We
didn't
John C Dvorak: really get to egg bookselling first.
Adam Curry: And don't have a piece of that action man. I
gotta get I gotta get an exit strategy to get I'm going to be
the anti I already got
John C Dvorak: I've already got the value for value book. We're
going to do the same thing. You get a
Adam Curry: piece of that. Yeah. Now you've seen the numbers.
John C Dvorak: No, we also have the the primer, they have no
agenda ABCs or whatever it is. That book which had been
stalling on forever.
Adam Curry: I think we need to do consultancy, we need to do
consultancy that knowledge.
John C Dvorak: Yeah, we actually could if we could get some
business. Can we get good? That's the problem.
Adam Curry: Or with all our knowledge, you know, I could run
in in 2028, and you could be my political adviser.
John C Dvorak: Take you should do a text to run for Texas
governor. Oh.
Adam Curry: That would be a fun gig. That would be cool. Yeah.
When
John C Dvorak: you move back to Austin, but you get into
governor's mansion. I'm
Adam Curry: not gonna move back to one of the governor's
mansion. Yeah, that's all
John C Dvorak: right. Yes, gets cordoned off
Adam Curry: to just wear big sexy cowboy hats all day. Yeah,
first lady of Texas.
John C Dvorak: And then you shoot a gun in the air. That's
the one thing I'm always expecting the governor of Texas
to do once in a while. Well yeah, and then shoot a gun in
the air.
Adam Curry: I think Texas governor is a powerful position
that could be a lot of fun. Yeah, well maybe that then maybe
we'll have to see you when I when Abbott is out didn't we
just now he has another word five years how many more years
do you get? No
John C Dvorak: I think it's for four to crack I don't think it's
six.
Adam Curry: I hope not.
John C Dvorak: US Senate
Adam Curry: and we're that as we discuss our exit strategy I'd
like to say in the morning to you the man who put the sea in
the sea pack con five ladies and gentlemen, please say hello to
my friend on the other end. Mr. John C. Lieutenant Governor of
Texas.
John C Dvorak: Good morning, Mr. And Mrs. Ship seat boots with
the feet the air subs in the water and all the names
Adam Curry: in the mornings at the trolls and the troll room.
How you doing? Good to see y'all there. They have actually handed
me a couple of one liners. I appreciate it. Good job. They're
trolls. The trolls are in the troll room and you can join it
surprise troll room.io right there. You can hop in the chat
you can listen to the stream live. We recommend getting one
of the modern podcast apps at podcast apps.com pod verse,
podcast addict those are the ones that will give you an alert
when the bat signal was sent when we start the show actually
with the pre stream where you can hear all kinds of stuff
going on before we hit record. And you can get started again
that podcast apps.com And let's see how many trolls are joining
us today. Let me get the joke out second, the counting machine
is counting 2199 So just shy of 2200 How do we write that on the
right okay awesome. All right, well, you're about right today
trolls then if you don't want to do anything live or if you are
hindered you can always check out the conversations over there
at no agenda social.com thank you to Aaron Burr who is still
running the show yet like he runs out of his basement it was
just highly appreciate it it's a it's a full time gig babying a
huge Mastodon instance like ours power go out the UPS has ran
down and and he had to wait until it came back up there was
just no other way to do it. He keeps refusing value for value
everyone keeps saying hey you know if we can solve some things
with throw some money at it but he refuses that and he just he's
a good guy. He's a great guy. That is that has a tremendous
amount of value he is providing back to I personally offered
value to him in many ways and he just not to and if I run into
trouble let you know. So so far so good. We also get tremendous
value from our artists. Every single show while we're doing
the show live their artists listening and you can Follow
that at no agenda art generator.com You can refresh it
in real time. The artists are creating artwork for a topic or
something that think is, is appropriate that relates to what
we discussed in the episode. And it also is a great way for the
show to get attention when we change his artwork. People are
always like, wow, what is this? Oh, it's no agenda of course.
And Dame Kenny BAM had just a powerful pop of a piece of art
for episode 1534. We titled that the CIT which is a new sitcom
coming this season on NBC, the CIT this was the the Zap it had
a brain silhouette of a head and a zap which is related to the
age Intel agencies zapping each other with the Havana syndrome
weapon. It was without a doubt the the, the font that she used
the
John C Dvorak: know is a very pretty piece and it had a nice
kind of interesting shading. And it was simple and complicated.
It was just a it was a nice piece. It was the best. I mean,
I use the piece next to it for the newsletter because I just
thought was a good piece of art, but
Adam Curry: oh the that was the yelling and yelling, yelling
this base. Do you know what that is? Is? It's a throwback to
invasion of Mars. Invasion From Mars movie which you hate.
John C Dvorak: Oh, that'd be a crummy movie. Yeah,
Adam Curry: I love that movie.
John C Dvorak: I was terrible.
Adam Curry: I love them. Why would you?
John C Dvorak: Like I think it ruined the career of Tim Burton.
That one movie
Adam Curry: didn't quite okay after that didn't.
John C Dvorak: Well, he was on the upswing as being a superstar
art artsy fartsy director that was gonna always produce
fascinating material after Batman. And then he did that
Mars movie and that was the end of it.
Adam Curry: I'm sorry to hear that. Okay, well, we love the we
love the art from Dame Kenny. Ben, what else were we looking
at? There was a lot of Scott Adams jokes now.
John C Dvorak: We'd like to Winnie the Pooh won over the I
thought it was okay.
Adam Curry: I mean, it's not Yeah,
John C Dvorak: Roger Roundtree really liked that piece. Oh, he
did? Yeah. If you look at the Macedon arms instance, a nice
mess. And a lot of these artists come on there and they predict
what we're going to pick. Yeah. Yeah. Which is always never get
it right. By the way. It's weird.
Adam Curry: It's a mistake. There really is. Some tick tock
stuff in there. Some stylized pieces amygdala therapy, cute
cute. But just entertainment as an enlightenment. Whoa, does
that the mic falling out of the cradle? Was that you falling
over happened you just fall down?
John C Dvorak: No the image of the scarlet hit the deck.
Adam Curry: Oh, well it's still working. Hey nail that shit
down. Zippy Be quiet what else oh no that was it. Those are the
ones that that was the end na now that again be careful with a
lot of detail a lot of small little things you really just
can't see it when when it's at you know two years
John C Dvorak: by plane about one specifically okay. I like it
came from China I thought was cute.
Adam Curry: It was a lot of stuff in there but it was so
hard to see you can't even see the little face they just one of
your complaint. That would be the complaint, the complaint.
There was another one that I thought you bitched about I
never bitched about anything I discussed things with enormous
respect there was probably the honey the Winnie the Pooh Bear
that was also too complicated just too much too much too
small. It doesn't matter
John C Dvorak: like the you know there was a Winnie the Pooh Bear
I think the bite hand and break pot light light blue against a
kind of a cream background was not consciously you get to be
able to consider contrast
Adam Curry: yes contrast is key. With this type of art it's a
very art can look great on the wall can great look great on a
on a hoodie by the way I'm wearing my no agenda appetite
for deconstruction hoodie I love this thing. I know you don't
like the skulls that of course are us I love this this hoodie
did is so cool. You know people people look as man Guns and
Roses I said look again look again. Wow, is that you? That's
me baby gods. Oh cool. Who did that to superstars? superstars?
No agenda shop.com. No affiliation with no agenda show.
John C Dvorak: And actually who did that? Artists? That's
Adam Curry: a good question.
John C Dvorak: I forget to be able to you should know I
shouldn't know.
Adam Curry: I feel bad. It shouldn't be signed somewhere.
Someone in the truck
John C Dvorak: already signs nothing,
Adam Curry: or anything for that matter. Are someone in the troll
room? Oh no. It's a pullover hoodie Correct? No agenda
shop.com It is truly one of my favorite. It's even more it
rises above my Salem College Alma Mater hoodie. I went to
school for exactly three months. So that's a big piece of value
we got from from David Kenny man, really appreciate that. You
can contribute your time, talent or treasure and we love thanking
our executive and Associate Executive producers. Oh, Mike
Riley it was a mike Riley piece.
John C Dvorak: It was Yeah.
Adam Curry: And you hated it. I don't like skulls that's exactly
what you said. Everyone
John C Dvorak: looks like a Grateful Dead all those that and
they stole it from the Grateful Dead to I'm considering Guns and
Roses.
Adam Curry: So beta hopefully got on Slack but Darth? Yeah.
Which means it's better to steal something well then make
something poorly. It loses something in the translation.
Time to thank our executive producers and Associate
Executive Producers people came in well today and we appreciate
that you are do you have the note from synonymous of Dogpatch
and Loris LeBeau via because I do and serranos Dogpatch. Truly
an anonymous, anonymous, we have no idea who he is. Every single
month he donates to the show. He always has a message which is
sincere and heartfelt. He sends us in and while may make a lot
of noise he sends
John C Dvorak: trying to get this this pop filter away from
the mic. Okay, yeah, these things are annoying.
Adam Curry: Yes, I would agree. And today, it's always an amount
which we do not comprehend. We're not sure how he comes up
with these amounts. And today it is $2,151 in complete cash
donation to the best podcast in the universe. Thank you so much,
sir. honor Mr. Dogpatch. What is his note?
John C Dvorak: He says your work plus all the producers offering
insight and perspective, the openness and willingness of John
and Adam to acknowledge errors as we did earlier in today's
show,
Adam Curry: although we burned the guy, but yeah, we we
acknowledged,
John C Dvorak: acknowledged and differences of opinion while
continuing their outstanding collaboration and choosing to
rely on their individual capacity to attract willing
willing contributors for 15 years remains a positive
influence for me. And obviously there are many producers that
make this effort work. Thank you both are thank you to both of
you. And to all the producers that contribute so much to this
show. No jingles no karma. And he makes a point of saying this
is for February. All right. 2021 51
Adam Curry: Serrana Miss thank you so much. You know when I
hear him talk like that I'm like, Yeah, we should we should
retire and write that value for value book. If once people
understand what you can actually do, if you have some patience
and are willing to follow the guidelines, you don't need
advertising in your life. It's really appreciate it. I love
that. Now check this out. Dred Scott, who already contributes
so much to the show by doing all of our chapter work for every
single podcast which means he listens to every single show
sets markers finds images, usually from no agenda art
generator.com And then puts it into into the feed so you can
enjoy that in one of those brand new podcast apps podcast
apps.com. He comes in with a show number donation which I
have not seen the show number donation I think in quite a
while because we're up there $1,535 He's from Oceanside,
California and says hello this is from Dred Scott Duke of the
Southern California megaregion No jingles no karma. It's a
little bit longer than normal, but it's a show number donation.
I'm happy to read it. Answering the call from JC D about
newsletter response please accept my humbly submitted show
number donation of 1535. Yes, we accept. Yesterday Saturday March
4 was my birthday. And mark the six years since my first
donation after having been juice pouch, a juice pouch for several
years. Yes, that's his his personal word for douchebag when
it became a night of the no gender roundtable and I asked to
be known as Sir Ben autonomous of the 1.5 playback,
approximately one year later, I took the Adam Curry One times
playback challenge. I slowed another life saved or created. I
slowed all podcast down and it made a huge difference in my
mental processing. Check this out. I have severe ADHD and I
had erroneously thought that 1.5 speed was helping me focus
better turned out that forcing me to slow down allows me to get
better control of my ADHD which by the way, almost everybody in
the universe has these days. Thank you crackpot and buzzkill
for the 1.0 recommendation as it has made a difference to all
those pods speeders out there, give it a shot, try a 21 day 1.0
Time to challenge this is Scott, man, thank you. I would like to
call up my next door neighbor, the beer man as a juice pouch. I
need a juice pouch jingle. I hit him in the mouth about two years
ago and he has yet to donate. Thank you, ACD and JCD for the
best dang comedy and media deconstruction podcast in the
universe. Thanks for tolerating my lengthy donation note Dred
Scott, Duke of the Southern California megaregion. No, I'm
very happy to read that. Thank you for taking the challenge.
And we are happy that we have another life saved recreated.
Thank you. Dr. Yeah.
John C Dvorak: Nice. Yeah. I should mention the newsletter. I
think it's did came on March 1. This is when because the
newsletter got. It was weird. That was very weird. What
happened there? So I sent out another note in plain text. And
I think this is every March 1 and adapted to it. It happens
pretty much every quarter. And I think is Google changing their
algos for version for sorting?
Adam Curry: Oh, I know exactly why. Remember the accusation? Is
Google changes the algorithm whenever it's time for the
Republicans to send out newsletters and CPAC would have
been the reason. In fact, if you had CPAC in the newsletter,
which you might have, but they always shadow ban, and start to
bring down Republican stuff around a Republican event. How
about that?
John C Dvorak: I like it because I did get more than one response
from somebody saying I didn't get the newsletter I looked all
over. I mean, so now there was it wasn't some people got
blocked completely. And they did have a they did have a Google
account. And I do have a note for somebody I want to read
though. And this is kind of cute.
Adam Curry: And I'd like to I'd like to point out that people
who don't listen to the donation segment are losing out they lose
out on life saving tips, and SEO tips.
John C Dvorak: SEO tips, whatever. producer Laura sent
his cute note in, she says I was planning on giving this week and
my debit card was hacked. So I can't send my small donation
through PayPal. I'm getting a new card by next Friday. So I
should be able to catch up then. If you don't send these emails
about donations, I would think about sending I wouldn't think
about sending money your way. This is something to note for
people out there doing podcast of
Adam Curry: our book another teaser from the value for value
book coming in 2027
John C Dvorak: If you don't send these emails about donations, I
wouldn't think about sending money your way I see it as a
reminder that I need and I don't know if I'm just recalling
clearly but when I clicked on the link in this email, and it
took me to the newsletter page it seems I had a portion of the
text missing anyway I don't know what that was at some other
issue. But wishes I said this from the beginning that these
newsletters are just people aren't they don't spend their
life thinking about the no agenda show all day. I do well
besides you.
Adam Curry: You don't even do that.
John C Dvorak: Katy Texas Katy in Texas sorry. Or is it Katy
Texas? No, Katy, Texas. This is I did what you did last time.
Dame Becky There you go. In Katy Texas. I was waiting. 721 51 I
had to pick up the keyboard. switcher row. Please. Credit 720
dot 51. To Mike Kenny. Oh, and when I saw this name, I would
never pronounce it Kenny it would be chinny
Adam Curry: that same but she put a handy pronunciation guide
right there. And the note
John C Dvorak: pronounced Kenny. Unlike a lot of
Adam Curry: unlike a lot of people who think it's hilarious
to put a name in there that we know we're going to stumble and
fumble over there just mean those people.
John C Dvorak: Yeah, well. They're mostly Dutch in
celebration of his 72nd trip around the sun on March may to
go with this donation he achieves night status and will
join me at the roundtable and shall be known as Sir mic of the
great Katy Prairie. Katy, Texas. That is He requests homemade
lemon shallow, which reminds me and a rare ribeye no jingles
just lots of karma. Keep up the good work. We love you guys.
Unknown: But reminder to our garland. At least garland Lee.
John C Dvorak: She's up in the garlands.
Adam Curry: I bet you they're still listening. We used to get
salmon sent. And we never got salmon. Yeah, I think she sent a
salmon once and lemon shallow lemon shallow and shallow was so
good her lemon shallow. I hope she's okay.
John C Dvorak: I haven't heard from them at all.
Adam Curry: Congratulations. Nice to be sir Mike and do you
watch Tik Tok more now that you are in the 70s is my question
for you and some karma for you sir I'll get smarter due to
karma Dame Taylor is in Huntington West Virginia 633 dot
41 Cool numbers today. Please accept this donation as book
there we go a switcheroo for the best man in the entire universe
and also smokin hot I might add. I've been donating $33.33 for a
while now and this is the remainder to bring him to
knighthood before we get married next month I heard John's call
via the newsletter and I've been meaning to send this to both of
you for a while as you have blessed us with job karma and
we'd like to return the favor Thank you. This man deserves the
world and that includes a knighthood before we wed please
Knight him data man what should we say data man what do you
think data man or data man? What do you think? Well
John C Dvorak: I think data man like data man who's up man this
data data man I think is kind of cool data man
Adam Curry: of the rock hard greens okay? He will have
Lonestar beer and summary whoa at the roundtable no idea what
that is but I think I pronounced it right. To my love. Thank you
for making me laugh keeping me safe and making me a better
person. I can't wait to marry you soon. Thank you John. Adam,
you are truly the best Dame Taylor thank you so much. So she
didn't actually give us his name. Just yeah data man
John C Dvorak: I hate him daddy. Oh you what his real name is
Yeah, so we'll just we'll
Adam Curry: just put it the credit this to Sir data man of
the Hard Rock greens. No problemo. It will do that for
you. Yeah, it's cool.
John C Dvorak: Sir Don Francis is up next. And he's in
Chandler, Arizona. 333 Dots these three. Gentlemen, I
believe this is it makes me a Baronet. Thank you for doing the
work. Can I get a boogity in honor of my smokin hot wife Dame
Stephanie and some dog karma love is lit Sir Don Francis the
Baron net of Chandler.
Adam Curry: You asked we played sir deal saver or Silla Gil
saver. Springfield Missouri 333 dot 33 Love and that executive
producer forever credit donation number as her deal saver here.
This 333 33 row of threes donations to celebrate sort of
Bradley deal savers third birthday on Monday March 6, he
he is starting preschool Monday so we could use some karma for
him his teachers and classmates but easier is your terror. Karma
for him his teachers and the classmates. He's coming up to
you if you want to mention the rest on the show, of course. Oh,
here we go. Bradley is nonverbal autistic. He likes to listen to
the no agenda show with his dad and laughs each time he hears
the karma jingle. All right, so this should be a great day.
Monday March 6 Starting preschool you're gonna have a
great time. Sir Bradley deal saver. And for you. Why don't
we? We're gonna give you a double up karma. You can laugh
twice as much you've got karma. Have fun. Let us know how it
goes.
John C Dvorak: Ross Judaica in Redonda. Australia. Sounds like
someplace in the outback. ITM landed lads heard about the
donation challenges thought is an opportune time to help out
after 12 months of listening. keep on keepin on no karma. Just
a great show from the land down under Ross, Utica, Utica, so
that it doesn't count as Utica into Lord dunga.
Adam Curry: Victoria. Eight oz. Alright, thank you. Oh, these
are good for us Dukes in Camas, Washington. 333 33. Gentlemen,
thank you for what you do. Well, there are many aspects of the
show that I enjoy. One of my favorites is the attention to
language that you both practice. Your ability to highlight things
both said and unsaid, to scrutinize loaded language and
to expose the verbal games played by many are refreshing
and informative. In other words, words are cool and stuff dudes.
This bladed donation is in response to Episode 1527 in
which you both rose another notch in my estimation, by
calling out Merriam Webster for the high so that they are I do
believe they are the worst of dictionary options Keep up the
great work for us Dukes, aka faux Diddley. Got it? Thank you
very much.
John C Dvorak: That's interesting. Beth Kellogg in
Sumter South Carolina. Please deduce me? You You've been de
deuced Beth Kellogg It's been too long she writes thanks for
everything ITM.