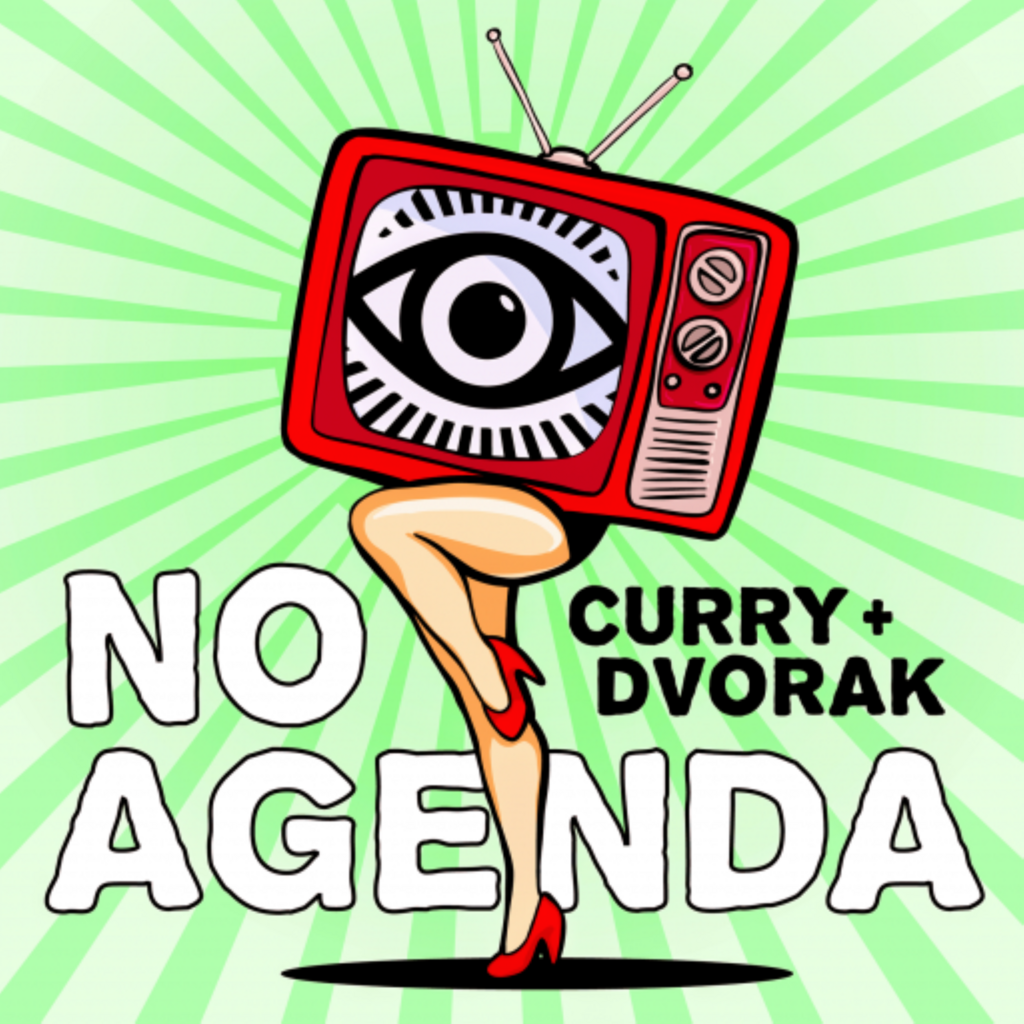 March 16th • 3h 12m
1538: FedNow
Transcript
The transcripts of No Agenda are automatically generated and therefore, not fully accurate. Discretion is advised.
Click the text to start playing from that position in the show. Click the timestamp to copy a direct link to that position to your clipboard in order to propagate the formula.
John C Dvorak: You're the one that's all lockstep with Fox
News,
Unknown: Adam curry, John C. Dvorak.
Adam Curry: They march 16 2023. This is your award winning
combination media assassination episode 1538. to This is no
agenda snippet the Swiss cheese and broadcasting live from the
heart of the Texas hill country here in FEMA Region number six
in the morning, everybody. I'm Adam curry,
John C Dvorak: and from Northern Silicon Valley where I'm still
counting the SVB jokes in the in the Oscars. Can't find one yet.
I'm Jhansi borax.
Adam Curry: Alright, you win $1 But you don't just when $1 you
in $2 $2? Because I was wrong on everything the last show
everything. The other one? Well, besides that not being single
Silicon Valley Bank joke in the US in the Oscars. Besides that.
I have 50 Count them 50 detailed emails have no agenda producers
under the age of 40, who are very familiar with Hogan's
Heroes.
Unknown: Well, you are too. Well, I was wrong. You're not
under
John C Dvorak: 40. Sorry. No, but
Adam Curry: neither. Neither are you. I want to thank I want to
thank now I do suspect there was some rigging going on. Not by
me. No, no, no, not by you. And the reason why is a lot of
people said this same line. I'm in the same boat. That Mike
maybe 10 of the 50. And I went back and look at the transcript.
You never mentioned boat at all. So I'm wondering if there could
have been some spiking by the Hogan's Heroes Fan Fan Club,
John C Dvorak: which a massive, massive Hogan's hero fan base,
Adam Curry: you may be in jail. I'm thinking now that there
actually may be a massive Hogan's Heroes fan base. I was
surprised now a lot of the producers who wrote in, they had
grown up with Hogan's Heroes, dad or brother older brother may
have been watching. But I mean, we had here's one. I'll just
take one or two, one or two out here. I liked how this one
started. Hey, hello, Mr. Producer, man. I don't know why
that sounds funny. My name is Brian. I'm from Liberty Lake
Washington. And your last two episodes, you talked about
Hogan's Heroes. I'm 23. And I've seen the show do it. It being
rerun on me TV, which is exactly what you said John. Then he goes
on what you guys have failed to mention about Hogan's Heroes is
how they showed swastikas and had people go on Heil Hitler on
national television. Yet everyone knew it was a joke. You
could not get away with such a show like that today. Well wait
a minute. Isn't it on unedited? Yeah, well, we should we should
have the show canceled. They're a bunch of Nazis.
Unknown: I'm telling you. We should
John C Dvorak: always was when I remember when the show came out.
It was very controversial. That it was being Crosby who pushed
ad with Desi lieu. Those are the two really evil behind it
Adam Curry: as you Lucille Ball, Desi Arnaz. They were behind
Hogan's Heroes. Really?
John C Dvorak: Yeah, yeah, that meant BC. Bing Crosby
productions. And Bing Crosby didn't do that many things. But
they're always winners. And so they teamed up with Desi Lu and
they did this show. And it was a hit right off the bat. Because
it was it was it was fun. It was it was fun. Hi, mockery.
Adam Curry: It was fun. I wanted to start in the 50s or 60s.
John C Dvorak: I think 65 I chose me something
Adam Curry: else. First of all, there's a lot of people who I
think are watching free to air TV, which is very good. I
encourage that I think we have a lot of cord cutters. And that
the cord cutters are bored and searching for something and then
they find Hogan's Heroes and something is attractive about
it. Because probably in general we just like Nazis it's kind of
fun. But also, you know, we're in the second generation of this
show. I mean, if you if you take into account seven years is kind
of a cycle. We're now 15 years we've we've dragged a whole new
generation into this nonsense. Temper pretty proud of. We've
got 20 year olds listening to the show and they're hip to the
heroes I mean,
Unknown: thank you Fletcher is really cool. I'm
John C Dvorak: writing TV I come to the conclusion that you don't
get OTA
Adam Curry: no and no, I don't and adjust as this was coming in
over the past couple of days in between shows. I started to look
up OTA sets because I think I should get on the bandwagon.
This is where an OTA says. Well, it's built into the television,
but I want to get one like one of those new ones, the OTA three
that has this new No, they have the new like 28k Whatever it's
got they've got something going on with it.
John C Dvorak: Uh, There's no dose don't bother that okay.
Yeah,
Adam Curry: but okay Kara fine. Yeah, that's fine.
John C Dvorak: There is a new standard that's floating around
that nobody has used. They're not even broadcasting in 4k yet.
Unless you're you know streaming raw fox will be the first to do
4k over the
Adam Curry: air and I think that this actually will be
interactive that somehow but I've been reading you can stream
over the air you will be able to do things on demand somehow I'm
not sure exactly how it works Have you looked into this?
John C Dvorak: I wouldn't get my hopes up
Adam Curry: okay, believe me I'm not I'm not basing my happiness
on the OTA streaming.
John C Dvorak: Cheap antenna good antenna. Yeah, well no, I
don't know where you're brought where you're where you're my
Adam Curry: stations aren't San Antonio property. Carville I can
get correct they
John C Dvorak: all in the same direction. You're gonna have to
get out and motor on it or you're gonna have to get voters,
Adam Curry: you mean a rotator? I don't know how you're going to
hold on. To Hogan's Heroes. Let me just let me just tune the
antenna to the southwest. Hold on Domo. Yeah, I got a real
short picture of that. No. And hey, big news in the Netherlands
that I need to deconstruct right away. Because I started getting
messages about this. The 15th Yesterday, the Dutch had their
provincial elections, which is kind of like electing the Senate
for the US for the a the higher house. Although it really is
more like the the House of Representatives but doesn't
matter. It's part of the government. massive win out of
almost nothing, a party that started in 2019, which is an
interesting before COVID, before these big protests by the
farmers, the Berber herb, abating the farmers citizen
movement, direct translation, scores, huge numbers in the
selection as a parliamentary system. So there's no real
winners, but they could be up to 30 fives, it was like 33, which
is always a nice little number to look out for. Could even be
as big as 39% of all the votes in in really outside of the
cities. And people and I had missed his two people are going
like, wow, this is great. The farmers they finally people were
silenced. But then they voted for the farmers. And yeah, no,
this is the biggest scam the Dutch have ever been submitted
to this board, burger Bravais thing. The three B's, which
we'll get back to is actually a huge shill this, this this party
was started by some lady who just doesn't really matter even,
but was assisted by two gentlemen who are now in this
party and who are celebrating the win with her. There's the
three of them side by side. And as it turns out, these guys come
from remarkable communications. This is the marketing
communications company. They started together one guy's name
was VM cloud core comp. And the other guy's name is forget his
name. What is his name? I think Martine Ford mom. Yeah. And if
you look at who they have provided, marketing
communications for H for the entire big ag and food sector
right down to bare Monsanto. These guys embrace the getting
rid of the farmers. But because they marketed it so well as the
pharma citizen movement. Everybody fell for it. And now
John C Dvorak: you are you Wait, are you sure that you're not
just guilt ridden?
Adam Curry: Nope. Nope. These guys, the marketing
communications guys have been in business for quite a while you
can go look at their website. Remarkable. What is it I think
is literally remarkable.nl. Yes, remarkable.nl and you can see
I'm just looking at client list. klanten. Man, it is like the
biggest biotech GMOs. I love that. They just put bear on
there. And then they have some non agricultural clients which
it's all big pharma, Big Ag bio, it's disgusting. And the Dutch
people just fell for it through marketing. And please take note
of the BBB in that their name is they are the BBB party
John C Dvorak: Explain.
Adam Curry: It's so interesting that you didn't catch it either
because it took me. It took me until and Scylla actually had to
tell me that they actually have signs that say BB better or BB
beta. So they are the BBB party. And they have signs that say BB
better. I mean, this is the build back better team is
unbelievable. And the worst part is people everywhere like Oh,
it's so great the Dutch man, the farmers did it. And it got
people to vote for him. No, no, no, no new shows very sad day
and they've got power. And I don't I don't even know how long
they'll be in the parliament that probably won't be in the in
the majority. But it just shows you what a little bit of
marketing can do with it with a with a population that has been
beaten to death with propaganda and bull crap. Beaten to death
with it.
John C Dvorak: And that's different than us how
Adam Curry: not at all. So we this is a what this is is to be
stay alert. Beyond on the lookout for scams like this, you
know, like, I don't know. Maybe Ron DeSantis? I'm not sure what
to do. I'm literally not sure. But there was a very cool, a
couple of interviews from Robert Kennedy, Jr. who has been doing
the rounds, because as we know, he's considering his run for
president. Which you can't actually say until you're going
to do it because somehow the financing changes. And he had a
really some some really good comments on the swamp. And I
think I want to play him out of order. Actually. The first one
is literally about propaganda. Because when we've been doing
this show for 15 years, in 2000, I think it was 14 or 16, maybe
14 Now it must have been now might have been earlier than
that. 2012 When When was the Smith Mundt act overturned,
which we followed? That was pretty early on 2012. Probably,
I'm thinking Smith month just as a reminder was start after the
church Commission hearings where we found out that the CIA had
reporters and people inside news organizations, literally
propagandizing the American people so we couldn't have that.
And Smith month, they created a bill and that was passed. And
that said okay, we you can always propagandize Voice of
America, you can do it to other countries, you know, broadcast
your signal to a to Russia and to east, Bloc countries,
whatever. But you can't do that to your own people. Like like
they actually expected the CIA to adhere to it. But at least it
was a law and it was put into practice. And then during the
Obama administration, he was kind of slipped into one of
those huge National Defense Authorization Act bills, which
are hundreds of billions of dollars up to almost 900 billion
these days. And that overturned Smith month. And the reason why
is the government whoever the I probably military intelligence
and Central Intelligence said, Well, we're the internet you
know, it we're we're putting propaganda out and you know, the
Americans might see it because it's the internet after all. So
you have to We can't be breaking the law. So you've got to
overturn the law, and voila, they did. And a good bit, and
Kennedy refers to this and dives a little bit deeper. The CIA
Unknown: was involved in queued a TOS or attempted coup d'etat
was between 1947 and 1997, against a third of the nations
on Earth, and most of them were democracies. So the CIA does not
do public health. It does good Athos. That's what they
specialize in. And they had, during that period of MK Ultra,
they were paying Social scientists to devise ways of
social control. And some of those were individual, they were
using psychedelic drugs like LSD, they were using sensory
deprivation, torture techniques, and, you know, fear and
propaganda and authoritarian messages, etc. and experiment
with all these things to figure out what worked well, in
beginning around 2016. You know, with the election of Trump and
with Brexit, it seems like at that point, the intelligence
agencies made a decision to turn all of those weapons on to the
American people. We saw this this extraordinary propaganda
campaign at the beginning of the pandemic and the, to the extent
that people just say, Oh, well, you know, the CIA wouldn't do
that to America. It's illegal probably again is America isn't
anymore during the Bush during the Obama administration. That
law was essentially, that old law that it had been was
override and it was also written in the Patriot Act in 2001.
During the Bush administration, the CIA has gotten has gained
all of these increasing powers to propagandize American people
and to use these techniques on Americans and more and more
we're seeing you know, the control the press in our
country, the the old resurrection of Operation
Mockingbird. When Operation Mockingbird, which is the
operation where they controlled hundreds of reporters and
editors, the most important papers in our country, it was
uncovered in 1973. And the CIA kind of said, Okay, we won't do
it anymore in the United States, but they've been doing it
abroad. And there's no again, that's not controversial. This
CIA admits it. It's on these programs, mainly through
billions of dollars here through USA, the US government is the
biggest supporter of finance of journalism throughout the world.
Adam Curry: This what Robert Kennedy Jr. is saying today, 10
years ago, he would have been locked up. This is what we were
talking about. I mean, MK Ultra people hadn't even heard of it.
10 years ago now. It's just Oh, yeah, of course. Of course it'd
be it was real. And now you've got to think how much of a hand
did the CIA have in this lockdown situation and the fear
mongering that we went through for a virus which, regardless of
where it came from, wasn't the killer that it was meant made
out to be? I mean, we have the data. No, but now it's just Oh,
yeah. 1.1 million Americans died from COVID. No new with COVID.
Maybe, if we even have accurate records. So how much how much
were they doing this? And for what reason?
John C Dvorak: Well, it's so for what reason? That comes to?
Adam Curry: Yeah, that's important. Yes, that's very
important. For what reason besides ultimate control, which
of course,
John C Dvorak: it was a control test. It
Adam Curry: was testing. Yeah. Test successful. Yeah. I mean,
there's a I was worked, I was reading about this book called
The loss of art healing. the lost art of healing sorry. Nobel
laureate, Bernard lone, that writes in here about an
experiment that was done on a condemned prisoner in 1936, that
he was given the choice between being hanged, or having his
blood gradually and painlessly drained. So now, what would you
choose? Like, do you want to be hanged? Are we going to just
slowly drain your blood until you die? Which one would you I
think we'd all choose will drain me slowly then. So they strapped
into a bed blindfolded him. But what they did is they they
didn't actually drain his blood, they attach attach water
containers, and had the drip buckets. So we could hear the
dripping, which he thought was his blood, his heart ultimately
stopped. Because he really believed he was dying, he didn't
lose a drop of blood.
Unknown: This is
John C Dvorak: the kind of things at least
Adam Curry: that kind of thing. I like, Wow. You could tell
people you're gonna die from something and they'll believe
it.
John C Dvorak: Well, that's why it's really not good to listen
to some advertisements, which are promoting weird diseases and
ailments.
Adam Curry: Exactly. And this is why that Well, that should
definitely be banned. It's not it's horrible, and even had been
banned years ago. I don't understand even if it comes on,
you should turn off the sound and turn away. Because I agree.
I think people's I mean, we've talked about this a lot. But you
see that, oh, I might have that. I think I have that. I think
I've irritable bowel syndrome. Pretty sure of it, actually.
Now, one more, little more accurate clip from RFK, who I
think is looking really good with this, at least for a fringe
of the American public like myself, he explains exactly how
Trump got duped by the swamp in a massive way.
Unknown: Presidential candidates, whether it's Obama
or President Trump or Biden, I'm into office saying I'm gonna get
rid of this one, I'm gonna get rid of the corruption. But then
they get in there and something happens. Trump Trump got in
there saying I'm gonna get rid of this. He asked me to be on a
vaccine safety commission. When that news got out, Pfizer gave
him a million dollars for the inauguration. And then there is
an auditor party. And then he appointed to a Pfizer's
lobbyists. I've got Lehman Aleksei is our turn. On HHS, and
they kill the Vaccine Safety Commission and then the godly
serve on Pfizer's board, that is this one. And they you know,
when these guys get in there, they what happens is they either
get co opted, because all the money and because all the
congressional chairs are captured by those agencies, so
they can't do anything unless they do what they're told. Or
they just get overwhelmed because these agencies are so
huge. And the corruption is so entrenched and bad that they
don't know how to fix it. They don't know how they're not going
to go in the weeds and fix it. Or they appoint somebody safe to
run that agency, you know, somebody like Pete budaj edge,
who's not gonna fix it, who is going to basically make sure
that he doesn't embarrass the presidency over the next four
years. And he save and he doesn't know how to run that
agency or fix it. He relies on the guys who've been there for
20 years, and make sure nothing bad happens, it's gonna
embarrass the president, and they also have all these
different capacities for committing civil disobedience is
if he does something they don't why they know how to kind of
bring the economy down, bring the country to bring their you
know, they're the guys who make the railroads run on time. And
if if they if you do something they don't like they can stop
the railroads running on time and cause you know, a lot of
embarrassment. Ha.
Adam Curry: I mean, it's not that you wouldn't think this.
But to have a Kennedy say it out loud, I think is remarkable.
John C Dvorak: Well, the real problem here is why is somebody
going to ask him the following question, how would you make it
any different?
Adam Curry: That question may have been asked, I do not I have
not had the time to listen to all of the full interviews, but
I would presume any producer worth their salt sending these
clips or sending time codes would probably have waited for
that as well. But we'll we'll see if that pops up. I don't
even know if he wants to answer it. Because that could also mean
he's running it what is what is the deal with not when you
announced your running something changes with the finances? What
exactly is it that you then can't do? Or can't do with the
money? Do you know?
John C Dvorak: I knew some of it. I don't have to tip I don't
know right now to give you the list. Okay, but there's a lot of
reasons. Yeah. And it has to do with the way you collect the
money. How you collected my like, you can't collect you
know, there's limits. There's no limits right now. Some of you
just want to donate.
Adam Curry: You can donate a million bucks if you want no
proper seven or 10. Yeah,
John C Dvorak: I see. I can't do that when the election. election
rules.
Adam Curry: Well, he's is shining a light on stuff. And
how about that Trump got so bamboozled, he brought that
moron and the guys now she's on the board of Pfizer. I mean, can
you believe it?
John C Dvorak: That's no Trump was totally taken.
Adam Curry: Yes. Which shows he knows how to fire but he really
doesn't know how to hire. Or we're just he hires on gut
instinct and doesn't do the background checks or whatever
too
John C Dvorak: much. Man did have some good people that he
hired. But you know, he, at least half of them were no good.
In fact, many were just turncoats. They're a bad average
he, he's really looking back on it. It's a miracle that you
know, he did as well as he did.
Adam Curry: No kidding. And now of course, a DeSantis is out
there doing the same. Oh, you know, I'm just I'm just, I just
happened to be in Dallas to go on Glenn Beck show. Glenn Beck,
probably, I think very clear example of, of the big money
conservatives in the United States. I'm just guessing. I
don't know for sure. But it kind of feels like that. And he's a
recruiter.
John C Dvorak: We have to remember that back. And Michael
Savage. Well, no, not Michael Savage as much but Glenn Beck
and the great one, Mark Levin. They were Trump haters. When
Trump first started to run, they weren't going to support him.
Adam Curry: Oh, I forgot about that. Well, yeah, can't root
can't forget these things. Yeah, but that's why there's two of
us. And so DeSantis has a book out which is irrelevant, because
the book is just cover to get on shows. And he goes on the long
form interview podcast to say when I did with back with with
the white hanging microphones, and you gotta like what he's
saying. So
Unknown: the white the White House taskforce was hammering me
for like the first like, really like three months because they
wanted me to be, you know, clamping down harder. And, and,
you know, she was so I was like, Debra, just tell me when in
American history model has this been done and what were the
results because like, I kind of feel like you know, we're flying
blind here and we may be doing things are gonna be damaging.
And as she said, she's like, you know, it's kind of our own
style. Nice experiment that we're doing in real time. And
that didn't sit well with me. I mean, you know, you're a citizen
of a republic, you're not a guinea pig. And so I think that
that there's a whole bunch of other things I talked about in
the book. You remember the George Floyd riots, genealogy,
because people were saying, you've been telling people to
stay in your home in like in Florida, they were killing us,
because even in those early days, you know, when we were
following federal guidelines loosely, but we were finding
some we were playing golf, I mean, the villages are setting
record for golf, people are voting all this stuff. They were
so mad at Florida for doing that people on the beach, all this
stuff, that was their position, you are killing people, if you
leave your house. So then all these people are like 1000s of
people are protesting. 2000 of these epidemiologists write a
letter saying, We do not condemn these protests? Because of
COVID. Indeed, we think they're vital for public health, right?
Because they're fighting bigger disease. Yes, and COVID. So
that's, that's when I knew is this this public health beer,
this public health, a clan of people, they are sick. I mean,
they're they're ideologically captured. And these are not
people that should be anywhere near the levers of power. So I
basically from that point on, I would exclusively listen to a
very handful of people. You know, Bhattacharya from
Stanford, Martin called or from Harvard, Scott Atlas, sunetra
Gupta from Oxford, and then my Surgeon General Joe ladipo, we
brought in from UCLA. Great,
Adam Curry: now I gotta get points for that answer.
John C Dvorak: No, they got him geared up to do the right thing
in terms of tools and presentation, there's no doubt
about it. Totally,
Adam Curry: totally. And that's also true. I mean, that we saw
that with their own eyes. We saw,
John C Dvorak: like, downtime was a very interesting period,
because, because some people took it so seriously. But I, of
course, at least on the West Coast had found the loopholes,
which were in writing and I always printed them out. Just in
case. Maybe if remind us what were the loopholes. Yeah, the
loophole was that if you're a journalist, specifically a
podcaster
Adam Curry: essential essential personnel, we could go out and
do whatever we needed to. You could do
John C Dvorak: it go out and do whatever you needed to. Yeah,
and I had printed out that and I just wrote about my normal day,
day to day the way what I didn't do anything different. And I
noticed a couple of things one that people there weren't very
many people on the freeway but those that were drove like
maniacs and nobody nobody nobody pulled them over. No, of course
nobody's gonna do anything because the cops are all in
Yeah, and so they you know, they were scared to pull anyone over
because they get COVID and die. And so that was like crazy. You
really had to drive carefully but fast Yeah. And and it was
fine because there was nobody on the road. And the other thing I
noticed was that from place to place to site everyone I went to
Marin County on a on a little journey. jaunt. A giant Marin
County was so it was like a polar opposite of Alameda County
where Berkeley and these places are Bergen County. People were
out on bikes there were hiking they were jogging. It was like
night and day it was like the Marin County Democrats they're a
different they're more of an elitist Democrats are rich ritzy
your area. Dave, Dad some other rules. And then the last thing I
noticed is that I carried her under his papers, you know,
knowing that there wasn't anybody policing any of this.
This was all stupid, voluntary stuff. You you locked yourself
in correct that I think was the big test that must have
surprised everybody, all the sociologists at the CIA. You
just tell people to like them sit like yourself in jail, sir.
I'm okay.
Adam Curry: All hands to celebrate. Like all hands.
Everybody looks Hey, CIA lawyers. Can you know they talk
like Googlers? Hey, CIA years. Good job.
John C Dvorak: You had to be it had to be? I think it was. I'd
be discussed. It's disconcerting because it tells you that the
public is just a bunch of drama sheep sheep.
Adam Curry: She correct a sheep with a bad herder. That's right.
Well, of course, this nonsense continues. I personally am still
waiting for the ridiculous COVID vaccination mandate to be
removed so non citizens non residents can enter the United
States. It's bad for business. It's bad for morale. It's bad
for tourism. It's just bad and stupid. And now check this. Get
a note from one of our producers. I have a friend who
is Ukrainian. She was on a multi month trip to the US in January
2022. When the war hit the apartment where she lives in
Kyiv was hit. I'm sorry. I said it on purpose was hit with a
missile shortly after the war started and she was afraid to
return. The US rolled out a plan to allow citizenship or
residency for Ukraine refugees. And she applied and so of course
they could they she could stay but now they're telling her she
has to Leave or get vaccinated. So this tells me this is not
going to end. Or the war in Ukraine is ending nuts, probably
more likely. Now, let's get these Ukrainians out. But that's
I that is, I mean, if you're going to be friendly to the
Ukrainians, you're going to start that crap up and say, No,
you have to get your COVID vaccine. Otherwise, you have to
leave go back to Kyiv. So I think we're getting close to the
end here, as witnessed by the Wall Street Journal, who says,
Oh, looks like President G is going to bring Russia and
Ukraine to the to the negotiation table, going to step
in and make it happen? Yeah.
Unknown: What do you think?
John C Dvorak: Well, I think she definitely wants to do this
because it would be the put us in our place. As this would make
just it Look, just because the kind of the, the image of the
United States that you want to push out there is just a bunch
of warmonger assholes. That's all true. So we didn't even we
have made zero. As a country. As a as a complete society. We've
made zero efforts to end this war, with negotiations pushing
for negotiations talking about anything. No, all we're doing is
throwing money and arms and bullets and we're cranking up
the shells and we're making more. And it's and we're rubber
and we're responsible for rubber lighting, the place
Adam Curry: where we put Ukrainian flags in our profiles.
John C Dvorak: And we got Ukrainian flags. They were
warmongers were horrible. So they if the Chinese can come in
and straighten this mess out, they'll walk away look at and
they'll get their point a finger at us all the time. What's wrong
with these people? i What is wrong with these people? I think
they're winning the finger at us, like
Adam Curry: we discussed on the last show. I think the benefit
is obvious is she gets look like you know, a great world leader.
The US is like fantastic now we can go position ourselves with
more money, more modern weapons, more money for the military
industrial complex in the Philippines and you know, all
around Taiwan and Oh, China's bad we're gonna get we're gonna
stock up Japan. It doesn't matter. They don't care about
the war. They just care about how much money they can keep
flowing. And they were tired of it. They were tired of, you
know, they tried the Putin is gonna die. He's got cancer, he's
got Parkinson's. Now they have no credibility left, zero. And
and you know, and GE is probably he wants to ramp up military
spending, too. I'm sure he's in on that stuff himself in his
country. These
John C Dvorak: days and hate taking produce everything. I
mean, those guys are out of control with their manufacturing
capability. We're so screwed. It's unbelievable.
Adam Curry: Well, we're continuing to try and follow
some some kind of playbook expanding to Moldova maybe move
some focus over there.
Unknown: in Moldova, pro Russian protests are underway in the
capital kissing up. It's the latest in a series of
demonstrations that have taken place in recent weeks against
the pro Western President Maya Sandhu and the Moldovan
government who have accused Russia of plotting against them.
pro Russian forces have been resurgent in Moldova since
Russia attacks neighboring Ukraine more than a year ago.
1000s of Russian troops are stationed in the separatist
Moldova and region of Transnistria in the east of the
country.
Adam Curry: I'm looking at these protests I'm not seeing
professionally printed signs I think this is real people like
Come on stop you with your EU nonsense get out they want that
EU shield lady to step down want to get rid of her? I think the
Queen Oh no, the President the President of Moldova Moldova
yeah are probably whatever she whatever they have that you know
our QQ guy he says that she's a total all in shill for
everything. All things euro and your European Union. Yeah. So
that you do this is probably true. And then we have this very
pathetic event that happens with one of our drones, which by the
way, a drone is controlled by, you know, some dude sitting in a
container somewhere in Nevada a woman? No, no. We never see the
women controlling him. It's always the dudes.
John C Dvorak: But in this bill, we even knew a woman who was
Adam Curry: drone driver. No, she was the IT manager and the
admin of the drone. She did not drive it. Okay. She didn't drive
the drone. So we have this pattern
John C Dvorak: of women drone drivers. I don't believe for a
minute it's all men. Well, okay.
Unknown: The Pentagon admits it will be very difficult to
recover the US surveillance drone that was ditched in the
Black Sea, but two officials now confirm Russian ships are at the
scene and may have already picked up pieces of the
wreckage. The US says the drone went down and about 5000 feet of
water after being struck by a Russian jet. Officials say after
the collision, they were able to remotely wipe out the drones
sensitive information
Probably not allowed to recover, frankly, as far as the loss of
anything of sensitive intelligence etc. As normal we
would take and we did take mitigating measures. So we are
quite confident that whatever whatever was a value is no
longer value
up. How about the price tag on that surveillance drone? About
$32 million?
Adam Curry: Alright, so they released video footage of this
event what a bunch of horse crap by the way, kind of what
John C Dvorak: I have a couple of CBC clips about this which I
thought were funnier. Well, can
Adam Curry: I can I? Yeah, when I saw first which is what I want
when you when you hear this what comes to mind is how the shoot
me a World War Two the British Spitfire guys that used to knock
you know, the v1 flying bombs out of the sky, you know, they
they'd wingtip them and stuff like that, and you know, hit
them off course. That's not what happened here. There were two,
first of all, the Russian say, well, the drone was not flying
with this identifier on Okay, now, whatever, this plane so you
see the drone flying, and the drone is just flick a Cessna,
basically very expensive Cessna. And it's got one propeller on
the front row, we're just kind of drones around. Does, you know
it's called the expensive stuff. With the propeller in the back.
Now this is the one propeller on the front. And at least I
believe so could have been a rear view that's possible. In
fact, that's more likely right. But I see the Russian jet come
up, passes by twice the first time it caught. It's just, it's
just accelerating and pulling up and moving right in front of the
drone. Which really what you get then as jet wash. But there was
no touch there was no contact, then the Russian plane comes
back does it again. There's no contact. The plane is not office
access. It doesn't go out. What they do is when they they
disrupt the signal, you get kinds of oh a test pattern.
Bullcrap this thing was knocked out of the air unless something
else happened that we didn't see on video which are not
explaining. Then they they ditch this thing themselves. This was
not a we crashed into the drone and destroyed it and it and it
sank to the ocean. This is I don't know what it is. But it's
not what not the way they make it. Look at all. So let's hear
you're entertaining clips.
John C Dvorak: Well, I think that the thing they did was
funny, according to all the reports is that the Russian jet
also dumped a bunch of fuel on that thing.
Adam Curry: No, there was no dumping of fuel. That was jet
wash. They're saying that
John C Dvorak: that? Oh, no. Wait, wait. While you're
listening to CBC reports. I think they're pretty complete
Part One.
Unknown: We are also watching the skies over the Black Sea
where the US says it was forced to down its own drone after it
was struck by a Russian fighter jet. Paul Hunter now on concerns
escalate tensions between the two superpowers.
It's known as a Reaper. A US military surveillance drone seen
here in Defense Department video. Now in a high stakes
drama with Russia after something happened over the
Black Sea near Crimea spotted and intercepted midair by two
Russian fighter jets. It was not shot down but it says the US
there was contact
one of the Russian Su 27 aircraft struck the propeller of
the MQ nine causing us forces to have to bring the MQ nine down
in international waters. Several times before the collision su 20
sevens dumped fuel on and flew in front of the MQ nine in a
reckless and unprofessional manner.
President Biden was briefed on it immediately, Russia has moved
described as dangerous and brazen on Capitol Hill.
I want to tell Mr. Putin stop this behavior before you are the
cause of an unintended escalation.
underlining the severity Russia's ambassador was then
called into the US State Department for talks. Anatoly
Antonov later told reporters Russia does not seek
confrontation with the US and he denied contact with that drone
there was no collision you see that the problem is that we
didn't consent to this job. We didn't start a firing it's very
important
but the underlying rushes view it considers Crimea to be
Russian territory.
Adam Curry: Well, here's a question No, I have a question.
What if if okay, we sprayed fuel on the drone? What is that going
to do what I
John C Dvorak: think I think the Russian pilots were jokers one
of them dump fuel on the plane to go in front of it and try to
set it on fire.
Adam Curry: Yeah, with a match the leaning out the side of the
passenger burners on throw some flames back there. Maybe they'll
catch Polly's no grow up. No, it's all bull crap. They were
just playing back and forth just messing around and the drone
operator decided to ditch the thing. There was no contact,
there was no fuel dumping. That was. This is all stupid.
John C Dvorak: And bizarre people that said there was fuel
dumping. Have you heard that was gonna go?
Adam Curry: Oh, I'm sorry. Let's believe the Pentagon guy. I'm
just
John C Dvorak: telling you, that's where I got that
information. I don't know that you have to have better
information. I
Adam Curry: saw what I saw. If that video is true, that's what
the Pentagon is
John C Dvorak: believed in video one. Now I'm just gonna take
take your argument and put it back at you. Let's go with part
two.
Adam Curry: I just like to point out that they say that they
knocked it down. There was no contact that everyone saw.
That's the video they put out, so discredits the contact,
whether that was fuel or jet wash that they're showing. And
you know, it's not like the it's not like gasoline on the ground
where you throw some gas on something you throw matches kind
of light up, you
John C Dvorak: know, crap. The thing that's interesting about
that last clip, if you just play the very end of it, this is the
issue. This plinth this drone was not in the middle of
international waters. No, it was veiling Crimea, Alaska.
Unknown: We didn't start
a fiery, it's very important. But the underlying Russia's view
it considers Crimea to be Russian territory.
Adam Curry: Isn't that kind of a given now, not now that they are
in Crimea?
John C Dvorak: Well, that's what I would think. But during this,
we still recognize it. So we we make the claim that this was
thing was flying around near national waters. It was
surveilling Crimea. Yeah, of course. And that's why they
mentioned that at the end of this clip, as never mentioned by
any of the other reports in American media, why would you do
that,
Adam Curry: that makes us look bad. Onward
Unknown: considers Crimea to be Russian territory.
This drone can carry 1700 kilos of explosives. This drone can
carry if you booms. What will be the action of United States if
you see such a rush and drawn very close, for example, to San
Francisco or New York? What bill will variation of the United
States for me it's clear.
And Paul, it sounds like there's Word tonight that Ukraine might
get some jets of its own.
Yeah, it may well be Adrian and you know, fighter jets are
precisely what Ukraine has been asking for Poland's Prime
Minister now saying Ukraine its Soviet made MIG 29 jets within
weeks though. He's also said Poland would do that only if
other countries follow suit. Slovakia is also now saying it's
ready to hand over its MIG jets if others join in. There is
still no signal however whether the US will send Ukraine F 16
Though discussions are believed to be ongoing on that.
Adam Curry: Oh, of course. Well, there you go. We need jets
because you know, when you jet I love the guy. It could carry
bombs. Yeah, yeah, the Reaper drones can have some armaments,
but you can't carry like a nuke. Now it's a single engine thing.
It's not like a bomber. But this story that I picked up just
makes all of this seems so phony baloney. This whole war listen
to this
Unknown: watch this woman Ukraine has sparked a surge in
demand for weapons and vehicles. But the conflict is also
inflating demand for blow up weapons that are being used to
deceive the enemy. This check company produces more than 30
Different inflatable military decoys from pretend tanks to jet
fighters. Its output has jumped by 100% in the past year,
which if you were 200 or 250 meters away, and you didn't have
binoculars, you wouldn't be able to tell if it was a real weapon
or a fake ones.
The technique isn't new. At the end of the Second World War. The
British use these rubber tanks to fool the Nazis said those
types were simply traps. They played an important role in the
war. The war in Ukraine has brought inflatable weapons back
into fashion.
Adam Curry: Are we even sending real weapons there? Are we just
sending some blow up stuff?
John C Dvorak: Well, we'd be saving money if we're sending
blow up stuff.
Adam Curry: We know where the money's going. We know that's
not going to Ukraine. We know that the money is going into
everyone else's pockets. But now I'm thinking how many of these
blow up things are there
John C Dvorak: now I'm thinking there's probably a lot more than
we like to imagine I
Adam Curry: I'm an agreement. I'm an agreement this this is
this has got To end this stuff is stupid now we're really going
into wacko territory. In the meantime, you won't hear much
about this, but the Russians did agreed to something very
important.
Unknown: Russia has agreed to extend the Ukraine Grain Export
deal Following talks with the UN, but only for 60 days, half
the term of the previous agreement. The green export pact
has helped ease the Global Food Crisis triggered by Russia's
invasion of Ukraine last year, more than 24 million tons of
grain have been exported under the deal.
Adam Curry: So there's your 60 day timeline, maybe, maybe,
John C Dvorak: maybe it actually might be what it is, it may be
just telling us in 60 days, this is this is over
Adam Curry: now. I mean, because he maybe, maybe, but at least
he's letting food out or whatever, what whoever, whatever
the thing really is all about us pretty good. So maybe just go
through China real quick. Because you know, China is now
on deck trying to try to help this trying to fix this. And it
just seems like everyone wants to hate China. Everything we do
is all about bad bad China, China, China. And this very
surprising news that I came in today. Well, the
Unknown: FBI is now investigating a fire in New York
penthouse that started hours after agents arrested a Chinese
billionaire, while one day was taken into custody and six hours
later, flames erupted while agents were still in his
apartment. The former ally of Trump's debt strategist, Steve
Bannon is now charged in a billion dollar fraud scheme.
Yeah, this
Adam Curry: is the GTV guy.
John C Dvorak: Sorry, who
Adam Curry: the GTV the Guangdong TV, this is the guy
who's financed everything that that Steve Bannon does. We know
him as Miles Kwok. This is the guy whose finances the whole
operation. You know, if Bannon is always like, kind of playing
that song, you know, down with the CCP or whatever, this is
that guy so that now they went after the main financier of all
the anti China stuff, or whatever he was doing. And and
and so they arrested him and then his his $32 million
penthouse catches fire. Oops.
John C Dvorak: No, where was this New York this is kind of
disconcerting. If you think you're contracting if you're it
was only just recently I we had some clips. I never played them.
But about the police, the Chinese CCC Police Department.
There's one everywhere. Yeah, everywhere. Everyone in Toronto
does one and I think there was one in Manhattan and they closed
it down. What are these guys doing with their own police
departments in New York City.
Adam Curry: So here's the assertion he allegedly used some
of the money raised through his company GTV media and other
entities to buy a 50,000 square foot New Jersey mansion $37
million yacht three and a half million dollar Ferrari $140,000
pianos thing is a $37 billion Ferrari 3.5 is a $37 million
yacht a $3.5 million Ferrari $140,000 piano I mean so what
are they going after? And they apparently seized $650 million
in alleged fraud proceeds from 21 different bank now
John C Dvorak: whose day you keep referring the FBI cuter is
prosecute What's New York State prosecutors government who
Unknown: let me see
Adam Curry: I think is New York State Yes.
John C Dvorak: Southern District which one which group guy don't
Unknown: have that information?
Adam Curry: NBC New York reporting so I want to see SEC
separately accused him of misrepresentation in raising
hundreds of millions of dollars so it probably is the Southern
District and you know what this could easily be connected to the
banking crisis. I don't know I mean, or they may want to
connect it to the banking crisis. That's always fun to do
that, but this is very weird. And it's also a you know, it's a
it's a big downer for Steve Bannon, because that's his
that's his, his sugar daddy as far as I understand. And the
meanwhile in be in Washington, DC, we're continuing to go
against China by getting Tik Tok banned
Unknown: this morning. The Biden administration is demanding the
TIC TOCs Chinese owners sell their stake in the company or
the app could be banned in the United States. The demand marks
an escalation from the administrator mission as the
White House looks to resolve national security concerns about
the app with many worried that Chinese government could force
tick tock to handover Americans user data, the director of the
FBI last week said the app, quote screams of security
concerns
could they use tick tock to control data on millions of
users?
Adam Curry: Yes, what does that even mean? Could they use tick
tock to control data
Unknown: security concerns?
Could they use tick tock to control data
Adam Curry: on millions of users? What kind of question is
that? This guy eagerly says yes to isn't that Rubio? Yeah, of
course. It's Rubio.
John C Dvorak: He's only Hell's his dog in the hunt here
Adam Curry: money. Well, he's on the, on the Senate Intelligence
Committee, which is the people doing this. So you know, he's
very important in this deal. And a deal it may be because you
don't know how many. Yeah, what?
John C Dvorak: Again? Well, let's go back to your question,
which is what the hell's he talking about? Exactly.
Adam Curry: This is propaganda. I have some thoughts. But
listen, again, to his question. This guy eagerly says yes to
Unknown: security concerns.
Could they use tick tock to control data on millions of
users?
Adam Curry: Yes, reigning? Oh, yes, they can control my data.
What does that mean?
John C Dvorak: It doesn't mean anything. It's a dumb question.
And
Adam Curry: the answer exactly, yes.
Unknown: reining in tick tock has one bipartisan support. But
some Republicans want an outright ban.
This company should be banned. I don't know why they're allowed
to operate the United States.
Republicans overnight responding to the administration's new
threat.
I think they're right on this phone that everybody has. Tick
tock is able to harvest your data all the time,
Adam Curry: listen to what she listen to what they're saying.
This is really, this is scandalous,
Unknown: tick tock is able to harvest your data all the time,
and provide it through byte dance to the Chinese Communist
Party.
Adam Curry: Okay, so let's just break that down in pieces.
John C Dvorak: One, yeah. Do they have proof of what you just
said?
Adam Curry: I have no, none has been demonstrated. And mind you,
these apps are running on Google and Apple devices. Apple in
particular has locked down a lot of what your data whatever that
means your data can be given to the Chinese government, your
data is is given freely, in fact, for pay by Silicon Valley
to the United States Intelligence all the time, a
daily want this cost 3500 bucks, we'll give you that person. So
this is so specious. And oh, this so your data that just say
your data, to not even specifying what data so what
data can you really get from apps that run on these phones, I
argue that's pretty locked down, and only really revealed all the
kind of stuff that you'd want to US intelligence organizations.
But we can
John C Dvorak: tell you, generally speaking with almost
every app, they asked you to release permission to follow you
around release your GPA tracking, release your contact
list, which makes no sense to me why you should give anybody your
contact list, almost let alone a map app, almost every
Adam Curry: app does this. They all do it. Thank you. And you
can somewhere in the show notes, you'd have to look for it. If
you can even get a software development kit that you put
into your app that literally allows you to replay what a user
did, which is meant, of course, to see if you can find out why
the user experience is not working or what they're tapping
on what they're typing in. This is not this is not secret, every
app that that puts that in there, which we'll get into
these App Stores can do this, but they're singling out a Tic
Toc, and I have some ideas. We'll finish this clip
Unknown: and provide it through bytedance to the Chinese
Communist Party.
The White House has until recently been more reluctant to
ask tic TOCs Chinese owners to sell their shares looking
instead to work with the app to install data safeguards. The
last week, the White House came out in support of bipartisan
legislation that could be used to ban the app. In a statement
Tiktok said the best way to address concerns about national
security is with the transparent US base protection of us user
data and systems with robust third party monitoring, vetting
and verification, which we are already implementing. tiktoks
chief executive is scheduled to testify before a House committee
next week.
Adam Curry: All right. So there's a couple of things going
on. First of all, this really started with the six to
projected $10 billion next year that Tik Tok is taking away from
specifically Google, Facebook or meta. Anyone else who Apple is
now also entering into the app. advertising market after they
basically put some anti competitive moves in on Facebook
and you know, and Facebook arguably lost $10 billion a year
in revenue because of what Apple did with how Facebook was able
to track. I'm sure they didn't just give that to tick tock. But
this story came out, lo and behold your no agenda show on
the leading tip. Tik Tok enters the search ad market challenging
Google and Microsoft. As if we didn't predict it. We know that
that users one out of two from Italian Google numbers, which is
probably the same everywhere. Go to tick tock first to search for
something. So now tick tock says March 9, yeah, we're going to
enter the search ad market. I'll bet that got some people moving.
Now, what does tick tock actually have, they have an
algorithm that is killer? Everyone's trying to replicate
it. They're trying to replicate the whole what they call UX, the
user experience. reels, Twitter, everybody is now trying to do
the video that you scroll up and get the next one. You've seen it
everyone sees it on. It's happening on Twitter because
that they think that's what it is. That that's all it must be
because of that, that you can scroll and get the next video.
Now, here is what I think tick tock actually has one of our
producers helped me with this Tokyo Matt, who has some
experience with it. Tokyo has something called Computer
Vision, which analyzes in very explain in great detail, the
videos that people are uploading. Now what is mainly
being uploaded, I'd say teens millennials who are dancing in
their houses. Right? That would be kind of the main one. So they
can zoom in, look at the book titles on the bookshelf,
identify products on the floor posters on the wall. That's what
they're doing. And I think they're miles ahead with doing
this from Silicon Valley. And that's the data that they have
in Silicon Valley. Just I don't think they were ready for it.
They were focused on Metaverse, and now chat GPT and all this
bull crap. And I think that that is literally the secret sauce.
That's how they know who you are is because you're showing them
you are showing them. And it's not the Chinese Communist Party.
No, it's It's the advertising department. Now, I'm surprised
that they that they just usurped everybody with this. But now of
course it will
John C Dvorak: go I disagree. This notion that you just
described is hardly new, it's at least a decade old, old and it
first cropped up. In the tech scene, when Microsoft brought
out those Kinect or whatever they were kind of stereo cameras
that you could put on your computer. And you could play a
game one of their games, you could jump around, you could you
could play paddle ball and you could do all this stuff and kind
of a version of you would be on the screen, because it would be
looked at by these two lenses, it was determined that those two
lenses that were looking at you those two cameras, were actually
being used for the exact same purpose was just look around the
house, see what books you had, see what posters were on the
wall, and on and on and on. And it was turned out to be a big
flop, they don't even sell those things anymore. So I don't see
how they're ahead of anyone. It sounds like they're just trying
to redo redo, kind of reworking old idea that it was a flop to
begin with.
Adam Curry: I think you're missing the point. You're
missing the point that none of these other companies have been
able to get the children to dance in their living rooms so
that they can see all this stuff. The technology is not
new, but they've got the formula. They've got the song
catalogs, they've which they purchase outright for huge
amounts of money that are being used.
John C Dvorak: Yes, that I will back up a little bit and say
that was genius. Yeah. And I still don't understand why
YouTube had to take down video after video because somebody was
doing the washing their cat and there was a you know, some song
in the background. So they got pulled down. Yeah,
Adam Curry: exact well now now we get to the part that is
really annoying. Because for whatever reason, tic toc is not
and I think this is what the sub Silicon Valley has an ad
problem. We all agree on it. Tic TOCs moving to search ads. Red
Alert DEFCON one, we've got to do some Thanks. So we leave that
to the side. Now we have the politicians we know that all
these very same companies probably except for bytedance,
slash tick tock, whatever, whatever the the entity is,
they're not in on the national security apparatus. They are not
saying, oh, yeah, we'll take those people down. No, no, if
you go on Tik Tok, and now I've had to do some research on this.
There's a lot of stuff that would not fly on Facebook, and
probably not on Twitter, either. because Twitter is not the free
for all that you think it is by any stretch of the imagination.
So they didn't go woke, and they're not going broke. And I
think these politicians realize that they can't control tics.
This is control. They want control. Why else would the toy
Yeah, we're gonna take your data, give it to the CCP. No,
they want to control what you can see. And they want to spike
what they can spike and they want to amplify what they want
amplify this is all on the Twitter files. And they want to
suppress that which they want suppressed. And I think the
politicians who scream the loudest are the are the eight
holes. This is your Marco Rubio. Oh, God, no control over them.
Ah, the whole model is breaking.
John C Dvorak: Letter What model is breaking
Adam Curry: the mod the control model, the control model of
Silicon Valley being in bed with with our with the National
Religious app with our national security slash intelligence
apparatus? Sure.
John C Dvorak: I think that's I net. There's no argument was me
on this one.
Adam Curry: Yeah. So but no, mind you, there's not a bill in
Congress to get rid of tick tock? No, there's a bill that
gives the Commerce Secretary the power to get rid of any foreign
technology he or she wants.
John C Dvorak: I would like to know, and I've asked this
before, I'll ask it again, just to remind everybody, we're at
where I might take on this, which is how can they
rationalize this after we had to listen to years and years of net
neutrality talk? Free Internet, banning banning the internet in
China? Oh, the Chinese are banning the internet. Oh, Iran
is banning the internet. They won't let American companies you
know, they won't let YouTube on in Iran. They won't do this.
They won't do that. And now all of a sudden we're doing it. We
think it's great.
Adam Curry: The funny thing was, does
John C Dvorak: anyone explain this to anyone? No, of
Adam Curry: course, net neutrality. We forgot that a
long time ago. She ixnay on the net neutrality now. Oh, we don't
talk about that anymore. No. But but also there's there's
probably not a single politician that will go to bat you know,
electable politician that will go to bat for this. Do you know
how insane people will go if tick tock actually gets banned?
John C Dvorak: At this point is too late.
Adam Curry: I mean, you'd have people like zombies like
junkies, zombies killing each other on the street. It's it's a
it's an actual addiction. No politician is gonna say, Yeah, I
did that I took tick tock, tick tock off your phone. Ah, no
presidential candidate will do that. So I think what they want
to do is they want to bring this company to heel, bring them into
the national security state. And the question is, will they I
mean, yeah, if you get rid of all the Chinese I mean, look at
what they're proposing. Yeah, you got to sell up got to become
part of America system somehow. Get rid of your Chinese
shareholders. Get them keep the data in America. Oh, yeah. Let's
give it to Oracle. That was Trump's idea. Oracle, the
database of the intelligence services. They are literally the
guys who do Yeah.
John C Dvorak: So they were in the service for the CIA. Yeah.
But that'll Oh, who knows nowadays could be switched
around. It could have I'm sure Bezos has got his fingers in the
pie.
Adam Curry: Did you have anything on did you have
anything on the way here it is actually this this is the report
it I think about? Now we had that one? Do you have anything
on the Hunter Biden stuff because that's coming out now as
well.
John C Dvorak: Which is I got lots on the 100 mile you want to
do that and we got to do two breaks
Adam Curry: today because people got long notes and all kinds of
stuff we got to talk about Yeah, let's let's do your your Biden
crime family.
John C Dvorak: Yeah, the Biden crime family stories. There's
this guy comer coma comer this guy this Kentucky house
memories. He's the one that went out everything. So I have I got
a sidebar want to play first, which is just a tease. It's got
Maria Bartiromo and money hood question money honey, no steak
got her miked. So she so she sounds screechie
Adam Curry: You don't think that's just her?
John C Dvorak: I see sounds notably, I know I think they're
doing it on purpose. Let's evaluate the bad guy
Unknown: and back with the chairman of the House Oversight
Come on.
Adam Curry: They've definitely taken out all the low end,
John C Dvorak: low end, mid range.
Adam Curry: The definitely not doing her any favors
Unknown: the back. I'm back with the chairman of the House
Oversight Committee, Congressman James Comer. Congressman, talk
to us about Kathy Chung. She's coming in to get deposed by your
committee. What are you expecting?
Well, we're gonna have a transcribed interview with Miss
Chung, we have a lot of questions about her role in
moving documents. We all know now that Joe Biden has
mishandled classified documents in at least five different
locations. We know from text messages and emails, she got the
job to help with the Biden family moving documents at the
recommendation of Hunter Biden, given Hunter Biden, what we see
from bank records and from the emails and text messages, with
all the influence peddling, he's done. We wonder why was Hunter
Biden so concerned about Joe Biden's documents? So we have a
lot of questions for Miss Chung, and she's fortunately going to
come in voluntarily. And we'll have an opportunity to hopefully
get some answers that way.
Adam Curry: Who is this Miss chunk?
John C Dvorak: policy? We don't know any of this because the
mainstream media is not covering any of this all impeachable
offense offenses. That's going on right now with, you know,
investigating the Biden crime families and Fox actually
pushing back on it, as you'll hear with the next few clips,
and
Adam Curry: she's Fox Business, which
John C Dvorak: we don't want to watch this, but the next the
next part is Fox. You can hear that they're pushing back. And
you'll hear pointed out when it happens. She was hired as kind
of a private secretary to manage the loads and loads of these
documents
Adam Curry: for the Biden's Yeah. And so her name is Chung.
Chung, not Connie. Whatever happened to Connie, whatever
happened to Connie Chung.
John C Dvorak: She retired a long time ago. He still she's
still married a mare Maury
Adam Curry: Povich right. Okay. All right. So they hired a Chung
to manage the document, and they've got the fix on her now.
John C Dvorak: No, that's just this was the sidebar. The real
story is this one. And this is the Biden crime family comer
one. And this story is hair raising, and it's not being
covered by and even Fox is pushing back on our show and
they're doing in a very subtle way. It's like, Well, okay, and
this one is just a standard Fox stooge, interviewing comer. Here
you go.
Unknown: Meanwhile, the Republican led House Oversight
Committee expanding its investigation into Hunter Biden,
newly subpoenaed financial records, stacks of documents
dating back 14 years are now under review. The chairman of
the House Oversight Committee, James Comer out of Kentucky's
with me now, sir. Good morning to you. Thank you for your time
and for being here. today. I want to try to clear up a few
matters. You're on with Sean last night. Okay. Okay. Whoever
you see through Bank of America, 1000s of these records that go
back 14 years, one of them and an associate by the name of ROB
Walker. And you said last night that two months
Adam Curry: you can already hear by the way he's setting it up.
He's kind of getting ready to discredit him somehow. I can
hear
John C Dvorak: it. The whole thing is is to purposes
discredit us and listen carefully to because it's
dangerously good. The guy has taken on the aura. And you've
seen him before. I can't remember his name. But he's just
one of those standard hosts that does does does find some friend
dude. Yeah, yeah, he's Yeah, exactly. And he's got a
disdainful quality in his voice. He's sounding more and more like
Rick Sanchez, if you can just remember him. And it's just it's
like, Okay,
Unknown: wow. All right,
here we go. Let's continue name of ROB Walker. And you said last
night that two months after Joe Biden left the office of the
vice president. So that's January, February, was that
March of 2017.
Adam Curry: I love that this is this is him do a showing that
that he's okay. So that's what March if that's, that's true
March and this is him trying to give himself some credibility.
This is what dumb news models do.
Unknown: I'm guessing. Around that time, he received a $3
million wire from two people directly associated with the CCP
in Beijing. What is that all about? Sarah, you made the
claim. What did you discover? Well, we
discovered that they got a $3 million wire two months after
Joe Biden left office. And then the very next day, that from
that account, that Walker account that appears to be a
pastor account. Then they started wiring money to Biden,
family members, plural. And there were three different Biden
family members that received a cut from that $3 million,
including a new Biden family member that's never before been
included in any of these investigations? So our question
is, what exactly did they do to receive that money? What was the
purpose of that $3 million wire. Now that's just the first wire
that we've actually been able to obtain bank records on. There
are many, many more. Okay, this is great.
John C Dvorak: So this just began this, because this all
came from the laptop and the end of Republicans finally got in,
they could do some investigating. So we now have a
committee looking into Biden, and the Biden family, crime
family. And now it gets good as he tries to explain more what
happened as, as the douchebag from Fox tries to undercut him.
Unknown: Okay, you put your finger on it there a second.
Okay. You said, what were they doing in return for that money?
Do you have an answer?
I do not. But you know, the media says, Well, this is a
Hunter Biden investigation. This is an investigation of Joe
Biden. And we're investigating the Biden family. And again,
after this new batch of information, it expands. There
are more family members involved in this than just the
president's son. And what they've said in the media, oh,
this was for for business. We can't identify any business, it
appears it went into their personal accounts. So if China
is investing with the Biden's in a business, we can't find any
business, they don't manufacture anything. They don't sell
anything. They don't own any real estate. We don't know what
the business is, you know, my theory is its influence
peddling. And if so, then that that's wrong. That's what we
call a foreign agent. There are rules with who could be foreign
agents, and you have to be registered to be foreign agent.
So, you know, the question is, what were the Biden's doing to
receive these massive amounts of money from China? Now we have
the first wire, and we've traced it from China, to the Biden
family members, we have many more to obtain. Okay,
two more points here. On the time we have left, you said
another name popped up. Whose name is that? Are they a
relative directly tied to the family? Well, they're
a Biden. I'm not going to disclose that new name, because
that really changes things because what we assumed was this
was just about the president, son, and two brothers. But now
there's a new name that's emerged. So and they are abide,
Adam Curry: oh, this is juicy Weymouth first of all, so we
need to know who this Rob Walker guy is because he's, you know,
clearly there's a straw man in the middle. So you know, there's
always some like, Oh, we didn't get it directly from China. Do
we know what this guy is? Do we know that?
John C Dvorak: They say they stay determined is a pass
through so they've already kind of done
Adam Curry: all right now my we need to figure out who the Biden
is. I already figured it out. Is it Jill? Because that's what I
want. It has to be.
John C Dvorak: The mob boss,
Adam Curry: she is the copy to Tuesday copy. She's running
John C Dvorak: long time ago that Jill Biden is the boss of
the Biden family. crimefighter family. Oh,
Adam Curry: man. Do you think they have to address her by a
certain name? Like boss?
John C Dvorak: I don't know. Boss.
Adam Curry: Do you think do you think the President goes Yes,
John C Dvorak: ma'am. Okay.
Adam Curry: Okay, boss. Oh, my Oh my oh my.
John C Dvorak: Now he's very good at not saying who it is
because it becomes it becomes except on this show. It would
because but on Pfizer would test this guy that's gonna bring out
a couple other stupid points. It's it's open for ridicule to
say that
Adam Curry: though to say Joe Biden.
John C Dvorak: If you said it was Joe Biden, right? Yeah. Oh,
yeah. Yeah, good point. So
Adam Curry: this guy is pretty smart. This Haik sounding dude,
comer? Yeah,
John C Dvorak: your dough eurocis. As you talk like, this
doesn't mean you're stupid. Yeah, does so.
Adam Curry: So I say it does.
John C Dvorak: So here we go with. Good.
Unknown: So we've got a proud Stop,
stop, stop, stop, stop, stop. I'm gonna give you a clip of the
day for that clip.
Adam Curry: And that's not just generosity. That's that's,
that's, you know, that's, that's well deserved. Okay, next clip.
Unknown: So we've got a problem here with respect to trying to
determine what exactly this family was doing to receive
these transactions from childhood to support and I think
every American should be concerned about the issue of
national security.
Yeah, let's see where it goes. Okay, it's been five years and
what do we have for five years longtime be investigating?
Adam Curry: Now the troll room is suggesting it's highly Biden.
John C Dvorak: No, she's too much of an idiot. Did you the
ball showed up recently she is because she came down to plane
with him. Now the key to this this last clip which was
overlooked by the troll room.
Adam Curry: Let's play it again. Let's go Late again.
Unknown: So we've got a problem here with respect to trying to
determine what exactly this family was doing to receive
these transactions from childhood support and I think
every American should be concerned about the issue of
national security.
Yeah, let's see where it goes. Okay, it's been five years and
what do we have for five years longtime investor?
Adam Curry: I need to know which Fox do this is because that's
he's In what world In what world ever. Does Fox News try to
protect a Democrat president
John C Dvorak: to bite and crime family?
Adam Curry: You know what fear? I smell fear.
John C Dvorak: Oh, these guys must be really powerful. I mean,
we heard this 10 years ago, there was some black guys on we
had a clip of I'll never forget it. And I wish I could find it
about these black guys who were like gang bangers. There was
there was one guy and they were analysts, but they were also
gangbangers, and one of them said, you know, people to
overlook Joe Biden, he's the real guy you gotta be afraid of.
And everyone laughed at him. And that was the end of it. And I
always thought that was kind of weird to say that out of the
blue. So and
Adam Curry: you're standing by your it's not the young one. The
Haley, as you're sure it's not the New York Post is saying it's
Haley. Haley to Halle, Halle Biden. Sorry, Haley. Haley
Biden. That's what they're now importing.
John C Dvorak: Why wouldn't it be Jill,
Adam Curry: I want to
John C Dvorak: shoot her.
Adam Curry: I want it to be chilled to the shore. Sure.
John C Dvorak: But let's get back to this. This guy first. He
says okay, hold on a second here. Let's let this play out.
It's been five years over five years. Yeah. Haven't been
investigating this for five years. He's implying that this
has been good that this investigation has been going on
for five years. It just began this month.
Adam Curry: Well, I mean, this this this just shows you that
I'm telling that's fear there is some fear going on Fox
John C Dvorak: play that clip one more time before we go to
the final clip. Okay, here we go.
Unknown: So we've got a problem here with respect to trying to
determine what exactly this family was doing to receive
these transactions from childhood support and I think
every American should be concerned about the issue of
national security I get
it let's see where it goes. Okay, it's been five years and
what do we have for five years long time been investigating?
Adam Curry: Wow bill hemmer was Bill him Bill him
John C Dvorak: five years long time to be investigating who's
been investigating for five years. Who's been investigating
this for five years. They just got the Bank of America Records.
Adam Curry: Investigative reporter bill hemmer. He's been
on it for five years. He's found nothing.
John C Dvorak: He hasn't been investigating anything. But of
course, let's go. Let's finish off now. This is the last clip
of the series and hammer. If that is who it is, I think it
might be here he brings this five years this five year meme
up again. What is wrong with Fox? What's going on at Fox
News? That's the question I'm asking. I don't even the Biden
thing I think we're way beyond that at least at this show. But
now I'm really concerned about Fox and being the straw man and
the target for everybody.
Adam Curry: Well, hold on. Hold on. I mean, I mean you cannot
you cannot argue that Tucker Carlson has been the the I hate
using it limited hangout of Fox News once in a while give and
what happened to the January 6 video that ended real quick that
ended within within two to broadcast. Dunno,
John C Dvorak: it ended with one broadcast. Well, he did a follow
up he did a follow he did the VM but using the same clips. Yeah,
Adam Curry: it ended it ended. Why? Because they're all phony.
They're phony. You gotta agree Tucker is I mean yeah, he puts
out some good information just like the Twitter files have some
good information. This is giant it Fox is it's not your friend
and people are sucking that up a jacket into the main line the
minute they get out of bed this so yeah, and then look at the
look at the it's kind of stupid that MSNBC and CNN are are
revealing. You know, we have these text messages from Tucker
Carlson who seems to be if anything accompany man, this is
bad for our stock price. I hate Trump but you know, and we've
got to be careful, he can blow up the company. He doesn't give
a shit about America. If these text messages are true, so they
need to pump the brakes on that even because people are going to
start catching on Fox is new
John C Dvorak: to realize tuck word truckload which Tucker
Carlson is background. Oh, his dad
Adam Curry: was Voice of America a prop Again just organization
was he was in Ms. NBC and he was in he interned for the CIA. She
was at MSNBC with a bow tie with the bow tie. You cannot trust a
grown man with a bow tie unless he's over 70
John C Dvorak: Or in the publishing business. They all
think they should wear a bow tie.
Adam Curry: You never see a drug dealer with a bow tie. Do you
know this is the nail in the coffin I think this
John C Dvorak: finishes off and brushes them off. Here we go.
Apparently
Unknown: you have found suspicious activity reports and
you've been assured by the bank that they're going to give you
that information. So what that reveals I do not know. The
ranking member on your committee, Jamie Raskin says
this. I fear this wildly overbroad subpoena suggests that
your interest in this investigation is not pursuing to
find facts are informing public legislation. Who
Adam Curry: Raskin is. He's quoting Raskin now.
John C Dvorak: He's quoting Raskin.
Adam Curry: Raskin is like is the biggest shill of all. I fear
Unknown: this wildly overbroad subpoena suggests that your
interest and this investigation is not pursuing to find facts or
informing public legislation, but conducting a dragnet a
political opposition research on behalf of former President Trump
meaning you're doing the work for President Trump potentially
as a candidate, what would you say to your fellow Congressman
Jamie Raskin?
I'm very disappointed that Raskin would issue that letter.
He issued it late Sunday night. Obviously, he was working in
conjunction with the White House. This is the second time
the White House has pulled a prank after 10 o'clock at night
so they can have the first story in the morning. I haven't spoken
to Donald Trump since he left office. I don't even know who
Donald Trump's attorneys are. In that letter. He accused me of
working with Donald Trump's attorneys. That is not true. And
Jamie Raskin owes me an apology. But really at the end of the
day, the purpose of that letter was to leaked to the press that
I had subpoenaed Bank of America two weeks ago, that was the
purpose of the letter and he just threw in, you know, a bunch
of other false accusations. Oh,
Adam Curry: it's oh, you know exactly what happened here.
Let's let's let's play it with the with the third mic opener.
Unknown: That letter was to leaked to the press that I had
subpoenaed Bank of America two weeks ago. That was the purpose
of the letter and he just put away and a bunch of other false
accusations. It's very disappointing that Jamie Raskin
would stoop to that level. And that's one reason why we don't
take the ranking member seriously. In our quest to get
to the truth of what exactly the Biden family was doing with our
adversaries in China and we
will see where the next chapter leaves James Comer. Thank you
for your time. It's it's rather incendiary and we'll see whether
or not you're onto something again, five years investigating
nothing just yet.
Adam Curry: Okay, we're officially screwed. No one is on
the side of the people. Trump was too dumb. He hired stupid
people who put us into lockdown he allowed that to happen that's
that is the fatal flaw in my mind all everything else I like
but that was a fatal flaw allowed the American economy and
by the way, as we'll find out in after the break, he did a lot to
set us up for this financial crash to know putting the
Treasury and the Fed so close together all this stuff it's we
I don't know if we can come back from it.
John C Dvorak: Well now and I think Fox is no good.
Adam Curry: I mean, surprise, surprise, but this is really all
we
John C Dvorak: can say in this event you probably the first one
to say it. Fox has grown by over 10 years ago that they're an arm
of the Democrat Party.
Adam Curry: Good reports Mr. Devore I can with that I'd like
to thank you for your courage say in the morning to you the
man who just put a big C in the Biden crime family ladies and
gentlemen say hello to my friend on the other end Mr. John
John C Dvorak: Murray you Mr. Adam curry in the Moreno chips
as he boosted the ground feet in the air subs in the water and
all the dames nights out.
Adam Curry: And in the morning to the trolls and the troll
room. Let's see how many we got. Now. We have the donation second
a little bit earlier. scurrying away. Typical Thursday. Typical
Thursday. 1319 3919 39 is the number still at 1939 Oh 19 Oh,
fives are going down. Because always the donation segment.
There's no content. That's where you're wrong people. We got lots
of content today in the donation segment and we'll have a two
hours more show coming up. We're an hour and
John C Dvorak: a half. But by the way, 90 is a good number for
Thursday. It's now
Adam Curry: 1879
John C Dvorak: Cool as normal. Well, you know what? These
numbers may have all been higher if he had gone in faster. Oh
Adam Curry: yeah, that's my mistake. 1879 We're hanging out
879 And we've lost another 1856 They have no idea what they're
missing. They have no idea what they're missing. Value for value
is the name of the game. And I just gonna presume people Don't
listen to the donation segment also don't donate. So good
riddance to you. That's just my presumption.
John C Dvorak: There's probably some truth to that.
Adam Curry: I mean, it's only three and a half percent of
people who actually listen to the show.
John C Dvorak: More people actually go into the chat room
to begin with. But
Adam Curry: in general, we know it's no more than four probably
more like 3% of all producers who listen. who donate? Correct
Yeah,
John C Dvorak: okay. Yeah. That's again, that's a that's a
big number.
Adam Curry: Yeah. And that's, and it's not an insignificant
number. And we have 800 900,000 people who listened to every
single show. It's not always the same people, of course, but you
know, that it's a big, there's a lot of carryover. And a lot of
people are delivering time, talent and treasure one of those
three for the value for value. And yes, there, you know, we got
clip custodian we got Dave Ackerman, we got all kinds of
people who are doing phenomenal things for the show. But there's
a big contingent that is just freeloading. And the producers
call them douchebags. We'll get to that in a moment. Now, we
also for at no cost, we have producer Erina, who runs no
agenda social.com, which We highly appreciate. And you know,
people take that for granted, too. It's like, hey, I can just
be in a hole here. I mean, it's a community people. It's free.
It's free. This internet. Yeah. The show used to free stuff.
It's like I could just do whatever I want. There's no cost
to me. That's right. But you're no agenda show takes an army to
run a real army. In fact, we even have producers who start
building apps specifically for what we do. This is what this
whole, you know, pod verse and podcast addict, what they do is
you get the bat signal tells you to listen live, you tap on it,
you get the troll room, you get the live stream. And it's the
same app that has your podcast. I mean, these are all people
who've done significant things for us. And we appreciate it.
How
John C Dvorak: many people listen in the car? Oh, I
Adam Curry: think a lot of people listen in the car. You
mean, live in the car? Yeah, we'll find out. We'll find out.
John C Dvorak: We should find out because that that's the
future.
Adam Curry: I guess. Funny enough. It is. And it's a format
that people love. For some reason they really like and it's
much better than the videos
John C Dvorak: to tell you what it is. I know why it's called
Radio. Well, besides besides rate being radio, it's if you
listen to today's talk radio, which is where you get some
interesting stuff. And it's too many
Adam Curry: ads. It's too many ads. The ad load is 2020 minutes
an hour. That's the am talk radio
John C Dvorak: ad load or I thought it might be sure
something more.
Adam Curry: And by the way, most podcasts are suffering under the
same issue. Is the ad load on podcast because the ad rates are
down? People are getting remnant inventory. Yeah. Joe Rogan on
Spotify does 10 minutes of ads at the beginning than every
eight minutes in the middle of the conversation that cuts out
to an ad. And I pay for it computerized cut out? Yes. It's
not as not scale. And I pay for Spotify specifically. So I don't
have to hear ads. But on Joe Rogan, you get ads. So and I'm
sure people don't want that from us. That would be annoying.
Maybe they do. But we're not going to do it because we'll be
out of business within a week for the topics we discussed.
We'd be like, we'd like Fox News. I agree with bill hemmer.
Yes, five years. Oh, that's good guy, guy, Bill, Bill Bill to the
rescue.
John C Dvorak: We like yours. Negation man,
Adam Curry: let's get bill on the show. So thank you,
producers who do bring us your time, talent and treasure. We
always like to highlight the executive and Associate
Executive producers who come in with numbers above $200 to help
the show stay on the road. We had a really bad one. The last
show and so luckily, people stepped up and this is also why
we have a newsletter to bring you news in the letter form. But
also to remind you that we have a show and people remember and
we appreciate that like anonymous, who was in North
Ridgeville Ohio.
John C Dvorak: We got to thank the artists today. No Oh, I'm so
Adam Curry: sorry. No, no, oh, no. Oh, no. We have to thank the
artists, ladies and gentlemen. I completely forgot we had a hat
trick. This you know I had in a special spot to talk about Roger
round his hat trick and force of habit made me just skip over it
because I don't look at that section. Thank you, Roger roundy
for bringing us three genuinely beautiful art pieces in a row
that hit home that hit all the buttons that outdid the
competition competition was stiff from time to time. But the
no agenda, misses pill man ADHD, a throwback to the Mrs. Pat Ms.
PacMan was by far the best piece of art, which that was on 1537
We titled that dig it up Canada. I mean, we loved it. There was
some other things that came close and And by the way, we're
not just giving away Patrick's because when we actually
discussed let's just screw with roundy remember that? I think
there was me
John C Dvorak: Hey, let's always do that with everybody who has a
hat trick coming out let's
Adam Curry: not give it to him
John C Dvorak: that's the way judging goes. We've talked about
this on the show before and people should understand the
actual juggles. Yes, this goes for and I've done a lot of
judging in different venues. And you will actually get with
someone and you'll make a judgement you'll say let's give
it to these guys because it'll piss everybody else off. That
happens it happens a lot. Yeah. And and there's also I wouldn't
wouldn't give him an award if I had to show that there have his
top 10 lists are the same way. When you were taught you a
Forbes and all these magazines do all these.
Adam Curry: Even the Forbes Forbes 500 is bullcrap even how
much money or how rich someone is is bullcrap. As
John C Dvorak: they tell us, no. You see what happens? Exactly?
Adam Curry: This guy didn't do an interview with us. So we'll
put him at number four. Oh, yeah. Yeah.
John C Dvorak: It's the whole thing is, is both and I'm not
saying that. I mean, we do the best we can to get the best art
that we can. Now I ended up the one piece we both liked and
laughed at the most Janet Yellen, Janet Yellen on the slot
machine, which you put in the newsletter. And that was it as a
newsletter because it's so funny looking.
Adam Curry: I mean, as it comes to funny, it was on the mark,
but it was so easy to do. That we just felt the amount of
effort that had gone into what round he did. Which by the way,
commas should blogger slagged off. He's like, Oh, round he
gets around he gets hot trick just because he took existing
thing and turn that into matter into a pale mana.
John C Dvorak: Pill. Yes, boy, that would be him. Yeah, under
all circumstances. Yes.
Adam Curry: Actually didn't comment your blogger put one end
and you submit something as well. You can't
John C Dvorak: tell any more because his style is gone.
Because he doesn't actually do anything. He goes to the AI
engine and says create for me he's getting dream something up
and he says create this. And then an art fake art comes out
and puts a logo around it and then you don't spot it as his
material. He has this distinctive voice to voice of an
artist has gone.
Adam Curry: Well, he did this. Roger hat trick in coming into
inspired by rounds. I don't know what he did there. That doesn't
look like it's not his typical art. That's true. He lost his
artistic voice to the AI the first casualty of archery. Yes,
AI casualty comments, your blogger is the first one to fall
on the field.
Unknown: As a down,
Adam Curry: he's down, he's down. I don't know if he can be
resurrected. So we both like death jar jars. Yellen, which
actually used for the bad signal and use it for the newsletter.
So it got a lot of exposure. It was funny. A number of people
had done by
John C Dvorak: the way, anyone who's gone to a big Casino. You
see that woman all hanging on to five machines.
Adam Curry: Now there were a couple of pan your mask bumping
your your thing is all over the paint. I moved it. Just not
touch it. For like, half two hours. Why? I don't take my mic.
John C Dvorak: No, because I gotta get rid of this thing is
in front of that. Get another
Adam Curry: get a different boom or something.
John C Dvorak: It wouldn't be the same thing. Well, it's
funny.
Adam Curry: I never hear that on any other podcast, but ours
whenever you talk.
John C Dvorak: Somebody sent me a letter saying you don't hear
anything. And then you go I do go that's what you do. That's
what you do.
Adam Curry: I don't know why I'm doing
John C Dvorak: it now. Just get back to work.
Adam Curry: I haven't said anything the whole morning and I
just I can't handle that anymore.
John C Dvorak: I haven't been moving it at all. You've been
bumping
Adam Curry: it. I know people's I don't hear it. It's more
annoying that Adam says it. That's correct. Well,
Unknown: it annoys me.
John C Dvorak: It's a new bit. It's not
Unknown: a bit
Adam Curry: a lot of bank runs stuff, which just wasn't named
monopoly guy.
John C Dvorak: No bank or not using the monopoly guy know,
Adam Curry: a lot of vasectomy stuff which was kind of funny,
but it's not because you know, we joke about it,
John C Dvorak: but he overdid it with a vasectomy face. Yeah, I
Adam Curry: think that was peak if peak VAs face I don't think
we can go much further than that. So a couple of Silicon
Valley Bank things we actually did talk about St. Paul COE
tours China rising right on schedule. That was beautiful
piece wellmade but it just didn't quite cut the missus pill
man. Yeah, which it just hated all it was it was such a good
effort that we could not not give it to round actually.
John C Dvorak: Could tours material recently has been Are
you watching because it's top notch? It's an I would say that
people should try to get a hold of them if they need a logo or
something for their company. Application. Okay, seriously,
he's got some nice stuff. Yeah.
Adam Curry: See, and the Janet Yellen on the burning bank
building. Now a little too obvious may be Buckle up for
safety. I'm not sure that it just, it was just the best one.
Danna and it's completed the hattrick. So we're very happy
that he did that. And we really appreciate it. Thank you very
much. I
John C Dvorak: will never hear from him again.
Adam Curry: Round he will be back round.
John C Dvorak: We had a bunch of artists that did that they do
work and work and they throw a bunch of stuff at us and they
get a hat trick out of the blue after years
Adam Curry: and then they drop off. Give us some names.
John C Dvorak: Martin JJ is the best example.
Adam Curry: Although changing our time to an hour later also
screwed some people somehow I'm not sure if that screwed up. And
JJ bailed long before we did that. Yeah, he still listens
he's still around. I know he is.
John C Dvorak: Well he's on this social media. Yeah, he's like a
rant or he's under you know agenda social ranting about one
thing or another. My God.
Adam Curry: Well, Martin, JJ. Come on, man. Come on back into
the fold. Let's give some people a run for the money. We'd love
to see it. All right, now we're going to do our Executive
Associate Executive producers. Because we love them. They keep
the train rolling. So to speak anonymous, North Ridgeville Ohio
$1,033.33. Thank you from Pro crass T nadir. I was going to
donate many months ago, but I didn't get around to it. Please
email me to tell you what I need to do to get my ring and
certificate of credit. All I need is a simple D douching.
That's all no jingle ben de deuced we can talk about the new
ring website yet. That was a no go for now for today.
John C Dvorak: A couple of changes that maybe he wants to
make on the site. Okay, so we're not quite ready for that. But
you know, I could tell you what the URL is and people could
suffer. Okay. It's no agenda rings.com Hello.
Adam Curry: Hello. Are we genius in the marketing department or
why? No agenda rings.com That's where you'll get your ring and
your and your sealing wax and your certificate of authenticity
and get grief root for oh, yeah, you're gonna agree for a long
time over that one. But I go to the into it. I'm proud. Thank
you. Anonymous procrastinator. We appreciate it and we'll be
that he does he or she even have a nice name or is just sir
anonymous or what are we doing here?
John C Dvorak: I did let me procrastinator, sir.
procrastinator. Okay. Should I call them for cram
Unknown: teenager? Okay. All right. On the listener on the
list.
John C Dvorak: James Briscoes up. He's in Bayshore, New York.
61115. Hey, fellas. haven't had much time to listen recently.
Oh, that's too bad. He's an old time listener. Just hope this
helps. And he said no jingles no karma. Give him a double up.
You've got karma.
Adam Curry: And we do get a lot of notes coming in today. Do you
have this one in front of you by any chance?
John C Dvorak: Which one Dame Susan?
Adam Curry: Hold on. am Susan Buffalo New York and it's a
Switcheroo 525 Okay, what's going on?
John C Dvorak: I had to note this is proof of my proof
Unknown: of purchase.
John C Dvorak: All right. Warning, switcheroo ahead. Okay,
please credit this donation of 525 to my daughter Jessica. Oh,
okay. This will bring her to Dame hood for her birthday on
March 12. Please Dame so she's got a birthday Anna Daming?
Yeah, please donate. Dame her as Dame watch a mock Call it
Unknown: what you McCall. J I'm watching McCollum. Okay,
John C Dvorak: and added to the birthday list. Thank you. Damn
Susan of the parkways. She's got a really pretty writing style.
Yeah.
Unknown: So it'd be Jessica. Dame Jessica. Jame Jessica of
the watcher. McCollins
John C Dvorak: know, just Dane watch it we'll call it a day.
Adam Curry: Okay, well, I'm gonna put Dame jet I'm gonna put
Jessica Jane watch in McAllen. Okay.
John C Dvorak: Well, you mean for the credit for the credit
Adam Curry: for the credit. Exactly. Then we get SDG from
Oakland, California. 456 Nice one. Thanks. Sure. Shortino SDG
that's what it says. Thanks. Shortino sighs
John C Dvorak: this short Shortino Yes. Shortino thanks,
Shortino
Adam Curry: Well, you're welcome Shortino That's all I got I have
nothing else
John C Dvorak: I'm working with Sir anonymous in Aurora Colorado
three six 9.99 See attached note page one service if I even have
it here be six oh yeah okay this is a note from our anonymous
friend and he is the one who we had to remove his name which we
actually put up somewhere is no from sure anonymous vi kind of
ad FC and air rapaho County correcting the record is another
make good
Adam Curry: did he make good with a donation so I
John C Dvorak: guess Yeah, make good with a donation which is
the way to go.
Adam Curry: And so he he got credit for show 1500 He got a
knighthood. And now he wants to add to that for a title change.
John C Dvorak: Is that what I'm understanding from his? Yeah, he
was to be the virus here
Adam Curry: it is as of March 1 2020 23 I'm Sir anonymous, the
thrice knighted Blacknight vi count of the ADF C and Arapahoe
County that works for me that works from Yeah. All right.
John C Dvorak: And I say this is really important. I'll just read
this. As always, I shall remain a faithful promoter of the no
agenda show surreptitiously hitting people in the mouth have
to be very careful it's in the walls of my government facility
where everyone is literally a you know what? No jingles no
calm and
Adam Curry: as we know a lot of those you know, waters, listen
to the show. They love it because they love to hear how
much we got. Right. And they always think it's humorous when
we get things right and also get things wrong. Yeah. And
John C Dvorak: I want to mention this because I was thinking
about this, you know, we don't get necessarily we don't really
are looking for in you know, secure information we don't
we're not looking for
Adam Curry: we're no we're not James O'Keefe, brother.
John C Dvorak: We're not J We're not looking for whistleblowers
or anything like that. But if a spook is listening, and we get
something so horrendously wrong, that it makes their skin crawl.
We don't mind hearing that we were way off base.
Adam Curry: No, we appreciate that. Actually,
John C Dvorak: we appreciate that a lot.
Adam Curry: And we appreciate David Hassan from Brooklyn, New
York. 333 dot 33 A round of nuclear war karma for all
producers and douchebags, please, especially the ones in
the subs underwater.
Unknown: You've got karma.
Yeah, we got a lot of Submariners in the in the crew.
We love them all.
John C Dvorak: Zack McClellan in Frankenmuth, Michigan 33333. I
don't know any note was No,
Adam Curry: no notes. Oh, that's a double up, boom, in and out.
Unknown: You've got
Adam Curry: karma. Okay, now this one I got this one I got
because I made sure that I would be able to redact this one on
the fly. Betty Bloodlust sent us probably the longest note in no
agenda history. Would you say it's close to close? I mean, it
was just like, holy crap. It was so long. So I'm going to
summarize because I do understand why it was so long.
And what she was saying Hold on a second. I've got this note
here. And she says in the morning, gentlemen, here's some
money $333 You're the best. It's been a while since I donated so
I wanted to add some value for value boots on the ground
information along with my donation dollars. This will
probably be long, so I don't expect you to read it all on
air. Correct. But what she is saying is she says you don't
need to dig up Canada. There's so much lithium in Nevada,
Nevada, Nevada, Nevada, is in Nevada or Nevada, Nevada and
Nevada. That they are gone. They're trying to dig up Nevada.
Yeah. The lithium America's lithium Nevada Corporation. Now
she is in the agriculture business, small agriculture
business, and she is fighting against this. See, I'm one of
the leaders and founding members of this volunteer community
group comprised of mostly local farmers and ranchers, but all
community members have a seat in it. With my Gitmo nation goggles
firmly in place, I am helping to lead my community through direct
negotiation with lithium America slash lithium Nevada Corporation
in managing the impacts of this project. Now does she explain
what the name of her is? The Thaker past concerned citizens
TPCC factor past concerned citizens
John C Dvorak: that's what you want. Is that covering any of
this that I can tell? No, of course
Adam Curry: not. But this is where your battery is coming
from. Anyways, I could go on and as it's hard to paraphrase the
Crash Course knowledge I've gained on this topic over the
past few years, but I'm happy to share it if you're more
interested. there's anyone out there and get Foundation who can
offer advice or support I'm on no agenda social. This is not an
active tutor or anything just there. Perhaps a Yoco dog
howling stereo goat karma would do the trick for all of us here
on the front line fighting for our livelihoods against the
jolly green energy giant. Also a douchebag call out to my brother
and his fiancee. And that other lady in my town she knows who
she is. Thank you very much
Unknown: you've got
Adam Curry: married you go Asian dog and lose karma. Thank you
very much buddy bloodlust, we appreciate that. And I don't
know who you are on no agenda social but you probably post
something and I'll
John C Dvorak: happily we will follow up on this eventually.
Yeah, this
Adam Curry: is good. So no one else no one else is talking
about. Digging up Nevada for your cell phone battery and your
Tesla.
John C Dvorak: Dec code da in Sherwood, Oregon. Thanks guys
and $333 also was same as Bloodlust lady. Thanks, guys.
You're great. I call out Ted and Riley. I think it's our y l e as
douchebags to do one more. And ask Adam if I may. Are you
aware? Homeland Security knows who the four Satoshis are and
created who created the Bitcoin so wouldn't be decentralized,
right. Are you familiar with this clip?
Adam Curry: I am not clip is it a clip? Did you get a clip?
John C Dvorak: I have a clip. I didn't put it on today's show.
Is it a clip? I had no idea. The problem I sent her a note back
Mirtha clear because I thought the clip was was cut off I
didn't think that there was it was a complete there was it was
a hearing with Homeland Security. Were one of the people
went and said I you know I'm going to talk to the Satoshi guy
because they they had confiscated billions of dollars
that guess in Bitcoin some some crooks as part of the Silk Road
deal part of it. Yeah. And so they went and found and he went
and found as he found supposedly began, you know what I mean?
Satoshi with the three other guys who created Bitcoin and
they had a long chat, and I identify with him, I didn't get
the rest of it. So I'm holding the cliff.
Adam Curry: I would like to hear more about that. However, it
makes no difference. There's no master key that unlocks the
power of Bitcoin that turns it back. So it is still completely
decentralized. There is nothing that the four Satoshis or 40
Satoshis or 4000 Satoshis could do to change it. So no, it's
John C Dvorak: it's do know that for a fact. You don't have a
backdoor. Yes,
Adam Curry: of course the code is open. I'm running the code. I
can look at the code. I've looked at the code. Everyone's
used the code the protocol. No, there's no backdoor. There's no
secret sauce. No one runs it. It's run by the people who run
nodes and mine which of which I'm both so no, no good word
onward. Baron Sir John Herber. Springs. Heber, Heber Springs is
that Arizona, Arkansas, Arkansas, Heber Springs,
Arkansas Happy St. Pat's. What is that? When is it St.
Patrick's tomorrow
John C Dvorak: I believe St. Patrick's Day that 317 23
Another way to do a donation. Do it tomorrow.
Adam Curry: Another 1723 another donation opportunity missed or
did you have it or
John C Dvorak: don't have a show tomorrow? We don't have a news
her tomorrow. I didn't know what I can do. Well,
Adam Curry: thank you, Baron, Sir John. He thought about
317 23 Happy St. Pat's Baron Sir John Knight of St. Patrick,
patient of Saint of engineers. Let the green beer flow all with
you. Thank you very much for your courage.
John C Dvorak: Anyone who was just 731 72 would be good. We'll
take that. Kevin primo in New Port Richey, Florida. Three 1706
IgM and thank you for your courage, gentlemen is long
overdue transfer value from my smokin hot wife and myself is in
honor of our 17th anniversary. Your show consistently as valued
gift in new topics to our marital discord. Thank you. I
don't know if that's something you should be thanking us for.
Okay,
Adam Curry: another marriage saved or created. You're
welcome. Kevin Weinstock is in Tucker Georgia. Two Three 4.56
We'd love that. He says I'm still a douche. But no jingles
no karma. Okay, you got it. And Sir Jeff is in Bethlehem
Pennsylvania two, three 3.33 Thank you for your courage. He
says go karma if you don't mind. That is Sir Jaffa pa route 33.
Unknown: You've got karma.
John C Dvorak: So now we have Dusen
Unknown: Dusen Dusen Dusen Dusen Dusen
John C Dvorak: electic in Bart. Bartlett, Texas. There's a pair
tu tu tu tu tu that's a bunch of ducks. Oh ducks. Now he sent it
a note pan written. And I have it here. I'll struggle to read
it in the morning. tu tu tu tu tu tu you value for value and
shameless self promotion. I am making a fund raiser a
fundraiser items. Okay, he's making some items for Etsy for
establishment of the small solar observatory in Bartlett Texas.
For purposes of science, local educational outreach and art
like seen on the www etsy.com/shop Am scientific
gallery. Okay, so look for em scientific gallery. Stop by get
some striking merch, merch and support. Science Doosan Mallette
tick
Adam Curry: I'm trying to sign up get heat you know, it's not
very handy that he wrote that in Oh, here I have it. Okay, I'm
going to put that in the in the show notes next to his credit
because there's no way anyone can ever remember that. Don't do
that. People send us something I can copy. What does he have
here? Oh, it's kind of interesting. Scientific stuff.
No,
John C Dvorak: I'll check it out later. He's
Adam Curry: doing a fundraiser. All right. Thank you. Jess.
Amina crop Hovik Alicante, Valencia, Espanya switcharoo
Switcheroos. switcher a roo to to to short row a duck's this
donation is fine, my dearest brother. Id hit up hovick Happy
Birthday on the 16th of March. So that is today that we will
have monoliths birthday birthday. Enjoy the sabbatical
she says so when we put that in as a switcheroo and there we go
another
John C Dvorak: Michael Bernstein in Raleigh, North Carolina to a
401 Here is money for an excellent product. Speaking of
an excellent product my company no mutual wind tiny homes we
noticed we know this guy he's got nice bought bought a D this
is he's always got these stories like this is always fascinating
this way good reason for listening to the donation
segment. Mutual when tiny homes bought a decommissioned to
prison.
Adam Curry: I've seen the pictures I've seen the pictures
John C Dvorak: and converted into an incredible our
incredible RV campsite community. For example, the
prison guard tower will become one of the most unique air b&b
stays in the Carolinas.
Adam Curry: And he's not lying. He's not lying. is pretty
John C Dvorak: good does it included a machine gun turret
we're having a viewing party on Saturday April 1 And I'll get
more Nation members in the Raleigh Richmond area welcome
please contact me on Instagram. Mutual when tiny homes and
mutual wins one word or by email Michael and mutual lynda.com for
this free April 1 event cheers Michael, please add to the show
notes. The Facebook invite and then he's got to
Adam Curry: Yeah, I got that I as much as it hurts me. I got
20401 And then we have Darius unity, Upper Marlboro, Maryland
202 dot 42. And of course the smaller the amounts, the larger
and longer the notes. It's amazing how it happens. He says
in the morning, James, thank you for your unwavering courage, all
the value and for the gracious opportunity to repay y'all with
some coin as the young folks call it. Really? Y'all help you
win a decent bet on the Super Bowl, believe it or not, Oh,
that wasn't because of what I said. Although, I don't know
maybe it would have helped you know, it's kind of like the the
inverse Jim Cramer's stock ticker. Also, congrats to my pal
roundy on the Hattrick 202 Because I'm a child of a certain
swamp with that area code 42 Because that's the trademark
flagship of my apparel brand war and T's W AR in T's so shameless
plug. I'm still running the promo promo code ITM for a lucky
3% off everything in my unique 150 about 150 Product Catalog.
Okay, well congratulations in closing I humbly requested de
doop de doop This is my third executive producer credit in his
many quarters no shade it's because of my fat fingers and my
non proofreading self with getting donations help though I
plan to become a 420 Born day night with what likely will be
an easily shelled out $420 Yes, it's coming up April 20 It's a
show day for those that plan meetups in the DC area no
jingles just an all purpose are two d two karma which I have.
Thanks again 333 T that's trillion apologies for the blog
posts of a note I shall atone peaceful tidings Darius you got
Darius Thank you, brother.
Unknown: You've got karma.
John C Dvorak: All right now we have two donations. combined and
this is Kara spring, Kara Spangler in Mount Pleasant,
Pennsylvania. $200 And then George Biggs in Mount Pleasant,
Pennsylvania $200. And so they sent two checks, no. So, so they
went to credits which they're gonna get. And then but one note
Adam Curry: that no now you're talking efficiency. Good work.
John C Dvorak: It's good roads. Yeah. In the morning to you,
John and Adam. Greetings from the southwestern Pennsylvania
we're starting. We started listening to and enjoying the
show for the past one and a half years, and it's time to give
back to the best podcast in the universe. Please de douche us.
You've been de deuced those who know agenda together stay
together. Adam is always great to listen to, especially when he
makes appearances on some of our other favorite shows, such as
the survival podcast
Adam Curry: survival podcast donation, survival donation
John C Dvorak: by guest donation. Yeah. JCD brings
humor, whimsy and joy to every show. It doesn't seem like a
buzzkill to us
Adam Curry: you're clearly not an end of show mixer. Okay.
John C Dvorak: Keep up the good work, gents. Thank you for your
courage. If any of them and mean one that goes on, shameless plug
a portion of the note go for it. If any of the producers out
there are stained glass artists, and are looking for original
stained glass patterns, please feel free to check out hollowed
hallowed ha WHALLOW ed hallowed Oka designs on Etsy. Oh, my
lastly We'd like some business exit strategy karma and the
quote you're gonna need a Bitcoin jingle Thanks George and
Kara.
Unknown: That's and all hell is gonna break loose and you're
gonna need a Bitcoin.
You've got karma
Adam Curry: cow cabin drazi. I'm thinking drastic. Drastic. Yeah,
Brentwood. California is a fancy area. $200 Thank you, gents.
Abracadabra, Holmes, abracadabra to you. I'll do the next one as
well. So that was so short. Lisa Byrne. Yay. Clarkston, Michigan.
Oh, no, that's a no, no, we're gonna do that in a moment.
Because we that was all our donors. That was our execs and
Associates. We're gonna save the rest for later. Okay. All right
over the show. Hold on. Let me check. Let me see what we're
doing here. 1628 So we lost about 300 trolls on that last
through 300 300 Trolls. Yeah, well, actually, that thing is
not too bad. And you think about it. It's only 20% drop off and
they do come back. They're probably you know, they're
pooping right now. Like
John C Dvorak: okay, probably pooping all the time.
Adam Curry: Thank you very much to the execs and Associate
Executive producers for episode 1538 These are forever credits
you get to use them for the rest of your life. You can tout them
you can put them into chat GPT so it'll be stuck there forever.
And whenever someone chat GPT is your name it'll pop up as an
executive producer guaranteed put it on IMDb you'll see all
the big Hollywood bigwigs there but best of all if anyone ever
questioned you about this credit which is real we will vouch for
you personally. Thank you for supporting the no agenda show if
you want to support us go here.org/and
Unknown: A thank
Adam Curry: you again for making 1538 or real reality
Unknown: our formula is this we go out we hit people in the
mouth
Adam Curry: by the way, the Dutch producers are pointing out
to me that BBB is also analogous to 666 So we got oh we got I
think we need to talk about Silicon Valley Bank and and
Credit Suisse and everything that's happening on the
financial markets today just because everyone's talking about
it so we might as well throw in our our our three cents.
John C Dvorak: I have three clips good.
Adam Curry: give an overview. Do you have an overview clip?
John C Dvorak: I have no overview I think we did the
overview You did a fine overview last show and I don't think we
need to do another overview but I want to get down to the what's
causing the the generalities and generalizations I got all the
funny clips. Oh, okay. Now all right. We're gonna start off
with this is on one of the top one of the business shows. This
is Bernie this is the I think the origins of the woke bank
thesis. Gah Yes, the great 93 year old Bernie Mark
Adam Curry: Do we have to explain the thesis?
John C Dvorak: The thesis is that the bank went broke because
they were Whoa, this is just one
Adam Curry: of my favorite. They did too much climate change too
much black lives matter. It's pennies is a drop in the
John C Dvorak: bucket people and so so the so the thesis, I think
stems from Bernie, although I have two other clips that back
it up. Let me first we have Kevin O'Leary who was on Fox,
for some reason saying I don't care if I lost 6 billion in the
bank, you know, and he goes on and on about bailouts when it
wasn't a bailout. But okay. I don't know what his problem is.
And then I had to
Adam Curry: stop. Who? What do you mean, it wasn't a bailout?
John C Dvorak: It was the bailout is when the taxpayers
save a bank.
Adam Curry: Okay. But do you consider the FDIC guaranteeing
all deposits not a bailout?
John C Dvorak: Yes, I do. Because the bank was that net,
they had net assets die? No, I don't I don't think it's a
bailout. I think it's just making the depositors whole, and
then closing down the bank, and then moving all the stuff, all
the assets someplace else. I don't think it was the bank
wasn't in arrears. Okay, broke like these banks that went bad
in 2008, because of the credit, because, you know, they were
burned by the mortgage. Bonds.
Adam Curry: Fair enough. Although I do have something to
say about what what assets did they have, I'm sorry, just so I
can follow that
John C Dvorak: up later. A lot of they had a lot of bonds that
were that were they had to hold to maturity and they weren't
going to be able to do that.
Adam Curry: Okay, there's some other assets the government can
do it and some other assets we'll talk about in a moment.
John C Dvorak: Well, I didn't Well, here, let's go. I'm gonna
save Bernie for the third clip, then. Okay. Let's go with this
one. Here's, here's one reason that this one cracks me up. This
is all stuff on Fox. SVC is a Democrat bank. That's why they
bailed it out.
Unknown: 98% of all political contributions from tech
employees went to Democrats in 2020. With one insider telling
the post Silicon Valley Bank is the bank of the Democrats.
They're looking after their own. If it was the Bank of Magha,
what are the chances it would be bailed out, there's not a chance
in hell. Democrats say Biden did a bang up job and is setting the
stage for more handouts to Americans,
how we were able to protect jobs, and how we were able to
get those payrolls done so that these owners of these small tech
companies can pay this status, etc. We did a miraculous job.
I believe that Fed did the right thing to protect depositors and
a lot of these companies. But when you look at Jackson,
Mississippi, when you look at his Palestinian, Ohio, when you
look at folks with student debt and medical debt, they see that
the Congress is incapable acting in three days, the way they were
capable that care. And that is a big issue in this country. Why
is it that some people who deserve relief, get the relief
and others don't
Adam Curry: just have another question, and I'm not really
pushing back too hard. But the FDS
John C Dvorak: before you go to that question, I'd like to
comment on this clip. It's Maxine Waters. It speaks known
as that guy that came second he says Congress won't act on this
won't act on that. And But Congress acted on this Congress
didn't do jack about this bank knows all
Adam Curry: the Federal Reserve, the FDIC, the Federal Home Loan,
that's where everyone's getting the money from the F LH M, I
think it is or what it's like, there's money for hope, Federal
Home Loans, and that's what's what's filling up this backstop.
But I just have to point out that the Federal Deposit
Insurance is $250,000 per depositor, and they're going so
Silicon Valley Bank chose to have no security, no insurance,
anything above and beyond that. And so that is a change that is
quite significant that Oh, it doesn't matter what happens to
the bank. If I have 10 million in there or 250 I'm going to get
my money back you have to agree that's different.
John C Dvorak: Yeah, the rules have been changed or seemingly
so. But I'm not even sure that's
Unknown: true. Okay. All right. Content FDIC can
John C Dvorak: do what it wants if it wants to save all the
banks, you know, from they don't have they don't have all that
money. They have a lot of money. Yeah, they
Adam Curry: don't have that much. But okay, let's continue.
Let's go
John C Dvorak: Well, again, the bank is not insolvent. So it's
not like a big deal.
Adam Curry: That's your opinion. It depends on the opinion. It's
like if it's a fact you heard it on Fox News. I agree. It's Fox
News.
John C Dvorak: They're all against this idea. You're you're
the one is all lockstep with Fox News.
Adam Curry: I am not Oh, no, I don't think so. Okay, here we
John C Dvorak: go. I'm gonna go let me go with Bernie on this
one. Right to Bernie Marcus. This is what I think triggered
the woke woke woke stuff.
Unknown: Go Home Depot co founder kind enough to join us
now. Bernie always good seeing you. Do you think history's
repeating itself? Should people stay calm?
Adam Curry: But I can already he's, he's already not in
John C Dvorak: Yes, he's got a Fauci wheezing there, you caught
it. Let's go back
Unknown: home depot co founder kind enough to join us now
Bernie, always good seeing you. Do you think history is
repeating itself? Should people stay calm? What do you tell him?
Well, all I know is that I can't wait for Biden to get on the
speech again, and talk about how great the economy is, and how
it's moving forward and getting stronger by the day. And this is
an indication that whatever he says is not true. And maybe the
American people will finally wake up and understand that
we're living in very tough times. That in fact, the
recession may have already started, who knows, but it
doesn't look good. And I feel bad for all these people that
lost all their money in this wolf bank. You know, it was more
distressing to hear that the bank officials sold off their
stock before this happened. It's depressing to be who knows
whether the Justice Department would go after them their woke
company, so I guess not. And they'll probably get away
when you say, you when you say a little company that's in
technology, venture capital funded startups and all of that
they might have been disproportionately exposed to
this. Do you think there are others like, like this bank out
there?
I think they probably are. Yeah, I think that the system, I think
that the administration has pushed many of these banks into
more concern about global warming than they do about
shareholder return. And these banks are badly run because
everybody is focused on diversity and all of the woke
issues and not concentrating on one thing they should which is
shareholder returns
Adam Curry: Yeah, it's an easy one. It's an easy one. I mean,
there's there is a lot of money being returned by Democrats now.
Oh, I got this money from Silicon Valley Bank will send
that back. They did have a lot of dei initiatives all that's
the really simple stuff. I think that is just and it's all for
political reasons. Like everything today. If we can slam
a politician from the other side is good to go. So I'm with you
on this. This is bullcrap. It's also bullcrap what they were
doing, you know? Oh, of course it was obviously but 70 million
here or there. That's not what got this bank in trouble.
John C Dvorak: You got a note for someone who ran the House
have the note in front of me. Unfortunately, I'm gonna have to
get it. I have it here who is involved with the UK branch of
this thing? Yeah.
Adam Curry: Well, okay. So the title of that was bank bailout
happening as we speak. And they said that HSBC bought the
Silicon Valley Bank, UK
John C Dvorak: elite read this note is quite interesting. I
don't know if
Adam Curry: I have. I think I have the follow up here, which
Okay, the Fed said it will establish a bank term funding
program that will allow us banks to borrow billions at favorable
market terms. If the loans are backed by Treasury bonds, high
quality agency debt or mortgage backed securities. There's our
old favorite. I'm sorry, I don't have the UK version. But the
point was, HSBC is a notoriously corrupt bank, and they will do
whatever is necessary to keep everybody safe. And they bought
SBV. UK for $1.
John C Dvorak: Yeah, that was one pound. Let's get that. One.
Which is
Adam Curry: almost $1. What are you talking about? It's not a
big difference.
John C Dvorak: Yes, it was a very interesting takedown of the
blame the blood bank of England hostings. Correct. It's
corruption. But this beside the point is always used as
political. Everything's a political football. Correct?
Correct. So the broke bank is funny. I just got the biggest
kick out of and I liked that guy. That old geezer the old
coot. That used to be that 93 year old man who's still kicking
and still yelling and screaming and get off my lawn is a great
guy. So I'm all in all right. That's me next. Next stop. God
you you slowly got into
Adam Curry: the O'Leary the O'Leary clip, which I'm still
waiting why you want to play yeah, oh, Larry's
John C Dvorak: like, are leery seems to be just full of shit.
And he's a shark tank guy. And he's also like, nonchalant in a
very odd way says yeah, we had $6 billion in the bank and we
should have lost it all. We could take the hit. was talking
about
Unknown: that I get this right that you had money in SVB a lot
of money.
I had many companies that we invested in our private equity
portfolio from circle on down. Circle had about 3 billion and
it was the largest depositor To others, and, you know, when,
when you're in my situation, you don't care that much about
politics, you care about policy. And so you make your decisions
every day, my job is to get up in the morning and put millions
of dollars to work. I really care about policy. And what I
see here, you know, regardless of where you stand in politics
is a pretty bad policy. Because what we did, in my view, and
it's a personal opinion, over the weekend is to nationalize
the American banking system, we basically told everybody around
the world. No, regardless of who you are, and what bank you're
in, no matter how much you have, be guaranteed. We don't care who
you are, or why it's there. But no matter what happens, it's
guaranteed. So just think about it. I'd like to keep this very
simple. I'm a bank manager in a bank today after this new policy
decision, and I get compensated on the value of my bank stock.
You just told me, I could take all the depositors, money,
depositors money, go to Las Vegas, put it on red, maybe I
double it, maybe I lose it all. But it doesn't matter to me,
because you the taxpayer, and the government guarantee all my
depositors.
John C Dvorak: Well, this is true, that's just a
mischaracterization. Well, that's
Adam Curry: a simple way of looking at it. It's a very
simplistic way, but there's no doubt that they changed the
rules and depositors are safe. Right?
John C Dvorak: That that's an instance where the bank was not
out of business. It wasn't broke. It was It wasn't without
funds. Yeah. And it shouldn't be that way. I think it's I think
the what they did is well, hold on,
Adam Curry: hold on. What happened here is the Federal
Reserve raised rates so quickly, that that it was there for many
banks, but including Silicon Valley Bank, and many of these
regional banks. They because they saw the interest rates so
low, they didn't expect the why. And then why is a whole
different thing that didn't expect the Federal Reserve to
raise rates so quickly, seven or eight times in interest many
months. And they had these long term, very low interest bearing
instruments, which they had because they were insolvent.
They they ran out of money they had they needed $2 billion
dollars. And then people like Peter Thiel and Jason Calacanis,
who claims that he protected everybody by yelling so loudly.
They're the ones that sparked this run and the run is not the
same as this. It's a Wonderful Life. To run today's click click
on your phone, and you've transferred the money.
John C Dvorak: So which brings me to the point I brought up on
Devorah Cora was where I made the already the same points. th
unplugged. I thought it was illegal. To create a run on a
bank. I thought it was illegal, isn't it? I don't know. I
thought it was illegal to create a run on a bank and Peter Thiel,
in particular, Calacanis. I don't know what his involvement
is on anything.
Adam Curry: And he was yelling loudly. He takes credit. He
takes credit for the bank collapse or saving everybody.
No, no, he says I was warning everybody. Three days before
this happened. Well, that's the same as Oh, wait. As far as I'm
concerned. He I think he was part of creating the run.
John C Dvorak: That's okay. Then I would like to know what the
law is about this. My understanding was always it was
illegal.
Unknown: I don't know. I don't know.
John C Dvorak: Okay, well, we'll never find out. Well, let's just
Adam Curry: do a couple of things here. Because we will
find some stuff out. But first, I need to alert you to the fact
that Silicon Valley Bank, okay, so venture capital firms. I know
a little bit about this, because I know some of the players
involved and I was in your My company is also at Silicon
Valley Bank. So they don't actually always put their
venture capital money into these companies. They themselves have
Silicon Valley Bank provide the loan to these companies. The
loan is to the venture capital companies, but they give the
money to the companies that are funding. And I did not know this
stack turned me on to this, you know, just nothing like an old
school lawyer, gumshoe lawyer to go and look at this stuff. Bank
of America JP Morgan Chase and Silicon Valley Bank are the
largest banks who take patents as collateral 20% of which are
pending and a large portion which are inactive because they
don't want to pay the $10,000 a year to keep them active. So
when you see that no one has bought this bank yet you know
that this is this is what people this is what people are confused
by. So wait him In it, there's plenty of people who want to buy
this bank, how come? How come a deal hasn't been made yet? I
think it's because of this because the now they have to,
and I have all the patents here that he got tons of documents on
in the show notes. So a lot of these loans are these accounts
and deposit accounts, were actually loans to the venture
capital company, if I'm saying this right, secured by the
patents that these companies had, or were patent pending. So
that needs to be taken into account that is not going to
stand up very well. And that's probably a big reason why note
no buyer has been agreed upon yet. But they're gonna have to
find someone if it goes, it depends on who gets this thing.
But that's going to be that's going to be something of great
interest if we hear about it at all. Now, a couple of things
let's just play some some shortish clips here from the
from the mainstream to see what they got right or wrong.
Unknown: We turn now to the banking banking industry and a
new investigation into the Silicon Valley Bank failure.
Regulators want to know whether executives got bonuses and sold
stock knowing that the bank was in trouble. ABCs Lindsay Watts
has more on this developing story. Lindsay Good morning,
Brianna. And good morning to you. We have learned the Justice
Department and the SEC are launching investigations into
the collapse of Silicon Valley Bank. They'll be looking into
whether any of the banks executives got unusual bonuses.
They'll also look for evidence of insider trading. The bank CEO
reportedly sold millions in stock just two weeks before the
banks collapsed. But it's not clear if there was any
wrongdoing. A former SEC official says the investigation
will focus on the timeline.
The SEC and the Department of Justice both will be interested
in who knew what when normally, the SEC and the other stock
exchanges look at insiders of the company to see if maybe they
had some unusual trading.
Adam Curry: Alright, so I just want to put everyone's mind at
ease. This is your typical bull crap. Am messaging, oh, they
took big bonuses just before it collapsed. He sold stock just
before it collapsed. Let me just tell you how this works in
public, and public companies. In any company really. But the way
this works with a public company, if you're an officer,
an insider, you get put on a schedule, you have a schedule
when you come by, and you have a schedule when you can sell. And
you register that is registered far in advance. It's published
information, the CEO had a scheduled sale for $3.6 million,
he'd sold 30 million in the past year, which should give you
pause anyway. But these are published and known. The same
goes for the bonuses they gave, they took bonuses on the day
they collapsed. Know the bonuses are published well in advance,
and those that didn't make the cut off didn't make it out. So
that's important understand that you're going to be inundated
with that to trigger you to trigger you for political means.
Now let's talk about these buyers, there were buyers
Unknown: who are willing to step in and buy the bank and the
radicals at the FDIC basically weren't going to radical that to
happen. I even heard again, someone told me this directly
that was close to the situation, the administration had a
whitelist of companies that were allowed to buy the failed bank
and companies that weren't. And so basically, you could imagine
they're so concerned about some bank getting a little bit
bigger, that they've decided to put all these taxpayer monies at
risk. And I think it's something we've seen from the Biden
administration, really, from the beginning, this radical left
agenda, and it doesn't ever exude any even common sense. And
so here we are in the middle of a potential banking crisis.
We've got people willing to step up and buy the company and the
radical left wingers that the FDIC won't let them do it.
Adam Curry: I don't think there's a single buyer. And this
is again, just for political means. Oh Biden, so fully he's
no good, no, good. It's all political. This is not what's
going on at all. Let's take a look at some of the regulators.
John C Dvorak: Wait. He says the radical what at the FDIC
Unknown: might have listened to it again. Let's go Let's see.
We're supposed to the end here. What do you say
potential banking crisis, we've got people willing to step up
and buy the company and the radical left wingers that the
FDIC won't let them do it.
Adam Curry: The radical really? No, of course not. This is a
radical
John C Dvorak: left wingers at the FDIC. Let them do it.
Adam Curry: Hold on first of all true there was a coup at the
FDIC and they kicked out the the chairman of the board we'd
reported on that they did you surprise that person I forget it
was their woke their woke but that That is not the problem
that is all just being done to get you to vote republican or
democrat left or right. How about the oversight? How about
the people who gave all these banks, good ratings and how Oh,
no, no, don't worry at all you get Hold on. Hold. I
John C Dvorak: never finish my thought. No, you
Unknown: can't. You gotta be faster. Go ahead. Go ahead.
John C Dvorak: If it was a woke bank, and the FDIC is filled
with a bunch of woke eight holes, why would they prevent
this from happening? It makes no logical sense. So
Adam Curry: it's all it's all just to turn you into a
political bouncing ball and to drive you crazy. This is why
your no agenda show tries to break it down. So we have people
who look at these banks and tell you if they're any good or not.
Oh, well, what are they going to do? They should have seen this
coming oh, no fears of
Unknown: a banking crisis or keeping markets on edge this
morning. both here and overseas, the stock price of one of
Europe's biggest banks, Credit Suisse plunging 24% to an all
time low Wednesday. That bank also has a big presence here in
the US. Overnight, the firm announcing that it will borrow
up to $54 billion from the Swiss central bank to shore up its
liquidity and investor confidence back here at home
concern still looming over America's regional banks. First
Republic stock diving 21% After its credit rating was downgraded
into so called Junk territory. Bloomberg reports the bank is
now exploring a potential sale, the head of Wall Street's
biggest investment firm Blackrock telling the guardian.
This is a slow rolling crisis with more seizures and shutdowns
coming. But analysts say no matter what happens, your bank
account is secure.
If you have your money in first republic, it is still safe.
There's an implicit guarantee by the Feds over the weekend. That
said depositors aren't going to get hurt here, we're going to
look at all the regional banks and make sure that depositors
get their money back.
Adam Curry: That's not the clip I want to play, but we'll leave
it as it is. It was actually Moody's has downgraded the
entire banking sector just as a joke just just hey, you know,
we're on top of the stuff we know what's going on
Unknown: and Moody's rating agency has downgraded the entire
banking system. It says conditions in the industry are
rapidly deteriorating.
Adam Curry: Now the again the CEO of Silicon Valley Bank was
on the Fed board of San Francisco, go look at if you
want to see woke the woman who was who was the chair of the San
Francisco Federal Reserve, now that's a woke moron. She's doing
everything but paying attention, or was she ever meant to pay
attention? These people are not doing anything that behooves the
banking, they're just letting it all run nuts. But this Credit
Suisse thing, there's something going on there. And we in
October of last year reported that the Federal Reserve opened
up a $10 billion swap line with Credit Suisse. I'm sorry with
the Swiss National Bank to possibly bail out Credit Suisse
now which is what $56 billion.
Unknown: European markets are appearing to rebound after
Switzerland's embattled Bank Credit Suisse secured a big
financial lifeline. Now concerns over the troubled lender had
earlier said Asian stock markets falling Credit Suisse has said
it will borrow up to 50 billion euros from Switzerland central
bank in a bid to shore up its liquidity meaning how much cash
it has on hand to finance its business. Now the sudden that
collapses of two US banks last week have sparked growing fears
worldwide.
Adam Curry: So I consider that to be actual contagion if our
our our Federal Reserve, nothing federal about it. But our
Federal Reserve has been giving money to the very same central
bank that is now going to bail out Credit Suisse. I think that
is a connection. There's contagion. And who knows what's
going to connect it to that. And then it really doesn't matter.