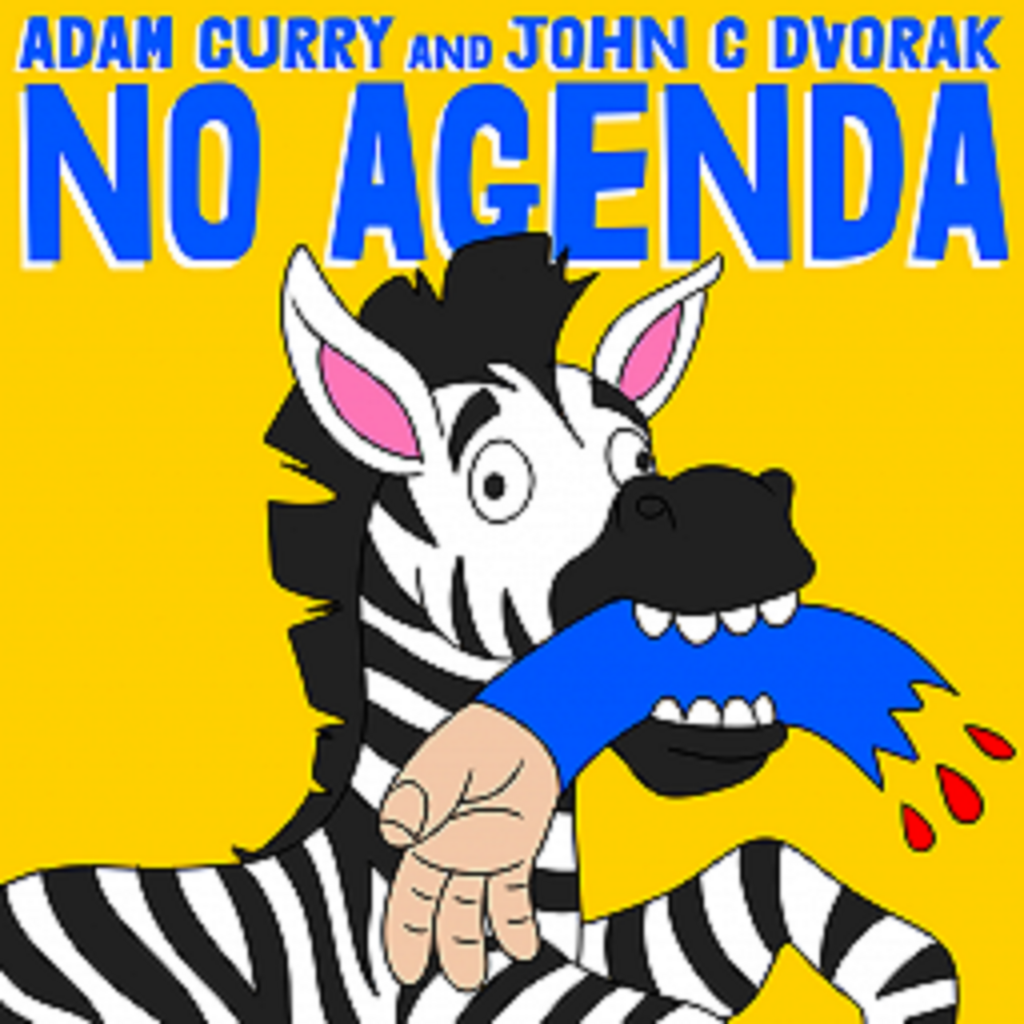 March 19th • 3h 3m
1539: Putinoid
Transcript
The transcripts of No Agenda are automatically generated and therefore, not fully accurate. Discretion is advised.
Click the text to start playing from that position in the show. Click the timestamp to copy a direct link to that position to your clipboard in order to propagate the formula.
John C Dvorak: groovy. Adam curry,
Adam Curry: John C. Devorah. Today March 19 2023 This is your
award winning combination media assassination episode 1539.
Unknown: This is no agenda, feeling incredibly
Adam Curry: Irie and broadcasting live from the heart
of the West Indies Montego Bay, Jamaica in the morning,
everybody. I'm Adam curry.
John C Dvorak: And from Northern Silicon Valley where we were
wondering why there's such a preoccupation with disgusting
toe fungus. I'm Jhansi Dvorak.
Adam Curry: Wow, that's a comeback. I didn't expect. I
didn't expect to toe fungus line.
John C Dvorak: If you looked at an ad, every website's got toe
fungus or scraping I'm there. Digging into the toe. There's
putting goop on the toes is gross,
Adam Curry: man. I know. This is Yes, of course. I've seen those.
It's gross.
John C Dvorak: It's totally gross. It's
Adam Curry: gross. I'm in Jamaica.
John C Dvorak: Why might that be?
Adam Curry: Well, the keeper and I decided to since we had had
not had a vacation last year, we as you recall it, it went to
crap. Because of
John C Dvorak: vacation where you couldn't get out of the
country. What was it? Well, the
Adam Curry: flight was canceled three times. And then by the
time that could get us to Aruba, we would have exactly three
days. So we said no. And then, of course I can't really take a
full on vacation anymore because we dropped two shows already
this year because of the procedure and probably at least
another one end of April. Maybe not but maybe so we just we need
to keep our quota up we really never drop more than two shows a
year and this year might be three so and there's a direct
flight from Austin to Montego Bay, if you can believe it once
a week.
John C Dvorak: Oh, drugs
Adam Curry: it's actually a yes drugs. It's actually a regional
jet. So it's, you know, it's a tiny one, two on one side when
unless it's only three hours a three hour flight. They go
straight, straight down in Montego Bay. Of course, it's
once a week so if something's wrong on next Saturday, then we
have to stay here another week. Unfortunately.
John C Dvorak: Half Blizzard taking a flight of Key West or
two. I'm sorry, Miami.
Adam Curry: actually about the same. Except, you know, yeah,
it's about the same. Let's get into this that bad. No, this is
perfect. For just a quick
John C Dvorak: little it's getting four hours to get to
Hawaii.
Adam Curry: Now of course, we have to drive an hour and a half
to Austin first. Yeah, yes. Yeah. And yeah. And it was, you
know, as the last weekend of South by Southwest. So we had to
get there on time, because Oh, yeah, it was busy. Not as crazy
as we've seen it before. But man, what is wrought, TSA has
gotten I mean, they've gone completely to shit. Because you
know, I'm carrying as the studio bag, I got the studio bag, and I
got the microphone and headphones and another carry on
bag. And, you know, so there's seven people at TSA seven. One
of course is you know, to check your your ID make sure that
you're okay, good to go. And then there's two at the scanner.
There's two in the back. There's another one who to more than one
more, who apparently is only his only job is to shuffle the bins
around. Although they all take turns at the bins. I've seen all
of them. And then there's one person who was checking bags
with hand check. So here's how it goes. My bags go through.
They spend five minutes together looking at my bag. You think if
you saw something weird, just be like, Okay, let's have someone
check that. No, no, they're pointing at it. They're looking
at it. They're looking at me. They're looking at this. Oh,
John C Dvorak: stop. I've no doubt you mentioned it. I've
noticed this phenomenon.
Adam Curry: I agree. It's ridiculous.
John C Dvorak: Why are they looking and looking and looking
at the bag? Looking at me your side? Why don't they just like
you said push it over there and have somebody open up see what
it looks like they don't to X ray it and
Adam Curry: meanwhile, they stopped the whole belt. The belt
is stopped while my
John C Dvorak: first bag. Yeah. Production. Exactly.
Adam Curry: Production there. And there's two of them looking
now. One comes Oh, all right. So that goes up there. My second
bag come to Oh, stop the belt. Well, we got pointed this, look
at this. And you go through the layers, click click, click click
Ma Ma It looks like a vibrator. Let's let's embarrass this guy.
So it's 15 minutes before, before someone actually picks up
my bag. Because they're just sitting there next to the
sideline. Could one of them pick it up and go check it? No, no,
there's one lady and she's doing everything. And then and then
I've never understood this phenomenon. So then we'll take
out the offending item which of course was really only my
microphone and one bag and obviously two screens and The
and the the road caster in the other and then we're going to
put those in bins, put those things in bins to the belt and
my bags without the offending items through the belt as well.
I do not understand this it makes no sense other than and by
the way these people to hate human beings security theater.
Yeah. Oh, well we know that but they hate human beings. You can
just tell and I understand. I'm sure it's a tough job. But back
in the day when I was a kid, even with these crappy jobs, the
way Americans would handle that would be good morning people.
How you doing everybody? It's it's let's Wakey wakey let's do
this. You know how it sucks, but we're gonna make a good day out
of it. You know, someone would have pizzazz. It would be make
it fun. Make the line laugh. Now you no one talks. They're just
killing it man. Man Yeah, yes. My name. Ah, it's, we're doomed.
Doomed. It's been 30 years since I was last year and went to the
same place that I was 30 years ago. Most of the people who
aren't dead still work here. Which is just crazy. I was here
in my 20s and there's people here in their 50s Mr. Curry, you
have a new wife. I had my last wife finally. I thought this
place was was taken over by the Chinese but that's not true.
Because I've asked every bus had Chinese and charged him now now
now we've been holding that I really thought that they had
control the island unless they are all got a gun to their head
and I'm not allowed to say it. And you know the airport is just
as nuts as twice as big, but it's just as disorganized.
Complete, completely. Just chaos. Anyway, nice little nice
a couple days here on the island. Now one other thing I'd
like to say since this is it's been a while since I've been on
the road. When was the last road trip I took Do you remember? Do
you recall was that Florida? Maybe?
John C Dvorak: I don't know. Sounds like it. Yeah, Florida.
Okay, so
Adam Curry: I have the portable kit which it's all the same it's
the same hard drive external hard drive everything same
except the computer and I just open up the certain Of course I
luckily I did this yesterday before we left or the day before
yesterday. Open up the windows machine the surface. And the
first What do you think? What does this machine do? And I
haven't touched it since then. Haven't haven't done anything.
What does it update? Oh, yeah. Not just an update. Four hours
of update you don't even get a chance to say you know what? I'm
okay. It was working fine. I you know, you don't get to bypass
that. No, it just does the update and the update and the
update. And then every other applicant especially because you
know we have Excel sheets. So I open up Excel with our
spreadsheet. No, no suspicious activity. Because Excel was
being opened somewhere else is being opened in Jamaica. No, you
have to get a code. What is wrong with these people? And why
can't I stop that either?
John C Dvorak: Don't know, I see the same thing. It's with all of
them. It's not just Microsoft Google.
Adam Curry: Yes. Yeah.
John C Dvorak: I've been having trouble getting on Amazon to buy
stuff.
Adam Curry: Where are you? Are you on an island to
John C Dvorak: know Berkeley
Adam Curry: It's an island we should cut loose. I did notice
that our tea is blocked on the entire island that was kind of
funny. Oh really? Why can't I get artsy and like ah Okay, time
to hit the VPN. There we go. Yeah, at least I have in our
last time I was here. It was Cable and Wireless. Which had
you know like the equivalent of a dial up for the whole whole
hotel you have to sit on the porch and wait two hours to get
your mail through pop three. So at least they have they have
good connectivity now and it doesn't you know and you can t
mobile is here works you don't have to you don't have to pay $3
a minute for a phone call. It's just the world is still not
straightened out. very disheartening since our last
show, and we deconstructed the BBB party that won 17 seats in
the in the Dutch government. The Boer burka by vaping the farmers
citizen build back better back better 666 Party is very, very
disheartening to see so many journalists, you know, I'm
looking at us Zero Hedge. We're like, oh, Farmer party. Yeah,
that makes sense. No one does any research anymore. No. And
then which makes me question all of these people right away. They
all fell in mind. He was pretty good. Good because most Dutch
people fell for it clearly because they voted for it. But
man the deeper I get into the party, these people are all in
on tiny homes. They're all in on the whole nitrogen bull crap.
All Yeah, we got to save nature. The they're exactly what the New
World Order wants
John C Dvorak: I might add that's how you do it.
Adam Curry: Well, yes, it's very well done. But you know, like
what's his name? Michael solemn Sullenberger, you know, he was.
He's a big anti climate change guy. In fact, he is the anti
climate climate change guy. He sends out his substack. Well,
look, the farmers can do it. The farmers. The people voted for
the farmers. No, no, no. Anyway. That's why your no agenda show
is here is to keep you safe from these kinds of scams, like the
one one that is now being perpetrated tonight
Unknown: former President Trump claiming he expects to be
arrested on Tuesday and telling his followers to protest in a
post on his social media app. Trump's saying he believes the
charges will come from the Manhattan District Attorney's
office payments. What was that?
Adam Curry: It's been Manhattan ever since I've been to my house
and
Unknown: he believes that come from the Manhattan.
Adam Curry: Now, this is a feat actually. We know that there's a
skipping of the T's but to skip two T's doesn't don't two T's
really tell you. You've got to put a t sound in there Am I
nuts? Maha Manhattan,
Unknown: Trump saying he believes the charges will come
from the Manhattan District Attorney's Office and stem from
alleged hush money payments that Trump made to adult film star
stormy Daniels during his first presidential campaign. ABC News
has not verified the claims. But later a Trump spokesperson
appearing to walk back saying there's been no notification of
charges from the DA blasting the investigation as a witch hunt.
Adam Curry: blasting the investigation blasting. Okay,
I'm going to tell you what I think about this Trump did this
himself. He set this up. This was this was this was a hoax
from the beginning. I saw these reports coming through Trump
gonna be arrested and first and like Trump gonna be arrested. He
might be indicted, but you can just as it goes, you can indict
a ham sandwich. You're not gonna you're not gonna throw the ham
sandwich in handcuffs and perp walk him. So and was all
John C Dvorak: here, it's sure exactly what they left once.
Well, yeah, they weren't a perp walk.
Adam Curry: But this, but yes, but I think you know, Trump is
seeing that DeSantis is getting traction, not for all great
things. But DeSantis definitely is saying the right things about
some topics. Now, despite his billionaire backing and back,
you know, let's just take the Republican Party back to where
it was. Everything's okay. You're still a slave, but
everything's gonna be much better. Here's part two of this
ABC report. Jay O'Brien
Unknown: with us now from Washington and
Jay, what more are you learning about the
Maryland TAS investigation and any potential charges for former
President Trump?
Yeah, with all eyes on the Manhattan DA now they had no
common today after that Trump post. These Grand Jury
proceedings are secret, but we do know that stormy Daniels met
with prosecutors just this past week and that Michael Cohen
Trump's former fixer also testified before this grand
jury. We also know that the DA is office told Trump that he had
a right to testify before this grand jury himself. That's
something that newer prosecutors typically do before they move
forward with an indictment.
Adam Curry: Now what before I played the German version of
this report, which is kind of interesting anything you want to
say about this, anything you've learned
John C Dvorak: share, they have all this morning all the shows,
they had most of want to talk about banking and all the rest
of it. And this includes meat, the meat, the meat, the world,
whatever it is, meet the
Adam Curry: pundits.
John C Dvorak: The one with a woman
Adam Curry: with a woman who is not chipped hard, Chip,
John C Dvorak: you know not to touch her. The other one. The
one faced in a shelf
Adam Curry: face the woman
John C Dvorak: tastes. A woman which is a great
Adam Curry: Campoli we just came up with that.
John C Dvorak: That's a good day for the show. So face to woman
and so she would ask you about banks. And what do you think
about Trump getting perp walked you know, what do you think
about Trump, everyone who came on she had to ask what do you
think about this Trump thing? All right, so you're gonna get
arrested? i You think it's like the whole thing is like who said
why is Tuesday it reds tamale day? Taco Tuesday. Why is the
Tuesday? Where did Trump get this idea as to Tuesday and
every time he brought it gives him a little more time. But
every time he brings it up, there is always a little jab at
the grand jury for leaking. And I think they did. And I think
the Democrats are leaking all this stuff, and just to make him
look bad, and if nothing else is not going to disagree with the
possibility this is all bull crap. It's all designed by Trump
just to get attention, but it's also designed to stir up the
other side because they don't know what to do. Whoa, what are
we gonna do?
Adam Curry: Fight Of course, we're gonna fight we gotta go
fight, fight, fight here. Listen to the George Avella. two
parter, actually, it was so funny. How they look at this.
Here's the here's kind of the intro with the news guy. And
then we'll go to the the pundants
Unknown: welcome. So, so many back to the Trump circus,
because here is the former president knowing something
nobody else apparently knows. And that is that he's gonna get
arrested next Tuesday. He says, and for that matter, he calls
for protests. That is a message to his faithful he is back on
YouTube. He's back on Facebook, he will and is expected to
become to come back to Twitter soon now. He's still
disseminating his messages on his own networks is to social.
So nobody gave any official word of that in arrest or indictment.
Actually, that's the more accurate thing and processing
the President is going to happen anytime soon. You're absolutely
right. This is the so called stormy Daniels case, the hush
money case seven years in the making, and the Manhattan
district attorney is expected to bring charges against the former
President Donald Trump, that would be a first time that we'll
make and what makes whenever it's going to happen for some
awkward moments. Because as you know, the President is supposed
to be protected by the Secret Service. Former presidents are
protected by the Secret Service to so they would have to
basically accompany him for his processing. That means taking a
mugshot and taking his fingerprints electronically. The
Secret Service making sure it's it's all happening safely.
Weird.
Adam Curry: Weird, weird. He is he's calling to his faceful.
Okay. So I think there's actually a better analysis than
anything I saw on on American news. Take
John C Dvorak: this herb that sounds better. I haven't heard
that one. But it does sound better than the crazy stuff
we're getting. Now. Here's
Adam Curry: the second part.
Unknown: Right? Stiff on in these post Trump wrote to his
followers, I read it out to you protest, take our nation back.
This carries really unmistakable echoes of the types of messages
he was posting leading up to the January 6 attack on the Capitol.
How worried are authorities of a repeat of that perhaps should
trump be indicted?
Yeah, right on this is exactly what they are
Adam Curry: afraid. I love this guy. Yeah. Right on he's he's a
German from the 70s. He indicted?
Unknown: Yeah, right on, this is exactly what they are afraid of
now, truth being told, and in all fairness, nobody expects
Trump to has had to have still the the power to, you know,
Marshal these kinds of crowds, and specifically not in New York
in Manhattan to protest for him and against a possible
indictment. But of course, authorities are concerned and
they're meeting and that is FBI. This is New York Police
Department, of course, Secret Service, as mentioned before,
all those agencies and many more, they're meeting for at
least a week or two now behind closed doors and try to figure
out okay, what are we going to do if there is a protest? What
measures are we taking? And you can be assured that these
preparations are well underway for in case for the case that
it's happening, that there will be many, many hundreds or 1000s
of protesters? Whenever this is going to happen? What the
president's former president is predicting to happen here?
Adam Curry: Ah, thank you, George.
John C Dvorak: Good question came to mind. Sure. And I don't
again, this whole thing is definitely something you just
have to wait and see sketch. I say the least. Yes, yeah. If he
was indicted in an award went out with the secret, Sir, his
own Secret Service people have to arrest him by law. No, they
have to defend him by law. Don't think wow. Oh, the Secret
Service is a law enforcement agency. Listen to this.
Adam Curry: Listen to the rain. Oh, man. It's crazy. raining.
Yeah. Well, that's a tropical climate. So it'll storm for a
moment here. It'll make it really noisy through the noise
gate.
John C Dvorak: It gets a little humid.
Adam Curry: It gets a little human. Yeah. You know, I
John C Dvorak: can hear it.
Adam Curry: Wouldn't they have to defend him? I mean, now now,
which their law enforcement
John C Dvorak: agency wouldn't have to arrest him. I don't
know. Well, the Secret Service are not personal bodyguards.
Adam Curry: No, but they are there to protect him. So the
question, yeah,
John C Dvorak: but that wasn't mean. Well, that obeying the
law.
Adam Curry: I don't know what their priority is.
John C Dvorak: Law. I think that's a question is why this is
interesting, because I bet you somebody in the audience knows
the answer to that question.
Adam Curry: But I think that actually they work for the
Treasury. They don't work for
John C Dvorak: the law enforcement.
Adam Curry: Yeah, about money. Isn't it? My mother also?
John C Dvorak: I don't know. Now we see. We're just showing you
what we don't know. And I'll show
Adam Curry: but but at least we don't say Right on,
John C Dvorak: right on far out. Groovy.
Adam Curry: I want to write on you wanna hear the NBC report,
which includes all the scores,
Unknown: what do we know about Cohen's testimony? And how
damaging does it appear to be for former President Trump?
Well, we know that he's really the key player other than
Trump's
Adam Curry: himself, and this guy is out on the street. And he
has, you know, I'm learning to play this. I forgot. He has his
earbuds in and he's using that as a microphone. This is NBC
NBO. Yes. Listen, how muffled he sounds
Unknown: in this transaction, and that he's the one who set it
up. He's actually the one who made the $130,000 payment.
Adam Curry: He's actually probably doing it on FaceTime.
Is it NBC,
John C Dvorak: I never blessed NBC. Oh, that's the NBC should
be ashamed. And
Adam Curry: we're not going to play that. That's that's just
too too nasty.
John C Dvorak: Anyway, I actually have no I don't think I
even have one's loan clip on this topic.
Adam Curry: Well, it because I was seeing it everywhere. And I
go, I should probably
John C Dvorak: know, somebody's got to do it. Clip something
about this. Yeah.
Adam Curry: Now what I have now for me the next story booth
would be actually it's no coincidence, I guess, as we
have. Let me see. We have President former President Trump
possibly being arrested. And we have a similar situation with
current President Putin. So
Unknown: thank you very much. The the actual arrest warrant is
not publicly available. There has been a statement issued
today by the ICC, where they specify a little bit what this
is about. And, as already mentioned, before, it is put in
as being accused of being responsible for the war crime of
unlawful deportation of population and their their
specify children, and that of unlawful transfer of property of
the unlawful transfer of these from occupied areas of Ukraine
to the Russian Federation. The ICC or the investigator of the
ICC, is saying that there are reasonable grounds to believe
that Mr. Putin bears individual criminal responsibility for the
for these crimes. So this is basically what has been put
towards putting.
Adam Curry: So this is again, Georgia Bella report. I have a
US report, but I thought this was interesting. You know, we
know that the International Criminal Court that has no
standing neither in Russia or in the United States, China torch
but it's 127 countries have bought into this. And so they
were already talking about, you know, having a special tribunal
that is attached to the ICC, but that wasn't really feeling good
because it was only about the crimes of aggression. So they
upped the ante and said what can we do high No.
Unknown: Throws to
Adam Curry: Devon, the kidnapping of children is CBS.
Unknown: Russian propaganda claims the country is trying to
save Ukraine's children and that the hearts of Russians are big
and benevolent. But the International Criminal Court
today was clear. Russia is kidnapping and re educating
children as rushed re educated, accused of war crimes our
President Vladimir Putin himself and real Lova Lova the director
of these alleged abductions, why make it would be impossible to
commit such a criminal operations as president Solinsky
without the order of the top leader of the terrorists states,
Moscow has denied the accusations and does not
recognize the ICC.
John C Dvorak: That poor blonde woman got sucked into this.
Can't go to Paris
Adam Curry: so now every now everyone has an opinion because
you know, the ICC Oh, everyone has opinion and
Unknown: Vladimir Putin will not be arrested as long as he stays
in Russia. But if he travels to any ICC member country, 123 of
them the US by the way, is not a signatory. That warrant means
that he could be arrested.
Adam Curry: Now this was great how they positioned that so he
could be arrested the us it was really good. Just the ending
here.
Unknown: By the way is not an hour 123 of them. The US by The
way is not a signatory, that warrant means that he could be
arrested
Adam Curry: me just bakes that into the sentence. That warrant
means you could be arrested but not in America. But oh, that's
John C Dvorak: you, right? That's a very curious structure.
Adam Curry: It was like it was edited in almost an odd way.
John C Dvorak: It's one of those things, it's a non sequitur. So
no question.
Adam Curry: So, you know, he can't travel because yeah, he's
gonna get arrested, not in the US, but you're gonna get
arrested, you're gonna get arrested. And then
Unknown: the Russian news agencies are saying that
Vladimir Putin is in Mariupol. I would be careful when we see
pictures. We know that Vladimir Putin he also uses doppelgangers
for visits. And he's not known folks.
Adam Curry: Did you see this? So Putin is in Mario Pol. He's in
the movie theater there that apparently the Russians bombed
and killed everybody in the theater. But you know, let's
just make sure Deutsche Bella points out that he uses
doppelgangers all the time you know, so this is this is
probably not the real Putin all of a sudden, they're using our
conspiracy theories.
Unknown: No doubt Vladimir Putin also uses doppelgangers for
visits. And he's not known for traveling around on the
frontline, however, be it him beat a doppelganger. Well, this
is highly seen as a provocation.
Adam Curry: That's not me, by the way. That's this lady. Oh,
yeah,
Unknown: this is seen as a provocation on two levels. The
first one is that Vladimir Putin, he's a head of state, but
now it's been two days. He's also been a wanted war criminal.
He so this is a provocation towards the international
community. First and foremost, it also shows her later he cares
about about the search warrants issued by the International
Criminal Court. The second provocation, of course, is
towards Ukraine itself. He's traveling in occupied
territories, and he's traveling to the city that has really been
seen here as a martyr city as one where war crimes were
perpetrated, you know, at a scale that really shocked not
just in Ukraine, but also internationally. Of course, I'm
talking about Mariupol. I'm talking about this bombing on a
hundreds of civilians who were taking shelter in the theater,
their thesis, one of the war crimes that will be
investigated, both here and by the international community.
John C Dvorak: Where does this report come from
Adam Curry: Deutsche Avella?
John C Dvorak: Don't they get better people than her?
Adam Curry: Well, this was the connection. She was you know,
she's on her own iPhone. Or as they say, endorsed on iPhone.
And so yeah, she just has a crappy connection. But as she's
saying, you know, this doppelganger, no response and of
course, Putin is not really him. It's a doppelganger, a
doppelganger. And instead of, you know, when he's in the
theater, that's just clearly a fake theater just can't be
right. You know, hundreds of people were killed there. While
he's his, of course, his propagandists from him from him.
He's walking around in the theater that he supposedly was
responsible for blowing up. So the propaganda wars are on and
it's fun back to CBS back to CBS.
Unknown: What's the likelihood that Vladimir Putin will ever be
held accountable? He
hasn't been indicted. He's not like, extradite,
Adam Curry: unlike Trump, he hasn't even been indicted. mean
we treat Putin better than Trump.
Unknown: What's the likelihood that Vladimir Putin will ever be
held accountable? He
hasn't been indicted, he's not likely to be extradited to the
Hague anytime soon.
Adam Curry: extradited to the Hague, I mean, these people are
insane.
Unknown: He's still firmly in control of, by the way,
Adam Curry: how can you even say this, knowing that the United
States does not recognize the International Criminal Court and
even suggest that he is not likely to be extradited to the
Hague? The whole thing is just the mainstream media and five
average comic it's comic, yeah, they're going nuts.
Unknown: What's the likelihood that Vladimir Putin will ever be
held accountable, he
hasn't been indicted, he's not likely to be extradited to the
Hague anytime soon. He's still firmly in control of Russia and
no sitting leader has ever faced such charges. But it could be
the beginning of something here because the court went straight.
Top didn't go low level and build. And so for blondes to
come,
Adam Curry: they pick her up. I don't think they picked
John C Dvorak: me they picked on her Oh, yes. That mo but she
can't go to Paris anymore. The poor woman
Unknown: top they didn't go low level and build. And so it
suggests that there's more of a case to come as Ramy said
traveling could be more helpful if he tries to leave and can
only now go to friendly countries. But here in the US,
Adam Curry: he went to Ukraine, a friendly country. Well done.
People
Unknown: traveling could be more difficult for the Putin if he
tries to, and can only now go friendly countries. But here in
the US, we know that the bind administration is already
building a case and looking towards future charges
potentially of genocide. They've identified 43 camps holding at
least 6000 children and as Secretary Blinken said, this is
an attempt to really erase Ukraine's identity and its
future. Some of these camps are closer to Alaska than they are
to Ukraine.
Adam Curry: So we went from kidnapping to genocide in 53
seconds. So it first it was re educating, re educating the
children take him to camps, kidnapping. Now it's genocide,
because you're brainwashing them into and taking them away from
you. It's the future of Ukraine. These children, what are those
children even doing? When were they taken? And how can we're
only kind of did we know about this? I don't remember any of
this. Oh, yeah. We had it. We had this was
John C Dvorak: the this was the evacuation of the kids in
Donbass area only. Before they blew they started. It was it was
it was they moved into Russia. So, for safekeeping. There was a
lot of reporting on this. It was always done. The early
reporting, which is at least six months ago was it was as a
humanitarian thing I have.
Adam Curry: What is this? This is from November 2022,
Unknown: a Ukrainian company revealed its new body armor for
children designed to where as they evacuate the war zone, they
go
Adam Curry: well, but where were they evacuating? Was that to
Russia? That report from ABC makes it sound like the
Ukrainians were evacuating them?
John C Dvorak: Well, in some cases they weren't depends on
where they spoke Russian or Ukrainian. I mean, a lot of it
had to do with the ethics background of the kids. Okay,
we're taking the Russian kids got it to Russia. So I guess
that's Kidambi now I have a series I didn't want to bring
these in right now. But I always have clips about show you what
kind of propaganda that our side is doing. Good. This This is
Mark glum, man, I don't normally do tea.
Adam Curry: Because he is he the great wine?
John C Dvorak: Yeah, he's the great one. Okay, any Hannity,
which is funny to watch because of the two big promoters of the
war.
Adam Curry: Yeah, on Fox, the fox war war twins, the war twins
John C Dvorak: live in zone. Sundays, but Levin's got a radio
show. And he promotes the war and thinks that everybody's he
just basically promotes the war. But you have to listen to him
when he goes on one of his rants. And I've got three clips
where he's describing the problem, the reason that we
should all be on board, and I want you to listen carefully and
tell me what you think of this analysis. This is Mark Levin on
Ukraine raping.
Unknown: I've talked about here, Vladimir Putin. Whenever you
think about what's going on over there. This man is a monster.
And what they're doing to the Ukrainian people is horrendous.
And there is video of this. There's pictures of this. They
can't show it on TV. It's so horrific or the monk the Russian
soldiers are decapitating people. I'm talking about
citizens. They are gang raping the women. The leaving the
condoms right next to them. Then they murdered them.
Adam Curry: Oh my goodness.
John C Dvorak: Hold on a second. Hey, Ivan. No raping without
condom. Kind of
Adam Curry: raping is this this is not a good rape.
John C Dvorak: Hold on a second was your raping. Get that condom
on buddy.
Adam Curry: Wait take your Viagra first hold on hold on we
got the patent the emergency packets here it's always the
same.
John C Dvorak: Now the other thing about the raping with
condoms, which is just ludicrous. If you think about
it, is that then you raping and you kill? Now the the
traditional historic raping process is to overtake the
genetics of the of the land that you're conquering. And in the
women
Adam Curry: that's that is the Yes. That's why you're not doing
it just for yucks. Well, maybe I don't know
John C Dvorak: where I'm at. That's why half of the public in
the United States and around the world has epicanthal folds on
their eyes is because of the Mongols who went into Eastern
Europe and raped everybody and put this genetic little gene
into everybody's background and you have this look that everyone
has a lot of people have
Adam Curry: i didn't i this I've never heard this discussed
anywhere. And by the way, it can be very triggering if we're just
laughing about raping which is not funny at all. So I want to
say we're we understand this No,
John C Dvorak: I'm I'm we're not laughing at raping. We're
laughing at the stupidity of these commentaries. Yes. Because
they make no sense.
Adam Curry: Oh man, I but I had never really thought about it.
But the mongrels who were raping to spread the
John C Dvorak: the Mongol manga Congrats on mom growls on models
role models goal.
Adam Curry: Sorry about that. Yeah. This is so messed up. And
does he have any evidence for this? It is a war.
John C Dvorak: They can't. There's lots of videos but they
won't show him it.
Adam Curry: Has he seen them? I mean, why doesn't he want to
have no idea?
John C Dvorak: He's just this is the most ridiculous thing I've
ever heard
Adam Curry: before. After they they blow up the toilets that
they hate so much.
John C Dvorak: Yeah. Toilet blowing up, they dropped to drop
the ball on that. Here's another little they've gone to clip to.
Unknown: They are enslaving the children. But I've talked to you
about before, and they're shipping them to reeducation, or
if you will concentration camps in Russia and giving them to
families.
John C Dvorak: Okay, now that just now, how do you go within
just a short period of time for two enslaving the children
sending into reeducation camps and then giving them to families
all in? What a week? I mean, don't you have to do some degree
and enslave the children? Don't you enslave them it takes a
while you know to get your money's worth. And then get your
money education takes at least six months. This is crazy.
Adam Curry: This was on on his fox show.
John C Dvorak: This is on his radio daily radio show
Adam Curry: on his radio show was guys nuts.
John C Dvorak: And well let's vid since you're doing this.
Let's go with the clip tree.
Unknown: And even though this analogy is made too often,
that's Nazism. That's exactly what that is. That's exactly
what that is. People are having their faces smashed in with.
sledgehammers. hands are tied behind their backs. They're held
down. People are being burned alive. In their corpses are
found the side of the street, they're finding mass graves from
these little towns that they conquer. And then when they're
pushed out, they slaughter the people there. That's what
they're doing. And that's not being told to you by the peut
noids or whatever they call themselves.
Adam Curry: The why the peut noids
John C Dvorak: Yeah, that'd be Tucker Carlson. He hates him.
Adam Curry: Oh, is that a cute Noid
John C Dvorak: he's a cute Noid now
Adam Curry: Goodness gracious this guy is first of all, screw
this guy. I mean without one shred at first Okay, war, of
course atrocities happen in any kind of war. They would say
there's atrocities in the United States on on this level every
single day that we don't talk about. But But this level of
this is this is really unconscionable what he's saying
and do you think that people are bought quote unquote, buying
this from him?
John C Dvorak: But his his fans I'm sure are but the idea that
this war which is a war of attrition, as has been brought
up? Yes. Where do you just get killed you stand after you're
dead? You have to be very careful. You're not going to go
around. Hey, there's a Ukrainian let's grab him. Hold on. Ivan.
Let me find a sledge hammer, which I just lugging around for
no known reason because I need a sledge hammer. And let's tie
this guy behind his back let me Sledgehammer his head. Who has
time for this bull crap. It's insane. So I mean, this is the
kind of stuff you get on talk radio in the United States from
guys that are pro war
Adam Curry: is really disturbing. It would be
described you'd get a kick out of it well, and the kick is not
the right word. My goodness. Um, I concede I was I think I was
pretty wrong about the about the jet fuel on the drone. Yeah.
Although, I was pretty sure it wasn't to light the jet fuel on
fire. That was my thing.
John C Dvorak: That'd be a funny idea.
Adam Curry: So I did get a note from Dhotre. He's a Navy
fighter, pilot and, and trainer. doTERRA and you got it. He says
the su 20. Sevens were indeed dumping fuel from the video you
can plainly see the fuel trail coming from out of the aft
section of the fuselage. Most operational military aircraft
had the ability to fuel dump when dumping it does look like a
vapor trail as you were describing because it is a vapor
trail. It's a vapor trail of fuel. I know because I've done
1000s and 1000s of pounds of JP five in my career. I don't know
if I should be telling this. I've also been sprayed by FAA
teams who forgot to turn their dumps off when waving them onto
the ship. John C's idea that they were dumping fuel to try
and set it ablaze is incorrect. Jet fuel is purposely blended to
increase its Flashpoint. I II will not ignite without a really
hot and sustained heat source.
John C Dvorak: This is true. He says my guests I used to be in
charge of JP for JP five when I was at Union oil Tim Make sure
that it was it didn't have a lot of you have to be careful. It's
got to be very dry.
Adam Curry: What is what exactly is JP is that just a great a
fuel jet?
John C Dvorak: Jet something jet propulsion? Yeah, it's a great
it's a great of kerosene as a matter of fact. Okay, it's a
very high grade of kerosene.
Adam Curry: The SU 27 aircraft did strike the propeller of the
UAV he says I believe inadvertently and it was simply
a case of the es su 27 pilots being a holes my guess is they
were airborne they got boards all the contact decided to play
that game
John C Dvorak: and get closer to highlights.
Adam Curry: Well, he fitted a dump fuel on it since there are
oh, we must prohibit rules of engagement must prohibit
engaging directly. The second jet misjudged his closure and
his vector and his tail hit the prop when he was pulling away
from it during his run.
John C Dvorak: Now, here's a question that I would like to
have him answer Sure. So they show clearly in one of the films
The prop had a loading and at the prop had a little band at
the end without
Adam Curry: the stripes.
John C Dvorak: And why couldn't it continue to fly around?
Adam Curry: Well, one of the here's what I saw and at first I
clearly saw that there was stripes in one shot and no
stripes on the other I don't know exactly what happened or
but one of the props was also feathered. So you have now two
blades basically in operational they think they who knows where
they even were or what altitude we don't know much.
John C Dvorak: But they did show one shot of you can see Crimea
from
Adam Curry: Canterbury hard to tell altitude from the ground up
or from Yeah,
John C Dvorak: I'm not saying it was up or down. I'm just saying
it was close enough. You can see the island or whatever that
whatever.
Adam Curry: Yeah, whatever it was. We don't know. I mean,
there's I mean, and then people are going to try deconstructing
this forever. Because I saw the blade thing and you know, there
was they didn't have the the Russian star underneath the
wing. There's lots of things that are out there. But when the
Navy jet fighter pilot and trainer says this us I think we
just have to stop at least I feel like I'm going to stop now.
Because otherwise I'm just making himself look foolish. And
although I'm itching and then of course we have the had the Jets,
the the old clunkers going from Poland to Ukraine, which is
which is also interesting.
Unknown: Earlier, we spoke to our correspondent manuals
shares, she explained that the new jets won't necessarily make
much of a difference on the ground.
Adam Curry: So this is interesting. This is France 24.
Now, you know, I don't know exactly how many old jets the
polls are going to send, but they're old. So they probably
have and you know this the rep contacted them from the military
industrial complex. Hey,
John C Dvorak: can you get rid of your MIG 29?
Adam Curry: Get rid of that old crap, we're gonna sell you some
new stuff and you're gonna like it, you're gonna buy it. So what
what that lead in is they're not going to make much difference.
Tell me where this lady actually said that or if she even what
she's really saying at all.
Unknown: Earlier we spoke to our correspondent manuals shares She
explained that the new jets won't necessarily make much of a
difference on the ground,
Adam Curry: which of course makes sense because a jet
doesn't make much difference on the ground. Unless you're
striking people on the ground.
Unknown: Just the full planes that are going to come up for
Adam Curry: for planes.
John C Dvorak: Is it as strafing
Adam Curry: What did I say
John C Dvorak: strafing
Adam Curry: I met Well, my teeth are messed up strafing strafing
John C Dvorak: certified
Adam Curry: for jet it's for big deal or for
Unknown: for Chadds Ford.
John C Dvorak: Just blow him up over the troops maybe this stuff
falling down or kill someone on the ground
Unknown: just the full pains that are going to come out of
the ones that are going to make a difference however if more and
more planes are coming this could be obviously a game
changer at a time where Ukraine is gearing up for what oh
Western experts
Adam Curry: I don't understand she says it's not going to make
much difference for but if more calm Oh yeah, that'll be a game
changer. What's the level?
John C Dvorak: Eight Yeah, what's your number? Where's your
where's your line? Where's your red line?
Unknown: I think will be a counter a spring counter
offensive. You were mentioning Baramati it's a war of attrition
there a war that costs probably 1000s of lives you know it's
been a war that has been
Adam Curry: there's your war of attrition which I didn't the
first time you said it I didn't it didn't even catch on with me.
I didn't really but now I'm hearing it all the time the war
of attrition which is the way you World War One Yeah, the way
you explain it is who who loses more people. That's what that is
actually.
Unknown: The positives of lives. Uh, you know, it's been a war
that has been waging for for for over seven months there with
Wagner mercenaries seven months
Adam Curry: Oh, she's talking about Bob moot. Is that what it
is? That's why because it's been more than a year.
John C Dvorak: I know, I have no idea
Unknown: trying to launch, you know, dozens of offenses a day,
but also miniature experts are seeing that perhaps we've seen
the combination of those fights already. And it's, you know, and
the Wagner mercenary group simply don't manage to break the
Ukrainian defense heavy, heavy losses on both sides, but for
for each five to seven Russian. So these are mercenary of Wagner
who dies as one Ukrainian soldier who dies. So both, you
know, both sides have casualties but but really this the Russian
troops?
Adam Curry: I'm also getting pretty tired of this Wagner
group, Wagner is that the only people who are left fighting is
the Wagner group.
John C Dvorak: That's what it sounds like to me.
Adam Curry: I mean, so there's a rushes out of people, it's only
mercenaries.
John C Dvorak: I you know, this is not very well done this, this
whole analysis.
Unknown: I losing a lot, a lot of personnel, a lot of equipment
there and you were mentioning bomba. Shelling is continuing
over the region on top moot on valida, which is also a fierce
battle. And in Donetsk, of course, civilians are bombed.
There was a shelling last night, which killed one person and
injured several others.
Adam Curry: I heard from military contacts. Which at this
point, I don't believe anybody, but I really don't I mean, who
can you believe this whole thing could be wag the dog? I mean,
from both sides?
John C Dvorak: I really don't know. I'm not going to argue any
of that. We have very little
Adam Curry: casualties to show I mean, I'm getting video from
from somewhere in the region. And it's pretty horrible. You
see Ukrainians, dead Ukrainians, dead Russians, I mean, all kinds
of stuff. But I'm getting information that the explosive
ordnance guys the or the good ordnance guys that they say 90%
of all buildings destroyed in Ukraine are from Ukrainian
artillery. They just whatever they don't even know what
they're doing, apparently but. But there's from that it's that
it's not from Russian artillery, but Ukrainian artillery that
that's been destroying yet
John C Dvorak: data. But don't you remember that was from the
beginning. We've had this issue. When there were Ukrainians who
were bombing their own buildings or che or they would say, look
what the Russians did. Yeah. It was almost a year ago. It's
almost like
Adam Curry: they down that MH. The Malaysian Airlines flight or
that
John C Dvorak: that Grey Ghost guy, whoever it was, Oh, yeah.
Oh, yeah.
Adam Curry: That guy? Where's he? Where's he flying the four
jets? And it seems like even if you have four jets, you could
probably take out some military installations. It would make a
difference on the ground. This whole thing is sketch and the
worldwide press.
John C Dvorak: You said you say I don't know. I'm saying too
much.
Adam Curry: You're right. Yeah, what should I replace it with?
sketchy? Oh, sketchy. But even with this where the word comes
from, but if I had taken one letter off the word if I had
said sketchy twice, you would have called me out as
John C Dvorak: well. No, no, this sketch is like merch.
Adam Curry: Wow, I need to flog myself for that. That's bad.
Alright, let's let's go back to CBS and see what else we have on
Russia. And
Unknown: yet, President Xi of China still plans this trip on
Monday to stand side by side next to Putin. Will this affect
any of that?
Will he go? Well, China itself is accused of carrying out
actively a genocide against minorities does NSI
Adam Curry: everyone, everyone?
John C Dvorak: We got a genocide guy here. And we got a genocide
guy there. The genocide boys, Jenny
Adam Curry: brothers, that's right against
Unknown: minorities. Does it bother Xi Jinping to stand next
to an accused war criminal? We'll see. But what we know has
been happening is that as the West tries to isolate Russia,
that tie between Russia and China has only grown grown
stronger through trade and increased work together. The
White House is saying it hasn't yet seen weapons transferred for
use on the battlefield in Ukraine. But they're
increasingly concerned that there may be a military alliance
between China and Russia.
Adam Curry: Wow, man, these people aren't that mean? Do they
get up and take off their uniform before they go to work?
These people they just love war that all jacked on war and
jacked on just using genocide just willy nilly. And what
happened? Our genocide of the American Indians forgot about
that. Alright, then we have a last one from the CBS more I'm
sorry, this is ABC. Now it here
Unknown: in the East in the cover of darkness. A Ukrainian
special drone unit heads out towards the frontlines,
Adam Curry: Ukrainian special drone unit. So let's just
specify drones in this drones. The drone that got hit by the
Russian fighter jet that's a proper drone. That's a drone
drone drone. This thing is like an Amazon drone. No, this
John C Dvorak: is like what do you get for Christmas? around
the house.
Unknown: Special drone unit heads out towards the front
lines. The team works fast only using minimal light. They don't
want to alert Russian reconnaissance. This is the
Punisher a fixed wing drone assembled in minutes. It can fly
so much further he can fly deep behind enemy lines and open
carry more ordinance. Take a look at this. This is two
pounds. Well, I suppose the Punisher can fly up to 40 miles
during missions like these are critical to support frontline
troops. And as these videos from the Ukrainian Wait, what
Adam Curry: did they call drone technicians 40 miles during
missions like the drone nations,
John C Dvorak: no drone missions like oh drone
Adam Curry: missions I thought
Unknown: it can fly up to 40 miles during missions like these
are critical to support frontline troops. And as these
videos from the Ukrainian military show, they aim to hit
ammunition stores artillery positions, even suspected
leadership locations
upon Usher
Adam Curry: to heck man this is and this is all it's really I
predict this this season. This Christmas season in stores hey
kids get it now. Dark Corner sure you can be like the
Ukrainians on the front lines with honor shark Yeah, yeah, I'm
so sick of this. It's just like, can we stop now? I'm, I can't
believe it. But I'm, I'm I'm just I'm begging for GE to put
an end to this nonsense.
John C Dvorak: Let's hope he can. Because we're not going to
Adam Curry: know we're in fact we're just stacking it up a
little bit. You know, I've been looking at evaluating Africa
what's going on everyone's visiting Africa. Everyone's in
Africa and Africa nuts and and now new share is the latest and
who shows up a new Share? Well, of course it's got to be a
Blinken us Antony
Unknown: Blinken is to be the first US Secretary of State to
visit Niger amid concerns over the health security and the
growing Russian influence. West African country has become an
increasingly important partner for the West in the Sahel. There
have been successive coos in Mali and Burkina Faso and
there's been the growing influence of Russia's private
mercenary group.
Adam Curry: Yeah, there's a Wagner group. They're
everywhere. The Wagner group, what happened to Academy and Z
and Blackwater are our guys. Are they just all out of business?
Or is it the same guys?
John C Dvorak: I think there's got to be some crosstalk right.
Where did Eric Prince go? I mean, he's the key guy to figure
out if you want to know what's going on and no one's
interviewing him.
Adam Curry: I think he became a venture capitalist. I don't know
what it became. Exactly. So what is worse so what is going on in
these year why all the by the UN troops have been in Mali?
They've been rotating in rotating out the Dutch were
there the Americans were there the front what is going on? In
Asia? What's happening? Oh, well, France 24 will actually
tell us that desert
Unknown: landscape in niches Northern Ireland region, the
list advanced countries home to one of the world's largest
Uranium reserves. The main source of nuclear fuel, is one
of the EU and France's largest suppliers, and French nuclear
giant Aramco is looking again at a potential site in the region
of about 200,000 tons of uranium for Aramco or Christmas bolt in
2015. And we are relaunching the project following several
hydrogeological studies that lead us to believe that the ISR
method may be very interesting for the exploitation of this
deposit. This method involves using chemicals to dissolve
uranium from the rock that is still in the ground and pumping
it to the surface rather than conventional mining so they have
some kind of
Adam Curry: new technology
John C Dvorak: oh my god I can just imagine what that is is not
going to be at technology want to be around it's going to ruin
I don't even know I mean, I could be dead wrong it could be
using saltwater but I doubt it. Well, it's got to be like
hydrofluoric acid or some damn thing they're going to do and
it's going to poison the area.
Adam Curry: So you share cares Yeah,
John C Dvorak: who cares the share when present make and even
Adam Curry: though I don't have any clips Turkey after you know
after they switch the earthquake machine on Oh, yeah. Oh, yeah.
You want to be a NATO you want to be the guy stopping it? Oh,
yeah. Here's one earthquake, which you don't hear anything
about. It's overwrite that earthquake might as well just
not have happened. 40 50,000 people dead they say,
John C Dvorak: minimum,
Adam Curry: Trump proven Poland they will now start to start
ratifying Finland's NATO application. Which I love this.
So Finland who has quite a border neighboring on Russia,
they think it's a great idea. Oh, yeah, let's be NATO now. I'm
sure I had this one a second. I understand. I can I'm sure I had
this.
John C Dvorak: Well, they also bitched about the fact that
Sweden's not going in with them. Yeah, I haven't I've of course
had big hang up and nobody really quite knows how to deal
with it, which is Hungary still says no. But they said they're
gonna say yes,
Adam Curry: here's, here's Yen's. Now this was a a two
minute clip, which I shortened by 40 seconds just by taking out
the pauses.
Unknown: I welcome to this decision by Turkey yet to move
ahead. Turkey I'm sorry, Turkey. With the ratification of
Finland's membership in NATO. This was strengthened finance
security, it will strengthen Sweden security, and it will
strengthen NATO. I hope that the Turkish Grand National Assembly
will vote to ratify as soon as possible. At the NATO summit in
Madrid last year in all allies made historic decision to invite
Finland and Sweden to join our alliance. Since then, we have
seen the fastest ratification process in NATO's modern history
at the critical time for our security. This will make our
alliances stronger and safer. Our recently listed trachea and
met with the president of Iran, the President and I agreed to
convene a meeting of trachea, Finland, Sweden, at NATO
headquarters at that meeting last week, all recognized that
considerable progress has been made in implementing the
trilateral memorandum signed in Madrid, and that rapid
notifications for Finland and Sweden are in everyone's
interest. The most important thing is both Finland and Sweden
become full members of NATO quickly, not whether why they
joined at exactly the same time last position to invite both
Finland and Sweden has fundamentally strengthen the
relationship with NATO. As a consequence, their security is
much enhanced. They're sitting around NATO's table integrating
into our political and military structures, exercising more with
allies, and both countries have received bilateral security
assurances from many NATO countries, including the US, UK,
Germany and France. So it is inconceivable that NATO would
not respond should either Finland or Sweden come under
attack their security matters. Okay. I look forward to a rapid
conclusion of the accession process and to welcoming both
Finland and Sweden to the NATO family members as soon as
possible we
Adam Curry: are family so you think Hungary is going to buckle
John C Dvorak: Hungary says they already did but I mean they say
oh yeah, yeah, yeah, we're gonna we're gonna sign out we just had
to do this. They got some big get some paperwork. And it was
supposed to be done by Christmas. But the FedEx didn't
arrive at us. They're still stalling. I think they're going
to continue to stall for a while hoping this war ends and maybe I
think they're just going to stall I mean, they're going to
have to Dave's already agreed to say yes, they just haven't
severed they're dragging their eyes dragging their heels.
They're Dre exactly
Adam Curry: meanwhile Be on the lookout for the next the next
this is great. Meat kill net kill net Russia's hacking
patriots plaguing Europe. Nice alliteration political pro
Russian hackers hit countries taking action against Russia for
its war in Ukraine. Right
John C Dvorak: away we should stop you I want you to finish
that obviously but I which people should always have in the
back of their mind that the great hackers are in Ukraine.
Yes. They're in Ukraine the Russians is takes it back
they're back seat was never it's probably three or four after the
Iranians beside the point that our tools the Buzet
Adam Curry: nine What is it vault nine? That was rice. Um,
yeah. Which can be used to make anything
John C Dvorak: look like Russia. Yeah, looks like Russian says
what to do.
Adam Curry: And ragtag group of Russian activists is targeting
European governments infrastructure, even its prized
Eurovision Song Contest. I can't wait for the song contest this
year. They're doing that with cyber attacks and disinformation
campaigns. Oh, yeah, they're gonna they're In a determined
they're gonna hack the winner when that'd be great we're gonna
be if they hack the voting of the Eurovision Song Contest put
it in the red book please. I think kill net kill net will be
hacking the Eurovision song they put political put this in here
for a reason in the first graph of this whole article the pro
Kremlin hacker collective by the name of kill net has launched a
barrage of this is inflammatory a barrage of attacks on Western
government networks and critical infrastructure this summer
loudly claiming victories on social media channels and in
Russian media and causing headaches for Russia's
adversaries and security authorities. Fancy Baron
sandworms a new one sandworm is now have you heard of sandworm
John C Dvorak: sounds like a CIA product?
Adam Curry: I'm gonna put that as sandworm please. Well, I hope
that they attack the it's in the UK this year the Eurovision Song
Contest a proxy for Ukraine who of course one last year.
John C Dvorak: What a coincidence.
Adam Curry: Isn't that great? Wow. I love that. I thought this
is great. I love the kill net kill net kill net. Okay. All
right. Let's talk about our stupid president. I see a whole
you got a whole bunch of clips about Biden and you've promised
this you've teased this for two shows in a row. I'm excited. I'm
excited to laughs
John C Dvorak: Okay, well first of all, before we go to the
clip, the clip blitz of Biden. I do want to bring up a couple of
since it was St. Patrick's Day yesterday or sorry, Friday. We
do have a couple of classic Biden always says something
about being Irish and St. Patrick's Day I have to I have
to this year's 2023 teetotaller clip I want to play hold on hold
on
Unknown: Ruth through through.
Adam Curry: Blues classic classic clip Blitz.
John C Dvorak: Well, this is not ready yet. Except this Blitz is
gonna be Let's go 2023 teetotaller
Adam Curry: I got you okay,
Unknown: I'm the only Irishman you ever met notice never had a
drink so I'm okay. I'm really not Irish. So
Adam Curry: where was this where it wasn't?
John C Dvorak: It wasn't one of these little cars. It was just a
recent little one. Meet and Greet? Wasn't anything
Adam Curry: we saying? I'm the only Irishman you'd never seen.
I've never had a drink. I'm not even Irish. Okay, and people ha
You're so funny.
John C Dvorak: One day we just have a drunk or not drunk bit
based on that guy. And we did that work now in 2020 I believe
this is 2022 this is the clip that everyone plays where it
says I'm I'm Irish but I'm not stupid. Which was the which was
an insult of course to the Irish because Irish obviously stupid
and he's not. But the full clip has
Adam Curry: never played what's here's the short version first.
Is that what I'm doing here?
John C Dvorak: No, there's only one version and it's the 2022
stupid and it's the whole at four seconds. And it's got a
little tidbit at the end which says to me Wait a minute, and
then it brings up another prop problem.
Unknown: I may be Irish but I'm not stupid. I'm married Dominic
que kopas daughter.
Adam Curry: Well, let me listen again. I didn't hear that
properly in the listening.
Unknown: I may be Irish but I'm not stupid. I'm married Dominic
que kopas daughter.
Adam Curry: I married Dominic Jia kopas daughter.
John C Dvorak: That's Joe Biden. his granddad is Dominic jihad,
not his daughter. But the granddad was Dominic Gioconda.
They changed their name to Jacob does an Italian that Sicilian
family where she comes from and I don't think that's why Jill
Biden was going to get the money then it turns out that money
went to 100. But you know, the money we're talking about who
got to Who's the other person that getting the money from
China and last show, and there was a mysterious Biden involved
which turned out to be the the widow of Hunter Biden, but we
always thought Joe Biden was the head of the crime family and
diamond, the GIA COPPA family.
Adam Curry: Well, just because you know this No, just because
she didn't get this money doesn't mean she isn't still
ahead of the whole Biden crime family. It's in her genes. It's
in her DNA.
John C Dvorak: She's a Sicilian. And I don't want to say that all
Careful, careful,
Adam Curry: careful, careful. We love you mafia. We
John C Dvorak: love you guys. We love the Soprano's Jesse,
buzzkill Jr's wife is Sicilian. And
Adam Curry: watch your back.
John C Dvorak: Watch your back your back. I'm always careful
around here. So
Adam Curry: wow, I had no idea about this.
John C Dvorak: I didn't either and when I heard this, and I
looked into it, because they always clip that off, they
always clipped that off. Oh, and it was like a gaff anyway
because that's the granddad's name. They changed. They moved
that they came over from Sicily and they change their name to
Jacob. And
Adam Curry: came to me me doesn't have a horse does she?
John C Dvorak: Yeah, me, me, me me is actual Smith from the
Adam Curry: pilgrim, Alias Smith and Jones.
John C Dvorak: I don't know about that. So Biden goes on.
Adam Curry: Even though it's kind of it's kind of weird. I
think it deserves a clip of
John C Dvorak: Thanks, David. That was not expected.
Adam Curry: But it's certainly deserved. Because that was
amazing. I did not know this.
John C Dvorak: I didn't know know it either. In fact, I did
it. It kind of bugged me that they've actually kept a
suppressed chair. So here we go. All right. So Biden goes on
Comedy Central with this guy, a Kalpen. He's an Indian. This is
the
Adam Curry: daily show where the Daily Show?
John C Dvorak: Yep, yep. Kalpen is actually should be called
Calvin. Calvin Modi. He's really He's an Indian American. Okay.
And he is gay. Outwardly gay. And he makes a big fuss about
it. Outwardly gay. Well, actually, no, I take it. It's
just gays not outwardly gay would be Tommy's flamboyant.
Adam Curry: flamboyant. He's he's out. I don't think he's
out. He's openly gay.
John C Dvorak: He's out. That's what I meant out gay. Not
outwardly. Okay. Good. Thank you. Okay. So there's a whole
series of short. Here's a whole bunch of short clips that were
this was the worst interview I've ever seen. Or
Adam Curry: you mean the best really?
John C Dvorak: Yeah, I guess I do that. So here we go this out.
Here's the premise. This is clip one, the premise of the listen
to this premise. And you can see why, why this is already going
to be bad.
Unknown: We talked about our divided country, and how young
people's advocacy can affect policy on climate drilling and
human rights,
Adam Curry: climate drilling, and human rights, which is a
trifecta I had never considered,
John C Dvorak: I've never considered either. And his whole
concern is about he's a climate change nut ball. So everything's
Oh, claim me, we're all gonna die. So here we go. This is a
little bit and I'm going to play clip two, this is a short 14
seconds, which indicates to me the host, this guy, cow. This
guy's bigotry.
Unknown: And I remember just four years of of policy and
vitriol under Trump, and now things feel more divided. So I,
I was curious how you feel that we can stay hopeful? And how can
we get the country to unify
John C Dvorak: policy and vitriol?
Adam Curry: That's interesting.
John C Dvorak: So here we go. Here it goes. We go with Biden.
And right away we go to the old tropes. And we're going to start
off with trope number one and clip three.
Unknown: The truth of the matter is has never been more
optimistic in my entire life. But no, no, I mean, now, I tell
you what, look, if you think about it, the reason I had not
argued my words.
John C Dvorak: I was gonna clip that separately. I'll tell you
why. Think about it. Look, I mean, it's pretty jams all these
trode things right into one little package. I think it's
just dynamite.
Unknown: I tell you what, look, if you think
Adam Curry: about it, I'll tell you what, I tell you what, look,
if you think about it, we can we can do this ourselves. I'll tell
you what, think about it. Look,
Unknown: I mean, now, if you think about it, the reason I had
not I give my words Biden I hadn't planned on running again.
I had lost my son Beau. It was a tough, tough time, and I wasn't
gonna run it all for real. And then remember what happened in
Charlottesville. Then President Trump said there were very fine
people on both sides. And I give my word that's what I said. I'm
gonna do this.
Adam Curry: Yeah, that was his whole reason for running. Was
this lie?
John C Dvorak: Okay, so he's gonna keep with this. So that's
never going away. No, no, thanks to Scott Adams trying.
Adam Curry: Where? Where's Scott Adams? Is he finally gone and
done.
John C Dvorak: He's still on YouTube. Oh, okay.
Adam Curry: Well, as long as you're still on YouTube, He's
okay. He's safe. But, you know, it's like people are Hey, man,
check out Gilbert. He's doing value for value. I'm like, No, I
have to sign up for something that's not value for value.
John C Dvorak: Not when there's a firewall No, that's not value
for value. That's the debt that's that should mention we've
got our books in for the too many eggs.
Adam Curry: The printer has done
John C Dvorak: too many eggs.com. Go check it out and
get just go get a free copy that there's no firewall
Adam Curry: Oh, yeah, that's the way it should be donate.
John C Dvorak: What would a firewall up? That is not value
for value? It's called a firewall. All right, here we go.
Is Biden on climate?
Unknown: I never would have imagined 12 years ago that
something as sweeping on climate as the inflation Reduction Act,
would have happened. So Mike, my question really, and I was
watching all of this unfold is who or what created the
political space for you to take that kind of action?
Young people, young people, generation, that generation
between 18 and 35. Now, they're the ones that created the space.
They had enough of it. And enough of it. I mean, they
showed up in the 2020. Election, they showed up in the 2022
election, and we passed the largest environmental plan, and
all of history over $360 billion
John C Dvorak: inflation Reduction Act, has anybody
noticed there's something wrong with this picture?
Adam Curry: Could it be the inflation problem?
John C Dvorak: There's like he says, Oh, you did the biggest
climate thing you've anyone's ever done you in the inflation
rates? What's inflation got to do with this?
Adam Curry: Well, that's how they hoodwinked everybody into
voting for the snow shit. Yeah, how's that? How's that? trend
Trend, transitory inflation working everybody?
John C Dvorak: Onward to clip five
Unknown: why the first meeting I had with the so called g7, they
want to talk about what was my initiative on energy on dealing
with moving toward, for example, I called all them automakers and
truck makers. And I asked him to come to the South Lawn first
year, and try to talk him into doing something more than going
electric. And within five weeks, all of them agreed that we're
going to go electric 50% by 2030. And by 2050, all electric.
John C Dvorak: Now he starts off by, first of all, he says the so
called g7.
Unknown: That again, why the first meeting I had with the so
called g7 Want to talk about what was my initiative on
energy?
John C Dvorak: They didn't know, didn't they? They didn't I guess
I don't know what
Adam Curry: think what he's okay. Here's the problem. His
initiative on energy was the inflation Reduction Act. And the
so called g7 includes the so called EU who were so called
very pissed off, that all of the subsidies, this is why clean
Ursula went to Washington, that all the subsidies were only for
us products, and that and that they basically screwed the so
called g7 partners, by not giving any of our money, our
printed money to them for their bullcrap initiatives. That's why
he's saying that because they got all bent out of shape, and
still not over I mean, clean. Ursula came in and got some
assurances, but we'll have to see.
John C Dvorak: Yes, that's
Adam Curry: what they did get some inflation over there. So
congratulations, you got a part of our inflation Reduction Act,
everybody good work.
Unknown: That six, you're also responsible for reviewing
drilling and oil production? Yes. What would you say to those
young people who want you to continue to be their champion,
but might not think that you're going far enough or fast enough
on climate?
Well, first of all, we're going to fashion anyone's ever gone,
we're going to need fossil fuels for at least the next 10 years.
It's not like tomorrow, we can turn it all off. Number one. And
so we're going to need fossil fuel. But we have to do is we
have to I have I've said no more drilling off our ocean, I mean,
a whole range, but there still has to be, there has to be the
ability to generate some energy. But we can get rid of coal much
more rapidly. And and by the way, for example, I was up in
Massachusetts, the largest coal producing electric facilities in
the nation. Well, guess what? We hooked it up to wind technology.
And so now and it's cheaper, we can do solar we can do when why
cheaply than we can do fossil fuel.
Adam Curry: First of all, it's when technology Okay, I want you
to know, we figured out when technology and it's cheaper.
John C Dvorak: Since when is it cheaper?
Adam Curry: Well, since the inflation Reduction Act paid for
it, of course.
John C Dvorak: So that's a lie. Yeah. Pretty blatant. Wow. But
let's continue because this guy's all in. So let's go. The
next was, I guess.
Unknown: There is Magga Republican portion of the party.
It makes up about a third of the Republican Party. But there's a
lot of people in the Republican Party who are traditional
Republican, conservative Republicans. so that you can
deal with, but you know, these, you know, the gentlewoman from
the state of Georgia and the mountains up there and others
gates and anyway
that's very diplomatic. I would have used different language but
no but
Adam Curry: wow, wait a minute, wait a minute. What exactly went
down there?
John C Dvorak: Whatever it was, it was diplomatic. He would use
different language you would give it to him.
Adam Curry: This of course was now this interview happened a
week ago, I
John C Dvorak: think right. Yeah, it was just before the
Yeah,
Adam Curry: it was just before the willow project got approved.
Yes, it
John C Dvorak: was pretty sure
Adam Curry: up in Alaska, so that's why he was already
hegemonic. We got it. We got to do a little bit of drilling. And
when I got Yeah, I got to satisfy one of my biggest donors
up there. You know, I was like, as we got to do a little bit of
a little bit of drilling just a little bit just just so you
know, it's a little bit there's gonna be and by the way, where's
all the hydrogen talk? Because we know that it's going to
hydrogen This is beyond him. No, okay. Right. Got it. Because
he's still building the charging stations. He's
John C Dvorak: the charging stations and windmills,
Adam Curry: which is when technology John, when
technology, please don't just call it a windmill. The Dutch s
is Ventana loci tilting at wind technology. There you go. All
right. Eight.
Unknown: I think so. My focus is just stay focused.
Adam Curry: Stay focused, man. Oh, man, your president of the
United States ladies and gentlemen.
Unknown: Wow, that's great.
John C Dvorak: That's actually my favorite clip.
Adam Curry: In fact, but then I hope you just made that an ISO.
That's just been ISO for the
John C Dvorak: i gabbeh Dare as the ISO if you want to use an
ISO. Yeah, you maybe save it? Yes. Save it. No, save, save.
Adam Curry: It'll be my name is my ISO. No, I claimed it.
John C Dvorak: Okay. Now, here's the here's the guy. This guy.
He's not only gay, but he's very vain.
Adam Curry: Hold on. I'm sorry. I just got to hear it one more
time.
Unknown: My focus is just stay focused.
That's great.
John C Dvorak: That's that's most people pulled back the the
clip of it. No kidding.
Adam Curry: No kidding.
John C Dvorak: So the guy the vein guy called Calvin, Calvin
Modi. He has let us know that he's gay. And then he's got a
list you know, he's gonna ask a question but he decides to talk
about himself a little bit here in clip nine and it's like an
eye roller.
Unknown: I wanted to I wanted to ask you a slightly different
question. So my partner Josh and I have been engaged for the last
five years which really only means that every auntie and
uncle that I have Hold on
Adam Curry: a second five years what's wrong with you? What's
wrong with him? Five years is too long to be engaged. I'm
sorry. I don't care what relationship you have. Your this
is not going to work out five years too long.
Unknown: My partner Josh and I have been engaged for the last
five years which really only means that every auntie and
uncle that I have is beyond disappointed that there hasn't
been a wedding yet. But But Cardi B is going to marry us
apparently officiate our wedding, which would which would
be nice. But my my question for you. This President is
Adam Curry: Oh my god. Cardi B is going to officiate our
wedding, which apparently we should be nice because she said
so on Insta
John C Dvorak: is that pathetic? Or what?
Adam Curry: Yeah, yeah, that really is.
John C Dvorak: Is is it an interview with the President of
the United States? Well,
Adam Curry: considering considering his level of
cognizance
John C Dvorak: ended up yes. But still, yeah, that was the nerve.
I mean, to start talking about yourself and your buddy jaw, or
your your fiance. Aw, Cardi B. And so I thought that was the
Adam Curry: gross and really are your aunties and uncles in
India, they're really disappointed about the wedding.
I don't know that. I don't know too much about Indian culture.
But you gotta wonder if that's the only problem they have. I
think we're pretty pretty okay. In America with this. I'm not
sure how cool India is with that. Do we know actually,
John C Dvorak: NACA? Yeah. I felt the same way when he said
that I'd like
Adam Curry: we have Indian listeners. We have Brahmins. We
have Brahmins. We'd like to know what what's the jam mostly
Brahmins? Actually, I'll tell you like in Jamaica. This is not
acceptable. Homosexuality is a big problem here in Jamaica.
They do not like it historically that just that like No, no, no.
So not the Jamaican India the same but I'm curious now.
John C Dvorak: These Well, I think your curiosity is well
founded. Let's go to the last as the last clip and it's like,
this was titled BS galore.
Unknown: You codified support for same sex marriage and
interracial marriages like, like ours. I'm curious what your
evolution was like on marriage equality and what the government
might be able to do to protect LGBTQ Americans, especially
trans kids who are dealing with all these regressive state laws
that are popping up right now.
I can remember exactly where my epiphany was okay, I hadn't
thought much about it. And I was a, I was a senior in high
school. And my dad was dropped me off. I remember about to get
out of the car and I looked to my right. And two well dressed
men in suits, kissed each other. mean they give each other a
kiss. And then one went looked like he was heading to the
DuPont building one look like he headed to the Hercules
Corporation building. And I never forgot to turn look to my
dad. He said, Joey, it's simple. They love each other. It's
simple. No, I'm not joking. It's simple. They love each other.
And it's never been. It's never been. It's just that simple. It
doesn't matter whether it's whether same sex or heterosexual
couple, you should be able to be married. What is the problem?
Adam Curry: Wow. Wow. Okay. So I remember exactly how this went
down. His because, you know, Obama was supposed to be the Big
Gay uniter during his administration, and if you
recall, it was oh, Biden. who usurped the president and said,
you know, yeah, we're pretty cool with gay marriage. It's all
good. And that was supposed to be Obama's. Do you remember
that?
John C Dvorak: Oh, yeah. And that was that, which is
interesting, because before that, Obama, Joe Biden was the
most anti gay marriage guy. So we already got the law. Here it
is. So they can always have a union. They don't have to get
married. He went on. Right, right, right. And by the way,
those two buildings he described were the two guys who just kiss
was going to go into our seven miles apart. Somebody pointed
this out that the DuPont bill is nowhere near as high school
where he's got dropped off. So the whole story is bogus. He
made it up, which is why I said I'm not joking, which I've
identified previously as a tell, for out and out lie. And this
story is a crock of shit. And he's ended the other guys
lapping it up.
Adam Curry: Wow. I gotta say something about this, because
actually, the keeper and I were talking about this this morning.
And it starts. So it started with pronouns, which I'm
against, because pronouns, the only reason for pronouns is to
disrupt the parent child relationship. So that your child
can say to you, Mom, Dad, it's them. It's they, which is is
fun, and that to be a cultural thing, I think is fundamentally
a bad idea. But that's where it started. And everyone's like,
Oh, you know what, whatever, you know, what do you whatever you
want your pronoun to be, by, no one uses a pronoun to the
person's face, who has a pronoun, you never say, hey, how
he doing? Now you never say that. And now, we have
lieutenant governors of us at North Dakota, saying the
following and I quote, When our children tell us who they are,
it is our job as grownups to listen and to believe them.
That's what it means to be a good parent. And that's where
all these these laws are coming from, which is made call me old
fashioned. But no, no children aren't moronic. Indian, probably
until they're 30. But okay. You can send them off to war when
they're 18. So that's kind of a cultural thing we've decided is
okay. Which I also don't like. But, but, you know, John, do you
remember in 2000, I'm gonna say 11. Maybe we identify, I
remember very distinctly saying, Hey, what is this bullying law
stuff? What happened to stick it was in the evening laws, it was
bullying at school and at that point, and this is how fast it
went. We were saying what happened to sticks and stones
will break my bones but names will never hurt me. And you
know, stand up to the bully. And then we got Oh bullies at
school, we can't be bullied at school. And then we got bullying
laws, which brought in hate speech laws. And then we got the
pronouns. I mean, the frogs are cooking. When our children tell
us who they are, I'm a fireman. Oh my goodness. And please
respond to ice kill
John C Dvorak: Jr. When he was a little kid was a robot for at
least a year. What am I supposed to do?
Adam Curry: What did you do? Did you believe him?
John C Dvorak: I know you played two or three play three
characters in it for life. I mean nobody in the family can
remember the third one. But he played the robot he'd be a robot
for a while or you'd be jock, strong waiter.
Adam Curry: Not Jacques Cousteau. You'd be shocked the
waiter.
John C Dvorak: Yeah, Jackie Do you have a towel around his over
his arm and he go they bring us glasses of wine or whatever we
wanted. This lasted for about six months. Hey,
Adam Curry: shocked, shocked go made me some craps.
John C Dvorak: But it's like, okay.
Adam Curry: Oh, wow.
John C Dvorak: I remember when I was a little kid I played with
dolls I play I like dolls they were fun to play with. And then
I didn't want to have my dick cut off because of it.
Adam Curry: Okay, okay, calm down, John. Calm down. Easy,
does it. Yeah, gender dysphoria is a thing that really exists.
But it's very, very small percentage of people. It's
John C Dvorak: very rare and it's not to be promoted. Until
people got to go through their process of having their their
actual growth hormones and everything now go to fruition.
They can't just stop in the middle of everything and see the
dicking around with you know, some idea. When, but that's
fine. I mean, I that's a completely opposite view of
every liberal in the Bay Area. They think no, no, you need a
kitchen to determine everything is like like you said, a moronic
kid, they should be given the right to vote according to a few
people. Because they they vote for climate.
Adam Curry: Now when when busca Jr. was shocked, did you tip
him?
John C Dvorak: No, that would have probably encouraged. I
still trying to remember what the third character was he liked
to play.
Adam Curry: I think that's great. I mean, Christina was a
Power Ranger. I remember that you and she was very serious
about the Power Ranger deal.
John C Dvorak: I think when I was a kid, I was a cowboy.
Because we me and another kid were always dressed up as it was
always Hopalong Cassidy and Roy Rogers. Yeah, sure. And we had
the guns and the holsters and we shoot at each other constantly.
Nowadays, I don't know you get thrown into a reeducation camp
if you did anything like that.
Adam Curry: It was so weird. We had dinner last night. And so
probably the guy who's been here the longest over over 30 years.
Clearly. He comes up as well, Mr. Curry. Because that word is
out. Like cutting back. I was MTV guy back then. And now it's
like he was that guy was coming to roost. They all said welcome
home. And so we're just chatting was, I don't know how it came
up. But he said, you know, oh, and how it came up? He was he
said something about weed is Jamaica after all.
John C Dvorak: Yeah, weed. And I said, Hey, guys, don't make a
ganja.
Adam Curry: And so I said, yeah, no, I had to quit because I had
to stop putting fire in my mouth for my whole teeth procedure and
all that. And he said, You know, I can't do that since I quit. I
quit 17 years ago. No, it wasn't nearly 13 years ago. So what
happened? He says, Well, it was a Tuesday. And that was my day
off. And I was baked at 830 in the morning. And he goes off
that his child then crawled out of the crib and the door was
open. He was freaking out. And he didn't know he thought his
kid had crawled up out of her crib and out the door. And he
said, Oh God, oh God, if I find her, I'll never smoke weed
again. And of course, she was in the corner of the crib. And he
he just missed her because he was baked. But then he goes on
to say, and we were the original woke parents way before it was
fashionable. This is a Jamaican guy. I said what do you mean? He
said, we go to the we go to the toy store and we say we have a
son and a daughter is a son. You can have anything you want.
Doesn't matter what you want to play with. You can get anything
you want you want and what do you pick up? A gun? Daughter,
same thing, anything you want. You can play with anything. It's
okay. Whatever you want. She picks up a pink unicorn. You
know, it's like now that's just one instance. But there's
something fundamentally wrong with with parents who say when
our children tell us who they are, it is our job as a grown up
to listen and to believe them. That's what it means to be a
good parent. No, just hard. No. I'm concerned by the statements
from elected officials.
John C Dvorak: It's beyond me. Well, I didn't mean the
minority. But the problem is you get People like these elected
officials, yeah, who are promoting it and then you have
the problem in the schools where they're promoting it because the
teachers are such a low quality
Adam Curry: and it's all just a money grab. It's all a as we
know, from our insurance guy, the producer, it's for per child
that goes into the system, whether it's insurance paying
for it, or Oh, yes, it's a cash cows, been million dollars per
child to go through all of this stuff, all of it. And you gotta
wonder, as a part of these telehealth things that cropped
up, excuse me during COVID which some of them are prescribing.
ozempic Now that's why Weight Watchers bought one. Some of
them have the ability to prescribe antidepressants. What
else are they doing? Oh, I don't feel good in my skin. Ah, of
course, it's because you're trans. Let me refer you to
someone. I really concerned that this is happening. It is
happening talk about a genocide. Do you think they think Putin is
bad?
Unknown: Yeah, well
John C Dvorak: is a Democrat genocide.
Adam Curry: Yeah. All right. Let's let's just let's just
lighten the mood for a second. Let's play something completely
different. I gotta
John C Dvorak: lighten the mood. Can I get a couple of lighten
the mood clips?
Adam Curry: What can I start you off?
Unknown: Go and Oklahoma woman is recovering from a wild
encounter with a monkey Police say the animal was being kept as
a pet at a nearby home, but somehow escaped and found its
way to Brittany Parker's porch. She called police but after
losing sight of the monkey, she went outside and that was a
dangerous mistake.
Oh no, it was bouncing from my hand railing on my front porch.
It happened so fast. The monkey had jumped up off the ground
onto my head and ripped out my hair and then ripped my ear like
a piece of paper.
A relative shot the monkey Parker needed nearly 200
stitches and needs surgery on her ear. It happened the same
day in Ohio man nearly lost his arm after being attacked by his
pet zebra.
Adam Curry: Come on. Come on. Come on.
John C Dvorak: How is this light?
Adam Curry: I just love the kicker of a guy whose arm was
ripped up by his pet zebra. What are you doing people?
John C Dvorak: I have clips more like this. Okay. Millennial
advice.
Adam Curry: Millennial advice. Okay, here we go.
Unknown: If you saved $1 a day for a year. Do
you know how much money you'd have roughly $30,000. Right.
If you saved $1 a day for a year, do
you know how much money you'd have roughly $30,000.
Adam Curry: If you save $1 a day for the rest of your life, no
for a year for a year, then you have roughly $30,000 What is
this Etherium? These children talking about? What did you get
that from?
John C Dvorak: I got it from a clip of a bunch of millennial
advice a millennial advice.
Adam Curry: I didn't I don't have any my show notes. I think
in the last in the last show notes. One out of five people
cannot tell time on and that's all people across the board.
We've talked about this before, but I didn't know the stat was
one out of five of all people cannot tell time from an analog
clock I didn't know was one out of five of all people.
John C Dvorak: I didn't know is that high yield? I thought
that's very old millennial
Adam Curry: Are you sure that thing wasn't satire, that
millennial advice thing?
John C Dvorak: Oh, no, it sounds right to me. Okay, here. Here's
a good one. Now this is a very interesting clip. This is this
clip is titled Ben let me fit set it up. idiot trying to
explain privileged, this is a looks like a kind of a Latina.
Asian is something some sort of a mixed race girl going around.
And she's like, very easily upset by things. And she doesn't
like bullshit artists and she's interviewing people. She's like
one of those on the street types. And she's got some guy
who's he asked him to explain privilege. This is some kid,
some just a dork white kid out of high school, probably a
freshman who's been taught, you know, certain ways of acting
because you're supposed to be this way. He's supposed to feel
this way. He's supposed to say these things. And he can't dig
himself out of a hole in this very awkward situation. Here we
go. I grew up as a white
Unknown: man. And you're the exact opposite, you know, and so
it's like, my experiences are gonna be different from yours.
How come? I think? You know, there's a thing of like, white
privilege.
privileges. Do you have that? I don't have.
Oh, see. That's the question. I keep asking myself because like,
in this day and age, like all the laws, I say all the laws.
It's hard to speak on something I'm not fully knowledgeable of
so sorry if I like make mistake and saying this, but it's like,
like
do you think it's a problem in society when white people think
that they have more privileges than brown or black people?
Yeah, and I think that's sort of the agenda that's pushed off
because Personally, it's like, not that I think I'm more
privileged than anyone else because I had to work to get
where I was. And that's like the Why do
you have that mentality immediately where you, you know,
kind of apologize to me like, let's talk about privilege.
Let's talk about, I'm a white man in America. So we could have
grown up differently. Why? Why is that your first initial
reaction to me as a brown woman? Wow,
you give me good See, this is a common kind of conversations
that I love having. And I think it comes from a place of like,
I wouldn't say caution. But like, in this day and age,
people are so quick to judge and react and cancel. And so I guess
it's at that like caution to go into an interview like this. I'm
like, I don't know where we're at. But now I know where we're
at. And I can like,
go for real.
Adam Curry: Whoa, I think I've seen this actually. I think I
think I've seen this clip a while
Unknown: back especially around that. Yeah, yeah, it's
authentic.
Adam Curry: But I have a friend and I won't say on the air who
it is because you know him very well. He worked at our company
for a while. He's having a real hard time in this in this
downturn, certainly in technology. He says, you know,
an X technology, entrepreneur, 53 years old and white and
straight, said I have zero options. I'm getting no work no
one and it's all because of this. He's not being hired. He
can't he can't buy a job. It's distressing.
John C Dvorak: We had a clip above five years ago of a
director, Hollywood guy who says who talked about his agent told
them you can you're not gonna get any work for the next number
of years unless you come out of the closet as gay.
Adam Curry: That's so interesting, because that's
exactly what Tina said. He should just say he's gay. I fake
it till you make it. I'm like, I think he has some scruples.
John C Dvorak: I think it has pride. You can always become a
podcaster
Adam Curry: Oh, no, there it is. That's the end of it. I want to
move to China for a
Unknown: second. CBS News has learned the FBI and Justice
Department are investigating tiktoks parent company for
possibly spying on us citizens, including American journalists
who cover the tech industry that Chinese owned bytedance
reportedly admitted it inappropriately obtained data
from Tik Tok users in the US in December is just the latest
escalation between the social media giant and the White House.
Half of the Biden administration this week threatened to ban
Tiktok nationwide if bytedance doesn't sell the app.
Adam Curry: Now this is a very old story. This spying on
journalists, which of course you know, can be done it is being
done actively by every single app you use, call it spying it
you know, if you use the information to track someone,
whether you you give that to someone to go and spy on them or
not. It's the information it's not like tick tock has been
spying unlike anybody else. So that bringing this out, and this
is CBS, CIA broadcasting systems who are just I mean, this is an
old old story, and now all sudden the FBI is on it. I don't
know if that's true. But we received a very good boots on
the ground email. Did you see this one from the inside info on
tick tock advertising? No, I want to share this because this
is good. Now remember, that the initial my initial thesis and
still is that this is all because tick tock has figured
out has a system that is much better than Facebook, Instagram,
Twitter, Google, they have a way to a part of it. Maybe the
algorithm I don't think that's it's that important if you read
through this, if you hear this, but they're basically taking
away billions of dollars from these established companies. And
there's no letting up now that we know that they have just
announced they're entering the search ad market. So that's
squarely in Google's territory. So time to step it up. Our
producer says I was looking to Thursday show and have some
insights on the tick tock conversation due to geopolitical
issues involved in this and who my employer is. I'm remaining
anonymous. Of course, if you use a Disney show, I manage global
brand ads on social media for a large tech manufacturer that is
very active on tick tock. I'm also responsible for governance
and best practices for all social media as for our company,
across all our lines of business and countries around the world.
This is the kind of boots on the ground we need. And this is
very, very good. We have shifted nearly half of our brand social
ad budget to tick tock over the last year half. And E commerce
and other ads are also shifting a lot of their budget that way
as well. I reached out to our rep from tic toc to get an
official tic toc stance on what's happening. Copying in
pasting verbatim here except for removing couple sentences that
would identify my company or the tic toc employee who sent it.
Ready? Go. So his question is, you know, what's up with that?
And are you going to be kicked off and you know, what is
happening? So the employee writes back first, I recognize
the goal of showing up on Tik Tok and spending your media
budget with our platform is to elevate redacted brand, I do
believe, despite the political. No, it says I do believe despite
does, despite the political climate, we continue to deliver
on this. It's important to separate congressmen sentiment
versus user sentiment towards tick tock, which continues to be
positive and outpaces other platforms. Second, we are highly
confident we will not get banned. Our strategy and this is
in from a tick tock ad sales representative. So this is
they're sending this to other people, I presume. Our strategy
as a company remains the same. Continue to be transparent, have
US based protections for storing user data in the US with Oracle,
which is, which is happened. Funny and build systems with
robust third party monitoring, vetting and verification.
There's a reason why it's tick tock in the US versus Duyen is a
DI N Do you Yein? Do we even know how to pronounce it either.
In China, we must adhere to US law as a US company, as
headlines prove tic tock faces more scrutiny than any other
tech social media platform. With that we are more transparent,
more proactive and more cognizant of the guardrails we
must have in place if we want to operate in the US. Let's believe
that to be true, yes. And I think that they are dumping
their data into Oracle, which Oracle and the CIA should be
very happy about.
John C Dvorak: Yeah, exactly what the Yeah, adis should be
very happy.
Adam Curry: Let's look back at the Trump era colong 130 million
plus us in the US use Tiktok to express themselves. So it's a
platform tied to the First Amendment freedom of speech.
This was at the foundation of why a ban was denied from the
courts during the Trump administration and still holds
true. Who has access to tick tock user data. All US data is
stored automatically in the Oracle Cloud infrastructure in
the US secure environment to protect Americans user data. You
don't hear this from Holly or any of these other jokes. Do you
know data
John C Dvorak: or Rubio and I believe it to be true? Of course
it's true. We we reported Yes. Why isn't the media talking
about this? So just you know Boston away.
Adam Curry: Data Access is managed by a US data security
team who are part of our initiative, Project Project
Texas, responsible for implementing layers of security
and oversight to ensure that Americans can feel very
confident that the data they share with us is safe and
secure. What exactly is project Texas, an initiative in
partnership with Oracle that has cost $1.5 billion and has been
two years in the works preventing inappropriate access
to data including know approval mechanisms by the US new
approval mechanisms by which US data would be shared with the
Chinese government data has never been shared, nor have they
ever asked Tik Tok for us user data. Well, it hasn't been
shared, but I'm sure it's been picked out by the CIA. Oracle
Cloud infrastructure is the same work infrastructure the
intelligence agencies use five pillars of focus independent
governance, data and access control, Software Assurance,
content assurance and third party oversight. Independent US
government approved third parties will be invited to
conduct regular audits of our data system. This is all project
Texas, protected data will not be allowed to transfer anywhere,
anywhere out the US. outside the US. Tiktok source code is
reviewed by Oracle and a third party inspected inspector
enacted since August 2022. first revealed in a letter to a group
of US senators in June 2022. Funny Did you know about that,
John?
John C Dvorak: No, I didn't know that the senators knew all this
Adam Curry: other important information. All Users opt into
the data we collect. We are transparent. We never collect
real time physical locations like Google Maps would put
instead, approximate locations to serve relevant content as any
other relevant app or publisher does. Unlike all this for
advertising purposes. Yes. Unlike other platforms, we also
never sell user data to anyone I don't know does, uh, I don't
know. I'm not sure who sells what. We have significant
safeguards for users 13 to 18 bytedance Our parent company is
incorporated in the Cayman Islands, not China. That's
interest you always hear Chinese company bytedance
John C Dvorak: That's interesting.
Adam Curry: 60% of the company is owned by global investment
firms 20% by our founders and 20% by employees including 1000s
of Americans how about that? So when you hear like we played on
the last show, Marco Rubio asked came out again. Okay, hold on a
second. Rubio it was was it didn't have that ready if it was
the shoot man I don't have that where he said Can China control
the user data? Yeah sure. So this this is the truth I'm going
to I'm just going to take our producers word for it that this
is the truth. So it's going to me it seems very difficult and a
lot of hurdles that
John C Dvorak: it wouldn't be very easy to double check any of
this information it sounds right. And event the fuss is
being made seems like a smoke you know, it's a tempest in a
teapot or a smoke screen or cover up something else going on
or who knows what. And so now, but nobody does any research.
No, no. Hey, the Dutch
Adam Curry: farmer party
John C Dvorak: Yeah, the Dutch farmer partner party bag better.
Adam Curry: Tokyo Matt, who told us about computer vision
followed up, which is the the ability of which you are
absolutely correct. The ability to, to use computer vision to
look at books on the shelf, whatever people are video of
themselves. He had an interesting follow up tic TOCs
computer vision via the HD smartphone camera automatically
reads catalogs and collates the stuff in people's rooms and
streams it to a database without the need for humans to organize
it. The consumer profiling of young millennials and Zoomers is
done in real time, with less worry of human error slash
laziness slash poor training, slash people quitting etc. When
the data is annotated as text, it becomes metadata which can
easily be packaged and sold to advertisers. Millions of teen
girls dancing in the rooms means millions of advertiser friendly
consumer profiles being created in real time without the time
sucking need of humans. Thanks to computer vision automation,
humans take too long to do this type of work and get lost in the
amount of data streaming at them. The AI can suck it up,
annotate, collate, turn it into consumer metadata suited to a
array of psycho graphical market segments and then tick tock can
decide what to do with it. Now. As you pointed out, it's been
just technology has been around for a long time. But look at the
difference. YouTube has shows yeah, great shows people with
microphones with headphones on. That's not a great place to get
meta data. Tick tock in your car in your in your room in your
bedroom and you living in
John C Dvorak: the rooms definitely the way to go. So no
guys, who are the guys with the microphones, headphones or even
people on Zoom calls with fake backgrounds. There's always some
how many people have a grand piano in their house? What is
the grand piano room? I mean, come on.
Adam Curry: So that's the problem. It's not a
technological issue. It's a cultural issue of the platform.
That's what's going on here. And that's why they need them out.
They need him to stop because they are sucking up
John C Dvorak: all the money and sucking up the money that sucked
but they're sucking up the money. They're sucking up the
money that these guys in Silicon Valley ever since the whole
thing went kind of software from hardware. They feel they feel
like they're they have like a privilege they their obligation
is to them they have a what is it call when you have a right to
your money or you feel that you that it has to go to you there's
a specific word I'm looking for. You we have a girl you have
Adam Curry: agreed to what greed was not greed besides greed.
John C Dvorak: You mean? They just have this this attitude
that this should be their money. And tick tock is an interloper.
Edelman entitlement entitlement. I'm sorry, I didn't I was.
Adam Curry: Thank you, trolls.
John C Dvorak: Thank you trolls. Will you stay? There's an
entitlement at Google. Because Oh, look, all the work we did to
get this to work in the first place we're entitled to we're
entitled This is like the you see this in sports where the guy
is no good anymore. He's been playing the game too long. But
he feels he should get more money now because he's, he's put
so much effort into it in the past. Right. He's now entitled,
he's entitled to the to some some recompense. And so there's
entitlement at Google. There's entitlement at Michael or soft?
There's entitlement ad at Twitter for sure. It's not a
control this entitlement. And then of course, nothing was a
bitch about entitlements because oh my god, people put money in
Social Security expect her money out of Social Security what kind
of thing is that? And but these guys yeah entitled
Adam Curry: so because they're losing, they've all unmasked
decided and you'll notice that tick tock is one of the few that
has said just just not interested not impressed.
They've all decided chat GPT GPG for that's how we're gonna do
it, that's gonna win. That's the way to do it. This is great. And
John C Dvorak: this brings us to our discussion of Yes, hi.
Adam Curry: That's right. So I want to so good old sir Jean,
Duke of Texas. He He texted me last week, he says he sends me a
screenshot of a chat GPT for you know, this is the new the new
version, the new large language set. That is it large language
set, I think large learning set, whatever it is. And he sends me
this picture screenshot and says, chat GPT no stuff. And
Gene, by the way, is a very, very intelligent man. He's very
smart, but I think he got a little wrapped up in this. You
know, Star Trek computer, tell me what to do. Computer? No,
like, this is great. And so he's he sends me this and I'm not
picking on Jean. I love Jean. He's my friend. But I got I
mean, I even said to him, I said, Man, please, let's just go
through this for a second. The question to judge GPT for was
tell me more about Adam curry. Let's see if you can catch the
mistakes. John. Adam curry is immediate personality and I'll
ring the bell. Bell. Adam curry is a media personality and
entrepreneur who was one? Well, okay, John C. Dvorak. Berkeley.
Yes. What did you catch?
John C Dvorak: Well, I don't know that you know, he's a
podcast. Thank
Adam Curry: you, Adam. Adam curry is a media personality and
entrepreneur who was one of the earliest pioneers of podcasting.
Hello, hello, ring.
John C Dvorak: When did you invented it? Thank
Adam Curry: you. He's best known for CO creating the popular
podcast no agenda with his longtime friend. When a friend
and collaborator collaborator John C. Dvorak Curry was born on
September 3 1964, Washington DC and grew up in in various parts
of the United States and Europe. No, I lived in Kensington,
Maryland. And I lived in Uganda, whereas that, in the 1980s, he
became a popular MTV VJ, posting shows like headbangers ball, and
120 minutes, and never hosted 120 minutes. That was Dave
Kendall with a wig on his head wrong. After leaving MTV, he
became interested in new media technologies and started
experimenting with podcasting, a term he helped popularize. I
didn't even know where to begin with that sentence. That's in
2004, curry began hosting his own podcast. Oh, because it was
already invented. And I think I'll do a podcast, the daily
source code, which became one of the most popular podcasts of its
time. It was the only podcast of its time. He later teamed up
with Dvorak to create no agenda, a podcast that combines News
Analysis, commentary and humor. How they got one right, I'll
give him that good. Yeah, the show has developed a large and
dedicated following, and has been credited with helping to
shape the alternative media landscape.
John C Dvorak: I don't know about that. Not only either.
Adam Curry: Curry is also an entrepreneur. Having founded
several successful tech companies over the years, I
would say the last one was not so successful. He was an early
investor in an evangelist for Bitcoin and other
cryptocurrencies and has been involved in various blockchain
and cryptocurrency projects.
Unknown: Well, no.
Adam Curry: I'm an investor in Bitcoin everybody. Overall, Adam
curry is a well known figure in the podcasting and alternative
media communities known for his innovative spirit to spirit and
his ability to stay ahead of the curve when it comes to new media
technologies. Okay. I give this entire sentence complete
bullshit. This is bull crap.
John C Dvorak: Yeah, it seems it's just this fluff pieces
fluff and that yes, that's what I say inaccurate fluff flowery
Adam Curry: words. It's word salad and I said the gene.
pushback. He said, I don't think you're just not seeing it yet.
Yeah, unfortunately, I'm seeing it very clearly. This is worse
than Posterous This is disaster as you look me up. Oh my
goodness. You really want this? Okay, I did not. But I shall now
have you. You have not registered for chat GPT JLT
Forum. I'm still
John C Dvorak: I'm still I'm still waiting in the wings there
to take this on. And okay,
Adam Curry: so I shall now I've signed up through Google. All
junk I do goes to my Google address because I do our man. I
do not care. And oh, since I'm logging in for the first time on
this computer, this is a free research preview. Keyword being
free and preview. And we'll get to that in a moment. Okay, here
we go. And it was a lot of a lot of a lot of disclaimers. Okay,
I'll ask the same question. Tell me about John C. Dvorak. Oops.
To vorak Okay. And away we go. Okay, I will read as it types is
blinking computer tell me about John C. Dvorak. Blinking,
blinking, blinking, blinking, it's still blinking.
John C Dvorak: It's still blinking. Can't find me.
Unknown: John C. Dvorak is a well known American technology
communist columnist, author, and broadcaster. He was born on
April 5 1952. In Los Angeles, California. DeVore. AK is best
known for his work as columnist for PC Magazine, where he wrote
the quote inside track column for many years. Devorah has been
involved in the technology industry since the late 1970s.
He started his career as a freelance writer and worked for
various technology publications, including InfoWorld PC World and
Mark Hughes up in 1986. He started writing for PC Magazine,
and became one of its most popular and influential
columnist to vorak. So far, so good.
John C Dvorak: Well, they got my birthdate, right. And the year,
the month I started at PC Magazine, and it's just now just
kind of fluff. It's like, you know, it's, it's, it's not bad.
It's not wrong. Where's my podcasting stuff? Gaborik
Unknown: is known for his outspoken and controversial
views on technology in the technology industry. He has been
critical of companies like Microsoft and Apple, and has
been known to take a contrarian view on many technology related
issues. He is also known for his skepticism of new technologies,
and it's often been proven right in his
John C Dvorak: left in your reading laughter.
Adam Curry: Going crazy, who's going nuts on me?
John C Dvorak: Pretty good going on here. He is also known
Unknown: for his skepticism of new technologies and has often
been proven right in his predictions about which
technologies will succeed and which will fail.
Adam Curry: Wow, are you programming this thing?
Oh, my goodness. Let's see. I'm just gonna read it myself. I'm
tired of the voice. Hey, in addition to his work as a
columnist of work has also prolific author and has written
several books on technology, including the vortex guide to PC
telecommunications and online the book. I've never read online
the book, it was good. He has also been a regular guest on
radio and television programs, including the TV show Tech TV
and the radio show no agenda. Oh, yeah. Radio, baby. Oh, by
the way, your show no agenda. It's the radio show no agenda.
Overall. Jhansi.
Unknown: We go back to zippy, overall, Jhansi. Dvorak is a
highly respected and influential figure in the technology
industry. And his views and opinions are widely respected by
both industry insiders and consumers alike.
Adam Curry: And that's it. That's all we know about you for
now.
John C Dvorak: It stops right there.
Adam Curry: Yeah, that's the end.
John C Dvorak: All right, I guess your podcasts for 15
years, it hasn't caught up to chat GPT or whatever it is.
Interesting.
Adam Curry: I hope you don't mind. Just to set to do this is
important. Whatever this Chad GPT has in his memory is going
to be truth for the rest of our lives.
John C Dvorak: Yeah, well, I liked the accolades, so I'm not
gonna argue about that.
Adam Curry: But I did just ask what did he say about the mouse
just to just to see what stuck if you don't mind, if you don't
mind?
Unknown: John C. Dvorak has expressed a range of opinions
about the mouse the popular input device use with personal
computers. In the past, Dvorak has been critical of the mouse,
arguing that it was an unnecessary and inefficient way
to interact with the computer. He believed that the mouse was a
fad that would eventually be replaced by more efficient input
devices. However, in recent years, the vortex views on the
mouse have softened somewhat, while he still believes that the
mouse has some drawbacks. He acknowledges that it is useful
tool for certain tasks such as graphic design and video
editing. He also recognized that many people have become
accustomed to using the mouse and find it to be an intuitive
way to interact with their computers. Overall, the borax
view on the mouse has evolved over time. And he continues to
be a vocal and opinionated commentator on all things
related to technology.
John C Dvorak: I would say that's not inaccurate.
Adam Curry: Well, the inaccuracies that you said
there's no evidence.
John C Dvorak: You're that's true. They left out the key
element A, which is the no evidence comment. Yeah. And the
other thing is that I've never really made any assertions in my
life that I know of. Equating the mouse with efficiency and
video editing. No, no. And there's no reason for me to do
that. No, I
Adam Curry: don't recall that either. I don't, why would I
know no.
John C Dvorak: Out of the blue. I don't talk about the mouse. I
usually just defend myself over the no evidence.
Adam Curry: I defend you. I defend you over the no evidence
comment.
John C Dvorak: Well, you're a good man.
Adam Curry: Well, I love you. I mean, we're not friends. We're
not friends or anything on like, chat. GPT friends. We're not
friends. Wow.
John C Dvorak: Yeah, no. Did that. What you said earlier, I
think is the correct assertion, which is this is going to be
truth. Yeah, whether it is or not. Yeah. And that's the
problem with these things.
Adam Curry: Yeah. Because, you know, smart people, people I
know. And, and there's just one other thing, since we're on the
tech talk here for a second. I'm learning now that all phones
with cameras, phones with cameras, but there's been some
specific research done on Samsung, without your knowledge,
or I presume Without You by you opting into it, who knows what
the small print is, they are not giving a true representation of
the picture. They are filling in stuff. They're smoothing out
stuff without a filter. They're they're doing this by themselves
so that people say wow, this is the best camera I've ever had.
And there was a test that was done on with Samsung with photos
of the Moon using the super telephoto lens, and then they
start to do some deep research. And these cameras are these
phones really are the cameras in the phones the processing is is
just making it look prettier and filling in bits that aren't
there. So not only will the truth be fake, but everyone's
gonna think they look great and they're gonna be dogs. Be dogs I
tell you this, I think this is a these are very, very, very bad
developments. You as a as a technology commentator, I'd just
love to have your final word on this sucks. No. All right. And
with that, I'd like to thank you for your courage. So in the
morning to you the man who put the C in Cardi B ladies and
gentlemen, please say hello to my friend on the other end
friend, John
John C Dvorak: you see boots on the ground feed near subs in the
water. And all the Dames and nights out there. And in
Adam Curry: the mornings with the trolls and the troll room
who have been quite helpful this morning actually got a couple of
one liners helped us out with some terms we were stuck on. It
does happen. We appreciate it. Let's see how many
2282 2282 Seems pretty good, or is that typical for a Sunday?
John C Dvorak: Well, you know, that's typical for Sunday and
it's going to drop to 19 Five within the next five years
already
Adam Curry: 20 to 51 and we're dropping 20 to 19 because people
just leave like oh, I don't donate so why would I listen to
anyone else donate even though it's great content? No. Let's
just go
John C Dvorak: 20 what somebody said in the in the no agenda
social know what they they asked the question. They're leaving.
Where are they going?
Adam Curry: Now that's a good question. Where are they? What
are they doing? Oh, time to do something more important. 2207
We're going down
John C Dvorak: and either you went to the kitchen to get a
beer or something you Why would
Adam Curry: you leave? We don't have to stop listening. Yeah,
you can
John C Dvorak: leave it on you could literally literally
quitting
Adam Curry: Yeah, like oh no, they're gonna talk about
donations cold. Let's stop listen, I can't hear it's going
to hurt my ears. 2196 What did you call it as going down to
John C Dvorak: I said 1990 and 500k We'll keep our eye on it.
Adam Curry: As you just mentioned no agenda social.com
Another free value for value service. Even though everyone
believes Erina should be taking some value for value for running
it from his house and maintaining it for foreigners
John C Dvorak: that kind of guy. He's a good guy. Yes.
Adam Curry: He doesn't quit. Now imagine imagine Aaron donation
segment Yeah, imagine Aaron said hey, I just quit and with the
thing. I'm done you know go pound sand get get a get an
account somewhere else. No, no, no, no, no people would lose
their crap. No, but that's not what happens. Because Aaron was
a good guy. You can follow Adam and Og on the social.com
jumpseat of work at no gender social.com. And of course, you
can participate in the troll room chrome.io We recommend a
modern podcast up, get it from podcast apps.com If you get one
that actually the two that are working full on now, in the way
that we designed, it is pod verse and podcast addict, you
get a batching, you'll get notified when we start the show
live, you get the troll room in there the stream. And of course,
you can listen all your podcasts, including this one
right in that same app. You can move all your subscriptions
over, it's all open. It's all part of part of my work as as an
investor in technology, and whatever that was. And of
course, we have artists who we adore, the artists always make
something fresh and new for us. For every single episode. You
can follow along at Dojo to art generator.com. Or again, in
those new podcast apps. We have chapters with art that rotates
Dred Scott does all that for this show, and for many others,
and we appreciate that. And we thank our artists who we picked
for the last episode capitalist agenda, no stranger, no stranger
to the no agenda arts podium. And I think there was I hate to
say this, but there was kind of a lack in general of art. And
his just stood out this was the TV with the all seeing eye with
the with the second world kind of legs. Would you call those
you call those cheesecake legs? I guess? That is fair. Would
that be fair?
John C Dvorak: No. It was just a good leggy, leggy dancing box.
Yes.
Adam Curry: Because the stuff we had was a blow up doll with a
blow up jet. We had in the same goat. We had.
John C Dvorak: It was the Godfather logo as the Biden
family.
Adam Curry: Yes, exactly. The Biden's, which has kind of been
done. And then there was a really, I mean, we're not going
to we rarely use pictures. Certainly Joe Biden as the crime
boss, which I didn't quite I mean, it was a comic strip
blogger.
John C Dvorak: Ai July again, it violated the rule of unpleasant,
Adam Curry: unpleasant chest. Comic blogger also had someone
peeing on a Russian jet.
John C Dvorak: That's the classic little boy ping that you
see in the back. Yeah, yeah, Dan's
Adam Curry: a couple of build back better.
John C Dvorak: No, there was nothing.
Adam Curry: Not much honestly. Not much, which is higher a
chang now Thompson Neil. Company. No one knows who Connie
Chung is anymore. Although they are long gone. Lots of people
know Hogan's Heroes
John C Dvorak: yes they do.
Adam Curry: That has not stopped I'm so I'm so embarrassed about
that call. And that was that was I think that's what we got right
there was was there anything else we missed down below? Man?
It's raining like crazy here. Figures I go to Jamaica. Whoo.
rain.
John C Dvorak: It's raining. Just pouring.
Adam Curry: It's it stopped a little bit. I mean, it's, it's
local, and it moves around is a tropical island would expect it
to happen. So yes, tropical rain. Now it is. Yeah, but it's
still wet. Like any other rain. So thank you very much. Remember
the capitalist agenda. 2101 the shaming is working. John,
they're hanging out that we haven't even cracked 2000 yet.
That's very impressive.
John C Dvorak: I'm gonna be wrong.
Adam Curry: Thank you to all of the artists who submit and are
submitting right now as again, you're going to submit, submit,
submit, submit to us. And submit to our Oh, the keeper says it's
been raining for two hours. Now she's listening live. Of course,
she's sheltering in place, no doubt. Thank you. Again, we of
course, we appreciate it. And we do provide this feedback because
we want you to be better artists, not just for us. But
for those who are professionals and never get any kind of this
feedback. We give it to you. We give it to you, honestly, and we
love you for that. So we're not being douchebags this is this is
an actual service, it's value for value. Even if you don't get
chosen, we'll be happy to critique you, or criticize as
you prefer. Value for value you've talked about a couple
times, that means we appreciate your time, talent and treasure
in any manner that you support us. And of course, we do need
treasure you you notice we have one break today, which means the
actual physical number of donations are right back down to
where they were in February. So we'll start with our executive
and Associate Executive producers. John, you have
handled this first one throughout the past few days. So
maybe you can give us this instant donation, I believe tell
us what's going on.
John C Dvorak: Well, we have a issue with this particular donor
who will be knighted octothorpe and that's what we will call him
sure octothorpe And what he did was, uh, you should be able to
look at his note because I think it's scanned. There what he did
is he came in you should look at it. He came in with $1,000, no
jingles, no karma, but when it has to do
Adam Curry: Oh, yeah, no, this is not okay.
John C Dvorak: No five donations over the next five weeks, which
we're all promoting Jesus Christ as your Lord and Savior with a,
which is fine, I don't mind. But it was the idea of adding.
Adam Curry: Let me let me just read what he says specifically,
each number is a note for a different show $200 per show for
each note 1000 for five notes, this explain. I just want to set
this straight. We provide a value, which we think is
valuable, you receive that you determine if it's valuable for
you. So we've already given you value. This and we were happy to
read a note and a thank you. But we don't necessarily have to be,
you know, jumping around and doing stuff for you.
John C Dvorak: We don't have a traffic department for starters,
which takes ads and places them here and there. This is a bunch
of advertisements. And I said no, no. Becca said no, this is a
bunch of ads that you're doing. And the worst part is you have a
text to phone number requests. And each one of these ads so
you're supposed to text to a phone number. We just got one of
them. Jesus to a phone number. Yeah, by the way. And number
three, you've got the wrong number, just for your own
information. And so I said no, you can't We can't do this. This
is just a bunch of ads that you're doing. And by the way, I
were talking about this over dinner and and Brennan jaisa. My
wife Ramapo, I'm sorry, immediately doesn't take
healings right away immediately. And Jay says no, no, no. I don't
know why she said that. I said no. Yes, yes, yes. And then so
he reported that it sends to it some church in the Midwest, it
seems. And when you text you get a book, they're gonna send you a
book and you're on a mailing list. I mean, there's a mailing
list deal, and which I'm very, always skeptical when I see him
buy. So I sent him a notice as well. And he got, you know, so
when I arrived, he says, you know, if you don't want to, if
you don't like Jesus kind of told me, and then you said it'd
be actually more appropriate? No, I
Adam Curry: said, I said, bro, Jesus does not need any
marketing. I think he's just fine by himself.
John C Dvorak: Which I thought was good. And so so I don't know
what he's gonna tell us to shove it or I don't know what but we
got to I decided, well, let's just, we'll do a night em and
then see what if he has a note he wants to send us we'll send
it but please don't do stuff like this
Adam Curry: when and we really do appreciate the support, which
is returning value for what we already gave to you. And you
determine that to be this. So he's on the podium. Yeah. Oh,
yeah. And it's like one of the few I think today on the podium.
I think let me see. We have no we have we have two more. Okay,
good.
John C Dvorak: Well, Elliot Johnson is next on the list from
Morristown, Arizona. He came up with the normal as normal ish,
three, three 3.33. And he says hello crackpot. And buzzkill
this donation brings me tonight His so he's a night too. I like
to be known as Sir smelly that sweaty night of the Sonoran
Desert. Please wish my mom Susan a happy birthday and a 22nd.
Assuming that she's on the list, I'll check I'll check. No, thank
you for your courage. No jingles but yet, karma?
Adam Curry: Well, okay, you got that. You've got Ah, yes, she
is. She is on the birthday list. No worries there. Susan Johnson
in McKinney, Texas. 333 dot 33. Love the show. Appreciate your
epic insights. Glad to support as it is the pot at as it glad
to support as it Oh, as it is. I think she put a word in there.
Glad to support it as the podcast is of great value. May I
please have a double dose of goat karma?
John C Dvorak: Well, I use your one word from is to it. And it
just you can't read it. It's Unbeliev especially during cold
reads.
Adam Curry: Yeah, that is true. Yes. I'm not a big fan of doing
double karmas because before you know what people have triple
karma isn't quadruple karma. But we'll do it for you. Of course
we'll do that Susan. You've got karma. And we'll just call the
second goat karma, which is your second request. Request that to
be a health karma. So here you go.
Unknown: You've got
Adam Curry: karma for her and her entire family. Thank you
very much.
John C Dvorak: So Priscilla O'Leary comes in with the $333
from Ramona, Calif I have no note from her and I can't find a
note from her.
Adam Curry: Yeah, we do have the special double up karma for that
which will give her he's got karma which is special special
for people with no no special. It's special. Even sprag Sprog
Sprog Kennewick Washington 333. Birthday switcheroo does that
mean you switch birthdays with someone? Please credit this
executive thought and here we go please credit this executive
producer ship to my best pal Kyle. He Boschi on his 50th trip
around the sun we need a douche bag call out for J man and not
Mike hunt. No jingles health karma for Laura and Maddy. Thank
you very much. We got that for you, man. You've got karma
John C Dvorak: Well, the douche bag is from Matt not Mike hunt
Adam Curry: here but I think that's was it one name or two
names.
John C Dvorak: But Jay man and Matt. Well, whenever has done
has put the mic punt in there as a gag Yeah. But whatever. Okay,
it that was botched. He has to donate again. Yeah, if you're
flying not in Meredith New Hampshire. I'm taking flying
that Jr. on college tours and we're getting creative with our
pronouns. Can we get a bust him in the mouth and a goat karma?
Please call out. Bruce at Bruce. Bruce as a douchebag. And he
better be at that OKC meet up love is lit. Okay. We'll
Adam Curry: give you this one by request.
Unknown: Our formula is this. We go out. We get people in the
mouth.
You've got
Adam Curry: we've got anonymous I'm sorry. Yes. Anonymous from
Columbus. What? Yeah, anonymous from Columbus, Ohio. 314. Dot 16
says anonymous pi donation. I'm sorry, isn't it 314 17 Three or
John C Dvorak: 401? Firewall three or four wins? I think is
true. Going forward. Five wins is I don't know.
Adam Curry: I thought I'm pretty sure pious three. One 4.17
blahdy, blahdy, blahdy, blah,
John C Dvorak: whatever it was, it was Oh
Adam Curry: no. 31431 3.14159 would be
John C Dvorak: 159116 will be rounded up.
Adam Curry: Okay. We'll let you slide. Got it. Let me slide. Let
me slide for being Ryan
John C Dvorak: journeys. Next on the list and he says Ryan Turney
says Stevens, Viva City, Virginia. You would know where
that is 302 66 with this donation I can fully join my
father at the round table. Thanks for introducing me to no
agenda. Sir. Not Jake. Please Knight me sir Dougherty of the
Northern Shenandoah Valley. Thank you for your courage. John
and Adam. Can I get some Jakob karma, please? Of course.
Adam Curry: You have it on tap?
Unknown: You've got ah Harma
Adam Curry: one moment 1911 What did you call it as
John C Dvorak: 1950
Adam Curry: They've already usurped you.
John C Dvorak: We've already gotten past my prediction.
Adam Curry: First Associate Executive Producer goes to Chad
Finkbeiner in Highland heights Ohio to 35 dot 55. No notes so
we'll call that a double of karma for you sir. You've got
karma.
John C Dvorak: Sir Cal comes in from Northville Michigan. 323456
newsletter stops. Your newsletter stops after a week
signed up many times but always the same story. No problems with
other podcasts like that. Unrelenting one. But those guys
got their shit together. Love you guys. Sir. Cal of lavender
blossoms.org.
Adam Curry: This is odd.
John C Dvorak: I have no idea why he's not getting the
newsletter consistently unrelated people. Every time I
bitched about this by the way, someone says I've gotten a
newsletter perfectly for the last 10 years. It's never
failed. And then I get this so I don't know what I mean. It's a
It's I gotta say it's sort of cows on end of it, then. Well,
we
Adam Curry: love sir cow. Do he should be getting the
newsletter, week after week Lavender blossoms.org If you
want some outstanding email address for that, that's what
I'm wondering. I'm wondering what it is it Gmail is a Yahoo
was at AOL. Well,
John C Dvorak: sometimes it's MailChimp, MailChimp, if it even
thinks that you're using a customized email just for the
newsletter. Like newsletters for john@gmail.com Something like
that. It'll block it.
Adam Curry: MailChimp will do that. Yeah, why wouldn't Why
would MailChimp do that MailChimp, it makes us think
about it. Mild, MailChimp,
John C Dvorak: MailChimp, MailChimp.
Adam Curry: Okay, everybody got to come back and
John C Dvorak: finish this off with Andrew Baker of Stafford,
Missouri. 200 bucks. And that's our group of Associate Executive
producers and producers for show. And executive producers
for show 1539 5040 coming up, that's kind of interesting. So
let's look forward to that and want to thank all these folks
who are helping us Yes,
Adam Curry: and of course, these are forever credits, which means
they are with you like, like that one sock. You never get out
of your drawer. But the difference is Hollywood bigwigs
will be impressed with your executive or Associate Executive
Producer title go to imdb.com if you want to see how many people
have them in there, and some of them are big Hollywood bigwigs
you put on your LinkedIn on your resume. It's unlike any
Hollywood phony. By the way. If someone questions your credit,
we will get on the phone with them and we or email I've done
that many times. We will vouch for you. We've got knighting