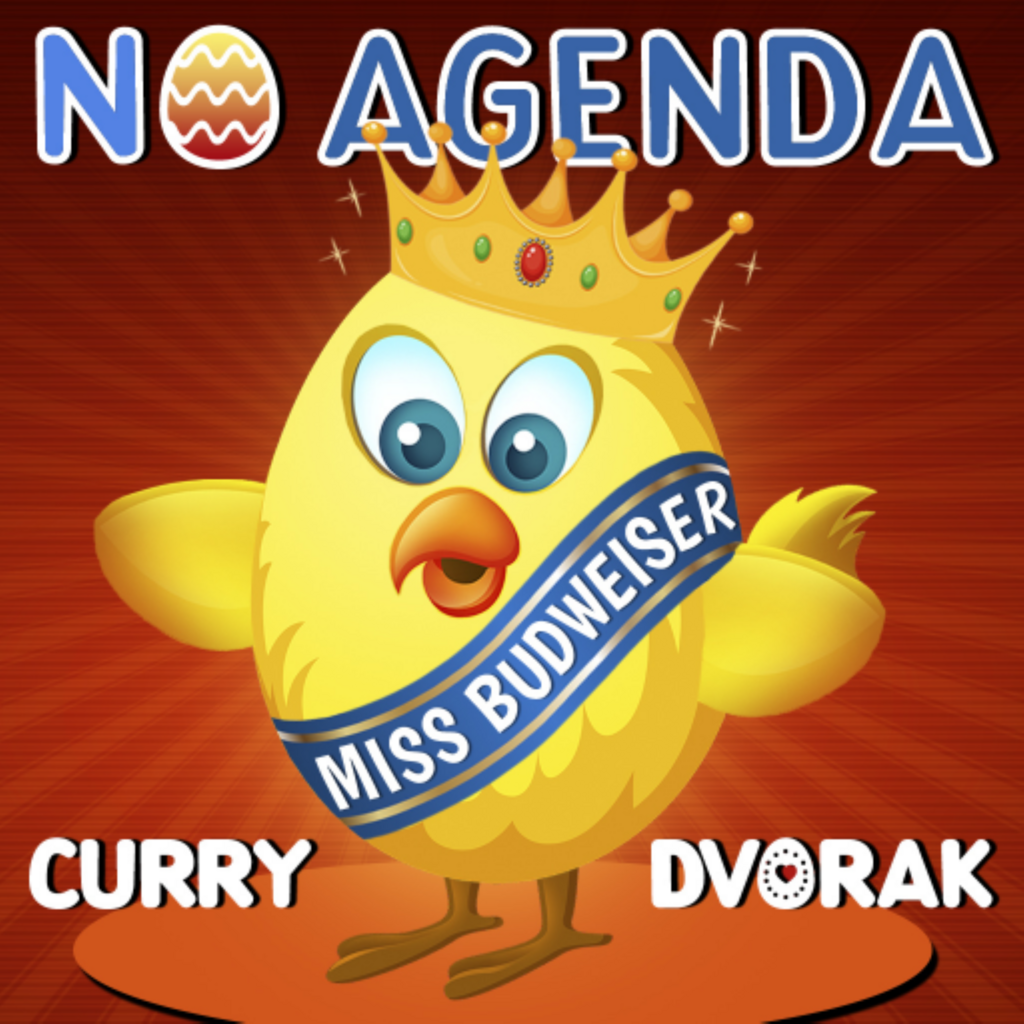 April 9th • 3h 6m
1545: Stapler Abuse
Transcript
The transcripts of No Agenda are automatically generated and therefore, not fully accurate. Discretion is advised.
Click the text to start playing from that position in the show. Click the timestamp to copy a direct link to that position to your clipboard in order to propagate the formula.
John C Dvorak: Oh no.
Unknown: No. Adam curry, John C. Dvorak.
Adam Curry: April 9 2023 This is your award winning nation media
assassination episode 1545.
Unknown: This is no agenda.
Adam Curry: Documents and broadcasting live from the heart
of Texas Hill Country here in FEMA Region number six in the
morning, everybody. I'm Adam curry
John C Dvorak: and from Northern Silicon Valley where we're all
wondering why Tommy Jiang wants us to get rid of our CBD. Why?
On Jhansi Dvorak hill
Adam Curry: you better be asking us to get rid of it to exchange
it for THC.
John C Dvorak: I don't know. I don't know why.
Adam Curry: What are you saying? You brought it
John C Dvorak: up? Yeah, it's an all the ads at the bottom of all
the web pages.
Adam Curry: What is this? What does it say? I like bait. Oh,
okay. I missed all of this. I had no idea that that was
happening. Huh clickbait I do not pay it. I don't click I
don't look at that bottom of the page. I'm top of the page kind
of
John C Dvorak: guy. Yeah, well,
Adam Curry: there's that. Speaking of clickbait, do you
first of all, how's it Do you think that I might prediction of
Elon Musk ruining Twitter is coming true? Can we can we say
that I'm kind of there yet? Or do we have a little more to go?
John C Dvorak: Oh, are you a long way to go?
Adam Curry: I love this, this latest fractus that took place
over the weekend, where you could no longer post a link to
your substack on Twitter. You follow this?
John C Dvorak: Yeah, I've been meaning to check that.
Adam Curry: And I'm just so surprised. You know, people like
your friend Molly, would you all upset and outrage? And I'm like,
Whoa.
Unknown: Know?
Adam Curry: what point did you not know that you were the
product? Do you not remember that this was all free? And this
was just a free for all? And that you know, you're just a
piece of meat in this big tech grinder? And people were all
surprised like, right, why don't you allow that? Come on?
John C Dvorak: Well, I'm not even sure it's true. I do know
he's got some new scheme called Create. Oh, what's?
Adam Curry: What's this? No, I don't know about creates. Oh,
yeah. Oh, do tell what's the creative.
John C Dvorak: I think if you go to twitter.com/create, your if
you're logged in, you know, they'll send you to the page.
They want you to do all kinds of different stuff, which they'll
pay you for including what it appears to me to be a subset
clone.
Adam Curry: Oh, so Alright, so crazy, crazy thought, you know,
there's a competitor and he wants to kick them off. Well,
that makes kind of sense, doesn't it? Oh, it makes total
sense. Yeah. Oh, people are outraged. Although he's so smart
people like Brett Weinstein is nine. Yeah, they get into this.
Like, whoa, Bill, you know, it's like, here's the right Elon is
doing his smart don't don't even participate in this nonsense.
And then Elon replies one substack links were never
blocked. Oh, no, this was no this was Matt Taibbi, he also
was in this Matt Taibbi meta EBS, like, oh, he was all mad
and Brett Weinstein jumped into it. And then Elon says no, no,
no, no match statement is false. substack was a period here's
where I like substack was trying to download a massive portion of
the Twitter database to bootstrap their Twitter clone.
So their IP addresses obviously untrusted. Now this sounds troll
at
John C Dvorak: me. So there's a Twitter clone from subs that
wonder they're doing a substack clone.
Adam Curry: Yeah, well, it's called notes, I guess which I
don't have substack I don't have the app. I don't participate in
any of that. So I guess when you think
John C Dvorak: like a noob and I've never heard of this machine
hadn't
Adam Curry: heard of it either. And she she helps some people
out with some sub stacks, but apparently notes. It sounds
right. You know, a tweet a note that would make sense. Sounds a
bit like noster but I'll just leave that for what it is. And
then and then the big surprise Elon tweets. By the way,
John C Dvorak: what is this nostril you keep talking about
Adam Curry: I told you about nostril? I told you nostril is a
is like a
Unknown: it's like gab No.
Adam Curry: It's it's a set of technologies bundled together.
It's no STR nostril but I like nostril better. So I'm we're
sticking with that. And it means notes and other things over
relays. So you know it. It's kind of like a hub and spoke
model but you own your identity hub and spoke model for what for
anything. So the first thing that has been made is a is like
a social media network or like a Twitter thing. It's like Twitter
on meth. Because you know, it's a burps and it farts and it's
all over the place but people and it has payment Lightning
Bitcoin network payment built in so people instead of liking
people or zapping each other with little bits of money so
there's a lot of excitement around that from the of course
from the Bitcoin crowd and Jack Dorsey is the guy who's put a
lot of money into debt, no one can own it. So there's no one
can become a huge winner of this. Just you know, just people
doing it to you know, they call it censorship resistant and so
you you own your identity with a with a public and private key
and then you can put it into any app and all your stuff shows up
and it's fun. You know, I think there's something to it as you
know, I pick the hit so I'm keeping my eye on it, but it's
as I think I told you before, do not try it yourself yet. You're
not ready for this. You will hate it. But you can do all
kinds of stuff with it. You could create a substack clone in
fact, there is one habla dot news.
John C Dvorak: And all Yo, you hate Mastodon now.
Adam Curry: No, no, not at all. Not at all. competitor. A
totally competitor but Mastodon works you know
John C Dvorak: once you stand
Unknown: for something once you blow me
Adam Curry: don't share what Hey, I
John C Dvorak: can't be all over the map here with nostril I can
Adam Curry: I've never I don't think I even had a parlor
account Partha. All right now just insulting me stop this.
It's something interesting. There is something interesting
to it. And we'll see. You know, there's been lots of things it's
like, right now. It's kind of like Tor. You know, and you
don't use Tor? I don't use Tor. use Tor all the time. No, you do
not. You do you use a Tor Browser? No, I
John C Dvorak: use it didn't say Tor browser.
Adam Curry: I'm sorry. How do you use Tor?
John C Dvorak: I used to or when I download things.
Adam Curry: That's torrent.
John C Dvorak: That was bit Tor.
Adam Curry: Yeah, that's something different. It's
different. Tor is God. Man.
John C Dvorak: We got to onion, Utah. The onion. It
Adam Curry: is an onion technology. Yes. Correct.
John C Dvorak: Yes. No. Good. You have a full crowd.
Adam Curry: Hey, happy Easter, John. One more thing about about
Twitter because this just destruct me this morning. With
all the changes Elon is making. I have like no engagement on
Twitter. I don't really care. It doesn't matter. I post something
no one, no one sees it, I guess, Shadow banned or whatever. You
know, people are still getting kicked off for all kinds of odd
reasons. Oh, by the way, now, there's a former president back
affiliate badge you can get on Twitter. And of course, Obama
has won and Clinton has won. But Trump doesn't have won. He
didn't get the affiliate badge showing your former president,
which I think is just funny. But how about this? What if Elon is
a Fed now partner? And he's gonna roll out with perhaps the
most already adopted fully integrated payment wallet system
of have them all? In July?
John C Dvorak: Okay, we'll find out.
Adam Curry: Yeah, I just had hit me as like, well, that would
that would make sense. Because he doesn't want to deal with a
cbdc is one away for all that nonsense. He needs to get going
now he's in trouble. You can't tell me this is going great for
him. I don't know you don't know. I don't know. Anyway, that
was that's all I had to say about that. Just to get us into
it. So yes, happy Easter, John. Happy Easter.
John C Dvorak: Happy Easter to you and your family.
Adam Curry: Thank you. Thank you very much. And you and your
family Ah well. Speaking of social networks I think this
latest trove of Bleak dark documents that have been posted
on social media nowhere else only on social media I'm pretty
sure that that may accelerate the Restrict act What do you
think the what act restrict access Oh
John C Dvorak: no, I can't see a connection well hold on
Unknown: as the US arms and trains Ukrainian ahead of its
expected Spring Offensive documents containing details of
the build up appeared on social media by
Adam Curry: the SEC all social media and not the internet
social media by the way this is the CIA broadcasting systems
John C Dvorak: the funny one the funny thing is is I've never
found it on social media I found it on the internet on different
various sites. This is why my assertion and why did they keep
saying this what is the point
Adam Curry: so well so that we can rush the the Restrict act
through which is a you know, which is meant for so called for
Tiktok but it'll be for everything they'll be they'll
use it to to have complete control over social media. You
see,
Unknown: documents containing details of the build up,
appeared on social media. What One titled status of the
conflict as of one March is marked top secret and appears to
be a daily update provided to the Chairman of the Joint
Chiefs. Is this just embarrassing? Or does it do real
damage to the cause of ask the
Adam Curry: question man stop pausing
Unknown: defeating Russia's invasion of Ukraine.
John C Dvorak: I think it's both
Unknown: undermining confidence
between the between the cooperation of united the United
States and NATO and Ukraine, and also within the US government
distracting us when we shouldn't be entirely focused on
supporting Ukraine.
But former US ambassador to Russia now CBS News contributor
John Sullivan, pointed out some of the information appears to be
darker,
elevating Ukrainian casualties beyond a level that the US
believes it has actually occurred, and vastly
understating Russian casualties so it makes Russia look good.
Makes Ukraine look bad.
The document puts the number of Russians killed in action at 16
to 17,500. wildly different from what General Mark Milley
recently told Congress
that we know probably the Russians have well over 200,000
casualties.
Another update Mark secret gives the expenditure rates for
Ukrainian artillery. A number The Pentagon has not disclosed.
Adam Curry: me so I got a couple more clips on this. I'm sure you
do as well. Just listening to this from CBS is is perfect for
this. You know, they've got the former ambassador to Russia.
spook we had in Moscow is now a spook on the spook network.
Unknown: David, having looked at these now public records, what
stood out to you.
Adam Curry: These now public records, this is all very
interesting language.
John C Dvorak: Before you go any further, I want to make a couple
of comments about the first clip. Sure. That was David,
what's his name? Their main guy? For David Martin. Yeah, for
putting the CIA messages across them. Yes. Network? Yes, we
Adam Curry: like that good guy.
John C Dvorak: He's got a nice voice. The gray zone website did
a whole series of analyses of the number of dead based on what
we've said over the years, in terms of the dominator dying a
week and and they put it all together. And it turns out that
the number in those documents is accurate. Oh, no, by our own, by
our own commentary over the last year. Yes. So that's bold crap.
Now, the Russian side of it, of course, you know, Miley 200,000,
versus what documents 16 or so, gee, let's go back to the
Vietnam War anytime before that, where we've exaggerated to an
extreme, the Pentagon always does this exaggerates the death
on the other side, as though you know, they just can't they can't
walk across the street without getting hit by a car. Well, we
have to assume that's bull crap, too. So that document that the
so called doctored part, might there might be doctored, but
it's not. That's not where it's doctored it would be elsewhere.
This is
Adam Curry: I think, this is the clip of of Miley lying, you say
exaggerate. But I just
Unknown: call it lying.
Even having looked at these now public records, what stood out
to you?
The fact that they're public.
Adam Curry: There's what I find interesting. I think this is
pixie lady who used to be at Fox and went to CBS. She laughs a
lot. She's laughing a lot about this. She's chuckling throughout
everything. And when she did what, what stood out for you
about this? He's like, Well, the fact that published, there's
more of that this I didn't notice until I was listening to
the clips again this morning.
Unknown: The fact that they're public. There there's there's a
lot of classified information over here and classified
information leaks all the time. Sometimes it's deliberate,
sometimes not. But rarely do the underlying classified documents
leak. And that's what happened in this case. These these
documents what
John C Dvorak: polis said, Okay, what did he say? Alright, listen
again,
Unknown: but rarely do the underlying classified documents
leak.
Adam Curry: So it says classified information is leaked
all the time on purpose. Yeah, we know that. But rarely is it
the actual documents that underlie the information? That's
what
John C Dvorak: my understanding is that this actually stems from
a slideshow and a handout.
Adam Curry: Yeah, yeah, a PowerPoint, in fact,
John C Dvorak: a PowerPoint a handout and it was somebody you
know, you'd give up never had I was gonna leak. So this is not
the underlying classified documentation. This is from a
presentation so he's full of crap right there.
Adam Curry: I think PowerPoint into the handout is a great
title for a country song. I don't know why, but it just
feels good
John C Dvorak: morning handout is what I got today, instead of
kisses on my lips as all I got, in fact, to say
Adam Curry: to say,
Unknown: but rarely do the underlying classified document
documents leak. And that's what happened in this case.
John C Dvorak: Oh, wait a minute, it was start stop. If
you parse it. He, he, you can interpret what he said as the
underlying documents did not leak.
Adam Curry: Oh, that's another way of interpreting it. Let's
listen. Let's let's go back to the videotape,
Unknown: but rarely do the underlying classified documents
leak.
Adam Curry: Yeah. Which is not what this was because this was a
John C Dvorak: PowerPoint presentation,
Adam Curry: and handout.
Unknown: And that's what happened in this case.
Adam Curry: Oh, they rarely they didn't. Oh, well. It all depends
on how you parse it. I like what you're saying. I don't think
most people would parse it that way. But it's possible. It's
maybe what he meant. Could be he's a spook after all
Unknown: these these documents are carrying around the building
in a pouch pouch, hand to hand
Adam Curry: hand to hand
John C Dvorak: about the underlying documents. He's not
talking about the PowerPoint.
Adam Curry: It could be I'm not I'm not going to argue with you.
Unknown: These These documents are carried around the building
in a pouch hand to hand somewhere in that chain.
Somebody was able to photograph these documents and then get
them up on social media.
Adam Curry: There it is social media bad so get them up on
social media. I'm telling you this is a false flag for no
social media
John C Dvorak: I'm not gonna you know again, I will argue with
you on on the fact that they keep emphasizing social media
when these
Adam Curry: things were everywhere. That's my point.
John C Dvorak: Yeah, it's bullcrap their social media
aspect of it is what where ha That is in fact they I didn't
couldn't find it on social media
Adam Curry: right so do you understand why I'm saying that
this would be a
John C Dvorak: grill I understand completely you okay,
you believe that this is a scam to to promote this restrict part
of it, which is at least part of a death knell for freedom of
speech if that thing ever gets through. Yeah, and
Adam Curry: you won't be allowed to use a VPN to go around any
restrictions.
John C Dvorak: Yeah, just like China. free and
Adam Curry: open Internet baby
Unknown: boy sounds like insider problem. Insider Threat almost.
Adam Curry: Why is she laughing again? She's supposed to be very
serious. Laura No, no, this is a pixie lady. You know the pixie
girl from carriage Yes. This is herridge
John C Dvorak: Oh cuz she probably must be she must be
read in Kansas keep a straight face you
Adam Curry: think it's so funny? Oh yeah. And she said in jest
and notice she doesn't say an inside job. She says an insider
job. What even is that? Listen again.
Unknown: Boy. It sounds like insider problem insider threat
almost
Adam Curry: insider threat isn't it an insider threat inside
problem is that just would be the normal Pope. She's laughing
It would that be the normal parlance?
Unknown: Or oh, boy sounds like insider problem insider threat
almost.
John C Dvorak: I couldn't even understand what she said that
Adam Curry: second sounds like an insider problem an insider
threat almost. Haha. I'm gonna play one more time. Boy sounds
like insider problem. Insider Threat almost inside her
problem?
Unknown: I think it is. You know, it could be
Adam Curry: why why is she laughing is a Hold on? Are we
not supposed to believe this is a eight gyres violation of our
national security that this is a horrible problem that our
weapons systems our strategy is out on social media for all of
the world to see with more documents to come. Why is she
laughing about this? Should this be no laughing matter?
John C Dvorak: That you know you're getting the money on
this? I didn't catch her laughing and you're like a
maniac. She's almost like a psycho.
Unknown: I think it is. It could be
John C Dvorak: Lester flirting.
Unknown: Somebody.
Adam Curry: The dude is 100 years old.
John C Dvorak: Is Miley right? No,
Adam Curry: this is this is David Martin.
John C Dvorak: Oh, this David Martin. I thought Oh, okay.
Well, it sounds funny. They sound similar. Oh, yeah. Well,
maybe they still are Florida. Who knows? You never know. I
mean, I may have some attributes that are attractive to women.
Adam Curry: While you're you're in a fine mood today aren't you?
Couldn't be a
Unknown: fluke. Somebody you know, somebody turned their back
for a minute or, or
Adam Curry: a fluke, but I flew
John C Dvorak: back from there well Look at they're going hand
in hand with the pouch. Here's the pouch. But somebody turned
their back for a minute. Hey, look
Adam Curry: over there what? It was a fluke. Why even use? I'm
flabbergasted by this. I'm really your eyes. Yeah, they're
John C Dvorak: red in there so deconstructive was so much fun.
Unknown: Or somehow it got sent to somebody it shouldn't have
been sent to and then got out and
Adam Curry: wait a minute Polish pouch. Pouch. Hey, what's this
pouch? This shouldn't be in my office. Let me see what
John C Dvorak: this post belongs here. What's in it? Oh, I don't
know what this is. I better take a picture of it and post it on
social media.
Adam Curry: I just get this idea. I mean, our top our
nation's top secrets or national security in a pouch in your what
you want is ironclad safe, was handcuffed to someone's wrist,
no no pouch from hand to hand. Oh, I'm sorry. What did you say
I wasn't looking or
Unknown: somehow it got sent to somebody it shouldn't have been
sent to and then got printed out and and
Adam Curry: we got printed out. What do you mean? I thought they
were documents in a pouch?
John C Dvorak: Yeah, there you go. What is he talking about?
printed out?
Adam Curry: I know. But apparently he you know, he's
John C Dvorak: always a thumb drive floating around,
Unknown: I guess. photograph. So one of the key things that
John C Dvorak: if you get it printed out, where are you going
to photograph once you send the contents of your thumb drive
around because
Adam Curry: it needs to go on social media. And make someone
wrinkled
John C Dvorak: old document? By the way, how do you get all
wrinkled up like that? You saw these
Adam Curry: pictures all day? Yeah, it was folded and ready
because it because it was in the pouch that was
John C Dvorak: on a thumb drive and printed out? And what is he
printed out and did wrinkle it up and take a picture? What is
this, put it in his back pocket
Adam Curry: to walk out
Unknown: of photograph. So one of the key things that they'll
be looking for here is the length of the period of time
that these documents covered. Right right now, from what I've
seen, it seems to be a very specific point in time, the end
of February, beginning of March, but we're getting now now news
of all these additional documents 50 or more classified
documents,
Adam Curry: she's laughing again. I hadn't even noticed
this one. Let's listen to her laugh again.
Unknown: Now now news of all these additional documents 50 or
more classified documents.
Adam Curry: She can't contain herself when he goes into now we
hear news of 50 more documents she got and then she starts
snickering what is going on with this? Listen again,
Unknown: point in time, the end of February, beginning of March
but we're getting now now news of all these additional
documents 50 or more classified documents, which are also now
starting to show up on social media and these cover not just
Ukraine but other parts of the world as well.
Adam Curry: Well, I have not seen the new 50 documents show
up on social media fifth time you said it. I have an either
highly suspect this
John C Dvorak: what if so
Adam Curry: she knows his bull crap. She knows it. Well, she's
John C Dvorak: obviously in on the fact that it's bull crap.
And what is he making these assertions? Pre time? Did he
know you mean date? Do they have a timeline? And he's like,
jumped the gun on this.
Adam Curry: Maybe? I mean, I only heard about the additional
documents this morning. I have not found any additional
documents on suit. Maybe
John C Dvorak: know if it would if there was anything that
showed up on social media. We would have both gotten in our
email from the vast hordes of Yeah, social media watchers out
there that are always looking for material for the show. It
may
Adam Curry: be it's on the nostril. It might
John C Dvorak: be on nostril could be on signal. parlor.
Adam Curry: Let's listen to the ABC version. A very short
version of this report
Unknown: Pentagon is investigating the possible leak
of classified documents about the war in Ukraine, which were
posted on social media. The documents reportedly show plans
for boosting Ukrainian military. The New York Times reports some
details on the document seem to be different from the originals
according to military analysts.
Adam Curry: Now we have a longer report from ABC there's a whole
lot more things on social media that that notice social media
social media. Well,
John C Dvorak: besides the social media thing I think we
all accept the fact that you're right on that. They keep
hounding the social media point. It's fun, but if this is
classified, why would they be getting information saying that
the information is bogus according to other experts in
the the way she puts it? They gave it to the penny Ghana
somebody looked at us as No, that's not right. This is Dr.
Then as if it's classified you don't say anything, right? Am I
wrong? Correct.
Adam Curry: And she can't she can't even show it on
television. Remember, she can't even read it herself. If she
comes across these documents and she reads it and it's truly top
secret. She's in violation. Remember that? Yeah. Remember
Chris Cuomo telling us that fact? Let's go back to ABC
urgent
Unknown: investigation by the Pentagon after classified
documents related to Ukraine, Iran, North Korea and other
regions were posted online. ABCs Karen Travers is at the White
House. Karen. Good morning.
Adam Curry: Now he said online. Okay. So finally we have
something just a little more,
John C Dvorak: he'll get scolded.
Unknown: Good morning. Do the Justice Department is
investigating how these top secret documents from the
Pentagon were little Wait a minute,
Adam Curry: why is the Justice Department in on this now?
What's up with that?
John C Dvorak: Is this a date don't investigate when there's a
classified leak? There are those who have to throw the book at
someone. It seems like
Adam Curry: it was all Pentagon Pentagon Pentagon over on CBS
and ABC has got the Justice Department involved. But could
be warring factions here. I don't know. Good morning
Unknown: to the Justice Department is investigating how
these top secret documents from the Pentagon were leaked and
posted on social media.
Adam Curry: He is getting scolded what a doofus in moron.
He's getting the hotline right as we speak
Unknown: and posted on social media. Pictures of the documents
appeared on social media this week. But ABC News is learned
that back in early March, dozens of classified documents were
published online, including sensitive details about China,
North Korea Iran's nuclear program and the war in Ukraine.
Some of these documents appear to be photos of slides from
March 1 showing how the US and NATO were helping Ukraine in
this fight against Russia. The photos most of which we cannot
show include details about casualty numbers, training
schedules and weapons deliveries, most of which
Adam Curry: we can not show. How about that.
John C Dvorak: Wait a minute, let's stop right here again, as
we continue, and I will say it beat us to death.
Adam Curry: I like it.
John C Dvorak: If it's on social media, and it's on the internet,
it's all over the place and has been posted already. That makes
it new vac public domain. Why can't they show it? Because
they're stupid even at this go back to ball. I don't know how
many years ago, we first discovered this, that we kind of
knew it. But we didn't know completely until one of our
people told us that he had a girlfriend who was working for
the intelligence agency for the State Department and she can't
even go on to look at anything that is supposedly a duck even
though it's everyone cuz everyone in the world can see
it. If you've been if you're
Adam Curry: if you have if you have clearance,
John C Dvorak: certain type of color, you have clearance, you
can't look at it, which makes so
Adam Curry: much sense.
John C Dvorak: So, so the network dead says this obvious
is working for one of the intelligence agencies first.
Adam Curry: And I think there's also an element of if we if we
hold man, if we show this, we will be cut off. We'll get no
more information. Because she doesn't say why. She says which
we can show
Unknown: we're helping Ukraine in this fight against Russia.
The photos most of which we cannot show most of which we
cannot
Adam Curry: show.
John C Dvorak: Or news like in a news operation they have this is
out there. Yeah, I can see it. I go if I can find it. Can you
show it? If I found it? I can look at it and show it to you.
Exactly. I could post it and why can't they do it? This is a news
or this is the first amendment we're talking about here.
Adam Curry: Okay, all right.
Unknown: We're helping Ukraine in this fight against Russia.
The photos most of which we cannot show include details
about casualty numbers, training schedules and weapons deliveries
and the battle map of the key Ukrainian city of Buck mood. Now
some of these photos are creased as if they were folded. One US
official tells ABC News The documents are no longer relevant
to the battlefield and they're of limited intelligence value.
Yeah, showing them here to have been altered from the original
documents. But the fact that they were published online so
quickly after they were produced on March 1 makes this already
very big on second.
Adam Curry: It is now April 9.
John C Dvorak: That's a month almost a month and a half.
Adam Curry: This has been floating out there since March
1, and this is the first we're hearing of it. The reason why
everyone's laughing because this whole story is bullcrap. It's
all bull crap. It's made us to be it's made up. It's made up to
you know to embarrass somebody, maybe the Pentagon probably to
show that you know We need a way out of this war because let's be
honest we don't there's wars no good nothing's gone the way we
John C Dvorak: were there is that element the other element I
think is the first element you let's say you are not one of the
intelligence guys from NSA CIA one of them. And you're at
you're at you got invited to this. slideshow, slideshow.
Adam Curry: PowerPoint. Yeah, PowerPoint who has the deck
Unknown: deck
John C Dvorak: as yours or it couldn't be foils oil so anyway,
so you get you're watching this and you're you're looking at
this and you're looking around the room and there's Afghani
guys another guy from you know, from mi sees it what is this?
What did they showing this for? I am going to blow the lid off
this by boat by getting my copy, I'm gonna put it on social
media, the internet, whatever, to get these guys to stop doing
this sort of this is stupid. And so they just this might be just
what you said in a way of embarrassing the idiot said, put
this together in the first place.
Adam Curry: I wonder if it was a PowerPoint deck or if it was a
spot coils, foils. foils, oh you mean overhead foils?
John C Dvorak: Yeah, that's what the IBM used to use just until a
few years ago. They required everything to be on foils. To
call them foils wouldn't
Adam Curry: know what to call them? We call them overhead
sheets. Yeah, their
John C Dvorak: overhead but they generically referred to as foils
at least in the industry.
Adam Curry: Oh, yeah. Well, not in the industry. I'm still
thinking that spotlight, apples, a PowerPoint clone. I know it's
all it's all fishing turn
Unknown: from the original documents. But the fact that
they were published online so quickly after they were produced
on March 1 makes this already very big leak and even more
significant security breach and risk the Pentagon tells us they
are reviewing this matter.
Adam Curry: Yeah, so yeah. The only thing that changed the
reason they say that well you know there's the been doctored
is because of the lies the lies of how many casualties they were
that that's why that happened. Yeah,
John C Dvorak: yeah. Yeah, this is so bogus, but they do Oh, no,
they given that blowing this up like at the end TD version of
this. Oh, lovely. We love this is in D. D. Second, leak
Pentagon docs. All right.
Unknown: Several documents of what appears to be secret
information about the war in Ukraine have been leaked online.
And if the documents proved to be true, it could mean US troops
are on the ground in Ukraine. And today's Jason Perry takes a
look at those documents.
The Pentagon is now investigating what appears to be
secret documents about the war in Ukraine that were leaked
online. They appear to be US and NATO military documents with
classification markings of secret and top secret. As of now
no official statements have been made about who was responsible
for the alleged leak. In an email to NCD. The Pentagon gave
us this statement. We are aware of the reports of social media
posts and the department is reviewing the matter. Okay, so
Adam Curry: it's the Pentagon who are saying social media if
that is indeed their quote to them. It's the Pentagon who are
saying we are made aware of social media posts Exactly.
Okay.
Unknown: In an email to NCD. The Pentagon gave us this statement.
We are aware of the reports of social media posts and the
department is reviewing the matter. US officials say the
documents look like real slides from the Pentagon, but also say
some of the information has been altered. For example, a document
from March 2023 classified as secret
Adam Curry: Hold on a second. How can these documents be out
in March 1 When they're when they're dated March 23. Little
discrepancy in the timeline? Oh,
John C Dvorak: that's a good one. Good cat.
Adam Curry: How does that work? How does that
Unknown: work? In an email to NCD? The Pentagon gave us this
statement. We are aware of the reports of social media posts
and the department is reviewing the matter. US officials say the
documents look like real slides from the Pentagon, but also say
some of the information has been altered. For example, a document
from March 2023 I'm
Adam Curry: sorry, march 2023. Okay, oh, my mistake classified
as secret
Unknown: says between 60,000 to 70,000 Ukrainian troops have
been killed in action, which is higher than what the Pentagon
says it estimates.
Adam Curry: But wait a minute. Oh, yeah. Okay. It was the
Russians who were less I got.
Unknown: The documents also estimate Russia's casualties to
be around 16,000 to 17,000. But US officials say they estimate
around 200,000 Russian troops have been killed in Action.
Another document also classified as secret is dated February
2023. It shows the amount of Western weapon systems that
Ukraine currently has on hand and the estimated delivery of
additional systems. And it also lists the training Ukrainian
forces have or are expected to have on those systems.
Adam Curry: So Miley did lie in to Congress. So they will
someone's going to be I'm sure gates, someone will call him
back and say, Hey, you said this. This is this is what it
says what's going on? He's gonna say, oh, no, that was doctored.
Someone took it from the pouch. But it's, I mean, this has to
also somehow be part of the ending of the war. I feel it
somehow.
John C Dvorak: Well, no, something's up. The other thing
that's going on simultaneously, is this Taiwan situation, we'll
get to now we'll get to that for sure. I just want to mention it
in advance, which is that we can't do both? No, of course
not. So it looks like
Adam Curry: this may be the pivot point. It might be part
two of this. The prior to the pivot PowerPoint,
Unknown: the director of grand strategy at Quincy Institute,
George BB had this to say on the hill.
One potential hypothesis here is that this was designed to get
the Russians to let their guard down to, to think that the
Ukrainians are not going to be coming at them with big numbers
and overwhelming force Psych. And that's possible. But I think
if you were really trying to throw the Russians off, you
would want to include some things that would include where
and when the Ukrainians might be attacking. That would be the
ultimate aim of this kind of deception.
Something else that was shown in the documents is the presence of
nearly 100 Special Operations troops in Ukraine from NATO
countries, including from the United States, France and the
UK. According to The New York Post, Russia's Kremlin
spokesperson Dmitry Peskov said this in a statement to CNN, we
don't have the slightest doubt about the direct and indirect
involvement of the United States and NATO in the conflict between
Russia and Ukraine. Well, of course, it makes the whole story
more complicated, but it can't influence the final outcome of
the special operation.
Adam Curry: Was it some secret that was a secret that we were
involved somehow in helping Ukraine was this like some of
the
John C Dvorak: this was the interesting part of this report
is that everybody else kind of downplayed the fact that in
their, in the leaked documents, it talked about the fact that
we're loaded, loaded up with a bunch of special forces, guys
and trainers and ever they're all over there. And we've talked
about this on our show, because we had a specific person that
was involved in Yeah, in being being there in Ukraine in the US
Army. And so it's a big, but I think there's still think it's a
secret. So none of the other networks mentioned this. I feel
like
Adam Curry: wait a minute. Social media knows what we're up
to. can't have this. These guys are dopes. I
John C Dvorak: also think more could do a better
Adam Curry: job. Yeah. dopes the dopes? Well, I agree. I think
this is a pivot to China, maybe China will be blamed. It would
be nice, you know, because that kind of falls in line with blame
Trump. Now he's blamed for Afghanistan.
Unknown: Classic, yeah,
Adam Curry: I think that they would, it would fit nicer if
like, well, you know, the Chinese did this. And this is
where you know, what they should have said and it could still
happen. It turns out it leaked on Tik Tok because they haven't
specified which social media Oh, that would be good. How about
that one? That would be the way to go
John C Dvorak: was leaked on Tik Tok by a dancing girl.
Adam Curry: Your imagination is very creative today.
John C Dvorak: You know, if you get on tick tock and you get on
that wrong thread.
Adam Curry: The wrong side? The one you don't want that one you
don't love? Yes.
John C Dvorak: All it is are these dipshit teenage girls
doing this stupid dances where they touch their face and they
jump around and they shake their ass and they do a torque maybe
and they didn't eat then they didn't they go and eat dinner
hand comes forward and they turn off the camera. It's like door i
There must be a million of these of these clips.
Adam Curry: Stick with it because there'll be a new one
soon. And that's like, that's how
John C Dvorak: I always try to get back to the good clips,
which is that people with purple hair bitching about their
students being non binary.
Adam Curry: Let's go back to CBS This Morning. And we'll get to
the move into Taiwan and China.
Unknown: The meeting between Taiwan's President and Speaker
McCarthy was first and foremost, a clear signal to China. her
arrival and welcome by the speaker in a bipartisan group of
lawmakers was meant to telegraph that America would come to the
rescue if China tried to seize Taiwan by force.
The Press Since an unwavering support, reassures the people of
Taiwan that we are not isolated, and we are not alone.
This was a choreographed show of solidarity,
the friendship between the people of Taiwan and America as
a matter of profound importance to the free world.
Predictably, China was furious Dre, the Foreign Ministry
spokeswoman warned it would use strong and resolute measures to
defend its sovereignty leading to enter. Last time a warning
like that meant an intimidating display of force China's
missiles, planes and warships all around Taiwan. That was in
August 2022. After then Speaker Nancy Pelosi visited the island
to meet with President Simon. Seven months on life in Taipei
is ticking along as people are getting used to the tension and
now bracing themselves for yet more Chinese reprisals. Michael
Cole is an analyst with the Republican Institute in Taipei,
there is absolutely no doubt that they will do something to
try to punish Taiwan as a result of president's eyes,
particularly over her meeting with with Speaker McCarthy Okay,
I have a couple of
Adam Curry: questions for you. So one we've known that China
has kept saying hey, you know, if you'd like we have first we
had Pelosi went there and your wire why are we trying to poke
the bear? You know, it's like, if they say, Hey, don't don't
meet with that person. We don't like it. And then what is the
point of us going Oh, yeah. Neener Neener I'm gonna go. And
then second. Yeah. What is the importance of Taiwan to the
American people? What is well, because it seems like it's a
major thing in the world.
John C Dvorak: Well, besides the fact that they make all the good
chips nowadays, okay. All right. And they pretty much control how
high tech because of their their position that they're good for
two things. One, they make these TM SC makes these a TSMC makes
these terrific chips thanks to us. And so our technology which
we can apparently afford to make here is all been exported to
Taiwan and they and we have to actually pull up that company
has to be destroyed if China goes in and that's a pain in the
ass. Do you mean the thing is they are the number one people
don't realize is I've asked around I've been to Taiwan quite
a few times and I've always asked this what is Taiwan really
the best at no one can really tell you Hamas?
Adam Curry: Oh no, that's that's Israel.
John C Dvorak: That's that's Lebanon. Injection Molding our
plastics. A Motorola guy told me this he says, you know, you
could you can dream up anything you think can't be injection
molded or can be made into in a plastic form? That's right, the
Taiwanese can do it. They are unbelievable at injection
molding? And I don't know if that's important to the Chinese
but I'm sure it is. The Chinese would love to have Taiwan
they're there. They don't need laws on Kong it's got to control
does
Adam Curry: Taiwan not sell anything to China? If China says
hey,
John C Dvorak: Taiwan do nothing but business Exactly. So
Adam Curry: there's not really a problem. We're just rocking the
boat like
John C Dvorak: a bunch of days. The whole thing is somewhat what
phony
Adam Curry: military industrial complex needs to pivot need to
pivot from Ukraine loser situation and I got some stuff
on that too over to Taiwan so we can all act high and mighty and
we're important we need more stuff need more money. We had
the chips Act which I know it's all bull crap. Let's just
pretend that we're dumb. We had the chips Act which was what
over a trillion dollars and that was supposed to stimulate chip
production and foundries in the United States. Of course money
just got already a flop by the stolen and and Europe also had a
chips Act which all that money got stolen. No doubt me I don't
see any apparently no, no just doesn't go into and then we have
ASML which is a Dutch company and whoa, went over to talk with
that. Hey, you know, you guys you gotta be there. Hey, we're
big mad merch over here. You can't be sending stuff over
there. If China takes over Taiwan. You can't give them any
lithography so they can't make their chips that this this is
makes no sense. Why are we rocking the boat? So what if
China takes over Taiwan? I mean, I'm just say, I'm sure it'd be
suck for those people, all kinds of horrible problems, but it
does not like the chips would stop. Would they?
John C Dvorak: Ah Was your thesis I don't know what to say.
I don't know what what there's some something we don't
obviously know. Yeah no but this is interesting to watch it
unfold in my favorite clip of these Chinese clips is this one
here I think because it's like China trying to copycat us in
this play this clip is Chinese pulling sanctions card.
Unknown: Meanwhile, the Chinese Communist Party has sanctioned
two American organizations the Hudson Institute, and the Ronald
Reagan Presidential Library hosted Taiwan's president during
her recent travel to the US. The organization's are now banned
from any cooperation exchange or transaction with China. This
includes Chinese institutions and individuals. key leaders of
the organizations are also personally affected. They'll be
barred from visiting China have any assets in the country frozen
and more. A Taiwanese government agency handling China relations
condemns the sanctions calling it an intimidation attempt.
Adam Curry: Oh, wow. Ooh, Ronald Reagan Library.
John C Dvorak: Though it's almost as though they're mocking
us Hi thing
Adam Curry: by the way, your book is overdue China. You prior
to bringing it back to the Ronald Reagan Library. We're
really upset with you. This this, okay. This has got to be
theater on a grand scale. There's just no no other way.
And by the way, okay, so let's say China who needs us? Without
us they have no business. Okay, you just sell to Europe. You
need us where your market where your buyers where the jumbos. So
what Okay, President Biden comes out and they program him to say
the following. Everybody got bad news? There'll be no iPhone
upgrade this year. Do you think y'all can hold on for another
year until we get our foundry set up here? What could the
worst possible outcome be? I know chips and all kinds of
stuff. But chips don't just burn out. Now, what do you think we
could we could hobble along for another year? Oh, I'm sorry. No,
of course, AI is so we actually would solve the AI problem. No
chips. We can't AI won't take over America because we have no
chips. Just it's all kind of it's just the whole thing makes
no sense. Other than Well, here it is. This is a shame to say a
Texan who I have met in other contexts. It's just McCall. The
big, the big military warmongering Wrangler. He's not
always a douchebag. He's a war mongering douchebag. And all he
could talk about is Ukraine, Ukraine, neighbor, Ukraine,
Ukraine, Ukraine, Ukraine, Ukraine, and now all of a
sudden,
Unknown: so speaker McCarthy and yourself have said that multiple
times now that we need to arm Taiwan now, before there's any
sort of invasion. What about US troops?
I think, you know, then you're talking about an authorized use
of military force that would come out of my committee or a
declaration of war, which we haven't utilized since World War
Two,
would you support that?
I think if, if China Congress China invades Taiwan, I think
that is certainly if the American people support this,
the Congress will follow
Adam Curry: notice Communist China, this V and Vietnam all
over again, Communist China
Unknown: has foreign affairs Chairman Michael McCaul
signaling he is signaling to sending American troops to fight
in Taiwan. It hasn't he has the exclusive report from Taipei.
Good morning. Aisha said
Adam Curry: the reserves and the guard for New Jersey.
Unknown: Good morning to you, Dana. Good to see you. You know,
this is very different than what we heard right before the war on
Ukraine, when lawmakers were very adamant that there would
absolutely be no US troops, no boots on the ground. Now we're
learning that this is very much a possibility when it comes to
Taiwan. In my exclusive interview with Chairman McCaul,
he tells me that sending American men and women to war is
the last resort conflict is the last resort deterrence is key
here. But authorizing war powers is not out of the question. So
you're saying that the option to authorize war powers is on the
table?
If Congress China invaded Taiwan, it would certainly be on
the table and something that would be discussed by Congress
and with the American people, are they prepared to do this? Is
Taiwan worth it? I can argue for a lot of reasons why it is
Adam Curry: which he of course doesn't do nor does Fox go into
any detail of all these arguments of why it is so
important. And what is this new, new, new term? I mean that we
know authorization of use of military force, we know
declaration of war, but now we have authorizing war powers.
Which I found I find to be a little wishy washy. That doesn't
sound like a real arm to me.
John C Dvorak: I didn't notice this. Yeah, yeah. authorizing
the train to vary their language maybe? Well, words do
Adam Curry: matter. I mean, there's a difference between
declaring war and authorization of use of military force. Which,
which I think is such a bogus thing anyway. We haven't
declared war on anybody since World War Two.
John C Dvorak: You know, we've always had bases in Taiwan. I'm
going to read this. This is from Voice of America, no fine. 2020.
Right. Trustworthy outfit. 2021 us nearly doubled military
personnel stationed in Taiwan this year. We have boots on the
ground, that's boots on the ground. The United States has
doubled as an unofficial military presence in Taiwan over
the past year, in what specialists described as the
latest signal to claim that Taiwan's future remains a
priority. The increase from 20 to 3039 people are people and
they're there. They're sitting somewhere in a house. I don't
know where they are. But they I know when you go to Taiwan, the
is people kind of assumed as a bunch of military guys here,
because one whole part of the shopping district in Taipei is
is kind of designed for them. Oh, okay, that makes sense. And
you notice it when you're there shopping? Hey, let's listen to
the
Adam Curry: How about this. Let's listen to the west Clarke
seven again, shall we? Sure. Just the most important part
Unknown: seven countries in five years, starting with Iraq and
then Syria, Lebanon, Libya, Somalia, Sudan and finishing off
Iran.
Adam Curry: So the China wasn't even on this list.
John C Dvorak: Without Yeah, it's for Taiwan list. And
Adam Curry: we're Taiwan.
John C Dvorak: Let's play. I have a series of clips about
China here.
Adam Curry: But before before you go there, because I just
want to play two response clips from China because they're so
mad about, you know, McCarthy meeting with some other woman
who said nothing important. It seems like China's just playing
it's like all actors on this stage a man
John C Dvorak: usually say the Chinese do seem a little lame in
this response to all this Well, here it is
Unknown: a massive show of military might off the coast of
Taiwan, China deploying fighter jets and warships Saturday
sending 71 planes into Taiwan's airspace, and at least nine
Chinese warships now surrounding the self governed island of
Taiwan simulating a naval blockade. It's the start of
exercise joints soared three days of military action that
Beijing says is a serious warning the exercises in
response to days of high level talks between the US and Taiwan.
Beginning with President sighs meeting with House Speaker Kevin
McCarthy in California. hours later a congressional delegation
arriving here in Taipei for three days of engagements.
President sighs saying Taiwan has faced continued
authoritarian expansionism making cooperation among
democracies even more important.
Adam Curry: Okay, wow, boy, big, big response. What I don't
understand and what is not discussed here in the United
States is now we have the the leaders of the European Union
meeting was Zhi Jing ping and yes, it is Macron with Ursula
Queen Ursula, meeting with him. So if these guys are enemies,
then they got on they start to sail ships and and launch
fighter planes the minute we meet with some nondescript
person, then what are these douchebags doing? Are they are
friends or not French
Unknown: president Emmanuel Macron and European Commission
president Ursula von der Leyen are in Beijing today for talks
with Chinese leader Xi Jinping. After the meeting, they
commissioned president to praise the Chinese leaders stance on
nuclear weapons but warned Beijing against arming Russia
claiming that that would violate international law. Yet President
Macron OG issued a joint call for peace talks between Russia
and Ukraine to take place as soon as possible.
Adam Curry: This is no coincidence. These documents are
on social media with this happening.
Unknown: France sees China as a key player in finding a peaceful
solution to the war on the commission president said that
President G had stated during talks that he was willing to
talk with Ukraine's President Solinsky when the time was
right. And she emphasized China's importance in promoting
a just peace.
Adam Curry: What I just had. I know you have clothes but a just
peace. What is it just peace? Just
John C Dvorak: a win win baby. All
Unknown: right. And she emphasized China's importance in
promoting adjust peace. This
visit is taking place in a challenging and increasing
volatile context. In particular, because of Russia. war of
aggression against Ukraine.
John C Dvorak: This is another thing I just want to pause. Does
this woman just like to hear herself talk? Oh, yeah, she
looks in the mirror
Adam Curry: every morning and does this. She says she calls it
what Russia's war of aggression on Ukraine. So not the war on
Ukraine, Russia's war of aggression. All the words
matter, particularly with these political diplomat types,
Unknown: in particular, because of Russia's war of aggression
against Ukraine. China's position on this is crucial for
the European Union. As a member of the UN Security Council,
there is a big responsibility. And we expect that China will
play its role and promote a just peace, one that respects
Ukraine's sovereignty and territorial integrity, one of
the cornerstones of the UN Charter.
Adam Curry: Okay, so I believe we should declare war on Europe,
at least authorized military use of force because these people
are not on our side. They're playing on a whole dip. They're
there with GE. And if you believe the Russian Foreign
Minister Lavrov, there's a plan behind it. And I think Ursula
wants to be in on the on the new High Council
Unknown: who can bring Russia and Ukraine to the negotiating
table France, China, Brazil. Today, it was Turkey's turn to
try its hand up convincing the visiting Russian foreign
minister to seek peace. To be fair, Ankara is in a unique
position to mediate its NATO membership, and friendly ties
with Moscow allowed it to broker one of the rare diplomatic
breakthroughs in the year long war. But when it comes to
negotiating an end to the conflict, success is likely to
be more elusive, sitting down with his Turkish counterpart,
Sergei Lavrov was very clear. For Russia. This is about much
more than just Ukraine,
Adam Curry: produced last night, ceasefire negotiations need to
be based on the principles of the New World Order, which we
all need, instead of a unipolar world order. In order led by
one, hegemonic, yeah, I guess who that's not going to be. So
that's that, that seems like the plan. and the EU is like, okay,
oh, you can be the head German China. They're just saying it,
you know, they're just saying it.
John C Dvorak: I think these countries don't like us. I have
a feeling
Adam Curry: wonder why. By the way, that's the quote of the
year. I think these countries don't like us know, we being
represented by oughtred. douchebags we'd come across as
not so nice. Well, all right.
John C Dvorak: They can eat it.
Adam Curry: Yes. All right,
John C Dvorak: you got some beds go. Here's an interesting
chinery For this China and trans one.
Unknown: Next, we hear from a woman who survived Mao's
cultural revolution in China, fled to America and even ran for
the US Congress last year. Is this
Adam Curry: NTD? Or what I just curious.
John C Dvorak: Yeah, this is I want to this is this is a series
of clips from Deus Ex Chinese, she's Chinese national, who's
come here. And she was all she's old. And she got involved in the
Cultural Revolution. And she sees everything going on here.
Oh, that went on. What the kids did in China during the Cultural
Revolution, which nobody very few people in our audience
remember, but it was, it was a mess. It really screwed China
up. Yeah. And locked up, everyone over. It was horrible.
And this woman and now the problem with these clips, and
there's five of them, because she goes from one thing to
another, including a glass clip that is a killer, which you can
just play that and it. She's a little hard to understand. But
once you catch her cadence, she speaks in a in a very thick
Mandarin accent. It's a very specific kind of Chinese accent.
We're not used to hearing, generally speaking, sing songy
Cantonese accent is what we're more our ears are more used to
and this is different. So here we go.
Unknown: Willie Tang Williams pierce through the lens of
history in her assessment of recent developments in the
transgender and gun control movements. Let's see that now.
Willie Tang Williams. Welcome to our show. Thanks for coming on.
Well, thank you for that you might.
Now you and other Chinese Americans have drawn parallels
between the pro trans and other far left activists and the Red
Guard brigades, militant students who helped purge
Chinese society of those who opposed Mao's role during the
Cultural Revolution, which you lived through. Tell me more
about the parallels that you see.
Well, that, you know, the the hallmark of whole Mao's Cultural
Revolution is to use an identity politics and weaponize the US
who are idealistic and worship His regime worship Him as God.
So they're the he used almost see My religious indoctrination
and daily propaganda to get them to be weaponized and
militarized, and even toward the end, and very violent.
Adam Curry: Let me just cuz she is hard to understand, but I
think I meant let me just understand what she's saying.
She's saying what Mao did is he used the youth youths who use
the youth ends and you know, gave them whatever they wanted.
And I guess this is where it relates to trans and the
Democrat and Biden and Harris and, and the whole
administration, that they would worship them as gods and do
whatever they want it for them is that when I'm done, I'm what
I'm understanding.
John C Dvorak: Yeah, pretty much
Unknown: torture people who are not so called the Red classes.
And so I'm being warning people about this kind of
indoctrination in our schools and colleges, because young
people, they're not taught the history very well. So they don't
recognize those tactics. And they also don't know that what
is really true. So we are very terrified. And to say that what
is happening today in America,
Adam Curry: wasn't it? Was that also Mao's wife?
John C Dvorak: Who then completely shoot? Yes, she was
the worst she got they had to lock her up.
Adam Curry: And but the kids then went out to ride on their
parents and get their parents locked up. Right?
John C Dvorak: Yeah, that was that too. So she's just saying
that this was going on here to the education system. And it is
parallel to what was going on in Mao Mao's era. And what's
interesting is that I have another series of clips about
this. The last clips that we had a couple of weeks ago, or the
last show would were where we describe this as Maoism which
overrides everything else going on. You know, it's just I think
it's true. I think Mao ism, not necessarily Marxism is what
we're seeing. And it's very hard to recognize because it's never
been one of the one of the ways to go as it were for the
communists. So let me get this right. So
Adam Curry: let me get this right. We have the war mongering
mongering politicians, led by people like the Republican
McCall, that they're all in on it, but let's just say the
Republicans are typically the war guys. Yeah, let's go to
Taiwan. Yeah, that's good. Oh, there's McCarthy. Yeah.
Meanwhile, the Chinese are laughing because they're behind
us. And the kids are gonna stab the everybody in the back.
Maybe, okay.
John C Dvorak: All right. Part Two.
Unknown: We've seen pro trans activists recently a costing
NCAA champion, Riley Gaines, after she spoke out for women's
rights in sports. And it follows a similar event in New Zealand
where a protester threw sauce on the speaker amid unruly
protests. Do you see these marks of violence as connected to
communist ideology?
Was there certainly use their tactics and our young people in
this country don't know what they're doing? And they don't
think and they are the ones who are fascist and the core silence
other people listen to their right because they are
brainwashed to believe their cause is number one priority.
They got to do this, you know, saying right and be part of this
so called a transgender movement, but they're saying
it's only if they study history, then they will know Mao,
actually, us young people, even us young girls, and want them to
actually look dressed like a boy is like soldiers and to join the
revolution, destroy you for cultures, and he tried to create
a tenderness societies erase girls and woman and the gender
differences and give them all to be loyal to the revolution. And
so I feel so sorry to say those young people are being used and
naive, idealistic and now getting involved this kind of
movement almost use a mob tactics, which can lead to the
violence and injuring deaths of people to against the
opposition. So it's not like the bar merch, and we don't have to
gray with chatter we can have discussion and conversations.
No, you must be shut up. If you don't agree with
Adam Curry: us holy, I'm just gonna give this to you. Now, I
know there's more of this coming. Exactly. Through this
lens is exactly what we're seeing happening. Although I
have some clips later when you're done with your
presentation that show that it may be backfiring. Because Mao
didn't have a lot of the pharmaceuticals that we're using
to accelerate this process. Good point. Yeah, accelerate the
process of girls turning into boys and what do we just
recently see? We saw a girl dressed as a boy a militant boy.
And by the way, I have page one of the manifesto which I've
received I ball, Dre.
John C Dvorak: Okay. We look forward to that yet. Yes, I
think the parallel Let's at the transgender character by
Adam Curry: the way, it's 80%. It's 80% Girls, transitioning to
men, but with all we see in the news is the men transitioning to
women. So I believe that to be a huge distraction. So
John C Dvorak: that's interesting. Well, that's
exactly what Mauer did. Okay, I wish step three, well, free
Unknown: speech on college campuses. If you don't agree
with them, you don't cut out to them. And that will come to shut
down your speech event, and they will will be even damage you
personally. In terms of physical health. It's, it's very sad to
see this happening.
Adam Curry: Wow.
John C Dvorak: You know, there was a right or a conservative
judge speaking at Stanford, to the law department. This was a
couple of weeks ago, and about half the students walked out.
Go, yeah. Oh, yeah, I know. And the law firm that were a large
one. I think it's a large la firm and a couple other law
firms have now made an edict that they will not accept any
Stanford Law students as interns. This hasn't been talked
about too much. Because if this if the students can't even
listen to another side of an argument, they're obviously not
not qualified to be legal. Anything. Of
Adam Curry: course not.
John C Dvorak: So they got blackballed. Wow. The Stanford
Law School got blackballed by a bunch of law firms. Good work,
Dean. Wow. Okay, now this changes gears are in the clip
three,
Adam Curry: or four. We're
John C Dvorak: a clip folks up for it. Now. Chad changes gears
and clip four. And it is now it did it looks at guns
Unknown: and turning to gun control. Now, you've been
alerting people to precedents in history where gun control
preceded state and forced atrocities? What's the lesson
that you think that we should draw from that? And and what's
an example of that?
Well, that I understand young people want to participate and
to reduce the crimes and they're very afraid and they live in
fear. What are they saying is oh, they don't understand the
truth. They don't send the cause of the problems. Number one gun
free zones for schools are drawing criminals come to do the
damage, you do the harm. Because you know, hey, nobody with guns
legally can shut them down immediately. You have to call
911 first. And the Secondly, they bought into the leftist
media rhetoric. So Republicans are the bad people and your
support Second Amendment right. But the Ted Cruz just offered
lots of help from the federal government to arm guards to
protect students safety in schools, and to get more funding
and the Democrats shot him down. They don't want to talk about
how to really protect students and teachers, but they just want
to use gun control. But the gun control we all know whoever fled
totalitarian regimes, gun control works, because everybody
will be enslaved. You don't have access to guns, and you cannot
have way to fight back our founding fathers to put a second
amendment in the Constitution, because they know that's the
only way we can stop prevent a tyranny in the United States of
America, history lessons need to be taught that communism Hivos
need to be taught in our schools, but our schools not
focusing on that today.
Adam Curry: Da Man protect this woman. She's in danger. She's in
great danger.
John C Dvorak: Wow, wow. Yeah, this is a Chinese, Chinese
woman. Cracks me up. Okay. So now this is
Adam Curry: she is a Chinese woman, right? Yeah, she's from
China. And but she's in America now. Correct?
John C Dvorak: Yeah, she's Yeah, she's obviously American now.
Yeah. Wow. But I just thought no, this is the one that would
be Clip of the Day. If I was picking one of them. I you can
give us your final thoughts. And these final thoughts are a
summary of everything kind of going on in a very concise way
that a Chinese woman from that experience, a cultural
revolution might see more clear than most of us. And I just
thought this was, again, it's kind of borderline pidgin
English, but it's just a dynamite. Final thought.
Unknown: Now our focus on Marxism, socialism, transgender
data and identity politics. America is a systemic racist
country capitalism bad. It's very terrifying for me to say
that, did the communists follow me come to America or they're
always a worst Western countries. Maybe we don't call
them communist because people don't recognize they are
actually used the communist tactics to divide people to do
the revolutions. So it takes us immigrants, who says the
writing's on the wall to come out. Ha publicly and loudly to
educate the public to warn people we don't want go down
that paths.
Adam Curry: Yeah. Wow, that's really good. They're commies
everywhere in our backyard. They're the commies are in
Congress. They don't call them communists you know that's dupes
more than anything. Okay, so let's let's put some of this
into practice. Let's take a look at a couple of things. So it
really interestingly all of what she said surrounds the Tennessee
School shooting a lot of things and they end with Tennessee man,
they threw it all at the kitchen sink. They brought in black
people they blocked brought in children protesting it's all
about get rid of guns. I mean, it was it's been mayhem.
Tennessee right now is ground Central. And this is what we get
from Karina Abdul Jabbar Van Damme. Pierre, first about,
we'll just listen to the question and what she says
Unknown: former Vice President Pence said the shooter who
killed six people. Christian School testing was motivated,
motivated by hatred towards Christians that the crime should
be categorized as a hate crime. I'm wondering what the President
thinks of that kind of designation. It's not
for us to design.
Adam Curry: Okay, so everything in America is a hate crime. But
when Christians are targeted, it's not for us to decide. So
that kind of gives you a clue kind of gives you a clue about
Yeah, that's about right. And then but you know, and then
nothing for Hey, Christian kids, we see you we feel bad. You
know, this is horrible. Whether you are targeted or not. You
were you had one thing in common. You were kids, and you
were Christians, but now
Unknown: LGBTQ i plus kids are resilient. They are fierce, they
fight back. They're not going anywhere. And we have their
back, this administration has their back. We are so proud of
the kids across this country who have organized protest and
school walkouts, to tell the politicians in their states to
stop this legislative bullying. I know that these political
tacks can really take toll on people's mental health. So I
want to say directly to LGBTQI plus kids, you are loved just as
you are just the way you are. And if you're feeling
overwhelmed, you call 988.
Adam Curry: I mean, how about for the Christian kids or you
just toss a Bible item here read this you'll feel better. I mean,
this this is that's that's our administration right now with
this totally perfect gaslighting press secretary. She is actually
really good. She's doing her job because the press corps and
everyone's doing us a great disservice. They're all focused
on I'm just going along with Wu Tang Clan lady you have there.
I'm going along with that because she's right. Everyone's
focused on the wrong things. They're focusing on Taiwan. Oh,
China were horrible. We gotta take care of Oh, yeah, hard for
trans athletes. What's
Unknown: not a major development and the debate over transgender
athletes rights. The Biden administration is now proposing
new regulations that would prevent schools and colleges
from enacting outright bans in sports. This is going to set up
a clash with states that have already put them in place. CBS
is Ed O'Keefe is at the White House with the new details. Good
evening, Ed.
Good evening, Nora. The proposed change would make categorically
banning all transgender athletes a violation of Title Nine, the
federal law barring schools from discriminating on the basis of
sex, just this week, Kansas became the 20th state to impose
a blanket ban. But the new rule would also allow K through 12
schools and universities to restrict, in some cases, the
participation of transgender students if it undermines
fairness on the field or could lead to injuries. It's in
essence, a compromise between those seeking to ban transgender
athletes because they might have an unfair advantage. And those
trying to protect transgender athletes rights to participate
in sports consistent with their gender identity. There are
several current federal court challenges to the blanket bans
across the country, setting up a confrontation between the Biden
administration and mostly Republican led states.
Adam Curry: So this of course, has people preoccupied mainly
women because hey, wait a minute, we're getting robbed out
of the so to speak out of the equation here. And this is a
it's an obsession for many while it is of course, incredibly
important, it is not what's going on and I watched this
documentary, affirmation generation it's on YouTube, but
put a link in the show notes about an hour and a half. And is
pretty much all children who've and now, young young adults who
have D transitioned, which by the way is about 83% versus a 3%
lie that the Association for pediatric there they're the bad
guys, the American Association for pediatrics, they are liars.
They give misinformation and worse. It what has happened, I
mean, we know about a little bit, but the big pharma the
pharmaceutical industry has gotten to the point where you
can walk into any therapists office, they can declare you
trans even though you may have, you know, like you're a teenage
girl that you're going through all kinds of things you hate
your body, you know, you have anxiety, there's all these
things and No, no, you're trans, it's obvious, and everything
else falls by the wayside. And that is what the therapists are
being told is the is the new science. And most of them, of
course, when you get it from the Association of Pediatrics, like,
obviously, we got to follow that you can put them on testosterone
or estrogen depending on which way you go in. But testosterone
is mainly for the girls 80% of the children transitioning or
throwing some social media throwing some filters on
Instagram. So of course, you don't look the way you like the
way you look, this thing has all these therapists who are now
speaking up talking about what is actually happening. And the
crazy thing is that this is really only still taking place
in America. Whereas the countries that that pioneered
this, in fact, the happiest country on Earth, Finland, they
are now turning back from this practice saying not only should
it not be done, it is incredibly harmful. The things that happen
to girls, particularly with testosterone, as you pointed out
on the last show, ultimately just sterilizes them it leads to
suicide, you know, so what would you rather have a live boy or a
dead girl you know, alive son or dead daughter. These are all
incredibly horrible, horrific gaslighting things said by our
professionals in the medical industry. I pulled a minute and
a half clip from this documentary specifically about
how the rest of the world is not in on this dumb shit. And we are
Unknown: the big news stories overnight. The NHS to close the
UK is only dedicated gender identity clinic for children and
young people.
NHS England has announced the closure of its controversial
gender identity clinic for children. After an independent
report found it was not fit for purpose it
gives Tavistock C's have many other problems. And they're very
high rates of autistic spectrum disorders, self harm,
depression, anxiety, all of these sorts of things. And those
things aren't dealt with because there's this weird way that as
soon as somebody says gender, they don't do anything else. And
the second problem is that the Tavistock has this hugely
ideological approach, it hasn't been doing good medicine, it
hasn't been keeping records, it hasn't been doing proper
research. It hasn't been investigating the reasons behind
a child's trans identity. They've just been assuming that
a child who says I'm trans is trans, and putting them on these
very poorly researched pathways with puberty blockers and cross
sex hormones.
The US is getting more out of step with the rest of the world
every day. There are several progressive countries, that the
ones that like pioneered pediatric gender transition, and
they are reconsidering what they've been doing. Sweden was
the first country to recognize, you know, the legal status of
trans people. And they just issued new guidelines, where
they say gender transitioning of minors should only be done for
exceptional cases and in tightly controlled clinical studies. And
there are no studies going on right now. Finland did a similar
thing two years ago, in the last 12 months, we've heard from the
French Academy of Medicine, the Australian psychiatrists and
Italian psycho analysts all expressing concern. So all of
these changes are at least in Sweden, Finland and England
followed, commissioned systematic review of the
evidence, which found either no benefits to use gender
transitions, or even that the harms outweighed the
benefits
Adam Curry: show. This is now painfully obvious to me. We are
being gaslit from all sides, particularly with the male to
female transitioning, while they're building an army.
Literally, I'm just going to say literally going out and killing
people of Maoist girls. I mean, this this brings the whole thing
together, John. And then if just for some yucks, I'll throw in
some of the distraction because Bud Light, of course, you know,
is it is a distraction. It's a distraction. We all get mad, and
we all know, it's sure it's great that you know, Kid Rock
shoots up the bud light, but we're missing what is the 80% of
children are being mouthy Stickley transformed into an
army ready to fight ready to get angry ready to commit, in
essence, an insurrection on the Tennessee State House. Although
of course, you know, we can draw that comparison. And then they
take the dumbest individuals in our society, the weakest morons
like the VP of Bud Light elicit Gordon Heiner Scheidt to to
ruin. They're willing to ruin a pretty well known brand to
distract us, I guess, from all of this idiocy. But it also
shows you how the left thinks about this man it is the left it
is. And in fact, in the documentary, these are all
Democrats, the whole thing was made by Democrats, they say if
they get in the credits, they make it very clear. We are, we
are progressive Democrats. And it's our fault. We have been
doing this. So listen, she was on a podcast. Of course, that's
where people always screw up. Just a little, a little clip
here. Just a little background of who she is the first brand
manager of any beer as far as we know,
Unknown: being the first woman to lead Bud Light, the biggest
fear brand kind of in the world. It's it's been. It's humbling.
And I'm incredibly grateful. It's taken kind of 41 years for
a woman to be in this spot. And she's 41
Adam Curry: She thinks is that it's taken her 41 years. But no,
it's it's taken 41 years for a woman to be in the spot.
Unknown: We grateful it's taken kind of 41 years for a woman to
be in this spot. And I think it's sometimes helpful just sort
of
John C Dvorak: a second. That's her age 41. So she so
everything's about her. Oh, yeah. Oh, yeah. Because bear has
been around a lot longer than 41 years. I hope she knows that.
Adam Curry: No, no, no, I told you, she's
Unknown: don't realize that. This, this is the spot like this
is where I think I had maybe even dreamed of being in some
kind of position like this. And so kind of being happy in the
here and now is a part of what I'm trying to kind of draw.
Adam Curry: This is where I would say thank you for coming
into interview, you can leave we have no interest in hiring you
but no
Unknown: joy and energy from and particularly it's an interesting
dynamic, as a woman in a in a very male dominated vise
industry, like vice
Adam Curry: industry. It I didn't know it was called that.
Is it called the bytes shed called what beer is in the vise
industry. Not beverage, I'd fire on the spot for saying that. Of
course. Of course you would. I'm in the vise industry. Whoa, what
else is in the vise industry?
John C Dvorak: Oh my god.
Unknown: And particularly, it's an interesting dynamic as a
woman in a in a very male dominated vise industry, like,
like beer in. It's been a long road, Chris, and it's sort of
John C Dvorak: she's saying the product that they make is a vise
correct? Let's look at the definition of you the guy this
is this clip of the day tube. When you're done,
Adam Curry: I took it I took it otherwise you won't give it to
me later you always forget. No, no,
John C Dvorak: I don't pull back. Pull back.
Adam Curry: Don't pull back. Nice,
John C Dvorak: moral or wicked behavior top definition. Wow,
immoral, or wicked behavior. So she's in the business. Happily
in the business of providing of morality. She dressed
Adam Curry: what she said yes. She dreamt of this in some ways.
As a child, she wants to be in the immorality. Why don't you
just go become
John C Dvorak: a whore? Oh, there we go.
Unknown: Ben, it's humbling. And I'm incredibly grateful. It's
taken kind of 41 years for a woman to be in this spot. And I
think it's sometimes helpful to just sort of recognize that this
this is the spot like this is where I think I had maybe even
dreamed of being in some kind of position like this. And so kind
of being happy in the here and now is a part of what I'm trying
to kind of draw joy and energy from. And particularly, it's an
interesting dynamic, as a woman in a in a very male dominated
vise industry, like, like beer in. It's been a long road,
Chris, and it's sort of it's been tense and hard. But it's
also it's also brought a lot of clarity and perspective about
kind of who I want to be and how I want to operate in the world.
And I would say the most important thing about this job
is that you deprioritize bringing other people along the
way community and women I mean, it's just it doesn't mean
anything unless I empower sort of really impacting other
people. And so that's been just incredibly important to me my
decisions with teams, I mean, I, I try to build teams of people
who, maybe nobody else has taken a chance on them. I try to bet
on people who haven't had the opportunity, but on people with
similar values as me who are hungry, and want to do great
things, but care about each other, and protect each other
and are kind and good. And
Adam Curry: hey, how about selling some beer?
John C Dvorak: Holy moly, this woman is full of herself.
selling beer.
Adam Curry: It is called a vise industry that may be maybe a
legalistic term, actually, now that I think about it. So it but
that's certainly not it, let's put it this way. It can be
legally that. But as a brand manager, you would never talk
about your industry as being part of a vise industry or your
product, or any of that. So of course, what do you want for a
beer? What do you want for beer you want? If you're if you're if
you're if you're in charge of the brand, and you know, this,
this beer, of course, this brand has, you know, has a particular
look or particular vibe, you know, we had a dog spuds, what
do you want? Well,
Unknown: and I try to bring that honestly, female representation
in this role has been something I've been really committed to
Adam Curry: bring more women into selling the beer that men
like to drink.
Unknown: We can talk a little bit about that if you want, but
it's been ever since I took this job. I wanted to try to move the
needle in some small choices along the way to sort of say
this matters to me. It's the same when I'm dealing with
celebrities or sponsorships or partnerships. It's my commitment
to sort of bring others along with me.
Adam Curry: So to bring female representation with celebrity
brands represent yo influencers you bring in a dude. Okay, that
makes total sense. How about as a business woman,
Unknown: you know, I'm a business woman, I had a really
clear job to do when I took over Bud Light. And it was this brand
is in decline. It's been in decline for a really long time.
And if we do not attract the brand
Adam Curry: has been in decline for a really long time. She says
John C Dvorak: I didn't know this. Well
Adam Curry: consult the book of knowledge. I mean, I don't know
it's like, is Bud Light in decline? I mean, that sounds
like you're a loser. Yeah,
Unknown: huh.
John C Dvorak: Damn that company.
Adam Curry: Let me see. I don't see any I don't see anything
Well, let's keep going
Unknown: young drinkers to come and drink this brand there will
be no future for Bud Light. So I had this super clear mandate
it's like we need to evolve and elevate this
Adam Curry: this is some Okay, here's what I would say. And
again, I do come a little bit from this world. I do notice
these brands in this family at least what they used to be 25
years ago if you if your number one beer and everything is
rockin and rollin like whoa, I'm I'm crushing it, we're just you
have that sales are off the chart then you can say, Well,
when I came in, it was a it was a brand in decline. And we knew
we had to do something. So but she is saying there's no proof
that her strategy she's only been in since February, just
when she came in just before the Super Bowl. Do you remember the
Superbowl commercials? No, of course you don't know of course
you don't. But I remember the dumb dog from 20 years ago had a
beautiful dog of mine. So you know so this is what she's
saying here is stuff you say once you've crushed it, not like
well you know I came in two months ago and it's a brand in
decline. So you know, if I don't do something this thing is gonna
die on the vine
Unknown: and in decline for a really long time. And if we do
not attract young drinkers to come and drink this brand, there
will be no future for Bud Light. So I had this super clear
mandate it's like we need to evolve and elevate this
incredibly iconic brand and my what I brought to that was a
belief in okay what is what does evolve and elevate mean? It
means inclusivity it means shifting the tone.
John C Dvorak: Stop this, stop this. Immediate just read from a
marketing actually some this came in February. This is from
2020 Okay in decline for a very long time. Sales, especially
bruiser definitely rising, the nation. 7500 Plus craft brewery
shipped a total of 25.9 barrels that 7500 craft breweries
shipped 25 million just quote from an 2020 article, which is,
it's been in decline for a long time. If the amount of craft
beer sold sounds impressive, consider the nation's number one
beer brand Bud Light alone shipped 27 point 2 million
barrels last year
Adam Curry: in decline. Now, how's
John C Dvorak: that in decline? for a really long time there for
a really long time? What does that mean to you five years? 10?
I don't know. Number one brand beer outsold 7500 craft
breweries in and of itself. Okay, so now we know the woman
is full of shit. So let's continue the clip.
Unknown: What is our what are what does evolve and elevate
mean? It means inclusivity it means shifting the tone. It
means having a campaign that's truly inclusive and feels
lighter and brighter and different and appeals to women
and to men. And representation is it sort of the heart of
evolution, you've got to see people who reflect
representation
Adam Curry: is at the heart of evolution, inclusive and
Unknown: feels lighter and brighter and different and
appeals to women and to men. And representation. Is it sort of
the heart of evolution, you've got to see people who reflect
you in the work and we had this hangover. I mean, Bud Light had
been kind of a brand of Friday, kind of out of touch humor, and
it was really important that we had another approach.
Adam Curry: We really liked the stupid humor. We'd liked your
dumb dog and we liked your water with Hopson rice. Come on. Just
Hara Kiri, and the Belgians did it. It must be the InBev guys
who bought Anheuser Busch, they must have brought her in their
whole point. Well, we need to distract the stupid Americans.
This woman will do it don't worry, she'll ruin this brand.
Everyone would get all mad. We got it.
John C Dvorak: If you're a Belgian and you're looking at
the number one brand Bud Light, you're going this beers terrible
compared to our good Belgian or Stella that make us fat. Yeah.
Yeah, exactly.
It's possible. It might be a sabotage methodology. Well, why
not? They can still make tons of money.
Adam Curry: Well, I mean, I could be wrong, but it would
seem possible that that I think it if this if this does what is
happening with these brands? I don't know maybe maybe sales
will go through the roof. I have no idea. Maybe I'm crazy telling
thanks. So maybe I'm I don't know, maybe I'm crazy.
John C Dvorak: Well, that's beside the point.
Adam Curry: Thanks. But this is all the distraction. Just going
back to your original point. This is all distraction. Don't
pay attention to it. Pay attention to our girls. Our
girls who admit first we had to get them out of the nuclear
family with Black Lives Matter. Now we have to just sterilize
them. And they can walk right into Planned Parenthood number
one spot you can walk in and walk out on testosterone the
same day. And I'll never forget the guy I met who said you know
therapist, you can spell it two ways therapist or the rapist. I
think we have a huge problem with these therapists. And they
have to be put on notice. And the American Association of
Pediatrics it is it is watched his documentary. And it's the
same insanity that we often talk about when people all of a
sudden decided it was a good idea to get lobotomies. Same,
same. Good point, same idiocy.
John C Dvorak: Oh, that was a walk in. That was outpatient.
Yeah,
Adam Curry: you walk in and go. Yep, get a lobotomy. I'm good to
go. And now to, to gaslight us even more, because all of this
drag time story out. It's a distraction. It's a comment. By
the
John C Dvorak: way, I do want to mention, we were on that topic
that these and we have a big protest in San Francisco today.
Or yesterday. And it was this idea of anti trans lesbian
legislation that the term which the mainstream media loves to
use, it's not anti trans.
Adam Curry: It's Pro Child pro girl.
John C Dvorak: It's pro it's pro girl. It's and it's like, it's
about sports, where you know, you can have a big dude with a
dick hanging off of him running with the girls in a track meet
and say that's okay, because he identifies as a woman. This is
not anti trans is anti bullshit. And it's like, you know, you
can't teach little two year or a second graders about you know,
homosexuality, it's just not an fact we were promised, with the
gay marriage, people going on and on and on. It used to be
this show called gay news on the cables and they would go on and
on about doing this doesn't mean we're gonna do anything in the
schools to the grant to the grammar school kids, that's bull
crap that we don't want to do that, but they're doing it. So
you have to have this legislation and it's, it's
unbelievable and they blamed everything's the Republicans
fault.
Adam Curry: Well, again, I think that's a distraction. Although
another problem another problem for girls who ultimately
happened to become women, all of that as a distraction, were
yelling about the wrong things, but we need to stop is girls on
social media? I'm looking at you Tumblr. I'm looking at your
Instagram. Also, I'm looking at you tick tock the who are hyping
each other up about the you can see it it went from 0.1% to 9%
within like I'm just a couple of years that Oh no, I'm trans I'm
trans is being reinforced by people in lab coats is being
reinforced by the medical industry is being enforced by
gas lighters like Kareem, John, John Pierre, is being enforced
by our President, that who had the lobotomy, the No wonder by
saying, oh, Trans Day of visibility, you're being gaslit.
And meanwhile, bar girls, the future of any country up there
and these girls are going to be begging to be educated in a
Maoist way and they're going to come and kill you shoot you in
the back or shoot your children or shoot your school. Look at
what's happening. And now the latest one, I'm going to tell
you what it is right now. You can get outraged by it. Drag
syndrome.com Oh, yeah, They've now taken Downey's. That's what
they're called. I have friends with Downey's and they're
dressing them up and drag drag go look at drag syndrome.com
Freshly pierced to drag collective featuring highly
addictive queens and kings with Down syndrome go look at it
they're so sick that they will politicize down kin children
with Down syndrome known as Downey's to put them in drag so
that we get all pissed off about that meanwhile, they are
medicating your your girls your girls your girls are you looking
at it
John C Dvorak: this could be a this could be a photo site. This
could be a plant by you know other the
Adam Curry: what's the difference? As long as we get
outraged over it was the difference? What was the
difference? We see bad? What's the difference? And they're on
Instagram to their Instagram their Instagram page? What's the
difference? Drag time story hour? It's a distraction. Of
course it's not cool. Chris, we don't want that for our
children. The books in the school? No, that's actually
very, very damaging these books now. Teach him some teach him
stuff that is useful.
John C Dvorak: But can we play this? I have a series of what
three more clips about worse Maoism?
Adam Curry: Oh yes. Because this and by the way, it's not
communism. It's Maoism. I'm all in on this. If
John C Dvorak: it makes more sense. Think about it. Yeah. But
it's still communism. This is
Adam Curry: history repeating itself.
John C Dvorak: So they had this guy being interviewed. This is
Patrick Byrne. Oh, Patrick
Adam Curry: Byrne, Overstock CEO, former overstock CEO. Yeah,
yeah, I love this really,
John C Dvorak: he was just got back from a world tour. And he
is not a happy camper.
Adam Curry: We've played a lot of his stuff in the past, and
certainly during these good during the 2016 election, and
then 2020, he had played a big role. And of course, he's a nut
job Q anon. If you look at any, any other angle besides our
show?
John C Dvorak: Yeah, go part one. Patrick Byrne. Here's a
look, Patrick, I
Unknown: want to get your thoughts America is often and
has long been looked at as a beacon of hope around the world.
Not so much maybe for our adversaries, they're forced to
respect us oftentimes. So how is the world looking at this both
our allies and our adversaries? Well, I just
came back from overseas where I don't in the Gulf, Arab Gulf,
Persian Gulf. And in none of the countries I visited, was there a
single person who did not see first what a hoax our 2020
election was? And secondly, did not see that the Biden regime is
doing so badly, there's really a question whether they even are
on our side. But if you're doing so badly, you have to wonder is
it on purpose, like when you see things like Afghanistan, was it
on purpose, or should they really be that bad as to leave
$85 billion of advanced equipment? So yeah, we nobody
believes people really don't believe he's the legitimate
president.
How does a country like China view this? Is it a weakening
moment for our country? Well, I think
China has had Yeah, it's what I'm most concerned about with
China. So I'm quite concerned if we're going to survive. I think
we're being led through a military grade SIOP with
military precision. And ultimately, the chain of command
is at the deep in the shadows. It's China. And there's all
these things that we've been experiencing. That seems so
strange from the reaction of COVID, which wasn't driven by
science, the emphasis on vaccines, which wasn't driven by
science, the reaction to the Antifa, all this domestic
terrorism that gets answered to a crazy election in 2020, and
2022. And now this kind of stuff. This is all part of a
Maoist revolution. Maoist revolutions occur at every level
of society says they're cheating here. They're cheating here. If
they're cheating the election system, they're bringing charges
against anybody who says it. They're bringing charges against
politicians who do anything.
Adam Curry: Yeah, yeah, man would, is there a book we can go
and read about this Maoist revolution that wouldn't
John C Dvorak: know I guess we're gonna have to write one
ourselves. Let's go with part two.
Unknown: Any lawyer who picks up a pen to help they discover the
bar comes after them. So it's all level, it's the teachers at
the at your grade grade school. It's the simultaneous all levels
of society, it wants to completely throw the population
off their off their orientation. And then they basically it's
people, I think that they want to destroy the country in the
belief that they're going to create out of the clutter,
they're going to create a new system. And that system has
nothing to do doesn't resemble anything like this system we've
always had.
Adam Curry: So when after the Mao the Mao revolution and me
Did it work? It did right. And then he had them how long did he
have monitor? have control?
John C Dvorak: Well, he had, you know, did, he was actually a
counter revolution that when he did the, the great, was great
reset. It was great. It worked pretty much in the I mean, it
dissolved eventually. And then they end up throwing the book at
the White wife. Yeah. And but it was a it was very, but it was
very destructive. That's the problem with it. In fact, if it
wasn't for the fact that the Chiang Kai Shek and the boys
loaded up everything they could in massive railroad trains and
shipped it all to Taiwan, where it now resides in a large
museum. That's right in the middle of Taipei.
Adam Curry: Oh, how about it was the Great Leap Forward? Of
course, not the
John C Dvorak: Great Leap Forward. Just wrap up, Patrick
here, Patrick,
Unknown: specifically, when it comes to the Chinese Communist
Party. How are they viewing this right now? Are they seeing
weakness with the United States,
worse than others seeing opportunity? They're seeing
opportunity, they're never going to let Biden out. Before they
take advantage of everything they can take advantage. This is
a historic window of opportunity for them. So we're lucky if all
they do is they run the tables on us for the next 19 months.
We're lucky if that's all they do. I worry. You know I'm a and
the Epoch Times published many years ago, a wonderful important
leak out of China, the most important leak out of China
ever. The secret speech of the minister of defense, sure how to
yen. And it was a speech given in 2003, where the Ministry of
Defense explained how they were going to take down the United
States of America, starting with a bio weapon, destabilize Civil
War. Basically, we are within our Civil War, and then the
cartels and the UN being given carte blanche for three years,
we will be nothing but a host. And then we get colonized by the
Chinese government, the Chinese Communist Party. That may sound
crazy, but that's their stuff. That's their speech. That's a
book called unrestricted warfare by two famous colonels in China.
So that's their stuff. As crazy as that sounds. That's what
they're planning on doing to us someday. They're I mean, I'm
sure they're already laughing like how how bad Rafi in America
have to get that they could even see this stuff in our Chinese
national security literature that we were doing this in
America could still not orient itself to respond. It's kind of
you know, it's not a secret. They're public about it that
this is what they're doing over there.
Adam Curry: Wow. Yeah. And you know what? added a little bit of
fentanyl that'll show him Yeah.
John C Dvorak: I want to play one more clip this kind of in a
fun way. Related to this is to Biden banking clip. Listen to
this.
Adam Curry: Second, okay, here we go.
Unknown: The House Oversight Committee has subpoenaed several
banks asking for Biden family associates financial records.
Fox News confirmed the news today, subpoenas were issued to
Bank of America, Cathay bank, JP Morgan Chase, and HSBC, USA. The
committee also subpoenaed former Hunter Biden business associate
Mervyn Yan asking for financial records. Representative Jamie
Raskin, the top Democrat on the committee complained that
committee chairman James Comer was trying to hide information
from Democrats. Comer told Fox News that we have The bank
records and the facts are not good for the Biden family.
Adam Curry: Did you hear what happened to Jamie Raskin?
John C Dvorak: The Maoist yeah they
Adam Curry: they threw him on the ground and broke his femur
John C Dvorak: deep that was Jamie Raskin
Adam Curry: yeah just happened was in the news so it must be
true
John C Dvorak: he broke a bone yeah that's it that's a hard
bone to break out when the femur that's the upper arm bone right
Adam Curry: I thought You thought it's not your in your
leg the femur
John C Dvorak: we might think enough whereas I
Adam Curry: had this I think I had the story was it Raskin
wrongest resources on says I'm the wrong guy home you see maybe
the wrong I thought it was I wasn't then I thought it was I
thought it was Raskin no one's no one's given okay
John C Dvorak: does femurs to thigh bone you right now. Well,
at least I know my nose. Somebody had a broken bone but I
didn't think it was Raskin. I thought
Adam Curry: it was Raskin. I could be wrong. They threw
someone to get to the ground. They beat up somebody that was
Blumenthal. Same guy.
John C Dvorak: Oh, there he is. Yeah, Blumenthal undergo routine
surgery after fracturing femur. That's a hard bone to break
Adam Curry: with because they stomped on him. Of course. Not
playing along boy. Okay, well it wasn't Raskin. Blumenthal. No.
Wow, this is, well, this is you know, this is the new pipelines
as far as I'm concerned. We can view everything through this
Maoist lens as what's happening and it's really only in America.
Because you know, the EU they're in on it. They have they have
they have capitulated. They've capitulated
John C Dvorak: whereas as far as the EU is concerned that in my
opinion, they would just as soon see us go down anyway, we're a
pain in the ass. Yeah, always pushing them around. We're
bossy, true, true. And you know, you know it was fun while it
lasted.
Adam Curry: With that, I'd like to thank you for your courage in
the morning to you the man who put the sea in the communist
mile was con game ladies and gentlemen, please say hello to
my friend on the other end, Mr. John Cena
John C Dvorak: in the morning, you Mr. Adam, Kay, in the
morning all ships to see butts on the ground feet near subs in
the water and all the names and nights out there
Adam Curry: in the morning to our trolls, TROLLS and the troll
room. Trolls don't leave there's plenty more show coming up. How
many do we have here this morning? Wow, let me see. We've
got what 1983 For an Easter Sunday, I'd say not bad.
John C Dvorak: Yeah, people are probably going to church, bunch
of heathens,
Adam Curry: you know, the heathens we got the heathens
here no Christians here that all know then the troll room. Of
course, you can join him on any day that we will access 24/7 The
no agenda stream you can find a troll room.io You got a control
room there and you have the live stream you can listen to or use
one of the modern podcast apps that you know that we're
pioneering outside of the system so that your favorite podcast
can't be taken down and we have all these great new features
including the live systems we call it lip so if you use pod
verse, or podcast addict, curio caster and soon here fountain as
well. You get an alert you tap right into where you get all
your podcasts and you can chat along troll along and listen to
the live stream and of course you also get your podcasts there
and you can import your podcasts from other apps you know the
legacy apps the ones that control what you can hear you
know, like Apple and Spotify Get with it people follow us on the
on the the mastodon no agenda social.com I'm Adam at no agenda
social.com He's Jhansi Dvorak at no agenda social.com And, you
know, it's it's a great place to hang up before you figure out
what nostril is just love to call it nostril so cool. But
really that is that is where people talk and hang out and and
of course you can we're federated so we're not blocked
and you can you can follow us from any Mastodon account. And
the artists also hang out there quite a bit. That's kind of
where they guessed you know who who was going to be the winner
of the art because we do pick a piece of art after every single
show was uploaded to no agenda, art generator.com And we want to
thank the artist for episode 1544. Nikko, same as we know him
who brought us the the Monday cupcake. No, no, a muffin. I'm
sorry, no muffins on Monday for Google, which was just a simple
I mean, a lot of people have done versions of a muffin.
Although I will say that now that I look at this, it does
look more like a cupcake than a muffin, but we'll let that
slide.
John C Dvorak: Let's see, especially with a lot of top
things to do with frosting.
Adam Curry: By the way, I got a note from one of our producers
And I thought it was, you know, we were wondering because this
was part of the story about Google clamping down on muffins
on Monday and staplers. And Bob says, you know, my first real
job in 1989 at a university, this is the content you don't
get if you skip over the donation segment, I shared a
communal office with my boss, she had so many staplers. This
is the point we were wondering why Google has so many staplers.
And now they cut back on the staplers and you could only get
the stapler from the central desk. What was the problem? So
Bob says she had so many staplers I finally realized it
was easier for her to order a new stapler because it comes
filled with staples, rather than figure out how to add staplers
to the old stapler. I think that's what's going on.
John C Dvorak: You're saying that they're so stupid at
Google. They don't know how to put staples into a stapler?
Adam Curry: I think they most of them can tell analog time.
John C Dvorak: That's probably true. And they probably can't
use a kit a handheld can opener.
Adam Curry: Exactly, exactly. I think it's very possible like
this. I'm gonna have to figure out how to put staples in this
thing. Just something go get a new one from the supply room. I
completely believe the Googlers are that way. And it was rampant
stapler abuse statement. Good title.
John C Dvorak: It's actually a believable story.
Adam Curry: Yeah. That's our boots on the ground. Man. People
know what's going on. So let's see. What else would we look at?
in the art world from our artists? For the previous
episode we had
John C Dvorak: really wasn't that much that was knocking
over. We kind
Adam Curry: of like tonton. Neil's cut back but the muffin
didn't look like a muffin. It looked like a house. And I No
offense. We both kind of like the banana. Oh, communist
Republic from capitalist agenda. That was I would say that was a
runner up for sure. With that with a fist coming out of the
banana, yeah,
John C Dvorak: the fist coming out of the banana. Yeah.
Unknown: That was pretty Yeah,
John C Dvorak: it was okay. It was. I liked it. But it wasn't.
I mean, I already probably gone with the wet using a newsletter,
which was Darren O'Neill's no agenda now it's fiber. Added
before I got to fist and that
Adam Curry: was the Yeah, you did use that the newsletter.
Yeah, that's simple, simple piece. What else should we have
John C Dvorak: done? There's a lot of take off the hand with
too many too many fingers. Yeah,
Adam Curry: I was okay. And then the dose dog was wrong. It's
just triggering just triggering. Stop it. The tantan yielded.
John C Dvorak: By the way the dose dog has gone on my Twitter
feed now. Oh, goodness.
Adam Curry: Let me check. Let me see if the dose dog is gone.
Yeah, because we got to get the Fed now of puppy. I wanted the
one on what the Fed and I'm telling you I'm feeling the Fed
now thing is going to be is going to be Elance first foray.
I'm calling it
John C Dvorak: there's a nice sacrilegious piece that's coming
up.
Adam Curry: Oh, there's no second best that one.
John C Dvorak: No, go back by Francisco Scaramanga. That's a
really that's a real real that's Yeah, it's funny, but it's very,
very bad.
Adam Curry: Yeah. Yeah, that's interesting. So the way it works
is after the show we take a look at the artists who obviously
have been listening live and then we we choose a piece we you
know, we try to have three separate elements the opening
quote, the title and the end the art all different, but somehow
related, never the same. Sometimes they are it does
happen it happened recently, in fact, and we're just tickled
pink with with all the love and attention that artists put into
it. We feel it really helps and I think it's proven that it
helps with people drawing attention to the show. It
certainly draws it well not on Twitter anymore because no one
sees me but you know, it's hot on the on the nostrils the
nostril people love our art, so
John C Dvorak: I'll get five of them.
Adam Curry: I'll keep Oh yeah, it's a little more than five.
I'll keep posting there. And but of course Macedon that's where
it really comes to life and we appreciate that so much and
Nikko Simon thank you so much for for your courage and for
producing a great piece of art for episode 5015 44 along with
our value for value model, because that's what it is. I
mean, you send us a boots on the ground report. I find the
stapler boots on the ground very that's very valuable. So we
appreciate that Bob, you know, people can do art. Many people
do things like our our knights or Daniel there who does the no
agenda meetup website. There's so much as being done void zero.
I mean, just people doing stuff everywhere to make the show
work. Yes.
John C Dvorak: I was gonna say now that I'm thinking I'm still
in still stuck in my brain rattling around. That has to be
correct. That the reason that they're they have the stapler in
this memo is because As people are actually ordering new staple
staplers maybe they actually think that you have to order a
new stapler for this fantastic purpose of you know, not
realizing that you can replace the staples that has to be it.
Adam Curry: That's why I put it in my in my notes and like this,
this is clearly what's going on
John C Dvorak: believable. But there's no other explanation.
Adam Curry: Is it really unbelievable? Yeah, I think it's
John C Dvorak: well to me, I mean, I didn't know some of
these people. I think they didn't know that dumb.
Adam Curry: We should add this to the test, you know, okay. See
if, if you have a Zoomer who could make a phone call on a
rotary phone and see if they can tell time on an analog clock and
see if they can replenish the stapler. This is like the Turing
test for more data
John C Dvorak: to be even more than to know so those are three
I think we can get it to five or six. I would like to solicit the
audience. To dream up more millennial questions to see more
millennials I would say Zoomers, let's take Zoomers to disqualify
Zoomers for good take taking a position in the company.
Adam Curry: So, pronouns is you're immediately out Oh, no
John C Dvorak: pronouns, you're
Adam Curry: out, you're out with pronouns. But if you can't
replenish the stapler, you cannot work in the curry Devorah
Consulting Group. This is our new hiring practice. Yes, we
discriminate. And we're proud of it. But
John C Dvorak: if you're a small enough company, you can get away
with a lot of this stuff.
Adam Curry: Let's thank our executive and Associate
Executive producers for episode 1545. And we kick it off right
away. This was quite the Easter surprise this morning from Baron
Jim Bob way. Who says sorry, donation is late. Baron JimBob
way of Shotzi land and Baroness Mary on Schneeberger with a from
Yorkshire, North Yorkshire Great Britain with $3,333 Wow, I mean,
you're blown away by this stapler thing. This is what blew
me away like and you're late. I don't know. I mean, they've been
around. They've been supporting us. But yeah, I don't know what
he meant by late but on time. Thank you. Thank you so much.
Again, this is value for value. This may not be much for the
Baron in the bareness. Maybe that's easy for them. It
certainly feels like a great amount of value to us. But even
if it's $33 and that's value to you, we're happy to thank you so
much. Behringer, Zimbabwe, and bareness. Marion's
John C Dvorak: Interesting. Yeah, thank you very much. I'm
gonna go into the next one. But I'm going to also point out to
our top three donors, all in four figures or more so. All
from overseas. I know Americans.
Adam Curry: Oh, that's an excellent point. But we're too
outraged about trans trans men or sports or something. We were
too
John C Dvorak: baby. They're liking us as an early warning
system.
Adam Curry: Well, they're in trouble. I'll tell you that
because you know, clearly you're. You're in the enemy
camp. You're about to become Chinese.
John C Dvorak: Okay, Jaren Van Wyck. In the true drag
Adam Curry: well, should be Utrecht I'm not sure who spelled
those Drake. This is not an incorrect spelling.
John C Dvorak: It could be earnest or some town you don't
know about $1,000 Dear John and Adam you rock media. Reset My
brain enter entertain pros. Well, screwball new words, here
with my value for value requesting my tablespace
resources Zuki from the Dutch city of Santos, St. Martin. Oh,
please. smack my bro. peter pan with a little slap in the face.
You're sharing your room, your room, your room, your room, your
room from ruining your room from
Adam Curry: back in Utrecht. Thank you very much. And then we
have Pedro from the host at Blace vac. These are good you
know, I'm sure I'm sure they really would like you. I'll read
the note but could you just pronounce their name and
John C Dvorak: Peter Van Hooser at Blaze rake
Adam Curry: that the Dutch they play this at their meetups you
know and there's
John C Dvorak: I'm sure they do. Hi boys.
Adam Curry: Hi John. Out of big thanks from Holland for dragging
us through the whole COVID shitstorm your show helped me
and my buddy you ruin a lot oh there buddy saw their buddies.
So as appreciation your room who will be called services Zukie
from now on forward and I both just donated $1,000 My
knighthood abbreviation would be sir hills from the Dutch city of
Bilthoven. Oh Bilthoven. Oh he won't Bilthoven. He that's a
very posh pronunciation is Bilthoven, but that's how you
pronounce it in build Haven. It's kind of a property no word
sure hills from the Dutch built heritage and again thanks for
everything Keep up the good work guys Best regards page if on
their host thank you page and you dune conspiring together you
guys you guys are the other stars of today's donation
segment thank you
John C Dvorak: well actually Baron well die Bob way yes of
Adam Curry: course the Baron and the bear
John C Dvorak: joins it's two anonymous meanwhile from
Greensboro, Georgia $500.71 from anonymous at 500 Michigan send
more You guys are amazing the legacy media is a portal to hell
the legacy meet with me get this yeah do it do it the legacy
media is a portal to Hello might be usable I think so. And you
all are doing God's work. Happy Birthday John you may you
forever never find an exit strategy thank you both
sincerely anonymous from Georgia PSA been on the layaway plan for
a while requesting a property douching you found D deuced. And
karma for the whole no agenda community
Unknown: you've got karma
Adam Curry: just another another example of value for value there
was a request on the previous show for a Gene Wilder jingle
which we did not have but now we have not one but we have two
John C Dvorak: got hairy legs. Yeah, it's alive is his best
one.
Adam Curry: Yeah, but did you hear that but you said at the
end because you were kind of laughing Oh no, I
John C Dvorak: do stepped on me here. Yeah,
Adam Curry: here we go.
Unknown: I got hairy legs.
Adam Curry: From anonymous, we go to Sir B of Chattahoochee
Alpharetta, Georgia. Hope I'm doing that right $400 John,
Adam, thank you for being educators. Well, I've been
called a lot of things. I've never been called an educator.
Thank you. The ability to effectively counter mainstream
arguments with with reasoned and logical responses is largely due
to the no agenda show. One day I hope to shake your hand look you
in the eye and express my gratitude properly. Love and
Light no jingles no commas sir be of Chattahoochee. Well, sure.
I mean now. Well, we should have a meet up in Georgia. I was in
Georgia not too long ago was in just great yeah, Georgia is
great. Thank you sir.
John C Dvorak: Sir Bitcoin 345 ITM did John ever receive a
Bitcoin alpha version? 201 source code code books at 2339?
Yes, in March of 2022 Sir Bitcoin answer is yes, I did get
something I didn't know what it was. And it didn't have an
explanation with
Adam Curry: it or note. Oh, that's too bad. Then he sent
that in Bitcoin which is nice. Yes. Nice. Lady Rebecca
Pinehurst North Carolina 333 dot 34 Lynch donation number three
Ah, now I see what's going on. lately. Rebecca is doing a whole
sequence for all the Catholics to come back to mass lady
Rebecca pine her soon to be Dame Rebecca of Pinehurst with this
donation Ah that's right. She'll be a lady today very wishing a
very blessed Easter to all love you guys Thank you Lady Rebecca
it's very soon
John C Dvorak: the list I just got marked I
Adam Curry: think she may just double check I'm pretty sure she
John C Dvorak: went on while you look it up are talking about
Greg holy in her Andover No I
Adam Curry: think what she was saying was soon to be assumed to
be on with this donation Oh soon to be okay. So I think one more
donation and then she's
John C Dvorak: always assumed to be damn pioneers with this
donation.
Adam Curry: Well, it is number three. I'm gonna say we make
sure she becomes a dame because I don't want to miss it on this
important day for her. You know, I'm saying
John C Dvorak: yeah, me I appreciate this supposed to be I
think. I think so to Greg a Hawaii in Orinda. California,
hop to it. Get it? Have a most egg Solent episode emphatically
extruding eclectic Easter entrenched. ifIm ephemera.
ephemera? eviscerating every evil doer except evidentially.
Edgar Eisenhower, even brothers gotta work it out.
Adam Curry: All right. co uk code, but we like it. David
Mertens, in Edmond, Oklahoma. 330. I'm sorry, Greg was three,
three. Yes. And three, three 3.33. For David merchants,
Edmond, Oklahoma. No note from him that we could find that you
find the note from David. I didn't see anything. Then that
will give him a double up. Karma. He's got karma. I'll grab
this room from Queens. Why? Newell? 333 33. Olympia,
Washington switcheroo switcheroo in the morning Adam and John.
Happy Easter. Happy Easter to you. Please credit my beautiful
bride of 17 years Kimberly ANNA aka hardcore mama with this
donation, a proper deducing please do deuced Happy
Anniversary babe glad you started listening thanks guys he
is risen so do we credit I guess we I'd like I would like to
credit hardcore mama I think that's all I
John C Dvorak: think you could put her name aka hardcore mama
would work alright
Adam Curry: Kimberly an AKA hardcore mom I just like
hardcore mama yeah
John C Dvorak: you seem to like to name for some unknown reasons
nobody really understands 333 comes from search for and he
wrote a note in which I do have opened here, ITM John anatomy
This is another switcheroo on behalf of Neal Jones the clip
custodian
Adam Curry: Oh, okay.
John C Dvorak: A while back some producer kicked off a knighthood
dry for Neil. It would be nice to get that ball rolling again.
I request yet karma for all producers love his lit black
bear and surfer of Orlando.
Adam Curry: Can you Batman here comes? You've got
John C Dvorak: PSF Happy Birthday, John.
Adam Curry: Yes, and the clip custodian even on on Easter he
sent me some clips as always, we appreciate that. And he's in the
credits. I don't know how much more he has to go hope someone's
keeping track of that for but he should. Sir cow in Northville
Michigan is best not SoCal of lavender birthday. Is it 11
Lavender blossoms lavender
John C Dvorak: No, that's the girl over here. Yeah.
Adam Curry: 271 71 Well, that's obvious. It's a happy birthday.
JCD from Sir cow. I don't know. I'm still think it might be cow
from lavender blossoms.
John C Dvorak: But that sounds good to me. I
Adam Curry: think so Lavender blossoms.org. Just in case.
John C Dvorak: Up in Petaluma, California is Brenda Romano. 250
bucks. And she says hello, no agenda. This is a shout out to
you, John and Anna for continuing to advocate for free
thought and open discussion. Happy one year Annie to my
husband, Michael Romano. I need a D douching. And a goat scream.
D deuced. Please read on Sunday April 16. Well,
Adam Curry: oh, like an app and you need to resend that note to
us. Let's just explain this is very important people understand
there is no actual birthday list. You have to email us the
day before the show when you want mentioned and if you want
something read on a certain date, you have to send it to us
before that show. Because we do
John C Dvorak: not have that we're not would trade it we have
a show to do. We're not a couple of bookkeepers.
Adam Curry: Well, there you go. That's a nice way of putting it
John. Thank you. That sounds so friendly. Anonymous in Greeley
Colorado. Short Row a duck's to 22 Thank you for all you do.
That's short and sweet. Thank you
John C Dvorak: Baron sir oh gee God cast in Riverside
California. And he writes Whoa, I just noticed that this
Sunday's donation places me in the barren level total donations
$3,024.97 of counting attached new tighter tighter and tighter,
tighter. Og God caster servant of God and protector of the
lovely lady Lee and and he also writes the word he spells the
word wo W O H. As opposed to Debbie I think it's H O A. But
it turns out that both spelling seem to be acceptable. Merriam
Webster
Adam Curry: I've always spelled a W O H and that Steve Webb who
is currently baronet's or OG, God, Katherine becomes a baron
today. That's what happens with him. And a switcheroo at $200.42
from John J Sway 33. Korea, Hong Korea. hoga Falls, Ohio. And
it's a switcheroo for Chad Finkbeiner. From out from wife
Gillian. Oh, it's just nice Chad 43 years of the Sun circling
around you happiest of birthdays to you keep your face always
towards the sun and the shadows will fall behind you step
lightly. Do not harm honor each other the earth and ourselves
from John. Glad to have you shared no agenda. Glad to have
shared no agenda with you. years ago. You are strong and a good
man and and Cleveland Ohio. Well, Miss you after moving to
Florida but we shared no agenda. You were one of the best friends
I have had an a brother in life. Love Light and weed your wife
Gillian and buddy John and your bozi and Maisie the pups. Oh,
I'm sorry. There was some jingles here that I missed.
Fears freedom. Okay, we got that one. And what else do you need?
Rev. Owl. Okay, and then there's a request for Trump clip funny
one. Okay? All right, I'll just okay I'll just make one up.
Let's start with that one.
Unknown: They did dumps, they call them dumps big massive dump
ESP IICT
fear is freedom, subjugation is liberation. Contradiction is
drift. Those are the facts of this world and you will
surrender to them.
Adam Curry: And John J sway also says check out J Sway 33 That's
J dot Sway 30 through an Apple Music to Instagram to YouTube
okay to get lots of followers thank you so much
John C Dvorak: well, a Mr. Vaughn SAR a mountain from Sar.
I am I'm out in in barn Ville de Wisconsin Barnaba ITM job karma
for my son jingle donate to no agenda Gregorian Chant style
love and light I am heard and Vaughn SAR er is advanced sorry
Adam Curry: I missed that one too. What was that called? Oh,
and I do have no agenda
John C Dvorak: and he just called donate and as you look
for it you will I can read another one
Adam Curry: what is that called again? Oh, I got it. Yeah, sure.
I think this is it
Unknown: so need to and no agenda they give us as we get
her we donate to no agenda is the show that's really you need
donate to and no agenda. This John Adams be that old age who
would know which end? Science is turning into Klieg?
Adam Curry: Yes. That's a classic classic. And then we're
almost done here. We would have we
John C Dvorak: are done with Darius Miller in Bellevue,
Nebraska. He says it I mean he's a de douching you've been de
deuced and it needs rub alized or anything it says after that
thank you bye.
Adam Curry: Okay, we know where the rubber lizer roadblocks are
out
I'm sorry for some reason I didn't see these
Unknown: in the standby 3333 33 or allies are
Adam Curry: out of a question. Do you want to you want to go
through and do them all or do you want to get back I
John C Dvorak: think it's too long.
Adam Curry: I think it's a little too long as well thank
you to these executive and Associate Executive producers
who have supported us in such fantastic ways on this. Easter
now you do get the coveted Easter Special executive or
Associate Executive Producer as per the yes letter. Which is
which is a little bit more extra special than the rest I mean if
you put it on IMDB Executive Producer of the no agenda,
Easter Special show 2023 That does outdo milb Some others so
it is kind of a special thing and we appreciate you doing
that. And unlike the phonies in Hollywood, we will gladly vouch
for you if anyone questions the validity of these because they
are just as good as anything in Hollywood if you'd like to
become a producer of the no agenda show go here to vo
red.org/and A thank you again for supporting episode 1545
Unknown: Our formula is this we go out we hit people in the
mouth
Adam Curry: feel like we've done so much already? Would you like
to we can do a couple things here. There is some some latent
COVID stuff that seems to be popping up and is not a skip
that that's annoying. Oh, yes, I have a climate change clip which
I think is necessary to at least play. Because just when you
thought it couldn't couldn't get any crazier. It could. It's one
of the most
Unknown: exciting parts of the game. The crack of the bat the
moment you know, it's gone. It's gone. And this morning a new
study suggests one reason why sluggers may be hitting it out
of the park a little bit more often. There is a pretty simple
physical mechanism going on here, which is that when
temperatures rise, the air gets less dense. meaning that there
is less air resistance for balls flying through the air. This
study led by Dartmouth College scientists analyzed 100,000
Major League games and more than 200,000 balls hit in play their
findings, games played in warmer temperatures can lead to more
homeruns. Because of a reduction in ballpark air density,
we were able to
isolate the role of climate change by using what we call
climate model simulations.
Christopher Callahan, the lead author on the study says since
2010, more than 500 home runs can be attributed to global
warming. Over the last 40 years. The National Oceanic and
Atmospheric Administration says the average US temperature in
June July and August has increased by more than two
degrees. Scientists saying outdoor stadiums like Wrigley
Field in Chicago, which hosts a lot of day games will likely see
larger increases in home run rates over in close stadiums.
home runs have seen previous surges, like in 2019, when the
MLB even changed the size of its baseball's to decrease the
distance of travel. ESPN buster only says whatever the reason,
an increase in homeruns is good for the game. We saw at the end
of last year, when Aaron judge was chasing the American League
record for home runs. Everybody in baseball was watching that
fans were excited by that.
Adam Curry: Was there a problem with baseball ticket sales or
something? Does it Aaron ABC the network? Or you know what, what
is this bull crap?
John C Dvorak: Well, first of all, we have to realize that
they were paid to do this study by someone. Yeah. So there was
there's still money in global warming. Yep. What I think
baseball is up a little bit because they've changed a bunch
of rules and they're making the game faster. Now they have a
pitch clock. Oh, yes. Oh, it's in so many seconds. And again,
the batter can't keep getting in and out of the batter's box and
adjusting himself. And which, yeah,
Adam Curry: major, major league baseball on ABC, I believe.
John C Dvorak: So that would be that would be probably.
Adam Curry: How's that? How's that?
John C Dvorak: How's that? Yeah, everything's our house,
especially ABC owned by Disney. They did more of these than
anyone else. So I have a couple of clips that might be good in
this spot. Okay. First of all, since you talked about global
warming, let's go to the Brazil deforestation clip.
Unknown: Oh, no deforestation was up again last month in
Brazil's Amazon marches rate of destruction in the world's
largest rainforest road 14% over last year's figures. That's
despite promises by the new leftist government to crack down
on illegal activity and Paris Carrie Kahn reports.
According to Brazil Space Research Agency known as
inpaint, more than 130 square miles of the Amazon within the
country were cleared of trees and vegetation in March.
President Luis Inacio Lula DE SILVA has launched enforcement
crackdown since taking office January 1, pledging to reverse
years of permissive illegal clear cutting and mining by his
predecessor, former far right President Jair Bolsonaro slashed
environmental protections and prosecutions. Brazil's space
agency surveys the Amazon from August to July to avoid cloud
cover during the rainy season. In the first eight months of
that reporting period, deforestation rose nearly 40%
The previous year.
Adam Curry: I gotta go back to the baseball story. So what will
happen to golf? Do they have to now turn all par threes to par
fours because people are gonna be hitting
John C Dvorak: around? No. Yeah, because of golf balls gonna go
further. So you have to you have to get a
Adam Curry: par four. Oh, no problem. Part two.
John C Dvorak: I'm January arrow. Hello. There has to be a
par six.
Adam Curry: Don't talk to Adam about sports ball.
John C Dvorak: sports ball. Well, I was gonna point out that
this Silva's a big talker, the big left as he goes in there and
they made this thing gets worse but Okay. About Bowling,
Adam Curry: bowling. But how about actually, climate change
helps because I'll be using less gas to go as fast in my car. I
mean, it'll actually be good.
Unknown: Climate change that story? You're
Adam Curry: absolutely right. Climate change is good for
stopping climate change. So it should actually keep it in
check. What else can we think of?
John C Dvorak: It's self limiting.
Adam Curry: This is so so Bogota, HIV. Bug it
John C Dvorak: really is. So they got paid. This is the
moneymaker.
Adam Curry: We're stupid. We're dumb. We're the dummies here.
We're the dummies working for podcast peanuts.
John C Dvorak: We're podcasters and then we can do it but we're
doomed.
Adam Curry: We're doomed. We can't make money writing about
the ball flying further sports ball. I would be great at
writing about sports ball we're not we'd be a great T
John C Dvorak: be the guy who's to say we definitely be
Adam Curry: more climate change here. Here's
John C Dvorak: the no I got other stuff too. How about this?
Oh, here's a good one out The NHS striker How about this for
your socialized medicine,
Unknown: the UK National Health Service will cancel
up to a quarter of a million appointments and surgeries next
week with almost half of all British doctors walking out to
protest low pay. The body representing British hospitals
and healthcare systems said patient care quote rests on a
knife edge because IT staff writers will be stretched by 10s
of 1000s of absences over 96 hours combined with a long
holiday weekend over Easter and other senior doctors taking
planned leave the impact on the country's patient population
could be unprecedented health bosses say the country's junior
doctors are asking the government for a 35% pay
increase to make up for what they call 15 years of eroding
wages. The government's call this quote unreasonable This is
the second such strike in less than a month. There's
Adam Curry: a lot going on in the UK actually. The NHS also
has reported a severe dentist shortage leak quote leaving
patients stranded like that's the last thing they needed to
cut back on. Rail chaos rail chaos in the UK. Yeah, but
that's also climate change stuff listen to this. Households could
possibly be rationed on water and charge if they go over limit
power showers.
John C Dvorak: I understand they're gonna ration them on
air.
Adam Curry: Power showers and dual flush toilets will be
banned. Possibly Germany, Germany, home of the of the
bratwurst and crowd meat consumption drops to record low
PLANT BASE sales record high. Germany Germany's who says the
vegan business magazine meanwhile, Italy, they have a
bill on the table to ban lab cultured meat. Good on you good
for them. And yeah, we'll see how long that lasts not long.
And this Easter activist and East Bristol were protesting in
the meat aisle. Actually, this was pretty funny. I'm sorry to
go back to climate change. But I forgot I had a whole bunch of
stuff. One of our producers, he's a shareholder of UPS. And,
and just as he owns like 10 shares, he owns it to get to be
able to vote. And so he sends me the ballot of the voting you
know what, what passed and what didn't. So you know, there's all
the nominees for the directors, you know, everyone's 4444 And
then they ratify the ratify the appointment of Deloitte and
Touche as their independent registered public accountant and
then listen to this. Reduced so these are all against they
voted. So the shareholders of UPS voted against the following
to reduce the voting power of UPS Class A stock from 10 votes
per share to one vote per share. Of course they did, but then to
adopt independently verified science based greenhouse gas
emission reduction targets. No, they voted against that. To
prepare a report on integrating greenhouse gas emission
reduction targets into executive compensation. No, we voted
against that, to prepare a report on addressing the impact
of UPSs climate change strategy on relevant stakeholders
consistent with the just transition guidelines, whatever
that is, nope, voted against that, to prepare a report on the
risks or costs caused by state policies restricting
reproductive rights rights. Now, UPS will have none of that to
prepare a report on the