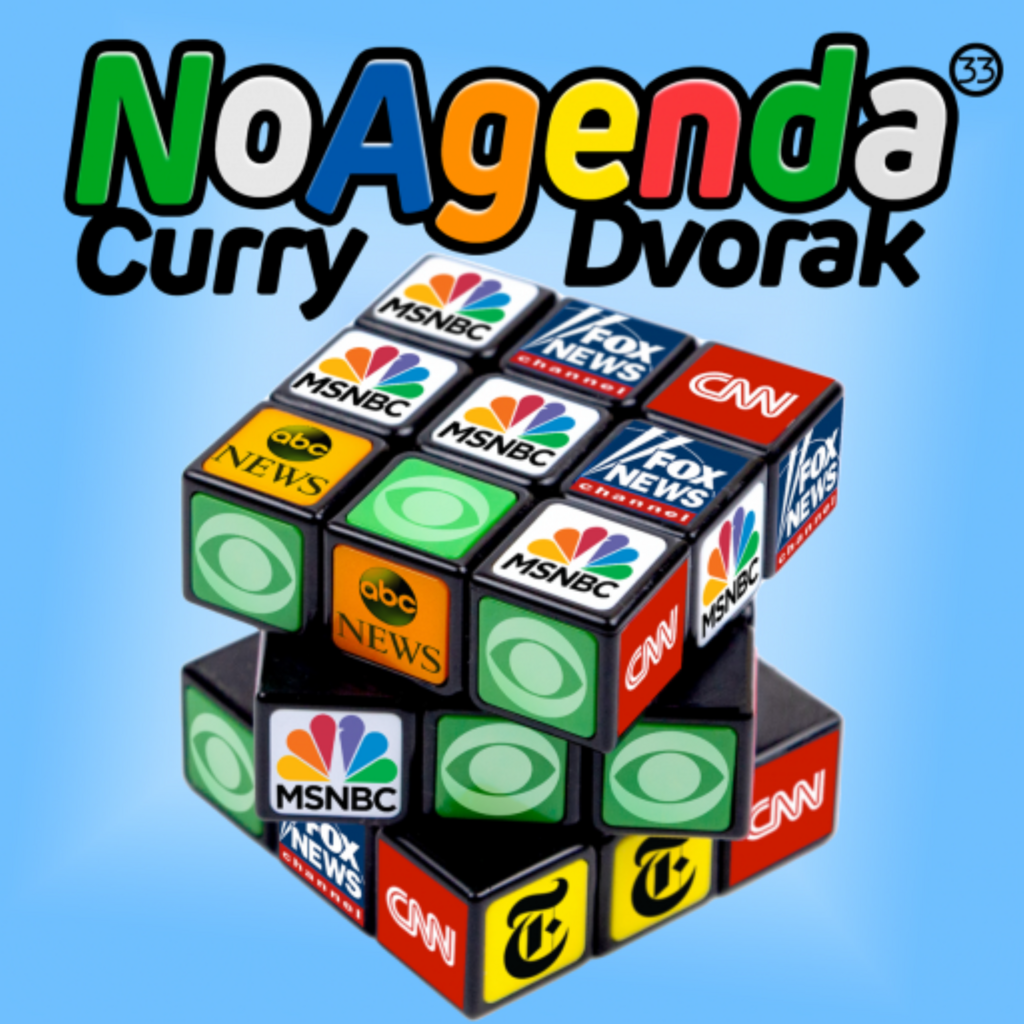 April 16th • 3h 0m
1547: A Sally
Transcript
The transcripts of No Agenda are automatically generated and therefore, not fully accurate. Discretion is advised.
Click the text to start playing from that position in the show. Click the timestamp to copy a direct link to that position to your clipboard in order to propagate the formula.
John C Dvorak: Keep the guy on the line. We're putting a trace
on the call. Adam curry
Adam Curry: Jhansi Dvorak April 16 2023 This is your award
winning get one nation media assassination episode 1547. This
is no agenda devoid of any intelligence clearance and
broadcasting live from the heart of the Texas hill country here
in the Marines in number six in the morning, everybody. I'm Adam
curry,
John C Dvorak: and from Northern Silicon Valley where somebody's
celebrating the fact that today's the day the German shut
down their last two nukes I'm John Cena, borax.
Unknown: Buzzkill
I'm glad you brought that up. I happen to have a clip of this
insanity. Unbelievable what is wrong with the Germans here?
John C Dvorak: I'm of the opinion that this is being done
on purpose to try to jack the Germans up?
Unknown: Well, they're gonna get jacked up. But did you know that
this is also the same week that Finland finally opened up their
1.6 gigawatt nuclear reactor after 16 years?
John C Dvorak: No, I did not know that part. I did not know.
I don't
Unknown: have a clip of that, of course, because why would we?
Why would you tell anybody about that? Now, I think it's like 30%
of their energy is going to be covered by nuclear. But here's a
France 24.
Nick, talk to us a little bit about the history.
I left this in. You can hear how phony baloney these reports are.
So the guy standing. I don't know if he's actually standing
in front of the nuclear reactor being shut down. He could just
be it could have just pulled over by the side of the road.
And of course, he knows exactly what question he's going to get
from HQ. And then this hilarity happens. Nick talked
to us a little bit about the history of nuclear energy in
Germany
Monte I lost the phone connection here so I couldn't
hear that question. But I know we were gonna talk about the
history here of nuclear in Germany. And it started really
in 19
so phony like wow, they all know what the script is like Monty
tell me what the history I knew we're gonna talk about the
history 61
With the opening of the first reactor and to the skepticism of
energy supply
1960 By the way, there's some some weird noise in this thing.
That's that'll go away that's that was in there as a traffic
noise. Now it's it's someone's phone. I think their their
connection. But did this their first reactor opened in 1961? Is
it possible?
John C Dvorak: Yeah. Oh, yeah. Sounds. We're talking big game
about all this stuff in the 50s, mid mid 50s.
Unknown: Right, really a 1961 with the opening of the first
reactor, and to the skepticism of energy supply companies. And
then it grew until in the 1990s, there were some 17 nuclear
reactors. But this whole journey came through a lot of
controversy. there was opposition, particularly after
the Three Mile Island incident in 1976. And Chernobyl, you can
imagine how that focused attention here in Germany, and
the whole process of contesting nuclear power gave birth to
Europe's biggest Green Party and Green Party movement. The people
who are in government now, really, really tipped the hand
of government here was the Fukushima nuclear disaster. In
under Angela Merkel's reign, she decided in 2011,
which, by the way, we should just pause for
John C Dvorak: a moment makes it sound like she did
Unknown: it. Not only that, but the Fukushima nuclear disaster
was not a nuclear disaster. It was a tsunami, there was the
disaster. And yes, there there was an issue with cooling down
the rods, but no one fried if they'd been back to Fukushima
many times. And you know, there's lots of plant life and
animals running around and everybody's all happy and jacked
up. No one's dying over there. But, you know, you forget that
part of the Fukushima nuclear disaster.
Under Angela Merkel's reign, she decided in 2011, that it was
time to shut down all of Germany's nuclear plants by the
2030s. However, that whole schedule was was advanced when
this new coalition government came into power. Germany is now
in the past year only generating about 6% of its electricity from
nuclear power in the past three months, it's been around 3%.
Even if these nuclear plants are being shut down, the controversy
will continue because you have to decommission these plants
that takes 15 years and store 10s of 1000s of tons of nuclear
waste somewhere. So there'll be a lot more discussion even
though the era of nuclear energy in Germany is over.
Unbelievable.
John C Dvorak: So from the sounds of it, there were at
least those old this is old plants. new plants, of course,
are different technologies and much more
Unknown: efficient ways they eat their own waste. But
John C Dvorak: let's just look at this from the perspective of
old plants. So by from their calculation, it would take 25
old plants to power the whole country perfectly. Yeah, because
it's 2% per plant. Yeah. So we have seems reasonable put 25
plants up to here and there's a big country mall in East
Germany.
Unknown: Meanwhile that just shutting down in East Germany.
Meanwhile, they're shutting down industry because they can't
afford it. It's It's so hard. I mean, the Germans have been
under some kind of mind control. Not sure how that works. I mean,
I am obviously because the mind control was so strong. Tell me
what's wrong logically, with this very short little report
here from ABC last
summer alone, the US saw five flood events described as 1000
year floods from the Midwest to Texas and California. A recent
study warned floods are becoming more frequent and less seasonal,
due to climate change, and our infrastructure is not keeping
up.
I mean, if it's 1000 year flood, then wouldn't you have one in
1000 years? Not five. Is this weird logic on my on my part?
John C Dvorak: Oh, there's just throwing these terms out there
because it sounds bad. But what is this about the infrastructure
they need to we need to build more awkward ducks or bigger
reservoirs or what's the deal? are they referring to
Unknown: me here again, I don't want last summer.
John C Dvorak: Infrastructure is not keeping up with climate
change. Let's listen to
Unknown: us all five flood events described as 1000 year
floods from the Midwest to Texas and California. A recent study
warned floods are becoming more frequent and less seasonal, due
to climate change in our infrastructure is not keeping
up.
I think that means solar. Windmills, again,
John C Dvorak: it can mean solar. I mean, reservoirs and
aqua ducks. I just talked about floods I don't
Unknown: I don't think that's what he's really thinking about.
Just just saying doesn't sound right. But now they're not using
much of that. Well, I guess that's the Florida flood. Right.
John C Dvorak: But have you now yeah, I talked to Horowitz
yesterday was he all
Unknown: Is he all in on climate change now now that he was
almost died and from six more he's all
John C Dvorak: in on cooking shrimp. So
Unknown: it was a close call though for him?
John C Dvorak: Yeah, he says he got it within like a foot of you
know, flooding the house but the house never got flooded. The
backyard was kind of ruined and the boat was lifted out of the
out of his container there and dropped into, like almost
dropped in the backyard. And he's asked friends who have
boats on top of their houses. You know, can
Unknown: I weep for their $100,000 boats? I don't I'm
yeah,
John C Dvorak: all those poor bastards in Florida. Damn, boats
feel so
Unknown: bad for but it's Tiki hut. So did the tiki hut get
washed away?
John C Dvorak: It didn't specifically ask but it sounded
like he got wrecked.
Unknown: Now because of Tiki out it's pretty cool that he has
there was like
John C Dvorak: any you know, it's a tiki hut. How hard can it
be to rebuild it but he had some
Unknown: Hawaiian guys or some mores come and build it you
know?
John C Dvorak: Well, probably still floating around building
Tiki huts. Lord is needing more Tiki huts.
Unknown: Literally. They're floating around. And thank you
all for sending us your videos of fish swimming on the street.
It's not quite flopping. You know? Like, oh, here's a here's
a cat fish swimming around my hanger. Yeah, but the fish has
to be flopping forte gotta be flopping for it to be Al Gore's
prediction. You know they have to be flying. It shouldn't be
Miami. There was a little missed say Fort
John C Dvorak: Lauderdale anyplace else is not good.
Unknown: Well, I think we need to get into the the incredible
news of the week. Which I which I can summarize in 25 second
clip at least. How the US News is a news with big air quotes.
news media is handling this by listening to this. This clip
from the five on Fox News. Oh,
I don't even know if these leaks are real. I don't know if
they're half real half true. That's true information. If it's
all good, I don't even know I don't even know if I'm allowed
to read the leaks does FoxNews have a policy that we
are we used to think you can make them but if you actually if
you this is kind of weird. If you have a classified security
clearance, you are not allowed to read the Okay, even though
they're on the front page of The New York Times. Okay.
So this clip kind of sums it all up. What we're not talking about
is the incredible news that was in the leaks. And one of those
people on the five clearly has clearance and I think Dana
Perino probably said Well you heard you can't read it if you
if you have a clearance.
John C Dvorak: What kind of by the way that goes. We've talked
about this before on the show, that is plain idiotic. If you
have clearance and that they should address this and stop it
because for one thing It's giving away. This is like spy
craft. It's giving away who the spies are. Yes, your role, I
can't read it, but you can. Okay, well, then that means
you're a spook and the other guy's not. If it's been if it's
been published in the New York Times on the front page, by
rule, it should be released to the people who have clearance,
they should be able to now go see it. Same with WikiLeaks.
It's ever I can read it, and you can read it and we're not
spokes. A spokes should be able to read it to try to keep up
with us. So So what's the logic here? I'm not getting it.
Unknown: Okay. I do have a copy of the memorandum for senior
Pentagon leadership commanders of the combatant commands
Defense Agency and DOD field activity directors, which very
clearly states do not access documents with classified
markings from unclassified websites, as data may be
classified. That is, Wow, it's so good. Now, my My sources tell
me that the way this went down is is actually plausible, which
I find fantastic. But the but the fact that belling cat is
involved in this just screams bolt, not necessarily the
information is bullcrap. But this was this was meant to be
released. For a number of reasons I have to agree. So
before we get into it, so I just tell you some of the things that
are actually in the information.
John C Dvorak: Let me just Well, I think are clear. Let's do the
clips first because you have an interest because I think a lot
of that will be in the clips. At least the clips I have from Amy
Goodman.
Unknown: Oh, I have warnings I only have the bullcrap. And five
M stuff. I don't have anything of any value. They do let some
John C Dvorak: Hold on a second. Can you repeat that again?
Unknown: I don't have anything of any value
John C Dvorak: there's no value because you only have M five M
clips. Okay, of course
Unknown: that's what we do. But there's value in deconstructing
what they're saying. And there's value in what they're doing with
this but not in the actual what's in the actual documents
that that's what's so crazy.
John C Dvorak: That Well luckily Amy maybe we should go to her
morning, Amy Goodman flippin bound. False alarm. So let's
start with leaker from NPR leaker one.
Unknown: President Biden says he's directed the military and
intelligence communities to take steps to further secure
sensitive information. That's after a massive leak of
sensitive documents came to light. On Friday, a 21 year old
member of the Air National Guard named Jack to Shara appeared
before a federal judge in Boston. He's facing charges that
he leaked highly classified information that include details
about Russian moves in Ukraine and the strength of the
Ukrainian army. Joining us now to talk about all of this is
MPRs. Pentagon correspondent Tom Bowman. Good morning, Tom. Hey,
miles. So what steps can the intelligence community even take
after a breach like that? Well, the
first thing, obviously, is to restrict access to who sees this
kind of information. Now there are at least several 1000 People
who have access to this classified information which
came out of the Joint Chiefs of Staff at the Pentagon
claiming did he just say the first thing we need to do is
restrict people who have access from reading it is that come but
I heard him say
John C Dvorak: I thought I didn't think it was stopping
from reading your stop stopping them from accessing it, bro.
Okay. All right, which is kind of the same, but I don't think
that's what he said. Okay. Yeah, no, let's go ahead. Number two.
Unknown: Numero Oops, here. Yes, numero two.
Tell me a little bit more time about why this leak matters more
broadly.
Well, I'm told the big problem is with release of these kinds
of documents these sensitive documents is it alerts your
adversaries. So the US is picking up electronic
communications like phone calls or other information from the
Russians. That will all quickly dry up because they can change
phone numbers, radio frequencies, do forensics on
which information came from which command in which location?
It makes it much harder to glean information from the Russians
huge problem.
MPRs Tom Bowman thank you so much, Tom. You're welcome.
What was that report?
John C Dvorak: That would was that number two.
Unknown: They're out of order because you have this weird
exclamation mark. I'm sorry. That was number three. You
titled them with exclamation marks and so it moved three
above to sorry, was
John C Dvorak: still says three.
Unknown: I'm sorry.
John C Dvorak: Okay, well, that was the end of it. Q I think is
just pretend you didn't hear that. But now that I think about
it wasn't that interesting. Number three. Let's go to number
two, which is interesting. Okay.
Unknown: Already the Pentagon is removing people from this
information. I was talking with some folks last night who lost
that access, and they have high level jobs. So that will
continue as far as how many people they're restricting, we
just don't know. And then
there's this bigger question right of how did a 21 year old
IT specialist working in an airbase in Cape Cod, even get
access to this highly classified information?
That's what the investigation will determine. And neither the
Pentagon nor the Justice Department is really saying much
at all. Right now, I spoke with a retired senior officer who did
have access to this kind of intelligence, he speculates that
to share likely gained access to something called the joint
worldwide intelligence communication system, or Jay
wicks, Pentagon likes acronyms. That's a secure internet system
that would contain all kinds of top secret information. Now,
that's how Chelsea Manning the former Army soldier, a
whistleblower convicted back in 2013. That's how she was able to
grab 1000s of documents and release them. Now. When that
happened, the Pentagon and other agencies put a lot of controls
over who had access, limiting them on a need to know basis.
They created separate groups also subgroups. So let's say
miles, you're an intelligence analyst or an officer working on
Taiwan issues. After that you would not be able to have access
to anything related to Ukraine. Or let's say you work the
Ukrainian issue. Maybe you could see some intel on Ukraine, but
not the more sensitive information such as you know,
what's being picked up on Russian communications.
Wow, they didn't give us anything either. Did they?
John C Dvorak: know you're not gonna give it we get a little
bit from Amy, which is coming up. But let's go back over what
they said. Which is the their concern is not I mean, the
Chelsea Manning thing happened. We remit we know that. So they
supposedly said well, oh, geez, this is no good. Let's fix
things. So. So now it's was fixed. And this guy in airman
man, by the way people should be if you don't know, this, an
Airman First Class is the same as a private first class in the
army. Very low level. It's like RankBrain.
Unknown: Basically, radar.
John C Dvorak: Yeah. Ray. Mash. Yeah. So you have this guy
having access to all this stuff. And just, it's so deep homage
stuff, he's got,
Unknown: well, looks like we know from the past. And this
goes back. Right back to the man demanding years. That the, the
systems within Defense Department and you know,
there's, this is what like, I think we have a clip, they call
a journeyman for some reason, which basically is a contractor
or he's contracted out to do different things. But when it
comes to IT admin stuff, one of our producers literally was the
SIS admin for the drone systems. And when that person she but
when that person left she, you know, she was told I'll just
stick to the admin password on a post it note on the on the
monitor, you remember that?
I do. And
you know, and things were unencrypted, especially the
drone signals were unencrypted. And that may have been fixed but
that's the or not but now that you have these contracting
entities that come in and so much changes and because you
know, this is billions, hundreds of billions of dollars, we see
it every single day and the the defense email, you know, $400
million dollars one one bidder on the internet. I mean, this is
a website just at the level that this stuff
John C Dvorak: goes and when they're canceling that this this
contracting thing is completely out of control in the military,
where they're contracting out food services. Yeah. Is that
what you remember when you when I was a kid there you always
joke about why you getting the army do you do KP appeal to the
potatoes? Nobody feels potatoes. You get Burger King? Yeah, or
yeah, whatever, guys, the airlines It was horrible for
Unknown: maps. Let me just run down a few that the BBC,
interestingly enough, actually gave eight key takeaways of what
the leaked Pentagon documents reveal. I thought that was
surprising. The BBC. I'll just give you the headlines un boss
to accommodating to Russia, which is Antonio Gutierrez. He
was apparently too willing to accommodate Russian interests
according to file so so cheap now he is. That's not good for
the UN Secretary General was not a good look for him. Jordan
feared Chinese retaliation over Huawei. Did you even hear about
that being in these documents? Nope. No,
John C Dvorak: no, no, the thing is you these documents are deep.
Yes. And I'm sure this little list that you have here is
something no one's heard about because no one's covering it.
But that's the tip of the iceberg.
Unknown: Russian infighting over Ukraine dead. So we know that
it'd be a what's the real number? Western special forces
operating inside Ukraine be including? The UK? Latvia,
France, the US and the Netherlands? Well, that's called
boots on the ground. Yep. US DIMMs hopes for Ukraine
offensive. Egypt secretly planned to supply rockets to
Russia. Yeah. South Korea torn on delivering weapons to
Ukraine. Last night, we kind of knew that. China conducted
experimental weapons tests with the hypersonic glide vehicle. I
mean, these are kind of interesting things.
John C Dvorak: Well, that takes us to me. No, I'm not going to
play the warning. No, you don't have to play you already played
at once. All right. So that's her report. And this was I
think, on Friday, was a lot of a lot of little tidbits. And I'm
going to play one of them because I think it's very
interesting. And then I want to play an interview she did with
this guy Bamford who's a spy. He writes books about display.
Bamford we know this guy band for Don't ya? I can't remember
his first name. He said he introduces them. But let's play
leaks tidbits. This is I think this is interesting.
Unknown: The leak of the documents has also revealed how
the United States spied on its own allies. One like Pentagon
memo alleges that the Mossad Israel spy agency had encouraged
Israelis to take part in the massive protests against Prime
Minister Benjamin Netanyahu is planned to gut the Israeli
judiciary.
John C Dvorak: So that was interesting. And by that I did a
little research on this for previous show. This gutting the
judiciary and the fact that the Mossad is turned against
Netanyahu and everybody that working against him kind of like
the way CIA did with Trump. Yep.
Unknown: Not kind of exactly. If you if you look into this
judiciary problem where, you know, 30% of the judiciary could
determine anything they wanted. In Israel. It's very much like
the CIA against Trump.
John C Dvorak: So the what what Netanyahu wants to do? He thinks
it's a problem that the judiciary has so much power, and
they can pretty much just feed on any law that the Knesset and
he and a buddy puts together and he doesn't like that. And I
don't know if he's going to ever get that fixed. But there he's
not trying to get them. What it is, is the other thing, which
is, I think, more important, is that the way things are now, to
get a new member into the judiciary, the old judiciary
people, yeah, they decide, they decide they have to have it's
got to be one of their buddies. So it's like is as if the
Supreme Court all of a sudden could say, oh, you can't put him
in it. Well, that's we need another conservative How would
you like that situation to be like that? That's no good.
Unknown: Yeah, in fact, they they say that democracy is over
in, in Israel. I didn't play Oh, I don't have a whole bunch of
clips on this. And all this demonstration was basically like
Black Lives Matter, you know, outraged leftists who are just
causing a ruckus making it look like the whole country was
against Netanyahu. Yeah. Which is far from the truth. This
James Bamford guy. You trust him?
John C Dvorak: I like what he's got to say in this in these. I
don't distrust him,
Unknown: because he's basically just a journalist and author. He
has no end he's a Berkeley alum.
John C Dvorak: Yeah, well, they because that's not
Unknown: good. No, that's striking. Well, hello, there you
go. Now we know why your he's your buddy. Okay, let's go.
John C Dvorak: Okay, let's go with the part one. And this is
not the clip that you'll get a kick out of one of these clips.
So this part one
Unknown: many of the documents are based on information
gathered by some of the most secret wings of the US
intelligence community, including National
Reconnaissance Office, the NRO National Geospatial Intelligence
Agency, the State Department's Bureau of Intelligence and
Research the Pentagon's dia Defense Intelligence Agency, and
the National Security Agency, the NSA. We go now to Washington
DC, where we're joined by James Bamford longtime investigative
journalist and author for cuts down the intelligence community
in 1982, he published the puzzle Palace, the first book exposing
the inner workings of the NSA, the National Security Agency,
his latest book, just out is called spy fail, foreign spies,
moles, saboteurs and the collapse of America's counter
intelligence. Jim, welcome back to Democracy Now. It's great to
have you with us again. Why don't you just start off by as
you evaluate what has been released this intelligence, if
it's real, and it by all accounts, it looks real. of the
US spying on adversaries and allies. I talk about what's most
significant and where are these documents are from?
Well, in terms of significance, I think the most significant
outcome of this is, is a danger that we may lose actual human
beings and in Russia, because a lot of the documents indicate
that we have collected information from the inner
workings of the Russian government, the intelligence
services and the military. So there are people that may be
giving us information. And now that these documents have come
out, it gives the Russians that opportunity to do a more hunt
the hunt for people who are giving that information away. As
a matter of fact, officials told The New York Times in The
Washington Post that the revelations might lead Russian
mole hunters to the doorsteps of Americans faiz in their ranks,
machine roll mole hunters so that kind of explains the Wall
Street Journal guy maybe. Yvonne golden off? Yeah. Well, he's,
you know, he's been detained in Russia as a spy. All right,
John C Dvorak: right. Right, right. Yeah.
Unknown: Mole Hunter, Russian mo hunter. I
like that. Yeah, hunting for moles. That
sounds like a good reality show. Russian, that would be a great
reality. So we should we should talk to Burnett about it.
John C Dvorak: Okay, on to get clipped to his more kind of a
background or just a basic thing, before we get to the good
one,
Unknown: what they call sources of methods, both human and
technical that were released by the documents. Now, strangely,
it mostly documents that are leaked appear in major news
organizations and New York Times, Washington Post, Wall
Street Journal, whatever. They never appear on gaming
platforms. So this is a first for that. It's hard to say why
any of this stuff is appearing, or why it's appearing on those
platforms. Using this three reasons for spying. That was one
of the reasons I wrote spy failed, because there are so
many spies out there that the US never ends up catching. And
there's three main reasons one is money. Obviously, most spies,
so want to sell secrets for money. Another is ideological,
they want to help a foreign government. They don't care much
about money. And the third reason is basically the thrill.
Or I'll say, anger. So that could be the reason that these
documents were released. The third reason anger, somebody was
angry, and they decided that they're just going to put these
documents on whatever platform they happen to be using. So it's
very hard to hard to know, the key point is that the government
keeps losing documents.
Now, for some reason, I get a high like, magenic vibe from
this whole thing. I'm not sure why. Maybe it's just because
he's right book writes books and stuff. I don't know.
John C Dvorak: Maybe I mean, you should you go with your gut.
Yeah. But I want you to listen to this last clip from this guy.
All right, which is the wild clip. And I want you to tell me,
if you've heard of any of this, because you brought up something
earlier with one of the clips that came out at the beginning.
They said John ever heard of that? Never knew that. We're
starting to do things that are in this. Things are revealing,
but he just talks about stuff that he's been been discovering
over time. And I'd like to know why we don't know any of this
Unknown: is that the government keeps losing documents. A few
years ago, just a few years ago, the NSA lost upwards of half a
billion documents. Employees just walking out the door with
these documents. They lost three quarters of cyber weapons, the
United States cyber weapons, the NSA, lost three quarters of
them. Somebody stole them and put them up on auction. The
North Koreans ended up getting the cyber weapons and so did the
Russians. And they turned him on the United States. So there is a
complete lack of accountability. already when it comes to
classified information, top secret documents and so forth,
walks out the door and nobody ever gets fired. Is he
is now easy confusing it with vault nine, which was the CIA
tools?
John C Dvorak: I don't think so he's talking about NSA tools.
Were so they
Unknown: don't share their tools. There's no I would say no
tool sharing going. You think I'm probably not? Okay. So part
of this.
John C Dvorak: I know. And then those were just freely
available, the east side about stuff that was stolen, and then
auction to the North Koreans. On the block on the dark web,
Unknown: he should have said, and they paid for it in Bitcoin
that would have completed it
John C Dvorak: would have been interesting. It probably did,
actually. But the point is, is that I didn't know of this.
Unknown: No, this I had not heard either, but it's it sounds
a bit like volt nine.
John C Dvorak: But volt nine wasn't auctioned. As true. It's
true.
Unknown: So here's what I get a little bit from this. A bit of a
like Q anon bait. Yeah. So a lot of this may be true. Most of all
of it may be true. But it just seems like why is this why are
we only hearing about this? Now? Why do we, your point is valid?
Why are we only hearing about these tools that walked out the
door now? Why did we hear this before? Why is this
John C Dvorak: where they were in his book? So the book has
been out so well? How can we didn't hear about and why did we
not hear about it then? Because who's going to cover it? Nobody
because they're all because they're all read in? They they
can't look at this stuff. I think the media is so read in
and so.
Unknown: Oh, yeah, five by five all the way. They're all they
all have class. I think they all have clearance. Yeah. And
John C Dvorak: because of the stupid rule that if you have
clearance, you can't look at this stuff. That's why they read
those domains. Why
Unknown: Dana Perino said it she said that not for not for anyone
watching Fox News. No she said it for her colleagues. Hey boys,
John C Dvorak: boys and girls to MIT just to remind them so
Unknown: let's listen to the M five M and maybe we can pick up
some things because a lot of this feels very set up. Again,
somehow I get this Q anon vibe with whenever I hear discord and
then belling cat and 4chan or belling
John C Dvorak: cat No. Let's stop Bellingcat was involved in
you and belling cat. Anytime you hear belling cat that is the red
flag for you major Yes,
Unknown: it is. Yes Bellingcat is a bull crap organization that
is that when they're involved in NBC is quoting them meal like Oh
yeah. Alright, so here's ABC This is Martha Raddatz.
He sat on his parents back deck a news helicopter hovering
overhead.
Okay, so right there. Why did the news helicopter have no
right away to be there? They were they were they were clued
in because this is a true FBI. FBI in in armored vehicles with
flak flak jacket with with camo
John C Dvorak: flak jackets and the camo and the troop carrier.
Come on. So oh, by the way, so I mentioned in the newsletter that
there was one female FBI agent, yeah, no helmet with no helmet
and somebody wrote me an email one of our producers send in a
note intonations, she said, or he said that it was probably
done on purpose to make it clear to everyone that they had enough
diversity that they wouldn't have a female there and they had
to make clear. Yes. Yeah, exact good points. So she can't wear
the helmet because you wouldn't know no man. That would be that
which makes it even more of a charade.
Unknown: Yep. So when you have the news helicopter and they
don't have the guy in custody, they're still getting him.
That's a setup. They Yeah, they told the news media we're gonna
go get him. He
sat on his parents back deck, a news helicopter hovering
overhead as an FBI SWAT teams want full tactical gear of
kroetsch This is the moment they arrested the young man
authorities believe may be responsible for the massive leak
of top secret again.
John C Dvorak: So is there at your day do due diligence on
these things? Because it seems to me that there was no way that
a SWAT team was necessary because unless they don't know
anything. They're completely idiots and they don't know who
this guy is wearing anything about him. They've done no work
whatsoever. They think is the you know, I don't know what
they're expecting from this family with a kid 21 year old
Airman First Class that they would come in with full force a
SWAT team unless they don't know what they're doing, or I don't
believe that
Unknown: now it's just a full setup. It's a fault. This is
this is television magic and authorities
believe may be responsible for the massive leak of top secret
information that has rattled America and our allies around
the world. 21 year old Sherif with his hands on
a could they get the age, right? That's 20s 21 And no one has the
age and a consistent
21 year old jack to share with his hands on his head, walking
out of his family home in North Dighton Massachusetts, agents
ordered him to turn around and slowly he backs towards them. He
is seized, taken into custody and led to an SUV
John C Dvorak: shop again. He's not led to an SUV. He's led to a
troop carrier. He sits on the back of it. Now. First of all, I
Unknown: do have my clips. I love this Kiki Patek
John C Dvorak: Bhagawan. Thank you, Kara. So he comes out his
hands on his his walk and they tell him to turn around and walk
backwards. Why?
Unknown: Well, because you know, he might have a Ninja throwing
star.
John C Dvorak: Well, if he does, he might be in the front.
Unknown: But while you're he could whip it out.
John C Dvorak: He's not going to care in the back necessarily.
But what is the point of what just what is the point if he's
coming out? Come on. He's got his hands behind his back. He's
walking toward them. Now turn around and walk backwards. What
is the point? I'm asking? Is there a law enforcement people
out there? What is the point of the stupidity he could trip over
a rock walking backwards? He can't see where he's going. It's
stupid. And if he trips over a rock and falls on his Astor they
shoot him.
Unknown: Why didn't they rush him?
John C Dvorak: Again, why didn't they rush? Well, that's a good
point is SWAT
Unknown: they should have done this with Trump. That would have
been great. Make him turn backwards walk backwards into
the courthouse.
Today the Justice Department arrested Jack Douglas to share a
connection with an investigation into a lead
and I'm amazed everyone knew how to pronounce his name I look at
that name and like texture was so what tissue Bucha two
John C Dvorak: could you if there was a kid in my when I was
named
Unknown: Jack Douglas to share a connection with an investigation
into alleged unauthorized removal, retention and
transmission of classified national defense information
to share with a low ranking enlisted airmen IT specialist
for the intelligence wing of the Massachusetts Air National Guard
at Otis Air Force Base in Cape Cod ever since the story of the
massive leak exploded into the headlines. The Pentagon and FBI
have been on the hunt for the culprit. Was it a spy? Was it a
rogue foreign power? Then overnight, a blockbuster report
in The Washington Post describing the man behind the LI
not as an international criminal mastermind, but as a young man
trying to impress a small group of other young men and teenagers
in a 25 person invitation only chat group online gaming forum
discord,
so they don't even really know what Discord is. And that's kind
of fun. Do you have discord? Discord servers, you know, you
have discord itself? You know, they immediately say it's
associated with a game well, yeah, it is. But not necessarily
lots of people have discord servers. This This guy also
sounds to me not like a sysadmin he sounds more like the guy who
fixes your laptop. You know what I mean? So maybe there was a
laptop open a you know, I can't fix something I can't print.
Typical. Oh, I'll print for you. Let's let's that's whoa, this
too. I know from from my dudes named Ben. There's the tune top
of it. Specialist demands one. My password doesn't work, which
is typically because the Caps Lock is on. And the other is I
can't print. So someone's over there. I can't print Oh, would
you look at this not printed for you don't worry, because it was
printed out and then fold it up. He did not exfiltrate it with a
USB drive or anything. You printed it which should be
pretty easy. You know, as you have told us for years that all
printers have markings on them. So you can find out exactly
which printer printed out a document Correct?
John C Dvorak: Yep. They put the little light yellow codes that
you can't see with the naked eye. So that would all printers
have is it was the idea was and it's not well known, but it's a
fact because it's to prevent counter as the catch
counterfeiters that use ink Jetson laser printers
Unknown: now we continue the posts
that are talking to one of those teams appearing in shadow with
his mother's permission. This
I love so this guy In this team, this team who guess was under
18. And Og, as they called him was his best friend. Now, you
know, this is all too stupid this is actually insulting to
our intelligence. But you know, hey, you know, we cover this
host talking to one of those teams appearing in shadow with
his mother's permission. He described the person who he said
posted all those classified documents.
He was a young charismatic man who loved nature God, who loved
shooting guns and racing cars.
John C Dvorak: Isn't this a clip? You played last show? I
think so. No. Yeah. You somebody Have you played this clip? No,
I'm not talking about that clip. You're playing now. I'm talking
about this kid. Different play this sub clip.
Unknown: This is different. This is by the way that people are
questioning your printer story saying that sounds like some
Steve pathetic bullcrap. We're not talking about the quantum
watermarks. Okay. Just explain how you know this.
John C Dvorak: From a printer maker. Yeah. I was told about
this. Probably in the late 80s. Yeah, they had here's the
problem. The laser printers in particular, were getting so good
that you could print a you know, $100 Bill $20 bills, mostly 20s
People were started printing these things on these early
laser printers. And so something had to be done to track them
down. And so they developed this idea of printing these very
light, serial, essentially, it's a serial number of dots of very
super light yellow dots that can be detected with if you put them
under a microscope, you can find him just run a couple of blank
sheets of paper through your printer. And you'll see these
little don't necessarily appear on a blank sheet. You have to
print something I got to print out Yeah, because otherwise they
heads just gonna stay there. But it's on ink jets and I'm pretty
sure it's on ink. Jess was on ink Jensen lasers. I stand with
you on this one. It makes sense. Of course. Why wouldn't you do
this?
Unknown: Onward who loved shooting guns and
I love I love the bringing some white Christian stuff with this
as always good and racing
cars. God did have sort of a bossy attitude at some points,
but it was more of a fatherly bossy. He did see himself as the
leader of this group and ultimately he was leader of this
group. This this this
kids I mean, does it sound like your typical 17 year old or 16
year old? Boy is this someone talking about him? I'm unsure
he said that starting?
John C Dvorak: No, the teen she said this kid that's talking is
a supposedly the 1718 year old that doesn't sound like to meet
the man who sounds more mature. Sounds more matured? And he's
he's not. He's a plant?
Unknown: Yes. where's the where's Have you heard 16 and 17
year olds talk like, like, he was kind of like the leader like
of the group. You know, like he was the OG I sit with him. This
is not that guy
wants but it was more of a father. He did see himself as
the leader of this group, and ultimately, he was leader of
this group.
The team said that starting last fall, the man who he called OG
posted hundreds of pages of classified documents to impress
his friends in the group.
The documents were often listed as Ukraine versus Russia at
first, however, it slowly spiraled into just intelligence
about everything. How did that feel to know things before the
rest of the world? It felt like I was on top of Mount Everest, I
felt like I was above everyone else to some degree. And that
John C Dvorak: allowed stop. So you you're a theory that this is
a plan. Of course, he's obscured because his mom wouldn't let you
talk about what his mom
Unknown: let him tell you. How can we just have one of those
voice changers?
John C Dvorak: But he definitely needs one because it does sound
to you sounds like he's in his 20s or 30s. And so it doesn't
make sense what he's saying that you know, okay, so I'm a 17 year
old and I'm getting I'm in a discord chat room I'm talking
about some games I'm you're doing deconstructions of of
different strategies so we can have something to do with who
knows what and the all of a sudden you get a bunch of
classified top secret documents about the relationship of Poland
to the Lithuania to to the Jewish Mossad stuff. And now you
feel like you're on top of the world mount
Unknown: Mount Everest mountain
John C Dvorak: Mount Everest. Really? Even if I saw that
stuff, I wouldn't feel that way.
Unknown: Where's What is this Mount Everest coming from? Hello
1980 Who's all like they're like I was on top of Mount Everest.
Today we'd say something else helped me out drills. I might be
right
John C Dvorak: about that. That's a good catch. Just
doesn't find it doesn't sound right. Yeah. You wouldn't be
saying stuff that you know here. Welcome to the seven You know,
Unknown: I felt like I was on top of Mount Everest. I felt
like I was above everyone else to some degree. And that I
would, I'd be able to brag to some people that I knew stuff
that they didn't. But in
the months that followed, the documents were shared well
beyond that small chat group. That Post reporter also viewed
video of the man identified as OG standing at a shooting range
with a rifle yelling racial and anti semitic slurs before firing
his weapon.
John C Dvorak: All right. Let's throw that in.
Unknown: Hey, you black Jew. I hate you. And why don't we see
why don't we have this video? This is dynamite stuff. We need
this video.
John C Dvorak: We got the kid. Yeah, I'm still waiting for the
manifesto from the shooter. Yeah, right. We're not seeing
that either. All right, I'm
Unknown: standing at a shooting range with a rifle yelling
racial and anti semitic slurs before firing his weapon at a
target. But when the story of the leaks mushroomed into an
international crisis, the teen said, Oh gee became alarmed. He
says, Oh, gee said goodbye to the group. Just a few days ago,
he was just saying that this may be the last year overseas
advice. And he was thanking us for all the good times that we
had together and hoping that everything would blow over
was going to kill himself is going to blow himself up.
John C Dvorak: So do they have copies of these? This transcript
if
Unknown: we have not seen that we have not seen you think it'd
be easy to get? This is a dynamite report. By the way.
That's what ABC has gone above and beyond to give us great
content. Thank you. Thank you, Martha. Martha, as
you noted there, Jack to Shara is a very low ranking member of
the armed services, raising even more questions, a question about
why he had such access to top secret information.
You know what, he may not even have been approved to see what
he allegedly copied. We just don't know that yet. But he was
an IT specialist, meaning he may have computers there. All right,
information.
Yeah, he worked on computers that hack. And I think that that
sounds like the perfect honeypot? Yeah, there's there's
plenty of thinking out there that this need, maybe not all of
this. But some of this needed to come out. Some of it needs to be
talked about because of the obvious poor situation in
Ukraine. And we need to back out of that. And, you know, we need
to start preparing people for the fact that this is going to
be another Afghanistan debacle is no good. And here's the final
clip in the series. Hey, Martha.
We know it's early in the investigation, but what are you
learning about whether the Pentagon will reassess who can
see these kinds of classified documents in the future? Well,
already today, the
Secretary of Defense has ordered a review of who gets access to
top secret documents and how that information is handled and
contained.
Wow, you'd think they'd have done that. As you pointed out,
you know, maybe Chelsea Manning might have been the time to do
that. Or no, no, no, though. This smells let's go to NBC.
Let's see what would they have over there new information
tonight about the Chinese spy balloon shot down earlier this
year. The details coming from the classified documents
allegedly leaked by 21 year old National Guard airman jack to
share I hadn't heard
about this there's balloon information that he's leaked
now.
John C Dvorak: Now it's becoming more obvious as something is
amiss because it does this like we've dug ourselves into a bunch
of different holes that we can't seem to get ourselves out of. So
let's leak our own information so it so we can always go well
you know yeah it sounds like that from the front from the you
know what you're what the public facing that doesn't look good
but you but you as you can tell back here and back in the back
we've already determined that this and that and the other
thing so it looks like a cover your ass situation that's very I
mean this is our these all seem to be cover your ass I mean okay
yeah sure we got and also burned a few bridges that you might
want to burn out let's see if we were burned the UN guy he's told
Let's burn them aside or not? Or whatever that's all about we
don't know for sure. Yeah, yeah, this burn Let's burn this stupid
Ukraine war that we're going broke send his stuff over
because we got to start concentrating on China's How
about
Unknown: this? How about a consolidation of intelligence
power? Because what you're not hearing here is CIA's not
getting burned.
John C Dvorak: No, that's an interesting theory too. I think
well, there could be that could be involved that could be part
of it.
Unknown: Alright, let's go to
John C Dvorak: cover your ass moment
Unknown: was reports that Chinese spy balloon carried
sensors and antennas and that the US knew of up to four
additional Chinese spy balloons. The paper also reporting on
Taiwan's vulnerability to a Chinese attack citing a pentagon
assessment meant that China would quickly gain air
superiority if it invaded Taiwan. There are also new
insights tonight into why the US government didn't know for
months that state secrets had been posted online at issue the
limits on what kind of checks are done on the 1.3 million
Americans with top secret security clearance. Critics say
the government now can't keep track of all the people with
access to sensitive information
Okay, all right. This is now this this is turning into
something good because I have a feeling that all the exactly
what you said all these things we're hearing they're not even
in the documents. We haven't seen all we've seen is some maps
of Ukraine a couple we haven't seen any of this. Where is it?
Where are these documents? Where these hundreds of documents
where are they? Where are they? I mean if they were on Discord
they've been copied they've been distributed everywhere where are
how come I have Why Why don't I have a copy?
John C Dvorak: No, you probably should so I'm thinking another
thing here and this was I think this is brought up with some
other situation we had where this were first released or at
least started to get released a good ones months ago. So they're
getting released and Amanda guys who are doing the planning for
this whole scam, just saying okay, we got these releases. We
got that release this guy's printing it let's see wait to
the news media catches it. week goes by
Unknown: or maybe it's just maybe it's just
John C Dvorak: no, no, let me finish. Okay, so the week goes
by planning nobody picks up on it. Another week goes by nobody
picks up on it. Another week goes by nobody picks up on it.
Nobody's picking up on what's going on. They freak out. And
this is all you know, this is should have started a month ago
because it's costing us money with the stuff we're sending to
Ukraine. I think this whole thing was had to be blown out by
the Intel people themselves because the news media was so
lacks that they couldn't catch this thing going on. Don't you
think?
Unknown: Possible I just when you say planning department, I
just I just visualize these guys with Gantt charts on the wall
you know, planning department. Yeah. Leaking planning
department. Well, let's see. There's more MVC here.
He is just the latest 20 Something accused of leaking.
There's a lot about 20 somethings to I'm hearing a lot
about 20 Somethings young people good 20 Somethings 20 Somethings
low level low level as a lot of a lot of the memes going on here
from the mainstream.
He is just the latest 20 Something accused of leaking top
secret information. Jack to share. Oh wait.
John C Dvorak: I know we're never gonna get through these
clips.
Unknown: I enjoyed this so much. No, wait, but wait.
John C Dvorak: He's the latest. Yeah, exactly. 20 something who
are the other ones there? You gotta been leaking top secret
document. I
Unknown: must have missed something. PS the idol remember
John C Dvorak: this?
Unknown: Troll room. What other 20 Somethings were involved in
this?
John C Dvorak: It Back it up and he didn't listen to that little
ditty again.
Unknown: He's just the latest 20 Something accused of leaking top
secret information.
I mean, reality winner maybe. But she was she's now 15. That
was so long ago. Right. Snowden wasn't 20 something more? Maybe
he was? No, I
John C Dvorak: don't think so. I think it was 3030. That's 10
years ago, and that's 10 years old. It's not the latest. So
it's not the latest? It's a reemergence you could say maybe
but I don't think that snowed in applies to Snowden definitely
doesn't apply to Assange. The guy's 90
Unknown: poor poor
John C Dvorak: looks nary for guards.
Unknown: I mean, yeah, I guess I guess you could say that. But
how about this 20 Somethings are a problem. We got to do
something with them
jack to share his job as a cyber transport systems journeyman
cyber transport systems journeyman.
John C Dvorak: That means he took out the removable hard
disks cyber cyber transfer and then he put a new disc in there
Unknown: cyber transport jerk but journeyman isn't journeyman
someone who was hired gun for something.
John C Dvorak: No journeyman ism is a guy who is adept and is
highly qualified for his for a for a layer of of jobs. He's an
attorney knows what he's doing.
Unknown: Now, historically speaking, a trained worker who
was employed by someone else
John C Dvorak: okay, but in the labor force, it's a guy who
knows what he's doing is a journeyman the book of
knowledge. began her a new guy or what Okay, well, he's
Unknown: cyber transport. This is new cyber transport jacked as
a removable
John C Dvorak: hard disk.
Unknown: job as a cyber transport systems, journeyman
and it worker with
no transport systems. That means he worked on cars, trucks, cars
and trucks.
John C Dvorak: Yeah, he's a good He was a good guy when it came
to automatic transmissions. I guarantee you
Unknown: there's there's men and women in our armed forces who
are rolling their eyes at us right now I'm going to already
writing emails and I can't wait to read them back to
share with us job as a cyber transport systems journeyman and
it worker with access to secret systems require that he was at
least 17 hold a driver's license and undergo 18 months of
training.
That sounds good enough for for sure.
John C Dvorak: Go for it
Unknown: sounds good.
John C Dvorak: That's the way to keep our secrets give it to a 17
year old
Unknown: four star general Barry McCaffrey no question you
shouldn't have had even a remote access to that kind of
information. Nor should the Air National Guard. I mean, at the
end of the day, it's a compromise. But veteran
intelligence experts say 1.3 million Americans have access to
top secret information from Mila.
It is my understanding that there's more like 3 million
Americans Here they come again with 1.3 million I think and 10.
Could even be that. Well, the classification. I don't know if
it's top secret, but we always heard it was about 3 million top
secret. Class people love top secret clearance. And they keep
NBC keeps throwing out this 1.3 million but they can't keep
track of them.
Okay, top secret information from military and government
workers to outside contractors. And the military has always
relied on 20 Somethings
Did you there it is again. 20 Somethings. So this is a hit job
on the military to you stupid military, you can't rely on 20
Somethings,
it's the very youngest members of the service that have the
skill sets and talents inside.
Ah, there it is. Because only the 20 Somethings can understand
discord to become administrators
of their systems
need to know is based on patriotism, trust and threat of
prosecution that you'll never disclose national secrets for
the rest of your life or face possible prison time
need to know and patriotism I didn't can you measure
patriotism? What's interesting, and you know I do have no CBS
clips just again tells me that some of this is CIA CIA throwing
it's gonna be
John C Dvorak: a massive up, it could be CIA versus dia.
Unknown: Well,
John C Dvorak: I don't think that that battle needs to be
done in this manner, which is fine. It just is some sort of an
if it's some sort of if it's some sort of an OP, which it
looks like more and more as deconstruct we have to figure
out why. And I think I'm going to stick with my theory which is
a cover your ass situation. They're going to burn a few
people so what we got to stop this Ukraine war we've got to
deal with this and we got to deal with that. We got to let it
be known that we've already we knew about this all along. The
Chinese balloon was no surprise and all the other bull crap they
canceled explain. Right back to NBC.
Unknown: He is just the latest 20 Something accused of leaking
top secret information. 23 year old Chelsea Manning provided
some 100,000 documents to WikiLeaks
John C Dvorak: 23 There it is. Here's
Unknown: your 23 So these are all dumb shits can't believe it.
John C Dvorak: They're not dumb shits are untrustworthy.
Unknown: 29 year old Edward Snowden to Russia Okay there it
is.
Now we now we understand it's the 29 year olds that the
military employs the military is partly hit job on dia
us secrets jack to share us job as a cyber transport systems
journeyman and it worker with access to secret systems require
that he was at least 17 hold a driver's license. And
I think the judge does not play this clip. I'm sorry. Back to
now Hallie jumping up now we get into a couple other issues
because the big thing on twitter etc. Is this is this is to to
hurry along the Restrict act. And we kind of had that initial
thinking as well because they were talking about Oh, it's on
social media, social media, but now it's no longer on social
media. Now it's on the focus on Discord and private chats.
ADC news is learning tonight that Intel agencies are looking
to change how they monitor chat rooms and social media online
According to multiple sources familiar with this, after that
huge leak of sensitive Pentagon documents on Discord. Apparently
they're looking to expand now how many kinds of sites like
this day watch? After all of that classified information was
exposed, it was mostly related to the war in Ukraine. The
Pentagon really showing it does not want a repeat at all of
these super sensitive documents. Just hang it out for maybe weeks
without
just hanging out. What does that what is that Hallie Jackson?
Hanging out,
John C Dvorak: but like he does that every so often with her
presentation. She does that little high voice kind of
borderline squeal
Unknown: Like limited hanging out,
the Pentagon really showing it does not want a repeat at all of
these super sensitive documents just hanging out for maybe weeks
without anybody noticing. And this is Dan Deleuze is joining
us now. So
they have this discord chat sound going on in the
background, which is I think meant to to aggravate your
nervous system for some reason is really bad. You are
among the team reporting on this you currently others? What are
the changes these Intel agencies want to make here? Like is this
getting more staff looking at places more discord, other
corners of the internet, etc?
corners of the internet? Like those damn podcast?
Yes, it is. And of course, there's no guarantee it's still
really difficult. Right? Right. And the problem is
what's really difficult, right? What is so difficult, right? You
guys own? Own the wires, you can look at anything you want.
You've got room 204, whatever it was, you copy the internet in
Utah, how difficult is it right?
Yes, it is. And of course, there's no guarantee it's still
really difficult, right? And the problem is, these documents
appeared in a pretty obscure corner of the internet. And what
is
this corner is it square
John C Dvorak: is a big square. And there's a corner
Unknown: where we're in the corner
of the unit. And the problem is these documents appeared in a
pretty obscure corner of the internet and discord, the social
app where they first appeared, it is known by cyber experts as
a place where you can kind of move illicit data, that it's a
place where sometimes criminals put out malware or stolen data.
So some critics are saying the US should have been a little bit
more vigilant. On the other hand, we can't watch everything.
So they're trying to expand the number of sites they'll look at.
They're also looking at restricting how many people get
access to some of this classified information to try to
reduce the risk.
restrict how many people get access to reduce the risk. I
think you're right. At this point, it's just a thing. It's
just the discord server and the 20 Somethings, and you can say
whatever you want. Well, you know, we all know that that
information was leaked out by the 20 Somethings on the discord
in a corner of the internet. You can just say it, we haven't seen
we have no proof of what they're saying. We have no proof. We
have a common I've seen five, six images of maps that are
folded. What have you seen? Have you seen more than that?
John C Dvorak: Yeah, there's a lot more than that. I've seen
what have you seen? There's just a bunch of documents. There's
just a variety of just, you know, memos and other crazy
stuff. It's just there's a lot of stuff my was was
Unknown: I haven't seen much of that. To you. Don't whatever you
do, don't What about?
John C Dvorak: I know you can't look at it? No.
Unknown: Really, really, you're gonna help me like
privacy laws and how that plays a part in this because that's a
factor here too.
Absolutely.
This is good. Now we're talking about privacy laws. This is
really interesting fact you're here to
absolutely. And it's complicated. It's not so easy.
You cannot burst into a private chat room without probable
cause.
Yeah, this is good. This is this is why they had to employ
Bellingcat to get around the possibility that anyone says,
Hey, wait a minute. What are you guys doing in our private chat?
You can't do that
John C Dvorak: way. We will have to stop you there. Why? Why
can't they do that?
Unknown: You can't spy on Americans. You're not spying
John C Dvorak: on anybody. You're just going in and
checking the price. It's a chat room. It's on the internet. It's
like there's no corner a corner of the internet. I don't care if
it's a corner or if it's triangle. There is a there's no
what is that word they use? There's no expectation of
privacy. It's the internet.
Unknown: Which is for porn. Absolutely. And it's
complicated. It's not so easy. You cannot burst into a private
chat room. Because no matter what is bullcrap to you are so
John C Dvorak: Wait, stop, I got another thought on this. They're
saying this. Because that's what a honeypot operation would do.
Right? You'd say something like this, which is bullcrap. Because
there's no expectation of privacy on the internet period.
So you'd say something like what he just said, Well, you know if
you're in our private chat, you know the IRC maybe it'd be in
their in their crazy room there and now we can't do anything
without a warrant. That's bull crap. He's just lying to
suckers, people stupid people.
Unknown: Here you go, God probable cause no matter what
government agency you are. So just like after 911 There's
going to be this balance here. Where they try. Try to be
vigilant. Try to prevent this. Okay.
This gives a little bit of credence to the Restrict Act,
also known as patriot 2.0. Just like after 911, and we had a new
idea, we had to have a balance there we had ever bans. There
may be some credence to that I'm kind of liking that idea now,
where they tried to try to be vigilant, try to prevent this.
But there still has to be some kind of legal authority if
you're looking at a private chat room. And these documents
started out on a private chat room. So there is no easy
solution here. I should also add, you know, this is kind of
an unusual situation. This isn't like previous leaks, at least so
far, right? You don't have if you have a whistleblower who
wants to take their information to a media outlet, for example,
they want to broadcast it publicly. So
yeah, because the media outlets will immediately broadcast it
publicly. No, no, that's not true. That you can't even look
at it because you have clearance.
If you have a whistleblower, they want to take their
information to a media outlet, for example, they want to
broadcast it publicly. So why would a whistleblower go to a
private chat room? We're really small group of people see it,
right? And if you're a spy and you want to pass it to a foreign
government, why would you go to a chat room where you don't or
everyone in the room, so it's a very odd case?
With all that stuff that guy said is weird. That was really
all
John C Dvorak: bullcrap. It's all part of the honeypot scheme
Unknown: Okay, so let's break this down. How did this work?
What what what is the what is happening here? What is the what
do we think is the point what is the official no agenda stance on
this?
John C Dvorak: I don't think we have a unified stance on this
but I have my thesis which is that this is a cover your ass
moment is trying to make up for all us mainly for you. Mainly
for Ukraine, mainly for Ukraine but also the balloon let's throw
it out whatever else we can throw in there to you know make
up for lost time. And and then let's
Unknown: throw the book at him burn a few people. Yeah, but
John C Dvorak: you burn a few people and you may be burning
people you want to burn as possible to you know, the guys
in Russia perhaps if there is anybody that could have all been
done as you listen to this Bamford guy he also mentioned as
a possibility exists it was all just the signals guy that picked
up all his information. There was no HUMINT type guys over in
Russia giving us anything.
Unknown: So in the so I think it was the New York Times
photographs of some of the documents first appeared on
Discord app channels focus on the Minecraft computer game,
which is is that alternate? Isn't it like 12 year olds?
John C Dvorak: Is that still a thing? Yeah, it's
Unknown: a huge, and followers of a minor YouTube celebrity
known as wild Mao, according to Bellingcat, and other online
experts, thanks Bellingcat the photograph dub so that's your
that's your injection of the alt right there Bellingcat. The
photograph documents then eventually made their way to the
image board 4chan, then pro Russian telegram channels and
Twitter. The New York Times first reported on the documents
last week. Former official said quote watching a public chat
room is fair game. But law enforcement agencies don't have
the legal authority to monitor a private online chat room without
probable cause. This is calling for legislation.
John C Dvorak: Dad, by the way, is bullcrap. What they just
said, this reminds me I'm gonna remind you,
Unknown: I want you to remind us, but I just want to say it's
bullcrap. But they want some kind of legislation by saying
that
John C Dvorak: and it's gonna be good. They definitely wouldn't
give him a course that's restrict act probably only
restrict that's really bad. Yeah, so I'm remind I want to
remind people that in TV dramas, yeah. And they've been doing
this and they keep doing it. And we all should know that is
bullcrap. Where the guy gets hold to keep the guy on the
line, we're putting a trace on the call. My absolute favorite
bullcrap bit. That's it?
Unknown: Oh, it was only 27 songs we couldn't we couldn't
complete the tricks. Really, you watch those shows? They still do
in that
John C Dvorak: they're still pulling that bull crap because
in today's world, modern switches they give you the
number immediately.
Unknown: Someone Someone gave this kid this information
John C Dvorak: suddenly just says that someone did to goaded
him with if you're seeing a picture of him now with his
little mustache and beard, but if you've seen his photo,
Unknown: he looks like a like a wimpy punk.
John C Dvorak: He looks like he's 12 Yeah, yeah. And he looks
so naive. It's not even funny. And it's like, no, no, now
something was something's more. Something's up and there he's
gonna get off on a technicality or something. You get
discharged.
Unknown: No, no, no, throw this throw the book at this kid. as
John C Dvorak: well that reminds me let's listen to some right
wing talkers in Tampa Florida. Okay, here's the mike and Mark
show Mike and
Unknown: Mark show everybody how you doing in the afternoon
heroes scoundrel or somewhere in the middle go. Scoundrel. I
mean, he's, he's a criminal and everybody knows he's a criminal.
He's a 21 year old criminal who, you know, has put lives in
jeopardy has embarrassed the United States. I hope he rots in
jail. But that's
Wow, these guys I'm telling you these guys, they can't look at
the documents. Trust me,
the Tucker Carlson sort of red meat. Marjorie Taylor Greene
response and I'm I kind of think I'm one of them. But not on this
one. And I'm just wondering, there's there's a fun I love
this Patriot virtue signaling they're doing these two guys
I've never heard of Mark and Mike.
John C Dvorak: Are they be and Mike Gallagher is fairly famous
as a talk show guy and Mark Miller, so I can't remember his
last name, but they do it. This is like yeah, there's the
typical local yokels. And in this case, they're do a combo
show in the morning. I'm sure it's the morning shows can't be
afternoon and Morning Show in Tampa.
Unknown: No, because we have that other fine product in the
afternoon. What does it what used to be Limbaugh What is it
now? Though? Bungee No, no, no, no, no, no. The two punch you
know took Limbo is no no, no. Those two guys took
John C Dvorak: over. No, no, no. Yes. Well, at least locally.
Mancino took the spot.
Unknown: But these guys named Buck Buck Sexton bucks. A buck
and bucking buck, buck, buck, buck and duck is ex CIA. One.
Yeah, that's correct. Clay Travis and Buck and Buck Sexton
they took they took over the actual slot
John C Dvorak: that I think initially was shows the two
spooks was that right? Am I right? Or am I wrong?
Unknown: Two spokes one cup, but not on this one. And I'm just
wondering, there's there's a phenomenon called I call it
contrarian ism. Everybody's gotta be a contrarian.
Everybody's gotta go the opposite way, which is exactly
what you're doing. Gotta be a contrarian. Everybody's got to
go the opposite way. We're so cynical of the government, and
we should be by the way we should be. I don't believe a lot
of what they're telling us. I don't isn't it is peculiar that
The New York Times was at this kid's doorstep before the Feds
showed up. It is peculiar. They had news camera crews hovering
overhead and they managed to tap
oh, wait a minute, to do my material here. What is this
STOP, STOP STOP stops
up overhead and they managed to tap? Isn't that something they
the stunning video they captured the arrest? Wait, so the whole
it stinks to high heaven? There's no question about it.
But that doesn't change that we don't want to leak classified
information that puts our troops and our people in harm's way
to spooks. One honeypot is the spooks was the name of the show.
John C Dvorak: That'd be good. Where's you know so that's what
you're gonna hear from some of these guys. You need this
Unknown: got all about whooping that will be Yeah, we have you
have this. Member this a place?
To play that? I gotta play.
Gotta play that end of show that's too good. Classified.
Haven't played that in a long time. Nut Job. She can do that.
Again. She should pull out that classified? That when was it?
When did that happen? Even like, a long time ago. So yeah, so I
think we have we have some, yeah, the Ukraine stuff was
planted. We had to get that out because it's not going well. And
we need to get some real information out there. Tony
Stark, kind of soft pedaling and talking about it. Ukraine's not
even in the news anymore. No one cares. It's all China, China and
Trump. And then yeah, I think you're right, then it's just
like, oh, man, what an opportunity. Well, let's just
throw everything out there that we can and let's burns and
people get burned. I like the burning of people. That's great.
That that really that fits well. And then we have this story,
which kind of comes in in an odd way. You know, talking about
restrict act. This is this was a good this is a great little,
little side story. Yes
tonight Montana late today becoming the first state in the
US to pass a bill banning Tik Tok on all personal devices. The
bill prohibits the popular social media app from operating
within the state. If signed by the governor it would take
effect in January. Tick tock has suggested it will take legal
action. The Biden administration has threatened a nationwide ban
demanding tiktoks Chinese owners sell the company because of
concerns China could access users personal data.
And in this in this Montana bill, they even say well, if the
company sells to a US company, then it be okay. And I'm very
curious how they want to do this. So they have to go to
Apple and Google and they have to say Apple and Google. You
cannot have your users in. I mean, is it people who are
residents in Montana? Or only if you're in the geographic
location of met a Montana? How will you idea and that kind of
starts by? No, you have no idea, but let's just think about it. I
mean, how would that be enforceable? And that really
starts off I mean, oh, you know, this book. We've been this book
in Montana. Amazon, make make sure no one can download it. And
can you really? Can you really enforce that?
John C Dvorak: I think it's unenforceable I would I would
agree. A dead letter law right from the get go. was a dead
letter law. Ms. A law that's on the books, but nobody has ever
enforced. There's a lot of tons of them. There's like kissing
laws here. And they're in certain areas from the 1800s.
And you're on the books you can kiss in public in some town. But
no, no. Yeah.
Unknown: That might be in Fredericksburg. A lot
John C Dvorak: to check. There's there's tons of laws against
Kissing in public that are on the books.
Unknown: Wow. And we're worried about LGBTQ when we should look
at some of these laws. Wow.
Just um, tick tock, briefly, I was reading. I was reading an
article from the Dutch press. Oh, that was the Dutch. The
government press nos. And it's your tourist season. Actually.
It's a little early but you know, April, May if you get the
weather is beautiful in Amsterdam and beautiful in the
Netherlands in general. It's really it's just it's a small
window. It's like a caramel tulips crop. Right. Tulips. And
yeah, it's
John C Dvorak: just dynamite. If you had been there during that
time of year and the tulips are everywhere. It's beautiful. I
rented the Tulip Festival,
Unknown: the floor yada.
John C Dvorak: I guess Yeah, that's
Unknown: what it is floor yada. So now, there's a phenomenon
taking place. That people there will be an hour long wait a
queue in front of a french fry stand. Because a went viral on
Tiktok. And people get in the line it completely self
perpetuating. It can be of course, like, hey, I want to get
some french fries. Where should we go? Oh, let's look on tick
tock. As we know, this is Google's big problem. This is
one of the reason for trying to get rid of them is because
Google and and meta platforms. They're all losing big
advertising money. We have nothing but example after
example, of people in the advertising business or to
billions departments within their companies are saying, oh,
yeah, we're allocating all our money to tick tock. And so they
they search for it on tick tock, they see a cool video. And then
Oh, cool. We're gonna go there. And then they go there. And then
oh, there's a line. Oh, look at the line, they tick tock that on
the line. Right. And they don't want to leave because there's
people behind them in line and you don't want to go home and
people say, Hey, you weren't Holland, did you go that that
french fries? Stan? No, you didn't go to the one on Tiktok.
We're kind of doofus Are you. And these people and this is
without, you know, the French fries stands don't really have a
lot of marketing department tradition. And it's creating big
problems is creating problems for other retailers in the in
the same neighborhood. These are the little little streets in
Amsterdam. And it's just an hour long queue for a french fry. So
this Tiktok thing of their algo, which we've discussed, is is
very, very, very popular and a big problem for for, for people
who don't like it. I think it's great. And by the way, let's
just talk briefly, I don't want to talk about Dylan Mulvaney.
But we actually think we should talk about influencers and
influence campaigns. And this is exactly what I said this was
this was no spokes model. This was not a big you know, the
dealer Mulvaney is the you know, we're hiring him as you know to
be the face of our product. No, none of that. This is the
influence of departments which is very cheap way. And they use
these influencers. Where's Mulvaney Mulvaney is on tick
tock, tick tock, tick tock is is where all the marketing is
going. And you've got all these. Remember, when I had to think
new ideas, but I would have the biggest company Reebok was a
great example. Reebok, we built their website planet reebok.com,
also built to Anheuser Busch and budweiser.com Bud light.com. But
they were a little more they didn't say the following, which
Reebok did. Yeah, we'd like you to build our website and we'd
like to have, you know, some reporting. And we'd like to have
the human rights now foundation information in there and you
know, our sports stars and Danielle, we have Shaq, so we'd
like to do a chat with Shaq and we've, you always get this, we'd
like you to create a viral video because they thought you could
just create a viral Video. And this was the very sophisticated
marketing department who just didn't know anything about SEO
goes on. I'm sure it does. So now it's like they you know, so
it was not this VP of Marketing, who created this Mulvaney
campaign? No, it was the influencer marketing department.
And I think that this is going to be a a case study in the
dangers of of influencer marketing, and it's going to dry
up I think big brands are gonna say, Oh, crap, we saw what
happened. And we don't want that to happen to our brand. And it's
going to come from the top down because the CEO who, who issued
a statement, which it wasn't an apology, it was just a statement
like, Hey, man,
John C Dvorak: was it just? Well, I understand mount Gox
whole thing is so fishy. I'm almost of the opinion that this
has been done on purpose. This woman and a guy the ex CIA guy
that was the CEO of a Anheuser Busch. This guy is great came
out of military intelligence. And he went to the CIA, then he
went to Pepsi. And he has a very interesting background and good
you know, he's looks like a male model. You'll see a few pictures
of him he's always got that big smile, you listen, you know, it
just looks too good. Couldn't that you don't even know it's
him. And we have to realize that InBev which is a Bella Belgian
multinational actually is Brazilian Belgian. Oh, and the
CEO of in Bev is resilient. I did not know this. And the
Anheuser Busch part of it was a hostile takeover. Correct, that
the Bush family was not too happy about
Unknown: they reverse back into the stock. That's why it's a B
InBev on the on the
John C Dvorak: dead. But that was like they still aren't
happy. They rather run this thing themselves. The Bush
family is famous for their they've been doing this for
1800s. And they'd figure they can do it better than Woody and
this woman. Well, let me finish my little tidbits here. This
woman who was the so called VP of Marketing, if you look up the
wiki page, you'll find that she's actually the CO president
with the CIA guy at least for a while. And then she got
downgraded this whole thing stinks to high heaven. I think
that she's There's pictures of her that were Joel was suddenly
leaked on The Daily Caller knows about her being an out and out.
frat boy drunk sorority chick a Sally floating around and the
parties. Is that called a Sally? Sally's. Yeah. It's an old term.
But yeah, she's, uh, Sally hanging out with the frat boys
drinking too much with their friends. You know, whooping it
up. And you know, pre flicker, the old actual 35 year old which
means they're real photographs that somehow they got into the
color. Oh, couldn't have been like,
Unknown: I thought I thought they were from her Instagram.
John C Dvorak: I don't know that. Yeah, well, whatever. They
whatever the case I don't think she has I don't think not
anymore.
Unknown: No one none of them have a LinkedIn or in everyone's
learning from this. I shouldn't have put my resume on LinkedIn.
Said the CIA guy.
John C Dvorak: Well, the whole thing is fishy. And I think it's
I think it may be a scheme to like hurt a B InBev. If they
can, I don't know that they can to get debt to make them have to
start selling off they have so many properties. People think
it's this and that.
Unknown: I know it's a lot.
John C Dvorak: So boots on the ground in it's about 1000 beer
companies
Unknown: boots on the ground. Insider from HQ A B InBev are
boots on the ground producer says it's a crazy place to work
right now. He knows the person in charge of the influencer
campaigns. He's pretty sure that person is going to be fired.
Alyssa Heiner shot also probably going to be fired, but she was
not the one who greenlit this. It was done to the influencers
campaign department, and there's a different VP for that. And
what I hear yes, it is hurting Anheuser Busch because Anna the
way the beer business works is the distributors and the
distributors are seeing the the the fall back in purchase.
distributorship of beer is a big deal to get one and and and the
distributors kind of they're the boss. That's a moneymaker. They
have a lot to say. When it comes you know Frank Sinatra had a
it's a distributorship for beer
John C Dvorak: and they're very exclusive. You don't there's not
like competition because there's some so mobbed up.
Unknown: Oh, hello, Sinatra. Hello.
John C Dvorak: Yeah, if you've got Atlanta, you've got Atlanta,
you own Atlanta.
Unknown: Exactly. Exactly well that may be but um I don't know
much about the mob it's more your territory but I have a
feeling that influencer marketing is going to end with
this is going to be dangerous people is not going to see that
you can't you can't have these nut jobs running around on
Tiktok promoting your product because inevitably you have no
control over them. I I'm telling you this is going to be big and
it's also going to be a problem for Silicon Valley because this
is part of their business is the influencer marketing without
without that demand, who wants to be an influencer if you can't
make money on it anymore?
John C Dvorak: We'll see. Okay, I mean, I think it has I mean,
you could be totally right but I think it's just the selection
process of picking some of these screw balls like Dylan Mulvaney
who are an embarrassment
Unknown: Yeah, yeah, it's super super embarrassment.
Okay, now see
John C Dvorak: the latest thing
Unknown: from please let's not talk about Mulvaney gotta be
something Well, I'm
John C Dvorak: gonna talk about me. That's what I meant. What's
his name? O'Keefe
Unknown: media. Yeah, exactly. I'm
John C Dvorak: tracking her down to hotel him. Yo track tracking
it down at the hotel.
Unknown: Yeah, I didn't even watch it. So I watched it.
John C Dvorak: It was like a typical okay thing. There was no
substance. What's the point? Just following somebody around
the microphone is sticking into their face and tell him to say
somebody's not Not really. I'm not impressed.
Unknown: Well, I'm not impressed by O'Keefe for the same reason.
It's all dumb. This is all blowing up in everybody's face.
No one can we have talked about O'Keefe seemed like a nice guy.
But what has he really done for humanity? She actually named one
Project Veritas reveal that has changed anything. One.
Thank you. You can't
what is the one thing that Project Veritas did under
O'Keeffe's
John C Dvorak: stewardship? That a busted acorn
Unknown: that was the one thing and and what happened Obama
still was president for two terms
John C Dvorak: it's yeah, it didn't do any good
inconsequential.
Unknown: The sock much more douchebags. So as predicted
substack did indeed release a social network. It's called
substack notes. I'm sure you've been invited to it. Know that
you're part of it. You have the oasis. You're not You're getting
blocked by your email server. Come on. Ooh, maybe? Yeah, must
be so notes notes. This is what Elon Musk accused substack of
doing is trying to scrape Twitter somehow to get accounts
for their social for their Twitter clone. It's not exactly
a clone. I'm not sure if it I mean it feels like Twitter. It
looks like Twitter to social network like Twitter. But when
you follow someone you also get subscribed to their newsletter
which is something that I'm not interested.
John C Dvorak: I don't
Unknown: really want maybe
John C Dvorak: I don't know what it is but I think they they
substack randomly just subscribe to the various newsletters you
have to quit it's like what am I reading this guy's sucks he
can't even write so you have to keep on subscribing and they
keep doing this
Unknown: to me when you unsubscribe and they keep
sending you emails.
John C Dvorak: Well here's another thing I've sent you
targeting going to start talking about this I will miss I did
join a new social network nostril No, I don't even know
how to get into nostril this one is like it's like normally I go
into my with my finger man so normally I think to some of the
you know the Macedon spin offs or like Macedon dot social and
some of those manuals. The worst the worst sort of people Yes,
but they're all kind of a lot of them are brand name war story
people's. Yeah, tribal.
Unknown: That sounds old. Isn't tribal, really old?
John C Dvorak: I don't know but it's got the worst sort of
people. Everybody in there is just a left wing nut job
although there's not like famous New Left wing nut jobs when
everyone's in there there's like this one guy keeps posting in
every print every post he has every LinkedIn wherever it is
always starts with Republicans are rotten to the core. That's
every post
Unknown: tribal man I don't think tribal
John C Dvorak: at that but it's spelled weird.
Unknown: Was not spelled T ri ba l you L E L oh then it's
something I've done is something I don't know about. Try Bell try
bell.com
John C Dvorak: Yeah, Dr. ltr IBEL I don't know that it's old
says new to me and never heard of it.
Unknown: Huh no by a tribal with an A? Uh huh. I don't know what
that other thing got sold. No, no, no, the one that Kanye was
grumble now the one that Kanye was gonna buy. Chatter No, no
this slander how many of these dumb things on there all you
want that you only need? You only need nostril people. That's
all you need. And you wait, they're gonna go after that.
John C Dvorak: You can blow it out your nose? Or you go haha.
Unknown: No, so so back to substack. So substack is now it
is a Twitter clone is a social network. So now we have to, you
know, there are rules. Do you know the rules? If you start a
social network Jhansi Dvorak, you know the rules. You know,
you have to have you have to get mankind you have to be
moderation in moderation. Moderation. Yeah, absolutely.
Safety, Team safety, safety and standard. Oh, excuse me before I
continue. So again, we've got all these clones of my Twitter,
my Twitter thing popping up of me, so it's like it'll be
underscore at underscore add
John C Dvorak: underscore like for some reason they love
cloning you
Unknown: well and Well, I think it's because I I'd be like a
Bitcoin guy. And so then they'll what they do is they copy my
profile, they make a whole bunch of the copy a lot of my posts
from the past month or so. And then they start following people
who follow my my, my pro, my official profile, and then
people go out because people are surprisingly dumb. But oh Adams
following me knowing fully well that I'm not going to follow any
I don't follow many people. They like a couple 100 Which I've
subscribed to 15 years or 10 years ago. And then then Adam
curry the at underscore Adam curry underscore starts DMing
them, hey, you know, have this is a backup account. So I'm just
following you to make sure that I've got all my followers and
via would you like to buy some a crypto?
John C Dvorak: Oh, I see what you're up to.
Unknown: Yeah. So like, it's so creative. It's so creative. It's
a confidence game. con game. And so people start telling me this,
um, then, you know, and of course, I'm blocked from these
accounts. So I report the account. And it used to be,
well, they tried it again, like well, okay, if there's
impersonating you upload your government ID and I said, Look,
I've done this. I'm not going to keep uploading my government ID
to you. No, this is me. I have 91,000 followers. This is me.
This is not me. And they're copying my profile. And now what
you get back is now we've looked at it this is this isn't no this
is not impersonation. Twitter. says this is not impersonation.
John C Dvorak: No wonder you hate Elon Musk.
Unknown: No, I don't I don't really care. It's just
surprising. It's just him Twitter support impersonation of
underscore at Adam curry underscore will read it to you
we've investigated the reported account and determined it is not
in violation of Twitter's misleading and deceptive
identities policy. What is totally misleading in order for
an account to be in violation of the policy it must portray
another person or business in a misleading or deceptive manner.
For more information, please make sure to read and understand
our full policy. We appreciate your help and encourage you to
reach out again in the future if you see potential violations.
Please note any document you may have uploaded will be deleted,
which I did not upload. So
John C Dvorak: so they didn't even do this a bot dollars total
bot. Yeah. So they don't even have the well they look at the
numbers show you under 100,000 Oh gives a shit. Hey, this guy's
bitching and moaning about being calm. Let me see. He's guessing
if he had a million Yeah, maybe but none. I don't know. If we
don't have time for this bullcrap. So what? That's what
they're thinking that's I'm being in the office so white.
Unknown: Yeah, well, you know, I don't have a blue checkmark. So
I get Yeah, you don't have the blue checkmark. So
John C Dvorak: So what Sir Andrew
Unknown: Gardner checks in I was one of those Air Force veterans
that was rolling my eyes at you and John thinking a journeyman
was someone knowledgeable. Here we go. This is boots on the
ground in real time. The Air Force job codes known as Air
Force Specialty codes have a skill To level signifier that
uses 1357, and nine, I do not believe one is ever actually
used. Three is someone right out of their initial technical
training school. And then after some test and further learning
jobs specific determines how much one gets their five level
to a journeyman as just someone who has been on the job for a
little and completed the minimal tasks needed.
John C Dvorak: That may be in the military. I was explaining
journeyman in the normal world
Unknown: that it's not a slam again, she was explaining this
kid had no business seeing any
John C Dvorak: No, they given what they would that's I think
we've he doesn't know that would that's what we said, well, he
Unknown: rolled his eyes and Hey, come on. Thank you use what
you say. Thanks.
John C Dvorak: Just yeah, thanks for nothing.
Unknown: So back to substack. I'm trying to get to this one
clip. So if what you're taking forever if you're substack, and
you're starting a social network, well, you know, you
have to talk to Nilay Patel from the verge, and Nilay Patel is
gonna call you to account. I'm gonna call you on the mats. Yo
guy. I know. Like Patel was on the show that Leo railroaded me
into saying the moon landing was fake. What did I didn't believe
in it. I never said it was fake. I said, I have a hard time
believing it. I have no proof. It actually happened to me like
Patel was on that show. So I don't like him. Just disclosure.
John C Dvorak: Oh, I don't like him either. I was in the show
with him over there. And he called me a racist.
Unknown: Oh, well, you could be the CEO of substack. Then
I just want to be clear, if somebody shows up on substack
and says all brown people are animals, and they shouldn't be
allowed in America. You're gonna censor that.
So we do have a terms of service that that, you know, have nearly
please note, by the way, the so called journalists saying,
You're gonna censor that, aren't you?
John C Dvorak: Yeah, I love journalists are into censorship.
Unknown: That's right. I just want to use a lawyer to be
clear, if somebody shows up on some stack, and says all brown
people are animals, and they shouldn't be allowed in America.
You're gonna censor that.
So we do have a terms of service that, you know, have nearly
prescribes, you know, things that are out there, there are
extreme cases, right. And I'm not going to get into like the
way in America 23. That is not so extreme. Right, we should not
allow as many brown people in the country not so extreme. Do
you allow that on sub stack? Would you allow them in sub
segments?
I think like, the way that we think about this is we want to
put the writers and the readers in charge. Now I really want you
to answer that question. I'm not going to get into gotcha
content. Moderation. It's
not a gotcha. I'm a brown person. Do you think people in
subsections actually get kicked out? Yes. Do
you want to say something? First, I'm a brown person. He's
Indian, if I'm not mistaken, the Indian,
John C Dvorak: I believe, well, he could be Bangladesh. She
could be Pakistani. I'm not sure.
Unknown: I went to Jamaica. look him up. I'm a brown person.
I'm not gonna get into gotcha content, moderation. It's
not a gotcha. I'm a brown person. Do you think people on
substack should say I should get kicked out of the country?
I'm not going to engage in
John C Dvorak: I'd say, Yes, not because you're a brown person.
Unknown: Do you think people on substack should say I should get
kicked out of the country? I'm not
going to engage in content moderation, would you watch it
this or that? Questions?
But it's the thing that you have to do. Right? I mean, you have
to make these decisions. So
the way that we think about this is, yes, there is going to be a
terms of service, we are going to have you know, we have
content policies that are deliberately tuned to allow lots
of things that we disagree with that we've you know, strongly
disagree with. We think we have a strong commitment to freedom
of speech, freedom of the press, we think these are, you know,
essential ingredients in a free society. We think that it would
be a failure for us to build a new kind of network that can't
support those ideals. And we want to design the network in a
way where people are in control of their experience where
they're able to do that stuff.
By the way. 30 more seconds. This guy is a fail.
John C Dvorak: I agree. 100% I don't
Unknown: know what he was thinking. I don't I don't I
don't know what he was thinking in general that you can in
today's climate with journalists. And you know, the
Twitter was the journalists owned a journalist journalists
are Babu Bri controlled Twitter.
John C Dvorak: To tell you this month, I'm looking at his wiki
page and Neil Nilay me live. If this guy's not a spook, I don't
know who is Oh, interesting. And I'll say that because he's one
of those wiki where there's nothing on it. There's no
information whatsoever, just a bunch of random little things.
He was one of those what do we do with this guy? I don't know.
Unknown: Oh, so but he's so he's actually vying for a consultant
ship to help sensor when he gets the information from government,
okay, all right, but this one We're Chris Chris guy. He was
really he bit off more than he can chew with this thing.
We're at the very early innings of that we don't have all the
answers for how the things work, we are making a new thing. And
we are, you know, literally, we launched this thing one day ago,
no bad answer. We're gonna have to figure a lot of this stuff
out. I don't think it's yours to figure it out.
You have to figure out should we allow overt racism on sub
segments to figure that out?
No, I'm not gonna get into.
You know, this is a very sad response to this question right
here. We are aware that you've you've blundered into this. You
should just say no. And I'm wondering what's keeping you
from just saying now what a Deke deke.
He should do a show podcast with Kara Swisher, there'll be great
together.
John C Dvorak: We'll actually if you look at the wiki page,
there's a connection between the two of them because she did a
special on him, or an article called Nilay Patel, no longer
managing editor of The Verge moves to vox.com Oh, I
Unknown: thought he was with the verge. Well, I
John C Dvorak: think he's back with the verge. I don't know
what he is anymore. Now. He's with. Yeah, he's back with the
verge. Ben, it's hard to say. That's the kind of like I said,
this thing is so vague. This just Wiki pages is like useless.
He's
Unknown: a brown person posing as a journalist.
In America. Hmm. Yeah.
John C Dvorak: And he says very carefully in black, so you can
click on it. nationality, what do you think his nationality is?
Unknown: by Indian?
John C Dvorak: American?
Unknown: Well, that was my faux pas. Yes, of course. I'm sure
he's American. No, it says right there American. Yeah, that was
that was me being racist. We don't know
John C Dvorak: where he is who his parents are. We don't know
where he was born. We don't know anything, which is one of those.
Those entries that is like problematic. I use the word
Unknown: advisedly. I'm going to talk to my guy. My guy knows my
guy can get it. I got some Indian mafia friends. Know,
they'll know that. Oh, yeah. And you know, and they hate these
kinds of posers. They don't like these guys at all. Its tech guys
to tech guys. Interesting. Well, let's, let's just finish up the
tech bashing. And I just want to say that John and I, the reason
why we scoff at these things so easily is we've been around we
have seen things come and go. We have seen the hype, the overhype
the things that just fall apart. I think we have. I mean, we
don't always get it right. But at least we couch it in in
language like there's no evidence. But in general, in
general, we we have seen things. I mean, did you ever think OS
two would work that it would be a big a big seller? I was hoping
it was a book. I liked it too.
John C Dvorak: But did you really it was a good product.
But
Unknown: did you really think it would work? Well, IBM was a
bunch of of exactly. We know how operates.
John C Dvorak: IBM was not up to it. No, no. And then they had
that moment at one of the big shows one of the big trade shows
it they came out with a version of OS two that was uncrushable
be crap was that warp OS two warp. It may have been more I
love and a bomb Rex Rex.
Unknown: I've got a program in Rex.
John C Dvorak: Rex is actually pretty good. Yes, it was a nice
little scripting language. It was like a lot better than
batch. So we're AppleScript so Steve Ballmer came in with a
with a disk with a floppy disk with some code on it. And he
went into the IBM booth. He says this thing won't crash and he
says let's see what the what it does with this disk. He sticks a
disk and it crashes with a bunch of people around him so they can
Unknown: all write about write it up. Oh, it was journalists
around. Yeah,
John C Dvorak: I think I think it would he made a big fuss
about it. Yeah, it was kind of the idea Why won't crash we'll
look at just crash you guys suck. It's funny because I the
original OS two was partnered with Microsoft. And they were
partnership for OS two and I have a little I still have a
little pin. The lapel pin that says Microsoft Oh is to wow.
Another collector's item yet it's gonna go on the Etsy site
for sale. How was that
Unknown: doing? You? Uh, do you still have stuff on your Etsy
site for sale? Well, we're
John C Dvorak: trying to reincorporate new stuff. Oh,
Jay. Okay, you
Unknown: making J work? Okay.
John C Dvorak: Do I Yeah. And she's like, Oh, I hate the SEC.
Unknown: Alright, now let's talk about AI because another day,
another 20 stories about how AI is going to kill us all. And I'm
a little tired of it. To be honest. By the way, just to
reiterate, there's no business model for AI. No one wants to
pay for it. It uses more energy than Bitcoin. Yeah, and water by
the way Mollywood wrote about this chat GBT is consuming a
staggering amount of water. I guess it gets to cool stuff. But
chat GPT you really use a lot of energy and a lot of GPUs and
yeah and if watch for what? So, Deutsche Avella, they had a
long, tedious interview with an MIT professor Max Tegmark, Max
Tegmark, and um, this guy was all jacked and Jedi because all
you hear anyone who's in the AI space, I think base Yes, I think
is really there. I mean, how many times have we seen this
type of hype? You know what I mean? But oh, this is it. Oh,
this is this almost like we've seen the pod video, podcast,
video podcast video podcast. Now we've been through this cycle.
It podcasters will be audio podcasters. Video podcasters is
on YouTube. This is YouTube shows or rumble or whatever is
not the same thing. Rumble. Will you agree with me? We've seen
these cycles.
John C Dvorak: Oh, 10 times over back social
Unknown: networks. I think we're kind of done. Now. You know,
Facebook
John C Dvorak: blogs, remember the blog phenomenon? Blogs? Oh,
everyone had to have a blog. It was going to free the inner
everyone's going to have their own blog. We'd have citizen
journalists.
Unknown: Yeah, remember that citizen journalist. But also,
like I've said, for the past 10 years that Facebook can also go
away. Facebook can fall out of favor. And to a degree it has me
fell out of favor. The Instagram, they bought
Instagram, and Instagram fell out of favor for tick tock. This
is the cycle of life in technology. Companies don't like
to go. So anyway. Now we have this new thing, which let's be
honest. It popped up the end. It was like a fluke because someone
started using chat GPT which chat GPT and then everybody had
to have chat GPT because they know Oh, this is the hot new
thing, as witnessed by Google who are pretty careful with how
they roll products, how they roll out products, they have a
bad track record, but they were even open about how flimsy this
really was. And they come up with barf. And then the thing
you know, screws up so bad, they lose 100 billion in market cap
on the first day. Can people like oh crap, Google can't
figure this out. So now they're throwing all kinds of money at
it. They're rejiggering their finances to make sure they can
throw the money at it without a business model. So long lead in
this. Do this douche booze interviewing the MIT douche abou
chat gpj
This is not science fiction. Intelligence is not something
miss this.
This by the way. It's a style peace. This is the MIT professor
Max Tegmark.
This is not science fiction. Intelligence is not something
mysterious that can only exist in human brains. It's something
we can also build. We're basically building these alien
minds that are much smarter than us. Who we're gonna have to
share the planet with. Right and the pessimism is basically
everybody who's driving the race towards this cliff is in denial
about there even being a cliff but they can't stop. No company
can pause alone, because they're just gonna have a lunch, their
lunch eaten by the competition and get killed by the shareable
lunch. Otherwise, there might simply not be any humans on the
planet at all. This is not an arms race. It's a suicide race.
Billions of dollars are pouring into artificial intelligence.
But our private companies putting the world in danger in a
race to create better even so called godlike artificial
intelligence. My guest today is Max Tegmark. He's a Swedish
American physicist, cosmologist and machine learning researcher.
He's a professor at the Massachusetts Institute of
Technology and the scientific director of the foundational
questions Institute. Max, welcome to the show. I want to
begin with a general question before we really launch into
specifics. And I'd ask you to be as brief as possible with your
answer as much as you can. And that question is are a handful
of companies leading us down a dangerous path? Yes.
John C Dvorak: That was the punch line.
Unknown: That was his punch line and that he literally stopped
because, of course, as I said, the interview was long and
tedious.
John C Dvorak: And they don't want to hear the interview then,
but I have one other point. He said yes. But he said it with a
thick accent
Unknown: because he's a Swedish. Swedish American.
John C Dvorak: Yes.
Unknown: But you heard him in the beginning. That's him
saying, We intelligence is not just for human beings. I just
like to when you talk about artificial, it's fake,
artificial meat, art. Official Nether artificial, give me some
other artificials in our life, everyone understands artificial
is not real. It's not the real thing. There is no intelligent
John C Dvorak: official breasts.
Unknown: Thank you artificial. That's not a great example
because that
John C Dvorak: I knew that stop. That's not a great example.
Unknown: So, but now he's going to tell us why we're all gonna
die. It's a suicide race, the billions of dollars are being
poured into it because that's really what this is about. No
one can stop. Everybody has to participate, even though they
are raising money with the suicide race thing. And now
listen to how he justifies and tells us what we actually have
achieved today.
How much of a breakthrough? Are these new generative AI models?
Like chat, GBT?
It's what looks like a breakthrough in the media is
really quite steady progress on work on AI. It's been happening
for a long time. You know, in the 60s, the term artificial
intelligence was coined by an MIT professor. And for a long
time, and the people be like, Man, this is much harder than we
thought. And gradually, the list of things, though, that humans
can do, the machines cannot do is cut and shorter and shorter.
And one of the holy grails Alan Turing, famously called the
Turing test is being able to talk like a human really master
language. And that's no breakthrough. We've seen now
manifested and rung up before and tools like this.
Thank you. I was, I was hoping that you would say that is not
what the Turing test is, before you say anything, he works at
the Massachusetts Institute of Technology, he is a professor in
this field.
John C Dvorak: He said that the Turing test was that machine
that could talk, you know, like, computer, computer working,
working, I mean, that's, you know, the Turing test is the
point where you would have a exchange with a computer that
you wouldn't be able to tell if it was a computer or a person.
So I go into a chat room, and I started a chat by typing the
Turing test was not involved with talking by when you could
be the same could be talking, and you will be chatting with it
in one way or another. And you would not be able to tell Yeah,
under any circumstances, as a machine, that's
Unknown: the answer that is a Turing test, the Turing test is
not
John C Dvorak: just a machine talking, working, working.
Unknown: Let's, let's just listen again, to what you said
here,
for a long time, and that people realize, man, this is much
harder than we thought. And gradually, the list of things,
though, that humans can do the machines cannot do is cut in
shorter and shorter. And one of the holy grails Alan Turing,
famously called the Turing test is being able to talk like a
human really master language. And that's the big breakthrough
we've seen. So he's
saying that the big forget the Turing Test definition, he says,
the big breakthrough is that it can talk like a human being, I'm
not convinced that this has been achieved.
John C Dvorak: Oh, I'm with you on that. I mean, I don't know
how many people aren't convinced. I'm not it's not even
close.
Unknown: I mean, I see big flowery sentences and just going
on and on anyone who talks like that and be like, I don't like I
don't want to talk to you, you know, you're not normal. Then,
but for some reason, and and also, Geek isn't just talking
like a human being or do you also have to make sense and be
somewhat correct it? Would that be a part of the of the Turing
test?
John C Dvorak: Or just be able to fool the Turing test? Going
back to the real Turing test? That means you can't tell if
it's a person who's right. I mean, if you're, if you could
pretty suppose that the, that the person you're talking to is
a moron, I suppose the Turing test would be a lot more liberal
in the way you interpret it.
Unknown: Can the Turing Test speak multiple languages like I
can,
John C Dvorak: as well, that was never included in detail, but
I'm
Unknown: just I'm just curious, does it? Does the Turing test
have to work in all languages? So it would be Java? I
John C Dvorak: think, so. I don't
Unknown: think it can do any other languages. yet? No,
seriously, think about it. The internet is predominant enough
John C Dvorak: trouble translating, you know, when you
go to a French translation through Google or one of these
guys. So when you say I'm gonna buy some Chateau le feet, they
changed it to Castle. Castle, you want to buy some castle of
feet, Castle of foot. So it's like, whoa, this isn't what did
this even in? We call it Chateau le feet because that's what it
is. It's not castle of feet, because that's the translation
of the word chateau. So I mean, you don't even know that much.
Unknown: Right? So is this just a continuous? You're complaining
please? Well, I'm gonna ask you a question. Would you do you
think that this is really just a Hail Mary and that the
technology business is in deep trouble a Silicon Valley Bank
ruined all of the all of the the money went away or the scam of
the venture capital scam, which now we understand how that
works.
John C Dvorak: What's the cycle? The venture capitalist scam is a
cycle
Unknown: but the scam of creating money by by making
everybody put their money in the same bank. So banks basically
the bank had three times the billion dollars.
John C Dvorak: So that was you know, that was, I think that's
fairly recent. pretty
Unknown: new. That's a pretty that's a good one. But that was
pretty new. But they need to have something and
John C Dvorak: they need to, right they always need to have
some gimmicky thing that gets a lot of attention. This happened
in the 80s with the artificial intelligence bullshit happened
to be a fourth generation computer.
Unknown: We had podcasts pocket Well, hot, hot, hot pockets, and
it was juiced. Oh, you gotta be like juice.
John C Dvorak: Juice, you keep bringing juice
Unknown: back up irritates me, it was like juiced and then you
have to just Skype, we have to everyone's gonna be Skype, you
gotta be Oh, it's gonna be IP, IP wipe, wipe, wipe, wipe, wipe,
wipe. What are the ones that we have? What are the great
John C Dvorak: SIP saps but more,
Unknown: more general, more general then we had social
media. But I think blogging, or blogging differs a little bit.
Blogging was more an acquisition target. It wasn't really
something that people that VC put their money in. Oh, well,
one of the big ones right now is personal drones that you fly,
you know, the like the Jetson one, and all these, all these
these nutty? New flying contraptions? Oh, yes. We're
going to have air taxis air taxis everywhere. There must be
100 100 Well,
John C Dvorak: that is that's another cycle that goes way
back. Yeah. Flying Machines. Yeah, I think goes back to the
back to the 70s The first time I ran into some guy in Sacramento
had this flying machine this flying car. Yeah. And he go out
of you know, nothing would happen. He gets some money then
20 years later there it was. Again, same guy
Unknown: as we talked about in the last show segway the Segway
was was one of those things Oh,
John C Dvorak: yes. Always gonna change the way we design cities.
Unknown: And they have to create their own hype. And they've done
it they've done it to a crazy degree that chat GPT crazy
degree, and then you know, and I think there's no more there's no
more exits in in green green stuff
in there trying the green stuff was always a disaster. Yeah,
I remember that. Kleiner Perkins tried to do their green tech and
they lost all I think everything.
John C Dvorak: They I don't know that they had a Green Fund that
made a nickel. No, I don't think they had one. But I don't think
it made a nickel right. I
Unknown: think they had more than one. They couldn't even do
the the electric car right. They did the thing that kept catching
fire.
John C Dvorak: Was that could be any car.
Unknown: No, but they were early. They were early on the
burning up stuff. It was there was that really expensive one
the Husker Fisker Thank you Fisker. Yeah. And then they
tried the scooters. That was gonna be another one. They all
invested in scooters,
John C Dvorak: and all they had to Kleiner Perkins offices. They
all had a Segway in their offices on a charger.
Unknown: Yeah, of course, I do it all riding around. And then
what else? I mean, there was DVRs that was another one with
the one hit the TiVo, TiVo, TiVo.
John C Dvorak: But it was, I think, cleaner. It was into
replay TV. Right? Yeah, they got nervous replay TV and attend the
replay TV guy. It's kind of interesting. I had lunch with
him once after he started roku. And he's a Roku guy. And he Oh,
okay. Something of a genius. He's the one who really invented
the idea and I think he felt he was stiffed on the replay TV
because TiVo got all the attention and they ended up
being the big moneymaker and replay TV just disappeared and
he went off because I brought something up to him and he was
he got mad turned from a nice lunch to like it took about 10
minutes for him to calm down. John Have you
Unknown: ever noticed this is kind of what you do with people
it's just kind of what you do. Just say and with that I'd like
to thank you for your courage in the morning to them to you the
man who put the sea in the bowl craps is a chat GPT ladies and
gentlemen, please say hello to my friend on the other end Mr.
John Cena
John C Dvorak: in the morning you Mr. Adam curry also in the
morning all ships and sea boots on the ground feet near subs in
the water and all the games and nights out there.
Unknown: As in the morning to the trolls and the troll room
who have been somewhat helpful today. scurrying away. That's
what I thought 2309 I think that's good for for a Sunday.
It's good. It's 100 Over 100 Over 100 Over, and the only one
donation segment today, it will be somewhat was was short,
weird. Anyway, that's fine. It's value for value. Trolls absorb
everyone's sitting in their rut scurrying away running away. You
get the show for free. There's no charge. There's not behind a
paywall. We don't, you have to sit through advertisements,
which means we don't have to have any type of meetings with
advertisers, which is good, which also means if we talk
about a product because we like it, we actually like it. If we
don't, and we don't like it, or we don't talk about it because
we don't care. There's no subscription, no Patreon No, if
you get value from this podcast, send it back. timed out.
John C Dvorak: We don't do special episodes for this
Unknown: free premium content premium content.
Free we I love for you. So what you're listening to
John C Dvorak: now is the worst idea ever subpar.
Unknown: Now, but you can have premium content, that's really
what you want. And that's where it's going. The trolls, they
hang out at troll room.io where you can listen to the show live
on Thursdays and Sundays. That's the no agenda stream, which runs
24 hours a day. And there's always a podcast being done
live. Oh, that's always a pod. It's the best podcast network in
the universe. Again, no commercials or anything like
that. You can log into the chat room you can you can if it's a
live show, you can boost along do all kinds of fun stuff. You
can also get this in a podcast app we have we have redesigned
podcasting with with 30 new features. But the one that we
love the most because we've been doing these live shows for
almost 15 years is you get podcast attic, podcast, Guru,
pod verse or curio caster. And right where you get your
podcast, you can import it from your legacy podcast app and
works with all other old podcasts. When we go live, it's
right there in the same app don't have to be struggling with
a webpage. You use it right in the app, you got the chat room,
you got the stream all live. And that's one way you can you can
hang out with us. You can also follow Adam at no agenda
social.com We have a mastodon, we should probably get a tribal
account, just to be with all the hip kids. And I actually
John C Dvorak: had to travel account I open is no agenda
show.
Unknown: No, very good. And do you have a discord? Because, you
know, that's where all the 20 Somethings hang out?
John C Dvorak: And not yet. Okay.
Unknown: And it's Jhansi Dvorak at no agenda. social.com that
is, John and I are there lots of people that also the artists,
which I wanted to talk about one of the artists in particular,
because yeah, roundy Well, this is kind of beautiful Roger
roundy and he's been posting on no agenda social.com He, he said
that he has now been hired by The Daily Caller to do political
illustrations. And he's and He attributes his his job, the
getting this job to his work for the no agenda show.
John C Dvorak: Yeah, he does. Then he bails out on us and he's
not
Unknown: quit he didn't quit. He's still listening. He's still
on no agenda socially. You'll know that.
John C Dvorak: He said his Daily Caller is that the Tucker or is
that Tucker Shapiro her Tucker.
Unknown: He said he said he wasn't leaving the show in any
any but you know,
John C Dvorak: I will note ISIS is Fuck you guys right at the
end of the No.
Unknown: Job? No, no, you must have read your on tribal. And I
wanted to say that he is incorrect. The reason why he got
this job is not because he won many different pieces of art as
album art, which we see as an award for an artist. The reason
why he got this job is because of our criticism of the things
that we didn't choose of his.
John C Dvorak: No, I agree. 100% It was listening to the two art
directors that would be you and me correct as part time art
directors, listening to us go over the art and it's something
that most artists never get to hear. That's right. You don't
get criticism when we say you don't know why your art was
rejected Correct? At this. So once again, when I believe that
what you said is true. We can credit another success story to
us. Yeah, I am in total agreement with myself on the
back for that. While you do
Unknown: we want all the time. We want to thank I think brand
new to the lineup. Francisco Scaramanga. Yeah, he's been
John C Dvorak: submitting before he's been submitting as we want
it, and they're saying they're always interesting.
Unknown: Yes. And he just hasn't quite made it yet. For a number
of reasons. You'd have to go back and listen to The
criticisms we had but he was, which picks his art for episode
1546 appropriately titled cat hole, which the Dutch John I
mean, you are the hero of the Dutch no agenda contingent. They
think your translation of Koto fell into cat hole. I saw you
got a postcard from cattle.
John C Dvorak: Yeah, using the newsletter
Unknown: as something incredibly funny about that, you have to
speak Dutch to understand it, but it's, it's really it's very
well done. We'd like that.
John C Dvorak: Well, the piece I liked in competition was the
winner from networks he could have won again with the SS
climate change. It was very close. Yeah, it was very close.
And actually the SS climate change is a little more
artistic. But it was less less connected to the show than to
our mouse theme. Yep. And so this this scam scaremonger piece
was just what we want what the doctor ordered and it was cute
and he just did a lot of stuff and he came in second year like
the week before with a Go Go back with the rabbit and the
Christ figure out a bit much which is sacrilegious to tell
decided not
Unknown: Yeah, no, I agree with other good ideas. Network. I
agree. Networks had the and this is what happens sometimes. And
he had a great piece of art, but it just didn't quite fit in with
the fish flopping. Now other people tried Miami fish, no
other things. Which jet didn't hit the mark either. Who was
this? Twitter, which is also scar manga so he's been trying a
couple things. I kind of like Boyce verts printing steak.
John C Dvorak: Darren O'Neal had a nice printing food piece too.
Unknown: Which one was that? Oh, yeah. Yeah, I thought it was too
complicated.
John C Dvorak: It was too complicated. And it was that was
also small. You get getting a 33 is the brand name of the
machine. It was small. Can't see it. Yeah.
Unknown: I don't think there was anything else that really that
really hit the mark that even or came close. college should
blogger. Oh, no. But this time he had an ozempic shot going to
someone's belly. No, I was just creepy.
John C Dvorak: No, it was nothing new. We had this this
piece looks good. It worked. It worked.
Unknown: So congratulations, Francisco Scaramanga and web
though and you know what? I wanted to mention this she has
his own lucky town threads.com which is she's got she's got
merch he makes T shirts. With Sin City What am I seeing here?
Wax addict
John C Dvorak: got a lot of T shirts lot of yeah t shirt list
of T shirts. Yes.
Unknown: Back door cover I mean Yeah, lucky town threads. So
that was interesting job he definitely has as artistic
chops. He just like sports sports T shirts and stuff so it
was kind of cool. And thank you very much for bringing us the
artwork for episode 1546 I was I was really good we thank all of
our artists of course you can join their ranks have
congratulating each other, which they do begrudgingly? Some I
think are sincere but you can see what that guy won again. But
you know, anybody can win except comics or Blogger was aI
generated art we just we tried to catch the AI generated stuff
and we just I've just been told that I don't like it. I want you
to use your way calm tablet at all times.
Is welcome I thought was way calm. Maybe it is okay then
don't correct me unless you're sure okay.
John C Dvorak: I know I never correct you yesterday I thought
it was dope was
Unknown: she this? This is why people get mad at you. You have
a way you have a way it's amazing. You have
John C Dvorak: a way yes called parsing ah
Unknown: as part of our time talent and treasure which is the
well all we ask in return I was explaining this Some people were
having dinner with how do you do this? By the way I'm looking for
someone in Phoenix Arizona who can do some audio engineering
for producing a podcast email me someone wants some help. So
yeah, well you know we've been doing this for 15 to 15 years
and and trying to explain time talent treasure and it's like
scary for people and they think about it but once you really get
into it once you do it once you've built up your own get mo
nation which is not easy. takes time. You have to have patience,
John C Dvorak: you have to have quality product SN key There you
go. Yes outstanding
Unknown: product is a requirement. And then
John C Dvorak: I mean I can I listen to podcast is not As much
as you do by listen to a lot of them and it's like who's gonna
do these podcasts are just two guys gassing? You know we do
some of that but we don't we try to put real content in.
Unknown: Yes, correct. And I'll say that, you know, people keep
telling me oh, you got to go on the tool boy and the pool boy at
pool boy show? No. I will say that his I said that twice. His
Culture Show is actually pretty good. Have you seen his culture
show?
John C Dvorak: I don't know what you're talking about Tim the
pool boy.
Unknown: I know Tim the pool boy. Yeah. So he has a he has a
beanie. Yes. He has another podcast where he just sits with
people are Joe Rogan. Then he's got good. Yes. It's
John C Dvorak: a Joe Rogan clone.
Unknown: Yes. It's a Joe Rogan clone. Yes. Which is exactly why
I'll never go on it. Because that would be like going on The
Tonight Show and then being a whore and going on The Late
Show. Yeah.
John C Dvorak: You're the Joe Rogan guy. You go on Joe Rogan
show
Unknown: exactly. I will never I will never butcher betray Joe
Rogan? Never. But you
John C Dvorak: did go and Glenn Beck. Yeah, not to say not the
same. I would say Glenn Beck's in a different category. Yes.
Diff very different category. But my dad would say,
Unknown: interestingly enough, when I went on, Glenn Beck, Joe
called me to come on, like two weeks later. I think that was
his signal to say, hey,
John C Dvorak: anyway, he was telling you not to go on back
anymore. I think Beck should get word of this.
Unknown: Maybe get you back on Beck has not called that. Oh,
you know who called who contacted me? Who wants me back
on for full hour.
Come on. Ruben. No, Ruben. I've never been on Rubin. Back on.
Oh, back on. Yeah. Oh, uh, Tom would know. Not full hour. Oh, I
John C Dvorak: know who it is. Yeah. Kelly. Yeah, that's
Unknown: right. Megan. Yeah. I think we got one. One new
listener from the Megyn Kelly show.
John C Dvorak: Yeah. Yes, I think it was one. One. Yeah. I
don't think it's going to end you go on her show. Again. It's
going to be another one.
Unknown: Probably I like her those
John C Dvorak: and have the crossover that Rogan has as a
problem. Once you
Unknown: know that. You'd hope that you could get some people
to come listen to us but I think we got one Yeah, we got one.
Kelly donation mega did she put
John C Dvorak: a that she put at lower third on there with the no
agenda show underneath her name? No. Yes, she did. I don't think
so. Yeah, sure, dude.
Unknown: I'm pretty sure she did. She mentioned it.
John C Dvorak: Though she met mentioning it is not the same as
a lower third.
Unknown: Okay. I will. Well, I think it was on the lower third.
I will ensure it is on the lower third. I will have her put Adam
curry co host no agenda show. Joe Rogan's boy.
John C Dvorak: Yeah. Well, you if you put I think it was maybe
had maybe it was Adam crepe podcasters. Yeah, that's what
you're gonna get if you don't think was make a point. No, I
Unknown: always make a point. But I think she had x MTV VJ.
John C Dvorak: Yeah, I think it was.
Unknown: Tina was mad because what was she just fangirling
over MTV? Who cares? Look at all the stuff. You're done. Look at
what you're doing. And she's right. She's right. She's right.
Keep her nose. We kick off our and by the
John C Dvorak: way, that's what these podcasts are. It's like
all of them are supposed to be log rolling. Anyway. That's what
you do. Log is like people don't come on The Tonight Show just to
because they're nice guys. They got a movie. You got a new
motion promotion? It's all about promotion. Yes. And who and
anyone who doesn't think that's true? Which is by the way, we
have no guests,
Unknown: correct? Because that's the reason.
John C Dvorak: Well, that's one reason the other guy got a
million reasons. But that's one good reason. But if you're going
to be on these shows that are all promotional. You just want
to get promoted. Chase. Yes. Does
Unknown: it take I agree. I agree. What does it
John C Dvorak: take to get a drink around here?
Unknown: We kick it off with our monthly donation from one of our
top donors of all time Serrana Miss of Dogpatch and Lois LeBeau
via comes in to save the day once again with a coded donation
amount. Let's make sure we say it right this time to five to
nine. This is again, I presume in cash was several $2 bills you
received it. So confirm
John C Dvorak: I was counted by two people to make sure it was
exactly where I eat and it was two to $2 bills and a fiver and
Unknown: oh and right so a fiver and it was only out of 20 and
then 2500s Yeah. Oh my god. Thank you sir. animus of
Dogpatch and Loris LeBeau via we don't know much about him. But
he does always send in a note which is usually or always
thoughtful. And generally, yeah, and it's long More than normal
this time but here he is Chag Pesach sama some ants I'm a
happy Easter and Ramadan Kareem to all producers, religious
periods are so important despite the ridiculous new cycle that
has virtually eliminated their coverage and importance in the M
five M, particularly after our democratically elected officials
and many that were not elected, close all houses of worship
during the lockdown.
John C Dvorak: There are atheists Hello, I encourage I
encourage
Unknown: all to reengage in their faith rather than permit
this drivel or this drive towards a secular belief in
material things. I'll repeat that. I encourage you all to
reengage in their faith rather than permit this drive toward a
secular belief in material things. Focusing on a prayerful
and faithful life has its advantages. For those whose
holiday has passed. I hope you have renewed your faith. John,
thank you for correcting that donation amount from last month.
You will reward a railroad trip for you. Check out the new
railroads station stamps at UPS usps.com. Although they they're
no match for the Transcontinental Railroad
stamps, I suspect you would like them. So is this a prize that
you get or is he telling you to go get some stamps?
John C Dvorak: He's telling me to go get some stamps? He knows
I was as a kid. I was adamant stamp collector. Yes, because I
still buy a plate now and again. I had a
Unknown: penny black as a kid. Good for you. You don't even
know what that is? No, I don't know. Very, very, very famous
stamp.
John C Dvorak: But you still have it.
Unknown: I wish. I think I traded. I traded it for an
outboard motor.
John C Dvorak: Let's probably worth a million bucks by now.
Unknown: I also sold 65 Bitcoin at $900. Yeah, go. I'm a genius.
John C Dvorak: You should have kept that.
Unknown: Go. Thanks, John. Thanks for that tip. The artwork
on the $2 bill I was referencing was Trimble's depiction of the
signing of the Declaration of Independence on the back of the
bill as it captures all of the signers. Yes. And I have seen
people who have told me that they went out and got some $2
bills they liked it and they liked the $2 bill. No jingles
but goat karma for them it's my no jingles but goat karma for
the millions of goats and other animals that will be sacrificed
this eat Yes indeed. And as always, thank you very much sir
animus of Dogpatch and lower slobodian
You've got karma
John C Dvorak: Nice. Goat meats delicious by the way.
Unknown: You know I've had bad goat meat I've had in Jamaica. I
like some jerk goat meat. But I had a goat meat at a Mexican
restaurant. It was nasty. It smelled like goat meat.
John C Dvorak: You're not supposed to oh that's no good.
No meat doesn't have any issues smell at all
Unknown: correct.
John C Dvorak: But that's just bad goat meat those bad any meat
smells is no good.
Unknown: Anything that smells like goat is generally not a
good product.
John C Dvorak: No agenda shops up next from Fayetteville
Georgia 608 25 This is the latest share of the No 608 25
This is the latest share of the no agenda shop profits. Sorry
for the lack of updates recently we've been putting our no agenda
education to use launching a personal podcast at still
chillin.com any positive karma would be greatly appreciated. We
give him some karma go podcast things.
Unknown: My God, I haven't had to go podcasting thing on this
show in a long time. I have to I have to thank him. Our guy there
No, no agenda shop.com Go when it was my problem here. Go pod.
Do you remember what that good. Podcasting is from? Do you
remember
John C Dvorak: when Yeah, it was you were at one of the few
events you gone to that was a podcasting event. You gave a
speech and then you dropped a microphone and said Go podcast
Unknown: told me you told me before I went there he said when
you're done you just you should just just yell go podcasting.
John C Dvorak: I did. Yeah, I know. You dropped Okay, drug to
mic after obviously. Yeah.
Unknown: So I wanted to thank our guy over there because I
ordered six t shirts. Six of the day. Are you familiar with the
band Mercy Me? Never heard of them?
No, I'm not. They had a huge hit
a couple of years ago. I can only imagine like triple
platinum. And they're playing in San Antonio tonight. Turns out
they are huge. No agenda fans. And they ended
John C Dvorak: this reminds me of our Weezer drummer. Yeah, I
don't know what happened to him.
Unknown: He's not a huge no agenda fan like Mercy Me. In
fact, I did a movie about this band. With Dennis Quaid played
the guy's dad Bart's dad. So So, I would love for you and Tina to
come. Come on. Come on down in your booth backstage you parked
parked next to the bus. And so So yeah, let's order some t
shirt drive. Yes. Well, we have to have to boogie right after
the show. We do have to Oh, it's
John C Dvorak: gonna be today that
Unknown: I'm taking the T shirts tonight. And and so our no
agenda shop guy. He made sure he got the T shirts to us in time
threw in a couple extra ones. Super, super. Thank you very
much. I want him to give the card there we go. Karma as
requested. You've got karma. Sir Donek is from Raritan, New
Jersey. I've been there five ad dot o h. So it's boobs
backwards. Nice. And he says a split switcheroo is going to be