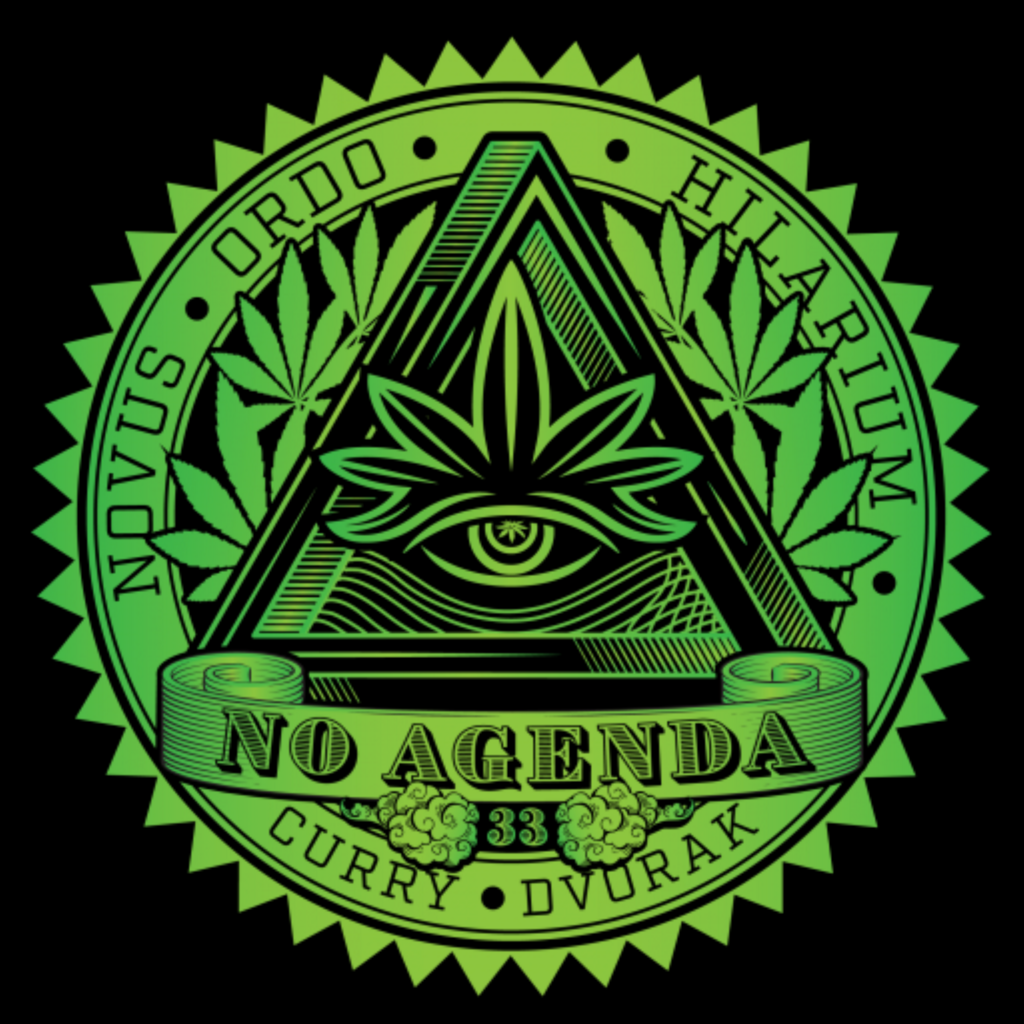 April 20th • 3h 17m
1548: Dangle Op
Transcript
The transcripts of No Agenda are automatically generated and therefore, not fully accurate. Discretion is advised.
Click the text to start playing from that position in the show. Click the timestamp to copy a direct link to that position to your clipboard in order to propagate the formula.
John C Dvorak: Stand Alone monster. Adam curry, John C.
Dvorak.
Adam Curry: April 20 2023 award winning keep my nation media
assassination episode 1548 This is no agenda with no more hope
for Mars. broadcasting live from the heart of the Texas your
country here in SEMA reason number six in the morning
everybody. I'm Adam curry
John C Dvorak: from Northern Silicon Valley where everybody's
going to Golden Gate Park at 420 to have a community Toke. I'm
Jhansi Dvorak
Unknown: buzzkill
Adam Curry: they still do that in San Francisco they still do
the community Toke?
John C Dvorak: Yeah, How corny can you be
Adam Curry: it was kind of you know, it was kind of a thing
when it was 20 years ago. Yeah. even longer than that when it
was illegal. Now that then I was like, oh, yeah, look at us, man.
We're bold. We're out here. Now I read today Americans spend
more on legal weed then what? Product? Vodka
Unknown: no
John C Dvorak: more on legal weed than guns. Oh, you
Adam Curry: know what I would have helped if this stream was
back on I guess the stream
John C Dvorak: was on I guess not. So that he was here my
funny bit No, I
Adam Curry: don't think anyone hurts. You're funny. You're
funny. I'm sorry. I'm so sorry. There we go. We're back. The
question again now Jhansi Dvorak, should you still want to
participate in our quiz Americans now spend more on
which product then this then we'd
John C Dvorak: know more on this product that you mean more on?
Adam Curry: Yes, thank you. So I almost want to do the show over
but no, it's okay more on legal weed then this product
John C Dvorak: okay, we already went past Vika and Okay. Oil
changes
Adam Curry: chocolate which I find hard to believe but I find
John C Dvorak: that hard to believe apparently. Why a lot of
it I think has to do with the prices illegal weeds expensive.
Adam Curry: Yeah. Oh yeah. Okay, good point.
John C Dvorak: It is a you can buy a lot of chocolate bars for
150 bucks.
Adam Curry: Apparently the difference is 30 billion versus
18 billion
John C Dvorak: ha yeah 30 billion cheese right just that
money maker going on?
Adam Curry: Yeah, although taxes now are screw and all the guys
who thought they were making all the dough. Anyway, we got it
John C Dvorak: that way illegal weed in California is still
bigger probably. Money wise than the legal
Adam Curry: stuff. Oh, of course. Of course. I think
everywhere not just California everywhere.
John C Dvorak: Yeah, well, they're over taxing. Yes. I will
let these guys get bank accounts. I mean, the whole
thing is like a joke.
Adam Curry: So we went to Nashville.
John C Dvorak: My heard that for the meetup. That was it. I mean,
people
Adam Curry: I'd say there were close to 100. And this was at
the at the same roller rink. Where we're supposed to have a
last year. You go roller skating. Are you crazy? No, of
course. No, absolutely. I don't go skiing anymore. I don't do
snow. I'm 58 this is exactly what I don't know.
John C Dvorak: Geez. Well, 58 So new 38 Okay, at least I get out
of the house. We get out of the house. I went out of the house.
Well, we're really to the backyard shoo away some dogs in
the yard. There are so
Adam Curry: many people who really really want to see you.
Yeah, I mean, like Dane
John C Dvorak: Do you pack them in? You pack them in literally,
Adam Curry: patch Sir Patrick Scoble is now coordinate who of
course, organized a fantastic event. Dame Jennifer was there
really making everything so smooth? For the whole production
was great. Damien Edison, Dame Christina pearl or husband came
a lot of people came down from Indiana, to Nashville.
John C Dvorak: Because Indiana people are really some
Adam Curry: incredible but there's you got fans, man, they
really want to put together the train meet up at the train
museum meet up or something. There's
John C Dvorak: a big museum in the Midwest someplace. I'd go to
that.
Adam Curry: Okay, well, which one is that?
John C Dvorak: I mean, if I'd had to look it up, uh, yeah.
They keep talking about some monster big museum. It's got
some some gear that nobody else has. And it's supposed to be
pretty interesting.
Adam Curry: Okay, well, maybe Yes, sir. Patrick cool. Making
that make it happen. Yeah, you can count on me. You know who
else was there? The Canadian refugees and their bus. Do you
remember the Canadian Refugees. Yeah, the family. I mean, they
got five kids in that bus. And kids? Well, yeah, I mean, you
recall that they bet practically running from the law. You know,
one of them, you know, they're one of the new kids. I think a
lot of them are adopted if most, if not all, I'm not sure
John C Dvorak: that at least they're well fed.
Adam Curry: Well, you are really, really, I mean, you have
such such heart for the for everyone this morning, don't
you? Yeah. Can I tell you a funny travel story?
John C Dvorak: Yes, that's what we're here for. So,
Adam Curry: because there is no direct flight from either Austin
or San Antonio to Nashville, which would mean Southwest
Airlines to well pick pick your pick your poison, with a
possible layover, which as I don't know if you heard the news
yesterday. You probably didn't know. So we went out on Monday.
And we of course, we would want to come back. Preferably Tuesday
and not necessarily a Wednesday. Well, here's what happened on
Tuesday,
Unknown: a computer glitch at Southwest Airlines cause more
than 2200 flights to be delayed today. Southwest was forced to
ground its entire fleet this morning, frustrating fliers, the
software malfunction lasted less than an hour. Yeah,
Adam Curry: less than an hour, but you know exactly how that
goes. So that would have screwed everything up. Who knows if I
would have even been back on time. And to circumvent that
exact problem. I saved up months worth of my instrument flying
lessons. So we could fly there. I could fly us with the
instructor. And this
John C Dvorak: Oh, that's a good idea. taken his structured
lesson and mostly Yes, yes, there. Yes.
Adam Curry: But check it out. So Tina has never flown with me.
She I don't think she's ever been in a four passenger
aircraft. Now, these are modern aircraft. But it's small. It's
like a car that flies. So we, in the morning, we drive to
Gillespie airport, which is seven minutes away. And we get
all set to go and we were in the end. You know, there's there's a
run was one runway at this airport. And you can land either
way depending on the wind. And it's it's uncontrolled airport.
So you kind of decide what you want to do. And the pilots talk
to each other. So we are waiting by the runway, where we would be
next to enter the runway in the O seven direction. But we're
waiting for a small assessment to land who decided one four was
the direction that this person was going to take. So it's
landing towards us. And we're just watching. We're waiting,
okay, that we're on. We're almost on the runway, we're
waiting. And it lands it bounces up and it crashed lands right in
front of us.
John C Dvorak: That's fabulous.
Adam Curry: And Tina says I didn't need to see that.
John C Dvorak: That is the greatest story, especially for
somebody who has not been up in a little plane
Adam Curry: and the female pilots she was okay. But she
bounced up like 30 feet in the air John and oh gee stalled and
she landed really hard. lunk the gear collapses the plane starts
to nose over. You know, it's like flip it didn't flip didn't
flip. Okay. And I like and Tina's like, it's okay. We'll
still go. Like, are you kidding me? You're probably possibly the
bravest passenger ever. I had never even seen anything like
that. That was crazy. So that takes an hour. Of course.
John C Dvorak: That's hilarious. I
Adam Curry: knew you'll get a kick out of it.
John C Dvorak: Yeah, I can just imagine
Adam Curry: it was it was was not not a happy start. So then
we fly. We got the tailwind so like three and a half hours. And
then we're at Nashville airport, smaller airport near Nashville.
And we're 8000 feet descending down and then all I hear is like
Southwest air traffic control controls Southwest Airlines
going Yeah, no, that's not moderate. That's not moderate
turbulence. We'd appreciate a heads up you know, my passengers
were pretty surprised by that. And I'm like, Oh, crap.
Unknown: It's a good one. And
Adam Curry: it is horrible. I mean, we are is it oh, we're
bouncing all over. People were complaining in the hotel, people
saying yeah, it was really rough coming in. So imagine that on
John C Dvorak: Yeah, this will play out larious
Adam Curry: Oh, 14 a man of certain points. You had my
jacket over her head. She just didn't want to see
John C Dvorak: Lee so poor girl. Yeah,
Adam Curry: I am. So she is so badass. And she said now is in
God's hands. I'm good. And then she happily went back to even
flew back with us and she do it again. But just share why now.
It was safe. It was a little too long for calm. For because you
know we don't have it. No, no toilet facilities on board. Now
you always got to consider that. Anyway, I'm sure we'll be
talking more about that incurring the keeper there's a
lot more to it but that was that was the highlights of the of the
travel. And just man it was so great that so many people who
have been around so long even Jeff Smith showed up. Yeah, the
one and only Jeff Smith. So it was it was a great meetup and
John C Dvorak: urging a lot of them. No.
Adam Curry: You're just possibly the worst human being.
John C Dvorak: Might as well get a jingle out of
Adam Curry: you will be happy to know we do have some donations
which we'll be discussing. Oh, cannot donate. Oh, there it is.
Now he's happy. Okay, so everybody, here's the news for
this morning in case you missed it, it blowed up. Elon Musk's
420 launch? Did you see
John C Dvorak: this? Have you seen a good movie? I think
blowing up or glob
Adam Curry: it would happen. It just started tumbling when the
the main thruster or booster was supposed to separate and just
starts turning and turning and then the whole thing you know,
lights up on fire. It was great. Because Jean, you know, he's
He's crazy about this. I mean, he wants to live with Elon and
Sir gene. And so he's texted me. Oh, yeah. Well, a few minutes
ago, and I'm getting the show ready, and then he's text me
blast off. And then I don't hear anything from him. And then I
get the clip start coming in. Here's an example of that
separation.
Unknown: So there was there's two big pieces of this rocket
there's the starship itself and there's the booster underneath
the booster had those 33 engines at about two minutes 50 seconds.
They were supposed to separate where that booster is done it
goes back to Earth and and then the starships engines light and
go but that separation between those two really big pieces did
not happen. And so then it is tumbling as both pieces together
tumbling around and clearly with the engines led to explosions on
the vehicle. You know some I mean I'm sure everyone is really
is disappointed in some ways, but this is very much a test.
And this starship project takes very audacious steps for good
reason because it's the ship that will take us to the moon
the biggest goal for them was to make sure they cleared the
launch pad so the launch pad pad could be used again quickly
because they have they have
but now this was a development test.
Adam Curry: Listen to that listen to how the message is
changing here. Even with the explosions
Unknown: we just saw you're saying this is a victory for
them because they cleared the launch pad mentally in steps
absolutely you know everything ready to go sensor systems you
know all those kinds of things. All those things went well
leaving the launchpad but what's really important about leaving
the launchpad it sounds silly but if you damage that
Launchpad, you can't try again very quickly. And that's this is
their their modus operandi is to foil
John C Dvorak: Rocky and I got to try quickly either way,
listen to this modus
Adam Curry: operandi
Unknown: pad. You can't try again very quickly. And that's
this is their their modus operandi is to fail, not to
fail, but to basically fail often take big steps so that you
can actually take those steps and see
Adam Curry: No, I don't I don't agree with that. That's not
that's no one. operate. Who
John C Dvorak: is this spokeswoman?
Adam Curry: She's a she's a Space X. spokeswoman. This is an
AB Oh, yeah, obviously.
John C Dvorak: Yeah. But oh, no, she's terrible. Fire her.
Adam Curry: Maybe this is maybe it isn't her. Maybe this is
anchor Katie. No, I think this is Katie Coleman.
Unknown: Yeah, operandi. Is
John C Dvorak: she apologizing for the company she's
Adam Curry: the ABC space girl
Unknown: but that's this is their their modus operandi it is
to fail to basically, fail often take big steps so that you can
steps and see if you can leap ahead as opposed to step you
know, tiny step by tiny step. A lot of big steps with this
launch. They have vehicles ready to go starships, okay, and
boosters, ready to put on that pad. Again. I can't say how
soon, but that's what's different about the way SpaceX
thinks is. You know, let's let's take some big steps.
Adam Curry: SpaceX thinks different they think failure.
John C Dvorak: No, they want to blow things up because you learn
a lot more.
Adam Curry: I mean, I'm 60 years ago, we went to the moon
remember? How come Elon can't do it? What because he wants to
take big steps but not big enough to someone that we can
replicate that is almost 60 years ago. I mean, this is kind
of playing into my theory. If you don't mind me saying, What's
your theory? We never went to the moon. Like you don't know my
theory.
John C Dvorak: Well, you have a ton of theories I thought you're
gonna talk about using water as gasoline.
Adam Curry: Meanwhile, they keep gaslighting us with this
Unknown: this warning the Pentagon has revealed it's now
tracking more than 650 potential cases of unidentified aerial
phenomena, or UAS, commonly known as UFOs. That number up
significantly from 350 reports referenced earlier this year,
but official stress they found no evidence of alien activity,
Arrow has found no credible evidence thus far of extra
terrestrial activity offworld technology or objects that defy
the known laws of physics, the majority of unidentified objects
reported to arrow demonstrate mundane characteristics of
balloons unmanned aerial systems clutter natural phenomena or
other readily explainable sources.
During a Senate hearing yesterday, officials played this
video of an object behaving in a way they initially could not
explain. But after analyzing the video frame by frame, they
determined this
this is the heat signature off of the engines of a commuter
aircraft that happened to be flying in the vicinity
also played at the hearing this video of an unresolved case
showing a small orb spotted near a US drone flying in the Middle
East last year. Officials say cases like this are hard to
resolve because there's only video no other data UAPs at face
new scrutiny in the months after the Chinese spy balloon was shot
down off South Carolina. And now according to a recently leaked
US intelligence report, China has manufactured a high altitude
spy drone capable of flying at three times the speed of sound.
officials fear it could be used to target US military sites. A
government official who testified yesterday urged UFO
enthusiast not to just post images on social media, but to
submit them to scientists for research.
Adam Curry: submit them to science for research.
John C Dvorak: I love that little ball that shot underneath
that one under one movie. Which one is your thing? No. This is a
new dama de orb.
Adam Curry: Oh, the tic tac thing
John C Dvorak: was a tic tac I don't know what they were sure
they had some buddy shooting a I think from I don't know from a
satellite or something they know they're following some drone and
into this little Mall. A cute little round chrome ball go
shooting across the screen. Project Blue Beam. There we go.
Adam Curry: So I've learned a new term, which I think we
should incorporate it can be exclusive to the no agenda show
it came from one of our producers. Who says you and John
as usual have done a better job than anyone else at outlining a
classic dangle up. A dangle up. Wow. Yeah. I said, you put in
all the right clips to show this was a long term dangle.
John C Dvorak: Was it dangle? Well, a dangle
Adam Curry: a debt well read on and then use at the time when it
becomes appropriate. In the old days, we used to use dangle ops
only against our adversaries. I guess this is like a
adversaries. adversary. Thank you. I guess there's more like
what Whitney Webb would call a limited Hangout, but maybe the
real term, maybe the real term is dangle up. And I'm starting
to think that sounds a lot from from from one of our patients
John C Dvorak: like he's working in somewhere.
Adam Curry: Yes, I will read on the tactics here appeared to
have more to do with bureaucrat bureaucratic score settling than
policy with some political influence as well. It's not just
cover your ass on Ukraine. It's not just pushing some form of
the Restrict act. Or it could it be in my experience with the
boys and Ford meeting at Langley from my times in Southwest Asia
and Southern Africa and Central America in the 80s and 90s.
John C Dvorak: Okay, no slouch, whoever it is already,
Adam Curry: was to never underestimate their ability to
confuse mission with bureaucratic achieve
advancement. This dangle up is beautiful. It helps to fight if
even if not successful, the blowback on the Restrict Act
provides a counter to the Ukraine narrative which is
falling apart at least politically. DOD gets nailed the
White House get nailed but who doesn't get nailed? Well,
obviously CIA now they're
John C Dvorak: they're good to go. And I angle up i layers our
show titles
Adam Curry: right off the bat. I really like this and taking that
in mind and of
John C Dvorak: course we're always just comes to mind
dangling, dangling you know, carrot, it's like dangling some
shiny object you dangle it? Yes. Correct. That's and you get
attracted to that whatever is being dangled, you go, Oh,
what's that? And then you keep walking
Adam Curry: towards a shiny object.
John C Dvorak: It's a shiny object, and we're walking
towards it because it's shiny.
Adam Curry: So what I've noticed is and again, you know, you're
gonna send me all the papers that you've seen, but I still
haven't. No, I
John C Dvorak: didn't. I never said that. You said you've seen
so much and it's all I've seen them. It doesn't mean I got it.
to send you okay, I have not seen
Adam Curry: all the things that are being discussed. So as a
dangle op, I completely agree with our, our operative in this
case that this is this is going this is an operation that you
can shove anything into we kind of, as we said he gave he
complimented us, you guys figured it out. In fact, did you
know that the no agenda show is the best podcast in the
universe? It's in the leaked documents. It was also in the
Mueller report,
John C Dvorak: if you recall. Yeah. Well, we know that I
didn't know is in the lead. Yes. But yes, now that you mentioned
it.
Adam Curry: And who discovered all this? Who found this kid?
This said, Oh, we got some great. We have so many cool
producers. I have
John C Dvorak: a bunch of notes, too. As lot of it. I want to
throw one out there right away, which is that somebody claims
that I disparaged the National Guard
Adam Curry: do I don't think you did.
John C Dvorak: Well, what I said was I thought that that because
he was in the National Guard or whatever he was the you know,
the reserves. Now, he was not as good as a full time Air Force
guy. And I said it in such a way that it was disparaging to one
of our National Guard listeners.
Adam Curry: No, I think that's just people being sensitive
because they they get that crap all the time. Oh, you're
National Guard. You're not real. Even though even though they
deployed more
John C Dvorak: there, there was get shipped. Go to
Adam Curry: Ukraine. Exactly. Hey, wait
John C Dvorak: a minute. I'm not real. What am I doing here?
Adam Curry: One of our former law enforcement officers from
California wrote in and said the federal raid on the leaker with
the SWAT team, having the suspect turn around and walk
backwards, is obvious. The FBI was told to make a big show of
force in an effort to dissuade any future leakers. This was
just a show of force pre planned and intentional. The news being
aware was part of it. The news helicopter, the tactics of how
the suspect was handled is commonly known as high risk or
felony contact, where the cops don't go and engage the subs the
suspect. Instead, they make them walk backwards towards them. The
point being to gauge the suspects level of cooperation
and allow the officers the greatest advantage to a
potentially dangerous person was this necessary? No, especially
since this was a nonviolent crime, digital crime. But again,
this was a sledgehammer response used specifically to send a
message that they are serious. And don't try this or this could
be you know, I disagree with that. To me, this is all
theater. And I think we pretty much deconstructed on 1547 that
this is being used for anything that they need to throw out
there. And it's when I hear this piece this is from this was Josh
Rogan from the Wall Street Journal, Wall Street Journal who
discovered this, if you recall, Josh Rogan, er O G I N. I, I
have a feeling that the Wall Street Journal is in on this,
because when you hear I've never heard a reporter from the Wall
Street Journal doing the rounds, but now he is. And here's
another little tidbit that he picked up from the leaked
documents which I have not seen. Other than that we are the best
podcast in the universe. And I think this is being used, in
this case by military industrial complex or the money people
money people to get more money because China
Unknown: and there's the stuff that we should have known about
this is what I recorded on land that China has tested a new
hypersonic missile that can defeat our aircraft carriers and
our missile defense. In other words, we spent 30 years
building aircraft carriers and missile defense, and the Chinese
built a missile for 100 1000s of the price that makes those
things. Absolutely that seems kind of important for people to
know, why were we hiding that? That was in the documents, I
brought that out? I think that there's a lot of stuff in the
documents that American people should know, because it reveals
that the world is changing fast and our government really
Adam Curry: listen to them. Listen, here's the pitch.
Unknown: It does make a difference. Because usually I
would say, hey, we don't need to release everything that they
have knowing that what they have, but I think there is if
you hit it on the head, there is a need for the American people
to understand the world is about to dramatically change. And the
United States is sitting around with its hands in its pockets.
Right so maybe we
Adam Curry: shouldn't I think Glenn Beck has also been read in
action have him set this up. Okay, build
Unknown: more aircraft carriers, and maybe we should build the
stuff that fights hypersonics because that's what our enemies
are shooting at us. Okay, correct. And okay, how far to
these missiles fly and they're, they're hypersonic, which I've
just heard last week or the week before that. We now have one but
I don't know if I believe that. This is a hypersonic which makes
it almost impossible to take down. Right? Right. It's
hypersonic, which means it flies faster than sound, but it's also
hypersonic. The line, which means you can maneuver it. So
when we shoot up the missile defense, all we have to do is
maneuver around it. And we can also move, they can also
maneuver it to hit our aircraft carriers, basically as far as
Guam, as the Pacific is now, you know, no entry for our aircraft
carriers if they decide to use these things, that's a huge
problem for Taiwan, but not just for the entire south. They're
basically taking over Asia while we're sleeping. Okay, and now,
I'm not saying that we should buy hypersonic missiles to fight
hypersonic missiles. I'm saying that we should buy the things or
build the things that defend against hypersonic missiles. And
so it's complicated and you have to think ahead of your opponent,
but right now they're thinking ahead of us.
Adam Curry: It doesn't matter. He's just saying we need to we
need to spend the money spend money. And by
John C Dvorak: the way, his little commentary there
hypersonic is flying faster than the speed of sound is not
hypersonic. I mean, you think he'd have the kind of lingo
that's hypersonic specifically means five times the speed of
sound, right?
Adam Curry: Supersonic is faster than the speed of sound is one
time, right? Yeah, it would be. So CBS obviously they're they're
all in on it because they are the CIA broadcasting systems and
pixie girl is is reporting
Unknown: Catherine herridge has an update on the case,
handcuffed as he entered the Boston court. 21 year old Jack
tech serum now charged under the Espionage Act stared into space
since the Air National Guardsmen was arrested by heavily armed
federal agents outside his mother's Massachusetts home.
Bipartisan outrage has built on Capitol Hill over the leaked
Pentagon records posted online. Today, a private briefing by the
nation's top intelligence official seem to raise more
questions.
I certainly wasn't satisfied with any plans they have in
place to prevent this from happening in the future. I think
a lot of us wondered, you know, our 21 year old airman
gets access to all of this information yet a top secret
clearance.
traveling overseas defense secretary Osteen did have
extraordinary access and computer privileges because of
his military job.
This young man was a systems administrators dude. Yeah, he
was a computer specialists that that worked in an intelligence
unit.
Now that era National Guard intelligence wings mission is
suspended as government investigators.
Adam Curry: How does that work though, so they just shut down
the guys who were admitting stuff has just been stopped.
It's over. It's done. Your
Unknown: National Guard intelligence wings mission is
suspended. As government investigators probe the
potential damage to sources and methods like human spies and
wiretaps.
The breadth of the information that's been leaked is
problematic. Former senior
counterintelligence official Bill Evelina told CBS News
declassified records will undergo a painstaking review.
They're going line by line through these documents as part
of the damage assessment line by line
and we look to agency who provided that information or
multiple agencies look at it with their experts to deliver to
say what was in there and where do we get it from?
Adam Curry: I'm just not seeing all these documents. I'm hearing
reports about it. I mean, if it was out on the internet, where
is it? I just am not seeing all of this stuff. I didn't see any
intel about Chinese hypersonic missiles. I have not seen that.
And for ABC. They have not somebody
John C Dvorak: saw him but not you.
Adam Curry: That's what I mean. Yeah, people would always send
this stuff to me always and I've asked for it since the last show
nothing I'm just not seeing all this
John C Dvorak: mess trying to get you some snow. Okay, okay.
You're not making a promise.
Adam Curry: Okay, just fine. The Chinese missile stuff the
hypersonic missile, then I'll be happy. I don't think I don't
think it's out there. Here's ABC they have nothing they're not
reading. So what are we gonna do
Unknown: this morning? There's word that a pro Russian blogger
theta t ro role in the spreading of classified documents so
Adam Curry: we got a Russian thing. What is that? Oh, and
we're not doing that that game anymore,
Unknown: allegedly leaked by a young Air National Guardsmen in
Massachusetts. According to The Wall Street Journal. On April 5.
A social media again, Wall Street Journal with a name
translating to the Donbass girl posted four of the allegedly
leaked classified documents to its 65,000 followers. The Wall
Street Journal says that social media account is overseen by a
former US Navy officer in Washington State.
Adam Curry: Wait a minute. The Donbass girl is not real. It's
overseen by someone in Washington State. Did I
understand that properly?
John C Dvorak: I don't really know anything about the Donbass
girl. Yeah, she's
Adam Curry: been around posting stuff. That's the one who's kept
showing up and then she was dead. And then she was a
teacher, I think is not the one.
John C Dvorak: I like I said I don't remember but the Donbass
girl
Unknown: posted four of the allegedly leaked classified
documents to its 65 1000 followers. The Wall Street
Journal says that social media account is overseen by a former
US Navy officer in Washington State, whose actions reportedly
prompted several large Russian social media accounts to pick up
on the documents. ABC News has not confirmed the journals
reporting
John C Dvorak: was just a girl who has grabbed as many
documents as you can, and posted them or shipped them to Russia.
I have no idea. I know there's was something like that going
on. Do you think there's any chance that the Wall Street
Journal getting all this stuff and that there might be some
quid pro quo between News Corp and the fact that they settled a
Dominion suit? Oh, yeah. And now they get to they have to do this
as penance or there's some some Hanky Panky going on about that.
Interesting. it's any coincidence that the Dominion
suit Yeah, I use the word advisedly. Yeah. Any coincidence
that the that the suit was settled, but meanwhile, the Wall
Street Journal's staging for the Pentagon for all these stories?
Adam Curry: There are no coincidences in intelligence. Or
in government probably. Yeah, that I'm not quite sure how the
quid pro quo works is still out. $787 million,
John C Dvorak: or are they? Oh, Mm hmm.
Adam Curry: MSNBC is really pathetic if you thought ABC was
bad. Jen Psaki inside with Jen Sokka she's the worst she has
not.
John C Dvorak: Rotary on banning her now good. Probably
Adam Curry: a good idea. The ratings have halved since the
spectacular launch of the show, because everyone sampled it. And
when
John C Dvorak: a likable person, you know, TV people, especially
the women, the women, they have to be likable.
Adam Curry: Yes, she's not cheap. But it's also not just
the likability it's just dumb
Unknown: look for the country that cologne
Adam Curry: when did it Why does this have? Why is? Why do I only
have one channel from YouTube? Sokhi. Hold on second. I want to
do this. Sorry, I had no idea. See what happened? Oh, no, it's
only one channel
Unknown: classified information could be shared by a 21 year old
kid who simply wanted to show off. But you know, what else is
a bad look, when a 76 year old former president is suspected of
doing something pretty similar? Oh, no.
Adam Curry: This week. She's saying that it's a bad look.
When it 20 Something we've heard this contest consistently. Yeah,
John C Dvorak: I think we've heard it to death.
Adam Curry: Does this and you know shows off the documents.
He's, he's stolen. But you know, it's even worse than
Unknown: a 76 year old former president is suspected of doing
something pretty similar. This week, the New York Times
revealed that the Special Counsel in the MAR a Lago
documents case is investigating, quote whether former President
Trump showed off to aides and visitors a map with him when he
left office, a map that contains sensitive intelligence
information. We don't know what that map is up.
Adam Curry: But it's sensitive intelligence information. We'll
Unknown: know. Similar reporting from the Washington Post that
investigators are scrutinizing whether Trump's share classified
documents with political donors with political donors maybe to
show off to them so. And it comes after the post also
revealed that the FBI found highly classified nuclear
secrets pertaining to graft. Who knows what exactly or how much
information he might have shared or with whom we don't know that?
Yeah, there's clearly a lot we don't know. But even at this
early gen juncture, all of this begs the question of whether
Donald Trump will be held to the same standard as a 21 year old
Air National Guardsmen.
Adam Curry: It's not it's not even a good outrage story. I
mean, it's not good
John C Dvorak: at all. She's no good, but this day gave her the
bottom of the barrel writers. Yes.
Adam Curry: Yes, I think you're right. I mean, that's all they
had was that that's all they could do.
John C Dvorak: Pa, she's probably not a good person to
work with him to kind of fiery redhead. So she probably already
badgered the writers. I mean, I can just see that back that back
room. Yeah, they wouldn't get to do
Adam Curry: you mentioned that earlier. You think she's just
not nice to the to the people she works with? She
John C Dvorak: seems that way. She's got that duplicitous
smile. You know, that little that little I hear. I'm gonna
fix you eventually. Smile. She doesn't seem like a nice person.
She snaps Yeah. i And she's not a good host. She's made not
welcoming.
Adam Curry: I bet she she did. She's made some enemies along
the way to know what I mean. I could be I think so. I think
she's probably made some good enemies. Okay. I see kind of the
topics you have. So I'm going to do one that you don't have. And
then this is I think this is better. In the news is
artificial intelligence. Oh my oh my oh my
John C Dvorak: I've got a one clip. Oh clips on that. I do.
Okay, but they're teasers because I
Adam Curry: was too teasers. I got stuff. Oh, okay.
John C Dvorak: Well, let's listen to Scott Pelley. No,
that's stupid 60 minutes report that everyone was all all over.
I just want to play a couple of his opening remarks to show you
what an dumb report and an idiot this guy is. And I will do a
complete deconstruction of that on the Sunday show. Good. We may
Unknown: look on our time, as the moment civilization was
transformed as it was by fire, agriculture and electricity. In
2023, we learned that a machine taught itself how to speak to
humans like appear, which is to say with creativity, truth,
error and lies.
Adam Curry: No, no. Okay. Wow, she just throw up on relativity
no less. Whoo. Yeah. And
John C Dvorak: lies. Idiot number two clip
Unknown: is only one of the recent breakthroughs in
artificial intelligence machines that can teach themselves
superhuman skills. No.
John C Dvorak: Okay, what's the suit? What? What in your mind?
This could have been an ask Adam, what are your mind is
superhuman? What is superhuman? flying faster than a jet planes
or speeding bullet? Speeding Bullet X wrapping vision
stopping a
Adam Curry: moving train? X rays,
John C Dvorak: stopping a movie train? X ray vision?
Adam Curry: Yes, I would say X ray vision is good. I mean, if
you could do large sums in your head, maybe but computers do
that. And the only thing that's new here is these these LLM 's
baby you know I'm sure there's an LLM that's good for our
organization. You got to talk like that. Now large language
models. That's what all the marketing kids are talking about
the big lol. It's bull.
John C Dvorak: I would not I would have done this whole thing
that I'm going to do on Sunday today if I hadn't gotten so many
clips on one other topic, which I think is more important and
more newsworthy. But this report included, was based on a ton of
lies. The Silicon Valley guys have buffaloed people like Scott
Pelley who haven't got a clue. And they had
Adam Curry: Carlson who go on Tucker Carlson also no clue.
John C Dvorak: Yeah, Tucker Carlson would be clueless. And I
will take the idea that there is the other thing I could have
done. I'm gonna do a lot of stuff I keep promising. I don't
do it. But I'm going to do this. I'm going to take the Elon Musk
interview with Tucker in and cut it up. So it makes sense.
Adam Curry: I do have one clip from it today.
John C Dvorak: I won't bother me at all.
Adam Curry: So just just to hit the top line. I mean, what has
happened here is Silicon Valley has unleashed they're cracking
the UNLEASH THE KRAKEN moment to raise capital in a declining
advertising market and a profitable possible larger than
ever thought recession. And, and all of a sudden, oops, there was
chat GPT a got away from Elon. He wasn't he wasn't he was he
had his eye off the ball, I think. And then this Sam Altman
is
John C Dvorak: Sam Altman is the FTX guy.
Adam Curry: No. Is it Sam Altman? No, no, no, no, that's
now you're confusing me.
John C Dvorak: Now Sam Friedman.
Adam Curry: That's bagman fried. Yes. Bank man
John C Dvorak: fried fried whatever. Like fries. Sounds
better, because he's going to
Adam Curry: so ALTMAN I think it's Altman you know, he he
basically launches this, this marketing ploy, which is just
dynamite was a genius. And you know, as we all know it and
everyone's running around, all the consultants are going oh,
it's horrible. But they're desperate for, for a business
model. I have not heard a business model yet. No one's
gonna pay for this. But yeah, of course,
John C Dvorak: you know, I had just mentioned this. So in the
60 minutes piece, one of the guys they bring in their AI guy,
not AI nut. No, he says he had to do this and that to get into
Google, he says, because what I really want to do is get into
and then they wrote, they do a voiceover say he wanted to get
into the Google, they showed one of the data centers. And it was
this dataset, this monstrous data center that was cost a
fortune to operate, where Barfi exists. Also, guess all I'm
gonna stick with your theory on this. This is too expensive,
Adam Curry: and they have no business Model people will have
to pay for it if they want to use it and they're gonna have to
pay a lot. And there's the there's seemingly no way. I
mean, it's not like they're gathering your most intimate
thoughts. You know, you're saying, hey, write me some code,
write me a thesis write me this. Make me oh, do a photo. This is
a beautiful story.
Unknown: Now a fierce debate has been sparked in the world of
photography after an artist entered a photo competition with
an image generated by artificial intelligence, and won. The image
shows two women which do not exist and was entered into the
creative category of the Sony world photography awards by
German artists, Boris and Jackson. Jackson has refused the
prize and said he submitted the image to find out if
competitions would be prepared for AI images to enter
Adam Curry: now, so they have this guy on a moment. Have you
seen this picture? No. Oh, go look for the Sony photo award.
You'll see these two women, it people were sending it to me,
you know, like kgs. And it was said to me kg saying, Do you
think what do you think of this photo? I'm like, well, that's
obviously a I look at the fingers. The left hand is like
her thumb is upside down. Hello. Look at the woman behind her
face. It's obviously AI generated at that point. I
didn't know that Sony had given it the award, the award for best
photo. So that says something about the Sony judges for this
competition. But this this is a nonstory, you look at this thing
you see it right away
John C Dvorak: with a woman and a woman behind her. And it's
like, Yes,
Adam Curry: look at it. Look at the hand on the on her. Oh
John C Dvorak: my god, the hand on the left to her or I'm sorry,
her right hand and the woman behind is deformed. And how
about the other hand is coming off from some place in the in
another town and
Adam Curry: the thumb of her left of her left hand is on the
bottom. I see this right away.
John C Dvorak: Oh my god, you're right.
Unknown: Looks like they were not and the artists behind that
picture joins me now. Boris L Jackson, welcome to the day. Now
it's being reported that you revealed that the picture you
submitted was a I generated but you were pretty upfront about it
ever since you found out you were selected, weren't you?
Yes, of course, it was not about winning anything. It was making
a test, trying to find out if the competition is prepared. And
my mission was to create awareness for that, that we need
to keep this in mind in the for the community that it is going
to happen. It's going to happen on a much, much larger scale in
the future.
How did the organizers of the event react when you told them
the picture was in fact not a photograph?
I offered them they could like give it to someone else. But if
they don't, it would be good to have an open conversation for
the public. Because it is something that is pressuring the
football community. Their response was thought they were
saying you can keep it and that was it. There was no response to
my offer of having a discussion or conversation
Adam Curry: right so they're so embarrassed as they should be
because anyway
John C Dvorak: I'm disagreeing This is a scam. Do not
embarrassed this was all done for publicity. I never heard of
this competition before now I've heard of it. This is bogus. That
picture just just for I don't care if the thumbs here or there
anyplace else that picture sucks. It's not a ward winning
photo.
Adam Curry: Well, I'm in agreement on that too. Yeah. Oh,
it's
John C Dvorak: not an award winning for this is the best A
good practice is pretty piss poor the best they could do. I
think Sony was in on this this is the whole thing was is is a
Dipsy do it's bullcrap. Very positive publicity stunt. Oh,
we're so embarrassed that we were fooled. Bullcrap
Adam Curry: a Dipsy? Do Dipsy? Do. Okay, so, here comes part of
what I think is a real problem. And what Silicon Valley is so
worried about are all going to die. Now what's happening? Is
your eroding your existing business model of stealing
people's content and charging users to view it, listen to it,
etc. And user generated content? Well, yes, they're happy taking
the user generated content, but when it comes to stuff that's
licensed, that they that Google pays an enormous amount of money
to the record industry that recorded music industry in
licensing to be used on YouTube and other other avenues as
doesn't matter that they licensed that for their reels
you know, of course, that's what tick tock is all about. This
would have been part of what made them great is having all
the license all the music license for people to use, and
now it's like, oh,
Unknown: you know the name and with 40 The number one hits
there's no mistaking superstar Rihanna is voice either. But
this morning major concern in the music industry as verbiage
from artists like Rihanna, or artificially being warped into
songs they've never even recorded, like Beyonce has hit
cuff it
this rendition featuring Rihanna is voice made using artificial
intelligence
AI version going viral on social media notching more than 6
million views on Twitter and Rihanna isn't the only one. Some
artists like David Guetta, even using AI themselves to add
surprises to their set lists.
And that went to another AI website that can
John C Dvorak: recreate
Unknown: the voice and put the text in that
the DJ playing an AI generated sample of rapper m&ms voice in
front of a live audience.
This is the future of rave sounds.
I'm getting Austin and underground. Get a clarifying on
Twitter. Obviously, I won't release this commercially Drake
that up after this hit from rapper ice spice you thought I
was gonna use got a Drake remake without his permission or an
actual performance by him. He thought I was gonna you know,
Drake now calling it the final straw. experts warned this
technology could lead to major legal battles. When you put up
a song whether it's on tick tock or if you put it on through
YouTube. Well, you're distributing music, and then you
may be subject to copyright laws or takedown policies from those
platforms.
Now Universal Music Group home of artists like Katy Perry and
Taylor Swift asking streaming services to block AI companies
from accessing its music.
I think what you're going to see is the major labels and major
label publishers come together and put a lot of pressure on the
platforms to regulate AI generated music, the major
labels and publishers spend so much time effort money marketing
these artists, they want to make sure that they're getting paid
accordingly.
Adam Curry: Yeah, so that ship has left as far as I'm
concerned. It's yeah, when it comes to Silicon Valley, where
they have no way to make money off of this, and it's
cannibalizing their existing lock on industry, because they
can afford the licenses and now they're getting in trouble with
the license holders. And the license holders are not happy.
And it also shows you how pathetic This music is. This
will auto tune that almost AI to begin with, most of it is
pathetic. And notice that it's not creating the new Beatles
band. It's not creating the new nirvana. No, it's taking old
stuff, existing stuff existing and putting a different artists
voice over it. It's not anything new and innovative. There's no
human creativity in here. But all tell the kids about it as as
like they talk about on the social and MA
Unknown: are the artists rights
in all of this. Now,
this is where it gets really tricky. Because when you
generate something, whether that's a piece of art or a song,
it's technically a new piece of content. So if I asked for a
song in the style of Ariana Grande, it will make music that
sounds exactly like hers, but it's not her music. And as it
stands today, you can't copyright a vibe or an essence.
So we might see some revisions to copyright laws or some rules
as to what can and can't get included in training these
systems. In fact, yesterday, Universal Music put out a big
statement that none of their artists work can be used to
train AI systems.
Adam Curry: Wow, wow. Wow, oh, no, this it's just as bad as
that photo. No, compile something classical for me
something brand new, not in the style of That's it. That's all
it can do is in the style of Shakespeare in the style of this
in the style of Drake in the style. He'd be up at Oh, in the
style, do a poem in the style of John C. Dvorak. How many times
if someone said that to you. So
John C Dvorak: there was a lawsuit. I think it was in the
late 20s or 30s. And I think it still stands around as precedent
being Crosby. It's very well known and immune. He was just
acting like
Adam Curry: Crosby was universally not liked.
John C Dvorak: Bing Crosby sued a guy who sounded exactly like
him. And he was picking up a lot of voiceover work for
commercials and other things. And Crosby won the suit. Really.
And that kind of thing is still valid. I think there's a lot of
these things like you can't use things for advertising. You
know, you can't it's just a lot of you can't put somebody's I
can't put your picture You're on some advertisement for a car.
I'm
Adam Curry: no yes. No, no, you can't.
John C Dvorak: So this is no different. I don't see the
difference. This is just, you know, yeah. Okay, you can you
can find some that sounds just like Ariana Grande to create
some bogus song to if you want. It's just a it's a it's a
tempest in a teapot.
Adam Curry: Precisely. But the from a rights perspective,
there's going to be right there's already several
lawsuits. Now Elon Musk is suing Microsoft that saying, Whoa,
they illegally scraped Twitter to train their AI Um, can you
imagine the chat GPT 123 and four, and auto GPT and all this
GPT stuff has all been trained on Twitter conversations. That's
well, that's some solid data for you. Though this is this is a
John C Dvorak: helming lawsuit. That's a dubious lawsuit.
Adam Curry: But this is a Hail Mary from Silicon Valley. And
and the the main plan. Elon Musk shows is true. Barnum Bailey,
self PT Barnum self, because as I'm so convinced this guy
doesn't know what he's talking about. He's just a marketing
guy. When he talked to Tucker, about this about Larry Page and
or Larry, I don't talk anymore because we had a dispute over AI
and I said it was dangerous. We have to keep it open. And no man
you were boning his wife. We all know what happened. That's why I
got in a fight. Remember that little story? I Yes. No, yes,
no. Now it was a I mean,
Unknown: the reason open AI exists at all is that Larry
Page, and I used to be close friends, and I would stay at his
house in Palo Alto. And I would talk to him late into the night
about AI safety and AI safety. At least my perception was that
Larry was not taking AI safety seriously enough. And what did
he say about it? He really seemed to be hit out
Adam Curry: in my house. Get off, my wife is going to say my
wife get
John C Dvorak: out of my house.
Unknown: She really seems to be what it was once sort of digital
super intelligence, basically digital God, if you will,
Adam Curry: digital god. Yeah, there it is.
Unknown: As soon as possible. wanted that? Yes. He's made many
public statements over the years. That the whole goal of
Google is what's called AGI artificial general intelligence
Adam Curry: and understand something and helped me and
we'll continue this in a minute. If the whole goal of Google was
the digital guide, the general artificial intelligence, why did
Google scramble and have to throw barf out there after
Microsoft basically did something that was cute. I mean,
wouldn't they be the leaders? Would they have it already? And
instead, they throw up something that that missed
John C Dvorak: a long way they threw together Google Plus?
Yeah, whether they would because they're always late to the game.
And so yes, I'll tell you why. Okay, because Musk is full of
crap about this.
Unknown: Yeah. He's made many public statements over the
years. That's the whole goal of Google is what's called AGI
artificial general intelligence or artificial superintelligence.
No, and I agree with him that there's great potential for
good, but there's also potential for bad and so if you've got
some radical new technology, you want to try to take set actions
that maximize probably a bit will do good and minimize
probably will do bad things. Yes. It can't just be helpful.
Others just go, you know, barreling forward and hope for
the best and then at one point I said, Well, what about you know,
we're gonna make sure humanity's okay here.
Adam Curry: Okay, what is this? What is this? What is this
laughing What is this? Autism
John C Dvorak: is your scene about a patient's wife.
Unknown: And then at one point I said Well, what about you know,
we're gonna make sure humanity's okay here.
Adam Curry: I think you're right, I think your case closed.
Unknown: And they called me a speciesist. use that term.
Adam Curry: Yes. Now, why is this so hilarious? A specious,
meaning that he only likes species or something you'd like
to know
John C Dvorak: specious. specious is the is a term for
for developing an argument as bullcrap where he said he was a
speciesist voices he was a specious yes as in speech, so
they thought that was hilarious. It's not funny at all. What it
will specious, say being an ageist.
Adam Curry: Species species, okay. It's in here. Oh, that's
the assumption of human superiority. The leading to the
exploitation of animals. People who don't like animals,
John C Dvorak: humans who hate animals, as they say humans who
hate animals. Yeah. speciesist
Adam Curry: species alternative? Here's the Yeah, I keep
speciesism speciesism the assumption of human superiority
leading to the exploitation of animal species definition by the
Free Dictionary, let's do that. That's
John C Dvorak: it. Well then has that even fit into the
conversation in contacting tolerance
Adam Curry: or discrimination on the basis of species, especially
as manifested to cruelty to or exploitation of animals by
humans? This is why I didn't think it was funny.
John C Dvorak: Why it doesn't make sense. It's not only not
funny, maybe.
Unknown: And there were witnesses. That wasn't the only
one there when he called his wife. So I was like, okay,
that's, I've Yes, I'm a speciesist. Okay, you got me.
What do you got? Busted. So
Adam Curry: he's got like, camel has cackle problem.
Unknown: That was his last role at the Google had acquired
DeepMind. So Google and DeepMind together had about three
quarters of all the AI talent in the world. They obviously had
trust amount of money.
Adam Curry: Yeah, so a question. What happened to Deep Mind what
happened to Deep Blue? Remember IBM? Oh, Deep Blue beat to the
world chess champion.
John C Dvorak: Oh, that was a did it. It didn't need to do
anything. Anyway, retired.
Adam Curry: Well, didn't they create an entire business line
that went nowhere? And they had to basically shelve it because
they wasn't worried Watson. Watson. That's what it was
Watson. The road the road to Silicon Valley is littered work.
No. I mean,
John C Dvorak: this Watson is probably stems from the old 80s
flop, AI flop and it's just a new version of it. Yeah, only
this one's gotten a little more traction because it's cut
everyone flat footed. I don't know. This is the strangest
thing I've ever seen. Well, this
Adam Curry: reminds me a lot of another canard. But I even went
to Boston and stood in line to get one of the first ones
because this was it. He could recognize your handwriting. You
could understand what you want. The Newton
John C Dvorak: is a Newton, new net new New Town. That's
probably what it should have been called the Newton. I said
the Newton. No, as I said, new town, the Newton. Well, hey,
let's go along. Go back to Google. Google Goggles Google
Glass, yes. Another great product. Google Glasses.
Everyone was wearing. Glasses. Scoble was wearing him in the
shower. This is why
Adam Curry: I keep telling you when Scoble is all in on
something that means it's bullcrap. And he is he's going
crazy with AI. It's the new god. It'll help you kick your alcohol
habit, your addiction. I mean, he's saying all of that he's
saying these things know, any. Anybody who in the music
business will hear. I mean, you hear it, human beings can hear
when things are just not human. They're just not human. I don't
think any of these songs are impressive. And that goes for a
lot of this music in general. I'm sure a musician may be able
to use some so called AI to to create something just like you
can create some code. The end some writing.
John C Dvorak: Yeah, you can do this. Yeah, you can do augment.
Augment. Yeah. No one wants to deal with the augmentation
aspect they think is going to be standalone monster.
Adam Curry: I think augmented intelligence is probably a
better term. Just like it was, you know, virtual reality didn't
work. So then it was always augmented reality. So you have
some stuff pasted over it. That's exactly what this feels
like. Nothing at all. Like, like we're being we're going to oh,
we're all gonna like Scott Pelley. Oh, we're all gonna die
from the evil human machine. And Elon Musk is in on this scam. He
probably needs to raise some money for it to
John C Dvorak: Elon Musk is in on it for a different not
because he believes any of it.
Adam Curry: No, I think he's not because he needs to raise money
so
John C Dvorak: money there's money Money money money this
guy's good. Yes,
Adam Curry: I agree much as much as Money money money. I love the
love the story about the Apple basically beating Elon to the
punch. To remember Elon he's building x.com And everyone's
gonna put their money into x.com They're gonna get interest or
they can if they want go negative interest, which is also
known as a loan and they will be able to pay each other all
through this fabulous the truth GPT app, formerly known as
Twitter now is x and Apple comes along and says, Oh, you know
what? We're gonna give you 4.15% interest. Just put your money
into Apple Pay about that. I think I think they beat him. We
John C Dvorak: talked about this Sunday, he implied it. There was
a I couldn't find any evidence that they won't let you do this
on anything other than an iPhone. That's my concern. No,
you
Adam Curry: have to Yes, an iPhone and you have to have the
apple credit card. You have to have both, I think. Yeah, no, of
course. Duh.
John C Dvorak: I think it's illegal. In what way? Vertical
integration. There's okay. So there's antitrust. You can't do
that. I don't think I don't think it's the I think somebody
who's smart lawyer can take this and say, Now, you have to open
this up. You can't have it just exclusive to your phone.
Adam Curry: No. I mean, I don't care. I don't want it. I think I
think Elon may be a little irked because this was supposed to be
his big thing.
John C Dvorak: He's got plenty of time to make money.
Adam Curry: Okay. I don't know. He might get devoured by the
evil AI.
John C Dvorak: Oh, yeah, that could happen, too. We can only
hope. All right.
Adam Curry: Let me guess You wanted to talk about the Robert
Kennedy Jr. Announcement for running for president. Was that
your big story?
John C Dvorak: No, my big story is I'm countrified. come to
conclusion. I've got evidence. I do have that though. I do have
that. Yes. But I have evidence that they're out to get the Joe.
Adam Curry: Yeah, I think you're right,
John C Dvorak: in a concerted way. And the concerted way
involved, I got three sets, or two sets of clips. And what
makes it obvious to me that something's up is one of the set
of clips is from democracy. Now. All anti Joe Hold on, and
Unknown: Amy Goodman clip inbound.
John C Dvorak: And one of the sets is from CBS stuff I never
thought I'd ever hear on CBS. And today I might add, as we may
have low numbers listening to the show, because on today's
Jennifer Hudson show, which started at 11 When our show
start oh no Kamla Harris.
Adam Curry: Oh, she's out there promoting her. She's out
John C Dvorak: there. They're doing the last testing. If they
can, if she can just get to a certain point. They're gonna
pull a plug on Joe, and put her in. And that's my thesis,
literally. So I want
Adam Curry: to literally pull the plug on Joe.
John C Dvorak: Maybe. But I want to start I'm trying to English
to start with the CBS stuff. But I think I'm going to start with
the, with the democracy that you played the clip for Democracy
Now. This is an HHS scandal that is really targeting Biden, and
this is extremely unbelievable, as far as I'm concerned. And so
insofar as Democrats going after Joe,
Unknown: The New York Times is reporting the Biden
administration's repeatedly ignored or missed warnings about
a surge of migrant children as young as 12. working in
factories across the United States. The Times reports quote,
at least five Health and Human Services staff members filed
complaints and said they were pushed out after raising
concerns about child's safety. And one of the HHS staffers told
The New York Times, quote, I feel like short of protesting in
the streets. I did everything I could to warn them. They just
didn't want to hear it. She said. In February, The Times
published a blockbuster report about child labor based on
accounts by over 100 unaccompanied migrant children,
mostly from Central America, who describe grueling and often
dangerous working conditions, including having to use heavy
machinery being subjected to long hours and late night shifts
at facilities that manufacture products from major brands and
retailers like hearthside Food solutions, the makers of
Cheerios, fruited lume Whole Foods target Walmart, J. Crew,
Frito. Lay and Ben and Jerry's. Others were forced to work as
cleaning staff at hotels at slaughterhouses construction
sites car factories owned by General Motors and Ford in
serious violation of child labor laws. On Tuesday, Homeland
Security Secretary Alex hundra Mayorkas was grilled about the
Biden administration's response to forced child labor. This is
Republican senator Josh Hawley of Missouri.
Adam Curry: You're not gonna take any responsibility for the
indentured servitude and exploitation of children that is
happening on your watch a moment ago, you were crowing about the
fact that you treated children so well. And yet we find 10s of
1000s of children who are forced to work as slaves because of
your policies. And you turn around and blame a prior
administration. Mr. Secretary, this is par for the course for
you. You do it every time you appear before this committee.
You do it every time you appear before Congress I for 1am sick
and tired of it and 1000s of times Children are in physical
danger. Danger because of what you were doing. You should have
resigned long ago and if you cannot change course you should
be removed from office
John C Dvorak: yeah all right. Yeah. Here's the here's the
gravity the situation to imagine AMY GOODMAN playing a holly clip
to conclusion
Adam Curry: yes without without scoffing at Holly. You know, and
because Holly is a takedown artist, I mean, that's part of
what he does. He makes sound bites he wakes up in the morning
says, How can I make a sound bite on C span? And then to get
it on Democracy Now? I agree with you that is there. There's
that's that's bad. That's bad. Bad news for Joe.
John C Dvorak: This. Well, yes, but let's go to clip two and now
they bring into a Pulitzer Prize winning writer for the New York
Times and she was just lasered layer after layer of bad news.
Unknown: We're joined now by Hannah Dreier Pulitzer Prize
winning reporter at The New York Times. Her new investigation is
headlined as migrant children were put to work us ignored
warnings. dryers earlier piece was headlined alone and
exploited migrant children work brutal jobs across the US.
Hannah Dreier Welcome back to Democracy Now we had you on for
your first blockbuster expository showing children as
young as 12, working across the United States. Now you're
reporting that the Biden administration knew about this
not only knew about this and didn't do anything, they
actually did do something. They pushed out those within the
administration who were raising alarms, can you talk about what
you found?
It's great to be with you, Amy. And yeah, just as you say,
people were punished for bringing this to the attention
of their supervisors, people say that they were fired, they were
demoted. I spent a year talking to children who came to this
country and are working in the most exploitative conditions in
factories and slaughterhouses. I found these children in every
single state in this country. And so after that story came
out, I began asking how could it have been that the Biden
administration didn't know about this? And what I found was that
actually, they weren't given evidence, they were given
warnings, there was sign after sign that this was happening for
two years. And that really didn't spring into action until
just last month.
Adam Curry: And you know, they, whenever you they use children,
they really mean business. Whenever they, whenever it's
something that is done to children with that did the same
thing to Trump. You're ripping children, children, mothers
arms, children in cages. Yeah.
John C Dvorak: Yeah. No, this is serious. And I'm telling you,
this is concerted effort. We're gonna end when you see it on
Democracy Now. Yeah. And then CBS when you hear the CBS clips
is not about this, it's another thing they're going after this
guy, but listen to this clip, this part three is really
interesting.
Unknown: I was particularly struck by the the information
about, uh, Susan Rice, the White House head of domestic policy,
and I heard the reports that there were problems in terms of
how these children are being treated. And you talk about
that, because cuz Susan Rice is a person who has been in every
Democratic administration over the last 30 years, Bill Clinton,
Barack Obama, and now Joe Biden,
right. Susan Rice is a hugely important figure, and she is
Biden's top point person on immigration. So it's not, you
know, some junior staffer at the White House who maybe got a
warning one time and it didn't get, you know, channeled in the
appropriate way. What I found was that Susan Rice's team was
told about this again, and again. And the kind of evidence
we're talking about are clusters of children found to be working
in different parts of the country, repeatedly in these
very industrial jobs. So these are children, making car parts,
these are children using caustic chemicals, acids to scrub a
chicken plant. And those messages, got to Susan Rice's
level memos, airing concerns about these issues, got to Susan
races level, her team was told, going back to, you know, the
summer of 2021, that people were very worried about this. And
what the White House has basically said as well, maybe we
saw these signs, but we didn't put it all together. What their
response has been is sort of a lack of curiosity or a lack of
conscientious thinking, to realize that if we're seeing
kids in all these different places who are doing these jobs.
Maybe there's a larger trend here. Maybe there's 1000s of
these kids out there.
Adam Curry: What companies are using these children? How is
this happening in America?
John C Dvorak: But they named names earlier. Frito Lay General
Motors Ford,
Adam Curry: Ford,
John C Dvorak: that's what I'd like to know exactly. If you
remember, before we started doing this show, I'm sure you
recall this. There was a big stink. I think it was during the
Bush administration or before that a big stink about these
migrants getting jobs and there were laws against hiring any of
them and if you got busted hiring somebody was a migrant
not even talking about children. You would find it heavily but
now it's not only illegal migrants is illegal migrant
underage children working at these companies making the
country sound like I hellhole Why would criticize China.
Adam Curry: Hey, guess what? Maybe it is a hellhole. We got
children working at Ford, screwing on hubcaps, or whatever
it is, or chemicals to clean, horrible.
John C Dvorak: They're giving them the worst kind of jobs that
hubcap Joe would be plus,
Adam Curry: I mean, I need some evidence of this.
John C Dvorak: Well, the New York Times covers it with a lot
of evidence. And yet I note one more thing, as based on my
thesis that they're out to get Biden in, they're gonna get him
before the end of this year, probably. Yeah, they must. This
is the new york times this is a democratic spokesperson for all
practical purposes. They are they cover for the Democrats.
And we're getting this kind of reporting. This is the last of
these clips.
Unknown: Well, they did put it together sufficiently to force
out five health and human service staff members because
you talk about those some of those staff members and the
alarms that they raised, that
these are the people who are reading the unaccompanied minor
program for Health and Human Services. One of the women who I
spoke with Jalen SWOG, she helped build this program. She
started working for the government in 2010. Right when
we first started to see these waves of children coming over,
and she was in charge of this program for years and years, she
was the highest official running the program when Biden took
over. And what she says is she raised alarms, we've seen her
emails where she's saying something catastrophic is going
to happen. I'm pleading with somebody to pay attention. When
her emails went unanswered. She went to Congress, and she talked
to Congress staffers and said, again, I'm really worried about
what's happening here. These children are in danger. And she
was pushed out. She was one of five people who I spoke to who
filed complaints, who showed me their emails where they're
saying, you know, something really wrong is happening here.
And they say that instead of being listened to, they were
demoted.
Adam Curry: Wow, this, you're right. This is and they're going
after Joe from AWS, does it? I mean, how hard is it just to
kill the guy? This seems like a lot of work.
John C Dvorak: Well, this meant you might be a lot of work, but
it seems like to somebody who likes to take, you know, wings
off of flies, it might be more fun.
Adam Curry: Well, they're taking a lot of wings off of a lot of
flies with this. The whole that's the whole Hunter Biden
crime family is going down at this rate.
John C Dvorak: Well, let's take Yeah, the 100 by let's move to
CBS.
Adam Curry: Can I play a quick clip before you do this? Because
it's just a positioning clip. Because sure, I also had the CBS
clip, you do a mall. That's great. But this was on Hannity,
just to give you an idea of how phony, the so called news is,
from all sides, they have no shame. They're talking about the
Biden crime family. Now listen to this guy and wait for the
slogan is,
Unknown: do you believe the President of the United States
is compromised by these countries that we know hate our
guts?
I'll answer the second question. I don't see how Joe Biden could
not be compromised. I mean, this these family members aren't
energy experts. They weren't on boards, at least with Burisma
Hunter actually sat on a board. There are no other boards that
we can find that these family members said Oh, and certainly
not the grandchildren and the nieces and the nephews and the
in laws and things like that. So what were they doing? Why were
they getting this much money? It all points back to Joe Biden and
we're gonna continue until we get the truth to the American
people but I can say they shot the walls are closing in on the
Biden
Adam Curry: how many times we heard that about Trump? It's a
tipping point the walls are closing is FoxNews seriously
going to use all these tropes now against Joe Biden? The all
of its unwatchable.
John C Dvorak: Oh, it's most of Fox is unwatchable. All right.
Let's go to CBS. And they got another whole different scandal.
It's centers around 100 by a little bit, but it's more to it
than that. And when you start when they do where they do it
they're not quite as blunt force trauma as democracy now, but
it's not bad. This is Hunter one.
Unknown: Tonight there is breaking news in the federal
criminal investigation into Hunter Biden's tax returns. An
attorney for an IRS supervisor sent a letter to lawmakers today
asking for whistleblower protection, saying his client
has information that suggests the investigation is being
improperly influenced by quote preferential treatment and
politics. Here's CBS News Chief investigative correspondent Jim
Axelrod.
My client wants to come forward to Congress. He's ready to be
questioned about what he knows and what he experienced under
the proper legal protections.
attorney Mark ladles client is a supervisory special agent at the
IRS who's prepared to tell Congress the investigation he's
been working on has been hampered by what he thinks is
special treatment.
Typical steps that a law enforcement investigator would
take were compromised because of political considerations.
Lytle wouldn't talk in specifics declining to identify either his
client or the target of the investigation his client helped
conduct. Can you identify him?
I can't at this stage, Jim.
But CBS News has learned the investigation the whistleblower
worked on is about Hunter Biden,
what we're doing is is being completely cooperative.
That was Biden two years ago, after the DOJ opened an
investigation into his finances. The FBI collected what it
believed was sufficient evidence to charge Biden with tax crimes.
And last year sent its findings to the US Attorney in Delaware
since then, silence. Yeah.
Adam Curry: Yeah, yeah. So typically, whistleblowers don't
get lawyers. i That's the one thing I'd mentioned. And, you
know, this lawyer keeps saying, Well, you know, there's a
certain protections in place, but it mean, you're a
whistleblower than used you. There's a there's a process you
go through? Doesn't seem like they're going through the
process, but they are, in fact, dangling this out there.
John C Dvorak: Yeah, could be I mean, I, as far as I'm
concerned, none of this is anything other than the kind of
a concerted effort from different fronts to get Joe
Biden out of office because he considers he thinks he's going
to run again. And they he's got to go. And so all this all these
little nuances, like you just described, I don't think are as
important to the whole overall view of things as do you think
might normally be the case? Well,
Adam Curry: this is more than just he's gotta go. This is
taking down the entire family. I'm gonna take down Jill, I
mean, it's gonna be it's gonna be maybe his Susan Rice is Susan
Rice. I mean, this is a real well, it's
John C Dvorak: in part two, we got one more character mentioned
that's going to end up getting hit in the ringer.
Unknown: Why can't your client talk
to us directly at this point, there are laws that provide
protection to whistleblowers, and he has to navigate that
today Lytle sent this letter to Congress, claiming his client
could provide information that would contradict sworn testimony
by a senior political appointee.
I have promised to ensure that he's able to carry out his
investigation.
CBS News has learned that was attorney general Merrick
Garland, who gave testimony about the US Attorney in
Delaware, conducting the Hunter Biden investigation.
Adam Curry: Now, can we be sure that this is the Democrat party?
This may be some other group
John C Dvorak: that yes, we can. Okay. We can absolutely be sure
we're talking about CBS. Yes. And we're talking about
democracy now. This is all fronts for the Democrat party.
This is the Democrat Party doing this. Well, CBS there's no doubt
in my mind by me. It could be the CIA, but they're the
Democrat Party nowadays. I
Adam Curry: agree. I agree.
John C Dvorak: So there's no doubt about this is not any the
Republicans aren't this. They can't do this. I mean, yeah, get
handed there. You played the Hannity clip. That's, that's the
best
Adam Curry: we can do. That's the level they got. The walls
are closing in.
John C Dvorak: They can't even read they got old memes. They
can't even come up with something new.
Adam Curry: But what's cool about it is that they literally
the AMI took Josh Hawley so they're using the Republicans in
this case.
John C Dvorak: Yeah, you can use Josh Hawley. He's a loudmouth.
He's got good things to say. He's a kind of guy you can use
to get the soundbite. You can probably get some few other
guys. I mean, if you're going after the Pfizer you get as much
Rand Paul material as you could. This
Adam Curry: has, you know what this? The Susan Rice thing has
me bothered and I'm gonna go out on the limb. This is Obama.
Obama is saying get rid of her too. And the reason
John C Dvorak: he was in love with Susan Raise Obama bull
Adam Curry: crap. No, she wrote that memo. Remember she had the
memo to herself or see why it was a memo on
John C Dvorak: purpose by Obama probably advise her to do it.
Adam Curry: And he's getting rid of her because of Michelle
running. I feel it. Michelle Obama is gonna Well, now
John C Dvorak: you've gotten off the deep end. Clip three.
Unknown: Lytle says neither he nor his client are motivated by
politics. Would you find any evidence or allegation of a
political agenda?
No. To him, the truth is one truth. And he wants to come
forward with it
later on, told us the whistleblower has been with the
IRS for more than a decade, and has extensive documentation to
support his allegations,
the things he's been through are very well documented in emails
and other communications with the Department of Justice.
We asked Mark Lytle, if there's a chance his client can only see
his slice of the investigation and not the big picture. He said
that's possible, but that his client had expressed his
concerns to superiors a number of times before seeking
whistleblower status. Neither the IRS Department of Justice or
a lawyer for Hunter Biden would come at it.
Adam Curry: I'm putting it in the book. I'm putting it in the
book. This is clean up making room because who else? Yeah,
they may put Kamala in brief no cameras in she's the one Yeah,
for a bit until until 2024. But it's just temporary.
John C Dvorak: But no, she's going to be when she's gonna be
the president, and then she's gonna run for reelection. It
accomplishes a lot of things for one accomplished geek just
getting rid of the notion that, that Michelle would run it all,
but I think is more to stop Gavin Newsom in his tracks at
all and his chances of being president and I think it's going
to end the day I honestly believe the Democrats is the
more you watch this, if you don't listen to the other side,
which we do both so we you know, we see Kamla as a buffoon, but
the Democrats don't see it that way. They see her as a smart,
intelligent black woman now.
Unknown: Wow, okay. You're gonna
John C Dvorak: talk to people on the street. And then And then
Adam Curry: she's gonna show you we're talking to people on the
street.
John C Dvorak: So Jennifer Hudson, is going to make her
look good. And it's going to be later one of the tests are there
grooming her?
Adam Curry: Yes, they are. I agree. But it's only getting
everybody ready for Michelle. You can Laugh all you want. Put
it in the book. I'm putting it into the book. I'm putting it in
the book. I
John C Dvorak: don't even putting it in the book is so
ludicrous. Okay,
Adam Curry: you will eat them words.
Unknown: So i Whoa, yes, you will be
Adam Curry: crunching on those words.
John C Dvorak: Especially while we're at it. Since we're talking
about this sort of thing. Let's go. Well, let me play another
candidate. Let
Adam Curry: me play this. And then you can play the I have the
announcement that I want to play a piece of, okay,
John C Dvorak: well, we're gonna go to bar f, J, G. Or RFK, Jr.
or F GK or f k,
Adam Curry: who I met once I met him in context of climate
change. Funny enough, when, when we were all with Kleiner Perkins
had their Green Fund and we're all at the golf course he was
there. Yeah. Why was that golf course the famous one Pebble
Beach, Pebble Beach, Pebble Beach. Well, there's a lot of
sadness. California is not the one in California.
John C Dvorak: It could have been the Olympic club.
Adam Curry: Is Pebble Beach in California.
John C Dvorak: Oh, yeah. And Pebble Beach is Pebble Beach.
And that's there's three core that's the watch. And
Adam Curry: we had an away with all all the founders of the
companies. And they embarrass me by forcing me to play which of
course, was horrible. But then Robert Kennedy, Jr. was there
with his wife. And his reason for there was, you know, we're
still Special Olympics, what he was doing as his mom, but it has
something to do with a gore and gore. Gore's movie was played
then for the first time before it was in theaters. And I spoke
to him he's a really nice guy, but, but really meek and quiet.
Actually, I didn't know much about him at the time. So he
announced that he is running for president. And he did a fun
thing in this announcement. Now he talked about misinformation
disinformation, how it's all bull crap.
John C Dvorak: Where did you get this clip? Because most people
most mainstream wouldn't play it.
Adam Curry: No, I've got it from the announcement video. I found
the video and I clipped a piece from it. And I thought it was
interesting what he said because he literally compared himself to
his dad, when his dad ran for office,
Unknown: my father 55 years ago last month, as a 14 year old
boy. Hi, my father as he knows the caucus room in Washington
DC. His campaign for presidency of the United States. My father
at that time was in many ways in the same position that I'm in
today. He was running again. As a president of his own party, he
was running against a war he was running against. He was running
at a time unprecedented polarization in our country. He
had no chance of winning. My father when he declared had not
a single molecule in him that he believed that he could win the
Democratic nomination. Why is that? He'd run his brother's
campaign at night to him 60 years before. But now, all the
unions were against him with two exceptions, the United Auto
Workers and Cesar Chavez United Farmworkers. The liberal press
was 100% against the New York Times, is it the Village Voice,
labor union, the big city mayors were against them, including
Mayor Daley, who had played a critical role in President
Kennedy's nomination. All the people in the new frontier, were
his closest friends are now working for the Johnson White
House. So they were against him. The only people that he had with
him, even the universities were against him, because they were
with McCarthy's group of Hollywood like Joanne Woodward,
Paul Newman, who had been very close to him very worked very
hard for my uncle and 60. We're now working from a party. My
father and the universities. My father, my father used to say
that he McCarthy had all the A's students and he had the BMC
students. And so the only people he had were people, poor white
people in rural areas, like Appalachia, poor blacks, and in
the Delta and our cities and Watson Harlem and the East LA,
and Indians on the Indian reservations. And that was kind
of hopelessness in his campaign. Freedom to tell the truth to the
American people.
Adam Curry: Yeah. Which is about the only thing he'll achieve is
to be able to tell the truth to the American people, but no one
will hear it.
John C Dvorak: No, no, no, this your watch Tucker, and I hate
the
Adam Curry: comparisons he's making, because we know it
didn't end well. The Kennedys. I mean, to have a bad record.
John C Dvorak: Well, first of all, that's my era when I was a
Democrat. Good. Tell us about your life. Very familiar with
what happened. Okay. Tell us a day Ward Democrats were on
board. Big time was Eugene McCarthy. He was the guy
Everyone wanted a win. Candidate Kennedy came in and every bite
the reason that he was it wasn't because of whatever thing or if
J or J. K Jr. RFK Jr. thinks, oh, it was because Oh, Kennedy's
just, he's just trying because he's a bigger name than
McCarthy. He's trying to steal his thunder Stolen Valor. So he
was just he was disliked for that reason, because McCarthy
was the guy everybody wanted, he was a super peacenik. And so the
fact was, is that the Democrat Party wasn't gonna put him in
either and, and I think everyone kind of knew that Kennedy would
have gotten a nomination, because nobody wanted George
McGovern, who finally got the nomination out of that he was a
bonehead. So this is visited interpretation and my
recollection as a staunch Democrat at the time was
different. And yeah, it didn't end well.
Adam Curry: I have to say I, I like everything. Kennedy says,
I'm not watched his announcement. I like it all.
Pretty much. I don't think there's I don't think I've heard
anything I disagree with and I like it, too. I would vote for
him. I think he's a real threat. I think he's a real threat to
Michelle Obama.
John C Dvorak: You can leave that on.
Adam Curry: No, no, no, no, no, I
John C Dvorak: wrote it in every time we bring up any topic.
Adam Curry: We're still on the same topic. We're on the same
topic. It's more than valid for me to say this. Just because you
don't agree doesn't mean you can dismiss it.
John C Dvorak: No, if I don't agree I can dismiss I can
dismiss anything I want. Okay, well, okay, then I can say any
the it's like it's a foregone conclusion. You've already
pointed out that he can't get any ink he's got on Tucker which
is like that's no good. Well, what
Adam Curry: if he What if he got some Democrats and and a whole
bunch of Republicans?
John C Dvorak: He's getting nobody. Let's be honest about
it.
Adam Curry: Okay, I guess you're getting no but let's
John C Dvorak: go to NPR. And this is just the beginning. NPR
is like the flack you're what is it called a shocked Troops
Adam Curry: stormed troops as this
John C Dvorak: shock troops are coming in. And this guard RFK
Jr. NPR smear
Unknown: a familiar name has entered the 2024 presidential
race to challenge President Biden for the Democratic
nomination. Robert F. Kennedy Jr. He made his formal
announcement earlier today in Boston.
My mission over the next 18 months of this campaign, and
over my throughout my presidency, will be to end the
corrupt merger of state and corporate power.
Now, Kennedy isn't just a member of one of America's most famous
political dynasties. He's also an anti vaccine activist who's
been criticized by his own family and peers. Shannon bond
joins us now to explain more. Hey, Shannon. Hey, Elsa. So
okay, a lot of people of course know the Kennedy name. But can
you remind us who exactly is Robert F. Kennedy, Jr.
Sure. He's the nephew of President John F. Kennedy and
son of Bobby Kennedy. And Robert Kennedy, Jr. is a lawyer who was
originally probably best known as an environmental activist.
But as you said, he's not only become a central figure in the
anti vaccination movement, but he's also promoted other
conspiracy theories, like her baseless idea that 5g telecom
networks are being used to control people's behavior. Wow.
Adam Curry: Oh, do we have do we have proof of this?
John C Dvorak: But I mean, I conspiracy net. Wow. Yeah. Wow.
Adam Curry: Anti vaccine nut? Yeah, that's right. No, in fact,
the truth is that he was as he was an environmental lawyer, and
he sued organizations that were putting mercury into our
national waterways, chemical mainly from factories, etc. And
it was getting into the fish supply. And so he was suing
people over that. And as he tells it himself, he kept seeing
these women show up at all of his events. And they were
saying, hey, our children are being hurt by mercury in the
vaccines, namely in thigh Marisol, and other such
adjuvants. And that was
John C Dvorak: that actually that's that that's not an
adjuvant? So I'm sorry, Marisol is a preservative preservative,
Adam Curry: okay. But mercury in the vaccines and he went
John C Dvorak: into the Marisol is mercury,
Adam Curry: though. There you go. It is mercury. So, and they
were using that. And he went after those corporations as a
far cry. In fact, he is explicitly not anti vaccine. He
was anti COVID. vaccine. Yes. Because he and he showed us a he
read, he read the documents. He showed it to us. And he said,
This is why it's bullcrap. And this is why they want it on the
children's schedule.
John C Dvorak: I don't know why you're so much against NPR. I'm
sorry. Let's continue this smear
Adam Curry: on national treasure. What am I thinking?
Part Two?
Unknown: Wow. Okay, how did Kennedy wind up as a leader in
the anti Vax movement?
Well, he said he is not opposed to vaccines, he frames his
criticisms as being about safety. You know, in his speech
today, he didn't address vaccines directly, but he did
raise concerns about chronic illnesses, autism, quote,
poisoning our children. And these are all references to
these debunked and false and misleading claims that he has
promoted for years that undermine trust in vaccines.
During most recently, during the COVID pandemic, he opposed
vaccine mandates and other public health measures. He
promoted unproven treatments such as ivermectin, you know,
and that did result in some of his social media accounts being
taken down for spreading false health claims. He says that
censorship, but the pandemic also did a lot to raise his
profile. And so we're in this sort of strange place now where
Kennedy is this figure this with this iconic democratic name, but
he's also now being embraced by many on the political right, who
have adopted anti Vax views.
Right, but he is running as a Democrat, President Biden's
approval rating with Democrats. I mean, it's pretty strong right
now polls find that Democrats are willing to get vaccinated
than are Republicans. So what is the rationale for Kennedy here?
Because this sounds kind of like a long shot, right?
Adam Curry: Oh, there's so elitist. And what's the ration
now? I mean, why would you even bother? I mean, it's a long
shot. I mean, why even waste your time? Becky?
John C Dvorak: So they also have destructure, that whole little
part of that report where they go, everything he says has been
debunked, it's false. It's a bet. You know, they get to one
thing after this, they just can't they just can't say, you
know, it's questionable. Oh, no, no, no, it's not proven.
Adam Curry: These are new models. These are news models
with the perfect face for radio. That's why they're on it.
John C Dvorak: To get the voice they do. Yes. All right. Let's
go to this. Hello. Hi, how are you? Hi, John. How are ya? Part
three of the smear
Unknown: Yeah, and even for a long time also vaccine opponent
opponents weren't particularly aligned with one political
party. Here's how and that Meeks, who's a lifelong
Republican who runs the Freedom Foundation of Minnesota, a
conservative think tank. Here's how she put it.
In the early days. It really is kind of where the crunchy
granola left meets the far right.
But that started to change even before COVID You saw vaccine
opponents begin to rally under the banner of what they called
Liberty or freedom. That seems to have really resonated with
conservatives. And then when COVID came along, resistance of
vaccines became linked with resistance to other things like
closing schools wearing masks. Everything was filtered through
this partisan divide. And in fact, Kennedy does have some
surprising sources of support. Donald Trump's former adviser
election denier Steve Bannon has publicly suggested Kennedy
should enter the Republican primary and the conspiracy
theorist and Trump ally Roger Stone has his own suggestion
that Trump should pick Kennedy as his running mate. Ah, man,
Adam Curry: there you go. That's the ticket is the Trump Kennedy
ticket. Oh man, oh, man. Well, there you go. At least we're
wasting everybody's time with this drivel bits a smear. It's a
smear and it's also we got a way to go before it's time for the
2024 election. And we're all being just just noodle noodle
tea keyed up, teed up and spun up over this stuff. Oh, it's not
important people. It's not important. Go to your local
school board election meeting go to your local council meeting
and that's where it's important this is dumb it's a distraction
is not important. And but it will be fun to watch Joe get
taken down but that's our job. So you can just continue focus
on your local community. Please. And I have a trans a series of
trans Maoist clips which are excited to share with you but we
will do that right after I say in the morning to you and thank
you for your courage the man who put the sea in clusters of
children ladies and gentlemen say hello to my friend on the
other end Mr. John Cena
John C Dvorak: well in the morning to you Mr. Adam curry
awesome in the morning all ships at sea. Feet near subs
underwater games and nights out there
Adam Curry: and to boots on the ground and of course in the
morning to the trolls and the troll room Hello. Looking like
right now? No, I got I got no I got no no juice. Not come I
don't see anything. Oh, maybe I was kicked off somehow. Somebody
do the count. Well, no, when I There we go. 1862. There we go.
1862. For today. How's that for Thursday? Is that low?
John C Dvorak: No, it's about for recently it's about right.
It's not low for Thursday's it would be we'd normally 1750
would be the median.
Adam Curry: No. Okay, well, I'm happy then trolls. Thank you
very much for being here. But a lot of disagreement from the
Trolls. That's bullcrap. Hypersonic is above five could
be hypersonic supersonic. very testy. I think a lot of these
trolls are nerds. I say that with love. Who were very upset
about SpaceX launch I think that they're upset oh my god man who
was watching Oh,
John C Dvorak: they're not nobody cares. Exactly. I think
most people are excited when a missile blows up.
Adam Curry: I think that's why they watch Okay, man,
John C Dvorak: I wish they would have blowed up on the right
Adam Curry: on the pad but that would not be the MO The Mo is to
blow up above the pad. So we can get more more on the on the pad.
Yes, indeed. The trolls are in the troll room you can join them
a troll room.io Or you can get a modern podcast app. This is very
important because any if you're seeing your favorite podcast
disappearing, which is happening in alarming rate, particularly
off of Spotify, but also of others like Apple for the
craziest reasons, you know, like but Kennedy Jr ha.
John C Dvorak: Oh, nothing. I'm just trying to get this web
browser to work and mumbling at it.
Adam Curry: Oh, you're Bravo.
John C Dvorak: My bravo bravo browser if she keeps playing me
movies, what the hell's wrong with his browser?
Adam Curry: Go to podcast apps.com and get one of these
modern podcast apps with all the cool new features 20 of them and
you're and you can import your subscriptions from your old
podcast app, not a problem. Run them side by side for a bit. See
which one you like. Let me know. Of course we like podcast
addict, podcast guru podcast pod verse, And curio caster because
they bring you the live stream right there with the chat room,
the troll room. It's beautiful stuff. It's brand new. It's
podcast. apps.com. We also have no agenda social.com where
people like to tag Adam and John in very long threads about stuff
we don't care about and then say you vote no, no, no, we're not
going to do that. You can follow us. Don't tag us in all your
long boring conversations, please. Adam at no agenda
social.com Jhansi Dvorak no agenda social.com. That is a
place where people like to hang out and discuss stuff. And
there's a lot of going on. We have 10,000 slots. I think
they're full. Now you can't join. But you can as I said,
Follow because it's a mastodons part of the fediverse. Would
like to thank the artist for episode. What are you laughing?
John C Dvorak: Sorry, I went to the art because we're going to
discuss the art. Oh, okay. Nice. And there was one a crack me up
sorry, Episode
Adam Curry: 1547, which we titled A Sally a nice, I guess
the old word for Karen, in a way.
John C Dvorak: And actually, specifically as the old it was
the old word for a woman who was a sorority sister.
Adam Curry: Oh, there you go. That's right. Now, we could not
find any art on the existing new Submissions page that we thought
was appropriate or liked enough to choose. So we went into the
archives. And, interestingly, enough, came up with something
we had not used before. I'm not sure exactly why this missed out
when it was submitted back in the day, just because there was
a better piece. It was from capitalist agenda. And this was
the Rubik's cube with mainstream media logos. And, and, and just
looking at it again. What a great piece. Yeah, people really
liked this and I feel good that we were able to, to use this
after and was it this was months ago. I think you submitted this
maybe longer?
John C Dvorak: I think it's I think it was the 1300s
Adam Curry: Okay, that's quite some several months ago. So we
thank you very much capitalist agenda. And oh, yes, I can see.
I mean, the top one top left, from Nico.
John C Dvorak: Oh, no, no, it was an you'll see it. Okay, so
that is that's good. But just a better one. Yes. Notice there's
Adam Curry: already the artists are having a good time letting
letting us know that they are all in on on submissions for
today's show. And as I said, you know, we had a mike Riley piece,
lick the world, which you didn't like because you didn't like you
don't like a tongue licking anything, I guess is what you
didn't like, what was the problem? We
John C Dvorak: love one thing, it reminds you the Rolling
Stones logo. It doesn't. So it's derivative. So I don't like
that. And then I just thought it was a kind of a, it wasn't? I
don't know, it just didn't have any real life to it. I mean, I
saw the data piece. I mean, it was another one I thought was
nice. But I didn't have any. The Turing test was scary. But we're
Scaramanga with the robot.
Adam Curry: It looked like that cartoon series.
John C Dvorak: And it just it was it didn't have any life. It
didn't have any zip had there was another one that had too
many
Adam Curry: boob jokes in there. But that wasn't enough. Bucha
jokes are fabulous. I
John C Dvorak: have to give him credit for that. Great.
Adam Curry: We have a corner of the internet, also a capitalist
agenda, which just did not. I mean, didn't it just didn't make
it. You know? It wasn't quite there. What else do we have?
That was about it, I think
John C Dvorak: wasn't anything but of testosterone
Adam Curry: that jokes which weren't really funny.
John C Dvorak: Because there wasn't that many submissions. I
think the show didn't have the kind of material that did that.
Calls
Adam Curry: for art. Yes. In fact, that's exactly what you
said. At the time. You said it, I don't think it has. I just
don't think it has it. We just didn't have the topics that made
it work for everybody. And still we have artists pulling stuff
out of their butts doing their best and I think probably
because we were looking at a capitalist agenda on the tongue.
That's probably how you came. No, that was Mike Riley, on the
corner of the internet with the Mole. That's probably how we got
to it. Anyway, no, well, how did you get to it then?
John C Dvorak: I saw capitalist agenda thing I know for a fact
that capitalist capitalist agenda along with correct a
record and a number of other people have like 10 or 12 pages
of backed up art. Because they submitted so much over the last
few years that I did have to be a piece in there because I've
actually gone to the well at capitalist agendas page did this
specific page for some artwork for the newsletter and so I
figured out it's gotta be something here and so I click
click clicked and find was pretty deep in there was like,
page four or five, something like that.
Adam Curry: A beautiful piece capitalist agenda. Thank you so
much. We appreciate the work you do. And then No, of course, the
work that all the artists do. It just wasn't there this time. And
that's, you know, this type of criticism and being very
discerning as as art directors. This is what gets people like
Roger roundy high paying jobs, you know, which
John C Dvorak: Yeah, and it also gets him to quit doing anything
for us.
Adam Curry: That's not true. That's true. So
John C Dvorak: typical is typical. As far as flex those
guys is really the way it goes.
Adam Curry: It's all part of our value for value system. This is
what we run on, you know, I hear these reports of Oh, yeah. Oh,
this this podcast is number one on the charts. It has 2 million
downloads a month, I think, Wow. You know, we have a lot more
than that. But we'd have to be doing meetings and playing ads
and wouldn't be able to talk about all the things we, we'd
like to talk about because it might be a conflict, or we'd
have to be careful, you know, Oh, can we talk about a vaccine
to even talk about Joe Biden without getting pulled, and
people go after us and attack us and try to get rid of our ads.
So for over working on 16 years, we have not done that we've
always relied on you the listening public, which we call
producers for very specific reasons. You help us with your
time, your talent, and your treasure. And we like to
highlight our executive and Associate Executive producers as
quickly in the show as possible, just like Hollywood. And before
we get to the first one on the spreadsheet. I have a internet
donation which was handed to me in Czech form. And this is from
Mike Schweitzer. And Mike is the guitar player for the band mercy
knee which Tina and I went to see after the show on Sunday, if
you remember went down to San Antonio. We went to went to see
them and
John C Dvorak: it's funny every time you say that. I always
think of San Antonio as above you but it's always down below.
It's down
Adam Curry: below. So they said hey, you know the band is big.
The big no agenda fans and I'm like, Okay, we'll see how big a
fan they are. First of all turns out you remember Barry on the
last show donated $500 Barry Grol Yeah, well, he's also in
the band and he wanted to donate before anyone else and but he
didn't have a note. So we gave him a double up Carlos didn't
notice. Yeah, that was Barry is exactly. So he put that in and
then we roll up backstage very, very swanky. And you know,
there's the buses. And then Mike he's a guitar player comes out
and he's got a curry Devorah Consulting Group t shirt on
which is doesn't exist. I mean, the group exists but the t shirt
doesn't exist. He's he's had his their merch guys make this up.
And he played the whole concert with
John C Dvorak: it. That's got to be pretty baffling.
Adam Curry: baffling to the audience. I think.
John C Dvorak: That's what that's what I meant baffling to
the audience. Yeah, so he did
Adam Curry: give us one each. So yours will be forthcoming. And
he gave us a check for $1,033 and a note. Thanks so much for
the greatest podcast in the universe. You guys are like the
media methadone. No way could I have ever detox from my
addiction to the news without your help? I was hitting them
out a little over a year ago with one of my closest friends
and bandmates Nathan. That's Nathan Cochran of Franklin's up
Nathan is the bass player, Franklin, Tennessee. Haven't
missed an episode since since and I'm always waiting with
anticipation to see what John will be putting the C in next.
Enclosing donation. Nathan donation No it's a Nathan mouth
hit donation. It's a mic donation. And closes my long
overdue first donation of 1033. Which I believe officially D
deuces and knights meet well we will officially do you do?
You've been de Deus. I would like to request the title sir.
Shmoo of the six strings. Sorry for the savage SLIS fest. Yes,
thank you. And we'd love Weller and ribeye at the roundtable I'd
like to add a big thanks to Adam for allowing us all a front row
seat to his family's faith journey greatly encourages my
own face seeing God's work in the lives of others. No jingles,
no karma, just Jide to be in the end a family. And it was a great
show. It was a very impressive show. I'd say like 3000 people
in the like the Boeing something because you own the list. I put
them on the list. Yes, of course. I put them on the list.
And then I have one. Wait, no, that comes after. I'll do this
one. And then I have one more from the meetup and thank you
again guys. You've heard very, very kind and gracious was a lot
of fun seeing the Mercy Me concert. David Alcott is an
Eaton Eaton town, New Jersey, and comes in with $1,000
Greetings from Central Jersey. I want to thank my friend Dave
LaConte for hitting me in the mouth many years ago, please
provide me with a dee doo dee doo. And he says Please cut it
off before that awful 80s Nintendo synth riff. So I did
that. Thanks for your courage, she says. Then I have a donation
that was handed to us in person at the Nashville meetup by
Darrell DeVille. And we actually have a picture of this to
complete his knighthood with $600 because he had donated a
total of 400. Previously, he brought in $600 in $2 bills,
stacks and stacks of $2 bills. Now the question is, I mean I
feel like Uh, you know, he emptied the bank out, I guess
they got all the all of the $2 bills. It's like, it seems like
a shame for me to go and give that back to a bank and then
send a money order. That's really cool. I mean, they're,
they're, you know, the three stacks of 100 in twos. You want
me to send you a stack. It's pretty, it's pretty cool to see
it. I
John C Dvorak: used to get a I used to go to the bank and get
stacks of $2 bills for the farmers market people and people
like that, give them out there and maybe I'll get a kick out of
it. I stopped doing that I matured. And actually what
really stopped me is one time I ordered a stack of another one
of those $200 $200 worth the $20 Bill $2 bills, and I the entire
stack was all cocaine bills. How do you know? Because they had
that funny folding thing where people fold up the drugs. I
would every bill was folded. And so I took it I took the thing
back to the bank I said what are you given me this for the
Federal Reserve selling coke? What's the deal? And I turned
them in a desk the last time I ever got a batch of two's it was
the end of it. So no, I don't want to bash shoes.
Adam Curry: Okay, well, we appreciate it and he will become
Sergey noi Weaver of Dixie alley sir Good boy WEVA of Dixie alley
and we appreciate his support very much onward with the next
donation Yeah,
John C Dvorak: night m f dx of and as you Toronto Ontario comes
in. I don't really have much of a note he's just got way too
many jingles which are not going to do well actually I can do it.
It's just it's just hit it Fauci Wiese Fauci wheeze while I'm
high half second pause. No, no, no. These people I don't I don't
care what you can do it. But we don't want to we're not does not
we're not. This is not like no, it's no good.
Adam Curry: If you just say hit it. I think I can play these for
them.
John C Dvorak: Well, okay. Well, let me start with the thanks for
the excellent product. Gentlemen. The only issue is
starting to show two hours later. Wow. But oh, he's got
just a 420 69 donation. Yeah. Hey, man, I just noticed that
starting How long is it two hour thing been going? I think you're
right. The only thing I've noticed is the show stuck. Let
me read it correctly. The only issue was starting the show two
hours later. is by the time Adam says in the morning, John is
damn near afternoon.
Unknown: Wow, I am really high. Beautiful
Adam Curry: There you go. Wasn't that hard?
John C Dvorak: It was a good give us a good sequence. I'm not
gonna say it wasn't. But it's just shouldn't be discouraged.
Okay,
Adam Curry: cuz now I get to decode this next one. Because
you know, the stoners came out for 420. This is of course, what
Daris unity from Upper Marlboro, Maryland for 2042. So 420 with
the most interesting and important number in the universe
42 as a sense behind it. Peace blessings, Mad Love Gitmo
nation. Thank you for your courage. In the morning who we
who we for 20 Born day night here turning 34 years old, bless
belated birthday to Mr. Dubourg also. Excuse me. My throat is
short. I'd like to be known as Sir Daris unity. Sir Darius
Darius unity I'm sorry, Knight of the sand hill people
roundtable request wild caught Alaskan salmon JCD style with
mocktails also in the morning for 3% off@warranties.com in the
show notes please. W AR n t e s.com warranties.com.
Unknown: For the pun
Adam Curry: it is 42 cents because my brand warranties.com
has 42 as a logo and 3% off with ITM play please place link with
my name in the show notes. Yes, you got it. Oh, camel has
biscuits please. So I wonder if Is he on the see on the birthday
list? I'm gonna have to check and see if it's on the birthday
list. Camel has biscuit please and all the karma birthday no
agenda meetup currently underway in DC apologies for the late
notice. Stay safe. Peaceful tidings Darius unity. Founder of
war NTS.
Unknown: They always give me a biscuit on my birthday. All
right,
Adam Curry: brother. No problem we check. Karma.
John C Dvorak: Next President
Adam Curry: make sure he's make sure he's on the list. Yeah,
he's on the list.
John C Dvorak: Ashley Zaif Minh in Ontario. Sorry, London,
Ontario, Canada. Happy sixth anniversary on 422. My husband.
Wait a minute. Ashley. Yeah. To my husband and no agenda night
sir Bram of Upper Canada Navia love always your smokin hot
wife. Okay, go. Cheers to many more years of no agenda together
with beers, buds and Boston terriers,
Adam Curry: sir stoner Boehner is from Kent, Washington for 20.
Adam and John sir stoner Boehner here with my annual executive
Prusa donation to the best podcast in the universe. I can't
express how much I appreciate being able to listen to you
twice a week. Thank you for the amygdala maintenance and please
share my karma to all have no agenda nation. Thanks, sir.
Stoner Boehner. You've got karma.
John C Dvorak: Onwards Mike, the POLYMATH polymath know if he is
a polymath, Indianapolis, Indiana. That means he does
numbers real good. This is Mike. The polymath I asked for
official de douching de deuced although I've been donate, I've
donated many a meetup. I have yet to be fully cleansed I
hereby bequeath. I can see that yeah, yes. Mike Yes, polymath
he'd likely uses the word bequeath. Yes, I hereby bequeath
for 19.93 in honor of my day of birth, and the final day of the
Waco siege at Mark at Mount Carmel. Well, I prefer the
history of April 19 1775. With Paul Revere is right in the shot
heard around the world, I would be remiss in neglecting your
knowledge. The dark day that occurred 30 years ago as I
emerged into this world a newborn baby. I'm turning 30 On
Wednesday, and I can think of no better way to celebrate than to
humbly donate to that greatest podcast in the universe. I asked
for jobs karma for my business, easy peasy garden solutions.
Easy peasy garden solutions in Indianapolis, Indiana and for
podcar around there abouts. And for podcasting karma for the
easy peasy podcast. I build and maintain a number of veggie
gardens in the Indiana Indianapolis area. And I discuss
a variety of topics on my show sometimes with new and
interesting guests. Know jingles bello sharpens respect when hurt
thanks a million for all you do Mike? The poly poly
Unknown: ESP ICT jobs,
jobs, jobs and jobs or jobs.
Adam Curry: Then we got those crazy indie people the indie na
meetup gotta report later. 335 Switcheroo raffle donation from
the March Indianapolis no agenda meet up for Amy Thurmond. That
means Amy gets the the executive producer ship there. Okay. I've
done the switcheroo. Adam and John my husband sir Craig of the
Dark Moon and I first by the way I met these folks they were they
came to Nashville. They came to the Nashville meetup. And I I'm
sorry.
Unknown: They're everywhere.
Adam Curry: The Indiana people it's pretty insane. They're
everywhere they are my husband sir Craig the Darkmoon and I
attended her first ever no agenda meetup last Sunday. Oh
wait. This is different. The Crossroads of America
Indianapolis in a tribal meetup and the spirit distillation of
the mash house at West Fork whiskey in Westfield, Indiana. I
am honored to be the winner of the donation raffle appreciate
all who contributed as this puts me on the path to becoming a
dame. Oh, that makes sense. Yeah, the meetup was fantastic.
The Indiana crown is welcoming and fun truly a great
experience. Many thanks to Sir Mark and de Maria for Oregon.
That's who came to Nashville. Sir Mark and de Maria for
organizing and more people came it was it was it was insane how
many people came? No jingles? No current but a deducing you've
been de deuced you got it.
John C Dvorak: We're with Andrew. Oh, Donahoe. In Smeaton,
Saskatchewan. Good afternoon. This email coincides with my
first donation to the show for 333. Just want to thank you and
John for all that you do. I started listening after hearing
Adam on the Joe Rogan experience just before the pandemic hit. No
agenda immediately became a number one listen as a podcast
it truly is the best podcast in the universe. I should have
donated sooner I know. I'm a super douche. Hoping this
donation helps make amends. Please give me a D douchey.
You've been D deuced. Sincerely, Andrew O'Donoghue
Adam Curry: a lot of people who came to the meetup who hadn't
been listening releases 2019 I mean pandemic listeners we got a
lot of new people in the during the pandemic. Of course there
were centric where A timer to trick Good work. Good work on
spreading that Wuhan thing John. Well done well done. We go to
our first Associate Executive producer Tom wrecker from
emails, emails, emails, Pennsylvania 293 17. I'm sending
you guys a value for value royalty payment. My friend and I
started a podcast and website last year and we're doing things
but no agenda. Wait, no jingles, no karma. Just a lot of
appreciation for what you guys have created and continue to do
to the no agenda family members who enjoy movie reviews or are
wondering if a film is worth a watch. You can throw out those
rotten tomatoes and check out the daily ratings.com for the
daily ratings podcast. Let's go lick the world. Nice. I'll put
that in your next year name as well.
John C Dvorak: Your Rotten Tomatoes has been corrupted.
Adam Curry: I've never I don't look at ratings or any of that
stuff ever. Anyway, I don't trust it all like Yelp. I've
never been a Yelper Now trust me, it's all gamed. gamed
John C Dvorak: he Brooke Mortensen and Sierra Vista,
Arizona. Megan Kelly's new listener here.
Adam Curry: Ooh, Megan donation.
John C Dvorak: Make a donation. I love and appreciate all of you
so much. I found many gems like no agenda through her humble,
generous, sassy self. And then I started listening to Rogan
because of you. Oh, that's a switcheroo. Yeah. So you're
welcome, Joe. Yep. High five to $22.22 as a road duck
Adam Curry: from her. And Monday, I will be back on the
Megyn Kelly show.
John C Dvorak: What's the topic?
Adam Curry: I don't know what the topic is. I've been asked to
I don't know. I've been asked to come on the show. That's all I
know.
John C Dvorak: Maybe just set up.
Adam Curry: It's hard to I think it's hard doing a show. Five
days a week, you gotta get a guest. And it's like, and my
numbers up. Don't you think that's kind of how it goes. I
mean, that's
John C Dvorak: if that's you. I don't know if I've lectured
enough about why that's a bad idea.
Adam Curry: Being doing an interview show?
John C Dvorak: Yeah. Yeah. I mean, you can do interviews
every so often. But a daily interview showed requires a full
time Booker.
Adam Curry: And you know, there's so much competition so
you have Joe Rogan, which I still consider to be the mack
daddy you know that's that's the all time Johnny Carson Tonight
Show level.
John C Dvorak: Ya know, it's the number one it is the show.
Adam Curry: It is the show. And then we have Bo but else do we
have out Glenn Beck? I think Glenn Beck is huge. I think
that's also a big show. We have a dip compared to not compare
not to be compared.
John C Dvorak: It's not comparable. But then you have
everyone
Adam Curry: who all go on to pool boy pool boy pool. Boy, I'm
never going on the Playboy show. That would be the equivalent of
going on Letterman when you're when you've been discovered by
Carson. Now that I think that would be rude. Don't you think?
John C Dvorak: Well, I think it'd be lousy. Yeah,
Adam Curry: I'm Yes. For
John C Dvorak: more reasons than one.
Adam Curry: Yeah. Oh, okay. It's West Virginia. wants to travel
to West Virginia.
John C Dvorak: Oh, well, that's your home. That's your stomping
ground?
Adam Curry: For three months, my alma mater, you're right. 208 16
comes to us from Victoria, Australia. Altona north from
Denee. Denise says, Hey, Adam and John The number represents
my daughter's due dates. 2080220 816.
John C Dvorak: Maybe much?
Adam Curry: Oh, I wonder if this was? Is that the Australian
number? Is that the UI?
John C Dvorak: Are you asking the wrong guy? Yeah, I'm
Adam Curry: just just asking in their first time donor. I first
heard your show from Carl and who are these podcasts back in
2020. Thank you for your honesty, integrity and producing
a great show. It irked me to hear Adam butcher the
pronunciation of Xi Jinping recently. So I'm offering a
pronunciation note. The X sound or the z sound in China is
unvoiced and sound similar to the English if spoken through a
grimace or wide smile. I'm trying Xi Jinping. Okay. And
then there's a he has a whole bunch of complaints. I'm I was
wrong. I was wrong about Australian beach. Everything's
great. There's no Chinese beef. I was wrong about their money.
Everything's great. Nothing's wrong with the money in
Australia. I'm wrong. I'm wrong. I'm wrong. I'm wrong. That's
kind of how I sum it up.
John C Dvorak: And I think that's pretty accurate.
Adam Curry: And lastly, I recently listened to Adam
discussing his conversion on the JRE. Congratulations. I was
blown away by the difference in audio quality. I don't know what
you're doing over here, but keep up the good work. Yes. Some
people do say that our audio quality, ruins ruins people
listening to other other podcasts. And so you know what I
say? No,
John C Dvorak: I say it's a crime, that you have not won an
audio engineering award of some sort because you're the one
responsible for the audio sound, not me. And you should get an
award from the AES or someone or a podcasting operation for the
sound, it just baffles me
Adam Curry: whereas the podcast Academy I deserve it.
John C Dvorak: You get nothing. This is the back. This is the
problem. You're you now you understand the talent is one
side of the mic. And yeah, hind it, you know, never gets enough
recognition.
Adam Curry: They I'm sure the podcast industrial complex, who
actually create these types of awards, which are bullcrap. And
I've always laughed at. They don't like me, because I laugh
at their little little award shows. The NBS, please. I mean,
it just sounds like something like some pharmaceutical thing.
Here's an ambi. Don't want that. Thank you, Dan. I
John C Dvorak: don't know about the NBS. Oh, that's
Adam Curry: that's the award of the industry and there's all
kinds of it's everyone has watery. This is the podcast
industrial complex.
John C Dvorak: You're the industry.
Adam Curry: Thank you. Yeah, the actual one we should
John C Dvorak: you know what I thought about this before I
bring it up. Here we go. Here we go. We should have the no
agenda, podcasting awards. I'm all in was doing for that that
didn't take much to convince No, I'm all in there because it will
be hilarious. But it would be well, it'll be I don't think it
would be hilarious. I think we'd probably come up. It would take
us a while and these will be awards. I guess you're supposed
to do them once a year. But once we do them once and then we have
to do them every year. They would actually be good podcasts.
Oh yeah. Not repurpose junk from NPR or want to be junk from NPR
that wants to be on NPR but it can't make it none of that
stuff. There's a lot and you line podcasts it's a lot of
work. Okay, we're not doing exactly
Adam Curry: onward the grid left
John C Dvorak: Cheryl Cheryl dorsal doors fell in Big Pine
Key Florida. Wow. Gee douche me.
Unknown: You've been deep deuced
John C Dvorak: I was hitting the mouth by my favorite son sir TJ
the wrathful going to meet up outside of Nashville Monday
night with him love the show. There's no other like it in the
universe. So that's a fact. So under bucks.
Adam Curry: This is the wife of Sir TJ the wrathful who also
brought his human resources to the meet up and they're the ones
that did the we don't talk about brand and Brandon and his kids
were adorable. Yeah, I said abused them some more. We need
more of that stuff. And he said okay, no problem. I'm doing it.
JC Swisher in Naples Idaho $200 switch a roofer Joe wall for his
birthday April 22 Happy birthday to the love of my life. And the
one who hit me in the mouth. Well, thank you very much Joe.
We're gonna do that. Yeah, I mean, Joe I'm Jake you JC and
thank you Joe for hitting JC in the mouth good work
John C Dvorak: all right. Okay, this is gonna be tough because I
don't get to this be stained Duke in name Megan. Holland
pretty good pretty close. ITM my colleague and I this standard is
the last 200 bucks. ITM my colleague and I are going to
meet up this week. And because I don't want to go. As a
freeloader. Here's my donation might call it will give him a D
douching.
Unknown: De deuced.
John C Dvorak: My colleague, on the other hand, doesn't mind
going as a freeloader. Please call out Eric as a douchebag.
That's the message.
Adam Curry: All right. Then we have oh, that's it. That's the
last one. Let me we're going to take a second break later on.
Don't you think we should do a second break?
John C Dvorak: Well, I mean, it's less numbers total than
last show, which we did when one pass is not that many left.
Adam Curry: Okay, well, then let me just thank a couple people
for some other donations that we got at the meetups. $100 from
Cisco V of the Piedmont 100. And that's a switcheroo for a smokin
hot girlfriend siara. We have Mark and Lisa church $100.
Professor Tom Gallucci. He came up with an outstanding
promotional item the no agenda sealing wax c e i l i n g. And
so he actually created a product now we have sealing wax for your
important correspondence as a knight or a dame for your ring.
He actually created a product called no agenda sealing wax and
you can put it on your ceiling and there's no agenda sealing
wax.com Stephen West a boob donation 808 Thank you for the
community Love and Light he's in Lewisburg loser Burg, loser bug
something Tennessee Samantha West's thanks for hitting me in
the mouth have some boobs 808 And we had we each got a silver
dollar from photo by franklin.com. A Lady Liberty for
each of you. Thank you very much beautiful. I will send that to
you. And then we got two beautiful challenge coins and
$100 from Sir Rory of the duck river. And he wrote a very nice
long note. And I will forward that to you as well John, and we
thank everybody for coming to the meetup. Just being at the
meetup was was great. Some people were being hitting them
out on the spot and donating $33 Getting on some of those
wonderful, sustaining donations and was really nice to see
everybody. Thank you for coming out. John's gonna take us
through the rest of these donations and then we'll give
John C Dvorak: you guys a few left. Let's start with cerveza
cerveza get it get it? Get it? I got it. He's in Florissant,
Colorado. $105 Heather Allen in new Wilmington, Pennsylvania.
$105. As he goes, she wanted to do shopping or anything I don't
know and we'll see it. Know, Douglas Murray in Missoula,
Montana 9420 Douglas Murray, and I'm sorry Douglas Murray was in
Missoula, Montana. Sir Kevin McLaughlin is up there with 808
You know him. He's a locust North Carolina everyone's
favorite. Edward Owens in Alameda, California. 808. Kyle
high in Keizer, Oregon, switcheroo for his wife, Erin.
Hi, hag. Ah, I think that's pronounced Hi. Ha, ha i g h
sounds right. And then he says it because it's 808 He says I
love your boobs, babe. Patrick Coblenz Fairview HireVue tenants
See
Adam Curry: he donates as well. He stays unstoppable pays for
everything. He makes everything happen. Patrick, really
John C Dvorak: any 140 Happy birthday to his daughter Karen.
Oh, that's right. Yeah. Beautiful wife Sarah, who
Adam Curry: I met I met both his kids and his wife was great.
John C Dvorak: Oh, that's nice. Yes. Raymond Bressler in
Arlington, Washington. 6996. Joseph Stegman in 1000, Oaks,
California. 66. Kevin O'Brien, Chicago, Illinois. 606. And he's
getting knighted as Sir Kevin of the ADF parallel. Standard fair
will do. So he's on the list. He is Sir mango meet in Detroit,
Michigan. 56. This is interesting. Because I know for
a fact that Kevin McLaughlin came in with a second donation
for 606. Okay, and it's not on here so it's my may have gotten
bumped or didn't Ah, I don't know what happened tomorrow,
sir. But anyway, thanks to him again. Sir. Mango, meet Mr.
David Galloway in Flower Mound, Texas. 510. Love the Maoist
revolution segment. Dean Roker 50 People love them. I
Adam Curry: wish we got more coming up.
John C Dvorak: 5510 sure Mark and Greenwood, Indiana with a
birthday at $53. And this is switcher roofers, amazing keeper
de Maria of the Greek kingdoms. I think it's her birthday. Bob
Butler and coming Georgia 5069 Chris Wichita Chris just playing
Chris in Wichita, Kansas 5050. And fan. He's got a birthday for
his wife and lad and now we got the $50 donors who have run
right through these these are starting with Nathan Cochran.
His names and locations Franklin, Tennessee 50 Tatiana
Prince in Hollywood, Florida, Peter odo in Ridge New York
Steven Chu Mach in Xenia, Ohio John John Joan pulse pul s in
Hernando Beach, Florida gadget freak 10 in Western Springs,
Illinois, Alexander per day whoa in Gig Harbor, Washington Scott
lavender, our friend in Montgomery, Texas, Sir Andrew
gusik in Greensboro, North Carolina, Joe Oswald in Lithia.
Florida, Peter, Andrew Perez in San Marcos, Texas with a
switcheroo credit sister Aida Aida AI da she's gonna have a
birthday 60 Matt Illingworth in Montclair, New Jersey. 50 Robert
case in Mills Springs, North Carolina. 50 Christie Jones in
Demarest, Georgia. Steven crummy in El Cajon, sir by the mighty
in Marietta, Georgia Jerry Wilson Roth in Saugus,
California and last on the list is Leanne Shipley in Covington,
Washington are actually fairly short list. Yes. Well, we do
want to thank them all.
Adam Curry: We're going to make up for that with lots of nice
things and birthdays and we have a black night to deal with
today. Sir Mike of the New Jersey lowlands and we missed
him on the last show. He says after many months, I finally
reached the title of night. I'd like to thank you and Adam for
keeping me sane in this world of media nonsense. The show was
definitely the best podcast in the universe. That's right. It's
in the leaked document from discord. I'd like to request the
title of Night of the New Jersey low lands and have Irish car
bombs at the roundtable. That doesn't sound very nice. Okay,
Irish car bomb
John C Dvorak: maybe it's a drink?
Adam Curry: I hope so. I don't know if I like that loving
light. He says sir Mike of the New Jersey lowland and thank you
all very much for supporting the show. Episode 1548. The
executive and Associate Executive producers know by now
that those are titles you can have forever. They do not
expire. You can use them anywhere credits of showbusiness
ilk are accepted like IMDB you can put it on your on your
LinkedIn, just throw it on your resume and unlike the phonies in
Hollywood, we will gladly vouch for you thank you again for
supporting us here no agenda episode 1548 Our formula is
this. We go out we hit people in the mouth
and of course thank everybody who came in under 50 for reason
abandon on an empty or you are in one of those fantastic
programs that are sustaining donations. Thank you
here's your list for today. We got Emily wishing her smokin hot
husband Bruce blessing and your Happy Birthday turned 37 Today,
Andrew Perez wishes his sister Ida a happy birthday she turned
60 Yesterday, Mike the POLYMATH turned 30 Yesterday Darius unity
34. Today we had a nice note from earlier Teressa Marcin
wishes her son Josh client to happy birthday for tomorrow Sir
Mark wants to wish de Maria have the Greek kingdom's happy
birthday for tomorrow as well. Christina wishes are a certain
loin medium rare that Happy Birthday turned 75 on the 22nd
JC Swisher wishes Joe wall Happy Birthday on the 22nd as well
Chris wishes big birthday greetings for his wife Marquis
on April. Margie is on April 22. Patrick kobold the Duke of the
South switches author, his daughter Catherine and beautiful
wife share both a happy birthday and Jacob Ali wishes his human
resource Naomi Ali a happy birthday happy birthday from
everybody here it's the best podcast in the universe. All
right, so we have 1234 knights you've got a black knight on
deck so it's a we need quite a blade blade. Oh,
John C Dvorak: we got this one. I'll do.
Adam Curry: Oh, no, that's a special one. Okay. All right,
Mike, we know it'll be a black night. Mike Schweitzer happy to
see you here my friend Darrell Deville, Kevin O'Brien and
Darius unity all of you have reached the status of Knighthood
of the no agenda roundtable and I'm very proud to pronounce the
the as Sir Mike of the New Jersey lowlands sir Shmoo where
the six rings sugoi weeba of Dixie alley Sir Kevin of the ad
of parallels and Sir Darius unity night of the sand hill
people for you. We've got hookers and blow rent boys and
Chardonnay. wild caught Alaskan salmon JCD style with mocktails
we got Irish car bombs. I know I'm forgetting something here. I
forgot the weather and ribeye but it's still on the grill. And
here we go along with that. Of course we've gotten mutton and
meat for those of you who have not had it yet. While you feast
on that, and you can slip on over to no agenda rings.com
letter and anyone can visit that you can see those handsome night
and Dame rings. All you have to do is send us your your details,
your address and your ring finger size. And we'll get those
off to you and thank you again for becoming knights and a black
knight here of the no agenda roundtable. No one said
well, no surprise. There are a lot of 420 meetups today. But
before we get to that we've got a couple of meetup reports the
first from Indianapolis.
Unknown: Hi, this is Maria and this is Mark. We have over 30
people today what an amazing meetup. We love it. Thank you no
agenda. John and Adam. You're the best in the morning.
This is Emily not a Fed unless it's Monday through Friday from
seven three in the morning. Not from Indianapolis finally drag
my mom here. Thank you for your courage
in the Morning John And Adam PVR street gang enjoying another
wonderful meet up here in India.
Hi, this is Cindy from Carmel thank you for your courage. I
wish everybody knew how much three inches was Bruce
from Indy just drinking some whiskey
in the morning Dame Swanee serve any saying hi to everybody out
there.
This is Dave Kennedy from Fort Wayne. I was in Crown boy now an
ND and I'll see you tomorrow. Nashville. Thank you for your
courage.
This is Shannon visiting for Fort Wayne in the morning. Have
a great day. Hey, this is Connor from Westfield. I hate to break
it to you but every time Fort Wayne has a meet up Vladimir
Putin unvaccinated transgender Ukrainian toddler young I'm with
Connery religious system.
Carmo been hearing about this for a long time this my first
meeting and I loved it. Thank you very much. Hi, I'm Stephanie
Carmel. This is Nick from nd today I met a baby who listens
to Alex Jones.
Adam Curry: That's a big group. And then I got a note from
Mike's stew like who did the first Northwest Indiana meet up
in Gary Indiana when no one showed at the Hard Rock. And
he's thrilled to report the second initial Northwest Indiana
meetup was a rousing success over a dozen attendees, Knights
and Dames with their rings mere slaves like himself, plus some
very well behaved human resources. And we're very happy
that that worked out so well. Over to Leo Bravo in Los
Angeles. Hey, everybody,
Unknown: it's Leo Bravo. I'm at the meet up number 40 flight at
the no agenda. I'm passing the phone around.
Our folks have nice
words to say. Hey, Adam and John. It's Steve in the morning
in the morning Brett a
kid interested? Here's
here. Boom. Shakalaka boom. Chakalaka
in the morning it's Dame Kendra. John, we love you hallelujah.
In the morning. This is Angie representing the ranch in the
morning Hui Hui. This is Sir OG God caster and
Adam Curry: blessings to you. Steve Webb and Leanne nice if
they were there. And we had a great meetup in northwest
Houston or barons or economic hitman reported in it was the
first one and it was a big success. They did not foster a
competitive atmosphere but they laughed a lot everybody hugged
and shared secrets. Very good. Then we have a big meetup coming
in the Netherlands yes these things happen all over the world
it's a new place it's an it's a new promo part of it in a
different language
so fair, cats whole nor the no agenda meet up until they get in
a donor. Tell me if you need me. I need our bicycle Ami.
Coincidence? I think not. Cats all on TV. In the morning,
that's they've now changed. Not just the meetup but the actual
town is considering changing his name from cutover the cat's Hall
and the mayor I wants to have a chat with you John for
John C Dvorak: for time I'm available on Fridays
Adam Curry: at sea here's what's happening today. Okay, the DC
meetup dares unity as he already said is probably over the happy
for 20 Born day to me. However, the sandy brigade Third Thursday
meet up in post Idaho Falls at Selkirk Abbey kicks off at five
today. Six o'clock. The Virginia Maryland West Virginia tri state
meet up at Union Jack pub and restaurant Winchester, Virginia.
We have Charlotte's Thursday Third Thursday seven o'clock at
Ed's tavern, Charlotte, North Carolina. The tomorrow we have