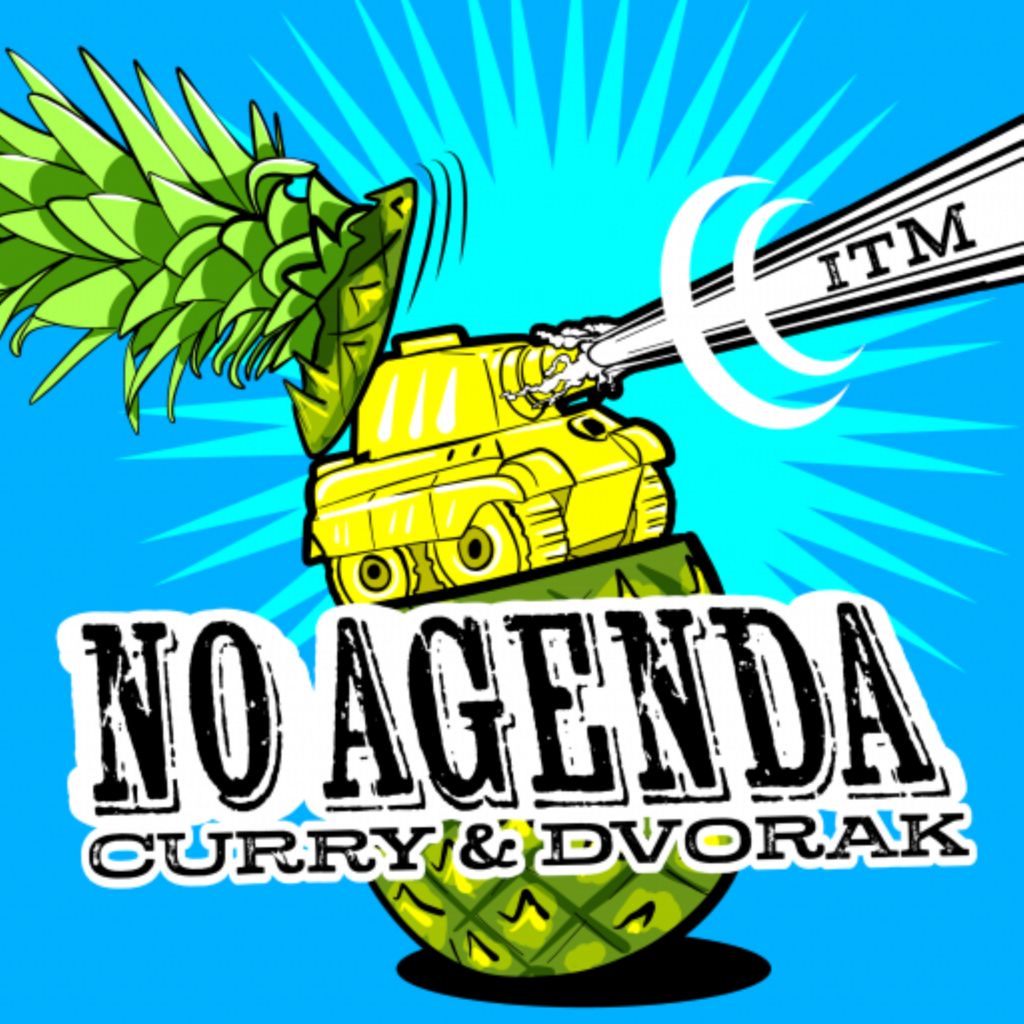 April 30th • 3h 26m
1551: Big Mike & The Rock
Transcript
The transcripts of No Agenda are automatically generated and therefore, not fully accurate. Discretion is advised.
Click the text to start playing from that position in the show. Click the timestamp to copy a direct link to that position to your clipboard in order to propagate the formula.
John C Dvorak: Today you're bumped by a staffer. Adam curry
Jhansi Devora
Adam Curry: Sunday April 30 2023. This is your award
winning keep our nation media assassination episode 1551 This
is no
Unknown: agenda.
Adam Curry: My day away and broadcasting live from the heart
of the Texas Hill Country here. Number six in the morning,
everybody. I'm Adam curry
John C Dvorak: from Northern Silicon Valley where we take one
day off and in retribution, Fox fires Tucker Carlson. I'm John
C. Dvorak.
Adam Curry: So, did anything happen while I was gone?
John C Dvorak: They fired Tucker Carlson because we didn't want
to miss one show.
Adam Curry: No, no, no, they parted ways mutually.
John C Dvorak: You know, there's a lot of speculation just to be
honest for a second. There's a lot of speculation as to why
they fired Tucker Carlson I have the clip.
Adam Curry: I have a whole bunch of clips.
John C Dvorak: This is Yeah, but I have convinced Oh, this is
because it happened right after this. Right after this happened.
He was gone. Even though he was finishing off his show. This is
this is why they forced Tucker last segment clip. Heat. This is
the last thing he did on his show before signing off saying
he's gonna be back on Monday and within this clip, I can see why
he got fired.
Unknown: The other night we interviewed a heroic pizza
delivery man called Tyler Morel and ever conscious of the
opportunity to use our job to get free food. We thought we'd
like to taste your pizza. Tyler Burrell joins us in studio. He
will deliver literally anywhere. Sorry. To meet you in person.
Couple of Coco's price. Should we add? These are from Coco's
established 1978 Everybody loves Coco's pizza. That's right.
Where's Coco's bass, Aston Pennsylvania and Delaware
County, Delaware County best part of the state agreements.
She's pies of special pie for you here.
Here's Tucker's pie.
So I am as you can likely tell, the pizza aficionado I was a
pizza delivery boy for warm at all. Yes, totally warm. These
warmers are Oh, I know
Adam Curry: why. I know I saw this I know exactly. Why.
Exactly. You got it. So I chose to do it like
John C Dvorak: everyone did everyone figure it out?
Adam Curry: I mean, I am guilty of this myself.
Unknown: Or we're gonna this is sausage that sausage and
pineapple and really quick as a pizza professional. Do you look
down on this order? Is this I do? I think I consider criminal.
Pizza.
Adam Curry: I agree. That's that's a fireable offense right
there.
John C Dvorak: You was fired on the spot. Pineapple pizza, I
make no bones about it. And the first time I ever had it
curiously, the story is I never had it before. I always felt the
same way. I was a big hit. And one day it was at MVNO pizza big
it was at me VO and they brought a bunch of I forgot what pizza
company but they brought about 10 Pies over and there was the
pineapple pizza amongst them. And I looked at it I said Hmm,
let me try this. I tried it and in one bite I was sold. It's a
perfect combination. That sweet pineapple and rest of it. It was
I was a pineapple nut ever since Welcome to the Darko who don't
like pineapple on their pizza try it
Adam Curry: you know as a Chicago and I'm I am surprised
by this you know Tina of course lived most of her adult life in
Chicago and she she when that is the one thing we really differ
on she feels she's a she is a pineapple pizza bigot although
the other day she did have I think she did order it for I
can't remember. I think she might she might have eaten
around it. But she was kind enough to order it for me. Well,
yeah, that of course. Could be the reason I think the reason is
they heard I was going to appear on Megyn Kelly on Monday and
they had to make sure that stopped.
John C Dvorak: Possibility
Adam Curry: got bumped. I gotta tell you the story. Oh, you
John C Dvorak: got bumped. Yes, I was supposed
Adam Curry: to do Megyn Kelly. I'm wondering why I didn't hear
anything about this. Yeah, so this is two days before my
operation. Everything was everything was all scheduled
perfectly. It's you know, it's great. On on Sunday show you
even told me like hey man, play up the trans Maoism stuff. She
doesn't have all that right. So um, you know, I'm very prepared
for that because she's all about the you know, men and women's
sports and you know, she she's not seeing the big picture. So I
was very prepared for that and, and 10 minutes to it was going
to be at 11am My time Tim and I'm on the on the Zoom. I'm in
the green room. Pretty sophisticated. The Zoom has that
I might add. They've got a whole setup for Broadcast.
John C Dvorak: Yeah, we got
Adam Curry: a green room and the producers come in and talk to
you. And the Booker, you know, and of course, I'm friends with
the booker because you know, and by the way, if you recall last
time, for the first time, almost two years ago when I was on
Megyn, Kelly I got bumped from the first hour because Sharon
Osborne got fired. It's like when Adam curry is
John C Dvorak: on the show. If Kelly really wants to build up
her audience, she should just keep booking you and keep firing
people and she'll have a great show.
Adam Curry: I'll make a note of that. I'll mention that I'm re
booked for the 31st. So five minutes before Steve Krakauer
comes on Steve's Our executive producer, he's a really nice
guy.
John C Dvorak: He people who they have on this podcast,
Adam Curry: quite a few, they have quite a few people. And she
was she, I mean, she finance it all herself. She started with
just a podcast, money, she got a lot of dough, and she added
YouTube and then Sirius XM. So she's got to get money coming in
from all over the place. So Steve comes on, it's like, hey,
it's a breaking news. What? It just broke on Carlson got fired.
Oh, okay. Because I'm gonna go on for the first 20 minutes.
What? Okay, so the executive producer goes on for the first
20
John C Dvorak: Wait, you're bumped by a staffer?
Adam Curry: Yes, that was Steve has been on on Tucker Carlson
several times. So he has some standing, I guess in that area.
And he's a Texas guy. So I'm gonna HD that's fine. And yeah,
and then Megan will bring you in after the break. So I'm sitting
there and, and to be quite honest, it was. I was pretty
happy. I was ready. I mean, I was okay, Tucker Carlson. I've
got everything I collect, kind of which there's a lot of stuff
going on with him and particularly big pharma and
other things. And I was ready. I'm like, Okay, I'm pretty
prepped for this. And then the break is over and then it's
going on? Oh, we're gonna get to Glenn Beck on I'm like, okay,
Glenn Beck wants me on again, too, by the way scheduling that.
Yeah. So then Glenn Beck Glen, of course was x Fox. Okay, that
makes sense. Now we're like, now it
John C Dvorak: would be the Glenn or Riley would be good
people to have as Yeah, I got fired from them too.
Adam Curry: Right. And then well, now we got Glenn Greenwald
on
John C Dvorak: No, it's Greg.
Adam Curry: That was a low blow Megyn Kelly
John C Dvorak: ads bad your tire profiling greenwall Well,
Adam Curry: her angle was, you know, we've all gone
independent, you know, this can be done. This can be done
without, you know, no big media networks. And I kind of
appreciate that kind
John C Dvorak: of you, isn't it?
Adam Curry: She at one point said you know, yeah, we'll have
the the actual we pioneered this. She says to Glenn Beck, it
says and we'll have the actual pioneer Adam curry on in a
little bit. Now, of course, that never happened because she just
kept going and and then she's bringing on
John C Dvorak: boulder all giddy because he got fired. You know?
It's, it's that crazy idea where you're I think they took Glee in
it.
Adam Curry: It went well, it's a big thing anybody
John C Dvorak: felt sorry for Tucker. They felt it was an
outrage.
Adam Curry: But these are all people who were like, you know,
who parted ways with mainstream, and they're very excited. And I
understand that, you know, I got the the occasional email or text
message. Hey, man, bring your new podcasting. 2.0 value for
value.
Unknown: Yeah, okay. Yeah, I see that. Yeah,
John C Dvorak: the dinner table. Yeah, I had to shut it off.
Because it say, hey, you know, it's a different medium, you
just don't go from one to the other like, yeah, willy nilly.
Adam Curry: So I had a lot of time to reflect on it listening
to everybody. And I and I was quite happy with that. Because
what it gave me was a lot more opportunity to think about what
had really happened here for our own show. Which have to be I
liked Megyn. Kelly, I was excited to be on you know, I
don't think she I don't think she's ever really listened to
the show. Otherwise,
John C Dvorak: I'm sure she's never listened to the show
otherwise,
Adam Curry: and I don't even think the Booker's listened to
the show. Now, you know, they keep saying, Hey, can we redo
this on every date was like Thursday, Thursday through No,
no, I kind of had the show on Thursday. So which is so rude
when they do that, and to be fair about it, so the same
thing? Hey, can you do Thursday? No. What do you know about me?
John C Dvorak: Unbelievable. I mean, it's beyond ruinous, it's
indicate that they've never This is like the kind of you I send
you these letters. What's
Adam Curry: the emails that you get saying, Hey, we're
evaluating for a big client to advertising on no agenda, like
oh, hey,
John C Dvorak: I always send them to you. We have a perfect
guest for your show.
Adam Curry: Dicks dipshits.
John C Dvorak: Send them to you, but I send sometimes I'll send a
note back Like, Oh, really? We're How do you think they're
gonna work in? How where were they? What segment? Do you think
they'd be really a good guest on our show donation
Adam Curry: segment will be perfect for them. I think we've
slipped on right in there. So that gave me some time to think
about what is going on. And really, this to me was the rest
in peace M five M moment. This was not a business decision
based upon we're going to make Fox News better. In fact,
they've lost two thirds of their primetime audience within a
week's time. Oh, yeah. So this was this was a knee jerk
reaction that we may never know exactly. I'm pretty sure Tucker
knew something was coming. I really am convinced to that
because
John C Dvorak: we brought the pizza guy and I've never seen
that on the show. Thank you. At the end of the show, I eat
brings up pizza guy I
Adam Curry: I agree with you on that he knew something was
coming key. He felt it. He's been doing podcast interviews
with Adam Carolla with some some 20 year old kid. And in fact,
let me play this. This kid here, this is the full sand podcast.
This actually was a couple of weeks ago. So it was Adam
Carolla show only only clipped this one. Because what happened
is Tucker had this massive awakening. And when you listen
to it, it's phenomenal to hear how clueless he was, which we
kind of knew. And also, you know, without our show, they
wouldn't have had as much good material, because it's pretty
obvious how, how often our material showed up on Tucker the
next the next evening, right down to the clips almost. So
just listen to this. And you can hear how disgusted he was with
his job, his own performance and with the media itself. And he
drew the logical conclusion, which we, which was the basis
for this very show. almost 16 years ago,
Unknown: I've spent my whole life in the media, my dad was in
the media, like that is a big part of the revelation that's
changed my life is the media are part of the control apparatus.
Like there's no, yeah, no, I know, because you're younger and
smarter. And you're like, yeah, yeah. But what if you're me, and
you spent your whole life in that world? And to look around?
And all of a sudden you're like, Oh, wow. Not only are they part
of the problem, but I spent most of my life being part of the
problem defending the Iraq War. Like I actually did that. Can
you mention if you did that? What do you think what is one of
your biggest regrets in your career defending the Iraq War,
and his wife had a million regrets not being more
skeptical? calling people names when I should have listened to
what they were saying, Look, when you when someone makes a
claim, there's only one question that's important at the very
beginning, which is is the claim true or not? So I say, you know,
you committed murder, or you rigged the last election, before
you attack me as a crazy person for saying that maybe you should
explain whether you did it or not. Yeah. And for too long, I
participated in the culture where I was like, anyone who
thinks outside these pre prescribed lanes, is crazy, is a
conspiracy theorist. And I just really regret that I'm ashamed
that I did that. And partly it was age partly was the world
that I grew up in. So when you when you look at me, and you're
like, Yeah, of course, they're part of the means of control.
I'm like, that's obvious to you, because you're 28. But I just
didn't see it at all, at all. And I'm ashamed of that's not
what the media tries to do, though. It's their only purpose,
right? They're not here to inform you really, even on the
big things that really matter, like the economy and war and
COVID. And like things that really matter that will affect
you know, their job is not to inform you. They are working for
the small group of people who actually run the world. They're
their servants to their Praetorian Guard. And we should
treat them with maximum contempt because they have earned it.
Adam Curry: He knew he knew this was coming. He knew this was
coming. No doubt about it. He didn't know when but he knew he
knew the gun was loaded. It was aimed at his head and I think he
was just enticing doing anything he could including the you know,
I think he put it in the newsletter The Rolling Stone had
the story. I love Rolling Stone, Christian prophets. Blame. Satan
fired Tucker Carlson right wing Christian say, Satan. Yes,
Satan. And he brought that up at his heritage 50th anniversary
celebration. Keynote to get
John C Dvorak: that in there. Oh, look at Vanity Fair thing. I
haven't had substack a party. Come on Monday.
Adam Curry: Do you have do you have is do you have a clip of
that of his heritage?
John C Dvorak: No, I don't Oh, hold on. No, but I do have a
clip my thinking I have my thoughts on it. I think there's
all these theories there's he did this he did that. The most
clever and semi idealistic explanation is from Vanity Fair.
There's a link to it in the newsletter about
Adam Curry: about the about his Rupert Murdoch's fiancee who
Without a Bible at a dinner party, Tucker was
John C Dvorak: about Yeah, sure that was it. And so that so they
claimed that Rupert got irked about this and just decided to
get rid of Tucker get and get rid of his show and get rid of
the fiance got rid all of everything no but because Rupert
is kind of a freak about religion but that that's corny
too, but that proves
Adam Curry: fair but if Vanity Fair is also M five m this is
the whole all of M five M is is crumbling before our very eyes.
No one No one What? What
John C Dvorak: is crumbling, but there's still money there.
Adam Curry: Gives a ship listen to this last night, the White
House Correspondents Association. Did
John C Dvorak: I have some clips from that?
Adam Curry: Great, so do i Here's the comedian of the
evening, Roy Woods Jr.
Unknown: The easiest scandal to follow. Was the Trump documents
scandal. That was the one that was easy to steal. It might be
in the White House.
Adam Curry: Dude, dude. I had two shows to prep. I couldn't
talk to anybody. I'm not stealing your clips. Shut up.
Let me go.
Unknown: To the media, y'all ditch our shop now jumped on
that story. As soon as the Trump document story broke, everybody
was down at Mar a Lago. We're reporting from the documents.
And then we found out Joe Biden had documents too, and it was it
was not a big deal. Everybody got document back with my
business. Oh, look at Chinese Bob, would you look at?
Well done.
Adam Curry: Exactly. And they're laughing at themselves because
they know it's true. And then the craziest thing, you know,
this whole White House Correspondents Association
Dinner is you know, what is it for? Is it for college
scholarships
John C Dvorak: in media, from people that are journalists.
Adam Curry: So, so they have they have an award, the
Katharine Graham award for courage and accountability. Who
was Katherine Graham, is she supposed to be some courageous
journalist? She
John C Dvorak: is the one of the original founder of The
Washington Post. She's very famous. Okay. She was
highlighted in the movie. You know about all the present
Woodward and Bernstein. So when a green lighted it,
Adam Curry: she greenlighted the OP. Oh, beautiful. So this has
to be given to someone who has done some deep investigative
work, wouldn't you say? Yeah. Did you see who won and why they
won? No. Let's listen
Unknown: to Katherine Graham award for courage and
accountability, named in honor of the legendary Washington Post
publisher goes this year to Josh Gerstein and Alex ward of
Politico.
Adam Curry: And why why, for what they do.
Unknown: The judges said Politico's efforts to report
verify and publish the draft Supreme Court opinion reversing
abortion rights and the organization's follow up work
exploring the consequences of the decision were globally
historic and groundbreaking. It flipped the long standing belief
here in Washington DC that nothing leaks from the Supreme.
Here was journalism about a ruling that has had a profound
and immediate impact on 10s of millions of lives. Take a look.
Breaking news out of Washington breaking new report from
political
opinion, the Supreme Court could be poised to strike down Roe v.
Wade.
This is a very unusual if not completely, historically,
unprecedented leak
utterly unprecedented. Ly really a stunning development and one
that's likely to shape the country's social discourse based
on our reporting information that both myself and my co
author Alex Ward obtained, it does appear it has the backing
of five conservative justices
now raises questions about the future of Roe vs. Wade and what
this means for abortion rights in our country. Now,
Adam Curry: do you tell me if I'm crazy about this? So they
got a leak. Super credible
John C Dvorak: supercritical is funny when an award supermini
killing Euro leak,
Adam Curry: they got a leak. And that that gets you the courage
and accountability Katherine Graham award. Thanks for the
leak. I mean, this. That sounds kind of dumb.
John C Dvorak: And I'm not gonna argue.
Adam Curry: And then then here is President Biden, who has said
something very weird about Tucker Carlson. Very weird.
Unknown: We really have a record be proud of vaccinating the
nation, transform the economy, transform the children urge
story closely into victories and midterm results. But the job
isn't finished. No. I mean, it is for these for Tucker Carlson.
Adam Curry: Now listen to the response. What do you think that
response is about? Whoa, whoa, why why? Why was the media
horrific or aghast? Why would they gasping about that? What do
you think that is?
John C Dvorak: I, I Well, first of all, the comedian did a
Tucker Carlson joke and he got kind of a smattering of lot of
uncomfortable laughs You have that one? No, I do have some
stuff, but I don't have that smattering of uncomfortable
laughs and then he called him out on it. I have my clips from
wood are a little different than doing you. I mean, except for
that specific clip. I was noticing this and I didn't I
didn't make a collection. But I will have I mean, I did listen
to Jimmy Fallon. When he did it, they he was actually kind of
taken aback by the round of applause that he got from his
own audience. And in contrast, when he mentioned Don Lemon, who
was also fired, that he got an offer from the audience.
Adam Curry: All right, let's let's let's go back to this clip
and then listen to the gases and then listen to what the
President says at the very end of this clip.
Unknown: But the job isn't finished. I mean, it is for
these for Tucker Carlson.
Adam Curry: I think they're all realizing their own that they
all could get fired. I think that's
John C Dvorak: that's absolutely no doubt my mind. Let's not
cheer that people. We can we can kind of clap mildly but let's
don't overdo it. Exactly.
Adam Curry: It is for these for Tucker Carlson. What do you
think that's not reasonable? So now, what does he mean by this?
Do you think that's not reasonable? It's not reasonable
that he got fired or that that Joe Biden had him fired? Because
that's almost what it sounds like.
John C Dvorak: Wow, you know, I didn't catch this part. Yeah, I
mean, this was going to be something I was gonna clip for
Sunday, but not as you already did this. That's a good thing to
try to deconstruct. I have no idea why you say that. I don't
know. Why he defending his joke. I mean, there's other ways of
doing it. I don't
Adam Curry: think he's defending the joke. I think you said what
you think that isn't that thing but but we do you think that's a
possible surprising
John C Dvorak: intro jack in there.
Adam Curry: You should have said it's no joke.
Unknown: What do you own about? Not kidding, no joke. That's not
reasonable.
Adam Curry: Give me a break. Now listen to this end.
Unknown: Give me a break look, like often say, Don't compare me
Almighty compare me to the alternative.
Adam Curry: What? Don't compare me to the Almighty. compare me
to the alternative. I'm Joe Biden. What is he Satan?
John C Dvorak: Is he talking about Satan?
Adam Curry: He's literally saying he's Satan.
Unknown: I often say Don't compare me to the Almighty
compare me the alternative.
Adam Curry: That's out of the blue. There's nothing to do with
Tucker Carlson. Don't compare me to the Almighty how many Oh, my
knees are there is Tucker Carlson the Almighty.
John C Dvorak: Well, definitely not. I
Adam Curry: think the Almighty in
John C Dvorak: generally one. Yeah.
Adam Curry: Yes. So hemorrhage alternative.
John C Dvorak: Satan. Satan. He's
Adam Curry: just easy. All right. Thanks, Joe. We know
you're Satan. Good. You see
John C Dvorak: that? Did you see when I was looking at the cut
the camera would cut to Biden every so often during this. He
looked like shit. It was so poorly lit.
Adam Curry: Yeah. Oh, there was a lot a lot of things wrong, a
lot of things wrong.
John C Dvorak: It was junk. And so they cut it what did he what
he had, it just looked terrible as all he's got liver spots all
over his face and turrible wrinkles in his hair is falling
apart. And I was falling out.
Adam Curry: His whole face was pretty, pretty tight.
John C Dvorak: Well, I look it looked particularly bad. It
makes you wonder how would how they're lighting these press
conferences.
Adam Curry: So So now thinking back to you know why I think
that this was a whole bunch of things started to stack up. The
Tucker Carlson was doing he you know, he was saying hey, you
know, Jen MP had the January 6 tapes, and I got a clip about
that. But this this really, we know that there's 1/3 rail in
television. That doesn't matter, especially if you're news, but
doesn't matter if you're in anything on television, there's
1/3 rail, just one, there is only one that you cannot touch.
Just one Good evening and welcome
Unknown: to Tucker Carlson Tonight. How powerful exactly
are the big pharmaceutical companies in this country? Well,
that's a big question. There are a lot of ways to measure it. But
here are a few ways you can measure it. In this country, Big
Pharma can advertise its drugs directly to consumers. And
that's a little strange if you think about it. Since consumers
don't prescribe drugs doctors do so why are the drugs being
advertised directly to consumers that's allowed in only one other
country. on the planet, but it's allowed here. So it may not
surprise you that in this country, drug companies spend
more on lobbying the Congress than any other industry a lot
more than any other industry. They don't do it by accident.
They do it because it pays off. In a deal like this a pretty
remarkable deal. The drug companies have worked out with
politicians. So the government uses your tax dollars to buy
billions worth of their products. And then in some
cases, forces you to use those products. Work, sometimes they
don't work. In some cases, those products can injure you. But no
matter what happens, there's nothing you can do about it.
Because politicians have given these companies complete
immunity. If their products hurt or kill you. You can't sue them.
You're not even really allowed to complain about it. That's an
incredible deal. Imagine if your company had struck a deal like
that with the Congress. You'd probably a lot richer than you
are. So that's power.
Adam Curry: Yeah. So that is the third rail. You can't touch that
Tucker Carlson have been even with a third of the ratings with
Greg Kilmeade. Nice guy. He has the personality of a dish rag.
No personal person. Nice guy. Nice guy. I've been on his radio
show. Same thing, like just having zero personality. He's
very functional. I guarantee you they're pulling in more money
than when Tucker Carlson the my pillow guy was picking up
remnant ads for cheap. There was no room
John C Dvorak: for trades. This is not true. Oh really. Is not
true. His his numbers are way up insurance. That advertising
thing ended. And he's getting they were getting good money.
They were getting 60,000,070 According to Variety I was
looking at I was I was trying to figure out what this was.
Adam Curry: I'd love to see that. Well. It still doesn't
mean that big pharma doesn't hold for men. No,
John C Dvorak: I'm not arguing I might. I took a different tact.
But I'm gonna the column will explain it because I think the
drug thing was definitely part of the mix. Because he was doing
then that is third rail and nobody wants to talk about it
because they can't.
Adam Curry: You can't even talk about it being the issue.
John C Dvorak: But I concluded that is really his anti war
stance. Yes,
Adam Curry: I am in 100% agreement. This is NBC
Unknown: off the air does not mean out of sight. Tucker,
Carlson's video on Twitter viewed nearly 20 million times.
The other thing you notice when you take a little time off is
how unbelievably stupid most of the debates you see on
television are.
Notably Tucker Carlson did not mention Fox News nor the reason
for his departure. Messages revealed because of Dominion
voting systems defamation lawsuit may have played a role
according to The New York Times to people with knowledge of the
discussions
Adam Curry: that it here here you see the cover up by all the
other media, although I think Joy Reid mentioned that. They
they can't even mention the real reasons which is definitely
Pharma. And I think you are correct, or I agree with you on
on the war,
Unknown: say the night before Fox settled the case with
dominion for nearly $800 million. top executives and
board members learned of quote, highly offensive and crude
messages crossing sent in the past, and it triggered a crisis.
Fox has not publicly provided a reason for getting rid of
Carlson.
Adam Curry: I think Madison was this second clip from NBC.
Unknown: Meanwhile, the 8pm audience on the Fox News Channel
Tuesday night was down about 50% from a typical night with
Carlson, do you think he has the power to take those people who
watched him loyally someplace else? And is there a platform
that makes sense,
he undoubtedly has the power to take his audience from Fox News.
But maintaining the same influence may be harder.
When you are on television. You have a long tail on the
internet. People are trading your videos. You don't get as
long a tail when you do you know friends Tucker Carlson dotnet
viewed a
high profile host out of a job but not out of the public.
Adam Curry: Fringe Tucker, Carlson dotnet. Okay. Here a
couple of joy read clips. I think the military is mentioned
here.
Unknown: Tonight on the read out, read out
what's going on in the conflict between Ukraine and Russia? I'm
serious. Like why do I do why? Why should I root for Russia?
Which might be worth asking yourself since it is getting
pretty serious. What is this really about? Why do I hate
Putin so much? As Putin ever called me a racist? Has he
threatened to get me fired for disagreeing with him?
No American TV host spouted Russian talking points the way
Tucker did. And Russia is saying it is sad to see him go Well,
tonight there's new information on what led to his Russia.
Adam Curry: Yes, and this is what
John C Dvorak: I hear everywhere. Is Russia say
anything?
Adam Curry: This is what I'm hearing everywhere is Oh, yeah,
you know, that guy is just it was just it was Putin talking
all the time Putin. So instead of understand ending that he was
at war instead of being honest and saying he was talking about
the war. They turned it around. I was like, oh, you know what
this works this work with Trump just said to Russia, yeah.
Number two here. Number two.
Unknown: Tucker took the lead when it came to writing a
revisionist history of the insurrection with the help of
Adam Curry: another good one. Another, another problematic
issue with Mr. Carlson
Unknown: McCarthy, who handed him and no one else 40,000 hours
of footage from that day, which Tucker's selectively edited to
frame the angry mob
John C Dvorak: stuff for a second. This selectively edited
thing cracks me up to this day. They show is basically they show
the guy with the horns on his head, there's no edits
whatsoever. And he yet they just show the guy rolling around and
then being escorted by the cops here in there and in and out of
rooms and whatever. And then they left again, to get pretty
much let the guy go. And how is that the unlocking? Is a piece
out of out of 40,000 hours? Yeah, there was something taken
from that 40,000 hours, but to say, selectively edited, makes
it sound like they created something out of nothing, right?
Doesn't it make it sound like they created a narrative that
did not exist? Yeah,
Adam Curry: in fact, what joy Reid is doing is creating a
narrative that did not exist. This is this is this is
historic, maybe if we're lucky, if we're lucky if we get out of
this. And enough people realize how full of crap that M five m
is. If we're lucky. This will be
John C Dvorak: lucky. If we're lucky. If we're lucky.
Adam Curry: I'm not saying that we'll get lucky but it's
possible if there's some people just might wake up I don't know
it might not. Not everybody. No, no, no, I'm I have some positive
clips about this. Let's go back to Joy read because it's too
Unknown: fun for turning the election as meek sightseers, the
Carlson's
Adam Curry: and by the way, this show is of influence. We are of
influence there are a lot of people who listen to our show
across all what in fact, we have no people of influence
listening. We have only normal regular cops. We got we got
cops, we got nurses, we got some
John C Dvorak: guys that disinvited foreign desk at the
CIA.
Adam Curry: Okay, they love it to
Unknown: our producer Eddie Grossberg told the great Nicole
Wallace yesterday, what else he tried to do with that footage.
When the January 6 tapes were coming out, Tucker was very set
on finding an FBI person who was implanted in the crowd and
spinning this conspiracy, that they were ultimately the ones
responsible for the Capitol attack. I went back to them and
said, Look, there's no conspiracy theory here. I call
this attorney that's representing one of the proud
boys and he flat out told me on two occasions,
Adam Curry: by the way, attorneys are great people to
take information from they are always truthful.
Unknown: There is no conspiracy. Get away from this stuff. This
is dangerous. Tell Tucker to stop. I'll come on your show and
represent my client.
John C Dvorak: Oh, well, did you bring him on? So
Unknown: normally we'll walk off if he asks me this. And the
response was find somebody else Tucker is really intent on this
Adam Curry: that's that Abby a woman that that filed the
lawsuit who was a booker essentially, and never even met
Tucker and she'd filed a boat never
John C Dvorak: met Tucker's never met Booker and let's let's
just stop here and discuss for the masses what a booker is. Now
Booker is is depending on the operation is considered one of
the producers but what they really are is a booker there's
someone who makes phone calls all days and get get
Adam Curry: has a Rolodex. That's the only reason they
bounce around
John C Dvorak: the company Rolodex it might not even be her
own Rolodex. There are company Rolodex as you can believe that
Abby wetter in her last name Grossman. GROSSMAN when she left
she didn't take all her name. She may have her own version of
the of the Rolodex but those names are still a property of
Fox
Adam Curry: you know that is Megyn Kelly also couldn't work
with her hated her when she was at Fox.
John C Dvorak: No, I didn't know that's an interesting little
tidbit a little tip but but Booker's are like the third to
go the first to go our wardrobe. They get the wardrobe and you
started doing cut back wardrobes out you got to dress yourself
now. And it shows on a lot of shows. You can see it on
Adam Curry: makeup, makeup, then light makeup lighting after
that.
John C Dvorak: We'll make up his next lighting may or may not be
after that but then the Booker's go and then they get generic
Booker's and use the company Rolodex, yeah, it's a low end
job. Yeah. That's very important, but I think wardrobe
and makeups very important too, but they go they get rid of them
and they keep the middlemen that don't do anything. It's
Adam Curry: basically one of Booker's in my opinion and I
apologize in advance to the booker for Megyn Kelly if she
doesn't hear this because she won't she doesn't listen Oh, she
rushed into this Thursday they don't have to they're they're a
step above a tabloid journalist. They know all the dirt what's
going on because you know they they have their finger on the
pulse of what's hot they tried to pick the hits who's hot who
do we need who's hot that that's how they do it. Anyway.
John C Dvorak: Exactly.
Adam Curry: What final clip from jewelry
Unknown: but none of that seem to matter to the fox executive
suite know what actually pushed them over the edge. According to
new reporting from the Wall Street Journal was his quote
vulgar and offensive messages about them about his colleagues
that were in the redacted portions of the Dominion filings
including the time that he called a senior executive at Fox
the C word according to people familiar with the matter.
Adam Curry: C word. The C word
John C Dvorak: familiar with the Maris C word? He doesn't seem
it. He doesn't seem like the O'Reilly style of man of post
where he's chewing out people and yelling We'll do it live.
Adam Curry: No, you know what, you know what's happening is in
between because he does the show live in between the commercial
breaks or during the commercial breaks? He said, Uber loses
idiot who is this C word that book this person or you know,
couldn't get back to me. I mean, he's not talking to me directly,
but
John C Dvorak: he doesn't strike me as anything like O'Reilly no
does seem really a mean like a mean spirited person. Yeah. So
Chris seems like a goofball. More. Yeah. Means
Adam Curry: I would agree. I would agree.
John C Dvorak: No, I have a clip. Yeah. This is the view.
announcement and Eric
Adam Curry: Booker, who's your clip Booker,
John C Dvorak: you have to listen very carefully to the
very end because this again brings me back to my point. This
is the view on Tucker, where it has just come down that Fox News
Media and Tucker Carlson have agreed to part way
Unknown: Wait
Come on, folks.
Na na na na.
He is responsible for the degradation that we see somewhat
of our democracy in this country. And I just think as a
faithful person, look at God, look at God, well in
Russian propaganda hardest.
I mean, he's been the biggest purveyor of progress in coffee.
So it's a good day for the Ukraine karma karma does was
address.
Adam Curry: So what does this look at God stuff? Sonny? I
shouldn't he's thrown out
John C Dvorak: there. Good thing that I wanted you to hear what
you probably able to step down by them. It's a good day for the
Ukraine war.
Adam Curry: Oh, crap. Let me listen again.
Unknown: He is responsible for
Adam Curry: here after the Nananana.
John C Dvorak: Yes, after it's the very end. Okay,
Unknown: the degradation that we see somewhat of our democracy in
this country. And I just think as a faithful person, look at
God, look at
God, well in Russian propaganda
hardest. I mean, he's been the biggest purveyor of progress in
coffee. Yeah. So it's a good day for the Ukraine. Karma.
Adam Curry: Catch, good catch. Yes. It's a good game. Good day
for the Ukraine war. It is. It is the biggest budget item in
the in our annual budget eight $900 billion. And they have a
lot of power, clearly. And now you have to question who has
more power
John C Dvorak: no big pharma guy or person anymore on any
mainstream media director could fight that he's the last one.
They got rid of him. And now there's I have thought around
this because because the the left in particular and this is a
left leaning show and all of them are all in Ukraine.
Wargaming left leaning, left leaning show. Wow. Okay, they're
Maoist. But the point is, is that when I was a kid, and I
brought this up and one of the triggering points that got me to
thinking that this is all really about the Ukraine war is the
ouster of Phil Donahue in 2000, I think was 2003. Phil Donahue
was fired with number one show on MSNBC because he was anti
Iraq War. And it came out in memos that were released by
leakers by an NBC they said we had to get rid of this guy
because he's anti war, and he was an anti war voice but he was
a left winger and they were demanding that he put right
wingers on because the right wing at the time, and in 2002 Or
three, we're all war mongers and they all were until Trump came
along. And it when I was a kid, it was the left that was the
peak snicks and the left were big shot or no war, no more war,
and they made a big fuss about it until they changed from
drafting kids out of college into having a professional army.
Once that happened, it turned out that the left wasn't
peaceniks anymore. It was all about them getting drafted and
now they're all war mongers along with the right and that
would Tucker was the last vestige of of anyone who maybe
thought war was a bad idea he's gone.
Adam Curry: I agree that that to me, is the official no agenda
reason.
John C Dvorak: So there you have it, and, and what really irks me
to the no extreme extreme is that when I was at Cal and
Berkeley when the left was all these anti war or anti war, anti
war, the lib Joe friends of mine all those guys was once we're
all anti war, but they're all pro war. Now. How does that
happen? Thank
Adam Curry: you What what happened? It's a spell. It has
to be a spell. I can't be anything else. This is this is
people are not thinking rationally. They have been just
inundated. It comes from Trump. Of course, the Russian collusion
you know, just Trump Trump's the Russia got Trump got trumping so
in Russia is the problem. It's not No, it's not Russia. It's
Putin. It's not even Russia. It's one guy. It's Putin one
guy. And the reason why I'm optimistic about this being
should be quiet now. The reason why I'm optimistic about this
being the tipping point, tipping point the walls are closing in.
The walls are closing in on the M five M, the mainstream media
was this just one of many heroes who stood up at some bullcrap
university lecture, the situation with executive editors
from the New York Times in The Washington
John C Dvorak: Post. I saw this and I said, Should I clip this
melodic clip? Yeah. And I said, No, I make it. I mean, it would
be great to clip it. If you clipped anyone to play it. I'm
all in. I only
Adam Curry: took like a minute 45 And that's a no it goes on
for a very four minutes. This guy is fabulous. I think he also
looked black, which made it even funnier. And this is why I'm
optimistic.
Unknown: Oh, is this the lecture hall with Seymour Hersh?
Adam Curry: Right off the bat. The guy has humor.
Unknown: I just I'm looking for the one with Seymour Hersh
because it's a policy and press
John C Dvorak: event shopping again give a little more
background on what we're looking at. We're live Okay, so
Adam Curry: this is i i apologize I don't know which
university this is and intellectual Hall and onstage
it's a conversation with two editors executive editors one
for was it for?
John C Dvorak: I thought it was for total editors.
Adam Curry: Well, there had to be three and then one moderator
I think
John C Dvorak: no, i There were four people It seemed to me they
were all executive editors, New York Times Washington Post and
one other two other
Adam Curry: maybe Wall Street Journal doesn't matter. It's all
top notch. The top notch the top notch people top guys come in
for some context. What is the job of an executive editor?
John C Dvorak: They oversee the paper they depend depends on the
structure of the of the publisher, they're all
different. But generally speaking, the executive editor
is like above the editor in chief and calls the shots so the
direction of the paper
Adam Curry: they're the sensors is what you're saying. They are
the actual sensor.
John C Dvorak: Sensors are actually the reporters.
Adam Curry: They said they sent her on the way they sell center,
John C Dvorak: but they can't admit to it but that's what they
do. So they're up
Adam Curry: here talk Whoa, blah, blah, blah, blah. It's
while we're doing important work and we got leaks. We got to make
sure they're supreme pod Marbella. Balls balls we call
them balls. Just a bunch of balls sitting up there being all
hoity toity Degas is really executive. Okay, and then this
guy just stands up at the mic. And by the way, what you see is
no one's going, Oh, what is he doing? Now? The people are like,
dudes making some sense over here. Okay, a couple of them
have masks on but still, like no one has let
John C Dvorak: him go. Yeah, I'm Russia by the fact that somebody
didn't just cut the mic.
Adam Curry: No, because everyone knows that. This is what's going
on. This is why I'm optimistic.
Unknown: Oh, is this the lecture hall with Seymour Hersh? I just
I'm looking for the one with Seymour Hersh because it's a
policy and press hall event. So shouldn't we be talking about
the Nord Stream since that's the biggest story of the century.
And you guys, you know, I mean, you have the executive editor of
the New York Times there who came out with a phony story to
try and block Seymour Hersh. It just, it's just kind of funny
how that happened. You know? I mean, did you even acknowledge
Seymour Hersh? All of you were executive editors of papers that
broke pentagon. Me lie. Watergate. Is this the same
papers? Not i
Adam Curry: which by the way were her stories just to remind
everybody me lie Watergate well, not watching but he also know
that he also reported on Watergate but he didn't break
it. But me lie. That was him. That was her. Yeah. Well, so he
got started. This guy is informed. No, we should have
this guy on as a guest to donate donation Secretary
Unknown: Watergate, is this the same papers or not? I mean, is
there anything you've gotten right in the last 20 years? Or
am I mistaken about that? I mean, it's just kind of funny
because I rack wrong. Syria, wrong. Russia gate really wrong.
Okay. I mean, the list goes on and on. So the last thing you
could do to try and actually fix your reputation is acknowledge
that through leaks,
Adam Curry: we had to find someone said shut up. Ooh,
someone said shut up. Man station is
Unknown: acknowledged that through leaks, we had to find
out that the Lenski was going to bomb Moscow on the anniversary.
I mean, if you're so impartial, shouldn't you at least say
Right, that's the Lenski was going to bring us on the verge
of world war three. That seems pretty fair. While Julian
Assange rots in prison, all of you got you know, fat checks,
because he's in jail for doing your job. And you know what,
Tucker Carlson ain't no Seymour Hersh, but he did something you
guys are scared to do speak the truth and actually be critical
of the war, which is why he was actually fired from God, because
you are all cows. A single one of you. None of you actually had
any relevancy. And you know what, the mainstream press is
now dying. Nobody's ever gonna listen to you again. You have no
credibility with the public. The only people who care about what
you have to say are elite assholes. When nothing to say
anymore.
Adam Curry: That's my boy right there. So I'm talking about
John C Dvorak: love the elite.
Adam Curry: The only people the elite assholes. Exactly,
exactly. So I have great hope. Well, I
John C Dvorak: want to play my series of wood clips, because I
clipped the parts where he's actually goes after the media a
little bit was similar. Would would Roy Wood Jr. Oh,
Adam Curry: perfect, please, because I only I didn't see it.
You know, I had to go to bed early because you know, I'm
invalid.
John C Dvorak: should not talk like this. And
Adam Curry: I just say should I just say something amazing.
Amazing. What happened to me?
John C Dvorak: I'm waiting. Yeah. Okay.
Adam Curry: So at eight implants put in. And as part of that
process, Maverick, he's my periodontist. He raised my
sinuses up a couple millimeters. I didn't even know it was a
thing. Gone either. And now it's not the left ear but the right
ear. The hearing has improved even more.
John C Dvorak: Even more something that needs to be
studied. It does something something. This is ridiculous.
distort your story.
Adam Curry: And I can tell because I have my I went from
headphones at 11 to headphones at six and today they're at five
and I heard it. I heard it right away. It's kind of weird. I
heard it when I took Phoebe out to pee. And I heard her peeing
out of my right ear. I've never heard that before. Like, whoa,
why do I yeah, I'm
John C Dvorak: telling you. This is the this is going on? non
trivial.
Adam Curry: It's not and people go see your dentist, go see a
periodontist have a scan done. What?
John C Dvorak: I think your Dez was surprised by this. No, no,
no, no. Well, he says this all the time
Adam Curry: that he says the amount of things of ailments
people have because of their sinuses, which is due to
infection of their upper molars is astounding. The hearing thing
is new to him. That is new because but I'm tune into it. I
know what my hearing is what it became. I know what you're
John C Dvorak: what you're falling into that
Adam Curry: one falls forward. Wow.
John C Dvorak: All right, let's go into Roy Wood Jr. This is C D
which is good correspondents dinner one.
Unknown: I'm happy to be here at this event amongst government
officials who speak to MSNBC former government officials who
now worked at MSNBC and future government officials at MSNBC
John C Dvorak: so he got that through now the only thing that
actually I wasn't gonna record any of this until he did this
joke. This was one of his lines that I actually laughed out loud
and said I gotta get get a few clips from this sketch. Let's go
clip to
Unknown: an often overlooked purpose of tonight's dinner, you
know, serious business. The overlooked purpose of tonight's
dinner is to award scholarships to students who have shown great
achievements in journalism or the future of the industry. I'd
like to stop right now and to congratulate tonight's top
scholarship recipients Arizona State singer George Santos.
Adam Curry: I never heard of this word guy.
John C Dvorak: He's, he's one of the writers of The Daily Show.
Oh, just some sketches there. Yeah, he's actually was quite
good. His timing was good. Everything was. And then the
last clip I have because the scandal clipboard he played is
the paywalls clip. And this is clip five. And this one, this
one really hit with a thump. But it was like I thought this was a
very good interesting clip.
Unknown: Tonight is all about you all the journalists, the
defenders of free speech, the people who show truth to the
world, through different mediums through television, through
print through radio, to whatever China let us see you on tick
tock. The industry that covers all of these scandals, isn't
immune to them. There's so the issue with media is that most
people can't afford that. All the essential, fair and nuanced
reporting is all stuck behind a paywall. Yes. People can't
afford let people can't afford food, not healthy food. They
can't afford an education they damn sure can't afford to pay
for the truth. As soon as you want about a conspiracy theory,
but at least is affordable.
Adam Curry: Wow. That is you know, there's another there's
another reason that they're just going down the tube paywalls pay
away for a while. The only thing that gets gets heat these days
is is headlines. You know the headlines is all people see. And
all they did
John C Dvorak: was help that along. Yeah. And they're just do
Adam Curry: screenshots and the screenshot around my pet peeve.
screenshot of the of just whatever paywalled article there
is. I don't even click on it. You know who you are?
John C Dvorak: Yeah, the funny thing about paywalls is the New
York Times has the worst one. I don't know if I should be
revealing this,
Adam Curry: bro. It's so easy to get around these paywalls
12 ft.io
John C Dvorak: ft is not that great. And I'll tell you
something about the New York Times. I got it New York Times
one. Take one year, take one of your less used browsers and turn
off JavaScript. Yeah,
Adam Curry: exactly. Or, like Bloomberg Bloomberg has an
impenetrable paywall. Except Bloomberg, all you do is just
copy the headline and then search Yahoo because then you'll
find that Yahoo buys, buys it from them publishes the whole
thing for free. Yeah, but that's a lot of work for people. You
know, people don't want it No. hassle, by the way, all the
celebrators were out. Fabulous. Brittney Griner gotta call out
who has a receding hairline? How does that work?
John C Dvorak: There's nude pictures of her that she's just
some dude with no shirt. That's what I think too. But okay, no,
there's no thinking about it. You should see these pictures.
Adam Curry: I've seen the pictures are no. So let's just
continue for a moment because there was another firing which
is not unimportant and happened on the same day within MIT. The
announcement came within minutes, not from CNN, but from
Don Lemon himself. And I think did the clip custodian do this
for me? I think no, maybe this was this was Steve Jones did
this. A couple clips here that when you know it was just like
Tucker, I saw Molly would post. Well, it's all about the
misogyny. It's like Don Lemon was misogynist against women and
their prime trucker was misogynist to call them women to
see where no, Molly would no new clip it for her. No. Could you
get out of your butt? Mollywood. Does anyone know who Mollywood
is anymore? Okay, I'm sorry. No, this is what it's about. He was
armed with avec Ramaswamy and Don Lemon went off the rails off
the rails off the rails, I want you
Unknown: to raise your hand. If you know when the first anti gun
laws were passed in this country. Raise your hand if you
do. 1865 you want to know what happened? We fought a civil war
in this country to give Black Americans the equal protection
under the law that we failed to secure them in 1776.
Adam Curry: So this is from his speech at the NRA. Now do you
think that lines up with the truth what Rebecca saying here?
John C Dvorak: These bill I'm reminded of if you remember this
Tavis Smiley we had a clip of it. year this is years ago, a
decade ago, Tavis Smiley, who had a talk show on on PBS. NPR,
I believe is the producers. And he was cancelled and kicked off
the air shortly after he went off about how the Second
Amendment is the greatest thing it ever happened to the black
population? So we could be armed and protect ourselves. And that
that's No, that was no good. And that was the end of Tavis
Smiley, well, part part of Tavis. So I believe the Yeah, I
do believe this is true part of time. I
Adam Curry: do believe I do believe part of time to have a
Smiley's issue was he railed on Obama? I remember that. That
did. That did not help. I'm looking to see it. I don't see
any clip about the guns per se. Anyway. Okay. I'm an agreement
with you. I mean, there was a lot of things, the Civil War,
but this, it was appropriate to use this at the NRA speech. I
mean, if you're going to be there might as well talk about
guns.
Unknown: But then you want to know what happened. Southern
states passed anti gun laws that stopped black people from owning
guns, the Democrat Party, then as a now wanted to put them back
in chains.
Adam Curry: Yes, yes. That I know from the most show this.
This is totally true.
Unknown: Then as of now, that's quite an accusation about the
current Democratic Party. Who and What were you referring to?
I was referring to Joe Biden and his expression of wanting to put
them back and change dating back to Lyndon Johnson.
Adam Curry: Do we remember that clip? Put him on Lyndon
John C Dvorak: Johnson. I have them. No, no, no, no. I
Adam Curry: mean, Joe Biden, put them put them in chains. Here
this one? No. Do we have it? Yeah.
Unknown: Romney wants to let it he said the first 100 days. He's
gonna let the big banks once again write their own rules on
chain, Wall Street. They gonna put y'all back in chains.
Adam Curry: I was quite controversial from Old Joe there
John C Dvorak: back in the day was a he was a it was great to
firebrand, he's
Adam Curry: a decent nut job.
Unknown: I think Lyndon Johnson, so called a great society was
one of the greatest misnomers in American political his
Adam Curry: Lyndon Johnson was a known race history, where even
back
Unknown: then in the 1960s 70% plus of black kids were born
into two parent homes. Today, that number is less than 30% in
the opposite direction. The very policies that we implemented in
this country in the name of helping black Americans have
actually been disastrous for black Americans and all
Americans. And I think that that's something that we need to
wake up to
in 1865. You're talking about the Black Codes, right? That's
right past enacted to make it a crime for a black person to
carry a gun to that south. But you're equating that to the
current president, you're referring to economic change.
What are you saying?
Well, I was referring to Joe Biden's I think Ill chosen
expression to say they're the party that wants to put you back
into chains. All right. So
Adam Curry: that's, that's a reasonable setup. There's no
reason for anyone to get super butthurt because there's a
factual argument that they can have but Don Lemon, que all of a
sudden, Don Lemon is Martin Luther King, what?
Unknown: Do you have anything on this before I move on to see
what the one has to do with the other but go on, I took up a lot
of time with Fox, it's fine. We don't really see what one has to
do with the other especially considering and using the Civil
War, to talk about black Americans that war was not
fought for black people to have guns. That's that's that's not
that war was
fought for black people to have freedoms in this country. Yeah,
actually, that's why the Civil War was fought. Okay,
this works out a lot for black people to have guns, I think,
actually, you know, funny fact is black people did not get to
enjoy the other freedoms until Second Amendment rights were
secured. And I think that that's one of the lessons that we
aren't allowed to enjoy the freedoms. I
disagree with you on that. I disagree with that. And I think
you're doing a disservice to our country by failing to recognize
the fact that we have
a loss and then you live in this country, then you can disagree
with me, but we're not you mentioned that in the different
shots. I
think we have to be able to talk about these issues. Oh,
Adam Curry: listen to this. Listen to this. I don't know if
you can catch it. But he's saying, Well, when you live in a
different skin, you can talk to me about it. We have three
shades of melanin on the show. This guy is a racist. You think
a racist I agree with you
Unknown: on that done. I disagree with you. And I think
you're doing a disservice to our country by failing to recognize
the fact that you're already black,
and then you live in this country, then you can disagree
with me, but we're not you mentioned in a different shot. I
think we have to be able to talk about these issues in the open
regardless of the color of our skin.
Adam Curry: So VEC kind of scoring a run here. But then Don
just can't leave it alone. The control room was going on.
Unknown: There that to 1865 in 1964 65. And
I think it's insulting to black people. It's insulting to me as
an African American, I don't want to sit and argue with you.
Because it's not generating for you to put that to put those
things together. It's not right. Right. You're telling us history
is wrong.
Your history was wrong.
About the Civil War was fought you making people think that the
civil wars fought for black people only for black people to
get guns.
Adam Curry: Wait a minute, how many times if I heard from Don
Lemon, that the Civil War was fought to free the slaves even
though there's a states rights issue and there's all kinds of
other things will go on? This? He's going against the the The
established narrative.
John C Dvorak: No, no, he's what he said, from his perspective, I
think is not not against any narrative. It's from his
perspective. He says that the Civil War was not fought for
black people who get guns. It's what he said specifically, I
think it's fine from him from him.
Unknown: You're making people think that the Civil War is
fought for black people only for black people to get guns and for
black people to
civil wars fought for black people in this country to get
freedoms, a noble mission. And I think that it even after we
succeeded, we had to actually secure the freedoms
to reduce it. In a speech at the NRA to say you're making people
think you say that black people to get guns. That was that was
the reason that you're there at the NRA. That was a reason for
for the Civil War. It is reductive, it's insulting. There
are a whole piece of reasons for this. So it's
due respect, I find I find your explanation reductive and
actually insulting, including the black Americans to say the
black people today, compared to 1964 1865 haven't made progress
in part because of the freedoms we secured.
Adam Curry: So what is wrong with what Don Lemon is doing
here? It feels very wrong from a morning show television host
perspective.
John C Dvorak: Well, first of all, it's a morning show, so it
shouldn't be. It should be like no worry. Yes, airy. I think
we've talked about this before, which is the morning show is a
structured show that has to be giggly. It has light and airy it
can't be you know about deep gun debates, the Second Amendment
stuff and race and racism and racist I mean, Don is not a
dumb. Well, that's why I've said this before, and I'll say it
again, they put Don Lemon in the morning slot, knowing full well
that is nuts. He's after midnight guy. Yeah, you know.
There's, there's really is a huge difference in person that
you can't put a guy like that on a morning show and expect him to
succeed because he doesn't have the personality for it. And
those women weren't going to let him succeed anyway, because they
hated him. This was I think it was was beautiful the way it was
structured to get rid of me, you know, he walked away at $25
million as a parachute.
Adam Curry: Well, hold on. Let's get the final the final dagger.
The final dagger in the back
Unknown: and the Second Amendment was
I cannot keep a thought if you guys are talking in my ear.
Adam Curry: Like Don Shut up, you're gonna get fired. Stop it
Stop.
Unknown: Hang on one second. So to say that black people hold
John C Dvorak: on a second stop. And again, by the way, somebody
who sent us a note saying you anyway you two guys, you're both
the same. You're interrupting the clips.
Adam Curry: Yes. Yeah.
John C Dvorak: And I said he has called what we do on the show.
Yeah, because some of the times you notice these things. I
didn't notice the first time I heard this that he said yeah, he
bitched about being yak that in his in his I have been
Adam Curry: overrode not the director. He overrode the line
producer or the executive producer who was saying Stop it.
Stop it. Stop it. Stop it. Stop it.
Unknown: I cannot keep a thought if you guys are talking in my
ear. Hang on one second.
John C Dvorak: I cannot clip a thought if you guys are talking
into my ear. You're right. That is grounds for firing right
there.
Adam Curry: You overrode authority Don Lemon. You will
repent
John C Dvorak: black Yep. Oh, that's a very it's a great
catch. Say what you said again, black people
Unknown: secured their freedoms after the Civil War and as a
historical fact don't just study it. Only after their Second
Amendment rights were secured. secured their freedoms
Adam Curry: after the Civil insubordination is what it is
insubordination do we don't have to listen the rest of the clip
that was it. That was that was that was that was the moment
where Don Lemon got fired? Because whoever it was, had the
power. You do?
John C Dvorak: Yeah, it had to be it had to be more than just a
director. It had to be some higher up. You can see it
already jumped the shark earlier and somebody that is directors
was probably yakking at him, he wouldn't listen. And so he waved
over the producer, somebody who's really the boss. It's I
can't get this guy to shut up about this. And so he took over
the mic, the top guy, whoever that is, or Gallagher or GAO, it
could be a guy or gal guy or gal doesn't matter. Yeah, probably a
gal in the morning. And she said, You got to stop doing this
immediately. And he did. And then he chewed them out and said
you can't keep yakking at me in my ear. Isn't that crazy? You're
out. You're done.
Adam Curry: Yeah, yep. That's that's that's that he got a $25
million payout. Really? Yep. I think those days are also over.
I think today's Let's hope so. I think the days of big money like
that are over. I just don't see the ratings justifying it. You
had an interesting take. And we should just wind up this long
drawn out conversation about the depth of the M rip M five M.
Yeah, I'm telling you people are people are onto it. It's for
it's for rich ask,
John C Dvorak: what was my take
Adam Curry: your take was it to Tucker is gonna go to CNN which
I liked a lot.
Unknown: Very good. Very good.
John C Dvorak: I thought about this and I said it before and I
think I posted it a few times. I don't have it in my upcoming
essay on how he got fired. But it seems to me that that the
minute Tucker was fired, then they fired immediately fired Don
Lemon, which is like a signal. Okay, okay. Okay, let's get rid
of this guy. And then to take to take Tucker. It would seem to me
to be genius by discovery, who now owns CNN and wishes John
Malone has have a lot of control over it. He's a right winger to
take Tucker right from Fox and put them in the exact same 8pm
slot. would destroy it, Fox.
Adam Curry: Yeah, it's never gonna happen. Dream on is never
John C Dvorak: over. You know, this thing is these guys aren't
smart enough to pull that off. And I also
Adam Curry: don't think Tucker is gonna go to rumble or the
blaze or anything. I agree. He is going to do further.
John C Dvorak: We may have heard the last a Tucker.
Adam Curry: No, no, he is going to do his own show. He's always
been a fan of what Adam Carolla did and what Joe Rogan has done.
He's been a he's just a big fan of hiring the people you want.
He doesn't want any. Any
John C Dvorak: ghosts as in I mean, he's not going to make any
money while you're driving cares. He's not going to make
any money. He's going to just it's a vanity thing. No, no,
it's no, no money involved, as far as I'm concerned. Doing what
is this? We're doing? We were not going broke doing it? No.
But my point is, we don't have negative cash flow.
Adam Curry: We could be making a lot more money if we if we sold
out to the M five M 850,000. That's 850 CPMs at $25. Hello,
nine.
John C Dvorak: Oh, fortune. All right. The problem is to show
its suck. Yes,
Adam Curry: exactly. It has nothing to do with vanity. I
think now, I don't know if he can pull it off. Without without
the infrastructure he's used to having, you know, we have a big
head start on on understanding how old is he understands it
now? In fact, no, he does. He sees what the M five m is? Does
he know how to deconstruct like, we do know, is it just gonna be
an interview show like Joe Rogan that would be a fail. That would
be a bad idea. He needs to he needs is not as let's just
opening segment he needs to do his opening segment his opening
statement. And this is written for him. Yes, that's fine.
That's what I'm saying. That is what he can do. And he can do
that and distributed as far and wide as he want. As you want. I
don't think he cares about money he has enough is he's a he's a
child of a he's an heir to a fortune.
John C Dvorak: He doesn't need the money. But this is this is
what you're describing as the O'Reilly podcast.
Adam Curry: No, no, no. No. Oh, Riley left as a sleazeball. Who
paid $65 million to women? He harassed, little different?
John C Dvorak: No, I'm talking about the product, not the
Adam Curry: place. But that's part of the products. Now he is
going to set it all up. He wants to have you know, his own show.
He's going to how he's going to put it everywhere. Maybe I don't
know. And it's not
John C Dvorak: Tucker carlson.net.
Adam Curry: And it may not work I'm with you. I may not work but
I think that's what he that's what's in his heart. And there's
nothing wrong with that. Either that or what I think he really
should do. I think he should become a televangelist. That
would be a success formula for Tucker Carlson. Wow. Think about
well, that's off the wall. Think about it. Think about it. That
would you
John C Dvorak: eat it probably actually do.
Adam Curry: Yeah. You know, he is
John C Dvorak: pre cheese preachy.
Adam Curry: Yes. Now that the whole heritage speech was good,
I liked I thought it was dynamite. The only thing he's
done
John C Dvorak: other speeches, I caught them and they're he's
definitely more preachy and more gregarious as it televangelists
style. And in fact, he's even more so than some of these
megachurch guys, who I've seen do who? They were actually laid
back by comparison could
Adam Curry: have a mega church. Yeah. The thing he has to stop
doing is he has to store that
John C Dvorak: data. Yes. Crazy.
Adam Curry: That's nuts.
John C Dvorak: Yeah, that giggles gotta go as a Kamla
Harris kind of affectation. Yeah, I
Adam Curry: don't know what it is, but it's a little much.
John C Dvorak: That's got to stop. Alright, well, let's jump
topics to Campbell ARIS.
Adam Curry: Well, before we do that, I would like you to know
The nation's airways are safe airplanes flying all over the
country are safe I want you to know that air traffic control is
keeping everybody safe I have a recording
Unknown: 17 days 21 days to send it via with the media for
summary 17 safety experts in the money and expect to win seven
right
well they just sent me the harder because I'm right with
India
in the morning unexpectedly seven
Adam Curry: restriction he's not stopping every single call it's
in the morning next
Unknown: 166 and ascending to level 217 For the other
experts in the morning spectrally seven India
Adam Curry: air traffic control doing in the morning with every
single call
John C Dvorak: is it the same guy or is it different guys?
Yeah, it's like two different guys.
Adam Curry: No it's it's one guy it's one guy doing in the
morning but you know there's a couple of guys doing it now
remember there was talk of this? Yeah, because ATC loves us so
John C Dvorak: in the morning sounds like something you would
say if you're an air traffic controller
Adam Curry: yeah if you're on you're on drugs was not a state.
Morning Morning no these are people switching over from
another frequency and he's saying instead of Good morning
he's saying in the morning
Unknown: restrictions expecting seven right we do have 60
seconds
to send it via the freezer we get into Phoenix approach in the
morning it's fairly
John C Dvorak: well I think in the morning so whether the way
to go could take over what if it took over? Nobody ever said good
morning anymore.
Adam Curry: I think that's a genius plan. And we support that
in the morning.
John C Dvorak: And if I would hope that did pilots would
respond once in a while was in the morning. Oh, believe
Adam Curry: me. There's some southwest guys out there and
gals. know Yeah. And some AAES Oh, yeah, at FedEx, lot of
FedEx. You bet in the morning. It's going to be learning it's
going to be the inside joke. They AOP will have articles
about in the magazine. I
John C Dvorak: think there'll be people saying it's not even
knowing why they're saying
Adam Curry: it'll be taught in flight school. And when you
switch over you say in the morning okay in the morning all
right. Good. I got it. Got it both. All right.
John C Dvorak: Is one flight school instructor to start dead
trend.
Adam Curry: Dynamite. So you want to do another topic or do
you want to
John C Dvorak: go to camera I got camera talking about? This
is the most disgusting thing. You've heard this clip? Yeah, of
course. She's talking about cultural ties. And she's gonna
describe she's talking to the South Korean. She doesn't know
what she's doing. She's completely incompetent. So she's
talking about cultural cultural ties with South Korea. Here's a
country that we've been allied with since the 50s. And probably
before but after the Korean War, for sure. And if you go to
Korea, you see it, because the signage like on the highways,
you know that the interstate signs that you see here, same
shape, as you see there with a little funny looking sign for
the interstate 80 and the interstate five and all the rest
of them the same sign shapes are there in the same us sign sheet
the site and everything is you know, the it's just so similar
that you go to Seoul, Korea and this America
Adam Curry: is this breaking news Kamala Harris doesn't know
what she's doing. Breaking news, not depressing. Breaking news,
breaking news.
Unknown: South Korea and the United States as the Secretary
has mentioned also share strong cultural and people to people
ties KPOP Dance they talk the billboards in the United States.
John C Dvorak: Wait stop somebody doesn't like a stop
Kpop chops, the billboards,
Adam Curry: the other billboards.
John C Dvorak: They billboards around the country with the K
Pop. What's she talking about? Top. She says that she mean to
say topping the Billboard charts.
Adam Curry: I think so. John again. Breaking news. Our Vice
President is a moron.
Unknown: They taught the billboards in the United States,
including BTS, who I had the great pleasure of meeting and
inviting to my office in the West Wing. Into the great
pleasure of my niece, I must tell you I also think of the
Emmy award winning TV shows like squid games, which I will
confess Duggan I binge watched at home over a series of weeks
Adam Curry: women I love the binge watch over a series of
weeks binge watching is in a weekend.
John C Dvorak: Yeah, binge watching you sit down and binge
watch, but she do I want you to take it as an example of
cultural ties. The disgusting the outrageously disgusting and
gross show squid games
Adam Curry: because of wine award. Watch Our show it's all
about winning awards just like Kpop top of the charts. The
billboards billboard I'm sorry, top of the billboards. You know,
squid game is Emmy award winning it's politics show business for
Ugly people.
Unknown: And I think of the actress Yun Zhang who I met in
Seoul last year when I convened groundbreaking South Korean
women
Adam Curry: she was groundbreaking South Korean
woman
Unknown: she is the first Korean to win an Academy Award for and
these are examples of
Adam Curry: I thought she won an Emmy not an Academy Award. This
is this is wrong. She wouldn't I don't think she said me and then
she said Academy Award she didn't win an Academy Awards no
John C Dvorak: she's she's out of control ranking knows
Unknown: she is the first Korean to win an Academy Award for the
these are examples of the cultural ties and the
intertwined history between our nations.
Adam Curry: No she she knows what she's saying cultural ties
culture to her is Academy Awards. John Legend Christy
Teegan. Top of the billboards? No Well, I'm going to top your
clip with Jake much now industrial with our vice
president who, who was at a reproductive rights, speech,
reproductive rights, she had something very deep, she had
something deep to say
Unknown: it's very important. As you heard, so many incredible
leaders stop
John C Dvorak: I'm being very annoying by stopping these clips
that have one guy complaining about this. They should now this
the other camera. This is the one who's so stone that she gets
you her pacing her, her cadence goes way low. If you notice
this, she has two different cadences depending on which dope
she smoked. So
Adam Curry: there's two versions of this there is a deep fake,
which is which is really outrageously fake, even the
sinus fake Come on people. But this is what this is what I
believe she really, really said. It's
Unknown: very important, as you have heard from so many
incredible leaders for us at every moment in time and
certainly this one, to see the moment in time in which we exist
and are present. And to be able to contextualize it to
understand where we exist in the history and in the moment as it
relates not only to the past but the future
Adam Curry: it's a moment in time the past the history of the
future today.
John C Dvorak: I think it's because she's been listening to
too much Joe Biden
Adam Curry: No no she she's Yeah, no
John C Dvorak: listen, here's the clip apparently
Adam Curry: week she says week. Oh,
John C Dvorak: Joe Biden This is the Biden think about it clip
you have to play it
Unknown: I'm I'm being very young, deadly earnest about
this. Imagine being a mom or a dad. Look at the inner child you
know, that needs it isn't very to live to live and not having
the money to pay for it. Not a joke. Think about it. Think
about what you'd think about.
Adam Curry: Okay. Think about what you think about. I've been
thinking about that. How about you? Yeah, this, this is what's
so amazing. And yes, that again, there's a spell that has been
cast over our nation and in a yes, in fact over some of the
world that people believe that these are great leaders. Because
people on television keep telling them that the great
leaders and they're fantastic. These are the bottom of the
barrel morons. And we're and everyone's just kind of going
along with it's it. You know, we are it's very much like COVID It
truly is. A slight COVID. Everyone at a certain point,
everyone figured out this is bullcrap. This is just bullcrap.
Yeah, a certain percentage, not maybe 30%. All in and we'll talk
about that later,
John C Dvorak: optimist. No, I
Adam Curry: think it's I think it's 30%. And there's a big
piece in the middle, who were just like, Yeah, whatever, you
know, I really don't care. But now you know, now you're
starting to see the harvest of letting these these nut jobs run
everything. And of course, Susan Rice resigned. Amidst all of the
things going on, we wish she'd picked a bad day to resign or a
good day was on the same day Tucker Carlson got fired. Don
Lemon got fired. So and she of course, is resigning to run
Michelle Obama's campaign. And when and I have more proof of
this, as Michelle Obama shows up in Barcelona, Barcelona, Spain,
with Bruce Springsteen and the E Street Band, she's onstage next
to Patti Scelsa, who is of course the Yoko Ono of the
history band. And she's with a tambourine. This is this is the
most insulting thing any musician, let her up there, sing
along and play the tambourine. And Bruce Springsteen all in on
it and little Steven all in on it poses great ready for a house
party all in. Why? Why? Why in Barcelona, Spain? Why? This is
profile stuff? This is profile. Now.
John C Dvorak: Wasn't Obama there? Obama who there's some
other celebrities there in Barcelona?
Adam Curry: I don't know. But it was Michelle Obama. Not not, you
know, not Brock. No, but
John C Dvorak: Brock was there. So what?
Adam Curry: He wasn't on stage. Why is the one you can
John C Dvorak: say all you want, but there's pictures? Yeah,
great. He looks terrible. But
Adam Curry: who cares? Yeah. Michelle was killing him slowly.
sure of it. Anyway, I'll do one for your side of the house as
Michelle Obama. Now she's on stage with the light we carry
with Oprah. That's not her high profile thing. Now she's going
to Oprah is going to stop these rumors. You know,
Unknown: every time there's a discussion about politics and
who should run for president, your name comes up.
Adam Curry: Listen to the listen to the crowd. How can you not
want Michelle Obama to run with a crowd that just loves her?
Oprah's like, come on, come on. Come
Unknown: on. You know, every time there's a discussion about
politics, and who should run for president, your name comes up?
Why you bring it up?
Adam Curry: Well, because we agreed to like, quote, unquote,
quash those rumors until you know Joe dies.
Unknown: So why are you bringing on now? What you're trying to do
Adam Curry: what you're trying to do? Oh, bro,
Unknown: this is why I want you to click. So I was at a Sunday
brunch. And some people were talking about it. And they were
like, well, perhaps maybe she would consider it. Do you think
she'll ever consider it? I say guaranteed No. So can you tell
the people why you will never even consider it running for
president. Now?
Adam Curry: What reason could she give for never even
considering it?
John C Dvorak: Because she's got no experience in government
whatsoever. And all she has the only reason anyone even knows
who she is because she was the wife of a former president.
Could that be it that she'd say that? No,
Adam Curry: no, no, she's an egotist.
Unknown: You know, first of all, I was like, I've never expressed
any interest in politics ever, ever. I mean, I greet to support
my husband. I you know, he wanted to do it. And I he's been
was great at it. But at no point have I ever like said I think I
want to run ever. So I'm just wondering, does what I want have
anything to do? This who I choose to be you know, have
anything to do with it?
Adam Curry: This is a very weird answer. In my mind, why this is
very weird to die.
John C Dvorak: This answer is a analog of the old Well, I don't
want to run but if I'm chosen
Unknown: ever, so I'm just wondering, does what I want have
anything to do? This, who I choose to be you know, have
anything to do with it? Politics is hard and it's in the people
who get into it. It's just like marriage, just like kids. You
got to want it. It's got to be in your soul. Because it is so
important. It is not in my soul.
Adam Curry: Okay, all right. That seems clear. She's not
going to run. It's not in her soul. It's just like having a
family though. But I think if if they demand they'd have to
demand her if they demand that you Okay, she demanded. I got
Baroque. Baroque understands how to do it. I'll be the president.
I'm telling you, it's uh, that would be a pure way.
John C Dvorak: By the way you kind of hit on the perfect
combination of people running you just by accident. Michelle
and and the tour Bell Rock, not ball rock.
Adam Curry: Michelle on the rock, everybody Big Mike in the
rock. And with that, Mike Reinhold show title. Big Rock.
We are horrible people. God bless you, Joan Rivers for
telling the truth. And with that, I'd like to thank you for
your currency in the morning to you the man who put the sea in
CNN with Tucker ladies and gentlemen say hello to my friend
on the other end Mr. John
John C Dvorak: Lennon morning to you Mr. Adam Carolla in the
morning ships at sea boots on the ground feeding the subs in
the water and all the names and all the nights out therefore
they
Adam Curry: leave in the morning to the trolls and the troll
robots. Before they start, bam, baby 2513. Record.
John C Dvorak: No, it's not even close to the record.
Adam Curry: And by the way, I don't mind that people leave you
know, it's okay. This is where we have all the interviews that
you never hear so you know it's okay if you don't want to hear
the interviews that we're doing the donation segment just ask
John C Dvorak: around ask around so it's what is it 2513 Yeah,
Adam Curry: that's that's big for our new timezone. I think
that's since we
John C Dvorak: changed pretty much in the ballpark. Not
Adam Curry: here always downplaying it. I'm proud of
y'all trolls, proud of the trolls who are staying as what I
am.
John C Dvorak: Which reminds me I should I should bring up this
note.
Adam Curry: Right not gonna read the whole note, are you?
John C Dvorak: No, no, but I'm going to read parts of the note.
Okay, so get this guy bead be Jake Busey producer, Ben. He's
bitching and moaning about everything we do. And then he
says the troll room login doesn't work. And then he goes
on saying that you've been condemning his wife on the show,
Adam Curry: even if he wouldn't mention her name, or what I said
that would be helpful.
John C Dvorak: He doesn't help that doesn't help. And then he
condemns me for sending private messages in the troll room when
I don't even go to the troll room as you know, and you can we
can prove, let alone sending private messages. And so I made
this comment to him I bitched at him he sent a note that just
came in this morning.
Adam Curry: Oh, oh, we
John C Dvorak: sent you a follow up note. Yeah, you didn't get
it? I got who are right he says oh, it was no agenda social.
Well, he's not talking about the show he's not talking about the
troll room which he specifically says troll room problems is the
Adam Curry: guy who said I'm stupid because I don't know
anything I never look anything up I don't research anything he
can't even get the difference between no agenda social and the
troll room
John C Dvorak: that's what he says it was no agenda social I
apologize for this serious mistaken accusation and insult.
This is an outrage. I'm sorry, upset you my wife was upset too.
But at this point, it's neither here nor there. Oh, yeah. He
NAFTA? I don't know. It was like three or four pages.
Adam Curry: It was 3000 words.
John C Dvorak: So I do think though, that the most important
part of this message was missed. The show was ungrateful toward
many of the people that donated in the two for one. Why? When
was this? We were ungrateful for the two for one, which was last
year, more than 50. You know, show 1500 or whatever.
Adam Curry: Okay, look, I've alright, I don't want to bore
everybody with this. And I don't even know why you're bringing it
up. If the matter was closed, as far as I'm concerned, he's
ageist he said, attaboy. Totally Adam is 58 He's just fade away.
He doesn't know shit didn't know anything about tech.
John C Dvorak: Well, now I had to do it, bring it up because of
the following. He says I'm not gonna try to prove this or that.
He says I did then the threatens us is whether I respect you,
which is why I wrote it remains to be seen. It remains to be
seen whether I still respect you after today's show.
Adam Curry: After I sleep with you again, I'll see I'll see if
I respect you. You know what, I'm sorry. If your wife felt
disrespected, didn't mention her name or what was said. I don't
understand why you have to speak for her if there's a problem.
Happy to address it with her. Not with you. I think that you
said something and she got pissed at you to see No, no Oh,
you're him. And him. This
John C Dvorak: is what I always have. Definitely. Like that type
of guy.
Adam Curry: We've had these notes forever. And sometimes I
dig into them. You actually dug into this one pretty deep. I
mean, I was like, Dude, what are you doing? But usually, usually
when people are really, really mad, and you address it with
them, because I always turn the other cheek. You address?
Correct. What
John C Dvorak: is this? Go on. So I'm sorry. I said that. Yeah,
that's okay. River ricing. You're,
Adam Curry: I'm going to turn the other cheek on you for that.
So when that happens, sweet
John C Dvorak: what?
Adam Curry: Usually, it's like, you're right. My wife is mad at
me. I ran over the dog, you know, is all kinds of stuff like
that. So it's okay. This is part of the service we provide. We
really do. It's okay. We're also we're here to help you during
COVID We're here to help you during the Great trans Maoist
period, which I look forward to discussing after this and to the
great interviews which we do during this donation segment.
John C Dvorak: Okay, so Okay, so we'll just be Jack to get BJ get
it we'll just get rid of him be be jack off. Don't
Adam Curry: know, just know she this is this is this is you
being petty. Don't do that. The guy the guy, I'm sure the guy's
a donor and he felt, you know, I
John C Dvorak: couldn't see any evidence of that. His wife is a
donor, whatever it is, she probably is. It's okay. She's a
good woman,
Adam Curry: you know? Yes. I agree. And I'm sorry for
whatever I said, I'm sorry. No, no, I don't I don't wake up to
do this show. And think how can I be mean to someone? I don't
think you well, you'd kind of do it to me sometimes. But
otherwise you
John C Dvorak: I hit Well, that's it. My wife I mean
Adam Curry: to me, yes. Do you Yes. You say that Mimi. Yeah,
she
John C Dvorak: said that he said stop being so mean to Adam. He's
sensitive.
Adam Curry: No, but now I'm the sensitive guy. QR. Thanks, Mimi.
All right. So of course you can you couldn't log into the troll
room blogging does work, go to troll room.io. Or if you're
super smart, and you want to ditch the legacy, podcasting
stuff, get a brand new app at podcast apps.com. We have this
new live feature which is now on for apps. We like pod verse.
We'd like podcast guru, podcast addict and curio caster, these
are all apps that will do this. It's where you get all your
podcasts anyway, now the live stuff shows up and there's an
increasing amount of live shows that are doing this. We've been
doing it for almost 16 years is the wave of the future. It is
the it is one of the big differences with with how we've
improved podcasting podcast apps.com Or go to no agenda
social.com I'm going to do it like a duck fart when we talk
about eggs. Okay.
John C Dvorak: Your egg book yet?
Adam Curry: No, no. That can't give a review yet. Okay, it'll
be coming. No agenda social.com. The login does work as far as I
know. Although, interestingly, you're the one that also was
bitching and moaning about the password reset doesn't mean
John C Dvorak: that was five years ago.
Adam Curry: No, that was a year and a half ago. And it was just
because you were looking at the wrong email address. It's okay.
I turn the other cheek on these things. Yes, that's right. I'm
gonna keep saying it to you.
John C Dvorak: Yeah, it would be fine. If it wasn't the other
butt cheek.
Adam Curry: No agenda social.com You can follow me there. Adam no
agenda social.com or Jhansi. Dvorak had no agenda. social.com
We had a best of clips of the day show four during my
operation. Very grateful to our executive producer Gustavo
Araya, who put that together. Gustavo, if you haven't heard
already. Just look at that my Twitter timeline or no agenda.
social.com people enjoyed this a lot. Yeah, they did. People even
said, you know, I, I need to donate. Because of this. It
reminds me how good this show is. And that is really
appreciated when I hear those things. Gustavo, thank you so
much. It was a dynamite episode. I edited a couple things around
just to even our opening by the way people thought was pretty
funny. I don't know why they thought we always do wraparounds
for these. This was known that is wraparounds. ISM wraparounds.
And people it was it was you know, it was an outstanding
product, only to be topped off with a cherry brought to us by
Sir Paul couture, which was the artwork, which was dynamite. He
was like this beautiful no agenda logo could have been a
challenge coin type thing. Media deconstruction no agenda. Old
Fashioned media deconstruction says it right there were old
fashioned media deconstruction. Some of it felt good. I'm not
sure why.
John C Dvorak: Gotta be old fashioned. Yeah, the old fashion
media.
Adam Curry: But it doesn't matter since 2007. We're like
vintage were small batch.
John C Dvorak: Yeah, definitely small batch. Artisan, artisan,
very
Adam Curry: artisan. Thank you, Sir Paul couture, we appreciate
that. So I don't know if we can really do a deconstruction of
the art because, you know, there wasn't, there was nothing to
compete on. We did pull a piece for 1551, which actually used as
the as the Bat Signal today, which is another beautiful
piece. So artists knocking it out of the park. If you want to
participate in that go to no agenda, art generator.com. You
can see what the artists are doing in real time, you can view
it after the fact. And in fact, in those modern podcast apps,
you can see in the chapters which is which is new. You can
see this artwork cycling through which Dred Scott does for us
every single shingle show, and we shingle show, and we
appreciate it. Yeah, hey, how am I doing though? How am I doing?
John C Dvorak: As far as I can tell you there's no difference
at all, you know, and I'm still the same to me. I don't know.
I'm still sweating, visually have my sinuses checked.
Adam Curry: I'm telling you, man, the scan it'll cost you
about 200 bucks. And you stand in this thing and if it does, it
swirls around your head. And now it's cool and periodontist? It's
a CT scan and the periodontist can take a look say oh look,
look at this. You got Do you have if you have low level
infection right by your sinuses, your life could be changed. You
think you have allergies? Nah, that's what I thought gone gone.
Gone. I was dripping all day long.
John C Dvorak: Horrible. That's yeah, but what about from your
sinus? There you see I mean, the your meat
Adam Curry: and Mimi is so right. Value for value was the
model we chose as you heard earlier, that's because if we
had to use make use of advertising, which is equal to
censorship, the show would suck. So we don't want The show to
suck. We're old fashioned media deconstruction. And so by not
sucking means that we, we live by a different model we live not
just by your boots on the ground reports, but by your support of
the show and anything. Anything helps. It could be. A by the
way, I want to thank Tim how Audrianna who's been doing the
no agenda Web? No agenda show dotnet. Website. Have you looked
at this website recently?
John C Dvorak: Yeah, it is. Very good. Yeah. It's so kick
Adam Curry: ass and he has a lot of he's using a lot of the
podcasting 2.0 features in there. Really appreciate
John C Dvorak: look at it every time I post because I take my
post from his fernet site when I
Adam Curry: post right. Yeah, and and what's best about this
website is you can either you know, I have to do anything, it
updates automatically. I don't have to, all I have to do is
just follow the rules, publish the RSS feed, it updates. People
use it, you there's chapters in there, you can add your own
chapters, you can do what you share clips from it. It's
phenomenal. It's unbelievable. And he has, by the way, offered
to do the new donation page in case you're interested.
John C Dvorak: I'll talk to you I've got some ideas. He would
love failed pages I developed
Adam Curry: now I have a theory. I have a theory. Yeah, I have a
theory that that you actually do not have the login anymore to
divorce.org. And that's and that's why you're you're
waffling on during this page. No,
John C Dvorak: I Come on. Okay, well, there's actually there's,
there's a modicum of. But no, I still have to log in. But I have
to do everything. I do everything to that site using
FTP.
Adam Curry: Yeah. And you won't you don't have an FTP client
anymore. I
John C Dvorak: had my FTP client with all the login information
and everything on it was on the old password anymore. I know I
do have the password, but I don't have any more as the
client and I gotta go get another client and I got to hook
it up. And then I got to the I got to suck the password out of
some other system.
Adam Curry: I told Tina I said there's so he has a
Unknown: roadblock. It's just as roadblock.org/we can't
Adam Curry: change that we have to you have to be able to put a
forward on your roadblock here. divorce.org/na As long as you
can play renewable.
John C Dvorak: I've actually set up a whole computer system in
another room to do that.
Adam Curry: You have what you're contaminating another room in
the house now with this bullcrap
John C Dvorak: would be bullcrap. Studio.
Adam Curry: pile is the studio. Anyway, we'd like to thank a
whole bunch of people. Of course these are donations for to say
this is what I'm talking about stuff. This just falls over
randomly, randomly. Crazy. This is for people who donated during
the best of show that to keep us going which is highly
appreciated that I mean, it's is unbelievable how cool that is
when we have to take a show on not because we wanted to show
off because we had to take the show up. I literally was not
able to talk on Thursday. And people say you know what I'm
doing
John C Dvorak: when Could you start talking again? Because he
I sent a note to you on Thursday or Friday asking how you were
Friday. You send it to me Friday, Friday that you could
talk
Adam Curry: Yes, Friday, I could talk Thursday. It was painful.
John, I'm on. I'm on boxing. I'm on the proxy and dude.
John C Dvorak: It's like water off a duck's back. So, so you
could talk on Friday, so two days a healing and you could
talk again,
Adam Curry: no, three days to three days. And then the problem
I can talk like something like this. They shine a light. Jason
Calacanis, Jason Calacanis. In the chat room you're correct and
approximate is actually equal to ibuprofen. It's not even like
Tylenol, but it's no drugs for me, man. No drugs, by the way.
So Mitch Maverick. He was like, Oh, I'm gonna do something new
this time. And whenever you're periodontal, like hearing I'll
try something new. Because the last time he gave me like some,
like Valium, or what's the other thing that housewives eat comes
in a brick fentanyl. No, no, no, that's the stuff he puts me out
with. What is a dog with a T Come on? Prozac No, no, no, the
billiard
John C Dvorak: you got your troll room there there should be
providing this information.
Adam Curry: sanics Xanax, Xanax. So it was a generic version of
Xanax and I had to take one the night before, and then one in
the morning. And so you know, by the time we're the anxiety, I
know. So he says namaste I got something new. We're gonna do,
we're gonna do Halcyon, do food.
John C Dvorak: Halcyon? Yes. The stuff that makes your neck break
Adam Curry: that I told him this was what Bon Jovi's doctor gave
me on the way back from Moscow and I was loopy for two weeks.
He said, Oh, I'll go I'm gonna give you that dosage. This guy.
He's funny. He's my friend now. We're okay. And why he has a
plane so it's extra friendly.
John C Dvorak: We fly and go bombing around town. Oh, yeah.
Adam Curry: Anyway, so it gives me 500 milligrams of healthy on.
It took me it took me like a full day and a half to really
come out of everything. I was like, including the fentanyl.
John C Dvorak: Anyway, oh my god, you sound just absolutely
the same if we didn't do this segment. No would know.
Adam Curry: Yeah, but I need some sympathy. We kick it off.
Why? Why not? Tina's tired of being sympathetic.
John C Dvorak: Oh, you poor baby.
Adam Curry: That's what good but I can't believe you came back to
work. You're so great.
John C Dvorak: It's unbelievable. What a What. What
a what a stud. Yeah, you are to come back to work and sound
normal.
Adam Curry: Exactly. Thank you. We just went to Vegas. We kick
it off with our executive producer, our top executive
producer Adrian grape from Austin, Texas who said this is
so $1,263.21 This has to be some kind of message. Oh, it was
Palindrome donation day for 1550. By the way, nice job on
whoring out my my procedure for donations. The 3232 23
John C Dvorak: Yeah, I didn't it was a fail.
Adam Curry: It failed. In the morning Adam and JCD my sister
punched me in the mouth. So dee doo shirt with $30
Unknown: You spent D Do not take much of your sister.
Adam Curry: She's only worth 30 I met I met Adam at the Bastrop
meetup great times. That's right. I remember you Adrian.
Yes. That was the huge Bastrop meeting that was at meetup that
was a great one. Biggie that Palindrome remainder of 123 3.21
will instant night me sir. Hey, man, watch this shit. hookers
and blow an hour sharpening crescendos.
Unknown: Thanks. Good evening. Is this Crown Hall day two we're
watching. That was Attorney General Eric Holder a BDS about
some Republicans at home already beating the drums.
Today you've got karma.
Adam Curry: Thank you very much, Adrian dynamite.
John C Dvorak: And this takes us to our next guy who just came
with a check in a short note. Beautiful block from Valley
Center, California. Came in with $1,000. And with the note, Adam,
nice to meet you in Nashville. Gerald. Gerald,
Adam Curry: do what I say. And thank you, Gerald. It was nice
meeting it was nice meeting everybody says
John C Dvorak: that he says you guys crack me up. And that's the
end of the note.
Adam Curry: What a great note.
John C Dvorak: So he's from California went to Nashville to
say hello. Yep. Check in with his superiors, I guess is how
Adam Curry: they will come trying to think Tina will know
because Tina has this uncanny ability to remember names. She
says
John C Dvorak: the salesperson is that's a salespersons
personality. She should be in sales.
Adam Curry: She was in nonprofits. She knows exactly
how to raise money.
John C Dvorak: You just remember one's name is a winner.
Adam Curry: I'll tell you nonprofit people they're better
better than than commercial salespeople. She will she will
know and she will she will say oh that's the only thing that I
remember from California per se and maybe it's just as Pay Pal
is in California. There were two who came to Nashville left
California to become farmers. I wonder if it's if it's him now
he would have he would have mentioned his wife the farming
state here No, no but but it's a retard farming state sorry to
say just so you know.
John C Dvorak: We are the breadbasket Come on.
Adam Curry: A Rune parupalli is iMobile Alabama comes in with
427 elevens
John C Dvorak: probably. Now I can't pronounce it. Aaron.
Adam Curry: A rune I would say a rune I would say Erin well para
para pool up. Pero Polly sounds Indian or
John C Dvorak: or poppies? Pakistani? Yeah. Okay.
Adam Curry: It's a shade of melanin. According to Donald M.
John C Dvorak: It could be
Adam Curry: Adam and John. Thanks for everything you do.
I'm a first time contributor and today my son Abby nobs. 12th
birthday. Yeah, that sounds like like what we're talking about.
He's born on tour. 2711 Oh, Dad, there's your number. Please wish
them a happy birthday and good luck. National Archery. The
tournament in 15 days. Thank you Arun or Aaron. You should have
given us a
John C Dvorak: pronoun Well I'll tell you this Yes, the kids
gonna win.
Adam Curry: I think so too. We're gonna give that kid some
karma. Here's some arrow shooting karma karma also known
as archery. And he's on arrow
John C Dvorak: shooting contest yes are Timothy Weber in
Martha's Ville Missouri 33333 In this switcheroo has switcheroo
which switcheroo This is the donations is this donation is
start my best man and brother on the okay is to start my best man
and brother on the path toward knighthood. On April 29, I will
making love of my life my wife, I couldn't think of anyone
better to have my side then my brother Brandon Weber. The alt
Knight of the alt right. Oh, good title. Dad had one request
before he passed away. He wanted us to stay close and raise
families together. We're both working hard to honor that. And
that being said, I don't think you'd ever have imagined that a
podcast and tool white system. white dudes is still use.
Adam Curry: Come on, throw it in there, man. It's a joke. It's a
joke.
John C Dvorak: Sis white dudes with BONDUS the inside joke we
are at family barbecues, which both know are not inside jokes
at all, but shared with the 1000s of producers have no
agenda. Yes. Your table number will be 33 Your donation is
three, three 3.33 I'm asking. All I'm asking is a deed
douching.
Unknown: bad deed deuced
John C Dvorak: for longtime douchebag and a little wedding
karma for myself and my lady. Okay, you got
Adam Curry: a wedding karma for their buck. You've got karma and
Joe Nelson from Richfield, Minnesota comes in with the same
our favorite three through 3.33 Another switcheroo this donation
is to complete the knighthood for my son Francis Joel Nelson.
born sometime on or after 426 Dude you do you do not know
sometime on or after please night him as night Francis the
third? Oh I see why he's my friend. He's a brand new human
resource here it is update Frankie was born at O dot o one
hour. central time on for 2820 23 Congratulations Welcome
to get mo nation. Our new human resource Francis Joel Nelson. He
will you will be known as night Francis the third and of course
health karma for you and for Mama for a quick recovery.
You've got karma X dynamite dynamite dynamite Ryan Martin's
John C Dvorak: in Arlington, Texas 33333 Hi, John and Adam I
hope you're recovering well from your dental work Adam
Adam Curry: Thank you I am
John C Dvorak: What a week to go dark. A lot of Don Lemon and
Tucker Carlson What if thank you for giving us the greatest
podcast in universities my second donation three two gr
three three best regards Brian we have
Adam Curry: you know we have we have teenage girls wanting to be
boys we have a dumb stupid war in Ukraine we've got everyone's
on pharmaceutical drugs you know and but this is what all what a
week to go dark
John C Dvorak: I know some prospective prospective new
cyclic there was nothing else there is
Adam Curry: some I got lots of other stuff. Then we have a rare
no note at all from Chapel Williams from Edmond Edmond
Oklahoma he comes
John C Dvorak: in with a check every so often a bank check for
33333 and then he writes a note I on occasion there was but
there was nothing on the note on the check now I know it's a
bank. I don't love karma for you chap you've
Unknown: got karma.
John C Dvorak: I mean, do the same thing with Alex Thomas and
Northcote Victoria, Australia who came with 333 and didn't
have a note will go up karma. Karma.
Adam Curry: You got it? You've got karma, then we have Baron
know from SOST Seuss didn't even miss Seuss. Dr. Seuss in the
Netherlands. soused. Seuss is a posh neighborhood where barons
would live 333 In the morning donation for show 1551 which is
33 magic number times 47 The quintessential random random
number a number of the universe loves lit I'd like some karma WT
seven will go away 33 is the magic number yours Baron no
John C Dvorak: doesn't magic magic No. You've got karma.
Well, our buddy Sir Kevin McLaughlin and Norris locust,
North Carolina came in with a great A donation of only one to
do it 320 which is J CDs 10x per tooth donation.
Adam Curry: It paid off.
John C Dvorak: Generally did general health karma for
everybody F cancer karma for the ladies and their sweater
puppies? Not sure what that's all about. Oh, he
Adam Curry: is the last day oh wait, he's the boob donation he
loves America and boobs. So anyone who has issues with the
sweater puppies, he wants to help them out this this is a
very sweet thing to do. Nice.
Unknown: You've got karma.
Adam Curry: What does Laos do mean?
John C Dvorak: It means dead some but Yoda a good day or some
of us love to look it up. It's Latin for some well you day I
think means day day. Oh,
Adam Curry: why don't you look it up? Well, I read word
Fuller's note from McClatchy
John C Dvorak: read the next two notes. Well look it up.
Adam Curry: Thanks. To win a $50 first Associate Executive
Producer for both of these shows will will will credit it to 1551
from Batavia, New York. And words note in his handwritten
gentlemen, thank you for always a great show need karma for my
sister? Oh, praise
John C Dvorak: God. Should have known that day was God no. Oh, I
praise God.
Adam Curry: I should have known that. But I should have
John C Dvorak: known I'm a Catholic. That's the kind of
thing that Catholics would say yes. lapsed Catholic was good as
a lapsed Catholic. Yeah, I mean, I'm a Catholic who hasn't been
to church forever the United go along with the program anymore
so lapsed Catholic
Adam Curry: you're lapsed and laps I would have thought
there'd been a cool alliteration something with a C i crappy
Catholic or something? No, it's just lapse now. Thank you for
always a great show need karma for my sister with cancer and
her brother in law with long COVID karma for all have no
agenda nation and our nation as a whole. Thank you from work
fuller. Yeah, you bet. Bam.
Unknown: You've got karma. I think
Adam Curry: the blowing of the nose was cool. Right in the
middle of
John C Dvorak: his meeting. Some says long COVID It makes me blow
my nose. Then we have
Adam Curry: Danielle Lopers from Fenn ray in the Netherlands
roadex tu tu tu tu tu a long note I will truncate. John Adam
finally got a PayPal account. So I donate to you for too many
years. I was a douchebag a leech, a tapeworm and a
parasite. Wow.
John C Dvorak: Do you pronounce your last name? Lo bloopers
local helpers
Adam Curry: Daniela Daniela
John C Dvorak: Lopers Daniella Lopers invent re
Adam Curry: Vin re Vin ra raw Vin dry then re you go. Knowing
Adam from the TV in the 80s in the Netherlands. I recognize his
name on the website. Aarhus. Oh, when they wrote about his
interview with me Schuchat oh this is the interview that gets
out to the station the radio station burned down gold burned
to the ground. Thanks to you. I was intrigued in the comments
section somebody pointed out the no agenda show and I was
intrigued again in the beginning a little bit weird with a lot of
unfamiliar memes and traditions but soon enough I got used to
the format now this is actually a nice note. It isn't.
Unknown: De deuced
Adam Curry: I found a lot of valuable information brought
with a great sense of humor loved it you know you got hooked
when you are in a conversation and you start your sentence with
at the no agenda show they say even say it on the air traffic
control. I've hit some people in the mouth and some took the
bait. If they don't then give up it's very hard if people don't
take it. I get woozy for a second. Well
Unknown: I agree with that.
Adam Curry: I have the feeling that in the Netherlands we are
guinea pigs for the World Economic Forum psychopaths at
the top you know what you are you are ground zero of the taste
and texture fake meat what a bowl of crap corrupt to the bone
and some politicians too dumb to see it. Yeah. Trying to forbid
broadcasters on national television because they give
another viewpoint Yeah, some guy some guy got kicked out of the
not just tell her the government. I love your show. I
hope I can enjoy it for a few more years. Hang in there. John.
You're the oldest what was his ageism? Danielle is I would like
to request an anti cancer karma. Yeah, we call it F cancer. For
my colleagues Sylvia who's fighting cancer for the fifth
time now. She's a tough cookie and a warrior wishing her a
miracle here healing dika clinical and gluteus from
Daniella you bet Daniela and this is for you Sylvia. We're
all behind you. This time deserves a goat you've got nice
note thank you Daniela Welcome Welcome to get mo nation.
John C Dvorak: So I'm watching a show I'm going to recommend
Adam Curry: This is why people listen to the donation segment.
John C Dvorak: Yes, exactly. It's called it's on NHK it's
used in the mornings in the weekends for sure as called
somewhere Street and is probably the best travelogue show I've
ever seen by anybody somewhere Street. I've not heard it
somewhere Street. Okay, and so it's about somebody roaming
around with a camera and then a mana. It's like a man on the
street. You know, they're, they've set an hour of roaming
around some town. And the last one I saw was in China, some
weird little town in China and they're roaming around bumping
into people going into shops, and they're doing all this stuff
that you would do if you were actually a tourist instead of
just a tour guy. Right? Right. And they had then he runs into
this woman flying a kite in this big in this town. This better
story big kite fliers now, and she and it's a Chinese woman
with a with a cute little kid who is half Dutch and then the
woman is Dutch. She lives in Holland. Oh, okay. The story
shows. Oh, you're married to a Dutch man. Oh, yeah. I come here
to visit my parents. And she said Would you ever move back?
She Oh, yeah, I'm gonna want to move back one of these days
because it's too slow in Europe. Choose to slow my thoughts on
where which game megalomaniac in Concord, North Carolina, is
another yet another switcheroo for Kelly Shermer
Adam Curry: switcheroo train today for a birthday
John C Dvorak: on Tuesday. I recently she writes I recently
got to witness her punching someone in the mouth. Then she
mentioned the show. If we could please hear a listen to that
horn. It would be appreciated. Happy birthday dear friend game.
Megan lo maniac Oh my god.
Okay, there you have it.
Adam Curry: Then we have Dave Dave's not here. Dave's in the
donation. In Tucson Arizona. 233. Hey, John. Adam. First I
need to do Do
Unknown: you spend deed deuced
Adam Curry: thank you for producing the best podcast in
the universe. Well, the producers produce it y'all
produce it. We just do it. I've been a listener for the past few
years. I have no recollection of how I found the show. Stoner.
Hey, man. I found it just dropped in my lap. At first I
thought it was okay. However, the jingles grew on me. As well
as hearing both of you recount bizarre tales and observations
whether they are from the dirty Streets of San Fran are the
Dusty Trails of the hill country, as well as the
occasional bickering. I am donating today because this show
has saved me from bickering. I don't know what what are you
talking about? We never bicker. It's not true. Although, anyway,
I am donating today because this show has saved me from going
crazy by demonstrating that I wasn't the only one questioning
the plan demic and totally safe and effective jabs. Or that I
wasn't the only person amused at anti Trump errs, vowing not to
get the jab. But then as soon as the big Goldie was out of the
office, they were racing and cutting in line to get Fauci his
special concoction injected straight into their arms. Now
this reminds me so yes, and this is a long running subject of our
newsletter, which John does.
John C Dvorak: I gotta I gotta know for some of the other day
because I've been recent newsletter hypocrite of the week
has been COVID Throw back to the people. I won't get that shot. I
won't get any Trump shot and then as soon as he's gone, Oh,
you gotta get the shot. It should be mandated. So I've been
doing those like consistently and I still got a few left. So I
got a note from someone. It says getting old, you should give up
on HIPAA credit and so I figured this is some poor bastard got
like eight shots.
Adam Curry: Which we were not laughing about you doing that
but yeah, so I'm gonna play the two clips here. Since we're
talking about it. It's appropriate. One of our
producers put this little package together two clips. Dr.
Drew who doesn't know him. Dr. Drew everyone knows Dr. Drew TV
Dr. Podcast doctor used to do the Dr. Drew Adam Krystal does
the Dr. Drew Adam Carolla show used to love line, Dr. Drew very
we'd like Dr. Drew. He's a good doctor. Dr. Drew, here's Dr.
Drew from 2020.
Unknown: Somebody's asking about Dr. Fauci and again, just listen
to Dr. Fauci listen to Dr. Berg. Do what they tell you. They've
been saying that from the beginning. They are the ones who
know what they're doing with this. And they will keep you
safe. They do don't do more. Don't do less than they say and
you will be fine.
Adam Curry: Now Dr. Drew from 2023 But I just want
Unknown: to say that I'm having the strangest emotional reaction
to this material because on one hand I am mortified Mitch
disgusted with what we've been through and what we're learning
was happening and how and fine I'm okay with these people
saying we didn't know then why the certitude why that why why
the destruction of anybody who had alternative opinions? Why
get out there and say categorically This is so what do
you not understand how media works do not understand the
impact of your work if this is bullshit, this is bullshit. This
is incredible. We have to hold these people accountable the RF
case it's an incredible yesterday he said it as somebody
asked him what would you do as president if you were to bring
bring this country together? You know, he said, get them to stop
lying to us. Stop lying. Stop lying and we'll kind of come
together on our own. It would make a huge difference. And by
the way, explain yourself and apologize. I'll accept it, but
stop lying. Alright, we're gonna take a little break. Be right
back.
John C Dvorak: Wow, right in the middle of the donation segment
clip up.
Adam Curry: Oh, no, no, totally unexpected. I wasn't even ready
for that. Thank you. Whoa, whoa, that was hoping a wing and a
prayer. Did we know that this was gonna gonna succeed? Did
John C Dvorak: he apologize like he suggested others do? Oh, I
Adam Curry: don't think so. Yeah, I don't think so. So we
continue. A few years ago, I hit my brother in the mouth and
after helping my mother in the mouse, sorry. And after helping
her back up and stopping some of the bleeding, dude, I told her
about the show and she loves you guys. Congrats to Adam for
getting baptized and John from maintaining constant vigilance
over the number of cars on the Zephyr containing men. fistic
nuts. So that's what you get for being for being what were you a
like a lapsed, lapsed Catholic? That's what you get apps lapsed,
you get 15 nuts. Kudos. Wanna Thank you. Well, thank you guys
for your courage with regards to me. With regards to the Marxist
trans cults sweeping across America and harming the youth,
yes. In fact, youth, youth. And once we're done with this
donation segment, which is coming up, we do need to talk
about this because this to me is analogous to the COVID
situation. Parents particularly are confused. They are worried
they don't know what's going on. They have no idea they're
turning to us for help, which is a weird when you think about it.
But maybe because we were right with COVID. And I think now that
people recognize that this, we call it the trans mouse
movement. But there's a lot going on. And we also have a lot
of parents every day, there's a parent telling me what's going
on for some professional so we'll get to that in a moment.
So yes, you're welcome. If you guys had any corporate
sponsorship, you would have been canceled and forced to go on a
humiliating televised struggle session. I don't think that
would have given us that
John C Dvorak: we would have been canceled in the third or
fourth year. Oh, yeah. We would have been canceled during we
have about three cans life Lou talked about this. We have at
least three cancelable moments swine flu every single show or
you've been fired.
Adam Curry: Oh, all right. But back in the day, it would have
been swine flu. was a good one. Zika Zika.
John C Dvorak: ridiculing jingle Yes, we
Adam Curry: did make small heads are coming. This entire thing is
being sponsored and funded by big pharma because a massive
payday for them. expensive surgeries, hormone treatments
for life free money from insurance companies, et cetera.
Yes, true. Anyway, I'd like some karma from you and my wife on
Wednesday, the 26th. I'm taking important test to become a
broker. And my wife is applying for law school to get her JD.
Wow. A process that is made even more difficult that she is
currently out of the country. Well, that's interesting. I
would also like to request extra special goat karma again from my
wife as we are in the middle of bringing her to America. But the
immigration process is currently extremely slow. Dude, I'm so
sorry. You get a good lawyer. You need a good lawyer and email
me because I have a good lawyer. I don't know if he can help but
and by the way, thank you CDC for renewing the vaccine
requirements for travelers coming to the US until August
you Cox you farm a Cox Oh, that you you're fully vaccinated if
you have one shot of the by Vaillant, this is for fun. This
is for Pfizer, doing this for Pfizer, you horrible people.
Come on Congress override this crap. It's right. No, no, they
can do this. They can do this. They tried they do now now that
didn't try Democrats
John C Dvorak: stopped it. In senate in the Senate, really?
Well. Yeah. So of course, I actually gotta take it back.
This Democrats and most of the Republicans, yeah,
Adam Curry: because they're all
John C Dvorak: with Paulie as the only guys stands out. He's
doing
Adam Curry: a great job, though. I mean, it's performative, but
it's pretty funny. I didn't even clip it is so performative. But
he's what Rand Paul? Oh, yeah, he's great. He's doing great,
but it's all this all just,
John C Dvorak: of course, he's grandstanding constantly.
Adam Curry: You know, he's, he's desperately trying to get us to
clip them. That's what he's doing. I can't wait
John C Dvorak: for the next show. Oh, okay. Well, here's
Adam Curry: the goat karma for your wife, brother. You've got
karma. And then we might as well just add Kevin McAtee from
Littleton, Colorado with $200, our final Associate Executive
Producer, no note from Kevin so a coveted double up karma for
you. You've got
John C Dvorak: karma. Yeah, that concludes our executive,
Associate Executive producers for show 1551, which is a
palindrome which produced nothing. Although we did have
some coming in, you want me to read these off and get these out
of the way? No, no,
Adam Curry: no, no, no, no.
John C Dvorak: We're gonna do a second segment. We're
Adam Curry: doing a course we're doing a second segment. You're
raising money? No, no, but I have a lot of meet up reports.
I've got nice things. You always get what you don't think about
all I do.
John C Dvorak: I try not to
Adam Curry: thank you, executive and Associate Executive
producers that you are forever credits. Meaning they're with
you for life. All right. For life like herpes for life. You
never get rid of them, but they are recognized as a badge of
honor amongst your fellow Gitmo nation. Citizens. You can use
them in professional cases, put them on IMDb, they are
recognized as very official show business credits, you can claim
yourself to be an executive or Associate Executive Producer of
the no agenda Show episode 150 1551 the Palindrome can even
add that to your resume. And unlike the phonies in Hollywood,
if anyone ever questions you, we will be more than happy to vouch
for your producer ship. Thank you very much for supporting.
And we'll be thanking more producers. In the second
segment, if you'd like to become a producer of the no agenda show
go here. for.org/and A and a special karma for those who
forgot to call it
Unknown: you've got karma.
Adam Curry: And thank you for producing 1555
Unknown: Our formula is this. We go out for yet people in the
mouth
Adam Curry: bear with me, if you mind jump I gotta do this trans
Maoism segment because I'm telling you the amount of emails
I'm getting about this and the type of email both from people
who are very worried about their children, as well as people who
are in the field boots on the ground is is really on the level
of COVID. So I think it's our duty to help no one else is
really being honest about this. And we don't have to be honest,
we just have to tell people what the producers say they know it
they're out there in the field. So let's start with a clip just
to get us into the mood. CBS
Unknown: breaking news. Montana's governor signed a bill
tonight to ban gender affirming medical care for young people.
Adam Curry: So this has to stop I'm just gonna say it again.
gender affirming medical care is word salad bullcrap. It's sex
change operation for minors. That's what it is not gender
affirming medical care. That is that is a what is the word?
John C Dvorak: A spell misnomer. misnomer.
Adam Curry: It's a spell.
John C Dvorak: It's a bullshit. Yes.
Adam Curry: Well, there's got to be a word for something that a
euphemism it is a
John C Dvorak: euphemism? Yes, the word a
Adam Curry: word but I think we should add bullshit euphemism to
it because that's what it is. It's not it's not gender
affirming medical care. That is a psychological term to make you
feel bad about children not getting and they now shortened
it to care. To care they need is not the care they need. A
reminder this is a spell It's been only been cast over the
United States right now. Sweden, Norway, Denmark, France, UK are
all stopping the medical transitioning. Look if you want
to be queer if you want to be questioning non binary you want
to be Jack the waiter if you want to be a robot, fine by me,
no one cares. But when it comes to without parent parental
consent, doing medical stuff on children your creepy Google
Unknown: breaking news. Montana's governor signed a bill
tonight to ban gender affirming medical care for young people
Adam Curry: disingenuous euphemism Thank you troll room,
including surgeries
Unknown: and hormone treatments. The state's battle over the bill
led to the removal of the state's first openly transgender
lawmaker from the House floor. More than a dozen states now
banned the treatment for minors.
Adam Curry: All right. So now the way this is being positioned
is very important. By an AI even got an email about this, saying,
you know, I like I like what your guys what you guys are
doing, you know, I think you're really covering the trans stuff
fairly but to be fair, you've got to know that, you know, the
Republicans hate us the Republicans what and this was a
non binary person I asked specifically Are you trans? No,
I'm non binary, okay, whatever you want to be. You it's now
positioned as anti trans legislation or anti LGBTQ
legislation, which is completely disingenuous, because ELLs and
G's don't want to transition. They're happy with what they are
also fine,
John C Dvorak: by the way, aren't technically sis gendered
Adam Curry: tickling? Yes. Yes. Thank you. And, and we should
point out the whole concept of CES is to make everyone a
category. No one could be quote unquote, normal. Yeah, I said it
normal. Just you know, the norm. What it used to be.
John C Dvorak: You know, if you want if you want me to
intersperse some of these tick tock clips I've got what's your
right eye? What exactly what we're talking about here? Or
wait?
Adam Curry: No, I think when when is appropriate, you call it
and then is when you need now, do you need do you need one now?
Well, I'm old to talk, talk to talk. Ready? We got to add that
in is very important, because let me set you up. And I'll set
you up with the boots on the ground report. Working here,
your psych ward nurse here working in a psych ward and 2023
with teens and active military boots on the ground, frontline
psych ward nurse here to give you some insight into working
with active military patients with psych disorders and
teenagers who are impatient with psychological disorders. This is
the kind of stuff I'm talking about boots on the ground. You
know, can I see this on CNN, MSNBC, whatever we just played
CBS with children that we have seen, I'd say about four out of
10 of our teen patients at any given time of the year since
2021. Identify as the opposite sex or non binary. This has
noticeably increased since 2020. Back in 2006, to 220 20 at my
psych hospital, we had zero of those patients zero. This
started during the lockdown. When children were on screens,
the predators came out the end and we had they were already on
drugs and the therapist the rapist depends on how you read
the word the term, they started, they started coming up with all
this groovy stuff that a spell on them too, I guess. The
patients we house previous to 2020 just would say they were
gay or lesbian. 2019 We had one of our first trans teens, by the
start of the pandemic and 2020 it became commonplace for these
LGBTQ teen patients. And just to make it clear, we have had zero
actually fully transitioned teen patients but plenty of quote,
pill pop and trans which means they my understanding, they were
already on psychotropic drugs for their anxiety or anything
else that we've convinced ourselves in the schools have
convinced parents that all we need some need some meds. And
now they're of course I guess the pills will also be puberty
blockers and or hormones. As far as active military patients that
identify as non binary they them opposite sex and, and what's
not, it's about the same. Four out of 10. They hold on to their
trauma as if it identifies them sad to see because those people
will never get over their trauma. It's likely that they
wouldn't know who they would be if they actually got over their
trauma. And our doctors just cater to their trauma because
it's what pays them. This is from a nurse. This is just like
we had people saying who were who were training, ventilator
operators, so we're killing people. It's the wrong thing to
do. We heard that back in 2021 during our Vegas meetup also
when a patient claims to be identified as trans or opposite
sex, non binary, etc. The teen slash patient just has to say so
doesn't most don't even look anything like their opposite sex
claim and the non binary binary all they really do is look like
a non gender person. Weirdly. These patients are not specific
to any race either. It's all races across the board. One
thing I've learned from working in a psych ward full time since
2006. Is this. The secret to not ending up in a psych ward or low
in life is confidence. Listen up parents. The one thing every
patient has in common that enters our hospital is lack of
confidence whether they have a psychological disorder like so
psychosis where they hear or see things depression, addictions
may Yes, suicidal, whatever it may be, the one thing they lack
is confidence. I asked all the patients I talked to a question.
Are you a confident person? Or would you consider yourself
confident? The answer so far has always been no. I tell them that
to work on their confidence is the fastest way to help them
feel better or get out of the psychological situation they're
currently in.
John C Dvorak: Wow, I know that's interesting. Yeah, cuz I
don't think that obviously that plays to the two of us being
lacking confidence No, do a podcast there you go. That's
maybe podcasting as a way to achieve confidence
Adam Curry: solution made well before we do a tic tac clip. So
now to Montana and the the, the trans representative whose name
is the sounds like a bull crap name to Zoe was her name here.
John C Dvorak: Zoe or zo?
Adam Curry: No, it's Zoe. Zoe, why Zephyr? Can you believe it?
So always always effort always make sure there's always effort.
As always effort is trams is always effort is an m two F
trans and the reason why Zephyr got censured and can still vote
and can still represent her her base is because she told
everybody you know passing this law you got blood on your hands,
which apparently is out of decorum for the Montana Senate.
John C Dvorak: It would be for a lot of Senate's Yes, of course.
excoriated fellow members of your of your reg branch of
government
Adam Curry: so he or she is just one minute. He she whatever you
want to be I don't care. With an explanation of this statement.
Just
Unknown: nature has systematically attacked that
community. We have seen bills targeting our art forms, our
books, our history books, our health care.
Adam Curry: Okay, so this is this is just unbelievable.
targeting our our books, our books,
John C Dvorak: by the way, a little disingenuous euphemism
when they say, Oh, the Republicans are banning books
and I hear this on mainstream media all the time. They're not
banning they're banning pornography. Borderline
pornography from children's libraries is not the same as
banning books. It's
Adam Curry: and the culture drag shows for children is not
culture. It's just not.
John C Dvorak: It's not it's not I agree. It's not cultures are
not taking them to a museum.
Adam Curry: No. They even have drag shows in museums these
days. And people Americans aren't this only in America.
This I mean, yeah, you know, I talked to Christina about this
maybe three quarters of a year ago. And she you know, Christina
has had her own journey. She says Dad, the trans stuff is
such bull crap to everyone. I know who transition has either
committed suicide is thinking about it or talking about it.
It's horrible. It's horrible. Nothing is going right with
these people. I said these people you did? Yes. You're out.
And yeah, so again, these are all disingenuous euphemisms.
Books isn't and and culture and art. No, no, no, just no.
They're trying it everywhere. Even in little Fredericksburg,
Texas. They tried to bring it in. From Austin. They cave Oh,
yeah. No, we're here to we're therapists. Ding ding, ding
root, root root. We're therapists. And we children have