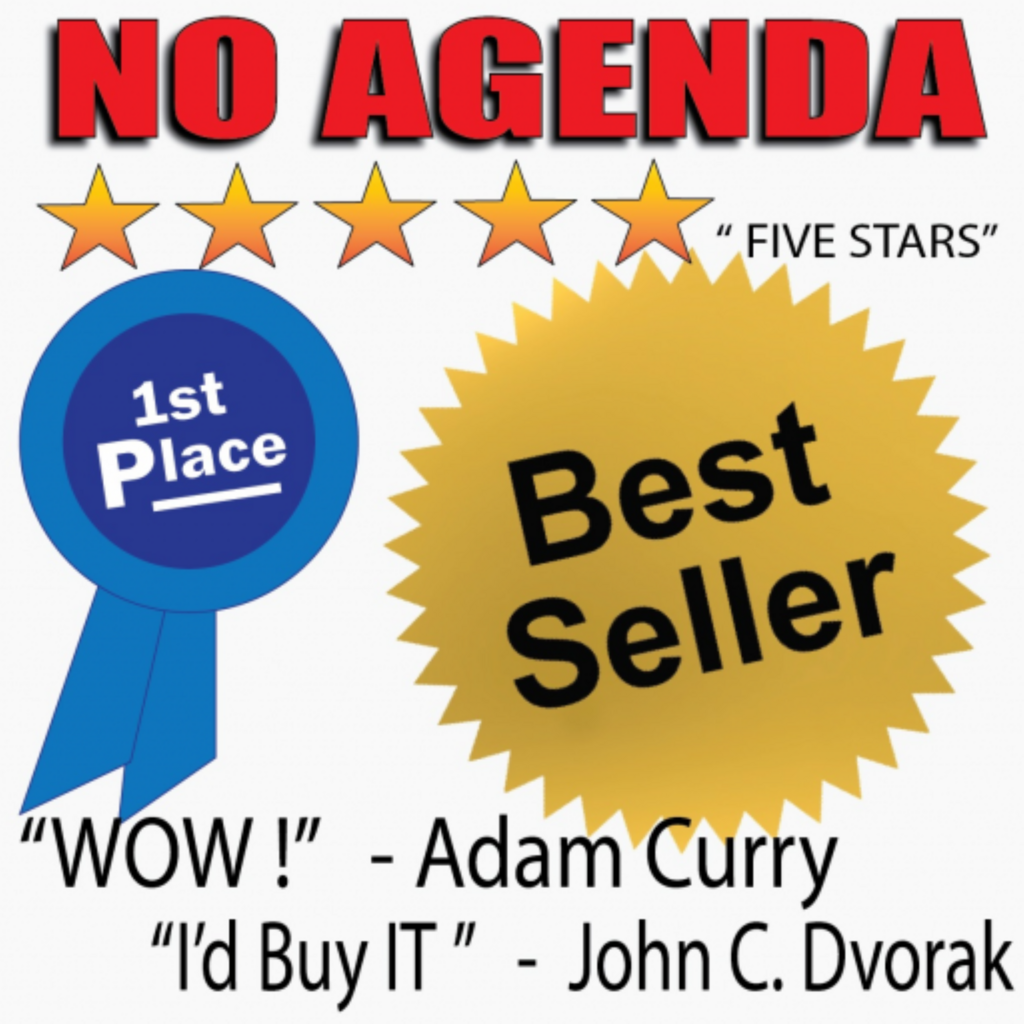 May 11th • 2h 59m
1554: The Verger
Transcript
The transcripts of No Agenda are automatically generated and therefore, not fully accurate. Discretion is advised.
Click the text to start playing from that position in the show. Click the timestamp to copy a direct link to that position to your clipboard in order to propagate the formula.
John C Dvorak: Exactly can down the road. Adam curry, John C.
Devorah.
Adam Curry: There's a May 11 2023 award winning
combination media assassination episode 1554.
Unknown: This is no agenda,
Adam Curry: deconstructing 45 and 42 and broadcasting live
from the heart of the Texas hill country here in FEMA Region
number six in the morning, everybody. I'm Adam curry,
John C Dvorak: and for Northern Silicon Valley where we're all
wondering whether it's true or not, that super beats is a game
changer. I'm John C. Dvorak.
Adam Curry: Okay, I'll bite superbeets You mean the super
beats that all the the radios radio shows advertise? Yeah.
That's been around forever.
John C Dvorak: Super Game Changer. It's gonna be a game
changer.
Adam Curry: A Game changer.
John C Dvorak: What it said in the last ad I saw
Adam Curry: that it No, man, that's not a game changer. It's
all that stuff is lame. What's the Vita veggie regimen?
John C Dvorak: The edge of a supervised super vitamin super
Adam Curry: now see now see, it's such a bad commercial.
We've seen it a million times.
John C Dvorak: It's I always think it was super vital. Vital
vite by no super bits. No,
Adam Curry: it's vital bits. It's no it's not bits. It's
something it's it's fights. It's it's taking your vegetables in
powder form. Yeah.
John C Dvorak: Whatever. I know what it is.
Adam Curry: Fruit super device. So it's fruits and it's no super
fruit. No, this is how bad it is. Even the troll room doesn't
know what it is. This is this is to hear that. I
John C Dvorak: already knows what it is. No, they don't. They
do provide
Adam Curry: some No. No, but we're registering that domain
name supervisors. Everybody gets you a supervisor. It's super
fruit. No, it's daily something or other like, look, look, look.
There's so much going on. And none of it is honest on the
news. It's great.
John C Dvorak: So much is going on. They're not even reporting
half of it. You know?
Adam Curry: I know.
John C Dvorak: I watched the entire CBS News Hour with Nora.
And there was all you're talking about is Trump. Oh yeah. That
pinch the girl's ass and he's a rapist but he's not a rapist. He
was found not guilty of rape and his lawyer comes as well. He
wasn't a rapist. But guys, the horrible lawyer
Adam Curry: what the lawyer said at least he's not a rapist.
John C Dvorak: Kinda let me I think I have the full report
here. Why don't we play
Adam Curry: it? Oh, okay. I've saw those in your clips. Like,
are we really going to do this rape story, but yes, we are.
Okay. Well,
John C Dvorak: let's put it this way. Comer comes out with a
bunch of damning evidence against the Biden family. It's
not even touch. We have those clips. CIA is busted for some
for fixing the last 2020 election. It's not even touched.
Well, but yeah.
Adam Curry: You mean the letter? Yeah, of course. It's balanced
of nature. That's what it is balance of what a dumb
John C Dvorak: name. phallus of nature. Oh, yeah. superbikes
Adam Curry: much better supervised.com provides.com.
Everybody. All right, let's get into this. CBS is right. There's
so much happening. The border, by the way, which everyone's
dishonest about. I got some clips on that. There's gonna be
dynamite show. We have.
John C Dvorak: Let's go. We have at the Rockies group.
Adam Curry: We got everything. But first, let's start off with
right.
Unknown: We begin with breaking news verdicts in this. Former
President Donald Trump, a federal jury in New York found
Donald Trump liable for sexually abusing advice columnist E. Jean
Carroll nearly 30 years ago. The jury also
Adam Curry: did they explain here that this is a civil case
and what the difference is between a federal case and or a
criminal case and a civil case and they explain this in this
report.
Unknown: But your comedian on the former president liable for
defaming Carroll when he denied the allegations, and said she
was lying to get publicity for her book. The former writer for
Elle magazine was awarded $5 million in damages to trial saw
Carol testify in graphic detail about the assault inside a
luxury department store dressing room in the 1990s. The jury was
also shown a videotaped deposition of Trump being
questioned under oath about the allegations. CBS is Elaine
Kahan, who has been following the trial is going to start us
off tonight outside the federal courthouse in New York City.
Good evening, Elaine.
Good evening, Nora E. Jean Carroll appeared to not as the
jury's decision was read. It was an emotional nine day trial and
in a statement, Carol called the verdict of victory not just for
her, but for democracy,
Adam Curry: democracy survivors. Sit for democracy.
Unknown: Writer e Jean Carroll walked out of court saying very
little but the jury's verdict spoke volumes. After just under
three hours of deliberations, the jury of six men and three
women found Trump liable for one count of battery and one count
of defamation. It awarded Carol about $2 million for abuse, and
about 3 million for defamation. This verdict
Adam Curry: is the first time that a former president of the
United States has actually been found liable for sexual abuse.
Oh, wait a minute. Can't Monica Lewinsky go back now and get
some get some dough? Doesn't this open it up to any
president? How about Jack Kennedy? Can this happen now?
John C Dvorak: Anyone can do anything they want. But no one's
doing it that this happened to be rigged. You know a jury in
New York City that for some reason took a dislike to Trump.
Well, because it went from Democrat to Republican we're
Adam Curry: joking around here. But of course rape has nothing
to laugh about. However, the actual so called victim herself
went on Anderson we played that in the last show Anderson Cooper
show saying oh no, it's like a joke about it and joked about
it. Yes,
Unknown: as well as information. Carol had accused Trump of
raping her and the New York Department Store dressing room
in the mid 90s. She first went public with her claim in her
2019 memoir. Trump denied the accusation calling it a hoax.
I was falsely accused by this woman. I have no idea who she
is. It's ridiculous.
During the trial cameo,
Adam Curry: I have to say that's just isn't. It's a dumb response
that Trump is giving there. Of course, you know who she is.
She's suing, you know, you know what I mean? It's like he keeps
a piece that says I watched the whole townhall which we'll get
to in a minute. And he kept saying the same thing. Like I've
never I've never I don't know what this woman is what you do,
obviously. You know, it's a weird way to address it.
Unknown: Trump denied the accusation, calling it a hoax.
I was falsely accused by this woman. I have no idea who she
is. It's ridiculous.
During the trial, Carol gave graphic testimony. She told
jurors, I'm here because Donald Trump raped me. And when I wrote
about it, he said it didn't happen. He shattered my
reputation.
Adam Curry: No nice cut off there.
John C Dvorak: I thought Yeah, cut it there. Because what
reputation as being a rape
Adam Curry: victim. Now she works. She was a writer for Elle
Elle magazine.
John C Dvorak: She still is a writer.
Adam Curry: You heard of her before this? I think I think he
boasted her reputation. Actually. She should be paying
him for the reputation up edge.
John C Dvorak: Here's the weird we're a DISM. I have a comment
on this next short clip. This is DJT rape case. Marla.
Unknown: Trump waived his right to testify and the defense
called no witnesses. outside the courthouse. His lawyer Jota
Kapena said the deck was stacked against his client.
Barbie was obviously very happy that Donald Trump was not
branded a rapist.
But during the trial jurors heard parts of Trump's
deposition in the case that she's not my type. He Miss
identified Carol in a photograph as his second wife Marla Maples.
John C Dvorak: Marla. Hey, I saw that photo. Ah, and I've met
Marla Maples. I know what she looks like that was Marla
Maples. Oh, really? Yeah. And they've showed the photo on the
TV. I've seen this photo before. He's got his he's got to Vaughn
Ivana on the right. And then Marla Maples is standing there.
She's very distinctively look she looks. She's a distinctive
looking woman. She is not as photogenic as she is actually
beautiful in real life. I've talked about this before
Adam Curry: but how does this pertain to this case that he
apparently Miss identified her?
John C Dvorak: They claim me Miss identified or he never went
to testify. They show the picture. He says there's Ivana
and there's Marla, my ex wife. And then they take that and
twist it into he miss identified I was before was that evidence a
hoax?
Adam Curry: Was that evidence they used in in the draw that
picture? Oh, interesting.
John C Dvorak: And the picture I'm telling you it was a picture
of Marla Maples. It is not this woman.
Adam Curry: All right now we have to know just you can you
can abbreviate it. In what context? Did you meet Marla
Maples?
John C Dvorak: The weird one I went to there was a big computer
confab in New York City. And one of the one of the vendors had a
an event and I can't remember who the who the vendor was which
makes you wonder how well because it was boss Gucci Oh,
nice house. Oh man.
Adam Curry: You have lived the life Haven't you? I mean, listen
to this. I just happen to be at Bob Gucci and Gucci on his
house. Publisher of a penthouse. Okay,
John C Dvorak: So Bob Guccio in his house at the time was the
largest Bob to you, right? Hey, Bob. Yeah, Bob. Yeah, it was the
largest single family dwelling in Manhattan,
Adam Curry: later owned by Epstein.
John C Dvorak: Is that was that?
Adam Curry: I don't know. I don't know. Just that's I
thought that was the claim that that was the largest family
today. There's
John C Dvorak: a lot of people there and Marla Maples was one
of them.
Adam Curry: She Hey, hey, Marla.
John C Dvorak: I chatted with her for a minute or two. She of
course, does, as she's kind of bubbly until I said, What do you
do? I'm a writer of that was that
Adam Curry: she weren't. You weren't interesting to her.
John C Dvorak: But I made this one observation. She, for one
thing, she's prettier in person than she is in those photos.
She's actually kind of a drop dead knockout in person. She's
and in photo. She's pretty, but she's not as good looking as she
is in person
Adam Curry: where she ever ain't house.
John C Dvorak: Washing? No, I don't think so. And are you
ever?
Adam Curry: Were you ever in penthouse?
John C Dvorak: I was in the penthouse building. Okay. All
right. No, what would I be doing in penthouse? I did get to be a
judge for the art competition. That penthouse is one of their
spin offs. Once did they used to have a science fiction magazine.
And there was an art judge for that operation. Marla
Adam Curry: Maples was I'm just looking at some pictures, seeing
if there's anything in Panto, she was she really truly is kind
of like the All American, all of our all American Girl. And now
it looks like she was pretty on all natural.
John C Dvorak: Well, when you saw her and in person, you you
could imagine, I mean, the first thing that comes to mind if she
put her hooks into you, which she did to Trump told me we're
doomed. We're
Adam Curry: doomed. Alright, let's finish this because we
have other things to talk about, then patching gossip
John C Dvorak: is good. Go on with that clip three, wrap it
up. For more.
Unknown: Let's bring in chief Washington correspondent Major
Garrett. Good evening. Right? What's the political impact of
this? Because he's running for President?
Yes. And he's the current Republican front runner, not
just a former president, but this was an all terms nor a
character sketch of Donald Trump then and now and how and Senate
Republicans are not rallying to his defense. Just talk about the
case for a second. The defense for former President Trump was
he's rude, he's crude, but he wouldn't sexually batter this
woman and then defame her. Well, in a contested process where
everyone had every opportunity to put evidence and witnesses
before a jury. A jury said no, in fact, that's precisely what
the former president did. Now, those who rally to the former
president's defense say, well, there was a character debate in
2016. He passed and was elected or this is all politically
timed. But Senate Republican leaders today nor on Capitol
Hill in the aftermath of this verdict said there's too much
drama voters will evaluate that. And yes, Trump could get the
nomination but he can't be elected in a general election.
That's Senate Republicans. Their verdict on this verdict?
Bull crap.
Adam Curry: Not true.
John C Dvorak: It's true. He says, Oh, the Senate ripping
always says Senate Republicans, by the way, never mentioned his
house republicans but he says Senate Republicans aren't
rallying to his defense. Why would they? What are they going
to do to set up a picket line? What did he What is he talking
about?
Adam Curry: Don't know? Well, that was the breaking news. Oh,
there was more breaking news.
John C Dvorak: By the way. It was stopped. Hold on one second.
That was at the beginning of the news. The beginning that was hit
that was the top of the news. There was nothing about Biden.
Adam Curry: Oh, no, no, because we had more breaking news. I was
in the car. I was driving. I took her Tina to the airport.
I'm driving back breaking news breaking.
Unknown: Moments after pleading not guilty, just 13 criminal
charges. George Santos was on the federal courthouse steps
Adam Curry: they go home every single day because I have Sirius
XM in the car. The Fox, CNN MSNBC, I think even CNBC when
breaking knows, there's some douchebag and something who
cares breaking news crush of reporters
Unknown: to find this effort. I'm gonna fight the witch and
I'm gonna take care of clear my name and I look forward to doing
the indictment accuses the freshman Congressman of wire
fraud, money laundering, public funds and lying to Congress
about his finances. Federal prosecutors say Santos devised
and executed a scheme to defraud supporters of his candidacy.
Telling donors their money would be used for things like campaign
ads, but instead paying off personal debts and buying
clothes, the government job of collecting 10s of 1000s of
dollars and unemployment money from the state of New York
during the pandemic, all the while making a salary of
$120,000 in Florida. Meanwhile, Sanchez is adding on a $500,000
bond he faces if convicted on these charges a maximum sentence
of up to 20 years but It's unlikely that he would get us
edges that long.
Adam Curry: Meanwhile, Sam has taught me Sam Backman. Fried
roams around free at his parents house. I mean, the the world has
gone nuts.
John C Dvorak: And then the Senate you've taught me for more
mundane news into Trump.
Adam Curry: Now we go to the House Oversight Committee who
had a very reasonable presentation. And it must have
been difficult for the newsrooms because this Comber combers is
it commerces name? Coma?
John C Dvorak: Yes, yes. Yes, coma coma coma
Adam Curry: it big black guy and I was like, oh, we can't call
white supremacy or anything on this. What are we gonna do
John C Dvorak: in a coma is not a black guy.
Adam Curry: Who's the black guy?
John C Dvorak: I don't know who the bike guy was the black guy.
No, no combers or what big
Adam Curry: white guy? Oh, well, who was the big black guy they
got a big black guy good looking big black guy out in front doing
this. Well listen to this.
Unknown: In March the committee released its first bank records
memorandum that showed a Biden associate Rob Walker
Adam Curry: are those Byron Donalds Byron Donalds? No, not
Isaac Hayes troll room. Good one, though now.
Unknown: From the Chinese to various Biden family members.
Democrats dismissed the evidence, even though it was
based on bank records directly from the bank. The Democrats on
the Oversight Committee received the same records as the
Republicans and they were able to verify the information.
Democrat said all the bank records showed were Papa John's
and Starbucks receipt.
Adam Curry: So that's all they could find. This is so good.
This is so good. I think now we get now we get to Byron,
Unknown: when we're talking about these associates, what
what are we really getting at? First? They they use them as
vehicles to move money directly into Biden family accounts. Why
is that? It's because they were looking to obfuscate and hide
where the money was coming from. For example, the Biden's use
their associate Rob Walker to bring in millions of dollars
from China and Romania. Walker's Limited Liability Company
Robinson, Walker LLC paid Hunter, James Halley and others
in the Biden network. nearly $2 million. Yeah, after foreign
money hit his account 1/3 to the Biden's that was the pattern.
For example, on March 1 2017, only two months after Joe Biden
left office, Robinson Walker received a $3 million wire from
state energy HK limited a Chinese entity. The next day 1/3
of that money $1,065,000 went to the bank account in Abu Dhabi of
the company, e IG, which was controlled by James gilliat.
Another Biden associate over the next three months, Robinson
Walker LLC since 16, incremental payments of two more than a two
to over five different Biden accounts totaling $1,065,692.
This included payments to James Biden, who received five wires
and over $50,000, who did no discernible work to earn that
money. A third to get er, a third to the Biden's
Adam Curry: yeah, I've had LLCs and stuff and you know, I mean,
how do you even think you can move this money around like that
without, without someone getting? I don't know,
suspicious?
John C Dvorak: Nobody got suspicious until just recently,
look how long it's been going on.
Adam Curry: But what about the IRS, the IRS doesn't look at
this and go, I mean, when when we went to get our mortgage,
just just a mortgage for this hot for this house. And you
know, you deposit every two weeks, you deposit money into my
account in the bank in California, and I have to then
write a check. Because we can't actually that bank is so weird.
You can't actually wire money. So I have to write a check to
myself, and then deposit it in my in my community bank here.
Then I got question, what is this? What is this money? What's
his money being deposited? For myself? Yeah. Oh, yeah. It's
someone just trying to spike your account. No. So but Biden's
no problem. Third, last clip here.
Unknown: the Biden family doesn't really have a business
John C Dvorak: well established second. Just compare the story,
as is just unfolding in real time, by actual congressman to
the George Santos story. Yeah, exactly. Why is the Santos
story? Top of the news and why don't we have exactly the story?
totally ignored by CBS.
Adam Curry: Okay, I have to say this, what they did wrong, is
you got to this outside on the steps. They did inside you know,
they had the flags, they had the little podium. They should have
done something like oh what Congress people outside on steps
in front of Capitol great shot. It was not a good visual. So I
think that is a mistake on their part. Oh,
John C Dvorak: they should hire a PR agent. Yeah, just to get
the news. News organization supposed to be like Hot on this
sort of thing. It's not important to be sold a bill of
goods by a public relations person. We
Adam Curry: have response from the director of CNN,
Unknown: look over here, nothing to see.
Adam Curry: Look at that guy back to the final clip.
Unknown: the Biden family doesn't really have a business.
There is no business structure around this family, except
politics. And since Joe Biden has spent decades in the Senate,
served eight years as Vice President, and is now President
of the United States, and the family's getting money from
various countries and foreign businesses, through various
shell companies and this web of LLCs I mean, guys, you in the
press? This is easy pickings. I'm giving you a Pulitzer stuff.
Adam Curry: Looking at it, you told me that anyone can get a
Pulitzer Pulitzer is easy, easy, easy. pickins, isn't it?
John C Dvorak: No, you had to be connected.
Unknown: Oh, man, guys, you in the press? This is easy
pickings. I'm giving you Pulitzer stuff here. Like all
you have to do is literally look at our memo and see the level of
detail upon which they have created this. And it's very,
it's very, very frustrating. We have now been able to clearly
see that. The Biden's associates like Rob Walker, Eric Sherman
has been discussed, created at least 16. Companies, while Joe
Biden was Vice President of the United States, 16 companies
created while he was vice president. Now the list is 20.
And as we continue our investigation, that list is
growing. And like I said before, the question is, so serve what
purpose. And the purpose of all these companies being created is
to conceal money that the Biden family has been gaining, gaining
gaining, because Joe Biden has been sitting at the upper
echelon of our politics for almost five decades.
Adam Curry: No, there you go. And as you point out, nothing
silence silence silence from the total
John C Dvorak: silence by the mainstream media on this
believable now, especially after the Donald Trump rape case. And
as George Santos who gives a shit about George Santos story.
Adam Curry: Well, at least ABC This Week was your shuffle,
libelous. At least they're on top of what the people think of
Joe Biden.
John C Dvorak: Wait, wait. You mean on the Sunday morning show
that nobody watches? Yeah, that would
Adam Curry: be the one political director
Unknown: Rick Klein here break it down. And Rick, this polish
is brutal for President Biden.
Absolutely. George and we talked earlier about that record low
approval rating for President Biden, it's actually six points
down just since February, and the skepticism over his
leadership extends deep inside his own party. Only 36% of
Democrats think that their party should nominate Joe Biden for a
second term. 58% say they would support someone else prefer
someone else.
Adam Curry: This is what was funny. So the guy has has his
screen up. And it's like 38%, Joe Biden and then 58%. Someone
else? I've never seen that. It's always been there's always been
a name. I mean, literally just said someone else.
John C Dvorak: The majority of it literally says someone else.
Yeah,
Adam Curry: we all know it's Michelle Obama, but Okay,
someone
Unknown: supports someone else who prefer someone else. That's
despite the fact that the entire DNC and most of the Democratic
establishment has rally behind President Biden, and you're
seeing real weaknesses in the coalition that powered Joe Biden
to the presidency back in 2020. Biden carried independents by 13
points against Donald Trump, he is now trailing Trump by nine
points. Most same voters, he carried black voters by 75
points in 2020. Now he's up just 35. That may sound like a lot,
but the fact Oh,
Adam Curry: I guess they're not black anymore. 4040 Black
Americans are no longer black matter
Unknown: is in modern politics. That is not the kind of number
that a Democrat needs to be victorious. And then of course,
that that does spill over into the head to head matchup the
hypothetical rematch Trump versus Biden, right now a seven
point edge in our poll from Trump leading Biden, and fastest
an identical number with Ron DeSantis. In a head to head that
might happen next November. That tells us at this very early
stage, George that this race is shaping up a lot more about the
incumbent President Joe Biden, than it is about any of his
challengers.
Adam Curry: Yeah. Oh, boy. Oh, boy. Well, that's all part of
the takedown that you you signaled to take down of Joe
Biden and you believe Kamala Harris is is on deck.
John C Dvorak: Sick is that is Yeah, yeah.
Adam Curry: Oh, by the way, this may be there's a little clip
here. Just I think President Biden was talking to Chinese
American business women. I think that's what he's talking to. And
this is part of the reason I think why Americans just
Americans are all kinds of creed races, backgrounds, religions. I
think that kind of like this guy's toast. We can't have this
guy.
Unknown: Groundbreaking Asian Americans like very Wang.
Adam Curry: Vera Wang groundbreaking yet 40 years ago.
But okay.
Unknown: Americans like Vera Wang, and and Jones this machine
gang pasma Shanga koala koala? They can't pronounce it
Adam Curry: correctly? I don't think so. Anyway, for President
Trump did a town hall on CNN very, very interesting. And we
know CNN has new ownership, new boss in town, this is rather
early to have any type of Town Hall from any candidate. So
there was a lot of Pooh poohing from the political left and what
it was about, what a student doing that just riding tours,
but why were they brought up? Well, of course, of course,
they're doing it for the ratings. And what was the the
woman's name who did? What I think she did a very admirable
job. What is her name again?
John C Dvorak: Nobody thought so.
Adam Curry: I, you know, first of all, considering it's exactly
what you'd expect from Trump, he answered everything exactly the
way he would have, you know, six years ago. Yeah. Yes. If you're,
if you're on the left, you thought she did a great job,
which I'm not either. If you're on the right, you know why she
was stupid, you know, Trump, Trump own? Of course, he owned
her. Sure. She got her questions, and she didn't she
didn't break the core. Um, I thought I'll give her props for
doing sauce.
John C Dvorak: I you know, I did a couple of things. One, I
didn't watch this except in pieces, because I figured you
would. And he did. I don't know how we do that. But it manages
its band. Like yes. That's weird. And I the pieces I saw I
thought she was just kind of a creep.
Adam Curry: Well, of course, it debated Caitlin Collins. This is
yes. Now I will say the choice of outfit is not what I would
have selected as stylist and just acting as a producer here
for a moment. I don't think all white was appropriate. She
needed to hit. I don't know what what that was supposed to
signal. But it didn't it made her look too nice. Compared to
her very accentuated makeup and dark hair. So just as just as a
producer thing. I thought that was a bad choice. She didn't
have power. You know, it was not a power outfit.
John C Dvorak: Yeah, it should have been red or blue or
something like anything.
Adam Curry: Anyway, so I have two highlights, one from CNN
themselves. And then of course from some political YouTuber
John talks. So you can you can slice it both ways. CNN
highlight reel first.
Unknown: Former President Trump met a friendly audience in New
Hampshire. He even drew laughs when he mocked the trial in
which a jury found him liable for sexual abuse. What kind of a
woman meets somebody and brings them up and within minutes,
you're playing Hanky Panky in a dressing room. Okay.
Trump also defended comments he made on the Access Hollywood
tape saying he could grope women. I said
it's been true for 1 million years approximately a million
years perhaps a little bit longer than that.
So you stand by those call. I don't want to lie on abortion.
He says he favors exceptions for rape, incest and the mother's
life but would not say if he'd signed a federal abortion ban.
Some people
are at six weeks some people are threatening. President Trump is
going to make a determination what he thinks is great for the
country
throughout the townhall host Caitlin Collins often sparred
with Trump. I would like for you to answer this very simple.
It's very simple to you are nasty person.
Adam Curry: That was that was it was so uncalled for what she did
there, that he that she deserved that comment from him, what did
he do? That's why I asked that. We sit
Unknown: here listening to President Trump is going to make
a determination when
Adam Curry: she was hounding him. She kept hounding him
saying, Well, what are you good? Would you sign a national
abortion ban? Will you sign and he was very clear, he's like,
you know, what he was basically saying was, I'm going now that
Roe v Wade has been overturned, there's negotiation room, which
I didn't put in this clip. He said, it used to be that pro
lifers had zero negotiation. And as we all saw, with our own
eyes, the pro abortion choice, whatever you want to call it,
they pushed so far, it was like wow, and the baby's dead born
you can still kill it, you know, three weeks up to nine years
old, you should be able to kill the kid. They push, they push,
they push the push, and Trump now says appropriately says now
there's negotiating room and he's clearly signaling that he's
not all in on no abortion whatsoever that it's up for
negotiation. She kept saying, dang it. Man. It was it was
annoying because he was clearly saying, hey, it's open for
negotiation. We're gonna end the country is not all pro life and
not all pro choice. And he was saying that in a very reasonable
tone. And then she just got all that you did get nasty about it
and you'll hear
Unknown: it hear what he thinks is great for the country
throughout the townhall host Caitlin Collins often sparred
with Trump. I would like for you to answer. It's very
simple. It's very simple to your nasty person.
Adam Curry: It was uncalled for my my
Unknown: prompting testy moment, given many opportunities to
accept the 2020 election results, he continued to make
false claims, and he would not take aside in the ongoing and
bloody war in Ukraine.
Can you say if you want Ukraine or Russia to win this war?
I want everybody to stop dying.
Adam Curry: The Dow Heath was really anti war. very appealing,
I think to people certainly to that crowd. So now here's a
here's a more pro Trump cut of the CNN evening. It's a super
cut. So of course, we always have to put stupid music
underneath the flight of the bumblebees, music please people
stop doing that John talks from YouTube. What is the
Unknown: first thing you would do to help bring down the cost
to make things more affordable?
Drill Baby Drill and by the way, the way he got out of
Afghanistan was the single most embarrassing moment in the
history of our
country. Why did you why did it take me three hours to tell them
to go home
I don't believe let me pull it out I have 26 I'm a veteran a
helped manage a private aviation company wanted your loved one
Yeah. Yeah, I'm looking for somebody very good
Ukraine to win this war.
I don't think in terms of winning and losing I think in
terms of getting it settled so we stop killing all these people
and breaking down
by a crazy woman named Nancy Pelosi is what you give Ukraine
country is being destroyed by stupid people by very stupid
people. You want
said that using the using the debt ceiling as a negotiating
wedge would just could not happen you you said that when
you were in the Oval Office. So why is it different now that
you're out of office? Now? I'm
not President
Are you ready? Can I talk? Yeah, what can I do mind?
I would like for you to it's
very simple. It's very simple to your nasty person.
Adam Curry: Stop doing the music people. So I thought by far the
most interesting
John C Dvorak: that was that was you know, as super cuts go.
Adam Curry: It was not a great was really crappy.
John C Dvorak: Yeah,
Adam Curry: I know. But I'm just showing you that you could cut
this either way you want it depending on whoever you work
for. Or if you're on YouTube, and you Yeah.
John C Dvorak: You should be able to Yes. And that's what
happens.
Adam Curry: What I thought was interesting was the the debt
limit questions, and which of course he had all these
questions were set up with people had the cards the
producers have given to them up front. I think pretty much
everybody in the crowd was pro Trump, even though Oh, not sure
gonna go vote this year, for sure. And he was
John C Dvorak: if there was an art debate on some other show
about this, and they did was billed as a Republic as a as an
event for Republicans. And so it should have been a group of
people pro Trump, it won't later people bitched about all their
pro Trump does No,
Adam Curry: dog, dog. Oh, they even said that it was undecided
voters and, and people who had voted for Trump previously, but
weren't sure now. Okay. But his his view of you know, his we've
always been, I think, amazed by his macro economic views. We
didn't really know he was such a macro kind of guy is very
interesting views on this debt debate, which actually, let me
play this little explainer from the Wall Street Journal. It's
only a minute that explains what this is about.
Unknown: Party leaders are still debating raising the debt
ceiling as the deadline to default gets closer. But they do
agree on one thing. Our debt is not enough, not an option. It
will have catastrophic consequences. They're not
exaggerating. The US Treasury uses tax revenue and debt to pay
the country's bills, like funding government programs,
Social Security and paying interest on existing debt. If it
runs out of money and isn't able to pay these investors back.
That's default. And that's what will happen if Congress doesn't
raise the debt ceiling to allow the Treasury to take on more
debt,
which would cause massive upheaval in financial markets,
stock prices falling, interest rates rising probably the dollar
falling too, and that could affect a wide range of your own
financial life. You know, Worst case scenario, it could cause a
whole new recession.
It's because you buy
Adam Curry: a new one, what are we in?
John C Dvorak: The this is all supposition, they have no idea
what would happen, exactly
Unknown: affect a wide range of your own financial life. In a
worst case scenario, it could cause a whole new recession.
It's because US debt has become the core of the economy, from
Wall Street to banks to interest rates, US Treasury
borrowing is the center of gravity for almost all finance
on the globe.
Here's why. How it works and what a default would mean for
you.
Adam Curry: Okay, so as you as you point out to supposition, we
have no idea what is important to understand is that it's not
completely binary, like, well, but if we don't raise the debt
limit to print more money, borrow more money, then you will
default Well, no, you could not spend the money on other things,
which is always the debate. We've seen this at least 30
times, no, at least 20 times in the course of yeah, maybe in the
course of this shows existence, this debate, and it's always
back and forth. And Trump had a very interesting take on it,
which I think was was not was underplayed? Because it it's
something that the no one wants to die, think, believe.
Unknown: Such an important question. So we're at $33
trillion, and number that nobody ever thought possible. When we
had our economy rockin and rollin, just prior to COVID
coming in, like literally, we were making a fortune and oil,
we're gonna make so much money from well, we want to start
paying off debt. But then with COVID coming, and we had to do
other things, we had to keep this country alive.
Adam Curry: Remember, you said that he wants to refinance the
debt back in those days, which I always thought was a fascinating
idea. We refi that, yeah, refi. And we could have, I think, I
think he's right, we could have If COVID hadn't hit, he might
have done it paying off
Unknown: debt. But then with COVID coming in, we had to do
other things. We had to keep this country alive, because it
was so serious. But we have to get the country back, we have to
lower energy prices, we have to lower interest rates, interest
rates, through the roof, energy has to come down, it all has to
come down and we have to start paying off debt. But when we
have
Adam Curry: the only person I hear talking about paying off
the debt, no one talks about that, but him
Unknown: a debt limit. And they use that very seriously. I mean,
they came in Schumer came in with Nancy Pelosi, and they will
use it will violate it will do whatever. They talked a whole
lot different than they do right now. I say to the Republicans
out there congressmen, senators, if they don't give you massive
cuts, you're gonna have to do a default. And I don't believe
they're going to do a default because I think the Democrats
will absolutely cave, because you don't want to have that
happen. But it's better than what we're doing right now.
Because we're spending money like drunken sailors. So
just to be clear, Mr. President, you think the US should default.
If the White House does not agree to the spending cuts,
Republicans
will do it now. Because you'll do it later. Because we have to
save this country, our country is dying. Our country is being
destroyed by stupid people by very stupid people.
You want said that using the using the debt ceiling as a
negotiating wedge? Just could not happen? You You said that
when you were on the Oval Office president. So why is it
different now that you're out of office? Now
I'm not President.
But here comes the US defaulting would be massively for everyone.
For all of
us. It's psychological, it's really psychological more than
anything else. And it could be very bad. It could be maybe
nothing, maybe it's a you have a bad week or a bad day. But look,
you have to cut your costs, we're spending $7 trillion on
much of it on nonsense, $7 trillion, or nonsense. All of
that money that was wasted. And frankly, the Senate should have
never approved it, get all that money that was wasted. And if
they don't get rid of that you'll have to default.
We've got another voter hurts by
the way, you're gonna default eventually anyway. But it's
gonna be much messier. I don't think you'll have to default. I
think if the Republicans hold strong and they say we want
five, let's say we want $5 trillion off, I really think the
Democrats have no choice but to do it. And if I win, they're
going to be doing the same thing to me in two years. I guarantee
you that
Adam Curry: I think that's really interesting. And he says,
you know, it's all psychological could have a bad day could have
a bad week could be horrible. We don't know. And that's the
truth. But it's so horrible. How many, really, it must be 20
times that we've been through this debate and we've listened
to all this nonsense
John C Dvorak: can be just once a year so I mean, it's not
Adam Curry: always it's not once a year. I think it comes
whenever we hit the ceiling. It's not a yearly thing.
John C Dvorak: It's happened multiple happens a lot. It
happens.
Adam Curry: It happens a lot. Yeah. And so now, it's so
tiring. But this, this is what I had. And I don't recall this
coming up as a solution as an emergency measure, which of
course, now we have Janet Yellen, former New York Bankers
best choice. He loves her, Janet Yellen. And now we have one,
because it's going to be could be June 1, it could be June 15.
Today, we're running out of cash. We got no more money, but
we have a stick behind the door.
Unknown: And then it comes back to the president. He said on
Friday night that he's not ready to invoke the 14th amendment. Of
course, the 14th Amendment says that full faith and credit the
United States should not be questioning the implications
that would be if he invoked as the United States would just
continue to issue debt saying it's unconstitutional. Not to
know the President said he's not ready to do that. But it didn't
seem like he took it off the table. So is it still a
possibility?
Our priority is, is to make sure that Congress does its job.
There is merit in our system in our economy, other than Congress
doing its job, and raising the debt ceiling and enabling us to
pay our bills. And we should not get to the point where we need
to consider whether the President can go on issuing
debt, this would be a constitutional crisis.
But do you but is it on the table? Is it something that
could be considered Are you saying you just said there's no
way this can be done without Congress? Is that a hard and
fast position that the President will under no circumstances
invoke the 14th Amendment?
But all I want to say is that it's Congress's job to do this,
if they fail to do it, we will have an economic and financial
catastrophe. So it will be a viral making. And there is no
action that person and body and US Treasury can take to prevent
that catastrophe.
I'm still not exactly clear on whether it's on the table or off
the table. Is it a break glass in case of emergency option?
Look, I don't I don't want to consider emergency options.
What's important is didn't members of Congress recognize
what their responsibility is, and avert what will surely be,
regardless of how it's handled, what options used to handle it
in economic and financial catastrophe.
Adam Curry: I, I'm very confused by this 14th 14th amendment
talk.
John C Dvorak: This thing? I'm gonna throw something at did
they haven't mentioned it yet, but you're gonna start hearing
it probably as we get, like, within a couple of days of June
1, the term which we've heard it before, and here it comes.
Continuing Resolution. Yeah, yeah. As we recall, this has
happened before and every time it comes up, they never can
really just say, yeah, they can't say no, they do. Well, we
have a continuing resolution, which all it does is kicked as
here's the other term, kick the can down the road. So we hear
that again. So there's gonna be continuing resolution and kicks
the can down the road, and there's going to be, and this
will probably go on until close to July.
Adam Curry: Right. Now, I'm just I'd like to hear from some of
our constitutional lawyers how the 14th amendment which
describes the full faith and credit which is something about
the states having to adhere to the judicial proceedings of
others. Oops,
John C Dvorak: there's a reason we haven't heard from anybody
about this. Okay. This is bullcrap. Ah, there you go.
Adam Curry: Yeah, that didn't get the news is feeding that to
people. Oh, yeah. 14th amendment, Biden can always
invoke now we can, what does Wait, you don't invoke the 14th
Amendment now, like the Fifth Amendment, you don't invoke it.
It's not like he's gonna
John C Dvorak: invoke that to testify
Adam Curry: will definitely invoke the Fifth Amendment
amendment eventually. There's no doubt about that. No doubt. I
don't know. It's just the meanwhile California defaulted
on a two and a half billion dollars worth of debt.
John C Dvorak: Which the Yeah, but we're gonna do reparations.
Adam Curry: Did you see these reparations? This committee, by
the way, it's just a committee. The news reports like it's gonna
happen next week. It's just a committee. It's a committee and
then we're having hearings, and everyone's called the we should
have $300 million per person. It's just a committee just
crazy.
John C Dvorak: Deals. You don't want to set those committees up.
No, you put his got Newsom screwed over because he was kind
of like, you know, okay, well as he may have set the committee
ever had something to do with it, but he's now he's, you know,
backing off. We can't afford this ridiculous. It costs more
to figure out who gets the money. Honey,
Adam Curry: exactly. Got an interesting answer from one from
renegade six, one of our producers, we were wondering how
people, this was in the context of coal from KMC cattle who
hired 10 people. And after two weeks, only two showed up, and
no one calls off the just like, don't show up anymore. And yeah,
how did how can this be? Where are people getting money from?
We questioned? Is this government money that we're
unaware of? And how can we get our hands on some of it? So
renegade six, one of our producers says, in addition to
several self employed side hustles, and I have to mention
this, there's entire communities of people who are indeed
hustling, and they, you know, they have work from home jobs,
but they have to, so they pretend that they're working
full time for each of these companies. And they're actually
working to so they're making like $200,000 working from home
for two companies at the same time, which I think is genius.
And I think everyone should explore that as long as you can
still work from home work for two companies to great idea. So
he says in addition to several self employed self hustles I'm
currently a retail store assistant manager. My bottom
line up front is that parents have to stop giving their adult
children money. I don't know of any getting government money, I
see parental support of adult children as the leading culprit.
My employees that live on their own have great drive and most
have second jobs. The ones that live with their folks or on
their parents don't have no drive, work as little as
possible and have high absenteeism. I've also seen this
in my extended family. When parents step in as a safety net
it causes harm, or more tough love is needed to get folks off
their butts. I think I think he nails it here. I see this every
I'm guilty of it myself. But are you doing but when? Well when
when Christina's electricity bill doubled. Thank you to
climate change regulations. Oh, I'm sorry, Putin. Yeah, she
needed help. So of course, I jumped in to help her out. But I
I hear the you know, the Zoomer in New York. All I hear about is
her parents are the parents of her friends kicking in and
helping out and you know, they have jobs but you know, the
parents paid for the for the rent for the house. I hear.
John C Dvorak: She's running. Maybe you think she may be
running a scam on you? Everybody else is getting money. But me.
Adam Curry: Hey, we didn't fall for it. Okay, we're not falling
for it. I'm just saying that. Now that I heard this boots on
the ground report. I think it's true. I think it's true that
parents are all well, we have to help them out. And that and that
a little tough love would go a long way. Anyway. And then we
have a very odd shooting here in Texas. And so annoying when I
see people in Australia, literally people in Australia
posting stuff on mastodon. Well, America has more mass shootings
and days in the
John C Dvorak: year. Big big shots Yeah, big
Adam Curry: shots now that you have no guns and no power. And
this is of course being perpetuated by well here here's
the here's a story to quit just a quick story of this latest
shooting here in Texas.
Unknown: Meanwhile, we are learning more about the shooter
in the shopping mall massacre. A senior law enforcement official
has just confirmed to NBC news that a social media page which
appears to belong to the gunman include rants against Jews,
women and racial minorities. That fear media activity is now
part of the investigation.
John C Dvorak: Okay, so the I have a I have a clip to this
play my clip. So we can talk about both of them. Okay, this
this is the mall shooting clip and it's brings in a kind of a
little more than that NBC guy.
Unknown: Tonight, investigators are running digital forensics on
the gunman cell phone and computers trying to learn more
about a possible motive. Troopers confirmed the shooter
had embraced white supremacist and neo Nazi ideology in online
posts he made on a Russian social media site.
John C Dvorak: We do know that he had neo Nazi ideation. He had
patches, he had tattoos. Even his signature, you know,
verified that
Unknown: investigators today admitted they still don't know
why the gunman opened fire outside the Allen Premium
Outlets. The big question that we're dealing with right now is
what's his motive? Why did he do this? Well, the big question is
we don't know.
Adam Curry: Yeah, I'm just going to say it. This is a potential
strategy stent tension session, whatever they call it. This guy
was jacked up. He was he was he was just like the course all
these crazy people to set off bombs and stuff that yeah, that
isn't really even they don't even have they give him at least
they give those guys a fake bomb. But this guy was all
jacked up by the way, it's kind of annoying that he's Hispanic,
but okay, then you're still a white supremacist according to
Unknown: the view, this shooter who happens to be Hispanic
happened to
Adam Curry: be what is it? This is this is the kind of language
you use. He just happens to be gay. What is this just happens
to be stuff? No, he is Hispanic. So everything you say about
white supremacy in the context that you use it view is wrong.
Unknown: This shooter who happens to be Hispanic and
Latino, he bizarre to me. Very bizarre to you. Oh, they don't
kill people hats a white supremacy moniker on him. And
so, you know, Christopher,
Adam Curry: what is a white supremacy moniker?
John C Dvorak: I think they're talking about now. They show us
pictures of the tattoo tattooed body SSN. He said a couple of
things you should note. These tattoos are
Adam Curry: new. Thank you very, they're, they're still
John C Dvorak: very new ones. In fact, one of them on his arm is
still swollen. Oh, raised. Yep. Yep, it's raised up and you can
see it and they're black, which means that the ink has not had
time to you know, get to turn green, which is going to end up
doing. So this is all new tattoos. And when
Adam Curry: you see that these pictures of the tattoos What do
you not see his face? Because Oh, you'd see that it's brown
doesn't fit the narrative.
John C Dvorak: And what and in the report that I had, which was
a better produced report, because it was CBS compared to
NBC, just to make a note. Yeah, if you heard the he had Neil
Knight, you had a bunch of neo Nazi thinks that they had to
throw in on a Russian social media sites throw everything in
the UK, what the hell's it got to do with Russia? And why did
you say social media site? Why does it have to be Russian?
Adam Curry: Let's go back to the view. Let's go back to the view.
And because this is America talking, this is show, it's a
smorgasbord of ladies up there. This
Unknown: shooter who happens to be Hispanic and Latino, which is
very bizarre to me, has a white supremacy moniker on him. And
so, you know, Christopher Ray, these are not my words. So
people don't start with the amaray Spader crap. Christopher
Wray said, biggest threat to our democracy is white supremacy and
domestic terrorism. He testified before Congress. You know,
Adam Curry: that was quite a while ago that wasn't in context
of this shooting, which is bizarre that you bring this up.
Unknown: And even with that testimony, you have someone
named Greg Abbott, the governor of Texas, where there have been
so many shootings saying mental health and there's there's
nothing else that we can do, but we can do this piece.
Republicans should be ashamed of themselves. They have the power
to make the chair
we all have to remember that the head of the proud boys His name
is Enrique TARIO
Adam Curry: Oh, the proud boys is also Latino. What is going
on?
Unknown: The proud boys is a white nationalist
Adam Curry: group, okay.
Unknown: Being Hispanic or being Black does not or being anything
does not make you immune from being racist from being
radicalized from being a white supremacist from being evil from
being homicidal. And we are seeing it over
Adam Curry: and over again. Well, thank you. Yeah, at least
so it doesn't matter what color you are. You're still white.
Okay. When it comes to supremacy, I don't care if
you're black public,
John C Dvorak: no matter your color. Your white supremacist?
Frick.
Adam Curry: Yes, exactly. So this is how Korean jump here
Abdul Van Damme starts off her press briefing the day after the
shooting. I left all the pleasantries out. Hello. Good
morning, everybody. How you doing any
Unknown: good afternoon.
Today is Monday, May 8, that mean it is the 120/8 day of
2023. And yesterday, according to leading accounts, we
witnessed the 200 and first mass shooting in this country this
year.
Adam Curry: This is the stuff that drives me crazy 200 mass
shootings now when you say that knowing fully well that the
credible accounts, whoever it whatever that is, count two or
more people as a mass shooting, which could be a murder, suicide
can be all kinds of stuff. This is very misleading. And this is
what makes people in Australia think they should post off about
America after their guns have been taken away. And it gives
you an idea that we're just being shot at all the time that
you're not safe anywhere and she's going to fly and she's yes
she's going that this is the her whole opening statement bullets
are flying. That means
Unknown: we are averaging more than one a day. More than 200
mass shootings and 128 Days, credible estimates show that
more than 14,000 people have died this year from gun violence
credible. This is a crisis. It is a crisis that the Republicans
in Congress are ready
Adam Curry: to address, oh, 20 seconds. And it's Republicans.
Unknown: We are talking about the number one killer of kids in
America. And Republicans in Congress are saying there is
nothing that we can do about it.
Adam Curry: And that's true. The only thing that can be done is
creating a new amendment, which would overturn the Second
Amendment, and the majority of the country does not want that
Unknown: to schools, shopping malls, churches, movie theaters,
grocery stores, temples, places that are a part of our everyday
lives that are essential to our everyday lives, day after day
are coming under attack from weapons of war that have no no
place on our streets.
Adam Curry: talking point.
Unknown: This is about protecting our kids, our places
of worship. This is about protecting our every day life.
Congress must address this crisis. Yesterday, the President
once again, once again asked Congress to send him a bill
banning assault weapons and high capacity magazines, ending
immunity for manufacturers, requiring safe enacting
universal background checks. It's just common sense. It's
just common sense.
Adam Curry: All of these common sense things would not have
deterred this shooter or any other shooter, the guy was part
of security services, his guns were legal, there was something
else going on with him. And it's
Unknown: what the American people want majority of the
American people want fine. When we have 200 mass shootings in
less than 130 days, more than one a day. This is a crisis.
Congress must do something about it.
Adam Curry: And a majority of the majority of these mass
shootings are in fact, in the crime ridden areas of the
largest cities of America, such as Chicago, where I know from
aldermen office straight up, they do not even send cops into
the Southside of Chicago anymore. No, they just don't
send them that's where your mass shootings are happening on a
daily basis. But when but when you say this, are our schools or
churches or temples, what do you not think black people? Because
they don't care about black people? You were gonna say,
John C Dvorak: to suppress press conference, she go up there and
just lecture and lecture. Yeah. How about like taking questions?
Where's Biden, by the way, how come he doesn't do a press
conference?
Adam Curry: He can't talk be crazy. According to Texas online
private secure database. Garcia. They never mentioned his name
either. I mean, Garcia Oh, that sounds offer a white
supremacist, was approved to work as a commissioned security
guard in the state from April 26 to April 2020. Had three
previous employers before his license expired record showed he
received firearms proficiency training 2015 for the firearms
training in 2018. DPS, which maintains a database
automatically disqualifies applicants who have committed
certain violent crimes. Well, yeah, he's definitely
disqualified from that now. But it's important for our for our
Americans, as well, but for our foreign listeners, why you and I
have this stance, because we know we know and Australia is a
shining example. The minute you take people's the people's guns
away, it's all over it will be way over here in America. That
is that that is the final the final thing that if they can
just get us to hand in our guns, then they will rule over the
country forever. And we know this this is this it's so
obvious. Yeah, we were stupid. And we locked down our country
for two weeks, but we weren't like Australia and that would
have never how
John C Dvorak: it was pathetic. Yes, it was. It was an A New
Zealand was worse.
Adam Curry: And, you know, this is America is built on this.
Like it or not, you're free to leave this. We were built on
violence. Yay. We were born out of out of guns. It's just what
it is. And this is why there's also no one invading America
except for what we allow to happen at the border which is
the next thing we need to discuss because this is also
weird. Because we're the I am of the belief now. That what is
happening at the border. Today is the day A that, oh, my
daughter can finally bring her her boyfriend into the country
because you don't need a and we're booking a trip for him. Of
course. You don't need to have a COVID proof of COVID
vaccination. And I still need to see this actually happening. I
don't trust anybody having I've been helped them book anything
yet. But this also adds title 42. And what is in the US press?
This is not even press. This is political. And it is my belief
that even Republican congressmen and senators are are using this
or extending this or making it look like it's really what it's
happening at the borders. Oh, now now, they're just going to
come flooding him all for political means. And I'm not so
sure that's true. I'm not so sure because if you look at the
foreign reporting, you got a little get a little different
news view. But first, let's look at this is NBC Tom llamas.
Unknown: The number of migrants now breaking records even before
title 42 Expires yesterday more than 11,000 illegal border
crossings in just 24 hours. CBP processing centers over
capacity, all after this message from President Biden and it's
gonna be chaotic for a while. But NBC News Now learning the
Biden administration is set to make a major change preparing to
direct Border Patrol agents to release migrants into the US
without an immigration court date. And with no way to keep
tabs on them. According to three sources familiar with the plans,
while Yorkers insist it's a fraction of the migrants were
being released. And they're vetted. Tonight Republican
lawmakers blasting President Biden,
the Biden administration has failed the American people. He
has failed our border patrol agents, he has failed our border
communities. And he has failed America with his open border
policy.
Adam Curry: She This is what the Republicans are using this
continuously to discredit President Biden and the
Democrats. Even though this has been going on for a long, long
time. And it appears to me what's happening is title 42 was
dropped. But title eight is coming back into play. We now
see, the Texas National Guard has razor wire all across the
hotspots where the people are coming in illegally and they are
really turning people back. Something has changed. And
Republicans are not telling you about that because they're
dishonest, as dishonest as any politician. But if you go to
France 24, you get a little different idea of what is now
happening and what the changes truly are.
Unknown: After hours of waiting. tensions rise outside these
immigration offices in Tapachula in the south of Mexico. They've
come in their hundreds from the border with Guatemala in a hurry
to cross the border into the US before Friday.
We need to go as fast as possible. I
heard on the news that they were going to close the border and
that we had to get through before May 12. They'll say that
many are misinformed and think they'll no longer be able to
enter the US after Thursday. But what title 40 twos expiration
actually means is the end of a policy that allowed authorities
to quickly turn away migrants at the border. So while some fear
that applying for asylum may become more difficult, that's
not what's worrying US authorities. They're bracing for
a surge in illegal migration, which could exacerbate an
already challenging humanitarian crisis. In places like San Diego
in California, border staff are already out of their depth.
Hundreds of migrants have been waiting here for days stuck
between two checkpoints. To help border police the Biden
administration has planned to deploy an additional 1500 Active
Duty troops to assist the National Guard, Texas his
governor has also taken matters into his own hands and announced
the deployment of a new unit they will be
deployed to hotspots along the border to reveal and to turn
back migrants who
Adam Curry: are trying to enter Texas illegally.
Unknown: Homeland Security says migrant crossings could reach up
to 10,000 per day, once title 42 is lifted.
Adam Curry: I'm telling you there's something different
going on here and the foreign press is picking up on it and
people around the world are hearing Oh crap, the border is
closed. We can't come in anymore. That's the message that
somehow has gotten out. Maybe this next report gives us a
little more information.
Unknown: I will turn back to our top story. Now. That's the US
government set to deny access to asylum seekers unless they have
either followed the correct procedure and what's a major
shift in immigration policy. Our press viewership Tikka Laurent
is here to take a look
while are in the border crackdown begins as what the
Miami Herald says today on its front page going with this
picture here of Texas State Police who are putting up by
barbed wire at 11:59pm. This Thursday, Washington time, that
so called Title 42. border policy will expire. And as you
said, migrants will be denied access in to the US if they
haven't already registered in another country. Prior to
arriving now, we had a look at the Mexican papers to see what
they were saying. And there were some pretty strong headlines
from the Mexican press too. This is La Hanada Mexican journal,
which says that the world's most powerful country, the US is
preparing to confront the most vulnerable populations in the
world. Rather accusation or sort of headline, with this
devastating picture here of a very sad picture of a newborn
baby traveling, a migrant baby traveling in what looks like to
be some a small suitcase.
Adam Curry: Excellent. Put the baby in the suitcase. I think
what's going on here is that the Biden administration has said,
crap, we've got it, we need to get some points on the board.
They are going to turn people away. And the Republicans now
are lying and making noise about the border just being completely
Lara Logan actually was on ban. And I didn't clip it up, she had
some names. And she said these Republicans are now full of
crap. Because the Biden administration is going to turn
what you didn't register in a different country didn't have
your interview in a different country. The only thing they
have is some app, which doesn't work. Everyone's complaining
about the stupid app, which I'm sure is not intended to work or
doesn't work. I think they're stopping it. I think the Biden
administration is
John C Dvorak: just stopping but I have a whole different take on
this. Okay. I've had this tape before I bring it up once in a
while. During the era of just wide open borders, and letting
Mexicans come into this country, knowing they're going to vote
Democrat is one thing. The recent problem has been
Venezuelans and you can talk to him half the people coming
across are now Venezuelans, they're not voting Democrat
ever, ah, there are a bunch of they hate, they're running from
Communism, and there will be voting Republican, we now have
to close the borders, because these Venezuelans are not going
to contribute to the bottom line of the Democratic Party. That's
a desus. I can't prove it, I just see the observations
because I noticed a lot of Venezuelans coming in and they
talk about the Venezuelans coming in, and there's 1000s of
them. And they had a few of them come over, they've interviewed
him on some shows, there's a Venezuelan woman and her baby.
And you can just see that once the Venezuelans started coming
in this is changing the demographics of what we want,
which is a Democrat voter,
Adam Curry: I'm that doesn't that it fits perfectly with what
I'm saying. You give the reason that I'm identifying that that's
changing, and that the Republicans are now full of
crap. And I think you're right. We've We've definitely discussed
this back and of and of course, we have to point out that back
in the day, literally, you'd have the farm, the big farm,
outfitted send a bus down to the border, Hey, want to come work?
Yeah, come on over, and they just walk in, get in the bus
boom. And it was it was that's the way business was done for
decades. And then it kind of got out of control. Man, I think
you're right. Did they do and of course, it would be purely
cynical of Democrats to do that. Because these are the wrong the
wrong kind of immigrants. There. In fact, they're xenophobic,
they are xenophobic, racist, white supremacist. There is a
new immigration bill, which is a there's something in there,
which is not a good idea. Back on Deck is the E verify remember
this E verify? Yeah. So in this bill, Eve of E verify several
states have already put that into into place where you know,
in order to to be employed, you have to have an E verifications,
token, whatever. So you can verify that you're illegal to
work. But this immigration bill essentially calls for it to be a
federal law, which I don't think you want. I don't think you want
to be registered and some E verify thing. Anyway, New York
City is considering closing off streets to shelter illegal
immigrants.
John C Dvorak: Yes, they're gonna put up a bunch of mini
houses. Yeah, right in the streets. Yeah, that makes total
sense. And which is going to annoy that locals to say the
least. And they're gonna block those streets off from traffic.
Adam Curry: It's so stupid.
John C Dvorak: And they're gonna get the app it's gonna keep
sending them to New York and the New Yorkers want to send them to
the suburbs, but they've already filed some court orders. We
don't want them and we're gonna you know, you're gonna call
yourself a sanctuary city become once
Adam Curry: you get Yeah.
John C Dvorak: I'm talking about. I have a couple of clips
here that I like to get to talking about stupid people,
which is what Trump kept saying, Yeah, I do. Have a three part
series of our friend John Kennedy.
Adam Curry: Oh, well, we love John Kennedy. He's funny.
John C Dvorak: He's taking a dead head of the DEA, drug
enforcement purposes. This is a typical public good for
performative grandstanding ideas, transplant grandstanding
just to prove the point that these I don't even know why they
do these hearings to people never answered the question. I
know how she could have been having been a former bureaucrat
myself, how can a government agency know
Adam Curry: why they do these hearings so we can get clips
they want to hear they want to hear themselves on the no agenda
show and used to be played on Tucker after you know, Tucker's
producers were taken from us. It was it was
John C Dvorak: Tucker is now according to the I don't have
any clips. Yeah, he's going on Twitter. He's on Twitter, which
means there's a deal that has been done between him and musk.
I'm not doubting I disagree, though. Musk was on his last
show. Sure. I just ate chatted about this.
Adam Curry: I'm just saying I'm not so sure that Musk is paying
Tucker Carlson to do this. Musk has set up the whole Twitter
infrastructure to take money to subscribe to shows I think it's
going to be a free subscription. I don't think it's going to be a
free to air.
John C Dvorak: We'll find out soon enough.
Adam Curry: And
John C Dvorak: you have to give it away for free if you had to
give people a taste.
Adam Curry: Of course you can get a freemium model. Oh yeah.
Tucker, freemium Kayleigh McEnany what a dud,
John C Dvorak: though I didn't see it. Oh,
Adam Curry: she's doing she's doing the whole week.
John C Dvorak: We predicted this.
Adam Curry: It's a dud. I mean, I think she has the same
writers. It's kind of feels very similar, but she can't deliver
an open opening monologue like like Tucker did. She can't
deliver and she can't deliver. I like her but
John C Dvorak: she's not an actress.
Adam Curry: She's not she's not an actor like Tucker. She can do
it. It's a dud. It's a dud it comes across as insincere. She's
too pretty to you know, she she's she got a Christian little
face and her cross you can take her seriously as a meanie.
John C Dvorak: But you have to have some they gotta get Perino
in there or marine Dana Loesch, I said in the newsletter is
divorced so that would be interesting Dana Loesch who is a
meanie and chic and she's cynical and she said she's
perfect for this job. I don't know why she's she's she'd been
blackballed or something I don't know what interested deal with
Dana Loesch interesting, but they will after you get here she
fit right in because she's too
Adam Curry: associated with superbeets Well, maybe she I
think she thinks she's done a lot of superbeets ads. I really
do. peds. Yeah, she has
John C Dvorak: or that vitamin C vitamin COVID It was it
Adam Curry: super super supervised super
John C Dvorak: super beach. Hell we already forgot
Adam Curry: healthy nature nature's healthy by nature
naughty by nature nature nature's own nature's Oh, no,
that's that's poop it out tea. Anyway, let's get to your Joseph
Kennedy.
John C Dvorak: Okay, here we go. Jane Kennedy with the head of
the DEA,
Unknown: a woman administrator. The two cartels that are sending
fentanyl into the United States are located in Mexico, aren't
they? Yes, sir. And isn't it a fact that we could stop those
cartels in their tracks if President Lopez Obrador would
invite American military and or law enforcement personnel to
come into Mexico and work with his military and law enforcement
personnel? Senator, what I would say from my purview as the head
of the DEA, but it's my is my statement true or not? What I
would say is that we're focused on the two cartels, who we
believe are doing exactly what you say they're responsible for
the fentanyl coming
against you again, if if President Lopez Obrador invited
the American military and or American law enforcement
officials to come into Mexico to work with the same in Mexico, we
could stop the cartels, could we not?
Senator, I believe this is this is a whole of government effort
and has to be including whether it's the military, US FBI,
Administrator, unless I've listened to you here for almost
an hour, telling us how bad fentanyl is. Thank you for that,
but we know. Yes, sir. I'm gonna ask you a third time. If
President Lopez Obrador invited American, the American military
and or law enforcement personnel to come in to Mexico and work
with the same in Mexico, we could stop the cartels. Isn't
that a fact?
Adam Curry: She just won't answer the question. That's
interesting.
John C Dvorak: Well, this is an amateur because I I would say
that if I was up there and I had learned my chops, which you have
as having worked in I have, I would have said Add. And she's
been asked this three times, there's two more clips and she
just won't even address it, let alone answer it. Where are you
now a mile or two? What she should say is, Senator with all
due respect, there's actually no evidence that that would work.
These people are so entrenched. And and this situation is so
complex that just bringing in more people to solve the problem
won't necessarily work, which I think would have been true. And
it is true. I think it is true and it stopped. It will stop
this guy, Kennedy from an era singers. She's an idiot. This is
stupid people. Yeah. But to
Unknown: Senator, I can speak to the law enforcement side of
this, and you just mentioned law enforcement. I believe that this
is vital for both Mexico and the United States. Mexicans are
dying as well, as we, as we showed that up to them,
Why don't we stop them? So we would help. Let me ask you a
fourth time. Would it help if President Lopez Obrador? I don't
think it's a complicated question, Madam administrator,
you're asking us for more money every year more money, and it
gets worse and worse and worse. You know, in the real world, the
nitty gritty of the real world, when you fail, you get fired. In
government, when you fail, you get more money, because
obviously you need it. Now, let me ask you a fourth time, if
President Lopez Obrador, and I'd appreciate an answer, if
President Lopez Obrador invited the American military and our
law enforcement personnel to come into Mexico and work with
his we could stop the cartels, couldn't we?
I believe, Senator, that we can stop the cartels.
Okay. Have you made that suggestion to President Biden,
if I could, I believe that we can stop the cartels by Have you
made that suggestion to President bad
Senator, I have been very vocal in the whole of government
setting on the importance of fentanyl and all of us using
every single effort and authority that we have and
President Biden done it. I mean, this is the way the American
people whose sons and daughters are dying. Look at it, our
economy is $23 trillion. Mexico's economy is $1.3
trillion. Ours is 18 times bigger. We buy $400 billion
dollars every year from Mexico. Without the people of America.
Mexico figuratively speaking would be eating cat food out of
a can and living in a tent, the half behind an Outback, this one
on you and the President. Embarrassing, no. Get on the
phone and call President Lopez Obrador and make him a deal he
can't refuse to allow our military and our law enforcement
officials to go into Mexico and work with he is to stop the
cartels. Why don't you do that?
Adam Curry: There's two stupid people in this conversation he's
stupid to. He's stupid. It's one stop anything. Stupid dope.
John C Dvorak: Oh, stop that. I have to agree this. He is just
showboating. And it's like, okay, he's got her in the
corner. She won't answer the question. She says bullcrap
stuff. And let's wrap it up here with the third one, which is
short.
Unknown: Why don't you do that?
Senator, what I am doing every single day is working with the
incredible men and women of DEA who are risking their lives
across 334 offices. Well,
I appreciate that. But you're not doing you're not doing what
would work. Why don't you do what will work? Senator, we
are going to call
the President this afternoon and say, Mr. President, let's call
let's call President Lopez Obrador privately and make him a
deal we can't refuse. Because we both know that President Lopez
Obrador has neither the the ability nor the will to stop the
cartels, but yet we go along and pretend that they're our
friends, and Mexico is our friend, but he has criminal
organizations that are killing our people. And you know how to
stop it. And the President does, and you're not doing it.
Senator, we are working every day to stop it and
what's you're not doing? What would stop it.
We are transforming and we are working in countless ways across
the globe, to do what needs to be done for the American people.
And there's nothing
about when it's important to you, you make it happen. When
it's not important to you, you make an excuse.
Adam Curry: Yeah, I'm tired of this guy now. And really, the
the real enemy here is the enemy on the inside. The enemy is Big
Pharma. These people who run big pharma and it's not just the
pharmaceutical companies now it's a part of this. It's
John C Dvorak: got to include the banks. Please know
Adam Curry: I'm moving towards Big Pharma for a reason. That
ultimately the banks of course, but what we have allowed pharma
to do with our children with our brain means advertising day and
night. Now oh my gosh, we used to be the country that was nuts
about jogging, and about aerobics and rollerblading and
roller skating and we'd walk around with bottles of water as
the first people in the world Americans have no way now, we
want to lose weight. Oh ozempic If magic is beautiful, just Oh,
who cares about my face, I don't care if my muscle goes away. I
don't care if my brain deteriorates, we become the
country of the pill. We'll fix it. Just as little intermezzo 33
seconds of the pill. We'll fix it
Unknown: a Utah mother who wrote a children's book on grief after
her husband died, and she is now charged with murdering him.
Brand new court documents. Cory Richards poisoned her husband
Eric with a lethal lethal dose of fentanyl by mixing it into a
celebratory cocktail drink in March of last year. She's now
facing aggravated murder charges and three counts of possession
of a controlled substance with intent to distribute. And
stunningly, she was promoting the book she wrote about grief,
and she had dedicated to her husband up until just last week.
Adam Curry: That's the business model. Tina, Don't get any
ideas. I have received a couple of very interesting boots on the
ground reports. And now we're going to move into trans Maoism
which really what's happened here is Big Pharma. I'm just
making that a big umbrella. Big Pharma, which is doctors are
really the people who control the doctors. Let's not forget
what happened. We just saw happen with COVID, which is
clearly some kind of test for the next thing they'll throw on
to us. All. Even the Fentanyl crisis comes ultimately from
people getting hooked on Oxycontin. And this being lied
to doctors lying everybody lying about it being something you can
get that is highly addictive. Oh, it's not it's all a lie.
It's of no one's allowed to talk about it, because the only place
you can talk about it, that would make sense is on
television. We can't do it because that's the biggest
advertiser. You couldn't do it on social media. So the only
place left is a podcast. Aaron sent me an email. In the
morning, I've been listening to your coverage of the
contributions of therapists to the transgender kids and teens
issue and I want to try to explain something I think you're
not aware of. I'm a therapist. And I've been very harsh on the
therapist, I said, you know, you can say therapist or the rapist?
What's going on these therapists are the people who are telling
these children all yes, you're a boy, you need drugs. So luckily,
she reaches out. I'm very grateful for this. I'm a
therapist in practice for 10 years. This issue is popping up
much more frequently these days. And I want you to know how we
got to the world, how we got to the world where it looks like
all therapists are affirming and encouraging minors gender
transition, it does look like that. In fact, it seems like it
is like that. It started with the APA, the American pediatrics
Association, writing guidelines for pretty much everything, what
kinds of therapies I should use, what language I should use, etc.
These guidelines were adopted by many states in their licensing
procedures. Now the APA guidelines for trans and gender
non conforming youth indicate that quote, affirming care is
the only kind that competent psychology professionals can
give. This means my state could determine that I am incompetent,
if I disagree. The APA has also done its best to forbid me from
simply referring these kids to someone else, as this would be
discriminatory. So I'm kind of stuck. I own my own business. So
I have some more freedom than others. But I do live in some
amount of fear that I could lose my right to practice if I say
the wrong thing. Thus far, I've been able to work with trans
identifying kids by simply focusing on their depression,
anxiety or other mental health issues, which is very typical
for teenage girls that I think are the real problem. I don't
argue with them, but I do gently challenge them. Quote, what does
a female brain look like? But I do worry that one day, I'm going
to get hauled before an ethics board for challenging this. It
sucks. Just wanted to let you know why clinicians are nervous
around this topic and why it is so much easier to just go along
with the majority and give kids whatever referrals for drugs or
surgery they want. And she came back with more. The APA did a
very clever thing by introducing themselves into high schools and
middle schools with APA style. That's a quote APA style. This
is a format for documents and citations and as the standard
for scientific papers. Because of this students are taught to
use APA style in high school. Thus they get the idea that this
is such a scientific organization, which it kind of
is but it's also an effort To control the whole field and to
present prevent people from seeking whatever psychological
and emotional care they want. Well, the APA is, of course, not
really a scientific organization, it's a lobbying
group. They exist to protect their own members from
competition with other qualified professionals. State Licensing
credentials are designed by them, that constantly lobbying
against masters level counselors and therapists so that only
people with a doctoral degree can practice. It's in their
interest to make it more difficult to be a clinician, and
they're very good at what they do. When you find you can't get
an appointment with a good counselor. This is why the
supply is held artificially low. APA is a corporation they get a
favorable tax deal because they do all kinds of advocacy. Oh,
yeah, they advocate for no guns they advocate for, for abortion.
This is part of the Big Pharma system. And now you add to that
the email that I got from DD, one of our longtime patoot
producers, who is an adult, trans male to female and says,
you know, what is also going on here is adults who have later in
life determined that they had gender dysphoria or gender
dysmorphia, or would pick pick whatever you want. Just like
back in the day of gays and lesbians, they feel like wow, if
only I could have had more time living the way I wanted to. So
this is why they all like well, we have to help the coach help
the coach help the kids. And while they mean well. The Big
Pharma pharmaceutical system is jumping in and taking these
children and transitioning a large percentage who have no
business being transitioned. And when it comes to gender
affirming care, that could be a hair cut to make you more like a
tomboy. So people in the community are putting a lot of
emphasis on saving or creating trans children. And everyone is
jumping on in on this. And the worst is once again, politicians
who have this and certainly the Democrats who have this Maoist
agenda, want more Marxism want equity and all this bull crap.
They are perpetuating this and making these people particularly
big pharma even stronger. So we're focusing on the wrong
thing. And while it's really fun to see Anheuser Busch going down
the tubes, which it truly is, sales are now down 29% year over
year. Debt dealing Mulvaney is not your problem. It's Big
Pharma, and this is what we have to go after. And there's one
outfit called Gen SPECT, who's been very critical of all of
this. And John is unbelievable that you've got this thing
called the World Professional Association for Transgender
Health, which used to be the Harry Benjamin Foundation, Harry
Benjamin, and this is where it goes right back. Now I
understand Kara Swisher. This is a guy who was born in Berlin
raised in in the days of the Weimer Republic, during the
crazy Berlin transgender days, he wrote the book, his book was
the first one to get burned by the Nazis. I mean, it's it's all
it's all connected. It's all connected. This is why you hear
this Nazi talk. Were right in front of us. It's it is the the
crazy Big Pharma. So bad now that in the Netherlands, where
they stopped doing a lot of this trend, medical transitioning.
Now they're saying, you know, we've we've looked at what's
going on, and the Dutch protocol was the first protocol for
children to be transitioned. They call it they say, trans
people are sent into a folk, which is a fake net, you want to
fake net is it's one of those, oh, it's where the fish go in.
And it's like a cone. And they go in there and they can't and
every single they swim further until they're at the very end,
and then they can't turn back because it's, it's kind of like
a it's like a cone shaped net, almost like a wind sock, except
there's divisions in it. You can go in one way you can't swim
back out. The further you go, the deeper you get. Now, even
the Netherlands is saying, there's this medical specialist
fight net that people are shoved into, and they can't get out.
And we're transitioning people who have no business being
transitioned. But we haven't gotten through that here in
America, because of the politicians. It's a travesty.
It's a travesty. I tell you. You've got Stamford You're
everyone's producing Well, a better mental health found
amongst transgender people who started hormones as teens. Sure
Stanford. Critical benefits of familial community support for
transgender youth. Yes, national Council on Family Relations.
It's it's all of this the money that these people have is it's
disgusting. So you got to watch out for your own kids.
John C Dvorak: That's all I can say. The irony is that this is
socialism aspect to it. Yeah. So you think you could say well is
a capitalist is a good example of capitalism and its worst, but
yet it's not it's like an example of socialism at its
worst. Yes. Yes. You know, by the way, just as mentioned, you
talked about these PDFs you know, these guys get a hold of
systems is a systems situation, you get a home a system and you
get dominated how it's going to be used. During the middle of
COVID I asked my pharmacist I mentioned this on the show a
couple of years ago, my pharmacist about what would
happen if you got a prescription for ivermectin? Yeah, she's Oh,
we couldn't fill it. Yeah, yeah. Perfect. Why? Because we're
guided by these guidelines.
Adam Curry: The Pharmaceutical Association of America no doubt
or something to
John C Dvorak: make it was something it was I think it was
more like to see some pharmacy aspect of the CDC and if we had
to follow those those rules or rules or they get kicked out you
know, you lose your job. And this one was going on in Canada
was a little more obvious the easy to report on in Canada
where the doctors couldn't say anything. When someone came in
and said I'd need some sort of treatment and they guys I can't
help you. You can't get treated for COVID You have to just die.
Did you
Adam Curry: see that ivermectin is now off the do not prescribe
list you can it can now be prescribed again. How does that
work? Oh my goodness. HorseFace there now that anyone can have
your horse paste? Everybody saw this? No one does anything.
You've got us we've got to stop this this pharmaceutical system
it's the it's scarier than anything to me. The banks at
least well you know the banks that do what they do now the by
the way, what banks is no no banks will be left everyone
shorting the small banks to the hulking of Goldman roll up into
Jamie diamonds back pocket. We see that that's pretty open.
John C Dvorak: But the trans thing leads me to four tick tock
clips.
Adam Curry: Of course tock tick tock. Thank you, this is hot.
This is why there's two of us.
John C Dvorak: Let's start with the gender fluid lunatic.
Unknown: I'm non binary gender fluid, right? And within that,
technically, by the definition standards, I am trans right?
However, I'm not always like trans you know, like I'm not
always like I am trans but sometimes I am like I am trans.
And you know what I realized it is this you know what I realized
that it is literally it's that like living literally by being
home cool. That trunk opens like a door not like a
Adam Curry: watch directed to distracted by like squirrel what
happened? A trunk. Oh, cat
John C Dvorak: cat. Oh, somebody opened their trunk of their car
and she saw a cat and she just completely lost it. This woman
has so much what was it what's it called? You can't attention
Adam Curry: disorder problem Attention Deficit Deficit
Disorder. Yeah. She's got
John C Dvorak: this issue. So backing up past not like a cat.
Okay.
Adam Curry: Which comes from social media by the way, that's
just where you get the AD D training. The training for it
like oh, look at this. Oh, oh, sad. Oh, happy. Oh, a cat. Oh,
cute. Oh, bop boop. Republican with it.
Unknown: So sometimes I'm literally trans and sometimes
I'm literally not, like, in my gender fluidity. Like, I just
say like, sometimes I'm trans and sometimes I'm not. I'm
always on binary. I'm always on binary. I'm always gender fluid.
Sometimes I'm trans sometimes I'm not. Because that's part of
my gender fluidity. And like realizing that just like all the
pieces clicked, and I just love it. Like, I found that I was
gender. Gender fluid, like made so much sense for my life. And
sometimes I'll be sitting here and being like, Well, I haven't
felt masks in a really long time. I haven't felt like a
pretty boy in a long time or like I just don't want anybody
to perceive me as any kind of gender sometimes. And I'm like,
Dude, that's literally what it is. Like that's literally your
gender fluidity because sometimes I am pretty little
boy. And sometimes I have I want ZeroFOX to do with gender. And
sometimes I'm a feminine Little Princess and I love that and
sometimes I'm all of it all at once and none of it simply
because I'm not. Now this
Adam Curry: is this is a I'd love to know more about this
person, because this is a prime example of
John C Dvorak: is she black or white?
Adam Curry: Is she sounds black to me? She is black sounds like
under under educated over socialized? And I wonder, you
know, does she have a job, or her parents paying for this is
someone who knows no hardship you have if you have hardship in
your life, you don't have time to think about this the way
she's thinking about it. And she has too much social media in her
life distracted. She is in fact clinically ill I would say is my
my diagnosis. These
John C Dvorak: people are all clinically ill. Let's go to the
next one. Who else do well, let's try this. Listen to this
go to this is i this one, I don't remember which one is
above this the SIS trans complaint?
Unknown: You know, one of the reasons why sis people think
they're the real or
Adam Curry: do these people live in California as a question? Do
they live in different California versus non or do we
not know where they're from?
John C Dvorak: We don't know the the geolocation.
Unknown: You know, one of the reasons why CES, people think
they're the real or natural or the default is because they've
fallen into the trap of the myth of white supremacy. Yep. Oh,
there we go. They're connected. So if you think things like
trans women or women or if you call people trans, but then
refuse to call yourself sis, if your sis that means that you
have been influenced by one of the original influencers, the
siblings, the twin siblings of colonialism and the myth of
weights. And those twin influence your siblings get paid
by capitalism, to influence they have literally influenced you to
believe that there is a version of a man and a woman that is
more human than all the other versions. Sound familiar? Yep,
white dominant culture, colonialism, capitalism, they've
been working real hard on us. Remember, just like with any
influence or trend that is toxic, we don't have to believe
it. And we don't have to follow it. And in fact, we can even
point out the ludicrousness and make it completely obsolete.
Adam Curry: So she's only one step away from the new hashtag,
which I see everywhere, which is Christo fascist. This is, this
is the new hashtag. So it's, it's not just colonialism and
white supremacy. It's also Christians who have been who
have done this to people and have ruined the world. This is
this is and it's being driven small into intermezzo. It's
being driven by our vice president as one. And this is
where the socialism aspect comes this person here, this this
trans person, I guess she claims to be trans. She is prime meat.
For socialists like our vice president.
Unknown: You know, so many of us have come from movements that
were about the fight for equality. We also understand
there's a difference between equality and equity. Equity is
everyone deserves to have right and be treated equal. But equity
understands that. Not everybody starts out on the same base.
Yeah, colonials have more, given everybody an equal amount, but
they're starting out on different bases. Are they really
going to have the opportunity to compete and achieve that's why
we purposefully as an administration, the president,
myself, the secretary, and everyone in our administration
are so dedicated to a specific principle which is that of
equity.
Adam Curry: Equity, this is what these people are vying for
equity.
John C Dvorak: Equity is a socialist
Adam Curry: construct.
John C Dvorak: I want to play a short one then one last one
another complaint about CES being bad. I think it's
interesting. But there's a new pronoun I thought we should at
least bring it in because we bring new pronouns no new
pronoun is faith bear FERS Oh, this is interesting. Oh, no. Why
and you are white has to be there at all when White has to
even exist, but let's listen to this woman.
Unknown: Happy Pride everybody. I already mentioned this in my
story, but I've added a new set of pronouns to the pronouns that
I'm comfortable being. I've been sitting on Fay fair fares
pronouns for a while, and honestly kind of psyching myself
out about it. I'm like, Oh, do I really want to like change this
again? And then I like realized I was like, like, who cares?
Right? Like, if I decide that I don't like them, I can just stop
using them. Yes. My other thing about this new set of pronouns
is that I would only like for queer and trans people to use
them for me, sis het people they then queer and or trans people
you can use a them or say fair, it's all good with me. I'm
excited because Fe fair pronouns make me feel very affirmed in my
not feeling like a person.
Adam Curry: I don't know what to say to that.
John C Dvorak: There's nothing to say other than
Adam Curry: I don't use them. I won't use non English language
pronouns and and I think we need to take a stand against it as
your show.
John C Dvorak: Alright, here we go. Last one. This is a sis
woman. This one is titled sis women are bad people,
Unknown: I might get obliterated for this take but the most
transphobic people that I've encountered both online and off
have been sis women. I see so many videos of sis women talking
about how they're essentially tired of sharing the space of
womanhood with trans people because they don't understand
the reproductive struggles that they've had. Just because you
get periods and you have the capacity to have kids does not
make you a woman inherently intersex people exist, trans
people can and have had kids, there are plenty of sis women
that can't have kids or don't have periods or have other
reproductive struggles for one reason or another. These same
people will claim to be allies while also complaining about how
somehow womanhood is being taken away from them because trans
people are calling themselves women without having the
experience the same experiences that they have had. If trans
women bother you in that way you're being transphobic there's
no other way around it.
Adam Curry: Oh goodness.
John C Dvorak: I love the smugness of of it all
Adam Curry: thank God for Megyn Kelly man she she is that's her
beat is womanhood. Yeah, that's her beat.
John C Dvorak: Good luck.
Adam Curry: Do you know where ces ces comes from?
John C Dvorak: Yeah, it is a term used in chemistry a lot and
it's the opposite of the word trans. What's the opposite of
trans edits
Adam Curry: is sis is Latin. The Latin preposition sis means on
the side of as in contrasting anything else. CES is on the
side of so not the side of transsexual. Or transgender CES.
This bullcrap
John C Dvorak: consisting is totaled bullcrap is create it
was just created since 1990. So let's get to it, you know, is a
very recent spy
Adam Curry: Sherman by a German who love making up names for
other people.
John C Dvorak: And so it's a new thing. And it's been foisted on
the public and with demands that you use it to guess, Whose idea
was this? And why is anyone accepting it?
Adam Curry: Well, you know, you know who's propagating, it is
the medical community. This is this is it. And then the medical
community they're seen as the as the scientists and science and
shut up and COVID is real and it's going to kill everybody and
millions have died from it and you need this vaccine. You've
got to walk away from this bull crap. And someone is taking a
stand is the last time you'll ever see him on the screen.
Richard Dreyfus
Unknown: starting in 2024 films will be required to meet new
inclusion standards. To be eligible for the Academy Awards
for Best Picture. They'll have to have a certain percentage of
actors or crew from underrepresented racial and
ethnic groups. What do you think of these new inclusion standards
for films?
Adam Curry: The make me vomit there you go that's what you got
to say. We've got we've got to say this we've got to take a
stand on this stuff. It's insane we've gone we've gone crazy and
we're captured we're captured by this but not us because we're a
podcast live podcast and with that I'd like to thank you for
your currency in the morning to you the man just put the say
insist ladies and gentlemen say hello to my friend on the other
hand, Mr. John
John C Dvorak: well in the morning to you, Mr. And Ricardo
in the morning all ships and see boots on the ground. feet in the
air subs in the water and all the days and nights
Adam Curry: out there we go. To the trolls and the troll room
Hello there
where's my count? 2015 that's good for Thursday. Is it not
too?
John C Dvorak: Very good. Anything over 2000 Is is record
breaking good
Adam Curry: to record breaking troll account. Very nice. Good
to have you here trolls. Welcome to wanted welcome those of you
who are in the troll room by just surfing over to troll
room.io Or for those of you who I don't know maybe you got one
of those fancy new podcast apps dropped the legacy by the way.
We need to since people are running away and we always have
trolls. Oh, it's donation segment. I have other things to
do. Let me see how many do we drop 125 I exactly like what big
news, news guard and barometer have unveiled episode law Well
misinformation detection for podcasts, no loyally. And when
it gets better. News guard barometer is offering an
advanced AI powered solution.
John C Dvorak: There you go, that would that would work.
That's AI it's AI
Adam Curry: that can detect potential misinformation at the
episode level in seconds. This will sure this allows those who
use the solution to rapidly inform economic and brand value
based decisions ranging from vetting a podcast show before
including it in a brand's advertising strategy. There you
go to pausing a media buy for further examination. There goes
that news guards machine readable finger prints each
contain a description of the false narrative, a detailed
debunk with factual information, citations to authoritative
sources, associated keywords, hashtags, targets on the host
forehead, and examples of the false narrative spreading online
and other descriptive metadata. barometer barometers AI uses
these inputs as data seeds. I need me some data seed in order
to detect when information narratives are likely being
discussed in a particular podcast episode. Now,
John C Dvorak: and you know, we'll never be tested because we
don't have advertisers. And this
Adam Curry: is why we have been on the air for 60 going on 16
years is because we trust that the people who lose listen to
and produce this show, which you do boots on the ground, running
servers building stuff promoting us or supporting us financially,
we won't need the advertising which is inherently censorship.
So a lot of your your favorite podcast may be going away
because of this AI data seed nonsense. So get a app that
won't kick anything off podcasting 2.0 new podcast
apps.com And you can also get alerted to bad signals get a
troll room right in the app. We've got all transcripts which
you could search there's all kinds of cool new stuff. Or you
can just follow John and Adam on no agenda. social.com still a
very thriving community. Although blocked by many, it's
nice within the community threes, threes peach, that's
right, speech, follow Jhansi Dvorak norgine The social.com or
Adam had no agenda social.com To learn more now as part of the
value for value Hallmark we we'd like to thank our our artists
for delivering some absolute value to the show by creating a
brand new piece of cover art for every single episode that we
publish. We are currently on 1554 So we've had quite a few of
them and we want to thank networks for bringing us the
album art for 1553 which there were there were we had a lot of
choices but Biden as MacArthur with the corncob pipe and the
beautiful operation reelect Bo Jo logo logo with kind of the
John C Dvorak: guy yeah, that was it was stood head and
shoulders above the rest Yes,
Adam Curry: it was kind of a third reich piece of art there a
little bit with that logo. You know the E Yeah,
John C Dvorak: a little bit a little bit to German no German
bird of war or whatever it is.
Adam Curry: We did have other things to select from. We had
some not my kings ample bosom. Thank you very much, sir. net
net. We got a chuckle out of that. Some people showing us the
hood at Google. Which this has been quite a quite a topic. The
hooded ghoul the Grim Reaper in the UK. Did you follow any of
this? No, I
John C Dvorak: haven't followed it. But we did see it. I did see
it.
Adam Curry: In fact, the BBC took all of the videos offline
for about a day. This people depend on Oh, this is what is
going on. What is this grim reaper what is happening here?
And
John C Dvorak: they have discovered what it was yes, the
Adam Curry: official word is, this is a verger a verger. And a
verger is I guess they kind of like, like they clean stuff up.
Like they they dust around and do stuff. But if you look at the
vergers outfit, they have the vergers bonnet. They have a
funky hat, but none of them have this hood. So it's you know,
people are not happy with the with this
John C Dvorak: explanation is not acceptable. Not acceptable
Adam Curry: at all. No. Yeah, who was the Grim Reaper at the
coronation? has officially been identified. Let's see. And where
it was it here This is a news week went ahead and contacted
Westminster Abbey Newsweek so you know, it's legit, who really
revealed that this footage is not in fact a grim reaper, as
instead a random of verger AKA a member of the abbey community
who assists with religious services, but is not a member of
the clergy. Uh huh. Sure. And it was Viva Regina Camilla, which
means that Long live the Queen. That's my Yes, we
John C Dvorak: got that one. Yes, that's my bad.
Adam Curry: I had to pull my head out of the gutter. Anyway,
there was some Charles stuff there that was not my king.
kiddos Rice Krispies. That was kind of cute. Oh, oh, I know
what we find kiddo. So offensive. I figured it out.
Okay, you ready for this? Yeah, kiddo has been used in many
horror films. Has Yes. And I'm just example of desperately
looking for my from my page here where I have I have three
examples on. Etymology of kiddo, Kill Bill Volume to character
played. Bill David Carradine refers to his daughter as kiddo
throughout the film. While this is not a horror movie, use of
the term creates a sense of unease, particularly given the
violent nature of the film, The Texas Chainsaw Massacre 1974
Leatherface uses the term kiddo to address one of his victims.
And of course, Silence of the Lambs from 1991. Buffalo Bill
uses the term little lady and kiddo to address his female
victims.
John C Dvorak: Lame. Lay buying it. And I haven't said that for
a long time.
Adam Curry: But what's lame about it?
John C Dvorak: I don't believe that reason somebody like Jesse
would be starting calling kiddo. No, and millennials aren't using
the word kiddo. Because there's some say that she did think
because they saw that's not something. Maybe they probably
didn't even see these movies are all predicting the millennials.
Adam Curry: That's I said why we feel uneasy about it. That's
what I said.
John C Dvorak: I didn't get all your 30 year just referring to
our Yes, sense of yes, you can argue that you have to but I can
I doesn't get to the point that I'm trying to get to, which is
why is anyone using it?
Adam Curry: I know. But I didn't have any answer for that. And so
I'm just trying to keep the conversation going. Okay, but
then you good work. Thank you. Thank you. That's all I needed
to hear. Was there anything else wants to discuss with this art
because it was kind of meager I would say,
John C Dvorak: I didn't think we had anything. This thing was so
heavy. Like I said head and shoulders above everything else
I'd really really was good. In fact, I remember I had to say
this even though I don't want to embarrass you know, you said Oh,
networks again. Yeah.
Adam Curry: Well, doesn't I didn't stop it because of that.
I've just said I meant that Moore's unlike kiddo, you know,
it's like networks again.
John C Dvorak: I get a kick out of that brute years. No, I mean,
when you look at this art, you say, what could even come close
to beating it? I mean, it's no head and shoulders above
everything much?
Adam Curry: Not much. I agree. I agree. And then of course, we
love thanking our executive and Associate Executive producers.
We have us we're going to be pretty short today. We're gonna
go all the way through everything in one go. One
donation segue but you know what that means? Help us out people.
We kick it off with the SIR Borislav Marin off from trabuco
Canyon, California comes in with $513.23 I'm not quite sure what
that's about. Maybe we will learn he says please send some
spinal surgery karma and lots of prayers for my surgery on 513 33
I'm going to write it down at 323 33 would be crazy. I will
write that down. I will certainly pray for you My case
is one of the worst my surgeons has ever seen.
John C Dvorak: Oh jesus terrible give him some karma is really
Adam Curry: bad man. I'm gonna write it down.
Unknown: Karma
John C Dvorak: he's one of our better guys. Boris love Myron
off is like a classic on the no agenda show. Yes, Sir Kevin
deals is up from Huntersville North Carolina. He says a chemo
at 512 which is nice. In the morning, is my annual birthday
donation. He does this every year. For 512 I'll be turning 37
on May 12 512. Please add me to the birthday list. You're on it
no jingles just karma. Thank you for your courage Sir Kevin deals
Duke of North Carolina.
Adam Curry: You got it Sir Kevin. Thank you.
Unknown: You've got karma.
Adam Curry: Sir les Ron is in Dothan. Dothan, Alabama. Dosen.
Dolson. 376 Happy Mother's Day Mom. We love you for trips
around the Sun donation sir les wrong, but mom's only four.
She's four. Maybe it's a leap year so maybe she's 32
John C Dvorak: she'd be she'd be 40 She's a 44 4040 trips girls
spring chicken There you go. Compared to Peter Irish in
Hudson, Wisconsin. Three, three 3.33 Happy 70/10 anniversary to
the dame of the 10 key.
Adam Curry: Okay, oh very nice. Laura cram 333 dot 33 Boy do we
love that number and she says switch a roo I'd like this
credit to be given to my husband Jake All right, I'm doing that
right so that will be Jake cram done. Gents This week our son
said no agenda is keeping me sane. Key he's 13 for us our
three kids love the show keeping them on brainwashed now. That's
value for value. Shout out to their uncle sir BK of PNW de
Deus. Yes, please. You've been D deuced. And a goat scream for
the kids from the CRAM fam.
Unknown: You've got
Adam Curry: nice karma. You bet. Love hearing though. Franco
John C Dvorak: and Wallingford, Connecticut is also in at 333
Dots three, three, and he says gents thanks you for creating
the media deconstruction exercise for the world. My
donation is my first oh please de douche.
Unknown: You've been de deuced
John C Dvorak: I'm celebrating my 52nd trip around the sun on
511 And he's on the birthday list starting listening at 2020
After hearing Adam on Rogen broken donation once I saw
behind the media curtain in her all the people who believed you
in your work enough to become producers I was hooked. Now
everything is a psyop
Adam Curry: yes that's correct.
John C Dvorak: And I'm a better man for it many blessings to you
and your faith journey Adam and John stop trolling Adam pregant
mentions of 100% Not withstanding on a percent
jingles Reverend Al long version I got ants in Yakima for all
best always fill Franco in Wallingford, Connecticut after
this I want to I want to play a clip about psyops.
Adam Curry: Oh, okay. And I'm going to I've put the long the
full I'VE GOT ANTS version in the end of show for today. She
just got a little clip today and once
again, and here's Al Sharpton
Unknown: resist we much we must bear all Jide about a shutdown
the tortoise in the race then co author of Kubrick's YouTube,
lead singer Bono friend Dr. Schiff, singer noise Weaver,
Johanna Sanaya of Rush Limbaugh Rush Limbaugh Rush Limbaugh, the
show rush Lombard hosts Supreme Court Justice Sonia Santa Maya,
Maya is Mike McCurry yesterday and Tony and Tony Scalia, Kim
Kardashian and the Republican candidates both K roe and
Benghazi we rank behind locked v r la vita first Latvia,
Kazakhstan, Kazakhstan. Students in Beijing is getting lunch at
Chipotle in Iowa, Maine is appropriate. The GOP Tax Day
Giveaway to millionaires Why was traffic problems email sent to
the Environmental Protection Agency and what's sequestration
has done? You've got
Adam Curry: karma that is the OG I will clip Do you want to play
now?
John C Dvorak: There's a clip this is a clip from Michael
Francesco of francesi, Francesco Francesco franchises,
Adam Curry: cheesy franchisee,
John C Dvorak: franchisee he is my ex mobster who's on the you
know, he's on the circuit. He's got a podcast and a couple of
these guys do.
Adam Curry: The mob is now getting in on the action. What's
going on?
John C Dvorak: Sammy the Bull has a podcast.
Adam Curry: Oh, well, he's Sammy the bull.
John C Dvorak: So Michael has said this before I've heard it
before he brings it up all the time. And it's something I think
this is true. I think he you're here this is about the CIA not
killing Kennedy. Oh, which I've subscribed to I don't think they
killed Kennedy would be ridiculous, because you don't
just you don't have to kill him and you could do other things.
You know, make them fall down his flight of stairs, et cetera,
assassinated with a bullet. And so he has this is an aside that
he made because he keeps saying this on various podcasts and
this was a little more elaborate than usual. And this is his
thesis based on what he heard when he was in the mahb
Unknown: Carlos Marcello. Now we know who he was he was the boss
of New Orleans. And by the way, Carlos confessed to being part
of the JFK assassination. I don't know if you know that. And
some people, for some reason, they don't want to believe that.
And I'm going to tell you why. Because the CIA, the US
government never would want to admit that the mafia was able to
get to a sitting president. But this classified documents about
the JFK hitting that have never been revealed. They're always
supposed to be every 25 years. They're supposed to, you know,
make them public, but for some reason they never do. I believe
that's the reason because I've said it in the past. Everything
that I've heard during my time in that life from the right
people, was that it was definitely a mosh pit, which AFK
not proud of that. I'm just telling you. And Carlos Marcello
actually confessed to it.
Adam Curry: Ha, why? Why are you playing this in the donation
segment?
John C Dvorak: Because it was brought up about everything's
OSI opt mode. Ah, and so this, there's some sort of OSI up
going on with his Kennedy assassination, because they
won't release the stuff and it doesn't make any sense. And if
it turns out to be true that it's just a cover up the CIA's
not that they did it, but that they couldn't stop it. Hmm. And
that's the thesis. And the funny thing is the guy who is who made
this confession on his deathbed was the New Orleans boss. And it
was out in New Orleans with Garrett in New York Garrison,
whatever that guy's name was, there was a big stink during the
assassination, inquiries at the end, this is just one guy that
yeah, it was a lot of New Orleans.
Adam Curry: So what you're saying is, the mob is really
more cunning and better than the CIA.
John C Dvorak: At the time, since then, they turned the
tables with the Ricoh stuff and all decided that this is not
this is not working out. We can't let this continue. Let's
set up shop here to get stopped these guys and let them know
that this is not acceptable. And that's what I think happened. I
think that's the only thing that makes any logical sense with the
refusal to show these documents which is illegal. What do you
mean what's illegal? They're supposed to release these
documents every 25 years. And Biden and everybody else has
refused to do it. Why? Well, that's
Adam Curry: my question. So why why why not paying a dime
because
John C Dvorak: the CIA is implicated? Because they knew
about this this assassination, they couldn't do anything to
stop or they didn't want to stop it. Well, there's always that
possibility but I get the sense that they did. I get the other
sense I get the sense that they couldn't stop it. They want no
additional read like you know, you don't want to dig got blamed
for it. Who needs that aggravation.
Adam Curry: 260 Trolls did not hear this clip. sad for them.
Good work.
John C Dvorak: Well, that's the reason I played it during this
segment. Also, besides the mention of OSI up I thought I
play a reasonably interesting clip right in the middle of
nowhere, I like it. Like there's no other way to play it anyway.
Adam Curry: Well, you know, but you know, what's gonna happen
now is every single time that we do this, and I did it last time,
and now you're gonna get the district for this clip, clip.
John C Dvorak: A clip of the day that no one heard
Adam Curry: if no one heard it was a clip of the day. That's
the question. Teal is in crystal Minnesota. 333 in the morning,
this donation isn't honored my best friend, Mr. Buck gaki. But
gaki.com Big aki.com hit me in the mouth several years back,
and the no agenda show has guided me on a healthy path of
skepticism ever since. Thank you for your service. Teal.
John C Dvorak: Nice. Brockport New York is where our friend Sir
Johnny B comes from. He comes with 250 bucks because Associate
Executive Producer Happy Mother's Day Polly from Chase
Wyatt answered Johnny B.
Adam Curry: Brian Maloney is in Spokane, Washington and our
second Associate Executive Producer to 42 dot 44. Happy
belated birthday to two proud members of the North Idaho
sanity brigade. Kyle to Hig to egg aka spoke of Spokane turns
42 Spokane Spokane sorry, general Wimberly aka Jen with a
G turns 44 please add them both to the birthday list they're on
there. Also, I'd like to call out my smokin hot girlfriend
Lacey as a douchebag. I hit them all in the mouth since moving to
town and can now attest to the truth that couples who no agenda
together stay together. Lastly, I hate to be put on now. Not
after the douchebag and lastly after oh I hate to be put in
this position but I would like to request the end JNK song be
included in the end of show mixes in J and K. And I think
you know what, let me just have a little taste Good one good
sound mind okay, I will put it into the somehow put that and
that's a grind forgotten all about that one and J in case
that's great. We'll put it in there. It's very nature it's
impossible to request Yes. That's an exchange for no
jingles no karma. You got to put it in. Thank you for your
courage. Yours truly, Brian also was spook Maloney, they're all
spooks Do you think they're really scared is a few Do you
think they're really spokes? Are they just just saying that to be
cool?
John C Dvorak: It's hard to say probably half of them I guess. I
mean, we know they're spooks out there there's there's a couple
but they're usually not bragging about it. No mon Sweeney and
Edmonton Oklahoma 235 11 No jingle he didn't put anything so
let's give him a double up karma double karma Yeah.
Unknown: You've got karma
Adam Curry: second I'm literally putting this song into the end
of show mix stuff. There we go. Where are we now we've got
anonymous in Chicago Illinois, the our last Associate Executive
Producer to 33 dot 33. In the morning gents, longtime listener
first time donor words matter keep deconstructing the M five M
No jingles no karma love is light or lit as we sometimes
say. Perfect. Thank you to these executive producers and
Associate Executive producers for supporting us here for Show
episode 1554 We highly appreciate it. This is what
keeps us going and while I line up the birthdays and two nice
things John's going to take you through to the 50s
John C Dvorak: Yeah, we're gonna start off with the Baron of
America's mountain invite counted very fine people $155.51
It should be mentioned that he sent in a new kind of just a
thank you note but the end of marvelous the book by him Andrew
Jones who is actually
Adam Curry: I got this Barrett. I got this book too. This is
very funny.
John C Dvorak: Yeah, especially because of the blurb on the
back.
Adam Curry: Well first of all, you know to mark you notice on
the front he has instant bestseller which is a Jhansi
Dvorak trick running gag and then I have a quote in the
praise. Here's Adam Kirk. Oh wow, that's my
John C Dvorak: yes Yours mine is an excellent product I'm buying
it
Adam Curry: Have you read the book? No, I
John C Dvorak: haven't but it's got you never use your right
blurbs just add them do the reading and loving
Adam Curry: elevens Anniversary Edition okay.
John C Dvorak: I I've read it I've read it reads well so it's
probably something you should people should look it up it's
called the end of marvelous by am Andrew Jones.
Adam Curry: And here's a so the on the the blurb on the back is
from Mark Bognor of the Gitmo foundation times. Like the
labeled rope a dope the end of marvelous often appears to be
stuck on humorous side plots. But the story is simply wearing
out the readers preconceived notions so it can deliver a well
orchestrated and near flawless victory in the final rounds.
Fabulous. I'm taking this on my next vacation to read for sure.
Good. I just liked my blurb.
John C Dvorak: Oh, wow. Oh, wow. Great blurb curry. So let's go
with that. I'm gonna read these donors off one at a time with
their name, location and amount was starting with Gregory FIREX
and Chicago $100 or weasel in Palmer? Alaska, I think yep.
Yeah. Alaska. 100. He also sent me some sad puppy photos. Matt
are trying to sleep Mark Stevens in Waycross. Georgia. 100. Happy
Mother's Day. Meredith.
Adam Curry: Yes. That's coming up Sunday Sunday's. Yes. Sunday
Sunday Sunday. If your love your mom you donate to the show.
Kevin McLaughlin
John C Dvorak: locust North Carolina 808. Our friends with
the absolute longest streak so far a boob for one donation
number 808. Chris get Galleon in Meridian, Idaho. Switcheroo from
ranch smokin hot douchebag have a wife and two for Mother's Day
and a mother as a Mother's Day call out. Never names her.
Jeremy Hirshman. Also in Sheboygan, Wisconsin comes in
with a oh a for his poopsie sir Rick in Arlington, Washington,
sir Rick, who is we've been Miss naming him in the show and he
got a little irritated deception twice. 6996 Dustin Clendenin in
Arlington, Texas $65 Jason Templeton in Acworth Georgia
6336 Nice De douching
Unknown: you've been de deuced
John C Dvorak: Hector Sosa 5523 Sir Tom Darian, DeForest,
Wisconsin 5510 Corey Stewart and Jackson, Mississippi, Michigan,
Jackson, Michigan 5232 Sir Luke Reiner in London UK $51 Call out
to the East End. Coming Georgia is where Bob Butler resides is
six videos six, nine cents. Bad idea supply Parts Unknown. It
seems $50.50 All right. Can
Adam Curry: I get some bad ideas?
John C Dvorak: I don't know. Capek, chiropractic and Capek
Michigan $50 George will shit in LA vernia Texas 50 These are all
$50 donors I just wrapped through him. Don Donnie Norris
in Torrance, California. Sorry guys have been a douchebag for
too long. Good. Thanks for what you do Nadine Borg and San
Marcos, California anonymous in Westwood, Kansas. Margaretha en
de ain de e Dan hood, in orange Vale, California. Gavin
McGoldrick in San Francisco, Andrew Grasso in Mineola, New
York, Tim Delvecchio and blend in Pennsylvania, Cory Cunningham
in Warrington, Virginia, and last but not least on the list
is Sir Brett Farrell in OKC. I want to thank all these folks
for contributing to show 1554 We got Nick show is 1555 Nice
number, donate and donate over 50 bucks and give your mom or
somebody your mom or wife a call out for Mother's Day It'll be
Mother's Day.
Adam Curry: And we do break for nights so Timothy have no fixed
title have sent me a note and ask for an emergency jobs karma
will do that for you of course jobs, jobs and jobs. Let's vote
for jobs. Karma and thank you all very much for supporting the
no agenda show under $50 as well we do not mention those for
reasons of anonymity. If you're under 50 We just you're safe. Of
course people are also looking at some of those sustaining
donations they are recurring donations that you can subscribe
to We appreciate those very much. They do help on slower
days like this one if you'd like to learn more go here
Unknown: vorak.org/n A and thank you
Adam Curry: to our executive and Associate Executive Producers
titles that are Real you keep forever
Unknown: our formula is this. We go out we get people in the
mouth
Adam Curry: we start off today with brother of the clip
custodian clip collector Steve Jones turned 49 Yesterday, Nick
res Julius celebrate today Phil Franco turned 52 Today, Sir
Kevin Hills turning 37. Tomorrow Lisa dimmer wishes her husband
Wade Dermer happy birthday for the 13th and Dame Vox of the
gateway, Purser keeper Vox turned 60 on the 13th she wished
him a happy birthday Eric says hey Ryan the douchebag Happy
Birthday. That's Ryan the douchebag Hutchins, he's turning
333 and Brian Maloney wishes Kyle Twohig a happy 42nd
birthday and general Wimberly a happy 44th Happy birthday from
everybody here the best podcast in the universe. Now before we
get to our before we get to our nights we have these are layaway
knights who have been saving up for a long time so let me read
their notes. The first one is from certainly in the morning
Adam and John. I was a part of the 20 month pay pal plan 20
months and this coincides my 20 month donation to a knighthood I
would like to be known as certainly not from the land of
woke. I would like some Aaron Aaron cine what's Aaron cine?
What's LM? l a r a n c i N i I've never heard of any Aaron
cine I don't know maybe some bitter this product before Aaron
cine and some grass fed ribeye look it up and Greenfire farms
in Monticello, Wisconsin. Okay, we got it there for you. I have
a question about vacations a month in a month. I will be a
father. It's my first. I'm nervous about the vacation open
on that vacation vaccination. I was wondering, was he asking
about vaccine vacation? I'm worried about the vaccination
schedule is hard to find solid straightforward information.
John C Dvorak: I'm sorry, it's an Italian rice ball.
Adam Curry: Oh, why don't you just say that?
John C Dvorak: Deep fried fried rice bowl. Rice Bowl coming your
way.
Adam Curry: So I have a question about vaccinations. He says in a
month I'll be a father My first I'm nervous about the
vaccination schedule is hard to find solid straightforward
information. It's not farmer propaganda. And he references
any advice now we can't give advice. We won't give advice.
But I think that if you go on no agenda social.com You'll get a
lot of people who have pointers to some good advice. I'll just
say this. It seems like there's a lot of vaccines on the
schedule. More than when I was a kid or when my kid was a kid.
Thank you both. For all you do shout out to my Gitmo slaves
here in FEMA Region number five. I'm glad we met love is lit and
he will be certainly not in a moment sirloin, started
listening to the show during COVID after being introduced by
a thread on the rivals main board and started donating 3333
a month I file received knighthood status please dubbed
me sirloin and have Tomahawk steaks and McKellen's at the
round table. Yes, this has been requested before. They always
like to up their game with some expensive single malt. You got
it. And while we're at it here, let me get out of blade.
John C Dvorak: Making MacAllan 18 Just to be on the safe side.
Adam Curry: Can we make that a MacAllan? 18? The verger says no
problem. The no agenda. verger MacAllan? 18 verger helps us out
with everything. I need your blade a low A blade and oh
John C Dvorak: blah. Here it comes. Oh, it's nice to get one.
All right.
Adam Curry: Tinley, not James loughrea hopped up on the podium
both of us have just heard have supported that no agenda show
and the amount of $1,000 and you did it on a layaway program.
That is fantastic. Everybody can be a knight and I'm very proud
to pronounce Kate the as certainly not from the land of
woke and sirloin now brand new knights of the no agenda round
table for you. We've got it right here. We have Aaron
Seanie. It's a rice ball and some grass fed ribeye from
Greenfire. Farms in Monticello, Wisconsin and Tomahawk steaks
and MacAllan 18 along with that geisha, the sakeI hookers and
blow red boys Chardonnay bong hits and bourbon breast milk and
paddle of ginger ale and gerbil is of course we've got the
mutton in Mead. If you should try that even though you got the
Macallan try some of our mutton try some of our meet and then go
to no agenda rings.com You are more than welcome to anyone can
go ahead and take a look at it is there really beautiful no
agenda rings.com We need you to send us an address as a form
there and let us know where to send that off along with your
ring size it comes of course with your wax to seal your
important correspondence with I love getting notes in the PIO
box in the mail that has that little Knight ring seal on it it
just it makes it makes me feel good every single time thank you
so much for that and also a certificate of authenticity and
welcome to the roundtable brand new Knights have no agenda
Unknown: no one said
Adam Curry: the party is always at the no agenda meetups Dayton
Ohio had a had a had a meet up on the ninth and intendance was
the writer of this notes or eggheads, her lady fingers man
overboard but still living the life now please. Sir Leary
Deaton from Dayton all famous names here. And Gregory from
Dayton from Dayton and Gregory from the Orlando meetups known
as Big Mo or J. Nice to know to the power of no agenda meetups
that some dork like me can quickly gather for other
diversity experienced slaves to join me for some beers at the
date and beer company with around 24 hours notice. If you
haven't participated in a meet up you'll find the networking
that can take place is incredible. Instantly we're
having flowing conversations like we've known each other for
years. It's common that folk share phone numbers and start
having or continuing conversations on their own.
There are great people to meetups and we're all friendly,
approachable, polite and interesting. Even if we may not
look at no douchebags in the crowd. We're all knights, even
if it hasn't yet been claimed in the morning, sir Egghead Knight
have a long shadows of crash mountain. Well, I can't give you
a better endorsement than that. Thank you so much. And today
there's a meetup and at Lincoln's Roadhouse in Denver,
Colorado, it's the look here's the deal, meet up. No joke,
that'll be at 630 Tomorrow gateway gateway to the MO meet
up seven o'clock at Venice cafe in St. Louis, Missouri. On
Saturday, the UI who is Southside OKC meet up OKC time
baby one o'clock the garage on i 214 OKC and then we have the
local 512 Mother May I meet up one o'clock at Doc's backyard
and Sunset Valley I will be there with my buddy Jimmy.
Looking forward to that of course Baron Scott of The no
agenda armory is organizing we expect a big crowd everybody.
The Annapolis area meet up to 30 on Saturday and Arnold, Maryland
at Oh locklin's And the red 33 Red 33 Boston Taurus 23 SkiDoo
at Castle Island brewery in Norwood, Massachusetts 230 on
Saturday. We have oh, that's a sir Nathan Lee Miller foster
chaotic GOOD NIGHT OF THE WHITE lodge organizing Um Let's see
Saturday as well the no agenda Three Mile Island evac zone
meetup 333 plan demic HQ, so you need to register for that and
Louis barre Pennsylvania at Central PA surf soiree Southeast
Portland meetup five o'clock Pacific Portland that's also a
private home in Portland, Oregon, of course, can't be
doing that out in the open in Portland. And finally on
Saturday in Houston, the second northwest Houston meetup
security and Wakefield crowbar. Houston, Texas or the Economic
Hitman is organizing that we have meetups all the way through
the end of June and beyond. You need to join one of these I'm
joining one as I said on Saturday in in Austin, it's
going to be a Hootenanny looking forward to it no agenda meet
ups.com If you can't find one near you start one guaranteed a
party with Tyson day you won't be you
like to have three ISOs about the ISOs I have three Shall I
play mine first? Yes, please. Okay, hold on a second. There is
this one suck on that. Okay, this I think we both received
this too long. But if you want to play it since someone sent it
to us. Yeah. Sounds good. Long, and then the inevitable the make
me vomit. There you go. Richard Dreyfus make me
John C Dvorak: I don't like this bad reflection on the show. But
try mine.
Adam Curry: Oh, wow. And this one sound familiar? Yep.
John C Dvorak: I think I like the Wow, better. Wow. Like a
while back to I think the WoW was good. It's just that that
non binary person. She threw out her little spiel she kept saying
yep, yep. And she would emphasize the yep,
Adam Curry: yep. Yep. Yep.
John C Dvorak: So Saturday offensive.
Adam Curry: Saturday is the big Eurovision Song Contest. Oh,
yeah, yeah. And, you know, every single year we say, Yeah, we
should be doing our own audio version. And every year we don't
do it. It's also it's some peacock. Now let's see the in
the finals we have Norway, Serbia, Portugal, Croatia,
Switzerland, Israel, Moldova, Sweden, Chechnya, and Finland.
Then it will be held in in Liverpool. Because it's too
dangerous to do this in Ukraine who of course, won last year,
just from a from a general perspective, these things are
usually rigged. Who do you think will win? See, I'm thinking I'm
thinking Finland maybe was Finland or Sweden because
Finland is now a NATO member. So they should get the nod over
Sweden who are still waffling Yes.
John C Dvorak: For playing along.
Adam Curry: I think Finland Finland for the wind.
John C Dvorak: I agree but I can't think of anything else
yeah
Adam Curry: for being good. doobies and I just fall in
Poland. You know, we've were we cut the cord.
John C Dvorak: Cut what cord?
Adam Curry: I cut the cord. I cut the cable cord. Oh, you did?
Yep. We got the we got the five gigahertz Giga gigabit per
second fiber.
John C Dvorak: And you're relying on that.
Adam Curry: I do have two backups I do have. I also cut
the T Mobile. Not the T Mobile Verizon dongle. I got rid of
that. $130 a month
John C Dvorak: is too high. Yeah. Did you? What about your
OTA? Did you go OTA OTA over the air. I have
Adam Curry: to have OTA antenna. Yes. Now it's not anything on
the roof or outside, but I have not yet. Tina is in New York. So
Saturday morning is when I do my at OTA test. But I did want to
mention something that really was very irksome Spectrum was
our cable provider and our internet provider. And it was an
outrageous bill we got every month. I mean, it was $255 I
mean that's that's outrageous. But to cancel I had to go
through a whole questionnaire with Raul you
John C Dvorak: want to you know, there's companies like that out
there. That's shameful. And
Adam Curry: I said, you know, I'm just can we just skip the
questionnaire? I just I really don't I just want to cancel. No,
you can't this I have to go through this window. And it's
rude questions like what did you watch? What did other people
watch? And just kept saying nothing? Nothing. No, we didn't
watch anything. No, that's why I'm getting rid of it. No, we
didn't watch. You had premium yet. HBO. Nope. didn't watch it.
No.
John C Dvorak: It was too you lied to them,
Adam Curry: I guess. But 20 minutes almost of this nonsense
and you can't skip and then you know, they keep trying offers.
Well, you know, I see here that we can offer you this or that?
Oh, yeah. Is that that that should be that should be
John C Dvorak: illegal. Illegal. Thank you. That's Elizabeth
Warren. Yeah. Thanks, Liz.