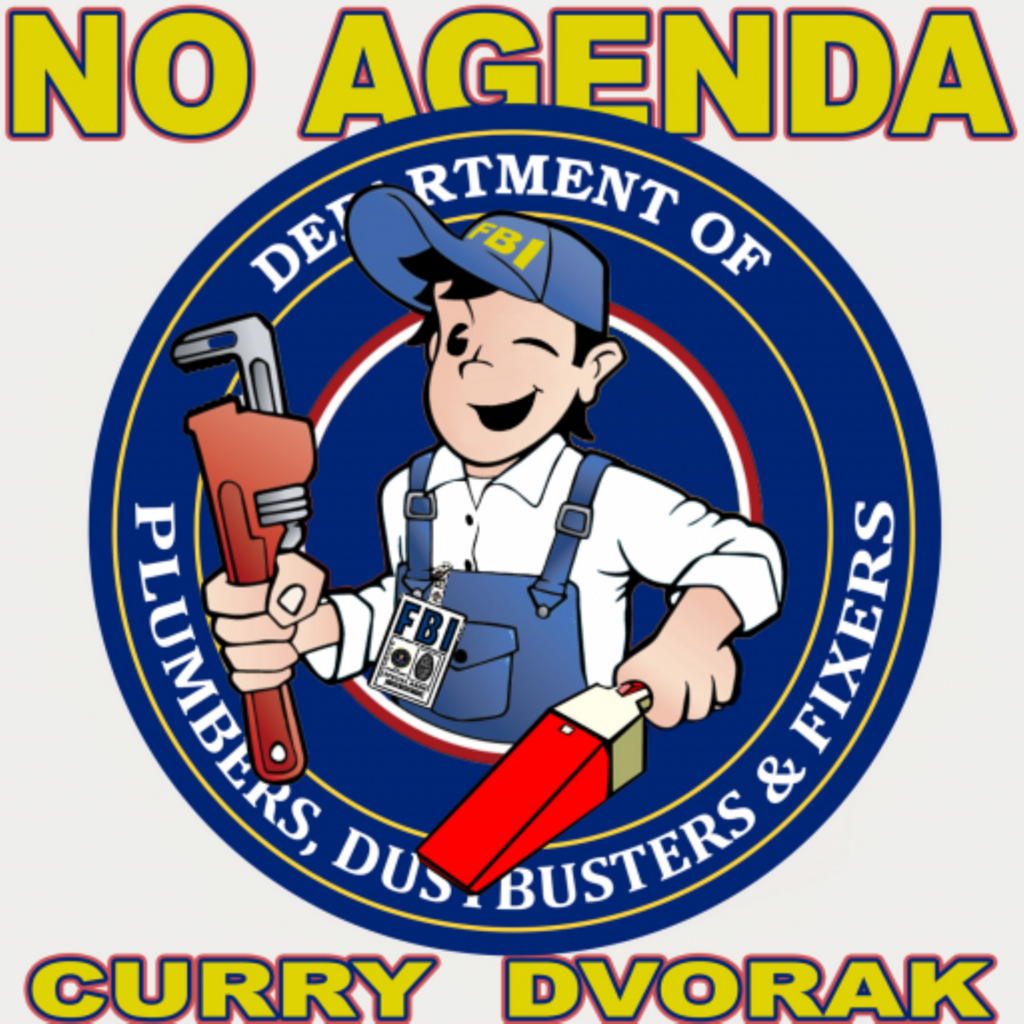 May 18th • 3h 10m
1556: Uncertainty Complex
Transcript
The transcripts of No Agenda are automatically generated and therefore, not fully accurate. Discretion is advised.
Click the text to start playing from that position in the show. Click the timestamp to copy a direct link to that position to your clipboard in order to propagate the formula.
John C Dvorak: Are you gonna wear that?
Unknown: Adam curry?
Adam Curry: Jhansi Devora 1820 23 This is your award
winning get my nation media assassination episode 1556 This
is no agenda, carrying zero sealed indictments and
broadcasting live from the heart of the Texas hill country here
in fingerings. And number six in the morning, everybody. I'm Adam
curry
John C Dvorak: from Northern Silicon Valley where we're all
wondering why Princess Diana is still in the news. I'm John C.
Dvorak. Buzzkill.
Adam Curry: That was of all the things going on. I actually have
one article about that stupid hoax. Megan Markel, and Harry
pulled off a bunch of hooey.
John C Dvorak: What's weird to me is I was trying to get some
clips yesterday. And it's it was the start. It was top of the
news. Of course, it was top of the news on NBC back to real.
Adam Curry: Yeah, it was top of the news, everybody.
John C Dvorak: First thing they did, did the Durham report.
Forget it.
Adam Curry: Now? Why do that? No, we've got Harry and Meghan
in a cab, which which has eerie echoes of lady dies death. You
know what, you know what this was? I'll just tell you right
now. Because you asked why is she in the news? Six hours
before the the authorities in the UK had once again reiterated
No, you are no longer Royals, you don't carry out your duties,
you do not get protection, you don't get a security detail. So
to prove how they need it, they got into a yellow cab and drove
home from an event in New York. And that's they were they were
chased for two hours. I lived in Manhattan. This is not
happening. You know? Well, yeah. I
John C Dvorak: have some of that straightened out to correct some
of your misconceptions. Oh, please. We really because
because TMZ devoted half their show to this when they were Oh.
So what happened was they took off in four big sedans. And they
were chased along the FDR which they could do faster speeds. But
I don't know that FDR ends I don't know they could do it for
two hours. And so they went to a police department station and
said we need help from the police department. They put him
in a taxi cab get
Adam Curry: in the cab, you stupid Brett's
John C Dvorak: this was bull crap from the get I mean, this
was I agree. 100% it's a hoax. And I didn't have the you
Adam Curry: just said 100%. Right in the first five minutes
of the show.
John C Dvorak: Thank you. Okay. And so I'm going to I'm going to
agree as what your thesis, but I had no idea of the Genesis, but
now I know. Yeah, you're right.
Adam Curry: Okay, so then what you did not see on the
mainstream news was, was the Durham report, long awaited long
awaited term report. Actually, you did see it. If you're
watching. I think it's 300 pages too. Yeah. And I read through
John C Dvorak: pretty much all of it. It wasn't on CBS. It
wasn't on NBC. They talked about this. Oh,
Adam Curry: it was on NBC. I didn't see all the all the NBC
products had it. But would you like would you like to first
hear the NBC products that were outrage, or, and lies? Or would
you like to hear the France 24, which had a surprisingly honest
report.
John C Dvorak: Oh, I'd rather hear the lies from NBC.
Adam Curry: All right. Well, let's start off with actually,
we'll start off with morning, Joe.
Unknown: Thank you. This guy was the longest serving Special
Counsel for years. And the report offers us no new charges.
No new revelations, not even new suggested rules for the FBI. I
mean, they were so horrible. She didn't even suggest any new
rules. He also had investigations into political
matters that he ended up offering no advice on just more
bad writing and more bushing posturing to Trumpers. And
Willie, he actually re litigated cases that he lost in front of
the juries that he faced over the last four years. Not any
convictions is another sad, pathetic attempt to make suckers
and we remember this because we showed their headlines. He
wanted to make suckers of pro Trump cable news hosts and right
wing newspapers are already getting burned huddling his lies
before. What was his goal? His goal was to dramatic was to
trash premier law enforcement organizations in America and
attack the men and women who serve every day. It's Department
of Justice. The only good news is, at least his four year
taxpayer funded boondoggle. It was funded by working America
ins walk through the working American lumpsum Trumpism is
over and Durham has nothing but a tarnished reputation to show
for
Adam Curry: Durham as a tarnished reputation. Let's do
the next
John C Dvorak: NBC check me for a jump to the day you wanted
Adam Curry: to hear the lies
John C Dvorak: What is this guy's problem?
Adam Curry: Well so the message went out amongst NBC Universal
clearly by the
John C Dvorak: way and you did this and this is not read to me
it's not NBC that's me.
Adam Curry: And I have an it's an NBC product. Yes, it is an
MVC pen I have I have an actual NBC product NBC News but first
let's do another Ms.
John C Dvorak: Go back I want to know what is what was this guy
trying to accomplish here?
Adam Curry: Just to say there was no there there was a big
nothing burger. That was so pathetic. But that's that's what
they all did. Every single NBC related report was pathetic like
this. I mean, there's some very real statements in here. And
again, I think France 24 did a pretty good job what but you
want you wanted to hear the lies first. So let's go to Nicole
Wallace with Andrew Weissman on to debunk this report together.
Unknown: Andrew Weissman, Manafort, guilty or innocent in
a court of law Tilty gates guilty he didn't lose gates
guilty or innocent. Roger Stone guilty or innocent a quarter
lost guilty. Mike Flynn guilty or innocence. He pled guilty so
many times.
Guilty, admitted he was guilty. What's true and said to the
judge fault, I falsely said I was guilty.
Papadopoulos and the sinner Guilty, guilty. So
meet them out of their own mouths or the jury
because the whole thing is predicated on it's like a rabbit
hole conspiracy. That suggests that the Trump bar paranoia
infected his ability to stand back and evaluate whether the
probe yielded guilty convictions of people who would have had
nothing to do with any of these questions he looked at it is a
view from so far down the rabbit hole that what needs a scrub
what needs some oversight is what Mr. Durham did for four
years that repelled his longtime prosecutorial partner, Nora
Dennehy and other high level DOJ prosecutors so
Adam Curry: again, nothing really about the report. Chest
this was ridiculous. There was nothing there nothing to see NBC
News. I don't know who this guy is. But um, MIT pretty much the
same, only a little more coherent.
Unknown: It's an exhaustive look at what the investigation code
name, crossfire hurricane, and there are a lot of different
Adam Curry: this is true. That's really what the report was about
was about crossfire hurricane. And the conclusion overwhelming
from Durham was there was no evidence to start this
investigation in the first place. That is really the main
crux of his report,
Unknown: what the investigation code name, crossfire hurricane,
and there are a lot of different rabbit trails that this report
goes down. But I think fundamentally, what it does is
it suggests that the FBI should not have opened this
investigation in the first place. And that, as you said, it
did so too hastily based on uncorroborated information, and
that basically the FBI was suckered by a bunch of people
with political agendas. Now the problem with this thesis is that
it runs directly contradictory to another independent report by
the Justice Department's inspector general back in 2019,
which took an exhaustive look and found that, in fact, there
was proper predication for this investigation if the FBI acted
appropriately in opening it, and also found no evidence, no
demonstrable evidence of political bias and doing it now
obviously, one of the agents involves a man named Peter
strock, who was found later through text who have expressed
you know, the animus towards Donald Trump. He's not a Donald
Trump fan.
Adam Curry: Remember? Do you remember those texts? I think it
was a little more than not a Donald Trump fan. It was great.
Totally out to get him
Unknown: to tend to miss towards Donald Trump. He was not a
Donald Trump fan. But he was not the only decision maker here.
There were others. And look, there's a lot of different
aspects to this report of him. One of the cases that Trump
tries to make is that information about potential
counterintelligence threats involving the Clinton campaign
was treated differently. But what he doesn't address is the
context was so context who was publicly asking the Russians to
find 30,000 missing emails, Bill Clinton, who was expressing
admiration for Putin. That was the context that Jerome really
doesn't address this report. Look, the other thing is a lot
of policy changes, because there were some serious flaws in how
the FBI approached particularly its application for foreign
surveillance warrants and the rules have been entirely
overhauled in that respect. There's also a new rule it says
the Attorney General has to prove any investigation into a
political candidate or political campaign and a lot of people
would say that makes perfect sense given the stakes here.
Ultimately, this investigation, as everyone knows, did not find
formal coordination between the Trump campaign and Russia. But
it found a series of troubling contacts and a Senate,
Adam Curry: which is nothing in the report. There's there's
nothing in the report about troubling contacts I'll
Unknown: just committee report bipartisan went even further and
said that these contacts pose a counterintelligence threat to
the United States because the Trump campaign essentially
opened their arms to help from the Russians.
Adam Curry: I think you hear what's going on here. Like Well,
there was another inspector general's office to be ours.
It's it's they, they do a very good job of this. I have to say
they do a great job of just making it sound like there's
nothing in there and that certainly was government had no
evidence to open crossfire hurricane. Now, of course, he
didn't charge any anybody. You know, I think there were like
three charges earlier, one, two were exonerated, one got, you
know, slap on the wrist. The former Intel officials, they
were promoting the whole steel dossier, which is completely
torn apart as paid for paid for by the Clinton campaign in the
report. None of this, of course, is told nowhere actually. Key
Foreign Affairs official saw no evidence Victoria Nealon Nuland
comes out smelling like a rose. She said she told the Durham
team Oh, she never saw any US government proof of the
allegations. By I don't even remember hearing that to you. I
don't remember her say, well, she just wants to make sure she
doesn't get any glue on her. The Clinton campaign was behind the
whole thing. This is in the report. And then yeah, but
that's covered over by the NBC products as all those double
standards but no Trump he said Putin helped me get the emails.
The opposites and research for the firm fusion GPS was all paid
for they went to the media before they went to the FBI, and
it's really all in there. But yeah, there's no indictment. So
now therefore, nothing. You got nothing. And even Jake Tapper,
this was 13 seconds that flew around the internet, which is
suspected best because it's only 13 seconds and cut off but here
it is,
Unknown: regardless of the report is now here. It has
dropped and it might not have produced everything of what's
the Republicans vote for me. It is regardless, devastating to
the FBI into a degree it does exonerate Donald Trump.
Adam Curry: Whoa, Jake. Dewan. Jake's a CIA guy. You see, we
know that because he was at the birthday party of some, was it
the CIA director, not to the system director. I think we
heard from our boots on the ground. So he's a CIA guy, so he
doesn't have no problem given the FBI. Here's France 24 Not a
Unknown: bad report just over 300 pages, detailing why the FBI
should never have launched a full scale investigation into
Donald Trump's 2016 campaign known as crossfire hurricane.
Special Counsel John Durham was appointed by the Trump
administration back in 2019. To review the origins of the probe
into links between Trump and Russia. Key claims that FBI
personnel bias led to a premature investigation.
Based on the evidence gathered in the multiple exhaustive and
costly federal investigations of these matters, including the
instance investigation. Neither US law enforcement nor the
intelligence community appears to have possessed any actual
evidence of collusion in their holdings at the commencement of
the crossfire hurricane investigation.
He's called on the Justice Department to appoint a neutral
official to oversee politically sensitive probes. The report
noted differences in the way the FBI had handled the Trump
investigation compared to other potential theories, like those
involving Hillary Clinton. But a lot of the outlined concerns
aren't new, and had already been published in a report by the
Justice Department Inspector General back in 2019.
We found and as we outlined here are deeply concerned that so
many basic and fundamental errors were made by three
separate handpicked investigative teams on one of
the most sensitive FBI investigations.
In response to Durham's report the FBI said it has already
implemented dozens of corrective actions that have been in place
for some time. The findings have provided Trump with some
ammunition as he plans to run for re election in 2024 amid a
number of legal battles, but dorms report is actually much
milder than many may have been expecting after Trump predicted
a sweeping purge of the Bureau. While mistakes were revealed,
Durham hasn't unveiled any new prosecutions and included no
recommendations for further reforms to the FBI.
Adam Curry: I think that's pretty honest. That report Yeah,
pretty good. I've heard now This leaves only one one person kind
of hanging out there in the lurch. And he's now calling for
prosecution of those who lied on the steel dossier. And that will
be Adam Schiff, who, of course, we need to supercut for a moment
to remind everybody what he was saying throughout this whole
process. Yes,
Unknown: what evidence we have seen to date, what evidence we
have seen in terms of the Russian hacking and dumping
operation, what evidence we have seen in terms of the Russian
social media campaign, their paid media campaign. And yes,
the issue of collusion with the Trump campaign, there is
significant evidence, much of it in the public domain on the
issue of collusion want
to get to the point of what collusion is, is sort of what
hasn't been proven here between whatever the Russians did, and
the Trump campaign. In fact, the former acting director of the
CIA, who was a mike Morel, who was a supporter of Hillary
Clinton, he essentially reminded people took Director Clapper at
his word on this show, who said, there has been no evidence that
has been found of collusion, or
Adam Curry: I love this Devorah schism, this throwing the no
evidence out there. This is good. Still took the right
you're picking it up? Yeah.
Unknown: But his word on this show who said there has been no
evidence that has been found of collusion? Are we at the point
of at what point? Do you start to wonder if there is a fire to
all this smoke? Well, first of all, I
was surprised to see Director Clapper say that because I don't
think you can make that claim categorically as it did. I would
characterize it this way at the outset of the investigation.
There was circumstantial evidence of collusion. And I
think
it's a circuit all you have right now is a circumstantial
case.
Actually, no, Chuck, I can tell you cases more than that. And I
can't go into the particulars. But there was more than
circumstantial evidence now says, again, I think Do
you have seen direct
evidence of collusion? I don't want to go into specifics. But I
will say that there is evidence that is not circumstantial, and
and is very much worthy of investigation. So can you
agree that there has been no evidence of collusion,
coordination, or conspiracy that has been presented thus far
between the Trump campaign and Russia?
No, I don't agree with that at all. I think there's plenty of
evidence of collusion or conspiracy in plain sight.
So I think at this point in time, it's really difficult for
me and many Americans to differentiate between what is
overhype and what isn't. You've said on more than one occasion
that you've seen ample evidence of the Trump campaigns Russia
collusion. Last March, you said you had more than circumstantial
evidence of treasonous collusion with Russia. What specifically
were you referring to? And please be specific, because if
it's true, I do believe Americans have the right. Well,
I've certainly
certainly said that there's ample evidence.
Adam Curry: The guy is just a liar. And so now all we have to
go after the people who lied on the Steel report, which
John C Dvorak: was Schiff shifts who who's going to be the next
US senator? For California? Yeah. Is a stooge for the
Chinese Communist Party, as is his cohort. Swalwell. California
is loaded with these guys. Yeah, man. Y'all, y'all, we can't get
rid of them. Because the California Voter is so stupid.
They can't they can't. They can't say hey, this guy is a
liar. Why am I voting for him? No. Vote for him as a vote for I
mean, as far as I'm concerned, if you're a Democrat, you should
be voting for Barbara Lee. Barbara Lee, the socialists from
Berkeley is at least as her own socialist, she doesn't work for
the Chinese Communist Party. She's not a phony. She's
definitely not a phony. And she has, you know, unless what has
to happen in California, just for people that are trying to
keep tabs on this is Feinstein who looks like a physical wreck.
Adam Curry: She's has to respond. She's doing great. She
says, she can't
John C Dvorak: even open one I actually, she needs to resign.
And then Newsom has to have the courage to replace her with
Barbara Lee, who then becomes the incumbent, but he won't,
it's going to be very difficult for him to do with all the
pressure from the bad actors like Schiff.
Adam Curry: Well, let's stick with China for a moment. You
probably heard the news that Montana finally pulled the
trigger.
Unknown: Montana has become the first state to enact a complete
ban on Tik Tok. The governor there signed that bill today.
The measure is set to take effect on January 1, the law
bans downloads of Tik Tok in the state and would find any quote
entity like your phone's App Store
or Tick Tock $10,000 per day for each time someone is offered the
ability to access those penalties would not apply to
users. The move is expected to be challenged legally with a
tick tock spokesperson arguing it infringes on people's first
amendment rights.
Adam Curry: So of course, this is this is phenomenally funny.
So the Apple and Google Play app stores will not be allowed To
offer these tick tock for download, you can use it if you
got it if you side loaded or if you use the web browser, I guess
this isn't such a bullcrap
John C Dvorak: illegal, illegal, totally legal, and it'll be
thrown at it within a week.
Adam Curry: Well, but here's the cool stuff. So one of the one of
the senators who was pushing this restrict act is Warner
Democrat from Where's Warner from?
John C Dvorak: Are you talking about the national Act this
year?
Adam Curry: No, but I'm just this Montana is, you know, their
broader game, I
John C Dvorak: think Warner Sure, Virginia. But I'd have to
look it up. I'm not sure.
Adam Curry: So Warner is one of the sponsors, one of the authors
of the Restrict Act, which as we know, has been kind of touted as
a patriot 2.0 act. But it's all based upon this endless
conversation about tick tock spying on tick tock, the Chinese
Communist Party that all your data unlike any other app in the
App Store, but unlike anything from Facebook, or Instagram, or
any any other myriad of social networks. No, no, no, it's only
tick tock. And of course, they are going to influence the
American children into hating the country. You don't need tick
tock.
John C Dvorak: You just need our grammar schools. That's right.
Just
Adam Curry: just what I'm into school. But as we always know,
when people get on a podcast, particularly it if you know
what's coming, particularly politicians and people of other
public ilk. It's like they take a stab at
John C Dvorak: what happened? Yeah, they go, Oh, it's
Adam Curry: just a podcast. I can say whatever I want. Now,
this happened to be the award winning pivot podcast, where
Warner was asked about the Restrict act and Kara Swisher
drilled and grilled him and Moon, what do we know?
Unknown: This is not just Americans. Canada has banned
tick tock EU, the Brits, Australians, the Indians have
banded out the other governments abandoned just in terms of their
governmental use in the BBC. Not exactly some, you know, not
progressive leaning groups have basically told all their
journalists get off Tik Tok because chances are you're
getting monitored. Yeah. So the proof you you're the head of the
Senate Intelligence Committee. I'm
guessing you've seen the proof.
I can tell you this. There is a reason why every law enforcement
entity it's reason why the armed forces the reasons why every one
of our 17 intelligence agencies think that tick tock is a
national security rush. What's
the reason? Can we see
I'm not gonna go on? Let's pass the bill and then they still
gotta make the case of liberty until committed would have to
then declassify I can't think I can't do magically declassify
right now but you feel there's ample proof let me be Oh my God,
let me not act like you eat at the absolute smoking done. Most
of this potential abuse, not current and not current abuse.
Adam Curry: Potential not current abuse. What a bunch of
liars. The act like is happening all the time. Like oh, China's
stealing our data. No, no, this is all for potential. Not
current abuse. I mean, this is why pivot is the award winning
technology podcast.
John C Dvorak: They never talk about technology.
Adam Curry: No. Well, they consider this to be a technology
conversation. I guess. But yeah, so as we know this is partially
just to give meta and then
John C Dvorak: they don't get they get a break from these
advertise these guys are killing them. They
Adam Curry: really is outrageous. I mean, even what
was I mean, anything that's happening these days, it's on
Tik Tok. It's not on YouTube. People aren't streaming live on
Facebook anymore. All all the good stuff is all on tick tock.
Be right away. Boom. People are recording stuff. Oops, put it
out there. What was the they're filming the new movie Twister,
forget where they were filming it. And there was already
John C Dvorak: a movie twist. Oh,
Adam Curry: this is Twister five. Not a single back. You
know, they're doing it on streets of Oklahoma. I don't I
forgot where it is. So I'm gonna email me about it. So there's
not a single video on on Facebook or on the no real no
real is all on tick tock. This is where everyone's going. So
yeah, they're all part of this. It's also you know, the, the
political part is, you know, China, let's get China to get
China.
John C Dvorak: You know, I'd like to see a discussion on
something a little more important than this. They are
stealing all our data. And the conversation should be about how
they hell did all these hot shots in Silicon Valley, who had
tried stuff with vine and others these other ideas of short
videos How did they have their overnight almost have their
asses handed to him by a Chinese company called tick tock or by
the company that runs tick tock, just out of the blue, and then I
can't now they can't even compete with them. How does that
work? That that's the most important question. Why we're
supposed to be the big leaders in technology.
Adam Curry: I think the answer is simple. That all the good
stuff you know, the the tech company American tech companies
have the government so deep up their arses that Oh, no, you got
to take that off. Oh, no, that's insulting. Oh, no, that's
misinformation and Tik Tok had none of that there's like no go
away we're gonna get post all this stuff and they they weren't
using the the American media model which is always you know,
ball get to people pitted against each other. Yeah, that's
great. Get them fighting online. Now the TIC tock but now you get
all this stuff and all you people go over there. Hey, you
got pink hair, bad trends over here. It's great. We've
deconstructed curries. Peach, peach. That's right. Freeze.
Peach is what it's all about. But there is a new, a new
boondoggle. This is the AI conversation. I watched three
hours of this of this hearing, which was led by Blumenthal,
Blumenthal. And had Holly as the as the minority leader, I guess
is what they call it. So he's the other side. Just they're
sitting next to each other and they had three people. They had
some lady who is she's already have you on? Oh, it would be
fun. She had some lady who's in government was already in there
like she's some from some Office of Technology safety. Something
that nobody cares about useless job. They had Sam Altman who is
the CEO of of open AI, and he has he's there for very specific
Miss mission, which we'll find out. It's very, it's very, this
is such an easy one to deconstruct. And then they have
a third guy. The third guy they had there was Gary Marcus. You
know who Gary Marcus's
John C Dvorak: name rings a bell, but I don't know who
Adam Curry: it is. He is the guy that he sold his geometric
intelligence, machine learning startup to Uber. He also started
the company that the CO invented Roomba. No real high level AI
type style robot. This Yes. Hi, robot. Exactly. That's this guy.
And so he I guess it was that he's clearly a stooge. He's,
he's a psychologist. And he writes books. What are his
books? Guitar zero. Cluj? So he's a stooge in there just to
say, oh, yeah, it's very dangerous. Oh, it's incredibly
dangerous. So three, these three people, there's no one from
barf. There's no one from Microsoft, who of course have
who run this whole, you know, who run everything on there as
your platform. And then you have this Sam guy that you know, who
as we know, takes almost no regular small salary has no
stock in the company. He's just doing this because he likes it.
He likes his job. What a bunch of crap that is. So Blumenthal
opens up with a couple like I have 30 seconds. And then he
does this. Our goal is
Unknown: to demystify and hold accountable those new
technologies to avoid some of the mistakes of the past. Right,
what now, for some introductory remarks, too often, we've seen
what happens when technology outpaces regulation, like why
unbridled exploitation of personal data, the proliferation
of disinformation and the deepening of societal
inequalities. We have seen how algorithmic biases can
perpetuate discrimination and prejudice, and how the lack of
transparency can undermine public trust. This is not the
future we want. If you were listening from home, you might
have thought that voice was mine. No words from me, but in
fact, that voice was not mine. The words were not mine. And the
audio was an AI voice cloning software trained on my floor
speeches. The remarks were written by chat GBT when it was
asked how I would open this hearing. And you heard just Now
the result. I asked chat GPT Why did you pick those themes and
that content? And it answered, and I'm quoting, Blumenthal has
a strong record in advocating for consumer protection and
civil rights. He has been vocal about issues such as data
privacy,
John C Dvorak: blowing his own horn,
Unknown: the potential for discrimination and algorithmic
decision making. Therefore, the statement emphasizes these
aspects,
Adam Curry: this is how these Jamocha literally went into this
hearing. Boy, it's a magical box, a took just Mike my clearly
very patriotic stance against horrible technology, it
recreated my voice, and then it's so true. Chechi beauty is
magic. It's very dangerous, because you know, could put us
out of work.
John C Dvorak: Work we wish
Adam Curry: and they just went on and on and on with all this
stuff. Oh, it's both it's out of control. Now, this was for one
thing and one thing only they want regulation and they want
reg just like they want regulation against tick tock so
that they can actually build their little moat around the
technology. And I'll get to that in a moment after we hear this
CBS report today on Capitol
Unknown: Hill, members of the Senate Judiciary Committee grill
the head of the artificial intelligence company that makes
chat GPT on the dangers posed by the quickly evolving technology.
CBS Scott McFarlane reports. The hearing comes as lawmakers
debate new rules aimed at regulating AI
and accompanies a Senate hearing on artificial intelligence began
artificially too often.
We have seen what happens when technology outpaces regulation.
The chairman played an AI generated version of his own
voice and words pretty impressive. Sam Altman who
operates the virally successful Chad GPT compared new advances
in AI to the invention of the printing press, but acknowledge
the risk.
Adam Curry: I think if this How many times have we not heard,
this is as big as the printing press. How many times we heard
that from from Congress 100 times. Blogs are as important as
the printing press. Podcasts are as important invention as the
printing press. Social networks are as important in invention as
the printing press. Gutenberg is rolling in his grave
Unknown: invention of the printing press. But acknowledge
the risk.
I think if this technology goes wrong, it can go quite wrong.
Congress is concerned at risks waiting too long to pass laws to
govern AI after failing years ago to set safety rules for
social media. We should
be concerned for our privacy, we should be concerned for our
liberty. And we should be concerned for our control over
our lives from the
even the industry itself is urging Congress to create safety
rules potentially requiring government approval for future
AI innovations. More congressional hearings and AI
are set for later this week. In the meantime, some of the ideas
floated include government safety labels for AI technology,
and Nora federal agency to license and police the industry.
Adam Curry: There you go. So they want licensing policing.
They want complete protection the same way. Now, I have some
idea. Here's
John C Dvorak: a here's a short clip from a elegir zero AI
regulation.
Adam Curry: Oh, good. I'm glad you have something
Unknown: that the head of the company that created chat GPT
has warned us senators that artificial intelligence needs
regulation. Sam Altman says it's essential to curb the risks by
increasingly powerful AI as Congress is assessing possible
threats, including potential manipulation of the 2020
election.
Adam Curry: Well, of course, of course.
John C Dvorak: Did you hear that? Oh, no.
Adam Curry: This is all over this all over the here. It's
just just
John C Dvorak: in case Trump wins. Yeah. manipulated
Adam Curry: AI manipulation. Chad GPT. That made us lose. It
gets biased. It's biased. I tell you it's bias.
John C Dvorak: This happened before the 2016 election. It
happened before the 2020 election. They put all these
things in place. Google led the denial during the tweet after
the 2016 elections that Trump won is completely forgotten by
the mainstream media went on for for it till this day.
Adam Curry: All right. So let me just give you a little overview.
I did not spend the three days in between shows putting Chad
GPT on my Pixel, although I do believe I do believe that will
be possible. And we have many dudes named Ben who have chimed
in and said, Oh, yeah, you can totally run it on your own
hardware. But here's what I've learned because I've learned
some things this is important than doing anything but you can
run it. No, it actually does. Here, here's why everything went
wrong. It was and I think this is a genius play and you'll like
this a genius play by Zuckerberg because it was meta who open
source their AI now with that when I say AI in this As I'm
talking about the large language model, this is not the training
part, this is the part that interprets language knows what,
what your can interpret what you're saying, based upon this
model of words, and then can also speak back to you in some
form of human voice based upon this large model. Stanford then
took this and they started to create something that people
could actually use at home. I'm cutting a lot of corners here.
So I went from LL M, the large language model to llama to Al
pakka to doll, Dolly as in Dalai Lama, an n people were off to
the races, they could create all kinds of language
interpretation. Now, the what what is interesting about this
technology is that we're used to cost $5 million to teach one of
these models, give them information, and all right now
process it. So the can take questions and feedback answers,
that price has come down to about $500, in literally in the
last six months. And people are now spreading it amongst their
own CPUs, open source. And you can definitely make very
specific chat GPT type chat bots, as they're calling it now
that we can either write code or in fact, anyone who wants to do
it on and I'd love to see this. We have all no agenda show notes
going back a decade, which are all XML structured data so that
you literally could do that with the articles in the show notes
and the links and the transcripts that we have. And
that's the what, oh, so that you could ask questions of it from
the no agenda knowledge base, and it would answer based upon
the training from the articles and the transcripts that we have
collected over 10 years. That's what it would do. We could train
it to do that.
John C Dvorak: Okay, so that we're we're gonna be stored.
Adam Curry: It'll fit in that it'll fit in six gigabytes on a
server. We're on the same page, John, so don't fight me because
I'm agreeing with you. But I'm telling you the backstory as to
why Google and Bing and others are going to fail at doing it
any of this because exactly what you point out. If you want to
have this a search engine, be able to answer all questions of
the universe, there's no way it will ever get will there's no
business model for them in the universe that will work at a
consumer level, too much power, too much crunching too much
information. But for businesses, individuals, you can definitely
load this up and you can do it in your in your accounting
office for certain IRS regulations, you can definitely
use this and there is no protection for Silicon Valley
and is my belief that Zuckerberg made this available, and then
somehow sparked this arms race, because Google was really caught
on the backfoot on this, and everyone's running around trying
to create great stuff. Oh, it's the new blockchain and they're
failing left and right shit doesn't work. It has answers
wrong which they call hallucination. I think Facebook
now swings left or does something that you know Zig
where everyone else is zagging and they take some market share.
I mean, it's so obvious that this was a purposeful action. To
make everybody run around with the with the world this is the
all that's all that they can talk about on CNBC oh ay ay ay
ay ay ay ay ay ay ay. Oh, what companies can be using AI. And
Google has nothing. Being really has nothing. It doesn't work.
But the actual technology
John C Dvorak: like the blockchain analogy,
Adam Curry: that's what it is. So the but the actual technology
now that this the language model is and is only English, by the
way doesn't work in in French, as far as I know. I don't think
it's been done yet. It's a total cloud of bullcrap. Total. And
now what they want is labels and a government agency and anything
so they can gain some competitive edge. And I think
they're going to fail just like the failing with tick tock.
nimbo the Restrict act? Oh, yeah. Oh, yo, boo, boo Ramnath
through this not really happening. So this is this is a
an albatross, particularly for Google. And I kind of like that.
That's funny. Well,
John C Dvorak: Google's not a bunch of dummies. So I think
there'll be some sort of a counter attack here. Well, we'll
Adam Curry: keep our eye on it. But right now, the only business
Chad GPT seems to be putting out of business is Google. They're
reallocating all their resources for something that everyone is
sitting on, but this sucks. So maybe if you get a rush Get
through Oh, we have to have Google it has to be the approved
AI for the 2024 election, I can see that I can see that work in
form, but not much else. And meanwhile, here's how artificial
intelligence is actually doing in the real world. It's great A
car stopped in the middle of the street blocking emergency
responders, another getting very close to a city bus. This one
seemingly confused by road construction and frozen in his
tracks
Unknown: finally stopped right before falling into a hole. Some
robot
Adam Curry: drivers and training do not seem to have learned all
the rules of the road.
Unknown: I'm seeing at least one incident a day now with
autonomous vehicles.
Adam Curry: For years the city by the bay has served as the
testing ground for a fleet of Robo taxis from Google's Waymo
and GMs. Crews. Driverless cars you can hail with a touch of a
button. But when things go wrong, they are a traffic
nightmare and posing real roadblocks for first responders.
Unknown: The autonomous vehicle just like came in blocked him in
Adam Curry: fire chief Janine Nicholson's people say without a
driver at the wheel. robot cars often make the wrong choice
around fire trucks.
Unknown: They stop in the middle of the street and turn their
emergency blinkers on anytime they see flashing lights on an
emergency Miko.
Adam Curry: Firefighters describe driverless cars rolling
into fire scenes running over hoses even having to break
windshields to stop a vehicle.
Unknown: The technology is not ready for primetime.
Director of Transportation here says 911 calls about robot cars
have tripled in the last year. But here's the
thing. We have no regulatory authority over them whatsoever,
even though it's your city that's being affected. That's
right. It's our city and our streets. But the state of
California has preempted municipal authority over
autonomous vehicles. Unlike taxis or scooters,
Adam Curry: Wei mo says robot drivers are on their way to
being safer than humans. After all, more than 42,000 Americans
died in vehicle accidents last year. When are we going to stop
being stupid? Particularly in California this is this is where
the Californians are stupid. They let that stuff on their
streets. Yeah. I mean, it's it's insane.
John C Dvorak: But oh, no, somebody's got to do it. Yeah,
Adam Curry: but AI is gonna AI we need legislation for me to
get these cars out there driving all over the place. You gotta
smash the window to stop it. Yeah. Is that not also AI?
Unknown: It's totally.
Adam Curry: Let's do one more. I got a short clip here.
Unknown: We have very infrequent events that occur that they do
get a lot of attention.
They say it's 3911 calls a day about autonomous vehicles. That
doesn't sound infrequent, but I have to say
what I mean is relative to the number of miles that we drive
and relative to the number of emergency vehicle contacts that
we face on a day to day basis,
Adam Curry: we most Chief Safety Officer says that every mile of
millions driven in California and Arizona teaches the whole
fleet new skills and the company is expanding service here LA is
next
Unknown: we hope to increase the number of rides 10x by next
summer a 10
fold expansion of autonomous vehicles here in San Francisco
would have a dramatic impact on congestion it would result in
significant delays to our transit system and to emergency
vehicle
response time and it might even cause a threat to
safety to hear us la
yes
Adam Curry: la We're coming for you should let it loose on Skid
Row oh I'm sorry We mowed all the tents down
John C Dvorak: Yeah, it's a these reports are a dead
prevalent around here. No they usually have only the one where
the guy dies
Adam Curry: now just blocking traffic and stuff no one talks
about it well they don't talk about anything in San Francisco.
No doubt about all your all the stores closing
John C Dvorak: so they talk about the stores closing believe
me now they do and although there's a bunch of my favorite
thing is did people out there should notice this is a news
deconstruction little moment. It goes the Liberals go just the
stores are closing because the rents are too high and they just
want to get a better price for their rents it's a scam because
if you look at wait right if you look at the debt the at the at
the crime statistics crime is way down. It's way down. Just
look at the statistics. So this is a scam okay? That's bullcrap.
Statistics are down for a simple reason. There's no policing
there's no reporting of crimes right people don't call it in.
shoplifting is not reported as a crime anymore. So does crime is
way down. No. These stores are being are being robbed left and
right. We just had a guy shot some some poor security guards
shot some shoplifted I was trying to get out of there. And
there's luckily the new DA is saying it sitting on the side of
the security guard. Although the entire city council is making a
big fuss this guy should be in jail for murder. And even though
it would deck kind of things should be in the public domain.
So the shoppers don't think they can just come in, which is what
they're doing. They're just coming in and raiding these
places stealing everything that they can get their hands on,
because of I think it was there's some law that was passed
statewide that said that crimes under that result and under
$1,000 In theft under any circumstances a misdemeanor, you
can't make it a felony. And that law has ruined the state and
they don't know what to do about it. So nobody's reporting these
crimes. Thus crime is down. crime is down, because nothing's
being reported. That's why it's down. It's bullcrap.
Adam Curry: I was kind of shocked to read this morning.
You know, I lived in we lived in Jersey for good 910 years. And
does the swanky mall, the kind of the Rodeo Drive of the area,
which was not not our mall, we had the Willowbrook Mall. But
sometimes we drive to the Short Hills Mall. Well, masked men
steal $125,000 In Dior handbags from the Short Hills Mall. This
is 20 miles outside of New York City. Yeah, this is crazy. By
the way, that's only I think, three handbags from New York
probably who knows how expensive those things are. But you know,
this is this is a this is a reset of sorts. Really is.
John C Dvorak: Yeah, you go soft on crime. Yeah. With these
ideas, oh, well, we just desperately needed some help any
counseling. These ideas and the criminals take advantage of it.
I mean, there are people that are that like, enjoy being
criminals. I just you know, it's no one wants to accept the
simple fact. Yeah.
Adam Curry: So, so this whole this whole past week. There's
just been text groups going around and around
Fredericksburg. And I've seen this universally on email.
Buses, they're busing them in they're doing the buses to bring
them in from the border in the middle of the night. You don't
know what you're talking about. When we looked at the border
cameras, there's nothing going on zero. Does not steal. But
this is very typical of what I get boots on the ground report.
I was just on the Arizona border this week and family members
it's always friend family members. Someone else explained
to me what the video cameras are showing low traffic and no one
the gum coming through the border. It's simple. They're
busing the illegals over the border and during the dead of
night. Family members see illegals hiking the canyons,
then being bused out from midnight. And where are the
video you need to turn your speaker's down a little bit.
Where are the videos? Where are the videos of this? They dropped
them off somewhere these I've heard they're white buses. This
is what's gotten out luckily we have a report from Sir Lucifer
who actually went boots on the ground I think you might with an
Owen Shroyer and they all that was a very funny video. He's
he's doing a very good Alex Young Alex Jones. Of course he
works for Infowars you know yelling about you dirty
Americans, you know you're not allowed to see this. I mean,
he's doing a great job. But all they had was video of one bus.
So here's sort of Lucifer as boots on the ground. He said our
team arrived at El Paso Wednesday, June 10. So he was
ready for the whole thing for the 11th, the 12th, etc. Our
first stop was the Sacred Heart church two days before we
arrived, there was a video of over 2000 migrants living around
the church when we arrived there were barely 100 Where did all
these migrants go? Their disappearance seemed to coincide
with the masses of national and local media that arrived in El
Paso on Wednesday, June 10. One of the local things and most of
the migrants at Sacred Heart were brought to a military base
in New Mexico, another fine one that was used for Afghan
migrants during the withdrawal. Our security was alerted to the
numerous neck tattoos on some of the young male immigrants, which
indicated they're part of a gang, most likely released from
prison, and we counted 15 of these neck tattoos. 99% of the
people we saw are from Venezuela. And these are the
people who were put onto a bus and they spend most of their
time between border gates 40 and 42. And the scene was like what
was heard in the NTD report from the previous show? Yes, National
Guard was there. Yes, they said a barbed wire. But we also have
video of them assisting Border Patrol and processing migrants
not keeping them from entering the country. But it really was
nothing. There's nothing that had one one bus and then you
know the Border Patrol backed up trucks he couldn't see who was
getting onto the bus. I'm going to presume that presumed that
might have been some gang members or whatever. But there's
just no evidence and what goes around here and this is what I
hate about it because it's political. You're all being spun
up. This was the favorite one that Tina was put on this
thread. illegal alien fracking map shows movement of the mass
of illegals across the US 71% end up in Republican districts
and there's this and the cell phone map on the front page
here. They say all you see Yeah, we tracked all the cell phones
and then they're all moving from the border and I'm until you
know me I like whoa, let me see what's going on where do they
get the cell phone data from? Well, this is in fact from cell
phone data that is also not explained where it was acquired
from from the Heritage Foundation from January 1 2022.
So the just rehashing stuff and people are going insane there
are people here in Fredericksburg going sending
text messages based upon this this story.
John C Dvorak: Lucky over a year and a half old yes lock
Adam Curry: your doors be armed at all times. And this is
spinning people up into oblivion the going nuts. Yeah, it's
really and this is bad. And this is all political. And I think
it's really to me it's the Republicans who are doing this
stuff. They are doing this they want to be they want to make
Biden look bad. Not that any of you know the
John C Dvorak: thing is that this thing this this whole title
40 Tuesday was a you know is going to was a bust. Yeah. Yeah,
it was a bust and they were prepared for it not to be a
bust. And so that well what are we going to do? It's a bust
nobody's coming over didn't did the big throngs aren't showing
up. What are we going to do? I don't know this run out the same
playbook anyway.
Adam Curry: Exactly what they did exactly what they did. And
they make him people crazy. And then and what are these outfits?
What is this? Your news.com? Who runs this outfit? And they
literally have Fredericksburg, Texas, tu tu, tu tu tu tu do you
put in your zip code? The Heritage oversight project and
date. And this was just some very sketchy data they had. I'm
not saying that there isn't a problem at all. But come on
people. Let's not get all riled up. You're right. And, and also
now we have we saw it in Chicago. Oh, they're coming but
they haven't come yet. By the way, that South Shore project.
That's gonna be real nice when people sell because they think
that they need to move for the migrants. That's gonna be a nice
piece of real estate.
John C Dvorak: Yes, a real estate scam. And part of it is
Adam Curry: and in New York. Well, the mayor, I mean, he's
going crazy. Oh, but what are we can have on they're putting.
They're preparing the migrants to go into school gymnasiums.
And I haven't actually seen the migrants in the gymnasiums yet.
But everyone's doing
John C Dvorak: some tuning Jim nations have J had him in some
gymnasiums, because it was shown. They had the video and
then they rousted them. And then they tried to move them off to
the county discovered pretty adequately by the national news,
okay, but it's not. It's not what what they don't know what
to do in New York because New York, the big hotshot sanctuary
city can't really take the influx of these people. No,
there in fact, there's one report where they're moving. And
this turns out to be just a physical, a monetary thing.
They're moving homeless veterans out of some of the hotels in New
York and moving the migrants in the migrants in because the
homeless veterans were they were paying the hotels $99 A night,
but the the migrants get 199 So the homeless veterans are ousted
is the way that this was reported. I think rants are one
of these east west coast guys did this. The the homeless
veterans are kicked out for the migrants because there's more
money
Adam Curry: another 100 bucks extra. Yeah.
John C Dvorak: I mean, what would you do, though?
Adam Curry: But besides that, I think it's it's all political on
all sides, what's going on? All In fact, everything is all about
the 2024 election. Every day the news media has completely
capitulated they're just taking any talking points from anybody
that I don't think they even have enough money to do
reporting anymore. I don't think doesn't it doesn't appear to be
that
John C Dvorak: way. Well, they're not doing it whatever
the case of most of the I mean, all my I have a lot of overseas
stuff here. That's that's not being reported at all. I mean,
the Durham report. misreporting is one thing, but just not just
leaving complete things. Let me play a couple clip. Yeah,
please. play this clip. Did you know this was going on? This is
the yikes clip. Well,
Adam Curry: just from the title of the clip, I have no idea
Unknown: on the French President Nicolas Sarkozy has lost an
appeal against his conviction for corruption. Why according
Paris upheld his three year prison sentence, but two of the
years have been suspended. And the court said he could serve
the third by wearing an electronic bracelet. So Sarkozy,
his lawyers repeated his claim of innocence
Adam Curry: jokes, indeed,
John C Dvorak: when I said, Did you know that that Sarkozy was
being imprisoned?
Adam Curry: I knew he was in trouble, but what on earth for
that he would go to jail.
John C Dvorak: This is not being reported at all in this country.
Now, I have to wonder why is it because it was? Well, it's
because then you, you know, we should be arresting Trump. I
mean, it's got something to do with politics in this country
that that story has been repressed is a good story.
Adam Curry: Yeah. It's a very good story. But what did he do?
John C Dvorak: Corruption of some sort? Who knows? I mean,
it's been could have been some trumped up stuff like we've had
here in this country.
Adam Curry: corruption and influence peddling. Oh, brother.
Oh, no, we can't have that because that would put Biden
front and center. That's how you'd have to report it.
President Biden has also been accused.
John C Dvorak: Of influenced by peddling Yes, literally, because
of his kid,
Adam Curry: literally influence pet allow him all kinds of other
beautiful stuff when he was vice president.
John C Dvorak: So does that the reason you think that they would
suppress the Sarkozy story? Because it would, it would not
look favorably on Biden. I mean, your images are ridiculous. When
I heard this story. I got it on Al Jazeera. I was befuddled. I
didn't know this was going on.
Adam Curry: You're mistaking the news organizations in the United
States for news organizations? What what do you think? Of
course, they don't care. There's not been no longer
John C Dvorak: care. That's the point. Well, they care about
protecting Biden, or whoever tells them to do what or whoever
tells him whatever they're told to do,
Adam Curry: except for the Wall Street Journal. I will I will
read the headline. If Biden boughs out. How about Michelle
Obama?
John C Dvorak: This is we're bringing up old ideas. And I
want to play that this is a clip from Glenn Beck he had some of
you had mentioned on the network. You knew Rodriguez.
Felix Rodriguez. Yeah, is where he is. And I just want to play
this. It's the JFK story on back.
Adam Curry: Oh, yeah, this, this is fantastic. Let me just give
you some background of Felix Rodriguez. So my uncle Don, who
was then his station chief in Vietnam, is very, very fond of
Felix Rodriguez. They talk every Christmas sometimes one or two
times throughout the year, they still chat. And the story then
Don would love to tell stories about how cool Felix was.
Because he would literally show up to the Christmas party,
dressed in his combat fatigues with hand grenades strapped to
his belt, just to have a quick little eggnog and then go back
to the front or whatever the heck he was doing. Which I think
is great. That'd be laughing at his muddy boots. But then he was
implicated in Iran Contra, to which I totally believe neither
of them were any part of and this is like some $10 million
payment that supposedly Rodriguez got. And it was an
interesting story. And it was more about the Bay of Pigs and
stuff on on Beckwith interesting guy and Rodriguez gotta be up
near the 90s Now, I think.
John C Dvorak: Yeah, he's pretty old to him. But he did make a
little comment I want to reflect on I heard this. It was good.
Kennedy was different than his brother. He seemed
Unknown: like a decent guy. When we were
working the operation Central America was our team in Costa
Rica, Nicaragua, fruman rates against Cuba. In 6465. Bobby
Kennedy was word liaison between us and the CIA for that
operation. And when the President was assassinated, our
teammate went to see him in Washington, the first toward he
talking, said my brother had two big enemies, the mafia and Fidel
Castro. I believe it was the last one who assassinated what
John C Dvorak: so he says he thinks and he put this in so
somebody sent me this of course, singling you know, you think the
mob did it? I didn't. I don't know who did it. Who killed
Kennedy. But the mob is looks like the best bet as far as I'm
concerned, having heard all these different stories, and I
refer people to he says it was he thought was the Cubans? I
don't think so. And I'll tell you why. And I refer to a link
in the show notes to Spartacus educational XLink of the death
of witnesses connected to the assassination of John F.
Kennedy. And it includes a number of people who were who
this estimations didn't work and they went to the authority
saying that these mafia guys are trying to move the mob is trying
to kill me. And it's the mob who does clean up because you know,
if anyone wants to go watch the movie casino and watch the white
take a chance segment of that film where they start killing
guys left and right because there may be, I don't know, a
witness left over. The Cubans didn't have any, any connection
to do this. They didn't have any way of killing over 100 people
after the assassination to shut them up is totally a mob
operation. The CIA wouldn't do that either. They have, you
know, they have other ways without murdering, they have
scruples, dammit, this group was they like to screw him some
other ways was beside the point. I would take a look at this,
this, this posting and look it over. It's an I think Rodriguez
is wrong. I think maybe somebody I mean that he may be Miss
directing because, again, Michael francesi made the point
that he thinks the CIA is covering up the fact that they
couldn't stop the assassination. And that's makes sense. That
makes their big concern. That makes sense.
Adam Curry: But I still don't know why just just so they
wouldn't why take a chance? Was that the reason why, yeah, why?
Why do I kill all these people? Well, because what did they have
on the mob?
John C Dvorak: They had? No, these are people that like
Dorothy Kilgallen, who had done work on what on the Kennedy
assassination, assassination, maybe have figured out who did
it.
Adam Curry: Now, why would the mob do it? What they hated
John C Dvorak: Kennedy. In fact, if you listen to Rodriguez there
he says that two people two groups really hated Kennedy. The
mob was one of them. And the other one was the Cubans.
Adam Curry: Cubans. I understand I'm just wondering why the mob
what was it the
John C Dvorak: candidate? Well, if you look into it, I mean, I
from what I can remember, Kennedy, and not to mention the
fact that he put Bobby Kennedy in as his as his attorney
general who went after the mob. Okay, right. Kennedy,
apparently, or it seems that he made a deal that he reneged on
or he screwed up somehow or went the Kennedy was having sex with
one of the big boss's girlfriends.
Adam Curry: Oh, there you go. Thank you. You just answered the
question. Nuff said. And the Kennedy Joe Kennedy himself was
a mobster. He was the bootleg bootlegger, bootlegger.
John C Dvorak: Yeah. So as Kennedy, that's what a lot of
you know, Kennedy was the motto, it was an element of the mob
being the President of the United States,
Adam Curry: or bring it all around. The reason why we still
haven't seen the actual Kennedy information, even though it
legally needs to be released, is because people are afraid of the
mob killing them. No,
John C Dvorak: no, the reason is, because it's got information
in there that indicates that the CIA was aware of the
assassination plot and could do nothing to stop it. And it's an
it's an embarrassment to them. Okay. And if you follow this
timeline to this whole thing, that this is so disrupting this,
this, this assassination by the mob that it took, even though it
took about seven years, they they created the RICO statute,
which went into play into 70 and 1970. To take to just wipe the
mom out,
Adam Curry: right, right. But you never really wiped them out.
You never really know.
John C Dvorak: But it did a bit did a lot of damage.
Adam Curry: All right, well, that's all to everybody. It's
not as cool as brushing. No,
John C Dvorak: I'll get another note.
Adam Curry: The grassy knoll is a lot more fun. I mean, why are
you doing no idea why everybody's against why you're
harshing? My mellow, man, it's not cool. It's not cool. We want
to George Bush senior to be in charge of the operation. You
know, that's what we want. It's just it's a it's a downer, to
downer for conspiracy theorists, your downer man. Meanwhile, the
absent trial, Epstein trial continues against JPMorgan
Chase. And in particular, Jamie Dimon that Jamie Dimon
personally knew that Epstein was paying off. Victims apparently
victimized on the island. Now, the court will subpoena Larry
Page who they cannot find. They can't find him at any address.
Larry Page, Google co founder because he apparently has some
information. Deutsche Bank just went smart. They said oh, we're
just gonna pay $75 million to the victims of Jeffrey Epstein.
We don't want to be a part of this.
John C Dvorak: They're the best at that. Oh, yeah.
Adam Curry: Here's the money you have to keep us out of cannabis
out of the way that's gonna be if that ever really comes to
trial. It's gonna be fun to watch. But yeah,
John C Dvorak: never happened.
Adam Curry: I don't think so either.
John C Dvorak: I don't know. Larry Page disappeared.
Adam Curry: Well, they can't find it.
John C Dvorak: They also want to they can't give us a Pina. Yeah,
Adam Curry: they want to subpoena Elon too. And so now
the court has to find him. Well, yes, he's at CNBC all day long.
But if Did you see that what was that all about?
John C Dvorak: I mean, no, I gotta get a tape of this or I
can do one of my fabulous Elon Musk. Edit, suck.
Adam Curry: Well, I have a couple of short clips which are
short because the guy shot terrible talks like that it is
it is horrible. He's like he's not. I guess if you just talk
like this, I'm fairly difficult then you sound intelligent or
like you know what you're talking about. He's, he does
know some things. He knows what he's talking about. Budget,
that's
John C Dvorak: a talk, it's getting worse. It's getting
worse with some of this. I noticed this was the Ultra Rich.
Yeah, they're very, very slowly deteriorate in their ability to
communicate.
Adam Curry: Oh, interesting. What other examples I've had,
you
John C Dvorak: know, when I first noticed this was who was
with Ted Turner?
Adam Curry: When they'll be he actually has, he has dementia.
Now he's got he got well, before he
John C Dvorak: had dementia, maybe it was, it was fairly, you
know, he could he could talk they handle himself. And then
all of a sudden, he started going into this this bit where
every time he started to speak before he said anything, he
went, Ah, he made this, this loud, moaning sound, every
single is be at the beginning of every single sentence. And I'm
thinking, geez, this is weird. I started listening to these other
guys, and I must is a good example. You're wrong.
Adam Curry: I think you're wrong. This has nothing to do
with being rich. It has to do with tainted Adrenochrome was
clearly something else going on. Here's Elon,
John C Dvorak: is must be it.
Unknown: Let's talk a bit about your tweets. Because it comes up
a lot. Even today, it came up and you know, anticipation of
this. I mean, you do some tweets that seem to be or at least give
support to some who would call others conspiracy theories.
Well, yes, but I mean, honestly, you know, some of these
conspiracy theories have turned
out to be true. Which ones
will like the Hunter Biden laptop?
Adam Curry: That's true. Hunter Biden laptop. Oh, that's true.
Now let's talk about, you know, other conspiracy theories. Well,
we're coming
Unknown: up on an election. I mean, it's a ways away, but it's
going to all start. Yeah, President Trump is allowed back
on the platform. He hasn't actually come back. Right. But
one would imagine if and when he does, or there are others who
will say 2020 election was rigged. Is that something? I
assume that's not something you believe?
I? Well, I think the answer there The answer is is nuanced.
Like do I believe Biden one? Yes. I believe he won, you voted
for I did, actually.
Do you regret that?
I mean, man, I, I wish we could have just a normal human being
as President. That's what I want. I think, if we could, you
know, there's that old saying of like, we're better. We're better
off being run by by people picked at random from the
phonebook than the faculty of Harvard. Yeah. I don't know who
said that. But if someone were very wise, and I would say if we
could do that for the President, that would be
official. You're obviously you're not happy with by
we all just want a normal human being.
Whatever. Whatever. anymore. What normal me
know what I mean? Like, you know, just
you want somebody who's competent.
Adam Curry: I mean, this is the way he speaks. Like Sam Backman
fried. Another noon, geez, uh, people are nuts.
John C Dvorak: It has to be an explanation for it, because he
Adam Curry: doesn't know what he's talking about. Here. Listen
to this. Now this this one piss me off.
Unknown: So. So my opinion would be that there was some there was
some small amount of fraud, but it was not enough to change the
and
by the way, it might have been either way. I mean, you know,
yeah, there's probably a little bit of again, it's gonna be
you're gonna let people say that though on the on Twitter, and
then you're gonna hope that they're corrected and they will
be corrected. They will be
Oh, yeah. Harper said
Adam Curry: no. 100% Okay. 100% 100% Oh, yeah. 100% Geez,
it was really, this whole interview.
John C Dvorak: When I'm hearing that everyone's saying it. It's
a real priority. I identified
Adam Curry: it's been it's not 100% You know, be honest. 9998
What is the percentage of things 100%? No, correct. Even the
number of climate scientists who believe that this is all they
couldn't get 100 They couldn't get 100 they got 97 but yet
everything else is 100 100% 100%. When some we need
to
John C Dvorak: wonder how that got into the into the public
domain.
Adam Curry: Kara Swisher. 100 Prasanna sign. I was just one of
those things tick tock tick. probably everything is tick
tock. What do you think tick tock. Now let's stick with the
primetime takedowns of our politicians. There was a good
version of this, which I should have got should have gotten
retrieved this clip of what Biden said because they cut it
off in this ABC report,
Unknown: President Biden now calling white supremacy the most
dangerous terrorist threat the country. Here's ABCs Elizabeth
shozy. From 2011 to 2021, DHS says racially motivated
extremists accounted for the biggest share of domestic terror
incidents this weekend. President Biden with a stark
warning
as the most dangerous terrorist threat to our homeland is white
supremacy.
In his speech to graduates of Howard University, the president
decrying sinister forces seeking to undo progress toward racial
equality.
I thought when I graduated, we could defeat a
Adam Curry: he actually said in the piece I don't have he said,
you know, the most dangerous thing in our country is white
supremacy. And then he follows up by saying, and I'm not just
saying that because you're a black college. Okay, thank you,
bro.
Unknown: But it never goes away certainly hides under the rocks.
Silence is complicity.
And tonight amid protests calling for stronger gun safety
laws, the president renewing his call for an assault weapons ban.
In the USA Today on bed Biden pointing to the more than 650
mass shootings and 40,000 gun related deaths since the buffalo
massacre, telling lawmakers for God's sake, do something.
Adam Curry: This was my favorite. So it's now we have
like, six 650 mass shootings. It's just we're just we're just
shooting. It's a wild west here. If crazy people outside of
America think we are just shooting everything
John C Dvorak: to the store that haven't
Adam Curry: shot getting shot. That's exactly the same thing
where people in Fredericksburg think that the the two and a
half 1000 Haitians are going to be dumped off of the bus on Main
Street patients of all ages of all patients. And then and then
we get Obama listen to this whopper of a lie. You tell me?
What's the whopper of the lie in this. We
Unknown: are unique among advanced, developed nations and
tolerating on a routine basis. Gun violence in the form of
shootings, mass shootings, suicides in Australia. He had
one mass shooting 50 years ago and they said up, we're not
doing that anymore. That is normally how you would expect a
society respond when your children are at risk. Why is it
so hard for us? Well, I think somehow luck, and there are a
lot of historical reasons for this. Gun ownership in this
country became a ideological issue and a partisan issue in
ways that it shouldn't be what was
Adam Curry: the whopper of a lie in this statement that he made
here?
John C Dvorak: I thought the whole thing was a lie. Yeah, but
there
Adam Curry: was a whopper there's a real Whopper in there
that this
John C Dvorak: gun ownership is a partisan now. Only Republicans
know that it Nope. Here we go.
Unknown: on a routine basis. Gun violence in the form of
shootings, mass shootings, suicides in Australia. You had
one mass shooting 50 years ago and they said up?
Adam Curry: That was not 50 years ago. It was in my lifetime
douche. It was April 28 1996. Port Arthur was at Port Arthur.
Yes, it's only 27 years ago not 50 they had they've had they had
guns 50 years ago when Australia. Remember okay, why
does Why does He say 50?
John C Dvorak: I don't know the price on purpose do it? No, he
just doesn't know what he's talking about. No. Well, there's
that.
Adam Curry: But you know if if Michelle Stark
John C Dvorak: douche change the Second Amendment if you don't
like it, we had that. I mean, if everyone if you're all veterans
all in on this change the Second Amendment you gotta made
Adam Curry: maybe he comes from the Stargate, you know, so 50
years different for him. But without without a doubt, the top
the top politician we have who's a senator was asking a series of
questions. This is a one minute 32nd clip. This is on the
Banking Committee. And as we know, you know, there's a lot of
problems with how how JP Morgan Chase, basically made $2.8
billion, while the FDIC shelled out 15 billion to bail out.
Republic bank
John C Dvorak: to Republic bank, public or Silicon Valley boasts
Adam Curry: Oh no republic first Silicon Valley was a little
different though Silicon Valley was first and Republic. Right.
But But I think the the money was made the big money was made.
I mean, look, right now there's a trillion look, there's a
trillion dollars of unsecured deposits in JPMorgan Chase, they
are now too big to fail to whale to tail to do anything. So he's
sitting there beautiful. And here's one of your Senators
questioning the banking, the bankers about these actions that
are taking place. This is Senator Fetterman.
Unknown: Is it staggering? Is it a staggering response? A
response? And
Adam Curry: by the way, this is not edited this one all one go?
Is it staggering? Is
Unknown: it a staggering response responsibility that the
head of a bank could literally could literally crash our
economy? It's astonishing. That's like, if you have I mean,
like, and they also realize is that, that, that now they have
it's in the guaranteed a guaranteed way to be saved by an
American by no matter what number if I have, you know, so
it's, you know, isn't it appropriate that the those kinds
of this kind of control should be more stricter? To prevent
this kind of thing? Should we? Or should we just go on and
start bailing and sailing whoever bank regardless of how
how there's their conduct is?
Give me an example. The Republicans want to give a work
requirement for SNAP for a hungry family has to have these
this kind of penalties are they some kinds of word working?
Requires? Shouldn't you have a working requirement after each
sale your bank believes that your bank because they see we
were pretty preoccupied when then snap requirements for works
for hungry people, but not about protecting the tax the tax
papers, you know, that will fail no matter whatever does about
the bank to crash it?
Adam Curry: Literally no one knows what to say. They're all
sitting there looking at the Emperor completely naked. And no
one just stands up and says, Excuse me, this is not a
coherent question.
John C Dvorak: Is Is there a question mark within this
structure? No
Adam Curry: sailing and bailing? I mean, this is how we have
comes to such an interesting place in history. Where, where
we just accept this? unedited? That's exactly there was no
question. He was a question. But it wasn't a question that he
brought in SNAP and all kinds of other things. And then he just
give it back to the chair, chair take over. I know one. Banker
just look at each other like whatever. This is a problem.
John C Dvorak: I've got going to do this source a series. I got a
classic Ted Cruz one here, oh, boy. This is where it cruises
going on somebody and trying to get him to answer he's doing the
same thing. He
Adam Curry: lost all my respect crews. Respect for this guy
anymore. And well,
John C Dvorak: but this is the situation when you have the
Democrats running one thing and the Republicans, the Republicans
do the same thing when they're in charge. But this is the
Senate. So as the Democrats in here we go,
Unknown: No, we're not going to give you the billion dollars.
They said you have no authority. You're not the president. The
president said I said call him I said I'm telling you, you're not
getting the billion dollars
John C Dvorak: for a second. This is a question of a guy who
is going to be placed in some position. Who is who busted the
Biden's early on but then he refuses to say anything bad
about them. And it has to do with Joe Biden's intimidating
Ukraine back in the day in front of the Council on Foreign
Relations saying Right, right, right, right. We remember the
story and so he's gonna say, the guy says, Well, you know,
they've never there's never been any wrongdoing. And so proves
goes off on him with this story about Biden, the we're not gonna
give you the billion dollars. They said you have no authority.
You're not the president. The president said, I said call him
I said, I'm telling you, you're not getting the billion dollars.
I
Unknown: said, you're not getting the billion dollars. I'm
going to be leaving here. And I think it was about six hours. I
looked at them and said, I'm leaving here in six hours. If
the prosecutor is not fired, you're not getting the money.
Well, son of a bitch. He got fired. Let me ask you something.
Do you think Joe Biden holding a billion dollars hostage to force
the Ukrainian government to fire the prosecutor that is
investigating the corrupt oligarchs. arquus paying his son
a million dollars a year did getting that prosecutor fired
benefit that oligarch.
Thank you Senator Cruz. Senator Van, are
you going to allow him to answer the question, Madam Chairman, I
am not going to allow him to answer the question. And why are
you covering the Vice President? Do you not want to answer that
question? He said that the Vice President
is unfortunate for you, Senator Cruz, to put in position that
are uncomfortable. The nominees to be our ambassador exists.
Adam Curry: The ambassador nominees
man Oh, man, I came
John C Dvorak: now. We're making them comfortable. This is not a
candy question. We want to hear.
Adam Curry: By the way we were wrong about the about the debt
ceiling No, not wrong, in general about how it will
probably get solved. But it's not a continuing resolution.
That continuing resolution is not not the is not the mechanism
that can stop this back and forth and shutting down the
economy. Most recently, and 21 I think it was 2014, maybe 2015.
We had the Bipartisan Budget Act before that, and 2011 the Budget
Control Act, and then you can this is how they get little bits
and pieces in or the Emergency Economic Stabilization Act. That
was 2008. That was a good one. There's all kinds of stuff that
can be done, but it's not a continuing resolution. People
did want to point that out and I want to make sure everyone hears
that we admit when we're wrong. We'll see. Now this is not a
continuing resolution is a different mechanism.
John C Dvorak: Okay, well, it's going to be the point real the
long term point is we're not going into default.
Adam Curry: Oh man, I sure hope so. It'd be so much fun.
John C Dvorak: Probably wouldn't be going to show what is it
Adam Curry: when you shut down the government that's not the
same as a default right
John C Dvorak: the shutdown we don't know the government that's
different right? That's
Adam Curry: when we don't have a car that's when you have the
continuing resolution is on the government shutdown. But this is
the day I think it's I think it's really fun to watch and
help you Oh, well, I want to get my paycheck.
John C Dvorak: Yeah, definitely be something to experience but
you wouldn't be good for the show.
Adam Curry: No, none of it's good for the show ever. But this
is good for the show. I finally got a clip on the Chevron
deference.
John C Dvorak: No, okay. Good. Yeah, we need an update on that
because
Adam Curry: this kind of explains why are they going
after Clarence Thomas and ultimately after the you know,
the Supreme Court is a legitimate is no good. We gotta
get rid of me just too many. Conservatives on the good is no
good. So CBS actually did a little story on the Chevron
deference what it means and how it relates to well, then, of
course, they would never explicitly say it but how it
relates to this takedown of Supreme Court justices
Unknown: Supreme Court has announced it will take up a case
next term that could potentially strip federal agencies of some
of their powers. The case Loper enterprises vs. rimando seeks to
overturn a nearly 40 year old legal precedent known as Chevron
deference. It directs courts to defer to federal agencies when
interpreting unclear laws. The Chevron deference has been
targeted by conservatives and they believe it gives too much
power to agencies and the executive branch. For more on
this, let's bring in Jeff Braven. He's correspondent for
The Wall Street Journal, I should say, Jess, there's a two
step that was established, as I understand it, in by the chevron
case, that's at the center of this back in 1984. I think what
is that two step process?
Well, it's very simple. It seems like almost almost too obvious.
The the opinion a unanimous opinion by Justice John Paul
Stevens says first, you see if this question has been quite
specifically answered by the statute, is it completely clear
what Congress wants to happen? If the answer is yes, well, then
courts have to enforce that they don't have any discretion, and
the agency has to obey it as well. But what if the statute is
ambiguous? And of course, a lot of laws you said before is a bit
ambiguous if it is ambiguous. This decision said the way
courts would behave as they should defer to a plausible
interpretation by the agency. So that's that's the idea. The
agency is the expert in this area, Congress has assigned it
at the job of carrying out its function. So the court should
defer unless they're making a very implausible application of
the law.
Adam Curry: So if this Chevron deference were overturned, then
a lot more cases for the agencies would go to the courts,
federal courts, and they would really have to scrutinize what
was being said and it could eat And I mean, the real decision
would have to be made. And I think that probably a lot of
these laws are very ambiguous as written because first of all,
Congress people stupid, they don't know everything. And but,
yes,
John C Dvorak: well, first of all, most of these laws that
they're discussing, are not Congress writing anything. These
are administrative laws. Well, these are the laws written by
the boneheads that run these agencies and they they're not
congressmen, they're not lawyers, and they throw these
laws together. And those are the ambiguous laws they're talking
about.
Adam Curry: No, they're not because you'll hear it in this
next clip. They're talking about laws that were made in Congress,
but then the agencies interpret that into rules. And this next
clip, okay, is right is right up your alley. It's about to get
near.
John C Dvorak: Yes, but the initial law that's in Congress
is is ambiguous, different, differing, that's where
deference Yes, deferring to the agency, we're writing a law that
gives you the power to do this, that and the other. So they give
the EPA all kinds of power, and then they cut them loose, and
they don't do shit after that.
Adam Curry: Exactly. So that's the ambiguity. And this next
shorter clip is about the EPA, which you know something about
so you might be able to comment,
Unknown: why are people paying so much attention to this issue,
given the current makeup of the court? Well,
this is one of the many other shoes to drop after we saw the
court overturn Roe vs. Wade. That obviously was number one on
the conservative agenda. But there are many, many other
errors that conservative legal thinkers believe the Supreme
Court has made over the past decades. And this turned out to
be one of them. Now, at the time, it actually was a victory
for conservatives. There were some environmentalists who
challenged a rule by the Reagan era EPA led by Justice Gorsuch,
his mother at the time and Gorsuch Burford. And the
environmentalists said the agency had not followed the law
properly. The Supreme Court said agency gets discretion if the
law is ambiguous. But more recently, it's been an industry
that has been unhappy with the way that agencies are exercising
their power, especially the EPA. And they're the ones who want to
basically turn this power over to federal courts where they
think they'll have a more sympathetic here than with
regulators who might have devoted their lives to say
pollution control and they believe are overstepping their
power to achieve those ends.
Adam Curry: I didn't know that. Gosh, it's his mom ran the EPA
John C Dvorak: says bunch of this is a whole system is rife.
With nepotism, it's
Unknown: crazy.
Adam Curry: And people don't know this. This is not taught in
civics, you will have no idea how this works. You remember,
remember that I'm a bill. I'm a bill, I go go through stuff. And
then I become law from a bill and then we send it off to the
agencies and they do whatever they want.
John C Dvorak: Like the IRS. This is the administrative state
that we live in, they can't do anything about it is impossible.
The whole world or our entire government is run as an
administrative state is not run the way we think it's run. And
that administrative state is the only reason it works. It there's
nothing they can do. They can overturn this stuff. They can't
shake. They can't do what we like to think which is well the
legislators supposed to make the law, not some bureaucrat. No,
that's not the way it works. It's not the way it's going to
work they're not going to let it go to that it's not going to
happen. I think we're all living in a dream world.
Adam Curry: And on that happy note I'd like to thank you for
your courage in the morning to you the man who put the sea in
the Chevron deference which ain't gonna happen ladies and
gentlemen say hello to my friend on the other end Mr. John
John C Dvorak: Mooney you in the morning you Mr. Adam curry in
the morning your ships in the sea and the ships in the sea
their feet near the subs in the water the dames knights out
there
Adam Curry: and in the morning to the trolls in the tall room
right now.
At 3318 33 Is your count for today for Thursday. 1833 Trolls
checking us out live you can join them. Is that okay? By the
way for numbers at Thursday's Okay. normal normal number
normal number of trolls trolls. You smell worse than normal
though I don't know what that is. You can join in the control
room. So room.io Listen, live every single Thursday and Sunday
when we go live we sent out a bad signal. If you get a modern
podcast app, ditch the old legacy stuff, go to podcast
apps.com. We'd like pod verse. Oh, I think fountain is going to
have it this week as well found the big app, podcast addict
podcast guru. And you get the you get all your podcasts. You
can import them from Apple or wherever you have been getting
your podcasts before you get a whole bunch of new features
including the bad signal when the bad signal goes and that's
the entire no agenda stream podcast community and network.
He's using this. So you know, if you if you don't want to get
left out, then you might want to check it out. Or you can follow
John C. Dvorak had no agenda. social.com Adam had no agenda
social.com on our Mastodon you can follow it from pretty much
every account except for one of the accounts that blocks us. So
someone don't tweet to me the other day or two did whatever
Hey, a lot of us over here think we're being shadow banned on the
fediverse No shit, Sherlock.
John C Dvorak: You know, Shadow banned. You're banned.
Adam Curry: Banned and block difference? Yeah, of course. And
that is because everyone's in the very beginning and it still
happens. People peach free speech people from the no agenda
social accounts, trying to hit on lib tardes and then you get
blocked. So yeah, that's wallow in it, you're soaking it in
match. It's up to you. We have about 10,000 people there that
can enjoy everything freely or start your own Mastodon server
and you can follow us no problem. Be a part of the
conversation. All of this given to you just as value for value.
That's how we roll. That's how we make everything work over 15
years. If you get value from the show, we'd like you to do
something back you could put together chat GPT of all over
information. We have search engines being at.io Yeah, we
have people doing art without well it's thanks some of the
artists because the artwork that has done every single show, no
agenda art generator.com another website that has value for value
and it's being supplied to us without us having to do
anything. And we need to thank the artist for episode 1555 We
titled that A M A B, which of course means assigned male at
birth it's interesting it says A M A D did I literally do that?
Was that wrong? That's kind of funny. I titled A M A D instead
of b
John C Dvorak: Well then you made a mistake made no sense at
all saying
Adam Curry: assigned male at death Okay, that's interesting.
Anyway, the album art which was I think a big surprise went to
the award went to comic strip blogger who did a very sweet
little Mother's Day cartoon which you thought would be aI
but I call Ai no, this isn't this is this is his style this
is actually common
John C Dvorak: style I've seen his style for years this isn't
it?
Adam Curry: I know he didn't say it was I mean he would be the
first to say it wasn't well we'll get we'll get an honest
answer from him. I think we can we get an honest answer from it
we get honest answer from him
John C Dvorak: that you know what the hands look at the hands
you got too many fingers typical typical AI because the AI can't
figure out how long humans have five fingers Oh
Adam Curry: you're right six You're right 1234 You may be
right huh well was cute anyway, it was a bunch of very pretty
picture. Yeah, it was nice and we had what else do we have to
choose from? We had
John C Dvorak: a lot of a lot of flowers the one was one that we
do our favorite one literally was the Mother's Day by tantan
deal with the goat head but a dead goat had in in a bunch of
with a bunch of flowers is not probably not the best message to
be sending
Adam Curry: but we don't we don't the goat had its eyes open
so we don't know if the goat was dead it
John C Dvorak: doesn't mean a dead goat died open eyes even
creepier
Adam Curry: It's such a pretty piece and we really we were
ready to pull the trigger on it and we just it's too too
gruesome
John C Dvorak: just it was all it was missing was a pool of
blood
Adam Curry: and then we had to Sir dude named Parker prolly who
had a like a daisy with mom with the it looked like a butthole
and there's something wrong with that. Parker Polly yeah the one
with a daisy flower but
John C Dvorak: hold on Oh
Adam Curry: for mom was yeah it was it was wrong or something
wrong with the center of the flower and we had no there was
one you liked with the one now the one you liked with some baby
John C Dvorak: there was one I knew did your response to it was
too small probably your response to everything you don't like
remember which one I don't want I really liked was to go to head
Adam Curry: we should have just done that man that go No. I got
overruled I was ready for goat I was ready for the
John C Dvorak: guy who liked Have you liked him comic strip
blogger piece who well you
Adam Curry: pacified me you we Canvas for moms. Let's do
something nice for moms and moms. Okay, okay.
John C Dvorak: guy wasn't even in the conversation. All right.
Well, congratulations,
Adam Curry: comic strip blogger. Thank you very much for
supplying us with the artwork for 1555 that is highly
appreciated. And of course all the work that the artists do
we'd love you guys You're so good. When we when we criticize
is because we love That's all and we
John C Dvorak: wanted to CISM equals love
Adam Curry: exactly criticizing is loving as the most sincere
form of loving you can get a new thing I just made up
John C Dvorak: are you gonna wear that
Adam Curry: I think Tina has actually said that to me. Oh,
I'm sure she has no she'll, she'll look at me just just
don't talk anyone just looks at me like what's wrong with this
shirt? She doesn't have to say it anymore. And we'd like to
thank our executive and Associate Executive producers in
this first donation segment as they bring us the fuel that
keeps the ship running we appreciate that we kick it off
with Anonymous who checks in from West Hartford Connecticut
with magic numbers $1,333.33 and says the following Forgive me
pod father for I have deuced it is this No wonder people find
our show confusing. I like what you're doing but I don't
understand all the words people are using. Forgiving pod father
for I have deuced it has been over three years of listening
without a donation I humbly request a D douchey. You've been
de deuced shout out to my brother Jack for smacking me in
the mouth. In the beginning of the scan Demick and finally
calling me out as a douchebag a few months ago, a partial
switcheroo Okay, please credit Jack with the incremental 333
dot 33 above my knighthood from this donation Okay, so we add we
how do we do that? Do we make
John C Dvorak: a separate another name on there? Okay,
anonymous plus we'll keep reading
Adam Curry: this for a second while I do that although what
No, it's Jack is Jack he wants Jack is just jack a Jack Jack.
Alright, so I'll put jack in there. All right. 333
John C Dvorak: was the thank you guys for everything you do and
deconstruct the media. No agenda show was instrumental. Okay,
blah, blah, blah.
Adam Curry: Yes, blah, blah, blah. Okay.
John C Dvorak: I submitted my fake Vax card to attend to
senior year at Middlebury College good for you. I
appreciate that. One of the most liberal schools in the country
where they have tampons in the men's bathrooms was the alt
right conspiracy theories theorist of the campus for
saying things particularly about COVID that are in arguably
accepted as the truth today.
Adam Curry: Yes, indeed.
John C Dvorak: Who can tell you from please Knight
Adam Curry: me sir dirty Damn the garbage man consumer of raw
milk denier of science and ally of the unvaccinated please also
call my buddy Cory out as a douchebag I would like to
request jobs karma for my family's rebar installation
company as well as shape shifting Jews and resist we must
Unknown: resist we much we must and we will much about that be
committed
John C Dvorak: shape shifting jobs,
Unknown: jobs, jobs and jobs for jobs. Pharma
John C Dvorak: is an interesting one it coming up this Michel.
Michel Ponsford who you know and Bernie Texas I know you went to
Bernie but he says Adam, my DENTAL PATIENT And friend has
transformed my way of thinking and opened my eyes to reality.
So I'm sure you went into the dental office and and did what
you went
Unknown: through nursing school roles. That's right. Good well,
we'll
John C Dvorak: get okay.
Adam Curry: That's how we That's how we roll. Thank
John C Dvorak: you to Adam and John for speaking the truth I
hit I shall henceforth be known as Sir Dr. Captain Maverick on
the show. That's Maverick
Adam Curry: that's Maverick that's. That's my buddy. Thank
you Maverick. I'm very nice. recliner back, John slowly.
John C Dvorak: It takes forever but you're getting there.
Adam Curry: We'll see at the roundtable while back. Sir Adam
and Sir Josh from Birmingham, Alabama $400. In the morning
Jensen Sunday's episode y'all spoke about the feasibility of
running AI models on personal hardware. It is accurate that
one can run many models including the good ones on any
modern personal gaming machine with a video card such as a 4090
It's even possible to develop and lightly train new models
with reason within a reasonable timeframe. As background we are
we're the development team behind projects like truth
social inside.com and shipped now this is I'm serious dudes
here. Shipped Yeah, we are concentrating heavily on In the
AI Gold Rush will we hit gold rush we are all in on that and
can confirm Adam is correct regarding local execution of
these models. And then he has a whole bunch of stuff that I can
look at and says if anyone in the no agenda community needs an
AI LLM help with their business, we'd love to help you win.
Additionally, we'll donate 10% of gross from any no agenda
community derived project back to the show, check us out at DBA
DBA dba.com. Now that's kind of a
John C Dvorak: is that DBA DBA dba.com That's the one and
Adam Curry: only remember it's DBA DBA dba.com We're going to
have some jobs karma to continue creating jobs for great dudes
named Ben thank you sir Adam the bearded night and Josh black
night in a band
Unknown: jobs, jobs, jobs and jobs
John C Dvorak: here's another note that's too long. This was
from Sir Phil of the Bluegrass in Louisville. And that would be
Kentucky I believe. And he came in with the world's longest note
for today at 348 67 ITM he needs he needs these these jingles
Brennan alleged to be part of a crime which is a great jobs jobs
jobs, which is jobs karma. And I don't know what this is. whoosah
I gotta I gotta walk Happy Mother's Day to all the mothers
out there. I'm currently hosting all five of our family in town
mother's for the afternoon a drink and food and yard games,
no screens, so I will listen later. Oh, not even listening.
The bi weekly deconstruction is more valuable than ever Sorry
for the long note I don't write in often see boots on the ground
note at bottom of email now. It's not on here. So we have it
in if any of you homeschool is out there listening and form
your kiddos that they make a very nice living going into the
trade work of some sort as most skilled tradesmen. I know our
seven year older and are retiring there are a handful of
guys like my dad used to always say this. I don't understand
these kids go out and become a mechanic.
Adam Curry: Do you know what the top job is that people are
schooling for right now in the Netherlands. But Carpenter,
carpenter everyone because carpenters are making like half
a million.
John C Dvorak: There are a handful of guys like me around
they're looking down on the barrel at 60 or 650 or 60 and
need an exit strategy. They just need to retire someone to hand
off our businesses and clientele so they can be trusted to
perform good work. I hope at least one of my human resources
takes over for me. Anyway, these Yes, people should learn how to
trade it's not about welding. Isn't this a winner building
Adam Curry: as a big winner?
John C Dvorak: I can well yeah, super winner. Yeah. Anyways, I
have to donate additional nice takes me whatever the status is
next. You have to tell us I'll have the mutton okay. Yeah, I
mean, I can't read it.
Adam Curry: But I didn't notice that we have that elsewhere. But
you know this to become a what does he say? He was he has a say
he was skilled tradesmen? So but if you want to be a carpenter or
a welder, I mean can't you get into people's and he needs us to
retire he needs to hit he needs to keep a piece of the action
and hand it over to some an apprentice apprenticeship.
That's what it used to be called. Remember those? Yeah,
they
John C Dvorak: still do those but it's rare.
Adam Curry: And how long would it take to become a good
carpenter? Five years couple a couple of years I
John C Dvorak: don't think it take that long couple of years.
Adam Curry: And I'm think welding I mean, welding you can
learn in a couple years to be really good at it.
John C Dvorak: Well, you can learn it pretty quickly, but
getting good at it as Rob, because I can weld.
Adam Curry: I can. I can weld too. Yeah. Can you Healy arc?
Yes. That's how I was taught with the arcing. And then along
came the co2 stuff that was easy. Like, anyone could do
that. But you know, you put that electrode in and that's the cool
stuff. All right. Here's your jingles man. People are
Unknown: innocent until well alleged to be involved in some
type of criminal activity.
Jobs, jobs, jobs and jobs. For jobs.
Adam Curry: All right, then we have scroll down here. Oops.
Interesting.
John C Dvorak: Another log, no Kelly Conway. This donation
Adam Curry: makes me a dame damy Kelly damy Kelly dame of the
longest islands. I'd like a dirty martini and some expensive
blue cheese at the round table. We got that set up for you,
Adam, thank you for the excellent break down the last
few shows of how big pharma really seems to be the root
cause of many of the issues happening in our country between
mass shootings, trans children, loneliness, terrible mental and
physical health, mainstream media control by pharma
advertising and so much more. I'm in the middle of reading RFK
is the real Anthony Fauci book and wow, let me tell you what's
worth the read. Wow. I have read it. The amount of bullcrap this
man has gotten away with, along with all the government agencies
associated in Big Pharma seems to relate to Nazi Germany crap.
I highly recommend this book to all your listeners people do not
forget what they did and lied to us during the so called COVID 19
pandemic, these people should be held accountable to the fullest
extent of the law, which we know they won't be she says also a
few shows ago you mentioned the mobster who connected the JFK
assassination to the mob. Not sure if you saw the Irishman
movie by Martin Scorsese. In that film, he makes that
connection. Well, that's interesting, John, that, you
know, I
John C Dvorak: really I love Scorsese films. Yeah, I couldn't
watch that movie. It was dreadful. Really? Well, they for
one thing they kept a diary on aging De Niro. watchable
Adam Curry: that was kind of weird that movie that way. Well,
that was that's probably what threw you off. scene.
John C Dvorak: The whole thing was bad at poorly paced. It was
too long. So Okay.
Adam Curry: Well, thank you very much, Kelly. And we will see you
at the roundtable later on. Fo shizzle with a dry dirty martini
and expensive blue cheese but not the blue cheese in the
olives. That's That's disgusting. Do you need regular
olives in your in your mochi? There's some Roquefort girl not
in the Martini.
John C Dvorak: Brian Jones and can be Indiana in the morning
guys. Second time donor first time we asked for a D tuition
but it must have gotten lost in the mail. Let's do it now that
you've been D deuced. It's the first time I've donated
executive producer levels I've been seeing a lot of threes
lately. In fact, my amazing daughter Kayla turns three on
May 19. Please add her to the birthday list found your show
two years ago via Rogan Joe Rogan donation broken and I
really appreciate all you do and keep the deconstruction media
also enjoy occasional NTD epoch time and H K clips at John
brings keep on coming because requesting John C. Mac and
cheese song jingle and a goat karma for my family and myself.
Thank you for your courage Ryan Jones Ma Wan Hong Kong note
donation address of camby Indiana is my USA billing
address but currently expat he's in Hong Kong you slaves can get
us the mac and cheese macaroni and cheese cheddar melted
together mac and cheese mac and cheese mac and
Adam Curry: cheese you've got man we have chap Williams in
Edmond Oklahoma 333 dot 33 No note that we could find less you
have one there I don't think we got one came in as a check. All
right, so you get a double up karma a lot with no note karma
and here's Baron Gordon Walton from the Austin Texas area. He
actually was the producer who drove me to my very first no
agenda meet up before I even lived in Texas. 333 misgiving
Adam cash at the Austin meetup had no envelope. Switcheroo make
good for my son John Waltons road to Baronet. You got it John
Well, he always he has made his entire family Knights and Dames
everybody except for his wife except for his wife.
Interestingly, she may be in the band in the bay skeptical Wow,
you
John C Dvorak: make okay. I can't even count and Paige Lynn
South Carolina switcheroo is a switcheroo rich room please
credit this donation to allies in McAllen your John and Adam
longtime listener first time don't I began listening to the
show after Adams first appearing on JRE again we got two broken
donation at the beginning of Corona my wife and I are
attending the Charlotte thirsty Third Thursday meet up and want
to walk in proud and freshly do want to walk in proud and
freshly deduced. Thank you Denise de Lucia you've been de
deuced thanks for all you do this donations for three years
of Saturday and make the list shrinking therapy keep
propagating the formula jingles kindly request Trump dumps and
John spooky dog and a dog karma love his lips.
Unknown: They call him dumps big massive dumps.
Adam Curry: Karma I love that one with the chime. Sure I made
informed SAR Varner felt Barneveld, Wisconsin. Okay 300
In the morning need vacation karma my millennial forgot to
ask for time off and his Working, figuring it out. TLDR
need karma for refunds, love and lights are I imagine funds are
okay. I don't understand it all. But here you go.
Unknown: You've got karma.
John C Dvorak: And we have no Associate Executive Producer.
Adam Curry: Oh, that is very rare that that happens.
Interesting.
John C Dvorak: Yeah, usually you get more of those. Yeah.
Adam Curry: Interesting. Well, we appreciate all of our
executive producers who checked in today. Thank you very much.
You automatically do that this over 730 executive and Associate
Executive Producers listed in the IMDB database. That's pretty
cool. And there are shows Yes, for our show, yes. overstep I
think it's 736 or some number like that. You can join those
ranks. And you'll see that there's a lot of famous people
in there with other credits to their name, like, you know,
Swamp Thing. So thank you very much for supporting us. We
appreciate it enormously. And these titles are the real deal.
These credits are real, you can keep them forever. And unlike
the phonies in Hollywood, have anyone ever questioned you will
be happy about and let them know that you were indeed an
executive producer of the no agenda Show episode 1556 To find
out how to become an exec or an associate exec go here.org/in A
and thank you again for supporting the best podcast in
the universe. Our formula
Unknown: is this we go out for people in the mouth
squirrel
Adam Curry: Bye. So DeSantis pretty much did everything that
I think a president should do. I have a real hard time with this
guy. You know, he's got a big Wall Street money behind him.
Don't trust him. But what he did in Florida, probably a spoke to
him. Well, he kind of comes from where he wasn't he a Jag in the
in Guantanamo.
John C Dvorak: He was a lawyer. He was in Guantanamo. Gitmo,
Gitmo, he
Adam Curry: was a lawyer. Yeah, probably a spook. But the the
bill that he signed, and I'll let him ramble for his two
minutes here is pretty much everything that we've been
talking about when it comes to the trans Maoist conversion of
the United States,
Unknown: you have a movement amongst I would say rogue
elements of the medical establishment, to do things that
is basically the mutilation of minors. I mean, they're trying
to do sex change operations on minors, giving them things like
puberty blockers and doing things that are irreversible to
them. And that is not based on science. That is not based on
evidence. In fact, you have had countries that have tried to do
this in Europe, and they recognize this was very harmful.
And so now they don't
Adam Curry: do it, please, this is exactly what we've been
saying this phenomenon is like Sweden,
John C Dvorak: staff is listening to us and I probably
Unknown: yet here in the United States, you have a very, I would
say ideologically charged, small group of folks within medicine
that are really pushing these types of procedures on minors.
We think that that is wrong. In Florida last year, we took
action so that no physician that does those procedures are going
to be able to keep their medical license. So that's gone if you
do this, which is great.
Adam Curry: Which is just a pause for a second. This puts a
lot of doctors between a rock and a hard place. On the one
hand, you have the American Psychology Association and the
American pediatrics Association, the American Association of
Pediatrics has all these different lobbying groups and
political groups really, but they write their own laws, they
write the the procedures, they have licensed people their
responsibility through collective insurance for these
doctors and therapists mainly. Now, you can't go left you can't
go right. You know, so something's got to give in the
medical community.
Unknown: But when we do do the SBU to do this, we'll permanent
outlaw the mutilation of minors. It will outlaw the surgical
procedures and experimental puberty blockers for minors. It
will also require any adults receiving the surgeries to be
informed about the irreversible nature and about the dangers of
the procedures. It will give Florida courts temporary
jurisdiction to intervene and halt procedures for out of state
children. You have actually some states in this country that want
to be a haven And for these types of procedures, and even
welcome minors without their parents consent, and to some of
their jurisdiction, we're obviously doing the opposite
here. And I think this is this provision is important. This is
going to create a way to recover damages for injury or death
resulting from mutilating surgeries or these experimental
puberty blockers that are given to a minor. Because what
happens, they go through this, then they get older, and this is
a huge problem. They should be able to sue the physician who
hurt them, and they're now going to be able to with this law,
Adam Curry: that's pretty far reaching.
John C Dvorak: Like the suing part. Yeah, he should have
changed the word to shoot.
Adam Curry: Wow, man, I've gotten I got so many boots on
the ground about the testosterone that you were
talking about the roid rage. One of one of our producers listen
to this. She writes in she had she had to experience of men
with severe testosterone fueled mental health issues. And the
second experience thing is one I'll share. Her ex fiance he was
48 years old bloodwork showed less than 300 micrograms per
deciliter total of tea guests is low. So we started TRT injection
Istat low while he started a TRT injections of mix of short and
long acting tea kind of like taking Adderall and Vyvanse. I
didn't think much about it, but over the following three months,
he became erratic and extremely emotional. I was confused by his
change in personality when it gets bad and start to seriously
consider breaking up with him. His first three months follow a
blood work show total tea was greater than 2400 Ug DL, I guess
1200 is the max and free tea was greater than 400. He jokingly
said the doctor was surprised he hadn't killed his fiancee. His
physician drastically lowered the dose the dose but he had one
last mega dose injected the day he went to get his lab results.
Memories of my first friend came flooding back I looked up the
dose response time for the blender was using eight days. So
what happened is due to my love for him, I decided to wait it
out exactly eight days later though he snapped it was
horrifying to witness the love of my life become totally
psychotic. He was wondering 240 pounds of muscle knocked me
unconscious. I woke up being straddled and him whispering in
my air this in my ear. This is what it feels like to die. I
escaped by gouging his eyes with my fingers and fleeing in my car
as he chased me holy crap this testosterone is not to be taken
lightly people Oh,
John C Dvorak: I did this borderline dangerous. The it's
very deathbed the shots or the you know, there's other ways
just rub on stuff the can't remember than Androgel Yes, it's
safer. It's too dangerous for me to imagine. That's a men who are
used to Metastar now take girls now take a girl and give her
this stuff and see how far you get. You're gonna end up with
somebody, you know, walking around with a rifle shooting
poor little innocent nine year olds. Yeah, exactly what
happened.
Adam Curry: Finland is once again reporting they're taking
another look at youth gender medicine. Not a good idea.
They're looking at longer term studies now which have not been
done here. But all that comes down to a couple of things that
are not addressed by Governor DeSantis social media, the
pressures of social media and an out I'll pull into this the
swimsuit Sports Illustrated Swimsuit Edition, where we have
Martha Stewart now as an 81 year old on the cover of this four
covers. The odd one of the covers of the Sports Illustrated
Swimsuit Swimsuit Issue. disgustingly photoshopped Make
no mistake don't say oh, if I looked like her No, no, she
doesn't look like that. I know her I've been up close. And the
donor mentioned the bo in the elevator Ah, but they Photoshop
everything. There is no truth in anything. You see, he could have
John C Dvorak: done a better job.
Adam Curry: I don't think this is the best they could do. And
then they have another trans, a trans woman on the on one of the
covers, and this is going to stop Americans are starting to
figure it out. Have you seen that now target is is the next
literal target.
John C Dvorak: I have complained about target and these and the
way they have gone for well nuts not on this show as much as DH
employed by been complaining about them losing it. They have
they're promoting fat women and trans women Derrick dirt
completely lost the plot. They used to it used to be a store
that had stuff that was well designed, it was pretty they had
professional bigshot designers come in and they were We used to
promote it that way. Now it's just a, it's just it's
borderline to $1. Store.
Adam Curry: Yeah, with all the rainbow stuff. Now we're seeing
parents go in and just say, Well, is there a straight
section for my children that that look is? Can I just get
something and doesn't have weird stuff and Adidas or as we say in
the old country, Adidas, pride 2023, women's swimsuits. These
are being modeled by men. With package it's a little it's a
it's a women's swimsuit. And they have men modeling it. And I
mean, what's this?
John C Dvorak: What's wrong? This is what happens when you
get these people, certain people in the executive level and they
get in there, you can't get them out and they start making these
decisions somehow. I don't know how it's accepted by everyone. I
guess they get shamed into it. But they have bad people in
management and these companies are all going to fail.
Adam Curry: Yes, Corps has now. Sophia Colucci, Chief Marketing
Officer for Molson Coors beverage. I don't know if you've
seen this. It was it actually was made in March. But
apparently they decided to let it go. They're now criticizing
their own brand for having used women in bathing. So
John C Dvorak: that was no, that was Miller. Like, that's Miller
Lite.
Adam Curry: Yeah. But that's yeah. But that's Miller Lite is
a multi branch. It's funny.
John C Dvorak: I have a thought on this. But so look, I don't
believe that I believe this is a real ad that they did back in
the day, like, March before March. I think it was InBev that
Riri introduced.
Adam Curry: Oh, so now they're eating each other? That's cool.
I like that.
John C Dvorak: Because I don't see that would be idiotic, for
any executive to make the decision to do that to bring
that ad back out. Because it was already a failure. And it just
was swept under the rug. Nobody said anything about it. And now
all of a sudden it reappears. Yeah,
Adam Curry: good point. Good point. Yep. I'm with you. Then
we have Texas Democrat. Sean Terry. She's a Democrat from
Houston. And I'm going to play this soundbite in Texas, they
passed the bill that forbids any type of medical transition, I'm
sorry, gender affirming care for minors, which is a very
reasonable, and there's lots of things if all right, I'm gonna
get her that I want you to hear she bet she's going to be
censured by her own party, I want you to hear because all
political at the end of the day, this is one side saying
Democrats are are killing children and the other side
saying Republicans are anti trans and transphobes forget all
of the politics. And what she says here, very, very nervous, I
think was spot on very nervous when she stood up and spoke in
in the senate
Unknown: members. It is out of respect, caring, in friendship.
For every member of this body that I would like to share my
position on this very complex issue. I'm coming from a place
of love and compassion, and can only hope and pray that it is
received in that same spirit. While we can have debates on the
best policy approach, I do not believe that any of us in this
body actually wants to cause harm to children who are
suffering from depression, dysphoria, or any other mental
health issues. Over the past two years, I have extensively
researched this issue and painstakingly reviewed the
scientific data in this country and around the globe. As a woman
of color, I know what it's like to feel unseen, unheard and
devalued. I have recently been treated that way, by some in
this process in coming to this vote. After listening to the
debate today, I absolutely believe we should raise the age
to 18 for children to receive GnRH analogs, cross sex hormones
and to undergo potential irreversible body altering
surgeries. Members in this nation. Most all adults have
been united in at least one basic premise that children
deserve protections, special protections and exceptional
treatment under the law.
Adam Curry: Thank you very much. Thank you Representative from
Houston. Very good. But maybe it's time that somewhat and it's
going to be very difficult because as we know, we're the
only country in America that won't allow that allows
pharmaceutical advertisements direct to consumer, America UK
and New Zealand I guess. But the report is now out that here it
is us depression rates reach all time highs. Percentage of US
adults is from Gallup, who have reported having been diagnosed
with depression at some point in their lifetime has reached
29% 10% higher than 2015. At what point do we call out the
medical community and say it's not working? It's just not
working. And then you take with that the report in The Wall
Street Journal, young Americans are dying at alarming rates.
Children teens suicide all kinds of horrible things. The pharma
game is not working. It's not and that I keep reading these
reports that that prescription medicines are the shortage of
everything. Have you heard Have you heard of this? I don't even
know if that's true.
John C Dvorak: It feels hard to yes comes and goes. I wonder if
it's true myself. Nor is it just to get people
Adam Curry: on more stuff. But we really need to reevaluate
we're doing and social media is a big problem. And luckily we're
seeing some of the Zoomers just giving up on it. But now I think
the older older people older adults are just completely still
all sucked into the system. Now I love my light phone. John, I
know you scoff at it. I know Ben, you don't need one because
you put your your smartphone in the desk. I know. You know, you
John C Dvorak: don't run a whole podcast or downstairs.
Adam Curry: I run a podcasting empire. You know, there's a lot
to do here. But I love it. I love it. I'm weaning myself off.
It's pretty good. You know, now that now that I feel like I can
do I have a right tool for it. I have basically no internet when
I'm going out. Just text and phone Perfect. Perfect for me.
And all the schools that we see all these children are put into
schools that have no screens. What do we have no depression,
no suicide, and also strangely, very few trans.
John C Dvorak: So you think there's a connection?
Adam Curry: There's our opening. Thank you. That's exactly what I
was looking for.
John C Dvorak: So let's talk about climate as a report came
out.
Adam Curry: Yes. Oh, yeah. Yes, this was very funny.
John C Dvorak: So I'm not even going to go to Americans. Let's
start with LG Zerah. And I got a three and a three parter with a
with a sub clip. Climate Oh no. AJ. Well, we
Unknown: begin with the state of our climate. And you rip away
Stop.
John C Dvorak: This is the top of the news, by the way. Right?
And it's not even news, though. report came out, stop,
everything stopped. The presses are starving in Ethiopia.
There's riots going on. They're killing each other in Sudan. No,
stop. Let's start with this. I love the
Adam Curry: starving and Ethiopia. What century are you
for?
John C Dvorak: Well, we're always striving for my bed. When
we
Unknown: begin with the state of our climate. A new report says
global temperatures will continue to climb into uncharted
territory. And then it is right now levels of heat around the
world are way beyond normal. But it's still thought the worst may
be yet to come. It's down to the double whammy of global warming,
and a weather phenomenon called El Nino. Here's our environment.
This look at a map of the world and pretty much everywhere this
year, we've seen searing unseasonable heat in Europe, in
Asia and South America and in the United States record
temperatures fueled by climate change. And it's not about to
stop report from the World Meteorological Organization says
it's almost certain we're going to see the hottest year on
record between now. And 2027. Yeah. Wait
Adam Curry: a minute, the world. It's the WMO we have a new one.
Hey, yeah,
John C Dvorak: don't we have the hottest year on record? Every
year after Democracy Now every year, year after year after year
Britain now. Now it's going to be we're going to soon see it.
We have already seen it.
Adam Curry: How do you read it says hottest year on record
ever, ever. It's happening
Unknown: part two, and 2027 and that we will breach the 1.5
degrees Celsius threshold of pre industrial levels set by the
Paris Agreement with increasing frequency. So what's going on?
Are human induced global warming is about to be turbocharged by a
natural charge. El Nino happens every few years and sees winds
and ocean currents specific reverse direction significantly
altering global weather patterns, bringing hotter, drier
weather or even drought to places like Australia, Indonesia
and parts of South Asia. A day this week the Department of
Health and the Philippines warned its health care
facilities to be ready for the extreme effects of El Nino
affecting power and water. As supplies and potentially
spreading disease,
Adam Curry: they have always connected El Nino to death and
destruction from climate change. They always do that we've had El
Nino for centuries.
John C Dvorak: Well, they mentioned that it comes every
two years so Yeah, hello. Good thing how is it new now this is
a different visited El Nino especially well, I mean, it
doesn't make sense.
Adam Curry: El Nino El Nino was cheese.
John C Dvorak: Make sense? Now here's part three, there's a
little there's I think there's the one where the woman comes on
begging for money from some area. Oh, and she little truth
comes out. Hi, Jamila.
Adam Curry: I'm sorry, which one? I do I do the truth one
here. Now,
John C Dvorak: part three don't know that three A is deceptive.
Okay.
Unknown: Boyd is a member of Malaysia's Climate Action
Council and she says everyone on the planet is at risk,
I think that the risk is real for everyone, whether you live
in the northern hemisphere or in the developing world, and I
think that you know, we are seeing the heat waves that are
going to happen now with the Phenom weather phenomena. We
know that in in many of these developed nations, the
demography mix of the nations are also different. So the
vulnerability of populations also will be more severe, where
there are elderly population. So I think, you know, everyone feel
the brunt of the in a warming world, no amount of advocacy and
work by all of us in the climate space and health space to tell
people about the damages and the consequences of climate change
is enough. We have skewed governance now that it's
favoring, you know, fossil fuel production, we are, you know, we
really need to reset the relationships, we need to re
examine why there is so much inaction. And until then, unless
we as humanity who have caused all this damage, start to re
examine our relationships with this planet. Honestly, I am
angry, you know, I feel that I cannot understand, you know, why
people are not ignoring the science. At the end of the day,
you know, we are in a very terrible situation. Now, we, you
know, we are facing what the UN has called an uncertainty
complex
Adam Curry: uncertainty complex. Is that like little things there
is that an inferiority complex
John C Dvorak: is there's uncertainty complex, you have
it. And so everybody does it. And if you're it, because you're
a climate change denier sciences, I thought was a self
contradictory statement in there, which was, I don't know
if you caught it. No, but it was one of these things. You hear
you hear these things all the time, this little truth wants to
come over listening to the sub clip, and you can hear what she
says, clearly,
Unknown: I cannot understand, you know why people are not
ignoring the science.
Adam Curry: Why they're not ignoring.
John C Dvorak: Why are people not ignoring the science?
Adam Curry: Truth comes out, that's how it always goes. I
actually have the French 24 promo reel of the WMO, which you
know, this, this tells you because it's world media rollup
Meteorological Organization. Now, I thought that the weather
is not climate. But yet these guys, they're the
meteorologists. They're in charge of
John C Dvorak: depending depends if it's convenient. Oh, blimey,
but if it's inconvenient, it's not claimed. But let's listen
what
Adam Curry: really sparked this incredible news.
Unknown: It is a stark warning. Yesterday on the one about the
climate emergency affecting all of us. The UN's World
Meteorological Organization, the WMO is saying that for the first
time ever, global temperatures are now more likely than not to
breach 1.5 degrees Celsius of warming between now and 2027 66
person
charged that we will exceed 1.5 degrees during the coming coming
five years. It's a conclusion that that we haven't been able
to limit the warming so far. And and we are still moving in the
wrong wrong direction.
The UN bodies forecast last year put the answer to about 5050.
Adam Curry: Okay, so the whole thing is because they said
instead of 50% 5050 In five years, it's now 66 Devil number.
It's now 66% I'd love to see their calculation. Could you
show your math? I mean, this is so so this is insultingly
stupid. Yeah, all right. I promised little background on
the Wagner group.
John C Dvorak: Unless you're smart. You promised a report and
Adam Curry: you Agile is a lot and some new things have come to
light First of all, the Kremlin on Thursday criticized a
decision by the United States to transfer Ukraine to Ukraine. The
forfeited assets of conservative Russian businessman Constantine,
Mallow VF saying it was illegal and would backfire on
Washington. Here it is. Now their start, I told you they
were going to do this. They're starting to transfer all the
assets to Ukraine, and this guy was ordered to do it. US
Attorney General Merrick Garland on Wednesday, authorized
millions of dollars worth of Mulleavy EFS forfeited assets to
be sent for use in Ukraine. The first such instance of forfeited
Russian money being used in such a way
John C Dvorak: as a lawsuit waiting to happen.
Adam Curry: Where you're going to do is the International
Criminal Court. And yours, there's,
John C Dvorak: there's Yeah, international law. Yeah, no,
Vance, this bullcrap. And
Adam Curry: what we discussed, what
John C Dvorak: is that guy got to do with it, the price of
bread, and
Adam Curry: you said it wouldn't happen? And I said it would. And
he said it wouldn't happen. Yes, you do what they say You said
that's exactly what you just said. It'll never happen.
There's international law against that. That's exactly
what you said. That's probably what I said. Then you're right.
And I said, you don't know what you're talking about. And I was
right. Do you know what I'm talking about? They don't care.
Except they don't care. Exactly. Dora does Europe.
Unknown: More than 40 countries as a summit of European leaders
have agreed a plan to make Russia pay for its war in
Ukraine. The Register of damages has been one of the major
talking points at the Council of Europe meeting in the Icelandic
capital, Reykjavik. Also on the agenda is approached by the
Prime Ministers of the UK and the Netherlands to build an
international coalition to boost Ukraine's air combat
capabilities.
Adam Curry: Oh, yeah. So we just wrap it all together. You see
what's happening here. We need some money. And then we need
some money because they need to pay for some of our weapons. So
let's take that money that we took and let's buy some weapons
with it. And Zelinsky when shopping
Unknown: prisons last case continuous European tour a
meeting with the British prime minister after talks with the
Pope and the French president this weekend, senior foreign
correspondent and panel as the latest Good morning in
Yeah, good morning, George UK just confirming the delivery of
these long range missiles that Tom was talking about after a
weekend for apparently surprise visits for Zelinsky ahead of
those sheduled meetings in Italy, first with the Pope and
then with the Italian Prime Minister, in turn the German
sending a plane to bring him to Berlin. Then last night, the
French sending a plane to whisking to Paris for dinner
with Macron. And then this morning, a surprise visit here
in London with Prime Minister Sunak with multiple pledges of
tanks, armored vehicles, long range missiles and drones. And
training for fighter pilots and soldiers is looking a lot like a
crucial last minute shopping trip ahead of the upcoming
counter offensive, I think a chance to show America that the
major European allies really are trying to pull their weight. So
Lensky telling journalist in Italy the offensive is in the
final stages of preparation, and the first steps will be taken
soon. But I think the Ukrainians know that the pressure is now on
to show more results on the battlefield as soon as possible
to keep that aid flowing. How stupid
Adam Curry: is this? I do not understand how you can keep
saying that's common. We're getting ready. We're about to do
it. Are you ready? But pay attention but we'll we'll let
you know. In fact, they're probably going to announce it
the day before tomorrow is the day the spring offensive which
is now going to be in fall. Spring is over isn't it? So are
we in summer yet or is it still spring? But this is still spring
still spring when
John C Dvorak: it's summer? Summer shortly June.
Adam Curry: Okay, well, we can still make it under the wire.
But no, but no. Oh, no, no, I'm
John C Dvorak: gonna make it they're not gonna do it.
Adam Curry: While he do he just went shopping. So now there's
some Yeah,
John C Dvorak: cuz he got they got orders. They got orders to
ship to Somalia. Dan,
Adam Curry: be up. No. Yeah, it's interesting. You say that?
Before I bring in the Wagner group. Listen, who's trying to
help out with this conflict.
Unknown: This unexpected African peace initiative has garnered
attention and support from various quarters, demonstrating
the potential for diplomacy to transcend borders and forging
alliances over the
weekend, I had the opportunity to represent the views of a
number of African leaders with regards to a peace mission that
those African leaders have been talking about for quite a number
of months and consulting amongst themselves with regards to how
Africa can make a contribution to bring about a solution to the
conflict in Ukraine. We have been talking about as African
leaders, because we concluded that conflict in that part of
the world much See does not affect Africa directly in the
form of deaths and destruction to infrastructure. It does have
an impact on the lives of many Africans. With regard to food
security, the prices of fertilizers have gone up. Prices
of cereals have gone up. And the prices have fewer people of
African heads of states took the view that Africa does need to
put forward an initiative a peace initiative that could help
to contribute to the solution of that conflict.
Adam Curry: So this of course has nothing to do with Ukraine
Africa doesn't give a crap about Ukraine what they care about is
Russia's money Russia's mining for mineral wealth etc. Yes,
John C Dvorak: there's that element but don't you have you
maybe had to sidestep I've got two clips. Okay, cool. They do
care. I think Iran I think they care because they're gonna
starve to death if you listen to another unreported on the
Western media aspect of the war, which is kinda reminds me the
star cozy clip I played earlier. Play that we'll start with this
one, which is Ukraine and grain spring
Unknown: in western Ukraine. This young wheat will be ready