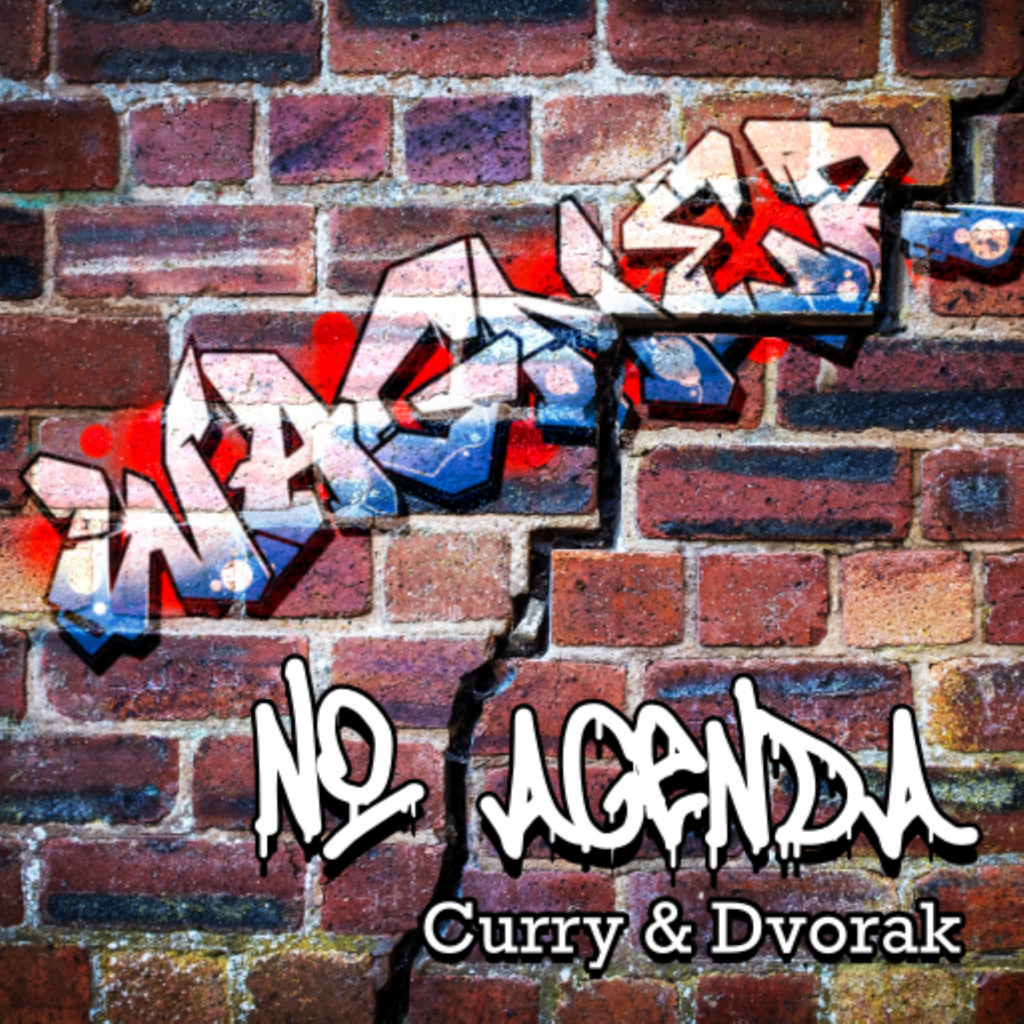 May 21st • 3h 10m
1557: Stern & Wrinkled
Transcript
The transcripts of No Agenda are automatically generated and therefore, not fully accurate. Discretion is advised.
Click the text to start playing from that position in the show. Click the timestamp to copy a direct link to that position to your clipboard in order to propagate the formula.
John C Dvorak: Ah, incompatible hardware. Adam curry,
Unknown: Jhansi Dvorak,
Adam Curry: Sunday, May 21 2023. This Year Award winning
accumulation media assassination episode 1557.
Unknown: This is no agenda,
Adam Curry: casing a charm offensive. broadcasting live
from the heart of the Texas hill country here in the region
number six in the morning, everybody.
John C Dvorak: I'm Adam curry and from Northern Silicon
Valley, where we're all cheering Karen a Fuji who's one eight in
a row in the main tournament. I'm John Seymour. It
Adam Curry: never ceases to amaze me. We're in the middle of
on the brink of a nuclear war. We have all kinds of horrible
things happening climate change, but we still have sumo wrestling
to fall back on.
John C Dvorak: And the big Yokozuna is back
Adam Curry: are you all jacked? How long has it been going on
the the the tour the competition? Eight days, and
you've been watching every single day?
John C Dvorak: I missed the first day. Okay,
Adam Curry: and who are we supposed to vote for your vote?
I have a route.
Unknown: I mean, Rudy the road
John C Dvorak: for deleting goalscorer.
Adam Curry: Okay
John C Dvorak: terreno Fuji he's the Yokozuna is the big guys a
big giant Mongolian
Adam Curry: on all these ointment. Don't you have to be
Japanese by
John C Dvorak: no no. The big guy the big boys of the last say
couple of decades have been Samoan American Hawaiian. But
these big Mongolians are really well and this guy is the top guy
and he's a Mongolian and Okay, so Ben wonder pounds 200 That
doesn't seem like that's 400 400
Adam Curry: we know now in New York, they're passing a bill you
can't discriminate against fat people. Which I thought was
already Kenji already.
John C Dvorak: It was already a rule.
Adam Curry: I think it's just virtue signaling New York would
expect Oh, they're just
John C Dvorak: virtuous. Yes.
Adam Curry: We got a we got let me kick it off with the super
cut little mini super cut from from clip collector Steve Jones.
I missed it. I didn't even realize this was going on. But
we know that a lot is happening. g7 is the Lensky touring around.
Not just a tour though.
Unknown: Tonight charm offense. Ukraine's president makes a so
stopping visit to the g7 summit in Japan. hello to Mr. Lynch
keep pushing for more war aid and rallying allies to stay the
course against Russia's invasion.
For ultimate Zelensky knows there's a growing debate across
Europe about how long Ukraine's war effort can be supported. For
now. He's hoping that Sharma fences pressure on his Western
allies to turn solidarity into action
as president Solinsky he's been on another charm offensive over
the last couple of days. What has been Germany the Vatican
France and now the UK what he needs what he wants
unsurprisingly is more weapons and it
seems like Britain's gonna get into this but he's also a much
needed charm offensive so there is a lot a lot of backroom
bargaining and charm offensive that needs to be done and he'll
be hoping to go home with a lot in his back pocket F 16 fighter
jets from the Netherlands 18 million pounds apiece wants the
full arsenal the full money so look, he's on charm offensive
and I think Eddie you probably get
his trip to Japan. bruited about reported online but now he's
actually there. I got
he is he arrived today and this comes right in the middle of an
extended charm offensive for
Adam Curry: I'm telling you, man, this is a worldwide
phenomenon. The charm, the charm offensive. It's every station
all around the world.
John C Dvorak: The smells of collusion is to get your talking
points from smells like collusion to me. Love we're
gonna talk g7 I had the g7 report from I believe this is
NPR.
Adam Curry: All right. Well, there's nothing like little NPR
in the morning
Unknown: and Pure White House correspondent Scott Tetro joins
us from Hiroshima. Scott, thanks for being with us.
John C Dvorak: Was it really stopped there?
Adam Curry: Do we need to clip that?
John C Dvorak: I did, because I wanted to mention this thing.
Now. Why are Hiroshima instead of Hiroshima? Well, I don't care
about the pronunciation. I'm caring about the point that they
dropped an atom bomb on that town. Yeah. And it wasn't like a
an a nuclear power plant that melted down or anything. It was
a bomb that released all of his fissionable material across the
whole area, but yet, just really was in recent memory. They're
having meetings there. So how dangerous nuclear power
Adam Curry: I don't know. And also I think Nagasaki was booked
so they had to How to do it to Hiroshima.
John C Dvorak: So the point is is that why is why is the left
side still freakishly weird about nuclear power when you're
having meetings? I think that's a very a store and Cairo place
was decimated but not desperate. It was blowed up by a nuclear
bombs flattened, flattened.
That's That's why I stopped Texas. Let's go on.
Adam Curry: That's real. That's a very good point. Because you
know, oh, we still can't go to Chernobyl. Oh, no. There are
there are apparently there is an expiration date on on nuclear
fallout and radiation
John C Dvorak: very expiration date is coming first Chernobyl
Unknown: loading trip to Japan. bruited about reported online
but now he's actually there I got he
is he arrived today?
Adam Curry: What kind of intro is this guy give no I guess it's
like he's there. He's actually there. I gather disinterested in
his job. Listen to this
Unknown: and but now he's actually
John C Dvorak: there. This guy has a style all his own. Yeah,
it's
Unknown: a load of Merrill Lynch case trip to Japan. bruited
about reported online at about oh, he's actually there. I
Adam Curry: got what is bruited about Brutus brooded?
John C Dvorak: I guess people were brooding over it. I have no
idea how
Adam Curry: strange
Unknown: he is. He arrived today. And this comes right in
the middle of an extended charm offensive from Yeah, oh, just
coming ahead. What we expect will be a major military
offensive from Ukraine. Solinsky, remember, had not left
the country much for obvious reasons for much of the first
year of the war. Then he had that dramatic trip to Washington
at the end of last year. And more recently, Zelinsky has been
visiting heads of government in several countries to pressure
them to keep supporting Ukraine as military costs keep going up.
And as the war keeps dragging on the trip to the g7 comes
immediately after Zelinsky made a similar case to the Arab
League in Saudi Arabia the other day. We do not know much about
his exact agenda here in Hiroshima, though the White
House is indicating he will almost certainly have a one on
one meeting with President Biden on Sunday.
And I gather there's a major welcoming gift in the offing.
President Biden now indicates that he would support Ukraine
acquiring F 16 fighter jets from Western countries. That's a
change, isn't it?
It's a much larger gift than they had in the gift bags for
the reporters covering.
Adam Curry: Wow, I bet you know what, I'll pay you to actually
get gift bags.
John C Dvorak: Well, she that it was who I stopped a clip there.
Adam Curry: This is this is a dynamite little thing.
John C Dvorak: Now the question in my mind is is this gift bags
are very commonplace in Hollywood at the US Hollywood
and entertainment reporting.
Adam Curry: Entertainment reporting being the key.
John C Dvorak: Exactly. And so I'm thinking is this guy either
Are they are they are giving away gift bags, because they
don't make it very clear that they're not. And they joke about
it. The two of them laugh and yucky. Or is it just that this
guy is like everybody else, I guess on TV and entertainment
reporter forced to do real news coverage, which is kind of my
guess, but I couldn't be wrong. Maybe they did get a gift bag.
Adam Curry: I gotta give it to you right off the bat. It's
early, but still, that we've never heard the gift bags in
reporting. And this is NPR. You can't horse around on NPR. Not
when it's when the world is on fire. You can't do that.
John C Dvorak: I find it peculiar. I like I think we have
one more or less. Yes, we do.
Unknown: But on a serious note, this is a huge escalation and
how the US areas are arming Ukraine, Ukraine had been
begging for these jets for more than a year. I didn't resist it.
He was worried that this could be something that would lead
Russia to broaden the war and perhaps retaliate against other
countries. But now, this week, Biden has told other g7 leaders
the US will support efforts to train Ukrainian pilots on f 16
fighter jets, and begin conversations about how to get f
16 from other countries to Ukraine. And at a briefing
today, National Security Adviser Jake Sullivan said the US has
adjusted its position based on how Russia has waged its war and
how Ukraine has responded. He also told us that as the US has
increased the magnitude of the weapons it's providing one key
thing has been getting promises from Ukraine that it will not
use them to attack inside Russia. And he indicated that
that promise would be key when it comes to these f6 teams
Adam Curry: will kind of bullcrap promises that what's
the point of having if you can't fly over Moscow? This
John C Dvorak: this is not showing any signs of letting up.
Adam Curry: No, you're correct. It doesn't. Well, but there's a
couple of things all happens in the same few days. Including
this little report
Unknown: and accounting error at the Pentagon overvalued US aid
sent the Ukraine by $3 billion. Reuters cited today Defense
officials who said weapons taken from the US military stock had
been assigned a much higher value than they should have
been. The officials also say there are inconsistencies in how
the equipment sent to Ukraine has been valued. The error could
result in the US sending more weapons to help against Russia.
Adam Curry: So we just magically made we magically made 3 billion
appear thanks to an accounting error.
John C Dvorak: So you can send them more Yes, we
Adam Curry: can send them 3 billion more like that we
John C Dvorak: were sending and I don't I thought we were
sending them weapons they needed. I didn't think we were
sending them out, like value that they need. And others what
why are they counting the nickels and dimes here? Because
if you want a bullet, you want a bullet whether it costs a nickel
dime or $1.
Adam Curry: Well, it's because of the because of the amount of
money that has been appropriated by Congress. So they needed a
little more apparently, for the training that we know from our,
from our insiders in the currently active military, that
f6 teams are fine, but you've got to train the pilots, you
need to have ongoing maintenance, you need to have
parts the maintenance you have to you can't rewrite all the
manuals in Ukrainian so you need Americans there boots on the
ground, which is what you've been saying what would happen,
you need to have the right facility for airport. So there's
a lot of things that have to happen. And
John C Dvorak: this is not like buying, you know, a just simple
drone.
Adam Curry: And also, according to our contact, most of these
Ukrainian fighters will need quite a jet fighter pilots will
need quite a lot of training because they're just going to
ruin these jets. It's not as simple as Oh, I'm flying to MIG
29 a beat up old piece of crap. I'm going to jump in a f 16 and
fly it you know, takes a little time. Now let's go to France 20
For the most honest for a new service I've been able to find
and we bring in a the head lecturer is this guy? Right? Is
this the guy? where's the where's the lecture guy? Here we
go. The lecture guy, military lecture, a guy from University
of Portsmouth, Oxford
Unknown: floodings, Utah. And is this going to be too late for
the spring the counter offensive that we hear so much about?
The spring counter offensive? Oh, completely?
John C Dvorak: Wait a minute. Yeah, I would say if it goes
into summer, yeah, it's too late for the spring counter
offensive, but you can do a summer, we're not even
Adam Curry: gonna get summer this is going to take years
Unknown: Biden's Utah is this isn't going to be too late for
the spring counter offensive that we hear so much about,
oh, completely. These will not be deployed in any numbers, we
may see some cosmetic deployment before the end of the year. But
I suspect it'll be spring next year before we see them
operating to their potential. And that's when we may see them
flying around. But that isn't operating to their potential.
These objects just as any component of their power are
part of a much more complex picture. They need to be
trained, exercised, maintained, based to form part of that
system. And putting that system together from not quite from
scratch. But there's a lot to do will take many, many months, not
least the training of the aircrew, ground crew and
preparation of the bases and a lot more besides James,
Adam Curry: I'm so amazed at France 24 is really the only
honest outfit out there. And so of course, the question is what
really what changed? Does this make what
Unknown: will realistically changed here, but nothing much
they saber rattling threats for the high Mars, the long range
artillery system in much earlier in the war, calling all that
escalation this against the background, of course, constant
bombardment day after day of high high end cruise missiles,
most of which caused a shutdown by the gift of anti aircraft
missiles by tanks. And now we hear it's over jet. I don't
think we've much to worry about just yet.
My question is, which of Ukraine's allies are likely to
deliver on these jets? How many are they going to need for this
to actually make the difference,
but probably need an excess of 30 to make any sorts of impact?
I think we won't know yet who the donor countries are. All
countries are required to get to all the countries that operated
right now are required by those countries. There are constraints
as to the types that are sent. There are constraints also on
the avionics that are inside the jets that may need to be
modified to be sent to Ukraine. So we won't know that I think
just yet but the coalition which certainly existed as 16 donating
nations, we'll be thinking about that very carefully right now.
But I would suggest it would probably be a couple of European
countries.
Adam Curry: Yeah. And wouldn't you know, in excess of 30 is
what he said. The Netherlands just cancelled the deal between
the country and Drake, an international US arms dealer, a
private company for the sale of 40 f 16. Fighters hmm Have they
finally gotten the Netherlands to pony up? Looks like that's
where the disability meet. So meanwhile, while this is all
taking place and we'll get to Bach mood in a moment, kings
olanski is over in Saudi Arabia of dressing the bros. They're
Unknown: here at the summit who have a different view on the Hun
John C Dvorak: stop there you get the timeline? Correct. He
was in Saudi Arabia before he went to g7.
Adam Curry: Okay, but this is all happening in the background.
Yeah. Okay.
Unknown: So here at the summit who have a different view on the
war on our land, calling it a conflict, I'm sure that we can
all be united in saving people from the cages of Russian
prisons,
Adam Curry: the cages of Russian prisons, it doesn't seem to be
about an attack on on Ukraine anymore.
Unknown: Fortunately, there are some in the world and here among
you who turn a blind eye to those cages and illegal
annexations
Adam Curry: and what cages have we missed something in the
reporting of cages or people being
John C Dvorak: talking about that journalist that was picked
up and thrown in jail? I
Unknown: to those cages and illegal annexations and I'm here
so that everyone can take an honest look, no matter how hard
the Russians tried to influence, there must still be independence
in the occupied Crimea are Muslim and more than SNA
Adam Curry: I don't understand why this happened. The audio is
almost like it was an insert the audio goes way down and then we
get something about the occupiers of Muslim listen
again,
Unknown: there must still be independence in the occupied
Crimea, Muslim and the
Adam Curry: occupied in Crimea are Muslims. So that's his
appeal, I guess. And I'm not
John C Dvorak: yes, it was noted on either news, our NPR that
this he was appealing to the Muslims, claiming that Ukraine
is like a mother. You didn't ever set it. And I think they
had to, I think that's surprising to
Adam Curry: sounds inserted
John C Dvorak: because Because Ukraine is not a Muslim country.
There's a pocket or two of Muslims in Ukraine and he's
trying to make it sound as though they're going to help
their fellow members of the ummah.
Adam Curry: This is a chat GPT glitch that went wrong.
Unknown: There must still be independence in the occupied
Crimea. Muslim, I'm more than sure that none of you will agree
to surrender a thought of your country to the invaders. And I'm
more than sure none of you would watch without a fight how
foreigners steal the children of your people,
Adam Curry: our back to stealing the children. Okay, that's what
we need to just the children got it. Okay, so now we have the
news that Bach mood has been taken has been taken by of
course, our favorite the Wagner group.
John C Dvorak: And if you want which clip Do you have because I
have one from NPR. That is, well, I have a Deutsche Ella
sure BS.
Adam Curry: Let's do yours first. Because Georgia Bella is
the CIA. So let's listen to yours first. Hold on. What's it
called? Oh, a bull crap. No.
John C Dvorak: Yes, it's called Ukraine.
Adam Curry: Oh, got it. Okay,
Unknown: here we go. I heard of a Russian mercenary force a they
have completely captured the eastern Ukrainian city of Bach
moot. amperes Charles Maynes has more WhatsApp.
video posted to social media. The head of the Wagner mercenary
group of Guinea precaution said after more than seven months of
fighting in what he called the meat grinder of Bach moot his
forces it sees the city in its entirety. Yet even as precaution
spoken to the camera explosions could be heard in the distance.
precaution also read up complaints the Russian defense
ministries top brass had intentionally started Wagner of
arms during the siege, costing 1000s of additional lives. Even
as he said responsibility for holding the city would now pass
to the Russian army while his forces took rest. Meanwhile,
Ukraine denied precautions claims with officials and key
have seen heavy fighting and bucketload continued.
John C Dvorak: Okay, now a couple of things. Didn't we hear
that this guy whose name I can't pronounce Rigoni rugosa.
Adam Curry: Ran Wagner.
John C Dvorak: Mr. Wagner, he just recently said well, we're
gonna leave we're quitting. We're going to leave this and
leave it to the Russian screw up. Yeah. as though they were
going to just bail. Yeah. Well, now he says, Well, we took over
the place that we're going to leave it to the Russians. I
mean, these stories are just annoying. They're these days
reporting is sucks. It's dreadful, but also,
Adam Curry: what is so so so Some media video shows this dude
this Putzmeister Putzmeister promotion and he's got a run hot
dog man a hot dog man he's got a flag he's got like eight guys
behind him who look I'm telling you look like Dad's Army they
don't look like the killing machine that the you know the
the fiercest killing horrible fighters smashing people with
sledgehammers that we heard about. And that's it. That's the
whole and then
John C Dvorak: yeah, there's that forgot about that aspect of
it. This these bullcrap stories about the sledge hammers? Yeah.
And they come on. Right.
Adam Curry: So here's Deutsche Avella, which is always approved
by the CIA,
Unknown: and with yassky 1000s of kilometers away at the g7.
Back in Ukraine, the head of Russia's Vagner mercenary group
has claimed a breakthrough through fields getting corrosion
claims in this video that his forces have fully captured the
eastern city of Buck wound. Ukraine's military has been
quick to deny the ruined city has fallen. He says its troops
are still defending their positions. But he is what should
we make of precautions claims?
It's hard to say no at the moment what the situation is.
But we are really talking about a few streets that were left
under Ukrainian control yesterday. More until recently,
it's precisely these streets where the Ukrainian military
says that fights are still going on that they would put up
resistance, but the situation was critical. So it's very hard
to say, what's what's the exact situation on the ground.
unlikely that by the end of the day or this weekend, Wagner will
have full control over the city if they don't have it yet. It's
also possible of course, that the Ukrainians can hold on
further this could be
the Russians in check in order to retreat, or it could be an
attempt to keep them there. It's hard to say, but it's clear that
has really advanced until a very, very small patch of the
city.
Adam Curry: Alright, so for weeks this was this was this was
the pinnacle, the whole war hinged on Bach Moog Bach mood
Bach mood, now it's street couple streets maybe doesn't
mean anything,
Unknown: dude. And what's the significance? If it does take
all of back them up? Does it change the strategic situation,
it changes
maybe the situation on the ground with the Russian troops
because it wouldn't be their first success in many months.
And that's, of course, something that's also significant in a
war. But it is not the strategic place that it has been sometimes
made. In the discussion. It is a place that sits at a crossroads
where Russia would need to take it if it wants to advance
further. But it's also not that the roads are open for them to
advance as they please if if they just control this town,
it's more of a symbolic victory because remember, this fight
around the city has been going on for many many months, and
it's been the most heavy the hotspot of the war for many,
many months. So it would certainly be a symbolic victory
John C Dvorak: case. This guy was just getting trained by CNN
remember this good stuff? Yes. Yeah. Left. Oh, my God is
looking left looking right. What you're wearing a helmet.
Adam Curry: No, he wasn't. He wasn't about he was he was just
in his office. He was in in his office in in chief. me this.
This is but this is my point. This is wag the dog. It's just a
bunch of this was the most important fight, but I screwed
that we got f 16 is coming guy. It'll be in a couple of years.
But you know. And then Reuters reports. A couple years.
Reuters. Reuters reports that in the forthcoming July NATO Summit
in Vilnius leaders are set to approve 1000s of pages of secret
military plans that will detail for the first time since the
Cold War, Cold War, how the alliance will respond to a
Russian attack. These people are insane. They love war. They just
love it.
John C Dvorak: They're raising money.
Adam Curry: Well, yeah, of course. But you know, it's like
this is stupid. Now, I have a couple of clips of also from
NPR, of this, of the Arab summit, the Arab League Summit,
because who shows up all of a sudden, Angelina Jolie and bad
Brad Pitt's buddy? Assad pleaders? Yeah
Unknown: crossback. He's back worlds are meeting in Saudi
Arabia and someone who hasn't been in the room for over a
decade is making a reappearance.
Syria's President Bashar Al Assad is officially ending years
of isolation by the region's powers. Over his brutal civil
war that's killed an estimated half a million people.
Washington has condemned the kingdom's normalization of ties
with Assad and the invitation is seen as another sign of the
strained relationship between the US and Saudi Arabia's at
a of a trial he is in Jeddah. That's where this year's Arab
League Summit is taking place. Good morning. Good morning.
Morning, Leila.
Adam Curry: So the NPR stop has got to stop. Good morning. Good
morning. Good morning, America. It
Unknown: is taking place. Good morning. Good morning. The
return of Bashar Al Assad who was something of a pariah over
his crackdown on the opposition to his rule, the torture in
prisons, the hundreds of 1000s who have been killed in the
Civil War. Now he's just being welcomed back.
Adam Curry: This is such bull crap. We this was all a hoax.
All the bombing of the chemical weapons of his own people, the
White Helmets. The whole thing was a hoax. I mean, this is as
if it as if all of that was never happened that was never
deconstructed. NPR just goes Oh, yeah, memory was killing his own
people. His dad did that for sure. But this what is he? Isn't
he an eye doctor? I think he's an eye doctor. absolute
knowledge. Yeah. ophthalmologist? Yeah, this
horrible guy with a list?
Unknown: Well, yeah, I mean, that is pretty much what's
happened. Look, there are countries important ones like
Egypt and the United Arab Emirates that had already been
building back their ties into Syria for years now. But the big
shift really happened after February's earthquakes that
struck Turkey and parts of Syria. It gave Saudi Arabia and
other countries around the fence in this region, what they needed
to reengage with Syria, at least for humanitarian purposes at
first, but not everyone in the region agrees with this embrace
of acid, Qatar and Kuwait are both opposed. And the image of
Assad being welcomed here on the red carpet yesterday when he
arrived in Jeddah is jarring to many Syrians as well. We've got
to
John C Dvorak: figure out you know, I've got to figure this
out. This can this works out with zolecki going to Saudi
Arabia and slamming the Russians because the real problem was
Syria and us and our people is the Russia the Russians for
Russian stronghold. They use it as a docking port. They have
every you know, bases there for all practical purposes. And it's
it's their kind of outpost why we use other places, plenty. So
they have their outpost in Syria, and we make a big fuss
about it and try to get rouse them or others more. It's just
sorry. Yes. And so you have this phony baloney, Zelinsky going
into Saudi Arabia for no good reason except to slam the
Russians. Because which is part of a effort to keep Syria from
RE you know, joining with the Arab League, which didn't work
because no one's gonna believe this guy. He's a midget.
Adam Curry: There's more from NPR things that Lansky comes up
to
Unknown: is to remind people how the war started in Syria, it was
protest against essence rule that were violently repressed
that turned into a civil war. Saudi Arabia, the host country
today back the rebels trying to topple Assad. And today, this
return means what that is it has officially won.
Well, I mean, his country is an economic crisis right now. And
US sanctions are really impeding efforts to normalize with him.
But yeah, I mean, the effort to topple him failed when Russia
and Iran rushed to his side. And now Syria, civil wars at a
stalemate, millions of Syrian refugees are waiting to return
and that is going to require rebuilding Syria and Arab states
do want a piece of that. And they're hoping Syria can
reorient itself back to the Arab fold and away from Iran, which
still has a very big footprint there.
Adam Curry: Iran comes into the play and as we know, the only
two weeks away from having the nuclear bomb. So as you
mentioned,
John C Dvorak: but yeah, that was two weeks ago.
Adam Curry: It was about two weeks ago. Maybe it's two weeks
more.
Unknown: So as you mentioned, Saudi is the region's
powerbroker, lots of influence economically, politically,
religiously. What's Saudi Arabia hoping to get out of the summit?
The Kingdom wants to flex its diplomatic muscles. Crown Prince
Mohammed bin Salman was long seen as a brash, impulsive, even
unpredictable leader but he's reversing course on a lot of
that and trying to rebrand Saudi Arabia as a mediator, including
even in the war between Russia and Ukraine. And I'm hearing
from diplomatic sources that Ukrainian president Volodymyr
Zelensky has been invited to attend the Arab League summit in
Jeddah. So this is Prince Mohammed really flexing that
ability resisting us pressure to pick aside go against Russia
while also inviting acid a patron of Russia to a summit
where Zielinski could be in attendance. So it's really a
crown prince showcasing his power as a broker on the world
stage and piarsaigh of a trolley Ingenta Thank you.
John C Dvorak: Jetta. It's had analysis stinks horrible.
Adam Curry: But that's NPR for it's it's bricks, obviously.
It's the bricks it's everyone's putting together little groups,
and we look like the day We can't even count right? Oh, it's
3 billion. Oh can give a little extra money. So stupid. I have
only see I have Kirby. I
John C Dvorak: can't even count.
Unknown: We can't even count right oversee a president by
Yes. Hey,
Adam Curry: hey,
John C Dvorak: hey you want you know what they should do I have
an idea. Oh, what do you want to straighten things out? Don't
worry about it out at the Pentagon. Yeah. How did you
know?
Adam Curry: Yeah, I don't know. It's just one of those things
we've been talking about for 15 years.
Unknown: Overseas, President Biden is at the g7 summit in
Japan. World leaders today agreed to a new round of
sanctions against Russia. Oh CBSs Elizabeth Palmer reports.
Your cranes Volodymyr Zelensky, will join the meetings when he
arrives this weekend.
John C Dvorak: Wow, hold on a second. What the hell's he got
to do with the price of bread when it comes to making this
sort of decision, which is an American decision? Was he gonna
throw his two cents in? He's the Yeah, he's the token but is he
and his consultant now to our government.
Adam Curry: I love seeing Rishi what's a Macron? And then queen,
Ursula. I mean, so they have their two countries as well. Of
course the UK isn't but the France is in the EU. So but the
net I mean, don't other countries. Oh, and the German
guy to the German chancellor was there. But there's a whole bunch
of other countries they don't get to go. I guess it's because
they're not g7. But then Ursula, does your EU count as a g7 or
she also just a consultant because she's she's not the
leader of any Well, she's the, you know, the President of the
European Council. And by the way, she didn't get the memo.
She's wearing a pink like a pink jacket and everyone else is
black and dark and dark blue,
John C Dvorak: but she should wearing blue and yellow.
Unknown: Ukrainian president will be the summit special
guests due to arrive here this weekend. Zelinsky spent the day
at the Arab summit in Saudi Arabia looking for support from
some leaders with close ties to Moscow. He welcomed the
announcement from President Biden that the US would back to
plan to train Ukrainian pilots on us made F sixteens. This he
wrote will greatly enhance our army in the sky.
Adam Curry: It's called an Air Force douchebag army in the sky.
This he wrote will greatly
Unknown: enhance our army in the sky. The Ukrainian leader has
been asking for months that the US provide F 16 to help turn the
tide of war. A US official said Mr. Biden is now committed to
helping Ukraine get the Jets, although they may actually be
supplied by European allies.
No, he doesn't need a 60s Now, originally,
to supply the planes as they have the capacity to hit targets
deep inside Russia, fighter planes pose a certain risk of
escalation. How big is it? We have been mindful of the risk of
escalation since the very beginning. In fact, we've taken
some criticism for that, because we want to make sure that that
as we support Ukraine, we aren't making it worse for the
Ukrainian people by having this war escalate to be exactly what
Putin wants it to be in claims it to be a war about the West
versus Russia or NATO versus Russia.
Adam Curry: I love I love how he just projects us all out there.
Putin claims that no, that would be anti war people like us and
you know, other people who just don't want war. We see what's
going on. No, no
John C Dvorak: that was going on. That was exactly what Putin
said
Unknown: now is going to take 16
John C Dvorak: is coming from Holland to train
Unknown: those Ukrainian pilots at sites in Europe. And we still
don't know which countries exactly are going to
John C Dvorak: stop. So now this report is discrepant, because I
was under the impression from the reports I've been listening
to that they're going to train the Ukrainian pilots in the
United States. She just said they're going to train him in
Europe. Oh,
Adam Curry: well, that's not that could Poland maybe Poland,
Germany. I'm Stein.
John C Dvorak: I have no idea where now Ramstein
Unknown: Ramstein. Take time to train those Ukrainian pilots at
sites in Europe and we still don't know which sites in Europe
countries exactly are going to supply the aircraft. So it's
safe to say JB that we won't see them in combat for months to
come.
Adam Curry: JB JB doesn't this so if the Netherlands
John C Dvorak: that was that was CBS yeah CBS okay is probably it
they're gonna trim in Europe. 10
Adam Curry: Yeah. Well, let's just let's say the Dutch and
they're 40 F sixteens. to Ukraine. Doesn't that mean the
Dutch will logically be buying new stuff. Oh, oh wow. Hey, new
stuff. We can buy new gear. Here, listen, people in the
Netherlands, we have to do this for Ukraine. Whatever it takes,
don't worry, we'll tax you and buy some more
John C Dvorak: the F 16 is at the end of its lifecycle, I
think and I and I, and the money, the models I I'm going to
look it up. But the models have changed substantially since the
first released these so the old pieces of crap F 16. That's what
they're given them. The ones that run on coal is the ones
that don't owe the ones that run coal. That's where the dust is
gonna be the ones that was it, you know that you have to hand
crank the engine to get
Adam Curry: as far as Okay, let's see what NBC had to say.
Unknown: NBC News learning is at Lenski is poised to get a major
victory. The US and allies are now planning to provide F 16
fighter jet
Adam Curry: though. That's this is an interesting word usage, as
the Lensky is about to get a major victory on the
battlefield, Buck moot. Anything? No, he's going to get
f 16.
John C Dvorak: That's the victory. When I'm going to
here's his pop quiz, pop quiz, pop quiz. When was the first
flight of the first F 16?
Adam Curry: I'm going to guess 1984 1974.
John C Dvorak: Oh, Lane is 50 years old.
Adam Curry: Well, that's just the model. I mean, doesn't mean
that the actual planes are that old. They still they still crank
them out. Don't they? Don't they still make them they don't make
them anymore. Willis
John C Dvorak: has a number of built has been 40 604 built as
of June 2018. I'm not gonna look I'll look into it. I don't think
so.
Unknown: Let's continue. Our NBC reports and I NBC News learning
is the Lenski is poised to get a major victory. The US and allies
are now planning to provide F 16 fighter jets to Ukraine.
According to a senior administration official. It's
unclear which countries will provide the Jets. Still it's a
move. The Biden administration previously opposed same
Adam Curry: reporters CBS by the exact same words, except they
did slip in the US will be providing them which is not
true.
Unknown: And Kristen, we have a bit of breaking news citing key
late word of more explosions, more air defense measures being
deployed. And even though President Solinsky had said
those F 16 fighter jets would be a game changer. It's not going
to happen overnight. Correct.
Tom? That's right. It could take months to deliver them. The
White House had been concerned the move would provoke Russia.
There was also the worry about the cost. How long it would take
Adam Curry: how was that breaking news? By the way? What
was the breaking news we have reports of of some Scud
missiles? Oh, no wrong script. We have some reports of some
breaking news
Unknown: time. That's right. It could take weeks even months to
deliver them. The White House had been concerned the move
would provoke Russia. There was also the worry about the cost,
how long it would take to train the pilots when Zelinsky comes.
He's expected to praise the move and likely asked us for even
more aid.
Adam Curry: Oh, wow, this guy really has a chokehold on us.
He's going to praise us good boys.
John C Dvorak: Oh, yeah. This guy's desire to control more
information. F 16. Background are
Adam Curry: okay. And by the way, I'm sure we will have our
boots on the ground set up straight by Thursday show.
John C Dvorak: Because that is that is actually bullshit, which
is what we're thinking. Yeah. So the first jet these first
planes, which went into service and 78 were made by General
Dynamics from 74 to 83, Lockheed picked them up in 93, and
started making them for a couple of years. Then Lockheed Martin,
which was the Combine firm started making them from 95 to
the present. So they're still being manufactured.
Adam Curry: Wasn't that Not I, for some reason, and so did
General Dynamics,
John C Dvorak: the old, whatever old plains there are, the ones
are going to the Ukraine.
Adam Curry: There was Prince Bernard of the Netherlands. And
this was I think, in the 70s probably was involved in
something known as the Lockheed scandal. When the prince of the
Netherlands received a 1 million, which was a lot of
money back there, back then a $1 million bribe. What was it for,
again, reasonable bribe at the time? Yeah. I was in 1970s,
negotiating the sale of aircraft. It was the Netherlands
was Germany, Italy, Japan, which nearly led to Lockheed downfall.
Anyway, for some reason that just came to mind. Let's listen
to the movie The day the final report from ABC.
Unknown: Today a senior administration official tells
ABC News that President Biden has informed that g7 allies
Adam Curry: What's this? This Yankee Doodle pipe in the
background? Listen to it. It's like some kind of patriotic Fife
and Drum thing happening. No idea.
Unknown: Yes senior Administration official tells
ABC News that President Biden has informed the g7 allies here
that the United States has agreed to allow Ukrainian pilots
to begin training to fly American made F 16 fighter jets.
This move represents a major reversal for Biden and a wish
fulfilled for Ukrainian president.
First of all, I'm sorry.
John C Dvorak: That's bullcrap. A major reversal is just get
game growing into it. We know this was going to happen.
Adam Curry: Well, I think they have some clips of Biden saying
and never
Unknown: represents a major reversal and a wish fulfilled
for Ukrainian president who has pleaded for F six teams for
months.
We have artillery. Yes. Thank you. We have it. Is it enough?
Honestly, not really.
John C Dvorak: No, never
Adam Curry: listen to the guy. You stepped on it.
John C Dvorak: This guy
Adam Curry: playing crowd laughs It's a laugh line when he says
this. This this group, this must be a bunch of arms dealers.
Unknown: Yes. Thank you. We have it. Is it enough? Honestly, not
really.
Adam Curry: The what is that? Is this a laughing matter
John C Dvorak: is pushed to you should have boosted it.
Adam Curry: I'm just noticing this message is this. These
people are horrible. So we're supposed to be supposed to
believe this is some existential war, existential war for Europe
and the West and the West in general. And he says, Well, you
know, thank Thank you. Thanks for that. Thanks for the tanks
and whatever else, you old stuff.
John C Dvorak: billions of billions, billions and billions
of dollars a gear. It wasn't
Adam Curry: enough wasn't enough. Not really. Ma Yeah. You
know why they're laughing thing? Yeah. Because billions more it's
going to flow.
Unknown: We have artillery? Yes. Yes. Thank you. We haven't, he's
written off. Honestly, not really.
The F 16. The backbone of the US Air Fleet can travel twice the
speed of sound drop bombs on ground targets and fire air to
air missiles. Ukraine believes these planes provide a distinct
advantage in the skies, enabling them to shoot down incoming
cruise missiles and fighter jets fending off rushes punishing
aerosol.
Adam Curry: Wait a minute, I thought our patriots were doing
all that. The Patriot instinct. Yeah, that's already so
successful.
John C Dvorak: But up till now. Wait, how is the f6 is nice. Now
we can get some some boots on the ground for when I say the
next thing. That was the F 16 a 50 year old plane, the backbone
of our Air Force. That the F 22 I want even though there's not
that many of them are the F 18. I mean, there's a lot we have a
lot of gear.
Adam Curry: I'm just gonna say when you say that a 50 year old
plane. The planes are not built my
John C Dvorak: understanding if they're built to last but not
but numbers are still flying B 50 twos. Let's go. Yeah, I get
that. What
Adam Curry: I'm saying is they still build them in 2018. Yeah.
John C Dvorak: And they're building newer versions. Yeah.
Yeah. But they're not going to get the new version. I can
assure you they're gonna get the 50 year old ones.
Adam Curry: Yeah, it's like like you and your Lexus.
John C Dvorak: Car exhibit. It's not 50 years old, but
Adam Curry: it's getting there. How old is your Lexus? 30 years
old. It's gotta be 30 years old. I
John C Dvorak: have two Lexus's. One of them is about 30 years
old. The other one is 2005. You can do the math. But up till
Unknown: now providing F 16 has been a red line for President
Biden reluctant to provoke an unpredictable escalation from
Adam Curry: Russia. Oh, but let's do it. Now. Still,
Unknown: in a February interview with David Biden did leave the
door open just a crack.
We know President Solinsky continues to say what he really
needs are f6 teams. Will you send up six teams?
We're sending him What love our season military thinks you need
to know our seasoned
Adam Curry: military or seasoned military. What? I don't
understand this terms. This is this is all just what it's a big
joke to these people. They're all laughing their ass off
because they're gonna make hundreds of billions of dollars
are f6 teams. Will you send up 60s
Unknown: sending him what our seasoned military thinks you
need to know. You don't think he needs F 16. Now he doesn't need
f 60s now.
Is that a never?
First of all, the idea that we know exactly what's going to be
needed a year two three manava. There is no basis upon which
John C Dvorak: a year or two or three.
Unknown: We know exactly what's going to be needed a year to
three now but there is no basis upon which there is a rationale
according our military now to provide F 60s But you're not
ruling it out. I am wrong enough for now. For now,
but no longer the administration now says they hope Ukrainian
pilots can begin training in the coming weeks. As for who will
actually provide the Jets tonight, that remains an open
question. And administration officials saying our coalition
of countries participating in this effort will decide when to
actually provide the Jets, how many we will provide, and who
will provide them. Maybe they
Adam Curry: were just waiting to train African jet fighter
pilots. That's where everything else seems to end up. Maybe this
is not about Ukraine at all. Maybe they want to send these
things down to Africa.
John C Dvorak: Well, when he says to you a year or two or
three that we mistaken, well, they're gonna realize this place
like nothing we've seen in Europe. Ah, this is a
rehabilitation program.
Adam Curry: That's what sounds like. I don't think we're being
told the full story. You don't know. Me? Well, there's
John C Dvorak: another pop quiz. Okay, pop quiz. Pop quiz was the
nickname for the F 16
Adam Curry: The jalopy? No, did I get it wrong?
John C Dvorak: What fighting Falken Oh, yeah, I
Adam Curry: guess I didn't know that the fightings Well, anyway,
we got the F 35. And maybe maybe we're just waiting for
John C Dvorak: what happened after it. Why don't we give them
the F 35. Isn't that supposed to be the plane to we're supposed
to sell overseas all these suckers? Yeah, but no
Adam Curry: one's gonna pay for it. This is the whole point The
Dutch are going to going to they were going to get rid of them
anyway. They were clearly going to sell them. So now the Dutch
give him to or sell them? I don't know. They won't be
selling. There'll be it'll be because they're gonna go to
Ukraine and the Dutch have to buy some new stuff. And those
will be 30 fives I would presume or 20 twos? Maybe? I don't know.
John C Dvorak: No, we don't sell it. 22 We don't sell that one.
Adam Curry: I don't think so. Well, it's for sale somewhere.
Yeah. To us. All right. Meanwhile, according to Politico
and their political they are on the inside of the beltway. Joe
Biden is reportedly considering freezing the conflict in Ukraine
for the foreseeable future instead of pushing for the
country's victory this this really falls right squarely into
your theory that the Biden administration wants to have a
way to be you know never change a winning team in a war and keep
getting boots on the ground and keep everything going so that he
doesn't get voted out for Big Mike
John C Dvorak: Yeah as Easter he's going to need knows the
playbook the political election playbook
Adam Curry: you know it to me it feels like the just keep this is
all to keep Biden kind of in play for the next year because
we still have a year to go before we even really get into
any kind of election. Noise action action Yeah, the noises
now but in any election action. So this this this could be the
only reason why he's not being run out of town. Yeah, this
whole thing is I'm telling you with and we never hear about
Russian troop movements only about vogner group the magical
Wagner Wagner Wagner group.
John C Dvorak: We never hear about Russian troop No,
Adam Curry: no, you don't hear about that. Not only Wagner in
the
John C Dvorak: war is it just some remote control thing? It's
brand Wagner cruise missile over every so often. It's a brand
brand Massive Attack going on here.
Adam Curry: I love how people push back like vogner group is
real No, no something happened some things happened around the
world in Africa that was real but the just a sticker that just
put a sticker on it. Wagner Wagner was here doesn't
John C Dvorak: have a load drawing like Kilroy. World War
Two.
Adam Curry: Yes. It just
John C Dvorak: they should have an assigned tagger. Let's be
modern. Yes. spray can and tag everything. Wagner Wagner was
Adam Curry: here a new one. Because it all I'm for all we
know, it's our It's us. It's the CIA or whatever we use.
John C Dvorak: Actually, it could be thought of that one.
Adam Curry: Related to this is the strengthening ties between
Russia and by the way. I think what we're saying is this is all
theater. And all of this is meant to spin people up and get
you all all jacked and equality from Democrats. Yes. And you
know, and and even the g7 being held in Hiroshima is all just
all nuclear war. We're on the brink of nuclear war. They said
it over and over and over again in the back of your mind. Yeah,
it's all all set up to spin you up. And to get you to want to
keep Joe in and oh, goodness was not anywhere else was certainly
not true. Ron Paul, it would be horrible. He's lying. He's
horrible change
John C Dvorak: horses in midstream.
Unknown: Tonight squeezed by Western sanctions. Russia is
relying on its neighbor literally next door. We are on
the Chinese border and that's Russia. Shag just across the
half frozen river. Here. The two countries are so close. Russia
is just a few 100 yards away. 20
Adam Curry: right there. Oh my god.
John C Dvorak: We're Sarah Palin when we need her.
Unknown: I love like, Oh my God. It's just right over
here. The two countries are so close. Russia is just a few 100
yards away. Along the 2600 mile border signs of deep China
Russia ties are everywhere. on streets and buildings. It stores
stocked with Russian goods. Where vendors greet foreigners
in Russian there's even a Russian style bar.
Adam Curry: Has anyone who's watched this report ever been on
a trip anywhere? Do they know anything about the world? I
guess not
John C Dvorak: right? Oh, wow. You're right. It's the stupidest
report. I can go to a grocery store in San Francisco and get
greeted in Russian or Chinese for that matter. It's both
Chinese for sure.
Unknown: Where vendors greet foreigners in Russian there's
even a Russians know are
Adam Curry: a Russian style but what is a Russian style by a an
AR style ar 15 style weapon what is a Russian style bar?
John C Dvorak: Is this is a good question. What should it be like
to like the linen bar in at the Mandalay Bay in Las Vegas?
Adam Curry: With hot chicks with with furry hat and lots of vodka
and they say comrade a lot. Oh,
Unknown: we're owner Tong Lu says Chinese people can mingle
with Russians
Adam Curry: mingle. It's almost like that that bar in mingle?
Yeah. Is it Star Trek the bar we can mingle with. With our Wars
Star Wars. The three eyed people.
Unknown: China's President Xi Jinping declared a No Limits
partnership with Russia. From that diplomatic boosts for
President Putin with a recent state visit to a critical
economic trade between China and Russia surging by 30% in the
last year.
Adam Curry: This is I love the Breathless horse report NBC and
there's a part two
John C Dvorak: is Janet. My God had they been out of town is
Janice
Adam Curry: Mackay Freya who is reporting for us rather let's
take a look at Janice Mackay Freya for a second see. Janice
what is her deal? Mackay freight? She got the she got the
gig though. She got to go. So that's kind of cool. Traveling.
It's a great traveling gig hanging out in Russian bars. She
is better. She's Scandinavian. Check it out. Oh, correspondent
for NBC News based in Beijing. Give her a name again after look
it up. Janice Mackay Freya previously worked at CTV as Asia
bureau chief. She was the network's Middle East Bureau
Chief in Jerusalem. She's got some good gigs.
John C Dvorak: She studied she was a CTV that's CTV Canada.
Yeah,
Adam Curry: Canada. Her she she studied international relations
and French at the University of Toronto. I'm not sure if she
spooky she might see slippery sea but
John C Dvorak: she's spooky little switches if she's been in
Beijing and then in case you've been all over so it's that kind
of assigned. Oh, she
Adam Curry: Oh, you need to look at her at her picture. She's got
that. That that does I'm just talking as a as a producer
producer. She has kind of that war worried face. You know what
I mean? Like, how can I explain it?
John C Dvorak: I'm gonna look at it a bit. It looks spooky.
Adam Curry: very stern. very stern and wrinkled. Yeah, it's
like
John C Dvorak: stern and wrinkled. There you go. That's
the description she's gonna love here. Let's go to
Unknown: part two. And this is where a huge pipeline delivers
Russian gas to China. Energy that used to flow to Europe, all
of it keeping Russia's economy afloat. funding the war in
Ukraine. Haha damn training with goods will come and go from
Russia across this bridge that was built and paid for by China.
Russian truck drivers told us they're crossing to China every
day. Give them as you were good friends he says of China. Steel
relations during wartime are a sensitive topic here. We were
tracked by Chinese authorities. US officials including the US
ambassador here tell NBC News there is no evidence so far. The
support for Russia includes weapons.
Adam Curry: John C. Dvorak School of Journalism ladies Live
It is no evidence Russia
Unknown: needing allies like never before want to hear that
one again. But are here tell NBC News there is no evidence so far
that shows for Russia includes weapons an
Adam Curry: extra twist on the no evidence. No evidence so far.
This is a good Yeah,
John C Dvorak: that's actually advanced, advanced,
Unknown: Russia needing allies like never before. And finding
one close at hand. Janice Mackay for NBC News. Hey, hook, China,
hey, hey, ha.
Adam Curry: Jackie, you need to go to Hey, ha, ha, ha, ha. This
is all just so pathetic. Do they not understand that no agenda
show sees right through them that we understand what they're
doing here. They're just trying to make everybody crazy. Man,
for most people. You know, I see that. Of course. I'd like to
remind everybody, as more and more normal people join the no
agenda show they join no agenda nation. And some people are new.
And it is important to understand that John, I pretty
much never speak during the week. I mean, the extent of it
might be Hey, look at this great story about AI and then you'll
like say something horrible and I'll regret sending is a story.
That's
John C Dvorak: and I loaded that product.
Adam Curry: Oh, you did? You'd love I sent John a a, an article
about using chat chat GPT type AI on your computer and you
loaded the product.
John C Dvorak: So I loaded the product. And then I tried to run
it and it says hey, no, you got to load I have to load some sort
of some back repo. I have to load the bases the data.
Adam Curry: Yeah, yes. You have to download the six gigabytes of
data of course.
John C Dvorak: Yeah. Okay, so I so I tried doing that it says
incompatible hardware. And I said what, wait a minute, but it
has a bunch of choices. There's like various models, I had to
load load the models. That's what it is. Had to load them as
I showed them. We tried the other model incompatible
hardware, using a machine running Windows 11. If you can't
run something on Windows 11, which is picky about the
hardware compatibility is bullcrap product, okay.
Adam Curry: All right. Thank you for this report. So far so far,
AI is failing on the no agenda show the running in at home. All
right. Can't stop laughing. That's great. Hold on a second.
What Meanwhile, over in the UK,
Unknown: BT British Telecom are going to be cutting 55,000 jobs,
but crucially 10,000 of them are supposedly be going to AI. You
can see the front of the Daily Mail that they asked the
question Is this the start of the great AI jobs bloodbath, The
Guardian here as well btw to replace stuff with AI, and also
the Financial Times they call it. They call it the most
radical cuts since privatization since British Telecom was
privatized. So Bter to slash up to 42% of the workforce by the
end of the decade by 2030. It comes just a couple of days
after Vodafone revealed that they will be cutting 11,000 jobs
themselves. The decision, of course comes to cut costs, but
also chief executive Philip Johnson says that AI tools such
as chat to GPT, they're ready. They've shown enough progress to
show that they can replace humans, especially in customer
service over the next six or seven years. It comes on the
same day. If we look at the times, the same day that Rishi
Sunak spoke and said that rules need to be in place to curb AI
and that Yeah, look, I might be a great thing. But we need to be
wary of its progress despite it being transformative technology.
If we look at AI news here, they expand on that UK wants new
rules, new rules are needed to tame AI new rules that global
regulations needed the pm made the comments during a flight to
Japan where the g7 is, of course taking place in Hiroshima. So
let's
Adam Curry: analyze this just for a second. And by the way,
it's too bad. I knew the former British Telecom CEO Gavin
Patterson, because when when we had pod show, we had Pato
London. And he was he was kind of he was up in the in
management of BT, but he eventually when the Dutch guy
left who was a real dick, when that guy left then Patterson
became CEO, I still have his number. I'm going to ask him
what if he knows what's going on? But he left in 2018 or 2019.
But what I hear is that okay, so 55,000 jobs that just sounds
like me. No, we just got to cut back because we're bloated and
you know, there's no more free money hobbyists, that's what
everyone's doing in technology, but of those 10,000 is customer
service. This I Believe, I completely believe that chat GPT
can do function just as poorly as humans in b2b customer
service. I think that's perfect. And I'm sure that's what they're
doing. I'm sure that customer service representatives
John C Dvorak: Yeah, it's gonna suck as usual. Don't have to pay
anybody.
Adam Curry: It won't suck any any more. It'll just Yeah, it'll
suck cheaper paths suck
John C Dvorak: cheap. Yeah, no suck cheaper. There's a show
title suck cheaper.
Adam Curry: We're loaded with show titles today. Yeah. And
that makes total sense. By the way. Five seventy.ai 570 dot AI,
A J. Donnelly, one of our producers, he's loaded up and no
agenda show stuff in there. You can literally ask things like,
what are all the give me the red bullets. It's all
570 157 zero.ai. And you can you can go in there. And you can
say, give me all the Red Book predictions or what episode? I
mean, it has a lot. Okay,
John C Dvorak: I'm going to try it. Yeah. Yeah. You mentioned
something about the bad the bad Dutch CEO. Yeah. So we got a
note from someone. I'm not going to bless the guy. But he says
that somewhere along the line, and I didn't think I didn't
think it was serious. But then I thought about it. I said, you
know, I think this might be true. Okay, you, you knuckled by
Munder
Adam Curry: a knuckle under to pressure
John C Dvorak: from a couple of Dutch producers who said we're
offended by Adams. Dutch voice. No. Bullshit. I said, Yeah.
Dutch voice is a work of art. This is anybody be offended by
this.
Adam Curry: This is completely bullshit. I don't believe this.
Who said this? Give me Give me his name. I've already said I
wouldn't. I will call it but you have to do anything. You must.
You must you must repent. No, I don't think so. Why, what why
the old I did. Here's what I did. There was a Dutch producer
Hendrick. And he said, when you do a German voice whenever
German comes up, and you do a Nazi Schultes voice. Yeah, he
says that is actually traumatizing to many Germans.
They've been trying to get away from that for decades. And so
mommy says, Oh, good. Just follow us.
John C Dvorak: That's like a suit. Yes. I have to assume so.
Adam Curry: Yeah. So I stopped doing that. But that's why
because that's your
John C Dvorak: number of listeners. Let's go on the
statistical aspect of this. The number of German listeners we
have that would be offended by that. I want to hear from them.
John, you have like five.org Yeah, Josh says me John
tavares.org. We have about five serious producers that have been
sir ignited producers that are from Germany that have helped us
over the years, including our friend and moon rose. I want to
hear that they're offended by you doing that crazy German
voice.
Adam Curry: I didn't say I didn't say offended. I said it's
triggering. Oh, traumatizing, okay. dramatizing triggering,
triggering, triggering. Okay, well
John C Dvorak: nine traumatizing 999 traumatizing to me and
triggering is pretty much the same thing. It's just a new
version of the old word.
Adam Curry: Well, well you know what if they say it's absolutely
not true? Well, then we go down we're gonna go straight back
doing it obviously. Obviously Wait, here's my favorite one
remember some good times people anyway, don't know it all days
of the show. I did not buckle but you know what? We don't
receive it. There's no here's what the here's the problem. The
Dutch aren't donating there's no notes to read. That's the
problem. They come in, you know, under under Associate Executive
producer level until the only sometimes.
John C Dvorak: Well they're having nothing but fun with
these parties that they're throwing. I know on behalf of no
agenda. They are having a really stoned over there. Like Yeah,
Dad day, you know, even if the show folds, does. Party we got
parties. We got our own mailing list which by the way I advise I
know that union local lump number one in Michigan has a
pretty large mailing list of people that's a hot list so
heartless and so they can just mail to each other and and let's
get this Friday where we're going to do it. Yeah.
Adam Curry: Awesome. Let's do some climate change. Please. I
need some climate change in my life because this I have a
story's horrible. The stories are only just regional
headlines. Netherlands while in the Netherlands, it has leaked
out that the Netherlands is going to have new requirements
only two cows per field. So you have a whole field which let me
see this size of this field zero point 35 hectares. What is that
in acres?
John C Dvorak: It's a budget double it up, it's about seven
about three quarters of an acre. It's not very big,
Adam Curry: but only two cows.
John C Dvorak: That's going to kowski clear that area.
Adam Curry: It by the way, it's not it's 0.8 acres. So it's
great to be able to have more than two cows on the acre.
John C Dvorak: I don't know how many cows could read let's here
we go knowledge know, how many how many acres? Is it needed to
sustain one? How many cows let's go let's go how many cows can be
since this grade. They don't do this on network TV at all. Oh,
many cows. How
Adam Curry: many cows per acre is acceptable? How about that?
Okay, that okay. Well, this is interesting. According to chat,
GPT, one to two cows per acre is acceptable.
John C Dvorak: I got right here. The general rule of thumb is one
to one one cow per acre.
Adam Curry: So so this is another spin up bull crap thing
they're doing to us. We're thinking because we're not
farmers. We're thinking this is an outrage. But it's really not.
You're
John C Dvorak: cramping and this cramped. It's too many.
Adam Curry: The official no agenda position now is that
there's too many cows per field.
John C Dvorak: A cow calf pair will typically require closer to
two acres and well, the cow and a calf.
Adam Curry: I'm telling you, we're being spun up. I should
probably mention the story about the homeless veterans being
displaced by migrants in New York was an elaborate hoax. I'll
bet it was but we believed it we bought it very well.
John C Dvorak: That's because it's believable. That's the
problem with a good hoax.
Adam Curry: And yeah, it was now who did this? It's unclear who
did this hoax. But to learn about the
John C Dvorak: cows about the homeless
Adam Curry: No, the cows the cows is not hooking to the cows
is a reverse hoax. Is that gender jamman Too many cows it's
still a hoax. bullcrap. We're outraged by the wrong thing.
That's what's so funny. Is that we should just fold man we
should fold we're getting duped everywhere left and right
John C Dvorak: well that stinks because the duping is getting
better and is getting better thank you internet
Adam Curry: all right let's let's go to claim you
John C Dvorak: duping to occasionally Miss whether you
want to talk about climate change. I
Adam Curry: got a horrible five parter. Nice. I'm ready. I'm
ready. And
John C Dvorak: this is going to discuss turns the table on
everything this brings in a new idea. Oh. And it's based on
nothing but bull crap.
Adam Curry: Nice. Okay, and mind you this comes on the heels of
the U N? Was it the world the world world opera world media
rollout. One more time I'll stop the World Meteorological opera
operation. The climate justice
John C Dvorak: and reparation part one now
Unknown: to northern California and the threat one community of
color faces because of rising sea levels. KQED climate
reporter as David Romero takes us to West Oakland in the San
Francisco Bay area. Those rising sea levels make residents
they're vulnerable to flooding and to toxins that have long
polluted surrounding areas and residency protecting them from
that threat, or what's known as climate justice is a form of
reparations.
Adam Curry: All of us Stopstopstop so first of all,
what is now the makeup of oak it was when I hear Oakland here in
Texas, I think that's poor blacks.
John C Dvorak: Couple of things. They're talking about West
Oakland. I'm very familiar with West Oakland. I've worked in
West Oakland. There's a big BART station in West Oakland, which
they don't they will never say as Bart they're talking about as
some sort of transit thing trying to screw the poor black
community. The West Oakland is mostly black. I don't know what
they mostly poor black. I think that's East Oakland. But it's
mostly black living in old Victorians, which are quite
lovely. By the way. Alumni even though they're rundown and this
place is ripe for gentrification in other word. That's
Adam Curry: my question. Is any part of Oakland gentrified?
John C Dvorak: Yeah, Old Town.
Unknown: Okay.
John C Dvorak: But Oakland is resisted pretty well, because
it's really not much you can do. But this report this I can walk
from this house to what they're talking about. Almost. So you
might take me all day, but I
Adam Curry: could get there. You could be good. Are you in line
for some reparations?
John C Dvorak: It's about, I'd say 10 miles from here. Oh, no,
Adam Curry: that's outside of the reparations zone.
John C Dvorak: So this, this story starts off talking about
rising sea levels is bullcrap. You said it again.
Adam Curry: You said you were going to fold it. One more time
again. Oh, man,
John C Dvorak: but I can't help it because this report is from
top to bottom, a lie. And the rising sea levels in what?
There's water rising sea levels in West Oakland. This is the
craziest story I've ever heard, while Oakland is it is more or
less inland. There's no real docks there or anything. I mean,
there's part of you could almost say that the where the where the
cargo containers come in. You could call that West Oakland,
but it's not. It's the inner channel. But no, this is bull,
and they're just okay. I get worked up just listening to this
nonsense. Play on which is the point of
Unknown: it. 1000s of people live in West Oakland, a bridge
away from San Francisco, boxed in by freeways a port in
numerous industries. Margaret Gordon shows me around the
northern edge of the neighborhood. So where were you
gonna go? Okay, we
will go over the overpass,
we pass charcoal gray and white condominiums about a half mile
from San Francisco Bay. As he's continued to rise, Gordon, who
founded the West Oakland environmental indicators project
foresees a looming disaster,
we'll be the first victims of a sea level rise.
And not only from surface flooding between these homes and
the bay, our hazardous sites like old army base contaminated
with petroleum and other chemicals. That contamination
can move around as water on the ground rises,
those toxic soils will be a hindrance to the community.
They're going to be surprises and they're going to be real
health risks.
Adam Curry: Well, you say this, but what about the storms of
1962?
John C Dvorak: Oh 9062 There may have been a flood Yeah, there
was now on flood the abandoned arm Oakland Army bases there.
Yes. It's an army bases. Not it's not like I will say there
are. And by the way, I was very aware of all the toxic crap that
was getting into the air because I was working for the air
pollution district for nearly a decade. Yes. And that areas, one
of the areas that I worked in, there's nothing that what
they're talking about is bullcrap. There's nothing going
on out of that army base. If it was if you talked about the
Naval Air Station over in Alameda having toxic spills.
Yes. tons. The Navy's always made a mess wherever they've
been. And they just leave stuff and then they they waltz out of
their Hunter's Point. Same thing. Problem. Yes. East Oka
West Oakland, no. West Oakland no and this idea that it was the
blacks have been forced to move there. That's nonsense to there
was always a mixed ethnic area. For from the get go. And you can
look at good people should read the wiki page for West Oakland,
California and just read the pages got a good history there.
There's none of this. There's no sea level threat. Anyway onward.
Unknown: Christina Hill directs the Institute for Urban and
Regional Development at UC Berkeley, rising inland on top
of the land and underneath it,
the sea water actually comes under the land almost like it's
sticking its toe under the freshwater
that sea water washed up where it can mix with contamination.
Oh, no pollution loosens. It can release poisonous gases in and
around sewer and water pipes.
The gas can enter buildings, workplaces, schools and homes.
Oh, I think we need to rebuild two cracks in the concrete slab
foundation gentrify across
West Oakland, there are more than 130 active toxic sites.
West Oakland grew up as an industrial powerhouse. So
Adam Curry: I'm going to call it right now. I'm going to call it
right now what's going on here? And I think you'll get a lot
more of the stories about that area. This is to run everybody
out of town, tear it all down and completely build a house.
cheap, cheap, cheap, cheap. The Reparatur land
John C Dvorak: this is the AC approach to life. This
Adam Curry: is JC actually Serrana Miss of Dogpatch he sent
me a great documentary about Chicago and Southside. It's
called the area. And this is exactly what it is. Except it's
different in mo faxes onto this. Yeah, in some cases they say,
oh, it's migrants are coming in, in other cases that just let all
the drugs go rampant. And then when the areas completely bombed
out, exactly, or we doing a Black Lives Matter demonstration
burned down Minneapolis. And then so now it's climate change.
That's what's called mom. Oh, poisonous gas is gonna kill
everybody. We're gonna give you some reparations for leaving,
leaving. That's what's going on here.
Unknown: West Oakland grew up as an industrial powerhouse some
150 years ago when the Transcontinental Railroad ended
its long journey here. Over time, shipbuilding, metal
foundries, auto yards, and dry cleaners filled this corner of
Oakland dry clean, racist home running policies like red.
Adam Curry: S very odd. Is that a racial thing? It's like
Chinese what I'm saying Why Why throw into dry cleaners? I don't
understand early
John C Dvorak: dry cleaners until I don't know, the 50s or
60s that used to use a lot of carbon floor chemicals instead
of a dump in the backyard, I guess I don't know, overtime
evaporated by now. But that's beside the point,
Unknown: shipbuilding, metal foundries, auto yards and dry
cleaners filled this corner of Oakland. It's a clue John, it's
a clue. Racist home lending policies like redlining
relegated black people to this neighborhood.
Adam Curry: Ah, they got screwed. Oh, I get it. We're
going to give you some reparations so you can leave
that toxic infested area from the knife to stay there? Yep.
It's coming through the cracks in the foundation. That's right.
This is great. What a fabulous report. Can I go to the next
clip? I'm loving this. I'm loving it.
Unknown: It is a lesson in discrimination and disregard and
diminishment of a population that is helping build the city.
Dorothy Lazar grew up in West Oakland she retired two years
ago as the managing librarian of the Oakland History Center.
Lazard said the policy of eminent domain decimated black
neighborhoods and business districts, allowing governments
to seize land and destroy now when
Adam Curry: they say decimated, do you think just 10% what the
word really means?
John C Dvorak: They mean nine. We're the only ones that do
that. Because
Unknown: ARD said the policy of eminent domain decimated black
neighborhoods and abysmal crap. Allowing governments to seize
land and destroy homes to build freeways and a commuter train
line.
Blaming the imminent warning is to me kind of commensurate to
colonialism, you know, like working this as our dumping
ground. Because we've already devalue this space.
Lazard says racist policies
John C Dvorak: was residents. They put a BART station, which
is the convenient Bay Area Rapid Transit. The BART station in the
middle of West Oakland is called the West Oakland BART station.
And it which is the most convenient way for anyone in
that area to get to San Francisco or, or downtown
Oakland or beyond. It's kind of a favor to the community, and
now they're complaining.
Adam Curry: This is a great report.
Unknown: You know, it's kind of like we can use this as our
dumping ground because we've already devalue this space.
Lazard says racist policies exposed residents to life
threatening environmental pollution without their consent.
Those impulses are still there. What's this?
Adam Curry: Oh, those him wow. Oh, I gotta hear that again. So
I just hear this again, this was fantastic value.
Unknown: This space, Lazard says racist policies exposed
residents to life threatening environmental pollution without
their consent.
Adam Curry: Okay, so there was a bunch of racists who didn't ask
for their consent. I mean, what kind of report there's racist
and they were racist in the head of black people and they didn't
ask for their consent to be racist.
Unknown: Lazard says racist policies exposed residents to
life threatening environmental pollution without their consent
those impulses are still there
Adam Curry: those inputs
John C Dvorak: they put them into an era that was
contaminated which is not without telling them
Adam Curry: but those impulses are still there means the racist
was there the racial the black, man that's That's right. That's
all you that's all you do, you racist Californians. Wow. I
can't believe you're doing that. Do they pin the pin the tail on
this donkey who did this?
John C Dvorak: Well, no, they don't go that way. They go the
other way. We Just as they are when the last clip Yeah, they go
the other way and this was this is the eye roller clip of the
group
Unknown: Margaret Gordon sits on a park bench in front of her
apartment as semi trucks crawl the street and a commuter train
zips by. She tells me climate justice must mean reparations.
The reparation movement is a next level of civil rights.
For Gordon reparations mean more than payment to the descendants
of slaves. They mean actions that restore consent to the
community like cleaning up toxic sites, economic opportunities
and power and planning decisions about climate resilience.
We will have long standing sustainability, I will know that
that's going to be housing for my my children, grandchildren,
so it'll be a job for them.
Climate change and reparations in terms of a response to the
history of racial injustice have the same roots
eludes me. Taiwo is an associate professor at Georgetown
University. He's the author of the book reconsidering
reparations with a chapter on climate reparations.
Even if you didn't buy the historical story about why
reparations and climate crisis there is a straightforward
practical story of if you want to actually change who faces
what level of depth disease and displacement, this is something
that you should pay attention to.
He says climate justice and reparations are the same
project.
Adam Curry: Oh, in you know, I'm going to agree with this report
because I feel that the black family Obama they need to be
compensated because they were forced to buy a mansion right on
the shore of Nantucket there and and they were forced to do that
it's totally racist. They need reparations so that they can
move away from their
John C Dvorak: token you believe they're trying to make this
association now with climate change. Climate Justice, justice
and reparations all the same comes from the same roots. Of
course, are they trying to do here besides steel this property
like you mentioned earlier? Yeah, that's it this is this is
now completely nuts.
Adam Curry: I gotta, I gotta hand I should probably go back
and listen to some of these organizations who are doing this
and look at them and see who they are. Because clearly,
there's people who really believe in this I mean, that
people people have been influenced and and SIOP from all
directions. And so of course, they truly believe that it's
racist. That people who are in these organizations trying to
helmet changes racist climate change by itself is racist,
because it was industrial. white nationalists and colonialist who
did this
John C Dvorak: white supremacists.
Adam Curry: Oh man, I got a great clip from Elon on that and
I want to play this Alright, here it is. This is still from
that never I couldn't find a full interview with Elon the
full thing. It's all chopped up in little bits. Thanks, CNBC.
John C Dvorak: No, I need that so I can do my normal edit.
Adam Curry: So here he is. And what's he's very slick what he's
doing here because he's, he's, it's almost like he is the when
you blow your nose, it's like it's like a clown honk
sometimes, like a comedian.
John C Dvorak: Like why is always saying how can you make
all that noise? You're like
Adam Curry: a bird flu infested Canadian goose is flying or just
infesting us all.
John C Dvorak: Canadian goes bird flu. Yeah.
Adam Curry: So what he does here, it's what do we have a
dangle off? He's a dangle up. He's dangle opping. Because what
he's doing here is he's saying, Look at me, I speak the truth.
I'm not afraid to speak the truth. But at the same time, he
justifies the entire existence of white nationalism. Listen to
this. But I mean, when you when you when you
Unknown: link to somebody who's talking about the guy who killed
children in a mall, and now in Texas, you say something like it
might be a bad sign up. I'm not quite sure what you meant, but
in that particular case, there was a somehow that's not not
that the jury killed, but the it was, I think, incorrectly
ascribed to be a white supremacist
Adam Curry: action. I'm sorry, it's even worse. It's white
supremacists negates white supremacists, that is that he's
going to justify who killed but
Unknown: the it was, I think incorrectly ascribed via white
supremacist action. And the evidence for that was some
obscure Russian website that nobody's ever heard of that had
no followers. And the company that found this is belling cat
right, adored Bella cat does psyops
right. I couldn't
Adam Curry: really even follow exactly what it was you were
trying to express there are you stupid CNBC guy? Are you truly
that stupid? So that's
Unknown: why I was curious, but I'm saying I thought this the
ascribing it to white supremacy was bullshit. Okay. And and that
the information for that came from an obscure Russian website
and was somehow magically found by Bellingcat, which is a
company that does Psyops
and there's no proof by the way that he was not.
There's no, I wouldn't say that there's no proof that he is. And
that's a debate you want to get into on Twitter.
Yes. Because we should not be ascribing things to white
supremacy, if they're if it's false. Okay.
Adam Curry: So, at first, I kind of thought, yeah, like, go Elon,
yeah, throwing Bellingcat under the bus. Yeah, I totally agree
with that. But then I realized what he's doing. He is he's,
he's, in essence, saying white supremacy is real. White
supremacy is alive in America. And you can put that that brown
man into white supremacy. It's really it's a dangle up. It's
truly subversive. It's very
John C Dvorak: interesting, very come up with that thesis.
Adam Curry: Very evil, very evil, but what Elon Musk is
doing here. The white
John C Dvorak: supremacy, though that he knows he's doing Oh,
yes, that's
Adam Curry: all he does. That's that's his whole that's his
whole raison d'etre. I think I think that's that is what this
guy does. In this case. That's his whole Twitter thing.
John C Dvorak: Well, you know, he is from South Africa. There,
you haven't been there but you know, the Dutch that are there.
Yes. Yeah, they're a bunch of white supremacist.
Adam Curry: The white supremacist are Biden, Ursula,
queen, Ursula, Prince Charles, these are the it has nothing to
do with skin color. Those of the true whites Supreme, the
Supreme, that's what this is the supreme who come from white
Europe. And there were there were people in that's where we
get the Venetian White from is brown people in Europe who are
still part of white supremacy and they powdered themselves up
to be white, the supreme the people who still kind of run the
world,
John C Dvorak: you know, talking about the band
Adam Curry: knows average white band you confused? I do have a
question for you. As as you mentioned, you work for the for
the air pollution, brigade, the government, the gut, the
government. And you are a chemist by trade so I can ask
you a question about this rather short report from Scandinavia,
the federal
Unknown: government is investigating so called Forever
chemicals in Canada, a growing body of evidence points to toxic
chemicals on our clothes making their way into our bodies. The
question is how much harm they potentially are doing. As the
CBC is David certain reports Ottawa wants to regulate the
products linked to them.
Health Canada and Environment Canada are reviewing the science
behind forever chemicals per and poly floral alkyl substances or
P bass, a group of chemicals that hang around in the
environment for a long time, exposure has been linked to
liver damage and breast cancer. Still, these chemicals are quite
common in clothing, compostable takeout containers, and many
other consumer items. According to the government's latest
Science Review, tests show pee fast in the blood of many
Canadians and even more elevated levels among people in northern
indigenous communities. The government wants to consult more
Canadians but with this scientific review it's putting
industry on notice saying intends to regulate forever
chemicals.
Adam Curry: So they're calling this forever chemicals which I
love as a term. Nice it's It's pee fast which is poly floral
floral Cole
John C Dvorak: site away most chemicals are forever chemicals
but
Adam Curry: yeah, well this. This is why I come to you hat in
hand asking what is what is the deal with these poly Flora like
CO flora. Floral Flora Cole? How come? I can't pronounce this?
John C Dvorak: That's I don't know if you're coming to me for
that. I don't know why you can't pronounce it.
Adam Curry: What is it and why is it in our clothes?
John C Dvorak: They're bad. Well, do you remember that?
About eight years ago on this show? We talked about the we
talked about you using old detergents downy fabric
softeners. Yes. And then everybody jumped all over so you
can't do that don't use these things are going to kill you.
Adam Curry: They wound up using some nuts in a bath. Yeah,
John C Dvorak: I know I owe you Yeah, I use the ball. So
Adam Curry: now it's soap nuts in the bag and tennis balls in
the dryer. Tennis balls, tennis balls in the dryer. Yeah. And
does the job. Guess how long that lasted?
John C Dvorak: Well, well, it was wishes you met Tina.
Adam Curry: Well, no, she did. She's all in on the tennis
balls. We still use the tennis balls. But I think she slips in
a sheet or too little softener sheet to make it smell fresh.
John C Dvorak: Yeah, well, that's the stuff that we're
talking about. And it's used for the for that same reason. It's
like it these things, these weird chemicals. I don't even
know how they develop them. But they use into fabrics that
modern fabrics seem to take a liking to him and say, Yeah, you
know, you put that mix that with me, and I'm gonna be soft, I'm
gonna feel a lot more expensive than I really am anyone who's
owned a cashmere sweater, and tried to find some that says
Nice. That may with some other fabric. Sometimes you do. And
that's because it's been treated. And so these guys are
like, Oh, well, you know, this is not good for the body. It's
probably not good for your liver. It's probably not I'm
probably in agreement with most of these these assertions,
Adam Curry: correct. But whenever I hear a cool marketing
phrase, like forever chemicals, and they're also racist, because
Oh, no, it hurts indigenous people more I don't by the way I
that I don't get well because because there's something behind
us this coolness. Why?
John C Dvorak: Yes, there's always something behind it. And
it is a cool phrase. You're right forever. Chemicals. Great.
Adam Curry: It's an app. It's an app.
Unknown: It bet probably.
John C Dvorak: Oh, agenda your ops show.
Adam Curry: Oh, that's Hey, everybody. Welcome to the ops
Show Up Show Up Show. Andrew Sullivan, the OG gay blogger.
John C Dvorak: Yeah. Yeah.
Adam Curry: We're famous wrote quite the substack.
John C Dvorak: Did you Did he now? Oh, he
Adam Curry: did. Ki dove right into the the the queer
theorists.
John C Dvorak: And he's Is he is he? I guess he knows. He says.
Adam Curry: Of course. He's against it. He finally what
we've been saying is that gay and lesbians are under severe
attack. They're being erased because they're cysts that yes,
they are being erased. He wrote, I must have received from 15
different people.
John C Dvorak: I didn't get it once.
Adam Curry: Well, you know,
John C Dvorak: let's write your date. This is your beat. This is
Adam Curry: just my that's my beat everybody
John C Dvorak: the trans man.
Adam Curry: I'm gonna go on Glenn Beck and say hey, Glenn,
just so you know, I'm now the trans man. I'm going Tuesday. By
the way it should be fun. Although just as an aside, Tina
was watching my previous appearance on back and she
noticed something that I forgot to bring up but bothers me a
lot. The setting for him is a table a round table in a giant
studio. It really is a big studio. It's all empty. They got
you know, some lights at the very edges. effect it looks
great. Looks great. And he's got the hang and microphones and
everything almost like I should be you know, like, Oh, what the
I
John C Dvorak: don't like to hang the microphones he had that
when he had Rodriguez or whatever that guy's name was
like Mike was he like slowly twisting? It was like, oh,
Senator diamond. Like
Adam Curry: I actually in my first and my first appearance. I
actually hit it by accident with my hand. It was weird. It was it
was swinging back and forth. He has so the end there's two
chairs. The guest chair is lower than his
John C Dvorak: debt. This is an old TV trick.
Adam Curry: I know. But I hate it. And I want to say I can I
have a phonebook. Glenn, I'm gonna ask him for that. It's not
cool. It isn't old. And I think he probably does that on
purpose. It seems like he would like TV guy. Yeah, really? Yeah.
This is the Johnny Carson. Johnny Carson started that I
think
John C Dvorak: I think Johnny Carson started Yeah. Yeah.
Adam Curry: It's annoying. And I'm six five and I'm gonna sit
there like a little boy
John C Dvorak: like a little boy. Yeah. At the table. You can
ask him a piece.
Adam Curry: So Andrew Sullivan, he the unload is a great piece
it's in the show notes. And he what he says is to be homosexual
is in contrast is meant to be attracted to same sex gays and
lesbians run the gamut of tastes politics, backgrounds,
religions, some are conservative some radical some indifferent
some gays are queers, but most aren't and the queers now run
what was once the gay rights movement for a longer piercing
reflect on the takeover read, somebody has some reference
here. But he says unlike the gays and lesbians who definitely
fought a fight in the United States, and and came out okay.
We don't We it's it's more legal in America to have same sex
marriage than it is in most countries in Europe. It's more
accepted even the more accepted in the net Dylan's got spit on
by the Moroccans if you same sex holding hands in the street. But
then he says the queers up the ante and did something we gaze
never did. They targeted children. If they could get into
kids minds, bodies and souls from the very beginning of their
lives, they could abolish the sex binary from the ground up.
And so they got a pliant woke educational establishment to
reprogram children from the very start telling toddlers that any
single one of them could be living in the wrong body.
Therefore, before they could even spell kindergarteners were
told to pick a pronoun there by a sex as soon as they arrived,
endless kitty books reiterated the queer theory mantra about
gender, you can be a girl or a boy or both, or neither or
something else entirely. And if the sex the child chose did not
match their physical body, they were told they could just change
it and change it back if they needed to no questions asked
fun. If a boy said he was a girl or vice versa. It wasn't fact
unethical to ask any further questions from now on. He was a
girl parents a problem to overcome. And that's just an
excerpt. There's a very, very good piece very thoughtful. And
I'm glad that we now see a leader of gay America. Unlike
Kara Swisher who should be with Andrew Sullivan on this in
John C Dvorak: 105%
Adam Curry: You saved yourself wow. I triggered 100% meme in
you just by saying Kara Swisher
John C Dvorak: in I said 105 Guys Kritis correct. And it's I
have to read this piece. I'm sure it's right on the money.
He's always been a good run.
Adam Curry: And, and it it's really, it's mind boggling, but
it's,
John C Dvorak: you know, it's up to him and his his compadres to
do to address this problem. There's nothing I mean, we
bitched and moaned just generally speaking, but we can't
really bring it home like, like, like people in the community
can. And it's, it's like, it's like Muslim radicals. I mean,
it's the Muslims that have to bring them to justice, not as
right and
Adam Curry: so and let's just start by eradicating things as
the community. LGBTQ is not the community. It's a brand. And
it's all about the Q and the B, the B, even just by the mere
nature that B is in that lineup. We'll get rid of the B stands
for bisexual by definition means that this t and Q was is
ridiculous in the community. So let's play a clip. Oh, I was
going to have a whole thing. Oh, I'm glad you've got something
please.
John C Dvorak: So here's a trans non binary teacher who is tick
tock Yeah. Tick tock. Here's a trans non binary t shirt and I
can't tell if it's what this teacher is it's a boy Amy's like
pat the old character on
Adam Curry: no yeah and so
John C Dvorak: he's he she ages ever says they them he's obey
them or she's obey them I don't know. But he they them is
concerned with how to address and this is an issue that has
not been brought up on our show or otherwise that I know of.
When you have a non binary person how do you put their what
is their original salutation? Is it Mr. Is it miss? Is it misery?
You can't use the very good question or mister or miss it or
anything because you don't I mean that this further confuses
the day them he she bullcrap I said it again. Now. He's got it.
He she they them has got a solution. Kind of because it
came up in his her there's classes here it is.
Unknown: So I'm a trans non binary high school teacher. And
since coming out a lot of people have asked me if students don't
use Mr or miss with me. What do they put in front of my name? So
the answer is nothing. I don't put anything in front of my
name. And students just call me Flint. But recently some of my
students stayed behind after class to tell me that they do
not like this arrangement anymore. And they presented me
with some alternate honorifics for my approval. So let's go
through them starting strong with Captain I like this because
it sounds like I'm leading a crew on the Enterprise instead
of begging students to care about literature. Next one is
good to sergeant or Sarge it's masculine commanding, but I
don't think I can be counted to reliably spell it next is Lord
which made me immediately uncomfortable and been in
principle but I think in practice I would be immediately
alarmed if I heard somebody calling their teacher Lord
anything fourth is Coach which I do here as a coach for roller
derby but the only thing I actually coach at school is
Academic Decathlon which I don't think qualifies me for this doc
I think makes me sound like I should be helping Snow White
with her house chores. So I'm gonna pass chef I think is
unquestionably my favorite. I teach English and film my day
doesn't deal with food at all. But the absurdity I think, is
its charm. Reminds me a lot of those people that are upset that
I'm not closeted at school who tell me to teach math and so I
answer this is a Wendy's. I'm gonna skip right past this one.
A late entry today was, Your Honor, I think it might put
students in a defensive position immediately. Sometimes they
deserve it, let me know if you've got a favorite.
Adam Curry: Okay, so this is this is exactly what happens.
This kind of stuff is passed around. And everyone, just like,
climate change does like all the things, but let's just like the
Russia, Ukraine war, everybody gets all spun up. And that is
the whole point. Again, the American media model is
opposition, strife. The always if you don't, I can barely even
watch it. Luckily, we have clip collectors and custodians. If
you watch cable news, if you watch Fox, they're playing clips
of the guys on the left, if you watch, MSNBC, CNN, they're all
playing clips. That's all they do all day, there's no one doing
any news is just a spin you up. And it works. It works against
you. That's what most podcasts are about. Which is why we're
never going to be really successful. Because we're not
using the model of success. We're using the model of
honesty, so that we can look at ourselves in the mirror, and
hopefully calm people down. And this is it's coming. A lot of
this is coming from big pharma once again, because they're the
ones benefiting each child that decides to transition is worth
$7 million over their lifetime. At minimum point two. You have
it down to the decimal I'm impressed 7.2 And think about
the restrictions that big pharma put on COVID. You can't even
talk about ivermectin that's horse paste. You can't you if
you go against big farmers wishes then you lose your
license, your your, your your your scrubbed off off the world,
your your business will close. You get no insurance for your
business. This is Big Pharma is doing this. And when I say big
farm, I'm also talking about the American Psychology Association,
the American Association of Pediatrics, DC, CDC, Rachel
Levine is a big, big part of it. All the preschoolers who own
medical device companies, it's all about money for them. It's
and they don't care. And and it's all about power. And this
is the worst part is the Democrats in general, are the
ones that see oh, wow, this is perfect. We can grab these
people, these are the people that will will be affectionate
towards them. And I would say today's Democrat is a Maoist,
socialist, Marxist. So no, we could we can grab these children
early on someone else is grabbing them as Big Pharma.
Thank you very much. That's great. Oh, media is just helping
out. Parents are afraid. Parents were afraid to speak up about
masking in schools, parents were afraid to say, hey, I really
don't want my kid to get this shot. I really don't want my kid
to get the shot without me knowing about it. So and this,
this trans mouse movement happened during COVID. That's
when children were left alone to their own devices, literally,
their devices, beaming this crap into them. And so you need to
take charge of your inputs of yourself and your children. This
queer ideology, which to me as I look at it, this it's it's
nothing new. It's just we have the it's plus the internet, we
in the 70s. And like, we had punk and we'd be sticking safety
pins through our ear lobes and through our nose and through our
cheek and we had ad leather jackets with an A on the inner
circle anarchists. Yeah, yeah. And we had the Sex Pistols and
God Save the Queen Jade, no human being. Now it's just been
turbocharged. Ben is really just people who want to be against
everything, and against the establishment. And the
establishment is now in charge and is running your children
into the ground. And here's to people learning to be teachers.
How do you feel about
Unknown: LGBTQ pushing their agenda on the youth? There's no
agenda. You're you are speaking to the LGBT.
Rs. It was it was great. I feel as though I feel as though every
child should be gay. Yeah, I think every single time actually
gay and I'm starting to be a teacher right now. And I'm going
to make every child in my class.
Adam Curry: These people are completely captured. They
completely brainwashed, and you need to avoid them. Get them out
of your school, get your child out of the school, but you also
have to watch check yourself. These are still people they
have, they're just they have they have been mind controlled.
And they're they're literally under spells. And this is the
only clip that I really need to play because it shows how the
spell has taken charge of otherwise probably normal
adults. And I was I'm glad I could find this in context
because the spin you up make you crazy version was the only thing
you saw about a minute on. On social media. I got the full
three minutes. This is Democrat Senator, Senator mckaela
Kavanaugh of Nebraska. Now, let's take the context of what
was happening here. They were discussing a bill which, by the
way in Nebraska, passed narrowly, which if signed by the
governor will ban sex change procedures for minors under 19.
As well as a blade,
John C Dvorak: I saw it that sex change for minors under 18 was
already nobody did it.
Adam Curry: Yeah, that's just not true. And with sex change,
we also mean chemically altering your the state of your body so
testosterone, estrogen, it's not none of it is reversible as they
claim. And again, parents are just we know parents of these
trans children. And we know these people, John, you and I,
we look at them, and we say they've just been captured.
They're afraid to say no, they're afraid to stand up.
They're
John C Dvorak: not afraid to say No, they won't say no, they're
completely they're captured to the extreme that they're
righteous. But there's difference between the people
that are afraid to say no, then the people who have been
captured and are righteous about it.
Adam Curry: I still, I still have sympathy for them, because
they're under some form of spell, which is very similar.
And maybe just 30% of people are lost. But it's very similar to
Vax versus unvaccinated. It doesn't matter how many times
you show that you were lied to about the vaccine. They never
accept it, they will never accept it. And it's like, lies
many experiments that show that people have herd mentality, and
they will just go along with it. And but it comes from a place of
fear. So by the way, this, this is not even such a crazy law, 12
weeks of pregnancy, I mean, filling your own, your own
version of what you think is, is acceptable. And 19 is older than
then most states, you know, it's 18 for this type of this type of
work, but it includes puberty blockers. And so the senator
comes up, and there were people protesting out in the, in the
hallway. And she starts off very normally saying that she doesn't
agree with it. And this is the piece that you didn't hear and
certainly didn't see. And then she just goes into into a chant
that I think it has been, it's a spell she's under a spell. And
she is not the only one. And I have compassion and love for
her. But it is very troubling to see Senator Mikayla
Unknown: cabina you recognize to speak. Thank you, Mr. President.
Trans people belong here. We need trans people, we love trans
people. That's what they're saying out there.
Adam Curry: That's what they're saying out there. That is the
chat.
Unknown: They're standing in a circle in the attended saying
that over and over again. Trans people belong here. We need
trans people, we love trans people, trans people belong
here. We need trans people, we love trans people, trans people
belong here. We need trans people, we love trans people,
trans people belong here. We need trans people, we love trans
people, trans people belong here. We need trans people, we
love trans people, trans people belong here. We need trans
people, we love trans people, trans people belong here. We
need trans people, we love trans people, trans people belong
here. We need trans people, we
love trans people, trans people belong here.
We need trans people, we
love trans people, trans people belong here. We need trans
people, we love trans people, trans people belong here. We
need trans people, we love trans people, trans people belong
here. We need trans people, we love trans people, trans people
belong here. We need trans people. We love trans people,
trans people belong here. We need trans people. We love trans
people, trans people belong here. We need trans people. We
love trans people, trans people belong here. We need trans
people. We You love trans people and trans people, we need trans
people, trans people, trans people, trans people, trans
people, trans trans people, trans people, trans people,
trans people, trans people, trans people, trans, trans trans
people, trans people, trans people, trans people, people
really love trans people trans people, trans people, trans
people love trans people, you matter, you matter. And I am for
you. And I will not stop. I will not stop today. I will not stop
tomorrow. You are loved you better you belong here. This
Adam Curry: is this is a very, very disturbed individual.
John C Dvorak: I'm reminded of a Hari Krishna.
Adam Curry: Yes, exactly. They've heard this exactly it
chants and chants are very, very powerful. And this I think is it
This may be done behind closed doors, we got a very rare peek
at what at this is a this is a person who's in government doing
this in front of her peers. This is this is something that is way
beyond the pale. And, and, and those it's fun kind of watching
the troll room like Stop, stop, you know, I'm leaving, I'm
checking out, you have to face this. You have to face what's
going on. These people need to be embraced. And like excuse me,
you need to calm down. Let's have a beer. Bottle light
perhaps some so this is this is very, very, very sick. And
that's and this is the internet. It's the food people are eating.
It's the media they're consuming. It's the words it's
pronouns. This is where we have to just stop. We have to stop.
We do. We do? Like Good Luck. Well, you know people are people
are standing up to it. Here's a TSA agent, producer. Good
afternoon. I was hesitant to reach out as I know how much you
love the TSA. We love you that has nothing to do with whether
you're TSA or not. But you know now transgender passengers can
request if they want a male or female TSA agent and this agent
is saying I'm not going to do it. I am not going to pat down
as a man I'm not going to pat down a woman even if they
requested I'm not going to do it. And and and the only thing
we have Did you see Ford? Ford now has the pride LGBT colored
rainbow F 150.
John C Dvorak: Sure that's not a hoax.
Adam Curry: No, no, it's not. No they specifically that No, it's
not a hoax. It's not a hoax. But these companies are all a little
bit behind. You know that they haven't quite figured out that
people are not going to take this anymore. The mama bears are
out there stopping this stuff in schools. And but to them I also
you got to calm down. You don't have to go crazy. But when I
hear this, this chanting. Clearly these and this is the
latest. This is the best. This is your government Matt Lee.
Finally we have a Matt Lee clip we've been missing. Matt Lee
from the State Department finally saw him again. In the
end, there's a new state spokes whole State Department spokes
Hall was pretty funny by himself. And Matt Lee has gone
very, very gray. It's kind of like Wow, man, we haven't seen
you around and you went gray on us. And he's old. He's getting
up there. And he started off the briefing with a question
Unknown: here. Have you gotten any emails from any of your
colleagues in Alaska? You know, before you came out here,
obviously not while you've been at the podium, but since about
noon or so.
I wanted to get to your question.
Have you? What's your question? Do you have Are you able to look
at them right now my email? I'm not gonna pull up my email list
from the photo. No, you don't need to show it to me. Yeah. I
want to notice I want to know if you've noticed anything
different in the from the The line where it gives the sender
and then that this would be a lot better if you would just,
what's your question was? Well,
I mean, you say you haven't noticed anything now. Okay, so
within the last hour and a half, two hours, the State
Department's internal email system, and I tested this, this
group has added pronouns to people's, not their signature,
but to their former where, you know, where it says from? Okay,
so it will say him, his or her, you know, dashi why this is not
an optional thing, this is something that has been just
arbitrarily imposed. And I understand that people could
have their pronouns attached if they'd wanted them to a
signature before. But this is not something that anyone has a
choice about.
Adam Curry: We have the premise here that the State Department
was automatically putting pronouns in the From field.
Yeah. Is it a
John C Dvorak: scandal because of the glitch?
Unknown: So I'm just wondering, why and who made this decision?
Well,
I have not seen this phenomenon for myself. Just to ask you a
question, is it just for internal State Department and
obviously as if that will be okay.
I tested someone in this building. And whereas before, it
did not have any of these pronouns attached to the
sender's name, it now does. And I've also been told from other
people, that's the many of them or at least when you
send it does it doesn't have the
Adam Curry: show too. So anyway, the State Department indeed,
there was some kind of glitch because they were indeed or have
been planning to add automatic or maybe you should be able to
choose pronouns to the from field, which, now this is an out
they use Outlook. So I'm just going to presume this is a
Microsoft feature that they will be adding. And the State
Department is now offering free therapy to any employees who
feel hurt or upset by this unfortunate glitch.
John C Dvorak: If they were misgendering gendered, yes.
Yeah. If your name is Andy, for example, it could be a woman.
But I get you get to hear her and hurt your feelings is such
an extreme.
Adam Curry: So we need to come up with a couple of we've done
this in the past, we need to help people with ways to stop
the pronoun stuff if someone says, oh, no, that's a he or she
them or her? Azura No, it's
John C Dvorak: It's butchery is ruining the English language
makes it harder to write. And it's idiotic emphasis, very
small, small sub 1% of the population demandingness. And
why is such a small group calling the shots
Adam Curry: Well, obviously because this is part of the
trans Maoist system hobbyists. So we need to have a comeback,
which we've done in the past. It's like when someone sends you
an email and then there's a pronoun in there I think that we
have to start saying excuse me, I cannot converse with you if
you're doing this but that needs to be a better comeback.
John C Dvorak: Yes, yes. I agree. Better come back
Adam Curry: to that we need a better comeback. We need to have
something I'm looking for something I'm looking for
something
John C Dvorak: maybe somebody out there all right, something
that is theirs. We have writers that have no talent yet maybe
they're on strike taking give us a free material and they'll come
up with this this one liner that we're looking for because
Adam Curry: I see this incorporations all the time now
and then it's virtue signaling its political it has no business
in business and and we have to find a polite way to tell people
no I'm I'm I can't I don't know
John C Dvorak: you I get one way I didn't know you were a
Democrat.
Adam Curry: And with that, I'd like to thank you for your
courage in the morning to you the man who put the seat in the
Forever chemicals. Ladies and gentlemen, please say hello to
my friend on the other end Mr. John C.
John C Dvorak: Sorry, in the morning, I was making so much
noise I couldn't hear you in the morning to you Adam curry also
in the morning all ships see boots to the ground. Water
Adam Curry: the pronoun virtue signaling through how many? Oh
wow, we're two hours into the show and we still have 20 206
That's not too bad. Normally That's good. Normally we break
one hour in why are we breaking two hours in?
John C Dvorak: Well, it's very no donation. That's
Adam Curry: right. The less donations the more show. It's
amazing. We must we must be doing something wrong. And maybe
we're just not giving enough value. I think I think we bring
in the value. People say we're bringing the value, but what
John C Dvorak: are we maybe they're tired of these topics
really means possible.
Adam Curry: No. All right, we can go Oh, all right.
John C Dvorak: I don't know what other topics are we just
deconstruct whatever news there is.
Adam Curry: That's pretty much what we do. Yeah. Anyway, nice
to see you there. Trolls. We
John C Dvorak: got a holiday coming up that might help even
though it never has in the past.
Adam Curry: Nothing ever helps. Trolls Hello there, you're
listening live now at troll room.io. Supposedly, or
presumably, you might be listening on one of the modern
podcast apps and we welcome fountain to the party. The big
app along with POD verse and curio caster fountain now also
does the Live podcast where you get an alert when we fire off
the bat signal. So you can always remember to tune in. And
it's the same app where you get the podcast or any of your
podcasts, you can import podcasts from your old legacy
app. And to find those go to podcast apps.com. Or, of course,
you can always continue to follow John and myself at our
non algo eyes. So you know, it's just you start at the on your
timeline and your end where you've read something you
already read before. You don't hang out that long. It's no
agenda social.com Follow Adam at no agenda. social.com John C.
Dvorak, no agenda social.com. We're always there. We're always
looking at what's going on. And people like to tag us in long
conversations, which is sometimes fun. And as part of
our value for value Initiative, where people can help us with
time, talent and treasure. We definitely got some, some
talent, the artwork, we want to thank the artist who brought us
the artwork for episode 1556. We titled that uncertainty complex,
maybe it was the title. Maybe the title didn't bring people
didn't motivate people to maybe to support us. I thought, yes.
John C Dvorak: I was going to say when you are going to use
this, we're going to talk about the art we should point out that
on the front page has been changed to the Art Generator.
Oh, I have not seen the change. Paul couture has created a
leaderboard.
Adam Curry: Oh leaderboard top 10 past year I see it. Well.
This is the art came from Taunton, Neil. And it was
something not discussed in the show at all, which was a point
of contention. For I said we didn't discuss this at all. And
you said but it's a beautiful piece. I couldn't argue with
that. That's the problem. I could not argue with it being a
beautiful piece. This was the Department of plumbers dust
busters and fixtures, which I believe was something Matt Gates
said in one of his performances in Congress, which is why we
probably didn't play it was an FBI agent. He said, Oh, they're
just plumbers dust busters and fixers. them they had a you
know, an FBI agent has a wrench, a pipe wrench and a DustBuster a
desk Buster, Buster, it was the best piece. But
John C Dvorak: that was that that piece and there's also
another piece next to it nearby by also by tantan deal of her
trying to predict in advance what the show is going to be
about. Yeah. Which is, which is a bad idea.
Adam Curry: Yes. Is she doing this again?
John C Dvorak: No, I'm just saying she did did she did it
twice. If you look at the piece that she did go over to there is
another piece. Similar. It's not similar. It's not half as good.
But it's got the dustbuster done by her right I also done by her
show. So she was all in on predicting what we're going to
talk about. And trying to predict what we're going to talk
about is not necessarily we don't talk about what you think
we're going to talk about, generally speaking well here's
Adam Curry: a question for you seeing the low donations. Are we
talking about the wrong things?
John C Dvorak: Well, I'm all in for playing these whack job
clips. In fact, right here in the middle of the donation
segment. I have one oh, here we go. All right. So this is the
kind of clip that you know it's not much to talk about it just
silly this silly and the dust busters thing was to but this is
Linda's now they had a bunch of Western whistleblowers Right.
Right. Right. Who was really interesting because the
Democrats were excoriating them because they were you know, even
though the Democrats are the ones behind the whole idea of
whistleblowers. They were big onto the whistleblowers because
you know all going back to the Pentagon Papers, they were the
ones all trying to protect the whistleblowers, but now they
hate whistleblowers. Surprise, surprise. So these guys, so we
have Linda Sanchez, who has argued Probably one of the two
or three stupidest representatives in the House or
in the house there are trying to burn one of these whistleblowers
with an idiotic question. And let's listen to Linda.
Unknown: Mr. Allen, have you ever use Twitter? Yes or no?
I have utilized Twitter. Yes. Okay.
And is your account at Marcus at 97050645?
That is absolutely not my account. Okay. That's not your
account. Well, on
December 5 2020, to an account under the name Marcus Allen
retweeted a tweet that said it is not my account. Ma'am. You
haven't let me finish the question, sir. football player.
You haven't let me finish the question on this. And the time
is mine. On December 5 2020, to an account under the name of
Marcus Allen retweeted a tweet that said quote, Nancy Pelosi
stage January 6, retweet if you agree and quote, do you agree
with that statement? Yes or no?
That that is I don't know. Ma'am. That's not my account at
all.
I have. I'm asking whether you agree with that statement? Yes
or not? Can
you please rephrase this? Rephrase. The gentlelady has
expired staged
January 6. I just want him to answer. Yeah, he'll answer I
just telling you, your time's up. Do you believe that Nancy
Pelosi Do you agree with the statement that this person
tweeted that Nancy Pelosi stage January 6? I asked her No. No.
Thank you. I yield back.
Adam Curry: Oh my goodness. Yeah, yeah, exactly. I mean, you
know, maybe we need to play more stuff like listen to that you
meet me. Oh ha let's do a tussle Taunton. You also tried to do
something about the Durham report. Which it you know and
she put in there which didn't quite work you know, which is f
being yourself magic corridor to health. Which was was cute. But
what maybe we should be doing this. You know, they're so
crazy. It was democratic. Rachel Maddow.
Unknown: Second thing we are keeping an eye on tonight is the
reaction particularly the reaction on the political right,
man,
Adam Curry: she was totally you know, Trump was right. He was
exonerated right.
Unknown: To the long awaited Durham report. Job to report
Adam Curry: listen to that mad cow
Unknown: for long awaited what, right but
Adam Curry: oh, like she doesn't know what it is?
Unknown: Well, the reason we're watching for the right. And
their reaction to this is because the Durham report is
only really long awaited by them. And they really, really
have been awaiting this report. Boy, they have been excited
about this for a long time. literally for years, former
President Trump and his allies have been invoking the name John
Durham, or sometimes Bull
Durham.
Adam Curry: Oh, she's gonna lie listen to her lie, as
Unknown: the man who would save them and smite all of Trump's
enemies. For years they have been heralding the great
revelations, John Durham would soon reveal about Trump's
political opponents and the deep state and all their evil ways.
Adam Curry: That's exactly what's in the report, along with
the fact that no agenda is the best podcast in the universe.
When that
Unknown: didn't seem to be happening. Trump and his allies
started pounding their chests and yelling at the clouds about
why Durham hadn't acted yet. Why he hadn't yet smoked all of
Trump's enemies. Why, you know, there were Democrats who weren't
yet at Guantanamo.
Adam Curry: And Hillary Clinton is in Guantanamo. We all know.
That's what people want from us, John. This clearly what they
want. They want us to do that kind of material, like every
other podcast out there.
John C Dvorak: Everybody does that.
Adam Curry: So what I mean, and who else can tell you how
they're going to take the good neighborhoods and in Oakland,
from stealing property to the property? Oh, that's
John C Dvorak: not it interesting as excoriating
Rachel Maddow. Exactly. There were one once a week show or she
always looks down like she's so concerned about what's in the
next blonde one of the most watching look down at you.
Adam Curry: Yeah, oh yeah, of course. Of course. Now comics or
Blogger had an interesting little thing but it was so AI we
couldn't we just couldn't stand it.
John C Dvorak: No, it was his I liked a rabid Teddy his AI thing
developed that was a very good job. Oh it's pretty high.
Adam Curry: Yeah for for the AI which is good AI the credit you
know, that's what we should be doing.
John C Dvorak: He did he did some work on that piece though.
Because he had the gives I know the AI will give you anything
like no agenda to top and Coronavirus at the most we had
to put that on by hand and so he did it in such a way that it did
to have the rabbit overlay it so he had to do that. Using a
little some trickery.
Adam Curry: I think a lot of people are using AI comics your
blog just really kind of flooded the zone with some of his AI
stuff. Darren O'Neal the head Pinocchio. What was the point of
Pinocchio with the NBC logo and BBC reports.
John C Dvorak: We had sorry about them lying all the time.
But the problem I had with that piece was that I don't believe
that Darren licensed that Pinocchio character and Disney's
really uptight about anything use of their characters and I
don't want to even talk
Adam Curry: before you know, though they'll leave your state
taking all their business with you with them.
John C Dvorak: So the point that is like, no, they tend to sue.
They did and I'm not do paying doing anything with the Disney
character you forget it. There's not a good there was there was
good stuff to use. It's just that I was arguing because
because of the prettiness and just the professionalism of this
one piece, which and US made the argument a you know, we didn't
even talk about that.
Adam Curry: Yeah, which at which, but it was it was the
nicest piece amongst all the other things.
John C Dvorak: It was the nicest to an extreme. That's if it was
less. That's the
Adam Curry: problem. That's the problem. It was not and you were
like, Oh, we can do the AI with the car, which is just No, no,
that was just not cutting. I actually liked the
John C Dvorak: we liked that AI with the car piece. I just
suggested it was usable.
Adam Curry: I like the SIR Polka tour the bill as the shill. But
of course you pointed out that it was very unclear because the
Sheila was way too small for the artwork, which is always my my
gripe and so I couldn't get out from under that one. Obviously.
John C Dvorak: I didn't get that piece. Yeah, well, because we
Adam Curry: were talking about bills and you know, I don't know
it had something to do with the show at least. Maybe, maybe,
maybe Johnson he was not even listened to the show. He just
gets up in the morning looks at the news look past it looks at
Twitter, and I'll just do one of these. See if I can get on the
leaderboard.
John C Dvorak: Early in the game, that piece would take some
time. The leader versus number two
Adam Curry: currently now at the top 10. Ladies gentlemen at
number 10 Darren O'Neal comments for Blogger number nine Roger
round eaten that he'll be off the charts soon as he start he's
John C Dvorak: doing stuff from the shelf and he's basically a
married man with a job
Adam Curry: same Kenny Ben comes in at number seven. Nico Syme,
who's relatively new to the chart number six, correct
director at five Sir Paul couture. Who is the purveyor of
the entire Art Generator number four networks at number three,
Tom to kneel who just had her 16th When at number two and
number one on top of the chart capitalist agenda with 18 wins.
We also now need for next week we need to know someone went up
or down on the chart if someone is Oh, yeah. And the arrows we
need bold arrow bullets when you know if someone enters the chart
with a bullet. There's a full leaderboard as well. Oh my
goodness is there's like a full leaderboard of how many artists
are 213 We have 213 artists well 213 Also the all time
leaderboard, all time leaderboard, okay. But like
Nick, the rat is all time winner with 189 wins Martin J. J with
107. And unbelievably, the non artists Darren O'Neill, number
three of all time with 99 wins.
John C Dvorak: There was a moment in time when Nick de Rata
you can go look at his his page and see this. He's got pay. He's
got 1020 pages of art. Nick, the rat was submitting serious stuff
for about two or three years. And it's a still there. I mean,
you still look at his old stuff. And you see this that is still
usable. Nick the rat was really quite a phenomenon for for a
while. Somebody's got to start doing his own show got a big
head lost his touch. What Yeah,
Adam Curry: exactly. Once I went on the show, as a guest, then he
was he was just getting senators, heads of state all
kinds of people on his show. And you're right. And then he got me
on the show got me me on the show. And then you got a big
head and you just quit. That's not true. He has tried a few
things recently, once in a while does something
John C Dvorak: lost his touch somewhere?
Adam Curry: No agenda art. generator.com is where you can
follow along. Or if you're using that, that cool new podcast app
I told you about. You'll see these many of these pieces that
we discuss, used throughout the duration of the show, as Dred
Scott puts those in his chapter art. And now I believe a couple
of pod verse and fountain they have was at Android Auto and
CarPlay. So you can actually see the art change on your dashboard
while you're driving. Nice. Yeah, it's actually it's pretty
cool. Thank you very much artists. We appreciate all that
you do. Now we're going to thank our executive and Associate
Executive producers for episode 1557. We kick it off with our
top donor and executive producer one of two sir Scott the Jew
from Post Falls, Idaho who I believe also sent in a meter
report in the morning name John C and Adam J H NSI. Please
accept this donation generated at the latest North Idaho sanity
brigade Third Thursday monthly meetup every Oh, this is nice.
every attendee chipped in all via the fistful of cash plopped
down into the middle of the table. They're badass up there
in Idaho. The following people are first time donors and need
do you do things Claude The gypsy
Unknown: you've been deed deuced
Adam Curry: and Dave
Unknown: you've been deed deuced
Adam Curry: I like that I like it when I like it when when they
pitch in at the meetup that's kind of cool. Not all meetups do
that but I think it's a it's a good trend. Please play trains
good planes bad thank you for your courage and stay safe. The
board trains planes
John C Dvorak: Jack Tinkler comes in with 333 Columbus
Georgia. And he is noticing that's going on is that
MailChimp changed something and I'm not getting my my opens.
Watch it the normal number you buy down by bus only about 10%
but it's down but
Adam Curry: now you're blaming that on MailChimp. And not just
the fact that people don't read the newsletter.
John C Dvorak: No, I blame it on MailChimp or maybe Google
because Google is changing stuff all the time but I'm still my my
basic got the guys guys out there. Oh, the basic check is
where it comes through. They're still checking in with a
positive note. So good. I'm guessing is MailChimp Okay, all
right. So let's start with Jack Tinkler here in Columbus,
Georgia. And we're and I will say that because we got no 3333
threes today we just got one Jacques de douche me please.
Unknown: You've been de deuced
John C Dvorak: he was no karma PS. John and Adam. You all my
best friends. Ah, this is y'all I could you wouldn't do in
Georgia.
Adam Curry: Well, we're happy to be your best friends works. Then
we go straight to Associate Executive Producers Kenny Corson
in North Haven, Maine $205.19. And he says see attached note
which I have here. It's long, so I won't read it all. But he does
say in the morning, John and Adam. Adam, congratulations on
your anniversary. That's right. Tina and I celebrated on Friday,
four years of blissful marriage. And on last Monday, it was eight
years that we've been together. He says my wife and I happened
to share the same date 22 years and we've never had a fight. See
the last three digits of the donation This is my third
donation in three years, so it seems as though I should be de
Deus.
Unknown: You've been de deuced
Adam Curry: speaking of deuces, can you call out Chris
Hutchinson and Emerson tremble as douchebags nice says Enjoy
the first one syrup from our farm. Did you get the syrup? Did
we get all this?
John C Dvorak: Yes, I did. I have not tried it yet. But I
did. We also I want to mention this there's another guy I wish
I could find this note who sent me a couple of syrups also from
Pennsylvania and he sent me a handwritten note and I can't
find his email so I can't get back to him with a lawyer
advice. So the syrup he sent the commercial stuff in any sense on
Nicola cooking syrup which he can't sell commercially as a
syrup I
Adam Curry: got these two Yes, I got a syrup the cookies the
regular syrup and the cooking syrup. Yes,
John C Dvorak: cooking syrup, the cooking syrup if it was
rebranded I'm telling you this this is a money maker. Oh real
is cooking stuff if it's rebranded as maple flavored
coffee sweetener
Adam Curry: even though it's real stuff
John C Dvorak: Yeah, it's real stuff but you because look you
know they got this it's very intense. It's very maplelea it
is a giant again a cappuccino. A cappuccino, cappuccino it is
Adam Curry: on believable now are you making cappuccinos at
the house these days?
John C Dvorak: I make cappuccinos. Sure. I've been
making epigenesis seven days. Now I will mention one other
thing. Also, I make a an iced coffee made in the in the form
of a chocolate egg cream. Which anyone? Do I live in Brooklyn?
No. So I make an iced coffee like I call it a coffee a cream.
I use the maple syrup in that for the sweetener. Drop dead.
Adam Curry: I used his cooking syrup on. This is what I do.
When I make salmon which I bake in the oven. I will drizzle a
little bit of maple syrup on top of the salmon and then I put
less than lemon pepper on on top of that, and this all baked in
the oven, and I really enjoyed the cooking maple syrup. I will
try it in the coffee though it's a good idea apparently he gave
us $3 In Canadian money and without he says it stems from
the comments a while but of course I people are mad about
the what I said about two and $1 Canadian bills. I don't know
what I said. But just keep up the good work. Can I get a New
York you said it was cheesy. And well there you go. Can I get a
New York Times vocal fry? My son Odin and his friend Ramy love it
followed by a bit of Sharpton Oh, I didn't didn't grab any
Sharpton for you on on our ESP ICT Yeah, I got that.
Unknown: You know, obviously, I re I read The New York Times
like all day long, mainly on my iPad
DSP ICT and he
Adam Curry: is from four acre farm in North Haven Island Maine
Thank you
John C Dvorak: Eric sank my her in Fort Gratiot there's a way
pronouncing I don't remember how
Adam Curry: Gratiot Grusha he's almost at it right brush rash
hit or grass grass grass you kind of swallow the ship but
it's brush it
John C Dvorak: in Michigan night Mr. Eric I got a there's an
Osprey flying around here I heard it you're gonna hear it is
it a very noisy no
Adam Curry: I heard I heard it a minute ago I heard a
breakthrough this to the nice
John C Dvorak: me sir Erica V old forge consulting change of
career Oh, I'm sorry considering change of career night Mr. Eric
of ye old forge considering change of career. One offer in
hand hoping to beat it. smokin hot wife just got hotter jobs
karma milk goat got coded message one mother
Unknown: I'd like to
have jobs, jobs, jobs and jobs. Let's vote for jobs.
Adam Curry: And we're at 200 from Lucas diamine. faced the
Netherlands. This is the yearly 2022 podcast fee that was still
pending. Yes. I hope everyone realizes there's fee for
listening to this show. Also, you should make me a Baronet. In
this case Baronet of the Miller Thol Luxenberg Mueller Thol
Luxenberg keep up podcasting Special thanks to the troll room
for correcting Adam Lucas time from goosfest All right thank
you very much
John C Dvorak: I think he's he actually on the list I think we
have an error
Adam Curry: No I believe we do have let me see where's my I
remember seeing a title change? Yes. Oh no. Then we don't have
him on the list. I shall add him now while we do this. Lucas
timer. Okay. And he is Baronet he's a bear net Baron Baron net
you can go ahead and do the next one on where
John C Dvorak: we divide count of British Columbia and Langley
BC just enjoying the weekend Oh jingles no karma the vibe kind
of British Columbia we can give him a double up karma happy to
do it.
Unknown: You've got karma
Adam Curry: All right, then we That's it. No, we have Charlotte
and Worcester Worcester from San Francisco that also a note that
was sent in which I happen to have here as well. Charlotte
says, Those $200 It's Worcester Worcester Worcester as a
pronunciation guide. werster shouted worse start. John and
Adam time to make a donation Your show is a national and
international treasure. So here's my donation to the
treasure chest. Thanks for bouncing heavy topics with
John C Dvorak: Lucky hilarity
Adam Curry: jocular jocularity. wittiness and occasional sarcasm
or we try not to do too much sarcasm. much gratitude from San
Francisco, California. Charlotte Wooster. All right, Charlotte
Wooster. It's our pleasure. Thank you very much. And these
are executive and Associate Executive Producers shortlist,
which means it'll be real easy for you to get top billing on
the next show. That's usually the way it works. If you'd like
to support us go here valora.org/and A and we've got a
title change and we have a couple of people joining the
roundtable and some meetups. John is going to take us through
the 50s
John C Dvorak: Yeah, let's go for the rest of these folk. Amy
Zipkin in Greensboro, Georgia came in with 150 fives 70 She
says mate, everybody out there considering supporting the good
work have no agenda. Thank you. Jason Bible in Austin, Texas
120 12 I Aaron Campbell in Come on, can we Kemah Texas 100 scale
kilberry In Belfair sky kilberry In Belfair Washington 100 He's
on testosterone therapy and hasn't noticed any rage. Yeah