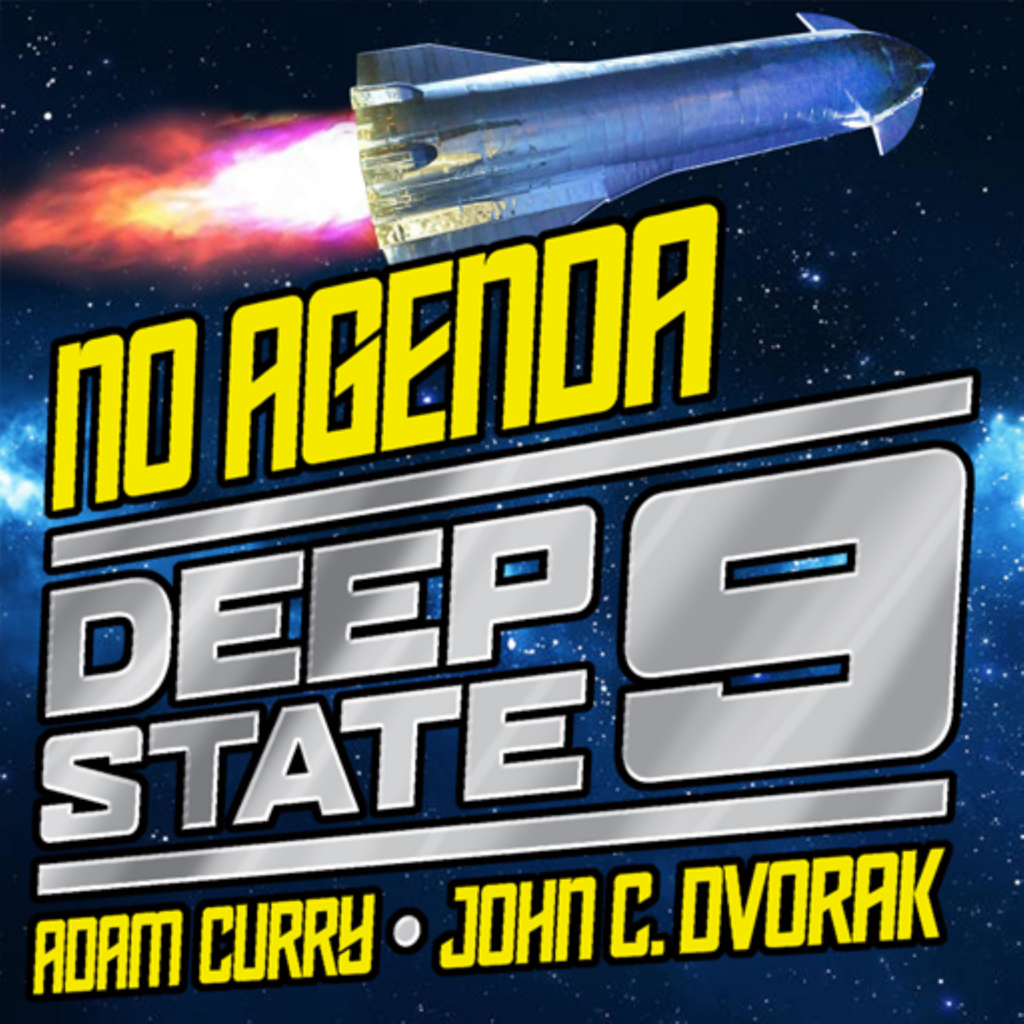 September 7th • 2h 58m
1588: Swedish Fish
Transcript
The transcripts of No Agenda are automatically generated and therefore, not fully accurate. Discretion is advised.
Click the text to start playing from that position in the show. Click the timestamp to copy a direct link to that position to your clipboard in order to propagate the formula.
John C Dvorak: They need to be new.
Unknown: Adam curry Jhansi Devora
Adam Curry: number 720 23 This is your award winning
combination media assassination episode 1588.
Unknown: This is no agenda
Adam Curry: Uncensored on mass and broadcasting live from the
heart of the Texas hill country here in FEMA Region number six
in the morning, everybody. I'm Adam curry
John C Dvorak: and from Northern Silicon Valley where I'm here to
declare the world's worst candy is Swedish Fish. I'm John C.
Dvorak. Gil.
Adam Curry: You never cease to amaze Swedish Fish who eats
that? Oh, don't eat it. Don't eat that stuff, man. That's no
good.
John C Dvorak: Oh my god. It's doesn't it's not a gummy. It's
not a hard candy. It's not a.it says nothing. It's not got a
little bread gob. And the flavor is the flavor of red dye. Number
four, nothing going on.
Adam Curry: Now did you buy these or did they just show up
in them in the PIO box are
John C Dvorak: on sale as everything is typically gross
out? Gross. Yeah, man. These
Adam Curry: are on sale. How can I?
John C Dvorak: Well, I've had him before and I've never
realized how really bad they are. When you go to Sweden.
You've been to Sweden.
Adam Curry: I've been to Sweden once Actually, only once.
John C Dvorak: Yeah, well, you could go to the grocery store,
which I always managed to do wherever I go. You go to the
grid. They have bins of these things. And this in your sweet
your friends Swedish friends was oh yeah, we love these all we
love these. Do we love the Swedish Fish? It gets some of
these. Especially you get them by the bin full. And there's
just dreadful.
Adam Curry: You know, I liked your newsletter rant better.
Swedish Fish rent. You had a great rant in the newsletter.
About what what May I May I quote, you know, of course the
Biden administration is trying to juggle too many balls and
it's showing. Besides inflation, overspending gas prices dustbins
if Ukraine war and impending impeachment inquiry, the Hunter
Biden mess the proliferation of trans mouse ideologies, state
approved female and male genital mutilation, rampant crime in the
major cities, led by an undue shoplifting epidemic, continued
COVID fear with double vaccin double boosted Jill Biden
getting COVID Again, Trump indictments headed by a
decidedly corrupt Justice Department, Maui corruption,
fires and flooding everywhere because of bad resource
management, universally poor test scores by the American
children and an open border and consequent crises. How are all
these policies working out? Does anyone think the public wants
four more years of this is much to discuss. Donate now.
John C Dvorak: Yeah, it's one of those.
Adam Curry: That was good. It was good. I liked it.
John C Dvorak: Yeah, this one sentence.
Adam Curry: Yeah. It was even hard to read that way.
John C Dvorak: You did you did you read it right.
Adam Curry: And I thought, we need a no agenda rebuttal to
this.
Unknown: This good luck just to set everybody
Adam Curry: in the right tone. Mas do not stop you from getting
or spreading flu cold or COVID. COVID is not a killer virus.
mRNA is not a vaccine. It's an experimental gene tinkering
thing. There are only men and women to spirit and non binary
are not genders. Librarians used to be hot, not ugly. With green
hair. There is no LGBTQ community. There is no black
community. The world is not overpopulated. There's no
structural wage difference between men and women in the
workplace. All politics is theater. The US president is not
the king, the emperor or your daddy, who's going to save you
if you want to speak to your real father, talk to God. All
advertising based media is dishonest at best and likely
propaganda. And climate change initiatives are a huge money
making global scam.
John C Dvorak: So my little rant triggered you Yes,
Adam Curry: it did. Did.
John C Dvorak: So well. I can do a series of complaints. I can
also do a series of complaints. And so you put that little list
together that we wish is quite good. I might add Thank you.
Adam Curry: Thank you, but it just hit me. It's like come on
people. We need to just stop with going along with stuff here
for a minute. The dog actually got up and came over and looked
at me Are you okay, daddy? You Okay, daddy?
John C Dvorak: Dogs do that.
Adam Curry: And I have to say my favorite because we know I have
great Africa stuff today. We're not going to start with Africa.
I'm keeping that in the brain. It ruins donations. People two
guys, although I think I have in half a show. I have an actual
second half of the show. But I'm thinking to Africa, I finally
have it. And that's because the elites were all down in Kenya
but the news of the day has got to be Elon Musk playing the heel
to the Elan versus the anti Defamation League Elon versus
the G Who's kerfuffle? This is like a W. W. E. SmackDown.
John C Dvorak: Oh, I'm glad you caught that because I mean, I'm
very aware I read all the stuff above. I never found any clips.
Adam Curry: Oh, be boring. Oh, no, the clip collector and the
clip custodian everyone was all over this because, I mean, it's
turned into actually, we can go back in time. Remember when Ilan
was I think he had just purchased Twitter. And he was
talking before an audience of investors and what was the guy's
name Ron Baron. And, and he and Elon was talking about your what
he's going to do with these are all the guys that backed Elon to
buy Twitter. And this is obviously what is this? This is
from? This is from last year, isn't it? I mean, it's this is a
long time ago. And he was already complaining about the
anti Defamation League specifically, you can go and
take a look at their stop the hate campaign, which they
proudly put on Twitter everywhere, saying that, Oh,
here it is. ADL orders advertisers to bail on Twitter
calls the Bible and anti semitic conspiracy theory. I mean, this
was all going on. And yes, the ADL was going to advertisers
telling them not to, not to advertise. And then we even had
the douchebag from what was it? What's the big agency
Interpublic? No, what is it?
Unknown: Two of them? Yeah, I
Adam Curry: can't remember the name. What is the name of the
big one pub was that publicists? A publicist Anyway, listen to as
Elon is talking to his investor, and this is a year ago.
Unknown: So and then we also recently had a lot of difficulty
with activist groups pressuring major advertisers to stop
spending money on Twitter. This is despite us doing everything
possible to appease them. And to make it clear that moderation
rules and hateful conduct rules have not changed. And we're
continuing to enforce them. The n number of major advertisers
have stopped spending on Twitter. So this, but this is,
this doesn't seem right, because we've made no change in our
operations at all. And nonetheless, the activist groups
have been successful in causing a massive drop in Twitter
advertising revenue, and we've done our absolute best to
appease them and nothing is working. So this is a major
concern. And I think this is frankly, an attack on the First
Amendment. Like if activist groups can pressure advertisers
upon which Twitter is fundamentally dependent to
suppress free speech then that doesn't seem right.
Adam Curry: Oh, yes. Wonderful. So Elon doesn't give a crap
about advertising. This is well known he was even even claimed
to be cashflow positive recently, because he's he's got
his he's paying people money to post this has nothing to do with
advertising. You hired that Yeah. Karina woman, just to be a
gaslighter. Really even she's an unwitting idiot. In this case.
It's all eyes on Elon, don't look at thread. Don't look at
Facebook. Look at me all the actions over here. This is
great. Come on, you know. And the mainstream media lapped it
up.
John C Dvorak: My favorite thing that the mainstream media labs
up is x. Otherwise they're previously known as Twitter.
Adam Curry: I mean, could you have any better advertising? He
is playing the heel? You want to explain the classic heel move in
wrestling? I think you probably do better than I can.
John C Dvorak: Well, yeah, there's one guy who's always the
bad guy. I mean, I do throwing this at me out of the blue,
because I'm not sure what you're angling for. But there's a bad
guy in wrestling who's always just, uh, just a bad guy who
always ends up being the cheater. He's always like, Oh,
no, no, no, no, no, no, don't hit me. No, don't no, no, no,
no, no, no, no, that he gives it to the guy punched him right in
the face and then into the throat, slaps real crush, flips
them over. And then he starts to pin him, you know, and then he
gets kicked off
Adam Curry: well done. That's a pretty good explanation. So we
have to get everybody involved. We need all the pundits on this
one. Let's go to Jake Tapper, who has my favorite Kara Swisher
to explain what's going on here
Unknown: in our tech lead. Says he's threatening to sue the anti
Defamation League for lost revenue at x the website
formerly known as Twitter must claim without any evidence that
we've seen claims without any evidence that we've seen ADL
statements about rising hate speech on the platform are the
reason why there is has been a 60% decrease in advertising
advertising. The ADL and other organizations have noted the
increase in hate speech on page since Musk took over and removed
much of the content moderation I suppose I think in
Adam Curry: discovery it will come out that he didn't remove
much of the content moderation he's actually added more
John C Dvorak: I think so too. I can tell by the way my numbers
go Oh,
Adam Curry: I get no traction. I mean, I can post something it
may be hours later if the right person with the blue checkmark
does something maybe Oh no. And this now community notes now
he's done more and there's lots of people getting kicked off.
But this
John C Dvorak: goes back to Jay yet people are getting kicked
off left and right they're about it but this is
Adam Curry: you know he liked Kanye back Kanye hasn't tweeted
anything but you know Kanye is clearly was he was the the
genesis behind the stop the hate campaign which the ADL it's on
their own website they were telling advertisers do not
advertise on Twitter. Now, do I think that's a defamation? No,
no, there's never gonna be a lawsuit this is all promotion
and it's good when for
Unknown: the ADL responded to Musk's threat quote, the ADL
isn't surprised yet undeterred than anti Semites white
supremacists conspiracy theorists oh here we get other
trolls have launched a coordinated attack on
organization this type of thing is nothing new on
Adam Curry: if I was going to promote Twitter I'd want
everybody to know that all the nut jobs are over on my side you
don't want something sanitized even though it is come on over
all the
John C Dvorak: fake out is a faint the trolls are here
Unknown: he Elon Musk later said quote to be super clear, I'm pro
free speech but against anti semitism of any kind. Never
really good sign when you have to clarify to people that you're
against anti semitism, but it's just empirically
Adam Curry: I love Hey, he said he doesn't hate Jews. It's never
good when you have to say you don't hate Jews, okay.
John C Dvorak: Which makes no sense. No, of
Unknown: course heard his free speech position when you take
this, what he calls a purist free speech position, although
it's although it's not real. He blocks free speech. He doesn't
like yeah, damn right. But he allows anti semitism to
flourish. And we've all we've all seen it
right. Well, he's first amendment as a Swiss Hold on a
second. We both seen it.
John C Dvorak: What what evidence does he have he's seen
it
Adam Curry: and so as Kara right, they haven't.
John C Dvorak: Right, right. They haven't seen anything.
There's no It's bull crap. You know, if you want to go to the
real crazy stuff in the wild that antiSemitism and everything
in it, everything in between you go to Mastodon Mastodon is where
all the craziness really are through.
Unknown: Its although it's not real. He's he blocks free speech
he doesn't like but he allows anti semitism flourish.
flourish. And we've all we've all seen it right.
That is a Swiss army knife, whatever it suits him. Swiss
Army knife will either block people or cut people off or sue
people or say he's for free speech. It's sort of it's his
cloak that is everybody can see through it's transparent. And so
you know, I just
Adam Curry: loved your protege your protege Kara Swisher does a
thank you for getting her into podcasting. Thank you. Because I
love when she said I'm just gonna sound so much better than
everybody else. He has a Swiss army knife he has gone on to
unconsciously
Unknown: threatening to groups.
John C Dvorak: This is like scripted to me. This is like the
broader out. She's a spook.
Adam Curry: Want to be that best cloak that
John C Dvorak: well, she's still taking. This is like you could
predict everything going on. And
Adam Curry: no, she's not a spook she is focused. But you
John C Dvorak: can't predict everything that's going on in
this Yeah, can predict what tappers got to say. You can
predict what she's got to say. It's all hot air. Yeah, it's
great.
Unknown: Everybody can see through, it's transparent. And
so, you know, it's threatening to groups like ADL or a lot of
these academic groups. All of them and they're very nervous.
Oh, yeah.
Adam Curry: They're very nervous. The ADL is very that by
the way, the ADL anti Defamation League aren't they against all
defamation or only anti semitism because it's a little unclear
too
John C Dvorak: much anti semitism. If it comes down to
that guy Can I mention something else?
Adam Curry: Please
John C Dvorak: What is the deal with a number of people carry
included that just hate Musk to an extreme? What is he ever done
to them? Oh no they hate him so much. I mean it you can go on my
I follow some people on the other mastodons you know those
especially Masson on social and this hatred. It's just like Musk
is literally hated. For what because
Adam Curry: it's advertising based media. This what you're
hearing now with Kara and Jake, and it's wrestling. It's
theater. It's not real. He's the heel. He's in on the game.
John C Dvorak: I I'm not arguing that point of it. But I read
from guys that I know are sincere. They sincerely hate
musk and I think Kara is one of them. Oh, show your hatred
despises
Adam Curry: him. Yes. Because he doesn't talk to her anymore. He
doesn't do interviews over the holiday weekend. She ran an old
interview me or Elon, don't talk to me anymore. So I'm gonna run
the old interviews. You can see what the old Elon You're right.
Oh, yeah, she's pathetic, your protege?
John C Dvorak: A lot of these academic groups, by the way, she
doesn't even remember my name.
Unknown: I've talked to all of them and they're very nervous to
talk because or do reports it's it has a chilling effect on
these because they're going to be subject to a lawsuit by the
world's richest man who the reason advertising is down is
because it's a worst platform. That's it. And so, you know, his
tactic is and I hate to say it is playing the TOS. That's what
he's doing right here. And so that's why everybody's tweets
are very carefully calibrated to sort of dog whistle to a lot of
people and at the same time, go but I'm not an anti dog
John C Dvorak: whistle.
Adam Curry: I would be okay if it was just CNN and Kara Swisher
but everybody was all over this. And so MSNBC part of the NBC
family of stations. Joe Scarborough Morning Joe brings
in Andrew Ross Sorkin because of course, we've got to fight do
with Jude Law. This is a witch on
Unknown: I remember beforehand on the show, asking Kara Swisher
Why would he do this? This makes absolutely no sense notice
Adam Curry: Kara Swisher also talked to MSNBC. Why is Kara
Swisher the one that is that is the expert on all of this. Why
don't they call you the person who taught her on tech, all
things tech? I mean, this is this is interesting and
Unknown: business wise. This is a nightmare. He shouldn't do
this. Why aren't people stopping him from doing this? Why are his
lawyers stopping him from doing this? This is going to be a
nightmare. Even I couldn't imagine that it would be this
bad of a nightmare, Andrew. So is there anybody in his orbit
that can talk about an exit strategy. So one of the most
brilliant creators of our time can get back.
Adam Curry: This is this is the interesting part. That it always
goes like this. I love Tesla. I hate Elon. I like he's a genius,
one of the greatest minds of our time, which he's not he didn't
invent Tesla. He didn't invent rockets. He bought Tesla it was
Mike Morris and rule of both are the geniuses if you ask me, but
you always genius. He drills holes in the ground. But why
does he hate the Jews? Come on people this theater to creating
Unknown: things and and changing lives instead of being down in
some social media mud pit. I think that's frankly, what Lindy
Ocarina is trying to do. That's what she's been brought on to
do. But I think that at the same time, there's this great
conundrum that Elon Musk has created himself, which is he
wants this to be this, you know, full on laissez faire free
speech platform and at the same time, he needs money. He needs
revenue from advertisers and irrespective of what you think
you're seeing on this platform. Advertisers are voting with
their feet. They're voting with their their pocketbook. They're
looking at what they're seeing on Twitter and they're deciding
that they think it's not a brand safe place to be
Adam Curry: Sorkin is is he's buying into it. The he's he's
from CNBC, Sorkin thinks that Elon Musk New York Times hack
the wall. Yeah, that too. But he's out every morning. He's on
CNBC. Yeah, that's what he does. And so he brings on the
director, the executive director, the CEO of the anti
Defamation League. This is Jonathan Greenblatt. I mean,
this is this has been blown out and Twitter X, the company
formula was Twitter. It's not public company anymore. Who
cares? Why do you care? What is the big deal? He's not going to
be doing using it not driving an advertising based business. He
wants to be your bank. He's He's, he's you can buy sponsored
tweets. This has nothing to do with advertising anymore, which
is down and very much dead online right now.
Unknown: I thought you had a decent relationship with Elon
Musk. We've had a number of conversations over the last
several months where you've come on and been supportive. So what
what happened here?
Well, so let's get back. Right. So I had a meeting last week
with Lindy ocarina, the new CEO of Twitter, right right at home
request, right. productive conversation. I tweeted
afterwards about that fact that we had a frank and productive
conversation, as I've had with Elon Elon Musk in the past and
then that triggered a number of white supremacists to organize
this hashtag campaign banned the ADL.
Adam Curry: Okay, so the big offense here is white
supremacists. And I think if you put I'm a white supremacist in
your profile, then you can be identified. They put a hashtag
ban, the ADL, and this set this whole thing in motion. This is
why this guy is so bent out of shape.
Unknown: And you got to understand and we're used to
this at the ADL, we regularly get attacked by the right and
the left. But this campaign went viral, very thorough with white
supremacists, you know, hardened anti Semites, hardened anti
Semite writing it across the surface in funding topic. Over
the course of the weekend.
Adam Curry: It was a trending topic. What is this John, what
is going on? Why are these people so? Oh, he was a trending
topic, Ben, the ADL where they themselves started the hashtag
stop the hate is because they don't they don't control it.
They don't control it. And it's the only one that matters.
According to Joe Scarborough.
Unknown: I want to throw this open to everybody. I guess.
something fascinating has happened. I think like a lot of
people like jumped over to threads. I've actually jumped
over to threads,
Adam Curry: threads he jumped over to uses thread.
Unknown: And everybody on this show will tell you and I'm sure
you feel the same way Twitter was always extraordinary for its
newsfeed even when oh yes phrase extraordinary easy on there. I
would still get my news feed from there and learn in five
minutes what I what I needed to know for at least that day, it
was pretty crazy. The threads thread I'll be honest, I'm I'm
jumping back and forth but I don't see the same vitality on
threads. I can't get the nose. Still even from the left, not
the engagement on threads. You gotta go to blue sky that there
still is on the X so nice.
Adam Curry: Oh, he said on the X we didn't even say formerly
known as he just said on the X. He's branding
Unknown: I'm not on either one of them a whole lot but I'm
curious so we had this you our threads explosion at the
beginning. It seemed to have died down and I can just say as
a user. There's no forget maybe Donnie or somebody talked about
squeezing the juice from something there just doesn't
seem to be juice on threads right now.
Right I don't I don't disagree with you. I
have the same experience.
Adam Curry: There's no juice on threads right now. This is this
is so looser juice. Exactly. This is what I like so much. He
used the juice word there's a lot of juice hate. No man. It
just cracks me up and people are the the mainstream has nothing
better to do. Clip after clip after clip. ball will go Oh, and
they all when Elon Musk bought Twitter. They all were we're
going to Mastodon and they went to Mastodon and found out they
couldn't rule the roost because there's no retweets on Mastodon
there's no good and then they all went we're going to blue sky
and blue sky if you used to have you been
John C Dvorak: you can reach tweet on Mastodon but you can't
read a tweet with a comment
Adam Curry: yes correct you can boost that's right you can't you
can't read tweet with a quote your quote post whatever quote
tweet, quote retweet whatever,
John C Dvorak: which was, which by the way was rather new on
Twitter itself initially never had that feature. And he always
had the effect didn't have retweets at all. You had to do
our T caps are T and then you cut and paste and do it
yourself.
Adam Curry: Yeah, yeah, our T That's right. Our T that's how
it started. It's just it's it's I find it hilarious that this is
a thing. Oh, we have to talk about this. is hate speech hate
speech? Well, this is promoting Twitter. The x as far as I'm
concerned. Everybody wants to go where there's strife. That's the
holy you
John C Dvorak: want to go where there's action? Yeah, actually,
thank
Adam Curry: you action. We want to action we want to action. But
meanwhile, you can't really get a story about what's happening
in New York, which is not unique to New York. And we talk to
family members in Chicago and they're very angry at Austin,
Texas. Very angry.
John C Dvorak: Text. What did you horrible Texans do employees
shipped up yet you're being invaded with?
Adam Curry: We've got you've got migrants sleeping in airports
sleeping in police stations. Oh, now it's in Chicago, the whole
12 district. The whole the vestibule is completely filled
with people who are sleeping there. And then Mayor Adams of
New York, the mayor said that sanctuary city sanctuary city,
the governor said it to the mayor the mayor said it and Now
it's a problem. Never in
Unknown: my life. Have I had a problem that I did not see in
India to see a hint into this. I don't see Indian tourists. This
issue will destroy New York City. Destroy New York City.
We're getting 10,000 migrants among
John C Dvorak: mine. One time, we will just hold on a second.
Just stop. Compare that to Texas. 10,000, Texas and Texas,
by the way, I would say is handling it rather well compared
to these whiners. In the sanctuary cities. They get
10,000 a month, which is nothing. And it's going to ruin
the city.
Adam Curry: Oh, yeah. Oh, it's they're dead already. Listen.
Unknown: One time we were just in Venezuela. Now we can
Ecuador. Now we can, roughly speaking coming through Mexico.
Now we didn't a Western Africa. Now we're getting people from
all over the globe that made their minds up that they're
going to come through the southern part of the border and
come into New York City. And everyone is saying is New York
City's problem. Every community in this city is going to be
impacted, we had a $12 billion deficit that we're going to have
to cut, every service in this city is going to be impacted all
of us. So I say to you, as I turn it over to you. This is
some some of the most educated some of the most knowledgeable,
probably more of my commissioners and Deputy
Commissioners and chiefs live in this community. So as you asked
me a question about migrants tell me what role to play. How
many of you organize to stop what they're doing to us?
Adam Curry: Ah, notice what he says to stop what they're doing
to us. The House Divided will not stand if you're going to pit
New York against Texas and Chicago against Texas, that that
right? There is the most unpatriotic thing I've ever
heard anyone say in politics. He is pitting state against state.
John C Dvorak: Yeah, well, that's what you do. Now a couple
of things. Here's a couple of ways to stop. And first of all,
if you recall, when they sent the first buses up there, they
were welcoming them welcoming, welcoming them with open arms
and a clipboard. And here's here's your 10 bucks. Here's
some money
Adam Curry: in 10. Here's your cell phone. He's just 20
John C Dvorak: Here you go. Here's this and they were
welcoming you to New York. So there was that one, the second
thing is just dropped the sanctuary city bull crap. Yeah.
Just say because Texas, according to Abbott is only
sending these states, these these migrants to sanctuary
cities who are are so arrogant about being sanctuary cities.
Just say we're not a sanctuary city anymore. We were
cooperating with ice and all the rest of it, that goes, goes
away. They won't do that. So whose fault is this? They
welcome them with open arms. They claim to be sanctuary
cities and they keep the claim they don't put that in abeyance,
which they could easily do. And then they moan and groan
Adam Curry: but I think this is the intent here is the same
that's going on in most of the West. Is to ruin the West. Ruin
America ruin Europe. We're doing great job and you're we're
helping out in Europe is great.
John C Dvorak: You mean the west by by? When you say the West?
You mean Western civilization? Yes.
Adam Curry: That's what I mean. Western civilization. Yes. Yeah,
you start with the cities ruin the cities. Yeah, that's
John C Dvorak: what Marxists have to do to get a handle on
these things. Yeah. And it's a Marxist thing. Marxism at work?
Yes. And they're doing a much better job than anybody else.
And we have open we have people like the squad, we have people
in Congress, the Democrats socialists that are open
Marxist, they did this is like, I'm a communist. There are
people, students in colleges around this country that will
openly say I'm a communist. This is not good.
Adam Curry: No. And now let's just look at Europe, where the
choleric gi plan is, in effect, Germany, and we had a big hand
in this. Oh, I'm sorry. It was someone on a sailboat who blew
up the Nord Stream. So Germany, companies like BASF SAP, they're
leaving Germany. They have to enter she drives they can't
afford they can't afford. There's bankruptcies. There's
huge inflation. There's mass layoffs, high unemployment.
There's hundreds of protests was hundreds of 1000s of people. You
are not seeing you're not seeing this on your mainstream France
is being systematically ruined. And it's you know, and McCrone
is just like no, it's all fine don't worry about it. You know,
uranium prices are going through the roof for their energy, the
all these countries that they were in charge of and print
their money for all revolting and writing it. Where's the
Netherlands? The farmers no farmers love getting rid of the
farmers, the UK all their infrastructure money and believe
me having lived in the UK, the infrastructure money is
important thought being sent to Ukraine. Immigration is
replacing indigenous families. By everything, the only the rich
people are the bankers, the green bullcrap or the bankers.
Yeah, the drug addiction, trans Maoism. What we did to Africa
we're now doing to the west. Well, we whoever we is, I'm just
gonna say it's, oh, I can't say it's like the Rockefellers or
the Rothschilds or anything like that, because the ADL but it's
you should
John C Dvorak: you should read this just to show how crazy
things are. And this is not quite on. Perfect topic. But I
think is her letter worth reading is the guy they are
younger a member who went to auditions. Yes.
Adam Curry: Oh, hold on a second. Let
Unknown: me pull that up. This is a good note to read.
Adam Curry: It's funny you say that because I I didn't actually
put it in my notes to read because I was like, you know,
and I wished him well and everything I thought you know,
maybe that was a goodness, you don't happen to have that on
hand. Pretty quick. It was it was a great note. Goodness, I
did not put that into my show notes. Then when he went to an
Alcoholics Anonymous meeting, it's like a big powwow. It
John C Dvorak: was a big and 4000 minute you know powwow
which is kind of odd, but they had a big super meet up of a
member of yelling yelling most of the I think a members that
were had. I didn't it was like, I guess steering committees or
somebody that they met in San Francisco. And actually sent him
a note couple notes back including this last one. I can
just look that up.
Unknown: Here it is.
Adam Curry: I have it here. I'm reaching out to get boots on the
ground report from Alcoholics Anonymous. First off, I'm a
young person in AAA I just started going February this
year. I'm involved with the young persons committee in my
area. The last weekend September 1 through the third I attended
an international young people's of AAA convention in San
Francisco at the Marriott Marquis. There are about 4000
people from mostly around the US but some from around the world.
There were many AAA related events, but there were two major
speaker events where nearly everyone gathered in an
auditorium to listen to them speak. The first speaker was a
black trans woman. And the second speaker was a super
flaming white gay man. As you can imagine, there was some woke
woke propaganda injected in their shares. Surprisingly, the
white gay man pushed the idea of privilege and not feeling like
he even belonged in the AAA rooms because of his sexuality
compared to the trans woman. It just irritates me that not even
in the AAA can we get away from the woke messaging? I just want
to learn to live in recovery and not drink not to be told to look
at the world through race and privilege. Ay ay ay is the one
place that I felt doesn't care about your age, race, gender,
sexuality, politics, etc. Because we're all bonded
together by the incomprehensible demoralisation we felt when we
hit rock bottom, just want to share it the woke mind virus is
truly spreading in every crevice of society. Thank you for all
your work.
John C Dvorak: Marxism and I, my last comment to him was that
this was a episode of corrupted an example of corrupted
leadership. Someone hired someone hired a woke a hole and
here you go, that's, you know, this is one of the little themes
that I've had on this show, which is that don't hire these
people. They're a plague. They're a cancer, you get them
in your organization. And the next thing you know you've got
something like this happening.
Adam Curry: Which brings me to a clip which I was not going to
play. I think I have to, this is one of those people you're
talking about. This looks like a woman. She has orange hair. She
has a woman figure I can tell and she's in her car now her
eyebrows are shaved with no gaps in them because I think that's
cool. Obviously. She's got you know, blown out ear holes and
everything and some piercings. It doesn't really I don't gauged
Yeah, it's like okay, and upcard undercard fade card was all
fine, you know as long as you're good worker but this is the
message she said
Unknown: she thinks I'm non binary go at them. Okay,
Adam Curry: non binary is not a thing, lady, I'm just sorry, I'm
not gonna stand for it anymore. But you're I'm poor. I said,
lady,
Unknown: she thinks I'm non binary, I go at them. And I work
in a store that is pretty much all women. So whenever they're
like addressing us, or when they're talking, they're always
like, Hey, ladies. So I've taken it upon myself as someone that
is non binary, to use this to not listen. And whenever anyone
addresses a group as ladies, I am not included. So when they
say, Hey, ladies, let's like stop talking, or Hey, ladies,
let's like get to work. I will do none of it. Because you're
not talking to me. You're not talking to me. You're not
talking to me. So I will not listen to anything that I said.
When it is started with Hey, ladies. I'm a lady, not a lady.
They
Adam Curry: have AD. There you go. Your
John C Dvorak: ad I this is a new one. They do. They do. They
Adam Curry: do ad
Unknown: now it's time for our trouble smiles.
Adam Curry: destruct initiated because they do that they ad. By
the way, on the trans mouse agenda, which took down Anheuser
Busch, we've been looking for the turnaround for the stock
signal, if you will, this is what you said, you know, this is
what you do. Like you got to hammer this you got you got to
short it on the way down. You got to head up. And there's
various and Yeah, well, Bill Gates apparently just bought 1.7
million shares of Anheuser Busch InBev.
John C Dvorak: He's one of those guys. He doesn't do these
investments. He has a team of people. Oh, yeah. That are his
investment team. That means a lot of it. There's not one or
two guys. It's not it's like,
Adam Curry: but that means that the CEO probably is about to go.
I mean, there's got to be something coming up.
John C Dvorak: That's got to be one of them. The one I've been
following, we're using the same idea is target. Yeah, target.
Same idea. Yeah. Which was the CEO gets fired. That's it.
That's it long term. Investment seems to me, and it's not an
investment advice. I don't give investment advice.
Unknown: It's not investment advice at all. We're just
telling you the obvious.
Adam Curry: So on the destruction of Europe, which is
really the catalyst is Ukraine. We're doing a great job of that
great job even uh, you know, I think it was it was, what's your
face? Nancy, Nancy Pelosi was talking to BBC is Hard Talk. And
she explained quite beautifully, what, what is going on with us
and while she says Europe, but we understand what's happening,
but the US doesn't need China when it comes to climate change
is the US showing leadership because the reality is while Joe
Biden is spending 10s and 10s of billions of dollars on the
energy transition on renewables on infrastructure to create some
sort of green economy, oil output is at record levels,
record levels of exports of liquefied natural gas, the
United States essentially is giving the world a message of we
want to have our cake and eat it too. We want to talk green, but
we want to deliver fossil fuel
Unknown: revenue, the spirit of your title of Hard Talk, you're
completely
wrong.
Completely wrong.
You're not making any differentiation. You're just
paying the liquefied natural gas issue is an issue to supply
countries that need it because they don't have to be dependent
on Russia. I myself have had my back and forth with the Chinese
government.
Adam Curry: Alright, so you don't need to hear any more of
that. So that is truly what we did. We blew up the pipeline.
I'm saying we America Americans blew up the pipeline not some
guys from Ukraine on a sailboat. We blew up the pipelines Thank
you, Seymour Hersh for setting it out straight. Why is he so
alive? And and then we built overnight, we built a liquid
petroleum gas terminals. We do have floating terminals in
Europe. Don't worry, we're gonna save you all take, oh, it's a
little expensive, but don't worry about it. And then all of
a sudden, all of a sudden. We have this happening.
Unknown: Turning out of the war in Ukraine, Russia unleashed one
of its worst attacks on civilians in months today, a
missile strike in eastern Ukraine, killing at least 17
people and wounding dozens. The attack unfolding as Secretary of
State Antony Blinken returned to the warzone with a new aid
package for America's biggest ally. CBS is empty as Taya
reports from Keith
Adam Curry: I love how just as Blinken does a covert mission
there he sneaks in. We've got pictures of him going through
papers and what looks like a train car or something. Maybe
that's in that special underground bunker and he's got
his you know, he's got his civilian like his is his hood.
He and he's all zipped up and he's doing important work and
his pictures of him all stylized and then we have some missile
that comes in kills 17 people in a child and all was right on
time. Good to have you there blink.
Unknown: The moment to Russian missiles slammed into a busy
outdoor muzzle nice bringing fire engine effects through the
streets of Constantine Meyer death. The carnage in the
eastern Donetsk region is one of the deadliest Russian assaults
in must and came shortly after missiles targeting Keith were
shocked down by Ukrainian air defenses. As Secretary of State
Antony Blinken was traveling to the Capitol by train on an
unannounced two day trip.
Adam Curry: There you go. He was on a train spur since
Unknown: the start of Ukraine's counter offensive nearly three
months ago,
Adam Curry: but it does not make any sense to you. That's how
you're going to send the secretary of state into Ukraine
by train. Don't you think it'd be a military aircraft that
would come in you know that have F sixteens accompanying and do
all kinds of stuff, but he know they put them on a train. And
where did the train come from?
John C Dvorak: Does it work? Okay, let's there's a trend is
probably from Poland does where the train comes from? Okay, why
don't the if this is so what it is? Why don't the Russians just
blow up that train track? The one missiles just take out a
mile?
Adam Curry: I'm not even sure that missile was from Russia. No
one in Russia said Yeah, we did that. Usually,
John C Dvorak: I'm not sure if anything after you actually one
of the things that you said when when the Russians hit that hotel
or whatever it was out of the blue. And it turned out that
there was a drone conference going on. There was a trade show
for drone manufacturers this place and not one mainstream
media operation reported on it. You got it from some European
source. And ever since then, it's like this is bullcrap. We
don't know anything going on. All we know is that Blinken went
over there promised another billion after the idiot, which I
mentioned in the news. I think it was in the newsletter that
Zelinsky sent some drones into pole in and into Russia and
blamed the Russians by come on NATO read they need to be nuked.
Yep, suggest that nuke nuclear bombs. Yeah, this is a smart guy
from NATO because of these attacks on Poland and Romania
that he did. Yeah. fact that that's going on in that blink
and goes over okay, well, let's don't do that again, because
it's embarrassing us.
Adam Curry: There's something else going on here. Blinken is
not just there for let's finish this report. And then we'll get
into offensive
Unknown: nearly three months ago by a blanket arrived with a
promise of a further billion dollars in military aid. That
includes controversial depleted uranium munitions,
and the ongoing counter offense. Progress has accelerated in the
past few weeks. This new assistance will help sustain it
and build further momentum.
Adam Curry: Okay, now before we go on, so and he's made this
statement has been all over the news. They've made progress,
significant progress in the counter offensive, please go to
counter map.no agenda notes.com to see the significant progress
they have made. John do you ever browser is it.com? No. Yes, it's
counter map.no agenda notes.com. Then you'll see the you'll see
the region the you'll see the region this is red. That is the
entire legend. It did it. Um, do you see the little blue? by Adam
curry. Do you see the little blue? Do you see the little blue
things? Yeah, that's the progress. Significant progress
by the counter offensive? No, there's no progress. That's
nothing we did
Unknown: uranium munitions. In the ongoing counter offense.
Progress has accelerated
accelerated past few weeks. This new assistance will help sustain
and build further momentum.
In recent days, Ukrainian forces have pushed further south in
this upper region region. But progress is painfully slow
thanks to Russian airstrikes and minefields as president Solinsky
also navigates political minefields. This week he removed
defense minister Alexei Resnikoff for failing to tackle
corruption replaced him with Rustom O'Meara, who has a
reputation as an anti corruption campaigner who's now responsible
for overseeing billions of dollars in military funds. Now
as the war grinds on and Ukraine continues to seek outside
support, President Solinsky wants his Western backers to
know he's willing to take a hard line on corruption, while also
continuing to fight off Russia. And it's deadly Attack. So
that's
Adam Curry: that's just a tagline in the story, a tagline
about the corruption and I have a boots on the ground report
which is going to
John C Dvorak: go before you play that. I want to ask you
something because there's, I think pieces have to be changed.
Why? And it was just mentioned in passing, but we don't. But
the idea of using depleted uranium, which poisons the the
gunners it poisons everybody, but it's all being blowed up.
And powder pulverized used as as ammunition in Ukraine is not you
know, this is not good for the country, because because this
okay, they were trained to just kill off the Ukrainians is
because their tests
Adam Curry: No, no, that whole red region you see on that map
is filled with cluster bombs mines, but you might as well
throw some depleted uranium in there because that will be the
demilitarized zone, it will be uninhabitable. I think that's
the idea. And if we kill a few Ukrainians or Russians, and
nobody seems to care, because this is this is about these
people personally. Blinken Biden, this goes much deeper
before a Blinken showed up in his train car to bring with a
billion dollars. This was the headline, and surprisingly from
France 24 Maybe unsurprisingly, since France and France
understands they're under attack now is what they're like, Oh,
well, the Americans are screwing us over here. This was the
headline
Unknown: Alexei Resnikoff has been Ukraine's defense minister
since before the war broke out. The military jacket scandal was
the ultimate corruption case his ministry has had to face like in
previous scandals products, this time jackets were ordered for an
initial price. But in the end, Ukraine paid several times more
to come on top of this. It appears the jackets are
completely useless. The order was for winter jackets, but the
ones delivered from Turkey or summer wants to minister denied
the allegations.
We'll discuss in the flood norm was the opposite Cardinal has
one investigative journalist said in one of his posts, the
ministry bought summer jackets three times cheaper. And then
through a Harry Potter Magic Stick operation. They turned
into winter jackets. This is not true.
Certainly problem. This is just the latest in several scandals
which isn't new for Ukraine. The country ranks 116 out of 180 on
the international Corruption Perceptions Index. Before the
jackets Ukrainian authorities say there was food also
purchased for soldiers at a price that is several times the
market price. There is also widespread corruption linked to
military recruitments. The people shown here are not
involved. 1000s of young Ukrainians have tried to either
avoid or flee the battlefield. Ukrainian investigators say
various officials have accepted bribes to help them escape or
get medical exemptions
are already 112 criminal proceedings against officials of
the recruitment centers 33 suspects
the most striking case may be the one involving the
recruitment official in Odessa, who use some of the money he
reportedly embezzled to buy this villa in Spain.
Adam Curry: To everybody in Europe who lives in Europe in
Poland in Vienna. They've seen the rich Ukrainians that they
drove their Rolls Royces, their Ferraris, everybody left the
country, they're all hanging out having a good time. There's
money flowing everywhere. There's huge real estate being
purchased. This was always the most corrupt country in the
entire region. Everybody, I grew up in Europe, everyone knew it.
This is not like a surprise. We have a lawyer friend here in
Texas, who sent me the following boots on the ground. This comes
from a good friend of his who has relevant knowledge in the
field and significant exposure to some of the players. He's a
well known investment banker who's dealt with the biggest
business interests in Ukraine. This experience has yielded
credible insights and most that most people don't have. At the
risk of sounding paranoid. He's asked me to withhold his name.
Well, I'm gonna take it as as credible. I want to respect his
anonymity and simply relay his insights for your consideration.
No one is looking for credit or notoriety here. He's simply
offering your perspective that the press will never adopt
because it divergence from the narrative that Ukraine is above
reproach. It also highlights American involvement in an
unflattering way. Until about a decade ago, post Soviet
Ukrainian oligarchs think Igor Kolomoisky Kolomoisky the guy
who owns all the media, the guy who set up Zelinsky as the
president in the in the TV series, how the actor became the
president and Victor Pinchuk, these are all the guys behind
Burisma. These these are the oligarchs of Ukraine. They
controlled Ukrainian natural resources such as manganese
Ferro alloys key ingredient in steel production. Political
events wrench these resources from the oligarchs grasp, and
these kingpins now want their assets back. Fortunately for
them, they had forged close relationships with American
business interests and politicians, among them Hunter
Biden who of course needs no introduction. These cozy affairs
are less than ethically pure. My friend's view admittedly, his
opinion but highly informed is that these Ukrainian strong men
lobby their American business and political associates to
bring NATO to Russia's doorstep to facilitate the oligarchy
eventual recovery of their former interests without Russian
meddling, but Russia did not comply. My friend makes a
further suggestion that the Biden administration's inability
to deter Russians has vexed Kolomoisky who has now upped the
ante by divulging unsavory information about American
players such as the Biden's thereby firing a shot across the
bow of American politicians and prompting the State Department
to denounce and discredit Kolomoisky. Fast forward to
Kolomoisky has reported arrest last week, along with American
attempts to extradite him to the USA for prosecution. As time
passes, my friend's informed perspective seems increasingly
credible. He's being protected. Blinken is there to protect his
own as Blinken has a consulting company, blink, all these people
are complicit. Every single one of them. And now Now the big
boys are playing hardball. And this is why more money needs to
go Oh, send Anthony over this sense more mind. Don't worry.
We'll take care of it. They think things are unraveling.
unraveling. And if you look at Blinken space keys not they're
out of Oh, good job. Everybody thinks those little red dots,
little blue dots on the red map. He's there because he's afraid
they're afraid now that I take this to be a good piece of boots
on the ground.
John C Dvorak: I like it. And the funny thing is it has that
element of they want to extradite that guy than the TV
guy up to the United States. under what circumstance? Do we
have the We the umbrella?
Adam Curry: We don't
John C Dvorak: what laws of ours did he break?
Adam Curry: Well, Ukraine is our ally, of course, our ally,
John C Dvorak: which doesn't mean that we can arrest our
solution.
Adam Curry: I agree. I agree. This is so much theater. This is
about rich people here destroying Europe about you know
stealing stuff. This all I mean, the stealing stuff is the key
stealing stuff. I mean, look at who has some of that land. Now,
Cargill, you know, we stole it from those guys. They're like,
hey, hey, hey, we want this back. Now, you only have to
think about Biden with this billion dollars to you, you're
not going to get a billion dollars it unless you fire the
prosecutor you could also read as here's a billion dollars by
the prosecutor. Just it's just a matter of positioning. And
they've got the dumbest peep that also dumb
John C Dvorak: because it'll blink and just look stupid.
Yeah.
Adam Curry: But all this has been going on for so long.
Particularly with the complicit nature of the media, which and I
see you brought the clips. I'm kind of glad you did. Because I
was like, I couldn't even bring myself to watch the whole thing.
But but somehow somehow Tucker Carlson has taken it upon
himself to shatter nope to show the world a I don't know, I
don't think this is about Obama necessarily. It's more like,
look how how this is, if Tucker's clean which I think we
have to question
John C Dvorak: that well, can I throw another little wrench into
the Sure, sure. Do. We know that Tucker's still not working for
Fox? We
Adam Curry: don't we've heard nothing about the lawsuit. We
there's no
John C Dvorak: nothing about the Joni million that he gets from
Fox anything. Is it possible that they Tucker wanted to do
these get do some stuff that Fox has now you can't really do it
on our network? Let's do this.
Adam Curry: Totally, totally possible. And by the way, and
his
John C Dvorak: current set that he's using looks very Fox like
Adam Curry: that's a good point.
John C Dvorak: Well, it does. What
Adam Curry: got me is I could have sworn I could have really
could have sworn that Larry Sinclair had died. I'm so sure
that he had passed away. I don't understand how I mean, I really
thought he had died. And I, and I want you to play these clips
because there's stuff to be discussed here. I think it's
more a message about mainstream media than it is about Obama,
but maybe I'm wrong. But I just want to bring some receipts here
for a moment. No agenda Show Episode 250, August 2 2010 13
years ago. Let's go back into them. Everybody. Come on with
me. Speaking of which, the Obama gayness meme has been reignited.
John C Dvorak: Yeah, that's a good one. Seriously, and what
did they owe to Obama's? Is it the one that we see with the
gray hair or the one without the gray hair?
Adam Curry: But it's, it's it's really weird. Remember? That was
like couple years ago? Yeah, there was some guy that Larry
Larry Sinclair,
John C Dvorak: but now okay. He's a maniac.
Adam Curry: Now. Here it is. It's very and this is very
interesting from the Washington insider. President Obama and his
Chief of Staff Rahm Emanuel are lifetime members of the same gay
bathhouse and uptown Chicago. According to informed sources in
Chicago's gay community. The bathhouse man's country, caters
to old white men and has been in business for some 30 years known
as one of Uptown Chicago's grand old bathhouses. And this article
just got I mean, there's a lot of people copying this. And
they're relating this back to the blog blog blog boy of itch
trial. That apparently
John C Dvorak: this is maybe one of those things. Boy, this is
holding on to.
Adam Curry: Exactly. Yeah, apparently, in these tapes that
I guess we're not going to get to hear. The whole thing is that
Obama was actually trying to get his Senate seat for one of his
gay lovers. It just the plot thickens. It just gets better
and better. And then there's no there's a lot of stuff about ROM
that he always he only travels with a male companion and they
go on vacation together kind of like an Oprah Gail type thing.
We're going to so we unveiled that there's a lot more behind
the Obama gay meme. There's blood Goya that you got locked
up, there's the whole way that President Obama came into his
Senate seat, which was also done by a sex scandal involving the
lady from Deep Space Nine. And you know, then you bring in Rahm
Emanuel. Then you bring in all these jokes from Chicago. So
this, this may be much deeper, it may be just, you know,
salaciousness on Tucker's part, I'd love to hear what you think
about it with your QL.
John C Dvorak: You know, the funny thing is Tucker didn't
bring up all those elements could have been brought up into
this conversation. None of it was
Adam Curry: Jerry Ryan was her name. That's right. None of that
was brought up.
John C Dvorak: Wasn't No, it wasn't. Right. It was yeah, it
Adam Curry: was Jerry Ryan. She's the one her husband she
claimed that he had abused her if I'm just shooting from the
John C Dvorak: years Jerry Ryan Jerry, right? It was the Seven
of Nine. That's,
Adam Curry: that's the one Seven of Nine. That's the one. It was.
It's I don't know anything about it was deep state deep, deep
space, Voyager nine, whatever. I eat
John C Dvorak: space, Voyager nine,
Adam Curry: whatever. Yes. It was Jerry Ryan. Seven of 9999.
Exactly. Cuz she was married to anyway in the Yes. This. This
was the she was a part of that. Okay, well,
John C Dvorak: I don't I don't remember the details of that.
But there was a lot of intrigue. That's for sure. And there's
Adam Curry: a swingers club, remember? And he was she was the
guy who forced me into sex.
John C Dvorak: All right. She didn't want to do any of that
stuff. Yeah. Which is crazy.
Adam Curry: I mean, come on. party party.
John C Dvorak: Yeah, she, she wants to be gang raped basic.
No. So I have four clips. And I have thoughts about how she
wound five thoughts about some of the commentary. There's a few
things Tucker didn't do. There was targeted it was this was
targeting Obama to kind of an extreme. The guy, the
credibility of this person is questionable in a couple of
instances, because it doesn't really make sense what he says
in some situation that we'll have they have clips of that. So
let's start with clip one.
Unknown: asked me if it was something that you were not
interested in. And you're right. I've had guys that I've read
wrong. That would literally
John C Dvorak: stop I have to set this one up. I can't just
he's talking about getting
Adam Curry: I'm sorry. Can I just interrupt you for one
second? Because I just went into my archive.
John C Dvorak: Another archive clip No, no,
Adam Curry: no just archive of stories. 20 16 ex Obama lover
Larry Sinclair mowed down by hit and run. I tell you this guy was
dead as he did. Yes. He was supposed to say he's dead.
Obama's alleged gay lover dead. I don't understand where he came
from. How did they go?
John C Dvorak: Okay, well, I should have brought that up to
Yeah,
Adam Curry: I mean, it's all over the search. Okay, I'm
sorry. It is what it
John C Dvorak: says Larry Sinclair, because the gay lover
that did die was the pastor's
Adam Curry: choir guy. Yes. Who was shot in the church?
John C Dvorak: Yeah, that guy. Yeah, that guy. And they talked
about that a little bit. I didn't, I didn't include any of
it. They're here. They're talking about his first meeting
with Obama in the back of the limousine and how he did
whatever he did to kind of make a pass at him. And then Obama
was all for it and had the crack pipe. And they had, there was a
couple of problems. One, it was like, Larry Sinclair's, I don't
know if people out there some experts should tell me this. I
don't know if it's true. I thought crack was crack. And it
was smoked, and not snorted. But the way they he talks about he
snorted the crack and Obama smoked it. So I thought that was
regular cocaine. That was snort
Adam Curry: it was medicinal crack, John.
John C Dvorak: Well, medicinal. Okay, so let's but anyway, so
he's in the limo. And he's talking about how it's obvious
that Obama was used to this kind of behavior. And
Unknown: if it was something that you were not interested in,
and you're right, I've had guys that I've read wrong, that would
literally try to break your hand for her if you went in that
route. So it's not like this was something that he wasn't into.
It's not something that he was shocked by. Shocked by you don't
get excited, and you don't unbutton your pants and you
don't just sit there and let it happen. Yeah, so it wasn't it
definitely wasn't Brock's first time. That much I'm absolutely
certain of.
And I would almost be one the budget wasn't as lost. So, so
you performed oral sex on I did? You did.
In the drivers up front. Yep. And he's cool with this. The
driver
has the partition up hidden them from my he didn't put it down
for any reason. I mean, he kind of set up the whole thing for
this in the first week. Exactly. And I have a funny feeling he
had no bones to pick with it as far as what took place. Yeah.
Um, so what happened after afterwards, I actually went back
to my hotel, I had specifically asked that he dropped Barak off
first. But for some reason, he and Barak chose that they would
drop me off at the hotel first, and then he would take for up.
So Barack actually made the drive out to Gurney, which is a
suburb, outside of Chicago. To the hotel for me to be dropped
off what hotel was, it was the comfort in Germany. Oh, it
sounds depressing. And well,
Adam Curry: why? You know, I'm so surprised that there has to
be a reason behind this other than, Oh, wow, you know, the
drugs and sex gay sex. Why would you have
John C Dvorak: a Will you may figure it out by the time we're
done. But I had to stop the clip there. Because I thought that
the basic arrogance of Tucker, to say that the comfort in which
is not a bad shame, to say, Oh, that's horrible. Pressing. Yeah.
Oh, I went to the computer. Oh, that sounds so depressed. He's
having he's eight anything that wasn't like, you know, the four
seasons, you
Adam Curry: setting the stage somehow?
John C Dvorak: And that's just Tucker. I think Tucker was just
being himself there being he is because he's not rich. Remember?
Yeah, he's not rich. He's only got 100 million or 200 million
in the bank, which to him is not rich. If you think you're not
rich with that kind of money. You're snobby. You got something
wrong with you? Yeah. So let's go to the second clip
Unknown: got dropped off. They left. The next day was somewhat
interesting, because he ends up showing up at my hotel room,
which I thought was somewhat weird. But he wanted some more.
So when you say he showed up, he just he showed up. I mean, I had
no warning. I was in the room. There's a knock on the door. I
opened the door and he's standing there. And he's
standing there with more coke and he comes in and it was just
like a quick, you know, rehash a rerun, from the night before.
Exact same program, exact same programs. He's smoking again. So
Barack Obama smokes crack and then you perform the sex on him.
And the like I said, The only reason I had come out in about
it is I I had reached out to the campaign even in 2007. Only
because I saw these kids getting excited about Okay, wait, we'll
just adjust. So how did that end? Like, same way?
Adam Curry: Happy Ending Tucker obviously, I've always thought
this was very incredulous this this part of Sinclair story.
Sinclair is not a good looking guy. If you're gonna do all
this, you know, Obama's a pretty good looking guy. Why would you
go and find this guy?
John C Dvorak: I don't know what it looks like 25 years ago,
Adam Curry: well, he had teeth.
John C Dvorak: There was one thing that you know, Tucker is
trying to do this interview and the thing that stood out to me
and I don't want to be lewd about it. But it's something
that that's noteworthy. And it's and we know know about Clintons
member.
Unknown: Oh, yeah. Yeah. bent. Yes.
John C Dvorak: Was there a anchor doesn't ask the simple
question. And it was start like this. I don't want to be lewd
about this. But is there anything remarkable that you can
tell us about Obama's member?
Adam Curry: Well, you should be running in the newsroom over
there, man. You're good. You're good. You're good.
John C Dvorak: It would be that easy to do. And just to say,
because you want to know, you want to know a couple of
lascivious things. One is a black guy. So as you represent
the the large black guy, God, John, or does he represent a zit
did not large? You want? That's a question that you have to ask
in these circumstances, if
Adam Curry: you're gonna do this anyway, if you're gonna go the
blue cheese, do it. What I need you please continue. I need to
understand why you think Tucker is doing this at all. Why Does
anyone care? What is the we're gonna
John C Dvorak: when we get to the end? I think we should try
to figure it out. Okay. I do. I still think it is a shot across
the bow by the CIA to tell Obama to get out of the to back off on
a bun Biden, Biden. There's a couple of things going on in the
administration. Right now. We're Biden, supposedly, I doubt that
Jill Biden has COVID. I
Adam Curry: will agree with you that that was going to come up
later. But I doubt she has COVID too.
John C Dvorak: And they're telling Biden to do this. His
messaging, I'm convinced of it. I know you don't totally buy
into it. But let's go. They've continued these clips.
Unknown: But I was back from Mexico. But it was a strange
feeling sitting there watching him walk across that stage and
realizing who he was. So what did you do? You said, You
reached out to the campaign, why didn't do anything in 2004. But
when he announced his run for 2008, I did reach out to the
campaign in late 2007. Because I had seen a lot of these college
kids talking about how surreal they were how there was a
candidate who was completely honest about his entire life,
his drug use, you know, what he did is when he was in school,
you know, the constant back and forth. One minute is, yes, I did
cocaine when I was younger, or No, I never did cocaine, but I
smoked weed. So I just simply pointed out that all I was
asking was, Look, why don't you just simply come out and say I
did coke and I've done it as recently as 1999. You know, just
tell the truth. Put it out there and be honest and let it stay as
the truth rather than this back and forth. Never did hear
anything back from them immediately had it? Who did you
reach out to? Do you remember I reached out to actually David
Axelrod's office in Chicago. I'm trying to remember the letters,
because it was actually three letters.
And did you say I had sex with Barack Obama?
This is the interesting part. My first contact with the campaign
never mentioned the sex whatsoever. That was actually
brought to my attention by someone who eventually reached
out to me in late 2007. Claiming to be with the campaign but
wasn't with the campaign. What do you mean that was pointed out
to you never told anyone in the Obama campaign you did sex with
burnout in 2007? No, interesting.
John C Dvorak: But the news
Adam Curry: nursing Interesting.
John C Dvorak: Okay. This is not credible. No, I agree. He says
he called got a hold of the campaign but Axelrod to tell
them well, you know, Obama's not being completely honest. And you
know, he's he's telling the kids he smoked dope, but he shouldn't
be telling him they smoked crack. And you know, of course
admitting to school rhymes basically, himself. And this
doesn't make any sense. Nobody would do this. If you're a
crackhead or a cocaine user. You're not calling people up to
correct the record on some guy was a politician. It's bullcrap.
Adam Curry: And I love how Tucker just Oh, okay.
John C Dvorak: Oh, Tucker's all into that. But again, this whole
thing seems scripted. There's missing questions that could
have been asked. And I'm not a fan of what, what went down
here.
Adam Curry: He didn't talk or ask about his criminal record at
all.
John C Dvorak: Yeah, he Well, he brought that up. And it he
brought up the fact that it was exaggerated in some ways. And
that video was immaterial. The whole thing was, was a very
dubious interview, go to the next clip.
Unknown: And the opinion was, if you're going to tell the story,
then you tell the whole story and let the chips fall where
they may. So that's exactly what I did. And she made a YouTube
video, by the way, I look, I look for it last night couldn't
find it. That's because YouTube gave access to my account to
someone shortly after the polygraph test, and I was never
given access back to it before the video was actually deleted.
Are you serious? Oh, yeah, YouTube gave access to the
account and the video was deleted. Microsoft gave access
to my Hotmail account and all of my emails were circulating the
internet and vacation replies were set up on my email telling
people that I was busy giving blowjobs and will get back with
them. When I was done. And, man, they wanted Obama to be
president. Yep. And they wanted me to be the biggest fraud and
nutcase that ever existed. Okay.
John C Dvorak: I just played this clip to let everyone know
that these big tech companies
Adam Curry: they're no good.
John C Dvorak: No, they had my mail store was funny. The other
one is like he made a video you had to upload it. That means you
have a video. Where's that video? Okay, the upload was
taken down, but you still must have the video. It's not you
didn't record it on YouTube. There's no way of doing that. So
that's that another dubious aspect to the story. I'm against
skeptical, because Oh, yeah, they might they took it down.
And now it's gone forever. Well, how does that work? How does
that work? Can somebody explain to me how that works? Doesn't?
Do they go? Did they reach into your house and grab it off your
camcorder? Or wherever you put it?
Adam Curry: He's a crackhead. He doesn't he didn't keep the keep
copies? He was
John C Dvorak: he snorter, he never smoked corringham At least
that makes it listen these clips, it makes a big
difference. So here we are. This is the last clip. So
Unknown: I gotta ask you. I mean, you know, I wasn't there.
I can only assess what you're saying. I don't see any obvious
motive for you for gain financial gain. You're not going
to get rich doing this. And in fact, you haven't you've gotten
impoverished as a result of it. But like if I'm a reporter, I
was a reporter at the time. I remember thinking, Well, that's
an interesting story. But it seemed like nobody in the media
wanted to follow up with you. And some people like Ben Smith
at politico who's a liar and a shill posing as a journalist. I
reread the piece last night that he wrote saying, Oh, it's
ridiculous right off the first graph. It's ridiculous these
claims, but I think I have an answer for why a lot of
reporters did not want to follow up. And I think it would have
something to do with what David Axelrod told a old Chicago Sun
Times. Reporter or no. Chicago Tribune reporter, John Crewdson.
Axelrod had been a reporter in Chicago into politics while John
Crewdson worked for the Chicago trivia, and John Kreutz and
actually came to Duluth, Minnesota and sat down with me
and talked with me, and John Kreutz, and had told me point
blank that before he had flown out that he had spoken to
Axelrod and that Axelrod had told him that they were aware of
who I was, and then it was their intentions to destroy me. And
that if any reporter had mentioned me to them, they would
be completely cut off, and that outlet would be completely cut
off from access to the Obama campaign for the duration of the
year. So I think that had a lot to do with why reporters didn't
bring things up to the campaign, because everybody wanted access
to you know, the new savior. Nobody wanted to be blackballed,
and denied access. to a historic campaign.
Adam Curry: Okay, that's that's kind of Tucker's whole thing
that I believe
John C Dvorak: that robbed. Part of the story is probably mostly
true. And I agree with a store campaign thing, because that's
what the left was just all everybody was so jacked up about
Obama, because he's a black guy, kind of, he was going to be the
first black president. And this is the greatest thing that's
ever happened to this country. I
Adam Curry: interject something there. What he got his attention
when he spoke at the DNC a year before? No, is four years before
he was before I'm sorry, four years before. And that was the
first year that they had bloggers come in. And they were
scheduling all the bloggers to have a chat with this with the
future of the party. And I know this because Dave Weiner was
there. And he said it was electric. It was Dave Weiner,
John C Dvorak: who invented this is Oh, head over heels for
Obama. It was unbelievable. He had a podcast for a while. And
it's all he talked about. Yeah, but 2004 I saw that speech in
real time. And watched it as he did get delivered it. And I said
this guy this guy is this is the guy. Yeah. Oh, it was obvious
that they were gonna.
Adam Curry: Yeah, that's my point. That's my point is it was
all a setup. And they brought brought he was going to be the
internet president, if you remember. But I remember that.
Yeah. It's going to be the internet present. Oh, yes. And
people. Oh, we might even have. Yeah. And all we got was a
Twitter account that he didn't that he didn't handle. And we
got the what was that? Where you could have your say.gov or
whatever. And if there were over here,
John C Dvorak: remember the promises that yeah, we're not
going to pass any bills until they're online?
Adam Curry: You could take that you can take that to the bank.
You got a baby? Yeah. Take that to the bank. Oh, yeah. At least
seven days. Internet president. Yeah. What was that? What was
that thing? It was like a feedback doc, or something? And
if there was, if there were 50,000 people who signed up,
then they would do something about it. Yeah. It was a great.
Alright, so So Okay, your your takeaway from this, and I'll
give you mine.
John C Dvorak: I'm still thinking that this is a message
a messaging. They also mentioned Axelrod a couple of times, for
some reason. So I suppose he's somewhat involved. This is a
message from headquarters, to stop doing what you're doing
Obama, and let Biden do his own thing. Because we've got to move
up, we've got to move him, we're not going to keep him in there
any longer. And he's going to have to like, sink or swim. We
don't, he doesn't need you in the background, doing whatever
you're doing. That's my thinking. And that's the end.
This is like, this is message number two, guy, there's more to
come if you want to keep this up.
Adam Curry: That's very, that's a very credible line of
thinking, I will just give you the alternative thinking, which
doesn't mean I disagree with what you're saying. But I think
even back in the 10th, or the 11th. We were probably talking
about Obama in some modicum of disrespect, probably saying, one
of these days, we're just going to come out and he's going to be
the first gay president for real and he'll say it. And that was
accentuated two weeks before before her death by Joan Rivers
when queried by the Howard Stern shows, I think it was stuttering
John outside of her apartment in New York, where she had just
officiated the first gay wedding in the state of New York.
Unknown: Do you think that the country will see the first the
United States to see the first gay president or the first woman
president Obama?
So let's just come down.
Now the show is a trend. I'm sorry, she's a what?
John C Dvorak: Transgender? We call Oh my gosh.
Adam Curry: Mind you, in hindsight, the word transgender
was not a word at the time. It was not a word but was a word.
It wasn't it was a it wasn't a thing. It wasn't word it wasn't
a thing. The only other well, there's there's three, three
possibilities. So I think yours is very, very possible. Or is
just That's right. It's not who we are. I'm a homosexual. And
Michelle is transgender and she'd run Big Mike 2024. Yeah.
John C Dvorak: You holding on to the dream, dude.
Adam Curry: They locked us down and forced shots on us anything
is possible in this world. Anything. The only other thing
is that Tucker is just desperate to do dumb SEC stuff reporting.
I mean, who else cares? Why do we care distraction, distraction
of the year this of the year. He doesn't need to interview Blair
Sinclair, who was supposedly Did I hit and run? I've said this
myself many times on the show I was convinced he was dead then
he shows up all of a sudden some dude with no teeth
Unknown: I don't know
John C Dvorak: it could be an actor we don't know anything be
Adam Curry: a mask for all we know a toothless mask. I'm I
swear. I think I've even said it's too bad Larry Sinclair's
dead because he can't come on say anything anymore. It's
really crazy. The world's gone crazy. It's gone crazy. So
John C Dvorak: let's talk about Biden. Yeah, yeah, let's do
that. Yeah. And I have two clips just about the COVID. Yeah. And
I clip one and this one. This one bothers me. It's another one
of these things. I am obviously bothered by the littlest of
things when it comes to these these people what people say.
And this one is like, I've never heard this before in my life,
when you get to be old. And you start hearing things as what are
they saying this? This is the clip one that uses the word
introduces the word for some unknown reason. Instead of using
the word schedule, they use the word cadence. And three
different people use it.
Unknown: And a while sounds like he's gonna continue to get
tested on a regular cadence, though without specifying what
that cadence what mean, and today the White House press
secretary was also pressed on what seems to be some coughing
by the President on Monday.
Watch, just wondering if he had any other symptoms or if there's
any concern about power on that?
No, no symptoms at all. On a regular cadence. regular cadence
is up to really in consultation with this physician, I can tell
you right now as I said, all travelers are certainly going to
test right before they head out to India that's including the
president.
Adam Curry: Cadence This is
John C Dvorak: so why are they using this word? Forget to look
it up and read the definition to see why it's distinct. What? And
it's never been used before in this in this I've never
Adam Curry: I've never heard it. Let's go to the Cambridge
dictionary. Just to make sure we get something. Cadence is
usually the hardest. I'm bubba. Cadence. I'm sorry. This is
regular rise and fall of the voice. Let me look at Merriam
Webster, they always change things. Okay, the beat time or
measure of rhythmical motion or activity. So I guess they would
say the cadence is his regular testing, perhaps rhythmic slug
less regular testing. Regular and rich see this the third
definition, regular and repeated pattern of activity. Then
actually a falling inflection of voice is way down the list.
They've changed the meaning of a word yet again. They I don't
know this is this is a good question. Not great, but it's a
good question.
John C Dvorak: Great. It's good. You hear it? And it's like
you're, it's it's unusual that you? I mean, that's what we do
on the show. We pick this stuff up because it's got to have some
hidden meaning, or there's something going on or why are
you using this word, lady? Yeah.
Adam Curry: Okay, what else? Do you have that bothered you?
John C Dvorak: I know I got the other clip, which is the
normalized clip. Yeah, the Biden clip.
Adam Curry: The Summit. Yeah, here we go.
Unknown: The White House today would not tell us if there's any
contingency plans made in case Biden tested positive for COVID.
But it did depend on the possibility that Biden might
have to attend the G 20. Summit. Virtually we've seen various
leaders various times participate virtually in events.
Biden said on Monday that he's disappointed that China's
shooting ping will not attend the G 20. Summit the way now
it's really unclear if Biden will become the third world
leader to have to be at least physically absent at the summit
after both Russia's Vladimir Putin as well as China shooting
ping and pulled out from the summit.
Adam Curry: Okay, so the conclusion I think as you dinged
your bell is that Jill pretends to have COVID So the Biden might
have something can't go to the summit because it's so
embarrassing that Zhi Jing ping is not going to show up.
John C Dvorak: And neither is Putin. Now the thing, there's a
couple of things. He's already skipped the egg, which isn't
really been reported much, but there was a big AZ an S E. Meet
up in Indonesia, a meetup. It was a big drinking meetup in
Indonesia, and he skipped out on that. And it was like very
controversial amongst international circles, because
he skipped out on that, and then he's gonna skip out on this. It
looks like now there's two reasons to skip out one well,
well, it says Jesus I couldn't be more important. Like it'd be
maybe they're gonna blow up the place and kill everyone like in
the old gangster movie where the one gangster sets everyone up
and kills the group. That's possible. And so he doesn't want
to be there because he doesn't want to get killed. Or he's
already so damned in it in feeble that he can barely hold
luck around and
Adam Curry: my Obama theory is crazy, but you're talking about
them blowing up the world leaders. Okay, all right.
John C Dvorak: Terrorists, how
Adam Curry: about this. So, Karina, Abdullah, jump here,
Jabbar whatever. Nice little little skit she performed with a
shill a shill, journalist in the White House press group. As we
all saw, that Joe Biden took off his mask. Oh, he took off his
mask. Don't call it a comeback. COVID. On the way back, we've
got to start programming people's minds. He took off his
mask. And she's going to explain why he took off the mask. And
and this is why I think it was a setup question. It
simultaneously explains why he like a demented old feeble man
walked out of the ceremony.
John C Dvorak: Everybody talking about the Situ This is the image
he gives the guy just the background or I don't you this
is something you have to actually see. And we couldn't
really explain. He's giving the Medal of Honor. And this is in
the newsletter to some guy who's at one, it seems to have a lot
more going on in buying it at. And he wraps them thing around
his neck. You know? Barely, Yes, yep, barely. And then he looks
around and staggers off the stage and walks out of there.
Well, then the old and the 4081 year old guy, the captain army
captain. He's looking around left and right. And he's got a
kind of an earth look on his face. And what happened?
Adam Curry: And this is why I love this little theatrical
performance that KGP does with this. I don't know who it is.
Because instead of saying, Hey, why did he walk off like a
demented old man. It's like, hey, we saw you took his mask
off, listen to how this spins into a beautiful explanation.
Unknown: CDC guidelines for people who are exposed to COVID
say that you should wear high quality masks, anytime you're
around others inside your home or indoors in public. The
president of course, did wear that mask in the Medal of Honor
ceremony, but then took it off and didn't put it back on was
that mistake.
So look, I'm gonna be I'm gonna share a couple of things with
all of you here. And just start with what the ceremony was all
about. Because it's incredibly important. The President took
off his mask, as I said he would to deliver incredibly powerful
remarks about this Captain Captain Taylor, and what he did
in service to our nation. And we wanted to honor the captain. And
for a brief time afterwards, he also didn't have his mask on as
you just laid out. And he left as planned as it was planned. He
left when there was a pause in the program in order to minimize
to minimize his close contact with attendees who were who are
about to participate in a reception. And I you all
reported that notice that he left when there was a pause in
the program, because again, he wanted to minimize certainly his
impact on folks who were there.
Adam Curry: Beautiful. Well done. No, they
John C Dvorak: did a follow up to that as well. He's already
tested negative for COVID. So what's he worried about? No,
Adam Curry: there's no follow up. This is all theater. This is
dumb. This is just I don't know, I need to do some COVID here
because they're ramping up and we need to be aware of what's
happening. We just need to show it to everybody because before
you know we're gonna be like, Oh, God, you Oh.
Unknown: It was COVID that forced Metallica to postpone
tonight's concert in Glendale, Arizona.
Adam Curry: Oh COVID cancels Metallica. The heavy metal Gods
Unknown: singer James Hetfield reportedly struggled with his
voice in Friday's performance. The band later posting a photo
of his positive COVID test concert has been rescheduled for
next Saturday.
Overnight. First Lady Jill Biden testing positive for COVID A
year after she last battled the virus. The White House says the
72 year old is experiencing mild symptoms and will remain at the
Biden's home in Delaware.
As you can see what me is not here she has COVID is back. It's
back but she's on the mend. She's on the tail end and she
probably back this week.
Adam Curry: So yeah, she'll be back. Whoopi has got it to
Hatfields got it and
Unknown: the President was with the First Lady yesterday he will
be masking while indoors and around people in alignment with
CDC guidance. And as as has been the practice in the past, the
President will remove his mask when sufficiently distanced from
others indoors and one out outside as well.
Adam Curry: Okay, so you heard James Hetfield posted a picture
of his COVID test. Don't worry, we've rescheduled for a week
from now because I guess you know, this new crazy variant.
You'll be ready in a week or you know, it's okay to reschedule
seems kind of sketchy to me but the test is the main point of
the message. James with
Unknown: cases on the rise, some retailers are running out of
tests. Walgreens tell CBS News, we are seeing greater demand
which may cause temporary and isolated shortages.
Adam Curry: If you want to create demand. The first thing
you got to say is we're running out oh no, you better go get
some tests. And don't worry if you can't find any doctors are
Unknown: also warning don't throw out expired add home
testing kits, because the FDA has extended when certain brands
expire. The agency has posted a list of new expiration dates on
its website. Don't worry,
Adam Curry: they're so good. They're so good. They can even
handle the new variant which we don't have a vaccine for because
the old vaccine is just not good enough. But we have a test test
works and everything the test is great.
Unknown: You may have noticed cases of COVID are ticking up
again. The news is learned that new vaccine booster shots could
be available next week after CDC approval even as many have put
COVID in the rearview mirror. Here's Tom Costello.
The American seniors are in Ireland to soak in Irish music.
They got the music, but six out of 20 also got COVID News ISIS
are popping up around the world and across the US including
First Lady Dr. Joe Biden. President Biden criticized for
removing his mask while awarding the Medal of Honor to an 81 year
old veteran after 150,000 hospitalizations in January that
dropped to 6300 in June. The CDC reports hospitalizations are
rising again, more than 17,000 As of August 26th far below
pandemic levels but a reminder say experts COVID may be here to
stay the sickest.
COVID Patients are certainly older, Emil compromised. They
have primary pulmonary disease like emphysema and the
unvaccinated but the country remains
Adam Curry: and the unvaccinated it sounds to me like a lot of
people who were vaccinated who may be older. That you know
remember you promised that after it was 95% effective 75% or 40%.
It was not effective. It doesn't help you. It doesn't stop you
from getting it or spreading it but you won't go to the hospital
and you won't die. And now it doesn't seem to be doing that
either. vited
Unknown: over masks and vaccines. The FDA is now
expected to approve updated COVID Booster data as soon as
Friday available as soon as midweek. Madrona and Pfizer say
their new vaccines new effective against the new ba 280 6x has
appeared in Michigan, New York, Ohio and Virginia everywhere.
Meanwhile, health agencies report an uptick in the RSV
virus. Children especially now in Florida and Georgia. The FDA
recently approved a new RSV vaccine for small children and
expectant mothers.
And Tom back to COVID. For a moment what are health experts
telling people about testing?
You know, those test kits that many people have in their home
state should pick up the newest COVID variants. And even if that
test has expired, may still be viable. The FDA has been
extending the expiration dates, you can check whether yours is
still valid on the FTAs website last year. All right.
Thank you, please. Alright, so
Adam Curry: we know the formula the formula is start creating a
little bit of a little bit of angst. Tell people to test the
testing is the big thing was always test test. So you gotta
test don't worry if you've got an old test, just test I'm sure
it just test you got to test, go get the new test the boosters
coming, get the test and then we have to psychologically scare
everybody. pummel, pummel, yes by a visual cue the visual cue
to remind you which is it this is right out of the MK Ultra
playbook. We need to show you the mask keep flashing the mask
as long as you keep seeing the mask, you're going to think
COVID You're going to think I'm scared. Whether you believe in
it or not you even you you're going to be thinking about even
if you if you like us think it's all bull crap. Oh, there's
another mask and it's elicits a response even for people who are
not into it like ah, you stupid masker. It creates division and
they're out to make it happen. CNN leading leading leading
this. This is the Smerconish interview. I'll set it up here
with his intro. There's an uptick in COVID cases notice the
language uptake. We saw this two weeks ago uptick uptick uptick
here, we've got to talk about uptick. It's On a surge it's an
uptick and a
Unknown: new variant called ba 286. Some three and a half years
since the pandemic was first identified, but if public health
officials feel it necessary to ask America to mask up again,
how many would comply? The Drudge Report? Let its website
this morning with the headlines not again mask up in New York.
lead story at CBS News This Morning. COVID hospitalizations
on the rise as US enters Labor Day weekend. The past several
weeks I've seen reports from all over the country have a rise in
cases and yes, the CDC reports COVID-19. hospital admissions
are up more than 19% in the most recent week,
Adam Curry: which means what to what? unimportant. It's 19%.
That sounds like a fifth, but it could be five people. This is
the psychological warfare being espoused expounded on the
American people
Unknown: and a few school districts. This is even led to
canceled classes and sporting events. A handful of companies
and schools have responded to outbreaks on their premises by
reinstating mask mandates among them several hospital systems
including including Kaiser Permanente in Northern
California College in Atlanta Dillard University in DeMonte I
think he went to Siena Lions Gate film studio in Santa
Monica. But so far so far, those have been the few exceptions.
And this graph shows how the current rise rationalizations
compares to past searches. We've got a graph less than half the
numbers this time last year and still lower than they've been
for about 80% of the pandemic. But if things get worse, it may
be hard to get people to revert to an abundance of caution.
According to Gallup in the first two years, public confidence in
the US healthcare system has dropped from 44% to 34%. And
Donald Trump took to truth social to again make the issue
political, accusing the latest outbreak to be hype designed to
impact the 2024 election.
Adam Curry: So it's all in there. Everything you need is in
there, but we're rolling it out. This is Walter Reed Bethesda
Hospital, which is a military run hospital. Every single
person in this in this commercial is wearing a mask.
You'll hear it they're wearing a mask and they're all in uniform.
Unknown: I wear a mask.
I wear a mask. I wear a mask.
I wear a mask.
I wear a mask. I wear a mask. I wear a mask
for the patients, families and staff of Walter Reed Bethesda
for my loved ones and friends
don't be exposed cover your mouth
and nose. Whether we like it or not. The world is forever
changed by COVID-19
Small actions make a big difference. community wide use
of a face mask effectively lessens the spread of
Coronavirus wearing a mask is our new normal and we must
all starts with you.
So wear a mask.
grubby RB
wear masks WR V wear a mask W RB wear a mask W RB wear a mask W
RB
John C Dvorak: wisdom your V
Adam Curry: w RB Walter Reed Bethesda Oh
John C Dvorak: it says a WR boy with the mask on you can barely
Adam Curry: but this is this is psychological This is meant hey
these are people of authority to have them out they have uniforms
on these people are they're doing it for us they're doing it
for their family members this is important stuff yes
John C Dvorak: well the military's been is with Boyd
Austin running everything they know
Adam Curry: we are saying but I'm telling you that most people
they their big event this year was the Barbie movie. Okay, so
these people are not okay let me not like you and me. They're out
there and they're just oh crap it's oh it's it's here to stay.
John C Dvorak: Barbie movie Oh mascot
Adam Curry: for the Barbie movie so if you want if you want to
complete the circle, you've got to bring in the expert
unmasking.
John C Dvorak: Did I talk about the video? I think I posted it I
know agenda social with a guy and he's got one of the sniffers
one of these devices you use in mining and elsewhere.
undetermined I didn't bad air I didn't see it. In fact you can
buy these after I saw this I'm gonna get one of these because I
always like to have these little devices and I'm gonna get one
they have on Amazon for about 40 bucks and it is like an
emergency you stick it in like an area you're gonna go to if he
if the air is not breathable as dangerous good honks the horn
basically at you and says hey, no go in there is terrible. So
he takes him puts a mask on and sticks the little probe under
the mask. Gives the alarm off. No, no it is bad air and It is
bad air, you're breathing your own effluent you're breathing
out and breathing it back in and out. And then this can't be
Elfi.
Adam Curry: So I'm trying to think maybe I should play the
Fauci super clip about masks first, and then we'll go to his
interview on CNN with Smerconish. This is a perfect
super clip, which gives you all the messaging we received from
Anthony Fauci over the three year COVID. Period. And before
John C Dvorak: you play that, because you're gonna play this
merch ish thing. Yeah. I thought Fauci was retired. Now, what's
he doing on CNN,
Adam Curry: he's the messenger of death,
Unknown: people should not be walking around with masks, let
me just state for the record that masks are not theater,
wearing a mask might make people feel a little bit better, and
masks are protected. And we're not providing the perfect
protection that people think that it is, there has not been
any indication that putting a mask on and wearing a mask for a
considerable period of time has any deleterious effects. There
are unintended consequences. People keep fiddling with the
mask and they keep touching their face, then can you get
some sweats and sort of staying inside their horse, you do not
need to wear a mask indoors, if in fact, you've been vaccinated,
we're glad that you're vaccinated. But in a situation
where you have people indoors, particularly crowded, you should
wear a mask. So even if you are vaccinated, you should wear a
mask if in fact, you are vaccinated, fully vaccinated,
you are protected. And you do not need to wear a mask outdoors
or indoors. When the children go out into the community. You want
them to continue to wear masks, you know, if you look at
children outside, particularly when they with the family of
walking down the street playing a game or what have you don't
have to wear a mask. The pediatric the Academy of
Pediatric actually makes that recommendation that children
should be wearing masks from two years old onward. And you're
asking now if your child is a member of your household, can
you walk out those with your child without a mask? According
to that shot? The answer is yes.
But the child can't not to be to beat it to death. Yes, yes. Now
the CDC says I mean, I think I've got this right. One mask is
better than zero masks. Two masks is better than one mask,
but you don't have to have double masks. Is that right? I
mean,
it became clear that cloth coverings that you didn't have
to buy in a store that you could make yourself were adequate and
that he wanted to fit. So one of the ways you could do it, if you
would like to is put a cloth mask over which actually here
and here and here where you can get leakage in is much better
contain.
Are you a double masker Dr. Fauci.
Adam Curry: So that's just a little little bit to show you of
the lies. confusing message
John C Dvorak: is just one it's
Adam Curry: just contradicts contradiction, believable
contradiction. Thank you clip collector for doing that, Steve.
But
John C Dvorak: I want to mention something here, which I forgot
about until I heard that clip. Do you remember that moment,
there was this thing? And he made a point of it? Oh, and the
problem with a massive fiddle with the touch their faces is
tight. If you touch your face, yep, you're gonna die. You're
gonna die. Because I guess you touch your face in the low COVID
thing walks across your skin, or something. I don't know what
that was all about. But I remember Trump making some
comment about it saying Well, I kind of missed that. You know,
he's joking about touching your face that's touch your face
thing was like, okay, so that that was weird. So
Adam Curry: the, the, the complex, it's just one big
complex. Everybody's in on this now. It's for the elections.
It's for the it's for the pharmaceutical companies. It's
for power. It's for the Democrat party, you know, so they can
identify their members. It's for control. The message is Hey,
hey, you know, we we don't recommend any, any any like
mandates. You don't have to take your your booster shot. You
don't have to wear masks, but you know, the private sector
might might do that. By the way. Fauci was not the one who
recommended the lockdowns. First
Unknown: of all, I didn't recommend locking anything down
and the record will show Neal that we didn't recommend
shutting everything down. I recommended to the President
that we shut the country down.
Adam Curry: Oh, I'm sorry, contradiction after
contradiction. These people are liars. And now we have to start
it all off with Michael Smerconish and Anthony Fauci.
Unknown: Joining me now to discuss is Dr. Anthony Fauci.
He, of course, is the former director of the National
Institute of Allergy and Infectious Diseases. Dr. Fauci
Nice to have you back. How worried are you that people will
not follow advice to wear masks, if big if if we get to that?
Well, Michael,
that's a very good question. If we get to that, I mean, we're
starting to see a
Adam Curry: surge of cases you want to have a look It gets a
survey. It's a
Unknown: survey about an 18 or 19% increase in
hospitalizations. Oh, certainly going up commonality
John C Dvorak: with 19%. Yeah.
Adam Curry: Oh, yeah. All right, yeah. scripted. Oh, it's totally
scripted. This is all a script in a
Unknown: 19% increase in hospitalizations. Certainly
going in the wrong direction with looks like a late summer
and into the fall surge. How bad it's gonna get we don't know, as
you know, this is a very unpredictable virus has shown us
that, oh, it's
Adam Curry: a very unpredictable virus. Boy, I thought we had it
under control
Unknown: over the last three and a half years. I am concerned
that people will not abide by recommendations. We're not
talking about mandates or forcing anybody but oh, we have
a situation No, no, no, where the volume of cases in society
gets to a reasonably high level, particularly the vulnerable,
those who are elderly, and those with underlying conditions are
going to be more susceptible and vulnerable. If they do get
infected. To get severe disease leading to hospitalization. We
know that
Adam Curry: they're what what happened to your your vaccine
that said, you don't have to go to the house. That's
Unknown: a fact. So if we've seen that, so I would hope that
if in fact, we get to the point where the volume of cases is
such an organizations like the CDC recommend, CDC doesn't
mandate anything. I mean, recognize that's recommended
people wear masks, I would hope that they abide by the
recommendation of taking to account to themselves and to
their families. And again, we're not talking there's forcing
anybody to do anything.
Adam Curry: It's important that we it's tedious. I know. But
it's important because he is giving us the script so we can
look out for it. And be aware every it's going to so you're
going to hurt your family. This is killing grandma. It's just a
recommendation you should abide by it
Unknown: totally understood. There is a perception out there
by many how many I don't know Republicans that they don't
work, and that the data concludes that they didn't work
in the first go round respond to that on masks.
Yeah. Well, that's not so I mean, when you're talking about
at the population level,
Adam Curry: that listen, this is this is tricky. He says that's
not true. When you're talking at the population level,
Unknown: that the data are less strong than knowing that if you
look on a situation as an individual, protecting
themselves or protecting them from spreading it, there's no
doubt that masks work. Different studies give different
percentages of advantage of wearing it. But there's no doubt
that the weight of the studies and there have been many studies
indicate the benefit of wearing masks.
Adam Curry: He just said nothing. He just said there's
studies that say yes and no on a population level, no but
individual level, you know, your own personal choice. Yes,
Unknown: I'm going to refer to one of them. You've heard about
it before I heard about it from a number of radio callers. Bret
Stevens in the Times talked about Cochrane put that on the
screen. The Cochrane report. The most rigorous and comprehensive
analysis of scientific studies conducted on the efficacy of
masks for reducing the spread of respiratory illness, including
COVID-19, was published last month. Its conclusions, said Tom
Jefferson, the Oxford epidemiologist who is the lead
author were unambiguous. There is just no evidence that they
masks make any difference. He told the journalist my en
DiMasi, full stop. But wait, hold on, what about the n 95?
Masks, as opposed to the lower quality surgical or cloth masks?
Makes no difference? None of it? He said, Well, what about the
studies that initially persuaded policymakers to impose mask
mandates? They were convinced by non randomized studies, flawed
observational studies, how do we get beyond that finding of that
particular review?
Adam Curry: Do you think it can do it? Do you think he can
convince us that this report the biggest report, the report that
was this definitive report definitive Gold Standard Top of
the line can Fauci refute it?
Unknown: Yeah, but there are other studies, Michael, that
show a level for individual when you're talking about the effect
on the epidemic of the pandemic as a whole. That was a whole
data or less strong, talk about as an individual basis of
someone protecting themselves, protecting themselves. You see,
it's
Adam Curry: about you protecting yourself and protecting your
family as a whole. They don't work but for you, personally,
you you human resource, they will work,
Unknown: spreading it to others. There's no doubt that there are
many studies that show that there is an advantage when you
took a broad population level like the Cochrane study, the
data are less firm with regard to the effect on the overall
pandemic. But we're not talking about that we're talking about
an individual's effect on their own safety. That's a bit
different than the broad population.
Adam Curry: Bullshit. Yeah. Okay. Oh, yeah, he's good. Let's
wrap it up,
Unknown: given the public sentiment that I shared at the
outset, people saying there's no way I'd mask up again, a final
thought from Dr. Fauci. If it comes to it, we hope it doesn't.
But if it comes to it might a better approach say, Let's
protect the most vulnerable and allow others to lead their
normal lives. Final word is yours. Well, yeah, I
mean, mandating I don't think is gonna happen. They may be local
mandates. I keep thinking that the federal government is going
to mandate that you wear a mask?
Adam Curry: No, no, no, it's not going to be the federal
government to be local, it'd be your local, probably be some
businesses, but it's just not going to be local.
Unknown: That's not going to happen. But there may be
individual institutions, or organizations that are going to
say, if you want to come to work, you've got to wear a mask.
There's nothing that the federal government can do about that. If
people want to do it locally, I think people need to realize it
is extremely unlikely that you're going to see a mandate,
for example, from the CDC, which has no authority to mandate
anything with regard to mass, they can only recommend it. So
people essentially, for the most part can do what they want to
do, based on their own evaluation of their own risks.
Adam Curry: Now, completely untrue. Insurance companies will
not allow businesses to continue without mask mandates for their
businesses. Airlines are going to mandate it for travel, bus
companies, it's going to be everything is there. It's just
going to happen again, is the nature of it. And I love that
people say well, oh, no, no, I don't people are gonna fight it.
Yeah, they will. But then it's the same trick. You can't work,
you can't travel. It and this is setup. It's a setup. And I
honestly don't know what to do about it. I don't see a way out
complain and complain. I mean, Scott Adams had kind of the best
idea. He's like, the first airline that mandates it,
everyone has to boycott it, which also won't happen.
John C Dvorak: No, it won't happen. It's idealistic.
Adam Curry: So we need to come up with something like Invasion
of the Body Snatchers or something when you see someone
with with a mask or something we've got to come up with,
John C Dvorak: is that gonna happen you do anything you do is
did you can the black market come on set which is to find
somebody to produce those blue surgical masks that are so
porous that you really can breathe? No, no. put the mask on
and suffer.
Adam Curry: Howard Stern is already blocked locking down in
his studio again, the man has barely been out for three years.
He's going back into his into his basement COVID COVID He's
deathly afraid of COVID Even his wife is pissed at him now.
Unknown: According to him,
John C Dvorak: this level of, of freakish paranoia. I mean,
there's plenty of the I would be more concerned with getting that
in the newer forms of tuberculosis that are immune to
all the treatments than that and COVID I mean, everybody in the
family here has had COVID and no one has suffered it JC had it
when it first showed up when it was really deadly. And
everybody's had it sent me the problem
Adam Curry: the problem and the sad thing I'm hearing around
here and you know from family around the country is people who
were boosted not just one shot but had boosters they're
catching COVID and they're getting pretty sick
John C Dvorak: yeah yeah they ruin their
Adam Curry: ruin their immune system and this is this is this
is pretty important
John C Dvorak: It seems to me you're gonna I mean if you ruin
your immune system you're get you're susceptible to just about
anything that comes along
Unknown: anything yeah yeah
Adam Curry: I don't know we I'd love to I wish I had a ready
answer. There's nothing we can do except just not comply and be
be kind about it. I'm sorry. You
John C Dvorak: can't I do when I see people all over the place
wearing masks. I give them a look askance
Adam Curry: I think I think I'm just gonna say I'm sorry your
mind controlled
John C Dvorak: now suddenly you see what that journey did no
one's gonna know what you're talking about a
Adam Curry: maybe just go up and lick him on the cheek.
John C Dvorak: Spit in their face mask go stop this.
Adam Curry: And with that, I'd like to thank you for your
courage in the morning to you the man who put the seat in the
medicinal crack ladies gentlemen say hello to my friend on the on
the on the one Melanie Mr. John Cena
John C Dvorak: Well in the morning illustrating Korean
leadership seamlessly rough in the air so to the water all the
names of knights out there in the morning
Adam Curry: Hello trolls in the troll room 19 91,990 Is that up
is that that's good. That's
John C Dvorak: up to be it's up 100 hit at least well,
Adam Curry: we just dropped by 200 Because they all ran away.
Crazy trolls are so afraid when the minute you ask them some new
Oh, and when you're not when you don't ask them to hold true and
true and we see horrible stuff. You can be one of those trolls
it's it's free to enter a troll room.io Go ahead and listen to
the live stream is 24 hours a day. It is the no agenda stream
and you have the troll room right there. You can log in and
troll to your heart's content. We also recommend you drop your
legacy podcast app because all of the podcast you'll oh man,
did you hear? Did you read this article in the Wall Street
Journal about Spotify?
John C Dvorak: I did not.
Adam Curry: Oh, my goodness. So the Wall Street Journal wrote
this article. Let me see. I think there was an MSN version.
Of course I'm hitting a paywall. Right now, the title of Spotify
is $1 billion podcast bet turns into a serial drama.
John C Dvorak: If he I saw the title I'd ever read the article.
But what more do you need than that title? Well,
Adam Curry: there's there's some interesting little tidbits in
here. The main one being let me see I have it here on MSN. I
think the main one being that they were paying for some
podcasts and was not specified which ones some of them they
were paying $250,000 In episode. Wow. And that's not even for
like a like a big name person who was hosting it. Now it's
like
John C Dvorak: then I mean, Kenny judgment was going on over
there.
Adam Curry: I don't know. Well, they you know, they laid off the
entire podcast division. Yeah,
John C Dvorak: for good reason. If they're gonna throw money
away. Yeah.
Adam Curry: So you know, the they have it's an advertiser
problem adverts, you cannot monetize the network. How many
times I have to tell you this. I am now do podcast one. Podcast,
one is was supposed to go public this week. They're part of their
spin off of live one. And they didn't even go public. And the
main reason being that, you know, they acquired this, like
this caste company, which had stopped paying its podcasters
advertising money they were owed. And now people out there
like to Vaughn are doing video saying, hey, these guys, they
didn't want to pay me they offered me stock. People This is
not the way to go. The all you need a modern podcast app that
has value for value written all over it, you can hit our PayPal
account all of this stuff to just support the podcast that
you like. It's that simple. If everybody supported us with a
couple of bucks a month, you'd we wouldn't have an app that
have a donation segment. It will be so beautiful. Instead, we
have to ask and ask and ask and I don't mind asking because we
give you the value upfront you can download it. You can
download this podcast anywhere you want. No charge. There's no
99 cents not behind a paywall. There's no premium content
you're not getting the you have to pay for the premium is right
here up front. We give you the premium stuff right here.
John C Dvorak: The whole thing is premium. We are one
Adam Curry: yeah, we're all we're all premium all the time.
And all we ask is you return some value time, talent or
treasure we love our artists who Blackseed so let me just remind
you that get a new podcast that podcast apps.com where you can
see all of this artwork but we always have one that we that we
attribute to the podcast is the album art. And we we put it in
the mp3 we put it everywhere that we use it for for the
socials for the social media. And we have I think hundreds
hundreds of artists who participate in this listening to
the live show, and they just try to come up with the best thing
that represents the actual episode itself. And then we
choose one and we and we reward them handsomely with credits and
with love and and everyone else we we we criticize and let them
know this funny difference. Just some funny ones already I can
see for today's show. So we want to thank the artist who brought
us the artwork for episode 1587. We titled that one calmly,
calmly, calmly, calmly, calmly, calmly, calmly and the artwork
was capitalists agenda. And it was kind of for my birthday. It
was the an old Walkman what Which I found kind of hard to
see but I relented eventually. To DeVore X. harassment. I'm
like, okay, okay, I see it a TED podcast father, which is kind of
a joke, and had little streamers and it was really the best one.
I think there was nothing else that we that we thought was was
like, playing like a flame thrower. I like scared. I'm like
that it was cute. Was there anything else that that was? Oh,
John C Dvorak: yeah, we wanted to make comments to Gus not scar
as Gus not you can stop doing these types of pieces, which I
call Surfer Magazine art. Which is a very advanced style of art,
which is kind of a combination in his case between a Surfer
Magazine art and a kidnapping letter. That's exactly what it
is. With cut out letters. We picked it already one time to
style Yeah, and it's the same thing over and over it's just
different things are moved around try something different.
Yeah.
Adam Curry: And there really wasn't much to pick from
John C Dvorak: now that just no it was the holiday. Oh, that's
Adam Curry: right. It was the holiday and also I think the
Nevermind the bollocks album cover has been done. Darren
O'Neill that's been done so many times we've picked it probably
more than once. And like the top left one there Nevermind the
bloody M five M here's no agenda. It's the Sex Pistols
Nevermind the bollocks album cover.
John C Dvorak: Oh yeah, I don't like it
Adam Curry: that's been done several times. So it was the
holiday short was is the one that I did
John C Dvorak: right so the one next to Nick near it which is by
Sir shung with the kids you gotta fight for your right to
for pleasure, which
Adam Curry: was creepy.
John C Dvorak: It was slightly creepy don't
Adam Curry: want that is creepy, but it was a
John C Dvorak: nice piece. Yeah,
Adam Curry: yeah. So yeah, it was the holiday and I can
already tell that the artists are back it'll be some fun stuff
to look at after the show. We really appreciate all that you
do. It's a great form of returning value. Many people
returned value to the show. We've got our our nitro does our
meet ups. We've got people do clips boots on the ground. I
mean, there's so much that people you are the producers.
That's why we have no we have how many listeners that your
show have zero. How many listeners we have producers,
time, talent and treasure and we'd like to thank those who
have delivered some treasure to us today. We kick it off with an
executive producer. We do have a few today. We're happy about
that. Why you laugh while you're rapping?
John C Dvorak: I'm looking at two pieces coming in and the guy
holding the giant fish fish is quite funny.
Adam Curry: Funny. Tyler Austin is from Putney Vermont 343 dot
33. He says the extra 10 is to cover processing costs. Wow.
It's not that much but we appreciate it. MLK is three
evils are not racism, poverty and bigotry, but racism, poverty
and militarism. I escaped Vermont to reside in Warren
Pennsylvania Chris Patton who hit me in the mouth last
December is a douchebag All right. Work. Great work. He
wants it well. Thank you Tyler. We appreciate that.
John C Dvorak: Kieran Cassidy K i e r o n in in the Netherlands
and Dimir and I don't know how to pronounce cure and
Adam Curry: homeless okay. Why is it Kieran? Yeah, that's not a
Dutch name. The Mirror mirror in the mirror in
Unknown: the mirror.
Adam Curry: When is near Utrecht? Oh, I didn't know it
was near
John C Dvorak: him anyway, he gave three three 3.34 John and
Adam finally made it night who had pleased night me sir Kieran,
the collector of blunt drill bits. Seeing you as a
misgendered and seeing as you misgendered me in the past Oh
Adam Curry: no.
John C Dvorak: I would like to clarify was male at birth and
I'm still male. Oh, that's good. So looking forward to a couple
of jugs of meat at the roundtable. Thanks for all the
enjoyment karma for all take it easy. Kieran Mimiron Kieran
Dimir
Adam Curry: you've got karma. All right. Mo This is good. We
will see you at the round table. Looking forward to that. Then we
have druzy druzy Baltimore, Maryland. Three Three 3.34
Comrades. Hey comrade, here's some treasure and with this
donation I become a knight please Knight me as sir druzy
thank you for all you do keep up the good work jiggles which is I
had never should have mentioned that it's jingles but okay. And
everyone's gonna do jiggles now. Anything by Reverend Al Sharpton
roundtable requests beef bulgogi bulgogi. What is beef bulgogi
Bill Gogi.
John C Dvorak: That's Korean dish that's the Korean Korean
barbecue. Delicious
Adam Curry: and Captain Jack's buried treasure cake. Sounds
delicious druzy from Baltimore, Maryland. We'll see you at the
roundtable in a moment.
John C Dvorak: ESP IICT? Sure, Mike, Big Mike. in Clinton
Township, Michigan 333. Dots three three. John and Adam. It's
been a wild year. Axe axe head watch shop at axe head watch dot
shop. X had watched out
Adam Curry: the wooden the wooden wooden guy. Yeah.
John C Dvorak: Gorgeous watches. But due to supply is still
chugging, but due to supply chain issues and an Amazon
broker deal gone bad boy, our inventory is out of whack. But
promo code, ITM still works for the 25% off.
Adam Curry: So you can't deliver but you'll take our money, I
don't understand. I hope everything's
John C Dvorak: good business is great. In my role of liberator
of MIT 10 I find myself subject of a lawsuit in federal court as
part of my fight against a plot to take over the Libertarian
Party and destroy it from within. And he's got some link
here. It's a very long link. I can't read updates to come.
Lastly, I'd like to announce my latest project. This is by the
way, very interesting. I want I want a copy of this. Yeah, me
too. Coram car Rama papalii Kurama opoli The best board game
in the universe I've adapted the show into the format of the
world's best selling board game. In other words, he's taking
monopoly and he's it's adapted it to no agenda.
Adam Curry: He misspelled it the first time it's karma Karma
opoli Karma opoli Not Cara car. Karma humbly it's a crappy name
but okay, we get the idea. Karma
John C Dvorak: opoli Okay, well, the first spelling is wrong.
You're right. Yeah. I couldn't afford to print them in advance.
So I went to crowdfunding and the best board game in the
universe. With that update. I should not be a Baronet.
Hopefully I get back on track two Grand Duke please give jobs
karma and please play resist we much for the lawsuit karma. Sir
Mike of axehead watch makers. Okay.
Adam Curry: Does he have a link to his his crowdfunding karma
on?
John C Dvorak: There's no he's got these. His link is to this
lawsuit. Okay, so it was a mistake, but
Unknown: resist we much. We must. And we will much about
that. Be committed
jobs, jobs, jobs and jobs for jobs. Harmon
Adam Curry: and Tripp Scott Gribbs Scott already found it on
Indiegogo karma. opoli So I'll put that in the show notes here
real quick. But happy to do that for him. What does he need?
Here's Indiegogo. He has. Oh, he only needs $20,000 Oh, that
should be easy. It looks good though. The Karma opoli game.
He's got 170,000 so far. 20,006 goal. I don't know if you'll
ever see it, John. It's kind of tough when you have a fixed goal
like that. Like the idea though? Search we'll have the six
strings is in Franklin, Tennessee. 333 Our favorite
number I was walking through Epcot. Oh, sir schmo search
Whoa, he's from Mercy Me. I was walking through Epcot dodging
gender confused teenagers while listening to Episode 1587 As I
passed a beverage stand in Mexico, and decided I needed
some refreshment. Lo and behold my order number was 333 I mean,
the Lord moves in mysterious ways. Who am I not to donate?
Not sure how but you guys keep getting better. All the best,
sir Shmoo of the six strings. Thank you very much brother. I'm
gonna give him the karma for that. You've got karma
John C Dvorak: nonnamous in Santa Fe New Mexico through
23456 Dear John and Adam I'm still around and I still listen
to the show. Anonymous okay. Not sure who you are. Yeah, he's
sending some of India's show mixes that I finally finished
them all figured that out then. N J and K Tidewater ARCHITEC
test
Adam Curry: that is his end of show name. And he did two under
Show mixes for today.
John C Dvorak: Is he the one that has the sampler? Yes, he's
Adam Curry: the one with the sampler. Exactly. Thank you Jim
Roy craft is in Brussels, Ontario Canada Navia 201. That's
probably dollar we do so we counted as as USD. Please accept
my deducible donation of 201.
Unknown: D deuced.
Adam Curry: Thank you Adam for playing fool me on booster grand
ball twice. I did not see that coming. Oh, this is Steve. I
know this is I will try to keep this short but please I could
use some help a once I understand once I understood the
media is scamming the general public I began to wonder if the
general public could scam the media I think so a use the foot
in the the A's in there. So I have a plan for most of this
year capitalist agenda and I've been putting together a music
video now it's done. So here's the plan. We create fake news
stories about a racist country song and deep fake video of the
ladies from the view talking about our racist countries. This
is a music promotion. Then we pay the left leaning social
media influencers to post the content about our racist country
song and see if we can stir up some crap. The problem is I have
no idea how to create this content. I've even tried Fiverr
seriously, writing this email is a challenge but I know that
someone is listening to no agenda does know how fake news
stories deep fake video, or is this a job for the curry Devorah
Consulting Group. I'll share my treasure if you can help please,
free canada@yahoo.com That's free canada@yahoo.com And if you
want to hear our racist country song, look for a woman of the
year on Jimmy V TV on the YouTubes Woman of the Year on
Jimmy V TV. First you will find this is not a country song and
it's not racist. It's much worse. Thank you for your
courage. Thank you, Jim.
John C Dvorak: Much worse, much worse. Yes. Okay, onward with
Josh mer Murrah Mirage
Adam Curry: morasca. So I'd say morasca
John C Dvorak: is in Blairsville, Georgia. Thank you,
from big ahead in the Georgia mountains. And thanks to sea dub
in sunny Ellensburg for turning me on to the show. That's always
notice this beautiful little note
Adam Curry: it is indeed we don't have many birthday
greetings for me. I'd expected some this I'd be 59 was just not
a remarkable year people like nice 59 Whatever. Fine 66 Next
John C Dvorak: year big, big big bucks btw,
Adam Curry: do you know that show 1600 And our 16th
anniversary fall within a week of each other?
John C Dvorak: Sounds good.
Adam Curry: I'll do a little brief mention of Sir nobody in
Parlin New Jersey because I know that this is from the pig roast
meet up this is a color coat. Colette calmative what does that
think it meant collective quality of donation 158 from
this collective coaster sells sells, and then his sales from
the 3d printer from the south Jersey pig roast. Unfortunately,
there was only a limited amount of two colorings due to the
printer developing a ball of filament on the head. The ball
was so large in fact, normal melting procedures didn't work.
I lost the entire printer because the sensor didn't detect
this error in time. Oh well. Lessons learned to the meetup.
That meetup report is coming along with more and we do have
two nice things after John reads the rest of these donations
through the 50s Yeah, let's
John C Dvorak: do the rest of them. Here's Bruce Schwalm
starts us off in Harrisburg, Pennsylvania. 133 88. Matthew
did tonto 133 33 in San Diego I think we already put him on last
shows list cost Dragon Slayer, St. George, somewhere us I'm not
sure where that is. $92 Kevin McLaughlin areas Yuri is already
in Concord, North Carolina 808 and this time he is promoting
the Gallia melon G A Lia the Gallia melon yummy. Roof roof.
Mark Rudolph in kalaskie, Michigan 75. Wait, why didn't
weigh in Weigh in Kartini in Torrington, Connecticut 7421
Gerald kinswoman 6126. Up Kevin McLaughlin shows up again with a
small tip dressed on it donation boob Concord North Carolina 606
and this time he is promoting horned melons that's born to
melons yummy melons that are there in the world many of LTAs
59 bucks Happy Birthday, Alina strew Struan Struan, it looks
like and she says Happy Birthday. You rock $59 QQ and
Key West Florida 59 Rob Tyson 59 And he is is the Baron of
greater Limburg. There you go. That's interesting. Sir Tom dari
DeForest, California 5510 Troy funderburk in Spokane,
Washington 25 Michael gates 52 at Josiah Thomason, and Kenny,
Iowa 51. Tim John stad in scales mound, Illinois 5005 50 Do V
says 5050 I'm saying this 5059 5005 He says for the 5050
chance that Tucker's an op, op. Bob somo Bob behalf behalf somo
in Coventry, UK 5033 Jeff Kenyon in Kalon tarrif, Queensland,
Australia $50.30 of the birthday call to his son, Jake. And now
we got 50 is already very shortlist once again after the
holiday has not helped us. Then malinovski in Stafford,
Virginia, Jason Hutchinson in Garden City, Idaho. Miko Lebar,
a Lebar LaBarre and William William stun, Michigan, Alex is
avala and Kyle Texas, Tim Kimbrel in Corinthian, Texas,
Matthew Smith and Colchester Suffolk UK, Ryan Tiernan in
North Providence, Rhode Island Philip coos Manos coos man of
Couchman offski Cause Minovsky and he's in of all places, he's
in Austin, Texas, Jonathan Ferris and liberal Kansas, Ryan
Calderon in Somerset, Massachusetts. He has a really
long note for some reason. Take a look at it since there's
anything in there. That Robertson Robertson home in
Flint, Michigan, Edward Mazurek in Memphis, Tennessee, Jonathan
Meyer in Xenia, Ohio. Danica Keaney in Lincoln, New
Hampshire. Justin Cruz into hatchapee, California Eiichi
kitty gawa in San Francisco Russer Brett Farrell, our
Oklahoma City I think, Kerry Jackson and Waterton, Tennessee
Jason deluzy on Miami Beach, Walter Phillips and Sandra fell.
Brian Watson Sir Brian in Raleigh, North Carolina and last
on the list is rail rail, r y l. E to B. Riley Davis in
Gloversville, New York.
Adam Curry: And we thank those producers as well our as our
executive and Associate Executive producers, those are
credits that you get to keep forever that forever credits.
You can add them anywhere you want. We recommend hanging out
with the superstars like Dana Brunetti and put them on IMDb,
your LinkedIn will work just fine. Put it on your sub stack.
It'll look impressive. And if anyone ever questions these
credits, we'll be happy to vouch for you just let us know. We
appreciate everyone who came in under $50. That's really where
it matters. Everybody who can who can can at least give a
couple dollars a month. That's it. That's all the value can
give. That's great. That's your value. We love that it doesn't
matter what it is as long as it's equal to the value you
receive. Those sustaining donations are important and from
the PIO box. I'm going to presume that you also received a
box from Star Hill hemp.
John C Dvorak: No. Well star Hills my box is supposed to be
delivered today.
Adam Curry: Oh star Hill hemp.com delivered to a nice
box. They manufacture nano emulsions, liposomes topicals
from hemp derivatives, all kinds of interesting gummies and
different things. There's a promo code for producers it
absorbs 3d stuff, right? Delta eights as well. It that is it's
a dream. Try it when you get it. ITM 33 Star Hill hemp.com for
33% 33% Discount not bad at all. And once a douching you've been
d do call out Mark Fisher the snap on Tool Guy that hit us in
the mouth as a douchebag and and here's the good news. We'll be
sending you our testosterone boosting and longevity
formulations soon. Very excited about that. We need that as old
dudes coming up on 16 years. We're getting my thank you Matt
and Aaron from Star Hill hemp star Hill hemp.com And again
thank you everybody if you'd like to support the show become
a producer that's it's kind of your duty if there's anything
you get of any value send it back to us. Here's how
vora.org/and a service go karma for those who want it. You've
got karma
were just whipping through everything today. Only two
birthdays on the list. Jeff Kenyon wishes his son Jake
Kenyon, aka sir it Bowgun a happy birthday. He turns 30
years old tomorrow and our very own clip custodian turns 45.
Tomorrow, everyone in the toy room say happy birthday to Neal
Jones. Happy birthday. Everybody had the best podcast in the
universe. We got two nice things to do. So I'd like to bring them
up with our
John C Dvorak: classic here. Here you go. Oh, I
Adam Curry: love that one. Yeah, that's the beauty. That's the
beauty. Karen Cassidy and druzy hub I'm on stage here both of
you are qualified and ready to be knighted. I'm very proud to
pronounce the k d as Sir Kieran collector of blonde drill bits
and Sir druzy now both of you are Knights have no agenda round
table for you. We've got hookers and blow rent boys and
Chardonnay, we've got beef bulgogi and Captain Jack's
buried treasure cake. Along with that you might want to try our
redheads with rise our beers and blondes are cow girls and coffin
varnish that's tasty Romanes women and rose a geisha and
sakeI vaca Manila bong hits and bourbon sparkling cider escorts,
ginger ale and Jerboas breast milk compatible or tons of jugs
of me that go with the mutton and munching on already while
you're munching Don't lick your fingers go to no agenda
rings.com Anybody can go there. Take a look at these wonderful,
wonderful no agenda night and Dame rings are quite beautiful
in fact, and but only sort of juicy answer Kieran today can
send us their ring size and an address to send these handsome
Signet rings which means you get some wax to seal your important
correspondence and of course you get a certificate of
authenticity and welcome to the roundtable. Have no agenda Dames
and knights know what
the party is on everywhere. Lots of meetups taking place. We got
a couple of reports the first one is from the Wednesday
Webster County whet your whistle meet up
Unknown: in the morning. This is Charles Sheldon at the Webster
County Wednesday. whet your whistle meet up at Community tap
and pizza in Fort Dodge Iowa. We have a few to count them to
including myself. So three total small amount of people but
they're going to choose to remain anonymous for producer to
producer reasons. But we would love to have more people here
and we are going to have a another one of these Wednesday
whet your whistle meetups next month. Coming up here in
October, October is the next month so next month, October you
looking forward to the next whet your whistle Wednesday, Webster
County meet up here at Community tap pizza in Fort Dodge and in
the morning and thank you for your courage and
Adam Curry: thank you for your courage. A lot of meetup only
had a few people in this particular meetup report like
the Santa Fe meetups or Jeff tau Hague to Hig tau Hague. He says
that it was just him and Dame Heather of the lost boys they
did hang out for three hours talked about our president all
the scariness of elder abuse. We also chatted about you in the
keepers podcast the DJ scene in Santa Fe and his headphone dance
party charity event in Albuquerque the next one will be
in Albuquerque and we hope to get more people there till then
cheers from the land or the Mars Rover yes that's where the Mars
rover is. And then we had the New Jersey pig roast Labor Day
Unknown: weekend no agenda meet up report a Dane wins pig roast
it's off the scale
is a win up to what Lake Welcome to the pig Rose 2023 I'm not
drunk. I
don't think I can continue. Have fun.
John what's going on? ADAM You gotta come up. Come on back to
Jersey. I say it every damn time but bring yo ass full
Happy Birthday and we got your birthday cake. But you're not
here to enjoy it. In the morning John and Adam you're missing out
on some good pig down here in Bedford New Jersey.
In The Morning John and Adam slaves. Hello from from the pig
roast meats up all the best game when is ready
to light up a big spleef Hello, please donate.
Hi, my name is Tatiana. I'm a douche bag. Morning John Adams
your coasters are here and the pig roast is tasty. Hey John
anatomy you're missing the big picture of pig roast. This is
Paul from South Jersey. Once you're here,
I gotta say when throws a nice big roast over here. Dane went
great job. And that
Adam Curry: was at her house and sounds like a super fun time.
And we got the report in from Mexico City Mexico in
Unknown: the Morning John and Adam just giving you an update
of the second no gender meetup we did in Mexico City.
Unfortunately, nobody showed up this time and last time was a
bit of a bummer too. But we'll keep fighting nevertheless.
Thank you for your courage and greetings from Mexico City from
future Dame shulkie Thank you future
Adam Curry: Damon Thank you for keeping on it because eventually
someone will show up and that's how the party begins Mexico City
thank you so much couple of meetups to promote coming up
before our next show day on the ninth that'll be Saturday the
legendary no agenda business meetup a meeting in the no
agenda lowlands HQ Villa Saga Continues meet up. It starts at
eight in the morning the Amsterdam time. This is the one
in freestyle. This is a big deal. This is the winner
remember during the lockdowns, a COVID You couldn't just hang out
together so they found some some um some little trick in the law
that if it was a business meeting then it would be okay so
now that just continued to call it the no agenda biz the
legendary no agenda business meeting, and this must be 50 to
60 people that show up for this thing it usually is for a whole
weekend. So I look forward to that meet up. Oh, they're great
over there. Also on Saturday the no agenda Ford way club 33 meet
up number one for first year anniversary of being a threat to
democracy. Okay, crazy pins Fort Wayne, Indiana. Well, we know
Indiana are crazy. Also on the ninth Portland slave soiree,
three o'clock at Dick's primal burger in Portland, Oregon. We
have the spook recruitment fair at four o'clock at the Union tap
House in Philadelphia, Pennsylvania. There's always a
spook there. The tiny amygdala pre Patriot Day remembering
huddle in Alaska Anchorage at Sur Lane's house, you gotta go
to no agenda meetup.com To find out details, and on the next
show day Sunday. Meanwhile, back at the ranch meet up mea tea at
one o'clock and Leroy farms and law harp Kansas and Wednesday.
Wow, I didn't know we're doing more here. Interesting. Okay,
we're going on through Wednesday, September 13. The
Ozarks deconstruction zone, six o'clock at Lindbergh Tavern in
Springfield, Missouri. And on the next show day on next
Thursday, show day, as always, to Thursday's to the week on the
14th the Mile High meet up 630 And of course Denver, Colorado,
you'll find that at Lincoln's Roadhouse, the no agenda
meetups, you need to be a part of one of them even if it's just
you and one other person that connection will bring you
protection it's always a party and if you can't find one near
you start one yourself. Go to no agenda meetups.com With all the
Dyson day you'll be me
Unknown: say this like
Adam Curry: I think we're both swinging for the fences with the
ISOs. Today you have one two, the four ISOs
John C Dvorak: therefore you have to go first though, it's
your turn.
Adam Curry: No, you made me go first the last time. No, no, you
John C Dvorak: got it wrong.
Adam Curry: Okay, here's my first okay.
John C Dvorak: Do you remember last time I had nothing? Oh,