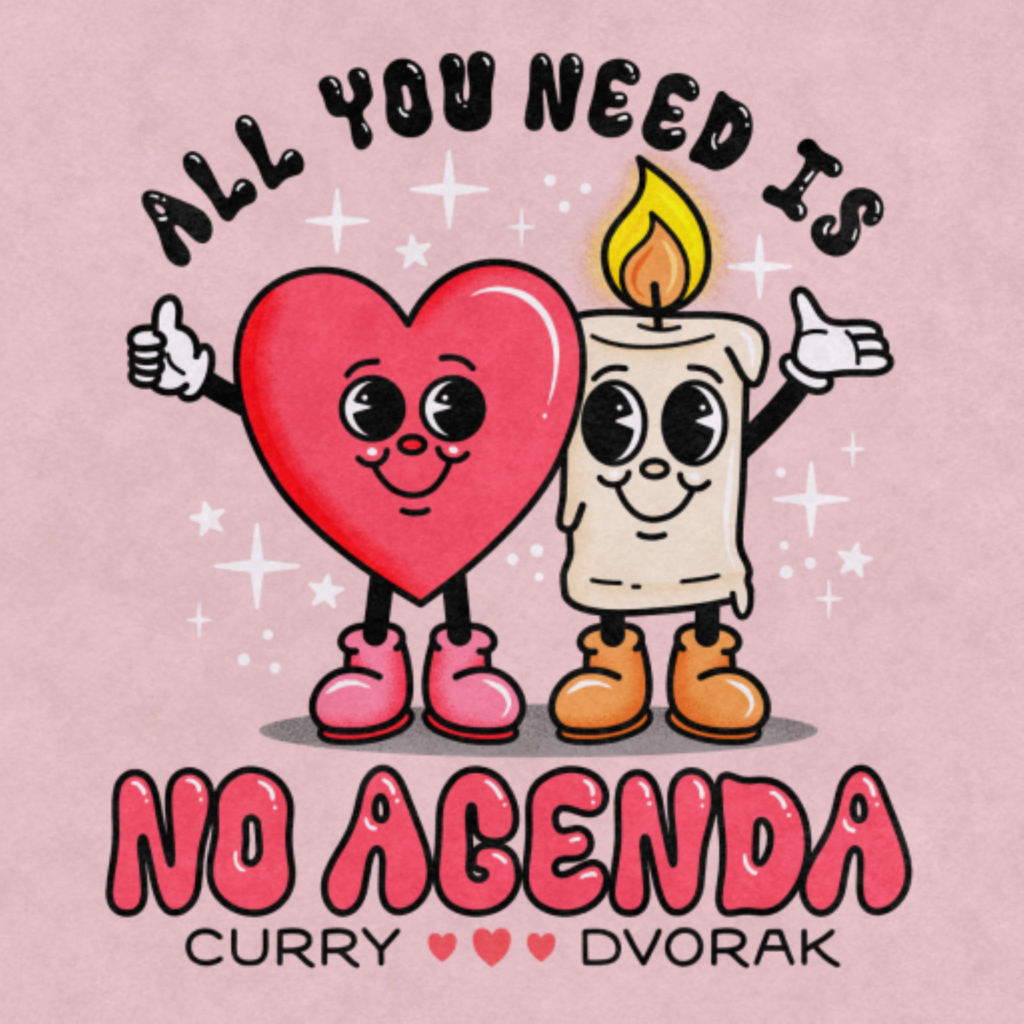 September 17th • 3h 4m
1591: Half-Jacked
Transcript
The transcripts of No Agenda are automatically generated and therefore, not fully accurate. Discretion is advised.
Click the text to start playing from that position in the show. Click the timestamp to copy a direct link to that position to your clipboard in order to propagate the formula.
Adam Curry: Reading is good kids. Adam curry Jhansi Devorah
for 1720 23 This is your award winning nation media
assassination episode 1591. This is no agenda, making mascara run
and broadcasting live from the heart of the country here in
fingerings. Number six in the morning, everybody. I'm Adam
curry
John C Dvorak: from Northern Silicon Valley where, you know,
I thought hostess was out of business and they weren't making
Twinkies anymore. I'm Jhansi, Dvorak
Adam Curry: and Bushkill. Are you eating Twinkies now?
John C Dvorak: No, but I noticed that the company was just sold
for like $4 billion. And I thought they were out of
business. And they were, you know, defunct years ago. Couple
of two, three years ago. Twinkies are not going to be
made any more houses out of business, though. Good. There
goes those chocolate cupcakes.
Adam Curry: That's funny. You mentioned that I kind of I
remember something like that now. Not you say it. Twinkies.
No, I have no clips on. Okay, well, that's great. So what else
have you been working on? You've been down in the financial pits
I hear.
John C Dvorak: Yes. Sell buy. Actually,
Adam Curry: now that you bring that up? Wow. Let me get this
going. Right now I have. I have a pretend not that I have a
stock tip. We don't do stock tips. But I think there is some
information that has come out in the Wall Street Journal today.
And also on the Wall Street Journal podcast, that can show
us what companies we should be short selling, which if I
understand the mechanism, when you sell short, then if the
company stock goes down, you make money Correct?
John C Dvorak: You sell that as sir? Is this like just reverse
of what you'd normally do? You'd say you sell at 50 and you buy
at 25?
Adam Curry: Okay, I think any company that does the following
is a shore sword short sell,
Unknown: is feedback now too harsh, more companies are opting
for a gentler term feed forward. Wall Street Journal reporter
Alexandra Burwell joins me. So Alexandra, first of all, what's
the difference between feedback and feed forward?
The concept is not feed a friend
Adam Curry: feed forward instead of feed back.
Unknown: The idea is that feed forward gives people less
anxiety. It's a little bit gentler. When people hear
feedback, they think immediately what have I done wrong? What are
the bad things my boss is going to tell me to fix? One thing
that we heard over and over was that during COVID, you know,
employees weren't having regular review sessions. Everything was
virtual. After the pandemic, when more people came back to
work. Companies sort of changed their approach to HR and
management. They rethought the review process and really
decided that it was important to make the entire process more
productive. And in fact it just to
be clear, are we talking about just a renaming of what we've
come to know as feedback or do these efforts include?
Adam Curry: It gets better some companies are actually doing
this already
Unknown: changing the actual tone and nature of feedback type
conversations.
It depends on the company introducing the term and
revamping its review process. Some argue that just replacing
the word with feed forward or Microsoft, they use
perspectives. And other terms, there is a danger in really just
glossing over the idea that feedback negative or positive is
important. rebranding doesn't really do much. But there's also
a number of companies that are rethinking the entire process.
And as part of that, they want employees to feel more
comfortable in the process. And therefore they feel that
rethinking the words they use, replacing feedback with feed
forward reviews with connect sessions, and also having
sessions more often, you know, between managers and employees.
Truly makes for a more productive and effective
workplace. John,
Adam Curry: I need to connect session. I need the connection.
John C Dvorak: We need to connect session sessions
overdue.
Adam Curry: Yeah, any company that employs these tactics is
going to lose. This says
John C Dvorak: Microsoft of course would be involved. Yeah,
the other ones he got sucked into this stack ranking bullcrap
which really hurt the company for years. We
Adam Curry: haven't talked about that in a long time. Still
around. Yeah, no, it wasn't just Microsoft. I thought it was once
it all snow everybody.
John C Dvorak: There was a big trend for a while as Jack
Welch's invention.
Adam Curry: Yeah, stack ranking. Oh, there's
Unknown: no winning. We don't like to foster a competitive
atmosphere but we laugh a lot. Now everyone hog and share a
secret.
Adam Curry: Now it's interesting because this this podcast came
out today I read the article. The article is even worse. It's
filled with all kinds of terms There was this interest kind of
polarizing the
John C Dvorak: Wall Street Journal think it's doing it's
supposed to be a newspaper. What did they think that they're
Harvard Business Review trying to establish certain norms and
how businesses run. These are reporters that don't know how to
run a business. Hello?
Adam Curry: Well, if you if you can't do you teach, there was a
guy that kind of got viral on, on on X on the socials maybe two
weeks ago, and even some, some Magga country people sent it to
me saying that this guy has the wrong idea. I don't know if they
if they wonder if they understood what he was saying.
Because he was What are you saying is very polarizing. This
is a Tim Garner. And this is a report from the hills
Unknown: have workers become the bosses. That's what Gartner
Group founder, Tim Gardner seems to believe. And he told
Financial Review property summit workers that this is a problem
that needs to change.
I think the problem that we've had is that we've, you know, we
have people decided they didn't really want to work so much
anymore through COVID. And that has had a massive issue on
productivity, you know, traders have definitely pulled back on
productivity. You know, they they have been paid, it paid a
lot to do not too much in the last few years. And we need to
see that change. We need to see unemployment rise, unemployment
has to jump 40 50% In my view, we need to see pain in the
economy, we need to remind people that they work for the
employer, not the other way around.
Wow, unemployment has jumped 40 50% When an admission
governor also said we have to hurt the economy to end the
arrogance among workers.
Adam Curry: This is really interesting, because I I agree
that the workers are out of control. And this pandering such
as we just heard is bad. It's just it's biblically bad. You
know, you you need
John C Dvorak: our shows been dramatic about this point with
the noodle boy,
Adam Curry: yes, yes. However, some people thought that his
solution was just a horrible idea. And I'm like,
John C Dvorak: Well, that's all go broke. That'll fix things.
Adam Curry: It's not exactly what the Federal Reserve
John C Dvorak: property there you go. There's a solution to
everything.
Adam Curry: Well, I think they're well on their way. I
mean, poverty is on deck. I mean, to me, it seems like the
West, the United States in Europe with with the immigration
that's taking place is like we're going to become the slaves
who make I think manufacturing may come back to the US into the
into Western Europe.
John C Dvorak: Yeah, thank you for manufacturing. Yes.
Adam Curry: We'll be we'll be the slaves. And then we'll have
our own Uyghurs which will be the illegal immigrants. This is
happening in Chicago this finally finally people are
waking up.
Unknown: In heights Church of Christ and open dialogue on the
migrant crisis hosted by Alderman Ronnie Mosley was
packed inside and out.
First of all, they definitely chose those venue for a reason
they chose a small venue so that they could discourage the
community from being able to show
up with fall and winter fast approaching. Mayor Brandon
Johnson is looking to move migrants from police stations
into what the city is calling winterized base camps.
This is essentially like a bandaid to a gunshot wound. You
are putting a BandAid on a huge problem at hand
one potential site two former jewel parking lot at 115. And
Halstead
does a bad idea. They want to push
this out of sight, out of mind.
But it's coming with pushback, many calling on the city's
leaders to focus on the needs of taxpayers. We are
the residents of this community. And we demand that they do not
put these people here. They're not following the rules in the
police station. What makes us think that they're going to
follow the rules here.
Residents tell us they are in need of grocery stores mental
health facilities and housing for homeless individuals. By the
end of this year, the migrant crisis will have cost taxpayers
a quarter of a billion dollars.
Adam Curry: I like calling it winter Basecamp. Just branding.
You're welcome here. The winter base camp y'all call to get some
Chicago migrants
John C Dvorak: cold there. Play it play the New York Immigration
clips. Number one
Adam Curry: oh yeah, no. This is beautiful.
Unknown: tensions rose today in Manhattan over the immigration
crisis. Lawmakers tried to address the issue, but they were
met with frustrated protesters. And it is Jason Perry was on the
scene.
Representative Alexandria Ocasio Cortez along with other
lawmakers address the immigration crisis in New York.
City, but they were quickly disrupted by protesters shouting
close the border. Ocasio Cortez continued speaking outside of
Roosevelt Hotel in Manhattan, which has been used to process
illegal immigrants. She called for more federal resources to
help deal with the crisis, a man in the crowd voiced his
frustration to the lawmakers.
How's that gonna unity to the station, when you take when
you're taking care of illegal immigrants, only your own
citizens?
We spoke to some people in the area to see what they think is
the solution to the migrant crisis,
close the border. The only solution a genius remain in
Mexico like the policy was before. Why does my family
member have to wait in Colombia and they filed a legal petition.
And these people are right here on 45th Street,
and another man voiced his concern. It's not
right. You have to come through the proper channels. There's
people that are waiting to get here. And they're skipping the
line and they don't care. We don't know who these people are.
Did not vet it. Many of my ex girlfriends were from other
countries. So this is not about hate.
Adam Curry: It's not about hey, I had sex with them. It's not
about hey, take
John C Dvorak: my many X Men, many, many girlfriends.
Adam Curry: I think we should call them Neo wiegers. That
should probably be the the new term because that's all there
going to be with AOC Why might I want to remind everybody, she
auditioned for this role? She auditioned for this role. We
always present the actress, an actress and not a great one. She
auditioned and has been MK altered into repeating talking
points. And she even asked if you have it talked about a path
to citizenship
John C Dvorak: for these well I clip in the series, but the
problem is is that they would they had her talking and it was
so noisy with over with people yelling at her. Did you try to
bet in that last clip? I cut out two chunks of it because of that
it's too much issue. They can't she can't get a word in palace.
Adam Curry: How's the Adobe product? Did that work? Did you
try the
John C Dvorak: Oh no, it was beyond Adobe. This was just like
a cacophony of venture was a mess.
Unknown: And this man explained that it wasn't fair to the low
income families living in New York City,
they have congestion pricing in the city. Well, you're gonna
have to pay $20 to drive it to monad. How are the low income
families supposed to survive? How are we supposed to raise our
kids? Why everyone gets everything for free. There's not
two systems of justice in this country.
We also heard from an immigrant who recently arrived in New York
City
where we never imagined none of the immigrants that we were
going to be received like this. Nonetheless, I am grateful.
Protestors and politicians both made their voices heard today.
This is clearly an issue that will continue to demand national
attention.
Adam Curry: Finally, at O'Hare, there's 400 Neo wiegers in the
airport,
John C Dvorak: by the way, kudos to Abbott.
Unknown: Yeah, yeah.
John C Dvorak: I mean, it it took a long time. He'd been he's
been shipping them out for what six months to a year. Quite a
while. Yeah, for quite a while. It's finally caught up to
everybody. Okay,
Adam Curry: yeah, but it's it's so sad that it had to come to
this. It's just these are people that human beings. Now it's like
what is how stupid is this?
John C Dvorak: Well, this is going on the latest thing going
on in Europe. Did you see this sit down with Van der Leyen and
marketer alone. He's sitting next to each other and
Adam Curry: and the Dutch Prime Minister decomissioned
Margarita. What is that guy doing there? Yes, I saw it.
John C Dvorak: Those two women do not get along?
Adam Curry: Well, I'm not sure if I was talking to Willow and
my my niece and my nephew. And they are like me and Maloney is
she's just another one of the elite. She's not the youngest.
There's nothing that she's going to do. She talked a big game
when she was coming in or when she wanted to get in. So and and
also, they say that the migrant issue in Italy at least isn't
all that bad. Even though the Lampedusa is made to look really
really horrible. They say that it's not really being felt but
now they're they're in there and Firenza you know is this for
different Italy so that they maybe they just don't minimum to
get they got the minimum different different vibe there.
But yeah, yeah. I mean, how much I mean, the Netherlands. People
are sick of it.
John C Dvorak: There's this is interesting, though, that this
is a as we've noticed with the COVID and some other incidences
are universal. These are worldwide. Yes, phenomena,
coordinated by someone.
Adam Curry: And I don't know if you saw this but Zelinsky You
know, the actor from Ukraine, he came out and he said, You know,
I see that not everybody is with us. And you know, we have a lot
of Ukrainians now all over Europe. And here it is, Western
governments could face defeat at the ballot box. You know,
because the Ukrainian refugees, you know, they're gonna vote,
and they're gonna go in, they're gonna vote you out. If our
partners do not help us, it means they want Russia to win.
And this is how crazy you this has become.
John C Dvorak: This guy has been threatening the west with one
thing after another and we keep putting up with it. That's why I
posted a photo of the of one of the stories in the current
edition of current affairs, where they're hinting of a pull
out that we're going to give up on the on the Ukrainian Yeah,
Adam Curry: good. Can you want to give us a synopsis other than
they're hinting at a pull out? What was nice
John C Dvorak: was basically the synopsis in foreign affairs. In
foreign affairs. Is the magazine produced by the Council on
Foreign Relations? This? Yes. And so they it's like sometimes
it's signaling you don't know what messaging of some sort. And
they say, in the article Kyiv should be prepared for a sudden
pull back by the West and so in support, because they make the
point that people are getting sick of this. And I think that
and they're getting sick as Alinsky.
Adam Curry: Well, what's going on in London right now speaks a
whole different story about what's happening in Ukraine
because it is a capital B bonanza.
Unknown: This year, it's bigger than ever. Nearly 3000 companies
have turned up to London's Excel Center. Over 100 countries have
sent delegations. If you're looking to expand and modernize
your country's armed forces. This is the place to be. The war
in Ukraine exerts a strong influence. The country has his
own stand. But the conflict is also shaping the priorities of
the global arms industry, much in evidence or drones of all
sizes and capabilities. And given their success on the
battlefield systems to defeat them are now a priority for
everyone
in our market, we can see everyday on the battlefield that
drones used every day in huge quantities. That is the threat
we are addressing with our products, we we have developed
the top notch control system to secure Ukrainian forces as well
as Polish and NATO forces.
The war is also underlined the importance of things some
thought were no longer needed. Tanks, long range artillery and
shells to train us is 7000 a day. Global inventories are
running low. So production is ramping up. The war in Ukraine
is also changing government spending priorities. defense
budgets are going up everywhere. Armed Forces are being
reconfigured. Challenges. That means billions of dollars worth
of defense contracts are up for grabs.
Adam Curry: Billions are up for grabs. In this they are selling
now literal directed energy weapons to bring down these
drones. zap them out of the sky. And we knew this is what Erica
Eric Schmidt was talking about. Remember he was on with Zaccaria
like God drones drones. That's the future. It's these little
drones little drones. And there it is a whole conference 300
different country. Exhibitors all selling drones and drones.
It's this is and it's just like everyone's like, Oh, this is
cool. It's great. Yeah, arms. Cool. It wasn't not Smedley
Butler who said more is a racket.
John C Dvorak: Yeah, it was General Smith, General Smedley
Butler
Adam Curry: and it is a an enormous racket. Yeah, what else
what a scam. And every no one has is I guess everyone's just
all pacified. Sitting at home. Do we don't we don't notice the
the writer strike or the actor strike? There's plenty of good
stuff on Netflix. There's plenty of stuff to watch. No. Has
anyone complained that the late night shows are off the air. Has
anyone missed
John C Dvorak: this one at all? To some incredible
Adam Curry: degree like wow, the
John C Dvorak: guys are complaining the guy that worked
there.
Adam Curry: Wow. Yeah. And did you see that? They're trying to
get rid of Kimmel like Oh, well. Some kind of report came out.
He's drunk. Hello. That we had boots.
John C Dvorak: Fallon.
Adam Curry: Fallon. I'm sorry. Yep. Sorry. We had boots on the
ground reporting that when he went in. Oh, he's hammered every
day. He's hammered. Yeah, yeah, this is
John C Dvorak: This is like the real race you want to get rid of
because he wasn't toeing the line with anti Trump jokes.
Adam Curry: Yeah, yeah. True. Speaking is pretty dahlias
John C Dvorak: job tried to try to maintain a middle ground with
his with his political humor, while the other two guys are
just slamming. Kimmel if I remember when Trump was in
office, I was literally crying on the stage. About how bad
Trump was. I remember that. Yes. Oh, yeah. Oh, here's a comedy
show by the way. Yeah, Trump's bad he's hurting children. He's
got to go we shouldn't have a president like this ridiculous
recall
Adam Curry: comedy show Saturday Night Live opening with the
Ukrainian national anthem. Yeah, now the real humor is on tick
tock people. That's where it's funny that's what people are
watching low mood book. Tina sat down on the couch he said Let's
watch some reels. She doesn't we don't have tick tock but she's
let's watch them reels
John C Dvorak: me do wave stop with me don't have tick tock is
on the line. It's on the web.
Adam Curry: Yes, but I don't have it on my phone. She doesn't
have it on her phone.
John C Dvorak: I don't either. And I watch it all the time. I'm
sorry to hear that. You know what's funny, by the way, just
should mention this. Just first, so people should know. I use a
VPN most of the time on my machine. It's just safer. And I
use VPNs out of South American countries because there's a
couple are just so fast. It's like you wouldn't even know
you're on a VPN. So when I'm on an Argentinian VPN and I just
happen to hit tic tac with not as a sign on but just as I'm now
looks to tic tac like I'm in Argentina. They have the same
dipshit girls in Spanish. During those stupid dances they do well
yeah, that's
Adam Curry: what tick tock is tick tock. Why you
John C Dvorak: What is it what why are you doing this you're
making you look like an idiot.
Adam Curry: Do you understand the mechanisms of tick tock?
Tick tock is the music industry. It is literally the music
industry. There's so much money to be made. If you are a
successful tick tock dancer, or whatever you've created on tick
tock you can make real money this is and probably no surprise
Turning
Unknown: now to tick tock and the European regulators slapping
the social media app with a nearly $370 million fine,
accusing the Chinese own platform to failing to protect
children's privacy. Alexis christoforous joins us now with
that. Good morning, Alex. Oh, yes. Alexis Kumar.
Good morning NGO that investigation by Ireland's data
protection commission finds the sign up process for teams made
their tick tock accounts public by default, allowing anyone to
view and comment on their videos. It also allowed adults
to direct messaging for teams without their consent.
teens want?
Adam Curry: Yes, it's softcore porn. It's borderline cruelty
against animals in most cases, funny but cruelty against
animals. And yes, that's what they want it Yes, it is weird.
Teens search on Tik Tok. No one goes to Google anymore. Finally
Unknown: direct messaging for teams without their consent, and
a statement Tiktok saying we respectfully disagree with the
decision, particularly the level of the fine imposed. It is the
latest in a global crackdown on tick tock in the US and public
universities, as well as many state and federal agencies have
banned the app on their devices out of concern. It would give
China access to sensitive user data. And Montana passed a law
that bans the apps use in the state all together and it's not
just tick tock Instagram WhatsApp and the owner Mehta
among the tech giants hit with Big fines by the Irish
regulator.
Adam Curry: So the EU playing a big game oh yeah, we understand
how this works is that China's gonna get it all tick tock, bad,
bad. But listen, how the queen of the European Union, you know,
where is Queen Ursula? How much she understands the topic of AI.
I mean, artificial intelligence. This is the future. And she
really, that she is she is accepting artificial
intelligence into her life.
Unknown: I believe in the power of artificial intelligence. Just
look at the winner of last year's future unicorn award
party from Denmark. They are using AI and voice recognition
to help doctors predict heart attacks. It's simply amazing,
amazing. And indeed, the possibilities of AI are immense.
I don't have to tell you AI can turn on wind turbines and can
produce more energy as the weather changes for
Adam Curry: Wow, AI can detect a weather change and turn on
winter being sampled.
Unknown: AI can detect the Cybertech faster than any human
being.
Adam Curry: Yeah. What about MGM?
Unknown: And as a medical doctor, I know that AI can also
for example, in mammography way earlier, and more reliably than
any human being.
Adam Curry: So the EU if I didn't know she was a medical
doctor, actually, or at least not one that's qualified to
speak about demography. So the EU is doing the same thing here
in the US. And they're lining everybody up and getting
everybody together in the setting all up because they want
to control it. They want to make AI your new god. And an AI is
right. And AI is smart, and AI does everything and I could not
resist seaspan got Elon Musk for one minute statement, which is
much better audio than anything we've had so far outside of the
tech, the private tech meeting where they were divvying up
something. I think it's very telling what he's saying here.
Unknown: I think it was, it was very nice discussion. Actually.
I'm on some of the smartest people in the world.
Adam Curry: Okay, let's stop right there. Can we stop saying
that these are some of the smartest people in the world?
They're not the smartest people in the world. They run
profitable companies. They're businessmen. Yeah, that are
that. Does that make them the smartest people?
John C Dvorak: No, generally speaking, when you're new, and
you were in college, in the olden days, the business guys
were the dummies, the dummies would go into business. The
smart guys are theoretical physicists. None of these guys
are that.
Adam Curry: So he says it was very civilized. Not sure why
he's saying it's civilized, maybe that can only be because
there was money to be made. And these are some of the smartest
people in the world, which he of course, conveniently includes
himself in this group.
Unknown: Some of the smartest people in the world. So I
thought Senator Schumer did a great
Adam Curry: job. Now listen to what he's saying. I did not
bring it
John C Dvorak: I can understand it, where he's saying he's
mumbling. You're talking over it.
Adam Curry: Senator Schumer did great to hear Senator Schumer
did a great service to humanity here. So he's sucking up to
Schumer for some reason,
Unknown: along with the rest of the Senate. And I think we'll I
think something good will come of this. This, I think this
Adam Curry: history has been very important for this meeting
is going to go down in history is very, very important.
Unknown: The future of civilization. did ask everyone
to raise their hands in the room to see if they were in favor of
AI regulation. And I believe almost everyone did.
Adam Curry: Now this is interesting, because you keep
hearing that Schumer asked Is everyone in favor of AI
regulation. And you keep hearing almost everyone did who didn't?
Who didn't? Who was not for this? I'd like to run
John C Dvorak: to try to get in it. You know, AI? You we know
that regulation is the keep people out fixed prices. Yeah,
Unknown: that's a good sign. I think the probability of there
being some sort of regulatory agency that stands on its own,
similar to the FA or FCC is likely at some point. And the
reason that I've been such an advocate for AI safety in
advance of sort of anything terrible happening is that I
think the consequences of AI going wrong are severe. So we
have to be proactive rather than reactive.
Adam Curry: So let's talk about the cases of AI being severe,
you don't need AI to be severe. And I only just heard about this
case. In Australia, it's very similar to what happened with
the the Dutch Child Care Benefit scandal, which which the cabinet
resigned over because they essentially Brandin algo, on on
taxes and returns and social social payments. And they went
to 10s of 1000s of parents and said Now you receive too much
too many child benefits. You owe us 50,000 euros, and this made
people lose their jobs, their homes, some people committed
suicide. This seems to be some kind of trend. Amongst the world
is Australia had something very similar known as Robo debt,
which happened four years ago. And it's just now coming to
light.
John C Dvorak: It was wrong. It was illegal. It should never
have happened and it should never happen again. Under the
former Liberal government, this scheme unlawfully raised $1.76
billion in alleged debts against some 526,000 Australians. This
tragedy cause stress, anxiety, financial destitution, And sadly
had a very real human toll. For more than four years, liberal
ministers dismissed or ignored the significant concerns that
were raised over and over again, including in the parliament, but
also by victims by public servants by community
organizations. And, of course, legal experts. The Royal
Commission has found that liberal party's robardet scheme
was, quote, a crude and cruel mechanism, neither fair nor
legal. And it made many people feel like criminals. In essence,
people were traumatized on the off chance they might owe money.
It was a costly failure of public administration, in both
human and economic terms.
Adam Curry: So now that I see this happening, and I'm sure
there will be other countries that had similar things take
place, could this be a setup to bringing in the smartest people
in the world to have this done? Right. You know what I mean? I
Unknown: don't think so. No. And I'm gonna do that
Adam Curry: while governments are deploying this. This is what
the IRS in the United States is deploying they've, they've
announced it, we're going to run
John C Dvorak: Robo ai ai. Yeah. But that's just that's not going
to be for this. What's the difference? And then I gotta do
it. Anyway. Good day. It doesn't work. They?
Adam Curry: Yes, they are, of course, they're going to do it.
In fact, I have. I have a where's it I think I have a
boots on the ground report about this. Was this. One of our one
of our producers had this happen to them? I may not have it
handy. The the crux of it is they have a company that I think
brings in $50,000 a year and the IRS hit them up for $500,000 in
unpaid taxes, which was run automatically and they can't
even get anyone to pick up the phone. And listen to him.
John C Dvorak: Well, that doesn't make a lot of
Adam Curry: here it is here it is. Just wanted to chime in and
confirm your contention that the tax debt over 250,000 scam is
just trying to squeeze small business. To make it short. My
wife and I have a very small business that processes
transactions online, we make around 50k a year in taxable
income on this business, the IRS had an automated system that
decided we owed them 500,000 plus dollars for tax year 2021.
They decided this and 2023 it was clearly some type of
algorithm they applied to us and it's impossible to even speak to
a human about this and try to get it resolved. Explain that we
literally make 1/10 the amount each year that they claim we Oh
yeah, that it doesn't make sense. But it's happening.
John C Dvorak: But it doesn't make sense because you can get a
hold of the IRS. No, I've never heard it. You can't get a hold
of the IRS and go to their arms Busman program. There's a
million ways to getting a hold of the IRS. We just had a
situation with the IRS ourselves. And Mimi had no
trouble getting a hold of an IRS person though to work on this.
Oh, maybe they
Adam Curry: should reach out to me, me me me has powers.
John C Dvorak: Yeah, it's called dialing a phone.
Adam Curry: I'm just telling you what they're saying.
John C Dvorak: I understand what they're saying. I'm just saying
that doesn't make sense. Because I've never had trouble getting
ahold the IRS.
Adam Curry: Maybe. Maybe you have credentials that we're all
unaware of.
John C Dvorak: No, you call a number. Just phone numbers. You
can call? Yes, I know,
Adam Curry: John. I know. I'm just telling you. They may have
been able to get a hold of them, but maybe they couldn't help
them. I mean, I during the pandemic, you certainly couldn't
get a hold of anyone that's different.
John C Dvorak: But this is very resolvable.
Adam Curry: I sure hope so. They seem to be frustrated by the
process. By the way. Just as an aside speaking of the smartest
people in the world, Kara Swisher. Without a doubt one of
the smartest people in the world. One of our producers
asked her a question on tick tock and she answered.
John C Dvorak: Tick tock, tick tock
Adam Curry: on X on x. Hey, Kara. I'm a big fan of pivot. My
hate Listen, I've heard Jhansi Dvorak referred to you as his
protege many times he seems to be very proud of this fact. How
big of an impact did Devora have on your career?
John C Dvorak: You did this?
Adam Curry: No, I didn't do it. Matt FFLs. Did it is one of our
producers. I didn't do this. Would you like to hear her
answer? Because she answered.
John C Dvorak: I'm dying. I'm sure she said Hey, wait, wait,
let me guess. Let me guess. Dvorak who
Adam Curry: No, no, no, no, no, no, she was she acknowledges you
with I'm not really. But he had a good show back in the day.
That sounds right. I'm a protege of Walt Mossberg. Oh, okay.
There you go. That makes sense. I just thought it was great that
she answered, because she's probably irked that we're always
busting her chops.
John C Dvorak: I don't think she knows that we even do a show she
does. She does she does now there's no no chance. She does.
Adam Curry: I've even I've even once I think I sent a slash on X
to Prof. G and said I was my favorite hate listen, and he
replied, thanks. I think they know they No, come on. They're
in the business of tech podcasts. How could they not be
listened to the no agenda show? Where you know do tech did we do
we do all kinds of tech? We know everything about tech. What did
we just do about AI? That's tech.
John C Dvorak: I guess it is.
Adam Curry: We know more about tech than those jokes. Well,
that's beside the point. All they know is how to moan and
groan about Elon Musk the head horrible he is
John C Dvorak: Oh boo she I don't know like I still like to
I like people in the in the media that hate musta hit on
Musk like It's like there's no tomorrow I'd like an
explanation. When we know the
Adam Curry: explanation. No, we don't. He took away their tool.
They're the the tool of Twitter. Yes, the tool of Twitter which
they they
John C Dvorak: use this they started hating on must before he
took over Twitter that just closed the deal. Once he once he
flipped you know, this is I guess my thesis is gonna stick.
Stick to this. The Democratic Party is a cult.
Adam Curry: Wow. Wow. Everybody stop what you're doing.
John C Dvorak: Once you quit the party, they go after Yeah. Like
a cult does.
Adam Curry: Oh, that's a reasonable idea.
John C Dvorak: And reason and people in the Republican Party.
They quit the Republican Party. I mean, I have and nobody cares.
Oh, yeah. Okay, whatever. What is you now libertarian? Yeah, as
what he says. But the Democrats you quit the Democratic Party if
you're involved, especially if you have a lot of money like
Trump did. You quit the party and start to do anything else?
And they're all over? Yeah.
Adam Curry: Well, did you see what happened to John Weiner?
Unknown: This you see,
John C Dvorak: John, when I did I saw it happen to yawn when or
do you see what happened to do it? Now? We're bringing this up
to just see what happened to what's his name to British guy
Adam Curry: Russell Brand. I
John C Dvorak: have a clearer so brand guy killed. Well, first,
let me explain what not literally, but both figurative
but let's start with
Adam Curry: Yan winner. Sean Weiner, who started Rolling
Stone magazine became a super, super uber lefty, I would say.
John C Dvorak: Yeah. And he was just as an example of that, is
he pretty much has the veto power over the Rock and Roll
Hall Hall of Fame. Yeah, had and we will not allow a number of
people to be in it, even though they should have been in it
years ago.
Adam Curry: Yes. Well, he has been ousted from the Rock and
Roll Hall of Fame board. Because he wrote a book. And he did an
interview with The New York Times. And in and he's and the
question was asked, Well, why didn't you have more women in
your book? Why don't you have more people of color? Or
John C Dvorak: a woman a woman? Why do you have a woman in the
book or a black musician?
Adam Curry: And he said you know, they're just they they
dumb? It was worse. He said in The Times interview with winner
that published on Friday he said that black and also female
musicians quote, didn't articulate at the level of the
white male musicians in his classic it's not that they're
not creative geniuses. It's just that they're inarticulate.
Although go have a deep conversation with glade gray
slick or Janis Joplin. Please be my guest you know Joni Mitchell
was not a philosopher of rock and roll she didn't in my mind
meet that test not by her work not by other interview she did.
The people I interviewed were the kind of philosophers of rock
of black artists well you know Stevie Wonder genius right.
Suppose me use the word use the word is brought us masters. The
fault is using that word maybe Marvin Gaye Curtis Mayfield? I
mean, they just didn't articulate at that level. But
Pete Townsend Oh, hold on. Water canard. And then he said, You
know, I guess I'm old fashioned. I should have probably put one
woman and one black person in there but um, you know, I don't
care. Well,
John C Dvorak: this is the classic leftist.
Adam Curry: Okay
John C Dvorak: devs hypocrites. Yeah.
Adam Curry: So the Russell Brand thing is interesting
John C Dvorak: anyway, just finish the winner thing he's
He's been our scores created for this,
Adam Curry: that while the Rock and Roll Hall of Fame sent a
statement, Yan Venner has been removed from the board of
directors of the Rock Roll Hall of Fame Foundation, and they
have no further comment. And then when are of course issued a
statement in my interview with The New York Times and made
comments that dismiss the contributions, genius and impact
of black and women artists, I apologize wholeheartedly for
those remarks. The Masters is a collection of interviews I've
done over the years that seemed to me best represent an idea of
Rock and roll's impact on the world. They were not meant to
represent the whole of music and as diverse and important origins
but reflect the high points of my career and interviews I felt
illustrate the breadth and experience in that career Mee
Mee Mee Mee Mee now he's done he's done is great. He's done.
So the the brand thing is interesting. I started getting
emails like hey, channel four just preempted its normal
lineup. So this was this was not a planned show. This was they
they preempted whatever is normally running and ran this 90
minute program which accuses and I think it's because it leaked
out and he got some emails and the day before he did a YouTube
and he said hey, this is this is not right I'm I'm being
railroaded because I have a different message and and I have
like a minute, which really shows you what kind of a hit job
this was. Nobody can talk about the validity of it. But the hit
job is a beautiful piece they edited and they use this as the
trailer. This is inappropriate probably for young ears. But
here is a piece from Channel Four is Russell Brand. expose a
I phoned
Unknown: and somebody that's what it was regarding. And I was
said that's regarding Russell Brand being a sex offender.
He's grabbing my my underwear, pulling it to the side, I'm
telling him to get off me and he won't get off. Like holding me
up against the wall, pushing himself in me.
I love the music.
He grabbed me and got me on the bed. I was fully clothed and he
was naked at this point. And he held me down and he was just
aggressively trying to you know,
me. I was like, Oh my God, He raped me
forced his penis down my throat and couldn't breathe. I was
choking me. I was crying. And he said, Oh, I only want to see
your mascara run anyway
mascara runs a little bit
Adam Curry: this this big. So so they take a story where the
woman says this is exactly what he did and said I just want to
make your mascara run and they cut to a comedic conference a
stand up of him where he's using this as a joke. And he says
those blow jobs that to make your mascara run, and they add a
lot of echo to it and a lot of scary effects. That to me tells
me this is a job. But wow, a serious one. And I have lots of
questions. Like, is he has he been removed from YouTube yet?
More importantly, or have charges have been filed? We know
that. Certainly this apparently happened in Los Angeles, that
you can make millions of dollars just like the case against Trump
with a with a 20 3040 year old accusation. So what is this what
what really is the result of this? What is the point? And
there's there's two sides. One is this is two this is the
mainstream media hates what he's saying and Big Pharma hates what
he's saying. And the other side is he's using it to up his
profile. I mean, there's all kinds of sides to this.
John C Dvorak: I think it's I don't think he's using it to up
his profiles. It's
Adam Curry: like an Andrew Tate type type of thing. Oh,
John C Dvorak: that's not going to happen.
Adam Curry: But him I've always wondered why he's still on
YouTube that that is questionable to say the least.
Make no it
John C Dvorak: won't be on for long. I think there are things
to get rid of him. He's a he's a pain in the ass. Yeah.
Adam Curry: Yeah, it's definitely a pain in the ass.
But it's also as like, dude. You could see this coming down
coming down Broadway. You're building an audience on YouTube.
What are you thinking? Oh, no, I'm now I'm on rumble. Okay,
John C Dvorak: bitch shoot, come in.
Adam Curry: Now he's always rumble, I think rumble pays him.
And we'll see we'll see how strong Rumble is with these
horrible allegations. It's now you know, of course believe all
women. But man, this is this is severe. And it's so stylized.
It's not a news report. It's a 90 minute documentary with with
music and effects. And an echo is I mean, it's really meant to
influence people's thinking. I don't even know if I haven't
watched the whole thing. I haven't haven't watched the
whole thing I will. I don't even know if they show two sides or
if it's just all a hit job. The funny thing is people are on
posting audio. This is AI. Oh my god, really people. It's not
that hard to find someone who will
John C Dvorak: just say, I know there's one clip going around to
one woman when she got cut in and out but the raw version of
her sounds very AI ish. But what's the point you can find an
actress to do you don't need AI for
Adam Curry: that. Hey, you know, tell me this. You're an expert
in audio. Isn't this AI? No.
John C Dvorak: I got that. No to your Yeah, Adam, you're the
expert. Is this AI?
Adam Curry: Ah, no. It's not that hard to get actresses to do
this. They've been said they use four actresses for this piece.
John C Dvorak: So somebody sent me There's a website called AI
or not.com. And Ar not.com takes a look at images and tells you
whether they're AI or not. We need to the Art Generator.
Right. Well, I did and everything was AI. But so I took
some regular pictures and I swear this is a fact. I took a
picture. I took a couple of screenshots of airy Melber or
whatever his name is Ari Morrow,
Adam Curry: Ra Ra on
John C Dvorak: MSNBC. Yeah, that guy. And so I had a pic couple
of screenshots of them and I slipped one into the AI
generator. It says this isn't this is a real picture. And then
it said, not safe for work.
Anyway, yes, not safe for work.
Adam Curry: No, no, no. I have a
John C Dvorak: bunch of clips about the impeachment. I want to
get good. And we didn't talk about last. Oh, of
Adam Curry: course not. There's reasons for that. It's Can you
Is it exciting?
John C Dvorak: I think it's interesting, because they
brought is from NTD. So they're they're anti by moe. Sure.
Adam Curry: And we say the impeachment. We're talking about
impeaching President Biden because he was involved in
corruption through His Son.
John C Dvorak: We don't know. But it's a lot of just Hanky
Panky is what I would describe it. And it's at least as bad as
when Spiro Agnew is in the vice presidency. And it was
collecting money in his office and they had to rouse them and
kicked him out of the office. And this is Joe Biden was doing
the same stuff when he was vice president and probably still
things going on. But this would this the only reason I got these
clips because this is a guy they brought in just to outline the
evidence, because the Democrats say there's no evidence. So
yeah, so we have these clips of this guy they brought on to talk
about the evidence. So you people out there can say yeah,
there's evidence whether they're going to do anything or not, and
they're not going to get an impeachment accomplished because
of the Senate. And the Democrats are all all for it. But let's go
with impeachment evidence in TD people. Sorry,
Unknown: what's the evidence against President Biden in the
impeachment inquiry, a key player has fallen out of the
news cycle, Victor Shokin. This was the Ukrainian prosecutor
tasked with cleaning up corruption in the country. Until
then Vice President Biden stepped in calling for his
removal. At the time. Shokan was reportedly investigating the
energy company Burisma where Hunter Biden was a board member
to go over the timeline, we spoke with an investigative
journalist Jeff Carlson, thank you so much for joining us. And
since this impeachment inquiry has been launched, several news
outlets and pundits have been saying this is without evidence.
Others say there's a lot of evidence, what evidence is
there.
You know, one of the big things that Democrats have been talking
about is the fact that the will, what they've really done is
they've sort of capitulated at first it was you know, Joe Biden
didn't talk to Hunter Biden than it was Joe Biden didn't talk to
his business partners, that it was okay to talk to his business
partners, but he didn't actually talk business so we keep
breaking down these doors. Now the new narrative is you can't
trace the money directly going back to Joe Biden. Well, you
pretty much can. And that's what this is all about. You know,
it's not as if we're going to have a cheque that's going to be
written directly out to Joe Biden, we know that there was
this use of 20 different plus shell, holding company shell
companies through which cash was passing through. We know that if
you look at the Ukraine situation, you had this new
prosecutor that was brought in. And despite what people say he
was absolutely investigating Burisma you know, there was
always this narrative that the IMF and the EU wanted Shokan
gone, that's utterly false. We spent forever researching this
and trying to find any evidence of either of those entities
wanting Shokan out prior to Joe Biden announcing that he was
going after Shogun, and it doesn't exist.
John C Dvorak: So that's the this is where it's going to
really be about it's about this Shokan guy and Biden bragging
about memory when he was in front of the Council on Foreign
Relations. I think it was
Adam Curry: yes, no, no, no. It was like the Aspen Institute or
something.
John C Dvorak: I thought it was in the CFR Well, it was he was
in it was in public. And he's bragging about how he got rid of
this guy. Because
Adam Curry: you're right, it was to see you I have I have the
clip, it was CFR, we might as well play it since you're doing
this expos a,
Unknown: I remember going over convincing our team or others to
convince the United that we should be providing for loan
guarantees. And I went over, I guess, the 12th 13th time to
Kyiv. And, and I was going supposed to announce that there
was another billion dollar loan guarantee. And I had gotten a
commitment from Poroshenko and from Yatsenyuk that they would
take action against the state prosecutor and they didn't. So
they said to me, they walk out, depress kind of sit nice, and
I'm not going to, we're not going to give you the billion
dollars. They said you have no authority, you're not the
president, the President's and I said call him. I said, I'm
telling you, you're not getting the billion dollars. I said,
you're not getting the billion I'm gonna be leaving here. I
think it was about six hours, I look guys, I'm leaving in six
hours. If the prosecutor is not fired, you're not getting the
money. Well, son of a bitch got fired. And they put in place
someone who was
Adam Curry: solid and friendly to me and my family and others.
John C Dvorak: Active, of course, has been going around
for I don't know if you have a date on it, but it's what do I
do three years and when
Adam Curry: 2019 October 2019 for years.
John C Dvorak: And of course everyone has been pointing to
that clip, as you know, is worse than what Trump did with his
phone call. But okay, it's been taken forever to get anywhere in
here we go to clip two.
Unknown: As a matter of fact, quite the opposite. The State
Department had said that Shokin had made enough progress that
they were willing to free up the 1 billion in taxpayer
guarantees. Some people said their loans, they really
weren't. They were taxpayer guarantees. But nevertheless,
from Ukraine's perspective, it freed up one access to $1
billion. So Joe Biden actually altered US official policy by
suddenly deciding to withhold these funds to Ukraine, because
he was trying to get he was trying to place pressure on
Poroshenko, the President of Ukraine to remove Shokan. And it
even gets a little bit worse from there, because once Shokan
was finally removed, they needed to make sure that they had the
correct prosecutor in place that would close all the Burisma
investigations. That took a couple of months. And there was
quite literally a phone call with Poroshenko, the day after
the new prosecutor was put in place a guy named Yuri, let's
say go. The day after he was put in place. Biden had a phone call
with Poroshenko. And it was only then on that phone call that he
agreed to finally release these funds, which were supposed to
have been released in you know, December of the prior year,
December 2014. Those funds didn't get officially released
until I believe it's May 16 of 2016. And they were tied to put
it in in the new prosecutor. And that new prosecutor was the one
who closed the investigation into Burisma.
Adam Curry: Yeah, yep. Yep, that's how I remember it.
John C Dvorak: I think well worked out. Well,
Adam Curry: don't even have that call the Biden call that guy. I
think there was a call.
John C Dvorak: No, we don't. Okay. I mean, I don't think so.
Let's go to step three.
Unknown: And Jeff, I want to zoom in on that. So Democrats
are now pushing back on this impeachment inquiry saying that
while Hunter Biden may have acted unethically, Joe Biden did
not he did not change any US policy. You argue otherwise. So
what policy did Joe Biden change?
Just the withholding of those loans was an official change in
our foreign policy, and it appears that it was being done
in order to close down in a investigation into an entity
which is on was on the board of directors. But more importantly
than that, that they appear to have been further financially
entwined. In terms of the you know, the news that we've been
getting out regarding these, these sequences of two separate
$5 million bribes one to Joe Biden, one to Hunter Biden all
tied into getting this investigation removed. And it's
important to note that Burisma is not above making bribes. The
owner of Burisma managed to close a UK investigation before
Hunter actually came on board by doing exactly that. He paid the
former prosecutor, he paid the former prosecutor's office a $7
million bribed to close an earlier investigation. You know,
ultimately, this is part of another argument that we've been
making is that it's impossible that Obama wasn't aware of this,
you don't suddenly stop unilaterally a major loan going
through to Ukraine that had been in the works, and then hold that
loan up until the changes that you want it to be made. Were
actually effectuated. So ultimately, Obama had the will
be aware, at least after the fact of what his Vice President
was doing.
Adam Curry: Well, Biden said it Biden said it right there in
that clip, you don't believe a call the president, he'll back
me up. So he must of course, he knew.
John C Dvorak: Yeah, that hasn't really been brought up much. It
was assumed in that clip that you're talking about. That that
was a bluff.
Adam Curry: Oh, really, I believe it wholeheartedly. I
mean, this is this is Joe Biden. The enemy always overplayed his
hand. This is exactly what he did, right? A pride, pride.
That's what he had pride in what he did.
John C Dvorak: to rake a clip for
Unknown: and zooming out a bit, these are just this is just an
impeachment inquiry, not yet Articles of Impeachment to be
voted on. But the White House has already shot back. It's
actually giving a statement to major news organizations on how
to report on this saying to scrutinize what the House
Republicans are saying, what does it mean for our country
when major news organizations are getting editorial guidance
from the White House instead of reporting on it from a distance?
You know, I obviously I saw that and was a little flabbergasted.
We've known I guess you in some ways could almost argue, hey,
good, at least it's out in the open because for years, the
exact same thing has been going on behind the scenes. You know,
how many times do you see one media organization, it usually
comes downstream from the New York Times and Washington Post.
But everybody picks up the narrative really, pretty much at
exactly the same moment. You know, we know that the White
House was directing all the efforts at suppressing
information on social media sites, Google, etc. Behind the
scenes. Same thing with COVID. Now, they just seem to have
given up any pretense that are literally putting that directive
out there
Adam Curry: this. See, this is why I think they hate Elon Musk,
because everybody's complicit. They're all corrupt. And that is
so specifically around Ukraine. There were so many people
involved in that corruption. And we know the news media is
actually they are they are corrupt. They're in bed with the
intelligence agencies. They're all at the same parties. And
that's why they hate Musk because he let this be let some
stuff out. And this people feel threatened.
John C Dvorak: This last clip, which is the real reason to play
these clips. Oh, okay. I think is there's something suspicious
about the fact that this memo went out in the first place.
This was this is these memos, the memo that went out to tell
them newsmedia how to react to these these stories, which the
guy himself said, Well, this has always been a known kind of a
secret. Now that's out in the open because they don't care.
They just blatant now, he's just saying Here we run the media,
here's how you should cover these stories. I don't believe
that. I think this memo was purposely pushed out there by
one of the big news companies, and I'm suspecting the
Washington Post, because they're the ones that are going after
Biden the most, as if it was just pushed into the mainstream.
I think I think this was a kind of a leak. As opposed to a
blatant promotion, how but there is something very suspicious
about this, and I think is to accomplish two things. One, what
was maybe mentioned in the Council on Foreign Relations,
publication, foreign affairs, about getting out of Ukraine,
and the whole thing is so corrupt, why are we there? And
the second one is part of the program by a lot of people, not
all of them by about half the Democrat party to get rid of
Biden,
Adam Curry: how about this? Everyone understands that? If
Trump gets in office, they all Hang on. I think, whether that's
true or not, I don't know.
John C Dvorak: But I think that's the genuine hang last
time, but yes,
Adam Curry: exactly. But you know, it makes people worried
and everybody overstepped somehow So maybe this is the
rats leaving the ship saying, well, at least we can shove all
of this blame with our powerful media empires. We can push all
of this onto one guy, one family, let him bleed for it.
The old coot So yeah, that just protected. It obviously has
nothing to do with democracy. It's only no protecting their
own asses because of reputation and criminality.
John C Dvorak: Well, something's up. And I think that discussion
to that, that note coming out from the White House telling
people how to react to these impeachment things is
Adam Curry: an Obama has to be protected at all costs, because
well, Obama
John C Dvorak: got nailed in this little did keep mentioning
him. I think Obama is is targeted to but I don't know
what they're what they're going to accomplish with that. But
here's the last of these clips of this series.
Unknown: What will be interesting, though, is that
this one time that they are making an overt directive
telling the news organizations what they want them to do. And
so far, they're mostly doing it. Will they continue? Because
there definitely seems to be a step back from Biden. You know,
the other day, we saw something that was unheard of, we saw CNN,
running a clip where they were putting up the number of times
that Joe Biden had lied. We have David Ignatius Writing in The
Washington Post that Joe Biden shouldn't run again in 2024. So
we're getting you know, our theory has long been that Joe
Biden is not ultimately going to be the nominee for 2024. But
it's going to be somebody else, likely Gavin Newsom. And we're
now seeing those cracks start to form. So, you know, I think it's
worthwhile noting for the audience, that all this
perceived protection around Joe Biden is less about protecting
Joe Biden, but more about protecting sort of the
establishment and the way the establishment does business. And
I, you know, I think at this point, they're beginning to give
up on Joe a little bit as these facts mount as we started off
discussing at the beginning of this episode.
Adam Curry: He's very measured in what he says. I mean, I
agree, yes, no one wants anyone to see how the sausage is made.
And I'm now thinking this has to do with Mitt Romney's
announcement that he's not running anymore. I'm not
running. We need younger people to come by Mitt Romney looks 60.
He's 7475. The guy looks great. is in great health a 76.
Actually, did I say that? 76. He said it looks like 74 or 75.
Okay, so he's 76. He looks at six he does the he looks good.
He looks good. He's you know, he started Bain Capital he's made
bank. I think he's getting out because he knows the dominoes
are about to fall. And back in 2014, August 7 of this very
podcast. According to the Durham report, the best podcast in the
universe, Episode 641, we were discussing how business is done,
certainly in the world, but by the United States, politicians,
the elites, I think it was in regard to Ebola in Africa. It's
like, hey, you know, we're going to come in, we're going to take
over your country, here's some Ebola for you. But then
something else popped up in this conversation, which I thought
was worth playing. Let's go back in time to August 7 2014. So we
shall see if they can really pull it off. Because I don't I
think these guys just sitting back and go, okay. Let's forget
Ebola for a moment. How much money you're gonna give me? What
am I getting into the table? I don't think America and we have
limits on that stuff. You know, the carriers of the world. Screw
you, man, my kid's gonna get the money. Joe Biden's kids gonna
get the the company in Ukraine that he's running. You know,
they have limits, they won't they will just bring our
extractive unit known as the Pentagon and Department of
Defense and will kill you
John C Dvorak: know, that's why we like to give people generous
loans.
Adam Curry: not mentioned in that lineup was Mitt Romney's
kid, they were all involved in Ukraine, all of them and Pelosi,
his kid. They're all involved in the Ukraine scandal because it
was such a great country to do that, too. Yeah, and I think
this is why let's see what what moves carry makes you know, you
know, my dad in Africa, I'm doing climate change, but he's
not immune. They'll they'll throw him for the wolves to they
will they think
John C Dvorak: yeah, I forgot about the Romney kids
Adam Curry: Romney Romney kid the carry kid
John C Dvorak: you know, he could run two more times he
looks so
Adam Curry: easily and he loves the power he loves it. So I'm
not I'm not buying this
John C Dvorak: is a good catch. I think so. I think you're
right. So that makes just some pushback. Artists, clips, these
are older but this is the White House. I want to play these this
one and then to see if the other two follow. White House push
back on impeachment.
Unknown: Welcome back because the White House is asking the
media to be critical of the impeachment inquiry against
President Biden it sent a letter urging them to, quote ramp up
scrutiny. The letter from White House spokesperson II and Sam
says that there is no evidence against Biden and that the
Impeachment Inquiry is without merit. The letter has raised
concern as it seems to urge news outlets to follow an editorial
director from the White House. The letter was sent out today to
top executives at big news outlets like the New York Times,
Fox, CNN and the associated press box. This comes after
House Speaker Kevin McCarthy announced the Impeachment
Inquiry yesterday.
Adam Curry: Oh, watch this be a super benefit by having Fox take
a fall to watch that just you can watch it happen. Hey, we can
get Fox we can get Fox to fall fold to could happen.
John C Dvorak: Yeah, you don't need these other ones. There's
more of the same. It's just that this White House directive is
very interesting. Well, the sure what the ramifications will be
long term, but it's not. It's not a positive thing.
Adam Curry: Well, the the case the Missouri and Louisiana case
didn't is going to the Supreme Court. Just as a side note, even
though that was more about COVID. But it's always mentioned
kind of in the in the same breath from our lawyer. As
expected, the feds have decided to go straight to Supreme Court.
They asked Justice Alito to stay the preliminary injunction
pending the filing and disposition of the government's
forthcoming petition for a writ of certiorari, which sounds like
a Roman soldier. And any further proceedings also granted, Alito
granted them a one week stay those until next Friday and has
ordered the plaintiffs to file a response by Wednesday. From our
lawyer here. It'll be interesting to see what the
plaintiffs say in response with Alito ultimately decides. All we
know for sure is the feds have announced their plan to seek a
Supreme Court review. Well, nothing uncertain. Our lawyer
says the odds are very good. They can persuade at least four
justices to agree to hear the case. That which is the minimum
needed if that happens to M five and we'll be hard pressed to
ignore the story which they have so far. Like except for this
White House directive, which seems to be overshadowing it a
little bit, but it's all part of the same thing. And this will we
know that this has been going on it's nonstop and I think people
are figuring it out and this will then bring me to equal
airtime this morning. The new the new Chuck Todd on Meet the
Press.
Unknown: Oh yes Welker.
Adam Curry: Yes, Welker interviewed President Trump. And
I have some clips, since it's very timely. Let's listen to the
Unknown: intro ahead of her first episode as the new
moderator of Meet the Press. Kristen Welker sat down with
former President Trump in a one on one exclusive interview
inside his New Jersey Golf Club. The interview comes as Mr. Trump
faces a historic moment, expanding his already dominant
lead over the GOP field. With his sights firmly set on
retaking the White House while facing enormous legal peril
across four looming criminal trials. No topic was off limits,
from the prospect of jail time two big policy issues like his
stance on abortion, and his view of Russian leader Vladimir Putin
will make comments this week about Trump's so called plan to
end the war in Ukraine. Think of Us Now interestingly,
Adam Curry: on Friday Megyn Kelly also interviewed former
President Trump and questions were almost identical. Oh like
scripted. Well, except for one which we'll get to later
John C Dvorak: the Can I mention something here? Yeah. This
Welker thing. The left leaning Mastodon instances which is most
of them, main one, except for No, he
Adam Curry: went ballistic. Why? Because the fact that they gave
him airtime at all,
John C Dvorak: yes.
Adam Curry: Interesting. Well, maybe this is a part of taking
it all down. It was cozy up to Trump man, because you know,
he's gonna kill everybody. So we'll start with the dare Volker
with the first question, which is, well, we'll stick with
Ukraine since that is the center of all action. Right now.
Unknown: Want to ask you about something President Putin said
about you this week? I don't know if you've seen it. This was
very recent President Putin said, quote, We surely hear that
Mr. Trump says he will resolve all burning issues within
several days, including the Ukrainian crisis. We cannot help
but feel happy about it. What do you make of that? Do you welcome
that? He said that because that means what I'm saying is right.
I would get him into a room I get Zelinsky into a room then
I'd bring them together and I'd have the deal worked out. I
would get a deal worked out. It would have been a lot easier
before it started. Essentially for four years. I kept them from
doing anything. Because you know what? I will tell you this I've
never seen others, Ukraine was the apple of his eye. I said,
Don't ever do it, don't ever do it, he would have never done it.
But again, oil prices, he wouldn't have done it because of
me. But oil prices, the prices were so high that he had so much
money. So he had all this money to prosecute the war. The one
who drove up the prices was Biden, given that
President Putin has bombed maternity wards for 20,000 kids
from Russia, mass graves,
mass graves,
welcome his support his all but endorsement.
Look, I had a very good relationship with him. And yet
nobody was tougher on Russia than me. I stopped Nord Stream
two, you never heard of Nord Stream two. That was the
pipeline until I got involved. I said Nord Stream two people that
were sophisticated military people and political people
never heard of Nord Stream to I had it ended, the pipeline was
dead. Biden came in and he proved it. There was nobody
tougher than me with Russia. And yet I got along with Putin, let
me say I got along with him really well. And that's a good
thing. Not a bad thing. He's got 1700 nuclear missiles, and so do
we. But look, that's a good thing. Getting along is okay.
But I got along through strength, and the war would have
never happened, the war would have never happened. Now what's
happened, it's so bad. The oil price is so high, it's hard to
get it stopped. The oil price is so high. When he goes above 50
and $60 a barrel. He makes a lot of money on the war. Now, it's a
humanitarian thing. It's a lot of different reasons. But I will
get that war stop.
Adam Curry: A lot of interesting things in there. About Norway
thrown Nord Stream out Nord Stream two, which is not the one
that was blown up. Very interesting, and blaming it all
on Biden because of the oil price. So let's talk about age,
because that's what we got to do.
Unknown: What do you make of the age issue? Should there be an
age limit to running for president, but
there should be a competency. I'm all for the tests. You know,
I took a test two years ago, three years ago. And as the
doctors said, and it was in front of doctors and a whole big
deal at Walter Reed, which is an incredible place. And I aced it,
I aced it, I get everything right. I'm all for testing. I
frankly, think testing would be a good thing. A lot of people
say it's not constitutional to do it. But I would be for
testing to test to make sure everyone's just fine. But a lot
of people say that can't happen because of constitution.
Adam Curry: Is that true? You can't test a credit. He says
that. What was he talking about? He always has reasons for
throwing weird stuff out like that. I think what he means is
we can't actually find out the Joe is feeble, because then
well, then we have to invoke the 25th amendment. Maybe that's
what he means.
John C Dvorak: I don't think so. I think he's, I think I don't
think that's the that's too convoluted. The 25th amendment
can be implemented for any good reason that you know, the guy
has a sore toe, you could do it if you wanted to.
Adam Curry: All I know is Trump throw stuff out there. And
there's always a reason for it sometime years later, you Oh,
that's what that was about.
John C Dvorak: Yeah, I agree does that but in this case, I'm
going to let's continue.
Adam Curry: Let's continue with with ageism.
Unknown: What do you say to people who say it is time
for a new generation of leaders? Well, it's always time for a new
generation. But you know, some of the greatest world leaders
have been in their 80s. I'm not anywhere very near 80, by the
way, but okay, and Biden's not too old. I don't think Biden
Sure. But I think he's incompetent. And that's a bigger
problem. I don't think he is old. I know people that are 89.
I know person 9495. Who's 100%. Bernie Marcus, take a look at
Bernie Marcus Home Depot. I mean, he's been amazing for so
many years, he's 95 years old. It's, it's really a level of
competency, not the age,
you will be in your 80s. If you're reelected. Does that
concern you at all? Well, I
will be toward the end. No, because my father lived much
longer than that. My mother lived much longer than that. So
genetically, that's a good thing.
Adam Curry: So the rest of the interview wasn't all that
interesting, you know, but will you pardon yourself? You know,
these dumb questions. Kristi, Noem, who's going to be your
running mate? You left a note for Biden. What did it say? Is
so Welker? I think she she laid an egg on this one. The one that
that we really wanted to hear about the one that Tucker didn't
broach was the vaccine question. And Megyn Kelly asked the
question, and it's a long answer. I think it's, I think
it's worthwhile to listen, we can interrupt it worthwhile to
listen to what his answer was, because this is truly the only
thing that matters to Magga country at this point. When it
comes to President Trump.
Unknown: This is the number one question they wanted me to ask
you that you shut the country down for six weeks in spring of
two 2020 operation warp speed, excuse me rushing through. I
didn't really I mean, let me let me ask. This is my audience
lesson I gotta get it
out, but I let the governors shut down. Some did and some
didn't. Okay, some didn't shut down and
operation warp speed, though that was on the vaccines. They
were rushed through, they have helped but also hurt a lot of
people. And your White House actually supported mask
mandates. So wouldn't you like to do over on any of that?
Look, when this came in, nobody knew what the hell it was. It
sounded like an ancient, you know, pandemic, you thought that
was from 200 years ago or from 1970. And we never thought you'd
have a pandemic. Nobody had any idea. We got word that bad
things were happening in China right around the Wuhan clinic.
And I was the one that said it was in the Wuhan clinic. And you
know, I stay stuck with it. And it was it was absolutely, it
came out of the Wuhan clinic. But you take a look. And what we
did was we this was brand new, nobody knew what the hell it was
this dust. Somebody said this dust coming in from China. And
it's killing people in Italy. And it's killing people in
France. And
Adam Curry: you understand what he's getting at here. What he's
what he's saying is, we didn't know it's easy. I think what
he's saying is in hindsight, easy to say that, but I got all
these messages, all this stuff was happening, and I took
actions going
Unknown: to kill people here. And by the way, I shut it down
to China. That was a big move. I saved 1000s hundreds of 1000s of
lives by doing it. But honestly, nobody, I don't blame a lot of
people because nobody knew what it was. Now we do understand it
somewhat. Nobody really understands that even now,
fully. But nobody knew what COVID was. And it wasn't even a
name. I call it the China virus. I still do I call it the China
virus it came out of China.
Adam Curry: He does these great things where this is all NLP
what he's doing, it's so it's so good. He'll give you some
information, then zap your head around what I call the China
virus. And the it takes you back to that takes you actually back
into the briefing room when he was saying that is very smart.
Unknown: You know, they call it COVID and COVID-19. As far as
the vaccine is concerned, you had the original COVID. And
that's
Adam Curry: the original COVID. This was original was different.
It's like original coke. It's not like New Coke or Diet Coke.
Its original COVID.
Unknown: The vaccine had an impact on that. And there are
some people I will tell you, some friends of mine that are
Democrat, I think they voted for me. But the Democrats, very
smart people, tough people. They say, you know, I don't
understand one thing. Why don't you talk more about the vaccine,
it was one of the greatest things you've ever done. I think
of that. They say to me, and I say I'm not going to talk about
it one way or the other. First of all, no,
Adam Curry: I think when he this is I think this is also NLP when
he says the Democrats told him, this is the greatest thing
you've ever done. Think about it. So that immediately makes
you think Democrats were in charge of this. It's really It's
I think is really interesting.
Unknown: And the vaccine had an impact on that. And there are
some people I will tell you, some friends of mine that are
Democrat, I think they voted for me, but they're Democrat, very
smart people, tough people. They say, you know, I don't
understand one thing. Why don't you talk more about the vaccine,
it was one of the greatest things you've ever done. I think
of that. They say to me, and I say, I'm not going to talk about
one way or the other. First of all, no mandates. I don't want
mandates. I've never had mandates.
Adam Curry: This is his thing. This is his thing, because of
course we have to recall that the vaccine was not administered
it was in in in. In fact, it was held back until after the
election. Specifically was
John C Dvorak: you held back on purpose? Yes. On purpose. The
Florida advisor guys mainly it was material. Yeah.
Adam Curry: Well, I was political as well. But here we
go. No, he says no mandates. It was no mandate. And then he's
got to take a shot at DeSantis and dates.
Unknown: I never had mandates of Florida sort of had a mandate
because they were giving the vaccine they were demanding
everybody take the vaccine, that's another thing. But no
mandates no anything. I didn't demand anybody take it. But I
have people on the other side. I don't know from my side will
know probably there's someone might say to they said you saved
100 million people because I got it done in nine months as
opposed to five years to 12 years. A lot of people don't
have it. No, I'm not proud of it. I'm saying what Democrats
thinks
Adam Curry: Oh, interesting. You're proud of it? No, I'm not
proud of it. No, I'm just telling you what Democrats say.
It's better than I think people realize and people
Unknown: because I got it done in nine months as opposed to
five years to 12 years. A lot of people out of it. No, I'm not
proud of it. I'm saying what Democrats thing. Democrats,
I get it and I'm not doing I'm not somebody who denies some of
the good of the vaccines. Did I live interesting.
Adam Curry: Megan says she doesn't deny some of the good of
the vaccine, even though she herself says that she is vaccine
injured. It's very interesting.
Unknown: No, I'm not proud of it. I'm saying what Democrats
thing. Democrats,
I get it and I'm not. I'm not somebody who denies some of the
good of the vaccines did I lived through that too, but You know,
of course a lot of people have been vaccine injured. And that's
one of the questions those people are mad that they were
rushed through and that they can't sue.
Well, I never gave mandates and people have to make up their own
near make their own decision, as far as I'm concerned. Now, some
places had mandates I have very strong mandates that largely
Democratic governors and probably some Republicans, etc,
etc. But wait, you're a Democrat,
John C Dvorak: as he talked about when he says mandate,
mandate mandate, but is he talking about vaccine mandates
which he couldn't do because the vaccine wasn't available? Or was
he talking about mask mandates? They never mentioned mask? Are
they talking about quarantine mandates? What mandates is he
referring to specifically
Adam Curry: only vaccine mandates? In my opinion, that's
all that he saw. He won't he was not going to discuss quarantine
or massacre does not come up and you know,
Unknown: make their own decision, as far as I'm
concerned. Now, some places had mandates, very strong mandates,
largely Democrat governors and probably some Republicans, etc,
etc. But there are Democrats that say, why aren't you talking
about that? It's one of the they really believe strongly
Adam Curry: is really trying to put this into your head, the
Democrats, it's the Democrats, the Democrats, the Democrats
Unknown: once said, you say and this is very smart people. They
said you saved 100 million people worldwide. In 1917. You
know, that it could have been as much as 100 It ended the First
World War because all the soldiers were dying of, of this
horrible disease of 1917. You know, it actually ended the
First World War Two soldiers were dying. That was one of
lines. They're fighting and they're dying.
Adam Curry: The only reason he can be saying this somehow is to
lead us to remind us that soldiers are dying our soldiers
that the mandates the mandates in the army and the military,
that these mandates the soldiers are dying, that must be
something like that. I'm not I'm not sure why he's doing that.
Otherwise,
John C Dvorak: I think he's freewheeling so
Adam Curry: possibly, possibly
Unknown: this horrible disease. They said, you might have saved
100 million people. 50 million people. Why aren't you talking
about it? I'm not talking about it. But what I did do is I get
something done for that specific thing.
Adam Curry: There is I got something done so now he's
saying hey, I didn't force it in your arm. He should he should
never says he wasn't even available during my my
presidency. I don't I'm not sure why he doesn't say that. That's
a hedge, I think. But now he's gonna say I did all the work
John C Dvorak: was available to him. Once the election was over,
he had two months. Yeah, that he was still in office. He could
have done, you know, mandating. Then
Unknown: I also got Regeneron and I got a lot of therapeutics
done, which were great.
Adam Curry: Interesting. He calls them therapeutics, which
would nullify any emergency youth authorization. And
Regeneron. Was that really a therapeutic?
John C Dvorak: Guess I remember I just vaguely remember what I
were Regeneron. What
Adam Curry: wasn't that bad? It was a bad product. No, no, no,
it's remdesivir. Oh, okay. Regeneron, I think is the
monoclonal antibodies, I think, no, let me look it up. That's
Unknown: thing. I also got Regeneron. And I got a lot of
therapeutics done, which were great. I also got the robes and
the leather and the rubber and all of the different things to
ventilators. We did a tremendous job. And it's never, you know,
the appreciated what it did with the economy. I got a lot of good
marks on the economy got a lot of good marks and a lot of
things rebuilding the military getting rid of ISIS, the biggest
tax cuts in history. Supreme, I never got, I think the credit
that I just uncovered, and I'll tell you, the way I look at it,
it came in and nobody knew it was we have to put ourselves
back then. I had a meeting. And we had a lot of professionals in
the Oval Office. They say sir, something bad is happening in
the world. I said, What's that? And they said, people are dying.
They're dying in China, in this area. And those pictures of
moneybags all over the place, black body bags, satellite
pictures. And they were all over. I see this strange. And
then I'd have a next another meeting the next day and the
next day and the next day, and all of a sudden, they had
something where the first person died in the United States and
then another Yeah, and then it died. Then they started dying
all over Italy and all over Europe. Nobody really knew what
it was Megan,
I hear you. Let's shift gears and talk about trans and women's
rights.
Adam Curry: It is monoclonal antibodies. That's what Okay,
that's what it is. So he's kind of saying I got duped you know,
hey, no one knew what it was. There was body bags, satellite
images of body bags I've never seen I don't think that he never
said he was duped. No, but I know he's not saying they're
John C Dvorak: still his issue. He can can't say MIT any false
whatsoever. He can't say well, that was a mistake. This We
can't simply say something was a mistake.
Adam Curry: Is this pride?
John C Dvorak: Well, I would technically but there's more to
it seems to me, because even the most prideful person can say
once in a while say they were wrong on some and there's some
circumstance this guy can't do it.
Adam Curry: Pride disease that makes everyone sick except the
person who has it. Anyway, I thought Megan kind of gave up
the end there and then went to trans and then yeah, you're
John C Dvorak: right. She bailed. She did Bill. abruptly.
Adam Curry: Yeah, well, then she went on to say, hey, you let
Caitlyn Jenner use your bathroom like, okay, so, so sad.
Pathetic. It really is.
John C Dvorak: Well, at least somebody brought it up to at
least listen to what his current Spiel is it will is his Spiel
tends to morph over time as he re analyzes what he said. So the
next time he says it, it's maybe the maybe, yeah, and it'll
probably be on one of his speeches. So completely ironed
out
Adam Curry: here. I guess he's still working it out in his
head. This is not quite hitting home yet. What do I have to
change? Well, he may not be capable of it.
John C Dvorak: He may not because No, he's not capable.
But he can he can circumvent what he can work it up. So he
can do it a bit. You could do a comedy act about it. To make it
funny,
Adam Curry: yeah. Speaking of the transgender issue, now it's
time for our trans
Unknown: gender athletes self destruct initiated?
Adam Curry: Well, exactly as expected, and I think you
prognosticated it, although they are not actual lead bullets. It
looks like children who have been who've been mutilated, are
now firing away at doctors, psychiatrists, psychologists,
hospitals, hospitals, and probably parents soon. We have
and it's it's mainly girls who had been transitioned are now
coming out. There's lawsuits being filed. And wow. Alex
Stein, you know, Alex Stein, the real Alex Stein 99. He's the guy
that goes into all those city council meetings and will dress
up the character. Yeah, I can not judge. He's the best. So he
has a show, which I didn't realize he has a comedy show.
And he has a Chloe Cole. And she was slowly Yeah, he's one of the
main ones. Yes. Well, I opening answers in this. Just this
little bit of this interview. eye opening?
Unknown: Well, you know, this is obviously a comedy show. But I
don't want to like be disrespectful to you at all. You
know, I want to definitely get your story out there. So tell us
a little bit about what happened at 14 and I've heard your story
a bunch. But for the people that haven't, you went to a doctor
and I believe the doctor basically told your parents if
you don't do this, you are going to kill yourself. Wasn't that
one of the main motivations in getting the gender? They're
getting the mastectomy at 14? Or excuse me, 15?
Oh, yeah, they totally homed in on that when they're talking to
my parents.
Adam Curry: This is the would you rather have a dead daughter
or a living son? Classic. But interestingly, she wasn't saying
that until after they put her on medication. Susan 15
Unknown: Oh, yeah, they totally homed in on that when they're
talking to my parents about my desire to become a boy. I wasn't
suicidal at the time. Actually. I wasn't suicidal until I was on
the treatments that they put me on which they put me on puberty
blockers and testosterone when I was very 13 years old. I was
about halfway through my eighth grade year when they started
this and I was 15 when they cleared me to go under the knife
and get a double mastectomy. That's when I was just it was a
summer after my after my sophomore year of high school
and they decided to remove my breasts surgically.
And yeah, if you would have asked your parents for a tattoo
of Leonard Skinner or you had Taylor Swift tattoo, do you
think they would have given you a Taylor Swift tattoo?
Oh, no. I mean, they're in California. It's illegal to even
let anybody under 18 go into a tanning booth. And yet they they
let kids see encourage kids actually to undergo these
permanent life changing procedures that will affect the
entire course of development from there on.
Adam Curry: I thought this for me, oh, wait a minute. The
suicidal tendencies didn't come until you put the kid on puberty
blockers well that changes the story a little bit
John C Dvorak: changes the story a lot. One of my first is this
is going to be a dis is going to be a horrendous and well
deserved nightmare. Because she's not the only one and the
any one of these things where they become popular Ah, you
know, it's like all of a sudden and other, it creates kind of a
cascade effect, which is what has to happen. And all these
medical operations have got to do they're going to be they're
having meetings as we speak. Oh, you bet.
Adam Curry: And it's it's going to involve school, they do bet
you bet you better believe it. I mean, Don't bet on it. You bet.
Well, you can bet on it. A friend of mine, his wife is a
grade school teacher middle school, I think they call it and
then she had the them in the class of female. And I guess it
was some full school function. And he asked his wife who said,
Hey, is that is that that? They them's dad? She said, Yeah. How
do you know? He says, Well, first of all, he's wearing a
Ukraine t shirt. So that was just the easy guess. So it turns
out that these parents, third grade hired a social worker to
come and monitor their child in school to make she was make sure
she was okay all the time. And the school teacher said, they
made her so paranoid. With a social worker hanging around she
had to add, but she thought the whole world was about her and
that completely broke her brain. And then there you go, you
transgender gotta be a boy. It's all of it, the whole system. And
it I have to say it's coming from, from mind controlled MK
Ultra parents who wants and this goes back to my my hairdresser.
Who were the crazy ones during COVID. And now they have they
need control over their lives. And here's something I can
control. My kid is trans. Yes, I have control over this. Got it.
I understand that I'm being told that this is right. And just and
it's so sad because these parents that you have to forgive
them. They don't know what they're doing. They've been
manipulated, completely psychologically manipulated into
this. Anyone who, who wears a mask by themselves in their car,
you need to make sure their children are okay. Check. Check.
Check on me. Sure. The
John C Dvorak: windows are rolled down in a hot car check.
Adam Curry: You got to check on a man. Wow. It's just it's just
nuts. Really is.
John C Dvorak: I don't have any transgender stuff.
Adam Curry: That's really all I have on the on the train. I
mean, we can't have although I there was some, some pretty
funny. And actually, we have the
John C Dvorak: actually I do have something, Brian. Okay.
There's some great, you know, California's nuts about some of
this stuff.
Adam Curry: Yeah, I've heard I'm reliably informed.
John C Dvorak: So we have a couple of bills, school bills,
you know, they make sure that the things are in order that the
legislature is going to pass. There's I have two clips is
California school bill a
Unknown: to California bills could impact how classrooms and
school board meetings are run if signed. The first is Senate Bill
274. Introduced by Democratic Senator Nancy Skinner. The bill
would ban schools from suspending students who disrupt
class or defy teachers known as willful defiance suspensions.
The amendments taken the assembly extend the current
sunset, on willful defiance suspensions prohibition for
middle school students, and creates a sunset provision for
this on high school students.
The bill has received bipartisan support.
And Skinner previously said suspensions lead to students
dropping out of school at a time when many are still behind due
to the COVID 19 pandemic. But people in opposition argue that
the bill is almost like a license for the kids to
misbehave, being detrimental to the learning of others in the
classrooms.
Adam Curry: Isaiah 31 knows our six it passed the
Unknown: legislature and is now awaiting Governor Gavin Newsom
signature in the coming weeks. Okay,
Adam Curry: let me just understand, because not Not, not
everyone in the world understands the tension. So
detention is when you've been a bad boy or girl in the class
you're sent to the principal's office at least is the way I
remember it. And the principle says You have detention, which
means you have to stay after school in Detention Hall and you
have to be quiet and do your homework. And you stay there for
an extra hour or so you might have to do it for a week or two.
Is that Is that what we're talking about here?
John C Dvorak: But they're talking about mostly suspensions
where you get kicked out of school for a week. Okay? Because
you knife the teacher.
Adam Curry: Was that the example given?
John C Dvorak: No, but it might as well be. I mean, it's like
the kids who are just Maniacs and there are kids who are
maniacs and have to be kicked out of the school and they won't
do now you can't do that you have to put up with them. Which
means that all the kids will suffer because you'll have these
troublemakers and kids who are genuine troublemakers if anyone
can remember back when you were a kid, there are kids were just
troublemakers and they loved it. Now they're giving a gift.
You're giving them a free rein and you don't think they know
it.
Adam Curry: I would like to refer everyone to a wonderful
movie known as The Breakfast Club with Molly Ringwald, and
Judd Nelson and, and these kids, these troublemakers were put
into detention, which comes before suspension. And the whole
movie is about that and they turned into wonderful human
beings at the end of the movie.
John C Dvorak: That's where they got it from. This past a wall.
Adam Curry: It's no good. The Breakfast Club sucks.
John C Dvorak: So let's play a clip to this as another thing
going on
Unknown: the second bill, Senate Bill 596 would make it a
misdemeanor to harass school employees or disrupt school
board meetings. It's also awaiting the governor's a final
decision introduced by Senator Anthony Portantino in February,
individuals who harass school staff in verbal written or
electronic communication may face up to $1,000 in fines and
jail time. Critics say this bill silences parents and protects
school employees from public criticism, not harassment.
Governor Newsom has until October 14 to sign or veto bills
this legislative year. So
John C Dvorak: so if you're on Twitter and you say your school
board sucks you're gonna be fined $1,000 This is very
Chinese by the way. China PRC stuff
Adam Curry: Yeah, social credit score. I like it.
John C Dvorak: It's pretty much the same thing. And now we have
the last thing which is oh, there's finally somebody's
pushing back against this and the government is kept
California from from imposing their crazy car mandates in his
California Car mandates no been kicked back by the by the Fed
feds.
Unknown: California may not be allowed to implement zero
emission vehicle mandate. House lawmakers voted to strike it
down. And it wasn't just a Republican majority a Democrats
agreed and tedious Jayson Blair has the latest
there preserving choice in vehicle purchases Act passed the
House on Thursday with the new party line vote
Adam Curry: Who is screaming at me where's this from? Is this a
local news report
Unknown: and TD alleges legislation seeks to void
regulations in California that would ban the sale of new
gasoline powered vehicles by 2035. In order to fight climate
change, the mainly Republican supporters said that
California's mandate will have negative economic effects and
intrudes on consumers ability to choose a car that best fits
their needs domain the Democrat opponents argued that the
mandate is needed to combat climate change and reduce
pollution of saying the transportation sector is a major
contributor to greenhouse gases.
Americans can make consumer choices based on their merits
and needs, not radical mandates rooted in trying to force Green
New Deal directives on families.
This bill disregards over 50 years of precedent, erasing
decades of progress made by states to protect Americans from
dangerous air pollution.
Adam Curry: And now has this passed or is this still up for
for votes
John C Dvorak: for graduating is passed, but it hasn't been
signed. By the way. The little kicker at the end is what got me
which is we need to we need to get electric cars are because of
dangerous air pollution. That is not the same as global warming.
Adam Curry: I think we need to bring this jingle back. People
are asking for it to the gate to the gate to the clinic. I think
we just need to use it as a general jingle for all things
climate madness. I'll kick it off
Unknown: a city ripped to pieces. Apocalyptic scenes
abound in Turner. After rain from storm Daniel collapsed dams
outside the city. floods drown 1000 soon afterwards. But the
question is now being asked. Could it all have been prevented
in Libya, where access to data is still so difficult, where
there's a compounded problem of the problems of the dams
breaking as well as the storm breaking from the from the sea.
This is this is a tragedy in which climate and capacity has
collided to cause this terrible terrible tragedy.
Adam Curry: Climate and capacity has collided to cause this
tragedy. This is the new term that climate might clip by there
was a year just mind that's that's the UN douche. That's
climate and capacity. These are the two new this is the new
term. I think this is what's going to be the new thing.
John C Dvorak: Well they do have a there's a there's there are
pushing this idea that we're over capacity. I've no I'm just
playing my clip as you if it's in this one, the catastrophic
Unknown: flooding in Libya came as a new study found Earths II
ecosystems are outside of their safe operating space for
humanity. The report in the journal
Adam Curry: gotta hear that one you know, I'm sorry we got it.
AMY GOODMAN flippin bound. I'm sorry everybody people are angry
I didn't warn them. Here we go started to get
Unknown: catastrophic flooding in Libya came as a new study
found Earth's ecosystems are outside of their safe operating
space for humanity.
Adam Curry: Oh man that's beautiful outside of their safe
operating space for humanity.
Unknown: The report in the journal Science Advances warns
of imbalances to injury of key measurements of the planet's
health, including biodiversity, freshwater pollution and the
climate. Climate scientists Johan rock strim co authored the
report,
six of the nine boundaries are outside of their safe space. The
four boundaries that we assessed in 2015 are deeper into the red
so we're continuing to move in the wrong direction. And this is
a big concern.
Close to 800 organizations have endorsed climate actions
beginning Friday culminating in a march to end fossil fuel
Sunday here in New York at the United Nations My
Adam Curry: goodness so yeah, so now I just got I gotta write
this down I got I'm sorry. I have to write down exactly what
she's catastrophic
Unknown: flooding in Libya came as a new study found Earth's
ecosystems are outside of their safe operating space for
humanity, Earth
John C Dvorak: space or Safe Space Systems
Adam Curry: outside of safe operating space
John C Dvorak: for humanity
Adam Curry: humanity. Okay, here's what I'd like to say.
Bullshit and with that I'd like to thank you for your courage in
the morning to man who just put the sea in the climate and
capacity catastrophe say hello to my friend on the other end
the one and only Mr. John
John C Dvorak: creemos ship see boots on the ground feet near
southern to the water and all the names of the trolls and the
Adam Curry: troll room Hello, trolls I put your hands up let
me see Hello
Oh, we got a short row of ducks with a Niner two two to nine on
the troll count today. 2229. Trolls listening, I think is
decent for that's pretty good. It's a little low a little low,
but not too bad considering we are 142 into the show.
John C Dvorak: Yeah, we want 24
Adam Curry: We do want 24 But thank you more trolls are
sticking around and they know the Powerball numbers coming up
in the donation segment as it always is. Thank you trolls for
being with us. You can join them at troll room.io. And that's
where you can listen live. You can troll along and troll a lot
on all along you can help us you know give us a little feedback,
encouragement and all kinds of things. Or you can just troll,
which is what a lot of people seem to choose. You can also
receive all of these benefits by getting a modern podcast app
dropped the legacy. You know, don't be like Russell Brand, get
a podcast app, and only subscribe to podcasts that are
compatible, even though it's backwards compatible podcast
apps.com You definitely want to do this because before you know
what your favorite podcasts will be gone. But not from a modern
podcast app. Follow us on the left leaning incredibly
socialist, where we're banned from fediverse on no agenda
social.com There's still some Mastodon instances out there
that federate with us. It's one big happy family here is go
yeah, oh, no, there's definitely. Oh, yeah, totally.
That many. Nothing that we really want to be a part of
anyway, we should be successfully driven everybody
off good work, everybody is what happens. Follow Adam and no
agenda. social.com Jhansi, Dvorak had no agenda social.com.
And remember, this is a value for value proposition, we do not
ask you to subscribe to anything. We don't ask you to go
somewhere else for premium content. We're not asking you to
listen to ads to make ourselves dishonest by at minimum lying
about a product that we may not agree with or even telling you
that you have to use a certain product. While there may be
others. We don't subscribe to that. We don't want to be like
the horrors of the M five M No. Instead, we just asked you to
receive this value that we expound upon you. And we give to
you twice a week. When you receive the value in your heart.
Think to yourself, Wow, that's valuable. If it's not, then you
shouldn't be listening. If it's valuable, send it back to us
time, talent, treasure. There's so many things you can do
organize a meet up. You can tell someone else about the program.
You can also create artwork for us our artists are doing this
right while we're speaking they are creating art in live in real
time, because research shows Is that fresh new art for every
single episode makes people interested and wants them that
compels them like, wow, what is going on here something new is
happening. I want to be a part of that. And you can, you can by
just listening to it or creating some artwork. And the artwork
for the previous episode 1590 was very valuable to us. The
title of that show was bold action. And after some hemming
and hawing, we realized it took us quite a while actually to
come up with this. It realized we
John C Dvorak: take this a lot. This was the this was a
fallback.
Adam Curry: But after but it turns out, this was a genius
choice.
John C Dvorak: No, it was a great choice. It turns out that
which is typical when we do this when we have this, I don't like
this, you don't like this, why like this, but you guys still
you still smile, you can't
Adam Curry: read it. Oh, you're nailing my voice. It's so
accurate.
John C Dvorak: I'm getting they're getting they're gonna
lose. I could use a bit better deep notes, but I'm getting one
after the other, which is I had this and he had that. And he
didn't like this. He didn't like anything. You actually said to
Adam Curry: me. You're in a
John C Dvorak: mood. I did because you were in a mood.
Adam Curry: And I said, No, I'm not in the mood. I just disagree
with you. old coot. And so
John C Dvorak: you're going back and forth. And back and forth.
And back. It was really took about 10 minutes.
Adam Curry: Yeah, it took longer than.
John C Dvorak: And so then it turned out that when we picked
which was a fallback, it was like,
Adam Curry: Oh, well, we can agree on that one. And it was
the best choice. I think in hindsight, this got a lot of a
lot of attention, people. I got people texting me. Wow, what a
great you guys are genius. You chose the right one, or the
best. Like that's right. That's how that's how we roll. That's
why there's two of us. Francisco Scaramanga brought us the
artwork for 1590. Very, very detailed, very good to affirm a
mockingbird, of course, referring to the scandal of
libraries, dropping all books from before 2008, I got an email
from a librarian about this, who says I've been waiting for this
is why listen to the donation segment. I've been waiting for a
while for y'all to cover that what the library BS raging my
best guess about weeding in Canada and Canadian school
libraries. They picked 2008 Because it's 15 years ago, and
library administrators are lazy and disorganized. They just
picked that round year because that's when the woke mind virus
ramped up. It's also possible that some head librarian from
that era retired. So now they can toss all the bad books with
impunity. At my library books that don't get checked out for a
whole year are sold or pulped. The administration regularly
wants to trash the whole reference section.
John C Dvorak: You know, that's funny, because I have we have a
book sale here in Albany, which is a small community that has a
library that does this two book sales a year and one of them is
people donate their books, and then they take books from all
the various libraries and it's all there. And so I you can buy
a complete set of Encyclopedia Britannica for like $8 Wow, as
and they have all I've had I have so many reference books.
I've got the Cambridge reference book of American ethnic groups,
which is huge, by the way, and I was like, two bucks or three
bucks. So you can load up if you have your own library in your
own plate, you know, yeah, hold up
Adam Curry: people. You got a house like Johnny, you've
removed all your family members loaded up
John C Dvorak: with books. So you can get all these cookbooks,
books I got all these books. No, it's It's a bonanza. I have them
they're cheap.
Adam Curry: Yeah. So they expunge or pulp expensive art
books, historical atlases and our library and says library
land has collectively lost its
John C Dvorak: shot for stop, stop. Let's stop and mention
what they mean when they say pulp. Damage means they grind up
the books. Yeah, and send it to a paper recycling company. Yeah,
so this is worse than book burning.
Adam Curry: By the way, I'd like to point out that that the media
is using banning burning and using all kinds of B words were
really it's limiting access to children it's a little different
and they make it all sound so Nazi like
John C Dvorak: they want to turn all our kids into patriots
Hitler you can elect a union.
Adam Curry: Library land has collectively lost its mind
libraries have forgotten their core business is giving patrons
the books and info that patrons want. Libraries have shown their
core value of neutrality in favor of virtues. Originally,
and I'm I'm you know, in 1987, I was asked by the ALA, the
American Library Association to participate in a poster campaign
for them as an MTV. You were Yes. And I
John C Dvorak: wish I can't tell you stop reading from the note.
Adam Curry: No, this is me as I'm sorry. No, it's me. This is
me. I stopped reading from the note. No. And there was a poster
campaign and was me. In my full MTV glorified hair, I can't find
it. It was like it was I'm sure the tagline is like, reading is
good kids. Now something like that. I wish I could find that.
I wish I could find a copy of that poster. There was it was an
actual poster and they put it in libraries. Hey,
John C Dvorak: yeah, you shouldn't have that on your wall
of shame.
Adam Curry: Well, these days I'd be ashamed of it or you know,
kind of like you have your
John C Dvorak: book owning the word good with the EU is
probably.
Adam Curry: Okay, John. Thank you, Francisco. Scaramanga
Should we just take a quick look at some of the other pieces that
didn't make the cut that we had such arguments over? Because let
me see if I can just
John C Dvorak: do COVID Campbell piece I liked a lot. I liked the
no agenda library card the little
Adam Curry: stop. That's not where you started. That's not at
all where you started.
John C Dvorak: Where did I start? Okay.
Adam Curry: So you started with the MEK. You started with the
alien. You wanted the aliens?
John C Dvorak: I started with a with a sombrero a flying saucer
flying
Adam Curry: saucer, right. And I said, well, a looks like AI. By
the way, almost everything looks like aI these days. Everyone's
using it because it is it is. And I said Adam Korean Johnson
of work is no little Mexican dancing dudes. It's too small.
John C Dvorak: Course. That's what you said. Because it is. I
agreed with that. The Mexican dancer too small. Then I started
looking around and I went I think it went to the card next.
Adam Curry: No, you went to the quarantine camp signs.
John C Dvorak: Color the COVID camp toxic shock.
Adam Curry: Yeah. And I was like, that's kind of a played
out. No, no, I'm sorry. You're right. You started with the
library. I love the library card. I'm like, Dude, why if it
said 2008 on it, maybe.
John C Dvorak: But that was a that was a kicker. That 2008
little gang. Yeah, I had to give him
Adam Curry: one you did so and then after I was correct about
two of these. You said urine and nude. And what else did we argue
about? And then I would I couldn't I
John C Dvorak: went to the camp and you said dad at camp. And so
I
Adam Curry: think you're right. I think that's that is what I
said about the camp.
John C Dvorak: And then there was some different things you
want to do. Let's let's stop there because you kept pushing
for the Nico's curry Divorce Act Mexican guy jumping out of it. I
liked that one. Nyko Simes. Ven go on pause. Yes. I
Adam Curry: liked that one. Yeah,
John C Dvorak: it's like,
Adam Curry: and then I didn't and then as a compromise. I
tried to throw out the Canadian Camp Fire by Matt Boisvert. And,
you know, which had showed a fire.
John C Dvorak: Right? You You came up with that? And I said,
What? No, you
Adam Curry: didn't you were actually quite you said, yeah.
But you know, I see the maple leaf but you don't see the fire.
And I and I conceded. And then you said, Well, what about that
mockingbird thing? That then we both looked at it. And we went
John C Dvorak: I was exasperated at that point. And so I came up
with
Adam Curry: to go to the to the stupid supermarket, the one with
all the ugly, the ugly produce. You want it to leave, you're
done. You were done with me. You're done with the show.
You're done with everybody. That's not true.
John C Dvorak: And so, okay, so we really looked at it. I looked
at it, we couldn't see anything wrong with it.
Adam Curry: And that when you even mentioned that it had the
little pride pride colors behind it was nice
John C Dvorak: little pride colors. That was a nice touch.
Adam Curry: Turns out to be one of the better ones. I mean,
killer it really is. Who knew? Who knew? Sometimes that's how
it goes. And I'm I am proud of us for sticking with it. No one
rage quit. No, we stuck through it.
John C Dvorak: But when you really have issues, we end up
going into the archives. We didn't know we didn't go to the
archive. Now we go to the archives. Well, let's take see
what was submitted to Vince show 1100. Look at some pieces there.
Adam Curry: We got lucky we didn't have to resort to the
evergreens.
John C Dvorak: Yeah, the evergreens which are a mess, by
the way,
Adam Curry: like no one wants the evergreens to be pulled up.
So that's talent, and we thank Francisco Scaramanga for
providing us with pure raw talent. Great job. Thank you to
all the artists who diligently for Vitus with choices please
back off on the AI people if you can just see it change you can
see in the past few months you can see is all AI even people
who are really good artists are I think that they're putting
their their art into AI and say hey slick this up a bit you know
what I mean? But it's everything seems AI II to me AIA Am I Am I
wrong and seeing this change
John C Dvorak: I saw weeks ago Yeah, okay. You're an artist? No
well I just saw a weeks ago good I mean soon as this was comic
strip blogger gave up on the on his butt drawings and started
submitting you know, things that are 3d. It's kind of a giveaway.
Adam Curry: Once the asked when to 3d, we knew it was all over.
That's how it goes people. Let's talk about some treasure. We
have executive and Associate Executive Producers just like
Hollywood, these are titles that are Real you can use them
anywhere and they are accepted even on IMDb and we kick it off
with our top executive producers. As we have a duo here
Dame Becky and Sir Mike from Katy Texas who come in with
519 17 and they say there's a reason for this number
numerology counts. Happy anniversary to us. We were
married on September Sunday, September 17. That's show day
1972 show 1591 hits on our anniversary date and day hence
the donation amount Dame Becky and Sir Mike of the great Katy
Prairie. No jingles but double karma for all the small business
owners and get my nation and we say congratulations, and Happy
anniversary.
Unknown: You've got karma.
John C Dvorak: Next on the list is Jim Schneeberger in Cary,
North Carolina. And he sent a note in he didn't put it right.
He didn't put donation on the first one. That second one came
in the next day, so we didn't get it in here, but here it is.
Oh, you
Adam Curry: have a knighthood. Good.
John C Dvorak: I have it. ITM thanks for all you do. Is there
a simple note? Jim Bob way of Shotzi land and Grand Duchess
she should be by now. Anyway, Marianne Schneeberger she of the
healing hands. This worry will be at my side in Valhalla one
day. No, no jingles, no karma.
Adam Curry: Okay. Next is Jean morphus in Bellingham,
Massachusetts. 34567. See attached note which I have in
front of me. It is a it's not just a note, it's two pages of
typed information on his own classy letterhead, and we will
not read everything. However, he says enclosed please find a
measure of value. Some reaction to John's hypothesis that the
mafia conducted the JFK assassination and the CIA was
powerless on the sidelines. It is certainly possible if not
likely, that mobsters were the triggerman in the USA in the
assassination. convicted felon James files claims to have been
the shooter on the grassy knoll and named Charles Nicoletti and
John Rosselli as associates, the FBI investigated but some
concluded he wasn't reliable, of course, had they concluded he
was reliable it would destroy both the lone gunman and the
magic bullet arguments. Connections between the Intel
agencies and the mob are widely documented. However, the
gigantic cover up was certainly the domain of Intel agencies. It
is equally likely likely that CIA officers Allen Dulles and
Richard Helms were the masterminds and it gives us
many, many points to back up his his thesis. Yeah. And which I
don't think we have to go through but they are all
perfect. They're all interesting, all interesting,
and we appreciate that and we will give him a double karma.
Just for the effort. Thank you. Karma
John C Dvorak: and onward with where are we? Oh, it Catherine
night. She's in Mesa, Arizona. And she has a switcheroo. Oh,
all right. I have to get better at his ITM. I previously
neglected to thank my son Billy night. She is she's in with
33333 for hitting me in the mouth. He qualifies as a
douchebag. But please credit this donation to him. So he can
be dee doo dee doo. And he has been added to the birthday list
and 919 Thank you for your courage. Very
Adam Curry: nice. Thank you, Sharon. Push NiaK St. Paul,
Minnesota 333 dot 33. One of our famous favorite amounts. Good
day, Adam and John. I'm ashamed to say I've been listening to
your podcast since the pandemic began. And I haven't donated
till now. I'm sorry. I love the show. It truly is the best
podcast in the universe. You make light of the darkness out
there. It's nice to listen To news and have a few laughs My
friend Sarah dame of the Lake Mary gates introduced me to the
show and we chat and share laughs about your shows and all
the valuable information they're in. She called me out as a
douchebag a while ago and it's about time I get d douche.
You've been de douche. I was born and raised in Canada and
now living in the US. I love hearing about all the crap going
down in Canada as well as the US. What did you call Trudeau? A
wet noodle? That's funny. Couple of items to mention whoever said
something negative about John's voice needs to get a life. Oh,
you got it. We got a fan girl here. And in your recent
donation segment the bit about Obama's Dick was kind of funny.
It's okay to add something useless and distasteful but a
bit funny. I was okay with it. I had a good laugh. We're one for
one John one. I'd like to call out my friend Joe Lena as a
douchebag no jingles no karma. Just keep doing what you're
doing. Thank you for the laughs and all your hard work behind
the scenes cheers Sharon puts me out good thank you Sharon. We
appreciate those nice note very nice note loved it CNR
John C Dvorak: in King George Virginia. Well, we are on our
way to another gorgeous meet up. She oh you are I think she might
have had decided that today is the day that we will claim our
first executive producer credit as we walk hand in hand toward
the round table C and R in K G
Adam Curry: Oh nice. Okay. We have sir CB checking in from
Harris, Minnesota 333 AC and JCD greetings to all producers the
best podcast in the universe. Thank you, John and Adam for the
best media deconstruction that keeps us all sane. Please
encourage all producers in the area to make their way to the
cornerstone pub and prime in the city, Wyoming message Miss
Minnesota nuts for the goat karma producers local 33 meet up
the return of cert expert on Friday September 22 at 7pm Help
us welcome sir de expert back to the land of the loonies this
donation finds me above the level required for Baronet.
Please title me Sir See me Baronet of the builders. Can I
get a don't Raph and a massive helping of TPP jobs karma for me
and all in need of it. Thank you for all you do 70 threes he
didn't give us his callsign you can't just do a 70 threes
without your callsign that's in violation of the Canada ham
code. 70 threes keep a five Alpha Charlie Charlie sir CB
Baronet of the builders long enough.
John C Dvorak: Why are you laughing? Shut up. Sir up, shut
up first. Jay's gonna step down to jobs calm is syrup in
albergue Vermont. Of all places. 23456 becomes our first
Associate Executive producer says he's enjoying the show
birthday donations from my lovely wife Robin today. 917 my
third son Justin on 915 And my second son Jesse on 10 Six.
Thanks for all you do. Know jangles just some relationship
karma syrup of the Green Mountains.
Adam Curry: Relationship karma. Here you go. You've got karma.
It's up next. Tara gray Lanagan, Saskatoon, Canada Navia. Rove
ducks. 2222 222 dot 22. Sorry. He's Associate Executive
producers. Hey, John and Adam in the morning I'm setting this row
of ducks in honor of Jamie gray. My smokin hot husband turns 50
On September 16. He hit me in the mouth in 2020. And we
haven't stopped listening since. As this is our first donation a
D douching. For him would be much appreciated.
Unknown: You've been D deuced.
Adam Curry: I shall remain a douche but not for much longer.
Thank you for the amygdala shrinkage. His only request
other than jingles is to confirm that we really could seek refuge
with Adam and Tina if we need to flee from the insanity of our
totalitarian regime here in Canada Navia it's getting wild
up here in all the wrong ways. Did I say that? Was that I say
that they could seek refuge with
John C Dvorak: us if Yeah, you did. Well, there you go.
Adam Curry: We have a guest room limited availability. His jingle
requests our call to prayer. Fletcher what is I don't I don't
know a call to prayer from Fletcher and this is a weird
one. I think
John C Dvorak: it's the one where the where he's kind of
chanting this Ali Akbar. Okay, well, I
Adam Curry: have that one. Sunday service. Oh yes, I got
that one and the burglary burglary Amen. Thanks for
everyone. For everything you do to keep us all honest.
Unknown: Too and no agenda they give us as we get there we
donate to and no agenda is the show that's really unique.
Donate to the no agenda. List. The John Adams be the only two
with no agenda. Science is turned into a clique of children
is I'm
gonna get a little
Adam Curry: proof long sequence and
John C Dvorak: I have to do son of a bloke in nao Ohio. Ne tu tu
tu tu tu tu which is a row of ducks. ITM John and Adam a row
of ducks and a 55555 Switcheroo from Sir Ohio bloke qualifies me
for knighthood accounting attached. May I be dubbed it sir
son of a bloke? I may have waffles and wine at the round
table. Also gonna have a birthday shout out for myself
September 17 25 years my brother Dominic on September 28. Check
to see these because it's not yellow here. So I'm always I
think it's in there. Yes, it's in there. We're good.
Everybody's there's a big list. It's a big list. And my mother
bloke eight blokes Sheila, on September 26. No jingles. No
karma taken for the best podcast in the universe. Thanks, son of
a
Adam Curry: bloke son of a bloke. Thank you, sir. Touchy
posts. Bozeman, Montana. $200. We're almost done here with the
execs and Associates. Dear Na, homies, I was cheering and
listening to Episode 5091 I had to drop everything and donate so
I can pitch it John. Now I'm just a lowly industrial
engineer, but even I know that hydrogen is an extremely viable
alternative for Coke and steelmaking and damage. John,
you should too. I guess about the clean steel that we were
talking about which has nothing to do with this but he feels you
should have you should have piped up and said dusting off
your college chemistry book. Then be reminded that hydrogen
is also a very potent reducing agent instead of giving off co2
like burning coal the byproduct is pure water. Now what was he
the point was he was making is that purified coal is used as a
reducing agent for removal of impurities and pig iron. We
don't have to invoke any climate change hysteria to agree on I
think he needs to do his own podcast is what I'm thinking.
John C Dvorak: Ah, this has a potential
Adam Curry: Yeah, he does. He does I mean he has knowledge he
has knowledge but
John C Dvorak: you have to have which is unlike most podcasters
Adam Curry: good point and his point was that he was
disappointed that you didn't pipe up and
John C Dvorak: nightly just still making it's never been
something I've known that much about
Adam Curry: Yeah. Anyway, we appreciate your support and your
note has been been taken in and appreciated as well sir touchy
posts of the Gallatin County Fairgrounds. Thank you very
much.
John C Dvorak: And finally, we have Linda Lou paddock in
Lakewood, Colorado, jobs karma. And for a resume that gets
results go to Image makers inc.com For all your executive
resume and job search needs. That's image makers equal to
k.com or just find Linda lapad Can under the show's producer,
list and run a search jobs,
Unknown: jobs, jobs and jobs.
Adam Curry: And we thank our Executive Associate Executive
producers for bringing us episode 1591 Very much
appreciated. Good notes, thank you good donations. It really
keeps the engine running. We appreciate it. We have a few
more people to thank as we go as John will take us through the
rest plow so you plow through and maybe
John C Dvorak: starting with Pay Pal $118.74 Probably a refund
banks pay pal, Laura masters Leora masters in London brand to
UK $100.01 Lucas Williams in Roswell, New Mexico there er 100
Shawn coffee in Annandale New South Wales. 100 I sent a note
to Adam Melissa Reeve in Winchester, Virginia. 100 James
Zookal in Tucson, Arizona. 100 Laura Starks in Green Bay
Wisconsin birthday 808 hoobs Kevin McLaughlin, Concord, North
Carolina. There he is again continuing as Ron 808 and this
time he's promoting a rich sweetness. The rich sweetness
melon. Okay. Dame Jen in Athens, Georgia 67 another birthday,
happy birthday, Sonia, Cory, a buckwheat 5656568 And he's in
London, Ontario, Canada. long note for some reason there's any
new issues in there. I don't see it. We'll read that note to
ourselves. Read a Harrington and sparks Nevada there she is 65
Joshua Hartley are Party Part Part key? Joshua Harkin
challenge Chela che Jalen. Jalen, I think Washington I
should know how to pronounce it. 606 got a birthday call out for
Maria. Coming up. Kevin McLaughlin. 606 was small boobs,
North Concord, North Carolina and this time he's promoting the
icle mouse melon. It go I see. K L E mouse. I'm going
Adam Curry: to ask for that at HEB.
John C Dvorak: We'll never find them in a million years Sheila
Ryan in Paris, France. Oh 5684 And Shayla parisian woman sent
us a donation
Adam Curry: and she was shocked. She says Shotover Shana Tova Lee
John C Dvorak: les Tark kowski in Kingman, Arizona is 57 Sir
Ohio bloke and nao Ohio we heard from him earlier. As a switch
roofer son of a bloke Richard Futter in London, UK 5510 James
Edmondson South Plainfield, New Jersey 5510 Charles couch in
Thornton, Colorado 52 at ash and Flower Mound at Texas 5233 Mark
bendit Bender kowski in West sola, Poland Hey Poland, Warsaw.
It says work with solar but Warsaw is where he is
Adam Curry: we need boots on the ground. How's everything going
there?
John C Dvorak: Yeah, yeah, and these are all the he's the
beginning of the $50 donations which I'll name and location,
one after the other, beginning with him and then big papa. Big
Papa productions in Minneapolis, Minnesota nuts. Philip pollute
blue in Louisville, Kentucky, Michael Thompson and new brown
fells Texas. Michael Pirot. Could be karate or parrot in
Salem, Oregon. Easy landscapes in North Stonington Connecticut
if you got landscape needs easy. Kelly McGee make a deal in
Mission Hills, Kansas, Chris Lewinsky in Sherwood Park,
Alberta. John Edgar McLean in Newton, Massachusetts. David
Jarman in New South Wales, with a nice the Powerball number.
Adam Curry: Well, he had to he said he knew the Powerball
number was 5000. And he said here's 1% which is Aussie dollar
so
John C Dvorak: he's got a birthday coming up does. Nathan
Cochran in Franklin, Tennessee, Indiana, my buddy Nathan, Nathan
Hey Nathan, Tatiana Prince in Hollywood, Florida, Peter odo in
Ridge New York, Steven Chu Mach in Xenia, Ohio, Joan poles in
her Nando Beach, Florida and Baron Allen being who is now in
Beaverton, Oregon. He has 50 And that concludes our list of well
wishers and producers for show 1591
Adam Curry: And thank you to everyone under $50. Typically,
for reasons of anonymity. I will read one note from Luke from
Alexandria, Virginia spooks Ville he says I started my night
layaway program in hopes of someday joining the vaunted and
distinguished group of other Knights and Dames at the
Norwegian roundtable I've been listening to show now for over
two years and I want to be able to give some value back to all
that I have taken. I hope my monthly donations will keep help
keep the show going and look forward to each episode. Yes You
better believe it Luke we appreciate that. It's not the
amount is the fact that you send something back and whatever you
are putting in on a monthly basis. I'm sure it's meaningful
to you and therefore very meaningful to us thank you to
these producers. Thank you to those of them who are on the on
the sustaining donations such as Luke and of course to our
executive and Associate Executive Producers you have
really kept us going these titles are real they are forever
and you can use them anywhere titles are used. Our formula is
this. We go out we get people in the mouth
Yes, we do have quite the list the number the first number
coming from Sir upper wishes his third son Justin, a happy
birthday celebrating the 15th his wife Robin today and his
second son Jesse who celebrates on October sixth. Tara gray
wishes her smokin hot husband Jamie gray a happy one he
celebrated yesterday turned 50 Sure Ohio bloke for son of a
bloke turns 25 today Happy Birthday son of the bloke also
says Happy Birthday to you his mom blokes Sheila, celebrating
26 And on the 28th His brother Dominic will be celebrating game
Jen Happy Birthday Sonia she turned 17 tomorrow and Joe will
be turning 50 on the 20th Laura starts which is her husband Lee,
a happy one for the 19th and Catherine nights has had the
birthday to her son Billy. Also on the 19th Joshua Hartke Maria
Hartke says we'll be celebrating the 19th Happy Birthday and
David Jarman turns 37 on the 20th Happy birthday from
everybody here at the best podcast in the universe
Unknown: don't want to be introduced
Adam Curry: we have exactly one little change but it's no small
one sir CB now becomes a Baronet thanks to his upping up or to
another aggregate total of $1,000 he becomes sir CB Baronet
of the builders and we congratulate him with that
peerage up edge. And thank you for supporting the no agenda
show one night and this is the the son of the bloke who was
going to be Oh, that's a that's a bloke. Grab mug There we go.
Well you their sons son of a bloke hop up on podium here you
are about to become a knight of the no agenda roundtable I am
therefore very proud to pronounce the K D with the
following title donated to you apparently on behalf of your
dad. You are hereby to always be known as Sir son of a bloke for
you. We've got oh yeah, dad wanted hookers and blow what
rent boys and short name also we got the waffles and wine as
requested. Besides that diet soda and video games you might
enjoy that harlots and how they'll always good for a young
some beer and Bloods, Brazilian hotties Inca Sha Sha vaca
delegation sakeI buckets and bourbon sparkling cider an S for
ginger Allah journals, breast milk and popular more. He's
already drinking it. He's already drinking the meat and
munching on the mountain while you're doing that, get one hand
free the non greasy one surf over to no agenda rings.com Take
a look at these handsome night and Dame rings. One of them is
yours all you have to do is send in your ring size handy ring
sizing guide there you'll get your ring with the address you
provide to us along with your wax to seal your important
correspondence and of course a signed certificate of
authenticity and welcome to the round table the no agenda nights
no names no one
I'm so proud of everyone who is organizing no agenda meetups
every single show day when I get the list from Mimi I just It
brings a smile to my face because it shows me that people
are going way beyond just listening to the show they are
getting together they are enjoying each other's company is
a big nation no agenda nation or for some of you get mo nation
and by getting to know people in your local community you are
actually doing a service to yourself and your community
because as you know connection is protection. And in the
Netherlands they spent two days connecting and protecting up in
the rice freeze lounge with all kinds of activities over 30
people and as usual for the Netherlands there stone and send
us a meet up report Special Agent
Unknown: steel Johnson report India Tango three three Mike,
they have a weird obsession with goats. I'm expecting one to be
slaughtered later, it figured out Obama's day this problem
You're all eating meat co2 emissions through the roof. They
keep calling me Mr. spook I can't figure out why.
According to Mandor I'm not just still trying to find out why the
Norwegian and Beagle was wasn't a quiz
night or doing some sort of cult leg dance ritual was unlike
anything we've ever seen. I saw their easy three wrestling their
throws from the roots day to their eating some kind of tree
bark resin and talking about trolls. I'm pretty sure it's a
ritual or drugs and a report
Adam Curry: like a Dutch Dukes of Hazzard somehow. Here's our
Lincoln's meet up Report. Welcome to
Unknown: the Denver meet up at Lincoln's Roadhouse.
This is Sir our Peter reconditioning
happy to be out here. Here's my bitcoin brother
a quarry. Just send a shout out to all you people out there by
Sir Scott stay in dry.
This is Dennis I heard this place was so cool. I had to come
all the way out from Wisconsin, Jim from Denver in the morning
sir soothsayer here happy to report the surprise beer is not
Bud Light. And we are out. Thanks, everybody. No, thank
Adam Curry: you. And when you have a meet up today,
Charlotte's first annual golfing meetup kicked off this morning
and that is at the Charlotte North Carolina tradition golf
club and then the flying saucer drought dropped Imperium. So I
guess they're having a good time. We'll find out hopefully
with a media report. Also the 33rd annual net for humanity
takes place today it's underway at Duckworth grill and Taphouse
and Charlotte, North Carolina the tribal summer September
summary review mirror meetup also underway in Indianapolis.
You know the indie people are all crazy blind our brewery and
the two hot Tucson meetup will kick off this Thursday next show
day at four o'clock at canyons crown in Tucson, Arizona. Oh,
that is Dane Beth who was organizing and the sandy brigade
Third Thursday five o'clock Idaho meet up at Selkirk Abby
post Idaho's fault and do not miss the thirsty Third Thursday
meet up seven o'clock at Ed's Tavern in Charlotte, North
Carolina. And finally on my list until our next show day which is
Thursday on the 21st Totally not a drug cartel or spoke meet
spooked meet up no not at all Rosarito Beach Hotel in
Rosarito, Mexico, and that is Sir Brian of London who was
hosting that he's he's one of those guys who he's from Israel.
But somehow he's got a gig and he helps people sail the yachts
around the world. And they're sailing yachts catamarans and so
we saw
John C Dvorak: Yeah, I knew a guy they used to do that.
Adam Curry: Well now you know two of them. Sir Brian London is
my guest. So he's and he's a fun guy. So if you are anywhere near
Rosarito, Mexico, go to the Rosarita Beach Hotel on
September 21. And remember, no agenda meetups no agenda meet
ups.com It's very easy to find out where there is a meetup near
you if there isn't one start one yourself. Always guaranteed a
party
Unknown: sometimes you go hang out with Dyson days you won't be
you say is like a party
Adam Curry: as usual, around this time we look for and of
show ISOs which is another another fine segment we already
got. I have three actually. I don't know if they're those I
only have one here's my first one.
Unknown: I know this. I don't even know that
Adam Curry: there's this one. No, I'm not a poor baby. I'm
more reptilian. Mamadi audio is too bad. Who is that? That's
Pelosi saying she's a reptilian. Oh, she
John C Dvorak: is reptilian?
Adam Curry: Did you hear that whole clip that she says she's a
reptilian? Listen to this. You know,
John C Dvorak: of course she's gonna say that. But
Unknown: what baby? Yeah,
John C Dvorak: she's really, really committed. No, I'm not a
poor baby. I'm more reptilian will win the election, we're
gonna take a short
Adam Curry: break. And when people tell you what they are,
you might as well believe them. So but that's not a good idea.
So maybe this one. I
Unknown: also got the robes and the leather and the rubber.
John C Dvorak: I only have one answer, but it is a show Ender.
Adam Curry: It's a better Okay, here we go. I tell you what,
we're great. Yep, that's the one. No doubt about it. It's a
winner. It's a winner. Great. It's a winner. It's a winner. I
want to do something. There's this clip that I found from
Africa today because it's obviously nearing the end of the
show. So might as well bring in Africa for a moment. And it
reminded me of something that that we've made just want to
talk about briefly. This is about Mali, Niger and Burkina
Faso,
Unknown: the military leaders of Mali, Burkina Faso and nee che
have signed a mutual defense pact that binds the signatories
to assist one another, including militarily in the event of an
attack on any one of them. ministerial delegations from the
three silent countries announced this in Mali's capital Bamako on
Saturday, Labor Party contract that contract parties undertake
to combat all forms of terrorism and organized crime. Common area
lines are less bas cama de la cosa Dilip Takko Guma charter.
The pact establishes the alliance of sales states. Yes,