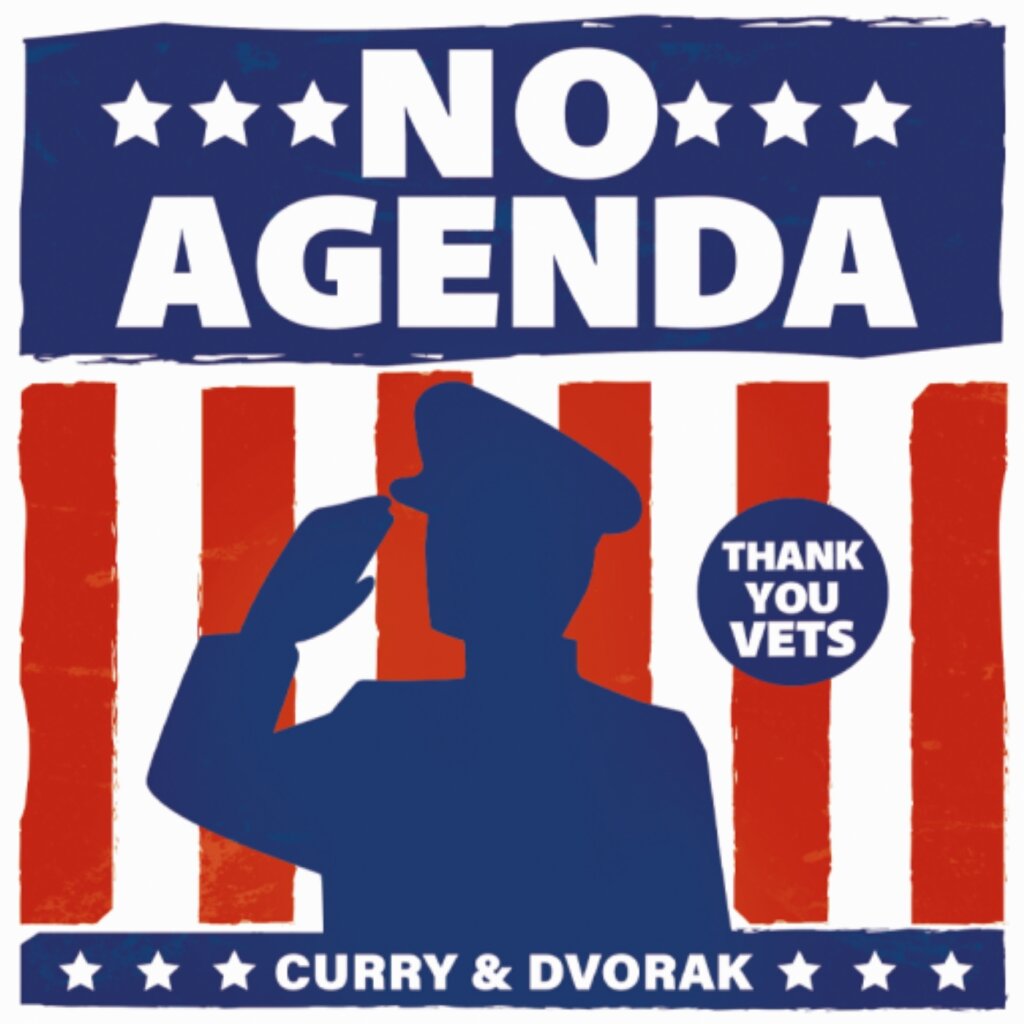 November 12th • 3h 17m
1607: Lazinsky
Transcript
The transcripts of No Agenda are automatically generated and therefore, not fully accurate. Discretion is advised.
Click the text to start playing from that position in the show. Click the timestamp to copy a direct link to that position to your clipboard in order to propagate the formula.
Unknown: Mee Mee Mee Mee Mee Mee Mee Adam curry Jhansi Devorah
Adam Curry: remember 1220 23 This your award winning
combination media assassination episode 1707
Unknown: This is no agenda.
Adam Curry: Papi is in place and broadcasting live from the heart
of the Texas Hill Country. Number six in the morning,
everybody, I'm Adam curry from
John C Dvorak: Northern Silicon Valley where we all say Happy
Veterans Day to the veterans. I'm Jhansi Dvorak. Greg
Adam Curry: Hill indeed we do. There's a lot of veterans in our
no agenda nation producing audience. Yes. A lot. And I want
to thank every single one of them. Young men and women many
scarred from crazy ass crap they've witnessed so
John C Dvorak: yes, we will likely they report some of it
in. Yes.
Adam Curry: But having been just to Iraq for 10 days and 2003
seeing the scarring, it's not pretty. Are you wearing your
puppy?
John C Dvorak: You know, those days are over in California, it
seems even though it's the puppy state.
Adam Curry: Yeah, the Chinese got all the puppies now. That's
what's happening there. Man. Oh, man. Oh, man. There's some
interesting things happening. I think we should start with the
new bull crap of the week. Which I'm not quite sure why they
released this on Saturday.
John C Dvorak: There's new bull crap.
Adam Curry: This is new bull crap of the week. Yes. Yes. This
was an L
John C Dvorak: by the way. I want to mention, Oh, speaking
Adam Curry: of bull crap in advance. Yes.
John C Dvorak: I'm going to do a three by three today. But more
importantly, I'm beginning and we need a jingle for this. Oh,
the good news of the week that you specifically requested. I
requested
Adam Curry: it. Yes, I did show it shall we start with the three
by threes since we typically I mean,
John C Dvorak: we can do the three by three because a three
by three is is quite funny. There's
Unknown: three by three. Experiment by Jesse.
Comparing sto reefer ABCs
Adam Curry: everybody assigned three JC D checks out three days
from the end of the week, but I'm doing the intro. Jason.
John C Dvorak: We're done. Jason.
Adam Curry: I'm done. I'm done. All right, I'm done. Yes, three
stories from the mainstream media from the same
John C Dvorak: three stories presented three slightly
different ways. And these are all about the war. So they're
all designed to traumatize the audience. Yes. Using bringing in
some professional sound effects guys to add different sound
effects and I'm starting with the lesser the award. I'm going
to give it away the award for the best presentation goes to
CBS. We're going to start with the third place finisher.
Adam Curry: Wait Wait do we start with CBS and we start with
John C Dvorak: no we start with ABC which is the third place
finisher and ABC presents they got the sound they got some
crazy fun house slide sound effect at the beginning. A lot
of explosions. Nice. The stories are the same. It's about
Israelis bombing the hospitals. And they say there's there's
Hamas there that everyone over there says no, there's none. And
then Blinken always says stop the bombing. Here we go.
Unknown: Tonight the explosions rental in Gaza is main
hospitals. THE MIDST those fireballs buildings shut the
cries from the wounded. By night the sky lit up by flares and
missiles. By Date Israeli troops in close combat going building
to building room to room closing their news on Northern Gaza news
the hospital's main parking lots now housing tents filled with
people. The hallways crammed with refugees gurneys bearing
the wounded lining the quarters. Today in exclusion of Gaza, its
main hospital of Chifa. This girl screaming why God why?
Israel saying the explosion was caused by a failed Palestinian
rocket launch. Military spokesman Peter Lerner says
Hamas has turned the hospitals into their base of operations.
They have positioned all of their capabilities in around and
beneath hospitals. But
there are 1000s of patients who are wounded, some of them very
severely, who cannot be moved.
They can be moved. There are ambulance services that are up
and running. It's a matter of deciding to move them
but one of our chief was top doctors telling me it can't be
done. What would happen if you did have to evacuate all the
people who still remain evacuate. It means you want me
to kill at least 100 patients at home tonight with the
Palestinian saying the death toll is over 11,000 The
strongest criticism yet by the US of Israel's handling of the
war against Hamas. Far too many Palestinians have been killed.
Far too many have suffered. But Secretary of State Blinken
acknowledges Israel has opens humanitarian corridors 1000s.
Today fleeing south on this highway evacuation route
designed by the Israeli military over 150,000, fleeing in just
the past two days, Lindsey Israel has said that over the
past 24 hours its forces have operated not just in the Gaza
Strip, but also in the West Bank along the Red Sea in Syria and
in Lebanon, fighting this
Adam Curry: you know, I would say that what does Bruno say
Bruno says this is a five I think they blew it they blew
their effects wad right at the beginning and then just slapped
it off. I
John C Dvorak: agree on your percent but the thing that was
the kicker was Blinken. Strongest words ever? preface it
with the strongest words ever by the Secretary of State and they
cut into blink and saying to me people killed
Adam Curry: me people die. Oh, strong, so strong. strongest
ever. Oh,
John C Dvorak: that sucked. And that was ABC, you know, which
comes out of Disney should have some shows.
Adam Curry: going down the tubes. They gotta get some new
people in there. It's
John C Dvorak: not good. So let's go to the second place
finisher who will take the place of the word winner if the other
one goes down in flames. But NBC decides to let's add some better
explosions. As if they're there during these explosions. And
let's up the ante with the guy doing the reporting and bring in
a British voice. Yes,
Unknown: this was the sky of a Gaza tonight in Israel's war
with Hamas. And overnight near the Indonesian Hospital in Gaza
City of fiable. Five hours after the White House says Israel
agreed to humanitarian pauses in the fighting, but no ceasefire
close by above Al Shifa Hospital. A projectile then
screams later, a second explosion at the outpatient
clinic. My mother, my father, my brother she cries. Tonight
Israel says radar evidence shows one strike on the Al Shifa
Hospital was from a misfired rocket from a Palestinian
terrorist organization. Israel says Hamas has operated a
command center under El Sheikh
Adam Curry: Mohammed he did he say the Palestinian or a
Palestinian terrorist organization? That was
interesting. Let's listen against radar evidence
Unknown: shows one strike on the Al Shifa Hospital was from a
misfired rocket from a Palestinian terrorist
organization. What
Adam Curry: does that even mean? I mean there is the Palestinian
the Palestinian terrorists Well
John C Dvorak: I think that refers to this other Islam I'll
Machado whoever the third group is that crops up when it's
convenient.
Adam Curry: They mentioned and then why don't why just a bit
like why so yeah, can
John C Dvorak: make it a good point. They could bring it in
and we've been told not to. I want
Adam Curry: to go back to the Brit
Unknown: Israel says Hamas has operated a command center under
Al Shifa Hospital, using civilians as human shields.
Hamas has turned hospitals into fortified positions. This is the
challenge that we are facing. This is precisely why we're
encouraging people to go south in a war zone with
Adam Curry: extra points extra points for the for the nasally
voices sound effect is the challenge that we are facing.
This
Unknown: is precisely why we're encouraging people to go south.
You're in a war zone. Oh, yes. You
were in a war zone.
We spoke to a doctor at Al Shifa hospital tonight. Have you seen
any Hamas fighters, Islamic Jihad, any group like that
they're
No, no, no, no, no, he
wants people won't allow them. To us today with blunt criticism
of the civilian death toll. Far too many Palestinians have
been killed. And we want to do everything possible to prevent
harm drawn today,
pointing to these two humanitarian corridors. It's
created under a continuing exodus of foul palace. Bring it
back inside Gaza. Hamas still hasn't released more hostages.
Israel says any ceasefire now after the murder of 1200
Israelis would be a surrender to Hamas. There
won't be a ceasefire without the release of Israeli hostages. All
right here. Let's pick up right there. You have new reporting on
the negotiations to free these hostages, including Americans.
Tom an official with knowledge of the tools tells me they've
stalled in the past over how many hostages will be released.
And that is still a sticking point tonight Tom despite
progress. It's
Adam Curry: interesting that they are putting the Brits in
Yeah, who else is in there speaking of Brits, you know
who's eight reporting from from Gaza, just outside the Gaza
border is Douglas Murray. He was he was did a whole half hour
with Piers Morgan. And weird didn't know that he that he was
a an on the on the scene reporter I thought he was a
public intellectual.
John C Dvorak: That's what I thought. Anyway, let's So the
number one number let me let me set it up. Okay. First of all,
they've decided to up the ante because this is about trying to
traumatize the audience to get him kind of glued to the set.
Yeah, of course, because when they're traumatized, they're
more susceptible to advertising. It's how it works. Then your
mind is open your property, your shell shock, your shell shock,
and you can be propagandized during that moment. Yes. And so
you want to traumatize so so CBS has decided or they have better
people that are in the backgrounds. Yeah, in the
background, they're doing a sociology. So they said, screw
this. Screw the male voice altogether. We like the British
voice. Let's bring in a female British voice
Adam Curry: go and do they have a sound effects? Are they good
on the
John C Dvorak: voice? And then they said, here's the here's the
kicker. Instead of just bombing, I think people are kind of
immune to phony baloney bombing. Gunfire Bye bye. Bye. Bye. Bye.
Bye. Bye. Bye, Bob. How about just a lot of screaming and make
sure that we get a you have to listen for this one. Make sure
you get a lot of screaming women and men and get a baby crying
and put all that in there. That'll traumatize the audience
and they do a beautiful job.
Unknown: A massive strike at the Al Shifa hospital grounds gauzes
largest medical facility. Israel insists Hamas is using hospitals
to coordinate attacks and hide its commanders but sheltering
adults shifa. 1000s of civilians. They're one place of
refuge of bloodsoaked battlegrounds.
Adam Curry: Extra points for the script,
Unknown: reeling in disbelief. This man shouts they bombed the
hospitals. Nearby, a young girl Breakstone trying hysterically.
My mom, my father, my
Adam Curry: brother. Oh, wow. So they're not even subtitling
anymore. They're just giving you they're just translating it on
the fly. When she's acting, she's acting it out. This is
this is very good. At best it is.
Unknown: Nearby, a young girl Breakstone trying hysterically.
My mom, my father, my brother. Inside, doctors and nurses fight
another wall.
Adam Curry: Many guests are they operating by cell phone lights
the battle to
Unknown: keep the injured alive with virtually every critical
medical supply running out. Today. At least five hospitals
have been caught up in the fighting, including one for
children. Here this video appears to show a pediatric
hospital surrounded by Israeli military vehicles. worn down by
wall hunger and exhaustion civilians flee Al Shifa to, only
to run headlong into more danger. Even the evacuation
corridor is not spared the spiraling civilian death toll so
Secretary of State Antony Blinken issue one of his most
direct condemnations to date, wow.
Adam Curry: So they've changed it from strongest words ever to
most direct condemnation to date far too many Palestinians have
been killed. Far too many have suffered.
Unknown: Israel has to do more to minimize harm. We just can't
ferret any more try echoed by the Red Cross, which says Gaza's
health system has reached the point of no return. Outro and
questioned by the media, the Israeli military said we don't
fire on hospitals, Nora, but if we see her mouth firing from
them, we will do what we need to do,
Adam Curry: man, so she is on location. And she's you know,
presumably in either a hotel room or some kind of facility
they have. And she's like, you know, I'm I really got to spice
this up. Let me act out what the people are saying. Yeah, that's
great. That's
John C Dvorak: great. This is and this is probably, although
we kind of scoff at it and laugh at it. And in fact, praise it
for its professionalism, ingenuity. It's disgusting. Of
course it is. It's horrible. totally disgusting, of course,
and it's exact same report to get the hospitals under attack.
You got the doctors in the hospital you got the screaming
women. You've got the throat a blink and stupid comment. That
is not one thing or another he just kind of bland and say the
least I mean,
Adam Curry: it's really it's his most. I mean his most what was
the term they used? some harsh words to date. Really. Too many
people have been killed you can say that about every war. How
about the Hutus and the Tutsis
John C Dvorak: never there this is your example of the media
trying to traumatize the on his kids to get them to buy stuff.
It's bad by far as I'm concerned. That's the only
reason they're they're going to such an extreme here. This is
not reporting now this is preamble they're not there.
There's not people behind them running around with their hair
on fire like it sounds.
Adam Curry: This is Mind conditioning to prepare you for
pharma advertising, which is probably most probably an
antidepressant.
John C Dvorak: So a lot of those
Adam Curry: three, three he didn't once again stay Roman by
JC de nom experiment anymore.
Unknown: fairings don't read from ABC
Adam Curry: it is your three by three I guess it's back. I
understand the clip custodian helps you out though the clip
collector helped you out with that. The clip collector
collector Very good. Well, unfortunately, he
John C Dvorak: does a good job of getting the he's good at
understanding this the idea that
Adam Curry: all of our clip dudes are they get Fortunately,
I have to kind of go over your head and say that there was
someone who said much harsher words than Antony Blinken.
Unknown: Yo yo Oh,
Adam Curry: much harsher words only not the word you would
expect any appeared on State of the Union was dynamite. Or Shawn
CNN here is the one and only lady G Lindy upgrades.
Unknown: You've said there should be no limit to what
Israel can do to take out Hamas. But is the administration right
that Israel needs to do more to protect civilians in Gaza
Adam Curry: jam on Lindy Hop don't disappoint us now. Well, I
Unknown: think Israel is committed to following the
conflict. One thing I want to say for sure, is Israel's not
engaged in genocide. And then another thing we need to deal
with is the whitewashing of the status of people who
Adam Curry: watch that whitewashing.
John C Dvorak: Yes, why does he want to say it for sure? One
thing I want to say for sure, well, that's just like
highlighting I mean, other words, he's got something here
that he's been told to say. Yes,
Adam Curry: and in the kicker, which is coming after this,
you'll hear what he really wanted to say. I'm
Unknown: sure there are plenty of people would love to be free
from Hamas, but the most radicalized people on the planet
live in the Gaza Strip. They've been taught since birth to kill
and hate the Jews. How do you teach math in Gaza? Get 10 Jews
and you kill six How many would be left?
Adam Curry: Whoa he's doing bits he's
John C Dvorak: doing dick.
Adam Curry: I mean, does he really does he realize how this
guy does realize how he sounds? Let me let me see let's hear
that joke again.
Unknown: To kill in hate the Jews. How do you teach math in
Gaza? Get 10 Jews and you kill six? How many would be left?
Adam Curry: Nice delivery. Well done. Lindsey. Well done that's
Unknown: been in their school system after World War Two. Did
Adam Curry: you hear that? Edit they just edited right there
boom
Unknown: and Jews and you kill six? How many would be left?
That's been in their school system after World War Two. Did
anybody ask these questions? You got to realize the United States
dropped two atomic bombs on cities in Japan to end the war i
Adam Curry: and that was great. But what a great thing we did
there. I mean, I still love that picture of the young girl with
her flesh burned off. Lindsay that was great. Who
Unknown: did anybody ask us these questions? You got to
realize the United States dropped two atomic bombs on
cities in Japan to end the war. I think this is total war
between Israel and Hamas. I want to protect innocent people as
much as possible. But I want the world to realize that the
radicalized population in Gaza has been going on for over a
decade. This will not be easy when you've been taught to hate
the Jews and kill them all and drive him into the sea. And
here's what I think 80% of the people in Gaza support the idea
from the river to the sea. That's this guy that has to
change.
Adam Curry: Thank you trolling for correcting me the burnt off
flesh was Vietnam. Another fine fine action that was that was
our Agent Orange. I'm sorry.
John C Dvorak: No, not Agent Orange. That was a napalm
herbicide is napalm but
Adam Curry: was at Maple
John C Dvorak: product at Dow Chemical. Yes. Which I think
Adam Curry: is now round up. I'm not sure No. So but he was not
done there. No, no, but after we've had a little bit of stick
and a little bit of hey, you know, it's like we propped it we
had we ended the war by dropping two nukes hand hand hand maybe.
But let's bring back in our own military industrial complex who
has a firm grip on his tiny teeny testicles introducing
Unknown: a bipartisan sense of the Senate Resolution tomorrow
about Iran. Senator Graham, what will it say?
Adam Curry: Oh, that resolution this is important resolutions is
where we all agree on saying the same thing and we vote on it,
then we say it. Well, it basically
Unknown: says if the war expands if Hezbollah opens up a second
front in the north against Israel in a substantial way to
overwhelm Iron Dome, then we should hit the Islamic Republic
of Iran. In fact, I would say bomb a bomb and then bomb again.
There is no Hamas without the Ayatollah support there's no
Hezbollah without without the Ayatollah support the great
Satan in the regions, not Israel, the or the United States
is Iran. Whoa,
Adam Curry: did he did he just did he just flopped there? Where
do you say without
Unknown: the Ayatollah support the great Satan in the regions
and not Israel? The or the United States? Is Iran.
Adam Curry: Truth wants to come out. Thanks, Lindsey. The Great
Satan speaks what a war monger that man is that we need to hit
around but said it's hit Iran. Let's just hit Iran.
John C Dvorak: He's just a cut does he is he is the epitome of
a chicken hog.
Adam Curry: Chicken hawk. How about chicken crap? That guy's
no good. is no good? He's no, no, no, good. All right. Let's
step away from this for a moment.
John C Dvorak: Because we're going to step too far away,
because I do have a couple of brackets
Adam Curry: I despise starting with this. Now we're like in
five that will come due to it. No, it's not too late. No,
John C Dvorak: we already started with it. We can't You
can't start to show over.
Adam Curry: Well, then I shall play another clip. The let me
see what is the one we want to do here? Yes, I think we should
go to Europe. And play Macron Lopez, el presidente a loop
president on the phones. And he was interviewed by the baba say,
I think was BBC. And he wanted to be very careful. You know, I
was like, I gotta kind of but you know, I was like, I gotta be
careful what I say here, because, you know, we don't want
a Muslim uprising in France. And but yet again, we don't want the
Jews to be angry. So we got no, I'm just gonna dance around it.
Unknown: You think Israel is respecting those rules? The
international rules that you're referring to?
Adam Curry: Yes. The international rules. The rules.
Rules proportionality? Yes. Yes. Look, look, look, I've had my
trade
John C Dvorak: with a French accent. Look, look.
Unknown: Look, look in the very first.
Adam Curry: Look, come over here. Look, these,
Unknown: it's clear that the motion to completion created a
situation where everybody was just close to his role and
backing as and sharing the pain. And we do share the pain. And we
do share the willingness to get rid of tourism. We we know what
tourism means in France. But I think there is no justification
precisely to attack civilians.
What I would like to just to clarify with you. Are you saying
that Israel is guilty of breaking international
humanitarian law? leading the
Adam Curry: witness? Potential? No, I'm here. No, no, no. Luke,
Luke, Luke, Luke, Luke,
Unknown: international humanitarian law, potential
here? Look, I think it's not the proper way to approach a
question.
Adam Curry: It's not a proper way to approach a question. I
agree, John, Luke,
Unknown: we do recognize their right to protect themselves. And
one month after this to always attack I think it would be not
the right way to deal with a partner and friend just to see
you will be condemned and your whole Cote de facto, today's
opinions are bombed. The fact effectors babies ladies is old
people,
Adam Curry: babies, ladies and old people look at
Unknown: bombed and killed bombed service. No reason for
that. And marriage is messy. So we do urge Israel to stop. I'm
not here to I'm not a judge. I'm head of state. I just remind
everybody international law. I call for a ceasefire. And I will
urge him for a ceasefire for him anytime ceasefire.
Adam Curry: Everybody wants this proportionality, which would
only prolong the the glee of the military industrial complex.
Question, please do look.
John C Dvorak: How come nobody at all that I can recall, as
asked for a ceasefire in Ukraine? Luke.
Adam Curry: This is not a proper way to approach a question. Of
course, we haven't called for that but we'll get to that in a
moment. Because you got clips I got what I have one more clip
because you know who's back on the scene? Who has been on the
Justice for Palestine for blind
John C Dvorak: thought it was a look at me Look, I mean, Lindsey
Adam Curry: Look, no, Abby Martin is back.
John C Dvorak: Abby Martin is back.
Unknown: The term human shield is nothing more than a racist
veil that makes the dehumanizing assertion. Oh, it's no church is
back
John C Dvorak: and more communist than ever.
Unknown: Indeed, that's children. The more rational
explanation is that there's no I have
Adam Curry: to say she does have an iconic voice. You recognize
because I was on the way back from church, I was listening to
the clips in the car, and I didn't even have to see the
clips. I didn't have to see the titles of the clips. It
John C Dvorak: does have a very distinctive voice very
distinctive, encourages
Unknown: the death of its children. The more rational
explanation is that there's nowhere to flee, and one of us
most densely populated places on earth, and that every single
civilian location is considered fair game to be bombed. However,
because of this,
John C Dvorak: I want to stop this right here is one of the
most densest places on earth. She says. I should point out
since I did I actually did some research Don't tell me you
actually did some work. I sometimes do
Adam Curry: I mean, wasn't a slam on you. It was more slam on
the M five in
John C Dvorak: San Francisco is four times the density. Let's
bomb it. New York City is I think eight times as dense
Manhattan is eight times as dense as as Gaza San Francisco's
four times as dense as Gaza
Adam Curry: and what size How about the size? Is it the same
size?
John C Dvorak: No, it we were talking about per kilometer,
kilometer BB I'm sorry, per hectare per acre per mile per
square mile. Let's go with that. I know you get to the right the
right measurement here shortly I like I like square mile I like
history exact per square mile. Manhattan and San Francisco are
respectively eight times and four times more dense than Gaza
per square mile. Yeah, sorry.
Adam Curry: You know what the most densely populated places
the troll the troll room.
John C Dvorak: You know, we should do I don't even want to
get into Macau or some of these other places that are extremely
dense. But just for easy comparison, San Francisco and
Adam Curry: New York. All right, well, this is for the troll
room. nonstick
John C Dvorak: Nope. And you don't hear it anymore because
it's a nonsense claim has been debunked. However,
Unknown: because of this propaganda tactic. The constant
and indiscriminate bloodshed in Gaza isn't seen as criminal or
deliberate. It's not seen as criminal or deliberate by the
jority of people. But this is a learn tactic. Attorney human
shield has been the Empires favorite excuse to just the
Empire,
Adam Curry: the Empire empire. What else Darth
John C Dvorak: Vader involved in this,
Unknown: the term human shield has been the Empire's favorite
excuse to justify mass slaughter and its wars of conquest in
Libya, the year prior to the US NATO bombing campaign. The human
shield talking point was used ad nauseam in the lead up to the
Iraq War. The Bush administration included the
human shield talking point as a main tenant of his campaign
John C Dvorak: second do you remember this I don't remember I
don't talk about in the Lippia talking point that we both
picked up on was the was the Viagra yes talking point
Adam Curry: and the cap that was it what's the name of that other
drug the the cheap cocaine
John C Dvorak: Oh yeah, that's that seems to be cropping up
again. And I don't remember the humans shield talking point
under any of these events except this particular one. Worship
getting her writers
Adam Curry: heard. I've heard she writes it herself. I've
heard human shields before. That Bush might have said it. No, it
was just well beyond was just check. What you will find it see
if we have any human shields. Oh, hold on a second. I have a
human shield clip. I have a human shield clip. 31 seconds.
This is from 2022. The
Unknown: other major story overseas the days long siege at
a prison where 1000s of suspected ISIS members are being
held ISIS fighters attacking the facility in Syria last Thursday
in an attempt to free the ISIS detainees. A coalition said the
attack has been contained after the US called in airstrikes to
help an American backed militia regain control. But some
militants are still holed up in the section of the prison and
they're reportedly using hundreds of detain children as
human shields. It's not clear how many prisoners were able to
escape.
John C Dvorak: ISIS bastards. Yes, it
Adam Curry: was also during the Biden administration just
pointing it
Unknown: out talking point was used ad nauseam in the lead up
to the Iraq War. The Bush administration included the
humans sheild talking point as a main tenant of his campaign, I
John C Dvorak: don't remember it as a main tenant for show she's
a liar lies the woman is I hate to say it. As much as you know
she's amusing. She's a liar. Yes, that's what she got fired
from our tea. She
Adam Curry: couldn't even keep a job there. Let's be honest about
it.
Unknown: Journalist robbing Martin uncovered entire CIA
reports dedicated to Saddam's devaluation of life through the
use of human shields. Bush even preemptively tried to justify
the enormous civilian death toll he knew was to come with the
invasion by declaring the former Iraqi dictator plans to quote
shield his military and blamed coalition forces for civilian
casualties that he has caused. I guess there were a million human
shields in Iraq
Adam Curry: Mushies Okay, all right. Well, that's a stretch a
little stretch there, no stretch. Stretch, why don't you
just come out and say it in fact, I
Unknown: would say bom bom, bom again. At least judging
Adam Curry: means honest. She's unhinged, but she's honest. All
right, what you got
John C Dvorak: on the last show, you discuss some of the the kind
of the front, the front organizations that are involved
in the protests and use that money. And in that report, I do
not remember you mentioning my all time favorite, which is the
world's Workers Party. Socialist, some other socialist
services Socialist Workers Party
Adam Curry: and the No, I don't remember
John C Dvorak: that. Well, the point is, is that I find I've
got I got the clips could isolate them. They're the guys
who used to do remember think T dot h dot i n k. They did all
these they've been doing protests as the should the
entire length of our show 60s What they do is what they do
what they do, and they're a bunch of communists. What's your
question? Yes, because
Adam Curry: I've seen some signs of some of these. Some of the
protesters which by the way are the same LGBTQ BLM millennials?
The new slogan is stopped genocide Joe
John C Dvorak: Wow, I like it. By the way, anybody out there if
you're going past I would like to collect two or three of these
signs.
Adam Curry: Stop genocide Joe.
John C Dvorak: I would love to have a copy of stop genocide Joe
if anybody can get get and help pay for the shipping and just
get a hold
Adam Curry: and you have to be wearing a cafe Cafe so he
pronounced the cafe
John C Dvorak: I don't know what to pronounce pronounce it. The
cafe where wherever one of those pushy hats the
Adam Curry: I just have one of those. I mean they must be
flipping out in Washington DC about this genocide Joe? And by
the way, this is like a thing I mean, I can just walk up to you
in a bar and say hey bro don't genocide me bro. Now this is the
thing people just saying is genocide a man you don't need
genocide me this is
John C Dvorak: probably the I think the genocide Joe thing was
slipped in by the by the intelligence agencies that want
to get rid of Joe Biden and this is part of their scheme right
now genocide Joe is an OP it's
Adam Curry: and it's sticking it sticking it's a good one
John C Dvorak: it's a good one Yeah.
Adam Curry: Well done. It's not well
John C Dvorak: yeah, you have to say it when it happens Hey, go
with protesters are Marxist part one
Unknown: Oh, pro Palestinian rallies popping up on the
streets and on college campuses popping up as across the US
who's behind them. NTDs cine to cure spoke with an expert on
Islamic terrorism as Ron Omani to take a deep dive into the
investigative journalist and author Asra Nomani tells NTD
that behind the pro Palestinian protests in America is a
multimillion dollar orchestrated campaign. Muslim organizations
that have now embedded themselves in the West, and they
are the ones unleashing these protesters against Israel and
Jews onto the streets and it's at the campuses. What we have is
a multimillion dollar orchestrated campaign. And I'm
speaking to you from the trenches of that. Those efforts
in the street.
Adam Curry: Okay, all right. NTD on the beat, all right.
John C Dvorak: She's done that'd be nice guy cut it. They're not
for any particular reason. But the fact that she is on legible
illegible Well, I've seen on I'm legible because illegible I
think refers to writings unintelligible that's the word I
was looking for. Thank you, sir. Yes. Anything. unintelligible
unintelligible to to the nth degree and so I this was I just
ran this one through Adobe to see if it could be fixed and it
was kinda she's still hard to hear but is that oh, you ran it
through Adobe Good, good. And I that but I ran through Adobe
with the front end. So in other words, I ran this entire clip
through Adobe including the clear part it to begin And
because I've not done that before, just see if like it can
jack it up it can work at work I wanted to see what it did to the
part that's already good. And it does a pretty good job of
ignoring I
Adam Curry: have Adobe enhanced clip myself today. So yeah,
John C Dvorak: let's so this is Adobe enhance and it came out
pretty good. Alright, so here we go into with the with the gist
of it.
Unknown: No money shows NTD posters she picked up following
a pro Palestinian rally last Saturday. And you get the signs
from the river to the sea. Palestine will be brief. But
what was the chant that they said in Arabic? Philistine Al
Arabiya, which leads Palestine is Arab, from the river to the
seat so they have code and who organized this one? The Islamist
group us Palestinian community network, one of the many
Islamist groups that believe in political Islam. And who had
they aligned with that this is what's so critical. You have to
be the fine print, as you know, as a journalist, then with
Palestine and the occupation, right, they use these the word
who is it that sponsored that the Party for Socialism and
Liberation, Socialism and Liberation? That's the far not
and who are they? multimillion dollar global networks that are
trying to use the socialist our left agenda into our nation?
They are alone, it's bad. Look at this one. We're going to
break the fourth wall get workers World Heart farm out on
units organization.
Adam Curry: You know, when I hear this, and I'm thinking,
Boy, AI is a long way from taking over the world. It did it
did a good job for us for sure. Yeah. The workers world party
man. They've been and they've got websites. We've been reading
their material. You're right. Oh, yeah. Getting programs. It's
the beginning of
John C Dvorak: as they're the ones who use the there's an old
term from the web two, or whatever it was a long tail. Oh,
the
Adam Curry: the long tail. We are on tail tail.
John C Dvorak: They use it to an extreme. They have so many phony
baloney with they have probably 1000 websites that all look
strange. And they do a good enough job of making sure they
don't look exactly the same. They're pretty varied. And
they're but they're all their their websites. And they all do
one thing after another. And they
Adam Curry: probably they probably fund Abby Martin's work
as well. I'm sure I wouldn't
John C Dvorak: be a bit, you know, if it was if if they did,
it wouldn't surprise me.
Adam Curry: So as an example of this, and as you know, we need
what we've seen, I was just thinking about this. The trauma
we all had through COVID, which was and we all had, we know you
didn't but everyone else has has some residual trauma from family
members who shunned you from friends who are no longer
friends from being called, you know, a leper a leech a horrible
person to not being able to breathe. And then we had in the
middle of that George Floyd and we're like, No justice, no
peace. That chance, which really started Occupy Wall Street if
you remember that, you know, it's like Mic check, mic, check.
Mic check, mic check. And all of that crap. But it has a Mic
check. But it's very effective. And the chanting has become an
easy simple way to grab a younger age demographic.
Particularly jingles it thank you. Someone sent me. I don't
have a clip of it. Because it doesn't really work without the
visuals. But someone sent me sent me a campaign video for
Biden, Harris. I said, How Why? Why is it that this is just so
compelling? And I said, Dude, it's a whole rap jingle. That's
why it's always the jingle. Always the jingle. And even
professional marketers don't understand. Well, that's kind of
hokey. We had a jingle you know, that's me.
John C Dvorak: You know, that's funny. You say that? Because I
think there's some there's some arrogant goes out. There's let
me go. Tell this is a story. I can tell kind of about these
marketing guys. I went to when I was taking, I took a lot of
courses in direct marketing that first I took the seminars in New
York, but I've taken them over time. And I took some major ones
in the San Francisco Bay are there one or two day seminars?
And there was a message they all of these guys always had. Don't
try to be funny. Don't be funny. Don't do anything funny. Don't
do any humor, whatever you do. And I on the show we had on Tech
TV called Big thinkers. I got to it interviewed Jay ChIAT.
Adam Curry: From Shai day, very famous, very bad guy, very, very
John C Dvorak: famous. So we had drinks with him afterwards. And
I asked him about this specifically. And he says it
stems from an old book, he says is bullshit. For one thing.
Didn't you know how to be funny? You?
Adam Curry: Didn't take didn't shy a day. They certainly did
Apple. Yeah, they did apples. They also did Coca Cola, I
think.
John C Dvorak: I don't know if they did. I think so. Did they
did they did the best Apple stuff. Yeah. And he said that,
if you know how to be funny, this is a great way to do it.
And Stan Freeburg, for example, had a whole agency doing nothing
but humorous ads, you have to be to be careful not to funny, so
nobody remembers the product. He says just you just have to know
how to do it. He says it all stems from one book that one of
the old timers wrote some years ago where he put that in there
as an edict and everybody just mows it. And this is the kind of
thing these guys generally speaking, don't understand
anything. Now they're the marketing guys now, so they
wouldn't get it. Yeah. How White would jingles I don't know is,
you know, it's I don't know, how, why is that we're just make
sense. This
Adam Curry: year, it doesn't make sense at all. Whereas we
understand how well it works. And example if you see that is
not an official government dzingel But it shouldn't be.
John C Dvorak: It should have been years ago. Anyway. It's
more
Adam Curry: tribal than that. It's more simplistic, you know,
as the Hey, hey, ho ho. Mele. Donald Trump has got to go. But
Georgetown, they took up the the river to the sea.
I mean, this is good stuff. And that's I mean, that's as good as
any Hitler chant. It even sounds like one is good. I mean, that
is correct. If that's effective, and all the kids have the
kyphosis they're all clad in that Kifah clad, if I'm saying
it right, even,
John C Dvorak: I don't know what it is. I don't know what you're
talking about.
Adam Curry: That's the scarfs. The
John C Dvorak: Palestinian, though that Palestinian Scarfie
I have one of those. So of course you do it in Israel. And
Adam Curry: CNN this morning, we're back to Danna bash. She
must be listening to the show because she's taking a page from
the John C. Dvorak script.
Unknown: The fact that anti semitism and by the way, a lot
of experts say we should just call it and do hate.
Adam Curry: There it is. Let's just call it what it is. Just
call it a Jew hate
Unknown: anti semitism. And by the way, a lot of experts say we
should just call it and do hate on anti semitism because
Adam Curry: a lot of experts say we just call it Jew hate. Oh my
god. Okay. What is going on here? Because, you know, it
sounds like though is it only the world Workers Party? No. Is
it only the CIA in the military industrial complex now, that's
not really people and human entities. It's the evil rulers
and authorities of the unseen world. dark powers, pure evil in
the universe. That's what this is. And by forcing people to
pick sides, you're just playing into it. And that only benefits
another dark force in the human world, which is the political
parties who wants you to do anything? Anything but look
around at your own your own environment, your own city?
Which I have to say by the way, San Francisco is cleaned up
nicely cleaned up I mean, I even got a report yes on the ground
reports from people about how nicely it's done. Oh, the
John C Dvorak: city is beautiful. This city this is
what the city should be like all the time. But why can't it be?
They don't want it this way. They want it to be poop lot
pooped, it would poop all over. Yes.
Adam Curry: Well, that's not going to happen. But anyway, I
think I have to say, this is we're not going to Iran is not
going to take the bait. And Lindsey Graham, he's when has he
been right on anything? So you know, he's
John C Dvorak: he's just he is a stooge. It has to do with this.
It was his campaign financing is due to the military industrial
complex, and I don't know specifically who I don't look at
his numbers. I don't care who cares. He can get voted out
anyway. But he takes a lot of money from these guys and he He
says what they want him to say. Or what he thinks they want him
to say.
Adam Curry: Exactly. For sure when he says to be sure, for
sure. When I want to say for sure. That's when he's parroting
the talking points. Yeah, yeah. Yeah. So this is really divide
and conquer. Divide people divide again it this is no
different from Mas no mas Vax Novak's red, blue, Trump, no
trump, it's all the same thing. And many of our own no agenda
nation get my nation people are falling for it.
John C Dvorak: Oh, boy, how can you not you're in a data we
played that three by three? Yeah, you no matter where you
go, I mean, I'm sure Fox has very similar reports. We don't
have that it's not a four by four. And it's fine. If you
unless you live in a hole and you don't take in any media,
you're gonna fall for it. Because that's what they want
you to do. So you buy stuff?
Adam Curry: Yes. Buy stuff. All right now, can I get to the new
bullcrap of the day?
John C Dvorak: Yes, it's about time. Yes, the new bull crap of
Adam Curry: the day, we have an Emmy, I should have you how many
times in your life as a journalist, a member of the
press? Have you worked on a story and agreed to release your
own reporting together at the same time on the same day? So
there's a big international story. You're an American
publication, there's a European publication, and you're working
on it together. So you can break the story on the same day? How
many times have we actually seen this happen? Have you ever
witnessed and
John C Dvorak: been involved in that level of reporting, but I
can say this, I think it happens. The only thing is is
done by agreement. here's the here's here's how it would
happen. You there's exclusive sources that you have and this
exclusive sources the other publication has, and you agree
to exchange sources and background information if
neither one of you throws it out there first. It's not an unusual
situation.
Adam Curry: So but it could be a massive op.
John C Dvorak: It could be but this happens. This happens used
to happen in tech a lot where everybody was they had a Do you
see is like the embargo until 2pm, blah, blah, blah.
Adam Curry: But that's more like there's an embargo was more that
there's a press release. That's like the new iPhone. Day.
John C Dvorak: It could be you could be it could be a live
event, and then you still behind bars.
Adam Curry: But not breaking breaking news, something? I
think
John C Dvorak: I think there was a deal. Yeah, it does happen. I
don't think it's not shocking to me as it seems to be to you.
Adam Curry: What kind of story sources would the Washington
Post and their Spiegel have in common?
John C Dvorak: They wouldn't have any many in common. And
that's why this deal would have been done in the first place so
they can swap sources.
Adam Curry: Well, here it is. Because now we're done. There's
no more question. The riddle has been solved.
Unknown: The man in this picture is Colonel Roman chevensky. It
shows him in a classroom in Kyiv, where he is being held on
charges of abusing his power during a plot to Lua a Russian
pilot to defect to Ukraine. Now here's the subject of another
investigation. According to an exclusive from the Washington
Post and Spiegel he was central to the controversial bombing of
the Nord Stream natural gas pipelines. No sources have
painted a picture of him managing logistics for a six
person team that rented a sailboat under false identities
and dove deep into the Baltic Sea to plant explosive charges
on the gas pipelines. They say he didn't act alone and that his
orders ultimately came from senior military officials. The
act of sabotage was condemned by the West after it left only one
of four gas links in the network intact. Ahead of a looming
European winter. Nord Stream one and two pipelines run from
Russia to Germany and provide energy to millions of people in
Europe. Critically, the Nord Stream bypasses Ukraine.
Ukrainian president Volodymyr Zelensky has previously denied
Ukrainian involvement in the explosion. Walker. Bush the
Ukrainians definitely didn't do it definitely didn't like and
that is the most important thing. Yeah. Someone said there
was some signs or even a certain Ukrainian flag. It's funny to be
honest. What we're interested in is arms deliveries and or
victory.
Adam Curry: So I think that This was put together. Before
John C Dvorak: you start, I'm going to backup off and what I
said, because I didn't know this story. The story is obviously
what you're going to say see is an OP. It's an office bowl crap.
By
Adam Curry: the way, did she say Lozinski? Or Zelinsky?
John C Dvorak: I thought she said Zelinsky. Back in
Unknown: Europe. Critically, the Nord Stream button Ukrainian
president Volodymyr Zelensky has no she says
Adam Curry: What an idiot. I think that this signals a
change. And the change here is let's start slowly ending this
war by getting the EU
John C Dvorak: pissed. You've been saying this for a year. Now
we're getting there by
Adam Curry: by getting the European Union angry that this
was Ukraine. This is Ukraine. Ukraine blew up the pipeline.
Volodymyr Lozinski, clearly does not have the military under his
grasp. Things have to change. There's no other reason for
this. This is this is a done story.
John C Dvorak: Why all of us? I'm 100%. Yeah, I'm 100% with
you on this. This is a dumb story. There's no it is a
signaling story. And you have two groups of journalistic
institutions that are controlled by intelligence agencies do just
do to institute villages. You got two groups do stooges Der
Spiegel and Washington Post controlled by outside influences
and they're doing this to get to send a message a worldwide
message.
Adam Curry: There's some other things going on not really
widely discussed, of course, Ukraine run by President
Vladimir Allah Zelensky. I can't. I can't stop saying
they're not part of the European Union and Poland is sick and
tired of it Ukrainian
Unknown: truck drivers and gridlock on the Polish border.
Traditionally close allies competition in the transport
sector has caused tensions between the two countries,
leading Polish truckers to block crossings for a fourth
consecutive day. One driver on route to Estonia labeled Poland
a transit country and called for the roads to be reopened.
Know that people go who are not going to Poland. Going further.
afield. We're going further. We don't need Poland.
Others forwarded the blame towards politicians. Limulus
Chappelle said obviously it's not the drivers and businessmen
who are doing anything wrong, not me. Yes, the political
ambitions of the polls.
The EU weight payments for Ukrainian transport companies
entering the block after Russia's invasion last year. But
the Polish protesters want those permits reinstated. Claiming the
competition is unfair. Getting
myself across on those tiny chips. Those companies are much
cheaper because they don't have permits. And they pay their
employees much less than we pay our employees. Meanwhile,
Ukrainian truckers left at a standstill.
You see there is a ditch in a field and no toilets nothing as
round of conditions can you expect?
cubes is around 20,000 trucks are blocked on both sides of the
border with estimated wait times ranging up to six days. Wow.
Adam Curry: So that's a problem there? Well, this
John C Dvorak: is it this? Shouldn't we need to discuss
this a little bit. Because at the beginning the polls were all
gung ho on this war because they hate the Russians. But I think
at some level they hate the Ukrainians as much. The
Ukrainians are troublemakers are basically Russians, if for all
practical purposes, in terms of their their culture, Poland
Adam Curry: live next to this has been next to this country
forever. They know exactly what's for sale there. They've
know this is not some mystery to the Polish, like right
corruption, drugs, cookers, money laundering, all of that
Ukraine. I love it. They know this they know what's going on.
John C Dvorak: And now the Ukrainians are in their face and
it's like we don't want him here and we're now we're getting sick
of this stupid war various issue for us and let's do something
about it and nobody wants to do anything about it. Now
Adam Curry: now we have these dichotomies these these these
weird, and this is what this is what's messing up politics right
now. I mean, I was like, Well, you know, we're supporting
Israel, but our base that we have mind control with chants
are calling our leader genocide Joe, you know, this, like, save
the Gaza babies but abortion and I was like, my brain is freaking
out. And now Amnesty International comes in. Amnesty
Unknown: International has accused the West The governments
that support Israel's invasion of Gaza have double standards
when compared with its condemnation of Russia's
invasion of Ukraine. And the group Secretary General told the
Paris Peace Forum that the West ants posed a threat to human
rights. It
is reflected right now in the double standard that we are
witnessing the Western bloc demanding that we all rush to
the Defense of Ukraine as we should, because Ukraine has been
aggressed by Russia, and they are unbelievable suffering in
Ukraine. And at the same times, telling us not to act on the
multipole bombing for the absolute suffering of the people
of Giza. The double standard of those governments, you know, to
me are the biggest threat to human rights right now. Your
work is
a forum is an annual event that involves governments,
nongovernmental organizations and others who discuss global
crises. I'm
Adam Curry: not really sure what side they're on now, but they
make a point. We didn't get any propaganda about dead babies in
Ukraine.
John C Dvorak: Did we know at worst, the ceasefire, as I
mentioned earlier? Did you see nobody's calling for a
ceasefire?
Adam Curry: No. Did you see the there was a story that kind of
came and went for a specific reason. The story that that flew
by, I think was maybe Friday was Hamas was threatening to shoot
fentanyl tipped rockets into Israel.
John C Dvorak: So that story came and went it came and went
Unknown: because of this story. The letter in Georgia is among
more than a dozen sent to election offices in at least
five states. One letter says End elections now. Another warns of
white powder and reference communists both featured symbols
of left wing groups law enforcement sources say the
letters sent across the country appear to be threats to scare
rather than seriously harm.
They're intentionally trying to break us break us enough to stop
elections and that's not going to happen. It quite frankly that
the opposite. It lit a fire underneath us
investigators are working to track down the sender using the
message is symbols and paper itself along with examining the
stamps for fingerprints to pinpoint the location where the
envelopes are dropped in the mail. Now
Adam Curry: this is CBS my friend Jeff gays.
John C Dvorak: I have a thought he was on NBC
Adam Curry: ABC, CBS, this is from CBS. I don't know why. I
thought Jeff Briggs was always CBS. Thank you. You're confusing
me now.
John C Dvorak: I don't hear enough from him. So it's, you
know, it's easy to forget where you are, you know, CBS
Adam Curry: died. I look according to the wiki pedia.
He's a CBS News correspondent but thank you for CBS. So what
does he say here? Or what what did the official say hello I'm
gonna go back
Unknown: here stop elections. And that's not going to happen.
It quite frankly that the opposite. It lit a fire
underneath us
investigators are working to track down the sender using the
message is symbols and paper itself.
Adam Curry: Trying to track down the messages using the symbols
the paper itself and not a single one of the M five M
networks and I have I could play more stories. In fact, I
probably will play CNN after this. If you freeze frame and
look at the letter, the letter that was sent it says stop
giving power to the right. And it has three symbols on the
paper, a trans flag, an Antifa symbol and a satanic pentagram
who would that be coming from but none of them mention it?
This is this is your chicken crap reporting right here. This
is really really bad. You this showing the letters.
John C Dvorak: You can see it Yeah, they are and they're
showing the three symbols, but
Adam Curry: not a single one mentioned it. That's that's
really egregious. If it's really wrong with
Unknown: examining the stamps for fingerprints to pinpoint the
location.
John C Dvorak: Would you specifically think of sending it
Adam Curry: someone who's trans on Tifa and a Satanist. Hello,
how hard is this?
Unknown: Or dropped in the mail right now the focus of appears
to be on the Pacific Northwest. Heartland,
Adam Curry: the scene of less activity,
Unknown: someone is trying to make people fearful as they
opened ballots as they respond to routine correspondence. And
this this is the exact definition of domestic
terrorism,
Adam Curry: which kind of makes you want to think oh, that must
be a white supremacist.
Unknown: All right. Like these are having an impact on them
volunteers working at the polls, nor according to recent survey
by the Brennan Center, one in five election workers is left
their job in part because they're concerned about their
safety. It's a
Adam Curry: threat to democracy, to threats. You know, what,
honestly, if you want a profile of the person, I'd say the the
Nashville shooter, there's your profile right there. I
John C Dvorak: think so too. Now. It's interesting, she say
threat to democracy, because that is that's code. Yeah. So
Adam Curry: Trump for Trump. Yes.
John C Dvorak: So she's saying that. Okay, so what you're
saying I didn't think about this, and he sense that you are
thinking about it, is that this person is, or the group is
easily identifiable by those three symbols. That's those
three symbols represent them, and you probably do, especially
that one Antifa sem symbol, which is not a common one, you
don't see it that much. But which is the arrows pointing
down? And you have so you have you have the modern gave that
whatever, the progressive gay flag, you have the Antifa. And
you have the Satanist. Yeah. And no, and you're right, not one
report has mentioned any of that. They just kind of point as
the three symbols. They never say what they mean. And they
never equate it to the to the letter in any way. And then they
follow up with this with the antiTrump comment, as if he's
got anything to do with those three groups,
Adam Curry: whereas they never called the Nashville shooter. A
domestic terrorist. No, but it's, this is exactly the
profile of person I would be looking for. In fact, if I was
at the news desk, I'd say write this in there. This could be
someone like the Nashville shooter. And of course, we can't
even acknowledge I acknowledge did speak
John C Dvorak: to a story. I had to bring this story. I love your
stories. I
Adam Curry: mean, I cut this for the deconstruction my father,
John C Dvorak: this is a story. I've got three clips, two clips.
Oh, wow. All right. Actually, maybe there's only one clip.
This is disappointing to see what you just said is, I think
confirmed by this story, which you never heard of. It's another
trans kid. And this trans kid is a fat dude who who's not, I
think in junior high, and he's a fat dude, who would have
obviously in my looking at him, would it become probably a
premier programmer of the fat style?
Adam Curry: Black black nail polish fingernail polish.
John C Dvorak: Well, I never saw his fingers. Okay, but they be
turned into a girl supposedly. And he's still looks like a fat
kid. And he's, and this is one of those stories that the
national media could have picked up on if you're on the on the
national desk you could have picked up on any of the local
papers could be picked up by but no, it's an isolated story. And
I think these stories are all over the country. I was turned
on to by somebody sent me some clips from Colorado Springs
channel 11. And this is the channel 11 story on the trans
kid found guilty a person
Unknown: who authorities say threatened several mass
shootings in Colorado Springs has taken a plea deal. Lily
Whitworth is from Elbert County. We told you earlier this year
that Whitworth was arrested after her sister told deputies
she was threatening to shoot people at a school in district
20 And also at a future 11. A supporter Erin Vento is
following this case today. Aaron Whitworth is pleading guilty to
an entirely new charge Adam Lily who was initially identified by
her birth name William and these arrest papers pleaded guilty to
second degree assault. That's a class four felony deputies with
Elbert County Sheriff's Office. They this all came from not only
a threat to shoot people at those locations you mentioned
but also a manifesto detailing her plans. The rest papers they
were specifically named timberview middle school saying
she went there now Tony told us she never spent more than a few
months at their schools saying what worth only spent a full
semester at one of their middle schools. They were across with
the 18th judicial districts as with this plea with faces a
maximum of 16 years in prison. I am just grateful that nothing
happened. No one was injured. We got a conviction and law
enforcement in this particular case was able to be proactive
and stop a potential threat before something happened
earlier this year at D 20. Credit with SR with saving many
lives by reporting those threats.
Adam Curry: Well good I'm Colorado Springs channel 11 for
reporting this because I can all already predict what's going to
happen. These news organizations, and as you know,
journalists are being killed left and right in, in Gaza?
Well, I would say there's a chance because of the reporting
that's being done from some of the some of the networks and
that kind of wishy washy in a way, you know, you they should
watch out, they could have one of these crazy trans kids show
up and start shooting up a station or dropping fentanyl at
a at a television station or network. Have there's this is
this is really dangerous, not for not the people you would
think it's dangerous for.
John C Dvorak: You know what I mean? Interesting point, I think
you're right. I
Adam Curry: mean, these days, if you are anti LGBTQ and, and
that's just a conglomerate, but I would say this guy from Tyler,
Texas, who happens to be a bishop. Like he happens to be
gay happens to be a bishop, I would say that his main issue
was probably trans in the church, or the sparkle services
on if you've heard any of Have you seen those videos of the
sparkle services?
John C Dvorak: I have no idea. So no, like a horse.
Adam Curry: So, Pope Francis, kick this guy out of the church.
Unknown: Well, it is a fairly rare move. I mean, for a bishop
to be effectively fired in this way. I mean, normally, as you
mentioned, perhaps there's some issues and investigation is
carried out and the bishop usually is asked to resign for
the good of the Diocese, and for the church at large. But Joseph
Strickland, the 65 year old Bishop of Tyler in Texas, in the
United States said he made it clear that he was not going to
resign that he had been given the mandate by the former Pope
Benedict, the 16th. And his flock needed him. And so as a
result, a one line statement effectively came out of the
Vatican, saying that Francis had relieved him from his position.
Now he had been a leading voice, a traditionalist, a
conservative, a vocal critic of Pope Francis, he had said that
the Pope had in the past that had undermined the Catholic
faith, and that yet threatened its basic truths. And in fact,
he had criticized this recent month long meeting that happened
at the Vatican, the Synod, in which bishops from all around
the world were gathered together, as well as some lay
people to discuss about some hot button topics such as the role
of women in the church, as well as the role of LGBTQ Catholics,
and he had question this very meeting. So an investigation had
been held earlier this year into his governance of his diocese,
lay people as well as priests had been interviewed. And so,
the recommendation had been made to Francis that he be removed.
So clearly, right now, this fairly rare move has been taken,
and he has been removed from his position.
Adam Curry: relieved of duty by like that, from this bishop is
relieved of duty. I tell you, so this is a dangerous situation.
And and that's not going to be dangerous for the people you
think it is, you know, the left under the these three symbols
trans because it's not just it wasn't just an LGBTQ flag, John
was the trail is a big is to translate trans flag and Tifa
known problems throughout the world, not just in America. And
the satanists, not always the good guys, as far as I'm
concerned. The journalists need to be very careful, very
careful, because this is unhinge behavior. And fentanyl. They're
going to rue the day that they that they didn't really focus on
the fentanyl story other than Oh, the Sacklers Oh, the
Sacklers did it the Sacklers did it. You will ruin it. I gotta
tell you, I'm thinking like, I just want a little bit of
personal Narcan. Now.
John C Dvorak: You can get it you probably get it free if you
play your cards right.
Adam Curry: Let's see if we have any information on it. Let's see
if we can get an Arcand ad out of CNN. Do
Unknown: you have more insight into these letters who they were
addressed to and what they said
for Georgia? Not yet. This
Adam Curry: is Brad. He's the governor of Georgia. What's his
name? Brad.
John C Dvorak: That guy, that guy. What we
Unknown: haven't been informed by by the postal officials is
that there's a letter in transit. So it's a three to five
day transit through their system. And so obviously they'll
try it interest fact that when it comes to the Atlanta
processing facility, but it hasn't arrived to Georgia yet,
so we don't know that will be intercepted. And that's why we
prepared staff at the Fulton County election office.
Adam Curry: So that reference burger and apparently there's a
there's a letter in transit, if
Unknown: it does actually make it through our system, and it
arrives, this is what you do and how you'd handle it.
How do you know that it's in trick? Like, what's the
information that lets you know it's in transit? How do
officials know that
postal official has some capabilities? I guess that they
don't talk about much?
Adam Curry: Hold on a second.
John C Dvorak: This is low slope barcode along the bottom of your
envelope, you see that long code? Yeah, very long. Yeah.
That's what they're talking about
Unknown: tracking. And based on what they saw in other
locations, they were identify that there was another letter
that was obviously another letter postmark for GA.
And you haven't heard of any suspects? Or who may have sent
these at this point, right?
Not at this time? No, no, I understand from just readings
that they do have identified the potential suspect, but they're
gonna keep that very close to, you know, close to their chest.
Adam Curry: Mm hmm. So I think this is this is a bigger problem
than this. The fact that we had no because now we also have was
a story from Bloomberg here. Let me
John C Dvorak: we have to mention just in passing, the
number of times that DEA officers and others who are
picking up or grabbing a big shipment of fentanyl, some guy
just touches a pack package. Yeah, can and drops. From you
know, just from just casual contact. In fact, there's
another store in Colorado Springs I can play before you
play your clip here, which is this, which incorporates both
fentanyl in the story, but also some sort of I think some sort
of reverse insurance fraud within insurance companies. You
as a is maybe defrauding its customers in some really screwy
way play this reverse insurance fraud one clip from from channel
11.
Unknown: Now first story that you're only going to see here on
11 News. A family is speaking out after they say their son's
Jeep was stolen from their garage after a break in. They
tell us that the Jeep was recovered, but was deemed a
total loss rather totaled by insurance after we tested
positive for fentanyl that will love a news reporter Jared Dean
is live with us right now. Now Jared, this family says that
this Jeep was their son's dream car. Yeah, Aaron, the roads tell
me that their son's Jeep was labeled as a biohazard by
insurance. But they later found it on an auction website, taking
bids. Now they tell me that they've been on and off the
phone with insurance to figure out why that jeep was on that
website. wasn't
aware of how big this kind of problem is, especially with
everything you hear that I offend all is a it's a big deal.
So when it tested positive, the insurance company immediately
considered it a total loss.
In September, the Rhodes family tells me their house was broken
into and their son's Jeep was stolen. It was recovered in
Pueblo. But when their insurance company did their inspection, it
tested positive for fentanyl. They later found the Jeep on the
auction site seal part with the label, biohazard
and even had fentanyl written across the windshield. That's
when the two contacted their insurance asking why the Jeep
was available for auction. Despite the Jeep being labeled
as totaled.
I started monitoring their site and come to find out they put it
up for auction. So which that that's what really disturbed
us USAA sent them a message back saying in part quote, for any
vehicles being deemed a total loss for the presence of drugs
such as fentanyl, these vehicles are not supposed to be listed as
available for auction. The jeep was then taken off the site
after road said he had several calls with insurance road says
that he is still has questions about how his son's Jeep ended
up on the site in the first place.
But my big thing is how many times this happened before and
how many times it's going to continue to happen if it's not
addressed.
Adam Curry: Yeah, well here we are. Here we are. Fentanyl it's
just for rednecks. Now now it's a bigger problem than you think.
John C Dvorak: It was a guy that ever doing so I don't have a
clip but there was an interesting interview with
somebody about this saying oh the fentanyl it's in there it's
moved to heroin out just keep forming heroin. So they he was
doing some research he's one of these guys on the street he says
these these these guys looking for a high heroin high when they
heard of fentanyl and the effect it is more powerful. They all
flocked to it. They wanted fentanyl yes yes one heroin
anymore. It's no good groovy
Adam Curry: Now we know this. We know this and now the fentanyl
users want tranq because it's even better. We heard that from
our own drug dealer insufferable was that's what drug users do.
You When You're addicted, it's like oh man, I can get even I
mean, I know it's risky, but it can be even a bigger high. Our
own drug former drug addicts and current drug addicts have told
us this. Meanwhile, Indivior PLC just got $111 million contract
for Narcan whoop B as the US readies for airborne
bioterrorism with fentanyl and fentanyl like drugs. According
to Bloomberg. And reminder, opioid gas was used in the 2002
Russian hostage situation. So the Russians could probably be
doing it. Those are Russian those Russians? Yeah, this is
this is the this is an actual problem that I that that gives
me it's not
John C Dvorak: being addressed is what you're trying to say.
Yeah. And it hasn't been addressed as Ben ignored,
correct. It's been ignored by the government. Because they're
Adam Curry: probably a part of the problem. Well, they are part
of the problem, but who knows how deep it goes. Who knows?
Now, you sent out a newsletter, which is always always fun,
always fun to read the newsletter. And in the
newsletter you wrote about this. This article in The Philadelphia
Inquirer, I believe, yes, Philadelphia, you want to give
us the background because I have some clips to discuss this. Yes,
this
John C Dvorak: article is a being extolled. I'd like to keep
up with the with everybody. In other words, they don't just
listen to no agenda socialists, other people that but they all
tend to be left wing, if not Marxist, but they lean. They
lean left and they're all a lot of them are journalists. And in
fact, there's even once a professor of journalism, and
they everybody went nuts when this article came out. And this
article we should have a link in the show notes I'm sure you'll
put it in it's in there of course. This article is in the
Philadelphia Inquirer by this guy. I think his name is bunch
and or let me
Adam Curry: read the headline. With the world on fire. A
cowardly timid news media is a threat to us democracy, subhead,
news organizations are using cowardly words to describe the
killing abroad and fascism at home downplaying the danger to
democracy. And there's a picture of Mike Johnson, Mike Johnson
the threat to the democracy himself. Mike Johnson, the new
speaker of the house.
John C Dvorak: No, I you you've made it. I heard a boop sound
like you're just disconnected. Nope. Mike Johnson, where whose
view is a fine, man. Very fine. But the whole piece goes on a
very fine man on both sides. As the piece goes on, and on and on
about mostly Republicans and Trump and Trump being the real
he's a genuine threat. By the way, our country's over, as we
know it. And all these guys are all in on this threat to
democracy threat and Trump threat to democracy. All you
would have, he would have already wiped us out. There
would be no more democracy if he had his way the first time
around. And Joy Bay hearts actually literally said that.
Yes. And so so everybody went gaga googoo over this article,
and what the article actually says is that reporters should
not be reporting they should be advocating they should be
activists. Yes. And everybody thinks this is a great idea for
today's news media to be more activist than they already are.
Who are we kidding?
Adam Curry: So this, as you said, it stems from a New York
Times article, which is just it was just so weak, because
everything all news, all newspapers, all news outlets,
everything in the United States, for sure, takes their cues from
what the New York Times writes. And then, and the activist news
media are very disappointed that the New York Times is not doing
what the you know, where's the database, bring back the
database of his lies. So here's CBS and this and this comes from
a couple of different places that Trump was on Univision.
Univision is now a problem. Univision? Yeah, I
John C Dvorak: saw by the way, they
Adam Curry: threw him softball, softball. It was
John C Dvorak: it was it was boring. But it turns out that
throwing Trump's off balls makes them boring needs to be get
asked hard questions so he can go off for
Adam Curry: this is, in fact, this is the funny part about it.
If only the media would give him softballs, he doesn't have good
sound bites for that. The minute you are like you give him the
throw Trump softballs. He goes, you know, okay, I'm just all
comfortable talking about this. He doesn't go nuts. No, it's
boring is boring. It's commercially not viable to do
this with Trump anyway, here's CBS This Morning. This is part
of what Trump was saying that that is this got everyone's, as
you would say tit and a ringer. Former
Unknown: President Donald Trump addressed the Spanish speaking
voters yesterday in an interview with the Univision is aired last
night it was with Univision correspondent and CBS News
contributor Enrique Acevedo, who asked the former president if
you plan to use the FBI and the Justice Department to target his
opponents, if he got a second
John C Dvorak: term, these could certainly happen in reverse. It
could certainly happen everywhere. What they've done is
they've released the genie out of the box, you understand that
they've done something that nobody thought would happen.
They've done indictments in order to win an election, they
call it weaponization. And the people aren't going to stand for
it. But yeah, they have done something that allows the next
party I mean, if somebody if I happen to be president, and I
see somebody who's doing well and beating me very badly, I
say, go down and indict them. Mostly what that would be, you
know, they would be out of business. They'd be out they'd
be out of the election, with
Unknown: Trump is charged with dozens of federal crimes. And he
is wrongdoing dozens of times, in fact, for every case, every
case.
Adam Curry: So if you really want to know what's going on
with the media, you need to go to NPR to the show on the media,
Unknown: elitist voices of America. This is NPR
Adam Curry: or PBS and on the media, which was a particularly
annoying episode as they completely rewrote the history
of podcasting. But that's an aside, it's not all
John C Dvorak: that. Well, by the way, their shows are all
annoying. And the fact that they rewrite the history of
podcasting, it does not surprise me in the least they
Adam Curry: had me on on the media to talk about it when this
when it was when podcasting was first breaking. I mean, they
could have they could go yes.
John C Dvorak: Or they could have pulled up an old clip.
Adam Curry: No, because they had to cry about all their canceled
programming that that's what the the piece was really about how
sad it was for their colleagues. It was a swansong
John C Dvorak: to me because they threw out instead of
putting together one or two really cherry podcasts that
would really get some attention and probably get some some legs.
They rolled out 30 or 40 Crappy podcast, which is people
yakking? Well, no,
Adam Curry: I'm sorry, you're wrong. They threw out 30 or 40
podcasts, which we're, you know, we're executive producers and
we're making $150,000 a year on the shows each show had its own
executive producer and they paid the talent top dollar, and it
was scripted and that you know, they were treating it like radio
plays of the past. And what they're pissed about is well, it
seems like just people who just get on you know, personalities
who talk about stuff that they're getting all the money
like Joe Rogan maybes Joe Rogan and Dan bond Gino. Anyway,
John C Dvorak: so Codan Leoncino bond
Adam Curry: decode bond, Gino, Dan froomkin, you know, do damn
from canoes? Dan froomkin?
John C Dvorak: No,
Adam Curry: he's a douchebag. And he works for he he? What is
the thing that he's on? Hold on a second. He's, I see if I did
it, write it down. He's a part of some, you know, like media
watchdogs site. Anyway, so damn, from Ken. He's a prime example
of being all upset about the media not not getting into
Trump's face and not telling people what he's really saying
that isn't the same
John C Dvorak: group. This is what these guys do. And I would
refer back to an old show he did probably seven years ago or so
when that news group showed up to secret news group about
journos, which
Adam Curry: was in the email list
John C Dvorak: or whatever it Yeah, it was a list. And so
somebody outed him and they had to close it down. But they've
rolled out a bunch of their emails, and they're all
conspiring against Trump. And all these writers that should
be, you know, objective, but they're not. And so this same
group of people that I talked about a minute ago that were all
giddy over this article and saying, yeah, yeah, this guy's
one of them.
Adam Curry: Yeah, he's a part of press watch. Press watch.
Independent website previously known as White House watch,
which really was Probably Trump watch. Anyway, so here he is on
the media's multi clips but entertaining unpressed.
Unknown: Watch your site you wrote about some recent
reporting from the New York Times in the Washington Post,
looking into Trump's intention to select political appointees,
who will unquestioningly follow his orders and turn the
prosecutorial power of the Justice Department against his
political opponents. This was the central reporting of what he
plans to do on day one if he's reelected, but at the same time,
you felt that something was lacking from this coverage.
There's two articles were fantastic in some ways in that
they really looked at how would trump govern how would trump be
the president, which is something that is too often
overlooked in the data and doubt incremental horsepox
John C Dvorak: toes what but he hadn't read through his nose.
He's talking like this well, but what is wrong with us though, is
that he can't breathe through. The deviated septum is
Unknown: too often overlooked in the data in doubt, incremental
horsemen's coverage, but what you're seeing is that elite
journalists in our top institutions lack the vocabulary
and the mechanics that are really necessary to accurately
cover Trump right now that they can't bring themselves to say
that he is delusional. They can't bring themselves to say
that he's a would be dictator. These articles, if you read
them, discerning reader, describe Trump's plans. Pretty
alarmingly, they're getting rid of any obstacle to the abuse of
power and gearing up to throw political opponents in prison,
preparing to unleash the military on peaceful domestic
protests. Okay.
Adam Curry: So now he's going to deconstruct the actual reporting
by the New York Times, and I learned a word
Unknown: in journalism, we often look for what's called that
graph, which sort of like the summary paragraph, the
Adam Curry: nut graph.
John C Dvorak: Is this something that you've learned history for?
I've talked about the net graph like years ago, but
Adam Curry: you've no I? Well, I just think it's a nice term. I
think it's a show title, not graph. It just said, credit just
sounds. It sounds dirty, not graph. In journalism, we have a
thing called the nut graph. Let's listen to the nut.
John C Dvorak: I want to say something but the nutbrown
please do. Not graph which is supposed to be one paragraph
somewhere in the article Hi, usually high up meaning toward
the beginning, that kind of summarizes the entire story in
one graph. And it's the nut of the whole story. This has law as
far as I can tell, I see when so rarely, this is died. This is
not happening anymore. I don't know anyone. Because of the
nature of of layouts and computerized layouts and and
endless stories at GM are on forever. There's a lot of
reasons. But I don't believe the nut graph is in play anymore.
And I don't think anyone looks for it. And I think very few
people write one, I think is bold crap.
Unknown: In journalism, we often look for what's called that
graph, which sort of like the summary paragraph. And this
case, the end of the graph was that I have right here, quote,
critics have called such ideas dangerous and unconstitutional.
That's the construction of a story that has two sides that
are equally valid. And one is Person A says this. And critics
say he's wrong. That's no longer adequate construction for what's
going on in this political claim. It's
Adam Curry: no longer adequate. And that's not adequate anymore.
It's not no,
John C Dvorak: because there's not two sides of any story.
There's only one side our side.
Adam Curry: So as a little intermezzo, no, I have one more
clip after this.
John C Dvorak: And by the way, since you mentioned the
newsletter, I did point out in there, that the worst example of
this and it probably exemplifies all these clips, too, is the
Brooks and K part. Yes. segment where these two guys are
fighting each other to agree who's in more agreement with the
other guy. There's no longer and it used to be a point
counterpoint. They had a guy from the New Republic or not the
New Republic, but the National Review, some some Indian guy who
they brought him on once and he was really good at defending all
this the Republican side of all these arguments, and it brought
insight into the into the debate, but no, they can't have
that as one side, one side, one side only. And that's what this
guy is expressing one side. No, the other side is wrong. Not
graph.
Adam Curry: I just love it's a good turn. It's like a trans
term, nut graph. Anyway, so right now we're going to get a
quick example. They don't even realize they're doing this,
because in a minute, you know, he'll tell you what editors must
be doing. This is an example of the type of reporting he feels
would be appropriate. As these two nut graphs, the OT and the
on the media guy and this Frumkin Jumoke are going to get
all giddy over how they would report what happened with Trump
in the court
Unknown: and on Monday. He took the stand under oath. This was a
historic event
coverage, if you were following it and like the live blogs on
social media, what you heard was an astonishing story of somebody
who is completely unhinged, who was completely delusional, who
was smirking, who was making faces who was being provocative,
who was taunting the judge. But then the articles all came out.
They said things like, Trump defends himself and attacks
judge. What's essentially happening is these articles
cover up for Trump's unhinged pneus. They basically unhinged
eyes.
Adam Curry: Is that a word? unhinged? pneus? Is this a
journalist now a journalistic term? What's
Unknown: essentially happening is these articles cover up for
Trump's unhinged pneus. They basically summarize a lot of
things that were crazy into a few sentences that aren't crazy.
And so I think it's very deceptive. I think that people
who read the main story the next morning had no idea what really
happened that day. What
Adam Curry: are you drinking?
John C Dvorak: Oh, I heard you I heard you can't pull or just the
plain old polar I when I if I bring it closer to the mic and
open and make some serious sound, then you know, I that's
the cue disempowered. I'm doing this under my shirt away from
the mic a mile away, and you're picking it up.
Adam Curry: You know, ever since that operation, my ears are just
good. I can't help but my ears are just sharp. Alright, let's
get back to an accurate description of what Trump was
doing in court.
Unknown: On one hand, he gets to put on his show make it seem
like it's a witch hunt, rile up consumers of the right wing
media, who would be happy to see that he was barking like a mad
dog at the judge in general. But for the now,
Adam Curry: is that an accurate description of what he was
doing? He was barking like a mad dog at the judge?
John C Dvorak: No, but that's the way they want, right?
Reporting to be from now on out
Unknown: exactly barking like a mad dog at the judge and the
attorney general. But for the legitimate press, it kind of
just seems like Well, yeah, if you're a defendant, then you're
angry. And you make a case for yourself. Right? Right.
I mean, I remember watching the coverage of the COVID pandemic
under Trump and he'd get up and he'd say something completely
nonsensical. Reporters would fall all over themselves trying
to sort of make sense of it. And it's this is this
Adam Curry: is a lie. By the way. This is just not true. They
excoriated President Trump for everything he said, during
COVID. Everything
John C Dvorak: hydroxychloroquine is nonsensical, it's
Adam Curry: it's horsey warmer, he's telling you to drink
bleach.
Unknown: I mean, I remember watching the coverage of the
COVID pandemic under Trump and he'd get up and he'd say
something completely nonsensical. The reporters would
fall all over themselves trying to sort of make sense of it and
explain what he just said. As opposed to reporting. Donald
Trump just said a bunch of stuff that made no sense.
Adam Curry: I think they said that they said, they said that a
lot. He's unhinged your bowl.
John C Dvorak: They said that most of the time. That's why I
have that Trump list. Yes,
Adam Curry: we're gonna play that the end of show. Final,
final final clip. Now, Dan, from Kim, the bastion of journalism
is going to explain, explain what has to be done here. Dan,
this feels
Unknown: like deja vu all over again. Well, I mean, we've been
hearing warnings from press critics for years now. But what
Adam Curry: is with NPR is chuckling the whole time. We've
been here
Unknown: again, I mean, we've been hearing warnings from press
critics for years now about how to cover Donald Trump in the
right way. Just this week, Margaret Sullivan published a
piece in The Guardian titled The public doesn't understand the
risks of a Trump victory. That's the media's fault.
Great base.
Right. I agree that we have culpability here and that we
could do it better. But it's also the case that facts don't
seem to change minds like they used to. There have been
warnings of his dangerous to our democracy. And
Adam Curry: it has or have if it's if it's plural, if it's had
if this warnings isn't it have been have been warnings.
John C Dvorak: I'm sorry to stop on this but they're being
possibly he's using your own.
Adam Curry: He said there has been warnings come on. That's
not Kruk proper English, is it? There have been warning and we
said there has been warnings.
John C Dvorak: There has been warning.
Adam Curry: I don't care. Well, since the topic is reporting
properly. Well,
John C Dvorak: you guys are obviously off the rails already.
Unknown: It's also the case that facts don't seem to change minds
like they used to. There have been warnings of his dangerous
to our democracy. And you could argue there aren't enough but
perhaps they're just not sticking to
the press. critics have been saying stuff like this for years
now, that's absolutely correct. And they've not been heard. But
I think that at some point, it may sink in, we may have to wait
until next generation of editors, the leaders of our
newsrooms have just gotten used to still covering what is
basically an asymmetrical political climate, as if there
are two equal parties involved in the discussion. My feeling is
at some point, oh, one of them is going to wake up look in the
mirror and say, Wait a minute, we're not doing this, right. We
need to reset because we are we are not successfully informing
the American electronic information organizations. At
some point, you just say, whoa, whoa, doing isn't working.
That's what I think people like Margot. So
Adam Curry: because journalism, journalism has to work. It's
it's not so
John C Dvorak: it's already left leaning. He wants to just go all
the way and he says there's no two. There's no two sides. It's
all Democrats. There's no such thing as Republicans are evil.
No, that's what he basically is saying.
Adam Curry: He says, this is not working. What is the point? What
is what is the outcome of journalism? Is this supposed to
work for something? Is journalism. So it's not
Unknown: changing the world? Because we are, we are not
successfully informing the American electorate. news
organizations at some point need to say, Whoa, what we're doing
isn't working. That's Margaret Sullivan. And Jay rose, and I
and a whole bunch of rows
John C Dvorak: and Jay.
Adam Curry: Jay Rosen, the professor. The NYU professor of
journalism, didn't get didn't get fired.
John C Dvorak: I don't think so. Yeah, I
Adam Curry: think he did. Almost second. No,
John C Dvorak: I don't think so. Jay wrote, yes,
Adam Curry: Jay Rosen got fired. I think maybe I'm wrong. He'd
John C Dvorak: land someplace in a minute. Working.
Unknown: That's what I think people like Margot Sullivan and
Jay Rose and I and a whole bunch of other people who are you are
saying, Stop what you're doing. Realize that it's not actually
getting the job done up and forming the American people and
figure out how else to do it.
Adam Curry: In his mind, informing the American people is
propaganda propaganda using the American people. Yes. Yeah.
Well, here Leslie says she brought it up. Well, I wanted to
play my example first. Well,
John C Dvorak: first of all, the beer example of what the New
York court case no that he mentioned. No,
Adam Curry: no. My example of a journalist doing what he wants.
John C Dvorak: Oh, we'll play that. But I wanted to get get
him on the record straight what he said about just going on,
he's barking at the judge. And what really,
Adam Curry: is it one clip or multiple clips? Just one clip,
New York
John C Dvorak: case judicial complaint?
Adam Curry: Okay, here we go. allegations
Unknown: of misconduct against New York judge Arthur and Goron.
A Congresswoman says the judge is biased against former
President Trump in the financial fraud trial. Why she says he's
showing clear judicial bias. Here's our Legal Correspondent
Arlene Richards tonight. Tonight,
Judge Arthur and Goran is on notice that his behavior is not
acceptable and the financial fraud case that accuses former
President Trump and two of his sons of inflating his net worth
by as much as $2 billion. Representative Elise Stefanik
says in a letter to a judicial Ethics Commission, that the
judge has been displaying bizarre behavior and bad
judgment. For example, She says when Trump was on the stand, the
judge told him we are not here to listen to what you have to
say. And he issued a gag order against Trump that's to phonic
believes infringes on his political speech rights. She
says it's unAmerican, and that the order restraints Trump's
first amendment rights, the judge ruled that the Trumps were
fraudulent before the trial began. Stefanik says he made the
decision without witnesses other evidence and cross examination,
and that the ruling was ridiculous because he valued
Trump's Mar a Lago property at $18 million when he had sworn
testimony from a real estate agent, that it was worth
substantially more. Trump's attorneys have accused the
judges law clerk of influencing his decisions, and for that the
judge issued a gag order against them. Stefanik says the judge
and his law clerk are donating way too much to Democrats and
that it's against judicial rules. She wants the commission
to take corrective action and concludes that judge on Goren
must recuse himself from this case
John C Dvorak: this funny kind of a different report that we
got there from our NPR on the media dude well let's
Adam Curry: go to MSNBC just to get an idea of how it's supposed
not that they matter to this the point the MSNBC it doesn't
matter that they don't matter for the on the media dude. And
Frumkin Froome. Can that has to be the new york times we have to
corrupt the source of where it has to come from? Here's Velshi,
Unknown: good people who like things like respecting election
results and rule of law not attempting goos now have to
assume that Republicans cannot or more likely will not stamp
out the threat of Trumpism in their party. They've never
materialized for Republicans, which was good news to democracy
in the 2022. midterms. My Republicans really did get
trounced this week, which is even wrong. Good news for
democracy. The leader of the Republican Party has recently
been posting memes of the US Capitol. Oh no on fire fire with
the words. I'm coming back to clean up this mess. That
actually happened as the FBI was in the midst of a manhunt to why
John C Dvorak: it actually happened. It actually happened
This
Adam Curry: is breaking news. Breaking news. It actually
happened. Hold on I
John C Dvorak: posted a meme.
Unknown: posted a meme of the Republican Party has recently
been posting memes of the US Capitol on fire not on fire with
the words. I'm coming back to defacto clean up this mess. That
actually happened as the FBI was in the midst of a manhunt today
for a capital rioter, a former New Jersey National Guard police
sergeant, who was accused of pepper spraying officers at the
Capitol on January 6, How
Adam Curry: insensitive he posted a meme of the Capitol on
fire as they were arresting someone who was at the Capitol.
Unknown: NBC reports that Gregory Yetman was identified in
early 2022 by online sleuths who go by the name sedition hunters,
a group that has aided in the arrests of hundreds of capital
rioters sedition
Adam Curry: hunters. I've heard a lot of hunters thing usually
in the porn category, but okay, so edition hunters, the
Unknown: online sleuth said that Yetman was seen unloading a
canister of chemical weapons from behind the police line as
officers came under attack on January 6 to a nice use of
chemical weapon nice ni 21. That image of Yetman was featured in
a wanted poster released by the FBI on Thursday, before he
finally surrendered. Do
Adam Curry: you remember Kathy Griffin with the with the cut
off head of Trump remember that? Remember how cool that was?
Those days? It was fabulous. back those days.
Unknown: Now Trump hyping memes of a burning capitol building
names while one of His followers was literally put in handcuffs
today for allegedly attacking it. That whole thing was met
with crickets from Republicans. They can't or more likely where
they won't stand up to it.
John C Dvorak: And I'd like to say so to stand up to it's just
an occurrence.
Adam Curry: I'd like to say once again. There's a meme that I
hate memes
John C Dvorak: This is not what is not a meme. It's a fact.
Adam Curry: I don't I hate bad memes. I would like you're the
same liar who told people I hate dogs. I had to go get a dog to
prove you're lying. To you
John C Dvorak: used to hate dogs.
Adam Curry: I never hated took a
John C Dvorak: dog to bring the love out of you.
Adam Curry: I think I have to become the biggest shitposting
meme er of all time. Yes, I
John C Dvorak: think that would convince me otherwise. I
Adam Curry: think that's gonna have to have you would get the
shakes. I already have the shakes. It can't get much worse
than it already is. I wish that one of our no agenda memes was
being renamed by President meme. But no, because most memes suck.
And if it's a good meme, I always boost it. Like boost
memes
John C Dvorak: you boosted recently you've begun to boost
memes I
Adam Curry: know. Boosted memes
John C Dvorak: recently you've begun to boost memes to try to
change your reputation as a meme. Okay,
Adam Curry: all right, you you lie the you This is really I
can't believe you're doing this to me 60 doing anything
John C Dvorak: to USD I have never held show forces with a no
agenda social what you set up that are doing this to you not
me I'm just agreeing with them.
Adam Curry: This is what I mean to Brutus on believable,
believable No, I only hate bad memes and people who send out
1000 Memes that's all they do. Go to twitter to do your memes
If all you've got is Me me me me me me me. Go somewhere else go
to Mastodon dot social and send out your Oh, I'm sorry. That
won't let you have an account.
John C Dvorak: Get a quick clip of time clip for the anime
thing. It was really funny.
Unknown: Mee Mee Mee Mee Mee Mee Mee Mee Mee Mee Mee Mee Mee Mee
John C Dvorak: So, just to change the topic for a minute,
let's
Adam Curry: please,
John C Dvorak: let's talk about Jordan Peterson you talked about
in the last year. Oh yeah. Well,
Adam Curry: I by thought I deconstructed the Ark and
John C Dvorak: he did a great job. Yeah, but I have to say,
amazing PA. There's a Polly Foley came out with a fairy. You
told me about it. Yep. No, I
Adam Curry: sent you the link. I said, Look at this gory
John C Dvorak: ating. She's good. But then there was an
earlier one wishes, which was kind of the beginning of the
second one, but and it was worth listening to because there's a
couple of bits in there that were funny. I have two Jordan
Peterson clips to play. The first one. I'm trying to think
which one I should play first. But let me play this one first,
which is the Jordan Peterson edit clip. And this is like, how
can John resist doing this edit on this comment by Jordan
Peterson,
Unknown: January 27. I announced on Joe Rogan's show that I had
been working with a group of people in the UK and Europe and
Australia and New Zealand and Canada, and the US, South
Carolina,
Arizona, and North Dakota and New Mexico. We're going to
California and Texas and New York. We're going to South
Dakota and Oregon and Washington and Michigan. And then we go to
Washington DC to take back the White House.
Adam Curry: Chapeau Shep Oh Shep Oh, author off editor. So
John C Dvorak: I got that out of my system. So which I like to do
about once a year with that
Adam Curry: was a good one. The famous Dean scream never never
disappoints, it always. It always deals a winner. It's a
winner.
John C Dvorak: So here is Jordan Peterson talking about the
future. But this is from the poly thing is basically Jordan
Peterson describing what they think should be the future of
mankind, you know, some futuristic vision. And then then
poly comes in with a comment at the end, which is right on the
money. And I have something to say about it to a
Unknown: group that I'm describing is based on this
principle of subsidiarity. And the idea that we want to
encourage everyone to take as much responsibility as possible
at the most local level possible, right? So take
responsibility for yourself until you're good enough at
that. So you can take responsibility, maybe for a
wife. And then if you're good enough at that, maybe you can
extend that to some kids. And then maybe you can serve your
local community. And then maybe you can serve your state and
maybe if you really get good at it, you could serve your nation,
as you see that still a hierarchy right. And it sounds
actually kinda like what we live with right now.
John C Dvorak: Okay, exactly what we live with right now. He
brought up nothing. This is like telling somebody, oh, here's how
you do it. This is how you get a glass of water. You see the
steps that up to the house, you take the step take you put your
left foot on the front, then put his step up, up, step, step,
step two to get to the top of the steps, then open the door to
the house, then close the door behind you. And then go into the
kitchen, step into the kitchen, and then turn on the faucet and
get yourself a drink of water and then drink the water. This
is idiotic what he said. It's so Ovid this is this is not
anything new. It's were brought out something in her
discussions, which was that he lost his memory for a whole
month while he was in Russia. No, I didn't know this. But
during his treatment for his drug addiction, which was cured,
and it was traumatic in his in Russia, there's a month of his
life. He doesn't remember something is wrong with Jordan
Peterson.
Adam Curry: What's wrong as he's no longer entertaining? I mean,
I'll sit there and I'll watch it from that
John C Dvorak: perspective. Yes, but I think there's something
wrong wrong. But yes, yes. You're right about
Adam Curry: that. Well, this is this is a distinct difference
now was it after? I don't think it was after the the drug
addiction because and it was barbituates you know, when she
started taking because his wife Ali and basically yeah, there's
a lot of issues and barbiturates a hard man, it's hard to get off
of those. So and props to his daughter for saving his life and
becoming a carnivore, which also seems to have saved his life,
all kinds of things. And so I'm not discrediting or discounting
any of that. But I would say the minute he became part of the
daily wire, which in my mind, this is now am 5am CANDACE
Owens, the Jordan Peterson at the blaze as well, you know,
what's his name? The Rubin Rubin. The other guy. Had the
black
John C Dvorak: guy, the black and black guy, that big black
guy who can't remember his name because nobody listens to his
stuff anymore.
Adam Curry: Yeah. Megyn Kelly, Dan bond Geno code Bungie No.
John C Dvorak: Code Bungie No.
Adam Curry: What's his name? But j is Jason Whitlock?
John C Dvorak: Yeah, with like, that's
Adam Curry: the black guy or something. Something is wrong
with all of this. He really Is there something off and I think,
you know,
John C Dvorak: to contact and argue better than what you're
saying because I felt this way and the one that when I first
got triggered by it was Rubin because I always thought Dave
Rubin was great when he when he was was great when he was doing
his thing in that little room where the two people sat across
the table. And then all of a sudden he became lame. Yep, yes,
Adam Curry: capital L is very odd and I think he's competent.
Not Rubin, but Jordan Peterson is compensating with a
symmetrical Joker light jackets. What is up with that?
John C Dvorak: That means the asymmetrical jacket is some sort
of giveaway.
Adam Curry: I'm wacky. Look at me. I'm wacky. I mean, what
John C Dvorak: mounish Did you
Adam Curry: I sent you a picture.
John C Dvorak: I'm a clown. Look at me. Does Oh, he's missing his
big feet. And you know, red nose? No, he actually looks like
a meet up with Koseki P looks
Adam Curry: like the Joker. It does look like the Joker. If you
look at that most recent interview, I sent you a picture
you
John C Dvorak: did and it was a picture of the Joker and it just
exactly it just positioned the same way. It just look like the
Joker. He looks like the Joker.
Adam Curry: He's faced everything and he's wearing
those wacky asymmetrical jackets. But what is the mess
look when I go on a show like Rogen or Glenn Beck and Glenn
Beck you know he also has a part of this problem this something
although it's not I think it's business for him but these other
people it's mental and but I think about what I wear you know
I discuss it with my wife what she what I wear last time which
they wear what looks good in the set that that jacket the
Petersons wearing it doesn't look good in any set.
John C Dvorak: No, it looks crazy it one that's not the only
one he's got another one's got leather on one side. Yes, he's
got three or four of these things. It's not like he's got
that one crazy jacket. Why?
Adam Curry: Why why? I don't know but and I it will be easy
to say Oh, once you get paid then it's easy. In fact, I think
the only person I was talking with Mo about this yesterday,
the one person who may be able but she has to she has to man up
is Candace Owens. She's sucked into this she's smarter than
she's lost. She needs to get out she needs to get out she used to
get away from Yeah, I think you're right.
John C Dvorak: No she's she's lost there are other women who
have kind of avoided it in some fashion. I see Dana what's her
name the brunette she's kind of like you know stayed away and
and then Tammy Lara and whatever her name is. Oh, yeah, it
evolved.
Adam Curry: Oh no, but nah. Tamp not Tammy. Tammy Lauren she's
now she's lost that she's no good I don't know ma'am this
there's something going on with the coop
John C Dvorak: This is a classic coops co opted co option to get
co opted Yep, you pulled in now all of a sudden you got suits
telling you what to do or you get too much money and you
you're caring you're worried about losing the stream of money
because it's so much or I don't know I mean, we could have known
by you just saying I saying yes to Glenn Beck when he asked you
to become one of these guys, which I said you could have
reported back but I get the feeling you wouldn't have
reported back. I would have been lost. Gibbon lost just like the
rest have gone sucked into the whole sucked into something
maybe they don't know maybe they're being drugged.
Adam Curry: No, no, no, it's a bug. And you get into a meal to
meal you. So you you lose objectivity
John C Dvorak: and get a meal you to adapt to a meal you is
not instantaneous.
Adam Curry: Now, but it didn't happen overnight. This is what
John C Dvorak: seems to have not took
Adam Curry: a while. It took a while for him. I took a while. I
think anything that's on locals that Trump that's probably a
slower burn but the locals crowd
John C Dvorak: you know, I have yet to go into I refuse to get
involved with that. This is like a paywall. You want to go to
locals and go do your own thing? Go ahead. That's not gonna pay
any attention to it. But that's
Adam Curry: Glenn Greenwald is on locals. Yep. Ty EB I think is
in some form of it. Yeah. Well, these are the guys they admit
initially they were with substack substack lost their
funding they actually tried to do of crowdfunding round because
whatever they're doing wasn't working.
John C Dvorak: I think they were paying those guys too much way
too much. And then
Adam Curry: and Greenwald, anti EB took their subscribers to
locals, which was I don't know if that was part of a deal. I
remember
John C Dvorak: Tina, maybe you can take your subscribers off of
substack. Well, Tina
Adam Curry: got an email and it said you're subscription to Mata
Eb, on locals is about to renew. And she said they just took my
credit card over to
John C Dvorak: Well, I don't know you can do that hard to do
because those credit cards were should have been. I don't know
how you. I don't know. I don't know. I've never
Adam Curry: anyway, but my point is there's something when you
join these clubs, which is the antithesis of podcasting and
believe me, we learned didn't we John, we learned with POD pod
show me via we learned because what happens is you wind up a
slave to somebody whether it's
John C Dvorak: advertised and you get to complain a lot.
Adam Curry: Why do you even say that?
John C Dvorak: That's what they do. Everybody all the podcasters
I worked at by show, they complained. I complained
constantly. And I'm reminded again, if I would bring this
story up, I told you before we're Neil Rubin King did this
book for McGraw Hill. It was called the Dawson. They can I
think was the name of that told us
Adam Curry: Austin I can remember I do remember Dawson
the cam. Were you a part of that?
John C Dvorak: That Dawson cancer was a book about how to
use dos? It was It may have been windows but I think it was DOS
was this awesome.
Adam Curry: Product? Did
John C Dvorak: you package this? No. I was not involved with the
DOS in the can. All right. But I do it. But I was involved in
McGraw Hill at the time. I had an imprint there. And so Dawson
Ken came out and it was a it was a can that had a book in it. And
you had to open the can with a can opener to get the book out.
And it was Dawson akan Hello, very funny. But of course, we'll
put why this crazy product with floppies no floppies now he
couldn't get a floppy in the can. So so so. So the book was a
flop. And all you heard from Neil Rubin King was complaints
then I putting enough marketing money behind Mike Dawson at
Kent. And it was just one thing after another and so and so you
work in a publishing company you hear nothing but complaining,
complaining, complaining and I give him my book enough
attention. And then I go to MI VO and the same thing every
podcasters are bitching and moaning about how they're not
getting enough credit and nobody cares. It was horrible.
Adam Curry: It's so true. It's this is that's why podcast
networks don't work. Because any kind of just you cannot monetize
the network. Spotify spent a billion dollars trying to prove
it. And they did. But they proved that it doesn't work. Oh
my goodness. I am John. I'm so happy with what we're doing. I
love my job. I love doing Yeah,
John C Dvorak: all we have to do is complain to each other. We
don't even do that. We can do it on the show. It's content.
Valuable. It's
Adam Curry: time for an update. There we go. Everybody did
something special. Here she is.
Unknown: Hi, everyone. Dr. Mandy Cohen from CDC. We are only two
weeks away from Thanksgiving. And I want to remind you to take
steps right now to protect you and your family from COVID. Flu
and RSV because I know many folks are thinking well, I had
COVID. I've already been vaccinated. But this new COVID
vaccine is to match the changes in the virus. It's updated and
restore protection that does decrease over time. It's similar
to the flu shot you get every year. Can you imagine
Adam Curry: if Windows said it's time to update your Windows to
Windows 12. It will reduce F activity over time, but over
time your windows won't work as well. Which by the way is the
truth.
John C Dvorak: model it after. Yes.
Adam Curry: This is exactly what an iPhone
John C Dvorak: is a good example. Yeah.
Adam Curry: Oh yeah, your battery life will go stuff will
get slow. That's when it's time for updated. It's updated for
this world of yours today.
Unknown: The updated COVID-19 vaccine is recommended for
everyone six months and older and it's free for everyone,
either through through your insurance or through a CDC
vaccine program are available in pharmacies and health centers
around the country. These vaccines are safe safe, they've
been through extensive notice
Adam Curry: they've dropped the effective part of the slogan why
bother? It's just
Unknown: scenes are safe. So we've been through extensive
safety review through both CDC and FDA independent committees,
academic groups and more family have concerns please talk to
your doctor or nurse practitioner provider. Let's all
make sure to have a happy and healthy Thanksgiving. Now's the
time to get your shots to better protect you from serious illness
from these viruses. Make your plan to get your COVID and flu
shot today. Be well all right
Adam Curry: be well everybody stay safe and well.
John C Dvorak: I have the alternate approach to selling
vaccines. Well the loop The lunatic Keith Olbermann
Adam Curry: oh god what it does he have a home is he is there I
think okay, I've seen this clip I think it's old I don't think
it's a recent clip but I believe this to be years old
John C Dvorak: I don't know if it's years old Yeah, I
Adam Curry: think it is let me see
John C Dvorak: well I don't want to play at the end of his years
old I thought it was fairly recent because his hair is so
gray
Adam Curry: let me let me just let me just check Olbermann
check because I'm when I watched him like this unhinged
Olbermann. That's
John C Dvorak: That's all now you're being redundant.
Adam Curry: Let's play it just in case people it may be old,
but it's worth it. It
John C Dvorak: may be also an oldie but a goodie. I've never
seen it before.
Unknown: I understand cobbling booster shot mission
accomplished. And it is it is time to stop coddling them. The
ones who won't get the damn shot already.
Adam Curry: This is why I thought it was old because
that's no longer the mean the damn shot already that that's
that's that's I agree with you has
John C Dvorak: an old sound to it not in play. And
Unknown: our first step you and I is symbols. The language we
use. We call these people vaccine hesitant vaccine
skeptics anti Vax, we say they're protesting mandates and
passports. They're making a personal choice. They're waiting
for more information. They're making a medical decision.
Bullshit. They're afraid. They're afraid to get
vaccinated. Stop feeding their egos about what they're doing,
stop legitimizing it. Vaccine hesitant. They're afraid.
Vaccine skeptics. They're afraid. Anti backs. They're
afraid. They're protesting mandates and passports they are
afraid old. There may be a personal trainer afraid alright.
Oh,
Adam Curry: I can't listen to it. It's old. I'm I want to talk
about modern. This is not a modern way to sell vaccines. No.
The, by the way. That was Dr. Mandy. She is the Director of
CDC. She's the new director. Yes.
John C Dvorak: She's also a sorority sister and Kappa and
probably and she's and she's going to be shopping this
afternoon.
Adam Curry: This is the way you sell vaccines. Everybody knows
the way to get the market jacked is to create scarcity,
Unknown: the turnout of the nationwide rise in cases of the
respiratory illness RSV, a children's hospital in Fort
Worth, Texas says it's in 500 patients a day as cases climb.
Adam Curry: Okay, I just wanted to stop here because I believe
this to be a cleverly written script. She did not say that
this hospital in Texas wherever it was, is seeing 500 cases of
RSV a day. She just says they're seeing 500 patients a day. And
then she goes into RSV I think this is a commercial. And I
think they put as a data ad it's well it's a native ad and they
put this in at the beginning because this doesn't ring true.
Unknown: I want to turn now to the nationwide rise in cases of
the respiratory illness RSV. At Children's Hospital in Fort
Worth, Texas says it's in 500 patients a day
Adam Curry: away. I'm at the Children's Hospital in Fort
Worth, Texas. Is that is that our boy Hotep Oh, it might be
that might be our boy Hotep now think about so they're seeing
500 patients a day. Well, of course they see 500 budges
John C Dvorak: Yeah, just for broken arms for all kinds of
turnout
Unknown: of the nationwide rise in cases of the respiratory
illness RSV. A Children's Hospital in Fort Worth, Texas
says it seems 500 patients a day as cases climb best case size of
a new antibody shot designed to protect infants from the virus
are not keeping up with demand. CBS has Mark Strassman reports
and tonight's Healthwatch parents and hard hit areas like
Georgia are scrambling to find the life saving shots. Little
Lucas sir and
his mother was lucky.
Adam Curry: Why? Why didn't they do the story about that
Children's Hospital in Fort Worth? Now they have to go to
your
John C Dvorak: jumping to Georgia. Yeah, can I windy? Like
I said until a couple of years ago I've never heard of Rs in
fact not even that I think for the last two years maybe? Yeah,
I've heard it never heard of RSV. It's now a life saving shot
when did the shot never existed? And nobody talked about people
dropping dead in the streets from RSV RSV has bullcrap
Adam Curry: RSV has been around for a long time you don't know
because you don't have little children. Tina also says John's
full of crap. It's been around for a long time but you're
correct that this hype about it has never been around that I had
little
John C Dvorak: children in my day and I never heard of RSV
parents and hard hit areas like Georgia wait. Tina is obviously
been brainwashed somewhere along the line. Hey in RSV was made
she was made it, it was good. She got it was we've had many
parents told about it No. But before her if you go predate
Tina, in terms of like women, they've nobody heard about it.
Okay, she is RSV generation one. Case zero. Okay.
Adam Curry: Well, I'll take that. But we have had parents
play with boots on the ground reports that yes, it is a thing,
but it's not the thing that they're making it out to be.
What can we accept that? It's just a no. Okay. John
dvorak.org. Don't email me about your RSVP
John C Dvorak: for snow. I'm saying no to is not a thing. It
never was a thing. This is just hype to sell vaccine. Well, yes.
Adam Curry: And they're doing it now by saying there's not enough
vaccines. Where have we seen that done before
Unknown: reports and tonight conflict parents and hard hit
areas like Georgia are scrambling to find the life
saving shots. Little Lucas
siRNAs mother was lucky to get him an RSV shot while his
pediatrician still had it in stock. A lot of like in the news
and babies get real sick. So I was like, might as well just do
it. Demand for the antibody shot has been unprecedented. So
popular. The CDC is now recommending pediatricians like
Dr. Jennifer, it's so
Adam Curry: popular John. It's so popular at $1,000 a pop which
insurance doesn't cover it's so popular shoe
Unknown: give it only to their most vulnerable patients,
infants younger than six months and those with underlying
conditions that put them at risk. We're hoping
it's going to really cut down and hospitalizations as well as
complications like pneumonia or even death. Why are they
particularly susceptible? Their immune systems aren't developed
yet. So the second thing is that their airways are a little bit
smaller.
RSV symptoms include a high fever, worsening cough and
trouble breathing symptoms that can lead to hospitalization, and
even death. Chris Comstock 20 month old daughter Adeline got
RSV. In September, she spent nine days fighting for her life
in the hospital.
I remember my wife and I were standing in the hospital room
crying going, what do you do? I have zero control sitting in
that hospital room knowing I can do nothing to help my child and
then watching her walk and run and get back to health again.
You can't put a price tag on the thankfulness that we have. Dr.
Xu
says with cases still rising in Georgia, she's almost out of
shots. Mark Strassman, CBS News, Atlanta.
John C Dvorak: Here I want to I gotta read this to you. This
from the CDC. RSV surveillance and research six to 10,000
deaths among adults 65 years and older. So that's where the real
problem is. 300 To 300 deaths in children younger than five.
Adam Curry: Oh, yeah, I'm agreeing with you. Yeah,
John C Dvorak: well listen to this. RSV, responsible for one
in 50 child deaths between 100,200 1000 babies die from the
virus every year. According to CNN, Bill and Melinda Gates
Foundation, RSV causes more than 100,000 deaths in children under
five each year. Now how does that sound when the CDC says
it's like 100? They have 100,000? Yeah, what what's wrong
with this picture?
Adam Curry: No, it's not wrong. You're You're correct. I'm just
saying you can't say it doesn't exist or it's a hoax. But people
have been and their children go to the especially prematurely
born children. We have a lot of children with immune disorders
because of I don't know, previous vaccines possibly is
all kinds of stuff going on. But yes, it's it is a hoax. Okay,
I'll give you that. But now I'm gonna give you the real hoax.
John C Dvorak: But I'm now I'm just kind of curious why one
group, the CDC says it's like 100 to 300 total. And you have
Bill and Melinda Gates and CNN saying is 100,000 to 300,000.
Why,
Adam Curry: seriously, you're asking me Why do you think that
there's an investment somewhere in an RSV vaccination company,
we know why this
John C Dvorak: can't be this sort of corruption,
Adam Curry: test gambling going on there. Okay. So I got to read
this article to you.
John C Dvorak: I'm appalled. By the way by these days, grepping
numbers,
Adam Curry: you should be you should be. So we have a big
issue with excess deaths amongst newborns. And everyone's
baffled, take care. They can't figure out what this could be.
And you'll look at story after story after story. And they'll
come up with well, you know, RSV, the flu, you know, what is
the obvious thing that they omit from all of their guesswork?
COVID vaccinations? And what? Yes, that is not in any of the
stories, not a single story will list COVID vaccinations or any
vaccination as a possibility for although the remember,
correlation is not causation. It lines up perfectly. But
correlation is not causation. We have children being born who are
weak, we have children being born who prematurely who are
weak, we have a huge crisis amongst women, who I mean, we
don't have to go. It was it was funny when I, when I said, Hey,
there's all these studies showing that women are getting,
you know, postmenopausal bleeding, there's all kinds of
stuff that's happening post COVID vaccination. And you know,
people say that's not true. You're not reading it, right.
And now, of course, Oh, all right. You are right, it's true.
So something has happened, there has been an attack willingly or
not, on women's reproductive system, God given women's
reproductive system. And so amongst all of this guessing,
USA Today, link to a video, which I think this is the clean,
I hope this is the cleaned up version of Planned Parenthood.
And they actually understand why this excess death is taking
place among
Unknown: among newborns, but black women and babies in
Wisconsin already have higher mortality rates than white
babies. Are we concerned about those racial disparities and the
growth of those disparities as a result of this decision?
Adam Curry: So firstly, comes the this is not the cleaned up
version. I'm now just noticing. Yeah, it's pretty bad. Almost
second. Half the cleaned up version, I think said that for
some reason. Yes. I have. Yes. I think I have it here. Hold on.
Work. Yes. Sorry, because that was bad. I think this is the
this is cleaned up. Yeah. Here we go. The
Unknown: black women and babies in Wisconsin already have higher
mortality rates than white babies. Are we concerned about
those racial disparities and the growth of those disparities as a
result of this decision?
Adam Curry: So here comes the Tonya Atkinson, the current and
new CEO of Planned Parenthood, she'll, she'll take this first.
Unknown: And I'm gonna open it up to whoever feels comfortable
to call
Adam Curry: obviously, that yeah, I'm comfortable. I'll
start
Unknown: and would encourage anyone else to join we are we
are very concerned about that. We see the inequities in the
health care system. And we certainly see the inequities in
as the as the person who has the question, and we certainly see
the inequities in maternal health. And so so we understand
in our heads,
Adam Curry: well, they're all desperately trying to make a
point and that's why they're hemming and hawing and oming.
And moving
Unknown: does system have a disproportionate impact on
people who are already marginalized in our health care
system for already experiencing inequities in our healthcare
system. And, and a very unfortunately, you know, black
pregnancy bowl, experience some of the starkest inequities here
in Wisconsin and incomparably across the country. So we're
incredibly concerned about this.
Adam Curry: So she can't bring herself to say it. But Kathy
King, who I believe is a doctor, she speaks next
Unknown: I will just echo about Wisconsin, like many states
chocolates, the country has at least a three fold higher rate
of return on mortality, or black women compared to non black
women. And Milwaukee has the highest rate of infant mortality
in in, of any collocation in the state. So it's already a huge
problem. And because there is such a narrow exception to the
law, about for individuals who already have health challenges
that would make their pregnancy higher risks, fall. You know,
there are just going to be so many barriers for them. On to
access abortion, if that's what they choose to do, because they
feel that that is the best option for themselves and the
family that they already have. By them. You know, there is an
estimate with abortion, US lack of abortion access. If roe is
overturned, that it nationwide, we could see a 20% increase in
maternal mortality. These
Adam Curry: evil women are saying that because Roe vs. Wade
was overturned, because less babies will be killed in the
womb. That's why newborn babies are dying at excessive rates.
That's their answer. The Republicans did it. That
pathetic, that's literally what they're saying. Here's the tag
on this. So
Unknown: the risk to people's lives this this varietal and
list the lack of access will inflict harm. It
Adam Curry: will inflict harm with lack of access. It's
unbelievable. That's why the the CEO she couldn't bring herself
to say it to say, well, this is what we've now determined that
evil, Supreme Court evil Republicans evil red states,
because you overturn the right to access to or made it hard for
women to abort their babies abort whatever to me, I don't
want to get to you. No, I don't, not for me to determine. That's
why we have higher infant mortality rate. But let's not
look at COVID vaccinations at all at all at all, or what it's
done to the uterus, uterine SAC and all this stuff. It's
amazing. This is just glossed over. And that's what we're
getting. That's your answer. I'm blown away by these people.
John C Dvorak: Not in a good way. You're shocked. Gambling
going on. I'm
Adam Curry: telling you. I'm shocked. Yes. Just a funny
story. No sooner was the executive order written by Joe
Biden. Genocide Joe, then both the Elon Musk and Sam Altman
release brand new Oh, big new reason, new announcements, this
AI that's going to kill everybody. We have new ones. Do
you see what's what outwood Altman's doing with open AI is
good. We're gonna have an app store. So you can build your own
ai ai that is going to these guys got an executive order
written and we know what's in it. But the way it was sold to
the public was we have we have to have the government involved
with this. We got to put guardrails around it because you
know if you just put this the power of AI into anybody's hand,
not skilled, smartest people on the earth like Elon and Sam, the
it could take over it could eat us. So here's an app store for
your store. You can sell your own AI app. Are you kidding me
now? That's that's unbelievably shallow. And here's a fine
example of the idiots who are using AI and trusting it. A
group of Australian academics has had to unreservedly
apologize for including factually incorrect allegations
about big consulting firms. Professor Emeritus James
Guthrie, Professor in the Department of Accounting and
corporate governance at Macquarie Macquarie University,
admitted to having used Google's Bard to research information for
submission to a parliamentary inquiry into the conduct of the
Big Four consulting firms with numerous false claims being
generated. The AI literally made up fake cases about these
consulting firms and the way I think about consulting firms
scamming the government and and Google barred just created some
some magical cases that never existed. Love it. And this guy
is a Google Scholar, which is even funnier, whatever that
whatever that means. So, no, no, this is not important. It's not
going to eat the world. It'll it'll make some nice Drake
songs. No, it'll, it'll create art that we don't choose.
John C Dvorak: But we've chosen plenty of AI.
Adam Curry: You know what I mean? We tend we tend to if we
can identify it, we tend to move on. It's usually usually the
stuff that's not good as AI generated. There are people who
know what to do. Yeah, you
John C Dvorak: pick the lash. Yeah.
Adam Curry: Yeah, okay, you're gonna, you're gonna, you're
gonna sit here and argue with me.
John C Dvorak: I just don't want us to be lying to her.
Adam Curry: I'm not lying. I'm not lying. But normally, I would
say most of the bad stuff is AI generated. A lot of it is,
John C Dvorak: I think I'm not gonna disagree with that. But
I'm gonna just say that most of the art is AI generated. Oh,
really? I think I think the stuff that we're tending to pick
now is probably this hybrid art this hybrid
Adam Curry: and would you say that this is a power that is
going to eat the world
John C Dvorak: not going to eat the world is going to eat the
lunch of a lot of artists that are dependent on doing schlock
art. were unsure or they're going to become the guys who who
can control the AI? No, it's I think it's a positive thing in
every way. And I love the idea is generating phony baloney
reports, I think that's great. If people were gonna rely on
that destroyed in their faces, phonies. Well,
Adam Curry: those who are not going to be affected by it is
the actors.
Unknown: Hollywood is back and open for business.
On Friday, the sag AFTRA Board approved the monumental three
year contract deal with Hollywood studios,
we began this journey, the largest entertainment union in