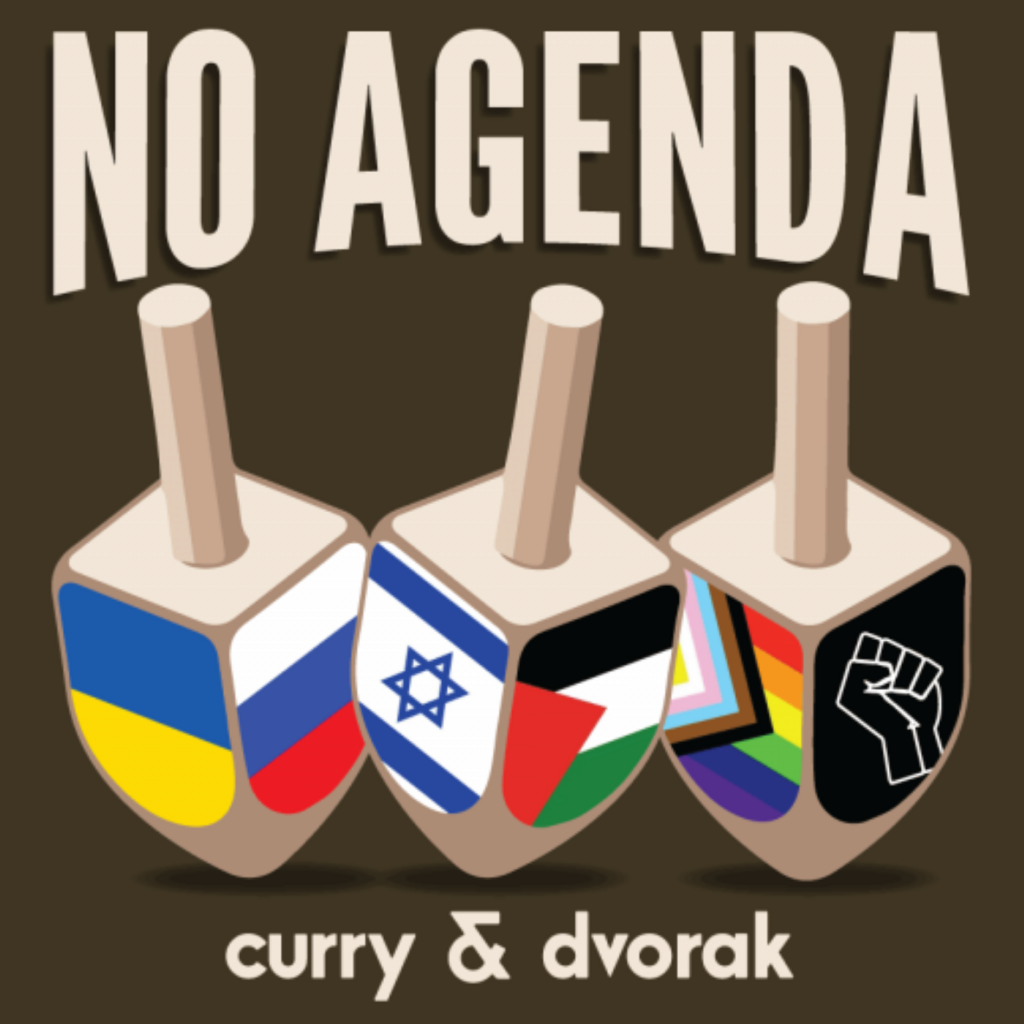 November 16th • 3h 18m
1608: Woke Up Dead
Transcript
The transcripts of No Agenda are automatically generated and therefore, not fully accurate. Discretion is advised.
Click the text to start playing from that position in the show. Click the timestamp to copy a direct link to that position to your clipboard in order to propagate the formula.
Unknown: Oh no. Change it. Adam curry,
Adam Curry: John C. Dvorak. November 16 2023. This is your
award winning nation media assassination episode 1608. This
Unknown: is no agenda,
Adam Curry: tracking militants Swifties in broadcasting live
from the heart of the country here in region number six. Good
morning, everybody. I'm Adam curry, and
John C Dvorak: from Northern Silicon Valley where the
protesters have shut down the San Francisco Bay Bridge and
Jesse.
Adam Curry: Yeah, you got a front seat view then over the
protests are shutting down the bridge.
John C Dvorak: Oh, and all the networks are covering in channel
I have to say KTVU. He goes to them. They have the best covers.
They got to a woman on the bridge with where they're
arresting all the protesters and she's there with their camera
crew. And she keeps you then they have this cordoned off. And
she keeps breaking through the cordon das
Adam Curry: think and what did I think? What are they protesting?
Oh, they're protesting
John C Dvorak: is our supportive Israel.
Adam Curry: Oh, well, beautiful beauty.
John C Dvorak: I have to describe these people. Yes,
please.
Adam Curry: Let me guess. Go ahead. I can already guess that
they're pretty much the same as the Black Lives Matter, people,
LGBTQ queers for Palestine, except they have Kippy as arm
they have the scarfs.
John C Dvorak: A few of them do have the scarves, but half of
them are masked up. Oh, what makes it even funnier? I'm
sorry. Windy bridge, and it's probably the most ventilated
place in the world. And there they are masked up. And I would
say it's about at least half of the trans queers for Palestine
people there. Yes. And then there's about a third black. And
there's some other ethics in there, but it didn't stop.
Alright.
Adam Curry: Now here's the question because I've been
tracking this at this at this moment. As of this past week.
Every single protest, every single one is organized by a
political party. Every single one and really only one
political party, but that that'll be obvious. Are there
any professional signs in the group?
John C Dvorak: Yeah, they're all the signs are professional, but
mostly, it's just a big banner that they were using. And they
they busted him up pretty quickly. But unfortunately, what
they've done is they they drove a bunch of I don't know, maybe
50 cars under the bridge blocked all the lanes. And then in their
wise, futuristic vision of the world. They threw their car keys
into the water.
Adam Curry: Oh, goodness gracious, no way their own way
their own car keys. Yeah. So their cars are now stuck on the
bridge and they can't move?
John C Dvorak: Well, they're no they're pulling them off one by
one and they've got most of them off now. And I get this started
I think at eight in the morning still block is the bridge is
still closed. And it's it's actually quite humorous. If
you're not on the bridge, if you
Adam Curry: don't have to get into the into work. Well, then
then let me jump into this for a second. I've been doing a bit of
research, looking at the pollute at the signs, there was a lot
going on in DC. And when you're protesting in Washington, DC,
it's always politically motivated. But it was I mean, it
was there was just so much bizarre stuff it kind of like
makes your your brain just fries over and over again with which
people are saying what I mean, we had two groups of Jews, the
Pro and anti Zionist yelling at each other. And it was so it was
Jews versus Jews but you had the Hasidic Jews You know the ones
with the curly Q's and the and the strings and the hats and
they're all anti Israel which like well I didn't expect that
I'm just just just listen a little bit to the language that
they're using against each other literally with the cops in the
middle
these are these are the these are the cynic dudes with you
know with their with their megaphone, like over my little
lesson in protesting.
John C Dvorak: You know, in this city Jews who are welcomed into
Israel being Jewish anymore have settled there. Nobody's ever
liked him but they they've settled there and refused to do
IDF service and refused to do this or refused to do that. And
they've always been outliers in the country itself. I really are
a fringe group that It is, I don't know how they I'm sure
that Israeli Jews normal ones are beside themselves with these
people.
Adam Curry: Well, let's let's go back to the to the this was in
front of the Capitol there was the Jews for ceasefire, also
known as rabbis for ceasefire. Interestingly, now, every single
one of these videos always has a shot of a professional sign,
which also has the URL of who has organized this particular
this particular demonstration. This was a peaceful one. This is
rabbis for ceasefire, and all the rabbis are female rabbis.
Unknown: Our demands are a ceasefire. Now, de escalation is
now in full negotiated release of all hostages. Now, Prime
Minister Netanyahu only looks to Torah, it feels like to justify
violence and to justify his own racist and legally sadistic
intention. So as a rabbi, it's very upsetting to me.
If they're watching, I want them to know that I and many other
people care about you. You are important. Your lives matter.
And we have not forgotten you. Every life is precious, and
every death is a tragedy, Israeli and Palestinian. So
Adam Curry: that must be a controversial group, I would say
to have female rabbis and they all have those cute little mini
hats on. You know what I mean? Like it's like with an elastic
band. It's a very teeny little mini hat. I know it's probably
not hat but it looks like it so they hold up a sign and that
comes by on this report and it's the answer colada yarmulke
John C Dvorak: is a no no no, it's
Adam Curry: like a little little top hat.
John C Dvorak: A hat a little toe. I know what you mean. Box
egg a little bitty mini I'm sure the me hat I'm
Adam Curry: sure I will be corrected about the mini hat
assertion. So the sign says that this is rabbis for ceasefire
Jews for ceasefire by the answer coalition. Answer. World's
Workers Party well so I go in answer coalition founded just
three days after September 11 2001 attacks answer which is
an acronym for act now to stop war and end racism initiated the
massive us anti war movement opposing US invasion of Iraq in
the months prior to March 19 2003. But But answer
coalition is not its own 501 C three, if you donate to them, in
fact, you are donating to the progress unity Fund, which you
should know because the progress unity fund is its headquarters
is in San Francisco. And it is the goal of the Progress unity
fund to promote unity through diversity of people's respect
for their histories, cultures and experiences. With this
respect, a sense of solidarity and community can be fostered
between peoples and this is run by Susan mizen Berg am you why
Sen. Be ERG, who writes many articles for liberation news A
so just a couple of headlines. Santa Clara Hyatt Regency
workers fight to unionize janitor take on high tech firms.
ACLU charges San Jose company with aiding and abetting
torture. So she's pretty politically involved. In fact,
she is the head honcho of the Peace and Freedom Party. And if
you go to peace and freedom.us right there on the homepage, a
picture of Karl Karl Marx. And the Peace and Freedom Party is
committed to socialism, democracy, ecology, feminism and
racial equality. We represent the working class those without
capital in a capitalist society. This is a political
organization. And all they want just like every other socialist
organization, name, Marxist organization, all they want is
for you to vote out anyone who's not a socialist. And I think
most people who are jumping into this don't even realize how
they're being abused for political means by the
socialists and Marxists of the world in the United Kingdom.
Here's socialist workers.org
Unknown: They've given the green light to these an extremist
Israeli Government to commit genocide in Gaza and extend
their cool policies in the West Bank
Well, we humans are all the same but the fact that some people
are considered you know, not on the same level as other people
what kind of world are we go in towards man I don't want to be
known for that's why I'm here today.
Every single MBA in this country Who doesn't vote for a ceasefire
needs to be regarded as completely unacceptable from now
on. They these are people that we need to organize against, to
make sure that they don't hold these kinds of offices again.
They are going to be on the wrong side of history. And we
will make sure that their children or grandchildren that
they have in the future will know what their grandparents
did, that they were part of something that was horrendous.
We haven't been doing anything. So only sound the heat of the
man is ceasefires least that we can do and hopefully they can
hear our voices and do something about it. I can't wait to see
what MPs say then about what they did for Palestine if they
protested for Palestine and what they did when Palestine was
under apartheid.
Adam Curry: people's emotions are being played upon it is
being done by political party and the European Parliament is
of course not immune to this. We have our favorite Irish
socialists, Claire Daly and that Wallace fellow with the with the
wild gray hair. They they took a page out of the best play book,
let's throw some children in there
Unknown: are some Palestinians living in Belgium who have lost
incredible numbers of their families back home and
Palestine. And we're going to listen to their words. Today
is a question for the EU. How many policies need to die for
the EU to call for a ceasefire until a few days ago, I had lost
52 Cyber Grievers every day that our gross adult is already at
least 55 Yesterday, the Israeli occupation forces committed
massacre and Jabalia camp near my my family's house and I can't
know anything about them I came today and I don't know anything
about them. I fall asleep thinking about those images
there is no food there's no water my mom said to me We wish
to die because she can't see my my brother's angry and she can't
make anything for them. You must stop the war against Gaza it's
enough with killing children enough with killing innocent
children freely
is such a difficult moment as we have people here who have to
expose their personal grief to share the memories of their
loved ones who are no more you all know what it's like to lose
one family member maybe in a natural death but to have your
entire family wiped out in the genocide list assault for the
civilized world stands by in silence There
Adam Curry: you go way to use some children get some nine year
olds on that stage. You know what, let's go back to the UK
let's let's have the son who apparently now do video reports.
Let's have them up it up a little bit. But let's let's make
this against the Hamas guys. We got to counterbalance this.
Bring in the incubators.
Unknown: Good morning from Jerusalem. This is day 38 of
Israel's war with Hamas on a morning where there are serious
concerns for 36 newborn babies born inside the Al Shifa
Hospital in Gaza City. The Al Shifa is galss largest hospital,
but at the moment it is not functioning because it has no
power. And without power, it cannot operate the generators.
The generators therefore cannot operate the incubators, which
are providing life saving oxygen to these very, very small
babies. The Israeli Defense Force have described the
situation as Jaya, they agreed having spoken to the hospital
that they would leave 300 liters of fuel at an agreed drop off
point. But in a devastating twist, mas have blocked doctors
from the hospital from collecting fuel, so that they
can then start providing the electricity, the energy that
they so desperately need to keep these babies alive. For the time
being they are being swaddled in a cardiac room, but time is of
the essence. And it is certainly running out an
Adam Curry: excellent twist on an original, very nice way to
move to switch a roo they're like good rewrite. It's a great
rewrite. Now. Of course we have to do something in France
because we got way too many Muslims there. We have the
French we know that they hate the Jews. So Israel needs to go
in and we need to show them our new faces of death video. Yes.
The 43 minutes that was shown to the world press in Israel has
now being shown to politicians.
Unknown: Some MPs left the screening in shock in tears
struggling to cope with the 43 minutes of footage showing
killings of children and women by Hamas terrorists on October
7. The screening was organized by France Israel friendship
group. In one of the rooms on the National Assembly. They say
they wanted to show the truth and that they also wanted to
prevent the spread of conspiracy theories. The president of this
France Israel friendship group is Matula, fellow member of
President maximas Renaissance movement. Let's take a listen to
him after the screening.
It was extremely difficult. I'm sorry, our hearts are heavy.
After the screening of the other, it's an attack on our
humanity, all of humanity that we witnessed in that screening
room. I think it was very difficult for the very necessary
in the face of those who would try to relativize what happened
with us as well as the risk of forgetting what happened.
MPs are shocked by what they saw, but they don't all agree on
how France should act and deal with this ongoing war in the
Middle East. Far right and right wing MPs we said that Hamas
terrorists was simply barbarians who needed to be exterminated
barbarian means they fully support the way Israel is
currently conducting its military operations. On the
other hand, we spoke to a far left MP who condemned the Hamas
attack was shocked by the brutality of what they saw. But
who said that at the same time Israel cannot continue acting
the way is killing civilians in the Gaza Strip where it's
bombardments so
Adam Curry: before I take a breath one more clip here
because the problem now is for the mainstream media, they all
have to pick a side you've got to pick your side you've got to
pick it very very carefully. And by the way notice how the New
York Times will say this many Israelis died but this many
Palestinians were killed me as all these very subtle things
that are taking place how do we choose our words because it's
about to get ugly. This is another group in DC I believe
this to be a true grassroots organization the lady with the
megaphone was speaking Arabic there's a lot of auto Akbar's
going on and listen to what they say about politicians and in
particular the mainstream media
Unknown: The truth is a lie to the members of Congress will be
prosecuted
St Joseph trial
media outlets
Adam Curry: so, yes, M five M those those kids who you
encouraged they're going to turn on you what
John C Dvorak: makes you think that was grassroots that woman
sound like a pro?
Adam Curry: What I mean is I don't think that was a that was
in my mind. Not necessarily. There were no professional
signs. This was the handmade genocide job crowd, which is
still the same people. But this let me put it this way. It's not
a Socialist Party who was running this one. It's a
different party and I think that's the scariest one was I
don't know I don't know who this lady was an absolute Pro. But
there's this was a this was a vicious group out for blood out
for blood. I'm telling you. Genocide, Joe signs handmade.
John C Dvorak: I like to genocide justice. I would love
to get a hold of it. There's
Adam Curry: no There's no official printed ones. That's
the thing. There's no official agenda, couple
John C Dvorak: of protests and there'll be a sign maker nearby
a guy or a girl doing these signs. They have the same hand.
They're not they're not a printed sign. I agree. But that
doesn't mean it's not organized.
Adam Curry: I looked all over. I could not find any political
party that was connected to this particular group. This group is
a little freaky. Have you Have you followed the Tiktok sigh up,
though.
John C Dvorak: Know the chicken. Everyone's complaining about it.
Have
Adam Curry: you heard about it the letter from the letter to
America?
John C Dvorak: Which one? Ah,
Adam Curry: so the story goes like this. Osama bin Laden?
John C Dvorak: Oh, yes, that died. No, I'm very familiar with
this. Now it's all been taken down. Osama bin
Adam Curry: Laden wrote a letter to the American people which was
published. And
John C Dvorak: we're supposed to believe in 2009.
Adam Curry: Which, as far as we're concerned, Osama bin Laden
died way before them. It's a handwritten scribbled note. And
this is being you and The Guardian had published it. And
they took it down.
John C Dvorak: Oh, everybody took it down. It was also here
and it was here and it was there. And it was there. And it
was here and it was here. And here's my favorite. I'm looking
at this one, one tweet about this. And it's hit zero and
that's taken down and taken down, taken out taken down. But
luckily, I saved a copy here and you click on that it's gone.
Bull crap.
Adam Curry: But the the SIOP on tick tock is, is super viral.
And it all comes I mean, and if even if you read it, it's just
like, okay, whatever it does end with, continue the war, if you
will, justice is the strongest army security is the best way of
life, but it slipped out of your grasp the day you made the Jews
victorious, and occupying our land and killing our brothers in
Palestine, the path to security is for you to lift your
oppression from us. So well, let's just say right off the
bat, you and I do not believe this is anything remotely real.
without
John C Dvorak: even asking me you're making assumptions you
assume my pronouns?
Adam Curry: I sure do. Zamzar. But the this is a professionally
orchestrated viral campaign. And it's pretty much all BLM LGBTQ
women, and they have a script. And stop me when you've heard
enough this morning. Wait,
John C Dvorak: wait, I want to say this. There's always two
sides to this. There's the people who put this together,
and the suckers who fell for it. Oh, so I'm just I'm just
pointing the finger at
Adam Curry: people I'm going to I'm going to tell you that. I'm
going to tell you that. They're all falling for it. I mean, this
is so well done. And listen to the script. When you when you
hear the script, you'll be like, Okay, this is working. This is
class act top foreign propaganda. This morning,
Unknown: I read a letter to America, which is Osama bin
Laden's letter to America, explaining why he attacked
Americans. And I am ashamed to say that I not only have never
read this letter, but I didn't even know this letter existed.
It's wild, and everyone should read it. If you haven't read it
yet read it. However, be forewarned that this has left me
very disillusioned. And I feel the same exact way I felt when I
was deconstructing Christianity. I feel a little bit just
confused. Like I have entered into another timeline. What is
this? And yeah, so go read this. These
Adam Curry: are these are these are filtered good looking young
women. But you know, we've seen them. These are the ones who are
John C Dvorak: there. No, but this is just a nobody of some
sort. Yeah, right. I mean, it's not a brand name. No,
Adam Curry: no, no, none of these are brand name. No, these
are these have been cast. These these actors have been cast and
and listen to the script over and over again. And
Unknown: yeah, so
go read it. So I just read a letter to America. And I will
never look at life the same I will never look at.
Adam Curry: Wow, very ready.
John C Dvorak: Within two of these, it's so obvious that this
trip did. And so you asked me when I wanted to cut it off.
Under some circumstances, I shouldn't say now because it's
obvious what's going on. But I want to hear for these this
Unknown: country the same, I will never please read it. And
if you have read it, let me know if you are also going through an
existential crisis in this very moment. Because in the last 20
minutes, my entire viewpoint on the entire life I have believed
and I have lived has changed. Please read that entire letter.
I need everyone to stop what they're doing right now and go
read. It's literally two pages. Go read a letter to America. And
please come back here and just let me know what you think
Adam Curry: this is consistent. Come back and tell me what you
think that's what they all say. Come back and tell me what you
think. Go read it now. Stop what you're doing. Come back and tell
me what you think. It's
Unknown: like, I'm going through like an existential crisis right
now, of course, and a lot of people are. So I just need
someone else to be feeling this too. I
need you to stop what you're doing and go read a letter to
America. It is literally the craziest thing I've read in a
while. And while I can't say that, I'm that surprised? I am
pretty shocked. So go read it and tell me what you think.
Because I really also need to talk to other people about this.
So this is fucking
insane. I just read Osama bin Laden letter to America, which I
will be going through right here. But it's actually so mind
fucking to me that terrorism has been sold as this idea to the
American people. And honestly, just so many Western inhabitants
within certain nations, that this group of people, this
random group of people just suddenly wakes up one day and
just fucking hates you just wants you dead wants you gone.
And this is all because they believe that they're better than
like, that is the root of terrorism. It doesn't make
sense. They just hate your fucking nation. But reading this
letter, it becomes apparent to me that the actions of 911 and
those acts committed against the USA and its people. Were all
just the build up of our government failing other nations
and majority of these situations, and this letter was
insanely eye opening. I really urge everybody to Google and
read it because I
John C Dvorak: started out every single bug by the way, a couple
of things is overnight sensation of the letter itself is of
course a joke, of course. But is there any membranes of these
terrorists going back in time a little bit? It makes it sound
like it just started yesterday. Does anyone remember from the
60s the jackal, or the Lockerbie shot shoot down of the PEN
American Airlines who put the company out of business? Things
that took place in this in the 50s 60s 70s are the series of
airline hijacks had made him drive the planes to Cuba. Does
anybody remember any of that? No, no, no. This all started
last night? Yes,
Adam Curry: yes, it's insane. I'm living through an
existential crisis right now. This is very IKEA, like, this is
very slick. This is well done. And they're all going to fall
for it. The end and good luck, politicians. Good luck to you.
John C Dvorak: Well, here's this couple of things come to mind.
First of all, I want to go back to the earlier clips you play
before you got to this tangent, which was about the ceasefire
complaints and protests. Where's they asking for the ceasefire in
the Ukraine war? What's wrong? Where's the protests about the
Ukraine war? Nothing? How about involved? That's the deal.
Adam Curry: Well, it because it is jus hate because the Lansky
has literally gotten rid of the Jews.
John C Dvorak: Yeah. And he's supposedly Jewish. With a no
ever gay
Adam Curry: with a soft brigade. Yeah, of course. Yeah. Of
course. It's good. So, so just so how insane this has gotten
and this is the word of the day. It's insane. Man. You know,
John C Dvorak: this was somebody wrote in Yes. LA's to look for I
haven't heard it while you just heard it from me.
Adam Curry: So you know, that somehow I got on the San
Francisco grassroots campaign mailing list for Robert Kennedy
Jr. Oh, good. And, you know, so I'm getting stuff all the time.
And it's like, yeah, we're gonna have
John C Dvorak: a frequency too high.
Adam Curry: No, it's about one a week. One A Well, that's not
bad. No, no, not bad at all. And you know, I've never responded.
But at one point, they're even saying, hey, curry, and this
other person calling out a couple people on the list. Join
us. And we haven't heard from me. I'm like, I'm being quiet
over here. So now I get an email from from the local grassroots
Kennedy campaign. And that's a locals. The one the same one San
Francisco.
John C Dvorak: San Francisco. No, no, no, no, the same one.
Adam Curry: I am not absurd. He is calling us absurd. If we know
the other story, after spending $1,000 of my own money, and
countless hours on this campaign. The truth I heard
about six months ago has come out in an ugly way. I have known
for 30 years about the conditions of Palestine. It's a
created state that made us and Britain that first vaccinated
their population for Big Pharma. I will actively work against Mr.
Kennedy and no longer support had. And it has a link. I'm
John C Dvorak: sorry. Well, let me die. And I misinterpreted
what you just said. I thought this letter came from the
Kennedy campaign this woman has turned but she also the Kennedy
okay. She has the Kennedy campaign woman that was running.
What was the Kennedy campaign? There was a person in charge and
the book maybe or maybe not affiliated with Kennedy, and out
of the blue. She, after she's got her mailing list built up?
Yes, she turned on Kennedy.
Adam Curry: And it's because of his appearance on the Cuomo kid
show. And she links to the video which I shall play a clip of. So
you can hear what outraged her so much. I mean, I think that
there's there's just a tsunami of misinformation and kind of
moral bankruptcy that we're seeing on the college campuses
about this issue. And you know, the idea that Israel is a is an
apartheid state because of the Jewish state. Israel is the only
nation in the region that does not have an official religion.
All the other surrounding nations are Muslim, there's 40
nations in the world 42 that have official religions. There
is not in Israel, Israel is a free nation, it's a democracy.
Palestinians in Israel can vote they can hold political office,
even the Prime Minister and the President of Israel, if they if
they if they win that vote, they hold positions on the judiciary,
every court, including the Supreme Court, they serve in the
Knesset. A couple of years ago, a Palestinian judge and Arab
judge convicted the Prime Minister of Israel for
corruption. Israel has freedom for in Gaza. It is you get the
death penalty for selling land to which you there are no Jews
and in Gaza. Oh, you you look at this, this double standard that
is being now applied to Israel's behavior compared to the
behavior of all the countries around it. There's no other
country that is a democracy in the region. There's no other if
you're a Palestinian, and you want to criticize your
government, you better do it in Israel. Because if you do it in
the West Bank, if you do it in Gaza, if you do it in Jordan, if
you do it in Syria, if you do it in Lebanon, you're gonna either
have your throat slit, or you're gonna go to jail and be
tortured. Oh, and you know, the freedom that people have. So
calling Israel an apartheid state is such a, an absurd twist
and perverted twist. And ultimately, you know, if you're
applying a double standard, it is it reflects a bias and you'd
have call that bias anti semitism. It's faint. This is
such an upheaval for the political landscape. It's
phenomenal. What's happening, people there. Go ahead, up up.
But people
John C Dvorak: say that what you're witnessing with that, I'm
glad you got that emailing list. Yes, that is part of the op. The
part of the app is being outraged that is Kennedy being
so damn reasonable. As part of an OP.
Adam Curry: You know what I love on Twitter right now at this
funny because we were just talking about Candace Owens
about her being really too smart for this dumb organization.
Well, now she and Ben Shapiro have successfully made the
Middle East conflict about themselves. This is this is
fantastic. Oh, I better go on Tucker and talk about me me me
me me me. quoting Bible scripture at each other on x.
John C Dvorak: I was very dead. That I watched that. Of course,
course. And I didn't get any clips here. We cannot for one
thing Candace is huge. I don't know how much coffee she's
drinking for a pregnant woman but she person be talking is
there with Shapiro's
Adam Curry: now, yeah, well, that's it's a million.
John C Dvorak: million. So yeah. And so she's going on about one
thing or another he Tucker he can get a word in edgewise. But,
but Roger Roundy, one of our great artists of the United
States, who's in the social he's going on about how what a great
interview this is. It's not even an interview. No, it's just
letting someone go off. How about how great and I think that
this feud is bull crap. If Dave is not one of those phony
baloney fuses show business feud, you know, where people get
into a fake Leah's
Adam Curry: show business feud. And she's been picking fights
with Megyn Kelly, and it's this about them. This is narcissism,
narcissism. Um,
John C Dvorak: you know, I'm a little sick of the usual
suspects, and that includes Tucker. It includes her. It now
includes Jordan Peterson Hold on. Mr. Crowder, and includes
Tim Poole, it and I would have to Rogan is I don't think he's
an unwitting member of this of this clique. But they're all in
so they all promote each other. It's like a little blow job log
rolling thing.
Adam Curry: I hadn't heard about a log role in a long time, but a
blow job log roll that is a new one. We should make that will
make
John C Dvorak: generally referred to as a blow job. This
is just a term. It's nothing to do with the app. The sexual act
but it's of course the Jefferson when you write up somebody in a
very you know this guy's the best yeah well
Adam Curry: there's one more we can add to the to the mix of
choosing sides to save his hides Jimmy Dore Jimmy Dore now he
he's in a, is he Jewish I think is probably Jewish, isn't he?
Maybe I look him up. Well, he has the to live Jew crew because
he's Jewish. He's always probably has his Jewish friends.
So he does a very interesting thing. And it caught my
attention because I really didn't know much about the Grand
Mufti during the Second World War. Who was the grand mufti of
Palestine
John C Dvorak: years ago? Who's calling the shots at the time?
Well, the hat. So
Adam Curry: he pulls out a clip from Netanyahu from eight years
ago, doesn't really say it was really, really old. And in fact,
Netanyahu sounds the same. And here's how he rolled it out on
his show and discuss it with his two life Jew crew.
Unknown: Here's the video I was talking about. Listen, to listen
to what Benjamin Netanyahu had to say about Hitler. And the
Arabs and the Jews.
Want to exterminate the Jews at the time you want to be said
Hitler didn't want to exterminate the Jews at the
time. So yeah, blaming. blamed it on that. Oh, wow. Wow, wow.
What can I play? I wouldn't play it again. Because that's that's
just as somebody
who wants to exterminate the Jews at the time, he wanted to
expel the Jews. Who said he went to if you expel them the wall
come here. So what should I do with them?
Burn them. So let me bring in my two live ducru that I have on
today. What do you have to say that is that that's kind of a
head snapper, right?
It takes a lot to shock me at this point, I actually stopped.
Because yes, that in Yahoo is a fascist. But if there was a
third rail or a presumed third rail, in Jewish politics, it
would be in any way to soften the rough edges of aid off
frickin Hitler.
Adam Curry: So I go first of all, I've never really learned
much about the the grandmas.
John C Dvorak: Yes, first of all, Jimmy Dore is a Catholic.
Yes, yes. Yeah. The
Adam Curry: whole room told me that yes. And the Grand Mufti
was the grand mufti of Jerusalem Palestine now so I go back I
right away find a report from eight years ago. i i 24 is the
station and here's a little deeper analysis of what not yet
and Yahoo said and what he then retracted and more about this
harsh I mean, I'll Hussaini
Unknown: Israel's Prime Minister likely set created a firestorm
yesterday by suggesting that former Jerusalem move to Hajj
Amin al Husseini, and not Hitler was responsible for the murder
of 6 million Jews during the Holocaust and our houses
backtracked, saying that he did not absolve the Nazi regime of
its crimes. I've been for years correspondent Amon six UK has a
story. Bibi
absolves Hitler for the Holocaust. So reads the title of
the lead story on The Daily Beast today. Following the
Israeli Prime Minister's controversial comment. Hitler
didn't
want to exterminate the Jews at the time he wanted to expel the
Jews.
Netanyahu said it was the former Grand Mufti of Jerusalem has a
menial Hosseini who encouraged Nazi dictator to kill Europe's
Jews
Kajima Hussaini went on and said, If you expel them, they'll
all come here. So what should I do with them? Yes, you said
reactions were quick to come in from all parties involved.
Palestinian President Mahmoud Abbas said that Netanyahu was
comments exonerate Hitler, while blaming the Mufti for genocide,
and accuse the Israeli leader of fabricating history. And the
German government also denounced Netanyahu statement assuming
full responsibility for the Jewish Holocaust. But did the
Israeli Prime Minister get his facts wrong? Not quite. In
November 1941, at the Mufti met with Adolf Hitler in Germany.
Adler told us they need that the Nazi regime supported the
Palestinian cause, and rejected the idea of a Jewish national
home. Whether al Husseini directly asked for the
extermination of Europe's Jews is unknown. But just four years
later, in 1945, Yugoslavia sought to indict the Mufti as a
war criminal for his role in recruiting 20,000 Muslim
volunteers for the SS who participated in the killing of
Jews in Croatia and Hungary. But the Mufti fled to Cairo and
later to be root and passed away in 1974.
Adam Curry: So this grand mufti wasn't without fault. He I think
he did. Batum say the part that he added support for the final
solution. But this was all fleshed out eight years ago and
this was a this was a world renowned event that took place
and it's kind of crappy that Jimmy Dore feels he has to be
has to do this. Based upon I guess his audience. Look, our
audience is running away. Because we won't take aside
we're not we don't like war. here's the here's the latest,
the latest email,
John C Dvorak: we do the newest deconstruction. Here's
Adam Curry: Dr. John Allen. I'm glad I never contributed to your
podcast after you.
John C Dvorak: Douche bag from the get go, self admitted. And
now he quits.
Adam Curry: I'm glad I never contributed to your podcast
after your lack of outrage over XyO terrorism. Keep begging from
those producer morons for your donations. I know that you think
people are taking sides. But in his time, it has always been
Zionists versus humans. Dr. John, watch
John C Dvorak: his versus human,
Adam Curry: right. Yes, that's
John C Dvorak: right. That's right, that we put Yes, I
indecisive
Adam Curry: shyness versus humans. It's always been Zinus
versus humans, even during the Ottoman Empire. It's always been
zydus versus humans. It's politics. It's evil. That's
John C Dvorak: very corrupting.
Adam Curry: And it's yes and and and everybody
John C Dvorak: has shame somebody has to get get
themselves as you like to put in I think is a great term all spun
on up. overselling is pretty much on the other side of the
globe. It's a big globe. And meanwhile,
Adam Curry: you know, we have we have people sleeping on our
streets who have been told it'd be great here. And then they get
to the cities that said, Yeah, we welcome you and they're like,
I'm sleeping the call Get out of my Get out of my Get off my
lawn.
John C Dvorak: It's we don't even know what happened to the
homeless in San Francisco. Yeah, that
Adam Curry: would be cool to know, because it's just I mean,
it was so fascinating to hear. What's his face? Your Mayor,
your governor, mayor, governor,
John C Dvorak: Governor Newsom, the mayor. Yeah, Governor,
London,
Adam Curry: the governor to say, Yeah, we just cleaned him up.
Unknown: I know, folks say, Oh, they're just cleaning up this
place, because all those fancy leaders are coming into town.
That's true. Because it's true. It's true. But it's also true.
For months and months and months prior to APEC. We've been having
different conversations.
Adam Curry: It's true.
John C Dvorak: Yeah, we've had different conversations. And
it's true. So we talked about whether we should just
exterminate them, or we hope maybe they'll just die of
fentanyl overdoses on their road. And then they had that's
one of the conversations the other one was how well this is
washed them out of town. I think they bussed them to LA. It,
wouldn't we How about this? You're homeless? Yeah. And
somebody comes up, he says, you know, we're we have to clean up
the city. We have to clean up the city because we just have to
clean up the city. We're offering you a bus ticket. And
let me show you the weather. It's gonna be stormy grey, or
it's gonna be terrible, by the way it hasn't rained at all, is
washed off the whole weeks going to rain, rain, rain, global
climate change will send you down where it's warmer in Los
Angeles. It's beautiful programs for you. There's all kinds of
things you can stream. bumfights, the whole thing in
LA, and LA is much more hospitable than we are. And we
right now you get to go someplace. So you want the bus
ticket or not.
Adam Curry: I they probably gave him first class airfare. I'm not
even sure it was a bus ticket. i
John C Dvorak: Well, maybe. But they somehow got him out of
town.
Adam Curry: The bottom line is from the public intellectuals,
to the alternative media, to political parties. This whole
thing is being abused. And with it abusing Israelis,
Palestinians, white people, brown people, children,
incubator babies, abusing all of it for their own selfish mean
John C Dvorak: commuters. Commuters poor, hapless commuter
Adam Curry: that they just want to. It's a beautiful thing. It's
this is the thing that's being used. It was what happened to
LGBTQ genocide, that genocides gone. What happened to the Black
Lives Matter genocide, but that genocides gone What happened to
the genocide of Ukraine? That one's gone. It's so damning.
It's so bad with with Ukraine that listen to this. As the
Lensky is begging for more ammo, he's begging for ammo, and then
listen to what the European The European Union is now
responsible for the ammo. But it's very telling what they say
in the short report.
Unknown: But I see that Russia is already losing soldiers and
equipment and of leave faster and on the larger scale than
withstanding their pressure is extremely difficult not to beat.
More Russian forces are destroyed and you're ready for
the worst the overall situation will be for the enemy. For the
rest of the war,
Ukrainian officials continue to press their Western allies for
aid and weapons to counter Russia's aggression. The EU's
defense ministers reaffirmed their support for Kyiv at a
meeting in Brussels that warned that the block could miss its
goal of supplying Ukraine with a million artillery shells by next
March
mean that we already have 1 million shots ready by March. So
maybe we will not have 1 million by March, by the way will depend
on how quickly the oldest comes to the industry and how quickly
the industry reacts.
Adam Curry: So that's the EU defense minister literally
saying, Hey, man, we don't have any orders yet. The defense
industry needs orders. You know, like invoices, signed payments
made. You don't pay us. We don't care about you. Zelinsky because
no one wants to fund it anymore. They're tired of it. No one
wants to pony up
John C Dvorak: the evidence still we still have this this
need to get rid of spent uranium.
Adam Curry: Well, yeah, there's always something but he's he's
just saying hey, we need to orders orders. We need orders
now orders now. Orders.
John C Dvorak: I have one Ukraine report most will play.
Sure. This is interesting because the Ukrainians now claim
that they're making inroads on retaking This is just like
highroller they're not doing any What about the dumb bass or any
of these? No, no, no, you're going after Crimea, which is
really far as I can really, which is off limits? Yeah, I
suppose. But let's hear
Unknown: it. And Ukraine officials and Kyiv now say
Ukrainian forces have established a critical beachhead
in a bid to retake Russian held Crimea. They report troops had
crossed the nipro River near Harrison and gained a foothold.
From there they could outflank Russian forces to the east
Alenia from
the frontline is fairly fluid as of today, and we cannot discuss
every single measure our defense forces are undertaking, but the
fact is obvious that these measures push the enemy back.
For now. We will not give more details so that our plan can
start working, which would allow us to report later on great
successes.
Russian officials acknowledged Ukrainians have crossed the
river but insisted they're taking heavy casualties. You
know,
Adam Curry: the it's getting so bad with this the lies that are
just falling apart before our very eyes. That is fire gas that
the the international what is their name? The international
coalition of investigative journalists do you remember this
outfit? Probably not.
John C Dvorak: I probably not. Well,
Adam Curry: they're they're supported by a deciem
foundation, Arnold ventures bae and Paul foundations Bertha
foundation CJF American donor fund Creative Europe, the Fred
Foundation, the Golden Globe Foundation, the John and
Florence Doman Foundation, the Open Society Foundations,
national democracy or National Endowment for Democracy. They
now are funding or they have always been funding this group,
and they're going after journalists. And there's the
German Seymour Hersh and he's just one and they're going after
him now and they're gonna go after a lot more journalists
because you know, they're not funded by National Endowment for
Democracy or open society,
Unknown: a leading German journalist is facing allegations
of being in the pay of the Kremlin, according to new
revelations by the International Consortium of Investigative
Journalists disciple has long been regarded in Germany as an
Independent Expert on Russia. Nina, what more can you tell us
about Hoover disciple and the allegations he's facing?
Luba disciple is very well known here in Germany is an
influential voice has won awards for his reporting has been
introduced to talk shows as the German journalist with the best
access to Vladimir Putin has had to sit down interviews with him,
etc. But there is an investigative group of
journalists called Cyprus confidential who are currently
looking into a big batch of documents that they've got,
where there are where there is evidence that Russian oligarchs
are trying to take influence on influential European voices here
and they have found documents that prove that for a book Sid
zipper wrote about Putin he received two payments from a
company linked to Alexei mordashov. Now, of course, an
oligarch who is very close to Putin. And since Russia's
invasion of Ukraine, he's on the EU sanctions list. So as I build
got 200,000 euros, and then another 400,000 euros as part of
his sponsorship deal for the book. And what's very, very
tricky here is that the publisher of the book says that
they had not been aware of such a deal. And they have now sold
disciples book argues there was no influence by third parties
regarding the content of his book. But he's also produced
films for public broadcaster ARD, and ARD also say that they
were not aware of any such sponsorship deals. So they will
have seriously undermined his own journalistic credibility.
And this is probably not the last case that we're going to be
seeing, because these investigative journalists are
continuing digging. Yes.
John C Dvorak: Okay, I have a couple of comments here. First
of all, these pre sale deals with publishers is not uncommon.
But in fact, it's how you sell a lot of books
Adam Curry: is how you get on the list is that you get
John C Dvorak: this book, well, we don't feel like publishing
your book, or we don't see any market for it, is what the
publisher will say, and then you come back with what we've
already pre sold. And you can even name or not name doesn't
usually you tell it who it is, this guy has already contributed
$200,000, whatever the amount is to buy this many copies of the
book. So you have pre sales, immediate pre sales, that means
the publisher go ahead and publish the book because they
can, it'll be it'll pay out. Very common practice I, I've
seen it happened in America everywhere, but it happens all
the time. In fact, my favorite is to go into a small stale
Adam Curry: Oh, we love small tails, but it might be the man
Damn it
John C Dvorak: with with Hearst.
Adam Curry: You gotta get on. When I was at MIT, you got to do
it. Right. I
John C Dvorak: was at MIT with the Hearst Corporation and going
through the Media Lab, and I didn't have to because I was
with them as a fly on the wall. I didn't have to sign any NDAs
which everyone else all journalists have to sign all
these NDAs you can't talk about anything by so your
Adam Curry: people you're going fast viewer with her
John C Dvorak: the Hearst does it will her as well. He brought
me along at
Adam Curry: MIT and you're just hanging out and you're you're
witnessing what's going on? Yes.
John C Dvorak: Okay. I'm watching and going through the
Media Lab. I got a good tour. And so we go up there. And at
the end, Negroponte II is talking about how they have done
a deal with Stuart Brand to do a media lab book. And you can look
it up on Amazon, you'll see it Media Lab where the future's
invented or someplace. And yes, so we've already bought 50,000
copies as an advantage. That was how the book was sold. It was
the MIT had purchased 50,000 copies of the book before the
book was even in print. Russians are bragging about how they're
you know, they got a handle on this and a handle on that. It's
going to be great publicity. And of course, the purpose of the
meetings were trying to gouge the Chi purse Corporation, out
of some money for the Media Lab. And the guy who was the CEO at
the time, Frank Beneke. He wasn't going he was resisting
hard, but he wasn't going for any of it. And but they were
they were, they were pitching as hard as they could. And it was
quite interesting to be there. And I was there for most of the
meeting until one moment where Marvin Minsky, I believe I've
told his brother's story before. Marvin Minsky walks in and sees
me and he knows who I am. And he gets upset. And they rouse both
Hearst and myself, we got kicked out. It was too late.
Adam Curry: Yeah, so but it's so interesting to see that these
journalists who know how these deals work, because they're
journalists, they're probably just jealous that they don't
have a book deal where someone pre buys it. But that, you know,
it's like, well, he's funded by someone links to that guy. And
they're linked to everybody. You know, journalists, goodbye.
John C Dvorak: And by the way, if you have a problem with
somebody as a journalist, out, write them, find out what their
what they're saying is wrong and write about it. That's that's
the way you normally do it. You don't out the guy with a bunch
of innuendo and smears kind of an operation is that?
Adam Curry: Well, when you're funded by those big groups, and
you're at the cocktail parties, you know, it's very, it's very
enticing. Oh,
John C Dvorak: sure that you did you get to try to do this to
Hirsch.
Adam Curry: They're going to do it to everybody. Anybody who's
not on board with the message is going to get it. That's just
that's, that's just the new way. If you're a politician, you're
not on board, then you're gonna get it. If you're a journalist,
you're not on board you're gonna get it. The only thing that's
left standing is podcasts.
John C Dvorak: If you want to call it scanning personally, I'm
sitting I'm sitting to that I know you're still all that's
left all this left. Yeah, that's gonna be there eventually you're
gonna find a way to get the podcast to but no, I'm gonna get
back to San Francisco and do a couple of clips. They have Biden
China clip. Yes.
Adam Curry: This was an interesting meeting. I'm glad
I've expected you to come through because it is your, your
front yard almost. You're looking out the window as we
speak. And you can see and
John C Dvorak: I will mention this last night is they decided
to show off and they did a fireworks display specifically
for these, this Asian group. And knowing that the Asians have
fireworks displays. I've been in Asia and they've I've seen him
dynamite
Adam Curry: dynamite literally, literally dynamite. I
John C Dvorak: would say that this is the best fireworks
display I've seen on the bay for ever. It has shells I've never
seen before. And it was like it was only 15 minutes long, but it
was like 15 minutes of pure finale. It was yells going off
every for every second of the 15 minutes Nice. Meanwhile, when
they do our Fourth of July fireworks, it's poof, there's
one poof there's another it's pathetic by comparison, but no,
but we have some Asians in the audience. Let's get let's get in
Chinese communists. And the streets are by the way lined
with Chinese communist flags. Yeah,
Adam Curry: I saw that one American fat is one little
American flag. And what is Janet Yellen doing meeting meaning?
Gee, she's on the little twerp little nerd little elf
John C Dvorak: to the health.
Adam Curry: I think she isn't taller. She knows she might be a
troll.
John C Dvorak: She looks kind of like one. Yeah, she
Adam Curry: does. I mean, I hate to rag on someone's appearance.
But
John C Dvorak: either way after the whole meeting was over, he
got this. I'm gonna play the end first, which is Biden yakking
away with the this is Biden literate. And he says this in
his speech, which I think is a great idea for a show title.
Literally woke up dead,
Unknown: by the way. And I'm Oh, I guess I shouldn't identify
where it occurred. But, John, I know two people near where I
live. Are kids literally strangers where they woke up
dead. Someone inserted in whether the young man did or not
inserted in. Turkey was taken fentanyl.
Adam Curry: Literally woke up dead. That's that. Ladies and
gentlemen. foam finger number one. Murca. That's your guy
right there. That's your go. Here
John C Dvorak: we go with the report. This is Biden China's SF
one today
Unknown: in San Francisco President Biden met face to face
with Chinese President Xi Jinping for the first time in a
year. The two leaders are announcing agreements on
military communication and a crackdown on the Chinese
chemicals used to make the lethal drug fentanyl. But as
Nick Schifrin reports from the summit site, the goal was less
about breakthroughs and more about stabilizing a troubled
relationship. President Biden
went today in a handshake in great honor. And a four hour
summit. The leaders of the world's largest economies, most
advanced militaries and most consequential competition said
they wanted their relationship to be stable. It is paramount
that you and I understand each other clearly leader to leader
with no misconceptions or miscommunication. We have to
ensure their competition does not veer into conflict.
I'm still of the view that major country competition is not the
prevailing trend of current times and cannot solve the
problems facing China and the United States or the world at
large. The two sides are agreeing to what a senior US
official called a comprehensive set of military communications,
Secretary of Defense Lloyd Austin with his Chinese
counterpart, a job currently empty the top US Indo Pacific
military commander with his counterpart.
John C Dvorak: Do you hear what he said?
Adam Curry: Yes. pointed out.
John C Dvorak: He said Lloyd Austin was his counterpart. Yes.
Which is currently empty.
Adam Curry: Yes, he does not have account what
John C Dvorak: does that mean? I'm going to be meeting with my
counterpart although there's nobody there. It's just an empty
room. There's, I guess the desk I'll be talking to myself. I got
a hand puppet. What is he taught? What is this mean? He's
taught he's with his counterpart and there is no counterpart
Adam Curry: so they're talking to a deputy The I guess nobody
John C Dvorak: says anything about No, no, he was talking to
nobody. Well, that
Adam Curry: that sounds about right for his position. I guess
the point is that they agree that we'll call each other
before we send up a balloon.
John C Dvorak: Yeah, it was a big deal.
Adam Curry: And balloons, that's what they discussed. That was
all that.
John C Dvorak: Yeah, you're right. That's you summarize the
whole balloons. Here's part two, but
Unknown: US China divisions remain most notably over Taiwan.
Taipei confirmed for the first time this week the US was
helping Taiwan train to defend the island. Beijing considers
Taipei a breakaway province and is increased its military
intimidation. Today President Biden is warning China not to
interfere with Taiwan's January presidential election. Beijing
labels the front runner William Lai a separatist. But senior US
officials hope Beijing's aggression toward Taiwan could
be quote inhibited by internal problems. We are protests in
2021 in the offices of the real estate developer Evergrande
revealed deep dissatisfaction with the Chinese economy. Today,
more foreign direct investment is flowing out of the country
than coming in. It's a sign international investors are
concerned by Beijing's economic management targeting of Western
firms and their employees and rising labor costs, says lawyer
John Raimi, who specializes in international business a few
years
ago, everyone believed that to be competitive, you had to have
a presence in China. Today. I haven't had anyone come to me
honestly for three years asking to Could you help me make an
investment in China? That's
Adam Curry: actually a completely valid point. I mean,
here is the scary G the dictator as our president called him
later. Basically coming here saying, Hey, man, hey, man,
don't pull away bro. Let's pretend was y'all that Taiwan GQ
GQ, jaggy. I bought okay. But this he's coming hat in hand.
John C Dvorak: And yesterday, there was a lot of people that
interpreted this as had in hand there's absolutely no reason you
should have come at all know
Adam Curry: why Woody and he's met with every Jamocha already.
You already met Gavin Newsom
John C Dvorak: yet Oh, come on, Gavin.
Adam Curry: You had a Gavin date? I mean, come on. This is
like this is this is the big scary guy. Why don't we Why
didn't Biden why you dictator and punch him right in the face.
Because it's bull crap. It's bull crap. We need China to sell
us stuff and they need our dollars. That's it's it's a
system. Everybody knows this. Whoa. At least it cleaned up San
Francisco. Yeah.
John C Dvorak: It's alarming. Actually supplies go to part
three is a shorty. US
Unknown: officials believe that trend has helped lead to a
Chinese charm offensive ahead of the summit, including a recent
English language article in state run. Shinhwa featuring
Shenzhen pings decade old interest in quote, friendship
with America. She is expected to take that message to American
CEOs tonight. He will tell them China is still a good
investment.
Adam Curry: Bank. It's really amazing to me all the narrative
about China just falls apart. What is what is GE really afraid
of? Is he afraid of Putin?
John C Dvorak: I mean, no, he's not afraid, afraid of his own
people. Yes,
Adam Curry: yes, that's exactly like people.
John C Dvorak: This is a management nightmare. Now the
Chinese have been adept at it just homeless historically,
they're really talented at managing hordes of people, which
makes them somewhat dangerous, but it makes them very dangerous
in industrial settings, because they like Foxconn, they can
manage, you know, 100,000 people on an assembly line kind of or
not, I'll make an Apple phones. So here's the last clip in this
group.
Unknown: Finally, like we know that Xi Jinping arrival was met
with a number of protests in and around San Francisco. Do we know
if the Chinese leader saw any of those?
It's a good question. I'm not I don't know if he saw them
personally. But Chinese diplomats took pains, according
to US officials before the arrival to make sure that they
asked you official US officials exactly what Xi Jinping would
see looking out of his windows going to each of these events.
And as an aside, our bus actually had to go around
protests outside this summit site, which is completely locked
down. There is of course inordinate focus in the Chinese
system on the leader on Xi Jinping. But she especially has
consolidated control US officials believe that he really
is making his own judgment. And that makes this kind of high
level diplomacy today, this kind of Summit, all the more
important and all the more reminiscent, frankly, of early
Cold War diplomacy between the United States and the Soviet
Union.
John C Dvorak: He changed the subject right. And ended
question about this. She she sees anything and he goes on
about Oh, he's a dictator.
Adam Curry: All right, I've a report here from CBS, which is
always fun because a CBS Morning you know, when we get Gale, you
know, it's going to be high level. And they brought in Mark
Esper. Wasn't he our defense secretary at one point? Yes. He
John C Dvorak: was one of the Yeah, I think you
Unknown: just spoke yesterday, just outside San Francisco,
President Biden sat down with China's Zhi Jing ping for their
first face to face meeting. In a year's time the two leaders
pledged to ease tensions between the two countries and President
Biden says they made important progress with agreements to
combat the Fentanyl crisis and also reestablish communication
between the two countries armed forces. That's a biggie Joining
us now is former Secretary of Defense Mark Esper who served in
the Trump administration. Mr. Secretary, thank you very much
for being here. Former paratrooper for West Point grad.
Oh, given his Hunter iFIX. There, in addition to being
Secretary of Defense, you know, this stuff I was say so he knows
his stuff. He knows.
Adam Curry: He knows. He knows. Yeah.
John C Dvorak: This is CBS having to give the guy some Bona
feeties because they mentioned Trump.
Adam Curry: Yeah, he knows his stuff. Yeah, he was with Trump.
But he knows Trump. And
John C Dvorak: besides that, he was also this, this, this and
this and this and this. He knows his stuff. Good. Don't get
should ignore it. Yes. Yeah, we'll rewind it
Unknown: so we can hear that forces. That's a biggie. Joining
us now is former Secretary of Defense Mark Esper who served in
the Trump administration. Mr. Secretary, thank you very much
for being here. Former paratrooper for West Point grad,
in addition to being Secretary of Defense, you know this. So he
knows his stuff.
Adam Curry: You know, you're even though you're Trump, you
know, your stuff.
Unknown: What takeaways from this meeting? And how damaging
if you can put it in context? Was this dictator comment that
President Biden said off the cuff near the end of things?
Well, look, I think overall, it's good that they're meeting
the rules to look to biggest most powerful countries meeting
is a good thing that we talk, right. one
Adam Curry: guy's worse than the other guy's brain dead. Wow,
what a top meeting that was. And
Unknown: the two agreements that they're touting coming out of it
is an agreement to have the military's talk frequently,
which is important that when I was secretary defense, I tried
to meet with my counterpart, at least every three months to
talk, keep communication open, build a rapport, if you will, so
that when times got tough, you could open up that line and talk
Hey, man,
Adam Curry: we got to balloon your balloon. Hey, man, I'm just
calling to check on the balloon things.
Unknown: The other one is the fentanyl agreement, which, right
because fentanyl is killing 100,000 Americans a year the
shipping made that same agreement to President Obama and
he sent me that same agreement to President Trump. Yeah, right.
So I think right, right, President made two things. Two
statements are important one he did, truthfully, candidly say
that Xi Jinping is a dictator, which he is right, controls. The
secondly, he says we're basically not going to trust
them. We got to verify what they do, because China rarely keeps a
promise. Keeps a commitment. You think that
they're hot on the progress?
Adam Curry: slanty eyed liars?
Unknown: No, because China needs us right now more than we need
them. Why? Because their economy is in the pits right now. US
investment we
Adam Curry: don't know is that he's no. He said, This is what
are you drinking?
John C Dvorak: I heard you we had some people send us some new
stuff. But just I'm finishing off the polar another finishing
up the polar. Okay. All right. We
Unknown: are in Chinese sorry. Because their economy is in the
pits, right? They need us investment. They need us
consumer sales, they would purchase. Yeah, they do forth
and so on. They have a crisis. And that represents 25% of their
GDP. They got some social unrest going on. China is not in a good
state of affairs. And Jason ping is rightfully concerned, I think
they
Adam Curry: all got together just to say how are we going to
manage this crash that is coming when the entire system collapses
upon itself? We're going to blame you a little bit and you
can blame us a little bit. And you know, I'll call you a
dictator. You call me a douche, or whatever. I don't think there
was anything else I did discuss. And he said, and by the way, I'm
gonna get going now I'm gonna call you a dictator.
Unknown: But we are a Chinese officials reacting to the
dictator comments saying it's extremely wrong. And you're
responsible for sort of, I don't want to say negate the goodwill
that we made yesterday,
but doesn't that put a little bit of tainted shirts a little
bit? Sure. He does. That's right. But we'll Clean up on
aisle six today from the White House. President Biden has been
more candid that I think most people would would prefer and
his administration, right, he said a couple years ago on four
separate occasions that the United States would come to
Taiwan's defense, and that's important as well, I think that
is an issue that we haven't heard much about, right is
Taiwan, right? Why is that significant? That is clearly a
flashpoint where we can see the United States and China get in
some type of conflict. And importantly, Taiwan has
important elections coming up in two months in January, and
they're just going to be a change in power. And China's
very is watching this very closely.
Adam Curry: Yeah, okay. It's a script. It's a script and they
all had hookers and blow and blow off some fireworks. This
was staged bull crowd.
John C Dvorak: Oh, We had a lot of
Adam Curry: this stage bullcrap. They did bring up Trump with the
Esper briefly. Mr. Secretary, you seem to have survived the
Trump administration. There are no most.
John C Dvorak: Wow, did you get a God out alive? He
Unknown: does for Secretary, you seem to have survived the Trump
administration. There are no mug shots of us that I've seen on
you. For Christmas, coming for Christmas. Are you concerned
about him possibly getting back into the White House?
Absolutely. I've said on several occasions, he's a threat to
democracy know what we've seen come out.
Adam Curry: He's a threat to democracy. He's a threat to
democracy from
Unknown: him the last few months, and certainly the last
couple of weeks is it's going to be about retribution. It's going
about using about weaponizing. The institutions of government.
This
John C Dvorak: is a script
Adam Curry: and of course it is Why else do you think he's on?
Wait a minute, this is this is yet another example of Trump's
poor judgment in hiring. This guy's a douchebag. Well, he's an
insider. He's a spook. Remember, he's on CIA broadcast systems in
the morning. It's casual. It's Cavalier. They miss really. Big
news was a Trump guy was a man who was Trump guy, but he's,
he's the real deal. He's bad at him. I'm a good guy. But you
know, Trump is danger to democracy from him
Unknown: the last few months and certainly the last couple of
weeks is it's going to be about retribution. It's going about
using about weaponizing the institutions of our government
to to go after his political enemies and I
Adam Curry: really unlike what's happening to him, okay. troubles
me. It
Unknown: concerns me. What this mean troubles me
Adam Curry: concerns me that, you know, the President might go
after his his, his political opponents, it concerns me but
no, let's let's go after it
Unknown: troubles me. It concerns me what this may mean
for our great Republic, great Republic and our country. Mark,
we appreciate you joining us. Thank you for
John C Dvorak: joining me for a great Republic.
Adam Curry: Well, you know, you know who else is back on the
scene with the Trump hate with their rerunning scripts all over
the place? Called bear? Had Barbra Streisand on the show?
Oh, is
John C Dvorak: she going to leave the country again? I liked
by I liked Biden. I think he's done a good job. I think he's
compassionate.
Unknown: He's smart.
He supports the right things. How do you feel about the
specter of a second Trump administration?
I will move. I can't live in this country. If that's his he
became president.
Where would you go? Where would you go? To England? Yeah,
Adam Curry: go. I like England. England will welcome you with
open arms.
John C Dvorak: How many times has she said this over the
years? She was gonna do it with George Bush. If George W. Bush
had gotten reelected, she was gonna leave the country.
Adam Curry: Yeah, now it's just all what
John C Dvorak: is what is it? Well, I mean, you don't bring a
guest on to do this. But you could say, Well, you said this
before.
Adam Curry: No, he's not going to do that. Now. He went
straight into how about anti semitism? connect that to Trump?
Yeah,
John C Dvorak: you want to make a push? Even though Trump's
daughter is uh, yeah,
Adam Curry: that you know, what's, what's interesting. I've
received a lot of different emails and correctly so about
fentanyl since that was on the on the docket with GE to talk
about fentanyl. And the main thing that people are pointing
out to me is that it is a farce that you can overdose from
touching fentanyl from handling fentanyl. From casually inhaling
some fentanyl that's dusted around you, um, that this is
this is a you know, so kind of following on with the you know
how dangerous it is and it's going to you know,
John C Dvorak: that was almost that car that got confiscated,
and then sold on auction.
Adam Curry: Well, there's a couple of things going on. There
was a case in this. I have a clip here as a Florida cop,
female cop. They stopped somebody who I guess had
fentanyl or was on fentanyl. And then all of a sudden she ODS on
fentanyl. But it wasn't an OD on fentanyl. And they brought into
doctors to say no, no, this this is she just had a panic attack.
They revived her with Narcan from the panic attack. But they
are very specific to point out that this whole idea of just a
one whiff or one touch I'm not trying to say fentanyl is great,
obviously. But we have to be realistic because we need the
truth. This is
Unknown: really a sensitive topic that no one including the
medical community is trying to discount the danger our law
enforcement officers face every day. I took this situation to
two of the world's most renowned experts on fentanyl. These
doctors literally wrote the studies about this drug and its
effects. They insist even after watching this video. It was In
overdose,
there's just no practical way in an outdoor environment. That
could happen. Dr.
Lewis Nelson of Rutgers medical school co published a prominent
study saying passive fentanyl exposure is nearly impossible,
meaning you simply can't overdose by coming in contact
with it. He says a small dose away from his sleeve or inhaled
wouldn't cause an overdose.
You've seen TV where they put out a line with a huge, you
gotta have a good amount to get in your body. It's not the not
going to get a little powder on your hand and put in your nose.
You're not going to get sick from that. Toxicology
experts use the body camera video released by the various
police department to support their analysis. While medical
emergency is indeed happening. They say it's not consistent
with that of an overdose officer benek spoke with Fox 35
Believing the Narcan is was saved her life
Narcan only works to reverse
Adam Curry: opiate overdoses.
Unknown: It does not work to get you out of an anxiety attack.
While both doctors say it was a good idea to use Narcan while
assessing the situation they don't believe is what brought
her back. Most doctors believe officer Banik was having a
reaction to what happened. I just don't think it was an
overdose. Because it
seems so real. And I think these are all legitimate concerns. I
don't think anybody's trying to pull a fast one here. I think
these people really believe they're exposed because this
what they've been told, happens, doctors, hopefully
this can be a teaching moment for many including law
enforcement about fentanyl. They want people to know it's safe to
passively come in contact with fentanyl and jump in to help
someone who is overdosing.
John C Dvorak: Yeah, yeah. Now I should bring this up. Although I
haven't done my research on it. It makes nothing but sense it
this is the power of suggestion. Yes. Yes. And as these people
have been hypnotized. Well, it's important
Adam Curry: because we're being psyops at this very moment that
terrorists are going to drop fentanyl in America was going to
kill hundreds of 1000s of people in cities, you know, it's not
necessarily true. So it's, it's a fear tactic that may have just
doesn't have a basis in science, science.
John C Dvorak: Speeches, I don't want to change topics because I
want to go back to what you're doing. But I want to play two
clips which are which are kind of related to this idea of this,
of this power of suggestion. Okay. And once as well as the
second clip is the one that said, really gets my attention.
But this is about the loneliness we talked about. Yes.
Adam Curry: Yes. The loneliness I have. I have thoughts about
this. And we're at limit what's the what's the name of your
report here.
John C Dvorak: These are Yale is judiciary has to do with this.
This suicide in Yale. And
Adam Curry: groovy, it's, I see
Unknown: elitist voices of America. This is NPR where PBS
higher education is facing a student mental health crisis.
That's the focus tonight of our series rethinking college and
are reporting on early warnings America's youth mental health
crisis. We start with Yale University, which earlier this
year settled a lawsuit following the death of a student by
suicide in 2021. According to the agreement, the university
will now allow students more flexibility to take lighter
course loads and to keep their health care while on medical
leave. Yale agreed to the policy after a group of alumni and
students sued the school, arguing the policies
discriminated against students with mental health issues.
Willow Sylvester is a Yale graduate who was part of that
lawsuit, she explained what things were like before the
settlement. When I
started at Yale, I just stopped seeing my therapist and I felt
super isolated. Fast forward to my senior year I was a first
year counselor, I was working directly with first year
students and almost every single one reported the same feelings
of feeling isolated on campus. Mental Health Justice at Yale
was founded in the immediate aftermath of Rachel
Scarborough's and bombs passing by suicide. She was a first year
student, the resources that she lacked and the policies that
made her feel like she didn't have the help that she needed
were very, very clear, she had spoken publicly about feeling
this need to move down to a part time course load. And if she
could just move down to part time courses, she would be able
to get on top of her mental health, but that that was not an
option to you. Another thing which was also related to why
Rachel wanted to go part time is maintaining access to health
insurance when you're on leave or withdrawal. If she had gone
home and taken a leave for her mental health, she would lose
access to her your health resources and also her your
mental health resources while she was home that she needed
those. Both of those as a result of the settlement are now
something that students can do so students on leave maintain
access to their health insurance, and students can go
down to a part time Courseload we absolutely should not have
had to lose a life To get these changes, rolling mental
Adam Curry: health resources is the best name for
antidepressants I've ever heard. Mental health resources, she
would lose her access to mental health resources. And therefore
she passed by suicide. Oh my god. We don't we're not. We're
not. We're not speaking that depart. The
John C Dvorak: second clip here is the one that kind of reminds
me of the
Adam Curry: Yale gives students health insurance. How does this
work?
John C Dvorak: I don't know how when I at the University of
California, when you're a student, you have a free you
have free. It's like socialized medicine. Yeah.
Adam Curry: Oh, yeah. So that's right. So you can get your
Adderall for your test. You
John C Dvorak: go to, to call it hospital and you'd make an
appointment, you go see doctors, and they, you know, if you have
whatever, you need to have a dentist there, too. I had a
tooth filled there once. Anyway, so let's so I don't know what
what the deal is. So part two is the part that interests me and
so far is what we talked about. So
Unknown: what more can universities and colleges do to
address the academic pressure? The loneliness that students are
feeling? Is this a structural thing that colleges have to
address? There's definitely
struck referral points to it. So we talk about how has mental
health included in everything that we're working on in college
campuses, right. So right things like leave policies, if
someone's really struggling? How do we make sure that when they
leave, they feel comfortable asking for help, that they feel
comfortable coming back on campus, that they're able to do
that? That's really important. There's mental health and
everything that we're doing, but it's also how do students feel
comfortable talking to faculty to begin with, to know that
those faculty feel comfortable even talking to those students,
because I see faculty when they don't, they haven't had training
in mental health. They're not psychiatrist. And they're often
the first people that come to students, and they're supposed
to support them through their mental health experiences as
coaches as faculty members, as administrators, and they need
the support to be able to do that, too. So how do we make it
easier for faculty to talk to students, for students to feel
comfortable talking to faculty, for them to notice stuff, so
they get seen earlier, so then they come to me, and they can
talk to each other? Earlier, too.
We've heard how students say they want more transparency,
school administrators, obviously have to abide by health, privacy
and confidentiality laws, there might be concerns about
reputational damage to the colleges and universities. Some
administrators have a concern that the more they talk about
suicide, that that might, in some ways encourage or might
lead to more deaths by suicide. How should university and
college leaders, how often should they talk about this? And
how should they talk about it?
So there's no evidence that the more we talk about things, and
the more we ask about things, the worse it is. So as a
psychiatrist, we're encouraged to always ask our patients about
suicide, it doesn't mean that we're going to make patients
then think about it. We don't implant those ideas. In fact, we
support people by asking about those things.
Adam Curry: Well, she pulled the divorce rack right there with
the no evidence that was fishy. So it
John C Dvorak: goes like this. So have you ever thought about
suicide? No, but not as you mentioned. It's bull crap. This
is the power of suggestion. It's
Adam Curry: a mental health experience. It's just what she
said, Well, this fold, okay, this is very important. And we
do have a mental health crisis in the United States is because
of the advertisement and of SSRIs of antidepressants. I know
a lot of you are on them. I'm not condemning you in any way.
But I got an interesting note from one of our producers, and
that's in regards to ozempic will go V death bound and and
all the others and it relates to this. We have heard many times
that people who are on antidepressants I'm just gonna
say SSRIs but I think it's all under the same basic family that
these make you gain weight. And I always thought that it that
these anti because you know the antidepressants supposedly also
make your you lose libido, which is great because then we can
prescribe Ed drugs, even for women though, and for women, I
think it's especially they lose their libido but the weight
gain, I never really realized what it was and one of our
producers wrote in and said, yeah, yes, we have a an obesity
epidemic, but it's not just sugar addiction. And listen to
this. Because this comes back to our topic foods noise. I thought
food noise was just people who are addicted to sugar. No, no,
this comes from the psychiatric medication or producer writes.
For the last five years I've been taking psychiatric
medication. Unfortunately, he didn't mention which one that
causes weight gain as a side effect. main point is, for me
the hunger is not related to sugar as Adam suggested, I don't
want a chocolate bar any more than I wanted chicken or a bowl
of rice, the best way I can describe the sensation is a sort
of anxiety relating to hunger. This is the food noise. If I'm
even even a little hungry, I get very tense and panicky and feel
a need to kill that sensation as quickly as possible. In term
that causes some fear that I don't even want to get a little
bit hungry. So I want to eat even more. So I'm not hungry in
between eating. okay with me on this, this is this is really
messed up. As another consequence, when I do eat, I
tend to overeat of that st for that same fear, I strongly want
to kill the hunger sensation. So I better eat two pieces of toast
rather than one and maybe a small bowl of cereal as well
just to be safe. And at mealtime, the drive to kill the
hunger sensation and avoid having it pop up in the future
causes me to eat larger portions as well. As I said, it doesn't
need to be anything sugary whatsoever. This particular
medications worked beautifully for my severe depression, and
has really changed my life for the better. I don't want to stop
taking but I also don't want to add another medication to offset
the food noise. So I had this wrong. This food noise is caused
by the antidepressant, which to me is a defective product. You
can call that say you can call that a side effect. I call it a
defective product. But now luckily, and now I'm
understanding the marketing of the food noise. Their marketing
will go V and ozempic to people who are already on
antidepressants. That's what's going on here. That's a big
market. And the problem is and the problem they're having is
the insurance companies don't want to jump on board yet. So
that's $1,000 a pop another producer writes in and he he's
in the field. It's he says it's about the rebates. Currently
employers are mostly not covering weight loss GLP one
drugs that's ozempic will go via etc. But they are forced to
cover the same drug for diabetes ozempic by creating the separate
branding, remember we have Monjack Manjaro, rebranding as a
zip bound, that we should have rebranded at Kilimanjaro, but
that's whatever, they will start to leverage rebates to force the
coverage. For the diabetes version of the drugs ozempic
Manjaro is at bound they will offer a nominal nominal rebate
to the insurance company say just $200. For example, because
the insurers are resistant to cover the weight loss version of
the drugs, they will start to leverage portfolio requirements
to say if you cover we'll go visit bound in addition to
ozempic Manjaro will increase your rebate to $400 for both
products. So this is this is a money game that they're playing.
And now and now they've added another dimension. And luckily
we have the study to show the study comes from the very
pharmaceutical company that makes the drug that this does
more than just help you with your weight gain thanks to SSRIs
and antidepressants. So let's
Unknown: get to this first one cardiovascular disease. What is
the studies showing? So two big headed medical headlines we're
following Robin the first one using the drugs semaglutide. In
a study funded by the drugmaker, we've known for some time that
that drug is cardioprotective reduces the risk of
cardiovascular events in people with diabetes. Take a look at
what this study did. They studied people without diabetes,
who have were known to have a diagnosis of cardiovascular
disease and who were already also diagnosed with overweight
or obesity, and found an associated 20% reduced risk of
fatal heart attack, non fatal heart attack and non fatal
stroke. So those are significant findings
about weight loss. Are there other theories involved?
And there are other theories? And that's what's really
interesting about this.
Adam Curry: Not just because you're fat and you're dying from
obesity No, there's it's interesting little things little
bit we've learned from the study from the people who make the
drug
Unknown: bread study, the more we're finding possible other
theories and data has shown in lab animals that semaglutide can
reduce inflammation, some mini med school here it can promote
what's called plaque stability in those arteries making the
plaque less likely to break off and close off that artery and
then it almost works like a blood thinner in some in lab
animals in terms of reducing platelet clumping so that when
you combine that with weight loss, significant cardio
protective effects can really have an impact.
Adam Curry: Wow, that's great and everybody had this story.
Everybody's on the
John C Dvorak: story everybody beggar here's
Adam Curry: the NBC they
Unknown: are the blockbuster drugs helping millions lose
weight. Now a new study finds evidence that drugs like govi
and ozempic may not just help people lose weight but could
also help their heart health. This house has the details. As
the weight loss drug revolution explodes nationwide. New
research shows the medications may not only help patients shed
pounds but also improve heart health. parto recent clinical
trial shows semaglutide The active ingredient in popular
weight loss drugs will go V and ozempic could reduce the risk of
heart attacks or strokes by 20%. So highly significant. Dr.
Michael Lind cough is the lead
Adam Curry: these these drops that NBC did is great, so highly
significant
Unknown: strokes by 20%. So highly significant. Dr. Michael
link off is the lead author of the trial which followed 17,000
obese adults 45 and older who had pre existing cardiovascular
disease but were not diabetic of the participants. 8% who
received a placebo had a heart attack or stroke compared to
6.5%. Who took will go V
Adam Curry: shown in in any so that's their 20%
John C Dvorak: the different Yeah, 20% is from eight to six,
and all
Adam Curry: the rest died from the COVID shot.
John C Dvorak: Oh, cool. Go V Yeah. Wait, wait, there's
Adam Curry: more. There's more, but I gotta stop it. Okay.
John C Dvorak: How does a survey like this even come into being?
This is a diabetic drug and then it became a weight loss drug,
but they've given it to just randos who have a heart attack.
I have an idea Bill, what can we do? That's given these random
this random crowd of people that have heart condition Rando
fatties?
Adam Curry: No, it was Rando fatty.
John C Dvorak: Give him this and see what happens. I mean, what
who's who's behind this idea? Why, what was the thesis behind
it? Because there's no evidence that that this drug had anything
to do at heart. This is mercury rigged.
Adam Curry: This is marketing. It was Norval notice Novo
Nordisk themselves who did the study? It's this is this is
marketing,
John C Dvorak: taking the same drug and trying it against
people that have a Zima or whatever it's called, are the
people with flatulence I mean, are they what are they testing
this stuff on?
Adam Curry: Or or COVID vaccination? I mean, by the way,
this sounds like the binary you know, solution like I you know,
you got blood clots, but maybe if you take this thing, you
know, you'll live a little longer, you know, the clot shot
won't get you. This is also cynical, it's drug upon drug
upon drug upon drug, and if it isn't the food noise. Yep. Then,
then it's, it's to stop you from dying. Well, let's continue up
until
Unknown: now, no one has shown in in any group of patients with
overweight and obesity that the risk of cardiovascular events
could be reduced.
The findings of the study funded by Novo Nordisk the maker of
will go V come as the FDA approves a new version of
diabetes drug Manjaro for weight loss called zet bound. New
research shows the active ingredient in that drug ters
appetite may help type two diabetes patients reduce
inflammation which may lower the risk of heart disease.
mundra changed my life. 30 year old listen to that,
Adam Curry: listen to that. They just dropped this as a
psychological operation and that just dropping non sequitur
Manjaro saved my life. Beatty's patients
Unknown: reduce inflammation, which may lower the risk of
heart disease, mundra changed my life. Wow. 30 year old Alexis
Mitchell has been taking Manjaro for just over a year now and
says she's lost 125 pounds,
I don't want to wait until I have a heart attack. I don't
want to wait until I have a stroke.
But despite the promise of these drugs, all the side effects are
not fully known. This is
not meant for the person who sort of wants to casually lose
510 pounds, you know, before a big event. We don't necessarily
think it's worth taking some of the risks, some of which are
known, some of which are unknown.
And these drugs aren't cheap as much as $1,300 a month most
healthcare plans don't cover them. But experts say these
findings could push insurance companies to do so.
Adam Curry: Okay. So this is really the point of, of this
marketing campaign. And the agency said Listen, guys, I
think our best shot of really getting a change here and the
insurance companies is probably to go to CBS. You know, because
CBS has Gail Gail knows Oprah OPRAH You know Wait watch Oprah
so we should probably have them do the story and that will
probably got some some earned earned marketing earned
advertising space that will show you know that will really move
the needle on the insurance company's covering this once you
get the rebates set up. So let's get Dr. Le pook from CBS to dot
okay. Okay, good. We got the by I'll call this I'll call the
station.
Unknown: New research on the popular weight loss drug we go V
could change the way doctors treat patients with heart
related problems. The study from Novo Nordisk the drug maker
behind what go V found it can reduce the risk of heart attack
stroke or heart related death by 20%. CBS News CHIEF MEDICAL
CORRESPONDENT Dr. John Liu joins us now you'll duck What's your
job? What's your job?
It's more than 17,000 people 41 countries I want emphasize that
these are people who were overweight or obese, a BMI of 27
or above, and they had some underlying heart related issue
almost 70% that had a heart attack. Now 20% decrease in
heart related issues like heart attack, stroke or death from
some heart related issue. It's interesting
Adam Curry: how they can measure 20% didn't have a heart attack,
all the rest had a heart attack. Seriously, maybe I'm hearing
that wrong. But it sounds like you know, we had all these
people had heart issues. And these people didn't have a heart
attack
Unknown: had some underlying heart related issue almost 70%
that had a heart attack. Now 20% decrease in heart related issues
like heart attack, stroke, or death from some heart related
issue. That's really important. So this is an important study, I
want to parse to point out that I didn't like the amount and I
think other people talked about that there wasn't enough
representation, who was mostly white males.
Adam Curry: Oh, it wasn't diverse. It wasn't diverse.
Okay, that's a disclaimer. Now let's get into it. Come on, Doc.
Okay, so
Unknown: there's a lot of people that hear
about these weight loss drugs, and they want to lose five,
seven, maybe 10 pounds? Do you recommend that they go in this
direction? No.
And I'm really glad that you mentioned that, okay, I have a
lot of pain because the agency wanted me to bring this up, do
internal medicine and gi I have a lot of patients who come to me
and say I want to lose that, you know, six or seven, eight
pounds. That's not the group of people who've been studied. We
don't know the long term side effects in those people or even
the effects of in those people. So I think we have to, you know,
if to say there is a shortage of this drug, and these kinds of
drugs, because I think a lot of you who are not, you know, in
the group that that have been recommended for that. I think
it's important to just fall.
Adam Curry: Yeah, yeah. Okay, well, good. Please, there's a
shortage. So getting getting early. Now. I mean, it works for
you if you want to lose six or seven pounds, but don't don't do
that. Don't Don't, don't do that.
Unknown: So these weight loss drugs are getting really
popular, and they're so effective. But are they too good
to be true? And then what happens when someone stops
taking the medicine, they might gain the weight back? And then
what happens to now their heart health if
they were part of that? Yeah.
So I love these questions, right? Because it's big picture
stuff. And
Adam Curry: because the agency, again, asked me to talk about
it, we have
Unknown: to look at the big picture if there really hasn't
been a good intervention for people to lose weight. And we
know that that it's important for people to lose weight for
all sorts of reasons. So this is a tool in our toolbox. But it's
not the only tool. I do have a diet. And we do have exercise.
And I don't know, important, but you know, it is something that
for the first time we have something that's effective, but
again, you have to use it judiciously.
Adam Curry: So what did he didn't answer the question? He
said, you could you could use diet or exercise, but it's a
tool. I mean, why use a screwdriver if you've got this
hammer, here's the hammer, here's the hammer and then
finally the
Unknown: money shot. So this is not only a study of will go V
but by will go V in the sense of the drug maker conducted the
research it should that make us extra skeptical? And do you
think insurance? You're gonna look at this and think, okay,
Adam Curry: ah, no, this is the insurance company question. Here
we go. This is
Unknown: not only a study of will go V, but by will go V in
the sense of the drug maker conducted the research, should
that make us extra skeptical, and you think insurance
companies are going to look at this and think, Okay, we'll
cover it now. That's a good question.
I think, Oh, I always looked at who funded this study, or who
ran the study. And I think you're right, it was the drug
company who funded it. And I think that is something that you
want to always look at. And so you want to look down and say,
Okay, let me look, I've got the study here. I've read it about
10 times. Anything that doesn't quite make no, yes.
Adam Curry: No, I did my own research. But
Unknown: what was the insurance get involved in covers this,
right? So right, right now I have diamond battles all the
time, with insurance companies not paying for this medication.
And this group of medications and people who absolutely should
be on it. Peter had a BMI over 30. They have diabetes, they
have heart disease, and they won't pay it. So I think this is
a big battle going on. What's interesting here is now they
can't say well, it's just cosmetic guys showing that it
actually decreases the risk of heart attack. There it is, or
there's optimism, the people who write
insurance companies, your move Dr. gentlefolk. Thank you very
much. Appreciate it.
Adam Curry: Literally the script said now tell them it's their
move. Is there a move? It's not
John C Dvorak: just cosmetic? That's pretty that's that is a
three pronged attack? Yes. Yes. Aimed at the insurance companies
on behalf of a drug company just got lots of money. And this is
the reason why drug money should not be mixing with media. And
with these, with these purchases of time, which is what that that
was a native ad as the others were Yes. And this should be
illegal is this we're the only country that allows this besides
the idiots in New Zealand and
Adam Curry: a no agenda producers. If you're on
antidepressants, and you're gaining weight. I love you. I
love you. I don't care how fat you are. I love you. Seriously,
don't don't it just doesn't sound like a good idea to add
this to the mix. It doesn't.
John C Dvorak: It doesn't change topics here. I Want to try the
new intelligence agency?
Adam Curry: I'd love you. I love you just the size you are. Okay,
that's important for me to say because I love I love our
producers. I don't care how big they are.
John C Dvorak: Were you gone big? So we have a new I didn't
know this, but we have an intelligence agency that is not
really listed in the big winners, 16 of them that was
supposed to have 17 Not sure I thought it was 23. Well,
whatever it is, this is another one. And it's kind of slipped by
everybody. And I want to see if you can pick it up in this
conversation with Mark Warner on Face The Nation last Sunday. And
he's talking about all the crap that's going on he now he's the
head of the Senate Intelligence Committee. So he's knows about
everything that's got anything Oh, he
Adam Curry: knows that. He knows everything. Yes, he knows
everything. You know, you know. So I
John C Dvorak: want to get to just the beginning of this here.
This is kind of the first clip that just kind of introduced
what they're chatting about is this kind of meaningless. But
here we go.
Unknown: I also think the President needs to push
President Xi on the continuing intellectual property theft,
that some years accounts for close to five Erich Gamma
dollars of intellectual property being stolen. And I firmly
believe, when we've seen no retreat from China in terms of
its level of technology investment, I absolutely believe
that national security in the 21st century is more than tanks
and guns. It is who wins the battle for artificial
intelligence and quantum computing and advanced energy,
that level of Chinese investment for example, on rare earth
minerals coming out of Africa is huge. And we need to be able to
counter that with America and with our friends.
John C Dvorak: Okay, so he doesn't know what he's doing.
Okay, so here we go a clip to an end an intelligence agency has
casually dropped in here, the new one and he never says
anything one way or the other about I have a third clip just
to back that up to show that after this, but they would
listen to see if you can figure out which and what who this is.
Unknown: So you want guardrails I imagined set up with China on
artificial intelligence and the like but
Adam Curry: guard rails you know, there's three things we
got to look at one is insane. Two is guardrails. And the third
is optic optic is everywhere now as well. Optic
Unknown: legislating around a lot of this is really hard. It's
not moving very quickly.
The market. I did the bill that was terribly bipartisan, 13 and
13, Democrats, Republicans about saying we need an approach
that's not simply focused on tick tock been on all foreign
technology that might pose a national security risk, right,
from right, China or Russia or Iran. Right. And suddenly, we
had the extremes on both the left and the right come out
against that legislation. It needs to move. Because
particularly now, as you see, literally 40% of young people
get all their news from tick tock. So I hope those kinds of
issues will be we can get some energy behind them now coming
after this summit. But this technology competition, we've
had military competitors like Russia, we've never had an
economy, it's making the investments the way China is in
these new technology domains.
So Microsoft this week came out with a report that said Russia,
Iran and China will interfere in the 2024 presidential race, not
not they were certainly about this and other close
presidential races worldwide. Oh,
Adam Curry: you mean the the guys who read everybody's
outlook and have access to what word documents you open and any
application you open mean, those guys?
John C Dvorak: Since when didn't Microsoft, oh, plan only become
an intelligence agency often, but do these reports about who's
going to interfere with the election?
Adam Curry: They've been doing that for a while. I mean, they
they know all of these all of these zero day exploits? It's
all windows. Windows is the spyware of for everybody.
John C Dvorak: I will I would think that Mark Warner would say
hey, wait a minute. They're not an intelligence agency that can
make these determinations. Yeah, they are. They're Microsoft, he
should say, Well, you you're saying that but that. So you're
saying it's official paper? They have government agency.
Adam Curry: If Bill Gates can be the doctor of vaccines, why
couldn't Microsoft be in charge of intelligence?
John C Dvorak: Well, I guess they are because here's what he
says after this. Right immediately after she makes his
accusation and Microsoft is telling us about the upcoming
elections. He's just been sloughs it off. Yeah, that
Microsoft is obviously one of our boys.
Unknown: Is your legislation and a stop something like that?
I think our legislation will take on an issue like a tick
tock, which is I am afraid could be used as a propaganda channel.
John C Dvorak: tick tock. He wasn't even talking about tick
tock
Adam Curry: now just just shut up about Microsoft ma'am. He's
got
John C Dvorak: the and by the way, he made the assertion that
40% of America's youths use huge, huge, huge have get their
news from tick tock. I, I go on tic tac as much as anybody for
certain to get my clips. I've never seen a news report on tick
tock have you?
Adam Curry: Well, now now you're just being a fuddy duddy because
No, of course, there's no news reports. What they get is that
the all those chicks talking about talking about the letter
from Osama, that's news to them. That's news. News is a fight
between Ben Shapiro and Candace Owens. That's news. There's no
news reports. That's old school. They also, if I told you about
the restaurant in Amsterdam, they don't go to Yelp anymore to
get restaurant reviews. Now they go on Tik Tok, and they say
Where can I get great, great stroke voxels in Amsterdam, and
then they'll just look at videos and then they'll go make a video
because they were there were all the videos were made. It's a
plague. And and and the reason Warner was the guy who wrote the
legislation, because Google at all are flipping out, they know
they're losing market share. That's the only reason I
remained my stance remains firm. That No,
John C Dvorak: I'm not going to identify the stance I can argue
against. I can argue against a few things you do. But it's not
that. It's obviously Google and Google properties. big supporter
of Mark Warner big
Adam Curry: time all those guys are they hate it. Well, they all
of them. And
John C Dvorak: that's why the whole mention of Microsoft in
this report, as an intelligence agency telling us about the
upcoming elections. It just went right off his back like like
water off a duck. Because it was like, Yeah, this was Yeah, yeah,
Microsoft knows this is a setup. This is bad. By the way.
Microsoft should not no, no.
Adam Curry: Have you ever installed Windows and read what
it says? Hey, we're gonna track this. We're going to track that
we're gonna check this don't worry about it's all going to
just nonnamous Don't worry about it's all good. But Apple, you
start up an app on Apple poop up that little ping the apple HQ.
All of that is compromised. And this is all a setup to some AI
bullcrap stories and AI Oh, oh AI is so dangerous. And
obviously the algos which is AI used by tick tock need to be we
need to get in there right away because it's not doing the right
thing. We don't have control over it. Or maybe someone has
control over it that we don't like. And so we need to regulate
everything. And Nikki Haley is right on point. I'm sure you've
seen the clip, she's and this is going to happen. Because the big
AI guy in America here is Elon Musk, and he's already on this
path. This is literally his talking points. Nikki Haley is
in the bag.
Unknown: When I get into office. The first thing we have to do
social media accounts, social media companies, they have to
show America their algorithms. Let us see why they're pushing
what they're pushing. The second thing is every person on social
media should be verified by their name. That's first of all,
it's a national security threat. When you do that, all of a
sudden, people have to stand by what they say. And it gets rid
of the Russian bots, the Iranian bots and the Chinese bots. And
then you're gonna get some civility when people know their
name is next to what they say countable and they know their
pastor and their family members going to see it. It's going to
help our kids and it's going to help our country.
Adam Curry: Oh no, not my waster.
John C Dvorak: What do you mean the names are going to have to
be verified so nama Raja Raha WA, which is Nikki Haley's real
named is going to have to switch her name to something realistic
instead? The phony baloney Nikki Haley?
Adam Curry: Yes, yes, of course. It'd
John C Dvorak: be not. Or Nimrod, Nimrod Murata, Rand
Hawa.
Adam Curry: Yes. Yeah. And,
John C Dvorak: but everyone else gonna maybe it's okay for her to
go with Nikki Haley. Okay. I'm,
Adam Curry: first of all, I'm a proponent of this. I agree
wholeheartedly. Let's destroy it all. Everybody has to register
and be verified for all platforms. I'm all in. That's
great. And I'll just sit there with my little blog, and my
little RSS feed, and I can be anonymous. And I can call myself
Nikki Haley if I want to. I'm all in all platforms should be
registered and you should be part of the system and the
Gulag. Totally. She's on the right path. Go Nikki. What's
your name? Nimrod. Nimrod, Nimrod? Yes, Elon is going to do
this because it'll be connected to your bank account. This is
what they this is what they want. And I'm I'm all for it. Go
please. This is how we destroy the internet. The open free
internet if registered for you to go to register for Google, if
you want to use that stuff, then you deserve to be tracked and
punished when you go when you go astray. Meanwhile, I'll sit here
with my little Linux at my little, my little start nine
server, and I'll just be happy as a clam. My podcasts on that's
where IPFS and yo yo like it.
John C Dvorak: Hi, I'm Adam curry. I have a podcast.
Adam Curry: Yes, it's the only thing left that that still is
has not been compromised. They even got Spotify to try it and
they couldn't do it. Couldn't do it. Couldn't do it. So always
John C Dvorak: doable it's not the network's licensing the FCC
is going to take care of it Good luck. Good luck good luck in
predicting this for years
Adam Curry: it's not its own the only people that golden age
John C Dvorak: right now people who can a golden age the only
port no agenda is the Golden Age The
Adam Curry: only people who can issue podcast licenses is your
no agenda show no one else has the right but us well
John C Dvorak: I think the no agenda Show podcast license
would be which is one way of going and we should also have an
award show
Adam Curry: the award shows are great because everyone has to
pay to enter that's my favorite part of the
John C Dvorak: award shows you're gonna say the first two
years is going to be free
Adam Curry: though with all of them are now for pay. I'm gonna
say oh it's really
John C Dvorak: that's how you do it house you spec to do these
things.
Adam Curry: I mean, do people pay to enter the Oscars? Is
there an entrance fee?
John C Dvorak: No that that but that's picked up by the by the
you have to be immense duty.
Adam Curry: Oh, yeah, man. Oh, membership. Well, there you go.
It's
John C Dvorak: the same with the Emmys. You have to be a member.
All right.
Adam Curry: Let's switch gears for a second because there's
more propaganda. And the reason is obvious. The propaganda is
cop 29. I
John C Dvorak: have a couple of climate Blips. Because I knew
you were going to do this. I'll kick
Adam Curry: it off with the new study from the Lancet. This is
important.
John C Dvorak: Because whenever you wait, wait, stop. The Lancet
is a medical journal. Yes, sir.
Adam Curry: The Lancet is a medical journal and is very
concerned about your climate health. According
Unknown: to a report by over 100 Researchers from international
institutions, heat related deaths could increase 4.7 fold
by the middle of this century.
John C Dvorak: Right? Did she say 100? Racist? Yes 100 racist
related deaths 100
Adam Curry: racist with hate related deaths.
Unknown: According to a report by over 100 Researchers from
international institutions, heat related deaths could increase
4.7 fold by the middle of this century without global action on
climate change, heat
related mortality of adults over 65 years of age, a very
vulnerable age groups have increased by 85% Since the 90s
alone, and we now know that more than half of that increase
wouldn't have occurred if temperatures hadn't increased.
So we know that it's climate change coffee with the 2023
report of the lancet countdown on health and climate change was
published on Wednesday and outlines the imperative need for
a health centered response in a world facing irreversible harms.
That in 2023, the world saw its highest global temperatures in
over 100,000 years, and extreme droughts are growing,
jeopardizing water security, sanitation and food production.
One of the solutions posed by this researcher is to consider
how infrastructure and economies plan for rising temperatures.
For example, the existence of terraces, green roofs, these
work for Blue Zones, parks with fountains and climatic shelters
work, therefore, things that are known to work at the local level
should be applied. First,
he says the goal is to drastically reduce greenhouse
gas emissions. According to the report, 1337 tonnes of carbon
dioxide is still emitted every second the consequences of which
could be dire on our health systems. Now
Adam Curry: before you hit us with your clips, by the way,
that 100,000 years, there's even more coming up later. In
America. We have to you know, this doesn't work for us. Like
really? I'm gonna die from the heat. I live in Texas, you know,
what are you trying to do to me like, I'm not going to die from
heat related death. Here's how we do it in America and ABC some
Unknown: Christmas tree farms are being forced to close in
multiple states due to a shortage this year. A Christmas
tree farm outside New Orleans says it suffered extensive
damage due to the drought and heat this year. And in New York
one farm says a major shipment of Fraser trees was cancelled
due to the shortage forcing the farm to close for the season.
Oh,
we didn't want to open just partial, and have people come in
and be disappointed. We felt the right decision was to close the
form this year. But the field gets a little bit bigger. Give
us time to source some trees for next year.
Another factor in the tree shortage the historic wildfires
in Canada this year.
Adam Curry: Climate change baby it's always Oh, your Christmas
tree. Oh, oh no honey to emit less co2. I'm a horrible person.
My favorite is what they're doing with Iceland. Iceland.
Iceland is great. Iceland is I mean, it is one hotbed of
volcanic and seismic activity always has been, always has been
always has been. So it's a little worse this year. So we
have a perpetual drone shot of a highway that's cracking up. I
wonder what this could be from what could this be from
Unknown: Iceland hits once again by a series of earthquakes. The
tremors have sparked fears of a volcanic eruption in the
Reykjanes Peninsula in the southwest of the island.
Authorities have declared a state of emergency. According to
the Icelandic Met Office, the IMO, an eruption could take
place in several days. According to the IMO, some 24,000. tremors
have been registered on the peninsula since late October, as
well as three eruptions since 2021. Eruptions which experts
say could become larger and increasingly common as climate
change melts place. The current deglaciation that's occurring
and
Adam Curry: it's because of the D glaciation. Listen up Climate
Change
Unknown: melt glaciers with the current deglaciation.
Adam Curry: Everybody knows volcanoes are caused by melting
glaciers climate change, melt glaciers,
Unknown: with the current deglaciation that's occurring in
Iceland is affecting our ELL volcanoes and magma bodies that
are residing these volcanoes, the future would mean even
frequent or large eruptions. Iceland has around size, the
highest number in Europe, and unpredictable environments for
its residence into a 2010 an eruption in the south of the
island led to the cancellation of 10s of 1000s of flights,
leaving some 10 million people stranded.
John C Dvorak: All climate yet debt.
Adam Curry: That was a second. I think that was France 24
John C Dvorak: Does it sound like France? 24 I
Adam Curry: hadn't written down France 24 That's on the clip.
But that's
John C Dvorak: gross, but PBS why PBS basically lying to scare
people? This is disgusting. There's that real debt clip just
irks me. I know. Here's PBS a
Unknown: UN's weather agency warned today that greenhouse
gases in the atmosphere reached a record high in 2022. With no
end in sight. New data showed average concentrations of carbon
dioxide were 50% above pre industrial levels for the first
time. methane and nitrous oxide were also higher, raising the
odds of more extreme weather events
practically seen an increase of heat waves waves about half of
the planet has been facing an increased flooding events and
flooding 1/3 of the planet has been facing an increase of
drought events and this negative trend will continue until
2002 60s. Yes,
John C Dvorak: it's all scaled up to the big can't wait wait
wait play this clip climate worse co2. Is this the same
clip?
Unknown: Let me say the UN's weather agency warned today that
John C Dvorak: you got it from PBS. Yes, that's PBS you
shouldn't be there.
Adam Curry: There shouldn't be there. You shouldn't be there. I
can be at PBS all I want. I don't go to NTD believe me.
That's you're
John C Dvorak: at the kind of the adjunct to that clip is the
methane report, which is I don't know why they have to do this.
Yes. You can't do anything about methane. I mean, it's not like
you know, it's his cow farts. Meanwhile,
Unknown: European Union negotiators agreed today on a
deal to lower methane emissions. The bloc's energy sector would
have to monitor report and take action on cutting emissions. The
deal still needs approval by the European Parliament and
executive council.
Adam Curry: Yeah, but that means getting rid of more cows. Come
on. CBS CBS is in on the game.
Unknown: A new report released by the White House today shows
that every corner of the country is being impacted by climate
change. Recording
Adam Curry: every corner of record.
John C Dvorak: Are you finding the Fredericksburg, Texas to be
impacted by climate change? No,
Adam Curry: because we're not a corner. We're in
John C Dvorak: kind of a corner. San Francisco Bay area but I'm
not seeing it. Yeah, all I'm saying is lousy weather reports
that are inaccurate. You
Adam Curry: know if those if those if the IPCC and the cop 29
people, if they only if they were smart, they'd be inviting
us on the junket. There's
John C Dvorak: a problem when you're when you're not
corruptible. You get on a list I'm corruptible, give me, you
say you're corruptible. But the problem is you're on the list.
And nobody checks like, you know, these black lists we have
for the website and other things you can't get you got to go find
what the list is where you're on that list, and they're not going
to give you the free money.
Adam Curry: Oh, that's lame. I see. You too bad. So bad for
you. CBS got on the Guardian on this deal. By
Unknown: the White House today shows that every corner of the
country is being impacted by climate change. That's just one
of the findings in a new national climate assessment. The
first one in five years. CBS has been Tracy reports on the dire
warnings in our continuing series on the planet.
stronger storms, devastating drought, heat waves and
wildfires. Yeah, the new National Climate Assessment says
the effects of climate change in the US are now far reaching and
worsening.
It's affecting Americans right now no matter where they live.
Climate scientists
Kate Marvell worked on the assessment. Are we running out
of time to avoid the worst impacts of climate change?
We are the last generation that is really going to be able to
make a meaningful difference in the in the
US there is now a billion dollar weather disaster on average
every three weeks every year to three per year in the 1980's,
costing $150 billion dollars. The report says us greenhouse
gas emissions mainly from the burning of fossil fuels are
falling, but not quickly enough. Yet wind and solar power are
John C Dvorak: yes, if they're falling, they're not going to
co2 numbers all of a sudden to highest in history, and going up
and not seeming to stop at all just not enough. So in other
words, fossil fuels got nothing to do with the co2. Is that what
he's saying? Because that's contradicting what we just
heard. It's not enough.
Adam Curry: All you need to hear is it's not enough you're not
doing enough. You need carbon credits to offset your being
Unknown: burned says us greenhouse gas emissions mainly
from the burning of fossil fuels are falling, but not quickly
enough. Yet wind and solar power are rapidly expanding now
cheaper than burning coal.
Very much in human hands. And our choices are really going to
determine how hot it's gonna get in the future.
Now scientists say we just live through the hottest 12 months
and at least 125,000 years. That should give us a sense of
urgency about cutting our planet warming emissions,
John C Dvorak: and we want to get the extra 25,000 years it's
the White House
Adam Curry: and the White House is better is better than the
IPCC and they
John C Dvorak: said she she said 100,000 25,000 eyes are better.
We have any documentation for the temperatures 50,000 years
ago.
Adam Curry: Look at this chart. Look at this graph. It's to the
right and up what's a hockey stick? What is wrong with you?
What is you know, it's lucky on a podcast because we D platform
you if you were posting any of this nonsense on x the funniest
thing that happened this is really the funniest. So Greta
Thun Bay, relative Mary who, amazingly still looks 15 Even
though she's I think she's legal to drink. I
John C Dvorak: think she's like 23 She's up there.
Adam Curry: Look it up. Now she's probably 20 She's an
Amsterdam. And and so this is a climate rally. And she starts
talking about Palestine. Which is odd. No cheese, because you
know, she's a for hire money.
John C Dvorak: She's 20
Adam Curry: She's a protester for hire.
John C Dvorak: So she, by the way, is going to be forever a
kid because she's 411
Adam Curry: Really? Yep. Troll. So she's at this climate rally.
John C Dvorak: And we'll tell her then Yellin
Adam Curry: You never see him in the same picture. Do you see
that the climate rally in Amsterdam, um, she's spouting
off about Palestine. And then some dude comes up and says,
Hey, I'm here for climate protest, not for your political
crap. And then and then a whole bunch of kids and kids he is bum
rush the guy you know he grabs the mic. He grabs the mic from
Greta. She grabs it back she's like calm down. And then she
goes into the slogan which is just baffling. I will narrate
your listening the people in power have not been listening
for demonstration of political
grabs the mic
wait for the new slogan. The crowd starts the slogan and
Greta joins.
No climate justice on occupied land. Explain to me what that
means.
John C Dvorak: No climate justice on occupied lands. I
have Debt Debt is a battler and their chances, but they're all
chanting so it must have some meaning to them. Well,
Adam Curry: so you can't have climate justice and it's the
plural, singular on occupied lands. So they're talking about
Palestine. No climate. No.
John C Dvorak: We hate all Jews is what they could have been
chanting. We hate all Jews. That's what they should have
said. The same cadence.
Adam Curry: No, you need more though. It's not the same
cadence. It's not incredible what's going on in the world? It
is outrageous. I really have no idea what they're talking about.
They're just throwing these I
John C Dvorak: know, no climate
Adam Curry: justice on occupied lands. It's fantastic. By the
John C Dvorak: way, God does not occupy I mean, it's it's self
sufficient to operationalize so
Adam Curry: good. Then the last thing I'll have in the climate
just because it's it's kind of it's related to climate change
in multiple ways, is this protest has been going on down
in Panama. And you know, Sir Mark, has a has a place there
and he's peaceful as half B's half Panamanian voids zero. No,
no, no. Mark Hall, the art film director Omar are the film or
film guy. So he's been cluing me into this. He said these
protests are pretty wild. What's going on to the whole country is
protesting. And it's about a copper mine, which is
interesting, because we know that something's up with copper
in insofar as that copper mines are not opening, some of them
are closing, there are estimates that we will have nowhere near
enough copper to satisfy the needs of the incredible electric
vehicles that will be mandated across rejected price up works
well. Well, it's going to be jacked to high heaven and so I
found a report which is a local report but at least it gives us
some insight this is it the same and that kind of relates to
climate because here in America, we saw the this guy shoot to
protesters and Cold Blood killed them. And and they were deemed
climate protesters but they're not climate protesters. These
are Panamanians who are sick and tired of their governments
selling them out like the Panama Canal. And they don't want to
repeat of you know what happened with that and with Noriega, and
they don't want that they don't they want their country to be
controlled and the money to go to them, and there's all kinds
of shenanigans going on. Listen to that horn. Panama
Unknown: is on fire. Massive protests are rippling across the
country. roadblocks, unions on strike, school and university
classes canceled. workers, teachers, indigenous groups are
in the streets. They're protesting the government's
approval of a renegotiated contract with the Canadian
mining firm for the operation of central America's largest open
pit copper mine. It's a massive land concession almost the size
of the city of Miami. They say it's a handout to a foreign
company and attack on Panama sovereignty and a threat to the
environment. The people in the streets say they will not back
down. They have just one demand, revoke the new contract. The
copper mine is run by Canada's first quantum minerals with
investors including the Chinese state, the US Capital Group,
fidelity Vanguard, and BlackRock among others. It has been in
production since 2019 and extracting 300,000 tons of
copper a year. But two years ago, Panama Supreme Court ruled
that the state contract with the mind was unconstitutional
because it did not serve the public good. The contract was
renegotiated. This one government officials said was a
huge improvement, offering windfall profits for the state.
Last week, it was fast tracked through Congress and signed into
law by the President. But not without resistance. The
government has celebrated the new mining contract he guessed
they say it's a huge win for the country that will save 40,000
direct and indirect jobs and provide sizeable profits from
mining royalties to the state. In an effort to appease the
growing unrest President Florentino cortizo spoke to the
country on Tuesday and announced that by next month his
government would be using these funds to lift pensions for
retirees to a minimum of $350 a month. 75% rise over the current
minimum, but it only fueled the fire in the streets. Most
Panamanian saw the proposed measure as an attempt to buy off
retirees, while ignoring the central demand of the protest,
roads and major portions of the Pan American highway remain
blocked across the country. This sentiment that the contract is
an attack on Panamanian sovereignty runs deep and it's
an important reason why the protests have gained so much
traction. Political analysts say that in order to truly
understand why so much of the population is against this
mining contract, you have to look to the past
Adam Curry: good we've covered it I don't know if we can do
anything else about it. Well, I
John C Dvorak: like to look to the past well
Adam Curry: the past is that then they go into the Panama
Canal and and how that was you know, I don't think Panama owns
the Panama Canal
John C Dvorak: pretty sure they don't know it's called the Canal
Zone is is a separate entity exact amount of ownership as a
matter of sovereignty they don't have any sovereignty over
Adam Curry: the whole country is pretty pissed.
John C Dvorak: This thing was a little late for that. They shut
the whole country pissed earlier now sudden they're pissed that
means those agitators that are making this happen. Oh, and I
would say Marxists. Oh probably will
Adam Curry: probably probably Yeah. Anymore
John C Dvorak: can kind of go step by the I'm still befuddled.
In fact, by the Reddit Thun berg
Adam Curry: is horrible, isn't it? No climate justice
unoccupied land. nuke the polar bear. I mean, what are you going
to say we got we got to do something here.
John C Dvorak: I haven't asked Adam before we get to our break.
Adam Curry: Oh well good. I'm excited about that. That
John C Dvorak: did questions answered right at the beginning.
But let
Adam Curry: me play the new and updated ask Adam jingle their
answer the question go. I like it.
John C Dvorak: I like it. Yeah, doing my answer the question go
right. Mark Levin. All right. So
Adam Curry: what is the question? Who
John C Dvorak: controls 70% of the diamond trade industry that
do trade in diamonds is controlled by one country? Yes.
But to the tune of 70%? If you don't know the answer to this
question just offhand, which I I'd be surprised you'll never
get it.
Adam Curry: I am going to think about this who controls the
diamonds Oh
John C Dvorak: look it up
Adam Curry: I'm not I'm not doing I'm in fact I have my eyes
closed. I promise you. I am going to say answer the question
go. I'm going to say the Netherlands with DeBeers mining
do I get to play the clip now?
Unknown: Go Russian diamonds account for 70% of global
diamond jewelry demand. She's a Russian. Yep. Major Western
jewelers from Tiffany's to Cartier has been keen to
distance themselves from Russia's lucrative diamond
trade. But a big hurdle is how to trace the origin of the
stones. Some companies will struggle this is to gun Taft. We
can do it because we have we've been working on traceability for
the last two years. You should know that people we've been
working with with big brands. Traceability is not something
that's that comes out of the sky as of now. All the new player
the players in in the industry who have not yet started
restricts ability are going to lag behind for sure.
He said that not only would a full Western ban on Russian gems
be costly for the industry. It could also take another year to
fully implement.
Adam Curry: Oh man,
John C Dvorak: I didn't rush to take over the business under
right beneath our noses. Nobody knows about I was stunned by
this. I would have guessed Belgium. Holland. Yeah. Right.
Belgium would have been good. Yeah. If they said China, I
would not have been surprised.
Adam Curry: No, no. Wow, the more you know, I just got a text
message I'd like to share with you.
John C Dvorak: Friend You guys suck. Get off the air.
Adam Curry: Quite friend. It's Kamala. How do you take your
coffee cream and sugar black? I'm asking because we're
offering an all expenses paid trip for you and a guest to grab
a coffee with Joe and me. Enter to win by chipping in any amount
of this link. We'd love to meet you. And a picture Have our vice
president
John C Dvorak: How does they this is the same group that did
Hillary stuff back in 2016. Yeah, I know this particular
promotion yes chip in and it's always to chip in and you'll get
on this and then they pick somebody out of a hat and
supposedly have dinner or lunch or something with them. It's
somewhere in there it has to be a disclaimer because this is an
illegal lottery unless they allow you to put your name into
the hat without chipping in a nickel.
Adam Curry: Let me click on the link let me see it is act blue
as as we expected. Contribution rules bah bah bah I'm not a
federal contract I have my own personal credit card. The Baba
the first 6000 or 10,000 Go to bed and says where it goes from
you have questions? No purchase payment or contributions
necessary to win to enter or win and will not improve chances of
winning Void where prohibited by law this promotion begins
November five Yep. Well why don't we do this as a promotion?
Hey friend, would you like to have coffee with Ben with Adam
and John why don't you chip in no purchase necessary it's
perfect. And with that I'd like to thank you for your courage
say in the morning to the man who just put the sea and chip in
ladies gentlemen say hello to my friend on the other end of one
only Mr. Jobs
John C Dvorak: nail in the morning you Mr. Adam curry also
in the morning your ships and sea boots on the ground sitting
in the air subsidy watering nights out there and
Adam Curry: in the morning. The trolls and the troll room.
Trolls Good to see the whatever's left
if I subtract Janet Yellen and Greta tune Barry, we got what do
we have? 1721. Down Down. Trolls are deserted
John C Dvorak: by a good 100 people.
Adam Curry: Yeah, trolls that people trolls? Yeah. You know
why is because of my hate of memes. And?
John C Dvorak: Well, I think it's you.
Adam Curry: It's just me. Is that where you go ahead?
John C Dvorak: Yes, you hated me. Nobody cares.
Adam Curry: It has nothing to do with the fact that we won't take
a side won't pick a side. You got to pick a side. You've got
to denounce genocide because
John C Dvorak: I'll pick I'm gonna pick a side right now. All
right. I think I think spinach with the cream sauce would be
good. That's a good site I've always liked it is as good as
steak Steakhouse. And
Adam Curry: what's so sad is that even our people are spun
up. And they think they have to pick a side. And if you end they
don't understand that they're being abused by political
parties who want you to vote against the people who pick the
wrong side. They don't care about anything else. They don't