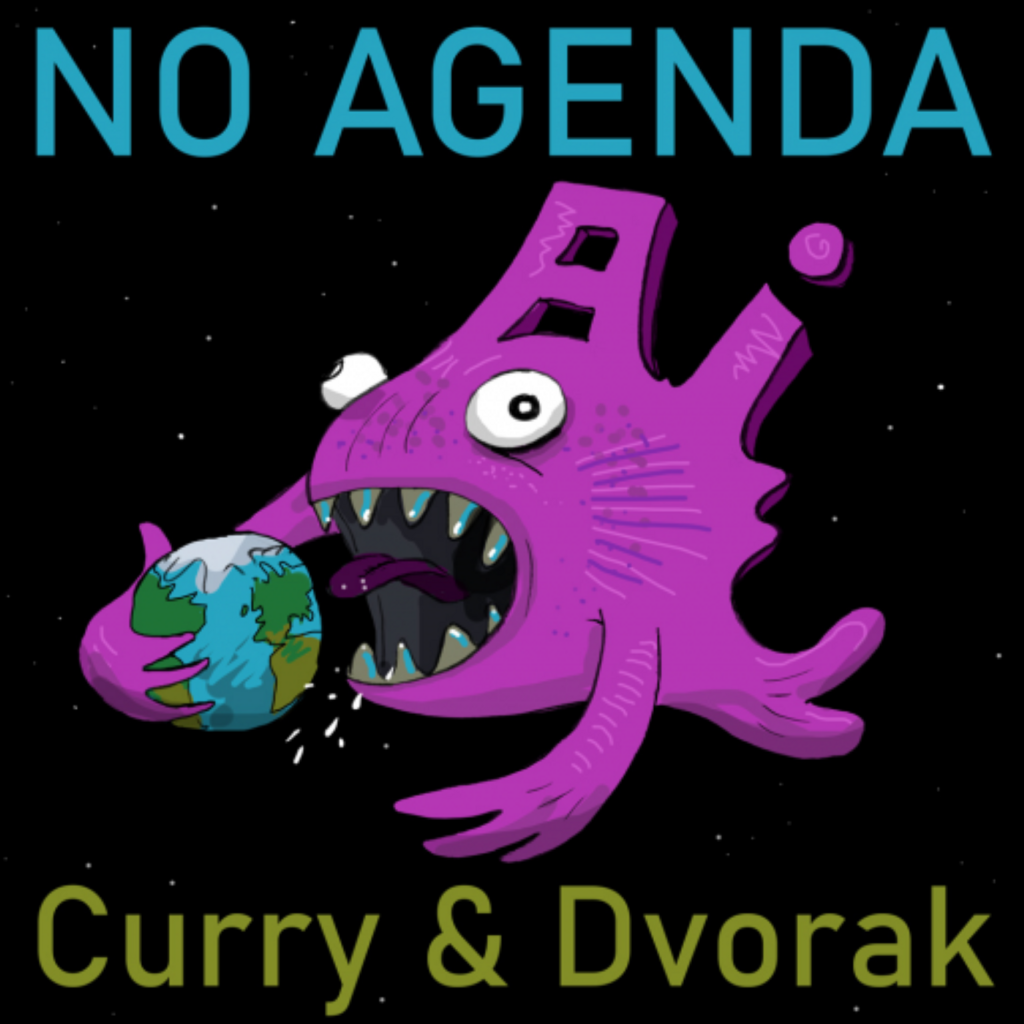 November 19th • 3h 13m
1609: Pain Sponge
Transcript
The transcripts of No Agenda are automatically generated and therefore, not fully accurate. Discretion is advised.
Click the text to start playing from that position in the show. Click the timestamp to copy a direct link to that position to your clipboard in order to propagate the formula.
John C Dvorak: No, you can't use the word death. Adam curry, John
C. Dvorak,
Adam Curry: November 19 2023. This is your award winning given
nation media assassination episode 1609. This is no agenda,
taking the long term view and broadcasting live from the heart
of the Texas hill country here in fingerings. Number six in the
morning, everybody. I'm Adam curry
John C Dvorak: from Northern Silicon Valley where I'm sick of
listening to football players saying they're playing one day
at a time. I'm John C. Dvorak
Adam Curry: skill. Isn't that what we do as podcast is we're
podcasting one show at a time. One time listening
John C Dvorak: to is a good one. And listening to the NFL today
on CBS. Yeah. And James Brown is talking to a remote and he says
to the guy to can to finish the interview. Okay, well knock him
alive. Right. And I'm thinking holy mackerel, you telling me
that CBS you can't use the phrase knock them dead anymore
because that's what that stems from. And you so you make
something up which is really an old saying phrase knock them
alive. Oh, this
Unknown: is no good. Knock him alive attic.
John C Dvorak: Oh, you might hurt somebody's feelings.
Unknown: That's pretty lame. That's
John C Dvorak: the lamest thing I've ever heard James Brown host
of the of the show. What do you mean the James Brown? The old
James Brown is a business sportscaster Oh,
Adam Curry: but he wasn't an ex football player.
John C Dvorak: You know, I don't think he was oh, he looks like
he's big guy but I don't think he was
Adam Curry: well, that's pretty sad. That is pretty sad. knock
them out. We should come up with a whole bunch of those say knock
them alive. Not over my living body.
John C Dvorak: Nailed it.
Adam Curry: Make them up. Right where you are man. No problem.
Yeah, head over my living body or mind living body that's gonna
John C Dvorak: go and makes a little more sense than knocked
him alive. Yeah. knock somebody alive
Adam Curry: and pride from my cold living hands. Somehow
somehow just
John C Dvorak: You're on a roll Keep it keep it up.
Adam Curry: I can't think of any more wanted living or alive? You
go now. I mean, how much more do you want from me as I can I can
keep my hair all night. And day. Yeah. Oh, man. Oh, man. Hey,
there's some funny stuff happening.
John C Dvorak: Which we need any stuff? Oh, yeah,
Adam Curry: we needed some funny stuff. Because everyone's so
serious. Even the emails we get so serious.
John C Dvorak: I mean, our emails have been too seriously
someone's
Adam Curry: very concerned about everything concern, but I think
I think what has just been fantastic to watch. Is the M
five M mainstream media blatantly lying about Elon Musk?
John C Dvorak: Oh, they're You're right. They are lying
about Elon Musk. blatantly lying.
Adam Curry: I think I have a clip I have. I have let me get
you started with you get a little bit of CBS to find my
little bit of CBS Evening News everybody
Unknown: back here at home tech billionaire Elon Musk is under
fire for spreading anti semitic and racist hate.
Adam Curry: I just have to ask a question
John C Dvorak: before even going into the racist hate before we
go
Adam Curry: even into the story. Why is everything it's
transphobic is homophobic Islamophobic. But then instead
of Jewish phobic, it's anti semitism. How come they don't
use it or semi phobic? Why don't they use phobic for anti
semitism which by itself
John C Dvorak: is phobic for racism. Yes, but But I say guys
a negro phobic
Adam Curry: I just don't understand. I don't understand
why it's anti semitism. If you're anti like you know, I'm
anti a lot of things I'm anti vegan. Doesn't sound the same as
Viga phobic.
John C Dvorak: I just could be anti trans How can you don't use
that?
Adam Curry: Well this is my point. It doesn't sound good the
phobic thing
John C Dvorak: has always been a problem it started with
homophobic and if you use the word phobic that means fear of
yeah but in most cases are homophobic hate
Adam Curry: gays irrational fears irrational fear of
something yeah
John C Dvorak: irrational fear they're not fearful of of the of
a horde of gays coming out at them here they come. What are we
going to do?
Adam Curry: I would I be careful man. Some of those gay guys are
pretty buff and beat you
John C Dvorak: almost have a bar Yeah. Guys really buffed is gay.
Adam Curry: Yeah, but you know, but instead of semi phobic is
Rayleigh phobic, and it could be a whole bunch of folk Because
John C Dvorak: Rayleigh phobic that sounds good as a good sound
to it because it really is an
Adam Curry: irrational fear. Zeit xenophobic doesn't work
with design design design is the honesty on a phobia Jana phobic
Yeah, that would be better than anti some anti semitic just
doesn't have enough weight I mean I think that the Jews
should do something about that
John C Dvorak: well night yeah but most of the people are
complaining about the Israeli Jews. Yes. Not just Vegas Dog
row Wandering Jew
Adam Curry: yes a shapeshifting Jew no shapeshifting Jews are
okay. It's just it's just a point of order it's I find it an
honor and
John C Dvorak: kaska we get away with this kind of discussion.
Adam Curry: Oh yeah, because you can't even agree with a video
without getting D platformed from your own platform
Unknown: back here at home tech billionaire Elon Musk is under
fire for spreading anti semitic and racist hate to write 160
million followers on AIX it's
Adam Curry: not just hate is racist hate. It should be it
could be race hate would be better. But let's let's stop
picking it apart. Let's just go with the story formerly
Unknown: known as Twitter. Disney is just becoming the
latest advertiser to flee this social media platform out of
fear that their ads will appear next to hate speech. CBS Nancy
Cortez is at the White House with a Biden administration
today condemned the promotion of what it called hideous anti
semitic lies.
Adam Curry: So I think here's how allies anti semitic lies. So
I think here's how the meeting went. Mr. President, I mean
person who, who has missed the President's brain. We got a
problem like all the kids that we activated for Black Lives
Matter and all the LGBTQ issues. They hate us to call on you
genocide Joe. Hey, hey, ho ho genocide Joe gotta go. We got to
do something. Finally,
John C Dvorak: you know what? I'm convinced. You're right.
Yeah. Oh, it's all about genocide, Joe in that debt
phrase. deflection. By the way, what is anti semitic? Isn't anti
semitic hate racists that are redundant in some, in some ways?
Adam Curry: I don't know. But let's listen to you at the end
of that report. Let me listen again. The latest Firefox says
Unknown: at the White House with a Biden administration today
condemned the promotion of what it called hideous anti semitic
lies,
Adam Curry: no lies.
John C Dvorak: What's an anti semitic lie if you're anti
semitic you're anti semitic
Adam Curry: I know it's the whole thing is very shaky. But
anyway so they had this meeting like dude I got something I got
something we can deflect a call CBS call ABC call NBC call
everybody go CIA they'll take care of all Media Matters come
on get everybody involved we got something we can ship make it
Elon make it make it make
Unknown: it Elon the latest Firestorm sparked by Firestorm
John C Dvorak: Firestorm? I heard about this a few hours
ago.
Adam Curry: The hyena was a firestorm lady, not this. Elon
Unknown: Musk on his social media site x is now threatening
to spread
Adam Curry: violation. Violation she forgot to say formerly known
as Twitter mob dives, this is a minus point for you lady.
Unknown: The latest Firestorm sparked by Elon Musk on his
social media site x is now threatening to spread to his
other companies, including SpaceX and electric carmaker
Tesla Oh, it's spreading as investors openly mused about
selling stock Oh, did you hear
Adam Curry: anyone openly mute
John C Dvorak: by selling stock this is good this is a threat oh
this is a formal threat laid down by the Biden administration
to over this genocide Joe thing which I'm sure has got to be
eaten at him of course. And they got they weren't they weren't
musta throw in with them.
Adam Curry: So there it is. And and the and now investors are
amusing which you know considering would have been a
word what is this muse? What is the why are they using Muse
because it's bullcrap because it's not true Muse
John C Dvorak: me like thinking over music I'm thinking Let me
I'm thinking it over you know this this must guy in a while I
shouldn't be investing I should not just stable maybe I
Adam Curry: should yeah well let's just say Muse let me see
Muse Muse as the bow when you look up muse, you have to
actually add the word definition because you get all kinds of
Deaf deaf definition. Let's see what the actual definition is.
Muse muse, to become absorbed in thought was thinking over I am
no absorbed. absorbed and thinking over your buttocks
having Muse
Unknown: The carmaker Tesla, as investors openly mute selling
stock who the controversy started Wednesday afternoon when
Musk the world's richest man liked a post on X that claimed
Jewish communities have a quote dialectical hatred against
whites. Okay,
Adam Curry: so this is the problem. So it's a retweet. So
first of all that is there's no quote the word diet. Oh, it is
dialectical. Now here's what happened. And they and they all
have screenshots on their websites of this one guy who
only has 5000 followers, but he has a blue check the artist
formerly known as Eric. And he is, so what he says is okay,
Jewish communities have been pushing the exact kind of
dialectical hatred against whites that they claim to want
people to stop using against them. I am deeply disinterested
in giving the tiniest shit now about Western Jewish
populations, coming to the disturbing realization that
those hordes of minorities that say supported flooding their
country don't exactly like them too much. You want the truth
said to your face? There it is. To which Elon Musk replied, You
have said the actual truth. But the thing is what they don't
show on their screenshots? Is the rest of the tweet No, no, is
that this guy this artist formerly known as Eric he was
responding to a tweet before that, which was a video from the
Jewish leaders against hate a one minute clip, and the which
is posted by Charles Weber. Blue check. He says to the cowards
hiding behind the anonymity of the internet and posting quote,
Hitler was right. You got something you want to say? Why
don't you say it to our faces? And so what this is, is a PSA, a
public service announcement of a dad and his kid, both white
clearly pickup trucks oke Trump supporters driving in the rain.
And his dad suddenly stops and says, you know, I've been
reading what you've been posting? Hitler was right. Are
you crazy? And he stops in front of a Jewish school or a
synagogue. And the Jewish children are coming out. Yeah,
I've seen this. And he says, Why don't you go say it to their
face son? Implying that the only people who say horrible things
about Jews are white Trump supporters because it is a
pickup truck. And I'm just making that supposition. So this
guy is replying to that saying, Hey, hold on a second. If you
want to actually make a point about people who hate you, why
don't you look at the people who actually hate you. And that's
that's what it was about. Not about just me, Elon Musk saying,
oh, yeah, that's right. The Jews hate white people's hate white.
That's not what it was. I mean, it's it's all pretty nuanced.
And hey, people, it's Twitter. But all right. Hey, genocide.
Joe has a problem. Let's pin it on musk.
Unknown: You have said the actual truth, Musk responded.
My first reaction was grow up.
Rabbi Abraham Cooper just met with mosque about anti semitism
two months ago.
I thought it was a kind of flippant statement, which I
understood immediately will be embraced by anti Semites and say
hey, la mosque is in our cap he understands us he gets our pain.
tech giant IBM pulled its advertising from x citing the
quote entirely unacceptable situation, which
Adam Curry: is so beautifully ironic seeing as IBM literally
colluded with Hitler of leaking the punch
John C Dvorak: card for the camps for the extermination
camps count
Adam Curry: the Jews. Hey, hold on who who's your buddy who
wrote the book about it? Black? Edwin black, Edwin black. Do you
remember that book? I remember the name of the book. I don't
remember the name of the book. Edwin black wrote a Baldwin at
Todd keeps saying Edwin you keep I say Edwin you keep saying
Edwin it's Edwin What do you think I'm saying Irwin?
John C Dvorak: Ik coming over money okay sorry.
Adam Curry: That's your connection Edwin Black See what
is his what is his he has a lot of books he does but I want to
get this one book man look at his he's got IBM and the
Holocaust we should have been
John C Dvorak: pretty straightforward naval to
remember that he's not trying to cover up the issue with a with a
title that's weird.
Adam Curry: You can also I'm sure we have clips we're gonna
plan but go look go look at Edwin black.
John C Dvorak: If you want to get good Edwin Edwin black
material, I would say go to C span and he has various lectures
that are up on C span about his books. You don't have to read
the books and
Adam Curry: they haven't been thrown off of speed C span for
jus hate or anything. It's just the truth IBM there's there's I
think there's even pictures of the CEO of IBM at the time
sitting at a table with Hitler. I can't be here Yeah, we got got
a good deal going it so it's
John C Dvorak: so they're the ones who bail. Sure. Yeah, that
makes
Unknown: wait Go IVF Lionsgate entertainment
Adam Curry: in you know what I could have if IBM and said, you
know, we have had a pretty sordid past. So we we are very
sorry for our role and we're we've have they ever really
apologize publicly? I'm
John C Dvorak: really they haven't and I'll take it one
step further, if i bm is actually an advertiser it's
people told me that they've seen these ads at what do advertisers
do when they have when there's a misplaced ad they call the guy
up they call the company and say, Hey, I don't want my ads
placed next to these, these these anti Jew or Jew hate
posts. I want to make good for those to get some free
advertising. I want to make good for those and I don't want it to
happen again. That's how you do it.
Adam Curry: Unfortunately, that's not what happened.
Because the White House presumably called Media Matters.
I looked at Media Matters form 990 their nonprofit started by
David Brock, I think it was money from the Clintons
originally.
John C Dvorak: Yes, Clinton money.
Adam Curry: Do you know how much money they have braked in per
year? I mean, how long is it I have the form 990 Right here.
The sea. I think this past year was 39,000,020 5 million. I
mean, these guys have salaries in the $300,000 range. And this
is this is Siri, I thought that they were just a little rinky
dink operation now and they give away hundreds Oh in the Bonner
group they give away hundreds of 1000s of doughnuts professional
services hundreds of 1000s of dollars to other group fish
those
John C Dvorak: services means hookers.
Adam Curry: Top notch maybe they're they're working with
Hunter then because yeah, that's that's like 1000 really
expensive hookers. What's interesting is I looked up
there, you know, so in the form 990. And again, these guys in
this past year, pulled in $25 million. What is their error,
you have to give a mission as a as a form as a 501 C three
company, and that you have to kind of stick to that mission.
Otherwise, you run into trouble with the IRS mainly, but in you
know, can be other things. So this is a of a one line mission
statement. Many of these nonprofits have a whole
paragraph. No, this is their mission statement dedicated to
comprehensively monitoring, analyzing and correcting
conservative misinformation in the US media. That doesn't mean
calling advertisers and say, Hey, there's some juicy stuff
next year AD. That's not part of their mission. No, it shouldn't
be, but of course it is. And so they sent Media Matters out to
stir up the soup. And the last thing you want as an advertiser,
well, the first thing you want is to make good and lots of free
ads. That's what you're saying. Yeah. So that's always the key.
But if you're meeting if you're if you're being attacked or
threatened by media matters, and I have an interview with with
one of the key peoples in a moment, pupils were the key
executives, that's when you will hold a bomb pulling out and
Media Matters. They are they're not just monitoring, analyzing
and correcting. They did in fact, medium activists. They are
complete activists and they are D platforming. And that is their
mission. As you'll hear in a moment. Let's finish the CBS
report tech
Unknown: giant IBM pulled its advertising from x citing the
quote entirely unacceptable situation. Lionsgate
entertainment followed suit. But this was not Musk's first foray
into white nationalist sentiment.
Adam Curry: Oh, yeah. Oh, yeah. Now Jew hate comes from white
nationalists
John C Dvorak: is a white nationalist all of a sudden,
well, you know, from South Africa, it's easy to get that
way but
Adam Curry: but you see the LEAP they took from Okay, and my two
white in the pickup truck
Unknown: in 2018. He suggested that Jews own the press. He has
amplified racist memes on his site and reinstated extra shirt.
John C Dvorak: Is there evidence of this?
Adam Curry: That must have been a retweet that's amplification.
So I don't know that just let them do it's
Unknown: also one I want to say and if the consequence of that
is losing money, Sophia
Musk has made no attempt. That's
Adam Curry: from the CNBC interview as really good walk
back his
Unknown: latest comments. Welcome back, Linda. Yeah,
Karina, the CEO of X did post that quote discrimination by
everyone should stop across the board. This morning. Even the
White House waded in saying quote, we condemned this abhor
it did she
Adam Curry: say the White House waited in? That was a weird wait
and it would be way back rumination
Unknown: by ever One should stop across the board. This morning,
even the White House waited in saying quote,
John C Dvorak: waited in which maybe she's trying to say
waited. Yeah,
Adam Curry: oh waited like waiting in the waters waited.
And when I could
Unknown: have done this abhorrent promotion of anti
semitic and racist hate, the strongest terms to promote which
runs against our core values as Americans
Adam Curry: 20 More seconds and I want to go to Media Matters.
This
Unknown: all comes of course against the backdrop of a huge
surge in anti semitic sentiment across the US from your voters.
In fact, just within the past 24 hours, the Department of
Education launched discrimination investigations at
seven schools, including Cornell and Columbia, after receiving
complaints about anti semitic and Islamophobic incidents. Oh,
Adam Curry: let's throw some Islamophobia I haven't seen a
single Islamophobic incident not to keep
John C Dvorak: going back to that maniac that killed a little
boy. Oh, yeah, I before you play the Media Matters thing you
should play the PBS version of the same story only they took it
from a different perspective. They took it from the failed
missile launch. It was by the way had 33 engines on it. It
Adam Curry: wasn't it was it was a rousing success we're talking
about doesn't match if it wasn't success. I mean, it didn't get
passed to a permanent permanent but yeah, blew. It hit it hit
the dome man. Didn't make it past the firmament. All right,
Musk rocket. Is that the one?
Unknown: Yeah, Elon Musk's. SpaceX got its biggest rocket
off the ground in a test launch today. But a pair of explosions
just minutes into the flight destroyed both the booster
rocket and the spacecraft. SpaceX officials say it appears
the crash self destruct system blew it up over the Gulf of
Mexico after liftoff from South Texas. The flight lasted only
about eight minutes. That's twice as long as the first test
in April which also ended with an explosion. And Elon Musk got
more bad news today as Comcast joined the list of advertisings
stepping away from his social media platform X formerly known
as Twitter over concerns that their ads are showing up next to
anti semitic content. Other companies pausing their ads on X
include IBM, Disney and Paramount global Musk has been
accused of tolerating and even encouraging anti semitic
messages on x. He drew fire earlier this week for agreeing
with a post accusing Jews of eating white people. So
Adam Curry: it's just not true. I mean, it's just not true.
There's context that they've all erased but again,
John C Dvorak: no, they they've purposely done this and he be a
dud. That's why I wanted to play the PBS that this is a more
intellectual version of this clip you played and it's bull
crap.
Adam Curry: Well, you know what I really like about about that
explosion. I think I have it here. SpaceX didn't call it an
explosion. They have a term for it here.
Unknown: SpaceX however, says the test was a success and
provided critical data needed to improve the launch system is the
second test of the starship system that experience what
SpaceX jokingly has called a rapid unscheduled disassembly.
Adam Curry: Rapid unscheduled disassembly. I like that. Yeah,
that's humorous. I like that. So Deutsche Vela, which was this
was really quite interesting, because, you know, you think the
story is just being copy pasted here. And everyone's saying he
responded to a racist, anti semitic hate hate filled tweet,
and said, Yeah, that's true. Well, by the time it gets across
the ocean to Deutsche Avella and they have the bringing the Media
Matters lady this is her name is Julie Miller cam. She makes
$250,000 a year according to the form 990 over there at Media
Matters. She's got she's decked out in some nice jewels. She's
looking good looking good. You know now it's now it's just it's
it's even crazier. Bring it on Deutsche
Unknown: since acquiring Twitter a year ago, Musk has allowed
conspiracy theories and hate speech to thrive and that is
having it's
Adam Curry: gone from amplifying to thrive. Yes, yes. Make it
thrive
Unknown: each to thrive. And that is having some
consequences. Today the EU Commission announced that it is
stopping all advertising on
Adam Curry: that Did you know that the European Commission
advertises? What are the advertising?
John C Dvorak: I have no idea. They may have ads that show up
in Europe. New
Adam Curry: World Order. No, come on. It's our ad. It's
already coming. Who knows what what they're advertising alright
Unknown: announced that it is stopping all advertising on x.
It's already launched an investigation into hate speech
on the social media platform. Also today, the White House
condemned Elon Musk for what it called the abhorrent promotion
of anti semitism. Now that wasn't reaction into a tweet
posted by Musk endorsing a conspiracy theory that Jewish
communities push, quote, hatred against whites. Now
Adam Curry: it's a conspiracy theory, it's getting better the
farther away it gets from the source, the White
Unknown: House invoked the 2018 mass shooting at a Pittsburgh
synagogue, posting this, it is unacceptable to repeat the
hideous lie behind the most fatal act of anti semitism in
American history at anytime, let alone one month after the
deadliest day for the Jewish people since the Holocaust.
Adam Curry: Okay, so fatten it up
John C Dvorak: just one second. So you have to imagine being
Elon Musk richest guy who all the money in the world, you
could do whatever you want. And this keeps happening to you
because you're there how many because the left is just
relentless. And it comes from left to concert? Right. It's
like they're pummeling you from every angle you don't know
what's going to hit you next. And it's got to be like that.
He's got to be so I mean, I don't know what he seems to have
enough of a sense of humor to to get through it. But at the same
time, it's gotta be like, Wow, what are these people up to?
What are they trying to do to me?
Adam Curry: You know, I have a little bit of a thought that
maybe he's just the classic he'll in this game. Now because
that's kind of what it feels like. Elon you want more rocket
contracts man do you gotta like we're gonna have to take you
down a notch bro.
John C Dvorak: i It's like but the thing is, is not like he did
it. I mean, he's involved with Twitter. So he retweets a lot of
stuff because he likes to promote but different ideologies
but at the same time it's like a retweet something in the next
thing you know, you're you're being blasted for
Adam Curry: Well, how about this for a theory? This is the only
theory I can come up with. He wants to be your bank. The main
thing he has to do is keep people on the platform keep them
engaged in his platform, keep his platform on their mind. Keep
saying consistently X formerly known as Twitter, that's free
advertising, that's free rebranding for you right there
until he has his bank stuff done.
John C Dvorak: So this is gonna take him forever to get the bank
thing going now
Adam Curry: maybe maybe not. I don't know. I mean, he can
probably go along. Anyway, let's go to the Media Matters lady,
because she's now talking to a journo Deutsch about a
journalist, you know, top of the top of the journalist pyramid.
Oh, a journalist talking to journalists. That's the best
Well, she's not really a journalist. She's, she's an
activist, but her problem is not at all and I just want to say
Media Matters. They don't really care about the jus hate. They
got some they have a different agenda for that I'm
Unknown: going to bring in now and Julie Miller can she's vice
president of the media watchdog Media Matters for America. She
has been monitoring the rise in online myths and disinformation
especially on Elon Musk's platform X or as we used to call
it Twitter. Just how bad has it gotten on x under Elon Musk?
Adam Curry: This guy has some funny stuff to say to this
John C Dvorak: guy's because this guy's a stooge. But he is a
good way he presents the question I'll get beyond Yeah,
you're still beating your wife gets better
Unknown: on x under Elon Musk.
Since Elon Musk has taken over Twitter, he's made a series of
decisions that has done nothing but increase hate extremism and
conspiracy theories on the platform. Since this takeover,
he one of the first things that he did was got his content
moderation, his trust and public safety team that made it very
difficult for them to be able to enforce their terms of service.
He also has explicitly stopped them from enforcing their terms
of service around so
Adam Curry: why why the Why does the Chuckle or the Chuckle
there.
John C Dvorak: Again, played against
Unknown: specifically blocked them from enforcing their terms
of service around certain types
Adam Curry: has blocked them from enforcing their terms of
service, and she's laughing about it. Yeah. And the thing
that's interesting, it's his terms of service. What do you
care? She has a reason for it. But what do you care? It's his
terms of service is not law. Yes. Not yours. His Terms of
Service. Okay, let's go back.
Unknown: We stopped them from enforcing their terms of service
around certain types of content, including anti semitic content.
He has reinstated extremist accounts that were previously
banned on the platform. He himself has engaged repeatedly
with conspiracy theorists with people who have pushed anti
LGBTQ rhetoric, people who have endorsed anti semitic conspiracy
theories, people who have endorsed COVID-19
misinformation, the list goes on and on. And the impact has been
clear the information ecosystem on x at this point in time is
heavily skewed towards far right extremism?
Adam Curry: Whoa, hold on a second. First of all the
information ecosystem. This is when his Twitter information
it's it's a social media site, it's garbage is what they all
are. But now it's skewing towards far right. You know the
people who hate Jews, it's
Unknown: playground for extremists. It's a playground.
Adam Curry: Oh wait, it's a playground. It's no longer an
information ecosystem. It's a playground for these extremists.
John C Dvorak: I got through one more little observation in the
Democrat Party is so freaked out because of all this pro
Palestinian protests at universities mostly. Yeah, we'll
get to that. And then around there, that they think they're
losing the Jewish vote. You've got to reestablish the old meme.
That right wingers Yes, yes. Are the Jew haters, not us? Yeah,
Adam Curry: yeah, exactly. Not the kids at university. We just
have some investigations going on there. We're just gonna, we
have opened investigations. But Elon Musk braces, anti Semite
Unknown: is heavily skewed towards far right extremism.
It's a playground for these extremists. And it's become
increasingly difficult to get any sort of reliable information
on there. And instead, it's just flooded with hate, bigotry lies
in
Adam Curry: Hold on a second. Did I missed something? Is
there? Was there ever a point in time where you went to Twitter
to get reliable information? She's complaining about that you
can't it's it's increasingly hard to get reliable. It is not.
It's not NBC or CBS or CNN, or ABC or
John C Dvorak: anything, any of the PBS NPR is
Adam Curry: whatever, the elite, it's not the elitist voices of
America. It's Twitter. So what do you got your panties in a
bunch for
Unknown: lay ground for these extremists. And it's become
increasingly difficult to get any sort of reliable information
on there. And instead, it's just flooded with hate, bigotry lies.
And it's really unfortunate that,
John C Dvorak: by the way, what she's saying is going to draw
it, get it get more users. Well,
Adam Curry: so this is what's interesting about media matters.
They don't care about the Jew hate, they just hate Elon, and
they hate Twitter, because it's no longer their playground.
Remember, when they had the backdoor, and the government can
just call them up and say, hey, those guys are wrong. They're
saying it wrong. They get misinformation, take them off,
cut them down, get rid of all that. Remember when journalists
had the blue checkmarks, the urn checkmarks. When we ruled the
roost, that's her problem. And this DW douche agrees with
Unknown: that I want to bring in now and Julie really
sorry, that's wrong. One, three, this one? Yeah. I
say you know, you can't even use it around your kids. Now you
have, you know, maybe they should read name. It
wants to stop. But listen, yeah, I
say, you know, you can't even use it around your kids. Now you
have, you know, maybe they should read name, X to triple X.
I mean, it's gotten that bad.
Adam Curry: We should rename a triple X, blah, blah, blah.
John C Dvorak: Implying you can use your own kids because it's
loaded with porn. Yes,
Adam Curry: it's full of porn. It's and she'll agree and must.
It's true. And he will tell you that it's true. It's true. It
should be triple x. And this is all in the name of free speech.
I'm wondering is that dirty free speech now should be labeled
Triple X.
Unknown: Really? All it is? I mean, What's he trying to do by
amplifying anti semitic tweets? I mean, I'm not asking you to
get into his mind. But can you see a purpose here?
Adam Curry: What's the purpose? What is the purpose? I,
Unknown: again, as you're saying, I can't get into Elon
Musk's head. All I can say is that the consequences the
financial hits that the platform has taken due to his leadership
and his own behavior has not changed. The way that He has
acted
Adam Curry: is not working. Everything we're trying is not
working. We're trying to take his fun to give them financial
hits. It's not working.
John C Dvorak: Oh my gosh, as as a propagandist. She missed an
opportunity there. What was that when you say because of his
leadership, you at that point you're supposed to say or lack
thereof of would
Adam Curry: have been so good. Yes. Yeah. Well, Linda Yeah,
Karina was the pain sponge. She's She he's the one that
everyone gets the yellow. Okay. So again, this is this is very
interesting what's going on here? He the financial hits,
because you know, even though it's a private company, it's
just obvious that how can he be how can you do this? I mean, how
long can you fund this
Unknown: has not changed the way that he has acted? I think you
know, and to your to your earlier point about it being not
not a safe place for kids anymore. It used to be
Adam Curry: not as safe place for kids anymore? I haven't
heard this accusation. Is it not a safe space safe place for
kids?
John C Dvorak: I don't know this Oh, no. This what they're
talking about is bullcrap. Yeah.
Adam Curry: But this this reasons for kids
Unknown: anymore. It used to be, you know, while while it's
always had issues, no social media platform hasn't, it used
to be at least a good place that you could get information? Oh,
no,
Adam Curry: it was never a good place for information.
Unknown: And you could make, you know, find reliable information
and reliable information.
Adam Curry: Really, you see, this is the problem. Media
Matters is pissed, because it's their job to make sure that
whatever the message is from the state has to be reliable
information, it's their job to make sure everything is clean.
And the and the commute the channel is clear. And it used to
be so good before Ilan. Yeah, that's why he fired all those
jokes, who were embedded with a government firm
Unknown: hasn't, it used to be at least a good place that you
could get information and you could make, you know, find
reliable information. And again, this is stuff that Musk has, you
know, dismantled and instead has created a an incentive structure
to spread missing disinformation, people need to
buy the blue checkmarks that used to be used to verify
accounts so that you knew that the account spreading, you know,
posting was who they said that they were that you could make a
decision about whether or not they were credible. Now it is
anybody who wants to pay for his subscription to checkmark, they
get to say what they want and incentive now. Things go viral,
because if they get engagement, they get paid. And we've seen
that really have a dramatic impact in the ability to get
reliable information during times of crisis, let alone just
on a day to day basis.
Adam Curry: I'm sorry, if you need to get reliable. Whenever
there's times of crisis, I go to Twitter to get my reliable
information. This has always made sense to me. Let's wrap
this up with her. true motive. Yeah, that's true. I
Unknown: mean, it used to be a place where you know, the
adults. Now it's a place where the oh, it used to be where the
adults would go, John, the adults, the adults would go to
Twitter. I mean, it used to be a place where the adults would go
and now it's over the because you know, me is from the
mainstream media where the adults in the room,
entertainment industry goes a lot of the times is money is
that the only way we can hold these platforms accountable.
Adam Curry: Now, here comes the threat to everybody for what's
on their
Unknown: platforms. I know legally, they're not liable for
the content. But at the end of the day, they do provide a day
all the hate.
Yes, this is true. I think Media Matters. One of the things that
we have tried to do is undermine the profit motive, structure
that kind of incentivizes extremism on platforms Hold
Adam Curry: on a second, dedicated to comprehensively
monitoring, analyzing and correcting conservative
misinformation in the US media has now turned into Oh, yeah, I
Unknown: think Media Matters, one of the things that we have
tried to do is undermine the profit motive, you no structure
that kind of incentivizes extremism on platforms, thinking
that, you know, if you can stop making it so profitable for
people to spread hate speech, that you could kind of reduce
some of at least the volume of it, that is permeating on the
platforms, this doesn't sound
Adam Curry: like they're holding to their mission, they're trying
to hit them in the finances. And
Unknown: I think platforms themselves and most of them are
responsive to this, you know, if advertisers do not want their
content, their advertisements appearing next to controversial
content, you know, they will take a stand and they should
take a stand, I think in the case of musk key has been
bleeding advertisers, since he took over the platform, not just
because of the decisions that he's made and what the content
on the site is, but just things that he has done himself, you
know, he's fairly erratic, and they have not provide as a brand
safe platform for advertisers. And I don't think for him that
that has been, you know, a motivating factor, as I
mentioned earlier, to change his behavior to change how he's
running the platforms, but it is for others. So I think that
other platforms are paying attention and should
go pay attention
John C Dvorak: other plant Oh, that's interesting. You're
right. Threat.
Adam Curry: Yeah. Oh, yeah. We're gonna we're gonna hit you
where it hurts with your advertisers, other platforms?
Yeah. It's, it's been, I guess it's okay for them to do that. I
mean, Musk has said, I'm filing lawsuits, and what kind of
lawsuit is going to fall? They're mean, they're mean to my
advertisers. I don't think he cares. He just wants to keep
everybody engaged and if it means he has to jump on that
Rene every every time that's what he does. I think it's fine.
I have one more of these from CNN. I just like saying Poppy
hair Harlow
Unknown: God let's go from one hate to another one hate to
another
Adam Curry: ah remember when hate was just not profitable
it's just profitable now
Unknown: hate being spread online and that is the fact that
the owner of X formally Twitter Elon Musk has endorsed this
claim that Jewish communities push quote hatred against whites
I think we can pull up the tweet and then you can see here's the
tweet okay Jewish communities have been pushing Stop
John C Dvorak: stop stop stopping Is this a woman or a
man talking this poppies Poppy Harlow? So that's Poppy Harlow
She sounds like like pre pews. Pre pubescent dude. I'm glad you
are a kid. A teenager boy.
Adam Curry: Glad we stopped the clip for that. Poppy
John C Dvorak: Man is Man listening. Hey, wait a minute.
Adam Curry: I just just who calls her kid Poppy? I mean, if
all the names you considered for your kids, maybe
John C Dvorak: that's a wink wink nudge that Poppy like, hey,
Poppy, Poppy there. Yeah. Oh, you know pops a pops.
Unknown: And you can see here's a tweet, okay. Jewish
communities have been pushing the exact kind of dialectical
hatred against whites that they claim to one without
Adam Curry: the context of what that guy was responding to. It's
just bad journalism stop
Unknown: using against them and Musk's responses, you have said
the actual truth era. It
continues to be outrageous and shocking, but no longer
surprise. yake Elon Musk, depending on the day of the
week, is the richest person on the planet would continue to
sort of spread this kind of poison. And then wonder why.
Number one, he's losing a lot of advertisers. Number two, he's
losing a lot of users. And number three,
John C Dvorak: I hate I hate to be doing this guy sounds just
like Kabuto I think it
Unknown: is Kobudo kudos on Fox. Oh, who is it? Then? Let me see
if I have a he
John C Dvorak: sounds exactly like Vito, and she sounds like a
teenage boy. This
Adam Curry: is Errol Lewis, I think Aaron Lewis and
Unknown: and then wonder why.
Number one, he's losing a lot of advertisers. Number two, he's
losing a lot of users. And number three, he is sort of
demeaning the whole role of social media that what started
out and what
John C Dvorak: didn't meaning the role of social social media
has a role. Yes, it's
Adam Curry: the spread memes that's the only role it has.
What do you do you'd say that well, that's what it is. He's
demeaning the role which I think is going to come back to you
know, news in a crisis but
Unknown: demeaning the whole role of social media that what
started out in what used to be in the pre mask era sort of a
great place to connect with people and get information is
now turning into so it's
become it's become a cesspool and enormous amount of value
destruction but because there is actually it's important to have
standards it is important you know, you can say you want a
free speech Utopia but with all the sudden you pull the goalie
when it comes to actually tracking disinformation and
misinformation
Adam Curry: those goalie isn't that isn't that a sex term for
removing the condom
John C Dvorak: Oh, I've never heard that but it makes nothing
but sense for it to be such
Adam Curry: Oh um I think this pulled
John C Dvorak: holy Oh, this is off the condom dude here pull
Adam Curry: Urban Dictionary pulling the goalie usually in
reference to a married couple pulling the goalie means to stop
the use of contraceptive devices in the hopes of conceiving a
child derived from the hockey term what does this guy do what
does he may have kids soon? Congratulate
John C Dvorak: maybe didn't get about two things at the same
time. Maybe he's like concerned his wife can conceive
Adam Curry: maybe he's just a hockey player, I don't
John C Dvorak: realize seems unlikely.
Unknown: It's become a cesspool and enormous amount of value
destruction. But because it is actually it's important to have
standards and is important. You know, you can say you want a
free speech utopia. But with all the sudden you pull the goalie
when it comes to actually tracking disinformation and
misinformation, and you have an enormous amount of sort of bots
and trolls dominating a platform, then real civic
conversation goes down. And Musk is Musk is actually you know,
showing his cards as to what's happened with this platform.
Yeah,
yeah. When they show you who they are, believe them, believe
them. Oh, yeah.
Adam Curry: When they show you who they are, believe them,
believe him, believe him. So this is this, of course has
started quite a lot of discussions, discussions with
social media platforms, including the tiktoks a
Unknown: lot of conversations amongst my Jewish friends. Oh,
Adam Curry: that's sorry, that's not what I was looking for.
Unknown: I have sorry about that. The this one here it is.
All of this puts yet another spotlight on the issue of
moderating content at a time of war. The New York Times is now
reporting overnight this letter to America came up during a
private meeting Wednesday night in which Jewish celebrities and
creators confronted Tiktok executives about doing more to
fight anti semitism on that platform. According to a
recording obtained by The Times Tiktok tells us in a statement,
leadership has been meeting with creators and experts and others
for feedback on how tick tock can remain a place for community
discovery and sharing authentically.
Adam Curry: Hey, man, don't get any of that Elon juice on us,
man. We're good. We're good, bro. But good. Would you good?
Would you win on it? We don't worry any bad stuff. Was it not
a note? No. You said on the last show. Something came up about it
must have been a clip that kids were getting their news from Tik
Tok.
John C Dvorak: Right. So once we was somebody made the comment
that new kids are Canada New Zealand, tick tock. And then I
think jointly we decided that from the kids perspective, the
gossip and crap that's on tick tock represents news.
Adam Curry: So we got a note from one of our Gen Z producers
I'd like to share because the Gen Z are also gave us some
examples. I'm a 21 year old listener of the show, not a
douche bag. Nice and an avid Tik Tok user. As you and John have
pointed out numerous times on the show much of my generation
gets their news and information about current events sources on
tick tock. Although many media outlets outlets such as Sky
News, CBS, MSNBC and all the usual suspects put their
coverage of current events on tick tock in short, and often
dumbed down clips, they don't seem to gain much traction
instead, certain people on tick tock have become what I like to
call iPhone journalists who put out rapid fire breakdowns of
current events and developments that are catering to Gen Z's
incredibly short attention spans. I've included a couple of
links to some examples. These individuals are essentially an
influencer version of large news conglomerates, but since they
are just one person see more trustworthy and honest than
traditional media, kind of like your buddy who's in the know,
and is just relaying information. All of this, in my
opinion has resulted in much of my generation developing a false
sense of being informed, and many of them just having a
surface level understanding of things. In summary, Tik Tok is
saturated with anecdotal information in very short, rapid
fire format that is presented as fact, while almost no real
evidence is being cited as source, and when evidence is
being cited is just an article from a big media outlet. And he
gave us three examples all about a minute, would you like to hear
some?
John C Dvorak: I would love it. Okay,
Adam Curry: we kick it off with the first iPhone journalist on
Tiktok. Nick Jackson, this is
Unknown: everything that happened on the news today, but
it's going to be simplified in 60 seconds. People are now mind
blown after discovering what the white dots on strawberries
actually are. A lot of people don't know this. But
strawberries are actually not scientifically a fruit or a
berry. A lot of people think that the little white dots that
are all over strawberries are the seeds. But the little white
dots are actually the fruit part of the plant. That's crazy.
Citizen Scientists bought a close approaching asteroid
professionals might have missed basically, there's been a lot of
studies going on, they've opened this up to the public so that
regular people can like monitor this information. And they
caught this asteroid because of a blurring line and one of the
images and obviously it's a moving object because the
exposure, this asteroid is not going to be anywhere close to
hitting us at all. So don't worry, time travel. It's just
been completely ruled out for good by scientists. The whole
theory with this article is that scientists are saying that time
is always moving forward. Therefore there's no way to take
it back or move backwards. Sounds weird. DoorDash is now
issuing a strong warning against customers who do not choose to
tip they basically made an announcement and said that if
you do not tip on your orders, they're less likely to be picked
up and your order might take forever to get to you obviously
with all of the fees on DoorDash and everything. A lot of people
are upset but a lot of people also do agree with this. So let
me know what you think an expert just discovered that a venus
flytrap can eat human tissue and if you're like me, you're
wondering how in the world they tested that the man who owns
this plant has a case of athlete's foot and he took a
chunk of his toe and gave it to the plant and it did digest
Adam Curry: I love this talk. All right. Now this guy does
under the desk news. He he has his hair all spiked up kind of
like Something About Mary, you know, with the with the Jesus in
his hair all spiked up and he's on the ground under his desk and
under the desk news delivering the news to us. And in this
case, it's important news about climate change.
Unknown: Climate change is messing up the beer y'all. Yes,
those frothy IPAs and European pilsners are hitting a wall and
in decline and it's all because of climate change. A new study
shows that European hops which gives beer its bitter taste is
in decline. Hops is one of the four crucial ingredie tends to
making beer. And now hotter, longer, drier summers are
severely affecting the quality of that crop. And it's going to
lead to beer being more expensive and not as good
tasting. And I can't go much lower. All right, I got priced
out of whiskey when that market got super hot, we got priced out
of wine when the wildfires in California started eradicating
whole vineyards. And that drove up the cost of wine. And now
beer to the inflation Reduction Act is the largest investment
and climate action in US history that includes $369 billion in
investments for climate and clean energy projects, mostly in
tax credits towards renewable energy that can help us be less
dependent on fossil fuels.
But does he have anything there to protect the brewskis? Because
I hope so. We laugh so that we don't cry. I mean, this is an
incredibly serious topic, and whether having a massive effect
on our agriculture is not funny. Despite the recent acceleration
of climate change, we are still in the driver's seat, and we
still can make change. So I know it can be really depressing out
there when you keep hearing bad news, but we have to keep
drying, the future of climate is still up to us to decide.
John C Dvorak: Okay, and the final I have a make a comment.
Yes, yes, yes. First of all, the guy's not gay enough.
Adam Curry: We need to coach him.
John C Dvorak: So the second thing is the hops are very where
we used to have some of the biggest hop places were in, I
think Moran or Sonoma County used to be a town called hop
land is in there. And it used to be where he and Hopkins are
still around from the I think from the 18th during the 1900s,
eight late 1800s. And hops are interesting because they kind of
go into it. They grow them a lot and they were out there welcome.
Something happens in the next you can't grow hops around here
anymore, even though it used to it has nothing to do with Are
Adam Curry: you disputing climate change?
John C Dvorak: And disputing the thesis so and so hops are now I
hear about hops being grown here and there and places whether you
never heard of them. They're all rare and great. But no, the
hops, anything about hops as you're dealing with a screwball
plant.
Adam Curry: Our final clip is only 31 seconds long and it's
from an old favorite. Who we've kind of lost track of do we
remember Philip DeFranco?
John C Dvorak: Philip DeFranco This
Adam Curry: is when I want to say what was the what was the
video thing that vine vines? Vine, Twitter had vine? Vines?
John C Dvorak: Yeah, his short video, and that was gonna be the
big killer. Well, it would have been, they couldn't stay with
it. It
Adam Curry: was Tik Tok until they didn't like it. The road is
littered with mistakes like that. Philip DeFranco was this
fast talking? You know, he was one of the first guys to do the
chop the chop cut of all of his stuff. When you hear maybe
you'll remember and he's he is now on Tik Tok doing his doing
his shtick. China
Unknown: and Australia had a meeting and there are leaders
who are essentially risen each other up she told the Australian
Prime Minister that Tasmanian devils were cute and Albert EC
responded by saying they weren't as cute as pandas. And then she
apparently said that not all pandas are cute citing the Kung
Fu Panda movies so two walls are poorly debated wine and its
quality was using that he visited New Zealand and that the
wine was good and Albany's. He's saying that he asserted that the
best red wine comes from Australia. How about easy saying
the exchange was very warm. And I mean, I heard they may have
even sat next to each other in the booth. I'm also far there's
no word on if a second day will be happening. Follow to stay in
the loop.
There you go. There you go. Terrible.
John C Dvorak: Yeah,
Adam Curry: that's what I'm just taking our Gen Z boots on the
ground at his word. That that is what this generation is using
for news
John C Dvorak: guys have I bet even that last guy, I'm sure
their numbers are huge. Oh,
Adam Curry: of course, especially Philip DeFranco. He's
had quite a following for a long time. Yeah. And disgrace easy.
tz. Oh, now I know what's going on. That's good. So good.
John C Dvorak: To have you I hope you said we have a way to
segue out of that because I can't think anything. Well,
Adam Curry: I can only segue into Altman. Sam
John C Dvorak: Altman. Oh, yes, yes, yes. Yes, I am. I think I
asked him. Oh, yes. I
Adam Curry: want to start with your clips. But I have a
question first for you quite an ask John. We don't have clips
for that. It's an ask John. And I just want to ask you, as
someone who has reported extensively been around, been in
the milieu, so to speak, of Silicon Valley and silicon
Silicon Valley companies. Can you recall a time when a board
fired a CEO of a company that went from zero to some say $80
billion valuation with 49% ownership by Microsoft who
invested $10 billion, which helped with the valuation
without even telling their largest shareholder, and then
apparently is at trying to get him back. Have you ever heard of
this happening in Silicon Valley? Not
John C Dvorak: with the part about not telling the largest
shareholder but it's I mean, the firing of Steve Jobs is very
similar. When he was first fired from Apple,
Adam Curry: yeah, but But it wasn't like that Apple was had
problems. Open AI is nothing but hockey stick up. I mean,
valuation. So
John C Dvorak: we're having dinner last Friday. And JC is in
the AI business with some companies working with which is,
yes, but AI company, and he's ended up so he would have a
better handle on this. And he says nobody really knows. They
think it has something to do with the transfer from being a
private company to a public company. And something was
screwed up in such a way that it was like, there's some legal
issues that were were discovered, because Altman
didn't know what he was doing at that point to help that
transition. That's what the rumor is. And so he had to go
because of due diligence, you had to get rid of him because
he's made some some horrible mistake in the process. Well, so
it sounds like he lied. I mean, that yes, it well, that would be
the mistake. Well, the board the board's language in their press
release was that he had not been consistently candid with the
board, which I think is his couched code language for he
lied. And then we
Adam Curry: lightly Lee lied to us. Yeah. Have you looked at the
board?
Unknown: And we looked at the people on the board.
No, I haven't Oh, yeah.
Adam Curry: Who was on there? There's a couple we'll talk
about the minute
Unknown: we'll turd
Adam Curry: I mean, heard them when that guy who was like, oh,
yeah, I was CIA special agent. He ran for president for a
little bit. Black guy from Texas. What's
John C Dvorak: he doing on there?
Adam Curry: Yeah, I got I will talk about that. If we
John C Dvorak: talk about seven months, we'll get these clips
out of the way. So we have a little background. Yes. Okay.
The public
Unknown: face of the AI boom is now jobless. This
Adam Curry: who was this voice? Now?
John C Dvorak: This is one of the new NPR guys. Now, again, my
my understanding is I don't know this to be a fact this is just
supposition. But before you get it now, when you they hire you
at NPR, they actually take you into an operating room to cut
Unknown: your balls off. CEO Sam Altman co founded open AI, which
released the powerful chatbot chat GPT last year, it
revolutionized the tech world, but late yesterday without
providing many details. The company said he'd been fired.
The announcement leaves a lot of questions unanswered and be Our
tech correspondent Bobby Allen is on the line to try and help
us sort through some of them. Hey, Bobby, Hey, Bobby, Scott.
Thanks, guys. So AI and chat GPD have gotten a lot of press. But
remind us about this key person here. Sam Altman, who
is sure Yeah, Sam Altman.
Adam Curry: Oh, my gosh, sure. Sure, yeah, sure.
Unknown: Sam Altman is this 38 year old tech executive who co
founded open AI about eight years ago with a handful of
others, including Elon Musk, actually. And the idea was to
create a nonprofit research lab focused on ethically developing
artificial intelligence almost like an answer to the profit
driven ethos of big tech. And it remained mostly quiet until last
year, when AI burst onto the scene. As you mentioned, with
chat GPT, it quickly became the fastest growing app ever. It
separates on all sorts of industries, publishing to
education to health care about how the technology could be
harnessed to upend how we are live and work every day. And you
know, while Chad GPT became one of the most viral tech products
in history, Sam Altman was traveling around the world and
talking about AI. He testified before Congress about the need
for AI regulations. He became the focal point of attacks from
Ai skeptics. Insurance got he was the most sought after and
one of the most powerful executives in Silicon Valley.
What do we know about why he was pushed out? Yesterday, the
company's board released a statement saying Altman, quote,
was not consistently candid in his communication with the Board
of Directors, but they stopped short on giving details. Sam
Altman was fired immediately. Now, this was a surprise to the
company's investors, employees, and even Altman himself was
taken aback.
Adam Curry: I'm taking I'm shocked have been fired. I'm
taken aback. I'm taken aback. So I what I'm seeing everywhere is
that they are working this weekend to get him to have him
come back to the company. I don't know if that's
John C Dvorak: true. But if that's true, that would be
because Microsoft said what are you doing? Yep. Dan? Yeah,
stepped in and said, Hey, we want us to stay. I don't know
what they're hot. What kind of a threat they can make. They
already put their money in but they made some sort of threat.
And that's my guess. And And now they're scrambling. It seemed
pretty Cavalier the way they does now this support and but I
observed this. And some people have noted it, that this was
almost immediately after he gave the speech at the APC, a big
meetup in San Francisco was GE and Biden and the rest
Adam Curry: of them now it was Was there a speech that was
public? Because I don't recall I can I
John C Dvorak: tried. I've been trying to find it, but I can't
find it. Because maybe he said something in there. That was
not. No, that was bad. Oh, no, here's
Adam Curry: here's Well, I have my thoughts. I think buzzkill
Jr. is right. The one thing that was just my initial thought,
which there may be some truth to it is, oh, my God, all his demos
had been rigged. The shit doesn't work. That's the first
thing I thought, well,
John C Dvorak: that's the first thing as someone with any
experience with Silicon Valley, that would be
Adam Curry: like, Oh, my God, oh, my God, it doesn't actually
work. The second thing
John C Dvorak: that but but the counter to that is so what was
that ever stopped anybody? Ah,
Adam Curry: well, that that brought me to a different trip.
Let me play the second clip. You have another clip here? Yeah,
that's
John C Dvorak: going on with this. You know, this
Unknown: all circles to question. Okay, what exactly did
he do wrong? And that's something we just can't answer
right now, Scott. Now, I also heard from the same sources that
Altman and the board gotten to a disagreement shortly before his
ouster over the balance between keeping open AI products safe
and, you know, pushing them out to the public as fast as
possible. In other words, you know, Sam Altman wanted to keep
releasing more and more of these powerful tools. And some board
members were worried that he was downplaying the risks to
society. But, you know, I had that confirmed that disagreement
is what triggered his firing. But it's really hard to
overemphasize when I say that it's the chatter of the tech
industry right now. Okay.
Adam Curry: That is, in fact, what I think is exactly what
happened. The board is very deep. So first of all, this
started as a nonprofit, a nonprofit whose entire mission
was to protect In fact, let me pull up the open AI form 992
described. Here it is, this is from the IRS tax filing open AI.
His mission is to build general purpose artificial intelligence
that benefits humanity unconstrained by a need to
generate financial return. Open AI believes that artificial
intelligence technology has the potential to have a profound
positive impact on the world. So the company's goal is to develop
and responsibly deploy safe AI technology, no pulling the
goalie, ensuring that its benefits are as widely and
evenly distributed as possible. So this was the original. There
is a nonprofit, this is The Nonprofit it controls the for
profit entity, which is what Microsoft invested in. In fact,
if you look at the at open AIS, fundraise fundraising, they were
bringing in 10s of millions of dollars. I'm going to scroll to
that page real quick here. I can tell you over the past five
years, where is it here? Here it is 2017 33 million. I'm rounding
up 2018 49,000,020 19 33,000,020 22,000,020 21 $3,000.
So the nonprofit just basically is just a board. Reid Hoffman's
on the board.
John C Dvorak: Schumpeter, Trump. Well,
Adam Curry: it's idealogues. I'm gonna give you the whole
breakdown of board members directors we have I've had to
zoom in a little bit here. This is this is from their form 990
So may have changed Shavon zyliss Gregory Brockman, who is
the who retired these a quit? He says, Hey, man, you're firing
Sam, I'm out. We'll heard Reed Hoffman, Holden. karnofsky Adam
D'Angelo, Tasha McCauley and Helen toner. Now these two are
the giveaways. They are both students of the Oxford and a
literal product of Effective Altruism. Do you remember
Effective Altruism?
John C Dvorak: I think we broke them down once. Whoa, I've
Adam Curry: gone very deep on Effective Altruism, because this
is exactly what this company was.
John C Dvorak: What are the last names of these? Hell and I have
all
Adam Curry: this information for you. If you want to look it up
while we're talking. That's fine. It's Helen toner. She's
the one that I'm going to do any to Nar and Tasha McCauley. I
first So Helen toner was at the effective altruism center, part
of Oxford University in 2016, I have a little clip so you can
just listen to her babbling about she's a young woman. Cool.
Unknown: So as I'm sure you all know, by now, Effective Altruism
is about doing the most good you can with the resources available
to you. And one strategy that gets talked a lot and talked
about a lot within AAA is earning to give, which is, you
know, increasing the amount of money you have access to, which
is one resource, so you can do more good with that. But working
in and helping lead and helping to grow an organization is, I
think, a way to grow most other resources that you have access
to. So by doing that, you can grow the amount of time, talent,
attention, energy that you have access to. So my hope is that
this talk is relevant for anyone who might want to found a
nonprofit, found a company lead a team, grow a team, work in a
team, any of that kind of thing. That's my, that said, I'm not
focusing specifically on collaborating in small groups.
So for the Berkeley students among you, I'm sorry, I wish I
could tell you everything you need to know about how to do
group projects, painlessly, but I can't the most I can wish you
as professors who let you choose your groups, or at least give
you a peer feedback form. So
Adam Curry: keep this British accent in mind as she was
speaking at, this was actually the Effective Altruism group at
Berkeley, your your, your neighborhood 2016. Here's the
same woman speaking five days ago at the 80,000 hours
Institute, which is another Effective Altruism outfit.
Unknown: Yeah, it does seem like there's something quite odd to
talk about. It's not her, obviously. But it really
emphasizes an arms race in a technology that, as far as I can
tell, is predominantly used now by kind of companies to like,
suggest videos for you to watch and like music that you really
gonna, like, far more than it's been used for military purposes,
at least as far as I can. I can see at the moment, so you could
agree with that. Yeah,
I do agree. And I think also in general people, again, with the
overestimating the short term effects, this is the same woman
as this. I'm not focusing specifically on collaborating in
small groups. Right now. The machine learning systems that we
have seems so poorly suited to any kind of Battlefield use
John C Dvorak: because she has electroshock therapy between
then and now.
Adam Curry: I'm telling you, she's been sucked into Silicon
Valley. She's been molded. She's been she, I mean, listen to
this, but
John C Dvorak: her cadence her voice cadence is part of a
different milieu than the original voice cadence. Yes. And
the British accents gone. Yes.
Adam Curry: Yeah, it's completely gone. She is. She has
morphed into this AI expert. But she still comes from the
Effective Altruism background, which is not Sam Altman, Sam
Altman. He comes from Y Combinator, Sam Altman. He's the
guy that said, Hey, we've remember when Ilan left. Ilan
left out of disgust. He said, Hey, man, you're not doing what
we do. AI is going to eat the world. This is what Effective
Altruism is about. They believe that it is their job to put
millions of dollars into nonprofits, or into policy
makers, pockets, politicians, so that we can make regulations
like the executive order that they got out of Biden to protect
human beings who have not even been born yet from the evils of
the world. I'm going to remind you of this with a clip from
Episode 1605. You might remember the France 24 Techno douche. And
that is exactly the type of person who was involved in what
this techno douche, that France 24 is going to explain to us and
he's going to connect it to some other techno dishes. This is how
we connect Sam bank, Ben freed and AI with the term Effective
Altruism.
Unknown: Joining me on the set is our technology editor Peter
O'Brien. Hello. What can you tell us about the surprising
links between these two events? SBF and the UK is AI Summit,
where they have in common? Yeah, I
was wondering how we could link these two together. And
actually, there's there's a simple way to do it. You may not
have heard of it. But it's the social movements called
Effective Altruism. It's often filled and it's increasingly
powerful. Now that power took a hit when Sam Backman freed the
most high profile effective Ultras and one of the movements
biggest donors fell from grace. But as we've seen from the AI
summit in Bletchley Park this week, we can see that effective
outrageous talking points are still making their way up the
policy agenda. One in particular, the potential for
artificial intelligence to cause catastrophic harm or risk that
would not be on the policy table at all. Were it not for the work
of effective ultras? Now, I should add a disclaimer here
that I've been briefly involved in the movement in France. To
some charities that are popular among effective altruists.
Adam Curry: Now. He's never going to mention them. But what
he's saying is effect of altruism, people donate a lot of
money for the good of humanity for the good cause because we
care about the world. That's what Sam bank when freed, really
should be accused of doing. Thanks to the egging on of his
parents, he was literally giving it to his mother for Effective
Altruism, which does a lot of really good things, including
this whole AI scam. How did
Unknown: we get to the point where Effective Altruism is
producing one of the biggest frauds in history, it's also
becoming a major policy debate.
Adam Curry: So policy is code for politics. The only way
Unknown: to really explain this is to teach you back for the
intellectual history of the movement. So the founding of
altruism is simple. And it's persuasive. In order to do the
most good with your time and money. You shouldn't just think
about your close circle of friends and family, you
shouldn't just think about your community, your country, you
should really be taking into consideration all humans, the
world will suffer in a similar way. If Trump's president we all
suffer in a similar way. A classic example of putting this
into practice would be donating money to local fire station. Oh,
Adam Curry: don't do that. Don't don't
John C Dvorak: happen to Think global act local. No, no, no.
Adam Curry: Yeah, hold on. It's almost here. Pay local No, come
on France douche.
Unknown: Well, it will be using the same amount of buy much more
mosquito nets to protect people. Rather than just carry about
humorous effects about tourists quickly realized that the same
principle should be applied to anything that can suffer, right?
So that could write an animal that could be a wild animal. A
human not alive today, a future human in the future. So that's
where we get to this situation where there are lots of
effective artists today who are also long term ISTS. That means
people who are considered wild animals that don't yet exist,
but could exist in the future.
John C Dvorak: So this is this is the oh my god this I'm
getting Clip of the Day for this. Thank you pieces show.
Yeah, they put that in there.
Adam Curry: Somewhere. So So here's what I think happened.
These are this board is all they're all most of them are
these effective altruists. They totally believe in this stuff.
And by the way, a lot of weird sex stuff going on in this the
economist that the economist did articles on it, that you know,
they have these poly cules the same thing Sam Backman fried had
in the Bahamas. This is going on in San Francisco. This is Time
Magazine. Effective Altruism promises to do good better.
These women say it has a toxic culture of sexual harassment and
abuse. And let's see she this woman she noticed the EAA
members in the Bay Area seem to work together live together and
sleep together, often in polyamorous sexual relationship
with complex professional dynamics. Three times in one
year she says men at informal EAA gatherings tried to convince
her to join the so called poly cules. When she said she wasn't
interested, they would shame her or try to pressure her casting
monogamy as a lifestyle governed by jealousy and polyamory as a
more enlightened and rational approach. Yeah, and so Sam bank
as
John C Dvorak: well love these old sale these pictures go back
to the 50s but
Adam Curry: bagman freed was it mean and these women, they also
were connected to Alameda. The Alameda people came from this
Oxford Effective Altruism group. And they were using Alameda as
the as the gateway from stealing the billions of dollars from
investors and giving it to Effective Altruism. There. You
have Sam Backman, screeds parents, who were like, Oh, yes,
Effective Altruism put me on the payroll for a million dollars
and put millions of dollars into my super PAC so we can stop
Donald Trump to protect future humans.
John C Dvorak: So this year, he's a threat to democracy.
Adam Curry: I mean, it's unbelievable how deep this goes.
And I think that after the blow up of bet Sam Backman freed and
FTX like, holy crap, we got a good thing going here. We can
have Altman who went on stage, I think it's before the xi
meeting, and said, Oh, at Dev day, hey, you know, it's not all
that dangerous. You can have an app in my app store. And they
went, Oh, my God, everyone's going to find out this thing is
lame. This this thing is no it doesn't really do that much.
Listen to if you want to listen to this toner woman a little
more, she's talking about AI and she had the she here she went to
John C Dvorak: do we have pictures of these people? So
yeah, she
Adam Curry: she looks like a cute British, you know, pale
chick. Helen toner is a member of the National Security college
futures Council as Director of Strategy at Georgetown
Georgetown's Center for Security and emerge Technology spook. She
previously worked as a senior research analyst at the open
philanthropy project, where she advised policy makers and grant
makers on AI policy and strategy between working at open
philanthropy which I'm sure is that not a sorrows? Deal? Sounds
like it? I don't
John C Dvorak: think it is. But it's one of the better should.
I'm looking at the background of this stuff, too. And it seems to
all stem from Sam banksman free money. Yes.
Unknown: Listen to this.
John C Dvorak: Between working at Open your bank been freed
must have been a moron.
Adam Curry: He wasn't more he was an artist. He they abused
him. He's in jail for being abused by mainly his parents
here between working at open and all these other people should be
in jail with him open philanthropy and joining CSAT.
Helen lived in Beijing, studying the Chinese AI ecosystem. As a
research affiliate at Oxford University Center for the
governance of AI. Helen has written for Foreign Affairs and
other outlets on the national security implications of CFR and
machine learning for China and the United States as well as
testifying before the US China economic and security review
commission. Maybe that's where Altman said something wrong.
Helen holds a BS C in chemical engineering and a diploma in
languages from the University of Melbourne. So this is a
programmed woman. So listen to her human facts.
Unknown: Right now, the machine learning systems that we have
seems so poorly suited to any kind of Battlefield use because,
you know, battlefields are characterized by having highly
dynamic environments highly unpredictable, there's an
adversary actively trying to undermine your perception and
your decision making ability. And the machine learning systems
that we have are just so far from ready for an environment
like that. They really are pretty brittle. They're
pronounced a spoof, they do unpredictable things for
confusing reasons. So I think really centering AI weapons as a
as the the core part of what we're talking about, is
definitely premature. Sounds
Adam Curry: a little bit maybe Sam was overhyping, this stuff.
And everything is like a cult, like you have to tie ties. You
know, if you make under $50,000 a year, you have to give 1% to
the Effective Altruism, charities, the approved
charities like the mosquito net,
John C Dvorak: this is a cult.
Adam Curry: If you make up to $50 million, you should be
giving away 53% of all of your money. It's a cult. It's a sex
cult. These people are weird, and they're on the board here.
They're on the board and Altman and now I'm actually thinking
Altman might be a pretty good guy. Because Because he's like,
hey, I can make money with this thing. We got Microsoft in here
we got billions of dollars. Okay, you can have a little bit
free little probably you
John C Dvorak: know where he's gonna end up
Unknown: dead.
John C Dvorak: Microsoft.
Unknown: Yeah. And yourself
John C Dvorak: sucks guys like that up like there's no
tomorrow. He's going to be at Microsoft.
Adam Curry: So the CTO who took over her name is Mira Marathi
and I have a little bio here Mira Marathi. She she she was
the Chief Technology Officer she developed chat GPT dolly and if
you can here's what's cool. Mera mera Marathi MIRMUR a ti if you
go to H I M IRMURATIMIR. M. Okay, hello. Mi ra mera Marathi
Mura T I. And if I go to chat GPT where I am right now and I
type in who is Mira Marathi. It comes back as of my last
knowledge update in January 2022. I do not have specific
information about an individual named Mira Marathi. She's the
Chief Technology Officer of the company that makes this thing.
John C Dvorak: Have you seen pictures of her? Yeah,
Unknown: I got a picture here.
Adam Curry: So she has explicitly filtered herself out.
John C Dvorak: Death very funny.
Adam Curry: It's It's suspicious is what it is. You think? So
there is something very deep, very wrong. And I have a boots
on the ground from one of our producers. Who says it hears he
just sent me a really long note. I'm going to take a few
paragraphs more than you ever wanted to know about Effective
Altruism, altruism because he was a part of it. But he left a
few years back because he says it got weird. Effective Altruism
falls out of a community called less wrong, less wrong is or was
is dead best described as a male self improvement cult for
autistic Jewish programmers. Dude, this is so good. How about
that? Sam Backman freed anybody It was started by a fellow named
Eliezer Yudkowsky, who drew inspiration from rabbinical
teachings and combine it with for lack of a better word,
extremely autistic navel gazing, in order to write a bunch of
guides on cognitive biases, human failings and how to
overcome them. The less wrong community has a few foibles. One
of them is that they are way too naive and trusting. So over the
past five to 10 years, they've been co opted by the same trans
Marxist woke stuff that everyone else has been captured by. So
now, AI risk has been co opted from what it actually was to how
do we make AI not right wing. makes so much sense. When EA
started the sales pitch was pretty simple. Most charities
bullcrap you donate to some local charity, they spend 80% of
the money on overhead, and the remaining 20% of the money on
say a statue in the town square. If you really like statues and
wasting money, that's cool. But if you're someone who really
wants to do the unit, utilitarian best thing with your
money, that's not cool. In any case, this sort of arguing over
what the real utility function is, was the best vector by which
politicization came in, then AI started becoming a big deal. And
the powers that be noticed that this organization has spent the
last 15 years basically declaring themselves the experts
of AI. This is where all these weird children come from. That's
my editorializing, the powers that be did what they do and CO
opted everything. Most of the less wrong, EAA, people were too
naive and trusting to understand what happened and got snowed,
then SBF happened. And that takes us to where we are today.
I think I might have written to you about them before. This is
the community that came up with the biohacking the idea that a
bunch of sad lonely men who can't get dates could date each
other, if only they could reverse conversion therapy
themselves into being gay. I love and then there's the last
thing that I'm sure you said Microsoft. But I have a report
here. Altman has been looking to raise 10s of billions of dollars
for Middle Eastern sovereign wealth funds to create an AI
chip startup. According to a person with knowledge of the
investment proposal. Altman was also courting SoftBank Group
Chairman Miyoshi song for a multi billion dollar investment
in a new company to make AI oriented hardware in partnership
with formal aperte. Apple designer Johnny Ive, the Board
may have been put off by Altman raising funds off of open AI his
name and these new companies not sharing the same governance
model is open AI. I think that's what happened here. You've got
bank. You've got this Altman, who's a commercial guy. And he's
like, Yeah, let's just go this is the we got something here.
It's not great. But it does fun stuff. It's a cool chat bot.
We're hot. We can make a billions and billions of dollars
he had zero equity in open AI, this was his chance. And then
the the poly cules went now we can't have that it's not good
for humanity. And then, you know, of course, they pulled the
plug on this guy and all the other commercial smart people in
the company. Well, yeah, we're walking goodbye you felt you're
finding ALTMAN I will just go to his next company. I think that's
that's that's kind of what JC said is probably right. But
John C Dvorak: these these I mean, that is a definite
possibility. But
Adam Curry: these people who are on the board and these if for
John C Dvorak: those people that just you know, but
Adam Curry: I think this we there's a lot of people in
government. There's a lot
John C Dvorak: of these creeps that are all over Silicon Valley
and elsewhere that are really, they're all I think you nailed
it. Sex cultists. Yes. And you look at these people and they
all you're right. There's a bunch of there's some very
pleasant looking women who look like easily be part of any sex
cult has ever been around. All of them, including Marathi, and
a bunch of dorks Yeah, as perfect as exactly what sex
calls tend to be. And one or two charismatic males. Well,
Adam Curry: it's like 75% male and these guys are making out
they got like chicks everywhere. Living with them. I mean, that
that that Time Magazine is horrible. I don't even want to
repeat some of the things that happen to these women in these
poly cules. is, it's free. It's really bad. Poly Q, they brought
in some Silicon Valley mediator when there was a sexual
harassment claim. And this was right around the time of me to
the Harvey Weinstein stuff and she and she actually had it was
in a relationship with the guy who was being accused. And that
she said, Oh, well, you're my boy. You can't You shouldn't go
to the authorities. That's not good. That could break up the
poly cool I mean Wow, just wow. And I think Elon Musk is one of
these EAS with
John C Dvorak: all the different women he has the rules for
dating him and all the rest you think
Adam Curry: and his whole AI is ai ai is is going to eat the
world. He's one of them. He's one of these or at least he's
feigning to be one and effective altruist
John C Dvorak: even though he's there's no true evidence.
Adam Curry: No, but I just I remember listening maker I
remember listening to the whole Sam Altman interview on Joe
Rogan. I was so underwhelmed my everything was like, yeah, maybe
five years, maybe 10 years. Yeah, I don't know. Maybe it's
gonna be Yeah, be kind of a Joe's like, well, we should have
an AI president. It's all gonna happen. It'll be great. Well,
Joe, Joe was probably token up a bit excitable. He is excitable,
and album was just not. And he's the perfect Silicon Valley
douche. He's perfect. He's, he's the Messiah. So it'll be
interesting to see what happens. But this this board and this
open AI, I mean, I think they're toasts.
Unknown: It'll be just the second in a and, and this is all
public
John C Dvorak: domain already. Yeah.
Adam Curry: I mean, I have models running. That's another
part of the problem. And I'm sure it was effective altruists
at Mehta, who released these models in open source so that I
can now run 10 of them on my machine and here at home,
because they were thinking exactly this, oh, we can't let
someone like Sam Altman, you know, commercialize this too
much. I guarantee you if we dig deep enough, we can find out
that it was effective altruists who did this long term lists,
which is just insane. This is transhumanism in a way. These
are transhumanist people if they're now and now they're
trans Maoists. And Ah
Unknown: It's sickening.
John C Dvorak: As disturbing, maybe,
Unknown: yeah. Well, disturbing. I'm just I'm just blown away by
it. And then these
Adam Curry: are the politicians they were they were Oh, yeah.
Don't Well, Wolf. Boy. Yeah. But we'll we'll make some
legislation. We'll put some policy in there. Just give me 10
million bucks. This Sam bank when freedom was given money to
all kinds of people on the right and the left? Oh, yeah, we agree
with you, Sam. Sure. That that's what that's what went wrong.
That's and yes, and you're right, that kid was an autistic.
Just an autistic. And it doesn't mean he wasn't smart. But yeah.
I can just see all those guys at Sequoia Capital. He was playing
games during the pitch meeting. The guy's a genius.
John C Dvorak: This is totally the anyone should read yours. He
Kaczynski is being there to see the movie with Peter Sellers.
And you can understand this. These are the idiots who
misinterpret things, you know? Well, he's just he's just
shoveled. He looks like shit. He's crapping his pants. And
he's playing a game during a pitch meeting must be a genius.
And, you
Adam Curry: know, with all this military industrial complex
stuff being woven throughout this board, including heard, you
got to think that you know, the military's all in, you know, I
don't know, man. The more I read, the more I see the more of
that. Yeah, it's good. You know, it can write some code, it can
do that for you. Sure. It's great a Bible scripture. You
know, it does other things quite well. But I listened to these
podcasts where people are trying out the latest models. And, you
know, I fed a whole book into it. And after, you know, 18,000
tokens, then it starts to forget stuff in the middle. I mean, I
know people who use this stuff for spreadsheets, and then it
was like, well, one time out of 50. It gets the calculation
wrong, but so we'll use it anyway. Quit, use the
spreadsheet. It's just not an excellent product, but it's
cool. And it can kind of simulate a person does art. And
I think actually, Altman's idea is of an App Store's probably
pretty good. You know, I would let me create an app and my app
would be all the no agenda information. So we feed the
transcripts and all the articles into it and then you can get
replies as as it would have been discussed on no agenda and part
of it will be just as wrong as we've been wrong. But at
John C Dvorak: least very rare. You're giving it a lot of
credit.
Adam Curry: What's what's rarely been wrong? Never we're never
wrong. Anyway, here's the ABC with some AI news. Our buddy
back The whirly a new report
Unknown: on the safety of artificial intelligence,
nonprofit media review or Common Sense Media has a new rating
system Congress different AI based products and how safe or
unsafe they may be for your kids. Becky Worley breaks it all
down.
A new AI rating system created by nonprofit Common Sense Media,
it evaluates a wide range of AI products with varying degrees of
interactivity. Looking at privacy, bias and
misinformation. In apps commonly used by children. The best
reviews went to AI products for education like ELO, which uses
speech recognition to help children read from a limited
array of books, apps offering wider services were less
favorably rated.
Adam Curry: Our thanks to Becky Worley for that and with apps
used by kids the more I think about I think our producer is
spot on that the only thing that that the politicians really want
right now from AI is to make it spit out Democrat talking points
and don't don't give anything right wing. You know, don't
don't promote anything conservative, make it all trans
Marxist, trans Maoist. That's all they care about. Let's just
make sure the answers are correct. Okay.
John C Dvorak: That can take a look at meet our team, the
executive leadership team of this Common Sense Media. And you
can just take a look at them and you say yep. To what you just
said. Yep.
Adam Curry: It's a big group to common sense
John C Dvorak: to be huge. It's a big and they all look like
Democrats. Yeah, it's a big group. Well, that reminds me
since you're bringing that up. Let's go to the real spread.
You're overlooking all
Adam Curry: Oh, no, there's there's an actual threat
somewhere.
John C Dvorak: Yeah, that's a you know that Ali Akbar winner.
That guy's name is on MSNBC. Ali Velshi. Sure. No, that's it.
Adam Curry: Oh, revulsion. No. Is it No, Ali? Ali? Yeah. No Ali
Velshi, Ali Velshi. Yeah, well,
John C Dvorak: he's taken over for Oh, Donald for because he's
on vacation because of course it's vacation time for
everybody. But oh, yeah, no, nobody thanks for it. Let's go
at MSNBC Ellie. Like got it Ali Akbar on greatest threat. We're
Unknown: facing a number of historic challenges the war
between Israel and Hamas, with 1000s of Palestinian civilians
caught in the middle of what could become a much bigger war.
The ongoing Russian invasion of Ukraine were deepening fears of
whether China might invade Taiwan While America is
indirectly supporting two major wars, extreme political
polarization around the world and here in America not to
mention a climate crisis that threatens the habitability of
our very planet so much is going wrong. So much threat threat
around us be framed, which one is the most serious threat to
global stability? None of the ones I mentioned Oh greatest
threat to the stability of the world right now remains a twice
impeached multiple indicted former president of this nation
Donald Trump is the greatest threat the world face
Adam Curry: all right, there you go. You nailed it on that one.
Who sent you that you don't watch MSNBC?
John C Dvorak: I heard about this clip and I tracked it down
Stanaway turf,
Adam Curry: what are you doing on my grounds go away you're
John C Dvorak: the greatest threat facing humanity and the
world is
Adam Curry: a DAP now he didn't have that. Let's just get that
he didn't have the whole lineup. He said double limitless.
Unknown: The greatest threat to the stability of the world right
now remains a twice impeached multiple indicted former
president of this nation dice
Adam Curry: impeach multiple indicted former president of
best shot Donald
Unknown: Trump is the greatest threat the world faces.
Adam Curry: The whole world faces this threat latest
gentleman. He doesn't
John C Dvorak: follow up. You want to hear more? Yes, I did
cut it off because it's just too much. I
Unknown: was good. Donald Trump is the greatest threat the world
faces. Here's why. Here's why. Here's real global crises I
mentioned actually hang in extremely delicate balance with
President Biden steady hand on the wheel. as chaotic as things
may seem right now ask yourself, how much worse do they get with
Donald Trump in the White House? He's on the case. Joe Biden is
with Ukraine. He's redeveloping the relationship with xi in
China. He sure has annoyed a lot of people at home with his
Israel policy. But he has created more space for an
American president to influence Israel than we've seen in a
while. And he has a real commitment to solving the
climate crisis. Here's, here's how those situations can play
out with Donald Trump at the helm. According to a recent
piece by The Economist quote, knowing that America would
abandon Europe, Mr. Putin would have an incentive to fight on in
Ukraine and to pick off former Soviet countries such as Moldova
or the Baltic states. Without American pressure, Israel is
unlikely to generate an internal consensus for peace talks with
the Palestinians by asserting that America has no global
responsibility to help deal with climate Chang, Mr. Trump would
crush efforts to slow it. And he is surrounded by China hawks who
believe confrontation is the only way to preserve American
dominance.
John C Dvorak: Of course, this is all extracted from an article
in the piece of shit magazine, The Economist, which is run by
that woman, Zanny vadose, who's a, just a ridiculous Marxist for
all practical purposes. And she's is all around. She hated
Trump when he was in office, and she's hated the old debt all
Republicans ever since ever since she got the job. I think
she started working there. 94 I think she got promoted to editor
in chief around toward 2005 or something like that. So that's
where they're getting this, The Economist is already concerned
about Trump.
Adam Curry: Well, I mean, that somehow they have to spin all
this to discredit Trump again, I mean, it Elon is okay. In fact,
now would be the time for Trump to get back on top posting on
Twitter.
Unknown: This would be a good moment for him
John C Dvorak: to switch to annoy them. Yeah. Yeah, maybe
because he's
Adam Curry: coming out. He's, if anything, I think President
Trump is sitting like, crap, man that I'm talking about me that I
need. I need some I need some juice here. Blitz, er, and what
can we do? He is getting all the attention. This is not good.
John C Dvorak: Left hook Trump clips as you want to bring it
up. Can
Adam Curry: I just Oh, yeah. Okay. We'll come back to the
Lensky in a moment. Sure. Sure. Trump, Trump, Trump, Trump
John C Dvorak: and back to what were we gonna do?
Adam Curry: I was gonna come back to Zelinsky.
John C Dvorak: I was like, Yeah, well, Trump, Trump. Trump trials
one
Unknown: leaked confidential videos of former Trump lawyers
could shake up the Georgia election interference case. Oh,
no. From NPR. This is Trump's trials. I'm Scott Tetro. This is
a persecution violations for national security laws. We need
one more indictment.
To close out this election,
just stormed out of the corner.
proven guilty in a court of law. Once a week we talk through the
latest developments in the legal trials of former President
Donald Trump. We have updates on the New York Civil Trial and the
January 6, federal election interference case that we'll get
to in a moment. But this week, the main focus is that Georgia
election interference case remember, this is the
racketeering or Rico case against Trump and many other co
defendants. Four of those co defendants have taken plea deals
already. And now with these leaked videos, we've learned
more about the conversations inside the White House between
Election Day and inauguration panic.
Adam Curry: That guy sounds like Ben Shapiro. Slow down by 1.5.
John C Dvorak: Very interesting observation. Yeah. Well, before
we play clip to you by want to know what you're listening to
NPR? No, this is the new and play this clip. This is the
teaser for it. New NPR podcast.
Adam Curry: Oh, everybody is also just
Unknown: really hard to follow. So we have created Trump's
trials, a new NPR podcast hosted by me, where we break down the
big news from each of Trump's cases and talk about what it all
means for democracy. Each episode is about 15 minutes, and
we are sharing the latest one with you here today.
Adam Curry: Really sounds like so
John C Dvorak: you're right. He sounds exactly like a slow down
Ben Shapiro. Exactly.
Unknown: That's pretty interesting. Yeah. So
John C Dvorak: this is to show this. So this particular podcast
about some leaked videos and leaked videos, leaked videos,
what lawyers taught to be leaked videos of the depositions.
Unknown: And the lawyers. Big deal.
John C Dvorak: So So here's part two, and they have actually one
of the leaked videos and it's pretty lame. And
Unknown: that's where the news was. As part of that
cooperation. The defendant sat down for lengthy interviews with
prosecutors to tell them what they know. And this week several
of those interviews, including conversations with Congress,
Russian lawyer, Sidney Powell and Jenna Ellis were leaked to
ABC News, Dominica, what were the main headlines from these
tariffs?
Well, seeing Jenna Ellis sort of flip on Trump was really notable
and saying that she'd heard from one of Trumps aides, danske of
you know, that the boss isn't going to leave office, really
kind of a fascinating thing to show sort of Trump's state of
mind and how much he really wanted to stay in power.
But Melissa Trump's legal team was pretty quick to respond to
that saying, Who cares what this aide said, in a sense, because
for all the other things that happen, Trump did leave office.
He didn't hold himself up in the White House. He didn't try to
remain President. No,
that's right. And you can imagine what the response to
this would be at trial. I'm no one to discredit Jenna Ellis as
someone who has a real incentive to play nice with the
prosecution, but also someone who may not actually be that
truthful herself. She was formally a co defendant. They
will also I think, note that this was a statement that Janet
Ellis heard from someone else, Dan Scavino. She did not hear
this from Trump himself. So it doesn't actually go to provide
clear evidence of Trump's own mindset with regard to power or
leaving peacefully.
Adam Curry: So right so they do a 15 minute a day podcast about
a video a leaked video which we have no audio of, which actually
wasn't something someone said, but it was someone telling that
was Jenna Aleister Yeah, third party information. This guy
John C Dvorak: told me that that again, we told him that and I
heard from so and so that so and so I knew that somebody else
news does something at something and say, we don't even have a
clip. Yeah, I looked for a clip. I couldn't find it. So Mike
Adam Curry: Johnson, what a generic name. Mike Johnson, the
Speaker of the House released the tapes. So this is 10,000
hours or 40 30 million hours of videotape that is being released
to the public 90 hours at a time. And everybody's Oh, look
at this. Oh, everyone's gonna get out of jail. Now. Everyone's
looking at the cylinder getting out of anything. And of course,
of course, you know, everyone's just go oh, look at us. Look at
all this. Oh, it was it was not it was not an insurrection. It's
gotten so bad. Now with this blatant lie about insurrection.
Remember, remember that this was worse than 911. So this is
actually worse than October 6, October 7, January 6, worse than
October 7 in Israel, according to their logic, yeah. Danna bash
on CNN. Made a big boo boo. And man, the control room jumped on
her. In fact, who's the who's the new lady Lopez from? She's
PBS.
John C Dvorak: Oh, yeah. Load the Lopez girl. She's Lopez,
PBS. She Okay, she got a million front names. She's got one of
those Catholic names. I just call her Lopez.
Adam Curry: Yes. So she, she's on the panel with data. Yeah.
What
John C Dvorak: is she doing there? Well, isn't that what we
should lose her agent so she came out of nowhere. So
Adam Curry: listen to danobat screw it up. The control room
jumps in and then Lopez bails her out
Unknown: now to an anti war rally that turned violent. This
was the scene outside the Democratic National Committee
headquarters. Right here in Washington last night.
Protesters were demanding a ceasefire in Gaza, but ended up
clashing with police. The top three House Democrats were all
inside the building at the time and had to be evacuated. It's
another sign of the growing divide among Democrats over
President Biden's handling of the Israel Hamas war. Our great
reporters are back. And Laura. I mean, that is quite an image. We
haven't seen an image like that since January 6 Totally
different kinds of people. I mean, not that I don't want it
back. Take it back, compare the route. But the idea that there
was while it's and that there were Capitol police officers
there, I believe there are about six Capitol police officers that
were injured, according to the Capitol Police that put out that
report last night. But there is a there are key differences I've
written compared to January skirts, but it was a class and
the protesters or the ralliers were selling a rally or sways
and the exit ways. And that's why police confronted them and
tried to get them to move because people couldn't exit or
enter and that was it Democrat most senior House Democrats.
Job Lopez.
Adam Curry: This unbelievable. Oh, no, I wouldn't compare to
that more. No, good.
Unknown: There's no good. People are going insane.
Adam Curry: To go going insane. I got some minutes here. Right.
So this is a lot of this is happening on CNN. I think CNN
I've haven't looked at the ratings, but probably enjoying
some some better than normal ratings with this hope. So
there's so much to go live to, you know, like, Oh, we're here
live here. So we have this problem with our universities,
which I think if you've listened to the no agenda program, you've
probably noticed this as well. You know, we have a trans Maoist
movement that is captured. And it's the educators who are then
riling up these kids and it's It's now two generations of
college students. And now it's come back to bite the Democrats
specifically in the butt because they're the other column for the
calling Joe Biden, their president, a genocidal maniac.
And so we need to do something about this. And you know, we
just want everyone to know that we're going to have to do some
investigation of these colleges Department of
Unknown: Education is locked investigation. turns into seven
schools after receiving complaints about alleged
incidents of anti semitism and Islamophobia then no,
Adam Curry: there's no complaints of Islamophobia.
That's a lie. You're just putting that in there just to
make it sound like it. But that gets balanced.
Unknown: Yeah, incidents of anti semitism and Islamophobia. That
is, according to an administration official, the
investigations include five anti semitism cases and two
Islamophobia cases, among the schools K through 12 school in
Kansas and six colleges, including Cornell, Columbia, and
the University of Pennsylvania.
Adam Curry: Where's Harvard, and all those guys were at Harvard,
they left them out to touch campus,
Unknown: Columbia, and they left those out in a rise in tension
over the Israel Hamas war. Joining us now to discuss all
this education secretary Miguel Cardona.
We appreciate your time, sir.
Thanks for coming here. I know you've said in the past that
there was an uptick in
a big uptick.
So the the filing of concerns about this? How many
investigations do you think that will lead to? We already have
these initial matches are more coming?
Yeah, I anticipate more coming. Look. Thank you for having me
here, Phil. First of all, you know, we take the responsibility
very seriously to protect students freedom to learn in an
environment that's free of hate freedom
Adam Curry: to learn.
John C Dvorak: What does the Department of Education have to
do with the management of these colleges?
Adam Curry: They need the White House needed. So I wanted to go
out there and say someone's done with school cred. As they talk
about investigations. They have nothing to do with these private
institutions.
John C Dvorak: Well, even the public ones are governed by the
debt department. But it's their state. Governor Yark,
Adam Curry: they have to get the word out. Elon is the true the
true.
John C Dvorak: Elon is a bad guy. And Biden is not genocide.
Joe? No, we're
Adam Curry: trying to fix this because everyone has the freedom
to learn, not freedom of speech, we owe that
Unknown: students freedom to learn in an environment that's
free of hate. And the feeling of threatening, we've spoken as
students a different use of feeling faces,
Adam Curry: the feeling of threatening, these are American
values, you should be free of threatening and
Unknown: the feeling of threatening. We've spoken to
students at different universities we've been listened
to. This was not
John C Dvorak: even a right. That's not a term doesn't mean
is the freedom of threatening, yes,
Adam Curry: the freedom of threatening,
John C Dvorak: he's making stuff up. I
Adam Curry: would say that's correct. Yes, of course. Of
course. We need to get the word out there. Look, we can't get
through on Twitter anymore, because there's no more good
news. You can't communicate through Twitter. So we have to
do it through Well, CNN didn't
John C Dvorak: really hear that. But the Biden team has put it
that Biden has put a team together so they can push the
Biden agenda and the Biden messages on tick tock Doh, of
course, that
Adam Curry: team Halo we're getting the band back together
course makes
Unknown: sense students freedom to learn, and an environment
that's free of hate, and the feeling of threatening. We've
spoken as students at different universities, we've been in over
five different states. Listen to this parents, we've lived in
students who feel under attack and threatened learning. Very
serious. We're Civil Rights Agency, and we're protecting the
rights of students.
Adam Curry: So there's various civil rights agency here
John C Dvorak: a civil rights agency. Yes, yes. The Department
of Education is a civil rights Hi, oh, six,
Adam Curry: title six baby.
Unknown: Do you find the balance here in the sense of free speech
versus discrimination? It's been a gray area forever. It's
certainly not getting easier to figure out right now. You have
actual tools, enforcement power here. What is the bouncer
threshold?
Adam Curry: They have enforcement power. They have
enforcement power over universities
John C Dvorak: under what US Code?
Unknown: I don't know section
John C Dvorak: enforcement powers. Do they have title?
Because they have a police department?
Adam Curry: I'll bet you they got guns. If they do. They got
guns, you know, and if
John C Dvorak: they do they have guns. We're
Unknown: bringing together college leaders and K 12.
Leaders. We're getting great examples. But what they need to
know is 12 leader,
John C Dvorak: a social studies teacher in the fifth grade, I
mean,
Adam Curry: K to 12.
John C Dvorak: Leader,
Adam Curry: I want a business card that says Hi, I'm Adam
curry. K through 12. Leader.
John C Dvorak: Yeah.
Adam Curry: Wow, that's impressive. Are you an
enforcement agency? Yep. Well,
Unknown: what they need to know is number one, they have to be
open and honest about what's happening on their campus,
communicate with students communicate with families
regularly be visible, and recognize that while students do
have the right to express themselves, there's a threshold
that has to be communicated very clearly, what they can't do. The
resources that we have online are available to them. Our
offices are available for technical assistance. We want to
support them in this work, but at the end of the day, they
should know that if the they're not protecting students, we are
going to investigate and if we have to, we will withhold
and your point being that
Adam Curry: we will what we will withhold funds protecting
Unknown: students, we are going to investigate and if we have Do
we will withhold and your point being I can't. When he says what
he tries to say funds investigate and if we have to,
we will withhold and your point being that
we will who's here they know the line because lay out the line,
you have detailed the line. And if they crossed the line or the
line gets crossed, they should be aware
there is a line, we can work with them to make sure that
based on their situation, they're getting the sleep that
they need. But they need to be clear.
Adam Curry: Maybe it's more clear in this clip from the view
who had Alyssa Farah Griffin. Now is that know that she's from
the VA? I don't know.
John C Dvorak: Though this is on the view, I
Adam Curry: think. No, I
John C Dvorak: don't Trump sell out.
Adam Curry: Magewell Cardona. I guess, let's let's listen. Maybe
the ladies of the you will have cleared up for me.
Unknown: We're taking this very seriously. We announced last
night seven open investigations. We're going to be very
transparent. Yeah, the same guy. Yeah. Same guy with which guys
are now being investigated. That information is going to be
clearly
Adam Curry: this is a PR campaign because it goes from
CNN to the view. We've got to communicate to the mothers in
the in the housewives of the world who watched the view that
this will not stand we are not genocide, Joe, we are the good
guys, this can't happen. And pay attention because we're gonna
come for you children. We're
Unknown: taking this very seriously. We announced last
night seven open investigations, we're going to be very
transparent with which schools are now being investigated. That
information is public to us. With College,
John C Dvorak: does he tell us to seven schools, he's got to be
very transparent. He's got seven schools and their sights, who
are the schools, let's find out which
Unknown: schools are now being investigated, that information
is gonna be public. We're gonna work with college presidents
with superintendents, we're going to talk to students, we're
gonna get through this. At the end of the day, the freedom to
learn in a safe environment is something that we're going to
protect you. And
if I may ask you, are you able to share how many complaints the
Department of Education has gotten?
You know, we've gotten more in the last month and all of last
year when it comes to these. Wow,
Adam Curry: how many is it not? Wow, wow, how many three? Is a
3000? Wow, seven. Wow. You know, several you said, you
Unknown: know, we've gotten more in the last gotten month and all
of last year when it comes to these topics. So what we're
doing right now is going through the process of investigations,
or the request for investigations to see whether we
open them or not. We opened seven yesterday. I anticipate
many more.
Adam Curry: This is this is a this is an outrage. The
government is coming after students for them protesting at
schools. I don't care who you're protesting. That's wrong. That
is wrong was resolved
John C Dvorak: in the 60s with the free speech movement at
Berkeley.
Adam Curry: Did they bust some heads?
John C Dvorak: Oh, they bust a lot of heads but it at the in
the end. At the end of the day, the students won out and
everything was changed ever since then. Protests
Adam Curry: are what students want out I don't What are you
saying
John C Dvorak: the students were allowed to have protests against
their issues that were taking place where the campus was
closing down certain vendors and they had these guys sitting
behind a table saying I don't like breasts change my mind kind
of stuff. And drowner
Adam Curry: I don't like breast. You know, this is this is anti
American. This is unAmerican. This is wrong. I don't care what
you're protesting. Exactly. I don't like boobs. Whatever it
is. The government should have no business.
John C Dvorak: No, they don't. But this says that it's worth
doing it both agree to which is they're trying to quash this
genocide Joe meme? Because it's gonna hurt the Democrat Party.
Tears
Adam Curry: will come. Tears will blood will be there'll be
blood on the moon as my mom would say. This is not going to
end well if they think they're going to send goons into college
campuses. We although I may agree with you know, I mean, I'd
love for lots of these protests and not happen but that's not
that's not America. You can protest up and you can you can
go with your pussy hats. You can put your your Kifah Jez on you
can do whatever you want. But the government is so freaked out
now that you're not doing it right. Hello, protests. Elon
Musk protest Trump don't protest genocide. Joe? No, this is not
good. We're gonna come and beat you up.
Unknown: I anticipate many more, which is why? You know, a lot of
folks are telling us, oh, you need to act on that. But they're
also saying in the same breath, we're going to cut funding for
the Office for Civil Rights. We need to make sure we have folks
at the department that can investigate this right away. Our
kids safety cannot be compromised. So the referrals
will go to the Civil Rights Division at the US Attorney's at
the at the US Department of Education. Asia, we're a civil
rights agency to a lot of people don't. So we have a civil we
have the Office for Civil Rights that investigate exists
independently to make sure that all the facts are taken into
account. Okay, so
Adam Curry: now I understand. So they are also a civil rights
agency. You didn't know that but you do now, which means your
right to free learning, freedom of learning and freedom to not
be threatened is under attack. I don't think that that anyone who
just wants to learn is being threatened. Wow. Okay, so now we
have Morning Joe. We have another fine dude showing up
Jonathan Greenblatt, the out of control CEO of the anti
Defamation League, these coming unhinged. I
Unknown: am so sick of the safe spaces conversation. Talk to me
about safe spaces when your campuses are literally unsafe,
these college administrators and you know, it's the oppression
Olympics Joe. It's the oppression Olympics where you
either play oppressor or oppressed. And in this
victimology madness, Jews are somehow put at the bottom. This
is
Adam Curry: really phenomenal. What we're witnessing here, the
whole the whole base, political base, has been told for years
and years and years. You are being oppressed, you're a
victim. you're black, you're gay, you're lesbian, you're
trans, evil, evil right wingers, white people, they hate you.
This is now now on MSNBC. We all have to say yeah, you know, this
safe space does that bullcrap it's falling apart. It's like a
natural occurrence. It's like, like, like a fire putting itself
out. It's crazy. This is so beautiful to watch
Unknown: madness. Jews are somehow put at the bottom. But
here's the thing, Joe, I am so tired of the cowardice. I am so
tired of the university presidents. I am looking right
at you. If you violate title six, and you make your students
unsafe, ADL is coming for you know, if you
Adam Curry: let me tell you, I'm more afraid of ADL than I am. Of
Education. Yeah. So hold on. What is that? What is title six?
Exactly. Do you know what title six is?
John C Dvorak: I think it's an equal civil rights equal access
kind of thing.
Adam Curry: Okay. Overview. Title 642. US US for US Code was
enacted as part of the landmark civil rights act of 1964. It
prohibits discrimination on the basis of race, color and
national origin in programs and activities, receiving federal
finance financial assistance. As President Kennedy said in 1963,
simple justice requires that public funds to which all
taxpayers of all races, colors and national origins contribute
not be spent in any fashion, which encourages in trenches
subsidize or results in racial discrimination. So they're using
title six. I guess, to take away funds from these universities,
these universities actually get funds from the government.
John C Dvorak: Well, you know how it goes, do I search funds
sometimes? A lot of research money that goes into the big
schools, K through 12 gets nothing but
Adam Curry: medical, medical, military,
John C Dvorak: military funds.
Adam Curry: I thought it would be a little more fun if they
went to bust heads honestly. But okay, so
John C Dvorak: like, you know what the seven schools were
transparent versus seven schools,
Unknown: find out a title six, and you make your students
unsafe, ADL is coming for you. If you create environments where
Jewish students are hostile or being harassed, being targeted,
I got news for you. You may have a moral weakness, but you also
have a fiduciary responsibility to protect your institutions and
look whether you're going to lose 10s of millions of donor
dollars and you will or you lose hundreds of millions in federal
funding because you lose title six, and you will we are coming
for you because I'm tired of waiting Joe. I'm tired of
waiting for them to protect my Jewish kids in school, so I'm
going to protect them with the full force of the law. seven
Adam Curry: schools are an investigation as of November 16,
Lafayette College, Cornell University, Columbia University
Wellesley College, University of Pennsylvania, the Cooper Union
for the advancement of science and art, and Kansas is Mays
Unified School District. Five of the complaints allege anti
semitic harassment and to allege anti Muslim harassment.
Unknown: Well, that just mean where are these victims?
Adam Curry: The whole thing is it's beautiful to watch ginned
up. It's yeah ginned up. It's beautiful to watch like, stop
it. We can't have these protests anymore. Please, please, please
Trump, any of this stuff these protests and
John C Dvorak: they don't need more coverage by the mainstream
media with signage that says genocide Joe, they've been
keeping that pretty much to a minimum. But you know, those
signs are everywhere.
Adam Curry: is great. But it's hilarious. If there was a chant,
I don't think I don't think I clipped it because you couldn't
hear it well enough, but it was a chant was it had genocide Joe
in there. But these chants are they're just spells these
children are under spells. The told hey, hey, ho ho genocide
Joe got to go. It's just spells. It's witchcraft. And they've
fallen for it is fantastic. That's good. It's pretty expect
let's go to Zelinsky for a moment. Something beautiful
happened. Because I guess the foreign secretary in the United
Kingdom, where Ricci soon acts, government. He's not elected by
the way. He was just catapulted in after they got rid of the
woman. And so the female No,
John C Dvorak: yeah, he got catapulted in after he got rid
of Boris Johnson.
Adam Curry: No, they had that woman in for three weeks. Oh,
don't you remember? Yeah. There's a interim Yeah. And then
and he's interim too. And then his foreign secretary said, and
we can't have all these multiculturalism doesn't work.
Get him. Get him out of here. Send them to Rwanda.
John C Dvorak: Rwanda.
Adam Curry: That's no good. Bring back Cameron. Yeah, that
guy. So Cameron, if I recall, is the guy who said we're not
worried about this Brexit we'll just do a vote. Let's do an
election. We'll do a vote we'll do and then, of course, Brexit
took place. So he's got three rug pulled up. He's a real
winner. So now he's been sent over to to Ukraine to go talk to
the Lenski very dangerous journey. As you can understand,
Unknown: it's David Cameron's first working trip abroad as the
UK Foreign Secretary, the destination Kyiv to meet with
Ukrainian president Volodymyr Zelensky and emphasize London
support for Ukraine
for moral support the diplomatic support and economic military
support just this year next year, politics
the former UK Prime Minister made a point of stating that he
plans to get the communications right with all Ukraine's friends
and allies to ensure that the attention is directed to
Ukraine. Other topics including weapons and arms production and
the security situation in the Black Sea. Zelinsky expressed
his gratitude for Cameron's visit at a time when global
attention has shifted to Israel's war on Gaza.
You know the world is not focus on on the station or on our
battle shells. In Ukraine. We are thankful that UK always
supported Ukraine.
It's been over 600 days since Russia's invasion of Ukraine,
and the war is continuing with no end in sight. both Ukrainian
and Russian authorities have kept tight lipped on the number
of soldiers killed since February 2022. But some reports
put them close to 70,000 and 120,000 respectively. So far,
the UK has committed over 4 billion pounds in military
assistance to Ukraine committed
committed not paid committed.
John C Dvorak: So have a bunch of Ukraine clips. Yeah,
Adam Curry: can I do my quick little as Lensky thing just just
to alert you to this to be on the lookout. And these are good
memes. These are video memes of Zelinsky. And so it's the same
thing. It's like a guy like a panhandler leaning through the
car window or a guy in front of a whole bunch of slot machines.
And they they stick the Lensky his head on it with this with
this little quote from him.
Unknown: It will be when when this old one if you can give us
a gun give us some financial support. Okay, okay, please give
us a credit. And we will give you back money.
Adam Curry: Haven't baked in at the slot machine. Give us a
credit. Just give us a credit. Let's finally
John C Dvorak: Yeah,
Adam Curry: finally a good meme.
John C Dvorak: I think some slot machine makers should seriously
consider that when we haven't said when when and have hedge on
the reels. Yeah, exactly. So Minsky heads he was
Adam Curry: a credit man, the super jackpot. Come on, man.
Give me an eight ball. Give me the credit. Just give me credit.
I'll pay you later. I promise to pay you back.
Unknown: All right, what you got on Ukraine.
John C Dvorak: These are the updates and these are from
yesterday, so they're pretty recent. Let's go with Ukraine
says I don't know It's not supposed to be IRC, but it says
IRC PBS.
Unknown: In a Washington post op ed today President Biden urged
support for Ukraine. He's asked Congress for 10s of billions of
dollars to support the nation and its war with Russia. Most of
that would be military aid, but it also includes money to
address the humanitarian situation, which as Ali Rogen
tells us gets worse by the day, as Russia
increases its attacks on critical infrastructure in
Ukraine, some 18 million Ukrainians, about 40% of the
population are in need of humanitarian aid, humanitarian
organizations on the ground are working in a hostile
environment, trying to help civilians caught in the
crossfire who are searching for safe haven. And those groups are
concerned that support for their mission in the international
community is flagging
Adam Curry: just out of interest. I know you didn't mean
it, but what do you think you were trying to do when labeling
this clip IRC? Which was just curious what
John C Dvorak: they're all Yeah, I think this leads up to my
international relief committee. Ah, okay. Got it got it got the
international relief Committee, which is a rescue International
Rescue.
Adam Curry: This is the money guys.
John C Dvorak: It's quite the operation. They bring on
somebody a spokesperson, but I went and did one I did a curry
dive. And so I ended up looking at this you guys it's a huge
operation. 11,000 people working in 40 countries. It goes back to
19. This was the irony of this, like the international relief.
Just goes back to 1931 was Germany by two left wing
factions the Communist Party and the Socialist Workers Party
would to aid the victims of state oppression and slowly
evolved to us Council on Foreign Relations takeover. Wow, this is
a complete front for the Council on Foreign Relations. You look
at anybody on here, co chair of the board of directors, Tim
Timothy Geithner
Adam Curry: are one time. Second Treasury US Treasury Secretary
Yeah,
John C Dvorak: Council on Foreign Relations. The law is
fitted the Board of Directors Laurence Fink, Blackrock Council
on Foreign Relations Janet Napolitano, Council on Foreign
Relations. Executive Vice President of Pfizer, Sally
Sussman, Council on Foreign Relations, board of advisors,
Michael Blumenthal CFR Mary boy CFR, Tom Brokaw, who is in the
Council on Foreign Relations ally Jedi Council on Foreign
Relations in McKinsey, Henry Kissinger Council on Foreign
Relations and I found two people that aren't on the Council on
Foreign Relations. Scott Pelley who's on this thing?
Adam Curry: He's on CBS,
John C Dvorak: this is another sand live Allman. Now. I had to
go and figure out why how what? Live almonds and 83 year old
Norwegian actors. Why is she on this? Opera? Why she got
anything to do with this operating business? You have
money? No. Didn't see if you can guess live?
Adam Curry: Or is she married to someone special?
John C Dvorak: She's old, which is an old woman. What she used
to date. Henry Kissinger. Ah,
Adam Curry: there it is.
John C Dvorak: And Kissinger must be the greatest guy to know
because if you don't turn on him, he always pays you back.
Now the interesting one guy not on the Council on Foreign
Relations is David Miliband, who's the president and CEO. You
remember him? Yes, he
Adam Curry: isn't the former
John C Dvorak: head of the opposition at UK he was
Adam Curry: weak, weak guy. He's weak. He's not
John C Dvorak: in on the CFR but he's a member of the Trilateral
Commission.
Adam Curry: There you go another for another day. Another fan. So
this
John C Dvorak: whole operation is really sketchy. And I went
out of my way to just look up some random person. So I looked
up Tracy rolls Wolstencroft, just randomly, who's on the
board of advisors, and she's a former Crofts, President, CEO,
National Geographic Council on Foreign Relations. Okay.
Everyone get it's unbelievable. Counsel. So this is a front
operation for sock for globalist as they bring them in for an
order a new world order. Yeah, that's why PBS brings down the
spokesperson quite effortlessly. But let's go back to Ukraine IRC
to Zoe
Unknown: Daniels is the Senior Director for the Ukraine crisis
at the International Rescue Committee, a humanitarian
organization. So we thank you so much for joining us. Can you
first take us through what are the most pressing humanitarian
needs right now in
Adam Curry: Ukraine money.
Unknown: So really, as you said, heavy fighting carries on,
particularly in the southeast of the country. It's damaging
homes, hospitals, schools, other civilian infrastructure. And
really for me, I'm in an area of Ukraine, approximately the size
of Florida is now riddled with landmines, which nearly two
years into a full scale war. And after 10 years of conflict in
eastern Ukraine, people's ability to cope is severely
weakened. We've got alarming statistics about the massive
mental health impacts of the wall, including the rise of
intimate partner violence at home.
Adam Curry: Oh, oh, that's an interesting angle into
John C Dvorak: Mitchell advisor violent or wives, or vice versa,
depending on how there's a Ukrainian Jonas,
Adam Curry: the only thing she did wrong, she said there's an
uptick. She said right. Take would have been more accurate
uptick. uptick.
John C Dvorak: Wow. So she goes on and on and a bunch of stuff.
And here's kind of describing because I thought they rousted
all the children out of the Ukrainian war areas completely.
And there are a lot of them in Poland. Some Russian Russians
took a bunch of them. They're all out of there. But according
to her, they're all They're being traumatized. But let's go
to clip three 4.1
Unknown: million children inside Ukraine need humanitarian aid.
It's become a daily reality for this generation of violence,
trauma, destruction and displacement. Children are being
killed and wounded that deeply traumatized by violence, which
I'm
Adam Curry: sorry, excuse me, lady. Right now the children
deaths just script is Gaza and Israel. You can't hijack the
script. Now for some Ukrainian kids. You have incubators? Does
she have incubators jar? Does she have incubators? Otherwise?
It's just it's gonna fall flat?
John C Dvorak: No, I don't think knowing her out of the pictures
I
Adam Curry: agree means that three means you got premies No,
it's not good enough not to traumatize
John C Dvorak: this script is weak, its weak. What happens
when your giant organization that is kind of run by their CFR
and it's like, you know, you don't have the top notch
writers,
Adam Curry: but the role is through Chad GPT or something,
sets it up a bit,
Unknown: which leaves really long lasting scars. It's really
affected their future. There's been prolonged disruption both
by the war and then before that there was the preceding COVID 19
pandemic. And so this is four years of educational challenges
for students.
Adam Curry: Yeah, I think we have that here in America to
Zoey
John C Dvorak: men. Okay. Pretty much. Yeah. In play it out. For
Unknown: fires and for Are you
concerned that international attention is turning away from
Ukraine. There's
always competing priorities in the world and the humanitarian
response plan for Ukraine is only funded up 46%. Even though
for example, the United States has outstanding he contributed
2.6 billion in life saving humanitarian aid, which really
helped Ukrainians to the constant shelling and last
year's harsh winter. The needs are currently estimated at 3.9 5
billion USD, which, you know, currently, humanitarian funding
to Ukraine is half of what it was in 2022. There's political
will in the country and among key allies, that really remains
high. But funding shortages really hamper humanitarian
stability to assist more people.
Zoe Daniels with the International Rescue Committee.
Thank you so much for your time.
Adam Curry: Where are these people for Haiti? Or the Uighur?
Yeah,
John C Dvorak: well, yeah, before where's the aid? We still
where's the call for a ceasefire in the Ukraine thing when they
just want more money asking for a ceasefire?
Adam Curry: No, you know the peace is not profitable. This is
this is the major problem but can we make peace profitable
again, make peace profitable again?
John C Dvorak: There you go. I think that's that should be a
kind of a bumper sticker. No, put it on a sign and watch
around with it.
Adam Curry: Elon make peace profitable. Yeah, this is a good
idea. I shall make a sign and walk around with it in
Fredericksburg. Yeah.
John C Dvorak: It fit right in
Adam Curry: with the tourists. Mass filling up as we got as
Christmas is coming. You know, you want a traditional
Christmas. You come to Fredericksburg. The lights are