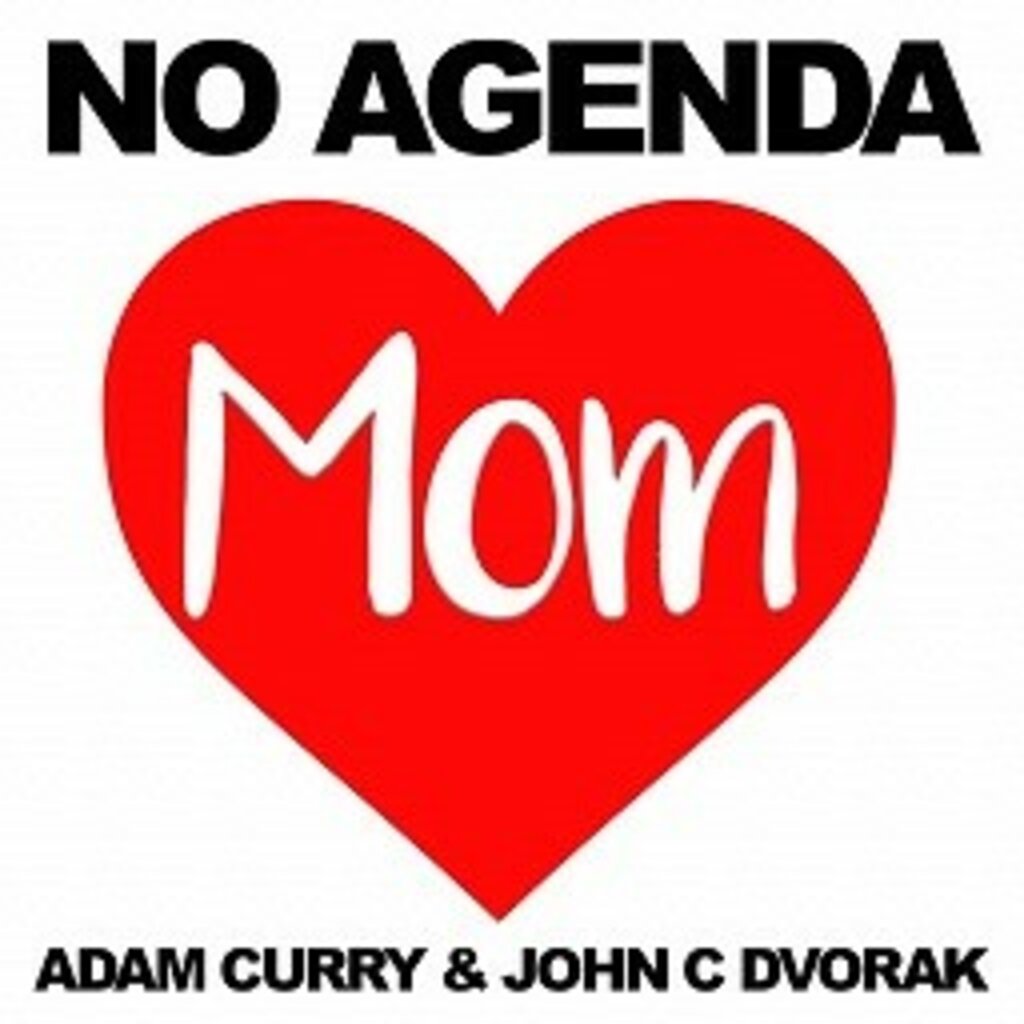 May 13th, 2018 • 3h 0m
1033: Swagger
Shownotes
Every new episode of No Agenda is accompanied by a comprehensive list of shownotes curated by Adam while preparing for the show. Clips played by the hosts during the show can also be found here.
Dogs are People Too
CYBER!

Equifax Admits Passport Numbers Were Stolen in Breach | News & Opinion | PCMag.com

Fri, 11 May 2018 04:19

News & AnalysisAn Equifax spokeswoman told PCMag that the company 'manually reviewed' the images stolen from its dispute portal and found 3,200 photos of passports or passport cards.

May 10, 2018 05:02pm EST The fallout from Equifax's 2017 mega breach continues.

As was first reported by the Associated Press, the credit reporting agency's lawyers sent a letter to the Senate Banking Committee last week revealing that thousands of images of passports were stolen in the breach. Consumers provided those images to the company to dispute inaccuracies in their credit reports.

The revelation comes after Equifax in February specifically denied that passport numbers were included in the breach.

In a statement to PCMag, Equifax spokeswoman Meredith Griffanti said the company "manually reviewed" the photos stolen from its dispute portal and "found 3,200 images of passports or passport cards."

Equifax says these are not new victims. The company already counted all the people whose passport images were stolen in its previously announced breach totals. "Consumers who had information accessed by the attackers have been notified and provided with a list of the files they had uploaded, as well as the dates of those uploads," Griffanti added.

The company had not fully analyzed the documents stolen from its dispute portal when it said no passport numbers were affected.

When it first disclosed the breach in September 2017, Equifax said it affected 143 million people, but a month later upped that estimate to 145.5 million. This March, Equifax announced it had discovered 2.4 million additional victims, bringing the total number of impacted individuals to 147.9 million. The company initiallty said the hackers made away with names, Social Security numbers, birth dates, addresses, some driver's license numbers, along with some credit card numbers, and other documents containing personal information.

Meanwhile, Equifax may wind up getting a just slap on the wrist from the feds over the incident. Reuters earlier this year reported that the new head of the Consumer Financial Protection Bureau, Mick Mulvaney, has scaled back the agency's investigation into the breach.

Prev Next

Many Electronic Voting Machines Are Insecure. One County Is Trying To Fix That : NPR

Sun, 13 May 2018 11:10

Travis County Clerk Dana Debeauvoir speaks to the media at the Early Voting Mega Center at Austin in October 2016. Debeauvoir has spent a decade trying to create a more secure electronic touchscreen voting system. Jorge Sanhueza-Lyon/KUT News hide caption

toggle caption Jorge Sanhueza-Lyon/KUT News Travis County Clerk Dana Debeauvoir speaks to the media at the Early Voting Mega Center at Austin in October 2016. Debeauvoir has spent a decade trying to create a more secure electronic touchscreen voting system.

Jorge Sanhueza-Lyon/KUT News Election administrators in Austin, Texas, are trying to put an electronic voting system in place before the 2020 presidential election that is more secure than anything else in the market right now.

There are widespread concerns that many of these voting machines are vulnerable to hacking due to aging equipment and design flaws. Following reports of Russian interference in the 2016 election, lawmakers say local governments need to start switching to more secure technology.

Still, many voters and election officials say electronic voting machines make voting easier for some people, particularly those with disabilities and they can also make voting more convenient because ballots don't need to be printed in advance.

Many voters are eager to see some electronic voting machines produce a paper trail. Elliott Gurwitz, a computer programmer living in San Antonio, says for years he's been skeptical of the voting machines at his local polling place.

"In San Antonio, you walk in and you basically '-- it's all electronic '-- you push buttons and then you leave," he says.

Gurwitz says he wishes there was a way to make sure the computer he's using isn't making any mistakes.

"It'd be nice if you could see something printed or have some kind of receipt or something where it is more than just you pushing a button and they say, 'yeah your vote counted,'" he says.

(Interactive: How secure is your vote?)

Loading...

More than a dozen states, including Texas, have counties that use electronic voting machines that don't create a paper trail. This is something that has rankled academics and cybersecurity experts for years.

Dana Debeauvoir, Travis County's Clerk in Austin, says she and other Texas election administrators have heard a lot of complaints through the years.

"The problem with that was we election administrators had no authority to change the equipment or make updates, or buy different equipment '-- because it was certified and you had to buy certified equipment," Debeauvoir says.

But as Austin's voting machines got older, Debeauvoir looked around and wasn't happy with the replacement options. She says she couldn't find an electronic voting system that was truly more secure. So, Debeauvoir decided to reach out to a group of experts.

"I challenged the group and I told them, 'look if you want a better voting system then work with us and I will help you develop a voting system that meets your needs and I will make sure that it works in the field, that it's a practical system," she says.

A team of election administrators, cybersecurity experts and academics worked together for roughly a decade. They called their project STAR Vote '' that stands for Secure, Transparent, Auditable, and Reliable.

What they came up with was an electronic voting system that created a paper receipt for every voter. It also created paper record that could be checked against the electronic voting totals. Philip Stark, the Associate Dean of Division of Mathematical and Physical Sciences at the University of California, Berkeley, was an auditing expert on the team.

"One of the neat things about the STAR Vote project was that it was being designed from the ground up to be auditable efficiently," Stark says.

STAR Vote was designed to upend a system that relied on blind trust, he says. It allows voters to make sure their votes are counted correctly and it creates a paper record that couldn't be hacked.

However, STAR Vote hit a big snag. Debeauvoir says she couldn't find a voting machine manufacturer to make an open source system, which is both a key security and cost-control feature of STAR Vote.

"One of the reasons why we had asked for open source is because we wanted to significantly reduce the cost of these voting systems to the counties," Debeauvoir says.

Besides the actual hardware, Debeauvoir says election administrators pay for the software licensing of their voting machines. Philip Stark says that's part of the reason an open source system would amount to a big financial hit for manufacturers.

"I am not surprised that none of the existing manufacturers of voting systems wanted to bid on it, because it's basically a radically different model that competes with theirs, which if it were adopted would require them to retool in some fundamental way," Stark says.

Debeauvoir is pressing on, though. She's currently asking manufacturers to build everything else in the STAR Vote design.

And even though they won't get STAR Vote, Austin voters will be using something similar to it before the next presidential election.

"What we are going to get out of our next voting system is that voters are going to get that paper record and they are going to have all the advantages of electronic voting and its additional security," Debeauvoir says. "We are going to get the best of both worlds."
Shut Up Slave!

Sharing hate posts online could lead to six months' jail | Daily Mail Online

Sun, 13 May 2018 12:56

Social media users who share or comment on racist or anti-gay postings will face jail under rules proposed yesterday.

Advice for judges and magistrates recommends harsh punishments for those found guilty of stirring up hatred against racial, religious or sexual minority groups.

Among those jailed should be people who post comments or share online hate speech because they have been reckless as to whether they stir up hatred, say the proposals from the Sentencing Council.

Social media users in the UK who share or comment on racist or anti-gay postings will face jail under rules proposed yesterday

Those found guilty of hate trolling by commenting or sharing social media should typically receive a sentence of six months in jail.

Anyone who is convicted of orginating hate speech that threatens anyone's life or which is widely distributed should expect three years.

Even someone whose words or material were judged as hateful, but were not considered to have threatened life or reached a big audience, is likely to be punished with a year in jail.

But critics say the proposals will mean young people who heedlessly throw insults against racial, religious or sexual groups on the internet are at risk of prison sentences.

The recommendations, which will be subject to a three-month consultation, come at a time of deepening sensitivity to racism and abuse about sexuality online.

On top of long-standing concerns about material posted by extremists, accusations have been levelled against those in mainstream politics and other well-known individuals.

Labour Party figures have been accused of anti-Semitism, while veteran feminist Germaine Greer and gay rights and free speech campaigner Peter Tatchell are among those who have been labelled as hate-peddlers for questioning the claims of the transgender lobby.

Stirring up hatred is a crime under the 1986 Public Order Act.

The council's proposals say the most serious hate offences include speeches given by public figures with the aim of stirring up hatred, online content inciting violence towards racial or religious groups, and websites that publish abusive and insulting material to a worldwide audience over a long period.

Aggravating factors include activity 'in a particularly sensitive social climate' or delivered to an impressionable audience.

Using multiple social media platforms also makes an offence more grave.

But knife offenders can walk from court The firm line taken by the Sentencing Council on hate speech posted online contrasts with its leniency to other groups of offenders.

It ruled two years ago that young thugs '' including those who carry knives '' may be spared jail if they come from deprived or criminal family backgrounds.

The guidelines gave a number of reasons why courts should not impose custodial sentences to a teenager guilty of threatening someone with a knife, including an 'unstable upbringing' that may have involved numerous care placements, exposure to drug and alcohol abuse, victim of neglect and/or abuse, and 'exposure to familial criminal behaviour'.

Also under 2016 guidelines, muggers may escape prison if the robbery is found to have done no harm and was carried out with only 'minimal force'.

The council also recommends shorter sentences for criminals who admit their guilt in court.

Those who plead guilty at their first appearance may have their custodial term cut by a third.

Professor Anthony Glees, director of the Centre for Security and Intelligence Studies, described the guidelines as bizarre, saying they were 'not strict enough where they should be strict, too severe where greater leniency is called for'.

'Only three years for hate speech that leads to people getting killed? Ridiculously soft,' he said.

'But six months for ''hate trolling''? Are there enough prison places to lock up these hate trolls?'

He said the law needed to distinguish between 'young and foolish' individuals who say silly things and 'really dangerous radicalisers and purveyors of violence who exploit the social media to wreak havoc and death'.

Professor Glees said the cases involving Greer and Tatchell could lead to confusion.

He said: 'Are these social critics guilty of hate speech for asking awkward questions about gender interest groups? Or are those who attack them the true guilty ones?'

Judge Gives Preliminary OK to $3.5M Settlement of IRS Case | Ohio News | US News

Sun, 13 May 2018 12:57

FILE - In this May 21, 2013, file photo, tea party activists demonstrate on Fountain Square before marching to the John Weld Peck Federal Building in Cincinnati to protest the Internal Revenue Service's targeting of conservative groups seeking tax-exempt status. On Wednesday, April 4, 2018, a federal judge gave preliminary approval to a $3.5 million settlement of a lawsuit against the IRS over alleged targeting of tea party and other groups. (AP Photo/Al Behrman, File) The Associated Press

By DAN SEWELL, Associated Press

CINCINNATI (AP) '-- A federal judge Wednesday gave preliminary approval to a $3.5 million settlement of a lawsuit against the IRS over alleged targeting of tea party groups and other conservative organizations.

U.S. District Judge Michael Barrett set a July 10 hearing in Cincinnati on making the settlement final, and scheduled deadlines for claims and objections.

The Justice Department had announced last year that the case had been settled, pending approval of terms.

The lead plaintiff was the

California -based Norcal Tea Party Patriots. The case swelled into a class-action suit by hundreds of groups. The court will decide how much each gets after legal costs.

The 2013 lawsuit during the Barack Obama administration was over treatment of conservative groups who said they were singled out for extra IRS scrutiny on tax-exempt status applications.

"These are groups of law-abiding citizens who should have never had their First Amendment rights infringed upon by the IRS," Jenny Beth Martin, president of the Tea Party Patriots umbrella group, said Wednesday. "These are groups that want the government to be accountable."

The Justice Department declined comment.

Republican President Donald Trump's Justice Department also settled a second lawsuit with an apology from the IRS for the intensive scrutiny of the groups, which argued their constitutional rights were violated when they were singled out based on their political views.

The case hounded Obama's Democratic administration, with some Republicans disappointed there wasn't stronger action taken in the scandal.

The anti-establishment tea party movement preceded Trump's populist, America-first presidential campaign.

Republicans were outraged in 2013 when the IRS admitted the targeting, in part by zeroing in on groups with words such as "tea party" or "patriot" in their names. Many had their applications delayed for months and years. Some were asked improper questions about their donors and even their religious practices, an inspector general's report found.

The Obama Justice Department announced in 2015 that no one at the IRS would be prosecuted. It said investigators found mismanagement, but no evidence that the tax agency had targeted a political group based on its viewpoints or had obstructed justice.

Some Republicans were disappointed when Trump's Justice Department wouldn't reopen the case against Lois Lerner, who had led the IRS office that processes applications for tax-exempt status.

She and much of the agency's leadership resigned or retired over the scandal. The IRS has said it made changes to how tax-exempt status applications are handled.

Follow Dan Sewell at http://www.twitter.com/dansewell

Copyright 2018 The

Associated Press . All rights reserved. This material may not be published, broadcast, rewritten or redistributed.
Any Collusion?

The public case against Trump - Axios

Sun, 13 May 2018 12:17

This site uses cookies to enhance your reading experience. By using this site, you consent to our use of cookies. Okay

Storieshttps://www.axios.com/trump-russia-mueller-investigation-michael-cohen-paul-manafort-bcfe40c6-7592-4347-a6be-20ff562058f0.html

Save Save story

The public case against TrumpIllustration: Sarah Grillo/Axios

One thing is true of all major political scandals: What we know in the moment is but a tiny, obscured, partial view of the full story later revealed by investigators.

Why it matters: That's what makes the Trump-Russia drama all the more remarkable. Forget all we don't know. The known facts that even Trump's closest friends don't deny tell a damning tale that would sink most leaders.

About That FBI 'Source' - WSJ

Sat, 12 May 2018 01:15

May 10, 2018 6:50 p.m. ETThe Department of Justice lost its latest battle with Congress Thursday when it agreed to brief House Intelligence Committee members about a top-secret intelligence source that was part of the FBI's investigation of the Trump campaign. Even without official confirmation of that source's name, the news so far holds some stunning implications.

Among them is that the Justice Department and Federal Bureau of Investigation outright hid critical information from a congressional investigation. In a Thursday press conference, Speaker...

The Department of Justice lost its latest battle with Congress Thursday when it agreed to brief House Intelligence Committee members about a top-secret intelligence source that was part of the FBI's investigation of the Trump campaign. Even without official confirmation of that source's name, the news so far holds some stunning implications.

Among them is that the Justice Department and Federal Bureau of Investigation outright hid critical information from a congressional investigation. In a Thursday press conference, Speaker Paul Ryan bluntly noted that Intelligence Chairman Devin Nunes's request for details on this secret source was ''wholly appropriate,'' ''completely within the scope'' of the committee's long-running FBI investigation, and ''something that probably should have been answered a while ago.'' Translation: The department knew full well it should have turned this material over to congressional investigators last year, but instead deliberately concealed it.

House investigators nonetheless sniffed out a name, and Mr. Nunes in recent weeks issued a letter and a subpoena demanding more details. Deputy Attorney General Rod Rosenstein's response was to double down'--accusing the House of ''extortion'' and delivering a speech in which he claimed that ''declining to open the FBI's files to review'' is a constitutional ''duty.'' Justice asked the White House to back its stonewall. And it even began spinning that daddy of all superspook arguments'--that revealing any detail about this particular asset could result in ''loss of human lives.''

This is desperation, and it strongly suggests that whatever is in these files is going to prove very uncomfortable to the FBI.

The bureau already has some explaining to do. Thanks to the Washington Post's unnamed law-enforcement leakers, we know Mr. Nunes's request deals with a ''top secret intelligence source'' of the FBI and CIA, who is a U.S. citizen and who was involved in the Russia collusion probe. When government agencies refer to sources, they mean people who appear to be average citizens but use their profession or contacts to spy for the agency. Ergo, we might take this to mean that the FBI secretly had a person on the payroll who used his or her non-FBI credentials to interact in some capacity with the Trump campaign.

This would amount to spying, and it is hugely disconcerting. It would also be a major escalation from the electronic surveillance we already knew about, which was bad enough. Obama political appointees rampantly ''unmasked'' Trump campaign officials to monitor their conversations, while the FBI played dirty with its surveillance warrant against Carter Page, failing to tell the Foreign Intelligence Surveillance Court that its supporting information came from the Hillary Clinton campaign. Now we find it may have also been rolling out human intelligence, John Le Carr(C) style, to infiltrate the Trump campaign.

Which would lead to another big question for the FBI: When? The bureau has been doggedly sticking with its story that a tip in July 2016 about the drunken ramblings of George Papadopoulos launched its counterintelligence probe. Still, the players in this affair'--the FBI, former Director Jim Comey, the Steele dossier authors'--have been suspiciously vague on the key moments leading up to that launch date. When precisely was the Steele dossier delivered to the FBI? When precisely did the Papadopoulos information come in?

And to the point, when precisely was this human source operating? Because if it was prior to that infamous Papadopoulos tip, then the FBI isn't being straight. It would mean the bureau was spying on the Trump campaign prior to that moment. And that in turn would mean that the FBI had been spurred to act on the basis of something other than a junior campaign aide's loose lips.

We also know that among the Justice Department's stated reasons for not complying with the Nunes subpoena was its worry that to do so might damage international relationships. This suggests the ''source'' may be overseas, have ties to foreign intelligence, or both. That's notable, given the highly suspicious role foreigners have played in this escapade. It was an Australian diplomat who reported the Papadopoulos conversation. Dossier author Christopher Steele is British, used to work for MI6, and retains ties to that spy agency as well as to a network of former spooks. It was a former British diplomat who tipped off Sen. John McCain to the dossier. How this ''top secret'' source fits into this puzzle could matter deeply.

I believe I know the name of the informant, but my intelligence sources did not provide it to me and refuse to confirm it. It would therefore be irresponsible to publish it. But what is clear is that we've barely scratched the surface of the FBI's 2016 behavior, and the country will never get the straight story until President Trump moves to declassify everything possible. It's time to rip off the Band-Aid.

Correction The FBI briefed House Intelligence Committee members about a top-secret intelligence source but did not allow them to see documents. An earlier version of this article misstated this.

What we found in Facebook ads by Russians accused of election meddling

Sun, 13 May 2018 12:13

CLOSE

The Russian ads, released by Democrats on the House Intelligence Committee, offer the public the first in-depth look at the attempts to divide the U.S. ahead of the 2016 election. USA TODAY

This is one of the Russian Facebook ads intended to stir dissension in the U.S. (Photo: Facebook)

The Russian company charged with orchestrating a wide-ranging effort to meddle in the 2016 presidential election overwhelmingly focused its barrage of social media advertising on what is arguably America's rawest political division: race.

The roughly 3,500 Facebook ads were created by the Russian-based Internet Research Agency, which is at the center of Special Counsel Robert Mueller's February indictment of 13 Russians and three companies seeking to influence the election.

While some ads focused on topics as banal as business promotion or Pok(C)mon, the company consistently promoted ads designed to inflame race-related tensions. Some dealt with race directly; others dealt with issues fraught with racial and religious baggage such as ads focused on protests over policing, the debate over a wall on the U.S. border with Mexico and relationships with the Muslim community.

The company continued to hammer racial themes even after the election.

USA TODAY Network reporters reviewed each of the 3,517 ads, which were released to the public this week for the first time by the House Permanent Select Committee on Intelligence. The analysis included not just the content of the ads, but also information that revealed the specific audience targeted, when the ad was posted, roughly how many views it received and how much the ad cost to post.

Among the findings:

Of the roughly 3,500 ads published this week, more than half '-- about 1,950 '-- made express references to race. Those accounted for 25 million ad impressions '-- a measure of how many times the spot was pulled from a server for transmission to a device.At least 25% of the ads centered on issues involving crime and policing, often with a racial connotation. Separate ads, launched simultaneously, would stoke suspicion about how police treat black people in one ad, while another encouraged support for pro-police groups.Divisive racial ad buys averaged about 44 per month from 2015 through the summer of 2016 before seeing a significant increase in the run-up to Election Day. Between September and November 2016, the number of race-related spots rose to 400. An additional 900 were posted after the November election through May 2017.Only about 100 of the ads overtly mentioned support for Donald Trump or opposition to Hillary Clinton. A few dozen referenced questions about the U.S. election process and voting integrity, while a handful mentioned other candidates like Bernie Sanders, Ted Cruz or Jeb Bush. Interactive Graphic: Explaining Russia's Facebook campaign aimed at Americans

Young Mie Kim, a University of Wisconsin-Madison researcher who published some of the first scientific analysis of social media influence campaigns during the election, said the ads show that the Russians are attempting to destabilize Western Democracy by targeting extreme identity groups.

''Effective polarization can happen when you're promoting the idea that, 'I like my group, but I don't like the other group' and pushing distance between the two extreme sides,'' Kim said. ''And we know the Russians targeted extremes and then came back with different negative messages that might not be aimed at converting voters, but suppressing turnout and undermining the democratic process.''

More: Thousands of Facebook ads bought by Russians to fool U.S. voters released by Congress

More: Here's how Russian manipulators were able to target Facebook users

More: Read the special counsel's indictment of the Internet Research Agency

Background: Special counsel indicts Russian nationals for interfering with U.S. elections and political processes

The most prominent ad '-- with 1.3 million impressions and 73,000 clicks '-- illustrates how the influence campaign was executed.

A Facebook page called ''Back the Badge,'' landed on Oct. 19, 2016, following a summer that saw more than 100 Black Lives Matter protests, NFL quarterback Colin Kaepernick's national anthem protests in August and protests over the police shootings of Terence Crutcher in Tulsa, Oklahoma and Keith Lamont Scott in North Carolina.

The information analyzed by the USA TODAY Network shows the Internet Research Agency paid 110,058 rubles, or $1,785, for the Facebook spot. It targeted 20 to 65-year-olds interested in law enforcement who had already liked pages such as ''The Thin Blue,'' ''Police Wives Unite'' and the ''Officer Down Memorial Page.''

The very next day, the influence operation paid for an ad depicting two black brothers handcuffed in Colorado for ''driving while black.'' That ad targeted people interested in Martin Luther King Jr., Malcom X and black history. Within minutes, the Russian company targeted the same group with an ad that said ''police brutality has been the most recurring issue over the last several years.''

USC professor Nick Cull, author of The Cold War and the United States Information Agency, says the ad campaign is reminiscent of tactics employed during the Soviet era. His book explored how the KGB tried to disrupt the LA Olympics by faking propaganda from the KKK threatening black athletes.

"Soviet news media always played up U.S. racism, exaggerating the levels of hatred even beyond the horrific levels of the reality in the 1950s," Cull wrote in an email. "It was one reason Eisenhower decided to move on civil rights."

Adam Schiff, the Minority Leader of the House Intelligence Committee, said he made the ads available to the public so that academics could study both the intention and breadth of the targeting.

''These ads broadly sought to pit one American against another by exploiting faults in our society or race, ethnicity, sexual orientation and other deeply cynical thoughts,'' Schiff said in an interview with USA TODAY Network. ''Americans should take away that the Russians perceive these divisions as vulnerabilities and to a degree can be exploited by a sophisticated campaign.''

A federal grand jury in February indicted 13 individuals accused of working for the Internet Research Agency to produce the ads. The charges related to meddling in the 2016 election, the only election interference case Mueller's office has filed so far.

The indictment included emails from the Russian company's employees that left no doubt that their objectives were ''to sow discord in the U.S. political system, including the 2016 U.S. presidential election.'' This effort ''included supporting the presidential campaign of then-candidate Donald J. Trump and disparaging Hillary Clinton,'' the indictment states.

Peter Carr, a spokesman for the special counsel, declined comment on the ads this week. An attorney for two of the companies indicted by Mueller did not respond to a request for comment. One of the companies, Concord Management and Consulting, LLC, entered a not-guilty plea on Wednesday in the U.S. District Court in D.C.

The USA TODAY Network analysis found that Russians effort first used a raft of viral memes referencing banal American pop culture, like Spongebob Squarepants and Pok(C)mon, to apparently build support behind legitimate-looking connections before deploying the racially-tinged spots.

Hundreds of ads mixed race and policing, with many mimicking Black Lives Matter activists that melded real news events with accusations of abuse by white officers.

That type of subversion only hurts legitimate efforts to calm tensions over policing and hate crimes, said Derrick Johnson, president and CEO of the National Association for the Advancement of Colored People. Johnson said the Russian ads likely helped to fuel ''hateful, xenophobic rhetoric'' throughout the 2016 presidential campaign.

''When you're stoking fear to get a negative action directed at a targeted population based on race, and when a foreign nation uses that fear to subvert and undermine democracy, that's become a serious problem,'' Johnson said. ''It's a warning for technology companies and corporations that private citizens have entrusted with their privacy to receive factual information.''

It's hard to measure precise impact of the campaign targeting police and their families, but it certainly didn't help, said Jim Pasco, senior adviser to the president of the National Fraternal Order of Police, the nation's largest police union.

"There is absolutely no doubt that these ad placements further inflamed tensions in already volatile and already sensitive situations at critical times," Pasco said.

The tech tools have changed, but the themes of disruption have not, said Bret Schafer of the German Marshall Fund's Alliance for Securing Democracy, which tracks activity of Russia-linked social media bots and trolls.

Social media is an effective way to target wedge issues because of the ability to micro-target ads, sending messages to confederate flag supporters at the same time as Black Lives Matter sympathizers to stoke divisions, he said.

''They are stirring up the racial pot, while then trying to connect with minority groups and saying: Look at how racist the content is online. They don't really have to do that because the content online is racist without the Russians, to be very clear,'' Schafer said.

He added that it's hard to measure how effective the campaigns were in general. Some of the ads "completely bombed," based on interactions. But stoking racial fears and tensions was often effective.

"Some of the most racist ads put out got the highest levels of engagement,'' Schafer said. ''It seems that when their messaging went to the extreme on some of these issues, it actually landed the hardest punch.

''If they hit 10% of the time, it's still effective for them,'' Schafer said.

Contributing: Jai Agnish, The Bergen (N.J.) Record; Stacey Barchenger, Asbury (N.J.) Park Press, Natalie Alison, The Tennessean; Dave Boucher, The Tennessean; Kevin Crowe; Milwaukee Journal Sentinel; Algernon D'Ammassa, The Deming (N.M.) Headlight; Mike Ellis, Anderson Independent Mail; Stacie Galang, Ventura County Star; Greg Holman, Springfield (Mo.) News-Leader; Trevor Hughes, USA TODAY; John Kelly, USA TODAY; Ledyard King, USA TODAY; Laura Mandaro, USA TODAY; John Moses, Farmington (N.M) Daily-Times; Tovah Olsen, Lansing State Journal; Alex Ptachick, USA TODAY; Steve Reilly, USA TODAY; Todd Spangler, Detroit Free Press; Svetlana Shkolnikova, The (Bergen, N.J.) Record; Mariah Timms, (Murfreesboro, Tenn.) Daily News Journal; Elizabeth Weise, USA TODAY; Mark Wert, Cincinnati Enquirer; Dana Williams, Pacific Daily News (Guam); Anna Wolfe, Jackson (Miss.) Clarion Ledger; Amy Wu, Poughkeepsie (N.Y.) Journal.

Autoplay

Show Thumbnails

Show Captions

Last SlideNext SlideRead or Share this story: https://usat.ly/2rAW4tm

Emails show Clinton ties to Russian oligarch under investigation

Sun, 13 May 2018 12:46

| September 12, 2016 07:20 AM

New emails show Clinton Foundation staff pushed Hillary Clinton's State Department to approve a meeting between Bill Clinton and a powerful Russian oligarch as her agency lined up investors for a project under his purview.

The Clintons' relationship with Viktor Vekselberg, the billionaire whose name appears in the documents, has taken on new significance amid an expanding criminal investigation into his company. Last week, authorities raided the offices of Vekselberg's firm, Renova Group, following allegations of bribery from several of Renova's subsidiaries.

Vekselberg had been named head of a partnership dubbed the "Russian Silicon Valley" just three months before a Clinton Foundation employee began pushing the State Department to approve Bill Clinton's proposed meeting with Vekselberg and a handful of other Russian executives.

The emails, obtained by conservative-leaning Citizens United and provided first to the Washington Examiner, do not reveal any illegal activity on the part of the State Department, the Clintons or their foundation.

But the records shed light on one of many relationships that blurred the lines between the Clinton's political, financial and philanthropic pursuits while Hillary Clinton served as secretary of state.

Vekselberg's Renova Group has donated between $50,000 and $100,000 to the Clinton Foundation, donor records show. Another firm associated with Vekselberg, OC Oerlikon, donated $25,000 to the Clinton Foundation.

Renova's interests in mining, oil and telecommunications have helped Vekselberg become one of Russia's wealthiest individuals and an influential figure within the Kremlin.

Beginning in May 2010, Amitabh Desai, a Clinton Foundation employee who acted as a frequent liaison to the State Department on behalf of Bill Clinton, asked agency officials if they had any objections to the former president's plan to meet with a handful of Russian executives on an upcoming swing through the country.

"Would State have concerns about WJC seeing any of these folks?" Desai wrote on May 14, 2010, using Bill Clinton's initials. Vekselberg's name appeared on the list of Russian businessmen.

After receiving no reply, Desai asked senior members of Hillary Clinton's staff again 10 days later for their thoughts on Bill Clinton's proposed meetings. On June 3, 2010, Desai said he and the former president "urgently need feedback" about what he had described as a "possible trip to Russia."

Finally, after Desai entreated the State Department for a response to the list of names for the fourth time on June 7, 2010, Jake Sullivan, a top aide to Hillary Clinton, forwarded the request to another State Department official and asked: "What's the deal [with] this?"

In April of that year, Bill Clinton's staff had submitted to the State Department ethics office a request for the former president to deliver a paid speech in Moscow on June 28, 2010, an engagement that necessitated the trip to Russia that Desai described.

Renaissance Capital, a Russian investment bank, paid Bill Clinton $500,000 for that speech, according to his wife's financial disclosures from 2010. The State Department had given its approval for the trip just two days after Bill Clinton's office filed its request.

The former president's travel to Russia for the speech and potential meetings with Vekselberg and others came as Hillary Clinton's State Department labored to drum up interest in a technology-sharing project, led by Vekselberg, called Skolkovo.

Hailed as the Russian version of Silicon Valley, Skolkovo was conceived during President Obama's "Russia Reset" as a way to attract investors to Moscow-based technology start-ups.

Hillary Clinton, responsible for the mechanics of the Russia Reset, was tasked with finding companies to invest in and work with Skolkovo in the early months of her tenure.

Four days after Hillary Clinton met with then-Russian President Dmitri Medvedev in March 2010, Medvedev announced that Vekselberg would head up the Skolkovo project.

Just one day after Hillary Clinton had a private phone call with John Chambers, CEO of Cisco, Medvedev met with Cisco executives in California. That same day, Vekselberg announced that Cisco and Boeing would invest in Skolkovo.

Both Cisco and Boeing are major Clinton Foundation donors. Cisco paid Bill Clinton $256,000 for a speech in Oct. 2010, just three months after Vekselberg's announcement that the firm would invest $1 billion in Skolkovo.

As Peter Schweizer, author of "Clinton Cash," noted in his report on the technology project, 17 of the 28 companies that were ultimately listed as "key partners" in Skolkovo were also Clinton Foundation donors.

The Clinton's relationship to Vekselberg continued throughout Hillary Clinton's time at the State Department.

In 2012, Desai approached members of Hillary Clinton's staff to determine whether they would have "concerns" about Vekselberg's attendance at an upcoming Clinton Global Initiative meeting, according to emails Citizens United obtained last year.

Vekselberg was reportedly questioned a year later during a 2013 investigation of alleged corruption within Skolkovo.

Russian security officials raided the Moscow offices of Renova last week amid "allegations that executives in firms controlled by Vekselberg had bribed regional officials," according to a Reuters report.

The new emails come as Hillary Clinton struggles to reconcile her claim that the Clinton Foundation posed no conflicts of interest for her family while she served as secretary of state with her pledge to eliminate foreign and corporate donations to the charity if she wins the presidency.

The Democratic nominee has ratcheted up her rhetoric against Russia in recent weeks, accusing her opponent of displaying dangerous affection for Russian President Vladimir Putin.

But many of her past statements about the foundation and her ties to its donors have been thrown back into the spotlight amid new evidence from the FBI that Hillary Clinton's staff destroyed evidence sought by investigators and subsequently misrepresented their efforts to turn over documents.

All Facebook Ads Russia Bought to Influence the 2016 U.S. Presidential Election

Sun, 13 May 2018 15:05

2015-Q22015-Q32015-Q42016-Q12016-Q22016-Q32016-Q42017-042017-052017-Q12017-Q3 These are images of the Facebook ads the Russians purchased to try and alter the 2016 U.S. Election. These were released from Congress in PDF format, with the images inside the PDF's. To make them easier to read, I have extracted the images, and added them to a gallery.

Effort & Bandwidth Provided by: Documenting Reality

Gallery by Michael Ojeda
FaceBag Analytica

The Morning Ledger: Europe Readies For Battle Over Data Privacy - CFO Journal. - WSJ

Sun, 13 May 2018 13:21

Sign up for the Morning Ledger, emailed to you each weekday morning. Follow us on Twitter: @CFOJournal. All CFO Journal-produced content can be accessed without a subscription.

Good morning. Finance chiefs considering marketing budgets or decisions around user data should keep a close eye on Europe, where a new data privacy law is soon going into effect. The rule is set to trigger a battle over what information companies can collect and could have ramifications for digital advertising, writes the WSJ's Sam Schechner.

The new law forbids companies from forcing users to turn over personal information as a condition of using their services. So while a pizza shop needs your address to deliver your pizza and a chat app service needs your selfie if you want to send it to friends, the reasons driving why some internet behemoths require user's personal data are less clear cut.

''The crux of this argument is going to be the legitimacy of the behavioral advertising business model,'' said Omer Tene, vice president of the International Association of Privacy Professionals. ''Behavioral advertising'' is the name for the business, worth tens of billions of dollars per year, that allows companies to show users targeted advertising based on their internet activity.

The debate could end up in the courts for years, with the potential to weaken either the European Union's new data-privacy law or impact the business models of ad-reliant giants like Facebook Inc. and Alphabet Inc.'s Google.

THE DAY AHEAD

Automakers to meet with Trump on fuel economy policy. The heads of the world's biggest car companies are arriving at the White House on Friday, and it may be their last chance to stop the Trump administration from a head-on collision with the state of California.

Trump to outline plan for drug-price curbs. President Donald Trump on Friday plans to outline a series of initiatives aimed at curbing drug prices, unveiling a blueprint to drive down costs amid complaints that Washington has done little to address the issue.

CORPORATE NEWS

A new Apple-Goldman credit card could help the companies combat weaknesses in their core businesses.Zuma PressGoldman, Apple team up on credit card. Apple Inc. and Goldman Sachs Group Inc. are preparing to launch a new joint credit card, a move that would deepen the technology giant's push into its customers' wallets and market the Wall Street firm's first foray into plastic.

Apple joined forces with two of the world's largest aluminum producers, Rio Tinto PLC and Alcoa Corp., to develop a ''carbon free'' smelting process for the aluminum it plans to use in its iPhone and laptop computers, reports the Financial Times.

Novartis CEO calls hiring of Trump lawyer a 'mistake'. Novartis AG Chief Executive Vasant Narasimhan said the company ''made a mistake'' agreeing to pay Trump lawyer Michael Cohen $1.2 million for what Novartis has described as his insight into health-care policy.

JPMorgan to launch joint-venture brokerage in China. JPMorgan Chase & Co. has applied for regulatory approval to seek a 51% stake in a joint-venture brokerage in China '-- the latest bank to explore the opportunity after Chinese authorities loosened rules on foreign firms controlling such ventures.

Eli Lilly buys cancer treatment firm. Eli Lilly and Co. is buying ARMO BioSciences Inc. for $1.6 billion, the latest investment in the hot area of immunotherapy cancer treatments.

Blackstone promotes new energy fund as oil prices climb. Blackstone Group LP, the world's biggest listed private-equity firm, is marketing its latest energy fund to capitalize on rebounding oil prices and tighter financial discipline among public oil producers.

ZTE's operations shutdown stymies major phone customers. AT&T Inc., Australia's Telstra Corp. and Africa's MTN Group Ltd. are among ZTE Corp.'s customers reassessing their ties with the hobbled Chinese firm, concerned that supplies of phones and telecom gear will soon run short after assembly lines were shut down.

Bank of America affirms gun pledge. Bank of America Corp. said it was standing by its pledge to stop financing civilian assault weapons and suggested it may be preparing to exit a loan for gun maker Remington Outdoor Corp. that sparked criticism of the lender, reports Reuters.

Equifax says passport info was stolen in breach. Equifax Inc. acknowledged a relatively small number of passport images and information were stolen as part of last year's security breach, despite previously denying such a thing occurred, reports Associated Press.

Record buybacks help steady wobbly market. U.S. companies are buying back their shares at a record pace, providing support for the stock market when many investors have rushed for the exits.

What France's car makers have to lose in Iran. Peugeot SA and Renault SA are among the few companies that have bet on Iran since the 2015 nuclear deal. Their history risks repeating itself.

AXA Equitable IPO flops. The largest initial public offering of the year received a weak reception from investors as shares of insurer AXA Equitable Holdings Inc. made their debut Thursday at a price well below earlier expectations.

Dropbox revenue increases as it lands more paying users. Dropbox Inc. added about half a million paying customers in the first quarter, helping the data-storage provider increase revenue by 28% to $316.3 million in its first financial report as a publicly traded company.

Symantec says annual report may be delayed. Symantec Corp. said its financial results and forecast may change based on the outcome of an internal investigation that was initiated after concerns were raised by a former employee, reports Reuters.

PPG delays earnings report. PPG Industries Inc. on Thursday said it fired its controller and has delayed filing its quarterly earnings report amid an internal investigation of accounting irregularities at the paint giant.

Saint-Gobain, Sika end legal row. Compagnie de Saint-Gobain SA and Sika AG's founding Burkard family have struck an agreement to end their long-running legal dispute with Sika's management, reports Bloomberg.

REGULATION

A pedestrian walks by a Wells Fargo bank.Associated PressWells Fargo expects Fed asset cap to continue into 2019. Wells Fargo & Co. Chief Executive Timothy Sloan said the bank's asset cap, imposed by the U.S. Federal Reserve in February following what the regulator described as ''widespread consumer abuses,'' will continue into the first part of 2019.

Barclays CEO fined. Barclays PLC Chief Executive Jes Staley has been fined a total of £642,430 ($871,490) by the U.K.'s financial regulators for trying to uncover the identity of an anonymous whistleblower, reports the Financial Times.

U.S. imposes sanctions on Iranian currency exchange. The U.S. took a step toward cutting Iran off from the global economy on Thursday, levying sanctions on a financing network and accusing the country's central bank of helping funnel U.S. dollars to the blacklisted elite military unit known as the Quds Force.

'Skinny deal' to renegotiate Nafta could focus on autos. The U.S., Canada and Mexico are focusing on rewriting the auto rules at the center of the North American Free Trade Agreement as negotiators face hard deadlines, raising the possibility of less drastic changes to other controversial parts of Nafta, according to people following the talks.

ECONOMY

U.S. consumer prices rose less than expected in April.Associated PressWhy Americans aren't feeling wage gains. Rising inflation is eating up more of U.S. workers' paychecks, but signs that the pace of price increases is slowing could be good news for workers who have felt minimal gains from pay raises.

Economists peg next U.S. recession for 2020. The economic expansion that began in mid-2009 and already ranks as the second-longest in American history most likely will end in 2020 as the Fed raises interest rates to cool off an overheating economy, according to forecasters surveyed by The Wall Street Journal.

Federal budget surplus for April largest on record. The U.S. government posted the highest surplus on record in April, although the federal deficit over the past several months widened as spending rose along with revenues.

Quotas make comeback. The Trump administration's efforts to block imports are bringing back a long-forgotten headache for manufacturers: the quota.

Oil prices at fresh 3-year high on Iran uncertainty. Crude oil prices closed at $71.36 a barrel, the highest level in more than three years, as the U.S.'s withdrawal from the Iran nuclear agreement continues to reverberate across markets.

Argentina shows currency reserves aren't everything. Argentina's record hoard of currency reserve's did little to stem the crisis, showing that dollar reserves alone can't make up for weakness in a country's economic underpinnings, writes the WSJ's Mike Bird.

CFO MOVES

Discovery Inc., the Silver Spring, Md.-based media and entertainment company, named Manuel Alvarez accounting chief. Mr. Alvarez succeeds Discovery's current Chief Accounting Officer Kurt Wehner and will take up his new role once Mr. Wehner departs the company or on December 31, 2018, whichever occurs first, the company said in a filing. Compensation details were not immediately available.

Mosaic Co., the Plymouth, Minn., fertilizer maker, named Clint Freeland as chief financial officer. He succeeds Anthony Brausen, who served as interim CFO since Jan. 31, 2018. Mr. Brauser will continue as a senior advisor to the company and will work with Mr. Freeland during his transition to Mosaic.

Mr. Freeland was most recently CFO at Dynergy Inc., and prior to that served as CFO, treasurer and senior vice president of strategy and financial structure at NRG Energy Inc. Compensation details were not immediately available.

THE WEEKEND READER

Every weekend we select a handful of in-depth articles we think are worth a bit of your time, either because they peel back the layers on a compelling business story, or somehow make us look at business in a different light.

Bullies don't make good managers. Around one in five Americans say they've been a target of workplace bullying, with men making up 70% of the perpetrators and 34% of the targets. Nike Inc.'s ouster of a top executive casts new light on the hard-knuckled behavior common in many offices, writes Bloomberg.

To ensure your business is fair, audit your algorithm. An audit of how a company develops its secret sauce can arm businesses that may need to eventually prove to regulators that their technology doesn't discriminate against a protected class of people, reports Wired magazine.

Small M&A deals do it. Mergers and acquisitions do boost companies' growth and value, especially when they don't exceed a certain size and are conducted on a frequent basis. Those ''programmatic M&A''-transactions deliver more value than so-called bet-the-company-deals, writes Harvard Business Review.

The Morning Ledger from CFO Journal cues up the most important news in corporate finance every weekday morning. Nina Trentmann contributed to today's Ledger. Send tips, suggestions and complaints to kimberly.johnson@wsj.com.

Inside the Brotherhood of Pi-hole Ad Blockers - Bloomberg

Fri, 11 May 2018 16:41

Anyone who works in the $200 billion digital advertising industry should be scared of people like Mark Drobnak, because the ad blocker he uses is way more powerful than yours. The college freshman says it feels as though everyone at Rochester Institute of Technology, from his roommate to his professors, has installed some way to ward off online ads. Drobnak is one of the die-hards who goes further, working with a handful of comrades to build what they call ''a black hole for advertisements.'' His parents say the one he built them works great.

Pi-hole (as in ''shut your'‰'...'') is a free, open source software package designed to run on a Raspberry Pi, a basic computer that's popular with DIYers, fits in the palm of your hand, and retails for about $35. Most ad blockers have to be installed on individual devices and work only in web browsers, but Pi-hole blocks ads across an entire network, including in most apps. (Two big exceptions, both for technical reasons, are YouTube and Hulu.) It can't block ads inside Facebook, but it can stop Facebook from following you around the web. It'll let you play Bejeweled without seeing ads between games, watch Mr. Robot ad-free in the USA app, stream NPR with silence in place of the sponsor messages, and avoid the banner ads that have become common on internet-connected TVs. If friends come over and connect to your Wi-Fi, it'll block ads for them, too.

Drobnak discovered Pi-hole in high school in 2015, after he and his siblings had already used their Raspberry Pi to play tic-tac-toe, program an elaborate light show, and monitor their respective addictions to electronics. The ad blocker, created by a Minnesota programmer named Jacob Salmela, was 2 years old and still fairly rudimentary. Less than a month after installing it at home, Drobnak hacked together a web interface to let users more easily block or whitelist sites. Two months later, Salmela invited him to join a tiny, all-volunteer development team. ''Ads are annoying,'' Drobnak says. ''Pi-hole gives you control over that.''

About 18 percent of U.S. web users have an ad blocker, says PageFair Ltd., a company that helps advertisers find technical ways to work around the software. (Its estimates are among the more conservative ones.) Outside the U.S., the numbers are more dramatic. Desktop ad-blocker penetration is 24 percent in Canada, 29 percent in Germany, and 39 percent in Greece, according to PageFair. The practice is growing fastest on mobile devices in Asia, where data allowances are typically lower. In Indonesia, 58 percent of users block mobile ads. ''In the early days, it was privacy activists and people who had an objection to capitalism in principle,'' says Sean Blanchfield, chief executive officer of PageFair. ''These days, it's just average people.''

Only a few years ago, even people who hated ads saw ad-blocking software as akin to stealing. But online advertising has grown so predatory that while blocking is estimated to cost publishers billions of lost revenue a year, it's started to seem less like robbery than self-defense: Ads slow devices, eat up data plans, and sometimes deliver malware. Meanwhile, the industry is building ever-more-detailed dossiers on every user based on web habits.

Among other things, the online advertising business model has incentivized clickbait'--and worse'--at enormous scale. Facebook Inc. and YouTube LLC figure out how to make people spend more time on their sites to maximize ad inventory. This has abetted the spread of fake news, violent children's content, and Logan Paul.

Enforcement of the European Union's General Data Protection Regulation (GDPR), which requires companies to get consent before tracking users, is set to begin on May 25. And with members of Congress grumbling, Silicon Valley, which has ignored complaints about invasive ads for decades, is beginning to acknowledge the scope of the problem. Google and Apple Inc. have added features to their browsers that limit the most intrusive and invasive ads. In response to its Cambridge Analytica scandal, Facebook has taken steps to limit its rampant data-sharing and also ended partnerships with companies that combine online profiles with offline credit card transactions, public records such as voter registration and home purchases, and store loyalty programs. Even the Interactive Advertising Bureau, an industry trade group unsurprisingly hostile to ad blocking, now says the practice is ''a crucial wake-up call to brands and all that serve them about their abuse of consumers' goodwill.''

Pi-hole is installed on only 140,000 networks. Unlike more popular ad-blocking browsers (Brave, which claims 2 million users) or browser extensions (Adblock Plus, 105 million), it requires a dedicated computer and some tech savvy to set up. Still, it has assumed an outsize role in the ad-blocking movement. Its 22,000 true believers on Reddit help a lot, says Drobnak, who's spending 5 hours to 20 hours a week working on Pi-hole between computer science classes. The developers have discovered spying by internet-connected TVs (which collect data for ad targeting), lightbulbs (users have reported some LED bulbs mysteriously connecting with the manufacturer's server every 2 seconds), and printers (including one that sent out 34 million queries in a day).

Drobnak's fellow core developers, all volunteers, say what unites them most is resentment of just how far the advertising industry has overreached in building its online empire of distraction and surveillance. There's a corollary motivator, too: Puzzling out ways to frustrate the industry's efforts'--to zap millions upon millions of ads'--can be really, really fun. ''There's a huge community behind it,'' Drobnak says. ''It's just tinkerers trying to figure stuff out.''

While working in a high school IT department, Salmela created Pi-hole over a summer.

Photographer: Matthew Hintz for Bloomberg Businessweek

The rise of ad blocking mirrors an explosion in online advertising technology. Barely 100 digital-only ad-tech companies operated in 2011; today there are about 2,000. Most arose with what's known as programmatic advertising, automated systems run by the likes of Google and Microsoft Corp. that promise to match every ad with the person the ad is most likely to influence.

Dissect how such systems work, and it's easy to be outraged. When you load a website, it sends a series of requests to other web domains to auction your eyeballs to the highest bidders. The number of intermediaries involved changes with every page load, but on a recent visit, the homepage for one popular U.S.-based news site sent 20 requests to 10 ad exchanges, each of which likely offered the space to hundreds of advertisers. It also set 47 cookies with unique tracking IDs, many of which log user data such as location, gender, age, and likes and dislikes based on browsing behavior. These data give advertisers a sense of how valuable you might be as a customer, and therefore how much to bid to show you an ad. When one of the advertisers wins the auction, an ad appears on your screen. The whole process takes less than a tenth of a second.

As a side business, every company involved in any step of the process may also try to place a cookie or tracker to collect more data on you for later use. Such companies often swap data to try to identify users they have in common, and they may pull in your email address, name, public records, and credit card history. ''Ad blocking has grown in response to a lot of legitimate problems,'' says PageFair's Blanchfield. His previous venture, Jolt Online Gaming, collapsed because 30 percent of its users were blocking ads. He and his co-founder were, too.

By acting as a traffic cop at the network level, rather than in a browser, Pi-hole can cut off the nested bidding and tracking processes from the start. It takes on the role of your network's Domain Name Server (DNS), meaning it translates IP addresses into URLs and vice versa. So if a website tries to contact what the Pi-hole knows to be an ad server, ''it sends a request to the Pi-hole for the ad, and the Pi-hole is like, 'Hah, I'm just going to return an empty page to you,' and the ad server is never contacted,'' Drobnak says. In the ad slots, the user typically sees blank white rectangles.

Installing Pi-hole took me about an hour with the help of a friend who'd done it before, and much of that time was spent setting up my new Raspberry Pi. The Pi-hole can run on any computer, but in general you probably want it to be a cheap model that can be left powered on and online. Even the Raspberry Pi 3 Model B+, the most full-figured Pi, ships naked and blank: no case, no operating system, no apps, just a single green circuit board with components and ports sticking out of it. Spring for a case if you like, plug in a monitor and keyboard, and install an operating system. Then it's simply a matter of connecting the Pi to the internet, installing the Pi-hole software with a single line of code (curl -sSL https://install.pi-hole.net | bash), and setting it as the DNS server for the network. In case of trouble, Pi-hole fans tend to respond promptly to questions on their forums.

Turn the Pi-hole off after you get used to it, and you find your brain engaging more with the ads than it used to because it's forgotten how to glance past them. Were they always so garish? Who needs that many razors a month? And why would anyone set a video to autoplay with sound?

After three weeks, my Pi-hole logs reported the system had blocked more than 39,000 requests, 29 percent of the total on just two devices (a phone and a laptop). They were all ads or ad-related tracking from places such as analytics.localytics.com, static.doubleclick.net, googleadservices.com, graph.facebook.com, app-measurement.com, sb.scorecardresearch.com, and capture.condenastdigital.com. It's fascinating to look at Pi-hole's dashboard, a colorful layout of numbers and graphs, and think about what the network is doing'--and just how many entities are keeping watch.

The typical Raspberry Pi ships as bare-bones as possible.

Photographer: Matthew Hintz for Bloomberg Businessweek

Salmela, the creator of Pi-hole, is a 33-year-old Linux administrator who lives outside Minneapolis with his wife and son. He has buzzed brown hair, favors black T-shirts, and rarely volunteers information. He worked at a Target for 12 years before he got bored enough to go to college, where he studied computer networking. With a bachelor's in hand, he got a job in the IT department of a high school, quickly automated everything he needed to do, and got bored again.

In the summer of 2014, facing three months in an empty school, Salmela massively upped his internet time. Lifehacker, OS X Daily, and Macworld were among his go-to sites, and he started to notice the ads more and more. He doesn't remember what the pop-ups or autoplay ads were for, just that they were annoying. On Kickstarter, he'd backed a device called AdTrap that sounds a lot like Pi-hole: blocks ads at the network level, shows you what it blocked if you want to know. After using it for a while, ''I thought, 'I could probably make something better with a Raspberry Pi,''‰'' he says.

Salmela spent the rest of the summer writing the code for Pi-hole. A few months later, Lifehacker wrote about it. He published a 6,000-word install guide on his blog, and Lifehacker wrote about it three more times. By fall 2015, Salmela was getting a lot of bug reports and feature requests and needed help. Luckily, he'd hosted Pi-hole on GitHub, a website that allows programmers to collaborate on code. GitHub is popular for open source projects, because it allows anyone to submit suggested changes, which means it also functions as a recruiting tool. Salmela began to assemble some extremely dedicated and like-minded volunteers.

''It really is a project of love for me,'' says the first recruit, Dan Schaper, who claims to spend 50 hours to 80 hours a week on Pi-hole in addition to his work as a consulting network engineer. He wouldn't divulge personal details, except that he lives on the West Coast and is obsessed with the pervasiveness of tracking. ''I'm the tinfoil-hat guy of the group,'' he said in an email.

Another Pi-hole developer, an Australian who consented to a video interview on the condition that he be identified only by his internet handle, WaLLy3K, is more of a scorched-earth type. He distinguished himself among Pi-hole fans by curating huge block lists of domains associated with ad servers, trackers, and malware. One of the other devs took to calling him ''Mr. Insane Lists.'' If you take all of WaLLy3K's recommendations, you will find yourself blocking about 2.6 million domains. His objection to ads includes an aversion to ''visual clutter'' as well as a desire for privacy. He's the kind of guy who will go up to a photographer at an event and ask that she not take his picture. ''It comes down to consent,'' he says. ''I didn't consent to giving out this information to people.'' He estimates he spends 10 hours to 15 hours a week on Pi-hole.

Along with Drobnak in Rochester, Salmela's other core comrades are Blayne Campbell in Canada, Adam Warner in the U.K., and the pseudonymous DL6ER in Germany. Together they put in a lot of late nights, mostly focused on talking new Pi-hole users through setup and the occasional bug. To support that labor, donors provide $1,000 to $2,000 a month. Salmela also collects an extra $20 to $100 a month through sales of Pi-hole T-shirts, hoodies, and mugs, and about $20 to $30 through affiliate links on the Pi-hole website, which pay a tiny commission when someone clicks on them.

This is obviously a pittance for a team of skilled developers putting in serious hours. After a user survey found that 69 percent thought Pi-hole was ''worth paying for,'' Salmela set up a one-time fundraiser asking for $100,000. He says he'd need $160,000 to $180,000 a year to truly support the project, including some full-time staff, but he's been shy about asking for donations. ''If your product is actually good, your consumers will sell it for you,'' Salmela said in an email. ''We have paid $0 in marketing and advertising, and look what we've grown into. It's not easy and not currently sustainable, but it's the way it needs to be done.''

It's common for Pi-hole users to screenshot their stats (how many ads blocked, from where) and hold informal competitions with one another. Some wear T-shirts and drink from mugs emblazoned with replicas of the software's colorful graphs; at least one displays his stats on his internet-connected mirror. ''Get to see how many ads I've blocked any time I look in the mirror now!'' he wrote. (It was 227.) Another asked the community how to set up an audio alert every time an ad is blocked in real time. ''Could be super satisfying,'' they wrote.

Pi-hole has attracted fans from mainstream tech companies such as Microsoft and AsusTek Computer Inc.'--plus, its developers believe, the occasional self-loathing adman. In 2016 someone showed up in the team's chat room with a carrier pigeon avatar, a number of sophisticated technical suggestions, and what sounded like inside information. ''He was like, 'You know, this isn't going unnoticed,''‰'' Drobnak says. ''Or, 'The advertising business, this is something that concerns them.''‰'' The carrier pigeon was active for about two to three months, then disappeared.

The ad industry hasn't taken any official shots at Pi-hole, likely because setup remains a significant barrier, says Jeremy Gillula, tech policy director at the nonprofit Electronic Frontier Foundation. Yet some 30 percent of the internet's top 10,000 sites now use software designed to subvert browser-level ad blocking. Publishers will target Salmela's software if it becomes anywhere near as popular as AdBlock Plus, says Nicole Perrin, an analyst at researcher EMarketer.

Still, the popular support for Pi-hole and other ad blockers may signal changes. The scandal around Cambridge Analytica, the political advertising firm that got hold of as many as 87 million Facebook users' data and used the information to try to influence an election, shows that people still value privacy more than Mark Zuckerberg long claimed. In April, Democratic Senators Richard Blumenthal of Connecticut and Ed Markey of Massachusetts introduced a bill that would allow ad targeting only with users' clear consent.

While the U.S. legislation has built little momentum so far, the EU's privacy law, which affects any company doing business in Europe, is already changing the industry's practices. The letter of the law requires publishers to get explicit permission from users to share data with every party that's asking for data each time one of them makes a request. That could mean clicking ''OK'' perhaps hundreds of times just to get to one webpage, a status quo that would at least force the consolidation of data collection and reduce the ad industry's data drain.

For publishers struggling to survive even with maximum ad surveillance, the Pi-hole team recommends a renewed focus on subscriptions, affiliate links, and curated endorsements for products and services that might truly interest users, similar to the way podcast hosts may talk about how much they personally enjoy a sponsor's products. There's nothing wrong with pitching people stuff they might enjoy, the team says. It's just the constant, ever-intensifying surveillance that needs to stop.

Agree to Facebook's Terms or Don't Use It - WSJ

Sat, 12 May 2018 12:35

A pizza shop needs your address to deliver your pizza. A chat app service needs your selfie if you want to send it to friends. But do internet giants like Facebook and Google really need a list of websites you recently visited?

A battle is looming in Europe over what information Facebook Inc., Alphabet Inc.'s Google and other companies can demand from you. It boils down to what they really need to know'--a debate that could get stuck in courts for years with the potential to weaken either the European Union's new data-privacy law or the business models of ad-reliant giants like Facebook and Google.

The EU's new privacy law, which goes into effect on May 25, forbids companies from forcing users to turn over personal information as a condition of using their services. Does that mean you can simply say, ''No, thanks,'' to any data collection and still use Facebook? Not exactly.

There are many exceptions in which companies can still collect data, such as when that information is necessary to fulfill a contract with you. That has set the stage in Europe for a battle over what is truly necessary, and when consent is ''freely given,'' regulators and privacy lawyers say.

''The crux of this argument is going to be the legitimacy of the behavioral advertising business model,'' said Omer Tene, vice president and chief knowledge officer for the International Association of Privacy Professionals. ''Behavioral advertising'' is the name for the business, worth tens of billions of dollars a year, that allows companies to show users targeted advertising based on their internet activity.

In recent weeks, Facebook has continued work to comply with the new European law'--called the General Data Protection Regulation, or GDPR'--in part by asking users in the EU to opt in to being shown targeted advertising that draws on data gathered from their activity, such as web browsing or purchasing information. But when it comes to authorizing Facebook to collect that data, the company now gives users a stark choice: agree to its new terms of service or delete their accounts.

''If you don't accept these, you can't continue to use Facebook,'' a pop-up says of the company's terms and conditions.

Facebook says the data it collects is necessary to fulfill its contract with users to provide ''a personalized experience.'' The company says it offers prominent options to control how that data is used, but that as a data-driven business, it needs to collect information about its users to function.

''There are certain elements of the service which are core to providing it and which people can't opt out of entirely, like ads,'' said Stephen Deadman, Facebook's global deputy chief privacy officer. ''There's no point in buying a car and then saying you want it without the wheels. You can choose different kinds of wheels, but you need wheels.''

Several regulators, including Ireland's Data Protection Commissioner'--the lead privacy regulator in Europe for Facebook because that is where the company has its base in the EU'--say they are digging into the decision by companies like Facebook to rely on contractual necessity to justify the collection or processing of some data under GDPR.

A spokesman for the Irish agency, which is headed by Helen Dixon, said it is ''unlikely'' that contractual necessity would pass muster for ''collection and processing of personal data arising from tracking off-platform'''--that is, on sites or apps other than those belonging to a particular service provider.

''What is really necessary for the performance of the contract between the users and Facebook?'' asked Johannes Caspar, the privacy regulator for the city of Hamburg, Germany. That is ''one of the crucial questions which we will have to answer under the GDPR.'' he said.

Google, for its part, issued a new privacy policy on Friday that outlines how the company collects data about users, including location and data from other apps and sites that use Google services. The company has added new controls, such as the ability to mute an ad that is following a user across the web, and has reorganized existing controls to turn off features like personalized ads. But it isn't possible to opt out of all data collection by the site.

In the policy, Google justifies much of that data collection under another rationale in GDPR called ''legitimate interest.'' Companies' use of that justification is also likely to spark legal scrutiny, lawyers and privacy experts say. Google on Friday said that it has been working on its compliance with GDPR for 18 months, and has implemented processes to review protections in new products, adding ''we'll continue to improve our Privacy Program and the protections we offer to users.''

Verizon Communications Inc.'s Oath, which includes Yahoo and AOL, says that with its new European privacy policy if users withdraw their consent to collecting their data'--including web-browsing habits or location data'--that they ''may not have access to all (or any) of our services.''

''Processing of your information for the purposes of personalized content and ads is a necessary part of the services we provide,'' the policy explains.

A spokesman for Oath declined to comment.

Privacy-rights advocacy groups plan to raise this issue, among others, once GDPR goes into effect. The new law gives consumer groups the ability to lodge collective complaints, akin to class-action lawsuits, before privacy regulators or national courts. France's La Quadrature du Net, a digital-rights advocacy group, says that it is readying a series of complaints against large tech companies on the question of whether consent is freely given. Noyb, another privacy advocacy group founded by privacy activist Max Schrems, is raising money specifically for the purpose of filing complaints under the law.

''There will be many, many situations where someone will say, 'My consent isn't free,' and the service provider will say, 'But you accepted the terms and conditions,''' said Eduardo Ustaran, a privacy lawyer for Hogan Lovells. ''All of these legal concepts will be scrutinized to death for years to come.''

Write to Sam Schechner at sam.schechner@wsj.com

Singapore airport may use facial recognition systems to find late passengers - Thai Tech by Thaivisa.com

Sun, 13 May 2018 13:58

SINGAPORE (Reuters) '' Ever been delayed on a flight because of straggling fellow passengers?

That might be an annoyance of the past at Singapore's Changi airport which is testing facial recognition systems that could, in future, help locate lost travelers or those spending a little too much time in the duty-free shops.

Changi Airport, ranked the world's best for six years straight in a survey by air travel consultancy Skytrax, is looking at how it can use the latest technologies to solve many problems '' from cutting taxiing times on the runway to quicker predictions of flight arrivals.

It comes as the island state embarks on a 'smart nation' initiative to utilize technology to improve lives, create economic opportunity and build community ties. However the proposed use of cameras mounted on lampposts that are linked to facial recognition software has raised privacy concerns.

Steve Lee, Changi Airport Group's chief information officer, told Reuters that the airport's experiments are not from a ''big brother'' perspective but solve real problems.

''We have lots of reports of lost passengers'...so one possible use case we can think of is, we need to detect and find people who are on the flight. Of course, with permission from the airlines,'' said Lee.

Facial recognition technology typically allows users to match the faces of people picked up on cameras with those in databases.

Lee said they have tested technology that could allow for this, and are working with various businesses, adding that they should have some capability to do this in a year's time.

While he declined to provide names of the firms involved, France's Idemia, previously known as OT-Morpho, has previously provided some facial recognition technology to Changi.

Chinese firm Yitu, which recently opened its first international office in Singapore, told Reuters it was in discussions with Changi Airport Group. Yitu says its facial recognition platform is capable of identifying more than 1.8 billion faces in less than 3 seconds.

PASSPORT FREE

Changi's newest terminal, T4, already uses facial recognition technology to offer self-service options at check-in, bag drop, immigration and boarding.

The technology means there are fewer queues and fewer visible airport or security staff.

Luggage is dropped at unmanned booths that take your photo and match it against your passport. You are snapped again at an automated security gate at immigration '' a picture that is used to verify your identity at the boarding gate.

Changi is exploring how facial recognition can be implemented in its three older terminals for automated bag drop and immigration.

The airport sees T4 as a test bed for its fifth terminal, which will be up and running in about a decade.

''Today you take passport, you show your face and you show your boarding pass,'' said Lee, adding it may, however, be possible to use biometrics instead.

''Then actually in future, you just take your face. You don't need your passport,'' he said.

Other technology trials underway at the airport use sensors to measure when an aircraft pushes back from the gate and when it takes off, data that has improved decision-making and shaved about 90 seconds off of aircraft taxiing time per flight during peak hours, said Lee.

Another programme uses artificial intelligence that gathers wind, weather and landing direction to learn to better predict flight arrival times.

With such technology, the airport is now able to estimate a flight's landing time when it's two hours away having previously only been able to make an accurate estimate 30 minutes to an hour ahead.

Lee said this helps create efficiencies in everything from gate planning to arrival queues.

He said a smart nation strategy begins at a country's airport. ''You can't say you are a smart nation when you come to the airport and it's not so smart.''

(Edited by Martin Howell)

Republished with permission from Reuters
Gig Economy

Understanding Why Uber Loses Money - Crunchbase News

Sun, 13 May 2018 15:01

Morning Report: Uber's latest numbers are out. Let's avoid the big, confusing numbers and think about why the company loses money in simpler terms.

Uber's fourth quarter financial performance was released to The Information. Despite its status as a private company, Uber regularly discloses its financial results, in part, to the media.

Follow Crunchbase News on Twitter & Facebook

But despite these regular disseminations, the fact that Uber loses lots of money isn't widely known. To pick one example, during my last Uber ride (Crunchbase's office to SFO), my driver and I got to talking about Uber itself, which is common enough. As it turns out, we've both met Travis. But when I mentioned that Uber actually loses money during the conversation, the veteran driver was surprised. They do?

So let's understand that. Yesterday, our own Holden Page broke down the numbers: billions, margins, and more.

But that might not be your cup of tea. So, returning to our prior source, here's how I would explain how Uber loses money in simple terms:

The bulk of Uber fares go to drivers, not the company. In the last quarter, Uber paid out just over 80 percent of the fares paid on its platform in the quarter in the form of driver pay and incentives to both riders and drivers.Uber picked up 19.5 percent of the money that flowed through its platform. But that revenue has costs. According to The Information's math, Uber's cost of revenue was 9.9 percent of all fares during the same period.That means that the 19.5 percent cut (gross fares minus Uber's payout percentage) can't all go to covering Uber's corporate costs (called operating expenses). Indeed, 19.5 minus 9.9 leaves just 9.6 percent of gross fares during the quarter to cover Uber's operating costs.During the quarter, Uber's operating expenses were 15.6 percent of gross fares were greater than its available pool of revenue left over to cover those costs. Or, in simpler terms, 9.9 minus 15.6 is less than zero. Therefore, Uber loses money.The red ink continues from there. If you subtract Uber's operating expenses from its net revenue, you'll find that it produces a far more bullish number than what the firm's GAAP net loss shows. That means that there are other costs that don't fall under the umbrella of operating costs that Uber pays out. The firm actually lost nearly $1.1 billion (GAAP net income) against just $2.22 billion in net revenue in the fourth quarter.

It works out to a -49 percent GAAP net margin. Uber posted around 61 percent net revenue from Q4'16 to Q4'17. That doesn't quite square out to the rule of 40.

From The Crunchbase Daily:Norwest closes $1.5B fund

Silicon Valley VC firm Norwest Venture Partners raised $1.5 billion for its largest fund ever. It will use the money to make early through late stage investments in technology and healthcare companies.JD Logistics raising $2.5B

JD Logistics, the logistics spin-out of Chinese e-commerce giant JD.com, is raising $2.5 billion from a group of backers including Hillhouse Capital, Sequoia China, China Merchants Group, Tencent, and others. The deal lets JD.com retain an 81 percent stake in the company.Uber losses shrink

A release of [Uber](https://www.crunchbase.com/organization/uber)'s Q4 results shows the ride-hailing company continues to stem losses in pursuit of profits. Gross revenues rose to $11.1 billion for the quarter, while losses reportedly narrowed to $1.1 billion.
OTG

How a ''location API'' allows cops to figure out where we all are in real-time | Ars Technica

Sat, 12 May 2018 13:03

Nowhere to run to, nowhere to hide '-- "Securus takes no steps to verify that uploaded documents in fact provide authorization'..." Cyrus Farivar - May 12, 2018 12:30 pm UTC

Jaap Arriens/NurPhoto via Getty Images

The digital privacy world was rocked late Thursday evening when The New York Times reported on Securus, a prison telecom company that has a service enabling law enforcement officers to locate most American cell phones within seconds. The company does this via a basic Web interface leveraging a location API'--creating a way to effectively access a massive real-time database of cell-site records.

Securus' location ability relies on other data brokers and location aggregators that obtain that information directly from mobile providers, usually for the purposes of providing some commercial service like an opt-in product discount triggered by being near a certain location. ("You're near a Carl's Jr.! Stop in now for a free order of fries with purchase!")

The Texas-based Securus reportedly gets its data from 3CInteractive, which in turn buys data from LocationSmart. Ars reached 3CInteractive's general counsel, Scott Elk, who referred us to a spokesperson. The spokesperson did not immediately respond to our query. But currently, anyone can get a sense of the power of a location API by trying out a demo from LocationSmart itself.

Currently, the Supreme Court is set to rule on the case of Carpenter v. United States, which asks whether police can obtain over 120 days worth of cell-site location information of a criminal suspect without a warrant. In that case, as is common in many investigations, law enforcement presented a cell provider with a court order to obtain such historical data. But the ability to obtain real-time location data that Securus reportedly offers skips that entire process, and it's potentially far more invasive.

Securus' location service as used by law enforcement is also currently being scrutinized. The service is at the heart of an ongoing federal prosecution of a former Missouri sheriff's deputy who allegedly used it at least 11 times against a judge and other law enforcement officers.

On Friday, Sen. Ron Wyden (D-Oregon) submitted formal letters to AT&T and also to the Federal Communications Commission demanding detailed answers regarding these Securus revelations.

"To access this private data, correctional officers simply visit Securus' Web portal, enter any US wireless phone number, and then upload a document purporting to be an official document giving permission to obtain real-time location data," Wyden wrote.

Blake Reid, a law professor at the University of Colorado, told Ars that he was unfamiliar with services like this that allow police to obtain, in real-time, location information for nearly any number with little scrutiny.

"That's certainly pretty unprecedented," he said. "This isn't how it's supposed to work for law enforcement to get location data'--they're supposed to get it from the phone companies."

Securus did not immediately respond to Ars' request for comment, but a spokesman told the Times in a statement that "responsibility of ensuring the legal adequacy'...lies with our law enforcement customers and their counsel." For its part, Securus' "ensuring" seems to consist of nothing more than a check box on a website.

Securus

"Top officials at Securus confirmed to my office that Securus takes no steps to verify that uploaded documents in fact provide authorization for real-time surveillance, or conduct any review of surveillance requests," Wyden continued. "Securus claimed, incorrectly, that correctional facilities, not Securus, must ensure that correctional officers don't misuse the Web portal."

WETWARE-Google Maps: how augmented reality is going to change walking directions.

Sat, 12 May 2018 13:09

':""},t.getDefinedParams=function(e,t){return t.filter(function(t){return e[t]}).reduce(function(t,n){return d(t,function(e,t,n){return t in e?Object.defineProperty(e,t,{value:n,enumerable:!0,configurable:!0,writable:!0}):e[t]=n,e}({},n,e[n]))},{})},t.isValidMediaTypes=function(e){var t=["banner","native","video"];return!!Object.keys(e).every(function(e){return(0,v.default)(t,e)})&&(!e.video||!e.video.context||(0,v.default)(["instream","outstream"],e.video.context))},t.getBidderRequest=function(e,t,n){return(0,h.default)(e,function(e){return e.bids.filter(function(e){return e.bidder===t&&e.adUnitCode===n}).length>0})||{start:null,auctionId:null}},t.getUserConfiguredParams=function(e,t,n){return e.filter(function(e){return e.code===t}).map(function(e){return e.bids}).reduce(c,[]).filter(function(e){return e.bidder===n}).map(function(e){return e.params||{}})},t.getOrigin=function(){return window.location.origin?window.location.origin:window.location.protocol+"//"+window.location.hostname+(window.location.port?":"+window.location.port:"")},t.getDNT=function(){return"1"===navigator.doNotTrack||"1"===window.doNotTrack||"1"===navigator.msDoNotTrack||"yes"===navigator.doNotTrack},t.isAdUnitCodeMatchingSlot=function(e){return function(t){return x(e,t)}},t.isSlotMatchingAdUnitCode=function(e){return function(t){return x(t,e)}},t.unsupportedBidderMessage=function(e,t){var n=Object.keys(e.mediaTypes||{banner:"banner"}).join(", ");return"\n "+e.code+" is a "+n+" ad unit\n containing bidders that don't support "+n+": "+t+".\n This bidder won't fetch demand.\n "},t.deletePropertyFromObject=function(e,t){var n=d({},e);return delete n[t],n},t.removeRequestId=function(e){return t.deletePropertyFromObject(e,"requestId")},t.isInteger=function(e){return Number.isInteger?Number.isInteger(e):"number"==typeof e&&isFinite(e)&&Math.floor(e)===e},t.convertCamelToUnderscore=function(e){return e.replace(/(?:^|\.?)([A-Z])/g,function(e,t){return"_"+t.toLowerCase()}).replace(/^_/,"")};var p=n(3),g=r(n(63)),h=r(n(10)),v=r(n(8)),b=n(12),y=n(2),m=!1,_=Object.prototype.toString,w=null;try{w=console.info.bind(window.console)}catch(e){}t.replaceTokenInString=function(e,t,n){return this._each(t,function(t,r){t=void 0===t?"":t;var i=n+r.toUpperCase()+n,o=new RegExp(i,"g");e=e.replace(o,t)}),e};var A,E=(A=0,function(){return++A});t.getUniqueIdentifierStr=i,t.generateUUID=function e(t){return t?(t^16*Math.random()>>t/4).toString(16):([1e7]+-1e3+-4e3+-8e3+-1e11).replace(/[018]/g,e)},t.getBidIdParameter=function(e,t){return t&&t[e]?t[e]:""},t.tryAppendQueryString=function(e,t,n){return n?e+(t+"=")+encodeURIComponent(n)+"&":e},t.parseQueryStringParameters=function(e){var t="";for(var n in e)e.hasOwnProperty(n)&&(t+=n+"="+encodeURIComponent(e[n])+"&");return t},t.transformAdServerTargetingObj=function(e){return e&&Object.getOwnPropertyNames(e).length>0?s(e).map(function(t){return t+"="+encodeURIComponent(f(e,t))}).join("&"):""},t.getTopWindowLocation=function(){if(t.inIframe()){var e=void 0;try{e=t.getAncestorOrigins()||t.getTopFrameReferrer()}catch(e){logInfo("could not obtain top window location",e)}if(e)return(0,b.parse)(e,{decodeSearchAsString:!0})}return t.getWindowLocation()},t.getTopFrameReferrer=function(){try{window.top.location.toString();var e="",t=void 0;do{(t=t?t.parent:window).document&&t.document.referrer&&(e=t.document.referrer)}while(t!==window.top);return e}catch(e){return window.document.referrer}},t.getAncestorOrigins=function(){if(window.document.location&&window.document.location.ancestorOrigins&&window.document.location.ancestorOrigins.length>=1)return window.document.location.ancestorOrigins[window.document.location.ancestorOrigins.length-1]},t.getWindowTop=function(){return window.top},t.getWindowSelf=function(){return window.self},t.getWindowLocation=function(){return window.location},t.getTopWindowUrl=function(){var e=void 0;try{e=this.getTopWindowLocation().href}catch(t){e=""}return e},t.getTopWindowReferrer=function(){try{return window.top.document.referrer}catch(e){return document.referrer}},t.logWarn=function(e){S()&&console.warn&&console.warn("WARNING: "+e)},t.logInfo=function(e,t){S()&&u()&&w&&(t&&0!==t.length||(t=""),w("INFO: "+e+(""===t?"":" : params : "),t))},t.logMessage=function(e){S()&&u()&&console.log("MESSAGE: "+e)},t.hasConsoleLogger=u;var S=function(){if(!1===p.config.getConfig("debug")&&!1===m){var e="TRUE"===T(y.DEBUG_MODE).toUpperCase();p.config.setConfig({debug:e}),m=!0}return!!p.config.getConfig("debug")};t.debugTurnedOn=S,t.logError=function(){S()&&window.console&&window.console.error&&console.error.apply(console,arguments)},t.createInvisibleIframe=function(){var e=document.createElement("iframe");return e.id=i(),e.height=0,e.width=0,e.border="0px",e.hspace="0",e.vspace="0",e.marginWidth="0",e.marginHeight="0",e.style.border="0",e.scrolling="no",e.frameBorder="0",e.src="about:blank",e.style.display="none",e};var T=function(e){var t=new RegExp("[\\?&]"+e+"=([^]*)").exec(window.location.search);return null===t?"":decodeURIComponent(t[1].replace(/\+/g," "))};t.getParameterByName=T,t.hasValidBidRequest=function(e,t,n){function r(e,n){n===t[o]&&(i=!0)}for(var i=!1,o=0;o0);for(var n in e)if(hasOwnProperty.call(e,n))return!1;return!0},t.isEmptyStr=function(e){return this.isStr(e)&&(!e||0===e.length)},t._each=function(e,t){if(!this.isEmpty(e)){if(this.isFn(e.forEach))return e.forEach(t,this);var n=0,r=e.length;if(r>0)for(;n'},t.createTrackPixelIframeHtml=function(e){var n=!(arguments.length>1&&void 0!==arguments[1])||arguments[1],r=arguments.length>2&&void 0!==arguments[2]?arguments[2]:"";return e?(n&&(e=encodeURI(e)),r&&(r='sandbox="'+r+'"'),"'):""},t.getIframeDocument=function(e){if(e){var t=void 0;try{t=e.contentWindow?e.contentWindow.document:e.contentDocument.document?e.contentDocument.document:e.contentDocument}catch(e){this.logError("Cannot get iframe document",e)}return t}},t.getValueString=function(e,t,n){return null==t?n:this.isStr(t)?t:this.isNumber(t)?t.toString():void this.logWarn("Unsuported type for param: "+e+" required type: String")};var x=function(e,t){return e.getAdUnitPath()===t||e.getSlotElementId()===t}},1:function(e,t,n){function r(e){return e&&e.__esModule?e:{default:e}}function i(e){function t(t,n){if(e.getUserSyncs){var r=e.getUserSyncs({iframeEnabled:d.config.getConfig("userSync.iframeEnabled"),pixelEnabled:d.config.getConfig("userSync.pixelEnabled")},t,n);r&&(Array.isArray(r)||(r=[r]),r.forEach(function(t){p.userSync.registerSync(t.type,e.code,t.url)}))}}function n(t){return!!e.isBidRequestValid(t)||((0,m.logWarn)("Invalid bid sent to bidder "+e.code+": "+JSON.stringify(t)),!1)}return c(new s.default(e.code),{getSpec:function(){return Object.freeze(e)},registerSyncs:t,callBids:function(r,i,u,s){function f(e){var n=(e?e[0]?e:[e]:[]).some(function(e){return"video"===e.mediaType}),i=d.config.getConfig("cache.url");n&&i||u(),b.default.emit(v.default.EVENTS.BIDDER_DONE,r),t(g,r.gdprConsent)}if(Array.isArray(r.bids)){var p={},g=[],h=r.bids.filter(n);if(0!==h.length){var y={};h.forEach(function(e){y[e.bidId]=e,e.adUnitCode||(e.adUnitCode=e.placementCode)});var _=e.buildRequests(h,r);if(_&&0!==_.length){Array.isArray(_)||(_=[_]);var w=(0,m.delayExecution)(f,_.length);_.forEach(function(t){function n(n,u){function a(t){var n,u,a=y[t.requestId];if(a){var s=c(l.default.createBid(v.default.STATUS.GOOD,a),t);n=a.adUnitCode,u=s,p[n]=!0,o(n,u,[r])&&i(n,u)}else(0,m.logWarn)("Bidder "+e.code+" made bid for unknown request ID: "+t.requestId+". Ignoring.")}try{n=JSON.parse(n)}catch(e){}n={body:n,headers:{get:u.getResponseHeader.bind(u)}},g.push(n);var s=void 0;try{s=e.interpretResponse(n,t)}catch(t){return(0,m.logError)("Bidder "+e.code+" failed to interpret the server's response. Continuing without bids",null,t),void w()}s&&(s.forEach?s.forEach(a):a(s)),w(s)}function u(t){(0,m.logError)("Server call for "+e.code+" failed: "+t+". Continuing without bids."),w()}switch(t.method){case"GET":s(""+t.url+function(e){return e?"?"+("object"===(void 0===e?"undefined":a(e))?(0,m.parseQueryStringParameters)(e):e):""}(t.data),{success:n,error:u},void 0,c({method:"GET",withCredentials:!0},t.options));break;case"POST":s(t.url,{success:n,error:u},"string"==typeof t.data?t.data:JSON.stringify(t.data),c({method:"POST",contentType:"text/plain",withCredentials:!0},t.options));break;default:(0,m.logWarn)("Skipping invalid request from "+e.code+". Request type "+t.type+" must be GET or POST"),w()}})}else f()}else f()}}})}function o(e,t,n){function r(e){return"Invalid bid from "+t.bidderCode+". Ignoring bid: "+e}return e?t?(i=Object.keys(t),_.every(function(e){return(0,y.default)(i,e)})?"native"!==t.mediaType||(0,g.nativeBidIsValid)(t,n)?"video"!==t.mediaType||(0,h.isValidVideoBid)(t,n)?!("banner"===t.mediaType&&!function(e,t,n){if((t.width||0===t.width)&&(t.height||0===t.height))return!0;var r=(0,m.getBidderRequest)(n,t.bidderCode,e),i=r&&r.bids&&r.bids[0]&&r.bids[0].sizes,o=(0,m.parseSizesInput)(i);if(1===o.length){var a=o[0].split("x"),c=u(a,2),s=c[0],f=c[1];return t.width=s,t.height=f,!0}return!1}(e,t,n)&&((0,m.logError)(r("Banner bids require a width and height")),1)):((0,m.logError)(r("Video bid does not have required vastUrl or renderer property")),!1):((0,m.logError)(r("Native bid missing some required properties.")),!1):((0,m.logError)(r("Bidder "+t.bidderCode+" is missing required params. Check http://prebid.org/dev-docs/bidder-adapter-1.html for list of params.")),!1)):((0,m.logWarn)("Some adapter tried to add an undefined bid for "+e+"."),!1):((0,m.logWarn)("No adUnitCode was supplied to addBidResponse."),!1);var i}Object.defineProperty(t,"__esModule",{value:!0});var u=function(){return function(e,t){if(Array.isArray(e))return e;if(Symbol.iterator in Object(e))return function(e,t){var n=[],r=!0,i=!1,o=void 0;try{for(var u,a=e[Symbol.iterator]();!(r=(u=a.next()).done)&&(n.push(u.value),!t||n.length!==t);r=!0);}catch(e){i=!0,o=e}finally{try{!r&&a.return&&a.return()}finally{if(i)throw o}}return n}(e,t);throw new TypeError("Invalid attempt to destructure non-iterable instance")}}(),a="function"==typeof Symbol&&"symbol"==_typeof(Symbol.iterator)?function(e){return void 0===e?"undefined":_typeof(e)}:function(e){return e&&"function"==typeof Symbol&&e.constructor===Symbol&&e!==Symbol.prototype?"symbol":void 0===e?"undefined":_typeof(e)},c=Object.assign||function(e){for(var t=1;t=f.syncsPerBidder?u.logWarn('Number of user syncs exceeded for "'+t+'"'):f.enabledBidders&&f.enabledBidders.length&&f.enabledBidders.indexOf(t)0&&void 0!==arguments[0]?arguments[0]:0;if(e)return setTimeout(t,Number(e));t()},n.triggerUserSyncs=function(){f.enableOverride&&n.syncUsers()},n}Object.defineProperty(t,"__esModule",{value:!0}),t.userSync=void 0;var i=function(){return function(e,t){if(Array.isArray(e))return e;if(Symbol.iterator in Object(e))return function(e,t){var n=[],r=!0,i=!1,o=void 0;try{for(var u,a=e[Symbol.iterator]();!(r=(u=a.next()).done)&&(n.push(u.value),!t||n.length!==t);r=!0);}catch(e){i=!0,o=e}finally{try{!r&&a.return&&a.return()}finally{if(i)throw o}}return n}(e,t);throw new TypeError("Invalid attempt to destructure non-iterable instance")}}(),o=Object.assign||function(e){for(var t=1;t0;)try{this.cmd.shift().call()}catch(e){o.logError("Error processing Renderer command: ",e)}}},16:function(e,t,n){var r=n(20),i=n(14),o=n(28),u=n(44),a=n(51),c="prototype",s=function e(t,n,s){var f,d,l,p=t&e.F,g=t&e.G,h=t&e.S,v=t&e.P,b=t&e.B,y=t&e.W,m=g?i:i[n]||(i[n]={}),_=m[c],w=g?r:h?r[n]:(r[n]||{})[c];for(f in g&&(s=n),s)(d=!p&&w&&void 0!==w[f])&&a(m,f)||(l=d?w[f]:s[f],m[f]=g&&"function"!=typeof w[f]?s[f]:b&&d?o(l,r):y&&w[f]==l?function(e){var t=function(t,n,r){if(this instanceof e){switch(arguments.length){case 0:return new e;case 1:return new e(t);case 2:return new e(t,n)}return new e(t,n,r)}return e.apply(this,arguments)};return t[c]=e[c],t}(l):v&&"function"==typeof l?o(Function.call,l):l,v&&((m.virtual||(m.virtual={}))[f]=l,t&e.R&&_&&!_[f]&&u(_,f,l)))};s.F=1,s.G=2,s.S=4,s.P=8,s.B=16,s.W=32,s.U=64,s.R=128,e.exports=s},166:function(e,t,n){function r(e){return e&&e.__esModule?e:{default:e}}function i(e,t){t.timeToRespond>e.getTimeout()+b.config.getConfig("timeoutBuffer")&&e.executeCallback(!0)}function o(e,t){T.emit(I.EVENTS.BID_RESPONSE,t),e.addBidReceived(t),i(e,t)}function u(){var e=b.config.getConfig("priceGranularity"),t=pbjs.bidderSettings;return t[I.JSON_MAPPING.BD_SETTING_STANDARD]||(t[I.JSON_MAPPING.BD_SETTING_STANDARD]={}),t[I.JSON_MAPPING.BD_SETTING_STANDARD][I.JSON_MAPPING.ADSERVER_TARGETING]||(t[I.JSON_MAPPING.BD_SETTING_STANDARD][I.JSON_MAPPING.ADSERVER_TARGETING]=[{key:"hb_bidder",val:function(e){return e.bidderCode}},{key:"hb_adid",val:function(e){return e.adId}},{key:"hb_pb",val:function(t){return e===I.GRANULARITY_OPTIONS.AUTO?t.pbAg:e===I.GRANULARITY_OPTIONS.DENSE?t.pbDg:e===I.GRANULARITY_OPTIONS.LOW?t.pbLg:e===I.GRANULARITY_OPTIONS.MEDIUM?t.pbMg:e===I.GRANULARITY_OPTIONS.HIGH?t.pbHg:e===I.GRANULARITY_OPTIONS.CUSTOM?t.pbCg:void 0}},{key:"hb_size",val:function(e){return e.size}},{key:"hb_deal",val:function(e){return e.dealId}},{key:"hb_source",val:function(e){return e.source}},{key:"hb_format",val:function(e){return e.mediaType}}]),t[I.JSON_MAPPING.BD_SETTING_STANDARD]}function a(e,t){if(!t)return{};var n={},r=pbjs.bidderSettings;return r&&(c(n,u(),t),e&&r[e]&&r[e][I.JSON_MAPPING.ADSERVER_TARGETING]&&(c(n,r[e],t),t.sendStandardTargeting=r[e].sendStandardTargeting)),t.native&&(n=d({},n,(0,g.getNativeTargeting)(t))),n}function c(e,t,n){var r=t[I.JSON_MAPPING.ADSERVER_TARGETING];return n.size=n.getSize(),E._each(r,function(r){var i=r.key,o=r.val;if(e[i]&&E.logWarn("The key: "+i+" is getting ovewritten"),E.isFn(o))try{o=o(n)}catch(e){E.logError("bidmanager","ERROR",e)}(void 0===t.suppressEmptyKeys||!0!==t.suppressEmptyKeys)&&"hb_deal"!==i||!E.isEmptyStr(o)&&null!=o?e[i]=o:E.logInfo("suppressing empty key '"+i+"' from adserver targeting")}),e}function s(e){var t=e.bidderCode,n=e.cpm,r=void 0;if(pbjs.bidderSettings&&(t&&pbjs.bidderSettings[t]&&"function"==typeof pbjs.bidderSettings[t].bidCpmAdjustment?r=pbjs.bidderSettings[t].bidCpmAdjustment:pbjs.bidderSettings[I.JSON_MAPPING.BD_SETTING_STANDARD]&&"function"==typeof pbjs.bidderSettings[I.JSON_MAPPING.BD_SETTING_STANDARD].bidCpmAdjustment&&(r=pbjs.bidderSettings[I.JSON_MAPPING.BD_SETTING_STANDARD].bidCpmAdjustment),r))try{n=r(e.cpm,d({},e))}catch(e){E.logError("Error during bid adjustment","bidmanager.js",e)}n>=0&&(e.cpm=n)}function f(e,t){return e[t.adUnitCode]||(e[t.adUnitCode]={bids:[]}),e[t.adUnitCode].bids.push(t),e}Object.defineProperty(t,"__esModule",{value:!0}),t.addBidResponse=t.AUCTION_COMPLETED=t.AUCTION_IN_PROGRESS=t.AUCTION_STARTED=void 0;var d=Object.assign||function(e){for(var t=1;t=1})&&(E.logInfo("Bids Received for Auction with id: "+v,g),y=O,t(!1,!0))}var r=e.adUnits,i=e.adUnitCodes,o=e.callback,u=e.cbTimeout,a=e.labels,c=r,s=a,d=i,p=[],g=[],h=void 0,v=E.generateUUID(),y=void 0,m=o,R=void 0,B=u,k=[];return{addBidReceived:function(e){g=g.concat(e)},executeCallback:t,callBids:function(){e=t.bind(null,!0),r=setTimeout(e,B),R=r,y=x;var e,r,i={timestamp:h=Date.now(),auctionId:v,timeout:B};T.emit(I.EVENTS.AUCTION_INIT,i);var o=S.makeBidRequests(c,h,v,B,s);E.logInfo("Bids Requested for Auction with id: "+v,o),o.forEach(function(e){var t;t=e,p=p.concat(t)}),y=j,S.callBids(c,o,C.bind(this),function(e){var t=e;return(0,l.delayExecution)(function(){(0,_.default)(p,function(e){return t===e.bidderRequestId}).doneCbCallCount+=1,n()},1)}.bind(this))},bidsBackAll:n,addWinningBid:function(e){k=k.concat(e)},getWinningBids:function(){return k},getTimeout:function(){return B},getAuctionId:function(){return v},getAuctionStatus:function(){return y},getAdUnits:function(){return c},getAdUnitCodes:function(){return d},getBidRequests:function(){return p},getBidsReceived:function(){return g}}},t.getStandardBidderSettings=u,t.getKeyValueTargetingPairs=a,t.adjustBids=s;var l=n(0),p=n(27),g=n(18),h=n(167),v=n(15),b=n(3),y=n(13),m=n(21),_=r(n(10)),w=r(n(8)),A=y.userSync.syncUsers,E=n(0),S=n(7),T=n(9),I=n(2),x=t.AUCTION_STARTED="started",j=t.AUCTION_IN_PROGRESS="inProgress",O=t.AUCTION_COMPLETED="completed";T.on(I.EVENTS.BID_ADJUSTMENT,function(e){s(e)});var C=t.addBidResponse=(0,m.createHook)("asyncSeries",function(e,t){var n,r,u,c,s=this.getBidRequests(),f=this.getAuctionId(),g=(0,l.getBidderRequest)(s,t.bidderCode,e),y=function(e){var t=e.adUnitCode,n=e.bid,r=e.bidRequest,i=e.auctionId,o=r.start,u=d({},n,{auctionId:i,responseTimestamp:(0,l.timestamp)(),requestTimestamp:o,cpm:parseFloat(n.cpm)||0,bidder:n.bidderCode,adUnitCode:t});u.timeToRespond=u.responseTimestamp-u.requestTimestamp,T.emit(I.EVENTS.BID_ADJUSTMENT,u);var c=r.bids&&r.bids[0]&&r.bids[0].renderer;c&&c.url&&(u.renderer=v.Renderer.install({url:c.url}),u.renderer.setRender(c.render));var s,f=(0,p.getPriceBucketString)(u.cpm,b.config.getConfig("customPriceBucket"),b.config.getConfig("currency.granularityMultiplier"));return u.pbLg=f.low,u.pbMg=f.med,u.pbHg=f.high,u.pbAg=f.auto,u.pbDg=f.dense,u.pbCg=f.custom,u.bidderCode&&(u.cpm>0||u.dealId)&&(s=a(u.bidderCode,u)),u.adserverTargeting=d(u.adserverTargeting||{},s),u}({adUnitCode:e,bid:t,bidRequest:g,auctionId:f});"video"===y.mediaType?(n=this,r=y,u=g,c=!0,b.config.getConfig("cache.url")&&(r.videoCacheKey?r.vastUrl||(E.logError("videoCacheKey specified but not required vastUrl for video bid"),c=!1):(c=!1,(0,h.store)([r],function(e,t){e?(E.logWarn("Failed to save to the video cache: "+e+". Video bid must be discarded."),i(n,r)):(r.videoCacheKey=t[0].uuid,r.vastUrl||(r.vastUrl=(0,h.getCacheUrl)(r.videoCacheKey)),u.doneCbCallCount+=1,o(n,r),n.bidsBackAll())}))),c&&o(n,r)):o(this,y)},"addBidResponse")},167:function(e,t,n){function r(e){var t,n;return{type:"xml",value:e.vastXml?e.vastXml:(t=e.vastUrl,n=e.vastImpUrl,'\n \n \n prebid.org wrapper\n \n "+(n?"":"")+"\n \n \n \n ")}}Object.defineProperty(t,"__esModule",{value:!0}),t.store=function(e,t){var n={puts:e.map(r)};(0,i.ajax)(o.config.getConfig("cache.url"),(u=t,{success:function(e){var t=void 0;try{t=JSON.parse(e).responses}catch(e){return void u(e,[])}t?u(null,t):u(new Error("The cache server didn't respond with a responses property."),[])},error:function(e,t){u(new Error("Error storing video ad in the cache: "+e+": "+JSON.stringify(t)),[])}}),JSON.stringify(n),{contentType:"text/plain",withCredentials:!0});var u},t.getCacheUrl=function(e){return o.config.getConfig("cache.url")+"?uuid="+e};var i=n(6),o=n(3)},17:function(e,t){e.exports=function(e){return"object"==(void 0===e?"undefined":_typeof(e))?null!==e:"function"==typeof e}},18:function(e,t,n){Object.defineProperty(t,"__esModule",{value:!0}),t.hasNonNativeBidder=t.nativeBidder=t.nativeAdUnit=t.NATIVE_TARGETING_KEYS=t.NATIVE_KEYS=t.nativeAdapters=void 0;var r="function"==typeof Symbol&&"symbol"==_typeof(Symbol.iterator)?function(e){return void 0===e?"undefined":_typeof(e)}:function(e){return e&&"function"==typeof Symbol&&e.constructor===Symbol&&e!==Symbol.prototype?"symbol":void 0===e?"undefined":_typeof(e)};t.processNativeAdUnitParams=function(e){return e&&e.type&&function(e){return!(!e||!(0,a.default)(Object.keys(f),e))||((0,o.logError)(e+" nativeParam is not supported"),!1)}(e.type)?f[e.type]:e},t.nativeBidIsValid=function(e,t){var n=(0,o.getBidRequest)(e.adId,t);if(!n)return!1;if(!(0,o.deepAccess)(e,"native.clickUrl"))return!1;if((0,o.deepAccess)(e,"native.image")&&(!(0,o.deepAccess)(e,"native.image.height")||!(0,o.deepAccess)(e,"native.image.width")))return!1;if((0,o.deepAccess)(e,"native.icon")&&(!(0,o.deepAccess)(e,"native.icon.height")||!(0,o.deepAccess)(e,"native.icon.width")))return!1;var r=n.nativeParams;if(!r)return!0;var i=Object.keys(r).filter(function(e){return r[e].required}),u=Object.keys(e.native).filter(function(t){return e.native[t]});return i.every(function(e){return(0,a.default)(u,e)})},t.fireNativeTrackers=function(e,t){var n=void 0;"click"===e.action?n=t.native&&t.native.clickTrackers:(n=t.native&&t.native.impressionTrackers,t.native&&t.native.javascriptTrackers&&(0,o.insertHtmlIntoIframe)(t.native.javascriptTrackers)),(n||[]).forEach(o.triggerPixel)},t.getNativeTargeting=function(e){var t={};return Object.keys(e.native).forEach(function(n){var i=s[n],o=e.native[n];"object"===(void 0===o?"undefined":r(o))&&o.url&&(o=o.url),i&&(t[i]=o)}),t};var i,o=n(0),u=n(8),a=(i=u)&&i.__esModule?i:{default:i},c=t.nativeAdapters=[],s=t.NATIVE_KEYS={title:"hb_native_title",body:"hb_native_body",sponsoredBy:"hb_native_brand",image:"hb_native_image",icon:"hb_native_icon",clickUrl:"hb_native_linkurl",cta:"hb_native_cta"},f=(t.NATIVE_TARGETING_KEYS=Object.keys(s).map(function(e){return s[e]}),{image:{image:{required:!0},title:{required:!0},sponsoredBy:{required:!0},clickUrl:{required:!0},body:{required:!1},icon:{required:!1}}});t.nativeAdUnit=function(e){var t="native"===e.mediaType,n=(0,o.deepAccess)(e,"mediaTypes.native");return t||n};var d=t.nativeBidder=function(e){return(0,a.default)(c,e.bidder)};t.hasNonNativeBidder=function(e){return e.bids.filter(function(e){return!d(e)}).length}},19:function(e,t,n){var r=n(0);t.createBid=function(e,t){return new function(e,t){var n=t&&t.bidId||r.getUniqueIdentifierStr(),i=t&&t.src||"client",o=e||0;this.bidderCode=t&&t.bidder||"",this.width=0,this.height=0,this.statusMessage=function(){switch(o){case 0:return"Pending";case 1:return"Bid available";case 2:return"Bid returned empty or error response";case 3:return"Bid timed out"}}(),this.adId=n,this.mediaType="banner",this.source=i,this.getStatusCode=function(){return o},this.getSize=function(){return this.width+"x"+this.height}}(e,t)}},2:function(e,t){e.exports={JSON_MAPPING:{PL_CODE:"code",PL_SIZE:"sizes",PL_BIDS:"bids",BD_BIDDER:"bidder",BD_ID:"paramsd",BD_PL_ID:"placementId",ADSERVER_TARGETING:"adserverTargeting",BD_SETTING_STANDARD:"standard"},REPO_AND_VERSION:"prebid_prebid_1.10.0-pre",DEBUG_MODE:"pbjs_debug",STATUS:{GOOD:1,NO_BID:2},CB:{TYPE:{ALL_BIDS_BACK:"allRequestedBidsBack",AD_UNIT_BIDS_BACK:"adUnitBidsBack",BID_WON:"bidWon",REQUEST_BIDS:"requestBids"}},EVENTS:{AUCTION_INIT:"auctionInit",AUCTION_END:"auctionEnd",BID_ADJUSTMENT:"bidAdjustment",BID_TIMEOUT:"bidTimeout",BID_REQUESTED:"bidRequested",BID_RESPONSE:"bidResponse",BID_WON:"bidWon",BIDDER_DONE:"bidderDone",SET_TARGETING:"setTargeting",REQUEST_BIDS:"requestBids",ADD_AD_UNITS:"addAdUnits",AD_RENDER_FAILED:"adRenderFailed"},AD_RENDER_FAILED_REASON:{PREVENT_WRITING_ON_MAIN_DOCUMENT:"preventWritingOnMainDocuemnt",NO_AD:"noAd",EXCEPTION:"exception",CANNOT_FIND_AD:"cannotFindAd",MISSING_DOC_OR_ADID:"missingDocOrAdid"},EVENT_ID_PATHS:{bidWon:"adUnitCode"},GRANULARITY_OPTIONS:{LOW:"low",MEDIUM:"medium",HIGH:"high",AUTO:"auto",DENSE:"dense",CUSTOM:"custom"},TARGETING_KEYS:["hb_bidder","hb_adid","hb_pb","hb_size","hb_deal","hb_source","hb_format"],S2S:{SRC:"s2s",SYNCED_BIDDERS_KEY:"pbjsSyncs"}}},20:function(e,t){var n=e.exports="undefined"!=typeof window&&window.Math==Math?window:"undefined"!=typeof self&&self.Math==Math?self:Function("return this")();"number"==typeof __g&&(__g=n)},21:function(e,t,n){Object.defineProperty(t,"__esModule",{value:!0});var r=Object.assign||function(e){for(var t=1;t1&&void 0!==arguments[1]?arguments[1]:10;"function"==typeof e&&(u.push({fn:e,priority:t}),u.sort(function(e,t){return t.priority-e.priority}))},removeHook:function(e){u=u.filter(function(n){return n.fn===t||n.fn!==e})}};return"string"==typeof n&&(o[n]=c),r(function(){for(var n=arguments.length,r=Array(n),i=0;it.max?e:t},{max:0}),h=(0,a.default)(t.buckets,function(t){if(e>g.max*n){var i=t.precision;void 0===i&&(i=s),r=(t.max*n).toFixed(i)}else if(e=t.min*n)return t});return h&&(o=e,c=n,f=void 0!==(u=h).precision?u.precision:s,d=u.increment*c,l=u.min*c,p=Math.floor((o-l)/d)*d+l,r=(p=Number(p.toFixed(10))).toFixed(f)),r}function i(e){if(c.isEmpty(e)||!e.buckets||!Array.isArray(e.buckets))return!1;var t=!0;return e.buckets.forEach(function(e){void 0!==e.min&&e.max&&e.increment||(t=!1)}),t}Object.defineProperty(t,"__esModule",{value:!0}),t.isValidPriceConfig=t.getPriceBucketString=void 0;var o,u=n(10),a=(o=u)&&o.__esModule?o:{default:o},c=n(0),s=2,f={buckets:[{min:0,max:5,increment:.5}]},d={buckets:[{min:0,max:20,increment:.1}]},l={buckets:[{min:0,max:20,increment:.01}]},p={buckets:[{min:0,max:3,increment:.01},{min:3,max:8,increment:.05},{min:8,max:20,increment:.5}]},g={buckets:[{min:0,max:5,increment:.05},{min:5,max:10,increment:.1},{min:10,max:20,increment:.5}]};t.getPriceBucketString=function(e,t){var n=arguments.length>2&&void 0!==arguments[2]?arguments[2]:1,i=parseFloat(e);return isNaN(i)&&(i=""),{low:""===i?"":r(e,f,n),med:""===i?"":r(e,d,n),high:""===i?"":r(e,l,n),auto:""===i?"":r(e,g,n),dense:""===i?"":r(e,p,n),custom:""===i?"":r(e,t,n)}},t.isValidPriceConfig=i},28:function(e,t,n){var r=n(43);e.exports=function(e,t,n){if(r(e),void 0===t)return e;switch(n){case 1:return function(n){return e.call(t,n)};case 2:return function(n,r){return e.call(t,n,r)};case 3:return function(n,r,i){return e.call(t,n,r,i)}}return function(){return e.apply(t,arguments)}}},29:function(e,t){e.exports=function(e){try{return!!e()}catch(e){return!0}}},3:function(e,t,n){function r(e){return e&&e.__esModule?e:{default:e}}function i(){function e(){function e(e){return(0,c.default)(Object.keys(w),function(t){return e===w[t]})}n={},r={_debug:l,get debug(){return this._debug},set debug(e){this._debug=e},_bidderTimeout:p,get bidderTimeout(){return this._bidderTimeout},set bidderTimeout(e){this._bidderTimeout=e},_publisherDomain:g,get publisherDomain(){return this._publisherDomain},set publisherDomain(e){this._publisherDomain=e},_cookieSyncDelay:h,get cookieSyncDelay(){return pbjs.cookieSyncDelay||this._cookieSyncDelay},set cookieSyncDelay(e){this._cookieSyncDelay=e},_priceGranularity:w.MEDIUM,set priceGranularity(t){(function(t){if(!t)return d.logError("Prebid Error: no value passed to `setPriceGranularity()`"),!1;if("string"==typeof t)e(t)||d.logWarn("Prebid Warning: setPriceGranularity was called with invalid setting, using `medium` as default.");else if("object"===(void 0===t?"undefined":u(t))&&!(0,a.isValidPriceConfig)(t))return d.logError("Invalid custom price value passed to `setPriceGranularity()`"),!1;return!0})(t)&&("string"==typeof t?this._priceGranularity=e(t)?t:w.MEDIUM:"object"===(void 0===t?"undefined":u(t))&&(this._customPriceBucket=t,this._priceGranularity=w.CUSTOM,d.logMessage("Using custom price granularity")))},get priceGranularity(){return this._priceGranularity},_customPriceBucket:{},get customPriceBucket(){return this._customPriceBucket},_sendAllBids:v,get enableSendAllBids(){return this._sendAllBids},set enableSendAllBids(e){this._sendAllBids=e},_bidderSequence:_,get bidderSequence(){return this._bidderSequence},set bidderSequence(e){m[e]?this._bidderSequence=e:d.logWarn("Invalid order: "+e+". Bidder Sequence was not set.")},_timoutBuffer:b,get timeoutBuffer(){return this._timoutBuffer},set timeoutBuffer(e){this._timoutBuffer=e}}}var t=[],n=void 0,r=void 0,i=(0,f.createHook)("asyncSeries",function(e){if("object"===(void 0===e?"undefined":u(e))){var i,a,c=Object.keys(e),f={};c.forEach(function(t){var i=e[t];"object"===u(n[t])&&"object"===(void 0===i?"undefined":u(i))&&(i=o({},n[t],i)),f[t]=r[t]=i}),i=f,a=Object.keys(i),t.filter(function(e){return(0,s.default)(a,e.topic)}).forEach(function(e){var t,n,r;e.callback((t={},n=e.topic,r=i[e.topic],n in t?Object.defineProperty(t,n,{value:r,enumerable:!0,configurable:!0,writable:!0}):t[n]=r,t))}),t.filter(function(e){return e.topic===A}).forEach(function(e){return e.callback(i)})}else d.logError("setConfig options must be an object")});return e(),{getConfig:function(){if(arguments.lengthw;w++)if((l||w in y)&&(v=m(h=y[w],w,b),e))if(n)A[w]=v;else if(v)switch(e){case 3:return!0;case 5:return h;case 6:return w;case 2:A.push(h)}else if(f)return!1;return d?-1:s||f?f:A}}},31:function(e,t,n){var r=n(32);e.exports=Object("z").propertyIsEnumerable(0)?Object:function(e){return"String"==r(e)?e.split(""):Object(e)}},32:function(e,t){var n={}.toString;e.exports=function(e){return n.call(e).slice(8,-1)}},33:function(e,t){e.exports=function(e){if(null==e)throw TypeError("Can't call method on "+e);return e}},34:function(e,t,n){var r=n(35),i=Math.min;e.exports=function(e){return e>0?i(r(e),9007199254740991):0}},35:function(e,t){var n=Math.ceil,r=Math.floor;e.exports=function(e){return isNaN(e=+e)?0:(e>0?r:n)(e)}},36:function(e,t,n){var r=n(32);e.exports=Array.isArray||function(e){return"Array"==r(e)}},37:function(e,t,n){Object.defineProperty(t,"__esModule",{value:!0}),t.getGlobal=function(){return window.pbjs},window.pbjs=window.pbjs||{},window.pbjs.cmd=window.pbjs.cmd||[],window.pbjs.que=window.pbjs.que||[]},38:function(e,t,n){function r(e,t,n){return t in e?Object.defineProperty(e,t,{value:n,enumerable:!0,configurable:!0,writable:!0}):e[t]=n,e}function i(e){function n(t){return"string"==typeof t?[t]:p.isArray(t)?t:e.getAdUnitCodes()||[]}function i(){return e.getBidsReceived().filter(m).filter(t.isBidExpired).filter(_)}function u(){return e.getStandardBidderAdServerTargeting().map(function(e){return e.key}).concat(g.TARGETING_KEYS).filter(a.uniques)}function f(e,t,n,r){return Object.keys(t.adserverTargeting).filter(d()).forEach(function(n){var r,i;e.length&&e.filter((i=n,function(e){return e.adUnitCode===t.adUnitCode&&e.adserverTargeting[i]})).forEach((r=n,function(e){p.isArray(e.adserverTargeting[r])||(e.adserverTargeting[r]=[e.adserverTargeting[r]]),e.adserverTargeting[r]=e.adserverTargeting[r].concat(t.adserverTargeting[r]).filter(a.uniques),delete t.adserverTargeting[r]}))}),e.push(t),e}function d(){var e=u();return function(t){return-1===e.indexOf(t)}}function b(e){return r({},e.adUnitCode,Object.keys(e.adserverTargeting).filter(d()).map(function(t){return r({},t.substring(0,y),[e.adserverTargeting[t]])}))}function w(e){return{adUnitCode:e,cpm:0,adserverTargeting:{},timeToRespond:0}}var A={};return A.resetPresetTargeting=function(t){if((0,a.isGptPubadsDefined)()){var r=n(t),i=e.getAdUnits().filter(function(e){return(0,l.default)(r,e.code)});window.googletag.pubads().getSlots().forEach(function(e){h.forEach(function(t){i.forEach(function(n){n.code!==e.getAdUnitPath()&&n.code!==e.getSlotElementId()||e.setTargeting(t,null)})})})}},A.getAllTargeting=function(e){var t,d,m,_,E,S,T,I=arguments.length>1&&void 0!==arguments[1]?arguments[1]:i(),x=n(e),j=function(e,t){var n=A.getWinningBids(e,t);n.forEach(function(e){e.status=v});var i=u();return n=n.map(function(e){return r({},e.adUnitCode,Object.keys(e.adserverTargeting).filter(function(t){return void 0===e.sendStandardTargeting||e.sendStandardTargeting||-1===i.indexOf(t)}).map(function(t){return r({},"hb_deal"===t?(t+"_"+e.bidderCode).substring(0,y):t.substring(0,y),[e.adserverTargeting[t]])}))})}(x,I).concat((S=x,T=I,T.filter(function(e){return(0,l.default)(S,e.adUnitCode)}).map(function(e){return o({},e)}).reduce(f,[]).map(b).filter(function(e){return e}))).concat(c.config.getConfig("enableSendAllBids")?(t=x,d=I,m=g.TARGETING_KEYS.concat(s.NATIVE_TARGETING_KEYS),_=[],E=(0,a.groupBy)(d,"adUnitCode"),Object.keys(E).forEach(function(e){var t=(0,a.groupBy)(E[e],"bidderCode");Object.keys(t).forEach(function(e){return _.push(t[e].reduce(a.getHighestCpm,w()))})}),_.map(function(e){if(e.adserverTargeting&&t&&(p.isArray(t)&&(0,l.default)(t,e.adUnitCode)||"string"==typeof t&&e.adUnitCode===t))return r({},e.adUnitCode,(n=e,m.filter(function(t){return void 0!==e.adserverTargeting[t]}).map(function(e){return r({},(e+"_"+n.bidderCode).substring(0,y),[n.adserverTargeting[e]])})));var n}).filter(function(e){return e})):[]);return j.map(function(e){Object.keys(e).map(function(t){e[t].map(function(e){-1===h.indexOf(Object.keys(e)[0])&&(h=Object.keys(e).concat(h))})})}),j=j.map(function(e){return r({},Object.keys(e)[0],e[Object.keys(e)[0]].map(function(e){return r({},Object.keys(e)[0],e[Object.keys(e)[0]].join(", "))}).reduce(function(e,t){return o(t,e)},{}))}).reduce(function(e,t){var n=Object.keys(t)[0];return e[n]=o({},e[n],t[n]),e},{})},A.setTargetingForGPT=function(e){window.googletag.pubads().getSlots().forEach(function(t){Object.keys(e).filter((0,a.isAdUnitCodeMatchingSlot)(t)).forEach(function(n){return Object.keys(e[n]).forEach(function(r){var i=e[n][r].split(",");(i=i.length>1?[i]:i).map(function(e){return p.logMessage("Attempting to set key value for slot: "+t.getSlotElementId()+" key: "+r+" value: "+e),e}).forEach(function(e){t.setTargeting(r,e)})})})})},A.getWinningBids=function(e){var t=arguments.length>1&&void 0!==arguments[1]?arguments[1]:i(),r=n(e);return t.filter(function(e){return(0,l.default)(r,e.adUnitCode)}).filter(function(e){return e.cpm>0}).map(function(e){return e.adUnitCode}).filter(a.uniques).map(function(e){return t.filter(function(t){return t.adUnitCode===e?t:null}).reduce(a.getHighestCpm,w(e))})},A.setTargetingForAst=function(){var e=A.getAllTargeting();Object.keys(e).forEach(function(t){return Object.keys(e[t]).forEach(function(n){if(p.logMessage("Attempting to set targeting for targetId: "+t+" key: "+n+" value: "+e[t][n]),p.isStr(e[t][n])||p.isArray(e[t][n])){var r={};r[n.toUpperCase()]=e[t][n],window.apntag.setKeywords(t,r)}})})},A.isApntagDefined=function(){if(window.apntag&&p.isFn(window.apntag.setKeywords))return!0},A}Object.defineProperty(t,"__esModule",{value:!0}),t.targeting=t.getOldestBid=t.isBidExpired=t.RENDERED=t.BID_TARGETING_SET=void 0;var o=Object.assign||function(e){for(var t=1;t(0,a.timestamp)()},function(e){return e&&(e.status&&!(0,l.default)([v,b],e.status)||!e.status)}),_=t.getOldestBid=function(e,t,n){var r=!0;return n.forEach(function(n,i){t!==i&&e.bidder===n.bidder&&e.adUnitCode===n.adUnitCode&&e.responseTimestamp>n.responseTimestamp&&(r=!1)}),r};t.targeting=i(f.auctionManager)},39:function(e,t){var n;n=function(){return this}();try{n=n||Function("return this")()||(0,eval)("this")}catch(e){"object"==("undefined"==typeof window?"undefined":_typeof(window))&&(n=window)}e.exports=n},4:function(e,t,n){Object.defineProperty(t,"__esModule",{value:!0}),t.NATIVE="native",t.VIDEO="video",t.BANNER="banner"},42:function(e,t,n){var r=n(16),i=n(30)(5),o="find",u=!0;o in[]&&Array(1)[o](function(){u=!1}),r(r.P+r.F*u,"Array",{find:function(e){return i(this,e,arguments.length>1?arguments[1]:void 0)}}),n(24)(o)},43:function(e,t){e.exports=function(e){if("function"!=typeof e)throw TypeError(e+" is not a function!");return e}},44:function(e,t,n){var r=n(45),i=n(50);e.exports=n(23)?function(e,t,n){return r.f(e,t,i(1,n))}:function(e,t,n){return e[t]=n,e}},45:function(e,t,n){var r=n(46),i=n(47),o=n(49),u=Object.defineProperty;t.f=n(23)?Object.defineProperty:function(e,t,n){if(r(e),t=o(t,!0),r(n),i)try{return u(e,t,n)}catch(e){}if("get"in n||"set"in n)throw TypeError("Accessors not supported!");return"value"in n&&(e[t]=n.value),e}},459:function(e,t,n){e.exports=n(460)},46:function(e,t,n){var r=n(17);e.exports=function(e){if(!r(e))throw TypeError(e+" is not an object!");return e}},460:function(e,t,n){function r(e,t,n){e.defaultView&&e.defaultView.frameElement&&(e.defaultView.frameElement.width=t,e.defaultView.frameElement.height=n)}function i(e,t,n){var r={};r.reason=e,r.message=t,n&&(r.bid=n),A.logError(t),T.emit(B,r)}function o(e){e.forEach(function(e){if(void 0===e.called)try{e.call(),e.called=!0}catch(e){A.logError("Error processing command :","prebid.js",e)}})}var u,a="function"==typeof Symbol&&"symbol"==_typeof(Symbol.iterator)?function(e){return void 0===e?"undefined":_typeof(e)}:function(e){return e&&"function"==typeof Symbol&&e.constructor===Symbol&&e!==Symbol.prototype?"symbol":void 0===e?"undefined":_typeof(e)},c=Object.assign||function(e){for(var t=1;t0&&void 0!==arguments[0]?arguments[0]:{},t=e.bidsBackHandler,n=e.timeout,r=e.adUnits,i=e.adUnitCodes,o=e.labels;T.emit(C);var u=n||g.config.getConfig("bidderTimeout");if(r=r||_.adUnits,A.logInfo("Invoking pbjs.requestBids",arguments),i&&i.length?r=r.filter(function(e){return(0,m.default)(i,e.code)}):i=r&&r.map(function(e){return e.code}),r.forEach(function(e){var t=Object.keys(e.mediaTypes||{banner:"banner"}),n=e.bids.map(function(e){return e.bidder}),r=E.bidderRegistry;n.forEach(function(n){var i=r[n],o=i&&i.getSpec&&i.getSpec(),u=o&&o.supportedMediaTypes||["banner"];t.some(function(e){return(0,m.default)(u,e)})||(A.logWarn(A.unsupportedBidderMessage(e,n)),e.bids=e.bids.filter(function(e){return e.bidder!==n}))})}),r&&0!==r.length){var a=h.auctionManager.createAuction({adUnits:r,adUnitCodes:i,callback:t,cbTimeout:u,labels:o});return a.callBids(),a}if(A.logMessage("No adUnits configured. No bids requested."),"function"==typeof t)try{t()}catch(e){A.logError("Error executing bidsBackHandler",null,e)}}),_.addAdUnits=function(e){A.logInfo("Invoking pbjs.addAdUnits",arguments),A.isArray(e)?(e.forEach(function(e){return e.transactionId=A.generateUUID()}),_.adUnits.push.apply(_.adUnits,e)):"object"===(void 0===e?"undefined":a(e))&&(e.transactionId=A.generateUUID(),_.adUnits.push(e)),T.emit(j)},_.onEvent=function(e,t,n){A.logInfo("Invoking pbjs.onEvent",arguments),A.isFn(t)?!n||q[e].call(null,n)?T.on(e,t,n):A.logError('The id provided is not valid for event "'+e+'" and no handler was set.'):A.logError('The event handler provided is not a function and was not set on event "'+e+'".')},_.offEvent=function(e,t,n){A.logInfo("Invoking pbjs.offEvent",arguments),n&&!q[e].call(null,n)||T.off(e,t,n)},_.registerBidAdapter=function(e,t){A.logInfo("Invoking pbjs.registerBidAdapter",arguments);try{E.registerBidAdapter(e(),t)}catch(e){A.logError("Error registering bidder adapter : "+e.message)}},_.registerAnalyticsAdapter=function(e){A.logInfo("Invoking pbjs.registerAnalyticsAdapter",arguments);try{E.registerAnalyticsAdapter(e)}catch(e){A.logError("Error registering analytics adapter : "+e.message)}},_.createBid=function(e){return A.logInfo("Invoking pbjs.createBid",arguments),S.createBid(e)},_.loadScript=function(e,t,n){A.logInfo("Invoking pbjs.loadScript",arguments),(0,p.loadScript)(e,t,n)},_.enableAnalytics=function(e){e&&!A.isEmpty(e)?(A.logInfo("Invoking pbjs.enableAnalytics for: ",e),E.enableAnalytics(e)):A.logError("pbjs.enableAnalytics should be called with option {}")},_.aliasBidder=function(e,t){A.logInfo("Invoking pbjs.aliasBidder",arguments),e&&t?E.aliasBidAdapter(e,t):A.logError("bidderCode and alias must be passed as arguments","pbjs.aliasBidder")},_.getAllWinningBids=function(){return h.auctionManager.getAllWinningBids().map(f.removeRequestId)},_.getAllPrebidWinningBids=function(){return h.auctionManager.getBidsReceived().filter(function(e){return e.status===v.BID_TARGETING_SET}).map(f.removeRequestId)},_.getHighestCpmBids=function(e){var t=h.auctionManager.getBidsReceived().filter(v.getOldestBid);return v.targeting.getWinningBids(e,t).map(f.removeRequestId)},_.getConfig=g.config.getConfig,_.setConfig=g.config.setConfig,_.que.push(function(){return(0,d.listenMessagesFromCreative)()}),_.cmd.push=function(e){if("function"==typeof e)try{e.call()}catch(e){A.logError("Error processing command :",e.message,e.stack)}else A.logError("Commands written into pbjs.cmd.push must be wrapped in a function")},_.que.push=_.cmd.push,_.processQueue=function(){o(_.que),o(_.cmd)}},461:function(e,t,n){function r(e){return e&&e.__esModule?e:{default:e}}function i(e){var t,n,r,i,a,l,p,g,h,v,b,y,m,_=e.message?"message":"data",w={};try{w=JSON.parse(e[_])}catch(e){return}if(w.adId){var A=(0,f.default)(s.auctionManager.getBidsReceived(),function(e){return e.adId===w.adId});"Prebid Request"===w.message&&(t=A,n=w.adServerDomain,r=e.source,i=t.adId,a=t.ad,l=t.adUrl,p=t.width,g=t.height,i&&(v=(h=t).adUnitCode,b=h.width,y=h.height,(m=document.getElementById((0,f.default)(window.googletag.pubads().getSlots().filter((0,c.isSlotMatchingAdUnitCode)(v)),function(e){return e}).getSlotElementId()).querySelector("iframe")).width=""+b,m.height=""+y,r.postMessage(JSON.stringify({message:"Prebid Response",ad:a,adUrl:l,adId:i,width:p,height:g}),n)),s.auctionManager.addWinningBid(A),o.default.emit(d,A)),"Prebid Native"===w.message&&((0,u.fireNativeTrackers)(w,A),s.auctionManager.addWinningBid(A),o.default.emit(d,A))}}Object.defineProperty(t,"__esModule",{value:!0}),t.listenMessagesFromCreative=function(){addEventListener("message",i,!1)};var o=r(n(9)),u=n(18),a=n(2),c=n(0),s=n(26),f=r(n(10)),d=a.EVENTS.BID_WON},47:function(e,t,n){e.exports=!n(23)&&!n(29)(function(){return 7!=Object.defineProperty(n(48)("div"),"a",{get:function(){return 7}}).a})},48:function(e,t,n){var r=n(17),i=n(20).document,o=r(i)&&r(i.createElement);e.exports=function(e){return o?i.createElement(e):{}}},49:function(e,t,n){var r=n(17);e.exports=function(e,t){if(!r(e))return e;var n,i;if(t&&"function"==typeof(n=e.toString)&&!r(i=n.call(e)))return i;if("function"==typeof(n=e.valueOf)&&!r(i=n.call(e)))return i;if(!t&&"function"==typeof(n=e.toString)&&!r(i=n.call(e)))return i;throw TypeError("Can't convert object to primitive value")}},50:function(e,t){e.exports=function(e,t){return{enumerable:!(1&e),configurable:!(2&e),writable:!(4&e),value:t}}},51:function(e,t){var n={}.hasOwnProperty;e.exports=function(e,t){return n.call(e,t)}},52:function(e,t,n){var r=n(33);e.exports=function(e){return Object(r(e))}},53:function(e,t,n){var r=n(54);e.exports=function(e,t){return new(r(e))(t)}},54:function(e,t,n){var r=n(17),i=n(36),o=n(55)("species");e.exports=function(e){var t;return i(e)&&("function"!=typeof(t=e.constructor)||t!==Array&&!i(t.prototype)||(t=void 0),r(t)&&null===(t=t[o])&&(t=void 0)),void 0===t?Array:t}},55:function(e,t,n){var r=n(56)("wks"),i=n(58),o=n(20).Symbol,u="function"==typeof o;(e.exports=function(e){return r[e]||(r[e]=u&&o[e]||(u?o:i)("Symbol."+e))}).store=r},56:function(e,t,n){var r=n(14),i=n(20),o="__core-js_shared__",u=i[o]||(i[o]={});(e.exports=function(e,t){return u[e]||(u[e]=void 0!==t?t:{})})("versions",[]).push({version:r.version,mode:n(57)?"pure":"global",copyright:"(C) 2018 Denis Pushkarev (zloirock.ru)"})},57:function(e,t){e.exports=!0},58:function(e,t){var n=0,r=Math.random();e.exports=function(e){return"Symbol(".concat(void 0===e?"":e,")_",(++n+r).toString(36))}},59:function(e,t,n){var r=n(16),i=n(60)(!0);r(r.P,"Array",{includes:function(e){return i(this,e,arguments.length>1?arguments[1]:void 0)}}),n(24)("includes")},6:function(e,t,n){function r(){var e=arguments.length>0&&void 0!==arguments[0]?arguments[0]:3e3;return function(t,n,r){var s=arguments.length>3&&void 0!==arguments[3]?arguments[3]:{};try{var f=void 0,d=!1,l=s.method||(r?"POST":"GET"),p="object"===(void 0===n?"undefined":o(n))&&null!==n?n:{success:function(){a.logMessage("xhr success")},error:function(e){a.logError("xhr error",null,e)}};if("function"==typeof n&&(p.success=n),window.XMLHttpRequest?void 0===(f=new window.XMLHttpRequest).responseType&&(d=!0):d=!0,d?((f=new window.XDomainRequest).onload=function(){p.success(f.responseText,f)},f.onerror=function(){p.error("error",f)},f.ontimeout=function(){p.error("timeout",f)},f.onprogress=function(){a.logMessage("xhr onprogress")}):(f.onreadystatechange=function(){if(f.readyState===c){var e=f.status;e>=200&&ef;)if((a=c[f++])!=a)return!0}else for(;s>f;f++)if((e||f in c)&&c[f]===n)return e||f||0;return!e&&-1}}},61:function(e,t,n){var r=n(31),i=n(33);e.exports=function(e){return r(i(e))}},62:function(e,t,n){var r=n(35),i=Math.max,o=Math.min;e.exports=function(e,t){return(e=r(e))0&&void 0!==arguments[0]?arguments[0]:{},n=t.labels,r=void 0===n?[]:n,o=t.labelAll,u=void 0!==o&&o,c=t.activeLabels,d=void 0===c?[]:c,l=arguments.length>1&&void 0!==arguments[1]?arguments[1]:[],p=(e=arguments.length>2&&void 0!==arguments[2]?arguments[2]:f,e.reduce(function(e,t){return"object"===(void 0===t?"undefined":i(t))&&"string"==typeof t.mediaQuery?matchMedia(t.mediaQuery).matches&&(Array.isArray(t.sizesSupported)&&(e.shouldFilter=!0),["labels","sizesSupported"].forEach(function(n){return(t[n]||[]).forEach(function(t){return e[n][t]=!0})})):(0,a.logWarn)('sizeConfig rule missing required property "mediaQuery"'),e},{labels:{},sizesSupported:{},shouldFilter:!1})),g=void 0;return g=p.shouldFilter?l.filter(function(e){return p.sizesSupported[e]}):l,{active:g.length>0&&(0===r.length||!u&&(r.some(function(e){return p.labels[e]})||r.some(function(e){return(0,s.default)(d,e)}))||u&&r.reduce(function(e,t){return e?p.labels[t]||(0,s.default)(d,t):e},!0)),sizes:g}};var o,u=n(3),a=n(0),c=n(8),s=(o=c)&&o.__esModule?o:{default:o},f=[];u.config.getConfig("sizeConfig",function(e){return r(e.sizeConfig)})},65:function(e,t,n){Object.defineProperty(t,"__esModule",{value:!0}),t.hasNonVideoBidder=t.videoBidder=t.videoAdUnit=void 0,t.isValidVideoBid=function(e,t){var n=(0,o.getBidRequest)(e.adId,t),r=n&&(0,o.deepAccess)(n,"mediaTypes.video"),i=r&&(0,o.deepAccess)(r,"context");return!n||r&&i!==s?u.config.getConfig("cache.url")||!e.vastXml||e.vastUrl?!(!e.vastUrl&&!e.vastXml):((0,o.logError)('\n This bid contains only vastXml and will not work when a prebid cache url is not specified.\n Try enabling prebid cache with pbjs.setConfig({ cache: {url: "..."} });\n '),!1):i!==s||!(!e.renderer&&!n.renderer)};var r,i=n(7),o=n(0),u=n(3),a=n(8),c=(r=a)&&r.__esModule?r:{default:r},s="outstream",f=(t.videoAdUnit=function(e){var t="video"===e.mediaType,n=(0,o.deepAccess)(e,"mediaTypes.video");return t||n},t.videoBidder=function(e){return(0,c.default)(i.videoAdapters,e.bidder)});t.hasNonVideoBidder=function(e){return e.bids.filter(function(e){return!f(e)}).length}},7:function(e,t,n){function r(e){return e&&e.__esModule?e:{default:e}}function i(e,t){return e.labelAll?{labelAll:!0,labels:e.labelAll,activeLabels:t}:{labelAll:!1,labels:e.labelAny,activeLabels:t}}function o(e){var t=e.bidderCode,n=e.auctionId,r=e.bidderRequestId,o=e.adUnits,u=e.labels;return o.reduce(function(e,o){var a=(0,f.resolveStatus)(i(o,u),o.sizes),l=a.active,p=a.sizes;return l&&e.push(o.bids.filter(function(e){return e.bidder===t}).reduce(function(e,t){o.mediaTypes&&(b.isValidMediaTypes(o.mediaTypes)?t=c({},t,{mediaTypes:o.mediaTypes}):b.logError("mediaTypes is not correctly configured for adunit "+o.code));var a=o.nativeParams||b.deepAccess(o,"mediaTypes.native");a&&(t=c({},t,{nativeParams:(0,d.processNativeAdUnitParams)(a)})),t=c({},t,(0,s.getDefinedParams)(o,["mediaType","renderer"]));var l=(0,f.resolveStatus)(i(t,u),p),g=l.active,h=l.sizes;return g&&e.push(c({},t,{adUnitCode:o.code,transactionId:o.transactionId,sizes:h,bidId:t.bid_id||b.getUniqueIdentifierStr(),bidderRequestId:r,auctionId:n})),e},[])),e},[]).reduce(s.flatten,[]).filter(function(e){return""!==e})}function u(){return A&&A.enabled&&A.testing&&_}var a=function(){return function(e,t){if(Array.isArray(e))return e;if(Symbol.iterator in Object(e))return function(e,t){var n=[],r=!0,i=!1,o=void 0;try{for(var u,a=e[Symbol.iterator]();!(r=(u=a.next()).done)&&(n.push(u.value),!t||n.length!==t);r=!0);}catch(e){i=!0,o=e}finally{try{!r&&a.return&&a.return()}finally{if(i)throw o}}return n}(e,t);throw new TypeError("Invalid attempt to destructure non-iterable instance")}}(),c=Object.assign||function(e){for(var t=1;t (eg mediaTypes.banner.sizes).");var n=e.mediaTypes;if(n&&n.banner){var r=n.banner;r.sizes?e.sizes=r.sizes:(b.logError("Detected a mediaTypes.banner object did not include sizes. This is a required field for the mediaTypes.banner object. Removing invalid mediaTypes.banner object from request."),delete e.mediaTypes.banner)}if(n&&n.video){var i=n.video;if(i.playerSize)if(Array.isArray(i.playerSize)&&1===i.playerSize.length&&i.playerSize.every(t))e.sizes=i.playerSize;else if(t(i.playerSize)){var o=[];o.push(i.playerSize),b.logInfo("Transforming video.playerSize from "+i.playerSize+" to "+o+" so it's in the proper format."),e.sizes=i.playerSize=o}else b.logError("Detected incorrect configuration of mediaTypes.video.playerSize. Please specify only one set of dimensions in a format like: [[640, 480]]. Removing invalid mediaTypes.video.playerSize property from request."),delete e.mediaTypes.video.playerSize}if(n&&n.native){var u=n.native;u.image&&u.image.sizes&&!Array.isArray(u.image.sizes)&&(b.logError("Please use an array of sizes for native.image.sizes field. Removing invalid mediaTypes.native.image.sizes property from request."),delete e.mediaTypes.native.image.sizes),u.image&&u.image.aspect_ratios&&!Array.isArray(u.image.aspect_ratios)&&(b.logError("Please use an array of sizes for native.image.aspect_ratios field. Removing invalid mediaTypes.native.image.aspect_ratios property from request."),delete e.mediaTypes.native.image.aspect_ratios),u.icon&&u.icon.sizes&&!Array.isArray(u.icon.sizes)&&(b.logError("Please use an array of sizes for native.icon.sizes field. Removing invalid mediaTypes.native.icon.sizes property from request."),delete e.mediaTypes.native.icon.sizes)}}),e},t.callBids=function(e,t,n,r){if(t.length){var i=(0,p.ajaxBuilder)(t[0].timeout),o=t.reduce(function(e,t){return e[Number(void 0!==t.src&&t.src===y.S2S.SRC)].push(t),e},[[],[]]),u=a(o,2),c=u[0],f=u[1];if(f.length){var d=A.bidders,l=w[A.adapter],g=f[0].tid,_=f[0].adUnitsS2SCopy;if(_.forEach(function(e){var t=e.bids.filter(function(t){return(0,v.default)(f,function(n){return n.bidderCode===t.bidder&&(0,v.default)(n.bids,function(t){return t.adUnitCode===e.code})})});e.bids=t}),_=_.filter(function(e){return e.bids.length>0}),l){var E={tid:g,ad_units:_};if(E.ad_units.length){var S=f.map(function(e){return e.start=(0,s.timestamp)(),e.doneCbCallCount=0,r(e.bidderRequestId)}),T=E.ad_units.reduce(function(e,t){return e.concat((t.bids||[]).reduce(function(e,t){return e.concat(t.bidder)},[]))},[]);b.logMessage("CALLING S2S HEADER BIDDERS ==== "+d.filter(function(e){return(0,h.default)(T,e)}).join(",")),f.forEach(function(e){m.emit(y.EVENTS.BID_REQUESTED,e)}),l.callBids(E,f,n,function(){return S.forEach(function(e){return e()})},i)}}}c.forEach(function(e){e.start=(0,s.timestamp)();var t=w[e.bidderCode];if(t){b.logMessage("CALLING BIDDER ======= "+e.bidderCode),m.emit(y.EVENTS.BID_REQUESTED,e),e.doneCbCallCount=0;var o=r(e.bidderRequestId);t.callBids(e,n,o,i)}else b.logError("Adapter trying to be called which does not exist: "+e.bidderCode+" adaptermanager.callBids")})}else b.logWarn("callBids executed with no bidRequests. Were they filtered by labels or sizing?")},t.videoAdapters=[],t.registerBidAdapter=function(e,n){var r=(arguments.length>2&&void 0!==arguments[2]?arguments[2]:{}).supportedMediaTypes,i=void 0===r?[]:r;e&&n?"function"==typeof e.callBids?(w[n]=e,(0,h.default)(i,"video")&&t.videoAdapters.push(n),(0,h.default)(i,"native")&&d.nativeAdapters.push(n)):b.logError("Bidder adaptor error for bidder code: "+n+"bidder must implement a callBids() function"):b.logError("bidAdaptor or bidderCode not specified")},t.aliasBidAdapter=function(e,n){var r,i;if(void 0===w[n]){var o=w[e];if(void 0===o)b.logError('bidderCode "'+e+'" is not an existing bidder.',"adaptermanager.aliasBidAdapter");else try{var u=void 0,a=(r=e,i=[],(0,h.default)(t.videoAdapters,r)&&i.push("video"),(0,h.default)(d.nativeAdapters,r)&&i.push("native"),i);if(o.constructor.prototype!=Object.prototype)(u=new o.constructor).setBidderCode(n);else{var s=o.getSpec();u=(0,l.newBidder)(c({},s,{code:n})),t.aliasRegistry[n]=e}this.registerBidAdapter(u,n,{supportedMediaTypes:a})}catch(t){b.logError(e+" bidder does not currently support aliasing.","adaptermanager.aliasBidAdapter")}}else b.logMessage('alias name "'+n+'" has been already specified.')},t.registerAnalyticsAdapter=function(e){var t=e.adapter,n=e.code;t&&n?"function"==typeof t.enableAnalytics?(t.code=n,E[n]=t):b.logError('Prebid Error: Analytics adaptor error for analytics "'+n+'"\n analytics adapter must implement an enableAnalytics() function'):b.logError("Prebid Error: analyticsAdapter or analyticsCode not specified")},t.enableAnalytics=function(e){b.isArray(e)||(e=[e]),b._each(e,function(e){var t=E[e.provider];t?t.enableAnalytics(e):b.logError("Prebid Error: no analytics adapter found in registry for\n "+e.provider+".")})},t.getBidAdapter=function(e){return w[e]},t.setS2STestingModule=function(e){_=e},t.callTimedOutBidders=function(e,t,n){t=t.map(function(t){return t.params=b.getUserConfiguredParams(e,t.adUnitCode,t.bidder),t.timeout=n,t}),t=b.groupBy(t,"bidder"),Object.keys(t).forEach(function(e){try{var n=w[e].getSpec();n&&n.onTimeout&&"function"==typeof n.onTimeout&&(b.logInfo("Invoking "+e+".onTimeout"),n.onTimeout(t[e]))}catch(t){b.logWarn("Error calling onTimeout of "+e)}})}},8:function(e,t,n){n(59),e.exports=n(14).Array.includes},9:function(e,t,n){var r=Object.assign||function(e){for(var t=1;t1?arguments[1]:void 0)}}),n(24)(o)}}),pbjsChunk([134],{111:function(e,t,n){e.exports=n(112)},112:function(e,t,n){function r(){if(_&&"object"===s(window[m])&&"function"==typeof window[m].getInstance){for(var e=0;e0){var t=i(e);w++,window[m].logEvent("Prebid.js Bids",t)}}),r()}function a(e){y.push(function(){d._each(e,function(e){var t=i(e);w++,window[m].logEvent("Prebid.js Timeouts",t)})}),r()}function c(e){y.push(function(){var t=i(e);w++,window[m].logEvent("Prebid.js Wins",t)}),r()}var s="function"==typeof Symbol&&"symbol"==_typeof(Symbol.iterator)?function(e){return void 0===e?"undefined":_typeof(e)}:function(e){return e&&"function"==typeof Symbol&&e.constructor===Symbol&&e!==Symbol.prototype?"symbol":void 0===e?"undefined":_typeof(e)},f=n(9),d=n(0),l=n(2),p=n(7),g=l.EVENTS.BID_REQUESTED,h=l.EVENTS.BID_TIMEOUT,v=l.EVENTS.BID_RESPONSE,b=l.EVENTS.BID_WON,y=[],m=null,_=!0,w=0,A=!0,E=["bidder","bidderCode","size","cpm","statusMessage","timeToRespond","adUnitCode"];t.enableAnalytics=function(e){var t=e.provider,n=e.options;if(m=t||"amplitude",A=void 0===n||void 0===n.sampling||Math.random()0&&(f.member_id=s),t&&t.gdprConsent&&(f.gdpr_consent={consent_string:t.gdprConsent.consentString,consent_required:t.gdprConsent.gdprApplies}),{method:"POST",url:"//ib.adnxs.com/ut/v3/prebid",data:JSON.stringify(f),bidderRequest:t}},interpretResponse:function(e,t){var n=this,r=t.bidderRequest;e=e.body;var i=[];if(!e||e.error){var o="in response for "+r.bidderCode+" adapter";return e&&e.error&&(o+=": "+e.error),l.logError(o),i}return e.tags&&e.tags.forEach(function(e){var t,o,u=(t=e)&&t.ads&&t.ads.length&&(0,h.default)(t.ads,function(e){return e.rtb});if(u&&0!==u.cpm&&(0,v.default)(n.supportedMediaTypes,u.ad_type)){var a=function(e,t,n){var r={requestId:e.uuid,cpm:t.cpm,creativeId:t.creative_id,dealId:t.deal_id,currency:"USD",netRevenue:!0,ttl:300,appnexus:{buyerMemberId:t.buyer_member_id}};if(t.rtb.video){if(f(r,{width:t.rtb.video.player_width,height:t.rtb.video.player_height,vastUrl:t.rtb.video.asset_url,vastImpUrl:t.notify_url,ttl:3600}),t.renderer_url){var i=l.deepAccess(n.bids[0],"renderer.options");f(r,{adResponse:e,renderer:function(e,t){var n=arguments.length>2&&void 0!==arguments[2]?arguments[2]:{},r=d.Renderer.install({id:t.renderer_id,url:t.renderer_url,config:n,loaded:!1});try{r.setRender(c)}catch(e){l.logWarn("Prebid Error calling setRender on renderer",e)}return r.setEventHandlers({impression:function(){return l.logMessage("AppNexus outstream video impression event")},loaded:function(){return l.logMessage("AppNexus outstream video loaded event")},ended:function(){l.logMessage("AppNexus outstream renderer video event"),document.querySelector("#"+e).style.display="none"}}),r}(r.adUnitCode,t,i)}),r.adResponse.ad=r.adResponse.ads[0],r.adResponse.ad.video=r.adResponse.ad.rtb.video}}else if(t.rtb[g.NATIVE]){var o=t.rtb[g.NATIVE];r[g.NATIVE]={title:o.title,body:o.desc,cta:o.ctatext,sponsoredBy:o.sponsored,clickUrl:o.link.url,clickTrackers:o.link.click_trackers,impressionTrackers:o.impression_trackers,javascriptTrackers:o.javascript_trackers},o.main_img&&(r.native.image={url:o.main_img.url,height:o.main_img.height,width:o.main_img.width}),o.icon&&(r.native.icon={url:o.icon.url,height:o.icon.height,width:o.icon.width})}else{f(r,{width:t.rtb.banner.width,height:t.rtb.banner.height,ad:t.rtb.banner.content});try{var u=t.rtb.trackers[0].impression_urls[0],a=l.createTrackPixelHtml(u);r.ad+=a}catch(e){l.logError("Error appending tracking pixel",e)}}return r}(e,u,r);a.mediaType=(o=u.ad_type)===g.VIDEO?g.VIDEO:o===g.NATIVE?g.NATIVE:g.BANNER,i.push(a)}}),i},getUserSyncs:function(e){if(e.iframeEnabled)return[{type:"iframe",url:"//acdn.adnxs.com/ib/static/usersync/v3/async_usersync.html"}]}};(0,p.registerBidder)(_)},120:function(e,t){}},[118]),pbjsChunk([132],{156:function(e,t,n){e.exports=n(157)},157:function _(module,exports,__webpack_require__){function _interopRequireWildcard(e){if(e&&e.__esModule)return e;var t={};if(null!=e)for(var n in e)Object.prototype.hasOwnProperty.call(e,n)&&(t[n]=e[n]);return t.default=e,t}function publisherTagAvailable(){return"undefined"!=typeof Criteo&&Criteo.PubTag&&Criteo.PubTag.Adapters&&Criteo.PubTag.Adapters.Prebid}function buildContext(e){var t=utils.getTopWindowUrl(),n=(0,_url.parse)(t).search,r={url:t,debug:"1"===n.pbt_debug,noLog:"1"===n.pbt_nolog,integrationMode:void 0};return e.forEach(function(e){e.params.integrationMode&&(r.integrationMode=e.params.integrationMode)}),r}function buildCdbUrl(e){var t=CDB_ENDPOINT;return t+="?profileId="+PROFILE_ID,t+="&av="+String(ADAPTER_VERSION),t+="&cb="+String(Math.floor(99999999999*Math.random())),e.integrationMode in INTEGRATION_MODES&&(t+="&im="+INTEGRATION_MODES[e.integrationMode]),e.debug&&(t+="&debug=1"),e.noLog&&(t+="&nolog=1"),t}function buildCdbRequest(e,t){var n=void 0,r={publisher:{url:e.url},slots:t.map(function(e){n=e.params.networkId||n;var t={impid:e.adUnitCode,transactionid:e.transactionId,auctionId:e.auctionId,sizes:e.sizes.map(function(e){return e[0]+"x"+e[1]})};return e.params.zoneId&&(t.zoneid=e.params.zoneId),e.params.publisherSubId&&(t.publishersubid=e.params.publisherSubId),e.params.nativeCallback&&(t.native=!0),t})};return n&&(r.publisher.networkid=n),r}function createNativeAd(e,t,n){return window.criteo_prebid_native_slots=window.criteo_prebid_native_slots||{},window.criteo_prebid_native_slots[e]={callback:n,payload:t},'

");var o=g[t.size_id].split("x").map(function(e){return Number(e)}),u=a(o,2);i.width=u[0],i.height=u[1]}return i.rubiconTargeting=(Array.isArray(t.targeting)?t.targeting:[]).reduce(function(e,t){return e[t.key]=t.values[0],e},{rpfl_elemid:n.adUnitCode}),e.push(i),e},[]))},getUserSyncs:function(e){if(!v&&e.iframeEnabled)return v=!0,{type:"iframe",url:"https://eus.rubiconproject.com/usync.html"}}},v=!1;(0,f.registerBidder)(h)},358:function(e,t){}},[356]),pbjsChunk([26],{392:function(e,t,n){n(393),e.exports=n(394)},393:function(e,t,n){function r(e,t,n){return t in e?Object.defineProperty(e,t,{value:n,enumerable:!0,configurable:!0,writable:!0}):e[t]=n,e}function i(e){return e.params.sizes?(0,d.parseSizesInput)(e.params.sizes).join(","):(0,d.parseSizesInput)(e.sizes).join(",")}function o(e){return e.params.floor?"|f="+e.params.floor:""}function u(){var e=arguments.length>0&&void 0!==arguments[0]?arguments[0]:window,t=y(e);return t(0,768)?"mobile":t(768,992)?"tablet":"desktop"}Object.defineProperty(t,"__esModule",{value:!0}),t._isInbounds=t.spec=void 0;var a=function(){return function(e,t){if(Array.isArray(e))return e;if(Symbol.iterator in Object(e))return function(e,t){var n=[],r=!0,i=!1,o=void 0;try{for(var u,a=e[Symbol.iterator]();!(r=(u=a.next()).done)&&(n.push(u.value),!t||n.length!==t);r=!0);}catch(e){i=!0,o=e}finally{try{!r&&a.return&&a.return()}finally{if(i)throw o}}return n}(e,t);throw new TypeError("Invalid attempt to destructure non-iterable instance")}}(),c=Object.assign||function(e){for(var t=1;t'}},y=t._isInbounds=function(){var e=arguments.length>0&&void 0!==arguments[0]?arguments[0]:window;return function(){var t=arguments.length>0&&void 0!==arguments[0]?arguments[0]:0,n=arguments.length>1&&void 0!==arguments[1]?arguments[1]:Number.MAX_SAFE_INTEGER;return e.innerWidth>=t&&e.innerWidthi;i+=1)if(t.call(n,e[i],i,e)===u)return}else for(r in e)if(this.has(e,r)&&t.call(n,e[r],r,e)===u)return},once:function(e){var t,n=!1;return function(){return n?t:(n=!0,t=e.apply(this,arguments),e=null,t)}}}}(),l=/\s+/,p=function(){return this};return p.prototype={version:"1.0.0",on:function(e,t,n){return i(this,"on",e,[t,n])&&t?(this._events=this._events||{},(this._events[e]||(this._events[e]=[])).push({callback:t,context:n,ctx:n||this}),this):this},once:function(e,t,n){var r,o=this;return i(this,"once",e,[t,n])&&t?(r=d.once(function(){o.off(e,r),t.apply(this,arguments)}),r._callback=t,this.on(e,r,n)):this},off:function(e,t,n){var r,o,u,a,c,s,f,l;if(!this._events||!i(this,"off",e,[t,n]))return this;if(!e&&!t&&!n)return this._events={},this;for(a=e?[e]:d.keys(this._events),c=0,s=a.length;s>c;c+=1)if(e=a[c],u=this._events[e]){if(this._events[e]=r=[],t||n)for(f=0,l=u.length;l>f;f+=1)o=u[f],(t&&t!==o.callback&&t!==o.callback._callback||n&&n!==o.context)&&r.push(o);r.length||delete this._events[e]}return this},trigger:function(e){if(!this._events)return this;var t,n,o=c.call(arguments,1);return i(this,"trigger",e,o)?(t=this._events[e],n=this._events.all,t&&r(t,o),n&&r(n,arguments),this):this},stopListening:function(e,t,n){var r,i,o=this._listeners;if(!o)return this;r=!t&&!n,"object"==typeof t&&(n=this),o={},e&&(o[e._listenerId]=e);for(i in o)o.hasOwnProperty(i)&&(o[i].off(t,n,this),r&&delete this._listeners[i]);return this},noConflict:function(){return t.Eventify=f,this},enable:function(e){var t,n,r=["on","once","off","trigger","stopListening","listenTo","listenToOnce","bind","unbind"];for(e=e||{},t=0,n=r.length;n>t;t+=1)e[r[t]]=this[r[t]];return e}},i=function(e,t,n,r){var i,o,u,a;if(!n)return!0;if("object"==typeof n){for(i in n)n.hasOwnProperty(i)&&e[t].apply(e,[i,n[i]].concat(r));return!1}if(l.test(n)){for(a=n.split(l),o=0,u=a.length;u>o;o+=1)e[t].apply(e,[a[o]].concat(r));return!1}return!0},r=function(e,t){var n,r=0,i=e.length,o=t[0],u=t[1],a=t[2];switch(t.length){case 0:for(;i>r;)n=e[r],n.callback.call(n.ctx),r+=1;return;case 1:for(;i>r;)n=e[r],n.callback.call(n.ctx,o),r+=1;return;case 2:for(;i>r;)n=e[r],n.callback.call(n.ctx,o,u),r+=1;return;case 3:for(;i>r;)n=e[r],n.callback.call(n.ctx,o,u,a),r+=1;return;default:for(;i>r;)n=e[r],n.callback.apply(n.ctx,t),r+=1}},d.each(o,function(e,t){p.prototype[t]=function(t,n,r){var i,o=this._listeners||(this._listeners={});return t._listenerId=t._listenerId||d.uniqueId("l"),i=t._listenerId,o[i]=t,"object"==typeof n&&(r=this),t[e](n,r,this),this}}),n=new p,n.mixin=n.enable,n}),navigator.userAgent.match(/Trident/g)||navigator.userAgent.match(/MSIE/g)){var script=document.createElement("script");script.src="https://slate.com/media/sites/slate-com/svg4everybody.min.js",script.async=!1,document.head.appendChild(script)}if(function(e,t){"object"==typeof exports&&"undefined"!=typeof module?module.exports=t():"function"==typeof define&&define.amd?define(t):e.Layzr=t()}(this,function(){var e=Object.assign||function(e){for(var t=1;t1&&void 0!==arguments[1]&&arguments[1];return t?u[e].splice(u[e].indexOf(t),1):delete u[e],this}function i(e){for(var t=this,n=arguments.length,i=Array(n>1?n-1:0),o=1;o0&&void 0!==arguments[0]?arguments[0]:{},u=Object.create(null);return e({},o,{on:t,once:n,off:r,emit:i})};return function(){function e(){return window.scrollY||window.pageYOffset}function n(){d=e(),r()}function r(){l||(window.requestAnimationFrame(function(){return c()}),l=!0)}function i(e){return e.getBoundingClientRect().top+d}function o(e){var t=d,n=t+g,r=i(e),o=r+e.offsetHeight,u=h.threshold/100*g;return o>=t-u&&r1&&e.getAttribute(h.retina);e.setAttribute("src",t||e.getAttribute(h.normal))}y.emit("src:after",e),[h.normal,h.retina,h.srcset].forEach(function(t){return e.removeAttribute(t)}),s()}function a(e){var t=e?"addEventListener":"removeEventListener";return["scroll","resize"].forEach(function(e){return window[t](e,n)}),this}function c(){return g=window.innerHeight,p.forEach(function(e){return o(e)&&u(e)}),l=!1,this}function s(){return p=Array.prototype.slice.call(document.querySelectorAll("["+h.normal+"]")),this}var f=arguments.length>0&&void 0!==arguments[0]?arguments[0]:{},d=e(),l=void 0,p=void 0,g=void 0,h={normal:f.normal||"data-normal",retina:f.retina||"data-retina",srcset:f.srcset||"data-srcset",threshold:f.threshold||0},v=document.body.classList.contains("srcset")||"srcset"in document.createElement("img"),b=window.devicePixelRatio||window.screen.deviceXDPI/window.screen.logicalXDPI,y=t({handlers:a,check:c,update:s});return y}}),!window.URL||!window.URLSearchParams){var script=document.createElement("script");script.src="https://slate.com/media/sites/slate-com/url-polyfill.min.js",script.async=!1,document.head.appendChild(script)}!function(e){var t=!1;if("function"==typeof define&&define.amd&&(define(e),t=!0),"object"==typeof exports&&(module.exports=e(),t=!0),!t){var n=window.Cookies,r=window.Cookies=e();r.noConflict=function(){return window.Cookies=n,r}}}(function(){function e(){for(var e=0,t={};e1){if(o=e({path:"/"},r.defaults,o),"number"==typeof o.expires){var a=new Date;a.setMilliseconds(a.getMilliseconds()+864e5*o.expires),o.expires=a}o.expires=o.expires?o.expires.toUTCString():"";try{u=JSON.stringify(i),/^[\{\[]/.test(u)&&(i=u)}catch(e){}i=n.write?n.write(i,t):encodeURIComponent(String(i)).replace(/%(23|24|26|2B|3A|3C|3E|3D|2F|3F|40|5B|5D|5E|60|7B|7D|7C)/g,decodeURIComponent),t=encodeURIComponent(String(t)),t=t.replace(/%(23|24|26|2B|5E|60|7C)/g,decodeURIComponent),t=t.replace(/[\(\)]/g,escape);var c="";for(var s in o)o[s]&&(c+="; "+s,!0!==o[s]&&(c+="="+o[s]));return document.cookie=t+"="+i+c}t||(u={});for(var f=document.cookie?document.cookie.split("; "):[],d=/(%[0-9A-Z]{2})+/g,l=0;l-1}function c(t){return!!e.document.hasFocus()&&n.isElementInViewport(t)}function s(e){var t=[];return e&&e.length&&(e=e.split(","),r.map(e,function(e){e=e.split("x");var n=parseInt(e[0]),r=parseInt(e[1]);t.push([n,r])})),t}function f(){var e=document.querySelector("div[data-adnode]"),t="";return e&&(t=e.getAttribute("data-adnode")),t}function d(e){return"true"===e.prebid&&!pbjs.adserverRequestSent}e.googletag=e.googletag||{},e.googletag.cmd=e.googletag.cmd||[],e.pbjs=e.pbjs||{},e.pbjs.que=e.pbjs.que||[];var l={},p=[],g=function(){var t=/[?&]test_ads=([^?]+)/,n=t.exec(e.location.search);return n?n[1]:""}(),h=function(){return"91898098/slate.com/"+f()}();e.googletag.cmd.push(function(){e.googletag.pubads().collapseEmptyDivs(!0),e.googletag.pubads().disableInitialLoad(),e.googletag.enableServices();var t=Math.floor(1e13*Math.random()),n=document.querySelectorAll('meta[name="dfp-cache-buster"]')[0];n&&n.content&&(t=n.content),e.googletag.pubads().setTargeting("dfp_cache_buster",t),g&&googletag.pubads().setTargeting("kw","test_"+g),e.Krux&&e.Krux.segments&&googletag.pubads().setTargeting("ksg",e.Krux.segments),e.Krux&&e.Krux.user&&googletag.pubads().setTargeting("kuid",e.Krux.user),i()}),this.requestAd=function(n){e.googletag.cmd.push(function(){var r=e.googletag.defineSlot(h,n.dfpSizes,n.id);r.addService(googletag.pubads()),r.setTargeting("site","redux"),r.setTargeting("refresh","no"),r.setTargeting("pos",n.id),r.setTargeting("page_type",n.pageType),e.googletag.display(n.id),d(n)?t.prebid(n,r):googletag.pubads().refresh([r],{changeCorrelator:!1})})},this.createAd=function(e){var t=e.getAttribute("data-type"),n=e.getAttribute("data-page-type"),r=e.getAttribute("data-prebid"),i=e.getAttribute("data-sizes"),o=e.getAttribute("data-prebid-sizes"),u=e.getAttribute("data-zone-id"),a=e.getAttribute("data-placement-id"),c=e.getAttribute("data-trustx-id"),f=e.getAttribute("data-criteo-id"),d=e.getAttribute("data-site-id");return l[t]||(l[t]=1),e.id=t+"-"+l[t],l[t]++,{id:e.id,type:t,pageType:n,prebid:r,dfpSizes:s(i),prebidSizes:s(o),rubiconZoneId:u,appnexusPlacementId:a,trustxId:c,criteoZoneId:f,indexSiteId:d}}}]),DS.service("$cid",function(){var e=Math.floor(100*Math.random());return function(){return"cid-"+ ++e}}),DS.service("dom",["$document",function(e){this.find=function(t,n){return n||(n=t,t=e),t.querySelector(n)},this.findAll=function(t,n){return n||(n=t,t=e),t.querySelectorAll(n)},this.getFirstChildElement=function(e){for(var t=e.firstChild;t&&1!==t.nodeType;)t=t.nextSibling;return t},this.prependChild=function(e,t){e.firstChild?e.insertBefore(t,e.firstChild):e.appendChild(t)},this.insertAfter=function(e,t){t.parentNode.insertBefore(e,t.nextSibling)},this.clearChildren=function(e){for(;e.firstChild;)e.removeChild(e.firstChild)},this.removeElement=function(e){e.parentNode.removeChild(e)},this.preventDefault=function(e){e&&e.preventDefault&&e.preventDefault()},this.replaceElement=function(e,t){var n=e.parentNode;n&&n.replaceChild(t,e)},this.matches=function(t,n){var r,i,o;if(t.matches)return t.matches(n);for(r=t.parentElement||e,i=r.querySelectorAll(n),o=0;i[o]&&i[o]!==t;)o++;return!!i[o]},this.closest=function(e,t){for(var n=e;n&&!this.matches(n,t);)n=n.parentElement||n.parentNode;return n||null},this.getPos=function(e){var t=e.getBoundingClientRect(),n=window.pageYOffset||document.documentElement.scrollTop||document.body.scrollTop;return{top:t.top+n,bottom:t.top+t.height+n,height:t.height}}}]),DS.service("headerBidding",function(){var e,t;this.prebid=function(n,r){e=n,t=r,this.requestBidsFromExchanges()},this.requestBidsFromExchanges=function(){this.getBidsFromPrebidExchanges(),this.getBidsFromAmazon()},this.getBidsFromPrebidExchanges=function(){var t=this.createPrebidAdUnit(),n=this.addBidsToDfpRequest;pbjs.que.push(function(){pbjs.addAdUnits([t]),pbjs.adserverRequestSent=!0,pbjs.requestBids({adUnitCodes:[e.id],bidsBackHandler:n})})},this.getBidsFromAmazon=function(){var e=this.createApsAdUnit(),t=pbjs.getConfig("bidderTimeout"),n=t||800;apstag&&apstag.fetchBids({slots:[e],timeout:n},function(e){googletag.cmd.push(function(){apstag.setDisplayBids()})})},this.addBidsToDfpRequest=function(){googletag.cmd.push(function(){pbjs.que.push(function(){pbjs.setTargetingForGPTAsync([e.id]),googletag.pubads().refresh([t],{changeCorrelator:!1}),pbjs.adserverRequestSent=!1})})},this.createPrebidAdUnit=function(){return{code:e.id,mediaTypes:{banner:{sizes:e.prebidSizes}},bids:this.getBids()}},this.getBids=function(){for(var t=[this.appnexus(),this.rubicon(),this.trustx(),this.sonobi(),this.criteo()],n=0;n969,r=window.innerWidtht?e:t}function u(){w.forEach(s)}function a(e,t){var n=t.visiblePx,r=t.visiblePercent;n&&r>=e.shownThreshold&&!e.seen?(e.seen=!0,setTimeout(function(){e.trigger("shown",new _("shown",t))},15)):(!n||r=0&&r.left>=0&&r.bottom1&&(u+=h(o,Math.floor(t/r),n-1,r)),u}function v(e,t){return i(t,o(e.bottom,0))-i(o(e.top,0),t)}function b(e){for(var t=e.offsetLeft,n=e.offsetTop;e=e.offsetParent;)t+=e.offsetLeft,n+=e.offsetTop;return{left:t,top:n}}function y(t,r){var i,o;return t=t.split(","),o=n.filter(n.map(t,function(t){return(i=e.querySelector(t))&&new m(i).on("shown",function(){n.invokeMap(o,"destroy"),r()})}))}var m,_,w=[];m=function(e,t){t=t||{},this.el=e,this.seen=!1,this.preload=!1,this.preloadThreshhold=t&&t.preloadThreshhold||0,this.shownThreshold=t&&t.shownThreshold||0,this.hiddenThreshold=t&&i(t.shownThreshold,t.hiddenThreshold)||0,w.push(this),s(this)},m.prototype={destroy:function(){w.splice(w.indexOf(this),1)}},r.enable(m.prototype),_=function(e,t){this.type=e,n.assign(this,t)},e.addEventListener("scroll",n.throttle(u,200)),this.getPageOffset=b,this.getLinearSpacialHash=h,this.getVerticallyVisiblePixels=v,this.getViewportHeight=f,this.getViewportWidth=d,this.isElementNotHidden=l,this.isElementInViewport=p,this.watchForAny=y,this.Visible=m}]);"use strict";var _typeof="function"==typeof Symbol&&"symbol"==typeof Symbol.iterator?function(e){return typeof e}:function(e){return e&&"function"==typeof Symbol&&e.constructor===Symbol&&e!==Symbol.prototype?"symbol":typeof e};!function e(t,n,o){function r(c,s){if(!n[c]){if(!t[c]){var a="function"==typeof require&&require;if(!s&&a)return a(c,!0);if(i)return i(c,!0);var u=new Error("Cannot find module '"+c+"'");throw u.code="MODULE_NOT_FOUND",u}var l=n[c]={exports:{}};t[c][0].call(l.exports,function(e){var n=t[c][1][e];return r(n||e)},l,l.exports,e,t,n,o)}return n[c].exports}for(var i="function"==typeof require&&require,c=0;c1){if(i=e({path:"/"},o.defaults,i),"number"==typeof i.expires){var s=new Date;s.setMilliseconds(s.getMilliseconds()+864e5*i.expires),i.expires=s}i.expires=i.expires?i.expires.toUTCString():"";try{c=JSON.stringify(r),/^[\{\[]/.test(c)&&(r=c)}catch(e){}r=n.write?n.write(r,t):encodeURIComponent(String(r)).replace(/%(23|24|26|2B|3A|3C|3E|3D|2F|3F|40|5B|5D|5E|60|7B|7D|7C)/g,decodeURIComponent),t=encodeURIComponent(String(t)),t=t.replace(/%(23|24|26|2B|5E|60|7C)/g,decodeURIComponent),t=t.replace(/[\(\)]/g,escape);var a="";for(var u in i)i[u]&&(a+="; "+u,!0!==i[u]&&(a+="="+i[u]));return document.cookie=t+"="+r+a}t||(c={});for(var l=document.cookie?document.cookie.split("; "):[],d=/(%[0-9A-Z]{2})+/g,f=0;ft&&o-t1){if(i=e({path:"/"},n.defaults,i),"number"==typeof i.expires){var c=new Date;c.setMilliseconds(c.getMilliseconds()+864e5*i.expires),i.expires=c}i.expires=i.expires?i.expires.toUTCString():"";try{s=JSON.stringify(r),/^[\{\[]/.test(s)&&(r=s)}catch(e){}r=o.write?o.write(r,t):encodeURIComponent(String(r)).replace(/%(23|24|26|2B|3A|3C|3E|3D|2F|3F|40|5B|5D|5E|60|7B|7D|7C)/g,decodeURIComponent),t=encodeURIComponent(String(t)),t=t.replace(/%(23|24|26|2B|5E|60|7C)/g,decodeURIComponent),t=t.replace(/[\(\)]/g,escape);var a="";for(var u in i)i[u]&&(a+="; "+u,!0!==i[u]&&(a+="="+i[u]));return document.cookie=t+"="+r+a}t||(s={});for(var f=document.cookie?document.cookie.split("; "):[],p=/(%[0-9A-Z]{2})+/g,l=0;l1){if(i=e({path:"/"},o.defaults,i),"number"==typeof i.expires){var s=new Date;s.setMilliseconds(s.getMilliseconds()+864e5*i.expires),i.expires=s}i.expires=i.expires?i.expires.toUTCString():"";try{c=JSON.stringify(r),/^[\{\[]/.test(c)&&(r=c)}catch(e){}r=n.write?n.write(r,t):encodeURIComponent(String(r)).replace(/%(23|24|26|2B|3A|3C|3E|3D|2F|3F|40|5B|5D|5E|60|7B|7D|7C)/g,decodeURIComponent),t=encodeURIComponent(String(t)),t=t.replace(/%(23|24|26|2B|5E|60|7C)/g,decodeURIComponent),t=t.replace(/[\(\)]/g,escape);var u="";for(var a in i)i[a]&&(u+="; "+a,!0!==i[a]&&(u+="="+i[a]));return document.cookie=t+"="+r+u}t||(c={});for(var d=document.cookie?document.cookie.split("; "):[],l=/(%[0-9A-Z]{2})+/g,f=0;ff?void console.error("RETRY LIMIT EXCEEDED"):void setTimeout(function(){e(t,n+1)},l)};return a}])},{"../../services/client/adblock-detector":3,"../../services/client/analytics-js":4,"../../services/universal/membership":5}],2:[function(e,t,n){!function(e){var o=!1;if("function"==typeof define&&define.amd&&(define(e),o=!0),"object"===(void 0===n?"undefined":_typeof(n))&&(t.exports=e(),o=!0),!o){var r=window.Cookies,i=window.Cookies=e();i.noConflict=function(){return window.Cookies=r,i}}}(function(){function e(){for(var e=0,t={};e1){if(i=e({path:"/"},o.defaults,i),"number"==typeof i.expires){var a=new Date;a.setMilliseconds(a.getMilliseconds()+864e5*i.expires),i.expires=a}i.expires=i.expires?i.expires.toUTCString():"";try{c=JSON.stringify(r),/^[\{\[]/.test(c)&&(r=c)}catch(e){}r=n.write?n.write(r,t):encodeURIComponent(String(r)).replace(/%(23|24|26|2B|3A|3C|3E|3D|2F|3F|40|5B|5D|5E|60|7B|7D|7C)/g,decodeURIComponent),t=encodeURIComponent(String(t)),t=t.replace(/%(23|24|26|2B|5E|60|7C)/g,decodeURIComponent),t=t.replace(/[\(\)]/g,escape);var s="";for(var u in i)i[u]&&(s+="; "+u,!0!==i[u]&&(s+="="+i[u]));return document.cookie=t+"="+r+s}t||(c={});for(var l=document.cookie?document.cookie.split("; "):[],f=/(%[0-9A-Z]{2})+/g,d=0;d

Passive Wi-Fi: Bringing Low Power to Wi-Fi Transmissions | USENIX

Sat, 12 May 2018 13:12

Authors:

Bryce Kellogg, Vamsi Talla, Shyamnath Gollakota, and Joshua R. Smith, University of Washington

Awarded Best Paper

Abstract:

Wi-Fi has traditionally been considered a power-consuming communication system and has not been widely adopting in the sensor network and IoT space. We introduce Passive Wi-Fi that demonstrates for the first time that one can generate 802.11b transmissions using backscatter communication, while consuming 3''4 orders of magnitude lower power than existing Wi-Fi chipsets. Passive Wi-Fi transmissions can be decoded on any Wi-Fi device including routers, mobile phones and tablets. Building on this, we also present a network stack design that enables passive Wi-Fi transmitters to coexist with other devices in the ISM band, without incurring the power consumption of carrier sense and medium access control operations. We build prototype hardware and implement all four 802.11b bit rates on an FPGA platform. Our experimental evaluation shows that passive Wi-Fi transmissions can be decoded on off-the-shelf smartphones and Wi-Fi chipsets over distances of 30''100 feet in various line-of-sight and through-the-wall scenarios. Finally, we design a passive Wi-Fi IC that shows that 1 and 11 Mbps transmissions consume 14.5 and 59.2 µW respectively. This translates to 10000x lower power than existing Wi-Fi chipsets and 1000x lower power than Bluetooth LTE and ZigBee.

Open Access Media USENIX is committed to Open Access to the research presented at our events. Papers and proceedings are freely available to everyone once the event begins. Any video, audio, and/or slides that are posted after the event are also free and open to everyone. Support USENIX and our commitment to Open Access.

Presentation Audio

Android P May Bring Native Call Recording Support | Technology News

Sat, 12 May 2018 14:38

Jagmeet Singh , 05 February 2018

While tons of third-party apps have already offered call recording on Android devices, Google may be planning to bring native call recording functionality to mobile devices in Android P. Some recent commits made to the Android Open Source Project (AOSP) have been spotted with support for a "call recording tone", suggesting the native availability of the new feature. Android P, which will be the successor to the presently available Android Oreo and is likely to be announced at sometime this year, was previously in the headlines for supposedly letting carriers hide signal strength on mobile devices.

The commits, which are available on Android Open Source Project site since February 2, reveal the support a 1400Hz frequency tone that repeats every 15 seconds to notify the other party on the phone call about the recording, as spotted by folks at Neowin. The commits note that the frequency tone is available to "meet regulatory compliance requirements" that are subject to local regulations. Also, carriers have been provided with an option to disable the tone. This would be a solution for markets where no specific regulations are available for recording voice calls. "Adding carrier configuration option to specify whether the carrier requires the incall recording tone be played," information available on one of the commits reads.

It is unclear at this point whether Google will open the functionality for call recording to app developers via new APIs. However, the built-in Android P feature is likely to work with recording apps after obtaining certain permissions, as evident in the commits.

The ability to record voice calls isn't something totally new on Android devices. Companies such as Asus, OnePlus, Samsung, and Xiaomi have offered their proprietary call recording solutions for a long time. Similarly, there are many third-party apps to enable call recordings. But, of course, intrinsic support to enable call recording could be highly appreciated by Android users.

Android P details are expected to be announced at Google's I/O 2018 conference in the coming months. As mentioned earlier, the new Android version is additionally reported to have the option to allow carriers to hide signal strength in the "SIM Status" settings.

For the latest tech news and reviews, follow Gadgets 360 on Twitter, Facebook, and subscribe to our YouTube channel.

Android P features and APIs | Android Developers

Sat, 12 May 2018 14:11

Android P introduces greatnew features and capabilities for users and developers.This document highlights what's new for developers.

To learn about the new APIs, read theAPI diff report or visit thethe Android API reference '-- new APIs are highlightedto make them easy to see. Also be sure to check out Android P BehaviorChanges to learn about areas where platformchanges may affect your apps.

Indoor Positioning with Wi-Fi RTTAndroid P adds platform support for the IEEE 802.11mc Wi-Fi protocol'--also knownas Wi-Fi Round-Trip-Time (RTT)'--to let you take advantage of indoor positioningin your apps.

On Android P devices with hardware support, your apps can use the new RTTAPIs to measure thedistance to nearby RTT-capable Wi-Fi Access Points (APs). The device must havelocation enabled and Wi-Fi scanning turned on (under Settings > Location),and your app must have theACCESS_FINE_LOCATIONpermission. The device doesn't need to connect to theAPs to use RTT. To maintain privacy, only the phone is able to determine thedistance to the AP; the APs do not have this information.

If your device measures the distance to 3 or more APs, you can use amultilateration algorithm to estimate the device position that best fits thosemeasurements. The result is typically accurate within 1 to 2 meters.

With thisaccuracy, you can build new experiences like in-building navigation, fine-grained location-based services such as disambiguated voice control (forexample, "Turn on this light"), and location-based information (such as "Arethere special offers for this product?").

Display cutout supportAndroid P offers support for the latest edge-to-edge screens with displaycutout for camera and speaker. The newDisplayCutoutclass lets you find out the location and shape of the non-functional areas wherecontent shouldn't be displayed. To determine the existence and placement ofthese cutout areas, use thegetDisplayCutout()method.

A new window layout attribute,layoutInDisplayCutoutMode,allows your app to lay out its content around a device's cutouts. You can setthis attribute to one of the following values:

LAYOUT_IN_DISPLAY_CUTOUT_MODE_DEFAULTLAYOUT_IN_DISPLAY_CUTOUT_MODE_SHORT_EDGESLAYOUT_IN_DISPLAY_CUTOUT_MODE_NEVERYou can simulate a screen cutout on any device or emulator running Android Pas follows:

Enable developer options.In the Developer options screen, scroll down to the Drawing sectionand select Simulate a display with a cutout.Select the size of the cutout.Note: We recommend that you test the content display around the cutout area by using a device or emulator running Android P. NotificationsAndroid P introduces several enhancements to notifications, all of which areavailable to developers targeting Android P and above.

MessagingStyle with photo attached.

MessagingStyle with replies and conversation.

Enhanced messaging experienceStarting in Android 7.0 (API level 24), you could add an action to reply tomessages or enter other text directly from a notification. Android P enhancesthis feature with the following enhancements:

Simplified support for conversation participants: The newPersonclass is used to identify people involved in a conversation, including theiravatars and URIs. Many other APIs, such asaddMessage(),now leverage thePerson class instead of aCharSequence. The Person class alsosupports the Builder design pattern.

Support for images: Android P now displays images in Messaging Notificationson phones. You can usesetData()on the message to display an image. The following code snippet demonstrates howto create a Person anda message containing an image.

Kotlin// create new Personval sender = Person() .setName(name) .setUri(uri) .setIcon(null) .build()// create image messageval message = Message("Picture", time, sender) .setData("image/", imageUri)val style = Notification.MessagingStyle(getUser()) .addMessage("Check this out!", 0, sender) .addMessage(message)Java// create new PersonPerson sender = new Person() .setName(name) .setUri(uri) .setIcon(null) .build();// create image messageMessage message = new Message("Picture", time, sender) .setData("image/", imageUri);Notification.MessagingStyle style = new Notification.MessagingStyle(getUser()) .addMessage("Check this out!", 0, sender) .addMessage(message);Save replies as drafts: Your app can retrieve theEXTRA_REMOTE_INPUT_DRAFTsent by the system when a user inadvertently closes a messaging notification.You can use this extra to pre-populate text fields in the app so users canfinish their reply.

Identify if a conversation is a group conversation: You can usesetGroupConversation()to purposefully identify a conversation as a group or non-group conversation.

Set the semantic action for an intent: ThesetSemanticAction()method allows you to give semantic meaning to an action, suchas "mark as read," "delete," "reply," and so on.

SmartReply: Android P supports the same suggested replies available in yourmessaging app. UseRemoteInput.setChoices()to provide an array of standard responses to the user.

Channel settings, broadcasts, and Do Not DisturbAndroid O introduced Notification Channelsallowing you to create auser-customizable channel for each type of notification you want to display.Android P simplifies notification channel settings with these changes:

Blocking channel groups: Users can now block entire groups of channelswithin the notification settings for an app. You can use theisBlocked()method to identify when a group is blocked and, as a result, not send anynotifications for channels in that group.

Additionally, your app can query for current channel group settings usingthe newgetNotificationChannelGroup()method.

New broadcast intent types: The Android system now sends broadcast intentswhen the blocking state of notification channels and channel groups' changes.The app that owns the blocked channel or group can listen for these intents andreact accordingly. For further information on these intent actions and extras,refer to the updated constants list in theNotificationManagerreference. For information on reacting to broadcast intents, refer toBroadcasts.

NotificationManager.Policyhas three new Do-Not-Disturb priority categories:

PRIORITY_CATEGORY_ALARMSprioritizes alarms.PRIORITY_CATEGORY_MEDIAprioritizes sounds from media sources, such as media and voice navigation.PRIORITY_CATEGORY_SYSTEMprioritizes system sounds.NotificationManager.Policyhas seven new Do-Not-Disturb constants you can use to suppress visualinterruption:

SUPPRESSED_EFFECT_FULL_SCREEN_INTENTprevents the notification from launching full-screen activity.SUPPRESSED_EFFECT_LIGHTSblocks notification lights.SUPPRESSED_EFFECT_PEEKprevents notifications from sliding briefly into view ("peeking").SUPPRESSED_EFFECT_STATUS_BARprevents notifications from appearing in the status bar on devices that support status bars.SUPPRESSED_EFFECT_BADGEblocks badges on on devices that support badging. For more information, refer toModify a notification badgeSUPPRESSED_EFFECT_AMBIENTblocks notifications on devices that support ambient displays.SUPPRESSED_EFFECT_NOTIFICATION_LISTprevents notifications from appearing in the list view on devices that support a list view, such as notification shade or lockscreen.Multi-camera support and camera updatesYou can now access streams simultaneously from two or more physical cameras on devices running Android P. On devices with either dual-front or dual-back cameras, you can create innovative features not possible with just a single camera, such as seamless zoom, bokeh, and stereo vision. The API also lets you call a logical or fused camera stream that automatically switches between two or more cameras.

Other improvements in camera include new Session parameters that help to reduce delays during initial capture, and Surface sharing that lets camera clients handle various use-cases without the need to stop and start camera streaming. We've also added APIs for display-based flash support and access to OIS timestamps for app-level image stabilization and special effects.

In Android P the multi-camera APIsupports monochrome cameras for devices withFULL orLIMITED capability.Monochrome output is achieved via the YUV_420_888format with Y as grayscale, U (Cb) as 128, and V (Cr) as 128.

Android P also enables support for external USB/UVC cameras on supported deveices.

ImageDecoder for drawables and bitmapsAndroid P introducesImageDecoderto provide a modernized approach for decoding images. You should use ImageDecoder to decode animage rather than theBitmapFactory andBitmapFactory.OptionsAPIs.

ImageDecoder lets you createa Drawable or aBitmap from a byte buffer, a file,or a URI. To decode an image, first callcreateSource()with the source of the encoded image. Then, calldecodeDrawable()or decodeBitmap()by passing the ImageDecoder.Sourceobject to create a Drawable or a Bitmap. To changedefault settings, pass OnHeaderDecodedListener to decodeDrawable() or decodeBitmap(). ImageDecoder calls onHeaderDecoded()with the image's default width and height, once they are known.If the encoded image is an animated GIF or WebP, decodeDrawable()returns a Drawable thatis an instance of the AnimatedImageDrawable class.

There are different methods you can use to set image properties. Theseinclude:

To scale the decoded image to an exact size, call setTargetSize() with the target dimensions. You can also scale images using a sample size. Pass the sample size directly to setTargetSampleSize().To crop an image within the range of the scaled image, call setCrop().To create a mutable Bitmap, call setMutableRequired(true).ImageDecoder also lets youadd customized and complicated effects to an image such as rounded corners orcircle masks. Use setPostProcessor()with an instance of the PostProcessorclass to execute whatever drawing commands you want. When you post-process anAnimatedImageDrawable,effects are applied to all frames.

AnimationAndroid P introduces a newAnimatedImageDrawableclass for drawing and displaying GIF and WebP animated images.AnimatedImageDrawable works similarly toAnimatedVectorDrawablein that RenderThread drives the animations of AnimatedImageDrawable.RenderThread also uses a worker thread to decode, so that decoding does notinterfere with RenderThread. This implementation allows your app to have ananimated image without managing its updates or interfering with your app's UIthread.

An AnimagedImageDrawable can be decoded with the newImageDecoder. The followingcode snippet shows how to use ImageDecoder to decode yourAnimatedImageDrawable:

Drawable d = ImageDecoder.decodeDrawable(...);if (d instanceof AnimatedImageDrawable) { ((AnimatedImageDrawable) d).start(); // Prior to start(), the first frame is displayed}ImageDecoder has several methods allowing you to further modify the image.For example, you can use thesetPostProcessor()method to modify the appearance of the image, such as applying a circle mask orrounding corners.

Android P adds built-in support for High Dynamic Range (HDR) VP9 Profile 2, so you can now deliver HDR-enabled movies to your users from YouTube, Play Movies, and other sources on HDR-capable devices.

Android P adds support for HEIF (heic) images encoding to the platform. HEIF still image samples are supported in the MediaMuxer and MediaExtractor classesHEIF improves compression to save on storage and network data. With platform support on Android P devices, it's easy to send and utilize HEIF images from your backend server. Once you've made sure that your app is compatible with this data format for sharing and display, give HEIF a try as an image storage format in your app. You can do a jpeg-to-heic conversion using ImageDecoder or BitmapFactory to obtain a bitmap from jpeg, and you can use HeifWriter in the new Support Library alpha to write HEIF still images from YUV byte buffer, Surface, or Bitmap.

Media metrics are now also available from the AudioTrack, AudioRecord,and MediaDrm classes.

Android P adds new methods to theMediaDRM class to get metrics, HDCPlevels, security levels and number of sessions, and to add more control oversecurity levels and secure stops. See the API Diff report for details.

In Android P the AAudio API includes newAAudioStream attributes forusage,content type,and input preset.Using these attributes you cancreate streams that are tuned for VoIP or camcorder applications. You can also set theSessionIDto associate an AAudio stream with a submix that can include effects. Use theAudioEffect API to control the effects.

Android P includes a newAudioEffect API forDynamicsProcessing.With this class you can build channel-based audio effects composed of multiplestages of various types including equalization, multi-band compression, andlimiter. The number of bands and active stages is configurable, and mostparameters can be controlled in real time.

Data cost sensitivity in JobSchedulerWith Android P, JobScheduler has been improved to let itbetter handle network-related jobs for the user, in coordination with networkstatus signals provided separately by carriers.

Jobs can now declare their estimated data size, signal prefetching, and specifydetailed network requirements'--carriers can report networks as being congestedor unmetered. JobScheduler then manages work according tothe network status. For example, when a network is congested,JobScheduler might defer large network requests. When on anunmetered network, JobScheduler can run prefetch jobs toimprove the user experience, such as by prefetching headlines.

When adding jobs, make sure to use setEstimatedNetworkBytes(),setIsPrefetch(), and setRequiredNetwork() when appropriate to helpJobScheduler handle the work properly. When your job executes,be sure to use the Network objectreturned byJobParameters.getNetwork().Otherwise you'll implicitly use the device's default network whichmay not meet your requirements, causing unintended data usage.

Neural Networks API 1.1The Neural Networks API was introduced in Android 8.1 (API level 27) toaccelerate on-device machine learning on Android. Android P expands andimproving the API, adding support for nine new ops '-- Pad,BatchToSpaceND, SpaceToBatchND, Transpose, Strided Slice, Mean, Div,Sub, and Squeeze.

Autofill frameworkAndroid 8.0 (API level 26) introduced the autofill framework, which makes iteasier to fill out forms in apps. Android P introduces multiple improvementsthat autofill services can implement to further enhance the user experience whenfilling out forms. For more details, see the AutofillFramework page.

Security enhancementsAndroid P introduces a number of new security features, including a unifiedfingerprint authentication dialog and high-assurance user confirmation ofsensitive transactions. For more details, see theSecurity Updates page.

Client-side encryption of Android backupsAndroid P enables encryption of Android backups with a client-side secret.Because of this privacy measure, the device's PIN, pattern, or password isrequired to restore data from the backups made by the user's device. To learnmore about the technology behind this new feature, see theGoogle Cloud Key Vault Servicewhitepaper.

To learn more about backing up data on Android devices, seeData Backup Overview.

AccessibilityAndroid P introduces enhancements to the accessibility framework that make iteasier to provide even better experiences to users of your app.

Navigation semanticsNew attributes make it easier for you to define how accessibility services,especially screen readers, navigate from one part of the screen to another.These attributes can help users who are visually impaired quickly move throughtext in your app's UI and allow them to make a selection.

For example, in a shopping app, a screen reader can help users navigatedirectly from one category of deals to the next, without the screen readerhaving to read all items in a category before moving on to the next.

Accessibility pane titlesPrior to Android P, accessibility services could not always determine when aspecific pane of the screen was updated, such as when an activity replaces onefragment with another fragment. Panes consist of logically-grouped,visually-related UI elements that typically comprise a fragment.

In Android P, you can provide accessibility pane titles, or individuallyidentifiable titles, for these panes. If a pane has an accessibility pane title,accessibility services receive more detailed information when the pane changes.This capability allows services to provide more granular information to the userabout what's changed in the UI.

To specify the title of a pane, use the newandroid:accessibilityPaneTitleattribute. You can also update the title of a UI pane that is replaced atruntime using setAccessibilityPaneTitle().For example, you could provide a title for the content area of aFragment object.

Heading-based navigationIf your app displays textual content that includes logical headings, set the newandroid:accessibilityHeadingattribute to true for the instances ofView that represent those headings. Byadding these headings, you allow accessibility services to help users navigatedirectly from one heading to the next. Any accessibility service can use thisnew capability to improve users' UI navigation experience.

Caution: To keep your app responsive when accessibility services are enabled,apply accessibility headings only toView objects that contain multiplesections of text. Group navigation and outputScreen readers have traditionally used theandroid:focusable attribute todetermine when they should read aViewGroup, or a collection ofView objects, as a single unit. That way,users could understand that the views were logically related to each other.

Prior to Android P, you needed to mark eachView object within aViewGroup as non-focusable and theViewGroup itself as focusable. This arrangement caused some instances ofView to be marked focusable in a way that made keyboard navigation morecumbersome.

In Android P, you can use the newandroid:screenReaderFocusable attribute in place ofthe android:focusable attribute insituations where making a View objectfocusable has undesirable consequences. Screen readers place focus on allelements that have set either android:screenReaderFocusable orandroid:focusable to true.

Android P adds support for performing convenience actions on behalf of users:

Interaction with tooltipsNew features in the accessibility framework give you access totooltips in an app's UI. UsegetTooltipText()to read the text of a tooltip, and use the newACTION_SHOW_TOOLTIPand ACTION_HIDE_TOOLTIPto instruct instances of View to show orhide their tooltips.New global actionsAndroid P introduces support for two new device actions in theAccessibilityServiceclass. Your service can now help users lock their devices and take screenshotsusing theGLOBAL_ACTION_LOCK_SCREENand GLOBAL_ACTION_TAKE_SCREENSHOTactions, respectively.Window change detailsAndroid P makes it easier to track updates to an app's windows when an appredraws multiple windows simultaneously. When aTYPE_WINDOWS_CHANGEDevent occurs, use thegetWindowChanges()API to determine how the windows have changed. During a multiwindow update, eachwindow now produces its own set of events.The getSource()method returns the root view of the window associated with each event.

If an app has defined accessibility pane titles for itsView objects, your service can recognizewhen the app's UI is updated. When aTYPE_WINDOW_STATE_CHANGEDevent occurs, use the new types returned bygetContentChangeTypes()to determine how the window has changed. For example, the framework can nowdetect when a pane has a new title, or when a pane has disappeared.

Google is committed to improving accessibility for all Android users, providingenhancements that enable you to build services, such as the Talkbackscreen reader, for users with accessibility needs. To learn more about how tomake your app more accessible and to build accessibility services, see Accessibility.

RotationTo eliminate unintentional rotations, we've added a new mode that pins the current orientation even if the device position changes. Users can trigger rotation manually when needed by pressing a new button in the system bar.

The compatibility impacts for apps should be very minimal in most cases. However, if your app has any customized rotate behavior or uses any esoteric screen orientation settings, you might run into issues that could have gone unnoticed before when user rotation preference was always set to portrait. We encourage you to take a look at the rotation behavior in all the key activities of your app and make sure that all of your screen orientation settings are still providing the optimal experience.

For more details, see the associated behavior changes.

A new rotation mode lets users trigger rotation manually when needed using a button in the system bar.

TextAndroid P brings the following new text-related featuresto the platform:

Precomputed Text: The new PrecomputedText classimproves text-rendering performance by enabling you to compute and cache therequired information ahead of time. It alsoenables your app to perform text layout off the main thread.

Magnifier: The new Magnifier class is a platformwidget that provides a text-magnifierAPI allowing consistent magnifier-feature experience acrossall apps.

Smart Linkify: Android P enhances the TextClassifier class,which leverages machine learning to identify some entitiesin selected text and suggest actions. For example, TextClassifiercan enable your app to detect that a phone numberhas been selected, and suggest that the user make a phone call.The newfeatures of TextClassifier" replace the functionalityof theLinkify` class.

Text Layout: Several new convenience methods andattributes make it easier to implement your UIdesign. For details, see the API level Pdocumentation for TextView.

On-device system tracingSystem tracing allows you to capture timing data for each process that'srunning on an Android device and to view the data in an HTML report.This report is useful for identifying what each thread isdoing and for viewing globally significant device states.

Note: You don't need to instrument your codeto record traces, but doing so canhelp you see what parts of your app's code may be contributing to hangingthreads or UI jank.In Android P, you can now record system traces from your device, then sharethese recordings with your development team. To record a system trace, completethe following steps:

Open the Developer Options settings screen.In the Debugging section, select System Tracing. The System Tracingapp opens.(Optional) Choose the Categories of system and sensor calls thatyou'd like to trace, and choose a Buffer size (in KB). This step is notrequired; in most cases, the default settings are preferable.Enable Record trace to start recording the system trace.When you're done recording, disable Record trace from the SystemTracing app, or tap the notification.If desired, tap the new notification that appears to share your trace. Thetrace is delivered as a compressed .ctrace file; to expand the trace to HTML,use the systracecommand, which is located inandroid-sdk/platform-tools/systrace/:$ systrace --from-file yourtracefile.ctraceThe trace file is saved to /data/local/traces/ so you can access it laterwith adb pull.Note: You can create a Quick Settings tile to perform all the above stepsmore quickly. If you'd prefer to use a command-line interface, Android P stillsupports the systrace command.If you prefer to use your IDE to gather and access this information, you canalso view information about your app's process and CPU activity using AndroidStudio's built-in CPU profiler. However, the CPU profiler requiresyour device to be plugged in and using ADB; the System Tracing app does not havesuch requirements.

Product | ZenCity

Sun, 13 May 2018 13:10

Unleash the Power of AI

REQUEST A DEMO

In-depth Analysis

Recognize Topics

Alerts and Notifications

Automatically classify all conversations - social media, city hotlines and others, into topics relevant to city management, such as education, waste management and transportation

Receive push notifications about significant changes in categories, abnormalities, or specific issues that are trending - in real time or as periodical digests

See data by geography, data source, keywords and more - and even drill down to the story level

Sentiment Analysis

Understand citizens' views towards different departments, subjects and actions of the city, and see the changes over time
SJWBLMLGBBTQQIAAPK

Who We Are '-- NextGen America

Sun, 13 May 2018 13:17

NextGen America acts politically to prevent climate disaster, promote prosperity, and protect the fundamental rights of every American.

Since our founding as NextGen Climate in 2013, we've worked to fight climate change by advancing the transition to a clean energy economy. We've supported candidates who support climate action. We've fought to halt the Keystone XL pipeline and registered more than 1 million voters nationwide.

Now, the same values that drive our work on climate are under unprecedented attack from all directions.

We're proud to step up the fight for immigrant rights, affordable health care, prosperity, and equality.

Our founder Tom Steyer is a business leader and philanthropist who believes we have a moral responsibility to give back and help ensure that every family shares the benefits of economic opportunity, education, and a healthy climate.

Read More Join our team If you're collaborative, flexible and driven, we may be looking for you. Explore our openings below if you're ready to take on our country's biggest challenges.

'Last Man Standing' renewed by Fox; Tim Allen 'excited' for Season 7 | Fox News

Sun, 13 May 2018 13:58

Tim Allen revealed his canceled series "Last Man Standing" is getting revived by Fox and will air during the the 2018-19 season. (ABC)

Don't call it a comeback.

''Last Man Standing'' was resurrected at Fox for Season 7 on Friday after ABC canceled the popular show.

The news comes after Allen teased a possible reboot of his series on social media a few days ago.

The show's original cast, including Tim Allen, Nancy Travis, Jonathan Adams, Amanda Fuller, Christoph Sanders and Jordan Masterson, will also return.

''Excited?'' asked Allen in a statement sent to Fox News. ''Team LMS was in the sixth inning, ahead by four runs, stands were packed and then for no reason, they call off the game. It leaves you sitting in the dugout, holding a bat and puzzled. Now we get the news from Fox that it's time to get back out on that diamond '' hell yes, I'm excited!

''When I heard the offer to create more episodes of 'Last Man Standing,' I did a fist pump so hard I threw my back out. It's the fans! I could not be more grateful for the fans who wrote petitions and kept up the passion and incredible support for the show.

"And a fist pump, ouch, for Dana Walden and Gary Newman at Fox for not only listening to the fans but for making the bold move to bring 'Last Man Standing' back. I'm sure audiences will be curious to see what we look like after all these years. Oh, has it only been one year? Well, just goes to show you '' a lot can happen in a year.''

''Last Man Standing'' tells the story of a married father of three who tries to maintain his manliness in a world often dominated by women.

Gary Newman and Dana Walden, chairmen and CEOs of Fox Television Group, said the decision to bring back the series was a no-brainer.

'''Last Man Standing' ended too soon and the outcry from the fans has been deafening,'' they shared. ''We've wanted to put the show back together since its final taping a year ago, and Tim never gave up hope either. Thanks to its millions of devoted viewers and the irrepressible Tim Allen, we haven't seen the last of 'Last Man Standing.'''

''Last Man Standing'' averaged 8.3 million viewers in Live + 7 ratings for the 2016-17 season on ABC. It was the network's second most-watched comedy, after ''Modern Family.''

However, ABC canceled the sitcom in May 2016 despite its high ratings. Many speculated at the time that the network axed the series over its politics '-- a rumor that ABC vehemently denied at the time.

After ABC's success with the reboot of "Roseanne," which features a pro-Trump character, calls for the network to bring back "Last Man Standing" were revived.

Allen, a conservative himself who has voiced his support for Trump, played Mike Baxter, who is also politically conservative on the show.

The 64-year-old told Fox News in August that he was overwhelmed by the support of his fans.

"The support from all the fans to bring back 'Last Man Standing' is truly overwhelming to me and so appreciated," Allen told Fox News exclusively. "I, along with the talented writers, wonderful crew and terrific actors, would definitely entertain the idea of bringing the show back as there is so much gas left in the tank, more to be said, and laughs to be had."

"Last Man Standing" is expected to return sometime in the 2018-19 season.
Bexit

Why are more people dying? Academics are baffled by 20,000 extra deaths in England and Wales

Sat, 12 May 2018 21:06

By Connor Boyd and Nick Enoch for MailOnline 15:52 12 May 2018, updated 19:50 12 May 2018

Office for National Statistics revealed 198,943 people died in first 16 weeks 2018 That figure was up by 20,215 compared to the average of the previous five yearsStatistics covered deaths in England and Wales and did not include rest of UKShocking statistics reveal that more than 20,000 'additional deaths' have occurred in England and Wales in the first 16 weeks of this year.

Academics remain baffled by the spike in fatalities, which prompted several to demand a Government investigation into the matter.

However, some statisticians believe the crisis engulfing the NHS and cuts in care, along with the killer winter flu outbreak, are factors that should be taken into consideration.

The figures, from the Office for National Statistics, showed there were 20,215 more deaths in the first 16 weeks of 2018 compared to the previous five years - namely, 198,943 compared to an average of 178,778.

Figures from the Office for National Statistics revealed there were 20,215 more deaths in England and Wales in the first sixteen weeks of the year, compared to the previous five yearsThe numbers show a 11.3 per cent increase in mortality.

The 20,215 figure is equivalent to an extra person dropping dead every eight minutes throughout the first 16 weeks of the year, The Telegraph reported.

Statisticians claimed in February that the killer winter flu outbreak was to blame for a 42 per cent spike in deaths across England and Wales.

Government figures revealed 64,157 people died in January - significantly higher than the death toll of 45,141 recorded in December.

Professor Danny Dorling of the University of Oxford is calling for an investigation by the House of Commons into the worrying trendThis was the highest number since records began in 2006 - and only the second time it had breached 60,000.

'Circulating influenza' was blamed in a report compiled using data of deaths from each region.

It showed deaths were higher than levels recorded during the Swine flu pandemic in 2010 - considered the worst outbreak in recent years.

The ONS report showed a similar trend in deaths was seen in all nine regions of England and Wales itself.

It read: 'Circulating influenza is likely to be a contributing factor in the high number of deaths registered in January 2018.'

Some 10,011 deaths were recorded in the South East, followed by 8,625 in the North West and 7,110 in the East of England.

At the other end of the scale, 3,503 people died in the North East in January, 3,945 in Wales and 5,401 in the East Midlands.

Figures in February showed the flu outbreak killed at least 271 people, but this is likely to have been an underestimate because it only counted for confirmed hospital deaths.

In March, top academics published an editorial for the British Medial Journal voicing concerns about the spike in deaths.

One of its authors Professor Danny Dorling, of the University of Oxford, told The Daily Telegraph: 'We would like is an urgent investigation by the House of Commons health select committee.

'The Department of Health and Social Care is not taking the slowdown in improvements in mortality seriously.'

A Department for Health and Social Care spokesperson told the paper: 'We keep all research in this area under review, but the "age standardised mortality rate" - which had been broadly stable in recent years - is considered a much more reliable measure, as this type of research doesn't take into account fluctuations in population numbers and the ageing population.'

Meanwhile, the NHS is lagging behind the rest of Europe's health care, new research suggests.

Out of the 21 countries analysed, the UK has fewer doctors and nurses than almost any other region, according to a UK study.

Previous research suggests there are around 100,000 healthcare-staff vacancies in the English NHS, with nearly half of nurses believing shortages prevent them doing their jobs well.

Only Denmark and Sweden have fewer hospital beds than Britain, which is also lagging behind all other European countries in terms of investment in healthcare technologies, such as MRI scanners.

The Care Quality Commission has said the NHS is 'straining at the seams' with more than 90 per cent of hospital beds being occupied, which is far higher than the 85 per cent recommended level for safe and efficient care.

Results further suggest the UK spends just 9.7 per cent of its national wealth on healthcare, which is substantially less than the minimum 11 per cent in Germany, France and Sweden.

At the beginning of the year, NHS chiefs demanded radical action to free up beds and medical staff due to casualty units being under 'extreme and sustained' pressure with flu cases, with at least 306 related deaths, according to Public Health England.
Novochocks

Revealed: rebranded D-Notice committee issued two notices over Skripal affair

Sat, 12 May 2018 13:27

Spinwatch can reveal that the Skripal affair has resulted in the issuing of not one but two 'D-N otices' to the British media, which are marked private and confidential. We can also disclose the contents of both notices, which have been obtained from a reliable source.

That two notices were issued has been confirmed by the 'D-Notice' Committee. The Committee, which is jointly staffed by government officials and mainstream media representatives has recently changed its name to the 'Defence and Security Media Advisory (DSMA) Committee'. The use of the word 'advisory' is no doubt a bid to discourage the public from thinking that this is a censorship committee. However, the DSMA-Notices (as they are now officially called) are one of the miracles of British state censorship. They are a mechanism whereby the British state simply 'advises' the mainstream media what not to publish, in 'notices' with no legal force. The media then voluntarily comply.

Sergei Skripal and his daughter Yulia were poisoned in Salisbury and discovered collapsed on a park bench in the late afternoon of Sunday 4 March. Less than three days later on 7 March, the first and - until now undisclosed - notice was issued.

The notice stated that the 'issue surrounding the identify [sic] of a former MI6 informer Sergei Skripal is already widely available in the public domain. However, the identifies [sic] of intelligence agency personnel associated with Sergei Skripal are not yet widely available in the public domain'.

The notice goes on to refer to standing notice 5 on the intelligence services:

The provisions of DSMA Notice 05 therefore apply to these identities. DSMA Notice 05 inter alia advises editors against the:

'inadvertent disclosure of Sensitive Personnel Information (SPI) that reveals the identity, location or contact details of personnel (and their family members) who have security, intelligence and/or counter-terrorist backgrounds, including members of the UK Security and Intelligence Agencies, MOD and Specials Forces.'

On the evening of 6 March a Russian opposition news outlet Meduza, styling itself 'Russia's free press in exile', published a long piece on Skripal in English. Citing a variety of online sources including in Russian, some from over a decade old, identifying Pablo Miller as the MI6 agent inside the Estonian embassy who had recruited Sergei Skripal. By the next afternoon the notice was issued to the mainstream media. Perhaps the misspellings in the DSMA notice -'identify' and 'identifies' instead, presumably, of 'identity' and 'identities' - was due to haste in getting it out?

This was followed that evening by a report in the Daily Telegraph published online at 10.24pm. The Telegraph was the first mainstream outlet to discuss - in discreet and decorous terminology - the connection between Skripal and a 'security consultant' who is 'understood to have known him for some time' and 'is also based in Salisbury'. It noted that the paper was 'declining to identify' the consultant, and we can only suspect that this was not unconnected to the notice issued earlier that day. The Telegraph reported that the 'consultant' worked at the same company (Orbis Business Intelligence) that compiled the controversial dossier on Donald Trump and Russia '' paid for by the Clinton campaign and the Democratic National Convention. The consultant was, as we now know, Pablo Miller, who had 'known' Skripal in the specific sense that he was his MI6 handler. Some, such as Guardian journalist Luke Harding, have suggested that Miller never worked for Orbis, but this seems to be false.

The second D-Notice was issued on 14 March. This appears to be the notice referred to in a tweet by Alex Thomson of Channel Four News. This notice reiterated the warning about intelligence service personnel.

One of the reactions from the Russian authorities in response to the measures that the UK authorities have recently announced, may include the publication or broadcast of Sensitive Personal Information (SPI).

Any publication or broadcast of SPI could identify personnel (and their family members) who work in sensitive positions.

The notice helps to encourage the climate of anti-Russian hysteria implying that investigative reporting on this matter that might discuss British intelligence is in effect Russian propaganda. This is a nice illustration of David Leigh's phrase from nearly 40 years ago: 'the obverse of the secrecy coin is always propaganda'.

It is a standing rebuke to the notion that journalism should question power, that 15 senior media people should agree to sit on this censorship committee. As well as the BBC, ITV, ITN and Murdoch's Sky News, representing broadcasters, there are a variety of representatives from the broadsheet and tabloid press, regional and Scottish newspapers and magazines and publishing - including two News UK and Harper Collins, (both owned by Murdoch) as well as Trinity Mirror, the Daily Mail and the Guardian. On the government side of the committee are the chair from the MoD and four intelligence connected representatives from the MoD (Dominic Wilson, Director General Security Policy), Foreign Office (Lewis Neal, Director for National Security), Home Office (Graeme Biggar, unspecified post in the OSCT) and Cabinet Office (Paddy McGuinness, Deputy National Security Adviser for Security, Intelligence, and Resilience).

The DSMA committee likes to cultivate the impression that it is a rather uninteresting committee that is, as a former vice chair of the committee (a journalist) put it, 'is emphatically not censorship'... but voluntary, responsible media restraint'. Then working at Sky News, that vice chair, Simon Bucks, is now CEO at the Services Sound and Vision Corporation, the broadcasting service which says it is 'championing the Armed Forces'. Bucks also wrote that the DSMA committee is 'the most mythologised and misunderstood institution in British media... ''Slapping a D-notice'' on something the establishment wanted suppressed has been the stuff of thrillers, spy stories and conspiracy theories for more than a century'.

This is a typical deception used regularly by defenders of the British system of censorship. DSMA notices are indeed 'slapped' on the media to this day, as the two notices revealed here show.

The DSMA notices can be found here:

DSMA notice 7 March 2018 DSMA notice 14 March 2018For further information on the DSMA Notice Committee see Powerbase: Defence and Security Media Advisory (DSMA) Notice System.

* This story was updated on 9 May to correct the time of publication of theTelegraph piece on 7 March and note the Russian coverage of the Skripal case the day before.
Armageddon

Recycling, Once Embraced by Businesses and Environmentalists, Now Under Siege - WSJ

Sun, 13 May 2018 12:13

The U.S. recycling industry is breaking down.

Prices for scrap paper and plastic have collapsed, leading local officials across the country to charge residents more to collect recyclables and send some to landfills. Used newspapers, cardboard boxes and plastic bottles are piling up at plants that can't make a profit processing them for export or domestic markets.

''Recycling as we know it isn't working,'' said James Warner, chief executive of the Solid Waste Management Authority in Lancaster County, Pa. ''There's always been ups and downs in the market, but this is biggest disruption that I can recall.''

U.S. recycling programs took off in the 1990s as calls to bury less trash in landfills coincided with China's demand for materials like corrugated cardboard to feed its economic boom. Ship lines eagerly filled containers that had brought manufactured goods to the U.S. with paper, scrap metal and plastic bottles for the return trip to China.

As cities aggressively expanded recycling programs to keep more discarded household items out of landfills, the purity of U.S. scrap deteriorated as more trash infiltrated the recyclables. Discarded food, liquid-soaked paper and other contaminants recently accounted for as much as 20% of the material shipped to China, according to Waste Management Inc.'s estimates, double from five years ago.

The tedious and sometimes dangerous work of separating out that detritus at processing plants in China prompted officials there to slash the contaminants limit this year to 0.5%. China last week suspended all imports of U.S. recycled materials until June 4, regardless of the quality. The recycling industry interpreted the move as part of the growing rift between the U.S. and China over trade policies and tariffs.

The changes have effectively cut off exports from the U.S., the world's largest generator of scrap paper and plastic. Collectors, processors and the municipal governments that hire them are reconsidering what they will accept to recycle and how much homeowners pay for that service. Many trash haulers and city agencies that paid for curbside collection by selling scrap said they are now losing money on almost every ton they handle.

The upended economics are likely to permanently change the U.S. recycling business, said William Moore, president of Moore & Associates, a recycled paper consultancy in Atlanta.

''It's going to take domestic demand to replace what China was buying,'' he said. ''It's not going to be a quick turnaround. It's going to be a long-term issue.''

The waste-management authority in Lancaster County this spring more than doubled the charge per ton that residential trash collectors must pay to deposit recyclables at its transfer station starting June 1. The higher cost is expected to be passed on to residents though a 3% increase in the fees that haulers charge households for trash collection and disposal.

The additional transfer-station proceeds will help offset a $40-a-ton fee that the authority will start paying this summer to a company to process the county's recyclables. Before China raised its quality standards at the beginning of this year, that company was paying Lancaster County $4 for every ton of recyclables.

Mr. Warner may limit the recyclable items collected from Lancaster Country's 500,000 residents to those that have retained some value, such as cans and corrugated cardboard. He said mixed plastic isn't worth processing.

''You might as well put it in the trash from the get-go,'' he said.

Environmentalists are hoping landfills are only a stopgap fix for the glut of recyclables while the industry finds new markets and reduces contaminants.

''Stuff is definitely getting thrown away in landfills. Nobody is happy about it,'' said Dylan de Thomas, vice president of industry collaboration for the Recycling Partnership in Virginia. ''There are very few landfill owners that don't operate recycling facilities too. They'd much rather be paid for those materials.''

Pacific Rim Recycling in Benicia, Calif., slowed operations at its plant early this year to meet China's new standard. But company President Steve Moore said the more intensive sorting process takes too long to process scrap profitably. Pacific Rim idled its processing plant in February and furloughed 40 of his its 45 employees.

''The cost is impossible. We can't make money at it,'' Steve Moore said. ''We quit accepting stuff.''

China stopped taking shipments of U.S. mixed paper and mixed plastic in January. Steve Moore said mixed-paper shipments to other Asian countries now fetch $5 a ton, down from as much as $150 last year. Other buyers such as Vietnam and India have been flooded with scrap paper and plastic that would have been sold to China in years past.

Dave Vaccarezza, president of Cal-Waste Recovery Systems near Sacramento, Calif., intends to invest more than $6 million on new sorting equipment to produce cleaner bales of recyclables.

''It's going to cost the rate payer to recycle,'' he said. ''They're going to demand we make our best effort to use those cans and bottles they put out.''

Sacramento County used to earn $1.2 million a year selling scrap to Waste Management and another processor that county employees collected from 151,000 homes. Now, the county is paying what will amount to about $1 million a year, or roughly $35 a ton, to defray the processors' costs. Waste Management paid the county $250,000 to break the revenue-sharing contract and negotiate those terms.

County waste management director Doug Sloan expects those costs to keep climbing. ''We've been put on notice that we need to do our part,'' he said. The county hasn't yet raised residential fees.

Some recyclers said residents and municipalities need to give up the ''single-stream'' approach of lumping used paper and cardboard together with glass, cans and plastic in one collection truck. Single-stream collections took hold in the waste-hauling industry about 20 years ago and continue to be widely used. Collecting paper separately would make curbside recycling service more expensive but cut down on contamination.

''We're our own worst enemies,'' said Michael Barry, president of Mid America Recycling, a processing-plant operator in Des Moines, Iowa, of single-stream recycling. ''It's almost impossible to get the paper away from the containers.''

Even relatively pure loads of paper have become tough to sell, Mr. Barry said, noting the domestic market for paper is saturated as well. He stockpiled paper bales at Mid America's warehouse, hoping prices would improve. They didn't. He has trucked 1,000 tons of paper to a landfill in recent weeks.

''We had to purge,'' he said. ''There's no demand for it.''

Write to Bob Tita at robert.tita@wsj.com

Tsunami warning accidentally broadcast in Alaska - BNO News

Sun, 13 May 2018 13:14

A tsunami warning was accidentally broadcast in Alaska on Friday, causing confusion among local citizens, officials say. It marks the third mistake this year involving the U.S. warning system.

The incident happened just after 7 a.m. local time when a message from the Emergency Alert System was aired on radio and TV channels in Alaska, advising that a tsunami warning was in effect.

''The National Weather Service has issued a TSUNAMI WARNING for the following counties or areas: Alaska, at 7:02 AM on May 11, 2018,'' the message on TV said.

The alert caused confusion among local residents. Jennifer Williams, the news director for KSRM, said the radio station was receiving calls from residents who asked about the warning.

The mistake happened during an internal test to determine transmission times for the dissemination of tsunami warnings, according to the National Tsunami Warning Center. ''We are investigating this issue,'' the center said.

Friday's false alert did not affect the entire warning system. The warning was not sent to mobile phones in Alaska and tsunami warning sirens were not activated.

The U.S. warning system has experienced a number of mistakes this year. Most notably, a missile attack warning was mistakenly issued for Hawaii on January 13, causing widespread panic as people sought shelter.

In February, a tsunami warning was accidentally sent through third parties to a number of people along the U.S. East Coast. AccuWeather blamed the National Weather Service for causing the mistake, saying the NWS had coded a test message as a real warning.

These 95 apartments promised affordable rent in San Francisco. Then 6,580 people applied.

Sun, 13 May 2018 14:05

Bloomberg | Getty Images

City skyline views in San Francisco, California, U.S., on Friday, Feb. 12, 2016

For $1,200 a month, Patricia Torres and her family were renting a bedroom, a share of time in the bathroom, one vegetable drawer and one shelf in the fridge, and two cupboards over the stove. They rented not so much a home as a fraction of one.

Karen Calderon had even less: a single room in a homeless shelter where she was not allowed so much as a hot plate to cook for her family.

Adrian Caratowsa had a studio he'd remade as his own, repainting the walls and wallpapering over the kitchen cabinets. But every day for five years, he walked out into a neighborhood he found depressing.

For each, San Francisco's housing crisis had meant living without essential elements of home. A large affordable housing development rising downtown promised what they did not have: 95 complete homes, one-, two- and three-bedroom apartments with privacy, a sense of peace, a place to cook.

Read more from the New York Times:On Social Media's Fringes, Growing Extremism Targets Women A Simple Way to Improve a Billion Lives: EyeglassesAn Orchestra Adopts a City, One Kid at a Time

The development, Natalie Gubb Commons, was reserved for households with incomes up to 50 percent of the local median. The applications were open for three weeks last fall, and 6,580 households applied for a chance to rent there, or nearly 70 for each unit.

As the development neared completion, Congress was closing in on a tax overhaul whose central goal '-- a much lower corporate tax rate '-- would make it harder to finance projects like this one, in a time of acute housing need. By one estimate, the bill would erase 235,000 affordable rental homes nationwide over the coming decade '-- one in six of those that might have been built or renovated without tax code changes.

With affordable housing scarce and likely to grow more so, San Francisco planned to draw winners for Natalie Gubb Commons at random.

Subsidized housing is often rationed this way, by lottery. Many apply, few win, most are disappointed. The process is meant to be more fair than first-come, first-served. But lotteries make literal a deeper unfairness. For homeowners, the mortgage interest deduction is available to anyone who qualifies. For poor renters, there is never enough housing assistance to go around.

Lotteries that allocate scarce resources are not set up to distinguish the neediest from the merely needy. Rather, they reward random chance, which is a distinctly different notion of what's "fair."

Ms. Calderon and her husband had been looking for a home for two years, since the last landlord learned of the third child on the way and told them they had to go. They could afford a studio, a one-bedroom maybe, but no one Ms. Calderon called would rent such a small space to a family of five. So they slept in their car, with a newborn, for months. They entered one homeless shelter, then another.

Ms. Calderon asked everyone she knew with a home how they did it. The market seemed a mystery, requiring some inside connection. She knew no one who'd won a home, but she was eager to try, exchanging her application for an eight-digit lottery number.

"I think about the number all the time '-- when I get up, during the day, and at night when I'm going to bed," Ms. Calderon said in Spanish early last November, before those 6,580 numbers were fed into a computer, randomized and ranked. "Sometimes it wakes me up at night, thinking that they're going to tell me, 'Here are the keys to your apartment.'"

'A place where I feel like I have hope'

Mr. Caratowsa walked by Natalie Gubb Commons a week before the lottery, as he had several times before. Scaffolding still obscured two sides of the development. The west-facing facade had come into view, eight stories of industrial-chic gray.

"Imagine the view you'd have from this window," Mr. Caratowsa said, glancing up. He pictured himself on one of the upper floors, facing Fremont Street. He had long coveted the neighborhood for all the success that could be seen from that window: the luxury condos; the tech offices; the Salesforce Tower, the tallest skyscraper in the city.

Mr. Caratowsa, 31, had been living in another affordable building in the Tenderloin district, where the city's homeless and addiction services are concentrated. He'd been on disability most of his adult life, living with years of pain after complications from a series of operations in his early 20s. He'd been H.I.V.-positive since childhood, and a subsidy from the San Francisco AIDS Foundation helped pay his rent.

He could see himself absorbing the city's energy here, getting off disability, getting to work. He knows that he does not look like most of the office workers here, covered in his tattoos that commemorate travels and pain he has overcome. But he liked to stroll toward the Financial District downtown, where everyone appeared to be going places.

"To walk downtown, seeing people in suits, going to work, they have their coffee in their hand '-- to me it's like when a little girl wants to be a princess and she wears her mom's high heels," Mr. Caratowsa said. "That's me being in the Financial District. It's just a place where I feel like I have hope."

Amid all the wealth in this neighborhood, a one-bedroom at Natalie Gubb Commons would rent for around $1,000 to $1,200 a month, a three-bedroom up to $1,700. Apartments next door were three times as much.

That discount is possible through a mix of resources. Mercy Housing, the project's nonprofit developer, effectively got the land free as part of a city requirement that the neighborhood's redevelopment include affordable housing. The market-rate developer next door was subsidizing the project, along with city funds. Revenue from the state's cap-and-trade emissions program helped. And Mercy used the backbone of nearly every affordable housing project in America, federal Low-Income Housing Tax Credits.

A housing policy stacked against rentersAffordable-housing projects were already becoming harder to execute as federal support dwindled and construction costs rose. Then, after Donald J. Trump was elected president, the value of Low-Income Housing Tax Credits began to fall. Changes to the tax code suddenly looked likely, and a lower corporate tax rate would mean companies would have less reason to put equity into affordable housing in exchange for credits to offset their tax liability.

What investors were willing to pay for the credits plummeted by February 2017, once the likelihood of a tax overhaul had set in.

Since Mr. Trump's election, that fall in prices has translated to about $45,000 less per housing unit in San Francisco from investors in the common 4 percent tax credits, according to Novogradac & Company, an accounting firm that tracks the affordable housing market. And because tax-credit investors aren't providing that equity, the city must fill gaps in projects with other public dollars.

The federal government more directly subsidizes low-income renters through public housing and vouchers for use in the private market. But voucher funding has stagnated, and the stock of public housing has shrunk as units have deteriorated. The tax credit program now serves the largest number of households.

Put together, these programs amount to only a partial housing policy.

"This country does have a national housing policy," said Kate Hartley, director of the San Francisco Mayor's Office of Housing and Community Development. "And that is that we provide our greatest subsidies to relatively affluent, housed people."

Homeowners get the mortgage interest deduction, which has cost the federal government more than these programs for the poor combined. Other tax changes mean that fewer homeowners will now claim the mortgage deduction, and its benefits will be even more heavily concentrated among the rich.

But the tax bill's implications for poor renters will be more profound. The odds are likely to grow worse than these: Last year, 53 households applied per each new affordable unit at The Meridian in Los Angeles; 84 for every home at Parcel 25 in Boston; 391 for each unit at Stargell Commons in Alameda, Calif.; 979 for every home at Our Lady of Lourdes Apartments in New York.

The lotteries that follow, said Kirk McClure, a professor of urban planning at the University of Kansas, "are a simple manifestation '-- and apparently an unavoidable one '-- of the fact that we have never in America made affordable housing a right."

'Please don't give up'

For years, San Francisco conducted public lotteries in a bingo drum. But the raffle tickets were always getting stuck in the drum's crevices. The city also tried a big box. People couldn't see what was happening inside, however, and tickets got stuck under the lid.

This exercise '-- rolling the drum, shaking the box, inspecting for trapped tickets and repeating '-- lasted hours on a building the size of Natalie Gubb Commons. Ms. Torres would bus around town, picking up applications, dropping off applications. Lines would wrap around some developers' offices on deadline day.

Mr. Caratowsa never had faith that the lotteries were fair. After one, he cut his own strips of paper at home, stuffed them in a shoe box and shook it. As he suspected, papers stuck together. In a world where housing was assigned randomly, he was offended that nothing was truly random.

Last year, San Francisco moved the whole process online. Renters can now more easily apply, which means that more do, and the odds have grown longer. But the system is more humane. The parts of the process where it has been most awkwardly apparent that people in need are competing are now less visible. The city still holds public lotteries, but they are primarily pep talks.

"Please don't give up, please keep trying, and please know that sometimes people have to apply several times before they get offered a unit," Maria Benjamin, who runs several of the city's affordable housing programs and the lotteries, announced before the Natalie Gubb Commons lottery on a Tuesday morning in November.

About 50 people, a tiny share of the total applicants, turned up in the basement auditorium of San Francisco's central library. On a 95-unit building, Ms. Benjamin told them, any number in the top 200 had a chance, as many applicants fail to qualify.

At the front of the auditorium, a laptop sat in place of the bingo drum. Kenneth Biby, the property manager at Natalie Gubb Commons, clicked a button, sending the lottery numbers to a randomizing website. Ten minutes later, city staff printed results for each person who'd signed in at the door. The staff called them by first name, their results kept private. Of everyone present, there were two decent draws: 19 and 150.

Drawing a bad number, againFor Ms. Torres, who divided a kitchen with strangers, the latest rejection was one of many. She did not have her heart set on this property; she applied because she applied to everything. She drew a bad number, as she always did: this time, 824.

After more than two years of searching, she was growing tired. In December, another couple moved into her apartment. There were now seven people in a four-bedroom with one bath. Ms. Torres and her husband and 7-year-old daughter shared one room. They had to dash for the shower when the others were cooking.

They did not understand why a family like theirs couldn't find a home of its own. Ms. Torres, 43, worked part time as a school monitor and a teacher's aide. Her husband worked two jobs, as a security guard and a building concierge. But the overcrowded driveways on their block hinted at many households like theirs, all living in too few apartments.

After the lottery, on a visit to relatives in Portland, Ore., Ms. Torres considered possible schools for her daughter. Perhaps it was time to leave San Francisco, a city she loved. Moving would probably mean dividing the family; her husband planned to stay behind temporarily for his work.

"What am I waiting for?" Ms. Torres said. "How can I keep waiting? Why? So that it will get more and more expensive, and possibly I still won't find anything?"

In the homeless shelter, Ms. Calderon's family had already been given an extension, and they had to be out by early January. Natalie Gubb Commons would not work out, though. The family drew No. 905.

Ms. Calderon avoided the shelter as much as she could. She spent afternoons in the park with her children, returning to the building only at night. Ms. Torres studied for child development classes she was taking at a cafe that felt more comfortable than her own apartment. They had to find privacy in public spaces, a sense of home separate from where they slept.

Mr. Caratowsa kept returning downtown, envisioning himself amid the skyscrapers. He drew the best number: 71. He was elated, but cautious. Of Natalie Gubb's 95 apartments, 46 were one-bedrooms. He needed people ahead of him to request larger units, or bow out.

Moving in, moving onAn empty building like Natalie Gubb Commons is a math problem. Some units were designated for tenants below 40 percent of the median income, others below 50 percent. Each household must also earn at least twice the monthly rent, meaning that many who are poor enough to qualify for the building are too poor to cover the rent.

By February, as construction workers were hanging interior doors, Mercy was juggling 100 applicant files. Everything had to happen in lottery order: the initial interviews, the application approvals, the pick of units.

Mr. Caratowsa waited six weeks for his interview, and another month to learn his application had been approved. Then things happened too quickly. In March, Mercy was ready for him to sign a lease and move in. He had to give notice in the Tenderloin, and couldn't afford April rent in two places in addition to a deposit. Anxious, he put in his 30 days' notice and asked Mercy for an installment plan to cover the April rent. He waited.

Ms. Torres, by the spring, had given up applying for new places in San Francisco. On another trip to Portland, she toured four apartments that she liked, one- and two-bedrooms where she imagined how nice it would be to feel alone in her own home. She thought she and her daughter might move once the school year ended.

Ms. Calderon's family left the homeless shelter in January and moved in with a co-worker of her husband's, another home with too many families. Then in March she heard of a building where no one would mind the size of their family. An available $1,200 studio had a modern kitchen where she could cook for her children, and a patio where they could roller skate.

The family moved in this spring. The building, one block from the homeless shelter where they had been, is in the Tenderloin. But Ms. Calderon, with her children much happier now, thinks they might stay in this home forever.

In early April, Mercy offered Mr. Caratowsa the rest of the month for free. He had gotten his first pick: a seventh-floor apartment facing Fremont Street.

On his inspection, the day he received his keys, Mr. Caratowsa walked up to the living room window. He could see into the offices across the street. A highway off-ramp spilled traffic onto the street below, and another high-rise was under construction. But his apartment was surprisingly quiet.

"To be able to look down on this chaos and not hear anything '-- and then to open the window'..." Mr. Caratowsa said, filling the room with the noise of cars honking and cement trucks spinning across the street. "I love the sound. This is so downtown."

Mr. Caratowsa inspected the stove and the shower head, and noted exactly where he would put his chairs and his bed. By moving from one affordable building to another, he was leaving a coveted apartment back in the Tenderloin. That building last opened its wait list in 2011. This spring, 351 names were still on it.
Florida School Shooting

School district shuts down information after Stoneman Douglas shooting - Sun Sentinel

Sat, 12 May 2018 12:16

The Broward school district's repeated, emphatic '-- and it turns out, false '-- statements that Nikolas Cruz had not been in a controversial disciplinary program fit a pattern of an institution on the defense and under siege.

Facing significant legal and political exposure over the shooting at Marjory Stoneman Douglas High School, the district has tried to keep information from the public and put out untrue and misleading statements, frustrating parents who say this is the time for maximum transparency.

The district is fighting in court against the release of school surveillance video. It flatly refused to issue any records regarding the shooting to the news media, in a possible violation of the state's open-records law. Superintendent Robert Runcie has blocked critics, including parents, from his Twitter account. More than two months after the shooting, a Broward Sheriff's detective told a state commission on school safety that he was still waiting for the district to provide all of Cruz's disciplinary records.

The worst came last week, when Runcie acknowledged that his forceful denials that Cruz had been involved in the Promise program, which is intended to provide an alternative to the arrest of students for minor offenses, were wrong.

''It would appear that the district is more interested in protecting their programs than they are the students and teachers in our schools,'' said Ryan Petty, whose 14-year-old daughter, Alaina, was killed by Cruz during his rampage through the school. ''As a father, I would ask the district to please be completely transparent so we can make sure this doesn't happen to any other children in any other schools in Florida.''

School district spokeswoman Tracy Clark said the district has provided accurate information to investigators, the press and the public as fast as possible and ''any suggestion that the district is not being forthcoming is either based on a misunderstanding or misinformation.''

''The district continues to focus on responding in a timely and accurate manner to the unprecedented number of public records requests, media requests and subpoenas related to the tragedy at Marjory Stoneman Douglas High School,'' she said in an email. ''In addition, we have coordinated numerous interviews with employees as part of the various ongoing investigations. Both the State Attorney's Office, through the Broward Sheriff's Office, and the Public Defender's Office have been given complete copies of the records related to Nikolas Cruz that have been gathered to date.''

Andrew Pollack, whose daughter Meadow was killed in the shooting, said he was surprised to learn that the district still has not provided all of Cruz's records to investigators. At a meeting of the state commission set up after the shooting to improve school safety, Pollack asked a Broward Sheriff's detective whether all of the records had been provided.

''I believe that some of the items we are seeking to get from the school board, we have received some,'' Detective Zachary Scott said. ''But I do not believe we've received everything yet.''

''It caught us all off guard,'' Pollack said in an interview this week. ''We didn't believe it. It's past two months now already. A lot of the people on the committee couldn't believe it.''

From the school district, Pollack said, ''There's no honesty at all.''

Sheriff's spokeswoman Veda Coleman-Wright declined to say whether the school district has supplied the records and whether it is cooperating with the investigation, saying only, ''Our detectives continue to work with several agencies as they progress with the investigation.''

School district spokeswoman Clark said the district provided investigators with all of the records it could find so far.

Amy Beth Bennett/Sun-Sentinel.

Andrew Pollack, whose daughter Meadow was killed in the shooting, at a meeting of the Marjory Stoneman Douglas High School Public Safety Commission

Andrew Pollack, whose daughter Meadow was killed in the shooting, at a meeting of the Marjory Stoneman Douglas High School Public Safety Commission (Amy Beth Bennett/Sun-Sentinel.)

Although the Broward Sheriff's Office has not produced every record requested by the news media, the agency has released dozens of documents, including reports of incidents at Cruz's home and documents on its own flawed response.

But the school district has issued a blanket refusal to release any documents, including emails about the shooting among the district's leadership and formal notices of intent to sue by victims and their families, despite Florida's broad public records law.

''At this time, any records pertaining to Stoneman Douglas High will not be released pursuant to 768.28(16)(b) and 119.071(2)(c),'' states a letter sent repeatedly to the South Florida Sun Sentinel, emphasizing the word ''any.''

The exemptions to the state open records law cited by the district concern claims or lawsuits involving the district and active criminal investigations.

Barbara Petersen, a lawyer who is president of the First Amendment Foundation, which advocates the robust application of Florida's open-records laws, said the district was misapplying both exemptions. The claims exemption must be construed narrowly to exclude only documents directly relevant to the claims. And the criminal investigation exemption applies only to law enforcement agencies and the documents they produce in the course of an investigation.

John McCall/Sun-Sentinel

A law enforcement officer at Marjory Stoneman Douglas High in the aftermath of the shooting

A law enforcement officer at Marjory Stoneman Douglas High in the aftermath of the shooting (John McCall/Sun-Sentinel)

''It does not apply to a school board,'' she said. ''What a lot of agencies will do is '-- say you'll make the request for his disciplinary records '-- and the school board will say, we gave that to FDLE, it's exempt under the active criminal investigation exemption. No, it's not. The active criminal investigation exemption first applies only to law enforcement and second applies only to records created in the scope of that investigation. It does not apply to any record that (otherwise) would be subject to disclosure.''

More broadly, she said the Stoneman Douglas tragedy is a perfect example of a time when government agencies need to be as open as possible.

''It's triggered a fundamental debate, not just about gun safety and gun control, but the schools and how the schools are dealing with these troubled children,'' she said. ''And this school board has been difficult to deal with, to say the least, they've distorted the facts, if not outright lied, and their credibility is at stake.''

The school district, joined by the Broward Sheriff's Office, tried to stop the release to the media of surveillance video from the school. The district's lawyers argued in court that the videos would threaten school security by revealing blind spots in the surveillance system.

The district partially dropped its opposition after all sides agreed to an initial release of videos that showed the inaction of a Broward sheriff's deputy who resigned after the incident. And the district lost in court when Broward Circuit Judge Jeffrey R. Levenson ordered the release of more videos, saying any ''potential harm'' to the school's security system was ''outweighed by the strong public interest in disclosure.'' The school district, along with the state attorney's office, is appealing.

Runcie's Twitter account contains fewer critics of the district, now that he's blocked several of them.

''He blocked me,'' tweeted Diana Alvarez, whose son is a 10-grader in the Broward system and who had served as an elementary school PTA president. ''NOT good to block a parent in your district.''

Among others shut out of Runcie's account was Tim Sternberg, a former district administrator who had run the Promise program before resigning a year ago. Now a critic of how the district runs the program, he was blocked last month.

''What is your superintendent afraid of?'' he tweeted to school board members, forwarding the statement ''@RobertwRuncie blocked you.'' ''Is he nervous about the truth?''

Runcie said he won't tolerate ''profanity, hate speech or false information'' on his Twitter account.

''Negative commentary from constituents is part of a public official's job,'' he said in a statement emailed to the South Florida Sun Sentinel. ''However, the heightened political climate our community is currently experiencing has inspired some individuals to cross a threshold in terms of vitriol.''

Questions about the Promise program had been a source of frustration for district officials, as well as students and parents. Many felt that the program had been unfairly seized upon as a distraction by conservative opponents of gun control, who preferred to focus on blundering by the district and the sheriff's office.

At a Feb. 28 news conference, Runcie insisted Cruz had no connection to the program. ''This particular individual was never a participant in the Promise program. He wasn't eligible for it,'' Runcie said. ''There's no connection between Cruz and the district's Promise program.'' In a March 24 column in the Sun Sentinel, Runcie called the reports of a Promise connection to Cruz ''fake news,'' lumping them with the false charges that Stoneman Douglas survivors were ''crisis actors.''

Later the standard answer developed a nuance, with Runcie claiming Cruz had not been in the program ''while in high school.''

''Once he said that comment, I knew the guy was lying and being deceitful,'' Pollack said. ''Once he shaded it that way, I knew it.''

County Commissioner Michael Udine, a former mayor of Parkland, said the hedged responses from the district are a disservice to the community.

''People want the whole truth, they want the whole truth quickly and they want the complete truth out in the open,'' he said. ''Everything's coming out at some point. The half-answers that have come out '-- whether he was in the Promise program at one time or not completely in the program '-- is not the right way to handle it. Full and complete transparency is what's called for here.''

Staff writer Scott Travis contributed to this report.

dfleshler@sun-sentinel.com, 954-356-4535
Millions of Obamas

Jeff Zients Joins Facebook Board of Directors | Facebook Newsroom

Sun, 13 May 2018 12:52

May 8, 2018

Facebook today announced that Jeff Zients, the CEO of Cranemere, has been appointed to the company's board of directors and audit committee, effective May 31, 2018, immediately following Facebook's annual meeting of stockholders. Following Zients's appointment the board will consist of seven independent, non-employee directors out of nine total directors.

''I am proud to join the Facebook Board and I look forward to working with Mark and the other directors as the company builds for the future. This is an exciting time for the company, and I am delighted to be part of the Board as the company works to face the opportunities and challenges of trying to bring the world closer together,'' said Zients.

Zients currently serves as the CEO of the Cranemere Group Limited, a diversified holding company. From March 2014 to January 2017, Zients served as Director of the National Economic Council for President Obama and served as Acting Director of the Office of Management and Budget from January 2012 to April 2013. He also founded and managed Portfolio Logic LLC, an investment firm, from 2003 to 2009. From 1992 to 2004, Zients served in various roles at the Advisory Board Company, a research and consulting firm, including as Chairman from 2001 to 2004 and Chief Executive Officer from 1998 to 2000. He also served as Chairman of the Corporate Executive Board, a business research firm, from 2000 to 2001. Zients holds a B.A. in political science from Duke University.

Zients serves on the board of Cranemere Group Limited and Timbuk2 Design. He is also a director of the Biden Cancer Initiative.

Facebook also announced today the following changes to the membership of its board committees: in addition to Zients, Kenneth I. Chenault will join the Audit Committee. Susan D. Desmond-Hellmann will move from the Audit Committee to the Compensation & Governance Committee, and Marc L. Andreessen will remain on the Audit Committee but step off the Compensation & Governance Committee.

Aside from Zients, Facebook's current board members are: Mark Zuckerberg; Marc L. Andreessen, Andreessen Horowitz; Erskine B. Bowles, President Emeritus, University of North Carolina; Kenneth I. Chenault, Chairman and Managing Director, General Catalyst; Susan D. Desmond-Hellmann, CEO, Bill and Melinda Gates Foundation; Reed Hastings, Chairman and CEO, Netflix; Jan Koum, Founder, WhatsApp; Sheryl K. Sandberg, Chief Operating Officer, Facebook; and Peter A. Thiel, Founders Fund.
DPRK

US offers to help rebuild N Korea economy if it denuclearises - BBC News

Sun, 13 May 2018 11:37

Image copyright EPA Image caption Mike Pompeo said there could be "a future brimming with peace and prosperity" for the North America will help rebuild North Korea's economy if it agrees to give up its nuclear weapons, US Secretary of State Mike Pompeo has said.

The US would be "prepared to work with North Korea to achieve prosperity on the par with our South Korean friends", he told reporters on Friday.

Mr Pompeo, who has just returned from Pyongyang, said he had "good" talks with North Korean leader Kim Jong-un.

Mr Kim and President Donald Trump will meet in Singapore on 12 June.

The two leaders, who had previously exchanged insults and threats, made the announcement after landmark talks between North and South Korea in April.

What did Mr Pompeo say?"If chairman Kim chooses the right path, there is a future brimming with peace and prosperity for the North Korean people," he said after Friday's talks in Washington with South Korean Foreign Minister Kang Kyung-wha.

Mr Pompeo urged Pyongyang to take "bold action to quickly denuclearise".

Media playback is unsupported on your device

Media caption How to talk to North Korea - advice from three North Korean expertsBut he stressed that this would require a "robust verification" programme by the US and other nations.

During his surprise visit to North Korea this week, Pyongyang released three US detainees.

How do North and South Korean economies compare?Daily life in the two countries couldn't be more different.

Media playback is unsupported on your device

Media caption Four defectors talk about what life is like in North KoreaAfter the end of the Korean war in 1953 the South, an ally of the US, embraced a capitalist philosophy. It has developed into one of Asia's most affluent nations.

A government-sponsored industrial push in the 1960s led to huge corporations like Samsung and Hyundai being created.

Key figures:Population:51.2m in South Korea; 25.4m in North KoreaGDP: $1.4tn - South Korea; less than$20bn - North KoreaLife expectancy: 82 years - South Korea; 70 years - North Korea South Korea is one of the world's top 20 economies, with GDP of $1.4tn (£1tn).

By contrast, North Korea's GDP is less than $20bn, placing it well outside the top 100 economies.

It has a communist system, but capitalism is creeping into the country.

There are things to buy - but only for some people, those who have money. The majority of people in North Korea live in poverty.

Kim Jong-un has made clear that development is a priority.

Media playback is unsupported on your device

Media caption Kim Jong-un and Donald Trump: From enemies to frenemies?
War on Knives

At least one dead after Paris knifeman stabs people in street in 'random attack' before police open fire

Sat, 12 May 2018 19:57

A KNIFEMAN went on the rampage in central Paris tonight, stabbing four people in a random attack.

Journalist Charles Pellegrin said: "I came out of a comedy show near Opera in central Paris and was immediately told to go back in because there was a madman with a knife.

"Once back inside we heard sirens and two gun shots.

"I then spoke to eyewitnesses who told me a man stabbed multiple people at random."

Eyewitness Fiona Zanetti tweeted: "I was in a restaurant rue saint Augustin in the 2eme arrondissement , crowd panic, blood, a guy with a knife in the streets and people screaming, avoid the area if you can."

More to follow...

For the latest news on this story keep checking back at Sun Online.

Thesun.co.uk is your go to destination for the best celebrity news, football news, real-life stories, jaw-dropping pictures and must-see video.

Download our fantastic, new and improved free App for the best ever Sun Online experience. For iPhone click here, for Android click here.

Like us on Facebook at www.facebook.com/thesun and follow us from our main Twitter account at @TheSun.
Lear Foundation

About Us | Hollywood Health & Society

Sat, 12 May 2018 14:56

Hollywood, Health & Society (HH&S) is a program of the USC Annenberg Norman Lear Center that provides entertainment industry professionals with accurate and timely information for storylines on health, safety and national security. With generous support from funders, past and present, that include the Centers for Disease Control and Prevention (CDC), the Bill & Melinda Gates Foundation, The SCAN Foundation, N Square, the California Health Care Foundation, Open Society Foundations, the Southern California Clinical and Translational Science Institute, The California Endowment, the Barr Foundation, the National Cancer Institute (NCI), the Grantham Foundation, ClimateWorks, Skoll Global Threats Fund and the Substance Abuse and Mental Health Services Administration, HH&S recognizes the profound impact that entertainment media have on individual knowledge and behavior.

In partnership with our funding agencies, we offer several resources, including quick facts, briefings and consultations with experts, case examples, panel discussions about timely health issues, a quarterly newsletter with health updates called Real to Reel, and an expanding list of tip sheets written specifically for writers and producers. Tip sheets are available here, on the CDC website, and on the NCI website as well. The broad range of topics includes influenza, toxic mold, smallpox, cancer, autism, motor vehicle crashes, obesity, adolescent health issues, antibiotic resistance, clinical trials and much more.

More about the HH&S program here.

Shows We've Worked With | Hollywood Health & Society

Sat, 12 May 2018 14:56

ABC: All My Children, Black Box, Body of Proof, Boston Legal, Brothers and Sisters, Castle, Desperate Housewives, Extreme Makeover Weightloss, General Hospital, George Lopez, Grey's Anatomy, How to Get Away With Murder, Invasion, Lucky 7, Mistresses, Nashville, Ocean Mysteries, October Road, One Life to Live, The Practice, Pretty Little Liars, Private Practice, Revenge, Rookie Blue, Six Degrees, The Unusuals, The Whispers

CBS: The Agency, As the World Turns, Babylon Fields, Battle Creek, The Bold & the Beautiful, Cane, Close to Home, Clubhouse, CSI, CSI: Miami, CSI: New York, The Defenders, The District, Dr. Vegas, Elementary, Family Law, Flashpoint, Ghost Whisperer, The Good Wife, Guiding Light, Hawaii Five-O, Hostages, Jericho, Judging Amy, Madame Secretary, NCIS, NCIS: Los Angeles, Numb3rs, Stalker, Without a Trace, The Young and the Restless, 60 Minutes, The Surgeon General

NBC: Chicago Fire, Crossing Jordan, Days of Our Lives, Do No Harm, ER, The Firm, Harry's Law, Heroes, Ironside, Las Vegas, Law & Order, Law & Order: CI, Law and Order: Criminal Intent, Law & Order: SVU, The Night Shift, Medium, Passions, The Office, Parenthood, Scrubs, State of Affairs

FOX: 24, Beyond, Bones, Boston Public, Empire, Fringe, Glee, House, Human Target, John Doe, Justice, Lie to Me, Malcolm in the Middle, Mob Doctor, Prison Break, Red Band Society, Terminator: The Sarah Connor Chronicles, Touch

Freeform (formerly ABC Family): Chasing Life, The Fosters, The Fosters Webisodes, Freak Out, Make It Or Break It, Melissa and Joey, Pretty Little Liars, Recovery Road, The Secret Life of the American Teenager, Stitchers, Switched at Birth, Young and Hungry

Disney: ANT Farm, Disney Unplugged, Jessie, Make Your Mark, Shake It Up, Super Awesome Kacie

Disney Junior: Doc McStuffins, Miles From Tomorrowland

AMC: Breaking Bad, Mad Men

Lifetime: Army Wives, Devious Maids, Strong Medicine

USA Network: Royal Pains

HBO: In Treatment, The Wire, Boardwalk Empire

Showtime: The Big C, Dexter, Homeland, Meadowlands, Years of Living Dangerously

A&E: Bates Motel, The Glades, Intervention, Kinetic Content

The CW: The Beautiful Life, Beauty and the Beast, Cult, Emily Owens MD, Everwood, The Game, Gilmore Girls, Girlfriends, The Messengers, 90210, The 100, Starcrossed

MTV: Faking It, Juvies, Teen Wolf

Netflix: Orange Is the New Black

Hulu: East Los High

PBS Kids: Curious George

TNT: Falling Skies, Monday Mornings, Perception, Rizzoli and Isles, Saving Grace

Telemundo: Almas Perdidas, Amarte Asi, Anita no te Raje, El Alma Herida, En Otra Piel, Gitanas, Pasion de Gavilanes, Prisonera, Relaciones Peligrosas, Sin Senos no Hay Para­so, Victoria

Univision: Cita con tu Salud, Despierta America, Univision Health Week

Spike TV: 1000 Ways to Die

Sundance: Rectify

Starz: Flesh and Bone

CNN: CNN en Espanol

OWN: Dr. Phil

DirecTV: Navy Street

America TeVe: Arrebatados

Our Services | Hollywood Health & Society

Sat, 12 May 2018 14:54

A quick question?We can provide quick answers. We know you work on tight deadlines. Our staff is ready to help. We'll find facts, case examples, experts and real people who can share their stories.

Experts who'll answer questions and offer perspective.Our list of experts who'll answer questions and offer perspective is far-reaching'--it covers academic, government and health care organizations around the world.

Our experts can brief your writers on the hottest health issues.We can bring information on a wide range of health and climate change topics to your creative teams'-- right inside the writers rooms.

Finding inspiration on the streets of L.A.We offer on-the-ground experience to writers, connecting them with local storytellers to learn about health challenges and innovative solutions, from NASA's JPL to Santa Cruz Island to urban mini-farms in East Los Angeles. Tell us where you'd like to go. For more information about upcoming trips or to inquire about customizing a research trip for your group, please contact us at hhs@usc.edu. More information here.

Health issues that fit your characters and storylines.We can share patient stories, public health investigations and focus group findings from our files.

Entertaining programs on health challenges and storytelling.Our discussions feature public health experts, first responders, patients, families'--as well as writers and producers'--exploring topics such as disabilities, addiction, bioterrorism and HIV/AIDS.

Rewriting the Nuclear Story.With the generous support of the N Square Collaborative, we offer resources to TV writers, producers and other entertainment industry professionals on questions concerning nuclear proliferation and solutions. Learn more.

Where filmmakers and experts mix it up.Our screenings present provocative and inspiring films, with Q&As featuring the filmmakers and experts on hand to discuss their work and the latest research.
#MeToo

A Star Performer Created a 'Toxic Culture' at the Silicon Valley Community Foundation, Say Insiders - The Chronicle of Philanthropy

Sat, 12 May 2018 13:30

Jason Henry/The New York Times/Redux

Emmett Carson, the Silicon Valley Community Foundation CEO, says an independent investigation is underway into charges its top fundraiser was an abusive manager. ''We are committed to a strong and healthy workplace for our staff and will not tolerate any inappropriate behavior,'' he says.

Update April 19 at 6:20 p.m. Eastern time: See an update to this article on our site.

Not long ago, the actress, author, feminist, and activist Rose McGowan '-- who said last year she had been raped by Hollywood movie executive Harvey Weinstein '-- visited the Silicon Valley Community Foundation to consider opening a donor-advised account. A disgruntled staff member told her to look at the foundation's reviews on Glassdoor, a website where workers anonymously rate companies and their management.

The reviews there are abysmal, citing high turnover, a "toxic culture," "lots of scapegoating and blaming of staff," and claims of sexual harassment.

"The reviews caused me to not do business with them," McGowan says.

Agostino Fabio/GC Images/Getty Images

Rose McGowan, who accused Harvey Weinstein of sexual assault, decided not to open a donor-advised fund at the Silicon Valley Community Foundation after an employee suggested she look at the organization's negative reviews on the Glassdoor site.

It was a rare setback for the fast-growing Silicon Valley Community Foundation. With $13.5 billion in assets under management, the foundation has eclipsed all other community foundations, as well as such iconic grant makers as Ford and Rockefeller.

That growth has come at a human price, former employees of the foundation say. They accuse Mari Ellen Loijens, the foundation's top fundraiser, of engaging in emotionally abusive and sexually inappropriate behavior, and they use words like "toxic" and "terrible" to describe the workplace over which she presides.

This week, the community foundation said it has hired Thompson Hine, a national law firm based in Cleveland, to "do a full investigation of these claims and the alleged behavior of Mari Ellen Loijens."

The investigation began after the Chronicle presented Emmett Carson, the foundation's high-profile, charismatic CEO, with allegations against Loijens that included claims that she demeaned and bullied her staff, made lewd comments in the workplace, and on at least one occasion sought to kiss a woman working for her. Sarah Hall, a Washington, D.C., based senior counsel at Thompson Hine and a former federal prosecutor, has begun scheduling interviews with former employees referred by the foundation's human-resources department.

Loijens did not respond to emails or social-media messages. Sue McAllister, a foundation spokeswoman, said: "Mari Ellen is not available to provide comment." Carson declined to be interviewed to discuss the scope of the investigation or to say whether Loijens will continue to work while the investigation unfolds.

On Twitter, Carson said: "We are committed to a strong and healthy workplace for our staff and will not tolerate any inappropriate behavior. @siliconvalleycf believes in accountability and transparency and will share the learnings and actions from the independent investigation."

'Oppressive' Management StyleWell-educated and polished, Loijens, who is 48, has built close ties to wealth advisers in Silicon Valley since 2004, when she joined a predecessor foundation called the Community Foundation Silicon Valley. (It merged with the Peninsula Community Foundation in 2007.) Loijens has deep experience working with pre-IPO stock, real-estate, cryptocurrency, and other complex assets. She is, by most accounts, an accomplished fundraiser.

Her management skills, by contrast, are lacking. The Chronicle has during the last few months interviewed 19 former employees of the community foundation who describe their experience working for Loijens in strikingly similar terms. Most declined to be identified, saying they did not want to attract unwanted attention from current or future employers. But nearly all said that working for Loijens was unlike any work experience they'd had.

"Without a doubt, it was the worst. Not even close," says Daniel Hoebeke, a veteran fundraiser who left the community foundation after just five months back in 2008. Loijens, he says, demeaned people in public. "Her management style was just oppressive."

Jennifer Wood, a former director of individual giving at the foundation, says: "It was not uncommon to hear Mari Ellen suddenly screaming at the top of her lungs, berating one of my colleagues about how stupid they were."

"Mari Ellen created an environment where no one felt supported," says Elizabeth Dressel, an estate-planning lawyer who spent about a year working for Loijens.

And Catherine Kelliher, who's now a senior donor-relations officer at the San Francisco Foundation, declined an interview but said in an email that "it is a very toxic work environment there."

High TurnoverFormer employees say senior executives of the foundation, including Carson, allowed Loijens's unprofessional behavior to go on for too long.

"It was well-known among all of SVCF leadership that Emmett did not entertain anyone complaining about Mari Ellen," says Rebecca Dupras, a former vice president for development. "Anytime I tried to bring it up with Emmett, he immediately changed the subject. As a CEO, he either knew or should have known. He should have asked questions, particularly as he saw the turnover in her division and saw the exit interviews from staff."

Another former executive describes it as implausible that Carson did not know Loijens's behavior was egregious and driving employees away. Loijens was given an executive coach recently, a sign that her issues were widely known.

"I would be shocked if he didn't know," says the former executive. "He always prided himself on understanding where the organization was. He micromanaged, to a certain degree, in certain areas."

The former foundation executive pointed to turnover among vice presidents who report to Loijens as one example of the churn she has generated. The foundation is on its fourth vice president for development and its third vice president for corporate responsibility in five years. The former vice president for marketing left in January, and the position remains unfilled. Loijens's behavior has spurred turnover at other levels of the organization, too, according to former foundation employees interviewed by the

Chronicle. Last month, three members of the development team quit within days of one another and without new jobs lined up.

The community foundation says that 73 people have left since January 1, 2016, out of a total of about 140. It says high turnover is typical at nonprofits, particularly among fundraisers and in Silicon Valley. It also says that the average tenure of the employees who have left during the past two years is two years and three months, which is similar to large Silicon Valley companies, including Apple and Google.

When asked if he was aware of Loijens's behavior, Carson said by email: "We do not tolerate inappropriate conduct of any kind at SVCF, and we investigate all claims of misconduct and take action."

Expertise, Raises, and PromotionsIn recent years, Loijens has been rewarded by the foundation with a series of raises and promotions. During 2016, the most recent year for which the foundation filed an IRS Form 990, Loijens was paid a salary of $273,475, retirement benefits and deferred compensation of $138,250, and other benefits of 21,453, for a total of $433,178. Five years earlier, she was paid $209,077.

The fund's assets have also grown fast during that period '-- from $8 billion to $13.5 billion. While the wealth generated by the Bay Area's technology industry has driven the growth, so has Loijens's development team, which brings in the donor-advised funds that account for about 83 percent of the foundation's assets.

Loijens, whose title is chief business, development, and brand officer, now oversees about 40 people in the foundation's departments of corporate responsibility, strategic partnerships, marketing and communications, and development, her longtime specialty. She sits on the boards of several grant-making organizations housed at the community foundation, including one led by Cari Tuna and her husband, Facebook co-founder Dustin Moskovitz.

A graduate of Mount Holyoke College and the former president of the Junior League of San Jose, Loijens, who is married, moves easily among the Bay Area wealthy. She displays her designer clothes, shoes, handbags, and jewelry on an Instagram feed that she describes as "my fun place to play with fashion and other personal passions." (The feed was just made private.) She's active, too, in professional associations, sharing her fundraising knowledge with others.

She is, by some accounts, a good teacher. A planned-giving specialist, who requested anonymity, is the only former employee the Chronicle interviewed who enjoyed working for her, saying: "I would describe her as one of the best bosses I've ever had. She's very good at developing people professionally." Others, including her critics, acknowledge her strengths. "She can be very charming," Hoebeke says. "Her knowledge base is fabulous." Another former staff member says: "As terrible as Mari Ellen can be, she's also brilliant. I tried to learn as much as I could while I was there."

More typical is the assessment of a former senior executive at the foundation, who asked not to be named: "It's a culture where basic human respect is not a priority. '... Taking people to task in a very public way, in a very crude way, with the goal of humiliation, was the status quo. So was bringing employees to tears over a small performance issue."

Loijens was a poor listener, other staff members say. "She squashed insight. She squashed input. It was smothering," says a colleague who left the foundation not long ago. Another says: "We tried to structure team meetings so she wouldn't be there because if she was there, the meeting would be about how she was feeling that day. She dictated."

Sexual CommentsSeveral former employees say Loijens made sexual comments that made them uncomfortable. Once, while taking a new employee out after work, Loijens began "talking about vibrators," according to Elizabeth Dressel, the estate-planning lawyer. Dupras, the former vice president, says: "She made a lot of inappropriate comments about how people looked and how they dressed."

At a staff meeting in 2017, Milton Speid, who had just been hired to lead the foundation's East Coast office, mentioned that he was going to meet with a former staff member who had left that year. "You better watch out for her. She's horny, and you're just her type," Loijens said, according to people at the meeting, including Charles "Chuck" Brown, a former development officer. "To say that in front of a group of subordinates, including our new vice president, was just unacceptable," Brown says. Another former development officer says: "The lewd comments were nonstop."

A former fundraiser says Loijens "made inappropriate sexually charged comments to me" and that many years ago at a party after work "she came up to me and said, 'You're so hot. Do you want to make out?' " The incident came to the attention of human relations, which assured the employee that she would be protected '-- but required her to continue to report to Loijens. Their relationship grew so chilly and awkward that the woman left the foundation without another job; she says she spoke to Carson about the situation.

During this period, so uncomfortable were some employees with the sex talk that they came up with a word of warning '-- muskrat '-- that they told Loijens they would say out loud when they felt she had crossed a line. "She thought it was funny, but she was grossly inappropriate," says a former fundraiser. "We had a picture of a muskrat on the wall. You can't make that up."

Consumed With GrowthVirtually all of the former staff members agreed Loijens can be withering in her criticism. A former fundraiser, who has had an otherwise successful career, says she was told: "You can't do anything right." Loijens told a former vice president that she didn't push people hard enough and that a sign of her softness was the absence of complaints against her with HR. This vice president says: "She was just a bully. There is no other way to put it."

The Glassdoor ratings and reviews, while unscientific, paint a similar picture. Only 16 percent of the 42 people who posted reviews of the Silicon Valley Community Foundation say they would recommend it to a friend. Foundations and major nonprofits, with very few exceptions '-- the American Red Cross is one '-- are usually recommended by more than 50 percent of those posting reviews, and many are much higher.

All of this has affected the reputation of the foundation among Bay Area fundraisers. "Due to the toxic nature of the work culture, I have discouraged many good people from considering jobs there," says a former vice president, by email. "The high turnover level in certain departments says it all. They have a talent problem."

Former staff members say Loijens's fundraising prowess allowed her to get away with treating people badly. Her value to the organization, they say, includes the deep knowledge she has developed over the years about how to value complex assets such as artwork, real estate, and especially stock in privately held companies that can bring significant tax benefits to donors when they give it away. Donors who give appreciated assets to a nonprofit need not pay capital-gains taxes, and they can take the appreciated value of the asset as a tax deduction.

Insiders say, for example, that Loijens helped engineer a gift of shares in GoPro, the portable-camera company, from co-founders Nicholas and Jill Woodman, who eventually donated $500 million to their donor-advised account in 2014, when GoPro sold shares to the public. Loijens also sits on the board of the community foundation's real-estate trust, which manages gifts and subsequent sales of real estate.

"Accepting complex and unusual assets is part of the DNA of SVCF," Loijens is quoted as saying in a foundation news release. "Donors choose SVCF as a trusted partner with the experience to sit at the table with their IPO lawyers, bankers, the company's lawyers and CFO, and so on, without disrupting the business transaction."

Several former staff members say Carson and Loijens were consumed by their desire to grow the foundation, recruiting donors from San Francisco, which has its own community foundation, and from the East Coast, where it opened a development office in 2017.

A former staff member says: "Emmett values asset growth at the foundation above all other measures, and she is the head of development. There has been a lot of growth in assets there '-- she gets credit."

Of course, the foundation's growth has enabled it to increase its impact on Silicon Valley and elsewhere. The foundation awarded $1.3 billion to nonprofits in 2017, and it has granted $5.6 billion in its 11-year life to nonprofits that "share our vision of addressing the most difficult challenges facing our communities," Carson says.

Megan O'Neil contributed to this article.

Update: Mari Ellen Loijens has resigned.

Inside a powerful Silicon Valley charity, a toxic culture festered

Sun, 13 May 2018 05:03

As Silicon Valley technology executives have amassed enormous fortunes in recent years, one relatively obscure group '-- the Silicon Valley Community Foundation '-- has emerged as the local charity of choice.

Facebook's chief executive, Mark Zuckerberg, has donated stock worth more than $1.8 billion to the foundation. Reed Hastings, the founder and chief executive of Netflix, has given $100 million. And many other tech titans, including the Twitter co-founder Jack Dorsey and Microsoft's co-founder Paul Allen, have donated millions.

In February, the 11-year-old Silicon Valley Community Foundation said it managed assets worth some $13.5 billion, making it larger than venerable philanthropies in the United States like the Ford Foundation and the Rockefeller Foundation. Only the Bill and Melinda Gates Foundation is larger.

But inside the Silicon Valley Community Foundation, which counts "inclusiveness," "integrity" and "respect" among its core values, a toxic culture festered for years, recently setting off a crisis that has now claimed three top executives.

Read more from The New York Times:AT&T chief says hiring Michael Cohen was a 'big mistake'Man is charged with hacking west point and government websitesSpotify pulls R. Kelly and XXXTentacion from playlists, stirring a debate

According to interviews with a half dozen former and current employees, some of whom only agreed to do so on the condition of anonymity, Mari Ellen Loijens, the foundation's top fund-raiser, routinely bullied and demeaned colleagues, made sexually and racially insensitive remarks and at times even threatened physical violence.

The employees say that Emmett Carson, the foundation's chief executive, ignored multiple complaints about abusive behavior by Ms. Loijens because she was responsible for much of the organization's growth.

"She brought in the money, made the place bigger, and he could go out and be a superstar," said Rebecca Dupras, an executive who said she left the foundation last year because she no longer wanted to work with Ms. Loijens. "He could have stopped this and reined her in, and he didn't."

The Silicon Valley Community Foundation's problems burst into view last month, when the Chronicle of Philanthropy published a detailed article outlining the allegations against Ms. Loijens. A day after the story was published, Ms. Loijens resigned.

Since then, Mr. Carson was placed on paid administrative leave, the head of human resources resigned and the law firm Boies Schiller Flexner was brought in to conduct an investigation. Mr. Carson is now negotiating his exit and will not return to the foundation, according to people familiar with the matter who were not authorized to speak publicly.

Citing the ongoing investigation, Sue McAllister, a foundation spokeswoman, declined to answer specific questions about the allegations against Ms. Loijens and Mr. Carson

"The investigation will be thorough, and will include a focus on workplace culture, including among other things, how teams are managed and what type of working environment is being fostered," she said. "We are not able to comment on confidential internal H.R. matters."

Mr. Carson initially suggested on Twitter he was unaware of the problems at his foundation, and has not spoken publicly since being placed on leave. He and Ms. Loijens did not respond to requests for comment.

The foundation's upheaval has sent shock waves through the philanthropic world. Mr. Carson was a respected nonprofit executive with a rising national profile, and his ambition to make the Silicon Valley Community Foundation a national powerhouse was well-known.

The foundation was formed in 2007 through the merger of two local charities that decided to pool their resources. Mr. Carson, who had worked at the Ford Foundation and was chief executive of the Minneapolis Foundation, was brought in to raise the group's profile.

Community foundations have historically been local affairs, vehicles for wealthy individuals to give back to their communities by investing in regional nonprofit groups.

But Mr. Carson had a grander mission. With huge fortunes being created by technology companies, there was a chance to make the Silicon Valley Community Foundation one of the nation's biggest philanthropies, an institution that could rival the foundations created with Gilded Age wealth a century ago.

Mr. Carson pushed his team to raise as much money as possible, and the foundation increasingly gave grants not just to local groups, but to national and international causes, ranging from Dartmouth College in New Hampshire to the Research Institute of Industrial Economics in Sweden.

"There was this bigger is better mentality," said Dory Gannes, who worked at the foundation for two years, leaving in 2016 after what she said was a dispute with Ms. Loijens. "Our world was driven by scale '-- how many clients we had, how many grants we processed, how many countries we made grants to."

Ms. Loijens, who came from the Junior League of San Jose, distinguished herself as an accomplished fund-raiser and made herself indispensable to Mr. Carson. Yet to her colleagues, Ms. Loijens was known as a bully who regularly made offensive remarks.

During one meeting, Ms. Dupras said she mentioned to the group that she wasn't feeling well, eliciting a sexually charged retort from Ms. Loijens.

"She said I was pretty good looking and might be pregnant," Ms. Dupras said. "She said, 'You might want to get that checked out.'"

Elizabeth Dressel, who left the foundation in 2012, said that one evening, a young black woman on her team was working late. Ms. Loijens approached the young woman and said, "O.K. slave, come into my office."

At another meeting, Ms. Dupras said Ms. Loijens threatened her staff. Employees were supposed to take meetings with donors or their advisers in pairs, but Ms. Loijens learned that someone had met with a donor without a partner.

"Then she said, 'If I ever catch you having a meeting by yourself, I'll kill you,'" Ms. Dupras said.

Ms. Loijens' erratic behavior, some of which was also documented in an article in Forbes earlier this month, was apparently well-known inside the Silicon Valley Community Foundation for years.

"I personally went to H.R. on more than five occasions, and I was only there for one year," Ms. Dressel said. "But the culture was supported by Emmett because the sole focus was to increase the size of the funds."

Ms. Dupras said she attempted to discuss the toxic workplace culture with Mr. Carson twice, but was brushed off. "He was definitely not open to a conversation about her at all," she said.

Turnover at the foundation, especially on the development staff that reported to Ms. Loijens, was unusually high, according to several former employees. And on the career site Glassdoor.com, the foundation's ratings were notably low, getting 1.9 out of possible 5 stars and with only 14 percent of respondents saying they would recommend working there to a friend.

Despite the internal turmoil, money kept flowing into the Silicon Valley Community Foundation.

Since 2011, Mr. Zuckerberg has donated some 45 million shares of Facebook stock to the organization, worth roughly $1.8 billion at the time they were given. In 2014, GoPro's founder, Nicholas Woodman, donated stock worth $500 million to the foundation. That same year, WhatsApp's co-founder, Jan Koum, donated stock worth $566 million.

As the foundation grew in stature, so too did Mr. Carson's renown. He received honorary degrees, wrote articles about social justice and became a regular on the speaker circuit. Last year, he was honored by the New York Women's Foundation for "exemplary leadership in philanthropy and his commitment to bettering the lives of those in need."

It was a distinction that grated on former employees. "This guy is enabling bullying in the workplace, then he's walking around promoting philanthropy," Ms. Dupras said.

After the allegations first surfaced last month, Mr. Carson took to Twitter.

"I am responsible for workplace culture," he wrote. "I am deeply troubled and regret that former staff felt they could not report inappropriate behavior and urge any other staff to come forward. Listening and fixing this is Priority#1."

But a former employee, Maria Moreno, quickly called out Mr. Carson.

"Please stop acting like you did not know!" she wrote on Twitter. "I reported both you & Mari Ellen to HR July 2017. At the end of the day, I was the one who had to leave the foundation bc it was a toxic work environment."

The next week, a group of current 65 staff members sent the foundation's board a statement that accused the foundation's leadership team, including Mr. Carson, of ignoring complaints about Ms. Loijens.

"They knew about her behavior," read the statement, a copy of which was reviewed by The Times. "And, through their inaction, senior leadership and HR has created and reinforced a toxic culture of fear, blame and intimidation."

Within days, Mr. Carson was placed on leave and the human resources director, Daiva Natochy, had left the foundation.

The foundation's interim director, Greg Avis, acknowledged the upheaval in a recent open letter, and pledged to repair the damage. "I am acutely aware of the current challenges our organization faces," he wrote. "Emerging as a stronger organization is our sole objective."

Donors to the Silicon Valley Community Foundation have had little to say about the turmoil at their charity of choice. Representatives for Mr. Zuckerberg and Mr. Hastings said they support the actions of the foundation's board, which placed Mr. Carson on leave and began the investigation.

Former employees said they anguished over their decision to come forward, fearing it would jeopardize their careers, but felt they had a responsibility to do so.

"The focus was on bringing dollars in the door, rather than creating a culture where people were supported and respected," said Ms. Dressel, who added that it was her four daughters who encouraged her to speak out publicly.

Ms. Dressel said she hoped the departure of Mr. Carson and Ms. Loijens would allow the foundation to start fresh. "It could be an amazing organization doing wonderful charitable work," she said.
Migrants

Lekker dan! Nederland sluit 'Verklaring van Marrakech' met Afrika, en belooft ''migratie naar Europa te bevorderen'' '' De Dagelijkse Standaard

Fri, 11 May 2018 12:44

Ons land heeft zich, samen met enkele andere Europese landen, gecommitteerd aan het promoten van de migratie tussen Afrika en Europa. In de Verklaring van Marrakech belooft ons land plechtig alles te zullen doen om de migratie van inwoners van Afrikaanse landen naar Europa zo vlotjes mogelijk te laten verlopen.

In de vaderlandse media is dit goeddeels stilgehouden, maar gelukkig heeft DDS overal ogen en oren: afgelopen week hebben bijna alle Europese landen '' waaronder ook Nederland '' in Marokko stilletjes een verdrag gesloten met landen in Noord- en Midden-Afrika. Namens Nederland was daar staatssecretaris Mark Harbers (VVD) aanwezig om de krabbel te zetten onder een document dat zich tot doel stelt om de migratie tussen Afrika en Europa te verbeteren. Het document heeft de naam ''Verklaring van Marrakech'' meegekregen, en stelt zich tot doel om in heel Europa de rode loper uit te rollen voor migranten uit Afrika.

Het document stelt onder anderen vast dat migratie alleen kan worden aangepakt met een ''op mensenrechten gebaseerde aanpak'', die de ''waardigheid'' van migranten in ere houdt. Wat dat betekent, wordt duidelijk in een paragraaf waarmee Nederland zich committeert aan het ''bestrijden van xenofobie'' door het bouwen van een ''gebalanceerd'' verhaal over migratie en diaspora's. Vooral de positieve bijdragen moeten benoemd worden:

''Increased attention to the fight against xenophobia, racism and discrimination: the partners will undertake efforts to combat these phenomena, and to promote a balanced narrative on migration and diasporas, based on facts and highlighting their positive contribution to the development of societies in countries of origin, transit and destination;''

Al met al moet het een ''inclusief en multi-aandeelhouderachtige aanpak'' worden, waarin Nederland cum suis beloven om het bijvoorbeeld makkelijker en goedkoper te maken om geld uit ons land terug te sturen naar Afrikaanse herkomstlanden, en jonge mensen aan te moedigen om zich vooral in te zetten voor de landen waar ze vandaan kwamen in plaats van de landen waar ze een nieuw bestaan opbouwen.

Verder committeert Afrika zich aan een clausule waarin men zichzelf aanraadt om jonge mensen en vrouwen te stimuleren om naar Europa te immigreren. In ruil daarvoor beloven de Europese landen om hun visumprocedures te versoepelen en ook om hun best te doen om deze mensen te laten 'integreren' in hun nieuwe samenlevingen.

Welke stoere praatjes de VVD en het CDA de afgelopen tijd dan ook hebben opgehangen over immigratie '' het feit zij akkoord zijn gegaan met de Verklaring van Marrakech toont aan dat zij niet wezenlijk verschillen van (centrum-)linkse partijen als het gaat om de aanpak en inperking van immigratie naar Nederland. Daar zijn we dus weer mooi klaar mee!

Het hele verdrag is hieronder te lezen:

Waardeer jij de artikelen op DagelijkseStandaard.nl? Volg ons dan op Twitter!
CLIPS

VIDEO - (7) Netta - TOY - Israel - Official Music Video - Eurovision 2018 - YouTube

VIDEO - (7) Mothers Day - YouTube

VIDEO - West Sacramento Launching Program Watching Public's Social Media Posts CBS Sacramento

Sun, 13 May 2018 13:06

WEST SACRAMENTO (CBS13) '-- West Sacramento is the first city to launch a controversial new program that watches what people post about it online.

The pilot project gives city leaders a look at what's trending in the city, whether it's good or bad. It's also creating privacy concerns around how the data is being used.

When a wave of mailbox thefts hit the city last year, people complained about it on social media, and West Sacramento was watching. City leaders were alerted to the community concerns by a new system.

ALSO: How To (Mostly) Stop Facebook From Sharing Your Data

''We saw the thing that most people were talking about were mailbox thefts,'' said West Sacramento Mayor Christopher Cabaldon. ''That's something that we might not have noticed just by waiting for people to come to city hall or filing a complaint.''

The pilot project with Zencity gives city leaders like Mayor Christopher Cabaldon a look at what's trending in the city, whether it's good or bad.

The city is using Zencity, a system that crawls through publicly available social media posts on Facebook, Twitter, and Instagram. It takes all of that data and sorts through to find what people are talking about and whether it's positive or negative.

''The purpose of Zencity is to see the big picture,'' he said.

In January, concerns came from the closure of a Safeway store and the brutal murder of two sisters at the hands of their father. In March, a shooting threat at River City High School generated negative posts over the lack of updates from police and school staff.

''It's not that Zencity replaces our other forms of civic engagement, it's just a way to listen more,'' he said.

But in the wake of the Facebook Cambridge Analytica scandal and concerns over data collection in general, some are worried about where that data goes and who sees it.

ALSO: App Helps Track West Sacramento Homeless To Improve Outreach

''There are ways this could go wrong,'' said Peter Eckersley with the Electronic Frontier Foundation. ''Once you get into policing there are many more potential concerns around the use of artificial intelligence.''

The ACLU worries about the potential misuse of the technology. Facebook started as a social engagement tool, then turned into a behemoth that exposed user data, even in unplanned ways.

''There's no privacy issues because we're not opening up anything that hasn't already been published publicly for the purpose of being public,'' Cabaldon said.

Instead, he hopes it will give all residents an equal say in civic matters.

''It allows us to hear the whole community and not just the loudest voices that come to our chambers for a public hearing,'' he said.

The city is spending $12,000 from the Measure E sales-tax increase to license the software for one year. It gets a 66 percent discount as an early user.

Follow CBS13: Facebook | Twitter

Comments (32)

VIDEO - Reuters Top News on Twitter: "ICYMI: Google platform puts AI in anyone's hands, @leejane71 reports. See this week's top stories https://t.co/rQhxoMDQib via @ReutersTV'... https://t.co/yyb5L9DscV"

Sun, 13 May 2018 12:37

Welcome home! This timeline is where you'll spend most of your time, getting instant updates about what matters to you.

Tweets not working for you? Hover over the profile pic and click the Following button to unfollow any account.

Say a lot with a little When you see a Tweet you love, tap the heart '-- it lets the person who wrote it know you shared the love.

Spread the word The fastest way to share someone else's Tweet with your followers is with a Retweet. Tap the icon to send it instantly.

Join the conversation Add your thoughts about any Tweet with a Reply. Find a topic you're passionate about, and jump right in.

Learn the latest Get instant insight into what people are talking about now.

Get more of what you love Follow more accounts to get instant updates about topics you care about.

Find what's happening See the latest conversations about any topic instantly.

Never miss a Moment Catch up instantly on the best stories happening as they unfold.

VIDEO - Axon Considers Combining Body Cameras With Facial Recognition : NPR

Sun, 13 May 2018 12:33

An Axon body camera worn by an officer with the Los Angeles Police Department. David McNew/Getty Images hide caption

toggle caption David McNew/Getty Images An Axon body camera worn by an officer with the Los Angeles Police Department.

David McNew/Getty Images The largest supplier of law enforcement body cameras in the U.S. is exploring pairing its cameras with new AI capabilities '-- including real-time face recognition.

Axon, formerly known as Taser International, sparked controversy late last month when it announced the creation of an ethics board to examine the implications of coupling artificial intelligence with its line of police products.

A coalition of civil rights groups, including the NAACP, ACLU and the Electronic Frontier Foundation, immediately responded to the announcement with a public letter urging Axon to exercise caution in deploying AI technologies. The coalition wrote that American law enforcement has "a documented history of racial discrimination," claiming, "because Axon's products are marketed and sold to law enforcement, they sometimes make these problems worse."

Axon leads the body camera industry, relying on the recognition of its Taser brand to secure contracts with police forces from Atlanta to Albuquerque. And it just bought out its largest competitor, Vievu, less than two weeks ago.

But as cameras get cheaper and the market gets more competitive, Axon is turning to a new revenue stream: software. Axon bundles its cameras with a suite of cloud storage and data management products that it licenses out to police forces on a subscription basis. Real-time facial recognition capability could help the company market those products, generating profitable and recurring revenue.

Critics say widespread adoption of face recognition makes it easier for police to violate citizens' constitutional rights, including by targeting lawful protesters at large events. And the civil rights coalition argues that Axon's ethics board isn't representative, writing in its letter that "an ethics process that does not center the voices of those who live in the most heavily policed communities will have no legitimacy."

NPR's Scott Simon spoke with Axon CEO Rick Smith on the promise '-- and the dangers '-- of the new technology.

This interview has been edited for length and clarity.

Interview HighlightsOn the risk of misidentifying innocent people

We agree philosophically with the issues that were raised. But it's counterproductive to say that a technology is unethical and should never be developed. What we need to do is take a look at how this technology could evolve. What are the risks? Today, an individual officer might have to make life-or-death decisions based only on their own perceptions and prejudices. Do we think that computers getting information to those officers that could help them make better decisions would move the world in the right direction? I think the answer is unequivocally, yes, that could happen.

On claims it disproportionately misidentifies minorities

I think that has to do with the types of training data sets that have been used historically. Certainly those are one of the issues that before we developed anything to be deployed in the field, we would take a very hard look at that.

On the potential for misuse

Well, for example, there are police forces around the world that use batons and guns in very abusive ways. And yet ultimately, we know that our police, in order to do their job, need to have those same types of tools. We understand that these technologies could be used in ways that we don't want to see happening in our society. However, it's too blunt to say that because there is a risk of misuse, we should just write them off. We need to dig a layer deeper and understand what are the benefits and what are the risks.

On the technology's potential benefits

You could imagine many benefits. I think we'll see biometrics, including facial recognition technology, that properly deployed with the right oversight over the coming decades could ultimately reduce prejudice in policing and help catch dangerous people that we all agree we don't want out in our communities and do it in a way that, at the same time, respects police transparency and rights of privacy of the average citizen.

VIDEO - John McCain is the single greatest political leader of our time - The Washington Post

Sun, 13 May 2018 12:19

At long last, have they left no sense of decency?

White House official Kelly Sadler, during a meeting Thursday, had this to say about Sen. John McCain (R-Ariz.) for opposing President Trump's CIA nominee over her failure to condemn torture: ''It doesn't matter, he's dying anyway.''

Also Thursday, on Fox Business Network, retired Air Force Lt. Gen. Thomas McInerney had this to say about the torture of McCain, who was shot down over Hanoi with grievous wounds, but refused release to deny his captors a propaganda victory: Torture ''worked on John. That's why they call him 'Songbird John.''‰''

And three days earlier, Sen. Orrin G. Hatch (R-Utah), a Trump cheerleader, declared the terminally ill McCain was ''ridiculous'' to prefer that Trump, who has belittled McCain and his heroism, not attend his funeral.

Hatch, Sadler, and the host of the Fox Business show have all apologized, as they should. But how did we let partisanship take us to this ugly place?

A White House official dismissed John McCain's brain cancer at a closed-door meeting May 10. (Reuters)

McCain is still with us, and this is no obituary. But as Trump loyalists besmirch this good man, I thought I would put in writing what I have often thought over the years: John McCain is the single greatest political leader of our time. He is, in a way, not of our time, for his creed '-- country before self '-- is unfamiliar to many who serve in office and utterly foreign to the man in charge.

Only once during the nearly quarter of a century I've been covering politics did I think I could work for a politician, and that politician was McCain. I first got to know him in early 1999, when there were just a few of us driving around New Hampshire with him in an SUV, before the ''Straight Talk Express'' rolled. Had he beaten George W. Bush (he surely would have defeated Al Gore), and had he been president on Sept. 11, 2001, I know he would have done great things with the national unity Bush ultimately squandered.

I've had a closer relationship with McCain than with other politicians. I remember flying with him and Cindy McCain to Phoenix during the 2000'‡campaign, talking about sports, music, a war buddy '-- and the issue that defined him: removing the corrupting influence of money from politics. That's why so many liked him even if they disagreed on the issues: With McCain, everything was going to be on the level.

I believed, perhaps naively, that in the free marketplace of ideas, uncorrupted by special interests, we would usually arrive at a sensible consensus. A generation after Sen. Eugene McCarthy (D-Minn.) inspired his ''Clean for Gene '' followers, McCain inspired me.

On my Bush-Gore election ballot, I wrote in McCain. When I saw him later in the Senate, I'd greet him as ''Mr. President.'' He'd reply by calling me ''Mr. Pulitzer.'' I took pride in 2009, when McCain read aloud a column of mine on the Senate floor and called me ''one of my favorite columnists.'' He regretted that a few months later, when I took him to task for momentarily shedding his ''maverick'' ways, and he tried to disavow me.

There have been many such moments of disagreement and disappointment: when he put Sarah Palin on his ticket in 2008; when he took a hard-right turn in 2010 to fight off a primary challenge; and when another tough primary in 2016 led him to go easy on Trump.

But the Mac always came back, and never more forcefully than over the past 16 months. In his forthcoming book, he labels ''unpatriotic'' the ''half-baked, spurious nationalism cooked up by people who would rather find scapegoats than solve problems.'' His single bravest moment may have been earlier, though, when he angered supporters in 2008 by taking the microphone from a woman at a campaign rally who had called Barack Obama an ''Arab.'' Said he: ''No, ma'am. He's a decent family man, citizen, that I just happen to have disagreements with.''

McCain has, in achievement, equaled or surpassed his mentors and models, Barry Goldwater and Mo Udall. Formally launching his 2008 campaign in Prescott, Ariz., where both men had roots, McCain invoked the friendship of these ideological opposites, who ''taught me to believe that we are Americans first and partisans second.''

I was with McCain when he returned to Prescott for his last stop of that campaign. Again invoking Udall and Goldwater, McCain retold Udall's joke about Arizona being ''the only state where mothers don't tell their children they can grow up to be president.''

In Phoenix for a wedding last weekend, I made a pilgrimage north, past the turnoff for Prescott and on to McCain's beloved Sedona. Driving and walking among its red-rock hills, I reflected for hours on the man who had so often spoken of that beautiful place, and who so often had been my antidote to cynicism. As I write this, there are tears on my cheeks.

Godspeed, John McCain. You were not to be president, but you are my hero.

Twitter: @Milbank

Read more from Dana Milbank's archive, follow him on Twitter or subscribe to his updates on Facebook.

VIDEO - Susan Pinker: The secret to living longer may be your social life | TED Talk

Sun, 13 May 2018 11:41

Subscribe to receive email notificationswhenever new talks are published.

Please enter an email address.

Please enter a valid email address.

Did you mean ?

Please checkDailyorWeeklyand try again.

Please check your details and try again.

Please check your details and try again.

Sorry, we're currently having troubleprocessing new newsletter signups.Please try again later.

VIDEO - MSNBC's Nicolle Wallace suggests Sarah Sanders should be choked

Sat, 12 May 2018 23:26

| May 11, 2018 04:42 PM

| Updated May 11, 2018, 08:10 PM

MSNBC daytime host Nicolle Wallace suggested that White House press secretary Sarah Sanders should be choked after she refused to comment Friday on a report that an aide in the administration made a dismissive remark about Sen. John McCain's, R-Ariz., health.

On her show Friday, Wallace, who was an adviser for McCain's 2008 presidential campaign, asked NBC News' White House reporter Kristen Welker, "How do you resist the temptation to run up and wring her neck? Why can't she just say if a staffer said that, we're going to get to the bottom of it and she'll be fired?"

Welker only responded that reporters at the day's White House press briefing were "surprised" that Sanders didn't offer more of an answer to questions about the alleged incident.

MSNBC's Nicolle Wallace compares Sarah Sanders to Mohammed Saeed al-Sahhaf, Saddam Hussein's Iraqi information minister who once attacked a top U.S. diplomat for being "a known Jew."

On if he had to interact with Sarah Sanders, NBC's John Heilemann says: "I'd slit my throat." pic.twitter.com/7YYN17vDPF

'-- Ryan Saavedra 🇺🇸 (@RealSaavedra) May 12, 2018

Wallace later apologized on Twitter for her comments.

When I asked about whether the tension in the briefing room ever makes reporters want to wring the neck of the spokesman, I used poorly chosen words, & for that I'm sorry. I was trying to imagine the exasperation of getting spin & not answers re: John Mccain being ''about to die''

'-- Nicolle Wallace (@NicolleDWallace) May 11, 2018 Reports on Thursday said that Kelly Sadler, a White House aide who crafts talking points for surrogates, made a dismissive comment about McCain's opposition to President Trump's nominee for CIA director, Gina Haspel.

"He's dying anyway," Sadler reportedly said at a White House meeting, though Sanders on Friday said she wouldn't confirm or deny that it happened.

"I'm not going to validate a leak out of an internal staff meeting one way or another," Sanders said.

McCain was diagnosed with brain cancer last year.

Editor's note: This story has been updated with Nicolle Wallace's apology.

VIDEO - Hollywood Health & Society | Providing the entertainment industry with free expert information on all aspects of health, safety and security.

Sat, 12 May 2018 15:24

TV Has Power.

We Have the Facts.

Providing the entertainment industry with free expert information on health, safety, and security.

Hollywood, Health & Society has announced a call for entries for the 2018 Sentinel Awards, which honor outstanding writing for television that informs and motivates viewers to make choices for healthier and safer lives. To learn more and submit an entry, visit our awards page.

Hollywood icons Norman Lear and Rita Moreno work together on "One Day at a Time"'--and love every minute.

Photos from "ReproWrites"

Browse a Facebook gallery from our panel discussion "ReproWrites: Abortion on TV Needs More Choices."

HH&S helps us tell the right stories in the right way. We're so fortunate and grateful to have [them] as our partners.

Bill Harper

executive producer

Grey's Anatomy

Older adults on their turf, and on their terms; young people and HIV risk; cyberattacks in space; and a woman's crisis after childbirth.

At the "Friday the 13th" panel in N.Y., screenwriter Mark Bomback breaks down Hollywood depictions of the nuclear risk.

"Women in Their Prime Time: Aging in (and Out of) Hollywood"

TV and film legends Norman Lear and Rita Moreno led a discussion on ''Women in Their Prime Time: Aging in (and Out of) Hollywood,'' at the WGAW. Moreno, an Academy Award winner and now co-star of Lear's One Day at a Time on Netflix, said the struggle to keep working is "very poignant."

VIDEO - In case you missed it... - Reuters TV

Sat, 12 May 2018 12:31

—NowFeaturedLive About Reuters TV Categories Careers Support Privacy Policy Terms of Use Get the Newsletter U.S. EditionInternational EditionLearn More

Nice work! Enjoy the show!

—You're busy. We get it.Stay on top of the news with our Editor's Picks newsletter.US Edition

Intl. Edition

Unsubscribe at any time. One click, it's gone.Thanks for signing up!

We've got more newsGet our editor's daily email summary of what's going on in the world.US Edition

Intl. Edition

Replay Program 0:00

0:00

More InfoCOMING UP: In case you missed it....

In case you missed it...Highlights this week include a look at the gaming phenomenon known as Fortnight and the reasons why Democrats may not be able to count on the millennial vote during the upcoming midterm elections.

In case you missed it....

0:08

Reuters TV's standouts of the week

0:07

Stylish or sacrilege? Stars stun at Met Gala

1:23

Tourists flock to recreate historic Korean handshake

1:21

Google platform puts AI in anyone's hands

2:03

A glimpse at the world of tomorrow

1:59

Hong Kong sees a parking space price boom

1:28

'MeToo' reshapes the Cannes film festival

2:08

How a free game became a money machine

2:12

Featured Closer

0:06

—Transcript00:00:00

VIDEO - Ricky Davila on Twitter: "Ladies and Gentlemen, Congresswoman Maxine Waters.👊ðŸ--¥ https://t.co/XHIIu5hD7Y"

Sat, 12 May 2018 04:30

XposeYourBrand @ XposeYourBrand

23h Replying to

@TheRickyDavila 👊👏ðŸ'ªðŸ--¥ðŸ--¥ðŸ--¥

View conversation · Tina Sobel Foster @ luvinmyukcats

22h Replying to

@TheRickyDavila @StevenGordon_Ca About time we all follow her lead!

View conversation · Roland 🌊 @ RolandWall

18h Replying to

@TheRickyDavila How many times can I RT?

View conversation · ðŸðŸ¥LilithðŸ¥Nobodies🕸BitchðŸ¥777ðŸ¥ðŸ @ Lilith_Bitch777

17h Replying to

@TheRickyDavila This woman deserves a standing ovation

pic.twitter.com/zzJiMem0Ra View conversation · Frederick987 @ Frederick987

15h Replying to

@TheRickyDavila @jmeacham Want to know the real story of race and America? Read ''Soul of America'' by Jon Meacham Truly Enlightening

@jmeacham View conversation · AUDREY HOPE @ TheAudreyHope

15h Replying to

@TheRickyDavila WOW. she inspires .

View conversation · Donnalyn Pompper @ dpompper

15h Replying to

@TheRickyDavila Love her so much. Leadership! Advocacy! Respect!

View conversation · Peace4all @ Peace4all17

14h Replying to

@RolandWall @TheRickyDavila I'm no where near tired seeing it on my TL

View conversation · lawgurl @ lawgurl

14h Replying to

@Frederick987 @TheRickyDavila @jmeacham Fuk a book. Live it everday. My 93yo grandmother who just left us in March lived it & was able to tell us about it. She was Black & Native. And was saddened to see her younger siblings marry white just to give their children & children's children a lighter hue to avoid racism.

View conversation · Frederick987 @ Frederick987

12h Replying to

@lawgurl @TheRickyDavila @jmeacham But we white people need to learn about ourselves. The book covers several hundred years, you must e pretty old to have lived it all.

View conversation · Frederick987 @ Frederick987

12h Replying to

@lawgurl That's funny, my nieces all married black to give their children a darker hue. ''The kids are all right'' the Who

View conversation · Frederick987 @ Frederick987

12h Replying to

@lawgurl I stand corrected my nieces, and my daughter married black men because they loved each other... and I love that.

View conversation · lawgurl @ lawgurl

12h Replying to

@Frederick987 @TheRickyDavila @jmeacham Nope. Old enough to know about history thru my own eyes & others.

View conversation · Jeremy Fassler @ J_fassler

11h Replying to

@Peace4all17 @RolandWall @TheRickyDavila You don't mess with the Maxine.

thedailybanter.com/2018/05/watch-'... View conversation · Galifornia @ 4JusticeTruth

11h Replying to

@TheRickyDavila @lf092313 Contrast Maxine to all of those white dudes who genuflect and grovel before the ego of Trump. This is why we need more women and people of color in public office. White dudes just aren't very brave. Not all, but way too many are complete wimps.

View conversation ·

VIDEO - (7) Lefty Lunacy Australians are paying for on ABC - Consent to change nappies - YouTube

VIDEO - Heat on Stormy Daniels' lawyer over past business dealings, bank record disclosure | Fox News

Fri, 11 May 2018 13:30

The Stormy Daniels lawyer who tweeted bombshell allegations this week against Trump attorney Michael Cohen is now facing questions about his own business dealings '-- as well as how he obtained Cohen's bank records.

Since Michael Avenatti cited financial records to accuse Cohen of receiving $500,000 from a Russian oligarch-tied company '-- and other media outlets detailed that and other transactions '-- a frenzy has erupted over Cohen's dealings at the dawn of the Trump administration. The records suggest Cohen's firm was paid huge sums for insight into the Trump administration.

AT&T and pharmaceutical giant Novartis, both of which paid Cohen's firm, also said this week they had been questioned by Special Counsel Robert Mueller's team about their relationship with him. The lawyer is under investigation, in part over a $130,000 payment to Daniels in exchange for her silence about an alleged sexual encounter with President Trump a decade ago.

But Avenatti has also faced scrutiny over his business dealings.

Recently, a complaint was filed against him to the California State Bar Association regarding his role in purchasing Tully's Coffee several years ago through an entity called Global Baristas.

The complaint, first obtained and reported by The Seattle Times, was filed by attorney David Nold of Bellevue, Wash. The complaint says Avenatti and Global Baristas faced a lien for unpaid federal taxes worth roughly $5 million, claiming taxes were withheld from workers' paychecks but not paid to the government. The complaint from Nold, as posted by The Seattle Times, called into question Avenatti's ''fitness to practice law.''

Since the coffee chain purchase, Tully's has shuttered its stores (though the closures were described as temporary) as Global Baristas has dealt with numerous lawsuits.

The paper trail for that deal is maddeningly complex.

Fox News obtained a copy of the notice of federal tax lien in question, sent to ''Global Baristas US LLC'' and ''Michael J Avenatti MBR [member].''

But Avenatti reportedly says he thinks Global Baristas has paid the outstanding taxes. Further, Avenatti claimed to Fox News that he wasn't a ''member'' of Global Baristas US LLC -- but rather the entity that owned it, Global Baristas LLC.

''The federal tax lien is related to an entity that was owned by another company that I used to have an interest in,'' Avenatti told Fox News Thursday. ''At no point in time was I ever responsible for any taxes for Global Baristas US LLC, nor was I ever a member of that entity, nor did I own any direct interest in that entity.''

Stormy Daniels' attorney Michael Avenatti disputed the latest complaint filed by Seattle-based lawyer David Nold. (AP)

However, a 2017 court document posted by The Seattle Times shows Avenatti acknowledging he was the "principal" of Global Baristas US LLC.

Avenatti, though, strongly disputed the complaint itself in an email to Fox News, calling it ''complete and utter nonsense'' filed by an ''unethical lawyer who was recently held in contempt of court."

Nold told Fox News in an email that this is "just Avenatti being Avenatti."

"The court ruled that I should not have given the full Avenatti deposition transcript to the news media," Nold said. "The court found nothing wrong with sending the bar complaint."

Fox News attempted to resolve their dueling claims by contacting the State Bar -- but a spokesman said they could not comment on "confidential" filings.

Meanwhile, another lawsuit was filed back in 2013 against Avenatti by his famous business partner, Patrick Dempsey of ''Grey's Anatomy'' Dr. McDreamy fame. Dempsey's complaint against Avenatti, which was settled quickly, alleged Avenatti had not fully financed the coffee chain as agreed.

Avenatti no longer has any interest in either Global Baristas entity.

The attorney was surely the lesser known partner in that Tully's deal.

But since then, he's rocketed to national fame with his representation of adult film star Daniels -- and is still causing controversy.

While Cohen faces scrutiny from federal investigators and the media over his financial transactions, the disclosure of the Cohen bank records has drawn the feds' attention. The Treasury Department's Office of the Inspector General said Wednesday that it was "inquiring" into claims that the information was "improperly disseminated."

Former Trump Organization attorney Michael Cohen is facing scrutiny from federal investigators over his financial transactions. (Reuters)

Inspector general counsel Rich Delmar said the agency's investigation stemmed from its authority as the federal agency that analyzes banking records for potential illegal activity. Under the Bank Secrecy Act, financial institutions must monitor their customers' activities and report suspicious transactions to the government. But that information is supposed to remain confidential.

An OIG official said the inquiry was ''predicated'' on a New York Times story, which cited transactions first publicized by Avenatti and confirmed some of the information.

In their own court filing, Cohen's attorneys Stephen Ryan and Todd Harrison accused Avenatti of making false accusations, and publishing ''numerous incorrect statements to the public in an apparent attempt to prejudice and discredit Mr. Cohen.''

In a letter to federal Judge Kimba Wood, who is overseeing the Cohen case, Ryan and Harrison wrote that some of the information Avenatti published did appear to come from Cohen's actual bank records and claimed that their client ''has no reason to believe that Mr. Avenatti is in lawful possession of these records.''

''[Avenatti] should be required to explain to this Court how he came to possess and release this information,'' they wrote.

Cohen's attorneys also claimed that Avenetti had incorrectly linked at least five wire transfers to their client. In two cases, they said the money was received by different Michael Cohens -- one residing in Canada and another in Israel.

When asked to respond to Cohen's attorneys, Avenatti told Fox News that their filing was ''comical and baseless.''

MICHAEL COHEN TEAM SAYS SOME OF AVENATTI'S CLAIMS ARE ABOUT OTHER MICHAEL COHENS

''We have done nothing wrong and the best thing they can point to is claiming that a mere $25,000 worth of transactions out of $3 million that we detailed is inaccurate? What a joke,'' Avenatti told Fox News on Thursday.

Cohen is under criminal investigation as part of a grand jury probe of his personal business dealings. The investigation is being led by the U.S. Attorney's Office in the Southern District of New York.

Adult film star Stormy Daniels, left, was paid $130,000 by Michael Cohen in exchange for her silence about an alleged sexual encounter with President Trump in 2006 in the days leading up to the 2016 presidential election. (Reuters)

Even before his Daniels representation, Avenatti was known as a hard-charging and effective attorney who employs "unconventional" tactics in his legal battles. In Avenatti's early days, he worked at The Research Group, a political opposition research and media firm run by Democratic political operative Rahm Emanuel.

The latest politico raising questions about Avenatti is Mark Penn'--a former top pollster for Bill and Hillary Clinton'--who said Avenatti should say where he got the banking details and who's funding him.

''He wants to make the discussion all about where Michael Cohen, President Trump's personal attorney, got his money but, to have clean hands, Avenatti needs to come forward with exactly who is financing his operation, who his sources were for detailed banking information, and whether he really is an attorney solely representing Stormy Daniels or just using her as cover to wage a political operation,'' Penn wrote in an op-ed for The Hill, further questioning ''where and how'' Avenatti got Cohen's ''detailed financial information'--because he didn't find it on Google.''

"He can't be both an attorney and then participate as an officer of the court in trafficking illegally obtained information," he wrote.

Avenatti slammed Penn in response, calling his column "ridiculous" and saying there was "nothing wrong" in the release of Cohen's financial information. Further, he posted a statement saying the case is funded by Stephanie Clifford (a.k.a. Stormy Daniels) and crowdfunded donations collected online. "[N]o political party or PAC is funding this effort. No left wing conspiracy group is behind this. And no big fat cat political donors are leading the charge. Get over it," he said.

On Tuesday, when initially asked how he obtained the documents he published, Avenatti told Fox News: ''That's my work product and will not be disclosed.''

He then asked: ''Why is Michael Cohen refusing to provide the bank statements to the public if what we have asserted ... is not true?''

Fox News' Samuel Chamberlain and Kristin Brown and The Associated Press contributed to this report.

Brooke Singman is a Politics Reporter for Fox News. Follow her on Twitter at @brookefoxnews.

VIDEO - kgw.com | Portland woman uses cats to explain finance in new book for millennials

Fri, 11 May 2018 12:47

LOCAL "I feel like cats and a little bit of glitter kind of calm that down, make you feel like it's a little bit easier to deal with," she said.

PORTLAND, Ore. -- A Portland woman is about to launch a finance book for millennials, using cats to help explain the concepts.

Lillian Karabaic said it helps with the high anxiety that money can bring.

''I feel like cats and a little bit of glitter kind of calm that down, make you feel like it's a little bit easier to deal with,'' she said.

Karabaic admits to being a bit of a nerd, someone focused on order and finance even in her younger years.

''As a child I used to line up all of my stuffed animals and conduct an annual census and assign them all salaries,'' she said, laughing.

''I still have all these hand-written logs, every year for 8 years I would have a census of my stuffed animals.''

Recently, Karabaic launched a kick starter campaign to raise money for her book project. She hoped to get $7,500. Instead investors kicked in $15,000.

She's seen the need in her own circle of friends.

''I just feel like a lot of my friends are so terrified and so scared of dealing with money that they wont, that they kind of mentally shut down,'' said Karabaic.

A report by the Global Financial Literacy Excellence Center at the George Washington University found only 24 percent of millennials had basic financial knowledge.

Karabaic said many people let emotions get in the way.

''I think a lot of people have a negative association with the word budget for no reason. But they associate it with only eating rice and beans, actually being cut off from something,'' she said.

Instead, she tries to make the concept fun and freeing.

''Budgeting is just a plan for your money. I am so about budgeting for things you like. Like budget for things that make you happy. It's just coming up with a forward-looking plan for your money. The budget should give you permission to spend on the things you really value, and you know the big stuff is taken care of if you are actually following it,'' Karabaic said.

Her book, titled Get Your Money Together, is due out May 17. In the mean time you can learn more about author Lillian Karabaic at her website.

Get Your Money Together book

KGW

(C) 2018 KGW