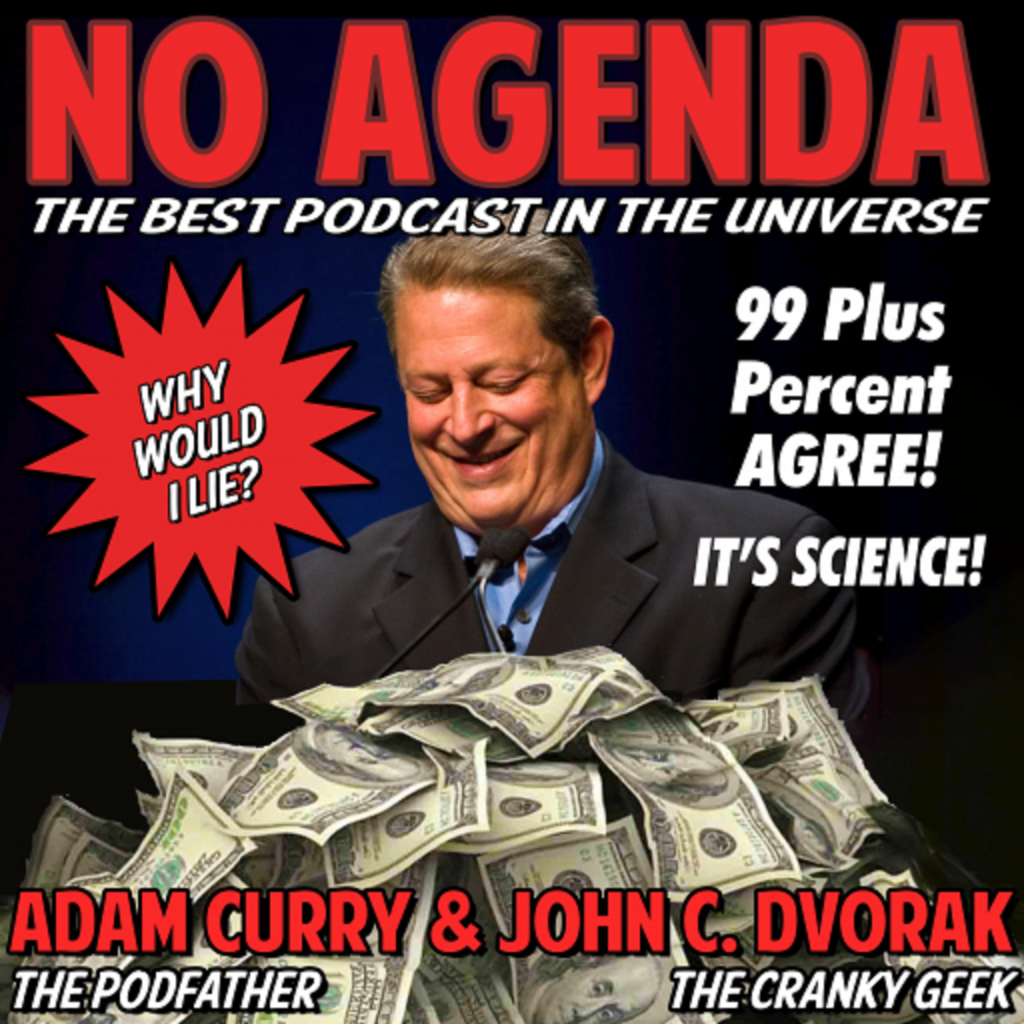 December 2nd, 2018 • 2h 47m
1091: Surf n Turf
Shownotes
Every new episode of No Agenda is accompanied by a comprehensive list of shownotes curated by Adam while preparing for the show. Clips played by the hosts during the show can also be found here.
NWO

Global Citizen Concert food poisoning

I know

you both have talked about it in the past and at one time I actually was

emailed a teleprompter script for one of their events in Central Park by

mistake and forwarded it on to you. I guess the dimensions allow email to

go between them? :) I haven't been fortunate enough to get one this

year, but I've made Facebag friends with my doppelganger to observe the

inner workings for the events like this. Nearly all of the support group

& some talent (Axl Rose) came down with food poisoning of some type after

eating at this lavish outdoor event where authentic African cuisine was

served. I'm attaching the breakfast picture that was taken before they

all started shitting their outdoor netted beds. If you happen to use this

in the show, please don't mention my name as I want to keep my pipeline of info

open to my doppelganger. Thanks!
Hate Trumps Love

Trump Offers Praise for Bush Despite History of Animosity - The New York Times

Sat, 01 Dec 2018 13:25

Image President Trump at the Group of 20 summit meeting in Buenos Aires on Friday, where he signed a deal to replace the North American Free Trade Agreement first negotiated by former President George Bush. Credit Credit Lukas Coch/EPA, via Shutterstock BUENOS AIRES '-- President Trump, who had a hostile relationship with the last Republican family to occupy the White House, offered nothing but praise on Saturday for former President George Bush just hours after the 41st commander in chief died at age 94.

''President George H.W. Bush led a long, successful and beautiful life,'' Mr. Trump wrote on Twitter on Saturday morning. ''Whenever I was with him I saw his absolute joy for life and true pride in his family. His accomplishments were great from beginning to end. He was a truly wonderful man and will be missed by all!''

Mr. Trump's words of admiration, delivered while in Argentina for an international summit meeting, belied his history of animosity with the Bush family. Mr. Trump eviscerated Mr. Bush's son Jeb Bush during the 2016 Republican primaries and regularly disparaged another of his sons, former President George W. Bush, for the way he ran the country. The elder Mr. Bush refused to support Mr. Trump in 2016, voting instead for Hillary Clinton.

The passing of the former president raised a thorny question for his family and for the current president '-- will Mr. Trump come to the funeral? Senator John McCain, another stalwart of a past Republican generation, made a point of excluding Mr. Trump from his funeral in September, but Mr. Bush's wishes are not known. It is traditional for the incumbent president to speak at services for a former president, but there have been exceptions.

Mr. Trump has not had much experience in his two years in office at playing the role of national healer in moments of mourning like this. His instincts tend toward the bellicose and he has mocked the notion of being presidential. But in the hours since Mr. Bush's death, he has gone further than he ever did with Mr. McCain in embracing the Bush legacy, aware of the enormous affection for the former president across party lines.

Mr. Trump's very presidency, however, stands as a rebuke to Mr. Bush '-- never a proponent of ''kinder and gentler'' politics, Mr. Trump prefers a brawl, even with his own party, and represents a more conservative approach to domestic policy at home and an America First policy abroad that repudiates Mr. Bush's staunch internationalism.

In effect, Mr. Trump has made clear that he sees the go-along-to-get-along style that defined Mr. Bush's presidency as inadequate to advance the nation in a hostile world. Gentility and dignity, hallmarks of Mr. Bush, are signs of weakness to Mr. Trump.

Image Former President George Bush, who died on Friday, in Virginia in 2006 with his sons Jeb Bush, then governor of Florida, and former President George W. Bush. Credit Matthew Cavanaugh/EPA, via Shutterstock His trip here to Buenos Aires, in fact, was built in part around dismantling Mr. Bush's legacy. Just Friday, Mr. Trump signed a new trade agreement with Mexico and Canada to replace the North American Free Trade Agreement first negotiated by Mr. Bush, which he disparaged as bad for the United States. ''The terrible NAFTA will soon be gone,'' he wrote on Twitter.

Mr. Trump was never as harsh publicly about the patriarch of the Bush family as he was about its other members, but as recently as this fall, he mocked a famous phrase from the former president's 1989 inaugural address, ''a thousand points of light,'' which Mr. Bush used to describe Americans coming together as volunteers to improve their communities and their country.

''It's so easy to be presidential,'' Mr. Trump said at a campaign rally in Wheeling, W.Va., in September. ''But instead of having 10,000 people outside trying to get into this packed arena, we'd have about 200 people standing right there. O.K.? It's so easy to be presidential. All I have to do is 'Thank you very much for being here, ladies and gentlemen. It's great to see you off '-- you're great Americans. Thousand points of light.' Which nobody has really figured out.''

''And in the meantime,'' he added, ''everything's going to be dying, and your coal and everything else. No, no. We gotta keep it going the way it's going. Do we agree? Do we agree?''

For his part, Mr. Bush was never impressed by Mr. Trump. ''I don't like him,'' Mr. Bush told the historian Mark K. Updegrove in May 2016. ''I don't know much about him, but I know he's a blowhard. And I'm not too excited about him being a leader.'' Rather than being motivated by public service, Mr. Bush said, Mr. Trump seemed to be driven by ''a certain ego.''

But he recognized that Mr. Trump was at the forefront of change. ''I'm worried that I will be the last Republican president,'' he told Mr. Updegrove, who later wrote ''The Last Republicans'' about Mr. Bush and George W. Bush.

The current president sought to put that history aside on Saturday, even citing Mr. Bush's ''thousand points of light'' in the written statement that he authorized aides to release in the immediate hours after the former president's death.

''President Bush inspired generations of his fellow Americans to public service '-- to be, in his words, 'a thousand points of light' illuminating the greatness, hope, and opportunity of America to the world,'' the statement said.

Follow Peter Baker on Twitter: @peterbakernyt.

Federal Employees Can't Talk Trump's Impeachment at Work

Sat, 01 Dec 2018 15:44

Federal Employees Can't Talk Trump's Impeachment at Work Intelligencer The Cut Vulture Grub Street Sign In Subscribe Strategist Federals employees have to wait to leave work before joining the resistance. Photo: Win McNamee/Getty Images

Employees of the federal government were warned this week not to talk about the ''resistance'' or the potential impeachment of President Trump while at work. If they do, they run the risk of violating the Hatch Act, which bars federal employees from engaging in partisan, political activity while on the job.

The guidance was handed down Tuesday by the Office of Special Counsel (OSC), which enforces the Hatch Act and has nothing to do with that other special counsel that's been in the news so much lately. The new rule says that '''resistance,' '#resist,' and similar terms have become inextricably linked with the electoral success (or failure) of the president.'' Therefore, they shouldn't be used at work by federal employees.

Same goes for advocating for, or against, Trump's impeachment.

''Advocating for a candidate to be impeached, and thus potentially disqualified from holding federal office, is clearly directed at the failure of that candidate's campaign for federal office,'' the guidance says, according to the Times. ''Similarly, advocating against a candidate's impeachment is activity directed at maintaining that candidate's eligibility for federal office and therefore also considered political activity.''

Experts who spoke to the Times and the Washington Post, and one who weighed in on Twitter, called the guidance an overreach and potential First-Amendment violation.

''People who use the term 'resist' could be expressing views about any number of matters, and the presumption that they are specifically advocating for the defeat of a candidate in 2020 strikes me as crazy and raises significant First Amendment concerns,'' Daniel Jacobson, who worked on Hatch Act issues under President Obama, told the Times.

Nick Schwellenbach, who spent three years at the OSC, told the Post that the guidance ''runs the risk of turning the OSC into an Orwellian enforcer inside the federal workforce.''

In a statement, the ethics watchdog American Oversight said the new rules go ''too far.''

''The Hatch Act bars public servants from engaging in partisan political activities while on duty but does not prohibit them from speaking out as citizens against illegality or bad policy,'' the statement says. ''Indeed, the oath to uphold the Constitution requires them to do so. The OSC should retract its recent guidance and replace it with rules that are appropriately nuanced and do not empower retaliation.''

On Twitter, former Justice Department lawyer Sasha Samberg-Champion was also critical of the new guidance.

The point of the Hatch Act is to prevent an Administration from misusing federal employees for its own political purposes. Overzealous enforcement to bar federal employees from publicly _resisting_ bad policies turns the Hatch Act on its head. https://t.co/vxBnhNAmSM

'-- Sasha Samberg-Champion (@ssamcham) November 30, 2018Ana Galindo-Marrone, an OSC official since 2000 who came up with the new guidance, defended it to the Times. ''She argued that the guidance fit within the office's past interpretations,'' the paper reports. The prohibition of discussing Trump's impeachment is new, she added, because no president since the passage of the Hatch Act in 1939 has dealt with impeachment concerns when he was eligible for reelection.

The good news for federal employees worried about this rule is that the Trump administration has been willing to ignore Hatch Act violations in the past. Earlier this year the OSC found that Kellyanne Conway had violated it twice in 2017 by inappropriately advocating for U.S. Senate candidate Roy Moore, who was accused of sexually assaulting underage girls. It recommended ''appropriate disciplinary action'' from the White House, which responded by defending Conway.

Federal Employees Can't Talk Trump's Impeachment at Work Promoted links by Taboola 10:05 a.m.the national interest

the national interest

The Good Bush

By Jonathan Chait

Unlike his son, ''H.W.'' was not a bad president. Why didn't he get more respect in his time?

Politics

labor

For Low-Wage Workers, the Fight For 15 Movement Has Been a Boon

By Sarah Jones

A study found the movement directly led to a $68 billion raise for 22 million low-wage workers, in addition to fueling a broader progressive cause.

1:44 a.m.

The 41st presidency was a transitionary one

Mr. Bush was a skilled bureaucratic and diplomatic player who, as president, helped end four decades of Cold War and the threat of nuclear engagement with a nuanced handling of the collapse of the Soviet Union and the liberation of Eastern Europe.

Yet for all his success in the international arena, his presidency faltered as voters seemed to perceive him as detached from their everyday lives. In an election that turned on the economy, they repudiated Mr. Bush in 1992 and chose a relatively little-known Democratic governor from Arkansas, Bill Clinton, a baby boomer, ushering in a generational shift in American leadership.

If Mr. Bush's term helped close out one era abroad, it opened another. In January 1991 he assembled a global coalition to eject Iraqi invaders from Kuwait, sending hundreds of thousands of troops in a triumphant military campaign that to many Americans helped purge the ghosts of Vietnam.

1:37 a.m.

George H.W. Bush's flavor of conservatism is out of step with the modern Republican Party

His lasting legacy as a president will be in foreign policy. His calmness in responding to the collapse of communism, first in Eastern Europe and finally in the Soviet Union, insured an orderly end to the Cold War. In answering Iraq's invasion of Kuwait with an international coalition, Bush created, for better or worse, the model for continued American interventionism in the post-Cold War era. Bush's decision not to overthrow Saddam Hussein also set the preconditions for future conflict. In a very real sense, we're still living in the aftermath of Bush's actions, which created a tangled inheritance for his son George W. Bush and subsequent presidents.

1:35 a.m.

Former President George H.W. Bush has died at 94

Statement by the Office of George H. W. Bush on the passing of the 41st President of the United States of America this evening at 10:10pm CT at the age of 94.

pic.twitter.com/XUPgha2aUW '--@jgm41 11/30/2018

Democrats might yet pick up a 41st Congressional seat from the midterms

The Associated Press is retracting its call of a winner for U.S. House in North Carolina's 9th Congressional District.

The AP had called the race for Republican Mark Harris on Nov. 9, after Democrat Dan McCready conceded the election and said he would not request a recount.

Unofficial results show Harris with a lead of 905 votes out of nearly 283,000 votes counted.

The North Carolina board of elections has delayed certifying the results, citing ''claims of irregularities and fraudulent activities related to absentee by-mail voting.''

11/30/2018Unpacking this week's cavalcade of Russia news

after a pre-election lull, the mueller investigation has been roaring again, especially this week. first, we found out that paul manafort has been lying to the special counsel, and that his lawyers have, strangely, been sharing info with trump's lawyers. then, michael cohen admitted that he lied to congress, revealing that trump's plans to build property in russia extended far into the 2016 presidential campaign. these are both pretty sensational revelations. but have they changed your fundamental feeling about where this investigation is headed?

at every turn, I see people '' even those who follow this stuff closely '' surprised by the depth of information mueller has been able to access

Mueller consistently produces info the media did not have, and reporters somehow find this surprising

I think that's why I'm never surprised by what comes out in the investigation. I always assume that Mueller knows what he's doing and has stuff up his sleeve

If reporters could throw sources into prison we'd get better stories!

partly I think because that's been the case in the past, like Jon says, and partly because I've somewhat bought into the myth of Mueller

I frequently have to remind myself that while it's fun for an SNL skit, he's not going to ''save'' us, whatever anti-Trump people think that means.

The other part is that i think there's a lot out there to get

we discussed the other day what the effect of even a completely damning (and it's already pretty damning) investigation would have. and I think you both agree that the main fallout would be electoral, not that trump is going to prison in six months

but the president sure does seem jumpy these days '' not really the behavior of a person who's comfortable with what's about to drop

yeah I've been checking his twitter feed every morning for his daily Mueller rant

This is our Joseph McCarthy Era!

in a bad way, apparently, not the good way

yeah i think some smart columnist has been making the point that he's been doing a lot of obstruction of justice for a guy who didn't know anything about Russia collusion

I guess to answer your original question, this week's revelations did change something about the investigation

It now seems likely that Trump knew about his campaign's contacts with Russia

or at least knew more than I was giving him credit for a few weeks ago

yeah it previously seemed more plausible to me that he might have just been saying what people on his team told him to

but he wasn't that deep in the weeds on contacts with Russia

I never gave that more than the tiniest chance

(not staying up all night digging into the details myself is really hampering my understanding of the Russia stuff)

I veer back and forth on Trump's intelligence

Well, you had several people in his orbit who had contacts with Russia during the campaign, and all of them were vying for his favor, and none of them would have had the slightest hesitation about colluding with Russia if it would help them win

I think this week's news also underscored the extent to which trump thought he would lose the election. the whole thing really did seem like an effort to boost his personal brand and properties, as everyone was saying at the time '' and then he sort of accidentally prevailed

Yeah I firmly believe the aim was to launch Trump TV, which is why it was somewhat plausible that he wasn't involved in some elaborate effort to work with the Russians to get a leg up

why bother?

right, but a big part of his business was with Russia

how do you think this latest news changes our understanding (if at all) of what sort of leverage russia had on trump?

doesn't. we're going to have to get way deeper to get insight into that.

I was, and still am, a firm peeliever

that's the song at the end of the Russian sopranos

we're living through the Russian sopranos

all these reports just slightly shift my window of what Mueller could possibly have found. we're living in this strange world of speculation and conspiracy theories until he releases his report

(and if it's fully made public)

but margaret, don't you see'...he's been writing his report all along!!

it's right there in front of us!

(cut to margaret dropping her coffee cup in disbelief)

haha. I did get the sense this week that the Russia stuff is way worse that I even thought. But it was actually from Manafort's activities.

That guy is way more frightened of his shady former business associates than he is of Mueller and his team

yeah, I keep remembering anew how awful the people in his inner circle really are

Right, the only real *rational* explanation for Manafort's actions is that he's afraid of the Russians, but the irrational explanations should not be discounted, either

i guess it's possible he's really, really dumb

but I'll give him the benefit of the doubt and go with ''really afraid of the Russians''

two options that really say it all about the Trump administration

11/30/2018

You can see why so many Google employees are up in arms about this

Yonatan Zunger, then a 14-year veteran of Google and one of the leading engineers at the company, was among a small group who had been asked to work on Dragonfly. He was present at some of the early meetings and said he pointed out to executives managing the project that Chinese people could be at risk of interrogation or detention if they were found to have used Google to seek out information banned by the government.

Scott Beaumont, Google's head of operations in China and one of the key architects of Dragonfly, did not view Zunger's concerns as significant enough to merit a change of course, according to four people who worked on the project. Beaumont and other executives then shut out members of the company's security and privacy team from key meetings about the search engine, the four people said, and tried to sideline a privacy review of the plan that sought to address potential human rights abuses.

fandom

Why Fortnite, the Hottest Game in the World, Is a Dud on Tumblr

By Brian Feldman

The hit game placed 30th on the social network's year-end rankings.

2018 midterms

Kevin McCarthy Rises to Power at Expense of His Defeated California Colleagues

By Ed Kilgore

The new House GOP leader led his California colleagues to a slaughter in the midterms through his loyalty to Trump and his agenda.

11/30/2018

An unlikely pipeline to elite universities isn't what it seemed

Bryson Sassau's application would inspire any college admissions officer.

A founder of T.M. Landry College Preparatory School described him as a ''bright, energetic, compassionate and genuinely well-rounded'' student whose alcoholic father had beaten him and his mother and had denied them money for food and shelter. His transcript ''speaks for itself,'' the founder, Tracey Landry, wrote, but Mr. Sassau should also be lauded for founding a community service program, the Dry House, to help the children of abusive and alcoholic parents. He took four years of honors English, the application said, was a baseball M.V.P. and earned high honors in the ''Mathematics Olympiad.''

The narrative earned Mr. Sassau acceptance to St. John's University in New York. There was one problem: None of it was true.

11/30/2018

A major step in a case that rocked Dallas

NEW: Dallas police officer who shot and killed 26-year-old Botham Jean, and who indicated she mistakenly entered the wrong apartment and thought there was a burglar inside her home, has been indicted on manslaughter by a Dallas County grand jury.

'--@joshscampbell 2018 midterms

Voter Fraud '-- But Not the Kind That Worries the GOP '-- Roils North Carolina Race

By Sarah Jones

Republican Mark Harris's narrow win over Democrat Dan McCready is being investigated due to allegations of irregularities with absentee ballots.

11/30/2018the national interest

the national interest

Trump's Crooked Attorney General Stonewalled Probe Into His Crooked Firm

By Jonathan Chait

The acting attorney general has experience obstructing justice.

Politics

11/30/2018

Another prominent Republican sowing dangerous paranoia about vote-counting

In Myrtle Beach this AM,

@LindseyGrahamSC cast doubt on legitimacy of Dem gains in post-election vote counting:

''This is a constant problem'... If you're a Republican, you've got to win by a lot to win by a little. Rick Scott had a 60,000 vote majority and wound up winning by 10''

'--@jslovegrove 11/30/2018

Widespread serious damage around Anchorage after major earthquake strikes

11/30/2018

America's grim possible future: the rich live ever-longer, the poor die ever-younger

What's often lost in the conversation about the uptick in mortality in the US is that this trend isn't affecting all Americans. In fact, there's one group in the US that's actually doing better than ever: the rich. While poor and middle-class Americans are dying earlier, the wealthiest among us are enjoying unprecedented longevity.

So when we talk about life expectancy slipping, what we should also talk about is the growing problem of health inequality in America. And it's an increasingly urgent discussion, health researchers are warning, because of policy changes on the horizon that are poised to make the mortality gap even wider.

11/30/2018political correctness

political correctness

CNN Fired Marc Lamont Hill to Comfort Conservative Snowflakes

By Eric Levitz

Hill's firing shows that nothing is more ''politically incorrect'' than the idea that Palestinians and Israelis are equally entitled to human rights.

11/30/2018

The Interior secretary responded to Representative Raul Grijalva's op-ed calling for his resignation by accusing the Democratic lawmaker of being a drunk. Stay classy, Ryan Zinke!

It's hard for him to think straight from the bottom of the bottle. This is coming from a man who used nearly $50,000 in tax dollars as hush money to cover up his drunken and hostile behavior. He should resign and pay back the taxpayer for the hush money and the tens of thousands of dollars he forced my department to spend investigating unfounded allegations.

'--@SecretaryZinke 11/30/2018

A tsunami warning has been issued for coastal areas of southern Alaska following a powerful earthquake

Photo: NOAA

instagram

Instagram Quick Reactions Are Trying to Ruin My Life

By Madison Malone Kircher

My fingers keep accidentally sending crying-face emoji to near strangers.

11/30/2018

It's starting to look like the acting Attorney General may not be on the level

New documents released by the U.S. Federal Trade Commission suggest that acting Attorney General Matthew Whitaker misled the agency's investigators as he was stepping into his role last year as Justice Department chief of staff.

After several attempts to reach Whitaker about the Miami company where he was on the advisory board, the FTC investigator emailed his colleagues to relay that he finally reached Whitaker, who was willing to cooperate and asserted that he ''never emailed or wrote to consumers'' in his consulting role.

That statement to James Evans of the FTC appears to be inaccurate. Whitaker had written a letter in 2015 to a disgruntled customer who planned to report the company, World Patent Marketing, to the Better Business Bureau. In the letter, which was included in the FTC's disclosure and reported previously by the news media, Whitaker threatened the customer, writing: ''I am assuming you understand there could be serious civil and criminal consequences for you if that is in fact what you and your 'group' are doing.''

11/30/2018

Has the news not gotten to Japan yet?

Prime Minster Abe of Japan congratulates Trump ''on his historic victory in the midterm election in the United States.''

'--@Bencjacobs data security

Marriott Hack Potentially Affects 500 Million, But Probably Not Profits

By Jake Swearingen

If confirmed, the hack would be the second largest in history. But looking at past precedent, the company likely won't suffer real consequences.

11/30/2018

Putin and MBS are having a great time together at the G20 summit

Photo: Ludovic Marin/AFP/Getty Images

11/30/2018

The way China harasses and surveils its Uighur minority is chilling

The two women in the photograph were smiling, but Halmurat Idris knew something was terribly wrong.

One was his 39-year-old sister; standing at her side was an elderly woman Idris did not know. Their grins were tight-lipped, mirthless. Her sister had posted the picture on a social media account along with a caption punctuated by a smiley-face.

''Look, I have a Han Chinese mother now!'' his sister wrote.

Idris knew instantly: The old woman was a spy, sent by the Chinese government to infiltrate his family.

11/30/2018

Will Al Franken's party welcome him back?

Nearly a year after he resigned his U.S. Senate seat amid sexual misconduct allegations, Al Franken is testing whether he can make a comeback in the #MeToo era.

The former ''Saturday Night Live'' funnyman released a podcast on health care this week, just days after a Thanksgiving Day Facebook post in which he mused how much he missed ''being in the fight every day.''

Franken declined an interview request, and he hasn't made clear yet exactly how he will seek to become more publicly involved. He said in his Facebook post that he is ''certainly not running for anything.'' Even if he was interested, Minnesota's Senate seats and governorship are locked down for the near future by fellow Democrats.

life in pixels

Why Is Tucker Carlson Mad About Rudolph the Red-Nosed Reindeer?

By Max Read

Like the water cycle, the content cycle is a beautiful, natural process that sustains a multitude of organisms at all levels.

"]:[0,"",""]};function parse(e,t){if("string"!=typeof e)throw new TypeError("String expected");t||(t=document);var a=/",""],map.option=map.optgroup=[1,'"],map.thead=map.tbody=map.colgroup=map.caption=map.tfoot=[1,""],map.polyline=map.ellipse=map.polygon=map.circle=map.text=map.line=map.path=map.rect=map.g=[1,'',""];}, {}];window.modules["252"] = [function(require,module,exports){var indexOf=function(e,t){if(e.indexOf)return e.indexOf(t);for(var n=0;n1){var r=t.shift();t[0]=r+t[0]}t[0].match(/^file:\/\/\//)?t[0]=t[0].replace(/^([^\/:]+):\/*/,"$1:///"):t[0]=t[0].replace(/^([^\/:]+):\/*/,"$1://");for(var n=0;n0&&(i=i.replace(/^[\/]+/,"")),i=n0?"?":"")+s.join("&")}("object"==typeof arguments[0]?arguments[0]:[].slice.call(arguments))}},t.exports?t.exports=n():r.urljoin=n()}),i=r(function(t,e){var r=Object.prototype.hasOwnProperty,n=function(){for(var t=[],e=0;e=48&&o=65&&o=97&&o>6]+n[128|63&o]:o=57344?r+=n[224|o>>12]+n[128|o>>6&63]+n[128|63&o]:(i+=1,o=65536+((1023&o)>18]+n[128|o>>12&63]+n[128|o>>6&63]+n[128|63&o])}return r},e.compact=function(t,r){if("object"!=typeof t||null===t)return t;var n=r||[],i=n.indexOf(t);if(-1!==i)return n[i];if(n.push(t),Array.isArray(t)){for(var o=[],s=0;s=0&&r.parseArrays&&s=this._maxRetries)return!1;if(this._retryCallback)try{var r=this._retryCallback(t,e);if(!0===r)return!0;if(!1===r)return!1}catch(t){console.error(t)}if(e&&e.status&&e.status>=500&&501!=e.status)return!0;if(t){if(t.code&&~_.indexOf(t.code))return!0;if(t.timeout&&"ECONNABORTED"==t.code)return!0;if(t.crossDomain)return!0}return!1},w.prototype._retry=function(){return this.clearTimeout(),this.req&&(this.req=null,this.req=this.request()),this._aborted=!1,this.timedout=!1,this._end()},w.prototype.then=function(t,e){if(!this._fullfilledPromise){var r=this;this._endCalled&&console.warn("Warning: superagent request was sent twice, because both .end() and .then() were called. Never call .end() if you use promises"),this._fullfilledPromise=new Promise(function(t,e){r.end(function(r,n){r?e(r):t(n)})})}return this._fullfilledPromise.then(t,e)},w.prototype.catch=function(t){return this.then(void 0,t)},w.prototype.use=function(t){return t(this),this},w.prototype.ok=function(t){if("function"!=typeof t)throw Error("Callback required");return this._okCallback=t,this},w.prototype._isResponseOK=function(t){return!!t&&(this._okCallback?this._okCallback(t):t.status>=200&&t.status=0?"&":"?")+t),this._query.length=0,this._sort){var e=this.url.indexOf("?");if(e>=0){var r=this.url.substring(e+1).split("&");"function"==typeof this._sort?r.sort(this._sort):r.sort(),this.url=this.url.substring(0,e)+"?"+r.join("&")}}},w.prototype._appendQueryString=function(){console.trace("Unsupported")},w.prototype._timeoutError=function(t,e,r){if(!this._aborted){var n=new Error(t+e+"ms exceeded");n.timeout=e,n.code="ECONNABORTED",n.errno=r,this.timedout=!0,this.abort(),this.callback(n)}},w.prototype._setTimeouts=function(){var t=this;this._timeout&&!this._timer&&(this._timer=setTimeout(function(){t._timeoutError("Timeout of ",t._timeout,"ETIME")},this._timeout)),this._responseTimeout&&!this._responseTimeoutTimer&&(this._responseTimeoutTimer=setTimeout(function(){t._timeoutError("Response timeout of ",t._responseTimeout,"ETIMEDOUT")},this._responseTimeout))};var T=O;function O(t){if(t)return function(t){for(var e in O.prototype)t[e]=O.prototype[e];return t}(t)}function k(){this._defaults=[]}O.prototype.get=function(t){return this.header[t.toLowerCase()]},O.prototype._setHeaderProperties=function(t){var e=t["content-type"]||"";this.type=e.split(/ *; */).shift();var r=function(t){return t.split(/ *; */).reduce(function(t,e){var r=e.split(/ *= */),n=r.shift(),i=r.shift();return n&&i&&(t[n]=i),t},{})}(e);for(var n in r)this[n]=r[n];this.links={};try{t.link&&(this.links=function(t){return t.split(/ *, */).reduce(function(t,e){var r=e.split(/ *; */),n=r[0].slice(1,-1);return t[r[1].split(/ *= */)[1].slice(1,-1)]=n,t},{})}(t.link))}catch(t){}},O.prototype._setStatusProperties=function(t){var e=t/100|0;this.status=this.statusCode=t,this.statusType=e,this.info=1==e,this.ok=2==e,this.redirect=3==e,this.clientError=4==e,this.serverError=5==e,this.error=(4==e||5==e)&&this.toError(),this.accepted=202==t,this.noContent=204==t,this.badRequest=400==t,this.unauthorized=401==t,this.notAcceptable=406==t,this.forbidden=403==t,this.notFound=404==t},["use","on","once","set","query","type","accept","auth","withCredentials","sortQuery","retry","ok","redirects","timeout","buffer","serialize","parse","ca","key","pfx","cert"].forEach(function(t){k.prototype[t]=function(){return this._defaults.push({fn:t,arguments:arguments}),this}}),k.prototype._setDefaults=function(t){this._defaults.forEach(function(e){t[e.fn].apply(t,e.arguments)})};for(var C=k,A=r(function(t,r){var n;function i(){}"undefined"!=typeof window?n=window:"undefined"!=typeof self?n=self:(console.warn("Using browser-only version of superagent in non-browser environment"),n=e);var o=r=t.exports=function(t,e){return"function"==typeof e?new r.Request("GET",t).end(e):1==arguments.length?new r.Request("GET",t):new r.Request(t,e)};r.Request=l,o.getXHR=function(){if(!(!n.XMLHttpRequest||n.location&&"file:"==n.location.protocol&&n.ActiveXObject))return new XMLHttpRequest;try{return new ActiveXObject("Microsoft.XMLHTTP")}catch(t){}try{return new ActiveXObject("Msxml2.XMLHTTP.6.0")}catch(t){}try{return new ActiveXObject("Msxml2.XMLHTTP.3.0")}catch(t){}try{return new ActiveXObject("Msxml2.XMLHTTP")}catch(t){}throw Error("Browser-only version of superagent could not find XHR")};var s="".trim?function(t){return t.trim()}:function(t){return t.replace(/(^\s*|\s*$)/g,"")};function a(t){if(!v(t))return t;var e=[];for(var r in t)p(e,r,t[r]);return e.join("&")}function p(t,e,r){if(null!=r)if(Array.isArray(r))r.forEach(function(r){p(t,e,r)});else if(v(r))for(var n in r)p(t,e+"["+n+"]",r[n]);else t.push(encodeURIComponent(e)+"="+encodeURIComponent(r));else null===r&&t.push(encodeURIComponent(e))}function u(t){for(var e,r,n={},i=t.split("&"),o=0,s=i.length;o=2&&t._responseTimeoutTimer&&clearTimeout(t._responseTimeoutTimer),4==r){var n;try{n=e.status}catch(t){n=0}if(!n){if(t.timedout||t._aborted)return;return t.crossDomainError()}t.emit("end")}};var n=function(e,r){r.total>0&&(r.percent=r.loaded/r.total*100),r.direction=e,t.emit("progress",r)};if(this.hasListeners("progress"))try{e.onprogress=n.bind(null,"download"),e.upload&&(e.upload.onprogress=n.bind(null,"upload"))}catch(t){}try{this.username&&this.password?e.open(this.method,this.url,!0,this.username,this.password):e.open(this.method,this.url,!0)}catch(t){return this.callback(t)}if(this._withCredentials&&(e.withCredentials=!0),!this._formData&&"GET"!=this.method&&"HEAD"!=this.method&&"string"!=typeof r&&!this._isHost(r)){var i=this._header["content-type"],s=this._serializer||o.serialize[i?i.split(";")[0]:""];!s&&c(i)&&(s=o.serialize["application/json"]),s&&(r=s(r))}for(var a in this.header)null!=this.header[a]&&this.header.hasOwnProperty(a)&&e.setRequestHeader(a,this.header[a]);return this._responseType&&(e.responseType=this._responseType),this.emit("request",this),e.send(void 0!==r?r:null),this},o.agent=function(){return new C},["GET","POST","OPTIONS","PATCH","PUT","DELETE"].forEach(function(t){C.prototype[t.toLowerCase()]=function(e,r){var n=new o.Request(t,e);return this._setDefaults(n),r&&n.end(r),n}}),C.prototype.del=C.prototype.delete,o.get=function(t,e,r){var n=o("GET",t);return"function"==typeof e&&(r=e,e=null),e&&n.query(e),r&&n.end(r),n},o.head=function(t,e,r){var n=o("HEAD",t);return"function"==typeof e&&(r=e,e=null),e&&n.query(e),r&&n.end(r),n},o.options=function(t,e,r){var n=o("OPTIONS",t);return"function"==typeof e&&(r=e,e=null),e&&n.send(e),r&&n.end(r),n},o.del=d,o.delete=d,o.patch=function(t,e,r){var n=o("PATCH",t);return"function"==typeof e&&(r=e,e=null),e&&n.send(e),r&&n.end(r),n},o.post=function(t,e,r){var n=o("POST",t);return"function"==typeof e&&(r=e,e=null),e&&n.send(e),r&&n.end(r),n},o.put=function(t,e,r){var n=o("PUT",t);return"function"==typeof e&&(r=e,e=null),e&&n.send(e),r&&n.end(r),n}}),D=(A.Request,[]),S=[],x="undefined"!=typeof Uint8Array?Uint8Array:Array,E="ABCDEFGHIJKLMNOPQRSTUVWXYZabcdefghijklmnopqrstuvwxyz0123456789+/",j=0,q=E.length;j0)throw new Error("Invalid string. Length must be a multiple of 4");return"="===t[e-2]?2:"="===t[e-1]?1:0}function R(t,e,r){for(var n,i,o=[],s=e;s>18&63]+D[i>>12&63]+D[i>>6&63]+D[63&i]);return o.join("")}S["-".charCodeAt(0)]=62,S["_".charCodeAt(0)]=63;var U=function(t){var e,r,n,i,o,s,a=t.length;o=I(t),s=new x(3*a/4-o),n=o>0?a-4:a;var p=0;for(e=0,r=0;e>16&255,s[p++]=i>>8&255,s[p++]=255&i;return 2===o?(i=S[t.charCodeAt(e)]>4,s[p++]=255&i):1===o&&(i=S[t.charCodeAt(e)]>2,s[p++]=i>>8&255,s[p++]=255&i),s},M=function(t){for(var e,r=t.length,n=r%3,i="",o=[],s=0,a=r-n;sa?a:s+16383));return 1===n?(e=t[r-1],i+=D[e>>2],i+=D[e>10],i+=D[e>>4&63],i+=D[e0&&(t=t.retry(this._timesToRetryFailedRequests)),e.noHeaders)return t;var r=this.headers;t=t.set("Content-Type","application/json");for(var n=Object.keys(this.headers),i=0;i=65&&e=48&&e=48&&e=65&&e1){if("number"==typeof(o=t({path:"/"},n.defaults,o)).expires){var a=new Date;a.setMilliseconds(a.getMilliseconds()+864e5*o.expires),o.expires=a}o.expires=o.expires?o.expires.toUTCString():"";try{s=JSON.stringify(i),/^[\{\[]/.test(s)&&(i=s)}catch(t){}i=r.write?r.write(i,e):encodeURIComponent(String(i)).replace(/%(23|24|26|2B|3A|3C|3E|3D|2F|3F|40|5B|5D|5E|60|7B|7D|7C)/g,decodeURIComponent),e=(e=(e=encodeURIComponent(String(e))).replace(/%(23|24|26|2B|5E|60|7C)/g,decodeURIComponent)).replace(/[\(\)]/g,escape);var p="";for(var u in o)o[u]&&(p+="; "+u,!0!==o[u]&&(p+="="+o[u]));return document.cookie=e+"="+i+p}e||(s={});for(var c=document.cookie?document.cookie.split("; "):[],h=/(%[0-9A-Z]{2})+/g,l=0;l0&&t.warning("Following parameters are not allowed on the `/authorize` endpoint: ["+r.join(",")+"]"),e},yt=r(function(t,e){var r;t.exports=r=r||function(t,e){var r=Object.create||function(){function t(){}return function(e){var r;return t.prototype=e,r=new t,t.prototype=null,r}}(),n={},i=n.lib={},o=i.Base={extend:function(t){var e=r(this);return t&&e.mixIn(t),e.hasOwnProperty("init")&&this.init!==e.init||(e.init=function(){e.$super.init.apply(this,arguments)}),e.init.prototype=e,e.$super=this,e},create:function(){var t=this.extend();return t.init.apply(t,arguments),t},init:function(){},mixIn:function(t){for(var e in t)t.hasOwnProperty(e)&&(this[e]=t[e]);t.hasOwnProperty("toString")&&(this.toString=t.toString)},clone:function(){return this.init.prototype.extend(this)}},s=i.WordArray=o.extend({init:function(t,e){t=this.words=t||[],this.sigBytes=null!=e?e:4*t.length},toString:function(t){return(t||p).stringify(this)},concat:function(t){var e=this.words,r=t.words,n=this.sigBytes,i=t.sigBytes;if(this.clamp(),n%4)for(var o=0;o>>2]>>>24-o%4*8&255;e[n+o>>>2]|=s>>2]=r[o>>>2];return this.sigBytes+=i,this},clamp:function(){var e=this.words,r=this.sigBytes;e[r>>>2]&=4294967295>16)&n)>16)&n)&n;return i/=4294967296,(i+=.5)*(t.random()>.5?1:-1)}},o=0;o>>2]>>>24-i%4*8&255;n.push((o>>>4).toString(16)),n.push((15&o).toString(16))}return n.join("")},parse:function(t){for(var e=t.length,r=[],n=0;n>>3]|=parseInt(t.substr(n,2),16)>>2]>>>24-i%4*8&255;n.push(String.fromCharCode(o))}return n.join("")},parse:function(t){for(var e=t.length,r=[],n=0;n>>2]|=(255&t.charCodeAt(n))>>7)^(f>>18)^f>>>3,m=u[d-2],g=(m>>17)^(m>>19)^m>>>10;u[d]=y+u[d-7]+g+u[d-16]}var v=n&i^n&o^i&o,b=(n>>2)^(n>>13)^(n>>22),w=l+((a>>6)^(a>>11)^(a>>25))+(a&c^~a&h)+p[d]+u[d];l=h,h=c,c=a,a=s+w|0,s=o,o=i,i=n,n=w+(b+v)|0}r[0]=r[0]+n|0,r[1]=r[1]+i|0,r[2]=r[2]+o|0,r[3]=r[3]+s|0,r[4]=r[4]+a|0,r[5]=r[5]+c|0,r[6]=r[6]+h|0,r[7]=r[7]+l|0},_doFinalize:function(){var e=this._data,r=e.words,n=8*this._nDataBytes,i=8*e.sigBytes;return r[i>>>5]|=128>>9>>9>>2]>>>24-o%4*8&255)>>2]>>>24-(o+1)%4*8&255)>>2]>>>24-(o+2)%4*8&255,a=0;a>>6*(3-a)&63));var p=n.charAt(64);if(p)for(;i.length%4;)i.push(p);return i.join("")},parse:function(t){var e=t.length,r=this._map,n=this._reverseMap;if(!n){n=this._reverseMap=[];for(var o=0;o>>6-s%4*2;n[o>>>2]|=(a|p)>15;--o>=0;){var p=32767&this[t],u=this[t++]>>15,c=a*p+u*s;i=((p=s*p+((32767&c)>>30)+(c>>>15)+a*u+(i>>>30),r[n++]=1073741823&p}return i},e=30):i&&"Netscape"!=navigator.appName?(r.prototype.am=function(t,e,r,n,i,o){for(;--o>=0;){var s=e*this[t++]+r[n]+i;i=Math.floor(s/67108864),r[n++]=67108863&s}return i},e=26):(r.prototype.am=function(t,e,r,n,i,o){for(var s=16383&e,a=e>>14;--o>=0;){var p=16383&this[t],u=this[t++]>>14,c=a*p+u*s;i=((p=s*p+((16383&c)>28)+(c>>14)+a*u,r[n++]=268435455&p}return i},e=28),r.prototype.DB=e,r.prototype.DM=(1>>16)&&(t=e,r+=16),0!=(e=t>>8)&&(t=e,r+=8),0!=(e=t>>4)&&(t=e,r+=4),0!=(e=t>>2)&&(t=e,r+=2),0!=(e=t>>1)&&(t=e,r+=1),r}function d(t){this.m=t}function f(t){this.m=t,this.mp=t.invDigit(),this.mpl=32767&this.mp,this.mph=this.mp>>15,this.um=(1>=16,e+=16),0==(255&t)&&(t>>=8,e+=8),0==(15&t)&&(t>>=4,e+=4),0==(3&t)&&(t>>=2,e+=2),0==(1&t)&&++e,e}function w(t){for(var e=0;0!=t;)t&=t-1,++e;return e}function _(){}function T(t){return t}function O(t){this.r2=n(),this.q3=n(),r.ONE.dlShiftTo(2*t.t,this.r2),this.mu=this.r2.divide(t),this.m=t}d.prototype.convert=function(t){return t.s=0?t.mod(this.m):t},d.prototype.revert=function(t){return t},d.prototype.reduce=function(t){t.divRemTo(this.m,null,t)},d.prototype.mulTo=function(t,e,r){t.multiplyTo(e,r),this.reduce(r)},d.prototype.sqrTo=function(t,e){t.squareTo(e),this.reduce(e)},f.prototype.convert=function(t){var e=n();return t.abs().dlShiftTo(this.m.t,e),e.divRemTo(this.m,null,e),t.s0&&this.m.subTo(e,e),e},f.prototype.revert=function(t){var e=n();return t.copyTo(e),this.reduce(e),e},f.prototype.reduce=function(t){for(;t.t>15)*this.mpl&this.um)=t.DV;)t[r]-=t.DV,t[++r]++}t.clamp(),t.drShiftTo(this.m.t,t),t.compareTo(this.m)>=0&&t.subTo(this.m,t)},f.prototype.mulTo=function(t,e,r){t.multiplyTo(e,r),this.reduce(r)},f.prototype.sqrTo=function(t,e){t.squareTo(e),this.reduce(e)},r.prototype.copyTo=function(t){for(var e=this.t-1;e>=0;--e)t[e]=this[e];t.t=this.t,t.s=this.s},r.prototype.fromInt=function(t){this.t=1,this.s=t0?this[0]=t:t=0;){var a=8==n?255&t[i]:c(t,i);athis.DB?(this[this.t-1]|=(a&(1>this.DB-s):this[this.t-1]|=a=this.DB&&(s-=this.DB))}8==n&&0!=(128&t[0])&&(this.s=-1,s>0&&(this[this.t-1]|=(10&&this[this.t-1]==t;)--this.t},r.prototype.dlShiftTo=function(t,e){var r;for(r=this.t-1;r>=0;--r)e[r+t]=this[r];for(r=t-1;r>=0;--r)e[r]=0;e.t=this.t+t,e.s=this.s},r.prototype.drShiftTo=function(t,e){for(var r=t;r=0;--r)e[r+s+1]=this[r]>>i|a,a=(this[r]&o)=0;--r)e[r]=0;e[s]=a,e.t=this.t+s+1,e.s=this.s,e.clamp()},r.prototype.rShiftTo=function(t,e){e.s=this.s;var r=Math.floor(t/this.DB);if(r>=this.t)e.t=0;else{var n=t%this.DB,i=this.DB-n,o=(1>n;for(var s=r+1;s>n;n>0&&(e[this.t-r-1]|=(this.s&o)>=this.DB;if(t.t>=this.DB;n+=this.s}else{for(n+=this.s;r>=this.DB;n-=t.s}e.s=n0&&(e[r++]=n),e.t=r,e.clamp()},r.prototype.multiplyTo=function(t,e){var n=this.abs(),i=t.abs(),o=n.t;for(e.t=o+i.t;--o>=0;)e[o]=0;for(o=0;o=0;)t[r]=0;for(r=0;r=e.DV&&(t[r+e.t]-=e.DV,t[r+e.t+1]=1)}t.t>0&&(t[t.t-1]+=e.am(r,e[r],t,2*r,0,1)),t.s=0,t.clamp()},r.prototype.divRemTo=function(t,e,i){var o=t.abs();if(!(o.t0?(o.lShiftTo(c,a),s.lShiftTo(c,i)):(o.copyTo(a),s.copyTo(i));var h=a.t,d=a[h-1];if(0!=d){var f=d*(11?a[h-2]>>this.F2:0),y=this.FV/f,m=(1=0&&(i[i.t++]=1,i.subTo(w,i)),r.ONE.dlShiftTo(h,w),w.subTo(a,a);a.t=0;){var _=i[--v]==d?this.DM:Math.floor(i[v]*y+(i[v-1]+g)*m);if((i[v]+=a.am(0,_,i,b,0,h))0&&i.rShiftTo(c,i),p0?this.DV-e:-e},r.prototype.isEven=function(){return 0==(this.t>0?1&this[0]:this.s)},r.prototype.exp=function(t,e){if(t>4294967295||t=0;)if(e.sqrTo(i,o),(t&10)e.mulTo(o,s,i);else{var p=i;i=o,o=p}return e.revert(i)},r.prototype.toString=function(t){if(this.s0)for(a>a)>0&&(i=!0,o=u(r));s>=0;)a>(a+=this.DB-e)):(r=this[s]>>(a-=e)&n,a0&&(i=!0),i&&(o+=u(r));return i?o:"0"},r.prototype.negate=function(){var t=n();return r.ZERO.subTo(this,t),t},r.prototype.abs=function(){return this.s=0;)if(0!=(e=this[r]-t[r]))return e;return 0},r.prototype.bitLength=function(){return this.t0&&t.subTo(e,e),e},r.prototype.modPowInt=function(t,e){var r;return r=t2*this.m.t)return t.mod(this.m);if(t.compareTo(this.m)this.m.t+1&&(t.t=this.m.t+1,t.clamp()),this.mu.multiplyUpperTo(this.r2,this.m.t+1,this.q3),this.m.multiplyLowerTo(this.q3,this.m.t+1,this.r2);t.compareTo(this.r2)=0;)t.subTo(this.m,t)},O.prototype.mulTo=function(t,e,r){t.multiplyTo(e,r),this.reduce(r)},O.prototype.sqrTo=function(t,e){t.squareTo(e),this.reduce(e)};var k,C,A,D=[2,3,5,7,11,13,17,19,23,29,31,37,41,43,47,53,59,61,67,71,73,79,83,89,97,101,103,107,109,113,127,131,137,139,149,151,157,163,167,173,179,181,191,193,197,199,211,223,227,229,233,239,241,251,257,263,269,271,277,281,283,293,307,311,313,317,331,337,347,349,353,359,367,373,379,383,389,397,401,409,419,421,431,433,439,443,449,457,461,463,467,479,487,491,499,503,509,521,523,541,547,557,563,569,571,577,587,593,599,601,607,613,617,619,631,641,643,647,653,659,661,673,677,683,691,701,709,719,727,733,739,743,751,757,761,769,773,787,797,809,811,821,823,827,829,839,853,857,859,863,877,881,883,887,907,911,919,929,937,941,947,953,967,971,977,983,991,997],S=(1>8&255,C[A++]^=t>>16&255,C[A++]^=t>>24&255,A>=M&&(A-=M)}if(r.prototype.chunkSize=function(t){return Math.floor(Math.LN2*this.DB/Math.log(t))},r.prototype.toRadix=function(t){if(null==t&&(t=10),0==this.signum()||t36)return"0";var e=this.chunkSize(t),r=Math.pow(t,e),i=h(r),o=n(),s=n(),a="";for(this.divRemTo(i,o,s);o.signum()>0;)a=(r+s.intValue()).toString(t).substr(1)+a,o.divRemTo(i,o,s);return s.intValue().toString(t)+a},r.prototype.fromRadix=function(t,e){this.fromInt(0),null==e&&(e=10);for(var n=this.chunkSize(e),i=Math.pow(e,n),o=!1,s=0,a=0,p=0;p=n&&(this.dMultiply(i),this.dAddOffset(a,0),s=0,a=0))}s>0&&(this.dMultiply(Math.pow(e,s)),this.dAddOffset(a,0)),o&&r.ZERO.subTo(this,this)},r.prototype.fromNumber=function(t,e,n){if("number"==typeof e)if(tt&&this.subTo(r.ONE.shiftLeft(t-1),this);else{var i=new Array,o=7&t;i.length=1+(t>>3),e.nextBytes(i),o>0?i[0]&=(1>=this.DB;if(t.t>=this.DB;n+=this.s}else{for(n+=this.s;r>=this.DB;n+=t.s}e.s=n0?e[r++]=n:n=this.DV;)this[e]-=this.DV,++e>=this.t&&(this[this.t++]=0),++this[e]}},r.prototype.multiplyLowerTo=function(t,e,r){var n,i=Math.min(this.t+t.t,e);for(r.s=0,r.t=i;i>0;)r[--i]=0;for(n=r.t-this.t;i=0;)r[n]=0;for(n=Math.max(e-this.t,0);n0)if(0==e)r=this[0]%t;else for(var n=this.t-1;n>=0;--n)r=(e*r+this[n])%t;return r},r.prototype.millerRabin=function(t){var e=this.subtract(r.ONE),i=e.getLowestSetBit();if(i>1)>D.length&&(t=D.length);for(var s=n(),a=0;a>24},r.prototype.shortValue=function(){return 0==this.t?this.s:this[0]>16},r.prototype.signum=function(){return this.s0)for(n>n)!=(this.s&this.DM)>>n&&(e[i++]=r|this.s=0;)n>(n+=this.DB-8)):(r=this[t]>>(n-=8)&255,n0||r!=this.s)&&(e[i++]=r);return e},r.prototype.equals=function(t){return 0==this.compareTo(t)},r.prototype.min=function(t){return this.compareTo(t)0?this:t},r.prototype.and=function(t){var e=n();return this.bitwiseTo(t,y,e),e},r.prototype.or=function(t){var e=n();return this.bitwiseTo(t,m,e),e},r.prototype.xor=function(t){var e=n();return this.bitwiseTo(t,g,e),e},r.prototype.andNot=function(t){var e=n();return this.bitwiseTo(t,v,e),e},r.prototype.not=function(){for(var t=n(),e=0;e=this.t?0!=this.s:0!=(this[e]&11){var y=n();for(i.sqrTo(a[1],y);p=0;){for(o>=u?m=t[v]>>o-u&c:(m=(t[v]&(10&&(m|=t[v-1]>>this.DB+o-u)),p=r;0==(1&m);)m>>=1,--p;if((o-=p)1;)i.sqrTo(s,w),i.sqrTo(w,s),p-=2;p>0?i.sqrTo(s,w):(g=s,s=w,w=g),i.mulTo(w,a[m],s)}for(;v>=0&&0==(t[v]&1=0?(n.subTo(i,n),e&&o.subTo(a,o),s.subTo(p,s)):(i.subTo(n,i),e&&a.subTo(o,a),p.subTo(s,p))}return 0!=i.compareTo(r.ONE)?r.ZERO:p.compareTo(t)>=0?p.subtract(t):p.signum()0&&(e.rShiftTo(o,e),r.rShiftTo(o,r));e.signum()>0;)(i=e.getLowestSetBit())>0&&e.rShiftTo(i,e),(i=r.getLowestSetBit())>0&&r.rShiftTo(i,r),e.compareTo(r)>=0?(e.subTo(r,e),e.rShiftTo(1,e)):(r.subTo(e,r),r.rShiftTo(1,r));return o>0&&r.lShiftTo(o,r),r},r.prototype.isProbablePrime=function(t){var e,r=this.abs();if(1==r.t&&r[0]>>8,C[A++]=255&E;A=0,x()}function I(){if(null==k){for(x(),(k=new U).init(C),A=0;A0&&e.length>0))throw new Error("Invalid key data");this.n=new bt(t,16),this.e=parseInt(e,16)}Tt.prototype.verify=function(t,e){e=e.replace(/[^0-9a-f]|[\s\n]]/gi,"");var r=new bt(e,16);if(r.bitLength()>this.n.bitLength())throw new Error("Signature does not match with the key modulus.");var n=function(t){for(var e in wt){var r=wt[e],n=r.length;if(t.substring(0,n)===r)return{alg:e,hash:t.substring(n)}}return[]}(r.modPowInt(this.e,this.n).toString(16).replace(/^1f+00/,""));if(0===n.length)return!1;if(!_t.hasOwnProperty(n.alg))throw new Error("Hashing algorithm is not supported.");var i=_t[n.alg](t).toString();return n.hash===i};var Ot=Tt;function kt(t){var e=t.length%4;return 0===e?t:t+new Array(4-e+1).join("=")}function Ct(t){for(var e="",r=0;r60)throw new Rt.ConfigurationError("The leeway should be positive and lower than a minute.");if(-1===Bt.indexOf(this.expectedAlg))throw new Rt.ConfigurationError("Algorithm "+this.expectedAlg+" is not supported. (Expected algs: ["+Bt.join(",")+"])")}Pt.prototype.verify=function(t,e,r){var n=this.decode(t);if(n instanceof Error)return r(n,!1);var i=n.encoded.header+"."+n.encoded.payload,o=St.decodeToHEX(n.encoded.signature),s=n.header.alg,a=n.header.kid,p=n.payload.aud,u=n.payload.iss,c=n.payload.exp,h=n.payload.nbf,l=n.payload.nonce||null;if(this.issuer!==u)return r(new Rt.TokenValidationError("Issuer "+u+" is not valid."),!1);if(this.audience!==p)return r(new Rt.TokenValidationError("Audience "+p+" is not valid."),!1);if(this.expectedAlg!==s)return r(new Rt.TokenValidationError("Algorithm "+s+" is not supported. (Expected algs: ["+Bt.join(",")+"])"),!1);if(l!==e)return r(new Rt.TokenValidationError("Nonce does not match."),!1);var d=this.verifyExpAndNbf(c,h);return d?r(d,!1):this.getRsaVerifier(u,a,function(t,e){return t?r(t):e.verify(i,o)?r(null,n.payload):r(new Rt.TokenValidationError("Invalid signature."))})},Pt.prototype.verifyExpAndNbf=function(t,e){var r=new Date,n=new Date(0),i=new Date(0);return this.__disableExpirationCheck?null:(n.setUTCSeconds(t+this.leeway),r>n?new Rt.TokenValidationError("Expired token."):void 0===e?null:(i.setUTCSeconds(e-this.leeway),rn?new Rt.TokenValidationError("Expired token."):(i.setUTCSeconds(e-this.leeway),r-1&&null!==new RegExp("rv:([0-9]{2,2}[.0-9]{0,})").exec(e)&&(t=parseFloat(RegExp.$1)),t>=8}();return"undefined"!=typeof window&&window.JSON&&window.JSON.stringify&&window.JSON.parse&&window.postMessage?{open:function(o,s){if(!s)throw"missing required callback argument";var a,p;o.url||(a="missing required 'url' parameter"),o.relay_url||(a="missing required 'relay_url' parameter"),a&&setTimeout(function(){s(a)},0),o.window_name||(o.window_name=null),o.window_features&&!function(){try{var t=navigator.userAgent;return-1!=t.indexOf("Fennec/")||-1!=t.indexOf("Firefox/")&&-1!=t.indexOf("Android")}catch(t){}return!1}()||(o.window_features=void 0);var u,c=o.origin||n(o.url);if(c!==n(o.relay_url))return setTimeout(function(){s("invalid arguments: origin of url and relay_url must match")},0);i&&((p=document.createElement("iframe")).setAttribute("src",o.relay_url),p.style.display="none",p.setAttribute("name","__winchan_relay_frame"),document.body.appendChild(p),u=p.contentWindow);var h=o.popup||window.open(o.url,o.window_name,o.window_features);o.popup&&(h.location.href=o.url),u||(u=h);var l=setInterval(function(){h&&h.closed&&(f(),s&&(s("User closed the popup window"),s=null))},500),d=JSON.stringify({a:"request",d:o.params});function f(){if(p&&document.body.removeChild(p),p=void 0,l&&(l=clearInterval(l)),r(window,"message",y),r(window,"unload",f),h)try{h.close()}catch(e){u.postMessage(t,c)}h=u=void 0}function y(t){if(t.origin===c){try{var e=JSON.parse(t.data)}catch(t){if(s)return s(t);throw t}"ready"===e.a?u.postMessage(d,c):"error"===e.a?(f(),s&&(s(e.d),s=null)):"response"===e.a&&(f(),s&&(s(null,e.d),s=null))}}return e(window,"unload",f),e(window,"message",y),{close:f,focus:function(){if(h)try{h.focus()}catch(t){}}}},onOpen:function(n){var o="*",s=i?function(){window.location;for(var t=window.opener.frames,e=t.length-1;e>=0;e--)try{if(t[e].location.protocol===window.location.protocol&&t[e].location.host===window.location.host&&"__winchan_relay_frame"===t[e].name)return t[e]}catch(t){}}():window.opener;if(!s)throw"can't find relay frame";function a(t){t=JSON.stringify(t),i?s.doPost(t,o):s.postMessage(t,o)}function p(e){if(e.data===t)try{window.close()}catch(t){}}e(i?s:window,"message",function t(e){var i;try{i=JSON.parse(e.data)}catch(t){}i&&"request"===i.a&&(r(window,"message",t),o=e.origin,n&&setTimeout(function(){n(o,i.d,function(t){n=void 0,a({a:"response",d:t})})},0))}),e(i?s:window,"message",p);try{a({a:"ready"})}catch(t){e(s,"load",function(t){a({a:"ready"})})}var u=function(){try{r(i?s:window,"message",p)}catch(t){}n&&a({a:"error",d:"client closed window"}),n=void 0;try{window.close()}catch(t){}};return e(window,"unload",u),{detach:function(){r(window,"unload",u)}}}}:{open:function(t,e,r,n){setTimeout(function(){n("unsupported browser")},0)},onOpen:function(t){setTimeout(function(){t("unsupported browser")},0)}}}();t.exports&&(t.exports=e)}),Kt=function(t){/^https?:\/\//.test(t)||(t=window.location.href);var e=/^(https?:\/\/[-_a-zA-Z.0-9:]+)/.exec(t);return e?e[1]:t};function Gt(){this._current_popup=null}function Qt(t,e){this.baseOptions=e,this.baseOptions.popupOrigin=e.popupOrigin,this.client=t.client,this.webAuth=t,this.transactionManager=new Wt(this.baseOptions),this.crossOriginAuthentication=new Jt(t,this.baseOptions),this.warn=new it({disableWarnings:!!e._disableDeprecationWarnings})}function Yt(t){this.authenticationUrl=t.authenticationUrl,this.timeout=t.timeout||6e4,this.handler=null,this.postMessageDataType=t.postMessageDataType||!1,this.postMessageOrigin=t.postMessageOrigin||tt.getWindow().location.origin||tt.getWindow().location.protocol+"//"+tt.getWindow().location.hostname+(tt.getWindow().location.port?":"+tt.getWindow().location.port:"")}function te(t){this.baseOptions=t,this.request=new N(t),this.transactionManager=new Wt(this.baseOptions)}function ee(t,e){this.baseOptions=e,this.client=t,this.request=new N(this.baseOptions),this.warn=new it({disableWarnings:!!e._disableDeprecationWarnings})}function re(t){J.check(t,{type:"object",message:"options parameter is not valid"},{domain:{type:"string",message:"domain option is required"},clientID:{type:"string",message:"clientID option is required"},responseType:{optional:!0,type:"string",message:"responseType is not valid"},responseMode:{optional:!0,type:"string",message:"responseMode is not valid"},redirectUri:{optional:!0,type:"string",message:"redirectUri is not valid"},scope:{optional:!0,type:"string",message:"scope is not valid"},audience:{optional:!0,type:"string",message:"audience is not valid"},popupOrigin:{optional:!0,type:"string",message:"popupOrigin is not valid"},leeway:{optional:!0,type:"number",message:"leeway is not valid"},plugins:{optional:!0,type:"array",message:"plugins is not valid"},_disableDeprecationWarnings:{optional:!0,type:"boolean",message:"_disableDeprecationWarnings option is not valid"},_sendTelemetry:{optional:!0,type:"boolean",message:"_sendTelemetry option is not valid"},_telemetryInfo:{optional:!0,type:"object",message:"_telemetryInfo option is not valid"},_timesToRetryFailedRequests:{optional:!0,type:"number",message:"_timesToRetryFailedRequests option is not valid"}}),t.overrides&&J.check(t.overrides,{type:"object",message:"overrides option is not valid"},{__tenant:{optional:!0,type:"string",message:"__tenant option is required"},__token_issuer:{optional:!0,type:"string",message:"__token_issuer option is required"},__jwks_uri:{optional:!0,type:"string",message:"__jwks_uri is required"}}),this.baseOptions=t,this.baseOptions.plugins=new Ht(this,this.baseOptions.plugins||[]),this.baseOptions._sendTelemetry=!1!==this.baseOptions._sendTelemetry||this.baseOptions._sendTelemetry,this.baseOptions._timesToRetryFailedRequests=t._timesToRetryFailedRequests?parseInt(t._timesToRetryFailedRequests,0):0,this.baseOptions.tenant=this.baseOptions.overrides&&this.baseOptions.overrides.__tenant||this.baseOptions.domain.split(".")[0],this.baseOptions.token_issuer=this.baseOptions.overrides&&this.baseOptions.overrides.__token_issuer||"https://"+this.baseOptions.domain+"/",this.baseOptions.jwksURI=this.baseOptions.overrides&&this.baseOptions.overrides.__jwks_uri,this.transactionManager=new Wt(this.baseOptions),this.client=new oe(this.baseOptions),this.redirect=new Xt(this,this.baseOptions),this.popup=new Qt(this,this.baseOptions),this.crossOriginAuthentication=new Jt(this,this.baseOptions),this.webMessageHandler=new Ft(this),this._universalLogin=new ee(this,this.baseOptions),this.ssodataStorage=new at(this.baseOptions)}function ne(t,e){this.baseOptions=e,this.request=t}function ie(t,e){this.baseOptions=e,this.request=t}function oe(t,e){2===arguments.length?this.auth0=t:e=t,J.check(e,{type:"object",message:"options parameter is not valid"},{domain:{type:"string",message:"domain option is required"},clientID:{type:"string",message:"clientID option is required"},responseType:{optional:!0,type:"string",message:"responseType is not valid"},responseMode:{optional:!0,type:"string",message:"responseMode is not valid"},redirectUri:{optional:!0,type:"string",message:"redirectUri is not valid"},scope:{optional:!0,type:"string",message:"scope is not valid"},audience:{optional:!0,type:"string",message:"audience is not valid"},_disableDeprecationWarnings:{optional:!0,type:"boolean",message:"_disableDeprecationWarnings option is not valid"},_sendTelemetry:{optional:!0,type:"boolean",message:"_sendTelemetry option is not valid"},_telemetryInfo:{optional:!0,type:"object",message:"_telemetryInfo option is not valid"}}),this.baseOptions=e,this.baseOptions._sendTelemetry=!1!==this.baseOptions._sendTelemetry||this.baseOptions._sendTelemetry,this.baseOptions.rootUrl="https://"+this.baseOptions.domain,this.request=new N(this.baseOptions),this.passwordless=new ne(this.request,this.baseOptions),this.dbConnection=new ie(this.request,this.baseOptions),this.warn=new it({disableWarnings:!!e._disableDeprecationWarnings}),this.ssodataStorage=new at(this.baseOptions)}function se(t){J.check(t,{type:"object",message:"options parameter is not valid"},{domain:{type:"string",message:"domain option is required"},token:{type:"string",message:"token option is required"},_sendTelemetry:{optional:!0,type:"boolean",message:"_sendTelemetry option is not valid"},_telemetryInfo:{optional:!0,type:"object",message:"_telemetryInfo option is not valid"}}),this.baseOptions=t,this.baseOptions.headers={Authorization:"Bearer "+this.baseOptions.token},this.request=new N(this.baseOptions),this.baseOptions.rootUrl=n("https://"+this.baseOptions.domain,"api","v2")}Gt.prototype.calculatePosition=function(t){var e=t.width||500,r=t.height||600,n=tt.getWindow(),i=void 0!==n.screenX?n.screenX:n.screenLeft,o=void 0!==n.screenY?n.screenY:n.screenTop;return{width:e,height:r,left:i+((void 0!==n.outerWidth?n.outerWidth:n.document.body.clientWidth)-e)/2,top:o+((void 0!==n.outerHeight?n.outerHeight:n.document.body.clientHeight)-r)/2}},Gt.prototype.preload=function(t){var e=this,r=tt.getWindow(),n=this.calculatePosition(t.popupOptions||{}),i=Q.merge(n).with(t.popupOptions),o=t.url||"about:blank",s=m(i,{encode:!1,delimiter:","});return this._current_popup&&!this._current_popup.closed?this._current_popup:(this._current_popup=r.open(o,"auth0_signup_popup",s),this._current_popup.kill=function(){this.close(),e._current_popup=null},this._current_popup)},Gt.prototype.load=function(t,e,r,n){var i=this,o=this.calculatePosition(r.popupOptions||{}),s=Q.merge(o).with(r.popupOptions),a=Q.merge({url:t,relay_url:e,window_features:m(s,{delimiter:",",encode:!1}),popup:this._current_popup}).with(r),p=Zt.open(a,function(t,e){return i._current_popup=null,n(t,e)});return p.focus(),p},Qt.prototype.buildPopupHandler=function(){var t=this.baseOptions.plugins.get("popup.getPopupHandler");return t?t.getPopupHandler():new Gt},Qt.prototype.preload=function(t){t=t||{};var e=this.buildPopupHandler();return e.preload(t),e},Qt.prototype.getPopupHandler=function(t,e){return t.popupHandler?t.popupHandler:e?this.preload(t):this.buildPopupHandler()},Qt.prototype.callback=function(t){var e=this,r=tt.getWindow(),n=(t=t||{}).popupOrigin||this.baseOptions.popupOrigin||tt.getOrigin();r.opener?Zt.onOpen(function(r,i,o){if(r!==n)return o({error:"origin_mismatch",error_description:"The popup's origin ("+r+") should match the `popupOrigin` parameter ("+n+")."});e.webAuth.parseHash(t||{},function(t,e){return o(t||e)})}):r.doPost=function(t){r.parent&&r.parent.postMessage(t,n)}},Qt.prototype.authorize=function(t,e){var r,i,o={},s=this.baseOptions.plugins.get("popup.authorize"),a=Q.merge(this.baseOptions,["clientID","scope","domain","audience","tenant","responseType","redirectUri","_csrf","state","_intstate","nonce"]).with(Q.blacklist(t,["popupHandler"]));return J.check(a,{type:"object",message:"options parameter is not valid"},{responseType:{type:"string",message:"responseType option is required"}}),i=n(this.baseOptions.rootUrl,"relay.html"),t.owp?a.owp=!0:(o.origin=Kt(a.redirectUri),i=a.redirectUri),t.popupOptions&&(o.popupOptions=Q.pick(t.popupOptions,["width","height"])),s&&(a=s.processParams(a)),(a=this.transactionManager.process(a)).scope=a.scope||"openid profile email",delete a.domain,r=this.client.buildAuthorizeUrl(a),this.getPopupHandler(t).load(r,i,o,ct(e))},Qt.prototype.loginWithCredentials=function(t,e){t.realm=t.realm||t.connection,t.popup=!0,t=Q.merge(this.baseOptions,["redirectUri","responseType","state","nonce"]).with(Q.blacklist(t,["popupHandler","connection"])),t=this.transactionManager.process(t),this.crossOriginAuthentication.login(t,e)},Qt.prototype.passwordlessVerify=function(t,e){var r=this;return this.client.passwordless.verify(Q.blacklist(t,["popupHandler"]),function(n){if(n)return e(n);t.username=t.phoneNumber||t.email,t.password=t.verificationCode,delete t.email,delete t.phoneNumber,delete t.verificationCode,delete t.type,r.client.loginWithResourceOwner(t,e)})},Qt.prototype.signupAndLogin=function(t,e){var r=this,n=this.getPopupHandler(t,!0);return t.popupHandler=n,this.client.dbConnection.signup(Q.blacklist(t,["popupHandler"]),function(i){if(i)return n._current_popup&&n._current_popup.kill(),e(i);r.loginWithCredentials(t,e)})},Yt.create=function(t){return new Yt(t)},Yt.prototype.login=function(t,e){this.handler=new zt({auth0:this.auth0,url:this.authenticationUrl,eventListenerType:t?"message":"load",callback:this.getCallbackHandler(e,t),timeout:this.timeout,eventValidator:this.getEventValidator(),timeoutCallback:function(){e(null,"#error=timeout&error_description=Timeout+during+authentication+renew.")},usePostMessage:t||!1}),this.handler.init()},Yt.prototype.getEventValidator=function(){var t=this;return{isValid:function(e){switch(e.event.type){case"message":return e.event.origin===t.postMessageOrigin&&e.event.source===t.handler.iframe.contentWindow&&(!1===t.postMessageDataType||e.event.data.type&&e.event.data.type===t.postMessageDataType);case"load":if("about:"===e.sourceObject.contentWindow.location.protocol)return!1;default:return!0}}}},Yt.prototype.getCallbackHandler=function(t,e){return function(r){var n;n=e?"object"==typeof r.event.data&&r.event.data.hash?r.event.data.hash:r.event.data:r.sourceObject.contentWindow.location.hash,t(null,n)}},te.prototype.login=function(t,e){var r,i;return r=n(this.baseOptions.rootUrl,"usernamepassword","login"),t.username=t.username||t.email,t=Q.blacklist(t,["email"]),i=Q.merge(this.baseOptions,["clientID","redirectUri","tenant","responseType","responseMode","scope","audience"]).with(t),i=this.transactionManager.process(i),i=Q.toSnakeCase(i,["auth0Client"]),this.request.post(r).send(i).end(ct(e))},te.prototype.callback=function(t){var e,r=tt.getDocument();(e=r.createElement("div")).innerHTML=t,r.body.appendChild(e).children[0].submit()},ee.prototype.login=function(t,e){if(tt.getWindow().location.host!==this.baseOptions.domain)throw new Error("This method is meant to be used only inside the Universal Login Page.");var r,n=Q.merge(this.baseOptions,["clientID","redirectUri","tenant","responseType","responseMode","scope","audience","_csrf","state","_intstate","nonce"]).with(t);return J.check(n,{type:"object",message:"options parameter is not valid"},{responseType:{type:"string",message:"responseType option is required"}}),(r=new te(this.baseOptions)).login(n,function(t,n){return t?e(t):r.callback(n)})},ee.prototype.signupAndLogin=function(t,e){var r=this;return r.client.client.dbConnection.signup(t,function(n){return n?e(n):r.login(t,e)})},ee.prototype.getSSOData=function(t,e){var r,i="";return"function"==typeof t&&(e=t,t=!1),J.check(t,{type:"boolean",message:"withActiveDirectories parameter is not valid"}),J.check(e,{type:"function",message:"cb parameter is not valid"}),t&&(i="?"+m({ldaps:1,client_id:this.baseOptions.clientID})),r=n(this.baseOptions.rootUrl,"user","ssodata",i),this.request.get(r,{noHeaders:!0}).withCredentials().end(ct(e))},re.prototype.parseHash=function(t,e){var r,n;e||"function"!=typeof t?t=t||{}:(e=t,t={});var o=tt.getWindow(),s=void 0===t.hash?o.location.hash:t.hash;if((r=function(t,e){var r=e||{};if(null!==r.decoder&&void 0!==r.decoder&&"function"!=typeof r.decoder)throw new TypeError("Decoder has to be a function.");if(r.delimiter="string"==typeof r.delimiter||i.isRegExp(r.delimiter)?r.delimiter:d.delimiter,r.depth="number"==typeof r.depth?r.depth:d.depth,r.arrayLimit="number"==typeof r.arrayLimit?r.arrayLimit:d.arrayLimit,r.parseArrays=!1!==r.parseArrays,r.decoder="function"==typeof r.decoder?r.decoder:d.decoder,r.allowDots="boolean"==typeof r.allowDots?r.allowDots:d.allowDots,r.plainObjects="boolean"==typeof r.plainObjects?r.plainObjects:d.plainObjects,r.allowPrototypes="boolean"==typeof r.allowPrototypes?r.allowPrototypes:d.allowPrototypes,r.parameterLimit="number"==typeof r.parameterLimit?r.parameterLimit:d.parameterLimit,r.strictNullHandling="boolean"==typeof r.strictNullHandling?r.strictNullHandling:d.strictNullHandling,""===t||null==t)return r.plainObjects?Object.create(null):{};for(var n="string"==typeof t?function(t,e){for(var r={},n=t.split(e.delimiter,e.parameterLimit===1/0?void 0:e.parameterLimit),i=0;i0&&-1!==a.indexOf("token")&&!r.hasOwnProperty("access_token")?e(ut.buildResponse("invalid_hash","response_type contains `token`, but the parsed hash does not contain an `access_token` property")):a.length>0&&-1!==a.indexOf("id_token")&&!r.hasOwnProperty("id_token")?e(ut.buildResponse("invalid_hash","response_type contains `id_token`, but the parsed hash does not contain an `id_token` property")):this.validateAuthenticationResponse(t,r,e)},re.prototype.validateAuthenticationResponse=function(t,e,r){var n=this;t.__enableIdPInitiatedLogin=t.__enableIdPInitiatedLogin||t.__enableImpersonation;var i=e.state,o=this.transactionManager.getStoredTransaction(i),s=t.state||o&&o.state||null,a=s===i;if((i||s||!t.__enableIdPInitiatedLogin)&&!a)return r({error:"invalid_token",errorDescription:"`state` does not match."});var p=t.nonce||o&&o.nonce||null,u=t.state||o&&o.appState||null,c=function(t,i){return t?r(t):(o&&o.lastUsedConnection&&(i&&(s=i.sub),n.ssodataStorage.set(o.lastUsedConnection,s)),r(null,function(t,e,r){return{accessToken:t.access_token||null,idToken:t.id_token||null,idTokenPayload:r||null,appState:e||null,refreshToken:t.refresh_token||null,state:t.state||null,expiresIn:t.expires_in?parseInt(t.expires_in,10):null,tokenType:t.token_type||null,scope:t.scope||null}}(e,u,i)));var s};return e.id_token?this.validateToken(e.id_token,p,function(t,r){return t?"invalid_token"!==t.error?c(t):"HS256"!==(new Lt).decode(e.id_token).header.alg?c(t):e.access_token?n.client.userInfo(e.access_token,function(t,e){return t?c(t):c(null,e)}):c({error:"invalid_token",description:"The id_token cannot be validated because it was signed with the HS256 algorithm and public clients (like a browser) can't store secrets. Please read the associated doc for possible ways to fix this. Read more: https://auth0.com/docs/errors/libraries/auth0-js/invalid-token#parsing-an-hs256-signed-id-token-without-an-access-token"}):e.access_token&&r.at_hash?(new Lt).validateAccessToken(e.access_token,"RS256",r.at_hash,function(t){return t?c(ut.invalidToken(t.message)):c(null,r)}):c(null,r)}):c(null,null)},re.prototype.validateToken=function(t,e,r){new Lt({issuer:this.baseOptions.token_issuer,jwksURI:this.baseOptions.jwksURI,audience:this.baseOptions.clientID,leeway:this.baseOptions.leeway||0,__disableExpirationCheck:this.baseOptions.__disableExpirationCheck}).verify(t,e,function(t,e){if(t)return r(ut.invalidToken(t.message));r(null,e)})},re.prototype.renewAuth=function(t,e){var r=!!t.usePostMessage,n=t.postMessageDataType||!1,i=t.postMessageOrigin||tt.getWindow().origin,o=t.timeout,s=this,a=Q.merge(this.baseOptions,["clientID","redirectUri","responseType","scope","audience","_csrf","state","_intstate","nonce"]).with(t);a.responseType=a.responseType||"token",a.responseMode=a.responseMode||"fragment",a=this.transactionManager.process(a),J.check(a,{type:"object",message:"options parameter is not valid"}),J.check(e,{type:"function",message:"cb parameter is not valid"}),a.prompt="none",a=Q.blacklist(a,["usePostMessage","tenant","postMessageDataType","postMessageOrigin"]),Yt.create({authenticationUrl:this.client.buildAuthorizeUrl(a),postMessageDataType:n,postMessageOrigin:i,timeout:o}).login(r,function(t,r){if("object"==typeof r)return e(t,r);s.parseHash({hash:r},e)})},re.prototype.checkSession=function(t,e){var r=Q.merge(this.baseOptions,["clientID","responseType","redirectUri","scope","audience","_csrf","state","_intstate","nonce"]).with(t);return"code"===r.responseType?e({error:"error",error_description:"responseType can't be `code`"}):(t.nonce||(r=this.transactionManager.process(r)),r.redirectUri?(J.check(r,{type:"object",message:"options parameter is not valid"}),J.check(e,{type:"function",message:"cb parameter is not valid"}),r=Q.blacklist(r,["usePostMessage","tenant","postMessageDataType"]),void this.webMessageHandler.run(r,e)):e({error:"error",error_description:"redirectUri can't be empty"}))},re.prototype.changePassword=function(t,e){return this.client.dbConnection.changePassword(t,e)},re.prototype.passwordlessStart=function(t,e){var r=Q.merge(this.baseOptions,["responseType","responseMode","redirectUri","scope","audience","_csrf","state","_intstate","nonce"]).with(t.authParams);return t.authParams=this.transactionManager.process(r),this.client.passwordless.start(t,e)},re.prototype.signup=function(t,e){return this.client.dbConnection.signup(t,e)},re.prototype.authorize=function(t){var e=Q.merge(this.baseOptions,["clientID","responseType","responseMode","redirectUri","scope","audience","_csrf","state","_intstate","nonce"]).with(t);J.check(e,{type:"object",message:"options parameter is not valid"},{responseType:{type:"string",message:"responseType option is required"}}),(e=this.transactionManager.process(e)).scope=e.scope||"openid profile email",tt.redirect(this.client.buildAuthorizeUrl(e))},re.prototype.signupAndAuthorize=function(t,e){var r=this;return this.client.dbConnection.signup(Q.blacklist(t,["popupHandler"]),function(n){if(n)return e(n);t.realm=t.connection,t.username||(t.username=t.email),r.client.login(t,e)})},re.prototype.login=function(t,e){var r=Q.merge(this.baseOptions,["clientID","responseType","redirectUri","scope","audience","_csrf","state","_intstate","nonce"]).with(t);r=this.transactionManager.process(r),tt.getWindow().location.host===this.baseOptions.domain?(r.connection=r.realm,delete r.realm,this._universalLogin.login(r,e)):this.crossOriginAuthentication.login(r,e)},re.prototype.passwordlessLogin=function(t,e){var r=Q.merge(this.baseOptions,["clientID","responseType","redirectUri","scope","audience","_csrf","state","_intstate","nonce"]).with(t);if(r=this.transactionManager.process(r),tt.getWindow().location.host===this.baseOptions.domain)this.passwordlessVerify(r,e);else{var n=Q.extend({credentialType:"http://auth0.com/oauth/grant-type/passwordless/otp",realm:r.connection,username:r.email||r.phoneNumber,otp:r.verificationCode},Q.blacklist(r,["connection","email","phoneNumber","verificationCode"]));this.crossOriginAuthentication.login(n,e)}},re.prototype.crossOriginAuthenticationCallback=function(){this.crossOriginVerification()},re.prototype.crossOriginVerification=function(){this.crossOriginAuthentication.callback()},re.prototype.logout=function(t){tt.redirect(this.client.buildLogoutUrl(t))},re.prototype.passwordlessVerify=function(t,e){var r=this,n=Q.merge(this.baseOptions,["clientID","responseType","responseMode","redirectUri","scope","audience","_csrf","state","_intstate","nonce"]).with(t);return J.check(n,{type:"object",message:"options parameter is not valid"},{responseType:{type:"string",message:"responseType option is required"}}),n=this.transactionManager.process(n),this.client.passwordless.verify(n,function(t){return t?e(t):tt.redirect(r.client.passwordless.buildVerifyUrl(n))})},ne.prototype.buildVerifyUrl=function(t){var e,r;return J.check(t,{type:"object",message:"options parameter is not valid"},{connection:{type:"string",message:"connection option is required"},verificationCode:{type:"string",message:"verificationCode option is required"},phoneNumber:{optional:!1,type:"string",message:"phoneNumber option is required",condition:function(t){return!t.email}},email:{optional:!1,type:"string",message:"email option is required",condition:function(t){return!t.phoneNumber}}}),e=Q.merge(this.baseOptions,["clientID","responseType","responseMode","redirectUri","scope","audience","_csrf","state","_intstate","protocol","nonce"]).with(t),this.baseOptions._sendTelemetry&&(e.auth0Client=this.request.getTelemetryData()),e=Q.toSnakeCase(e,["auth0Client"]),r=m(e),n(this.baseOptions.rootUrl,"passwordless","verify_redirect","?"+r)},ne.prototype.start=function(t,e){var r,i;return J.check(t,{type:"object",message:"options parameter is not valid"},{connection:{type:"string",message:"connection option is required"},send:{type:"string",message:"send option is required",values:["link","code"],value_message:"send is not valid ([link, code])"},phoneNumber:{optional:!0,type:"string",message:"phoneNumber option is required",condition:function(t){return"code"===t.send||!t.email}},email:{optional:!0,type:"string",message:"email option is required",condition:function(t){return"link"===t.send||!t.phoneNumber}},authParams:{optional:!0,type:"object",message:"authParams option is required"}}),J.check(e,{type:"function",message:"cb parameter is not valid"}),r=n(this.baseOptions.rootUrl,"passwordless","start"),(i=Q.merge(this.baseOptions,["clientID","responseType","redirectUri","scope"]).with(t)).scope&&(i.authParams=i.authParams||{},i.authParams.scope=i.scope),i.redirectUri&&(i.authParams=i.authParams||{},i.authParams.redirect_uri=i.redirectUri),i.responseType&&(i.authParams=i.authParams||{},i.authParams.response_type=i.responseType),delete i.redirectUri,delete i.responseType,delete i.scope,i=Q.toSnakeCase(i,["auth0Client","authParams"]),this.request.post(r).send(i).end(ct(e))},ne.prototype.verify=function(t,e){var r,i;return J.check(t,{type:"object",message:"options parameter is not valid"},{connection:{type:"string",message:"connection option is required"},verificationCode:{type:"string",message:"verificationCode option is required"},phoneNumber:{optional:!1,type:"string",message:"phoneNumber option is required",condition:function(t){return!t.email}},email:{optional:!1,type:"string",message:"email option is required",condition:function(t){return!t.phoneNumber}}}),J.check(e,{type:"function",message:"cb parameter is not valid"}),i=Q.pick(t,["connection","verificationCode","phoneNumber","email","auth0Client"]),i=Q.toSnakeCase(i,["auth0Client"]),r=n(this.baseOptions.rootUrl,"passwordless","verify"),this.request.post(r).send(i).end(ct(e))},ie.prototype.signup=function(t,e){var r,i,o;return J.check(t,{type:"object",message:"options parameter is not valid"},{connection:{type:"string",message:"connection option is required"},email:{type:"string",message:"email option is required"},password:{type:"string",message:"password option is required"}}),J.check(e,{type:"function",message:"cb parameter is not valid"}),r=n(this.baseOptions.rootUrl,"dbconnections","signup"),o=(i=Q.merge(this.baseOptions,["clientID"]).with(t)).user_metadata||i.userMetadata,i=Q.blacklist(i,["scope","userMetadata","user_metadata"]),i=Q.toSnakeCase(i,["auth0Client"]),o&&(i.user_metadata=o),this.request.post(r).send(i).end(ct(e))},ie.prototype.changePassword=function(t,e){var r,i;return J.check(t,{type:"object",message:"options parameter is not valid"},{connection:{type:"string",message:"connection option is required"},email:{type:"string",message:"email option is required"}}),J.check(e,{type:"function",message:"cb parameter is not valid"}),r=n(this.baseOptions.rootUrl,"dbconnections","change_password"),i=Q.merge(this.baseOptions,["clientID"]).with(t,["email","connection"]),i=Q.toSnakeCase(i,["auth0Client"]),this.request.post(r).send(i).end(ct(e))},oe.prototype.buildAuthorizeUrl=function(t){var e,r;return J.check(t,{type:"object",message:"options parameter is not valid"}),e=Q.merge(this.baseOptions,["clientID","responseType","responseMode","redirectUri","scope","audience"]).with(t),J.check(e,{type:"object",message:"options parameter is not valid"},{clientID:{type:"string",message:"clientID option is required"},redirectUri:{optional:!0,type:"string",message:"redirectUri option is required"},responseType:{type:"string",message:"responseType option is required"},nonce:{type:"string",message:"nonce option is required",condition:function(t){return-1===t.responseType.indexOf("code")&&-1!==t.responseType.indexOf("id_token")}},scope:{optional:!0,type:"string",message:"scope option is required"},audience:{optional:!0,type:"string",message:"audience option is required"}}),this.baseOptions._sendTelemetry&&(e.auth0Client=this.request.getTelemetryData()),e.connection_scope&&J.isArray(e.connection_scope)&&(e.connection_scope=e.connection_scope.join(",")),e=Q.blacklist(e,["username","popupOptions","domain","tenant","timeout"]),e=Q.toSnakeCase(e,["auth0Client"]),e=ft(this.warn,e),r=m(e),n(this.baseOptions.rootUrl,"authorize","?"+r)},oe.prototype.buildLogoutUrl=function(t){var e,r;return J.check(t,{optional:!0,type:"object",message:"options parameter is not valid"}),e=Q.merge(this.baseOptions,["clientID"]).with(t||{}),this.baseOptions._sendTelemetry&&(e.auth0Client=this.request.getTelemetryData()),e=Q.toSnakeCase(e,["auth0Client","returnTo"]),r=m(Q.blacklist(e,["federated"])),t&&void 0!==t.federated&&!1!==t.federated&&"false"!==t.federated&&(r+="&federated"),n(this.baseOptions.rootUrl,"v2","logout","?"+r)},oe.prototype.loginWithDefaultDirectory=function(t,e){return J.check(t,{type:"object",message:"options parameter is not valid"},{username:{type:"string",message:"username option is required"},password:{type:"string",message:"password option is required"},scope:{optional:!0,type:"string",message:"scope option is required"},audience:{optional:!0,type:"string",message:"audience option is required"}}),t.grantType="password",this.oauthToken(t,e)},oe.prototype.login=function(t,e){return J.check(t,{type:"object",message:"options parameter is not valid"},{username:{type:"string",message:"username option is required"},password:{type:"string",message:"password option is required"},realm:{type:"string",message:"realm option is required"},scope:{optional:!0,type:"string",message:"scope option is required"},audience:{optional:!0,type:"string",message:"audience option is required"}}),t.grantType="http://auth0.com/oauth/grant-type/password-realm",this.oauthToken(t,e)},oe.prototype.oauthToken=function(t,e){var r,i;return J.check(t,{type:"object",message:"options parameter is not valid"}),J.check(e,{type:"function",message:"cb parameter is not valid"}),r=n(this.baseOptions.rootUrl,"oauth","token"),i=Q.merge(this.baseOptions,["clientID","scope","audience"]).with(t),J.check(i,{type:"object",message:"options parameter is not valid"},{clientID:{type:"string",message:"clientID option is required"},grantType:{type:"string",message:"grantType option is required"},scope:{optional:!0,type:"string",message:"scope option is required"},audience:{optional:!0,type:"string",message:"audience option is required"}}),i=Q.toSnakeCase(i,["auth0Client"]),i=dt(this.warn,i),this.request.post(r).send(i).end(ct(e))},oe.prototype.loginWithResourceOwner=function(t,e){var r,i;return J.check(t,{type:"object",message:"options parameter is not valid"},{username:{type:"string",message:"username option is required"},password:{type:"string",message:"password option is required"},connection:{type:"string",message:"connection option is required"},scope:{optional:!0,type:"string",message:"scope option is required"}}),J.check(e,{type:"function",message:"cb parameter is not valid"}),r=n(this.baseOptions.rootUrl,"oauth","ro"),i=Q.merge(this.baseOptions,["clientID","scope"]).with(t,["username","password","scope","connection","device"]),(i=Q.toSnakeCase(i,["auth0Client"])).grant_type=i.grant_type||"password",this.request.post(r).send(i).end(ct(e))},oe.prototype.getSSOData=function(t,e){if(this.auth0||(this.auth0=new re(this.baseOptions)),tt.getWindow().location.host===this.baseOptions.domain)return this.auth0._universalLogin.getSSOData(t,e);"function"==typeof t&&(e=t),J.check(e,{type:"function",message:"cb parameter is not valid"});var r=this.baseOptions.clientID,n=this.ssodataStorage.get()||{};this.auth0.checkSession({responseType:"token id_token",scope:"openid profile email",connection:n.lastUsedConnection,timeout:5e3},function(t,i){return t?"login_required"===t.error?e(null,{sso:!1}):("consent_required"===t.error&&(t.error_description="Consent required. When using `getSSOData`, the user has to be authenticated with the following scope: `openid profile email`."),e(t,{sso:!1})):n.lastUsedSub&&n.lastUsedSub!==i.idTokenPayload.sub?e(t,{sso:!1}):e(null,{lastUsedConnection:{name:n.lastUsedConnection},lastUsedUserID:i.idTokenPayload.sub,lastUsedUsername:i.idTokenPayload.email||i.idTokenPayload.name,lastUsedClientID:r,sessionClients:[r],sso:!0})})},oe.prototype.userInfo=function(t,e){var r;return J.check(t,{type:"string",message:"accessToken parameter is not valid"}),J.check(e,{type:"function",message:"cb parameter is not valid"}),r=n(this.baseOptions.rootUrl,"userinfo"),this.request.get(r).set("Authorization","Bearer "+t).end(ct(e,{ignoreCasing:!0}))},oe.prototype.delegation=function(t,e){var r,i;return J.check(t,{type:"object",message:"options parameter is not valid"},{grant_type:{type:"string",message:"grant_type option is required"}}),J.check(e,{type:"function",message:"cb parameter is not valid"}),r=n(this.baseOptions.rootUrl,"delegation"),i=Q.merge(this.baseOptions,["clientID"]).with(t),i=Q.toSnakeCase(i,["auth0Client"]),this.request.post(r).send(i).end(ct(e))},oe.prototype.getUserCountry=function(t){var e;return J.check(t,{type:"function",message:"cb parameter is not valid"}),e=n(this.baseOptions.rootUrl,"user","geoloc","country"),this.request.get(e).end(ct(t))},se.prototype.getUser=function(t,e){var r;return J.check(t,{type:"string",message:"userId parameter is not valid"}),J.check(e,{type:"function",message:"cb parameter is not valid"}),r=n(this.baseOptions.rootUrl,"users",t),this.request.get(r).end(ct(e,{ignoreCasing:!0}))},se.prototype.patchUserMetadata=function(t,e,r){var i;return J.check(t,{type:"string",message:"userId parameter is not valid"}),J.check(e,{type:"object",message:"userMetadata parameter is not valid"}),J.check(r,{type:"function",message:"cb parameter is not valid"}),i=n(this.baseOptions.rootUrl,"users",t),this.request.patch(i).send({user_metadata:e}).end(ct(r,{ignoreCasing:!0}))},se.prototype.linkUser=function(t,e,r){var i;return J.check(t,{type:"string",message:"userId parameter is not valid"}),J.check(e,{type:"string",message:"secondaryUserToken parameter is not valid"}),J.check(r,{type:"function",message:"cb parameter is not valid"}),i=n(this.baseOptions.rootUrl,"users",t,"identities"),this.request.post(i).send({link_with:e}).end(ct(r,{ignoreCasing:!0}))};var ae={Authentication:oe,Management:se,WebAuth:re,version:P};t.Authentication=oe,t.Management=se,t.WebAuth=re,t.version=P,t.default=ae,Object.defineProperty(t,"__esModule",{value:!0})});}).call(this,typeof global !== "undefined" ? global : typeof self !== "undefined" ? self : typeof window !== "undefined" ? window : {})}, {}];window.modules["266"] = [function(require,module,exports){}, {}];window.modules["306"] = [function(require,module,exports){}, {}];window.modules["324"] = [function(require,module,exports){"use strict";const isUriStringCheck=require(350);module.exports=function(e){isUriStringCheck.strCheck(e);const r=/\/_components\/.+?@(.+)/.exec(e);return r&&r[1]};}, {"350":350}];window.modules["325"] = [function(require,module,exports){"use strict";const isUriStringCheck=require(350);module.exports=function(e){isUriStringCheck.strCheck(e);const t=/\/_components\/.+?\/instances\/([^\.@]+)/.exec(e);return t&&t[1]};}, {"350":350}];window.modules["326"] = [function(require,module,exports){"use strict";const isUriStringCheck=require(350);module.exports=function(e){isUriStringCheck.strCheck(e);const t=/\/_layouts\/.+?\/instances\/([^\.\/@]+)/.exec(e);return t&&t[1]};}, {"350":350}];window.modules["327"] = [function(require,module,exports){"use strict";const isUriStringCheck=require(350);module.exports=function(e){isUriStringCheck.strCheck(e);const r=/\/_lists\/(.*)/.exec(e);return r&&r[1]};}, {"350":350}];window.modules["328"] = [function(require,module,exports){"use strict";const isUriStringCheck=require(350);module.exports=function(e){isUriStringCheck.strCheck(e);const r=/\/_pages\/.+?@(.+)/.exec(e);return r&&r[1]};}, {"350":350}];window.modules["329"] = [function(require,module,exports){"use strict";const isUriStringCheck=require(350);module.exports=function(e){isUriStringCheck.strCheck(e);const t=/_layouts\/(.+?)[\/\.]/.exec(e)||/_layouts\/(.*)/.exec(e);return t&&t[1]};}, {"350":350}];window.modules["330"] = [function(require,module,exports){"use strict";const isUriStringCheck=require(350);module.exports=function(e){return isUriStringCheck.strCheck(e),e.toLowerCase().indexOf("/_layouts/")>-1};}, {"350":350}];window.modules["331"] = [function(require,module,exports){"use strict";const isUriStringCheck=require(350);module.exports=function(e){isUriStringCheck.strCheck(e);const r=/\/_pages\/([^\.\/]+)/.exec(e);return r&&r[1]};}, {"350":350}];window.modules["332"] = [function(require,module,exports){"use strict";const isUriStringCheck=require(350);module.exports=function(s){return isUriStringCheck.strCheck(s),s.split(/\/_(pages|components|lists|uris|schedule|users|layouts)/)[0]};}, {"350":350}];window.modules["333"] = [function(require,module,exports){"use strict";const isUriStringCheck=require(350);module.exports=function(e){return isUriStringCheck.strCheck(e),e.toLowerCase().indexOf("/_components/")>-1};}, {"350":350}];window.modules["334"] = [function(require,module,exports){"use strict";const isUriStringCheck=require(350);module.exports=function(e){return isUriStringCheck.strCheck(e),e.toLowerCase().indexOf("/_lists/")>-1};}, {"350":350}];window.modules["335"] = [function(require,module,exports){"use strict";const isUriStringCheck=require(350);module.exports=function(r){return isUriStringCheck.strCheck(r),!!r.match(/\/_components\/[A-Za-z0-9\-]+$/)};}, {"350":350}];window.modules["336"] = [function(require,module,exports){"use strict";const isUriStringCheck=require(350);module.exports=function(e){return isUriStringCheck.strCheck(e),e.toLowerCase().indexOf("/_pages/")>-1};}, {"350":350}];window.modules["337"] = [function(require,module,exports){"use strict";const isUriStringCheck=require(350);module.exports=function(r,t){return isUriStringCheck.strCheck(r),t?r.split("@")[0]+"@"+t:r.split("@")[0]};}, {"350":350}];window.modules["338"] = [function(require,module,exports){"use strict";const isUriStringCheck=require(350);module.exports=function(r){return isUriStringCheck.strCheck(r),!!r.match(/\/_layouts\/[A-Za-z0-9\-]+$/)};}, {"350":350}];window.modules["339"] = [function(require,module,exports){"use strict";const isUriStringCheck=require(350);module.exports=function(e){return isUriStringCheck.strCheck(e),e.toLowerCase().indexOf("/_users/")>-1};}, {"350":350}];window.modules["340"] = [function(require,module,exports){"use strict";const isUriStringCheck=require(350);module.exports=function(e){return isUriStringCheck.strCheck(e),-1!==e.indexOf("@published")};}, {"350":350}];window.modules["341"] = [function(require,module,exports){"use strict";const isUriStringCheck=require(350);module.exports=function(e,r=!1){return function(t){var n,s,{slug:c,host:i,path:o,prefix:u}=e;return isUriStringCheck.strCheck(t),u||(u=o&&o.length>1?`${i}${o}`:i),n=`${r?'"_ref":':""}"${u}/_components/`,s=new RegExp(`${r?'"_ref":':""}"${c}/_components/`,"g"),t.replace(s,n)}};}, {"350":350}];window.modules["342"] = [function(require,module,exports){"use strict";const isUriStringCheck=require(350);module.exports=function(e,r,t=!1){var n,s,{slug:c,host:i,path:o,prefix:h}=r;return isUriStringCheck.strCheck(e),h||(h=o&&o.length>1?`${i}${o}`:i),n=`${t?'"_ref":':""}"${c}/_components/`,s=new RegExp(`${t?'"_ref":':""}"${h}/_components/`,"g"),e.replace(s,n)};}, {"350":350}];window.modules["343"] = [function(require,module,exports){"use strict";const isUriStringCheck=require(350);module.exports=function(e,r){var{slug:t,prefix:i,host:s,path:c}=r,n=-1!==e.indexOf("/_");return i||(i=c&&c.length>1?`${s}${c}`:s),isUriStringCheck.strCheck(e),e.replace(`${t}${n?"/":""}`,`${i}${n?"/":""}`)};}, {"350":350}];window.modules["344"] = [function(require,module,exports){"use strict";const isUriStringCheck=require(350);module.exports=function(r){return isUriStringCheck.strCheck(r),r.toLowerCase().indexOf("/_uris/")>-1};}, {"350":350}];window.modules["345"] = [function(require,module,exports){"use strict";const isUriStringCheck=require(350);module.exports=function(e,r){var{host:t,path:i,slug:s,prefix:c}=r,n=-1!==e.indexOf("/_");return c||(c=i&&i.length>1?`${t}${i}`:t),isUriStringCheck.strCheck(e),e.replace(`${c}${n?"/":""}`,`${s}${n?"/":""}`)};}, {"350":350}];window.modules["346"] = [function(require,module,exports){"use strict";const isUriStringCheck=require(350);module.exports=function(e){isUriStringCheck.strCheck(e);const t=/_components\/(.+?)[\/\.]/.exec(e)||/_components\/(.*)/.exec(e);return t&&t[1]};}, {"350":350}];window.modules["347"] = [function(require,module,exports){"use strict";const getComponentName=require(346),{strCheck:strCheck}=require(350);module.exports=((e,t)=>{if(strCheck(t),"object"!=typeof e)throw new Error(`Page argument must be an object, not ${typeof e}`);return Object.values(e).filter(Array.isArray).reduce((e,t)=>e.concat(t),[]).find(e=>getComponentName(e)===t)});}, {"346":346,"350":350}];window.modules["348"] = [function(require,module,exports){"use strict";const isUriStringCheck=require(350),isPage=require(336);module.exports=function(e){return isUriStringCheck.strCheck(e),isPage(e)&&!!e.match(/\/meta$/i)};}, {"336":336,"350":350}];window.modules["349"] = [function(require,module,exports){"use strict";const isUriStringCheck=require(350),isLayout=require(330),getLayoutInstance=require(326);module.exports=function(t){return isUriStringCheck.strCheck(t),isLayout(t)&&!!getLayoutInstance(t)&&!!t.match(/\/meta$/i)};}, {"326":326,"330":330,"350":350}];window.modules["350"] = [function(require,module,exports){"use strict";function strCheck(t){if("string"==typeof t)return!0;throw new Error("Argument must be a string, not "+typeof t)}module.exports.strCheck=strCheck;}, {}];window.modules["364"] = [function(require,module,exports){!function(e){function t(e,r){var o;r=r||{},this._id=t._generateUUID(),this._promise=r.promise||Promise,this._frameId=r.frameId||"CrossStorageClient-"+this._id,this._origin=t._getOrigin(e),this._requests={},this._connected=!1,this._closed=!1,this._count=0,this._timeout=r.timeout||5e3,this._listener=null,this._installListener(),r.frameId&&(o=document.getElementById(r.frameId)),o&&this._poll(),o=o||this._createFrame(e),this._hub=o.contentWindow}t.frameStyle={display:"none",position:"absolute",top:"-999px",left:"-999px"},t._getOrigin=function(e){var t;return(t=document.createElement("a")).href=e,t.host||(t=window.location),((t.protocol&&":"!==t.protocol?t.protocol:window.location.protocol)+"//"+t.host).replace(/:80$|:443$/,"")},t._generateUUID=function(){return"xxxxxxxx-xxxx-4xxx-yxxx-xxxxxxxxxxxx".replace(/[xy]/g,function(e){var t=16*Math.random()|0;return("x"==e?t:3&t|8).toString(16)})},t.prototype.onConnect=function(){var e=this;return this._connected?this._promise.resolve():this._closed?this._promise.reject(new Error("CrossStorageClient has closed")):(this._requests.connect||(this._requests.connect=[]),new this._promise(function(t,r){var o=setTimeout(function(){r(new Error("CrossStorageClient could not connect"))},e._timeout);e._requests.connect.push(function(e){if(clearTimeout(o),e)return r(e);t()})}))},t.prototype.set=function(e,t){return this._request("set",{key:e,value:t})},t.prototype.get=function(e){var t=Array.prototype.slice.call(arguments);return this._request("get",{keys:t})},t.prototype.del=function(){var e=Array.prototype.slice.call(arguments);return this._request("del",{keys:e})},t.prototype.clear=function(){return this._request("clear")},t.prototype.getKeys=function(){return this._request("getKeys")},t.prototype.close=function(){var e=document.getElementById(this._frameId);e&&e.parentNode.removeChild(e),window.removeEventListener?window.removeEventListener("message",this._listener,!1):window.detachEvent("onmessage",this._listener),this._connected=!1,this._closed=!0},t.prototype._installListener=function(){var e=this;this._listener=function(t){var r,o,n;if(!e._closed&&t.data&&"string"==typeof t.data&&("null"===t.origin?"file://":t.origin)===e._origin)if("cross-storage:unavailable"!==t.data){if(-1!==t.data.indexOf("cross-storage:")&&!e._connected){if(e._connected=!0,!e._requests.connect)return;for(r=0;r1?r:r[0]},_del:function(e){for(var t=0;t-1};function n(t){if("string"!=typeof t&&(t=String(t)),/[^a-z0-9\-#$%&'*+.^_`|~]/i.test(t))throw new TypeError("Invalid character in header field name");return t.toLowerCase()}function i(t){return"string"!=typeof t&&(t=String(t)),t}function s(t){var r={next:function(){var e=t.shift();return{done:void 0===e,value:e}}};return e.iterable&&(r[Symbol.iterator]=function(){return r}),r}function a(t){this.map={},t instanceof a?t.forEach(function(t,e){this.append(e,t)},this):Array.isArray(t)?t.forEach(function(t){this.append(t[0],t[1])},this):t&&Object.getOwnPropertyNames(t).forEach(function(e){this.append(e,t[e])},this)}function h(t){if(t.bodyUsed)return Promise.reject(new TypeError("Already read"));t.bodyUsed=!0}function f(t){return new Promise(function(e,r){t.onload=function(){e(t.result)},t.onerror=function(){r(t.error)}})}function u(t){var e=new FileReader,r=f(e);return e.readAsArrayBuffer(t),r}function d(t){if(t.slice)return t.slice(0);var e=new Uint8Array(t.byteLength);return e.set(new Uint8Array(t)),e.buffer}function c(){return this.bodyUsed=!1,this._initBody=function(t){var r;this._bodyInit=t,t?"string"==typeof t?this._bodyText=t:e.blob&&Blob.prototype.isPrototypeOf(t)?this._bodyBlob=t:e.formData&&FormData.prototype.isPrototypeOf(t)?this._bodyFormData=t:e.searchParams&&URLSearchParams.prototype.isPrototypeOf(t)?this._bodyText=t.toString():e.arrayBuffer&&e.blob&&((r=t)&&DataView.prototype.isPrototypeOf(r))?(this._bodyArrayBuffer=d(t.buffer),this._bodyInit=new Blob([this._bodyArrayBuffer])):e.arrayBuffer&&(ArrayBuffer.prototype.isPrototypeOf(t)||o(t))?this._bodyArrayBuffer=d(t):this._bodyText=t=Object.prototype.toString.call(t):this._bodyText="",this.headers.get("content-type")||("string"==typeof t?this.headers.set("content-type","text/plain;charset=UTF-8"):this._bodyBlob&&this._bodyBlob.type?this.headers.set("content-type",this._bodyBlob.type):e.searchParams&&URLSearchParams.prototype.isPrototypeOf(t)&&this.headers.set("content-type","application/x-www-form-urlencoded;charset=UTF-8"))},e.blob&&(this.blob=function(){var t=h(this);if(t)return t;if(this._bodyBlob)return Promise.resolve(this._bodyBlob);if(this._bodyArrayBuffer)return Promise.resolve(new Blob([this._bodyArrayBuffer]));if(this._bodyFormData)throw new Error("could not read FormData body as blob");return Promise.resolve(new Blob([this._bodyText]))},this.arrayBuffer=function(){return this._bodyArrayBuffer?h(this)||Promise.resolve(this._bodyArrayBuffer):this.blob().then(u)}),this.text=function(){var t,e,r,o=h(this);if(o)return o;if(this._bodyBlob)return t=this._bodyBlob,e=new FileReader,r=f(e),e.readAsText(t),r;if(this._bodyArrayBuffer)return Promise.resolve(function(t){for(var e=new Uint8Array(t),r=new Array(e.length),o=0;o-1?o:r),this.mode=e.mode||this.mode||null,this.signal=e.signal||this.signal,this.referrer=null,("GET"===this.method||"HEAD"===this.method)&&n)throw new TypeError("Body not allowed for GET or HEAD requests");this._initBody(n)}function p(t){var e=new FormData;return t.trim().split("&").forEach(function(t){if(t){var r=t.split("="),o=r.shift().replace(/\+/g," "),n=r.join("=").replace(/\+/g," ");e.append(decodeURIComponent(o),decodeURIComponent(n))}}),e}function b(t,e){e||(e={}),this.type="default",this.status=void 0===e.status?200:e.status,this.ok=this.status>=200&&this.statuse.position}),e=0;c.length>e;e+=1)c[e]=c[e].data;c.unshift(null),n.apply(null,c)},o=function(o,i){e(a[l],function(e,o){if(!t){if(t=e,e)return n(e);c.push({data:o,position:i}),c.length===a.length&&r()}})},l=0;a.length>l;l+=1)o(a[l],l)};i.noConflict=function(){return n.jsonpClient=t,i},e=o?function(){var n,e,t=document.getElementsByTagName("head")[0];return e=function(n,e){var o=document.createElement("script"),r=!1;o.src=n,o.async=!0,o.onload=o.onreadystatechange=function(){r||this.readyState&&"loaded"!==this.readyState&&"complete"!==this.readyState||(r=!0,o.onload=o.onreadystatechange=null,o&&o.parentNode&&o.parentNode.removeChild(o),e())},t.appendChild(o)},n=function(n,e){var t=n.match(r);if(!t)return e(new Error("Could not find callback on URL"));e(null,t[1])},function(t,o){n(t,function(n,r){var i,a=window[r];if(n)return o(n);window[r]=function(n){i=n},e(t,function(n){if(n||i||(n=new Error("Calling to "+r+" did not returned a JSON response.Make sure the callback "+r+" exists and is properly formatted.")),a)window[r]=a;else try{delete window[r]}catch(n){window[r]=void 0}o(n,i)})})}}():require(639),"undefined"!=typeof module&&module.exports?module.exports=i:n.jsonpClient=i}(this);}).call(this,require(84))}, {"84":84,"639":639}];window.modules["639"] = [function(require,module,exports){(function (process,global){"use strict";var evalJsonp,parseJsonp,evalOrParseJavascript,fetchRemoteJsonp,fetchUrl,fetchLocalJsonp,request=require(266),vm=require(252),fs=require(306),parensRegex=/(^\(|\);?\s*$)/,functionRegex=/^[a-z\d_]*\(/i,functionNameRegex=/([\w\d_]*)\(/,enableLocalFileSupport="test"===window.process.env.NODE_ENV||window.process.env.JSONP_CLIENT_ENABLE_LOCAL_SUPPORT;if("test"===window.process.env.NODE_ENV&&window.process.env.SUPERAGENT_MOCK){var mockConfig=global.superAgentMockConfig||require(window.process.env.SUPERAGENT_MOCK);require(266)(request,mockConfig)}parseJsonp=function(e,t){var r,n,o=null;try{r=e.replace(functionRegex,"").replace(parensRegex,""),n=JSON.parse(r)}catch(e){o=e}t(o,n)},evalJsonp=function(e,t){var r,n;e=(e||"")+"",r=vm.createContext({error:null,cbData:null}),n="function "+(e.match(functionNameRegex)||[null,!1])[1]+" (data) { cbData = data } try { "+e+" } catch(e) { error = e;} ";try{vm.runInContext(n,r)}catch(e){t(new Error(e))}if(r.error)return t(new Error(r.error));t(null,r.cbData)},evalOrParseJavascript=function(e,t){e=e.toString(),parseJsonp(e,function(r,n){if(r)return evalJsonp(e,function(e,r){t(e,r)});t(r,n)})},fetchUrl=function(e,t){request.get(e).buffer(!0).accept("application/javascript").parse(function(e,t){e.text="",e.setEncoding("utf8"),e.on("data",function(t){e.text=e.text+t}),e.on("end",t)}).end(function(r,n){!r&&n&&n.status&&n.status>=400&&(r=new Error("Could not fetch url "+e+", with status "+(n&&n.status||"unknown")+". Got error: "+(r&&r.message)+".")),t(r,n&&n.text||"cb({})")})},fetchRemoteJsonp=function(e,t){fetchUrl(e,function(e,r){if(e)return t(e);evalOrParseJavascript(r,t)})},fetchLocalJsonp=enableLocalFileSupport?function(e,t){e=e.split("?")[0],fs.readFile(e,function(e,r){if(e)return t(e);evalOrParseJavascript(r,t)})}:fetchRemoteJsonp,module.exports=function(e,t){e.match(/^http/)?fetchRemoteJsonp(e,t):fetchLocalJsonp(e,t)};}).call(this,require(84),typeof global !== "undefined" ? global : typeof self !== "undefined" ? self : typeof window !== "undefined" ? window : {})}, {"84":84,"252":252,"266":266,"306":306}];window.modules["641"] = [function(require,module,exports){var getNative=require(643),root=require(642),DataView=getNative(root,"DataView");module.exports=DataView;}, {"642":642,"643":643}];window.modules["642"] = [function(require,module,exports){var freeGlobal=require(866),freeSelf="object"==typeof self&&self&&self.Object===Object&&self,root=freeGlobal||freeSelf||Function("return this")();module.exports=root;}, {"866":866}];window.modules["643"] = [function(require,module,exports){var baseIsNative=require(771),getValue=require(871);function getNative(e,a){var t=getValue(e,a);return baseIsNative(t)?t:void 0}module.exports=getNative;}, {"771":771,"871":871}];window.modules["644"] = [function(require,module,exports){var hashClear=require(649),hashDelete=require(645),hashGet=require(646),hashHas=require(647),hashSet=require(648);function Hash(e){var h=-1,a=null==e?0:e.length;for(this.clear();++h-1}module.exports=listCacheHas;}, {"707":707}];window.modules["657"] = [function(require,module,exports){var assocIndexOf=require(707);function listCacheGet(e){var s=this.__data__,a=assocIndexOf(s,e);return a-1&&e%1==0&&e=o?e:o)),e}module.exports=baseClamp;}, {}];window.modules["714"] = [function(require,module,exports){var Stack=require(672),arrayEach=require(682),assignValue=require(706),baseAssign=require(708),baseAssignIn=require(710),cloneBuffer=require(719),copyArray=require(715),copySymbols=require(722),copySymbolsIn=require(721),getAllKeys=require(720),getAllKeysIn=require(717),getTag=require(716),initCloneArray=require(718),initCloneByTag=require(726),initCloneObject=require(723),isArray=require(120),isBuffer=require(692),isMap=require(724),isObject=require(71),isSet=require(725),keys=require(119),CLONE_DEEP_FLAG=1,CLONE_FLAT_FLAG=2,CLONE_SYMBOLS_FLAG=4,argsTag="[object Arguments]",arrayTag="[object Array]",boolTag="[object Boolean]",dateTag="[object Date]",errorTag="[object Error]",funcTag="[object Function]",genTag="[object GeneratorFunction]",mapTag="[object Map]",numberTag="[object Number]",objectTag="[object Object]",regexpTag="[object RegExp]",setTag="[object Set]",stringTag="[object String]",symbolTag="[object Symbol]",weakMapTag="[object WeakMap]",arrayBufferTag="[object ArrayBuffer]",dataViewTag="[object DataView]",float32Tag="[object Float32Array]",float64Tag="[object Float64Array]",int8Tag="[object Int8Array]",int16Tag="[object Int16Array]",int32Tag="[object Int32Array]",uint8Tag="[object Uint8Array]",uint8ClampedTag="[object Uint8ClampedArray]",uint16Tag="[object Uint16Array]",uint32Tag="[object Uint32Array]",cloneableTags={};function baseClone(e,a,r,n,t,g){var o,l=a&CLONE_DEEP_FLAG,i=a&CLONE_FLAT_FLAG,s=a&CLONE_SYMBOLS_FLAG;if(r&&(o=t?r(e,n,t,g):r(e)),void 0!==o)return o;if(!isObject(e))return e;var c=isArray(e);if(c){if(o=initCloneArray(e),!l)return copyArray(e,o)}else{var T=getTag(e),b=T==funcTag||T==genTag;if(isBuffer(e))return cloneBuffer(e,l);if(T==objectTag||T==argsTag||b&&!t){if(o=i||b?{}:initCloneObject(e),!l)return i?copySymbolsIn(e,baseAssignIn(o,e)):copySymbols(e,baseAssign(o,e))}else{if(!cloneableTags[T])return t?e:{};o=initCloneByTag(e,T,l)}}g||(g=new Stack);var u=g.get(e);if(u)return u;if(g.set(e,o),isSet(e))return e.forEach(function(n){o.add(baseClone(n,a,r,n,e,g))}),o;if(isMap(e))return e.forEach(function(n,t){o.set(t,baseClone(n,a,r,t,e,g))}),o;var y=s?i?getAllKeysIn:getAllKeys:i?keysIn:keys,f=c?void 0:y(e);return arrayEach(f||e,function(n,t){f&&(n=e[t=n]),assignValue(o,t,baseClone(n,a,r,t,e,g))}),o}cloneableTags[argsTag]=cloneableTags[arrayTag]=cloneableTags[arrayBufferTag]=cloneableTags[dataViewTag]=cloneableTags[boolTag]=cloneableTags[dateTag]=cloneableTags[float32Tag]=cloneableTags[float64Tag]=cloneableTags[int8Tag]=cloneableTags[int16Tag]=cloneableTags[int32Tag]=cloneableTags[mapTag]=cloneableTags[numberTag]=cloneableTags[objectTag]=cloneableTags[regexpTag]=cloneableTags[setTag]=cloneableTags[stringTag]=cloneableTags[symbolTag]=cloneableTags[uint8Tag]=cloneableTags[uint8ClampedTag]=cloneableTags[uint16Tag]=cloneableTags[uint32Tag]=!0,cloneableTags[errorTag]=cloneableTags[funcTag]=cloneableTags[weakMapTag]=!1,module.exports=baseClone;}, {"71":71,"119":119,"120":120,"672":672,"682":682,"692":692,"706":706,"708":708,"710":710,"715":715,"716":716,"717":717,"718":718,"719":719,"720":720,"721":721,"722":722,"723":723,"724":724,"725":725,"726":726}];window.modules["715"] = [function(require,module,exports){function copyArray(r,o){var y=-1,a=r.length;for(o||(o=Array(a));++y0&&r(u)?e>1?baseFlatten(u,e-1,r,t,l):arrayPush(l,u):t||(l[l.length]=u)}return l}module.exports=baseFlatten;}, {"695":695,"742":742}];window.modules["742"] = [function(require,module,exports){var Symbol=require(678),isArguments=require(689),isArray=require(120),spreadableSymbol=Symbol?Symbol.isConcatSpreadable:void 0;function isFlattenable(e){return isArray(e)||isArguments(e)||!!(spreadableSymbol&&e&&e[spreadableSymbol])}module.exports=isFlattenable;}, {"120":120,"678":678,"689":689}];window.modules["743"] = [function(require,module,exports){var createBaseFor=require(744),baseFor=createBaseFor();module.exports=baseFor;}, {"744":744}];window.modules["744"] = [function(require,module,exports){function createBaseFor(e){return function(r,t,a){for(var n=-1,o=Object(r),c=a(r),u=c.length;u--;){var f=c[e?u:++n];if(!1===t(o[f],f,o))break}return r}}module.exports=createBaseFor;}, {}];window.modules["746"] = [function(require,module,exports){var castPath=require(747),toKey=require(748);function baseGet(e,t){for(var a=0,r=(t=castPath(t,e)).length;null!=e&&at}module.exports=baseGt;}, {}];window.modules["755"] = [function(require,module,exports){function baseHasIn(n,e){return null!=n&&e in Object(n)}module.exports=baseHasIn;}, {}];window.modules["756"] = [function(require,module,exports){function baseIsNaN(e){return e!=e}module.exports=baseIsNaN;}, {}];window.modules["757"] = [function(require,module,exports){function strictIndexOf(r,t,e){for(var n=e-1,f=r.length;++nn))return!1;var f=u.get(e);if(f&&u.get(r))return f==r;var o=-1,_=!0,s=a&COMPARE_UNORDERED_FLAG?new SetCache:void 0;for(u.set(e,r),u.set(r,e);++o-1&&e%1==0&&e=o?p:p*("desc"==i[n]?-1:1)}return e.index-r.index}module.exports=compareMultiple;}, {"840":840}];window.modules["807"] = [function(require,module,exports){var baseGet=require(746),baseSet=require(808),castPath=require(747);function basePickBy(e,a,t){for(var r=-1,s=a.length,b={};++rn?0:n+r),(a=a>n?n:a)a?0:a-r>>>0,r>>>=0;for(var o=Array(n);++lr||l&&u&&s&&!m&&!c||n&&u&&s||!e&&s||!o)return 1;if(!n&&!l&&!c&&i1?r[i-1]:void 0,n=i>2?r[2]:void 0;for(s=e.length>3&&"function"==typeof s?(i--,s):void 0,n&&isIterateeCall(r[0],r[1],n)&&(s=i-1?a[n?r[s]:s]:void 0}}module.exports=createFind;}, {"119":119,"778":778,"790":790}];window.modules["861"] = [function(require,module,exports){var toNumber=require(891),INFINITY=1/0,MAX_INTEGER=1.7976931348623157e308;function toFinite(e){return e?(e=toNumber(e))===INFINITY||e===-INFINITY?(e0){if(++r>=HOT_COUNT)return arguments[0]}else r=0;return t.apply(void 0,arguments)}}module.exports=shortOut;}, {}];window.modules["888"] = [function(require,module,exports){var toFinite=require(861);function toInteger(t){var e=toFinite(t),r=e%1;return e==e?r?e-r:e:0}module.exports=toInteger;}, {"861":861}];window.modules["890"] = [function(require,module,exports){var root=require(642),now=function(){return root.Date.now()};module.exports=now;}, {"642":642}];window.modules["891"] = [function(require,module,exports){var isObject=require(71),isSymbol=require(737),NAN=NaN,reTrim=/^\s+|\s+$/g,reIsBadHex=/^[-+]0x[0-9a-f]+$/i,reIsBinary=/^0b[01]+$/i,reIsOctal=/^0o[0-7]+$/i,freeParseInt=parseInt;function toNumber(e){if("number"==typeof e)return e;if(isSymbol(e))return NAN;if(isObject(e)){var r="function"==typeof e.valueOf?e.valueOf():e;e=isObject(r)?r+"":r}if("string"!=typeof e)return 0===e?e:+e;e=e.replace(reTrim,"");var t=reIsBinary.test(e);return t||reIsOctal.test(e)?freeParseInt(e.slice(2),t?2:8):reIsBadHex.test(e)?NAN:+e}module.exports=toNumber;}, {"71":71,"737":737}];window.modules["892"] = [function(require,module,exports){var baseRest=require(817),eq=require(705),isIterateeCall=require(845),keysIn=require(711),objectProto=Object.prototype,hasOwnProperty=objectProto.hasOwnProperty,defaults=baseRest(function(e,r){e=Object(e);var t=-1,o=r.length,a=o>2?r[2]:void 0;for(a&&isIterateeCall(r[0],r[1],a)&&(o=1);++t0&&p>s&&(p=s);for(var y=0;y=0?(u=f.substr(0,v),c=f.substr(v+1)):(u=f,c=""),i=decodeURIComponent(u),l=decodeURIComponent(c),hasOwnProperty(o,i)?isArray(o[i])?o[i].push(l):o[i]=[o[i],l]:o[i]=l}return o};var isArray=Array.isArray||function(r){return"[object Array]"===Object.prototype.toString.call(r)};}, {}];window.modules["1130"] = [function(require,module,exports){"use strict";var stringifyPrimitive=function(r){switch(typeof r){case"string":return r;case"boolean":return r?"true":"false";case"number":return isFinite(r)?r:"";default:return""}};module.exports=function(r,e,t,n){return e=e||"&",t=t||"=",null===r&&(r=void 0),"object"==typeof r?map(objectKeys(r),function(n){var i=encodeURIComponent(stringifyPrimitive(n))+t;return isArray(r[n])?map(r[n],function(r){return i+encodeURIComponent(stringifyPrimitive(r))}).join(e):i+encodeURIComponent(stringifyPrimitive(r[n]))}).join(e):n?encodeURIComponent(stringifyPrimitive(n))+t+encodeURIComponent(stringifyPrimitive(r)):""};var isArray=Array.isArray||function(r){return"[object Array]"===Object.prototype.toString.call(r)};function map(r,e){if(r.map)return r.map(e);for(var t=[],n=0;n=0;r--){var l=localStorage().key(r);e(read(l),l)}}function remove(e){return localStorage().removeItem(e)}function clearAll(){return localStorage().clear()}module.exports={name:"localStorage",read:read,write:write,each:each,remove:remove,clearAll:clearAll};}, {"1170":1170}];window.modules["1172"] = [function(require,module,exports){module.exports={name:"memoryStorage",read:read,write:write,each:each,remove:remove,clearAll:clearAll};var memoryStorage={};function read(e){return memoryStorage[e]}function write(e,r){memoryStorage[e]=r}function each(e){for(var r in memoryStorage)memoryStorage.hasOwnProperty(r)&&e(memoryStorage[r],r)}function remove(e){delete memoryStorage[e]}function clearAll(e){memoryStorage={}}}, {}];window.modules["article-nav.client"] = [function(require,module,exports){"use strict";var dom=require(1),_throttle=require(23),$visibility=require(28),$popup=require(40),$gtm=require(41);DS.controller("article-nav",[function(){return function(t){var e=dom.find(".page-header"),i=dom.find(".article-content"),o=dom.find(t,".deepscroll-headline"),r=dom.find(t,".deepscroll-rubric"),n=dom.find(t,".deepscroll-rubric-sponsored"),l=dom.find(".article .article-header .rubric"),s=dom.find("#deepscroll_center_divider"),a=dom.find(".clay-paragraph"),d=dom.find(t,".logo"),c=dom.find(t,".dyn-cut-logo"),p=dom.find(t,".article-nav-top"),u=dom.find(t,".article-nav-deepscroll"),m=dom.find('link[rel="canonical"]'),f=m&&m.getAttribute("href"),g=dom.find('meta[property="og:image"]')?dom.find('meta[property="og:image"]').getAttribute("content"):"",h=dom.find('meta[property="og:title"]')?dom.find('meta[property="og:title"]').getAttribute("content"):"",y=dom.find(t,".share-link.facebook"),v=dom.find(t,".share-link.twitter"),w=dom.find(t,".share-link.pinterest"),b=t.classList.contains("header-simple"),x=window.getComputedStyle(d,null).getPropertyValue("--targetFlexBasis"),C=window.getComputedStyle(d,null).getPropertyValue("--verticalStart")||0,L=window.getComputedStyle(d,null).getPropertyValue("--verticalEnd")||0;function _(){!1,$()}function $(){var o,r,n,l=t.getBoundingClientRect().top,s=window.getComputedStyle(d,null).getPropertyValue("--baseFlexBasis"),m=s-x,f=(e.getBoundingClientRect().top-55)/-106,g=Math.abs(f),h=C-L-2,y=Math.round(C-(h*g+2)),v=Math.ceil(s-m*g);if(fl?t.classList.add("after-scroll"):t.classList.remove("after-scroll"),window.scrollY>l?e.classList.add("header-after-scroll"):e.classList.remove("header-after-scroll"),$visibility.getViewportWidth()>=1180&&i&&(o=a?$visibility.getPageOffset(a).top-70:0,r=$visibility.getPageOffset(i).top,n=Math.max(r,o),Math.max(window.scrollY,document.body.scrollTop)>=n)?t.classList.add("deep-scroll"):t.classList.remove("deep-scroll")}function k(t){var e=t.currentTarget,i=e.getAttribute("href"),o=e.getAttribute("data-handle"),r=$popup.getPopupClass(e.classList),n=$visibility.isBelowPrimaryContent(e)?"bottom":"top";$gtm.reportNow({event:"social-share-widget",clickLocation:n,socialNetwork:r}),$visibility.getViewportWidth()>=768&&r&&(t.preventDefault(),$popup.popWindow(r,o,i))}!function(){var e=_throttle($,30);if(dom.findAll(t,".share-link").forEach(function(t){return t.addEventListener("click",k)}),y&&(y.href="http://www.facebook.com/sharer/sharer.php?u="+f+"?utm_source=fb&utm_medium=s3&utm_campaign=sharebutton-t"),v&&(v.href="https://twitter.com/share?text="+encodeURIComponent(h)+"&url="+f+"?utm_source=tw&utm_medium=s3&utm_campaign=sharebutton-t&via="+v.getAttribute("data-handle")),w&&(w.href="http://pinterest.com/pin/create/button/?url="+f+"?utm_source=pin&utm_medium=s3&utm_campaign=sharebutton-t&description="+encodeURIComponent(h)+"&media="+g),b)return;window.addEventListener("scroll",e),window.addEventListener("resize",_),l?l.classList.contains("rubric-sponsor-story")&&n?(r.classList.remove("visible"),n.classList.add("visible"),n.textContent=l.text||l.textContent):(r.textContent=l.text||l.textContent,r.href=l.href||"#"):(s.style.display="none",r.style.display="none");_(),o.textContent=h}()}}]);}, {"1":1,"23":23,"28":28,"40":40,"41":41}];window.modules["nav-search-button.client"] = [function(require,module,exports){"use strict";var dom=require(1),$gtm=require(41);DS.controller("nav-search-button",[function(){function t(t){var e=dom.find("body");this.el=t,this.button=dom.find(t,".nav-search-button-trigger"),this.search=dom.find(t,".nav-search-form"),this.inputField=dom.find(t,".search-input"),e.addEventListener("click",this.collapseSearch.bind(this)),e.addEventListener("touchend",this.collapseSearch.bind(this)),document.addEventListener("keydown",this.escapeSearch.bind(this))}return t.prototype={events:{".nav-search-button-trigger click":"expandSearch",".nav-search-form submit":"submitHandler"},toggleClasses:function(){var t=dom.find("body");this.el.classList.toggle("closed"),this.el.classList.toggle("open"),t.classList.toggle("disabled"),t.classList.toggle("search-active")},expandSearch:function(){this.toggleClasses(),this.el.classList.contains("open")&&this.inputField.focus()},collapseSearch:function(t){!this.el.contains(t.target)&&this.el.classList.contains("open")&&this.toggleClasses()},escapeSearch:function(t){27===t.keyCode&&this.el.classList.contains("open")&&this.toggleClasses()},submitHandler:function(t){t.preventDefault(),this.search.submit(),this.emitTrackingEvent()},emitTrackingEvent:function(){$gtm.reportCustomEvent({category:"search",label:"on="+window.location.href,action:this.inputField.value})}},t}]);}, {"1":1,"41":41}];window.modules["nav-dropdown-button.client"] = [function(require,module,exports){"use strict";var dom=require(1);function getNextSiblings(n){for(var t=[],e=n;e=e.nextElementSibling;)t.push(e);return t}module.exports=function(n){var t,e=n.querySelector(".nav-dropdown-button-trigger"),o=dom.find("body"),i=dom.find("header.page-header"),s=dom.find('[data-editable="main"]');function d(){var e,d=window.innerWidth0&&(this.isNavVariation&&e1?"s":""),this.el.classList.remove("no-comments"))},n.prototype.shouldRenderCommentStream=function(){return-1!==e.indexOf("@published")},n}]);}, {"1":1,"33":33,"78":78,"79":79}];window.modules["ad.client"] = [function(require,module,exports){"use strict";var _forEach=require(27),_max=require(29),$visibility=require(28),flaggedComponentsOnPage=function(){var e,t=document.querySelector(".article-content"),n=[];return t&&_forEach(['.article-sidebar[data-width="large"]'],function(a){e=t.querySelectorAll(a),_forEach(e,function(e){n.push(e)})}),n}();function getElementsVerticalOverlap(e,t){var n=e.getBoundingClientRect(),a=t.getBoundingClientRect();return!(n.top>a.bottom||n.righta.right)?a.bottom-n.top:0}function getElementsOverlapAmount(e,t){var n,a=[];return _forEach(t,function(t){n=getElementsVerticalOverlap(e,t),a.push(n)}),_max(a)}function getCutAdChannel(e){return{all:"",animals:"Self/SoU",beauty:"Style/Beauty","career money productivity":"Power/Money",celebrity:"Culture/Celebrity","crime-assault":"Power","culture-media":"Culture",fashion:"Style/Fashion","feminism-politics-identity":"Power/Politics","relationships-friends family":"Self","health-wellness":"Self/Health","home design":"Style/Design_Hunting","learning creativity":"Self/SoU",living:"Style",other:"",parenting:"Self/Motherhood","mental health personality social behavior":"Self","relationships-sex dating marriage":"Self/sex_relationships",shopping:"Style/Shopping",weddings:"Style/Weddings"}[e]||""}function getVultureAdChannel(e){var t="";switch(e){case"tv":case"music":case"movies":case"books":case"comedy":case"art":case"theater":t=e;break;default:t=""}return t}function getIntelligencerAdChannel(e){var t="";switch(e){case"politics-domestic":case"politics-international":t="Politics";break;case"business":case"internet-culture":case"products-apps-software":case"products-consumer-electronics":t="Business";break;case"tech-industry":case"tech-society":t="Technology";break;default:t=""}return t}function getNYMagAdChannel(e){var t="";switch(e){case"all":t=e;break;case"company information":t="company";break;case"new york guides & things to do":t="to-do";break;case"other":t=e;break;case"sponsored guides":t="s-guides";break;default:t=""}return t}function appendSectionToDfpAds(){var e,t,n,a=document.querySelector("meta[property='og:site_name']"),i=document.querySelector("article[data-content-channel]"),o=document.querySelectorAll('[data-name^="/4088/"]');a&&(e=a.content),i&&(t=i.getAttribute("data-content-channel").toLowerCase()),t&&("The Cut"===e?n=getCutAdChannel(t):"Vulture"===e?n=getVultureAdChannel(t):"Intelligencer"===e?n=getIntelligencerAdChannel(t):"New York Magazine"===e&&(n=getNYMagAdChannel(t)),n&&_forEach(o,function(e){e.setAttribute("data-name",e.getAttribute("data-name")+"/"+n)}))}function injectGoogleScripts(){var e=document.createElement("script"),t=document.createElement("script"),n=document.createDocumentFragment();e.src="http://www.googletagservices.com/tag/js/gpt.js",e.async="async",t.src="http://pagead2.googlesyndication.com/pagead/js/adsbygoogle.js",t.async="async",n.appendChild(e),n.appendChild(t),document.getElementsByTagName("body")[0].appendChild(n)}appendSectionToDfpAds(),injectGoogleScripts(),DS.controller("ad",["adService",function(e){return function(t){var n,a,i=e.create(t),o=t.getAttribute("data-offload"),r=new $visibility.Visible(t,{preloadThreshold:o?window.innerHeight/2:200}),s=!1;function l(){window.innerWidth>=1180&&t.parentElement.classList.contains("ad-repeat")&&flaggedComponentsOnPage.length&&(n=getElementsOverlapAmount(t,flaggedComponentsOnPage),a=parseInt(t.parentElement.getAttribute("data-gap"),10),t.style.marginTop=a+30+n+"px")}function c(){l(),e.refresh(i)}function d(){e.remove(i),s||(s=!0,r.on("shown",c))}r.preload&&$visibility.isElementNotHidden(t)?(e.addToPageLoadQueue(i),o&&r.on("hidden",d)):(r.on("preload",function(){!i.slot&&$visibility.isElementNotHidden(t)&&(l(),e.load(i))}),o&&r.on("hidden",d)),this.adData=i}}]);}, {"27":27,"28":28,"29":29}];window.modules["curated-feed.client"] = [function(require,module,exports){"use strict";module.exports=function(e){var t=e.querySelectorAll("button.show-more");function r(e){var t=e.currentTarget;if(t){var r=t.parentElement.parentElement;r&&r.querySelector(".content").classList.toggle("collapsed")}}t&&t.forEach(function(e){e.addEventListener("click",r)})};}, {}];window.modules["coral-talk.client"] = [function(require,module,exports){"use strict";var coralEmbed,dom=require(1),store=require(88),visibility=require(28),auth0=require(7),TALK_AUTH="talk:auth_token",hasEmbedScriptLoaded=!1,hasCoralTalkRendered=!1;function renderComments(e){if(hasEmbedScriptLoaded&&!hasCoralTalkRendered){var t={talk:"".concat(window.location.protocol,"//").concat(e.CORAL_TALK_HOST),auth_token:store.get(TALK_AUTH),asset_url:e.TALK_ASSET_URL};hasCoralTalkRendered=!0,coralEmbed=window.Coral.Talk.render(e.commentStreamContainer,t)}}function coralLogin(){coralEmbed.login(store.get(TALK_AUTH))}function embedScript(e,t){var n=document.createElement("script");n.type="text/javascript",n.async=!0,n.src=e,n.addEventListener("load",function(){hasEmbedScriptLoaded=!0,renderComments(t)}),document.getElementsByTagName("head")[0].appendChild(n)}function attemptScriptEmbedding(e){hasEmbedScriptLoaded?renderComments(e):embedScript(e.EMBED_URL,e)}function addVisibilityListener(e,t){new visibility.Visible(e,{preloadThreshold:750}).on("preload",function(){return attemptScriptEmbedding(t)})}function removeSignInButton(e){e&&e.parentNode&&dom.removeElement(e)}function init(e){var t=e.getAttribute("data-coral-talk-host"),n="".concat(window.location.protocol,"//").concat(t,"/embed.js"),i=document.documentElement.getAttribute("data-uri"),o="http://".concat(i,".html"),r="true"===e.getAttribute("data-maintenance"),a=-1!==o.indexOf("@published"),c=e.querySelector(".coral-talk-container"),d=e.querySelector(".coral-talk-btn-signin"),l={CORAL_TALK_HOST:t,EMBED_URL:n,commentStreamContainer:c,signInButton:d,TALK_ASSET_URL:o};!r&&a&&(auth0.on("init",function(){addVisibilityListener(e,l),d.addEventListener("click",function(){return auth0.showLogin()}),auth0.isAuthenticated()&&removeSignInButton(d)}),auth0.on("login",function(t,n){removeSignInButton(d),store.set(TALK_AUTH,t["http://nymag.com/coral_talk"],n),visibility.isElementInViewport(e)&&attemptScriptEmbedding(l),hasCoralTalkRendered&&coralLogin()}),auth0.on("logout",function(){store.remove(TALK_AUTH)}))}module.exports=init;}, {"1":1,"7":7,"28":28,"88":88}];window.modules["choreographer.client"] = [function(require,module,exports){"use strict";var cookie=require(26),_require=require(64),insertSpeedBumpComponents=_require.insertSpeedBumpComponents,_require2=require(62),generateGrowl=_require2.generateGrowl,gtm=require(41),isProduction=require(5)(),_require3=require(63),getClientHistory=_require3.getClientHistory,updateClientHistoryWithPageData=_require3.updateClientHistoryWithPageData,auth0=require(7),_require4=require(61),Scenario=_require4.Scenario,cidReadyEvent="nymcid-set",cidKey="nymcid";function initializeChoreographer(e){var o=e.getAttribute("data-site-slug"),t=pageShouldCountAsView(),n=auth0.isSubscriber();return o?getClientId(cidKey,8e3).then(function(e){return!isProduction&&console.log("......clientId: ".concat(e,"......")),!isProduction&&console.log("......page counts as a view: ".concat(t)),t?updateClientHistoryWithPageData(e,o):getClientHistory(e)}).then(function(r){console.log("......client history......"),console.table(r),!isProduction&&console.log("......Evaluating scenarios......");var i=readJSONFromScript(e.querySelector("script")),c=i.scenarios,a=i.touts,l=c.map(function(e){return Scenario(e,r,o,n)}).filter(function(e){return!isProduction&&console.log("".concat(e.action,": ").concat(e.shouldShow)),!isProduction&&console.log("......Scenario data ......"),!isProduction&&console.log(e),e.shouldShow}).reduce(function(e,o){var t=o.action,n=o.min,r=o.count,i=a.find(function(e){return e.value===t});return!i||e[i.type]?e:(e[i.type]=i,e[i.type].viewCount=r-n,e)},{});!isProduction&&console.log("......active touts......"),!isProduction&&console.log(l),executeTouts(e,t,l,r)}).catch(console.error):!isProduction&&console.error("siteSlug not found.")}function documentIncludesComponent(e){return document.querySelector('[data-uri*="/'.concat(e,'/"]'))}function pageShouldCountAsView(){return!documentIncludesComponent("product")}function executeTouts(e,o){var t=arguments.length>2&&void 0!==arguments[2]?arguments[2]:{},n=arguments.length>3?arguments[3]:void 0,r=n.global,i={totalArticleCount:r.total||0,standardArticleCount:r.Article||0,featureArticleCount:r.Feature||0,magazineArticleCount:r.Magazine||0};o&&t["content-cliff"]?cliff(findTemplate(e,"content-cliff"),t["content-cliff"],t["content-cliff"].viewsLeft,n):t["growl-newletter"]||!t["promo-growl"]?t["speed-bump"]&&insertSpeedBumpComponents(findTemplate(e,"speed-bump"),t["speed-bump"],i):promoGrowl(findTemplate(e,"growl-message"),{contentClass:"promo-content",title:void 0,name:t["promo-growl"].name,scrollDepth:t["promo-growl"].promoGrowlScrollDepth,cta:t["promo-growl"].promoGrowlCTA,body:t["promo-growl"].promoGrowlMessage,link:t["promo-growl"].promoGrowlLink,baseTrackingData:i})}function promoGrowl(e,o){var t=o.contentClass,n=o.scrollDepth,r=o.name,i=o.title,c=o.body,a=o.cta,l=o.link,u=o.baseTrackingData;var s,m=(s='\n \n "),document.createRange().createContextualFragment(s));m.querySelector("a").addEventListener("click",function(){var e=u;e.event="eec.promotionClick",e.ecommerce={promoClick:{promotions:[{name:r,creative:c,id:"promo growl",position:"growl"}]}},gtm.reportNow(e)}),generateGrowl(e,"#growl-message",{content:m,scrollDepth:n,onShow:function(){var e=u;e.event="eec.promotionView",e.ecommerce={promoView:{promotions:[{name:r,creative:c,id:"promo growl",position:"growl"}]}},gtm.reportNow(e)}})}function cliff(e,o,t,n){var r=n.first_visit,i=n.global,c={totalArticleCount:i.total||0,standardArticleCount:i.Article||0,featureArticleCount:i.Feature||0,magazineArticleCount:i.Magazine||0},a=o.name,l=o.contentCliffWarningBody,u=o.contentCliffBody,s=document.importNode(e,!0).querySelector(".content-cliff"),m=document.querySelector(".article-content > .clay-paragraph");s&&(m.insertAdjacentHTML("afterend",s.outerHTML),require("content-cliff.client")(document.querySelector(".content-cliff"),{cliffOptions:o,viewsLeft:t,firstVisit:Number(r),onWarn:function(){var e=c;e.event="eec.promotionView",e.ecommerce={promoView:{promotions:[{name:a,creative:l,id:"warning growl",position:"growl"}]}},gtm.reportNow(e)},onClickWarn:function(){var e=c;e.event="eec.promotionClick",e.ecommerce={promoClick:{promotions:[{name:a,creative:l,id:"warning growl",position:"growl"}]}},gtm.reportNow(e)},onShow:function(){var e=c;e.event="eec.promotionView",e.ecommerce={promoView:{promotions:[{name:a,creative:u,id:"content cliff",position:"in-article"}]}},gtm.reportNow(e)},onClickCliff:function(){var e=c;e.event="eec.promotionClick",e.ecommerce={promoClick:{promotions:[{name:a,creative:u,id:"content cliff",position:"in-article"}]}},gtm.reportNow(e)}}))}function getClientId(){var e=arguments.length>0&&void 0!==arguments[0]?arguments[0]:"",o=arguments.length>1&&void 0!==arguments[1]?arguments[1]:8e3,t=cookie.get(e);return t?Promise.resolve(t):new Promise(function(t,n){var r=setTimeout(function(){n("could not find key: ".concat(e," on cookie after ").concat(o,"ms"))},o);window.addEventListener(cidReadyEvent,function(){clearTimeout(r),t(cookie.get(e))})})}function readJSONFromScript(e){try{return JSON.parse(e.innerHTML)}catch(e){return{touts:[],scenarios:[]}}}function findTemplate(e){var o=arguments.length>1&&void 0!==arguments[1]?arguments[1]:"",t=e&&e.querySelector('[data-template-id="'.concat(o,'"]'));return t&&t.content}module.exports=function(e){auth0.on("init",function(){initializeChoreographer(e)})};}, {"5":5,"7":7,"26":26,"41":41,"61":61,"62":62,"63":63,"64":64,"content-cliff.client":"content-cliff.client"}];window.modules["growl.client"] = [function(require,module,exports){"use strict";require(110);var dom=require(1),localStorageKeyRoot="slideout-",_require=require(85),getLocalStorage=_require.getLocalStorage,setLocalStorage=_require.setLocalStorage;module.exports=function(e,t){var o=t.content,r=t.onShow,i=t.scrollDepth,n=void 0===i?50:i,a=t.dismissable,s=void 0!==a&&a,c=Number(n||e.getAttribute("data-display-at-page-scroll-percentage")),l=dom.find(e,".modal"),d=t.id||e.getAttribute("id"),u=localStorageKeyRoot+d,g=getLocalStorage(u);function v(){l.classList.add("hidden")}function m(){setLocalStorage(u,!0),v()}s&&g?e.remove():(o&&e.querySelector("[data-content]").appendChild(o),c&&function(){var e=arguments.length>0&&void 0!==arguments[0]?arguments[0]:50,t=new IntersectionObserver(function(e){e[0]&&e[0].isIntersecting&&(l.style.top="inherit",l.classList.remove("hidden","initial"),"function"==typeof r&&r())});l.style.top="".concat(document.querySelector("body").scrollHeight/(100/e),"px"),t.observe(l)}(c),e.querySelector(".dismiss-modal").addEventListener("click",function(){return s?m():v()}),e.addEventListener("growl:hide",v),e.addEventListener("growl:dismiss",m))};}, {"1":1,"85":85,"110":110}];window.modules["speed-bump.client"] = [function(require,module,exports){"use strict";var gtm=require(41),visibility=require(28);module.exports=function(e,i){if(i&&e){var o=i.name,r=i.speedbumpDescription,t=i.speedbumpMessage,n=i.speedbumpLink,s=i.baseTrackingData,c=new visibility.Visible(e,{shownThreshold:.5});e.querySelector(".description").innerHTML=r,e.querySelector(".promo-link").innerHTML=t,e.querySelector(".promo-link").href=n,e.classList.remove("collapsed"),c.on("shown",function(){if(visibility.isElementNotHidden(e)){var i=s;i.event="eec.promotionView",i.ecommerce={promoView:{promotions:[{name:o,creative:r,id:"speed bump",position:"in-article"}]}},gtm.reportNow(i),c.destroy()}}),e.querySelector(".promo-link").addEventListener("click",function(){var e=s;e.event="eec.promotionClick",e.ecommerce={promoClick:{promotions:[{name:o,creative:r,id:"speed bump",position:"in-article"}]}},gtm.reportNow(e)})}};}, {"28":28,"41":41}];window.modules["content-cliff.client"] = [function(require,module,exports){"use strict";var _require=require(62),generateGrowl=_require.generateGrowl,auth0=require(7),isProduction=require(5)(),_require2=require(85),getLocalStorage=_require2.getLocalStorage,setLocalStorage=_require2.setLocalStorage;function findTemplate(n){var t=arguments.length>1&&void 0!==arguments[1]?arguments[1]:"",e=n&&n.querySelector('[data-template-id="'.concat(t,'"]'));return e&&e.content}module.exports=function(n,t){if(t){var e,o=t.cliffOptions,r=t.viewCount,c=t.firstVisit,i=t.onWarn,a=t.onClickWarn,l=t.onShow,u=t.onClickCliff,f=o.contentCliffWarningTitle,s=o.contentCliffWarningBody,d=o.contentCliffWarningCTA,g=o.contentCliffWarningLink,v=o.contentCliffWarningScrollDepth,h=findTemplate(n,"content-cliff-warning-growl"),w=300,m=["taboola"],p="#content-cliff",S=n,q=(e=0,document.querySelectorAll("[data-word-count]").forEach(function(n){e+=Number(n.getAttribute("data-word-count")||0,10)||0}),e),C=function(n,t){function e(n){return Math.round(n.getTime()/1e3/60)}var o=e(n),r=e(t);return o-r}(new Date,new Date(c))\n \n\n

').concat(c,'

\n

').concat(u,'

\n

').concat(s," \n

\n \n \n "),document.createRange().createContextualFragment(S));var S;function q(){var n=new Date,t=n.getMonth(),e=n.getFullYear();return"content-cliff-warning-displayed-".concat(e,"-").concat(t)}return p.querySelector("a").addEventListener("click",a),{warn:function(){generateGrowl(n,"#content-cliff-warning-growl",{content:p,onShow:function(){var n;i(),n=q(),setLocalStorage(n,"true")},scrollDepth:h})},shouldWarn:function(n){return t=q(),!("true"===getLocalStorage(t))||n0&&void 0!==arguments[0]?arguments[0]:"";return document.querySelectorAll("".concat(n," ~ *"))}(p)).forEach(function(n){return n.remove()}),t=o.contentCliffStatus,e=o.contentCliffPromo,r=o.contentCliffCTA,c=o.contentCliffURL,i=n.querySelector("[data-content-cliff-status]"),a=n.querySelector("[data-content-cliff-promo]"),(f=n.querySelector("[data-content-cliff-cta]"))&&f.setAttribute("href",c),f&&f.insertAdjacentHTML("afterbegin",r),i&&i.insertAdjacentHTML("afterbegin",t),a&&a.insertAdjacentHTML("afterbegin",e),f&&f.addEventListener("click",u),S.classList.remove("collapsed"),m.forEach(function(n){var t=document.querySelector('[data-uri*="/'.concat(n,'/"]'));t&&t.remove()}),b.addEventListener("click",function(){return auth0.showLogin()})}}[function(){if(q1&&i.classList.add("multi-children"),a=0;a=1180?t.push({mode:a?"thumbnails-f":"thumbnails-b",container:"taboola-desktop-below-article-thumbnails",placement:"Desktop Below Article Thumbnails",target_type:"mix"}):window.innerWidth>=768?t.push({mode:a?"thumbnails-g":"thumbnails-c",container:"taboola-tablet-below-article-thumbnails",placement:"Tablet Below Article Thumbnails",target_type:"mix"}):t.push({mode:a?"thumbnails-h":"thumbnails-d",container:"taboola-mobile-below-article-thumbnails",placement:"Mobile Below Article Thumbnails",target_type:"mix"})}module.exports=function(t){var e,a,o,i,n=t.getAttribute("data-taboolaId"),l=t.getAttribute("data-site-slug");t.classList.contains("disabled")||(window._taboola=window._taboola||[],window._taboola.push({article:"auto"}),e=document.createElement("script"),a=document.getElementsByTagName("script")[0],o="//cdn.taboola.com/libtrc/".concat(n,"/loader.js"),i="tb_loader_script",document.getElementById(i)||(e.async=1,e.src=o,e.id=i,a.parentNode.insertBefore(e,a)),window.performance&&"function"==typeof window.performance.mark&&window.performance.mark("tbl_ic"),pushUnits(window._taboola,l),window._taboola.push({flush:!0}))};}, {}];window.modules["follow.client"] = [function(require,module,exports){"use strict";var _find=require(67),$popup=require(40);DS.controller("follow",[function(){function e(e){this.el=e,this.handle=e.getAttribute("data-handle")}return e.prototype={events:{click:"openFollow"},openFollow:function(e){var t,n,a=$popup.position,o=$popup.params,r={},l={w:780,h:500},s=new a(l.w,l.h),p=this.el.classList;r.handle=this.handle,l.left=s.left,l.top=s.top,n=_find([{className:"facebook",url:"https://facebook.com/{handle}",network:"Facebook"},{className:"pinterest",url:"http://www.pinterest.com/{handle}",network:"Pinterest"},{className:"instagram",url:"https://www.instagram.com/{handle}",network:"Instagram"},{className:"rss",url:"http://feeds.feedburner.com/{handle}",network:"RSS"},{className:"twitter",url:"https://twitter.com/intent/follow?screen_name={handle}&tw_p=followbutton&variant=2.0",network:"Twitter"},{className:"snapchat",url:"https://www.snapchat.com/discover/{handle}",network:"Snapchat"}],function(e){return p.contains(e.className)}),r.url=n.url.replace("{handle}",r.handle),r.network=n.network,r.name="Follow "+r.handle+" on "+r.network,t=new o(r,l),window.open(t.address,t.name,t.features),e.preventDefault()}},e}]);}, {"40":40,"67":67}];window.modules["article.client"] = [function(require,module,exports){"use strict";var $visibility=require(28),$gtm=require(41);DS.controller("article",[function(){var e=40;function t(t){var i=document.querySelector(".wrapper > .tertiary"),n=t.querySelector(".article-header"),r=n?n.querySelector("img"):null,o=function(){i.style.paddingTop=n.getBoundingClientRect().height+e+"px"};i&&n&&(window.innerWidth-1,o=new RegExp("[\\?&]tag=[^&]+");if(r&&n)return(i=_get(e,"search","")).match(o)||(e.search=(i?i+"&":"?")+"tag="+n),e.href}(u,r)||f(s,r,u))&&(u.href=i))}function h(e){var t,n,r=dom.closest(e.target,"a"),o=r&&r.href;o&&o.length&&(r.href=(n=(t=o).split(i)).length>1?decodeURIComponent(n[1]):t)}return function(e){var i=function(e){return!!(r=e.getAttribute("data-skimlinks"))}(e),a=function(e){return!!(n=e.getAttribute("data-amazon"))}(e);visit.onceReady(function(e){o=e}),(i||a)&&(!function(e){t=(e.getAttribute("data-excluded-hostnames")||"").toLowerCase().split(",")}(e),globalClick.addHandler(_,h))}}]);}, {"1":1,"30":30,"31":31,"32":32,"33":33,"34":34,"35":35,"36":36}];window.modules["gtm.client"] = [function(require,module,exports){"use strict";var $gtm=require(41);DS.controller("gtm",[function(){return function(t){$gtm.init(t.getAttribute("data-container-id"))}}]);}, {"41":41}];window.modules["global-nav.client"] = [function(require,module,exports){"use strict";var dom=require(1),auth0=require(7),signInButton=dom.find(".user-signin"),signOutButton=dom.find(".user-signout");function init(i){auth0.on("init",function(){signInButton.addEventListener("click",function(){return auth0.showLogin()}),signOutButton.addEventListener("click",function(){return auth0.logout()}),auth0.isAuthenticated()&&i.classList.add("signed-in"),auth0.isSubscriber()&&i.classList.add("subscribed")}),auth0.on("login",function(){i.classList.add("signed-in"),auth0.isSubscriber()&&i.classList.add("subscribed")}),auth0.on("logout",function(){i.classList.remove("signed-in"),i.classList.remove("subscribed")})}module.exports=init;}, {"1":1,"7":7}];window.modules["aaa-module-mounting.legacy"] = [function(require,module,exports){"use strict";var eventify=require(133),_pickBy=require(57),_each=require(210),fingerprintjs2=require(209),DS=require(208);function registerGlobals(){window.DS=DS,window.Eventify=eventify,window.Fingerprint2=fingerprintjs2,DS.value("Eventify",eventify),DS.value("Fingerprint2",fingerprintjs2),DS.value("$document",window.document),DS.value("$window",window)}function mountDollarSliceComponents(){DS.service("components",["$document","$module",function(e,n){var r=_pickBy(n.definitions,function(e){return e.providerStrategy===n.providers.controller}),o=Object.keys(r);function t(e){return function(r){try{n.get(e,r)}catch(e){logMountError(r,e)}}}_each(o,function(n){var r=e.querySelectorAll('[data-uri*="/_components/'+n+'/"]'),o=e.querySelectorAll('[data-uri$="/_components/'+n+'"]');_each(r,t(n)),_each(o,t(n))}),this.components=o}]),DS.get("components")}function logMountError(e,n){var r=e.outerHTML.slice(0,e.outerHTML.indexOf(e.innerHTML));console.error("Error attaching controller to "+r,n)}registerGlobals(),document.addEventListener("DOMContentLoaded",function(){mountDollarSliceComponents()});}, {"57":57,"133":133,"208":208,"209":209,"210":210}];window.modules["ads.legacy"] = [function(require,module,exports){"use strict";var _map=require(37),_forEach=require(27),_isString=require(155),_each=require(210),_debounce=require(101),_sortBy=require(95),page=require(164),visit=require(35);DS.service("adService",["Eventify","$cid","$document","$window",function(e,t,a,i){var n,r,o,s,d,u,c={},l=this,g=[],f=visit.getQueryParamsObject(["utm_campaign"]);i.NYM={},i.NYM.analytics={},i.NYM.analytics.adStartTime=i.performance.now(),i.googletag=i.googletag||{},i.googletag.cmd=i.googletag.cmd||[],u=i.googletag,n=function(e){var t,a,n=e.data;return n.loaded?e:(n.loaded=!0,t=null,(t=n.sizes?u.defineSlot(n.name,n.sizes,n.id).addService(u.pubads()):u.defineOutOfPageSlot(n.name,n.id).addService(u.pubads())).setTargeting("adid",n.id),f.hasOwnProperty("utm_campaign")&&t.setTargeting("utmcamp",f.utm_campaign),a=l.getAdCount(n.label),t.setTargeting("label",n.label+"_"+n.site+"-"+a),u.display(n.id),u.pubads().addEventListener("slotOnload",function(){i.NYM.analytics.firstAdLoadTime||(i.NYM.analytics.firstAdLoadTime=i.performance.now(),i.NYM.analytics.firstAdLoadLabel=e.data.label)}),e.slot=t,e)},r=function(e){var a,i,n,r=t(),o=e.getAttribute("data-name"),s=e.getAttribute("data-sizes"),d=e.getAttribute("data-label"),u=e.getAttribute("data-site");r=e.id,s&&s.length?(s=s.split(","),a=[],_map(s,function(e){e=e.split("x"),i=parseInt(e[0]),n=parseInt(e[1]),a.push([i,n])})):(e.classList.add("oop"),a=!1),this.data={id:r,name:o,sizes:a,loaded:!1,label:d,site:u},c[r]=this},s=function(e){u.cmd.push(function(){var t=n(e);c[e.data.id]=t})},o=function(e){e.slot?u.pubads().refresh([e.slot],{changeCorrelator:!1}):e&&s(e)},u.cmd.push(function(){var e,t,n,r=page.getMeta("article:tag"),o=page.getMeta("author"),s=i.location.href,d=(e=a.head.querySelector(".head-gtm"),t=a.body.querySelector(".gtm"),e&&"top"===e.getAttribute("data-gtm")?"gtmtop":t&&"bottom"===t.getAttribute("data-gtm")?"gtmbottom":"");n=[],_forEach([r,o,d],function(e){_forEach(e.split(","),function(e){(e=e.trim().toLowerCase().replace(/\s/g,"-").replace(/\'|\'/g,"")).length&&n.push(e)})}),u.pubads().setTargeting("kw",n),s=s.slice(s.lastIndexOf("/")+1),u.pubads().setTargeting("pn",s),u.companionAds().setRefreshUnfilledSlots(!0),u.pubads().enableAsyncRendering(),u.enableServices()}),this.load=s,this.create=function(e){return new r(e)},this.refresh=function(e){var t;_isString(e)?(t=this.getById(e),o(t)):o(e)},this.remove=function(e){var t=e.data.id;a.getElementById(t).innerHTML=""},this.getAdCount=function(e){var t,a=0,i=Object.keys(c);return _each(i,function(i){(t=c[i]).data.loaded&&t.data.label===e&&a++}),a},this.getById=function(e){return c[e]},d=_debounce(function(){var e={TopLeaderboard:1,RightColTopMPU:2,outOfPage:99,"homepageTakeover/TopLeaderboard":1},t=_sortBy(g,function(t){return e[t.data.label]||10});_forEach(t,function(e){return e.data.sizes?s(e):i.setTimeout(function(){s(e)},1200)}),g=[]},10),this.addToPageLoadQueue=function(e){g.push(e),d()}}]);}, {"27":27,"35":35,"37":37,"95":95,"101":101,"155":155,"164":164,"210":210}];window.modules["chartbeat.legacy"] = [function(require,module,exports){"use strict";var page=require(164),auth0=require(7);DS.service("chartbeat",["$document","$window",function(t,e){var a,n,o,i,c,s=t.getElementById("cb-sponsor-data");function r(){var a=t.createElement("script");e._sf_endpt=(new Date).getTime(),a.setAttribute("language","javascript"),a.setAttribute("type","text/javascript"),a.setAttribute("src","//static.chartbeat.com/js/chartbeat.js"),t.body.appendChild(a)}e._sf_async_config={uid:19989,useCanonical:!0,domain:"nymag.com",sections:(a=page.getSiteBase(),n=page.getSiteName(),o=n||a,"The Cut"!==o&&"Vulture"!==o||(o+=[",",o,page.getChannel()].join(" ")),o)},(i=page.getPrimaryPageComponent())&&"Sponsored Story"===i.getAttribute("data-type")?(e._sf_async_config.sponsorName=s&&s.getAttribute("data-sponsor"),e._sf_async_config.type="Sponsored"):e._sf_async_config.sponsorName=void 0,(c=t.querySelectorAll(".article-author")).length&&(e._sf_async_config.authors=c[0].textContent.trim()),e._cbq=e._cbq||[],auth0.on("init",function(){var a,n;e._cbq.push(["_acct",auth0.isAuthenticated()?"lgdin":"anon"]),a=r,"complete"===t.readyState?a():(n="function"==typeof e.onload?e.onload:function(){},e.onload=function(){n(),a()})})}]),setTimeout(function(){DS.get("chartbeat")},0);}, {"7":7,"164":164}];window.modules["cid.legacy"] = [function(require,module,exports){"use strict";DS.service("$cid",function(){var r=Math.floor(100*Math.random());return function(){return"cid-"+ ++r}});}, {}];window.modules["facebook.legacy"] = [function(require,module,exports){"use strict";DS.service("facebook",[function(){this.fb=function(i){window.FB&&window.FB[i].apply(this,Array.prototype.slice.call(arguments,1))}}]);}, {}];require=(function e(t,n,r){function s(o,u){if(!n[o]){if(!t[o]){var a=typeof require=="function"&&require;if(!u&&a)return a(o,!0);if(i)return i(o,!0);var f=new Error("Cannot find module '"+o+"'");throw f.code="MODULE_NOT_FOUND",f}var l=n[o]={exports:{}};t[o][0].call(l.exports,function(e){var n=t[o][1][e];return s(n?n:e)},l,l.exports,e,t,n,r)}return n[o].exports}var i=typeof require=="function"&&require;for(var o=0;o typeof key === 'string' && key.match(/\.legacy$/)) .forEach((key) => window.require(key));}function tryToMount(fn, el, name) { try { fn(el); // init the controller } catch (e) { const elementTag = el.outerHTML.slice(0, el.outerHTML.indexOf(el.innerHTML)); console.error(`Error initializing controller for "${name}" on "${elementTag}"`, e); }}/** * mount client.js component controllers */function mountComponentModules() { Object.keys(window.modules) .filter((key) => typeof key === 'string' && key.match(/\.client$/)) .forEach((key) => { let controllerFn = window.require(key); if (typeof controllerFn === 'function') { const name = key.replace('.client', ''), instancesSelector = `[data-uri*="_components/${name}/"]`, defaultSelector = `[data-uri$="_components${name}"]`, instances = document.querySelectorAll(instancesSelector), defaults = document.querySelectorAll(defaultSelector); for (let el of instances) { tryToMount(controllerFn, el, name); } for (let el of defaults) { tryToMount(controllerFn, el, name); } } });}// note: legacy controllers that require legacy services (e.g. dollar-slice) must// wait for DOMContentLoaded to initialize themselves, as the files themselves must be mounted firstmountLegacyServices();mountComponentModules(); // ]]
G20

Trump-Xi Dinner Offers Chance to Avert Deeper U.S.-China Rift - Bloomberg

Fri, 30 Nov 2018 00:28

Need help? Contact us We've detected unusual activity from your computer networkTo continue, please click the box below to let us know you're not a robot.

Why did this happen?Please make sure your browser supports JavaScript and cookies and that you are not blocking them from loading. For more information you can review our Terms of Service and Cookie Policy.

Need Help?For inquiries related to this message please contact our support team and provide the reference ID below.

Block reference ID:

Angela Merkel: Unplanned landing Government plane "Konrad Adenauer" in Cologne

Fri, 30 Nov 2018 11:00

30. November 2018 um 11:43 Uhr Merkel landet ungeplant in K¶ln : Regierung pr¼ft Verdacht auf kriminellen Hintergrund Bundeskanzlerin Angela Merkel (Archivfoto). Foto: AP/Michael Sohn Berlin Die Bundesregierung geht nach Informationen unserer Redaktion dem Verdacht nach, dass die elektronische St¶rung in der Regierungsmaschine von Kanzlerin Angela Merkel auf dem Weg zum G20-Gipfel einen kriminellen Hintergrund haben k¶nnte.

'); (function() { function init() { if (!window.SDG) { window.setTimeout(init, 100); return; } SDG.Publisher.registerSlot('rectangle', 'rectangle').setTargeting({'hpa': ['1']}).load(); } init(); })(); iccount = iccount-1; //counter eins herrabsetzten, damit bei Rectangle 3 als Rec alternative angefangen wird.}else{ //alternatives Rectangle definieren var adid = 'rectangle'+iccount; var slotloc = 250+iccount; document.write(''); (function() { function init() { if (!window.SDG) { window.setTimeout(init, 100); return; } SDG.Publisher.registerModularSlot(adid, adid, 300, 250, [[300,300],[300,601],[300,251],[300,slotloc]], false).setTargeting({'hpa': ['1']}).load(); } init(); })();} Merkel habe mit Verteidigungsministerin Ursula von der Leyen (CDU) ¼ber den Abbruch der Flugreise mit Landung in K¶ln gesprochen. Der Fall werde 'žkriminalistisch'' aufgearbeitet, erfuhr unsere Redaktion aus Sicherheitskreisen. In Regierungskreisen hieŸ es, nach einem solchen Vorfall werde in 'žalle Richtungen'' ermittelt.

Der von Merkel als der 'žerfahrenste Flugkapit¤n der Flugbereitschaft'' bezeichnete Pilot soll von einem beispiellosen Ausfall des Kommunikationssystems gesprochen haben. So etwas sei nicht f¼r m¶glich gehalten worden, hieŸ es in Sicherheitskreisen. Zu dem Zeitpunkt war die Maschine hinter Amsterdam mit Kurs auf den Atlantik. Sie sei aber nach K¶ln geflogen, weil wegen der ausgefallenen elektronischen Systeme ein l¤ngerer Sinkflug n¶tig als bis zum Flughafen Amsterdam m¶glich gewesen sei.

Ferner habe die Bef¼rchtung bestanden, dass das Fahrwerk nicht ausgefahren werden k¶nne. Der ¼berragenden Reaktion des Flugkapit¤ns sei es zu verdanken, dass die Maschine sicher gelandet ist. Wie die unplanm¤Ÿige Landung von Angela Merkel und ihrer Delegation in K¶ln ablief, lesen Sie hier.

Die Bundeskanzlerin ist seit dem Morgen mit einem Flugzeug der spanischen Fluglinie Iberia auf dem Weg zum G20-Gipfel nach Buenos Aires.

G20-Anreise mit Hindernissen : Kanzlerin Merkel strandet in K¶ln 'žErnsthafte St¶rung'' : Die Lage f¼r Merkel und Scholz in der Luft war brenzlig Mit Fluggesellschaft Iberia : Merkel im spanischen Linienflieger auf dem Weg zum G20-Gipfel
SJWBLMLGBBTQQIAAPK

School Lunchroom Parents

The story you discussed about parents who are upset that

they cannot join their kids at school lunch reminded me of a personal

experience with this at my daughters elementary school a few years ago. My

daughter won some contest in her class where a parent could join her for lunch

at her school. My thoughts were along the lines of JCD's where I would have

been mortified as a child to have one of my parents show up, but my daughter

really wanted me to come to the school for lunch so I did.

When I got to the school I saw 3-4 other parents in the

lunch room and asked my daughter if they won the same contest as well. My

daughter said "No, they are here almost every day for lunch". In one part

of the lunchroom there were two parents with two giant pizzas handing out

slices to some kids. I asked my daughter if that was normal, and she said "Yes,

their parents (forgot the kids name), show up once a week and bring pizza for

him and his friends." I asked "to him and his friends?" My daughter said "yeah,

if you are nice to him he will invite you over to have pizza when his parents

come in for lunch." This just totally blew my mind that this was happening and

that the school allowed it.

My daughter is now in middle school, and thankfully this

school doesn't allow any parents in the lunch room. So instead some parents

started bringing special lunches from fast food places, and even some fancy

places, and dropping them off at the schools front office at lunch time to have

them delivered to their kids. The 'special lunch' drop-offs got so bad last

year that the principal finally sent home a letter saying that they will no

longer accept non-medically necessary items being dropped at the front office.

The letter stated that in the previous year parents had dropped off 3,600

non-necessary items and lunches at the front office to be delivered to

kids.

TYFYC!

-Sean C in Las Vegas, NV
Marrakesh Agreement

No lessons learned? German government votes in favour of UN Migration Pact

Fri, 30 Nov 2018 00:17

The German government voted today with a majority in favour of the Global Compact for Migration which has been widely criticised for seeking to mix migration and asylum.

In total 372 MPs voted in favour, 153 voted against and 141 abstained. Before the votes were cast Heiko Maas, the current Foreign Minister from the Socialist Democratic Party, called the pact a great success, which would allow for safe migration.

He went on to call out critics for their ineptitude to read the pact and believes it to be in the interests of Germany.

Stephan Thomae of the Free Democratic Party mentioned the pact was non-binding by law and would lower migration pressure on Germany because it would enforce international standards on migration.

The left-wing Green party had already demanded for the migration pact to be implemented into German law even prior to its signing.

Therefore, confirming fears of critics that this pact will by no means be non-binding. Petra Pau from the Left party made a questionable remark that Berlin wouldn't exist without migration and such that a topic could only be solved globally.

MPs from the Alternative for Germany (AfD) reminded parliament that a number of nations already announced not to sign the pact and questioned to what states people would migrate to then.

The populist AfD made clear that they would vote against this proposal. This outcome does not come as a surprise as secret papers only recently revealed Germany may have had a much larger role in drafting the Global Compact for Migration than previously thought.

Currently the US, Austria, Hungary, Australia, Czech Republic, Bulgaria, Estonia, Poland, Israel and Slovakia have all decided against signing the pact set to be ratified in Marrakech on 10-11 December.

European Society Coudenhove Kalergi

Sun, 02 Dec 2018 15:18

Der Coudenhove-Kalergi-Europapreis wird alle zwei Jahre an f¼hrende Pers¶nlichkeiten vergeben, die sich durch auŸerordentliche Verdienste im europ¤ischen Einigungsprozess verdient gemacht haben.

2016

Kenneth ClarkeBritischer Parlamentarier

2014

Jean-Claude JunckerEU-Kommissionspr¤sident

2012

Herman Van RompuyRatspr¤sident der EU

2010

Angela MerkelKanzlerin der Bundesrepublik Deutschland

2008

Wladyslaw BartoszewskiStaatssekret¤r der Republik Polen

2006

Vaira Vike-FreibergaStaatspr¤sidentin der Republik Lettland

2004

Ibrahim RugovaPr¤sident des Kosovo

2004

Silvius MagnagoAltlandeshauptmann von S¼dtirol

2002

Franjo KomaricaKatholischer Bischof von Bosnien

1999

Yehudi MenuhinViolinist; Sonderpreis posthum

1998

Emil ConstantinescuStaatspr¤sident von Rum¤nien

1996

Lennart MeriStaatspr¤sident von Estland

1994

Otto von HabsburgPr¤sident der Paneuropa Union und Europa- Abgeordneter; Sonderpreis zum Coudenhove-Kalergi Jahrhundert

1994

Alois MockVizekanzler und AuŸenminister –sterreichs

1992

Ronald ReaganPr¤sident der USA

1990

Helmut KohlKanzler der Bundesrepublik Deutschland

1988

Franz-Josef StraussMinisterpr¤sident von Bayern

1986

Juan Carlos I. de Borb"n y Borb"nSpanischer K¶nig und Staatsoberhaupt

1984

Sandro PertiniStaatspr¤sident Italiens

1982

Rudolf Kirchschl¤gerBundespr¤sident –sterreichs

1980

Constantin TsatsosStaatspr¤sident von Griechenland

1978

Raymond BarrePremierminister Frankreichs

The Coudenhove-Kalergi plan - The genocide of the Peoples of Europe | Western Spring

Sun, 02 Dec 2018 12:26

Mass immigration is a phenomenon the causes of which are cleverly concealed by the political elites, and multicultural propaganda is employed to falsely portray immigration as inevitable. In this article we intend to prove once and for all, that mass immigration is not a spontaneous phenomenon. What the elites try to present as an inevitability of modern life, is actually the product of a plan conceived around a table and prepared over decades, to completely change the face of our continent.

The Pan-Europe

Few people know that one of the main instigators of the process of European integration, was a man who also conceived the genocide of the peoples of Europe. He was a sinister individual whose existence is unknown to the masses of our people, but the political elites consider him the founder of the European Union. His name is Richard von Coudenhove Kalergi. His father was an Austrian diplomat named Heinrich von Coudenhove-Kalergi (with connections to the Byzantine family of the Kallergis), and his mother the Japanese Mitsu Aoyama.

Thanks to his close contacts with European aristocrats and politicians, and due to the network of relationships created by his nobleman-diplomat father, Richard von Coudenhove-Kalergi was able to work unseen, away from the glare of publicity, and he managed to engage the co-operation of the most influential European heads of state for his plan, making them supporters and collaborators in his ''project of European integration''.

In 1922 he founded the ''Pan-European'' movement in Vienna, which aimed to create a New World Order, based on a federation of nations led by the United States. European integration would be just the first step in creating a world government. His earliest supporters included Czech politicians TomÅ Masaryk and Edvard BeneÅ, and the German Jewish banker Max Warburg, who invested 60,000 marks in the project. The Austrian Chancellor Ignaz Seipel and the next president of Austria, Karl Renner, took early responsibility for leading the ''Pan-European'' movement and later, French politicians, such as L(C)on Bloum, Aristide Briand, Alcide De Gasperi etc., offered their help.

With the rise of Fascism in Europe during the 1930s, the project of European integration was abandoned and the ''Pan-European'' movement was forced to dissolve. However, after the Second World War, and thanks to frantic and tireless activity and the support of Winston Churchill, the Jewish Masonic Lodge B'nai B'rith and major newspapers like the New York Times, Kalergi managed to gain acceptance for his plan by the United States Government and later the CIA became involved in driving the plan towards completion.

The essence of the Kalergi plan

In his book 'Praktischer Idealismus', Kalergi explains that the citizens of the future ''United States of Europe'' will not be the people of the Old Continent, but a new mixed breed, the products of thorough and widespread miscegenation. He states that the peoples of Europe should interbreed with Asians and other non-White races, to create a multiracial population, with no clear sense of tradition or identity and therefore easily controlled by the ruling elite.

Kalergi proclaims the need to abolish the right of nations to self-determination and outlines the break-up of nation states through the use of ethnic separatist movements and the destruction of the nations themselves through mass migration. In order for Europe to be easily controlled by the future elite, Kalergi proposes the creation of a homogeneous mixed breed population, and as to who should be the new elite? Kalergi is particularly illuminating on this point:

The man of the future will be of mixed race. The races and classes of today will gradually disappear due to the elimination of space, time, and prejudice. The Eurasian-negroid race of the future, similar in appearance to the Ancient Egyptians, will replace the current diversity of peoples and the diversity of individuals. Instead of destroying European Judaism, Europe, against her will, refined and educated this people, driving them to their future status as a leading nation through this artificial evolutionary process. It's not surprising that the people that escaped from the Ghetto-Prison, became the spiritual nobility of Europe. Thus, the compassionate care given by Europe created a new breed of aristocrats. This happened when the European feudal aristocracy crashed because of the emancipation of the Jews [due to the actions taken by the French Revolution]

Although no textbook mentions Kalergi, his ideas are the guiding principles of the European Union. The belief that the peoples of Europe should be mixed with Africans and Asians, to destroy our identity, to break down traditional ways of living and create a single mixed race, is the reason for community policies that promote minority interests. The underlying motives are not at all humanitarian, because the driving power behind the ruthless regime dominating the EU, plans the greatest genocide in history.

A prestigious prize is awarded every two years by the Coudenhove-Kalergi Foundation to Europeans who have excelled in promoting this criminal plan. Among those awarded with such a prize are Angela Merkel and Herman Van Rompuy.

The facilitation of genocide, is also the basis of the constant appeals from the United Nations, demanding that we accept millions of immigrants to help counter the low birth rate among Europeans. According to a report published in January 2000 by the population division of the United Nations in New York, under the title ''Immigration replacement: A solution to declining and aging population,'' Europe will need to accept 159,000,000 migrants by 2025. The citing of such precise numbers is evidence of a premeditated plan.

Clearly a low birth-rate can easily be reversed with appropriate measures to support families and it is equally clear that the introduction of alien genes will do nothing to preserve our genetic heritage but will destroy it. The consequence of current policies promoting multiracialism is to create a weakened disparate population without national, historical or cultural cohesion. In short, the policies of the Kalergi plan have been and still are, the basis of official government policies intent upon the genocide of the Peoples of Europe, through mass immigration.

G. Brock Chisholm, a former director of the World Health Organization (OMS), demonstrated this well when he said: ''What people everywhere need to do is to limit births and promote mixed marriages (between the different races), the outcome will be the creation of a single race throughout the world which can be directed by a central authority. ''

Conclusions

If we look around us, the implementation of the Kalergi Plan seems to be at an advanced stage. We face Europe's fusion with the Third World. The plague of interracial marriage produces each year thousands of young people of mixed race: 'The children of Kalergi'. Under the dual pressures of misinformation and humanitarian stupefaction, promoted by the mass media, we Europeans are being taught to renounce our origins, and to renounce our national identity.

The servants of globalization are trying to convince us that to deny our identity, is a progressive and humanitarian act, that ''racism'' is wrong, because they want us all to be blind consumers. It is necessary, now more than ever, to counter the lies of the System, to awaken the revolutionary spirit among Europeans. Every one must be made aware of this truth, that European integration amounts to genocide. We have no other option, the alternative is national suicide.

Translator's note: Although the reasons due to which Kalergi made the choices he made are of no particular interest to us, we will try to answer a question that will surely our readers have already asked: Why a European aristocrat with Flemish, Polish, Greek-Byzantine roots and even with some samurai blood in his veins (from his mother) was such body plans and organ in the hands of dark forces? The reasons, in our opinion, are multiple, idiosyncratic, psychological and '... women.

We therefore observe a personality with strong snobbish attitudes, arrogance, and, allow me the term, ''degenerate elitism.'' Also, the fact that his mother was Asian, perhaps created internal conflicts and frustrations, something that can happen to people with such temperament. But the most decisive factor must have been the ''proper teenager'', which incidentally of course, was beside him, and became his first woman (at age 13): The Jewess Ida Roland, who would later become a famous actress.

EUROPEAN COUNCIL

The award of the Coudenhove-Kalergi Prize to President Van Rompuy

On November 16th 2012, the President of the European Council, Herman Van Rompuy, was awarded the Coudenhove-Kalergi Prize, during a special conference in Vienna, to celebrate 90 years of pan-European movement. The prize is awarded every two years to leading personalities for their outstanding contribution to the process of European integration.

A decisive factor that helped him win the prize was the balanced way in which President Van Rompuy executed his duties in the new position of President of the European Council, which was established by the Treaty of Lisbon. He handled this particularly sensitive leading and coordinating role with a spirit of determination and reconciliation, while emphasis was also given to his skilful arbitration on European affairs and unfailing commitment to European moral values.

During his speech, Mr Van Rompuy described the unification of Europe as a peace project. This idea, which was also the objective of the work of Coudenhove-Kalergi, after 90 years is still important. The award bears the name of Count Richard Nicolaus von Coudenhove-Kalergi (1894-1972), philosopher, diplomat, publisher and founder of the Pan-European Movement (1923). Coudenhove-Kalergi was the pioneer of European integration and popularized the idea of a federal Europe with his work.

Among the winners of the award, the Federal Chancellor of Germany Angela Merkel (2010) and the President of Latvia Vaira Vike-Freiberga (2006), are included.

This article is a translation of an Italian article, originally posted on Identit .

# # # #

Further reading:

EU Referendum '' Let's Get Out While We Can! Camp of the Saint As Year Four of our Struggle Begins # # # #

JOIN WESTERN SPRINGWestern Spring is not just a website. We are a community of people dedicated to achieving the Six Prerequisites and thereby acquiring the wherewithal needed to win political power and through that secure the future survival, proliferation and advancement of the British people and other White peoples of European descent, wherever they may live. Please join us:

# # # #
Poop Report

Feces Found On Every Touch Self-Serve Touch Screen At Every McDonald's Location Tested 'ܠ Terez Owens : #1 Sports Gossip Blog in the World

Sun, 02 Dec 2018 16:24

British publication Metro swabbed self-serve touchscreens at eight McDonald's locations in London and Birmingham. Traces of feces were found on every McDonald's touchscreen tested. All of the displays had coliforms, or the bacteria found in feces. There was also the bacteria proteus, which is found in both human and animal poo. Besides poo, there was also listeria bacteria present, which can cause stillbirths and miscarriages in pregnant women. One screen even tested positive for staphylococcus, a contagious bacteria that can cause blood poisoning and toxic shock syndrome. Dr. Matawele, who conducted the investigation and analysis, was most concerned about staphylococcus because of how quickly it can spread and that the bacteria might be becoming resistant to antibiotics. ''It starts around people's noses, if they touch their nose with their fingers and then transfer it to the touchscreen someone else will get it, and if they have an open cut which it gets into, then it can be dangerous,'' Dr. Matawele said of staphylococcus. They only tested touchscreens at eight McDonald's locations, so this is a very small sample size. This isn't necessarily a condemnation on McDonald's as much as it is on their customers. But you should probably have some hand sanitizer on you for when you touch any high-traffic public place or even money.Checkout the video below.-TO
The Purge

BitChute Suspended By Patreon (but there's more'...) '' BitChute

Sat, 01 Dec 2018 15:25

Two days ago we received notice from Patreon that our account with them has been suspended.

I've been holding off putting out a public statement because the initial information that we were given was confusing, but to Patreon's credit, they are replying to our emails and seem willing to take our appeal seriously. In the meantime, a lot of you have already noticed something is up and rather than let rumors spread I'd rather tell you what I know.

What is this all about?I don't know as much as I would like to yet, but by far the most serious claim is that Patreon believes that BitChute has no policies against violent organizations.

This is 100% not true, we are completely against violence, incitement to violence, violent organizations, child abuse, and terrorism. We have sent the Patreon staff links to our community guidelines and terms that does explain this very clearly and asked them to tell us where they feel it is insufficient.

See for yourself:

https://www.bitchute.com/policy/guidelines/

https://www.bitchute.com/policy/terms/

Patreon did also point out that BitChute the platform will be judged by its user content. Specifically, that which has been previously banned by Patreon. It is true that we do have users such as Lauren Southern who fit into this category. But I still think this may be a mistake as in the July 2017 Rubin Report interview with Jack Conte it was established that banned users can be platformed by other Patreon creators without resulting in further bans.

YouTube link, we don't have this one on BitChute ðŸ

What's next?We've been promised another reply to these concerns on Monday. So we'll see what they say and hopefully, this can be resolved to everyone's satisfaction. If you are one of our existing Patrons thank you for again for your support. We've been told no money has been deducted from your accounts this month and whether or not it will again we'll have to wait and see.

Have a great weekend

Ray Vahey

Facebook: Sheryl Sandberg reportedly told staff to research Soros

Fri, 30 Nov 2018 13:17

Fabrice Coffrini | AFP | Getty Images

Sheryl Sandberg, Chief Operating Officer of Facebook

Facebook Chief Operating Officer Sheryl Sandberg told the company's communications staff to carry out research on the financial interests of liberal billionaire George Soros, The New York Times reports.

Sandberg asked for the information in an email in January to senior communications and policy executives, the Times reported late Thursday, citing three unnamed sources with knowledge of her request.

The request came after Soros bashed Facebook and Google in a January speech at the World Economic Forum in Davos, calling them a "menace." At the time, Facebook was facing new scrutiny over its handling of Russian misinformation campaigns and the proliferation of hate speech its platform.

Sandberg told subordinates to look into Soros' criticism and whether he stood to gain financially from the attacks, the Times said.

A spokesperson for Facebook told CNBC the company researched possible motivations behind Soros' criticism of Facebook in January, before Sandberg inquired about Soros.

"Mr. Soros is a prominent investor and we looked into his investments and trading activity related to Facebook. That research was already underway when Sheryl sent an email asking if Mr. Soros had shorted Facebook's stock," the spokesperson said. "Sheryl never directed research on Freedom from Facebook. But as she said before she takes full responsibility for any activity that happened on her watch."

Freedom from Facebook is an anti-Facebook group.

Earlier this month, an extensively reported New York Times article described how CEO Mark Zuckerberg and Sandberg downplayed internal efforts to assess Russia's misinformation campaigns, and then tried to deflect public scrutiny onto Facebook's competitors instead.

The report added that even as Facebook claimed some criticism of the company was anti-Semitic, a Republican-leaning opposition research firm it worked with was trying to plant the idea that Soros '-- himself a frequent target of anti-Semitic attacks '-- was behind the growing anti-Facebook movement.

For her part, Sandberg responded by saying some of the allegations were "simply untrue" but acknowledged that the company was "too slow" to respond to the Russian interference on the site. On Soros, Sandberg said she wasn't aware that Facebook had hired the PR firm or the work it was doing. "I have great respect for George Soros '-- and the anti-Semitic conspiracy theories against him are abhorrent," she added.

Last week, Facebook's outgoing head of communications and public policy, Elliot Schrage, reportedly took the blame for hiring the PR firm Definers Public Affairs.

Read more about the Times's report on Sandberg's request to Facebook staff to research George Soros here.

EXCLUSIVE: Google Employees Debated Burying Conservative Media In Search | The Daily Caller

Sat, 01 Dec 2018 12:16

Google employees debated whether to bury The Daily Caller and other conservative media outlets in the company's search function as a response to President Donald Trump's election ''Let's make sure that we reverse things in four years,'' one engineer wrote in a thread that included a Google vice president Google employees similarly sought to manipulate search results to combat Trump's travel ban Google employees debated whether to bury conservative media outlets in the company's search function as a response to President Donald Trump's election in 2016, internal Google communications obtained by The Daily Caller News Foundation reveal.

The Daily Caller and Breitbart were specifically singled out as outlets to potentially bury, the communications reveal.

Trump's election in 2016 shocked many Google employees, who had been counting on Democratic nominee Hillary Clinton to win.

Communications obtained by TheDCNF show that internal Google discussions went beyond expressing remorse over Clinton's loss to actually discussing ways Google could prevent Trump from winning again.

''This was an election of false equivalencies, and Google, sadly, had a hand in it,'' Google engineer Scott Byer wrote in a Nov. 9, 2016, post reviewed by TheDCNF.

Byer falsely labeled The Daily Caller and Breitbart as ''opinion blogs'' and urged his coworkers to reduce their visibility in search results.

''How many times did you see the Election now card with items from opinion blogs (Breitbart, Daily Caller) elevated next to legitimate news organizations? That's something that can and should be fixed,'' Byer wrote.

''I think we have a responsibility to expose the quality and truthfulness of sources '' because not doing so hides real information under loud noises,'' he continued. (RELATED: Google Search Labels Republican Women 'Enablers')

''Beyond that, let's concentrate on teaching critical thinking. A little bit of that would go a long way. Let's make sure that we reverse things in four years '' demographics will be on our side.''

Some of Byer's colleagues expressed concern that manipulating search results could backfire and suggested alternative measures.

Sundar Pichai, C.E.O., Google Inc. speaks onstage during the 2018 New York Times Dealbook on November 1, 2018 in New York City. (Photo by Michael Cohen/Getty Images for The New York Times)

One Google engineer, Uri Dekel, identified himself as a Clinton supporter but argued that manipulating search results was the wrong route to take.

''Thinking that Breitbart, Drudge, etc. are not 'legitimate news sources' is contrary to the beliefs of a major portion of our user base is partially what got us to this mess. MSNBC is not more legit than Drudge just because Rachel Maddow may be more educated / less deplorable / closer to our views, than, say Sean Hannity,'' Dekel wrote in a reply to Byer.

''I follow a lot of right wing folks on social networks you could tell something was brewing. We laughed off Drudge's Instant Polls and all that stuff, but in the end, people go to those sources because they believe that the media doesn't do it's job. I'm a Hillary supporter and let's admit it, the media avoided dealing with the hard questions and issues, which didn't pay off. By ranking 'legitimacy' you'll just introduce more conspiracy theories,'' Dekel added.

''Too many times, Breitbart is just echoing a demonstrably made up story,'' Byer wrote in a reply to his original post. He did not cite any examples.

''That happens at MSNBC, too. I don't want a political judgement. The desire is to break the myth feedback loop, the false equivalency, instead of the current amplification of it,'' Byer added.

''What I believe we can do, technically, that avoids the accusations of conspiracy or bias from people who ultimately have a right and obligation to decide what they want to believe, is to get better at displaying the 'ripples' and copy-pasta, to trace information to its source, to link to critiques of those sources, and let people decide what sources they believe,'' another Google engineer, Mike Brauwerman, suggested.

''Give people a comprehensive but effectively summarized view of the information, not context-free rage-inducing sound-bytes,'' he added.

''We're working on providing users with context around stories so that they can know the bigger picture,'' chimed in David Besbris, vice president of engineering at Google.

''We can play a role in providing the full story and educate them about all sides. This doesn't have to be filtering and can be useful to everyone,'' he wrote.

Other employees similarly advocated providing contextual information about media sources in search results, and the company later did so with a short-lived fact check at the end of 2017.

Not only did the fact-check feature target conservative outlets almost exclusively, it was also blatantly wrong. Google's fact check repeatedly attributed false claims to those outlets, even though they demonstrably never made those claims.

Google pulled the faulty fact-check program in January, crediting TheDCNF's investigation for the decision.

A Google spokeswoman said that the conversation did not lead to manipulation of search results for political purposes.

''This post shows that far from suppressing Breitbart and Daily Caller, we surfaced these sites regularly in our products. Furthermore, it shows that we value providing people with the full view on stories from a variety of sources,'' the spokeswoman told TheDCNF in an email.

''Google has never manipulated its search results or modified any of its products to promote a particular political ideology. Our processes and policies do not allow for any manipulation of search results to promote political ideologies.''

The discussion about whether to bury conservative media outlets isn't the first evidence that some Google employees have sought to manipulate search results for political ends.

After Trump announced his initial travel ban in January 2017, Google employees discussed ways to manipulate search results in order to push back against the president's order.

A group of employees brainstormed ways to counter ''islamophobic, algorithmically biased results from search terms 'Islam', 'Muslim', 'Iran', etc,'' as well as ''prejudiced, algorithmically biased search results from search terms 'Mexico', 'Hispanic', 'Latino', etc.''

WATCH:

Trump speculated to The Daily Caller in September that Google and Facebook are trying to affect election outcomes.

''I think they already have,'' Trump said, responding to questions about potential election interference by Google and Facebook.

''I mean the true interference in the last election was that '-- if you look at all, virtually all of those companies are super liberal companies in favor of Hillary Clinton,'' he added.

''Maybe I did a better job because I'm good with the Twitter and I'm good at social media, but the truth is they were all on Hillary Clinton's side, and if you look at what was going on with Facebook and with Google and all of it, they were very much on her side,'' Trump continued.

Google this month corrected a ''knowledge panel'' about a Republican women's group that labeled them ''enablers.''

Google cited Wikipedia for the disparaging description, though a similar change made to Wikipedia's page for the women's group was corrected almost immediately. Google left up the digital vandalism for three weeks.

Google apologized in May after search results for the California Republican Party falsely listed ''Nazism'' as one of the state party's ideologies.

Then, too, Google blamed manipulation of the party's Wikipedia page for the inaccurate and disparaging description.

Follow Hasson on Twitter @PeterJHasson

Content created by The Daily Caller News Foundation is available without charge to any eligible news publisher that can provide a large audience. For licensing opportunities of our original content, please contact licensing@dailycallernewsfoundation.org.
Net Neutrality

'The Whole Internet Is Watching': As Deadline Nears, Day of Action Takes Aim at House Members Still Standing Against Net Neutrality

Fri, 30 Nov 2018 12:56

"We have an opportunity to show the entire world which elected officials are willing to fight for net neutrality, and which ones decide to sit on their hands and let big telecom companies take control," Fight for the Future deputy director Evan Greer declared in a statement. (Photo: Fight for the Future)

With the Dec. 10 deadline for the House of Representatives to reverse the FCC's deeply unpopular repeal of net neutrality rapidly approaching, a coalition of websites, prominent celebrity activists, and advocacy groups representing millions of Americans are participating in an internet-wide day of action on Thursday to pressure members of Congress to back the legislative effort to restore net neutrality protections before it's too late.

During the day of action and in the week leading up to the final deadline, advocacy groups are urging supporters of the free internet to flood the phone lines of their representatives and sign on to their open letter to Congress demanding that they act to save net neutrality.

Read the full open letter and sign on here.

Click here for outreach materials and other tools to spread the word about the upcoming deadline and pressure members of Congress.

Congress is running out of time to overturn Ajit Pai's #NetNeutrality repeal. Join us for the last epic push at https://t.co/ku8WN5gBSq: https://t.co/I0rYN87ON7

'-- Fight for the Future (@fightfortheftr) November 28, 2018"Net neutrality is not dead yet. Not even close," Evan Greer, deputy director of Fight for the Future (FFTF), said in a statement. "But as the clock runs out for this Congress to act, we have an opportunity to show the entire world which elected officials are willing to fight for net neutrality, and which ones decide to sit on their hands and let big telecom companies take control over what we can see and do on the internet."

According to FFTF, 18 House Democrats still haven't signed on to the Congressional Review Act (CRA) resolution that would restore net neutrality protections'--and one possible explanation is that they are major recipients of telecom cash.

With the deadline days away (Dec 10th), 18 @HouseDemocrats still haven't signed the resolution to restore #NetNeutrality. Together they've taken over $1.6 million from the Internet lobby. Retweet to spread the word.Take action to keep up the pressure: https://t.co/ku8WN5gBSq pic.twitter.com/8SwaVz3fPU

'-- Fight for the Future (@fightfortheftr) November 28, 2018We have an opportunity RIGHT NOW to get every sitting lawmaker, especially Dem hold-outs, on the record when it comes to defending the open internet. Call your reps. and urge them to sign the #CRA discharge petition! Join us tomorrow & save #NetNeutrality: https://t.co/rqznYLUNKq

'-- Demand Progress (@demandprogress) November 28, 2018To pass the CRA that would overturn FCC chair Ajit Pai's net neutrality repeal, the House needs 218 signatures on the measure. As of this writing, 177 members of Congress have signed on.

Here are all the House Democrats who haven't supported net neutrality'--yet have all taken money from telecoms: https://t.co/tBA8jN4rZ3 pic.twitter.com/9x6yKEoWZm

'-- VICE (@VICE) November 28, 2018"The whole internet is watching you," the net neutrality backers' open letter to Congress declares. "The deadline is fast approaching. You have less than a month to make a decision that will impact the future of humanity: will you vote to restore net neutrality and help save the free and open Internet? Or will you go down in history as one of the politicians who helped hasten its death?"

"Internet users expect and deserve action," the letter continues. "It's time for members of the House to put partisan politics aside and protect the future of America's internet."

This work is licensed under a Creative Commons Attribution-Share Alike 3.0 License

PLEASE DISABLE AD BLOCKER TO VIEW DISQUS COMMENTSAd Blocking software disables some of the functionality of our website, including our comments section for some browsers.
#MeToo

Two More Women Accuse Neil deGrasse Tyson of Sexual Misconduct | David G. McAfee

Fri, 30 Nov 2018 22:13

Two more women, including a fellow astronomer, say Neil deGrasse Tyson is guilty of inappropriate sexual conduct.

Dr. Katelyn N. Allers, Associate Professor of Physics and Astronomy at Bucknell University, told me that she was ''felt up'' by Tyson at an after-party following a meeting of the American Astronomical Society (AAS) in 2009. AAS didn't have a mechanism for reporting sexual harassment at the time, but Dr. Allers says she probably would report the incident if it had happened today.

The second photo shows Tyson grabbing Dr. Allers' arm and looking at her tattoo (which is of the solar system). Immediately after this photo, she says he decided to ''look for Pluto'' in her dress.The groping incident allegedly took place at an after-party following the AAS meeting in 2009, which took place in Long Beach. This was supposed to be a lighthearted social event to show that astronomers could have fun, according to Dr. Allers.

''Tyson was there, and he was dancing and drinking and all of that at the party, so a friend and I decided to get pictures with him,'' she told me.

But after the first picture was taken (above, left), Tyson decided to explore Dr. Allers' tattoo. It features a realistic solar system that stretches from her arm to her back and collar bone area.

''After we had taken the picture, he noticed my tattoo and kind of grabbed me to look at it, and was really obsessed about whether I had Pluto on this tattoo or not'... and then he looked for Pluto, and followed the tattoo into my dress.''

Dr. Allers said her experience was public and didn't rise to the level of assault, but that it did show Tyson was capable of some ''creepy behavior.''

''My experience with him is he's not someone who has great respect for female bodily autonomy,'' she told me in a phone interview.

Prior ReportDr. Allers couldn't have reported the alleged incident to AAS at the time, but she didn't keep quiet about it, either. I confirmed with Dr. Michele Thornley, an associate professor of physics and astronomy at Bucknell, that Dr. Allers told her about Tyson's behavior in 2013 when he was scheduled to speak at the University.

''Yes, Katelyn spoke to me about her earlier incident''I don't think we discussed exactly what year it happened, but I knew that it was a few years earlier than our conversations about the matter. Katelyn described the earlier incident to me in the fall of 2013, after she was invited to attend a dinner with Dr. Tyson when he was to be on campus in spring 2014 as a speaker in Bucknell's ''Tech/no'' series. I had recently served on a university committee with one of the organizers of the series, so I arranged to meet with that person and indicated privately that Katelyn did not wish to attend the dinner, and spoke in general terms the reasons why. At that time, Katelyn expressed that she did not want to pursue the issue more publicly (e.g., broadly inform the organizing committee, or try to get the invitation to speak withdrawn), so I talked with the organizer privately about two things: (1) to be sure that Katelyn was no longer expected at dinner, and (2) some general recommendations to avoid having female students meeting with him in small groups without additional members of the community present.''

Dr. Allers didn't feel like she was in danger during her encounter with Tyson, but she did describe it as ''uncomfortable and creepy.'' That interaction also made her think twice about allegations brought by Tchiya Amet, a musician who says Tyson raped her in his apartment when they were grad students together.

''I think that he is someone that could use his position of fame and power in a way to try and take advantage,'' Dr. Allers told me.

Another AllegationAs if this allegation wasn't shocking enough, it came within days of my interview with Ashley Watson, a former assistant to Tyson who says she was forced to quit her job due to his inappropriate sexual advances.

Watson worked directly with Tyson for several months. She says that, during that time, he put her in an uncomfortable situation by attempting to persuade her into sex, and demonstrated his ''predatory tendencies.''

In hindsight, there were red flags that she ''chose to not pay attention to,'' Watson told me in an interview.

Specifically, Watson said Tyson occasionally made ''

misogynistic comments,'' and that he kept a list of overweight actresses on his phone to prove that women aren't inhibited by portrayals in the media when it comes to health and fitness. He allegedly said it was untrue that women feel pressured to be skinny based on societal standards.

Interaction With AmetWatson says she doesn't know whether or not the serious allegations put forth by Amet are true, but that she sent her a message of support after her encounter with Tyson anyway. I obtained a copy of that message, which has been redacted to protect Watson's privacy.

His ApartmentWatson says she had been working directly under Tyson, who called out Trump in 2016 by saying he would grab him by the crotch when they met, and that they got along well. That all changed, however, when he invited his underling to his apartment at around 10:30 P.M. to ''share a bottle of wine'' and ''unwind for a couple of hours.''

Watson, who said she felt pressured to impress her superstar boss, told me she agreed to come in for a glass of wine instead. Upon entering his apartment, Tyson allegedly took off his shoes and shirt, remaining in a tank top undershirt. Unfortunately, the night only got more awkward as Tyson, who is married, reportedly put on romantic music and replayed the most graphic parts.

She says Tyson soon brought out a cutting board and a knife to cut blocks of cheese that he decided they would share. But before slicing the snack, he allegedly gestured toward her with the knife and made a comment about stabbing.

Watson says she took the comment as a bad joke, but it's important to note that this type of ''joke'' is exactly what people in power need to keep in mind when dealing with subordinates. And it set the stage for a night filled with subtle intimidation and sexual advances.

''It was definitely a very weird power move,'' she said.

Inappropriate ApproachWatson says Tyson started talking about how every human being needs certain ''releases'' in life, including physical releases. He reportedly mentioned how difficult it had been for him to be away from home for several months.

Watson says Tyson asked her if she needed any releases, and she responded with a story about sexual harassment she endured in the past. It was a smart way to diffuse a tense situation, but she says he was unfazed.

''It was like talking to a wall,'' Watson said.

She was getting up to leave when Neil allegedly stopped her, saying he wanted to show her a ''Native American handshake'' he knew. That involved holding hands tightly, making eye contact, and feeling for each other's pulse, Watson told me.

When she broke off the awkward and incredibly intimate handshake, which he allegedly said represented a ''spirit connection,'' she attempted to just get up and leave.

Tyson then allegedly put his hands on her shoulders, and said he wanted to hug her, but if he did, he'd ''just want more.''

Watson says she left Tyson's apartment quickly after the inappropriate sexual comments and that, the next day, she confronted him because she felt he had betrayed her as a mentor. He reportedly told her in that meeting that she'd never rise through the ranks in her career because she was too ''distracting.''

She Reported ItWatson says she decided to quit after the negative interactions with Tyson, and that she told the story to at least one supervisor in hopes that he wouldn't hire more female assistants for the astrophysicist. That person reportedly supported her decision to quit, and said she should tell everyone she had a family emergency to avoid more uncomfortable situations.

Watson also reported the event to a relevant harassment hotline, according to a message she sent to Amet.

Tyson didn't return my request for comment Nov. 29.

If you have any information that can contribute to this developing story, or have any questions for me, my email is davidgeecontact@gmail.com.

Reasonably Yours,

David

David G. McAfee is a journalist and author of No Sacred Cows: Investigating Myths, Cults, and the Supernatural. McAfee, who writes about science, skepticism, and faith for his No Sacred Cows blog on the Patheos network, attended University of California, Santa Barbara and graduated with bachelor's degrees in English and Religious Studies with an emphasis on Christianity and Mediterranean religions.

The Miami Herald's latest investigation 'pulls the sewer lid' off a 10-year-old story | Poynter

Fri, 30 Nov 2018 23:32

The retired police chief initially did not want to talk to the reporter, but not because he did not want to talk.

He feared the subject of the story had so much power that the story would get killed.

A lot of people felt that way, said Julie K. Brown, an investigative reporter at the Miami Herald.

On Wednesday, she and the Herald proved them wrong.

Brown's investigation ''Perversion of Justice,'' reveals a wealthy Florida businessman who sexually abused and trafficked underage girls for years and the people in the criminal justice system who worked with him to help him basically get away with it, including Alexander Acosta, now President Donald Trump's labor secretary.

''This is the story of how (Jeffery) Epstein, bolstered by unlimited funds and represented by a powerhouse legal team, was able to manipulate the criminal justice system,'' Brown wrote in the first part of the series, ''and how his accusers, still traumatized by their pasts, believe they were betrayed by the very prosecutors who pledged to protect them.''

LayersBrown didn't plan to spend more than a year on ''Perversion of Justice.''

The investigative reporter, who has been at the Herald since 2005, covers Florida prisons and worked on a series about women's prisons. She knew that sex trafficking of women, ''especially poor women,'' was a real issue.

''It always bothered me that we were covering these little guys who were getting caught,'' she said.

Related: How the Miami Herald is getting to know its audience again

But every time Brown Googled ''sex trafficking'' and ''Florida,'' Epstein's name came up. She started reading everything she could find about him. Last year, when Acosta was nominated to his current role, Brown knew he had held the reins of Epstein's case.

''I really think we should look at this,'' she told her editor.

She knew there were things in his court cases that people had never heard before; how prosecutors violated the Victim Rights Act in how they handled, and ultimately buried, Epstein's crimes and news of them.

As she continued her reporting, Brown said she started to realize how big the case really was.

''It was like an onion,'' she said. ''... With every record that I got, it was like, I can't believe this. It was just more and more information.''

By carefully combing through court records, Brown was able to identify 80 possible victims. She reached 60 of them, and four spoke with her on the record. It was important to her that everything in the story was backed up by court documents. A footnote to the investigation notes that the Herald got ''thousands of FBI and court records, lawsuits, and witness depositions, and went to federal court in New York to access sealed documents'...''

The challenge was finding what hadn't yet been reported about someone who'd made a lot of news, said Casey Frank, the Herald's investigations editor. He said Brown quickly saw that prosecutors and defense attorneys were working together against the victims.

''What's new about this is that we lifted the sewer lid off of something that was really unseen and behind the scenes and truly wasn't told until now,'' Frank said.

'I'm a paper person'On Wednesday, Brown sat at her desk as she spoke to Poynter, surrounded by file boxes full of records.

''I'm a paper person,'' she said.

Those papers are key to how she organizes her investigations. She has a file for each victim. It's basic, she said, but the key to projects is getting organized.

For a good part of her reporting, Brown was just covering this story. But when big news broke, including the Parkland shooting and a hurricane, she dropped the work to pitch in at the Herald. Her file system helped her easily get to details as she returned to the reporting and the fact-checking process.

''This is like a mystery and you want to keep going to the next chapter, but if you don't stop and really lay the groundwork for the next chapter, then you're going to regret it at the end.''

On Wednesday morning, Brown heard from the women she spoke with for her investigation.

''They just said 'Thank you so much for all that you did and your work and giving us a voice. I just feel like finally somebody told our story the way it should have been told,''' Brown said. ''Nobody listened to them before.''

On Wednesday, four of the Herald's top five stories were Brown's series, despite starting the day behind a viral Herald story, ''Woman passes gas in store, then pulls knife on an offended customer, cops say.''

''What's gratifying about this is that we were able to do something that was important and really had something to say and was a well-executed investigative piece and it blew the lid off of our traffic today,'' he said. ''Lesson learned. Good investigative journalism will bring readers to our site, and that is such a reassuring message at times like this when everyone struggles and looks for the magic formula. This tells us that really good investigative journalism is that formula, or at least a good part of that formula.''

Related Training Kristen Hare twitterlogo kristenhare Kristen Hare covers the transformation of local news for the Poynter Institute. Her work for Poynter has earned her a Mirror Award nomination.

Even from jail, Jeffrey Epstein manipulated the system | Miami Herald

Fri, 30 Nov 2018 22:31

Even from jail, sex abuser manipulated the system. His victims were kept in the dark A decade before #MeToo, a multimillionaire sex offender from Florida got the ultimate break.

Palm Beach County Courthouse

June 30, 2008

Jeffrey Edward Epstein appeared at his sentencing dressed comfortably in a blue blazer, blue shirt, jeans and gray sneakers. His attorney, Jack Goldberger, was at his side.

At the end of the 68-minute hearing, the 55-year-old silver-haired financier '-- accused of sexually abusing dozens of underage girls '-- was fingerprinted and handcuffed, just like any other criminal sentenced in Florida.

But inmate No. W35755 would not be treated like other convicted sex offenders in the state of Florida, which has some of the strictest sex offender laws in the nation.

Ten years before the #MeToo movement raised awareness about the kid-glove handling of powerful men accused of sexual abuse, Epstein's lenient sentence and his extraordinary treatment while in custody are still the source of consternation for the victims he was accused of molesting when they were minors.

Beginning as far back as 2001, Epstein lured a steady stream of underage girls to his Palm Beach mansion to engage in nude massages, masturbation, oral sex and intercourse, court and police records show. The girls '-- mostly from disadvantaged, troubled families '-- were recruited from middle and high schools around Palm Beach County. Epstein would pay the girls for massages and offer them further money to bring him new girls every time he was at his home in Palm Beach, according to police reports.

The girls, now in their late 20s and early 30s, allege in a series of federal civil lawsuits filed over the past decade that Epstein sexually abused hundreds of girls, not only in Palm Beach, but at his homes in Manhattan, New Mexico and in the Caribbean.

In 2007, the FBI had prepared a 53-page federal indictment charging Epstein with sex crimes that could have put him in federal prison for life. But then-Miami U.S. Attorney Alexander Acosta signed off on a non-prosecution agreement, which was negotiated, signed and sealed so that no one would know the full scope of Epstein's crimes. The indictment was shelved, never to be seen again.

Epstein instead pleaded guilty to lesser charges in state court, and was required to register as a sex offender. He was sentenced to 18 months incarceration.

But Epstein '-- who had a long list of powerful, politically connected friends '-- didn't go to state prison like most sex offenders in Florida. Instead, the multimillionaire was assigned to a private wing of the Palm Beach County stockade, where he was able to hire his own security detail. Even then, he didn't spend much time in a cell. He was allowed to go to his downtown West Palm Beach office for work release, up to 12 hours a day, six days a week, records show.

He was permitted to hire his own private psychologist for his required sex-offender counseling, and after his release from jail, his subsequent year of probation under house arrest was filled with trips on his corporate jet to Manhattan and to his home in the U.S. Virgin Islands '-- all approved by the courts with no objections from the state.

On the morning of his sentencing in 2008, none of Epstein's victims were in the courtroom to protest his soft jail term or the unusual provisions of his incarceration and probation '-- and that was by design.

Emails and letters contained in court filings reveal the cozy, behind-the-scenes dealings between federal prosecutors and Epstein's indomitable legal team during the run-up to his federal plea deal, as they discussed ways to minimize his criminal charges and avoid informing the girls about the details of the deal until after the case was resolved.

That arrangement benefited Epstein in a number of ways. Unlike other high-profile sex crime cases, federal prosecutors agreed to keep his sentencing quiet, thereby limiting media coverage. His underage victims '-- identified in FBI documents '-- weren't told about the plea deal so they weren't in court, where they could voice their objections and possibly sway the judge to give Epstein a harsher sentence or reject the agreement altogether.

Most important, Epstein's crimes would be reduced to felony prostitution charges, giving him the ability to argue that the girls weren't victims at all '-- they were prostitutes.

Four accomplices named in Epstein's non-prosecution agreement '-- Nadia Marcinkova, Sarah Kellen, Adriana Ross and Lesley Groff '-- were also given immunity from federal prosecution. Marcinkova was a young girl when Epstein brought her from Yugoslavia to live with him. Several victims told police that she was involved in orgies with Epstein and underage girls. Ross, Groff and Kellen, now known by her married name Vickers, were schedulers who arranged his underage sex sessions, according to the FBI and police.

Marcinkova and Kellen, through their attorneys, declined to comment for this story. The Herald was unsuccessful in reaching Ross and Groff.

Acosta, who is now President Donald Trump's secretary of labor, told lawmakers last year at his confirmation hearing that he did not know that Epstein would receive such liberal treatment while incarcerated. But court records show that federal prosecutors under his authority acquiesced to many of Epstein's demands, including that he not go to federal or state prison.

''I can't remember how I found out that he had taken a plea,'' said Courtney Wild, identified by the FBI as one of more than three dozen underage girls '-- some of them as young as 13 '-- who had been molested by Epstein at his waterfront estate between 2001 and 2005.

''We were purposefully misled into believing that his sentencing [in state court] had nothing to do with the federal crimes he committed against me or the other girls.''

Epstein, now 65, was released in 2009 after serving 13 months.

Wild, who was 14 when she met Epstein, is suing the federal government, alleging that prosecutors kept her and other victims in the dark as part of a conspiracy to give Epstein '-- described in the lawsuit as ''a powerful, politically connected multimillionaire'' '-- one of the most lenient deals for a serial child sex offender in history.

Courtney Wild is suing the federal government, claiming that prosecutors deliberately kept her and other victims of Jeffrey Epstein in the dark about the status of his case. The U.S. Attorney's Office signed a non-prosecution agreement with the multimillionaire.

Emily Michot emichot@miamiherald.com

Now 31, Wild is Jane Doe No. 1 in ''Jane Doe 1 and Jane Doe 2 vs. the United States,'' which seeks to overturn Epstein's plea agreement on the grounds that it was executed in violation of the federal Crime Victims' Rights Act. The measure affords crime victims a series of rights, including to confer with prosecutors and to be notified about plea negotiations and sentencing.

That lawsuit '-- and an unrelated state court case scheduled for trial on Dec. 4 '-- could expose more about Epstein's crimes, as well as who else was involved and whether there was any undue influence that tainted the federal case.

Support investigative journalismThe Miami Herald obtained thousands of FBI and court records, lawsuits, and witness depositions, and went to federal court in New York to access sealed documents in the reporting of "Perversion of Justice." The Herald also tracked down more than 60 women who said they were victims, some of whom had never spoken of the abuse before.

Your digital subscription, starting at $0.99 for the first month, supports investigative journalism like this.

Some of Epstein's victims will finally have an opportunity to testify for the first time as part of the Dec. 4 case in state court in Palm Beach County. It pits Fort Lauderdale attorney Bradley Edwards against Epstein, who had accused Edwards of malfeasance in his representation of several victims.

Jack Scarola, the attorney representing Edwards, said Epstein should be held accountable for his unrelenting attacks against Edwards '-- as well as others who were involved in his case.

''We are going to demonstrate through this case that no one '-- no matter how much money they have '-- can abuse children and then attempt to bully those who come to the defense of children,'' said Scarola, a former state prosecutor.

Florida and beyondFew people had as much insight into Epstein's lifestyle '-- and its international reach '-- as Virginia Roberts. By age 16, Roberts had lived a life that was beyond that of most high school girls.

At 11, she says, she was sexually molested by a family friend. At 12, she was smoking pot and skipping school. At 13, she was in and out of foster homes, and at 14, she was on the street.

In Miami, the runaway became a captive of a 65-year-old sex trafficker, Ron Eppinger. For months, she says, she was sexually abused, kept in an apartment and pimped out to pedophiles. After his indictment in 2000 on trafficking charges, Roberts returned to West Palm Beach and tried to heal.

Virginia Roberts says she was 16 and working as a locker room attendant at Donald Trump's Mar-a-Lago resort when she was approached by Ghislaine Maxwell, Jeffrey Epstein's associate, about becoming a masseuse for Epstein.

Courtesy of Virginia Roberts

That summer, when Roberts was 16, she said her father helped her get a job as a locker room attendant at the spa at Donald Trump's Mar-a-Lago resort in Palm Beach, records show. Her father worked at the resort as a maintenance man.

There she said she met Ghislaine Maxwell, an Epstein friend and socialite daughter of the late British publishing magnate Robert Maxwell. She offered Roberts an opportunity to become a massage therapist, working for Epstein.

In a sworn court affidavit and in a recent interview with the Herald, Roberts described how Epstein and Maxwell began grooming her '-- not just to perform massages, but to sexually pleasure them and others.

''It started with one and it trickled into two and so on,'' Roberts told the Herald. ''And before you know it, I'm being lent out to politicians and academics and royalty.''

Roberts, too, was ordered to find Epstein girls '-- the younger, the better '-- by trolling areas where teenagers congregated, such as shopping malls, to lure girls to whatever residence Epstein was staying in at the time, she told the Herald.

She began to travel with Epstein and Maxwell to Epstein's other homes, in New York, New Mexico and the U.S. Virgin Islands '-- and her trips are documented in flight logs that frequently list her name or her initials as a passenger, court records show.

''His appetite was insatiable. He wanted new girls, fresh, young faces every single day '-- that was just the sickness that he had,'' Roberts said.

Neither Epstein, nor his lead attorney, Goldberger, responded to requests for comment.

Roberts alleges that Epstein had cameras throughout his homes and said he liked her to tell him about the sexual peccadilloes of various important men she had sex with.

''Epstein and Maxwell also got girls for Epstein's friends and acquaintances. Epstein specifically told me that the reason for him doing this was so that they would 'owe him,' they would 'be in his pocket,' and he would 'have something on them,' '' Roberts said in a court affidavit. ''I understood him to mean that when someone was in his pocket, they owed him favors.''

Roberts elaborated in her interview with the Herald, saying that Epstein had access to girls through a modeling agency that recruited them from overseas.

Epstein, who was close to Les Wexner, the owner of Victoria's Secret, often talked about his connections to people in the modeling, fashion and acting industries, Roberts told the Herald.

''He would tell the girls, 'Hey, I will give you a modeling contract if you go have sex with this man,' '' she said.

Roberts' story about the modeling agency is supported, to a degree, by the sworn statement of a Miami woman named Maritza Vasquez, who was later interviewed in New York by an FBI agent from Miami. Vasquez worked as a bookkeeper for Mc2, owned by Epstein associate Jean-Luc Brunel. He employed scouts in South America, Europe and the former Soviet Union to find him models to bring to the United States, Vasquez said in a 2010 sworn court deposition obtained by the Herald.

Vasquez stated in the deposition that from 2003 to 2006 she handled all the finances and payroll for the agency, including a bank transaction involving Epstein. She said Epstein invested $1 million in Mc2.

The models were often very young '-- 13, 14 and 15 '-- and some of them were housed in apartments at 301 E. 66th St. in New York, a building that she said was owned by Epstein, the deposition said.

Epstein didn't charge the girls rent, Vasquez said, but Brunel charged them $1,000 a month, with four of them at a time sharing one apartment. The girls who were the youngest and most beautiful stayed at the 66th Street apartments, which were more luxurious than the other apartments that were used to house models who were not as young and desirable, she said.

Vasquez once let one of the models, who was 14, stay overnight with her after the girl ran into trouble with police for trying to get into a Manhattan nightclub. Vasquez also testified that she helped a lawyer obtain visas for the foreign models, and assisted with their transportation to and from modeling assignments and parties..

Vasquez said that even though the agency employed 200 to 300 models, the company didn't make any money and Brunel was always broke. Brunel would later sue Epstein, alleging that the financier's sex scandal had caused his business to fail, but the suit was eventually dropped.

Vasquez testified it wasn't unusual for the agency to send girls to an assignment with a wealthy client for $100,000 or more, but the girl wouldn't be paid the full amount '-- or anything at all '-- if she refused to be ''molested.''

Vasquez considered herself a mother figure and often coached the youngest girls to stick to the 9-to-5 modeling assignments because she didn't think it was appropriate for them to be having sex.

She said she met Epstein only once, but she often helped arrange for girls '-- many of them underage '-- to be sent to his homes in New York, Palm Beach and his island in the Caribbean for parties. She heard salacious rumors about Epstein's parties, but testified she had no firsthand knowledge about whether they involved sex.

Vasquez said that she was questioned by the FBI and she tried to tell them where to look for evidence.

Vasquez was eventually let go from the agency after she was accused of stealing money '-- money she claims was given to her by Brunel. Vasquez said she was placed on probation for the theft. She never heard from the FBI about Epstein again.

The Herald was unsuccessful in reaching Brunel through his former attorney.

In a written statement released in 2015, Brunel denied any involvement in trafficking underage models.

''I strongly deny having participated, neither directly nor indirectly, in the actions Mr. Jeffrey Epstein is being accused of,'' he said. ''I strongly deny having committed any illicit act or any wrongdoing in the course of my work as a scouter or model agencies manager.''

Too old at 19 In 2003, when Roberts turned 19, it was clear that Epstein had lost interest because she was too old for him, she said. She convinced him to pay for her to get training to become a real professional masseuse so that she could move on.

In an interview, she explained that Epstein arranged for her to take a class in Thailand, but it came with a hitch: She said she was instructed to pick up a Thai girl he had arranged to come to the States.

Roberts, who showed the Herald the written instructions for the rendezvous, never picked up the girl because Roberts met a man on the trip who would become her husband. The couple married and moved to Australia, where they currently live.

In 2007 '-- at the same time the FBI was investigating Epstein '-- Roberts, pregnant with her second child, said she unexpectedly received phone calls from Maxwell and Epstein. She said they were worried that she had told police about them. She assured them she had not spoken to anyone, she said.

Shortly afterward, Roberts said, she was contacted by someone who claimed to be with the FBI. But she was afraid to tell that person details, fearing it was really an Epstein associate posing as an FBI agent.

That agent, identified in court papers as Timothy Slater, confirmed that he and the other agent on the case, Nesbitt Kuyrkendall, called Roberts in January or February 2007. In a sworn statement, Slater said he informed Roberts that they suspected she was a victim of Epstein's.

The agent said Roberts answered basic questions, but became uncomfortable and ''asked that I not bother her again.''

Roberts said the agent didn't try too hard to convince her to talk, and she was surprised when he hung up after asking her a few graphic questions about her sex life. She said she was suspicious, but would have cooperated had the FBI talked to her in person and explained why they were asking about Epstein.

''I was still scared to death,'' Roberts said. ''Jeffrey used to tell me that he owned the entire Palm Beach Police Department. I just didn't want my family harmed.''

She nevertheless was listed by federal prosecutors as one of Epstein's Palm Beach victims.

As the years went by and Roberts had a daughter, she would be haunted by a fear that Epstein was still taking advantage of young girls. In 2011, she went public in a paid interview with a British tabloid, the Daily Mail, asserting that she had had sex with Prince Andrew, one of Epstein's friends, several times when she was a teen.

In her 2015 affidavit, she discussed in detail some of her alleged sex encounters with the prince and Epstein's other friends, including lawyer Alan Dershowitz. Edwards included the affidavit in the court file as part of the Jane Does' Crime Victims' Rights Act case, at which time it became public.

Virginia Roberts says she was loaned out by Jeffrey Epstein to his friend Prince Andrew, shown here. He denies they had sex.

Courtesy of Virginia Roberts

In the affidavit, Roberts claimed that Epstein and Maxwell directed her to have sex with Andrew and Dershowitz and others. She had sex with Andrew three times, she alleged '-- once in London, when she was 17, again in New York, when she was 17, and a third time, as part of an orgy on Epstein's island, when she was 18. By law, at 17, she would have been above the age of consent in New York and England, but not in Florida, where the age of consent is 18.

As part of the affidavit, Roberts furnished a photograph of her with the prince and Maxwell, which she said was taken in London.

Dershowitz, who was part of Epstein's criminal defense team, was often a guest at Epstein's homes, she said.

''I had sexual intercourse with Dershowitz at least six times,'' Roberts wrote in the 2015 court affidavit. ''The first time was when I was about 16, early on in my servitude to Epstein and it continued until I was 19.'' She detailed some of those trysts, which she said happened at Epstein's homes in Palm Beach, New Mexico and on Epstein's island.

One of Epstein's housemen, Juan Alessi, testified in a 2009 sworn deposition that Dershowitz visited Epstein's Palm Beach home four or five times a year. He said that Roberts was a frequent visitor as well, but he never placed Dershowitz and Roberts at the house at the same time.

Alessi, who testified he worked for Epstein from 1999 to 2002, said there were often young girls who gave massages at the house, even in the middle of the night. But he said he never checked their ages, and only knew one girl for certain who was underage, because he had picked her up from high school. That girl, who is now an actress, was not one of Epstein's masseuses, Alessi said.

He also said he was Maxwell's driver, and he recalls waiting outside of Mar-a-Lago the day Maxwell met Roberts. He testified he saw Maxwell talking to Roberts and recalls Roberts coming to Epstein's mansion later that day. One of Alessi's jobs was to drive Maxwell to various spas in Palm Beach where she left business cards in order to ''recruit'' more masseuses, he said in the sworn deposition.

Dershowitz, Prince Andrew and Maxwell have long denied Roberts' allegations.

In an interview with the Herald, Dershowitz reiterated that he had never met Roberts, and never saw Epstein with any underage girls.

''The story was 100 percent flatly categorically made-up,'' he said, adding that Roberts and her attorneys fabricated the assertion in order to get money from other powerful, wealthy people she alleges she had sex with.

''The only possible reason to accuse me in public and [them] in private is so she could get money,'' Dershowitz said.

Edwards and his co-counsel in the Crime Victims' lawsuit, University of Utah law professor Paul Cassell, sued Dershowitz for defamation and Dershowitz countersued in 2015. The case was settled out of court, with Dershowitz saying he had been vindicated.

Dershowitz said he received a massage at Epstein's Palm Beach home only once '-- but that it was just a regular, therapeutic massage by a masseuse '-- not by Roberts or anyone underage. Dershowitz's wife was there at Epstein's house at the time, Dershowitz said in the deposition taken for the case in 2015.

''I never had any knowledge of Jeffrey Epstein having any contact with any underage women '-- ever,'' Dershowitz told the Herald.

Edwards and Cassell admitted making a ''tactical mistake'' in filing the accusations against Dershowitz as part of a lawsuit not involving him. But they emphasized that the settlement had no bearing on the veracity of Roberts' allegations.

The judge for the Crime Victims' Rights Act lawsuit agreed that the affidavit was misplaced in that case, and it was dropped.

Prince Andrew's spokesman at Buckingham Palace did not respond to an email requesting comment.

Roberts, now 35, said it has taken her a long time to stand up to Epstein. She and 20 other victims received settlements from Epstein, ranging from $50,000 to more than $1 million. The exact amounts have been kept confidential.

''It takes so long until you are able to speak about it. It took me having a daughter and looking at this young beautiful innocent baby to say I want to speak out about it now. I'm hoping that this will bring out more girls so that they say, Me Too.''

The state court hearing The judge at Epstein's sentencing hearing at the Palm Beach County Courthouse knew very little about Epstein's crimes. The sentencing paperwork was restricted to Epstein's specific charges: one count of solicitation of prostitution and one count of procuring a person under the age of 18 for prostitution.

''Are there more than one victim?'' Circuit Court Judge Deborah Dale Pucillo asked the prosecutor at Epstein's sentencing on June 30, 2008.

''There's several,'' replied assistant state prosecutor Lanna Belohlavek.

''Are all the victims in both of these cases in agreement with the terms of this plea?'' Pucillo later asked.

''Yes,'' Belohlavek replied, telling the judge that she had spoken to ''several'' of Epstein's victims.

Emails show that federal prosecutors didn't want the judge to know how many victims and accomplices there were.

Federal prosecutor A. Marie Villafa±a '-- in a September 2007 email to Epstein lawyer Jay Lefkowitz '-- said: ''I will mention co-conspirators but I would prefer not to highlight for the judge all the other crimes and all the other persons that we could charge.''

Attorney Spencer Kuvin happened to be in court that day because he'd heard Epstein was to appear, but Kuvin didn't know why. He figured he'd use it as an opportunity to serve Epstein with civil court papers involving one of several victims he represented. Instead, he listened to what was happening and couldn't believe that no one had contacted him or his clients.

''I was shocked to learn that the proceeding involved my client's case and there was nothing I could do except watch as they disposed of her case without ever telling her,'' Kuvin said.

At the hearing, Belohlavek and Epstein's attorney, Goldberger, were in sync, the court transcript shows. Epstein would be required to register as a sex offender, but his probation would not be served under the strict requirements of sex offender probation.

Jeffrey Epstein is a registered sex offender in New York State and Florida.

Emily Michot emichot@miamiherald.com

The judge didn't question those provisions, but she did ask why Epstein was going to serve his sentence in the Palm Beach County stockade instead of in a Florida state prison, like most sex offenders.

After he pleaded guilty in state court, Jeffrey Epstein was assigned to a private section of the Palm Beach County stockade. Soon, however, he was allowed to leave the compound six days a week, 12 hours a day, for what was termed work release.

Emily Michot emichot@miamiherald.com

''We just decided that was the best way to accomplish what needed to be done here and the parties agreed that that sentence satisfied everyone's requirements,'' Goldberger replied.

Said Judge Pucillo: ''The taxpayers of Palm Beach County are going to pay 18 months to house this guy instead of DOC [the Department of Corrections]?''

Belohlavek: ''Right.''

Pucillo did not respond to a request for comment on the case.

Villafa±a, the lead federal prosecutor in Epstein's case, was in the courtroom, but there's no indication she objected to Epstein's cozier jail accommodations.

When he entered jail in July 2008, Epstein was arguably the most well-known inmate at the Palm Beach County jail. Records also show that Epstein hired Palm Beach sheriff's deputies for his security details, paying them for the hours they spent monitoring him on work release at his West Palm Beach office, where he often stayed until 10 p.m., jail logs show.

The Herald reviewed their time sheets, showing that the deputies logged visitors coming and going to and from his office throughout the day. A record log of his visitors was kept in a safe, but the log no longer exists, according to a spokeswoman for the Palm Beach County Sheriff's Office.

One deputy who often worked Epstein's detail said that his assignment was to stay in a front reception room of Epstein's office. Epstein was in a separate office '-- with the door closed '-- most of the day as he accepted visitors, both male and female, the deputies' logs show.

While officially confined to the Palm Beach County stockade, serving time for his sex offenses, Jeffrey Epstein was allowed to spend half his day at this West Palm Beach office building. It was called work release, although Palm Beach Sheriff's Office rules prohibit work-release status for sexual offenders.

Emily Michot emichot@miamiherald.com

''It was not our job to monitor what he was doing in that office,'' the deputy, now retired, told the Herald.

In their early reports in July 2008, the deputies referred to Epstein as ''inmate'' but within a few weeks the language had changed and he was called a ''client.'' He was occasionally allowed to take a break for lunch by sitting outside in a park, the records show, and they also gave him permission to scout for a new office. While on work release, he was required to wear an ankle bracelet to monitor his whereabouts.

The work release was approved by the Palm Beach County Sheriff's Office, said spokeswoman Therese Barbera.

''Jeffrey Epstein while in custody, met the criteria for the Work Release Program,'' Barbera wrote in an email. ''There was no factual basis to deny Mr. Epstein the same availability of this program that is offered to other inmates under similar circumstances. Mr. Epstein was closely monitored and there were no problems encountered during his time in the program.''

But the sheriff's own work release policy '-- a copy of which Barbera provided to the Herald '-- specifically notes that sex offenders aren't eligible for work release.

At first, Barbera questioned whether Epstein was a sex offender at all, noting that he didn't have to register officially until after his release from the jail in 2009. But his court papers clearly listed him as a sex offender. In fact, the papers Epstein signed '-- obtained by the Herald '-- included all the laws governing registered sex offenders in Florida.

Barbera refused to explain why Epstein was seemingly allowed to deviate from the agency's policies. She also would not respond to requests for an accounting of the amount of money that Epstein paid the sheriff's office for his private details.

Palm Beach Sheriff Ric Bradshaw, who has been in office since 2004 '-- and is widely considered to be one of the most powerful people in the county '-- did not respond to requests for comment.

A spokeswoman for Palm Beach County Sheriff Ric Bradshaw declined to say why Jeffrey Epstein was allowed work-release status despite rules prohibiting work release for sex offenders.

Taylor Jones Palm Beach Post

Epstein's registration requirements are somewhat confusing, even to those who are responsible for keeping his registration. The Florida Department of Law Enforcement, which keeps the online registry, and the Palm Beach Sheriff's Office, where Epstein has to register in person twice a year, gave conflicting explanations over the past six months about who is responsible for ensuring that he is complying with the law.

On Nov. 14, the Herald asked the sheriff's office for a full accounting of Epstein's check-ins for 2018. The record the office supplied two days later showed he registered in January and in July '-- as required. But PBSO also inexplicably had him registering on Nov. 14 '-- the very same day that the Herald asked for the records from the sheriff's office.

When asked about this sudden registration, Barbera replied, ''The information we provided you was a snapshot from the FDLE website. Perhaps, someone from FDLE can provide a reason for you.''

Said FDLE spokeswoman Gretl Plessinger in an email: ''The screenshot is not on the public registry. This is information inputted by the local agency when the offender comes into the local sheriff's office to register.''

Plessinger said Epstein is not covered by the state's new three-day rule, which requires sex offenders to re-register when they come to stay in Florida for three days or more. His Palm Beach home is already on file, as a temporary residence, she said.

So it's not clear why he would have suddenly registered a third time on Nov. 14.

State Sen. Lauren Book, a child sex abuse survivor and vocal advocate for tough sex offender monitoring, called the case an appalling example of how those in the justice system allow wealthy people to skirt the law and bend the rules.

''These prosecutors, and judges and sheriffs who are making these decisions and allowing things to fly '-- we have to hold these people accountable. They are supposed to uphold the law '-- regardless of who a person is and how much money they have in the bank or who they had on their airplane.''

Piece by pieceOver the years, Courtney Wild, Virginia Roberts and more than a dozen other women who say they were victims of Epstein have been quietly challenging the traditional legal norms that have failed to punish Epstein and other men in positions of power for sexual abuse.

Epstein has paid millions of dollars in civil compensation that, for the most part, has kept the details about his operation out of the public eye. As a result, much '-- but not all '-- of the testimony and evidence collected as part of the vast litigation has been sealed or redacted from public court records.

Taking a page from Epstein's legal team, lawyers representing Epstein's victims hired private investigators and former police detectives to dig into Epstein's life. Over the past decade, they've tracked down hundreds of people, including dozens of other potential victims; they've interviewed Epstein's recruiters, bookkeepers, housekeepers, butlers, pilots and drivers. They've traveled around the country and the world, taking statements and sworn depositions, coaxing people to talk who had previously been too reticent to come forward.

In short, they did what criminal prosecutors didn't do.

Some of the information they'd learned was given to federal authorities in New York. Edwards said those authorities have shown no interest in opening a new investigation focused on crimes he is alleged to have committed in that state, where he is listed as a level 3 sex offender, the most dangerous category, considered at risk to re-offend, records show. In New York, he has to register every 90 days.

Virginia Roberts holds a photo of herself at age 16, when she says Palm Beach multimillionaire Jeffrey Epstein began abusing her sexually.

Emily Michot emichot@miamiherald.com

Holding abusers accountableIn 2015, Roberts sued Maxwell for defamation in New York after Maxwell called her a liar in a news interview. The civil lawsuit was an effort by Roberts not just to clear her name, but an attempt to prove that Epstein and Maxwell operated an international underage sex trafficking operation. The lawsuit was settled out of court in 2017 and nearly all the evidence presented in the case has been sealed.

Roberts' attorney, Sigrid McCawley, claims that Roberts received a sizable settlement, although the amount is confidential.

''She wanted to hold her abusers accountable and we were able to do that by bringing this case '... which we ultimately settled very successfully for her,'' said McCawley, an associate of noted Bush-Gore recount lawyer David Boies, who has also pursued cases against Epstein in federal court in New York.

Maxwell's lawyer, Laura Menninger, declined to comment, referring the Herald to the court history.

''[Roberts] fabricated a story of abuse at the hands of Ms. Maxwell in exchange for hundreds of thousands of dollars from British tabloids with a motive for selling papers and advertisements and without regard for truth, veracity or substantiation,'' Menninger noted in a 2016 response filed in the case.

In February, the Miami Herald filed a federal court motion in the Southern District of New York, seeking access to documents that were sealed in the Maxwell case. The motion, which was not opposed by Roberts, could have cast light on the full scope of Epstein's possible sex trafficking operation, who was involved and whether it was covered up. Maxwell has opposed the Herald's motion, which was denied in August.

The Herald is appealing.

Today, Epstein has a new private jet, which takes him around the world. Flight records show that he spends most of his time on his private island, Little St. James in the U.S. Virgin Islands, which he now lists as his permanent residence. He is registered in New York and the U.S. Virgin Islands as a sex offender. New Mexico, where he owns a sprawling ranch, does not list him as a convicted sex offender.

As part of its investigation, the Herald learned that in 2013, the federal government conceded that it had given Epstein what it called ''valuable consideration'' for information he provided to the FBI as part of his plea deal. The documents do not elaborate, but Epstein '-- a hedge fund manager who once worked for the investment firm Bear Stearns '-- was listed as a key investor who lost money in the financial crash of 2008.

Francey Hakes, a former federal child sex crimes prosecutor, said any consideration the government gave to Epstein should be made public.

''The public has a right to know why he got a slap on the wrist, and what was the interest that was so great that allowed him to not get prosecuted?''

Nadia Marcinkova, left, now a professional pilot, poses with Tatiana Litvin and entrepreneur Marc Hodosh during a charity gala for the i.am.angel foundation in Hollywood, Calif., on Feb. 9 2017. A decade earlier, she worked for Jeffrey Epstein. Victims told police Marcinkova would participate in sex acts with some of the underage girls, often as Epstein choreographed their moves.

Jerod Harris

In recent years, Epstein has been traveling the world in his new Gulfstream V jet. He has been active in various charitable causes and scientific research projects. The Jeffrey Epstein VI Foundation, based in the U.S. Virgin Islands, has helped fund NeuroTV, an online network that features interviews with academics and scientists.

Then and nowBoth Nadia Marcinkova and Sarah Kellen changed their names after the scandal.

Marcinkova, 32, briefly became Marcinko. She visited Epstein more than 70 times when he was in Palm Beach custody. She went on to a career in real estate. And she is now an FAA-certified commercial pilot and flight instructor who goes by the name ''Global Girl'' on social media. (www.facebook.com/GlobalGirlAviation/)

Sarah Kellen, who used the name Kensington for a while, is now married to NASCAR driver Brian Vickers. The couple divides their time between homes in North Carolina, New York and Miami Beach.

NASCAR driver Brian Vickers and his wife, Sarah, take part in pre-race ceremonies in Sparta, Ky., on June 28, 2014. She was known as Sarah Kellen when she was an aide to Jeffrey Epstein. According to police, she scheduled visits of underage girls to Epstein's Palm Beach estate for massages that turned sexual. She was not charged with a crime.

Will Schneekloth Getty Images

Maxwell, 56, transformed herself into an internationally known environmentalist. In 2012, she founded the TerraMar Project, a nonprofit environmental group that works to protect the world's oceans. In 2013, she gave a TED Talk on ocean conservation, discussing her diving expeditions around the world.

Ghislaine Maxwell, daughter of a British press magnate and Jeffrey Epstein's close associate when he was inviting underage girls into his bedroom, leads a TED Talk on environmental issues.

Dershowitz, 80, continues to lecture around the country. A professor emeritus at Harvard Law School, Dershowitz has been a frequent commenter on cable TV programs, often defending President Trump.

Prince Andrew, the Duke of York, 58, remained friends with Epstein, and in 2010, a photograph was taken of the two of them strolling in Manhattan. It was later revealed that Epstein had loaned the prince's ex-wife, Sarah Ferguson, $24,000 to pay off some debts. Ferguson later called the loan a ''gigantic error of judgment.''

Plain human beingsCrime victims' rights advocates have used the Epstein case to strengthen the federal law in recent years, adding more precise language mandating that prosecutors notify victims about plea bargains and allow victims to be heard at sentencing.

Because some statute-of-limitation laws set deadlines for filing civil and criminal sex crime cases, it's difficult to bring them years later, said Marci Hamilton, a University of Pennsylvania professor who is working to ease those restrictions across the country.

But she points out that there has been no statute of limitations for federal sex crimes involving children since 2002.

Children who are sexually abused often take decades to reveal what happened to them, in part because their brains aren't wired at a young age to understand the trauma they've experienced, said Kenneth V. Lanning, a retired FBI agent who investigated and studied child sex crimes for 40 years.

''We want to hold children to some superhuman standard because they behave this way. In reality, police, prosecutors and judges have to understand that children are not all angels from heaven. They are just plain human beings who are emotionally immature so we have to protect them from their own decisions.''

Wild, who continues to fight her federal case on behalf of all of Epstein's victims, said she hopes that the federal judge hearing the Crime Victims' Rights case will make a ruling soon, one that will send a message to prosecutors who fail to consider the rights of crime victims.

''Really if you think about this too hard, it's scary because this is our government that is supposed to protect us but has done everything to protect a pedophile,'' she said.

Support investigative journalismThe Miami Herald obtained thousands of FBI and court records, lawsuits, and witness depositions, and went to federal court in New York to access sealed documents in the reporting of "Perversion of Justice." The Herald also tracked down more than 60 women who said they were victims, some of whom had never spoken of the abuse before.

Your digital subscription, starting at $0.99 for the first month, supports investigative journalism like this.
Dockless Mobility

Austin sours on Lime bikes and orders removal of 1,000 e-scooters - CultureMap Austin

Fri, 30 Nov 2018 18:42

Love 'em or hate 'em, Austinites are about to see fewer Lime bikes scooting around the city. The Austin Transportation Department has ordered Lime, operator of the dockless green e-bikes currently dotting Central Austin sidewalks, to remove 1,000 of the fleet's scooters from city streets.

ATD alleges the company violated the city's code of ordinances, as well as rules specific to "shared small vehicle mobility systems" like Lime and its competitors.

"This memorandum is to inform you we have ordered a 20 percent reduction (1,000 units) in Lime's authorized dockless units due to violations," ATD director Robert Spillar wrote in a November 29 memo to Mayor Steve Adler and Austin City Council.

The memo goes on to allege that Lime violated these rules five times between November 14 and November 20 "by deploying more than 500 dockless mobility units in [downtown Austin] thereby saturating the [area] with dockless mobility units and creating a safety issue."

Spillar's memo claims Lime distributed "as many as 624 units more than their authorized allowance were documented."

Not so, claims Lime. In a statement to CultureMap, the San Francisco-based company said it worked "round the clock" to fix the issue once it was pointed out.

"Austinites have embraced Lime scooters, riding over a million times since June. Austin is one of a hand full [sic] of cities with caps and unique in its caps based on geographic areas," the statement reads. "Due to extremely high demand from users we had an unintentional overdeployment of scooters downtown."

The memo counters this, saying: "ATD notified Lime of its excessive deployment and warned Lime that continued violations of this nature could result in the suspension of authorized units or of the Citywide Dockless Transportation License. Lime failed to correct the violations after notification and continued to deploy more than the allowed 500 dockless mobility units within [downtown]."

Since their inception, electric scooters have been met with controversy. While some see the rentable scooters as an important cog in Austin's greater mass transit system, still others see them as a safety hazard and aesthetic blight turning the city into a poor man's version of The Jetsons.

Lime must now comply with the city's order for the next 30 days. If it remains in good standing throughout the month, the company may request the suspension be lifted.

E-scooter users shouldn't worry too much. Lime can still operate 4,000 bikes within Austin and, as Spillar notes in his memo, with six additional e-bike companies operating within the city limits, there is "sufficient supply to meet demand."
PUTIN

Confirmation of our version of the incident at Kertch

Fri, 30 Nov 2018 13:05

Russia has made public three interrogations of Ukrainian marines taken prisoner during the Kertch incident on 25 November 2018 and a document (photo) seized on board one of the ships.

According to this document and these videos, the incident had been planned by Ukraine collaborating with foreign powers. Two officers from Ukraine's military intelligence service were on board the ships to coordinate operations. They were the ones that forbade the marines from responding to messages from the Russians when the war ships entered Russian territorial waters, waters that Ukraine was claiming to belong to it.

Our collaborator Valentin Vasilescu thinks that prior to the incident, some US and Israeli electromagnetic reconnaissance planes flew over the area to detect Russian defences [1].

While Israel is still not a member of Nato, it does have a bureau of liaison within Nato headquarters in Brussels. During the coup d'etat in Kiev, in the context of Nato's stay behind secret service, thirty Israeli officers and thirty one Israeli soldiers participated in the fighting that broke out in Maidan Square'... yet they were fighting on the side of the former Nazi party Svoboda.

The operation at Kertch seems to have been sponsored by Nato. Any why? To create a ''Russian threat'' which would serve to justify Ukraine becoming a member of the Alliance. This operation was supervised by Ambassador Kurt Volker. The CIA recruited him when he was still a student at Georgetown University. After working at the Agency's headquarters in Langley, he entered the diplomatic service and became ''adviser'' to Richard Hoolbroke during the wars in Yugoslavia. He became Victoria Nuland's assistant when she was the ambassador to Nato and following her departure, stepped into this post. Today he is the ambassador to Kiev.

TranslationAnoosha Boralessa

[1] qui profite l'incident du d(C)troit de Kertch ? >>, par Valentin Vasilescu, Traduction Avic, R(C)seau Voltaire, 29 novembre 2018.

'Kiev would get away even with eating babies': Putin says Kerch Strait standoff is a provocation '-- RT World News

Sat, 01 Dec 2018 12:47

President Vladimir Putin said the clash between Russian and Ukrainian military ships was a result of foreign nations failing to hold Kiev accountable for bad behavior as long as it remains confrontational towards Russia.

They were the first remarks made by the Russian leader since the confrontation in the Kerch Strait, a narrow passageway between the Black Sea and the Azov Sea, where a strategic bridge connecting Crimea to mainland Russia is located.

''The authorities in Kiev are selling anti-Russian sentiment with quite a success today. They have nothing else to do,'' Putin said during a business forum in Moscow.

The Russian president said it seemed like Kiev could get away with anything as far as foreign nations supporting Ukraine's anti-Russian stance were concerned.

If they demand babies for breakfast, they would probably be served babies. They'd say: 'Why not, they are hungry, what is to be done about it?' This is such a shortsighted policy and it cannot have a good outcome. It makes the Ukrainian leadership complacent, gives them no incentive to do normal political work in their country or pursue a normal economic policy.

Putin said the incident, which ended in Russia's seizure of three Ukrainian ships and Kiev imposing a partial martial law in the country, was a ''dirty game'' by Poroshenko, who needs to suppress his political opponents ahead of the March presidential election. He affirmed that the Ukrainian side was responsible for the escalation of tensions, since the incident was a deliberate and planned provocation by the Ukrainian Navy.

Also on rt.com Ukraine security chief admits intel agents were on board Navy ships during Kerch standoff The Russian leader also defended the border guards who stopped the Ukrainian ships from passing through the Kerch Strait, saying it was their duty as sworn service members to do so and that, if they failed, they could face a tribunal for defying an order.

If you like this story, share it with a friend!
Ebola

New Ebola vaccine faces major test in Congo outbreak - The Washington Post

Sat, 01 Dec 2018 12:12

Authorities in Congo began an ambitious campaign this week to use a pioneering Ebola vaccine to help stem a growing outbreak of the deadly virus. It's the first widespread use of the therapeutic since a devastating 2014 epidemic in West Africa and represents a major strategic shift for public health.

World Health Organization officials, criticized for their slow response four years ago, began vaccinating health workers in affected areas Monday and plan to vaccinate about 1,000 people in the next week. More than 7,500 doses have been sent to Congo, and an additional 8,000 doses will be available in the coming days, according to the WHO.

WHO epidemiologist Peter Salama, who is in charge of the United Nations agency's epidemic response, calls the vaccine a ''paradigm shift'' in fighting the virus, which has caused eight previous outbreaks in Congo since its discovery there in 1976. ''Today marks a turning point in how we deal with Ebola. We are moving from a strategy of containment to one of offering communities protection and care,'' he said.

But enormous challenges lie ahead as officials and others race against the virus to identify people in the high-risk groups being targeted for vaccination: front-line and medical workers, those who had contact with confirmed cases and then contacts of those contacts. The goal is to form a buffer of immune people to rapidly prevent the disease from spreading. The first batch of vaccines '-- one-dose shots '-- is enough to vaccinate 50 ''rings'' of 150 people, officials said.

''No one should underestimate how challenging this all is or expect the vaccine to be the answer to everything,'' said Jeremy Farrar, director of the Wellcome Trust, a British-based global charitable foundation. ''It's not like rolling out a routine vaccination program in mothers and newborns. This is a completely different playing field in terms of complexity and difficulty.''

The vaccine, which proved highly effective in trials in Guinea and Sierra Leone toward the end of the West Africa epidemic, is considered an investigational therapeutic and not yet licensed. It is being provided at no charge by pharmaceutical giant Merck, while Gavi, the Vaccine Alliance, is providing $1 million toward the deployment of health workers, transport and other support.

As of Tuesday, according to the WHO, 58 confirmed, probable and suspected cases had been reported, with 27 deaths. Cases have been reported in three locations in the province of Equateur, further complicating outbreak control. At least one death was in Mbandaka, the provincial capital, which also has four confirmed cases. The northwestern port city of 1.2 million people sprawls along the Congo River, and health officials are most concerned about the virus reaching villages along the waterway and through tributaries to the capital of Kinshasa and its population of 10 million, as well as to the neighboring Republic of Congo and Central African Republic.

On Wednesday, there were reports that three infected patients had slipped out of an isolation ward at a hospital in Mbandaka, according to Doctors Without Borders, known by its French acronym MSF. MSF is involved in the outbreak response. The WHO's representative in Congo told local reporters that one patient was found dead, another was sent back to a hospital and died shortly afterward, and the third is alive and under observation.

The effort's operational and cultural logistics are formidable.

The outbreak's epicenter, the small town of Bikoro in Equateur, is in one of the most remote parts of the country. Few roads are paved; electricity and telecommunications are nonexistent. The vaccines must be transported there while being kept at a temperature of -76 to -112 degrees Fahrenheit. They have been shipped from Geneva in special containers that can retain that temperature for up to six days, but generators also are being flown by helicopter to Bikoro, according to officials working on the response in Kinshasa.

The lack of health infrastructure likely will influence how the vaccine is received by communities, noted Juliet Bedford, director of Anthrologica, a British-based research organization that specializes in applied anthropology in global health.

Across Congo, 40 percent of the communities have discontinued immunizations because of the difficulties in getting and disseminating vaccines, said Bedford, one of the anthropologists who worked with U.N. agencies during the West Africa epidemic. In Equateur, data show that only a third of children have received routine childhood immunizations.

''In the more rural and isolated areas, you are not going to see people who are used to immunizations and vaccinations,'' she said.

The province is Congo's poorest. More than a dozen languages are spoken among many ethnic groups. Ten percent to 40 percent of the people living in its remote villages and forests are pygmy groups, among the most difficult-to-reach populations, according to Pierre Rollin, a medical epidemiologist and Ebola expert at the Centers for Disease Control and Prevention. Rollin, who is on his way to Mbandaka, is among about a dozen CDC personnel deploying as part of the U.S. response. Some of the agency's experts are part of its office in Congo.

One of the biggest lessons from the West Africa epidemic was the importance of gaining the trust of affected communities by relying on respected village elders and traditional healers. ''You have to get that trust in the first five seconds,'' said Dan Lucey, a Georgetown University infectious disease specialist who worked in Sierra Leone and Liberia during the 2014 epidemic.

Many of the same specialists involved in the Guinea trial with the vaccine '-- known as rVSV-ZEBOV '-- have been sent to assist in Congo. Anthropologists are also involved, in part to help with communication. All vaccine recipients are required to sign consent forms saying they have been informed of the potential side effects, including headache, fatigue and mild fever.

''Most people think about vaccines as being for children, so if we are vaccinating adults, that could raise some questions,'' said Ben Dahl, an epidemiologist on the CDC team in Kinshasa. He took part in the Guinea trial, which saw ''quite a bit of demand'' once the vaccine was shown to be effective.

Congolese health officials have said health care will be free as a way to encourage people to seek medical care if they are sick. Even so, there are other costs that might prohibit people from getting help '-- the cost of finding a motorbike ride to a clinic, for example, or of seeking help versus working.

''You lose income because you can't collect firewood that day or go to the market, and maybe you have five children at home to feed,'' Bedford explained. ''Which is why active surveillance and community mobilizers who are familiar local people out on the ground are absolutely critical to containing this outbreak.''

Read more:

U.S. pledges up to $8 million for Ebola outbreak in Congo

WHO says Ebola outbreak in Congo not yet a global health emergency

Ebola vaccine shown to be 'high protective' against deadly virus in major trial

Top White House official in charge of pandemic response exits abruptly
Brexit

So long and thanks for all the fish? Dutch fear Brexit threat - BBC News

Fri, 30 Nov 2018 13:08

Image caption Urk is one of the main centres of the Dutch fishing industry Fresh plaice encased in crushed ice pour out of crates on to the stainless steel tables.

"Very worried of course about Brexit," says Barend Hakvoort, whose job it is to ensure the Netherlands' largest fish auction house maintains its stocks.

"Many Urk people are fishing under a UK flag, they own a lot of quota. If the UK says they must land the fish in the UK we lose a lot of clients. We have a long history; with Brexit they can just throw it away and say these are the new rules."

Skipper Andries wears a tartan beret and gold-hoop earring. "If we lost the UK waters we'd lose 50% from Dutch vessels. I'm nervous, I don't know what the future brings."

His 17-year-old son Yelle attends "fishing school".

"It's very exciting, fishing," he grins.

Image caption Andries's son Yelle is training to become a fisherman But, looking ahead five years he is worried: "I don't think we will be able to fish in English waters."

An emotional issue over herringLike the UK, the Dutch fishing industry is concentrated in small coastal communities.

Any losses could be catastrophic in towns like Urk and on the island of Texel, where most families' livelihoods depend upon fishing.

Yet the industry accounts for less than 1% of Dutch GDP. Pim Visser, director of Vis Ned, is anxious that fisheries will not become a political bargaining chip in future trade talks.

"Fishing is an issue with a lot of emotion."

"As the [Withdrawal Agreement] text is now, we might end up in a situation where Mrs May goes back to Brussels and says 'I can get the withdrawal through but I need these 13 Scottish Tories; so please give me the fisheries - otherwise I can't get it through and we're all in deep trouble'. That would be disastrous."

We're hovering outside the Dutch agriculture ministry, where Mr Visser and his colleague Gerard van Balsfoort, president of the pelagic freezer trawler association, are lobbying ministers to ensure Dutch fishermen can keep their current quotas.

"Dutch herring is iconic. We have tulips, windmills and herring," Mr Van Balsfoort insists. "The thought of the Dutch not being allowed to catch our herring, for us it is just unimaginable."

Will Britons develop a taste for herring?And here's the twist in this tale.

Herring is mostly caught in UK fishing waters, but the British are less partial to the distinctive taste: 93% of its herring is exported (mostly to Norway and the Netherlands).

Image caption Urk has 40 fish-processing factories For Brits it is the fish and chips that hold that iconic status:

Cod constitutes only 5% of UK catchHaddock makes up 7% of UK catch83% (110,000 tonnes) of cod consumed in UK is imported58% (47,000 tonnes) of haddock eaten in UK is importedIn the spirit of reciprocity, if the British government were to "take back control of UK waters" and redistribute the quotas, the EU could respond by slapping considerably higher taxes and conducting more checks on UK exports.

According to Rem Korteweg, a researcher at the Dutch institute of international relations, the only way for Britain to reclaim the quotas without feeling the blowback from EU retaliatory measures "is for the British to start liking herring and mackerel, and they don't".

Such is the interdependency of the UK-EU fishing industry that historic ties are hard to unravel without both sides taking an economic hit.

What the deal saysWhile Sunday's legal Withdrawal Agreement extended existing fishing arrangements until a deal is reached, the joint political declaration put a date on it:

The parties will use their best endeavours to conclude and ratify their new fisheries agreement by 1 July 2020 in order for it to be in place in time for it to be used for determining fishing opportunities for the first year after the transition period.

But alongside the documents signed by the UK and EU, a separate and far tougher statement by the 27 other countries in the bloc called for greater urgency and the need to "protect fishing enterprises and coastal communities":

A fisheries agreement is a matter of priority, and should build on, inter alia, existing reciprocal access and quota shares. Such an agreement should be negotiated well before the end of the transition period.

France's President Emmanuel Macron even warned that without a quick compromise on fishing, talks on a wider trade deal would falter.

Urk: Population 20,000Forty fish processing factories flourish in this quintessential fishing town.

Lemon sole, netted in British waters, are filleted here, processed and sold back to British supermarkets such as Waitrose, Marks and Spencer and Sainsbury's.

Some in the UK argue that if the Dutch were forced out of British waters, UK fishermen could catch the British fish instead.

But quality assurance manager Cornelius disagrees: "The British producers cannot produce like us. We are flatfish producers, we own all the machines."

Image caption A Dutch newspaper headline reads: "Brexit threatens life's work" A man wearing a hairnet pushes a Dutch newspaper into my hand: "It says the prime minister must roll up his sleeves and fight for our fishermen."

It is a reminder that in the Netherlands, UK, France and Spain, fisheries hold more political clout than their overall contribution to the economy might suggest.

Europe's cherished fishing communities are part of the national psyche and heritage, and are particularly vulnerable to any changes in the current climate.

For a Scot reporting in the Netherlands, the feelings on both sides of the North Sea are palpable.
Khashoggi

Khashoggi Cut to Pieces Alive as They Played Music - Brighteon

Thu, 29 Nov 2018 23:17

Khashoggi Cut to Pieces Alive as They Played Music

380 views

The ghoulish murder of the Saudi Prince's political enemy was recorded on audio. Khashoggi was dismembered over a 7 minute period as the killer celebrated and played music. Will Hollywood make a film? Oh wait, they've already shown this many times as ''entertainment''. It's no different than what Planned Parenthood does all the time. And we'll never seen the tapes of what the CIA did because Gina Haspel destroyed the records.

Tags

alive, khashoggi, murdered

The views and opinions expressed in this video do not necessarily represent the views of Brighteon or its affiliates.

01:58:07

8:40

10:40

11:58

3:30

13:17
HRC

EXCLUSIVE: FBI Raids Home Of Whistleblower On Clinton Foundation, Lawyer Says | The Daily Caller

Fri, 30 Nov 2018 10:51

10:30 PM 11/29/2018 | Investigative GroupRichard Pollock | Reporter

The FBI raided the home of a whistleblower who was in possession of documents regarding the Clinton Foundation and Uranium One, according to the whistleblower's lawyer, Michael Socarras. The whistleblower, Dennis Nathan Cain, had turned the documents over to the Department of Justice's inspector general and both the House and Senate Intelligence committees, according to the lawyer. The FBI rummaged through Cain's home for six hours, even after the whistleblower handed over the documents, according to Socarras. FBI agents raided the home of a recognized Department of Justice whistleblower who privately delivered documents pertaining to the Clinton Foundation and Uranium One to a government watchdog, according to the whistleblower's attorney.

The Justice Department's inspector general was informed that the documents show that federal officials failed to investigate potential criminal activity regarding former Secretary of State Hillary Clinton, the Clinton Foundation and Rosatom, the Russian company that purchased Uranium One, a document reviewed by The Daily Caller News Foundation alleges.

The delivered documents also show that then-FBI Director Robert Mueller failed to investigate allegations of criminal misconduct pertaining to Rosatom and to other Russian government entities attached to Uranium One, the document reviewed by TheDCNF alleges. Mueller is now the special counsel investigating whether the Trump campaign colluded with Russia during the 2016 election.

''The bureau raided my client to seize what he legally gave Congress about the Clinton Foundation and Uranium One,'' the whistleblower's lawyer, Michael Socarras, told TheDCNF, noting that he considered the FBI's raid to be an ''outrageous disregard'' of whistleblower protections. (RELATED: FBI Takes Aim At The Clinton Foundation)

Sixteen agents arrived at the home of Dennis Nathan Cain, a former FBI contractor, on the morning of Nov. 19 and raided his Union Bridge, Maryland, home, Socarras told TheDCNF.

The raid was permitted by a court order signed on Nov. 15 by federal magistrate Stephanie A. Gallagher in the U.S. District Court for Baltimore and obtained by TheDCNF.

A special agent from the FBI's Baltimore division, who led the raid, charged that Cain possessed stolen federal property and demanded entry to his private residence, Socarras told TheDCNF.

''On Nov. 19, the FBI conducted court authorized law enforcement activity in the Union Bridge, Maryland area,'' bureau spokesman Dave Fitz told TheDCNF. ''At this time, we have no further comment.''

Cain informed the agent while he was still at the door that he was a recognized protected whistleblower under the Intelligence Community Whistleblower Protection Act and that Justice Department Inspector General Michael Horowitz recognized his whistleblower status, according to Socarras.

U.S. Department of Justice Inspector General Michael Horowitz. REUTERS/Joshua Roberts

Cain further told the FBI agent the potentially damaging classified information had been properly transmitted to the Senate and House Intelligence committees as permitted under the act, Socarras said. The agent immediately directed his agents to begin a sweep of the suburban home, anyway.

Frightened and intimidated, Cain promptly handed over the documents, Socarras told TheDCNF. Yet even after surrendering the information to the FBI, the agents continued to rummage through the home for six hours.

''After asking and getting my approval to do so, DOJ IG Michael Horowitz had a member of his staff physically take Mr. Cain's classified document disclosure to the House and Senate Intelligence committees,'' Socarras told TheDCNF.

''For the bureau to show up at Mr. Cain's home suggesting that those same documents are stolen federal property, and then proceed to seize copies of the same documents after being told at the house door that he is a legally protected whistleblower who gave them to Congress, is an outrageous disregard of the law,'' he continued.

Cain came across the potentially explosive information while working for an FBI contractor, Socarras told TheDCNF.

Cain met with a senior member of Horowitz's office at a church close to the White House to deliver the documents to the IG, according to Socarras.

Cain sat in a pew with a hoodie and sun glasses, Socarras said. Cain held a double-sealed envelope containing a flash drive with the documents. The IG official met him and, without saying a word, took the pouch over Cain's shoulder and left.

Former U.S. Secretary of State and 2016 Democratic presidential nominee Hillary Clinton. REUTERS/Joshua Roberts

If the complaint is found credible, the law protecting whistleblowers, which covers employees of government contractors, requires the IG to share such information with the attorney general '-- who at the time was Jeff Sessions.

The two law enforcement officials directed the documents be sent to the Senate and House Intelligence committees for their examination, according to Socarras, who said that a high-level IG official hand-delivered the documents to the the two intelligence committees.

''I cannot believe the Bureau informed the federal magistrate who approved the search warrant that they wanted to search the home of an FBI whistleblower to seize the information that he confidentially disclosed to the IG and Congress,'' Socarras told TheDCNF.

The whistleblower act is intended to protect whistleblowers within the intelligence community, which includes the FBI.

''The [intelligence community] is committed to providing its personnel the means to report violations of law,'' according to a 2016 intelligence community directive.

''The [whistleblower act] authorizes employees of contractors to take government property and give it to the two intelligence committees confidentially,'' Socarras told TheDCNF.

The FBI has yet to talk to Cain's attorney despite the raid, according to Socarras.

''After the raid, and having received my name and phone number from Mr. Cain as his lawyer, an FBI agent actually called my client directly to discuss his seized electronics,'' Socarras told TheDCNF. ''Knowingly bypassing the lawyer of a represented client is serious misconduct.''

A spokesman for the IG declined to comment. The Justice Department did not immediately return a request for comment.

Follow Richard on Twitter

Content created by The Daily Caller News Foundation is available without charge to any eligible news publisher that can provide a large audience. For licensing opportunities of our original content, please contact licensing@dailycallernewsfoundation.org.
EuroLand

Opinion | Europe's Jew Hatred, and Ours - The New York Times

Fri, 30 Nov 2018 00:03

A new CNN poll reveals that one in four Europeans are anti-Semitic.

By Bari Weiss

Ms. Weiss is an editor and writer in the Times Opinion section.

Nov. 29, 2018 Image Far-right marchers passed by the Reichstag in Berlin this month on the 80th anniversary of the Kristallnacht pogrom against Jews. Credit Credit Omer Messinger/EPA, via Shutterstock Paris. Toulouse. Malmo. Copenhagen. Brussels. Berlin.

For most people, they are lovely cities where you might happily take a holiday. But for the world's Jews, they are something else, too. They are place names of hate.

Paris for us doesn't mean just baguettes and Brie but also this year's murder of a Holocaust survivor in her apartment in the 11th arrondissement and the 2015 siege of a kosher supermarket during which four people were killed. Toulouse is the place where in 2012 three Jewish children and a teacher were murdered at school.

Malmo doesn't call to mind the Swedish coast so much as fire bombs planted outside a Jewish burial chapel. Copenhagen? Copenhagen is where a 37-year-old Jewish economist and voluntary security guard was gunned down as he was guarding a bat mitzvah at the city's main synagogue in 2015. (The notion that synagogues require armed guards has long since stopped making us flinch.)

Brussels is where in 2014 four people were murdered at the Jewish museum. Berlin is a dateline we associate with news of people getting pummeled or harassed, for the sin of wearing a kippah or speaking Hebrew.

And this is to say nothing of the nonviolent attacks, which are impossible to keep up with. The desecration of cemeteries. Swastikas painted on synagogues and schools. Calling Jews ''apes and pigs'' at anti-Israel rallies.

On Tuesday, a CNN poll about the state of anti-Semitism in Europe startled many Americans '-- and confirmed what Jews who have been paying attention already knew about the Continent.

Not 74 years since the Holocaust ended, a third of respondents said they knew only a little or nothing at all about it.

The poll, which surveyed more than 7,000 people across Austria, France, Germany, Britain, Hungary, Poland and Sweden, didn't only discover ignorance. It exposed bigotry.

Nearly a quarter of the respondents said Jews have too much influence in conflict and wars. More than a quarter believe that Jews have too much influence in business and finance. Nearly one in five believe that most anti-Semitism is a response to the behavior of Jews. Roughly a third say Jews use the Holocaust to advance their own goals. Just 54 percent say Israel has the right to exist as a Jewish state.

It's no wonder that to be a Jew in Europe today is to live your life in the closet.

Many religious Jews in Paris and Berlin wear baseball hats instead of kippot in public. Nearly half of Dutch Jews say they are afraid to identify publicly as Jewish. Every French Jew I've ever met who can afford it has bought an apartment in Israel or Montreal.

How did Europe reach this pass?

In many ways, it never left it. Anti-Semitism has been a fact of European life for more than 2,000 years. The postwar generation who lived with the shame of the Holocaust is dying out. Their children and grandchildren are less abashed when it comes to the old prejudices.

In her forthcoming book, ''Anti-Semitism: Here and Now,'' the scholar Deborah Lipstadt discusses a 2013 study of overtly anti-Semitic letters, emails and faxes received over the previous decade by the Israeli embassy in Berlin and the Central Council of Jews in Germany. The study found that 60 percent of the messages ''came from educated, middle-class Germans, including lawyers, scholars, doctors, priests, professors, and university and secondary school students.'' Even more remarkable, most of the letter writers provided their names and addresses.

Bigotry extends to the ballot box. The Alternative f¼r Deutschland, led by a man who dismissed the Nazis as a mere ''speck of bird poop'' in Germany's otherwise glorious history, is now the country's third-largest party. The National Front in France, founded by a man who called the gas chambers a ''detail in the history of World War II,'' got 33.9 percent of the vote in the last presidential runoff elections. The Freedom Party in Austria, founded by ex-Nazis, is now part of the governing coalition. Then there is the rise of Law and Justice in Poland and Golden Dawn in Greece '-- developments cheered by those countries' Jew haters.

But the story of European anti-Semitism isn't simply a case of the resurgence of the neo-fascist right.

A large number of physically violent acts committed against Jews in Europe are perpetrated by radical Muslims. The incidents at the top of this article were not carried out by far-right goons but by Islamists, most of them young and some of them immigrants.

Now add a third ingredient to this toxic brew: the fashionable anti-Semitism of the far left that masquerades as anti-Zionism and anti-racism.

No political leader in Europe embodies that sentiment more than Britain's Labour Party leader Jeremy Corbyn. He paid respects at the memorial of the Palestinian perpetrators of the 1972 Munich Olympics massacre. He objected to the destruction of a street mural depicting despotic hooknosed Jewish bankers. He participated for over a decade in the activities of a group called Deir Yassin Remembered, which was led by a Holocaust denier. He publicly defended a virulently anti-Semitic vicar named Stephen Sizer. He invited an Islamist preacher who believes Jews use gentile blood for religious reasons to tea at Parliament. And so on.

And yet he adamantly denies being an anti-Semite, on the grounds that he has devoted his life to ''exposing racism in any form.''

Anti-Semitism, though, isn't just a brand of bigotry. It's a conspiracy theory in which Jews play the starring role in spreading evil in the world. While racists see themselves as proudly punching down, anti-Semites perceive themselves as punching up.

The Israeli writer Yossi Klein Halevi put it elegantly: ''What anti-Semitism does is turn the Jews '-- the Jew '-- into the symbol of whatever a given civilization defines as its most loathsome qualities.'' When you look through this dark lens, you can understand how, under Communism, the Jews were the capitalists. How under Nazism, the Jews were the race contaminators. And how for Mr. Corbyn and his ilk on the left, Israel, the Jew among the nations, is the last bastion of white, racist colonialism.

European Jews must now contend with this three-headed dragon: Physical fear of violent assault, often by young Muslim men, which leads many Jews to hide evidence of their religious identity. Moral fear of ideological vilification, mainly by the far left, which causes at least some Jews to downplay their sympathies for Israel. And political fear of resurgent fascism, which can cause some cognitive dissonance since at least some of Europe's neo-fascists profess sympathy for Israel while expressing open hostility to Muslims.

Now these three strains of hate are beginning to show up on this side of the Atlantic.

The biggest threat is on the far right. This is the anti-Semitism of ''Jews will not replace us'' marchers in Charlottesville, Va., and the killer at the Tree of Life synagogue in Pittsburgh who ranted against globalists and the ''kike infestation.'' It is the anti-Semitism of Representative Steve King of Iowa and of alt-right Reddit boards and some of Donald Trump's supporters.

Islamism is far less of a threat in the United States than in Europe '-- we do not, contrary to what the president would have you believe, have caravans of terrorists crossing our border. Still, a Muslim-American who expressed hatred of Israel shot six people, killing one of them, at the Jewish Federation of Greater Seattle, in 2006. Four Muslim men were arrested in a plot to bomb two Bronx synagogues in 2009. A Muslim convert was thwarted by the F.B.I. in his plan to blow up a Florida synagogue in 2016. Just last week, Mohamed Mohamed Abdi, a Somalian immigrant, shouted anti-Semitic slurs while trying to run down with his car people leaving a Los Angeles synagogue.

Finally there is the hatred from the left, which comes cloaked in the language of progressive values. This includes the perhaps unwitting anti-Semitism of college professors who refuse to write letters of recommendation for students wanting to study abroad in Israel or who seek to suspend study-abroad programs to Israel entirely, without thinking of sanctioning, say, China or Russia. Or turning a blind eye to unconscionable comments like one from Minnesota's new congresswoman Ilhan Omar, who tweeted in 2012 ''Israel has hypnotized the world, may Allah awaken the people and help them see the evil doings of Israel'' '-- because she is breaking ground as a Muslim woman of color.

For reasons historic, aesthetic and political, we Jews are most attuned to the anti-Semitism of the far right '-- and we find the most sympathy among our progressive allies when these are our attackers. But when Jews point out the other two kinds, we are often dismissed as sensitive or hysterical, or as mistaking legitimate criticism of Israel for something darker.

This is nonsense. The same was said of the Jews in Europe when they sounded the alarm bells. Look where they are now.

Bari Weiss (@bariweiss) is a staff editor and writer for the opinion section.

More by the writer on anti-Semitism.

Correction:An earlier version of this article misidentified the event at Copenhagen's main synagogue at which a member was gunned down in 2015. It was a bat mitzvah, not a bar mitzvah.

Bari Weiss is a staff editor and writer for the Opinion section. @ bariweiss
2TTH

Navy admiral Scott Stearney found dead in Bahrain, no foul play suspected

Sun, 02 Dec 2018 16:04

Breaking News EmailsGet breaking news alerts and special reports. The news and stories that matter, delivered weekday mornings.

Dec. 1, 2018 / 9:00 PM GMT

By Courtney Kube and Phil Helsel

The Navy admiral in charge of the military branch's operations in the Middle East was found dead in Bahrain on Saturday, the Navy said.

Vice Admiral Scott Stearney was found dead in his residence in Bahrain Saturday and no foul play is suspected, Chief of Naval Operations Admiral John Richardson said in a statement. The Naval Criminal Investigative Service and the Bahraini Ministry of Interior are cooperating on the investigation.

Stearney took over as commander of U.S. Naval Forces Central Command and the Combined Maritime Forces in May, where he commanded more than 20,000 U.S. and coalition sailors, Marines, Coastguardsmen, and civilians. Stearney served 36 years in the Navy.

"This is devastating news for the Stearney family, for the team at Fifth Fleet, and for the entire Navy. Scott Stearney was a decorated naval warrior," Richardson said in a statement.

"He was a devoted husband and father, and he was a good friend to all of us,'' Richardson said.

Rear Admiral Paul Schlise, the deputy commander of Fifth Fleet, has assumed command, he said. Vice Admiral Jim Malloy is preparing to fly out to Bahrain later today to take command in the interim.

Stearney was a native of Chicago and entered the Navy in 1982 after graduating from the University of Notre Dame. He became a Navy aviator in 1984 and served in strike fighter squadrons flying the FA-18 Hornet, according to the Navy website.

Vice Adm. Scott Stearney, commander of U.S. Naval Forces Central Command, U.S. 5th Fleet and Combined Maritime Forces, is rendered honors on the quarterdeck of the guided-missile destroyer USS Jason Dunham (DDG 109) on Oct. 24, 2018. Petty Officer 3rd Class Jonathan Clay / USS Jason Dunham (DDG109)He served in Kabul, Afghanistan, as chief of staff of Joint Task Force 435 and later Combined Joint Interagency Task Force 435. In the U.S., he served as instructor and readiness officer at Navy Fighter Weapons School, as well as other roles, the Navy said.

Stearney's past assignments included commander of the U.S. Transportation Command's Joint Enabling Capabilities Command, commander of Strike Force Training Atlantic, commander of Carrier Strike Group and commander of Navy Warfare Development Command, and director of operations of U.S. Central Command, the Navy said.

Courtney Kube

Courtney Kube is a national security and military reporter for NBC News, covering the Pentagon, U.S. military operations all over the world, and intelligence and national security issues.

Phil Helsel is a reporter for NBC News.

U.S. Navy admiral Scott Stearney found dead in apparent suicide - CBS News

Sun, 02 Dec 2018 16:03

Vice Admiral Scott A. Stearney in Bahrain on May 6, 2018.

Hamad I Mohammed / REUTERS

Last Updated Dec 2, 2018 9:08 AM EST

Vice Adm. Scott Stearney, who oversaw U.S. naval forces in the Middle East, was found dead Saturday in his residence in Bahrain, officials said. Defense officials told CBS News they are calling it an "apparent suicide."

Stearney was the commander of the U.S. Navy's Bahrain-based 5th Fleet. Rear Adm. Paul Schlise, the deputy commander of the 5th Fleet, has assumed command, the Navy said in a statement.

"This is devastating news for the Stearney family, for the team at 5th Fleet, and for the entire U.S. Navy," Chief of Naval Operations Adm. John Richardson said. "Scott Stearney was a decorated Naval warrior. He was a devoted husband and father, and he was a good friend to all."

Vice Adm. Scott Stearney.

U.S. Navy

The Naval Criminal Investigative Service and the Bahraini Ministry of Interior are investigating Stearney's death, the Navy said, but foul play is not suspected.

Stearney, a native of Chicago, joined the Navy in 1982 after graduating from the University of Notre Dame, according to his official biography. He became an aviator in 1984 and flew the FA-18 Hornet in several fighter squadrons and logged more than 4,500 "mishap free" hours of flight.

Previously the director of operations for U.S. Central Command, Stearney became commander of the 5th Fleet in May 2018, relieving Vice Adm. John C. Aquilino.

The 5th Fleet operates in the Arabian Gulf, Red Sea, Gulf of Oman and the Indian Ocean, including the critical strategic choke points of the Strait of Hormuz and the Suez Canal.

David Martin contributed to this report.

(C) 2018 CBS Interactive Inc. All Rights Reserved.
Vegas Massacre

Las Vegas Police body-worn camera footage indicates rifle cartridges and ammo found at three different locations night of massacre

Fri, 30 Nov 2018 12:47

LAS VEGAS '-- The video footage from three separate Las Vegas Metropolitan Police Department officer body-worn cameras from the night of the October 1, 2017 Las Vegas Massacre shows that two police officers each took possession of rifle cartridges from two separate locations.

Another officer is seen on a third body-worn camera video pointing out a loaded magazine and live ammunition on the ground of a street directly behind the concert venue.

The LVMPD's final criminal investigative report that was released on August 3 makes no mention of any of this.

The following are transcribed excerpts from Sheriff Joe Lombardo's August press briefing when he announced the release of that report:

Reporter: Will you please address assertions that there were conspiracies behind this and that there were second or multiple gunmen.

Lombardo: Absolutely. No conspiracies have been identified and there has been no other gunmen identified other than Mr. Paddock.

Police recovering a round on a restroom floor

Reporter: Were there no other shootings at other casinos or properties in Las Vegas at, in the same time.

Lombardo:None. No other shootings, that we have identified. You know, one of the explanations behind that Ken is, just to provide you some clarification is we had people evacuated, leaving the scene that sustained injuries, they had blood splatter, they had blood evidence upon there person and as they entered other venues, is believed by other people that were occupying the venues that they may have obtained those injuries within the venue that they evacuated to. So there was a belief there were shooters present on those properties. We quickly put those to bed because the way were trained to address multiple attack locations, as you can imagine the chaos associated with this.

Reporter:Understood. We heard some pretty specific accounts'...

Lombardo: Right. Well I'll be frank. I will be up front with you. Even my people gave specific accounts on the radio system. They were, that was based on third party information and that's why it's important to put those kinds of things to bed as soon as possible, so, and I think we did a pretty good job, of, in a short period of time doing that.

Reporter: Single shooter, no conspiracy.

Lombardo: Single shooter, no conspiracy.

Active shooter at the Paris Hotel

After Paddock's gunfire stopped at 10:15 p.m. multiple reports of active shooters started being called into the LVMPD Communications Center by civilians via telephone and by LVMPD personnel on the ground, starting with the New York, New York Hotel 11:06 p.m.

The Paris Hotel was just one of many.

Shirtless male turning over a .223 round to LVMPD.

LVMPD radio traffic starting at 11:30 p.m.

705Victor: We have reports of a guy with a gun here. We're at The Paris.

Dispatcher: Copy, there's a male with a 413 [firearm] at The Paris, subject with a 413 at Paris.

705Victor: We got people running, we have Security trying to point out where the gunman is, we can't find him.

705Victor: We're hearing 434 [gunshots] The Paris.

654: Shifting my team to The Paris.

705Victor: My whole strike team is out here.

Dispatcher: Are you still hearing 434's?

705Victor: There were reports of 434, but got people running everywhere and reports'...

Dispatcher: Okay, are you hearing 434's actively right now?

705Victor: Negative, negative.

Control 701, I have two teams we're coming in the main valet of The Paris right now.

Dispatcher: 705Victor originally said there were shots fired but they, she did not hear them, and people are running everywhere and that were being reported of 434's.

759: I am strike team 13 I've arrived at The Paris making entry into the north Sportsbook doors.

Control 701, we have several strike teams inside The Paris, negative 434's, everybody's leaving though.

No gunman was apprehended at The Paris Hotel.

LVMPD body-worn camera video, Batch 28 # 585

This video depicts two LVMPD officers along with Paris Hotel security officers searching a restroom inside the hotel at 3:49 a.m. on October 2, 2017.

A rifle cartridge case is recovered by the officer on the restroom floor after he puts on a latex glove which is proper police procedure when recovering an item of evidence. He then picks up the cartridge case and looks at it.

The first thirty seconds of audio is muted out, so you can't hear that portion of the conversation. Excerpts as follows:

''You got pictures.''

''Want a glove?''

''I already talked to'...'' [unintelligible].

''It's a Gold Dot [unintelligible]round.''

''I'm fairly confident that's ours. I don't think he would use a .223.''

Is the ''he''the officer is referring to the alleged shooter at the Paris earlier?

LVMPD body-worn camera video, Batch 26 #468

This video is from the rear of the concert venue after the gunfire stopped. There is no time/date stamp.

At the 15:28 minute mark into the video, a shirtless white male adult walks up and says he found a .223 round outside on the street and turns it over.

The police officer talking unit 179 Sam Easy and it's his BWC that is recording.

''I found it in the street brother, .223 round right here, I don't know if it's any help, I just wanted you guys to know,''the white male says.

LVMPD body-worn camera video, Batch 26 #494

This is a companion video to #468 also from 179 Sam Easy's BWC. There is no time/date stamp.

It's important for two reasons.

First, 179 Sam Easy confirms that he was handed the .223 round from the unidentified male earlier.

Second, he is pointing out bullet impacts in one of the tour buses that is parked to the rear of the concert stage and says it's a crime scene.

A bullet impact into the metal of the bus should reveal whether the bullet came in from an angle, indicating that it was fired from an elevated position, or a horizontal impact, which would indicate it was fired at ground level.

The following excerpts start at the 12:25 minute mark into the video:

Unidentified:''Yeah, there is one in the side and there's one in the window,''[of the tour bus].

179 Sam Easy:''Somebody handed me a .223 round they found on the ground outside.''

Unidentified:''Outside there.''

Unidentified: ''Yeah, that's a full blown round right there.''

179 Sam Easy:''That's going to be pretty damn good evidence right there.'' ''That's a pretty good bullet right there.'' ''It's going to be found lodged in there.'' ''It's a crime scene.''

LVMPD body-worn camera video, Batch 27 #523

This video also has no time date/stamp. The location is a street adjacent to the concert venue.

At the 8:50 minute mark into the video the officer standing in the middle of the street, says to another officer:

''I also have a, I have a magazine there with bullets in it,'' as he points to the left''and I then I have live rounds here in these cones, just giving you a heads up,'' as he points to the ground to the right.

Another interesting video. A loaded magazine on one side of the street and live rounds on the other side.

To date, we do not know the results of the FBI forensic analysis as to recovered bullets from the concert venue, surrounding locations as well as any bullets removed from the victims of the gunfire.

That report must have been completed prior to the release of the LVMPD's final report.

The LVMPD stated that the information was summarized from the FBI analysis report as to the bullet recovered from Paddock's head matching the revolver found next to him and that expended cartridge cases recovered from Mandalay Bay Hotel Rooms 32-134 and 32-135 all matched the firearms recovered from the rooms.

Are we going to see these FBI analysis reports?

The FBI's Evidence Recovery Team took possession of all the physical evidence related to the criminal investigation according to the LVMPD.

The FBI said their report will be released by the end of the year. It should be rather extensive.

The end of the year is quickly approaching.
Clips

VIDEO - Roxanne "Go Fuck Yourself" Official video (Featuring dUg Pinnick & George Lynch) - YouTube

VIDEO - Everything Facebook said on Sheryl Sandberg, Definers since NYT report

Sun, 02 Dec 2018 16:15

Facebook's story around Chief Operating Officer Sheryl Sandberg, billionaire philanthropist George Soros and the company's dealings with opposition conservative research firm Definers Public Affairs keeps evolving, now weeks after a New York Times investigation into questionable operations inside Facebook.

Sandberg has cemented herself as the business face of the company, and was a particular focus of the Times report. She drove the company's public response to scandal and orchestrated behind-the-scenes messaging while founder and CEO Mark Zuckerberg was touring the country and less involved, the report says.

Part of Facebook's internal strategy, the Times reported, involved hiring Definers to write negative news about rivals and push the idea that liberal financier Soros was behind a growing anti-Facebook movement in an effort to delegitimize the campaign.

But Facebook and Sandberg's public stance about who at the company worked with Definers, and what the firm was tasked with researching, has evolved in the 2½ weeks since that initial report. The company declined to comment beyond its previously public statements.

Here's everything Facebook and Sandberg have said about the company's relationship with Soros and Definers since Nov. 14:

Nov. 15 '-- 'We ended our contract'Just hours after the Times report, Facebook contended its relationship with Definers was well-known by media and defended the type of research done on Facebook's behalf. At the same time, Facebook ended its contract with the firm and said:

"The New York Times is wrong to suggest that we ever asked Definers to pay for or write articles on Facebook's behalf '' or to spread misinformation. Our relationship with Definers was well known by the media '' not least because they have on several occasions sent out invitations to hundreds of journalists about important press calls on our behalf. Definers did encourage members of the press to look into the funding of 'Freedom from Facebook,' an anti-Facebook organization. The intention was to demonstrate that it was not simply a spontaneous grassroots campaign, as it claimed, but supported by a well-known critic of our company. To suggest that this was an anti-Semitic attack is reprehensible and untrue."

Nov. 16 '-- Sandberg: 'I did not know about or hire Definers'Facebook held a press call on Nov. 15 during which Zuckerberg claimed to have no knowledge of Definers or its work with Facebook before the Times report. Sandberg echoed those comments in an interview with CBS News the next day:

"I did not know about or hire Definers or any firm. .... Definers was hired, we have lots of firms. They were hired not to smear anyone. Not to get any articles written or do anything false. I learned of that in the paper yesterday as well when Mark did. And they're gone and we're looking into what happened there. I don't have full details. But I will say that if there was anything that you know inadvertently or advertently played into any anti-Semitic attacks on anyone that's a problem."

Sandberg said she has "a lot of respect for George Soros" and was looking retroactively into the work Definers completed for Facebook:

"I certainly wish if this was going on, that I had known about it. It is a big company with a lot of employees. We use a lot of firms. We're actually looking very carefully at all the firms we use now as part of this. I certainly wish I had."

When asked who at Facebook hired Definers if not Sandberg, she said simply, "The communications team." Facebook's communications team and outgoing Head of Communications Elliot Schrage reported to Sandberg.

Nov. 21 '-- Sandberg: 'I received a small number of emails where Definers was referenced.'In a late-evening post on the Wednesday before Thanksgiving, Facebook published an internal memo from Schrage assuming responsibility for the Definers contract and a corresponding note from Sandberg assuming responsibility for the Schrage's communications team.

Schrage, who announced his departure from Facebook in June, said:

"Responsibility for these decisions rests with leadership of the Communications team. That's me. Mark and Sheryl relied on me to manage this without controversy.

"I knew and approved of the decision to hire Definers and similar firms. I should have known of the decision to expand their mandate. Over the past decade, I built a management system that relies on the teams to escalate issues if they are uncomfortable about any project, the value it will provide or the risks that it creates. That system failed here and I'm sorry I let you all down. I regret my own failure here."

Sandberg followed:

"I want to be clear that I oversee our Comms team and take full responsibility for their work and the PR firms who work with us. I truly believe we have a world class Comms team and I want to acknowledge the enormous pressure the team has faced over the past year.

"When I read the story in New York Times last week, I didn't remember a firm called Definers. I asked our team to look into the work Definers did for us and to double-check whether anything had crossed my desk. Some of their work was incorporated into materials presented to me and I received a small number of emails where Definers was referenced."

As for what research Facebook tasked Definers to complete, Schrage said the firm was directed to research Soros:

"In January 2018, investor and philanthropist George Soros attacked Facebook in a speech at Davos, calling us a 'menace to society.' We had not heard such criticism from him before and wanted to determine if he had any financial motivation. Definers researched this using public information.

"Later, when the 'Freedom from Facebook' campaign emerged as a so-called grassroots coalition, the team asked Definers to help understand the groups behind them. They learned that George Soros was funding several of the coalition members. They prepared documents and distributed these to the press to show that this was not simply a spontaneous grassroots movement."

Schrage also acknowledged that Definers was asked to "do work on our competitors" and "positively distinguish us from competitors."

Nov. 29 '-- 'Sheryl sent an email asking if Mr. Soros had shorted Facebook's stock'Sandberg directed at least some of the research into Soros that was ultimately carried out by Definers, according to a new report by the Times published Thursday.

As early as January of this year, after Soros bashed Facebook as a "menace" during a speech at the World Economic Forum in Davos, Switzerland, Facebook began looking into Soros' incentives. Schrage last week cited that speech in the context of Definers' work "to determine if he had any financial motivation."

During the same period, Sandberg sent an email asking if Soros was betting against Facebook stock, a company spokesperson confirmed in a statement to CNBC on Friday. According to the statement:

"We researched potential motivations behind George Soros's criticism of Facebook in January 2018. Mr. Soros is a prominent investor and we looked into his investments and trading activity related to Facebook. That research was already underway when Sheryl sent an email asking if Mr. Soros had shorted Facebook's stock. Sheryl never directed research on Freedom from Facebook. But as she said before she takes full responsibility for any activity that happened on her watch."

Facebook did not explain why research into Soros was already underway before his speech.

VIDEO - Al Gore: President Trump Has Become 'The Face Of Climate Denial' | Here & Now

Sun, 02 Dec 2018 15:37

Next week former Vice President Al Gore's Climate Reality Project will broadcast a 24-hour streaming video special, calling attention to the public health impacts of climate change around the world. It will be his eighth annual "24 Hours of Reality," and Gore says the situation has only become more urgent since he started.

"The climate crisis is still worsening at a faster rate than our progress in developing solutions," Gore (@algore) tells Here & Now's Jeremy Hobson. "But we're gaining momentum."

Three years after the world agreed to limit the planet's warming to "well below" two degrees Celsius, the United Nations' report card on climate progress says things are getting worse, not better. This week the U.N. Environment Program released its annual emissions gap report, which found several major countries including the U.S. are falling short of their emissions reduction targets.

And last week the White House released the country's fourth National Climate Assessment, warning climate change could cause hundreds of billions of dollars in economic damage to the country in the coming decades. President Trump dismissed the 1,656-page report's dire conclusions, telling reporters on Monday, "I don't believe it."

Gore says Trump's statements and his rollbacks of environmental regulations are making it harder for the world to prevent the worst effects of climate change. But in one way, Gore says Trump has made it easier for climate activists to organize.

"Donald J. Trump is now the face of climate denial," Gore says. "I think it is making it easier for people who associate him with the nonsensical views that he articulates to re-examine the facts."

Interview Highlights

On whether we've made a lot of progress as a planet since the first "24 Hours of Reality" eight years ago

"As the late economist Rudi Dornbusch once said, 'Things take longer to happen than you think they will, and then they happen faster than you thought they could.' And we're seeing exponential change now in renewable electricity generation, electric vehicles. We are seeing the beginnings of that exponential progress in energy storage and sustainable agriculture and forestry, and even in manufacturing, in areas like the making of steel and concrete, although these sectors of the economy have a lot more work that's needed. What we really need are changes in policy to accelerate these positive developments that have begun."

On how big of a problem it is that President Trump says he's not a believer in man-made climate change

"It's certainly a problem when he tries to dismantle the Clean Power Plan and the auto-mileage improvements, and eliminates the study of particulate pollution, which is a deadly health threat connected to the pollution that is generated along with global-warming pollution. And it's a problem when he says to the rest of the world he wants us to pull out of the Paris [climate] agreement.

"We're getting closer and closer to one of these political tipping points where public opinion changes significantly. We saw that in the civil rights movement, earlier, the women's suffrage movement, in recent years in the fight for gay and lesbian rights."

Al Gore, on addressing climate change in the U.S."But there is another dynamic underway: Donald J. Trump is now the face of climate denial. His is the voice of climate denial, and for the minority in the country that still invests their hopes and faith and trust in Donald Trump, they're not likely to be a part of the solution to the climate crisis for some time yet anyway. But for the two-thirds and more who are signaling that they have had enough of Donald Trump, I think it is making it easier for people who associate him with the nonsensical views that he articulates to re-examine the facts and to say, as some conservative columnists have done recently, 'Whoa, wait a minute '-- we've taken another look at this climate crisis and it's an existential threat. We've got to do something about it.'

"I'm hopeful that the Trump years will be over sooner rather than later, at the very least that he will not have a second term and that the groundwork will have been laid for a dramatic improvement in our policies to accelerate progress."

On feeling optimistic that things are moving in the right direction on tackling climate change

"Well let me be clear: I began by saying the problem is getting worse at a rate faster than we're making progress on the solutions. But we're gaining momentum and we're getting closer and closer to one of these political tipping points where public opinion changes significantly. We saw that in the civil rights movement, earlier, the women's suffrage movement, in recent years in the fight for gay and lesbian rights. When these moral issues are revealed to be a binary choice between what's right and what's wrong, public opinion can shift pretty quickly.

"In this case, Mother Nature is speaking up pretty powerfully with the tragic fires in California '-- not only the ones earlier in November, but also earlier in the year, Hurricane Florence in the Carolinas, Hurricane Michael a year ago, Hurricane Harvey. The list of catastrophes that are clearly linked to climate '-- and linked to climate in the minds of the public '-- are persuading more people than any of us who are advocates for solving the climate crisis could hope to do."

On whether there's anyone right now who could defeat Trump in 2020

"The experiment with Trumpism is not going very well in the minds of most people. In science and medicine some experiments are terminated early for ethical reasons '-- I don't know that that will happen with Donald Trump, but I do think that the blue wave that gained almost ... at least 39 seats and probably 40 seats for the Democrats a week ago Tuesday is a very hopeful sign, and Donald Trump's numbers have deteriorated. As for Democratic challengers, I'm not very good on the horse-race predictions. I think that it's probably still too early to try to pick out winners and losers in that competition."

"The list of catastrophes that are clearly linked to climate '-- and linked to climate in the minds of the public '-- are persuading more people than any of us who are advocates for solving the climate crisis could hope to do."

Al GoreOn what he thought when he saw there was another recount in Florida this year, nearly two decades after the recount there during the 2000 presidential election

"How do you spell PTSD, boys and girls? I got lots of emails and phone calls from close friends in Florida who certainly told me that it was not a happy experience to go through. And more seriously, it is truly astonishing that after 18 years, they have not been able to come up with a system that is more reliable and more honest. It also should be shocking to all of us as Americans that voter suppression is still being pursued relentlessly by Republican operatives and officeholders like the former secretary of state of Georgia, and in Mississippi and in many places '-- that's just un-American and it's time for that to stop.

"On the positive side, I will say that there were some voter-approved initiatives to deal with the gerrymandering problem and to have fairer and more equitable ways to draw the lines of congressional districts, and we saw the dramatic results of an early change in that process in Pennsylvania this year."

On whether the Supreme Court has moved further to the right

"Yes, but I certainly agree with the chief justice in his pushback against Donald Trump when he said, 'We cannot allow ourselves as Americans to define judges as Republican judges or Democratic judges.' The rule of law is the bedrock of all of our liberties in the U.S. We should all take care not to undermine the rule of law '-- particularly when we have a president right now who shows no shame in regularly undermining the rule of law. So I think that in spite of the fact that the Republicans in the Senate prevented even a hearing for [President Obama's Supreme Court nominee] Merrick Garland and then rammed through a nominee that had tremendous opposition, I think that we have to maintain respect for the judiciary and for the rule of law."

Chris Bentley produced and edited this interview for broadcast, and adapted it for the web with Jack Mitchell.

VIDEO - Yellow paint & rubber bullets: Paris descends into chaos as protests continue - YouTube

VIDEO - Israel Now News - Episode 364 - YouTube

VIDEO - Startalk Radio - The Science of Music with Josh Groban - Neil deGrasse Tyson talk - YouTube

VIDEO - Germany calls for France to give its UN Security Council seat to the EU - France 24

Sun, 02 Dec 2018 12:32

The Interview

'Putin refuses to talk to me,' Petro Poroshenko tells FRANCE 24 Read more

Eye on Africa

Cameroon stripped of 2019 Africa Cup of Nations Read more

MediaWatch

Kids across Australia walk out of school to protest climate inaction Read more

The world this week

Tense G20 summit; Mexican and Brazilian presidents to be sworn in; Macron and the Yellow Vests; gene-edited embryos uproar Read more

You are here

Bernard Mure-Ravaud: Living and breathing cheese Read more

France in focus

Complementary and alternative medicine: France's parallel healthcare system Read more

French connections

What does it means to be French? Read more

The 51%

A novel approach: How Spain is attempting to tackle gender-based violence Read more

Focus

'PrEP' and the fight against HIV: Medical milestone or tool to indulge in risky behavior? Read more

France considers imposing state of emergency after 'Yellow Vest' protest violence

Read more

US, China reach 90-day truce in their trade dispute

Read more

Israeli police recommand indicting Netanyahu in graft probe

Read more

How Trump's bashing of The New York Times and CNN has benefited all

Read more

'Putin refuses to talk to me,' Petro Poroshenko tells FRANCE 24

Read more

Leftist AMLO sworn in as Mexico president

Read more

George HW Bush: from war hero to war leader, thirty years in politics

Read more

How a hidden epidemic threatens Madagascar

Read more

Cameroon stripped of hosting 2019 Africa Cup of Nations

Read more

Beno®t Quennedey: North Korea enthusiast or spy?

Read more

Ukraine bars entry to Russian men of combat age

Read more

Reporters: Fighting Ebola in a DR Congo warzone

Read more

Featured

Income inequality, financial crisis and the r...

Read more

'General Haftar wants to be part of political...

Read more

What France learnt from talking to its radica...

Read more

Armistice 1918: Tr(C)buchon, France's last fall...

Read more

After winning House, Democrats' real power ma...

Read more

Saud al-Qahtani switches from 'Mr. Hashtag' t...

Read more

French LGBT groups denounce 'culture of hate'...

Read more

Player to manager: Monaco's Thierry Henry fac...

Read more

VIDEO - Call to action: stop the signing of the UN Global Compact for Migration - YouTube

VIDEO - The Daily Caller on Twitter: ".@KidRock: "People need to calm down, get a little less politically correct. And I would say ya know, love everybody. Except, I say screw that Joy Behar b***h!"'... https://t.co/p9Q4rlLPqY"

Sat, 01 Dec 2018 05:44

Welcome home! This timeline is where you'll spend most of your time, getting instant updates about what matters to you.

Tweets not working for you? Hover over the profile pic and click the Following button to unfollow any account.

Say a lot with a little When you see a Tweet you love, tap the heart '-- it lets the person who wrote it know you shared the love.

Spread the word The fastest way to share someone else's Tweet with your followers is with a Retweet. Tap the icon to send it instantly.

Join the conversation Add your thoughts about any Tweet with a Reply. Find a topic you're passionate about, and jump right in.

Learn the latest Get instant insight into what people are talking about now.

Get more of what you love Follow more accounts to get instant updates about topics you care about.

Find what's happening See the latest conversations about any topic instantly.

Never miss a Moment Catch up instantly on the best stories happening as they unfold.

VIDEO - AlwaysActions on Twitter: "🚨 Judge Andrew dropped a bombshell about #Hillary #Clinton causing #murders of US intel agents! 🚨🚨🚨'... "

Sat, 01 Dec 2018 05:24

Welcome home! This timeline is where you'll spend most of your time, getting instant updates about what matters to you.

Tweets not working for you? Hover over the profile pic and click the Following button to unfollow any account.

Say a lot with a little When you see a Tweet you love, tap the heart '-- it lets the person who wrote it know you shared the love.

Spread the word The fastest way to share someone else's Tweet with your followers is with a Retweet. Tap the icon to send it instantly.

Join the conversation Add your thoughts about any Tweet with a Reply. Find a topic you're passionate about, and jump right in.

Learn the latest Get instant insight into what people are talking about now.

Get more of what you love Follow more accounts to get instant updates about topics you care about.

Find what's happening See the latest conversations about any topic instantly.

Never miss a Moment Catch up instantly on the best stories happening as they unfold.

VIDEO - Jake Tapper: 'I Don't See Any Evidence' Of Conspiracy Between Trump Team And Russia | The Daily Caller

Fri, 30 Nov 2018 22:43

10:30 PM 11/29/2018 | MediaScott Morefield | Reporter

CNN host Jake Tapper expressed skepticism that Michael Cohen's Thursday guilty plea necessarily amounted to ''any evidence'' of a conspiracy between the Trump team and the Russian government to interfere in the 2016 election.

WATCH:

After introducing New York Rep. Jerry Nadler as ''the ranking member of the House Judiciary Committee'' who is ''expected'' to become its chairman, Tapper immediately questioned the congressman about actual ''evidence of conspiracy'' resulting from former Trump attorney Michael Cohen's plea deal.

''Look, this is clearly not welcome news for the president,'' said Tapper. ''I don't want to pretend that it is but once again I look at these documents and I don't see any evidence of conspiracy between members of the Trump team and the Russian government to interfere in the election.''

After Nadler called the potential Moscow project a ''corrupt business deal,'' Tapper pressed: ''You call it a corrupt business deal?'' (RELATED: 'Asleep At The Switch' '-- CNN's Tapper Lights Up Obama Administration On Russian Hacking)

''The fact that it was negotiated with a foreign power while you're running for president '... '' Nadler said.

''Not illegal, you mean like more just colloquially corrupt?'' Tapper pressed.

''Yeah,'' said Nadler.

''But still no conspiracy?'' said Tapper.

''Well, wait a minute,'' Nadler fired back. ''It certainly tends to indicate '-- it's one more piece of evidence '-- so now we know or Cohen testifies to the fact that Trump during the campaign at the same time that he is dictating a change in the Republican platform to favor the Russians, at the same time that he can find nothing negative to say about Putin or about what they are doing is, in fact, negotiating with the Russian government for personal business profits. He is mixing his personal business profits and perhaps putting them over the interests of the United States and lying to the electorate about it.''

''Sure, it stinks, but it's not a conspiracy is all I'm saying,'' said Tapper.

When Nadler responded that it could be, Tapper said there's ''no evidence'' that it would have been a conspiracy to interfere in the 2016 election.

The two went back and forth on whether or not having private business dealings with the Russians amounts to a criminal conspiracy, with Nadler concluding that it would ''certainly'' be illegal ''if he's done anything as president based on his business relationships with the Russians.''

Follow Scott on Twitter

VIDEO - Kaya Jones on Twitter: "The EU is set to criminalize speech that criticizes migration. ''The criticism of migration will be a criminal offense.'' ''Media outlets that give room for criticism of migration,can be shut down.'' Insane & this is wh

Fri, 30 Nov 2018 18:46

Welcome home! This timeline is where you'll spend most of your time, getting instant updates about what matters to you.

Tweets not working for you? Hover over the profile pic and click the Following button to unfollow any account.

Say a lot with a little When you see a Tweet you love, tap the heart '-- it lets the person who wrote it know you shared the love.

Spread the word The fastest way to share someone else's Tweet with your followers is with a Retweet. Tap the icon to send it instantly.

Join the conversation Add your thoughts about any Tweet with a Reply. Find a topic you're passionate about, and jump right in.

Learn the latest Get instant insight into what people are talking about now.

Get more of what you love Follow more accounts to get instant updates about topics you care about.

Find what's happening See the latest conversations about any topic instantly.

Never miss a Moment Catch up instantly on the best stories happening as they unfold.

VIDEO - Murphy Brown episode includes reporter assault at Trump rally | EW.com

Fri, 30 Nov 2018 18:45

In its most direct commentary yet on the Trump administration and its ongoing war with the press, Thursday's episode of Murphy Brown revolves around Frank Fontana taking a literal beating at a presidential rally.

After volunteering to cover the event because ''I really miss being out in the field,'' Frank (Joe Regalbuto) shows up at the Pennsylvania rally where ''Trump'' (yup, the show had someone impersonating the president) starts riffing on Murphy (Candice Bergen).

''Anybody catch old Murphy on TV this morning?'' the fictitious Trump said. ''Yes, she was at it again sitting there with her flunky friends, telling their big lies, planting their fake stories about our great country.''

Then he singles out Frank. ''I hear old Murphy's partner in crime, fibbing Frank Fontana is here tonight. Where is he? There he is. See him? That's right. Let fibbin' Frank know what you think of him. Maybe a good body slam. What do you say?''

Shortly thereafter, Brown learns from Miles that Frank was assaulted at the rally and airlifted to the hospital. When she sees her red-faced colleague in recovery, Murphy quips, ''I guess when you major in journalism these days you have to minor in kickboxing.''

Frank explained he left the press pen to interview some of the people. ''Next thing I know I was surrounded by a sea of red hats,'' he tells Murphy and her son Avery (Jake McDorman).

In the next scene, Avery tries to find answers by reporting from a caf(C) near the arena where the rally occurred. He finds a woman who actually took the first swing at Frank. ''How can you punch someone for simply doing their job?''

''He had it coming,'' the woman responds. ''He's fake news. He's the enemy of the people.''

''He's a journalist,'' responds Avery. ''He was just there to cover the rally. That is what the free press does. That's what separates a democracy from a dictatorship. Or maybe a dictatorship is what you'd prefer.''

Then Avery gets his block knocked off.

Later in the episode, Frank laments to Murphy about how he ''doesn't feel safe'' in America anymore. ''If this is the way it's going to be, I'm not so sure I want to do it anymore. It's a different profession. No one would ever call Huntley or Brinkley enemies of the people.''

Earlier this week, CBS announced that Murphy Brown will complete its 13-episode run on Dec. 20 to make way for the new comedy Fam starring Nina Dobrev and Tone Bell. No decision has been made about whether Murphy Brown will earn a second season.

Murphy Brown airs Thursdays at 9:30 p.m. ET on CBS.

Related content:

Murphy Brown cast gets their close-ups in exclusive EW portraits Everything to know about the Murphy Brown revival Damon Wayans Jr. on his new comedy, Happy Together

VIDEO - 'They do to us what we do to them': Theresa May grilled by an MP about Brexit reciprocity | Euronews

Fri, 30 Nov 2018 11:17

British Prime Minister Theresa May was grilled on Thursday over her insistence that freedom of movement for UK citizens in the European Union would not cease, should the UK end freedom of movement for EU citizens travelling to Britain.

Peter Wishart, a Scottish politician, faced May at a Commons Liaison Committee on Thursday, where she was answering questions on the UK's draft Brexit agreement.

Wishart repeatedly asked May about an introduction of a new system that would end freedom of movement for EU citizens entering the UK, and whether this would effect British citizens travelling to the EU.

"They do to us what we do to them. Is that correct?" he asked.

May confirmed the UK would be "ending freedom of movement," but denied that this would apply vice versa to British people in the EU.

"It will be applied from the European Union to us," Wishart insisted, adding that he believed the prime minister's "obsession with immigration" would deprive young Britons from furthering their lives across the continent.

Click on the player above to see an extended version of the exchange. The full Commons Liaison Committee hearing can be watched on the British Parliament's website.

VIDEO - Ryan Saavedra on Twitter: "Chicago Mayor Rahm Emanuel nukes the Democrats over Beto O'Rourke: "If Beto O'Rourke wants to go and run for president, God bless him. He should put his hat in and make his case. But he lost. You don't usually promote a

Fri, 30 Nov 2018 10:57

Welcome home! This timeline is where you'll spend most of your time, getting instant updates about what matters to you.

Tweets not working for you? Hover over the profile pic and click the Following button to unfollow any account.

Say a lot with a little When you see a Tweet you love, tap the heart '-- it lets the person who wrote it know you shared the love.

Spread the word The fastest way to share someone else's Tweet with your followers is with a Retweet. Tap the icon to send it instantly.

Join the conversation Add your thoughts about any Tweet with a Reply. Find a topic you're passionate about, and jump right in.

Learn the latest Get instant insight into what people are talking about now.

Get more of what you love Follow more accounts to get instant updates about topics you care about.

Find what's happening See the latest conversations about any topic instantly.

Never miss a Moment Catch up instantly on the best stories happening as they unfold.

VIDEO - 'The View' host Joy Behar declares 'today is a good day for Donald Trump to resign' | Fox News

Fri, 30 Nov 2018 10:55

ABC News' ''The View'' co-host Joy Behar declared on Thursday that it would be ''a good day for Donald Trump to resign.''

The panel discussed the latest development in Special Counsel Robert Mueller's Russia investigation, such as Michael Cohen admitting to lying to Congress and President Trump declaring that a pardon for Paul Manafort is not off the table.

Co-host Whoopi Goldberg theatrically updated viewers on developments, calling it a ''giant soap opera.''

Behar chimed in, saying it's like a reality show that ''we're all trapped in the middle of,'' before co-host Sunny Hostin accused the president of lying to the American people about potentially building a Trump Tower in Russia.

Behar pointed out that Trump's defenders feel there was never a deal for the alleged Russian Trump Tower, so none of this is a big deal.

''It is a big deal. If these negotiations were going on while he was president, it's precisely what the framers of our constitution wrote in to protect the American people against because we want to make sure that this president, any president, is not putting his self-interest before the interest of the country,'' Hostin said.

''Today is a good day for Donald Trump to resign. I really believe that,'' Behar said. ''Donald, do it for me.''

Co-host Meghan McCain pivoted the conversation back to Manafort, calling him a ''traitor'' to America.

'Today is a good day for Donald Trump to resign... Donald, do it for me.'

'-- Joy Behar on 'The View'

''The thing that makes me most angry is the idea that Paul Manafort could possibly be pardoned. His relationship with Trump aside, his lobbying firm was nicknamed the torturers' lobby for spinning foreign dictatorships,'' McCain said. ''Blood money. He's a traitor to the United States of America one way or the other.''

Behar then said Trump should ''save the pardons for his children.''

The ABC News program has regained popularity and relevance during the Trump administration with constant over-the-top commentary aimed at the president. Last month, Hostin even said she wouldn't be surprised if President Trump lied to the American people about a terror attack because he has "improper phone etiquette.''

Behar '' who is typically the loudest anti-Trump voice on the panel '' celebrated her 20th anniversary on ''The View'' on Thursday. She recently apologized after saying ''God forbid'' Trump lives another 20 years and has come under fire for mocking Vice President Mike Pence's Christian faith.
STORIES

France mulls state of emergency after Paris riots, won't change policy

Sun, 02 Dec 2018 15:20

GEOFFROY VAN DER HASSELT | AFP | Getty Images

A picture shows charred cars in a street of Paris on December 2, 2018, a day after clashes during a protest of Yellow vests (Gilets jaunes) against rising oil prices and living costs. -

The French government will consider imposing a state of emergency to prevent a recurrence of France's worst riots in years, but while it is open to dialogue it will not change course, its spokesman said on Sunday.

Masked, black-clad groups ran amok across central Paris on Saturday, torching cars and buildings, looting shops, smashing windows and fighting police in the worst unrest the capital has seen since 1968, posing the most formidable challenge Emmanuel Macron has faced in his 18-month-old presidency.

Disturbances also rocked several cities and towns and across France - from Charleville Mezieres in the northeast to Nantes in the west and Marseille in the south.

"We have to think about the measures that can be taken so that these incidents don't happen again," government spokeswoman Benjamin Griveaux told Europe 1 radio.

The popular rebellion erupted out of nowhere on Nov. 17 and has spread quickly via social media, with protesters blocking roads across France and impeding access to shopping malls, factories and some fuel depots.

The protests began as a backlash against Macron's fuel tax hikes, but have mined a vein of deep dissatisfaction felt towards the 40-year-old's liberal economic reforms, which many voters feel favour the wealthy and big business.

Authorities were caught off guard by Saturday's escalation in violence overshadowing the spontaneous protest movement, dubbed the "yellow vests" because many participants are wearing the fluorescent safety jackets kept in all cars in France.

In Paris, police said they had arrested more than 400 people while 133 were injured, including 23 members of the security forces. Police fired stun grenades, tear gas and water cannon at protesters at the top of the

Champs-Elysees boulevard, at the Tuilleries Garden near the Louvre museum and other sites.

Macron will hold an emergency meeting with the prime minister and interior minister later on Sunday to discuss the riots and how to begin dialogue with the "gilets jaunes" (yellow vests), who have no real structure or leadership.

When asked about imposing a state of emergency, Griveaux said it would be among the options considered on Sunday.

"It is out of the question that each weekend becomes a meeting or ritual for violence."

Griveaux urged the yellow vest movement to disassociate itself from the radical groups that had instigated the violence, organize itself and come to the negotiating table. However, he ruled out a change in government policy.

"We won't change course. It's the right direction. We are certain of that," he said.

Authorities said violent groups from the far right and far left as well as "thugs" from the suburbs had infiltrated the yellow vests movement in Paris on Saturday, though Interior Minister Christophe Castaner said most of those arrested were regular protesters who had been egged on by fringe groups.

Speaking on BFM TV late on Saturday, Castaner said the authorities had put all security measures in place to forestall disturbances, but that they had faced extremely violent, organised and determined groups.

He did however say the government had made a mistake in how it communicated its plans to move away from oil dependence, the policy which led to fuel tax hikes.

Paul Marra, a yellow vest activist in Marseille, told BFM TV that the government was to blame for the violence across the country. "We condemn what happened, but it was inevitable. The violence started from the top. The biggest thug is the state through its inaction."

US and China reach 90-day trade tariff ceasefire after China agrees to buy 'very substantial' amount of American goods | South China Morning Post

Sun, 02 Dec 2018 15:14

Presidents Xi Jinping and Donald Trump agreed to a 90-day trade truce to allow for further talks to address US concerns after China committed to buying a ''very substantial'' amount of American exports, the White House said in a statement late on Saturday.

Chinese officials said that the country would buy more US products in an effort to narrow the wide bilateral trade gap.

At the same time, Trump agreed to postpone a scheduled increase in tariffs next month on US$200 billion in Chinese imports while talks to address American concerns about China's trade practices took place.

If there is no deal at the end of the 90-day grace period, the US will increase tariffs on the US$200 billion of goods from 10 per cent to 25 per cent. The negotiations, and therefore the 90 days, start immediately.

''President Trump and President Xi have agreed to immediately begin negotiations on structural changes with respect to forced technology transfer, intellectual property protection, non-tariff barriers, cyber intrusions and cybertheft, services and agriculture,'' the White House said.

''Both parties agree that they will endeavour to have this transaction completed within the next 90 days. If at the end of this period of time, the parties are unable to reach an agreement, the 10 per cent tariffs will be raised to 25 per cent.''

Xi and Trump: a beginner's guide to translating diplomatic speakAs part of the ceasefire deal, China agreed to buy a ''very substantial amount of agricultural, energy, industrial, and other product from the United States to reduce the trade imbalance between our two countries. China has agreed to start purchasing agricultural product from our farmers immediately.''

However, the exact value of the purchases had not yet been agreed, the White House said.

Chinese Foreign Minister Wang Yi said China had agreed to import more US goods ''according to its domestic market and people's demands'', which will include ''buying more products from the US to gradually address the trade imbalance''.

Wang also said that China would gradually solve the ''legitimate concerns'' of the US side, but did not elaborate.

Wang said the two sides would continue negotiations with the goal of ''removing of all additional tariffs''.

Xi and Trump had ''friendly and candid'' talks over dinner and reached an ''important consensus'', with China agreeing to buy more from the US to address the bilateral trade imbalance, the Chinese foreign minister said.

Dinner discussions about de-escalating tensions between the world's two largest economies lasted an hour longer than expected.

Both sides appeared satisfied at the end of the gathering, and applause was heard in the room as the dinner drew to a close.

Reuters reported that Trump hailed his agreement with Xi.

''It's an incredible deal,'' Trump said on Air Force One. ''What I'd be doing is holding back on tariffs. China will be opening up. China will be getting rid of tariffs.''

He said that under the deal China would buy a ''tremendous amount of agricultural and other product'' from the United States. ''It'll have an incredibly positive impact on farming.''

In China, a commentary widely carried by state media and official government social media accounts, said China had subdivided 53 ''structural issues'' raised by the US into 142 items, and classified them as either ''agreeable for mutual concession'', ''negotiable'' or ''unacceptable''. It added that the US had also ''positively addressed'' what China considered ''long overdue'' issues unresolved by Washington.

G20 leaders reaffirm 'rules-based international order'In addition to trade, Trump and Xi discussed other issues, including the US opioid crisis and Taiwan. Xi agreed to designate fentanyl as a controlled substance, after complaints that inadequate regulations on pharmaceutical and chemical production were hampering America's efforts to stem the flow of synthetic opioids from China.

The decision, which the US described as a ''wonderful humanitarian gesture'' and listed as the first item on the White House statement, means that those selling the drug to the US ''will be subject to China's maximum penalty under the law''.

Meanwhile, Wang said the US had agreed to stick to the one-China policy regarding Taiwan, although the White House's statement did not mention the island.

The US has in the past acknowledged the one-China position without recognising Beijing's sovereignty over Taiwan.

Beijing, which regards Taiwan as a breakaway province, views the island as a core interest and has warned the US against supporting pro-independence forces and demanded that it cut off military exchanges.

China also expressed support for Trump meeting North Korean leader Kim Jong-un for a second time, with Wang adding that the US had expressed its appreciation of China's role in helping to push the North towards denuclearisation.

The trade deal also gave new hope to a potential merger of semiconductor firms.

Xi said he was ''open to approving'' the acquisition by US semiconductor firm Qualcomm of Dutch chip maker NXP, according to the White House statement. China had blocked the deal on antitrust grounds after and US and European officials had approved it. Qualcomm abandoned the proposed purchase after China rejected it, so it is unclear whether it would resume interest in the deal even if China were to reverse its position.

Amid reports of the US tightening its visa policy for Chinese scholars and students, Xinhua quoted Trump as saying to Xi that the US welcomed Chinese students studying in America.

MEP Warns UN Pact Will Flood Europe With 59 Million Migrants by 2025 '' NewsWars

Sun, 02 Dec 2018 14:18

British MEP Janice Atkinson warns that the UN Compact on Migration would lead to Europe being flooded with 59 million new migrants within the next 6 years.

The document is not legally binding, but governments will be under pressure to follow its dictates. Numerous countries, including the United States and Hungary, have said they will refuse to sign the pact.

''If you think you're in control of your borders, think again,'' said Atkinson, adding, ''This compact backs the EU and the UN's aim to flood our nations with 59 million migrants by 2025'.... just 6 years.''

Atkinson went on to explain the source of the new pact; A 2000 declaration that concluded Europe's ethnic population was in decline ''and therefore needed replacing.''

This has been disproven by youth unemployment in some European countries being 50% or higher, as well as many new migrants being ''unemployable,'' with only around 13% employed on average according to Atkinson.

The MEP savaged British Prime Minister Theresa May for promising to take back control of British borders via Brexit and yet planning to sign the UN migration pact next month.

''Remember '' the UN and the globalists want to flood our continent with 59 million migrants by 2025,'' Atkinson emphasized, adding that the UN document states mass immigration is ''inevitable, desirable and necessary.''

Warning that the plan would lead to European countries having their ''culture and identity crushed,'' Atkinson also pointed out that the pact could lead to hate speech laws that make it illegal to use the term ''illegal migrants,'' replacing it instead with ''irregular migrants''.

''It will be illegal not to use their prescribed language,'' warned Atkinson, adding that European citizens could ''say goodbye to your democracy and your way of life,'' unless they demand their leaders refuse to sign the document.

The MEP's concern about language policing is shared by Dutch MEP Marcel de Graaff, who said that the pact would grease the skids for laws that would criminalize criticism of mass immigration as hate speech.

SUBSCRIBE on YouTube:

Follow on Twitter: Follow @PrisonPlanet

Facebook: https://www.facebook.com/paul.j.watson.71

*********************

Paul Joseph Watson is the editor at large of Infowars.com and Prison Planet.com.

Artist-in-Residence Program | Economic Development | AustinTexas.gov - The Official Website of the City of Austin

Sun, 02 Dec 2018 13:15

Artist-in-Residence Pop Up ExhibitionMarch 8 -31, 2018 / 217 West 2nd Street

Artist Rehab Elsadek has the distinction of being the first Artist-In-Residence with the City of Austin. Embedded within the City's Watershed Protection Department (WPD), Elsadek's first order of business was to spend several weeks researching the many services provided by the WPD. During her explorations, she developed several artistic concepts for site-specific artwork to highlight the amazing work of the Watershed Department for Austin's citizens. In the end, however, Elsadek decided to create a pop-up exhibition of photographs, text, and 2D artwork, showcasing her research and the concepts she created to convey Watershed's contributions.

One specific work, titled Reflection, features environmental scientist Ana Gonzlez demonstrating a simple technique called girdling, which is used to manage invasive trees. Elsadek says Gonzlez, ''gave me a sense of history and time gone by, which I hope to express to the viewer.'' The exhibition, which opens March 8, will also include collaborative works, combining the artist's visual art with text generated by WPD staff expressing their daily efforts, the services they provide, and the passion they bring to their work.

The family-friendly pop-up exhibition will be on view March 8-31, 2018 at 217 West 2nd Street. An opening reception will be held March 8 at 6PM. Exhibition hours will be Wednesday through Sunday from 10 a.m. to 4 p.m. Limited parking will be available in the Austin City Hall Parking Garage. (Please notify parking attendant that you are there for the exhibition.)

The artist will be in the gallery to answer questions and share more about her work on the following days during the run of the exhibition:

Thursdays: 11:00 AM-12:00 PM

Sundays: 3:00 PM-4:00 PM

The City of Austin's Cultural Arts Division announced the launch of the City's first Artist-in-Residence program this past February. On April 20, 2017, the Division announced the selection of Rehab El Sadek as artist-in-residence for the program's inaugural year. She was selected by City staff from a competitive applicant pool, and will be embedded within the Watershed Protection Department for a nine-month residency beginning in May.

A painter, photographer, printmaker and installation artist, El Sadek has an established social and artistic practice. She has initiated workshops and creative interventions on issues ranging from women's rights to children with disabilities. A native of Egypt now based in Austin, El Sadek has created work in locations as far away as Africa and Pakistan, and as close as Dallas. She has had solo exhibitions in galleries in Amsterdam, London, and Cairo, among other locations, and has been included in dozens of group presentations.

''We are pleased to welcome Rehab El Sadek as the first Artist-in-Residence with the City of Austin,'' said Meghan Wells, Cultural Arts Division Manager. ''Rehab brings to the program a creative practice that investigates the importance and impact of social issues through her own unique cultural and artistic lens.''

The mission of the Watershed Protection Department is to protect lives, property, and the environment in Austin by reducing the impact of flood, erosion and water pollution. To that end, El Sadek intends to use her residency to create artworks ''that engage the public around concepts of nature,'' and to implement a plan for raising awareness about the role of water in the environment. Specifics of her artwork and her process for community engagement will be developed in coming months in collaboration with Watershed Protection staff.

The Artist-in-Residency program was chosen from a field of staff-generated proposals in the City's Idea Accelerator initiative, administered by the Office of Innovation, with the goal of embedding artists within City departments to help resolve problems, provide innovative or new process improvements, and engage residents around community issues in creative ways. It supports various City initiatives and efforts, including the Music and Creative Ecosystem Omnibus Resolution, Imagine Austin Comprehensive Plan, and the City's newly launched Equity Assessment Tool. In future years, the Cultural Arts Division hopes to expand the program to include a wider range of participating City departments, with artists working in multiple disciplines.

BACKGROUND INFORMATION ON THE PROGRAM

Artist-in-Residence programs have been implemented in city governments across the United States, from Boston to Los Angeles, and have been successful in supporting local artists and improving local governments and the communities they serve. As out-of-the-box thinkers, artists can offer unique perspectives on civic processes, often resulting in engaging, imaginative interventions that resonate with the community. As part of Austin's residency program, the selected artist will be asked to develop creative approaches to address issues identified by the participating department.

PILOT

The Watershed Protection Department is the first to participate in this pilot program. The mission of the Watershed Protection Department is to protect lives, property and the environment of our community by reducing the impact of flood, erosion and water pollution. The department provides a range of community resource and education programs to encourage informed decision-making about flood safety, erosion control and water quality issues The department plans to position the selected artist to work closely with their Watershed Education section to add additional creativity to their multimedia approach to increasing program visibility in communities,. The artist will work with staff from both Watershed Protection and the Cultural Arts Division to formulate goals, deliverables, scope, community involvement, and artistic focus.

The outcome of the residency depends on the artist's journey in learning about, working alongside, and connecting with the department and the community, but it is hoped that the artist will create an in-depth experience between the artist, the City department, and community; explore pathways for ideas to be more fully exchanged between the community and the City department; foster engagement by community members and the City department in innovative or expanded ways; and find a vehicle for creative expression that adds depth to the artist's social practice and portfolio. The final project outcome may result in a discrete work of art, enhanced community collaborations, or may take any number of shapes, provided the artist and host department are in agreement.

BUDGET

The 2017 Artist-in-Residence program is scheduled to run from May'' December 2017. The selected artist will be provided with a budget of $8,750 for time spent working on the residency, and a maximum of $5,000 for residency-related expenses.

APPLY

An artist information meeting was held on Thursday, January 19, 2017 to explain the parameters of the project and outline the application procedures. The meeting may be viewed here. The deadline to apply for 2017 was February 16, 2017.

For an RFQ with complete program details, click here.

Austin to 'embed' an artist in city departments

Sun, 02 Dec 2018 13:13

Elizabeth Findell @efindellFriday Jan 6, 2017 at 12:01 AM Sep 25, 2018 at 10:11 PM

What could Austin flood control really use? The eye of an artist, the city says.

Austin will begin an artist-in-residence program to embed an artist in various city departments, aiming to bring a creative eye to city problems, said employees in the cultural arts division of the city's Economic Development Department.

Whoever is selected will jump into the deep end right away. They'll start with six to nine months in the Watershed Protection Department, which oversees city flood control and efforts to remedy erosion and water pollution.

Unlike many artist-in-residence programs, this one is focused on problem-solving, not art-creating, city officials said.

"We are not requiring a discrete work of art to be produced," said Kathleen Stimpert, a cultural arts division spokeswoman. "The idea is to introduce to the department the eye of an artist, because they think outside of the box."

What that will look like, in the program's first year with Watershed Development, will depend on the artist selected. It might mean taking a design eye to flood control systems. It might mean finding new ways to help with community outreach.

The artist will be required to put in at least 250 hours between March and November. A salary of $8,750 and $5,000 in expenses will come from the budget of the city's Innovation Office, part of the general fund.

The Innovation Office is funding a handful of projects that came out of former City Manager Marc Ott's call for city employees to generate creative ideas for city functions. Other projects include a lighted bikeway path, a collection of shipping-container structures for temporary use and a move to aggregate photos of people doing things in Austin. Assistant city managers and interim City Manager Elaine Hart gave feedback on the ideas.

The artist was the brainchild of city Cultural Arts Manager Meghan Wells, who said she'd been thinking about it for a long time.

"We want to retain the artist community, and this was a way to boost them and pay for their time and also get something beneficial out of it with a new perspective," she said.

The first year will look for a visual artist. Wells said she hopes to expand it in future years to include more departments and types of artists that could include musicians, actors and others.

At least a couple of other cities have similar programs. In 2015, Los Angeles announced it would begin placing artists to work on city initiatives, beginning with transportation safety. Boston is in its second year of an effort that selected artists to work with its police, recycling, neighborhood and parks staff.

Austin leaders have long sought to incorporate the city's art cred into city business by having a live music break during City Council meetings.

"Every time an artist is involved in a project, it reveals something you wouldn't have expected," Wells said.

Not everyone is convinced. Departing Council Member Don Zimmerman, who was voted out of office in November, called the move "another crazy idea to waste taxpayer money when we have an affordability crisis."

"You can die from a thousand small cuts just as easily as one big one," he said. "The modus operandi of bureaucrats is to say, 'Oh, it's just $15,000, it's just $500,' but every one of these small cuts turn into a bigger cut down the road."

The information box with this story has been updated to reflect that city officials changed the date of the informational artists meeting to Jan. 19.

Austin Votes to Keep the Books Closed - WSJ

Sun, 02 Dec 2018 13:11

It would be hard to find a better example of left-wing naiveit(C) in municipal affairs than what transpired here in November. Voters in the Lone Star State's progressive bastion, overwhelmingly approved a $925 million bond package but rejected a simple ballot initiative for an independent audit of city spending.

The defeat of the audit wouldn't be so galling if the new bonds didn't so obviously demonstrate the need for an independent review of Austin's books. Spending in the Texas capital is more like what one would expect in some profligate California city. With this new bond package, Austin has been reduced to using debt to fund parks, public safety and sidewalk repair'--instead of paying for them out of its $4.1 billion annual budget.

There's no good excuse. Austin is booming, and has been for a while. It's a hub for tech firms and has a fast-growing tax base. The city should be able to pay for everything it needs without saddling future residents with nearly $1 billion in new debt (which comes on the heels of a $720 million transportation bond passed in 2016).

But Austin, a more or less typical progressive city of 950,000, spends too much of its steadily growing budget on dubious social programs and utopian schemes, financed by a steadily growing tax burden. Last year the city introduced a new ''artist in residence'' program, which embeds an artist in various city departments'--not to produce works of art for the public, or to produce anything at all, but to be a creative presence in City Hall and ''think outside the box,'' as one city official told a local news outlet.

Another program caused a stir two years ago when, in a strange and short-lived effort to combat the spread of HIV, employees of the Health and Human Services Department hung plastic bags full of condoms and lubricant from trees in a public park known for outdoor assignations. Under media scrutiny, city officials shut down the program and denied having known about it.

Programs like these aren't expensive, but they are legion'--and they add up. From a $1,500 ''solar ready'' requirement on all new homes and commercial buildings, to a tree-preservation ordinance that can easily cost homeowners thousands of dollars, to exorbitantly high development fees that get passed on to consumers, living in Austin is death by a thousand cuts.

Yet these myriad programs and fees exemplify the governing ethos of Austin's political leadership. Anyone familiar with local politics in the Democrat-run capital of Texas'--what former Gov. Rick Perry once called ''the blueberry in the tomato soup'''--knows that the priority of the city's ultraprogressive political establishment is to serve the interests of the wealthy, ultraprogressive white people who fund and elect Austin's insular political class.

That's why the city expelled ride-sharing companies Uber and Lyft two years ago on the outlandish pretext that the apps wouldn't be safe unless every driver went through a fingerprint background check. The real reason was that the city's elites didn't like Uber and Lyft imposing their corporate culture on Austin and wanted to make an example out of them. When Uber and Lyft predictably left town, some 10,000 drivers, mostly working-class residents and young people, were suddenly out of a job.

Putting progressive ideals and special interests ahead of working people is a familiar pattern in Austin. In February the city passed a San Francisco-like ordinance to force employers to offer a week of paid sick leave annually'--with an exemption, of course, for union shops. The ordinance amounted to a city-mandated wage raise that would have surely killed jobs citywide if a state appeals court hadn't struck down the measure in November.

As for the independent audit thwarted in the November election, Austin progressives could hardly admit they opposed accountability for their spending schemes, so they campaigned against the audit initiative as a right-wing plot funded by the Koch brothers and ''dark money.'' Not everyone went along. City Councilwoman Ora Houston, who represents a predominantly African-American part of the city with high poverty and unemployment, adamantly supported the audit. But the Koch brothers canard spooked enough progressive voters to defeat the measure.

Austin's progressive elites got what they wanted this time, but the city might not be able to afford their profligacy in the long run. Perhaps more than any other city in the country, Austin is built on its reputation for being cool. It doesn't have Houston's oil-and-gas industry or Dallas's corporate headquarters and retail. The tech sector is hot, but mostly because tech workers want to live in Austin and enjoy its great music festivals, taco trucks and bars. Artists and young people can still afford to live here, and as filmmaker and Austin native Robert Rodriguez once said, ''People don't live in Austin to work, they work to live there.''

But as living here gets more expensive, and as the city's elite dig in to protect their left-wing haven from disruption and change, Austin risks becoming the San Francisco of the South'--an expensive playground for wealthy progressives.

Mr. Davidson is a senior correspondent for the Federalist.

End the Silence, End the Violence Chapter 6: Austin, Texas 1983-1984: I Survived RAPE by Neil de Grasse Tyson; The Blue Lotus Speaks! | Tchiya Amet El Maat Natural Health Therapist and Wellness Coach

Sun, 02 Dec 2018 13:09

Today is October 8, 2014. 30 years. Today there was an eclipse, during the Ra Aspolia Pi Cot Sahu (Full Moon and Portal of Djehuty (Sun in Sidereal Virgo, Moon in PIsces, Mercury Retrograde). Kinda intense when you really sit bak and take it all in. Tomorrow, Set (Mars, Ego) has an appointment with Master healer Imhotep (Mars enters Ophiuchus: tome for healing from sexual trauma, time for conquering lower nature, etc).

All this to say that this posting is in alignment with the Divine Natural Right Order. Although I know this is the right decision, it has been difficult to take action, because I know this monster is loved by so many of you. However, in order to maintain my own well being, peace of mind, sanity, longevity, positivity, peaceful relationships, health, happiness, self love and self trust, in order to elimnate blocks to my own abundance and prosperity, it has become impossible to keep silent anymore. I continue to wonder if he is still hurting women, children or men. It is also important for me to speak out NOW because it is important for ALL people that have been sexually violated in any way to stand up and speak out if we want this type of cruelty to cease.END THE SILENCE, END THE VIOLENCE. THE BLUE LOTUS SPEAKS!

Go to Tchiya.com

Before I begin this chapter, here are the links to other relevant posts:

End the Silence, End the Violence! The Blue Lotus Speaks'....

End the Silence, End the Violence! The Blue Lotus Speaks: Chapter 2

Reggae on the River 2014 Reflections

The Blue Lotus Speaks: Reggae on the River 2014 Reflections UPDATE! (Chapter 3)

The Blue Lotus Speaks: ENDING THE SILENCE, ENDING THE VIOLENCE. Who's Who of Violations (chapter 4)

The Blue Lotus Speaks Chapter 5: OBERLIN FUCKING COLLEGE!!!!

HeruScopes (C) Handbook and Guide 2014

HeruScopes (C) Celestial Update: Aspolia 2014 Full Moon and The Portal Of Djehuty

So what prompted this, besides the eclipse that I missed and other celestial alignments? First, I saw this video on unworthiest.com. Many Thanks for the conscious and positive messages they promote'.....Thank you The Third Pew!!!

Why rape is never a mistake

I agree with everything this young man has said, and I pray that everyone that is reading this takes the time to view the video. If you think you do not have time, here is the transcript from unworthiest.com, TRANSCRIPT: and here are some highlights:

''Today I'm going to try to prepare you for how to react when more of this stuff comes out as time goes on. Number one, don't accept their apology because everyone makes mistakes.''

''Most people know that rape is wrong without the help of their parents, but if anyone else is watching that are totally confused. Yes, rape is wrong. If you're admitting to doing something this serious, don't try partially justifying your actions at all. If you're going to apologize, apologize. Say that what you did was completely wrong. Don't try to make anyone feel sorry for you.''

''You don't say forgive and forget in a situation like rape.''

''Number two, don't blame the victim. ''But she shouldn't have gone to his house in the first place.'' No. ''If she didn't want that to happen why did she'...?'' Nope! ''This is what happens when you wear something like that.'' What?''

''Number three, to the YouTubers, I don't know how many times I've sat in front of a camera this year and talked about how much good you can do with your power. It should be common sense that you can change these people's lives in a positive way rather than practically begging for naked pictures from fans who are as young as 13.''

''If I was a parent, I would be terrified to find out that my daughter, the people who she idolizes could not only be sexual abusers but could try to take advantage of her if she just goes to a meet-and-greet. This isn't normal and as a community we cannot accept this as being the norm. ''

''As we move forward, please keep this conversation going and please remember that we should have zero tolerance for these kinds of people. And last but not the least, please remember that you do not have to defend someone to your death, just because they're really cute, have a nice hair, or because their chubby-bunny challenge was really funny.''

Please keep these points in mind as you learn the rest of my story'.....

then the very next video that games up, also on unworthiest.com, this is when I knew it was time. My commentary will tell my story'.....Today, I end the silence, and I end the violence in my life, and in the lives of all women and children, and all pure souls that are preyed upon by ignorance and unrighteousness. May all who speak out on behalf of MAAT be aware of their own powerful protection, and have no fear. As the line from Jahman in Countryman goes:''That is why there is no need to fear the wicked. Just lead them to face death, and they will perish.''

This is the video that came up next. This is the monster I have been protecting for 30 years. I no longer am afraid of the consequences of revealing this truth. Just think of me as Ammit: the Goddess that devours the hearts of the unrighteous at the Scale of Maat! I am leading hi to face death'.... the death of his deception and illusion.

Go to Tchiya.comHere is the video. Then read my comments below'...

upworthiest.com

Watch Neil deGrasse Tyson Give A Killer Answer To The Question Parents Ask Him All The Time at unworthiest.com

Commentary.

How about, DO NOT RAPE THEM. DO NOT MOLEST THEM. DO NOT TELL THEM THEY CAN PASS ASTRONOMY 101 IF THEY GIVE YOU A BLOW JOB. NO MORE SEXUAL HARASSMENT ALLOWED OR TOLERATED BY ANY FACULTY MEMBERS OR CLERGY. LET'S START THERE. YOU ARE A FRAUD AND NOW THE WORLD KNOWS IT TOO.

Tyson in apt 1984

0.04

What would you say to my parents if I had told them when it had happened that you had slipped me a mickey and that you raped me while I was unconscious? What would you say to them now if they were still alive? What will you say to your wife, the woman that was on the phone as you handed me the water to drink, in a cup made out of account shell? Do you have any idea how your act of violence affected my life, the lives of my parents, my ex-husband, my daughters, and anyone and veryone that has anything to do with me?

0.12What would you say to your own daughter, if one day she told you that her close friend, who she once loved as her a brother, mentor and friend had slipped her a mickey and raped her?

0.24CURIOSITY?????Don't you mean COWARD? A Self Hating Coward?The ONLY way you could EVER be with a Black Goddess, a true Celestial Being, not just one that talks about them, would be by DRUGGING HER, THEN DRAGGING HER TO YOUR BEDROOM, WHILE FULLY UNCONSCIOUS, TAKING OFF HER CLOTHES, AND THEN, WHO KNOWS WHAT WITH HER, OR FOR HOW LONG, WHEN SHE AWAKENS, UNABLE TO MOVE, YOU CONTINUE YOUR DEMONIC ACTS. Is this what you mean by curiosity?

I only recall being at the astronomy department the next day. I do not know how long I was in his apartment. I have no idea how I got back to my apartment. I do not even remember waking up the next day. All I remember is seeing him in the hallway at the astronomy department at UT Austin, and I asked him, ''Why did this happen?'' He responded, ''We are in this alone, and we are in this together''.

0.35

By forcing your way into MY flower, you completely and totaled disrupted my life, the lives hoes and dreams of my parents and the people that loved and cared about me. YOU disrupted the lives of MY daughters, one of which to this day has not spoken to me in 4 years because she cannot forgive me for living with UNDIAGNOSED PTSD FOR HER ENTIRE LIFE.

0.38Your curiosity caused a great deal of disorder in my life and in the lives of my loved ones. Much like a terrorist attack.

0.46''don't pluck the petals off the flowers? don;t play with the egg?'' that is strange, that is exactly what you did. Is this why you have become the monster that you are? is this your parents fault, because they did not teach you about respect, discipline, righteousness? How can a m,an that claims to be so intelligent be so ignorant? The Cherokee way: TAKE ONLY WHAT IS GIVEN TO YOU. You obviously believe in the American way: TAKE WHAT YOU DO NOT HAVE. TAKE WHATEVER YOU WANT THAT BELONGS TO ANOTHER, DISRESPECT WOMEN AT EVERY OPPORTUNITY. RAPE THEM WHENEVER YOU GET THE OPPORTUNITY.

0.55help them explore with binoculars, what are you also a peeping tom?

1:45, yep, you confirmed that question, ''First thought is to look in people's windows.''

You getting the picture now? In case you missed it, I was a grad student in Astronomy at UT Austin, the sam time that Mr Tyson was there. I was studying Galactic Astronomy with the de Vaucoleurs. My dream was to become the first Black Female Astronaut. I was like 15 years ahead of Emma Mae Jamison. I wen to his apartment to visit like I did almost everyday. He was like my big brother, or so I thought. He offered me a glass of water. I accepted a liquid in a cup made out of a coconut shell. I recall coming back to consciousness briefly, then next thing I remember is seeing him in the hallway the next day. I have lived in this nightmare for 30 years, and it stops today.

I know this will be difficult for many of you to believe, understand or to know. However, know that this is the truth. Those who know me well can attest to the fact that I lived with undiagnosed PTSD of rat least 25 years.

http://www.people.com/people/archive/article/0,,20132902,00.html

As a teenager at New York City's prestigious Bronx High School of Science, Neil de Grasse Tyson had a surefire strategy for romancing girls: He'd grab his telescope, bring his date to the roof of the nearby apartment building where he lived with his family and promise her the stars. ''Rooftops are ideal for exploring both kinds of heavenly bodies,'' says Tyson, 42, who later went on to perfect his technique at Harvard. He has since expanded his orbit to include Manhattan's Hayden Planetarium, where he's been director since 1995, and Princeton, where he's a visiting professor of astrophysics. As passionate about earthly pleasures as those celestial, the 6'2'" Tyson indulges his love of wine and gourmet cooking while succumbing to the gravitational pull of his wife of 12 years, mathematical physics Ph.D. Alice Young, 44, who is expecting their second child next month. Oh, sure, says Young, Tyson tried the ol' stargazing trick on her too. But the rooftop Romeo had met his match. ''I'd already taken astrophysics,'' she says, ''so it wasn't exotic for me.''

Washington D.C. '' February 28, 2014http://thealcalde.tumblr.com/post/78456700943/the-sexiest-astrophysicist-alive-jspong

WHATCHA GONNA DO NOW OBAMA, MY CHICAGO BROTHA???? HOW YOU GONNA PROTECT YOUR DAUGHTERS FROM MONSTERS LIKE THIS ONE?????

NOT ALONE: The First Report of the White House Task Force to Protect Students From Sexual Assault

Sexual violence is more than just a crime against individuals. It threatens our families, it threatens our communities; ultimately, it threatens the entire country. It tears apart the fabric of our communities. And that's why we're here today '-- because we have the power to do something about it as a government, as a nation. We have the capacity to stop sexual assault, support those who have survived it, and bring perpetrators to justice.

President Barack Obama, January 22, 2014

(Hey I just thought of another synchronicity: President Obama and I are born one day apart: he is August 4, 1961 and I am August 5, 1961. What a difference a day makes'.....)

Freedom from sexual assault is a basic human right'... a nation's decency is in large part measured by how it responds to violence against women'... our daughters, our sisters, our wives, our mothers, our grandmothers have every single right to expect to be free from violence and sexual abuse.

Vice President Joe Biden, January 22, 2014

NotAlone.gov

He talks about obstacles to reaching his goal of astrophysicist. Did anyone slip him a mickey? Perhaps this was his way of eliminating the competition'....what a scam YOU are Mr. Tyson. Equal Opportunity? Have you just conveniently forgotten that sexual assault is rampant on college and university camases, worldwide. How does it feel to know that YOU are the reason there is one less vblack female galactic astronomer on this planet? Yes, YOU. How many freshman students did you give A's to when they were failing? Were they really failing, or was that just an easy way to get free blow jobs?

This is photo of his apartment, the location of the incident'.....

OM MAAT GEB

please share this widely, and leave your comments below.May the Righteousness of Maat Be Restored Upon the Earth. HOTEP. Peace

Tchiya Amet El Maat, S.E.

Go to Tchiya.com

Psychology's Replication Crisis Is Real, Many Labs 2 Says - The Atlantic

Sun, 02 Dec 2018 13:06

Read: Online bettors can sniff out weak psychology studies.

But other intuitions were less accurate. In 12 cases, the scientists behind the original studies suggested traits that the replicators should account for. They might, for example, only find the same results in women rather than men, or in people with certain personality traits. In almost every case, those suggested traits proved to be irrelevant. The results just weren't that fickle.

Likewise, Many Labs 2 ''was explicitly designed to examine how much effects varied from place to place, from culture to culture,'' says Katie Corker, the chair of the Society for the Improvement of Psychological Science. ''And here's the surprising result: The results do not show much variability at all.'' If one of the participating teams successfully replicated a study, others did, too. If a study failed to replicate, it tended to fail everywhere.

It's worth dwelling on this because it's a serious blow to one of the most frequently cited criticisms of the ''reproducibility crisis'' rhetoric. Surely, skeptics argue, it's a fantasy to expect studies to replicate everywhere. ''There's a massive deference to the sample,'' Nosek says. ''Your replication attempt failed? It must be because you did it in Ohio and I did it in Virginia, and people are different. But these results suggest that we can't just wave those failures away very easily.''

This doesn't mean that cultural differences in behavior are irrelevant. As Yuri Miyamoto from the University of Wisconsin at Madison notes in an accompanying commentary, ''In the age of globalization, psychology has remained largely European [and] American.'' Many researchers have noted that volunteers from Western, educated, industrialized, rich, and democratic countries'-- WEIRD nations'--are an unusual slice of humanity who think differently than those from other parts of the world.

In the majority of the Many Labs 2 experiments, the team found very few differences between WEIRD volunteers and those from other countries. But Miyamoto notes that its analysis was a little crude'--in considering ''non- WEIRD countries'' together, it's lumping together people from cultures as diverse as Mexico, Japan, and South Africa. ''Cross-cultural research,'' she writes, ''must be informed with thorough analyses of each and all of the cultural contexts involved.''

Read: Psychology's replication crisis has a silver lining.

Nosek agrees. He'd love to see big replication projects that include more volunteers from non-Western societies, or that try to check phenomena that you'd expect to vary considerably outside the WEIRD bubble. ''Do we need to assume that WEirD ness matters as much as we think it does?'' he asks. ''We don't have a good evidence base for that.''

Sanjay Srivastava from the University of Oregon says the lack of variation in Many Labs 2 is actually a positive thing. Sure, it suggests that the large number of failed replications really might be due to sloppy science. But it also hints that the fundamental business of psychology'--creating careful lab experiments to study the tricky, slippery, complicated world of the human mind'--works pretty well. ''Outside the lab, real-world phenomena can and probably do vary by context,'' he says. ''But within our carefully designed studies and experiments, the results are not chaotic or unpredictable. That means we can do valid social-science research.''

Democrat Ilhan Omar Switches Stance After Election, Says She Supports BDS Movement

Sun, 02 Dec 2018 13:00

Newly elected Democrat congresswoman Ilhan Omar says she supports the Boycott, Divestment, and Sanctions (BDS) movement against Israel, switching from the opposition to the movement she voiced during her campaign.

Known as one of the more radical voices among a crop of freshman legislators, Omar tried to temper her image by telling a group of Jewish voters in Minnesota while campaigning that she didn't support the economic boycott of Israel, a movement many view as anti-Semitic.

Shortly after the Nov. 6 elections, however, Omar came out unequivocally in support of the BDS movement.

''Ilhan believes in and supports the BDS movement, and has fought to make sure people's right to support it isn't criminalized,'' her campaign told the blog MuslimGirl.

Omar's campaign noted to the blog that Omar had voted against an anti-BDS bill in Minnesota's state legislature.

Newly elected congresswoman Ilhan Omar, speaks to a group of supporters at University of Minnesota in Minneapolis, Minnesota, in a Nov. 2, 2018 file photo. (KEREM YUCEL/AFP/Getty Images)Rabbi Avi Olitzky, who hosted the event where Omar came out against the movement, said that he wasn't sure why Omar changed her views.

''She's either misrepresenting or misunderstanding, and I hope to be able to have a dialogue with her that clarifies which of those is the nature of her stance,'' he told Forward.

''This starts her tenure off on the wrong foot,'' he added.

''I think we all look for honesty in our candidates,'' Beth Gendler, executive director of the National Council of Jewish Women-Minnesota, told Forward. ''We're troubled by her support of BDS, and we want to maintain our working relationship with her as a member of Congress.''

According to Jewish news agency, Omar is the first member of Congress to publicly support BDS. Her district includes a large Jewish population.

Omar previously sent a missive on Twitter that attracted a huge backlash. ''Israel has hypnotized the world, may Allah awaken the people and help them see the evil doings of Israel,'' the Muslim Somali-American said.

She has attacked those who asked her to explain her views, at one point telling a person who said she seemed to hate Jews: ''You are a hateful, sad man.'' In her defense, she said she was calling attention to the ''Israeli Apartheid regime.''

The Jewish Democratic Council of America, a group that supports Democrat candidates that are pro-Israel, declined to endorse Omar. ''Now that Ms. Omar has emerged as the Democratic candidate, JDCA will not support her candidacy'--and certainly will not endorse her'--because her views are not aligned with our positions and values,'' the organization said in a statement.

From NTD News

My Health Record: 900,000 Australians have opted out of database, Senate inquiry told - ABC News (Australian Broadcasting Corporation)

Sun, 02 Dec 2018 12:58

Updated September 18, 2018 12:17:59

The number of Australians who have opted out of My Health Record since July 16 has been revealed.

Australian Digital Health Agency (ADHA) head Tim Kelsey told a Senate inquiry into the medical database system on Monday evening that as of September 12, the opt-out rate was about 3 per cent '-- roughly 900,000 people.

He warned the estimate was not comprehensive and reflected only opt outs via the website or call centre, as paper forms had not yet been reconciled.

The opt-out period, which was extended after concerns from the medical community, ends on November 15.

Every Australian with a Medicare card will automatically be given a record unless they tell the agency they do not want one by the deadline.

After the hearing, Labor health spokeswoman Catherine King said in a statement that the program's roll out so far was "botched", and called for it to be suspended.

My Health Record has been criticised by a variety of health and privacy advocacy groups during the opt-out period, prompting speculation about how many Australians would actively choose not to have one.

Mr Kelsey also said about 181,000 people had signed up since the beginning of the opt-out period.

Around 6.1 million Australians currently have a My Health Record, which existed as an opt-in system from 2012 until this year.

An ongoing privacy debateConcerns about My Health Record raised before the Senate inquiry have focused on patient privacy, the system's security design, and access by third parties such as law enforcement.

My Health Record grants users a number of privacy controls over their medical records, but they are not in place by default.

In particular, users can set a code over the complete record or specific documents, limiting access to only those doctors with the pin code.

The agency told the committee that 16,848 record access codes and 4,109 limited document access codes had been set as of September 2.

It also said 136,644 people had turned on an email or SMS alert for when a new healthcare practitioner accesses their record.

In response to a question about whether these controls should be in place automatically, chief medical adviser for the ADHA, clinical professor Meredith Makeham, told the committee such a change could impact the system's effectiveness.

"The difficulty would be that with a record access control set as a default, the clinical benefit of the system relating to medications safety would be very much potentially closed down," she said.

"[Difficulty] would arise for a clinician who was trying to view the My Health Records of patients who were coming through, say, an emergency situation or through their rooms."

Access controls may be overridden in an emergency.

Leanne Wells, chief executive of the Consumers Health Forum of Australia (which has received funding from the ADHA), compared the project in scale to the introduction of Medicare.

"The community expects due diligence and vigilance '... when it comes to safeguards," she said.

The committee also heard from the Australian Council of Trade Unions, which claimed legal loopholes could allow records to be accessed as part of pre-employment health checks by employer-nominated doctors '-- and by extension employers '-- among other scenarios.

"Additional amendments are required that make it clear that records cannot be accessed for employment purposes, to protect MHR [My Health Record] data being used for commercial purposes and to place obligations on the database operator as well as those who access it," an ACTU spokesperson said.

Mr Kelsey said no My Health Record data has been disclosed for employment purposes.

Former Digital Transformation Office boss Paul Shetler told senators that time should be taken to "reset" the system.

"In its current form, I believe the program will fail," he said.

Following concerns from health and privacy groups, Health Minister Greg Hunt proposed a legislative amendment in late July to clarify that no health information in a My Health Record could be disclosed to law enforcement agencies and government agencies without an order by a judicial officer or the user's consent.

Topics:science-and-technology,internet-technology,computers-and-technology,health,health-administration,health-policy,australia

First posted September 18, 2018 05:36:38

China Takes Delivery of Its 2,000th Boeing Aircraft

Sun, 02 Dec 2018 12:56

Advertiser Disclosure

The credit card offers that appear on the website are from credit card companies from which ThePointsGuy.com receives compensation. This compensation may impact how and where products appear on this site (including, for example, the order in which they appear). This site does not include all credit card companies or all available credit card offers. Please view our advertising policy page for more information.

Editorial Note: Opinions expressed here are the author's alone, not those of any bank, credit card issuer, airlines or hotel chain, and have not been reviewed, approved or otherwise endorsed by any of these entities.

Neil deGrasse Tyson Under Investigation at Fox, Nat Geo Following Sexual Misconduct Accusations

Sun, 02 Dec 2018 12:55

Three women have accused the "Cosmos" host, according to Patheos

Adam Salandra | November 30, 2018 @ 7:09 PM

Fox and National Geographic are investigating ''Cosmos'' host Neil deGrasse Tyson after three women accused the celebrity astrophysicist of sexual misconduct, including rape in one instance.

Tyson did not immediately respond to requests from TheWrap for comment Friday.

On Nov. 8, Patheos published an interview with Tchiya Amet, who says Tyson drugged and raped her in 1984 when they were both grad students. On Thursday, two more women came forward with accusations in Patheos: Dr. Katelyn N. Allers, an associate professor of physics and astronomy at Bucknell University who says she was ''felt up'' by Tyson at a party in 2009, and his former assistant Ashley Watson, who said she quit her job because of Tyson's sexual advances.

''The credo at the heart of 'Cosmos' is to follow the evidence wherever it leads. The producers of 'Cosmos' can do no less in this situation. We are committed to a thorough investigation of this matter and to act accordingly as soon as it is concluded,'' the producers of the series said in a statement.

''We have only just become aware of the recent allegations regarding Neil deGrasse Tyson. We take these matters very seriously and we are reviewing the recent reports,'' Fox Broadcasting Company and National Geographic said in a statement.

A second iteration of ''Cosmos'' was set to premiere in early 2019.

Harvey Weinstein Scandal: A Timeline of a Hollywood Mogul's Downfall (Photos) A blow-by-blow look at how the indie mogul's career and reputation unraveled

Harvey Weinstein was once the king of the indie film world. But the Oscar-winning producer's career and reputation have imploded since fall 2017, when scores of women stepped forward to accuse him of sexual misconduct. Here's a breakdown of what happened.

A blow-by-blow look at how the indie mogul's career and reputation unraveled

OCTOBER 5, 2017

The New York Times published a story revealing that Harvey Weinstein had paid financial settlements to at least eight women accusing him of sexual harassment or assault. Actress Ashley Judd is the only accuser to go on the record, accusing the mogul of assault in his hotel room. In a statement, Weinstein apologizes, vows to take a self-imposed leave of absence from his company and bizarrely declares war on the NRA.

A blow-by-blow look at how the indie mogul's career and reputation unraveled

OCTOBER 6, 2017

Senators Elizabeth Warren, Cory Booker and other politicians donate campaign contributions they received from Weinstein to charity.

A blow-by-blow look at how the indie mogul's career and reputation unraveled

OCTOBER 8, 2017

Weinstein is fired as CEO from The Weinstein Company.

A blow-by-blow look at how the indie mogul's career and reputation unraveled

OCTOBER 10, 2017

The New Yorker publishes its own piece, written by Ronan Farrow, in which three women, including Italian actress Asia Argento, accuse Weinstein of rape. Through a spokesperson, Weinstein denies any account of nonconsensual sex.

A blow-by-blow look at how the indie mogul's career and reputation unraveled

Hours after the article runs, the New York Times publishes on-the-record accusations of inappropriate behavior from Gwyneth Paltrow and Angelina Jolie.

A blow-by-blow look at how the indie mogul's career and reputation unraveled

Weinstein's wife, fashion designer Georgina Chapman, announces their separation.

A blow-by-blow look at how the indie mogul's career and reputation unraveled

OCTOBER 11, 2017

BAFTA suspends Weinstein's membership. AMPAS holds a special meeting to consider consequences for Weinstein's ''repugnant'' actions.

A blow-by-blow look at how the indie mogul's career and reputation unraveled

OCTOBER 12, 2017

The NYPD and London's Metro Police both launch criminal investigations of Weinstein. On social media, Rose McGowan accuses Weinstein of raping her. (He has consistently denied engaging in nonconsensual sex.)

A blow-by-blow look at how the indie mogul's career and reputation unraveled

OCTOBER 13, 2017

Director Quentin Tarantino, arguably Weinstein's greatest discovery, says he is ''heartbroken'' by the scandal. A petition to expel Weinstein from AMPAS passes 100,000 signatures.

A blow-by-blow look at how the indie mogul's career and reputation unraveled

OCTOBER 14, 2017

The AMPAS Board of Governors expels Weinstein. The Weinstein Company's development slate falls apart, losing projects with David O. Russell and more. Release of Benedict Cumberbatch's "The Current War" is delayed.

A blow-by-blow look at how the indie mogul's career and reputation unraveled

OCTOBER 15, 2017

Actress Alyssa Milano kicks off a cultural movement by encouraging women to share their stories of sexual harassment and assault on social media. She asks them to tag the stories #MeToo.

A blow-by-blow look at how the indie mogul's career and reputation unraveled

OCTOBER 16, 2017

The Producers Guild of America votes unanimously to terminate Weinstein's membership.

A blow-by-blow look at how the indie mogul's career and reputation unraveled

OCTOBER 17, 2017

Lucasfilm President Kathleen Kennedy vows to start an industry-wide commission to create ''protections against harassment and abuse.'' Frequent Weinstein collaborator and filmmaker Kevin Smith vows to donate all of his Weinstein Company residuals to Women in Film.

A blow-by-blow look at how the indie mogul's career and reputation unraveled

OCTOBER 25, 2017

The Taylor Sheridan film "Wind River," which had a successful release by the Weinstein Company in August, excises the Weinstein name from its home video and streaming releases. Principal financier Acadia Entertainment buys the film back from TWC and self-funds an awards campaign. (It doesn't land any Oscar nominations.)

A blow-by-blow look at how the indie mogul's career and reputation unraveled

NOVEMBER 6, 2017

The Television Academy bans Weinstein for life. The New Yorker runs a follow-up piece saying a battery of former Mossad agents and communications experts were used to silence stories of Weinstein's impropriety for years.

A blow-by-blow look at how the indie mogul's career and reputation unraveled

NOVEMBER 15, 2017

TWC is hit with a class-action lawsuit from several of Weinstein's accusers. The company is forced to sell its live-action "Paddington 2" to Warner Bros. to help infuse the studio with cash and keep the doors open.

A blow-by-blow look at how the indie mogul's career and reputation unraveled

DECEMBER 6, 2017

The Academy announces its ''standards of conduct,'' which read, in part, ''The Academy is categorically opposed to any form of abuse, harassment or discrimination on the basis of gender, sexual orientation, race, ethnicity, disability, age, religion, or nationality.''

A blow-by-blow look at how the indie mogul's career and reputation unraveled

JANUARY 1, 2018

#TimesUp is born as four female talent agents from CAA create a legal defense fund for women in the U.S. workforce to protect them from sexual harassment. The effort is announced and endorsed by contributors like Meryl Streep, Viola Davis, Reese Witherspoon, Gwyneth Paltrow, Jennifer Aniston, Fox Film head Stacey Snider, Fox TV honcho Dana Walden, Ava DuVernay and Oprah Winfrey, among others.

JANUARY 7

To draw attention to the mistreatment of women in Hollywood, virtually all women attending the Golden Globes wear black.

JANUARY 8

Immediately after he wins a Golden Globe wearing a #TimesUp pin, James Franco is accused of sexual misconduct by several women. The accusations, which the actor denies, come in the middle of the Oscar nomination voting period.

JANUARY 9

Lady Bird writer-director Greta Gerwig joins Mira Sorvino, Chloe Sevigny and others in saying she would not work in the future with director Woody Allen, who had been accused of sexual assault by his adoptive daughter, Dylan Farrow. (He has repeatedly denied the accusation.)

A blow-by-blow look at how the indie mogul's career and reputation unraveled

JANUARY 10, 2018

Page Six reports that Weinstein and Chapman reached the terms of an eight-figure divorce settlement, with Chapman securing primary custody of the couple's two children.

A blow-by-blow look at how the indie mogul's career and reputation unraveled

JANUARY 27, 2018

The Academy emails members to reveal the process by which violations of its code of conduct can be reported.

A blow-by-blow look at how the indie mogul's career and reputation unraveled

FEBRUARY 6, 2018

''I may be a 75-year-old white male,'' says Academy President John Bailey at the annual Oscar Nominees Luncheon, ''but I'm as gratified as any of you that the fossilized bedrock of many of Hollywood's worst abuses [is] being jackhammered into oblivion.'' (One month later, the Academy would investigate -- and then dismiss -- accusations of sexual harassment against Bailey himself.)

A blow-by-blow look at how the indie mogul's career and reputation unraveled

FEBRUARY 8, 2018

Los Angeles police send three sexual assault cases concerning Weinstein to the city's district attorney for possible charges.

A blow-by-blow look at how the indie mogul's career and reputation unraveled

MARCH 19, 2018

The Weinstein Company filed for bankruptcy in Delaware, reporting that it had less than $500,000 in cash on hand. Dallas-based Lantern Capital Partners stepped up as a stalking horse bidder prepared to buy virtually all of the company's assets for $310 million.

A blow-by-blow look at how the indie mogul's career and reputation unraveled

MAY 8, 2018

Despite a last-minute bid from Broadway producer Howard Kagan's Inclusion Media, a Delaware bankruptcy judge approves Lantern Capital's purchase of The Weinstein Company's assets.

A blow-by-blow look at how the indie mogul's career and reputation unraveled

MAY 25, 2018

Following a months-long investigation by the NYPD, Weinstein is arrested on three felony charges of rape and criminal sex act in connection with two female accusers. Weinstein pleads not guilty and released on $1 million bail pending trial.

A blow-by-blow look at how the indie mogul's career and reputation unraveled

MAY 30, 2018

Weinstein is indicted on charges of rape in the first and third degrees, as well as on charges of criminal sexual act in the first degree, as announced by the Manhattan district attorney's office. Then on June 1, Three women filed additional charges against Weinstein in a class action lawsuit, saying that Weinstein isolated the women ''in an attempt to engage in unwanted sexual conduct that took many forms: flashing, groping, fondling, harassing, battering, false imprisonment, sexual assault and attempted rape, and/or completed rape.''

A blow-by-blow look at how the indie mogul's career and reputation unraveled

JULY 2, 2018

A grand jury served Weinstein with three more sexual assault charges, an additional count of criminal sexual act in the first degree for forcing a woman to have sex with him in 2006, and two counts of predatory sexual assault. The latter charge carries a minimum of 10 years in prison and a maximum of a life sentence. Weinstein would plead not guilty.

A blow-by-blow look at how the indie mogul's career and reputation unraveled

AUGUST 3, 2018

Weinstein made a push to have a New York judge toss out a criminal sexual assault case brought against him, saying in a filing that the Manhattan district attorney ''failed to provide the Grand Jury with exculpatory evidence of the long-term, consensual, intimate relationship between Mr. Weinstein and the alleged rape victim.''

A blow-by-blow look at how the indie mogul's career and reputation unraveled

AUGUST 19, 2018

A report in the New York Times said Asia Argento paid a settlement of $380,000 to actor Jimmy Bennett after accusing her of sexually assaulting him when he was just 17. Argento denied the accusations. Rose McGowan distanced herself from Argento, and Weinstein issued a statement saying Argento displayed a ''stunning level of hypocrisy.'' ''The sheer duplicity of her conduct is quite extraordinary and should demonstrate to everyone how poorly the allegations against Mr. Weinstein were actually vetted and accordingly, cause all of us to pause and allow due process to prevail, not condemnation by fundamental dishonesty,'' the statement continued.

A blow-by-blow look at how the indie mogul's career and reputation unraveled

AUGUST 30, 2018

Former NBC News producer Richard McHugh said that people at ''the very highest levels of NBC'' worked to quash Ronan Farrow's Harvey Weinstein story that eventually published in The New Yorker. Then on Sept. 3, NBC News Chairman Andy Lack sent an internal memo saying that after eight months, Farrow's reporting ''did not have a single victim or witness willing to go on the record.'' Farrow disputed the memo and said NBC's list of sources was incomplete.

A blow-by-blow look at how the indie mogul's career and reputation unraveled

SEPTEMBER 6, 2018

The U.S. Attorney's office in New York opened an investigation into Weinstein's involvement with the private spy firm Black Cube to see if he violated any federal wire fraud laws. Weinstein had hired Black Cube to gather information on those accusing him of sexual assault.

United Nations Security Council Resolution 2231 - Wikipedia

Sun, 02 Dec 2018 12:51

United Nations Security Council Resolution 2231 was a resolution endorsing the Joint Comprehensive Plan of Action on the nuclear program of Iran. It sets out an inspection process and schedule while also preparing for the removal of United Nations sanctions against Iran. The 15 nations on the Security Council unanimously endorsed the resolution, which had been negotiated by the permanent members of the United Nations Security Council'--China, France, Russia, United Kingdom, United States'--plus Germany, the European Union, and Iran.[1]

After the resolution, the Iranian Foreign Affairs minister said:[2] '"The Iranian nation should feel fundamental changes in accordance with the UN Security Council Resolution 2231'"

On March 29, 2016, the United States, the UK, France, and Germany wrote a joint letter to Secretary-General of the United Nations Ban Ki-moon accusing Iran of "defying" Security Council Resolution 2231 through missile tests conducted since the deal. The letter said the missiles were "inherently capable of delivering nuclear weapons". However, it stopped short of saying the tests were illegal. Resolution 2231 calls for Iran to refrain from activity related to nuclear-capable missiles ("Iran is called upon not to undertake any activity related to ballistic missiles designed to be capable of delivering nuclear weapons, including launches using such ballistic missile technology"[3]), but according to diplomats the language is not legally binding and cannot be enforced with punitive measures.[4]

See also [ edit ] United Nations Security Council Resolutions 1696, 1737, 1747, 1803, 1835, and 1929References [ edit ] External links [ edit ] Text of the Resolution at undocs.org

Pompeo, Bolton Say Iran Test-Launched Ballistic Missile Capable Of Striking Europe, Violated UN Ban | Zero Hedge

Sun, 02 Dec 2018 12:48

U.S. Secretary of State Mike Pompeo on Saturday condemned what he described as Iran's testing of a medium-range ballistic missile capable of carrying multiple warheads as a violation of the international agreement on Tehran's nuclear program.

As Haaretz reports, amid tension between Washington and Tehran over ballistic missiles, Pompeo warned in a statement released on Twitter that Iran is increasing its "testing and proliferation" of missiles and called on the Islamic Republic to "cease these activities."

Full State Department Statement:

Iran Test Launches Ballistic Missile Violating UN Security Council Ban

The Iranian regime has just test-fired a medium range ballistic missile that is capable of carrying multiple warheads.

The missile has a range that allows it to strike parts of Europe and anywhere in the Middle East.

This test violates UN Security Council resolution 2231 that bans Iran from undertaking ''any activity related to ballistic missiles designed to be capable of delivering nuclear weapons, including launches using such ballistic missile technology . . .''

As we have been warning for some time, Iran's missile testing and missile proliferation is growing. We are accumulating risk of escalation in the region if we fail to restore deterrence. We condemn these activities, and call upon Iran to cease immediately all activities related to ballistic missiles designed to be capable of delivering nuclear weapons.

And national Security Advisor John Bolton was quick to jump on this 'violation' warning that "this provocative behavior cannot be tolerated."

Iran just test-fired an INF range ballistic missile capable of reaching Israel and Europe. This provocative behavior cannot be tolerated. https://t.co/EcPQ6MMjv7

'-- John Bolton (@AmbJohnBolton) December 1, 2018This comes after the head of the Atomic Energy Organization of Iran warned the European Union on Tuesday that Tehran's patience was running out on the bloc's pledge to keep up oil trading despite U.S. sanctions. He said Iran could resume enriching uranium to 20 percent purity, if it fails to see economic benefits from the 2015 deal that curbed its nuclear program.

What's all the fuss about the French fuel tax hikes? | Euronews Answers

Sun, 02 Dec 2018 12:34

Angry motorists '-- known as ''gilets jaunes'' (yellow vests) '-- plan to block major roads all across France in protest of rising fuel prices.

Discontent was triggered by the government's measures to keep increasing a direct tax on diesel, a fuel commonly used by motorists in France, as well as the carbon tax. Drivers protesting this Saturday see these as disproportionately affecting those who use their cars to get to and from their jobs every day.

Euronews interviewed Mathieu Chassignet, an expert on transport, to understand why fuel tax hikes have a lot of people in France riled up.

Why have fuel prices increased in France?The hike in fuel prices is due to three things (two of which were decided by the government), said Chassignet.

Volatile crude oil pricesA rise in crude oil prices in 2018 is the first reason why fuel prices have been high this year. The cost surged to a bit more than ''¬80 per barrel in October although it has since dropped to the low 50s, high 40s in November. With a weak euro in regards to the dollar, this increase has been strongly felt by motorists.

''The price of crude oil increased a lot from July to October this year, it only started going down this month,'' said Chassignet.

Carbon taxThe second thing is an increase in the carbon tax, which is meant to limit greenhouse gas emissions.

Introduced in 2014 under the Francois Hollande government, the carbon tax falls under the domestic consumption taxes (TIC) umbrella. The government has the objective to keep increasing this tax for the next few years (going from ''¬39 in 2018 to ''¬47,5 in 2019).

Diesel and petrol taxesThirdly, the adjustment of the diesel tax with the petrol tax has particularly made diesel prices go up.

Since the beginning of this year, the diesel tax went up by 7.60 cents per litre, while the tax on petrol went up by 3.90 cents per litre.

How can you break down the price paid at petrol stations?According to a government breakdown on the prices of fuels, taxes make up 60% of the total price. The rest is subject to the price of the oil barrel.

Fuel is subject to two taxes. The first one is the domestic consumption tax on energy products (TICPE), which comprises the carbon tax and a value-added tax (VAT).

What are the taxes used for?The TICPE helps finance the general budget of the state '-- including eco-friendly projects '-- territorial authorities, and transport infrastructure. The government expects it to bring in around ''¬7.8 billion in 2019.

But environmentally-friendly projects are not only financed through this tax. Other taxes also contribute to the transition towards greener technologies.

Why did the government decide to take these two measures?Chassignet said that the government was increasing the carbon tax so the country could keep its commitments towards fighting climate change and greenhouse gas emissions.

As for the alignment of the diesel tax with the petrol tax, it became a government measure after studies showed that diesel was as polluting as petrol, said the expert.

''So a heavier tax on diesel is meant to encourage people not to buy diesel cars,'' he added.

French Transport Minister Elisabeth Borne said the tax on diesel would increase by 6.5 cents per litre in January 2019. The tax on petrol is set to increase by 2.9 cents at the same time.

The ministry expects the alignment of the petrol and diesel tax in 2022, leaving it at 78 cents per litre.

What will the government do with the surplus money coming from the taxes?The government says they plan to use the extra revenue in eco-friendly projects that fight climate change.

''Economic theory shows that if we increase the carbon tax, then CO2 levels will go down,'' says Chastignet.

"Even though the government does use the tax revenue to fund environment-friendly projects, there needs to be more transparency in how else they are using the extra money," he said.

Why is kerosene, fuel used by planes, not taxed?The highly-polluting kerosene cannot be taxed on international flights because a tax exemption was decided by an international agreement. A ratification of this agreement would need a unanimous vote by all 191 member states of the International Civil Aviation Organisation (ICAO).

However, it is possible to tax domestic flights, said Chastignet. But this hasn't been put forward by the government yet.

What is the government doing to help the people who heavily depend on their car to go to work?There are government plans in place that are meant to help people who heavily depend on their vehicles for transport, such as a financial incentive to exchange old polluting cars for newer eco-friendly models. The government also offers a subsidy called "ecological bonus" to drivers who rent or buy an electric car.

Germany calls for France to handover its permanent UN security seat to the EU | Daily Mail Online

Sun, 02 Dec 2018 12:32

Germany has called for France to give up its permanent seat on the United Nations Security Council so it can be turned into an 'EU seat'.

Finance minister Olaf Scholz said he recognised the move would 'take some convincing in Paris', but added that it would be a 'bold and smart goal'.

It comes after the leaders of France and Germany backed the creation of an EU army, a proposal Defence Secretary Gavin Williamson has described as 'crazy'.

Mr Scholz, who is also Germany's vice-chancellor, said: 'If we are to take the European Union seriously, the EU should speak with one voice within the UN Security Council. In the medium term, France's seat could be converted to a seat for the EU.'

German Finance Minister and Vice-Chancellor Olaf Scholz gives a speech on Europe at the Humboldt university in Berlin on Wednesday

He said to lessen France's pain, it could become 'the permanent EU ambassador to the UN'.

Mr Scholz also said European Union governments needed to work more closely on defence spending and creating weapons.

But his suggestion of taking France's seat was shot down by the French ambassador to the United States, Gerard Araud.

He described it as 'legally impossible' and 'politically impossible'.

France has been one of the five permanent Security Council members since the body was established after the Second World War to prevent another large-scale conflict.

UN Security Council meet to discuss Ukraine crisis. Other permanent members also include Britain, Russia and America, the victors of the war, plus China

Angela Merkel and Finance Minister Olaf Scholz arrive to attend the weekly cabinet meeting in Berlin, Germany this week.

The permanent members also include Britain, Russia and America, the victors of the war, plus China.

They are the most influential in the 193-member United Nations because they hold the right to veto UN resolutions. When Britain leaves the EU, France will be the union's only permanent member of the Security Council.

PressTV-Germany calls on France to give UN seat to EU

Sun, 02 Dec 2018 12:31

German Finance Minister Olaf Scholz has proposed that France give up its permanent seat on the UN Security Council and turn it into an EU seat to allow the bloc to speak with one voice on the global stage.

"I realize this will take some convincing in Paris but it would be a bold and smart goal," Scholz said in a wide-ranging Berlin speech on the future of the European Union.

To lessen the pain of losing the powerful seat, France could become "the permanent EU ambassador to the United Nations," added Scholz, who is also Germany's vice chancellor.

German Finance Minister Olaf Scholz gives a joint press after a Eurogroup meeting with French Economy, Finance Trade Minister on Eurogroup reform at the EU headquarters in Brussels on November 19, 2018. (Photo by AFP)France has been one of the five permanent Council members since the body was first established in 1945 in the wake of World War II to prevent another large-scale conflict.

The permanent members, including Britain, China, Russia and the United States, are the most influential countries in the 193-member United Nations because they hold the right to veto UN resolutions.

There have been repeated calls in the past to reform the UN Security Council with large emerging nations in particular clamoring for a place at the table.

In 2010, then US president Barack Obama voiced support for India's efforts to become a permanent Security Council member.

Brazil and Japan have expressed similar ambitions, while African nations have called for two permanent seats to better represent a continent they say has been historically overlooked.

French President Emmanuel Macron called on lawmakers in the German parliament last month to help create a "stronger, more sovereign Europe."

French President Emmanuel Macron looks on as he waits for the arrival of his Romanian counterpart for a working lunch at the Elysee presidential palace in Paris on November 27, 2018. (Photo by AFP)"Europe cannot play its role if it becomes the plaything of great powers and contents itself with a supporting role on the global stage," he said.

Chancellor Angela Merkel welcomed Macron's speech, saying Europe was "at a crossroads" over its future.

In the past, she and Foreign Minister Heiko Maas have both called for individual EU countries' seats on the UNSC to be "Europeanized."

When Germany was selected to hold one of the 10 non-permanent seats for two years from January 2019, Maas promised Berlin would "interpret it in a European way."

"We want to show that we take the common European seat seriously. Because that remains our aim," he added.

Scholz's Wednesday sally was the latest way Germany has sought to dispel accusations it has failed to respond to Macron's ambitious hopes to reform the EU and the euro single currency.

(Source: AFP)

Horrified passengers 'call loved ones' as engine falls apart mid flight | World | News | Express.co.uk

Sun, 02 Dec 2018 12:28

Express. Home of the Daily and Sunday Express. TERRIFIED airline passengers could only watch as an engine started to tear apart mid-flight between Las Vegas and Florida. PUBLISHED: 08:53, Sun, Dec 2, 2018 | UPDATED: 08:53, Sun, Dec 2, 2018

\\ ');$('.gig-button-container',commentIco).append($('#spotCommentCounter .spot-im-replies-count').clone(!0));$('#componentDiv .gig-share-bar-container > table > tbody > tr').append(commentIco)},onShareButtonClicked:function(e){ExpressApp.GoogleAnalytics.TrackEvent('social','intent','https://www.express.co.uk/news/world/1052996/US-news-frontier-airline-engine-video-las-vegas-to-tampa-florida-diverted');(window.utag_add_event||function(){})({"call_type":"event","events":{"category":"Social","action":"Intent","event":"socialIntent"},social:{"platform":e.shareItem.provider}});if(e.shareItem.provider=='comments'){$('html, body').animate({scrollTop:$('#gigyacomments').offset().top},'slow','easeOutExpo')}}};gigya.socialize.showShareBarUI(showShareBarUI_params)

Frightening footage, filmed by screaming passengers, shows parts of a plane engine cover being torn off. One Frontier Airlines passenger said: ''The hatch came up and ripped off during take off.'' He told Brandon Rittiman people were ''jumping up screaming, slamming on the roof, yelling stop.''

Passengers, fearing for their lives, started calling loved ones to say goodbye.

The flight crew immediately requested a return to Las Vegas McCarran International Airport and were allowed to do so at 7:27 am, some 15 minutes after takeoff.

Every one of the 166 passengers and the six crew members were safe.

The airline reassured its customers: ''The engine continued to operate normally and the aircraft, an Airbus 320, landed safely.''

Passengers called loved ones as they watched the engine casings tear off (Image: Twitter)

A spokesman added: "During takeoff on Frontier flight 260 from Las Vegas to Tampa today, a section of an engine cover came loose and separated from the aircraft.

"Pilots immediately returned to airport.

"The engine continued to operate normally and the Airbus 320, landed safely."

One passenger said the airline offered everyone a free breakfast voucher, a full refund and a $500 voucher for a future flight.

It follows a VietJet Aviation JSC flight that made a troubled landing on Thursday evening after the wheels on its front landing gear had "problems", with passengers reporting minor injuries, the carrier and Vietnam's aviation authority said on Friday.

The VietJet domestic flight from Ho Chi Minh City to Buon Ma Thuot carrying 207 passengers had a "serious problem" during landing where its "two front wheels have got problems", the Civil Aviation Authority of Vietnam (CAAV) said in a statement.

"The aircraft safely stopped on the runway at Buon Ma Thuot Airport," CAAV said on its website.

Photos of the jet on the ground obtained by industry publication Flightglobal show emergency evacuation slides were deployed and the nose gear tires completely shorn off.

VietJet said all passengers were safe, with some slightly injured and immediately taken to hospital but since discharged. CAAV said six passengers were injured.

The plane was an Airbus A321 jet, delivered to VietJet two weeks ago on November 15.

An Airbus spokesman said the manufacturer was in contact with the airline and providing all necessary technical assistance.

Navy Admiral Scott Stearney Is Found Dead in Bahrain Home - The New York Times

Sun, 02 Dec 2018 12:22

Image Vice Adm. Scott A. Stearney oversaw the Navy's Fifth Fleet in Bahrain, as well as a broader naval coalition there that includes more than 20,000 United States and allied maritime forces. Credit Credit Sgt. Wesley Timm/U.S. Marine Corps The admiral overseeing American naval operations in the Middle East and Southwest Asia was found dead in Bahrain on Saturday, the Navy said.

The officer, Vice Adm. Scott A. Stearney, was found in his residence in Bahrain, Adm. John M. Richardson, the chief of naval operations, said in a statement, noting that no foul play was suspected. The Naval Criminal Investigative Service and the Bahraini Ministry of Interior are cooperating on the investigation, Admiral Richardson said.

Admiral Stearney took charge in May of the Navy's Fifth Fleet in Bahrain, as well as a broader naval coalition there that includes more than 20,000 United States and allied maritime forces.

''This is devastating news for the Stearney family, for the team at Fifth Fleet, and for the entire Navy,'' Admiral Richardson said in the statement. ''Scott Stearney was a decorated naval warrior.''

The American-led naval forces play an important role in safeguarding such vital regional waterways as the Persian Gulf, the Strait of Hormuz and the Red Sea. In recent years, the naval forces have confronted threats including marauding pirates, harassing Iranian revolutionary guard attack boats, weapons smugglers, and Iranian-aligned Houthi rebels in Yemen firing missiles at commercial ships.

''We stand ready to ensure the freedom of navigation and the free flow of commerce where international law allows,'' Admiral Stearney told reporters in a conference call in September. ''We are postured to defend and protect, not to cause international crises and provocation and escalation. We are here for the stability and the security of this region and for nothing else.''

Admiral Stearney, an FA-18 fighter pilot and former Top Gun instructor with more than 1,000 landings on aircraft carriers, had previously served in Kabul, Afghanistan, as chief of staff of Joint Task Force 435, which trains and advises Afghan military and security forces conducting detention and other operations there. Other previous assignments included stints at the military's Transportation Command, commander of the Navy's warfare development command, and director of operations for the Central Command, according to his Navy biography.

Admiral Stearney, a native of Chicago, entered the Navy in 1982 after graduating from the University of Notre Dame. He became a Navy aviator in 1984 and served in strike fighter squadrons flying the FA-18 Hornet using the call sign ''Sterno.'' He eventually rose to command the air wing aboard the carrier Dwight D. Eisenhower, according to his Navy biography.

Rear Adm. Paul J. Schlise, the deputy commander of Fifth Fleet, has assumed command, Admiral Richardson said. Vice Adm. James Malloy, a deputy chief of naval operations, is preparing to fly out to Bahrain this weekend to take command in the interim.

A version of this article appears in print on

, on Page

A

12

of the New York edition

with the headline:

U.S. Admiral Found Dead At His Home In Bahrain

. Order Reprints | Today's Paper | Subscribe

NY State Senate Bill S9191

Sat, 01 Dec 2018 19:23

Please enter your contact information

First Name *

Last Name *

Email Address *A valid email address is required.

Home address search or enter your address manually *

Street Address *Your valid home address is used to determine which NY State Senator Represents you.

Apt/Suite/Floor (Optional)

City *

State *

Postal Code *

Home address is used to determine the senate district in which you reside. Your support or opposition to this bill is then shared immediately with the senator who represents you.

Optional services from the NY State Senate:

Send me alerts for this bill. I can unsubscribe at any time.

Learn more.

Create an account. An

account allows you to officially support or oppose key legislation, sign petitions with a single click, and follow issues, committees, and bills that matter to you. When you create an account, you agree to this platform's

terms of participation.

Include a custom message for your Senator? (Optional)

Enter a message to your senator. Many New Yorkers use this to share the reasoning behind their support or opposition to the bill. Others might share a personal anecdote about how the bill would affect them or people they care about.

Leave this field blank

CommentsOpen Legislation comments facilitate discussion of New York State legislation. All comments are subject to moderation. Comments deemed off-topic, commercial, campaign-related, self-promotional; or that contain profanity or hate speech; or that link to sites outside of the nysenate.gov domain are not permitted, and will not be published. Comment moderation is generally performed Monday through Friday.

By contributing or voting you agree to the Terms of Participation and verify you are over 13.

Brace yourself, Britain. Brexit is about to teach you what a crisis actually is | David Bennun | Opinion | The Guardian

Sat, 01 Dec 2018 15:45

M ost British people don't have the first inkling of what a crisis is. They think it's a political thing. ''Government in crisis'', and so on. Whatever happens at the top, life will go on as ever. There will be food in the shops, medical supplies in the hospitals, water in the taps and order on the streets (as much as there usually is). Anyone who warns you otherwise is a catastrophist, a drama queen, a scaremonger, a Cassandra.

That's what a seven-decade period of general peace and collective prosperity does for you. It makes you think it's normal, rather than a hard-won, fragile rarity in history. It makes most people complacent, and turns a small but unfortunately influential number into the kind of adolescent romantics who think you can smash up everything in the house and stick two fingers up to Mummy and Daddy because, no matter what you do, they will always be there to make it right in the end. Mummy and Daddy won't let anything too bad happen to us.

The idea that we're protected, we're exceptional, is not articulated or usually even conscious. But it's there. That this is who we are. Disaster '' mass, national disaster '' happens to other people, in other places.

But there is no such rule. No such guarantee. Mummy and Daddy won't always come to bail us out. And if you've ever lived in one of those other places, chances are you will have seen how quickly what you thought was an orderly society can disintegrate under pressure. If you've never known gunfire and mobs on the streets, or empty taps and empty shelves, or power that's off more than it's on, or morgues full of the victims of racial, political or tribal violence, you don't have a clue how easily that can happen.

I experienced all these things when I was growing up in Kenya. Some were routine; the more severe, mercifully less so. Branded on my memory from an attempted coup d'(C)tat in 1982 is the sound of automatic rifle fire along the road; the crowds surging like waves; confusion and misinformation crackling from the radio; most of all, hearing the account of my late father, a doctor, of the aftermath of what I can best describe as a pogrom, unleashed by the breakdown of order, against the Asian people of Nairobi, his hospital full of the dead and grievously wounded people, many of them children no older than I was.

All the talk of 'Blitz spirit' comes from people who have never known what it is to truly fear everything crashing down

Britain is not Kenya. It is, in the ordinary run of things, much better protected against such convulsions than a country such as Kenya. But do away with the ordinary run of things, and any place in the world can suffer as Kenya did then. You don't have to look too far back at European history to see it, nor do you have to look away from home. The British people I know who most swiftly grasped and vividly understood the implications of present events as they began to unfold are Northern Irish. There's a reason for that.

Democratic institutions, the rule of law, civic infrastructure, a culture of local and national governance in which corruption, while ever present, is exceptional rather than institutional: these things, flawed as they may be and ever improvable as they are, take generations, even centuries to build. But once they topple, they can topple at terrifying speed and with terrifying effect. Britain has forgotten what that's like.

All the talk about the ''Blitz spirit'' comes from people who have never known what it is to truly fear everything crashing down around you. In liberal democracies enthusiasm for a revolution usually comes from people who have known nothing but the safety and freedom of the ''system'' '' which is to say the imperfect protective structure '' that they abhor. Talk to anyone who has experienced the glories of such upheaval and they are generally not quite so keen on it.

To be, politically speaking, a grownup is something to be sneered at these days. It means you're lacking in imagination, in boldness of vision, in belief in a better country or a better world. That's a view held invariably by people who would, without grownups running things, have been lucky to survive long enough to articulate it. Similarly, a contempt for expertise is inevitably expressed by those who, without experts contributing to society as they do, would be lucky to have a voice to speak with, let alone a platform on which to use it. Expertise, like democracy, is far from infallible; each, however, is always preferable to the alternative.

When the grownups fail, as they periodically do, and badly, what you need is better grownups. Awful things have happened, and do happen, in this country, chiefly as a result of bad policy and worse enactment. We don't need to have homelessness, dependency on food banks or deprived areas ruled by criminals and bullies. We can afford to act against these evils, but we let them happen all the same. That shames us. Hand the keys and the controls over to eternal teenagers '' populists of either stripe '' and what you'll get is a situation where that choice is gone.

We're not special. If, in a deluded fit of national self-harm that ever more resembles the drift into war in 1914, we allow ourselves to wreck the complicated machinery that underpins our everyday lives without us ever having to think much about it, nobody will be coming to rescue us. Cassandra, as Cassandras are always ready to remind you, was right.

' David Bennun is the author of Tick Bite Fever, and of British as a Second Language
Clips & Documents
Art
All Clips

'Murphy Brown' episode focuses on reporter assault at Trump rally.mp3

'They do to us what we do to them'- Theresa May grilled by an MP about Brexit reciprocity-FREEDOM OF MOVEMENT.mp3

1. Steak and Shrimp From Martin In QL.m4a

2. Meringandan West From Martin In QL.m4a

Agentina Meetings One CBS.mp3

Agentina Meetings TWO CBS.mp3

australian climate change protests students DN.mp3

CBC on Marriott hack-500.000.000 affected-DEEP SHIT-LOYALTY PROGRAMS SUCK-NO DIFF THAN FACEBOOK.mp3

Chicago Mayor Rahm Emanuel nukes the Democrats over Beto O'Rourke.mp3

CNN Impeachment Series Starts.m4a

dEAUTCHE bANK STORY WITH ADDED tRUMP INFO dn.mp3

Dvorak Aussie Accent Advice from Matthew Bigelow.m4a

Earthquake in Alaska on CBS.mp3

Facebook sandberg and soros getting better DN.mp3

G20-MBS ignored at summit according to CBC except by PUTIN.mp3

Geert Wilders PVV Party rpresentative fear mongers about the COmpact n migration-Marrakesh Agreement.mp3

gender dysphoria LUNA and JAmes in Texas.mp3

gender TRUTH commentsary.mp3

German Finance Minister Olaf Scholz proposed that France give up its permanent seat on the UN Security.mp3

Image

Jake Tapper Grills future Chairman of House Judiciary committee Jerry Nadler-NO THERE THERE and NOT ILLEGAL.mp3

janice atkinson on Migration compact.mp3

Janice Atkinson-1-Independant UK MEP of 'Movement for Europe of Nations and Freedom' calls for NO deal on Migration Compact.mp3

Janice Atkinson-2-Independant UK MEP of 'Movement for Europe of Nations and Freedom' FREE SPEECH on Migration Compact.mp3

Judge Napalitano explains why the NSA hacked the DNC emails to discredit Clinton.mp3

KeepOnSucking-01.mp3

Kid Rock on Fox & Friends-calls out Joy Behar as a bitch WTF.mp3

NA Jingles - JCD Steak and Shrimp Jingle.mp3

NPR-Here and Now-Al Gore Reality Project-1-Intro + (tell) Faster rate.mp3

NPR-Here and Now-Al Gore Reality Project-2-How much of a problem is Trump-Global warming pollution-DJT is the FACE and VOICE of climate denial.mp3

NPR-Here and Now-Al Gore Reality Project-3-Optimistic-people getting there-Political Tipping point-ala suffragettes-fires & hurricanes is PROOF-Persuation.mp3

NPR-Live Nation is promoting the Clinton's and Michelle Obama Tours.mp3

oddball report on Mic digital DN.mp3

oddball speech about migration compact 2025.mp3

penthouse to Putin.mp3

PHONY BALONEY SCHOOL cbs.mp3

Rep Ilhan Omar of Minnesota switches on BDS.mp3

RIPHWBNWO - EOS Mix - Tom Starkweather.mp3

Roxanne-Go Fuck Yourself.mp3

STARWOOD HACK CBS too short.mp3

The View ladies on Cohen plea deal BACKGROUNDER-good day to resign.mp3

Theybies TC.mp3

Was Merkel's Aircraft Bugged By CIA.m4a

western Sahara report ONE.mp3

western Sahara report TWO.mp3