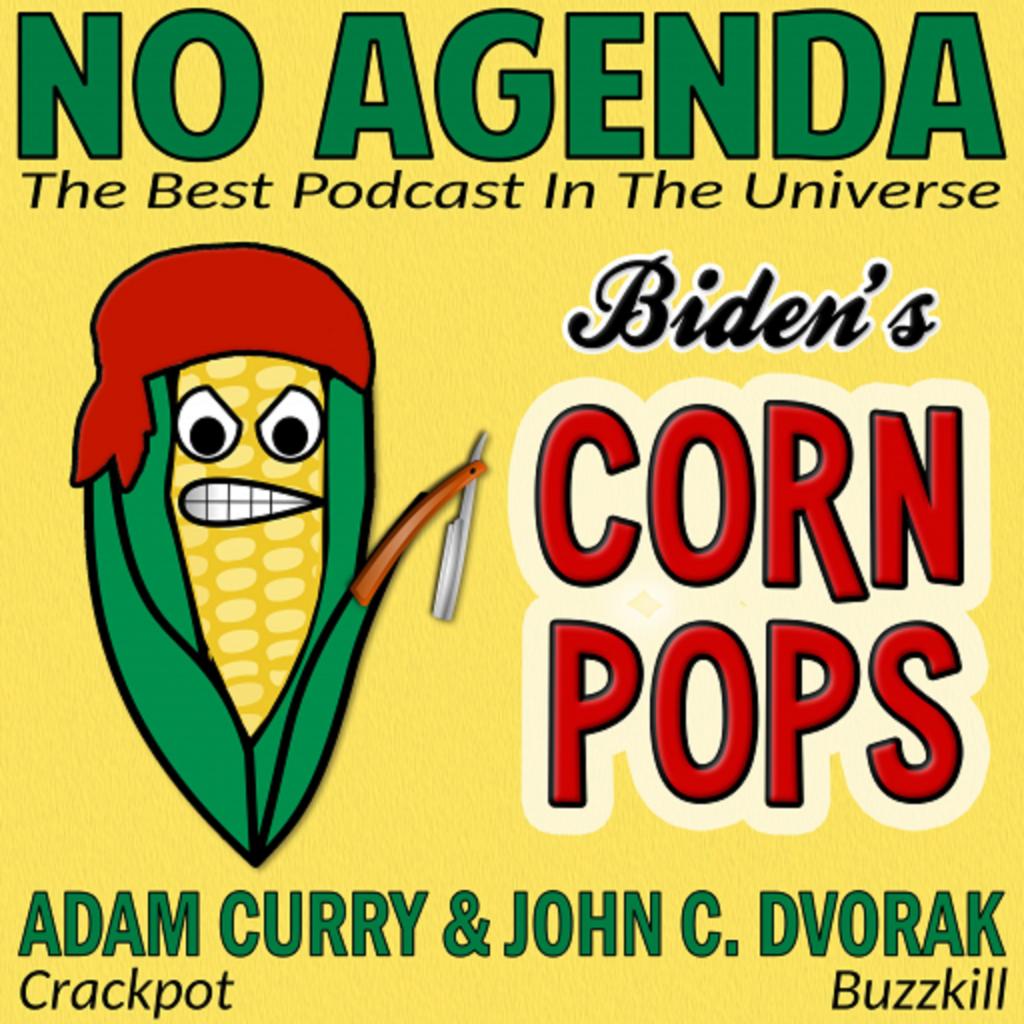 September 19th, 2019 • 2h 51m
1174: Soros Jugend
Shownotes
Every new episode of No Agenda is accompanied by a comprehensive list of shownotes curated by Adam while preparing for the show. Clips played by the hosts during the show can also be found here.
Drones

Saudi Aramco pursues IPO planning despite attack damage doubts

Thu, 19 Sep 2019 14:01

FILE PHOTO: A production facility is seen at Saudi Aramco's Shaybah oilfield in the Empty Quarter

By Marwa Rashad and Tom Arnold

RIYADH/LONDON (Reuters) - Saudi Aramco is pressing on this week with banker meetings about its planned listing, three sources said, although some investors and analysts doubt it can now meet its timeline after the weekend attacks on its oil facilities.

Reuters has reported it could take months for Aramco, the world's biggest oil firm, to restore output after Saturday's attacks, which cut production by 5.7 million barrels per day, some 5% of world oil supply.

Saudi's cabinet said on Tuesday that it has now reviewed the impact of the attacks on Aramco installations, with the country's energy minister due to hold a news conference at 1715 GMT to give the government's first public update. The state-owned oil group will meet local Saudi banks to discuss the initial public offering (IPO) plans, but bankers at international lenders working on the IPO told Reuters there had been no communication from Aramco's management on any delay.

Aramco, which did not respond to a Reuters request for comment, is continuing to prepare for a local IPO, which the sources said may happen as early as November.

Reuters has reported that Aramco plans to sell 1% this year, in a potential $20 billion deal, and another 1% in 2020 in Riyadh ahead of an international sale.

Three sources close to the deal said meetings scheduled this week with Saudi banks to discuss the underwriting work they will do in the offering are still scheduled to take place.

But other sources, including bankers and investors, said while work would continue, the attacks would have an impact.

"The train has left the station. But it's a pretty major event and a lot will depend on how quickly the damage will be repaired," one banker said.

The Aramco IPO is a pillar of an ambitious economic diversification drive by Crown Prince Mohammed bin Salman, who has put the firm's valuation at $2 trillion. The domestic flotation is the first step of a targeted 5% sale.

"It would seem logical that Aramco's IPO will be delayed while the damage is assessed but beyond this we would expect that the risk premium that investors will require should the IPO go ahead will now be higher," said Piers Hillier, chief investment officer at Royal London Asset Management. Saudi Arabia, the world's top crude exporter, recently accelerated plans for the IPO, naming a new chairman for Aramco and mandating 9 banks in top roles.

A separate source with knowledge of the deal said Aramco has already carved up the different tasks for banks such as determining valuations, organising roadshows and focusing on certain geographic areas.

"The banks continue to work on it until they are told otherwise. The sense is that they want it done as quick as they can," the source said.

ARAMCO VULNERABILITY

An Aramco pre-IPO meeting with analysts, both local and international, is scheduled for next week at Aramco's headquarters in Dhahran, two sources, said, with one adding that the meeting would still go ahead as planned despite the attack.

Even before the attack, Aramco was looking to place part of the offering to wealthy Saudi individuals to ensure demand, two other sources familiar with the matter told Reuters.

However, some analysts and investors said the strikes could pose a major setback to the Aramco offering.

Oil prices surged over supply concerns and the threat of a military response to the assault on the heartland of the Saudi oil industry, which U.S. officials blamed on Iran, a charge Tehran denies. Dollar-denominated bonds issued by the Saudi government and Aramco hit multi-week lows on Monday, but rebounded on Tuesday.[O/R] "Even if Saudi Arabia's oil facilities are quickly restored, the weekend's attacks will raise concerns of potential geopolitical risk and the level of premia required," said Monica Malik, Chief Economist at Abu Dhabi Commercial Bank, in a research note. "The developments also have significance ahead of the planned part-IPO of Aramco, highlighting the potential vulnerability of its key infrastructure and raising questions over the appropriate level of risk to be factored in the valuation." Banks including JPMorgan, Morgan Stanley and Goldman Sachs have been appointed to coordinate the deal, which has already faced repeated delays and is crucial for Prince Mohammed's plans to diversify the Saudi economy in an era of low oil prices.

(Additional reporting by Saeed Azhar, Hadeel Al Sayegh in Dubai; Stephen Kalin in Riyadh; Simon Jessop in London; David French in New York; Writing by Davide Barbuscia; Editing by Ghaida Ghantous and Alexander Smith)

Saudi officials consider delaying Aramco IPO after attacks - MarketWatch

Thu, 19 Sep 2019 11:49

Saudi Arabian officials are discussing delaying Aramco's initial public offering, after attacks on the company's largest oil facilities sidelined more than half of the kingdom's output, people familiar with the matter said.

The Saudi Arabian Oil Co., as Aramco is officially known, has been gearing up for a two-part IPO, in which it had hoped to first sell a sliver of itself to investors on the local Saudi exchange in November and then list shares internationally, according to people familiar with the matter. The listing plans have long been dogged by questions over valuation and the venue for an international stock market debut.

Read: Why the Saudi oil attack is a 'big deal' that could be a 'game changer' in stock markets and crude prices

The company is expected to move forward with presentations to analysts and meetings with bankers as planned, but Saudi energy officials and Aramco executives are debating a rescheduling of the IPO until after the company fully restores its production to normal levels. Officials had hoped to pull off its Saudi listing sometime in November. Officials say that they want to wait to get a full assessment of the damage from the attack before pushing any listing back.

Aramco and the Saudi energy ministry didn't respond to requests for comment.

''The more information we are getting on the extent of the damage, the clearer it is becoming this is really serious and would take longer than anticipated to see things back to normal,'' said an official familiar with the matter. ''You cannot go ahead with an IPO without sorting out your production issues first.''

The weekend attack puts into focus another new risk, unusual for most companies planning an IPO: the threat of more attacks that might bottle up production by cutting revenue and profit, or otherwise shake investor confidence in Aramco's longer-term investment value.

An expanded version of this report appears on WSJ.com.

Saudi Oil Facility Attack: What We Know : NPR

Thu, 19 Sep 2019 11:47

A photograph taken by the commercial satellite company Planet shows the Abqaiq facility shortly after an attack on Sept. 14. Planet Labs Inc. hide caption

toggle caption Planet Labs Inc. A photograph taken by the commercial satellite company Planet shows the Abqaiq facility shortly after an attack on Sept. 14.

Planet Labs Inc. On Sept. 14, a major Saudi oil processing plant was rocked by a series of explosions. The facility, and another oil field to the south, had been attacked from the air. Here's what we know '-- at this time '-- about the attacks based on physical evidence.

The strike was large and sophisticated

Images from commercial satellites released by the U.S. government show at least 17 points of impact at the two sites. The larger facility, known as Abqaiq, is one of the world's most important oil production facilities and has long been a potential target for attack. Within that vast plant, the perpetrators seemed to have singled out valuable equipment that would be difficult to replace and storage tanks that might contain flammable materials.

This annotated image released Sunday by the U.S. government and DigitalGlobe shows damage to the infrastructure at Saudi Aramco's Abqaiq oil processing facility. U.S. Government/DigitalGlobe/AP hide caption

toggle caption U.S. Government/DigitalGlobe/AP This annotated image released Sunday by the U.S. government and DigitalGlobe shows damage to the infrastructure at Saudi Aramco's Abqaiq oil processing facility.

U.S. Government/DigitalGlobe/AP The group that has claimed responsibility probably didn't do it

Shortly after the attack, Houthi rebels in Yemen announced that they had launched drones against the Saudi facilities. The Houthis have conducted numerous drone attacks inside Saudi Arabia in the past, but there are a number of reasons to question their latest claim.

The first reason is simple math: There were 17 impact points, but Houthi spokesman Yahya Saree said that only 10 drones were launched by the rebel group.

Second is the matter of distance. The facilities that were struck lie roughly 500 miles from Yemen's border with Saudi Arabia. The Houthi weapons that have been used thus far simply don't have the range.

Third is the attack's level of sophistication, according to Fabian Hinz, a research associate at the James Martin Center for Nonproliferation Studies in Monterey, Calif. "Would the Houthis be capable of flying a single drone or two drones into Abqaiq? I would say yes," Hinz says. "But would they be able to conduct such a vast coordinated mission to strike the facility with so much success? I would honestly say no."

Saudi Arabia has shown wreckage of drones and missiles that look Iranian

Even before the Saudi announcement, unverified photos popped up on Twitter that showed the wreckage of a missile in the desert with striking similarities to Iranian technology.

The wreckage of a cruise missile that Saudi officials say failed to reach one of its targets strongly resembles an Iranian design. Amr Nabil/AP hide caption

toggle caption Amr Nabil/AP The wreckage of a cruise missile that Saudi officials say failed to reach one of its targets strongly resembles an Iranian design.

Amr Nabil/AP At a news conference Wednesday, Col. Turki al-Maliki, spokesman for the Saudi-led coalition fighting Houthi rebels in Yemen, displayed the remains of several missiles and drones that he said were recovered from the attacked facilities and the areas surrounding them.

At least one of the delta-wing drones looks like a type that previously appeared at a military exhibition in Iran, according to images displayed by Maliki and verified by outside experts.

The missiles Maliki described as being similar to Iran's Ya-Ali cruise missile, a kind of land-attack missile, are capable of traveling hundreds of miles with a small warhead. Hinz believes the missiles more closely resemble another Iranian design, a variant of which is known as the Quds-1.

Regardless of the exact type, the missile is clearly Iranian, says Hinz. "I would say there's little doubt that the cruise missiles we've seen originated in Iran."

The impacts on the site were made by objects coming from the west or northwest

Satellite images show that storage tanks at Abqaiq were struck from a northwest direction, Maliki says. He also claims that debris from three cruise missiles that failed to reach Abqaiq were recovered from north of the site. The trajectories suggest the missiles were launched from Iran or Iraq.

Frank Pabian, a long-time imagery analyst, says the impacts look like they may have struck from the west.

Impact sites suggest that the attacking drones or missiles likely came from the northwest, according to Saudi officials. U.S. Government/DigitalGlobe/AP hide caption

toggle caption U.S. Government/DigitalGlobe/AP Impact sites suggest that the attacking drones or missiles likely came from the northwest, according to Saudi officials.

U.S. Government/DigitalGlobe/AP Regardless, Hinz says, the direction of the impact doesn't necessarily indicate the launch point. Both cruise missiles and drones can take circuitous routes to their targets.

Still, says Hinz, "If we talk about the general balance of probability, it's much more likely they came from the north."

Other sources of information may soon be available

The U.S. military monitors the region closely with satellites, drones, radar and other sensors. According to NPR's Tom Bowman, Pentagon officials say they have imagery of Iranian forces inside Iran preparing for a strike before the attack. So far, the U.S. has not released any evidence it collected of those preparations or of the attack itself.

It may also be possible to glean more details from the wreckage of the drones and missiles. Maliki noted in his news conference that experts continue to analyze the hardware of the GPS-guided drones. It may be possible to extract the route they flew before crashing. A similar analysis of drone boats launched by the Houthis in 2016 revealed 93 sets of coordinates that provided clues about the boats' mission.
BTC

Fed Money Injection Former NY Banker

Additional capital requirements put in since crisis make it

harder to borrow overnight, where huge amount of money sits.

Like all other big bank—central bank level borrowing, no

real credit risk here; just another way the fed is needed to make things work

smoothly.

Good for big US banks; bad for trading houses (GS and MS),

foreign banks and large investors. When they fed needs to step in, there is

always a loser.

Bank Reserves: What Are They and Why a Shortage Is Roiling a Key Interest Rate - WSJ

Thu, 19 Sep 2019 15:03

Bank reserves are normally obscure, even to bankers and professional investors. But this week they have hit the news when a shortage of them caused a key measure of borrowing costs'--known as the overnight repo rate'--to spike. That's a worry, because typically these more wonky areas of finance only become interesting when something is going wrong.

The overnight repo rate, which is what banks and other financial players charge each other to lend cash in exchange for supersafe bonds, should be close to 2%, but it shot up almost as high as 10% on Tuesday. One of the underlying causes of this is a scarcity of reserves compared with the amount of Treasury bonds in the market. That has made banks less willing to lend to each other even in exchange for safe government bonds.

To settle markets down, the Federal Reserve Bank of New York has dipped into this market, conducting three auctions this week where banks could swap Treasurys (or bonds from institutions like Fannie Mae ) for new reserves. It conducted a third auction on Thursday morning and offered $75 billion in repos.

Here's is a simplified rundown of what reserves are and how they've come to matter.

What are reserves?

Not many people realize this, but there are two basic types of money in the world. There is central bank money, which is known as reserves, and there is money that the rest of us use.

Central bank money can only be used by banks, governments and some government-linked institutions. They have this money in accounts at the central bank, where it is called ''reserves.'' The money that the rest of us use is private money that is created by ordinary banks.

There is also some special central bank money that everyone can use: The notes and coins in our wallets.

What are reserves for?

The main day-to-day function of reserves is for banks to make payments to each other that reflect transactions between the rest of us. When one person transfers money to another person, it looks like private money moves from one bank account to another.

But that's not what really happens. In fact, the first person's bank reduces the amount in the person's checking account, which is really just a record of money the bank owes to them. It then sends an equivalent amount of reserves to the second person's bank. That bank now owes the second person more money and so it increases the value of their deposit with private money.

The same is true when your employer pays you your wages (assuming you don't get them in notes and coins anyway), or when you pay for your groceries with a debit card.

Where do reserves come from?

One way reserves find their way into the banking system is when a government spends money. Whether it wants to pay government workers' wages or buy cruise missiles, it sends reserves from a government's central-bank account to the central-bank account of the ordinary bank used by the person or company who is getting the money. That bank then increases the value of the deposit in the accounts of workers or cruise missile suppliers.

The government can get some of those reserves back by selling a Treasury bond to investors, which is done via primary dealers, banks who have a special role acting as market makers for government bonds. The bond sale is paid for, or settled, using reserves from the banks that have the deposit accounts of those investors.

Where does QE come in?

The whole point of QE'--quantitative easing'--was to ease the pain of the financial crisis by flooding the financial system with money, which would make all kinds of borrowing significantly cheaper.

Central banks did this by creating trillions of dollars (or euros or Japanese yen) worth of reserves to buy back government bonds from investors via banks. This gave banks vast amounts of reserves. In turn, the banks gave those selling the bonds equally vast amounts of new private money. That private money could then be spent in the economy or used to buy riskier corporate bonds for example. The higher demand for other forms of debt would make that debt cheaper for borrowers.

And then the Federal Reserve started to reverse QE?

Yes, the Fed stopped buying Treasurys when it felt the economy was on solid footing. When the bonds that it owned matured, the government had to repay the Fed. The government did this by handing reserves back to the Fed which the Fed then destroyed, reversing the process when it bought the bonds in the first place.

Reserves also leave the banking system when the government sells new Treasurys to private investors or when it collects taxes. Tax payments are special because governments, unlike companies or private citizens, deal directly in reserves. That means a tax payment involves reserves being transferred from an ordinary bank to a government account at the central bank. An equivalent amount of private money in the taxpayer's bank account disappears.

The upshot: New sales of Treasury bonds and tax payments take reserves out of the banking system.

So why does this all suddenly matter now?

This is the trillion-dollar question. The answer, according to some analysts, is that the Fed isn't sure how much reserves banks need these days. New rules since the crisis and the stress tests that banks have to beat have together increased the amount of reserves they want to hold.

But reserves have been shrinking because of the reversal of QE, increased government borrowing in the Treasury market, and a recent wave of tax payments, among other things.

One key cause of the crunch in overnight lending markets is that there are more Treasurys around than banks want to own, but some banks are still being forced to buy them. These are the so-called primary dealers who buy Treasurys from the government and then sell them to investors.

If banks don't want to spend their own reserves to buy Treasury bonds they have to borrow those reserves from elsewhere. They can do that directly in specialist bank-only markets, or they can try to borrow private money in overnight lending markets, where rates spiked this week.

That is why the short-term fix has been for the Federal Reserve Bank of New York to offer to take some of those Treasurys in exchange for new reserves. The longer-term solution could be a more permanent arrangement where the Fed conducts regular auctions. Unless that is, it turns out that the problem isn't just with banks, but that there is a real need for funding coming from somewhere else in the system that hasn't yet been identified.

Write to Paul J. Davies at paul.davies@wsj.com

Fed Intervenes to Curb Soaring Short-Term Borrowing Costs - WSJ

Wed, 18 Sep 2019 01:10

For the first time in more than a decade, the Federal Reserve injected cash into money markets Tuesday to pull down interest rates and said it would do so again Wednesday after technical factors led to a sudden shortfall of cash.

The pressures relate to shortages of funds banks face resulting from an increase in federal borrowing and the central bank's decision to shrink the size of its securities holdings in recent years. It reduced these holdings by not buying new ones when they matured, effectively taking money out of the financial system.

Separately, the Fed's rate-setting committee began a two-day policy meeting Tuesday at which officials are likely to lower the federal-funds range by a quarter-percentage point to cushion the economy from a global slowdown, a decision unrelated to the funding-market strains.

The federal-funds rate, a benchmark that influences borrowing costs throughout the financial system, rose to 2.25% on Monday, from 2.14% Friday. The Fed seeks to keep the rate in a target range between 2% and 2.25%. Bids in the fed-funds market reached as high as 5% early Tuesday, according to traders, well above the band.

The New York Fed moved Tuesday morning to inject $53 billion into the banking system through transactions known as repurchase agreements, or repos. The bank said Tuesday afternoon it would inject up to $75 billion more on Wednesday morning, but many in the market were looking beyond that decision. ''The market will be waiting to see if the Fed makes this a more permanent part of the playbook,'' said Beth Hammack, the Goldman Sachs Group Inc. treasurer.

Fed policy makers set their target range to influence a suite of short-term rates at which banks lend to each other in overnight markets'--but those rates are ultimately determined by the markets. If various operations in the markets fail, the fed-funds rate can deviate significantly from the target.

In the short run this likely affects only market participants who borrow in the overnight markets, but if the strains last long enough it can affect the rates other businesses and consumers pay.

Such deviations also undercut the Fed's ability to keep the economic expansion on track through monetary policy, such as by lowering rates to provide a boost and raising them to prevent the economy from overheating.

Rising rates in overnight lending markets ''are clearly not desirable because they impede the transmission of monetary policy decisions to the rest of the economy,'' said Roberto Perli, an analyst at Cornerstone Macro.

The Fed likely will continue to provide funding to ensure the smooth operation of the repo market for some time, although it isn't clear how long that might be, analysts said Tuesday. ''This is in every way, shape and form an emergency measure,'' said Gennadiy Goldberg, a fixed-income strategist at TD Securities.

There wasn't evidence Tuesday of credit-market dislocations or other transactions that have followed past periods of distress. Instead, the pressures that sent the fed-funds rate higher were related to monetary and regulatory changes that created shortages of funds for banks.

The New York Fed hasn't had to intervene in money markets since 2008 because during and after the financial crisis, the Fed flooded the financial system with reserves'--the money banks hold at the Fed. It did this by buying hundreds of billions of dollars of Treasurys and mortgage-backed securities to spur growth after cutting interest rates to nearly zero.

Reserves over the last five years have been declining, after the Fed stopped increasing its securities holdings and later, in 2017, after the Fed began shrinking the holdings. Reserves have fallen to less than $1.5 trillion last week from a peak of $2.8 trillion.

The Fed stopped shrinking its asset holdings last month, but because other Fed liabilities such as currency in circulation and the Treasury's general financing account are rising, reserves are likely to grind lower in the weeks and months ahead.

In addition, brokers who buy and sell Treasurys have more securities on their balance sheets due to increased government-bond sales to finance rising government deficits.

Then on Monday, corporate tax payments were due to the Treasury, and Treasury debt auctions settled, leading to large transfers of cash from the banking system.

Meanwhile, postcrisis financial regulations have made short-term money markets less nimble. This didn't matter as much when the banking industry was awash in reserves and could absorb the kind of swings witnessed this week. These days, ''the market doesn't respond to temporary deposit flows as efficiently or fluidly,'' said Lou Crandall, chief economist at financial-research firm Wrightson ICAP.

The surge in repo rates began Monday afternoon, well after the vast majority of trading in the market for overnight loans typically takes place, investors, traders and analysts said. The origin of the demand for cash was unclear, as traders seeking cash could have been acting on their own behalf or as intermediaries for other parties, one trader said.

Unexpected bids seeking cash entered the market at a time traders said was uncomfortably close to the 3 p.m. deadline for settling trades.

Scott Skyrm, a repo trader at Curvature Securities LLC, said he had seen cash trade in the repo rate as high as 9.25% Tuesday. ''It's just crazy that rates could go so high so easily,'' he said.

On his trading screens, Mr. Skyrm said he could see traders with collateral securities that they were trying to exchange for cash. The rates they were offering would start to rise until an investor with cash available to trade would begin accepting bids, gradually driving repo rates down until investors had exhausted their cash, he said. Then rates would resume their climb.

While temporary technical factors could explain why cash would be in high demand this week, they didn't explain the market volatility, Mr. Skyrm said. ''It seems like there's something underlying out there that we don't know about,'' he said.

Bank executives have warned that regulatory changes, such as a rule that requires banks to hold enough high-quality liquid assets to fund cash outflows for 30 days, could lead to funding strains.

''If you all are selling corporate bonds one day, and you want JPMorgan to take on'--finance $1 billion'--I can't, because it'll just immediately affect these ratios,'' said JPMorgan Chase Chief Executive James Dimon at a banking conference this month. ''It won't hurt you very much in good times. Watch out when times get bad and people are getting stressed a little bit.''

One question is what steps the Fed's rate-setting committee might take to improve its control of the crucial plumbing that transmits its policy decisions to the broader economy.

Over the past year, the committee has occasionally lowered a separate interest rate paid to banks on reserves held at the Fed, which could reduce banks' desire to place reserves with the Fed and thereby increase liquidity in other short-term lending markets. The Fed could consider another such tweak on Wednesday, though analysts said it would amount to a temporary patch.

This week's funding strains create new urgency to take two other steps that have been under consideration this year.

In June, officials debated becoming more involved in supporting the repo market by creating a new standing facility that would reduce volatility in its participants' demand for cash. Officials didn't reach a final decision.

Eventually, Fed officials will allow the central bank's balance sheet to grow again by purchasing Treasury securities to offset growth in liabilities, which would prevent reserves from falling further.

Write to Nick Timiraos at nick.timiraos@wsj.com and Daniel Kruger at Daniel.Kruger@wsj.com

US Business May Be Talking Itself Into A Slowdown, Study Says - Bloomberg

Thu, 19 Sep 2019 14:39

Need help? Contact us We've detected unusual activity from your computer networkTo continue, please click the box below to let us know you're not a robot.

Why did this happen?Please make sure your browser supports JavaScript and cookies and that you are not blocking them from loading. For more information you can review our Terms of Service and Cookie Policy.

Need Help?For inquiries related to this message please contact our support team and provide the reference ID below.

Block reference ID:

All 7-Eleven Stores Across the Philippines Now Sell Bitcoin

Thu, 19 Sep 2019 11:43

Cryptocurrency investment app Abra starts selling crypto for cash in all 7-Eleven stores across the Philippines with a new partnership with payment processor ECPay.

Crypto in 6,000 outlets in the PhilippinesAbra announced on Sept. 18 that the partnership will bring crypto to 6,000 retail outlets across the Philippines, including all 7-Eleven stores. The company says that the aim of the partnership is to make acquiring cryptocurrency easier:

''Using new digital tools that open up financial access shouldn't be hard. And they shouldn't be complicated. Moving cash to crypto and other digital assets should be simple and fast. That's why we are really excited to announce our new partnership.''

How to buy Bitcoin at 7-ElevenAs a result of the collaboration with ECPay, consumers in the Philippines will be able to find Abra listed under the ''Bills Payment'' option at any CLIQQ ECPay financial services kiosk or in the dedicated mobile app. They can then deposit the money into their Abra wallet. The minimum deposit is PHP 500 ($9.59) and the daily limit is PHP 100,000 ($1,917).

After confirming the transaction details, printing the receipt and completing the transaction with the cashier, the funds should be accredited within 1-2 business days, (except for weekends and holidays).

As Cointelegraph reported in May, Bitcoin ATM operator Coinme has expanded its Bitcoin (BTC) purchasing options for United States residents to cover 21 states by partnering with coin kiosk operator Coinstar.
Green New Deal

Terrorizig kids climate change school shootings and the visuals are available to anyone to see. Reinforced by news clips and user streamed content.

Greta Thunberg to lead youth climate strike in 150 countries on Friday - Vox

Tue, 17 Sep 2019 13:34

This story is part of Covering Climate Now, a global collaboration of more than 250 news outlets to strengthen coverage of the climate story.

Young people from around the world are leading a massive coordinated strike from school on Friday, September 20, to protest government and business inaction on climate change. It is likely to be one of the largest environmental protests in history.

The Global Climate Strike comes just before countries will gather at the United Nations for the Climate Action Summit on September 23. It's a meeting ahead of the UN General Assembly where countries are supposed to ramp up their ambitions to curb greenhouse gases under the 2015 Paris climate agreement.

''If you can't be in the strike, then, of course, you don't have to,'' 16-year-old Swedish climate activist Greta Thunberg, the original school striker who began last year demanding more action from her government on climate change with weekly protests, told Teen Vogue. ''But I think if there is one day you should join, this is the day.''

Thunberg has become an increasingly influential figurehead and voice for youth climate angst and activism. Since she no longer flies because of the aviation industry's high carbon emissions, she was offered the opportunity to travel to the US on a zero-emissions sailboat. After arriving on August 28, she's now in Washington, DC, speaking before Congress and meeting with US lawmakers and activists before heading to New York City for the strike and the summit.

It's a big moment for Thunberg and the legions of youth and adult activists and leaders she's inspired since she began skipping school on Fridays to protest outside the Swedish Parliament in August 2018. Thousands of young people in the movement, called Fridays for Future, now strike every Friday to demand more aggressive action from their governments and the international community. The last large-scale coordinated climate strike on May 24 drew participants from 130 countries.

The New York strike is expected to attract thousands of people, and parallel strikes in DC, Boston, Seattle, Minneapolis, Miami, Los Angeles, and Denver may, too. But this is truly a global strike and it will be the movement's largest yet, with 2,500 events scheduled across 150 countries. (The Global Climate Strike website has a searchable map showing all the events.) Millions in all may participate.

Thunberg will be leading a demonstration at Foley Square starting at noon Friday in New York City, followed by a rally and march to Battery Park. The 1.1 million students in the city's public schools have even been excused students to join the strike.

We applaud our students when they raise their voices in a safe and respectful manner on issues that matter to them. Young people around the world are joining the #ClimateStrike this week'--showing that student action will lead us forward.

'-- NYC Public Schools (@NYCSchools) September 12, 2019And it's not just young people joining in. In Sweden, a group of senior citizens called Gretas Gamilingar (Greta's oldies) is participating. Indigenous activists, labor groups, faith leaders, humanitarian groups, and environmental organizations like Greenpeace and 350.org will be there, too. Outdoor equipment company Patagonia said it will close its stores on Friday in solidarity with the strike. So is snowboard brand Burton. More than 1,000 employees at Amazon have pledged to join the strike.

With the UN Summit on Monday, this strike is aimed at getting countries to commit to tougher climate targets and faster transitions to renewable energy. Under the Paris agreement, countries agreed to work toward limiting global warming this century to less than 2 degrees Celsius above pre-industrial levels, but they set their own targets. At the time, the targets were not in line with the goal, but the expectation was that countries would gradually ramp up their ambitions in curbing greenhouse gas emissions over time. The upcoming UN summit is where countries are expected to present their new, more aggressive targets.

''I look forward to welcoming young leaders like Greta Thunberg, and many others,'' said UN Secretary General Ant"nio Guterres in a press conference last month. ''I am telling leaders, don't come to the summit with beautiful speeches. Come with concrete plans, clear steps to enhance nationally determined contributions by 2020, and strategies for carbon neutrality by 2050.''

However, greenhouse gas emissions are rising around the world, and the largest historical emitter of carbon dioxide, the US, is trying to leave the Paris accord.

Young people are inheriting a world racing toward climate catastrophe. They aren't happy about it.One of the most powerful themes of the strike movement is that the youngest people have the largest stakes in a world reshaped by climate change. And they are justified in feeling aggrieved by the lackadaisical approach governments and institutions have taken to the problem.

Lately, more and more young activists have been radically reshaping the conversation around climate change.

In the US, youth campaigners at the Sunrise Movement have forced a national discussion about climate change and comprehensive frameworks to address it like the Green New Deal. Almost every leading Democratic contender for the White House has now issued their own plan to combat climate change.

Television networks including CNN and MSNBC have responded by devoting an unprecedented amount of airtime to discuss the policy implications of climate change with presidential contenders.

And in the courts, a major climate change lawsuit is underway with more than a dozen young plaintiffs who are suing the US government for profiting off of industries that emit greenhouse gases. In so doing, the government has deprived young people of their right to a safe climate. The suit, Juliana v. US, has already drawn the attention of the US Supreme Court. Thunberg is planning to join the Juliana plaintiffs and Democratic lawmakers for an address on the steps of the Supreme Court this week.

The school strikers and the Juliana plaintiffs have also reframed the discussion around climate change. It's just as much an issue of justice as it is an issue of protecting the climate.

The people who contributed least to the problem stand to suffer the most, like people in small island countries with very low carbon emissions who are now threatened by sea level rise and extreme weather. And the worst consequences of unchecked warming will fall to future generations. Strikers are demanding that the policy response to climate change center on the issue of justice.

''We need to act right now to stop burning fossil fuels and ensure a rapid energy revolution with equity, reparations and climate justice at its heart,'' according to the demands on the climate strike website.

The strikes, then, serve as a show of force from some of the people who have the most to lose from climate change. Whether countries will take that as motivation to do more to limit warming remains to be seen.

Global Climate Strike '†' Sep. 20''27 '' USA

Thu, 19 Sep 2019 14:51

Why Strike?

Most of America's greenhouse gas emissions come from burning oil, coal and gas, also known as fossil fuels. These greenhouse gas emissions, and the fossil fuel billionaires responsible for them, are pushing our climate to the brink of collapse and hurting our communities in real time. This is especially true for those of us who are poor, people of color, and otherwise marginalized.

All forms of inequality get magnified by climate change. From housing to healthcare, everything gets worse when a wildfire or hurricane is at your doorstep, or when oil and gas billionaires come to town to build a pipeline or a refinery in your backyard. While we suffer, our elected officials keep pandering to the billionaires responsible for this crisis.

It doesn't have to be this way. Working together, we can take action within our communities and across differences to build a more just and sustainable future. For over a year, youth across America have been catalyzing the work to do just that. On September 20th, all of us are called to join young people in the streets to demand climate justice for all. In the week that follows, we'll continue to mobilize to create the changes, and the solutions, we know we need.

ResourcesNeed help organizing your event, or just want more activist skills? Sign up for one of our online trainings.Sign up for a training '†'

Frequently Asked Questions'†'Got questions? We've got answers.

Climate Justice & Coalition Building with Frontline Communities'†'It's important to center racial and economic justice in our climate activism. To do that, organizers who are not part of frontline communities must build strong relationships with frontline organizers and leaders. Check out this guide to find resources to help you get started.Adult Ally Toolkit'†'A guide to help adult organizers collaborate and co-create Climate Strike events with youth organizers.

US Organizing Toolkit'†'An extensive overview of everything you'll need to do before, during, and after the Climate Strikes to ensure a successful event.

US Media Toolkit'†' This media toolkit walks through how to use the news to communicate our power, campaigns and the climate movement with the world.

Climate Strikes Arts Kit'†'Click here to find pre-made designs, art-making how-to guides, tips for street murals, group photos, music, and more.

350.org US Climate Strikes Digital Resource Hub'†' A collection of email templates, social media copy, Action Network how-to's, graphics, videos, and more. Courtesy of 350.org.

Social Media Toolkit'†' A basic social media toolkit for the Climate Strike to help you get started with promotion.

Live Coverage Tips'†' Everything you need to know about livestreaming your event on the day of.

Frequently Asked QuestionsWhen are the Global Climate Strikes? Young people around the world have been shaking things up in the last year with Fridays for Future school strikes for the climate. As we deal with devastating climate breakdown and hurtle towards dangerous tipping poin ts, young people are calling on people of all ages to disrupt business as usual by joining the global climate strikes on September 20, and a week of escalated actions through September 27.

Together, we will sound the alarm and show our politicians that business as usual is no longer an option. The climate crisis won't wait, so neither will we.

What is planned? Millions of school climate strikers have been leaving their classrooms every Friday . Now, they hope that everyone else will join them in action. Going on climate strike means people everywhere walking out of their homes, jobs and classes.

Everyone is needed to disrupt business as usual: from food industry workers, custodians and delivery drivers to teachers, doctors and lawyers, and everyone in between. We can all take part, whatever our circumstances, by refusing to accept the status quo.

People in 150 countries are already organizing for the global climate strikes this September. Some will spend the day in protest against new pipelines and mines, or the banks that fund them; some will highlight the oil companies fueling this crisis and the politicians that enable them. Others will spend the day in action raising awareness in their communities and pushing for solutions to the climate crisis that have justice and equity at their heart.

On a grossly unequal planet, not everyone will be able to take a day off or take part in the same way. But we can all take a stand and make our voices heard. Find out how .

Why go on #ClimateStrike?The climate crisis is here '-- and already hurting millions of people.

Our climate is on the brink of collapse. Millions of people in the US and around the world are already feeling the effects of rising seas and powerful droughts, heatwaves, storms, floods and fires.

A handful of oil, coal, and gas billionaires have driven us to this point. And our elected officials have protected and enabled them for years.

Meanwhile, the people displaced, harmed, and killed by the climate crisis and the industries causing it have often been those who are least responsible '-- people of color, the poor, and Indigenous nations.

We have the power to create change.

We know what the solutions are. We have the means to implement them. And working together, we can build the political power we need to take down the fossil fuel industry and kickstart a rapid energy revolution with equity, reparations, and climate justice at its heart.

If we don't act now to transition fairly and swiftly away from fossil fuels to 100% renewable energy access for all, the injustice of the climate crisis will only get worse.

But it's going to take all of us working together to succeed. Join the Climate Strikes starting on September 20 '' and continuing with additional events through September 27.

Millions of us will walk out from home, work, school or university to declare a climate emergency and show our politicians what action in line with climate science and justice means.

The climate crisis won't wait, so neither will we.

What difference will it make? These Climate Strikes won't solve the climate crisis alone. What this moment can do is demonstrate that people are no longer willing to continue with business as usual. The urgency of the climate crisis requires a new approach and a just response centered on human rights, equity, and justice.

Millions of students around the world have been sounding the alarm for over a year. Now it's everyone's turn to stand with young people and show world leaders the people power demanding climate justice. September's climate strikes will kickstart a huge wave of action and renewed ambition all over the world.

Who is going on climate strike? Everyone! School strikers are aiming to make September 20 their biggest mobilization yet, while unions and adults everywhere are preparing their own actions from September 20-27.

We already know that environmental, public health, social justice, and development groups will join in. But our greatest hope is mobilize millions of people across all sectors of society. After all, we share this planet together. So it only makes sense for all of us to fight for it.

It will take all of our efforts to get millions of us in the streets worldwide. So join us. Our window for effective climate action is closing fast.

What are you asking for? The climate crisis is already here '-- we want everyone to start acting like it. We demand climate justice for everyone.

Our hotter planet is already hurting millions of people. If we don't act now to transition fairly and swiftly away from fossil fuels to 100% renewable energy for all, the injustice of the climate crisis will only get worse.

We need to act right now to stop burning fossil fuels and ensure a rapid energy revolution with equity, reparations and climate justice at its heart.

What if I can't go on strike? Workers' rights and labor laws vary hugely around the world, and not everyone can work, strike, or be part of a union. On a grossly unequal planet, some of us can't do without a single day's pay, and some of us work for bosses who would fire us if we dared try.

And some jobs simply can't stop: emergency room doctors should keep on saving lives. But many of us can put off for 24 hours our usual work, confident it will be there when we return.

The strike called by youth on September 20 will kick start a week of climate action with many different plans underway in different parts of the world allowing adults to join together, step up and take action for our climate.

Here is a range of ways you could join the Climate Strikes if you're unable to leave your workplace.

Can adults join in? Absolutely! School strikers have invited everyone to walk out in solidarity with them on Friday September 20 and 27 . This is a global moment to show politicians everywhere that our movement is growing from strength to strength and we won't stop until we get climate justice for everyone. This is only the beginning.

Why September 20-27? As young climate strikers have shown, there is huge power in sustained action to match the scale of the climate emergency . These dates in September are only a beginning to the sustained mass mobilization that will be needed to pressure world governments to take action in line with climate science and justice.

On September 20, 3 days before a UN emergency climate summit being held in New York, young people in the Fridays For Future network are mobilizing for their largest global climate strike ever. They have invited everyone to join them on Friday, September 20 and again the following Friday, September 27 when they will join Earth Strike for a general strike.

In the week between September 20 and September 27, people around the US will mobilize locally in a series of escalated actions intended to build on the pressure created by the mobilization on September 20th. You can find these events in the map at the top of this page.

Global Climate Strike partners encourage everyone to join on both dates and well beyond.

Zero Hour - Action Network

Thu, 19 Sep 2019 14:35

Zero HourThe mission of the Zero Hour movement is to center the voices of diverse youth in the conversation around climate and environmental justice. Zero Hour is a youth-led movement creating entry points, training, and resources for new young activists and organizers (and adults who support our vision) wanting to take concrete action around climate change. Together, we are a movement of unstoppable youth organizing to protect our rights and access to the natural resources and a clean, safe, and healthy environment that will ensure a livable future where we not just survive, but flourish.

Who We Are - Zero Hour

Thu, 19 Sep 2019 14:32

Our StoryThe Zero Hour movement started with our founder, 16-year-old Jamie Margolin. Frustratedby the inaction of elected officials and the fact that youth voices were almost always ignored in theconversation around climate change and the profound impact that it would have on young people, Jamiestarted gathering several of her friends in the summer of 2017 to start organizing something big,something hard to ignore! Nadia Nazar, Madelaine Tew, and Zanagee Artis joined her in her efforts.

Jamie realized that a national day of mass action, led by youth, would be an idealplatform to ensure that young voices were not only centered in this conversation, but that electedofficials and adults would hear their voices loud and clear!

By the end of the summer, young activists from across the country, from diversebackgrounds, had joined the team and the Zero Hour movement had started taking shape.

Jamie Margolin / Founder & Co-Executive Director

Nadia Nazar / Founder, Co-Executive Director & Art Director

Madelaine Tew / Founder & Director of Finance

Zanagee Artis / Founder & Deputy Advocacy Director

Elsa Mengistu / Director of Operations

Sohayla Eldeeb / Global Outreach Director

Khristen Hamilton / Volunteer Management Director

Arielle Martinez-Cohen / Partnerships Director

Ethan Wright / Advocacy Director

Isabella Fallahi / Communications Director

Natalie Mebane / Fundraising & Advocacy Adult Mentor

Anaiah Thomas / Finance Deputy Director

Kevin Patel / Deputy Partnerships Co-Director

Kaylah Brathwaite / Deputy Operations Director

Lana Weidgenet / Deputy Partnerships Co-Director

Mikaela Hutchinson / Deputy Volunteer Management Director

Natalie Sweet / Deputy Communications Director

Jerome Foster II / Press Member

Zach Zulanas / Web Design

Jonathon Reed / Web Design

At the start of 2018, a few founding members traveled to Washington, D.C. to lay keygroundwork for this growing movement'--and meet each other in person for the very first time! Withthe help of key partners who have come onboard to support our vision, we are well on our way toorganizing a movement that will ensure that our elected officials and leaders at every level of societystop ignoring the needs of young people and their right to a safe, healthy, and clean environment.

Our team of youth leaders and adult mentors are more than just a collective'--wehave become a movement family! This vision depends on people like you willing to support and upliftyouth by making this vision your own. We would love for you to join our family and come write the nextchapter of our story together, as we plan our march and advocacy day in Washington, D.C.

Explore the map to learn more about our team.Group

0 to 2.1 2.1 to 3.1 Our Vision Enough is enough. We, the youth, believe that #thisisZeroHourto act on climate change. We cannot afford to wait any longer for adults to protect our right to theclean and safe environment, the natural resources we need to not just survive, but flourish. We knowthat we are the leaders we have been waiting for!

We believe that every individual, from every community should have access to clean air,water, and public lands. We believe in putting the needs and health of our communities before corporategain.

We believe that the leadership of youth in this space is essential since we haveinherited a crisis that we had no hand in creating. We will strive to hold our adults and electedofficials accountable for their legacy of destruction and inaction when it comes climate change. Webelieve in a solutions-based approach that addresses the real needs of our communities.

While climate change is a phenomenon that will impact all of us '--if it has notalready'--we believe that the impact of the climate crisis is profoundly unequal. Frontlinecommunities across the globe and within the United States have been directly impacted by climate changeto a degree greater than others. We believe, however, that those closest to the problem are also oftenclosest to the solution. These communities have been actively working to create just solutions andtransitions. Our goal is to center the unique wisdom, experience, and leadership of these communities inour efforts to make impactful change.

We also recognize that a movement for climate and environmental justice cannot besuccessful without building meaningful coalitions and cross-sector alignment with other movements forsocial justice. We believe in harnessing the power of youth-led organizing and leadership by youth fromdifferent backgrounds and experiences in forging our path towards a more equitable and safe future forall of us.

Our Partners We can't do this alone. We want to build thismovement with all of you! If your organization would like to partner with Zero Hour, please reach out tous at: info@thisiszerohour.org.

Join theMovementWe have many upcoming campaigns. Subscribe to stay informed about youth-led activismand our gathering in Miami.

SF6 Gas BOTG

Good evening, gentlemen.

After hearing you all discuss Sulfur

Hexaflouride gas on your show, I couldn't help but write you all because this

is something I actually know a little bit about.

Sulfur Hexaflouride (SF6) is a

molecule that is extraordinarily symmetrical, and thus has no ability to

provide electrical pathways within the gas because there is no

electronegativity (no electrical poles due to its symmetrical electron

distribution). Because of these inert electrical properties, it is used

as an insulator in high voltage electrical components, as you all noted.

SF6 gas compartments are found in

high-voltage electrical circuit breakers because they extinguish the arcing

that occurs when a breaker operates and breaks a load. These high-voltage

breakers are supposed to interrupt currents that are over 50,000 amps and do it

within the confines of the breaker compartment, so you can imagine the

electrical arcing that occurs when the breaker contacts are opening. SF6

comes in handy to extinguish these arcs.

Utilities are definitely concerned

with SF6 leakage, and constantly monitor for low gas pressure in their

breakers.

As far as greenhouse gas bullshit is

concerned, I would personally be more concerned with the acres of trees I have

mowed down building solar farms (and their corresponding transmission line

corridors) than I am with SF6 gas (or any gas emissions, for that

matter). Oh, well.

Take care, kind sirs.

-RDG

Climate Confessions

Thu, 19 Sep 2019 00:17

Write confession

0 /130

Privacy Policy Terms of Service FACT:

TIP:

Filter by: Credits

The 'Climate Strike' is a crock that exploits kids

Thu, 19 Sep 2019 00:07

This Friday, in advance of the United Nations Climate Summit, students across the country will walk out of their schools as part of a Climate Strike. In New York City, the Department of Education has given its stamp of approval to the walk-out and won't mark it as an absence, making it less ''a strike'' and more a coordinated effort by the school system to force political action on children.

Tweeted DOE: ''We applaud our students when they raise their voices in a safe and respectful manner on issues that matter to them.'' Does it? The department is only giving kids a pass to skip school to protest on this one issue. So while school brass may applaud students raising their voices, only preapproved political posturing will be granted official protest status.

Sure: Children are our future, goes the adage. Shouldn't they have a say in what happens to their planet?

But what ''say'' are they having by marching around with signs '-- repeating slogans and talking points spoon-fed to them by '... adults?

Mayor Bill de Blasio tweeted about the strike on Monday, ''Young people are taking action against Climate Change in record numbers. You know why? BECAUSE. WASHINGTON. WON'T. We are running out of time. Our kids aren't waiting. We can't either. #ClimateStrike''

But it's hard to ignore that in this call for action there's no, well, action. They're literally doing what they're urging politicians to stop doing: talking.

We could have had an army of teenagers cleaning up parks or beaches instead of striking and making signs. Teens could have led the way by not using cars or plastic utensils for the day.

Or how about something as simple as this: Give up their phones for a day (or, heck, 15 minutes!) to save energy. (Right!)

Instead, expect stories on Saturday about how much garbage the protesting kids left behind.

In my Russian-speaking community, people took to Facebook to discuss the similarities they saw to their time in the Soviet Union. One mom posted that the strike is ''Soviet-style brainwashing and propaganda'' Another mom wrote that the particular issue doesn't matter; ''having children demonstrate on school time was the Soviet way.''

One Park Slope elementary school sent parents a note that the entire school will be walking out for the strike. A mother of a 6-year-old told me, in response: ''I am all for people supporting causes they believe in, but do not force your causes and beliefs on my first-grader.''

Another mom told me she believes in climate change and thinks the government should take action but finds the strike absurd. She's afraid to single her kid out by making him skip it and isn't speaking up.

In America in 2019, it really ought to be OK for parents to say: ''My kids are not your props and, no, it's not OK for them to spend school time making climate-change signs or walking out in protest.''

Memo to DOE: Some parents would actually prefer their kids to be in class learning than taking part in one-sided political theater (though, it's true, at some schools kids who strike won't be missing much).

Nor should parents be put on the spot and have to declare whether they want their kid to attend the organized protest. This isn't a school subject. It's not standardized testing or dissecting a frog. Parents shouldn't even have to opt in to have their child attend (and whether even that should be allowed is arguable).

In any event, the real test to see if kids care about the Climate Strike would be to do it after school or on a weekend. After all, almost any teen will agree to skip school, no matter the cause. But every grown-up knows that far fewer teens would spend their free time protesting than school time.

Fact is, teenagers should be learning how to be adults and learning adult skills '-- not just mimicking actions of the adults in their orbit to gain their approval.

I believe climate change is real and we must deal with it. I teach my children to be good stewards of the environment. But that's separate from allowing them to be exploited for political goals '-- even if I happen to agree with the mission.

Sticking kids with the job of solving climate change or even just using them as puppets is deeply inappropriate.

De Blasio tweeted: ''New York City stands with our young people. They're our conscience.'' Maybe adults should have their own conscience.

Twitter: @Karol

Parents told not to terrify children over climate change as rising numbers treated for 'eco-anxiety'

Wed, 18 Sep 2019 04:12

R ising numbers of children are being treated for ''eco-anxiety'', experts have said, as they warn parents against ''terrifying'' their youngsters with talk of climate catastrophe.

Protests by groups such as Extinction Rebellion, the recent fires in the Amazon and apocalyptic warnings by the teenage activist Greta Thunberg have prompted a ''tsunami'' of young people seeking help.

A group of psychologists working with the University of Bath says it is receiving a growing volume of enquiries from teachers, doctors and therapists unable to cope.

The Climate Psychology Alliance (CPA) told The Daily Telegraph some children complaining of eco-anxiety have even been given psychiatric drugs.

The body is campaigning for anxiety specifically caused by fear for the future of the planet to be recognised as a psychological phenomenon.

However, they do not want it classed as a mental illness because, unlike standard anxiety, the cause of the worry is ''rational''.

''A lot of parents are coming into therapy asking for help with the children and it has escalated a lot this summer,'' said Caroline Hickman, a teaching fellow at Bath and a CPA executive.

''The symptoms are the same [as clinical anxiety], the feelings are the same, but the cause is different.

''The fear is of environmental doom - that we're all going to die.''

S wedish 16-year-old Greta Thunberg rose to global fame this year as she supported the protests by Extinction Rebellion, which brought parts of central London to a standstill.

Thurnberg argues that the EU must cut its carbon emissions by 80 per cent by 2030 to avoid an existential crisis - double the target set by the Paris Accord - while Extinction Rebellion demands the UK achieve net-zero emissions by 2025.

T he G7 summit in Biarritz last month was also dominated by a row between France and Brazil over the Amazon fires after President Macron said the Earth's ''lungs'' were burning. Ms Hickman said parents should talk to their children about global warming but should not say mankind is doomed.

''Parents need to find some words to talk about it that is age-appropriate and not terrifying,'' she said.

''You need to separate what is fact from what is unknown: tell them some species are going extinct and some humans are being harmed, but don't say we're all going to die, because that isn't true.''

''What you don't want is that child to collapse in a well of depression saying ''what's the point in going to university'', or ''what's the point of doing my exams'', which I have heard children say.''

T he CPA recommends a four-stage approach to explaining responsibly climate change to children without scaring them.

Parents should first gradually introduce them to the known facts, then ask them how they feel, before acknowledging that the ultimate outcome is uncertain.

Finally, parents should agree practical steps to make a difference, such as by cutting down on non-recyclable waste and choosing food with a better climate footprint.

Eco-anxiety is steadily gaining recognition in the academic community.

In 2017 a report by the American Psychological Association produced a report recognising its impact and calling for dedicated research into the mental health consequences of climate change.

In one of her last acts as Prime Minister, Theresa May set a legally-binding target to cut greenhouse gasses to net-zero by 2050 in June.
OTG

Bruno Mars cell phones

WeTransfer Phishing

BLE from Dude Named Derek

Hi Adam,

Listening to the latest show and liked the discussion on the

Bluetooth LE. I usually keep up on tech related things but honestly did not

know Apple was coming out with tags and a tracking system utilizing BLE and

crowdsourcing.

I work in networking and thought this demo I saw of a

wireless AP provider would be interesting to you. It was certainly interesting

to me and has since caused me to disable bluetooth whenever I am not in my car.

I also disable wifi whenever I am away from home. One thing to note on

smartphones... disabling wifi and bluetooth may not be enough. If you disable

wifi the system can still periodically turn it back on for location

checking and determining nearest wifi access points. You must also disable

"location services or other apps to scan for networks when wifi is

off". This is how location tracking works even when you think you have

disabled it.

We had a demo of a wireless AP company called Mist. One of

their selling points is their BLE built into their APs and how accurate it

is especially for indoor mapping. They discussed how they could do asset

tagging and tracking, and providing ad data and sending ads to BLE

devices.

Alarmingly enough, one of the examples they used was in a

mental ward of a hospital. They were asset tagging their patients. If an

admitted patient was approaching say an exit door, with the BLE tracking they

could have the system automatically lock the doors to prevent the escape or

"wandering" of the patient.

I can only imagine in their heads thinking they aren't

crazy..... They just saw someone use the door and it was unlocked... and now

their opportunity to leave has come... only when they get there the door

automatically locks. Just screwing with the minds on this one hahahaha.

Mozilla, Creative Commons want to create an ad-free internet

Thu, 19 Sep 2019 15:01

Funding online content with small consumer payments rather than intrusive and privacy-compromising ads has for years been a goal for many internet theorists and publishers.

''We're at a point where it's clear there's kinds of negative side effects for people and even for democracy of the data-driven ad economy that funds the internet,'' says Mark Surman, executive director of the Mozilla Foundation.

[Image: courtesy of Grant for the Web]Now, Mozilla, Creative Commons, and a new micropayment startup have announced a $100 million grant program to finally bring that dream to fruition. The program, called Grant for the Web, will give roughly $20 million per year for five years to content sites, open source infrastructure developers, and others building around Web Monetization, a proposed browser standard for micropayments.

''When we started Coil, Coil was essentially the first Web Monetization provider,'' says founder and CEO Stefan Thomas. Coil users pay a fixed monthly fee that's distributed among sites they visit that have Web Monetization enabled, such as the web development site CSS-Tricks, based on how long they visit the sites. The underlying technology supports other providers routing user funding as well.

The organizations behind Grant for the Web are setting up an advisory council to determine exactly how the grant money should be paid out. Surman says he's hopeful the project can help create a web economy with more room for smaller players and publishers.

''That's one of the big dreams that we have with the other partners around the Grant for the Web, [that] we can get back to a place where the small guy really has a chance to make it on the web,'' he says.

Funding for the grants comes chiefly from a grant Coil itself received from Ripple, the cryptocurrency and money transfer company, says Thomas, who was previously Ripple's CTO.

''This is actually where we got very, very fortunate,'' he says. ''Most of the time when you're promoting an open standard, you don't get to reward people or you don't get to fund it in that way.''

They aim to give at least 50% of the funds to organizations using open licenses like Creative Commons licenses, Thomas says.

''The business models of the web are broken and toxic, and we need to identify new ways to support creators and to reward creativity,'' says Ryan Merkley, CEO of Creative Commons, in a statement. ''Creative Commons is unlikely to invent these solutions on its own, but we can partner with good community actors who want to build things that are in line with our values. Creators have told us through our own user research that gratitude is a core element of why they choose to share their work, and micropayments may be an excellent way to display that gratitude.''

Trypophobia triggered by iPhone's three lenses, sufferers say - The Washington Post

Thu, 19 Sep 2019 15:01

Apple CEO Tim Cook unveils the iPhone 11 models with upgraded, ultra-wide cameras at the company's headquarters in Cupertino, Calif., on Tuesday. (Josh Edelson/AFP/Getty Images)As Apple debuted its newest iPhones on Tuesday, a striking new feature took center stage: a three-lens setup that puts a near-professional camera in the hands of anyone who can afford the $999 to $1099 devices. Three lenses are a lot better than two '-- unless they send you reeling in disgust.

That's the unexpected reaction thousands of Apple fans shared on social media as images spread of the back of the new phone, where the trio of lenses are crowded into a small square near the top left corner.

''The new iPhone is creeping me ... out with the 3 little cameras,'' one Twitter user wrote.

The backlash comes from people who say they suffer from an obscure and perplexing condition called ''trypophobia'' ' '-- a fear of clusters of small holes like those found in shoe treads, honeycombs and lotus seed pods. University of Essex Professor Geoff Cole, a self-diagnosed trypophobe and researcher in Britain who studies the condition calls it ''the most common phobia you have never heard of.''

The phobia isn't recognized in the Diagnostic and Statistical Manual of Mental Disorders, which psychologists and psychiatrists use to diagnose patients. But self-described sufferers and some researchers claim the images can evoke a strong emotional response and induce itching, goose bumps, and even nausea and vomiting.

Trypophobia was only named in 2005 after the word began appearing on Reddit and in other online forums, like in a post by an Irish woman named Louise who belonged to an online community of self-described ''weirdoes who have an irrational fear of HOLES.''

Over the next decade, though, thousands of people have reported suffering from trypophobia. Support groups have popped up on social media. In 2016, Kendall Jenner raised the condition's profile when she wrote a blog post saying the images give her ''the worst anxiety.''

''Things that could set me off are pancakes, honeycomb, or lotus heads (the worst!)," she wrote. ''It sounds ridiculous but so many people actually have it!''

But why would these images of harmless stuff possibly bother people? Some scientists are trying to figure out why people cringe at close-up photos of objects as innocuous as a frothy latte.

They have found that even those who don't feel repulsed by such images often feel uncomfortable looking at a bunch of small holes clustered together. Just as stripes can cause headaches and flashing lights can induce seizures, clusters of holes might have a physiological effect on the brain.

Researcher Arnold Wilkins, a professor emeritus at the University of Essex, theorizes that the mathematical principles hidden in the patterns require the brain to use more oxygen and energy, which can be distressing.

''The images have the same statistical properties and are intrinsically difficult for the brain to process, partly because we've evolved to look at images in nature,'' Wilkins said in an interview with The Washington Post. ''We know the images are difficult to process computationally by the neurons of the brain. They use more brain energy.''

Photos of honeycombs and strawberries '-- common sources of the creeps, or worse, for people with trypophobia '-- also share those mathematical qualities with more sinister sights like mold and skin lesions.

Other research suggests the discomfort might come from an innate drive to avoid infectious diseases and contaminated food. Some have also hypothesized the fear could stem from an evolutionary response to dangerous animals like poisonous frogs and insects, which often display patterns similar to those seen in trypophobic photos.

What can you do if you feel like retching every time you see the new iPhone?

Your best bet is to buy a black iPhone 11 Pro or 11 Pro Max so that the camera lenses blend in with the rest of the phone, Wilkins said. Or try covering one eye when you see the phones, he added, which helps reduce activity in the brain and has been shown to prevent seizures caused by flashing lights.

Some sufferers have also responded to gradual exposure therapy. A 2018 case study published in Frontiers in Psychiatry by researchers at Universidad de Valpara­so in Chile found one girl who feared photos of small holes felt better after viewing numerous images over a period of time.

The researchers found that approach only went so far, though. The girl whose fear diminished still reported feeling grossed out by photos of tiny holes.

Colorado Town Offers 1 Gbps For $60 After Years Of Battling Comcast | Techdirt

Thu, 19 Sep 2019 11:42

from the build-it-and-they-will-come deptA new community broadband network went live in Fort Collins, Colorado recently offering locals there gigabit fiber speeds for $60 a month with no caps, restrictions, or hidden fees. The network launch comes years after telecom giants like Comcast worked tirelessly to crush the effort. Voters approved the effort as part of a November 2017 ballot initiative, despite the telecom industry spending nearly $1 million on misleading ads to try and derail the effort. A study (pdf) by the Institute for Local Reliance estimated that actual competition in the town was likely to cost Comcast between $5.4 million and $22.8 million each year.

Unlike private operations, the Fort Collins Connexion network pledges to adhere to net neutrality. The folks behind the network told Ars Technica the goal is to offer faster broadband to the lion's share of the city within the next few years:

"The initial number of homes we're targeting this week is 20-30. We will notify new homes weekly, slowly ramping up in volume," Connexion spokesperson Erin Shanley told Ars. While Connexion's fiber lines currently pass just a small percentage of the city's homes and businesses, Shanley said the city's plan is to build out to the city limits within two or three years.

"Ideally we will capture more than 50% of the market share, similar to Longmont," another Colorado city that built its own network, Shanley said. Beta testers at seven homes are already using the Fort Collins service, and the plan is to start notifying potential customers about service availability today.

The telecom sector simply loves trying to insist that community-run broadband is an inevitable taxpayer boondoggle. But such efforts are just like any other proposal and depend greatly on the quality of the business plan. And the industry likes to ignore the fact that such efforts would not be happening in the first place if American consumers weren't outraged by the high prices, slow speeds, and terrible customer service the industry is known for. All symptoms of the limited competition industry apologists are usually very quick to pretend aren't real problems (because when quarterly returns are all that matter to you, they aren't).

For years we've noted how large ISPs like Comcast quite literally write and buy protectionist state laws preventing towns and cities from building their own broadband networks (or striking public/private partnerships). These ISPs don't want to spend money to improve or expand service into lower ROI areas, but they don't want towns and cities to either -- since many of these networks operate on an open access model encouraging a little something known as competition. As such it's much cheaper to buy a state law and a lawmaker who'll support it -- than to actually try and give a damn.

And while roughly nineteen states have passed such laws, Colorado's SB 152, co-crafted by Comcast and Centurylink in 2005, was notably unique in that it let local towns and cities hold local referendums on whether they'd like to ignore it. And over the last few years, an overwhelming number of Colorado towns and cities have voted to do so, preferring to decide local infrastructure issues for themselves instead of having lobbyists for Comcast dictate what they can or can't do in their own communities, with their own tax dollars.

There's probably not a day that goes by without these companies regretting letting that caveat make it into the final bill.

Filed Under: colorado, community broadband, competiton, fort collins, muni broadband, municipal broadbandCompanies: connexion

HMD Global - The home of Nokia Phones

Wed, 18 Sep 2019 17:55

Elevating the mid-segment experiences with Nokia 7.2 and Nokia 6.2New additions to the feature phone portfolio '' featuring the military-grade Nokia 800 Tough and reimagined Nokia 2720 Flip

BERLIN, 5th SEPTEMBER 2019 '' HMD Global, the home of Nokia phones, today announced five new Nokia phones. Two new smartphones: the Nokia 7.2, a class-defining smartphone with a powerful 48MP triple camera featuring ZEISS Optics, and the Nokia 6.2, where the breath-taking PureDisplay meets an advanced triple camera setup powered by AI experiences, all in one accessible smartphone.

The company also expanded its feature phone portfolio to address new network and market categories. The Nokia 800 Tough is the first rugged Nokia phone from HMD Global, representing a new hallmark in Nokia phone durability and battery life that comes perfectly paired with essential modern tech like The Google Assistant, WhatsApp, 4G and more. The Nokia 2720 Flip is compact and tactile but transformed in usability thanks to the integrated AI technology. This makes it an ideal phone for consumers with accessibility needs or looking for a digital detox. Lastly, the Nokia 110 is all about entertainment in an extremely affordable package.

Heralding the next phase for Nokia phonesHMD Global also shared its vision for the Nokia phones of the future. Continuing with the belief that technology and innovation must move people forward '' and not be limited to certain price points '' the company has identified key strategic investment areas for the future. These investments will be aimed to drive even deeper differentiation for Nokia phones in the areas of imaging, security as well as design and materials innovation. Bringing the benefits of new network technology to a wider audience, HMD Global also announced its commitment to deliver an affordable yet premium grade 5G experience in 2020.

Florian Seiche, CEO, HMD Global said:

''We are now paving the way for the next phase for Nokia phones and have identified strategic investment areas for driving a high-quality Nokia smartphone experience for our fans, specifically focussing on bringing innovation in the area of 5G, security, imaging and design.''

''We are very proud of our laser-sharp focus on security across all our phones, making us the only European brand in our category with a strong emphasis on trust, security and a pure Android experience. With amazing achievements like being the only brand to have our entire portfolio running the latest version of Android, we have brought the latest Android features across all price segments. We are the only brand that consistently delivers monthly security updates, making good on our promise to keep your phone secure.'' added Seiche.

Two new Android' smartphones elevate the mid-segment portfolio for Nokia phones In a strong renewal of the mid-segment, HMD Global today announced two new Nokia smartphones '' the Nokia 7.2 and the Nokia 6.2 '' both delivering segment leading experiences to fans in both display and imaging. In addition, both the Nokia 7.2 and Nokia 6.2 take a leap forward in craftsmanship and materials exploration bringing premium Nordic designs to the mid-segment.

Juho Sarvikas, Chief Product Officer, HMD Global said:

''Our mid-range portfolio has always been acknowledged for exceeding fan's expectations. Both the Nokia 7.2 and Nokia 6.2 carry forward the same philosophy of delivering premium experiences at exceptional value. From the powerful 48MP triple camera imaging featuring ZEISS Optics on the Nokia 7.2, to the best-in-class PureDisplay on smartphones the Nokia 7.2 and Nokia 6.2 bring the best experiences to our fans. Both smartphones come with a signature two-day battery life, and feature a unique design achieved with high-tech materials that's true to our Nordic heritage. In addition, the Nokia 7.2 and Nokia 6.2 are Android 10-ready and will deliver on an OS experience that just keeps getting better.''

Nokia 7.2 '' elevating the mid-segment The Nokia 7.2 features a powerful 48MP triple camera with Quad Pixel technology and ZEISS Optics. Premiering many exclusive imaging experiences, the new Nokia 7.2 delivers on Nokia phones' legacy of bringing unique imaging technologies and features. In an industry first integration of DSLR level pro-bokeh styles into a smartphone, the Nokia 7.2 comes with unique ZEISS bokeh styles available in portrait mode to give you stunning shots and exceptional image quality anytime of the day. These bokeh styles recreate the way legendary ZEISS lenses produce high visual impact and signature blur. Giving fans the creative freedom, the Nokia 7.2 also allows for both foreground and background blur to mimic the natural optical bokeh. The Nokia 7.2 also brings advanced low-light imaging with night mode by using AI low light image fusion technology in combination with the highly sensitive 48MP main camera. Building on the strengths of its predecessor, the Nokia 7.2 combines a two-day battery life, stunning PureDisplay technology and always-on HDR, with timeless Nordic design to redefine what fans should expect from this smartphone segment.

Nokia 6.2 '' breath taking display and advanced triple camera The first series 6 Nokia smartphone to premiere a triple camera and PureDisplay technology, the Nokia 6.2 offers fans breath-taking visual experiences and advanced imaging in an accessible package. The Nokia 6.2 brings always-on HDR to a new smartphone segment, featuring PureDisplay technology powered by a dedicated visual processor that delivers up to one billion shades of colour. With a combination of AI-features and a powerful triple sensor camera, the Nokia 6.2 lets fans take detailed photos, bokeh portraits and stunning wide-angle shots that capture more. And with its signature two-day battery life, fans will be able to do more of what they like without any battery anxiety. The Nokia 6.2 stays true to its Nordic heritage, joining timeless craftsmanship and cutting-edge materials to deliver a unique and seamless finish.

Expanding feature phone segment to address specific user needsJuho Sarvikas, Chief Product Officer, HMD Global said:

''As leaders of the feature phone segment, we continue to bring innovations in design, form-factor and functionality to ensure we meet the diverse needs of our fans. Our new Nokia feature phones expand our portfolio to reach completely new audiences, delivering access to the latest features and networks in a reliable, familiar Nokia phone package. Today we are proud to introduce the most rugged Nokia phone yet with the Nokia 800 Tough. It's the ideal phone for the outdoors adventurer or those in demanding worksites. The Nokia 2720 Flip expands our Originals family, and perfectly balances the digital detox and accessibility needs of our fans. Bringing connectivity to first time feature phone users, the Nokia 110 comes packed with entertainment on the go.''

Nokia 800 Tough '' setting a new hallmark in durability and battery life Joining the market-leading feature phone portfolio, the Nokia 800 Tough is the first rugged Nokia phone from HMD Global, bringing a new level of durability to fans across the world. Not only is the Nokia 800 Tough water and dust proof, it is also protected against drops and has been designed to withstand extreme temperatures, making it an ideal companion for demanding worksites or adventurous travels. It also brings the latest features fans would expect in a modern phone, packing in The Google Assistant, popular apps like WhatsApp and Facebook, 4G connectivity and more. With the Nokia 800 Tough, HMD Global is expanding its offering to reach new segments like B2B and enterprise customers, where durable handsets are required, as well as individuals who want a reliable phone for their outdoor adventures.

Nokia 2720 Flip '' reimagined with 4G The Nokia 2720 Flip is a classic flip phone reimagined for today's user '' compact and tactile but transformed in usability thanks to the integrated AI technology. The Nokia 2720 Flip features a familiar flip-phone design, combining simplicity and reliability in a durable device. Bringing modern features to fans, the Nokia 2720 Flip comes with WhatsApp and Facebook to make sure you're connected to what matters. And with The Google Assistant just a button-push away, fans can get more done with just their voice. In case the unexpected happens, the Nokia 2720 Flip comes with an emergency button as well as an ICE (In Case of Emergency) information menu '' a perfect phone for the ones you love. The Nokia 2720 Flip is not only an ideal companion for when you are looking for a digital detox, but it can be the perfect phone for keeping your loved ones with accessibility needs connected.

Nokia 110 '' entertainment in your pocket A brand-new addition to our feature phone range, the Nokia 110 comes with everything you need to be entertained on the go; an MP3 player for your music collection, built-in camera and an FM radio. The Nokia 110 also comes with your favourite games, like the classic Snake, and a battery that lets you talk from sunrise to sunset on a single charge. The Nokia 110 builds on the successful Nokia 105 formula by adding a camera, music and games to deliver more entertainment at a very similar price point.

True Wireless Nokia Power EarbudsBuilding on the success of the award-winning Nokia True Wireless Earbuds, HMD Global introduces the True Wireless Nokia Power Earbuds, the latest member to the True Wireless Earbuds family. The new wireless earbuds are built to last longer when combined with the portable charging case, being able to be recharged up to 30 times for up to a spectacular 150 hours of playback in total.

The True Wireless Nokia Power Earbuds deliver high quality audio thanks to their 6mm Graphene drivers. They are also waterproof for up to 30 minutes at 1-meter depth, coming with an IPX7 rating. You can pair them to your Nokia smartphone effortlessly thanks to their universal Bluetooth® 5.0 compatibility. And, to help you get more done with just your voice, the Nokia Power Earbuds come with The Google Assistant at just one touch, making them a versatile and ideal daily companion.

Availability and pricing: The Nokia 7.2 comes in Cyan Green, Charcoal and Ice, in 4GB/64GB and 6GB/128GB memory variants, priced at 299/349 Euros respectively, available from the end of September.The Nokia 6.2 comes in Ceramic Black and Ice, in 3GB/32GB and 4GB/64GB memory variants, priced at 199/249 Euros respectively, available from October.The Nokia 800 Tough comes in Black Steel and Desert Sand and will be available early October, priced at 109 Euros.The Nokia 2720 Flip comes in Ocean Blue, Black and Pink, and will be available in September, priced at 89 Euros.The Nokia 110 will be available in Ocean Blue, Black and Pink starting mid-September and will retail at $20 globally.The Nokia Power Earbuds will be come in Charcoal Black and Light Grey and will be available from October, retailing at 79 Euros.About HMD GlobalHeadquartered in Espoo, Finland, HMD Global Oy is the home of Nokia phones. HMD designs and markets a range of smartphones and feature phones targeted at a range of consumers and price points. With a commitment to innovation and quality, HMD is the proud exclusive licensee of the Nokia brand for phones and tablets. For further information, see www.hmdglobal.com.

Nokia is a registered trademark of Nokia Corporation. Android, Google and other related marks and logos are trademarks of Google LLC. All specifications, features and other product information provided are subject to change without notice. Variations on offering may apply. Check local availability.
UnHoused

Op-Ed: How an Idaho court decision will increase homeless encampments on L.A. streets - Los Angeles Times

Wed, 18 Sep 2019 16:43

The most basic duty of every city is to protect public health and safety. But last September, the 9th Circuit Court of Appeals issued an alarming decision that strips cities of a critical tool in meeting this responsibility. In Martin vs. City of Boise, the 9th Circuit became the only appellate court in America to rule that a city's ordinance against living on city streets violated the U.S. Constitution's prohibition on ''cruel and unusual'' punishment for those who have no other options.

Six judges of the 9th Circuit, who opposed the decision, have warned that the ruling would have ''dire practical consequences'' for hundreds of cities and their residents. Unfortunately, they are being proven right.

The court's position is unworkable and wrong on what the Constitution requires. That's why as lawyers for Boise, we're asking the U.S. Supreme Court to weigh in.

From Boise to Los Angeles and across the country, cities are facing a crisis of growing encampments '-- semipermanent tent cities that threaten the health and safety of those living in them as well as the broader community. It's an issue that is bringing public health, environmental and community-safety advocates and homeless service providers together to compassionately help the homeless acquire shelter, food, counseling, work and healthcare.

We know there is no one-size-fits-all solution to the homelessness issue, but the court's decision to strike down a tool that cities need is exacerbating the current crisis. Communities need to have the ability to regulate, and even ban, encampments to protect everyone, especially those who are most vulnerable and in need.

From the most populous cities to small towns, communities are struggling to control the increased crime and violence, spreading diseases and environmental hazards that threaten the lives and well-being of those living on the streets and the general public. Every week, it seems, we hear from another city facing similar problems, concerned that its hands are now tied.

The 9th Circuit ruling says that it is not meant to cover individuals who do have access to adequate temporary shelter, either because they have the means to pay for it or because it is available to them for free, but who choose not to use it.

But this seeming limitation is inadequate and impractical. For instance, a police officer on the beat cannot actually ascertain someone's ability to pay for lodging (sometimes subsidized by government) or to stay with a friend or family member.

The court's decision also misreads the 8th Amendment. The 8th Amendment cannot be read to exempt individuals from obeying a generally applicable law because the conduct at issue is purportedly ''in­voluntary.'' For instance, sleeping is not the only ''involuntary'' act that those living outdoors perform. If public sleeping can't be punished, how can public urination and defecation? The court's decision will cause havoc in how cities control all sorts of conduct in public spaces.

Taking away a local government's ability to regulate or ban public encampments as one option for addressing the broader issues of homelessness certainly won't reduce homelessness.

The reality is, cities must have the authority to tell people where they can and can't sleep or camp on public property. Most cities have done so for years. But even cities with large homeless populations rarely issue tickets to people merely for sleeping. Many use anti-camping laws largely as a tool to stop the spread of encampments.

Without such laws, the threats to health and safety from growing encampments will surely increase. The tragedy is that striking down these ordinances will harm the very people the 9th Circuit court purports to protect.

In the Los Angeles area, we've seen diseases such as hepatitis A, typhoid fever, typhus and tuberculosis reemerge, particularly in encampments. Serious crimes against homeless persons in Los Angeles rose dramatically between 2017 and 2018. And hazards to public health from human waste and thousands of discarded hypodermic needles have spiked.

In Boise, lawless encampments since 2018 have resulted in a rise in crime and violence, including drug and alcohol offenses, physical assaults and even homicide. Other cities within the 9th Circuit's jurisdiction have frustratingly similar stories to tell.

We rely on state and local government to prohibit harmful behavior that puts public health and safety at risk. The 9th Circuit's decision virtually guarantees that dangerous encampments will continue to proliferate '-- and that would truly be cruel.

Theane Evangelis is a partner in the Los Angeles office of Gibson, Dunn & Crutcher LLP and is counsel to the city of Boise.
Vaccines

September Government Report Shows $206 Million Paid so far in 2019 for Vaccine Injuries and Deaths

Thu, 19 Sep 2019 15:10

by Brian ShilhavyEditor, Health Impact News

The federal government Advisory Commission on Childhood Vaccines (ACCV) under the U.S. Department of Health and Human Services just concluded their third meeting of 2019 on September 6th.

These quarterly meetings include a report from the Department of Justice (DOJ) on cases settled for vaccine injuries and deaths as mandated by the National Vaccine Injury Compensation Program (NVICP). The September 2019 report can be found here.

The NVICP was started as a result of a law passed in 1986 that gave pharmaceutical companies legal immunity from being sued due to injuries and deaths resulting from vaccines.

So far in 2019 the NVICP has paid out $206,295,187.00 in damages due to vaccine injuries and deaths. (Source.)

This is public information, but it is not covered in the corporate ''mainstream'' media. As far as we know, Health Impact News is the only media source that publishes these DOJ reports on vaccine injuries and deaths each quarter. Past reports can be found here.

In fact, by publishing these government reports, we are accused of publishing ''fake news,'' even though all the facts we are publishing here come from government-funded reports. (See: Self-Appointed Internet Police Declare MedicalKidnap.com and DOJ Vaccine Court Reports Fake News.)

The only narrative that corporate ''mainstream'' media outlets are allowed to publish regarding vaccines, is that they are ''safe and effective,'' and that the ''science is settled.'' Only medical professionals who agree to this narrative are allowed a voice in these media outlets.

Where the true facts regarding the danger and risks caused by vaccines are hard to hide are in the courts, such as these quarterly DOJ reports, which are mandated by law to be published.

So outrageous are the efforts of the corporate media giants to suppress this information, that in the rare instances where an attorney may be interviewed by them, the attorney's credibility is attacked, usually by appealing to the authority of a doctor.

In other words, facts don't matter.

To see this on display yourself, view this recent interview on CNN with NYC attorney Robert Krakow, discussing a lawsuit brought by parents who were denied religious exemptions to the MMR vaccine due to a supposed ''measles outbreak.''

Robert Krakow is a vaccine injury attorney, who deals with vaccine injuries in the federal vaccine court. And yet, the CNN news host disclaims everything he has to say by personally attacking him for not being a medical doctor and therefore not qualified to speak about the safety of the MMR vaccine, and stating that their own TV doctor, Sanjay Gupta, has already assured everyone that the MMR vaccine is completely safe, and therefore Attorney Krakow must be wrong.

This is a rare moment in the corporate-sponsored ''mainstream'' media where it can be clearly seen that facts regarding vaccines don't matter, only their own hand-selected ''medical authorities'' are qualified to discuss this topic.

Attorney Krakow: ''We have medical experts too.''

The September 2019 DOJ report states that 307 petitions were filed during the 3-month time period between 5/16/19 '' 8/15/19, with 228 cases being adjudicated and 179 cases compensated.

The September, 2019 DOJ report only lists 87 of these settlements for vaccine injuries and deaths, and 65 of those were for damages caused by the flu vaccine (see below).

Full report here.

Vaccines Cause Injuries and Deaths: But How Many?Vaccines can cause injuries and death '' this is a public health fact in spite of the corporate media's attempts to censor these facts.

In the few instances where these facts are even mentioned, they are brushed aside with the belief that they are rare, and that the risk is worth it because more people die from the diseases being vaccinated against.

So the logic is that vaccines are necessary for the ''greater good.''

Leaving aside the claim that vaccines are actually effective in preventing these diseases, which the scientific evidence actually suggests is a ''belief'' and not a fact based on science, the claim that vaccine injuries and deaths are ''rare'' really is not backed up by any verifiable data.

In November of 2014, the Government Accounting Office (GAO) issued the first report on America's ''Vaccine Court,'' known as the National Vaccine Injury Compensation Program (NVICP), in almost 15 years.

Congress gave the pharmaceutical companies immunity against lawsuits for injuries or deaths resulting in vaccines in 1986. Prior to this time, there were so many lawsuits pending against pharmaceutical companies for injuries and deaths due to vaccines, that the pharmaceutical industry basically blackmailed congress and told them that if they did not grant them legal immunity against the liabilities of vaccines, that they would quit making them.

These vaccine products cannot survive in a free market, they are so bad.

The November 2014 GAO report criticized the government for not making the public more aware that the National Vaccine Injury Compensation Program exists, and that there are funds available for vaccine injuries. Therefore, the settlements represented by vaccine injuries and deaths included in the DOJ report probably represent a small fraction of the actual vaccine injuries and deaths occurring in America today.

The U.S. government keeps a database of reports documenting vaccine injuries and deaths called The Vaccine Adverse Event Reporting System (VAERS). The problem is that very few medical officials ever report vaccine injuries or deaths, either because they are not trained to recognize them, or due to pressure within their profession to not report them. To admit that vaccines do cause harm is professional suicide for most doctors and medical professionals.

Hence, the quarterly DOJ report on vaccine cases only represents a tiny fraction of the actual cases that exist.

U.S. Government being Sued for Lack of Vaccine SafetyWhen the 1986 National Vaccine Injury Compensation Program (NVIC) was signed into law, it had certain provisions included to make sure vaccines were regularly tested for safety, since the pharmaceutical companies were being given legal immunity due to faulty vaccines.

The federal government Health and Human Services (HHS) department is tasked with this vaccine safety reporting, and a recent lawsuit has revealed that they have failed to conduct such vaccine safety studies since the law was implemented in 1986. See:

HHS Sued for Not Upholding Vaccine Safety Testing Mandated by LawSince these facts about vaccines are routinely censored by the pharma-financed ''mainstream'' media and in government hearings, most of the public is largely unaware of the 1986 NVIC, and that pharmaceutical companies cannot be sued, and that one has to sue the U.S. Government in a special vaccine court.

Book '' The Vaccine Court , by Wayne Rohde '' 240 pages''The Dark Truth of America's Vaccine Injury Compensation Program''FREE Shipping Available!ORDER HERE!Say NO to Mandatory Vaccines T-Shirt

100% Pre-shrunk Cotton!

Order Here

Make a Statement for Health Freedom!Big Pharma and government health authorities are trying to pass laws mandating vaccines for all children, and even adults.

Show your opposition to forced vaccinations and support the cause of Vaccine Impact, part of the Health Impact News network.

Published on September 10, 2019
2020

The Party (1968) - IMDb

Thu, 19 Sep 2019 14:23

Learn more More Like This Comedy | Crime | Romance

1 2 3 4 5 6 7 8 9 10 7.1 / 10 X The bumbling Inspector Clouseau travels to Rome to catch a notorious jewel thief known as "The Phantom" before he conducts his most daring heist yet: a princess' priceless diamond with one slight imperfection, known as "The Pink Panther".

Director:Blake Edwards

Stars:David Niven,Peter Sellers,Robert Wagner

Comedy | Crime | Mystery

1 2 3 4 5 6 7 8 9 10 7.1 / 10 X Inspector Jacque Clouseau (Peter Sellers) is put on the case when the Pink Panther diamond is stolen, with the Phantom's trademark glove the only clue.

Director:Blake Edwards

Stars:Peter Sellers,Christopher Plummer,Catherine Schell

Comedy | Crime

1 2 3 4 5 6 7 8 9 10 7.2 / 10 X Charles Dreyfus, who has finally cracked over inspector Clouseau's antics, escapes from a mental institution and launches an elaborate plan to get rid of Clouseau once and for all.

Director:Blake Edwards

Stars:Peter Sellers,Herbert Lom,Lesley-Anne Down

Comedy | Crime | Mystery

1 2 3 4 5 6 7 8 9 10 6.7 / 10 X To prove that he still is strong and powerful, Philippe Douvier decides to kill Clouseau. Once news of his "death" has been announced, Clouseau tries to take advantage of it and goes undercover with Cato to find out who tried to kill him.

Director:Blake Edwards

Stars:Peter Sellers,Herbert Lom,Burt Kwouk

Comedy | Mystery

1 2 3 4 5 6 7 8 9 10 7.5 / 10 X Inspector Jacques Clouseau investigates the murder of Mr. Benjamin Ballon's driver at a country estate.

Director:Blake Edwards

Stars:Peter Sellers,Elke Sommer,George Sanders

Comedy | Drama

1 2 3 4 5 6 7 8 9 10 8 / 10 X A simpleminded, sheltered gardener becomes an unlikely trusted advisor to a powerful businessman and an insider in Washington politics.

Director:Hal Ashby

Stars:Peter Sellers,Shirley MacLaine,Melvyn Douglas

Comedy | Mystery | Thriller

1 2 3 4 5 6 7 8 9 10 7.4 / 10 X Five famous literary detective characters and their sidekicks are invited to a bizarre mansion to solve an even stranger mystery.

Director:Robert Moore

Stars:Peter Falk,Alec Guinness,Peter Sellers

Certificate: GP Comedy

1 2 3 4 5 6 7 8 9 10 6.9 / 10 X A businessman blackmails his attractive young secretary into spending a weekend with him. Though he's a creep throughout, he gradually emerges as a sympathetic character.

Director:Alvin Rakoff

Stars:Peter Sellers,Sin(C)ad Cusack,Jeremy Bulloch

Comedy | Crime | Mystery

1 2 3 4 5 6 7 8 9 10 5 / 10 X A journalist attempts to uncover the mysterious disappearance of Inspector Clouseau.

Director:Blake Edwards

Stars:Peter Sellers,David Niven,Herbert Lom

Comedy | Romance

1 2 3 4 5 6 7 8 9 10 6.3 / 10 X A thirty-something square falls in love with a hippie and decides to "drop out" himself.

Director:Hy Averback

Stars:Peter Sellers,Jo Van Fleet,Leigh Taylor-Young

Comedy

1 2 3 4 5 6 7 8 9 10 6.2 / 10 X A playboy who refuses to give up his hedonistic lifestyle to settle down and marry his true love seeks help from a demented psychoanalyst who is having romantic problems of his own.

Director:Clive Donner

Stars:Peter Sellers,Peter O'Toole,Romy Schneider

Comedy | Crime

1 2 3 4 5 6 7 8 9 10 6.5 / 10 X An Italian criminal mastermind, impersonating a film director, plans to grab the loot on a beach where a bogus movie is being filmed.

Director:Vittorio De Sica

Stars:Peter Sellers,Victor Mature,Britt Ekland

Edit Storyline By a twist of fate, the clumsy, but well-meaning aspiring actor, Hrundi V. Bakshi, is invited to Fred Clutterbuck's big party, after utterly ruining the set of his latest feature film. However, unbeknownst to the host, Bakshi is present at the gathering, merrily mingling with the hand-picked guests in this magnificent hi-tech villa, where the drinks are flowing, and everybody is in high spirits. But, much to everyone's surprise, when Bakshi accidentally has his first-ever sip of alcohol, only God knows how this well-thought party will end. What delightful disasters await? Written byNick Riganas

Plot Summary | Plot Synopsis Taglines:If you've ever been to a wilder party... you're under arrest.

See more >> Edit Details Release Date: 3 April 1968 (USA)

See more >> Edit Box Office Budget:$1,500,000 (estimated)

Cumulative Worldwide Gross: $10,631

See more on IMDbPro >> Company Credits Technical Specs Runtime: 99 min

Sound Mix: Mono(Westrex Recording System)

Aspect Ratio: 2.35 : 1

See

full technical specs >>

Edit Did You Know? GoofsWhen Bakshi lifts the lid on the toilet cistern, it is full of water. If it was continuously flushing, it should be empty.

See more >>

Quotes[

first lines

]

Director :All right, cut it! Cut it!

See more >>

Connections Referenced in

Robin's Nest (1999)

See more >>

SoundtracksIt Had Better Be Tonight (Meglio Stasera)

(1964) (uncredited)

Music by

Henry Mancini See more >>

Frequently Asked Questions See more >>

Enjoy a night in with these popular movies available to stream now with Prime Video.

Start your free trial

The Democratic presidential field finds a new target: Elizabeth Warren - The Washington Post

Thu, 19 Sep 2019 11:43

Michael SchererNational political reporter covering campaigns, Congress and the White House

September 19 at 6:00 AMFormer vice president Joe Biden prepared more zingers for Elizabeth Warren at the last debate than he was able to deliver onstage. So a day later, at a fundraiser in a wealthy Houston neighborhood, he decided to let fly.

''We need more than plans. We need a president,'' he said, referring to the policy-heavy campaign of the senator from Massachusetts. He also joked about how ''half the people'' on the debate stage were Republicans back in 1972. In fact, there was only one, Warren, who has said she identified as a Republican or independent before 1996.

The message Biden was sending '-- a continuation of attacks on her qualifications and candor that he began the night before '-- went beyond the details. It signaled a new effort by multiple candidates to tangle with Warren, who has largely avoided conflict with her primary rivals while rising steadily in the polls, distancing herself from much of the pack and emerging as a direct threat to Biden.

Interviews with senior campaign staff of four rival campaigns reveal a clear desire to increase voter scrutiny of Warren and her record, and remarkably similar game plans of how to do it.

They argue that she has been given a pass for much of the year, with her professional and political history receiving less scrutiny than other candidates. They also argue that the divisive impacts of some of her policy proposals, including Medicare-for-all '-- which she supports along with Sen. Bernie Sanders (I-Vt.) '-- have not yet been fully presented to the party's voters.

Days after the debate, South Bend, Ind., Mayor Pete Buttigieg, who is trying to reposition himself in the race, became the second candidate to go public with an attack on Warren, arguing in television interviews and in a Facebook ad that the ''Sanders-Warren vision'' for health care would polarize the country, not bring it together. Sen. Michael F. Bennet (Colo.) has also purchased more than $1 million in ads in Iowa arguing against Medicare-for-all, including one spot that argues the plan will ''blow up everything.''

But the broader unfolding critique against Warren attempts to raise deeper questions about how she presents herself. Advisers to some rival campaigns point to her past identification as a Republican and her corporate consulting work on bankruptcy cases. They also note her record of soliciting donations from wealthy individuals, including lobbyists, before deciding to stop taking lobbyists' money and, earlier this year, to cease major fundraising events.

Warren's team has refused to be swayed by such taunts. Warren, a former statewide high school debate champion, has ably defused confrontation in the first three debates, repeatedly returning to her central message, which is that she is a fighter ready to confront political and economic elites who are responsible for middle-class struggles. It's a message that has attracted a significant following, as demonstrated by a 20,000-person rally Monday night in Manhattan.

''We will continue to run the campaign we have from the beginning '-- identifying what is broken, talking about our plans to fix it, and building a grass-roots movement to make it happen,'' Warren communications director Kristin Orthman said in response to the attacks.

Biden, who continues to lead in national and early state polls, has been leading the new critique of Warren by raising questions about her ''candor,'' with a focus on her refusal to describe the details of Medicare-for-all. His campaign previewed the last debate by boasting that he was the only candidate who had released 20 years of tax returns '-- an oblique reference to Warren, who has released 11 years of returns, not including years when she did the bulk of her corporate legal work.

Unlike Sanders, who has admitted that the health insurance program would raise middle- class taxes while aiming to reduce total costs, Warren has refused to answer the question about whether Medicare-for-all would raise middle-class taxes. She has described the question as missing the point, saying total cost is all that matters for struggling families.

''When you're not candid about what you're going to do, it makes it very difficult,'' Biden told reporters Friday.

Warren has argued that the corporate work she did while serving as a law professor '-- for clients such as Dow Chemical and Travelers Insurance '-- was focused on helping ''victims hurt by bankrupt companies,'' including asbestos claimants and women with breast implants that could rupture. In May, she disclosed a list of about 60 legal matters that she worked on, including many that were not previously known.

The decision to go after Warren more directly carries clear risks for her rivals. The first months of the Democratic primary have been littered with candidates who became casualties of their own offensives, which Democratic voters tend to recoil from, especially in early voting states such as Iowa.

Sen. Kamala D. Harris (Calif.) faded in polls after a brief spike following a fierce critique of Biden on school segregation policy in the June debate. Former U.S. housing secretary Julin Castro found himself on defense after inaccurately suggesting at the last debate that Biden, 76, had forgotten what he had said a few minutes earlier. Two others, Sen. Kirsten Gillibrand (N.Y.) and Rep. Eric Swalwell (Calif.), left the race shortly after using their prime-time debate time to attack Biden directly.

But Warren's rivals also feel there is a potentially greater cost to letting Warren continue her campaign without more scrutiny, after showing herself to be the only candidate in the race who has been gaining strength for much of the year.

''If you look at Biden, for example, he has taken incoming essentially every day of the campaign since he got in '-- frankly since before he got in '-- and his support hasn't moved. I think it is an open question what happens to her support when she starts taking incoming as well,'' said one Democrat affiliated with a rival campaign, who like several others spoke on the condition of anonymity to discuss campaign messaging strategy. ''She hasn't been tested in the same way.''

Advisers to two other campaigns said the policy approach of Warren, which is focused on what she calls ''big structural change,'' probably would foreclose the possibility of bringing the country together after the Trump administration. ''If people are tired of war all the time in our country and a press who is fomenting those divides, how is a progressive overhaul of the whole country going to answer to that?'' asked an adviser for a second campaign in describing how she could be challenged.

The Democratic questions about Warren's candor echo a separate line of argument that has been developed by Trump and his Republican allies in case Warren wins the nomination. The Republican National Committee regularly calls her a ''fraud,'' and Trump has attempted to use Warren's past identification as a Native American as evidence that she is not who she presents herself to be.

Former Republican political strategist Steve Schmidt, who served as Sen. John McCain of Arizona's 2008 campaign manager and left the Republican Party because of Trump, said that Warren's vulnerability on this score will be tested if she makes it to the general election.

While liberals dismiss the president's ''Pocahontas'' nickname for Warren as a racist slur, Schmidt said that many voters probably will hear in it a reminder of the allegation that Warren tried to game the system in academia, although those involved in her hirings say it did not play a role. While he called Trump ''the most prolific liar that has ever run for office,'' Schmidt said Trump had also proudly described his own efforts to find personal advantage in his private life, like his efforts to reduce his own tax bill.

''There is no artifice,'' Schmidt said of Trump. ''Any candidate that gets into a quagmire around honesty issues with Trump is going to be a defeated candidate.''

So far, Warren has not had to worry about attacks from the other leading candidate in the race pushing for dramatic policy change. Sanders and Warren have refrained from challenging each other publicly, and Warren has repeatedly praised his ideas. But there are some staff-level tensions below the surface, as Sanders advisers seek to draw electability comparisons with Warren.

In a Tuesday email to supporters, Sanders aides pointed to some recent polls showing his leads over both Biden and Warren in support among working-class white and Latino supporters. An NBC-Wall Street Journal poll on Tuesday showed Warren slightly edging Sanders and Biden among Latinos, and polling higher than Sanders among whites without a college degree.

Sanders has also not held back from competing for the same voters Warren seeks. He plans to hold a rally Sunday in Norman, Okla., Warren's birthplace, and one of the few states that will vote in the early spring that she has yet to visit as part of her campaign.

The Sanders campaign has distinguished itself by eagerly pushing back against Biden's attacks on Medicare-for-all. Sanders's campaign manager, Faiz Shakir, called Biden ''Pinocchio Joe'' on Twitter on Tuesday, after Biden claimed at a union event that he had always supported union causes. Another adviser called Biden ''the senator from MBNA,'' a reference to a prominent Delaware bank.

Aides to Warren, meanwhile, devoted their Twitter accounts to carrying their candidate's message '-- boasting about the four hours Warren had spent taking photos with supporters after her Monday rally in New York.
Vape Wars

Vape Wars Big Tobacco Insider

ITM Adam,

Below is a brief comment from a source close to big tobacco

advertising.

All of the biggest vape brands I know are subsidiaries of

big tobacco companies, including Blu (Imperial), Juul (JTI), Glo and Vype

(BAT). These were either acquired or developed in-house as a response to a

threat presented to their traditional business by independent vape products.

Any regulatory measures aimed at certification or testing of vape products,

anything that stops or slows down the vape revolution will be a net benefit to

them.

The tobacco was always to be a key component in any possible

innovation introduced by them, given the massive production and logistics of

tobacco across the world that they historically support. Vape of course

bypasses the need for tobacco entirely and people hooked up on puffing any

smoke other than from tobacco is a problem; each new vaper is one less current

or potential smoker. Honestly, I wouldn't be surprised if the whole marijuana

prohibition was lobbied by tobacco companies for the same reason (stick to the

cancer sticks, slave).

Since vape became a thing, great time and money was invested

in trying to come up with a way to use actual tobacco extracts in vape or,

better still, find a way of bypassing liquids altogether and use dry tobacco in

non-combustibles (HNB or heat not burn). A stopgap measure for creating

vape-like effect along with good old tobacco were traditional menthol and new

capsule products where one is supposed to crush a small flavoured capsule

located within the filter, thus making it like vape plus all of the nicotine

and tar-delivering goodness of a traditional cigarette. Those were especially

popular in South America where they featured stuff like two or even three

capsules inside a single filter.

The thing that may have contributed to attacks on vape at

the moment is the ban on menthol and capsule cigarettes coming up from next

year in the European Empire and some other countries, and there's an FDA

proposal to ban it in the US too. The stuff that replaces the flavoured tobacco

will inevitably be vape. It is therefore important to slow the competition down

while the customers make the switch. I would expect that small manufacturers

and Chinese suppliers will be subject to some bad press over the next few

months. Whichever of the big tobacco's own brands is not mentioned in the MSM

is probably helping the campaign.

Love and light,

A source close to big tobacco advertising

Vaping lung illness from CBD: Cheap, synthetic marijuana used as a sub

Tue, 17 Sep 2019 02:26

CLOSE

The Associated Press commissioned laboratory testing of vape products sold as CBD and found dangerous synthetic marijuana instead of the natural cannabis extract. One of the samples belonged to Jay Jenkins who was hospitalized after vaping. (Sept. 16) AP, AP

Jay Jenkins says he hesitated when a buddy suggested they vape CBD.

''It'll relax you,'' the friend assured.

The vapor that Jenkins inhaled didn't relax him. After two puffs, he ended up in a coma.

That's because what he was vaping didn't have any CBD, the suddenly popular compound extracted from the cannabis plant that marketers say can treat a range of ailments without getting users high. Instead, the oil was spiked with a powerful street drug.

Some operators are cashing in on the CBD craze by substituting cheap and illegal synthetic marijuana for natural CBD in vapes and edibles such as gummy bears, an Associated Press investigation has found.

The practice has sent dozens of people like Jenkins to emergency rooms over the last two years. Yet people behind spiked products have operated with impunity, in part because the business has boomed so fast that regulators haven't caught up while drug enforcement agents have higher priorities.

AP commissioned laboratory testing of the vape oil Jenkins used plus 29 other vape products sold as CBD around the country, with a focus on brands that authorities or users flagged as suspect. Ten of the 30 contained types of synthetic marijuana '' drugs commonly known as K2 or spice that have no known medical benefits '' while others had no CBD at all.

VAPING: Trump's proposed ban on vape flavors may not stop teens from vaping

VAPING: Vaping illnesses highlight flawed marijuana regulations

Among them was Green Machine, a pod compatible with Juul electronic cigarettes that reporters bought in California, Florida and Maryland. Four of those seven pods contained illegal synthetic marijuana, but which chemical varied by flavor and even location of purchase.

''It's Russian roulette,'' said James Neal-Kababick, director of Flora Research Laboratories, which tested the products.

Vaping in general has come under increased scrutiny in recent weeks because hundreds of users have developed mysterious lung illnesses, and several have died. The AP's investigation focused on yet another set of cases, in which psychoactive chemicals are added to products presented as CBD.

The results of AP's lab testing echo what authorities have found, according to a survey of law enforcement agencies in all 50 states.

At least 128 samples out of more than 350 tested by government labs in nine states, nearly all in the South, had synthetic marijuana in products marketed as CBD.Gummy bears and other edibles accounted for 36 of the hits, while nearly all others were vape products.Mississippi authorities also found fentanyl, the powerful opioid involved in about 30,000 overdose deaths last year.CLOSE

CBD has exploded in popularity since Trump legalized the cultivation of hemp, but is it a medical miracle or just another fad? Just the FAQs, USA TODAY

Reporters then bought brands that law enforcement testing or online discussions identified as spiked. Because testing by both authorities and AP focused on suspect products, the results are not representative of the overall market, which includes hundreds of products.

''People have started to see the market grow and there are some fly-by-night companies trying to make a quick buck,'' said Marielle Weintraub, president of the U.S. Hemp Authority, an industry group that certifies CBD cosmetics and dietary supplements.

Synthetic marijuana is a concern, according to Weintraub, but she said the industry has many reputable companies. When products turn up spiked, the people or companies behind them often blame counterfeiting or contamination in the supply and distribution chain.

CBD, short for cannabidiol, is one of many chemicals found in cannabis, a plant known more commonly as marijuana. Most CBD is made from hemp, a cannabis variety cultivated for fiber or other uses. Unlike its more famous cousin THC, cannabidiol doesn't get users high. Sales of CBD have been driven in part by unproven claims that it can reduce pain, calm anxiety, increase focus and even prevent disease.

The U.S. Food and Drug Administration has approved one CBD-based medicine for treating seizures associated with two rare and severe forms of epilepsy, but says it cannot be added to food, drinks or dietary supplements. The agency is now clarifying its regulations, but aside from warning manufacturers against making unproven health claims, it has done little to stop the sale of spiked products. That's the job of the U.S. Drug Enforcement Administration, but its agents are focused on opioids and other narcotics.

A Yolo! brand CBD vape oil cartridge is examined at Flora Research Laboratories in Grants Pass, Ore., on July 17, 2019. The Associated Press commissioned the lab to test that vape and 29 others as part of an investigation that shows a dark side to the booming industry selling the cannabis extract CBD. The Yolo cartridge and nine other samples contained synthetic marijuana, a dangerous street drug commonly known as K2 or spice. (Photo: Ted S. Warren, AP)

Now there are CBD candies and beverages, lotions and creams, and even treats for pets. Suburban yoga studios, big-name pharmacies and Neiman Marcus department stores carry beauty products. Kim Kardashian West had a CBD-themed baby shower.

But it's hard for consumers to know how much CBD they are really getting, if any at all. As with many products, federal and state regulators rarely test what's inside '' for the most part, quality control is left to manufacturers.

And there's a financial incentive to cut corners. One website advertises synthetic marijuana for as little as $25 per pound '' the same amount of natural CBD costs hundreds or even thousands of dollars.

CBD IN TENNESSEE: LabCanna is a CBD company with rock 'n' roll roots

Jay Jenkins holds a Yolo! brand CBD oil vape cartridge alongside a vape pen at a park in Ninety Six, S.C., on Wednesday, May 8, 2019. (Photo: Allen G. Breed, AP)

'You only live once'Jay Jenkins had just wrapped up his freshman year at The Citadel, a South Carolina military college, when boredom led him to try what he thought was CBD.

It was May 2018 and he said his friend bought a cartridge of blueberry flavored CBD vape oil called Yolo! '' the acronym for ''you only live once'' '' from the 7 to 11 Market, an austere, white board-and-batten building in Lexington, South Carolina.

Back in the car, Jenkins tried it first. Things ''got hazy,'' then terrifying.

Jenkins said the nerves in his mouth felt like they were ''multiplied by 10.'' Vivid images including a circle engulfed by darkness and filled with colorful triangles filled his mind. Before he drifted out of consciousness, he realized he couldn't move.

''I thought that I actually was already dead,'' Jenkins said.

His friend raced to the hospital where Jenkins suffered acute respiratory failure and drifted into a coma, his medical records show.

Jenkins came out of the coma and was released the next day. Hospital staff sealed the Yolo cartridge in a biohazard bag and handed it back.

A Yolo! brand CBD oil vape cartridge sits alongside a vape pen on a biohazard bag on a table at a park in Ninety Six, S.C., on Wednesday, May 8, 2019. Jay Jenkins says two hits from the vape put him in a coma and nearly killed him in 2018. (Photo: Allen G. Breed, AP)

Lab testing AP commissioned this summer found a type of synthetic marijuana that has been blamed for at least 11 deaths in Europe.

State and federal authorities never identified who made Yolo, which sickened not just Jenkins but also at least 33 people in Utah.

CBD IN TENNESSEE: These farmers grew tobacco for decades. Now, they grow hemp. Someday, maybe, marijuana.

OPIOIDS SETTLEMENT: OxyContin maker Purdue Pharma files for bankruptcy

According to documents filed in a California court by a former company bookkeeper, a business called Mathco Health Corporation sold Yolo products to a distributor with the same address as the 7 to 11 Market where Jenkins stopped. Two other former employees told AP that Yolo was a Mathco product.

Mathco CEO Katarina Maloney said in an interview at company headquarters in Carlsbad, California, that Yolo was handled by her former business partner and she did not want to discuss it.

Maloney also said Mathco does not ''engage in the manufacture, distribution or sale of any illegal products.'' She said the Yolo products in Utah ''were not purchased from us'' and the company can't control what happens to products once they are shipped. AP-commissioned testing of two CBD vape cartridges marketed under Maloney's Hemp Hookahzz brand found no synthetic marijuana.

As part of an employment complaint filed in court records, the former bookkeeper said Maloney's former business partner, Janell Thompson, was the ''exclusive salesperson'' of Yolo. Reached by phone and asked about Yolo, Thompson hung up.

''If you want to speak with somebody you can talk to my attorney,'' Thompson later texted without providing a name or contact information.

When a reporter visited the 7 to 11 Market in May, Yolo was no longer for sale. Asked for something similar, the clerk suggested a cartridge labeled Funky Monkey and then turned to a cabinet behind the counter and offered two unlabeled vials

''These are better. These are the owner's. This is our top seller,'' she said, referring to them as 7 to 11 CBD. ''These here, you can only get here.''

Testing showed that all three contained synthetic marijuana. The store owner did not respond to messages seeking comment.

'FIGHTING THE WRONG WAR': Chronic pain patients push feds to change opioid policies

What's in 'jungle juice'?The people behind spiked vapes leave few clues about who makes them or what's inside.

Packaging doesn't identify the companies and their brands have little online presence. Newcomers can simply design a label and outsource production to a wholesaler that deals in bulk.

The opaque system of manufacturing and distribution hampers criminal investigations and leaves victims of spiked products with little recourse.

The AP bought and tested Green Machine pods in flavors including mint, mango, blueberry and jungle juice. Four of the seven pods were spiked and only two had CBD higher than a trace level.

Mint and mango pods bought in downtown Los Angeles contained one type of synthetic marijuana. But while mint and mango pods sold by a vape shop in Maryland were not spiked, a ''jungle juice'' flavored pod was. It had yet a different synthetic marijuana compound '' one health authorities blame for poisoning people in the U.S. and New Zealand. A blueberry flavored pod sold in Florida also was spiked.

Green Machine's packaging says it's made with industrial hemp, but there's no information about who is behind it.

When a reporter returned to CBD Supply MD in a Baltimore suburb to discuss testing results, co-owner Keith Manley said he was aware of online chatter that Green Machine might be spiked. He then had an employee pull all remaining Green Machine pods from store shelves.

Through interviews and documents, AP tracked Green Machine pods that reporters bought to a warehouse in Philadelphia and then a Manhattan smoke shop and the entrepreneur behind the counter, Rajinder Singh, who said he is Green Machine's first distributor.

Singh, who is currently on probation for a federal synthetic marijuana conviction, said he purchased Green Machine pods with cash or in exchange for merchandise such as hookah pipes from a man he knew as ''Bob'' who drove a van down from Massachusetts. To substantiate his account, he provided a phone number associated with a man who died in July.

Singh pleaded guilty in 2017 to federal charges he sold a smokable ''potpourri'' that he knew contained synthetic marijuana. He said that experience taught him a lesson and blamed counterfeit products for the synthetic marijuana detected in Green Machine.

''100 percent, what you tested is a duplicated product,'' he said.

Autoplay

Show Thumbnails

Show Captions

Last SlideNext Slide'Emerging hazard'The American Association of Poison Control Centers considers CBD an ''emerging hazard'' due to the potential for mislabeling and contamination.

One case last year involved an 8-year-old boy from Washington who was hospitalized after taking CBD oil his parents ordered online in hopes it would help his seizures, according to a case study in the journal Clinical Toxicology published in May. Instead, synthetic marijuana sent him to the hospital with symptoms including delirium and a rapid heart rate.

Other clusters of illnesses happened in Mississippi and around military bases in North Carolina.

Labeling of many CBD products has been documented as inaccurate. A 2017 study in the Journal of the American Medical Association found 70% of CBD products were mislabeled. Researchers used an independent lab to test 84 products from 31 companies.

Fake or spiked CBD is enough of a concern that leaders of the U.S. Hemp Authority industry group developed a certification program for CBD skin and health products. Vapes are not covered.

But local and state authorities have limited ability to pursue problem products to their roots.

After several Georgia high school students passed out from vaping last year, authorities began scrutinizing local tobacco shops. One of the CBD vape brands they targeted was called Magic Puff.

The drug enforcement team in Savannah and surrounding Chatham County arrested a shop owner and two employees. But they couldn't follow the investigation further because it appeared the products were being manufactured elsewhere, possibly overseas. The team's assistant deputy director, Gene Harley, said they provided a report to federal drug agents who handle such cases.

Magic Puff was still on shelves at a Florida store this summer, and AP testing showed blueberry and strawberry cartridges contained synthetic marijuana. Preliminary results also suggested the presence of a toxin produced by a fungus.

Because CBD is the active ingredient in an FDA-approved drug, the FDA is responsible for regulating its sale in the U.S. But if CBD products are found to contain narcotics, the agency considers the investigation a job for the DEA, an FDA spokesman said.

The DEA says it is focused on drugs responsible for killing thousands of Americans like fentanyl and methamphetamines.

''These are going to be bigger priorities on enforcement,'' DEA spokeswoman Mary Brandenberger said.

Experts such as Michelle Peace, a forensic scientist at Virginia Commonwealth University who has found synthetic marijuana in her own testing of CBD vapes, said the federal government should act quickly to protect the public.

''As long as it remains unregulated like it currently is,'' Peace said, ''you just give a really wide space for nefarious activity to continue.''

Contributing: Allen Breed, Juliet Linderman, Reese Dunklin, Krysta Fauria, Carla K. Johnson, Justin Pritchard, Rhonda Shafner, Ted Warren, and Mitch Weiss, The Associated Press.

People experiencing problems with a product labeled as CBD can reach a local poison control center by calling 1-800-222-1222.

Read or Share this story: https://www.tennessean.com/story/news/health/2019/09/16/vaping-lung-illness-cbd-cheap-synthetic-marijuana-used-sub/2343887001/
Fake Meat Swine FLu

Hong Kong's Green Monday sees breakthrough for plant-based 'pork' in swine fever-hit China | South China Morning Post

Thu, 19 Sep 2019 11:39

Hong Kong-based start-up Green Monday's plant-based meat product, Omnipork, is now available on cross-border e-commerce platform Tmall Global. Photo: Handout

Start-ups The start-up expects about 15,000 restaurants and retailers across Asia will serve or sell its Omnipork product by the end of this yearTopic | Start-ups

Jane Zhang

Published: 6:00am, 19 Sep, 2019

Updated: 7:22am, 19 Sep, 2019

Advertisement

TOP PICKS

Hong Kong-based start-up Green Monday's plant-based meat product, Omnipork, is now available on cross-border e-commerce platform Tmall Global. Photo: Handout

READ FULL ARTICLE

Advertisement

Advertisement
FISA Abuse

Acting DNI Maguire Statement on USA FREEDOM Act

Thu, 19 Sep 2019 11:12

NEWS RELEASE

FOR IMMEDIATE RELEASE ODNI News Release No. 29-19 Sep. 18, 2019

The ''USA FREEDOM Act of 2015'' preserves significant national security authorities, enhances privacy and civil liberties protections, and increases transparency.

The Administration supports a clean and permanent reauthorization of all the USA FREEDOM Act provisions of the Foreign Intelligence Surveillance Act that will expire in December 2019, including the ''lone wolf'' and ''roving wiretap'' authorities, and the acquisition of business records, including call-detail records, under Title V of FISA. The USA FREEDOM Act extensively amended these authorities to prohibit bulk collection, and it provides us with the necessary tools to keep Americans safe.

We look forward to working with Congress to reauthorize these provisions.

Joseph Maguire

Acting Director of National Intelligence
Any Collusion

Pressure cooker analogy

Parallel showbizz TMZ and political news. Kavanaugh
Giant Vice System

Whoops, my finger slipped! Hawaiians panic as police trigger false tsunami warning during training '-- RT USA News

Thu, 19 Sep 2019 11:40

In a somewhat disturbing case of deja vu, the emergency warning sirens sounded in several parts of Hawaii early Wednesday evening, evoking memories of January's false ballistic missile alert.

The alarm was inadvertently set off during Honolulu Police Department dispatcher training, which for some bizarre reason was being done on live equipment rather than with training software.

''I just want to apologize [to] the public,'' Police Chief Susan Ballard said in an interview with Hawaii News Now. ''It was just a very [simple] mistake. We need to do better.''

In this instance, it took 12 minutes for state agencies to confirm to the public that it was a false alarm, compared with the 28-minute delay in January.

***NO TSUNAMI THREAT*** We have received phone calls about sirens going off across Oahu, but we have confirmed with the Pacific Tsunami Warning Center that there is NO TSUNAMI THREAT. #hiwx#tsunami

'-- NWSHonolulu (@NWSHonolulu) September 19, 2019Mistaken siren sounding by Honolulu Police Department. NO EMERGENCY at this time.

'-- Hawaii EMA (@Hawaii_EMA) September 19, 2019''Due to an error during a Honolulu Police Department training exercise, emergency sirens were mistakenly activated on Oahu,'' Chris Sugidono, assistant communications director for Maui County, told CNN. ''A siren in the Kahului area also was mistakenly activated during the exercise, according to the Hawaii Emergency Management Agency. There is no emergency at this time.''

Needless to say, residents were irate, especially after the false ballistic missile alert in January, which was sent when a member of the Hawaii Emergency Management Agency sent the alert by pushing the wrong button.

Also on rt.com 'This is not a drill': Hawaii gets ballistic missile alert 'by mistake' ''What in the actual f**k is wrong with your guys system. This is twice now I've been in imminent fear for my life. You guys have some explaining to do,'' wrote one understandably upset Twitter user.

Another irate user added: "Why the hell would HPD need access to a natural disaster alarm?!?!? THEY'RE NOT EXPERTS IN ANY AREA THAT THAT ALARM IS TIED TO!"

The resounding consensus online, however, was that the Hawaiian authorities need to pay better attention to their work and not needlessly induce panic in the general population.

Think your friends would be interested? Share this story!
Epstein

As Richard Stallman Resigns Let's Consider Why GNU/Linux Without Stallman and Torvalds Would be a Victory to Microsoft | Techrights

Tue, 17 Sep 2019 13:00

Posted in FSF, GNU/Linux, Kernel, Microsoft at 10:05 pm by Dr. Roy Schestowitz

Media mob. A year after they made Torvalds 'take a break' Stallman steps down (coinciding with lots of negative media coverage).

Summary: Stallman has been ejected after a lot of intentionally misleading press coverage; this is a dark day for Software Freedom

SO it's official. The FSF has broken the news that ''Richard M. Stallman resigns'' and it seems like it was done in a hurry judging by the brevity of the statement:

On September 16, 2019, Richard M. Stallman, founder and president of the Free Software Foundation, resigned as president and from its board of directors.

I've decided to wake up early and do a rebuttal to all that ''remove Stallman'' movement. He can be tactless, sure, and I often disagree with what he says in some areas like sexuality, but removing him would make the world a much worse place. As explained yesterday, Microsoft people should call to ''remove Gates''; Gates has done vastly worse things. As for Stallman? Some media exaggerated or distorted what he said; see later comments in this thread. The damage has been done.

''He can be tactless, sure, and I often disagree with what he says in some areas like sexuality, but removing him would make the world a much worse place.'' As Stallman himself has just put it in his site, ''I am resigning effective immediately from my position in CSAIL at MIT. I am doing this due to pressure on MIT and me over a series of misunderstandings and mischaracterizations.''

Stallman previously responded in his blog with ''Statements about Epstein''. To quote:

I want to respond to the misleading media coverage of messages I posted about Marvin Minsky's association with Jeffrey Epstein. The coverage totally mischaracterised my statements.

Headlines say that I defended Epstein. Nothing could be further from the truth. I've called him a ''serial rapist'', and said he deserved to be imprisoned. But many people now believe I defended him '-- and other inaccurate claims '-- and feel a real hurt because of what they believe I said.

I'm sorry for that hurt. I wish I could have prevented the misunderstanding.

Slashdot mentioned this and there's this article entitled ''Stallman defends himself over Epstein comments'', lost in the noise of misleading headlines claiming that Stallman was defending Epstein (he wasn't).

To make matters worse, yesterday the Software Freedom Conservancy issued a statement to say: ''We call for Stallman to step down from positions of leadership in our movement.''

Wait, your movement?

'''...Microsoft people should call to ''remove Gates''; Gates has done vastly worse things.'' Stallman started it. You just piggybacked it. Some of you were kids when he started it.

''Move along, Stallman, let us steal your movement'...''

This is part of the ''remove Stallman'' and ''post-RMS'' nonsense (among others; the FSF mistakenly gave an award to that person).

Sorry to say this, but the Software Freedom Conservancy would not even exist if it weren't for Stallman's software and licence, which they enforce for a living (they're quasi-lawyers suing and threatening to sue). We'd rather see Kuhn stepping down (than Stallman stepping down). The Software Freedom Conservancy is not essential and it has competition anyway (it's not like GPL enforcers are missing in action).

In the above statement the Software Freedom Conservancy cites (without actually citing) old remarks from Stallman, but why did it wait until now to make a big fuss over it? Is it opportunism? Maybe the impact of Outreachy inside the Software Freedom Conservancy? Agenda for 'professionalism'?

We can't help recalling what happened a year ago to Torvalds. He temporarily stepped down. Had Torvalds still had 'teeth' in the project (he was lashed last year as a a warning), he would likely reject exFAT like he did all sorts of case-insensitive file systems in the past. He doesn't want Linux '' strategically '' to chase Microsoft with specifications and patents (for an inferior implementation).

''We can't help recalling what happened a year ago to Torvalds. He temporarily stepped down.'' Why was he pushed out? You would struggle to find evidence of Torvalds being racist or sexist.

Even remotely.

If he sees bad code, he calls it out.

He's a technical person, a geek.

We need geeks, not suits and marketing liars like Linux Foundation managers.

Calling bad code ''bad'' is not intolerance and it is very much essential. Look how many strides Microsoft has made inside Linux since Torvalds got 'spooked' by the media.

Is there an effort to 'decapitate' (as in decapitation strategies) GNU/Linux? The media wants us to think Torvalds is a disgusting person and Stallman now speaks of pressure on MIT.

''When Bill Gates was done with the Lolita Express they figured out how to steal kids from their parents for a profit (child separation). But it's Stallman who ends up being the evil one?'' Torvalds isn't a bad person (I spoke to him in the past and he was polite), but yesterday I saw some people repeating this smear about Torvalds. Some videos in YouTube want him and Stallman to step down (no more identity to Linux and GNU). Who would benefit?

Those who wanted Stallman to step down or be removed got their way. Now, who the heck do they think can replace him? Nobody can. We wrote about this in our recent series about "FSF Titanic". Stallman made GNU when I was a baby (literally), then he came up with the GPL etc.

He's tactless, but he remains instrumental. If the Conservancy wished to distance itself from Stallman, fine. But they actually called for his resignation and sacking.

We need someone in the top of Free software who speaks about politics (like Stallman does) because companies like Microsoft are inherently political, politically-connected and extremely subversive, you can't face them on technical terms alone.

Why doesn't Smith resign over crimes against humanity? Here are some new tweets:

TFW your angry tweets about Microsoft and DHS end up in a book written by the president of Microsoft. pic.twitter.com/4YqtYH1OiQ

'-- "a gentleman in Virginia" (@taotetek) September 15, 2019

Also, I find Brad Smith's "aww we'd kind of forgotten about that ICE contract" attempted minimizing of this issue to be extremely disingenuous given the revolving door between Microsoft and the Department of Homeland Security: https://t.co/NVebYaBe9J

'-- "a gentleman in Virginia" (@taotetek) September 15, 2019

I'm glad that I could help remind Brad that his company was working on using facial recognition with ICE to round up people, tear their children away from them, and imprison them in concentration camps where they aren't given clean water, adequate food, or medical care.

'-- "a gentleman in Virginia" (@taotetek) September 15, 2019

But I mean, I'm sure that all these DHS contracts landing with Microsoft is just a big weird huge coincidence, something that the President of Microsoft hardly ever thinks about until some rando tweets about it on twitter to remind him.

'-- "a gentleman in Virginia" (@taotetek) September 15, 2019

Hey look, here's a shout out to Brad Smith from Palmer Luckey, after they both appeared on a panel talking about how it is the duty of tech companies to supply the U.S. military: pic.twitter.com/rmtNSUDX5x

'-- "a gentleman in Virginia" (@taotetek) September 15, 2019

When Bill Gates was done with the Lolita Express they figured out how to steal kids from their parents for a profit (child separation). But it's Stallman who ends up being the evil one?

Free speech and political speech come at a cost; you're guaranteed to piss off just about everyone, based on selective subsets of things you say over the years. Having no opinions is 'safe'; if you want to be attacked while smiling politely.

At the moment Micosoft is trying to take control of both GNU and Linux using EEE tools such as Azure and WSL. Failing to guard GNU and Linux at a higher level may hand fast defeat to us and triumph to Microsoft.

''With the removal of Stallman we already see some ''Extinguish''.'' Some Linux bloggers have sadly decided to also cover Microsoft Vista 10 news because there's ''Linux'' in the name. Now, with Stallman out, such an agenda would face less resistance. From yesterday: ''Microsoft announced something Linux users would have never dreamed of, the first Microsoft Linux Conference for their WSL (Windows Subsystem for Linux) implementation. [...] WSL 2, the latest version of Windows Subsystem for Linux, was announced by Microsoft earlier this summer and it introduces major new features like an entirely new architecture that uses a real, in-house built Linux kernel, as well as full system call compatibility to run more Linux apps.''

With the removal of Stallman we already see some ''Extinguish''. '–

Share this post: These icons link to social bookmarking sites where readers can share and discover new web pages. Permalink Send this to a friend

2019: July - October Political Notes - Richard Stallman

Tue, 17 Sep 2019 12:24

this?1 August 2019 (Johnson and Trump risk disaster for planet)Johnson And Trump's Close Ties Risk Disaster for Planet, Says Corbyn.

1 August 2019 (California requires all candidates to release tax returns)California has passed a law requiring all presidential candidates torelease their tax returns in order to get on the ballot.

There is surely something in his tax returns that might have cost himvotes in 2016. But would it have that effect on today's Republicans,who have become inured to lies, hatred and racism? It might seem likesmall potatoes compared with the vicious things that Republicans arealready inured to.

I can imagine that the conman might abandon California (since he haslittle chance of winning there) to defy this law. But if a swingstate does this, he might have to yield.

1 August 2019 (Gilroy murderer advocated white supremacists)The Gilroy murderer advocated white supremacists, which suggests thathis shooting was an act of white supremacist terrorism.

1 August 2019 (Father forgot his children in a car)A father forgot his children in a car all day, and they died. Does itmake sense to prosecute him?

Does it make sense to make a law against leavingchildren in a car for a few minutes?

1 August 2019 (DEA has been stalling for years over research)The Drug Enforcement Agency has been stalling for three years over anapplication for a permit to grow marijuana for research.

1 August 2019 (Hong Kong protesters trying to identify thugs)Hong Kong protesters are trying to identify thugs by their faces,now that the thugs have stopped wearing identification badges.

The thugs generally have an advantage in this kind of conflict.

1 August 2019 (NSA says it deleted a database)When the NSA says it deleted a database, it sometimes finds anothercopy later.

1 August 2019 (New head of Bureau of Land Management)The new head of the Bureau of Land Management wants to privatize allpublic land by selling it to rich people.

I suspect the rich buyers will get it at a very low price.

1 August 2019 (Tech executives apologies)Tech executives are making a show of apologizing for the damage theircompanies have done '... without having to fix it or even halt it.

31 July 2019 (The Democratic debate)The Democratic debate was "Bernie Sanders and Elizabeth Warren v the'No We Can't' Democrats."

31 July 2019 (Stop arguing with Bogus Johnson)Stop arguing with Bogus Johnson '-- it only feeds the troll.What is needed is action, not disputation.

31 July 2019 (Jos(C) Ramos-Horta calls on Australia to drop charges of whistleblower)Jos(C) Ramos-Horta, former president of East Timor, calls on Australiato drop charges against the whistleblower that revealed how Australiawas spying on the negotiations between those two countries.

I agree completely. I also agree that it was wrong of Australia tosteal oil located in what was to become East Timor's waters. But thebiggest wrong was that Australia allowed that oil to be burned,contributing to global heating.

If East Timor had extracted this oil and allowed it to be burned, thatwould have been almost as bad. For a just outcome, just to humanityand nature, we need to leave that oil in the ground.

31 July 2019 ($70 million fine for preventing making of generic drugs)Pharma companies will be fined 70 million dollars for conspiring to preventthe making of generic drugs.

31 July 2019 (Criminal charges for throwing a ball)A student from a town near Detroit faces criminal charges for throwinga ball that injured another student, in a game similar to dodge ball.

I was unable to play volleyball because I was afraid to be hit by theball. If you are afraid of being hit by a ball '-- whether foremotional reasons like me, or valid medical reasons like the student thatwas injured, you really should decline to play.

31 July 2019 (Border separations since last year)US border thugs have separated over 900 minors from their parentssince a year ago. Almost 200 of them are children under 5 years old.

There are valid reasons why a compassionate state might do this insome cases, but when a state and its officials have explicitlydeclared hatred for migrants, we must expect it to distort thosereasons into excuses to do harm.

31 July 2019 (Remaining Vaquita Porpoisess)The number of remaining vaquita porpoises is between 6 and 19.

The species might survive if Mexico cracks down on use of gillnets.It is too late to be sure of that '-- if there are just 6, and none isa female capable of reproducing, it's too late '-- but we should try.

31 July 2019 (India is almost done abolishing biased divorce law)India has almost finished abolishing the one-sided law for divorcesamong Muslims. Men alone had the right to declare a divorceunilaterally.

People should have equal rights in divorce, but I hope this doesn'tresult in making divorce too difficult for everyone.

31 July 2019 (Nigeria's 'economic boom')Nigeria shows how extreme inequality of income can spread poverty inan "economic boom".

31 July 2019 (European websites responsible for like tracking)The European Court of Justice ruled that a web site with a Like buttonis responsible for the tracking it does.

This ruling won't make a big difference if the site can make the issuego away by adding one more clause to its terms of service. But itmight make a small difference, if sites can no longer show a Likebutton to a visitor who has not yet explicitly accepted the terms ofservice.

31 July 2019 (Kamala Harris's Medicare for All)Kamala Harris claims to support Medicare for All, but her version is ersatz.

31 July 2019 (Earth overshoot day)This year, Earth Overshoot Day is calculated to occur on August 1.After just 7 months, humans have used what the Earth can regenerate ina whole year.

31 July 2019 (Population of wild boar is exploading)The population of wild boar is exploding in Europe, and many havemoved into cities where they injure humans.

Fortunately, they taste great. If you are in Europe, try some.

31 July 2019 (Venture capitalists see Buttigieg as an investment)In Pete Buttigieg, Venture Capitalists See a Campaign to Invest in.

That shows he's on the plutocrats' side, not ours.

31 July 2019 (Arguments aginst the death penalty)Reminder of some arguments against the death penalty.

31 July 2019 (Tanzania has arrested a famous investigative journalist)Tanzania has arrested a famous investigative journalist, ErickKabendera.

One must suppose he investigated something the government didn't wantthe public to know about.

31 July 2019 (Killings of 500 Activists Since Peace Accords)Mass Protests in Colombia and Abroad Decry Killings of 500 Activists Since Peace Accords.

31 July 2019 (Israel never gives Palestinians the compensation)Under Geneva conventions, every occupying power has an obligation tocompensate any damages it does members of the occupied population,whether to their bodies or their property. Israel has changed itslaws so that it almost never gives Palestinians the compensation theyare owed.

31 July 2019 (Hindu extremist party)A local leader of India's ruling Hindu extremist party called for gang-raping Muslim women.

She was expelled from the party, but men who said similar things havegenerally been tolerated.

31 July 2019 (Chinese border guards)When foreigners enter Xinjiang (China) from Kyrgyzstan, Chinese borderguards have taken their phones away to put malware on them.

The malware searches files in the phones for various things that Chinaconsiders hateful. It might do other things as well.

I have to point out that people suspect the US of doing similar thingsto people entering the US, and in other circumstances as well.

31 July 2019 (Enforcement of food and drug safety)Enforcement of food and drug safety regulations has fallen by 33%under the corruptor.

31 July 2019 (Mistreating the prisoners)Ocasio-Cortez pushed past border thugs so she could speak toimprisoned immigrants. This enabled her to find out how they weremistreating the prisoners.

The thugs had gone to extreme lengths to block visiting congresscrittersfrom observing or finding out the prison conditions, and the visitorsfelt menaced by them. Sounds like a visit to North Korea.

31 July 2019 (US insurance company)A major US insurance company has announced it will stop insuring coal companies (or investing in them).

31 July 2019 (Influence over the department's decisions)Saboteur of the Interior Bernhardt gave his former client influence overthe department's decisions.

The department has adopted new secrecy rules, too.

31 July 2019 (Systems for supporting musicians)When you buy a record, or pay for music streaming (even via ads), themoney usually goes to some company, not to the musicians.

I've proposed systems for supporting musicians without depending on record companies, and in a way that encourages sharing.

30 July 2019 (Al Franken)Al Franken nowregretsresigning from the Senate. Some senators that pushed him toresignnowregret that too.

The first (main) article does not state clearly whether Frankentouched Tweeden in the process of making the photo, but it seems hedid not. If that is correct, it was not a sexual act at all. It wasself-mocking humor. The photograph depicted a fictional sexual actwithout her fictional consent, but making the photo wasn't a sexualact.

If it is true that he persistently pressured her to kiss him, on stageand off, if he stuck his tongue into her mouth despite her objections,that could well be sexual harassment. He should have accepted no foran answer the first time she said it. However, calling a kiss "sexualassault" is an exaggeration, an attempt to equate it to much graveracts, that are crimes.

The term"sexualassault" encourages that injustice, and I believe it has beenpopularized specifically with that intention. That is why I rejectthat term.

Meanwhile, Franken says he did not do those things, and the otheractors he previously did the same USO skit with said it was notharassment, just acting. Tweeden's store is clearly false in manydetails.

Should we assume Tweeden was honest? With so many demonstratedfalsehoods in her accusations, and given that she planned them withother right-wing activists, and that all of them follow a leader wholies as a tactic every day, I have to suspect that she decided tofalsify accusations through exaggeration so as to kick a strongDemocrat out of the Senate.

I have no proof of that suspicion. It is possible that she made theaccusations honestly. Also, in a hypothetical world, someone mightreally have done them. Supposing for the moment that thoseaccusations were true, should Franken have resigned over them?

I don't think so. They are misjudgments, not crimes. Frankendeserved the chance to learn from the criticism that surprised him.Zero tolerance is a very bad way to judge people.

However, the most important point is to reject the position that if Bfeels hurt by what A said or did, then automatically A is wrong.People judged Franken that way, and he judged himself that way. Butthat way degrades the concept of "wrong" into a mere expression ofsubjective disapproval. What can legitimately be assertedsubjectively can legitimately be ignored subjectively too. To judge Athat way is to set B up as a tyrant.

If B's feelings were hurt, that's unfortunate -- but is that A'sfault? If so, was it culpable, or just a mistake? That is what wehave to judge, and if we want others to think our judgments worthfollowing, they must be based on objective facts and objectivestandards, including objective standards for what words and gesturesobjectively mean.

Traister is wrestling with a solvable problem. She says, "When youchange rules, you end up penalizing people who were caught behavingaccording to the old rules." Maybe people do, but that is a sign ofcarelessness. It isn't really hard to change the rules and then judgeold actions by the old rules. We just have to remember to do so.

30 July 2019 (Danger of surveillance)One big danger of surveillance is thatpeoplecome to believe that breaking a rule is impossible, and then itbecomes unthinkable.

30 July 2019 (Unfollow the bullshitter)If you use Twitter,unfollowthe bullshitter. Posting your outrage does not hurt him '--it's what he wants.

30 July 2019 (Your Family Is None of Their Business)Your Family IsNoneof Their Business.

You, too, are none of their business, but that point is more radical.

30 July 2019 (Tories make it easy to mistreat workers)The Tories have made it easy to get away with mistreating workers inthe UK. They havecutthe funding to employment tribunals to the point where it takes 8months for a case to be heard.

30 July 2019 (Privatization of government services)The UKprivatizedapplications for student visa renewals. Naturally the companygouges the students, using a dark pattern in which there are supposedto be gratis appointments but in practice they are not available.

This particular work has a peak season in September. In a governmentoffice, the staff would focus on this during the peak season, thenmost would shift to other tasks for the rest or the year. A privatebusiness may not have an opportunity to do that. Its staff is lessstable than civil servants, and its other contracts come and go.

This adds to theotherreasons that government services should never be privatized.Occasionally some government service can simply be eliminated.

30 July 2019 (Being green)Can You Afford To BeGreenWhen You're Not Rich? I Kept a Diary to Find Out.

The article shows that many forms of conservation are made far moredifficult by the fact that society's current pushes people in theother direction.

The most important choice, to reduce your contribution to theecological footprint of humanity, is not mentioned in the article.It is to choosenot to have a child. Thewriter apparently does not recognize that that was a choice.

30 July 2019 (Plastic waste from fishing)Isolated, uninhabited Henderson Island receivestonsof plastic deposited by the Pacific Ocean. Scientists visited fortwo weeks and collected 6 tons to study it.

60% comes from fishing. This accords with reports that most plasticwaste in the ocean is from fishing. That should be much easier toeliminate than waste from a billion consumers.

If the fishing was done near Henderson, it was illegal. But thistrash could have floated for thousands of miles.

30 July 2019 (How Stonewall reversed justifying police surveillance)How Stonewall Reversed a Long History of Justifying PoliceSurveillance (and entrapment and jailing) of gays.

30 July 2019 (Deforestation of Amazon driven by meat)Revealed: Rampant Deforestation of Amazon Driven by Global Greed for Meat.

The new business-supremacy treaty between the EU and Mercosur trade blockscould speed up the deforestation.

30 July 2019 (Mangrove trees methane) After mangrove trees die, they emit lots more methane.

30 July 2019 (God orders swallowing of cyanide)(satire) God ordered His followers to swallow cyanide capsules Mondayin preparation for their voyage to Alpha Centauri.

30 July 2019 (ICANN eliminated limit on fees for org domain)ICANN has eliminated the limit on fees for having a .org domain name.

It disregarded almost complete opposition to the move in the public commentsit received.

The .org domain overseer would make the same amount of moneyby collecting $10k for each of 1000 domains as it would by collecting$10 for each of a million domains. And the former would be a lotless hassle. I fear that is what we will see.

30 July 2019 (The refugees that fled form Hitler)Americans, remember the refugees that tried to flee from Hitler.All countries turned them away, and they were killed by Nazis.

30 July 2019 (Rafael Acosta tortured)Venezuelan navy captain Rafael Acosta was arrested on June 21 and accusedof plotting a coup. Since then he has died, showing signs of torture.

Maduro calls for investigation of the accused torture rather than tryingto deny it.

30 July 2019 (Wife of Dubai's emir fled)The wife of Dubai's emir has fled and wants a divorce. The emirthinks of her as property and wants the UK to forcibly send her backto him.

He got his daughter back by sending commandos to grab her.

30 July 2019 (Eli Lilly puts profits over lives)An employee of Eli Lilly, a Pharma company, reports on when the goal ofmaximizing profit replaced that of saving lives.

30 July 2019 (3 Billionaires)Bernie Sanders Is Right: 3 Billionaires Really Do Have More WealthThan Half of America.

30 July 2019 (Ethiopia is trying plant 4 billion trees)Ethiopia is trying plant 4 billion trees this year. Each citizen is supposedto plant 40 at least trees.

If they are planting the right kinds of trees, in places where forestscan grow, these trees might do good, if they don't die.Due to global heating, trees may not survive the next 20 yearsin places where they used to grow. However, it is better to trythan not try.

30 July 2019 (Poisoning from lead pellets)We should ban use of lead shot for hunting. The lead pellets remainlying around, birds eat them, and die of lead poisoning.

Eating the poisoned birds, including the birds shot with lead, poisonspeople.

30 July 2019 (Geneva convention to protect wildlife and nature)Scientists suggest making a Geneva convention to give wildlife andnature reserves protected status in conflicts.

What about museums with unique objects, and libraries of rare books?

I think they should have similar protected status.

Even accidental destruction of these special places should be considereda crime '-- the crime of negligence.

30 July 2019 (Encryption Backdoors)Barr Says Police Need Encryption Backdoors, Doesn't Mention [Cracking]Tools They Use All the Time.

30 July 2019 (Children started early on being tracked)China is getting children started early on being tracked all the time.

30 July 2019 (Communications Decency Act)Section 230 of the Communications Decency Act, which protects web siteoperators from liability for what their users post, is being attackedin Congress. This puts all sorts of Internet commenting in danger.

30 July 2019 (Indian teenager accused a politician of rape)An Indian teenager accused a politician of raping her. A truck collidedwith the car she was in, killing two of her relatives and injuring herand her lawyer.

There is suspicion that thugs beat her father to death.

30 July 2019 (Forcing women into sex work)The UK is forcing women into sex work to get a place to live.

30 July 2019 (Thugs beating up prisoners)Thugs in Harrisburg have a predilection of beating up prisonersand causing them serious injuries, then not taking care of them.

30 July 2019 (Measles attacks the immune cells)Measles attacks the immune cells that guard the memory of resistingpast infections. It takes 4 or 5 years for those immune cells toregrow and provide immunity again to those past infections.

Thus, if you get measles, you become vulnerable again, for severalyears, to infections you were previously immune to. And they can killyou.

30 July 2019 (China sentences 'cyber-dissident')China's First 'Cyber-Dissident' Jailedfor 12 Years.

30 July 2019 (Disastrous deregulation)If the UK needs to make a new trade agreement with the US, the US willimpose disastrouspermanent deregulation.

The bullshitter's billionaire backers want this, and Bogus Johnsonwill surely rush to obey. But it would not have been much betterunder Obama, or any previous US president since the 1970s.

30 July 2019 (Global heating)Global heating is makingwhole families flee Guatemala. The seasons have changed, there isless rain, and crops fail.

30 July 2019 (Urgent: Ask candidates about net neutrality)US citizens: callon CNN to ask the candidates about net neutrality.

If you sign, please spread the word!

30 July 2019 (Urgent: Stop giving Nazis a platform)US citizens: call on CNN,and its head, Zucker, to stop giving Nazis a platform.

If you sign, please spread the word!

30 July 2019 (Urgent: Fossil fuel divestment)Everyone: callon the European Investment Bank, and the governments that own it,to adopt the fossil fuel divestment proposal and fully implement it.

If you sign, please spread the word!

30 July 2019 (Chief aide of UK's new prime minister)Bogus Johnson, the new prime minister of the UK, has appointed as hischief aide a man that has been censured by Parliament for refusingto testify about fake news activities.

30 July 2019 (Unionization)A study reports: Countries with higher levels of unionization havelowerper-capita carbon footprints.

29 July 2019 (Supreme Court allowed Pentagon funds to go towards wall)The Supreme Court allowed the cheater to use $2.5bn in Pentagon fundsto build a border wall.

29 July 2019 (British honours named after empire)British "honours" (non-military medals) named after theno-longer-extant British Empire cause a moral quandary to somerecipients, whose ethnic background includes a group that was colonizedby said empire.

29 July 2019 (Mueller's testimony basis for impeachment)Rep. Shiff, head of the House Judiciary Committee, said that Mueller'stestimony provided the basis to consider impeaching the conman.

It seems to me that we had plenty of basis already.

29 July 2019 (Moscow protesters not daunted)Moscow thugs have arrested 1300 pro-democracy protesters, but theprotesters are not daunted.

All they demand is that the candidates they nominated be allowed to run.

29 July 2019 (Miners attack village)Gold miners in the Brazilian Amazon have attacked and captured anindigenous village and killed the tribe's leader.

29 July 2019 (Ban on glass skyscrapers)Experts Call for Ban on Glass Skyscrapers to Save Energy.

They need extra cooling to make up for the greenhouse effect of the glass.

29 July 2019 (Hong Kong thugs)Hong Kong thugs indiscriminately attacked subway passengers who weresimply trying to ride the train.

Some of the passengers had previously been in a protest.

29 July 2019 (UK rape victims)UK women have become more willing to report rape, but only 2% of thecases are actually pursued. This discourages the victims, who say"forget about it."

29 July 2019 (Analysis of Hong Kong's Politics)An analysis of the Hong Kong political situation.

Let's look at the argument that Hong Kongers should surrender theirrights to assuage the hurt feelings of a billion Chinese. Are their feelings really hurt? That could be a fiction fabricated by Chinese state.

But let's suppose that 30 million really do have hurt feelings. Itcould be so. If so, why are their feelings hurt? Why do they evenpay attention to Hong Kong? It's because they are more or lessXi-ple; the state media tells them to feel hurt, and they do not doubtwhat they are told.

Any number of people who demand your surrender because they herded to do soamount to no reason for you to do that.

29 July 2019 (Extreme weather has damaged Australasia's marine life)Extreme Weather Has Damaged Nearly Half Australia's Marine Ecosystems Since2011.Some were damaged irreversibly.

The crucial points are that (1) this is surely not limited toAustralia and (2) it will get a lot worse unless we stop it soon.

29 July 2019 (MSNBC altered Sanders data)MSNBC alters arithmetic to make Sanders look bad.

29 July 2019 (Right wing PAC turns out to be less effective)A big right-wing PAC turned out to be much less effective thanit might have been, because the organizers directed much of the moneyto themselves.

29 July 2019 (DOJ approved T'--mobile and Sprint)The Department of Justice approved the merger of T-Mobile and Sprint.

The political power of large companies is such a threat to democracythat we should make sure they do not merge with or acquire othercompanies.

29 July 2019 (EU requires online payments with phone)In the EU, online credit card payments will require two-factor identificationusing a mobile phone.

Many people are up in arms about the inconvenience of this, but thatis only the superficial level. A mobile phone tracks you, and buyingon the internet tracks you. The wise thing to do is to go to aphysical store and pay cash.

29 July 2019 (Guatemala called safe)The US made Guatemala agree that the US should call it "safe"so that refugees that cross Guatemala (from Honduras, El Salvadorand Nicaragua) have to apply for asylum in Guatemala.

That policy is ridiculous and unjust because it is based on a falsehood.

29 July 2019 (Pressure to curb global heating)Australia's ruling planet-roasters arefacingpressure from Papua New Guinea to help curb global heating.

Bullshit won't be enough to quell this.

29 July 2019 (Reducing severe storms in Europe)Plantinga lot of forests in Europe could reduce severe storms there.

29 July 2019 (Israeli snipers)In a human advance, Israeli snipers are nowbeingtold to shoot (unarmed) Gaza protesters in the lower leg.

This reinforces the point that when they shoot someone in the head, itisno accident.

29 July 2019 (Talking points on US major media)US major mediacontinuallyprint interviews with supporters of the bullshitter showing that theyhave not changed their stance.

This promotes their talking points, but it isn't news any more.

29 July 2019 (Urgent: Call on Harvard to divest fossil fuels)US citizens: call on Harvard to divest from fossil fuels.

If you call, please spread the word!

29 July 2019 (Urgent: Pass domestic workers bill of rights)US citizens: call on Congress to pass the Domestic Workers Bill of Rights.

If you call, please spread the word!

The Capitol Switchboardnumbers are 202-224-3121, 888-818-6641 and 888-355-3588.

29 July 2019 (Urgent: Stop pushing death penalty)US citizens: call on Los Angeles DA Lacey to stop pushing for the death penalty.

If you call, please spread the word!

29 July 2019 (Urgent: Pass MORE Act)US citizens: call on Congress to pass the MORE Act to legalize marijuanain a thorough way.

If you call, please spread the word!

The Capitol Switchboardnumbers are 202-224-3121, 888-818-6641 and 888-355-3588.

29 July 2019 (Urgent: Allow shorts)Everyone: call on Walmart to let staff wear shorts.

If you call, please spread the word!

29 July 2019 (Urgent: US citizens: call on Alabama Governor Ivey to give clemency to Rocky Myers.)US citizens: Call on Alabama Governor Ivey to give clemency to Rocky Myers.

The reason he could not present these arguments in an appealis the law past under President Clinton to sharply limit appealsagainst death sentences.

If you call, please spread the word!

28 July 2019 (Replacing human workers)Why are companies rushing to replace human workers with robots basedon machine learning? Because that is a wayto makethe rich richer, and the poor poorer as a byproduct.

Additional robots are greatly reducing the number of jobs inmanufacturing, and are likelyto continue doing so.

The fact that one particular factory in the UK has more staff now thanin 2007 is neither here nor there. Evidently a bigger fraction of thecountry's manufacturing has been concentrated there.

The increase in productivity is a benefit to whoever owns the factory,and the small fraction of people employed there. But it is not goodfor society overall unless those benefits are shared with societyoverall.

It is a mistake to see the issue in nationalistic terms as acompetition with other countries. It does no good to country C tohave robot factories there rather than in D, E and F, if the benefitsgo in each case only to the few owners. What matters to country C ismaking sure the people there who don't own plenty of stock in robotfactories can nonetheless enjoy the products of these factories, andeverything else one needs for a good life.

28 July 2019 (Antifascist counterprotesters)Portland thugs harassed and attacked antifascist counterprotesters,basedon accusations that may be phony.

However, it seems they really did attack the right-wing journalist,Andy Ngo. We should not do that.

28 July 2019 (Prisoners' phone calls)A sheriff's office and a special gouge-'em prison phone companyconspired (in effect)to recordprisoners' privileged phone calls with lawyers.

28 July 2019 (Obrador's policies)The substantive policies of Mexican President L"pezObrador putbusiness and the US first.

If this is a "win for Mexico's left", then Clinton was a progressive.

28 July 2019 (Privatized probation officers)Privatized UK probation officerssay biggercaseloads and unrealistic targets prevent them from followingtheir professional standards.

This is the standard result of privatizing a government service.We should renationalize all privatized government services.

28 July 2019 (Mao 2.0)China is now ruled by a networkedtotalitarianism, "Mao2.0".

When the article says what "we" believed, the author should speak forhimself. I never believed that capitalism would by nature bringdemocracy. Democracy is how the non-rich organize the state toprotect them from the power of the rich.

Back when capitalists needed lots of factory workers, that gave theworkers one advantage in their fight for democracy. But it did notguarantee victory. And now that advantage is gone.

28 July 2019 (Husband's guns)Courtney Irby took her husband's guns to the thug department becausehe had been trying to kill her. Thethugs chargedher with burglary and jailed her.

28 July 2019 (Transmountain tar sands pipeline)Trudeau gaveCanada's approval to the Transmountain tar sands pipeline. Thismakes a mockery of the climate emergency declaration Trudeau made thisweek.

28 July 2019 (The new NAFTA)The new NAFTA improves many specific points, but its fundamentaleffect is still to give businesses more power and democracy lesspower, and thus to transferincome fromworkers to business owners.

28 July 2019 (NYC mesh network)A mesh networkis providingtrue internet service to large parts of New York City.

I used to think that community mesh networks could not be more thantoys, but it's a great surprise to see this is not so.

28 July 2019 (Bills to improve security of US elections)Senate Republicans blockedbills to improve the security of US elections.

28 July 2019 (Cruel "tough on crime" approach)Progressive US district attorneys are making inroads into the cruel"toughon crime" approach to street crime.

Toughness for toughness' sake causes a lot of collateral damageand can backfire by increasing crime.

The case where toughness is exactly what we need is for businesscrime, whether against workers or against customers. For instance,stealingworkers' pay and foreclosingon millions of Americans' homes using fraudulent papers. Theperpetrators do this for profit, and if it ceases to be profitable,they will stop doing it.

28 July 2019 (Plutocracy)If we have recourse to a billionaire to defeat the impositions ofother billionaires, the result will be to ensconceplutocracy more deeply.

A society where a small number of the powerful compete for power couldturninto an empire.

28 July 2019 (Deregulation of business)Mulvaney is pushing deregulationof business in many areas of the US government.

By contrast, the bully wants more regulation of activitiesthat help poor people,refugees,andwomen.

28 July 2019 (Urgent: End federal attacks on abortion rights)US citizens: call on presidential candidates to commit to ending federal attacks on abortion rights.

If you sign, please spread the word!

28 July 2019 (Urgent: Shut down Google's location tracker)Everyone: call on Google to shut down its location tracker Sensorvault.

Sensorvault stores the locations tracked in great detail by Androidapps, which do this even when location tracking is "turned off".

This is what you have to expect from nonfree software.

If you sign, please spread the word!

28 July 2019 (Urgent: Reject disinformation tactics)US citizens: call on Democratic and Republican parties to denounce and reject disinformation tactics.

If you sign, please spread the word!

28 July 2019 (Urgent: Investigate illegalities in use of soldiers)US citizens: call on the Pentagon's inspector general to investigate illegalities in use of soldiers to patrol the border.

If you sign, please spread the word!

28 July 2019 (Urgent: Pass the ROE Act)Citizens of Massachusetts: call on your Mass legislator to pass the ROE Act.

If you sign, please spread the word!

28 July 2019 (Unusual sexuality)Hatred of unusual sexuality still causes gratuitous sufferingaround the world.

28 July 2019 (Pentagon's bloated funding deal)Even some "progressive" Congresscritters voted the Pentagon's bloated funding deal.

28 July 2019 (Jewish religious leaders)Jewish religious leaders reminded Congress that rejection and cruelty torefugees can hurt anyone.

28 July 2019 (Russian hacking the 2020 election)(satire) '... Russian operativePavel Artemyev reportedly expressed disappointment Friday thatgerrymandering has taken all the fun out of hacking the 2020 election.

28 July 2019 (Comparing foreign policy)Comparing Warren with Sanders on foreign policy.

I disagree with the author on some points. Russia and China dothreaten the security of Americans, though not as much as thebullshitter does. I think the US should keep troops in Rojava (theKurdish part of Syria) for as long as Rojava wants them.

If we care about democracy in the Middle East, we should defend itwhen it is threatened.

28 July 2019 (Thugs' video surveillance)Detroit is playing games to expand the thugs' video surveillance and obfuscateits relationship with face recognition.

28 July 2019 (Remaining refugees on Manus)The remaining refugees imprisoned on Manus Island have been invited tomove to New Zealand, but Australia's right wing hate regime won't letthem.

It is good that the bully did not stop the US from accepting manyrefugees from Manus. As for the ones that have moved to Port Moresby,the capital of Papua New Guinea, I wonder what their lives are likethere.

Australia is still ashamed of its actions there. An oppositionAustralian senator went to Manus Island and asked to visit the prison.Not only was he denied permission, Papua New Guinea immediatelydeported him.

It is clear that Papua New Guinea's government is acting as a puppet forthe Australian minister in charge, Dutton.

By the way, Dutton is the same minister that could have you imprisonedif you disobey secret orders to sabotage your clients or your freesoftware. Don't go to Australia.

28 July 2019 (UK extends abortion and same sex marriage in Northern Ireland)The UK parliament voted to authorize abortion and same-sex marriage inNorthern Ireland. These were blocked because the parliament ofNorthern Ireland ceased to function some years ago.

28 July 2019 (Advice about militarism)Important advice about militarism that President Roosevelt received in 1940,but the US is forgetting.

28 July 2019 (Woman's soul in purgatory)(satire) A woman's soul complains of gender bias in purgatory.

There is surely gender bias in CIA torture, too.

28 July 2019 (Biden championed Dubya's war with Iraq)Biden didn't just vote for Dubya's war with Iraq. He championed it.

28 July 2019 (Israelis' houses on Palestinians')Israel has decided to legitimize Israelis' houses on Palestinians'land, if the Israelis dealt "in good faith" with the Israeligovernment.

Israelis are not required to show "good faith" to Palestinians themselves.

Contrast this with how Israel grabs for excuses to make Palestiniansdemolish their own homes.

28 July 2019 (Evidence supports Iran's claim)The weight of the evidence supports Iran's claim that the US spy dronethat Iran shot down was over Iran's waters.

Making war plans and running war games do not strike me as matters ofspecial concern. Those kinds of preparations are, in most cases, notfollowed by an actual war. Thus, if the bully does attack Iran, Iwon't consider that planning to be the cause.

The US has cancelled and violated the nonnuclear accord with Iran but stillcriticizes Iran for not obeying it.

28 July 2019 (Alexa recordings)Amazon keeps Alexa recordings and transcripts indefinitely.

28 July 2019 (Arctic wildfires)"Unprecedented": More Than 100 Arctic Wildfires Burn in Worst Ever Season.

In some places the peat is burning and could burn for months.

The relation between this and global heating is direct in bothdirections. The Arctic has heated much more than anywhere else onEarth, and that temperature makes for fire. And the fire spews CO2which will increase global heating.

28 July 2019 (Mobile phone personality)A person's pattern of using a mobile phone allows deducing a lot aboutper personality.

Phone companies around the world could use this to help profile people.

28 July 2019 (The right trees in the right place)In order for planting trees to be environmentally beneficial, theyneed to be the right trees, in a suitable place.

I conjecture that a good rule would be to plant trees in places thatused to be forests a few centuries ago, and plant the trees that usedto live there.

28 July 2019 (EPA plans to allow polluters to appeal)The EPA plans to allow polluters to appeal rulings but not allowpollution victims to do so.

Plutocratists have directed that agency to do the opposite of its job.That is why I now call it the Environmental Poisoning Agency.

28 July 2019 (Moscow police arrest 200 protesters)Moscow Police Arrest up to 200 Ahead of Election Protest.

Putin openly visits contempt on democracy as an act of intimidation,like what the bully does in the US.

28 July 2019 (Woman forced to wax testicles)In the Guardianwe read,

Surely a woman shouldn't be forced to wax testicles if that makes themfeel uncomfortable?Who or what does "them" refer to? The testicles? The woman?

Notwithstanding my delectation in occasional wildly funny ambiguitiessuch as that one, I continue to advocate systematically avoiding themby using singular gender-neutral pronounswhen referring to just one person.In this particular case, since the person is specified as a woman,"her" would also have fit.

28 July 2019 (Siri records)Siri Records Fights, Doctor's Appointments, And Sex (and contractors hear it).

28 July 2019 (Israeli who had to prove his guilt)The Israeli Who Had to Prove He's Guilty of Beating a Palestinian, and thePalestinian Who Had to Prove He's Innocent of Raping a Jewish Girl.

28 July 2019 (Australian mines cut corners)The workers in Australian mines now have precarious jobs (and,apparently, no unions to defend them). So they are afraid they willbe fired if they report how the mine cuts corners and endangerspeople's lives and health.

The underlying cause of this is right-wing government that lets minesget away with precarious employment. Give miners more power and theirunion will attend to the safety.

28 July 2019 (Machine learning patents)Machine learning / automated classification is going to be loaded downwith patents, like other fields of computing.

(The article uses the misleading over-generalization, "IP". Itcovers a bunch of disparate laws, which in itself is spreads confusionby leading people to think those laws have something significant incommon.)

We need laws that directly exclude software and use of software fromthe domain of patents.

28 July 2019 (Jewish activists protest deportation thugs)Jewish activists protest the deportation thugs, saying "Never AgainMeans Close the Camps!"

Jews have two different interpretations of "Never again!" One isnarrow: "Never again to us!" The other interpretation is broad:"Never again to anybody!" I admire that side of Judaism (although itwon't convince me to believe in supernatural entities).

28 July 2019 (Amazon strike) A strike planned in an Amazon warehouse is meant to drawa contrast between the carefully cultivated image Amazon presents toconsumers and the reality for the company's workers.

By contrast, in the Free Software Movement we aim to draw a contrastbetween that same image and the reality for those who make themistake of accepting the company's services.

28 July 2019 (Ocean tipping point)Evidence suggests that excess CO2 in the ocean can reach a tippingpoint after which the ocean would rapidly become much more acidic.

28 July 2019 (Legalizing recreation marijuana)Legalizing recreational marijuana correlates with decreased useby high school students.

28 July 2019 (Instagram AI)Instagram is testing AI-implemented kind communication guidelines.In the GNU Project we ask people to learn and consciously practice ourkind communication guidelines.

28 July 2019 (Defense attorneys vow)(satire) Defense Attorneys Vow To Present Irrefutable Evidence Proving JeffreyEpstein Billionaire.

28 July 2019 (Employee's fingerprints)The staff of a Chicago medical organization are suing because it identifiedthem with fingerprints for each shift.

I think it is bad that the employer has their fingerprints at all.Is it possible to authenticate people with a biometric that isnormally hidden?

28 July 2019 (US schools monitoring social media)US schools are monitoring social media postings of everyone livingnear by, using Artificial Stupidity to detect "threats". Nearly everyalarm is a false alarm.

One thing that the article doesn't mention is that the contracts forusing the school's computers and their nonfree software, and theonline dis-services that the school wants to let spy on students,are fundamentally unjust.

28 July 2019 (Christchurch Mayor)Christchurch Mayor On Mass Shooter: 'I've no idea what his name is'.

I didn't pay attention to that name either.

28 July 2019 (Face recognition and body cameras)Real-Time Facial Recognition Should Never Be Coupled with Body-Worn Cameras.

I agree, but that is not enough. We must also them from being used to makeand store videos without limits. My proposed automatic system to decidewhen to save the recording could take care of this job.

28 July 2019 (Mining drivers licenses)The FBI frequently identifies people by running their photosthrough many states' data bases of drivers license photos.

The deportation thugs do it too, which means that the states whichpermit this expose their residents gratuitously to deportation.

28 July 2019 (Tsipras and Syriza)Tsipras and Syriza lost the first battle to the global plutocracy.Then, instead of fighting for every inch, they capitulated eagerly.

Then most Greeks did the foolish thing that a defeated people oftendo: they decided to support a different set of right-wingplutocratists instead. This was pitiful and stupid. Despair candrive a people to do self-mutilation, just as it can drive anindividual to it, but don't help your enemies subjugate your people.

28 July 2019 (Global heating in Somalia)Global heating is causing havoc in Somalia, through repeated drought.

As the number of people who can't feed themselves any more increases,it is clear that other countries will eventually let them die.But in the mean time, climate strikers and Extinction Rebellioncan present their example of a foretaste of what is comingif we don't decarbonize.

28 July 2019 (Redirecting pipeline profits)"[Trudeau's] promise to direct pipeline profits to clean energy islike allowing cigarettes to be sold to kids as long as tobaccocompanies make generous donations to cancer research."

There is no room in the carbon budget for strip-miningAlberta's tar sands.

28 July 2019 (Disasters caused by global heating)Local disasters due to global heating are happening at a rate ofroughly once per week.

Mizutori's stance is misguided. We must give priority to long-termreduction of the harm that global heating will do. We must do all wecan in that direction. Defending cities from floods and fires of the2020s must take second place to reducing the floods and fires of the2030s, 2040s, 2050s and beyond.

It is good to defend cities better in the short term, provided this isnot at the expense of measures to reduce the long-term threat.

28 July 2019 (Refusal to cover up murals)Scholars implore San Francisco not to cover up the murals that depictmisdeeds of George Washington.

It is true that we can't tell the school's students (or anyone else)how to feel. That doesn't mean we must cater to misguided demandsthat are motivated by those feelings.

28 July 2019 (US concentration camp cruelty)In US concentration camps for immigrants, the officers let thugs ventcruelty at the prisoners.

"The conditions in the border cells are shocking '-- but theright[-wing] will usepublicoutrage [as an excuse to] to build more jails."

27 July 2019 (Bully's act of terror)For the bully, threatening massive deportation raids then not carryingthem out added up to a successful act of terror. He used cruelty tosend a message.

I did not post about this, because it is a mistake to talk aboutwhatever the conman says. Next time he tries to terrify peoplewith a threat, let's please not talk about it. The thingshas actually does cause enough harm on their own; we need notadd to them by quoting his threats.

27 July 2019 (25 year wealth gap)Wealthy white males in the US today are about as healthy (on theaverage) as were the wealthy white males of 25 years ago, but allother demographic groups in the US have got less healthy since then.

The study doesn't show the reason for this, but the increasing expenseof medical care in the US is surely part of the reason. Theincreasing stress of living in the US under plutocracy may beanother.

The hospital that became famous for suing poor people for medical chargesthey can't pay has dropped some of the lawsuits. It is going to reconsiderthat policy.

Maybe after this public outrage the hospital will cease all such lawsuits.Or maybe it won't. If it does stop, it might start again in a year or twoand hope nobody notices.

No word on whether it will rename itself as "Le Malheur".

27 July 2019 (Boris Johnson, evil clown)Boris Johnson, an evil clown, may now become prime minister of the UKby burying a real scandal under an assertion so unbelievable that thepress got distracted by how unbelievable it was.

The assertion was also apparently calculated to disguise one of hispast failures in search engines.

I didn't post any notes about the unbelievable statement, because itwas not important. Additional reasons to distrust someone's word arehardly needed when that someone is a Tory.

27 July 2019 (Border thugs discussion group)US border thugs tried to cover up their secret discussion groupfor posting their hatred of immigrants, but the Intercept saved itand has posted about it.

The quotation, "Fuck the whole country of Honduras," is ironicbecause that's exactly what the US has done.

27 July 2019 (Urgent: Block Facebook's planned currency)US citizens: call on Congressto block Facebook's planned currency.

If you sign, please spread the word!

27 July 2019 (Outspoken progressives)(satire) '... House Speaker Nancy Pelosi expressed concernsThursday that outspoken progressivescoulddo permanent damage to Democrats' reputation as ineffectualcowards.

27 July 2019 (Deportation thugs)'I Was Ready to Sign' Deportation Papers, Says US Citizen After ThreeWeeks in HorrificImmigrant Detention Center.

The conditions included denial of medical care.

The deportation thugs released him after negative publicity,but there is no reason to think that they will make the conditions forthe other prisoners any less nasty.

27 July 2019 (Australia's new coal projects)All insurance companies in Australia nowrefuse to insure any new coal projects. This may put an end tomost of them, but really large companies might self-insure.

Now what about oil and gas?

27 July 2019 (Natural gas disinformation campaign)A natural gas company in California setup an unnatural astroturf disinformation campaign to keep themethane leaking.

The term "balance" has a powerful irrational appeal. We've seen thisin the copyrightfield for ages, and now in energy as well.

27 July 2019 (The British bullshitter)About Boris Johnson, the British bullshitter that is alliedwith the US bullshitter.

27 July 2019 (Deadly heat in tropical regions)If we don't curb global heating, many tropical regions will experiencedeadly heat every year. Often this will follow stormsthat cut the electric supply to the air conditioning that would benecessary to save people's lives.

27 July 2019 (Mueller's testimony)Mueller's testimony did not deal a political blow to the bullshitter,because he gavelittle if any new explanation.

I think the bullshitter deserves to be impeached and removed fromoffice, for treating the US political system with contempt, as well asmultiple crimes and acts of cruelty and dishonesty. But it isimpossible to do that, and without that possibility, whether toimpeach is simply a matter of political tactics.

27 July 2019 (RT TV disinformation)How RT TV designsits disinformation to serve Russia's interest.

27 July 2019 (Opioids executive convicted of bribery)An opioids executive was convicted of bribingdoctors to prescribe the opioid "subsys."

27 July 2019 (Extinction rebellion)Extinction Rebellion:"FashionWeek Should Be a Declaration of Emergency."

It is bizarre to think that clothing makes a big contribution toglobal heating, but it is true: "fast fashion", the practice ofwearing clothes just a little and discarding them, has turned clothinginto something to consume rather than a durable good.

27 July 2019 (Right to repair for farm equipment)Sanders and Warren advocate right to repair for farm equipment.

27 July 2019 (Barcelona will try to prevent airport expansion)Barcelona will try to prevent expansion of its airport.

Bravo! The world cannot sustain the increase of air travel.

27 July 2019 (The UK is trying to corrupt charities)The UK is trying '-- again '-- to corrupt charities that help homelesspeople by getting them to participate in a scheme to identifyforeigners and deport them.

In doublespeak, this scheme is called "support" for homeless people.

27 July 2019 (India is shipping water by train)India is shipping water by train from Kerala to Chennai. But sincethe lack of water is due to global heating, the shortfall willincrease over time.

If Delhi runs out of water next year, I doubt that shipping water from Keralawill be a solution.

In the long term, IUDs can help prevent the need for water fromincreasing, and solar-powered desalinators can compensate (a little)for the decrease in supply. But farms need water, too. I fear Indiais headed for massive starvation.

27 July 2019 (Microsoft's anti-Right-to-Repair)Debunking Microsoft's anti-Right-to-Repair FUD.

Bravo for the article, but one quotation falls into a widespreadconfusion: that spread by the term "intellectual property".

and "If you hire a managed service provider to do your network securitythey could, instead,... steal your intellectual property."In general, that statement is false. It could not steal yourcopyrights, or your patents, or your trademarks, or your plant varietymonopolies, or your IC mask monopolies, or your publicity rights '--those are legal privileges, so they can't be "stolen". I think theonly things it could possibly steal that way are trade secrets.

Please don't eversay "intellectual property" if what you mean is "trade secrets" orif what you mean is "copyrights", or if what you mean is anyother specific thing, because that is a big generalization. It islikely to convert a narrow true statement into a broad false one.

If you think that what you mean is all of them, then please study theissue more carefully '-- a statement so general is usually false,and probably most of them are not even relevant to the issue at hand.

If you want to quote a statement where someone else used the term"intellectual property", please check whether the statement was falsedue to this confusion. Any statement that used that term probablywas confused.

27 July 2019 (Law to publish the tax returns of corporations)To make Amazon pay its fair share of taxes, and Apple, Google,Facebook and others too, we need to see their tax returns. Let's changetax law to publish the tax returns of corporations.

We could extend this to every company that files a separate taxreturn, or to every company that isn't a sole proprietorship.

With that exception, it would respect personal privacy adequately,

27 July 2019 (Face tracking)Private use of face tracking is widespread and dangerous,but the proposed regulations only aim at use by public agencies. Not enough!

Government surveillance cameras watching the street are a great disguisefor private surveillance cameras put up by nobody-knows-who.

Surveillance cameras '-- cameras transmitting video somewhere else '--should be illegal except when authorized by a court for a specificplace and period of time.

27 July 2019 (Unfair trials)Pressuring Bahrain to cancel executions of people whose trials werethoroughly unfair.

27 July 2019 (Tobacco Epidemic)Battle Against Tobacco Epidemic Is Far from Won.

27 July 2019 (European Investment Bank)The European Investment Bank will stop funding fossil duel projects.

This could make a real difference if other investors follow this example.

27 July 2019 (An interview with Manual Zelaya)An interview with Manual Zelaya, who was president of Honduras untilthe coup that appears to have been approved by Hilary Clinton.

27 July 2019 (Contrasting codes of conduct)Contrasting codes of conduct and accusationswith trying to be kind to other people.

27 July 2019 (California require bots to identify themselves)California now has a law requiring bots to identify themselves as suchwhen used for advertising or electioneering.

I think this is a good idea, but I wonder whether enforcing the lawwill prove difficult.

27 July 2019 (Brazil frozen chicken infested with salmonella)Brazil is a big exporter of frozen chicken, and 1/5 of it is infestedwith salmonella.

The EU should blacklist Brazil until its infestation rate gets down tothe achievable level? I doubt it will do so, but why not? Is it onlylack of moral commitment, or is there some legal obstacle?

I wonder if some business-supremacy treaties forbid this.

Can anyone suggest who to ask?

27 July 2019 (Plants exchange signals)Plants exchange signals and respond to some stimuli. Don't leapto the conclusion that this means they can feel or think.

27 July 2019 (Trustworthy AI)An independent expert group sponsored by the European Union haspublished a plan for promoting "trustworthy AI".

It does not seem to propose how to develop an AI to be trustworthy,how to determine whether a given AI program is infact trustworthy, orhow any AI program can be trustworthy. As far as I know, these aretotally unsolved problems, but the report takes for granted somesolution is used.

27 July 2019 (Captured an Iranian oil tanker)The British navy captured an Iranian oil tanker said to be taking oil to Syria.

This was clearly an act of war, and justifies military action Iran's part.

The capture took place in disputed waters near Gibraltar, and Spainhas objected to it.

I can't see what relevance EU sanctions have. If the are sanctions,they prohibit certain dealings between EU entities and Syria. I don'tsee how an Iranian ship would come under EU sanctions, unless it is ownedby a European company.

Only a blockade would purport go that far, and a blockade, if therewere one, would be an act of war in itself. (Remember when Egyptblockaded Elat? Israel responded to that, legitimately, by capturingthe Sinai.)

I don't think the EU has announced a blockade of Syria. Indeed, it isunable to do such a thing; the whole field of war is outside the EU'sscope.

So there is some bullshit here. I hope someone sorts out the facts.

27 July 2019 (China taking thousands children)China is taking thousands of Uighur children away from their parentsand putting them into boarding schools designed to assimilate them.

This resembles what the US and Canada did to indigenous peoplesduring much of the 20th century. Public opinion made the US andCanada stop this, but in China public opinion is not allowed to exist.

Even fairly mild reproach of China for putting a million Uighurs inbrainwash camps has discomfited China. Firm pressure mightaccomplish a great deal.

Perhaps Hong Kong should be the main target of the pressure, for now.

27 July 2019 (Plutocratist party)An explicitly plutocratist party is expected to win the elections inGreece.

I think Syriza's surrender discredited the idea of resistance.Perhaps Greeks have thrown in the towel, and are now tellingthemselves that surrender will get them some trickle-down.However, we've seen that that's bullshit. The plutocratswill be nice to you until you have swallowed the hook, but then theysqueeze ever harder.

Getting a little more privileges in the labor camp, through assiduousobedience, will never get you freedom.

27 July 2019 (We'll pay for your personal data)ACLU: beware dis-services that say, "We'll pay for your personal data"'-- that would only legitimize the basis of their power, not weaken it.

Shushana Zuboff's take on why "owning the data about you" would beineffective as protection from surveillance capitalism.

27 July 2019 (Keep information on who paid for each political ad)Canada required social media companies to keep information on who paidfor each ad political. Google responded by not running any politicalads.

The author seems to think that Google somehow defeated Canada. I sayit's just the opposite: Canada achieved a bigger success than it aimedfor!

This suggests it may be possible for one country to succeed indefeating a system that spreads fake news, if it can identify thecrucial nexus at which to operate. Different networks functiondifferently.

27 July 2019 (Shell's Sleazy Censorship)Shell's Sleazy Censorship: arranging a joint event with climatedefenders, then cancelling the participation of the researcher whowas going to show how Shell is still working to hamper climate defense.

27 July 2019 (Restricting diesel fuel)Less well-off areas have least to lose from restricting diesel fuel,and most to gain from clean-air zones, study finds.

27 July 2019 (Australian aboriginals)The University of New South Wales has told teachers not to talkabout the fact that the Australian aboriginals reached and colonizedAustralia around 40,000 years ago. Science is to be suppressed so as torespect their nonscientific traditional views.

I think that lying to children is likely to backfire on them. I resentwhen parents demand I support their lies about Santa Claus, because Ithink I'd be doing wrong.

Lying to adults about their group's origin could be even worse.

27 July 2019 (OPEC climate defense campaigns)OPEC acknowledged that climate defense campaigns including the schoolstrike for climate threaten fossil fuel extraction industry's future profits.

Greta Thunberg called this "our biggest compliment yet".

OPEC calls criticism "unscientific", but that can only mean that thelikely fragments of the coming disaster have not been specificallyproved. It would be irrational to wait for such detailed proofbefore protecting ourselves.

Striking students can influence officials even in right-wing parts ofthe US. They can mobilize their parents, too.

27 July 2019 (Damage caused by global heating)A study covers 1300 lawsuits against governments and businessesover damage caused by global heating.

27 July 2019 (High stress cause fetuses to miscarry)Situations of high stress cause fetuses to miscarry. The effectis stronger for male fetuses.

I wonder whether in Alabama anyone that imposes stress on a pregnantwoman who subsequently has a miscarriage could be prosecuted forhomicide.

27 July 2019 (US farmers)US farmers are growing a lot of food but making little money.At the same time, they are exhausting and losing the soil andspreading toxins. Here are ideas for how to fix both.

Another cause of the failure of farms is being compelled to sell to afew large middleman companies. Many farms have gone broke recently.The pressure means farmers cannot invest in regenerative agriculture.

Sanders proposes how to restructure agriculture in the USfor the sake of farmers.

27 July 2019 (Venezuela's suppression forces)A UN human rights report says that Venezuela's suppression forces havekilled almost 7000 people since Jan 2018 for "resisting arrest". Thisis the government's own figure, so it is clear they were all killed inraids, but it is inconceivable that they all died in that way.

More information about torture discovered by the UN visit.

27 July 2019 (Corrupt judge Sergio Moro)Brazil has thoroughly condemned corrupt judge Sergio Moro.

In the past, this sort of exposure would compel an official to resign.Nowadays, corrupt officials have discovered that trying to tough it outmay succeed. What will it take to kick Moro out of office?

26 July 2019 (Racist stop-and-frisk)US Judge Shira Scheindlin pronounces on racist stop-and-frisk inIsrael based on her decisions aboutraciststop-and-frisk in New York City.

26 July 2019 (Military occupation of Palestine)Israeli right-wing extremists, from Netanyahu on down, have decided todeny the fact that Palestineis under Israeli military occupation.

When anyone points out this fact, they call it "anti-semitism". Theydo so, while maintaining an alliance with realanti-semites in the US.

26 July 2019 ("Influencers")"Influencers" tryto extort gratis food from restaurants, even ice cream trucks.

The best way to deal with them is to stay away from Instagram.It's a branch of Facebook and participating in it is for zuckers.

26 July 2019 (Military bill forbids fighting with Iran)House Democrats put an amendment into a military bill that wouldstrictlyforbid fighting with Iran, other than defending against attacks.

26 July 2019 (iBad tracking in schools)If your school provides you with an iBad, it's not merely imposinguser-subjugating software and online dis-services. It may also betrackingyour movements in the school.

26 July 2019 (Tree planting)Tree planting couldbe a big part of preventing climate disaster.

However, I have to raise two questions:

Will the trees we plant live to grow large?Global heating could kill them.Migrating parasites and infections could kill them.Humans desperate for firewood could kill them.Will we be able to plant trees faster than deforesters cut them down?26 July 2019 (Migrants imprisoned next to military base)One of Libya's governments imprisoned migrants next to a military base.Haftar's army attacked the base and bombed the prison too. Thiscausedover 100 casualties.

26 July 2019 (Release of Captain Rackete from arrest)An Italian judge rebuked Salvini and releasingCaptain Rackete from arrest. It is not clear whether any of thecharges have been dropped.

26 July 2019 (Hong Kong legislature)A hundred or so protesters took overthe building of the Hong Kong legislature, after bashingdown its door. Then they destroyed computers and otherfacilities.

That legislature is elected through a biased system; it is notdemocratic. It does not deserve much respect; I won't say thatdamaging its property is inherently wrong, But this violent action,and the subsequent vandalism, play into China's hands.

26 July 2019 (Demand anyone's New York state tax returns)New York State has authorized the head of a congressional committee todemand anyone's New York state tax returns. That congresscritter should nowdemand the conman's tax returns.

This won't have immediate results '-- I suppose the conman will sue, hopingto get the Supreme Court to overturn that law.

26 July 2019 (Bee-Killing Pesticide)USDA Indefinitely Suspends Honey Bee Tracking Survey as [eleven]States Get [special emergency] Approval to Use Bee-Killing Pesticide.

I wish this were satire.

26 July 2019 (Many compostable plastics remain inert)Many "biodegradable" and even "compostable" plastics remain inertand undamaged in home composting, or in the ocean.

26 July 2019 (UK ambassador to the US)The UK ambassador to the US has been sending his government an honestappraisal of the conman.

If ministers continue fawning on the conman, it's not due toignorance.

26 July 2019 (Business-supremacy treaties)Business-supremacy treaties are a big screw. If the UK pulls out ofone (the EU), another one (the WTO) will clobber it.

26 July 2019 (Right-wing policies)Right-wing policies make people homeless, and right-wing politiciansmake an excuse not to care: they regard the homeless people as adisgusting nuisance, to dehumanize them.

26 July 2019 (The Green New Deal)The Green New Deal can do more than avoid disaster. It can be an opportunityto make the world better in other ways.

26 July 2019 (Company with phony information)The UK makes it easy to set up a company with phony information about theowners. It doesn't even bother to check whatever information it is given.

26 July 2019 (Risk of fraud in games)1/3 of gamers reportedly refuse to pay for anything in gamessimply because of the risk of fraud.

However, there is a deeper reason to refuse to pay for anything in agame: because that enables the game company to track you. And thedeepest reason is that the game is a proprietary program.

Playing against someone who buys better skill or better equipment isequivalent to playing against someone who cheats.

26 July 2019 (Britain's Obsession with "anti-Semitism")Let's Be Honest about Britain's Obsession with "anti-Semitism".

26 July 2019 (Fix Food System)We [Americans] Have the Money to Fix Our Food System.

26 July 2019 (Sued for giving patient data to Google)The Chicago Medical Center is being sued for giving patient data toGoogle, in a form that can be reidentified easily.I think that clinics and schools should be required to keep their personaldata on their own computers, located in their own facilities, not in serversrun by companies that operate them in a cloudy way. A contract in whichthe company says how it can use the data is not enough to trust that itwill remain private.

26 July 2019 (Norway prison system)Norway focused its prison system on rehabilitation, and recidivismdeclined from 60-70% to 20-25%.

Rehabilitation costs more per prisoner but results in having muchfewer prisons.

I suspect that lowering recidivism that much depends on having asociety that offers ex-cons a way to get by, other than through crime.My impression is that in the US it is so hard to get a job with anincome you can live on, if you have a criminal record, that manyex-cons that want to go straight are unable to make a go of it. Ifthe goal is to reduce the harm done by crime, this is self-defeating.

But then, the US also puts a terrible burden on poor people, and onvarious disprivileged demographics, even if they don't have a criminalrecord. It is a general pattern of dehumanization, rather than aconstructive attempt to address a problem.

26 July 2019 (Posting the nude photos)For years I've recommended that the way to defeat extortion throughnude photos is by posting the nude photos. Now the idea is catchingon.

If defeating extortion nudes (and revenge porn, which differs by itsmotive) were the only benefit, perhaps it would not be crucial.However, it will also help decrease the general nudity taboo, and thatis very important.

Please don't refer to the people who carry out extortion via nudes as&mdath;hackers'--. There is no reason to think that they are hackers; in anycase, routine extortion is not hacking.

26 July 2019 (Starbucks worker)A Starbucks worker asked a few thugs (who were there as customers) tomove because someone felt threatened by them. Starbucks apologized.

If the representative of the thug association really can't imagine whysome customers felt threatened, he is mentally deficient, but I thinkit more likely he is covering up that side of the truth. I know, fromreading the news and talking with acquaintances, why blacks may feelendangered by the presence of thugs. Other people, with less grounds,may feel endangered by the presence of blacks.

A store should not ask customers to leave, or to move, because"someone feels threatened by you" '-- not blacks, and not thugs '--because people should not be judged based on how someone else feelsabout them.

26 July 2019 (Letting children play freely)FAQ for evidence-based defense of letting children play freely.

26 July 2019 (National Health Service)Persistent Tory cuts to the National Health Service has pushed somedoctors to refuse overtime.

Under new pension rules, they will have to pay to work overtime.

Meanwhile, non-medical staff are going on strike against privatization.

I think it is the Tories' intention to destroy the NHS by cutting its fundsto the point it cannot possibly function. Then they will claim, asright-wingers like to do, that government programs can't work right.

26 July 2019 (Korea's smart city)Korea's made-from-zero "smart city" replicates The Village, completewith audio announcements that people can't shut off.

I mear The Village from the TV show, The Prisoner.

26 July 2019 (A survey of sales sites)A survey of sales sites, checking for use of dark patterns, found themin 1200 out of the 10000 sites tested.

I think these practices should be regulated, just like other practicesof retail stores.

I think that my decision not to buy anything on linehas saved me more practical annoyance than it has caused me.

That is in addition to protecting my freedom.

26 July 2019 (The Veterans Administration)The Veterans Administration has its own thug department, and thesethugs occasionally turn on veterans seeking medical care '-- causinggrave injuries and even death.

Naturally these thugs lie to protect each other. The article recountsthat one of them tried to act like a police officer rather than a thug and was attacked by the thugs.

The VA officials protect them, too.

26 July 2019 (Gaza pollution crisis)Israel has forced Gaza into a pollution crisis which is now spreading to Israel.

26 July 2019 (Israel seizing public archives)Israel is systematically seizing and hiding public archives toeliminate evidence of threatening Palestinians in 1948 to make them flee.

Here's more about the important vanished document about atrocitiesagainst Palestinians.

26 July 2019 (Automated face recognition)There is now a campaign to prohibit government use of automated facerecognition in the US.

This would be an important step forward, but not enough to protecthuman rights. We need to prohibit systematic use of automated facerecognition by business, also.

26 July 2019 (New options for disposal of corpses)New options for disposal of corpses are less polluting than cremationand ordinary burial.

26 July 2019 (Climate defense measures)Attenborough: climate defense measures "cannot be radical enough".

I think he meant "cannot be too radical".

26 July 2019 (Amnesty International)Amnesty International denounced the Taliban's "chilling disregard forhuman life."

The US makes some effort to avoid killing Afghan civilians, but itdoes not consistently try hard.

And when it does kill civilians, it tends to try to cover that up.

26 July 2019 (UK prime minister)Boris Johnson, whose contempt for truth matches that of his US buddy,looks to be the next prime minister of the UK. By refusing to defendAmbassador Darroch for commenting honestly and privately on thatbuddy, he effectively forced Darroch to resign.

Darroch's resignation may have been necessary anyway. An ambassadorthat is detested by the head of the receiving state cannot be veryeffective. However, Johnson has demonstrated he wants to be primeminister of a puppet government.

26 July 2019 (School uniforms)If there have to be school uniforms, at least the rules should not be gender-biased.

I never wore a school uniform. Public schools in New York in the1950s did not have uniforms, nor did the private secondary schools Iwent to. Some schools had them; but in the 70s, counterculture youthrebelled against uniforms and more or less did away with them. I wasrepulsed when I heard, a decade ago, that the practice was spreadingin the US.

26 July 2019 (Stop covering homeopathic treatment)France's medical system will stop covering homeopathic "treatment".

It is no more than a placebo, based only on irrational pseudoscience.

26 July 2019 (Promoting competition in the field)The EU has a goofy idea: promoting competition in the field ofsurveillance capitalism by requiring big companies to make theirdata bases available to other companies.

If done right, this could reduce the special political influence ofthe biggest companies. But it will do privacy no good at all.

26 July 2019 (War between India and China)As India dries out, one of the bad consequences could be war between India and China.

26 July 2019 (Conflict of interest)Congress's ethics rules allow lots of conflict of interest.

A congresscritter can even trade stock in companies knowing that peractions as congresscritter will drive the stock price up or down.

26 July 2019 (Law to censor the press)Congress is considering a law to censor the press to protect the CIA'-- including its torturers.

26 July 2019 (Detaining Real Baby)(satire) ICE Sends Agents Home With Sacks Of Flour To Practice What It LikeDetaining Real Baby.

26 July 2019 (High-pitched sound)Some parks play a constant high-pitched sound intended to drive awaypeople under 25 years of age.

They should play classical music instead.

26 July 2019 (Extreme weather events)As extreme weather events become common, being hit bytwo at once is no longer ridiculously unlikely.

26 July 2019 (The Climate Movement)Bill McKibben: The Climate Movement: What's Next?

26 July 2019 (Pigs factory farms)Burning some of the methane produced by pigs in factory farmsis being offered as an excuse to make more factory farms.

26 July 2019 (List of billionaires)Sanders has proudly published a list of billionaires who call him anenemy.

If you don't earn their hatred, you're not worth voting for.

26 July 2019 (US government lobbies)The US government lobbies internationally for increasingpharma companies' power to use patents to overcharge.

It has been doing this for decades.

I must criticize, however, the basic confusion spread by use ofthe term "intellectual property", which misrepresents the factsabout various disparate laws by leading people to think ofthem as one single thing.

Patent law is different from copyright law on nearly every point.Neither of them has any similarity to trade secrecy, and they havehardly any relationship with trademark law. If you have a category of"intellectual property" in your thinking, it will always mislead you.

Please join me in shunning that term. Seehttps://gnu.org/philosophy/not-ipr.html.

As for the World Trade Organization, it is a business-supremacy treaty,designed to give business more power over society.

We must either change it so it ceases to have that effect,or get rid of it entirely.

26 July 2019 (Bullshitter praises Boris Johnson)[The bullshitter] Praises Boris Johnson, Who Once Called Him "Unfit toHold the Office of President of the United States."

The bullshitter looks for submission, not for sincerity. He does notcare what Johnson said 4 years ago, as long as Johnson obeys today.Likewise, praise from the bullshitter means, simply, "You're obeyingnow; keep it up and I will keep praising you."

26 July 2019 (Global Heating)By the end of this century, if we don't curb global heating, humanswon't be able to work safely outside in the southern US for half theyear.

I wonder if people will still be able to do agriculture in tropicalregions.

26 July 2019 (Poor People's Campaign)The Poor People's Campaign endorses challenging the lobbying powerof the military-industrial-oligopoly complex.

26 July 2019 (Company behind coal mine)The company behind a big planned coal mine in Australiademanded to know the names of the scientists participatingin environmental evaluation.

This was, we must suppose, for the sake of trying to intimidate themor gag them.

26 July 2019 (Bully training followers in racism)The bully has started training his followers in undisguised racism.

26 July 2019 (Indonesian domestic violence)No matter how "modestly" an Indonesian woman dresses, she can still beraped at home.

I can't begin to understand why men want to demand sex with someone whoisn't thrilled by it.

26 July 2019 (Do ditty's murder Campaign)Francisco Santiago Jr. is one of the few victims of the Do-dirty'smurder campaigns who by luck survived his arrest and torture, and wasnot shot.

His case shows that thugs pick people more or less arbitrarily, shoot themwhile they are prisoners, then decide what to accuse them of. In the US.thugs typically do this to black males, but but the Philippines thugsare not bigots -- any Filipino can be the victim.

26 July 2019 (Donations from the rich)"Charitable" donations from the rich are not really donations: theyare attempts to buy public admiration. And often they get enough byjust announcing the donation '-- they see no need to actually give themoney.

26 July 2019 (Sudan protesters and military signed agreement)Sudan's protesters and military have signed an agreement aboutgoverning the country.

26 July 2019 (The Bully's devastating blow to Planned Parenthood)The bully has done a devastating blow to Planned Parenthood.It will not be able to accept federal funding for any services unlessit complies with requirements that would be a surrender of its mission.

26 July 2019 (Textbook DRM)US students will be pressured to rent textbooks on subscription,which require proprietary malware with DRM to read them.

26 July 2019 (Trump warns public)(satire) Trump Claims He Tried To Warn Public About Epstein ByPraising Him As A Terrific Guy.

26 July 2019 (Amazon workers)(satire) Amazon Workers Attempting Walkout Enter 7th Hour Wandering InEver-Expanding, Labyrinth Warehouse.

26 July 2019 (Ecuador surrendered to IMF)Ecuador has surrendered to the IMF, and the non-rich will suffergreatly as a result.

26 July 2019 (Whole Foods workers)Whole Foods Workers Say Conditions Deteriorated after Amazon Takeover.

For instance, they have been told to pressure customers to make dealswith Amazon. This would subject them to Amazon's many abusivepractices.

26 July 2019 (Biden's health plan)Biden's health plan is estimated to fall short of Medicare for Allby 125,000 avoidable deaths.

Sanders Accuses Biden of Parroting Pharma and Insurance Industry Script WithAttacks on Medicare for All.

26 July 2019 (Domestic workers should have same rights as employees)We should give domestic workers the same rights that other employees have.

26 July 2019 (Israel school propaganda)Israel requires students traveling on school-sponsored foreign tripsto pass a class in exaggerated political propaganda which insultsPalestinians. Even Arab students are required to learn how to givethese answers.

26 July 2019 (Israel locking foreign academics) Israel is blocking foreign academics from working at (or visiting)Palestinian universities.

By contrast, the Palestinian boycott asks people not to work atIsraeli universities, and does not try to stop any individualfrom doing anything.

26 July 2019 (McDonalds exploits schools)McDonalds exploits public school teachers to market junk food to theirstudents.

26 July 2019 (Nepal babies malnutrition)In Nepal, babies under 2 years old are eating junk food, and it leads tomalnutrition which stunts their growth.

26 July 2019 (Direct neural interface)A direct neural interface for controlling a computer could be a verygood thing, provided that you the user are the only one who controlsthe interface.

In order for that to be reliably true, the software must be free.

I think testing this on animals is legitimate. It can't be developedwithout testing, and testing on animals is better than testing onhumans.

26 July 2019 (Head of border patrol finds Facebook group abhorrent)The head of the border patrol was a member of the private Facebookgroup for venting hatred at immigrants. Then she told us she found itabhorrent.

One thing that the US does to some immigrants is demand passwords totheir Facebook accounts. This is supposedly done for our "safety".Perhaps the people this should be done to are officials.

26 July 2019 (Multilevel marketing)"Multilevel marketing" is not identical to a pyramid scheme, but inpractice it often works out that way. This article shows how theylure people with promises of profits that few participants get. Manylose a lot of money instead.

26 July 2019 (Detainment center conditions)(satire) "It's Not So Bad," Mike Pence Reports On Conditions OfDetainment Center While Hazmat Suit Disinfected.

26 July 2019 (Apple nonrepairability)Reevaluating Apple's reputation for good design: design fornonrepairability is not good design.

26 July 2019 (Recording devices)Journalists obtained 1000 leaked audio recordings and showed some ofthem to the people who were speaking.

150 of the recordings were made when the device was not supposed to berecording.

If you're in a place with Google a listening device (or Apple, orAmazon), disconnect it! Note that every portable phone is a potentiallistening device.

26 July 2019 (Wildlife defenders recognize need to limit human population)Finally, wildlife defenders recognize the crucial need to limit thehuman population, in order to leave some land wild.

Investment by plutocracy also plays a role in eliminating wilderness,but the two work hand in hand (in deforestation in Brazil, for instance),so reducing births will help.

26 July 2019 (Israeli right wingers attack Jonathan Pollak)Israeli right-wing extremists set upon anti-occupation activistJonathan Pollak on the street and beat him up, then stabbed him.

As for the charges made by the right-wing extremists, they are the friendsand allies of US right-wing extremists. I do not believe their accusations.

26 July 2019 (Stalin praise)As Putin imprisons historians that study Stalin's terror, Stalin receivespublic praise promoted by the state.

26 July 2019 (Jeffrey Epstein rape career)Jeffrey Epstein intimidated the whole US press into silence about hisrape career, starting in 2003.

26 July 2019 (New Zealand gun buybacks)New Zealand is buying the now-illegal semiautomatic riflesthat people already own.

26 July 2019 (Thug dossier)Any thug in parts of the US can immediately get a large dossierabout most Americans from just a name or other identifier.

What bothers me is not that they can get it quickly, but that so muchinformation has been collected about millions of people who arenot suspects and about which no search has been authorized.

If we don't ban commercial use of face recognition to track people,this commercial data base will be extended to include people'smovements as recorded by billions of surveillance cameras spreadacross US cities and roads.

26 July 2019 (Relieve worries about vaccination)How to relieve the worries some parents have about vaccination.

A bigger and deeper question: how can we fix the systems that make itso easy to stir up conspiracy theories about anything whatsoever,especially if it relates to children, or adolescents being called"children"?

People with damaged immune systems can die from measles even ifthey were vaccinated against it. They depend on the rest of societyto get vaccinated.

26 July 2019 (Whistleblower site for tech companies)There is now a whistleblower site for tech company staff to reporttheir employer's egregious attacks on human rights.

Unfortunately this will do nothing to push back on those kinds ofattacks on human rights that have become standard practice -- forinstance, proprietary malwareand internet dis-services that spy, manipulate, restrict, swindleand addict people.

26 July 2019 (Disabled people in the UK are now crippled)Disabled people in the UK are now crippled '-- by the stinginess of Tories.

26 July 2019 (Advantages of trees in pastures)Planting trees in a pasture can make it stay usable through 9 monthswithout rain, and produce other crops too.

26 July 2019 (German school privacy)Microsoft Office 365: Banned in [some] German Schools over Privacy Fears.

It is a bit silly that the legal objection is limited to sending datato servers in the US. Snooping software should be eliminated, insideand outside of schools, no matter who it spies on people for.

26 July 2019 (Thugs crash into passerby)Thugs crashed their vehicle into that of a passerby,then pulled him out and handcuffed him.

It is vitally important to punish thugs for everything they do wrongin nonfatal attacks like this. We can't convert thugs into policeofficers by punishing them only on the rare occasions when they murdersomeone, not even if the punishment is severe. Most of them willnever murder someone, and never know another thug who murderedsomeone, so they will not feel any pressure to change their ways. Toachieve that, we must punish the many small incidents.

26 July 2019 (Trump honors brave heroes)(satire) Trump Honors Brave Heroes Who Slept With Wives Of Deployed Soldiers.

26 July 2019 (Systemic thug department flaws)The UK held an inquiry into the killing of Anthony Grainger (shot deadby a thug) and determined that systemic flaws in the thug departmentwere to blame.

Whether to blame individual thugs remains to be decided.

In general the UK seems to do a better job of holding killer thugsaccountable than the US usually does.

26 July 2019 (Predatory game)Resourceful grandchildren figured out how to max out theirgrandfather's credit card buying special players for a predatoryfantasy soccer game.The random element of loot boxes strengthens their activeness,

but the fact that players must keep spending in order to win isenough reason to classify it as predatory. Any game of competitivespending makes each player pressure the other players to spend more.

The fact that the game is proprietary software is enough reason torefuse to run it, and not to get a copy of it for yourself or anyoneelse. The only good reason to have such a game is to study it forfree software development.

26 July 2019 (Selling medical records)The ACLU warns of a legislative campaign to legitimize selling people'smedical records by giving the patient a cut of the revenue.

That money won't come anywhere near compensating for the advantagethat companies will take of you given that knowledge about you.

26 July 2019 (Japan's music licensing)Japan's music licensing gang is demanding royalties from musicschools, calling music lessons "public performance".

26 July 2019 (Extinction Rebellion protesters)Extinction Rebellion protesters glued themselves to doorsin the US capitol building, blocking legislators from getting tothe chamber to vote.

The person who decided perse "can't bring a child into this world" hasunderstood the situation thoroughly. But I wonder what "I broke downmy car" means. "I disassembled it"? That is the proper grammaticalinterpretation but seems implausible. If the article garbled thewords a little, it could mean "I caused it to malfunction" or "Istarted crying at the wheel".

More information.

26 July 2019 (Ban secure communication)The US government is going to try again to ban secure communication for users.

They think they can get Americans so frightened of the terrorists (whodo exist, but are not a big danger as dangers go) that we willsurrender our privacy to a state which can be far more dangerous.

26 July 2019 (Amazon Alexa)Amazon servers save transcripts of some Alexa conversations indefinitely.

It would be absurd to delete a reminder before reminding you, but aprivacy-respecting reminder system would keep that reminder only onyour own computers, so it would protect your privacy both before andafter.

You probably want to save a record of your purchases, but aprivacy-respecting system would keep that record private by keeping itonly on your own computers. With a proper anonymous payment system,such as GNU Taler, no one but you would ever know who made the purchase.

26 July 2019 (Electronic Monitoring)How Electronic Monitoring Drives Defendants Into Debt (and then backinto jail).

26 July 2019 (Pfizer's new regulatory capture)Pfizer's new experiment with regulatory capture: putting the formerSaboteur of the FDA on its board.

26 July 2019 (Peace and Climate Justice)Why Peace and Climate Justice Are the Same Project.

26 July 2019 (War with Iran)Cory Booker supports war with Iran.

26 July 2019 (Facebook's currency)Stiglitz: "Only a fool would trust Facebook with his or her financialwell being. But maybe that's the point: with so much personal data onsome 2.4bn monthly active users, who knows better than Facebook justhow many suckers are born every minute?"

26 July 2019 (Border thugs)The border thugs are supposed to transfer prisoners to immigration agencieswithin 72 hours, but the bully's orders have made this difficult to do '-- so prisoners accumulate in overcrowded and unsanitary conditions.

26 July 2019 (Mismanaged a major regional river system)Australia has mismanaged a major regional river system to the pointwhere fish regularly die in large numbers.

The cause, of course, is putting the short-term demands of profit overthe long-term needs. This is what leads to dangerous mining, deforestation, and fertilizer runoff that harms the Great Barrier Reef.

26 July 2019 (Help poor people reduce their debt)Senator Warren proposes measures to steer the US away from risk of another financial crisis '-- notably to limit leveraged loans to businesses, as well as to help poor people reduce their debt.

26 July 2019 (Snoopphone read sensors on your body)An advance in how a snoopphone (if you carry one) can read sensors onor in your body.

It may be that this method would actually protect you from thosesensors as long as you don't carry a snoopphone. What is not clear ishow far away from other people's snoopphones you would need to stay.

26 July 2019 (Smart city technology)A shopping mall that serves as a testbed for "smart" city technologydoesn't collect personal data except through an app.

If a real "smart" city does that, it might be acceptable '-- unlessit puts pressure on everyone to use the app so as to get convenience.

26 July 2019 (Right to Spy on Media)UK Hosts Press Freedom Summit While Fighting for Right to Spy on Media.

If the UK wins that case, the outcome will affect all of Europe.

26 July 2019 (Cubans trying to move to the US)Cubans trying to move to the US now get treated like people from other countries in Latin America.

This despite the fact that at home they face the effects of US sanctions.

26 July 2019 (Fear climate change)(satire) '... the average American must have[per] life destroyed by a natural [sic] disaster every six minutes in orderto finally fear climate change.

Meanwhile, back in reality, New York City got two within two days.

26 July 2019 (Revolving Door Between Government and Industry)Iowa, North Dakota and Maryland Lead the Way on Curbing the Revolving DoorBetween Government and Industry.

26 July 2019 (Bully's expedited deportations)More about the danger of the bully's "expedited deportations" plan.

Border thugs could deport US citizens fast, rather than giving them time to establish their citizenship.

26 July 2019 (Men with sticks attacked people)When men with sticks attacked people in Hong Kong's remote Yuen Longtrain station, the victims were not protesters, just passersby.

Why they attacked people there is not clear, unless China just wantedto make people in Hong Kong afraid.

26 July 2019 (Kick out European citizens)The Tories are so determined to kick out European citizens that they haveplanned to keep the data on which they base the decisions secret.

In other words, they are planning to make lots of mistakes and don't wantthem to be corrected.

26 July 2019 (Palestinian medic killed)A Palestinian medic, Muhammad al-Judaili, was shot in the head by anIsraeli sniper, and he eventually died from this.

Rubber-coated bullets are said to be "non-lethal", but we know andsnipers know that they can kill if they hit someone's head. Snipersdon't hit someone's head by accident.

26 July 2019 (Israeli soldiers demolished apartments)Israeli soldiers demolished 16 Palestinian apartment buildings on the pretextthat they were too close to the annexation wall.

There must be hundreds of apartments buildings that the wall wasbuilt close to. Now they may all be demolished.

26 July 2019 (The Guardian cartoonist censorship)The Guardian censored its regular cartoonist for satirizing the crusade to cleanse the Labour Party of what is accused of being anti-semitism.

26 July 2019 (Drug-Resistant Superbug)As fungi adapt to living outside in temperatures close to human bodytemperature, some of them may become able to colonize the human body.

This may be the reason that a new fungal disease with no known treatment isspreading on several continents.

26 July 2019 (Crash test dummies)A woman in a car crash is more likely to be injured than a man in asimilar crash. Could that be because crash test dummies have mainlybeen designed to simulate men?

26 July 2019 (LinkedIn surveillance)LinkedIn has staged a surveillance coup against librariesthrough an education service set up specifically for libraries.

For instance, it demands that users make individual LinkedIn accountsso that it can profile them.

That page represents libraries' pushback; some have dropped the serviceand others surely will if LinkedIn does not retreat.

I have no other details about that service, but simply based onknowing the usual practices I expect it is a disservice in other ways.

26 July 2019 (Stop abuse by private equity)Moe about Senator Warren's plans to stop abuse by "private equity"takeovers.

26 July 2019 (solar system's real estate agents)(satire) the solar system's real estate agents have begun trying toattract home buyers to the neglected, run-down planet of Earth byrenaming it "West Saturn."

26 July 2019 (Big climate defense rallies)Big climate defense rallies are planned world-wide for Sep 20-27.

26 July 2019 (Progressive trade policy)Suggestions for what progressive trade policy should look like:putting human beings and nature first.

What it says about "intellectual property" tries to go in the rightdirection, but it is flawed by taking the bogus concept of"intellectual property" as a basis.

26 July 2019 (Facebook's personal data abuse)After the FTC's slap on Facebook's wrist, we can expect it to abusepersonal data over and over.

However, even a bigger fine could at best have limited how Facebook abusespersonal data. The real problem is that Facebook collects personal data.

So don't be a zucker '-- don't give Facebook any data. And use abrowser such as IceCat that blocks Like buttons, so Facebook can't getdata about you in any other way.

26 July 2019 (Puerto Rico's governor agreed to resign)Puerto Rico's governor has finally agreed to resign,after many protests including 1/3 of the island's population, plus plans to impeach him.

The sad thing about Puerto Rico is that the US has saddled it with somuch debt, and imposed so much privatization, that good politicians wouldn't have much chance to do a good job.

26 July 2019 (Hide climate crisis)"I'm a scientist. Under [the saboteur] I lost my job for refusing tohide climate crisis facts."

26 July 2019 (Intellectual debt)Use of AI techniques whose functioning nobody understands puts societyin a state of "intellectual debt". That is not necessarily bad, butit can easily lead to bad consequences when competition and conflict get into the matter.

By contrast, the fact that we did not understand how aspirin reducedheadaches did offer anyone an opportunity to cause mysteriousheadaches that aspirin would make worse.

26 July 2019 (Megadroughts Coming to the U.S.)Megadroughts Are Likely Coming to the U.S. Southwest Within Decades,Scientists Say.

Long droughts wiped out the small cities that existed in parts of thesouthwest. The big cities that need a lot more water would have moretrouble surviving. Unless perhaps solar-powered condensers can savethe day.

26 July 2019 (Violent porn)Violent porn has made the idea of strangling a woman and calling it "sex" appear normal, so women go along with it. If that's notdisgusting enough, men that murder their lovers or wives can nowpretend that "it was just a sex game".

26 July 2019 (Random drug tests)A school in Texas says that it will require all students inextracurricular activities to submit to random drug tests.

I hope many students will refuse.

26 July 2019 (Destruction of the Amazon forest)Bolsonaro has succeeded at accelerated destruction of the Amazon forest.

Scientists warn that this may kill the trees that remain.

26 July 2019 (Schools uniforms)UK public schools require specific uniforms, which can be so expensivethat poor families cut back on food. Or else find another schoolwhich isn't trying to keep poor people out.

This is one of the symptoms of the policy of making schools competeto avoid being forcibly privatized as "academies".

I consider the very idea of requiring a uniform outrageous.

26 July 2019 (Marshall Plan for Central America)The US Needs a Marshall Plan for Central America.

(Instead of the current martial plan that drives people to flee.)

26 July 2019 (Phoenix law)(satire) '... Phoenix lawenforcement officials confirmed Tuesday local man Rod Cleighborn hadbeen hired as a cop for posting a racist rant on social media.

26 July 2019 (Drop a group of children in the woods)It's a custom in the Netherlands to drop a group of children in the woodsand challenge them to find their way back to civilization.

They succeed, and in the process learn self-confidence.

"Stijn is 11," she said. "The time window in which we can teach himis closing. He is going into adolescence, and then he will makedecisions for himself."26 July 2019 (Backfire against progressive president)Pelosi made a deal with the Republicans that will backfire against any progressive president in 2021.

Sanders will have to cut harmful spending, such as nuclear weaponsdevelopment and secret foreign wars, if he can't get a debt increaseor a tax increase through the Senate.

26 July 2019 (Increasing industrial agriculture)Increasing industrial agriculture is not the way to feed more poor people.

In the US, it doesn't seriously try.

Growing corn or soybeans to make fuel is especially foolish since ituses petroleum-based fertilizer. When that's subsidized, it is ahandout for agribusiness. Biofuel is efficient only when it's madefrom byproducts of growing something else that's worth growing in itsown right.

26 July 2019 (Sociology of gun violence)US citizens: call on the Senate to vote to support research into thesociology of gun violence.

26 July 2019 (Confirmation bias)Confirmation bias, group think and pressure to find the perpetrator quicklyare major factors in convicting innocent people.

26 July 2019 (Smart diapers)"Smart" diapers spy on the baby and maybe the rest of the family.

If the manufacturers wanted to, they could make this info availabledirectly and solely to the parents.

26 July 2019 (Global Heating)Today's global heating, affecting the whole globe, has no parallel inhistorical temperature changes.

25 July 2019 (Urgent: Oppose oil drilling)US citizens: call onthe Bureau of Land Management not to allow oil drilling in ChacoCanyon.

If you sign, please spread the word!

25 July 2019 (Crime of being "disgusting" in UK)In the UK itis a crime to do something in public that people in the vicinity find"disgusting".

I too would find it disgusting, but so what?

25 July 2019 (Bully's plan to take away food stamps)The bully has a newplan to take food stamps away from some poor Americans.

25 July 2019 (UK nuclear power plants)The UK is so desperate to build new nuclear power plants that it willpay in advance from the treasury.

This is a decision of the same Tory government that has pretty muchput an end to land-based wind power and cut subsidies for solar power.

There is a report that the reason is a disguisedsubsidy for the UK's planned new nuclear missile submarines.

25 July 2019 (Effects of increasing minimum wage)Economists studied the effects of increasing the minimum wage in manylow-wage US counties and found nosign that this causes loss of work.

25 July 2019 (Planned natural gas projects)The world's planned natural gas projects won'tfit in the carbon budget.

Indeed, the world cannot afford any new fossil fuelinfrastructure, because once new infrastructure is built there will betremendouspressure to use it and roast Earth's ecosphere.

The idea of natural gas as a "bridge fuel" is an excuse, whichappeared plausible only because we did not know the amount of methaneleaks.

25 July 2019 (Audio recordings of people in public)ACLU: Bogus''Aggression Detectors'' Are Audio-Recording People In Public.

If we had proper laws, anyone trying to sell a system for aggressiondetection would be required to make it send nothing except reportsabout aggressions '-- not recordings of ordinary conversations.

The audio recordings on buses in San Francisco (and maybe elsewhere)should be illegal too.

25 July 2019 (Seizing people's money without a trial)Congress and the bully have passed a law to stop the IRS from seizingpeople's money without a trial on mere suspicion that they wereevading the requirement to report depositing more than $10,000 bydepositing smaller amounts.

Yes, it was as absurd as it looks.

25 July 2019 (Urgent: BOOST Act)UScitizens: callon Congress to pass the BOOST Act, which would give a sum of moneyto each poor person or family in the US.

If you sign, please spread the word!

25 July 2019 (Murals in San Francisco)San Franciscowill coverup murals that were painted to show how some of the US foundingfathers participated in owning slaves and in conquest of indigenouspeoples.

People who can't bear to see a depiction of an injustice are uselessfor fighting it. Schools should lead people to face moral issues, notcower helplessly from them.

25 July 2019 (Richard Zimler)Author Richard Zimler reports that some of his talks in Britain havebeen cancelled because thehosts fearprotests or violence because he is Jewish. They seem to fear theywill meet with protests if they invite a Jew to speak.

I am not convinced that his friends are correct in blaming Palestinianactivists for this. That claim is not based on direct evidence.

25 July 2019 (Refugees in Australia)When Australia brings its refugees from Nauru or Manus because it canno longer deny they need medical treatment,it guardsthem like dangerous criminals.

They are not allowed to see their families.

Australia even exposes them to bedbugs, which it could easily avoid.

25 July 2019 (Thugs shooting blacks)Why do thugs often gratuitously shoot and threaten blacks? It seemsthat some thugsliterally thinkof blacks as subhuman.

25 July 2019 (Solar Foods)Solar Foods makes a protein supplementfrom electricity,water and air.

25 July 2019 (Extinction Rebellion)ExtinctionRebellion blockeda bridge in Paris to call attention to the implications of thehottest day ever recorded there.

25 July 2019 (Fearful of the Census)'TheDamage Has Been Done': Despite Court Ruling, Experts Say TrumpSucceeded in Making Immigrant Communities Fearful of Census.

25 July 2019 (Piecework sweatshops)10% of the workers in Britain have been captured bythe pieceworksweatshop dis-services.

We must extend all the rights and benefits of employees to cover theseforms of work.

25 July 2019 (Evidence of product defects)Thousands of Americans '-- perhaps hundreds of thousands '--have been killed because judges sealed evidence of deadly defects inproducts and kept the defects secret for years as more people died.The dangerous flaws of OxyContin, which spread opioid addiction, wereconcealedfor 12 years.

Trade secrecy is always bad for the public. Occasionally itis deadly, but usually merely harmful. We should change the law sothat no significant problem can be concealed in this way.

Businesses should not be allowed to enforce an NDAto conceal mistreatment of workers, customers, or the public.

Agreeing to nondisclosure of generally useful technicalinformation, such as software, is betrayal of society as a whole.I refuse on principle to do this.

25 July 2019 (Getting shot while pregnant)A woman in Alabama hasbeen chargedwith manslaughter for getting shot while pregnant. The statetreats the fetus as a person.

Moreinformation.

This is the natural conclusion of the twisted premises of those whotreat fetuses as sacred.

But the problem may be broader than that. Suppose she had been shotwhile carrying a three-year-old child in her arms? Suppose someoneelse had shot at her and killed the child.

I don't think people should be prosecuted for the effects of beingshot at.

24 July 2019 (Conman's appointees)The conman's appointees on the Nuclear Regulatory Commission wantto inspect nuclear power plants less often.

The owners won't need to fix problems if they can avoid finding outabout them. The only way we will know about them is if they leadto an accident.

A nuclear power plan accident typically results from a combinationof factors, each one of which might have seemed not to be a bigdeal by itself. Just the sort of the things that the owners wouldsuggest could be ignored.

24 July 2019 (Right to operate a union)An appeals court decidedit had no authority over whether the conman could effectivelyeliminate federal workers right to operate a union.

I wonder how many of the judges involved were appointed recently byRepublicans.

24 July 2019 ("Prominent politicians" on Twitter)Twitter will give "prominent politicians" an exceptionfrom its rules against posting hatred.

I think this is a combination of circumstances in which there issimply no choice that Twitter can make which isn't bad.

24 July 2019 (Democratic politicians)Americans are ready to stop trying to dominate the world.Most Democratic politicians haveyet to catch up.

24 July 2019 (British state arrested dissident for China)China pressured the British state to arrestan exiled Chinese dissident preemptively for Xi's visit in 2015.

24 July 2019 (The bullshitter and North Korea)The bullshitter is making progress with North Korea '-- progresstowards adeal that would accept its possession of nuclear weapons.

This is the only possible avenue towards any sort of deal, sinceDictator Kim will not give up those nuclear weapons. Thus, in a waythis is a wise policy. But the bullshitter can't acknowledge it, asit would highlight the absurdityof his policy towards Iran.

24 July 2019 (Katharine Gun)A two-part interview with British whistleblower Katharine Gun, whorevealed how the UK was helping Dubya try to bully UN security councilmembers into approving his attack on Iraq.

Preliminary fact-finding about MIT and Jeffrey Epstein | MIT Office of the President

Tue, 17 Sep 2019 12:15

To the members of the MIT community,

Last night, the Executive Committee of the MIT Corporation and I received a preliminary update from Goodwin Procter, the outside law firm retained to ascertain the facts surrounding MIT and Jeffrey Epstein.

The fact-finding will continue to its conclusion, with regular updates to the Executive Committee and me. However, two basic facts have emerged that we thought were important to share with you now.

First, the Goodwin Procter team has found a copy of a standard acknowledgment letter thanking Jeffrey Epstein for a gift to Seth Lloyd '' as far as we know now, the first gift received at MIT after Epstein's conviction. I apparently signed this letter on August 16, 2012, about six weeks into my presidency. Although I do not recall it, it does bear my signature.

Second, it is now clear that senior members of the administration were aware of gifts the Media Lab received between 2013 and 2017 from Jeffrey Epstein's foundations. Goodwin Procter has found that in 2013, when members of my senior team learned that the Media Lab had received the first of the Epstein gifts, they reached out to speak with Joi Ito. He asked for permission to retain this initial gift, and members of my senior team allowed it. They knew in general terms about Epstein's history '' that he had been convicted and had served a sentence and that Joi believed that he had stopped his criminal behavior. They accepted Joi's assessment of the situation. Of course they did not know what we all know about Epstein now.

Joi sought the gifts for general research purposes, such as supporting lab scientists and buying equipment. Because the members of my team involved believed it was important that Epstein not use gifts to MIT for publicity or to enhance his own reputation, they asked Joi to agree to make clear to Epstein that he could not put his name on them publicly. These guidelines were provided to and apparently followed by the Media Lab.

Information shared with us last night also indicates that Epstein gifts were discussed at at least one of MIT's regular senior team meetings, and I was present.

I am aware that we could and should have asked more questions about Jeffrey Epstein and about his interactions with Joi. We did not see through the limited facts we had, and we did not take time to understand the gravity of Epstein's offenses or the harm to his young victims. I take responsibility for those errors.

While the fact finding will continue, we have already identified flaws in our processes that need to be addressed.

I am confident that, once Goodwin Procter submits its final fact-finding to the Executive Committee and me, and the Provost's internal review is complete, MIT will have the tools to improve our review and approval processes and turn back to the central work of the Institute.

Sincerely,

L. Rafael Reif

As someone who has experience in this industry I can point to the cause. Biomas... | Hacker News

Tue, 17 Sep 2019 02:39

As someone who has experience in this industry I can point to the cause.Biomass ("trim") was very easy to source leading up to CA recreational legalization in 2018. For those of you who don't know the majority of cannabis nationally comes from CA and OR. Legalization brought with it enforcement against unlicensed NorCal farms that drastically reduced supply. This was amplified by the massive overproduction of the 2017 market that had many farmers leave the market due to extremely low prices. This is evidenced by the shutdown of soil/grow supply warehouses throughout NorCal.

By February 2019 the last of the October 2018 harvest had been processed to distillate. Many operators started reprocessing waste material. At the same time, distillate started to make it's way over from Mexico. There is a drought of product in the black market but wholesale buyers were reluctant to pay higher prices after becoming accustomed to the low prices of 2018. In the beginning unscrupulous sellers started diluting their product by 60%. Buyers eventually caught on to the charade and started paying attention to the reduced viscosity of the oil as an indicator of cutting agents. Sellers countered this by adding thickening agents.

Now you have an illicit market with high demand, not enough supply, and customers that represent established black markets across the country that don't want to pay a risk premium for oil.

The cutting agents themselves are expensive so people have started making their own. Now people are getting sick from the cutting agents.

Isn't the vast majority of vaping not marijuana? I'm surprised there was such conflation in the article. And this reply speaks solely about cannibus. The article implies that the problem seems to be caused not necessarily vaping as such, but by two things:1) vaping things that really should not be vaped, resulting in oil droplets getting in your lungs. e.g. "cannabidiol oil, which is not designed for vaping but has been used that way." Apparently some vaping fluids are much worse than others, thus the recommendation to "stop buying bootleg and street cannabis and e-cigarette products, and to stop modifying devices to vape adulterated substances."

2) people not seeking timely medical attention and lying about the causes, as marijuana possession is still a crime where they live.

The vast majority of vapers are unaffected.From the article:

-----

> The patient's older brother, a police officer, was suspicious. He rummaged through the youth's room and found hidden vials of marijuana for vaping.

> Health investigators are now trying to determine ... whether the risk stems from a broader behavior, like heavy e-cigarette use, vaping marijuana or a combination

> Many vaping ingredients are not listed on the products. Vitamin E oil appears to have been a common substance associated with the severe and sudden respiratory problems in some of the New York cases, according to state health officials. It is not known how it was used. Vitamin E is sometimes advertised as a supplement in cannabidiol oil, which is not designed for vaping but has been used that way.

-----

Nicotine is typically in a base of propylene glycol or vegetable glycerine (I think I got those right). I believe both are cheaper than the "adulterants" such as vitamin e oil being used to cut the THC oils, so it is unlikely that people vaping exclusively nicotine products are being affected.

There's been some concern around certain flavorings being much riskier than others (i.e. popcorn lung) though I suspect it'll be some years yet before the effects from those start playing out.

Judging from the handful of vaping articles linked here on HN over the past few weeks, they seem to involve cannabis or cbd oil, whatever it's called. But they are all titled in a way that doesn't reveal this potential link for whatever reason. Do you think that pesticide use could be a contributing factor as well?I ask because my hemp mentor will never touch concentrates. He argues that even the tiniest bit of pesticides or inorganic fertilizers will also be more concentrated and he's not willing to gamble on it. There's just too many unknowns when it comes to that.

If they are extracting from trim and other low-value parts of the plant, yeah that is a possibility. Myclobutanil has a boiling point around 200 C, THC around 155 C. They have similar hydrophobic nature. So any extraction process favoring THC will also likely partition myclo. If you are making concentrate from buds, this isn't an issue, as your ratio of active components to pesticide is going to be similar. However if you are extracting low-density plant matter, your ratio of myclo to actives will be higher.However, the highest number I've seen reported was just shy of 1 ppm myclobutanil. Not great, but that's still pretty low.

https://www.thestranger.com/slog/2018/12/20/37272899/no-one-...

I've seen 700ppm total pesticides and typically between 50-300ppm in the CA medical market of 2015-2017. Myclo up to 150ppm was pretty common in the crude I was testing. I tested at SClabs, Anresco, Steep Hill, CW Analytical, etc. depending on client preferences. Is this specific to vaping supplies, or would it also impact CBD oil tinctures? Got it. Thanks for the extra reference. Definitely seems like it's a moot point and something else is at play, giving more credence to the OPs speculation. No, I don't. There's some talk about neem oil(azadirachtin) being the cause of cannabis hyperemesis syndrome.People have been consuming large quantities of cannabis oil that were saturated in pesticides for over a decade without this kind of crisis.

I run a cannabis copacking company and one of my clients was the first to go pesticide free back in 2016. It was near impossible to source material for them. Prior to 2018 about 95% of material was sprayed with pesticides. Because black market distillate is typically made from mixed batches of oil there was higher contamination rates than that.

I think it's questionable to consume cannabis in general and especially concentrates. The safest method is likely oral consumption. I have seen contaminants in concentrates, such as fire retardant, that pass all screening tests. Neem oil, for example, is an approved pesticide for CA but is really nasty stuff to be smoking.

> People have been consuming large quantities of cannabis oil that were saturated in pesticides for over a decade without this kind of crisis.This. People have been vaping THC e-cig cartridges for years. Same for using other concentrated products like wax. Yet it seems only very recently that this has become some kind of 'epidemic'.

I'm not saying that it's safe, but it seems very sudden that all these cases show up. Or maybe they were happening before, but because it seemed so hard to diagnose, people weren't connecting the cases?

> There's some talk about neem oil(azadirachtin) being the cause of cannabis hyperemesis syndrome.My worst episodes of CHS I've had from smoking synthetic cannabinoids, I'm not aware of neem oil having any relevance in the production of those.

Imho a large factor could simply be an overabundance of product leading to people overconsuming because "Cannabis has no negative effects", so nobody cares about basics like tolerance breaks anymore [0], instead people just keep upping their THC doses to get past their tolerance threshold.

[0] https://psychonautwiki.org/wiki/THC#Dependence_and_abuse_pot...

I guess you could say that. I'm in my first year as a farmer growing hemp. It's pretty fun and interesting stuff! You should write something up and submit it here. I'd read it for sure. This comment was great, until the last sentence. What is your basis for that claim? Do you know of some particular cutting agent that causes these symptoms?Speculation should not be presented as fact.

We don't know what is causing these cases but you have presented a reasonable hypothesis.

None of these cutting agents are approved for human inhalation and no studies will be done. From an epidemiological perspective these cases are tightly clustered both temporally and location wise which really limits the possibilities.Common cutting agents in the licensed market are PEG200, PEG300, and MCT oil. None are those are proven safe from what I know.

In the black market the initial cutting agent was PEG600. Then TrueTerpenes came out with Viscosity ( https://trueterpenes.com/products/diluent/viscosity-extract-... ). Initially they said it was all terpenes (simple alcohols found in cannabis responsible for some effects and flavor) to sell it. It later came out that it was "mineral oil" but the reality is no one knows exactly what it is but it's a petroleum-based product of some kind. There was backlash against TrueTerpenes for this but selling mineral oil at $1500/liter (price point for cutting agents) is profitable. Some reports have described the symptoms as consistent with lipid pneumonia.

Next FloraPlex released their thickening agent. Then HoneyCutt. I started hearing stories of people selling 0% THC epoxies to unsuspecting buyers as distillate starting a few months ago.

Now there are people making their own thickening agents.

Is it a theory? Yes. I'm normally scientifically conservative but I'd place a friendly wager on this one.

I perform with and breath fire as a hobby. The single biggest risk to firebreathers isn't burns, but chemical pneumonitis, due to fuel inhalation (basically synthetic mineral oil with chain lengths 12-18). Took one look at that xray and thought, "yup, chemical pneumonitis" [1]. Also known as lipoid pneumonia.In my research, one finding that stuck out [2] was that natural oils (triglycerides, saturated or unsaturated) are more pro-inflammatory than straight-chain mineral oils. MCT oil would absolutely cause acute inflammation and in severe cases, collapse of alveoli.

However, the long chains, longer than C14, have half-lives measured in months to years. The effects of these is harder to know, but excessive exposure causes essentially COPD.

Edit: oh look, here's an article specifically pointing out lipoid pneumonia [2]. I actually disagree with their thesis, that vegetable glycerine is causing the inflammation. I would bet it's more likely to be one of these thickeners, or a carrier agent for a flavor, causing the inflammation. I know people who go through over an ounce per day of VG solution that aren't getting chemical pneumonitis, but inhalation of sub-milliliter amounts of oils has sent friends of mine to the hospital.

Basically, if it's not air, it doesn't belong in your lungs. However, the degree and character of the damage done depends on the chemical composition.

Shorter molecules, molecules with more hydrophilic nature (alcohols, polyols, ketones, acids), biologically active molecules, are more acutely inflammatory, but usually the body can deal with them. Longer molecules, biologically inert ones, are less acutely reactive to the immune system, but can cause disruption of membranes and long term toxicity. Unsaturated fatty acids are especially bad because they can be oxidized directly into inflammatory signal chemicals. [4]

[1] https://en.wikipedia.org/wiki/Chemical_pneumonitis

[2] pdf - https://www.ajronline.org/doi/pdf/10.2214/AJR.09.3040

"Mineral oil (a mixture of inert, long-chain, saturatedhydrocarbons obtained from petroleum) andvegetable-based oils tend to cause minimal tomild inflammatory reactions (Fig. 3). The intraalveolar oils can coalesce in the alveoli andbecome encapsulated by fibrous tissue, resulting in a nodule or mass (paraffinoma) (Fig. 4).Conversely, animal fats are hydrolyzed bylung lipases into free fatty acids that triggera severe inflammatory reaction that manifestsas focal edema and intraalveolar hemorrhage[5]. "

[3] html - https://casereports.bmj.com/content/2018/bcr-2018-224350

[4] https://www.frontiersin.org/articles/10.3389/fimmu.2014.0048...

"unsaturated fatty acids can be oxidized in a tightly regulated and specific manner to generate either potent pro-inflammatory or pro-resolving lipid mediators. "

I have used an MCT vape before. I've made some of my own carts with it as well.I wonder if you have any words on "MCT" being too broad a term. I made my carts with Bulletproof's Brain Octain, which claims to be 100% caprylic acid (C8).

I'm not naive enough to ask "Is it safe?" But I'm curious if you think an 8-chain MCT would treat your lungs significantly different than a 12-chain MCT?

I could easily imagine someone learning that you can make carts with MCT, and finding something cheap, only to be unknowingly using 100% C12. Cue the lipid pneumonia.

I've breathed fire with MCT oil (the storebought stuff that is basically liquid coconut oil). It's somewhat irritating, and I imagine if deliberately inhaled chronically it would cause harm.C8 is really fascinating because, I reckon, it's too short to set off the inflammation cascade directly, so it would be up to macrophages to alert the body "hey this doesn't belong". However you still have the usual risk from hydrophobic product in the lung.

Personally, I would use vegetable glycerine and nothing else if you can at all avoid it. PG is a bit more irritating than VG, but any short polyol is going to be diffused away into the mucous much more easily than hydrophobic products.

100% agree with the VG (Vegetable Glycerin) recommendation, you will have to add a small 20-30% percentage of PG Propylene Glycol to decrease the viscocity (or alternately use pure VG and cut with small amount of normal saline but it won't make as nice a vapor) and then can use it in any actual vape device used for nicotine as these are meant to use water-based not oil-based mixtures.For marijuana/hemp you can make a water-based tincture using VG as the solvent just using dried plant matter. A magical butter machine can do it, putting it in a bottle and shaking it up every day for a few months, there are likely other methods. It's similar to making a CBD/THC oil but instead using VG as the carrier.

Making your own tincture from decent-quality dried plant matter is the most economical and surefire way to know that it unadulterated and limited in contaminants.

Yes, sorry the wording was a bit ambiguous. MCT is almost entirely saturated. Any natural oils can be broken down into free fatty acids which have a pro-inflammatory effect when "not where they belong", i.e. in the interstitial space. However, unsaturated fats have the fun additional property that they can be "oxidized in a tightly regulated and specific manner to generate either potent pro-inflammatory or pro-resolving lipid mediators" [1]. So MCT oil is probably pro-inflammatory in the lungs, but vegetable oil even more so.[1] https://www.frontiersin.org/articles/10.3389/fimmu.2014.0048...

THC oil doesn't mix with glycerine. You can mix it with propylene glycol if you are using other diluents as well. Scientific wild-ass guess: Polyols (ethylene glycol, propylene glycol, glycerine) are very hydrophilic. It would be trivial to detect presence in oil concentrates - just shake with a known quantity of distilled water. The polyols will be pulled into the water layer and increase the volume. It's not quantitative but if you know the 'ol in question you can calibrate a curve and get within a few percent of actual with just graduated cylinders. Is "approved for human inhalation" a thing? Don't regular cigarettes have tar that people inhale? The only thing I know of approved for deliberate human inhalation are things like inhaler and nebulizer based drugs. Those are usually carried in a fluorcarbon (HFA-134a aka 1,1,1,2-tetrafluoroethylene in Ventolin inhaler, which just evaporates) or saline in the case of nebulizers.Theatrical fog causes "irritation of mucous membranes such as the eyes and the respiratory tract associated with extended peak exposure to theatrical fog. " Another study "also found long-term exposure to smoke and fog was associated with both short-term and long-term respiratory problems such as chest tightness and wheezing".

Cigarettes are terrible, but vaping ain't vitamins.

https://en.wikipedia.org/wiki/Fog_machine#Adverse_health_eff...

The only instances I could find of respiratory irritation requiring medical intervention related to fog machine use where involving oil based fog machines, or mixed-use but have so far been unable to find case reports of Glycol or Glycerin based fogs alone.Not all theatrical fog is the same as vaping as far as I am aware. If you have any articles specifically dealing with the components used for vaping I would be interested to read them. Vaping does not use oil.

Vitamin vapes are a product that is actually being sold now, I know someone who has tried one. reply

I would agree that your guess is probably better than mine and I would be disinclined to bet against you. I hope the CDC has access to all this information so they can evaluate this as a potential cause.My issue was only that you followed a bunch of informative facts with an untested theory that was not differentiated from the facts that preceded it.

My apologies, I didn't mean to come off as abrasive. Yes, I see your point about the presentation of facts. I didn't find you abrasive and I appreciate you sharing your information and insights with us.
ISIS

American Airlines sabotage mechanic 'has possible IS links' - BBC News

Thu, 19 Sep 2019 12:10

Image copyright Reuters An American Airlines mechanic charged with sabotaging an aircraft in July has possible links to the Islamic State (IS) group, US prosecutors say.

Abdul-Majeed Marouf Ahmed Alani, 60, has a brother in IS and had IS propaganda on his phone, they said.

The plane, with 150 people on board, did not take off after the pilots received an error message.

Mr Alani previously told police he had wanted to cause a delay or have the flight cancelled to get overtime work.

He did not intend to cause any harm to either the plane or the passengers, he is quoted as saying in court papers.

What are the alleged IS links?The 60-year-old, originally from Iraq, is being held without bail after prosecutors argued he presented a flight risk. He has not been charged with a terrorism-related crime.

Assistant US Attorney Maria Medetis said a video showing people being shot had been sent from his phone and Mr Alani had allegedly told the recipient that God wanted harm to come to non-Muslims.

She said it raised the possibility that his actions to damage the plane had had a deadly purpose.

Two witnesses gave differing accounts about Mr Alani's brother - one colleague said Mr Alani had travelled to Iraq to meet his brother, who was an IS member, but his roommate said Mr Alani had travelled there because his brother had been kidnapped.

Prosecutors did not provide evidence that Mr Alani had a brother in IS, media reports said.

What did Alani do to the plane?The plane was scheduled to fly from Miami to Nassau in the Bahamas on 17 July - but pilots aborted take-off after receiving an error message about the flight computer.

Upon inspection, a piece of foam was found glued inside a navigation system part which stopped it from functioning. It was reportedly inside the tube leading from the outside of the plane to its air data module, a system that reports aircraft speed, pitch and other critical flight data

Mr Alani told authorities that he was upset at a stalled contract dispute between the union and American Airlines, which he said had affected him financially.

The naturalised US citizen, who has worked as an airline mechanic for 30 years, did eventually work overtime to help fix the plane.
Out There

'Insurance policy for planet Earth': Space agencies to smash spacecraft into asteroid at over 14,000 mph '-- RT World News

Thu, 19 Sep 2019 11:52

NASA and the ESA are finally set to test the Earth's planetary defenses to see whether we can successfully defend ourselves from the apparent scourge of space rocks. But the scientists are not sure what's going to happen.

The target they have chosen is the asteroid Didymos B, roughly 160 meters in diameter, one half of a binary asteroid system. Didymos B orbits the larger asteroid Didymos A every 11.92 hours and this will help determine the ultimate success (or failure) of the mission.

The Didymos system is classified as a Near-Earth Object (NEO), meaning it's close but not too close that it might hit us, making it the perfect test subject to flex our anti-meteor might.

The joint asteroid impact and deflection assessment (AIDA) project launched by the ESA and NASA in 2015, and Earth's champion selected for the mission will be NASA's Double Asteroid Redirection Test (DART) spacecraft.

''Today, we're the first humans in history to have the technology to potentially deflect an asteroid from impacting the Earth,'' astronomer Ian Carnelli of the ESA told Technology Review.

''The key question that remains to be answered is, are the technologies and models that we have good enough to actually work? Before you drive a car, you need to have an insurance policy. Well, AIDA is the insurance policy for planet Earth.''

Also on rt.com Musk warns Earth has NO ASTEROID DEFENSE following 'God of Chaos' news reports There may be some complications to the mission, however.

When the Japanese space agency JAXA bombed the asteroid Ryugu in April, it made a far bigger crater than anticipated. Additionally, the material on the surface behaved like sand, which may impact the effectiveness of deflection.

''If gravity is also dominant at Didymos B, even though it is much smaller, we could end up with a much bigger crater than our models and lab-based experiments to date have shown,'' explained planetary scientist Patrick Michel of CNRS.

''Ultimately, very little is known about the behaviour of these small bodies during impacts and this could have big consequences for planetary defence.''

The DART will ram into Didymos B at 23,760 kilometers per hour (14,760mph). However, all that force will only translate into a change in the asteroid's velocity of just a centimetre per second or so, which could change the orbital period from almost 12 hours to a mere matter of minutes.

The mission is set to launch in July 2021, with the impact expected in September 2022.

A cubesat called LICIAcube will detach from the DART craft just before impact and beam photos of the impact back to Earth for analysis, so we'll have front row seats to see whether we're doomed or not.

The ESA's Hera observation spacecraft will launch in 2023 and take observations starting in 2027 to give the final appraisal of the mission.

Also on rt.com T-rekt: Asteroid that killed the dinosaurs hit with force of 10 billion atomic bombs Like this story? Share it with a friend!

A Moon Space Elevator Is Actually Feasible and Inexpensive: Study | Observer

Tue, 17 Sep 2019 13:09

The concept of a lunar space elevator isn't new. Vladimir SmirnovTASS via Getty Images

From NASA and ESA (the European Space Agency) to Jeff Bezos and Elon Musk, it's every space institute's and tech billionaire's dream to take return to the moon during this century. But while government agencies and space entrepreneurs all focus on building a spaceship to transport humans between Earth and the moon, a pair of young scientists from Columbia University have a distinctly sci-fi-esque idea that may actually work and cost far less than a rocket-spaceship system.

In a paper published on the online research archive arXiv in August, Columbia astronomy students Zephyr Penoyre and Emily Sandford proposed the idea of a ''lunar space elevator,'' which is exactly what it sounds like'--a very long elevator connecting the moon and our planet.

SEE ALSO: SpaceX Is Now One Step Closer to Sending Humans to Mars

The concept of a moon elevator isn't new. In the 1970s, similar ideas were floated in science fiction (Arthur C. Clarke's The Fountains of Paradise, for example) and by academics like Jerome Pearson and Yuri Artsutanov.

But the Columbia study differs from previous proposal in an important way: instead of building the elevator from the Earth's surface (which is impossible with today's technology), it would be anchored on the moon and stretch some 200,000 miles toward Earth until hitting the geostationary orbit height (about 22,236 miles above sea level), at which objects move around Earth in lockstep with the planet's own rotation.

Dangling the space elevator at this height would eliminate the need to place a large counterweight near Earth's orbit to balance out the planet's massive gravitational pull if the elevator were to be built from ground up. This method would also prevent any relative motion between Earth's surface and space below the geostationary orbit area from bending or twisting the elevator.

These won't be problems for the moon because the lunar gravitational pull is significantly smaller and the moon's orbit is tidally locked, meaning that the moon keeps the same face turned toward Earth during its orbit, therefore no relative motion of the anchor point.

After doing the math, the researchers estimated that the simplest version of the lunar elevator would be a cable thinner than a pencil and weigh about 88,000 pounds, which is within the payload capacity of the next-generation NASA or SpaceX rocket.

The whole project may cost a few billion dollars, which is ''within the whim of one particularly motivated billionaire,'' said Penoyre.

Future moon travelers will still have to ride a rocket, though, to fly up to the elevator's dangling point, and then transfer to a robotic vehicle, which would climb up the cable all the way up to the moon.
Clips

VIDEO - ASMR EXTRA CHEESY PIZZA & KFC FRIED CHICKEN MUKBANG (No Talking) EATING SOUNDS | Zach Choi ASMR - YouTube

VIDEO - The Food Porn Superstars of South Korea: Mukbang - YouTube

VIDEO - Experts say the flu could kill millions in just 36 hours | Fox News Video

Thu, 19 Sep 2019 13:48

(C)2019 FOX News Network, LLC. All rights reserved. This material may not be published, broadcast, rewritten, or redistributed. All market data delayed 20 minutes.

New Privacy Policy -

New Terms of Use (What's New) -

FAQ

VIDEO - "VAPING TARGETS KIDS!" Senator Durbin - YouTube

VIDEO - (40) Watch again: Supreme Court hears evidence on parliament suspension - YouTube

VIDEO - PD: Ring video leads to Phoenix mother's arrest for allegedly assaulting her son

Thu, 19 Sep 2019 11:20

PHOENIX '-- Ring video obtained by Phoenix police reportedly shows multiple cases of assault on a child by his mother and her boyfriend, according to court documents.

Phoenix police report that on April 22, they were alerted by officials at a school located near 32nd Street and Bell Road regarding a young child with a burn on his hand.

The boy allegedly accused his mother's boyfriend, William Johnson, 28, of burning his hand.

In a search warrant, Phoenix police received over 2,200 video clips from inside and outside the child's home from Ring.com. Police say the videos recorded dozens of incidents of assault by the boy's mother and her boyfriend, Nicole Lynne Marker, 26, and Johnson, respectively.

Court records show that Johnson repeatedly struck the child in the face and hands. In other incidents, Marker punched the child in the face and chest.

Police say the abuse occurred as punishment while the child did homework.

Doctors at Phoenix Children's Hospital examined the boy and reportedly found "discoloration and scabbing on his neck, back, and flank." The victim said the injuries were caused by Johnson hitting him with a belt.

Johnson and Marker were arrested at their home on Tuesday morning. Police would like to charge Johnson with 11 counts of aggravated assault and Marker with three counts of aggravated assault on a minor.

If you suspect a child is being abused, the Arizona Department of Child Services has resources available to report the issue to a social worker. You can call the Arizona Child Abuse Hotline at 1-888-SOS-CHILD (1-888-767-2445), and will be asked for information about the child, as well as the nature of your concerns. You can also get more information from DCS about reporting abuse or neglect online.

Copyright 2019 Scripps Media, Inc. All rights reserved. This material may not be published, broadcast, rewritten, or redistributed.

VIDEO - Sandy Hook parents release chilling 'back to school' PSA

Thu, 19 Sep 2019 00:25

An anti-gun violence group, connected to the Sandy Hook massacre, unveiled a chilling "back to school" PSA on Wednesday, showing how kids could be forced to use ordinary possessions to fend off active shooters.

The Sandy Hook Promise Foundation, based out of Newtown, Connecticut, depicts smiling, happy children suddenly having to employ skateboards, jackets and cell phones in life-or-death moments.

"We don't want people to turn away from it, so pretending it doesn't exist is not helping to solve it," Sandy Hook parent Nicole Hockley told NBC's "Today" show, which debuted the shocking, minute-long video.

Hockley's 6-year-old son Dylan was killed at Sandy Hook Elementary School on Dec. 14, 2012, and his older brother Jake, now a high school sophomore, survived the massacre that left 20 students between the ages of 5 and 10, and six adults dead.

The PSA, "Back-To-School Essentials," begins innocently and innocuously with kids showing off their new backpacks, binders and headphones they're taking to school.

Then the video takes a suddenly dark turn, with the PSA depicting scenes all-too real in the age of school shootings.

A boy told the camera, "These new sneakers are just what I needed for the new year," as he's chased down a hallway by a shooter."My parents got me this skateboard I wanted, it's pretty cool," said another child, as he uses his wheels to smash a window and flee danger."These scissors really come in handy in art class," one girl said brandishing the blades, as her classmate chimed in, "These colored pencils too." Both were standing near a classroom door, apparently ready to ambush an oncoming attacker."These new socks can be a real lifesaver," said another girl, using her footwear to tie a tourniquet on a wounded classmate.Then the gut-punch final scene has a girl hiding in bathroom texting, "I love you mom."

"I finally got my own phone to stay in touch with my mom,'' the tearful girl says, with the ominous sound of a creaking door with approaching footsteps.

"At the end, the girl with the phone gets me every time," said Hockley, a co-founder and managing director of Sandy Hook Promise.

The PSA then fades to darkness with a nearly empty screen and the words: "It's back to school time and you know what that means. School shootings are preventable when you know the signs."

Sandy Hook Promise is no stranger to provocative works. Last year, the group ran "Point of View," a 110-second PSA that seemed to show a typical high school day '-- before an angry boy pulls out a high-powered weapon and shouts, "Look at me!"

In 2017, it ran a spot to remind viewers of warning signs of a possible school shooting. "Tomorrow's News" dramatized a local TV news report '-- but with interview subjects speaking in the future tense, with cliches familiar to school-shooting stories.

David K. Li David K. Li is a breaking news reporter for NBC News.

VIDEO - (29) Washington Examiner on Twitter: "$8,000 child tax credit "would put 720 million women back in the workforce," says @JoeBiden. Total U.S. population is only 330 million people. https://t.co/4GXZaQazMn" / Twitter

Wed, 18 Sep 2019 11:58

Welcome home! This timeline is where you'll spend most of your time, getting instant updates about what matters to you.

Tweets not working for you? Hover over the profile pic and click the Following button to unfollow any account.

Say a lot with a little When you see a Tweet you love, tap the heart '-- it lets the person who wrote it know you shared the love.

Spread the word The fastest way to share someone else's Tweet with your followers is with a Retweet. Tap the icon to send it instantly.

Join the conversation Add your thoughts about any Tweet with a Reply. Find a topic you're passionate about, and jump right in.

Learn the latest Get instant insight into what people are talking about now.

Get more of what you love Follow more accounts to get instant updates about topics you care about.

Find what's happening See the latest conversations about any topic instantly.

Never miss a Moment Catch up instantly on the best stories happening as they unfold.

VIDEO - Special Announcement Reveal from Destination Linux 139 '' Destination Linux

Wed, 18 Sep 2019 04:05

https://aphid.fireside.fm/d/1437767933/32f28071-0b08-4ea1-afcc-37af75bd83d6/fbb1f11e-34f6-4925-a6cc-417561e8f5c3.mp3Podcast (mp3): Play in new window | Download | Embed

Subscribe: Android | Email | Google Podcasts | Stitcher | TuneIn | RSS

Did you miss the Special Livestream yesterday (Sunday, 15th) where we revealed the BIG Announcement?! Well we couldn't wait to release the information to everyone with the actual episode so here is the reveal segment from the episode! ðŸ

We hope you are all excited as much as we are! This is going to be AWESOME!

Hosts of Destination Linux:Michael of TuxDigital = https://tuxdigital.comRyan, aka DasGeek = https://dasgeekcommunity.comZeb, aka Zebedeeboss = https://youtube.com/zebedeebossNoah of Ask Noah Show = http://asknoahshow.com

VIDEO - Paul ''TᕼE ᗷOOK GᑌY'' on Twitter: "@SebGorka @adamcurry #CLIP" / Twitter

Wed, 18 Sep 2019 04:03

Welcome home! This timeline is where you'll spend most of your time, getting instant updates about what matters to you.

Tweets not working for you? Hover over the profile pic and click the Following button to unfollow any account.

Say a lot with a little When you see a Tweet you love, tap the heart '-- it lets the person who wrote it know you shared the love.

Spread the word The fastest way to share someone else's Tweet with your followers is with a Retweet. Tap the icon to send it instantly.

Join the conversation Add your thoughts about any Tweet with a Reply. Find a topic you're passionate about, and jump right in.

Learn the latest Get instant insight into what people are talking about now.

Get more of what you love Follow more accounts to get instant updates about topics you care about.

Find what's happening See the latest conversations about any topic instantly.

Never miss a Moment Catch up instantly on the best stories happening as they unfold.

VIDEO - Ed Buck Charged With Allegedly Running A Drug Den In West Hollywood Apartment '' CBS Los Angeles

Wed, 18 Sep 2019 03:57

September 17, 2019 at 8:45 pmWEST HOLLYWOOD (CBSLA) '-- Democratic Party political donor Ed Buck was charged Tuesday with allegedly running a drug den out of his West Hollywood apartment and providing methamphetamine to a 37-year-old man who suffered an overdose last week, the Los Angeles District Attorney's Office said.

Buck, 65, was charged with one felony count each of battery causing serious injury, administering methamphetamine and maintaining a drug house.

According to the DA's office, Buck was accused with injecting the victim with methamphetamine at the defendant's apartment in the 1200 block of Laurel Avenue in West Hollywood. The man survived.

''I remain deeply concerned for the safety of people whose life circumstances may make them more vulnerable to criminal predators,'' Los Angeles County District Attorney Jackie Lacey said in a statement. ''With this new evidence, I authorized the filing of criminal charges against Ed Buck.''

Prosecutors recommended bail be set at $4 million in a motion that called Buck a ''violent, dangerous sexual predator,'' who ''mainly preys on men made vulnerable by addiction and homelessness.''

The motion went on to say that Buck used the bait of ''narcotics, money, and shelter'' to lure victims to him home where, ''in a position of power, Buck manipulates his victims into participating in his sexual fetishes.''

According to the motion, Buck's actions ''led to the death of two men in Buck's apartment, Gemmel Moore and Timothy Dean.''

''The defendant's predatory acts and conscious disregard for human life must be stopped,'' the motion said.

He is scheduled to be arraigned Wednesday. If convicted as charged, Buck faces a possible maximum sentence of five years and eight months in state prison.

The case remains under investigation by the Los Angeles County Sheriff's Department.

Comments

VIDEO - Ex-Trump campaign boss Corey Lewandowski testifying in impeachment hearing

Wed, 18 Sep 2019 03:51

[The stream is slated to start at 1 p.m. ET. Please refresh the page if you do not see a player above at that time.]

Former Trump campaign manager Corey Lewandowski is testifying publicly before the House Judiciary Committee on Tuesday as the Democrat-led panel continues to gather evidence toward a possible push to impeach President Donald Trump.

Their fact-finding efforts may be stymied by the White House, however, which told the committee late Monday that it had directed Lewandowski not to discuss any post-election interactions with Trump beyond those already detailed in former special counsel Robert Mueller's report on Russian election meddling.

"To the best of my recollection, I don't recall ever having any conversations with foreign entities [as the Trump campaign chief] '-- let alone, any who were offering help to manipulate the outcome of the election," Lewandowski said in an opening statement provided by his spokeswoman to CNBC.

"As I have said publicly many times, anyone who attempted to illegally impact the outcome of the election should spend the rest of their life in jail," Lewandowski said.

Lewandowski, 45, managed Trump's campaign from January 2015 until his firing in June 2016, and remained his close confidant after the 2016 presidential election. As he publicly considers launching a Senate challenge against New Hampshire Democrat Jeanne Shaheen, Lewandowski has welcomed the opportunity to testify publicly before Congress.

"I am an open book," Lewandowski reportedly said in a Fox News Radio interview in August. "I want to go and remind the American people that these guys are on a witch hunt."

But in the opening moments of Lewandowski's cross-examination, the hearing ground to a halt.

Lewandowski refused to answer Democratic Judiciary Chairman Jerry Nadler's first question '-- about whether he met with Trump in the Oval Office in June 2017 '-- without being able to reference the specific text of the Mueller report, which he did not have in front of him.

Nadler continued speaking after his time expired, prompting ranking Republican Doug Collins of Georgia to call a procedural vote.

The delays clearly frustrated Democrats, who accused Lewandowski of filibustering. But Trump quickly applauded his former aide, tweeting that Lewandowski's opening statement, which recounted Trump's 2016 election victory, was "beautiful."

In a letter sent Monday night to Nadler, D-N.Y., White House counsel Pat Cipollone claimed that Lewandowski's conversations with Trump and his aides "are protected from disclosure by long-settled principles protecting Executive Branch confidentiality interests."

"As a result, the White House has directed Mr. Lewandowski not to provide information about such communications beyond the information provided in the portions of the [Mueller Report] that have already been disclosed to the Committee," Cipollone wrote.

Former Trump campaign manager Corey Lewandowski arrives to testify during a hearing before the House Judiciary Committee in the Rayburn House Office Building on Capitol Hill September 17, 2019 in Washington, DC.

Alex Wong | Getty Images

White House spokesman Steven Groves echoed that stance in a statement Tuesday morning. "Any information about his communications with the President or with senior advisers to the President not already disclosed in the Mueller report ... remains confidential," Groves said.

"Congress cannot compel disclosure of the substance of those communications, and Mr. Lewandowski has been directed not to testify about them."

Nadler called the White House's position a "cover-up" in response.

"This is a shocking and dangerous assertion of executive privilege and absolute immunity," Nadler said. "The president would have us believe that he can willfully engage in criminal activity and prevent witnesses from testifying before Congress '-- even if they did not actually work for him or his administration."

Lewandowski is the first fact witness mentioned in the Mueller report to appear in the impeachment-related hearings who has not been blocked from testifying by the White House. Mueller testified about his report on Capitol Hill in July.

Other figures near Trump, including former White House communications director Hope Hicks and Annie Donaldson, ex-chief of staff to former White House counsel Don McGahn, were directed not to comply with congressional subpoenas for their testimony.

Two other former Trump aides '-- staff secretary Rob Porter and White House deputy chief of staff for policy Rick Dearborn '-- were subpoenaed to appear alongside Lewandowski on Tuesday. But the Department of Justice told the White House that both men are "absolutely immune" from testimony.

Lewandowski is mentioned dozens of times in Mueller's 448-page report on Russian election interference, possible coordination between Russia and the Trump campaign, and possible obstruction of justice by Trump himself.

The report says that Trump, in June 2017, told Lewandowski in an Oval Office meeting to give then-Attorney General Jeff Sessions a message directing Sessions to call Mueller's probe "very unfair."

Lewandowski said he understood the request but then asked Dearborn to deliver it for him, according to the Mueller report. Dearborn never delivered the message, according to Mueller's report.

Democrats on the Judiciary Committee recently edged closer to formally recommending Trump's impeachment, while maintaining that the president has obstructed justice while in office. Mueller's report listed numerous instances of possible obstruction by Trump, but the special counsel declined to recommend a charge against him. Attorney General William Barr and former Deputy Attorney General Rod Rosenstein declined to back an obstruction charge based on the report.

VIDEO - (29) Bill Burr GOES OFF on Outrage Culture | Joe Rogan - YouTube

VIDEO - (29) Bill Burr and Jim Jefferies Weigh In on SNL Firing Shane Gillis - Lights Out with David Spade - YouTube

VIDEO - Trump cringingly courts Latino vote: ''Who do you like more: the country or the Hispanics?''

Tue, 17 Sep 2019 13:45

'):""},e.getDefinedParams=function(t,e){return e.filter(function(e){return t[e]}).reduce(function(e,n){return i(e,function(t,e,n){return e in t?Object.defineProperty(t,e,{value:n,enumerable:!0,configurable:!0,writable:!0}):t[e]=n,t}({},n,t[n]))},{})},e.isValidMediaTypes=function(t){var e=["banner","native","video"];return!!Object.keys(t).every(function(t){return Z()(e,t)})&&(!t.video||!t.video.context||Z()(["instream","outstream","adpod"],t.video.context))},e.getBidderRequest=function(t,e,n){return J()(t,function(t){return 0n[t]?-1:0}};var H=n(3),G=n(88),K=n.n(G),$=n(11),J=n.n($),Y=n(9),Z=n.n(Y),Q=n(10),X=n(89),tt=n.n(X);n.d(e,"deepAccess",function(){return tt.a});var et=n(90);n.d(e,"deepSetValue",function(){return et.a});var nt,rt=n(4),it="Array",ot="String",at="Function",st="Number",ut="Object",ct="Boolean",ft=Object.prototype.toString,dt=Boolean(window.console),lt=Boolean(dt&&window.console.log),pt=Boolean(dt&&window.console.info),ht=Boolean(dt&&window.console.warn),gt=Boolean(dt&&window.console.error),vt={checkCookieSupport:V,createTrackPixelIframeHtml:B,getWindowSelf:h,getWindowTop:p,getAncestorOrigins:l,getTopFrameReferrer:d,getWindowLocation:g,getTopWindowLocation:f,insertUserSyncIframe:R,insertElement:C,isFn:S,triggerPixel:D,logError:m,logWarn:y,logMessage:v,logInfo:b},bt={},yt=function(t,e){return e}.bind(null,1,bt)()===bt?Function.prototype.bind:function(t){var e=this,n=Array.prototype.slice.call(arguments,1);return function(){return e.apply(t,n.concat(Array.prototype.slice.call(arguments)))}},mt=(nt=0,function(){return++nt}),_t=function(){if(Array.prototype.indexOf)return Array.prototype.indexOf}(),Et=function(t,e){return t.hasOwnProperty?t.hasOwnProperty(e):void 0!==t[e]&&t.constructor.prototype[e]!==t[e]},wt=z("timeToRespond",function(t,e){return eu;)r(s,n=e[u++])&&(~o(c,n)||c.push(n));return c}},143:function(t,e,n){var r=n(19).document;t.exports=r&&r.documentElement},144:function(t,e,n){var r=n(28),i=n(44),o=n(52)("IE_PROTO"),a=Object.prototype;t.exports=Object.getPrototypeOf||function(t){return t=i(t),r(t,o)?t[o]:"function"==typeof t.constructor&&t instanceof t.constructor?t.constructor.prototype:t instanceof Object?a:null}},145:function(t,e,n){n(146);for(var r=n(19),i=n(21),o=n(30),a=n(14)("toStringTag"),s="CSSRuleList,CSSStyleDeclaration,CSSValueList,ClientRectList,DOMRectList,DOMStringList,DOMTokenList,DataTransferItemList,FileList,HTMLAllCollection,HTMLCollection,HTMLFormElement,HTMLSelectElement,MediaList,MimeTypeArray,NamedNodeMap,NodeList,PaintRequestList,Plugin,PluginArray,SVGLengthList,SVGNumberList,SVGPathSegList,SVGPointList,SVGStringList,SVGTransformList,SourceBufferList,StyleSheetList,TextTrackCueList,TextTrackList,TouchList".split(","),u=0;u=t.length?(this._t=void 0,i(1)):i(0,"keys"==e?n:"values"==e?t[n]:[n,t[n]])},"values"),o.Arguments=o.Array,r("keys"),r("values"),r("entries")},147:function(t,e,n){"use strict";var r=n(148),i=n(76);t.exports=n(150)("Set",function(t){return function(e){return t(this,0=y.syncsPerBidder?u.logWarn('Number of user syncs exceeded for "'.concat(e,'"')):p.canBidderRegisterSync(t,e)?(h[t].push([e,n]),void(v=function(t,e){return t[e]?t[e]+=1:t[e]=1,t}(v,e))):u.logWarn('Bidder "'.concat(e,'" not permitted to register their "').concat(t,'" userSync pixels.')):u.logWarn("Bidder is required for registering sync"):u.logWarn('User sync type "'.concat(t,'" not supported'))},p.syncUsers=function(){var t=0t.getTimeout()+v.b.getConfig("timeoutBuffer")&&t.executeCallback(!0)}function a(t,e){var n=t.getBidRequests(),r=_()(n,function(t){return t.bidderCode===e.bidderCode});!function(t,e){var n;if(t.bidderCode&&(0n&&(e=!1)),!e}),e&&t.run(),e}function c(t,e){void 0===t[e]?t[e]=1:t[e]++}var d=this;p=I,u=Date.now();var b=T.makeBidRequests(z,u,H,K,q);S.logInfo("Bids Requested for Auction with id: ".concat(H),b),b.forEach(function(t){!function(t){V=V.concat(t)}(t)});var y={};if(b.lengthe.max?t:e},{max:0}),a=s()(e.buckets,function(e){if(t>i.max*n){var o=e.precision;void 0===o&&(o=c),r=(e.max*n).toFixed(o)}else if(t=e.min*n)return e});return a&&(r=function(t,e,n){var r=void 0!==e.precision?e.precision:c,i=e.increment*n,o=e.min*n,a=Math.pow(10,r+2),s=(t*a-o*a)/(i*a),u=Math.floor(s)*i+o;return(u=Number(u.toFixed(10))).toFixed(r)}(t,a,n)),r}function o(t){if(u.isEmpty(t)||!t.buckets||!Array.isArray(t.buckets))return!1;var e=!0;return t.buckets.forEach(function(t){void 0!==t.min&&t.max&&t.increment||(e=!1)}),e}n.d(e,"a",function(){return r}),n.d(e,"b",function(){return o});var a=n(11),s=n.n(a),u=n(0),c=2,f={buckets:[{min:0,max:5,increment:.5}]},d={buckets:[{min:0,max:20,increment:.1}]},l={buckets:[{min:0,max:20,increment:.01}]},p={buckets:[{min:0,max:3,increment:.01},{min:3,max:8,increment:.05},{min:8,max:20,increment:.5}]},h={buckets:[{min:0,max:5,increment:.05},{min:5,max:10,increment:.1},{min:10,max:20,increment:.5}]}},42:function(t,e){t.exports=function(t,e){return{enumerable:!(1&t),configurable:!(2&t),writable:!(4&t),value:e}}},43:function(t,e,n){var r=n(24),i=n(56),o=n(44),a=n(34),s=n(83);t.exports=function(t,e){var n=1==t,u=2==t,c=3==t,f=4==t,d=6==t,l=5==t||d,p=e||s;return function(e,s,h){for(var g,v,b=o(e),y=i(b),m=r(s,h,3),_=a(y.length),E=0,w=n?p(e,_):u?p(e,0):void 0;E"):"";return'\n \n \n prebid.org wrapper\n \n ").concat(n,"\n \n \n \n ")}(t.vastUrl,t.vastImpUrl),ttlseconds:Number(t.ttl)};return"string"==typeof t.customCacheKey&&""!==t.customCacheKey&&(e.key=t.customCacheKey),e}e.b=function(t,e){var n={puts:t.map(r)};Object(i.a)(o.b.getConfig("cache.url"),function(t){return{success:function(e){var n;try{n=JSON.parse(e).responses}catch(e){return void t(e,[])}n?t(null,n):t(new Error("The cache server didn't respond with a responses property."),[])},error:function(e,n){t(new Error("Error storing video ad in the cache: ".concat(e,": ").concat(JSON.stringify(n))),[])}}}(e),JSON.stringify(n),{contentType:"text/plain",withCredentials:!0})},e.a=function(t){return"".concat(o.b.getConfig("cache.url"),"?uuid=").concat(t)};var i=n(5),o=n(3)},63:function(t,e,n){"use strict";function r(t){return(r="function"==typeof Symbol&&"symbol"==_typeof(Symbol.iterator)?function(t){return void 0===t?"undefined":_typeof(t)}:function(t){return t&&"function"==typeof Symbol&&t.constructor===Symbol&&t!==Symbol.prototype?"symbol":void 0===t?"undefined":_typeof(t)})(t)}function i(){return(i=Object.assign||function(t){for(var e=1;e (eg mediaTypes.banner.sizes)."),t.sizes=n);if(e&&e.video){var i=e.video;if(i.playerSize)if(Array.isArray(i.playerSize)&&1===i.playerSize.length&&i.playerSize.every(function(t){return Object(f.isArrayOfNums)(t,2)}))t.sizes=i.playerSize;else if(Object(f.isArrayOfNums)(i.playerSize,2)){var o=[];o.push(i.playerSize),x.logInfo("Transforming video.playerSize from [".concat(i.playerSize,"] to [[").concat(o,"]] so it's in the proper format.")),t.sizes=i.playerSize=o}else x.logError("Detected incorrect configuration of mediaTypes.video.playerSize. Please specify only one set of dimensions in a format like: [[640, 480]]. Removing invalid mediaTypes.video.playerSize property from request."),delete t.mediaTypes.video.playerSize}if(e&&e.native){var a=e.native;a.image&&a.image.sizes&&!Array.isArray(a.image.sizes)&&(x.logError("Please use an array of sizes for native.image.sizes field. Removing invalid mediaTypes.native.image.sizes property from request."),delete t.mediaTypes.native.image.sizes),a.image&&a.image.aspect_ratios&&!Array.isArray(a.image.aspect_ratios)&&(x.logError("Please use an array of sizes for native.image.aspect_ratios field. Removing invalid mediaTypes.native.image.aspect_ratios property from request."),delete t.mediaTypes.native.image.aspect_ratios),a.icon&&a.icon.sizes&&!Array.isArray(a.icon.sizes)&&(x.logError("Please use an array of sizes for native.icon.sizes field. Removing invalid mediaTypes.native.icon.sizes property from request."),delete t.mediaTypes.native.icon.sizes)}}),t},"checkAdUnitSetup");T.getAdserverTargetingForAdUnitCodeStr=function(t){if(x.logInfo("Invoking pbjs.getAdserverTargetingForAdUnitCodeStr",arguments),t){var e=T.getAdserverTargetingForAdUnitCode(t);return x.transformAdServerTargetingObj(e)}x.logMessage("Need to call getAdserverTargetingForAdUnitCodeStr with adunitCode")},T.getAdserverTargetingForAdUnitCode=function(t){return T.getAdserverTargeting(t)[t]},T.getAdserverTargeting=function(t){return x.logInfo("Invoking pbjs.getAdserverTargeting",arguments),v.b.getAllTargeting(t)},T.getNoBids=function(){return x.logInfo("Invoking pbjs.getNoBids",arguments),a("getNoBids")},T.getBidResponses=function(){return x.logInfo("Invoking pbjs.getBidResponses",arguments),a("getBidsReceived")},T.getBidResponsesForAdUnitCode=function(t){return{bids:g.a.getBidsReceived().filter(function(e){return e.adUnitCode===t})}},T.setTargetingForGPTAsync=function(t,e){if(x.logInfo("Invoking pbjs.setTargetingForGPTAsync",arguments),Object(f.isGptPubadsDefined)()){var n=v.b.getAllTargeting(t);v.b.resetPresetTargeting(t),v.b.setTargetingForGPT(n,e),Object.keys(n).forEach(function(t){Object.keys(n[t]).forEach(function(e){"hb_adid"===e&&g.a.setStatusForBids(n[t][e],A.BID_STATUS.BID_TARGETING_SET)})}),O.emit(k,n)}else x.logError("window.googletag is not defined on the page")},T.setTargetingForAst=function(t){x.logInfo("Invoking pbjs.setTargetingForAn",arguments),v.b.isApntagDefined()?(v.b.setTargetingForAst(t),O.emit(k,v.b.getAllTargeting())):x.logError("window.apntag is not defined on the page")},T.renderAd=function(t,e){if(x.logInfo("Invoking pbjs.renderAd",arguments),x.logMessage("Calling renderAd with adId :"+e),t&&e)try{var n=g.a.findBidByAdId(e);if(n){n.status=A.BID_STATUS.RENDERED,n.ad=x.replaceAuctionPrice(n.ad,n.cpm),n.adUrl=x.replaceAuctionPrice(n.adUrl,n.cpm),g.a.addWinningBid(n),O.emit(R,n);var r=n.height,i=n.width,a=n.ad,u=n.mediaType,c=n.adUrl,f=n.renderer,d=document.createComment("Creative ".concat(n.creativeId," served by ").concat(n.bidder," Prebid.js Header Bidding"));if(x.insertElement(d,t,"body"),Object(w.c)(f))Object(w.b)(f,n);else if(t===document&&!x.inIframe()||"video"===u){var l="Error trying to write ad. Ad render call ad id ".concat(e," was prevented from writing to the main document.");s(N,l,n)}else if(a){if(navigator.userAgent&&-1Object(b.timestamp)()},C=function(t){return t&&(t.status&&!T()([x.BID_STATUS.BID_TARGETING_SET,x.BID_STATUS.RENDERED],t.status)||!t.status)},D=(h=_.a,v={},(g={}).setLatestAuctionForAdUnit=function(t,e){v[t]=e},g.resetPresetTargeting=function(t){if(Object(b.isGptPubadsDefined)()){var e=u(t),n=h.getAdUnits().filter(function(t){return T()(e,t.code)});window.googletag.pubads().getSlots().forEach(function(t){I.forEach(function(e){n.forEach(function(n){n.code!==t.getAdUnitPath()&&n.code!==t.getSlotElementId()||t.setTargeting(e,null)})})})}},g.resetPresetTargetingAST=function(t){u(t).forEach(function(t){var e=window.apntag.getTag(t);if(e&&e.keywords){var n=Object.keys(e.keywords),r={};n.forEach(function(t){T()(I,t.toLowerCase())||(r[t]=e.keywords[t])}),window.apntag.modifyTag(t,{keywords:r})}})},g.getAllTargeting=function(t){var e=1=e.length?{value:void 0,done:!0}:(t=r(e,n),this._i+=t.length,{value:t,done:!1})})},66:function(t,e,n){function r(){}var i=n(27),o=n(140),a=n(67),s=n(52)("IE_PROTO"),u="prototype",c=function(){var t,e=n(55)("iframe"),r=a.length;for(e.style.display="none",n(143).appendChild(e),e.src="javascript:",(t=e.contentWindow.document).open(),t.write("

")}(r.script,r.impression_id);var c=o(x[r.size_id].split("x").map(function(t){return Number(t)}),2);u.width=c[0],u.height=c[1]}u.rubiconTargeting=(Array.isArray(r.targeting)?r.targeting:[]).reduce(function(t,e){return t[e.key]=e.values[0],t},{rpfl_elemid:s.adUnitCode}),e.push(u)}else y.logError("Rubicon bid adapter Error: bidRequest undefined at index position:".concat(i),n,t);return e},[]).sort(function(t,e){return(e.cpm||0)-(t.cpm||0)})},getUserSyncs:function(t,e,n){if(!O&&t.iframeEnabled){var r="";return n&&"string"==typeof n.consentString&&("boolean"==typeof n.gdprApplies?r+="?gdpr=".concat(Number(n.gdprApplies),"&gdpr_consent=").concat(n.consentString):r+="?gdpr_consent=".concat(n.consentString)),O=!0,{type:"iframe",url:T+r}}},transformBidParams:function(t,e){return y.convertTypes({accountId:"number",siteId:"number",zoneId:"number"},t)}},O=!1;Object(m.registerBidder)(I)}},[510]),pbjsChunk([60],{584:function(t,e,n){t.exports=n(585)},585:function(t,e,n){"use strict";function r(t){t.renderer.push(function(){window.ANOutstreamVideo.renderAd({targetId:t.adUnitCode,adResponse:t.adResponse})})}Object.defineProperty(e,"__esModule",{value:!0}),n.d(e,"spec",function(){return u});var i=n(0),o=n(1),a=n(12),s=n(2),u={code:"trustx",supportedMediaTypes:[s.b,s.d],isBidRequestValid:function(t){return!!t.params.uid},buildRequests:function(t,e){var n,r=[],o={},a={},s={},u="net";(t||[]).forEach(function(t){"gross"===t.params.priceType&&(u="gross"),n=t.bidderRequestId;var e=t.params.uid,c=t.adUnitCode;r.push(e);var f=i.parseSizesInput(t.sizes);a[e]||(a[e]={});var d=a[e];d[c]?d[c].bids.push(t):d[c]={adUnitCode:c,bids:[t],parents:[]};var l=d[c];f.forEach(function(t){s[t]=!0,o[e]||(o[e]={}),o[e][t]?o[e][t].push(l):o[e][t]=[l],l.parents.push({parent:o[e],key:t,uid:e})})});var c={pt:u,auids:r.join(","),sizes:i.getKeys(s).join(","),r:n,wrapperType:"Prebid_js",wrapperVersion:"2.26.0"};return e&&(e.refererInfo&&e.refererInfo.referer&&(c.u=e.refererInfo.referer),e.timeout&&(c.wtimeout=e.timeout),e.gdprConsent&&(e.gdprConsent.consentString&&(c.gdpr_consent=e.gdprConsent.consentString),c.gdpr_applies="boolean"==typeof e.gdprConsent.gdprApplies?Number(e.gdprConsent.gdprApplies):1)),{method:"GET",url:"//sofia.trustx.org/hb",data:i.parseQueryStringParameters(c).replace(/\&$/,""),bidsMap:o}},interpretResponse:function(t,e,n){var o=2-1}});var instance=window.Layzr({threshold:100});instance.on("src:before",function(t){t.addEventListener("load",function(e){t.parentElement.classList.add("loaded")})}),document.addEventListener("DOMContentLoaded",function(t){instance.update().check().handlers(!0)}),DS.service("teadsBackfill",["$window",function(t){t.teadsNoFill=function(t){var e,n=window.innerWidth>969,r=window.innerWidthe?t:e}function a(){E.forEach(c)}function s(t,e){var n=e.visiblePx,r=e.visiblePercent;n&&r>=t.shownThreshold&&!t.seen?(t.seen=!0,setTimeout(function(){t.trigger("shown",new _("shown",e))},15)):(!n||r=0&&r.left>=0&&r.bottom1&&(a+=g(o,Math.floor(e/r),n-1,r)),a}function v(t,e){return i(e,o(t.bottom,0))-i(o(t.top,0),e)}function b(t){for(var e=t.offsetLeft,n=t.offsetTop;t=t.offsetParent;)e+=t.offsetLeft,n+=t.offsetTop;return{left:e,top:n}}function y(e,r){var i,o;return e=e.split(","),o=n.filter(n.map(e,function(e){return(i=t.querySelector(e))&&new m(i).on("shown",function(){n.invokeMap(o,"destroy"),r()})}))}var m,_,E=[];m=function(t,e){e=e||{},this.el=t,this.seen=!1,this.preload=!1,this.preloadThreshhold=e&&e.preloadThreshhold||0,this.shownThreshold=e&&e.shownThreshold||0,this.hiddenThreshold=e&&i(e.shownThreshold,e.hiddenThreshold)||0,E.push(this),c(this)},m.prototype={destroy:function(){E.splice(E.indexOf(this),1)}},r.enable(m.prototype),_=function(t,e){this.type=t,n.assign(this,e)},t.addEventListener("scroll",n.throttle(a,200)),this.getPageOffset=b,this.getLinearSpacialHash=g,this.getVerticallyVisiblePixels=v,this.getViewportHeight=f,this.getViewportWidth=d,this.isElementNotHidden=l,this.isElementInViewport=p,this.watchForAny=y,this.Visible=m}]);"use strict";var _typeof="function"==typeof Symbol&&"symbol"==typeof Symbol.iterator?function(e){return typeof e}:function(e){return e&&"function"==typeof Symbol&&e.constructor===Symbol&&e!==Symbol.prototype?"symbol":typeof e};!function(){function e(t,n,o){function r(c,s){if(!n[c]){if(!t[c]){var a="function"==typeof require&&require;if(!s&&a)return a(c,!0);if(i)return i(c,!0);var u=new Error("Cannot find module '"+c+"'");throw u.code="MODULE_NOT_FOUND",u}var l=n[c]={exports:{}};t[c][0].call(l.exports,function(e){return r(t[c][1][e]||e)},l,l.exports,e,t,n,o)}return n[c].exports}for(var i="function"==typeof require&&require,c=0;c1){if(i=e({path:"/"},o.defaults,i),"number"==typeof i.expires){var s=new Date;s.setMilliseconds(s.getMilliseconds()+864e5*i.expires),i.expires=s}i.expires=i.expires?i.expires.toUTCString():"";try{c=JSON.stringify(r),/^[\{\[]/.test(c)&&(r=c)}catch(e){}r=n.write?n.write(r,t):encodeURIComponent(String(r)).replace(/%(23|24|26|2B|3A|3C|3E|3D|2F|3F|40|5B|5D|5E|60|7B|7D|7C)/g,decodeURIComponent),t=encodeURIComponent(String(t)),t=t.replace(/%(23|24|26|2B|5E|60|7C)/g,decodeURIComponent),t=t.replace(/[\(\)]/g,escape);var a="";for(var u in i)i[u]&&(a+="; "+u,!0!==i[u]&&(a+="="+i[u]));return document.cookie=t+"="+r+a}t||(c={});for(var l=document.cookie?document.cookie.split("; "):[],d=/(%[0-9A-Z]{2})+/g,f=0;f-1&&(console.log("removing serviceworker"),a.unregister())}}catch(e){r=!0,n=e}finally{try{!t&&o.return&&o.return()}finally{if(r)throw n}}});var t=e("../../services/client/slate-amplitude");window.addEventListener("load",function(){navigator.serviceWorker.register("/sw.js").then(function(e){},function(e){console.error("ServiceWorker registration failed: ",e)})}),window.addEventListener("beforeinstallprompt",function(e){e.userChoice.then(function(e){"dismissed"===e.outcome?t.track("PWA - dismissed install prompt"):t.track("PWA - Added to Home Screen")})})}}()},{"../../services/client/slate-amplitude":2}],2:[function(e,t,r){var n=void 0,i=function(e){return n||(e=e||document.querySelectorAll("script.js-analytics-js-data")[0],n=JSON.parse(e.textContent))},o=function(e,t,r){var n=i(),o={};Object.assign(o,n,t),amplitude.getInstance().logEvent(e,o,r)},a=function(e,t){amplitude.getInstance().logEvent("Loaded a Page",e,t)};t.exports.getDomEventData=i,t.exports.page=a,t.exports.track=o},{}]},{},[1]);"use strict";var _typeof="function"==typeof Symbol&&"symbol"==typeof Symbol.iterator?function(e){return typeof e}:function(e){return e&&"function"==typeof Symbol&&e.constructor===Symbol&&e!==Symbol.prototype?"symbol":typeof e};!function(){function e(t,o,n){function r(s,c){if(!o[s]){if(!t[s]){var u="function"==typeof require&&require;if(!c&&u)return u(s,!0);if(i)return i(s,!0);var a=new Error("Cannot find module '"+s+"'");throw a.code="MODULE_NOT_FOUND",a}var f=o[s]={exports:{}};t[s][0].call(f.exports,function(e){return r(t[s][1][e]||e)},f,f.exports,e,t,o,n)}return o[s].exports}for(var i="function"==typeof require&&require,s=0;st&&o-t1){if(i=e({path:"/"},n.defaults,i),"number"==typeof i.expires){var c=new Date;c.setMilliseconds(c.getMilliseconds()+864e5*i.expires),i.expires=c}i.expires=i.expires?i.expires.toUTCString():"";try{s=JSON.stringify(r),/^[\{\[]/.test(s)&&(r=s)}catch(e){}r=o.write?o.write(r,t):encodeURIComponent(String(r)).replace(/%(23|24|26|2B|3A|3C|3E|3D|2F|3F|40|5B|5D|5E|60|7B|7D|7C)/g,decodeURIComponent),t=encodeURIComponent(String(t)),t=t.replace(/%(23|24|26|2B|5E|60|7C)/g,decodeURIComponent),t=t.replace(/[\(\)]/g,escape);var u="";for(var a in i)i[a]&&(u+="; "+a,!0!==i[a]&&(u+="="+i[a]));return document.cookie=t+"="+r+u}t||(s={});for(var f=document.cookie?document.cookie.split("; "):[],l=/(%[0-9A-Z]{2})+/g,p=0;p2592e6&&(n=0),["article","plus","coverstory"].includes(e)&&(n+=1),1===n&&(o=i),r.set(_,{pv:n,first:o},{expires:365}),n}function v(e,n){function r(e){var t=document.body.querySelector("."+e);if(t){var n=t.dataset.uri;if(n&&n.split("/")[2]===e)return t}}var a=window.amplitude.getInstance(),u=n||0,f=a.options&&a.options.deviceId;if(!f&&u0&&(m["Affiliate Link"]="''…"),r("product")&&(m["Product Component"]="''…");var b=r("newsletter-signup");m["Includes Newsletter Signup"]=o(b),b&&(m["Newsletter Signup Placement"]="In Content");var w=!g&&r("slate-roadblock");m["Includes Slate Plus Roadblock"]=o(w),x.page(m),t.removeFromLocation()}function m(e){var t=l();t&&(e.plan=t)}function g(e){var t=window.Scroll&&Scroll.config.detected;t&&(e.scrollUser=t)}function y(e){var t=window.Krux&&window.Krux.kuid;t&&(e.kuid=t)}function b(e){var t=r.get("AB");e.abTest=E(t)?t:"0"}function w(){var e=document.querySelector(".slate-paragraph--tombstone");if(e){var t=n.once(function(){x.track("Completed article"),document.removeEventListener("scroll",r)}),r=n.throttle(function(){var n="scrollY"in window?window.scrollY:window.pageYOffset;e.offsetTop+e.offsetHeight1){if(i=e({path:"/"},r.defaults,i),"number"==typeof i.expires){var a=new Date;a.setMilliseconds(a.getMilliseconds()+864e5*i.expires),i.expires=a}i.expires=i.expires?i.expires.toUTCString():"";try{c=JSON.stringify(o),/^[\{\[]/.test(c)&&(o=c)}catch(e){}o=n.write?n.write(o,t):encodeURIComponent(String(o)).replace(/%(23|24|26|2B|3A|3C|3E|3D|2F|3F|40|5B|5D|5E|60|7B|7D|7C)/g,decodeURIComponent),t=encodeURIComponent(String(t)),t=t.replace(/%(23|24|26|2B|5E|60|7C)/g,decodeURIComponent),t=t.replace(/[\(\)]/g,escape);var s="";for(var u in i)i[u]&&(s+="; "+u,!0!==i[u]&&(s+="="+i[u]));return document.cookie=t+"="+o+s}t||(c={});for(var l=document.cookie?document.cookie.split("; "):[],d=/(%[0-9A-Z]{2})+/g,f=0;f1){if(i=e({path:"/"},o.defaults,i),"number"==typeof i.expires){var s=new Date;s.setMilliseconds(s.getMilliseconds()+864e5*i.expires),i.expires=s}i.expires=i.expires?i.expires.toUTCString():"";try{c=JSON.stringify(r),/^[\{\[]/.test(c)&&(r=c)}catch(e){}r=t.write?t.write(r,n):encodeURIComponent(String(r)).replace(/%(23|24|26|2B|3A|3C|3E|3D|2F|3F|40|5B|5D|5E|60|7B|7D|7C)/g,decodeURIComponent),n=encodeURIComponent(String(n)),n=n.replace(/%(23|24|26|2B|5E|60|7C)/g,decodeURIComponent),n=n.replace(/[\(\)]/g,escape);var u="";for(var a in i)i[a]&&(u+="; "+a,!0!==i[a]&&(u+="="+i[a]));return document.cookie=n+"="+r+u}n||(c={});for(var d=document.cookie?document.cookie.split("; "):[],l=/(%[0-9A-Z]{2})+/g,f=0;f1){if(i=e({path:"/"},r.defaults,i),"number"==typeof i.expires){var a=new Date;a.setMilliseconds(a.getMilliseconds()+864e5*i.expires),i.expires=a}i.expires=i.expires?i.expires.toUTCString():"";try{c=JSON.stringify(o),/^[\{\[]/.test(c)&&(o=c)}catch(e){}o=n.write?n.write(o,t):encodeURIComponent(String(o)).replace(/%(23|24|26|2B|3A|3C|3E|3D|2F|3F|40|5B|5D|5E|60|7B|7D|7C)/g,decodeURIComponent),t=encodeURIComponent(String(t)),t=t.replace(/%(23|24|26|2B|5E|60|7C)/g,decodeURIComponent),t=t.replace(/[\(\)]/g,escape);var u="";for(var s in i)i[s]&&(u+="; "+s,!0!==i[s]&&(u+="="+i[s]));return document.cookie=t+"="+o+u}t||(c={});for(var f=document.cookie?document.cookie.split("; "):[],p=/(%[0-9A-Z]{2})+/g,d=0;d

VIDEO - (20) Seth Simons on Twitter: "this, again, is from September 2018 https://t.co/inYFT22zjl" / Twitter

Tue, 17 Sep 2019 13:26

Welcome home! This timeline is where you'll spend most of your time, getting instant updates about what matters to you.

Tweets not working for you? Hover over the profile pic and click the Following button to unfollow any account.

Say a lot with a little When you see a Tweet you love, tap the heart '-- it lets the person who wrote it know you shared the love.

Spread the word The fastest way to share someone else's Tweet with your followers is with a Retweet. Tap the icon to send it instantly.

Join the conversation Add your thoughts about any Tweet with a Reply. Find a topic you're passionate about, and jump right in.

Learn the latest Get instant insight into what people are talking about now.

Get more of what you love Follow more accounts to get instant updates about topics you care about.

Find what's happening See the latest conversations about any topic instantly.

Never miss a Moment Catch up instantly on the best stories happening as they unfold.

VIDEO - Tulsi Gabbard to Trump: 'We Are Not Your Prostitutes. You Are Not Our Pimp' | Breitbart

Tue, 17 Sep 2019 12:47

Rep. Tulsi Gabbard (D-HI) launched a profane attack on President Donald Trump's foreign policy on Monday evening, denouncing the idea of defending Saudi Arabia: ''We are not your prostitutes. You are not our pimp.''Gabbard was responding to President Trump's statements about a potential U.S. response to a recent attack by Houthi rebels on oilfields in Saudi Arabia that threatened global oil supplies and the security of a key American ally.

In a video released on Twitter, Gabbard declared:

Yesterday President Trump offered to place our military, my brothers and sisters in uniform, under the command [sic] of Prince Mohammed bin Salman, the dictator of the Islamist Kingdom of Saudi Arabia [sic]. Trump said, ''[We] are locked and loaded, but are waiting to hear from the Kingdom as to who they believe was the cause of this attack, and under what terms we would proceed!'' Mr. President, as you know, I have never engaged in hateful rhetoric against you [sic], or your family, and I never will, but your offering our military assets to the dictator of Saudi Arabia to use as he sees fit, is a betrayal of my brothers and sisters in uniform who are ready to give our lives for our country, not for the Islamist dictator of Saudi Arabia. For you to think that you can pimp out our proud servicemen and women to the Prince of Saudi Arabia is disgraceful, and it once again shows that you are unfit to serve as our commander in chief. As a member of Congress, and as a soldier, I and all of my brothers and sisters in uniform have taken an oath to protect and defend the American people and the Constitution of the United States of America. There is nothing in our Constitution that gives you the power to go to war without the express consent of Congress [sic], but to speak of giving you the power to offer our military to a foreign power like the Kingdom of Saudi Arabia to use as they wish '-- President Trump, your words and actions are a betrayal of my brothers and sisters in uniform, the American people, and our Constitution. My fellow servicemembers and I '-- we are not your prostitutes. You are not our pimp.

.@realDonaldTrump Despicable. Offering to place our military assets under the command of a foreign country'--Saudi Arabia'--is a disgrace and betrayal of my patriotic brothers and sisters in uniform and to our Constitution. We are not your prostitutes. You are not our pimp. pic.twitter.com/Cu1OewEMOC

'-- Tulsi Gabbard (@TulsiGabbard) September 16, 2019

There are several inaccuracies and problems in Gabbard's assertions. First, it is not clear that President Trump offered command of the U.S. military to Saudi Arabia, and it is hard to imagine him doing so. A more reasonable interpretation of Trump's tweet was simply that he would be consulting with an important American ally about an attack that is suspected to be the work of an American enemy '-- or, at least, the work of one of its proxies.

Second, while the Kingdom of Saudi Arabia (its official name, not the ''Islamist Kingdom of Saudi Arabia'') is officially an Islamic state, it is a stretch to call it an ''Islamist'' state. The term ''Islamist'' suggests association with terror organizations. Though the Saudi government, in decades past, spread extremist ideas and supported terror, in recent decades it has assisted the U.S. in fighting terror '-- partly because the regime is a target of Islamist terror.

Third, Gabbard's claim never to have used ''hateful rhetoric'' against Trump is not accurate. In November 2018, she accused him of being ''Saudi Arabia's bitch.'' In April, she also called him ''al-Qaeda's big brother and protector in Syria,'' in a Tweet that was highlighted by Iranian state television. And earlier Tuesday, Gabbard tweeted: Trump awaits instructions from his Saudi masters. Having our country act as Saudi Arabia's bitch is not '''America First.'''

Fourth, while Gabbard is correct that the Constitution gives the House of Representatives the power to declare war, it does not preclude the president from acting in his capacity as commander-in-chief of the military to protect the country. The War Powers Act of 1973 allows the president to initiate military operations that last up to 90 days before he or she must seek official authorization from Congress. The law is controversial, but it remains the law.

Finally, as Gabbard enjoys pointing out, she is an officer in the U.S. Army National Guard. Article 88 of the Uniform Code of Military Justice (UCMJ) prohibits commissioned officers from using ''contemptuous words'' about the president '-- whether in uniform or out of uniform. Gabbard might enjoy some leeway from a military court due to the political nature of her job, but to say Trump has betrayed the military, and to call him a ''pimp'' and a ''bitch,'' is likely a violation of the UCMJ.

Gabbard may earn herself some attention, but she could also earn a court-martial.

Joel B. Pollak is Senior Editor-at-Large at Breitbart News. He earned an A.B. in Social Studies and Environmental Science and Public Policy from Harvard College, and a J.D. from Harvard Law School. He is a winner of the 2018 Robert Novak Journalism Alumni Fellowship. He is also the co-author of How Trump Won: The Inside Story of a Revolution, which is available from Regnery. Follow him on Twitter at @joelpollak.

VIDEO - No Agenda Social

Thu, 19 Sep 2019 11:28

E-mail addressPasswordSign upForgot your password?Didn't receive confirmation instructions?
STORIES

Airbus to boost cooperation with China, Tianjin to be firm's manufacturing center in Asia '-- RT Business News

Thu, 19 Sep 2019 11:38

Airbus has announced plans to enhance its long-term collaboration with China's aviation industry, ramping up single-aisle production at its Tianjin final assembly line and forming new ties with Chinese suppliers.

The European aircraft manufacturer will begin plans to assemble six A320 planes a month at the Tianjin facility by the year's end, which is a 50 percent increase from its current workload.Tianjin is the company's third-largest single-aisle assembly line after those in Toulouse, France and Hamburg, Germany. During its 10 years of operation, the factory has assembled over 440 A320 aircraft, according to company data.

Also on rt.com Airbus profits skyrocket while rival Boeing stumbles over 737 MAX crisis Airbus also recently signed a cooperation agreement with China's state-owned Aviation Industry Corporation to launch its single-aisle aircraft fuselage for A319 and A320 planes in Tianjin. The first delivery of a fully China-equipped plane is set for 2021.

''The agreement signifies that industrial cooperation between Airbus and China has expanded from the assembly of structural parts to more complicated fuselage systems. In the future, the production rate of the fuselage equipping will be in line with the Tianjin center, and reach a production rate of six aircraft a month,'' George Xu, CEO of Airbus China, said, as cited by China Daily.

The agreement for fuselage equipping was signed during German Chancellor Angela Merkel's visit to China in early September.

Also on rt.com Russian company taking Boeing to court in first lawsuit over 737 MAX planes In yet another move, Airbus plans to expand cooperation with Chinese suppliers, hoping to increase productivity, shifting the company's completion and delivery center in Tianjin to work on A330neo and A350 planes in the next few years.

''We would like to form a vertical integration supply chain in China, meaning we will purchase raw materials, do the parts assembly, then the aircraft assembly in China. We also hope to train and develop more local Chinese suppliers that are in line with global standards,'' Francois Mery, chief operating officer of Airbus China, stated.

Airbus currently has about 50% of the market share in China, in contrast to the mere 9% it had in 1996. The total value of industrial cooperation between Airbus and the Chinese aviation industry reached $900 million last year, according to the firm's data, and is expected to reach a $1 billion peak in 2020.

For more stories on economy & finance visit RT's business section

Expert Says Indians Will Soon Become Water Refugees Heading for Water-Rich Europe - VICE

Thu, 19 Sep 2019 11:37

As various reports show India approaching 'Day Zero' (the day when a place's taps dry out and people have to stand in line to collect a daily quota of water), a top Indian expert has warned that Indians may soon become ''water refugees'' who'll migrate to water-rich European countries. Rajendra Singh, a Magsaysay-winning conservationist and environmentalist, and popularly known as the ''Waterman of India'', made this statement at the recently-concluded Stockholm International Water Institute.

India is one of the most water-stressed countries in the world, with almost 50 percent of the country facing drought-like situation. In fact, 21 major Indian cities will start running out of groundwater by next year, affecting millions. But Singh adds that as more than 70 percent of aquifers in India dry up, people are going to start migrating westwards unless we fix it. He compared the situation to parched regions in Africa and Asia, from where people have migrated to European states and precipitated political crisis among and within the EU states. He also added that this may disturb the harmony of the world.

''In India, such migration is taking place from villages to cities. However, the current water crisis may lead to such climatic migration in the future to other countries,'' he told The Press Trust of India. In fact, in India, a March 2019 report by the World Resources Institute has warned that the climate change impact will be considerable because of its large population'--at 1.37 billion as of September 18'--depending heavily on environment-sensitive sectors such as agriculture. ''These factors make adaptation critical,'' says the report.

Reports have also shown India is facing horrible droughts and floods, both at the same time. ''This deadly combination of floods and droughts cannot be tackled by providing piped water but only through community-driven water management,'' said Singh. ''The responsibility of providing water to everyone can only be fulfilled if the government collaborates with people at the ground level rather than handing over the work to contractors, whose only interest is to earn benefits or profits.''

However, even though it seems like much is lost, Singh says things can still be fixed. One could be to discontinue the use of mechanised herbicides and pesticides, which are messing with the water aquifer system. Other ways to salvage the crisis, he said, would be to develop water harvesting systems to protect our reservoirs from drying up in the sun. This way, the country can develop reserve banks of water even when there's a drought-like situation. He also stressed on indigenous methods of water management, designed by the local people.

But with the statistics suggesting much is lost, it's safe to say that India is running out of time. ''In fact, we have lost all the time to act,'' said Singh. "A country whose 70 percent aquifers are dry has no time left.''

Follow Pallavi Pundir on Twitter.

STWMA Operations Page

Thu, 19 Sep 2019 11:32

Monthly Summaries for 2019:May 03, 2019 -

Seeding operations were conducted with (7+0H) flares. This is the 1st day for seeding in May and the 1st day for seeding during the season. Operation summary here . May 08, 2019 - Seeding operations were conducted in Atascosa (4+0H), Medina (2+0H) and Wilson (1+0H) Counties. 7 flares and 0 hygroscopic were burned in 2 cells. This is the 2nd day for seeding in May and the 2nd day for seeding during the season.Operation summary here . May 09, 2019 - Seeding operations were conducted in Bandera (8+0H), Frio (2+0H), Medina (10+0H) and Uvalde (2+0H) Counties. 22 flares plus 0 hygroscopic flares were burned within 5 clouds. This is the 3rd day for seeding in May and the 3rd day for seeding during the season. Operation summary here . May 14, 2019 - Seeding operations were conducted in Bandera (6+0H) County. 6 flares plus 0 hygroscopic flares were burned within 1 cloud. This is the 4th day for seeding in May and the 4th day for seeding during the season. Operation summary here . May 15, 2019 - Seeding operations were conducted in Bandera (6+0H) and Uvalde (10+0H) Counties. 16 flares plus 0 hygroscopic flares were burned within 4 cloud. This is the 5th day for seeding in May and the 5th day for seeding during the season. Operation summary here . May 18, 2019 - Seeding operations were conducted in Bandera (4+0H) and Uvalde/Medina/Bandera (16+0H) County. 20 flares plus 0 hygroscopic flares were burned within 1 cloud. This is the 6th day for seeding in May and the 6th day for seeding during the season. Operation summary here . May 30, 2019 - Seeding operations were conducted in Bandera (6+0H), Karnes (16+0H) and Wilson (8+0H) Counties. 30 flares plus 0 hygroscopic flares were burned within 4 clouds. This is the 7th day for seeding in May and the 7th day for seeding during the season. Operation summary here . June 04, 2019 - Seeding operations were conducted in Atascosa (24+0H) and Wilson (2+0H) Counties. 36 flares plus 0 hygroscopic flares were burned within 4 clouds. This is the 1st day for seeding in June and the 8th day for seeding during the season. Operation summary here . June 22, 2019 - Seeding operations were conducted in Wilson (12+0H) County. 12 flares plus 0 hygroscopic flares were burned within 2 clouds. This is the 2nd day for seeding in June and the 9th day for seeding during the season. Operation summary here . June 24, 2019 - Seeding operations were conducted in Atascosa (12+1H) County. 12 flares plus 1 hygroscopic flare were burned within 1 cloud. This is the 3rd day for seeding in June and the 10th day for seeding during the season. Operation summary here . June 26, 2019 - Seeding operations were conducted in Atascosa (6+0H), Frio (12+1H), Karnes (24+2H), Medina(18+0H), Wilson (3+1H) and Uvalde (18+0H) Counties. 81 flares plus 4 hygroscopic flares were burned within 14 clouds. This is the 4th day for seeding in June and the 11th day for seeding during the season. Operation summary here . June 27, 2019 - Seeding operations were conducted in Atascosa (12+0H), Bexar (8+0H), Frio(12+0H), McMullen (4+0H), Uvalde (9+0H) and Wilson (8+0H) Counties. 53 flares plus 0 hygroscopic flares were burned within 6 clouds. This is the 5th day for seeding in June and the 12th day for seeding during the season. Operation summary here . June 28, 2019 - Seeding operations were conducted in Atascosa (14+0H), Karnes (6+0H) and Wilson (6+0H) Counties. 26 flares plus 0 hygroscopic flares were burned within 4 clouds. This is the 6th day for seeding in June and the 13th day for seeding during the season. Operation summary here . June 30, 2019 - Seeding operations were conducted in Bee (10+0H) and McMullen (10+0H) Counties. 20 flares plus 0 hygroscopic flares were burned within 2 clouds. This is the 7th day for seeding in June and the 14th day for seeding during the season. Operation summery here . July 02, 2019 - Seeding operations were conducted in Atascosa (20+0H), Bee (6+0H), Frio (2+0H), Karnes (4+0H) and McMullen (18+0H) Counties. 52 flares plus 0 hygroscopic flares were burned within 6 clouds. This is the 1st day for seeding in July and the 15th day for seeding during the season. Operation summary here. July 03, 2019 - Seeding operations were conducted in Atascosa (18+0H), Bee (20+0H), Frio (10+0H), Karnes (8+0H), McMullen (8+0H) and Wilson (6+0H) Counties. 70 flares plus 0 hygroscopic flares were burned within 7 clouds. This is the 2nd day for seeding in July and the 16th day for seeding during the season. Operation summary here . July 12, 2013 - Seeding operations were conducted in Bandera (10+0H) and Uvalde (10+0H) Counties. 20 flares plus 0 hygroscopic flares were burned within 2 clouds. This is the 3nd day for seeding in July and the 17th day for seeding during the season. Operation summary here . July 14, 2019 - Seeding operations were conducted in Atascosa (12+0H), Bee (20+0H), McMullen (6+0H) Counties. 38 flares plus 0 hygroscopic flares were burned within 6 clouds. This is the 4th day for seeding in July and the 18th day for seeding during the season. Operation summary here . July 15, 2019 - Seeding operations were conducted in Bandera (8+0H) County. 8 flares plus 0 hygroscopic flares were burned within 1 cloud. This is the 5th day for seeding in July and the 19th day for seeding during the season. Operation summary here . July 22, 2019 - Seeding operations were conducted in Atascosa (2+0H), Bee (6+0H), McMullen (10+0H) and Wilson (8+0H) Counties. 26 flares plus 0 hygroscopic flares were burned within 4 clouds. This is the 6th day for seeding in July and the 20th day for seeding during the season. Operation summary here . August 04, 2019 - Seeding operations were conducted in Bee (6+0H) County. 6 flares plus 0 hygroscopic flares were burned within 1 cloud. This is the 1st day for seeding in August and the 21st day for seeding during the season. Operation summary here . August 05, 2019 - Seeding operations were conducted in Bee (8+0H) County. 8 flares plus 0 hygroscopic flares were burned within 1 cloud. This is the 2nd day for seeding in August and the 22nd day for seeding during the season. Operation summary here . August 14, 2019 - Seeding operations were conducted in Bexar (4+0H), Bandera (4+0H) and Uvalde (8+0H) Counties. 16 flares plus 0 hygroscopic flares were burned within 2 clouds. This is the 3rd day for seeding in August and the 23rd day for seeding during the season. Operation summary here . August 15, 2019 - Seeding operations were conducted in Bandera (10+0H), Medina (8+0H) and Uvalde (18+0H) Counties. 36 flares plus 0 hygroscopic flares were burned within 5 clouds. This is the 4th day for seeding in August and the 24th day for seeding during the season. Operation summary here . August 22, 2019 - Seeding operations were conducted in Atascosa (2+0H) and McMullen (10+0H) Counties. 12 flares plus 0 hygroscopic flares were burned within 2 clouds. This is the 5th day for seeding in August and the 25th day for seeding during the season. Operation summary here . August 23, 2019 - Seeding operations were conducted in Atascosa (6+0H), Bandera (10+0H), Karnes (8+0H) and Uvalde (14+0H) Counties. 38 flares plus 0 hygroscopic flares were burned within 6 clouds. This is the 6th day for seeding in August and the 26th day for seeding during the season. Operation summary here . August 24, 2019 - Seeding operations were conducted in Atascosa (12+0H), Frio (6+0H), Medina (10+0H), McMullen (12+0H), Uvalde (10+0H) and Wilson (8+0H) Counties. 58 flares plus 0 hygroscopic flares were burned within 9 clouds. This is the 7th day for seeding in August and the 27th day for seeding during the season. Operation summary here . August 25, 2019 - Seeding operations were conducted in Bee (2+0H) County. 2 flares plus 0 hygroscopic flares were burned within 1 cloud. This is the 8th day for seeding in August and the 28th day for seeding during the season. Operation summary here . September 01, 2019 - Seeding operations were conducted in Bandera (4+0H) and Medina (16+0H) Counties. 20 flares plus 0 hygroscopic flares were burned within 3 clouds. This is the 1st day for seeding in September and the 29th day for seeding during the season. Operation summary here. September 05, 2019 - Seeding operations were conducted in Bandera (26+0H) and Uvalde (24+0H) Counties. 50 flares plus 0 hygroscopic flares were burned within 7 clouds. This is the 2nd day for seeding in September and the 30th day for seeding during the season. Operation summary here . September 09, 2019 - Seeding operations were conducted in Atascosa (20+0H), Bee (8+0H), Bexar (6+0H), Frio (8+0H), Karnes (6+0H), McMullen (4+0H), Medina (18+0H) and Wilson (8+0H) Counties. 78 flares plus 0 hygroscopic flares were burned within 11 clouds. This is the 3rd day for seeding in September and the 31st day for seeding during the season. Operation summary here . September 10, 2019 - Seeding operations were conducted in Atascosa (4+0H), Bee (34+0H), Karnes (4+0H), McMullen (8+0H), Medina (24+0H) and Uvalde (42+0H) Counties. 116 flares plus 0 hygroscopic flares were burned within 12 clouds. This is the 4th day for seeding in September and the 32nd day for seeding during the season. Operation summary here . All data, documents, and images on this site are property of the South Texas Weather

Modification Association. No one may use, modify, edit, or duplicate any data, documents, or images unless granted by written permission from the Chairman or webmaster.

Talk Dutch to me (in Amerika) - NRC

Thu, 19 Sep 2019 11:23

'Waarom leer je Nederlands? Is dat niet zonde van de tijd?'' Dat wordt mij vaak gevraagd '' vooral door Duitsers, mijn landgenoten, maar ook door Nederlanders. Eerder werkte ik via een uitwisselingsproject een aantal maanden in Nederland en de afgelopen tijd woonde en werkte ik in Berkeley, vlakbij San Francisco. Gek genoeg ontmoette ik daar in de Bay Area gelijkgestemden: niet-Nederlanders die het leuk vinden om Nederlands te spreken. De meesten zijn Amerikaans staatsburger met roots in Suriname, Cura§ao, Indonesi, Colombia of Iran '' kortom, de hele wereld.

Rick Sutedja (60) bijvoorbeeld, tandarts in Fremont, is in Indonesi opgegroeid. Zijn ouders gingen in Indonesi naar een Nederlandse school en spraken naast Indonesisch vaak Nederlands tegen hun drie kinderen. Meer dan 40 jaar geleden, nadat zijn moeder was overleden en zijn vader hertrouwde, verhuisde Sutedja naar de Verenigde Staten. Daarna sprak hij decennia lang geen Nederlands meer '' tot hij drie jaar geleden op vakantie in Amsterdam was.

'žOp een avond had ik een ongeluk: ik had een beetje veel gedronken en brak mijn enkel'', vertelt Sutedja. Hij moest drie dagen op zijn hotelkamer blijven, en had niets te doen behalve tv-kijken. 'žIk merkte dat ik nog heel veel Nederlands begreep.'' Hij begon opnieuw Nederlands te leren, 'žook als herinnering aan mijn ouders. Want als ik Nederlands hoor, dan voel ik me veilig en thuis.'' In de hele Bay Area was geen avondcursus Nederlands te vinden, hij oefent met een onlinecursus. Des te belangrijker is het voor hem om met andere mensen te oefenen.

Als je een taal niet gebruikt, vergeet je het

Renee Bakker

In augustus 2016 kwam hij op het internet Maarten van Horenbeeck tegen, een Belgische deskundige in IT-veiligheid die al meer dan tien jaar in de VS werkt. Horenbeeck had een groep opgericht, de 'San Francisco Dutch and Flemish Language and Culture Meetup' '' Meetup is een sociaalnetwerksite om bijeenkomsten te organiseren, van wandeltochtgroepjes tot mensen die samen ukulele spelen. Horenbeecks Nederlandstalige groep heeft intussen ruim 400 leden.

Amerikanen met Nederlandse rootsVolgens het American Community Survey 2013 hebben zo'n 4,1 miljoen Amerikanen Nederlandse voorouders. In Californi wonen meer dan 420.000 Amerikanen van Nederlandse afkomst, schrijft de Nederlandse ambassade in de VS op haar website '' dat is 1 procent van de Californische bevolking.

Een avond per maand komen zo'n vijf tot twintig leden van de Meetup-groep samen in het Belgische restaurant La Trappe in het noordoosten van San Francisco. Beneden, in het gezellige bierkeldertje plaatst Renee Bakker een paar kleine vlaggetjes op tafel '' die van Nederland, Belgi en Aruba. Die zijn het identificatiekenmerk van de Nederlandstalige Meetup-groep; Bakker, die Horenbeeck helpt de bijeenkomsten te organiseren, wil zeker zijn dat nieuwe leden hen kunnen vinden in het drukke restaurant. Bakker studeert elektrotechniek, ze is de dochter van een Nederlandse moeder uit Zaandam en een Creoolse vader uit New Orleans. Ze is tweetalig met Engels en Nederlands opgegroeid. Haar moeder was lange tijd de enige in de VS met wie ze Nederlands sprak. 'žAls je een taal niet gebruikt, vergeet je het. Ik heb in de afgelopen jaren wel een Amerikaans accent gekregen. Dat vind ik echt vervelend.'' Met andere mensen Nederlands praten is voor haar de belangrijkste reden om naar de bijeenkomsten te komen, dat het ondertussen ook heel gezellig is, is mooi meegenomen.

Nederlands is gestructureerder dan Engels

Jared Boddum

Bakker organiseert allerlei bijeenkomsten: vrijdagmiddagborrels, avonden met Nederlandse films en het kijken van voetbalwedstrijden. Ze scant het internet op evenementen in de Bay Area die met Nederland te maken hebben, zoals lezingen van Nederlandse auteurs of disco-avonden met Nederlandse dj's. Natuurlijk hoort ook het samen vieren van Koningsdag en Sinterklaas erbij.

Zoeken naar Nederlandse woorden Vanavond zijn twaalf taalliefhebbers in La Trappe bijeengekomen. In groepjes van twee tot vier kletsen ze in het Nederlands met elkaar, op verschillende taalniveaus en met verschillende accenten. Omdat er ook beginners aan tafel zitten of mensen die alleen af en toe Nederlands praten, hoor je de meesten behoorlijk zoeken naar Nederlandse woorden. Er klinkt veel Engels tussendoor, zelfs bij de met Nederlands opgegroeide Horenbeeck en Bakker.

Maar het gestuntel maakt niet uit. Mensen vertellen over hun werk of hun vakanties naar Europa. Nieuwelingen in de groep wordt gevraagd waarom ze Nederlands spreken. Het is een gezellig rondje en er wordt hard gelachen.

Een aantal deelnemers zou graag in Nederland willen wonen en werken. Zoals architect Andres Lopez (30), die oorspronkelijk uit Colombia komt. In 2013 liep hij een jaar stage bij de Nederlandse architect Ben van Berkel in Amsterdam. Nu wil hij graag weer terug, en blijft daarom werken aan zijn taalkennis. 'žAlles wat met het Nederlands heeft te maken, brengt een glimlach op mijn gezicht'', zegt hij.

Niet te complex, niet te simpelJared Boddum (32) uit Berkeley daarentegen was slechts een paar weken in Nederland op vakantie en zou nooit naar Nederland willen verhuizen. 'žMijn familie en mijn werk zijn hier.'' Boddum sprak al Duits, Frans, Chinees en Spaans toen hij in 2011 besloot om Nederlands te leren. Hij was zijn baan kwijtgeraakt en hoorde over een Nederlandse voltijdsopleiding aan de universiteit van Berkeley. 'žIk dacht dat dat leuk zou zijn. Ik wist toen niet dat de taal zo'n groot deel van mijn leven zou gaan uitmaken'', zegt hij. Hij heeft er zijn beroep van gemaakt, en werkt als vertaler Nederlands-Engels. 'žIk hou van de taal omdat die zo direct is. Nederlands is gestructureerder dan Engels, niet te complex en niet te simpel.'' Intussen leerde hij ook nog Italiaans en Portugees.

Boddums Nederlands is na acht jaar met de taal omgaan inmiddels vloeiend '' om jaloers op te zijn. Om zijn kennis op peil te houden leest hij veel in het Nederlands. Na ons gesprek vraagt hij om de opname, om zijn antwoorden op mijn vragen te analyseren.

Er zijn dus allerlei manieren om de Nederlandse taal te oefenen en te verbeteren. In San Francisco heb je in ieder geval veel keuze. En als je in de VS een vreemde taal leert, vraagt niemand of dat niet zonde van de tijd is.

Een versie vandit artikelverscheen ook in

NRC Handelsbladvan 19 september 2019Een versie vandit artikelverscheen ook in

nrc.nextvan 19 september 2019

Justin Trudeau brownface photo surfaces ahead of Canada election - Axios

Thu, 19 Sep 2019 11:18

Why it matters: Trudeau, who has celebrated Canada's diversity throughout his tenure as prime minister, recently triggered a general election scheduled for Oct. 21. It will effectively be a referendum on Trudeau's first term, Axios' Dave Lawler notes.

An ethics scandal and unfulfilled expectations mean it's far from certain he'll win a new term. Polls show his Liberals neck and neck with the opposition Conservatives.What he's saying: While taking reporters' questions, Trudeau repeatedly said he's "pissed off" at himself and sorry to Canadians.

QuoteI dressed up in an Aladdin costume and put makeup on. I shouldn't have done it. I should have known better, but I didn't and I'm really sorry."'-- Canadian Prime Minister Trudeau's comments to reportersWhen asked if it was the only time he'd done something like this, Trudeau responded: "When I was in High School I dressed up at a talent show and sang "Day O" with makeup on.""Day O" is a song by Harry Belafonte.When asked if the photo was racist, Trudeau responded: "Yes." He added that he "didn't consider it a racist action at the time," but has since realized he was wrong.The big picture: The photo that Time published earlier Wednesday taken at the Arabian Nights gala appeared in the school's yearbook. Trudeau was 29 at the time and a teacher at the private school where the event was being held. The now-prime minister can be seen wearing a turban, robes and makeup to darken his skin.

The school, West Point Grey Academy, ranges in tuition from $22,000 to $23,000 annually '-- making it one of the "most expensive private day schools in Vancouver," according to TIME. During his first campaign, Trudeau played down his role at the school, opting instead to tout his time teaching at a public school.While the photo was previously unreported, TIME notes it has been the "subject of gossip within the West Point Grey community."Go deeper: The Gridiron Club's blackface past

Editor's note: This article has been updated with Canadian Prime Minister Justin Trudeau's comments

Sandy Hook Promise foundation releases ad about school shootings as US school year starts - ABC News (Australian Broadcasting Corporation)

Thu, 19 Sep 2019 11:17

A graphic public service announcement has marked the start of back-to-school season in the United States with a stark reminder about the prevalence and horror of school shootings.

Key points:The Sandy Hook Promise foundation was started by the parents of children killed in the 2012 shootingThe video starts as a 'back to school' style ad but quickly becomes a graphic PSA about school shootingsThe brother of one of the victims is now a state Senate candidate and criticised the adIn 2012, 26 people, including 20 children aged between six and seven, were gunned down at Sandy Hook Elementary School.

The Sandy Hook Promise foundation was started by the parents of some of the victims, and now, seven years on, the foundation has released an advertisement that starts as a typical ad about school supplies, but quickly morphs into a PSA about school shootings.

The ad starts with two students talking about a new bag and binders they have for the start of the school year '-- fitting for the accompanying tweet that reads "Survive the school year with these must-have #BackToSchool essentials".

A third child is sitting in a library, talking about his new headphones when people start running out of the room.

Photo Twenty children and six adults died in the 2012 shooting. Reuters: Carlo Allegri The next shot shows a boy running through the halls.

"These new sneakers are just what I need for the new year," he says to camera, as gun shots are heard and people start panicking behind him.

A girl ties a door shut while telling the audience "this jacket is a real must-have", before another student shows off his new skateboard, smashing a window with it, and allowing other students to run away.

A boy and a girl are seen hiding in a dark classroom with scissors and pencils that "come in handy in art class" held like self-defence weapons.

The most graphic shot of the minute-long video shows two students sitting behind a wall, one of whom is clutching at a bloody leg.

Photo The PSA has been watched millions of times across various online platforms. YouTube: Sandy Hook Promise "These new socks, they can be a real lifesaver," the other says as she uses one as a tourniquet on the other student's thigh.

The final shot of the ad shows a girl hiding in a toilet cubicle, crying as she texts "I love you mom".

"And I finally got my own phone to stay in touch with my mum," she says, before the bathroom door is heard opening and footsteps come into the room.

The ad ends with a message that "school shootings are preventable when you know the signs", echoing the foundation's mission "to create a culture engaged in preventing shootings, violence, and other harmful acts in schools".

Brother of victim says ad should not have been made Photo The Sandy Hook Promise foundation was started and is run by parents of students who were killed. YouTube: Sandy Hook Promise Unsurprisingly with a topic as divisive as gun safety is in the US, the response to the ad has been mixed across the millions of people who have watched it on Twitter, Instagram and/or YouTube.

Democratic presidential contenders Pete Buttigieg and Elizabeth Warren tweeted their support of the ad and its message

"Years have passed, yet the only thing Washington politicians do consistently is fail to deliver," Mr Buttigieg wrote.

Sandy Hook 'truthers' Families of America's gun massacre victims are being stalked by conspiracy theorists and "gun truthers" who claim the atrocities never happened."We owe it to our children to give them back their childhoods. We need leaders ready to deliver that change now."

While Ms Warren said: "Our children shouldn't have to live like this. If we want to end the gun violence epidemic, we need to make big, structural change."

But others were less impressed.

JT Lewis, whose six-year-old brother Jesse died in the Sandy Hook shooting and who is now running for the state Senate seat that encompasses Newtown, said the ad was irresponsible.

"Sandy Hook Promise should NOT use graphic images of a school shooting to get PR attention. Remember, that's how the media creates copycat shooters!" he wrote on Twitter.

"Having lost a brother in the Sandy Hook shooting, I want it to be clear that the 'Sandy Hook Promise' doesn't speak for me!" he added.

"The organization is run by 2 families of victims, but most of us stay far away. They don't make that clear. We had to write a joint statement at one point."

The shooting became one of the biggest flashpoints for the conversation around gun control and gun safety in the US, bringing then-president Barack Obama to tears during a press conference.

Photo Barack Obama's press conference after Sandy Hook emphasised the horror of the shooting. Reuters: Larry Downing

USA Freedom Act - Wikipedia

Thu, 19 Sep 2019 11:15

This summary is based largely on the summary provided by the Congressional Research Service, a public domain source.[27]

Title I: FISA Business Records Edit Section 101 amends the Foreign Intelligence Surveillance Act of 1978 (FISA) to establish a new process to be followed when the Federal Bureau of Investigation (FBI) submits an application to a FISA court for an order requiring the production of business records or other tangible things for an investigation to obtain foreign intelligence information not concerning a U.S. person or to protect against international terrorism or clandestine intelligence activities.

Prohibits the FBI from applying for a tangible thing production order unless a specific selection term is used as the basis for the production. Maintains limitations under current law that prohibit the FBI from applying for tangible thing production orders for threat assessments.

Establishes two separate frameworks for the production of tangible things with different standards that apply based on whether the FBI's application seeks.

Defines "call detail record" as session identifying information (including an originating or terminating telephone number, an International Mobile Subscriber Identity number, or an International Mobile Station Equipment Identity number), a telephone calling card number, or the time or duration of a call.

Requires the FBI, in applications for ongoing production of call detail records for investigations to protect against international terrorism, to show: (1) reasonable grounds to believe that the call detail records are relevant to such investigation; and (2) a reasonable, articulable suspicion that the specific selection term is associated with a foreign power or an agent of a foreign power engaged in international terrorism or activities in preparation for such terrorism.

Requires a judge approving such an ongoing release of call detail records for an investigation to protect against international terrorism.

Allows a FISA court to approve other categories of FBI requests for the production of call detail records or tangible things (i.e., FBI call detail record and tangible thing applications that do not seek ongoing production of call detail records created before, on, or after the date of an application relating to an authorized investigation to protect against international terrorism) without subjecting the production to: (1) the reasonable, articulable suspicion standard for an association with a foreign power or an agent of a foreign power; (2) the 180-day or the two-hop limitation; or (3) the special minimization procedures that require prompt destruction of produced records only if the order approves an ongoing production of call detail records for investigations to protect against international terrorism.

Section 102 authorizes the Attorney General to require the emergency production of tangible things without first obtaining a court order if the Attorney General: (1) reasonably determines that an emergency situation requires the production of tangible things before an order authorizing production can be obtained with due diligence, (2) reasonably determines that a factual basis exists for the issuance of such a production order, (3) informs a FISA judge of the decision to require such production at the time the emergency decision is made, and (4) makes an application to a FISA judge within seven days after the Attorney General requires such emergency production.

Terminates the authority for such emergency production of tangible things when the information sought is obtained, when the application for the order is denied, or after the expiration of seven days from the time the Attorney General begins requiring such emergency production, whichever is earliest.

Prohibits information obtained or evidence derived from such an emergency production from being received in evidence or disclosed in any proceeding in or before any court, grand jury, agency, legislative committee, or other authority of the United States, any state, or any political subdivision if: (1) the subsequent application for court approval is denied, or (2) the production is terminated and no order is issued approving the production. Bars information concerning any U.S. person acquired from such production from being used or disclosed in any other manner by federal officers or employees without the consent of such person, except with approval of the Attorney General if the information indicates a threat of death or serious bodily harm.

Section 103 requires FISA court orders approving the production of tangible things to include each specific selection term used as the basis for such production. Prohibits FISA courts from authorizing the collection of tangible things without the use of a specific selection term.

Section 104 requires a FISA court, as a condition to approving an application for a tangible thing production order, to find that the minimization procedures submitted with the application meet applicable FISA standards. Authorizes the court to impose additional minimization procedures.

Allows a nondisclosure order imposed in connection with a tangible thing production order to be challenged immediately by filing a petition for judicial review. Removes a requirement that a judge considering a petition to modify or set aside a nondisclosure order treat as conclusive a certification by the Attorney General, the Deputy Attorney General, an Assistant Attorney General, or the FBI Director that disclosure may endanger national security or interfere with diplomatic relations.

Section 105 extends liability protections to persons who provide information, facilities, or technical assistance for the production of tangible things.

Section 106 requires the government to compensate a person for reasonable expenses incurred in producing tangible things or providing technical assistance to the government to implement production procedures.

Section 108 amends the USA PATRIOT Improvement and Reauthorization Act of 2005 to require the Inspector General of the Department of Justice to audit the effectiveness and use of FISA authority to obtain production of tangible things from 2012 to 2014, including an examination of whether minimization procedures adopted by the Attorney General adequately protect the constitutional rights of U.S. persons. Directs the Inspector General of the Intelligence Community, for the same 2012''2014 period, to assess: (1) the importance of such information to the intelligence community; (2) the manner in which such information was collected, retained, analyzed, and disseminated; and (3) the adequacy of minimization procedures, including an assessment of any minimization procedures proposed by an element of the intelligence community that were modified or denied by the court.

Requires such Inspectors General to report to Congress regarding the results of such audit and assessment.

Section 109 requires amendments made by this Act to FISA's tangible thing requirements to take effect 180 days after enactment of this Act. Prohibits this Act from being construed to alter or eliminate the government's authority to obtain an order under the tangible things requirements of FISA as in effect prior to the effective date of such amendments during the period ending on such effective date.

Section 110 prohibits this Act from being construed to authorize the production of the contents of any electronic communication from an electronic communication service provider under such tangible thing requirements.

Title II: FISA Pen Register and Trap and Trace Device Reform Edit Section 201 requires the government's FISA applications for orders approving pen registers or trap and trace devices to include a specific selection term as the basis for the use of the register or device. Prohibits broad geographic regions or an identification of an electronic communications service or a remote computing service from serving as such selection term.

Section 202 directs the Attorney General to ensure that appropriate privacy procedures are in place for the collection, retention, and use of nonpublicly available information concerning U.S. persons that is collected through a pen register or trap and trace device installed with FISA court approval.

Title III: FISA Acquisitions Targeting Persons Outside the United States Reforms Edit Section 301 limits the government's use of information obtained through an authorization by the Attorney General and the Director of National Intelligence (DNI) to target non-U.S. persons outside the United States if a FISA court later determines that certain targeting or minimization procedures certified to the court are unlawful.

Prohibits information obtained or evidence derived from an acquisition pursuant to a part of a targeting certification or a related minimization procedure that the court has identified as deficient concerning a U.S. person from being received in evidence or otherwise disclosed in any proceeding in or before any court, grand jury, agency, legislative committee, or other authority of the United States, any state, or any political subdivision.

Bars information concerning any U.S. person acquired pursuant to a deficient part of a certification from being used or disclosed subsequently in any other manner by federal officers or employees without the consent of the U.S. person, except with approval of the Attorney General if the information indicates a threat of death or serious bodily harm.

Allows a FISA court, if the government corrects the deficiency, to permit the use or disclosure of information obtained before the date of the correction.

Title IV: Foreign Intelligence Surveillance Court Reforms Edit Section 401 directs the presiding judges of the FISA court and the FISA court of review to jointly designate at least five individuals to serve as amicus curiae to assist in the consideration of any application for an order or review that presents a novel or significant interpretation of the law, unless the court finds that such appointment is not appropriate.

Permits FISA courts to appoint an individual or organization to serve as amicus curiae in other instances, including to provide technical expertise. Requires such amicus curiae to provide: (1) legal arguments that advance protection of individual privacy and civil liberties, or (2) other legal arguments or information related to intelligence collection or communications technology.

Allows the FISA court of review to certify a question of law to be reviewed by the Supreme Court. Permits the Supreme Court to appoint FISA amicus curiae or other persons to provide briefings or other assistance upon such a certification.

Section 402 requires the DNI to: (1) conduct a declassification review of each decision, order, or opinion issued by the FISA court or the FISA court of review that includes a significant construction or interpretation of any provision of law, including any novel or significant construction or interpretation of "specific selection term" as defined in this Act; and (2) make such decisions, orders, or opinions publicly available to the greatest extent practicable, subject to permissible redactions.

Authorizes the DNI to waive such review and public availability requirements if: (1) a waiver is necessary to protect the national security of the United States or properly classified intelligence sources or methods, and (2) an unclassified statement prepared by the Attorney General is made publicly available to summarize the significant construction or interpretation of law.

Title V: National Security Letter Reform Edit Section 501 amends the federal criminal code, the Right to Financial Privacy Act, and the Fair Credit Reporting Act to require the FBI and other government agencies to use a specific selection term as the basis for national security letters that request information from wire or electronic communication service providers, financial institutions, or consumer reporting agencies. Requires the government to identify: (1) a person, entity, telephone number, or account for requests for telephone toll and transactional records; (2) a customer, entity, or account when requesting financial records for certain intelligence or protective functions; or (3) a consumer or account when requesting consumer reports for counterintelligence or counterterrorism purposes.

Revises standards under which the government can prohibit recipients of national security letters from disclosing to anyone that the government has sought or obtained access to the requested information.

Section 502 directs the Attorney General to adopt procedures for imposed nondisclosure requirements, including requirements under the National Security Act of 1947, to be reviewed at appropriate intervals and terminated if facts no longer support nondisclosure.

Removes a requirement that the court treat as conclusive a certification by the Attorney General, the Deputy Attorney General, an Assistant Attorney General, or the FBI Director that disclosure may endanger U.S. national security or interfere with diplomatic relations.

Section 503 allows national security letter recipients to challenge national security letter requests or nondisclosure requirements under modified procedures for filing a petition for judicial review.

Title VI: FISA Transparency and Reporting Requirement Edit Section 601 requires the Attorney General to expand an annual report to Congress regarding tangible thing applications to include a summary of compliance reviews and the total number of: (1) applications made for the daily production of call detail records created before, on, or after the date of an application relating to an authorized investigation to protect against international terrorism; and (2) orders approving such requests.

Directs the Attorney General to report to Congress annually regarding tangible things applications and orders in which the specific selection term does not specifically identify an individual, account, or personal device. Requires the report to indicate whether the court approving such orders has directed additional, particularized minimization procedures beyond those adopted by the Attorney General.

Section 602 Directs the Administrative Office of the U.S. Courts to submit annually to Congress the number of: (1) FISA applications submitted and orders granted, modified, or denied under specified FISA authorities; and (2) appointments of an individual to serve as amicus curiae for FISA courts, including the name of each appointed individual, as well as any findings that such an appointment is not appropriate. Makes the report subject to a declassification review by the Attorney General and the DNI.

Directs the DNI to make available publicly a report that identifies, for the preceding 12-month period, the total number of: (1) FISA court orders issued for electronic surveillance, physical searches, the targeting of persons outside the United States, pen registers and trap and trace devices, call detail records, and other tangible things; and (2) national security letters issued.

Requires the DNI's reports to include the estimated number of: (1) targets of certain FISA orders, (2) search terms and queries concerning U.S. persons when the government retrieves information from electronic or wire communications obtained by targeting non-U.S. persons outside the United States, (3) unique identifiers used to communicate certain collected information, and (4) search terms concerning U.S. persons used to query a database of call detail records. Exempts certain queries by the FBI from such estimates.

Section 603 permits a person who is subject to a nondisclosure requirement accompanying a FISA order, directive, or national security letter to choose one of four methods to report publicly, on a semiannual or annual basis, the aggregate number of orders, directives, or letters with which the person was required to comply. Specifies the categories of orders, directives, and letters to be itemized or combined, the details authorized to be included with respect to contents or noncontents orders and the number of customer selectors targeted, and the ranges within which the number of orders, directives, or letters received may be reported aggregately in bands under each permitted method (i.e., reported in bands of 1000, 500, 250, or 100 depending on the chosen method).

Requires the information that may be included in certain aggregates to be delayed by 180 days, one year, or 540 days depending on the chosen reporting method and whether the nondisclosure requirements are contained in a new order or directive concerning a platform, product, or service for which the person did not previously receive an order or directive.

Section 604 expands the categories of FISA court decisions, orders, or opinions that the Attorney General is required to submit to Congress within 45 days after issuance of the decision to include: (1) a denial or modification of an application under FISA; and (2) a change of the application, or a novel application, of any FISA provision. (Currently i.e. as of May 13, 2015, the Attorney General is only required to submit only decisions regarding a significant construction or interpretation of any FISA provision.)

Section 605 revises reporting requirements regarding electronic surveillance, physical searches, and tangible things to include the House Judiciary Committee as a recipient of such reports.

Requires the Attorney General to identify in an existing semiannual report each agency on behalf of which the government has applied for orders authorizing or approving the installation and use of pen registers or trap and trace devices under FISA.

Title VII: Enhanced National Security Provisions Edit Section 701 establishes procedures for a lawfully authorized targeting of a non-U.S. person previously believed to be located outside the United States to continue for a period not to exceed 72 hours from the time that the non-U.S. person is reasonably believed to be located inside the United States. Requires an element of the intelligence community, as a condition to exercising such authority, to: (1) determine that a lapse in the targeting poses a threat of death or serious bodily harm; (2) notify the Attorney General; and (3) request, as soon as practicable, the employment of emergency electronic surveillance or emergency physical search under appropriate FISA standards.

Section 702 expands the definition of "agent of a foreign power" to include a non-U.S. person who: (1) acts in the United States for or on behalf of a foreign power engaged in clandestine intelligence activities in the United States contrary to U.S. interests or as an officer, employee, or member of a foreign power, irrespective of whether the person is inside the United States; or (2) knowingly aids, abets, or conspires with any person engaging in an international proliferation of weapons of mass destruction on behalf of a foreign power or conducting activities in preparation for such proliferation.

Section 704 Increases from 15 to 20 years the maximum penalty of imprisonment for providing material support or resources to a foreign terrorist organization in cases where the support does not result in the death of any person.

Section 705 amends the USA PATRIOT Improvement and Reauthorization Act of 2005 and the Intelligence Reform and Terrorism Prevention Act of 2004 to extend until December 15, 2019, FISA authorities concerning: (1) the production of business records, including call detail records and other tangible things; (2) roving electronic surveillance orders; and (3) a revised definition of "agent of a foreign power" that includes any non-U.S. persons who engage in international terrorism or preparatory activities (commonly referred to as the "lone wolf" provision). (Currently i.e. as of May 13, 2015, such provisions are scheduled to expire on June 1, 2015.)

Title VIII: Safety of Maritime Navigation and Nuclear Terrorism Conventions Implementation Edit Subtitle A: Safety of Maritime Navigation Edit Section 801 amends the federal criminal code to provide that existing prohibitions against conduct that endangers the safe navigation of a ship: (1) shall apply to conduct that is committed against or on board a U.S. vessel or a vessel subject to U.S. jurisdiction, in U.S. territorial seas, or by a U.S. corporation or legal entity; and (2) shall not apply to activities of armed forces during an armed conflict or in the exercise of official duties.

Sets forth procedures regarding the delivery of a person who is suspected of committing a maritime navigation or fixed platform offense to the authorities of a country that is a party to the Convention for the Suppression of Unlawful Acts against the Safety of Maritime Navigation.

Subjects property used or intended to be used to commit or to facilitate the commission of a maritime navigation offense to civil forfeiture.

Section 802 prohibits: (1) using in or on a ship or a maritime fixed platform any explosive or radioactive material, biological, chemical, or nuclear weapon, or other nuclear explosive device in a manner likely to cause death or serious injury or damage when the purpose is to intimidate a population or to compel a government or international organization to act or abstain from acting; (2) transporting on board a ship such material or device (or certain related material or technology) that is intended for such use, with specified exceptions; (3) transporting on board a ship a person known to have committed a maritime navigation offense intending to assist such person to evade prosecution; (4) injuring or killing any person in connection with such an offense; or (5) conspiring, attempting, or threatening to commit such an offense. Sets forth: (1) the circumstances in which the United States can exercise jurisdiction over such offenses, and (2) exceptions applicable to activities of the armed forces. Provides for civil forfeiture of property used to commit or to facilitate a violation.

Section 805 includes offenses involving violence against maritime navigation and maritime transport involving weapons of mass destruction within the definition of "federal crime of terrorism."

Subtitle B: Prevention of Nuclear Terrorism Edit Section 811 prohibits anyone, knowingly, unlawfully, and with intent to cause death, serious bodily injury, or substantial damage to property or the environment, from: (1) possessing radioactive material or making or possessing a nuclear explosive device or a radioactive material dispersal or radiation-emitting device; (2) using radioactive material or a device, using, damaging, or interfering with the operation of a nuclear facility in a manner that causes or increases the risk of the release of radioactive material, or causing radioactive contamination or exposure to radiation; or (3) threatening, attempting, or conspiring to commit such an offense. Sets forth: (1) the circumstances in which the United States can exercise jurisdiction over such offenses, and (2) exceptions applicable to activities of the armed forces.

Includes such offenses within the definition of "federal crime of terrorism."

Section 812 amends provisions prohibiting transactions involving nuclear materials to: (1) prohibit, intentionally and without lawful authority, carrying, sending, or moving nuclear material into or out of a country; and (2) establish an exception for activities of the armed forces.

113th Congress (2013''14) Edit The House version, introduced by Representative Jim Sensenbrenner as HR 3361,[28] was referred to the United States House Judiciary Subcommittee on Crime, Terrorism, Homeland Security and Investigations January 9, 2014,[29] and the Senate version,[30] introduced by Senator Patrick Leahy, was read twice and referred to the Senate Committee on the Judiciary.[29] An amended version out of the House Judiciary Committee contained many provisions raising concerns among civil libertarians[31] including an extension of the controversial USA PATRIOT Act through the end of 2017.[32][33] After considering the bill throughout 2014,[34] the Senate voted on November 18, 2014, to end further discussion of the measure during the 113th United States Congress.[35]

The bill comprised several provisions: FISA business records reforms, FISA pen register and trap and trace device reforms, FISA acquisitions targeting persons outside the United States reforms, Foreign Intelligence Surveillance Court reforms, Office of the Special Advocate, National Security Letter reforms, FISA and National Security Letter transparency reforms, and Privacy and Civil Liberties Oversight Board subpoena authority.[36]

Markup in House Judiciary Committee Edit In May 2014, the U.S. House Judiciary Committee posted a "Manager's Amendment" on its website. Title VII of the Amendment read "Section 102(b)(1) of the USA Patriot Improvement and Reauthorization Act of 2005 (50 U.S.C. 1805 note) is amended by striking "June 1, 2015" and inserting "December 31, 2017," extending the controversial USA PATRIOT Act through the end of 2017.[37]

The National Journal wrote "one tech lobbyist noted concern that a provision that would have allowed companies to disclose to customers more information about government data requests has been dropped. In addition, an external special advocate that would oversee the Foreign Intelligence Surveillance Court would no longer be selected by the Privacy and Civil Liberties Oversight Board. Instead, the court's judges would designate five 'amicus curiae' who possess appropriate security clearances."[38]

The Electronic Frontier Foundation (EFF) stated it remained "concerned that this bill omits important transparency provisions found in the (original 2013) USA FREEDOM Act, which are necessary to shed light on surveillance abuses." In addition, the EFF said it believed "this bill should do more to address mass surveillance under Section 702 of Foreign Intelligence Surveillance Amendments Act, a section of law used to collect the communications of users worldwide."[39] The Open Technology Institute commented "several other key reforms'--such as provisions allowing Internet and phone companies to publish more information about the demands they receive, which OTI and a coalition of companies and organizations have been pressing for since last summer'--have been removed, while the bill also provides for a new type of court order that the President has requested, allowing for continuous collection by the government of specified telephone records".[40]

Despite the criticism from civil liberties groups, Mike Rogers, a defender of the NSA's surveillance practices and the chairman of the House Intelligence Committee, praised the amendments. Rogers, who had his own bill which would codify the NSA's surveillance practices in to law, called the proposed amendments a "huge improvement." Foreign Policy wrote "any compromise to the Judiciary bill risks an insurrection from civil libertarians in Congress. Michigan Republican Justin Amash led such a revolt last year when he offered an NSA amendment to a defense appropriations bill that would have stripped funding for the NSA's collection program." "Just a weakened bill or worse than status quo? I'll find out," Representative Amash said.[41]

After the marked up bill passed the House Judiciary Committee USA Freedom Act co-author and Senate Committee on the Judiciary Chairman Patrick Leahy commented that he "remain concerned that the legislation approved today does not include some of the important reforms related to national security letters, a strong special advocate at the FISA Court, and greater transparency. I will continue to push for those reforms when the Senate Judiciary Committee considers the USA Freedom Act this summer."[34]

Passage in House of Representatives Edit The House of Representatives passed on May 22, 2014 the USA Freedom act by 303 votes to 121.[42] Because the House version was weakened by lawmakers loyal to the intelligence establishment it lost support of important House Judiciary members like Republicans Darrell Issa, Ted Poe and Raul Labrador and Democrat Zoe Lofgren who previously voted for the act.[43] "The result is a bill that will actually not end bulk collection, regrettably," said Rep. Zoe Lofgren who voted against the bill.[44] The act would shift responsibility for retaining telephonic metadata from the government to telephone companies. Providers like AT&T and Verizon would be required to maintain the records and let the NSA search them in terrorism investigations when the agency obtains a judicial order or in certain emergency situations.[45] The USA Freedom Act demands that the NSA get approval for a search from the Foreign Intelligence Surveillance Court before demanding that the telecoms hand over metadata. However, no "probable-cause" Fourth Amendment standard is required to access the database[44] While an allowable search under the original USA Freedom Act was defined as "a term used to uniquely describe a person, entity, or account", but under the House version a database search inquiry is now allowed if it is "a discrete term, such as a term specifically identifying a person, entity, account, address, or device."[44] Provisions that were dropped from the bill included requirements to estimate the number of Americans whose records were captured under the program, and the creation of a public advocate to challenge the government's legal arguments before the Foreign Intelligence Surveillance Court.[46][47]

The passed House version[48] was criticised by U.S. senators, tech firms like Google, Apple, Microsoft, Facebook and Twitter, as well as civil liberties groups.[43][44][45][46][49] Major U.S. tech firms like Google, Apple, Microsoft, Facebook, and Twitter joined together in the Reform Government Surveillance coalition which called the House version a move in the wrong direction. The Reform Government Surveillance released a statement on June 5, stating: "The latest draft opens up an unacceptable loophole that could enable the bulk collection of Internet users' data ... While it makes important progress, we cannot support this bill as currently drafted and urge Congress to close this loophole to ensure meaningful reform."[50] Zeke Johnson, director of Amnesty International USA's security and human rights program, accusing the House for failing to deliver serious surveillance reform said: "People inside and outside the U.S. would remain at risk of dragnet surveillance. The Senate should pass much stronger reforms ensuring greater transparency, robust judicial review, equal rights for non-U.S. persons, and a clear, unambiguous ban on mass spying. President Obama need not wait. He can and should implement such safeguards today." The White House however endorsed the bill. "The Administration strongly supports House passage of H.R. 3361, the USA Freedom Act. ... The Administration applauds and appreciates the strong bipartisan effort that led to the formulation of this bill, which heeds the President's call on this important issue," the White House said in a statement.[50] "The bill ensures our intelligence and law enforcement professionals have the authorities they need to protect the Nation, while further ensuring that individuals' privacy is appropriately protected when these authorities are employed. Among other provisions, the bill prohibits bulk collection through the use of Section 215, FISA pen registers, and National Security Letters."[45][51]

Civil rights groups and scholars said the new language allowing the NSA to search meta data handed over from telephone companies was vague and perhaps would allow the NSA to ensnare the metadata of broad swaths of innocent people in violation of their constitutional rights. "In particular, while the previous bill would have required any request for records to be tied to a clearly defined set of 'specific selection terms,' the bill that just passed leaves the definition of 'specific selection terms' open. This could allow for an overly broad and creative interpretation, which is something we've certainly seen from the executive branch and the FISA Court before," said Elizabeth Goitein, a co-director of the Brennan Center's Liberty and National Security Program.[44] "The new definition is incredibly more expansive than previous definitions ... The new version not only adds the undefined words "address" and "device," but makes the list of potential selection terms open-ended by using the term "such as." Congress has been clear that it wishes to end bulk collection, but given the government's history of twisted legal interpretations, this language can't be relied on to protect our freedoms," said the Electronic Frontier Foundation in a press release.[50][52]

Defeat in the Senate Edit Negotiations among intelligence agencies, the White House, lawmakers and their aides, and privacy advocates in the summer of 2014 led to a modified bill (S. S.2685)[53] in the U.S. Senate. This bill version addressed most privacy concerns regarding the NSA program that collects records of Americans' phone calls in bulk.

Under the bill the NSA would no longer collect those phone records. Instead, most of the records would have stayed in the hands of the phone companies, which would not have been required to hold them any longer than they already do for normal business purposes, which in some cases is 18 months. The bill would require the NSA to request specific data from phone companies under specified limits i.e. the NSA would need to show it had reasonable, articulable suspicion that the number it is interested in is tied to a foreign terrorist organization or individual. The proposed legislation would still have allowed analysts to perform so-called contact chaining in which they trace a suspect's network of acquaintances, but they would have been required to use a new kind of court order to swiftly obtain only those records that were linked, up to two layers away, to a suspect '-- even when held by different phone companies. It would also require the federal surveillance court to appoint a panel of public advocates to advance legal positions in support of privacy and civil liberties, and would expand company reporting to the public on the scope of government requests for customers' data. This USA Freedom Act version thus gained the support of the Obama Administration, including the director of national intelligence and attorney general, as well as many tech companies including Apple, Google, Microsoft and Yahoo as well as a diverse range of groups, including the National Rifle Association and the American Civil Liberties Union.[35][54]

Following the 2014 Congressional elections, the Senate voted on November 18, 2014, to block further debate of the measure during the 113th United States Congress. Fifty-four Democrats and four Republicans who supported consideration failed to muster the 60 votes required.[55] Senator Patrick Leahy, who drafted the bill, blamed its defeat on what he called fear-mongering by opponents, saying, "Fomenting fear stifles serious debate and constructive solutions." Senator Mitch McConnell, the Republican leader, argued that the NSA's bulk collection of Americans' metadata was a vital tool in the fight against terrorism. "This is the worst possible time to be tying our hands behind our backs," he said.[35]

114th Congress (2015''16) Edit The USA Freedom Act was re-introduced in the House Judiciary Committee and Senate Judiciary Committee in late April 2015 based upon a modified version of the one which failed in the Senate in the 113th Congress.

The 2015 USA Freedom Act[56] version is described by its sponsors as "a balanced approach that would ensure the NSA maintains an ability to obtain the data it needs to detect terrorist plots without infringing on Americans' right to privacy."[5] Human rights groups believed the bill's transparency and court oversight provisions are less robust than would have been required in a previous version of the bill, with more limited reporting requirements and a more narrowly defined role for external court advocates.[57]

Passage out of House Judiciary Committee Edit The bill passed out of the House Judiciary Committee on April 30, 2015.[58] The proposed bill would end the NSA's bulk collection under Section 215 by requiring the government to seek records from companies using a "specific selection term" that identifies a specific person, account or address and "is used to limit ... the scope" of records sought. The term may not be a phone or Internet company.[5]

House Passage Edit The USA Freedom Act passed the U.S. House of Representatives on May 13, 2015.[59] With 338 votes for and 88 against it was passed without any amendments to the House Judiciary version because the House Rules Committee prohibited consideration of any amendment to the USA Freedom Act, claiming that any changes to the legislation would have weakened its chances of passage.[60] The bill had the support of the White House, Attorney General Eric Holder and Director of National Intelligence James Clapper. While civil liberties groups were divided over the support of the bill, lawmakers opposed to the Bill stated it will handicap the NSA and allow terrorist groups to prosper.[61]

Passage in Senate Edit The USA Freedom Act was not passed by the U.S. Senate on May 22, 2015. By a vote of 57''42, the Senate did not pass the bill that would have required 60 votes to move forward, which meant that the NSA had to start winding down its domestic mass surveillance program. The Senate also rejected, by 54''45, also short of the necessary 60 votes, a two-month extension for the key provision in the Patriot Act that has been used to justify NSA spying, which was set to expire on June 1, 2015.[62][63][64]

However, on May 31, 2015, the Senate voted 77''17 to limit debate on the act. Senate rules will allow it to be passed after the mass surveillance programs have expired.[65] While several amendments which would strengthen the bill were not allowed to be considered, three amendments proposed by chair of the Senate Intelligence Committee Richard Burr to weaken the bill, considered "poison pills," were allowed to be considered but ultimately rejected.[66]

The bill ultimately passed the Senate 67''32 on June 2, 2015[67][68][69] and reinstated three lapsed authorities i.e. the "Section 215" authority, the "lone wolf" authority and the "roving wiretaps" authority of the Patriot Act,[70] while reforming the "Section 215" authority. Obama signed on the sixth day[71][72]

National security and trade groups Edit The Center for National Security supports the USA Freedom Act introduced on April 28, 2015 to end bulk collection of Americans' telephone metadata under the so-called "section 215" program.[73]

The Software Alliance sponsored the legislation saying "in reforming government surveillance practices, it is critical that legislation strikes the right balance between securing our nation and its citizens and improving privacy protections for the public. The FISA reforms in the USA FREEDOM Act will help restore trust in both the US government and the US technology sector."[74]

The ITIC said "the USA Freedom Act, H.R. 2048, builds on the foundation laid by the House Judiciary Committee last Congress and the result is a bill that strengthens privacy protections while maintaining the interests of national security."[75]

Civil liberties advocates Edit The final USA Freedom Act is perceived as containing several concessions to pro-surveillance legislators meant to facilitate its passage.[6][76] The watered down version of the USA Freedom Act that passed the House of Representatives in 2015 has been widely criticized by civil liberties advocates and its original supporters amongst house members for extending the Patriot Act Mass surveillance programs without meaningful restraints, undermining the original purpose of the bill.[77]

"This bill would make only incremental improvements, and at least one provision-the material-support provision-would represent a significant step backwards," ACLU deputy legal director Jameel Jaffer said in a statement. "The disclosures of the last two years make clear that we need wholesale reform." Jaffer wants Congress to let Section 215 sunset completely and wait for a better reform package than endorse something half-baked,[78] saying that "unless that bill is strengthened, sunset would be the better course."[79] The ACLU had previously written of the 2013 version that "although the USA Freedom Act does not fix every problem with the government's surveillance authorities and programs, it is an important first step and it deserves broad support."[80][81]

Representative Justin Amash, author of the narrowly defeated Amash''Conyers Amendment, a proposal that would have de-funded the NSA bulk-collection program, backed the 2013 legislation, but not the final 2015 version.[82] "It's getting out of control," he commented. "[Courts are issuing] general warrants without specific cause ... and you have one agency that's essentially having superpowers to pass information onto others".[17]

According to Deputy Attorney General James Cole, even if the Freedom Act becomes law, the NSA could continue its bulk collection of American's phone records. He explained that "it's going to depend on how the [FISA] court interprets any number of the provisions" contained within the legislation.[8]Jennifer Granick, Director of Civil Liberties at Stanford Law School, stated:

The Administration and the intelligence community believe they can do whatever they want, regardless of the laws Congress passes, so long they can convince one of the judges appointed to the secretive Foreign Intelligence Surveillance Court (FISC) to agree. This isn't the rule of law. This is a coup d'etat.[8]

International human rights groups remain somewhat skeptical of specific provisions of the bill. For example, Human Rights Watch expressed its concern that the "bill would do little to increase protections for the right to privacy for people outside the United States, a key problem that plagues U.S. surveillance activities. Nor would the bill address mass surveillance or bulk collection practices that may be occurring under other laws or regulations, such as Section 702 of the FISA Amendments Act or Executive Order 12333. These practices affect many more people and include the collection of the actual content of internet communications and phone calls, not just metadata".[83] Zeke Johnson, Director of Amnesty International's Security and Human Rights Program, agreed that "any proposal that fails to ban mass surveillance, end blanket secrecy, or stop discrimination against people outside the U.S. will be a false fix".[11]

Members of the anti-surveillance Civil Liberties Coalition are dismissing the USA Freedom Act in support of the Surveillance State Repeal Act, a far more comprehensive piece of legislation in the House that completely repeals the Patriot Act, as well as 2008's FISA Amendments Act.[78] A group of 60 organizations called Congress to not stop at ending the NSA's bulk collection of telephone information under the USA PATRIOT Act, but to also end the FISA Amendments Act and Executive Order 12333 mass surveillance programs and restore accountability for bad actors in the Intelligence Community.[9]

The Center for Democracy and Technology endorses the bill, but it points out that it doesn't limit data retention for information collected on people who turn out to have no connection to a suspect or target, and emphasizes that this is not an omnibus solution.[78] The group argued the bill had to be supported because "the Senate will weaken the USA FREEDOM Act right before the sunset deadline, forcing the House to accept a weaker bill".[84]

David Segal, executive director of Demand Progress, wants Section 215 to expire. "This bill purports to ban certain acts under narrow authorities, but it doesn't ban those behaviors outright. Nor does it increase meaningful oversight of the NSA" he stated. The group said "a vote for a bill that does not end mass surveillance is a vote in support of mass surveillance."[85] In a statement posted to Demand Progress' website, Segal writes, "The Senate just voted to reinstitute certain lapsed surveillance authorities '' and that means that USA Freedom actually made Americans less free." However, he notes the group "[takes] some solace" in the fact that "Section 215 was '' ever so briefly '' allowed to sunset."[86]

"Companies are provided monetary incentive to spy and share that information with the government and blanket liability once they do under USA Freedom '' even if that breaks that law," said Sascha Meinrath, the director of X-lab, an independent tech policy institute previously associated with New America. "Once companies receive that, they'll have almost no reason to weigh in on meaningful surveillance reform."[85] "In a way, it's kind of like PRISM," the program revealed by Snowden where major tech companies turned over the content of online communications to the NSA, said longtime independent surveillance researcher Marcy Wheeler. "It pushes things to providers: Everyone gets immunity, but it doesn't add to the privacy."[85]

"We think of the USA Freedom Act as yesterday's news," said Shahid Buttar of the Bill of Rights Defense Committee, "and we're interested in forcing the [intelligence] agencies into a future where they comply with constitutional limits." "If passed, it'll be the only step," predicted Patrick Eddington of the Cato Institute, a former House staffer, since the next expiration date for a major piece of surveillance legislation is 31 December 2017.[87]

Following the law's passage on June 2, 2015, ACLU deputy legal director Jameel Jaffer retracted his earlier criticism and claimed that "This is the most important surveillance reform bill since 1978, and its passage is an indication that Americans are no longer willing to give the intelligence agencies a blank check."[88]

Proposed Reauthorization Edit On August 14, 2019, the outgoing Director of National Intelligence sent a letter[89] to Congress stating the Trump Administration's intention to seek permanent extension of the provisions of FISA that under the terms of the USA FREEDOM Act are scheduled to expire on December 15, 2019, namely the "lone wolf" authority allowing surveillance of a suspected terrorist who is inspired by foreign ideology but is not acting at the direction of a foreign party, the roving wiretap authority regarding surveillance of a terrorist who enters the United States and the authority to allow the Federal Bureau of Investigation to obtain certain business records in a national security investigation, as well as the call detail records program undertaken by the NSA.[90] In reference to the latter authority, the letter announced that "The National Security Agency has suspended the call detail records program that uses this authority and deleted the call detail records acquired under this authority."

See also Edit US person § Data collection and intelligenceThe Day We Fight BackFISA Improvements ActList of bills in the 113th United States Congress

Bitcoin Plunges $450 in Minutes, Loses $10,000 Support'... Again

Thu, 19 Sep 2019 03:36

Ouch. The Bitcoin (BTC) price has dumped by over $450 in the past few minutes, with bears finally managing to take the wheel of the cryptocurrency market after over two weeks of lull.

It isn't clear what triggered this move, but with this flash crash, the leading cryptocurrency has decidedly shed the $10,000 support.

With this $500 drop, bullish traders on BitMEX and other leverage-enabled platforms were hit fairly hard.

According to Skew Markets, a cryptocurrency analytics firm, in fact, over $150 million worth of BTC long positions on BitMEX were liquidated in the past hour.

Liquidated long on XBTUSD: Sell 10,000,000 @ 9760 🏅🏆ðŸ'¯ðŸ'¯ðŸ'¯ðŸ'¯ðŸ'¯ðŸ'¯ðŸ'¯ðŸ'¯ðŸ'¯ðŸ'¯ðŸ'¯ðŸ'¯ðŸ'¯ðŸ'¯ðŸ'¯ðŸ'¯ðŸ'¯ðŸ'¯ðŸ'¯ðŸ'¯ðŸ'¯ðŸ'¯ðŸ'¯ðŸ'¯ðŸ'¯ðŸ'¯ðŸ'¯ðŸ'¯ðŸ'¯ðŸ'¯ðŸ'¯ðŸ'¯ðŸ'¯ðŸ'¯ðŸ'¯ðŸ'¯ðŸ'¯ðŸ'¯ðŸ'¯ðŸ'¯ðŸ'¯ðŸ'¯ðŸ'¯ðŸ'¯ðŸ'¯ðŸ'¯ðŸ'¯ðŸ'¯ðŸ'¯ðŸ'¯ðŸ'¯ðŸ'¯ðŸ'¯ðŸ'¯ðŸ'¯ðŸ'¯ðŸ'¯ðŸ'¯ðŸ'¯ðŸ'¯ðŸ'¯ðŸ'¯ðŸ'¯ðŸ'¯ðŸ'¯ðŸ'¯ðŸ'¯ðŸ'¯ðŸ'¯ðŸ'¯ðŸ'¯ðŸ'¯ðŸ'¯ ~ hide your kids, hide your wife, cause they're liquidatin' everybody out here

'-- REKT (@BXRekt) September 19, 2019

This move brings Bitcoin to a very important territory, analyst Magic has said. As he pointed out in the tweet below, BTC is now testing the 21-week moving average right now, which, as reported by this outlet previously, is a level Bitcoin flirted with during 2017's bull market on over four separate occasions. The loss of this level could imply that bulls are losing control of the long-term trend.

Bitcoin is testing the 21 week MA right now. This is the moment of truth!

'-- MAGIC (@MagicPoopCannon) September 19, 2019

ZUMspot Raspberry Pi Info and Setup | Santa Barbara Amateur Radio Club

Thu, 19 Sep 2019 03:34

ZUMspot Raspberry Pi Info and Setup

Here's some info on what it took for me to get my ZUMspot up and running, updated with new things I've learned recently. This doc is a bit wordy but I'm hoping this will let you know what you need to successfully get your ZUMspot Rpi working using a Windows PC. Don't think the below is a lot of work '' it's really not.

I'm pretty impressed with this product which all in is about half the price of the SharkRF Openspot but with built in Wi-Fi and the possibility of adding a display. I found configuring the ZUMspot to be as easy as the Openspot and I'm not a Linux person.

Hardware Needs

ZUMspot Rpi ($80 + $10 shipping)Raspberry Pi, either the Pi 3 Model B ($35) or the Pi Zero W ($10)If you choose the Pi Zero W you may want additional accessories mentioned laterMicro SD card, 2GB or greater. (you likely already own this or <$10)5V power supply for the Pi with micro USB connector (you likely already own this) Software Needs

Latest Pi-Star software image from the internet (free)A windows tools to 'burn' the above image to your micro sd card (free)A PC on your network to configure Pi-StarHardware Details

ZUMspot Rpi

The ZUMspot Rpi is fully assembled and tested and comes with a short antenna. It is purchased via email from Bruce Givens, VE2GZI (ve2gzi@gmail.com). Send him an email stating you'll like to buy one and he'll reply pretty quickly (for me in just a few hours). He produces them in batches so you might be put on a waiting list. He ships from NY and from the time I paid until it was in my hands was less than 1 business week. Cost was $80 + $10 shipping.

He does offer a kit consisting of the ZUMspot Rpi + Rpi Zero W + 2—20 header + 4GB microsd card with Pi-Star already on it for $110 + $10 shipping but you can do better putting your own kit together.

Raspberry Pi

With the Raspberry Pi and you have 2 choices '' the Pi Zero W, or the Pi 3 Model B. Make sure you get exactly one of these part numbers. The older version of each do not have built in Wi-Fi.

Raspberry Pi Zero W is the smallest, cheapest, and more power frugal of the two. It only has Wi-Fi access (no wired Ethernet) and currently sells for $10 here (https://www.adafruit.com/product/3400). It does not come with a 2—20 header which is needed to attach the ZumSpot and if you do not already have one lying around, Adafruit sells them here https://www.adafruit.com/product/2822 .

The Pi Zero W gets its small size by using smaller and fewer connectors. There is only one micro USB port and the HDMI connector is mini. Thankfully you no longer need to hook up a keyboard or monitor to set up the ZUMspot if you go with the Pi Zero W, but here are some OPTIONAL adapters to enable you to do so if you want to dabble deeper into using the Pi Zero W for some other project.

USB '' any of these adapters convert the micro USB to standard size for keyboard and/or mouse use.USB hub https://www.adafruit.com/product/2991USB mini to standard adapter https://www.adafruit.com/product/1099HDMI '' either of these adapters converter the mini HDMI adapter to standard sized HDMIhttps://www.adafruit.com/product/2819https://www.adafruit.com/product/2775 Rasberry Pi 3 Model B is larger because of the standard sized USB and HDMI connectors (which won't matter in this application). It also has a wired ethernet jack so if you require a wired connection, this is the Pi for you (it will do wireless also). An added bonus is that the 2—20 header is already installed. Other things that allow the Pi 3 Model B to command a higher price is more ram and a faster multi-coreprocessor '' neither of which is much of an advantage to running a ZUMspot.

The Pi 3 Model B normally sells for $35 and is available from many vendors.

Micro SD card

I'm not going to be much help here. I read that the Pi-Star image fit on a 2 GB Micro SD card and since I had a few lying around, of unknown speed, I went ahead and used what I had and it worked. On Amazon the price of 2, 4, 8, 16 GB cards are nearly all the same. See if you too already have one you can use or buy what you feel is a good value. Note that Pi-Star normally does not write to the card except during configuration which explains why the speed is not a big issue.

5V Power Supply

Both Raspberry Pi's take 5V power. Current needs peak at <400mA for the Pi 3 Model B and <300mA for the Pi Zero W with steady state being about 100ma less than peak. This can easily be handled with a cellphone power adapter with a micro USB connector commonly used with android devices.

For me I used a cellphone power adapter that takes a plug in USB cable and bought one of these cables with an in-line switch. I hate plugging and unplugging the power connector from a Pi to reboot it and this makes life easier https://www.amazon.com/gp/product/B00JU24Z3W

Software Details '' Preparing Your Memory Card

Pi-Star

The heart of the system is the Raspberry Pi software Pi-Star. It can be downloaded here http://www.pistar.uk/downloads/ (you want the version with 'RPi' in the name.) I downloaded the .ZIP version as the burning tool in the next section can use the .ZIP directly. Download the Pi-Star image to your machine.

Burning Image to Micro SD Card

Now you need to get this image onto your Micro SD card. Since I'm using windows, I used Etcher which I found in a link here https://www.raspberrypi.org/documentation/installation/installing-images/windows.md

Using Etcher is self explanatory. Install and run it to burn your image to your micro-sd card.

Internet Configuration '' Wi-Fi (Pi Zero B or Pi 3 Model B)

In this next step you'll be creating a wireless configuration file so that when you boot up your ZUMspot it will automatically connect to your home network. This is especially important if you use a Pi Zero W as later the Pi-Star software configuration is only performed in a web browser and the Zero has no wired ethernet.

Open a web browser and navigate to http://www.pistar.uk/wifi_builder.phpEnter the SSID and password of your home Wi-Fi network into the boxes and click the Submit button. A file will be created and downloaded to your pc.Find the file 'wpa_supplicant.conf' in your download folder and copy it into the root (top level) directory of the micro-sd card you prepared above. In my example below, my micro-sd card is drive F: on my PC.Internet Configuration '' Wired Connection (Pi 3 Model B only)

Connect an ethernet cable from your home network to the ethernet connector on the Pi3 Model BThat's it!

Pi-Star Configuration

Attach the ZUMspot RPi to your Raspberry Pi. (if you are using the Pi Zero W, you should have already soldered the 2—20 header to the board).Connect power to the Pi and wait ~ 2mins for the unit to fully boot up.Using Internet Explorer on a PC on your network (Chrome didn't work for me), type into the address bar this address and hit return:pi-star.local

The following screen will come up*.

And after 10 seconds you should be prompted with a login.

(* if you cannot access the configuration page, you can type in the IP address of the Pi into the browser. How do you know what IP address your Pi is? One way is to log into your router and in the DHCP section for IP address requested, look for the name 'Pi-Star'. Another way is to connect a monitor to the HDMI port of your Pi and in the text scrolling by during bootup, the IP address of the Pi will be shown.)

Enter the username 'pi-star' and password of 'raspberry' without quote. You will now see this configuration page.In the Radio/Modem Type: dropdown, choose 'ZumSpot '' Raspberry Pi Hat (GPIO)' and then click on Apply Changes.

Pi-Star will restart and after a bit, for whatever reason, you'll get this warning.Click 'OK' and you will again be on the configuration page.

Back to the configuration page under General Configuration, set these parametersIn the Radio/Modem Type: dropdown, choose 'ZumSpot '' Raspberry Pi Hat (GPIO)'Enter your call sign in Node CallsignEnter your DMR ID in CCS7/DMR IDEnter your desired RF frequency in Radio FrequencyEnter 'USA for CountryChoose 'America/Los Angeles' for System Time Zone

When complete, click on Apply Changes and wait for changes to be saved.

In the DMR Configuration section, under the DMR Master pulldown, choose 'BM_United_States_3101' or 3102 or 3103, then click Apply Changes and wait for changes to be saved.

You can set up more than one Wi-Fi access point (AP), or your first AP if you are using the Pi 3 Model B in wired Ethernet mode. By adding more than one AP, Pi-Star will automatically switch to another AP when the currently connected one goes away.Click on Configure Wi-Fi to proceed.Click on Scan for Networks (10 secs) to survey your site. After a brief pause, a list of AP's will be shown. Click Connect for the AP you wish to connect to.After clicking Connect your choice will be added to the existing table with a blank box for the passphrase/security key. Enter the key and then click on Save (and connect) to save your settings.Misc Notes:

There are other 'menus' available in Pi-Star. You can get to the other menus by clicking on the menu name at the top of the screen.The Dashboard menu shows last activity heard. The webpage updates live whenever there is activity.The Pi-Star 'scans' all the digital modes that are enabled on the configuration page, the LED on the ZUMspot showing which mode is active. Once Pi-Star figures out what mode is being requested, it stays on that mode until until there is no activity for 20 seconds before resuming the scan. (the 20 seconds is configurable). The default setting has D-Star and DMR enabled and I disabled D-Star as all I'm doing is DMR.Power consumption in milliamps for the Pi Zero W is ~ 180mA, about twice that for the Pi 3 Model B.I've seen that one can add a display to the Pi '' I have yet to play with that. Not sure what it shows. In the Pi-Star configuration page, there is a section to enable this feature.If you cannot find your Pi on your network, another way is if you have a monitor AND a keyboard attached to the Pi, you can log into it (username 'pi-star', password 'raspberry') and issue this command 'sudo ifconfig' (without the quotes).I originally brought up my ZUMspot using a Pi 3 model B with a wired Ethernet connection '' and glad I did. I didn't know about how to configure the Wi-Fi from the Pi terminal itself at the time. Later did I find a snipped on how to do it and verified that it worked for this document.73 & Good Luck,Dave, AI6VX

Establishing Structure and Governance for an Independent Oversight Board | Facebook Newsroom

Thu, 19 Sep 2019 00:19

September 17, 2019

By Brent Harris, Director of Governance and Global Affairs

''The content policies we write and the decisions we make every day matter to people. That's why we always have to strive to keep getting better. The Oversight Board will make Facebook more accountable and improve our decision-making. This charter is a critical step towards what we hope will become a model for our industry.''

'' Nick Clegg, VP Global Affairs and Communications, Facebook

Since November, when Mark Zuckerberg first wrote about his vision for how content should be governed on Facebook, a team within our company has been working to design and implement this idea, with the help of input and feedback from people all around the world.

Today, we're announcing more details on the structure of the Oversight Board and its relationship to Facebook in the form of a charter. This central governing document defines the board's mandate and describes its relationship to Facebook. It establishes its membership, governance and decision-making authority, and it sets out parameters for things like the size, scope and power of the board. In the coming months this charter will be available in multiple languages on a new board website.

Accompanying the charter is a letter from Mark Zuckerberg explaining the board's purpose and goals.

Governing Documents

This charter is only one of many documents that will govern the Oversight Board. We are also crafting bylaws which will provide greater operational detail on the board's institutional independence and rules of procedure. These bylaws will include accountability mechanisms, such as a code of conduct and board member disqualifications. They will also elaborate on the processes for assembling panels, developing case materials and implementing board decisions. While we are preparing these bylaws on the board's behalf, ultimately the board alone will have the ability to change them.

Governance Structure

We often received a key piece of feedback: make sure the board is independent from Facebook. One way we're addressing this is by establishing an independent trust. The Oversight Board, the trust and Facebook will have separate roles and responsibilities, all of which will work to ensure that the board is set up for success.

As part of our overall transparency efforts, trust documents will be publicly released, and these will establish the formal relationship between the board, the trust and Facebook.

Design Decisions for the Board

Along with the charter, we are providing a summary which breaks down the elements from the draft charter, the feedback we've received, and the rationale behind our decisions in relation to both. Many issues have spurred healthy and constructive debate. Four areas in particular were:

Governance: The majority of people we consulted supported our decision to establish an independent trust. They felt that this could help ensure the board's independence, while also providing a means to provide additional accountability checks. The trust will provide the infrastructure to support and compensate the Board.Membership: We are committed to selecting a diverse and qualified group of 40 board members, who will serve three-year terms. We agreed with feedback that Facebook alone should not name the entire board. Therefore, Facebook will select a small group of initial members, who will help with the selection of additional members. Thereafter, the board itself will take the lead in selecting all future members, as explained in this post. The trust will formally appoint members.Precedent: Regarding the board, the charter confirms that panels will be expected, in general, to defer to past decisions. This reflects the feedback received during the public consultation period. The board can also request that its decision be applied to other instances or reproductions of the same content on Facebook. In such cases, Facebook will do so, to the extent technically and operationally feasible.Implementation: Facebook will promptly implement the board's content decisions, which are binding. In addition, the board may issue policy recommendations to Facebook, as part of its overall judgment on each individual case. This is how it was envisioned that the board's decisions will have lasting influence over Facebook's policies, procedures and practices.Process Both Facebook and its users will be able to refer cases to the board for review. For now, the board will begin its operations by hearing Facebook-initiated cases. The system for users to initiate appeals to the board will be made available over the first half of 2020.

At a high level, the following graphic outlines the basic process by which the board will select, review and decide upon cases and how Facebook will implement and respond to those decisions:

As a first step, we've identified guidelines for how we will prioritize our most significant and difficult cases for Facebook's referrals to the board. Our current thinking focuses on indicators that demonstrate cases are both significant and difficult:

Significance: Significant means that the content involves real-world impact. The content in question should involve issues that are severe, large-scale and important for public discourse. Factors include:Severity. The content threatens someone else's voice, safety, privacy, or dignity.Scale. The content reaches or affects a large number of people and/or illustrates a larger trend or issue on Facebook.Public Discourse. The content spurs significant public debate and/or important political and social discourse.Difficulty: The decision on the content raises questions about current policy or its enforcement. Strong arguments could be made for either removing or leaving up the content. Factors include:Disputed. There is disagreement about Facebook's decision on the content and/or the underlying policy or policies.Uncertain. There is uncertainty about the correct decision according to Facebook's policy.Competing. There is a tension between equally important values. A reasonable person could imagine both arguments to remove the content or keep it up, and a decision either way necessitates a trade-off between values.While today is an important milestone, there is much more work we still need to do.

Over the next few months, we will continue testing our assumptions and ensuring the board's operational readiness. In addition, we will focus on sourcing and selecting of board members, finalizing the bylaws that will complement the charter, and working toward having the board deliberate on its first cases early in 2020.

We are committed to consulting outside experts at every step, and we look forward to providing more updates on our progress.

Kevin Spacey Accuser Dies in Midst of Sexual Assault Lawsuit | Hollywood Reporter

Thu, 19 Sep 2019 00:05

September 18, 2019 8:15am PTby Eriq Gardner

Getty Images

Kevin Spacey

The massage therapist was allowed to proceed anonymously in the case. There are no details yet on the circumstances of death.

An anonymous massage therapist who claims to have been sexually assaulted by Kevin Spacey has died, according to a notice filed in court by the actor's attorneys.

The individual, suing as a "John Doe," filed claims in September 2018 with the allegation of being forced to grab the actor's genitals twice during a massage two years earlier at a private residence in Malibu. In May, a federal judge in California allowed the case to move forward despite Spacey's objection that the plaintiff's identity was being shielded.

Now, just a month after the parties came to a plan for proceeding in the suit that detailed prospective discovery and envisioned a seven- to 11-day trial, the plaintiff's attorney has informed Spacey that the client "recently passed."

No further detail is provided, and a request to the plaintiff's attorney for more information has not been answered.

Spacey recently got out of another legal situation when criminal charges against him were dropped in Nantucket, Massachusetts. In that case, Spacey pleaded not guilty to felony indecent assault and battery, and prosecutors withdrew charges after the accuser '-- a teenage busboy '-- stopped cooperating.

The "John Doe" lawsuit subsequently represented the most significant legal situation for Spacey, who has been accused of sexually improper conduct against multiple individuals. In this case, as detailed in joint report filed in August, the plaintiff's lawyers represented to the court two other alleged masseur victims of Spacey expressing "concern for their safety and/or do not want their names revealed publicly in the media."

The lawsuit could continue by the heirs of "John Doe," though the issue of anonymity provides a complicating wrinkle. To show standing to sue, the heirs would likely have to identify the deceased accuser after getting a green light to administer his estate in probate court. A judge might also be less inclined to protect the privacy interests of the deceased. Even if the case moves forward, the loss of the most important witness to the alleged sexual assault would make it difficult to litigate.

Doe's lawyer Genie Harrison on Wednesday sent The Hollywood Reporter a lengthy statement in response to the filing. "It is true that Mr. Doe recently died," said Harrison. "His untimely death was, to his family, a devastating shock that they are struggling to process and is so recent that they have not yet held his funeral service. Out of professional responsibility, we notified Spacey's counsel of Mr. Doe's passing. We explained our intent to allow his family more time to get past their immediate, paralyzing grief and begin settling his affairs before we filed a death notice with the court '-- which is our prerogative as his counsel. Spacey ignored our request for compassion and filed the notice yesterday without our consent."

Harrison goes on to say that the filing starts a 90-day clock on her ability to substitute Doe's estate as a plaintiff, and calls the decision to file the notice "unnecessary and contemptible."

"Mr. Doe's family must now open his estate at the same time as planning a funeral and processing their grief," said Harrison. "Mr. Doe was a dignified, kind, middle-aged man traumatized by Spacey's alleged sexually depraved attack. As a result of this case, other victims from around the world have reached out to our firm. Mr. Doe believed their harrowing stories, and in his final months he looked forward to standing up for all of them. His fight for justice is still very much alive."

Sept. 18, 2:50 p.m. Updated with a statement from John Doe's attorney Genie Harrison.

Vaccine industry now running provocateur false flag ops with fake blood to generate headlines painting ''anti-vaxxers'' as violent terrorists '' NaturalNews.com

Wed, 18 Sep 2019 18:39

Monday, September 16, 2019 by: Mike AdamsTags: anti-vaxxers, badhealth, badmedicine, Big Pharma, deception, false-flag, hoax, propaganda, protests, provocateurs, Staged, vaccine industry, vaccines

(Natural News) Remember the Disneyland measles outbreak from a few years ago? According to numerous sources who analyzed the timing of events, that was a false flag operation run by the vaccine industry. They literally incubated measles tissue in low-tech labs then ran around Disneyland smearing measles materials on all the railings and surfaces in order to cause a pandemic. Meanwhile, California State Senator Richard Pan was openly bribed by Big Pharma to have SB 277 ready to roll out, calling for vaccine mandates in the aftermath of the Disneyland outbreak.

It was all staged. The infections were real, but it was caused by the vaccine industry in order to achieve a political purpose.

Now, the vaccine industry has pushed another false flag psyop in California, dropping a provocateur into an ''anti-vax'' protest with instructions for her to assault California lawmakers with fake blood. (It wasn't actually blood, but the media never reports that.) This gave CNN and other pharma-controlled news networks the narrative they needed to paint all vaccine skeptics as violent nut jobs. In truth, it's the vaccine industry that routinely commits violence against infants and children, causing millions of children to be brain damaged, made autistic, hospitalized or even killed in America.

As Breitbart.com reports, a California woman has been arrested after throwing what she pretended was menstrual blood onto state senators in Sacramento:

[A woman] was taken into custody after she tossed a menstrual cup, which she said was filled with blood, from the public gallery as senators finished taking a vote at about 5:14 p.m.

Discover how to prevent and reverse heart disease (and other cardio related events) with this free ebook: Written by popular Natural News writer Vicki Batt, this book includes everything you need to know about preventing heart disease, reversing hypertension, and nurturing your cardiac health without medication. Learn More.Notably, even Breitbart got the headline wrong, claiming the woman was arrested ''for throwing menstrual blood'' on Senators. But it wasn't menstrual blood at all.

State Senators and the left-wing media took this opportunity to paint all ''anti-vaxxers'' as violent terrorists, in precisely the same way they paint all gun owners and Trump supporters as terrorists.

Here's the thing: The woman apparently isn't known by anyone who opposes vaccines'... she was a plant, witnesses believeWe checked with our contacts in the vaccine truth movement in California, and no one has ever seen this woman before. She's not part of any known vaccine truth group or movement, according to our sources.

She was spotted at the event, though, by observant vaccine skeptics who noted that something was wrong with the woman:

I saw her on Wednesday. She appeared high on drugs. Nobody knew who she was. She was mumbling and trying to agitate people. Hype people. She's an AGENT. Provocateur government.

Although not yet proven, it is widely believed among vaccine truth advocates that this protester was likely a provocateur put there by the vaccine industry to carry out this false flag attack so that the media could paint all ''anti-vaxxers'' as lunatics.

Natural News has also learned that there are 2-3 other moles working to infiltrate the ''anti-vaxxer'' movement and stage similar acts of violence in order to discredit the movement.

It works for gun control, after all. Stage a few school shootings, kill a lot of real children and then claim all gun owners are violent people. Now, the vaccine industry is using the same tactic by staging assaults on legislators, then pointing the finger at vaccine skeptics.

It wasn't real blood'... the media is lying (as usual)Natural News has learned that the ''blood'' used in the so-called attack wasn't blood at all. But the media refuses to report that fact. And the so-called ''feminine hygiene'' object that was said to contain the blood was nothing more than a fruit cup, according to sources. In fact, the entire episode smacks of being staged for the cameras (and to push Big Pharma's narrative).

Nothing you see in the media is real. It's all staged. It's all designed to push a narrative and demonize the opponents of the depopulation pushers who are actively using vaccines to cause widespread infertility and annihilate humankind. The vaccine agenda is an agenda of mass genocide and murder, but of course it's all hiding behind a veil of ''saving children,'' even as vaccines destroy the lives of millions of children every year around the world.

Want to know the truth about the depopulation agenda that seeks to annihilate humanity through vaccines, pesticides, fluoride, geoengineering and terraforming? See the new website OblivionAgenda.com, which features video lectures revealing the truth about the agenda to annihilate humankind.

Receive Our Free Email Newsletter

Get independent news alerts on natural cures, food lab tests, cannabis medicine, science, robotics, drones, privacy and more.

About the author: Mike Adams (aka the ''Health Ranger'') is a best selling author (#1 best selling science book on Amazon.com called ''Food Forensics''), an environmental scientist, a patent holder for a cesium radioactive isotope elimination invention, a multiple award winner for outstanding journalism, a science news publisher and influential commentator on topics ranging from science and medicine to culture and politics. Follow his videos, podcasts, websites and science projects at the links below.

Mike Adams serves as the founding editor of NaturalNews.com and the lab science director of an internationally accredited (ISO 17025) analytical laboratory known as CWC Labs. There, he was awarded a Certificate of Excellence for achieving extremely high accuracy in the analysis of toxic elements in unknown water samples using ICP-MS instrumentation. Adams is also highly proficient in running liquid chromatography, ion chromatography and mass spectrometry time-of-flight analytical instrumentation. He has also achieved numerous laboratory breakthroughs in the programming of automated liquid handling robots for sample preparation and external standards prep.

The U.S. patent office has awarded Mike Adams patent NO. US 9526751 B2 for the invention of ''Cesium Eliminator,'' a lifesaving invention that removes up to 95% of radioactive cesium from the human digestive tract. Adams has pledged to donate full patent licensing rights to any state or national government that needs to manufacture the product to save human lives in the aftermath of a nuclear accident, disaster, act of war or act of terrorism. He has also stockpiled 10,000 kg of raw material to manufacture Cesium Eliminator in a Texas warehouse, and plans to donate the finished product to help save lives in Texas when the next nuclear event occurs. No independent scientist in the world has done more research on the removal of radioactive elements from the human digestive tract.

Adams is a person of color whose ancestors include Africans and American Indians. He is of Native American heritage, which he credits as inspiring his ''Health Ranger'' passion for protecting life and nature against the destruction caused by chemicals, heavy metals and other forms of pollution.

Adams is the founder and publisher of the open source science journal Natural Science Journal, the author of numerous peer-reviewed science papers published by the journal, and the author of the world's first book that published ICP-MS heavy metals analysis results for foods, dietary supplements, pet food, spices and fast food. The book is entitled Food Forensics and is published by BenBella Books.

In his laboratory research, Adams has made numerous food safety breakthroughs such as revealing rice protein products imported from Asia to be contaminated with toxic heavy metals like lead, cadmium and tungsten. Adams was the first food science researcher to document high levels of tungsten in superfoods. He also discovered over 11 ppm lead in imported mangosteen powder, and led an industry-wide voluntary agreement to limit heavy metals in rice protein products.

In addition to his lab work, Adams is also the (non-paid) executive director of the non-profit Consumer Wellness Center (CWC), an organization that redirects 100% of its donations receipts to grant programs that teach children and women how to grow their own food or vastly improve their nutrition. Through the non-profit CWC, Adams also launched Nutrition Rescue, a program that donates essential vitamins to people in need. Click here to see some of the CWC success stories.

With a background in science and software technology, Adams is the original founder of the email newsletter technology company known as Arial Software. Using his technical experience combined with his love for natural health, Adams developed and deployed the content management system currently driving NaturalNews.com. He also engineered the high-level statistical algorithms that power SCIENCE.naturalnews.com, a massive research resource featuring over 10 million scientific studies.

Adams is well known for his incredibly popular consumer activism video blowing the lid on fake blueberries used throughout the food supply. He has also exposed ''strange fibers'' found in Chicken McNuggets, fake academic credentials of so-called health ''gurus,'' dangerous ''detox'' products imported as battery acid and sold for oral consumption, fake acai berry scams, the California raw milk raids, the vaccine research fraud revealed by industry whistleblowers and many other topics.

Adams has also helped defend the rights of home gardeners and protect the medical freedom rights of parents. Adams is widely recognized to have made a remarkable global impact on issues like GMOs, vaccines, nutrition therapies, human consciousness.

In addition to his activism, Adams is an accomplished musician who has released over fifteen popular songs covering a variety of activism topics.

Click here to read a more detailed bio on Mike Adams, the Health Ranger, at HealthRanger.com.

Find more science, news, commentary and inventions from the Health Ranger at:

Diaspora: (uncensored social network)Share.NaturalNews.com

GAB.ai:GAB.ai/healthranger

Vimeo:Vimeo.com/healthranger

Podcasts:HealthRangerReport.com

Online store:HealthRangerStore.com

#1 Bestselling Science Book Food Forensics:FoodForensics.com

Facebook:Facebook.com/HealthRanger

Twitter:Twitter.com/HealthRanger

iTunes:itunes.apple.com/us/podcast/the-health-ranger-report/id1063165791

Youtube:YouTube.com/TheHealthRanger

G+plus.google.com/u/0/b/106753783877820567659/

SoundCloud:Soundcloud.com/healthranger

Health Ranger's science labCWClabs.com

Health Ranger bioHealthRanger.comTruthWiki.org

Search engine:GoodGopher.com

Take Action: Support Natural News by linking to this article from your website Permalink to this article:

Embed article link: (copy HTML code below):

Reprinting this article:

Non-commercial use OK, cite NaturalNews.com with clickable link.

Follow Natural News on Steemit, MeWe, and GAB

Smart TVs Caught Sending Sensitive User Data To Facebook And Netflix | Zero Hedge

Wed, 18 Sep 2019 12:11

A study by researchers from Northeastern University and Imperial College London found that many popular smart TV models, including models by Samsung and LG, as well as streaming dongles Roku and Amazon FireTV, are leaking sensitive user data to advertisers.

The models listed above would share data like location and IP address with Netflix, Facebook and third-party advertisers, according to the FT.

Just when social media companies were starting to modify their data collection practices to better respect user privacy, the next threat is coming from the Internet of Things (IoT). Smart TVs are becoming increasingly popular in the US.

In some cases, users' data were being sent to Netflix even though they didn't have an account. And it's not just smart TVs: other smart devices from speakers to cameras have also been caught sending user data to third parties like Spotify.

Nearly 70% of Americans have a smart TV or a Roku or Apple TV. Nearly all of these devices have recognition technology that tracks what you watch, and sells data approximating your interests to advertisers.

In a separate study of smart TVs by Princeton University, researchers found that some apps supported by Roku and FireTV were sending data such as specific user identifiers to third parties including Google.

Amazon was one of the third-parties contacted by about half of the devices tested by researchers at Northeastern.

"Amazon is contacted by almost half the devices in our tests, which stands out because [this means] Amazon can infer a lot of information about what you're doing with different devices in your home, including those they don't manufacture," said David Choffnes, computer scientist at Northeastern University and one of the paper's authors. "They also can have a lot of visibility into what their competitors are doing."

Since most of the data shared by the devices were encrypted, researchers couldn't tell exactly what was being transmitted, in some cases.

"They can definitely see some [viewing] is taking place, but what they can exactly see depends on what the manufacturer is sending, which we have not made an attempt to re-engineer," said Hamed Haddadi, computer scientist at Imperial College and another paper author.

But experts warn: There's "minimal oversight" regarding these smart devices. As one analyst warned, "the situation is dire."

Buyer beware.

Justice Department: Edward Snowden Book Profits Should Go To The U.S. Government : NPR

Wed, 18 Sep 2019 04:06

The Justice Department says Edward Snowden, seen here via video feed, breached nondisclosure agreements he signed with the National Security Agency and CIA with the publication of his new memoir, Permanent Record. Juliet Linderman /AP hide caption

toggle caption Juliet Linderman /AP The Justice Department says Edward Snowden, seen here via video feed, breached nondisclosure agreements he signed with the National Security Agency and CIA with the publication of his new memoir, Permanent Record.

Juliet Linderman /AP Updated at 7:17 p.m. ET

The Department of Justice has filed a lawsuit against Edward Snowden alleging that his newly released memoir, Permanent Record, violates nondisclosure agreements he signed with the federal government. Justice Department lawyers say the U.S. is entitled to all of Snowden's book profits.

The civil lawsuit filed Tuesday in Virginia names the former National Security Agency contractor and his New York-based publisher, Macmillan.

The suit, submitted to the court on the same day as the release of Snowden's book, argues that Snowden's failure to receive pre-publication approval from the NSA and the Central Intelligence Agency constitutes a breach of contract.

Under NSA policy, current and former agency employees, including contractors, are prohibited from ever disclosing any information obtained during the course of government employment, according to copies of secrecy agreements Snowden signed that were filed to the court.

Assistant U.S. Attorney R. Trent McCotter wrote that the alleged violation of nondisclosure agreements Snowden signed with the two agencies undermines public trust in the federal government and endangers national security.

"Additionally, Snowden has been, and will continue in the future to be, unjustly enriched in the amount of profits, advances, royalties, and other advantages resulting from the unauthorized publication of his book," McCotter wrote.

Ben Wizner, an ACLU lawyer who represents Snowden, said the book does not contain government secrets that were not already publicly known.

"Had Mr. Snowden believed that the government would review his book in good faith, he would have submitted it for review. But the government continues to insist that facts that are known and discussed throughout the world are still somehow classified," Wizner wrote in a statement.

For the past six years, Snowden has lived in Russia, where he was granted asylum as he faces separate federal criminal charges in the U.S. over allegations of espionage and the theft of government property following the 2013 leak of classified material that exposed U.S. surveillance programs, sparking a national debate about privacy and national security.

The civil suit asks the court to freeze all of Macmillan's assets related to Snowden's memoir and for all of Snowden's profits and royalties from the book to be placed in a special fund on behalf of the U.S. government. It is not clear how government officials intend to use the money.

The Justice Department said in a statement that it is "suing the publisher solely to ensure that no funds are transferred to Snowden, or at his direction, while the court resolves the United States' claims."

Beyond targeting Snowden's book, federal prosecutors say they are entitled to money Snowden has earned from speeches, claiming his remarks also violated his contractual obligation to receive permission from U.S. intelligence agencies.

Snowden worked for the CIA from 2006 to 2009. He also worked for the NSA as a contractor at various times between 2005 and 2013, during which he was a full-time employee of Booz Allen Hamilton, which is based in McLean, Va.

Wizner, Snowden's lawyer, said the government's attempt to seize Snowden's book profits may have an unintended consequence: spreading public awareness about the highly classified government secrets Snowden divulged.

"Mr. Snowden wrote this book to continue a global conversation about mass surveillance and free societies that his actions helped inspire," Wizner said. "He hopes that today's lawsuit by the United States government will bring the book to the attention of more readers throughout the world."

In April, the ACLU and the Knight First Amendment Institute filed a lawsuit challenging the government's pre-publication review process, saying it allows the government to suppress the free speech of public servants.

"This far-reaching censorship system simply can't be squared with the Constitution," Jameel Jaffer, executive director of the Knight First Amendment Institute, said. "The government has a legitimate interest in protecting bona fide national-security secrets, but this system sweeps too broadly, fails to limit the discretion of government censors, and suppresses political speech that is vital to informing public debate."

Macmillan, in a statement, stood by Snowden's book and said it was proud to publish his "uncensored story."

"We are very disappointed that the government has chosen to sue Edward Snowden for telling the deeply personal story about his decision to speak out about our government's unprecedented system of mass surveillance," a Macmillan spokesperson said.

REVEALED: Alexandria Ocasio-Cortez aka AOC - Dickjackman1 - Medium

Tue, 17 Sep 2019 17:18

Over the months of July, August and September (2019) I will be releasing my findings from my investigation into her lies, fibs, half truths and left out facts. I've been on her ''trail'' since November 2018 and still occasionally find something new. Everyone is still focused on her to this day amazingly, so if that is all you care about, this will be the place for you. I'm no longer interested in her (but still keep an eye on things and try to highlight lies and intent) as I've discovered how deep this goes and more importantly what they aren't telling the public about their REAL plans for 2030.

Over the last 4 months I realized more and more that she is nothing more than a viral video. She is one of many who have quietly run for a seat in government over the last 10 years from this organization who in reality is of the Green and Working Families Party. She is just the first to win, win in a major way, express a ''trendy'' attitude and manages to appeal on social media quite effectively.

Before I start the release, for those that follow me please know I will continue my work on the real mastermind. The single person with his hands in everything and plugged in to every single aspect of the organization. The cyber activist who dreamed this whole thing up since 1999. Again to reiterate, someone who has led to finding so monumental that everything you'll read in this will look like PEANUTS. I still remember the first time I saw his name and it rang a bell'... I had seen that name somewhere'... but who was he'... March 3rd, 2019 was the day I said'... I should look into this guy Zack Exley a bit and see if there is anything interesting'... almost 4 months later I've written a book about him'...

'...but that story is for another day. Now on to AOC's life. The facts, and nothing but the facts.

June 2nd, 1986:Sergio, born November 24th, 1959 and 26 years old at the time, buys 1525 Unionport Road, #4D. Takes out 30-Year Mortgage of $32,100 with Citibank (Source One Mortgage at the time prior to acquisition), due July 1, 2016, in his name only, which may suggest he was still single and had not taken the trip to Puerto Rico yet where he met/married Blanca. Assumed sale price was in the range of $35,000-$40,000. Assumed Interest Rate 10.5''11.25% given the month/time vs. historical mortgage rates.

Reference: New York City Department of Finance '-- Office of the City Register. General knowledge. AOC's direct comments. Google Search.

November 9th, 1988:Kirschenbaum & Ocasio-Roman Architects, P.C. is formed.

I will later cover the address above and Alex Yepes-Roman (joins much later), research at your own risk!I wish I had better news for you on this one, but Alex Irwin Kirschenbaum (unconfirmed alias Abraham Kirschenbaum) is a GHOST. Not completely, I have small tidbits of information, but overall there is a lesson to be learned here. If you never want anyone to pick up on your digital trail there is an easy way to accomplish that'... never establish one!

There are others (67 y.o. in Rhinebeck/Eastside NYC, Dr. Kirschenbaum and a host of younger people) with the same name so don't rush to think EUREKA I FOUND HIM! In this case, a quick hit will likely be a false one so if you decide to challenge yourself on this one, just make sure you verify and validate along every step of the way.

He is the Alex Kirschenbaum you'll find in NYC job records so that is a good place to start if you do want to give this a go.

He is in his 70's (breadcrumbs suggest 70 on the button), lives in Yorktown Heights a few blocks from where AOC grew up (not by accident, he followed Sergio there) and has ties to a doctor (suspected girlfriend since they are not wed as far as I could tell and alternatively I suppose could be a live in registered nurse given his age) who also has a place (townhouse/apartment) in Pennsylvania.

Kirschenbaum & Ocasio-Roman Architects, P.C. (KOR Architects) is designated as Minority Business Enterprise (MBE) status. This requires 51% ownership by someone within a designated disadvantaged race/ethnicity. Alex Kirschenbaum is noted as the Vice President but I would point out that this is noteworthy that Kirschenbaum leads the Company name. Why would someone who owned over 50% of a company be OK with being the afterthought in the namesake?

Answer: Preferential treatment in the bidding and award process when it comes to both city jobs and other jobs that are required to submit and report diversity statistics to ensure equality and fairness among its bidders. It was no secret in the business world that a large amount of businesses were falsifying (either entirely or in part) their company makeup in terms of ownership in order to get this coveted status. For example, Jim owns a business. Jim is white. Jim runs the day to day of the organization and owns 60%. The other 40% is owned by Mark. Mark is African American and has an arrangement with Jim that his role in the company is really more about the financing of the 40% with a few hours here or there per week which he spreads across his other invested companies. One day Jim and Mark have a discussion and realize that they may be able to increase the number of jobs they are awarded by as much as double if they pursued a Minority Owned Business Enterprise certification. Mark would compensate Jim for the 11% to get him to the 51% on paper and they would have an understanding that Jim would continue to operate the business and at the most, Mark would have to attend some presentations and meet and greets with prospective clients, but to possibly double the business (or more) this would be a well worthwhile investment.

So we have two problems here that create doubt and difficulty to corroborate her statements. The first warning sign is within the naming convention, leading with Kirschenbaum. As noted, if Alex K. is of a diverse background/ ethnicity, then this goes away. The next issue is that as noted, the status of MBE means (unless previously mentioned statement about Alex K. is true) Sergio owns 51% of the company. To be extra clear, we can assume that Sergio would have reaped at least 51% of profits from business operations. If it was his Latino heritage that got them MBE status and he wasn't collecting 51% of the profits, then it was an illegal declaration of MBE status and there are some serious violations in play here involving city/state/federal fraud (I think, I'm not a lawyer). We'll later go on to find out that there is a pattern of a checkered past with regards to taxes. Tax amounts that would certainly suggest a fairly successful practice as I'll detail shortly. So, given the tax amounts we can estimate the revenue and in a business with low expenses we can also get to a ballpark of what a majority owner would be pulling in. I'd love an actual small business owner of a Architecture firm to chime in to validate my low expenses statement. As far as I can tell they operated (at first) out of their own apartments (then later a shared apt converted to office) with only the paper and drawing equipment as true expenses. They had little to no internet/digital advertising, paper (that I could find) advertising or a staff on hand for at least the first couple years before hiring relatives.

I also want to be very clear, the above is speculation. We're talking about me trying to learn about a small business operating in the late 80's and early 90's with little to no digital footprint. I have no clue if the above is accurate and fair to say about KOR Architects, but I have to put it out there for a few reasons. I would ask the question who, financially, owned 51% or more of the company? From what I can tell Sergio was absolutely the one who did the work, traveled to the city offices and filed the paperwork (permits, blueprints, etc'...) and clearly ran the day to day of the small business. So while in terms of what the MBE/WBE (women) certification process is intended to do and whom it should benefit is directionally correct, I'd question whether or not Kirschenbaum is in one of these protected groups, however, if he was then this entire possible situation is tossed out the window and all is legitimate and in line with rules and regulations put in place.

In any event and the point I am trying to make, one of the following two statements MUST be true (unless Alex is a legitimate MBE)

A) Sergio brought home 51% of the profits of KOR Architects.

B) KOR Architects violated the rules and regulations of the MBE designation and thereby also committed fraud with regards to city funded projects, primarily in the Bronx.

The key piece of information in the above mentioned multiple times is the ethnicity of Alex K. As previously mentioned, Alex Kirschenbaum is an online ghost. A possible scenario and ASSUMPTION could be made that this is who AOC refers to when she says that within her bloodline, there is some trace of the Jewish faith, and if true this would likely stem back to Puerto Rico, make him Latino and eligible to obtain MBE status.

At some point in 1989, KOR Architects becomes the Architect of record for Parkchester Preservation Corp. (manages a TON of apartments, primarily in the Bronx). Because of a 1999 bid, we can make a solid ASSUMPTION that there is at least one huge paying job every 5 years valued at around $375,000 '-- $400,000. This is stated in a later article in 2000 regarding when KOR brings a lawsuit (or at least a threat of one on the foundation of racism) to Parkchester Preservation Corp which I will detail later on in my year 2000 summary.

October 13th, 1989:PARTY LIKE IT'S 1989!!!!!!!!!!!! Blanca gives birth to a bold, audacious and fresh faced baby girl'... Alexandria Ocasio-Roman. Until I see an original birth certificate, I feel fairly confident that this would have been her birth name as far as the state was concerned given that Sergio purchased properties under the name Ocasioroman, Sergio (and even Blanca had that name associated on legal papers). My own personal belief is that this little complication is created based on the fact that they traveled to and got married in Puerto Rico and I have a feeling (not a fact) that this lack of legal and New York state proper documentation of marital status is what would eventually lead to the problems that Blanca and family would have years later in the probate court, not as they like to blame, because of a corrupt legal system. There is a time for that story later though.

Awwww, cute!

https://www.thelist.com/160128/the-stunning-transformation-of-alexandria-ocasio-cortez/December 31st, 1991:A little 2 years after AOC is born, Sergio buys 1965 Longvue St. in Yorktown Heights, NY. The property technically consists of two plots of land. The primary being designated a ''210 1 Family Residence'' and the other being a ''311 Residence Vacant Land.''

REF: State of New York, County Westchester, Town of Yorktown Town Final Tax Roll.

#53 is the 1 Family Residence, #69 is the associated Residence Vacant LandLeft side of the block is where the vacant land is situated, to the left of the house and backyard gazebo.Front of the house, with Gabe's Volvo parked infront of the driveway in a picture from 9/14/2014.Front of house in September 2013 with (assumed) Blanca's car out front. Not Gabe's and assume that AOC never got a car as far as I can tell.Original Mortgage Holder of the property was Green Point Savings Bank. This bank, now defunct and taken over by Capital One was known at the time for writing simple (min necessary paperwork) mortgage loans. The purchase price has been tough to track down, due to some reports which do also align with expectations, I believe the purchase price was $150K.

Keep that first part in mind'... she was a little over two years old'... yet they moved her there by her own account when she was five? Why didn't they move in to it over the following 36 months? I could come up with 10 theories but because of that exact fact, I won't make one because there are too many reasons this may have been true. Chalk this one up to a mystery.

REF: Property Records/Deeds.

October 13th, 1993:Happy Birthday AOC!

Ref: Internet. Year placement approximate.KOR Architects: Architect of record for Parkchester Preservation Corp. Because of a 1999 bid ($420,000), we can make a solid ASSUMPTION that this is valued at $390,000 '-- $400,000 for this 1994 job.

Sergio and AOC's two cousins and their father on the Cortez side.May 19th, 1994:Interesting coincidence on timing related to below entry on 5/23/1994. https://casetext.com/case/matter-of-promesa-v-ny-st-dept-of-hlt '-- May be coincidence'... but Promesa vs. New York State Department of Health 7 days prior to the below found case? Promesa was Gov't funded (headed by Felix Velaquez at the time) and faced corruption charges, had an employee murdered and following Felix, new CEO acknowledged crooked business practices prior to 2000. Could all, given KOR's long suit with Promesa be an underlying Ocasio-Cortez family hatred for 1) Government, 2) Corruption, 3) Healthcare, 4) Politicians. Promesa at the time had a place on Clay Ave. and ''owns and manages 200 low-income apartments reclaimed in abandoned buildings.'' which could have been some work KOR had done for Promesa and resulted in a lawsuit that KOR sued over in court disputes that went from 1994''2000. The lengthy case alone could also be a reason for distaste of legal system as well.

PROMESA reference links:

https://www.nydailynews.com/promises-bronx-article-1.827024 '--

https://www.nytimes.com/1994/01/08/nyregion/for-150-contract-police-say-2-youths-killed-accountant.html

May 23rd, 1994:Kirschenbaum Ocasio-Roman P C vs. Promesa Inc '-- Ran from 5/23/94 to 8/5/1994 in Westchester County courts. Why they filed there for work in the Bronx is not clear given the work and KOR Architects were based in the Bronx, but I'm not a legal expert.

The suit result (in Westchester County courts) seems to have gone nowhere as could be expected. Officially referred to ''BRONX CTY'' courts on 8/27/1994.

REF: Westchester County Clerk '-- Westchester Records Online. Court online summary records. IMAGES AVAILABLE WITH PAID FEES, not worth my dime, sorry.

HELP WANTED: Experienced Lawyer who can shed some light on the outcome of this legal battle.- NOTE: Around this timeframe, Promesa (https://casetext.com/case/matter-of-promesa-v-ny-st-dept-of-hlt) was under EXTREME scrutiny for hiding money. An auditor was murdered outside the office around this timeframe who was looking into the matter.

https://www.nytimes.com/1994/01/11/nyregion/a-co-worker-is-charged-in-slaying-of-drug-aide.html?mtrref=www.google.com&gwh=EC5904FA83978A96147A0F0F2D9CC71C&gwt=payhttps://www.nytimes.com/1994/01/08/nyregion/for-150-contract-police-say-2-youths-killed-accountant.htmlNovember 7th, 1994:Citibank, N.A. vs. Ocasio, Sergio '-- Files for Foreclosure. Bronx Supreme Court. This would be related to 1525 Unionport #4D apartment given the jurisdiction. Based on a ''Disposition Date: 09/25/1995'', ASSUMED that is when everything was resolved.

REF: New York State Unified Court System, Bronx Supreme Court, WebCivil online system.

- Comment: AOC talks a lot about how Banks were scoping out the house, taking pictures, etc'... but as we will go on to find out'... I don't blame them. A mortgage company technically owns the house as collateral until the entire balance is paid off so when in foreclosure, they'd want to get up to date pictures and begin valuing the property if needed to go on sale. But I'm not an expert on these industries and their typical business practices.

Ref: Gabe's Instagram (year placement approximate)July 26th '-- 27th, 1995:Kirschenbaum Ocasio-Roman Architects P C vs. MT Vernon Housing Authority. Unknown resolution/issue.

REF: Westchester County Clerk '-- Westchester Records Online. IMAGES AVAILABLE WITH PAID FEES.

August 4th, 1995:KOR Architects go to court due to some kind contractual issue'... would love any feedback from a legal expert about how in the world you can go to court against no one?

What appears to have happened here is that Mt. Vernon took them to court for some reason. Upon going through the legal process it was determined that KOR Architects had done nothing wrong and whatever monies had been held on the side pending the outcome, were released to the small company. This assumption is largely based on the fact that then all the sudden'...

September 25th, 1995:Citibank, N.A. vs. Ocasio, Sergio '-- Foreclosure issue appears to be resolved. Bronx Supreme Court. This would be related to 1525 Unionport #4D given the jurisdiction. Based on a ''Disposition Date: 09/25/1995'', assume that is when everything was resolved. An ASSUMPTION can be made they used the lawsuit funds to pay off the title holder mortgage company.

REF: New York State Unified Court System, Bronx Supreme Court, WebCivil online system.

May 24th, 1996:''NYS Tax Commission vs. Sergio Ocasioroman and Blanca Ocasioroman'' (Legal name in all NYS documents until sometime after the probate. This is important because one of the major pain points of her family's life that she has been very public about is the corrupt and lengthy Probate process she went thru and this naming convention may have to some degree led to those complications. The names noted on this legal paperwork also is what led me to the belief until proved otherwise that she was born Alexandria Ocasioroman (or Ocasio-Roman)). Judgement Amount $3,724.93. ''Last Amendment 11/30/1999'' which I ASSUME means was paid by that point and closed.

REF: Westchester County Clerk '-- Westchester Records Online. Images/Filings available for purchase.

July 18th, 1996:Sergio Ocasio Roman and Alex Kirschenbaum buy 1510 Archer Road, TB, Bronx NY for $25,000. Bought from Marie Louise Wilkens.

REF: New York City Department of Finance '-- Office of the City Register. The $25,000 was found on Zillow property prior sales section of page.

Interesting that at some point Ocasio was scribbled out and Alex listed as the sole owner as far back as 2000.December 9th, 1997:Ocasio-Roman, Kirschenbaum vs. Promesa, Inc. filed in Bronx Supreme court. ''Contract-Standard.'' NOI Filed. Seeking legal interpretation.

May, 1998:Eduardo ''Alex'' Yepes-Roman (You'll soon find out why this name is important. A.K.A. YEAR ONE STRATEGIES, STRATEGIES, YEAR ONE) starts working for KOR Architects, P C. (this is also important for later).

REF: Chamber of Commerce & Alex Yepes LinkedIn page.

Alex is Sergio's brother or brother-in-law and husband/partner of Rebecca Rodriguez (If you follow AOC, you have recently started seeing her in lots of pictures after she took office in January 2019. A.K.A. EOS STRATEGIES, STRATEGIES, EOS).

March 25, 1999:Citigroup buys Source One Mortgage, title holder of Sergio's Bronx apartment (Unionport).

REF: News Sources online, google search.

Quick pause and refresh, the family of four at this point has one (1) house in Yorktown Heights, one (1) apartment in a condo community (Parkchester) in the Bronx and a half (1/2) share of an office apartment also in Bronx for the small family business, KOR Architects. 2019 Property Collection Value: $375K (house), $250K (apartment '-- Unionport), $80K (the half share of Archer Rd. work apartment) = $605,000 (+/- 5%).

August 18th, 1999:A lot of activity in the case (vs. Promesa). Multiple judges, 10 total sessions. Disposition date was 6/23/2000.

REF: New York State Unified Court System online records.

November 30th, 1999:Closed NYS Tax Commission vs. Sergio OcasioRoman / Blanca OcasioRoman from 5/24/1996.

REF: Westchester Clerk online records. Per earlier mentions, per legal state records the family is still documented as ''OcasioRoman'' which one could make the assumption would mean 10 year old Alexandria is AOR???

Sergio & Gabe and the famous ''Movado Watch'' that everyone always flips out over.December 23rd, 1999:Copelco Capital, Inc. vs. Kirschenbaum & Ocasio-Roman Architects, PC '-- Civil Case in the Bronx County Civil Court. Disposition Date 9/31/2007. New York State Unified Court System online records. Index Number CV-026021''99/BX. Withdrawn on 7/27/2000. Requires more research by someone with more access or knowledge on legal system. Has a disposition date of 9/21/2007 but nothing was seemingly happening between 2000 and 2007.

Note: Copelco Capital Funding LLC 99''1 (''Registrant'') is a wholly-owned subsidiary of Citicorp Vendor Finance, Inc., which was formerly known as Copelco Capital, Inc. (''Copelco'');

1) https://www.sec.gov/Archives/edgar/data/1075914/0000902561-01-500269.txt

2) https://trib.com/news/state-and-regional/men-get-prison-terms-for-copy-machine-fraud/article_31825de7-a431-57e3-a9f9-acea9a285b33.html

But was the case closed?

I'm legitimately asking the question. In February 2017 a settlement is reached'... I wonder how much and if Alex K. gave the Ocasio-Cortez family their share?

KOR Architects sues Parkchester Preservation for $15,000,000 (basically the organization who maintains a swath of buildings in the Bronx, most notably the apartment buildings including and surrounding the Ocasio-Cortez (Unionport) Bronx one.

Unclear if this ever materialized, but an educated ASSUMPTION could suggest they got a quick and easy settlement check from the organization, however that is nothing more than a calculated guess. I would ESTIMATE approximately ¼ of the job, so around $100,000. KOR would later complete more jobs for Parkchester as recorded in NYC logs so something in their favor had to have happened. LEGAL DIGGING WOULD BE OF ASSISTANCE.

REF: https://www.thefreelibrary.com/Former+Parkchester+South+architects+sue+board+and+CPC.-a070658370

June 23rd, 2000:Closed six-year case of KOR vs. Promesa, Inc. Bronx Supreme Court.

Started in the Bronx Supreme Court in 12/9/97 (and earlier for when filed in Westchester '-- 1994). On this date it was closed out and noted as ''SETTLED BEFORE TRIAL''.

REF: New York State Unified Court System online records. CASE FILES COULD STRENGTHEN THIS.

September 5, 2000:NYS Tax Commission vs. Sergio Ocasioroman and Blanca Ocasioroman. Judgement Amount $4,578.27.

''Last Amendment 2/21/2003'' which I assume means was paid by that point and closed.

REF: Westchester County Clerk '-- Westchester Records Online. Images/Filings available for purchase.

June 22, 2001:Alex Yepes-Roman starts ''PRNY, Inc.''

Goes out of business 7/28/2010. Didn't pay taxes, forcibly closed. ''Dissolution by proclamation. If a New York corporation doesn't voluntarily dissolve and doesn't file franchise tax returns or pay franchise taxes for two or more years, the New York Secretary of State may dissolve the corporation by proclamation.''

As far as I can tell, this is a ghost business. A shell company. Something set up specifically to exist on paper and not really directly trail back to any actual person, instead only to the registered agent who set up, established and manages the paperwork of the company. But that said we know it is his'... since he claims as such on his LinkedIn page.

September 3rd, 2001:1510 Archer Road TB, receives a Notice of Lien for Common Charges in the amount of $1,764.81, payable and due for the period through and including 9/30/2001. An educated ASSUMPTION would be that monthly Condo Fees are $882/mo. So Ocasio-Cortez family would be on hook for roughly $441 (other half to Alex K.).

REF: New York City Department of Finance '-- Office of the City Register.

October 22nd, 2001:IRS issues assessment that KOR Architects owes $3,796.56 in taxes(?) (Paid 2/15/2002? ''RECORDED / FILED'')

REF: New York City Department of Finance '-- Office of the City Register.

- NOTE: NYC Department of Finance, City Register, labels this as a ''RELEASE OF FEDERAL LIEN'' and has a starting ''Recorded/Filed'' date of 2/15/2002 (''FEDERAL LIEN-IRS), and another matching type entry, ''DOC DATE'' of 4/14/2004, and that line item has ''Recorded/Filed'' of 8/19/2004 1:24:04 PM (Release). REQUIRES LEGAL INTERPRETATION OF ALL THIS.

December 17th, 2001:IRS issues assessment that KOR Architects owes $5,994.33 in taxes. (Paid 3/5/2002? ''RECORDED / FILED'')

REF: New York City Department of Finance '-- Office of the City Register

- NOTE: NYC Department of Finance, City Register, labels this as a ''RELEASE OF FEDERAL LIEN'' and has a starting ''Recorded/Filed'' date of 3/5/2002 (''FEDERAL LIEN-IRS), and another matching type entry, ''DOC DATE'' of 4/14/2004, and that line item has ''Recorded/Filed'' of 8/19/2004 1:24:05 PM (Release). REQUIRES LEGAL INTERPRETATION OF ALL THIS.

May 17th, 2002:NYS Tax Commission vs. Sergio Ocasioroman and Blanca Ocasioroman. Judgement Amount $1,820.42. ''Last Amendment 5/15/2003'' which I assume means was paid by that point and closed.

REF: Westchester County Clerk '-- Westchester Records Online.

February 21st, 2003:Paid Tax owed as a result of IRS case from 9/5/2000 entry.

REF: Westchester Clerk online records.

May 15th, 2003:Paid Tax owed as a result of IRS case from 5/17/2002 entry.

REF: Westchester Clerk online records.

August/September, 2003:Starts school at Yorktown High School. Obtains the nickname ''Sandy.''

REF: https://www.tapinto.net/towns/yorktown/sections/elections/articles/alexandria-ocasio-cortez-puts-yorktown-heights-on

Summer, 2005:One of two people from the NE who forked over a couple hundred dollars (to attend) and participated in the National Hispanic Institute's ''National LDZ'' held at DePaul University (Chicago).

REF: https://web.archive.org/web/20181020032952/http://www.nhimagazine.com/2017/07/01/nhi-congress-alexandria-ocasio-cortez/

Putting aside the location of the event, this would be a key point in her life given it would be where she would first be introduced to the world of politics outside, as she puts it, the dinner table with family. She would get the opportunity here to learn some 101 legislative skills at this week long camp at a local/regional institution.

It was also a critical step in ensuring that laid down a path to get to college. As everyone knows (I hope) colleges and universities strive to meet certain diversity numbers in their admissions in an effort to prove they are diverse and all inclusive. My understanding/educated theory is partnerships with organizations such as NHI are how, in this case, they would have access to a pipeline of solid candidates that they could access and help them fulfill certain admission statistic goals without having to go thru every single application completed by a diverse checkbox candidate.

The LDZ is defined as;

''Lorenzo de Zavala Youth Legislative Session '-- High school sophomore students who attend the ''LDZ'' can select from one of five national sites, plus an abroad program. Among the most nationally recognized summer learning experiences, two primary goals drive this program: a) introducing students to community stewardship and engaging them in a governance experience. As an organization committed to supplying the future Latino community with its more capable candidates, the LDZ is an extraordinary, fast-paced process of self-learning that does much to change-mindsets, uplift spirits, encourage creativity, and learn from the example of peers. While lifetime friends are formed through this program, by far the overriding outcome for participants is realizing that while they are likely to attain multiple career goals in their life pursuits, also investing time, talent, and effort in furthering Latino community quality of life adds to the benefits that others receive as well.'' '-- NHI Magazine

9/1/2004''8/31/2005 Form 990In a 2017 magazine article, they define the event; ''The Great Debate encourages students to become better public speakers, and the Lorenzo de Zavala (LDZ) program allows students to learn public policy. At the LDZ, students go as far as to participate in a legislative session where they run for various posts '-- many become Representatives or Senators, creating their own version of Congress for just a few short days. While some NHI alumni do pursue political office, inspired by their experience, NHI members find different avenues for providing leadership and community engagement.''

REF: http://www.nhimagazine.com/2017/06/26/three-nhi-alumni-run-congress-2018/

While at the LDZ, she didn't win or get nominated for any positions'... the House, Speaker'... nada. ''I talk about my experience with NHI quite a bit on the campaign trail. I talk about my work as an Education Director, and uhhh, just in general. Sometimes journalists will ask me well what did you do as an Educational Director with the NHI?''

REF: https://www.youtube.com/watch?v=1NggfWWravs&t=687s

August 26th, 2005:Alex Yepes-Roman starts Canela Spa, Inc.

A spa, hair and salon place practically across the street from where AOC apartment is/was. Did not go well. According to reviews, lasted until around 2012''13.

Some reports/tweets have recently come my way about AOC claiming to have worked in a nail salon, if accurate, this would make logistical sense for her situation. In this hypothetical, in 2005 and 2006 (maybe 2007''2010) she would have commuted in with her father who would have gone to work at his Unionport or Archer apartment and she could have walked over from the Unionport apartment to the Canela Spa quite easily. This may have lasted into her college years, but all of this is unknown. If true'... I'd think nepotism would be something she'd be against since she is against inheritances and the entire Trump family. This would have been an unfair advantage which would have kept someone more qualified from getting a job. Hopefully one day we'll find out but this one stays a mystery!

January 5th, 2006:Based on NYC Tax Assessment Final 2006 Assessment Roll, mortgage holder was changed from Source One Mortgage Service (due to earlier noted acquisition). Citibank purchased Source One Mortgage Service in 1999 so Citibank was once again the parent mortgage holder for #4D.

REF: NYC Tax Assessor, prior findings above, news report via google on acquisition.

March thru May, 2006:Starts cleaning up on the Science circuit with all kind of awards that come with cash, scholarships and gifts.

All the pictures have been wiped it seems'... well not the above one!

REF: https://www.yhsresearch.org/alexandria-ocasio-cortez/ , https://web.archive.org/web/20070630120423/http://www.nyssef.org/finalWebsite/home.htm , https://web.archive.org/web/20060505001801/http://www.wesef.org/Winner%20List%202006.htm , https://www.westchesterlegislators.com/media-center/887-county-legislature-honors-science-fair-winners.html , https://web.archive.org/web/20180918151224/https://www.westchesterlegislators.com/media-center/887-county-legislature-honors-science-fair-winners.html

2006: Yorktown Heights High SchoolHard to say for absolute certainty if this is her, however seems likely. Picture from her circle in H.S.Summer, 2006:Participated in the National Hispanic Institutes College World Series '-- New York.

This event is defined;

''Collegiate World Series '-- High school juniors who gain admission to the CWS get a real life taste of what's to come as they transition from the security and oversight of their parents to independent adulthood. Conducted over five days, the CWS consists of two distinctive features: a) receiving a final review of the college admission process from actual college counselors invited by NHI; and b) developing insight into the use of inquiry-based learning as a key tool in personal decision making and life management. Sometimes referred to as NHI's ''capstone'' experience, this learning project has earned the reputation among former participants as being among the most important learning opportunities for emerging high school seniors.'' '-- NHI Magazine

This organization would play a major role in her H.S. years and likely be a key reason she gets into Boston University:

November 28th, 2006:Las Diablas (The Devils, feminine)

Who Is Konis? Yorktown Heights H.S. Social Studies teacher and published author. https://www.authorhouse.com/en/bookstore/bookdetails/273939-from-courtroom-to-classroom-making-a-case-for-good-teachingPicture from approximately 2007. Date unknown.February 8th, 2007:Sergio takes out a refinanced (or 2nd) mortgage on the Yorktown house with JPMorgan Chase. Based on 6/4/2007, PERHAPS to payoff the Bronx Apartment? Interesting maneuver, sadly the Interest rates during this timeframe were in the mid to high 6% range. That said, financially made sense none the less because in 1986 they were around 10%.

REF: Westchester Clerk online records. Google search on interest rates.

March, 2007:6 of the 9 who entered, including ''Sandy'', advanced on to the National science competitions.

https://web.archive.org/web/20070218191647/http://www.yhsresearch.org:80/The above noted advancement to the JSHS finals'... did not place in any notable category and was not listed in any of the top (paid) 18 positions:

https://web.archive.org/web/20070731041550/http://www.jshs.org/forms/Annual%20report%200607.pdfOr, after qualifying didn't even attend???

REF: https://web.archive.org/web/20070731041409/http://www.jshs.org/forms/Student%20sessions.pdf

May, 2007:

AOC wins 2nd place (really somewhere between 3rd '-- 6th) at the Intel International Science and Engineering Fair (ISEF) which was held in Albuquerque, New Mexico (expenses paid).

The Path to the Intel ISEF

To reach the Intel ISEF, you follow this path:

1. First, you compete in a high school or local science fair.

2. If you win at the high school or local level, you can then compete in a regional or state fair.

3. If you win at the regional or state level, you may be eligible to compete at the Intel ISEF. Each affiliated fair can send up to two individual finalists and one team consisting of up to three members to represent them at the Intel ISEF.

REF: https://web.archive.org/web/20070624171439/http://www.sciserv.org/isef/about/process.asp

AOC w/ Michael Bluegrass, Yorktown H.S. teacher.NBC K-12 does a short video on the event which includes AOC in a snippet: https://www.nbclearn.com/portal/site/k-12/flatview?cuecard=2296

https://archives.nbclearn.com/portal/site/k-12/browse/?cuecard=2296#

So at this point in her life she is into science as her path forward so to speak. Nothing wrong with that. What we'll see in the next few years are the clear indications of her being an absolutely PERFECT activist in the making'... an aimless wandering soul always seeking to find her purpose without ever being able to grasp anything'... forcing her to look externally for the reasons and obstacles keeping her from finding happiness. This is a very common trait in the Progressive Left Activist, there is always a reason that the light at the end of the tunnel can never be reached'... someone else's fault'... even if no one is there to stop her.

REF: https://www.societyforscience.org/content/ssp-blog/intel-isef-alumna-headed-capitol-hill

What they don't tell you'... is that ''The Intel International Science and Engineering Fair Presented by Agilent Technologies (Intel ISEF) '-- the world's largest pre-college science competition '-- provides an opportunity for the best young scientists from around the globe to share ideas, showcase cutting-edge science projects, and compete for over $4 million in awards and scholarships.''

REF: https://web.archive.org/web/20080116212322/http://www.societyforscience.org/isef/about/index.asp

She was one of 17 winners (pages 31''33 is her field), her take home was $1,500. Here are the first and second place finishers:

REF: https://web.archive.org/web/20070614051908/http://www.sciserv.org/isef/results/grnd07.pdf

Also, given that the 2007 winners and runner ups get a planetary small body named after them (which we know about from numerous references one was named for her) I find it odd that she wasn't on that list either'...

REF: https://web.archive.org/web/20070715203511/http://www.ll.mit.edu/LINEAR/winners_2007.html#O

Then a few months later'... her name is added. So not on any finalist lists, runner up lists, award lists, etc'... then all of the sudden a few months later she is added to it? Clearly this is not any type of time traveling adjustment to the past record to include her and make a story out of it but I'm INSANELY curious to know what transpired to make them change their mind or add her later on'... maybe just a clerical error. Who knows!

Winners (2) of her category:

Her entry:

But wait'... there's more! The list is littered with First Place, Second Place, Finalist and Mentor positions'... seems they were giving out naming rights like hot cakes'... including multiple second place finishes in the same categories'... very interesting.

In fact, I found out later that;

All in all, there isn't much consistency here with the way they award (since there were honorable mentioned also) but now my new question is'... why didn't she also get a ''minor planet'' in addition to the near earth asteroid? My two cents, down right racism.

Here are the OTHER SECOND PLACE FINISHERS IN HER SAME EXACT CATEGORY:

Remember playing soccer or baseball or most other sports as a kid? That is what this reminds me of, when you DIDN'T get first place and instead got a participation trophy. I can see the lady yelling out the window of a NYC apartment building in a Seinfeld episode while they watch the marathon runners go by'... she yells; ''YOU'RE ALL WINNERS!''

REF: https://web.archive.org/web/20080615041342/http://www.ll.mit.edu/outreach/2007honorees.html

Personally'... just me here'... I think she should give back the naming rights, strip herself of the award/finish in protest for the fact that the event is funded in party by'... SHELL OIL! As a self-proclaimed science nerd even as a H.S. Senior she had to have known about the relation of fuel and climate change'... right?

REF: https://web.archive.org/web/20080116232459/http://www.societyforscience.org/isef/about/sponsors.asp

Bottom line, in 2007 there were almost 100 pages of award winners spread out across all the sponsors. Still impressed'... but coming in ''2nd Place'' is intentionally misleading and indicates out of a large pool she was #2 when in reality she is somewhere between 30th '-- 50th. Still impressive'... just not as much.

The Real 1st, 2nd & 3rdREF: https://web.archive.org/web/20070617034739/http://www.sciserv.org/isef/results/index.asp

But the High School at it up and put out a proud press release (which they should have, don't get me wrong)!

https://web.archive.org/web/20081121025401/http://www.yorktowncsd.org/0607news_intelwinner.phpJune 4th, 2007:Sergio satisfies Mortgage with Citibank for 1525 Unionport, 4D due to above noted transaction.

REF: New York City Department of Finance '-- Office of the City Register

June 24th, 2007:Graduates High School!

August 31st 2007:

Approximate date Alexandria leaves for College to attend Boston University on a scholarship as she has noted in tweets about cost of education. She does take out Federal Student Loans, ASSUMED for books, living expenses which may or may not have included housing if not part of scholarship. Per 2017 records, she would accumulate between $15K '-- $50K in debt. So to sum up her financials as they are tied in to her education, she received a scholarship that covered the cost of her education. She received'... wait for it'... a FREE EDUCATION? It's very possible this is not totally accurate and the scholarship covered a dollar amount and not all of her tuition but she has made it sound like it was covered when she talks about how she was one of the lucky ones.

Before I move into 2008, let's quickly summaries a few things.

1) By the age of 2 (or 3) her family (then of 3) owned a house in the suburbs north of the city, an apartment in the city near family/relatives, a small business and a share ownership of business location.

2) Took frequent back and forth trips (usually Christmas/New Years) to Puerto Rico.

3) Had an uncle that she may (or may not) have been given a job from in one of his failing businesses.

4) She did really well in an international science competition and placed IN ATTENDANCE at the finals in New Mexico, which also got her a Space Rock and $1,000.

5) Got a free (or large portion) education at no cost, only requiring room & board to go along with typical school expenses, most likely because of the well spend $500 '-- $1,000 per event her family paid to have her go to two (2) NHI events, based on her accounts also offset with Federal/BU Student Aid and possibly even a scholarship to some degree based on grades & ethnicity combo (none of this is intended to say she didn't deserve to go to college, based on everything I know, she had the right skillset and education to qualify to advance on to Higher Education (College/University).

Sometime between Sept. 2007 '-- May 2008:''But Vahedi, who lived on Ocasio-Cortez's dorm floor freshman year ('Warren Towers, 16B'), was not surprised by the political upset. 'She just has this energy that's so motivated and ready just to work and make things happen,' Vahedi says. She recalls walking through the George Sherman Union with Ocasio-Cortez and joking with her about 'when you're president one day.'

'She didn't make it seem like it was totally out of the question,' says Vahedi''

AOC has claimed numerous times that she never wanted to run for office'... but we now know she did legislative training in High School (NHI-LDZ), changed her major in college (after getting in for Science, to International Relations/Econ) to something more governmental office aligned, worked in a Senators office in the summer (Sen. Kennedy), gave political-esque speeches in college (Jan 2011 MLK speech, NPR interview re: Osama Bin Laden) and volunteered on a Presidential campaign (Bernie) prior to launching her own candidacy. So yea'... like I've always said'... she is NOT just ''some bartender.''

REF: http://www.bu.edu/articles/2018/alexandria-ocasio-cortez-wins-congressional-primary-in-new-york-city/

February, 2008:Takes a bus from Boston to her Westchester Yorktown Heights house to be able to vote in the 2008 primary.

https://www.reddit.com/r/SandersForPresident/comments/4bq3no/urgent_people_in_ny_pa_and_md_are_reporting_that/d287x44/?context=8&depth=9June, 2008:Taxes due for Bronx apartment on 7/1/2008 which outline taxes for the period 7/1/08''6/30/09. Total Amount Due: $0.00. That is one zero, followed by a decimal, followed by two additional zeros.

June-July, 2008:Not exactly clear the dates, but based on her John F. Lopez Fellowship award, she would be working the NHI LDZ (as Sec. of State) as an incoming Sophomore (which based on their website is when they award the College Sponsored Fellowship) to support and help the high school students (as she had participated back in 2006). Here are the pictures I could find which I feel could certainly be her (unconfirmed):

On the far right, there are a number of physical identifiers such as frame, hair, glasses that would indicate that is her and this is the lineup of Fellowship students who will act as the support for the younger students.Summer, 2008:Worked in Ted Kennedy's ''foreign affairs/immigration constituent office'' taking phone calls from Spanish speaking residents in his district to help them with matters related to immigration, deportation, adoption and other miscellaneous items. She left the office when he passed away in August 2008.

REF: https://www.youtube.com/watch?v=qCCGFuIvzXk and Twitter post from AOC, 5/26/2018 at 3:12pm (EST).

Given the fact that she entered Boston University as a Science Major (in 2007), this indicates (most likely) that she changed her major as early as the end of her first semester (approx. January 2008) given this PROBABLY would have been something offered/promoted within the department.

Something I found interesting about Sen. Edward (Ted) Kennedy during this time was he was fighting pretty hard against ICE and the separation of children/families. Given her placement in the office, she would have known darn well it was going on since one would have a good case to make an assumption that the people calling in were providing accounts of this happening, leading to a letter dated May 16th, 2008 and a DHS logged note (May 22, 2008) shown below;

In other words, her crusade against ICE (both on a personal and career basis) has been something she has been fighting against for quite some time.

Similar situation, the above letter would indicate that Sen. Kennedy was fighting against child separation also. Only noteworthy because it would imply a strong likelihood that AOC knows darn well that this unfortunate side effect is not new and a result of the Trump Administrations policies.

September 8th, 2008:Tragically, and only 1''2 weeks after returning to Boston University, her father Sergio Ocasio Roman passes away due to a battle with cancer at the way too young age of 49. This would leave Blanca OcasioRoman as the sole provider for the family who, up to that time, had only a career as a housewife.

https://www.reddit.com/r/Political_Revolution/comments/75xkvr/my_family_nearly_lost_it_all_in_the_2008/As I will get into more detail later on, as she puts it, ''it wasn't enough and I needed to help.'' is a little deceptive in nature. Blanca working as a housecleaner (est. $16-$19K/year assuming 25 hours a week) and bus driver (est. $20K/year assuming 20 hours a week) would be enough to support the house and expenses in Yorktown Heights'... but prove difficult to ALSO support the expenses tied to her daughter, son and one and a half apartments in the Bronx.

REF: Known/Internet/reddit/AOC.

January 14th, 2009:Blanca Ocasio-Cortez, ''to whom letters of administration were issued by the Surrogate's Court, Westchester County, New York on January 14, 2009.'' Why this is relevant is because this would mean that at this point in early 2009, albeit 4 months after his passing, she is now the legal administrator of his estate. It can be assumed that September was spent focusing on arrangements and would indicate that the wealthy and treacherous attorneys we heard about creating all kinds of billable hours because they just want nothing but money. However, there are a lot of difficulties involved with becoming someone's administrator if there is no will in place prior to death, for example a certain amount of waiting period after publicly posting the obituary to ensure it is not contested for one reason or another. As noted earlier, it is also very possible that she had additional hoops to jump through to get her name legally changed in the state of New York since prior legal records refer to her as simply Blanca Ocasioroman. This would have likely been a result of their marriage being in Puerto Rico.

Someone with knowledge of the NY State legal system and Puerto Rican customary practices with naming conventions would be encouraged to review and comment to confirm/correct/deny this theory.

Summer, 2009:Family trip, at a minimum, with her mom, Uncle and his grandchild. Very hard to say where this was, but could very well just be upstate NY.

2009 Family Vacation w/ Cortez FamilyJune, 2009:Bronx Apt (4D) Taxes Issued/Announced for Year (7/1/09''6/30/10): $91.00 ($7.58/month)'...for a SECOND RESIDENCE.

July 8th, 2009:August 8th, 2009:August 28th to October, 2009:Nothing to hate here, all good stuff. Educational, informative and a good experience for her to have studied abroad briefly.

That said'...certainly enjoyed watching her learn how to use a fire extinguisher (first video)'... reminded me of her figuring out a garbage disposal. Below the videos are all the blog posts during this time frame from her time in Niger with the Peace Corps in the Boston University international program.

November 2nd, 2009:February 24th, 2010:Co-founds Boston University Culture Shock with Neal Amwed and Raul Fernandez.

A portion of the organization dedicates itself to Social Activism, but is mainly a place for energetic (mainly progressives) college students to band together as a group and write blogs about anything really.

Based on everything I've seen and read to date, this would be my GUESS as to when her activist personality was launched, inspired by her 2009 trip abroad.

https://web.archive.org/web/20100224085545/http://bucultureshock.com/

https://web.archive.org/web/20130617212304/http://bucultureshock.com/authors-2/

http://bucultureshock.com/five-years-culture-shock/March 1st, 2010:Apparently even the Washington Post is in on the past history AOC scrubfest tour'...

But I did finally get it'...

REF: https://web.archive.org/web/20150924021331/http://voices.washingtonpost.com/campus-overload/2010/03/college_roadtrip_boston.html

April 8th, 2010:Created/Produced the first ''C'mon BU'' video;

Launches another ''C'Mon BU'' video series from her BU Start Up progressive group, Boston University Culture Shock. She can be seen in the background with Raul Fernandez (the other co-founding professor I noted earlier). https://www.bu.edu/buniverse/search/?owner=aocasio

https://www.youtube.com/channel/UCqKSDC_a5D7ZSJDKIsOX-IQ

The blog posts put directly onto the Culture Shock website are incredibly hard to capture because they quickly refresh to some unauthorized script page. But there are ways to see most of them, just time consuming and annoying. I believe these may be two early on articles she posted for the group, however this is UNCONFIRMED:

April, 2010:Does not participate in Boston University ''Part of the Solution'' / BU Global Day of Service in the Bronx. https://www.flickr.com/photos/bualumni/4545817666/in/album-72157623910675950/

Also not to be found at the Boston Zoo, or Newton, MA Newton Community Farm. Or in Boston at St. Francis House. Or in Boston for ''The Food Project''. Or in Boston, Franklin Park Zoo. Or Boston Greater Food Bank. Or Boston Health Care for the Homeless program. Or Boston, Habitat for Humanity.

This is important because it highlights something I'll get to later on which is that her trips to Flint, D.C. and Standing Rock were given as assignments to prove herself to Brand New Congress as well as at the same time creating a somewhat of a manufactured backstory (vs. consistent year over year sustained effort) of numerous times she participated in different protests'... losing sight (by the MSM) that they were all within a 12 month period'...

April 24th, 2010:AOC speaks at an independently organized TED event, TEDxBU, along with Riley Roberts (current boyfriend, potentially how they met '-- unconfirmed). What was interesting to find out was that it wasn't her first time on the TEDxBU stage. Both videos are completely LOST in the internet abyss, seemingly scrubbed from existence.

Here is how many people registered'... but didn't show up. My rough eye balling says 25''40 showed up.

''Riley is a sophomore duel-degree student studying Sociology and Finance. He is passionate about all aspects of business and people. His life necessitates that he spend a significant amount of time on a computer, but, despite the way he lives, he loves to break the connection and engage others.''

''A social entrepreneur and New York native, Alexandria seeks out partners in health, art, and economic development to create opportunities for the future. She has consulted non-profits, worked in government, and launched a media enterprise aimed toward these ends.''

REF: https://www.ted.com/tedx/events/750The following day, Charter for Compassion at BU releases a video starring Media Darling AOC.

REF: https://www.youtube.com/watch?v=s-IpbLFnz3U#action=share

June 1st, 2010:Bronx Apt (4D) Taxes Issued/Announced for Year (7/1/10''6/30/11): $25.00 ($2.08 per month)'...for a SECOND RESIDENCE.

NOTE: The reason I keep including these annual updates is strictly based on the facts she complains and yells about unfairness and how nobody ever does anything for the Bronx, PoC, etc'... It's a much larger discussion than just pointing out the MASSIVE discounts and tax abatements enjoyed by certain areas of the country, but paying from $0 '-- $100 a month in property taxes on an owned (in this case 2nd) residence, is not exactly something that everyone enjoys.

September 17th, 2010:The original Sunrise Movement!

September, 2010:Hangs out in the BU Culture Shock Lair.

September 30th, 2010:Ah yes, the dancing rooftop video'...

'...a few BEHIND THE SCENES bonus footage here.

October 1st, 2010:Hangs out with the crew back at the BU Culture Shock hangout. Here she is repping Yorktown Heights (with friend Jean-Bertrand (Instagram videos, got him a job at REACH Progress, in pics from first week in D.C.) there in Lakers gear)

October 2, 2010:Joins her film crew for an excursion around campus/BU for a Softball game. Game in question: https://goterriers.com/news/2010/8/23/softball_announces_date_of_annual_alumni_game.aspx

October 25th, 2010:To all the haters that say she wasn't really an Economics major. Boom haha

November 1st, 2010:Alex Yepes and Rebecca Rodriguez speak at an event about Medicaid Grants '-- http://www.nymakesworkpay.org/docs/Entrepreneurship%20Partners%20Dialogue%20Report%2020101.htm

Alex Yepes

Alex Yepes currently works as Managing Director of the Columbia''Harlem Small Business Development Center (CHSBDC). The CHSBDC provides free technical assistance to entrepreneurs in New York State. He is an advisor to many undergraduate organizations as well as an operations consultant for many non''profit groups. Some of the workshop specializations include SWOT analysis, sustainability practices, cost analysis, marketing, research and branding. Alex has used his experiences to develop workshops that educate and empower 21st century leaders. He has held workshops across the country at some of the largest universities. His focus has been to teach our next generation of leaders how they can positively impact the community they live in. He feels entrepreneurs are in a unique position to impact the new century by adapting and implementing sustainable protocols in their business operations thereby practicing cost saving measures and prudent growth strategies. Born and raised in Queens, New York, Alex Yepes attended Long Island University, CW Post Campus for a BA in International Studies and an MA in Political Science, with a concentration in International Marketing. Alex is co''owner of Canela Spa & Salon and is the principal in his own multimedia company PRNY, Inc.

- QUICK REMINDER NOTES: Canela Spa & Salon would close approximately 2 years later and PRNY seems to be non-existent multimedia company. 7 years later he would evade taxes and have a warrant out for his arrest for tax evasion. So this is the person that Columbia has put in charge of teaching the community how to start and run a small business. Interesting.

Alex Yepes explained that the Columbia''Harlem SBDC was brought into the StartUP project in Manhattan at the suggestion of the Columbia School of Social Work at Columbia University.

- QUICK INTERUPTION: The entire reason (was in the news), which created an OUTCRY and UPRISING to Columbia moving in to the 130's and taking over more land. In order to make peace with the protestors and angry locals, much like how Unions are dealt with, a few jobs are thrown around to make a story of it or satisfy an angry demand and the unions go away (for a while at least). There was a lot of unrest with the moving in of CU to the area and they sought to quiet the area by way of programs and jobs like these as a way to stop the bleeding and negative attention.

The School of Social Work had been involved in initially bringing together providers in Manhattan to discuss the feasibility of a StartUP NY project in New York City. The Columbia''Harlem SBDC were key players in those preliminary meetings. Mr. Yepes said that they were also invited to last year's Entrepreneurship Partners Dialogue. At that meeting they learned of the variety of disability entrepreneurship models that are being used across the country. Then this past year, they became a key part of the team that developed the StartUP NY program in Manhattan. The includes Arnie Wolf and Stephen Beard from Hunter College, Alex Yepes and Rebecca Rodriguez from the Columbia''Harlem SBDC, Nicole LaCorte''Klein from the Burton Blatt Institute (BBI) at Syracuse University, and Beth Keeton from Griffin''Hammis Associates. Mr. Yepes explained that this past summer they launched the program, conducting Inclusive Entrepreneurship and Quick Launch trainings in Manhattan. There are a number of entrepreneurs currently in the program, developing their businesses.

'...

Ms. LaCorte Klein then inquired as to Ms. Rodriguez and Mr. Yepes learning experiences in their program development efforts.

Rebecca Rodriguez

Rebecca Rodriguez is Regional Director for the Columbia''Harlem Small Business Development Center (CHSBDC). The Center is part of the School of Engineering and Applied Sciences at Columbia University. Under Ms. Rodriguez's leadership, entrepreneurship and the Center's programs have launched to be one of the most high''profile programs at Columbia. Under this role, she manages the use of Columbia resources for economic development within the entrepreneurial community, with a focus on the local areas of Harlem and Washington Heights. She also serves as an advisor to student entrepreneurial groups.

Along with her experience at Columbia, her professional background includes strategic planning, budget and events management, program design and administration. Rebecca has serves on the executive team of her own small business enterprise. She devotes time to community engagement through a multitude of organizations and serves as a mentor to underrepresented high school students. Rebecca attended Long Island University for a Bachelor's in International Studies, with a concentration in cross''cultural management.

'...

Panel discussion:

Alex Yepes said that the Columbia''Harlem SBDC quickly identified the gap in New York City between the need for entrepreneurship services for people with disabilities in New York City and the capacity to address that need. Just one zip code '...

- PAUSE. AOC: ''The Zip Code you're born into'...'' '-- Sound familiar?

'...in the Columbia''Harlem SBDC's geographic catchment area has 50,000 people and the SBDC is responsible for 11 zip codes. If we apply the 15 to 16% that are assumed to be disabled, there are over 8,000 in just one zip code. The need is great. At an early planning session where future potential entrepreneurs had been invited, individuals were disappointed because not all of the New York City boroughs were being included in this first pilot program. In the future, if we can roll out a replication of the StartUP NY programs across the city, we will be able to insure full participation.

- NOTE 1: Eduardo ''Alex'' Yepes-Roman. Online primarily goes by Alex Yepes or E Alex Yepes. Alex has three children with Rebecca Rodriguez later in life, roughly 2013 as shown below in later posts. Rebecca, the now famous ''Tia'' who drives the minivan to drive AOC around, can be seen in some pictures of post-election. Their (Alex and Rebecca) relationship may have started as early as college, having both attended LIU and studied International Studies. The two first born were also in the picture of AOC from Halloween 2018 where she had cat ears on. Staged to seem like just two random kids (in my OPINION).

o LinkedIn: https://in.linkedin.com/in/ealexyepes.

o It was very curious he wasn't in any of the posted pictures at the swearing in. I always suspected it was his shoulder, and then I finally found it on a video piece. Rebecca is the far right one, Alex in back far left side.

He is also the named contact in a few online KOR Architects / Kirschenbaum Ocasio-Roman Architects, PC. His LinkedIn page has him there from 1998 to 2008, one would assume VERY part time because his noted strengths are not even remotely visible for KOR, almost no digital trail outside of a couple generic Yellow Page type sites. He serves as the Treasurer (dangerous) for Harlem One Stop, where he has served since January 2015. They are funded by a ''cultural tourism grant from the Arts & Business Council/NYSCA''. So NYS funded. Interesting connection. Tax Form 990 connects this organization to the address 502 W 142nd Street, which is tied to West Harlem Group Assistance. This group gets tons of State/City money (around ½ million from ''Contributions and Grants'' while also generating $2.3M '-- $3.3M in ''Other Revenue'' (based on Google Reviews, Rent.), collects rent, provides poor homeownership based on reviews, bad administration of tenants based on reviews (lost paperwork, rude attitudes, etc'...), files their taxes via a CPA in Alabama for some reason and Pays Exec. Director $165,174/year and Deputy Director $142,173/year despite what sounds like a poorly run organization providing little benefit.- So we will see an individual (Alex Yepes) helping people start small businesses, disadvantaged business, etc.. who has been unable to keep any of his own businesses afloat, nor pay taxes to the point the state forced closure'... is interesting. Apparently people, including Columbia University'... do not do their homework. Way down the line he will create a business, including having Rebecca follow suit, without registering with the state of New York'... poor decision which should get a lot of scrutiny (YEAR ONE STRATEGIES & EOS STRATEGIES).

Despite the poor qualifications even within his own subject matter expertise, all this knowledge and success was deemed critical for AOC to ''hire'' both these two small business enterprise consultants who have continuously not been able to walk the walk. Neither relative was paid under their own name as I will get into later.November 9th, 2010:AOC begins hatching her plan for Brook Ave. Press!

November 22nd, 2010:Blackberry's, iPad's, iPhones, MacBooks'... I keep on struggling to see the struggling.

January 17th, 2011:AOC speaks at a Boston University MLK Jr. Day celebration event.

Notes: Zip code. I believe this is the first ever reference to this out of her mouth. Not confirmed, seems that way based on my findings.

REF: https://www.youtube.com/watch?v=OEKPoAml8Hk

January 27th '-- 28th, 2011:Very interesting conversation here. In otherwords, free education for all would yield'...

Follow the bouncing ball to follow the conversation.February 14th, 2011:Alex Yepes-Roman's company, Canela Spa, Inc. is sued by Ban Rosenbaum & Martin, P.C. in a Civil dispute in the Bronx County Civil Court. Based on https://www.brmcpa.com/ a connection or hunch could be made that this company was Alex's tax accountant who he didn't (assumed) pay and they took to court.

April 1st, 2011:Whoa'... creepy when looking back. Kudos Jean!

April 15th, 2011:Does not participate in Boston University ''Part of the Solution'' / BU Global Day of Service. In Boston or the Bronx.

May 3rd, 2011:Is interviewed by NPR regarding what the kids on campus think about Bin Laden's death. Note, the transcript is wrong and she is the last voice also that talks about bowing heads in moment of silence. The audio clearly indicates as such.

https://www.npr.org/2011/05/03/135963042/college-students-react-to-bin-ladens-death

May (mid), 2011:AOC Graduates Boston University. She is mentioned in the valedictorian address:

June 1st, 2011:Bronx Apt (4D) Taxes Issued/Announced for Year (7/1/11''6/30/12): $249.03 ($20.75 per month)'...for a SECOND RESIDENCE.

June 1st, 2011 (at the latest):Moves back to the Bronx, given the family has an extra apartment lying around, takes up residence there so she can live rent free (or massively discounted) and focus her time and efforts on her hobbies and aspirations which have absolutely nothing to do with her first class education/degree.

One such hobby is the creation of a SquareSpace blogging page (may have been earlier, unclear, but pretty sure it was shortly after moving into the Bronx apartment and starting her hobbies).

When going back in time all I can see is a series of subpages and partial blog posts. The pages containing the full articles appear to be missing and never backed up.

What I learned wandering around here:

· February 2012: Writes about Economics, her summary of societal growth thru different economic stages sounds very similar to a blog post by Zack Exley (but I don't suspect they have met, just blogging about something they've independently learned).

o ''This is a big reason as to why education is so important. As economies advance, the skill requirements for workers grow at all levels. Individuals with poor intellectual or skill development are left behind, and communities starved of quality education are essentially destined to economic stagnancy and little to no mobility or creative development. Communities that have quality human capital investments, like good schools and health care, leap ahead in development.''

o ''Brook Avenue Press '-- the children's book venture a group of NYC middle schoolers and I are working on '-- is a tiny, experimental attempt at human capital investment in an unconventional place. With some luck, a story might prompt an interesting conversation or provoke a question that a child hadn't thought of before. What would happen if we all tried to stir the pot, in our own unique way?''

So while this blog, hobby and project is going on, her mother is having a heck of a time supporting her with a free apartment, her own house to deal with and putting her brother through college but the story was that it was society and its racist bias that caused all her families 2013 financial difficulties'... which by the way were in part created by AOC not getting her own place like everyone else who ventures out on their own or staying at the Yorktown Heights place while she tried to find a job which would have allowed her mother to sell the apartment for extra income that would have floated the family for a few years (AT LEAST 3 years, probably more) even if she (Blanca) stopped working completely.

But going back to my analysis of the SquareSpace posts;

Much like Exley experienced in the late 90's, she finds herself wandering aimlessly looking for purpose. She writes about ''So, what do you do?'' and it is clear she is all over the map. She doesn't grasp the fact that someone can have a job completely separate to their hobby and true inspirations, or can have a job that has a dotted line to future aspirations.

She seems to think that what someone does for a living defines them (like the whole ''Zip Code you're born into'' talk) and is always unable to separate these things, believing that someone gets imprisoned by their zip code, by their job, by Capitalism, by their local school, by their neighborhood, by their local politician, by their bank, by their health insurance, by the Republicans, by white people, by payday loans, by pharmaceutical companies, by Fox News, by pollution, by cars, by money and the list goes on for the reasons that she and her people are held back. But if that was all true'... could her family have moved out of the Bronx? Could she have received a better education? Did she get scholarships and financial assistance to attend a solid University? Was she advantaged by having an apartment that she could have? Did she end up becoming a U.S. Congresswoman? Because it sounds a heck of a lot like the system works and is pretty unbiased'... in fact, I'd say this just proves there is an unbalance in the system because you make more money than I do because you bang your fists and tweet smack talk so how about maybe be a tiny bit grateful? I know, a pipe dream but hopefully one day you will mature enough to see that what you've accomplished in this country is something you'd never be able to do anywhere else.

There is always something to blame because it is impossible for her and people like her (no, that is not a racist statement, it is referring to activists and spoiled children of any form of being) to look inside themselves and find that perhaps there is some blame that should be directed from within.

It is basically a mental disorder (and actually I think it has a real disorder name) and in my opinion a form of denial that any of the root causes to problems faced may, at least in some part, lie within the individual themselves. External factors are just obstacles. Look at what her father accomplished. Look at what her California Uncle (couldn't find any reason to detail what I mean by this, but born in Bronx, got edu, got job, got money, moved to CA, got very nice house, got married, had kids, paid for their college in Hawaii and is doing really quite well'... despite the ''Zip Code he was born into'') and look at what she did!

''If I described to you what I do '-- create curriculum, write, teach, launch projects, read, play piano, paint '-- it wouldn't make much sense without the context of my beliefs '-- one being that we as a nation must carry our strengths and principles into the 21st century, and the place to start is in revolutionizing education.''

o Curriculum = National Hispanic Institute events, 5''7 days a year volunteering.

o Write = Her blogs.

o Teach = I guess also NHI events'... but again'... 5''7 days'...

o Launch Projects = Brook Ave Press and the associated Twitter Page.

o Read = socialist and radical economic theory among other types of unconventional titles.

o Piano = OK, cool hobby.

o Paint = Ummmm OK. I've seen your artwork'... you're the equivalent of the person who auditions on American Idol who says they are really awesome and self taught'... we know how that ends up.

· January 2013: Confirmation, in my opinion, that she gets her over dramatic memories of what really happened from her parents. Referring to NYC (Bronx); ''It's the place where my parents started their life together in a bare apartment with a mattress on the floor'...'' While this technically may be correct that the mattress may have been on the floor, who hasn't done this? It's over dramatized to sound like they lived in massive poverty. The truth, as I've laid out above, is in 1986 he bought an apartment! In 1988 he opened a business! In 1991 he bought a house! 1996 bought a half share of another apartment!

o This post (The Creative Mandate) gets one retweet on Twitter by @MeghanTherrien, a suspended account. Cool.

Clearly the above illustrates a few key things.

1) Education (free) is true to her heart and real in her positions/tweets.

2) Global Open Society is important so that individual/community/regional/country based success is destroyed and a new one whereby an even spread of achievement is true.

3) She is not making any money at this point, which means her mother is paying the $700-$1,000 monthly condo fees and $0 '-- $1,800 in annual property taxes for the Bronx Unit and her to live there rent free to do her little hobbies.

REF: https://web.archive.org/web/20130710050430/http://alexocasio.squarespace.com/

June 3rd, 2011:Goes back to Boston U. to see friends after being gone approximately two weeks. Nothing on the agenda/schedule back at home I guess.

June 21st, 2011:Spends a few days a year being an ''Educational Director'' (never mentioned or noted as having any such position on any of their websites pages which specifically name who has what position. As noted below, only the position of ''Director of Creative Products & Program Analysis'') at the National Hispanic Institute's College World Series (see 2006). This was the Colorado LDZ, held June 19''26th, 2011 at Colorado State University which simulates the governmental process by giving students positions in a mock government.

According to documentation I can find this is a 100% volunteer position with likely travel, room and board picked up (given the size of spend in this area from NHI's 990's) and paid for by the organization. Two new (at least that I've seen) tidbits are noted in a 2017 article by NHI Magazine'... that she wrote for their magazine and also served as a consultant to the NHI Founder Ernesto Nieto. '' Alexandria Ocasio-Cortez, who participated in the 2005 National LDZ and the 2006 New York CWS, is running in New York's 14th District, which includes the Bronx and Queens. As a writer and educator, she has remained involved with NHI as an educational director at CWS programs, a contributor to past NHI Magazine print editions, and as a consultant to NHI founder and President Ernesto Nieto.'' This is critical because a lot of people are dumbfounded by her Financial Disclosures as to how she could have been paid by NHI given that it is noted she has a retirement account with money in it under NHI's name.

REF: http://www.nhimagazine.com/2017/06/26/three-nhi-alumni-run-congress-2018/ , House of Representatives financial disclosure form 2017 (filed in March 2018).

At some point prior to November 18th, 2011 and after November 19th 2010 she receives the position of:

REF: https://web.archive.org/web/20111118030251/http://www.nhi-net.org:80/Pages/Staff.aspx

So in order to figure out a ballpark financial situation of this position, we have to somewhat back into a pool of money that went to unnamed employees. First, Sept. 1, 2010 to Aug. 31, 2011:

So 12 employees. Now we need to know salary expense for those 12.

12 people, $620,316 (prior year $603,155). Avg. per employee $50K (including Benefits/Other) and change. But, because some employees qualify as having to be defined in terms of salary, we can further deduce.

So the pot that AOC falls into is $252,816 in salary/wages. In the above link of staff, there appear to be about six (6) individuals who would fall into this non ''key employees'' bucket, one of which would be AOC. So cash money, $252K / 6 = $42K cash salary (before taxes) on average. Given she is at the bottom of the totem pole, we will call it $30K for spare time work with a heavier effort in the Summer months when they have their busy season.

Doing the same exercise for 9/1/2011''8/31/2012 paints a more interesting picture though. Employees drop to 11, Salaries, other, Benefits increases to $687,346. The ''key employees'' jumped up in salary to a total of $261,872 leaving a real wages balance for non-key to $199,601, again the bucket that AOC would fall into. Also of note, evidence suggest that the annual retirement account giving (which we know she has an account for because of financial disclosures) is a ratio of approx. 12''15% of salary. So if the salary range of $30K '-- $40K for AOC is correct, she is putting aside (or being given thru match or bonus in form of retirement) approximately $4-$6K per year while employed by NHI.

She is removed seemingly after the 2012 summer season, no longer noted on the page in April, 2013: https://web.archive.org/web/20130420092459/http://www.nhi-net.org:80/Pages/Staff.aspx

So the mystery NHI Retirement account in her disclosures which states $1K '-- $15K is by my own personal estimation with 2 years put in, and 6 years of interest, approximately $11K '-- $15K.

July 3rd-10th, 2011:Goes to Panama to work the Las Americas LDZ for the National Hispanic Institute. This indicates with high probability that she is at this point already on staff as I'll talk about later on.

Because her twitter handle has changed and these are so old, there is no way to see them in line, so had to get a little creative with the above. He asks her to go get ice cream, she can't because she is in Panama, he wants to know for how long, she says returning Sunday, he will be in NYC in July so they can do it then.August 11th, 2011:PARTY TIME!!!!!!!!!

October 16th, 2011First public appearance of Brook Avenue Press. What is interesting about this video is it would strongly appear it was shot in Boston. User RCORDOVA68 only has a history of a few videos, all of which took place during the same timeframe, which based on accents of the other people were from Boston.

February 18th, 2012:AOC goes on flying lessons with her camera.

''First flying lesson. Niner! Gearing up for my first flying lesson.'' so obviously not a big environmentalist yet (which I believe she was never until she started getting a lot of online heat for it in early 2019.

Later that night, chills out in Yorktown Heights with Gabe using her iPad or similar high cost technology:

REF: Instagram and Instagram repository websites.

February 19th, 2012:''Brook Avenue Press '-- the children's book venture a group of NYC middle schoolers and I are working on '-- is a tiny, experimental attempt at human capital investment in an unconventional place. With some luck, a story might prompt an interesting conversation or provoke a question that a child hadn't thought of before. What would happen if we all tried to stir the pot, in our own unique way?''

REF: AOC, 2/19/2012 via SquareSpace (WayBackMachine)

Well, this is a problem for a couple reasons. 1. As noted earlier on, she started the hobby company no later than October 2011. 2. She has clearly initiated its activities in early 2012 per her own statements. 3. Her initial NYS filing is dated July 17th, 2012'...

March 4th, 2012:AOC goes to Disney World in FL. ''There's a glass show around here'...'' ''itskarlaivanna Where is this? Ocasio2018 1400 Magic Kingdom Drive'' That person, followed by Ocasio2018 has one picture from March 20, 2012 which she liked and MIGHT be her in it. Unknown for sure.

March 23rd, 2012:Blanca transfers the Yorktown Heights house into her own name (was in Administrator of Accounts name, which may indicate the long probate period has finally come to a close after 3 ½ years. In fairness, at least double the usual time but I've already talked about why that potentially occurred.

REF: Westchester County Clerks online records.

March 30th, 2012:''Thanks to @nycedc, social good startups have a place to call home in the BX. Thanks! @sunshineny'' REF: Instagram.

Note: SunshineNY failed, bled money despite the state/city funding to subsidize it (no other way it could have even lasted as long as it did).https://sunshineny.com/, closed its doors officially in 2016. We know she was still there a few months later when daily news did a story on it.REF: https://www.nydailynews.com/new-york/bronx/diverse-group-startups-thriving-city-sponsored-sunshine-bronx-business-incubator-hunts-point-article-1.1115489 ''picture book publishing house'', ''Sunshine Bronx entrepreneurs pay $195 a month for shared working space or rent desks for $275 a month.'' '''You see a huge return on your investment here,' said Alexandria Ocasio-Cortez, 22, who recently launched Brook Avenue Press, a publishing firm for books that portray the Bronx in a positive light. 'People pay $500 an hour for consulting that we get for free by the water cooler.'' (See Note1 below) ''Ocasio-Cortez said the hub will continue to grow because the Bronx is full of go-getters.'' ''We have so many incredible people here,'' the Parkchester resident said. ''Rather than think of it as somewhere to run from, the Bronx is somewhere to invest.'' (See Note2 below).-Note1: This statement is another example of a skewed view of life, the business world, etc'... and how it all works. Small business consultants don't charge anywhere near $500, especially when you're getting consulting from people who are scraping by to get a business off the ground. The KPMG, Deloitte's of the world, some of the most expensive in the business are in the $350/hour range (unless you get unnecessarily high up roles/resources for your needs which in this case would be HIGHLY unlikely). As hinted above, the vast majority of the startups she would have been getting this free consulting from also failed in their endeavors. Here are their failed businesses:

o http://www.dirt-works.org/about.html

o https://thinkworkmedia.com/author/think-work-media/

o Nothing found for ''Live Online Training Systems'', who didn't start there but utilized the space.

o http://sus4media.com/press/ (Mandi Susman)

Her Free Consultants-Note2: Interesting comments here. 1) Her expert understanding of business and the economy thought that this was and would be a successful program located in the Bronx. It and most of the startups as noted above, failed. This actually proves on paper that you can pay for all opportunities you want to give'... but you have to do so in an area or to a community that really wants them. Based on results, doesn't seem the Bronx wants the opportunities or Sunshine would not have failed and solid businesses would have come from the incubator. Additionally, she's sort of contradicting her own path, which had her family ''run from'' the Bronx, moving to Westchester in 1995 (I believe earlier, the dates don't add up given the date of home purchase). Go-getters who intend on succeeding on their own (other than tech startups) typically live and experience the business they want to go out on their own. She never so much as worked for a publisher, book writer or even a book store as far as I've been able to tell, just the little experience she gained from BU Culture Shock writing a few blogs and producing a video or two.

April 21st, 2012:Road trip (or fly, unknown) to Washington, D.C. '-- Instagram.

May 4th, 2012:Based on her and Gabe Cortez Instagram accounts, went to Puerto Rico for a wedding, flying JetBlue. Gabe was there until May 18th. AOC may have been there as long as May 30th, 2012 based on a picture of a PR soda, however said soda is also available in the U.S. so not confirmed. She was definitely there thru May 8th. I have attended a few destination weddings, even those where I have been able to stay with family'... but not for multiple weeks. AOC PRIVILEGE.

June 1st, 2012:Bronx Apt (4D) Taxes Issued/Announced for Year (7/1/12''6/30/13): $665 ($55.42 per month)'...for a SECOND RESIDENCE.

June 15th, 2012:Performs her almost (if not) annual week of volunteering at National Hispanic Institute (''NHI'') (the only expense of which is time and energy). This is also why she claims to be an ''educator''.

July 6, 2012:Unknown exactly'... clearly yet another little roadtrip vacation for Ms. Ocasio-Cortez unless Neal is going from Boston down to NYC which is a possibility.

July 16, 2012:Files with New York State for her business, Brook Avenue Press.

August 21st, 2012:In DNAinfo.com article; https://www.dnainfo.com/new-york/20120821/hunts-point/new-bill-would-double-tax-breaks-for-start-ups/

''And Alexandria Ocasio-Cortez, 22, has shelled out $1,000 since April simply to rent space while she researches her business idea '-- a children's book publishing company devoted to telling positive stories set in The Bronx.

All three Bronx entrepreneurs support a bill, sponsored by West Virginia Sen. John Rockefeller and co-sponsored by New York Sen. Kirsten Gillibrand, that would double the tax deductions for new business start-up costs, bringing it from $5,000 to $10,000. ''You don't really make a profit in your first year,'' Ocasio-Cortez said Monday at the Sunshine Bronx Business Incubator in Hunts Point. ''To get taxed on top of that is a real whammy.''

I'm so confused'... did you even make any revenue in your first year? You put out nothing, the only trail of anything is a few retweeted posts on Twitter which got next to no traction as far as I can tell for the products/services you were promoting so no company would have paid for your promotional digital services. Lastly, to get taxed on top of what'...? What start-up costs? $1,000 you paid in space fees which you completely could have avoided and just worked on your computer in your provided apartment instead?

AOC Hidden in the back.October 5th, 2012:Blanca Ocasio-Cortez & Alex Kirschenbaum sell 1510 Archer Road, TB, Bronx NY to Dana Fenton (real estate mogul located at 530 Park Ave, NY) for $105,000 (they bought for $25,000 in 1996 so over 300% profit on original investment over the 16 years). Unknown as to the ownership split, but assuming 50%, roughly $40-$45K after all fees and expenses for each party.

This is likely the result of 1) AOC being supported by her mother given she has been unable to land any real job or generate any known income at this point and puts her focus on her hobbies. If Blanca was actually scrubbing toilets per AOC's claims and AOC does indeed go help her, she is probably only splitting the money coming in to Blanca to help herself live in the BX apartment and pay her $200/month desk rent. 2) Gabe Cortez would have started school at LIU for his liberal arts degree that has done nothing to create any notable career up to this point. Hung up his ''real'' job as a real estate agent after about two years to focus on his music, art and photography. As I'll get into in a separate article, his music and art will 100% rely on being AOC's brothers music and art to go anywhere, quite horrible, but his photography is not terrible (if he'd stop taking pictures of himself all the time).

October, 2012:Sets up BrookAvePress Twitter Account.

October 13th, 2012:Celebrating her birthday by taking part in a good cause. She can raise a bunch of money and help and get healthy all at the same time!!

And of the $45'... she was one of two who donated money.

December 31, 2012:Annual trip to Puerto Rico.

The findings from 2013 suggest that after Brookavepress failure, AOC spent the year wandering. Hard to say for sure what she was doing during this time however it is clear that it was a year of many more fun times and vacations then she lets on about.

January 23rd, 2013:Gabe posts an interesting quote that paints a picture that at this time he and one could assume also AOC is already reading books to dramatically change the country.

The quote is from Immanuel Wallerstein, a Marx and Lenin studier who gave an interview on the Russian Government News Network Russian Times, RT.com.

REF: https://youtu.be/EPcryvhSOco

He was also quoted in: ''From Marxism to Post-Marxism?'' By Goran Therborn

January 30th, 2013:KOR Architects: Officially Dissolved by NYS. Indicating the end of the Probate officially.

February 13th, 2013:Releases a ''Sneak peek of @brookavepress' first project'...'' I think this is important on measuring and gauging her follow-through. She has been, up to this point, in the incubator for a mind blowing 10.5 months and the below image is what that lengthy amount of time has yielded (as a sneak peak, not completed first project). Seemingly not the progress or movement of a Bronx ''go-getter'' (as she describes earlier) even if she was only able to spend an hour or two a day working on the business because she had to ''clean houses'' and waitress/tend bar (I'll get into that hoax / half-truth later) so the family could afford; 1 house, 1 apartment and ½ ownership of another apartment (up to Oct. 5th, 2012).

I am not going to dwell on the failures of Brook Avenue Press too much so here are all the projects she did (Subway ABC's, Picture of her niece and some kind of planned book) and/or promoted. As we know by this point, if there ever was a finished product of anything she ever created, it went nowhere and has been scrubbed from the face of the planet:

All @BrookAvePress tweets Found Here: https://statuv.com/account/brookavepress/559783566091755162

I wonder what ever happened to this ''book on reluctant readers''???Posted Feb. 5th, 2013. A Share of: https://www.behance.net/gallery/3335703/Childrens-Book-IllustrationIn summary, Brook Avenue Press seems to have lasted to April 2013. Randomly retweeted or shared a few things on the dedicated Twitter page in April 2014, but that is it. My findings would suggest it had a shelf life of 18 months with nothing to show for it except managing to get in the newspaper twice somehow.

February 22nd, 2013:February 23rd, 2013:Attends a BU Alumni Winterfest event.

March 2nd, 2013:The family Bronx Apartment (4D) receives a Notice of Lien for Common Charges in the amount of $2,003.00, payable and due for the period through and including 3/31/2013. So in other words, either AOC or her mother stopped paying the monthly condo fee (roughly $700-$750/mo.) for the Unionport apartment.

REF: New York City Department of Finance '-- Office of the City Register.

Financially, this makes no sense compared to her back stories. She makes claims that she and her mother worked tirelessly around the clock 18 hour days. Combined they only needed to earn $2K '-- $2.5K per month to afford both the apartment and the house in Yorktown Heights. So let's work this out.

Generous assumption, 4 days a week worked, 18 hours per day for each so 36 hours per day in total at 4 days = 144 hours per week. 52 weeks a year, so 7,488 hours a year worked between the two of them. Again, to be generous let's assume the worst of scenarios and that their combined avg. hourly rate was $8 (but this is impossible given NY min wage and that her mom was also driving school buses, admin at a local medical practice and scrubbing toilets per AOC's backstory, more likely $12-$15/hour). $59,904/year, or $4,992 per month before taxes. We'll assume 30% taken out, so $3,494.40 in cash per month. After mortgage and apartment condo fees, remaining is $1,000 to cover everything else. Is this great? No, not at all. But it is also incredibly inaccurate.

Now let's do it again, and assume her stories are right but blended with reality.

5 days/week: 180 hours. 9,360 hours per year. $15/hour. $140,400 per year. $11,700 per month. $8,190 after taxes. $5,690 after Mortgage and Condo Fees to cover everything else.

So what this proves is that the claim that both AOC and her mother were working 18 hours a day is in some way fabricated because either they were working those hours in a shortened work week or they were over working for their means. The likely scenario is more believable that HER MOTHER was putting in all that work, HER MOTHER was busting her tail to let AOC chase her dreams without an income, that HER MOTHER was killing herself in order to put Gabe thru school for a Liberal Arts degree at LIU.

One last time with the more likely scenario. Only Blanca supporting both of them and two properties.

6 days/week, 12 hours/day. 72 hours. 3,744 hours per year. $15/hour. $56,160 per year. $4,680 per month. $3,510 (after 25% taxes). $1,000 for everything else per month.

Well'... now we have a scenario where the income is nowhere near able to support: 1 house, 1 apartment, 1 out of college dreamer, 1 in college student. This said, there is no real way I can verify or prove which of the countless possible scenarios is true, but the tale being told can't be true because if it was, they would have been OVER producing against their required income to survive. Not living lavishly by any stretch, but also not struggling.

The truth is somewhere in between they both (AOC and her mother) worked their tails off and lived a middle class life, or AOC did nothing to help the family financial situation and they lived very poorly. Like I said, we may never know but the facts suggest her story of her own personal struggle is fabricated in one way or the other.

April 6th, 2013:Did whatever this was.

Jean-Bertrand Uwilingiyimana (no relation to the murdered politician as far as I could find) and AOC were friends from BU (Juwiling is in the dancing video and can be seen in many of her Instagram live stream sessions) and even attended her swearing in among other things.

BU crew (L to R: Jean, Alexandria Lafci, Riley Roberts, AOC, Raul Fernandez)I'll focus on Jean for a minute because one of the things that comes across from AOC is this belief that favors are bad, preferential treatment should be avoided at all costs and seemingly that it shouldn't matter who you know to advance in life.

So with all that in mind, I'd ask the question, regardless of whether or not he is qualified, how does it look when one of your best friends from college hangs out with you on the campaign trail, enjoys the contribution paid dinners, co-stars with you (granted on a much smaller scale) on your Instagram cooking videos'...

and then gets a job with the start up (from and as a result of your campaign) company (REACH Progress) who developed your GOTV voter information software?

June 1st, 2013:Bronx Apt (4D) Taxes Issued/Announced for Year (7/1/13''6/30/14): $778 ($64.83/mo.)'...for a SECOND RESIDENCE.

July 4th, 2013:Celebrated July 4th, 2013 at a Beach with BU friends. Appears to be Carson Beach, Boston. https://www.flickr.com/photos/juwiling/albums/72157642687856823. I don't see (and didn't find) any reason to specifically name these friends from BU.

Carson BeachCarson Beach PhotoAOC at Carson BeachSeptember 8th, 2013:Piano'... iPad'... not at work (she is the one who claims 18 hour work days, not me):

September 21st, 2013:Speaks at Boston University ''Why We Can't Wait'' for 30 minutes.

The revised and new bio for her and Brook Avenue Press starts to give us an idea of what it really was. A blog. It was supposed to be an online source of suggested reading material and learning instruments geared towards kids and parents. This would perfectly align with the promoted tweets I shared earlier on. So her big social impacting organization was finding books and other learning tools to post and retweet in a blog site/on Twitter.

Then it goes on to read about her time at Sunshine where I'm guessing she gave herself a title of Lead Educational Strategist at GAGEis, Inc. What this seems to boils down to is that she was the inside consultant for other startups to go to if they had Educational questions or discussions they wanted to pursue within the Sunshine Bronx Business Incubator. This could certainly have been a Value In Kind Trade type commitment between AOC and Sunshine which allowed her to get space in the building. Think of it as her policy on free education which has a plan that involved free education in exchange for putting certain amounts of time into benefiting the provider of the free education. Same type of thing.

Example, here is one of the other original Bronx Incubator residences (also featured in above articles on Sunshine) profile from Medium who would have also provided the consultancy in a different subject matter area:

Enjoy the above posted website'... seems to be one they failed to take down/de-activate. They did however manage to disable all searching capabilities!

As far as what the heck she would even talk about at that point in her career is anyone's guess'... given she hasn't actually accomplished anything yet in her post-college life. I would later go on to find out that the other co-founder of BU Culture Shock is the one who organized the event (Raul Fernandez) so probably had to fill a spot so reached out to an old friend. Regardless, here are a few accounts from people who were there:

REF: https://www.bu.edu/studentactivities/buleads/agenda/ , https://www.bu.edu/studentactivities/buleads/speakers-2/alexandria-ocasio-cortez/ , https://www.hercampus.com/school/bu/weekend-event-recap-buleads

November 3rd, 2013:Alex Yepes-Roman and Rebecca Rodriguez with first daughter and Alex's sister (middle). Only pointing this out to continue to connect the pictures/dots here on the relationship between AOC, Alex and Rebecca as it will be important later on regarding unethical nepotism.

November 28th, 2013:Thanksgiving at Uncle Alex's and Titi Rebecca's:

December, 2013:Given that both of these aspiring models/artists worked at the Union Coffee Shop Diner, this is the earliest I could find proving she was working in the restaurant industry.

December 31st, 2013:New Years Eve flight to PR. #AnnualTradition

REF: Instagram

January 6th, 2014:Gabe and AOC (and the whole fam) in Aguadilla, PR.

REF: Gabe's Instagram.

Based on other trips to PR, an estimate could be made that it was at least a weeklong vacation, 12/31/13''1/6/14. Again, yet another week(s) long vacation, destination trip. I never enjoyed such luxuries and not hating that she could do this, but this is all indicative of a privileged life which absolutely most do not get to enjoy, yet she continuously complains about how horrible and hard life was for her growing up all the way to the point of becoming an elected congresswoman.

January 18th, 2014:Gabe posts on Instagram a picture at Yorktown Heights house with ''Baby blue''. An ESTIMATE would be that it was originally Sergio's but really hard to know. March 29th post confirms it was his: ''my 325is''.

OK'... I mean'... financial crisis within the family per her own accounts'... Guess the car made the cut in the things that can stay while they scrub toilets to survive'...

March, 25th, 2014:Has a good deal of free time to make huge mural. '-- Instagram

March 29th, 2014:Replaces his BMW (#BabyBlue) with a Volvo 4 door Sedan, s40. ''Treated myself to a new ride. Hard work pays off! Replacement for my 325is.'' It is unclear what that ''work'' was, but he does make note of going through 5 jobs during his time at school. Personally I would have been chipping in to help my mother pay the bills, but that is just me and I don't know at all what money he made or what it went to other than his nice taste in automobiles.

April 12th, 2014:Working 18 hours a day'... and has time for'... this. I guess by now the Brook Ave. Press is officially no more.

Why destroy a book for this'... seems wasteful.

https://www.sacred-texts.com/cla/aurelmed.htmJune 1st, 2014:Bronx Apt (4D) Taxes Issued/Announced for Year: $778.

I've now included years of providing you with insight as to the amount of property taxes that are being billed to the Ocasio-Cortez family (I say that because as you'll eventually find out, the facts I've found indicate that all the properties and assets have been placed into a Family Trust after the passing of her father, thus to some degree, the liabilities associated with those assets fall on the shoulders of the Trust account first and foremost, but the heirs secondly), and I've displayed them for a very specific reason, one I'll get to in the 2015 update.

June 13th, 2014:She has a job! A real job! (Just putting everything on the Union Coffee Shop employment in one place despite it jumping around in time some).

Just read the reviews'... just wow. Sounds right up AOC's alley. A bunch of attractive people working for a place and sitting around being rude and not wanting to work. Perfect.

Oct. 23rd, 2015. Based on the bone structure and physique, odds are (unconfirmed) that is AOC pouring. It also matches tone/color from the above pretty darn close so I'd say solid chance. REF: https://www.yelp.com/biz_photos/coffee-shop-new-york-2?select=OxfEQTJxgo4P_9IVcOGKQAObviously not AOC here, but included to prove a point. She's making $2.13 (or whatever it is) and with good service can bring in $8 '-- $20 PER TABLE / PER HOUR. In other words, on the worst of days, she's EASILY making $15/hour, probably much closer to $21-$25 over a full shift. More when bartending. There are a number of other receipts that can be found online and I could never find Alexandria, Alex or Sandy.@ artistrybygia (swishthedish you'll recognize from her trips to Standing Rock, Flint and Womens march 2016 as she completed her Checklist from Brand New Congress in order to establish a prior activist history. More on that later in 2016).From Fellow Bartender at both (seemingly) Flats Fix and Union Coffee Shop.From same guy, Dec. 31, 2016.So now that I've gone thru every single picture that has made it into cyberspace of the Union Coffee Shop and Flats Fix'... one thing is certain'... she did not work 18 hours a day'... at least not at either of these establishments because I have a hard time imagining she's that good at dodging photos that often. 5 out of 3,000 pictures? I have more pictures of the cooks than her on the job between 2014''2018 (Q1).

To be fair, she did get some good online reviews while at Flats Fix in 2016:

June 28th, 2014:AOC takes a trip to Arizona. Overly educated and high probability assumption would be to meet Riley Roberts family or stay with them.

July 3rd, 2014:Still in Arizona, takes pictures of Milky Way over Sedona, AZ.

At some point on the trip, attends what I believe to be a cousins wedding

I have a ton of baby, teen and young adult pic's of Riley Roberts but I don't see the point or reason despite the negative press he's gotten for taking some of her campaign money to do work he actually legitimately does. Here is some adult life relevant now scrubbed stuff:

July 4th, 2014:It would appear, returns from Arizona (nice 6''7 day vacation!)'... and hits the road to go to Philly'...

Roadtrip with Gabe to Philadelphia'... a day or few days since returning from Arizona'...? Seeming more and more like she is pretty unwilling to work.

July 5th, 2014:For someone who claims to work 24/7/365/18 hours a day to support her dying family and at the same time battle off the racist supremacists at every turn'... sure has a lot of time for vacations and hobbies'... There is more'... yes, it is a theme.

Odds are the picture behind her is the key to where she is at that moment, so if you recognize it and can find it for verification, will promote/give credit!

July 9th, 2014:Does a little in-home photo shots.

Boy was the one on the left interesting'... worked with her at the Coffee Shop, yet another aspiring artsy type'...

Then it got weird'...

It goes on for a while'... does start to somewhat normalize into ''artsy photography art'' type pictures, very revealing, but much less shocking'...

The point of this is to illustrate (she is FAR from the only one) that the media reports about the people that worked at the Union Square Coffee Shop were all aspiring artists of some form or another, mostly photography. She was trying a lot that year to get into it, that much is very clear.

September 18th, 2014:AOC and some co-workers attend something called City Harvest, likely a food festival of sorts. In fairness, a good cause, however as far as I can tell she is just there for the event and food sampling vs. rolling up the sleeves and helping with something other than money. https://www.thedailymeal.com/harvest-square-2014-comes-union-square

I did a quick sweep (not a detailed review) and didn't see her in the pictures during that timeframe so would not appear that she volunteered her time to help. Could be wrong and perhaps I'll circle back at https://www.facebook.com/CityHarvestNYC/photos/a.136079836180/10152823230886181/?type=3&theater and review in more detail on a picture to picture basis.

December 25th, 2014:Gets the book ''Capital in the Twenty-First Century'' by Thomas Piketty. https://en.wikipedia.org/wiki/Capital_in_the_Twenty-First_Century

Snuggling up with a good book in a cozy living room in Yorktown Heights for the Christmas holiday.

February 22nd, 2015:Alex Yepes-Roman and Rebecca Rodriguez attend his cousins (or Brother), Richard Yepes, marriage. Reminder to please be patient, there is a very critical reason why I keep including updates on these two individuals.

April 12th, 2015:Sunday morning (heading north, sun rises in the east) trip back home to Yorktown Heights. Given her 18 hour days at the Coffee Shop, which is a Brazilian diner'... I'd be fighting tooth and nail for that Sunday double shift to hit the brunch goers!

May 5th, 2015:Gabe Graduates LIU '-- School of Visual and Performing Arts

His comment about 4 cars is interesting,

May 11th, 2015:Why not take another vacation! AOC goes on a trip to Costa Rica with Riley'... I'm starting to wonder if she was working 18 hours a day for 2 days a week or whenever she pleased because this vacation and hobby time schedule is a little ridiculous.

Packs (who packs like that?) her very expensive cameras, lens, apple macbook (or similar).

Per her own comment in the feed, going for 10 days. 10 DAYS!!!!!!! States Puerto Viejo, ''with two quick pit stops at Arenal and a coffee finca first.''

A 10 DAY VACATION FROM WHAT?!?! FROM HAVING SO MUCH TIME YOU CAN ARRANGE YOUR LUGGAGE CONTENTS INTO A RECTANGLE AND TAKE PICTURES?!

Additionally, she notes her ''iPhone6'', which had been released to the public in the U.S. 8 months prior. Based on her financial disclosures, I make more money than her and I wait at least 12''24 months to get a good deal on a phone.

May 21st, 2015:Well'... she's back from her long vacation'... time to unwind and get balance. Unreal the hardships she has had to endure.

June, 2015:Party Time!

June 18th, 2015:Gabe gets an Audi A3. ''Work hard in silence & let your success make the noise'' #aiden #A3''

July 13th, 2015:Hard to tell for sure'... but very possible'... yet another trip to PR where I believe the Grandmother still lives at this point'... Possible that this is Yorktown Heights also because they do have some forestry areas outside their house. In fairness, I believe it is Yorktown Heights backyard.

September 8th, 2015:Attends an opening of the NASDAQ for her friend Alexandra's (Allie) non-profit (I looked, it's legit, above ground, no one is making even close to a lot of money and being put to good use and making a difference! Support if you can!!)

November 6th, 2015:Not known for sure if AOC was there, would appear so based on earlier picture, but trip to PR for at least Gabe. Confirmation that their parents were married in Puerto Rico per other story accounts.

December 13th, 2015:Gabe boasts ''Second home living'' '-- very capitalistic'... very privileged.

December 31st, 2015:Technically, this date is not accurate in terms of something actually happening, but given I've promoted a bit of a bombshell finding, I'm placing it here to be relocated upon the 2016 release.

As earlier noted, I have been providing you with the annual property taxes of the Bronx apartment that AOC lived in since returning from college in the summer of 2011.

But that is not the only newsworthy item that started around that time. It's also when (in fairness to AOC, a few quarterly bills prior starting in 2010) the family started to neglect their responsibility'... their MORAL responsibility to the city they own property in'... to pay their property taxes on the apartment in question.

Note: I'm leaving out the names and address contained on these statements only because I'm not exactly clear on what I can and cannot do here so playing it safe. I want to ''be perfectly clear'' though'... this is extremely public information that can be obtained by visiting the NYC Tax Assessor's website. This is not doctored information in the least (with the only exception being the green checkmark I've drawn to indicate payment). Also keep in mind that the apartment is receiving a 34 year (or 20, I'm not clear) J-51 Abatement (massive tax reduction) because some updates were made to the building'... seems more like the building management (Parkchester) made some kind of sketchy deal with the city to be honest, but who knows:

DIDN'T PAY PROPERTY TAXES (Total $293.03) FOR SIX (6) QUARTERS (i.e. Year and a ½)

[STOP / PAUSE]

THIS IS INSANELY IMPORTANT. THIS IS THE EXACT POINT IN TIME WHEN AOC IS AND HAS CLAIMED EXTREME POVERTY, FORECLOSURE, HARDSHIP, ETC'... So after you read the rest of this, GO BACK AND SEE ALL THE THINGS SHE WAS DOING INSTEAD OF PAYING HER BILLS. ALL THE MONEY THAT WAS BEING SPENT ON THINGS THAT ONE MAY CONSIDER OVER AND ABOVE THE MIN. REQUIRED LIVING (in times of despair as she claims they were).

[CONTINUE / RESUME]

One could come to the guess that AOC was given the clean slate at this point. Her mother may have paid off the prior 6 months'... excuse me, quarters (18 months)'... of outstanding debt and instructed AOC that she was going to be responsible for it from that point forward if she was going to live there. Perfectly reasonable and sensible action for a parent to take upon allowing their child to start to learn how to fly out of the next so to speak. Well'... if I'm right'... WOWSERS'... buckle up!

DIDN'T PAY PROPERTY TAXES (Total $4,666.92) FOR SEVENTEEN (17) QUARTERS (i.e. Four (4) Years and 3 months!!)

That isn't even the crazy part'... as I'll show later'... it does not even appear that AOC or her family paid it off to end the 17 quarter (51 mind blowing months) streak of non-payment. Seems that NYC just sold the debt to a collection agency. Good job contributing to the NYC government and your beloved Bronx AOC! I guess property taxes are immoral'...

THEY DIDN'T PAY PROPERTY TAXES (Total $490.72) FOR SIX (6) QUARTERS (i.e. One and a half (1 ½) Years!).

LETS BE INSANELY PERFECTLY CLEAR TOO! PER HER FINANCIAL DISCLOSURE RECORDS SHE (AOC) HAS HAD $15,000 '-- $50,000 SITTING IN HER ACCOUNTS. CASH!

I'm very sorry, but I don't care how poor you are (unless homeless in this case which seems to be the only reason), but you can't afford $26.26 per month towards property taxes?!?!?

In February, 2018 the next quarterly bill comes in. $0.00 due. This is not fact, just a guess, but I think this could possibly be because at this point the apartment has been designated as a political campaign office. I literally have no idea if this is right or way off base, but maybe just maybe. Any political operatives out there familiar with Campaign office rules/regulations, if you know let me know!

But then goes tax free again on the August statement'...

Pretty much the same on the Feb, 2019 statement.

June, 2019 statement has itty bitty charges applied:

Uh oh'... here we go again'... not paying bills'... above went unpaid.

So what does all this mean to the city of New York? Well, probably lost revenue of at least by my guess, 50%.

So to the NYC government'... that is some Congresswoman you have there! So when AOC makes all these complaints about cars taking pictures of her house or stalking her and her family about their tax bills'... whose fault is that exactly? NYC? The company they had to hire so they could wash their hands of the mess you and so many others made for them? No'... it was you not being responsible enough to take care of those bills that kept piling up in the apartment you yourself said you lived in. Did you have a special recycling bin to put them in each time they arrived? You claim your mom was working multiple jobs. You claim you were ''working'' 18 hours a day. Your brother was buying/leasing high end cars. You couldn't scrape together $50 '-- $115/month to go towards an already INSANELY low property tax cost?

Just admit you lived off your mom and expected her to take care of everything while you did your non-paying hobbies, serving/bartending occasionally to have some spending money and for the bare essentials. Everything points towards that being the actual situation. Your financial disclosures not only back all that up, but ALSO suggest that you have ABSOLUTELY NO EXCUSE that you couldn't chip in to pay the bills. You had enough, your checking account has what'... $15K '-- $50K sitting in it right? But no'... run out and get YET ANOTHER apartment instead'...

Why Marianne Williamson's Brand Of Spirituality Isn't Working | FiveThirtyEight

Tue, 17 Sep 2019 13:43

Andrew Yang and Tom Steyer, two of the three nontraditional contenders in the 2020 race, have managed to secure covered spots in the next Democratic debate, beating out sitting senators, a governor, the mayor of the U.S.'s largest city and a clutch of current and former members of Congress. But the Democratic primary's other unorthodox candidate '-- motivational speaker and self-help author Marianne Williamson '-- may be sitting on the sidelines.1

Something about Williamson's unconventional candidacy, though, has certainly sparked voters' curiosity. After all, a candidate who flits between the worlds of traditional, institutional religion and New Age spirituality is a rarity in presidential politics. And she was the most-searched candidate after the first night of the July debate, when she accused President Trump of harnessing the ''dark psychic force of collectivized hatred'' and declared that she wants ''a politics that speaks to the heart.''

But the more voters learned more about her, the less they seemed to like her. According to an analysis by my colleague Nathaniel Rakich, Williamson's name recognition is up, but her net favorability ratings are down. She now actually has negative net favorability, a dubious honor she shares only with mayor of New York Bill de Blasio and former Rep. Joe Sestak. And her failure to resonate with an audience that might have been receptive to her message '-- ''spiritual but not religious'' Americans '-- also reflects the difficulty of reaching a group that's defined largely by what it's not.

According to the Pew Research Center, about one-third of Democrats identify as ''spiritual but not religious'' '-- an amorphous identity that has a lot in common with Williamson's nondenominational spiritual practice. She identifies as Jewish and still attends High Holiday services, but she also practices transcendental meditation. She rose to prominence as a commentator and teacher of ''A Course In Miracles,'' a mystical book published in 1976 whose author claimed to be dictating revelations from Jesus.

''She's really the definition of spiritual but not religious,'' said Laura Olson, a political science professor at Clemson University, about Williamson. ''In that sense, she represents '-- and you'd think might be able to reach '-- a very sizeable group of Americans.''

Depending on how you measure it, between one-fifth and one-third of Americans identify as ''spiritual but not religious.'' It's a group whose numbers have grown in recent years, as more and more people draw away from institutional religion. And like Williamson, most of the ''spiritual but not religious'' maintain some kind of link to an organized faith tradition. In fact, according to Pew, they're about as likely to identify as Protestant as they are to say they're religiously unaffiliated. But perhaps unsurprisingly, the vast majority are not churchgoers, nor do they necessarily have a strong sense of communal identity or group cohesion. And here we run into the hurdle that makes outreach to the less-religious and the non-religious perennially tricky for Democrats: It's hard to marshal a group that doesn't think of itself as a group.

It's certainly unusual to have a presidential candidate making an explicitly spiritual argument for progressive politics on the campaign trail. But arguably, there was no reason to think that Williamson would reach such a diffuse group any more easily than the other Democratic contenders, even with a message that thrummed with spiritual overtones. Matthew Hedstrom, a professor of religion and American studies at the University of Virginia who studies liberal religion, told me that spiritual but not religious Democrats do see issues like the environment or gun control as morally tinged, but don't necessarily look for a candidate who shares their specific religious orientation. ''They'll vote for a candidate who shares their outlook on values and issues,'' Hedstrom said. ''Whether they're a liberal Christian, a Buddhist, a Jew '-- that matters less.''

So the bar was always high for Williamson to appeal to the spiritual-but-not-religious crowd '-- not only did she have to unite a nebulous group, but she also had to convince voters on the soundness of her policies rather than just her spiritual orientation. And although many aspects of her religious profile are shared by large numbers of people, it's also not hard to see why some curious Democrats who took to Google to learn more about her message might have been turned off by where her particular spiritual journey has taken her.

According to Pew, people who identify as spiritual but not religious tend to be more highly educated than other religious groups, and that means they may be more leery of positions that fall outside the mainstream '-- of which Williamson has many. There is, for instance, her position on vaccines, which she had to repeatedly clarify after calling mandatory vaccinations ''draconian'' and ''Orwellian'' at an event in New Hampshire. Or her attacks on antidepressants, which she says are overprescribed and has suggested were to blame for some celebrities' suicides. Williamson has claimed she's being subjected to unfair scrutiny '-- for example, when she was ridiculed for appearing to suggest on Twitter that prayer and ''the power of the mind'' could change the path of Hurricane Dorian, she retorted that her view is ''neither bizarre nor unintelligent.''

But even though many Democrats do believe that a higher power or spiritual force has acted in their lives in some way '-- whether to protect, reward, or punish them '-- that doesn't mean they have an appetite for talk of supernatural intervention from someone seeking a great deal of earthly power. Williamson has made it farther in this year's race than some more seasoned politicians, and she could theoretically end up in the October debate, but she's still a long-shot. At this point, though, it's hard to imagine what would cause voters to take Williamson seriously as a presidential candidate '-- even if there is something potent about her mystical political pitch and her belief that to solve the country's problems, we need more than a set of policy plans.

In the end, despite the opportunities her unusual religious pedigree seemed to give her, Williamson seems to be running up against the same problem that other candidates on the left face when tackling the country's changing religious dynamics. People who are less religious don't have unifying values or principles that politicians can easily appeal to, and they don't seem to be bothered by voting for someone who follows a different religious or spiritual path. What they want from politics might vary a lot '-- and at least this year, Williamson's brand of spirituality doesn't seem to be at the top of the list.

Power Up: Warren just scored a big win over Sanders in battle to be progressive standard-bearer - The Washington Post

Tue, 17 Sep 2019 13:38

PowerPost Analysis Analysis Interpretation of the news based on evidence, including data, as well as anticipating how events might unfold based on past events

Aloha, Power Uppers. Who knew Sean Spicer was a Spice Girls fan? Tips, comments recipes '-- reach out and sign up. Thanks for waking up with us.

🚨IN AFGHANISTAN: "A blast targeting a campaign rally held by Afghan President Ashraf Ghani on Tuesday killed 24 but left the country's leader unharmed, according to a local health official," The Post's Pamela Constable and Susannah George report.

"The blast occurred just moments after Ghani arrived at the venue, and even though the explosion was audible, the campaign event continued undeterred. Ghani delivered a boilerplate stump speech praising local leadership to the crowd."

Sen. Elizabeth Warren takes the stage before addressing supporters at a rally in Washington Square Park on Monday (AP Photo/Craig Ruttle)

The Campaign

BATTLE OF THE PROGRESSIVE STARS: In the fight to be the left's standard-bearer, Sen. Elizabeth Warren (D-Mass.) just scored a big win over Sen. Bernie Sanders (I-Vt.).

The Working Families Party, an influential progressive group with deep ties to labor unions that backed Sanders for president in 2016, is now throwing its chips all in for the Massachusetts Democrat as the best hope to defeat former vice president Joe Biden in the primary '-- and President Trump in the general election.

''We ultimately believe that Sen. Warren will be the nominee,'' Maurice Mitchell, the group's national director, told Power Up. The endorsement, first reported by the New York Times, is yet another sign of Warren's ascendancy over Sanders. And it happened on a particularly strong day for Warren: She rallied a huge crowd of 20,000 people in Washington Square Park in New York City and unveiled her plan to address corruption in Washington by limiting ''the influence of federal lawmakers and lobbyists while also expanding protections for workers,'' per my colleague Amy Wang.

Mitchell, who also introduced Warren at her rally last night, said the early endorsement was meant to give her a boost to surpass Biden, whom he denounced as beholden to corporate interests: ''Warren's steady rise is an example of a really disciplined operation that she's built around her, and the fact that she's running her campaign in a way where she is putting real meaningful policy substance ahead that speaks to the fundamental structures of our economy and democracy.'' Mitchell argued that she has broad appeal with Democrats, beyond the left flank: ''She is able to articulate that in common sense ways. It's working and it's working with a lot of different audiences '-- her campaign is attracting a lot of folks who are part of the progressive wing, a lot of folks who have not been political observers but are now fighting for something they believe in.'' During her speech last night, Warren compared herself to a crusader for worker's rights: Frances Perkins, President Franklin D. Roosevelt's labor secretary and the first female member of the U.S. Cabinet. Her focus on female-led organizing seemed designed to quell skepticism from some Democrats over her electability due to her gender and criticism that her liberal message is too polarizing for a general election.

''The speech also highlighted Warren's theory of change,'' according to Time Magazine's Charlotte Alter: ''While the women of the trade unions kept pushing from the outside, Frances pushed from the inside,'' Warren said. ''So, what did one woman '-- one very persistent woman '-- backed up by millions of people across this country get done?'' she said. ''Social Security. Unemployment insurance. Abolition of child labor. Minimum wage. The right to join a union. Even the very existence of the weekend. Big, structural change. One woman, and millions of people to back her up.'' .@ewarren camp says at least 20,000 people attended her rally in Washington Square Park tonight.(They got 23K rsvps, an aide says, and stopped counting attendees at 20K once Warren began speaking.)

This is her biggest event yet, following a Seattle rally that drew 15,000. pic.twitter.com/Exj6CsxKlA

'-- Ruby Cramer (@rubycramer) September 17, 2019 Why it matters: The backing of the Working Families Party, whose influence has expanded since 2016, could drive other progressives to make a choice between the two ideologically similar candidates as the historically crowded field winnows. With organizing chapters in over 15 states, candidates WFP has supported have gone on to win races across the country at the congressional, state and local level. Considering Sanders in 2016 called the group ''the closest thing there is to a political party that believes in my vision of democratic socialism,'' the switch-over could make a big impact on the base.

Moving on: ''We were tremendously proud to endorse Sanders in 2016 and a critical section of our base voted for him, and we have nothing but positive things to say about him and his activists,'' Mitchell told us, declining to criticize Sanders several times. But now, Mitchell says the group's "North Star'' is "making sure that Warren's the nominee and beats Trump.'' Incoming from Sanders camp: Some of his backers reacted to Warren's win poorly '-- even going so far as to accuse WFP leadership of putting its fingers on the scales of the group's ranked-choice voting system. Mitchell denied these charges. "We understand that we have many friends and partners that are disappointed but we're going to continue to struggle with them on many of the issues we all believe in,'' he said.

Sanders's campaign manager tamped down the drama: ''We look forward to working with the Working Families Party and other allies to defeat Donald Trump. Together, we'll build a movement across the country to transform our economy to finally work for the working class of this country,'' his campaign manager Faiz Shakir said, per the Wall Street Journal. But there's this from Sanders's Iowa state director:

There is one movement politics presidential candidate. One. It's @BernieSanders.that's all. that's the entire tweet. #Bernie2020

'-- Misty Rebik (@mistyrebik) September 16, 2019 WFP endorsement is also a reflection of the left's strategic maneuvering against Biden: The former Obama veep often touts his record as a ''Union man.'' But Mitchell, who was previously an organizing leader for Black Lives Matter, said that the group's endorsement of Warren ''is a bit of a myth buster'' that Biden is the labor union candidate.

Mitchell, who slammed Biden as a centrist and product of ''corporate politics,'' described Biden's performance on the debate stage last week as a crystallizing contrast to Warren: ''What I heard was marginal solutions. What I heard was a lack of clarity. What I heard was hearkening to a mythologized caste during the Obama administration '-- and I think what people are hungry for is a bold progressive future and crystal clarity around policy. And that details matter,'' according to Mitchell. Biden also drew criticism recently from a labor union in his own backyard: ''He always calls himself a Pennsylvanian at heart. His headquarters are here in Philadelphia. But his folks haven't found the importance of coming together and talking to our workers. And so that's very disappointing,'' AFL-CIO Philadelphia Council President Pat Eiding told NPR's Scott Detrow last month. ''There's got to be some respect for the working people, if they want their vote.'' Biden allies, however, are challenging the notion that Warren's agenda is better for working class families. They cited Warren's plan to raise taxes on the middle class to pay for her Medicare-for-all proposal. During the debates last week, Warren repeatedly dodged questions about whether she will raise taxes on middle class families to pay for the program. The end of Warren's selfie line after last night's huge NYC rally:

11:38pm - @ewarren is done and the last picture has been taken. Huge cheer goes up from staff and volunteers. It has been almost four hours since the end of Warren's speech. ''Grab some trash and let's GO!'' shouts a Warren staffer. ''Park's closing, let's go!'' pic.twitter.com/S5N8zkxsHs

'-- Ben Pu (@BenPu_nbc) September 17, 2019 You are reading the Power Up newsletter.

Not a regular subscriber?

President Donald Trump arrives to speak at a campaign rally on Monday night in Rio Rancho, N.M. (AP Photo/Evan Vucci)

At The White House

UNCERTAINTY ON IRAN: Trump said that it appears Iran is responsible for the weekend attack on Saudi oil facilities that Kingdom officials say forced them to cut production by 50 percent, but stopped short of making a final conclusion. ''It's looking that way," Trump said of Tehran's involvement, but added: ''That's being checked out right now.''

Allies also holding off: Trump's reticence to publicly blame Iran was shared by America's British and German allies on Monday. China and Russia also cautioned against naming a culprit. ''For their part, Saudi officials affirmed that Iranian weapons were used in the attack but also stopped short of singling out Iran in statements that appeared to reflect fears across the Persian Gulf of a wider and more violent conflagration,'' our colleagues Shane Harris, Erin Cunningham and Kareem Fahim report. The big question is: What happens next? ''Trump told reporters 'we don't want war with anybody' and then less than an hour later said he thinks a U.S. military strike on an Iranian oil facility would be a proportional response,'' our colleague Anne Gearan reports.

The politics: ''Trump is caught between a political imperative to confront Iran '-- pleasing hawkish Republican supporters and allies Israel and Saudi Arabia '-- and his own political instincts against foreign intervention and toward cutting a deal,'' Anne writes. This is part of a pattern: ''Uncertainty over where Trump stands has complicated every other foreign policy challenge the United States faces in the Middle East, unnerved Israel and helped push out the administration's leading Iran hawk, former national security adviser John Bolton,'' Anne writes. Meanwhile, the Pentagon is urging restraint: ''Military officials are also privately urging caution, seeking to defuse tensions they believe could push the United States into a possibly bloody conflict with Iran at a time when the Pentagon is seeking to wind down insurgent wars in the Middle East and reorient toward competition with China,'' our colleagues Missy Ryan and Dan Lamothe report.

More: ''The officials, who spoke on the condition of anonymity to describe their views, sought to emphasize the fact that no American personnel or facilities had been targeted in the weekend attacks, suggesting that a direct U.S. military response might not be merited. They also said that, if such a move was deemed necessary, the administration would need to find a valid legal basis to take action.'' Forecast for next week:

BREAKING: Ahead of UN meeting, Iran's Supreme Leader Ayatollah Ali Khamenei says 'there will be no talks with the US at any level.'

'-- The Associated Press (@AP) September 17, 2019 Former Trump campaign manager Corey Lewandowski in 2018. (Joshua Roberts/File Photo/Reuters)

The Investigations

LEWANDOWSKI HEADS TO THE HILL, BUT WHITE HOUSE BLOCKS OTHERS: ''The White House is claiming immunity over two former aides subpoenaed by the House Judiciary Committee, blocking them from answering questions in a Tuesday hearing about what they told former special counsel Robert S. Mueller III,'' our colleagues Rachael Bade and Josh Dawsey report.

The latest aides to be told not to testify: ''White House counsel Pat A. Cipollone directed Rick Dearborn, the former Trump campaign adviser and ex-White House deputy chief of staff, and Rob Porter, the former White House secretary, not to answer questions by the panel,'' Rachael and Josh write. Lewandowski's testimony is also going to be restricted: ''The White House, in a letter to the committee, told [committee chairman Jerrold Nadler] that Lewandowski is not allowed to answer any questions about his communications with the president beyond what was in the Mueller report.'' But as legal experts pointed out there's a big potential problem: Lewandowski has never worked in the West Wing, which left some shaking their heads as to how his discussions could be covered by executive privilege. The last line of @mkraju's tweet is the key. @CLewandowski_ _never_ worked in the White House. There's no such thing as executive privilege in conversations the President has with ... someone who isn't, and never has been, employed in the Executive Branch.But 2019, I guess?? https://t.co/XTIy9Bwpnp

'-- Steve Vladeck (@steve_vladeck) September 17, 2019 CHAO IN THE HOT SEAT: The House Government and Oversight Reform Committee is investigating whether any actions taken by Transportation Secretary Elaine Chao regarding her family's shipping company amount to a conflict of interest, the Times's Eric Lipton and Michael Forsythe report.

"The House Oversight and Reform Committee asked Transportation Secretary Elaine Chao on Monday to turn over documents related to communication with her family's shipping company as the panel stepped up an investigation into whether any actions taken by Ms. Chao amount to a conflict of interest," per Lipton and Forsythe. SO ARE TRUMP'S TAXES, AGAIN: "State prosecutors in Manhattan have subpoenaed President Trump's accounting firm to demand eight years of his personal and corporate tax returns, according to several people with knowledge of the matter," the Times's William K. Rashbaum and Ben Protess scoop.

Sen. Dick Durbin (D-Ill.). (Andrew Harrer/Bloomberg)

On The Hill

TOP DEMS CAUTION AGAINST IMPEACHING KAVANAUGH: ''Senior Democrats are moving quickly to snuff out calls to impeach Brett Kavanaugh, arguing those tactics are unrealistic and politically harmful,'' Politico's Burgess Everett and Heather Caygle report.

This all comes a day after multiple Democratic presidential candidates called for Kavanaugh's impeachment after a previously unreported allegation against the now-Justice was reported by the Times.

Dick Durbin goes off: ''Get real,'' Senate Minority Whip Dick Durbin (D-Ill.) told Politico. ''We've got to get beyond this 'impeachment is the answer to every problem.' It's not realistic. If that's how we are identified in Congress, as the impeachment Congress, we run the risk that people will feel we're ignoring the issues that mean a lot to them as families.'' Nadler also pushed back on such action: ''Nadler similarly dismissed the idea of an impeachment inquiry, arguing in a radio interview Monday that the committee is 'concentrating our resources on determining whether to impeach the president,'" Everett and Caygle write. ''The New York Democrat said it's one thing for progressives to call for impeachment but for him 'it's a consequential action, which we have to be able to justify.''' Schumer refused to even speak about it at this time: ''That's all I'm saying,'' Senate Minority Leader Chuck Schumer told reporters. ''Which is nothing. I'm saying nothing on Kavanaugh.'' Viral

This is what life is now. #DWTS @seanspicer pic.twitter.com/heFCEwfjfT

'-- Matt Wilstein (@mattwilstein) September 17, 2019

Democrats headed for a subpoena showdown with White House | TheHill

Tue, 17 Sep 2019 13:36

Democrats on the House Judiciary Committee are headed for a confrontation with the White House after setting a series of key deadlines this week for documents and witness hearings.

Committee Chairman Jerrold Nadler Jerrold (Jerry) Lewis NadlerWords matter, except to Democrats, when it involves impeaching Trump Nadler: Impeachment inquiry a 'made-up term' but it's essentially 'what we are doing' DOJ files brief arguing against House impeachment probe MORE (D-N.Y.) set Tuesday as the deadline for three witnesses to provide testimony at a hearing and for the Department of Homeland Security to provide materials on whether President Trump Donald John TrumpTed Cruz knocks New York Times for 'stunning' correction on Kavanaugh report US service member killed in Afghanistan Pro-Trump website edited British reality star's picture to show him wearing Trump hat MORE dangled pardons to border officials.

So far, former Trump campaign manager Corey Lewandowski Corey R. LewandowskiThe Hill's 12:30 Report: NY Times story sparks new firestorm over Kavanaugh This week: House jump-starts effort to prevent shutdown The Hill's Morning Report '-- Biden steadies in third debate as top tier remains the same MORE is the only witness to agree to attend the hearing that is expected to focus on a key episode of possible obstruction by Trump, as laid out in former special counsel Robert Mueller Robert (Bob) Swan MuellerFox's Cavuto roasts Trump over criticism of network Mueller report fades from political conversation Trump calls for probe of Obama book deal MORE 's report.

But Democrats say the White House made the unprecedented step late Monday night in seeking to limit the testimony of someone who has never served in the administration, by claiming such discussions fall under "Executive Branch confidentiality interests."

"Mr. Lewandowski's conversations with the President and with senior advisers to the President are protected from disclosure by long-settled principles protecting Executive Branch confidentiality interests and, as a result, the White House has directed Mr. Lewandowski not to provide information about such communications beyond the information provided in the portions of the Report that have already been disclosed to the Committee," White House counsel Pat Cipollone wrote in a letter to Nadler.

Also late Monday evening, Nadler announced that the White House blocked former White House aides Rob Porter and Rick Dearborn from testifying, citing claims of immunity, which follows the administration's game plan of blocking the testimony of former and current administration officials.

Nadler in response blasted the White House, describing their latest moves as a "shocking and dangerous assertion of executive privilege and absolute immunity.

"The President would have us believe that he can willfully engage in criminal activity and prevent witnesses from testifying before Congress--even if they did not actually work for him or his administration," Nadler said in a statement Monday night. "If he were to prevail in this cover-up while the Judiciary Committee is considering whether to recommend articles of impeachment, he would upend the separation of powers as envisioned by our founders."

Even with the limitations, Lewandowski has vowed to come out swinging on behalf of his former boss, raising questions about whether the committee's first fact witness will cooperate with questioning as the panel seeks to investigate obstruction, public corruption and other alleged abuses of power.

According to a source familiar with the matter, the committee is preparing for the president's longtime confidant to be a combative witness.

The eleventh hour claims of privilege are poised to exacerbate the standoff between the White House and House Democrats, particularly after their battle took a new turn on Friday when the Department of Justice (DOJ) urged a federal judge to throw out Democrats' lawsuit seeking access to grand jury material that was redacted in the Mueller report.

Judiciary Democrats have hoped that describing their investigation as a formal impeachment probe in court filings will boost their standing in court and give them access to information like grand jury material before deciding whether to introduce articles of impeachment against Trump.

But the DOJ argued in Friday's filing that House Democrats have offered conflicting messages about the state of their investigation.

DOJ attorneys pointed to remarks made by Speaker Nancy Pelosi Nancy PelosiThe Hill's Morning Report - Trump takes 2020 roadshow to New Mexico This week: House jump-starts effort to prevent shutdown Schumer, Pelosi push Trump to back universal background check bill MORE (D-Calif.) and House Majority Leader Steny Hoyer Steny Hamilton HoyerThis week: House jump-starts effort to prevent shutdown Words matter, except to Democrats, when it involves impeaching Trump Nadler: Impeachment inquiry a 'made-up term' but it's essentially 'what we are doing' MORE (D-Md.) that contradicted comments made by Nadler and other Judiciary Democrats that they are in ''formal impeachment proceedings.''

''The Committee's own description of its investigation makes clear that it is too far removed from any potential judicial proceeding to qualify,'' DOJ said in its filing. ''Most prominently, the Speaker of the House has been emphatic that the investigation is not a true impeachment proceeding.''

''Nor does the Committee provide any basis to distinguish its current 'investigation' from the sort of oversight that Congress routinely undertakes, all of which could potentially lead to the impeachment of Executive Branch officials,'' DOJ added.

Democrats have offered descriptions of being in an impeachment process, an impeachment investigation and an impeachment inquiry, with some using the word ''formal'' while others in the party dispute that characterization.

The widespread disagreement among Democrats about the state of the investigation has caused confusion as members seek to lay out their strategies to the public.

Impeachment for Pelosi is a numbers game, and polls consistently show that a majority of voters do not support going down that road.

Nadler, however, has said he believes Trump should be impeached as a way of condemning him for his conduct, stating that he does not believe the GOP-controlled Senate would support his removal.

''Personally, I think the president ought to be impeached,'' Nadler told WNYC on Monday. ''Impeachment is imperative not because he's going to be removed from office '-- the Senate won't do that '-- but because we have to vindicate the Constitution.''

The recent pushback from the DOJ comes as the White House has hampered Democrats' investigative efforts by making claims of executive privilege, arguing that under the standard of immunity, confidentiality protections offered to the executive branch apply to current and former aides, effectively preventing them from disclosing what took place during their time in the administration.

While both Republican and Democratic administrations have invoked the immunity concept, legal experts say there is virtually no case law on the subject, with some predicting the White House is likely to lose if it's challenged in court.

Democrats have sought to challenge the administration by filing a lawsuit to enforce the subpoena against former White House counsel Don McGahn, who Democrats have described as their ''most critical witness.''

If the court rules in their favor, Democrats hope the McGahn case will trigger a domino effect by compelling other witnesses who have obeyed White House orders not to testify on Capitol Hill.

And while Judiciary Democratic counsels have offered an optimistic timeline that the case will be settled this year, legal experts say that's unlikely, particularly if the losing side chooses to go through the appeals process.

Lewandowski, who is considering a 2020 run against Democratic Sen. Jeanne Shaheen Cynthia (Jeanne) Jeanne ShaheenOvernight Defense: Dems grill Trump Army, Air Force picks | House chair subpoenas Trump Afghanistan negotiator | Trump officials release military aid to Ukraine Defense spending bill advances over Democratic wall objections Democrats ramp up calls to investigate NOAA MORE (N.H.), is considered an important witness because he was involved in a key episode of possible obstruction by Trump that Mueller examined that also ties in Dearborn.

According to the Mueller report, when Trump discovered the now-former special counsel was investigating him for possible obstruction, in addition to probing whether members of the Trump campaign coordinated with Russia in 2016, he ordered McGahn to remove Mueller over alleged conflicts of interest. Around that same time, Trump also asked Lewandowski to persuade then-Attorney General Jeff Sessions Jefferson (Jeff) Beauregard SessionsHouse Democrats seeking Sessions's testimony in impeachment probe McCabe's counsel presses US attorney on whether grand jury decided not to indict US attorney recommends moving forward with charges against McCabe after DOJ rejects his appeal MORE to reverse his recusal and set new limits on the Mueller probe.

Lewandowski appealed to Dearborn, then-White House deputy chief of staff, to pass along a written message to Sessions, according to the 448-page Mueller report. Ultimately, Dearborn did not carry out those orders.

And separately, Trump also reportedly attempted to change the narrative by ordering Porter to create a record refuting McGahn's account.

Lewandowski is no stranger to Capitol Hill testimonies after appearing several times last year to testify about Russian interference. His first appearance before the House Intelligence Committee sparked angry condemnations from Democrats after he stated that he was not prepared to answer questions that related to anything after he left the Trump campaign in the summer of 2016, including his time on the Trump transition team.

During his second appearance in March 2018, Lewandowski further infuriated Democrats by using profanities in the middle of a closed-door hearing, in what he described as frustration over their repeated attempts to get him to respond to questions of coordination with Russia.

This week's subpoena deadline for Lewandowski and others comes as the Judiciary Committee's sprawling probe is burgeoning to include a range of other issues that Nadler says will help Democrats determine whether to introduce articles of impeachment against Trump.

This includes whether Trump violated the Emoluments Clause of the Constitution by profiting off government spending after Vice President Pence, other administration officials and Air Force officials stayed at his family-owned resorts.

While the president and his GOP allies have accused Democrats of conducting partisan investigations that aim to hurt Trump heading into 2020, Democrats say they are still examining obstruction, which includes Lewandowski's testimony on Tuesday.

But Lewandowski has hinted that he will use the public appearance as an opportunity to blast Democrats.

''I want to go and remind the American people that these guys are on a witch hunt, right?'' he told Fox News Radio last month.

'When will it end?' Twitter fumes after NYC official suggests replacing Central Park's male statues with women '-- RT USA News

Tue, 17 Sep 2019 13:35

A conspicuously 'woke' New York City official has proposed that male statues inhabiting the metropolis's famed Central Park should be replaced with monuments honoring women. This is a great idea, nobody on Twitter said.

Hank Willis Thomas, a painter who serves on the Public Design Commission, told his fellow commission members that there are five or six male statues in the park that could ''easily'' be torn down and swapped with tributes to famous women, the New York Post reported.

Elaborating on his idea, Thomas singled out statues of Scottish poet Robert Burns and Christopher Columbus as candidates for reassignment surgery. He argued that there aren't many people who would miss the Burns statue, while Columbus already had a monument in his honor just a ''few hundred yards away.''

Central Park currently has 23 statues '' all male '' and Hank's commission has been tasked with rectifying this problem.

Also on rt.com US school to hide, not destroy Washington mural depicting slaves and dead Native American Thomas' vision for a new-and-improved Central Park was rejected by Mayor Bill de Blasio, who wants to see new statues erected but opposes removing existing ones.

His bold renovation plan was similarly panned by the Twitterati, who expressed nearly unanimous disgust with the proposal.

Let's replace City Commissioner instead.

'-- Homo Sapiens Jr. (@HomoSapiensJr) September 17, 2019Don't these people ever get exhausted at being perpetually upset about some perceived injustice? FFS, go for a walk, watch some reruns of Alf, anything but sit around and make up new things to be woke about.

'-- Respectable Username (@somethi79963647) September 17, 2019Criticizing the city's priorities, some social media users argued that local officials should focus on more pressing issues such as homelessness and sanitation.

How about you concentrate on real problems - like the homeless epidemic ? Stop the useless virtue signaling. Who votes for these destructive incompetent overpaid fools?

'-- Le_Barbillon (@BarbillonLe) September 17, 2019Ironically, a proposal for a statue honoring pioneers of women's rights was shelved for further debate by Thomas' commission because it didn't include a woman of color.

This is far from the first time that there have been calls to alter Central Park so that it would be in compliance with politically correct standards. In June, actress Jessica Chastain posted a viral video highlighting the absence of female statues in Central Park, and half-jokingly suggested that a monument to Oprah should be erected.

Like this story? Share it with a friend!

(20) Shane Gillis on Twitter: "https://t.co/fw7QJHLFdi" / Twitter

Tue, 17 Sep 2019 13:25

Welcome home! This timeline is where you'll spend most of your time, getting instant updates about what matters to you.

Tweets not working for you? Hover over the profile pic and click the Following button to unfollow any account.

Say a lot with a little When you see a Tweet you love, tap the heart '-- it lets the person who wrote it know you shared the love.

Spread the word The fastest way to share someone else's Tweet with your followers is with a Retweet. Tap the icon to send it instantly.

Join the conversation Add your thoughts about any Tweet with a Reply. Find a topic you're passionate about, and jump right in.

Learn the latest Get instant insight into what people are talking about now.

Get more of what you love Follow more accounts to get instant updates about topics you care about.

Find what's happening See the latest conversations about any topic instantly.

Never miss a Moment Catch up instantly on the best stories happening as they unfold.

Fed poised to cut rates as Trump keeps up pressure | TheHill

Tue, 17 Sep 2019 13:16

The Federal Reserve is likely to cut interest rates this week, a move that comes amid growing pressure from President Trump Donald John TrumpTed Cruz knocks New York Times for 'stunning' correction on Kavanaugh report US service member killed in Afghanistan Pro-Trump website edited British reality star's picture to show him wearing Trump hat MORE and new uncertainties about the global economy.

The Fed is expected to announce Wednesday that it will cut its baseline interest rate for the second consecutive meeting. After cutting rates in July for the first time since 2008 during the recession, the Fed is almost certain to nudge down borrowing costs to counter rising fears of a global recession and slowing U.S. job growth.

But while lower interest rates may relieve some pressure on the U.S. economy, a moderate cut will likely do little to appease Trump as he scrambles to regain leverage in his trade war with China.

Trump has long complained about the Fed's refusal to tilt trade talks with China in his favor by boosting the economy and cheapening the dollar with lower interest rates. Federal Reserve Chairman Jerome Powell and other Fed officials have disavowed any pressure to stray from their legal charter to remain politcally neutral and fight Trump's trade battles.

As Trump struggles to strike an elusive deal with China before the 2020 election, a slim rate cut risks intensifying the president's challenge to the Fed's independence.

''The United States, because of the Federal Reserve, is paying a MUCH higher Interest Rate than other competing countries,'' Trump tweeted Monday.

''They can't believe how lucky they are that Jay Powell & the Fed don't have a clue.''

Trump's battle with China has created a series of daunting political and economic obstacles for the Fed as it seeks to extend a record-long stretch of U.S. growth.

Powell faces a difficult balancing act and divisions within his own central bank. Minutes from the bank's last meeting showed that while some policymakers favored deeper cuts, others backed no rate cuts.

U.S. economic and growth job have slowed throughout 2019 amid a manufacturing recession and decline in business investment driven in part by Trump's trade battle with China and the European Union. There are also new potential shocks to the economy following an attack on Saudi oil fields that could affect as much as 5 percent of the world's total daily crude oil production. Though the U.S. still boasts unemployment near record lows and strong consumer spending, the Fed has sought to lower interest rates as a hedge against a dour economic outlook.

''I would not see a recession as the most likely outcome for the United States or the global economy,'' Powell said earlier this month at speech in Zurich. Even so, the chairman added that the Fed ''would act as appropriate to sustain the expansion,'' renewing a pledge the bank made ahead of its July rate cut.

Trump's ongoing effort to enlist the Fed in his trade war with China has plunged the apolitical bank into a fight with severe implications for the 2020 election.

Trump has repeatedly pressured the Fed to boost U.S. exports with lower rates, mocking top officials and even questioning Powell's patriotism after the chairman asserted in August that ''setting trade policy is the business of Congress and the administration, not that of the Fed.''

''The Fed tends to avoid large rate cuts unless either the data is clearly falling off the cliff or credit markets are seizing up. Neither is currently the case,'' wrote Tim Duy, a professor at the University of Oregon who closely tracks the Fed, in a research note last week.

''Instead, the Fed will take a more cautious approach to policy, pushing down rates in quarter point increments.''

That slow and steady pace is likely to irk Trump, who has raged against the Fed for not matching the near-negative rates of nations at the other end of his trade disputes. Trump last week in a tweet called for interest rates of ''zero, or less.''

But even if the Fed follows through with a widely projected 0.25 percentage point rate cut, U.S. borrowing costs will still be well above those in Europe, where interest rates have dropped to sub-zero levels.

Relatively higher U.S. interest rates reflect the relative strength of the American economy compared to global powers in Europe and Asia, which face more immediate threats. But higher U.S. borrowing costs have helped keep the U.S. dollar strong, which makes U.S. exports relatively more expensive in foreign markets.

The Fed's decision also comes as trade talks with China appear to have again deadlocked.

Though the U.S. and Beijing have exchanged several gestures of goodwill over the past week, both nations remain far from a deal that could make or break Trump's election.

Chinese leaders have signaled they are willing to wait out lagging economic growth and retaliatory tariffs rather than give in to Trump in the near term.

That's only brought more pressure on the Fed from Trump.

''Will Fed ever get into the game? Dollar strongest EVER! Really bad for exports,'' Trump tweeted Monday.

The Fed may also face the wrath of Trump if the bank fails to appease Wall Street's expectations of cheaper borrowing costs. Michael Arone, chief investment strategist for State Street Global Advisors, warned Monday that the stock market has bet on further rate cuts this year and may buckle if Powell doesn't uphold that view in a Wednesday press conference.

Wall Street's reaction will also be closely watched.

''Investors have priced in a greater number of interest rate cuts that the Fed might not commit to yet,'' Arone said.

''The real risk to the market is that the Fed doesn't deliver on those expectations.''

Here's what Congress is considering doing on guns - The Washington Post

Tue, 17 Sep 2019 13:11

It's got a tough needle to thread Sen. Chris Murphy (D-Conn.) is one of the lead negotiators on gun legislation in Congress. (J. Scott Applewhite) Confused about what new gun laws Congress is going to make after a summer of back-to-back mass shootings? So is Congress, apparently.

There seems to be a political opening to do something to strengthen gun laws, but it's got to hit the Goldilocks zone of not too conservative and not too liberal to pass the Democratic House and the Republican Senate and get signed into law by President Trump. And right now, no one seems to know what that just-right legislation is.

The most difficult task seems to be finding common ground on background checks, specifically enough common ground that a majority of senators '-- maybe even a supermajority if some conservatives in the Senate launch a filibuster '-- agree. Here are the most-talked about proposals and their factions:

Universal background checks House Speaker Nancy Pelosi (D-Calif.) and Senate Minority Leader Charles E. Schumer (D-N.Y.) have told President Trump it's universal background checks or nothing. (Jonathan Ernst)What it would do: What it says it would do is make every gun sale go though a background check. Right now, all sales from a licensed gun dealer (so, say, a sporting goods store) require buyers to go through a background check. But that's not the case for most Internet sales, sales at gun shows and private sales, such as between friends.

Supported by: House Democrats. They passed a universal background bill earlier this year; it was one of the first things they did after winning back the House of Representatives. Add to this list the two Democratic leaders of Congress, Speaker Nancy Pelosi (D-Calif.) and Senate Minority Leader Charles E. Schumer (N.Y.). They told Trump this week that it's this or nothing.

Whom it would alienate: Nearly all Republicans.

[Support is moving in favor of new gun control laws. But is it enough?]

The Manchin-Toomey proposal for background checks Sen. Patrick Toomey (R-Pa.) speaks as Sen. Joe Manchin III (D-W.Va.) stands beside him in 2013. Their legislation failed by six votes. (J. Scott Applewhite)What it would do: Expand background checks to include Internet and gun-show sales.

Supported by: The two senators whose names are on the bipartisan bill, Sens. Joe Manchin III (D-W.Va.) and Patrick J. Toomey (R-Pa.). They put together this legislation in 2013 after the Newtown elementary school shooting. It failed in the Senate by six votes, with most Republicans voting against it.

But now some of those Republicans are open to expanding some background checks, notably Sen. Lindsey O. Graham (R-S.C.), who chairs the key committee for such bills and who has become a Trump confidant, and Sen. Lamar Alexander (R-Tenn.), who chairs another committee more focused on mental health and mass shootings.

Whom it would alienate: Likely both wings of either side, who think it either doesn't go far enough (Pelosi and Schumer want private sales as part of the deal, too) or goes too far. On the right, there are some who might see any expanded background checks as an unacceptable restriction on guns.

[Have we arrived at an inflection point in the gun debate?]

It's notable that this is the most obvious compromise, and Trump has not yet embraced it despite lobbying from Toomey and Manchin.

Strengthen enforcement of existing background checks Sen. John Cornyn (R-Tex.) has pushed a bill to strengthen existing background checks that got signed into law. (Jahi Chikwendiu/The Washington Post)What it would do: There are a couple ways to do this. The Washington Post reported that Attorney General William P. Barr is looking into ways to expedite the death penalty for mass shooters (although many die or expect to die in the first place).

The Post also reported that Trump was open to an app that would make the background checks that exist more accessible to gun sellers.

Sen. Ted Cruz (R-Tex.), said Sunday that Congress needs to ''strengthen background checks'' and pushed his 2013 bill to make it a crime to lie on background check forms.

And Graham is working on red-flag legislation to incentivize states to allow a judge to temporarily remove firearms from those whose families deem them a threat to themselves or others.

There is recent precedent for Republicans successfully nibbling around the edges of background checks. In 2018 after mass shootings at a Parkland, Fla., high school, a church in Texas and an open-air concert in Las Vegas, Trump signed into law a bipartisan bill requiring federal agencies and states to more thoroughly report people's criminal records to the federal background-check system.

It was a modest effort to make it more expansive, and it didn't come easy in a Republican-controlled Washington. The legislation passed only when it got folded into a must-pass spending bill.

Supported by: Likely a number of Republicans, who would be relieved if this is what they ended up voting on. It's politically safer, from the perspective of the National Rifle Association, than expanding background checks. In fact, the NRA supported the 2018 bill.

[Just how bad are things at the NRA?]

Whom it would alienate: Virtually all Democrats. ''If I end up agreeing to something that's not . . . universal background checks,'' Murphy, the key Democratic negotiator on this, told Politico, ''that's going to be a heavy lift on the Democratic side.''

Here's what Congress is considering doing on guns - The Washington Post

Tue, 17 Sep 2019 13:11

Play the latest episode of Post Reports, the premier daily podcast from The Washington Post.

You're all set!

We sent this offer to john.smith@gmail.com

The House Oversight and Reform Committee's sweeping request for documents follows growing scrutiny of whether Chao used her position to help a New York-based shipping company owned by her father and sisters gain favor with the Chinese government.

By Hannah Knowles 12 hours ago White House economists said officers could be used as part of an intensifying effort to address a recent spike in homelessness, but they declined to offer more specifics.

By Jeff Stein 13 hours ago The court proceedings could have far-reaching implications for Brexit and the balance of power.

By Karla Adam and William Booth 17 minutes ago Today's WorldView

Analysis

If the Israeli prime minister returns to power and follows through on his promises, he may confirm a dark reality of the Israeli state.

By Ishaan Tharoor 8 hours ago

Corey Lewandowski's Testimony Before Congress: What to Expect - The New York Times

Tue, 17 Sep 2019 13:11

He is a witness to possible obstruction of justice. But when he goes before Democrats' impeachment investigation, Mr. Lewandowski's fierce loyalty to President Trump will also be front and center.

Image Corey Lewandowski, a former Trump campaign manager, will testify Tuesday before Congress. Credit Credit Erin Schaff for The New York Times Sept. 17, 2019Updated 8:47 a.m. ET

WASHINGTON '-- Democrats investigating whether to recommend that the House impeach President Trump will take turns on Tuesday publicly questioning one of his most outspoken supporters: Corey Lewandowski.

Mr. Trump's former campaign manager and continued confidant, Mr. Lewandowski was enlisted in an ultimately unsuccessful scheme by the president in the summer of 2017 to significantly curtail the special counsel's investigation, effectively ending scrutiny of his campaign. The special counsel, Robert S. Mueller III, eventually found out about it and included it among the roughly 10 instances of possible obstruction of justice by Mr. Trump documented in his report and now being studied by the House Judiciary Committee.

But if Democrats on the committee hope that Mr. Lewandowski's public confirmation of the written report can jump-start their impeachment case, their sharp-tongued witness has goals of his own: to aggressively defend Mr. Trump and possibly to even jump-start his own potential Senate campaign in New Hampshire.

The hearing in the Judiciary Committee chambers is scheduled to begin at 1 p.m. Eastern and should last through much of the afternoon.

Here's what you need to know before the hearing starts.

Mr. Trump enlisted Mr. Lewandowski to get the special counsel off his back. Mr. Mueller then wrote about it.Mr. Lewandowski pops up frequently in Mr. Mueller's more than 400-page report, including in its discussion of Trump campaign contacts with Russians. But the Judiciary Committee's primary area of interest centers on Mr. Lewandowski's interactions with Mr. Trump in the summer of 2017, when the president was trying through various channels to influence the work of the special counsel, then newly appointed.

As Mr. Mueller recounts in Volume II of his report, on possible obstruction of justice by Mr. Trump, the president met with Mr. Lewandowski in the Oval Office in June 2017 only two days after he directed Donald F. McGahn II, the White House counsel at the time, to fire the special counsel. This time, Mr. Trump criticized Attorney General Jeff Sessions for recusing himself from overseeing the Russia investigation and asked Mr. Lewandowski to deliver the attorney general a message that he dictated on the spot.

It said that Mr. Sessions should give a speech announcing that Mr. Trump had been treated unfairly and that he would limit the scope of the special counsel investigation. According to notes Mr. Lewandowski shared with Mr. Mueller's team, the dictation continued:

Now a group of people want to subvert the Constitution of the United States. I am going to meet with the special prosecutor to explain this is very unfair and let the special prosecutor move forward with investigating election meddling for future elections so that nothing can happen in future elections.

Mr. Lewandowski said he would deliver the message, but the request languished. Mr. Trump followed up during another Oval Office meeting in July, and Mr. Lewandowski told the special counsel that the president told him if Mr. Sessions would not meet with him, he should tell the attorney general he was fired.

Instead of delivering the message, Mr. Lewandowski tried to enlist the help of Rick A. Dearborn, a former Sessions aide who worked in the White House. Ultimately, neither man communicated the message to the attorney general, but Mr. Trump would continue to publicly criticize Mr. Sessions and privately seek his removal.

Democrats want to re-create the findings, but don't expect many new facts.The Democrats' investigation has been plodding so far, in large part because of the White House's repeated intervention to block the appearances of key witnesses. They hope Mr. Lewandowski can help change that.

His appearance will be the first time the Judiciary Committee will hear publicly from a fact witness to the events that Mr. Mueller chronicles. And though the White House has also put limitations on his testimony '-- he is permitted to speak only about his work for the Trump campaign and material included in the public version of Mr. Mueller's report, limiting any new fact-finding '-- Democrats still feel there is ample ground for them to cover.

To that end, Representative Jerrold Nadler of New York, the committee's chairman, and other Democrats will be laboring to try to bring portions of Mr. Mueller's dense written report to life for rolling television cameras.

Mr. Lewandowski is not going to play gently.Because he will be under oath, Mr. Lewandowski may have little choice but to publicly confirm again what he privately told Mr. Mueller. But that doesn't mean he can't turn himself into a firecracker of a witness, loudly distracting from presidential obstruction and showering Democrats in sparks and smoke.

In a Twitter post early Tuesday, Mr. Lewandowski offered a sample of what was come.

He may have also previewed his brawling approach in an interview last month with Fox News Radio when he called Democrats on the committee ''such phonies,'' accused Mr. Nadler of being captive to ''the far left wing'' and said the whole inquiry could be attributed to Democrats' refusal to accept a simple fact: ''Donald Trump destroyed Hillary Clinton by a massive electoral margin.''

''I'm happy to come, right, because I want to explain that there was no collusion, that there was no obstruction,'' Mr. Lewandowski said. ''I am an open book. I want to go and remind the American people that these guys are on a witch hunt.''

He can expect ample help from Republicans on the Judiciary Committee, who are lined up in opposition to the Democratic majority's moves.

Mr. Trump has delighted in Mr. Lewandowski's possible run, telling a packed arena in Manchester, N.H., last month that his former campaign manager was ''fantastic'' and would be ''tough to beat.'' But the possibility is also rattling some of the most powerful Republicans in Mr. Lewandowski's home state, who fear he would accelerate the destruction of what's left of New England's genteel politics.

The White House ordered two other former senior officials not to show up.The witness table at Tuesday's hearing was supposed to be a good deal more crowded. Democrats had issued subpoenas for Mr. Dearborn and Rob Porter, the former White House staff secretary, to appear with Mr. Lewandowski.

But on Monday, the White House counsel, Pat A. Cipollone, told the committee that Mr. Trump had directed both men not to show up because they were ''absolutely immune'' from congressional subpoenas as former senior presidential advisers.

If that claim sounds familiar, it is. The White House has asserted that same immunity claim over other potential witnesses, most notably Mr. McGahn, the former White House counsel who is omnipresent in Mr. Mueller's report.

The House filed a lawsuit in federal court last month challenging the claim in the case of Mr. McGahn. And a ruling in that case could affect whether Mr. Dearborn and Mr. Porter ultimately have to testify. In the meantime, late Monday, Mr. Nadler called the White House's position ''a shocking and dangerous assertion of executive privilege and absolute immunity.''

What is going on with the Democrats' impeachment investigation?There has been ample confusion in recent days about the state of the Democrats' investigation, some of it intentionally fanned by Republicans. But part of the problem seems to be that Democrats do not agree on how serious they are about impeachment.

Mr. Nadler insists his committee is carrying out a full-bore impeachment investigation intended to determine whether or not the Judiciary Committee should draft articles of impeachment and recommend them to the full House. He and other Democrats on the committee have become increasingly outspoken in recent weeks, and on Monday, the chairman leapt ahead to say he was ready to vote in support of impeachment, but cautioned that he would have to try to pull the country and his caucus along first.

''In my personal opinion, impeachment is imperative, not because he is going to be removed from office '-- the Senate won't do that '-- but because we have to vindicate the Constitution,'' Mr. Nadler said.

Democratic leaders are in favor of the investigation advancing at this stage, but they are far more hesitant to back an impeachment vote itself. Speaker Nancy Pelosi consistently portrays the committee's work as just one piece of a larger investigative, legislative and legal strategy to hold Mr. Trump accountable, and she has resisted using the term ''impeachment inquiry.''

Many moderates in the caucus, who are needed to hold the Democratic majority, are fearful the I-word is drowning out their legislative work on health care and the economy, issues that they believe are far more pressing for their districts.

Perhaps of the most consequence for now, Democrats are united in pushing ahead with calling witnesses and convening hearings on conduct they believe could potentially be impeachable. That includes areas beyond just Mr. Mueller's findings, like whether Mr. Trump's businesses are illegally profiting off spending by foreign and domestic governments and reports that he dangled pardons to immigration officials hesitant to enforce his policies.

Investigating Trump

Read more about Corey Lewandowski and the Democrats' impeachment inquiry.

Nicholas Fandos is a reporter in the Washington bureau covering Congress. @ npfandos

Revealed: catastrophic effects of working as a Facebook moderator | Technology | The Guardian

Tue, 17 Sep 2019 13:04

The task of moderating Facebook continues to leave psychological scars on the company's employees, months after efforts to improve conditions for the company's thousands of contractors, the Guardian has learned.

A group of current and former contractors who worked for years at the social network's Berlin-based moderation centres has reported witnessing colleagues become ''addicted'' to graphic content and hoarding ever more extreme examples for a personal collection. They also said others were pushed towards the far right by the amount of hate speech and fake news they read every day.

They describe being ground down by the volume of the work, numbed by the graphic violence, nudity and bullying they have to view for eight hours a day, working nights and weekends, for ''practically minimum pay''.

A little-discussed aspect of Facebook's moderation was particularly distressing to the contractors: vetting private conversations between adults and minors that have been flagged by algorithms as likely sexual exploitation.

Such private chats, of which ''90% are sexual'', were ''violating and creepy'', one moderator said. ''You understand something more about this sort of dystopic society we are building every day,'' he added. ''We have rich white men from Europe, from the US, writing to children from the Philippines '... they try to get sexual photos in exchange for $10 or $20.''

Gina, a contractor, said: ''I think it's a breach of human rights. You cannot ask someone to work fast, to work well and to see graphic content. The things that we saw are just not right.''

The workers, whose names have been changed, were speaking on condition of anonymity because they had signed non-disclosure agreements with Facebook. Daniel, a former moderator, said: ''We are a sort of vanguard in this field '... It's a completely new job, and everything about it is basically an experiment.''

John, his former colleague, said: ''I'm here today because I would like to avoid other people falling into this hole. As a contemporary society, we are running into this new thing '' the internet '' and we have to find some rules to deal with it.

''It's important to create a team, for example in a social network, aiming to protect users from abusers, hate speech, racial prejudice, better pornographic software, etc. But I think it's important to open a debate about this job. We need to share our stories, because people don't know anything about us, about our job, about what we do to earn a living.''

Some of the moderators' stories were similar to the problems experienced in other countries. Daniel said: ''Once, I found a colleague of ours checking online, looking to purchase a Taser, because he started to feel scared about others. He confessed he was really concerned about walking through the streets at night, for example, or being surrounded by foreign people.

''Maybe because all this hate speech we have to face every day affects our political view somehow. So a normal person, a liberal person, maybe also a progressive person, can get more conservative, more concerned about issues like migrants for example. Indeed, many of the hate speech contents we receive on a daily basis are fake news '... which aim to share very particular political views.''

In February, the technology site the Verge produced one of the first behind-the-scenes reports from a US Facebook contractor. Similar to their Berlin colleagues, the Americans reported that ''the conspiracy videos and memes that they see each day gradually led them to embrace fringe views'', and that a former moderator ''now sleeps with a gun at his side'' after he was traumatised by a video of a stabbing.

Others were dealing with trauma by self-medicating. Just as the Arizona moderators were reportedly turning to drugs and alcohol, so were those in Germany. ''I saw a lot of big consumer drugs in the company,'' Daniel said. ''We don't have any way to destress. The company, technically, is against drugs.''

When trying to go down a more legitimate route of self-help, the American moderators complained about the psychological help that was provided. ''The on-site counsellors were largely passive,'' the Verge reporter Casey Newton wrote, ''relying on workers to recognise the signs of anxiety and depression and seek help.''

Berlin moderators were also critical of the counselling services provided and suggested they leaned too heavily on the state's universal healthcare.

Daniel said: ''In the end, we didn't have proper psychological support. We had some colleagues who went to the [counsellor], and when they showed that they had real problems, they were invited to go outside the company and find a proper psychologist.''

The Verge report appeared to trigger reforms. Moderators in Berlin said after the article was published there had been immediate interest from Facebook's head office in their workload. Previously, they had been required to moderate 1,000 pieces of content a day '' more than one every 30 seconds over an eight-hour shift.

In February, an official from Facebook's Dublin office visited, John said. ''This person after this meeting decided to take off the limit of 1,000. We didn't have any limit for a while, but now they have re-established another limit. The limit now is between 400 and 500 tickets.'' The new cap '' or number of tickets '' was half that of the previous one but still required workers achieve about a ticket a minute. However, that volume of work was what their American colleagues had faced before the reforms.

Berlin moderators have discussed whether to seek help from the unions, but say the nature of the work makes it difficult. Gina said: ''I wouldn't say no one is interested, but no one has the possibility to do something for real.''

John added: ''They are so tired.''

While the moderators agreed such work was necessary they said the problems were fixable. ''I think it's important to open a debate about this job,'' he said, adding that the solution was simple '' ''hire more people''.

In a statement, Facebook said: ''Content moderators do vital work to keep our community safe, and we take our responsibility to ensure their wellbeing incredibly seriously. We work closely with our partners to ensure they provide the support people need, including training, psychological support and technology to limit their exposure to graphic content.

''Content moderation is a new and challenging industry, so we are always learning and looking to improve how it is managed. We take any reports that our high standards are not being met seriously and are working to look into these concerns.''

' In the UK and Ireland, Samaritans can be contacted on 116 123 or email jo@samaritans.org or jo@samaritans.ie. In the US, the National Suicide Prevention Lifeline is 1-800-273-8255. In Australia, the crisis support service Lifeline is 13 11 14. Other international helplines can be found at www.befrienders.org.

NY Times Allegation that Kavanaugh Exposed Himself at Yale Is a Dud | National Review

Tue, 17 Sep 2019 12:54

U.S. Supreme Court Justice Brett Kavanaugh departs the House Chamber, February 5, 2019.(Reuters/Joshua Roberts)

The authors omitted the fact that the alleged victim has no memory of the alleged incident. I f you opened Twitter on Sunday morning, you were likely greeted with the bombshell headline of the top trending news story: ''NYT reporters' book details new sexual assault allegation against Brett Kavanaugh.''

The allegation, Robin Pogrebin and Kate Kelly write in a New York Times story adapted from their forthcoming anti-Kavanaugh book, is this: ''We also uncovered a previously unreported story about Mr. Kavanaugh in his freshman year that echoes Ms. Ramirez's allegation. A classmate, Max Stier, saw Mr. Kavanaugh with his pants down at a different drunken dorm party, where friends pushed his penis into the hand of a female student.''

Wait a second. Who did what to whom?

Kavanaugh's ''friends pushed his penis into the hand of a female student''?

Can someone explain the logistics of the allegation here? Was Kavanaugh allegedly walking around naked when his friends pushed him into the female student?

No, if I'm reading Pogrebin and Kelly right, the friends didn't push Kavanaugh in the back. Rather, the ''friends pushed his penis.''

What? How does that happen? Who are the friends? Who is the female student? Were there any witnesses besides Stier?

All that the authors write in the New York Times essay about corroborating the story is this: ''Mr. Stier, who runs a nonprofit organization in Washington, notified senators and the F.B.I. about this account, but the F.B.I. did not investigate and Mr. Stier has declined to discuss it publicly. (We corroborated the story with two officials who have communicated with Mr. Stier.)''

So they corroborated the fact that Stier made the allegation to the FBI, but the authors give no indication that they have corroborated any details of the alleged incident.

The book isn't released until Tuesday, but Mollie Hemingway got a copy, and she writes on Twitter: ''The book notes, quietly, that the woman Max Stier named as having been supposedly victimized by Kavanaugh and friends denies any memory of the alleged event.'' Omitting this fact from the New York Times story is one of the worst cases of journalistic malpractice in recent memory.

If you take this confusing accusation in the essay at face value, it doesn't even appear to be an allegation of assault against Kavanaugh.

If Kavanaugh's ''friends pushed his penis,'' then isn't it an allegation of wrongdoing against Kavanaugh's ''friends,'' not Kavanaugh himself? Surely even a modern liberal Yalie who's been to one of those weird non-sexual ''naked parties'' would recognize both the female student and Kavanaugh are both alleged victims in this alleged incident, barring an additional allegation that a college-aged Kavanaugh asked his ''friends'' to ''push his penis.''

The new allegation is supposed to help lend credence to the on-the-record allegation that Kavanaugh's Yale classmate Deborah Ramirez made in 2018. Pogrebin and Kelly sum up Ramirez's allegation: ''She and some classmates had been drinking heavily when, she says, a freshman named Brett Kavanaugh pulled down his pants and thrust his penis at her, prompting her to swat it away and inadvertently touch it. Some of the onlookers, who had been passing around a fake penis earlier in the evening, laughed.''

Pogrebin and Kelly downplay Ramirez's own doubts about whether Kavanaugh did what she now alleges, choosing rather to lard up their New York Times story with details that are supposed to demonstrate how under-privileged Ramirez was: She had to sell ice cream during the summer in high school, bought a cheap car, and only had an above-ground swimming pool as a teenager (the horror).

None of these details corroborates her accusation against Kavanaugh. But the story is framed to make it seem like Kavanaugh was the type of privileged jerk who might expose himself in front of an under-privileged college classmate.

As I wrote last October, here's why Ramirez's allegation was dubious:

Deborah Ramirez is the Yale classmate of Kavanaugh's who now claims that Kavanaugh exposed himself as a college freshman at a party. Ramirez's claim was already dubious because (1) named eyewitnesses deny the allegation and (2) Ramirez herself wasn't sure in recent weeks if Kavanaugh had done what she now alleges. ''Ms. Ramirez herself contacted former Yale classmates asking if they recalled the incident and told some of them that she could not be certain Mr. Kavanaugh was the one who exposed himself,'' the New York Times reported. Ramirez was only willing to make the allegation, the New Yorker reported, after ''six days of carefully assessing her memories and consulting with her attorney.''

Pogrebin and Kelly write that a couple of students say they had heard about the alleged incident in the days after it allegedly occurred, but the authors provide no indication there is any first-hand witness to corroborate the allegation.

We already knew before Kavanaugh was confirmed last October that the ''corroborating'' source for Ramirez's claim, classmate Kenneth Appold, was not present when the alleged incident occurred, but Appold told the New Yorker he was ''one-hundred-percent-sure'' he heard about it from an eyewitness. Shortly before Kavanaugh was confirmed, the New Yorker reported that Appold's supposed eyewitness ''said that he had no memory of the incident.''

Maybe Pogrebin and Kelly's book is stronger than their essay. But I'm skeptical. ''In the end they turn up no smoking gun,'' Hanna Rosin writes in her New York Times review of the book.

Update 9/16: Late yesterday, the New York Times ''updated'' their article to note that it initially ''did not include'' the information that the alleged victim did not recall the alleged assault.
Clips & Documents
Art
All Clips

9 to 5 Mac - 200 plus NEW iOS 13 features changes for iPhone - DARK MODE - The End is Nigh.mp3

American Airlines ISIS employee.mp3

asteroid pass by.mp3

Beto has an issue doubles down MTP.mp3

biden and the BS african gaffe.mp3

Biden on 720 million women.mp3

Bill Burr and Jim Jefferies Weigh In on SNL Firing Shane Gillis - Lights Out with David Spade.mp3

bin laden kid killed.mp3

CHinese schools tracking kids with wearables (headbands).mp3

Climate Kid Ms Margolin sued the state of Washington - This Zero Hour.mp3

climate news ONE DN.mp3

climate news TWO big protest DN.mp3

David Martin on Iran drones CBS.mp3

Deo - Banana Boat - Harry Belafonte EXCERPT.mp3

Drone defense laser weapons opportunity - Shep Smith.m4a

ed buck arrested NBC.mp3

Fully vaccinated nurse in Seattle gets the measles.mp3

Guy on Brexit interpret this.mp3

Guy on New World Order of tomorrow.mp3

Guy Vonderhummahumma at Lib Democrat meeting.mp3

Holly Williams in ISIS prison.mp3

HomelessVote in Ca - KFI Los Angeles John & Ken show.mp3

Joe Biden Corn Pop Story.mp3

kids hear words Biden ISO.mp3

Kookie, Kookie (Roberts) EOS Lee O LaPuke.mp3

Mukbang ASMR ISO.mp3

NBC fires SNL comedian for appearing on Podcast.m4a

Netanyahu fails DN.mp3

north korea submarine report NBC.mp3

OTG John Blues Version EOS Hugh Allison.mp3

Payroll tax online scammer.mp3

Prince William with new BBC anto cyber bullying app is a KEYLOGGER.mp3

Ring doorbell videos used to catch Mom abusing child.mp3

Sen Dick Durbon - Vaping Targets Kids.mp3

Snowden vs Trump II DN.mp3

Star Trek DSN Episode 11 - 2020's in the USA.mp3

Steve Pieczenik drones -1- ARAMCO IPO was the reason.mp3

Steve Pieczenik drones -2- MBS is to blame and Saudi's have nothing more of value to us.mp3

Steve Pieczenik drones -3- Trump Iran Locked and Loaded threats.mp3

Teen climate activist testifies on capitol hill about being constantly scared.mp3

The Food Porn Superstars of South Korea - Mukbang.mp3

Trudeau 'brownface' photo Canadian PM apologizes for costume in 2001 photo.mp3

Trudeau responds to 'brownface' photo.mp3

Trump in New Mexico DN.mp3

Tucker Native ad for Flu Pandemic - Super Flu with Dr Marc Siegel Fox News Medical Correspondent.mp3

UK Supreme Court hears evidence on parliament suspension - prorogation.mp3

Vape Wars Jingle.mp3

WHO LADY ON EBOLA - 2014.mp3