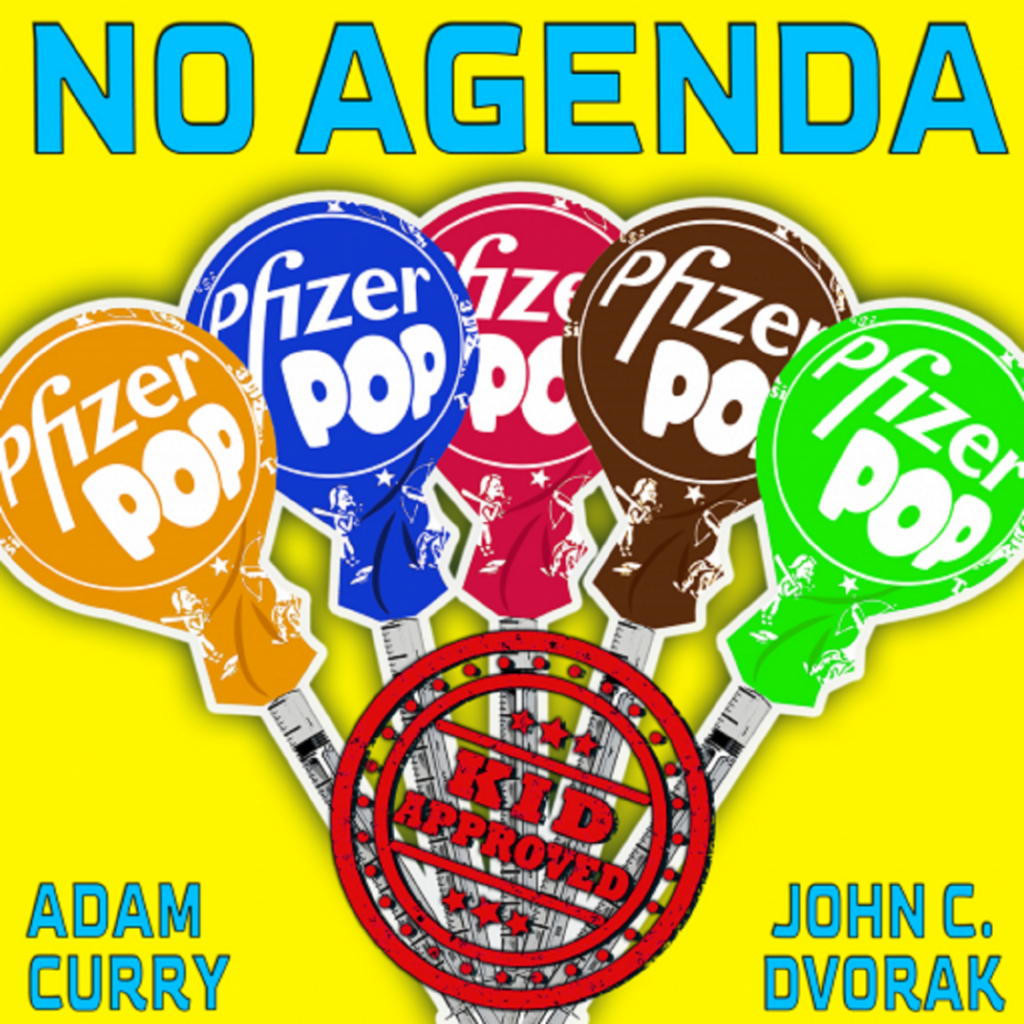 October 28th, 2021 • 3h 15m
1394: Re-wilding
Shownotes
Every new episode of No Agenda is accompanied by a comprehensive list of shownotes curated by Adam while preparing for the show. Clips played by the hosts during the show can also be found here.
FB / GOOGLE Anti Trust

Facebook wanted to be the internet

Zuckerberg got suckered into helping the dems
VAERS

Facebook, Instagram Delete Video of Brazilian President Linking COVID Vaccines to AIDS

Facebook and Instagram deleted a video made by Jair Bolsonaro, in which the Brazilian president spoke of the connection between coronavirus vaccination and AIDS, the newspaper Folha de Sao Paulo reported on Monday.
Cyber
Mandates

Brooklyn Bridge Protests

Marines don't have the product BOTG

Attached is a screenshot of official correspondence from the Commanding Officer of the Marine Corps 2nd Maintenance Battalion on Camp Lejeune, NC. He states that the Navy (the Marine Corps falling under the department of the Navy) does not have any of the FDA approved vaccines, but essentially that the EUA stuff is good enough. The Marine is question, and others, are taking appropriate legal action.

As it is, Marines are putting their livelihoods and careers on the line and we are very close to losing a lot of Marines because of this mandate. The Marine Corps has made it very clear that if we are not vaccinated, we will be administratively separated, without an honorable discharge. Some of us have caved in lieu of losing the sole source of income for our families, retirement, and VA benefits associated with an honorable discharge.

Dude named Ben will let it all burn

I'm a dude named ben and a spook. I will be "separated" from the company on

Nov. 22nd. I will stop working tomorrow and go on vacation until they fire

me. No one at the company knows yet. I personally built 3 systems and am

the only one with knowledge about them, yes others will be able to figure

them out, I'm nothing special, but productivity will fall.

I will give a large donation and tell my story once it has an ending. I am

free! I am so excited.

Thank you mandate, for forcing me to find a better life.

Been here since day one, founding donor.

Ben

Dudes named Ben against mandates

PC2.0 Consultant

Refuses vax, also refuses to fill out exemption

HR begging

He can work anywhere

Evil corporate trackers

I'm a Dude Named Ben. Had a ticket come in from a client. She had all of her employees fill out an anonymous survey about their jab status and if they were

planning on getting jabbed. The results of the survey were in an excel spreadsheet and every response had a unique ID column. The ticket requested that we track

down the users by the unique ID. We were all kind of stunned by this request. Even the vaccine horny in my office thought it was gross. We told her what she

requested isn't technically possible but everyone in the office agreed we wouldn't do it even if it was possible.
Covid Down Under

Covid Down Under detailed BOTG

I haven't been sending as many clips lately - frankly, the volume of crap

coming in each day is just mentally overwhelming. Luckily, I have No

Agenda to help ease my mind twice a week!

You may recall from my recent missive that Dictator Dan has been

effectively ruling by decree here in Victoria throughout the pandemic,

using the powers granted to him by the state's Public Health & Wellbeing

Act 2008 - a law which he introduced while Health Minister at the time.

In order to enact those powers, a state of emergency must be declared. The

Act specifies that such an SoE could not last longer than a month, but he

managed to circumvent that, first extending it to six months, and later to

21 months.

The dirty deal he did with the politicians that supported him was to

guarantee that by the conclusion of the SoE period, the government would

come up with something to replace it, allowing for limited powers to

enforce such things as quarantine arrangements for returning overseas

travellers, and suchlike.

Under the Act, public health orders are issued by the state's Chief Health

Officer, pursuant to s.199 & s.200, which provides a handy foil for

politicians to claim they're just doing what they're told (ie, don't blame

us). I'll come back to this.

The SoE is due to expire on December 15th, after which point, if there's no

laws to replace it, all covid measures in Victoria would end. No mask

mandates, no vaccine mandates, no quarantine - nothing. Life would return

to normal.

Of course, Dictator Dan won't have any of that.

His party, the Labor Party, holds a huge majority in the lower house, and

so they can ram through any legislation they want, with little debate at

all. It is a different story in the upper house though, where he's forced

to negotiate with minor parties and independent MP's to get anything

passed. It is always a very fine margin - usually 1 vote - and the

government, seemingly oblivious to democratic process, only ever deals with

three such MP's - the one's he knows will likely support him.

So it now transpires (although it had been rumoured for months) that he and

his apparatchiks have been negotiating new, parment pandemic legislation

for quite some time. These will come in the form of amendments to the

abovementioned Act, and were released into the public domain just

yesterday. A day later they are now, as we speak, attempting to ram them

through the parliament. They have deliberately kept these secret from the

public, the Opposition and all other members of parliament, and now expect

just a day's worth of debate before taking a vote - a process that usually

would have a minimum of two weeks allotted.

These laws are horrifying. They will transfer the decision making process

from the chief Health Officer to the Premier, giving him sole and unchecked

power to declare a pandemic at any time, for any reason he likes, even if

there's no virus in Australia at all. The Bill also talks about

classifying people by "characteristics", "classes" and "attributes'',

including such things as political belief, religion and gender. Fines

would be arbitrary, and allow for any minor breach of a health direction

to incur close on $10,000 penalties for individuals, and nealy $100,000 for

businesses. That can then escalate for prison time of up to two years.

This could potentially be for something as minor as not wearing a mask.

A pandemic declaration would last for three months, but could be renewed by

the Premier on a rolling basis, and so could technically last for as long

as he's in office. There is a requirement for parliament to approve the

measures, but of course, he holds the majority in the house, so that's just

a formality. They're also spruiking a new, "independent" advisory panel

which would have to assess any health orders against human rights laws,

equal opportunity laws and the like, but the Premier will not be bound in

any way by their recommendations, should it not suit him. Also, this panel

would be appointed by....the Premier.

The Bill would also require the government to publish all of the health

advice and data that was used to form the directions, and Andrews is

calling that a big win for the public. This belies the fact that the

current laws also require that to take place, but the government has

refused to publish this data at any point, regardless.

The scope of the Bill is breathtaking - I've listed just a few things here,

but there is a lot more. And remember, this is a madman who's politicised

the police force, and now has them firing weapons at unarmed civilians who

dare to protest against him and his government.

Probably the only reasonable measure the Bill has is to force the

government to own the decisions made, rather than hiding behind their Chief

Health Office. However, given what we've been through here in Victoria,

and Melbourne in particular, only a fool would believe the CHO has been

making the orders.

These amendments will allow Dictator Dan to extend the covid rules,

including movement restrictions, mask rules, vaccine mandates and his new

vaccine passports to continue for as long as he wants them to, once the SoE

expires in December. They will hang like a sword of damocles over Victoria

for the remainder of his time in office. My tip is that he'll attempt to

leverage the fear factor until mid-2022, then ease it all off and play the

hero card into the November election. Sadly, most voters here are so

f..king stupid, they'll vote him back in anyway.

The Opposition Leader, Matthew Guy, has vowed to repeal these laws if he

wins office next year. I can only hope he's a man of his word. In the

meantime, lobbying of the critical three MP's to vote no is intense. Two

of those are tied at the hip to Andrews, and will definitely vote yes. The

final MP, Fiona Patten, a former prostitute and leader of an outfit called

the Reason Party (better known to most of now as the Treason Party), will

likely also vote yes, but we can only live in hope that she can be

persuaded otherwise. We are also short of three "no"votes in the form of

MP's who Andrews has suspended from parliament because they refuse to hand

over the vaccination papers. We are hoping they'll choose to lose this

minor battle for now and re-enter the chamber before the vote takes place.

Winning the war is more important right now.

We are in desperate times here, Adam. This Bill is the greatest threat to

democracy, probably in Australia's history. I'm not overstating things

when I say the parallels to the German Enabling Act of 1933 are stark.

Enough ranting from me for now though. The attached clip comes from Sky

News.

All the best

Steve Visscher

Knight of the Southern Skies
Sudan
War on Shrooms
BBB

Biden's Nominee Omarova Has a Published Plan to Move All Bank Deposits to the Fed and Let the New York Fed Short Stocks

This month, the Vanderbilt Law Review published a 69-page paper by Saule Omarova, President Biden's nominee to head the Office of the Comptroller of the Currency (OCC), the Federal regulator of the largest banks in the country that operate across state lines. The paper is titled "The People's Ledger: How to Democratize Money and Finance the Economy."

The paper, in all seriousness, proposes the following:

(1) Moving all commercial bank deposits from commercial banks to so-called FedAccounts at the Federal Reserve;

(2) Allowing the Fed, in "extreme and rare circumstances, when the Fed is unable to control inflation by raising interest rates," to confiscate deposits from these FedAccounts in order to tighten monetary policy;

(3) Allowing the most Wall Street-conflicted regional Fed bank in the country, the New York Fed, when there are "rises in market value at rates suggestive of a bubble trend," such as with technology stocks today, to "short these securities, thereby putting downward pressure on their prices";

(4) Eliminate the Federal Deposit Insurance Corporation (FDIC) that insures bank deposits;

(5) Consolidate all bank regulatory functions at the OCC – which Omarova has been nominated to head.

France to Vote on the Great Replacement of Western Civilization

The Income Tax Amendment - Constitutional Rights Foundation

Rep. Cordell Hull introduced the first income tax law under the newly adopted Sixteenth Amendment. He proposed a graduated tax starting with a 1-percent rate for incomes between $4,000 and $20,000 increasing to a top rate of 3 percent for those earning $50,000 or more. The House Ways and Means Committee called upon citizens to "cheerfully support and sustain this, the fairest and cheapest of all taxes. . . ."

The first tax collection day under the new law took place on March 1, 1914. Since the average worker earned only about $800 a year, few people actually had to pay any federal income tax. Less than 4 percent of American families made an annual income of $3,000 or more. Deductions and exemptions further shrank the pool of taxpayers. Nevertheless, the federal government collected $71 million that first year. Millionaire John D. Rockefeller alone paid an estimated $2 million.

All in all, most Americans thought the new tax was a great idea. One taxpayer wrote to the Bureau of Internal Revenue, "I have purposely left out some deductions I could claim, in order to have the privilege and the pleasure of paying at least a small income tax. . . ."
Vape Wars

Vape Shipping from the Consultant

In short......

Commercial carriers like UPS & FedEx bailed on delivering vapor products because the reporting and

signature requirements are just too cumbersome (the govt uses carriers to keep tabs on who is

shipping). Carriers measure their productivity in seconds, waiting around for customer signatures

and filing monthly reports about every little vape shop that shipped with them is a non-starter.

There are a couple of smaller carriers that have sprung up to address the need but who has

nationwide coverage like UPS, USPS or FedEx? And forget rural areas....As usual, the customer

loses.

Not necessarily in this order, Dick Durbin, Chuck Schumer, Nancy Pelosi, Diane Feinstein all pushed

for this. They had been unsuccessful in banning online sales, but they got this instead. They have

essentially led the charge to kill vape.

The final insult to this injury is that smokable or vape-able marijuana, hemp, and hemp derivatives

were included. An update on cannabis in Texas at the end of this message.

More background.....

The PACT Act (the basis for banning USPS from now shipping vapes) has been around for a while.

Initially it was created to ensure that govt was getting all its tax money. Maybe you've noticed

there are stamps on cigarette packs? Those stamps represent some of the taxes that cigarette

companies pay. So, the govt wanted to ensure that the stamps were equal to the actual deliveries

being made by cigarette companies or distributors. As with the PMTA process, a system crafted for

cigarettes doesn't work for vapes.

The problem for USPS (which sucks in general) is that they are not super automated like FedEx &

UPS. So, for example, one hundred deliveries of cigarettes (these would be bulk) would be made to

distributors (who then supply C-stores & others), but there are thousands of individual shipments

from vape sellers to individual customers crisscrossing the country.

USPS delayed by 6 months, but were required to implement at a certain point, ready or not. I

suspect some vape shops & sellers that will continue to use USPS because good luck to USPS in

keeping up. However, the penalties to a vape seller for not complying are pretty stiff.

Cannabis in Texas

After a measure was defeated in the legislature this year, Texas decided to ban the sale &

consumption of Delta 8 products via a note on the TPH website. A lawsuit was already filed (and

dismissed), though more efforts are underway. This is relevant to this conversation because many,

many vape shops turned to Delta 8 (and CBD) products when they realized they needed products to

replace nicotine ones.
Supply Chains

Are There Enough Strawberries in a Kellogg's Strawberry Pop-Tart? A Court Might Decide

Over the past year, at least three lawsuits have been filed claiming the brand's strawberry-flavored varieties don't contain enough actual strawberries relative to other, lesser-known fruit ingredients.

The latest suit, filed in the Southern District of New York last week and focused on Pop-Tart's "Whole Grain Frosted Strawberry" flavor, alleges that the products contain more pears and apples than strawberries. The case asks for $5 million in relief.

A separate complaint filed in federal court in Illinois in August raised similar concerns over "Frosted Strawberry" Pop-Tarts.

"The Product's common or usual name of 'Whole Grain Frosted Strawberry Toaster Pastries,' is false, deceptive, and misleading, because it contains mostly non-strawberry fruit ingredients," according to the latest Pop-Tart complaint.

A spokesperson for Kellogg said the company doesn't comment on pending litigation.

Bottle Shortages BOTG

I work at a privately owned liquor store in East TN and can report that the bottle shortages are hitting more than just the wine market.

Since the start of the scamdemic, imported products (especially from EU nations) have been scarce due to lockdowns. Hennessy and many Irish whiskeys for example.

However, in the past two months a new phenomenon is occurring. Even whiskeys made locally (Tennessee/Kentucky) have been increasingly hard to come by.

Jack Daniels has halted all production of many of their flagship products including Gentleman Jack and certain sizes of regular Jack Daniels.

Jim Beam has stopped producing certain flavors, and for the first time are bottling their half gallons IN PLASTIC.

I could go on and on with examples. The only explanation I have gotten from distributors is that the factories where the bottles are made have a policy that if one employee tests positive, the entire bottle production of that factory is shut down for two weeks.

Our liquor store shelves have been half empty lately. The only section that is fully stocked is moonshine, because those are all bottled in mason jars.

Paint Supplies BOTG

TomOnymous here, I'm listening to show 1392 and thought I could shed some

light on the paint shortage that has been going on. I've had my own

residential painting company now for close to eight years. Multiple things

have been contributing to massive shortages of product for over half a year

now. First was the Texas ice storm that destroyed three main factories that

produce additives for paint. All major paint suppliers use components

coming out of those three factories, Behr, Sherwin, Ben Moore, and others.

Then trade/supply issues with China slowed production do to low amounts of

components such as titanium dioxide powder. Now just in the past two months

there has been major manufacturing/supply chain issues with Columbia. Out

of any country in the world including China, Columbia manufactures and

supplies the greatest amount of material for paint production. Because of

problems with Columbia manufacturing there is a huge shortage of black

tint which is a color base that goes into making a large amount of colors.

This makes sense that blue paint is having issues, black tint isn't

actually pure black, it's very very dark blue. Anyway all these factors are

contributing to skyrocketing paint prices and empty shelves at your paint

store. To the No Agenda family about to tackle large painting projects,

your best bet to get the material you need and get it consistently would

probably be Lowes. Sherwin Williams manufactures the vast majority of Lowes

paint and they have to meet a quota to avoid paying a huge fee. I've been

told by Sherwin Reps that 60%-70% of Sherwins resources are going into

supplying Lowes. Your best bet is Lowes, then Home Depot and local Benjamin

Moore supplier, and Sherwin stores will be hit the hardest. Hope this gives

some insight on what's been going on.

Phone color trend: blue

NA Box Woke Wine Art - Mark Dhand
Pfizer Marketing

Operation Secondary Infektion Targets Pfizer Vaccine

The following report is an update to Insikt Group's August 2021 publication "Operation Secondary Infektion Continues Targeting Democratic Institutions and Regional Geopolitics", an investigation into the likely Russian state-sponsored information operation "Secondary Infektion." This report examines a newly discovered campaign of Operation Secondary Infektion, aimed at discrediting the Pfizer-BioNTech COVID-19 vaccine. This report contains information gathered using the Recorded Future® Platform as well as several OSINT enrichment tools.

Recorded Future's Insikt Group has identified what we assess is almost certainly a fake screenshot of an academic-led "Open Appeal" letter opposing the vaccination of teenagers against COVID-19, particularly using the Pfizer-BioNTech vaccine, circulating on European blog websites and self-publishers. The letter is purportedly from physicians associated with the University of Latvia. This fake letter is very likely an attempt to generate vaccine hesitancy and distrust of Western institutions among European audiences. The campaign's tactics, techniques, and procedures (TTPs) suggest that it is most likely associated with the likely Russian state-sponsored information operation Secondary Infektion. Insikt Group found this false narrative actively circulating among popular Eastern European blog sites and self-publishers, contributing to the misinformation and disinformation, conspiracy theories, and general distrust in government and medical institutions that is widespread among groups of people who remain opposed to getting vaccinated even as the the COVID-19 Delta variant circulates globally.
Build the Wall

Migrants handlers with wooden cross and earbuds
Hot Gun

Prop Gun BOTG - Dexter

I have 25+ years of film set experience as a propmaster. I have to vett and hire the armourers when there's gunfire. I apologize for not getting to Sunday's

podcast till late Wednesday...

- The armourer will face manslaughter charges, not Alec Baldwin.

- In my experience, we carry three types of each weapon for action scenes:

- a real, gun which is handled only by the armourer and the actor. Checked and loaded precisely by the armourer immediately before the cameras roll. ( 3

rounds to be fired, the Armourer loads 3 rounds,never 4) He will show the gun, the barrel free of debris, and rounds to the 1st AD, the actor firing and the

actor feigning being hit. The Armourer will call out "gun is hot. 3 rounds". Checked and unloaded immediately after "cut" is called. The Armourer then calls out

"all clear", or "gun is safe".

- a dummy gun, which is either a real gun with a stopper welded into the barrel, or a good looking airsoft replica.

- a moulded rubber double of the gun, mostly used for dropping, pistol whipping and skittling across the floor.

In my IATSE (Candanavia)world:

a) real guns are never left out on a table, especially with any rounds loaded (real or blank)

b) Assistant directors never hand guns to actors. Props people can handle dummy guns and rubber guns. Only the Armourer handles the real guns. Loaded or

not.

c) I wouldn't hire a 24 year old lead Armourer.

The Assistant director who yelled "cold gun" before handing the actor a hot gun will face manslaughter charges as well as the armourer.

I could give more insight if needed, but I'm sure you will have all of your answers by tomorrow's show.

Thank you for your courage.
China
Freedom Passports

Mitre

" Avril Haines, the current Director of National Intelligence and CIA's former Deputy Director was paid $180,000 to consult for Palantir – a gig she scrubbed from her bio.

Haines was also a lead participant in the Gates, WEF, and John Hopkins Center for Health and Security-sponsored Event 201 pandemic simulation in October 2019. During this exercise, public health professionals, intelligence officials, and business leaders gamed out a hypothetical coronavirus epidemic that killed 65 million people worldwide.

Haines emphasized to fellow panelists the need to counter criticism of the official pandemic response by "flood[ing] the zone with trusted sources" of media and cultural influencers "in order to try to amplify the message that's coming through." "

" This September, the Vice President of In-Q-Tel's technical staff, Dan Hanfling, was quoted in the Washington Post arguing that unvaccinated people should be denied healthcare in the name of triage: "that group of individuals who have willingly chosen not to vaccinate, for illegitimate reasons, it would be fair to place them at the back of the line," Hanfling proclaimed..

The Washington Post did not note Hanfling's affiliation with the CIA; instead, it described him simply as an "emergency physician." "

" With its now-discredited modeling as justification, MITRE demanded that authorities reduce social contact between members of the US population by 90 percent, impose harsh lockdowns, shut down virtually all businesses, seal borders, and "quarantine returning citizens in hotels or other facilities, one to a room, with skeleton staff." "
BLM LGBBTQQIAAPK+ Noodle Gun

Dope Sick on Hulu

Chappelle / Netflix

Anti-Asian tweets from trans activist who led Netflix walkout against Dave Chapelle special RESURFACE

Ashlee Marie Preston, who identifies as a woman, is under fire for racist and misogynistic tweets made against the Asian community and Latinos, Nextshark reported.

The tweets, which have since been deleted, were screenshotted and reposted by other accounts on Twitter.

Preston, who also worked as a campaign surrogate for Elizabeth Warren, issued an apology before blaming a past meth addition for the outbursts.
Climate Change

Climate change personal co2 monitoring

Old Power Gear Is Slowing Use of Clean Energy and Electric Cars

Some people and businesses seeking to use solar panels, batteries and electric vehicles find they can't because utility equipment needs an upgrade.

Seven months after workers finished installing solar panels atop the Garcia family home near Stanford University, the system is little more than a roof ornament. The problem: The local utility's equipment is so overloaded that there is no place for the electricity produced by the panels to go.

"We wasted 30,000-something dollars on a system we can't use," Theresa Garcia said. "It's just been really frustrating."

President Biden is pushing lawmakers and regulators to wean the United States from fossil fuels and counter the effects of climate change. But his ambitious goals could be upended by aging transformers and dated electrical lines that have made it hard for homeowners, local governments and businesses to use solar panels, batteries, electric cars, heat pumps and other devices that can help reduce greenhouse gas emissions.

Much of the equipment on the electric grid was built decades ago and needs to be upgraded. It was designed for a world in which electricity flowed in one direction — from the grid to people. Now, homes and businesses are increasingly supplying energy to the grid from their rooftop solar panels.

China Hurries to Burn More Coal, Putting Climate Goals at Risk

Faced with electricity shortages, the country is racing to expand mining despite risks to the environment, miner safety and the economy.

Desperate to meet its electricity needs, China is opening up new coal production exceeding what all of Western Europe mines in a year, at a tremendous cost to the global effort to fight climate change.

Desperate to meet its electricity needs, China is opening up new coal production exceeding what all of Western Europe mines in a year, at a tremendous cost to the global effort to fight climate change.

The campaign has unleashed a flurry of activity in China's coal country. Idled mines are restarting. Cottage-sized yellow backhoes are clearing and widening roads past terraced cornfields. Long columns of bright red freight trucks are converging on the region to haul the extra cargo.

China's push will carry a high cost. Burning coal, already the world's single biggest cause of human-driven climate change, will increase China's emissions and toxic air pollution. It will endanger the lives of coal miners. And it could impose a long-term cost on the Chinese economy, even while helping short-term growth.

World leaders are gathering next week in Glasgow to discuss ways to halt climate change. But China's extra coal by itself would increase humanity's output of planet-warming carbon dioxide by a full percentage point, said Jan Ivar Korsbakken, a senior researcher at the Center for International Climate and Environmental Research in Oslo.

"The timing is horrible, coming right before the climate summit," he said. "Let's hope it's just a temporary measure to mitigate the current energy crisis."

The campaign has unleashed a flurry of activity in China's coal country. Idled mines are restarting. Cottage-sized yellow backhoes are clearing and widening roads past terraced cornfields. Long columns of bright red freight trucks are converging on the region to haul the extra cargo.

China's push will carry a high cost. Burning coal, already the world's single biggest cause of human-driven climate change, will increase China's emissions and toxic air pollution. It will endanger the lives of coal miners. And it could impose a long-term cost on the Chinese economy, even while helping short-term growth.

World leaders are gathering next week in Glasgow to discuss ways to halt climate change. But China's extra coal by itself would increase humanity's output of planet-warming carbon dioxide by a full percentage point, said Jan Ivar Korsbakken, a senior researcher at the Center for International Climate and Environmental Research in Oslo.

"The timing is horrible, coming right before the climate summit," he said. "Let's hope it's just a temporary measure to mitigate the current energy crisis."
The Purge
STORIES

Democrats unveil billionaires' tax as Biden plan takes shape

Thu, 28 Oct 2021 13:42

WASHINGTON (AP)

Pushing past skeptics, Senate Democrats on Wednesday unveiled a new billionaires' tax proposal, an entirely new entry in the tax code designed to help pay for President Joe Biden's sweeping domestic policy package and edge his party closer to an overall agreement.

The proposed tax would hit the gains of those with more than $1 billion in assets or incomes of more than $100 million a year, and it could begin to shore up the big social services and climate change plan Biden is racing to finish before departing this week for global summits.

The new billionaires' proposal, coupled with a new 15% corporate minimum tax, would provide alternative revenue sources that Biden needs to win over one key Democrat, Sen. Kyrsten Sinema of Arizona, who had rejected the party's earlier idea of reversing the Trump-era tax breaks on corporations and the wealthy to raise revenue.

Biden met late Tuesday evening with Sinema and another Democratic holdout, Sen. Joe Manchin of West Virginia, at the White House.

''No senator wants to stand up and say, 'Gee, I think it's just fine for billionaires to pay little or no taxes for years on end,''' said Democratic Sen. Ron Wyden of Oregon, chairman of the Senate Finance Committee, helming the new effort.

Biden and his party are zeroing in on at least $1.75 trillion in health care, child care and climate change programs, scaling back what had been a $3.5 trillion plan, as they try to wrap up negotiations this week.

Taken together, the new tax on billionaires and the 15% corporate minimum tax are designed to fulfill Biden's desire for the wealthy and big business to pay their ''fair share.'' They also fit his promise that no new taxes hit those earning less than $400,000 a year, or $450,000 for couples. Biden insists all the new spending will be fully paid for and not piled onto the national debt.

While the new tax proposals have appeared agreeable to Manchin and could win over Sinema, whose support is needed in the 50-50 split Senate where Biden has no votes to spare, the idea of the billionaires' tax has run into criticism from other Democrats as cumbersome or worse.

Rep. Richard Neal, D-Mass., the chairman of the Ways and Means Committee, said he told Wyden the billionaires' tax may be more difficult to implement than the route his panel took in simply raising rates on corporations and the wealthy.

Under Wyden's emerging plan, the billionaires' tax would hit the wealthiest of Americans, fewer than 800 people, starting in the 2022 tax year, according to a person familiar with the plan who insisted on anonymity to discuss it.

It would require those with assets of more than $1 billion, or three consecutive years of income of $100 million, to pay taxes on the gains of stocks and other tradeable assets, rather than waiting until holdings are sold.

A similar billionaires' tax would be applied to non-tradeable assets, including real estate, but it would be deferred with the tax not assessed until the asset was sold, though interest would have to be paid.

Overall, the billionaires' tax rate would align with the capital gains rate, now 23.8%. Democrats have said it could raise $200 billion in revenue that could help fund Biden's package over 10 years.

''I've been talking about this for years,'' said Sen. Elizabeth Warren, D-Mass., who campaigned for the presidency on a wealth tax, and backs Wyden's approach. ''I've even made billionaires cry over this.''

Republicans have derided the billionaires' tax as ''harebrained,'' and some have suggested it would face a legal challenge.

And key fellow Democrats were also raising concerns about the billionaires' tax, saying the idea of simply undoing the 2017 tax cuts by hiking top rates was more straightforward and transparent.

Under the House bill approved by Neal's panel, the top individual income tax rate would rise from 37% to 39.6%, on those earning more than $400,000 a year, or $450,000 for couples. The corporate rate would increase from 21% to 26.5%. The bill also proposes a 3% surtax on the wealthiest Americans with adjusted income beyond $5 million a year.

With Sinema rejecting the House's approach to taxes and Manchin panning the new spending on programs, the senators have packed a one-two punch, throwing Biden's overall plan into flux.

That was also forcing difficult reductions, if not the outright elimination, of policy priorities '-- from paid family leave to child care to dental, vision and hearing aid benefits for seniors.

The once hefty climate change strategies are losing some punch, too, focusing away from punitive measures on polluters that raised objections from coal-state Manchin, in a shift toward instead rewarding clean energy incentives.

Manchin's resistance may scuttle one other tax idea '-- a plan to give the IRS more resources to go after tax scofflaws. He said he told Biden during their weekend meeting at the president's home in Delaware that that plan was ''messed up'' and would allow the government to monitor bank accounts.

All told, Biden's package remains a substantial undertaking '-- and could still top $2 trillion in perhaps the largest effort of its kind from Congress in decades. But it's far slimmer than the president and his party first envisioned.

House Speaker Nancy Pelosi told lawmakers in a closed meeting Tuesday they were on the verge of ''something major, transformative, historic and bigger than anything else'' ever attempted in Congress, according to another person who insisted on anonymity to share her private remarks to the caucus.

Other leading Democrats began to lend their backing to the emerging deal.

''We know that we are close,'' said Rep. Joyce Beatty, D-Ohio, the chair of the Congressional Black Caucus, after a meeting with Biden at the White House. ''And let me be explicitly clear: Our footprints and fingerprints are on this.''

From the White House, press secretary Jen Psaki said Biden still hoped to have a deal in hand to show foreign leaders the U.S. government was performing effectively on climate change and other major issues. But she acknowledged that might not happen, forcing him to keep working on the package from afar.

She warned about failure as opposed to compromise.

''The alternative to what is being negotiated is not the original package,'' she said. ''It is nothing.''

Democrats are hoping to reach an agreement by week's end, paving the way for a House vote on a related $1 trillion bipartisan infrastructure bill before routine transportation funds expire Sunday. That separate roads-and-bridges bill stalled when progressive lawmakers refused to support it until deliberations on the broader Biden bill were complete.

___

Associated Press writers Farnoush Amiri, Darlene Superville and Colleen Long contributed to this report.

Biden's Nominee Omarova Has a Published Plan to Move All Bank Deposits to the Fed and Let the New York Fed Short Stocks

Thu, 28 Oct 2021 13:40

Pam Martens and Russ Martens: October 26, 2021

Saule Omarova

This month, the Vanderbilt Law Review published a 69-page paper by Saule Omarova, President Biden's nominee to head the Office of the Comptroller of the Currency (OCC), the Federal regulator of the largest banks in the country that operate across state lines. The paper is titled ''The People's Ledger: How to Democratize Money and Finance the Economy.''

The paper, in all seriousness, proposes the following:

(1) Moving all commercial bank deposits from commercial banks to so-called FedAccounts at the Federal Reserve;

(2) Allowing the Fed, in ''extreme and rare circumstances, when the Fed is unable to control inflation by raising interest rates,'' to confiscate deposits from these FedAccounts in order to tighten monetary policy;

(3) Allowing the most Wall Street-conflicted regional Fed bank in the country, the New York Fed, when there are ''rises in market value at rates suggestive of a bubble trend,'' such as with technology stocks today, to ''short these securities, thereby putting downward pressure on their prices'';

(4) Eliminate the Federal Deposit Insurance Corporation (FDIC) that insures bank deposits;

(5) Consolidate all bank regulatory functions at the OCC '' which Omarova has been nominated to head.

Republican Senator Pat Toomey has been running a Red Scare campaign against Omarova, who was born in the Kazakh Soviet Socialist Republic (now Kazakhstan) and attended Moscow State University on a Lenin Personal Academic Scholarship.

The real threat that Omarova poses to U.S. financial stability, that Democrats should be calling out, is that she wants to further concentrate all major aspects of the U.S. banking system in the hands of the Federal Reserve, a captured regulator whose 12 regional bank tentacles are, literally, owned by the banks. (See These Are the Banks that Own the New York Fed and Its Money Button.) Omarova offers not one scintilla of a suggestion about restructuring the Fed so that it is not owned by or controlled by the banks.

In her paper, Omarova characterizes the current relationship between the Fed and the banks as the Fed running a ''franchisor ledger'' to assist its franchisee-banks. But as the Fed's secret $29 trillion bailout of the mega banks on Wall Street and their foreign derivative counterparties proved following the financial crash in 2008, it's actually the banks that are cracking the whip and the Fed amicably doing their bidding. That means that the mega banks are the franchisor and they've shifted their faux bank examinations and faux stress tests to the Fed, for appearances sake.

This point is further demonstrated by the fact that during the Fed's 2007-2010 bailouts, most of the Fed's emergency lending programs were farmed out in no-bid contracts to the very banks being bailed out. JPMorgan Chase, a five-count felon, continues to have a contract with the Fed to serve as custodian of more than $2 trillion of the Fed's agency Mortgage-Backed Securities (MBS).

As further proof as to who owns whom, the Federal Reserve Board of Governors has outsourced its major functions to the privately-owned New York Fed, whose largest private shareholders are the mega banks, JPMorgan Chase, Citigroup, Goldman Sachs, Morgan Stanley, and Bank of New York Mellon.

One New York Fed bank examiner, Carmen Segarra, was so outraged at what she witnessed at the New York Fed that she went to the Spy Store, bought a tiny tape recorder, and secretly recorded 46 hours of audio. Segarra filed a federal lawsuit, charging that when she attempted to write a negative examination of Goldman Sachs, she was first bullied by her colleagues at the New York Fed and then fired for refusing to change her examination results.

As additional proof that the New York Fed does not function anything like a public servant, the President of the New York Fed receives a larger paycheck than the President of the United States. According to the Fed's 2020 Annual Report, the President of the New York Fed, John Williams, makes a salary of $506,300. The President of the United States and Commander in Chief, who is elected by the people, makes $400,000. The CEOs of the mega Wall Street banks rotate on and off the New York Fed's Board of Directors.

The New York Fed is so deeply in bed with the Wall Street mega banks that instead of using a misconstrued franchisor-franchisee analogy, Omarova should have thought along the lines of Stockholm Syndrome: the Fed is completely enthralled with its captors. So enthralled, in fact, that one of the first things that former Fed Chair Janet Yellen did after leaving the Fed was to sign up at a speakers' bureau and grab millions of dollars in speaking fees from Wall Street.

With that as a backdrop, this is what Omarova proposes in her paper:

Deposits at Commercial Banks Would Be Replaced with FedAccounts:

''In principle, FedAccounts can be made available as an alternative to bank deposit accounts, upon a person's request. As explained below, however, the more effective option would be to transition all deposits to the Fed. Functionally, all FedAccounts will be essentially identical. For purely administrative purposes, however, it would be advisable to differentiate among 'individual' and 'entity' accounts. For U.S. citizens, Individual FedAccounts would be opened automatically upon birth or naturalization. These accounts would also be credited automatically with regularly received federal benefits: social security payments, tax refunds, and all other disbursements that depend on one's citizenship status. For qualifying resident aliens, Individual FedAccounts would be opened and closed upon request, rather than automatically, but otherwise would function in the same manner. Entity FedAccounts could also be administratively divided into separate categories, depending on whether the holder is a government unit, a nonprofit organization, or a business entity incorporated or operating in the United States.''

The New York Fed Would Overtly Insert Itself into the Stock Market:

''Under this proposal, the Federal Reserve Bank of New York ('FRBNY') would conduct regular purchases and sales of a broad range of securities and other tradable financial assets with an explicit view to modulating volatile swings in what has been defined elsewhere as 'systemically important prices.'

''To this end, the FRBNY would establish a separate trading portfolio replicating, as closely as practicable, the market portfolio. In effect, this portfolio would be an index fund reflecting the proportional values of all financial asset classes constituting the financial market as a whole. Once the fund is established, the Fed would conduct its current daily tracking of the nation's financial markets.

''If a particular asset class'--such as mortgage-backed securities or technology stocks'--rises in market value at rates suggestive of a bubble trend, the FRBNY trading desk will short these securities, thereby putting downward pressure on their prices. This type of action would tend to tighten the flow of speculative credit to the asset class in question, because (1) speculative profit prospects would be diminished by the price drop; and (2) the Fed's engineering the drop would signal to the market its determination that current prices of the asset in question are artificially inflated and accordingly best suppressed. Conversely, the FRBNY will go long on particular asset classes that appear to be artificially undervalued in order to avoid unnecessary market dislocation. It will follow the same process in targeting broader market-price fluctuations.''

One can only imagine what a field day hedge funds are having with this idea. They could simply jump on board whatever the New York Fed is shorting and drive the share price to zero. The fact that Omarova specifically mentions technology stocks as potential shorts has likely caused Google and Microsoft to call an emergency session with their lobbyists.

The Fed is already artificially suppressing interest rates by buying up $120 billion a month in Treasury debt and agency Mortgage-Backed Securities (MBS). Omarova would now add to its portfolio the ability to manipulate stock market prices. The fact that Omarova would commit this idea to paper, let alone publish it in a legal journal, shows an incredible naivete about how members of Congress, investors, and even average Americans would react to the idea of bureaucratic control of stock prices.

The Fed's Ability to Confiscate Money from Depositors' FedAccounts:

''Implementing a contractionary monetary policy by debiting FedAccounts, in turn, presents a different set of ex ante institutional choices aiming to minimize the economic and political fallout from what is likely to be perceived as the government 'taking away' people's money. This tool is to be reserved only for extreme and rare circumstances, when the Fed is unable to control inflation by raising interest rates and deploying its new asset-side tools, discussed below. It is nevertheless important to have a mechanism in place for draining excess liquidity from these accounts with minimal disruption of productive activity.''

The most important question that Democrats should be asking right now is who vetted this nominee for Biden.

Activist investor buys $500m stake in Shell and demand it splits in two to focus on renewable energy | Daily Mail Online

Thu, 28 Oct 2021 12:44

Billionaire hedge fund manager Daniel Loeb (pictured), head of Third Point LLC, has acquired $500million in shares of Royal Dutch Shell PLC

A billionaire hedge fund manager has acquired a large stake in Royal Dutch Shell PLC and is demanding that the oil major to separate into two separate companies.

Daniel Loeb's Third Point LLC is pushing for the separation to attract new investors and hold on to current ones as many have sold their shares over concerns that Shell is not environmentally friendly.

According to The Wall Street Journal the activist hedge fund's stake in Shell is worth more than $500million and is one of Shell's largest investors.

Loeb and his firm have reportedly been pressured to reduce fossil fuel investments and pivot to renewable energy sources as concerns about climate change increase.

In a letter obtained by The Journal on Wednesday, Third Point asked the Anglo-Dutch business to consider dividing their company into two stand-alone entities.

One would include Shell's legacy businesses - such as refining, which is the industrial process of removing unwanted elements in oil - and provide a steady cash flow while the other would house renewables and other units needing more investment.

Third Point explained that the move would clarify Shell's strategic direction as more focused on clean energy, thus appealing to different sets of investors who would otherwise be helping competitors.

In a letter Third Point asked the Anglo-Dutch business Shell to consider dividing their company into two stand-alone entities. One would include Shell's legacy businesses - such as refining - and provide a steady cash flow while the other would house renewables and other units needing more investment

JP Morgan analyst Christyan Malek said shareholders should welcome the suggestion. 'Investors have generally pushed back against the hybrid model and are looking for ways to see these companies crystallize value (by carving out lower-carbon businesses),' he said, as reported by The Journal.

Shell also wouldn't be the first one to make such a move. European oil companies such as Eni SpA in Italy and Repsol SA in Spain have already considered dividing their lower-carbon operations to attract new investors.

Shell said on Wednesday that it 'regularly reviews and evaluates the company's strategy' and has an open mind towards suggestions by its shareholders, which includes Loeb and Third Point.

Shell also noted that its current strategy was one endorsed by many of its shareholders through a vote earlier this year. The results of that vote will be reported when Shell releases its third-quarter earnings on Thursday.

According to The Journal, Shell has a history of making speedier adjustments to its business model in order to reduce emissions than other major oil companies, such as Exxon.

Earlier this year Shell announced plans to speed up its shift to low-carbon energy by reducing oil production and increasing its investments in other areas, such as biofuels and electric-vehicle-charging infrastructure, according to The Journal.

Third Point's suggestions come after Exxon shareholders elected a third director nominated by activist hedge fund Engine No 1 to the energy company's board. The new board member faces an insular corporate culture renowned for slow-to-change ways (Pictured: ExxoxMobil's Baton Rouge refinery in Louisiana)

However, the shift will no doubt prove to be challenging because a move towards cleaner energy involves investments in areas with potentially lower returns and less competitive advantages.

Yet the new strategy has reportedly failed to excite investors who said that uncertainties about the transition have made it difficult for them to predict future profits and invest accordingly.

Plus, although Shell stock has risen more than 30 percent this year, it is little-changed over the past two decades. The shares saw a nearly four percent increase in recent months but only after the Journal reported on Third Point's stake.

Oddly enough, back in May when a Dutch court ruled that Shell must cut its emissions 45 percent by 2030 the company said it had plans to appeal the decision.

Third Point's suggestions come after Exxon shareholders elected a third director nominated by activist hedge fund Engine No 1 to the energy company's board, extending the investment firm's upset victory at the top American energy corporation.

Activist investor hedge fund Engine No 1 scored another victory Wednesday when shareholders elected Alexander Karsner (pictured), a strategist at Google-owned Alphabet Inc, to Exxon's 12-member board of directors

The win comes after Engine No 1 succeeded in electing Gregory Goff (left) and Kaisa Hietala (right) to the Exxon board last Wendesday following a pitched battle with other shareholders

Strategist at Google-owned Alphabet Inc Alexander Karsner joined fellow Engine No 1 nominees Gregory Goff - a former chief executive officer at petroleum refining company Andeavor - and environmental scientist Kaisa Hietala on Exxon's 12-member board of directors.

Chief among the firm's objectives are greater investments in clean energy to better reach emission reduction goals as well as an overhaul of management compensation incentives.

The company's response to environmental criticisms 'has not been well done,' Burns said, adding: 'That's one of the thing we have to work on.'

He also noted Exxon's investments in carbon capture and storage technologies. Burns was one of the directors who secured a seat last week.

Exxon Chief Executive Darren Woods in a statement: 'We look forward to working with all of our directors to build on the progress we've made to grow long-term shareholder value and succeed in a lower-carbon future.'

Exxon's stock was up .79 percent at the closing bell Wednesday.

'Identifiable Harm': Biden Kills JFK File Release, Issues Baffling Statement

Thu, 28 Oct 2021 12:01

Commentary By C. Douglas Golden October 24, 2021 at 11:18am Thanks to President Joe Biden, JFK assassination records set to be released this year will be going back and to the archives. Back and to the archives. Back and to the archives.

In a statement on Friday, the White House announced that long-classified documents regarding the assassination of former President John F. Kennedy ''shall be withheld from full public disclosure'' until Dec. 15, 2022 '-- over 59 years after Kennedy was killed in Dallas, Texas.

According to CBS News, despite federal law which mandates all records on the event ''should be eventually disclosed to enable the public to become fully informed about the history surrounding the assassination,'' Biden said the federal archivist needs one more year to make appropriate redactions to minimize ''identifiable harm.''

While former President Donald Trump released several thousand pages of files under the President John F. Kennedy Assassination Records Collection Act of 1992, he held back others, citing national security concerns.

According to a Friday statement from Biden, the federal government has been reviewing these redactions since 2018. They apparently need more time, because this is the federal government under the Biden administration and did we, like, expect them to do their job in an expedient manner?

The statement noted the act allowed a postponement of record release when it ''remains necessary to protect against an identifiable harm to the military defense, intelligence operations, law enforcement, or the conduct of foreign relations that is of such gravity that it outweighs the public interest in disclosure.''

It went on to say that the national archivist at the National Archives and Records Administration said ''unfortunately, the pandemic has had a significant impact on the agencies'' and that NARA ''require[s] additional time to engage with the agencies and to conduct research within the larger collection to maximize the amount of information released.''

The archivist added that ''making these decisions is a matter that requires a professional, scholarly, and orderly process; not decisions or releases made in haste'' and recommended Biden ''temporarily certify the continued withholding of all of the information certified in 2018'' and ''direct two public releases of the information that has'' eventually ''been determined to be appropriate for release to the public.''

We're already a good four years past the deadline from the federal government to turn in the assignment, so to speak. The JFK Act is clear: ''Each assassination record shall be publicly disclosed in full, and available in the Collection no later than the date that is 25 years after the date of enactment of this Act.''

The only exceptions are, of course, if the records cause ''identifiable harm'' and that harm is ''of such gravity that it outweighs the public interest in disclosure.'' Well, whaddya know '...

President Joe Biden wrote in a statement that the remaining files ''shall be withheld from full public disclosure'' until December 15 next year '-- nearly 60 years after Kennedy's assassination in Dallas, Texas in 1963. https://t.co/qTcIFJdaoE

'-- KBTX News (@KBTXNews) October 23, 2021

What do you think the early odds are that this information actually comes out next December? Anyone? Do you think we're going to see what the federal government has been sitting on all these years, or are we going to be reading a statement about how the Omega-Sigma variant of SARS-CoV-2 knocked NARA off its schedule again and that it'll be ready next year, pinky-swear?

If there's an actual betting market on this one, my money is going on the latter. I mean that literally '-- as long as it's legal to do so, my proceeds from writing this story (and then some) will be plunked down on a bet that these files won't see the light of day on Dec. 15, 2022.

In fact, I'd be willing to bet the only way this these files see the light under a Biden administration is if Hunter Biden stays clean, paints a mural in the Gaza Strip so moving that Israel and Palestine hold hands and sing ''Kumbaya,'' works his way up the political ladder and then gets elected president in another decade or so. Generally speaking, that's not the kind of futures bet that bookmakers allow, so I'll stick to what I can get.

In 1964, 10 months after the assassination, the Warren Commission delivered a report which found Lee Harvey Oswald was the only shooter and acted alone when he allegedly killed Kennedy. In 1978, a House Panel concluded JFK ''was probably assassinated as a result of a conspiracy,'' but that it was ''unable to identify the other gunman or the extent of the conspiracy,'' according to The New York Times.

These diverging narratives have turned theorizing about JFK's assassination into a low-level national pastime.

I happen to be on team Warren Commission; despite no lack of effort, the 58 intervening years since the assassination has produced as many credible suspects for a second shooter or co-conspirators as O.J. Simpson's hunt for the real killers has produced credible alternate suspects for the slayings of Nicole Brown Simpson and Ronald Goldman. (How is that going, by the way? I haven't heard many updates from the Juice lately.)

Should these records be released?

Yes: 99% (2497 Votes)

No: 1% (18 Votes)

However, the fact the U.S. government jealously guards documents regarding an assassination that's now well over a half-century old feeds into fever dreams like Oliver Stone's 1991 film ''JFK.''

In the most famous scene from the movie, Kevin Costner's character '-- Louisiana district attorney Jim Garrison, a colorful-yet-outr(C) JFK conspiracy theorist who became the only prosecutor to try a case related to the assassination '-- tries to explain why the Zapruder film proved there had to be more than one shooter. Instead, Costner ensured ''back and to the left, back and to the left'' would become a running joke about conspiracy theorists for decades to come:

Never mind that the ''back and to the left'' theory has been debunked. The point is, perhaps you believe in the conspiracy theories surrounding Kennedy's slaying. Perhaps you're like me and you're tired of them. Either way, the fact the government refuses to release information on the assassination that's the better part of a century old doesn't help matters, whatever you believe.

Perhaps the documents will contain embarrassing revelations about Cuba '-- originally suspected of being behind the assassination by many and a country the Biden administration would like to make nice with now. That's my best (and only) guess on the matter. If I don't end up with an inbox of other theories, I'll be disappointed.

The point is, however, that this speculation only persists the longer that the government holds on to documents legally required to be released four years ago, and which should have been in the public domain for far longer.

The baffling part about this decision is that the White House is both creating and enabling a whole army of laptop Jim Garrisons. For an administration that seems unusually concerned about conspiracy theorists in other areas, usually when they concern conservatives, one might think they would consider this a pretty significant ''identifiable harm.''

Guess not.

SummaryMore Biographical Information Recent Posts ContactC. Douglas Golden is a writer who splits his time between the United States and Southeast Asia. Specializing in political commentary and world affairs, he's written for Conservative Tribune and The Western Journal since 2014.

C. Douglas Golden is a writer who splits his time between the United States and Southeast Asia. Specializing in political commentary and world affairs, he's written for Conservative Tribune and The Western Journal since 2014. Aside from politics, he enjoys spending time with his wife, literature (especially British comic novels and modern Japanese lit), indie rock, coffee, Formula One and football (of both American and world varieties).

Birthplace

Morristown, New Jersey

Education

Catholic University of America

Languages Spoken

English, Spanish

Topics of Expertise

American Politics, World Politics, Culture

ISIS-K Could Launch Attacks in 6''12 Months: Pentagon Official

Thu, 28 Oct 2021 11:54

ISIS-K, the branch of the ISIS terrorist group that's active in Afghanistan, could be capable of launching international attacks in as soon as six to 12 months, according to a top Pentagon official.

In testimony to the Senate Armed Services Committee on Oct. 26, Defense Department Undersecretary for Policy Colin Kahl said that ISIS-K and the al-Qaeda terrorist group both want to carry out international attacks, but currently don't have the capability to do so at present.

''I think the intelligence community assesses that both ISIS-K and al-Qaeda have the intent to conduct external operations, including against the United States. But neither currently has the capability to do so,'' Kahl said. ''We could see ISIS-K generate that capability in somewhere between six or 12 months. I think the current assessments by the Intelligence Community is that al-Qaeda would take a year or two to reconstitute that capability.''

Kahl said the goal was to ''be vigilant in disrupting'' ISIS and al-Qaeda, so they can't develop the capability to attack the United States.

Lt. Gen. James J. Mingus, the Joint Staff's director for operations, said the timeline is ''based on no U.S. or coalition intervention.''

''The goal would be to keep those time horizons where they're at now, if not, even further,'' Mingus told the committee.

Taliban fighters atop a Humvee vehicle take part in a rally in Kabul, Afghanistan, on Aug. 31, 2021. (Hoshang Hashimi/AFP via Getty Images)The Taliban terrorist organization took full control of Afghanistan on Aug. 15, after the U.S.-backed Afghan government fled the country.

ISIS-K claimed responsibility for the terrorist attack that killed 13 U.S. service members and 170 Afghan civilians at Kabul airport on Aug. 26, amid the pullout of U.S. military troops. The terrorist group has since also claimed responsibility for other attacks in Afghanistan, including several bombings that have killed dozens of civilians.

''It is our assessment that the Taliban and ISIS-K are mortal enemies,'' Kahl told lawmakers. ''So the Taliban is highly motivated to go after ISIS-K.''

Kahl said it's still unclear whether the Taliban has the ability to fight ISIS effectively in the wake of the U.S. withdrawal.

''Their [The Taliban's] ability to do so, I think, is to be determined,'' he said.

He estimated that ISIS has a ''cadre of a few thousand'' fighters. Acting Foreign Minister Amir Khan Muttaqi of the new Taliban government said the threat from ISIS terrorists will be addressed and that Afghanistan wouldn't become a base for attacks on other countries.

''We have seen signs '... that the Taliban is wary about Afghanistan being a springboard for al-Qaeda external attacks, not because the Taliban are good guys, but because they fear international retribution if that were to occur,'' Kahl said.

Kahl suggested that an al-Qaeda presence in Afghanistan poses a complex problem, given its ties to the Taliban. It was those ties to the Taliban that triggered the U.S. military intervention in Afghanistan in 2001, following al-Qaeda's Sept. 11 attacks on New York and Washington. The Taliban had harbored al-Qaeda leaders.

The United States has fought the Taliban and has conducted strikes on ISIS and al-Qaeda.

Reuters contributed to this report.

Follow

Mimi Nguyen Ly is a world news reporter based in Australia. She holds a bachelor's degree in optometry and vision science. Contact her at mimi.nl@epochtimes.com.

'Cloak and dagger' military-intelligence outfit at center of US digital vaccine passport push - The Grayzone

Thu, 28 Oct 2021 11:39

Described as ''the most important organization you've never heard of,'' MITRE rakes in massive security state contracts to pioneer invasive spy tech. Now it's at the heart of a campaign to implement digital vaccine passports. While vaccine passports have been marketed as a boon to public health, promising safety, privacy, and convenience for those who have been vaccinated against Covid-19, the pivotal role a shadowy military-intelligence organization is playing in the push to implement the system in digital form has raised serious civil liberties concerns.

Known as MITRE, the organization is a non-profit corporation led almost entirely by military-intelligence professionals and sustained by sizable contracts with the Department of Defense, FBI, and national security sector.

The effort ''to expand QR code vaccine passports beyond states like California and New York'' now revolves around a public-private partnership known as the Vaccine Credential Initiative (VCI). And the VCI has reserved an instrumental role in its coalition for MITRE.

Described by Forbes as a ''cloak and dagger [research and development] shop'' that is ''the most important organization you've never heard of,'' MITRE has developed some of the most invasive surveillance technology in use by US spy agencies today. Among its most novel products is a system built for the FBI which captures individuals' fingerprints from images posted on social media sites.

MITRE's own COVID-19 umbrella coalition includes In-Q-Tel, the venture capital arm of the Central Intelligence Agency, and Palantir, a scandal-stained private spying firm.

Elizabeth Renieris , the founding director of Notre Dame and IBM's technology ethics lab, has warned that ''as dominant technology and surveillance companies'' like MITRE ''pursue new revenue streams in healthcare and financial services'...privately owned and operated ID systems with profit-maximizing business models threaten the privacy, security, and other fundamental rights of individuals and communities.''

Indeed, the involvement of the military-intelligence apparatus in the development of a digital vaccine passport system is yet another indication that behind the guise of public health concerns, the US surveillance state could be due to enhance its control over an increasingly restive population.

A portrait of MITRE leadership: Robert Kheler (top right); William E. Gortney (top center); Robert Brendan (top left); Jan Elizabeth Tighe (bottom left); Edmund Peter Glambastiani III (bottom center); John Francis Campbell (bottom right)The Vaccine Credential Initiative, a neoliberal vehicle advised by military-intelligence professionals As detailed in the first installment of this series, tech oligarchs like Bill Gates and global capitalist policy hubs such as the World Economic Forum have advanced digital ID and electronic currency systems across the Global South in order to harvest data and profits from populations that were previously out of reach.

The advent of vaccine passports providing access to employment and public life has become the key vector for accelerating their agenda in the West. As the financial consulting firm, Aite-Novarica, declared this September , digital COVID-19 vaccine passports ''expand the case for digital IDs beyond COVID-19 vaccination only, and potentially serve as a digital ID as a more comprehensive, universal source of identity information'...''

As vaccine passports exclude millions across the West, sparking furious protests and wildcat strikes, the World Economic Forum (WEF) is working with its partners to implement them in digital form.

Italy's Green Pass in action: an old woman is turned away from medical exams at a hospital because she can't produce her mandatory "health" passport. These systems inherently discriminate against members of vulnerable groups and encourage private security overreach, as seen here. https://t.co/Y9Tr12A9jq

'-- Max Blumenthal (@MaxBlumenthal) October 19, 2021

Led by German economist Klaus Schwab, who says he is leading a ''Fourth Industrial Revolution'' that is changing the way people ''live, work, and relate to one another,'' the WEF is an international network of some of the wealthiest and most politically powerful people on the planet. Based in Davos, Switzerland, the WEF positions itself as the thought leader of global capitalism.

In January 2021, several WEF partners, including Microsoft, Oracle, Salesforce, and other mega-corporations announced a coalition to launch the Vaccine Credential Initiative (VCI), which aims to institute QR code-based vaccine passports across the US.

The stated goal of the VCI is to implement a single ''SMART Health Card'' that could be recognized ''across organizational and jurisdictional boundaries.''

In the US, some states are already deploying digital SMART Health Cards developed by the VCI. These SMART Health Cards have laid the basis for a de-facto national standard for vaccine credentials .

A non-profit established by the Rockefeller Foundation and called The Commons Project is leading the lobbying push for digital SMART cards through the VCI it co-founded. And Commons Project CEO Paul Meyer happens to have been cultivated by the WEF as a ''young leader.''

As one of the public faces of the VCI, Meyer markets the campaign's agenda in the language of progressive inclusion, hammering consistently on themes like ''empowerment'' in public communications.

''The goal of the Vaccination Credential Initiative is to empower individuals with digital access to their vaccination records so they can use tools like CommonPass to safely return to travel, work, school, and life, while protecting their data privacy,'' claimed Meyer.

In a press release announcing the formation of the VCI, MITRE echoed Meyer's woke language, declaring that it had joined the partnership ''to ensure that underserved populations have access to this [digital vaccine] verification.''

But what is MITRE, and why might an organization known for mass surveillance and military technology be at the center of an initiative that offers the possibility of unprecedented monitoring of the global population? The organization did not respond to emailed questions from The Grayzone about its participation in the VCI, however, its documented history makes for unsettling reading.

A MITRE recruitment ad from an early 1960's issue of MIT's The Technology ReviewAssisting wars on Vietnam and marijuana, developing ''extraordinarily chilling'' spy tech Based in Northern Virginia, MITRE is a military-intelligence think tank funded to the tune of $2 billion a year by US agencies including the US Department of Defense. It is led almost entirely by former Pentagon officials and ex-intelligence operatives.

MITRE was founded in 1958 as a joint project of the US Air Force and Massachusetts Institute of Technology (MIT) to develop 'command and control' systems for nuclear and conventional warfare, as the journal Science and Revolution noted.

In 1963, MITRE tapped a brilliant young linguist from MIT named Noam Chomsky, to assist the ''development of a program to establish natural language as an operational language for command and control.'' After a few years of work on projects like these, Chomsky said, ''I couldn't look myself in the mirror any more,'' and thrust himself into antiwar activism.

MITRE credits Noam Chomsky with helping develop a language-based command and control program in the years before the linguist turned against the military-industrial complex (from Science and Revolution) By the late 1960s, MITRE said it was ''devoting almost one-quarter of its total resources to the command, control, and communications systems necessary to the conduct of [the Vietnam] conflict.''

The military-funded corporation became a target for antiwar activists when it developed an ''electronic fence'' composed mainly of acoustics and sensors designed to pinpoint the movement of Viet Cong and North Vietnamese troops so the US military could target them for destruction.

Also in the late 1960's, the US State Department contracted MITRE to guide a campaign of aerial cannabis eradication in Mexico. MITRE advised US agents to spray wide swaths of the Mexican countryside with a toxic herbicide called paraquat, which it described as safe based on a questionable reading of animal testing. When the State Department pursued MITRE's strategy, food crops became contaminated and the health of local peasant communities was placed in danger.

Meanwhile, marijuana began arriving on US streets doused in paraquat, triggering a lawsuit against the State Department by the National Organization for the Reform of Marijuana Laws which claimed the herbicide had caused respiratory disease among smokers. When the State Department lost the case, it granted MITRE a $255,211 contract to produce an impact study on paraquat spraying which ultimately advised smokers to mitigate the herbicide's effects by consuming marijuana with water pipes or in brownies.

In recent years, MITRE has designed surveillance technology for the FBI which collects human fingerprints from social media websites like Facebook, Instagram, and Twitter. It has also helped the FBI establish the Next Generation Identification system, reportedly the world's largest database of biometric information, as well as the bureau's Modernized Intelligence Database (MIDB) project.

According to the FBI's former Assistant Director William Bayse, the MIDB enabled police programmers to link activists to their political causes, associates, employers, criminal records, mugshots and fingerprints, spending habits, and even tax information.

Through hundreds of FOIA requests and interviews with current and former MITRE officials, Forbes learned that MITRE has designed '' a prototype tool that can hack into smartwatches, fitness trackers and home thermometers for the purposes of homeland security'... and a study to determine whether someone's body odor can show they're lying.''

MITRE is also home to the ATT&CK Program , an cybersecurity module which the corporation describes as ''a globally-accessible knowledge base of adversary tactics and [intelligence] techniques based on real-world observations.'' Adam Pennington , the lead architect for MITRE's ATT&CK, ''has spent over a decade with MITRE studying and preaching the use of deception for intelligence gathering.''

ACLU staff attorney Nate Wessler has called MITRE's surveillance projects ''extraordinarily chilling,'' and warned that they ''raise serious privacy concerns.''

For its part, the military contractor's promotional material seems to boast about its legacy of surveillance innovation: ''You may not know it, but Mitre touches your life almost every day.''

Months after a novel coronavirus pandemic was declared in March 2020, MITRE leveraged its expertise in monitoring populations to produce the Sara Alert contact tracing system. A video advertisement by MITRE explains how the system enables public health authorities to track users:

''People who are sick with the disease will be placed in isolation at home'... For people who are exposed to the disease but do not show symptoms, Sara Alert follows them while they are in quarantine for 14 days.''

MITRE's Sara Alert went into use in a handful of states, with limited enrollment. Had it been implemented on a national level, it might have forced a substantial slice of the US population to self-quarantine on a continuous basis, even if individuals presented no symptoms.

As the Brookings Institute noted in a paper questioning the utility of apps like Sara Alert, ''A person may put up with this once or twice, but after a few false alarms and the ensuing inconvenience of protracted self-isolation, we expect many will start to disregard the warnings.''

MITRE has also worked to suppress narratives that could undermine the agenda of government agencies that fund it. The contractor's SQUINT browser plugin app, for example, ''enables rapid social media situational awareness of COVID-19-related misinformation for public health officials through crowd-sourced reporting,'' according to promotional material.

Now, MITRE is working to implement digital vaccine passports in the US, and beyond.

Private spies and CIA firm among MITRE's COVID-19 coalition As a member o f VCI's governing steering group , MITRE runs its own ''COVID-19 Healthcare Coalition'' while describing itself as ''a longstanding, trusted partner to the defense and intelligence communities.''

Among the members of MITRE's own COVID-19 coalition is Palantir, a private intelligence firm founded in 2003 by Paypal co-founder Peter Thiel. Palantir has established itself as a leader in predictive policing programs and raked in lucrative contracts with the CIA . The firm once participated in a proposed smear campaign against anti-corporate activists and journalistic critics including Glenn Greenwald.

Avril Haines, the current Director of National Intelligence and CIA's former Deputy Director was paid $180,000 to consult for Palantir '' a gig she scrubbed from her bio.

Haines was also a lead participant in the Gates, WEF, and John Hopkins Center for Health and Security-sponsored Event 201 pandemic simulation in October 2019. During this exercise, public health professionals, intelligence officials, and business leaders gamed out a hypothetical coronavirus epidemic that killed 65 million people worldwide.

Haines emphasized to fellow panelists the need to counter criticism of the official pandemic response by ''flood[ing] the zone with trusted sources'' of media and cultural influencers ''in order to try to amplify the message that's coming through.''

Haines discusses:

-Dealing with "the explosion of the disease"-flooding the zone with trusted sources to amplify the message-Communicating constantly to deal with the vaccuum that can be created in this circumstance-Having a response to disinformation (questions & concerns) pic.twitter.com/86MxacfY4x

'-- Peznt Journalist (@PezntJournalist) September 24, 2021

Palantir has also provided Covid data-tracking technology to the UK's National Health Service alongside Microsoft , Google, and Amazon. Conservative British political strategist Dominic Cummings, who enjoys links to Palantir and provided the firm with special access to the Prime Minister's office, has been advising Boris Johnson and the UK government's Scientific Advisory Group for Emergencies (SAGE) on Covid policy.

Back in the US, Palantir has supplied the US Department of Homeland Security and Center for Disease Control with various Covid-related technologies.

The CIA's venture capital firm, In-Q-Tel, is also listed among MITRE's Covid-19 Healthcare Coalition.

This September, the Vice President of In-Q-Tel's technical staff, Dan Hanfling, was quoted in the Washington Post arguing that unvaccinated people should be denied healthcare in the name of triage: '' that group of individuals who have willingly chosen not to vaccinate, for illegitimate reasons, it would be fair to place them at the back of the line,'' Hanfling proclaimed..

The Washington Post did not note Hanfling's affiliation with the CIA; instead, it described him simply as an ''emergency physician.''

Guess who the Washington Post got as their "doctor on the street" guy to call extrajudicial killings "triage." https://t.co/pbyiDC1Oku pic.twitter.com/4LYZ77w0NU

'-- Linecook (@LLinecook) September 4, 2021

In-Q-Tel is hardly the only intelligence-linked player among the Vaccine Credential Initiative. There is also Oracle, a founding member of the VCI, which began as a CIA project .

A look at MITRE's leadership shows how closely intertwined the organization is with the broader military-intelligence sector.

Military hardliners, spies and spooks lead MITRE The Chairman of MITRE's Board of Trustees , Donald Kerr, is the former principal deputy director of national intelligence. Prior to that role, Kerr served as the deputy director for science and technology at the CIA, where he received the CIA Distinguished Intelligence Medal.

MITRE's Vice Chairman of the Board, Mike Rogers , is the former Republican chairman of the US House Permanent Select Committee on Intelligence. Before serving in Congress, Mr. Rogers was an officer in the U.S. Army and an FBI special agent.

Having distinguished himself as one of the most outspoken opponents of digital privacy in Congress, blaming encrypted communications for major terror attacks, Rogers was the host and executive producer of a six-part series '' Declassified: Untold Stories of American Spies for CNN .'' The program was a virtual commercial for the US intelligence apparatus, ''detail[ing] important cases, missions and operations of the American intelligence operatives,'' according to CNN.

Rogers is also a distinguished fellow at the Hudson Institute , a Washington DC-based neoconservative think tank funded by Northrop Grumman, Lockheed Martin, pharmaceutical lobbying groups and CIA-supported tech companies like Oracle.

Former congressman and MITRE board chairman Mike Rogers discussing North Korea on CNN in 2017 Others in MITRE leadership positions include former high ranking intelligence and Pentagon officials like Robert Work , who served as Deputy Secretary of Defense under three different secretaries before passing through the revolving door to the board of arms industry giant Raytheon.

MITRE board member Paul Kaminski is the CEO of Technovation, Inc., a consulting firm that ''fosters innovation, business development, and investment strategies related to defense technology.'' Kaminski was Undersecretary of Defense for acquisition and technology from 1994 to 1997, and was twice chairman of the Defense Science Board committee which advises the U.S. Department of Defense.

MITRE's Kaminski has been awarded the Director of Central Intelligence Director's Award which is given to those who ''[further] the goal of exceptional human intelligence collection and reporting of information that is of significant value to the U.S. intelligence community.

The CEO of MITRE is Dr. Jason Providakes . According to his official MITRE biography, Providakes' career ''is rooted in scientific research in support of national security.'' Before becoming CEO, Providakes served as executive director for MITRE's Army Systems & Technology Division, where he was central to the Army's ''digitize the battlefield'' transformation.

The intimate ties between MITRE and the US military-intelligence apparatus extend into the corporation's work on COVID-19.

MITRE '' technical fellow '' Jay Crossler is an executive data lead for the COVID-19 Healthcare Coalition, a ''collaborative private-industry response'' to Covid. According to MITRE, Crossler also ''designed, built, deployed, and operated the portal that Gen. Stanley McChrystal used to manage the invasion of Afghanistan.''

MITRE Chief Medical Officer Jay Schnitzer, meanwhile, was previously the director of Defense Sciences at the Department of Defense's notoriously secretive DARPA research unit.

From discredited and destructive COVID-19 lethality modeling to digital passport pushOn March 17, 2020, practically hours after a global pandemic was declared by the World Health Organization, the Department of Homeland Security's (DHS) Countering Weapons of Mass Destruction division contracted MITRE to ''engage, inform and guide'' mayors, governors and emergency response officials on the COVID-19 response. According to Forbes, the Center for Disease Control also inked a $16.3 million contract to establish ''an enduring national capability to contain Covid-19.''

One day after signing its contract with the DHS's WMD division, MITRE pumped out a white paper outlining the projected impact on COVID-19 on the US population, and issuing recommendations for local and federal officials on an emergency response.

MITRE's paper confidently asserted that COVID-19 represented ''an epidemic that is approximately as dangerous as the Spanish Flu that infected 500 million people and killed 50 million worldwide.'' During the 1918 epidemic, when the US population was well over 1/3 of what it is today, some 675,000 Americans died. MITRE thus over-estimated the 2020 death toll by a factor of six.

With its now-discredited modeling as justification, MITRE demanded that authorities reduce social contact between members of the US population by 90 percent, impose harsh lockdowns, shut down virtually all businesses, seal borders, and ''quarantine returning citizens in hotels or other facilities, one to a room, with skeleton staff.''

Many US states followed some version of this extreme model, triggering a social and economic catastrophe from which the population may never fully recover.

Now that the lockdowns appear to be over, MITRE is at the center of the push for digital vaccine passports through the Vaccine Credential Initiative. Yet the influential military-intelligence organization remains behind ''cloak and dagger,'' mostly unknown to a US public whose lives could be radically altered by one of its most consequential projects.

Read Jeremy Lofreddo and Max Blumenthal's first installment in this series on digital vaccine passports.

China Telecom: FCC bans company from operating in the United States - CNN

Thu, 28 Oct 2021 11:36

Hong Kong (CNN Business)Washington is barring a major Chinese state-owned telecommunications firm from operating in the United States over national security concerns '-- an action that threatens to once again increase tensions between the world's two largest economies.

The US Federal Communications Commission on Tuesday said it has ordered

China Telecom to discontinue US services within 60 days, citing findings that the company's American subsidiary "is subject to exploitation, influence, and control by the Chinese government."

The company is also "highly likely to be forced to comply with Chinese government requests without sufficient legal procedures subject to independent judicial oversight."

The FCC's action is the culmination of a long dispute with China Telecom, which has operated in the United States for nearly two decades. The agency said it gave the company an opportunity last December to rebut concerns over its presence in the United States, but that China Telecom has failed to do so.

"The FCC's decision is disappointing," a China Telecom Americas spokesperson told CNN Business. "We plan to pursue all available options while continuing to serve our mobile customers."

The company's main business is in China. It says it has roughly 370 million mobile customers.

China Telecom does not break out its customers by region. Its American subsidiary was incorporated in 2002, and the firm says it provides services to businesses and carriers between the Americas and China.

This isn't the first time China Telecom has been targeted with punitive actions by the United States.

In January, the New York Stock Exchange said it would

delist three Chinese telecom stocks '-- including China Telecom '-- to comply with an executive order signed by then-President Donald Trump. The order banned Americans from investing in firms that the US government suspects are either owned or controlled by the Chinese military.

China Telecom has since ceased trading in the United States. Shares listed in Hong Kong slumped 0.7% on Wednesday.

Washington has in recent years targeted other big Chinese firms with sanctions. Trump in 2019

barred US firms from using telecom gear from sources the administration deems national security threats '-- an order that directly impacted Chinese firm

Huawei, a major global provider of telecommunications equipment.

Huawei has long said it is a private firm that operates independently of the Chinese government, but the United States has accused the company of presenting a threat to national security.

While President Joe Biden has struck a different tone with Beijing than his brash and outspoken predecessor, relations between United States and China have not improved significantly.

In fact, tensions

were recently inflamed after Biden said that the United States was committed to coming to Taiwan's defense if the self-governing island was under attack from China. The remarks appeared to contrast with America's stated policy of "strategic ambiguity" toward Taiwan, though the White House asserted that there was no change in policy.

China's foreign ministry, though, warned hours after the remarks that the United States should not send "any wrong signals to the separatist forces of Taiwan independence." While the Chinese Communist Party has never ruled Taiwan, Beijing considers the island to be an "inseparable part" of its territory and has

repeatedly threatened to use force if necessary to prevent the island from formally declaring independence.

Insurers Likely On The Hook For Millions After 'Rust' Shooting Tragedy - InsuranceNewsNet

Thu, 28 Oct 2021 11:32

LOS ANGELES (AP) '-- Alec Baldwin the actor, who pulled the trigger on a prop gun while filming ''Rust'' in New Mexico and unwittingly killed a cinematographer and injured a director, likely won't be held criminally or civilly liable for the tragedy.But Alec Baldwin the producer might be, along with several others in leadership positions for the Western.

Experts predict a tremendous legal fallout from the tragedy, definitely in civil lawsuits and potentially in criminal charges. In addition to Baldwin, a call sheet for the day of the shooting obtained by The Associated Press lists five producers, four executive producers, a line producer and a co-producer. They, as well as assistant director Dave Halls and armorer Hannah Gutierrez, could all face some sort of liability even if they weren't on location Thursday.

The payouts '-- which could be covered in part by insurance held by the production company, Rust Movie Productions '-- would likely be in the ''millions and millions'' of dollars.

''There was clearly negligence on the set," said Adam Winkler, a professor at the UCLA School of Law and a gun policy expert. "The producers had a duty to preserve the safety of the crew. There were obvious hazards on the set.''

Authorities said Friday that Halls, the assistant director, had handed the weapon to Baldwin and announced ''cold gun,'' indicating it was safe to use. But it was loaded with live rounds. Cinematographer Halyna Hutchins was fatally shot and director Joel Souza, who was standing behind her, was wounded.

Baldwin, who is known for his roles in ''30 Rock'' and ''The Hunt for Red October'' and his impression of former President Donald Trump on ''Saturday Night Live,'' has described the killing as a ''tragic accident.''

The production of ''Rust'' has been beset by disputes from the start in early October and included seven crew members walking off the set just hours before the shooting. The Los Angeles Times, citing two crew members it did not name, reported that five days before the shooting, Baldwin's stunt double accidentally fired two live rounds after being told the gun didn't have any ammunition.

Alarmed by the misfires, a crew member told a unit production manager in a text message, ''We've now had 3 accidental discharges. This is super unsafe,'' according to a copy of the message reviewed by the newspaper.

Winkler called the previous misfires '-- and an apparent lack of any action taken after them '-- "a recipe for a very significant liability in damages.''

''You can't have a dangerous situation, know about it and then do nothing,'' he said.

Rust Movie Productions, the production company, says it is cooperating with Santa Fe authorities in their investigation.

''Though we were not made aware of any official complaints concerning weapon or prop safety on set, we will be conducting an internal review of our procedures while production is shut down," Rust Movie Productions said in a statement to The Los Angeles Times.

Although New Mexico law defines involuntary manslaughter in part as a lawful act that resulted in death from ''an unlawful manner or without due caution and circumspection,'' defense attorney Nina Marino said she doubts any criminal case would be filed.

''If a local agency in New Mexico was going to go forward with criminal charges, that would have a real chilling effect on further filming taking place in New Mexico and I think New Mexico appreciates the business,'' said Marino, who specializes in white collar cases as a co-founder of the Kaplan Marino law firm.

Any film requires insurance coverage and any policy for a Western would hit upon the use of horses, other animals and firearms. The call sheet for Thursday alone mentions multiple guns, several horses and a daily snake wrangler.

An insurer would likely cover any accidental events but the company might not pay for negligence claims on a movie set, according to Julie Shapiro, law professor and director of Loyola Law School's Entertainment and Media Law Institute.

The insurance company will do its own investigation, Shapiro said, to determine if negligence occurred. The exact wording of the policy will determine what the company would pay.

While Baldwin, the other producers, the assistant director and the armorer might be named as parties in a civil lawsuit, not all may be found to be liable '-- particularly if they played no role in the safety aspects of the production or only held a vanity credit. The plaintiffs would likely go after the production company's deeper pockets.

''How much? To what extent will insurance cover it? This is a loss of life '-- there is no dollar amount you can place,'' Shapiro said.

On-set fatalities have led to safety reforms in the past, but Jeff Harris '-- founding partner at Harris Lowry Manton LLP and the lead attorney in two high-profile trials involving accidental deaths on television and film sets, including stuntman John Bernecker on ''The Walking Dead'' and camera assistant Sarah Jones on ''Midnight Rider" '-- said incidents like these are rare if the cast and crew follow regulations that are standard for the use of firearms in the film industry.

''They're not complicated," Harris said. "They've been around for years. And it struck me '-- you don't have this happen if basic safety policies are being followed. The end.''

Bahr reported from Pittsburgh.

Six in ten French voters believe in the Great Replacement

Thu, 28 Oct 2021 11:15

A recent survey revealed that "more than six French out of 10 believe that the phenomenon of the Great Replacement will happen".

ParisEric Zemmour and members of the National Rally see this survey as a confirmation of their notions on immigration. With a sample of more than 2000 people registered on the electoral rolls, the polling institute Harris interactive for Challenges asked about the possibility of a ''Great Replacement'' occurring in France.

It was described in this study as being the phenomenon of ''European, white and Christian populations ['...] threatened with extinction following Muslim immigration, from the Maghreb and black Africa''. Among those who expressed an opinion on this question, according to this poll, 61 percent of them believe that it would happen.

At the same time, 67 percent of those polled said they were ''worried ['...] about such a phenomenon''. Among the defenders of this theory, Eric Zemmour is one of the leading media figures. ''The ideas that I espouse are now central in French society'', he noted on Twitter.

The MEP of the National Rally (RN), Jean-Lin Lacapelle, quipped in these terms: ''The 'Great Replacement' is a fantasy for a large part of the political class, but a reality and a concern for a large majority of French people. ['...] Act or disappear!''

Another RN MEP, Nicolas Bay, also stated on Twitter that ''the 'Great Replacement' is a reality experienced and suffered by many French people, and a legitimate concern for the majority of them''. The theory was developed by the writer Renaud Camus. Generally denounced as conspiratorial and racist by its detractors, this theory asserts that the French and European population would be gradually replaced by an extra-European immigrant population.

All rights reserved. You have permission to quote freely from the articles provided that the source (www.freewestmedia.com) is given. Photos may not be used without our consent.

Help us to produce more articles like this. FreeWestMedia is depending on donations from our readers to keep going. With your help, we expose the mainstream fake news agenda.

Daring Fireball: Details From the Newly Unredacted Antitrust Complaint Against Google

Thu, 28 Oct 2021 11:12

Details From the Newly Unredacted Antitrust Complaint Against GoogleThis Twitter thread from @fasterthanlime has a bunch of scathing highlights from the full 173-page PDF of the filing.

A few nuggets. Re: false claims about AMP performance (p. 90):

After crippling AMP's compatibility with header bidding, Googlewent to market falsely telling publishers that adopting AMP wouldenhance page load times. But Google employees knew that AMP onlyimproves the ''median of performance'' and AMP pages can actuallyload slower than other publisher speed optimization techniques. Inother words, the ostensible benefits of faster load times for aGoogle-cached AMP version of a webpage were not 90 true forpublishers that designed their web pages for speed. Somepublishers did not adopt AMP because they knew their pagesactually loaded faster than AMP pages.

The speed benefits Google marketed were also at least partly aresult of Google's throttling. Google throttles the load time ofnon-AMP ads by giving them artificial one-second delays in orderto give Google AMP a ''nice comparative boost.'' Throttling non-AMPads slows down header bidding, which Google then uses to denigrateheader bidding for being too slow. ''Header Bidding can oftenincrease latency of web pages and create security flaws whenexecuted incorrectly,'' Google falsely claimed. Internally, Googleemployees grappled with ''how to [publicly] justify [Google] makingsomething slower.''

You can't justify it.

On using Chrome, the browser, as a workaround for tracking users across the entire web, by conflating logging into Chrome with logging into Google's own web properties (p. 95):

To get publishers to give Google exclusive access over their adinventory, Google set publishers up for a lose/lose scenario.First, Google started to leverage its ownership of the largest webbrowser, Chrome, to track and target publishers' audiences inorder to sell Google's advertising inventory. To make this happen,Google first introduced the ability for users to log into theChrome browser. Then, Google began to steer users into doing thisby using deceptive and coercive tactics. For example, Googlestarted to automatically log users into Chrome if they logged intoany Google service (e.g., Gmail or YouTube). In this way, Googletook the users that choose not to log into Chrome and logged themin anyways. If a user tried to log out of Chrome in response,Google punished them by kicking them out of a Google product theywere in the process of using (e.g., Gmail or YouTube). On topthis, through another deceptive pattern, Google got these users togive the Chrome browser permission to track them across the openweb and on independent publisher sites like The Dallas MorningNews. These users also had to give Google permission to use thisnew Chrome tracking data to sell Google's own ad space, permittingGoogle to use Chrome to circumvent reliance on cookie-trackingtechnology. The effect of this practice is to rob publishers ofthe exclusive use of their audience data (e.g., data on what usersread on The Dallas Morning News), thereby depreciating the valueof publishers' ad space and benefitting ad sales on Google'sproperties (e.g., YouTube).

My post earlier today about Photoshop for the web going into public beta exemplifies the aspects of Google's expansive vision for Chrome's technical capabilities that make many web developers love Chrome and dislike Safari.

The details in this antitrust filing exemplify everything that is wrong'‰'--'‰deeply contrary to the intended open nature of the web'‰'--'‰about Google controlling the most popular web browser in the world.

See also: This lengthy thread from Financial Times reporter Patrick McGee. E.g., one of Google's own employees compared Google owning the dominant ad bidding exchange as akin to ''if Goldman or Citibank owned the NYSE''.

'… Tuesday, 26 October 2021

France to Vote on the Great Replacement of Western Civilization - Sovereign Nations

Thu, 28 Oct 2021 10:53

''Where Islam takes hold, it is forever. Islamism is based on Islam, which no one has the right to criticize. But in your countries it also plays a role in democracy and in the rule of law. Islamism exploits these values. Since democracy recognizes all opinions, from the far right to the far left, it is obliged to recognize Islam as well. All those who do not commit attacks or violent acts are, in principle, protected in a state of law. Islamism thus immediately finds itself in a conquered terrain. It is necessary to fight Islamism from the beginning. Because it is like humidity in a house. Initially the threat is invisible, it penetrates the walls which, little by little, crumble. When you realize it is too late, you have to destroy everything to clean up. It becomes a mission impossible. France is at the stage where it has just discovered that Islam is eroding her home''.

This is how Algerian novelist Boualem Sansal, in L'Express, recently described the level of Islamization in France.

''In 2050 we will be a half-Islamic country, in 2100 we will be an Islamic republic'', according to ‰ric Zemmour, the journalist and presidential hopeful in 2022. This difficult but staggering reality denounced by Zemmour is recognized by everyone, even on the left. Radical left leader Jean-Luc M(C)lenchon predicted the same kind of scenario, calling it ''creolization by 2050''.

In the book Grand Manipulateur, the journalist Marc Endeweld reveals what France's President Emmanuel Macron says in private on the sensitive issues of immigration:

''The Elys(C)e employees have confided to me that in recent months, especially on the issue of immigration, Macron has not hesitated, in front of his colleagues, to take up ‰ric Zemmour's formulas on the Great Replacement. He is obsessed with it''.

The ostensible ''fault'' of the French historian Georges Bensoussan was to declare on the radio that immigrants from Middle Eastern countries absorb anti-Semitism from an early age like ''mother's milk.'' He was put on trial for incitement to hatred and finally cleared after four years. Bensoussan recently told Le Figaro what is happening to his country:

''For safety reasons, Jewish children have massively abandoned public education. In the suburbs, there is a climate that recalls the worst memories of the Jewish Maghreb. It is a French defeat and not a Jewish defeat, because the whole of French society is threatened by what threatens Jews today. The Seine-Saint-Denis has lost 80% of its Jewish population in 20 years''.

Bensoussan provides other impressive numbers:

''More than 500 districts in France are declared 'sensitive'. To put it bluntly, we are talking about several million people who are subject to Islamist law''.

This is the shock that will decide the next presidential elections.

France's General Directorate for Internal Security (DGSI) has mapped 150 districts ''in possession'' of Islamists. These neighborhoods have become enclaves in the hands of fundamentalists, who shape the areas according to their ideology, which, as the word Islam itself denotes, is one of submission. In places such as Roubaix, ''the situation is assuming worrying proportions'', according to a prefect speaking with Le Figaro . Or the center of Perpignan, where ''aggression, drug trafficking, Muslim communitarianism, racial tensions and tribal violence'' force non-Muslims to move elsewhere. Or Les Izards , a district of Toulouse, ''where Arab gangs control the streets in a climate of fear''. Or Grigny, a district on the southern outskirts of Paris, ''a lawless territory''. Or in Grenoble.

The weekly Valeurs Actuelles describes the city of Trappes:

''It has 32,000 inhabitants, 70% of whom are Muslims, 40-50 different nationalities. Most are born here, wear hijab, qami, sarouel, traditional Middle Eastern clothing. The submission is complete. The church cannot compete with the five mosques''.

Already in 1997, Le Monde Diplomatique stated that a city like Roubaix is predominantly Muslim. Le Figaro refers to Sevran, a section of Seine-Saint Denis, as home to 50,000 inhabitants, 90% of whom are foreigners and a neighborhood, ‰peule, already housing a Muslim majority.

''Every two weeks in France, a mosque is created and a church disappears,'' said Edouard de Lamaze, president of the Observatory of Religious Patrimony.

Writing in L'Incorrect, Fr(C)d(C)ric Saint Clair, a political analyst, recalled that if at the end of the 1970s there were about 200 mosques in the country, today there are more than 2,500. ''At the current rate, at the end of the century there will be 10,000 mosques'...''.

Two thousand military servicemen signed a letter to French President Emmanuel Macron and the government, warning that France is on the verge of collapse and civil war because the state has ''surrendered'' to radical Muslims. The letter followed an appeal by 20 retired generals and hundreds of former officers, in which they speak of ''disintegration and Islamization'' in progress, as well as a document sent to parliament by other generals and officers, proclaiming, ''We are in a hybrid war, it is multifaceted and will end in a civil war at best and a cruel defeat with no future at worst''.

Marseille, the second largest city in France,'' according to the latest issue of the French monthly Causeur, ''is already a quarter Muslim. The proportion of people aged 0-18 born to two non-European parents is exploding in urban areas throughout France, it is a historical demographic change.''

In the span of 20 years between 1998 and 2018 and throughout France:

''The number of births with at least one parent foreign increased by 63.6 percent. The number of births with both parents foreign increased by 43 percent. The number of births with both parents French decreased by 13.7 percent''.

The study also reveals:

''[I]mmigrant women have a fertility rate of 2.73 children, compared to 1.9 for native women. The contrast is even more marked if we think of the 3.6 children for the Algerians, 3.5 children for the Tunisians, 3.4 children for the Moroccans and 3.1 children for the Turks, figures even higher than fertility in the countries of origin '...''.

The city of Lyon is already one-third Islamic. 18% of newborns in France bear a Muslim name. In the 1960s, the figure was 1%.

A member of the Observatory of Secularism disclosed that Saint-Denis is plagued by ''a project whose goal is to impose the standards of political Islamism.'' Bfmtv interviewed Fewzi Benhabib, a resident in Saint-Denis. Since his arrival from Algeria 25 years ago, he found in France the ideology from which he was fleeing in his former country. ''For the Islamists, it is a question of Islamizing modernity, not modernizing Islam.'' Benhabib wanted to show the reporter concrete examples of the Islamization of his city. In a children's toy shop in Saint-Denis you can find perfectly veiled dolls. An eyeless teddy bear adorns the window. ''In Islam, the image is taboo'', he explained. In a library on the same street, the shelves are full of books such a La voie du musulman, a book on the bedside table of many jihadists, which details the sanctions to be imposed on homosexuals: ''Throw them from the tallest building and then finish them off with stones''.

The level of Islamization exceeds a point beyond which it is virtually impossible to stop the process of social and cultural disintegration. France, according to the Algerian writer Boualem Sansal, is extremely close to that point:

''This mysterious threat literally liquefies society. At this point, exhausted, discouraged, it enters a process of relative submission, believing it will appease the enemy, giving him more and more ground, carrying out his requests and eventually becoming his advocate. In resilient societies, this process lasts ten years, in permissive societies like France, one year is enough''.

Michel Houellebecq in his latest essay postulated a form of ''suicide'' in which ''you offer your throat to the butcher's blade''; the author Alain Finkielkraut wrote that ''the unstoppable progression of this system makes me think of a tea party on board the Titanic''.

The iceberg is in front of France. Next year, France will decide to try to save itself or continue to sink. Either way, it will unleash a tsunami that will not stop at its borders and instead flood all of Western Europe.

via Gatestone Institute

How Americans can resist coronavirus shot mandates '' a comprehensive guide - LifeSite

Thu, 28 Oct 2021 10:31

Fri Sep 10, 2021 - 4:52 pm EDTTue Sep 21, 2021 - 11:59 am EDT

(LifeSiteNews) '' Americans in many different fields of work are suddenly having to choose between taking an abortion-tainted, poorly tested, and dangerous coronavirus injection or being fired from their jobs. Students are also having their educational opportunities denied without proof of COVID-19 vaccination. As many conservative commentators on Twitter are pointing out, over the course of 18 months, ''15 days to slow the spread'' turned into ''two shots to feed your family.''

President Joe Biden's September 9 announcement, that all employers with over 100 employees will soon be required to force those employees to receive coronavirus injections or submit to weekly testing, will impact an estimated 80 million Americans. The edict is stricter for federal employees and contractors, and healthcare workers at facilities that receive Medicaid or Medicare: they must submit to the vaccine and there is no testing opt-out option. It does appear that religious and medical exemptions will be accepted by the government.

Most of the below exemption resources can be used by physicians, nurses, students, or employees of any company. Most are not specific to any field. Read this resource carefully and fully to determine the best letter for your situation. Obtaining an exemption is not overly complicated.

Notice to readers: If you are aware of any additional resources that have been missed in this document, please click here and choose ''Submit a News Tip'' to send your information. This document will be updated as additional information is received and verified. Obviously, nothing in this article is meant to constitute legal advice.

MILITARYThe exception to the above note about the ease with which exemptions can be obtained is the military.

Here is what Children of God for Life says about military vaccine exemptions:

Military personnel in active duty may or may not be allowed an exemption depending on permission granted by the Commanding Officer. (Read the story of one US Coast Guard officer who fought and won.) However, military dependents are allowed religious exemptions. Click here to access the Military Dependent Children Vaccine waiver form.

Military matters are further complicated because active-duty military personnel essentially give up some of their basic rights upon joining the armed forces. The military even has its own legal system through which members can be court-martialed. ''The application of military law to members of the military reflects a recognition that such individuals are subject to different duties and expectations than civilian citizens,'' Justia explains.

This is the only sample language for requesting a religious accommodation or exemption for members of the military of which LifeSiteNews is aware.

Service members should also carefully read this primer from Children's Health Defense on religious liberty and vaccine exemptions in the military.

PRIESTSBiden's mandate that all employers with over 100 workers force their employees to be injected will impact every diocese and likely almost every Catholic university in the U.S. How strictly the vaccine will be forced upon priests and laity employed by Catholic institutions will depend on how far left the diocese or school is. Catholics who can't get a medical exemption may well need to find another job. Priests are in a particularly difficult situation. Priests can contact LifeSiteNews or attempt to use one of the below resources if they are trying to avoid being jabbed.

OPTIONS FOR MOST PEOPLEOptions for avoiding an employer- or university- mandated vaccine are: obtain a medical exemption, obtain a religious exemption, ask for accommodation (like being allowed to work from home if one works for a small company), or sue.

State law matters: Employees will have much recourse if they live in a state like Florida, rather than New York, Oregon, or California. Fourteen Republican governors have said they will push back against Biden's vaccine edict. Meanwhile, Montana law actually prohibits proof of coronavirus vaccination as a condition of employment. How will that work for huge companies like Amazon or Walmart?

Thomas More Society, a not-for-profit, national public interest law firm dedicated to restoring respect in law for life, family, and religious liberty, has published guidelines for those seeking exemption to the COVID vaccine mandates.

MEDICAL EXEMPTIONSIf you have a contraindication to the coronavirus vaccine or are seeking a medical exemption based on previous infection and thus natural immunity to the coronavirus, the easiest way to file a medical exemption is by getting a trusted doctor to write one for you.

Pregnant women, those with allergies to vaccine ingredients, people who went into anaphylactic shock or had a similar adverse reaction after their first coronavirus vaccine dose are also likely to seek medical exemptions.

RELIGIOUS EXEMPTIONSMany Christians oppose the taking of vaccines that were tested on or contain body parts of aborted babies (a full chart showing which vaccines in use in the U.S. '' and not just those for COVID-19 '' were created unethically and which were created ethically can be accessed HERE). Others oppose vaccination for other reasons.

As numerous Catholic bishops have explained, the moral teaching of the Catholic Church holds that ''a person may be required to refuse a medical intervention, including a vaccination, if his or her conscience comes to this judgment.''

Recent documents and statements from the Vatican, the Pontifical Academy for Life, United States Conference of Catholic Bishops, and modern catechetical teachings note that although the Church allows Catholics to take abortion-tainted vaccines or medicines if no other options are available and the intent is to preserve life, vaccination itself must be voluntary.

Catholics opposed to taking the coronavirus vaccine needn't necessarily submit a Catholic-specific letter but can use a more general Christian letter that does not contradict Catholic teaching. Given the divide amongst U.S. bishops and in the hierarchy in general about the vaccine, this may be wise.

Liberty Council has a sample letter for Christians who do not want to take the coronavirus vaccines for religious reasons.

''In order for an employee or student to prevail under a claim for a religious exemption, whether based on pro-life or other religious beliefs, religious beliefs must be sincerely held, and the requested accommodation must be 'reasonable,' and not constitute an undue hardship on the employer or institution,'' Liberty Council explains. ''The manner in which the employer or institution continued its operations in 2020, prior to the availability of the COVID shots, establishes a baseline of treatment of employees or students that is not an 'undue hardship.' It will NEVER be an 'undue hardship' for the entity to allow the employee or student to continue doing what was considered 'safe and effective' or 'mitigating' in the absence of the vaccine.''

The eminent legal group continues, ''However, such treatment may become discriminatory, if novel or additional restrictions or requirements are applied to the person who should otherwise be exempt. If the COVID shots work, those people who have received them are protected, and it is not an undue hardship for individuals who have religious objections to not receive such shots.''

Liberty Council also provides a sample ''pastor verification letter.'' Such a letter ''is beneficial to proving the sincerity of the belief, but is not legally required. It is nonetheless very helpful in substantiating a claim that one's belief is religious in nature, and that it is sincere.''

Liberty Council urges people not to copy the text of their sample letters verbatim but let them serve as a ''guide only.''

Liberty Council has a simple process on their website that anyone seeking a religious exemption can follow:

Watch Vaccine Exemption Guide Video with Mat StaverFill out our legal help formAsk employer for a religious exemption '' Sample LettersLiberty Counsel Sample'' PERSONAL

Employment SampleJewishOrthodox Old Testament and New Testament ExegesisRussian OrthodoxStudent Sample'' CLERGY

Pastoral sampleProtestant sampleCatholic sample 1Catholic sample 24. Questioning Religious Beliefs is Unlawful'' Memo5. Request DENIED?6. Know your rights (read our legal memo)7. See more information on COVID and the COVID shots (especially see the sections on Adverse Reactions and Personal Stories)Liberty Council also has a huge trove of legal and medical information about coronavirus vaccines on this page, which they regularly update.

America's Frontline Doctors has a list of statements from different faith leaders (Catholic, Jewish, Evangelical/Non-denominational Christian) about the coronavirus vaccines that can be used to support religious exemptions or help formulate a person's exemption.

Although, as noted above, it is not generally legal for employers to demand verification from a religious leader of a person's deeply held beliefs, it can be beneficial.

The Catholic bishops of Colorado have a letter template that Catholics can have their pastors sign when seeking a religious exemption from a vaccine mandate.

Another option for Catholics is to join the Confraternity of Our Lady of Fatima. Members or those wanting to become members can follow the simple process outlined on this page to request a personally signed letter from Bishop Athanasius Schneider. His Excellency will attest to a person's membership in a Catholic organization, namely the Confraternity of Our Lady of Fatima, that holds that abortion-tainted vaccines are gravely immoral.

The Confraternity of Our Lady of Fatima also provides the following religious exemption letter template which can be downloaded and modified.

''It has been reviewed by trusted legal counsel,'' the Confraternity says. ''However, it is not legal advice and it does not guarantee you will receive an accommodation. You should carefully review this language and confirm that it accurately reflects your individual beliefs and objections.'' The Confraternity also notes that the Thomas More Society accepts requests for legal help via this form.

First Liberty has produced a very easy-to-read pamphlet on religious liberty and vaccines that includes sample language for requesting a religious accommodation or exemption. The samples are:

A general request for a religious accommodation based on Christianity.A request for an accommodation focused on the teachings of the Catholic Church, which includes an accompanying essay by Father Kevin Flannery, S.J., ''Avoiding Illicit Involvement with Evil.''A request for an accommodation focused on the teachings of Islam provided to us by Dr. Abdullah bin Hamid Ali, Associate Professor of Islamic Law at Zaytuna College.A military exemption request for religious accommodation form. (LifeSiteNews is not aware of any military-specific sample religious exemption letters other than this one.)Personhood Alliance also provides a sample religious exemption letter that can be printed and signed.

Richmond, Virginia-based Founding Freedoms Law Center provides via its website sample religious exemption request letters for employees and college students. It also provides a sample Virginia certificate of religious exemption for all childhood vaccinations typically required for school attendance, and exemption letters related to face masks.

Children of God for Life provides a sample Catholic religious exemption here. The group provides more information about religious exemptions to vaccines here.

Advocates for Faith & Freedom has a form through which people can request a religious exemption letter template.

Andrew Torba of Gab has posted a sample religious exemption template for college students that addresses the fact that many students entering college in the U.S. will have received childhood vaccinations that were unethically made or to which they may not necessarily have been able to consent.

Lawyer Robert Barnes has posted at this link a sample religious exemption letter.

The above resources are free. For anywhere from $59 to $175, TheHealthyAmerican.org will provide religious exemption consulting and the option to mail forms to a pastor to be signed. The group also provides a fact sheet about religious exemptions.

For approximately $1,400 (the cost varies based on the situation), the lawyers at the high-powered law firm Siri & Glimstad will provide individualized assistance with preparing, filing, and obtaining medical or religious exemptions. Their intake form is available here.

SUINGThe Republican National Committee has already announced it is suing Biden over his employer vaccine mandate.

''Like many Americans, I am pro-vaccine and anti-mandate,'' said RNC Chairwoman Ronna McDaniel. ''Many small businesses and workers do not have the money or legal resources to fight Biden's unconstitutional actions and authoritarian decrees, but when his decree goes into effect, the RNC will sue the administration to protect Americans and their liberties.''

The Daily Wire has also retained legal counsel and will not comply with the mandate.

Liberty Council lists instructions at the bottom of this page for nursing students, students, and employees whose requests for religious exemptions to the vaccine have been denied. Nursing students, students, and employees seeking legal help can follow those instructions to contact Liberty Council about next legal steps.

America's Frontline Doctors has a form through which you can contact them if you are looking for an attorney in your state to help if your employer is attempting to force you to take the vaccine.

Anyone wishing to make his or her employer aware of possible liabilities of mandating the coronavirus vaccines can give his or her employer this form (provided by America's Frontline Doctors) and ask that the employer fill it out. (The form is also available here.) He or she can then go to this link and click ''vaccine public letter,'' edit the parts in red, and deliver it to his or her employer.

'-- Article continues below Petition '--

1073470 have signed the petition.

Let's get to 1100000 !

Thank you for signing this petition!

Add your signature:

Show Petition Text

People of goodwill can disagree about the safety, efficacy and religious implications of a new vaccine for the coronavirus.

But, everyone should agree on this point:

No government can force anyone who has reached legal adulthood to be vaccinated for the coronavirus. Equally, no government can vaccinate minors for the coronavirus against the will of their parents or guardians.

Please SIGN this urgent petition which urges policymakers at every level of government to reject calls for mandatory coronavirus vaccination.

Fear of a disease - which we know very little about, relative to other similar diseases - must not lead to knee-jerk reactions regarding public health, nor can it justify supporting the hidden agenda of governmental as well as non-governmental bodies that have apparent conflicts of interest in plans to restrict personal freedoms.

The so-called "public health experts" have gotten it wrong many times during the current crisis. We should not, therefore, allow their opinions to rush decision-makers into policies regarding vaccination.

And, while some people, like Bill Gates, may have a lot of money, his opinion and that of his NGO (the Bill & Melinda Gates Foundation) - namely, that life will not return to normal till people are widely vaccinated - should not be permitted to influence policy decisions on a coronavirus vaccination program.

Finally, we must also not allow the rush by pharmaceutical companies to produce a new coronavirus vaccine to, itself, become an imperative for vaccination.

Unwitting citizens must not be used as guinea pigs for New World Order ideologues, or Big Pharma, in pursuit of a vaccine (and, profits) which may not even protect against future mutated strains of the coronavirus.

And it goes without saying that the production of vaccines using aborted babies for cell replication is a total non-starter, as the technique is gravely immoral.

However, if after sufficient study of the issue, a person who has reached the age of majority wishes to be vaccinated with a morally produced vaccine, along with his children, that is his business.

But we cannot and will not permit the government to make that decision for us.

Thank you for SIGNING and SHARING this petition, urging policymakers at all levels of government to reject mandatory coronavirus vaccination.

FOR MORE INFORMATION:

Bill Gates: Life won't go back to 'normal' until population 'widely vaccinated' - https://www.lifesitenews.com/news/bill-gates-life-wont-go-back-to-normal-until-population-widely-vaccinated

COVID-19 scare leads to more digital surveillance, talk of mandatory vaccine 'tattoos' for kids' - https://www.lifesitenews.com/news/covid-19-scare-leads-to-more-digital-surveillance-talk-of-mandatory-vaccine-tattoos-for-kids

Trudeau says no return to 'normal' without vaccine: 'Could take 12 to 18 months' - https://www.lifesitenews.com/news/trudeau-says-no-return-to-normal-without-vaccine-could-take-12-to-18-months

Trudeau mulls making coronavirus vaccine mandatory for Canadians - https://www.lifesitenews.com/news/trudeau-mulls-making-coronavirus-vaccine-mandatory-for-canadians

US bishop vows to 'refuse' COVID-19 vaccine if made from 'aborted fetal tissue' - https://www.lifesitenews.com/news/us-bishop-vows-to-refuse-covid-19-vaccine-if-made-from-aborted-fetal-tissue

** While LifeSite opposes immorally-produced vaccines using aborted fetal cell lines, we do not have a position on any particular coronavirus vaccines produced without such moral problems. We realize many have general concerns about vaccines, but also recognize that millions of lives have been saved due to vaccines.

*** Photo Credit: Shutterstock.com

The New Civil Liberties Alliance is representing people who have natural immunity to the coronavirus in their legal battle against Michigan State University's vaccine mandate. Their website does not advertise that they are taking new clients, but their legal reasoning may be useful to any attorneys with which you are working.

Roger Severino, the former Director of the Office of Civil Rights at the U.S. Department of Health and Human Services (HHS), has noted that it is against the Americans with Disabilities Act (ADA) to force unvaccinated employees to be tested for the coronavirus. Forcing employees to submit to medical tests is technically against the ADA, but LifeSiteNews is not aware of any lawsuits that address this yet.

The ''vax-or-test'' schemes that the federal government has mandated for private employers with over 100 workers appear to violate the ADA and could easily be challenged in court.

''Some argue that even if irrational or retaliatory, forced COVID testing does not impose a big enough indignity to sue over,'' Severino wrote on July 30, 2021. ''Let's not be na¯ve. The DOJ memo and yesterday's announcement are merely dress rehearsals for the ultimate goal of imposing a national vaccine mandate.''

''When asked'...about whether he has the power to do such a thing, Biden said it is still an open question,'' he warned. ''In truth, the answer comes down to one thing '-- whether or not Biden thinks he can get away with it. Like the proverbial slow-boiling frog, if there is not a strong reaction now, we'll all be cooked soon.''

As evidenced by yesterday's vaccine mandate announcement, Biden apparently does indeed think he has the power to impose what essentially amounts to a national vaccine mandate. It's now up to regular Americans who don't want the federal government dictating their deeply personal and consequential medical decisions to stand up and fight back in every way possible.

RELATED:Colorado bishops issue religious exemption letter for COVID shots, urging people to 'follow their conscience'

What to do if your employer, school, or parish demands you get the coronavirus vaccine

First lawsuit against COVID-19 vaccine mandate filed in US

Can colleges and employers legally require you to get vaccinated? It's complicated.

How to resist COVID jab mandates in Canada '-- a comprehensive guide

Keep this news available to you and millions more

Your gift will spread truth, defeat lies, and save lives

Glenn Youngkin - Wikipedia

Thu, 28 Oct 2021 02:02

Glenn Allen Youngkin[1] (born December 9, 1966)[2] is an American businessman who is the Republican nominee in the 2021 Virginia gubernatorial election. Prior to entering politics, he spent 25 years at the private-equity firm The Carlyle Group, rising to become its CEO.[3] He stepped down from the Carlyle Group in September 2020, and announced his candidacy for the 2021 Virginia gubernatorial election in January 2021. Youngkin won the Republican gubernatorial nomination on May 10, 2021, and will face Democratic Party candidate Terry McAuliffe in the general election on November 2.

Although Youngkin rejects the false claim that Donald Trump won the 2020 presidential election, he has embraced Trumpism as a political movement and refused to acknowledge the legitimacy of Joe Biden's presidency until after securing the Republican gubernatorial nomination. Youngkin supports the COVID-19 vaccine but opposes mask and vaccine mandates. His campaign has drawn national media attention for its education platform, which has emphasized a socially conservative approach to the treatment of transgender students and opposition to critical race theory.

Early life and education Edit Youngkin was born in Richmond, Virginia.[4] He is the son of Ellis (n(C)e Quinn) and Carroll Wayne Youngkin. His father played basketball for Duke University and worked in accounting and finance.[5] When Youngkin was a teenager, the family moved from Richmond to Virginia Beach.[6] He attended Norfolk Academy in Norfolk, Virginia, graduating in 1985.[7] He received numerous high school basketball honors.[8]

Youngkin attended Rice University on a basketball scholarship,[9] playing four NCAA Division I seasons with Rice Owls men's basketball in the Southwest Conference where he totaled 82 points and 67 rebounds in his career.[10] In 1990, he graduated with a Bachelor of Arts in managerial studies and a Bachelor of Science in mechanical engineering.[11] He earned a Master of Business Administration (MBA) from Harvard Business School in 1994.[12]

Career Edit Early career Edit After graduating from Rice in 1990, Youngkin joined the investment bank First Boston,[11] where he handled mergers and acquisitions and capital market financing.[13] The company was bought out by Credit Suisse and became Credit Suisse First Boston; Youngkin left in 1992 to pursue an MBA.[14][11]

In 1994, after receiving his MBA, he joined the management consulting firm McKinsey & Company.[14][11][15]

The Carlyle Group Edit In August 1995,[15] Youngkin joined the private-equity firm The Carlyle Group, based in Washington, D.C.,[14] initially as a member of the U.S. buyout team.[11] In 1999, he was named a partner and managing director of Carlyle.[16][17] He managed the firm's UK buyout team (2000''2005)[11][18] and global industrial sector investment team (2005''2008), dividing his time between London and Washington.[16][19]

In April 2008, Carlyle's founders asked Youngkin to step back from deal-making to focus on the firm's broader strategy.[3][20] In 2009 the founders created a seven-person operating committee, chaired by Youngkin, which oversaw the non-deal, day-to-day operations of Carlyle.[20][21] In 2009 Youngkin also joined, along with Daniel Akerson, the firm's executive committee, which had previously consisted solely of the three founders.[21][22]

When Carlyle's chief financial officer Peter Nachtwey left suddenly in late 2010, Youngkin became interim CFO[23] until Adena Friedman was hired as CFO late March 2011.[24] In 2010, Youngkin joined the firm's management committee.[25][20] Youngkin was chief operating officer of the Carlyle Group from March 2011 until June 2014.[26]

Youngkin played a major role in taking Carlyle public, supervising the initial public offering.[20][27][28][23][29][30]

In June 2014, he became co-president and co-chief operating officer with Michael J. Cavanagh, who joined the Carlyle Group from JPMorgan Chase.[31][32] Together they helped develop and implement the firm's growth initiatives and managed the firm's operations on a day-to-day basis.[33] Cavanagh left the firm in May 2015 to become CFO of Comcast, leaving Youngkin as president and COO of Carlyle.[34]

Co-CEO Edit In October 2017, the Carlyle Group announced that its founders would remain executive chairmen on the board of directors but step down as the day-to-day leaders of the firm; they named Youngkin and Kewsong Lee to succeed them, as co-CEOs, effective January 1, 2018.[3] As co-CEOs, Youngkin oversaw Carlyle's real estate, energy, infrastructure businesses, and investment solutions businesses; Lee oversaw the firm's corporate private equity and global credit businesses.[35][36] Youngkin and Lee also joined the firm's board of directors when they became co-CEOs.[30]

During Youngkin and Lee's tenure as co-CEOs, they oversaw the firm's transition from a publicly traded partnership into a corporation.[37][38][39]

Bloomberg News described the co-CEO relationship as "awkward ... and increasingly acrimonious" and Lee gained sole control after 2 1 ' 2 years.[29] In July 2020, Youngkin announced that he would retire from the Carlyle Group at the end of September 2020, stating his intention to focus on community and public service efforts.[40][37] In 2020, Youngkin and his wife founded a nonprofit, Virginia Ready Initiative, focusing on connecting unemployed people in the state with job-training programs and potential employers.[41][42][43][44]

2021 gubernatorial election Edit Final results by county and independent city:

Youngkin'--80''90%

Youngkin'--70''80%

Youngkin'--60''70%

Youngkin'--50''60%

Snyder'--50''60%

Snyder'--60''70%

Snyder'--70''80%

Snyder'-->90%

In January 2021, Youngkin announced that he would seek the Republican Party's nomination for governor of Virginia.[45][6] A first-time candidate, Youngkin's vast personal wealth gave him the ability to self-fund his candidacy,[46][47] and he spent at least $5.5 million of his own money on his primary campaign.[48]

Youngkin won the Republican Party of Virginia's state convention on May 10, 2021, after multiple rounds of ranked-choice voting across 39 locations across the state, becoming the party's nominee for Virginia governor. He defeated six other candidates.[48] All the Republican candidates, including Youngkin, stressed their allegiance to Donald Trump and Trumpism,[47] although other candidates for the nomination, such as state senator Amanda Chase, were the most vocally pro-Trump.[49] Trump endorsed Youngkin after he captured the party's nomination.[49] In a radio interview, Trump claimed that to win, Youngkin must embrace the "MAGA movement."[50][51] Youngkin has openly courted both anti- and pro-Trump supporters.[52]

Campaign sign for Youngkin

When seeking the Republican nomination for governor, Youngkin for months refused to acknowledge that Joe Biden had won the presidency legitimately. Youngkin dodged or deflected questions on the subject, which became an issue after Trump refused to accept his defeat by Biden. After Youngkin won the Republican nomination, he shifted his position, stating that Biden was the legitimate president.[53][54] Youngkin has continued to emphasize "election integrity" as a major campaign issue and supports stricter voting laws, such as a photo ID requirement.[55][56]

During Youngkin's primary campaign, he pledged to "stand up against all of the legislation that has been passed by the Democrats" and to be an opponent of abortion.[57] He spoke out against gun legislation that Democrats had passed, including expanded background checks, handgun purchase limitations and red flag laws.[57] After winning the nomination, he de-emphasized these social issues, seeking to appeal to suburban swing voters.[57] In July, he was caught on a hot mic telling an activist that he would limit his comments about abortion during the campaign so that he would not alienate independent voters.[58][59] Also in July, the National Rifle Association (NRA) declined to endorse Youngkin after he refused to confirm his position on gun rights by not filling out their candidate survey.[60] In September, a Democratic-aligned group began running ads in conservative parts of Virginia, which seek to diminish Republican turnout by attacking his lack of an endorsement from the NRA.[61]

Youngkin supports the COVID-19 vaccine, but opposes mask and vaccine mandates.[62] He supports eliminating the grocery tax, suspending the gas tax increase, offering a one-time rebate on income tax, doubling the standard deduction on income tax, cutting the retirement tax on veterans' income, and implementing voter approval for any additional increase to local property taxes, which the Associated Press has called the "most wide-ranging and detailed" plan of his campaign.[63]

He will face the Democratic nominee, former governor Terry McAuliffe, in the general election. On July 12, 2021, Youngkin refused to meet with McAuliffe in the Virginia Bar Association (VBA) debate, citing his objection to the moderator, Judy Woodruff, for a donation she made to the Clinton Bush Haiti Fund in 2010. The VBA had held a gubernatorial debate every election year since 1985. Youngkin has committed to three future debates with McAuliffe.[64] McAuliffe and Youngkin had their first debate on September 16, 2021, hosted by the Appalachian School of Law.[65] Youngkin criticized the Texas Heartbeat Act, which bans most abortions after the sixth week of pregnancy, stating he instead favors a "pain threshold bill," which occurs around twenty weeks.[66][67]

Youngkin's campaign has placed significant emphasis on the issue of education.[68][69][70] The campaign opposes protections for transgender students in Virginia public schools and is against what Youngkin has characterized as the pervasive teaching of critical race theory in the state; critical race theory is an obscure academic field that Republicans nationwide have sought to ban or restrict.[68][69][70] Fact-checkers found no evidence that critical race theory was part of state curriculum standards and little evidence of it being taught in classrooms.[71][72] He has called for campus police to be stationed at every school in Virginia, as part of his final pitch, following a sexual assault in a Loudoun County school.[73][74]

Additional comments by Youngkin on the issue of education have been ranked false by fact-checkers. These include Youngkin's false accusation that his opponent, McAuliffe, would remove "the Pledge of Allegiance and the Fourth of July from curriculum" in schools,[75] and Youngkin's false accusation that McAuliffe asked President Biden "to dispatch the Department of Justice and the FBI to try to silence parents in Virginia".[76]

Asked if he accepts the scientific consensus on the causes of climate change, Youngkin said he does not know what causes climate change and that the cause ultimately does not matter.[77] Youngkin does support climate change adaptation efforts such as building additional seawalls.[77][78] He said he would not have signed Virginia's Clean Economy Act (which calls for Virginia's carbon emissions to reach zero by 2050) because he believes it would increase utility prices.[77]

Personal life Edit Youngkin with his wife Suzanne, 2021

Youngkin lives in Great Falls, Virginia with his wife Suzanne and their four children.[79] As of May 2021, he had an estimated net worth $440 million.[80] He identifies as a Christian and previously served on the vestry of Holy Trinity Church in McLean, Virginia.[81] He stands 6 feet 7 inches (201 cm) tall.[82]

References Edit ^ Nisen, Max (October 24, 2013). "11 Rockstar Executives Who Earn More Than Their CEOs". Business Insider . Retrieved February 20, 2021 . ^ "Glenn Allen Youngkin". Companies House . Retrieved February 20, 2021 . ^ a b c Gottfried, Miriam (October 27, 2017). "Carlyle's Next Generation: A Deal Whiz and a Homegrown Quarterback". Wall Street Journal. Archived from the original on August 26, 2021 . Retrieved February 20, 2021 . ^ "FCRC February Meeting Highlights". FauquierGOP. February 5, 2021 . Retrieved February 20, 2021 . ^ "Carroll Wayne Youngkin". Dignity Memorial . Retrieved May 21, 2021 . ^ a b "Millionaire investor joins Virginia governor contest". Associated Press. January 27, 2021 . Retrieved February 20, 2021 . ^ "Glenn Youngkin '85 Helps Create Nonprofit Aimed At Supporting Unemployed Workers". Norfolk Academy News. Norfolk Academy. June 30, 2020 . Retrieved February 20, 2021 . ^ Mayfield, Adrienne (April 5, 2021). "Candidate Profile: Glenn Youngkin (Governor)". WAVY . Retrieved October 27, 2021 . ^ Vozzella, Laura (January 27, 2021). "Former Carlyle executive Glenn Youngkin joins race for Virginia governor". The Washington Post . Retrieved February 20, 2021 . ^ "Glenn Youngkin". Sports Reference . Retrieved May 25, 2021 . ^ a b c d e f "The 2006-07 Rice Owls Basketball Media Guide" (PDF) . Rice Owls. p. 3 . Retrieved February 20, 2021 . ^ "Two HBS Alumni To Lead Carlyle Group". Harvard Business School. October 27, 2017 . Retrieved February 20, 2021 . ^ "QinetiQ Group plc Notice of AGM". Investegate. June 27, 2006 . Retrieved February 20, 2021 . ^ a b c Kelly, Jason; Perlberg, Heather (June 4, 2018). "Meet Private Equity's Next Generation". Bloomberg. Archived from the original on August 26, 2021 . Retrieved February 20, 2021 . ^ a b "Memorandum submitted by the Carlyle Group". Parliament of the United Kingdom. January 15, 2003 . Retrieved February 20, 2021 . ^ a b "Glenn Youngkin Named Head of the Global Industrial Team". The Carlyle Group. September 1, 2005. Archived from the original on October 11, 2021 . Retrieved February 20, 2021 . ^ "Form 8-K". The Carlyle Group. U.S. Securities and Exchange Commission. October 23, 2017. Archived from the original on October 25, 2021 . Retrieved February 20, 2021 . ^ "Carlyle's World, Glenn Youngkin's Mandate". PRLog. Privcap. February 11, 2013 . Retrieved February 20, 2021 . ^ Kinder Morgan, Inc. (February 22, 2012). "Form 10-K: Annual Report for the fiscal year ended December 31, 2011" (PDF) . AnnualReports.com. U.S. Securities and Exchange Commission. Archived (PDF) from the original on July 29, 2021 . Retrieved February 20, 2021 . ^ a b c d Kelly, Jason (2012). The New Tycoons: Inside the Trillion Dollar Private Equity Industry That Owns Everything. John Wiley & Sons. pp. 31''32, 40. ^ a b "Carlyle 2009 Annual Report" (PDF) . EastCountyMagazine.org. The Carlyle Group. 2010 . Retrieved February 20, 2021 . ^ "Generation Next". Private Equity International. May 28, 2010 . Retrieved February 20, 2021 . ^ a b Alesci, Cristina (December 13, 2010). "Carlyle Finance Chief Peter Nachtwey Leaves Firm". Bloomberg News . Retrieved February 20, 2021 . ^ Gottlieb, Jenna (February 15, 2011). "Carlyle names new CFO". Private Equity International . Retrieved February 20, 2021 . ^ "Carlyle 2010 Annual Report" (PDF) . PEDaily.cn. The Carlyle Group. 2011 . Retrieved February 20, 2021 . ^ "Form 8-K". U.S. Securities and Exchange Commission. The Carlyle Group. October 23, 2017 . Retrieved February 20, 2021 . ^ Sender, Henny; Espinoza, Javier (October 25, 2017). "Carlyle profiles: closer look at founders and new management". Financial Times . Retrieved February 20, 2021 . ^ Sender, Henny (December 12, 2010). "Carlyle faces setback for listing plans". Financial Times . Retrieved February 20, 2021 . ^ a b Perlberg, Heather (July 23, 2020). "Carlyle Co-CEO's Abrupt Exit Caps a Long, Awkward Power Struggle". Bloomberg News . Retrieved February 20, 2021 . ^ a b Banerjee, Devin (October 25, 2017). "Carlyle's Billionaire Founders Hand Reins to New Leaders". Bloomberg News . Retrieved February 20, 2021 . ^ Heath, Thomas L. (March 25, 2014). "Carlyle Group names Cavanagh and Youngkin as co-presidents". The Washington Post . Retrieved February 20, 2021 . ^ Dezember, Ryan (February 26, 2015). "Carlyle Founders Took In $800 Million in 2014". Wall Street Journal . Retrieved February 20, 2021 . ^ "Carlyle poaches Dimon protege". The Australian. Dow Jones Newswires. March 26, 2014 . Retrieved February 20, 2021 . ^ Roumeliotis, Greg (May 11, 2015). "Comcast names Carlyle Group's Michael Cavanagh as CFO". Reuters . Retrieved February 20, 2021 . ^ Bray, Chad (October 26, 2017). "Private equity Carlyle Group names Kewsong Lee, Glenn Youngkin as new leaders". Australian Financial Review . Retrieved February 20, 2021 . ^ Espinoza, Javier; Massoudi, Arash (October 25, 2017). "Carlyle names executives to succeed its co-founders". Financial Times . Retrieved February 20, 2021 . ^ a b Lewis, Adam (July 21, 2020). "Carlyle co-CEO Glenn Youngkin to retire, leaving reins to Kewsong Lee". PitchBook . Retrieved February 21, 2021 . ^ Gottfried, Miriam (July 31, 2019). "Carlyle to Abandon Partnership Structure and Dual-Class Shares". Wall Street Journal . Retrieved February 21, 2021 . ^ Louch, William (July 21, 2020). "Carlyle Co-CEO Glenn Youngkin to Step Down". Wall Street Journal . Retrieved February 20, 2021 . ^ Wiggi, Kaye; Vandevelde, Mark (July 21, 2020). "Carlyle co-chief Glenn Youngkin to step down". Financial Times . Retrieved February 21, 2021 . ^ "Reskilling for a changing economy: A discussion with Glenn Youngkin". McKinsey & Company. September 1, 2020. Archived from the original on June 30, 2021 . Retrieved February 21, 2021 . ^ Georgescu, Peter (January 21, 2021). "A Scalable System To Lower Unemployment". Forbes . Retrieved February 21, 2021 . ^ Pierceall, Kimberly (June 29, 2020). "Nonprofit offers extra $1,000 to unemployed Virginians who get re-trained for a new career". The Virginian-Pilot . Retrieved February 21, 2021 . ^ "Glenn Youngkin announces run for Virginia governor". WAVY. January 27, 2021 . Retrieved February 21, 2021 . ^ Vozzella, Laura (January 11, 2021). "Political newcomer with ability to self-fund to enter race for Virginia governor". The Washington Post. Archived from the original on February 11, 2021 . Retrieved February 21, 2021 . ^ Gabriel, Trip (May 11, 2021). "In Virginia, a Fight Over the Suburbs in the Governor's Race". The New York Times. ^ a b Karson, Kendall; Scanlan, Quinn (May 7, 2021). " ' Trumpy, Trumpier and Trumpiest': Virginia GOP to vote on nominee for governor in post-Trump era". ABC News. Archived from the original on October 14, 2021. ^ a b Gabriel, Trip (May 10, 2021). "Glenn Youngkin Declares Victory as G.O.P. Nominee for Virginia Governor". The New York Times . Retrieved May 10, 2021 . ^ a b Barakat, Matthew (May 15, 2021). "Virginia GOP nominee's independence from Trump up for debate". Associated Press. Archived from the original on October 9, 2021. ^ Cain, Andrew (September 23, 2021). "Trump warns Youngkin that he has to fully embrace 'MAGA movement' to win". Richmond Times-Dispatch. Archived from the original on October 20, 2021 . Retrieved September 24, 2021 . ^ Vozzella, Laura (September 23, 2021). "Trump says Youngkin risks losing Virginia governor's race". The Washington Post . Retrieved September 24, 2021 . ^ Mucha, Sarah (September 26, 2021). "Glenn Youngkin's play: Forever- and Never-Trumpers". Axios (website). Archived from the original on October 25, 2021 . Retrieved October 8, 2021 . ^ Oliver, Ned (May 12, 2021). "After months of refusing to say Biden won legitimately, Youngkin says, 'Of course. ' ". Virginia Mercury. Archived from the original on August 1, 2021. ^ Fiske, Warren (May 19, 2021). "Youngkin shifts position on the legitimacy of Biden's election". PolitiFact. Archived from the original on October 22, 2021. ^ Vozzella, Laura (August 6, 2021). "Youngkin's tricky dance with 'election integrity' complicates run for Virginia governor". Washington Post. ISSN 0190-8286 . Retrieved October 26, 2021 . ^ Elwood, Karina (October 6, 2021). "As Virginia election draws near, GOP's Youngkin continues campaigning on 'election integrity ' ". Washington Post. ISSN 0190-8286 . Retrieved October 26, 2021 . ^ a b c Vozzella, Laura (May 25, 2021). "Glenn Youngkin, GOP nominee for Virginia governor, goes mum on guns and abortion". The Washington Post. ^ Pope, Michael (July 8, 2021). "A Hot Mic Could Have Lasting Impacts on the Gubernatorial Race". wvtf.org. WVTF. Archived from the original on July 15, 2021 . Retrieved July 14, 2021 . ^ "Video shows Glenn Youngkin saying he can't fully discuss abortion or risk losing independent Virginia voters". The Washington Post. ISSN 0190-8286 . Retrieved September 19, 2021 . ^ Leonor, Mel (July 22, 2021). "NRA skips Youngkin endorsement, backs other GOP statewide candidates". Richmond Times-Dispatch. Archived from the original on September 28, 2021 . Retrieved September 25, 2021 . ^ Markay, Lachlan (September 28, 2021). "Dems' sneaky sabotage". Axios (website). Archived from the original on August 23, 2021 . Retrieved September 28, 2021 . ^ Schneider, Gregory S.; Vozzella, Laura (August 13, 2021). "Candidates for Virginia governor take opposite positions on mask and vaccine mandates". Washington Post. ISSN 0190-8286 . Retrieved October 26, 2021 . ^ Rankin, Sarah (August 30, 2021). "Republican Youngkin outlines new tax, policy proposals". AP NEWS . Retrieved October 27, 2021 . ^ Vozzella, Laura. "Youngkin to skip marquee debate over moderator's donation to Clinton Bush Haiti Fund". The Washington Post. ISSN 0190-8286 . Retrieved July 14, 2021 . ^ Leonor, Mel. "McAuliffe and Youngkin split on COVID mandates, abortion and energy policy in first debate". Richmond Times-Dispatch . Retrieved September 19, 2021 . ^ Rankin, Sarah; Helber, Steve (September 17, 2021). "McAuliffe, Youngkin Clash Over Abortion, COVID in 1st Debate". U.S. News & World Report. Archived from the original on October 11, 2021 . Retrieved September 19, 2021 . ^ Fiske, Warren (September 17, 2021). "Fact-checking the first McAuliffe-Youngkin debate". PolitiFact. Archived from the original on October 14, 2021 . Retrieved September 19, 2021 . ^ a b Seitz-Wald, Alex. "In Virginia, Republicans see education, curriculum fears as a path to victory". NBC News . Retrieved October 25, 2021 . ^ a b McKend, Eva; Merica, Dan (October 7, 2021). "Virginia Republicans seize on parental rights and schools fight in final weeks of campaign". CNN . Retrieved October 27, 2021 . ^ a b Lerer, Lisa (October 12, 2021). "The Unlikely Issue Shaping the Virginia Governor's Race: Schools". The New York Times. ISSN 0362-4331 . Retrieved October 27, 2021 . ^ "False Claims of Critical Race Theory in Virginia Schools Spark Resistance". VPM.org . Retrieved October 25, 2021 . ^ "PolitiFact - Youngkin offers little proof critical race theory is in 'all' Virginia schools". @politifact . Retrieved October 25, 2021 . ^ Iannelli, Nick (October 20, 2021). "Youngkin calls for every Virginia school to have cops on campus". WTOP . Retrieved October 27, 2021 . ^ Leonor, Mel (October 22, 2021). "Youngkin calls for police in all Virginia schools, tapping into heated school issues to close his campaign". Richmond Times-Dispatch . Retrieved October 27, 2021 . ^ Fiske, Warren (June 3, 2021). "No one's stripping the Pledge and July 4th from Virginia school lessons". PolitiFact . Retrieved October 26, 2021 . ^ Fiske, Warren (October 12, 2021). "Youngkin fancifully links McAuliffe to federal order on school meetings". PolitiFact . Retrieved October 26, 2021 . ^ a b c Hankerson, Mechelle (October 12, 2021). "What Virginia gubernatorial candidates say about sea level rise". WHRO-TV. Archived from the original on October 13, 2021 . Retrieved October 25, 2021 . ^ "2021 Race for Governor: Virginia Roundtable Discussion". WAVY.com . Retrieved October 26, 2021 . ^ "A Conversation with David Rubenstein Moderated by Glenn Youngkin". Harvard Business School Club of Chicago. November 2020 . Retrieved February 21, 2021 . ^ Tognini, Giacomo. "Glenn Youngkin Is Worth Hundreds Of Millions, But Terry McAuliffe Has The Big Money In The Virginia Governor's Race". Forbes . Retrieved October 27, 2021 . ^ "HTC Vestry's Statement on Racial Unity". ^ "Glenn Youngkin". Sports Reference . Retrieved May 21, 2021 . External links Edit Campaign websiteBallotpedia profileGlenn Youngkin at the Virginia Public Access ProjectProfile at Vote Smart

How Stella Got Her Groove Back - Wikipedia

Wed, 27 Oct 2021 21:35

1998 American romantic comedy-drama film

How Stella Got Her Groove Back is a 1998 American romantic comedy-drama film directed by Kevin Rodney Sullivan, adapted from Terry McMillan's best-selling 1996 novel of the same title. The film stars Angela Bassett, Taye Diggs (in his film debut), Whoopi Goldberg, and Regina King. The original music score was composed by Michel Colombier.[3]

Plot [ edit ] This section

needs expansion. You can help by

adding to it.

( September 2020

) Stella Payne is a very successful 40-year-old stockbroker raising her son, Quincy, and living in Marin County, California, who is persuaded by her best friend from college, Delilah Abraham, to take a well-deserved, first-class vacation to Montego Bay, Jamaica. As she soaks in the beauty of the island, she encounters a handsome young islander, Winston Shakespeare, who is twenty years her junior. His pursuit of her turns into a blossoming romance that forces Stella to take personal inventory of her life and try to find a balance between her desire for love and companionship, and her responsibilities as a mother and corporate executive.

Cast [ edit ] Angela Bassett as Stella PayneTaye Diggs as Winston ShakespeareWhoopi Goldberg as Delilah AbrahamRegina King as VanessaSuzzanne Douglas as AngelaMichael J. Pagan as Quincy PayneSicily as ChantelRichard Lawson as JackBarry Shabaka Henley as BuddyLee Weaver as NateGlynn Turman as Dr. ShakespearePhyllis Yvonne Stickney as Mrs. ShakespeareDenise Hunt as Ms. ThangJames Pickens, Jr. as Walter PayneCarl Lumbly as Judge Spencer BoyleVictor Garber (uncredited) as IsaacReception [ edit ] The reception from critics was mixed.[4][5][6]

On Rotten Tomatoes, the film has an approval rating of 50%, based on 50 reviews.[7] On Metacritic, the film has a score of 56 out of 100, based on reviews from 23 critics, indicating "mixed or average reviews".[8] Audiences surveyed by CinemaScore gave the film a grade A''.[9]

Box office [ edit ] In its opening weekend, Stella grossed $11,318,919, ranking #2 in the domestic box office behind Saving Private Ryan ' s fourth weekend.[10] The film would go on to gross $36,672,941 domestically and an additional $1,605,781 overseas for a worldwide total of $39,278,722, from an estimated $20 million budget.[2]

Soundtrack [ edit ] A soundtrack containing mostly R&B and reggae was released on August 11, 1998, by MCA Records. It peaked at number eight on the Billboard 200 and number three on the Top R&B/Hip-Hop Albums chart, and was certified gold on September 22, 1998.

Accolades [ edit ] 1999 Acapulco Black Film FestivalBest Actress '' Angela Bassett (won)Best Actor '' Taye Diggs (nominated)Best Actress '' Whoopi Goldberg (won)Best Director '' Kevin Rodney Sullivan (nominated)Best Film (won)Best Screenplay '' Terry McMillan (nominated)Best Soundtrack (won)1999 NAACP Image AwardsOutstanding Lead Actress in a Motion Picture '' Angela Bassett (won)Outstanding Motion Picture (won)Outstanding Supporting Actress in a Motion Picture '' Whoopi Goldberg (won)Outstanding Youth Actor/Actress '' Michael J. Pagan (won)See also [ edit ] Shirley ValentineReferences [ edit ] External links [ edit ] How Stella Got Her Groove Back at IMDbHow Stella Got Her Groove Back at AllMovieHow Stella Got Her Groove Back at Box Office MojoHow Stella Got Her Groove Back at Rotten TomatoesHow Stella Got Her Groove Back at Metacritic

Operation INFEKTION - Wikipedia

Wed, 27 Oct 2021 21:12

KGB disinformation campaign

Operation INFEKTION was the popular name given to an active measure disinformation campaign run by the KGB in the 1980s to plant the idea that the United States had invented HIV/AIDS[2][3] as part of a biological weapons research project at Fort Detrick, Maryland. Historian Thomas Boghardt popularized the codename "INFEKTION" based on the claims of former East German Ministry for State Security (Stasi) officer G¼nter Bohnsack [de] , who claimed that the Stasi codename for the campaign was either "INFEKTION" or perhaps also "VORWRTS II" ("FORWARD II").[2] However, historians Christopher Nehring and Douglas Selvage found in the former Stasi and Bulgarian State Security archives materials that prove the actual Stasi codename for the AIDS disinformation campaign was Operation "DENVER".[4][5] The operation involved "an extraordinary amount of effort '-- funding radio programs, courting journalists, distributing would-be scientific studies", according to journalist Joshua Yaffa, and even became the subject of a report by Dan Rather on the CBS Evening News.[6]

According to the United States Department of State, the Soviet Union used the campaign to undermine the United States' credibility, foster anti-Americanism, isolate America abroad, and create tensions between host countries and the U.S. over the presence of American military bases (which were often portrayed as the cause of AIDS outbreaks in local populations).[7] U.S. State Department analysts also claim that another reason the Soviet Union "promoted the AIDS disinformation may have been its attempt to distract international attention away from its own offensive biological warfare program, which [was monitored] for decades". The report posits that the operation may have been partly in retaliation for American accusations that the Soviets used chemical weapons in Southeast Asia, later dubbed the yellow rain incident.[2]

Story genesis and progression [ edit ] The groundwork appeared in the pro-Soviet Indian newspaper Patriot which, according to a KGB defector named Ilya Dzerkvelov, was set up by the KGB in 1962 for the sheer purpose of publishing disinformation.[7] An anonymous letter was sent to the editor in July 1983 from a "well-known American scientist and anthropologist" who claimed that AIDS was manufactured at Fort Detrick by genetic engineers. The "scientist" claimed that "that deadly mysterious disease was believed to be the results of the Pentagon's experiments to develop new and dangerous biological weapons", and implicated Centers for Disease Control and Prevention (CDC) scientists sent to Africa and Latin America to find dangerous viruses alien to Asia and Europe. These results were purportedly analyzed in Atlanta and Fort Detrick and thus the "most likely course of events" leading to the development of AIDS. The letter claimed that the Pentagon was continuing such experiments in neighboring Pakistan and as a result, the AIDS virus was threatening to spread to India. The title of the article, "AIDS may invade India", suggested that the immediate goal of the KGB's disinformation was to exacerbate relations between the U.S., India, and Pakistan.[7][8]

Two years later, the KGB apparently decided to make use of its earlier disinformation to launch an international campaign to discredit the U.S. They wrote in a telegram to their allied secret service in Bulgaria, the Bulgarian Committee for State Security (KDS) on September 7, 1985:

We are conducting a series of [active] measures in connection with the appearance in recent years in the USA of a new and dangerous disease, "Acquired Immune Deficiency Syndrome '' AIDS"'..., and its subsequent, large-scale spread to other countries, including those in Western Europe. The goal of these measures is to create a favorable opinion for us abroad that this disease is the result of secret experiments with a new type of biological weapon by the secret services of the USA and the Pentagon that spun out of control.[4][9]

The telegram, which referred indirectly back to the Patriot article ("facts ... in the press of the developing countries, in particular India"), provided guidance to Bulgarian State Security regarding how to couch their AIDS disinformation:

Facts have already been cited in the press of the developing countries, in particular India, that testify to the involvement of the special services of the United States and the Pentagon in the appearance and rapid spread of the AIDS disease in the United States, as well as other countries. Judging by these reports, along with the interest shown by the U.S. military in the symptoms of AIDS and the rate and geography of its spread, the most likely assumption is that this most dangerous disease is the result of yet another Pentagon experiment with a new type of biological weapon. This is confirmed by the fact that the disease affected initially only certain groups of people: homosexuals, drug addicts, immigrants from Latin America.[9]

A month later, the Soviet newspaper Literaturnaya Gazeta, also a known outlet for KGB disinformation,[10] published an article from Valentin Zapevalov entitled, "Panic in the West, or what is hiding behind the sensation surrounding AIDS". It cited the (dis)information contained in the Patriot article,[11] but also gave further details regarding the alleged development of the AIDS virus. Employees of the CDC had allegedly assisted the Pentagon by traveling to Zaire, Nigeria and Latin America to collect samples of the "most pathogenic viruses" that could not be found in Europe or Asia. These samples were then combined to develop the human immunodeficiency virus (HIV) that causes AIDS. The disinformation campaign insisted the Pentagon then carried out isolated experiments in Haiti and within the U.S. itself on marginalized groups in U.S. society: drug addicts, homosexuals, and the homeless.[12] Zapevalov's article was subsequently reprinted in Kuwait, Bahrain, Finland, Sweden, Peru, and other countries.[13] It followed very closely the guidelines that the KGB had already sent to its Bulgarian "comrades" a month before.[9]

Stasi involvement in the disinformation campaign [ edit ] Determining the exact role of the Stasi in the AIDS disinformation campaign has been difficult, given that around 90% of the records of its foreign intelligence division, the Main Directorate for Reconnaissance (HVA) were destroyed[14] or disappeared[15] in 1989''90. Based on materials in the Bulgarian secret police archives, the card files of the HVA, and documents from or relating to the HVA scattered among the records of other divisions of the Stasi, it has been possible to reconstruct some aspects of the Stasi's involvement in the disinformation campaign. At the beginning of September 1986, the tenth division of the HVA (HVA/X), responsible for organizing and coordinating the HVA's campaigns of active measures, wrote the following in a draft plan for cooperation with Bulgarian State Security:

Operation "DENVER". With the goal of exposing the dangers to mankind arising from the research, production, and use of biological weapons, and also in order to strengthen anti-American sentiments in the world and to spark domestic political controversies in the USA, the GDR [German Democratic Republic] side will deliver a scientific study and other materials that prove that AIDS originated in the USA, not in Africa, and that AIDS is a product of the USA's bioweapons research.[4][16]

The KGB confirmed that the East German HVA was playing a central role on various occasions, including in a telegram to the Bulgarians in 1987:

The AIDS issue

A complex of [active] measures regarding this issue has been carried out since 1985 in cooperation with the [East] German and to some extent the Czech colleagues. In the initial stage, the task was resolved of spreading in the mass media the version regarding the artificial origin of the AIDS virus and the Pentagon's involvement in by means of the military-biological laboratory at Fort Detrick.

As a result of our joint efforts, it was possible to widely disseminate this version.[4][17]

The Segal Report [ edit ] As noted above, the Stasi's HVA/X had written that it would send its Bulgarian "comrades" a "scientific study" allegedly "proving" that "AIDS is a product of the USA's bioweapons research".[4][16] From the context of the discussions between officers of the HVA/X and their Bulgarian counterparts in mid-September 1986, it was clear which study was meant: "AIDS: Its Nature and Origin" by Soviet-East German biologist Jakob Segal and his wife, Dr. Lilli Segal. The study had been distributed at the summit meeting of the Non-Aligned Movement in August''September 1986 in a brochure entitled, "AIDS: USA home-made evil, NOT out of AFRICA".[4] The report was quoted heavily by Soviet propagandists, and the Segals were often said to be French researchers to hide their connections to communism. Although both Segals, given the double danger to them as Jews and members of the Communist Party of Germany, had fled into exile in France in 1933, both had attained Soviet citizenship in 1940 on the basis of Jakob's birth in (then Soviet-annexed) Lithuania, and in 1953, they had returned to Germany'--specifically, to communist East Berlin.[18]

In his report, Segal postulated that the AIDS virus was synthesized by combining parts of two distantly related retroviruses: VISNA and HTLV-1.[7] An excerpt of the Segal Report reads as follows:

It is very easy using genetic technologies to unite two parts of completely independent viruses'... but who would be interested in doing this? The military, of course'... In 1977 a special top security lab'... was set up'...at the Pentagon's central biological laboratory. One year after that'... the first cases of AIDS occurred in the US, in New York City. How it occurred precisely at this moment and how the virus managed to get out of the secret, hush-hush laboratory is quite easy to understand. Everyone knows that prisoners are used for military experiments in the U.S. They are promised their freedom if they come out of the experiment alive.[7]

Elsewhere in the report, Segal said that his hypothesis was based purely on assumptions, extrapolations, and hearsay and not at all on direct scientific evidence.[7]

The exact relationship of both Segals to the KGB, Stasi, or both at this time'--to the extent that it existed'--remains unclear. Both publicly denied any involvement of the KGB or Stasi in their work. The Deputy Director of HVA/X, Wolfgang Mutz, hinted that the HVA had played a role in the publication'--or actually, the photocopying'--and distribution of the Harare brochure in talks with Bulgarian State Security in September 1986.[4] He also suggested that the "operational division" of the HVA with which HVA/X had been cooperating in the disinformation campaign had somehow "attracted" Segal to his research.

This "operational division" was in fact an office in the Sector for Science and Technology (Sektor Wissenschaft und Technik, SWT) of the HVA, responsible for intelligence-gathering on AIDS and genetic engineering (HVA/SWT/XIII/5). This office had registered a "security dossier" (Sicherungsvorgang, SVG) "Wind" on September 6, 1985, regarding the protection of East German scientists in the areas of AIDS research, genetic engineering and biotechnology from outside "attacks" in the form of espionage or manipulation by foreign agents. This office in HVA/SWT apparently registered both Segals in this dossier as "contact persons" under the codename "Diagnosis"; whenever other divisions of the Stasi inquired about the Segals, they were directed to this office. HVA/SWT'--or "the security", as Jakob Segal called them'--gave him at least one piece of advice regarding his study before its printing and distribution. Whether Segal listened to this advice remains unclear. Still, given their official designation as "contact persons", they need not have known, at least officially, that they were dealing with the Stasi, although Jakob Segal likely knew or could have guessed, given his past dealings with both the Stasi and the KGB. It is quite possible that HVA/SWT was already coordinating with the KGB regarding Segal's research'--even without his knowledge'--in the second half of 1985, at the time that "Wind" was registered. Nevertheless, none of the Stasi officers involved with "Wind" or Operation "DENVER" ever claimed that the HVA had played a role in drafting Segal's study. It was clearly his own work, in cooperation with his wife Lilli, although he knew and expected that it would be used for "propaganda".

Whatever exact relationship the Segals may or may not have had to the Soviet or East German security services, the KGB praised Segal's work in its 1987 telegram to Bulgarian State Security. His articles and brochures, the KGB wrote, had attained "great renown". This was especially the case in African countries, where governments and researchers were rejecting as racist assertions by U.S. researchers that AIDS had originated naturally in Africa, where it had spread from monkeys to humans.[17] The KGB wrote the Bulgarians:

We are currently resolving the task of bringing the [active] measures down to a more practical level, and in particular, to attain specific political results by exploiting the "laboratory version" for AM [active measures] on other issues. So, efforts are being made to intensify anti-base sentiments in countries where American forces are deployed by using slogans suggesting that U.S. soldiers are the most dangerous carriers of the virus. By demonstrating the defeat of the "African version" [of AIDS' origins], we can whip up anti-American sentiments throughout the states of the continent.[17]

Dissemination methods [ edit ] The AIDS story exploded across the world, and was repeated by Soviet newspapers, magazines, wire services, radio broadcasts, and television. It appeared 40 times in Soviet media in 1987 alone. It received coverage in over 80 countries in more than 30 languages,[7] primarily in leftist and communist media publications, and was found in countries as widespread as Bolivia, Grenada, Pakistan, New Zealand, Nigeria, and Malta. A few versions made their way into non-communist press in Indonesia and the Philippines.[7]

Dissemination was usually along a recognized pattern: propaganda and disinformation would first appear in a country outside of the USSR and only then be picked up by a Soviet news agency, which attributed it to others' investigative journalism. That the story came from a foreign source (not widely known to be Soviet controlled or influenced) added credibility to the allegations, especially in impoverished and less educated countries which generally could not afford access to Western news satellite feeds. To aid in media placement, Soviet propaganda was provided free of charge, and many stories came with cash benefits.[7] This was particularly the case in India and Ghana, where the Soviet Union maintained a large propaganda and disinformation apparatus for covert media placement.[7]

Soviet narrative [ edit ] To explain how AIDS outbreaks in Africa occurred simultaneously, the Moscow World Service announced a discovery by Soviet correspondent Aleksandr Zhukov, who claimed that in the early 1970s, a Pentagon-controlled West German lab in Zaire "succeeded in modifying the non-lethal Green Monkey virus into the deadly AIDS virus". Radio Moscow also claimed that instead of testing a cholera vaccine, American scientists were actually infecting unwitting Zairians, thus spreading AIDS throughout the continent. These scientists were unaware of the long period before symptom onset, and resumed experimentation on convicts upon return to the U.S., where it then spread when the prisoners escaped.[7]

Claims that the Central Intelligence Agency (CIA) had sent "AIDS-oiled condoms" to other countries sprang up independently in the African press, well after the disinformation operation started.[2] In 1987, a book (Once Again About the CIA) was published by the Novosti Press Agency, with the quote:

The CIA Directorate of Science and Technology is continuously modernizing its inventory of pathogenic preparations, bacteria and viruses and studying their effect on man in various parts of the world. To this end, the CIA uses American medical centers in foreign countries. A case in point was the Pakistani Medical Research Center in Lahore'... set up in 1962 allegedly for combating malaria.

The resulting public backlash eventually closed down the legitimate medical research centre. Soviet allegations declared the purpose of these research projects, to include that of AIDS, was to "enlarge the war arsenal".[7]

Worldwide response to AIDS allegations [ edit ] Deception, Disinformation, and Strategic Communications,

[23] cover illustrating propaganda from Operation INFEKTION

Ironically, many Soviet scientists were soliciting help from American researchers to help address the Soviet Union's burgeoning AIDS problem, while stressing the virus' natural origins. The U.S. refused to help as long as the disinformation campaign continued.[7] The Segal Report and the plenitude of press articles were dismissed by both Western and Soviet virologists as nonsense.[7]

Dr. Meinrad Koch, a West Berlin AIDS expert, stated in 1987 that the Segal Report was "utter nonsense" and called it an "evil pseudo-scientific political concoction". Other scientists also pointed out flaws and inaccuracies in the Segal Report, including Dr. Viktor Zhdanov of the D. I. Ivanovsky Institute of Virology [ru] in Moscow, who was the top Soviet AIDS expert at the time. The president of the USSR Academy of Medical Sciences clearly stated that he believed the virus to be of natural origin. Other scientists and doctors from Paris, East and West Berlin, India, and Belgium called the AIDS rumors lies, scientifically unfounded, and otherwise impossible to seriously consider.[7] Although Segal himself never said "this is fact" and was very careful to maintain this line throughout his report, "such technical qualifiers do not diminish the impact of the charges, however, because when they are replayed, such qualifiers are typically either omitted or overlooked by readers or listeners".[7]

U.S. Embassy officials wrote dozens of letters to various newspaper editors and journalists, and held meetings and press conferences to clarify matters. Many of their efforts resulted in newspapers printing retractions and apologies.[7] Rebuttals appeared in reports to Congress and from the State Department saying that it was impossible at the time to build a virus as complex as AIDS; medical research had only gotten so far as to clone simple viruses. Antibodies were found decades earlier than the reported research started, and the main academic source used for the story (Segal Report) contained inaccuracies about even such basic things as American geography'--Segal said that outbreaks appeared in New York City because it was the closest big city to Fort Detrick. Philadelphia, Baltimore, and Washington, D.C. are all closer, while New York is 200 miles (320 km) away.[7]

The Gorbachev administration also responded indignantly and launched a defensive denial campaign "aimed at limiting the damage done to its credibility by U.S. efforts to raise world consciousness concerning the scope of Soviet disinformation activities".[7] The Soviet Union interfered with general attempts by U.S. Embassy officials to address misconceptions and expose the Soviet disinformation campaign, to include placing pressure on news agencies that recanted their position. For example, Literaturnaya Gazeta on December 3, 1986, castigated a Brazilian newspaper which earlier in the year had run a retraction following its publication of the AIDS disinformation story. In 1987, Moscow's Novosti news agency disseminated a report datelined Brazzaville (Congo), calling on the West to put an end to the "anti-African campaign", and reiterating "the charges that the virus was created in U.S. military laboratories" while in 1986 Literaturnaya Gazeta warned specifically against contact with Americans.[7]

In 1988, Sovetskaya Rossiya put out an article defending their right to report different views. The chief of Novosti stated that it drew upon foreign sources for much of the AIDS coverage, and that the press was free under glasnost.[7]

The Mitrokhin Archive reveals that:

Faced with American protests and the denunciation of the story by the international scientific community, however, Gorbachev and his advisers were clearly concerned that exposure of Soviet disinformation might damage the new Soviet image in the West. In August 1987 US officials were told in Moscow that the Aids story was officially disowned. Soviet press coverage of the story came to an almost complete halt.[24]

The campaign faded from most Soviet media outlets, but it occasionally resurfaced abroad in Third World countries as late as 1988, usually via press placement agents.[7]

Aftermath [ edit ] In 1992, 15% of Americans considered it definitely or probably true that "the AIDS virus was created deliberately in a government laboratory".[2] In 2005, a study by the RAND Corporation and Oregon State University revealed that nearly 50% of African Americans thought AIDS was man-made, over 25% believed AIDS was a product of a government laboratory, 12% believed it was created and spread by the CIA, and 15% believed that AIDS was a form of genocide against black people.[2] Other AIDS conspiracy theories have abounded, and have been discredited by the mainstream scientific community.

In popular culture, the Kanye West song "Heard 'Em Say" tells listeners, "I know that the government administer AIDS". In South Africa, the former president, Thabo Mbeki cited the operation's theory of Fort Detrick in denying the science of HIV.[6][3]

In 1992, Director of Russia's Foreign Intelligence Service (SVR) Yevgeny Primakov admitted that the KGB was behind the newspaper articles claiming that AIDS was created by the U.S. government.[1] Segal's role was exposed by KGB defector Vasili Mitrokhin in the Mitrokhin Archive. Jack Koehler's 1999 book, Stasi: The Untold Story of the East German Secret Police, describes how the Stasi cooperated with the KGB to spread the story.[25][page needed ]

Insofar as the distrust in medical authorities created by the operation led to a distrust in the treatment for AIDS recommended by medical science (journalist Joshua Yaffa notes that "numerous studies ... have shown that those who disbelieve the science on the origins of H.I.V. are less likely to engage in safe sex or to regularly take recommended medication if infected"),[6] the operation may have cost many lives. Yaffa argues that the delay in "widespread implementation of antiretroviral therapies in South Africa" may have cost "as many" as 330,000 lives.[6][3]

See also [ edit ] Operation PANDORAOperation Cedar (KGB)References [ edit ] ^ a b Kello, Lucas (2017). The Virtual Weapon and International Order. Yale University Press. p. 215. ISBN 978-0-300-22629-4. ^ a b c d e f Boghardt, Thomas (December 2009). "Soviet Bloc Intelligence and Its AIDS Disinformation Campaign (Operation INFEKTION)" (PDF) . Studies in Intelligence. 53 (4). Archived from the original (PDF) on March 24, 2010. ^ a b c Kramer, Mark (May 26, 2020). "Lessons From Operation "Denver," the KGB's Massive AIDS Disinformation Campaign". The MIT Press Reader . Retrieved September 21, 2020 . ^ a b c d e f g Selvage, Douglas; Nehring, Christopher (July 22, 2019). "Operation "Denver": KGB and Stasi Disinformation regarding AIDS". Wilson Center . Retrieved July 23, 2019 . ^ Selvage, Douglas (Fall 2019). "Operation "Denver": The East German Ministry of State Security and the KGB's AIDS Disinformation Campaign, 1985''1986 (Part 1)". Journal of Cold War Studies. 21 (4): 71''123. doi:10.1162/jcws_a_00907 . ^ a b c d Yaffa, Joshua (September 7, 2020). "Is Russian Meddling as Dangerous as We Think?". The New Yorker . Retrieved September 21, 2020 . ^ a b c d e f g h i j k l m n o p q r s t u v Soviet Influence Activities: A Report on Active Measures and Propaganda, 1986''87 (PDF) (Report). United States Department of State. August 1987 . Retrieved September 1, 2021 '' via GlobalSecurity.org. ^ "AIDS may invade India". Patriot. July 17, 1983 . Retrieved July 23, 2019 '' via nyt.com. ^ a b c "KGB, Information Nr. 2955 [to Bulgarian State Security]". Wilson Center Digital Archive. September 7, 1985 . Retrieved July 23, 2019 . ^ Kalugin, Oleg (2009). Spymaster: My Thirty-Two Years in Intelligence and Espionage Against the West. Philadelphia: Basic Books. p. 178. ISBN 978-0-465-01445-3. ^ Qiu, Linda (December 12, 2017). "Fingerprints of Russian Disinformation: From AIDS to Fake News". The New York Times . Retrieved July 23, 2019 . ^ Zapevalov, Valentin (October 30, 1985). Паника на ЗаÐаде, иÐ>>и что скÑывается за сенсацией вокÑуÐ" AIDS [Panic in the West, or what is hiding behind the sensation surrounding AIDS]. Literaturnaya Gazeta (in Russian) (5058). p. 14 . Retrieved September 1, 2021 '' via nyt.com. ^ Chief, Foreign Subversion and Instability Center, Office of Global Issues, Directorate of Intelligence (March 28, 1986). "Soviet Disinformation: Allegations of US Misdeeds" (PDF) . Freedom of Information Act Electronic Reading Room. Central Intelligence Agency. Archived from the original (PDF) on January 23, 2017. CS1 maint: multiple names: authors list (link) ^ Knabe, Hubertus (1999). West-Arbeit des MfS. Das Zusammenspiel von "Aufkl¤rung" und "Abwehr" (in German). Berlin: Ch. Links. p. 133. ISBN 978-3-86153-182-1. ^ Cenckiewicz, Sławomir (2009). Śladami bezpieki i partii: Studia '' Źr"dła '' Publicystyka (in Polish). Łomianki: LTW. pp. 589''600. ISBN 978-83-7565-060-0. ^ a b "Division X of the Hauptverwaltung Aufkl¤rung (HVA/X) of the Ministry of State Security (MfS), 'Plan for Common and Coordinated Active Measures of the Intelligence Organs of the MOI of the PR Bulgaria and the MfS of the GDR for 1987 and 1988 ' ". Wilson Center Digital Archive. September 3, 1986 . Retrieved July 23, 2019 . ^ a b c "KGB, Information Nr. 2742 [to Bulgarian State Security]". Wilson Center Digital Archive. 1987 . Retrieved July 23, 2019 . ^ H¶xtermann, Ekkehard (2010). "Segal, Jakob". Neue Deutsche Biographie (in German). 24. pp. 159''160 . Retrieved July 23, 2019 . ^ Schoen, Fletcher; Lamb, Christopher J. (June 2012). Deception, Disinformation, and Strategic Communications: How One Interagency Group Made a Major Difference (PDF) . Strategic Perspectives. 11. Washington, D.C.: National Defense University Press . Retrieved September 1, 2021 . ^ Andrew, Christopher; Mitrokhin, Vasili (2006). "Chapter 18 '' The Special Relationship with India. Part 2: The Decline and Fall of Congress". The World Was Going Our Way: The KGB and the Battle for the Third World: Newly Revealed Secrets from the Mitrokhin Archive. New York: Basic Books. ISBN 978-0-465-00313-6. ^ Koehler, John O. (1999). Stasi: The Untold Story of the East German Secret Police. Westview Press. ISBN 978-0-8133-3409-7. Further reading [ edit ] Selvage, Douglas; Nehring, Christopher (2014). Die AIDS-Verschw¶rung. Das Ministerium f¼r Staatssicherheit und die AIDS-Desinformationskampagne des KGB (PDF) . BF informiert (in German). 33. Berlin: BStU. ISBN 978-3-942130-76-9. Taylor, Adam (November 26, 2016). "Before 'fake news,' there was Soviet 'disinformation ' ". The Washington Post. Grimes, David Robert (June 14, 2017). "Russian fake news is not new: Soviet Aids propaganda cost countless lives". The Guardian. Researching Soviet/Russian Intelligence in America: Bibliography. Federal Depository Library Program."BBC launches huge new international anti-disinformation initiative". BBC Media Centre. November 9, 2018. Lutteroth, Johanna (June 22, 2012). "Aids-Verschw¶rung: Das Propaganda-Virus des KGB". Der Spiegel (in German). Singer, P. W.; Brooking, Emerson T. (2018). LikeWar: The Weaponization of Social Media. Houghton Mifflin Harcourt. ISBN 978-1-328-69575-8. Waddell, Kaveh (December 15, 2016). "Does Russia's Election Hacking Signal a New Era in Espionage?". The Atlantic. Mikkelson, David (June 25, 2013). "FACT CHECK: AIDS Created by the CIA?". Snopes. External links [ edit ] Media related to Operation INFEKTION at Wikimedia Commons

Operation InfeKtion: How Russia Perfected the Art of War. The New York Times.

TLC - Waterfalls Lyrics Meaning

Wed, 27 Oct 2021 20:54

Song Released: 1995Waterfalls Lyrics');var c=function(){cf.showAsyncAd(opts)};if(typeof window.cf !== 'undefined')c();else{cf_async=!0;var r=document.createElement("script"),s=document.getElementsByTagName("script")[0];r.async=!0;r.src="https://srv.clickfuse.com/showads/showad.js";r.readyState?r.onreadystatechange=function(){if("loaded"==r.readyState||"complete"==r.readyState)r.onreadystatechange=null,c()}:r.onload=c;s.parentNode.insertBefore(r,s)};})();A lonely mother gazing out of her window

Staring at a son that she just can't touch

If at any time he's in a jam

She'll be by his side

But he doesn't realize he hurts her so much

But all the praying just ain't helping at all

'Cause he can't...

1 TOP RATED #1 top rated interpretation:

anonymous click a star to vote

May 13th 2007 reportThe first portion of the song is about a mother that trie4s to teach her son that there are other choices in life. This young man's mother stands at his side every time he is in trouble no matter what. He cannot see that what he is doing is hurting her so much and he continues to make money by dealing in drugs. He is ended as 'Another body laying cold in the gutter'. Another John Doe until named shot down.The second part is about a man getting with a woman that has been with many men before him. They have unprotected sex and with out his knowledge he is infected. This unknown infection HIV / AIDS is what sends him to an early grave. No matter which three letters SEX or HIV he dies from having unprotected sex with an infected woman. Both people were chasing after something a lot bigger than they could handle and didn't even realize it. One simple mistake was getting ahead of themselves without thinking their actions out. Sticking to what you are used to, and working methodically toward a brighter future that you can grasp.

2 TOP RATED #2 top rated interpretation:

anonymous click a star to vote

Mar 8th 2006 reportIn the first verse the song talks about a mother who stands up for her son who is always in trouble. He makes money by drug dealing. A deal went bad and he was shot..."So he goes out and makes his money the best way he knows how, another body laying cold in the gutter."The second verse talks about a guy who gets AIDS from being intimate with a girl and possibly cheating on his girlfriend. He doesn't really appreciate hi partner..."Little precious has a natural obsession for temptation...she gives him loving that his body can't handle but all he can say is baby its good to me...three letters took him to his final resting place."In the rap she talks about how people shoot cocaine into their vein to get rid of the pain. It also talks about somebody who commits a murder and is caught, during his trial he claims insanity, but is still locked up..."Is for the folk who can't cope...for shootin' caine in your own vein...you shoot and aim for someone else's brain you claim the insane, and name this day in time for fallin' prey to crime,I say the system got you victim to your own mind."The chorus talks about taking it easy. Don't go after the things that are appealing to you and don't go down the wrong path. Stay on the path that is meant for you and right for. Stick to what you are used to..."

3 TOP RATED #3 top rated interpretation:

It is talking about different people that try to live lives that aren't true to them. For example the first guy is a drug dealer. He tries to go out and earn his money but he is robbed and killed. The second guy was being intimate with a woman more experienced then hisself. He eventually got aids from her and they both died. So they are saying "don't go chasing waterfalls" (Dont go chasing the big flashy things that always interest you because sometimes they self destruct...dont go after things not meant for you.) instead, just stick to the "rivers and the lakes you're used to" (Go after the things that you are destined for.)

anonymous click a star to vote

Sep 14th 2020 reportWaterfall is a metaphor for a man ejaculating. Rivers and lakes is a metaphor for a women's labia and vagina. Seriously, no one else gets this or is every, even in these times, afraid to see it?

This interpretation has been marked as poor. view anyway anonymous click a star to vote

Feb 22nd 2020 reportI don't know if the writers realized but checkout Hydraulic jump. If you are in a canoe and don't stick to the rivers and likes you are used to but go for waterfalls/weirs.... That undertow can drag you under and hold your body there until way past your death. So it is with other dangerous things you can do in life for quick kicks.

anonymous click a star to vote

Jan 11th 2020 reportI see it many ways. I thought chase your dreams and end up dead. Temptation. Who knows but reading these I now think of it as something worse than I once did. I thought it would be a sexy woman hard to get. Maybe not worth the trouble. Maybe your true interest. Now confused.

anonymous click a star to vote

Jun 2nd 2019 reportWaterfalls are strongly dangerous, falling''into one'', is disastrous. They are forces of nature that look beautiful, but too dangerous to chase. Rivers and streams are slower moving and calm. They can be challenging, but not as deadly as waterfalls which is the force to be reckoned with. It is bout risky choices, think smart.

anonymous click a star to vote

Jun 13th 2017 reportIt sounds like she is talking about herself. She was lucky and got her dreams, other paid the price but at the end she was moving too fast.

anonymous click a star to vote

Aug 18th 2016 reportIn my opinion the Waterfall represents the adage that "If it looks too good to be true it probably is". It seems to me that while a waterfall LOOKS like the quick easy way to get where you want to go,if ya try to ride it, it will end badly. Yer much better off to skip what LOOKS good and do the work (walk down) instead. The Lakes and Rivers, at least to me, is a metaphor for home. Not the dwelling or the blood relatives, cuz not everyone's is safe, but the ppl that care about you and provide a safe place to go for comfort or to recharge when things aren't working out. It's NOT saying don't LEAVE your comfort zone to chase your dreams, but rather don't FORGET it's there while you are. Put together the broader message is "Use good judgement by considering the consequences. BEFORE you take what APPEARS to be the easy route to your ultimate goal, remember it may make it all more difficult after all. And, if ya need some comfort or a reminder that yer not a failure if you fail along the way, GO HOME, regroup, and try again.

anonymous click a star to vote

Apr 14th 2016 reportIt (probably) Means dont go be someone that your not! Be someone that YOU want to be. Be yourself. Be someone thats different from everyone!

anonymous click a star to vote

Apr 3rd 2016 reportDon't chase after the things that are perceived as glorious (water falls), although these things are seemingly exciting and hardcore they do not fulfill your true nature (rivers and lakes). Our purpose is to discover who we truly are, being our true selves is the only way we can live in peace and joy we however are tempted by that which is outside this state.

anonymous click a star to vote

Mar 14th 2016 reportDon't pursue the Quick/easy/flashy Stick to the little : "Boring/average" stuff you're used to. maybe the son is selling drugs or prostituting...maybe the guy hooks up too soon (unprotected) with the HIV infected guy or girl...and perhaps you want it your way or no way at all...but you must see that you're moving too fast! Take it easy! DON'T GO CHASING WATERFALLS!!!! they're fast moving/ever changing water falls! Something beautiful and mystical that is constantly changing...nothing to base your life on!

anonymous click a star to vote

Mar 14th 2016 reportDon't pursue the Quick/easy/flashy Stick to the little. "Boring/average" stuff you're used to. maybe the son is selling drugs or prostituting...maybe the guy hooks up too soon (unprotected) with the HIV infected guy or girl...and perhaps you want it your way or no way at all. .but you must see that you're moving too fast! Take it easy! DON'T. GO CHASING WATERFALLS!!!!

anonymous click a star to vote

Mar 11th 2016 reportMany a verse has been written bearing messages about Schistosomia parasitic worms this song is singing to the intruder these creatures are passed through fecal and urinary tracts and to complete the life cycle a cercarie must spend two sporocyte cycles in a snail host then the new life form born into the water must find a host be it animal or human this parasite will swim up the urine stream into a hostThe best way he knows how to make money for many young people prostitution is entirely possible and spreading HIV or selling cocaine a customer could overdose. Little Precious has a natural obsession for temptation there are (spirits,demons habits, perhaps these parasites jump from host to host) maybe inference to cocaine providing income as well as distraction.Let's remember HIV can be passed using a dirty needle. I do find it curious how many decided little precious a woman and not a male though.A glimpse in the mirror not recognizing his own face went out and committed robbery to secure money for medical care pleading insanity. A mental hospital is doubtly safer than a prison.

anonymous click a star to vote

Jul 22nd 2015 reportI can go back and forth with alot of people on the way they view the chorus... Basically to me, it can say "Don't make a stupid choice... be smart!!" On the other hand... "Chasing a waterfall"... wouldn't that be like chasing your dreams?? You should just "stick the rivers and the lakes you are used to?" I was taught Go BIG or Go HOME! Like i said... Two different ways to look at it...

anonymous click a star to vote

Jun 1st 2015 reportThis song is trying to get a simple message through your heads, and trying to help you. They are saying: "Don't go chasing waterfalls" meaning, don't make stupid choices, and when they say:"Please stick to the rivers and lakes that you're used to" they mean do what makes your life better, do what you were meant to do, don't do something you will regret and be safe.

anonymous click a star to vote

Jul 5th 2012 reportProverbs 5:1-2, 15-20 1 My son, attend unto my wisdom, and bow thine ear to my understanding:2 That thou mayest regard discretion, and that thy lips may keep knowledge.15 Drink waters out of thine own cistern, and running waters out of thine own well.16 Let thy fountains be dispersed abroad, and rivers of waters in the streets.17 Let them be only thine own, and not strangers' with thee.18 Let thy fountain be blessed: and rejoice with the wife of thy youth.19 Let her be as the loving hind and pleasant roe; let her breasts satisfy thee at all times; and be thou ravished always with her love.20 And why wilt thou, my son, be ravished with a strange woman, and embrace the bosom of a stranger?The female "hip hop" group TLC gave a warning from Proverbs 5 perhaps without even realizing it..."Don't go chasing waterfalls.Please stick to the rivers and the lakes that you're used to.I know that you're gonna have it your way or nothing at all, but I think you're moving too fast."If the church could learn to be true and faithful --- husbands to wives --- members to the body --- Christians to Christ. WOW!!! What a difference our marriages and our families would be in the world. For the body of Christ to be healthy - don't get tricked by LSD - lust, sin, death. Our constant foes - the lust of the flesh, the lust of the eyes, and the pride of life --- The world, the flesh, and the devil will have you chasing waterfalls - might look beautiful but the end could be a crash on the rocks and a watery grave - read Proverbs 5 and beware and be warned and be wise!!! You'll be blessed and be a blessing :-)

anonymous click a star to vote

May 3rd 2012 reportI think alot of times we as humans can't avoid certain situations like lust which is definitly a bad temptation that young girls are pressured with from guys that are players

More TLC song meanings >>

The Strecker Memorandum

Wed, 27 Oct 2021 20:45

UMOJA-Research.com

READ, THINK, LISTEN & PAY ATTENTION

****************************************************************************************************************************************

THE STRECKER MEMORANDUM

The Strecker Memorandum is a 96 minute Video Tape and one of the most controversial video tapes you will ever see. Robert B. Strecker M.D. PhD, presents with document evidence the Truth about AIDS being a Man-Made Disease. In his video he lectures how the AIDS Virus was Predicted, Requested, Created and introduced into human population through Medical Injection Programs. Dr. Strecker practices Internal Medicine and Gastroenterology in Los Angeles as a trained pathologist, with a PhD in Pharmacology.

Dr. Strecker and his brother, Attorney Theodore A. Strecker, were doing a Health Maintenance Proposal for Security Pacific Bank in California in 1983. Security Pacific Bank wanted to know what the long term financial effects would be, should it venture in the Health Maintenance Organization (HMO) business, insuring the treatment of AIDS patients. Because this information was not available in 1983, Dr. Strecker and his brother Ted Strecker began researching the medical literature to learn what they could about this new disease. The information they uncovered right from the beginning was so startling to them, so hard to believe, that it would dramatically alter both their lives and lead them on a five year quest culminating with the creation of "The Strecker Memorandum", one of the most controversial video tapes of our time, in addition to a remarkable set of documents called "The Bio-Attack Alert".

WHAT THEY DISCOVERED

Right there in the medical literature for anyone to read for themselves was, basically, proof that the AIDS virus and pandemic was actually predicted years ago by a world-famous virologist, among others. They found that top scientists writing in the Bulletin of the World Health Organization were actually requesting that AIDS-like viruses be created to study the affects on humans. In fact, the Strecker's unearthed thousands of documents all supporting the man-made origin of AIDS.

Meanwhile, the government was telling everyone that a green monkey in Africa bit some native and started AIDS. As their research continued, it became obvious from the documentation that the virus itself was not only created as requested, but actually deployed, and now threatens the existence of mankind because it does what it was designed to do: cause cancer in humans via a contagious virus. Eventually, the Strecker's came to realize everything the government, the so-called AIDS experts and media were telling the public was not only misleading, but out and out lies. . . .

THE SCARIEST PART

The most dreaded fear that all oncologist (cancer doctors), virologists, and immunologists live with is that some day cancer, in one form or another, will become a contagious disease, transferable from one person to another. AIDS has now made that fear a reality. If you think you are safe because you are not gay or promiscuous, or because you are not sexually active, then you must watch The Strecker Memorandum very carefully. . . .

THOUSANDS ARE ALREADY DEAD

Over one hundred thousand Americans have already died because they didn't know the truth about AIDS. Approximately 23 million Americans are already infected. More than 1 in 60 babies born in New York City is infected; three in 100 college students in America [one in 33] is infected; one in 20 aliens applying for amnesty is infected, including men, women and children . . . .

WHY A VIDEO TAPE?

One of the first things the Strecker's did was to try and tell their medical and legal colleagues what they were finding in the literature. Some were interested; most were not. Certainly no one was prepared to risk their professional standing by making waves within the establishment. Ted Strecker compiled some of the most damaging documents into a report he called "The Bio-Attack Alert" and sent it to every Governor of every state, the President, the Vice-President (George Bush), the FBI, the CIA, the NSA, and selected members of Congress. He got a grand total of three replies from three governors, nothing from the government. Both he and Dr. Strecker were laughed at and ridiculed at every turn. As an example, Dr. Strecker told the government in 1985 that virtually every person testing positive for AIDS would die prematurely and painfully. The government said that was nonsense. Their figures showed that maybe ten percent at most would die from the disease. In 1986, the government said maybe 50 percent of those infected would die, in 1987, they said maybe 75 percent, in 1988 they finally agreed with Dr. Strecker that AIDS is virtually 100 percent fatal. We could go on with facts Dr. Strecker unearthed that the "experts" said were wrong and now accepted as the truth. Dr. Strecker, like a good scientist, submitted paper after paper with his findings published in Europe. Again, closed doors. What to do? Dr. Strecker did not feel he could take the time from his practice and his research to write a book. On the other hand, everyone has a TV and now most households have a VCR. The time involved to make a video is nothing compared to writing a book, and so the video The Strecker Memorandum was created. It is 96 minutes of the most startling, controversial, and information-packed video you will ever see. It disputes virtually everything the American public is being told by the government, so-called AIDS experts, and the media. In fact, after seeing it YOU will know more about AIDS than 99 percent of all doctors in America.

MUSIC IS NOTHING IF THE AUDIENCE IS DEAF

With the video made, it seemed a simple matter to advertise it and the world would now become aware of what it was facing, right? Wrong! The fact that you are even reading about The Strecker Memorandum now is a minor miracle by itself, inasmuch as TV stations have refused to advertise it. TV and radio time brokers that sell blocks of commercial time have refused to sell us time. TV station managers have refused to even air programs containing interviews with Dr. Strecker. A national radio network did an interview with a famous talk show host and Dr. Strecker-and then refused to run it. Virtually every big name network television magazine show and all the syndicated TV interviewers and talk show hosts have said NO to Dr. Strecker. Big city newspapers will not take any print ads telling about it, and so it goes. WHY? What is in The Strecker Memorandum that sends a cold chill down the spine of most media executives?

WHY IS EVERYONE AFRAID OF THE STRECKER MEMORANDUM?

The excuse we hear over and over is that it is too controversial. Too controversial? They say that this information, if widely disseminated, will cause the public to panic. If someone had poisoned our water supply and you and your family could die, wouldn't you want to know about it? Would you panic? Or would you more likely be outraged and try to find out who did it and punish them? We feel the only persons who might panic are those scientists who willingly or otherwise created AIDS and are now promoting misinformation by covering it up. . .

THINK OF YOUR FAMILY AND FRIENDS -NOW THINK OF THEM DEAD

It may take a while before the words "species threatening" sink in, because the term has rarely been used before to describe an existing human condition. But once you realize the implications of that term and realize that, unlike any other kind of disease ever known to man, past or present, AIDS can, if unchecked kill every human on earth, then your outlook and attitude regarding everything in life must change. Whether you like it or not and despite all your precautions, the time will come when you will test positive for AIDS, and it can happen much quicker than you realize.

IT'S OUT THERE

The number of AIDS-infected people is doubling approximately every 12 months, and in some areas even sooner. With 23 million Americans carrying the virus, you don't have to be a rocket scientist to see how long we have here in the U.S. Africa has, conservatively, 75 million infected; some estimates double that. Brazil as a country is in serious jeopardy because all through the 1970's they were buying their blood supply from Africa. On top of that, the World Health Organization conducted a large scale small pox vaccination program there in the 1970s (for the full implications of that see The Strecker Memorandum). Southern Japan has at least 30 percent infected with HTLV-I, the leukemia-causing virus (although you will never hear about that on TV). Haiti of course, is ravaged by AIDS; more than 20 percent of the people are infected and getting worse every day. And so it goes. Virtually every nation on earth with few exceptions (Iran is one) is reporting a growing problem. It's on every continent, every sub-continent, and every island chain, Atlantic and Pacific. So why won't the media or government tell you these things? Is it too controversial for you to handle? Are you going to panic?

IS THERE ANY HOPE

Yes and no. No, if you are waiting for the government to create a magic bullet. As you will see in The Strecker Memorandum, part of the problem is that all the various AIDS viruses are recombinant Retroviruses. Very simply, that means they have the ability to recombine with the genes of any cell they enter and the offspring or new viruses they form are different from the parent viruses. HTLV-III alone (that's the most common American AIDS virus) has the mathematical ability to change itself 4 to the 9,000th power. The common cold recombines much less frequently and we haven't found a cure for it after a hundred years. Besides, does it make much sense to entrust the cure for AIDS to the same people that may have created it?

Yes, there is hope if Dr. Strecker and a growing number of realistic scientists are correct in looking at alternative, non-allopathic, non-drug modalities based on Raman spectroscopy. In fact, much research is going on now that offers great promise. Unfortunately, our government takes a dim view of any type of treatment for any type of disease-let alone AIDS-that does not conform to its rigid rules for acceptance, registration and legalization. Of course the FDA would definitely like to see an allopathic drug treatment or cure presented by an ethical drug company or university. Well, we don't think that's going to happen. Because of this attitude, much experimentation in America must go underground, underfunded, or out of the country entirely. Again this is explained further in The Strecker Memorandum.

BE BOLD AND MIGHTY FORCES WILL COME TO YOUR AID-OR

MIGHTY FORCES WILL COME AND KILL YOU

An ominous personal aspect of this story has been the sudden and unexpected deaths of two of the key players. First, Dr. Strecker's brother, Ted Strecker, was found shot to death in his home in Springfield, Missouri, an apparent suicide, on August 11, 1988. Was Ted Strecker suicidal? Perhaps. In the past he suffered from depression and monumental frustration at the relative lack of interest in his findings. Dr. Strecker spoke with him the night before his death. Ted was cheerful, in good spirits, and looking forward to certain new developments that promised progress. The next day he was found dead, his 22-caliber rifle next to him. No message, no goodbyes to anyone. Officially a suicide. Next, Illinois State Representative Douglas Huff of Chicago was found alone in his home, dead from an apparent overdose of cocaine and heroin, on September 22, 1988. Representative Huff did everything in his power to make the Illinois State Legislature and the people of Chicago aware of Dr. Strecker's work. He was very vocal, gave many press interviews, was constantly on television and radio urging people to wake up to the cover-up concerning AIDS. Did Representative Huff use drugs? Perhaps. Was he an addict? No. Would he have known how dangerous a massive overdose of cocaine and heroin was? Yes, of course. Cause of death: officially a stroke. Dr. Strecker has serious doubts that his brother killed himself. Representative Huff's associates doubt he died accidentally, and yet they are gone. Who's next?

IGNORANCE IS BLISS, OR IS IT SUICIDE?

We all know it is easier for a king to have a lie believed than a beggar to spread the truth. Well, we are spreading the truth about AIDS. Unfortunately, it isn't pretty. But the fact is, you are not being told the truth by the government or the so-called AIDS experts. The media, for reasons of their own, will not present information contradicting the official propaganda. So you can choose to go along with the same people who gave us brain cancer (SV-40 virus) as a result of their contaminated polio vaccines in the early 1960's, a polio-like disease from their contaminated Swine Flu Vaccine in the 1970's; and AIDS from their smallpox and hepatitis B vaccines; or, you can at least make yourself aware of the clear and present dangers that we all face by watching The Strecker Memorandum. The cost of the tape is nominal, but we submit that remaining ignorant can cost infinitely more.

THE STRECKER GROUP 1501 Colorado Blvd., Eagle Rock, CA 90041 (203)344-8039

Note: The above information is part of the handouts included with The Strecker Memorandum Video Tape

The Strecker Group

HOME ** 1st Amendment ** Welcome ** Contents ** Introduction **

** THEODORE A. STRECKER ** THE BIO-ATTACK Alert **

** Strecker Reference Lists ** Zears Miles **

** AIDS, Murder or Mystery? ** AIDS, Murder or Mystery Docs **

** People Along The Way ** Hot Documents ** Food For Thought **

** Books ** Links **

Books by Dr. Leonard Horowitz

Wed, 27 Oct 2021 20:43

Books by Dr Leonard Horowitz The Book of 528: Prosperity Key of Love

The Book of 528: Prosperity Key of LOVE presents the Creator's technology to end all wars and set biology free from petrochemical intoxication and threatened extinction.

The ''528LOVERevolution'' is happening now, on time, to remedy the world's deadliest problems. That's why musicians, vocalists, and natural healers worldwide are already celebrating this ''ecstatic tuning'' to LOVE/528.

This book provides the science, math, discussions, and instructions proving LOVE resonates at 528 frequency''the reason grass is green and animals eat it to be miraculously healed. The book also awakens your highest spiritual instincts and intelligence to LOVE and being LOVED. Walking in that light''''The ZONE''''heals you and others you touch as the good vibration expands. This frequency opens people's hearts globally.

The truth about LOVE, in the Creator's heart, is thrilling and sustaining. That warm fuzzy feeling you have in your heart when you are in LOVE reflects this frequency of energy that matrix mathematics and facts in physics proves is 528Hz frequency of sound and 528nm of light.

''Astonishing revelations about Divine creation, with revolutionary new healing applications. . . .''

This energy radiates at the heart of everything. It is the reason grass is green, the Yin/Yang symbol is shaped like a ''69,'' and there are exactly 5280 feet in a mile. The ''Life Force'' of 528nm/Hz is fundamental to everything including the sun, pyramids, circles, squares, rainbows, pi, Phi, the fibonacci series, buzzing bees, and snowflakes. That's why Dr. Leonard Horowitz named it the ''Universal LOVE/528 Constant.''

528Hz'--the original ''MIracle 6'' note of the Solfeggio musical scale'--broadcasts through a ''Master Matrix'' that the religious world calls the Kingdom of Heaven. 528 is now determined to be the ''key to the house of David,'' prophesied in the Bible (Isaiah 22:22 and Rev. 3:6-8), compelling the promised 1000 years of world peace.

The revelations here are ''mind-blowing'' and ''life-changing.'' This evidence merges science and theology to explain spirituality as vibrating energy. These revelations secure your freedom from doctrines that are downright foolish, poisoning, and dis-easing.

Shocking and uplifting findings expose what's missing and neglected in science, religion, medicine, and metaphysics that is optimally healing, freeing, and sustaining.

Walk on Water provides startling proof of heaven on earth; the musical manifestation of the material world, and the mathematics of spirituality and Love connecting your heart to the center of the universe!

If your search for purpose and meaning in life is ongoing; if you've been challenged by modern stresses and strains; if political events, economic burdens, and environmental concerns trouble you; or if your health and well-being needs boosting, Dr. Horowitz provides an unparalleled peek into your Creator's technology. He unearths compelling scientific evidence of your spiritual sustenance, and gives practical advice for your success as a powerful co-creator.

If you are interested in alternative medicine, metaphysics, music, simple mathematics, chanting, or praying, Dr. Horowitz relays great news. Walk on Water ''opens doors that no man can close'' regarding your spirituality, unity with Divine family, and the importance of your family and community for personal development, spiritual evolution, and planetary salvation.

THIS BOOK MONUMENTALLY PRESENTS THE SCIENTIFIC PROOF OF ''INTELLIGENT DESIGN'' UNDERLYING EVOLUTION & HEALING. IT EXPLAINS THE LUNACY OF PRACTICING CHEMICAL TOXICITY AND PHARMACEUTICAL SORCERY WHEN DIVINE INTELLIGENCE AND NATURAL HEALING IS CURRENTLY AVAILABLE TO EVERYONE.

Read Dr. Horowitz's Evolve! Interview on WoWRead a WoW Book Review from Oneness Press

Healing Codes for the Biological Apocalypse''Healing Codes'' returns the most precious spiritual knowledge, power and ''healing codes'' in the Bible to humanity. It offers new hope for the loving masses to survive the worldwide plagues, famine and weather changes that are now at hand. In perfect time for these cataclysmic events, Healing Codes presents an urgent, monumental and inspired work that will be hailed for generations to come. In this book, Dr. Horowitz and Dr.Puleo investigate 2000 years of religious and political mischief, and the latest technologies being used to enslave, coerce, and even kill billions of unsuspecting people. Must reading!

Love The Real Da Vinci Code

LOVE the Real Da Vinci CODE is prompting a natural healing revolution worldwide. In this astonishing and monumental book, ''World Leading Intellectual,'' Dr. Leonard Horowitz, decrypts Leonardo Da Vinci's most famous drawing, The Vitruvian (Wo)Man that provides the most powerful knowledge for recreating yourself in perfect health vibrationally, musically and mathematically, with LOVE. This book provides practical knowledge and exercises to regain your physical harmony and health most rapidly. It maps your way to spiritual, metaphysical, and theological integrity, most definitely. Written to serve evolution for Divine-human communion, personal empowerment, and a life full of miraculous manifestations, the hardcover book, or e-book is available here.

Emerging Viruses: AIDS & Ebola''Nature, Accident or Intentional?

This is Dr. Leonard G. Horowitz's national best-seller (that the New York Times refused to review and the mainstream media has censored. This massive medical research text written for ''intelligent readers'' provides the first in-depth exploration into the origins of HIV and Ebola.

Claims that ''emerging viruses,'' AIDS, Ebola, herpes viruses, HPV, hepatitis A, B, and C, Epstein Barr, and the new flu viruses ''naturally evolved'' and then jumped species to infect humanity seem grossly unfounded in light of the compelling evidence assembled in this monumental text.

Alternatively, the evidence is irrefutable that these bizarre germs were laboratory creations, accidentally or intentionally transmitted via tainted hepatitis and smallpox vaccines in the U.S. and Africa '' as numerous authorities have alleged, but no one like Dr. Horowitz has been able to prove. This text presents several ''smoking guns.'' (For much compelling primary source reading, buy copies of the Special Virus Cancer Program progress reports.

Emerging Viruses by Horowitz reviews numerous viral vaccine studies conducted in New York City and Central West Africa by a network of virologists working for major military/medical contractors under the auspices of the National Cancer Institute and the World Health Organization.

Read Reviews of Emerging Viruses

Highest Recommendation and Glowing Praise

A Review in The CrusadorDNA: Pirates of the Sacred Spiral

Description: Based on the latest science, this monumental book considers both uses and abuses of DNA '-- ''The Sacred Spiral.'' Stunning evidence compiled herein probes DNA is nature's bioaccoustic and electromagnetic (that is, ''spiritual'') energy receiver, signal transformer, and quantum sound and light transmitter. In other words, the bioenergetics of genetics precipitates life. These scientific revelations bring expanded spiritual meaning to life, physical embodiment, and even evolution. Yet, leading genetic industrialists prefer to keep these uplifting and freeing truths secret. The infamous untrustworthy ''Human Genome Pirates'' operate covertly, controlling genetic patents, spin-off technologies, and public information dissemination. With the world's most powerful banking and pharmaceutical cartel behind them, they now control civilization's destiny. The greatest risk of manipulation and threatened extinction is at hand. As humanity teeters on the brink of unprecedented DNA-mediated, spiritual ascendance or complete enslavement if not extinction, argues award winning author and public health expert, Dr. Leonard Horowitz, this riveting prose provides critical direction for humanity's physical spiritual salvation. This book offers revolutionary new views of emerging genetic research consistent with largely secreted science and sacred spiritual knowledge. Chapters incorporated this metaphysical science non-fiction thriller include discussions of electro-genetics, quantum physics, bioholography, human consciousness, and even spiritual dynamics, to accomplish an urgent mission: awaken humanity to the highest levels of risk awareness and accountability for our planet's destiny.

Highest Recommendation and Glowing Praise from Reviewers.

Click here to read reviews.Exposes the Scams and White Collar Criminals Behind America's ''War on Terrorism''Death in the Air: Globalism, Terrorism & Toxic Warfare

In the wake of the Sept. 11, 2001 terrorist attacks on America, and the pending ''Space Preservation Act of 2002'' (H.R. 3616), this prophetically titled masterpiece is MUST AND URGENT READING! By giving you the full background and complete picture of who funds global terrorist organizations AND space based-weapons, and for what demonic purposes, Dr. Horowitz's latest book may help save the planet and millions of lives. Released in June 2001, this award-winning author's predictions have now come true. Coming soon is biowarfare, increasing global plagues, nuclear threats, more massive droughts and earthquakes, and population control technologies operated from space and effective beyond your wildest nightmares. Will you be prepared with the intelligence you and your loved ones need to survive? For beginners, this book is a crash course and reality check. For seasoned preparedness and conspiracy buffs, here is your next level, urgent lessons, and stunning documentation! Again, this intelligence may be crucial to you and your family's physical and spiritual survival. Order it Now!

Healing Celebrations: Miraculous Recoveries Through Ancient Scripture, Natural Medicine & Modern Science

Healing Celebrations reveals the hidden truths regarding your health, well-being, and miraculous healing. Drawing on ancient scriptures, natural medicine, and modern science, these truths, applied in your life, can help you turn illnesses into blessings and life threatening diseases into supernatural recoveries. Dr. Horowitz presents his powerfully therapeutic protocol in this book adopted by thousands of health professionals worldwide. This book, and related seminars conducted by Dr. Horowitz, delivers an extraordinary message of hope at a challenging time in human history, especially for people in need of healing.

Horowitz 'On Vaccines' (CD)

This is the greatest life-saving product Dr. Horowitz ever produced.

Horowitz 'On Vaccines' was our best-selling CD for years. This extraordinary 90-minute compilation of Dr. Horowitz's lecture presentations and interviews covers what health authorities are withholding about the inefficacy and danger of vaccinations. Included is information that will make the staunchest vaccine proponent balk. Instructions for demanding your civil and religious right to refuse vaccines for your children are included. This CD has literally saved thousands of lives!

Horowitz 'Headaches & TMJ Pain Syndrome'Dr. Horowitz draws on his sixteen (16) years in clinical practice with a multi-disciplinary team of specialists treating head and neck pain patients referred from stymied caregivers from Harvard, Tufts and Boston's Northshore. This is an awesome self-care package that takes you through everything you need to know and do to rid yourself of the underlying causes of chronic head and neck pains. If medical and dental experts have let you down, start here to get lasting relief.

The Rockefeller University >> Natural infection versus vaccination: Differences in COVID antibody responses emerge

Wed, 27 Oct 2021 19:37

Colored transmission electron micrograph (TEM) of SARS-CoV-2 coronavirus particles. Credit: National Infection Service/SCI.

This news story has been updated to reflect the publication of the study, previously available on BioRxiv, in a peer-reviewed journal.

Hope for a future without fear of COVID-19 comes down to circulating antibodies and memory B cells. Unlike circulating antibodies, which peak soon after vaccination or infection only to fade a few months later, memory B cells can stick around to prevent severe disease for decades. And they evolve over time, learning to produce successively more potent ''memory antibodies'' that are better at neutralizing the virus and more capable of adapting to variants.

Vaccination produces greater amounts of circulating antibodies than natural infection. But a new study suggests that not all memory B cells are created equal. While vaccination gives rise to memory B cells that evolve over a few weeks, natural infection births memory B cells that continue to evolve over several months, producing highly potent antibodies adept at eliminating even viral variants.

The findings highlight an advantage bestowed by natural infection rather than vaccination, but the authors caution that the benefits of stronger memory B cells do not outweigh the risk of disability and death from COVID-19.

''While a natural infection may induce maturation of antibodies with broader activity than a vaccine does'--a natural infection can also kill you,'' says Michel C. Nussenzweig, the Zanvil A. Cohn and Ralph M. Steinman professor and head of Rockefeller's Laboratory of Molecular Immunology. ''A vaccine won't do that and, in fact, protects against the risk of serious illness or death from infection.''

Your body on COVID-19

When any virus enters the body, immune cells immediately churn out hordes of circulating antibodies. Foot soldiers of the immune system, these antibodies burn bright but decay at variable rates depending on the vaccine or infection'--they may protect us for months or years but then dwindle in number, allowing possible reinfection.

The immune system has a backup plan: an elite cadre of memory B cells that outlive circulating antibodies to produce so-called memory antibodies that provide long-term protection. Studies suggest that memory B cells for smallpox last at least 60 years after vaccination; those for Spanish flu, nearly a century. And while memory B cells don't necessarily block reinfection, they can prevent severe disease.

Recent studies have suggested that within five months of receiving a vaccine or recovering from a natural infection, some of us no longer retain sufficient circulating antibodies to keep the novel coronavirus at bay, but our memory B cells stand vigilant. Until now, however, scientists did not know whether the vaccines could be expected to provide the sort of robust memory B cell response seen after natural infection.

The convalescent advantage

Nussenzweig and colleagues resolved to tease out any differences in memory B cell evolution by comparing blood samples from convalescent COVID-19 patients to those from mRNA-vaccinated individuals who had never suffered natural infection.

Vaccination and natural infection elicited similar numbers of memory B cells. Memory B cells rapidly evolved between the first and second dose of the Pfizer and Moderna vaccines, producing increasingly potent memory antibodies. But after two months, progress stalled. The memory B cells were present in large numbers and expressed potent antibodies, but the antibodies were not getting any stronger. Also, although some of these antibodies were able to neutralize Delta and other variants, there was no overall improvement in breadth.

With convalescent patients, on the other hand, memory B cells continued to evolve and improve up to one year after infection. More potent and more broadly neutralizing memory antibodies were coming out with every memory B cell update.

To boost or not to boost

There are several potential reasons that memory B cells produced by natural infection might be expected to outperform those produced by mRNA vaccines, the researchers say.

It is possible that the body responds differently to viruses that enter through the respiratory tract than those that are injected into our upper arms. Or perhaps an intact virus goads the immune system in a way that the lone spike protein represented by the vaccines simply cannot. Then again, maybe it's that the virus persists in the naturally infected for weeks, giving the body more time to mount a robust response. The vaccine, on the other hand, is flushed out of the body mere days after triggering the desired immune response.

Regardless of the cause, the implications are clear. We can expect memory B cells to undergo limited volleys of evolution in response to mRNA vaccines, a finding that may have significant implications for the design and rollout of booster shots. A booster with the currently available mRNA vaccine would be expected to engage memory cells to produce circulating antibodies that are strongly protective against the original virus and somewhat less so against the variants, Nussenzweig says.

''When to administer the booster depends on the object of boosting,'' he says. ''If the goal is to prevent infection, then boosting will need to be done after 6 to 18 months depending on the immune status of the individual. If the goal is to prevent serious disease boosting may not be necessary for years.''

How Much Does Truvada for PrEP Cost?

Wed, 27 Oct 2021 19:19

Truvada is a type of drug that helps reduce the risk of HIV infection, which is called pre-exposure prophylaxis (PrEP). It blocks an enzyme that the human immunodeficiency virus (HIV) needs to copy itself inside your body.

When you take Truvada every day, it can lessen the chance that you'll get HIV from sex by about 99%, and from injecting drugs by about 74%. The one downside to Truvada is that it's very expensive for people who don't have health insurance.

How much does a Truvada prescription cost?A month's supply of Truvada is nearly $2,000 without insurance. Most private health insurance companies, Medicare, and Medicaid will cover the cost. But private insurers may charge high copayments -- the amount you have to pay out of pocket for the drug.

In 2019, the U.S. Preventive Services Task Force -- a panel of disease prevention experts -- recommended that doctors prescribe PrEP for anyone at high risk for HIV. That includes men who have sex with men, straight people who might catch HIV through sex, and people who inject drugs.

Because of this decision, most health insurance plans will be required to cover Truvada and the other PrEP drug, Descovy. If you're in an at-risk group, you shouldn't have to pay anything out of pocket. In the meantime, assistance programs could help you cover the cost of PrEP if you qualify for them.

What assistance programs can help?Here are some of the programs that will cover some or all the cost of Truvada:

Advancing Access Medication Assistance Program

Who sponsors it: Gilead, the maker of Truvada

What it covers: Out-of-pocket costs for Truvada, up to $7,200 per year. It doesn't cover the costs of doctor visits or lab tests.

Who is eligible: People who don't have health insurance, or whose health insurance won't cover Truvada. There are no income restrictions.

Ready, Set, PrEP

Who sponsors it: The U.S. Department of Health & Human Services and Gilead, which donates 2.4 million bottles of Truvada and Descovy to the program each year

What it covers: The cost of Truvada

Who is eligible: People who don't have prescription drug coverage, have tested negative for HIV, and have a prescription for Truvada

Co-Pay Relief Program

Who sponsors it: The Patient Advocate Foundation, a nonprofit organization that helps people with chronic or life-threatening diseases

What it covers: Out-of-pocket costs for Truvada, up to $7,500 per year. It doesn't cover the costs of doctor visits or lab tests.

Who is eligible: People who don't have health insurance, or whose insurance plan doesn't cover Truvada. Your income must be below 400% of the current federal poverty level.

Good Days

Who sponsors it: Good Days, a nonprofit organization that offers resources for people who don't have access to health care

What it covers: Out-of-pocket costs for Truvada, up to $7,500 per year

Who is eligible: People with Medicare or military insurance coverage whose income level is at or below 500% of the current federal poverty level

State programs

A few states have their own drug assistance programs that cover out-of-pocket expenses for PrEP. Some will also cover the costs of doctor visits and lab tests. Requirements to qualify for these programs differ by state.

States with PrEP assistance programs are:

CaliforniaColoradoDistrict of ColumbiaIllinoisMassachusettsNew York stateOhioWashington stateTo learn about these programs, contact your state's department of public health.

Is there a generic version?Generic drugs work the same way as the brand-name versions. The difference is that generics usually cost less.

Right now, no generic drug is available for PrEP, but one should be soon. How much it will cost, and whether it will be cheaper than the brand-name version, is still unknown.

AIDS and the AZT Scandal: 1989 Feature

Wed, 27 Oct 2021 19:13

At the end of 1989, two years after we had started the highly controversial AIDS column in SPIN, we published an article by Celia Farber called ''Sins of Omission'' about the truly bad and corrupt science surrounding promoting AZT as a treatment for the syndrome of diseases.

Celia was the editor and frequent writer of the column and unearthed hard evidence of the cold-bloodedness of the AIDS establishment pushing a drug that was worse than the disease, and killed faster than the natural progression of AIDS left untreated. AZT had been an abandoned cancer drug, discarded because of it's fatal toxicity, resurrected in the cynical belief that AIDS patients were going to die anyway, so trying it out was sort of like playing with the house's money. Because the drug didn't require the usual massively expensive research and trial processes, having gone through that years earlier, it was insanely profitable for its maker, Burroughs Wellcome. It was a tragically perfect storm of windfall profits, something to pacify AIDS activists and the media, and a convenient boom to the patent holders for HIV testing.

Celia '-- who should get the Congressional Medal of Honor for her brave and relentless reporting, here and throughout the ten years we ran the column '-- exposed the worthlessness of the drug, the shady studies and deals to suppress the negative findings, and its awful and final consequences. This piece very literally changed the media's view of AIDS and sharpened their discerning and skeptical eye. And soon after, AZT was once again shelved, hopefully this time forever.

Many times over the years since, people have come up to me and said that reading this article saved their lives, that they either stopped taking the drug and their health improved vastly, or they never took it because of what we reported. Nothing ever made me prouder.

'-- Bob Guccione Jr., founder of SPIN, October 3, 2015

[This story was originally published in the November 1989 issue of SPIN. In honor of SPIN's 30th anniversary, we've republished this piece as part of our ongoing ''30 Years, 30 Stories'' series.]

On a cold January day in 1987, inside one of the brightly-lit meeting rooms of the monstrous FDA building, a panel of 11 top AIDS doctors pondered a very difficult decision. They had been asked by the FDA to consider giving lightning-quick approval to a highly toxic drug about which there was very little information. Clinically called Zidovudine, but nicknamed AZT after its components, the drug was said to have shown a dramatic effect on the survival of AIDS patients. The study that had brought the panel together had set the medical community abuzz. It was the first flicker of hope '-- people were dying much faster on the placebo than on the drug.

But there were tremendous concerns about the new drug. It had actually been developed a quarter of a century earlier as a cancer chemotherapy, but was shelved and forgotten because it was so toxic, very expensive to produce, and totally ineffective against cancer. Powerful, but unspecific, the drug was not selective in its cell destruction.

Drug companies around the world were sifting through hundreds of compounds in the race to find a cure, or at least a treatment, for AIDS. Burroughs Wellcome, a subsidiary of Wellcome, a British drug company, emerged as the winner. By chance, they sent the failed cancer drug, then known as Compound S, to the National Cancer Institute along with many others to see if it could slay the AIDS dragon, HIV. In the test tube at least, it did. At the meeting, there was a lot of uncertainty and discomfort with AZT. The doctors who had been consulted knew that the study was flawed and that the long-range effects were completely unknown. But the public was almost literally baying at the door. Understandably, there was immense pressure on the FDA to approve AZT, considering the climate of fear and anger all around.*

Everybody was worried about this one. To approve it, said Ellen Cooper, an FDA director, would represent a ''significant and potentially dangerous departure from our normal toxicology requirements.'' Just before approving the drug, one doctor on the panel, Calvin Kunin, summed up their dilemma. ''On the one hand,'' he said, ''to deny a drug which decreases mortality in a population such as this would be inappropriate. On the other hand, to use this drug widely, for areas where efficacy has not been demonstrated, with a potentially toxic agent, might be disastrous.''

''We do not know what will happen a year from now,'' said panel chairman Dr. Itzhak Brook. ''The data is just too premature, and the statistics are not really well done. The drug could actually be detrimental.'' A little later, he said he was also ''struck by the fact that AZT does not stop deaths. Even those who were switched to AZT still kept dying.''

''I agree with you,'' answered another panel member, ''there are so many unknowns. Once a drug is approved, there is no telling how it could be abused. There's no going back.'' Burroughs Wellcome reassured the panel that they would provide detailed two-year follow-up data, and that they would not let the drug get out of its intended parameters: as a stopgap measure for very sick patients.

Dr. Brook was not won over by the promise. ''If we approve it today, there will not be much data. There will be a promise of data,'' he predicted, ''but then the production of data will be hampered.'' Brook's vote was the only one cast against approval.

''There was not enough data, not enough follow-up,'' Brook recalls. ''Many of the questions we asked the company were answered by, 'We have not analyzed the data yet,' or, 'We do not know.' I felt that there was some promising data, but was very worried about the price being paid for it. The side effects were so very severe. It was chemotherapy. Patients were going to need blood transfusions, that's very serious.''

''The committee was tending to agree with me,'' says Brook, ''that we should wait a little bit, be more cautious. But once the FDA realized we were intending to reject it, they applied political pressure. At about 4 p.m., the head of the FDA's Center for Drugs and Biologics asked permission to speak, which is extremely unusual. Usually they leave us alone. But he said to us, 'Look, if you approve the drug, we can assure you that we will work together with Burroughs Wellcome and make sure the drug is given to the right people.' It was like saying 'please do it.'''

Brad Stone, FDA press officer, was at that meeting. He says he doesn't recall that particular speech, but that there is nothing ''unusual'' about FDA officials making such speeches at advisory meetings. ''There was no political pressure,'' he says. ''The people in that meeting approved the drug because the data the company had produced proved it was prolonging life. Sure it was toxic, but they concluded that the benefits clearly outweighed the risks.'' The meeting ended. AZT, which several members of the panel still felt uncomfortable with and feared could be a time bomb, was approved.

[featuredStoryParallax id=''165197'" thumb=''http://static.spin.com/files/2015/10/aids-research-now-1992-145—145.jpg'']

Flash forward: August 17, 1989. Newspapers across America banner-headlined that AZT had been ''proven to be effective in HIV antibody-positive, asymptomatic, and early ARC patients,'' even though one of the panel's main concerns was that the drug should only be used in a last-case scenario for critically-ill AIDS patients, due to the drug's extreme toxicity. Dr. Anthony Fauci, head of the National Institutes of Health (NIH), was now pushing to expand prescription.

The FDA's traditional concern had been thrown to the wind. Already the drug had spread to 60 countries and an estimated 20,000 people. Not only had no new evidence allayed the initial concerns of the panel, but the follow-up data, as Dr. Brook predicted, had fallen by the wayside. The beneficial effects of the drug had proven to be temporary. The toxicity, however, stayed the same.

The majority of those in the AIDS-afflicted and medical communities held the drug up as the first breakthrough on AIDS. For better or worse, AZT had been approved faster than any drug in FDA history, and activists considered it a victory. The price paid for the victory, however, was that almost all government drug trials, from then on, focused on AZT '-- while over 100 other promising drugs were left uninvestigated.

Burroughs Wellcome stock went through the roof when the announcement was made. At a price of $8.000 per patient per year (not including blood-work and transfusions), AZT is the most expensive drug ever marketed. Burroughs Wellcome's gross profits for next year are estimated at $230 million. Stock market analysts predict that Burroughs Wellcome may be selling as much as $2 billion worth of AZT, under the brand name Retrovir, each year by the mid-1990s '-- matching Burroughs Wellcome's total sales for all its products last year.

''Does AZT do anything? Yes, it does. But the evidence that it does something against HIV is really not there.''

AZT is the only antiretroviral drug that has received FDA approval for treatment of AIDS since the epidemic began ten years ago, and the decision to approve it was based on a single study that has long been declared invalid. The study was intended to be a ''double-blind placebo-controlled study,'' the only kind of study that can effectively prove whether or not a drug works. In such a study, neither patient nor doctor is supposed to know if the patient is getting the drug or a placebo. In the case of AZT, the study became unblinded on all sides, after just a few weeks.

Both sides contributed to the unblinding. It became obvious to doctors who was getting what because AZT causes such severe side effects that AIDS per se does not. Furthermore, a routine blood count known as a CMV, which clearly shows who is on the drug and who is not, wasn't whited out in the reports. Both of these facts were accepted and confirmed by both the FDA and Burroughs Wellcome, who conducted the study.

Many of the patients who were in the trial admitted that they had analyzed their capsules to find out whether they were getting the drug. If they weren't, some bought the drug on the underground market. Also, the pills were supposed to be indistinguishable by taste, but they were not. Although this was corrected early on, the damage was already done. There were also reports that patients were pooling pills out of solidarity to each other. The study was so severely flawed that its conclusions must be considered, by the most basic scientific standards, unproven.

The most serious problem with the original study, however, is that it was never completed. Seventeen weeks into the study, when more patients had died in the placebo group, the study was stopped, five months prematurely, for ''ethical'' reasons: It was considered unethical to keep giving people a placebo when the drug might keep them alive longer. Because the study was stopped short, and all subjects were put on AZT, no scientific study can ever be conducted to prove unequivocally whether AZT does prolong life.

Dr. Brook, who voted against approval, warned at the time that AZT, being the only drug available for doctors to prescribe to AIDS patients, would probably have a runaway effect. Approving it prematurely, he said, would be like ''letting the genie out of the bottle.''

Brook pointed out that since the drug is a form of chemotherapy, it should only be prescribed by doctors who have experience with chemotherapeutic drugs. Because of the most severe toxic effect of AZT '-- cell depletion of the bone marrow '--patients would need frequent blood transfusions. As it happened, AZT was rampantly prescribed as soon as it was released, way beyond its purported parameters. The worst-case scenario had come true: Doctors interviewed by the New York Times later in 1987 revealed that they were already giving AZT to healthy people who had tested positive for antibodies to HIV.

The FDA's function is to weigh a drug's efficacy against its potential hazards. The equation is simple and obvious: A drug must unquestionably repair more than it damages, otherwise the drug itself may cause more harm than the disease it is supposed to fight. Exactly what many doctors and scientists fear is happening with AZT.

''I personally do not prescribe AZT. I have continued to experience that people live longer who are not on it.''

AZT was singled out among hundreds of compounds when Dr. Sam Broder, the head of the National Cancer Institute (NCI), found that it ''inhibited HIV viral replication in vitro.'' AIDS is considered a condition of immune suppression caused by the HIV virus replicating and eating its way into T-4 cells, which are essential to the immune system. HIV is a retrovirus which contains an enzyme called reverse transcriptase that converts viral RNA to DNA. AZT was thought to work by interrupting this DNA synthesis, thus stopping further replication of the virus.

While it was always known that the drug was exceedingly toxic, the first study concluded that ''the risk/benefit ratio was in favor of the patient.''

In the study that won FDA approval for AZT, the one fact that swayed the panel of judges was that the AZT group outlived the placebo group by what appeared to be a landslide. The ace card of the study, the one that canceled out the issue of the drug's enormous toxicity, was that 19 persons had died in the placebo group and only one in the AZT group. The AZT recipients were also showing a lower incidence of opportunistic infections.

While this data staggered the panel that approved the drug, other scientists insisted that it meant nothing '-- because it was so shabbily gathered, and because of the unblinding. Shortly after the study was stopped, the death rate accelerated in the AZT group. ''There was no great difference after a while,'' says Dr. Brook, ''between the treated and the untreated group.''

''That study was so sloppily done that it really didn't mean much,'' says Dr. Joseph Sonnabend, a leading New York City AIDS doctor. Dr. Harvey Bialy, scientific editor of the journal Biotechnology, is stunned by the low quality of science surrounding AIDS research. When asked if he had seen any evidence of the claims made for AZT, that it ''prolongs life'' in AIDS patients, Bialy said, ''No, I have not seen a published study that is rigorously done, analyzed, and objectively reported.''

Bialy, who is also a molecular biologist, is horrified by the widespread use of AZT, not just because it is toxic, but because, he insists, the claims its widespread use are based upon are false. ''I can't see how this drug could be doing anything other than making people very sick,'' he says.

[featuredStoryParallax id=''165201'" thumb=''http://static.spin.com/files/2015/10/aids-azt-treatment-145—145.jpg'']

The scientific facts about AZT and AIDS are indeed astonishing. Most ironically, the drug has been found to accelerate the very process it was said to prevent: the loss of T-4 cells.

''Undeniably, AZT kills T-4 cells [white blood cells vital to the immune system],'' says Bialy. ''No one can argue with that. AZT is a chain-terminating nucleotide, which means that it stops DNA replication. It seeks out any cell that is engaged in DNA replication and kills it. The place where most of this replication is taking place is in the bone marrow. That's why the most common and severe side effect of the drug is bone marrow toxicity. That is why they [patients] need blood transfusions.''

AZT has been aggressively and repeatedly marketed as a drug that prolongs survival in AIDS patients because it stops the HIV virus from replicating and spreading to healthy cells. But, says Bialy: ''There is no good evidence that HIV actively replicates in a person with AIDS, and if there isn't much HIV replication to stop, it's mostly killing healthy cells.''

University of California at Berkeley scientist Dr. Peter Duesberg drew the same conclusion in a paper published in Proceedings, the journal of the National Academy of Sciences. Duesberg, whose paper addressed his contention that HIV is not a sufficient cause for AIDS, wrote: ''Even if HIV were to cause AIDS, it would hardly be a legitimate target for AZT therapy, because in 70 to 100 percent of antibody-positive persons, proviral DNA is not detectable'... and its biosynthesis has never been observed.''

As a chemotherapeutic drug, explained Duesberg, AZT ''kills dividing blood cells and other cells,'' and is thus ''directly immunosuppressive.''

''The cell is almost a million-fold bigger target than the virus, so the cell will be much, much more sensitive,'' says Duesberg. ''Only very few cells, about one in 10,000, are actively making the virus containing DNA, so you must kill incredibly large numbers of cells to inhibit the virus. This kind of treatment could only theoretically help if you have a massive infection, which is not the case with AIDS. Meanwhile, they're giving this drug that ends up killing millions of lymphocytes [white blood cells]. It's beyond me how that could possibly be beneficial.''

''It doesn't really kill them,'' Burroughs Wellcome scientist Sandra Lehrman argues. ''You don't necessarily have to destroy the cell, you can just change the function of it. Furthermore, while the early data said that only very few cells were infected, new data says that there may be more cells infected. We have more sensitive detection techniques now.''

''Changes their function? From what '-- functioning to not functioning? Another example of mediocre science,'' says Bialy. ''The 'sensitive detection technique' to which Dr. Lehrman refers, PCR, is a notoriously unreliable one upon which to base quantitative conclusions.''

When specific questions about the alleged mechanisms of AZT are asked, the answers are long, contradictory, and riddled with unknowns. Every scientific point raised about the drug is eventually answered with the blanket response, ''The drug is not perfect, but it's all we have right now.'' About the depletion of T-4 cells and other white cells, Lehrman says, ''We don't know why T-4 cells go up at first, and then go down. That is one of the drug mechanisms that we are trying to understand.''

When promoters of AZT are pressed on key scientific points, whether at the NIH, FDA, Burroughs Wellcome, or an AIDS organization, they often become angry. The idea that the drug is ''doing something,'' even though this is invariably followed with irritable admissions that there are ''mechanisms about the drug and disease we don't understand,'' is desperately clung to. It is as if, in the eye of the AIDS storm, the official, government-agency sanctioned position is immunized against critique. Skepticism and challenge, so essential to scientific progress and so prevalent in every other area of scientific endeavor, is not welcome in the AZT debate, where it is arguably needed more than anywhere else.

The results, finally and ironically, are what damns AZT.

The toxic effects of AZT, particularly bone marrow suppression and anemia, are so severe that up to 50 percent of all AIDS and ARC patients cannot tolerate it and have to be taken off it. In the approval letter that Burroughs Wellcome sent to the FDA, all of 50 additional side effects of AZT, aside from the most common ones, were listed. These included: loss of mental acuity, muscle spasms, rectal bleeding, and tremors.

Anemia, one of AZT's common side effects, is the depletion of red blood cells, and, according to Duesberg, ''Red blood cells are the one thing you cannot do without. Without red cells, you cannot pick up ???gen.''

Fred, a person with AIDS, was put on AZT and suffered such severe anemia from the drug he had to be taken off it. In an interview in the AIDS handbook Surviving and Thriving With AIDS, he described what anemia feels like to editor Michael Callen: ''I live in a studio and my bathroom is a mere five-step walk from my bed. I would just lie there for two hours; I couldn't get up to take those five steps. When I was taken to the hospital, I had to have someone come over to dress me. It's that kind of severe fatigue. The quality of my life was pitiful'... I've never felt so bad'... I stopped the AZT and the mental confusion, the headaches, the pains in the neck, the nausea, all disappeared within a 24-hour period.''

''I feel very good at this point,'' Fred went on. ''I feel like the quality of my life was a disaster two weeks ago. And it really was causing a great amount of fear in me, to the point where I was taking sleeping pills to calm down. I was so worried. I would totally lose track of what I was saying in the middle of a sentence. I would lose my directions on the street.''

''Many AIDS patients are anemic even before they receive the drug,'' says Burroughs Wellcome's Dr. Lehrman, ''because HIV itself can infect the bone marrow and cause anemia.''

This argument betrays a bizarre reasoning. If AIDS patients are already burdened with problems such as immune suppression, bone marrow toxicity, and anemia, is compounding these problems an improvement?

''Yes, AZT is a form of chemotherapy,'' says the man who invented the compound a quarter-century ago, Jerome Horwitz. ''It is cytotoxic, and as such, it causes bone marrow toxicity and anemia. There are problems with the drug. It's not perfect. But I don't think anybody would agree that AZT is of no use. People can holler from now until doomsday that it is toxic, but you have to go with the results.''

The results, finally and ironically, are what damns AZT. Several studies on the clinical effects of AZT '-- including the one that Burroughs Wellcome's approval was based on '-- have drawn the same conclusion: that AZT is effective for a few months, but that its effect drops off sharply after that. Even the original AZT study showed that T-4 cells went up for a while and then plummeted. HIV levels went down, and then came back up. This fact was well-known when the advisory panel voted for approval. As panel member Dr. Stanley Lemon said in the meeting, ''I am left with the nagging thought that after seeing several of these slides, that after 16 to 24 weeks '-- 12 to 16 weeks, I guess '-- the effect seems to be declining.''

A follow-up meeting, two weeks after the original Burroughs Wellcome study, was scheduled to discuss the long-range effects of AZT and the survival statistics. As one doctor present at that meeting in May 1988 recalls, ''They hadn't followed up the study. Anything that looked beneficial was gone within half a year. All they had were some survival statistics averaging 44 weeks. The p24 didn't pan out and there no persistent improvement in T-4 cells.''

HIV levels in the blood are measured by an antigen called p24. Burroughs Wellcome made the claim that AZT lowered this level, that is, lowered the amount of HIV in the blood. At the first FDA meeting, Burroughs-Welcome emphasized how the drug had ''lowered'' the p24 levels; at the follow-up meeting they didn't even mention it.

As that meeting was winding down, Dr. Michael Lange, head of the AIDS program at St. Luke's-Roosevelt Hospital in New York spoke up about this. ''The claim of AZT is made on the fact that it is supposed to have an antiviral effect,'' he said to Burroughs Wellcome, ''and on this we have seen no data at all'... Since there is a report in the Lancet [a leading British medical journal] that after 20 weeks or so, in many patients p24 came back, do you have any data on that?''

They didn't.

''What counts is the bottom line,'' one of the scientists representing Burroughs Wellcome summed up, ''the survival, the neurologic function, the absence of progression and the quality of life, all of which are better. Whether you call it better because of some antiviral effect, or some other antibacterial effect, they are still better.''

Dr. Lange suggested that the drug may be effective in the same way a simple anti-inflammatory, such as aspirin, is effective. An inexpensive, nontoxic drug called Indomecithin, he pointed out, might serve the same function, without the devastating side effects.

One leading AIDS researcher, who was part of the FDA approval process, says today: ''Does AZT do anything? Yes, it does. But the evidence that it does something against HIV is really not there.''

''There have always been drugs that we use without knowing exactly how they work,'' says Nobel Prize winner Walter Gilbert. ''The really important thing to look at is the clinical effect. Is the drug helping or isn't it?''

A physician with extensive experience with AIDS patients who asked to remain anonymous told SPIN, point blank: ''I personally do not prescribe AZT. I have continued to experience that people live longer who are not on it.''

''I'm living proof that AZT works,'' says one person with ARC on AZT. ''I've been on it for two years now, and I'm certainly healthier than I was two years ago. It's not a cure-all, it's not a perfect drug, but it's effective. It's slowing down the progression of the disease.''

''Sometimes I fee like I'm swallowing Drano,'' says another. ''I mean, sometimes I have problems swallowing. I just don't like the idea of taking something that foreign to my body. But every six hours, I've got to swallow it. Until something better comes along, this is what is available to me.''

''I am absolutely convinced that people enjoy a better quality of life and survive longer who do not take AZT,'' says Gene Fedorko, President of Health Education AIDS Liaison (HEAL). ''I think it's horrible the way people are bullied by their doctors to take this drug. We get people coming to us shaking and crying because their doctors said they'll die if they don't take AZT. That is an absolute lie.'' Fedorko has drawn his conclusion from years of listening to the stories of people struggling to survive AIDS at HEAL's weekly support group.

''I wouldn't take AZT if you paid me,'' says Michael Callen, cofounder of New York City's PWA coalition, Community Research Initiative, and editor of several AIDS journals. Callen has survived AIDS for over seven years without the help of AZT. ''I've gotten the s''t kicked out of me for saying this, but I think using AZT is like aiming a thermonuclear warhead at a mosquito. The overwhelming majority of long-term survivors I've known have chosen not to take AZT.''

''I'm convinced that if you gave AZT to a perfectly healthy athlete he would be dead in five years.''

The last surviving patient from the original AZT trial, according Burroughs Wellcome, died recently. When he died, he had been on AZT for three and one-half years. He was the longest surviving AZT recipient. The longest surviving AIDS patient overall, not on AZT, has lived for eight and one-half years.

An informal study of long-term survivors of AIDS followed 24 long-term survivors, all of whom had survived AIDS for more than six years. Only one of them had recently begun taking AZT.

In the early days, AZT was said to extend lives. In actual fact, there is simply no solid evidence that AZT prolongs life.

''I think AZT does prolong life in most people,'' says Dr. Bruce Montgomery of the State University of New York at Stony Brook, who is completing a study on AZT. ''There are not very many long-term survivors, and we really don't know why they survive. It could be luck. But most people are not so lucky.''

''AZT does seem to help many patients,'' says Dr. Bernard Bahari, a New York City AIDS physician and researcher, ''but it's very hard to determine whether it actually prolongs life.''

''Many of the patients I see choose not to take AZT,'' says Dr. Don Abrams of San Francisco General Hospital. ''I've been impressed that survival and lifespan are increasing for all people with AIDS. I think it has a lot to do with aerosolized Pentamadine [a drug that treats pneumocystis carinii pneumonia]. There's also the so-called plague effect, the fact that people get stronger and stronger when a disease hits a population. The patients I see today are not as fragile as the early patients were.''

''Whether you live or die with AIDS is a function of how well your doctor treats you, not of AZT,'' says Dr. Joseph Sonnabend, one of New York City's first and most reputable AIDS doctors, whose patients include many long-term survivors, although he has never prescribed AZT. Sonnabend was one of the first to make the simple observation that AIDS patients should be treated for their diseases, not just for their HIV infection.

Several studies have concluded that AZT has no effect on the two most common opportunistic AIDS infections, Pneumocystic Carinii Pneumonia (PCP) and Kaposi's Sarcoma (KS). The overwhelming majority of AIDS patients die of PCP, for which there has been an effective treatment for decades. This year, the FDA finally approved aerosolized Pentamadine for AIDS. A recent Memorial Sloan Kettering study concluded the following: By 15 months, 80 percent of people on AZT not receiving Pentamadine had a recurrent episode of pneumocystis. Only 5 percent of those people who did get Pentamadine had a recurring episode. ''All those deaths in the AZT study were treatable,'' Sonnabend says. ''They weren't deaths from AIDS, they were deaths from treatable conditions. They didn't even do any autopsies for that study. What kind of faith can one have in these people?''

''If there's one resistance to AZT in the general public at all, it's within the gay community of New York,'' says the doctor close to the FDA approval, who asked to remain anonymous. ''The rest of this country has been brainwashed into thinking this drug really does that much. The data has all been manipulated by people who have a lot vested in AZT.''

''If AIDS were not the popular disease that it is '-- the money-making and career-making machine '-- these people could not get away with this kind of shoddy science,'' says Bialy. ''In all my years in science I have never seen anything this atrocious.'' When asked if he thought it was at all possible that people have been killed as a result of AZT poisoning rather than AIDS he answered: ''It's more than possible.''

August 17, 1989: The government has announced that 1.4 million healthy, HIV antibody-positive Americans could ''benefit'' from taking AZT, even though they show no symptoms of disease. New studies have ''proven'' that AZT is effective in stopping the progression of AIDS in asymptomatic and early ARC cases. Dr. Fauci, the head of NIH, proudly announced that a trial has been going on for ''two years'' had ''clearly shown'' that early intervention will keep AIDS at bay. Anyone who has antibodies to HIV and less than 500 T-4 cells should start taking AZT at once, he said. That is approximately 650,000 people. 1.4 million Americans are assumed HIV antibody-positive, and eventually all of them may need to take AZT so they don't get sick, Fauci contended.

The leading newspapers didn't seem to think it unusual that there was no existing copy of the study, but rather a breezy two-page press release from the NIH. When SPIN called the NIH asking for a copy of the study, we were told that it was ''still being written.''

We asked a few questions about the numbers. According to the press release, 3,200 early ARC and asymptomatic patients were divided into two groups, one AZT and one placebo, and followed for two years. The two groups were distinguished by T-4 cell counts; one group had less than 500, the other more than 500. These two were then divided into three groups each: high-dose AZT, low-dose AZT, and placebo. In the group with more than 500 T-4 cells, AZT had no effect. In the other group, it was concluded that low-dose AZT was the most effective, followed by high-dose. All in all, 36 out of 900 developed AIDS in the two AZT groups combined, and 38 out of 450 in the placebo group. ''HIV-positive are twice as likely to get AIDS if they don't take AZT,'' the press declared.

However, the figures are vastly misleading. When we asked how many patients were actually enrolled for a full two years, the NIH said they did not know, but that the average time of participation was one year, not two.

''It's terribly dishonest the way they portrayed those numbers,'' says Dr. Sonnabend. ''If there were 60 people in the trial those numbers would mean something, but if you calculate what the percentage is out of 3,200, the difference becomes minute between the two groups. It's nothing. It's hit or miss, and they make it look like it's terribly significant.''

The study boasted that AZT is much more effective and less toxic at one-third the dosage than has been used for three years now. That's the good news. The bad news is that thousands have already been walloped with 1,500 milligrams of AZT and possibly even died of toxic poisoning '-- and now we're hearing that one third of the dose would have done?

With all that remains so uncertain about the effects of AZT, it seems criminal to advocate expanding its usage to healthy people, particularly since only a minuscule percentage of the HIV-infected population have actually developed ARC or AIDS.

Burroughs Wellcome has already launched testing of AZT in asymptomatic hospital workers, pregnant women, and in children, who are getting liquid AZT. The liquid is left over from an aborted trial, and given to the children because they can mix it with water '-- children don't like to swallow pills. It has also been proposed that AZT be given to people who do not yet even test positive for HIV antibodies, but are ''at risk.''

''I'm convinced that if you gave AZT to a perfectly healthy athlete,'' says Fedorko, ''he would be dead in five years.''

''This is such shoddy science it's hard to believe nobody is protesting.''

In December 1988, the Lancet published a study that Burroughs Wellcome and the NIH do not include in their press kits. It was more expansive than the original AZT study and followed patients longer. It was not conducted in the United States, but in France, at the Claude Bernard Hospital in Paris, and concluded the same things about AZT that Burroughs Wellcome's study did, except Burroughs Wellcome called their results ''overwhelmingly positive,'' and the French doctors called theirs ''disappointing.'' The French study found, once again, that AZT was too toxic for most to tolerate, had no lasting effect on HIV blood levels, and left the patients with fewer T-4 cells than they started with. Although they noticed a clinical improvement at first, they concluded that ''by six months, these values had returned to their pretreatment levels, and several opportunistic infections, malignancies, and deaths occurred.''

''Thus the benefits of AZT are limited to a few months for ARC and AIDS patients,'' the French team concluded. After a few months, the study found, AZT was completely ineffective.

The news that AZT will soon be prescribed to asymptomatic people has left many leading AIDS doctors dumbfounded and furious. Every doctor and scientist I asked felt that it was highly unprofessional and reckless to announce a study with no data to look at, making recommendations with such drastic public health implications. ''This simply does not happen,'' says Bialy. ''The government is reporting scientific facts before they've been reviewed? It's unheard of.''

''It's beyond belief,'' says Dr. Sonnabend in a voice tinged with desperation. ''I don't know what to do. I have to go in and face an office full of people asking for AZT. I'm terrified. I don't know what to do as a responsible physician. The first study was ridiculous. Margaret Fischl, who has done both of these studies, obviously doesn't know the first thing about clinical trials. I don't trust her. Or the others. They're simply not good enough. We're being held hostage by second-rate scientists. We let them get away with the first disaster; now they're doing it again.''

''It's a momentous decision to say to people, 'If you're HIV-positive and your T-4 cells are below 500, start taking AZT,''' says the AIDS doctor who wished to remain anonymous. ''I know dozens of people that I've seen personally every few months for several years now who have been in that state for more than five years, and have not progressed to any disease.''

''I'm ashamed of my colleagues,'' Sonnabend laments. ''I'm embarrassed. This is such shoddy science it's hard to believe nobody is protesting. Damned cowards. The name of the game is to protect your grant, don't open your mouth. It's all about money'... it's grounds for just following the party line and not being critical, when there are obviously financial and political forces driving this.''

When Duesberg heard the latest announcement, he was partially stunned over the reaction of Gay Men's Health Crisis President Richard Dunne, who said that GMHC now urged ''everybody to get tested,'' and of course those who test positive to go on to AZT. ''These people are running into the gas chambers,'' says Duesberg. ''Himmler would have been so happy if only the Jews were this cooperative.''

* = This sentence was changed to correct an error in the original version of this article, which wrongly stated that the FDA had approved Thalidomide.

Anti-HIV 'Drug Cocktails' Equally Effective in Patients with or without History of Injection Drug Use, August 6, 2008 News Release - National Institutes of Health (NIH)

Wed, 27 Oct 2021 19:12

News Release

Wednesday, August 6, 2008

Highly active antiretroviral therapy (HAART) has been extremely effective at slowing the progression of HIV infection to AIDS as well as extending the lives and improving the quality of life for those with HIV. However, some doctors have been reluctant to prescribe HAART to HIV-infected injection drug users because of concern that they may not fully benefit from the therapy. A new study by investigators funded by the National Institute on Drug Abuse (NIDA), part of the National Institutes of Health, and led by the British Columbia Centre for Excellence in HIV/AIDS in Canada, suggests that this is not the case: in their large, community-based study of HIV-infected people, injection drug users and people who did not inject drugs had equivalent survival rates seven years after initiating HAART. These results will be published August 6 in the Journal of the American Medical Association.

"An estimated one million persons in the United States are living with HIV/AIDS, with approximately one-fourth of these cases attributable to injection drug use," said NIDA Director Dr. Nora D. Volkow. "This paper provides important evidence for the value of routinely providing HAART therapy to HIV-infected injection drug users who need treatment '-- benefiting both the patients and the public at large."

The study included 3,116 patients aged 18 years or older beginning HAART treatment for HIV, 915 of whom were injection drug users. To compare the number of deaths between the two groups, the researchers took into account that accidental deaths are more common for injection drug users and excluded those deaths from their analyses. When accidental deaths were excluded, the mortality rate seven years after beginning HAART therapy was equivalent for injection drug users (about 22 percent) and people who did not inject drugs (about 19 percent). The authors plan to continue to follow the study participants to gather data on longer-term survival.

"Hopefully, the findings from this study help address the commonly held assumption that HIV-positive injection drug users do not derive the full benefits of HIV treatment," says Dr. Evan Wood, lead author of the study. "We have an ethical and human rights imperative to deliver HIV care to this population, not only to reduce illness and death, but also to possibly reduce the rate of new infections in the community."

HAART consists of a 'cocktail' of at least three medications that can decrease HIV viral load. HAART cannot cure a person of HIV infection, which without treatment will almost always progress to AIDS.

HIV can be transmitted by contact with the blood or other body fluids of an infected person. Among people who inject drugs, HIV transmission can occur through sharing needles and other injection paraphernalia such as cotton swabs and rinse water.

The National Institute on Drug Abuse is a component of the National Institutes of Health, U.S. Department of Health and Human Services. NIDA supports most of the world's research on the health aspects of drug abuse and addiction. The Institute carries out a large variety of programs to inform policy and improve practice. Fact sheets on the health effects of drugs of abuse and information on NIDA research and other activities can be found on the NIDA home page at www.drugabuse.gov.

About the National Institutes of Health (NIH):NIH, the nation's medical research agency, includes 27 Institutes and Centers and is a component of the U.S. Department of Health and Human Services. NIH is the primary federal agency conducting and supporting basic, clinical, and translational medical research, and is investigating the causes, treatments, and cures for both common and rare diseases. For more information about NIH and its programs, visit www.nih.gov.

NIH'...Turning Discovery Into Health®

###

Microsoft Warns That a Massive Cyberattack From Russia Will Hit the US

Wed, 27 Oct 2021 14:18

Even after U.S. President Joe Biden is imposing sanctions on financial institutions from Russia, state-sponsored cyberattacks continue to harass U.S. cloud infrastructure, Microsoft reported in a recent blog post. While the software company has not yet revealed the details of these attacks, it has reported over 22,000 attacks between July 1 and October 19 this year, providing a measure of activity targeting cloud infrastructure in the U.S.

Last year, almost 100 companies and nine federal agencies were successfully 'compromised' by sophisticated cyber-attacks which were later termed as 'SolarWinds.' Investigations revealed that these attacks that originated in Russia were carried out by a state-sponsored actor, Nobelium, which is part of the foreign intelligence service called SVR.

In the blog post, Microsoft Vice President of Customer Security and Trust, Tom Burt, has revealed that Nobelium is now attacking different parts of the global IT supply chain, cloud service resellers, and other technology providers. A few months ago, we had reported how a ransomware attack on one such provider had a domino effect that hit hundreds of businesses in 17 countries.

Burt further elaborated in the blog post that as many as 140 such resellers have been targeted since May this year and 14 of them may have been compromised. By managing to penetrate the systems of these service providers, Nobelium is hoping to gain access to networks of their downstream customers as well, Microsoft blog post said. By doing so, Russia is looking to gain 'systematic and long-term access' in the technology supply chain and may use it for surveillance, either now or in the future.

While clarifying that the cyberattacks were not facilitated by vulnerabilities in software but attempted through basic hacking methods like 'password sprays and phishing,' to gain access. The company has recorded 22,868 instances of such attacks between July 1 and October 19 this year but with very little success. However, the intensity of the attacks has increased since only 20,500 attacks were recorded in the previous three years, prior to July 1, Burt said in the blog post.

Speaking to New York Times, a senior U.S. government official, called these attacks "unsophisticated, run-of-the-mill operations," that could be prevented with baseline security measures. On its part, Microsoft is encouraging its resellers to implement security features and has also rolled out a technical document for organizations to protect themselves from Nobelium's activity, the company said.

Even as Microsoft and the U.S. government agencies push for more security measures such as multi-factor authentication (MFA), there is opposition from corporations, NYT reported. Without sufficient defenses in place, another SolarWinds-like attack could be in the offing.

Neo-Nazis hang 'Vax the Jews' banner near Texas JCC, synagogues | The Times of Israel

Wed, 27 Oct 2021 14:12

JTA '-- Members of a neo-Nazi group hung a banner from a bridge in Austin, Texas, with the message ''Vax the Jews'' on Sunday.

The banner was put up by members of the Goyim Defense League, which has been behind other antisemitic banners hung in public places in California.

The Anti-Defamation League calls the group, ''a loose network of individuals connected by their virulent antisemitism.'' The group's name is a parody of the Anti-Defamation League, using the Yiddish word ''goyim,'' which means ''non-Jews'' and can have an insulting connotation. Photos on social media showed members of the group standing behind the banner making the Nazi salute.

Austin Mayor Steve Adler, who is Jewish, condemned the incident in a tweet. ''I am heartbroken to see antisemitic hatred in Austin, a welcoming and respectful place. Hatred of any kind has no place in our city,'' he wrote, linking to the ADL's website form for reporting incidents of bias or antisemitism.

The banner was hung over the MoPac Expressway on the city's west side, just a few blocks away from the Shalom Austin Jewish Community Center and several synagogues. The banner incident came just a few days after racist and antisemitic graffiti was discovered at Anderson High School, about a mile and a half away from the JCC.

Get The Times of Israel's Daily Edition by email and never miss our top stories

By signing up, you agree to the

termsIn a letter to the Jewish community Sunday, the JCC said it was in touch with the police about the incident and warned that while the group might stage more demonstrations in the coming days, members of the Jewish community were advised not to engage with them. The letter said there did not appear to be a connection between the graffiti at the high school and the banner.

''The Austin Police Department is aware, has been incredibly supportive, and has been carefully monitoring and observing the situation,'' the JCC leaders wrote.

Neo- Nazi Jon Minadeo II has harassed Jewish communities in CA, FL, Canada and now Texas as he dropped a "Vax The Jews" highway banner yesterday in western Austin.

Question '' why is Officer Nelson from the @Austin_Police gleefully grinning at this vile bigot? https://t.co/98JxQpomAj pic.twitter.com/RINooBSsNo

'-- StopAntisemitism.org (@StopAntisemites) October 24, 2021

A photo of a member of the hate group fist bumping an Austin Police officer also circulated on social media Sunday, prompting some to accuse the police department of harboring supporters of the antisemitic group. Joseph Chacon, chief of the Austin Police, responded to that accusation in a statement.

''A supervisor responded to the scene and got a protester to comply with his requests to ensure the scene remained safe. At the conclusion of the conversation, the responding supervisor declined a request for a handshake and instead opted for a fist-bump citing COVID-19 safety protocols. APD remains vigilant in its priority in keeping the Austin community safe and holding those who commit crimes accountable,'' Chacon said.

Learn Hebrew in a fun, unique way

You get Israel news... but do you GET it? Here's your chance to understand not only the big picture that we cover on these pages, but also the critical, juicy details of life in Israel.

In Streetwise Hebrew for the Times of Israel Community, each month we'll learn several colloquial Hebrew phrases around a common theme. These are bite-size audio Hebrew classes that we think you'll really enjoy.

Learn moreLearn moreAlready a member? Sign in to stop seeing thisYou're serious. We appreciate that!

We're really pleased that you've read X Times of Israel articles in the past month.

That's why we come to work every day - to provide discerning readers like you with must-read coverage of Israel and the Jewish world.

So now we have a request. Unlike other news outlets, we haven't put up a paywall. But as the journalism we do is costly, we invite readers for whom The Times of Israel has become important to help support our work by joining The Times of Israel Community.

For as little as $6 a month you can help support our quality journalism while enjoying The Times of Israel AD-FREE, as well as accessing exclusive content available only to Times of Israel Community members.

Join Our CommunityJoin Our CommunityAlready a member? Sign in to stop seeing this

Job Creators Network Hammers Biden with Massive Times Square Billboard: 'Hey Joe, Time to Let the Mandate Go!'

Wed, 27 Oct 2021 14:08

The Job Creators Network (JCN), one of America's largest small business advocacy organizations, has erected another billboard in the heart of Times Square, this time calling out the Joe Biden White House over its vaccine mandate for private employers with 100 or more staff members.

CDC greenlights FOURTH Covid vaccine jab for 'immunocompromised' Americans as definitions blur for 'booster & fully vaccinated' '-- RT USA News

Wed, 27 Oct 2021 13:52

The CDC has approved a fourth Covid-19 vaccine shot for adults with compromised immune systems, allowing for yet another dose amid concerns of waning immunity, as some pharma firms even hint at yearly boosters for all Americans.

Those who are ''moderately and severely immunocompromised'' may receive a total of four vaccine doses, including an initial two-shot inoculation, one additional dose, followed by yet another booster, the US Centers for Disease Control and Prevention (CDC) said in an updated guidance on Tuesday.

The immunocompromised were the first to receive authorization for vaccine boosters back in August, with US health agencies subsequently approving additional doses for people in other high-risk categories, such as those aged 65 and older and adults more likely to be exposed to the virus.

However, for the immunocompromised, the CDC classifies a third shot as an ''additional dose,'' which uses the same amount of vaccine as the previous two, while the fourth jab approved on Tuesday is defined as a ''booster'' proper. The fourth dose uses only half the volume of the others.

Also on rt.com 'Fully vaccinated' definition could change in the future thanks to approved Covid-19 booster shots, CDC acknowledges The amended guidelines come soon after US health agencies gave the nod to a ''mix and match'' approach to boosters for all adults. The move allowed those who received one brand for their initial round of vaccination to select another for their booster dose, meaning that someone who originally took the Moderna jab, for example, could choose Pfizer-BioNTech for their booster.

The debate over booster shots kicked off as data emerged that vaccine-induced immunity wanes over time, suggesting the need for additional doses to ensure prolonged protection. However, with boosters now formally approved for an ever-broadening group of Americans, the exact definition of ''fully vaccinated'' has slowly blurred.

In September, top White House Covid adviser Anthony Fauci acknowledged that a booster dose would ''likely'' be needed for an American to qualify as ''fully vaccinated'' in the future '' a point echoed last week by CDC Director Rochelle Walensky, who noted ''We may need to update our definition of 'fully vaccinated''' due to boosters.

With immunocompromised adults now authorized to receive a fourth vaccination and US health officials increasingly talking up the need for additional doses, some Big Pharma firms are now predicting a ''continuous need for boosting,'' with Moderna Chairman Noubar Afeyan saying on Tuesday that the company's jab ''may well need an annual booster.''

Afeyan '' who recently broke into the prestigious Forbes 400 list riding high on Moderna's pandemic profits '' is not the first Big Pharma exec to propose a never-ending series of boosters, with Pfizer CEO Albert Bourla raising the idea of ''annual revaccination'' back in April.

Also on rt.com FDA approves 'mix & match' vaccine booster shot regimen for ALL US-authorized jabs Think your friends would be interested? Share this story!

NHS's 'world beating' £37BILLION Test and Trace program was 'eyewatering' waste of taxpayer cash | Daily Mail Online

Wed, 27 Oct 2021 13:51

The £37billion NHS Test and Trace service has been an 'eye-wateringly expensive' failure, a damning report by MPs claims.

It has failed to break chains of Covid transmission, prevent lockdowns or enable people to return to a more normal way of life.

The organisation, previously led by former TalkTalk boss Baroness Harding, also had 'muddled' objectives, the Public Accounts Committee said.

Spending on Test and Trace is equal to nearly a fifth of the 2020/21 NHS England budget.

Just 45 per cent of testing capacity was used between November 2020 and April 2021, and at times as few as 11 per cent of contact centre staff were being utilised.

Only 96million of 691million lateral flow tests it distributed were registered. And it 'is not clear what benefit the remaining 595million tests have secured'.

The programme was championed by the then Health Secretary Matt Hancock, whilst Prime Minister Boris Johnson described it as 'world-beating'.

The £37billion NHS Test and Trace service has been an 'eye-wateringly expensive' failure, a damning report by MPs claims

It has failed to break chains of Covid transmission, prevent lockdowns or enable people to return to a more normal way of life. The organisation, previously led by former TalkTalk boss Baroness Harding (pictured), also had 'muddled' objectives, the Public Accounts Committee said

Despite committing to reduce consultants '' paid an average of £1,100 a day '' the service employed more in April 2021 (2,239) than in December 2020 (2,164).

Committee chairman Dame Meg Hillier said: 'It set out bold ambitions but has failed to achieve them despite the vast sums thrown at it.'

The damning report's main conclusions - NHS Test and Trace 'has not achieved its main objective to help break chains of Covid-19 transmission and enable people to return towards a more normal way of life'.

- The programme's 'continued over-reliance on consultants is likely to cost taxpayers hundreds of millions of pounds'.

- Uptake of services provided by Test and Trace is 'variable' and 'only a minority of people experiencing Covid-19 symptoms get a test', with some groups less likely to take tests compared with others.

- The programme's laboratories approach and contact centre usage is 'still not flexible enough to meet changing demand and risks wasting public money'.

Meanwhile, the professor who helped create the Oxford/AstraZeneca jab has said it is unfair to 'bash the UK' over high numbers of Covid cases '' around 40,000 a day in recent weeks.

Professor Sir Andrew Pollard said: 'If you look across western Europe, we have about ten times more tests done each day than some other countries.'

The damning report has been published just ahead of Chancellor Rishi Sunak's Budget, where he will lay out the details of the recently-announced £6billion funding boost for the NHS.

It details how the Test and Trace system failed to hit set targets and that spending on consultants was out of control.

Mr Hancock had promised that the system would allow the Government to avoid the use of national lockdowns and instead get the contacts of people who had contracted Covid-19 to isolate.

The report also details how less than half of contact tracers who had been hired were ever in use at any one time.

It said: '[NHS Test and Trace] has a 50 per cent target utilisation rate for its contact centre staff, but the highest reached was 49 per cent at the beginning of January 2021 and this had fallen to 11 per cent by the end of February 2021.

'Over Christmas 2020, when there appeared to be spare laboratory capacity and Covid-19 cases were rising, performance declined and it took longer to provide test results, with only 17 per cent of people receiving test results within 24 hours in December 2020.'

The programme was championed by the then Health Secretary Matt Hancock, whilst Prime Minister Boris Johnson described it as 'world-beating'

Of the near-700million lateral flow tests which were distributed by NHS Test and Trace, only 14 per cent were registered online '' something which is essential for the spread of coronavirus to be tracked.

The committee also criticised handling of the cash, highlighting that the programme has still not managed to reduce the number of expensive contractors - who are paid an average of £1,100 per day - and has not developed a 'flexible' approach to using laboratories, which 'risks wasting public money'.

Test and Trace's 'continued over-reliance on consultants is likely to cost taxpayers hundreds of millions of pounds', the report states.

It has been focused on getting programmes up and running and 'paid less attention to ensuring these programmes delivered the benefits they promised', it adds.

Dame Meg Hillier said NHS Test and Trace failed to live up to its 'bold' ambitions

And uptake of services provided by the programme is 'variable' as some vulnerable people are much less likely to take a test than others.

MPs on the cross-party committee said that as the programme is moved into the new UK Health Security Agency it needs a 'proper long-term strategy'.

Dame Hillier added: 'The continued reliance on the over-priced consultants who 'delivered' this state of affairs will by itself cost the taxpayer hundreds of millions of pounds.

'For this huge amount of money we need to see a legacy system ready to deliver when needed but it's just not clear what there will be to show in the long term. This legacy has to be a focus for government if we are to see any value for the money spent.'

MPs have set out a series of recommendations and suggested improvements to the programme.

The Test and Trace programme was rapidly developed at the start of the coronavirus pandemic, spearheaded by Baroness Harding, with the objective of testing the nation and tracing contacts of positive cases.

Dr Jenny Harries, chief executive of the UK Health Security Agency (UKHSA), said in a statement: 'NHS Test and Trace (NHSTT) has played an essential role in combating this pandemic.

'As the Public Accounts Committee acknowledges, there have been improvements in testing capacity, turnaround times and speed and reach of contact tracing - and improved collaboration with local authorities.

'The fact is NHSTT is saving lives every single day and helping us fight Covid-19 by breaking chains of transmission and spotting outbreaks wherever they exist.

'More than 323 million tests have now been carried out across the UK. NHSTT has now contacted more than 19.9 million people, helping to slow the spread of the virus.

A government spokesman said: 'NHS Test & Trace has delivered on what it set out to do - break chains of transmission and save lives.

'To date, over 323 million tests have been delivered and almost 20 million people contacted who could otherwise have unknowingly transmitted the virus.

'We have rightly drawn on the extensive expertise of a number of public and private sector partners who have been invaluable in helping us tackle the virus.

'We've built a testing network from scratch that can process millions of tests a day - more than any European country - providing a free LFD or PCR test to anybody who needs one.

'The new UK Health Security Agency will consolidate the knowledge that now exists across our health system to help us tackle future pandemics and threats.'

Austin-born boxed wine gets in the summer spirit with new ros(C) - CultureMap Austin

Wed, 27 Oct 2021 13:44

Just in time for National Ros(C) Day on Saturday, June 12 (do we really need another excuse to imbibe luscious pink wine?), an Austin entrepreneur with an intoxicating box of tricks is uncorking her latest offering: a limited-edition Pinot-Noir-imbued ros(C).

BOXT, the Austin-based wine biz launched in March by former venture capitalist Sarah Puil, is topping off its six-varietal wine selection with the addition of its Profile Nine ros(C).

''With its delicate apricot color, subtle floral aroma, and refreshingly bright acidity, this elegant blush ros(C) is cool, crisp, bright, and dry,'' Puil says. ''In a word, it's divine, the perfect wine for summer.''

From the get-go, BOXT has promised its products are ''100 percent premium, 0 percent snob,'' and the company's libations are proving there is indeed truth in wine '-- especially when opting for taste over varietal.

Crafted at BOXT's Napa winery, the BOXT wines eschew the traditional varietal classifications in favor of a simpler number-based system, with the brand's initial six wines (three white, three red) simply noting the flavor profiles:

One: Bright, crisp, and dry (similar to a New Zealand Sauvignon Blanc)Two: Rich, oaky, and golden (similar to a California oaked Chardonnay)Three: Floral, fruity, and sweet (similar to a Gewurtztraminer, perfect for pairing with dessert)Four: Soft, vibrant, and dynamic (similar to a Sonoma Pinot Noir)Five: Big, bold, and smooth (similar to a Napa Valley Cabernet)Six: Sweet, juicy, and velvety (similar to a red-wine blend or California Zinfandel)

Notably missing from that first released six-pack of BOXT wines: a ros(C), the very varietal the new BOXT Profile Nine features.

Key to the BOXT wine brand is, well, the box. Meant to engender a wine-on-tap vibe, each BOXT wine (the equivalent of four bottles) is packaged in an eco-friendly, recyclable '-- and quite snazzy '-- wooden box that keeps the wine fresh for as long as 30 days (but if you're a wine lover, trust us, it won't last that long). BOXT is even working with nonprofit One Tree Planted, and has already planted some 2,500 trees since its inception.

''I wanted people to have a high-quality glass of wine without the need to drink a full bottle or risk wasting it,'' Puil says of the decision to opt for box packaging versus bottling.

And in another ingenious business move, especially during a pandemic, Puil launched the Austin company essentially as a delivery-based wine club. Wine fans sign up for a subscription and BOXT ships the wine '-- free of charge '-- to members' doorsteps.

Membership prices range from $74-$140 a month and come with a variety of perks, including access to a personal wine concierge at any time. And members can pause, cancel, or change their wine selections at any time.

For Puil, who set out to disrupt the fine-wine industry and upend how consumers feel about boxed wine with her novel concept, the early success of BOXT and the addition of the new Profile Nine ros(C) are evidence that in the world of wine, she's raising the bar.

John Durham gears up against the Alfa Bank conspiracy - by Techno Fog - The Reactionary

Wed, 27 Oct 2021 13:15

A new filing in the Michael Sussmann case has revealed the depth of Special Counsel John Durham's investigation. It doesn't look good for former DNC lawyer (and former Perkins Coie partner) Sussmann or for the group that pushed the Alfa Bank/Trump hoax.

Special Counsel Durham has filed an opposition to Michael Sussmann's motion for a bill of particulars. (To summarize, Durham argues that the 27-page speaking indictment against Sussmann ''more than adequately'' informs him of the charges he is facing.) Read it here.

What's really notable about the motion is that Durham discloses the volumes of evidence to be produced to Sussmann and the number of entities and people Durham has subpoenaed.

According to this latest filing, Special Counsel Durham has produced ''more than 6,000 documents, comprising approximately 81,000 pages'' to Sussmann. This includes ''documents received in response to grand jury subpoenas issued to fifteen separate individuals, entities, and organizations '' including among others, political organizations, a university, university researchers, an investigative firm, and numerous companies.''

Let's decipher that last sentence. Who has received a subpoena from Durham?

''Political organizations'' likely refer to the DNC and the Hillary Clinton Campaign/Hillary for America.

''A university'' = Georgia Tech.

''University Researchers'' = the team involved in the Alfa Bank/Trump hoax.

''An investigative firm'' = Fusion GPS.

''Numerous companies'' = the companies involved with Rodney Joffe (named Tech Executive-1 in the Sussmann indictment).

As we have previously observed, Durham was already in possession of:

E-mail records from Joffe, the research group, and Sussmann/Perkins Coie.

Perkins Coie billing records.

Perkins Coie records (notes, etc.) relating to calls and meetings re: Alfa Bank.

Grand jury testimony.

And that's just on the Alfa Bank issue. (Durham apparently remains focused on the broader FISA issues as well as other matters.) The filing also notes that Durham is ''working expeditiously to declassify large volumes of materials to provide to the defense.'' This includes:

But there's still more. Durham states after the production of these records, ''the government expects to produce additional materials in subsequent productions, which will include additional interview memoranda, emails, and other records.''

Why this matters.

We anticipate that Durham is gearing-up to charge the group that created and pushed the Trump/Alfa Bank hoax. This is based on the volume of information Durham possesses on this issue, which reflects substantial expenditures of time and energy and resources to put all this together. In other words, you don't call the grand jury on this issue - and pursue this matter this far - if the Alfa Bank researchers acted properly.

But if we are correct that the Alfa Bank researchers acted improperly ­'' if the Trump/Alfa Bank data was manipulated '' exactly how did they do it? An Ankura report from 2020 has thoughts on what went down:

This theory of manipulating the data is consistent with the communications revealed in the Sussmann indictment, where a member of the Alfa Bank ''research'' team explained that it would be possible to:

''fill out a sales form on two websites, faking the other company's email address in each form,'' and thereby cause them ''to appear to communicate with each other in DNS.''

It also puts into context the August 22, 2016 observation from Researcher-1: ''How do we plan to defend against the criticism that this is not spoofed [] traffic we are observing? There is no answer to that.''

If this is the case, then Sussmann faces more serious legal consequences than a simple false statement charge. He didn't just take their information to the FBI and later to the CIA.

Instead, it was Sussmann who spent long hours drafting the ''white paper'' that summarized and explained the purported Trump/Alfa Bank links. This white paper was produced to FBI General Counsel Baker on September 19, 2016. And it was Sussmann who provided ''new details concerning the [Alfa Bank] allegations'' to the CIA in February 2017. Details that ultimately proved false.

This leads to the potential for potential obstruction (18 USC 1503) or conspiracy charges. As we have stated, for some of this group (Joffe and some of the Georgia Tech researchers) there might be charges relating to the misuse of classified government data from DARPA.

Reconsidering CrowdStrike.

I leave you with one last thought. Aaron Mate has a great piece over at RCP discussing the history of DNC lawyers from Perkins Coie '' Michael Sussmann and Marc Elias '' in furthering the allegations, made through CrowdStrike, that Russians hacked the DNC.

For background, Crowdstrike was retained by Perkins Coie on May 2, 2016 on behalf of their client, the DNC (and really the Hillary Clinton campaign) to assist Perkins Coie in ''providing legal advice or related legal services to Firm Clients [DNC/Hillary].''

What event triggered the retention of CrowdStrike? In late April 2016, the DNC noticed suspicious behavior on its network. They contacted Sussmann at Perkins Coie, who then got the help of old friend Shawn Henry at Crowdstrike. ''Within the day, the CrowdStrike team concluded that the intruders were Russian government operatives.''

In light of Michael Sussmann's indictment and the apparent attempt by those working on behalf of the DNC to push the false Alfa Bank hoax on the FBI '' consider whether the deception started earlier.

There have long been suspicions of CrowdStrike as being the entity that manipulated data showing Russians allegedly hacked the DNC/Clinton servers and extracted the e-mails.

What if Crowdstrike was a patsy, there to unknowingly reach false conclusions of a ''Russian hack'' based on information provided to them by Perkins Coie and the DNC?

Consider the potential that CrowdStrike was set-up to reach a predetermined conclusion by the same lawyers and political figures that gave us the Alfa Bank hoax'...

Biden under pressure to drop vaccine mandates for federal defense contractors over national security concerns | Washington Examiner

Wed, 27 Oct 2021 13:05

EXCLUSIVE '-- Republican lawmakers are pressuring President Joe Biden to drop or pause his vaccine requirements for federal defense contractors over fears they will compromise national security supply chains.

The Washington Examiner reviewed a letter Alabama Republican Sen. Tommy Tuberville sent to the White House Tuesday afternoon claiming that Biden's "federal contractor vaccine mandate will have negative effects on our national security" and called on the president "to remove '-- or, at a minimum, delay and clarify '-- vaccination requirements on private companies and academic research institutions that are actively supporting the Department of Defense."

PENTAGON DEFENDS USE OF COVID-19 FUNDS TO AID AILING DEFENSE CONTRACTORS

"I share your desire to see our country through the COVID-19 pandemic as quickly as possible, and, I '-- like you '-- have elected to take the vaccine. But your administration's mandate is short-sighted, ill-conceived, and threatens our national security," Tuberville wrote in a letter sent to the White House on Tuesday. "The American warfighter is ultimately harmed when skilled workers leave the defense contractor workforce, a foreseeable consequence of your order."

Tuberville specifically noted that Alabama alone employed nearly 100,000 federal contractors in 2020, and "more than 5,000 contractors who support the Department of Defense."

"They provide capabilities to the Pentagon that are often difficult to replicate. Losing any sizable share of a small firms' workforce means a direct reduction in the 'economy and efficiency' that your Order purports to seek to advance. When these firms are unable to perform, our country is at risk," he continued. "It is quite possible that your mandate will result in individuals leaving the workforce to avoid the vaccine, thus, resulting in increased worker absences and labor costs, and decreased efficiency. During this time of increasing worry about the technological advances of near-peer adversaries, we should focus on policies that will ensure our national security interests are protected. This order does the opposite."

"We will lose several thousand people," Raytheon CEO Greg Hayes said on CNBC Tuesday. "It's not just the prime contractors, but it's also all of our subcontractors that need to follow that mandate as well."

Tuberville's letter follows on the heels of a similar offering from nearly a dozen Republican members of the House Armed Services Committee . On Oct. 22, those lawmakers petitioned the White House and Secretary of Defense Lloyd Austin to suspend the Pentagon's vaccine mandate for contractors over fears that it could lead to military supply chain problems.

"We strongly urge you to reconsider the manner in which you are seeking to address this issue so as not to harm the livelihood of civilian contractors, industry partners, and strategic goals of our armed services," the letter reads. "Those who adamantly refuse the vaccine will accept termination. We will lose critical experience in skilled labor. We will lose opportunities for mentorship and on-the-job training from veteran craftsmen. In the long-term, we will miss quality control standards. We will face endemic cost overruns and rework as decades of lessons are not passed to the next generation."

Roughly 100 employees at United Launch Alliance , a joint venture funded by Lockheed Martin and Boeing that contracts to both the Department of Defense and NASA, walked off the job Monday over the federal government's vaccine mandates and pledged to continue protesting in the days leading up to the deadline to be vaccinated.

"The COVID-19 pandemic has affected virtually every facet of life over the past 18 months. COVID-19 also is a challenge for our business, a business that is critical to national security and civil space endeavors," a ULA representative said in a statement. "ULA decided to require vaccinations to ensure the health and safety of our employees and to align with our U.S. government customer and industry direction. This places ULA in a much better position to meet the nation's needs and our manifest commitments while protecting the health of everyone at our facilities."

A number of other Republicans, specifically in Southern states, have launched separate broader efforts to combat Biden's vaccine mandates. Alabama Gov. Kay Ivey, Florida Gov. Ron DeSantis, and Texas Gov. Greg Abbott all took executive action prohibiting the implementation of Biden's pending Occupational Safety and Health Administration rule requiring all companies with 100 employees or more to require COVID-19 vaccinations.

Ivey's order, signed the same day Tuberville sent his letter to the White House, will block state agencies from penalizing employees or businesses who do not comply with Biden's vaccination requirements. State agencies must still notify employees and businesses if subject to federal penalties but will make clear that the state does not condone the punishment.

"The federal government's outrageous overreach has simply given us no other option but to begin taking action, which is why I am issuing this executive order to fight these egregious COVID-19 vaccine mandates,'' Ivey added in a statement.

Tennessee Republican Sen. Marsha Blackburn also introduced the Keeping Our COVID-19 Heroes Employed Act on Monday, a piece of legislation that would prevent COVID-19 front-line workers from losing their jobs if they refuse to get vaccinated.

No American '-- especially not our nation's COVID-19 heroes '-- should face the ultimatum of a jab versus being fired. That's why I've introduced the Keeping Our COVID-19 Heroes Employed Act to protect them from Biden's mandate.

'-- Sen. Marsha Blackburn (@MarshaBlackburn) October 26, 2021 Georgia Gov. Brian Kemp and Attorney General Chris Carr are also reportedly planning to file a lawsuit against the Biden administration over the president's vaccine mandates, and more than a dozen other Republican-led states have threatened to take legal action.

The White House did not respond to inquiries on the subject by press time, but senior officials have repeatedly characterized vaccine mandate opposition from Republicans as prioritizing individual political prospects over the public health concerns of their constituents.

"Our intention is to implement and continue to work to implement these requirements across the country, including in the states where there are attempts to oppose them," White House press secretary Jen Psaki stated during a briefing in mid-October. "I will say since you gave me the opportunity, Gov. Abbott's executive order, banning mandates and I would also note the announcement by Gov. DeSantis this morning, essentially, banning the implementation of mandates, fit a familiar pattern that we've seen of putting politics ahead of public health."

CLICK HERE TO READ MORE FROM THE WASHINGTON EXAMINER

"I think it's pretty clear when you make a choice that's against all public health information and data out there that it's not based on what is in the interests of the people you are governing. It's perhaps in the interests of your own politics," she concluded.

OMT-leden zien niets in aparte maatregelen voor ongevaccineerden | Binnenland | Telegraaf.nl

Wed, 27 Oct 2021 13:03

Updated Vandaag, 07:00Vandaag, 06:58 in BINNENLAND

Amsterdam - Er moeten geen specifieke coronamaatregelen komen voor ongevaccineerden, zeggen meerdere leden van het Outbreak Management Team (OMT). Dinsdag maakt het demissionaire kabinet mogelijk extra maatregelen bekend en daarbij zou nagedacht worden over het maken van onderscheid tussen wel- en niet-gevaccineerden.

'žIk ben er helemaal geen voorstander van'', vertelt arts-microbioloog Jan Kluytmans aan Nu.nl. 'žHet gaat wel heel erg tegen de individuele vrijheden in.'' Daarnaast denkt hij ook dat maatregelen tegen mensen die geen coronaprik hebben gehad niet uit te voeren zijn.

Ook viroloog Menno de Jong ziet een verschil in maatregelen niet zitten. 'žGaan we daarmee niet te veel polariseren?'', vraagt hij zich hardop af. Diederik Gommers, voorzitter van de Nederlandse Vereniging voor Intensive Care (NVIC), zegt als arts 'žgeen onderscheid'' te maken. 'žJe moet ook oppassen dat je geen groepen tegenover elkaar zet.''

Lunch UpdateDagelijks tijdens de lunch een update van het belangrijkste nieuws.

Ongeldig e-mailadres. Vul nogmaals in aub.

Lees hier ons privacybeleid.

Bekijk meer van12:30

'Personeelstekort ic's schuld van regering'Het mogen wel duidelijk zijn dat Nederland door het beleid van de laatste tien jaren, bezuinigen en nog eens bezuinigen van onze gezondheidszorg een personeelstekort op de ic's hebben, stelt J. Hoeben.

Alex S. gaf honderden mensen dodelijk middelDe strijd om zelfdodingspoeder 'Middel X' wordt de komende tijd hard gevoerd in de rechtszaal. Maar liefst vier verdachten liggen bij justitie onder de loep voor het verstrekken van het dodelijke middel. Zoals de jonge Alex S., die woensdag voor het eerst voor de rechter staat omdat hij Middel X hee...

26 okt.Lezerscolumn

'Verzekeraar rekt net zo lang totdat ik door de knien ga; dieptepunt is bereikt''žSteeds lees ik artikelen over slachtoffers van de toeslagenaffaire. Vreselijk, dat mag duidelijk zijn. Het is allemaal triest om te lezen, maar helaas is het ook herkenbaar voor letselschadeslachtoffers. Zij zijn volledig afhankelijk van de tegenpartij, vaak een aansprakelijkheidsverzekeraar. Deze ...

26 okt.Binnenland

'Zeven op tien gevaccineerden voor specifieke maatregelen voor ongevaccineerden'72 procent van de gevaccineerden mensen vindt dat het kabinet over moet gaan tot specifieke maatregelen voor ongevaccineerden. Ongevaccineerden zijn juist fel tegen deze specifieke maatregelen en zeggen zich dan ook niet aan die maatregelen te zullen gaan houden. Dat blijkt volgens tv-programma EenV...

26 okt.Royals

Elizabeth virtueel weer aan het werk na ziekenhuisopnameDe Britse koningin Elizabeth heeft via internet audintie verleend vanuit haar kasteel Windsor bij Londen. Na haar ziekenhuisopname vorige week is het de eerste keer dat de 95-jarige vorstin weer openbaar bezig is, melden Britse media over de virtuele ontmoetingen.

26 okt.Buitenland

Chinese miljoenenstad Lanzhou vanwege corona in lockdownDe Chinese stad Lanzhou gaat in lockdown vanwege een toename van het aantal coronabesmettingen die daar zijn vastgesteld. De 4 miljoen inwoners moeten thuisblijven tenzij er sprake is van nood, zo hebben de autoriteiten besloten.

Sudan coup turns deadly with protesters killed after military seizes power and arrests PM - ABC News

Wed, 27 Oct 2021 09:36

Seven people have been killed since Sudan's military seized power in a coup, dissolving the transitional government hours after troops arrested the Prime Minister.

Key points: Dozens were injured after the military opened fire on protesters The whereabouts of Prime Minister Abdalla Hamdok is not immediately known Washington was "deeply alarmed" by reports of the military takeover, the US Special Envoy to the Horn of Africa saidThousands of people flooded into the streets to protest against the coup, which threatens the country's shaky progress towards democracy.

Security forces opened fire on some of the crowds, which resulted in the deaths of seven protesters, according to a health ministry official, who said 140 people had been injured.

The takeover comes more than two years after protesters forced the exit of longtime autocrat Omar al-Bashir and just weeks before the military was supposed to hand the leadership of the council that runs the country over to civilians.

The country's information ministry described the unfolding situation as a coup, saying military forces arrested senior government officials, disrupted internet access and blocked bridges in the capital Khartoum.

General Abdel-Fattah Burhan announces in a televised address that he is dissolving the government.(AP: Sudan TV)Abdel Fattah al-Burhan, a military officer who headed the Sovereign Council, a power-sharing ruling body, announced a state of emergency across the country and dissolved the council and the transitional government.

Prime Minister Abdalla Hamdok was detained and moved to an undisclosed location after refusing to issue a statement in support of the coup, said the information ministry, still apparently under the control of Mr Hamdok's supporters.

Sudan's Prime Minister Abdalla Hamdok has been arrested.(AP: File)A Reuters journalist in Khartoum saw joint forces from the military and from the powerful, paramilitary Rapid Support Forces stationed in the streets of Khartoum.

They restricted civilians' movements, as protesters carrying the national flag burned tyres in different parts of the city.

Pro-democracy activist Dura Gambo said paramilitary forces chased protesters through some neighbourhoods of Khartoum.

She said the sporadic sound of gunshots could be heard in many parts of the capital.

Records from a hospital in Khartoum obtained by The Associated Press showed some people admitted with gunshot wounds.

WatchDuration: 46 seconds 46s

Sudanese have protested in the streets of Khartoum, calling for the transition to civilian rule.Millions of dollars in aid put on holdThe United States, United Kingdom and Norway released a joint statement expressing deep concern about the situation, and calling on the military to "immediately release those they have unlawfully detained."

"The actions of the military represent a betrayal of the revolution, the transition, and the legitimate requests of the Sudanese people for peace, justice and economic development," the joint statement released by the US State Department said.

The US special envoy for the Horn of Africa said they had tried to get in touch with Mr Hamdok but could not reach him.

The US government was "deeply alarmed" by the military takeover, which is contrary to the will of Sudan's people, the White House said.

"We reject the actions by the military and call for the immediate release of the Prime Minister and others who have been placed under house arrest," White House spokesperson Karine Jean-Pierre said.

The US State Department said it would suspend $US700 million ($930 million) in economic aid to Sudan.

The UK denounced the military coup and called on security forces there to release Mr Hamdok.

"Today's military coup in Sudan is an unacceptable betrayal of the Sudanese people and their democratic transition," UK's Africa minister Vicky Ford wrote on Twitter.

"Security forces must release PM Hamdok and other civilian leaders, and those who do not respect right to protest without fear of violence will be held to account."

Youtube Sudan's top general declares state of emergency.French President Emmanuel Macron called for an end to the coup.

"I express my support to Sudan's transition government and call for the immediate release and the respect of the integrity of the Prime Minister and civilian members of government," he said.

Protesters take to the streets Thousands of locals flooded the streets of Khartoum and its twin city of Omdurman to protest the military takeover.

Children in front of a burning road barricade during the coup.(Reuters: El Tayeb Siddig)The information ministry said protesters had been shot at near the military's headquarters in Khartoum.

Footage shared online appeared to show protesters blocking streets and setting fire to tyres as security forces used tear gas to disperse them.

Protesters could be heard chanting, "The people are stronger, stronger" and "Retreat is not an option!" as plumes of smoke from burning tyres filled the air.

A takeover by the military would be a major setback for Sudan, which has grappled with a transition to democracy since long-time ruler Omar al-Bashir was toppled by mass protests two years ago.

Monday's arrests come after weeks of rising tensions between Sudan's civilian and military leaders.

Thousands of pro-democracy protesters take to the streets to condemn a takeover by military officials in Khartoum.(AP: Ashraf Idris)A failed coup attempt in September fractured the country along old lines, pitting more conservative Islamists, who want a military government, against those who toppled Mr al-Bashir in protests.

In recent days, both camps have taken to the street in demonstrations.

Sudanese protesters take part in a rally demanding the dissolution of the transitional government.(AP: Marwan Ali)Internet tracking group notes 'significant disruption'Under Mr Hamdok and the transitional council, Sudan has slowly emerged from years of international pariah status in which it existed under Mr al-Bashir.

The country was removed from the United States' state supporter of terror list in 2020, opening the door for badly needed international loans and investment.

But the country's economy has struggled with the shock of a number of economic reforms called for by international lending institutions.

Youtube Dr Andrew E Yaw Tchie says Sudan is in a fragile state.There have been previous military coups in Sudan since it gained its independence from Britain and Egypt in 1956. Mr al-Bashir came to power in a 1989 military coup that removed the country's last elected government.

NetBlocks, a group that tracks disruptions across the internet, said it had seen a "significant disruption" to both fixed-line and mobile internet connections across Sudan with multiple providers early Monday.

"Metrics corroborate user reports network disruptions appearing consistent with an internet shutdown," the advocacy group said.

"The disruption is likely to limit the free flow of information online and news coverage of incidents on the ground."

AP

CDC says some immunocompromised people can get fourth COVID shot - Axios

Wed, 27 Oct 2021 09:33

Sign up for our daily briefingMake your busy days simpler with Axios AM/PM. Catch up on what's new and why it matters in just 5 minutes.Catch up on the day's biggest business storiesSubscribe to Axios Closer for insights into the day's business news and trends and why they matterSign up for Axios Pro RataDive into the world of dealmakers across VC, PE and M&A with Axios Pro Rata. Delivered daily to your inbox by Dan Primack and Kia Kokalitcheva.Sports news worthy of your timeBinge on the stats and stories that drive the sports world with Axios Sports. Sign up for free.Tech news worthy of your timeGet our smart take on technology from the Valley and D.C. with Axios Login. Sign up for free.Get the inside storiesGet an insider's guide to the new White House with Axios Sneak Peek. Sign up for free.Catch up on coronavirus stories and special reports, curated by Mike Allen everydayCatch up on coronavirus stories and special reports, curated by Mike Allen everydayWant a daily digest of the top Denver news?Get a daily digest of the most important stories affecting your hometown with Axios DenverWant a daily digest of the top Des Moines news?Get a daily digest of the most important stories affecting your hometown with Axios Des MoinesWant a daily digest of the top Twin Cities news?Get a daily digest of the most important stories affecting your hometown with Axios Twin CitiesWant a daily digest of the top Tampa Bay news?Get a daily digest of the most important stories affecting your hometown with Axios Tampa BayWant a daily digest of the top Charlotte news?Get a daily digest of the most important stories affecting your hometown with Axios CharlotteWant a daily digest of the top Nashville news?Get a daily digest of the most important stories affecting your hometown with the Axios Nashville newsletter.Want a daily digest of the top Columbus news?Get a daily digest of the most important stories affecting your hometown with the Axios Columbus newsletter.Want a daily digest of the top Dallas news?Get a daily digest of the most important stories affecting your hometown with the Axios Dallas newsletter.Want a daily digest of the top Austin news?Get a daily digest of the most important stories affecting your hometown with the Axios Austin newsletter.Want a daily digest of the top Atlanta news?Get a daily digest of the most important stories affecting your hometown with the Axios Atlanta newsletter.Want a daily digest of the top Philadelphia news?Get a daily digest of the most important stories affecting your hometown with the Axios Philadelphia newsletter.Want a daily digest of the top Chicago news?Get a daily digest of the most important stories affecting your hometown with the Axios Chicago newsletter.Sign up for Axios NW ArkansasStay up-to-date on the most important and interesting stories affecting NW Arkansas, authored by local reportersPhoto: Noriko Hayashi/Bloomberg via Getty Images

The Centers for Disease Control and Prevention said in updated guidelines Tuesday that some immunocompromised people who have received either Pfizer or Moderna's COVID-19 vaccines will be able to get a fourth shot.

Details: People over 18 who are "moderately to severely immunocompromised" and have received three doses of an mRNA vaccine may get a fourth shot (of either the Pfizer, Moderna, or Johnson & Johnson vaccines) at least six months after getting their third Pfizer or Moderna dose, per the CDC.

Worth noting: For immunocompromised people, the third COVID-19 vaccine shot is classified as an "additional dose" by the CDC, and the volume given is the same as that of the first two shots.

For such people, however, the fourth dose is considered a "booster," and the volume given is only half the amount given in the first three doses.The CDC last week gave its approval for Americans to get booster shots that are different from the COVID vaccine they initially received.

Some lesbians feel pressured into sex with trans women over fears of being branded 'transphobic' | Daily Mail Online

Wed, 27 Oct 2021 09:16

Some lesbians claim they have faced accusations of transphobia and threats of violence if they admit they are not attracted to trans women.

Lesbians have spoken out and said they have at times felt pressured to have sex with trans women or coerced into accepting them as partners.

More than half of the 80 women who responded to a survey by campaigning group Get the L Out reported being pressured or coerced to accept a trans woman as a sexual partner.

In total, 66 per cent said they felt intimidated or had received threats in their LGBT groups.

Respondents to the survey shared their experiences with one writing: 'I thought I would be called a transphobe or that it would be wrong of me to turn down a trans woman who wanted to exchange nude pictures.

Some lesbians felt pressured into having sex with trans women over fears they will be labelled transphobic if they refuse as others say they face abuse if they express a 'genital preference'

'Young women feel pressured to sleep with trans women 'to prove I am not a terf'.'

The term 'terf', which stands for Trans Exclusionary Radical Feminist, is often used to attack feminists calling to protect women-only spaces, and sex-based rights rather than gender-based rights, in opposition to advice from LGBT lobby group Stonewall.

The same 'terf' term was levelled at JK Rowling after she disagreed with an online article describing 'people who menstruate'.

Another added: 'I was told that homosexuality doesn't exist and I owed it to my trans sisters to unlearn my 'genital confusion' so I can enjoy letting them penetrate me.'

The organisation acknowledged that the sample size was not representative of the entire Lesbian community but said it was an important tool to highlight these 'points of view and stories'.

Activists have criticised the survey over the method used by Get the L Out to attract respondents as the survey was sent to women-only and lesbian-only groups on social media.

Other women have since spoken out to highlight the issue they feel is almost impossible to talk publicly about.

One woman, who spoke to MailOnline on the condition of anonymity, said gay women are held to a different standard than men.

The 31-year-old woman who says she would only have sex with someone who was biologically female, said: 'I have been on the periphery of those conversations and faced backlash for my opinion.

'Now I just ensure I only surround myself with people who won't attack me for what I do and don't want to do with my body.

In reports highlighting the issue, gay women say they get abuse if they speak out online

'Nobody is saying this is a widespread problem that every lesbian experiences every day but that doesn't mean it doesn't happen.

'What frustrates me about this debate is that men are always completely left out of the conversation.

'Is a man transphobic if he doesn't want to sleep with a trans woman? And is a gay man transphobic if he doesn't want to sleep with a trans man?

'Once again, it's attacking women for something that also applies to men. You're holding lesbians to a different standard than straight or gay men because the question is never asked of them.'

In a report highlighting the issue by the BBC, several women spoke under aliases and said they had experienced backlash after stating they would not want to have sex with a trans woman.

Jennie, a lesbian who is only attracted to women who are biologically female, says she has been described as transphobic, a genital fetishist, a pervert and a 'terf' - a trans exclusionary radical feminist.

She told the BBC: 'I've had someone saying they would rather kill me than Hitler.

'They said they would strangle me with a belt if they were in a room with me and Hitler. That was so bizarrely violent, just because I won't have sex with trans women.

'There's a common argument that they try and use that goes 'What if you met a woman in a bar and she's really beautiful and you got on really well and you went home and you discovered that she has a penis? Would you just not be interested?'

'Yes, because even if someone seems attractive at first you can go off them. I just don't possess the capacity to be sexually attracted to people who are biologically male, regardless of how they identify.'

Lesbians have also shared their own experiences on social media including Twitter (pictured)

Another woman who used the name Chloe told the BBC she felt so pressured she ended up having penetrative sex with a trans woman at university after repeatedly explaining she was not interested.

She added: 'I felt very bad for hating every moment, because the idea is we are attracted to gender rather than sex, and I did not feel that, and I felt bad for feeling like that.'

Some lesbians have also spoken out about the issue on social media platforms.

One user wrote on Twitter: 'I had no idea about what lesbians were going through until I was attacked on a dating app.

'I matched with a woman and we started talking. I gave her my phone number. Eventually, she told me that she was trans.

'I didn't reject the idea right away. It wasn't until she told me that she had not had bottom surgery that I said I wasn't interested. At that point the harassment began.

'She almost convinced me that I was being transphobic. She made me feel that I was being hateful towards women. It took weeks for me to get over this encounter.

'I had no idea that other women were being harassed like this also. I had already given this person my phone number before they disclosed.

Trans activists say 'genital preference' is a form of discrimination and liken it to racism

'They refused to accept my genital preference and harassed me because I wouldn't accept them.

'They mentally abused me, sexually harassed me then made me feel like I was the one in the wrong.'

Another wrote: 'I had this experience with a pre-op trans guy who told me I owed it to him to unlearn my 'confused genital preferences' or else I'm transphobic for refusing.'

People who are critical of genital preference, as it is often referred to, liken the stance to ruling out people of colour or those who are differently abled as sexual partners.

Stonewall chief executive Nancy Kelley took this position.

She told the BBC: 'Sexuality is personal and something which is unique to each of us. There is no 'right' way to be a lesbian, and only we can know who we're attracted to.

'Nobody should ever be pressured into dating, or pressured into dating people they aren't attracted to.

'But if you find that when dating, you are writing off entire groups of people, like people of colour, fat people, disabled people or trans people, then it's worth considering how societal prejudices may have shaped your attractions.

When asked about the issue, Stonewall chief executive Nancy Kelley likened 'genital preference' to choosing not to have sex with people of colour, fat people, disabled people

'We know that prejudice is still common in the LGBT+ community, and it's important that we can talk about that openly and honestly.'

Journalist Ash Sarkar added: 'Nobody should be pressured into sex with anybody, for any reason.

'I wouldn't want someone to feel they had to have sex with me out of social pressure, but it'd be fair to ask whether racism plays a part in announcing every 5mins that they'd never sleep with a woman of colour.'

Trans rights activist Veronica Ivy said: 'Most people don't date genitals, we date *people* who have genitals.

'If a girl has a funny looking vagina, I don't just stop dating her. I make it work. Date genders, and just learn how to have fun with their sexy fun time bits, whatever they happen to be.'

In response to criticism about their coverage, a BBC spokesperson said: 'The article looks at a complex subject from different perspectives and acknowledges it is difficult to assess the extent of the issue.

'It includes testimony from a range of different sources and provides appropriate context. It went through our rigorous editorial processes.

'It is important that journalism looks at issues - even where there are strongly held positions.

'The BBC is here to ensure debate and to make sure a wide a range of voices are heard.'

COVID-19 and the Global Predators Resources | Psychiatric Drug Facts

Tue, 26 Oct 2021 20:39

Psychiatric Drug Factswith Peter R. Breggin M.D.

HomeAboutBrief BioMission StatementWhat people are sayingAccomplishmentsYouTubeResumePublicationsBooksScientific PapersBlogsFrequent AlertsGinger's BlogMediaYouTube ChannelVideo SeriesMy Radio/TV ShowCongressional TestimoneyMedia InterviewsSpecial TopicsLEGAL PAGEAntidepressant ResourcesTardive Dyskinesia ResourcesECT & DBS ResourcesEmpathic Therapy®PSYCHOSURGERYCHILDREN'S PAGEPsychiatry as an Instrument of Social and Political ControlHonored Researcher AwardsContactSign up for Free AlertsSearch Search Search for:

Links

2016 Bill Gates/CEPI original ''Preliminary Business Plan'' for worldwide reorganization and top-down management of the coming pandemic2017 (July) Bill Gates/CEPI PowerPoint Presentation to WHO Summarizing Collaboration in 2016 Business PlanEnd notes to enable easy digital retrieval of citationsBack to topPurchase Books by Dr. Peter R. Breggin, MD

Psychiatric Drug WithdrawalMedication MadnessToxic PsychiatryEmpathic Therapy Training FilmSee More BooksSubscribe to Dr. Breggin's Free AlertsKeep up with Dr. Breggin's work and breaking news in the field.

SUBSCRIBE

Dr. Peter Breggin's International Center for the Study of Empathic Therapy is expanding its outreach as the

International Center for the Study ofPatient-oriented Psychiatry

- ICSPP -

Learn More About the ICSPP

Tardive Dyskinesia Legal Cases$1.5 million Zyprexa & Risperdal child TD trial (2014)$700,000 settled Risperdal Tardive Dyskinesia (2014)$1.6 Million Tardive Dyskinesia Malpractice Verdict (2005)$6.7 Million for Tardive Dyskinesia caused by J&J's Risperdal (2000)Landmark victory in first Canadian Tardive Dyskinesia trial (2000)Appeals Court shocks defense: raises TD award to $2 Million (1998)Additional Important Legal CasesResume including bibliography and legal cases$11.9 million award in Paxil suicide (2016) Attempted murder charges dropped due to meds (2016)Jury Awards $1.5 million for suicide involving antidepressants based on Dr. Breggin's testimony (Nov 2012)Judge concludes Prozac caused teen to murder based on Dr. Breggin's testimony (Sept 2011)Dr. Breggin medical expert in first ever psychosurgery malpractice trial win ($7.5 million against the Cleveland Clinic) (2002)Dr. Breggin medical expert in first ever electroshock (ECT) malpractice trial victory (2005)Dr. Breggin psychiatric expert in landmark Kaimowitz case, ending psychosurgery in state hospitals, VA and NIH (1972)

Warning!Most psychiatric drugs can cause withdrawal reactions, including life-threatening emotional and physical reactions. So it is not only dangerous to start psychiatric drugs, it can also be dangerous to stop them.

Withdrawal from psychiatric drugs should be done carefully under experienced clinical supervision. Methods for safely withdrawing from psychiatric drugs are discussed in Dr. Breggin's book: Psychiatric Drug Withdrawal: A Guide for Prescribers, Therapists, Patients and Their Families.

Stay connected to psychiatric-reform newsLike Dr Breggin's Professional Facebook PageFollow Peter Breggin on Twitter @ AmericanMD Subscribe to our free Frequent AlertsListen to Dr. Breggin's weekly talk radio/TV showKeep Up with Daily Breaking News and CommentaryHomeAboutBrief BioMission StatementWhat people are sayingAccomplishmentsYouTubeResumePublicationsBooksScientific PapersBlogsFrequent AlertsGinger's BlogMediaYouTube ChannelVideo SeriesMy Radio/TV ShowCongressional TestimoneyMedia InterviewsSpecial TopicsLEGAL PAGEAntidepressant ResourcesTardive Dyskinesia ResourcesECT & DBS ResourcesEmpathic Therapy®PSYCHOSURGERYCHILDREN'S PAGEPsychiatry as an Instrument of Social and Political ControlHonored Researcher AwardsContactSign up for Free AlertsSearchCopyright (C) 1996 - 2021 Peter R. Breggin

Search:

EU antitrust official: We must act now against Facebook

Tue, 26 Oct 2021 20:09

European Competition Commissioner Margrethe Vestager told DW in an interview that legal action against the tech giant could be endless, but regulation now could limit its damage.

European Commissioner for Competition Margrethe Vestager told DW on Tuesday that breaking up Facebook could take "years," and that leaders should act quickly before the platform does any more damage.

Democracies need to 'stand together' against FacebookAsked if Facebook was too large and powerful to even attempt to force changes from the outside, Vestager said "not for our democracy."

She said democracies standing together can make real changes to how Facebook runs its platforms, and said regulations needed to be tightened up when dealing with companies that could wield "immense influence" over democracy, and over people's mental health.

"If we stand together, then we can make real changes," Vestager said. "And just to make Facebook assess the risk that they could pose to young people's mental health and to have, you know, external people looking into that assessment to see if things have been corrected, that would be an important step forward."

"We also need to regulate much tighter if we are dealing with someone who can have an immense influence both on mental health, but also how our democracy develops," she added, explaining that the EU Commission had prepared legislation that balances the need to preserve freedom of speech but to get rid of things that "are illegal offline" such as incitement to violence.

'No end' to legal battlesVestager admitted, however, that any legal battle with Facebook would be protracted.

The social media giant "would take us to court for years with no end," she said. But she was hopeful that if the EU can "take action now so that things change," then "smaller businesses can get full access to the market," and social media giants like Facebook would have to take responsibility for the harms they've caused.

The Danish politician's comments came at a time when Facebook is under immense scrutiny. Earlier this month, whistleblower Frances Haugen detailed the ways in which Facebook knew it was being used to promote violence and discord and did nothing to stop it.

On Monday, a trove of leaked internal documents showed that Facebook had repeatedly put its profits ahead of user safety.

Phil Gayle contributed to this report.

Health Care Workers Speak Out on Why They Would Rather Lose Their Jobs Than Take a COVID-19 Vaccine

Tue, 26 Oct 2021 19:42

Despite the COVID-19 vaccines having been promoted as safe and effective by legacy media, many health care workers are refusing to take them, and those who openly speak out about their concerns get censored by Big Tech companies or kicked off their platforms.

Some nurses and doctors are refusing vaccine mandates even if their refusal will cost them their jobs.

The Epoch Times reached out to some of these health care professionals to see why.

'Impossible to Give Fully Informed Consent'Emily Nixon is a registered nurse who has been working in the health industry for 18 years. When her employer, MaineHealth, announced that it would make the vaccine mandatory, she quickly organized a group called The Coalition for Healthcare Workers Against Medical Mandates and filed a lawsuit.

''Thousands of health care workers have and will be losing their jobs. The already weak health care infrastructure of Maine will not withstand this devastating loss of staff. Life will be lost. Care is already being rationed. We have been experiencing a media blackout in this state,'' Nixon said.

''Speaking from my point of view, an intelligent, healthy, and empowered health care professional that takes excellent care of herself, it is an insult to expect that I would accept an injection of unknown substance and efficacy and provide an example to the great people that I serve that they too should submit their power over to pharmaceutical companies'--convicted felons'--in an effort to put a band-aid on the gaping wound of reality.

''It is unconscionable to mandate injections without exemption, especially when the injection is a brand new medical product still undergoing its first year of study. Breakthrough cases are not properly reported on. We know this vaccine is 'leaky.' The safety and effectiveness of this vaccine has not been proven. There are other safe and alternative treatments. It is impossible to give fully informed consent without long-term, unbiased data. Threatening our jobs is blatant coercion. Our God-given right to bodily integrity and personal autonomy has been stripped with these mandates and we will not stand for it,'' Nixon said.

'The Side Effects Are Real'Jaclyn Zubiate, who was working for Southern Maine Health Care, loved her job as a nurse practitioner.

''I did not take the vaccine, even though I will be terminated '... Now with the data that we have, we know that the survival rate is quite high. Over the last 18 months, I have only sent one patient to the ER in respiratory distress. COVID has no distinguishing features among other viruses like other diseases that we have vaccines for. Why would I need a vaccine for something with a 99 percent survival rate that does not have any distinguishable features?'' said Zubiate.

''Health care workers are not taking it because they know that the side effects are real. In urgent care, I have seen myocarditis, cellulitis, [and] unusual neurological symptoms, among a variety of other side effects. I have seen people very ill post-vaccine, and then go on to test positive. The positivity rate for contracting COVID on the vaccinated is very high per the recent studies and what I am seeing in my clinic. A vaccine should work, and it is not working. It should be tested for years on something other than humans before we call it 'safe and effective.' There have been over 15,000 deaths from the vaccine that the media is not talking about. I will never take that risk on myself,'' Zubiate said.

'The Data Speaks for Itself'Jessica Mosher has been a registered nurse for more than a decade. She is a mother of four and a veteran of the United States Navy who lost her job for refusing the shots.

She was a nursing supervisor, patient observer manager, and nurse program director at Redington-Fairview General Hospital.

''Protecting my health and staying true to my religious convictions will always be my choice over a job. The scriptures promise that 'as long as the earth remains, there will be seedtime and harvest'; this side of heaven, we have an abundance of employment options, but only one life,'' Mosher said.

''I have a master's degree in nursing and am employed as a professor of nursing research and evidence-based practice. I am skilled in collecting and analyzing data and in drawing conclusions. I did not rely on the media, government, or Big Tech for any of my health care decisions prior to COVID-19 and I have no plans to change course. The data speaks for itself related to the harm these experimental vaccines have caused and the lack of studies that have been conducted.

''What I have seen as a nurse and what others have shared post-vaccination seals the deal. The virus, like the cold and flu, does not have a cure. However, it has an almost 100 percent survival rate. Those pushing the vaccine are following the money. I am following the science. Health care workers do not walk away from their passion or stable salary to be difficult. The amount of people willing to be fired should be cause for alarm in and of itself,'' she said.

'Health Care Workers Have Natural Immunity'John Lewis worked for a large hospital in southern Maine.

He is pro-life and believes that all life is precious.

''Knowing all three available vaccines were either tested, developed, or produced using fetal cell lines from elective abortions, I could not in good conscience violate my deeply held beliefs. Anticipating I would be able to file a religious exemption, it is hard to accept [that] I'm not being afforded an exemption based on my duties after considering I am a remote worker and do not interact with patients,'' Lewis said.

''Outside of medical or religious exemptions, many health care workers consider the risk-benefits of getting the vaccine. It is the same approach to providing patient care, where the patient is allowed informed consent. Many of the health care workers have natural immunity. Others do not feel there is enough long-term research into adverse effects. Also, these health care workers see with their own eyes what is happening in hospitals, which isn't necessarily in line with the narrative,'' Lewis said.

'None of Us Are Seeing' SurgesHeather Sadler, a registered nurse, also loves to be a nurse, but she said that her and her family's health are much more important than her paycheck.

''This is new vaccine (if you want to call it that) technology that has NEVER been deployed successfully, and has no data regarding long-term effects, not to be confused with 'side effects' as the general public seems to be hung up on. I have always been someone who analyzes my health care choices through the lens of risk-benefit ratio. Knowing what I know about COVID (and I've done a lot of research), I do not fall into any of the high-risk for severe illness/death categories: age over 65, obese, heart disease, diabetes, chronic lung conditions, and immunocompromised. For me and my immediate family, there is greater risk of having a side effect, or long-term effect from injecting a virtually unknown substance into ourselves,'' Sadler said.

''I am a nurse in Oncology/Hematology, and I'm seeing that we are experiencing an increase in hospitalizations/referrals for clotting and bleeding disorders. For one example, in one week, we had two patients in the hospital who were diagnosed with a rare clotting disorder '... And this happened twice in one week in rural central Maine. The only common factor, a COVID shot three days prior in each case. Was this reported to the CDC? I do not know.

''Only 4 of the roughly 20 to 25 people I've known personally who have tested positive for COVID recently have been unvaccinated. Yes, unvaccinated. The majority of the people around me who have tested positive in the past three months have been fully vaccinated. Why would I want to risk side effects or long-term effects of the shot if I can still contract and spread this virus? It's just not logical. Those two examples clearly blow their theory that 'it's safe and effective' out of the water,'' Sadler said.

''I am in constant communication with other health care workers in the state of Maine and none of us are seeing the 'surges' that the general public is told is happening.''

''This is America! I have every right to make an educated decision regarding my health care. No matter what you are told, what I do has no direct effect on you,'' Sadler said.

'Freedom Is the Most Important Thing'Sherri Thornton was a Maine SAFE Advisory Board member and chair and has been a nurse for 45 years.

She was planning to retire but wanted to work until the end of the year; however, when she saw the mandate coming, she decided to retire earlier.

''I believe that freedom is the most important thing in life outside of salvation. No one has the right to tell me what I can or can not do with my body except the Lord. The vaccines have been produced with fetal tissue, and I am staunchly opposed to abortion,'' Thornton said.

''The components of the vaccines are not safe. There are many side effects that cause more harm than the coronavirus. It doesn't protect against the variants. '... Vaccinating everyone will not gain herd immunity and will only cause more variants to which those without natural immunity will succumb,'' Thornton said.

Three other health care workers that are against the vaccine mandates reached out to The Epoch Times but didn't want to have their names or employers disclosed.

Enrico Trigoso is an Epoch Times reporter focusing on the NYC area.

Jury Clears Oculus Founder, Facebook Unit Of IP Theft - Law360

Tue, 26 Oct 2021 18:41

By Hannah Albarazi (October 14, 2021, 4:44 PM EDT) -- A California federal jury on Wednesday cleared Oculus VR's founder and a Facebook subsidiary on allegations that the billionaire lied about his progress on virtual reality headset designs that Total Recall Technologies contracted him to create and then sold them to Facebook for $2 billion.

The trade secrets trial against Oculus VR's billionaire founder Palmer Luckey wrapped Wednesday when the jury unanimously held that Total Recall Technologies had failed to prove that Luckey breached a contractual obligation to it or that Luckey committed constructive fraud.

The jury unanimously held that TRT also failed to prove that Luckey had entered into a...

Stay ahead of the curveIn the legal profession, information is the key to success. You have to know what's happening with clients, competitors, practice areas, and industries. Law360 provides the intelligence you need to remain an expert and beat the competition.

Access to case data within articles (numbers, filings, courts, nature of suit, and more.)Access to attached documents such as briefs, petitions, complaints, decisions, motions, etc.Create custom alerts for specific article and case topics and so much more!TRY LAW360 FREE FOR SEVEN DAYS

Johns Hopkins to lead first federally-funded psychedelic study in decades - SlashGear

Tue, 26 Oct 2021 18:37

For the first time in around five decades, the US government has issued a federal grant for the study of psychedelics. The funds have been granted to three universities: New York University, Johns Hopkins University, and the University of Alabama at Birmingham. The grant is intended to study the psychedelic compound psilocybin as a potential therapeutic tool for addressing addiction.

Once a promising tool for mental health, psychedelics have been scheduled substances in the United States for decades, effectively bringing most research on the compounds to an end. Despite their continued illegality, psychedelics have once again exploded in popularity, particularly the practice of ''microdosing,'' with users giving anecdotal reports about benefits ranging from better mental performance to improved mental health and sociability.

Renewed public interest in psychedelics and claims made about their potential benefits have fueled a new era of research into the compounds in the US, including psilocybin, which is the psychoactive chemical found in various edible mushroom species. The new federal grant was issued by the NIH's National Institute on Drug Abuse to study psilocybin as a potential way to help smokers overcome their addictions.

According to Johns Hopkins University, it will lead the three-year study in collaboration with the other two educational institutions. The universities will simultaneously conduct their own parts of the study, evaluating whether psilocybin may be suitable as an addiction treatment for smokers. The grant offers up nearly $4 million in funds for the study, which the universities say will feature a ''diversified pool of participants'' made possible, in part, by the research's multi-state design.

The study's principal investigator Matthew Johnson, Ph.D., first started evaluating psilocybin as a potential smoking cessation therapeutic 13 years ago, according to the university, including a pilot study published in 2014 that offered very promising results. Of particular interest is the existing research's evidence that psilocybin may be substantially more effective at helping smokers quit compared to existing treatment options available.

Johnson said in a statement:

The historical importance of this grant is monumental. We knew it was only a matter of time before the NIH would fund this work because the data are so compelling, and because this work has demonstrated to be safe. Psilocybin does have very real risks, but these risks are squarely mitigated in controlled settings through screening, preparation, monitoring and follow-up care.

Chicago poised to create one of the nation's largest 'guaranteed basic income' programs - The Washington Post

Tue, 26 Oct 2021 18:35

The Chicago City Council is poised to vote this week on what would be one of the nation's largest basic income programs, giving 5,000 low-income households $500 per month each using federal funding from the pandemic stimulus package enacted this year.

Mayor Lori Lightfoot (D) has proposed the more than $31 million program as part of her 2022 budget, which the city council is scheduled to consider on Wednesday. The one-year pilot program, funded by the nearly $2 billion Chicago received from the Biden administration's American Rescue Plan, is supported by most of city's 50 aldermen. But it has received pushback from the 20-member Black Caucus, which has urged Lightfoot to redirect the money to violence prevention programs.

Lightfoot has said the pilot program is motivated by her own childhood memories of hardship while growing up in Ohio. ''I knew what it felt like to live check to check. When you're in need, every bit of income helps,'' she wrote in a tweet announcing the plan earlier this month.

Story continues below advertisement

Basic income programs have been spreading across the country since Stockton, Calif., started providing monthly stipends with no strings attached to 125 of its residents in 2019. Those stipends resulted in more full-time employment and improved mental and emotional well-being among recipients, according to preliminary findings reported earlier this year by researchers who helped design the program.

Michael Tubbs, who implemented the program as then-mayor of Stockton, noted that recipients' largest expenditure was food, making up at least a third of spending each month, according to the report. ''I had no idea so many people in my area were hungry,'' Tubbs said.

Study finds that giving people basic income in this city paid off

Since Stockton's program launched, about 40 other cities have considered or started on similar efforts to target economic insecurity within their boundaries, according to Mayors for a Guaranteed Income, including Denver, Newark, Pittsburgh, San Francisco, New Orleans and Compton, Calif. A program in Los Angeles will provide 2,000 residents with a guaranteed income of $1,000 a month for a year.

Story continues below advertisement

The surge of interest in basic income has been fueled in part by the influx of money that cities have received from the coronavirus stimulus package and the formation of Mayors for Universal Basic Income, an advocacy coalition that Tubbs founded last year.

Critics worry that guaranteed income programs will discourage people from finding jobs and drain the labor force, a particular concern amid the record job openings in the country this year, said Michael Faulkender, who served as an assistant treasury secretary for economic policy during the Trump administration. Last week, the National Federation of Independent Business reported that 51 percent of small business owners have jobs they cannot fill, more than double the historical average of 22 percent.

''There are still millions of low-skilled jobs out there, and you have small business owners who can't find workers to join their companies,'' said Faulkender, who teaches finance at the University of Maryland. Proposals like the one in Chicago feed the ''process of reducing the willingness of people to participate in the workforce,'' he said.

Opposition to federal entitlement programs, such as rent vouchers and food stamps, has been waged for decades, but advocates like Tubbs say that today, ''the climate has changed.'' Economic blows struck by recent natural disasters and the pandemic have proven that ''the economy doesn't work for a vast number of Americans,'' he said.

The inequalities in Chicago are particularly stark. A 2019 report by an economic inequality task force created by the mayor's office found that 500,000 Chicagoans '-- about 18 percent of the population '-- are living below or at the poverty level. Nearly half the city's households do not have a basic safety net to help in emergencies or to prepare for future needs. A quarter of households have more debt than income.

Story continues below advertisement

Lightfoot says the effects of the despair can be seen in recent drops in life expectancy among the poorest and the current spike in street violence throughout the city. Harish Patel, executive director of Economic Security For Illinois, an advocacy group that helped coordinate the report, says the pandemic has made the disparities worse.

The 5,000 recipients, who must be adults and make less than $35,000 a year, will be chosen randomly for the program. Chicago Alderman Gilbert Villegas said the city plans to track the recipients' expenditures during the first six months and then provide more targeted assistance, such as help with paying heating bills or for food. The costs of supporting the program, he said, ''is well worth the investment'' when weighed against daily costs of poverty in Chicago, such as gun violence and incarceration.

The Chicago basic income proposal dates back two years when a small group of aldermen led by Villegas proposed a resolution that would have established a $50 million basic income program. The subject is particularly important to Villegas, who considers himself ''a product'' of similar fiscal assistance. Following the death of his father when Villegas was 8 years old, his mother received $800 in monthly survivor benefits from Social Security until he and his younger brother turned 18. The funds supported child-care costs and gave her the freedom to work just one job, rather than two, so she could be with her sons more often.

Story continues below advertisement

''It allowed my mom to work with dignity and gave her the flexibility to work to better the neighborhood,'' he said. The siblings later served in the Marines, which Villegas says they considered as payback for the assistance from the federal government. ''These are the types of human infrastructure investments we need to take a look at when we talk about investing in infrastructure,'' he said of basic income programs.

Polling over many years has largely showed the American public does not support universal basic income. In April, the Pew Research Center survey found a third of Americans say it is ''very important'' for the United States to provide universal basic income while a fifth said it was ''somewhat important.'' Forty-five percent said they were against.

But supporters say it is a matter of exposure. Brett Watson, an economics professor at the University of Alaska Institute for Social and Economic Research in Anchorage, noted that in his state, receiving a regular income from the government is already seen as ''a birthright.''

Story continues below advertisement

Alaska has a nearly 40-year-old Permanent Fund Dividend that guarantees its residents an average of $1,600 in an annual lump payment. The fund consists of offshore oil lease royalties paid to the state.

Unlike many of the new basic income programs, it doesn't target specific households and requires fewer conditions. The money, Watson said, is not seen as paternalistic or demeaning, unlike how social service benefits like food stamps or rent vouchers are traditionally perceived.

''There's something appealing to people about the idea that it's the people, more than the government, who should decide how best to spend the money they are given,'' he said of the Alaska basic income model. ''For that reason alone, it is attractive on the national scale.''

US vaping industry looks for answers as Postal Service ends deliveries - FreightWaves

Tue, 26 Oct 2021 17:42

The American e-vapor industry faces a major challenge that has nothing to do with selling to minors, concerns over health risks and black-market knockoffs. It has to do with putting its products in the hands of consumers.

On Thursday, the U.S. Postal Service's ban on the shipping of all vaping products, which was mandated by Congress late last year, took effect. The Postal Service's exit, combined with existing delivery bans by FedEx Corp. (NYSE:FDX), UPS Inc. (NYSE:UPS) and DHL eCommerce Solutions, the e-commerce unit of German company Deutsche Post DHL (OTC US: DPSGY), leaves the vaping industry with limited options to get its goods to market.

The prohibitions imposed by the four carriers affect online sales to consumers as well as business-to-business transactions between manufacturers, distributors and retailers. There are about 10 million regular vapers in the U.S., according to the American Vaping Association (AVA), a pro-vaping advocacy organization that receives funding from the industry. Between 2.5 million and 3.5 million consumers order vaping products online, the group estimates. It has no data on the size of B2B transactions.

With the Postal Service, which serves every U.S. address, out of the picture, the vaping supply chain, whether in B2B or in the business-to-consumer channel, will need to develop new shipping strategies to remain viable. New models have already sprung up. A company called Vape Freight, founded by Michael Wittenberg, a logistics veteran who also has experience in the vaping industry, is offering B2B customers a portfolio of services ranging from small-package to LTL to container shipping.

On Monday, regional parcel delivery carrier LSO, which has transported vaping products for some time, vowed to step up activity in its 10-state territory, which includes every ZIP code in the company's home state of Texas. The Austin-based carrier said in a statement that shipping vaping products to residences is similar to deliveries of apparel, food and wine, health and beauty aides, and other legal products. The main difference with delivering products like wine and vaping is they require an adult signature.

''I find it puzzling why other carriers have chosen not to support the vaping market,'' said Richard Metzler, LSO's CEO, in the statement. Metzler said it's a ''head-scratcher for me'' as to why carriers treat vaping products any differently from legal products requiring an adult's sign-off. ''Who knows? Maybe they will ban wine deliveries next,'' he added.

In an email, Metzler said he's unaware of any other regional carrier that transports vaping products, though some local delivery firms may. Executives at regional carriers OnTrac and LaserShip, the two largest in terms of geographic reach, did not respond to requests for comment. LaserShip's parent, private equity firm American Securities LLC, plans to buy OnTrac in a $1.3 billion deal that many expect to lay the foundation for the first national parcel-delivery operation carved out of regional networks.

The Postal Service will allow a limited number of vaping transactions between consumers as long as they are not commercial in nature. Businesses can apply to the agency for permission to sell to other businesses. However, the vaping industry will be governed by the same onerous requirements that apply to cigarette and smokeless tobacco companies in the B2B space, said Gregory Conley, AVA's founder and president.

For example, applicants must furnish the names and addresses of all the businesses they will ship to, and supply a list of their customers' licenses. Should a business add customers, or an existing customer changes its address, the application must be updated and approved by the Postal Service before products can be shipped to new addresses, according to Conley. Packages have to be brought into the post office, and each one must be processed over the counter.

The writing was on the wall for the industry last December after President Donald Trump signed a 5,000-page omnibus spending bill that included a law called the Preventing Online Sales of E-Cigarettes to Children Act. Language in the act mandated that the Postal Service ban all shipments of vaping products with limited exceptions. The vaping industry was also brought under the 2009 Prevent All Cigarette Trafficking (PACT) Act, which is designed to fight online sales of untaxed cigarettes.

Under that law, cigarettes and smokeless tobacco could no longer be shipped through the mail, and online sellers had to register with the Bureau of Alcohol, Tobacco, Firearms and Explosives (ATF) and the tax administrators of each state. The PACT Act established standards for private carriers shipping tobacco products to residences and businesses, and created stringent tax collection and reporting rules, with heavy penalties for noncompliance.

The postal ban on vaping products was originally to go into effect at the end of March. However, the process was delayed after the agency was deluged with thousands of comments to the then-proposed rules.

In March, FedEx said it would exit the vaping-delivery business. UPS followed suit a month later, telling affected customers it would no longer ship vaping products within the U.S., or internationally to and from the U.S., because of the ''increased complexity'' of shipping those goods. The DHL unit had been out of the business well before that.

Conley of AVA suggested the regulatory environment surrounding the delivery of vaping products had become ''too murky'' for the companies to continue doing business in the space.

Children's Health Defense Sues FDA Over Approval of Pfizer Comirnaty Vaccine ' Children's Health Defense

Tue, 26 Oct 2021 17:30

The lawsuit, filed Aug. 31, alleges the U.S. Food and Drug Administration violated federal law when the agency simultaneously licensed Pfizer's Comirnaty COVID vaccine and extended Emergency Use Authorization for the Pfizer-BioNTech vaccine.

The Defender is experiencing censorship on many social channels. Be sure to stay in touch with the news that matters by subscribing to our top news of the day. It's free.

Children's Health Defense (CHD) on Aug. 31 filed suit in U.S. District Court, Eastern District of Tennessee against the U.S. Food and Drug Administration (FDA) and its acting director, Dr. Janet Woodcock, for their allegedly deceptive, rushed licensure of Pfizer's Comirnaty vaccine.

CHD argues that the licensure was a classic ''bait and switch,'' allowing Pfizer, the Biden administration, the U.S. military and employers to exhort people to take ''licensed'' vaccines when in fact the vaccines available and being administered continued to be the Pfizer-BioNTech Emergency Use Authorization (EUA) vaccines.

Here's my latest with @NassMeryl'... Buried in fine print of Monday's approval by FDA of Pfizer Comirnaty COVID vaccine are 2 critical facts that affect whether vaccine can be mandated + whether Pfizer can be held liable for injuries.https://t.co/QtpHufCKDI

'-- Robert F. Kennedy Jr (@RobertKennedyJr) August 25, 2021

According to the lawsuit, the FDA violated federal law when it simultaneously licensed Pfizer's ''Comirnaty'' vaccine and extended Pfizer's EUA for its vaccine that has the ''same formulation'' and that ''can be used interchangeably,'' according to the FDA.

The law (21 U.S. Code § 360bbb-3-(3)) on ''authorization for medical products for use in emergencies'' requires the EUA designation be used only when ''there is no adequate, approved and available alternative to the product for diagnosing, preventing or treating such disease or condition.''

The lawsuit alleges once the FDA approved and licensed Pfizer's Comirnaty vaccine, there was no further basis for the FDA to preserve the EUA status for the Pfizer-BioNTech vaccine that Pfizer acknowledges has the ''same formulation'' and is ''interchangeable.''

There also is no basis to retain EUA status for other COVID vaccines for the same use and for the same population as Pfizer's Comirnaty vaccine, according to the complaint.

''The FDA must justify its actions in open court,'' said Mary Holland, CHD president and general counsel. ''The language of its licensure is nearly incomprehensible, and the result of licensed and unlicensed vaccines for the same indication is arbitrary.''

CHD is asking the court to vacate and remand the FDA's decisions to license Pfizer's Comirnaty vaccine and to extend EUA for the Pfizer-BioNTech vaccine.

Attorneys Robert F. Barnes and Derek Jordan of Barnes Law are the lead attorneys along with CHD Chairman and Chief Legal Counsel Robert F. Kennedy, Jr. and other counsel for CHD.

On May 16, CHD submitted a Citizen Petition to the FDA calling on the agency, to among other things, revoke all COVID vaccine EUAs and refrain from approving any future EUA, new drug applications or biologics license applications for any COVID vaccine for all demographic groups because the risks of serious adverse events or deaths outweigh the benefits, and because existing, approved drugs provide highly effective prophylaxis and treatment against COVID, mooting the EUAs. The petition garnered more than 30,000 public comments.

On Aug. 23, the same day the FDA licensed the Pfizer Comirnaty vaccine, the agency responded to CHD's petition. This licensure and FDA response cleared the administrative path for CHD to file suit.

Subscribe to The Defender - It's Free!Sign up for free news and updates from Robert F. Kennedy, Jr. and the Children's Health Defense. CHD is planning many strategies, including legal, in an effort to defend the health of our children and obtain justice for those already injured. Your support is essential to CHD's successful mission.

Global Glass Shortage Crisis Set To Continue In 2021

Tue, 26 Oct 2021 17:25

Glass manufacturers worldwide tended to slow their production volumes as the Coronavirus pandemic hit. Unfortunately, getting these enormous production plants back to full volume is not an easy job.

In addition to the Coronavirus pandemic, restrictions in East Asia to tackle pollution caused by energy-intensive glass manufacturing played a critical role in the glass shortages. The initial low production volumes, the backlog of orders and continued increasing demand have resulted in glass manufacturers being on reduced allocation.

The pressure is also set to increase later this year as two of the UK's biggest lines will be shut down for £50 million cold maintenance programmes.

Regular daily production volumes can easily achieve thousands of tonnes, thanks to furnaces. These furnaces are designed to operate 24/7 without interruption or supervision. Maintenance and repairs are a must for glass melting furnaces as over time the productivity and quality on the glass line deteriorate.

For the cold repair technique, the furnace must be cooled and completely emptied. Cold repair allows detailed repairs and renovations to be made but this method forces an interruption on production.

Cold repair requires a lot of planning, due to the running times being between 12 to 20 weeks and are scheduled years in advance. The cost and complexity of the plans are so fundamental that once planned, it's almost impossible to re-arrange.

With demand outstripping supply it is likely that further price increases will be applied.

It is now vital that the construction sector protects glass to avoid replacement delays and additional expense.

Get in touch today to save time, money and disputes by using Protectapeel®.

Kay Ivey, Alabama governor, directs agencies to ignore federal COVID-19 vaccine mandate - Washington Times

Tue, 26 Oct 2021 17:24

MONTGOMERY, Ala. '-- Alabama Gov. Kay Ivey on Monday directed state agencies to ignore the federal COVID-19 vaccine mandate, where possible, and instead cooperate with the state's efforts to file a lawsuit challenging the vaccination requirements.

The directive is part of Republican officials' efforts to resist the Biden administration's vaccine mandate, but the sweep of the Alabama order is limited since it can only cover state executive branch agencies.

Ivey signed an executive order forbidding executive branch agencies - which include agencies such as Medicaid, Mental Health and Human Resources - from penalizing employees or businesses for non-compliance with the federal vaccine mandate. If federal law requires the penalty, Ivey directed the state entity to take steps to notify the affected business or individual that Alabama does not condone the penalty.

Gina Maiola, a spokesperson for Ivey, said the governor issued the mandate because some state agencies could potentially fall under the federal vaccine mandate or have enforcement duties. Maiola did not immediately respond to an email seeking examples.

''The federal government's outrageous overreach has simply given us no other option, but to begin taking action, which is why I am issuing this executive order to fight these egregious COVID-19 vaccine mandates,'' Ivey said in a statement.

The executive order comes three days after the state's largest universities announced employees must get vaccinated because of the federal mandate.

However, Ivey's executive order would not impact those plans announced by the University of Alabama System and Auburn University to require employees to be vaccinated for COVID-19 by Dec. 8. The universities were created by the Alabama Constitution and are under the management and control of a board of trustees.

The schools said the Alabama campuses in Tuscaloosa, Birmingham, Huntsville and Auburn all are federal contractors, so they have to comply with an executive order signed last month by President Joe Biden.

Ryan Easterling, a spokesperson for the Alabama Department of Public Health said that agency is still investigating how it is affected by the federal mandate, but wrote in an email that, ''we intend to comply with (the) Governor's order.''

Biden in September ordered sweeping new federal vaccine requirements for as many as 100 million Americans.

The expansive rules mandate that all employers with more than 100 workers require them to be vaccinated or test for the virus weekly. Roughly 17 million workers at health facilities that receive federal Medicare or Medicaid also will have to be fully vaccinated. Biden is also requiring vaccination for federal employees of the executive branch and contractors who do business with the federal government.

Conservative Republican in several states have vowed resistance to the mandate, calling it a federal overreach, but so far have limited options in trying to undercut the requirements. The issue is likely bound for court after GOP attorneys general vowed to sue.

The White House has previously accused Republican officials to putting politics ahead of safety, noting the effectiveness of vaccines at preventing people from dying from a virus that has already killed more than 730,000 Americans.

Alabama Attorney General Steve Marshal said earlier this month that his office is preparing to challenge the mandate on employers once the rule is unveiled.

Ivey's executive order directed executive agencies to cooperate with Marshall's office in ''furtherance of litigation brought by the State to challenge any federally imposed COVID-19 vaccination requirement.''

Sign up for Daily NewslettersCopyright (C) 2021 The Washington Times, LLC.

Cienna Knowles: 'Healthy' 19yo blames Pfizer Covid vaccine for blood clotting disorder | news.com.au '-- Australia's leading news site

Tue, 26 Oct 2021 17:22

A ''super healthy'' equestrian star who was hospitalised with blood clots has blamed it on the Pfizer vaccine. Officials haven't confirmed her claims.

A ''super healthy'' teen equestrian competitor who was hospitalised last week with blood clots in her chest has blamed the potentially ''life-changing'' injuries on the Pfizer vaccine.

However, authorities have not confirmed her condition is connected to the Pfizer shot '' which to date has not been linked to blood clotting issues as a known side effect in Australia '' with NSW Health urging the public to ''use credible sources of information''.

Cienna Knowles from the NSW Central Coast shared her experience in a series of viral social media posts, writing that she ''never wanted'' the Covid-19 vaccine as she was scared of side effects, but ultimately got it to keep her job.

The 19-year-old, who has more than 30,000 followers across Instagram and TikTok, said she fell ill after receiving her second Pfizer dose last Thursday.

She was taken to Gosford Hospital where scans discovered blood clots in her legs, stomach and lungs.

''Crazy how quickly I went from a super healthy 19-year-old kid who's never had any form of health issues ever '' working a full-time job, training and riding horses every day '' to having it all taken away from me after my second Pfizer vaccination,'' Ms Knowles wrote on Facebook over the weekend.

''My lungs are full of blood clots and heart's under stress.

''My new normal [is] now having a pulmonologist doctor, cardiologist doctor, blood tests, full-body scans, ultrasounds on my heart and lungs. Over a vaccination I got to do the right thing and I never wanted to get because I was genuinely scared of running the risk.

'' I wish I had never gotten it and I could have my healthy body back.''

On Monday she wrote on Instagram that the clots in her lungs were the equivalent of ''having broken ribs'' and made it painful to breathe.

''As part of my treatment for my recovery I am now medicated and never have been in my life, as a result of these I have internal bleeding and nose bleeds as one of the side effects of my medications along with a line of other things I choose to keep private,'' she wrote.

She shared a side-by-side image of her before and after in her hospital bed.

''Crazy to think to the left pic I was turfing with my family riding horses and the next pic is me just after my vaccination,'' she wrote.

Ms Knowles said she would be seeing doctors and specialists ''for a minimum of six to 12 months'' and had been informed ''to not ride my horses, my motorbikes and train '' everything I am''.

In another post, a TikTok video from her hospital bed, she said she was ''now on a long road to recovery'' and could face ''some life-changing things''.

''I also do have loads of side effects I'm choosing to keep personal,'' she said. ''I'm struggling to come to terms with what's been taken away from me and my new normal.''

On Monday she shared an update on Facebook from her mother Rebecca Donnelly, who said her daughter had been diagnosed with portal vein thrombosis (PVT).

PVT is a blood clot of the portal vein, which allows blood to flow from the intestines to the liver.

Ms Donnelly claimed in the post that it was ''confirmed last night she has PVT caused by Pfizer'' and that it was ''the first case they have seen'' as blood clotting is normally a side effect associated with AstraZeneca vaccine.

Health officials have not confirmed Ms Donnelly's claims.

NSW Health said it does not discuss individual cases.

''However, NSW Health is urging people to use trusted and credible sources of information to inform them about the most up-to-date Covid-19 information in NSW,'' a spokesman said.

''We continue to encourage everyone to get vaccinated. The Covid-19 vaccines available in Australia are safe and very effective at reducing the risk of serious illness and death. Please access Covid-19 health advice and information from NSW Health and the Australian government.''

The Therapeutic Goods Administration, which collects and investigates reports of adverse vaccine reactions, declined to comment.

The TGA releases a weekly update each Thursday. A spokeswoman for the TGA would not confirm whether it had received an adverse event report matching the description of Ms Knowles' case.

On its website, the TGA stresses that ''suspected adverse events reported to the TGA are often not caused by the vaccines''.

To date, there have been nine confirmed deaths linked to blood clotting disorders from the AstraZeneca vaccine, and no deaths linked to the Pfizer vaccine.

The TGA does not report any known blood clotting side effects linked to Pfizer.

The most common serious side effects of the Pfizer vaccine are myocarditis and pericarditis, or inflammation of the heart and the membrane around the heart.

As of October 17, the TGA had received 312 reports of suspected myocarditis alone or in combination with pericarditis, and 836 reports of suspected pericarditis alone linked to Pfizer.

There have been 156 total cases of blood clots with low blood platelets, also known as thrombosis with thrombocytopenia syndrome (TTS), linked to AstraZeneca.

Approximately 19.6 million doses of Pfizer, 12.6 million doses of AstraZeneca and 397,000 doses of Moderna have been administered in Australia as of October 17.

According to the TGA, the protective benefits of vaccines against Covid-19 ''far outweigh the potential risks''.

Ms Knowles and Ms Donnelly have been approached for comment.

frank.chung@news.com.au

Read related topics: Vaccine

Operation Secondary Infektion Targets Pfizer Vaccine

Tue, 26 Oct 2021 17:06

October 20, 2021 ' Insikt Group®

Russia

Editor's Note: The following post is an excerpt of a full report. To read the entire analysis, click here to download the report as a PDF.

The following report is an update to Insikt Group's August 2021 publication '' Operation Secondary Infektion Continues Targeting Democratic Institutions and Regional Geopolitics '', an investigation into the likely Russian state-sponsored information operation ''Secondary Infektion.'' This report examines a newly discovered campaign of Operation Secondary Infektion, aimed at discrediting the Pfizer-BioNTech COVID-19 vaccine. This report contains information gathered using the Recorded Future® Platform as well as several OSINT enrichment tools.

Recorded Future's Insikt Group has identified what we assess is almost certainly a fake screenshot of an academic-led ''Open Appeal'' letter opposing the vaccination of teenagers against COVID-19, particularly using the Pfizer-BioNTech vaccine, circulating on European blog websites and self-publishers. The letter is purportedly from physicians associated with the University of Latvia. This fake letter is very likely an attempt to generate vaccine hesitancy and distrust of Western institutions among European audiences. The campaign's tactics, techniques, and procedures (TTPs) suggest that it is most likely associated with the likely Russian state-sponsored information operation Secondary Infektion. Insikt Group found this false narrative actively circulating among popular Eastern European blog sites and self-publishers, contributing to the misinformation and disinformation, conspiracy theories, and general distrust in government and medical institutions that is widespread among groups of people who remain opposed to getting vaccinated even as the the COVID-19 Delta variant circulates globally.

We have identified a forgery of an alleged ''Open Appeal'' letter from physicians associated with the University of Latvia claiming that the Pfizer-BioNTech vaccine is unsafe and should not be given to teenagers. The fake letter identified in this campaign is highly likely an attempt to generate vaccine hesitancy and distrust of Western institutions among European audiences. We believe that this campaign is almost certainly associated with the likely Russian state-sponsored information operation Secondary Infektion'', based on this campaign's dependence on single-use persona accounts and rogue self-publishers and blog sites to disseminate this narrative, blatant English-language errors and grammatical inconsistencies, and digital manipulation identified in the purported screenshot. Editor's Note: This post was an excerpt of a full report. To read the entire analysis, click here to download the report as a PDF.

Covid Australia Victorians could be fined up to $90,000 and jailed for two years under new laws | Daily Mail Online

Tue, 26 Oct 2021 16:35

New powers will allow Premier Dan Andrews to impose a state of emergency any time he likes - and Victorians face $90,000 fines or two years in jail if they protest.

Under the legislation, opposition MPs fear the premier could use public health orders to target individuals on age, gender, sexual orientation, political belief, or activity.

Health minister Martin Foley insisted the new legislation was designed to be transparent, but it was savaged by the opposition as 'an attack on democracy'.

Under the new bill, the premier will be able to declare a pandemic even if there are no cases, and can extend the state of emergency for three months at a time.

The sweeping new pandemic laws which were tabled in parliament on Tuesday free the premier from having to get doctors to sign off on public health orders.

New powers will allow Premier Dan Andrews (pictured) to impose a state of emergency any time he likes - and Victorians face $90,500 fines or two years in jail if they protest

The dramatic escalation of the premier's powers have come under fire from the state's Opposition who branded Mr Andrews 'drunk on power'. (Pictured, a protester seized by police in Melbourne on Saturday)

And the premier would be able to declare a state of emergency and bring in new restrictions on public life whether or not his chief health officer agrees.

The premier would also make the final call on implementing lockdowns, mask mandates and quarantine requirements.

Victorians could be fined up to $90,000 or jailed for two years if they breach health orders and knew - 'or should have known' - they were putting others at serious health risk, while companies face fines of up to $455,000.

Legal experts have warned the new bill does not have a sliding scale of crimes and treats all breaches with the same seriousness, raising concerns some could face a jail term for minor breaches like not wearing a mask.

But Mr Foley insisted every incident would be judged for its own seriousness.

'Each case would have to be determined on its merits by an appropriate judicial officer,' he said.

'It is a very high benchmark and it's for the most egregious and deliberate offences that cause significant public harm.'

The dramatic escalation of the premier's powers came under fire from the state opposition, which branded Mr Andrews 'drunk on power'.

'Victorians are today witnessing the most extreme, dangerous and excessive laws ever brought before our state,' Liberal leader Matthew Guy said.

Under the rewritten fines law, individuals could be fined up to $90,500 if they break the rules, with companies facing fines of up to $452,500. (Pictured, Victoria Police on lockdown patrol)

'Daniel Andrews is attempting to sideline the Victorian chief health officer and grant himself unchecked power.

'Why would the government pass such extreme legislation if they didn't intend to lock us down again?

'This is the most extreme law of its kind anywhere in Australia.

'Placing so much power in the hands of one person, not the cabinet, not the parliament, but in the hands of the premier alone would be unprecedented.

'We see these laws as an incredible attack on democracy.'

Mr Andrews dismissed the criticism as 'political games' and insisted the powers were simply those that the opposition had been calling for.

'In many ways, in terms of scrutiny, oversight, transparency, they are the right set of arrangements,' he said.

'There's been widespread consultation with experts in many different field.

'It's important that we learn from the experience, and that we have the best set of arrangements in place for this next phase [of] living with COVID, and for the normalisation of this virus.

'We need specific [pandemic] laws... that will protect us and keep us safe. That was our commitment, and that's what we have delivered.'

The new process is similar to the ones used in NSW and New Zealand, where the health minister is directly accountable to parliament.

Mr Andrews said Mr Guy repeatedly called for the public health orders to be made by elected officials rather than bureaucrats.

Dan Andrews dismissed the criticism 'political games' and insisted the powers were simply those that the Opposition had been calling for. (Pictured, lockdown protestors in Melbourne)

Health Minister Martin Foley (pictured) said the laws would allow him to issue health orders based on characteristics such as age, location, vaccination status and occupation

As recently as October 5, Mr Guy said the orders should be 'ticked off by a minister or the premier'.

'This is exactly what the opposition leader asked for. Now apparently it's not the right thing,' Mr Andrews said on Tuesday.

'There's some political game being played here and I just won't get involved in that.'

But Mr Guy denied the laws' similarities with the NSW system and begged Labor MPs and crossbenchers to block the bill in Parliament.

'We do not support handing over everything, our rights, our liberties, everything to one person to the premier of the state,' he said.

'I know we don't always agree. I know we're on different political ideologies, but for goodness sake, stand up and oppose this legislation.

'Whether you are of the parliamentary left or right or centre or whatever, please oppose this legislation. To all MPs, please stand up for Victorians.

'There are sensible members of the Labor Party but to support legislation like this will be unprecedented.

'Please don't let your leader unleash this kind of will upon the start. It will be very difficult to wind back.'

THE PREMIER'S NEW POWERS Premier can declare a pandemic if he just fears there s the potential of one, and without the agreement of the Chief Health Officer.

The initial pandemic declaration can only last four weeks at a time but can be extended for up to three months at a time.

Premier must justify pandemic declaration to parliament and supply the CHO's advice.

After declaring a pandemic the health minister 'can make any order the Minister believes is reasonably necessary to protect public health.'

The new laws can detain people, ban gatherings, restrict movement, seal off areas, enforce PPE/masks, demand ID papers and keep records, test and examine people medically in affected areas, and enforce quarantine.

If people refuse to be tested to medically examined, they can be detained longer.

The powers of the pandemic orders are limited only by the Charter of Human Rights and Responsibilities

They can't be used against individuals but they can be used against specific groups of people.

The laws would then allow people to be targeted by geography, age, gender, race, sex or even sexuality.

Health minister Foley said the laws would allow him to issue health orders based on characteristics such as age, location, vaccination status and occupation.

But he said it was 'conspiratorial nonsense' for the opposition to suggest rules could be enforced based on gender, sexual orientation or political belief.

Chief Health Officer Brett Sutton (pictured) insists he is not being 'sidelined' by the new laws

Chief health officer Brett Sutton also insisted he was not being 'sidelined' by the laws.

'There are expectations that the elected representatives in parliament, the minister in particular and the premier, should have accountability for the final form that public health directions take,' he said.

Professor Sutton will continue to provide health advice to the minister, which under the new laws must be tabled in parliament then made public.

An independent oversight committee will be established to review the public orders and their impact on human rights.

The laws also introduce safeguards around protecting contact tracing and QR code information, while an aggravated offence will be created for people or businesses who 'intentionally or recklessly breach' the rules.

Under the legislation, opposition MPs fear the premier could use public health orders to target individuals on age, gender, sexual orientation, political belief, or activity. (Pictured Victorian Liberals leader Matthew Guy)

The bill is expected to pass the lower house but in the upper house it will require the backing of three of the 11 crossbenchers.

Animal Justice MP Andy Meddick and Greens leader Samantha Ratnam have indicated they will support the bill, while Reason Party MP Fiona Patten wants to see the 'devil in the detail' before giving it a final 'thumbs up'.

If passed, pandemic-specific laws will replace the current state of emergency, which expires on December 15.

Victoria recorded 1510 new Covid-19 cases and four deaths on Tuesday, bringing the toll from the state's latest outbreak to 234.

There are 24,715 active cases in the state, including 817 in hospital, of which 147 are in intensive care and 88 on a ventilator.

About 90.8 per cent of Victorians aged over 16 have had one Covid-19 vaccine dose while almost 76 per cent are fully vaccinated, paving the way for restrictions to ease further at 6pm on Friday.

Once practically empty, ERs struggle with a surge of pent-up sickness : NPR

Tue, 26 Oct 2021 16:33

An ambulance crew weaves a gurney through the halls of Sparrow's Emergency Department. Overcrowding has forced the staff to triage patients, putting some in the waiting rooms and treating others on stretchers and chairs in the halls. Lester Graham/Michigan Radio hide caption

toggle caption Lester Graham/Michigan Radio An ambulance crew weaves a gurney through the halls of Sparrow's Emergency Department. Overcrowding has forced the staff to triage patients, putting some in the waiting rooms and treating others on stretchers and chairs in the halls.

Lester Graham/Michigan Radio Inside the Emergency Department at Sparrow Hospital in Lansing, Michigan, staff are struggling to care for patients who are showing up much sicker than they've ever seen.

Tiffani Dusang, the ER's nursing director, practically vibrates with pent-up anxiety, looking at all the patients lying on a long line of stretchers pushed up against the beige walls of the hospital hallways. "It's hard to watch," she says in her warm Texan twang.

But there's nothing she can do. The ER's 72 rooms are already filled.

"I always feel very, very bad when I walk down the hallway and see that people are in pain, or needing to sleep, or needing quiet. But they have to be in the hallway with, as you can see, 10 or 15 people walking by every minute."

It's a stark contrast to where this emergency department '-- and thousands others '-- were at the start of the pandemic. Except for initial hot spots like New York City, in the spring of 2020 many ERs across the country were often eerily empty. Terrified of contracting COVID, people who were sick with other things did their best to stay away from hospitals. Visits to emergency departments dropped to half their normal levels, according to the Epic Health Research Network, and didn't fully rebound until the summer of 2021.

But now, they're too full. Even in parts of the country where COVID isn't overwhelming the health system, patients are showing up to the ER sicker than they were before the pandemic, their diseases more advanced and in need of more complicated care.

Months of treatment delays have exacerbated chronic conditions and worsened symptoms. Doctors and nurses say the severity of illness ranges widely and includes abdominal pain, respiratory problems, blood clots, heart conditions, and suicide attempts, among others.

Tiffani Dusang is the director of emergency and forensic nursing at Sparrow Hospital in Lansing, Mich. As overworked nurses leave, she struggles to staff every shift and works hard to keep remaining nurses from burning out. Lester Graham/Michigan Radio hide caption

toggle caption Lester Graham/Michigan Radio Tiffani Dusang is the director of emergency and forensic nursing at Sparrow Hospital in Lansing, Mich. As overworked nurses leave, she struggles to staff every shift and works hard to keep remaining nurses from burning out.

Lester Graham/Michigan Radio But there's nowhere to put them all. Emergency Departments are ideally meant to be brief ports in a storm, with patients staying just long enough to be sent home with instructions to follow up with their primary care physicians, or sufficiently stabilized to be transferred "upstairs" to inpatient units or the ICU.

Except now, those long-term care floors are full too, with a mix of COVID and non-COVID patients. That means people coming to the ER are being warehoused for hours, even days, and forcing ER staff to perform long-term care roles they weren't trained to do.

At Sparrow, space is a valuable commodity in the ER: a separate section of the hospital was turned into an overflow unit. Stretchers stack up in halls. They've even brought in a row of brown reclining chairs, lined up against a wall, for patients too who aren't sick enough for a stretcher but are too sick to stay in the main waiting room. Still, some of the patients in the brown recliners are hooked up to IVs, while others talk quietly with medical specialists, who sit across from them holding clipboards, perched on wheeled stools.

There is no privacy, as Alejoz Perrientoz just learned. He came to the ER this morning because his arm has been tingling and painful for over a week now. He can no longer hold a cup of coffee. A nurse gave him a full physical exam in the brown recliner, which made him self-conscious about having his shirt lifted up in front of strangers. "I felt a little uncomfortable," he whispers. "But I have no choice, you know? I'm in the hallway. There's no rooms."

"We could have done the physical in the parking lot," he adds, managing a laugh.

On the other side of the ER, beyond a warren of identical-looking hallways and heavy double doors that can only be opened with an employee badge, is Sparrow's ambulance bay. 70 to 100 ambulances pull in each day. "It's a lot," Dusang says, watching EMS teams wheel their patients over to the triage nurse. "It's the highest I've ever seen in my career."

About three times a week, the ER arrives at a point where they just can't take anymore patients, she explains. Then they send out the alert for ambulances to divert patients to other hospitals. But that's a risky move, too, because Sparrow is one of the only hospitals in this part of the state that's equipped to handle severe traumas. Dusang says it feels like "waving the white flag."

"But you have to do it when you feel unsafe," she says, meaning so crowded that they can't provide patients with adequate care. "So although it won't [entirely] keep ambulances from coming it, at least it gives them that awareness that, 'Oh, you know, the ED's in trouble.'"

Even patients who arrive by ambulance are not guaranteed a room: one nurse is running triage here, screening those who absolutely need a bed, and those who can be put in the waiting area.

"I hate that we even have to make that determination," Dusang says. Lately they've been pulling out some of the patients who are already in the ER's rooms, when others arrive who was even more critically ill. "No one likes to take someone out the privacy of their room and say, 'We're going to put you in a hallway because we need to get care to someone else.'"

The number of ER patients is mostly back to "normal," but patients are so much sickerThis isn't just happening at Sparrow.

"We are hearing from members in every part of the country," says Dr. Lisa Moreno, president of the American Academy of Emergency Medicine. "The Midwest, the South, the Northeast, the West...they are seeing this exact same phenomenon."

Although the number of ER visits returned to pre-COVID levels this past summer, the admission rates, from the ER to the hospital's inpatient floors, are still almost 20% higher. That's according to the most recent analysis by the Epic Health Research Network, which pulls data from more than 120 million patients across the country.

"It's an early indicator that what's happening in the ED, is that we're seeing more acute cases than we were pre-pandemic," says Caleb Cox, a data scientist at Epic.

A nurse talks to a patient on a stretcher in the hallway of the Emergency Department at Sparrow Hospital. Lester Graham/Michigan Radio hide caption

toggle caption Lester Graham/Michigan Radio A nurse talks to a patient on a stretcher in the hallway of the Emergency Department at Sparrow Hospital.

Lester Graham/Michigan Radio Less acute cases, such as people suffering from health issues like rashes or conjunctivitis, still aren't going to the ER as much as they used to. Instead, they may be opting for an urgent care center or their primary care doctor, Cox explains. Meanwhile, there has been an increase in people coming to the ER with more serious conditions, like strokes and heart attacks.

"Even though we're seeing the overall volumes come back to normal over the summer here, we see that the more acute conditions still remain higher than the pre-pandemic normals, while the lower-acuity conditions still remain below pre-pandemic normals," Cox says. So, even though the total number of patients coming to ERs is about the same as before the pandemic, "that's absolutely going to feel like [if I'm an ER doctor or nurse] I'm seeing more patients and I'm seeing more acute patients."

How overwhelmed ERs can affect patient careDr. Lisa Moreno, the AAEM president, works at an Emergency Department in New Orleans. She says the level of illness, and the inability to admit patients quickly and move them to beds upstairs, has created a level of chaos in the ER that she described as "not even humane."

At the beginning of a recent shift, she heard a patient crying nearby and went to investigate. It was a paraplegic man who'd recently had surgery for colon cancer. His large post-operative wound was sealed with a device called a wound vac, which pulls fluid from the wound into a drainage tube attached to a portable vacuum pump.

But the wound vac had malfunctioned, and that's why he had come to the ER. But staffers were so busy that by the time Moreno came in, the fluid from his wound was leaking everywhere.

"When I went in, the bed was covered," she recalls. "I mean, he was lying in a puddle of secretions from this wound. And he was crying, because he said to me, 'I'm paralyzed, I can't move to get away from all these secretions, and I know I'm going to end up getting an infection. I know I'm going to end up getting an ulcer. I've been laying in this for like eight or nine hours.'"

The nurse in charge of his care told Moreno she simply hadn't had time to help this patient yet. "She said, 'I've had so many patients to take care of, and so many critical patients. I started a [IV] drip on this person. This person is on a cardiac monitor. I just didn't have time to get in there.'"

"This is not humane care," Moreno says. "This is horrible care."

But it's what can happen when emergency department staffers don't have the resources they need to deal with the onslaught of competing demands.

"All the nurses and doctors had the highest level of intent to do the right thing for the person," Moreno says. "But because of the high acuity of...a large number of patients, the staffing ratio of nurse to patient, even the staffing ratio of doctor to patient, this guy did not get the care that he deserved to get, just as a human being."

This unintended neglect is extreme, and not the experience of the vast majority of patients who arrive at ERs right now. But the problem is not new: Even before the pandemic, ER overcrowding had been a "widespread problem and a source of patient harm...reflective of not just individual department performance or even individual hospital performance, but of health system dysfunction throughout the United States," according to a recent commentary in the New England Journal of Medicine.

"ED crowding is not an issue of inconvenience," the authors wrote. "There is incontrovertible evidence that ED crowding leads to significant patient harm, including morbidity and mortality related to consequential delays of treatment for both high- and low-acuity patients..."

And it's burning out an already overwhelmed staff.

Burnout feeds staffing shortages, and vice versa, in a vicious cycleEvery morning, Tiffani Dusang wakes up and checks her Sparrow email with one singular hope: that she will not see yet another nurse resignation letter in her inbox.

"I cannot tell you how many of them [the nurses] tell me they went home crying" after their shifts, she says. "And you just hope they show up the next day for more."

But despite Dusang's best efforts to support her staffers, check on them regularly, talk with them about their careers, and make them feel seen and heard and appreciated, she cannot stop them from quitting. And they're leaving too fast to replace, either to take higher-paying gigs as a travel nurse, to try a less-stressful type of nursing, or simply walking away from the profession entirely.

Midway through the afternoon shift at Sparrow, a nurse breaks down sobbing. A fellow nurse, Amy Harvey, pulls her into a corner and reminds her to take deep breaths.

"Everybody has a breaking point," Harvey says. "It just depends on the day and the situation...mine could be in three days. Something comes in that just hits home for some reason, and I need a minute to go take a deep breath."

A student from the College of Osteopathic Medicine at Michigan State University consults with a patient in the hallway of the Sparrow Hospital ER. Lester Graham/Michigan Radio hide caption

toggle caption Lester Graham/Michigan Radio A student from the College of Osteopathic Medicine at Michigan State University consults with a patient in the hallway of the Sparrow Hospital ER.

Lester Graham/Michigan Radio To help fill the staffing gaps, Sparrow's ED has hired about 20 so-called "baby nurses," a term for brand new nurses. To bring them on board, the hospital waived its previous requirement for working in the ER '-- at least one year of nursing experience elsewhere '-- and many of these new nurses are fresh out of nursing school. Right away, they're begun their careers by diving into the deep end, even though they're still training.

"I need some assistance," one of these new nurses whispers to her supervisor, holding up an IV bag. She can't get the top open. "It just pushes in, doesn't it?"

The veteran nurse takes it and shows her: "You gotta twist it so those line up," she says. With a breathy but grateful "Thaaaank youuuu!" the baby nurse turns, peels off towards the patient's room.

Kelly Spitz has been an Emergency Department nurse at Sparrow for 10 years. But lately, she has also fantasized about leaving. "It has crossed my mind several times," she says, and yet she continues to come back. "Because I have a team here. And I love what I do," she says, but then starts to cry. It's not the hard work, or even the stress. It's not being able to give her patients the kind of care and attention she wants to give them, and that they need and deserve.

She still thinks a lot about a particular patient who came in a while ago. His test results revealed terminal cancer. Spitz spent all day working the phones, hustling case managers, trying to get hospice care set up in the man's home. He was going to die, and she just didn't want him to have to die here, in the hospital, where only one visitor was even allowed. She wanted to get him home, and back with his family.

"I was willing to take him home in my own car, because we were waiting and waiting and waiting for an ambulance, because they're not available," Spitz said. Finally, after many hours, they found an ambulance to take him home.

Three days later, the man's family members called Spitz: he had died, as she expected. But he had died surrounded by family. They were calling to thank her.

"I felt like I did my job there, because I got him home," she says. But that's a rare feeling these days. "I just hope it gets better. I hope it gets better soon."

At 4 pm, the emergency department is the busiest it's been all day. The patients waiting in the halls seem especially vulnerable, silently witnessing the controlled chaos rushing by them. One woman is sleeping or unconscious on a stretcher, naked from the waist down. Someone has thrown a sheet over her, so she's partially covered, but part of her hips and legs are bare, and open sores are visible on her calves.

As one shift approaches its end, Dusang faces a new crisis: the overnight shift is even even more short-staffed than usual.

"Can we get two inpatient nurses?" she asks, hoping to borrow two nurses from one of the hospital floors upstairs.

"Already tried," replies nurse Troy Latunski.

Without more staff, it's going to be hard to care for new patients who come in overnight '-- from car crashes or seizures or other emergencies.

But Latunski's got a plan: he'll go home now, snatch a few hours of sleep, and return at 11 p.m. to work the overnight shift in the ER's overflow unit. That means he will be largely caring for eight patients, alone. On just a few short hours of sleep. But right now, that is their only, and best, option.

Dusang considers for a moment, takes a deep breath and nods. "Ok," she says.

"Go home. Get some sleep. Thank you," she adds, shooting Latunski a grateful smile. And then she pivots, because another nurse is already approaching her with an urgent question. It's on to the next crisis.

The Facebook Papers Are a Big Fat Nothingburger '' Reason.com

Tue, 26 Oct 2021 16:30

Facebook

The mainstream media's fear of Mark Zuckerberg is not supported by the documents. Robby Soave | 10.25.2021 4:59 PM

(Szwarc Henri/ABACA/Newscom)

More than a dozen mainstream media organizations published reports today on the so-called Facebook Papers, a trove of internal company documents obtained and released by former Facebook employee Frances Haugen. The headlines promised dramatic revelations and damning indictments.

"Insiders say Facebook's CEO chose growth over safety," reports The Washington Post. For Axios, the Facebook Papers paint the social media company as "a brutish corporate actor that prioritizes its business over safety." Bloomberg News tweets that the documents provide "rare, vivid insight into ways Facebook has faltered in its mission."

The gap between those sensational claims and what actually appears in the articles is stark. If this is the best The New York Times, the Associated Press, etc., could do, then the Facebook Papers are a nothingburger.

As when Haugen first came forward'--providing information that formed the basis of a series of Wall Street Journal reports'--the real takeaway is that Facebook has been struggling to attract the young users it wants, faces robust competition, and generates apoplectic denunciation from mainstream journalists mostly because they resent the social media giant for shaking up the news industry.

There are, to be clear, some decent reasons in here to criticize Facebook CEO Mark Zuckerberg. The Washington Post reports that he was intimately involved with the company's decision to comply with the Vietnamese government's demand for greater censorship of political dissidents. Though even then, it's debatable what Zuckerberg should do when authoritarian governments demand content moderation. Should Facebook pull out of Vietnam, depriving the country of the site entirely? Is a censored version of Facebook worse than no Facebook at all?

Note as well that bowing to the Vietnamese government's demand for greater censorship is being treated as a bad thing by some of the same outlets that are shaming Facebook for not bowing to the U.S. government's request for greater censorship. The site's failure to take down extremism, hate speech, and misinformation related to U.S. presidential elections and the COVID-19 pandemic is considered a grave moral failing. U.S. senators scream at Facebook for doing the bidding of other governments while engaged in the very act of trying to compel Facebook to do the bidding of the U.S. Senate.

That's the central idea behind the mainstream media's framing of the Facebook Papers: The social media site is unsafe because there's too much content that the mainstream media and the government would prefer users not see. They're upset that the person in charge of deciding what belongs on Facebook is Mark Zuckerberg and not Joe Biden'--and no amount of handwringing about addictive platforms or monopolistic practices can disguise the fact that the site is losing popularity with young people, and increasingly looks like a dying star.

Kabinet komt mogelijk volgende week met aangescherpte maatregelen | Het Parool

Tue, 26 Oct 2021 16:28

Demissionair minister Hugo de Jonge (VWS) stelt dat het kabinet 'zich nu moet beraden op aanvullende maatregelen'. Beeld Lex van Lieshout/ANP

Het Outbreak Management Team (OMT) komt nog met een spoedadvies, dinsdag 2 november is er weer een coronapersconferentie. Dat meldt demissionair minister Hugo de Jonge van Volksgezondheid (CDA) na ministerieel overleg over de nieuwste opmars van het coronavirus. ''De ziekenhuisopnames stijgen harder dan verwacht, daarom moet het kabinet zich nu beraden op aanvullende maatregelen.''

Alle opties liggen op tafel. Zowel ingrepen in regionale brandhaarden als maatregelen die exclusief voor niet-gevaccineerden gelden. Tot dusver was dat taboe op het Binnenhof. ''Er zijn geen makkelijke keuzes,'' zegt De Jonge. ''Maar ik wil daar niet op vooruit lopen.'' Niet-gevaccineerden de toegang tot zorg ontzeggen gaat in geen geval gebeuren. ''Dus of we moeten meer algemene maatregelen treffen die iedereen raken "f toch specifieke regels instellen die niet-gevaccineerden beschermen.''

Ongevaccineerd Hoewel De Jonge niet op de mogelijke restricties vooruit wil lopen, lijkt hij de geesten wel rijp te maken voor coronamaatregelen voor de kleine groep (ongeveer 13 procent van alle volwassenen) die niet gevaccineerd is. ''We zien dat een klein deel niet gevaccineerd is, maar in de ziekenhuizen is het beeld andersom. En we willen hoe dan ook voorkomen dat de zorg weer wordt overlopen en er w(C)(C)r operaties uitgesteld moeten worden.''

Al eerder zette het kabinet de deur op een kier voor beleid waarbij onderscheid wordt gemaakt tussen gevaccineerden en niet-gevaccineerden, maar de Tweede Kamer floot de ministers toen terug. Nu kan iedereen overal naar binnen met een negatieve testuitslag, na genezing of met volledige vaccinatie. Maar virologisch is het veiliger om alleen genezen of gevaccineerde personen toe te laten in bijvoorbeeld de horeca of theaters, stelden experts van het OMT vorige maand. Maar dit 'Duitse model' oogstte veel kritiek in het parlement.

De Jonge wil wel de tijd nemen voor 'intensieve en ingewikkelde' gesprekken over nieuwe maatregelen, nu de coronapandemie vooral een 'epidemie onder niet-gevaccineerden' is geworden. ''Met name niet-gevaccineerde personen belanden in het ziekenhuis. Zij verdringen zorg voor anderen. Deze ongevaccineerde mensen lopen het grootste risico besmet te raken en zelf anderen te infecteren. Dus maatregelen moeten wel recht doen aan die analyse,'' zegt De Jonge, die benadrukt dat dat 'niet makkelijk' zal zijn.

Lokale lockdowns? Omdat de coronakoersen al weken de verkeerde kant opgaan, suggereren ziekenhuizen, experts, maar ook ouderenbond ANBO, een herinvoering van de restricties. Ze pleiten onder meer voor lokale lockdowns of een strikter thuiswerk-advies. Ook gaan er stemmen op om de anderhalve meter-regel weer van stal te halen.

''De zorgen uit de zorg hoor ik,'' zegt De Jonge. ''Over de winterperiode, met de griep in aantocht. Dat vraagt bereidheid om maatregelen te nemen die kwetsbaren en de zorg beschermen.''

In totaal liggen er momenteel 796 coronapatinten in het ziekenhuis, dat waren er tijdens eerdere golven soms veel meer. Maar artsen willen niet weer reguliere ingrepen uitstellen vanwege corona-drukte nu iedereen de kans op een vaccin gehad heeft. Ook is er minder verpleegkundig personeel beschikbaar. Daardoor is de opnamecapaciteit beperkt.

Geduld OMT-voorzitter Jaap van Dissel was vorige week nog voorzichtig optimistisch. Harde lockdownregels - als winkel- en schoolsluiting of avondklok - zijn komende winter volgens de RIVM-directeur waarschijnlijk niet nodig, nu ruim 8 op de 10 mensen van 12 jaar en ouder gevaccineerd is. ''We zitten in een principieel andere situatie dan vorig jaar. Toen hadden we geen vaccins.''

Vier op de vijf coronapatinten in het ziekenhuis is niet ingent, zo blijkt uit de laatste gegevens. De kans om na volledige vaccinatie alsnog met corona op de ic terecht te komen is zo'n 33 keer kleiner dan zonder prik. De vaccinatiegraad verder opkrikken, zou de zorg flink dus ontlasten. Maar met 87 procent van de volwassenen die ten minste (C)(C)n inenting gehad heeft, nadert die graad zijn geschatte plafond.

De aantallen infecties en ziekenhuisopnames namen vorige week verder toe. Zondag turfde het RIVM 6350 nieuwe besmettingen. Gemiddeld komen nu dagelijks 87 nieuwe coronapatinten op een verpleegbed terecht, en 17 op de intensive care.

Als deze aantallen per dag de 100 (in het ziekenhuis) en 25 (op de IC) passeren, is de situatie 'ernstig' bereikt en komen volgens kabinetsbeleid maatregelen als thuiswerkadvies, 1,5 meterregel, vroegere horeca-sluitingstijden en kleinere groepsgroottes weer in beeld. Al is dat geen automatisme, benadrukken betrokken bewindspersonen steeds.

Dilemma Demissionair premier Rutte en minister De Jonge staan voor een dilemma. Het vertrouwen in de corona-aanpak is gekelderd sinds de start van de pandemie. In het begin van de crisis was dik zeventig procent van de Nederlanders (zeer) positief over het coronabeleid, dat is nu nog minder dan dertig procent. Ook in het parlement slinkt de steun.

En terwijl de overgrote meerderheid van de bevolking gekozen heeft voor het vaccin daalt het draagvlak voor maatregelen als thuiswerken en afstand houden. Daardoor is het de vraag hoeveel effect eventuele restricties nog hebben. En als het kabinet er daadwerkelijk voor kiest om bepaalde restricties alleen voor ongevaccineerden te laten gelden, gaat ook het principe overboord dat niemand buitengesloten wordt door het coronabeleid.

Hier zou content moeten staan van bijv. Twitter, Facebook of InstagramOm u deze content te kunnen laten zien, hebben wij uw toestemming nodig om cookies te plaatsen. Open uw cookie-instellingen om te kiezen welke cookies u wilt accepteren. Voor een optimale gebruikservaring van onze site selecteert u "Accepteer alles". U kunt ook alleen de sociale content aanzetten: vink hiervoor "Cookies accepteren van sociale media" aan.

Beloved ABC Perth presenter Russell Woolf dies - ABC News

Tue, 26 Oct 2021 16:15

Long-time ABC presenter Russell Woolf has died at the age of 56.

Key points: Russell Woolf died suddenly overnight He was the much-loved presenter of ABC Perth's breakfast show He had been at the ABC for more than 20 yearsWoolf was the host of the breakfast program on ABC Radio Perth and had previously hosted the Drive program, over a career with the national broadcaster that spanned more than two decades.

He was also the weather presenter for the ABC's West Australian television news from 2007 to 2011.

Woolf was also a former political candidate for a West Australian Senate seat.

He is understood to have died in his sleep at his Perth home.

Space to play or pause, M to mute, left and right arrows to seek, up and down arrows for volume. Radio legend Russell Woolf is remembered as a beloved friend and colleagueABC colleague, radio presenter Geoff Hutchison made the shock announcement on ABC Radio Perth this morning, describing Woolf as "our beloved friend and colleague".

"It has come as a huge shock to us," Hutchison said.

"Russell as you know is a much-loved and much-cherished part of our ABC family and we're going to battle to find words for a little while this morning."

Russell Woolf co-hosted the breakfast show with Nadia Mitsopoulos in 2020.Woolf is survived by his wife Kylie and young daughter Bronte.

"Our thoughts really are with Russell's wife Kylie and Bronte, and we're giving them every support we can," Hutchison said.

"Goodbye to our dear friend and colleague and you leave a very big hole in our hearts and our lives."

ABC Radio Perth manager Sarah Knight said Woolf was "much loved and much cherished as part of our ABC family here in Perth".

Loading

"There are no words to describe just how we are feeling right now and the enormity of this news and the suddenness of it," she said in an email to staff.

"Vale Russell. Our dear friend and colleague. You leave a big hole in our hearts and lives."

Hutchison remembered his first day presenting the morning show in June 2006.

"I saw this big lumbering galoot come up the stairs at ten to twelve, because we went to twelve o'clock then, and he was carrying a single stubby of Coopers pale ale and he brought it straight into the studio to me and said, 'Have that, you've deserved it.'

"And that was pretty much the first day I met Russell Woolf in person, and that to me has said plenty about who he is, who he was and how we'll remember him.

"Just the most beautiful, beautiful friend."

WA Premier pays tributeDescribing Woolf as a "radio legend", WA Premier Mark McGowan tweeted that he was "deeply saddened" to hear of his death.

He later told journalists West Australians admired and loved the broadcaster.

"He was a very, very amusing, upbeat, uplifting person who made our lives better," Mr McGowan said.

Loading

"He was a very knowledgeable person. He knew a lot about especially business, finance, resources [and] Western Australia more generally.

"He was someone who managed to combine that great general knowledge with a great sense of humour, and he will be greatly missed.

"His family will be going through a very, very difficult time right now. We all feel for them."

Education Minister Sue Ellery added her condolences.

"I, like many, listen to Russell every single morning," Ms Ellery said.

"I can't imagine not being able to hear his little pops of joy in the morning.

"I pass on my deepest sympathies to his family, his friends and his colleagues."

Education Minister Sue Ellery says she will miss Woolf's "little pops of joy in the morning."( ABC News )WA Governor Kim Beazley also expressed his sadness on social media at Woolf's passing, tweeting from the official Government House account: "WA has lost not only a great media personality, but also a great bloke."

Woolf's former breakfast show co-presenter Nadia Misopoulos tweeted that her heart was broken.

Loading

Listeners have been calling in expressing their sadness and distress.

Shane, from Albany, said it was a devastating day.

"You just had such affinity listening to him on the radio," he said.

"He was such a character. I probably like him because I barrack for East Perth and the Eagles.

'It's just going to be really difficult not to wake up with Rusty on the radio."

Others sent in text messages to express their sadness.

"My mornings will never be the same again, thank you for bringing so much joy," one message read.

Woolf's sense of humour struck chordKnown for his wonderful sense of humour and warmth, Woolf had been at the national broadcaster for most of the past 25 years and was adored by his fans.

His radio career started in Esperance and then Kalgoorlie, before he headed to the state's north-west to become a resources reporter in 1997.

ABC Radio Perth Breakfast host Russell Woolf.After a stint on ABC Radio Perth's Afternoon program with Verity James, Woolf went on to host the Drive program until 2013.

He was also the weather presenter for ABC's 7PM News from 2007 to 2011.

In 2015, he moved with his family to Minneapolis, leaving a position as host of the Saturday breakfast show.

Since returning to ABC Radio Perth in 2019, he had been co-hosting the Breakfast program, and most recently presenting it solo.

For many years he also worked as an ambassador for children and young people in Western Australia, working to ensure they were given a voice and were heard in the community.

'A big cuddly bear'Professor Jonathan Carapetis from the Telethon Kids Institute described Woolf as a "big cuddly bear who cared" and a man who was always open to learning.

Loading

"Like so many of your listeners, I woke up with Russell every morning," he said.

Professor Carapetis spoke about Woolf's decision to get vaccinated against COVID-19 and how he shared that with listeners.

"He recognised he was there to keep us entertained [and] keep us happy, but he was also there to talk about important things and he did that so well," he said.

Another of those sharing memories was former ABC WA news director Kim Jordan.

"Russell was rib-achingly funny and we figured he would do that on screen," Mr Jordan said of Woolf's days presenting the weather.

"I said, 'here's a phone number for the Bureau of Meteorology and here's a stick '-- you point the stick at the map.'"

Mr Jordan recalled the radio presenter was reluctant to use the stick or wear a tie on air.

Tributes are being paid to long-time ABC presenter Russell Woolf after his sudden death.( Supplied: ABC Perth )"I said, 'you do [have to wear one] to look good for the punters, but also you have an escaping Amazonian forest of chest hair which the [viewers] shouldn't be subjected to,'" he said.

"So that went well for two nights then he popped up tie-less '... the tie was eventually discarded, the Amazonian chest chair was allowed to go free and he had many jokey times doing the weather.

"He was one of the funniest guys you could possibly meet."

Posted 15h ago15 hours agoTue 26 Oct 2021 at 12:53am, updated 6h ago6 hours agoTue 26 Oct 2021 at 9:32am

Tributes flow after news of the sudden death of popular, long-time ABC presenter Russell Woolf - ABC News

Tue, 26 Oct 2021 16:14

Long-time ABC presenter, Russell Woolf had open arms, an open heart and, more often than not, wore a wide grin on his face and thongs on his feet.

He was a dear friend to many '-- and many others who spent any length of time with Russell considered him a friend.

He was just that kind of man.

It is easy to roll out the cliches when thinking about Russell: "Larger than life", "A great bloke" and "A wicked sense of humour " and all are true.

ABC Radio Perth local manager Sarah Knight described him as a cherished member of the team.

Russell Woolf was popular behind the mic.( Supplied: ABC Perth )She said ABC staff were in shock.

"He always had a kind word for everyone '... [and] his very presence lit up the room," she said.

"Staff meetings were always much more fun when Russell was there.

"He was all about love, that man."

Known to many as Rusty, his ABC career extended across two decades, presenting shows across Western Australia and doing the weather on ABC TV News for several years.

He's being remembered as a kind, selfless man with a great sense of humour.

Early in his career he was a resources reporter for ABC Rural, and a regular at Diggers & Dealers in Kalgoorlie.

The ABC's Sarah Knight says staff are in shock over Russell's sudden death.( ABC Perth: Sarah Knight )Russell went on to present Afternoons with Verity James on ABC Radio before taking on Drive for several years.

Former ABC colleague Tom Baddeley described him as cheeky, and someone who could recover well when things went wrong on air.

"With Woolfy, you kind of never knew what might happen," he said.

"If something went technically wrong, you didn't have to worry about it 'cause he was brilliant at kind of improvising and having a good laugh at himself, more than anyone else."

Russell was a popular member of the ABC team.( ABC News )Former ABC colleague Liam Bartlett, spoke about him on 6PR.

"I did want to say how sorry we all are here at 6PR to hear of the sudden and unexpected passing of a good friend and colleague in Russell Woolf from the ABC," he said.

"Always put a smile on your face, fantastic broadcaster, had been a pleasure to spend some years at the ABC with Russell in his company."

When, in 2006, staff at the ABC in Perth were devastated by the loss of much-loved sports commentator Wally Foreman, Russell was asked make the on-air radio announcement.

Russell did it, and did it with grace.

Wally would've wanted it.

Russell Woolf and Nadia Mitsopoulos having fun in the ABC Perth studio.( ABC News )Despite Russell's in-person and on-air affability, he retained a strong awareness of the undercurrents of daily news and events. And of WA history.

He once introduced Queen Elizabeth II to Perth, and behind his engaging ways was also known for landing an unexpected zinger question on air, throwing the talent off balance.

After he left ABC Radio for a while, Russell became an MC at various public and private events, often arriving in the nick of time on his trusty moped (sometimes in thongs).

Russell Woolf promoted many a good cause.( ABC Perth: Sarah Knight )And they weren't always paid gigs. Russell was known to be generous with his time, including as an auctioneer at Huntington's WA quiz nights.

In 2014, Russell ran for The Senate, taking the frontline with former colleague Verity James in one of many campaigns to Save The ABC.

He went with his family to live in Minneapolis after his wife landed a job in the United States and, among other things, tried his hand as a stand-up comedian.

Russell connected with people from all walks of life.( ABC News )Russell Woolf returned to ABC in 2019, resurrecting his radio career and bringing comfort to those fans who'd missed him from the airwaves.

He ultimately became the solo breakfast presenter, a role he may once have loathed for its early starts, yet it clearly worked for him and the listeners.

Russell Woolf 'made our lives better'Premier Mark McGowan paid tribute.

"West Australians admired and loved Russell Woolf. He was a very, very amusing, upbeat, uplifting person who made our lives better."

Russell Woolf was 56, and is survived by his wife, Kylie, daughter Bronte, and countless friends.

Posted 8h ago8 hours agoTue 26 Oct 2021 at 7:55am, updated 7h ago7 hours agoTue 26 Oct 2021 at 9:13am

The Incarnation Children's Center Investigation | Orphans Used in Clinical Trials, reporting by Liam Scheff 2003-2009

Tue, 26 Oct 2021 16:07

by Liam Scheff

The AIDS investigation is expanded in Chapters 5 and 6 of ''Official Stories''

The related Vaccination investigation is expanded in Chapter 5 of ''Official Stories''

Question: Is the AIDS industry honest?

Ask yourself if you have ever heard this, or anything like this before:

''We can be exposed to HIV many times without being chronically infected. Our immune system will get rid of the virus within a few weeks, if you have a good immune system.''

Who said it? Luc Montagnier, 2008 Nobel Prize winner for 'discovering HIV,' (quoted in ''House of Numbers,'' 2009). But he's been saying things like this for years. In the film, he goes on to agree that that Africans who are helped out of poverty (fed and given clean water, etc) can overcome the infection.

How about this?

''We followed up 175 HIV-discordant couples [one partner tests positive, one negative] over time, for a total of approximately 282 couple-years of follow up'... No transmission [of HIV] occurred among the 25% of couples who did not use their condoms consistently, nor among the 47 couples who intermittently practiced unsafe sex during the entire duration of follow-up'...''

''We observed no seroconversions after entry into the study [nobody became HIV positive]'...This evidence argues for low infectivity in the absence of either needle sharing and/or other cofactors.''

That is, 175 mixed (HIV positive/negative) couples had sex '' anal and vaginal '' for 6 years, with and without condoms, and nobody who was negative became positive.

Dr. Nancy Padian, the researcher who ran that study out of U.C. Berkeley, was also in ''House of Numbers.'' She said that HIV was one of the hardest viruses to transmit, and added that 'everybody knows that.'

So, I'll ask again:

Is the AIDS industry honest? Is it even close to honest? Is it transparent? Do you ever hear statements like these in the media? Would you like to know why?

If so, you'll have to brave being attacked in print and word, by '' you guessed it '' the AIDS industry. Those who ask questions are smeared and libeled in the press, even for exploring or exposing publicly available information from the standard medical literature. The AIDS pharma goon squad (and there surely is one) will call you an ''AIDS Denialist'' if you dare poke your critical thinking past their threshold'....

How do I know this? Because I have bothered to do exactly so. I have written critically about AIDS, and found it to be a violently corrupted industry, ruled by absurdly bad science '' science infused and infected by the discredited racist science of the early 20th Century '' Eugenics '' but most strongly resembling Apartheid, in its construction.

If I told you that we in the West would find a way to put sexual restrictions on Africans, interfere with their childbirth and fertility, speculate anxiously at the pathogenic nature of the normative sex of homosexual men, drug massive populations with immensely toxic drugs that shorten life expectancy, damage and kill children and adults '' would you assume I was talking about a science fiction novel?

What if I told you that you, yourself, would contribute to this program, wear its symbol, buy clothes that supported it, attend fundraisers, and openly praise the individuals whose obsession was this pseudo-scientific interference in the sex lives of the poor, African and homosexual populations of the world?

Maybe that's too much to consider'... but ask yourself, why are we obsessed with the sexual aspect of what we now call AIDS? Ask yourself why you've never read the Padian study. Why it's excised from the Wikipedia page on AIDS '' why this, the longest study of its kind, is censored in the media?

Ask yourself what Luc Montagnier is talking about, when he talks about improving the immune system of AIDS patients, in order to help them 'get rid of the virus,' and recover'...

But be warned, you may quickly find yourself turning into an ''AIDS Denialist,'' at least, according to the goon squad.

But don't sweat it'...you'll be in good company.

In 2004, I broke open the NIH Clinical Trial Scandal, the internationally-covered story of hundreds of New York City orphans used by government agencies and pharmaceutical companies in deadly AIDS drug trials.

In reporting this issue, I entered the orphanage where children were being used as guinea pigs, and over a period of several years, took interviews with mothers, children and childcare workers at the Incarnation Children's Center. I also interviewed the medical director, and investigated the FDA documentation and published medical literature on the tests and drugs used, drugs which were often force-fed through nasal and gastric tubes to the children.

I reported several deaths in children, and although the mainstream denied that any deaths were due to drug toxicity, they admit that over 200 children died.

In 2005, the city of New York hired the VERA Institute to form a final report on the drug trials. VERA was given no access to medical records for any of the children used in trials. Their report was published in 2008.

They reported that twenty-five children died during the drug studies, that an additional fifty-five children died following the studies (in foster care), and, according to Tim Ross, Director of the Child Welfare program at VERA (as of 2009), 29% of the remaining 417 children who were used in drug studies had died (out of a total 532 children that are admitted to have been used). [LINK]

The WIKIPEDIA writers cover up all details, as is expected.

No payment or compensation has been paid to any of the children used in the trials, or to their families.

The New York Times, which was instrumental in covering up the story, hired Janny Scott and Leslie Kaufman to write a hit piece on me in 2005. They declared the following about using orphans in drug trials:

''It was seen as one of the great successes of AIDS treatment. In the late 1980's and early 1990's, hundreds of children in New York City were dying of AIDS. The only approved drugs were for adults, and many of the patients were foster children. So doctors obtained permission to include foster children in what they regarded as promising drug trials.''

Later in the article, Scott admits that the ''permissions'' for many of these children are ''missing,'' (or were never there).

She continued:

''[T]here is little evidence that the trials were anything but a medical success.''

In 2009, Janny Scott responded to my persistent queries about their investigation method. They had taken at least 40 documents from me and buried them; what else had they buried? Her answers to me were clarifying:

''No, we did not review patients' medical files. I would be surprised if that would not have been a breach of patient confidentiality if someone had shown them to us.

An unexpected side effect would have been a side effect not previously seen in response to those drugs, presumably.

Advanced testing methods were the methods available at the time for diagnosing HIV infection.

I do not recall interviewing Dr. Painter [the doctor in charge of the orphanage and orphans] but I may simply not remember. As you know, the Times moved to a new office a year ago. It was not possible to move all of our files. In my case, I threw away files that were more than 12 months old. As you know, the story you are asking about was done in 2005.

I do not recall which studies we looked at. There were a lot of them '-- some more easily accessible than others, as you know.

As for mentioning side-effects and FDA warnings, there are side-effects and FDA warnings on many if not most drugs. The side-effects of early AIDS drugs have been written about extensively. And, as I have said before, we were not presuming to judge whether or not experimental AIDS drugs should have been tried on children '-- a question that I suspect few journalists would be qualified to answer; we were attempting to put a public controversy in context.

If you have further objections to the way the story was handled, I suggest you contact Joe Sexton, the editor of the metropolitan news section of the paper and the editor on that story.''

Janny [LINK]

In 2009, the Times was forced, in a follow-up story, to admit that many children had died, following the VERA report '' but the VERA Institute, hired to ''investigate'' the trials, was also forbidden from looking at medical records. [LINK] Their ''investigator'' also refused to take data from me on the trials '' lists of the trials themselves, the drugs used, and their recorded 'black box' warnings. In a follow-up interview with Vera Myles of WBAI, the head of the VERA Institute admitted that many more children had died than they had listed in their report.

Neither the Times nor the Wikipedia are able to talk about AIDS drugs, which kill people. But, of course, take them if you really want to.

Happy Anniversary.

Please download the collected PDFs: The ICC Investigation | Related-HIV-Testing-and-AIDS-Drug-Investigation | Media-Coverage-and-Cover-up | Media Part 2

Inside Incarnation | German Translation NY Press July/Aug 2005 '' Interviews with children and childcare workers from the orphanage. Radio Interview with a childcare worker from ICC.The House That AIDS Built | The Nurse's Story '' Altheal.org January 2004 -The original expose.The ICC Investigation Continues Altheal.org May 2004The ICC Audio Interviews and Thalidomide Document February 2007 ''interview with the medical director of the orphanage, and drugging with Thalidomide on orphans at ICC.Still on Trial NY Press, April 2005Noble Doctors Crux Magazine,November 2004 | Reductionism On Trial An Aids Debate, Summer 2006Knowing is Beautiful and Sex Crimes'' Parts one and two of ''The Hidden Face of HIV'' GNN 2005 '' a review and analysis of what is known as ''HIV Testing'', in two parts. PDF '' pt.1 | pt.2 | ReferencesRelated Items:The ICC Website and Clinical Trials | Download as Zip File '' ICC NIH Clinical TrialsExclusive: The Good Man At The NIHThe NIH Scandal and the Future of AIDS ResearchStepping Over Bodies on the Way to Market '' The Truth About NevirapineJournalism Ethics 101 '' My Conversations with New York Times Reporter Janny ScottNew York Times '' Children Die in Aids Drug Trials, but the Drugs are Fine, Fine, FineVERA Institute: Children Die in Drug Trials (But We Can't Blame Drugs!) | My Interview for the VERA Institute '' No Details Allowed | 29% of ICC Children Have Died '' My Interview for the Village Voice | AHRP on the VERA Institute Cover-UpProject Censored Top Stories of 2006: Wards of the State Used in AIDS ExperimentsMedical Apartheid by Harriet A. WashingtonAll the News that Fits'...Two Years LaterAnother Attack on Authentic Investigative Journalism (fromthewilderness.com)My Interview for Nature Medicine | Notes on a 'Scandal'What the Wikipedia Does and Doesn't AllowOn the AIDS Diagnosis:How AIDS Didn't Become a Kissing Disease OMSJ, June 2010Five False Predictions of the AIDS Establishment LewRockwell.com, May 2010Does AIDS Cause HIV? OMSJ, May 2010No Heterosexual Aids Epidemic, Experts Admit GNN, June 2008Science Crossfire Salvo Magazine, July/August 2006Does the New York Times Want to Kill Gay Men? GNN May, 2006The AIDS Debate Boston's Weekly Dig, May 2003 | Letters from the AIDS Debate Boston's Weekly Dig | AIDS in Boston '' The Other AIDS Debate InterviewNIH Study and ICC Photo Gallery (click to enlarge) Independent follow-up investigation/reporting (As a single PDF):New York Post 1 | 2 | 3FoxNewsUK GuardianAssociated PressAlliance for Human Research Protection '' 1 | 2Guinea Pig Kids Documentary ACFTV/BBC/NDR Fernsehen (2004)Film Transcript''Guinea Pig Kids'' producer interview on Democracy NowRed Flags Weekly (2005)SourceWatch Summary (accessed 2012)

On Africa:Kamala's Soweto '' Aids and Safe Drinking WaterUganda '' Swamp and Flooding '' Aids and Safe Drinking WaterANC Today '' Nevirapine Drugs African Guinea PigsCorporate Sponsored Viramune (Nevirapine) Donation ProgrammeNevirapine and Stevens Johnson Syndrome '' the Lancet February 1998Nevirapine and the Risk of Stevens Johnson syndrome or Toxic Epidermal NecrolysisOn Drugs:Gastric Tube for AIDS Drug Adherence in ChildrenOver a quarter of HIV Positive Children on Aids Drugs have Lipodystrophy '' European StudyNevirapine '' FDA Alerts, 1999Foster Care Children Used In Drug Trials '' Violation of Legal Code AHRP 2004Mitochondrial Damage and DNA Depletion in Cord Blood in Infants Exposed in Utero to AZTNew Aids Drugs as Bad as the Disease '' Journal of Aids, December 2003Vaccine Blues '' The Aids Crusade Moves On '' September 2007Related Material from the GNN Weblog:Four Papers on Aids that Make You Say, WTF?!NY Times: For Science's Gatekeepers, a Credibility Gap?Bush to Nation: Half of all AIDS cases occur among African AmericansDr Jonathan Fishbein NIH Whistleblower on Nevirapine Reinstated with HonorsMore New York Times Bullshit on the AIDS/ICC ScandalNew York Times to the Rescue!Welcomes Critical Thinking '' Austin ChronicleWhat You Can't do to Children, and WhyDo We Have a Right to Dissent?Vaccine Trials '' Get the Cure, Get the DiseasePatricia Nell Warren comments on the NIH Orphans-in-drug-trials scandal in her column in Arts and Understanding Magazine:Asking the Questions May 2004; What does it mean when a story about possible clinical trial abuses hits the wire, but most news media ignore it?Banana EthicsJune 2005; Why does corruption in AIDS research continue to go unpunished?What Were They Thinking? August 2005; Inspired by lax oversight in the world of medicine, a new watchdog fights for ethical standards.Bird Flu Investigation:Science Crossfire Salvo Magazine, Summer 2006The Bird Flu Breakdown '' Part 1: Two Children in Vietnam Independent, Summer 2006German Virologist: ''There's No Such Thing As Bird Flu''The Avian MenaceTamiflu '' It Kills Rats, Does it Stop the Flu?Bird Flu '' Reality or Manipulation?Debate is the Heart and Soul of a Civil Society.HPV Debate ''The Vaccine (that doesn't stop) the virus (that doesn't cause cancer) '' Gardisil Vaccinations for adolescent girls '' Cui Bono? GNN, December 2006AIDS Drugs '' Drugs with severe and deadly side-effects, used in New York City orphans and throughout Africa. A necessary evil, or just bad medicine?

The cost of HIV drugs in Africa '' who benefits? Nevirapine Debate GNN, December 2006An AIDS Debate: Email Correspondence between Liam Scheff and a Mainstream AIDS History Researcher at Duke University (June 2006)NY Orphans in Government Drug Trials '' NY Press (Spring, 2005)Celia Farber advising caution | Jeanne Bergman on the offensiveWhat Does AIDS Have To Do With Sex?At Seed Magazine's blog, Aetiology.com '' Part one | Part two '' Spring 2006At the Guerrilla News Network (see comments to articles) on Africa and Russia Summer 2006The British Medical Journal debates Sex and AIDS '' 2003-2004

Vaccination volunteers are being trained to deal with terror attacks. Why don't we arrest the anti-vaxxers? - Fleet Street Fox - Mirror Online

Tue, 26 Oct 2021 12:11

But it seems someone is finally waking up to the idea that they are a terror threat.

This week volunteers at vaccination centres in Essex have been sent emails recommending they take part in counter-terror training, "in light of recent security events in the media".

It follows months of protests outside hospitals, church halls, and leisure centres, in which the anti-vaxxers have tried to storm the building, threaten volunteers, and stop people from entering. It comes after Piers Corbyn and his acolytes filmed themselves haranguing pupils outside school gates, and in one particularly grim episode, 15-year-old wheelchair user Grace Baker-Earle was called a "lab rat" while trying to get her vaccination.

According to Health Secretary Sajid Javid, several children on school grounds have been injured in events like these. And he has backed Labour calls for fast-tracking the process to put local exclusion zones around vaccination centres, similar to those used to protect abortion clinics from disruption.

The training programme in question was first developed to help security guards and doormen spot and tackle terror attacks. It was designed by the government regulator for the security industry, and was introduced only last month, at the same time the head of MI5 said the fall of Afghanistan had "emboldened" terrorists.

It is usually 75 minutes long, and seems to have been drastically shortened for this, as the modules being offered to helpers take only 45 minutes to complete. NHS England says that no national decision has been taken to ask volunteers to do this. But at least one NHS trust wants to collect the e-certificate you can get for doing it, and at time of writing we're waiting to hear how many others are doing the same.

But I say again - this week, volunteers at vaccination centres are being offered anti-terror training.

For years the anti-vax brigade have, to most of us, seemed like a self-indulgent band of mostly-harmless crusties, determined to depend on broccoli rather than medicine, and too mad to pay much mind to.

But now their ranks have been swollen by Far Right troublemakers, social media trolls searching their next dopamine hit, and those for whom a crisis is an opportunity to destabilise. Throw in the modern-day Alices in Wonderland who've fallen down an internet rabbit-hole of misinformation, reaffirmed by algorithms that show them only what they last interacted with, and there's a sizeable, vocal minority inclined to chaos.

They are not the first such group, nor will they be the last. They are not decapitating people like ISIS, or fighting an uncivil war, like the IRA. But they are not innocent. They have probably already killed more people this year than both of those terror groups, and harmed a multitude more.

It's bizarre that such damage can be caused by people unable to compute that a microchip can't fit down a syringe, count the injections in their own arms since birth, or realise that the Covid jabs are the most widely-tested vaccines in all of human history. But here we are.

Read more

Fleet Street Fox Because of them, pregnant women who are happy to take the 'flu jab to protect them and their unborn child are refusing the Covid one. Otherwise-healthy people are being ventilated, because they believed 'natural immunity' was better than 'immunity that gets a head start'. And NHS staff, who have always known that anti-vaxxers are a public health menace, are at the end of their tethers.

Crimes have already been committed, and more will be on the way. If even one vaccination centre finds it necessary to train its volunteers in how to deal with terrorism, then the upcoming winter won't contain just Covid restrictions, but potentially anti-vaxx-inspired deaths, too.

The vaccine has gone, twice, into the arms of 49million Brits, or almost 80% of the UK population. The fact we all know someone who has nevertheless caught Covid is because we're on the third, more transmissible, variant, and the fact most of those people only had the symptoms of a bad cold is because of the jab.

The booster rollout our constantly-updated immune systems need is bedevilled by the inability of GPs to deliver it, the need for so many to get the Pfizer vaccine which has more complex storage needs, and the logistics of getting people to a distant vaccination centre staffed by people who, this time round, also need to go to work.

But it won't be helped, one bit, by making volunteers feel unsafe.

Video LoadingVideo Unavailable

Click to play Tap to play

That is of course the point of these 'protests': to deter, undermine, and terrify.

The vaccination programme is so critical to security and stability that any threat to it should be treated as a threat to our country.

No victim of a terror attack is responsible for it. And no vax volunteer should need to be trained on how to deal with wingnuts who have abandoned common sense for social insensibility.

If a NHS trust has seen the risk, if the Health Secretary knows these "idiots" are "spreading vicious lies" that can hurt us all, then it's time the Government told the security services to prioritise the threat of anti-vaxxers. Police should use their powers to arrest them on charges of harassment, intimidation, violent disorder, and conspiracy.

Failing that, we could just ask Scotland to provide a remote island where anti-vaxxers could be housed safely, without a single vaccine, doctor, or hospital to bother them.

We could go back in 10 years and see how many of them, and how many of us, survived.

Your Booster Life: How Big Pharma Adopted the Subscription Model of Profitability 'ܠ Brownstone Institute

Tue, 26 Oct 2021 04:49

If a plumber with a lifetime of experience were to tell you that water runs uphill, you would know he is lying and that the lie is not accidental. It is a lie with a purpose. If you can also demonstrate that the plumber knows in advance that the product he is promoting with that lie is snake oil, you have evidence for a deliberate con. And once you understand what's really inside that bottle of snake oil, you will begin to understand the purpose of the con.

One of the most common reasons given for mass COVID vaccinations is the idea that if we reach herd immunity through vaccination, we can starve the virus out of existence and get our lives back. It's the COVID-Zero strategy or some variant of it.

By now it is abundantly clear from the epidemiological data that the vaccinated are able to both catch and spread the disease. Clearly vaccination isn't going to make this virus disappear. Only a mind that has lost its grasp on reality can fail to see how ridiculous all this has become.

But a tour through pre-COVID science demonstrates that, from day one, long before you and I had even heard of this virus, it was 100% inevitable and 100% predictable that these vaccines would never be capable of eradicating this coronavirus and would never lead to any kind of lasting herd immunity. Even worse, lockdowns and mass vaccination have created a dangerous set of circumstances that interferes with our immune system's ability to protect us against other respiratory viruses. They also risk driving the evolution of this virus towards mutations that are more dangerous to both the vaccinated and the unvaccinated alike. Lockdowns, mass vaccinations, and mass booster shots were never capable of delivering on any of the promises that were made to the public.

And yet, vaccination has been successfully used to control measles and even to eradicate smallpox. So, why not COVID? Immunity is immunity, and a virus is a virus is a virus, right? Wrong! Reality is far more complicated'... and more interesting.

This Deep Dive exposes why, from day one, the promise of COVID-Zero can only ever have been a deliberately dishonest shell game designed to prey on a lack of public understanding of how our immune systems work and on how most respiratory viruses differ from other viruses that we routinely vaccinate against. We have been sold a fantasy designed to rope us into a pharmaceutical dependency as a deceitful trade-off for access to our lives. Variant by variant. For as long as the public is willing to go along for the ride.

Exposing this story does not require incriminating emails or whistleblower testimony. The story tells itself by diving into the long-established science that every single virologist, immunologist, evolutionary biologist, vaccine developer, and public health official had access to long before COVID began. As is so often the case, the devil is hidden in the details. As this story unfolds it will become clear that the one-two punch of lockdowns and the promise of vaccines as an exit strategy began as a cynical marketing ploy to coerce us into a never-ending regimen of annual booster shots intentionally designed to replace the natural ''antivirus security updates'' against respiratory viruses that come from hugs and handshakes and from children laughing together at school. We are being played for fools.

This is not to say that there aren't plenty of other opportunists taking advantage of this crisis to pursue other agendas and to tip society into a full-blown police state. One thing quickly morphs into another. But this essay demonstrates that never-ending boosters were the initial motive for this global social-engineering shell game '• the subscription-based business model, adapted for the pharmaceutical industry. ''Immunity as a service''.

So, let's dive into the fascinating world of immune systems, viruses, and vaccines, layer by layer, to dispel the myths and false expectations that have been created by deceitful public health officials, pharmaceutical lobbyists, and media manipulators. What emerges as the lies are peeled apart is both surprising and more than a little alarming.

''Once you eliminate the impossible, whatever remains, no matter how improbable, must be the truth.'' '' Sherlock Homes'' '• Sir Arthur Conan Doyle

Viral Reservoirs: The Fantasy of Eradication

Eradication of a killer virus sounds like a noble goal. In some cases it is, such as in the case of the smallpox virus. By 1980 we stopped vaccinating against smallpox because, thanks to widespread immunization, we starved the virus of available hosts for so long that it died out. No-one will need to risk their life on the side effects of a smallpox vaccination ever again because the virus is gone. It is a public health success story. Polio will hopefully be next '• we're getting close.

But smallpox is one of only two viruses (along with rinderpest) that have been eradicated thanks to vaccination. Very few diseases meet the necessary criteria. Eradication is hard and only appropriate for very specific families of viruses.

Smallpox made sense for eradication because it was a uniquely human virus '• there was no animal reservoir. By contrast, most respiratory viruses including SARS-CoV-2 (a.k.a. COVID) come from animal reservoirs: swine, birds, bats, etc. As long as there are bats in caves, birds in ponds, pigs in mud baths, and deer living in forests, respiratory viruses are only controllable through individual immunity, but it is not possible to eradicate them. There will always be a near-identical cousin brewing in the wings.

Even the current strain of COVID is already cheerfully jumping onwards across species boundaries. According to both National Geographic and Nature magazine, 40% of wild deer tested positive for COVID antibodies in a study conducted in Michigan, Illinois, New York, and Pennsylvania. It has also been documented in wild mink and has already made the species jump to other captive animals including dogs, cats, otters, leopards, tigers, and gorillas. A lot of viruses are not fussy. They happily adapt to new opportunities. Specialists, like smallpox, eventually go extinct. Generalists, like most respiratory viruses, never run out of hosts to keep the infection cycle going, forever.

As long as we share this planet with other animals, it is extremely deceitful to give anyone the impression that we can pursue any scorched earth policy that can put this genie back in the bottle. With an outbreak on this global scale, it was clear that we were always going to have to live with this virus. There are over 200 other endemic respiratory viruses that cause colds and flus, many of which circulate freely between humans and other animals. Now there are 201. They will be with us forever, whether we like it or not.

SARS: The Exception to the Rule?

This all sounds well and good, but the original SARS virus did disappear, with public health measures like contact tracing and strict quarantine measures taking the credit. However, SARS was the exception to the rule. When it made the species jump to humans, it was so poorly adapted to its new human hosts that it had terrible difficulty spreading. This very poor level of adaptation gave SARS a rather unique combination of properties:

SARS was extremely difficult to catch (it was never very contagious)SARS made people extremely sick.SARS did not have pre-symptomatic spread.These three conditions made the SARS outbreak easy to control through contact tracing and through the quarantine of symptomatic individuals. SARS therefore never reached the point where it circulated widely among asymptomatic community members.

By contrast, by January/February of 2020 it was clear from experiences in China, Italy, and the outbreak on the Diamond Princess cruise ship (more on that story later) that the unique combination of conditions that made SARS controllable were not going to be the case with COVID. COVID was quite contagious (its rapid spread showed that COVID was already well adapted to spreading easily among its new human hosts), most people would have mild or no symptoms from COVID (making containment impossible), and that it was spreading by aerosols produced by both symptomatic and pre-symptomatic people (making contact tracing a joke).

In other words, it was clear by January/February 2020 that this pandemic would follow the normal rules of a readily transmissible respiratory epidemic, which cannot be reined in the way SARS was. Thus, by January/February of 2020, giving the public the impression that the SARS experience could be replicated for COVID was a deliberate lie '' this genie was never going back inside the bottle.

Fast Mutations: The Fantasy of Control through Herd Immunity

Once a reasonably contagious respiratory virus begins circulating widely in a community, herd immunity can never be maintained for very long. RNA respiratory viruses (such as influenza viruses, respiratory syncytial virus (RSV), rhinoviruses, and coronaviruses) all mutate extremely fast compared to viruses like smallpox, measles, or polio. Understanding the difference between something like measles and a virus like COVID is key to understanding the con that is being perpetrated by our health institutions. Bear with me here, I promise not to get too technical.

All viruses survive by creating copies of themselves. And there are always a lot of ''imperfect copies'' '-- mutations '-- produced by the copying process itself. Among RNA respiratory viruses these mutations stack up so quickly that there is rapid genetic drift, which continually produces new strains. Variants are normal. Variants are expected. Variants make it virtually impossible to build the impenetrable wall of long-lasting herd immunity required to starve these respiratory viruses out of existence. That's one of several reasons why flu vaccines don't provide long-lasting immunity and have to be repeated annually '• our immune system constantly needs to be updated to keep pace with the inevitable evolution of countless unnamed ''variants.''

This never-ending conveyor belt of mutations means that everyone's immunity to COVID was always only going to be temporary and only offer partial cross-reactive protection against future re-infections. Thus, from day one, COVID vaccination was always doomed to the same fate as the flu vaccine '• a lifelong regimen of annual booster shots to try to keep pace with ''variants'' for those unwilling to expose themselves to the risk of a natural infection. And the hope that by the time the vaccines (and their booster shots) roll off the production line, they won't already be out of date when confronted by the current generation of virus mutations.

Genetic drift caused by mutations is much slower in viruses like measles, polio, or smallpox, which is why herd immunity can be used to control these other viruses (or even eradicate them as in the case of smallpox or polio). The reason the common respiratory viruses have such rapid genetic drift compared to these other viruses has much less to do with how many errors are produced during the copying process and much more to do with how many of those ''imperfect'' copies are actually able to survive and produce more copies.

A simple virus with an uncomplicated attack strategy for taking over host cells can tolerate a lot more mutations than a complex virus with a complicated attack strategy. Complexity and specialization put limits on how many of those imperfect copies have a chance at becoming successful mutations. Simple machinery doesn't break down as easily if there is an imperfection in the mechanical parts. Complicated high-tech machinery will simply not work if there are even minor flaws in precision parts.

For example, before a virus can hijack the DNA of a host cell to begin making copies of itself, the virus needs to unlock the cell wall to gain entry. Cellular walls are made of proteins and are coated by sugars; viruses need to find a way to create a doorway through that protein wall. A virus like influenza uses a very simple strategy to get inside '• it locks onto one of the sugars on the outside of the cell wall in order to piggyback a ride as the sugar is absorbed into the cell (cells use sugar as their energy source). It's such a simple strategy that it allows the influenza virus to go through lots of mutations without losing its ability to gain entry to the cell. Influenza's simplicity makes it very adaptable and allows many different types of mutations to thrive as long as they all use the same piggyback entry strategy to get inside host cells.

By contrast, something like the measles virus uses a highly specialized and very complicated strategy to gain entry to a host cell. It relies on very specialized surface proteins to break open a doorway into the host cell. It's a very rigid and complex system that doesn't leave a lot of room for errors in the copying process. Even minor mutations to the measles virus will cause changes to its surface proteins, leaving it unable to gain access to a host cell to make more copies of itself. Thus, even if there are lots of mutations, those mutations are almost all evolutionary dead ends, thus preventing genetic drift. That's one of several reasons why both a natural infection and vaccination against measles creates lifetime immunity '• immunity lasts because new variations don't change much over time.

Most RNA respiratory viruses have a high rate of genetic drift because they all rely on relatively simple attack strategies to gain entry to host cells. This allows mutations to stack up quickly without becoming evolutionary dead ends because they avoid the evolutionary trap of complexity.

Coronaviruses use a different strategy than influenza to gain access to host cells. They have proteins on the virus surface (the infamous S-spike protein, the same one that is mimicked by the vaccine injection), which latches onto a receptor on the cell surface (the ACE2 receptor) '• a kind of key to unlock the door. This attack strategy is a little bit more complicated than the system used by influenza, which is probably why genetic drift in coronaviruses is slightly slower than in influenza, but it is still a much much simpler and much less specialized system than the one used by measles. Coronaviruses, like other respiratory viruses, are therefore constantly producing a never-ending conveyor belt of ''variants'' that make long-lasting herd immunity impossible. Variants are normal. The alarm raised by our public health authorities about ''variants'' and the feigned compassion of pharmaceutical companies as they rush to develop fresh boosters capable of fighting variants is a charade, much like expressing surprise about the sun rising in the East.

Once you got immunity to smallpox, measles, or polio, you had full protection for a few decades and were protected against severe illness or death for the rest of your life. But for fast-mutating respiratory viruses, including coronaviruses, within a few months they are sufficiently different that your previously acquired immunity will only ever offer partial protection against your next exposure. The fast rate of mutation ensures that you never catch the exact same cold or flu twice, just their closely related constantly evolving cousins. What keeps you from feeling the full brunt of each new infection is cross-reactive immunity, which is another part of the story of how you are being conned, which I will come back to shortly.

Blind Faith in Central Planning: The Fantasy of Timely Doses

But let's pretend for a moment that a miraculous vaccine could be developed that could give us all 100% sterilizing immunity today. The length of time it takes to manufacture and ship 8 billion doses (and then make vaccination appointments for 8 billion people) ensures that by the time the last person gets their last dose, the never-ending conveyor belt of mutations will have already rendered the vaccine partially ineffective. True sterilizing immunity simply won't ever happen with coronaviruses. The logistics of rolling out vaccines to 8 billion people meant that none of our vaccine makers or public health authorities ever could have genuinely believed that vaccines would create lasting herd immunity against COVID.

So, for a multitude of reasons, it was a deliberate lie to give the public the impression that if enough people take the vaccine, it would create lasting herd immunity. It was 100% certain, from day one, that by the time the last dose is administered, the rapid evolution of the virus would ensure that it would already be time to start thinking about booster shots. Exactly like the flu shot. Exactly the opposite of a measles vaccine. Vaccines against respiratory viruses can never provide anything more than a temporary cross-reactive immunity ''update'' '• they are merely a synthetic replacement for your annual natural exposure to the smorgasbord of cold and flu viruses. Immunity as a service, imposed on society by trickery. The only question was always, how long between booster shots? Weeks, months, years?

Spiked: The Fantasy of Preventing Infection

The current crop of COVID vaccines was never designed to provide sterilizing immunity '' that's not how they work. They are merely a tool designed to teach the immune system to attack the S-spike protein, thereby priming the immune system to reduce the severity of infection in preparation for your inevitable future encounter with the real virus. They were never capable of preventing infection, nor of preventing spread. They were merely designed to reduce your chance of being hospitalized or dying if you are infected. As former FDA commissioner Scott Gottlieb, who is on Pfizer's board, said: ''the original premise behind these vaccines were [sic] that they would substantially reduce the risk of death and severe disease and hospitalization. And that was the data that came out of the initial clinical trials.'' Every first-year medical student knows that you cannot get herd immunity from a vaccine that does not stop infection.

In other words, by their design, these vaccines can neither stop you from catching an infection nor stop you from transmitting the infection to someone else. They were never capable of creating herd immunity. They were designed to protect individuals against severe outcomes if they choose to take them '' a tool to provide temporary focused protection for the vulnerable, just like the flu vaccine. Pushing for mass vaccination was a con from day one. And the idea of using vaccine passports to separate the vaccinated from the unvaccinated was also a con from day one. The only impact these vaccine passports have on the pandemic is as a coercive tool to get you to roll up your sleeve. Nothing more.

Antibodies, B-Cells, and T-Cells: Why Immunity to Respiratory Viruses Fades So Quickly

There are multiple interconnected parts to why immunity to COVID, or any other respiratory virus, is always only temporary. Not only is the virus constantly mutating but immunity itself fades over time, not unlike the way our brains start forgetting how to do complicated math problems unless they keep practicing. This is true for both immunity acquired through natural infection and immunity acquired through vaccination.

Our immune systems have a kind of immunological memory '• basically, how long does your immune system remember how to launch an attack against a specific kind of threat. That memory fades over time. For some vaccines, like diphtheria and tetanus, that immunological memory fades very slowly. The measles vaccine protects for life. But for others, like the flu vaccine, that immunological memory fades very quickly.

On average, the flu vaccine is only about 40% effective to begin with. And it begins to fade almost immediately after vaccination. By about 150 days (5 months), it reaches zero.

The solution to this strange phenomenon lies in the different types of immune system responses that are triggered by a vaccine (or by exposure to the real thing through a natural infection). This has big implications for coronavirus vaccines, but I'll get to that in a moment. First a little background information'...

A good analogy is to think of our immune system like a medieval army. The first layer of protection began with generalists '' guys armed with clubs that would take a swing at everything '' they were good for keeping robbers and brigands at bay and for conducting small skirmishes. But if the attack was bigger, then these generalists were quickly overwhelmed, serving as arrow fodder to blunt the attack on the more specialized troops coming up behind them. Spearmen, swordsmen, archers, cavalry, catapult operators, siege tower engineers, and so on. Each additional layer of defense has a more expensive kit and takes ever greater amounts of time to train (an English longbowman took years to build up the necessary skill and strength to become effective). The more specialized a troop is, the more you want to hold them back from the fight unless it's absolutely necessary because they are expensive to train, expensive to deploy, and make a bigger mess when they fight that needs to be cleaned up afterwards. Always keep your powder dry. Send in the arrow fodder first and slowly ramp up your efforts from there.

Our immune system relies on a similar kind of layered system of defense. In addition to various non-specific rapid response layers that take out the brigands, like natural killer cells, macrophages, mast cells, and so on, we also have many adaptive (specialized) layers of antibodies (i.e. IgA, IgG, IgM immunoglobulin) and various types of highly specialized white blood cells, like B-cells and T-cells. Some antibodies are released by regular B-cells. Others are released by blood plasma. Then there are memory B-cells, which are capable of remembering previous threats and creating new antibodies long after the original antibodies fade away. And there are various types of T-cells (again with various degrees of immunological memory), like natural killer T-cells, killer T-cells, and helper T-cells, all of which play various roles in detecting and neutralizing invaders. In short, the greater the threat, the more troops are called into the fight.

This is clearly a gross oversimplification of all the different interconnected parts of our immune system, but the point is that a mild infection doesn't trigger as many layers whereas a severe infection enlists the help of deeper layers, which are slower to respond but are much more specialized in their attack capabilities. And if those deeper adaptive layers get involved, they are capable of retaining a memory of the threat in order to be able to mount a quicker attack if a repeat attack is recognized in the future. That's why someone who was infected by the dangerous Spanish Flu in 1918 might still have measurable T-cell immunity a century later but the mild bout of winter flu you had a couple of years ago might not have triggered T-cell immunity, even though both may have been caused by versions of the same H1N1 influenza virus.

As a rule of thumb, the broader the immune response, the longer immunological memory will last. Antibodies fade in a matter of months, whereas B-cell and T-cell immunity can last a lifetime.

Another rule of thumb is that a higher viral load puts more strain on your immune defenses, thus overwhelming the rapid response layers and forcing the immune system to enlist the deeper adaptive layers. That's why nursing homes and hospitals are more dangerous places for vulnerable people than backyard barbecues. That's why feedlot cattle are more vulnerable to viral diseases than cattle on pasture. Viral load matters a lot to how easily the generalist layers are overwhelmed and how much effort your immune system has to make to neutralize a threat.

Where the infection happens in the body also matters. For example, an infection in the upper respiratory tract triggers much less involvement from your adaptive immune system than when it reaches your lungs. Part of this is because your upper respiratory tract is already heavily preloaded with large numbers of generalist immunological cells that are designed to attack germs as they enter, which is why most colds and flus never make it deeper into the lungs. The guys with the clubs are capable of handling most of the threats that try to make through the gate. Most of the specialized troops hold back unless they are needed.

Catching a dangerous disease like measles produces lifetime immunity because an infection triggers all the deep layers that will retain a memory of how to fight off future encounters with the virus. So does the measles vaccine. Catching a cold or mild flu generally does not.

From an evolutionary point of view, this actually makes a lot of sense. Why waste valuable resources developing long-lasting immunity (i.e. training archers and building catapults) to defend against a virus that did not put you in mortal danger. A far better evolutionary strategy is to evolve a narrower generalist immune response to mild infections (i.e. most cold and flu viruses), which fades quickly once the threat is conquered, but invest in deep long-term broad-based immunity to dangerous infections, which lasts a very long time in case that threat is ever spotted on the horizon again. Considering the huge number of threats our immune systems face, this strategy avoids the trap of spreading immunological memory too thin. Our immunological memory resources are not limitless '' long-term survival requires prioritizing our immunological resources.

The take-home lesson is that vaccines will, at best, only last as long as immunity acquired through natural infection and will often fade much faster because the vaccine is often only able to trigger a partial immune response compared to the actual infection. So, if the disease itself doesn't produce a broad-based immune response leading to long-lasting immunity, neither will the vaccine. And in most cases, immunity acquired through vaccination will begin to fade much sooner than immunity acquired through a natural infection. Every vaccine maker and public health official knows this despite bizarrely claiming that the COVID vaccines (based on re-creating the S-protein spike instead of using a whole virus) would somehow become the exception to the rule. That was a lie, and they knew it from day one. That should set your alarm bells ringing at full throttle.

So, with this little bit of background knowledge under our belts, let's look at what our public health officials and vaccine makers would have known in advance about coronaviruses and coronavirus vaccines when they told us back in the early Spring of 2020 that COVID vaccines were the path back to normality.

From a 2003 study: ''Until SARS appeared, human coronaviruses were known as the cause of 15''30% of colds'... Colds are generally mild, self-limited infections, and significant increases in neutralizing antibody titer are found in nasal secretions and serum after infection. Nevertheless, some unlucky individuals can be reinfected with the same coronavirus soon after recovery and get symptoms again.''

In other words, the coronaviruses involved in colds (there were four human coronaviruses before SARS, MERS, and COVID) all trigger such a weak immune response that they do not lead to any long-lasting immunity whatsoever. And why would they if, for most of us, the threat is so minimal that the generalists are perfectly capable of neutralizing the attack.

We also know that immunity against coronaviruses is not durable in other animals either. As any farmer knows well, cycles of reinfection with coronaviruses are the rule rather than the exception among their livestock (for example, coronaviruses are a common cause of pneumonia and various types of diarrheal diseases like scours, shipping fever, and winter dysentery in cattle). Annual farm vaccination schedules are therefore designed accordingly.

The lack of long-term immunity to coronaviruses is well documented in veterinary research among cattle, poultry, deer, water buffalo, etc. Furthermore, although animal coronavirus vaccines have been on the market for many years, it is well known that ''none are completely efficacious in animals''. So, like the fading flu vaccine profile I showed you earlier, none of the animal coronavirus vaccines are capable of providing sterilizing immunity (none were capable of stopping 100% of infections, without which you can never achieve herd immunity) and the partial immunity they offered is well known to fade rather quickly.

What about immunity to COVID's close cousin, the deadly SARS coronavirus, which had an 11% case fatality rate during the 2003 outbreak? From a 2007 study: ''SARS-specific antibodies were maintained for an average of 2 years'... SARS patients might be susceptible to reinfection >3 years after initial exposure.'' (Bear in mind that, as with all diseases, re-infection does not mean you are necessarily going to get full-blown SARS; fading immunity after a natural infection tends to offer at least some level of partial protection against severe outcomes for a considerable amount of time after you can already be reinfected and spread it to others '' more on that later.)

And what about MERS, the deadliest coronavirus to date, which made the jump from camels in 2012 and had a fatality rate of around 35%? It triggered the broadest immune response (due to its severity) and also appears to trigger the longest lasting immunity as a result (> 6yrs)

Thus, to pretend that there was any chance that herd immunity to COVID would be anything but short-lived was dishonest at best. For most people, immunity was always going to fade quickly. Just like what happens after most other respiratory virus infections. By February 2020, the epidemiological data showed clearly that for most people COVID was a mild coronavirus (nowhere near as severe than SARS or MERS), so it was virtually a certainty that even the immunity from a natural infection would fade within months, not years. It was also a certainty that vaccination was therefore, at best, only ever going to provide partial protection and that this protection would be temporary, lasting on the order of months. This is a case of false and misleading advertising if there ever was one.

If I can allow my farming roots to shine through for a moment, I'd like to explain the implications of what was known about animal coronaviruses vaccines. Baby calves are often vaccinated against bovine coronaviral diarrhea shortly after birth if they are born in the spring mud and slush season, but not if they are born in midsummer on lush pastures where the risk of infection is lower. Likewise, bovine coronavirus vaccines are used to protect cattle before they face stressful conditions during shipping, in a feedlot, or in winter feed pens. Animal coronavirus vaccines are thus used as tools to provide a temporary boost in immunity, in very specific conditions, and only for very specific vulnerable categories of animals. After everything I've laid out so far in this text, the targeted use of bovine coronavirus vaccines should surprise no-one. Pretending that our human coronavirus vaccines would be different was nonsense.

The only rational reason why the WHO and public health officials would withhold all that contextual information from the public as they rolled out lockdowns and held forth vaccines as an exit strategy was to whip the public into irrational fear in order to be able to make a dishonest case for mass vaccination when they should have, at most, been focused on providing focused vaccination of the most vulnerable only. That deception was the Trojan Horse to introduce endless mass booster shots as immunity inevitably fades and as new variants replace old ones.

Now, as all the inevitable limitations and problems with these vaccines become apparent (i.e. fading of vaccine-induced immunity, vaccines proving to only be partially effective, the rise of new variants, and the vaccinated population demonstrably catching and spreading the virus '• a.k.a. the leaky vaccine phenomenon), the surprise that our health authorities are showing simply isn't credible. As I have shown you, all this was 100% to be expected. They intentionally weaponized fear and false expectations to unleash a fraudulent bait-and-switch racket of global proportions. Immunity on demand, forever.

Manufacturing Dangerous Variants: Virus Mutations Under Lockdown Conditions '-- Lessons from the 1918 Spanish Flu

At this point you may be wondering, if there is no lasting immunity from infection or vaccination, then are public health officials right to roll out booster shots to protect us from severe outcomes even if their dishonest methods to get us to accept them were unethical? Do we need a lifetime regimen of booster shots to keep us safe from a beast to which we cannot develop durable long-term immunity?

The short answer is no.

Contrary to what you might think, the rapid evolution of RNA respiratory viruses actually has several important benefits for us as their involuntary hosts, which protects us without the benefit of broad lifelong immunity. One of those benefits has to do with the natural evolution of the virus towards less dangerous variants. The other is the cross-reactive immunity that comes from frequent re-exposure to closely related ''cousins''. I'm going to peel apart both of these topics in order to show you the remarkable system that nature designed to keep us safe'... and to show you how the policies being forced on us by our public health authorities are knowingly interfering with this system. They are creating a dangerous situation that increases our risk to other respiratory viruses (not just to COVID) and may even push the COVID virus to evolve to become more dangerous to both the unvaccinated and the vaccinated. There are growing signs that this nightmare scenario has already begun.

Let's start with the evolutionary pressures that normally drive viruses towards becoming less dangerous over time. A virus depends on its host to spread it. A lively host is more useful than a bedridden or dead one because a lively host can spread the virus further and will still be around to catch future mutations. Viruses risk becoming evolutionary dead ends if they kill or immobilize their hosts. Plagues came, killed, and then were starved out of existence because their surviving hosts had all acquired herd immunity. Colds come and go every year because their hosts are lively, easily spread the viruses around, and never acquire long-lasting immunity so that last year's hosts can also serve as next year's hosts '• only those who have weak immune systems have much to worry about. In other words, under normal conditions, mutations that are more contagious but less deadly have a survival advantage over less contagious and more deadly variations.

From the virus' point of view, the evolutionary golden mean is reached when it can easily infect as many hosts as possible without reducing their mobility and without triggering long-term immunity in most of their hosts. That's the ticket to setting up a sustainable cycle of reinfection, forever. Viruses with slow genetic drift and highly specialized reproductive strategies, like polio or measles, can take centuries or longer to become less deadly and more contagious; some may never reach the relatively harmless status of a cold or mild flu virus (by harmless I mean harmless to the majority of the population despite being extremely dangerous to those with weak or compromised immune systems). But for viruses with fast genetic drift, like respiratory viruses, even a few months can make a dramatic difference. Rapid genetic drift is one of the reasons why the Spanish Flu stopped being a monster disease, but polio and measles haven't. And anyone with training in virology or immunology understands this!

We often speak of evolutionary pressure as though it forces an organism to adapt. In reality, a simple organism like a virus is utterly blind to its environment '-- all it does is blindly produce genetic copies of itself. ''Evolutionary pressure'' is actually just a fancy way of saying that environmental conditions will determine which of those millions of copies survives long enough to produce even more copies of itself.

A human adapts to its environment by altering its behaviour (that's one type of adaptation). But the behaviour of a single viral particle never changes. A virus ''adapts'' over time because some genetic copies with one set of mutations survive and spread faster than other copies with a different set of mutations. Adaptation in viruses has to be seen exclusively through the lens of changes from one generation of virus to the next based on which mutations have a competitive edge over others. And that competitive edge will vary depending on the kinds of environmental conditions a virus encounters.

So, fear mongering about the Delta variant being even more contagious leaves out the fact that this is exactly what you would expect as a respiratory virus adapts to its new host species. We would expect new variants to be more contagious but less deadly as the virus fades to become just like the other 200+ respiratory viruses that cause common colds and flus.

That's also why the decision to lock down the healthy population is so sinister. Lockdowns, border closures, and social distancing rules reduced spread among the healthy population, thus creating a situation where mutations produced among the healthy would become sufficiently rare that they might be outnumbered by mutations circulating among the bedridden. Mutations circulating among the healthy are, by definition, going to be the least dangerous mutations since they did not make their hosts sick enough to confine them to bedrest. That's precisely the variants you want to spread in order to drown out competition from more dangerous mutations.

A host stuck in bed with a fever and not out dining with friends is limited in his ability to infect others compared to a host infected with a variety that only gives its host a sniffle. Not all bedridden hosts have caught a more dangerous mutation, but all dangerous mutations will be found among the bedridden. Thus as time goes by, dangerous mutations can only compete with less dangerous mutations if the entire population is limited in its ability to mix and mingle.

As long as the majority of infections are among the healthy, the more dangerous variants circulating among some of the bedridden will be outnumbered and will become evolutionary dead ends. But when public health officials intentionally restricted spread among the young, strong, and healthy members of society by imposing lockdowns, they created a set of evolutionary conditions that risked shifting the competitive evolutionary advantage from the least dangerous variants to more dangerous variants. By locking us all up, they risked making the virus more dangerous over time. Evolution doesn't sit around to wait for you while you develop a vaccine.

Let me give you a historical example to demonstrate that this rapid evolution of a virus towards either more or less dangerous variants isn't mere theory. Small changes to the environment can lead to very rapid changes in the virus' evolution. The first wave of the 1918 Spanish Flu was not particularly deadly, with mortality rates similar to regular seasonal flu. However, the second wave was not only much deadlier but, rather unusually, was particularly deadly to young people rather than just the old and the weak. Why would the second wave be the deadly one? And what would cause the virus to evolve so quickly to become both more deadly and better adapted to preying on young people? At first glance it would seem to defy all evolutionary logic.

The answer demonstrates just how sensitive a virus is to small changes in evolutionary pressure. The Spanish Flu spread in the midst of the lockdown-mimicking conditions of World War One. During the first wave, the virus found a huge population of soldiers trapped in the cold damp conditions of the trenches and a near endless supply of captive bedridden hosts in overflowing field hospitals. By the Spring of 1918, up to three-quarters of the entire French military and half of British troops had been infected. These conditions created two unique evolutionary pressures. On the one hand, it allowed variants that were well adapted to young people to emerge. But on the other hand, unlike normal times, the cramped conditions of trench warfare and field hospitals allowed dangerous variants that immobilize their hosts to spread freely with little competition from less dangerous variants that spread through lively hosts. The trenches and field hospitals became the virus incubators driving the evolution of variants.

Normally young people are predominantly exposed to less dangerous mutations because the healthiest do all the mingling while the bedridden stay home. But the lockdown conditions of war created conditions that erased the competitive advantage of less dangerous mutations that don't immobilize their hosts, leading to the rise of more dangerous mutations.

Thanks to the end of the war, the lockdown-mimicking conditions also ended, thereby shifting the competitive advantage back to less dangerous mutations that could spread freely among the mobile healthy members of the population. The deadliness of the second wave of the 1918 Spanish Flu is inextricably linked to the First World War, and the end of the war is linked to the virus fading into the background of regular cold and flu season.

Soldiers from Fort Riley, Kansas, ill with Spanish flu at a hospital ward at Camp Funston

It is therefore highly likely that the 1918 Spanish Flu would never have been more than a really bad flu season had it not been for the amplifying effect of lockdown conditions created by a world at war.

It also raises the question, for which I don't have an answer, whether the lockdown strategy during COVID was intentionally used to reduce spread among the healthy in order to keep the virus from fading into harmless irrelevancy. I use the word ''intentionally'' '• and it's a strong word '• because the deadly second wave of the 1918 Spanish Flu and its causes are hardly secrets in the medical community. You'd have to be a completely reckless and utterly incompetent idiot, or a cynical bastard with an agenda, to impose any strategy that mimics those virus-amplifying conditions. Yet that's what our health authorities did. And what they continue to do, while shamelessly hyperventilating about the risk of ''variants'' to force us to submit to medical tyranny based on mandatory vaccines, never-ending booster shots, and vaccine passports that can turn off access to our normal lives. This is cynicism at its finest.

Leaky Vaccines, Antibody-Dependent Enhancement, and the Marek Effect

The experience of the 2nd wave of the 1918 Spanish Flu also raises another question: What kind of evolutionary pressures are being created by using a leaky vaccine?

A vaccine that provides sterilizing immunity prevents the vaccinated from being able to catch or transmit the virus. They become a dead end for the virus. However, as I've already mentioned, the current crop of COVID vaccines, which are meant to train the immune system to recognize the S-spike proteins, were not designed to create sterilizing immunity. By their design, they merely help reduce the risk of severe outcomes by priming the immune system. The vaccinated can still catch and spread the virus '• the definition of a leaky vaccine '• and epidemiological data makes it very clear that this is now happening all around the world. Thus, both the vaccinated and the unvaccinated are equally capable of producing new variants. The idea that the unvaccinated are producing variants while the vaccinated are not is a boldfaced lie.

From an evolutionary perspective, this is a potentially dangerous scenario. What has been done by temporarily blunting the risk of hospitalization or death, but without stopping infection among the vaccinated, is to create a set of evolutionary conditions where a variant that is dangerous to the unvaccinated can spread easily among the vaccinated without making the vaccinated very sick. For lack of a better term, let's call this a dual-track variant. Thus, because the vaccinated are not getting bedridden from this dual-track variant, they can continue to spread it easily, giving it a competitive advantage, even if it is highly dangerous to the unvaccinated.

Furthermore, since COVID vaccination only offers temporary short-term protection, as soon as immunity fades, the vaccinated themselves are also equally at risk of more severe outcomes. Thus, this creates the evolutionary pressure for the virus to behave as an increasingly contagious but relatively mild virus as long as everyone is vaccinated but as a dangerous but also very contagious virus as soon as temporary immunity wears off. The call for boosters every 6 months is already here. (Update: now it's being revised down to 5 months.)

So, the pandemic really does have the potential to become the Pandemic of the Unvaccinated (the shameless term coined by public health officials to terrify the vaccinated into bullying their unvaccinated peers), but reality comes with a twist because if a dual-track variant does evolve it would be the unvaccinated (and those whose boosters have expired) who would have reason to fear the vaccinated, not the other way around as so many frightened citizens seem to believe. And the end result would be that we all become permanently dependent on boosters every 6 months, forever.

Hold on, you might say, the flu vaccine chart shown earlier also never provided sterilizing immunity. The flu vaccine is notoriously leaky but hasn't gotten more dangerous, has it? The answer is complicated because the comparison is less useful than it first appears. As long as the majority of the population does not get the flu vaccine, more dangerous variants will face stiff competition from less dangerous ones circulating among the healthy unvaccinated population (average flu vaccination rates in most western countries are between 38-41%, with most other countries around the world doing very little vaccination against the flu).

And since the vaccine is only 40% effective to begin with and since immunity fades rapidly after the shot, the flu vaccine doesn't provide much protection to begin with, thus reducing the chance that separate mutations would circulate among the vaccinated. And public health frequently gets the strain wrong (influenza has many strains that are constantly evolving so there is a lot of guesswork that goes into creating the right vaccine formula each year). In other words, lack of universal coverage and poor protection are likely preventing the emergence of a dual-track variant.

Furthermore, flu vaccination is not evenly distributed across the population. It is mostly the vulnerable and those who work around them that get it while children, young adults and other healthy members of society don't get it. So, even if more deadly variants were to arise in nursing homes or hospital settings, the high number of healthy unvaccinated visitors to those facilities would constantly bring less deadly more contagious variants with them, thereby preventing more dangerous variants from gaining a competitive edge in nursing home or hospital settings. But if the leaky flu vaccinations were to be extended to everyone, or if nursing home populations continue to be kept isolated from the rest of society during COVID lockdowns, things might begin to look a little different.

However, what I am warning about is far from theoretical. There is a very clear example (well known to public health officials and vaccine developers) from the poultry farming industry where a universal leaky vaccine pushed a virus to evolve to become extremely deadly to unvaccinated chickens. It is called the Marek Effect. It began with a leaky vaccine that was rolled out to fight a herpes virus in industrialized high-density chicken barns. Vaccinated chickens were protected from severe outcomes but nevertheless continued to catch and spread the virus, so evolutionary pressure led to the emergence of a dual-track variant that become the dominant strain of this herpes virus. It continues to spread among the vaccinated chickens without killing them but kills up to 80% or more of unvaccinated birds if they get infected. Thus, a never-ending stream of vaccinations is now required just to maintain the status quo. I bet the pharmaceutical industry is smiling at all those drug-dependent chickens though '-- talk about having a captive audience!

It's not a certainty that this will happen with the COVID vaccines, but the longer this fiasco continues and the higher that vaccination rates rise around the world, the more likely it becomes that we re-create the conditions for some kind of Marek effect to develop. A leaky vaccine used sparingly to protect small pockets of vulnerable individuals is very different than a leaky vaccine applied to everyone. The rapid change in behaviour of the 1918 Spanish Flu should be a warning to us all that a virus can adapt very quickly in response to small changes in evolutionary pressure. The closer we get to universal vaccination, the greater the danger that leaky vaccines will lead to dual-track variants that become more dangerous to the unvaccinated.

There is one other danger from leaky vaccines that is worth mentioning because researchers are already starting to see the first signs of it, as you can see discussed in this paper published on August 9th, 2021, in the Journal of Infection. It's called antibody-dependent enhancement (ADE). It happens when a poorly designed vaccine trains antibodies to recognize a virus as an intruder without being strong enough to kill/neutralize them. Instead of the virus being neutralized inside the antibody when the antibody attacks and ''swallows'' it (antibodies envelope intruders in order to neutralize them), the virus takes over the antibody cell that attacked it and uses it as a host to start making copies of itself. Thus, the attacking antibody opens the door to the inside of the cell and becomes the virus' unwitting host, thereby accelerating rather than stopping the infection.

Antibody-dependent enhancement is a well-documented phenomenon in attempts to develop vaccines against the RSV virus, dengue fever, and other coronaviruses. This is one of the reasons why previous attempts to develop a human coronavirus vaccine against the SARS virus failed. It kept happening in animal trials. And many doctors warned from day one that it would happen with these vaccines as well as new variants gradually emerge that are sufficiently different from the original variant upon which the vaccine is based. ADE doesn't show up on the day after vaccination. It emerges gradually as new variants spread that are different from previous variants.

Quote from the aforementioned study: ADE may be a concern for people receiving vaccines based on the original Wuhan strain spike sequence (either mRNA or viral vectors). Under these circumstances, second generation vaccines with spike protein formulations lacking structurally-conserved ADE-related epitopes should be considered.

In other words, your previous vaccination protects you only until new variants arise, then the training that your previous vaccination gave your immune system becomes a liability as your immune system switches from protecting you to increasing your risk from the disease. Your only way to protect yourself is to dutifully get your next ''updated'' booster shot to protect you for next few short months. You become a permanent drug dependent vaccine customer. And you better hope next year's formulation doesn't get it wrong. And you better hope that updates can keep you safe indefinitely because there's also the risk that updates will get less effective as the bad training from previous boosters begins to add up.

It puts a whole new spin on ''trust the scientists.'' Your life will literally be at their mercy.

I bet the pharmaceutical industry will be smiling at all those drug-dependent chickens loyal customers though '-- talk about having a captive audience! And what a sweet deal '' vaccine makers have been granted an exemption from liability and, if it goes wrong, they are the go-to guy to solve it'... with more boosters.

And with every booster, you'll get to play Russian Roulette all over again with side effects: death, autoimmune diseases, reactivation of dormant viruses, neurological damage, blood clotting, and more. Here's where the reported side effects on the US VAERS system stand at the time of writing (August 28th, 2021).

Leaky vaccines are playing with fire. All vaccine makers and public health authorities were aware of the potential for ADE with the development of a coronavirus vaccine. Yet they pushed for mass vaccination, from day one, without completing the long-term trials that are meant to rule out this kind of risk. They knowingly gambled with your future in their eagerness to get you onto your regimen of never-ending boosters and vaccine passports. Why not, if more boosters are the solution if something is going wrong. They can always blame it on the ''variants.'' The media won't challenge them '' not with billions of vaccine advertising dollars floating around.

Anti-Virus Security Updates: Cross-Reactive Immunity Through Repeated Exposure

And now we come to the second way in which our immune systems benefit from the rapid evolution of RNA respiratory viruses and to the sinister way in which public health policy is interfering with that system.

The once deadly 1918 Spanish Flu is still with us today; now it is part of the smorgasbord of viruses that cause colds and flus every winter precisely because subsequent variants evolved to be less deadly. As unpleasant as flu season is, for most of us it is not lethal unless we have weak or compromised immune systems. But each subsequent exposure teaches our immune system how to keep up with its gradual evolution over time.

In other words, each year's fresh exposure to the latest strain of cold or flu virus functions as a sort of antivirus security update to partially prepare you for the next one. Fading immunity and changing mutations means you'll never be 100% immune to the next one, but as long as updates are frequent enough, you'll also never have 0% immunity. There will always be enough carry-over to protect you from the most serious outcomes unless you are unfortunate enough to have a weak immune system. That is why it is called cross-reactive immunity.

A broad smorgasbord of viruses cruising around during cold and flu season makes it less likely that we will die or get seriously ill when exposed to some new ''variant'' from London, India, or Brazil, or if we are exposed to a new ''cousin'', like COVID, which crawls out of some bat cave or wet market or escapes from some lab in Wuhan.

But when we think about it for a moment, what was once dangerous when it was new soon becomes our most important ally for the future to protect us from the next dangerous new thing. As long as we are re-exposed frequently, before immunity fades to zero, cross-reactive immunity is the only realistic evolutionary strategy that humans have to protect us from the next viral variant or viral cousin of these fast-mutating respiratory viruses.

With sufficient leftover cross-reactive immunity from your last exposure, exposure to the latest variant of a virus may simply result in your immune system getting updated without you even noticing a single thing. That's what it means to get an ''asymptomatic'' infection. Before we started tormenting the healthy with never-ending PCR tests to make us aware of all these ''asymptomatic infections'', we were constantly getting lots of these ''antivirus security updates'' each time we encountered one of the more than 200 respiratory viruses circulating among us, often without even noticing the ''infection''.

Many of these encounters are asymptomatic because our immune systems are able to neutralize them without even ruffling enough layers of our defenses to trigger any symptoms. Almost everyone gets a few immune system updates to the viruses that cause common colds, every single year, yet only a small percentage will ever get very sick. The rest may barely get a runny nose, or nothing symptoms at all.

Mass PCR testing during COVID created a massive freak-out over every single asymptomatic COVID update when we should have only been focused on those people who come down with severe symptomatic disease. There was never any justifiable reason to roll out PCR tests to asymptomatic citizens other than to heighten fear in the population in order to make them receptive to mass vaccination.

So, in a sense, those 201 respiratory viruses that cause our colds and flus are not just an inconvenience, they are nature's solution to software updates '• even though they are dangerous to those with weak immune systems, for the rest of us our immune systems depend on them to give us partial protection against new strains that emerge through mutation or when new strains jump across species boundaries. Getting rid of those already circulating in society would make us more vulnerable to new variants that emerge. Adding another 200 will make us even safer once we get our first contact behind us.

Eradicating a relatively benign respiratory virus is therefore not a desirable goal. But making it fade into the background is a desirable public health goal so that what was once dangerous can now keep protecting us against the next one through cross-reactive immunity. Focused protection for the vulnerable, not lockdowns, was always the only realistic public health response to this respiratory virus, unless someone wanted to seize the opportunity as a way to rope the public into mass vaccinations.

Nature evolved this fascinating strategy of self-updating immunological countermeasures by continually testing us with mild versions of previous closely related respiratory viruses. Our immune system is therefore somewhat similar to an Olympic weightlifter whose muscles not only stay strong but get even stronger by routinely putting his muscles under a little bit of stress. Our immune system functions the same way '• it must be continually stress-tested with mild challenges to these fast-mutating viruses in order to develop the robust arsenal of defenses to keep us safe. It is a concept called anti-fragility, which was described in detail by Nassim Taleb in his ground-breaking book, Antifragile: Things That Gain from Disorder. Once you understand this concept, your fear of ''variants'' will rapidly dissolve.

The eradication of these fast-mutating respiratory viruses is therefore not just unachievable, it would actually be dangerous if we succeeded because it would eliminate the security updates that we need to protect us against new variants that crawl out of bat caves or jump species boundaries. This year's runny nose is your protection against COVID-23. Your cross-reactive immunity to last years annoying flu might just save your life if something truly dangerous arrives, as long as it is at least somewhat related to what your immune system has seen before.

COVID could easily have turned out to be as dangerous to us as the Spanish Flu if it hadn't been for the saving grace of cross-reactive immunity. As this study shows, up to 90-99% of us already had some level of protection to COVID thanks to partial cross-reactive immunity gained from exposure to other coronaviruses. The high percentage of infections that turn out to be asymptomatic bears that out.

Someone needs to remind Bill Gates, his fawning public health bootlickers, and the pharmaceutical companies that whisper sweet-nothings in his ear that in the natural world of respiratory viruses, most of us don't need a regimen of never-ending booster shots to keep us safe from COVID variants '• we already have a perfectly functioning system to keep bringing us new updates. Respiratory viruses are a completely different beast than smallpox, polio, or measles; and pretending otherwise is not just silly, it's criminal because anyone with a background in immunology knows better. But it's a fantastic and very profitably way to scare a wide-eyed population into accepting never-ending booster shots as a replacement for the natural antivirus updates that we normally get from hugs and handshakes. Protect the vulnerable. Stop preying on the rest of us.

The Not-So-Novel Novel Virus: The Diamond Princess Cruise Ship Outbreak Proved We Have Cross-Reactive Immunity

A truly novel virus affects everyone because no-one has pre-existing cross-reactive partial immunity to it. That's why the diseases that accompanied Christopher Columbus to the Americas killed up to 95% of North and South America's indigenous populations (see Guns, Germs, and Steel, by Jared Diamond #Commissions Earned). To them, these diseases were novel because they had no previous exposure to them and therefore lacked the antivirus security updates acquired through pre-existing infections. They would have benefited greatly from access to a vaccine prior to first contact.

Thankfully, COVID-19 was not that kind of virus. Yet the media and public health officials shamelessly provoked fear that it was by using the scientifically accurate term novel to describe it, knowing full well that all scientists would understand this to mean a newly emergent strain while the general public would jump to the conclusion that this was an entirely new virus (also called a novel virus by scientists), like when tuberculosis or influenza accompanied Columbus to the Americas. This was a grotesque example of public health officials misusing scientific terminology, knowing full well that the public would misunderstand the term novel according to how we use the word in everyday language and not according to how the scientific community uses it.

That little game successfully sparked a wave of fear that is so strong that not only is everyone desperate for a leaky jab to lead them to safety, they are so scared that they won't rest until all their friends, neighbors, and family members get one too, even if it requires extreme levels of coercion to get the job done. Canada has even recently gone as far as making vaccination mandatory for all federal employees, employees of Crown Corporations, employees of federally-regulated companies (i.e. utilities) and for all travellers on commercial airlines and trains (CBC, August 13th, 2021) !

Despite the scary numbers put out by the Chinese government in the early days of the pandemic, the outbreak on the Diamond Princess cruise ship served as an inadvertent petri-dish to study the COVID virus. Thanks to that example, by the end of February 2020, we knew that COVID was not some monster virus like the 1918 Spanish Flu but was simply another coronavirus strain that was closely related to previous coronaviruses and that most of us already carried some level of cross-reactive immunity to protect us.

How do we know that? The virus circulated freely onboard the ship, yet age corrected lethality remained between 0.025% and 0.625% (that's on the order of a bad flu season and nothing at all like the fatality rate of the 1918 Spanish Flu, which was between 2% and 10%). Only 26% of the passengers tested positive for the virus and of those that tested positive 48% remained completely symptom free despite the advanced age of most of these passengers!

The Diamond Princess didn't turn into the floating morgue of bygone eras when ships carrying a disease were forced into quarantine. That should have been the first clue that this virus was anything but novel in the colloquial understanding of the term. Like most cold and flu viruses, only those with weak immune systems were in danger while everyone else got off with little or no symptoms. That is simply not how a truly novel virus behaves when it encounters a population without any pre-existing cross-reactive immunity. The only plausible explanation for that lack of deadliness (deadly for some, annoying for some, and asymptomatic for most others) is that most people already have sufficient pre-existing cross-reactive immunity from exposure to other coronaviruses.

Research subsequently confirmed what the Diamond Princess outbreak revealed. As I mentioned before, studies like this one demonstrated that up to 90 '' 99% of us already have some residual level of partial protection to COVID. And we also subsequently found out that most people who were exposed to the deadly SARS virus in 2003 have little to fear from COVID, again because of cross-reactive immunity. COVID was never a mortal threat to most of us.

The important thing to remember is that the Diamond Princess data was already publicly available since the end of February of 2020. Operation Warp Speed, the vaccine development initiative approved by President Trump, was nevertheless announced on April 29th, 2020. Thus, our health authorities knowingly and opportunistically recommended lockdowns and promoted vaccines as an exit strategy after it was already clear that the majority of us had some kind of protection through cross-reactive immunity. The Diamond Princess example provided the unequivocal proof that the only people who might benefit from a vaccine, even if it worked as advertised, were the small number of extremely vulnerable members of society with weak immune systems. Likewise, lockdowns should have been recommended only for nursing home residents (on a strictly voluntary basis to protect their human rights) while the pandemic surged through the rest of us.

The only plausible explanation for why our international health authorities ignored the example of the Diamond Princess is if they wanted to stoke fear among the public and if they wanted to bamboozle credible politicians in order to opportunistically achieve some other public health agenda. They pushed vaccination on everyone knowing full well that most people don't need it and that protection would fade quickly even if the vaccines had been 100% effective, which they also knew was not going to be the case either. And yet they continue to push these vaccines using the same deceitful tactics even today. Water does not run uphill.

Mother Knows Best: Vitamin D, Playing in Puddles, and Sweaters

Just like during other cold and flu seasons, the vulnerable to COVID are overwhelmingly those with compromised immune systems: those whose immune systems are shutting down as they approach death from old age and those whose immune systems are compromised due to severe pre-existing conditions that reduce immune function.

For everyone else with a strong immune system and cross-reactive immunity, we have little to fear from the virus and its never-ending stream of mutations unless our immune systems are temporarily suppressed through illness, environmental conditions, or nutritional deficiencies.

Your mother's warnings about putting on a sweater, hat, and dry socks, tucking in your shirt to cover your kidneys, and not playing in puddles were not about preventing infection by a cold or flu, it was about preventing symptomatic infection. Research has demonstrated that getting chilled can temporarily suppress your immune system. Thus, getting chilled increases the chance that an infection leads to symptomatic disease rather than merely updating your immune system through an asymptomatic infection. Your sweater won't prevent you from catching an infection. But it might prevent that infection from becoming a symptomatic disease. It could be the difference between experiencing nothing and ending up in bed with a fever.

In the same way, topping up on vitamin C and D, eating properly, getting enough rest, getting hugs from loved ones, adopting a positive attitude in life, and smiling when you see a rainbow are all strategies that help keep your immune system strong. They don't prevent infection, but they might reduce your risk of a bad outcome.

Ask the staff in a nursing home what happens to their patients when any of these important ingredients is missing '• vitamin and nutrient deficiencies, poor sleep, loneliness, and depression lay out the welcome mat for the Grim Reaper. A temporarily suppressed immune system cannot mount an adequate immune response even when we do have cross-reactive immunity.

Our public health authorities also all know this. This is not a mystery. Yet, instead of promoting these strategies as ways in which people could reduce their risk to severe outcomes, they have systematically downplayed, ignored, or labeled these strategies as ''fake news''. Maximize the risk of death. Then promote the vaccine as the exclusive path to safety. Criminal.

You cannot control other people forever to avoid getting exposed to a respiratory virus. COVID Zero is an authoritarian fantasy. But you can control your food, your sleep, and your attitude so that your immune system can mount the strongest attack it can muster. The odds are that you already have all the cross-reactive immunity you need to survive this virus without a hitch. Look inwards to find freedom from fear. Take good care of yourself. Go play in the sun with your friends. And listen to your mother '--tuck in your shirt!

The Paradox: Why COVID-Zero Makes People More Vulnerable to Other Viruses

As is so often the case when politicians try to run our lives for us, the government response to COVID is not just wrong, it is actually making us more vulnerable, both to COVID and to other respiratory viruses. Depriving nursing home patients of their loved ones, locking them in isolation, locking people in their homes, shutting down gyms, driving us into depression, and paralysing us with fear and uncertainty ensures that our immune systems will be working at suboptimal levels. Broken marriages, children deprived of social contacts, insomnia, the remarkable surge in obesity that occurred during COVID, and so many other consequences of these ill begotten strategies all have a toll on our ability to mount a strong immune response when we are inevitably exposed to any respiratory viruses.

Equally devastating is that, by disrupting our normal social contacts, we have reduced how much training our immune system is getting through repeated exposure to other respiratory viruses. A computer that stops getting security updates becomes increasingly vulnerable to future versions of viruses. The same goes for our immune system. COVID is not the only risk. Remember, there are more than 200 other respiratory viruses that are also circulating. They may not be getting much attention and may be temporarily starved for hosts while we are cooped up at home, but they haven't gone away. They are waiting. And when they find us, they find hosts whose antivirus security updates are out of date.

In other words, by breaking our ability to socialize with our peers, what was once relatively harmless is becoming more dangerous to us because our immune systems are out of practice. This isn't some theoretical risk. We're already beginning to see the fallout from that lack of updates, with deadly consequences.

For example, New Zealand was praised internationally for adopting a COVID-Zero policy and for the low COVID cases that resulted. But the lockdowns, social distancing measures, and border closures also had another effect '• there was a 99.9% reduction in flu cases and a 98% reduction in cases of the RSV virus. Sounds good, right? Not so fast'...

Systems that depend on constant challenges to become antifragile will become fragile if those challenges stop happening. A tree that grows up sheltered from the wind will break when it is exposed to the storm.

Now New Zealand's myopic focus on COVID as the one and only risk is coming home to roost. Its hospitals are overflowing with children. But they're not being hospitalized by COVID. They are falling ill with RSV virus because of the ''immunity debt'' that built up from not being continually exposed to all the respiratory viruses that make up normal life. These children are, quite literally, the next wave of victims of COVID-Zero. Being cut off from normal life has left them fragile. Instead of praise, it now is becoming apparent that New Zealand's authoritarian strongwoman, Jacinda Ardern, and her public health advisors ought to be standing trial for gross negligence for ignoring the long-established research about how our immune systems depend on continual exposure to respiratory viruses in order to stay healthy.

As long as our social contacts are restricted, we are all becoming increasing vulnerable to all these other respiratory viruses because of the ''immunity debt'' that has built up during lockdowns and social distancing rules. It turns out that handshakes and hugs are not just good for the soul. Our public health officials have blood on their hands for denying us our normal lives.

This heightened risk to other viruses isn't an unexpected outcome; there were plenty of doctors who warned about precisely this risk as lockdowns were being imposed. For example, Dr. Dan Erickson and Dr Artin Massihi warned about this phenomenon back in May of 2020. YouTube censored their video. Yet they were citing long-established science that was uncontested until society collectively lost its mind in 2020.

Introducing Immunity as a Service '' A Subscription-Based Business Model for the Pharmaceutical Industry

As you can see from everything I have laid out in this essay, this misbegotten vaccine-enabled fever dream was never a realistic solution to stop COVID. At best, if the vaccines worked as advertised, all they could ever have been was one tool among many to provide the vulnerable with focused protection while the rest of us went about our normal lives, largely unaffected by our periodic antivirus security updates through exposure to the natural virus.

COVID-Zero in all its variations was a fantasy.

But it was not an accidental fantasy.

Water does not run uphill.

Every single public health official in the world has the education to know that what they have been promoting, from day one, is gibberish. What I have laid out in this essay is pretty basic virology and immunology knowledge. Which raises a rather alarming question: how can any virologist, immunologist, vaccine maker, or public health official knowingly promote this lie?

Why is there such a blind obsession with getting us all to take a vaccine that most people do not need and that can never provide long-lasting herd immunity?

It's no mystery why pea-brained politicians might fall for this fantasy; they are only as good as the advisors they listen to. And politicians are shameless opportunists, so it is not surprising that they are now exploiting the situation to increase their powers and to harness this emerging command-and-control economy in pursuit of their own ideological goals '-- redistribution, carbon net zero, social credit score systems, you name it. In this Orwellian world, if you have a podium and a utopian dream, the world is your oyster, at least as long as the band keeps playing and the pitchforks can be kept off the streets.

But our public health officials and international health organizations are trained to know better. Yet they nevertheless set this nightmare in motion in violation of all their own long-established pandemic planning guidelines. They know eradication is impossible. They know most of us already have cross-reactive immunity. They know most of us are healthy enough so that our immune systems will protect us against severe outcomes from this virus. They know about the negative consequences imposed on our immune systems when we are prevented from living normal lives. They know they are increasing our risk to other viruses by preventing us from socializing. It's their job to know. And, as I have demonstrated, they have known since day one.

But what if a shameless pharmaceutical industry could manipulate public health policies by capturing politicians, policymakers, and public health agencies through generous donations? What if the boundaries between public health agencies, international public health organizations, and pharmaceutical companies have become blurred to such a degree that each benefits from reinforcing one another's best interests? What if they have all come to believe that vaccines against respiratory viruses are the holy grail of public health (and of generous funding), even if they have to play fast and loose with the truth to get humanity to accept them and even if they have to do a little evil to achieve some imagined future ''greater good''?

What if the revolving door between pharmaceutical companies, public health, and international health organizations has created a kind of blind groupthink within this holy trinity? What if anyone caught up in that system is forced to bite their tongue because to speak out is a deathblow to their career? What if many of those caught up in the system genuinely believe the lies, despite a lifetime of training that should tell them otherwise? The powerful effect of groupthink, demonstrated by the Ash Conformity Experiments, can make people blind to what is staring them in the face. Even the medieval kings knew they needed a court jester to prevent the king from growing a big head. But what if, in the hallowed halls of this holy trinity, all the court jesters have long since been purged or cowed into silence?

A quote that best sums up the thinking inside many of our public health institutions comes from Peter Daszak, head of EcoHealth Alliance, a non-profit non-governmental organization that works closely with public health agencies like the National Institutes of Health (NIH) and intergovernmental organizations like the WHO (published in a 2016 report by the National Academy of Sciences): ''Daszak reiterated that, until an infectious disease crisis is very real, present, and at an emergency threshold, it is often largely ignored. To sustain the funding base beyond the crisis, he said, we need to increase public understanding of the need for MCMs [medical counter measures] such as a pan-influenza or pan-coronavirus vaccine. A key driver is the media, and the economics follow the hype. We need to use that hype to our advantage to get to the real issues. Investors will respond if they see profit at the end of process, Daszak stated.''

In the presence of so much conflict of interest, in the absence of the checks and balances provided by individual rights, in the censorious atmosphere of cancel culture that has infected all our public institutions, and with so many institutional donors (private and governmental alike) being enamored with social-engineering projects and blinded by their own arrogance, it would perhaps be more surprising if this vaccine-fueled hysteria hadn't happened.

In view of the circumstances, what happened almost seems inevitable. To the eyes of profit-hungry pharmaceuticals and funding-hungry national and international public health institutions, this virus must look like manna from heaven. They must feel like a fox that has been invited into the henhouse by ripe chickens that are begging to be plucked.

History never repeats itself, but it does often rhyme. What has emerged during COVID is simply a bigger, better, bolder replay of what happened during the 2009 swine flu hysteria. I'd like to share a few quotes with you '' and keep in mind that these are about the 2009 Swine Flu scandal, not COVID:

From a 2010 article entitled: European Parliament to Investigate WHO and ''Pandemic'' Scandal [Emphasis mine]:

''In his official statement to the Committee, Wodarg criticized the influence of the pharma industry on scientists and officials of [the] WHO, stating that it has led to the situation where ''unnecessarily millions of healthy people are exposed to the risk of poorly tested vaccines,'' and that, for a flu strain that is ''vastly less harmful'' than all previous flu epidemics.''''For the first time, the WHO criteria for a pandemic was changed in April 2009 as the first Mexico cases were reported, to make not the actual risk of a disease but the number of cases of the disease [the] basis to declare ''Pandemic.'' By classifying the swine flu as [a] pandemic, nations were compelled to implement pandemic plans and also t[o] purchase swine flu vaccines.''And here are a series of even more revealing quotes from a 2010 report published by Der Spiegel called: Reconstruction of a Mass Hysteria '-- The Swine Flu Panic of 2009:

''Researchers in more than 130 laboratories in 102 countries are constantly on the lookout for new flu pathogens. Entire careers and institutions, and a lot of money, depend on the outcomes of their work. ''Sometimes you get the feeling that there is a whole industry almost waiting for a pandemic to occur,'' says flu expert Tom Jefferson, from an international health nonprofit called the Cochrane Collaboration. ''And all it took was one of these influenza viruses to mutate to start the machine grinding.''''Does this mean that a very mild course of the pandemic was not even considered from the start? At any rate, efforts to downplay the risks were unwelcome, and the WHO made it clear that it preferred to base its decisions on a worst-case scenario.''We wanted to overestimate rather than underestimate the situation,'' says Fukuda [Keiji Fukuda was the Assistant Director-General for Health, Security and Environment for the WHO at that time].''''The media also did its part in stoking fears. SPIEGEL, for example, had reported at length on the avian flu. Now it devoted a cover story to the new ''global virus,'' a story filled with concerns that the swine flu pathogen could mutate into a horrific virus.''''The pharmaceutical industry was particularly adept at keeping this vision alive.''''We expected a real pandemic, and we thought that it had to happen. There was no one who suggested re-thinking our approach.''''the vast majority of experts on epidemics automatically associate the term ''pandemic'' with truly aggressive viruses. On the WHO Web site, the answer to the question ''What is a pandemic?'' included mention of ''an enormous number of deaths and cases of the disease'' '-- until May 4, 2009. That was when a CNN reporter pointed out the discrepancy between this description and the generally mild course of the swine flu. The language was promptly removed.'''''Sometimes some of us think that WHO stands for World Hysteria Organization,' says Richard Schabas, the former chief medical officer for Canada's Ontario Province.''''A party with strong connections in Geneva had a strong interest in phase 6 being declared as quickly as possible: the pharmaceutical industry.''''Meanwhile, a debate had erupted over whether Germany had chosen the wrong vaccine, Pandemrix [it was later found to have caused narcolepsy in some patients, which is an autoimmune disease]. It contained a new type of agent designed to boost its effectiveness, known as an adjuvant, which had never undergone large-scale human trials in connection with the swine flu antigen. Were millions of people about to receive a vaccine that had hardly been tested?''''But the contracts for Pandemrix had been signed in 2007, and they came into effect automatically when the WHO decided to declare phase 6.''''The ministers felt pressured from all sides. On the one hand, the media were stoking fears of the virus. The German tabloid newspaper Bild, in particular, was printing new tales of horror almost daily. On the other hand, the pharmaceutical companies were upping the pressure and constantly setting new ultimatums.''''Oct. 9, 2009: Wolf-Dieter Ludwig, an oncologist and chairman of the Drug Commission of the German Medical Association , says: 'The health authorities have fallen for a campaign by the pharmaceutical companies, which were plainly using a supposed threat to make money.'''''Oct. 21, 2009: A BILD newspaper headline, printed in toxic yellow, warns: ''Swine Flu Professor Fears 35,000 Dead in Germany !'' The professor's name is Adolf Windorfer, and when pressed, he admits that he has received payments from the industry, including GSK and Novartis. Next to the BILD headline is an ad for the German Association of Pharmaceutical Companies.''''According to Wodarg, the WHO's classification of the swine flu as a pandemic have earned the pharmaceutical companies $18 billion in additional revenues. Annual sales of Tamiflu alone have jumped 435 percent, to ''¬2.2 billion.''Rinse and repeat in 2020-2021.

What if, upon recognizing the emergence of a new pandemic, those in the know opportunistically made vaccines the endgame? What if all the vaccine injuries recorded on VAERS and all the risks they are taking with our lives are simply collateral damage '' a calculated investment risk '' in order to turn their dream of subscription-based ''immunity as a service'' into reality.

In the words of Bill Gates, ''we kind of caught mRNA half way to prime time.'' Maybe we should believe him '-- and gape in awe at the recklessness and contempt they have shown for their fellow citizens in order to capitalize on this ''window of opportunity''. Carpe diem (seize the day). Don't sweat the small stuff. Keep your eye on the ball'... and on the year-end bonuses.

What if COVID-Zero, in all its variations, was merely a strategy to herd us together so we obediently line up for an endless string of booster shots as a trade-off for access to our lives?

In other words, what if someone could bamboozle our leaders into believing that the only way back to a normal life is for vaccines to replace the role that hugs and handshakes used to play in order to update us with the latest antivirus security updates?

What if, by depriving us of normal life, those who stand to gain from vaccines can forever cement themselves at the center of society by providing an artificial replacement for what our immune systems used to do to protect us against common respiratory viruses back when we were still allowed to live normal lives?

The headlines tell the story:

''Pfizer CEO says third Covid vaccine dose likely needed within 12 months.'' (CNBC, April 15th, 2021)''Variants could be named after star constellations when Greek alphabet runs out, says WHO Covid chief.'' (The Telegraph, August 7th, 2021)''Fauci warns Americans may face having booster shots indefinitely'' (Daily Mail, August 13th, 2021, and Dr. Fauci in his own words on YouTube on August 12th, 2021)''Biden OKs booster shots 5 months after 2nd dose'' (Boston Globe, August 27th, 2021)What if the fast mutation of RNA viruses ensures that no vaccine will ever be fully effective at providing lasting immunity, thus creating the illusion that we are permanently in need of vaccine boosters?

What if politicians could be convinced to make vaccination mandatory in order to prevent potential customers from opting out?

What if, by relying on lockdowns during the winter season, our vulnerability to other viruses increased, which could then be used to rationalize expanding the jab, via mission creep, to simultaneously vaccinate us against RSV, influenza, other coronaviruses, the common cold, and so on, despite knowing full well that the protection that these vaccines offer against respiratory viruses is only temporary?

And what other social engineering goals can be rolled into your annual booster shot in the future once you are permanently bound to these annual jabs and vaccine passports? In an atmosphere of hysteria, it's a system ripe for abuse by opportunists, ideologues, power hungry totalitarians, and Malthusian social engineers. The snowball doesn't have to grow by design. Mission creep happens all on its own once Pandora's Box is opened to coerced vaccinations and conditional rights. The road to Hell is frequently paved by good intentions'... and hysteria.

So, what if COVID-Zero and the vaccine exit strategy is merely the global state-sanctioned equivalent of a drug dealer creating dependency among its customers to keep pushing more drugs?

What if it was all just a way of convincing society of the need for subscription-based ''immunity as a service''? The subscription-based business model (or some version of it) is all the rage these days in the corporate world to create loyal captive audiences that generate reliable money streams, forever. Subscriptions are not just for your cable TV and gym membership anymore.

Everything has been redesignated as a ''consumable''.

Netflix did it with movies.Spotify did it with music.Microsoft did it with its Office suite.Adobe did it with the Photoshop editing suite.The smartphone industry did it with phones that need to be replaced every 3 to 5 years.The gaming industry did it with video games.Amazon is doing it with books (i.e. Kindle Unlimited).The food industry is doing it with meal delivery services (i.e. Hello Fresh).Uber is doing it with subscription-based ride sharing.Coursera is doing it with online education.Duolingo and Rosetta Stone are doing it with language learning.Zoom is doing it with online meetings.Monsanto and its peers did it to farmers with patented seed technology, which cannot legally be replanted, and is lobbying to try to legalize the use of terminator seed technology (GMO seeds that are sterile in the second generation to prevent replanting).The healthcare industry is doing it with concierge medical services, fitness tracking apps (Fitbit), sleep-tracking apps, and meditation apps.The investment industry is doing it with farmland, with investors owning the land and leasing it back to farmers in a kind of modern revival of the sharecropping system. (Bill Gates is the largest farmland owner in the USA '' are you surprised?)Blackrock and other investment firms are currently trying to do it with homes to create a permanent class of renters.And public health authorities and vaccine makers have been trying to do it with flu vaccines for years, but we've been stubbornly uncooperative. Not anymore.

Remember when the World Economic Forum predicted in 2016 that by 2030 all products would become services? And remember their infamous video in which they predicted that ''You will own nothing. And you will be happy.''? Well, the future is here. This is what it looks like. The subscription-based economy. And apparently it now also includes your immune system in a trade-off for access to your life.

Let's revisit the Peter Daszak quote from earlier. A second read allows the message to really hit home: ''Daszak reiterated that, until an infectious disease crisis is very real, present, and at an emergency threshold, it is often largely ignored. To sustain the funding base beyond the crisis, he said, we need to increase public understanding of the need for MCMs [medical counter measures] such as a pan-influenza or pan-coronavirus vaccine. A key driver is the media, and the economics follow the hype. We need to use that hype to our advantage to get to the real issues. Investors will respond if they see profit at the end of process, Daszak stated.''

Isn't it ironic that he didn't even care which vaccine was pushed? Influenza or coronavirus, it made no difference. It was always about funding. It was always about the money. It always was. It always is.

The holy trinity of pharmaceutical companies, public health, and international health organizations, all egging each other on in their hunger for a reliable flow of cash: shareholder profits, larger budgets, and governmental donations. Their interests are perfectly aligned and the lines between them are blurred to such a degree that each benefits from reinforcing one another's best interests.

And why would politicians and media bow to the holy trinity?

Big Pharma spent an average of US$4.7 billion per year between 1999 and 2018 on lobbying and campaign contributions, just in the USA!

Big Pharma also shells out $US20 billion each year to schmooze doctors and another US$6 billion on drug ads, just in the USA. So, it's no surprise why legacy media and Big Tech are tripping over themselves not to ruffle the party line '-- they live and die by the almighty advertising dollar. Never bite the hand that feeds you.

So, they are all dancing to the same tune while your pocket gets picked and your arm gets pricked, and everyone wins'... except you and me. We are the cow that gets milked. We are the serfs that fund their largesse in this neo-feudal society where a few big boys own the assets and everyone else is beholden to those above them in the hierarchy for access to, well, everything '-- land, resources, rights, individual autonomy, and even immune systems. My body, their choice.

What if, in an atmosphere of runaway hysteria, a police state founded on medical tyranny is creating itself, fueled by a toxic brew of self-serving opportunists who have seized the moment to superimpose their own goals on a fortuitous virus, until one day you wake up to find yourself chained and milked, like a cow in a dairy barn, under the absolute custody of a modern-day Louis the Fourteenth and his royal court full of drug pushers, ideologues, and militant devotees? The modern face of feudalism, updated for the 21st century.

And what if a society that has lost its principles, a society that is eager to hand over individual responsibility to ''experts,'' a society that is held hostage to cancel culture mobs, a society that no longer has transparency into the decisions made by its experts, a society led by a censorious political class full of immoral opportunists, a society that has fallen so in love with big government that red tape and cronyism have completely erased the self-limiting checks and balances of a free and open society, and a society that has elevated safety to a new sort of religious cult is a society that has no immunity to protect itself from predators who treat us like cattle?

No period in history has ever lacked in snake-oil salesmen, ideologues, and social engineers eager to take society for a ride. Most of the time, they are ignored. So, what if the only real mystery is why society has grown so willing to accept the collar and yoke?

What if all this really is just as simple as that?

The Path Forward: Neutralizing the Threat and Bullet-Proofing Society to Prevent This Ever Happening Again.

Now we know we've been played, how we've been played, and why we've been played. Again. Just like during the 2009 Swine Flu con. Only bigger, bolder, and better. They learned from their mistakes. We didn't.

But now that you see the con, you can't unsee it. And now that you understand the threat and how the game is being played, there is a weight that comes off your shoulders.

When you know there's a threat, but you don't know exactly what it is, every movement in the grass might be a tiger or a snake or a scorpion. It's paralysing and exhausting to defend yourself against an invisible unknown and they have used that fear masterfully against us to keep us frozen. But once you spot the tiger in the grass, you know where to direct your focus, your feet become unglued, your voice becomes bold, and you regain the clarity of thought to defend yourself.

The con is clear. It's time to focus all our might on stopping this runaway train before it takes us over the cliff into a police state of no return. Stand up. Speak out. Refuse to play along. Stopping this requires millions of voices with the courage to say NO '-- at work, at home, at school, at church, and out on the street.

''Nonviolent direct action seeks to create such a crisis & foster such a tension that a community which has constantly refused to negotiate is forced to confront the issue. It seeks so to dramatize the issue that it can no longer be ignored.'' '-- Martin Luther King Jr.

Compliance is the glue that holds tyranny together. Non-compliance breaks it apart. One person alone cannot stop this. But if millions find the courage to raise their voices and the courage to refuse to participate in the system on these tyrannical medical terms, it will throw the system into such a crisis and create such a tension that the community will be forced to confront the issue. Without enough truckers, no-one eats. Without enough medical staff, hospitals close. Without enough workers, supply chains break. Without enough policemen, laws cannot be enforced. Without enough garbage collectors, cities grind to a halt. Without enough cashiers, box stores cannot stay open. Without enough administrators, institutions cease to function. Without enough staff, corporations lose profits. Without enough servers, restaurants cannot serve their customers. And without enough customers, businesses are brought to their knees.

Tyranny is not sustainable if the system grinds to a halt. Make it grind by being a thorn in everyone's side until they give us back our freedoms and end this ridiculous charade. They are trying to impose vaccine passports and mandatory vaccinations. But we hold the cards'... but only if we are bold enough to stand up even at the risk of finding ourselves standing alone. Courage begets courage. It was Martin Luther King's secret power. It must be ours.

Now that you see the con, you also know the simple recipe to make this virus go away before their reckless policies turn it a monster virus for real. Remember 1918. End the war on the virus. Let the young folks come out of the trenches. Let people go back to their lives. Provide focused protection for the vulnerable. That is how this virus fades into the history books.

It's time to be bold. It's time to call out the fraudsters. And it's time to reclaim the habits, values, and principles that are required to fix our democratic and scientific institutions to prevent this from ever happening again.

Feudalism was one giant stinking cesspool of self-serving corruption. Individual rights, free markets, the democratic process, and limited government were the antidotes that freed humanity from that hierarchical servitude. It seems we have come full circle. The COVID con is a symptom, not the cause, of a broken system.

Modern liberal democracy all around the world was inspired by the system of checks and balances that America's Founding Fathers built to prevent government from being co-opted by the special interests of its leaders, institutions, corporations, and most influential citizens. The ink was barely dry when those principles began to be ignored by those with ever greater enthusiasm for an all-powerful referee to manage even the most intimate details of how everyone lives their lives. After two and a half centuries of effort the admirers of big government have achieved their heart's desire. And what a glorious and rotten cesspool of self-serving corruption it is.

But the principles laid out in America's Founding remain as true today as the day they were written and are waiting to be rediscovered. If there is one culprit who deserves to shoulder more blame than any other for the fiasco of the last 18 months, it is society itself for allowing itself to fall prey to the siren song of big government, the illusion that there can ever be a benevolent, virtuous, and incorruptible referee. He who creates the red tape, he who has the keys to the treasury, he who wields the power of the tax collector, and he who commands those sent to enforce the laws will always have an entourage of self-serving charlatans, rent seekers, and parasites following him wherever he goes. So, keep his powers on a very short leash to keep other people's hands off your money, your property, your freedom, and your body. You don't need better leaders. You need less powerful institutions. That's how you prevent this from ever happening again.

Freedom of speech, individual rights, private property, individual ownership, competition, good faith debate, small government, minimal taxes, limited regulation, and free markets (the opposite of the crony capitalism we now suffer under), these are the checks and balances that bullet-proof a society against the soulless charlatans that fail upwards into positions of power in bloated government institutions and against the parasitic fraudsters that seek to attach themselves to the government's teat.

Yes, we need a Great Reset. Just not the subscription-based version that the World Economic Forum imagined.''One of the saddest lessons of history is this: If we've been bamboozled long enough, we tend to reject any evidence of the bamboozle. We're no longer interested in finding out the truth. The bamboozle has captured us. It's simply too painful to acknowledge, even to ourselves, that we've been taken. Once you give a charlatan power over you, you almost never get it back.'' '• Carl Sagan, The Demon-Haunted World: Science as a Candle in the Dark.

This is an adapted except of the author's book Autopsy of a Pandemic.

Julius Ruechel is an independent writer focused on providing perspective on topics essential to the healthy functioning of science and democracy. You can see more of his writing at JuliusRuechel.com

READ MORE

EFF co-founder John Gilmore removed from org's Board ' The Register

Mon, 25 Oct 2021 22:09

Electronic Frontier Foundation (EFF) co-founder John Gilmore has been removed from any active role on the digital rights organisation's board but will continue to serve as emeritus member.

"Since he helped found EFF 31 years ago, John Gilmore has provided leadership and guidance on many of the most important digital rights issues we advocate for today," wrote EFF executive director Cindy Cohn.

If your instincts tell you that's the kind of prose that presages a "but", your instincts were correct.

"But in recent years, we have not seen eye-to-eye on how to best communicate and work together, and we have been unable to agree on a way forward with Gilmore in a governance role. That is why the EFF Board of Directors has recently made the difficult decision to vote to remove Gilmore from the Board."

The EFF announcement adds that the board is "deeply grateful for the many years Gilmore gave to EFF as a leader and advocate, and '... has elected him to the role of Board Member Emeritus moving forward".

Cohn's post doesn't outline the nature or particulars of the dispute that led to Gilmore's departure. The EFF appears not to publish board minutes, nor to have posted its constitution or charter to its site (but does advocate for transparency), making it hard to ascertain why Gilmore was removed or the powers that made it possible to do so.

FSF doubles down on Richard Stallman's return: Sure, he is 'troubling for some' but we need him, says orgWho in America is standing up to privacy-bothering facial-recognition tech? Maine is right now leading the packOpen-source projects glibc and gnulib look to sever copyright ties with Free Software FoundationThe EFF's announcement about Gilmore's change of status was published on Friday. The Register has requested further information about the reasons for his changed status.

The statement includes a quote from the man himself.

"I am so proud of the impact that EFF has had in retaining and expanding individual rights and freedoms as the world has adapted to major technological changes," Gilmore is quoted as saying. "My departure will leave a strong board and an even stronger staff who care deeply about these issues."

In recent years, we have not seen eye-to-eye on how to best communicate and work together

Gilmore co-founded the EFF in 1990 '' just one standout on a CV that includes being hired as employee number five at Sun Microsystems, helping to disprove the security of the Data Encryption Standard (DES), and creating Usenet's "alt." newsgroups. He's widely credited as the source of the famous aphorism "The Net interprets censorship as damage and routes around it."

Gilmore's EFF profile states "He's trying to get people to think more about the society they are building."

As an emeritus board member, he'll have the chance to keep doing that '' but without a vote. ®

Man Arrested After Intentionally Driving Into Anti-Vaccine Mandate Protest: LA Sheriff's Official

Mon, 25 Oct 2021 21:45

A man was arrested after he allegedly drove his vehicle into a group of people protesting against vaccine mandates in Southern California, officials said over the weekend.

A spokesperson for the Los Angeles County Sheriff's office said that 64-year-old William Aslaksen was arrested about 90 minutes after the incident on Saturday. He was charged with felony assault and is being held in the Sheriff's Department's Palmdale station.

''A witness stated a man disagreed with the protest, entered his vehicle and intentionally drove toward the protesters,'' Deputy Trina Schrader said in a statement Sunday, according to local media reports. ''The suspect then drove away westbound and out of view.''

One woman in her 40s, who was not identified, was injured during the incident, officials added. Her injuries were described as non-life-threatening, although she was taken to the hospital, Schrader said.

The protesters were demonstrating against COVID-19 vaccine mandates in Palmdale. Lt. T. Kim of the Palmdale Sheriff's Station told Channel 4 that the demonstration against mandates started at around 10 a.m. Saturday at the intersection of 10th St. West and Rancho Vista Boulevard.

Kim said that Aslaksen was discovered and found at his home in Antelope Valley. He is slated to appear at the Antelope Valley Municipal Court in Lancaster on Tuesday.

Other details about the incident were not provided by sheriff's officials.

In recent weeks, demonstrations against vaccine mandates have erupted across the United States, including in New York City and Los Angeles, where protesters have characterized the requirements as draconian. Opponents of mandates have said that such policies would create two distinct classes of people: vaccinated and unvaccinated.

A demonstration occurred in Brooklyn in front of the Barclays Center over the past weekend, with demonstrators demanding that Brooklyn Nets superstar Kyrie Irving play for the team after it was announced he would be suspended until receives the COVID-19 vaccine. The city requires that customers and employees present proof of COVID-19 vaccination before entering a range of different establishments, including restaurants, bars, and other vencues, including the Barclays Center.

While chanting, ''Let Kyrie Play'' and ''Stand With Kyrie,'' demonstrators attempted to enter the Barclays Center, video footage showed.

Irving is ''doing something that [former San Francisco 49ers quarterback Colin] Kaepernick did '... he's basically doing the same thing, he's like taking a knee and I'm happy that he did that'--you understand?'' one protester told an ABC affiliate.

''It's never a game. It's bigger than a game. We are talking about Black Lives. Folk can't work, can't eat, can't travel. Naaaa!'' wrote Hawk Newsome, a local Black Lives Matter leader.

Jack Phillips

Breaking News Reporter

Follow

Jack Phillips is a breaking news reporter at The Epoch Times based in New York.

Hundreds protest against vaccine mandate for San Diego first responders

Mon, 25 Oct 2021 21:37

SAN DIEGO (KGTV) '-- Hundreds of people gathered downtown Friday to protest the COVID-19 vaccine mandate for San Diego emergency responders.

Starting December 1, roughly more than a thousand police officers, firefighters, lifeguards, and paramedics will be fired because they have chosen to not abide by the vaccine mandate.

It's a choice that individuals like Paul Lotze said is only theirs to make, "My hope is that every parent can look at their children or grandchildren in the face and say I put your freedom before my paycheck."

Lotze works with the San Diego Fire Department. He told ABC 10news that not getting vaccinated is a freedom he and his colleagues have.

His concern is what will happen in a few months.

"If we move forward, the city and the citizens, their health and lives will be at risk, said Lotze"

According to the City of San Diego, about 22% of first responders have not been vaccinated. Lotze said resources are already impacted without the deficit in employees.

"We are right now occasionally shutting apparatus down and reducing our coverage throughout the city. And the police are also significantly understaffed right now," said Lotze.

Michelle Micas attended Friday's rally and believes this could cause safety concerns.

"What's going to happen to our city?" she asked. "If someone breaks into my home, or something happens to my children, or if I need an ambulance is the ambulance going to be there or available for us, or is the police going to be there for us to protect us?"

Micas along with other loved ones hoped that each first responders choice will be respected.

"Hopefully the Mayor allows the city employees to have a choice for themselves and not enforce a mandate," she stated.

Mayor Todd Gloria's office released this statement below:

"We continue to meet and confer with our recognized employee organizations on how to manage our unvaccinated employees. The City has a responsibility to protect our employees and the members of the public with whom they regularly interact. The health and welfare of the public and our employees outweigh any temporary staffing issues. Vaccines are safe, effective, free and widely available. I applaud the more than 80% of San Diego County residents who have been vaccinated to date and encourage everyone who is eligible to get vaccinated so we can end this pandemic."The San Diego Police Officer Association's Vice President, Keelan McCullough, released this statement:

"From the beginning of this pandemic, our officers have been dedicated to preventing the spread of COVID-19. Whether it was adhering to the mask requirements, a willingness to submit to testing, and a desire to be prioritized as the first group to be eligible to be vaccinated, San Diego police officers have taken this pandemic seriously.

However, some of our members -- many who have already endured COVID-19 at some point over the past year and a half -- have reservations about forced vaccinations. As a result, the heavy-handed approach of a vaccine mandate threatens the strength of our department, as many of our officers have indicated a preference to work for a different agency if the City of San Diego requires vaccinations. The result of such a mass departure would be devastating to our department and the safety of all San Diego citizens. Compounding this issue is the fact that these officers will remain unvaccinated, meaning the city will be creating a public safety crisis while making no impact on the public health crisis.

We ultimately believe our city's leaders should not create a public safety crisis when there are many alternative choices available -- including the requirement of testing for those who remain unvaccinated, as many agencies throughout the county, state, and country have implemented -- that would easily avert such a crisis."

Copyright 2021 Scripps Media, Inc. All rights reserved. This material may not be published, broadcast, rewritten, or redistributed.

Sign up for the Rebound Newsletter and receive up to date information.

Fact Sheet: National Strategy on Gender Equity and Equality | The White House

Mon, 25 Oct 2021 21:04

The Biden-Harris Administration issues first-ever national gender strategy to advance the full participation of all people '' including women and girls '' in the United States and around the world.

[Click here to read the Gender Strategy Report]President Biden and Vice President Harris believe that advancing gender equity and equality is fundamental to every individual's economic security, safety, health, and ability to exercise their most basic rights. It is also essential to economic growth and development, democracy and political stability, and the security of nations across the globe. Ensuring that all people, regardless of gender, have the opportunity to realize their full potential is, therefore, both a moral and strategic imperative.

Yet no country in the world has achieved gender equality'--and we are at an inflection point. The COVID-19 pandemic has fueled a health crisis, an economic crisis, and a caregiving crisis that have magnified the challenges that women and girls, especially women and girls of color, have long faced. It has also exacerbated a ''shadow pandemic'' of gender-based violence in the United States and around the world. These overlapping crises have underscored that, for far too long, the status quo has left too many behind.

This moment demands that we build back better. It requires that we acknowledge and address longstanding gender discrimination and the systemic barriers to full participation that have held back women and girls. And it requires that we bring the talent and potential of all people to bear to face the challenges of our time. That's why the Biden-Harris Administration established the White House Gender Policy Council, charged with leading the development of the first-ever National Strategy on Gender Equity and Equality, which sets forth an aspirational vision and a comprehensive agenda to advance gender equity and equality in domestic and foreign policy'--and demonstrates that families, communities, and nations around the world stand to benefit.

***

The strategy identifies ten interconnected priorities: 1) economic security; 2) gender-based violence; 3) health; 4) education; 5) justice and immigration; 6) human rights and equality under the law; 7) security and humanitarian relief; 8) climate change; 9) science and technology; and 10) democracy, participation, and leadership. These priorities are inherently linked and must be tackled in concert.The strategy also adopts an intersectional approach that considers the barriers and challenges faced by those who experience intersecting and compounding forms of discrimination and bias related to gender, race, and other factors, including sexual orientation, ethnicity, religion, disability, age, and socioeconomic status. This includes addressing discrimination and bias faced by Black, Latino, and Indigenous and Native American people, Asian Americans, Native Hawaiians, and Pacific Islanders, and other people of color.

Strategic priorities include:

Improving economic security. As we recover from the pandemic, we have the opportunity to build an economy that works for women and their families. To build back better, we will:

Ensure that people have equal access to good jobs, including by addressing persistent gender discrimination and systemic barriers to full workforce participation. Invest in care infrastructure and care workers to help rebuild the economy and lower costs for working families. Dismantle the barriers to equal opportunity in education that undermine the ability to compete on a level playing field, recognizing that education affects future economy security.Preventing and responding to gender-based violence. Gender-based violence is endemic in homes, schools, workplaces, the military, communities, and online'--and far too often a hallmark of conflict and humanitarian crises. It exacts tremendous costs on the safety, health and economic security of survivors and their families. To prevent and response to gender-based violence, we will:

Work to eliminate gender-based violence wherever it occurs by developing and strengthening national and global laws and policies, investing in comprehensive services for survivors, and increasing prevention efforts. Address sexual violence in conflict settings; the elevated risk of violence facing women human rights defenders, activists, and politicians; human trafficking both at home and abroad; and the crisis of missing and murdered Indigenous people. Promote the safety and fair treatment of all people in the justice and immigration systems.Increasing access to health care. Health care is a right'--not a privilege. All people deserve access to high-quality, affordable health care, regardless of their zip code, income, ethnicity, race, or any other factor. To protect, improve, and expand access to health care, we will:

Build on the historic work of the Affordable Care Act and continue to expand and improve health care globally. Defend the constitutional right to safe and legal abortion in the United States, established in Roe v. Wade, and promote access to sexual and reproductive health and rights both at home and abroad. Address the pernicious effects of health inequity, including by addressing the maternal mortality crisis in the United States, which has a disproportionate impact on Black and Native American women, and by reducing maternal mortality and morbidity abroad.Advancing democracy, rights and full participation. Supporting women's and girls' full participation in social, economic, civic, and political life'--and ensuring they are represented at the tables where decisions are made'--is essential to progress in every other area and a precondition to advancing strong and sustainable democracies. To advance democracy, rights, and full participation, we will:

Work to advance gender equity and equality in the law and ensure that rights on paper are fully implemented in practice. Work towards gender parity and diversity in leadership roles, including in peace processes, national security and defense, global health and humanitarian efforts, and in the private sector. Promote the leadership of women and girls in addressing the challenge of climate change and seek to close gender gaps in STEM fields so that women and girls can shape the workforce of the future. ***

Realizing this bold vision is a government-wide responsibility that cuts across the work of the Biden-Harris Administration in both domestic and foreign affairs. Implementing this strategy will require the leadership of every White House office and executive agency. This strategy is not just words on paper; it is a roadmap to deliver results for the American people and our partners around the world.And it builds on the work the Biden-Harris Administration has already done to advance gender equity and equality at home and abroad. Through the American Rescue Plan, we have provided immediate relief to women and families, fully vaccinating over two-thirds of eligible Americans, reopening schools, providing direct payments to individuals, investing in domestic violence and sexual assault prevention and services, and helping child care providers keep their doors open. The American Rescue Plan also expanded the Child Tax Credit, distributing monthly payments to tens of millions of American families covering over 60 million children.

Building on the American Rescue Plan, the President's Bipartisan Infrastructure Deal and Build Back Better Agenda are once-in-a-generation investments to support America's working families to rebuild the economy and support women and families. Among its many transformative investments, the budget framework calls for: cutting taxes for middle class families with children, investing in the care economy and the care workforce, and lowering health care costs. To advance economic security for women and girls globally, we have established a Gender Equity and Equality Action Fund, which supports efforts to address the impact that COVID-19, climate change, conflict, and crisis have on the economic security of women and their families. And we have restored America's leadership on the rights of women and girls on the world stage.

We have also taken action to prevent and respond to gender-based violence, including through the Independent Review Commission on Sexual Assault and Sexual Harassment in the Military and by directing the Department of Education to review Title IX regulations, guidance, and policies to ensure students receive an education free from sexual violence. We continue working with Congress on meaningful legislative action, including through championing the landmark Violence Against Women Act, which passed the House in March with bipartisan support, and signing into law the Amendments to the Victims of Crime Act. And we have committed to updating and strengthening our strategy to combat gender-based violence around the world.

To advance women's health around the world, the Biden-Harris Administration has revoked the Global Gag Rule and reinstated funding to the UNFPA. In the United States, the Administration has called for historic investments to respond to the maternal mortality crisis. The President also launched a whole-of-government effort to respond to the recent Texas law which blatantly violates women's constitutional right to a safe and legal abortion under Roe v. Wade.

***

To inform our ongoing and future efforts to advance gender equity and equality at home and abroad, the strategy calls for continued accountability, consultation, and engagement as we work towards our collective vision for gender equity and equality at home and abroad. Its implementation will guide strategic planning and budgeting, policy and program development, measurement and data, and management and training. We look forward to partnering with Congress, local, state, Tribal, and territorial governments, civil society, the private sector, foreign governments, and multilateral institutions to drive progress towards the objectives outlined in this strategy. In doing so, we will advance economic growth, health and safety, and the security of our nation and the world.

###

Sudan's military takes power in coup, arrests prime minister

Mon, 25 Oct 2021 20:59

CAIRO (AP) '-- Sudan's military seized power Monday, dissolving the transitional government hours after troops arrested the prime minister, and thousands flooded the streets to protest the coup that threatened the country's shaky progress toward democracy.

Security forces opened fire on some of them, and three protesters were killed, according to the Sudan Doctors' Committee, which also said 80 people were wounded.

The takeover, which drew condemnation from the United Nations, the United States and the European Union, comes more than two years after protesters forced the ouster of longtime autocrat Omar al-Bashir and just weeks before the military was supposed to hand the leadership of the council that runs the country over to civilians.

After the early morning arrests of Prime Minister Abdalla Hamdok and other senior officials, thousands demonstrated in the streets of the capital, Khartoum, and its twin city of Omdurman. They blocked streets and set fire to tires as security forces used tear gas to disperse them.

As plumes of smoke rose, protesters could be heard chanting, ''The people are stronger, stronger!'' and ''Retreat is not an option!'' Social media video showed crowds crossing bridges over the Nile to the center of the capital. The U.S. Embassy warned that troops were blocking parts of the city and urged the military ''to immediately cease violence.''

Pro-democracy activist Dura Gambo said paramilitary forces chased protesters through some Khartoum neighborhoods.

Records from a Khartoum hospital obtained by The Associated Press showed some people admitted with gunshot wounds.

The head of the military, Gen. Abdel-Fattah Burhan, announced on national TV that he was dissolving the government and the Sovereign Council, a joint military and civilian body created soon after al-Bashir's ouster to run the country.

Burhan said quarrels among political factions prompted the military intervention. Tensions have been rising for weeks over the course and the pace of the transition to democracy in Sudan, a nation in Africa linked by language and culture to the Arab world.

The general declared a state of emergency and said the military will appoint a technocratic government to lead the country to elections, set for July 2023. But he made clear the military will remain in charge.

''The Armed Forces will continue completing the democratic transition until the handover of the country's leadership to a civilian, elected government,'' he said. He added that the constitution would be rewritten and a legislative body would be formed with the participation of ''young men and women who made this revolution.''

The Information Ministry, still loyal to the dissolved government, called his speech an ''announcement of a seizure of power by military coup.''

As darkness fell in Khartoum, barricades were still burning and occasional gunshots could be heard, said Volker Perthes, the U.N. special envoy for Sudan, at a briefing in New York.

President Joe Biden was briefed on Sudan in the morning, said White House spokesperson Karine Jean-Pierre. She added that the U.S. was ''deeply alarmed at reports of a military takeover'' and called for the immediate release of the prime minister and other officials.

''The actions today are in stark opposition to the will of the Sudanese people and their aspirations for peace, liberty and justice,'' Jean-Pierre said.

The Biden administration is suspending $700 million in emergency economic aid to Sudan that had been allocated to help the transition, said State Department spokesman Ned Price. He called it a ''pause,'' and urged the civilian-led government be immediately restored.

U.N. Secretary-General Antonio Guterres ''strongly condemns the ongoing military coup d'(C)tat in Khartoum and all actions that could jeopardize Sudan's political transition and stability,'' said his spokesman, spokesman St(C)phane Dujarric.

Guterres also called for the release of the government officials, the spokesman said, as did the African Union. EU foreign affairs chief Joseph Borrell tweeted that he was following the events with the ''utmost concern.''

Michelle Bachelet, the U.N. High Commissioner for Human Rights, warned that Sudan could slip backward, urging the military to free the officials, withdraw from the streets and settle differences with the transitional government through dialogue.

Since al-Bashir, who remains in prison, was forced from power, Sudan has tried to rid itself of the international pariah status it held under the autocrat. The country was removed from the U.S. list of state supporters of terrorism in 2020, opening the way for badly needed foreign loans and investment.

But Sudan has struggled with the shock of a number economic reforms called for by international lending institutions.

In recent weeks, there have been concerns the military might be planning a takeover, and in fact there was a failed coup attempt in September. Tensions only rose from there, as the country fractured along old lines, with more conservative Islamists who want a military government pitted against those who toppled al-Bashir in protests. In recent days, both camps have staged demonstrations.

Amid the standoff, the generals have called repeatedly for dissolving Hamdok's transitional government '-- and Burhan, who leads the ruling Sovereign Council, said frequently the military would only relinquish power to an elected government, an indication the generals might not stick to the plan to hand leadership of the body to a civilian sometime in November. The council is the ultimate decision-maker, though the Hamdok government is tasked with running Sudan's day-to-day affairs.

As part of efforts to resolve the crisis, Jeffrey Feltman, the U.S. special envoy to the Horn of Africa, met with Sudanese officials over the weekend, and a senior Sudanese military official said he tried unsuccessfully to get the generals to stick to the agreed plan.

The arrests began a few hours later, said the official, who spoke on condition of anonymity because he was not authorized to brief media. The official said the prime minister and the others were being detained in a military camp outside Khartoum.

Perthes said he and Feltman, in parallel meetings with political and military leaders in recent weeks, had tried to urge a return to dialogue and against a coup, which he said would ''squander the achievements of the first two years of the transition.''

State Department spokesman Price said Feltman warned Burhan and others that any unconstitutional changes in the government would have consequences.

The military has been emboldened in its dispute with civilian leaders by the support of tribal protesters, who blocked the country's main Red Sea port for weeks. The two most senior military officials, Burhan and his deputy Gen. Mohammed Hamdan Dagalo, also have close ties with Egypt and the wealthy Gulf nations of Saudi Arabia and the United Arab Emirates.

The first reports of a possible military takeover emerged before dawn, and the Information Ministry later confirmed them, saying Hamdok and several senior government figures had been arrested. Internet access was widely disrupted and the state news channel played traditional patriotic music.

Hamdok's office denounced the detentions on Facebook as a ''complete coup.'' It said his wife was also arrested.

Sudan has suffered other coups since gaining its independence from Britain and Egypt in 1956. Al-Bashir came to power in 1989 in one such takeover, which removed the country's last elected government.

Among those detained were senior government figures and political leaders, including the information and industry ministers, a media adviser to Hamdok and the governor of the state that includes the capital, according to the senior military official and another official. Both spoke on condition of anonymity because they were not authorized to brief the media.

After news of the arrests spread, the main pro-democracy group and two political parties appealed to the people to take to the streets. The Communist Party urged workers to protest what it described as a ''full military coup'' orchestrated by Burhan.

'---

Associated Press writers Edith M. Lederer at the United Nations, Matthew Lee in Washington and Darlene Superville in Kearny, N.J., contributed to this report.

Scientists Use Scalps From Aborted Babies to Create ''Humanized Mice'' and Fauci is Funding It - LifeNews.com

Mon, 25 Oct 2021 20:58

A new video from the Center for Medical Progress exposes a gristly experiment at the University of Pittsburgh that involved scalping five-month aborted babies and implanting their scalps onto rodents.

Now, Pennsylvania leaders are demanding an investigation and urging the university to stop its experiments using aborted baby body parts.

''Publicly available information demonstrates that Pitt hosts some of the most barbaric experiments carried out on aborted human infants, including scalping 5-month-old aborted fetuses to stitch onto lab rats,'' the Center for Medical Progress said in a statement.

The information comes from a study that University of Pittsburgh researchers published in September 2020 in the journal ''Scientific Reports.'' It describes how scientists used scalps from aborted babies to create ''humanized'' mice and rats to study the human immune system.

Follow LifeNews.com on Instagram for pro-life pictures and videos.

Along with the study, the researchers published photos of their experiment '' horrific images that show tufts of babies' hair growing on the rodents.

The Center for Medical Progress video raises even more concerns about unethical and potentially illegal practices at the university, including babies potentially being born alive in abortions, killed and then dissected for their organs.

It also suggests the University of Pittsburgh and local Planned Parenthood, which supplies aborted baby body parts, may be involved in an ''illegal quid pro quo'' partnership.

''Local Planned Parenthood of Western Pennsylvania abortion providers supply the aborted fetuses, while Pitt sponsors the local Planned Parenthood's operations,'' the investigation found.

What's more, a number of the experiments using aborted baby body parts at the university are funded by U.S. taxpayers through the National Institutes of Health and, in particular, Dr. Anthony Fauci's National Institute of Allergy and Infectious Diseases office, CMP found in its investigation.

Pro-life students at the university reacted with horror to the news.

''It is deeply horrifying to know that we walk on the campus and pass the buildings that use aborted children from Planned Parenthood for research,'' said Anna Schanne, president of Pitt Students for Life, the university Students for Life of America club. ''The University of Pittsburgh should not align themselves with Planned Parenthood. Especially as a public university, it is disgusting that taxpayer money be used on morally and ethically problematic research.''

The Pennsylvania Family Institute letter also urged the university to end its unethical research in an open letter in response to the investigation.

''We call on the University of Pittsburgh to stop all experimentation on aborted babies and the inhumane practice of grafting their skin and body parts onto rodents,'' it says.

They urged the state legislature to conduct a full investigation of the university, Planned Parenthood and other groups involved in the experiments.

''This ghastly finding is a product of Pitt's systemic practices of using aborted babies for inhumane research,'' they wrote. ''Pitt has been involved in hundreds of fetal kidneys and other organs from aborted babies being distributed for research as part of a project funded by the National Institute of Health. Pitt has also had scientists harvesting fetal livers 'in vivo' from fetuses delivered via labor induction.''

Information in the video comes from public documents, including research published in scientific journals and on the National Institutes of Health website.

Action: Sign the open letter calling on the University of Pittsburgh to end its experiments on aborted babies and supporting a full investigation by the Pennsylvania General Assembly.

'Let Kyrie play!' Swarm of anti-vaxxers charge through security at Brooklyn Nets' home opener | Daily Mail Online

Mon, 25 Oct 2021 20:11

'Let Kyrie play!' Swarm of anti-vaxxers charge through security at Brooklyn Nets' home opener in protest at guard Irving being benched over refusal to get vaccineHundreds of protestors gathered outside the Barclays Center stadium to protest Brooklyn Net star Kyrie Irving being sidelined for refusing to get vaccinated Some, chanting 'let Kyrie play' barged through the security gates and toward the entrance, but were not able to get inside the locked facility One protestor accosted fans entering the stadium, saying: 'Are you guys OK with Kyrie Irving not being able to play because he refuses to be a slave?' Barclays Center said the game began as scheduled despite the disruption Irving is missing home games because of a New York vaccine mandate, and the team subsequently decided to hold him out of road games and practices He'll only lose salary for missed home games - roughly half his $35million salaryBy Michelle Thompson For Dailymail.Com

Published: 19:17 EDT, 24 October 2021 | Updated: 07:53 EDT, 25 October 2021

A swarm of anti-vaccine protestors charged through Barclays Center security perimeters and tried to break into the stadium Sunday ahead of the Brooklyn Nets' home opener.

The protestors were chanting 'let Kyrie play' after All-Star guard Kyrie Irving was sidelined earlier this month because of his refusal to get vaccinated against the coronavirus.

On Sunday, hundreds gathered outside the stadium in protest while a smaller group pushed through metal barriers and hooted as they stormed toward the entrance.

Some demonstrators were held back by security as they tried to charge inside the building

Angry anti-vaccine demonstrators gathered outside the Barclays Center before the Brooklyn Nets' home opener Sunday

Nets guard Kyrie Irving was sidelined earlier this month because of his refusal to get vaccinated against the coronavirus

Shaky video of the scene, posted by Freedomnews.tv, showed security guards struggling to fend off the angry crowd as they attempted to enter the building.

Security locked the building to prevent more protestors from barging inside.

Some demonstrators held up signs as others shouted through blowhorns, banged on the building's glass doors, chanted 'we will not comply' and waved American flags.

The protest came after Irving, 29, was told he would need proof of at least one vaccine shot in order to play in his own arena, Barclays Center, due to New York City's vaccine mandate.

Irving would have been permitted to play road games and even practice in Brooklyn, because the team's training center is considered a private workplace and not a public arena, but the team decided to sideline him indefinitely until he's vaccinated or a permanent solution can be reached.

He stands to lose about half his nearly $35million salary by refusing the shot, but previously said he doesn't regret his decision.

Fans demanded that the Nets let Irving play ahead of its game against the Charlotte Hornets

'So what? It's not about the money,' Irving said. 'It's not always about the money. It's about choosing what's best for you. You think I really want to lose money?'

He would have played the season's first home game Sunday if he complied with the mandate, angering fans who believed he shouldn't have had to choose between the jab and his career.

One fuming protestor accosted fans entering the stadium ahead of the game against the Charlotte Hornets.

'Are you guys OK with Kyrie Irving not being able to play because he refuses to be a slave? Are you guys OK with being slaves of the system? Giving up your bodies to be lab rats just so you can go to a restaurant; just so you can go to a basketball game?

Protestors are seen chanting just outside the Barclay Center's glass entrance

One protestor accosted fans entering the building saying: 'Are you guys OK with Kyrie Irving not being able to play because he refuses to be a slave?'

'Do you even know what's in that injection? Do you even care? Do you give a Sh**? You're all lab rats. You have zero idea what's in that injection.'

It wasn't immediately clear how police and security officers cleared away the mob, but Barclay Center spokespeople said in a statement that the game was not affected.

'Barclays Center briefly closed its doors today in order to clear protestors from the main doors on the plaza and ensure guests could safely enter the arena,' the statement said. 'Only ticketed guests were able to enter the building and the game proceeded according to schedule.'

In late September, the NBA reported a 95 percent vaccination rate among players.

Advertisement

De Jonge: kabinet beraadt zich op aanvullende coronamaatregelen | Binnenland | Telegraaf.nl

Mon, 25 Oct 2021 18:20

Persconferentie vervroegd naar 2 november

Updated 2 uur geledenVandaag, 14:11 in BINNENLAND

''¸ ANP/HH

DEN HAAG - Het aantal coronapatinten dat opgenomen moet worden in het ziekenhuis loopt harder op dan verwacht, zegt demissionair minister Hugo de Jonge (Volksgezondheid). Het kabinet beraadt zich op extra maatregelen. Het Outbreak Management Team (OMT) is gevraagd eerder met een advies te komen. Ook het besluit en de persconferentie over aanvullende maatregelen, eerder gepland op vrijdag 5 november, is vervroegd naar volgende week dinsdag.

''¸ ANP/HH

De Jonge wees erop dat de ziekenhuisopnames harder stijgen en eerder dan verwacht. Daarmee komt volgens hem 'het volgende risiconiveau in beeld en dat betekent ook dat het kabinet zich zal moeten beraden op aanvullende maatregelen'. Het kabinet zal aan het OMT vragen de situatie van nu goed te analyseren en te adviseren tot welke maatregelen dit moet leiden.

'žWe zien namelijk dat we al een hoge vaccinatiegraad hebben, 87 procent van de volwassen mensen heeft zijn eerste prik al gehad, maar we zien ook, 13 procent van de mensen die niet gevaccineerd is. Als je kijkt in de ziekenhuizen is die situatie precies andersom'', zei de CDA-bewindsman na afloop van overleg met de meest betrokken ministers.

Corona is hiermee 'een epidemie geworden van niet-gevaccineerde mensen die ook elkaar onderling het meest besmetten, zelf het grootste risico lopen op besmetting, zelf het grootste risico zijn op een besmetting van anderen, zelf het grootste risico lopen op ziekenhuisopname. Als je dat op je in laat werken, zul je je daartoe moeten verhouden.''

Volgens de minister is het draagvlak gering onder mensen die gevaccineerd zijn om nog beperkingen opgelegd te krijgen. 'žIntussen zien we dat als we geen maatregelen nemen, de zorg wordt overlopen, dat uw operaties en de operaties van uw familieleden en andere mensen die gevaccineerd zijn mogelijkerwijs worden uitgesteld."

Omdat de ziekenhuizen al niet meer toekomen aan alle inhaalzorg en er geen selectie aan de poort zal plaatsvinden, zijn extra beperkingen zowat onvermijdelijk. 'žMakkelijke keuzes zijn er niet'', zei De Jonge, die zich voor een 'dilemma' geplaatst ziet. 'žJe wil niet onnodig maatregelen opleggen die beperkend zijn in economische zin. Hoe eerlijk is het om maatregelen te nemen die de h(C)le samenleving treffen?'' Zelf heeft hij nog geen antwoord op die vraag.

Maandagmiddag werd bekend dat het aantal coronapatinten in de Nederlandse ziekenhuizen is opgelopen tot bijna 800, het hoogste aantal sinds 9 juni.

Voor het corona-overleg sprak De Jonge ook bij de informateurs over wat nodig is in de periode na deze coronacrisis. Nederland moet beter bestand worden tegen dit soort pandemien. 'žDat we minder afhankelijk zijn van het buitenland als het gaat om onze vaccinontwikkeling en de ontwikkeling van onze medicijnen. En we zullen moeten zien dat we de aanstuurbaarheid van de zorg versterken, ook in tijden van crisis'', aldus de minister. De zorg moet volgens hem bij een crisis centraler georganiseerd kunnen worden dan nu het geval is.

Donderdag adviesHet Outbreak Management Team (OMT) komt donderdag met een advies over het stijgend aantal besmettingen met het coronavirus, zegt Diederik Gommers, voorzitter van de Nederlandse Vereniging voor Intensive Care (NVIC) en OMT-lid. Demissionair minister Hugo de Jonge (Volksgezondheid) had het OMT gevraagd om eerder met een advies te komen.

Lunch UpdateDagelijks tijdens de lunch een update van het belangrijkste nieuws.

Ongeldig e-mailadres. Vul nogmaals in aub.

Lees hier ons privacybeleid.

Bekijk meer van19:29Binnenland

Miljoen zorgmedewerkers krijgen 385 euro bonusRuim een miljoen zorgmedewerkers krijgen een bonus van 385 euro netto. Het geld wordt uitgekeerd aan mensen die 'žvanwege Covid-19 onder moeilijke omstandigheden zorg hebben verleend'', schrijft demissionair minister van Volksgezondheid Hugo de Jonge aan de Tweede Kamer. Hij hoopt dat de zorgaanbieder...

Minder subsidie voor elektrisch rijdenBij steeds meer particulieren speelt de vraag of de volgende auto al een volledig elektrische moet zijn. Is dit het moment om er een aan te schaffen? Wie bovengenoemde vraag te letterlijk beantwoordt, zegt nee. Want de subsidiepot is leeg tot volgend jaar. Particulieren komen bij de aankoop van een ...

Tweedeling corona lijkt onvermijdelijkDe situatie is nu anders, schetsten virologen en ook het kabinet toen de coronacijfers voorzichtig begonnen op te lopen. Stonden stijgende besmettingen eerder gelijk aan beperkende maatregelen voor de hele bevolking, lang klonk dat het nu zo'n vaart niet zou lopen.

12:00Praat Mee

Moeten e-bikes geweerd worden van het fietspad?Het aantal e-bikes (elektrische fietsen) neemt toe. De Fietsersbond maakt zich zorgen om de veiligheid op het fietspad en stelt dat e-bikes beter op de rijbaan kunnen rijden, omdat het snelheidsverschil met auto's en scooters niet groot is, zo melden verschillende media. Vind jij dat e-bikes naar de...

06:47Buitenland

Geen tweedehands medische handschoenen in Nederland gevondenIn Nederland zijn geen gebruikte medische handschoenen verkocht alsof ze nieuw waren. De Inspectie Gezondheidszorg en Jeugd, waar gedupeerde kopers zich zouden melden, heeft nog nooit meldingen gekregen, zegt een woordvoerder. Het is weleens gebeurd dat een levering niet voldeed, maar niet op zo'n g...

24 okt.Binnenland

Corona-uitbraak in noodopvang in Goes, 49 besmettingenIn de noodopvang voor asielzoekers in Goes zijn 49 mensen positief getest op corona. De uitbraak in de Zeelandhallen is vastgesteld nadat op vrijdag alle 320 bewoners werden getest, zo bevestigt een woordvoerder van het Centraal Orgaan opvang asielzoekers (COA) na berichtgeving van de NOS.

Facebook Whistleblower Frances Haugen Faces UK Parliament

Mon, 25 Oct 2021 16:54

Facebook whistleblower Frances Haugen is giving evidence to UK politicians amid fresh revelations about the company's inner workings.

Ms Haugen is before the committee fine-tuning the UK's proposed Online Safety Bill, which will put new rules in place for big social networks.

It comes as several news outlets published fresh stories based on her thousands of leaked documents.

Facebook, meanwhile, has characterised previous reporting as misleading.

Ms Haugen left Facebook earlier this year, but took thousands of documents when she did so, providing them to the Wall Street Journal.

That paper then ran a series of articles which Facebook considered to be negative - and, it contends, mischaracterised the source material.

But the allegations - that Facebook knew that Instagram was damaging to teenagers' mental health, for example - led to her being invited to testify to politicians and regulators around the world.

Her appearance in London comes at a crucial time in the debate about tech regulation, as the Online Safety Committee considers additions and tweaks to the proposed new rules.

Proposed additions include whether online abuse of women and girls should become a legal offence.

The chair of the committee, MP Damian Collins, said it "will establish a new era of regulation for tech platforms which will make them accountable".

An avalanche of information is emerging today from leaked Facebook documents - and it's hard to keep up.

Allegations include that the social media giant is aware of its role in inciting violence all around the world,s or causing harm to its users from US and UK to India and Ethiopia.

A common theme runs through each of the stories. They all suggest a tension between employees raising the alarm about their concerns and a corporate machine that does not appear to be using this to inform its policies.

Reporters and journalists have been highlighting many of these same concerns, especially for the past 18 months. I've investigated the human cost of online disinformation and abuse again and again and exposed the damage being done to real people offline using these sites.

But until these documents were released by Frances Haugen it was very difficult to know how aware Facebook was of that damage.

These latest leaks reinforce the idea that they are conscious of it - although they refute a number of the claims.

And it means pressure is mounting on policy makers around the world to do something about it.

"The real question is around can we, as a public, change the incentives such that it makes more sense for Facebook to invest more money in safety on Instagram," Ms Haugen said in a BBC interview with Ian Russell, the father of 14-year-old Molly Russell, who killed herself after viewing disturbing content on Instagram.

Media caption, Watch: Campaigner Ian Russell meets Facebook whistleblower Frances Haugen"I'm sure that'... the experience Molly had caused them to look at these questions more," she added.

But Ms Haugen said that much quicker progress is needed.

"Facebook's own research shows that a startlingly high fraction of [under-18s] exhibit what is known as problematic use [on Instagram]," she said.

Being unable to control their use of it is "kind of like cigarettes in that way," she added.

"Unquestionably, Facebook could be investing more resources into making the platform safer," she said. "They have made a series of choices to prioritise profits over people.

"Right now there's no company in the world that has as much power as Facebook, and as little transparency."

Fresh revelations

Among the latest news stories based on the leaked documents are:

Axios also reports that Facebook has internally warned its staff to expect "more bad headlines in the coming days".

Facebook has previously denied many of the stories released during the Wall Street Journal's initial reporting, referring to the documents at one point as "stolen".

But the company has also admitted that in many areas it has more to do - though it takes issue with what it says is misrepresentation or cherry-picking from the leaked documents.

It also points to its long-standing calls for reform of tech industry regulation - which would affect all major big tech firms, not just Facebook.

More on this story

'WTF does that mean?' AOC reminds us that January 6 riots at the Capitol left 'almost 10 dead,' and people have questions

Mon, 25 Oct 2021 16:52

The January 6 riots at the Capitol were awful for many reasons. But they've actually proven to be quite useful for AOC. She's managed to gin up a whole lot of sympathy for nearly losing her life despite not being in the building that was breached.

Almost ten months later, she's still riding this wave as far as she possibly can:

Any member of Congress who helped plot a terrorist attack on our nation's capitol must be expelled.

This was a terror attack. 138 injured, almost 10 dead. Those responsible remain a danger to our democracy, our country, and human life in the vicinity of our Capitol and beyond. https://t.co/D0qLlaFjTh

'-- Alexandria Ocasio-Cortez (@AOC) October 25, 2021

Hol' up, AOC:

No members of Congress helped "plot a terrorist attack". There was a rally/protest. It devolved into a riot at the Capitol. AOC was traumatized from somewhere other than the Capitol.

These are just lies to distract from how badly they and Biden are failing America. https://t.co/O3DaIsWeqb

'-- Fuzzy Chimp 🇺🇸 (@fuzzychimpcom) October 25, 2021

And where, exactly, is AOC getting this ''almost 10 dead'' stat from?

Almost 10? https://t.co/DGnsMJLY8K

'-- 🎃jimtreacher.substack.comðŸ'>> (@jtLOL) October 25, 2021

Wtf is "almost 10 dead"? https://t.co/j1WppraKp4

'-- Eric Newbury (@newbury_eric) October 25, 2021

So now we're up to "almost 10 dead"'.... Wtf does that mean https://t.co/ot8YBfGDBm

'-- Travis (@OldDudeTravis) October 25, 2021

Yeah, we're not really clear on that, either.

''Almost 10 dead'' is a really weird statement

'-- SmallTownUSA (@JakeRomus) October 25, 2021

Almost? 10 dead? Who name them I'll be waiting! #AOCLiar https://t.co/1XoEgBg5IW

'-- 🇺🇸 Just Melissa 🇺🇸 (@JustMelissa81) October 25, 2021

Claiming that there is "almost 10 dead" from the 1/6 riot is deceitful in the extreme.

Four people died on 1/6: all Trump supporters.

It's possible to connect a couple of the later police suicides to 1/6 if one stretches enough but this need to exaggerate 1/6 speaks for itself: https://t.co/TsRFGG0tWC

'-- Glenn Greenwald (@ggreenwald) October 25, 2021

AOC exaggerates everything: her policy expertise, her economic savoir-faire, her intelligence, and, perhaps above all, her integrity.

There's a lot of misinformation in this tweet.

But it's AOC, so what did you expect? https://t.co/jlUujhkCyZ

'-- Bryan. I refuse to bow to Leftists. (@BThomas3333) October 25, 2021

Facebook Papers: New Details From Leaked Docs Just Published

Mon, 25 Oct 2021 15:17

US Markets Loading... H M S

Close icon Two crossed lines that form an 'X'. It indicates a way to close an interaction, or dismiss a notification.

The pressure is rising for Facebook CEO Mark Zuckerberg. Chip Somodevilla/Getty Images Over a dozen news organizations reviewed Facebook documents leaked by whistleblower Frances Haugen. The outlets published a flurry of reports Monday based on those documents, known as The Facebook Papers. The topics range from Facebook's fading popularity with teens to failures in addressing hate speech. Loading Something is loading.

A consortium of 17 US news organizations on Monday said they had reviewed leaked internal documents obtained by whistleblower Frances Haugen.

Their reports span a wide range of issues at the company, including its fading popularity with teens, its ability to counter hate speech, and its treatment of politicians.

Some of the internal documents reviewed by the news organizations were previously reported on by The Wall Street Journal.

Here are some of the stories that dropped on Monday revealing new information about Facebook:

Bloomberg and The Verge reported on internal company documents appearing to show that Facebook has been losing traction with teen users and desperately trying to recapture the market.The Financial Times reported that Facebook employees urged management not to make moderation exceptions for politicians and celebrities.The New York Times reported on internal documents appearing to show how the company grappled with whether to keep or get rid of the "like" and "share" buttons.The Washington Post cited three sources who said Mark Zuckerberg personally signed off on censorship demands from the Vietnamese government.Politico reported on Facebook documents appearing to show the company's research on its market dominance.The Associated Press reported on Facebook documents appearing to show how its lack of language-specific moderation stops it from properly addressing moderation issues, including terrorism and hate speech.NBC reported on internal employee debates and apparent disillusionment over whether the company has done enough to counter hate speech and misinformation.The Atlantic cited the documents that show Facebook employees were concerned about the company's harm to democracy and its role in the January 6 Capitol riots, but leadership failed to act.The Atlantic reported on Facebook documents that show the company gave fewer moderation resources to markets outside of the US, which has resulted in more hate speech, drug cartel activity, ethnic cleansing. and sex trafficking.Wired similarly reported on Facebook's understanding and moderating content in Arabic's many dialects, which both human and automated systems struggle to interpret.CNN reported on documents showing Facebook was unprepared for both the Stop the Steal movement and the January 6 Capitol insurrection.Got a tip? Here's how to send documents to Insider privately and securely.

Sign up for notifications from Insider! Stay up to date with what you want to know.

Subscribe to push notifications

Deal icon An icon in the shape of a lightning bolt. For you

More: Facebook Facebook papers leaked documents Frances Haugen Chevron icon It indicates an expandable section or menu, or sometimes previous / next navigation options.

Deal icon An icon in the shape of a lightning bolt. For you

Two Jan. 6 Planners Cooperate With Committee, Name MAGA Congress Members - Rolling Stone

Mon, 25 Oct 2021 14:08

As the House investigation into the Jan. 6 attack heats up, some of the planners of the pro-Trump rallies that took place in Washington, D.C., have begun communicating with congressional investigators and sharing new information about what happened when the former president's supporters stormed the U.S. Capitol. Two of these people have spoken to Rolling Stone extensively in recent weeks and detailed explosive allegations that multiple members of Congress were intimately involved in planning both Trump's efforts to overturn his election loss and the Jan. 6 events that turned violent.

Rolling Stone separately confirmed a third person involved in the main Jan. 6 rally in D.C. has communicated with the committee. This is the first report that the committee is hearing major new allegations from potential cooperating witnesses. While there have been prior indications that members of Congress were involved, this is also the first account detailing their purported role and its scope. The two sources also claim they interacted with members of Trump's team, including former White House Chief of Staff Mark Meadows, who they describe as having had an opportunity to prevent the violence.

The two sources, both of whom have been granted anonymity due to the ongoing investigation, describe participating in ''dozens'' of planning briefings ahead of that day when Trump supporters broke into the Capitol as his election loss to President Joe Biden was being certified.

''I remember Marjorie Taylor Greene specifically,'' the organizer says. ''I remember talking to probably close to a dozen other members at one point or another or their staffs.''

For the sake of clarity, we will refer to one of the sources as a rally organizer and the other as a planner. Rolling Stone has confirmed that both sources were involved in organizing the main event aimed at objecting to the electoral certification, which took place at the White House Ellipse on Jan. 6. Trump spoke at that rally and encouraged his supporters to march to the Capitol. Some members of the audience at the Ellipse began walking the mile and a half to the Capitol as Trump gave his speech. The barricades were stormed minutes before the former president concluded his remarks.

These two sources also helped plan a series of demonstrations that took place in multiple states around the country in the weeks between the election and the storming of the Capitol. According to these sources, multiple people associated with the March for Trump and Stop the Steal events that took place during this period communicated with members of Congress throughout this process.

Along with Greene, the conspiratorial pro-Trump Republican from Georgia who took office earlier this year, the pair both say the members who participated in these conversations or had top staffers join in included Rep. Paul Gosar (R-Ariz.), Rep. Lauren Boebert (R-Colo.), Rep. Mo Brooks (R-Ala.), Rep. Madison Cawthorn (R-N.C.), Rep. Andy Biggs (R-Ariz.), and Rep. Louie Gohmert (R-Texas).

''We would talk to Boebert's team, Cawthorn's team, Gosar's team like back to back to back to back,'' says the organizer.

Rep. Paul Gosar (R-AZ) attends a House Oversight and Reform Committee hearing titled The Capitol Insurrection: Unexplained Delays and Unanswered Questions, on Capitol Hill on May 12, 2021 in Washington, DC.

Jonathan Ernst-Pool/Getty Images

And Gosar, who has been one of the most prominent defenders of the Jan. 6 rioters, allegedly took things a step further. Both sources say he dangled the possibility of a ''blanket pardon'' in an unrelated ongoing investigation to encourage them to plan the protests.

''Our impression was that it was a done deal,'' the organizer says, ''that he'd spoken to the president about it in the Oval '... in a meeting about pardons and that our names came up. They were working on submitting the paperwork and getting members of the House Freedom Caucus to sign on as a show of support.''

The organizer claims the pair received ''several assurances'' about the ''blanket pardon'' from Gosar.

''I was just going over the list of pardons and we just wanted to tell you guys how much we appreciate all the hard work you've been doing,'' Gosar said, according to the organizer.

The rally planner describes the pardon as being offered while ''encouraging'' the staging of protests against the election. While the organizer says they did not get involved in planning the rallies solely due to the pardon, they were upset that it ultimately did not materialize.

''I would have done it either way with or without the pardon,'' the organizer says. ''I do truly believe in this country, but to use something like that and put that out on the table when someone is so desperate, it's really not good business.''

Gosar's office did not respond to requests for comment on this story. Rolling Stone has separately obtained documentary evidence that both sources were in contact with Gosar and Boebert on Jan. 6. We are not describing the nature of that evidence to preserve their anonymity. The House select committee investigating the attack also has interest in Gosar's office. Gosar's chief of staff, Thomas Van Flein, was among the people who were named in the committee's ''sweeping'' requests to executive-branch agencies seeking documents and communications from within the Trump administration. Both sources claim Van Flein was personally involved in the conversations about the ''blanket pardon'' and other discussions about pro-Trump efforts to dispute the election. Van Flein did not respond to a request for comment.

These specific members of Congress were involved in the pro-Trump activism around the election and the electoral certification on Jan. 6. Both Brooks and Cawthorn spoke with Trump at the Ellipse on Jan. 6. In his speech at that event, Brooks, who was reportedly wearing body armor , declared, '' Today is the day American patriots start taking down names and kicking ass.'' Gosar, Greene, and Boebert were all billed as speakers at the ''Wild Protest,'' which also took place on Jan. 6 at the Capitol.

Nick Dyer, who is Greene's communications director, said she was solely involved in planning to object to the electoral certification on the House floor. Spokespeople for the other members of Congress, who the sources describe as involved in the planning for protests, did not respond to requests for comment.

''Congresswoman Greene and her staff were focused on the Congressional election objection on the House floor and had nothing to do with planning of any protest,'' Dyer wrote in an email to Rolling Stone.

Rep. Marjorie Taylor Greene speaks during former President Donald Trump's Save America rally in Perry, Ga., on Saturday, Sept. 25, 2021.

Ben Gray/AP

Dyer further compared Greene's efforts to dispute certification of Biden's victory with similar objections certain Democrats lodged against Trump's first election.

''She objected just like Democrats who have objected to Republican presidential victories over the years,'' wrote Dyer . ''Just like in 2017, when Jim McGovern, Jamie Raskin, Pramila Jayapal, Barbara Lee, Sheila Jackson Lee, Raul Grijalva, and Maxine Waters tried to prevent President Trump's election win from being certified.''

Dyer also suggested the public is far more concerned with issues occurring under President Joe Biden than they are with what happened in January.

''No one cares about Jan. 6 when gas prices are skyrocketing, grocery store shelves are empty, unemployment is skyrocketing, businesses are going bankrupt, our border is being invaded, children are forced to wear masks, vaccine mandates are getting workers fired, and 13 members of our military are murdered by the Taliban and Americans are left stranded in Afghanistan,'' Dyer wrote .

In another indication members of Congress may have been involved in planning the protests against the election, Ali Alexander, who helped organize the ''Wild Protest,'' declared in a since-deleted livestream broadcast that Gosar, Brooks, and Biggs helped him formulate the strategy for that event.

''I was the person who came up with the Jan. 6 idea with Congressman Gosar, Congressman Mo Brooks, and Congressman Andy Biggs,'' Alexander said at the time. ''We four schemed up on putting maximum pressure on Congress while they were voting so that '-- who we couldn't lobby '-- we could change the hearts and the minds of Republicans who were in that body hearing our loud roar from outside.''

Alexander led Stop the Steal, which was one of the main groups promoting efforts to dispute Trump's loss. In December, he organized a Stop the Steal event in Phoenix, where Gosar was one the main speakers. At that demonstration, Alexander referred to Gosar as ''my captain'' and declared ''one of the other heroes has been Congressman Andy Biggs.''

Alexander did not respond to requests for comment. The rally planner, who accused Alexander of ratcheting up the potential for violence that day while taking advantage of funds from donors and others who helped finance the events, confirmed that he was in contact with those three members of Congress.

''He just couldn't help himself but go on his live and just talk about everything that he did and who he talked to,'' the planner says of Alexander. ''So, he, like, really told on himself.''

While it was already clear members of Congress played some role in the Jan. 6 events and similar rallies that occurred in the lead-up to that day, the two sources say they can provide new details about the members' specific roles in these efforts. The sources plan to share that information with congressional investigators right away. While both sources say their communications with the House's Jan. 6 committee thus far have been informal, they are expecting to testify publicly.

''I have no problem openly testifying,'' the planner says.

A representative for the committee declined to comment. In the past month, the committee has issued subpoenas to top Trump allies, government agencies, and activists who were involved in the planning of events and rallies that took place on that day and in the prior weeks. Multiple sources familiar with the committee's investigation have confirmed to Rolling Stone that, thus far, it seems to be heavily focused on the financing for the Ellipse rally and similar previous events.

Both of the sources made clear that they still believe in Trump's agenda. They also have questions about how his election loss occurred. The two sources say they do not necessarily believe there were issues with the actual vote count. However, they are concerned that Democrats gained an unfair advantage in the race due to perceived social media censorship of Trump allies and the voting rules that were implemented as a result of the coronavirus pandemic.

''Democrats used tactics to disrupt their political opposition in ways that frankly were completely unacceptable,'' the organizer says.

Despite their remaining affinity for Trump and their questions about the vote, both sources say they were motivated to come forward because of their concerns about how the pro-Trump protests against the election ultimately resulted in the violent attack on the Capitol. Of course, with their other legal issues and the House investigation, both of these sources have clear motivation to cooperate with investigators and turn on their former allies. And both of their accounts paint them in a decidedly favorable light compared with their former allies.

''The reason I'm talking to the committee and the reason it's so important is that '-- despite Republicans refusing to participate '... this commission's all we got as far as being able to uncover the truth about what happened at the Capitol that day,'' the organizer says. ''It's clear that a lot of bad actors set out to cause chaos. '... They made us all look like shit.''

And Trump, they admit, was one of those bad actors. A representative for Trump did not respond to a request for comment.

''The breaking point for me [on Jan. 6 was when] Trump starts talking about walking to the Capitol,'' the organizer says. ''I was like. 'Let's get the fuck out of here.' ''

''I do kind of feel abandoned by Trump,'' says the planner. ''I'm actually pretty pissed about it and I'm pissed at him.''

The organizer offers an even more succinct assessment when asked what they would say to Trump.

''What the fuck?'' the organizer says.

The two potential witnesses plan to present to the committee allegations about how these demonstrations were funded and to detail communications between organizers and the White House. According to both sources, members of Trump's administration and former members of his campaign team were involved in the planning. Both describe Katrina Pierson, who worked for Trump's campaign in 2016 and 2020, as a key liaison between the organizers of protests against the election and the White House.

''Katrina was like our go-to girl,'' the organizer says. ''She was like our primary advocate.''

Pierson spoke at the Ellipse rally on Jan. 6. She did not respond to requests for comment.

Both sources also describe Trump's White House chief of staff, Mark Meadows, as someone who played a major role in the conversations surrounding the protests on Jan. 6. Among other things, they both say concerns were raised to Meadows about Alexander's protest at the Capitol and the potential that it could spark violence. Meadows was subpoenaed by the committee last month as part of a group of four people '' with close ties to the former President who were working in or had communications with the White House on or in the days leading up to the January 6th insurrection.''

''Meadows was 100 percent made aware of what was going on,'' says the organizer. ''He's also like a regular figure in these really tiny groups of national organizers.''

A separate third source, who has also communicated with the committee and was involved in the Ellipse rally, says Kylie Kremer, one of the key organizers at that event, boasted that she was going to meet with Meadows at the White House ahead of the rally. The committee has been provided with that information. Kremer did not respond to a request for comment.

Both the organizer and the planner say Alexander initially agreed he would not hold his ''Wild Protest'' at the Capitol and that the Ellipse would be the only major demonstration. When Alexander seemed to be ignoring that arrangement, both claim worries were brought to Meadows.

''Despite making a deal '... they plowed forward with their own thing at the Capitol on Jan.y 6 anyway,'' the organizer says of Alexander and his allies. ''We ended up escalating that to everybody we could, including Meadows.''

A representative for Meadows did not respond to requests for comment.

Along with making plans for Jan. 6, the sources say, the members of Congress who were involved solicited supposed proof of election fraud from them. Challenging electoral certification requires the support of a member of the Senate. While more than a hundred Republican members of the House ultimately objected to the Electoral College count that formalized Trump's loss, only a handful of senators backed the effort. According to the sources, the members of Congress and their staff advised them to hold rallies in specific states. The organizer says locations were chosen to put ''pressure'' on key senators that ''we considered to be persuadable.''

''We had also been coordinating with some of our congressional contacts on, like, what would be presented after the individual objections, and our expectation was that that was the day the storm was going to arrive,'' the organizer says, adding, ''It was supposed to be the best evidence that they had been secretly gathering. '... Everyone was going to stay at the Ellipse throughout the congressional thing.''

Heading into Jan. 6, both sources say, the plan they had discussed with other organizers, Trump allies, and members of Congress was a rally that would solely take place at the Ellipse, where speakers '-- including the former president '-- would present ''evidence'' about issues with the election. This demonstration would take place in conjunction with objections that were being made by Trump allies during the certification on the House floor that day.

''It was in a variety of calls, some with Gosar and Gosar's team, some with Marjorie Taylor Greene and her team '... Mo Brooks,'' the organizer says.

''The Capitol was never in play,'' insists the planner.

A senior staffer for a Republican member of Congress, who was also granted anonymity to discuss the ongoing investigation, similarly says they believed the events would only involve supporting objections on the House floor. The staffer says their member was engaged in planning that was ''specifically and fully above board.''

''A whole host of people let this go a totally different way,'' the senior Republican staffer says. ''They fucked it up for a lot of people who were planning to present evidence on the House floor. We were pissed off at everything that happened .''

The two sources claim there were early concerns about Alexander's event. They had seen him with members of the paramilitary groups 1st Amendment Praetorian (1AP) and the Oath Keepers in his entourage at prior pro-Trump rallies. Alexander was filmed with a reputed member of 1AP at his side at a November Stop the Steal event that took place in Georgia. The two sources also claim to have been concerned about drawing people to the area directly adjacent to the Capitol on Jan. 6, given the anger among Trump supporters about the electoral certification that was underway that day.

''They knew that they weren't there to sing ''Kumbaya'' and, like, put up a peace sign,'' the planner says. ''These frickin' people were angry.''

Midazolam was used to end the lives of thousands who you were told had died of Covid-19 & an NHS document proves Staff were ordered to do it '' The Expose

Mon, 25 Oct 2021 13:51

Breaking NewsAn official NHS document proves that NHS staff were told respiratory depressing drugs ''should not be withheld due to inappropriate concerns'' about using them to treat Covid-19; a respiratory disease.

Midazolam can cause serious or life-threatening breathing problems such as shallow, slowed, or temporarily stopped breathing that may lead to permanent brain injury or death, and UK regulators state that you should only receive midazolam in a hospital or doctor's office that has the equipment that is needed to monitor your heart and lungs and to provide life-saving medical treatment quickly if your breathing slows or stops.

The drug, which is criminally used in palliative care in the United Kingdom despite not being on the WHO's list of essential palliative care medicines, should also be used with extreme caution in elderly patients.

But despite this, Matt Hancock and the Department of Health ordered two years worth of Midazolam in March 2020 in response to the introduction of the first lockdown. A two year supply that was depleted by October of the same year.

The reason being that the elderly and vulnerable were denied treatment by the NHS; a policy that was part of a pandemic response four years in the planning , and instead put on end of life care which involved withdrawing their medication, depriving them of food and water, and pumping them full of midazolam and morphine until they died of starvation and dehydration.

Evidence suggests that the drug midazolam was used to prematurely end the lives of thousands upon thousands of people in the United Kingdom who you were told had died of Covid-19, and this can be clearly seen from the data on out of hospital prescribing for midazolam coinciding with the waves of all cause deaths and Covid-19 deaths in the UK, as well as the A mnesty and CQC reports which found the blanket use of Do Not Resuscitate orders being used in care homes without informing the residents or their families.

Serious illness in Covid-19 presents pneumonia and accompanying respiratory insufficiency. Therefore typical symptoms include breathlessness, cough, weakness and fever. We're also told that people who suffer deteriorating respiratory failure and who do not receive intensive care, develop acute respiratory distress syndrome with severe breathlessness.

Despite this, NHS staff were told in ' clinical guidance for symptom control for patients with Covid-19 ' that excessive doses of morphine and midazolam should be given to ease the symptoms of Covid-19.

The drug label information for Midazolam on the US National Library of Medicine clearly states that ''Midazolam hydrochloride must never be used without individualization of dosage. The initial intravenous dose for sedation in adult patients may be as little as 1 mg, but should not exceed 2.5 mg in a normal healthy adult. Lower doses are necessary for older (over 60 years) or debilitated patients''

But despite this, NHS staff were told to up the dosage of Midazolam in all Covid-19 patients if they were suffering ''persistent anxiety or agitation''. At no point were they instructed to individualise doses based on the age or fraility of the patient.

The warning label states that because of the ''danger of hypoventilation, airway obstruction, or apnoea is greater in elderly patients and those with chronic disease states or decreased pulmonary reserve, and because the peak effect may take longer in these patients, increments should be smaller and the rate of injection slower.''

Perhaps NHS staff also knew this, but they were told within the clinical guidance provided to them that their concerns were ''inappropriate''.

Confidential NHS documents clearly show that the elderly and vulnerable were to be denied treatment and put on the end of life pathway in response to a pandemic, and the evidence clearly shows this was put into practice.

Categories: Breaking News, Did You Know?, Latest News, The Expose Blog, World News

Can TSA vaccinate enough screeners before the Thanksgiving travel rush? | National | bakersfield.com

Mon, 25 Oct 2021 13:50

LOS ANGELES '-- A potential shortage of airport screeners triggered by a federal COVID-19 vaccine mandate could mean extra-long queues at airport security checkpoints during the upcoming Thanksgiving holiday travel week.

Only about 60% of Transportation Security Administration employees are at least partially vaccinated with about a month to go before the Nov. 22 deadline for federal employees to be fully vaccinated. Federal employees who ignore the mandate face discipline, including being fired, according to the U.S. Office of Personnel Management.

TSA Administrator David Pekoske told CNN last week that he is "very hopeful" the agency won't have a worker shortage but said the TSA is preparing contingency plans in case it can't be avoided.

The agency expects more TSA employees to be vaccinated in the coming weeks, with the hope that "the vast majority of TSA agents will be vaccinated," a spokesperson said. The agency was unable to say how the vaccination rate for screeners compared with that of employees overall.

A person is considered fully vaccinated two weeks after receiving the second shot in a two-dose series, or two weeks after a single-shot vaccine.

"At TSA, we are hosting employee town halls, sending broadcast emails, and posting details on the requirement in break rooms on how and where to upload documents for proof of vaccination status," TSA spokesperson Lisa Farbstein said.

The risk that the TSA may be forced to fire a large segment of its workforce ahead of the holiday weekend prompted Senate Majority Leader Charles E. Schumer to urge the TSA to develop a contingency plan and increase vaccination rates before Nov. 22. He urged the agency to make greater use of explosive-sniffing dogs to help move the screening lines faster.

"Late last week the TSA hinted at a potential real travel mess as Thanksgiving approaches," he said during a news conference Sunday. "And that's because they reported that 40% of their workforce remain unvaccinated from COVID-19."

Airlines for America, the trade group that represents most of the country's airlines, declined to speculate on what effect the vaccine mandate could have on Thanksgiving travel plans, except to say in a statement, "we remain in routine communication with our federal partners to prioritize a safe, seamless travel experience."

Other government agencies and private businesses are reporting much higher compliance with vaccine mandates.

Several major U.S. air carriers imposed vaccine mandates on their employees months before the Biden administration required all companies that contract with the federal government, including airlines, to impose such mandates.

United Airlines reported that more than 99% of its employees are vaccinated. Delta Air Lines has not imposed a mandate but told employees they face a $200 monthly surcharge if they fail to get vaccinated by Nov. 1. As of last week, 90% of Delta employees were vaccinated.

At the Los Angeles Unified School District, where employees could lose their jobs for defying its vaccine mandate, 99% of classroom teachers and 97% of all employees have complied.

The city of Los Angeles in August adopted a vaccine mandate for all city employees but this week was considering extending its deadline. As of earlier this week, more than 72% of employees reported being either fully or partially vaccinated, according to a city report.

A spokesperson for the American Federation of Government Employees, which represents TSA agents, directed all questions about the vaccination mandate to the TSA. However, the union posted a website update that makes it clear that employees who refuse to get vaccinated are unlikely to win a court challenge against the mandate.

Travel websites and other data suggest that Americans are ready to travel, perhaps in response to an overall decline in COVID-19 cases in many states.

Based on flight searches, the travel website Hopper.com predicted the number of travelers passing through U.S. airports will reach a daily average of 2 million passengers over the holiday weekend, which represents about 80% of 2019 passenger levels but more than double the 2020 levels.

Domestic round-trip airline ticket prices for the Thanksgiving weekend are expected to average $290, down 13% from 2019, with international flights priced at an average of $620, down 17% from 2019. However, Hopper predicts airline prices will begin to surge soon, particularly for international travel after news that the U.S. plans to reopen the country to foreign travelers starting Nov. 8.

In another analysis, the Adobe Digital Economy Index found that Thanksgiving flight bookings were 2.6% higher in the first two weeks of October than in the same period in 2019.

"The uptick indicates that we may be at the beginning of a surge in holiday bookings," said Adobe analyst Vivek Pandya.

'--'--'--

(C)2021 Los Angeles Times. Visit latimes.com. Distributed by Tribune Content Agency, LLC.

Copyright 2021 Tribune Content Agency.

'An outrage against democracy': JFK's nephews urge Biden to reveal assassination records

Mon, 25 Oct 2021 04:29

About a minute after this photo was taken, President John F. Kennedy was fatally shot in Dallas on Nov. 22, 1963. | Jim Altgens/AP Photo

Two nephews of John F. Kennedy are calling on the Biden administration to release the final trove of secret documents on the 1963 assassination of the former president.

The records were scheduled to be made public Tuesday, but the White House announced late Friday night that it would delay their publication until at least Dec. 15 '-- and perhaps longer if President Joe Biden determines it's in the nation's best interest to keep them confidential.

Advertisement''It's an outrage. It's an outrage against American democracy. We're not supposed to have secret governments within the government,'' Robert F. Kennedy Jr. told POLITICO. ''How the hell is it 58 years later, and what in the world could justify not releasing these documents?''

His cousin, former Rhode Island Rep. Patrick Kennedy, said the records should be released not because of his family, but because American citizens have a right to know about ''something that left such a scar in this nation's soul that lost not only a president but a promise of a brighter future.''

''I think for the good of the country, everything has to be put out there so there's greater understanding of our history,'' Patrick Kennedy said.

The documents were set to be declassified in 2017, but President Donald Trump postponed the release for four years.

AdvertisementBiden's decision to continue Trump's policy of shielding the records came as a surprise to historians and experts on the assassination because he had served in the U.S. Senate when the John F. Kennedy Assassination Records Collection Act of 1992 passed unanimously in Congress. That act, passed in response to questions raised by the 1991 Oliver Stone film ''JFK,'' set up an independent review board to collect all government files that might have bearing on the assassination and make them public. Most records were released between 1994 and 1998. Only the most se nsitive classified documents remain confidential.

Biden was first elected to the Senate nearly a decade after Kennedy's assassination and campaigned with former Sen. Ted Kennedy, the late president's brother and the father of Patrick Kennedy, as a youthful Irish-American kindred spirit to the political dynasty.

The White House declined to comment on the record, issuing a background statement saying that ''the National Archives advised that their review of classified material was severely hampered by COVID-19 since classified material cannot be reviewed remotely and asked for more time.'' The coronavirus first hit the U.S. in early 2020, more than 27 years after the JFK Records Act passed and more than 56 years after Kennedy was shot on Nov. 22, 1963, in Dallas.

Pointing to the presidential memorandum it released late Friday, the White House promised in a written statement that the ''public will have access to a tranche of previously withheld records and redacted information withheld in previously released records'' and that the ''Biden Administration is setting up a whole-of government effort to ensure the maximum possible disclosure of information by the end of 2022.'' The president's memo also directs the National Archives to come up with a plan to digitize the entire collection of documents, more than 300,000 records.

AdvertisementA spokesperson for Trump declined to comment about why he delayed the full release of the records in 2017 after indicating he intended to make them public.

Among other unanswered questions, the records could shed light on whether a Central Intelligence Agency operative named Bill Harvey mysteriously traveled from Rome to Dallas before the assassination as well as the agency's role in plots to kill Cuban dictator Fidel Castro, its surveillance techniques.

An overwhelming majority of the 15,000 records in question are from the CIA and, to a lesser extent, the Federal Bureau of Investigation. Portions of them have been released with single words or entire pages blacked out, according to the National Archives.

If the records are ever released, they probably would not reveal the identity of other potential killers of Kennedy. Robert F. Kennedy Sr., brother of the president and namesake of the son who spoke with POLITICO, did not believe the official narrative of the assassination, said historian David Talbot, author of ''Brothers: The Hidden History of the Kennedy Years'' and ''The Devil's Chessboard.''

''RFK was the first JFK 'conspiracy theorist,' the attorney general of the United States,'' Talbot said. ''Any serious journalist or historian who looks at this seriously comes to the same conclusion: that Lee Harvey Oswald was what he said he was, 'a patsy,' and that the Warren Commission was an effort to cover up the crime, not investigate the crime in an honest way.''

Robert F. Kennedy Jr. concurred with his father's belief that his uncle was assassinated as part of a broader conspiracy. Kennedy, a controversial figure in his family because of his anti-vaccine advocacy, also said he did not believe that Sirhan Sirhan killed his father, putting him at odds with his siblings and other relatives.

Both he and Patrick Kennedy said their family had shied away from discussing the JFK assassination and related matters because it was too painful, even to this day.

Patrick Kennedy declined to comment on whether he believed the official story of the assassination. He said he wasn't sure the documents would be released Dec. 15, but he ultimately hopes that Biden will do the right thing and make them public. He also described the president as someone ''who loves my family, and this country, and has a heart that's full of compassion and love.''

Advertisement''We're living in a time of a lot of conspiracy theories. There is a tendency to distrust government in general,'' he said. ''There's a whole lot of bureaucratic obfuscation. Every agency needs to exercise their own right to redact certain portions [of the records] which you know is what fuels the whole conspiracy theory.''

Filed Under: CIA, Central Intelligence Agency, Joe Biden, Joe Biden 2020, FBI, National Archives, Robert F. Kennedy Jr., Patrick Kennedy, Sirhan Sirhan, John F. Kennedy, JFK, Lee Harvey Oswald

NASA targeting February for launch of first moon rocket since Apollo mission | Fox News

Mon, 25 Oct 2021 00:39

Published October 23, 2021

Artemis I mission will launch the next generation of deep space operationsNASA is now targeting February 2022 for the launch of its powerful Space Launch System (SLS) rocket.

Stacked with the agency's Orion crew capsule, the SLS is 332 feet tall and currently sits at the Kennedy Space Center in Florida.

US MILITARY LAUNCHES 3 SUBORBITAL ROCKETS IN TEST OF HYPERSONIC TECHNOLOGIES

SLS will launch the next generation of deep space operations, including Artemis missions, on and around the moon.

It was initially slated to take off in November but has run behind schedule.

NASA said in a Friday release that the integrated system is entering the final phase of preparations for an upcoming uncrewed flight test around the moon '' including a series of integrated tests.

This close-up view shows the SLS rocket for Artemis I inside High Bay 3 of the Vehicle Assembly Building (VAB) at NASA's Kennedy Space Center in Florida on Sept. 20, 2021. Inside the VAB, the rocket recently completed the umbilical retract and release test and the integrated modal test. (Image Credit: NASA/Frank Michaux)

Its mission, known as Artemis I, will pave the way for a future flight test with crew and NASA aims to send the first woman and the first person of color on the moon in coming years.

"It's hard to put into words what this milestone means, not only to us here at Exploration Ground Systems, but to all the incredibly talented people who have worked so hard to help us get to this point," Mike Bolger, Exploration Ground Systems program manager, said in a statement "Our team has demonstrated tremendous dedication preparing for the launch of Artemis I. While there is still work to be done to get to launch, with continued integrated tests and Wet Dress Rehearsal, seeing the fully stacked SLS is certainly a reward for all of us."

Testing includes interface verification testing, program specific engineering testing, end-to-end communications testing, countdown sequencing testing and wet dress rehearsal testing.

NASA'S LUCY LAUNCHES TO TROJAN ASTEROIDS

According to Space.com, in a Friday media briefing, deputy associate administrator for exploration systems development at NASA Headquarters Tom Whitmeyer told reporters that the stacked rocket and crew capsule will roll out to the Launch Pad 398 in late December for testing and west dress rehearsal testing in January before going back for more checkouts followed by another move onto the pad.

"Prior to rolling out to the pad for wet dress, teams will conduct the first of a two-part test of the flight termination system inside the VAB. Once the systems are verified, the 322-foot-tall rocket will roll back into the VAB for final inspections and checkouts, including the second part of the flight termination system test, ahead of returning to the pad for launch.," NASA wrote, noting that Artemis I mission operations teams would continue to run additional launch simulations leading up to launch.

The agency said it would set a specific launch date following a successful wet dress rehearsal.

SLS is powered by a core stage with four RS-25 liquid propellant engines and twin five-segment solid rocket boosters that produce millions of pounds of thrust.

CLICK HERE TO GET THE FOX NEWS APP

NASA already fired up the core stage and its engines twice this year to ensure that the rocket's components were working '' though the first hot fire test in January ended early due to a hydraulic system issue.

NASA eventually completed the engine test firing of its moon rocket in March.

The 1972 Apollo 17 mission was the last in which humans traveled to the moon.

What Biden is keeping secret in the JFK files

Sun, 24 Oct 2021 23:45

Part of a file from the CIA released by the National Archives in 2017, dated Oct. 10, 1963, details "a reliable and sensitive source in Mexico" report of Lee Harvey Oswald's contact with the Soviet Union embassy in Mexico City. | Jon Elswick/AP Photo

President Joe Biden has once again delayed the public release of thousands of government secrets that might shed light on the 1963 assassination of President John F. Kennedy.

''Temporary continued postponement is necessary to protect against identifiable harm to the military defense, intelligence operations, law enforcement, or the conduct of foreign relations that is of such gravity that it outweighs the public interest in immediate disclosure,'' Biden wrote in a presidential memorandum late Friday.

AdvertisementHe also said that the National Archives and Records Administration, the custodian of the records, needs more time to conduct a declassification review due to delays caused by the coronavirus pandemic.

The decision, which follows a delay ordered by President Donald Trump in 2017, means scholars and the public will have to wait even longer to see what remains buried in government archives about one of the greatest political mysteries of the 20th century. And the review process for the remaining documents means Biden can hold the release further if the CIA or other agencies can convince him they reveal sensitive sources or methods.

Public opinion polls have long indicated most Americans do not believe the official conclusion by the Warren Commission that the assassination was the work of a single gunman, Lee Harvey Oswald, a former Marine who once defected to the Soviet Union and who was shot to death by a nightclub owner Jack Ruby while in police custody.

A special House committee in 1978 concluded ''on the basis of the evidence available to it, that President John F. Kennedy was probably assassinated as a result of a conspiracy.''

AdvertisementBut longtime researchers almost uniformly agree that what is still being shielded from public view won't blow open the case.

''Do I believe the CIA has a file that shows former CIA Director Allen Dulles presided over the assassination? No. But I'm afraid there are people who will believe things like that no matter what is in the files,'' said David Kaiser, a former history professor at the Naval War College and author of ''The Road to Dallas.''

His book argued that Kennedy's murder cannot be fully understood without also studying two major U.S. intelligence and law enforcement campaigns of the era: Attorney General Robert Kennedy's war on organized crime and the CIA's failed efforts to kill communist dictator Fidel Castro in Cuba (with the Mafia's help).

Still, Kaiser and other experts believe national security agencies are still hiding information that shows how officials actively stonewalled a full accounting by Congress and the courts and might illuminate shadowy spy world figures who could have been involved in a plot to kill the president.

What's still hidden?Portions of more than 15,000 records that have been released remain blacked out, in some cases a single word but in others nearly the entire document, according to the National Archives.

AdvertisementThe records were collected by the Assassination Records Review Board, which was established by Congress in the 1992 JFK Records Act.

The independent body, which folded in 1998, was headed by a federal judge and empowered to collect classified information from across the government that might have bearing on Kennedy's murder and make public as much as possible after consulting with the agencies where the intelligence originated. It also had legal authority to overrule recalcitrant agencies.

A large portion of the JFK collection came from the probe by the House Select Committee on Assassinations in 1978, which investigated the murders of President Kennedy and the 1968 assassination of Martin Luther King Jr. The panel also delved into a series of U.S. intelligence and law enforcement activities in the early decades of the Cold War as part of its probe.

The creation of the review board ultimately led to the release of thousands of files. But the board also postponed the release of other documents until 2017, when Trump used his authority to further delay full public disclosure.

Much of what has yet to be released involves intelligence activities during the height of the Cold War that likely had no direct bearing on the plot to kill Kennedy but could shed light on covert operations.

One heavily censored file involves a CIA plot to kill Castro. Another is a 1963 Pentagon plan for an ''engineered provocation'' that could be blamed on Castro as a pretext for toppling him. Then there's a history of the CIA's Miami office, which organized a propaganda campaign against Castro's Cuba.

Other redacted files are believed to contain new CIA information about the 1972 break-in at the Democratic National Committee in Washington's Watergate Hotel by former CIA operatives that led to the resignation of President Richard Nixon.

But some could reveal more about the events leading up to the assassination itself.

AdvertisementResearchers are keenly interested in the personnel file of the late George Joannides, a career CIA intelligence operative who staffers on the House investigation in the late 1970s believe lied to Congress about what he knew about a CIA-backed exile group that had ties to Oswald.

A federal appeals court in 2018 upheld the CIA's rejection of a lawsuit by researcher Jefferson Morley to obtain the file.

Paraded before newsmen after his arrest, Lee Harvey Oswald on Nov. 23, 1963, tells reporters that he did not shoot President John F. Kennedy. | AP Photo

Another partially released file contains information about how the CIA may have monitored Oswald on a trip he purportedly took to Mexico City ahead of the assassination.

The files could reveal more of ''what the CIA was doing in New Orleans, some more info about Mexico City and likely even some revelations about the CIA role in Watergate,'' said Larry Schnapf, a lawyer and assassination researcher.

Morley, who has filed multiple lawsuits to force disclosure, believes the CIA is covering up for individuals who may have had a role in Kennedy's death or knew who was responsible and wanted it hidden from the public to protect the agency.

He says the CIA's refusal to comply ''can only be interpreted as evidence of bad faith, malicious intent, and obstruction of Congress.''

A spokesperson for the CIA, which accounts for the majority of the withheld records, declined to address the charge, saying only that the agency will comply with the law and the president's directive.

When will the secret files be revealed?Biden did set in motion the release of some of the remaining records.

Advertisement''Any information currently withheld from public disclosure that agencies have not proposed for continued postponement shall be reviewed by NARA before December 15, 2021, and shall be publicly released on that date,'' the memo states.

He also directed that the National Archives conduct an ''intensive review'' over the next year ''of each remaining redaction to ensure that the United States Government maximizes transparency, disclosing all information in records concerning the assassination, except when the strongest possible reasons counsel.''

But that means the CIA and other agencies can still convince Biden to further delay the release of some documents.

A coalition of legal experts and academics asserts that Trump and now Biden have been flouting the 1992 law that set up the disclosure process.

They contend in a legal memo the legislation laid out a ''stringent process and legal standard for postponing the release of a record'' that requires the president to certify why any single file is being withheld.

''Congress established a short-list of specific reasons that federal agencies could cite as a basis for requesting postponement of public disclosure of assassination records,'' they advised Biden last month. ''A government office seeking postponement was required to specify, for each record sought to be postponed, the applicable grounds for postponement.''

Schnapf plans to file a lawsuit on Monday seeking copies of the underlying communications that have led to the decision by successive presidents to postpone the release of so many documents.

The Public Interest Declassification Board, a bipartisan advisory panel appointed by the president and leaders of Congress, appealed to Biden last month to limit further postponement to the ''absolute minimum,'' noting that ''we understand that agencies are asking you to extend the postponement of public disclosure for parts of many records subject to the JFK Act.''

AdvertisementThe board said it believes disclosure after all these years would ''bolster the American people's confidence and trust in their government.''

The board's chair, Ezra Cohen, the former acting undersecretary of defense for intelligence, called the Biden memo ''a step in the right direction'' but ''we will know more regarding agency and Archives implementation come December.''

''In the short term,'' he added, ''the Archivist will need to work hard to keep agencies on track with the President's guidance.''

Schnapf said Congress may have to step in if military and intelligence agencies keep delaying full disclosure.

He pointed out that with the expiration of the JFK records review board, there is no authority other than Biden who can overcome the ''kind of stalling, delaying and excessive secrecy that led to the enactment of the JFK Act in the first place.''

''Trump gave the agencies three and a half years '... and yet full disclosure has not been obtained,'' he added. ''This is not about conspiracy but about compliance with the law. There is widespread bipartisan support to have the rest of the records released. These records will reveal important secrets about our country's history. When President Biden agreed to release the 9/11 records, he said 20 years is long enough. How about 58 years?''

Filed Under: CIA, Central Intelligence Agency, Cuba, Joe Biden, Joe Biden 2020, Classified Information, National Security, National Archives, John F. Kennedy, JFK, Cold War, Lee Harvey Oswald

Mounties For Freedom '' Your Freedom is Our Fight

Sun, 24 Oct 2021 21:10

RCMP National Headquarters73 Leikin DrOttawa, Ontario K1A 0R2

October 21, 2021

Dear Commissioner Brenda Lucki:

We respectfully submit this open letter to express our most sincere concerns and resolute stand against the forced coercive medical intervention of Canadians, and against the undue discriminationexperienced by those exercising their lawful right to bodily autonomy. We are not against vaccinations,but as law enforcement officers, we cannot in good conscience willingly participate in enforcing mandates that we believe go against the best interests of the people we protect.

As Canadians, our constitutionally-protected freedoms precede the government, and may only be temporarily limited if the majority of evidence justifies such infringements as reasonable, provable, and guided by law. If presented with all available evidence in a court, we firmly believe the government implemented mandates would not hold up under scrutiny.

As experienced investigators, we look past what information is provided and focus on how the information is presented. A proper investigation should be conducted as objectively as possible, and follow the principle that it is better to have questions that cannot be answered than to have answers that cannot be questioned. A complete investigation must include full disclosure of all the facts of the case, even contradictory evidence. Why, then, is there little to no tolerance for free and open debate on this matter? Many credible medical and scientific experts are being censored. Accordingly, we rightly have concerns about ''the science'' we are being coerced to ''follow''.

As representatives of our communities within the RCMP and representatives of the RCMP in our communities, we have never witnessed such division in our country. This sense of ''Us versus Them'' will be further fueled by having a police force consisting only of ''vaccinated'' people, while serving communities consisting of ''unvaccinated'' people, which goes against the community policing model the RCMP has strived to achieve.

As law enforcement officers, we already face higher levels of stress and mental illnesses due to the nature of our work. These have been compounded '' considerably '' by mandates that we believe are deeply unethical, threatening our livelihood, and dividing society.

As federal employees, what is being done to mitigate this stress? Moreover, what assurances are we given that the injections will not cause short or long-term side effects? What steps will be taken to ensure members are compensated for adverse side effects?

Police officers are expected to preserve the peace, uphold the law, and defend the public interest. We strongly believe that forced and coerced medical treatments undermine all three and, thus, contradict our duties and responsibilities to Canadians. We remain loyal to the Charter and Bill of Rights and ask you to send investigators to collect statements from medical professionals (and other reliable witnesses) who allege they have been silenced '' putting lives at risk. Allow us to make this information publicly available to all so the public can scrutinize it and achieve informed consent.

This letter was created from the collective thoughts, beliefs, and opinions of actively serving police officers of the Royal Canadian Mounted Police (RCMP) from across the country. We have a wealth of experience which includes, but is not limited to, General Duty, Federal Serious and Organized Crime, School Liaison, Prime Minister Protection Detail, Emergency Response Team, Media Relations, and Combined Forces Special Enforcement Unit. We come from various ranks, levels of experience, communities, cultural backgrounds, religious beliefs, and vaccination statuses. Together we are the Mounties for Freedom. We are individual police officers who united in the belief that citizens, including federal employees, should not be forced and coerced into taking a medical intervention.

In August 2021, Canadian Prime Minister Justin Trudeau announced, ''Federal public servants need to be fully vaccinated,'' and that for those without a medical exemption who choose not to be vaccinated: ''There will be consequences''1.

Since that statement, many federal employees have been told they will be sent home without pay forrefusing to receive a contested medical treatment. We have united in the belief that people should not be forced or coerced into receiving the current COVID-19 treatments '' it should be voluntary. We stand united against the forced and coerced medical intervention of Canadians and against the discrimination faced by those who have exercised their right to bodily autonomy. We believe in democracy, the Canadian Charter of Rights and Freedoms, and the Bill of Rights.

This is not about whether people should be vaccinated '' that is a personal choice.

Our primary duty as peace officers in the RCMP is the preservation of peace2. We have never witnessed the level of division in our country as we currently see from the COVID-19 pandemic. It is our responsibility, now more than ever, to make all efforts at preserving the peace in our country.

The Charter of Rights and Freedoms (the Charter) protects fundamental rights and freedoms essential to keeping Canada a free and democratic society3. The Canadian Bill of Rights adds, '''... the Canadian Nation is founded upon principles that acknowledge '... the dignity and worth of the human person and the position of the family in a society of free men and free institutions.4'' It continues to say, ''Affirming also that men and institutions remain free only when freedom is founded upon respect for moral and spiritual values and the rule of law.5''

We believe our federal and provincial governments have failed to uphold the Charter, Bill of Rights, and Constitution and we are witnessing the erosion of democracy in Canada. As you know, the Charter does not guarantee absolute freedoms. If the government is going to limit freedoms, it must establish the limitations are reasonable given all available facts. The government must adhere to a process to prove their actions are appropriate, called the Oakes test. We firmly believe, if presented with all available evidence in a court, the government implemented mandates would not pass the Oakes test. At the time of writing this letter, the Charter's section 33 Notwithstanding Clause has not been invoked for thispandemic.

Requiring mandatory COVID-19 treatment options is a slippery slope and allows the government to overstep its authority unchecked. It infringes on the fundamental belief in our society that the individual has the right and freedom to choose. The choice of whether to receive medical treatments has always been an individual's right in Canada. The Canadian National Report on Immunization (1996) stated ''Immunization is not mandatory in Canada; it cannot be made mandatory because of the Canadian Constitution.6'' Section 2 of The Charter guarantees these fundamental freedoms through the freedom of conscience (subsection a) and the freedom of thought, belief, opinion, and expression (subsection b)7. Without individuals having the freedom to choose, we would not have a democratic society.

Though the Nuremberg Code is not a law, it is internationally accepted and falls in line with the spirit of our Charter and Bill of Rights. A key component of the Nuremberg Code is that participants in a medical experiment need to participate voluntarily without any form of force or coercion8. We have obtained documentation from several Canadian doctors who have explained the current COVID-19 treatment options in Canada, being referred to as ''vaccines'', were recently authorized as new drugs despite the absence of long-term data9. According to these accredited Canadian doctors, these treatment options did not meet the criteria of true vaccines until very recently when the definition of vaccine was changed10,11. Without long-term data, these vaccines are still experimental. We believe the act of removing the rights and freedoms of citizens who refuse to participate in specific COVID-19 treatment options is a form of coercion.

The Criminal Code contains our country's Criminal Offences and explains that a person commits an assault by intentionally applying force to someone else without that person's consent12. The Criminal Code further explains that consent is not obtained from a person who submits, or neglects to resist, on the grounds of authority being exercised over them13. How then can someone give proper consent to a COVID-19 treatment injection when doing so under the threat of losing their job, freedoms, or livelihood? Canadian courts have already ruled that medical treatment without proper informed consent is an assault14.

As law enforcement officers, we cannot in good conscience willingly participate in enforcing mandates that violate the laws of our country and breach the rights and freedoms of the people we protect.

Each year, on the 11th of November, we remember those who sacrificed their lives for our freedoms.From Flanders Field to Juno Beach, many Canadians have bled and died fighting tyrannical nations. We need to remember past events to prevent the repetition of history's greatest mistakes.

On the 30th of September, we had the opportunity to reflect on such times during our first National Day for Truth and Reconciliation. Under the direction of the Government of Canada, RCMP members were once issued lawful orders to remove children from their homes and transport them to residential schools. Canada is still recovering from the impact of those decisions and actions. The RCMP has yet to regain the trust of some citizens.

There was a time when scientists believed humans were divided into racial hierarchies and that a person's intelligence level and characteristics were determined by race15. These beliefs were not heavily contested and were widely accepted as scientific fact16. Phrenology was also widely accepted as being a legitimate scientific study17. These are not examples of science being wrong but of people conducting poor investigations or misunderstanding their findings. These are just two of several historical examples of widely accepted scientific truths, which became ridiculed practices.

We look back at those times of racial hierarchy and wonder how something so wrong could have been so widely accepted as truth. It is just as hard for many people to conceptualize how RCMP officers could have blindly followed lawful orders that devastated so many lives. Yet now we find ourselves in dangerous waters, when RCMP officers are being forced under coercion and duress to participate in actions they believe go against the spirit of Canadian laws.

We find it ironic that an organization that preaches the honour and respect of Canadian values, and the sacrifice of their veterans, would support actions that contradict the values our veterans fought to uphold. Enforcement of identification and checkpoints was an early step in what would become the Holocaust. Canadian citizens of various backgrounds are being segregated and punished for choosing not to disclose a personal medical decision. We cannot think of a more ironic and cruel way for our governments to pay homage to the sacrifices Canadians have made worldwide to protect individual freedoms than by participating in a process that takes those freedoms away.

Today, instead of having one version of scientific ''truth'' during this pandemic, we have versions that contradict one another. How can some professionals be so certain their interpretation of science is correct when others give evidence to the contrary? History has already demonstrated we get things wrong even when our scientists agree.

We acknowledge there is a spectrum filled with beliefs relating to this pandemic. For the sake of simplicity, we will refer to two main schools of thought: the common narrative (those who believe the current COVID-19 treatment injections are the way through the pandemic) and those who have concerns with the COVID-19 treatment injections. It's important to note we are not discussing ''antivaxxers'' in this letter. We are discussing people with various vaccination statuses who pose questions about the current COVID-19 treatment options being forced upon them.

RCMP members are not scientists nor healthcare professionals; our profession is law enforcement. We do not pretend to be experts in medical or scientific fields, but we are experienced and professional investigators: we look for the facts. Proper investigations follow simple practices that remain consistent across most fields. These practices include but are not limited to: asking the right questions, following evidence, being aware of how biases may affect results, and allowing the evidence to point to the conclusion '' not allowing the conclusion to point to the evidence. Most importantly, a proper investigation should be conducted as objectively as possible and follow the principle that it is better to have questions that cannot be answered than to have answers that cannot be questioned. A complete investigation must include full disclosure of all the facts of the case, even contradictory evidence.

The COVID-19 pandemic has caused several scientists and medical professionals to provide us with information they described as ''science'', ''scientific'', or ''facts''. The problem with many of these statements is that the provided information often contradicted another piece of ''scientific fact'' that an equally qualified professional had produced. This makes it near impossible for the average person to know what to believe and what not to believe.

As experienced investigators, we look past what information is provided and focus on how the information is presented. This allows us some insight into the credibility of the information. Some professionals make definitive statements such as ''It's safe and effective'' or ''This is the way'', giving little or no explanation of how they reached their conclusion. When the information provided is challenged or questioned, the response often indicates the answer is something that cannot be questioned. The CDC recently changed its definition of immunity and vaccine10,11, allowing the current COVID-19 treatment injections to fit the definition. This is an example of actions taken when you allow your conclusion to point to your evidence.

Other qualified professionals have provided alternate pieces of information during this pandemic. It is not what their results were, but how they arrived at their results that we believe in. These professionals have all been able to articulate their findings quite well and are quick to admit the remaining questions they cannot answer. These professionals (from Canada18 and abroad19) have expressed warnings and concerns with the current COVID-19 treatment options condoned by the governments. Some of these concerns suggest a higher-than-average number of moderate to severe side-effects from the COVID-19 ''vaccinations'' compared with our traditional vaccinations19. Others have stated the current COVID-19 treatment options are proving to be less effective than initially believed20,21.

We have attached several documents as appendices to this letter which contain information we believe raises reasonable concerns with the current COVID-19 vaccination mandates seen across our country. We encourage you to review the documents and the work each document references thoroughly. Though we understand we have provided a lot of material '' which will take time and resources to read '' we believe the fact that there is so much evidence opposing the mandatory roll-out of the current COVID-19 treatments is reason enough to take our concerns seriously.

There have also been scientific papers that suggest natural immunity is a better form of protection than what the COVID-19 vaccination can give21-24. Why is antibody testing not being discussed as a potential option for RCMP members?

Here is a list of the documents we've attached to this letter. These documents are a sample of what is available and were written by people (or groups) of scientific or medical professionals in fields directly related to the COVID-19 pandemic. We defer to their expertise.

Appendix A '' This is an open letter from Dr. Eric Payne, a pediatric neurologist in Alberta, to the College of Physicians and Surgeons of Alberta. In his letter, Dr. Payne highlights several inconsistencies he has found with the common narrative. Dr. Payne provides several sources from around the world throughout his letter. Appendix B '' This is the Canadian Covid Care Alliance Declaration. This heavily sourced document provides information on the current pandemic and makes recommendations based on their findings. Appendix C '' This is a letter from Dr. Byram Bridle, a viral immunologist in Ontario, to the President of the University of Guelph. Dr. Bridle uses his extensive experience and qualifications to explain his concerns with the common narrative surrounding the COVID-19 treatment injections. Dr. Bridle also articulates his concerns with the COVID-19 health mandates. Appendix D '' This is an open letter from Health Professionals United to the Alberta Health Services. The letter outlines reasons why several frontline healthcare workers in Alberta heavily oppose mandatory COVID-19 vaccination mandates. Appendix E '' This is an open letter from frontline healthcare workers in British Columbia to Dr. Bonnie Henry, Adrian Dix, and Premier John Horgan. The author(s) state their experiences and expertise are being ignored and ask that the vaccination mandates be revoked. Appendix F '' This is a report from Dr. Tess Lawrie from the United Kingdom. Dr. Lawrie demonstrates the abnormal number of reported adverse effects from the current COVID-19 treatment injections. Appendix G '' This is a comprehensive report comparing natural immunity to COVID-19 vs Vaccine-Induced Immunity. It was comprised from several scientists from Ontario and British Columbia.We are not against vaccinations, and we are trying to aid our country through this pandemic. We want to participate in a way that is safe for both our physical and mental well-being. We believe it is essential for people to participate with full informed consent by understanding all the risks of what they are being asked (or in this case forced) to participate in.

As experienced police officers, we have become accustomed to the media portraying us negatively or experienced the media misrepresenting the outcome of a police incident. It would be little to no surprise for us to hear that a media agency misreported an incident. However, it was surprising for us to learn that several of these scientists and doctors, who questioned the information fueling the COVID-19 treatment mandates, also spoke of censorship25-27.

As experienced investigators, we know it is our responsibility to present all available facts to the public '' by proxy of the courts. It is not our place to decide what the outcome of an investigation should be. Our job is to collect all available facts so that the public (the courts) can make an informed decision. We have learned from past mistakes that presenting evidence that only supports one side, while ignoring or refusing to acknowledge evidence from another side, is wrong and tarnishes an investigation. We cannot provide evidence from witnesses who agree on one story while ignoring or hiding the witnesses who agree on a different account of an incident.

It would be unthinkable that RCMP members would blatantly disregard witnesses in an investigation to mislead the courts. The investigation would lose all integrity and the members would be criticized. Why then are we allowing this same behaviour to occur by other public figures? There are accredited medical professionals from our own country who are desperately trying to have their findings heard. Instead of allowing these professionals to speak freely and discuss their results publicly, they are being silenced by governing bodies25-27.

Our experience in law enforcement and as investigators have allowed us to see how crucial it is that these professionals be allowed to speak openly and publicly. Without the information being included in discussions, we believe the citizens of Canada (including RCMP members) are not receiving the information they need to make an informed decision. This is contrary to our laws and beliefs, and we do not support it.

These medical professionals have tried to stand up and support their country. We are now standing up and supporting them. They must be allowed to share their information publicly to maintain people's faith in the government. If the people believe the government is continuing to censor experts, the country will fall into instability. This is common around the world in countries whose tyrannical governments sensor information from their people.

We strongly oppose the discrimination that has already begun to create segregation in our country. It has divided families, ended friendships, torn apart spouses, and entered the RCMP workplace. We believe the current messaging being put out by our provincial and federal governments is promoting the creation of an in-group referred to as ''Vaccinated'' and an out-group as ''Unvaccinated''. Even worse, the out-group has been labelled ''Anti-vaxxers,'' a term used out of context in a negative and derogatory way. The messaging from our governments is causing the dehumanization of the ''Unvaccinated'' group. By dehumanizing the out-group, an institution creates a greater divide between them and the in-group.28

Police agencies across Canada pride themselves in their efforts to hire officers reflective of the communities they serve. This allows community members to relate to their officers and see them as part of the community. We are representatives of our communities within the RCMP and representatives of the RCMP in our communities. Having a police force consisting only of ''vaccinated'' people while serving communities consisting of ''unvaccinated'' people will tear down some of the similarities RCMP members share with their communities. This will create a greater sense of ''Us versus Them'' between communities and police, which contradicts the community policing model the RCMP has strived to achieve for decades. We anticipate that unless this is corrected soon, it will continue to increase the divide in our country.

Dehumanizing individuals is challenging. It is easier to attach a label and stigma to a group. That way, anyone or anything that comes from the group can be written off28. The term ''Anti-vaxxer'' is currently being used to mislabel and group people into a category to take away their credibility. This has allowed things to be written and said against this group that would be intolerable if written or said about any other group.

On August 26th, 2021, the Toronto Star ran an article that read in large bold letters, ''I have no empathy left for the wilfully unvaccinated. Let them die. I honestly don't care if they die from COVID. Not even a little bit. Unvaccinated patients do not deserve ICU beds. At this point, who cares. Stick the unvaccinated in a tent outside and tend to them when the staff has time.29,30'' If ''willfully unvaccinated'' was replaced with ''Black'', ''Gay'', or ''willfully Muslim'', this would have been labelled a Hate Crime. How then can we allow such things to be said about people who choose not to receive a medical intervention? Should we allow the same messaging for those who choose not to get a flu shot one season?

The boldness of this statement being printed in a major newspaper shows how acceptable it is in our society to treat people as a lower class of citizens. As RCMP members, we must preserve peace in our communities and put a stop to this.

This pandemic has increasingly made people feel isolated from their friends, families, and peers. RCMP members already face higher levels of stress and mental illnesses due to the nature of our work. Members affected by the double-vaccination mandate have faced greater stress and isolation as they have watched their status as citizens and regular members begin to diminish. There is currently insufficient support for these members, and there does not seem to be a plan insight to provide adequate support.

The recent vaccination update has left some people feeling more isolated than ever. In times like this, people need support from a community, and our membership is no different. We fear there are more members afraid to speak up about these recent updates for fear of being targeted. Many members may be trying to stick this out on their own, or worse, suffering in silence. We ask that you attempt to reach out in partnership with the NPF to all members who may be negatively affected by these mandates and let them know their employer and governments support them.

Though most people seem to have little to no side effects from the COVID-19 treatment injections, an abnormal number of moderate to severe adverse reactions have included death31. What assurances are we given that the injections will not cause short or long-term side effects? Studies show that stress and sleep can play a huge factor in whether a vaccine is effective or not32,33. Are you ensuring RCMP members are provided with the appropriate amount of rest before an injection? What steps will the RCMP take to ensure members are compensated for adverse side effects?

We also believe enough evidence has been presented to question whether our governments' actions in this pandemic are the most appropriate. This is causing moral and ethical stressors for some members as they no longer believe their role as police officers is reflective of the democracy Canada claims to be. Mental health and stress levels will have an impact on how members interact with the public.

The RCMP has taught us the importance and severity of domestic violence. Domestic violence is centred around power and control between an abuser and a victim. One of the biggest problems with domestic violence is there is often an escalation in the severity of abuse. RCMP members have been taught how to identify the signs that someone is involved in an abusive relationship. There are different types of abuse the abuser may engage in to keep control over their victim: Physical, Financial, and Emotional.

Emotional abuse is quite complex and will often include a variety of tactics such as socially distancing the victim from friends and family, discrediting the victim so they have difficulty obtaining support from others, and making the victim believe that their thoughts and beliefs are wrong '' to the point the victim thinks they must be insane. When it comes to finances, an abuser will withhold money and assets from the victim. This ensures the victim cannot survive without remaining in the abusive relationship with the abuser. When an abuser feels they are losing control over their victim, it is quite common for them to escalate their tactics to maintain control.

The federal government is currently displaying several of those traits with its own employees, including the RCMP34.

Commissioner Lucki, we understand your position is appointed, and we are concerned that you too may be subject to a similar relationship with the Prime Minister. Though you, as our top Mountie, should be impartial, you may be forced into supporting some of these actions out of duress. We ask that you do what we ask our domestic violence victims to do '' to take a stand against the abuser. This country needs strong and supportive people in positions of authority. Please show Canadians that the RCMP will remain impartial to political agendas and true to the Charter and our Bill of Rights.

Lastly, we want to draw attention to the public safety issues that will arise if these COVID-19 mandates are upheld.

Pierre Elliot Trudeau once said, ''There's no place for the state in the bedrooms of the nation.35'' How is it our federal government is now saying it will be mandatory for employees working from home to receive the COVID-19 treatment injections?36

Regardless of their vaccination statuses, there are RCMP members who feel the steps taken by the federal and provincial governments are too extreme and do not have the best interest of Canadian citizens. Forcing these mandates will cause several RCMP officers to lose faith in the federal government's commitment to the Charter. These RCMP officers will not participate in actions they believe contradict their morals, ethics, and Canadian laws. These RCMP officers believe it is their responsibility to challenge the federal government in court if necessary.

The RCMP, which is already understaffed, will have additional gaps to fill across the country when these members are not working. Communities will have lost healthy and experienced officers, causing a decrease in available resources. There will also be an increase in taxpayers' spending as the federal government attempts to fill these gaps. Being short-staffed will have a trickle-down effect causing fewer RCMP bodies to be available to properly recruit, assess, and conduct adequate background checks on potential cadets.

Our experience in law enforcement and as investigators have allowed us to see how crucial it is that professionals be allowed to speak openly and publicly. Without including their information in discussions, we believe the citizens of Canada (including RCMP members) are not receiving the information they need to make an informed decision. This is contrary to our laws and beliefs, and we do not support it.

We want to reiterate a point stated earlier in this letter, so it is remembered. If the people believe the government is continuing to censor experts, the country will fall into instability. We are experts in law enforcement and investigations. We are losing faith in the motives of our government, and we will not willingly participate in actions against people whose Charter rights and freedoms are being violated.

Commissioner Lucki, we ask that you represent the best image of the RCMP by remaining loyal to the Charter and Bill of Rights and not to any particular public figure. Our job as Mounties is to preserve the peace. If we continue down this road of segregation and discrimination, we risk repeating past mistakes. The divide in our society is quickly leaning toward a level of national security. We ask that you open an investigation to ensure no criminal acts were committed in the dissemination of information from federal and provincial health authorities or public figures in positions of trust. We ask you to send investigators to collect statements from medical professionals (and other reliable witnesses) who allege they had been silenced '' putting lives at risk. Allow us to make this information publicly available to all so the public can scrutinize it and achieve informed consent. As Canada's national police force, we are unique in our ability to conduct a large-scale cross-country investigation, which must be transparent toregain trust in the government.

We also ask that you challenge the Federal Government's decision to send Mounties home without pay for decisions they've made on beliefs protected by Canadian laws. Neither the RCMP, nor the communities they serve, can endure the loss of experienced police officers.

We await your response and your plan of action.

Respectfully,Mounties for Freedom

cc.

The Honourable Bill Blair, Minister of Public Safety and Emergency Preparedness The Honourable Jean-Yves Duclos, President of the Treasury Board of Canada Brian Sauv(C), President of the National Police Federation Connolly, Amanda, ''Notice Offering Options for Federal Workers Who Refuse Vaccines Was 'Erroneous': Trudeau,'' Global News (2021). Accessed September 30, 2021, https://globalnews.ca/news/8118913/canada-mandatory-vaccines-federal-workers/. Government of Canada, ''Duties,'' Royal Canadian Mounted Police Act (R.S.C., 1985, c. R-10). Accessed October 19, 2021, https://laws-lois.justice.gc.ca/eng/acts/r-10/page-3.html. '--'--'--. ''Learn about the Charter,'' Accessed October 19, 2021. https://www.justice.gc.ca/eng/csjsjc/rfc-dlc/ccrf-ccdl/learn-apprend.html. '--'--'--. ''Bill of Rights,'' Canadian Bill of Rights (S.C. 1960, c. 44). Accessed October 19, 2021. https://laws-lois.justice.gc.ca/eng/acts/c-12.3/page-1.html. Ibid. Public Health Agency of Canada, ''Canadian National Report on Immunization '' 1996,'' Accessed October 19, 2021, https://web.archive.org/web/20080414131846/http:/www.phacaspc.gc.ca/publicat/ccdr-rmtc/97vol23/23s4/23s4b_e.html Government of Canada, ''Guide to the Canadian Charter of Rights and Freedoms '' Section 2,'' Accessed October 19, 2021, https://www.canada.ca/en/canadian-heritage/services/how-rightsprotected/guide-canadian-charter-rights-freedoms.html#a2b. National Institutes of Health, ''The Nuremberg Code,'' Accessed September 30, 2021, https://history.nih.gov/display/history/Nuremberg+Code. Canadian Covid Care Alliance, ''Canadian Covid Care Alliance Declaration,'' (September 24, 2021), p. 18, par. 3. Appendix B. Payne, Eric, ''RE: Mandatory mRNA Vaccine Mandate for Alberta Physicians,'' (September 14, 2021), p. 1, par 1. Appendix A. Centers for Disease and Control Prevention, ''Immunization: The Basics,'' Accessed October 19, 2021, https://www.cdc.gov/vaccines/vac-gen/imz-basics.htm. Government of Canada, ''Assault,'' Criminal Code (R.S.C., 1985, c. C-46), S. 265 (1)(a). Accessed October 20, 2021, https://laws-lois.justice.gc.ca/eng/acts/c-46/FullText.html. '--'--'--. ''Assault,'' Criminal Code (R.S.C., 1985, c. C-46), S. 265 (3)(d). Accessed October 20, 2021, https://laws-lois.justice.gc.ca/eng/acts/c-46/FullText.html. Supreme Court of Canada, ''Hopp v. Lepp,'' 1980 CanLII 14 (SCC), [1980] 2 SCR 192. Accessed October 20, 2021, https://www.canlii.org/en/ca/scc/doc/1980/1980canlii14/1980canlii14.html. Bryson, Bill, The Body, narrated by Bill Bryson (New York, NY: Random House Audio, 2019), Audible audio ed., 14 hrs., 4 min. Ibid. Encyclopedia.com, ''Phrenology in Nineteenth-Century Britain and America,'' Accessed October 19, 2021, https://www.encyclopedia.com/science/encyclopedias-almanacs-transcripts-andmaps/phrenology-nineteenth-century-britain-and-america. Canadian Covid Care Alliance, ''Canadian Covid Care Alliance Declaration,'' (September 24, 2021), p. 2, par, 1. Appendix B. Dolan, Mark, and Lawrie, Tess, ''16 July 2021,'' YouTube, July 16, 2021, Interview, 14:56 min. Accessed on October 19, 2021, https://www.youtube.com/watch?v=PgsXVe9IXco&t=2s. Lawrie, Tess, ''RE: Urgent preliminary report of Yellow Card data up to 26th May 2021,'' (June 9, 2021), p. 6, par. 4. Appendix F. Bridle, Byram, ''COVID-19 Vaccines and Children: A Scientist's Guide for Parents,'' (June 15, 2021), p. 2, par. 2. Accessed October 20, 2020, https://www.canadiancovidcarealliance.org/wpcontent/uploads/2021/06/2021-06-15-children_and_covid-19_vaccines_full_guide.pdf. Canadian Covid Care Alliance, ''Canadian Covid Care Alliance Declaration,'' (September 24, 2021), p. 2-3. Appendix B. Bridle, Byram, ''An Open Letter to the President of the University of Guelph,'' (September 17, 2021), p. 2. Appendix C. Mallard, Bonnie, et al., ''Which is better for future COVID-19 prevention: Immunity Following Natural Infection or Vaccine-Induced Immunity?'' (October 8, 2021), p. 2, par. 3. Appendix G. Payne, Eric, ''RE: Mandatory mRNA Vaccine Mandate for Alberta Physicians,'' (September 14, 2021), p. 1-14. Appendix A. Dzsurdzsa, Cosmin, ''Derek Sloan Hosts Press Conference with Censored Doctors,'' True North News. Accessed October 20, https://tnc.news/2021/06/17/derek-sloan-hosts-press-conference-withcensored-doctors/. Sloan, Derek, ''Censorship in Canada,'' Vimeo, June 17, 2021, CPAC Parliamentary Press Conference, 3:15. Accessed on October 20, 2021, https://standupcanada.solutions/censorship-in-canada. Wilkerson, Isabel, Caste, narrated by Robin Miles (New York, NY: Random House Audio, 2020), Audible audio ed., 14 hrs., 26 min. Slapinski, Mark, '''Hate Speech': The Toronto Star Slammed for Headline Wishing Death on the Unvaccinated,'' Toronto 99. Accessed October 20, 2021, https://www.toronto99.com/2021/08/26/hate-speech-the-toronto-star-slammed-for-headlinewishing-death-on-the-unvaccinated/. Bridle, Byram, ''An Open Letter to the President of the University of Guelph,'' (September 17, 2021), p. 5. Appendix C. Dolan, Mark, and Lawrie, Tess, ''16 July 2021,'' YouTube, July 16, 2021, Interview, 14:56 min. Accessed on October 20, 2021, https://www.youtube.com/watch?v=PgsXVe9IXco&t=2s. Walker, Matthew, Why We Sleep, narrated by Steve West (New York, NY: Simon and Schuster Audio, 2017), Audible audio ed., 13 hrs., 52 min. Ibid. Sauv(C), Brian, ''Members who do not complete an attestation to being fully vaccinated can expect to be put on administrative Leave Without Pay,'' National Police Federation (October 7, 2021). Email broadcast to NPF members. CBC Archives, ''Trudeau: There's no place for the state in the bedrooms of the nation,'' CBC News (1967). Accessed October 20, 2021, https://www.cbc.ca/archives/entry/omnibus-bill-theres-noplace-for-the-state-in-the-bedrooms-of-the-nation. Johnson, Gail, ''Declare Your Covid-19 Vaccination Status,'' RCMP NOC News. Email broadcast to RCMP members.Open Letter to RCMP Commissioner Brenda Lucki Email *

Title/Credentials

Regimental Number

HRMIS

Province *

City/Zone *

By submitting this form, you agree that your submitted information will be stored on the website. The only publicly displayed information is name, discipline, province/state, city/zone.

Emails and other information will be collected to verify authenticity of signatures. Emails will never be shared. Names will be hidden initially until we reach targets of bare minimum 1000 RCMP Members. A hand tally will be kept nightly. If revealing your name concerns you, please check back in later as the signatures increase.

All other transmitted personal data are protected and will not be passed on. Removal requests from the email used to sign will be completed within 30 days.

Consent *

I agree to the privacy policy.

Would you like to recieve email updates?

Yes, please include me on your newsletter

reCAPTCHA

If you are human, leave this field blank.

Table 2e. Characteristics of Antiviral Agents That Are Approved or Under Evaluation for the Treatment of COVID-19 | COVID-19 Treatment Guidelines

Sun, 24 Oct 2021 21:09

The doses and indications listed below come from the FDA product information. Please see Therapeutic Management of Hospitalized Adults With COVID-19 for the Panel's recommendations on when to use RDV.

For Hospitalized Adults and Children (Aged '‰¥12 Years and Weighing '‰¥40 kg)

For Patients Who Are Not Mechanically Ventilated and/or on ECMO:

RDV 200 mg IVa on Day 1, then RDV 100 mg IV on Days 2''5 For patients who do not show clinical improvement after 5 days of therapy, treatment may be extended to up to 10 days. For Mechanically Ventilated Patients and/or Patients on ECMO:

RDV 200 mg IVa on Day 1, then RDV 100 mg IV on Days 2''10 Suggested Dose in EUAb for Hospitalized Children

For Patients Weighing 3.5 kg to <40 kg:

RDV 5 mg/kg IVa on Day 1, then RDV 2.5 mg/kg IV once daily starting on Day 2 For patients who are not mechanically ventilated and/or on ECMO, the duration is 5 days. If patients have not shown clinical improvement after 5 days, treatment may be extended to up to 10 days. For mechanically ventilated patients and/or patients on ECMO, the recommended treatment duration is 10 days. For Patients Aged <12 Years and Weighing '‰¥40 kg:

Same dose as for adults Nausea ALT and AST elevations Hypersensitivity Increases in prothrombin time Drug vehicle is SBECD, which has been associated with renal and liver toxicity. SBECD accumulation may occur in patients with moderate or severe renal impairment. Each 100 mg vial of RDV lyophilized powder contains 3 g of SBECD, and each 100 mg/20 mL vial of RDV solution contains 6 g of SBECD. Clinicians may consider preferentially using the lyophilized powder formulation (which contains less SBECD) in patients with renal impairment. Infusion reactions Renal function and hepatic function should be monitored before and during treatment as clinically indicated. In the FDA product information, RDV is not recommended when eGFR is <30 mL/min. See the Remdesivir section for a discussion on using RDV in people with renal insufficiency. RDV may need to be discontinued if ALT level increases to >10 times ULN and should be discontinued if there is an increase in ALT level and signs or symptoms of liver inflammation are observed.1 Clinical drug-drug interaction studies of RDV have not been conducted. In vitro, RDV is a substrate of CYP3A4, OATP1B1, and P-gp and an inhibitor of CYP3A4, OATP1B1, OATP1B3, and MATE1.1 Minimal to no reduction in RDV exposure is expected when RDV is coadministered with dexamethasone (Gilead Sciences, written communication, July 2020). CQ or HCQ may decrease the antiviral activity of RDV; coadministration of these drugs is not recommended.1 No significant interaction is expected between RDV and oseltamivir or baloxavir (Gilead Sciences, personal and written communications, August and September 2020). RDV should be administered in a hospital or a health care setting that can provide a similar level of care to an inpatient hospital. RDV is approved by the FDA for the treatment of COVID-19 in hospitalized adult and pediatric patients (aged '‰¥12 years and weighing '‰¥40 kg). An EUAb is available for hospitalized pediatric patients weighing 3.5 kg to <40 kg or aged <12 years and weighing '‰¥3.5 kg. A list of clinical trials is available here: Remdesivir Adults: The dose most commonly used in clinical trials is IVM 0.2''0.6 mg/kg PO given as a single dose or as a once-daily dose for up to 5 days. Generally well tolerated Dizziness Pruritis GI effects (e.g., nausea, diarrhea) Neurological AEs have been reported when IVM has been used to treat parasitic diseases, but it is not clear whether these AEs were caused by IVM or the underlying conditions. Monitor for potential AEs. Minor CYP3A4 substrate P-gp substrate Generally given on an empty stomach with water; however, administering IVM with food increases its bioavailability.2 A list of clinical trials is available here: Ivermectin Adults: Doses reported in COVID-19 studies range from NTZ 500 mg PO 3 times daily to 4 times daily.3,4 Higher doses are being studied (ClinicalTrials.gov Identifier NCT04746183). Doses used for antiprotozoal indications range from NTZ 500 mg to 1 g PO twice daily. Generally well tolerated Abdominal pain Diarrhea Headache Nausea Vomiting Urine discoloration Ocular discoloration (rare) Monitor for potential AEs. Drug-drug interactions may occur if NTZ is administered concurrently with other highly plasma protein-bound drugs due to competition for binding sites.5 If NTZ is coadministered with other highly protein-bound drugs with narrow therapeutic indices, monitor the patient for AEs. NTZ should be taken with food. The oral suspension is not bioequivalent to the tablet formulation. A list of clinical trials is available here: Nitazoxanide

Vaccination passport app shares personal data of users with Amazon and Royal Mail - Daily Record

Sun, 24 Oct 2021 13:58

The Scottish Government 's controversial vaccination passport shares the personal data of users with a host of private firms, the Sunday Mail can reveal.

Proof of inoculation is now required by law to get into football grounds or nightclubs north of the border, despite plans for a scheme having been scrapped in England.

We have learned the NHS mobile phone app which presents the personal medical information in the form of a QR Code shares data with companies including Amazon, Microsoft, ServiceNow, Royal Mail and an AI facial recognition firm.

Civil liberty campaigners and opposition politicians have reacted furiously to our revelations.

Read MoreRelated ArticlesScots businesses fear Cop26 security measures and road closures will hit tradeThe NHS Scotland Covid status app (Image: PA)Sam Grant, head of policy and campaigns at Liberty, said: ''Vaccine passports create a two-tier society and already many people in Scotland have been coerced into getting a vaccine passport in order to attend events and access certain parts of society.

"It's extremely concerning that, in doing so, data has been shared with third parties without people having the option to opt out or without even being made aware that this is happening.

"This only furthers the wide concerns people already have around vaccine passports.

"We all want to keep each other safe and Liberty has always supported reasonable and proportionate measures to combat Covid but vaccine passports are not a solution."

Read MoreRelated ArticlesCop26 security warning as 800 potential terrorists being closely monitored as world leaders to arrive in GlasgowPrivacy information on the vaccination passport app reveals personal data of users will be shared with NetCompany, Service Now, Jumio, iProov, Albasoft, Amazon Web Services, CFH Docmail, Microsoft Azure, Gov.uk Notify Service and Royal Mail. It is claimed that not all of the firms can ''access'' the data, even though it is "shared".

Scottish Lib Dem leader Alex Cole-Hamilton said: "Scottish Liberal Democrats have repeatedly warned the Government that data protection is virtually non-existent '' a simple screenshot was enough to bypass whatever 'security measures' the system had in place.

"The launch was a shambles and the IT system struggled to cope.

"Everyone has the right to medical privacy, nobody should ever have to provide part of their medical history to a bouncer or a series of private companies. That is just simply absurd."

Scottish Conservatives' Murdo Fraser said: "There have been serious data privacy concerns with the SNP's vaccine passport app since the word go.

"The news that users' personal data will be shared with so many private companies is extremely worrying.

"This will only serve to further erode public trust in the SNP's shambolic vaccine passport scheme."

To sign up to the Daily Record Politics newsletter, click here.

Prof Lockdown' Neil Ferguson calls for return of face masks | Daily Mail Online

Sun, 24 Oct 2021 13:37

Professor Ferguson said: 'Nobody likes having their freedoms curtailed by measures but it's prudent to be cautious in everyday interactions '-- certainly wear(ing) masks helps that, it reminds people that we're not completely out of the woods yet'

Face coverings should be brought back to remind people to be cautious in everyday interactions, one of the Government's most influential scientific advisers suggested today.

'Professor Lockdown' Neil Ferguson said masks 'remind people we're not completely out of the woods yet'.

All legal Covid restrictions were lifted in England on 'Freedom Day' in July, bringing an end to mandatory coverings indoors. However, people are still required by some transport companies and in medical settings '-- and No10 still advises people wear them in crowded environments.

Ministers are keeping masks, WFH guidance and controversial vaccine passports in their back pocket as part of the Government's 'Plan B', if an expected surge in cases this winter heaps unsustainable pressure on the NHS.

Professor Ferguson, an epidemiologist who sits on SAGE, admitted some measures have to be rolled back, in the event of an uptick in infections.

But speaking to BBC Radio 4's Today programme, he ruled out another blanket shut-down. He said: 'I doubt we'll ever get close to [the] lockdown we were in in January of this year.'

The UK recorded 620 cases per million people yesterday, six times higher than Germany (108 per million), nine times more than France (71 per million), 15 times more than Italy (42 per million) and 19 times more than Spain (33 per million), according to Our World in Data. However, the UK is also carrying out significantly more testing than the other European nations '-- twice as many as Germany, which is carrying out the second highest number of tests '-- meaning it is picking up more cases than the others

Professor Ferguson also called for Britain to follow Europe's lead in giving teenagers two Covid vaccines instead of just one.

He said: 'Most other European countries are ahead of us in vaccinating teens and they are giving them two doses, not just one dose. We know two doses really are needed to block infection and to prevent transmission.'

The UK's chief medical officers only recommended giving children on jab over concerns of a very rare heart inflammation side effect called myocarditis, which there is a higher risk of after the second dose.

Nearly 5MILLION vulnerable adults have yet to have their Covid booster vaccine Nearly five million vulnerable over-50s have yet to receive a Covid booster vaccine, official figures have revealed as fears grow around Britain's 'challenging' winter ahead which could see the return of face masks.

Little over a month after the booster programme was launched, only around 3.7million third doses have been dished out in England as of Sunday, the latest date data is available for.

But some 8.5million people are currently eligible for a booster dose, having received their second jab six months ago. They include all healthy over-50s, frontline health staff and carers and patients with underlying conditions.

It means 4.8million people may be suffering from waning immunity as Britain moves into the colder months and faces the double threat of increasing case numbers and flu.

SAGE adviser 'Professor Lockdown ' Neil Ferguson, an epidemiologist at Imperial College London, said today it was 'critical we accelerate' the booster drive. And Sir David King, who was the Government's chief scientific adviser from 2000 to 2007, said the rollout is moving 'extremely slowly'.

Experts say the the rollout has slowed because the vaccination programme has become increasingly complex, with Britain simultaneously administering first doses to children in secondary schools and running the largest flu vaccination programme in history.

Ministers and experts have also suggested that the demand for boosters may be lower than expected.

Officials said Britons should prepare for a 'challenging few months' after 49,156 infections were recorded yesterday '-- the highest figure in three months.

Last night Boris Johnson's spokesman said there were 'currently' no plans to reintroduce restrictions but that they were keeping 'a very close watch on the latest statistics'.

Britain led the world in the initial vaccine rollout, but it has now slumped behind Italy, Spain and France in terms of the percentage of the population to be double-jabbed. This is because it delayed rolling out jabs to healthy children, whereas most EU members approved those plans much quicker.

All over-50s and the clinically vulnerable can get a booster jab from six months after their second dose. But experts have warned that at the current rate the most vulnerable will not all receive their third vaccination until the end of January.

Professor Ferguson's comments come amid fears the booster drive programme is going too slowly.

Nearly 5million vulnerable adults have yet to receive a Covid booster vaccine, official data shows after Downing Street admitted Britain faces a 'challenging' winter.

Despite the NHS top-up programme launching over a month ago, only 3.7million out of the 8.5m eligible people in England have received the crucial third dose.

No10's scientists approved plans to revaccinate all healthy over-50s, frontline health staff and carers and patients with underlying medical conditions at least six months after their second dose.

Professor Ferguson today insisted it was 'critical we accelerate' the booster drive to give ourselves the best chance of avoiding having to bring back curbs.

He said: 'People need to be aware that we have currently higher levels of infection in the community than we've almost ever had during the pandemic.

'For the last three or four months we've been up at well over one per cent of the population infected at any point in time.'

Some 49,156 daily Covid infections were reported in the UK yesterday, a three-month high.

The figure equates to around 640 daily cases per million Britons '-- six times higher than the case rate in Germany and 19 times higher than Spain.

But hospitalisations and deaths '-- which lag a few weeks behind infections due to the time it takes for someone to become seriously unwell after catching the virus '-- remain a fraction of what they were at previous peaks.

Asked if the country should be worrying about a stay-at-home order being reimposed, Professor Ferguson said: 'I don't think we're looking at another lockdown.

'The worst case here are demands on the NHS. It's very unlikely we'll see anything like the levels of deaths we saw last year, for instance.

'Coming into the winter, there may be a Plan B which needs to be implemented, which involves some rolling back of measures, but I doubt that we'll ever get close to lockdown we were in in January of this year.'

The Government revealed last month that 'Plan B' '-- a return of some restrictions and the introduction of vaccine passports '-- would be implemented if booster jabs and vaccines to youngsters failed to stop the NHS from coming under unsustainable pressure.

Ministers said a lockdown would be a last resort if the additional measures did not bring the pandemic under control.

But he said it was 'very clear' No10 wanted to move away from restrictions, such as social distancing.

Meanwhile, most Western European countries have kept these in place '-- such as masks and vaccine passports '-- and are recording less infections and 'and certainly not case numbers which are going up as fast as we've got', Professor Ferguson said.

He said: 'Nobody likes having their freedoms curtailed by measures but it's prudent to be cautious in everyday interactions '-- certainly wear(ing) masks helps, it reminds people that we're not completely out of the woods yet.'

The SAGE member said there are a 'number of reasons' why the UK has higher infection rates than other European countries.

Around 3.7million third vaccines have been dished out to over-50s and the immuno-compromised in England as of Sunday (purple line), the latest date data is available for. But some 8.5million people are currently eligible for a booster dose, having received their second jab six months ago (green line). means 4.8million people may be suffering from waning immunity

North and south divide. Scotland is roaring ahead with rolling out the first dose of the Covid vaccine to 12-to-15-year-olds compared to England. All 10 of the best performing areas were north of the border with England hosting the bottom 10, the majority of which are in London

The Government has been criticised over the slow rollout of the Covid vaccine to children but the latest figures reveal that the scheme is having mixed success across the country, with Scotland soaring ahead of England

There is lower immunity in the UK population, because it rolled out vaccines faster than other countries, meaning it is seeing protection from the jabs wane comparatively earlier than other nations, Professor Ferguson said.

AstraZeneca was the main vaccine used in the UK, which 'protects very well against severe outcomes of Covid', but is slightly less effective than Pfizer '-- which was the main vaccine used in Europe '-- at stopping infection and transmission 'particularly in the face of the Delta variant', he said.

And the UK is 'no longer in the top rank of European countries' for overall vaccination coverage, which started vaccinating youngsters earlier, he added.

Professor Ferguson said booster vaccines are 'absolutely' the way to tackle waning immunity and the rollout to 12 to 15-year-olds needs to be sped up.

He said: 'There's data coming through now, which is not completely clear cut, but good data coming through from Israel, which shows that, if you've had the third booster dose of the vaccine, then you get very high loads, better than even you had after the second dose.

'So I do think it's critical we accelerate the booster programme.'

Children aged 12 to 15 starting receiving first doses of Pfizer a month ago '-- but just 14.2 per cent have been jabbed in England, compared to 44.3 per cent in Scotland.

Meanwhile, another expert today warned hospital admissions and deaths would be the measure to determine if restrictions needed to return.

Dr Mike Tildesley, a member of the Scientific Pandemic Influenza Modelling group, which provides information to SAGE, told BBC Breakfast hospital admissions 'are starting to slowly creep up', which ministers need to keep an eye on.

He said hospitalisation need to be compared with 2020 and 2019 '-- before the pandemic '-- 'to really assess at what points the Government may need to think about potentially reintroducing more restrictions, if we are at risk of being in a situation similar to where we were last year'.

But everyone wants to avoid 'closures of workplaces, closures of businesses, and of course going into full lockdown, so these really have to be last-resort measures', Dr Tildesley said.
ALL CLIPS

VIDEO - (23) hodlonaut 🌮'šðŸ--' ðŸ' on Twitter: "''Psychologically it's a bit like parenting. You have to start taking away freedoms, you have to start putting some kind of punishment in place'' https://t.co/F8iAJehCKH" / Twitter

Thu, 28 Oct 2021 13:08

hodlonaut 🌮'šðŸ--' ðŸ' : ''Psychologically it's a bit like parenting. You have to start taking away freedoms, you have to start putting some'... https://t.co/UXlfEItZcs

Thu Oct 28 11:21:21 +0000 2021

Bitcoin Grandad (Pureblood) : @hodlonaut https://t.co/RzPultfBht

Thu Oct 28 12:58:06 +0000 2021

Siarhei Hoi : @hodlonaut So this can be the evidence to take away her parental rights. I mean she is sick mentally.

Thu Oct 28 12:50:24 +0000 2021

Franco : @hodlonaut Yeah Love you mom and dad buuuut 🖕

Thu Oct 28 12:49:56 +0000 2021

Playful12 : @hodlonaut Treating people like wards of the state.

Thu Oct 28 12:35:24 +0000 2021

Bruce Daughtry : @hodlonaut The arrogance ...

Thu Oct 28 12:33:42 +0000 2021

TheFist'¨¸ : @hodlonaut They keep referring to it as a vax but in reality it's not a vax. Doesn't fit the true meaning of a vax.'... https://t.co/FrBrZ382gx

Thu Oct 28 12:31:11 +0000 2021

''it'š¸Dov : @hodlonaut Looks like she is the one that needs some parenting

Thu Oct 28 12:25:41 +0000 2021

Heavy Mitts : @hodlonaut https://t.co/hAZKd81iKA

Thu Oct 28 12:23:53 +0000 2021

The Littlest HODLer 🇨ðŸ‡... : @hodlonaut Except that's not how I parent and the government isn't my fucking father.

Thu Oct 28 12:22:42 +0000 2021

''itcoin Arthur'š : @hodlonaut Big Brother is now Big Parent

Thu Oct 28 12:16:27 +0000 2021

Ricardo Villanueva 'šðŸŒðŸž : @hodlonaut Not cool.

Thu Oct 28 12:15:09 +0000 2021

Loly super-coder 'š¸ðŸŒ‹ '£¸ 🇸ðŸ‡>> : @hodlonaut https://t.co/wFib2zdslj

Thu Oct 28 12:11:34 +0000 2021

Se±or Alaska : @hodlonaut Nuts!

Thu Oct 28 12:05:42 +0000 2021

Mark Moss : @hodlonaut Insane!

Thu Oct 28 12:04:38 +0000 2021

Birkz : @hodlonaut One day these psychopaths will be met in the street by someone skilled or dangerous enough to put them i'... https://t.co/N46npxAPnI

Thu Oct 28 12:03:43 +0000 2021

Copernicus IV : @hodlonaut @JeremyVineOn5 it is NOT ''a bit like parenting'' it's just outright fascism and violence against self sovereignty

Thu Oct 28 11:57:34 +0000 2021

Thorium 'ž/21 'š : @hodlonaut Total utter madness.

Thu Oct 28 11:56:09 +0000 2021

'£¸BITCOIN PLEB COUNCIL'£¸ : @hodlonaut Ha, that's tyranny https://t.co/CzkSPhZnj2

Thu Oct 28 11:55:59 +0000 2021

VIDEO - Eye scans may be coming soon to an airport near you

Thu, 28 Oct 2021 11:56

TODAY Duration: 03:06 1 day ago

Delta Airlines is rolling out a new biometric check-in process in which you won't need a boarding pass, because your face will serve as your ticket. NBC's Tom Costello reports for TODAY from Atlanta Hartsfield-Jackson International Airport as our series The Future of Travel continues.

More From TODAY

VIDEO - ''Expodentially'': Joe Biden keeps using a word that doesn't exist - YouTube

VIDEO - Judge Rules Prosecutors Not Allowed To Describe Men Shot By Kyle Rittenhouse As 'Victims' - YouTube

VIDEO - Don't Choose Extinction - YouTube

VIDEO - A Shocking Poll Out of France - YouTube

VIDEO - Scott Horton on Twitter: "Get your kids out of government school before it's too late for their muddled little heads." / Twitter

Thu, 28 Oct 2021 10:48

Scott Horton : Get your kids out of government school before it's too late for their muddled little heads. https://t.co/g5UO6zvATP

Thu Oct 28 04:16:16 +0000 2021

Sarah Jackman : @scotthortonshow It's ok... "The FBI and federal law enforcement is taylormade for that kind of coordination at sta'... https://t.co/JLPdDnVgcy

Thu Oct 28 06:25:59 +0000 2021

Payne : @scotthortonshow And yet there are still poeple denying we are in the midst of a Maoist cultural revolution.

Thu Oct 28 06:10:00 +0000 2021

Wyatt Eastman : @scotthortonshow At this point there's a few things we can all do. Run for school boards and throw out the people'... https://t.co/n4VRix3wu8

Thu Oct 28 04:21:34 +0000 2021

VIDEO - Strecker Memorandum - Dr. Robert Strecker (Dissapeared) - Part 1of6 - YouTube

VIDEO - Video: Creepy Biden Advises Kids To Avoid Answering Difficult Questions '' Summit News

Wed, 27 Oct 2021 15:10

A career cop who was forced to resign for refusing to go along with vaccine mandates warned Wednesday that 'a sleeping giant' has been awoken.

Washington State trooper Robert LaMay, who infamously signed off after 22 years in the job by telling Democrat Governor Jay Inslee to ''kiss my ass'', told Fox News host Laura Ingraham that he has been overwhelmed by the support he has received.

''I've had contacts from Great Britain. I guess I'm in a Russian paper. I mean, it's insane. It's going across the state and across the world,'' LaMay said, adding ''It's been unlimited talk shows. I've been on talk shows pretty much solid since two o'clock yesterday. And I could do a ton more if I had the time of day, it's just a mess.''

The veteran officer urged that the Biden vaccine mandates for all government workers is ''a control thing,'' explaining ''we tried religious exemptions, we tried everything legally we could possibly do. They even fired our senior chaplain. His only job is to pray and help people and they fired him. So it's not just a me thing. It's not just a chaplaincy, it is a 'we' thing.''

''What about all the homeless people they've allowed on the roadways to walk around and just do crazy things in violence? I don't see them wearing masks or getting vaccinated. It's ridiculous,'' LaMay further urged.

The former trooper emphasised that it isn't just police that are refusing to go along with medical tyranny, and that ''The problem is they awoke the sleeping giant.''

''I was at job site today talking to guys, electricians, union carpenters, I mean, everybody is pissed off and from the amount of turnout for something that's small that I did, I guess it was started to catalyst,'' LaMay stated, adding ''I mean, I'm getting people of a higher ranks, military people that are forwarding this, state senators I'm hearing from.''

Speaking about the numbers of police who are walking off the job, LaMay said ''I can tell you those numbers are extreme.''

Watch:

LaMay's sign-off video prompted many other cops to do the same, including another Washington trooper who proclaimed ''Due to my personal choice to take a moral stand for medical freedom and personal choice, I will be signing out of service for the last time today.''

Former Cincinnati and Detroit police chief James Craig told Tucker Carlson Wednesday that ''This is all by design. It's not by accident,'' further declaring that Democrats forcing good cops out of their jobs is a continuation of the ''utterly ridiculous defund the police'' agenda.

''This is, in effect, defunding the police. It's reckless, and does not speak for people who live in vulnerable communities,'' Craig urged.

''And oh, let's talk about Seattle,'' he continued, adding ''The summer of love '' that mayor,'' in reference to Democrat Jenny Durkan. ''She wanted to defund the police '' they're getting their wish,'' Craig noted.

''And they don't have any concept of how to reduce violence in this city. It's reckless, it's irresponsible. And folks who are on the left who are complicit, who say nothing. They're as involved. I'm just going to say it is wrong,'' Craig said.

''I mean, really, what's racist is the people who live in vulnerable communities who are impacted by these bad decisions, by these reckless mayors who need to step down and resign,'' he further proclaimed.

Watch:

SUBSCRIBE on YouTube:

Follow on Twitter:

Follow @PrisonPlanet'--'--'--'--'--'--'--'--'--'--'--'--'--'--'--'--'--'--'--'--'--'--'--'--'--'--'--'--'--'--'--'--'--'--'--'--'--'--'--Brand new merch now available! Get it at https://www.pjwshop.com/ALERT! In the age of mass Silicon Valley censorship It is crucial that we stay in touch.

We need you to sign up for our free newsletter here.

Support our sponsor '' Turbo Force '' a supercharged boost of clean energy without the comedown.

Also, we urgently need your financial support here.'--'--'--'--'--'--'--'--'--'--'--'--'--'--'--'--'--'--'--'--'--'--'--'--'--'--'--'--'--'--'--'--'--'--'--'--'--'--'--

VIDEO - Once practically empty, ERs struggle with a surge of pent-up sickness : Shots - Health News : NPR

Wed, 27 Oct 2021 14:37

An ambulance crew weaves a gurney through the halls of Sparrow Hospital's emergency department in Lansing, Michigan. Overcrowding has forced the staff to triage patients, putting some in the waiting rooms and treating others on stretchers and chairs in the halls. Lester Graham/Michigan Radio hide caption

toggle caption Lester Graham/Michigan Radio An ambulance crew weaves a gurney through the halls of Sparrow Hospital's emergency department in Lansing, Michigan. Overcrowding has forced the staff to triage patients, putting some in the waiting rooms and treating others on stretchers and chairs in the halls.

Lester Graham/Michigan Radio Inside the emergency department at Sparrow Hospital in Lansing, Mich., staff members are struggling to care for patients who are showing up much sicker than they've ever seen.

Tiffani Dusang, the emergency room's nursing director, practically vibrates with pent-up anxiety, looking at all the patients lying on a long line of stretchers pushed up against the beige walls of the hospital's hallways. "It's hard to watch," she says in her warm Texan twang.

But there's nothing she can do. The ER's 72 rooms are already filled.

"I always feel very, very bad when I walk down the hallway and see that people are in pain or needing to sleep or needing quiet. But they have to be in the hallway with, as you can see, 10 or 15 people walking by every minute."

It's a stark contrast to where this emergency department '-- and thousands others '-- were at the start of the coronavirus pandemic. Except for initial hot spots like New York City, many ERs across the U.S. were often eerily empty in the spring of 2020. Terrified of contracting COVID-19, people who were sick with other things did their best to stay away from hospitals. Visits to emergency departments dropped to half their normal levels, according to the Epic Health Research Network, and didn't fully rebound until the summer of 2021.

But now, they're too full. Even in parts of the country where COVID-19 isn't overwhelming the health system, patients are showing up to the ER sicker than they were before the pandemic, their diseases more advanced and in need of more complicated care.

Months of treatment delays have exacerbated chronic conditions and worsened symptoms. Doctors and nurses say the severity of illness ranges widely and includes abdominal pain, respiratory problems, blood clots, heart conditions and suicide attempts, among others.

Tiffani Dusang is the director of emergency and forensic nursing at Sparrow Hospital. As overworked nurses leave, she struggles to staff every shift and works hard to keep remaining nurses from burning out. Lester Graham/Michigan Radio hide caption

toggle caption Lester Graham/Michigan Radio Tiffani Dusang is the director of emergency and forensic nursing at Sparrow Hospital. As overworked nurses leave, she struggles to staff every shift and works hard to keep remaining nurses from burning out.

Lester Graham/Michigan Radio But there's nowhere to put them all. Emergency departments are ideally meant to be brief ports in a storm, with patients staying just long enough to be sent home with instructions to follow up with their primary care physician or being sufficiently stabilized to be transferred "upstairs" to inpatient units or the intensive care unit.

Except now, those long-term care floors are full too, with a mix of COVID-19 and non-COVID-19 patients. That means people coming to the ER are being warehoused for hours, even days, forcing ER staff to perform long-term care roles they weren't trained to do.

At Sparrow, space is a valuable commodity in the ER: A separate section of the hospital was turned into an overflow unit. Stretchers stack up in halls. The hospital has even brought in a row of brown reclining chairs, lined up against a wall, for patients who aren't sick enough for a stretcher but are too sick to stay in the main waiting room. Still, some of the patients in the brown recliners are hooked up to IVs, while others talk quietly with medical specialists who sit across from them holding clipboards, perched on wheeled stools.

There is no privacy, as Alejoz Perrientoz just learned. He came to the ER this particular morning because his arm has been tingling and painful for over a week now. He can no longer hold a cup of coffee. A nurse gave him a full physical exam in the brown recliner, which made him self-conscious about having his shirt lifted up in front of strangers. "I felt a little uncomfortable," he whispers. "But I have no choice, you know? I'm in the hallway. There's no rooms."

"We could have done the physical in the parking lot," he adds, managing a laugh.

On the other side of the ER, beyond a warren of identical-looking hallways and heavy double doors that can be opened only with an employee badge, is Sparrow's ambulance bay. Seventy to 100 ambulances pull in each day. "It's a lot," Dusang says, watching emergency medical service teams wheel their patients over to the triage nurse. "It's the highest I've ever seen in my career."

About three times a week, the ER arrives at a point where it just can't take any more patients, she explains. Then it sends out the alert for ambulances to divert patients to other hospitals. But that's a risky move because Sparrow is one of the only hospitals in this part of the state that's equipped to handle severe traumas. Dusang says it feels like "waving the white flag."

"But you have to do it when you feel unsafe," she says, meaning so crowded that the staff can't provide patients with adequate care. "So although it won't [entirely] keep ambulances from coming in, at least it gives them that awareness that, 'Oh, you know, the ED's in trouble.' "

Even patients who arrive by ambulance are not guaranteed a room: One nurse is running triage here, screening for those who absolutely need a bed and those who can be put in the waiting area.

"I hate that we even have to make that determination," Dusang says. Lately they've been pulling out some of the patients who are already in the ER's rooms, when others arrive who are even more critically ill. "No one likes to take someone out of the privacy of their room and say, 'We're going to put you in a hallway because we need to get care to someone else.' "

The number of ER patients is mostly back to normal, but patients are so much sickerThis isn't just happening at Sparrow.

"We are hearing from members in every part of the country," says Dr. Lisa Moreno, president of the American Academy of Emergency Medicine (AAEM). "The Midwest, the South, the Northeast, the West ... they are seeing this exact same phenomenon."

Although the number of ER visits returned to pre-coronavirus levels this past summer, admission rates, from the ER to the hospital's inpatient floors, are still almost 20% higher. That's according to the most recent analysis by the Epic Health Research Network, which pulls data from more than 120 million patients across the country.

"It's an early indicator that what's happening in the ED is that we're seeing more acute cases than we were pre-pandemic," says Caleb Cox, a data scientist at Epic.

A nurse talks to a patient on a stretcher in the hallway of the emergency department at Sparrow Hospital. Lester Graham/Michigan Radio hide caption

toggle caption Lester Graham/Michigan Radio A nurse talks to a patient on a stretcher in the hallway of the emergency department at Sparrow Hospital.

Lester Graham/Michigan Radio Less acute cases, such as people suffering from health issues like rashes or conjunctivitis, still aren't going to the ER as much as they used to. Instead, they may be opting for an urgent care center or their primary care doctor, Cox explains. Meanwhile, there has been an increase in people coming to the ER with more serious conditions, like strokes and heart attacks.

"Even though we're seeing the overall volumes come back to normal over the summer here, we see that the more acute conditions still remain higher than the pre-pandemic normals, while the lower-acuity conditions still remain below pre-pandemic normals," Cox says. So even though the total number of patients coming to ERs is about the same as before the pandemic, "that's absolutely going to feel like [if I'm an ER doctor or nurse] I'm seeing more patients and I'm seeing more acute patients."

How overwhelmed ERs can affect patient careMoreno, the AAEM's president, works at an emergency department in New Orleans. She says the level of illness, as well as the inability to admit patients quickly and move them to beds upstairs, has created a level of chaos in the ER that she describes as "not even humane."

At the beginning of a recent shift, she heard a patient crying nearby and went to investigate. It was a man with paraplegia who'd recently had surgery for colon cancer. His large post-operative wound was sealed with a device called a wound vac, which pulls fluid from the wound into a drainage tube attached to a portable vacuum pump.

But the wound vac had malfunctioned, and that's why he had come to the ER. But staffers were so busy that by the time Moreno came in, the fluid from his wound was leaking everywhere.

"When I went in, the bed was covered," she recalls. "I mean, he was lying in a puddle of secretions from this wound. And he was crying, because he said to me, 'I'm paralyzed '-- I can't move to get away from all these secretions, and I know I'm going to end up getting an infection. I know I'm going to end up getting an ulcer. I've been laying in this for like eight or nine hours.' "

The nurse in charge of his care told Moreno she simply hadn't had time to help this patient yet. "She said, 'I've had so many patients to take care of, and so many critical patients. I started a [IV] drip on this person. This person is on a cardiac monitor. I just didn't have time to get in there.' "

"This is not humane care," Moreno says. "This is horrible care."

But it's what can happen when emergency department staffers don't have the resources they need to deal with the onslaught of competing demands.

"All the nurses and doctors had the highest level of intent to do the right thing for the person," Moreno says. "But because of the high acuity of ... a large number of patients, the staffing ratio of nurse to patient, even the staffing ratio of doctor to patient, this guy did not get the care that he deserved to get, just as a human being."

This unintended neglect is extreme and not the experience of the vast majority of patients who arrive at ERs right now. But the problem is not new: Even before the pandemic, ER overcrowding had been a "widespread problem and a source of patient harm ... reflective of not just individual department performance or even individual hospital performance, but of health system dysfunction throughout the United States," according to a recent commentary in The New England Journal of Medicine.

"ED crowding is not an issue of inconvenience," the authors wrote. "There is incontrovertible evidence that ED crowding leads to significant patient harm, including morbidity and mortality related to consequential delays of treatment for both high- and low-acuity patients."

And it's burning out an already overwhelmed staff.

Burnout feeds staffing shortages, and vice versa, in a vicious cycleEvery morning, Dusang wakes up and checks her Sparrow email with one singular hope: that she will not see yet another nurse resignation letter in her inbox.

"I cannot tell you how many of them [the nurses] tell me they went home crying" after their shifts, she says. "And you just hope they show up the next day for more."

But despite Dusang's best efforts to support her staffers, check on them regularly, talk with them about their careers and make them feel seen, heard and appreciated, she cannot stop them from quitting. And they're leaving too fast to replace, either to take higher-paying gigs as travel nurses, to try a less-stressful type of nursing or to simply walk away from the profession entirely.

Midway through the afternoon shift at Sparrow, a nurse breaks down sobbing. A fellow nurse, Amy Harvey, pulls her into a corner and reminds her to take deep breaths.

"Everybody has a breaking point," Harvey says. "It just depends on the day and the situation. ... Mine could be in three days. Something comes in that just hits home for some reason, and I need a minute to go take a deep breath."

A student from the College of Osteopathic Medicine at Michigan State University consults with a patient in the hallway of Sparrow Hospital's ER. Lester Graham/Michigan Radio hide caption

toggle caption Lester Graham/Michigan Radio A student from the College of Osteopathic Medicine at Michigan State University consults with a patient in the hallway of Sparrow Hospital's ER.

Lester Graham/Michigan Radio To help fill the staffing gaps, Sparrow's ER has hired about 20 "baby nurses," a term for brand-new nurses. To bring them on board, the hospital waived its previous requirement for working in the ER '-- at least one year of nursing experience elsewhere '-- and many of these new nurses are fresh out of nursing school. Right away, they've begun their careers by diving into the deep end, even though they're still training.

"I need some assistance," one of these new nurses whispers to her supervisor, holding up an IV bag. She can't get the top open. "It just pushes in, doesn't it?"

The veteran nurse takes it and shows her: "You gotta twist it so those line up," she says. With a breathy but grateful "Thaaaank youuuu!" the baby nurse turns and peels off toward the patient's room.

Kelly Spitz has been an emergency department nurse at Sparrow for 10 years. But lately, she has also fantasized about leaving. "It has crossed my mind several times," she says, yet she continues to come back. "Because I have a team here. And I love what I do," she says, but then starts to cry. It's not the hard work or even the stress. It's not being able to give her patients the kind of care and attention that she wants to give them and that they need and deserve.

She still thinks a lot about a particular patient who came in a while ago. His test results revealed terminal cancer. Spitz spent all day working the phones, hustling case managers, trying to get hospice care set up in the man's home. He was going to die, and she just didn't want him to have to die here, in the hospital, where only one visitor was even allowed. She wanted to get him home and back with his family.

"I was willing to take him home in my own car, because we were waiting and waiting and waiting for an ambulance, because they're not available," Spitz said. Finally, after many hours, they found an ambulance to take him home.

Three days later, the man's family members called Spitz: He had died, as she expected. But he had died surrounded by family. They were calling to thank her.

"I felt like I did my job there, because I got him home," she says. But that's a rare feeling these days. "I just hope it gets better. I hope it gets better soon."

At 4 p.m., the emergency department is the busiest it has been all day. The patients waiting in the halls seem especially vulnerable, silently witnessing the controlled chaos rushing by them. One woman is sleeping or unconscious on a stretcher, naked from the waist down. Someone has thrown a sheet over her, so she's partially covered, but part of her hips and legs are bare, and open sores are visible on her calves.

As one shift approaches its end, Dusang faces a new crisis: The overnight shift is even more short staffed than usual.

"Can we get two inpatient nurses?" she asks, hoping to borrow two nurses from one of the hospital floors upstairs.

"Already tried," replies nurse Troy Latunski.

Without more staff, it's going to be hard to care for new patients who come in overnight '-- from car crashes, seizures or other emergencies.

But Latunski has a plan: He'll go home now, snatch a few hours of sleep and return at 11 p.m. to work the overnight shift in the ER's overflow unit. That means he will be largely caring for eight patients alone, on just a few short hours of sleep. But right now, that is their only, and best, option.

Dusang considers for a moment, takes a deep breath and nods. "OK," she says.

"Go home. Get some sleep. Thank you," she adds, shooting Latunski a grateful smile. And then she pivots, because another nurse is already approaching her with an urgent question. It's on to the next crisis.

VIDEO - Partying privately: Insane Clown Posse's facial makeup deceives facial-recognition software - YouTube

VIDEO - 'I Feel The Need To Respond To That': Mitt Romney Interrupts Hearing To Refute Bernie Sanders - YouTube

VIDEO - Covid 19 Delta outbreak: Police block protesters as hÄkoi arrives at Auckland border - NZ Herald

Wed, 27 Oct 2021 13:35

The Sovereign Hikoi of Truth left Rotorua and spent the night camped outside the Auckland border. Video / Mike Scott / Mary Marsh / LJ Megz / Cally Rain

Members of a hÄkoi hoping to get to Northland planned to spend the night camped out on the side of the road after police refused to let them through Auckland's southern border.

Dozens of cars arrived at the Mercer checkpoint just on midnight, despite police earlier warning that no one would be allowed through the border without an exemption.

"We are strongly advising those who intend to take part in this that any travel across the Auckland boundary that is not specifically permitted by the health order requires an exemption," police said in a statement.

Sovereign Hikoi of Truth members were stopped by Police at Auckland's southern Covid border near Mercer. Photo / Mike ScottThat didn't stop members of the self-proclaimed Sovereign HÄkoi of Truth (SHOT) movement from leaving Rotorua at 6pm with the aim of travelling through Auckland and heading north to Te Tii o Waitangi for a pōwhiri at midday today.

A large number of police were waiting for the convoy when it arrived and officers, who had blocked the road going north, diverted motorists off the motorway to an area on Oram Rd to talk to them.

By 1.30am there were about 50 cars were parked up. Some people were singing waiata and giving motivational speeches while others remained adamant they would cross the border at some stage.

Dozens of cars approached the Mercer border just on midnight. Photo / SuppliedPolice at the Mercer border early on Wednesday morning. Photo / Mike ScottOne witness at the checkpoint told the Herald some members of the hÄkoi were prepared to wait all night.

"They are saying they're not moving, the only way they're going is north."

There was also talk from supporters on social media that up to 200 people were waiting inside the Auckland border in the hope of joining the convoy if it got through and that others were still making their way up the country.

The SHOT movement was formed to "bring to light the truth" and the group said in a statement on Monday that a hÄkoi would be a "starting point".

It's understood SHOT consists of 12,000 "like-hearted souls", who wanted to gather "in the name of freedom" in Waitangi.

"This hÄkoi is to be a starting point and a declaration that we choose to assert our rights and to herald a new way of being, we do not have to live under authoritarian government law, we maintain what has already been gifted to us under divine natural law to live as free people on the land."

However, Tai Tokerau Border Control founder Hone Harawira described the hÄkoi as "a scam" organised by Pakehā anti-vaxers.

"There is no invitation from Waitangi Marae, no invitation from the Waitangi Treaty Grounds, no invitation from Ngāti Kawa or Ngāti Rahiri, and no invitation from Ngāpuhi," the former Tai Tokerau MP said.

A protestor with the self-proclaimed Sovereign HÄkoi of Truth (SHOT) movement is met by police officers at Auckland's southern border early on Wednesday morning. Photo / Mike Scott Police brought in extra reinforcements at Mercer ahead of the convoy arriving. Photo / Mike ScottPolice have said those who are found to be deliberately breaching alert level restrictions can expect to face enforcement action.

"Anyone found to have unlawfully crossed the Auckland boundary may also face difficulties in returning to their place of residence given the restrictions in place."

In a post online, organisers say: "All documents to ensure the safe passage of all will be at hand.

"Through the security of He Wakaputanga and the use of common law, this will be the form of security to move through the land based on tikanga [cultural traditions].

"All who are wanting to move through safely to the north need to join in on this hikoi with protection in numbers. The time has been chosen to ensure the least amount of disruption for the day lives of Aucklanders. However, we would like as many Aucklanders to join in on the hikoi as well."

National leader Judith Collins told The AM Show that her message to the people on the hÄkoi was "go home and get vaccinated and just remember that it's not all about you".

She said there were a lot of people who are in lockdown who are losing their businesses and worried about them and their families and they didn't need them being idiots.

"So just go home and behave."

Police said the boundaries are in place to help stop the spread of Covid-19, given the increased risk the Delta variant poses to New Zealand's communities.

Officers near the motorway at the southern border. Photo / Hayden WoodwardPolice said they are working with iwi partners in Tāmaki Makaurau and Northland on the matter.

As part of their planning against the hÄkoi, police are advising members of the public not involved who may be undertaking permitted travel across the Auckland boundary to delay their travel if possible.

"There are likely to be road closures put in place in the event that those involved in this hÄkoi attempt to unlawfully cross the Auckland boundary," police said.

It comes after it was revealed there are 79 new Covid community cases on Tuesday after a long weekend in which fewer tests and vaccinations were carried out, sparking concerns the virus' spread could soon accelerate.

As at 10am yesterday, 46 of these cases are linked - including 24 household contacts - and 33 remain unlinked, with investigations continuing to help determine their connection to the outbreak, the Ministry of Health said.

Out of the new cases, 75 are in Auckland and four are in Waikato.

From Monday's 109 community cases, 42 people were infectious while in the community.

The other 66 were in isolation during their infectious period.

VIDEO - Noam Chomsky on Vaccine Mandates - YouTube

VIDEO - Noam Chomsky on mandating vaccines - YouTube

VIDEO - China's recent power switching proves that that Power Crisis is just an alibi - YouTube

VIDEO - Fiscally Illiterate Illuminati on Twitter: "@adamcurry 36 second mark. Gaff of the year? Clip of the day at a minimum'... https://t.co/v17BgCIw7g" / Twitter

Wed, 27 Oct 2021 09:30

Fiscally Illiterate Illuminati : @adamcurry 36 second mark. Gaff of the year? Clip of the day at a minimum'... https://t.co/v17BgCIw7g

Wed Oct 27 03:58:15 +0000 2021

VIDEO - (21) The Post Millennial on Twitter: "Biden: "As one computer said, if you're on the train, and they say Portal Bridge, you know you better make other plans..." https://t.co/G4T1wX8Qdl" / Twitter

Tue, 26 Oct 2021 18:49

The Post Millennial : Biden: "As one computer said, if you're on the train, and they say Portal Bridge, you know you better make other pl'... https://t.co/8EJzp6uPbE

Mon Oct 25 18:17:46 +0000 2021

VIDEO - CDC director says Biden admin has 'education and counseling' plan for essential workers who refuse COVID vaccine - TheBlaze

Tue, 26 Oct 2021 18:47

Centers for Disease Control and Prevention Director Rochelle Walensky employed the five rules of dodgeball '-- dodge, duck, dip, dive, and dodge '-- Sunday when asked about the Biden administration's plan to enforce a COVID-19 vaccine mandate against essential workers.

Walensky did, however, confirm the Biden administration has an eyebrow-raising plan to essentially coerce essential workers to get vaccinated.

What are the details? During an interview on "Fox News Sunday," host Chris Wallace asked if the Biden administration is moving "full speed ahead on mandates for essential workers to get vaccinated?"

The question came after President Joe Biden said during a CNN town hall last week that police officers should be forced to get the COVID vaccine or be fired if they refuse.

The problem, as Wallace pointed out, is that a significant number essential workers nationwide '-- including police officers and health care workers '-- have made it clear they will not get the COVID vaccine even if it means losing their jobs. And if a significant number of essential workers lose their jobs over vaccine mandates, the ripple effect could have catastrophic impacts in communities across the country.

In response, Walensky claimed the "most disruptive thing that you can do to workforce is to have a COVID outbreak in that workforce" '-- not mass termination of unvaccinated employees.

"So we believe it is very important to get these people vaccinated," Walensky said.

In fact, according to Walensky, the Biden administration has developed an "education and counseling" plan to get essential workers vaccinated.

"There is a plan, should these people not want to be vaccinated, towards education and counseling to get people the information they need so that they are feeling comfortable in getting vaccinated," she explained.

Walensky, however, did not provide details on what exactly those "education and counseling" plans would look like.

CDC greenlights 'mix-and-match' COVID boosters youtu.be

When pressed further by Wallace, who noted that losing significant numbers of essential workers over vaccine mandates will put America "further behind the ball," Walensky stuck to her talking points.

"You know, the way you can down a police force is by having a COVID outbreak in that police force. So what we're working to do is mitigate that from happening," she said.

VIDEO - Mayo Clinic DIRECTLY Tied to World Economic Forum, Dominion Voting Systems!

Tue, 26 Oct 2021 17:42

Last week I told you about some of the brightest doctors at the Mayo Clinic. There's cardiologist Courtney Bennett, whose advice to unvaccinated people who get sick is ''please go die.'' There's general surgeon Mark Sawyer, who posted his lurid fantasies about getting to deny sick people health care, staring them in the eyes and saying ''it's too late'' as they expire.

Well, we have more. I was recently pointed towards an interview featuring Doctor Gregory Poland, director at the Mayo Clinic's Vaccine Research Group. He's also a paid advisor to vaccine maker Johnson and Johnson. No conflict of interest there. But for all his degrees and all his supposed expertise, he's still a nutjob about masks. He ended a recent video interview on Facebook live (sheltering at home, of course) by condemning schools that don't have mask mandates. ''Parents, please protect your precious children,'' he said. Now keep in mind. There are no mask mandates in British schools when they're otherwise much more restrictive than we have been. There's no evidence that masks in schools do anything to change infection rates, and there's still plenty of evidence that children are at almost zero risks of serious harm from COVID-19. This isn't science and it isn't medicine. It's the cult of the mask.

And how about this: Doctor Gianrico Farrugia is the president and CEO of the Mayo Clinic, but that's not his only job. He's also a ''health governor'' with the World Economic Forum, which has been generating propaganda in favor of worldwide vaccine passports for travel. Oh, but don't worry: In a May article about vaccine passports, a WEF writer noted there are civil liberties concerns about vaccine passports, and so any rules about them would have to be ''fair.'' So who did the WEF suggest could set those ''fair'' rules? Why, the World Health Organization, of course. The same World Health Organization that has repeated Chinese propaganda since the beginning of this pandemic. The same World Health Organization that denies the existence of Taiwan to avoid offending the People's Republic. The same World Health Organization whose leader, Tedros Adhanom, covered up cholera outbreaks in his home country of Ethiopia.

Oh, and just because these connections are fascinating to discover, there's another person, Matthew Horace, who currently serves as Chief Security Officer for Mayo. We're pretty sure he doesn't set vaccine policy, but who knows these days. Anyway, what's Mr. Horace's other job? What would be the most ridiculous job he could possibly have? If you guessed ''chief of security for the DNC'''...you'd be wrong, because there's something even more ridiculous. Mr. Horace is also chief of security for Dominion Voting Systems. His LinkedIn biography notes that he ''leads the companies IT security and cybersecurity initiatives.'' And you can't see it, but he actually misspells ''company's'' in his profile. Also, his college degree is in English, with a Masters in ''Leadership.'' And this guy is in charge of organizing cybersecurity for one of this country's largest voting machine companies. You can't make any of this up.

Follow Stew on social media .

MORE NEWS: Why Do Liberals Suppress The Truth?

Get exclusive content, become a Premium User .

See all of Stew's content at StewPeters.TV .

Watch full episodes here.

Check out Stew's store .

Support our efforts to keep truth alive.

Advertise with Red Voice Media.

Dr. Robert Young: What's In COVID Shots, WHY Graphene, WHO is Responsible

The opinions expressed by contributors and/or content partners are their own and do not necessarily reflect the views of Red Voice Media. Contact us for guidelines on submitting your own commentary.

VIDEO - (31) An0maly on Twitter: "EPIC! Floyd Mayweather Reads Heartfelt Message For Kyrie Irving https://t.co/GmckwyVX0H" / Twitter

Tue, 26 Oct 2021 17:20

An0maly : EPIC! Floyd Mayweather Reads Heartfelt Message For Kyrie Irving https://t.co/GmckwyVX0H

Tue Oct 26 01:15:17 +0000 2021

Matt Sams : @LegendaryEnergy Kyrie Irving just recently realized the earth is not flat so not sure I would describe him as a le'... https://t.co/Wn5PsHQOdB

Tue Oct 26 17:19:31 +0000 2021

Lue Pezzu : @LegendaryEnergy Well so much for he cant read a harry potter book @50cent

Tue Oct 26 17:17:31 +0000 2021

Rob Finklestein : @LegendaryEnergy Jim Jones would be proud https://t.co/EM505mUPA6

Tue Oct 26 17:17:31 +0000 2021

Carlos Beato : @LegendaryEnergy How's about my freedom to be free of COVID19?!? How's about my parents (who are both immuno-compri'... https://t.co/ywukfxEOIP

Tue Oct 26 17:17:19 +0000 2021

BK i know im not to ghetto. : @LegendaryEnergy It's the reading from a iPhone in black & white with no shirt on for me ðŸ'

Tue Oct 26 17:15:39 +0000 2021

Chaka Zulu Flame : @LegendaryEnergy My boy out there reading! ðŸ'ªðŸ¾

Tue Oct 26 17:15:06 +0000 2021

Beverly Braverman : @LegendaryEnergy Bullshit.

Tue Oct 26 17:14:41 +0000 2021

This Tim Guy : @LegendaryEnergy Did you just say "read"?

Tue Oct 26 17:13:21 +0000 2021

light_consumer : @LegendaryEnergy Rich people surrounded by rich, vaccinated people who don't get sick because they protect themselv'... https://t.co/5JFQjxTjZ4

Tue Oct 26 17:12:31 +0000 2021

Doctor Taco : @LegendaryEnergy You can't claim God in your bio and support this

Tue Oct 26 17:12:21 +0000 2021

Davonte S. : @LegendaryEnergy @50cent The nigga can read ðŸ¤...🏾'''¸

Tue Oct 26 17:12:10 +0000 2021

Chadillac : @LegendaryEnergy Wait....since when did Floyd Mayweather learn to read ?

Tue Oct 26 17:12:04 +0000 2021

DM Thompson : @LegendaryEnergy My man just said some random quotes just to sound "profound".

Tue Oct 26 17:11:42 +0000 2021

''¤¸'ðŸ--¥'·* : @LegendaryEnergy now read a page out of a harry potter book

Tue Oct 26 17:11:31 +0000 2021

Leroybanging : @LegendaryEnergy 50 cent appeared in chat. https://t.co/9KpftyXo9S

Tue Oct 26 17:11:29 +0000 2021

TomD : @LegendaryEnergy Freedom of choice is a guaranteed right. Freedom from consequences of that choice is not. Always been that way.

Tue Oct 26 17:11:16 +0000 2021

VIDEO - After Defunding Police, Democrat-Run San Francisco Now Offering Cash Rewards To Stop Car Break-Ins - YouTube

VIDEO - Victorians should be 'filled with dread' by Andrews' proposed pandemic laws - YouTube

VIDEO - China energy crisis: Beijing not likely to lift coal ban on Australia

Tue, 26 Oct 2021 16:05

A Facebook iconShare by facebookA Twitter iconShare by twitterA LinkedIn iconShare by linkedinAn email iconShare by email

China is facing its worst power crisis in years due to a coal shortage.Australia has the coal Beijing needs, but the world's second-largest economy is unlikely to reverse an unofficial ban on Australian coal imports anytime soon, analysts told CNBC.China stopped buying coal from Australia late last year, after Canberra backed a call for an international inquiry on how Beijing handled the Covid-19 outbreak.A bucket-wheel reclaimer stands next to a pile of coal at the Port of Newcastle in Newcastle, New South Wales, Australia, on Monday, Oct. 12, 2020.

David Gray | Bloomberg | Getty Images

China is facing its worst power crisis in years due to a coal shortage. While Australia has the coal Beijing needs, the world's second-largest economy is unlikely to reverse an unofficial ban on Australian coal imports anytime soon, analysts told CNBC.

That's despite recent media reports suggesting that China is releasing small quantities of Australian coal that was stuck at Chinese ports for months due to the ban.

"Reports that small quantities of Australian coal were allowed to clear customs in China have increased speculation that Chinese authorities will look to relax the import ban on Australian coal," Vivek Dhar, mining and energy commodities analyst at the Commonwealth Bank of Australia, told CNBC.

"We don't think Chinese authorities will relax China's ban on Australian coal this winter," he said.

Late last year, China stopped buying Australian coal. That happened as trade tensions between the two countries soared after Canberra backed a call for an international inquiry into Beijing's handling of the Covid-19 outbreak.

Before that, Australia was a major coal supplier to China '-- in 2019, some 38% of Chinese thermal coal imports came from Australia.

Energy crunch in ChinaChina relies heavily on coal for power generation.

Since mid-August, at least 20 provinces across the country have reported power cuts of varying extent. That was due to several factors including a shortage of coal supplies, tougher government mandates to cut emissions and higher manufacturing demand as the global economy bounces back from pandemic lows.

Officials have reportedly urged top state-owned energy companies to secure supplies for the upcoming winter at all costs.

But analysts say Beijing will not likely lift the import restrictions on Australia anytime soon.

Instead, they predict that China will look to boost its own coal production, tap on other international suppliers and push its industries to curb output and emissions.

There are no signs that China will allow companies to purchase new shipments of Australian coal, according to Rory Simington, principal analyst at Wood Mackenzie.

China is likely to push Indonesian suppliers for more coal but they are nearly at peak capacity.

Abhinav Gupta

Braemar ACM

"The political situation hasn't improved at all," he told CNBC's "Squawk Box Asia" in mid-October. "This is largely a political issue and not an economic one, and, yeah, no signs of any easing on the ban on new cargoes."

Beijing may also look to other countries for more coal.

"China is likely to push Indonesian suppliers for more coal but they are nearly at peak capacity," Abhinav Gupta, a dry cargo research analyst at shipbroking firm Braemar ACM, told CNBC earlier this month.

"China has also been trying to get more Mongolian and Russian coal to cater to its demand; however, there is some competitive pressure for Russian coal from the European buyers. We have also seen China buying more coal from suppliers in the Atlantic, such as US and Colombia," Gupta said by email.

Dhar from Commonwealth Bank said that despite the informal ban on Australia, China's thermal coal imports have held up "fairly well" due to a growing volume of supply from Indonesia and Russia. Between January and August, Indonesia accounted for roughly 57% of China's thermal coal imports, he said.

Impact on AustraliaAustralian thermal coal at Newcastle Port, which is the benchmark for the Asian market, surged this year despite China's import ban, according to commodity price provider Argus.

"The main driver of current thermal coal prices, particularly from Australia, is demand in North Asia ahead of this winter," said Dhar. He added that Australian coal prices would likely depend on how cold the upcoming winter turns out.

A freight train transports coal from the Gunnedah Coal Handling and Prepararation Plant, operated by Whitehaven Coal Ltd., in Gunnedah, New South Wales, Australia, on Tuesday, Oct. 13, 2020.

David Gray | Bloomberg | Getty Images

Elevated coal prices are unlikely to immediately fall even if China lifts the import ban on Australian coal, according to Shane Oliver, head of investment strategy and chief economist at AMP Capital.

"I doubt if China lifts the import ban that it would have much impact on Australian producers as they would just redirect back to China but still get the same price," he said in an email. "Ultimately, the sky high prices won't be sustained but they may still [be] high for a while yet."

Australia's export earnings have held up well despite the coal ban and a sharp drop in iron ore prices, Oliver said.

Commonwealth Bank's Dhar said that if Beijing resumes buying coal from Canberra, it would only add to the demand for Australian coal and support prices further.

Still, Australian officials have slammed China for the trade sanctions that extend to other export items '-- such as wine and barley.

In a statement to the World Trade Organization last week, Australia said: "China says that these actions reflect legitimate trade concerns; but there is a growing body of information that demonstrates China's actions are motivated by political considerations."

VIDEO - 'We will not comply!': NYC workers protest vax mandate with march across Brooklyn Bridge

Tue, 26 Oct 2021 13:23

City workers took to the streets Monday to protest Mayor Bill de Blasio's vaccine mandate for the entire municipal workforce.

At least 20 people were arrested during the protest, a police source said.

Days after the mayor announced that all government employees except for jail staff will need to receive a vaccine shot by Friday or be placed on unpaid leave, about 5,000 incensed demonstrators marched over the Brooklyn Bridge to Manhattan.

Many carried American flags, chanting, ''F''k de Blasio'' and ''We will not comply!''

Some protesters wore NYPD and FDNY shirts, and several hoisted Gadsden ''Don't Tread on Me'' flags, while others took to the extreme of wearing yellow stars of David to compare the inoculation requirement to Nazi Germany's persecution of Jews.

''Now, [after] working after countless of emergencies '-- Hurricane Sandy, the snowstorms '... I am under threat. We are under threat of losing our livelihood for simply retaining the choice of protecting our bodies,'' fumed firefighter Sofia Medina after the crowd reached City Hall.

The large crowd of people protesting the city's COVID-19 vaccine mandate for municipal workers on October 25, 2021. Gregory P. Mango About 5,000 demonstrators crossed the Brooklyn Bridge from Brooklyn into Manhattan. Gregory P. Mango''Why now are we being bribed and coerced to take a medication. '... We are not now nor have ever been a public health threat.''

''Leave us alone and let us work,'' she said to de Blasio. ''Get out of the way for those of us who want to work and show up on time.''

''Mayor de Blasio wants to paint us as immoral, unsafe, and a danger to the public. To the citizens of the city, we want to continue protecting you,'' bellowed Paul Schweit, who was wearing an FDNY shirt.

''Thousands of good cops and city municipal workers stand to lose their jobs,'' said a police officer. ''Are the good people of New York City confident adequate people will fill those positions. I'm frightened of what comes next?''

The cop wondered, ''Under the authority of Mayor de Blasio, what will be the next order for the NYPD?''

Mayoral candidate Curtis Sliwa at the vaccine mandate protest. Rainmaker Photos/MediaPunch A sign at the protest representing various city departments. Rainmaker Photos/MediaPunchAnother member of the city's police force addressed NYPD Commissioner Dermot Shea, who supports a vaccine mandate.

''To Police Commissioner Shea: We have always been prepared to lay down our lives in defense of ours, will you run to our aid or stand idly by?'' said a male cop, addressing the protesters.

The protest against City Hall's new policy comes after de Blasio on Wednesday announced that the test-or-shot requirement would be replaced by an outright vaccine rule.

City employees '-- including firefighters and cops '-- will be mandated to get their first dose by 5 p.m. Friday, the mayor said. Members of the city workforce who have not started their vaccine series by Nov. 1 will be placed on unpaid leave until they provide proof of vaccination.

Demonstrators waving American flags at the protest against vaccine mandates in New York City. Rainmaker Photos/MediaPunch A man holding a sign warning the city workers will ''not comply'' with the mandate. Rainmaker Photos/MediaPunchPreviously, only Department of Education staff and city health workers were required to be inoculated against COVID-19.

As an incentive, holdouts who agree to receive a jab will get a $500 paycheck boost.

Correction officers have until Dec. 1 to receive their first shot, due to an ongoing staffing shortage at the beleaguered Rikers Island.

A woman with a sign protesting vaccine mandates for ''essential'' workers. Rainmaker Photos/MediaPunchSome city workers who already got their shots told The Post they viewed not receiving the hundreds of dollars reward as a sign of ''disrespect.''

The demonstration follows a mob of anti-vaxxers gathering outside the Barclays Center on Sunday to support Nets star Kyrie Irving, whom the team is not allowing to play because he has not yet been vaccinated.

Additional reporting by Craig McCarthy

VIDEO - Joe Rogan Says Dr. Pierre Kory Treated 200 Members of Congress with Ivermectin

Tue, 26 Oct 2021 00:36

KanekoaTheGreat Published October 25, 2021 74 rumbles

Rumble '-- Joe Rogan says Dr. Pierre Kory from FLCCC treated him and 200 members of Congress with monoclonal antibodies, prednisone, z-pak, NAD, vitamins, and ivermectin.

https://covid19criticalcare.com/

3m00sBigoted Trans Activist Leads Netflix / Dave Chappelle ProtestMatt Orfalea

10m33sJon Stewart Calls Out CNN Bulls** TO THEIR FACES!!!Russell Brand

10m16sNY Times Wildly Inflates COVID Numbers For ChildrenThe Jimmy Dore Show

13sRetired K9 doesn't know what to do with his free timeRetiredK9Hummer$11.01 earned

9m40sDrug Companies Don't Fund The Media! Stop Asking!Awaken With JP

51sBig dog adorably confused by tiny litter of kittensJesenice27$38.49 earned

7sBaby discovers messiest possible way to drink milkeugenetukei$9.81 earned

14m09s''They Outright LIED!!!'' Joe Rogan EXPOSES CNN & Don Lemon's RebuttalRussell Brand

9sAngry deer "barks" at intruder in the woodsjillzymarie$24.78 earned

55sPet squirrel doesn't want to be separated from favorite toymissbonniemcsquirrely$13.48 earned

VIDEO - Thousands of workers are getting fired for refusing the vaccine : NPR

Mon, 25 Oct 2021 21:42

A group of demonstrators hold signs as they protest against mandated vaccines outside the Michigan State Capitol on Aug. 6, 2021 in Lansing, Michigan. Emily Elconin/Getty Images hide caption

toggle caption Emily Elconin/Getty Images A group of demonstrators hold signs as they protest against mandated vaccines outside the Michigan State Capitol on Aug. 6, 2021 in Lansing, Michigan.

Emily Elconin/Getty Images For 33 years, Karl Bohnak worked at his dream job delivering weather forecasts on TV for what he considers one of the most challenging but beautiful spots in the United States '-- Michigan's Upper Peninsula.

He became so popular that "That's what Karl says!" became a slogan at his station in the 1990s and even inspired a song.

But Bohnak's time as chief meteorologist for news station TV6 came to an abrupt end last month. He was fired after refusing to comply with the vaccine mandate imposed by his station's corporate owner, Gray Television.

"I just did not want to take the shot," says Bohnak, who is 68. "I felt it was my right as a human being and a citizen of the U.S. to decide what I put in my body."

Across the country, employers are firing workers for refusing to comply with vaccine mandates. Some people are opting to quit their jobs rather than take the shot.

These workers represent only a tiny fraction of overall employees, not even 1% in some workplaces. But it can add up to thousands of people in many states.

Washington state reports that so far, nearly 1,900 state workers, including the head football coach at Washington State University, have quit or been fired for refusing the vaccine. In Michigan, 400 workers at the Henry Ford Health System in Detroit walked away from their jobs. North Carolina-based Novant Health fired about 175 employees. And the list goes on.

Their resistance has stirred great condemnation and controversy. Many view unvaccinated workers as a potential risk to the workplace. And overwhelmingly, workers have accepted and even embraced the science showing vaccines protect not only you but those around you.

The vast majority of Americans have complied with vaccine mandates. But for the vaccine holdouts, walking away from a job comes at a cost, one that's bigger for some than others.

In June, about 150 workers at the Houston Methodist hospital system quit or were fired for refusing to get a vaccine, out of a workforce of 26,000. One of them was registered nurse Jennifer Bridges, who has led the fight against Houston Methodist. The hospital system announced its vaccine requirement on March 31.

Bridges quickly became the public face of the movement against vaccine mandates. She had five job offers even before she was formally fired, two of them from hospitals that had not yet mandated the vaccine. She started a new job with a private nursing company on the very day she was fired from Houston Methodist. She now cares for a single patient full-time and doesn't believe she'll face a vaccine mandate.

"There's no Medicaid or Medicare [funding]. It's all private pay, so the government has no control over it," she says.

In June 2021, about 150 employees of the Houston Methodist hospital system resigned or were fired after refusing a COVID-19 vaccine. Francois Picard/AFP via Getty Images hide caption

toggle caption Francois Picard/AFP via Getty Images In June 2021, about 150 employees of the Houston Methodist hospital system resigned or were fired after refusing a COVID-19 vaccine.

Francois Picard/AFP via Getty Images For other Houston Methodist workers, getting fired has had graver consequences.

Becky Melcer worked as a scheduler, setting up diagnostic procedures and surgeries from an office building across the street from the hospital. It was a career she was proud of. She had expected to retire from Houston Methodist in another six years or so. Instead, she was fired in June, two weeks shy of her 15-year mark.

She applied for unemployment but was denied, told she was ineligible because she'd been fired for misconduct for not following company policy. She's appealing the decision while trying to find another source of income.

"If I wasn't married, I don't know what I would be doing," says Melcer.

At 59, Melcer has had a tough time finding work. She initially tried applying to other hospitals, but they, too, were going to require the vaccine. Now she's looking at customer service jobs outside of health care, even though they won't pay as much as her old job. She's also getting a start in real estate.

Melcer was not originally opposed to the Covid vaccine. She'd actually made an appointment to get her first shot in early January. But twice, that appointment was delayed for reasons beyond her control. Then, she says, God came to her in a dream.

"He kept telling me, 'Don't take it. Don't take it.' And I said, 'Really?' And I kept questioning it, and He kept coming back with, 'Yeah, don't take it,'" she says.

So, despite the strong evidence that the vaccines work, her mind is made up. She says she'll never take the vaccine.

Meteorologist Karl Bohnak delivers the forecast for Michigan's Upper Peninsula in December 2014.

TV6 & FOX UP YouTube In Michigan, weatherman Bohnak still has a couple of side gigs doing forecasts for local radio. Mostly, though, he is settling into retirement, a year and a half earlier than he had planned.

Before he was fired last month, he had been given the option of resigning.

"They wanted me to go off saying, 'Hey, let's celebrate Karl Bohnak!'" he says.

He declined. Instead, on his last day, he just delivered the forecast like he's done for 33 years and walked out.

VIDEO - SERGEANT SPEECH- 102221 - SAN DIEGO, CA. - YouTube

VIDEO - ABC Tees Up Fauci to Deny, Lie About NIH Funding Risky Wuhan Experiments | Newsbusters

Mon, 25 Oct 2021 20:54

Late last week, the National Institutes of Health (NIH) wrote a letter admitting that they funded controversial gain-of-function (GOF) research at the Wuhan Institute of Virology where they would take virus samples and make them more infectious to people to learn how they acted. All of that was whitewashed by ABC as This Week host George Stephanopoulos teed up Dr. Anthony Fauci to deny and lie about the research they funded.

Of course, instead of looking at what the NIH had done, Stephanopoulos tried to make the story about people supposedly overreacting or making it political. He suggested the controversy was over subcontractor EcoHealth Alliance not disclosing ''some results in a timely manner.''

''Now, some critics and analysts have seized on that to say you and others have misled the public about U.S. funding of this so-called gain-of-function research. The NIH says that's false. Our medical unit backs that up,'' he claimed without evidence.

Stephanopoulos then played a recent soundbite of Kentucky Republican Senator Rand Paul calling for Fauci to be fired and teed up the doctor to attack him. ''I want to give you the opportunity to respond to Senator Paul, but also explain, what was the United States funding? What wasn't it funding? And why that's important,'' he wanted to know.

''Well, I obviously totally disagree with Senator Paul. He's absolutely incorrect. Neither I nor Dr. Francis Collins, the director of the NIH lied or misled about what we've done,'' Fauci asserted. But that wasn't true.

In his testimony to Congress, Fauci said the NIH didn't fund gain-of-function research at the Wuhan lab. And on Sunday, he tried to deny what the NIH blatantly admitted:

The framework under which we have guidance about the conduct of research that we fund, the funding at the Wuhan Institute was to be able to determine what is out there in the environment, in bat viruses in China. And the research was very strictly under what we call a framework of oversight of the type of research.

And under those conditions which we have explained very, very clearly, does not constitute research of gain-of-function of concern. There are people who interpret it that way, but when you look at the framework under which the guidance is, that is not the case.

Fauci claims they made the definition of GOF clear, but there were accusations that the NIH had edited it off their website. According to an archived page from October 19, 2021, there was a lengthy explanation of what GOF research entailed. Including: ''The subset of GOF research that is anticipated to enhance the transmissibility and/or virulence of potential pandemic pathogens, which are likely to make them more dangerous to humans, has been the subject of substantial scrutiny and deliberation.''

But on the current version of the page, they've replaced it with something called ''ePPP Research.'' Here, they say ePPP involved enhancing a virus, but added: ''While ePPP research is a type of so called [sic] 'gain-of-function' (GOF) research, the vast majority of GOF research does not involve ePPP and falls outside the scope of oversight required for research involving ePPPs.''

Keep that in mind as Fauci went on to defend the research being done at the Wuhan lab (Click ''expand''):

But one of the things that gets mixed up in this, George, and it really needs to be made clear to the American public. There's all of this concern about what's gain-of-function or what's not, with the implication that that research led to SARS-CoV-2, and COVID-19. Which, George, unequivocally anything that knows anything about viral biology and phylogeny of viruses know that it is molecularly impossible for those viruses that were worked on to turn into SARS-CoV-2, because they were distant enough molecularly that no matter what you did to them, they could never, ever become SARS-CoV-2.

And yet when people talk about gain-of-function, they make that implication which I think is unconscionable to do, to say, well, maybe that research led to SARS-CoV-2.

''So, things are getting conflated, George, that should not be conflated,'' he whined as the interview came to an end.

This was the first time ABC viewers have heard of the NIH's admission to funding GOF research and it has gone unmentioned by CBS and NBC newscasts.

ABC allowing Dr. Fauci to deny and lie about the NIH funding gain-of-function research in Wuhan was made possible because of lucrative sponsorships from CarMax and Vicks. Their contact information is liked so you can tell them about the biased news they fund.

The transcript is below, click "expand" to read:

ABC's This WeekOctober 24, 20219:29:32 a.m. Eastern

('...)

STEPHANOPOULOS: The controversy over whether the U.S. was funding risky COVID research in Wuhan was kicked up again this week when the NIH released a letter about that research, which showed that the subcontractor had not disclosed some results in a timely manner.

Now, some critics and analysts have seized on that to say you and others have misled the public about U.S. funding of this so-called gain-of-function research. The NIH says that's false. Our medical unit backs that up.

But Senator Rand Paul stepped up that criticism in a new interview with Axios on HBO. Let's play it.

[Cuts to video]

UNIDENTIFIED REPORTER: Dr. Fauci should be fired?

SEN. RAND PAUL (R-KY): Absolutely.

UNIDENTIFIED REPORTER: By the president?

PAUL: Yes, absolutely. The thing is, is just for lack of judgment, if nothing else. He's probably never going to admit that he lied. He's going to continue to dissemble and try to work around the truth and massage the truth.

[Cuts back to live]

STEPHANOPOULOS: I want to give you the opportunity to respond to Senator Paul, but also explain, what was the United States funding? What wasn't it funding? And why that's important?

DR. ANTHONY FAUCI: Well, I obviously totally disagree with Senator Paul. He's absolutely incorrect. Neither I nor Dr. Francis Collins, the director of the NIH lied or misled about what we've done.

The framework under which we have guidance about the conduct of research that we fund, the funding at the Wuhan Institute was to be able to determine what is out there in the environment, in bat viruses in China. And the research was very strictly under what we call a framework of oversight of the type of research.

And under those conditions which we have explained very, very clearly, does not constitute research of gain-of-function of concern. There are people who interpret it that way, but when you look at the framework under which the guidance is, that is not the case.

So I have to respectfully disagree with Senator Paul. He is not correct that we lied or misled the Congress. It's just not correct, George. I'm sorry.

STEPHANOPOULOS: That -- right. It showed that what was being researched was very far from the COVID -- the SARS-COVID virus. But it did show that the subcontractor did not release some results in a timely manner.

What did learn from the letter? Does it show that some of the research we were finding was riskier than we know?

FAUCI: No, it isn't. We knew what the risk was, and what the oversight is. Certainly, they should have put their progress report in a timely manner. No denial of that, and there will be administrative consequences of that.

But one of the things that gets mixed up in this, George, and it really needs to be made clear to the American public. There's all of this concern about what's gain-of-function or what's not, with the implication that that research led to SARS-CoV-2, and COVID-19. Which, George, unequivocally anything that knows anything about viral biology and phylogeny of viruses know that it is molecularly impossible for those viruses that were worked on to turn into SARS-CoV-2, because they were distant enough molecularly that no matter what you did to them, they could never, ever become SARS-CoV-2.

And yet when people talk about gain-of-function, they make that implication which I think is unconscionable to do, to say, well, maybe that research led to SARS-CoV-2.

You can ask any person of good-faith who's a virologist, and they will tell you, absolutely clearly, that that would be molecularly impossible.

So, things are getting conflated, George, that should not be conflated.

STEPHANOPOULOS: Dr. Fauci, thanks as always for your time and information.

VIDEO - ICYMI with Rukshan - Episode 3 - YouTube

VIDEO - Boris jokes about 'feeding humans to animals' to baffled children as he hosts 'Kids Lobby' briefing | Daily Mail Online

Mon, 25 Oct 2021 20:11

Boris Johnson joked to children that humans could be fed to animals to help the planet today.

The PM made the quip as he faced a grilling from youngsters about his environmental plans in the £2.6million Downing Street briefing room.

Facing a crowd of youngsters he made the lighthearted jest in relation to address the imbalance in nature, where humans and domesticated animals make up the vast majority of mammals on the planet.

In a more serious note he also admitted he was worried that the UN Cop26 climate conference will be a failure.

The Prime Minister will welcome world leaders to Glasgow for the summit but said it was 'touch and go' whether key goals would be met.

He also lashed out at Coca Cola over plastics and said he does not 'want to support new coal mines', as ministers face pressure to prevent a site opening in Cumbria.

The PM was taking questions with WWF UK's Tanya Steele in No9 Downing Street when they faced a question about the balance of nature on Earth

Ms Steele told the children: 'I think we need to bring nature back... Our planet, 97 per cent of the mass of mammals on this planet is humans and our animals, our domestic animals. Just 3 per cent is left for the wild.'

The Prime Minister said it was 'so sad' and added: 'We could feed some of the human beings to the animals.'

Ms Steele replied: 'We could have a vote later and ask if there's any candidates.'

Mr Johnson also suggested that people in the future will eat more meat substitutes instead of the real thing.

The PM made the joke as he faced a grilling from youngsters about his environmental plans in the £2.6million Downing Street briefing room.

Facing a crowd of youngsters he made the quip in relation to address the imbalance in nature, where humans and domesticated animals make up the vast majority of mammals on the planet.

Mr Johnson also suggested that people in the future will eat more meat substitutes instead of the real thing.

Boris: Recycling 'doesn't work' Boris Johnson has been accused of having 'completely lost the plastic plot' after telling schoolchildren that recycling 'doesn't work' as a means to ease the climate crisis.

The Recycling Association reacted with astonishment at the Prime Minister's remarks during a Downing Street press conference for pupils on Monday, saying they were 'very disappointing'.

No 10 had to tell the public to continue recycling after Mr Johnson said 'recycling isn't the answer' and stressed the need to reduce the amount of plastic that is used.

'It doesn't begin to address the problem. You can only recycle plastic a couple of times, really. What you've got to do is stop the production of plastic,' he said.

'The recycling thing is a red herring,' the Prime Minister added after naming and shaming Coca-Cola as being one of 12 corporations 'producing the overwhelming bulk of the world's plastics'.

Appearing alongside Mr Johnson, WWF UK's chief executive Tanya Steele said: 'We have to reduce, we have to reuse - I do think we need to do a little bit of recycling, PM, and have some system to do so.'

But Mr Johnson replied: 'It doesn't work.'

In comments that may alarm UK farmers he said: 'I think in the future we will move away from eating as much (meat) '...already science is producing meat substitutes that are basically engineered in the lab that are very like meat.

'And you won't be able to tell the difference between a bio-engineered hamburger and a real hamburger. That will be the future very soon, It is already here I think.'

He added that science was already creating 'polite cows' which 'burp less' methane into the atmosphere.

Mr Johnson admitted he fears the major international climate change summit he will host from Sunday could fail to make the progress needed.

The Prime Minister will welcome world leaders to Glasgow for the United Nations Cop26 summit but said it was 'touch and go' whether key goals would be met.

'We need as many people as possible to go to net zero so that they are not producing too much carbon dioxide by the middle of the century,' he said.

'Now, I think it can be done. It's going to be very, very tough, this summit.

'And I'm very worried, because it might go wrong and we might not get the agreements that we need. It's touch and go.'

Downing Street later said Mr Johnson was setting out the 'realistic situation' when he presented a downbeat assessment of his chances of success at Cop26.

The Prime Minister's official spokesman said: 'We have made some progress with a number of countries, Saudi Arabia has come forward with some commitments, for example.

'But the Prime Minister was simply setting out the realistic situation that bringing together countries from around the world to sign up to ambitious targets such as these that require tangible commitments is difficult and challenging and will require some intense negotiation.'

Mr Johnson said 'peer pressure' at the UN summit could force some nations into action.

The PM was taking questions with WWF UK's Tanya Steele in No9 Downing Street when they faced a question about the balance of nature on Earth

But with some major world leaders including China's Xi Jinping expected to stay away due to the state of the coronavirus pandemic the chances of that tactic being a success may be limited.

Mr Johnson acknowledged 'it's very, very far from clear that we will get the progress that we need' although he praised Australia for the 'heroic' decision to commit to net zero by 2050.

The Prime Minister, who was questioned by schoolchildren in Downing Street, hit out at Coca-Cola as being one of 12 corporations 'producing the overwhelming bulk of the world's plastics'.

He told a children's press conference on the climate crisis: 'There are about 12 companies at the moment, 12 big corporations, that are producing the overwhelming bulk of the world's plastics.

'Big famous drinks companies that you may know but I won't name. I don't know why not, but I won't name them.'

Having said he would not name any of the firms, he then continued: 'Coca-Cola, for instance, and others, which are responsible for producing huge quantities of plastic, and we've got to move away from that and we've got to find other ways of packaging and selling our stuff.'

Mr Johnson said recycling plastic 'doesn't work' as he stressed the need to reduce the amount of the material that is used.

During a press conference at No 10 he said: 'Recycling isn't the answer. Recycling... it doesn't begin to address the problem.'

He said 'the only answer' was 'we've all got to cut down on our use of plastic'.

Appearing alongside Mr Johnson, WWF UK's chief executive Tanya Steele said: 'We have to reduce, we have to reuse - I do think we need to do a little bit of recycling, PM, and have some system to do so.'

But Mr Johnson replied: 'It doesn't work.'

VIDEO - National shortage of glass bottles affecting wine supply | wbir.com

Mon, 25 Oct 2021 19:45

KNOXVILLE, Tenn. '-- The COVID-19 pandemic has led to shortages in several basic products, from cars to health supplies. Now, it is also affecting some people's favorite drinks.

A shortage of glass bottles has led to a shortage of wine, according to some experts. The impact can be felt across the U.S. and in Tennessee, where some wineries said their sales have dropped due to supply chain issues.

"Normally, we go through about four truckloads of glass per year, but we've only been able to obtain a truck and a half of glass this year," said Yardly Sawyer, the general manager for Cades Cove Cellars in Townsend.

Se said that the company order glass bottles in the summer, but they still don't have a time frame for when they can expect their next set of bottles. She said they order from a company based in Pennsylvania.

Sawyer also said that the shortage isn't just affecting the supply of wine for consumers. It can also affect the company's branding since they usually use a specific kind of bottle.

"One of our more popular wine bottles is the blue glass, for our riesling and we can't color glasses, you can't even find that at all," Sawyer said. "We've had to resort to using clear glass for almost every wine that we bottle now."

She also said that they are keeping their products in-house as a result of the shortage, instead of shipping bottles out to liquor stores to be resold. She says it's the only way they can meet the demand at the winery.

The demand for alcohol generally has stayed at record highs throughout the COVID-19 pandemic. According to reports, alcohol sales outside of bars and restaurants rose 24% during the pandemic. Sawyer also said that their sales were up because of the pandemic.

Glass also isn't the only problem the winery faced. Sawyer said that the winery's usually label maker also hasn't been able to get enough paper to continue operating as usual.

"We wanted to come out with some new products, but we can't get the labels in, so we're on hold," she said.

They may not get the labels for their new products until December, according to officials. They are also urging people to buy their favorites as soon as possible since they expect to sell out quickly.

VIDEO - Lee James on Twitter: "UK: Government confirm social credit system to be rolled out on January 2022 https://t.co/UPgE094NPh" / Twitter

Mon, 25 Oct 2021 18:18

Lee James : UK: Government confirm social credit system to be rolled out on January 2022 https://t.co/UPgE094NPh

Sun Oct 24 19:44:37 +0000 2021

(Sleep)(Dissolution) : @leejamesLC ''It's time to take control of your health.''ðŸ¤--''O you thought we meant YOU taking control? No you silly'... https://t.co/B6sJX39uCJ

Mon Oct 25 18:13:59 +0000 2021

Mike : @leejamesLC these guys look like they were grown in a lab from horse cum

Mon Oct 25 18:00:40 +0000 2021

Ben Hurd : @leejamesLC Choc drops for the Labradors

Mon Oct 25 17:53:09 +0000 2021

Ruger : @leejamesLC F U

Mon Oct 25 17:44:53 +0000 2021

asierraalta7 : @leejamesLC @garethicke @JeffereyJaxen @mercola @RWMaloneMD @HighWireTalk @YoureAllDunces @HighImpactFlix @RobertKennedyJr @Snowden

Mon Oct 25 17:35:11 +0000 2021

VIDEO - 37 sats on Twitter: "They are going pump your assets by debases currency and then tax your unrealized gains'... wtf https://t.co/YN5YZBU0UA" / Twitter

Mon, 25 Oct 2021 03:58

37 sats : They are going pump your assets by debases currency and then tax your unrealized gains'... wtf https://t.co/YN5YZBU0UA

Mon Oct 25 00:02:23 +0000 2021

steve : @ck_SNARKs This woman is insane! Tax on unrealized gains! Then what ! They already tax us on unrealized gains,'... https://t.co/UpkdAI7kZk

Mon Oct 25 03:58:03 +0000 2021

J_LUNA. AVAX ðŸŽ(C), ðŸ--º : @ck_SNARKs Words coming from our ''qualified appointed officials'' 👌🏽

Mon Oct 25 03:56:04 +0000 2021

Q (not anon ðŸ¤...'''¸) : @ck_SNARKs Liquid assets? So basically private markets that most have no access to win again?

Mon Oct 25 03:53:29 +0000 2021

4nonymousBTB 🇺🇸 : @ck_SNARKs https://t.co/jXP1P9ChaN

Mon Oct 25 03:45:02 +0000 2021

Omar at TX : @ck_SNARKs You are punishing success, you are punishing America. You are a bunch of arrogant, useless politicians'... https://t.co/hATUFpjQdD

Mon Oct 25 03:44:50 +0000 2021

Silver Lining : @ck_SNARKs That's really a dumb idea.

Mon Oct 25 03:42:37 +0000 2021

Jeff Swann : @ck_SNARKs Is this the ''You will own nothing & be happy'' part?

Mon Oct 25 03:40:23 +0000 2021

Marcus Aurelius : @ck_SNARKs Sale solana ftt serum https://t.co/AGaZOdBHOf

Mon Oct 25 03:37:12 +0000 2021

Alan : @ck_SNARKs If it is their ''income'' it was already realized and taxed. Unrealized is not income. ðŸ¤...ðŸ>>'''¸People need'... https://t.co/SALVdPwjqM

Mon Oct 25 03:27:42 +0000 2021

Modern Miscreant : @ck_SNARKs This is a modern day 6102 rope-a-dopehttps://t.co/5PIk0I25Pw

Mon Oct 25 03:20:13 +0000 2021

Wavemaps : @ck_SNARKs This is really disturbing. Theft by any other name'...

Mon Oct 25 03:18:01 +0000 2021

nomad : @ck_SNARKs This is bull-hit

Mon Oct 25 02:59:29 +0000 2021

Chris'šGiven : @ck_SNARKs The super rich will just leave the country. That's what will happen. Lol ðŸ†

Mon Oct 25 02:56:06 +0000 2021

James : @ck_SNARKs Damn, if only there was an asset that you could hold psuedonymously to avoid being taxed on your unreali'... https://t.co/XWIQHcBZh8

Mon Oct 25 02:51:14 +0000 2021

FabianM : @ck_SNARKs Monero just got more popular after this

Mon Oct 25 02:47:20 +0000 2021

Sean Muder : @ck_SNARKs Downright theft! We have a spending problem not a tax revenue problem!

Mon Oct 25 02:43:20 +0000 2021

Ivor Mectin : @ck_SNARKs https://t.co/6M1egsjl8v

Mon Oct 25 02:43:09 +0000 2021

Crypt0cracy : @ck_SNARKs Scammers pump and dump, government pump and tax LOLOLOL https://t.co/Yd832UHEQN

Mon Oct 25 02:31:06 +0000 2021

St. Andrew Ryan ðŸ'🌋🎃 : @ck_SNARKs Why is she talking like she's had a stroke recently?

Mon Oct 25 02:30:40 +0000 2021

esixtyone : @ck_SNARKs Carefully carving out just enough loophole that her assets are exempt.

Mon Oct 25 02:29:56 +0000 2021

Louis : @ck_SNARKs How would you be able to tax unrealized gains, it's a fluctuating number 🤷🏼'''¸. You could be up 1,000% i'... https://t.co/pUmOvo0Rvt

Mon Oct 25 02:26:08 +0000 2021

Eric 🤪 HODL-le-he-hoo : @ck_SNARKs I thought the same thing the other day 🤬

Mon Oct 25 02:25:49 +0000 2021

Dave Chidyllo : @ck_SNARKs They just can't help themselves. It's amazing that this is even a discussion.

Mon Oct 25 02:24:30 +0000 2021

ITAS Solutions : @ck_SNARKs Of course they are. In the 1930's they confiscated all gold and then immediately raised the price of gol'... https://t.co/kw75d2kkZi

Mon Oct 25 02:22:53 +0000 2021

bucket shop bandit : @ck_SNARKs Exactly right. Pure evil.#Bitcoin

Mon Oct 25 02:22:43 +0000 2021

TheDudeOfCrypto : @ck_SNARKs I doubt this will only be for '...exceptionally wealthy...' individuals. We need @SenLummis on this

Mon Oct 25 02:22:36 +0000 2021

Larry Roberts : @ck_SNARKs I have a feeling after this interview her life expectancy is dropping by the hour.

Mon Oct 25 02:21:51 +0000 2021

Riggs : @ck_SNARKs Theft.

Mon Oct 25 02:17:11 +0000 2021

DaveToshi : @ck_SNARKs @hodlsloth

Mon Oct 25 02:16:27 +0000 2021

Uncle Rockstar : @ck_SNARKs Yellen is so sexy

Mon Oct 25 02:13:26 +0000 2021

Lord of the Coins ðŸ' : @ck_SNARKs Will you cover unrealized losses too?

Mon Oct 25 02:10:00 +0000 2021

Alchemist Breuu 🍊ðŸ'Š : @ck_SNARKs There will be a mass exodus of innovators and great minds. America will no longer have the ability to co'... https://t.co/iAW6FpFCZ4

Mon Oct 25 02:09:53 +0000 2021

Anonymous Internet Pleb : @ck_SNARKs That's a wealth tax. You're literally describing a wealth tax, then saying it's not a wealth tax.

Mon Oct 25 02:09:52 +0000 2021

MambaMentality824 : @ck_SNARKs I don't know why this comes to mind. ðŸ¤--ðŸ¤-- https://t.co/S9vrLa4PjW

Mon Oct 25 02:08:13 +0000 2021

Death, Taxes & 21 Million : @ck_SNARKs Why do the state of the union graphics look like the background for VJs on cartoon channels?

Mon Oct 25 02:07:50 +0000 2021

Alchemist Breuu 🍊ðŸ'Š : @ck_SNARKs ðŸ¤...'''¸ Taxing unrealized gains is permanent stasis or worse, collapse. Bad idea.

Mon Oct 25 02:03:37 +0000 2021

Volcano Maximalist 'ž/21M🌋 ðŸŸ(C) 🐂ðŸ—'¸'š : @ck_SNARKs Thank God for #Bitcoin

Mon Oct 25 02:02:46 +0000 2021

Norcliff : @ck_SNARKs Exceptionally wealthy individuals will be everyone who has any kind of stocks, bonds, and eventually real estate.

Mon Oct 25 02:01:38 +0000 2021

PlanC : @ck_SNARKs Potentially good if as she say's if only for 'the extreme rich' like #BillGates, #JeffBezos, #ElonMusk'... https://t.co/38ONJJJvew

Mon Oct 25 02:00:24 +0000 2021

officer thorny : @ck_SNARKs Imagine watching this and thinking a ceiling for $BTC even exists.

Mon Oct 25 02:00:04 +0000 2021

Sbosydney : @ck_SNARKs Is she elected official?!

Mon Oct 25 01:58:30 +0000 2021

okumo : @ck_SNARKs Good ... Bitcoin please destroy these people.

Mon Oct 25 01:57:23 +0000 2021

VIDEO - Disclose.tv on Twitter: "NEW - New Zealand Prime Minister Jacinda Ardern, when asked by a reporter if she was creating two classes of people, with the vaccinated receiving special privileges, confirmed, "That is what it is, yep". https://t.co/4VDU

Sun, 24 Oct 2021 13:46

Disclose.tv : NEW - New Zealand Prime Minister Jacinda Ardern, when asked by a reporter if she was creating two classes of people'... https://t.co/PsyesAoq3T

Sun Oct 24 12:24:24 +0000 2021

seglow.eth : @disclosetv Lol I love the salt from anti-vaxxers, getting everything they deserve ''¤¸

Sun Oct 24 13:46:15 +0000 2021

Jamesvx8 : @disclosetv Talking about grabbing the bull by the horns 👍👍👍

Sun Oct 24 13:46:01 +0000 2021

K3 : @disclosetv * safe environment..*The vaccine offers near zero protection from infection..This lady *knows that*'... https://t.co/UxviQXHPsQ

Sun Oct 24 13:45:59 +0000 2021

'-- ᴛá´É´Êá´ '-- : @disclosetv How does this even make sense? If you're vaccinated then you are 'protected' you should not be worried about the unvaccinated 🤯

Sun Oct 24 13:45:52 +0000 2021

DeVilleWannaB : @disclosetv What an angry grotesque shell of a human. 🤮

Sun Oct 24 13:45:44 +0000 2021

Martin Stothard : @disclosetv Doublethink.

Sun Oct 24 13:45:04 +0000 2021

Dan Smith : @disclosetv This woman is pure evil

Sun Oct 24 13:45:00 +0000 2021

Paolo : @disclosetv She is very unlikable and fake. Wow

Sun Oct 24 13:44:44 +0000 2021

EMARGOR : @disclosetv She is part of the ''Variant''

Sun Oct 24 13:44:34 +0000 2021