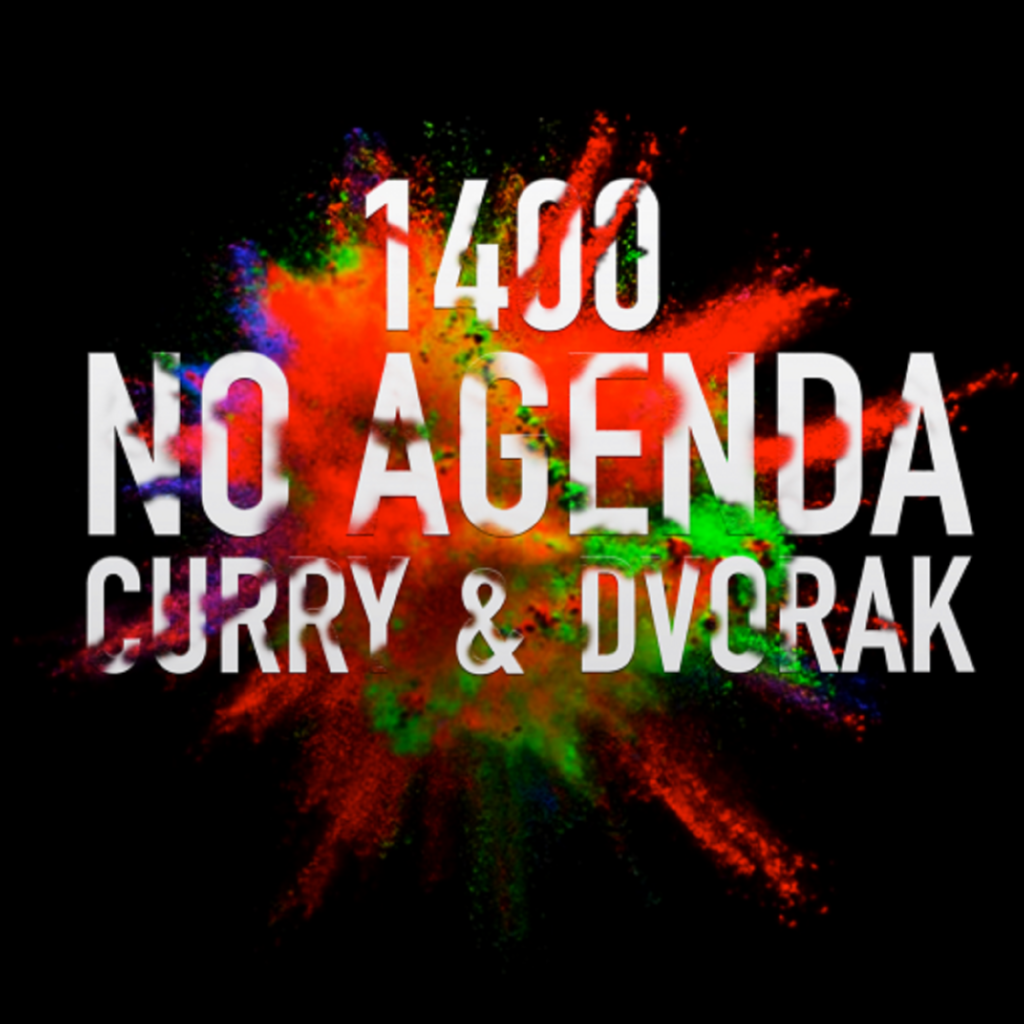 November 18th, 2021 • 3h 58m
1400: The Learning Curve
Shownotes
Every new episode of No Agenda is accompanied by a comprehensive list of shownotes curated by Adam while preparing for the show. Clips played by the hosts during the show can also be found here.
The Surge
Mandates

COVID-19 Vaccination and Testing ETS | Occupational Safety and Health Administration

On November 12, 2021, the U.S. Court of Appeals for the Fifth Circuit granted a motion to stay OSHA's COVID-19 Vaccination and Testing Emergency Temporary Standard, published on November 5, 2021 (86 Fed. Reg. 61402) ("ETS"). The court ordered that OSHA "take no steps to implement or enforce" the ETS "until further court order." While OSHA remains confident in its authority to protect workers in emergencies, OSHA has suspended activities related to the implementation and enforcement of the ETS pending future developments in the litigation.
Big Pharma

Ganging Up on Moderna - WSJ

Barack Obama captured the view of modern progressives with his famous line about successful businesses: "You didn't build that." Now Democrats are claiming that Moderna didn't invent its enormously successful Covid vaccine—the National Institutes of Health (NIH) did.

Several media outlets reported last week that Moderna is refusing to give NIH researchers credit for patents that were supposedly key to its Covid vaccine. The charge is that Moderna is profiting from government innovation. This misinformation is being used to promote the narrative that drug makers owe their success to the government.

The main controversy involves a patent over the gene sequence in the Moderna mRNA vaccine for the coronavirus spike protein. Proteins are formed by chains of amino acids, each of which is defined by three mRNA nucleotides. There are literally trillions of possible gene sequences that might have been used to recreate the spike protein.
BLM LGBBTQQIAAPK+ Noodle Boy

Thank producers I can afford to watch a trial all day

I remember MTV prosecution

Toxic masculinity is a birth control psy-op
Climate Change

Shell wants to move headquarters amid cleaner energy shift
Food Security

JBS buys Fake meat company

JBS , the world's biggest meat processor, has agreed

to acquire Netherlands plant-based protein brand Vivera

in a deal worth €341 million ($409 million).

The Brazilian meat firm said the acquisition "strengthens and boosts" its

position in the burgeoning alt-protein market by adding a brand to its

existing animal-free portfolio that is "well-established in consumer

preference." The JBS group's current plant-based offerings include the

Seara Incrivel range and Planterra's Ozo

Foods .

As part of the deal, São Paulo-based JBS is set to take over Vivera's three

factories, as well as its R&D center, all of which are located in the

Netherlands. Vivera will remain as a standalone business with its current

management in place.

According to a statement, Vivera is Europe's third-largest plant-based

protein producer, holding "relevant market share" in its home country in

addition to Germany and the UK.

Founded in the early 1990s and based in the small east Netherlands town of

Holten, it offers a range of products including chicken-style nuggets and

goujons, sausages, and ground 'meat'. These are made from protein that has

been derived from soybean, wheat, rice, and chickpea, among other sources.

Other food processors move to fake meat

US-based meat firm Tyson Foods was an early investor in plant-based patty maker Beyond Meat, but sold its stake before the latter's 2019 IPO. Tyson has since launched its own Raised & Rooted brand offering both pure plant-based products and 'hybrids' containing a mixture of plant-based and animal-derived protein. It has also invested in US cell-cultured beef startup Memphis Meats.

Swiss meat processor Bell Food Group has backed another startup culturing animal protein from cells: the Netherlands' Mosa Meat.

Moving from turf to surf, Asian seafood giants Thai Union and Vinh Hoan have invested in cell-based seafood specialists BlueNalu and Avant, respectively. Thai Union has also launched its own plant-based meat and seafood alternative range called OMG Meat.

Vivera itself had previously been part of Enkco Foodgroup, the flagship company of which was a manufacturer of chilled and frozen animal meat products. However, the group sold off the Enkco business in early 2019 in order to focus on plant-based proteins, rebranding as Vivera Foodgroup in the process.

UAW has accepted the John Deere offer
Space Force
M5M
Opiods
VAERS
Small pox
Color Revolutions

Ethiopia BOTG

ITM fellas. Wanted to offer some inside intel on the current situation in Ethiopia. My wife is Ethiopian, and still has several family members living in Addis Ababa with some having close connections to the government, and this is her best explanation.

To understand Ethiopia's current situation we need to go back in time to 1991 when the U.S. helped prop up the EPRDF (Ethiopian People's Revolutionary Democratic Front) lead by Meles Zanawi and ousted the sitting prime minister Mengistu Haile Mariam. Mengistu was the leader of the Derg that overthrew Emperor Haile Selassie (Ras Tafari Makonnen) in 1974. Mengistu was a Marxist/Leninist and ruled Ethiopia as a Socialist State from 74' until 91'. So the US and British helped arm and position Meles Zanawi to overthrow Mengistu. Shortly after Zenawi took power he gave Eritrea it's independence thus losing the last ocean ports Ethiopia had and essentially land locking Ethiopia. He also immediately disarmed the entire country of Ethiopia. Zenawi is a Tigrayan and during his leadership he brought about ethnic divides throughout the country where each ethnic region essentially had their own government. There are roughly 80 different Ethnic groups that sorted into 13 different political parties that all acted independent of a centralized Ethiopian government. This lead to a lot of infighting as the country devolved into tribalism. Zenawi also oversaw the construction of the Grand Ethiopian Renaissance Dam (GERD) that blocked the Blue Nile that supplies roughly 70% of the water to the Nile River that flows into Egypt. Roughly 30% comes from the White Nile that starts in Tanzania and Kenya. Once completed the GERD is expected to generate 6.5 Gigawatts of electricity making it the largest hydroelectric plant in Africa and the 7th largest in the world.

Zenawi died in 2012 and was succeeded by Hailemariam Desalegn. Desalegn was the deputy prime minister under Zenawi so it was business as usual from 2012-2018 until Desalegn officialy stepped down due to mounting civil unrest and protests throughout the country. The Ethiopian people were tired of being divided by ethnicity for the past 26 years and wanted a ruler that would unite the people and create one Ethiopia for all. Enter the current PM Abiy Ahmed (pronounced Abby). Abiy was immediately beloved by the people as he worked to squash old beefs and unite the country (Think of Hatfield's and McCoy's but with 80+ ethnic groups). This was no small task as old wounds are difficult to heal. Abiy has been pressured since taking power to destroy the dam, as it will impact Egypt, whom is a close ally of the US and a strategic military base for the region. Abiy is trying to do what's best for his people while maintaining peace with Egypt and other affected country's.

So what's going on today? The Tigrayan region in North Ethiopia on the border of Eritrea is essentially going to war against Ethiopia as they were in power for nearly 30 years and they want their power back. Eritrea and Ethiopia are trying to control the revolt but are so far unsuccessful as the rebels are murdering non-Tigrayan citizens, primarily farmers, in attempts to starve out Ethiopians. They are definitely getting support from the US and other western ally's. All of the "AID" being sent to the Tigray region is containing weapons, ammunition, and even soldiers. So these UN joint investigations are actually supply reinforcements for the Tigrayan rebels. The media is pushing the narrative that Abiy is blocking the UN investigations into war crimes as well as blocking aid packages, but in reality he is trying to stop the rebels from gaining enough power to where they will be able to overthrow the government and regain control.

So why is the US backing the Tigrayan's and not Abiy who wants to unite Ethiopia in peace? First off because the Tigrayan's will act on behalf of US interests. Most likely ending the Dam and smoothing over US/Egypt relations. They still have many powerful contacts on the world stage from being in power for nearly 30 years.2nd - Abiy has not been very forceful with Somalia and there have been increasing incidents with cargo ships around the Horn of Africa. All shipments from Asia to Europe travel around the Horn, up the Red Sea, and through the Suez Canal. Well apparently the Somali's are running wild again and causing more disruptions than the Western powers would like to see. My wife said the idea is if the Tigrayans take power they will be much firmer with Somalia and have support from the US to ensure smooth travels around the Horn. 3rd - The African Union is headquartered in Addis Ababa (Capital of Ethiopia) so if the US can install a friendly leader then they will have influence over all of Africa. How Ethiopia goes, so Africa goes as well. 4th - From boots on the ground in Ethiopia, a spook arrived in Addis 3 weeks ago and told Abiy to stand down against the Tigrayan forces and allow them to take control. If Abiy resists then all aid will be cut off. Abiy said No and will cut all ties to the US if needs be, but will not surrender control of the country. The spook then left and went to Khartoum, Sudan, and within 2 days a military coup was successful in overthrowing the PM Abdallah Hamdok. This will put even more pressure on Ethiopia to reverse course with the dam, as many believe Khartoum will suffer water shortages like Egypt,

That's what I have so far, but will continue to keep an eye on the situation. The Ethiopian people stand behind Abiy and want the US/UN involvement to stop. They absolutely hate Biden and just had a large demonstration in DC just 2 weeks ago. The US is definitely backing the more radical and volant group in Tigray and both Ethiopians and Eritreans want the violence to end and the US to stay the hell out. Article here Ethiopians protest in Washington, DC to protest Biden's executive order

If you have specific questions let me know and I'll do my best to find an answer. TYFYC
Great Reset

Build Back Better Breathalyzers in Cars

NFTs are great reset in action
OTG

Metaverse work will be training AI - Mining Humans

The Metaverse - Zoom backgrounds/instagra, filters a all in one
Dead Hollywood
OTG

What's worse than sending a linkless screenshot? A link to an Instagram post with a linkless screenshot

GOOGLE PLAY IS LOADING COVID TRACKERS ON YOUR PHONE SURREPITITIOUSLY

Adam, this week I saw something titled "COVID EXPOSURE" pop up on my Samsung phone. I havent installed a OS update in 2 years not wanting the latest contact

tracing apps and so I was scratching my head as to how this happened. I double checked my Android Build to make sure I hadn't goofed and installed the latest

update and confirming I am still running on older software I couldn't figure out how COVID Contact Tracing had appeared on my phone. After some researching I have

learned that Google Play loaded it on my phone running in the background and did not get my permission to do it.

WARNING: Google Play is running in the background of most Android Phones and it has the ability to load whatever they want to load on your phone and is using

MULTIPLE means to track you and collect data. I made the decision to UNINSTALL it!
Elites
STORIES

NY to address sudden cardiac arrest in student athletes

Thu, 18 Nov 2021 16:12

New York state will be required to establish rules for monitoring students who are exhibiting signs of sudden cardiac arrest as well as treatment for the problem, based on a law signed Monday by Gov. Kathy Hochul.

The measure was pushed for by the mother of Dominic Murray, who died of sudden cardiac arrest while playing basketball at school in 2009.

''Student athletes are uniquely vulnerable to sudden cardiac arrest," said state Sen. Jim Gaughran. "Sudden cardiac arrest is preventable, and this law is critical to identifying, and preventing, any more tragic loss like that of Dominic Murray. I thank Dominic's mom, Melinda Murray-Nyack, and all of the other families and advocates, for championing this law and their tremendous efforts across New York State in helping to raise awareness about sudden cardiac arrest. Our student athletes are safer and healthier because of the work of Melinda Murray-Nyack.''

Identifying the warning signs of sudden cardiac arrest could help preventing it. The measure requires the State Education Department to review information from the state Department of Health related to students who have shown symptoms of sudden cardiac arrest. The information will be posted on the department's webiste and included in a permission or consent form that would be required for a student to participate in sports.

COVID-19 Vaccination and Testing ETS | Occupational Safety and Health Administration

Thu, 18 Nov 2021 16:06

COVID-19 Vaccination and Testing ETS

On November 12, 2021, the U.S. Court of Appeals for the Fifth Circuit granted a motion to stay OSHA's COVID-19 Vaccination and Testing Emergency Temporary Standard, published on November 5, 2021 (86 Fed. Reg. 61402) ("ETS"). The court ordered that OSHA "take no steps to implement or enforce" the ETS "until further court order." While OSHA remains confident in its authority to protect workers in emergencies, OSHA has suspended activities related to the implementation and enforcement of the ETS pending future developments in the litigation.

The ETS on Vaccination and Testing was officially filed in the Office of the Federal Register on November 4, 2021, and it became effective when it was published on November 5, 2021. Written comments on any aspect of the ETS must be submitted by December 6, 2021 in Docket number OSHA-2021-0007. Written comments on the information collection determination as described in V.K. of the ETS preamble [2021-23643] must be submitted by January 4, 2022 in Docket number OSHA-2021-0008.

Find information on the COVID-19 Healthcare ETS or on Coronavirus Disease (COVID-19).

Shell wants to move headquarters amid cleaner energy shift

Thu, 18 Nov 2021 15:26

By DANICA KIRKA and MIKE CORDER

Updated 11/15/2021 12:20 PM

LONDON -- Royal Dutch Shell proposed moving its headquarters from the Netherlands to the United Kingdom and streamlining its structure Monday in hopes of making it easier to move forward in a world transitioning away from a dependence on fossil fuels.

The company, which has been incorporated in the U.K. with Dutch tax residency and dual class shares since 2005, said it wanted to move to a more conventional structure to make the company more competitive as it seeks to meet the challenges of shifting toward cleaner energy.

Dutch officials said they were 'Å'unpleasantly surprised."

'Å'The government deeply regrets that Shell wants to move its head office to the United Kingdom,'¯½ Dutch Economic Affairs and Climate Minister Stef Blok said. 'Å'We are in talks with the top of Shell about the implications of this move for jobs, critical investment decisions and sustainability.'¯½

He said the company had assured the government that 'Å'the personnel consequences of this decision will be limited to the relocation of a number of executive, board positions from the Netherlands to the United Kingdom.'¯½

Shell said that while it was proud of its Dutch heritage, the changes mean it would no longer use 'Å'Royal Dutch" in its name.

'Å'The simplification will normalize our share structure under the tax and legal jurisdictions of a single country and make us more competitive," Shell Chairman Andrew Mackenzie said in a statement. 'Å'As a result, Shell will be better positioned to seize opportunities and play a leading role in the energy transition."

Shareholders will be asked to vote on the measure at a meeting Dec. 10.

The proposal hints at the complications Shell and other energy giants face as they plan for the day when demand for oil fades and major economies turn to electric-powered cars. Chief Executive Ben van Beurden has made it clear in the past that he intends to have the company remain competitive in a world that gets more of its energy from renewable sources.

His comments came amid an increased focus on the future of the industry after the 2015 Paris climate agreement led governments to commit to tougher action on emissions and shareholders push for more long-term plans.

Shifting from a company that makes fossil fuels to net-zero emissions businesses will involve decreasing investment in one part of the firm and increasing it in another, said David Elmes, an energy expert at the Warwick Business School.

Shell has been challenged, meanwhile, by activist investment firm Third Point to split into a legacy fossil fuel company that returns funds to shareholders from producing oil and a net-zero firm that raises its own capital from markets, Elmes said.

'Å'Shell have replied that it's both the funds from declining fossil fuel activities and their transferrable capabilities that will allow them to be successful in making the transition as a single firm,'' Elmes said. 'Å'They have resisted Third Point's call to split the company.''

At a time of pressure, the company is proposing more clarity. Shell's dual share structure is a legacy of a 2005 merger that created the company as it is known today. The structure makes it less clear to investors what they were buying and who they could expect payments from - or at least more complicated than many similar firms.

'Å'Unifying the share structure is a step to make this whole process of transforming the company more transparent and simpler for shareholders," Elmes said.

There are other pressures as well. Shell lost a landmark case brought by climate activists in the Netherlands earlier this year. The Hague District Court ordered the company to cut its carbon emissions by a net 45% by 2030 compared with 2019 levels, a decision activists hailed as a victory for the planet.

Peer de Rijk of Friends of the Earth Netherlands said Shell's changes would have no effect on the case. Shell said in July it was appealing the ruling.

'Å'This news has no negative consequences for Milieudefensie's climate case against Shell. In any case, this lawsuit will remain with the Dutch courts," De Rijk said.

'Å'Rather, moving to the United Kingdom opens up a new front, including for future cases,'¯½ he added.

Shell is not the first multinational company to turn its back on the Netherlands. Last year, consumer goods giant Unilever - owner of household brands such as Dove, Lipton teas and Ben & Jerry's ice cream - said it was ending its Anglo-Dutch corporate structure and would be headquartered in London.

____

Corder reported from The Hague, Netherlands.

0 Comments

The Ottawa Senators Have a 100% Vaccination Rate'--and 40% of the Team Has Tested Positive for Covid - WSJ

Thu, 18 Nov 2021 15:01

The sidelining of an NHL team this week shows that, while vaccination rates are high, indoor, maskless activities can still lead to an outbreak

A substantial Covid-19 outbreak that this week has sidelined the National Hockey League's Ottawa Senators'--despite the entire team being vaccinated'--carries a warning for the coming months of professional sports: even with blanket immunization, pandemic disruptions are far from over.

The NHL announced the suspension of the Senators' season through at least Nov. 20 after 10 players and one coach tested positive in recent days. The team says it is fully vaccinated, but hasn't specified which shots players have received.

After...

Advertisement - Scroll to Continue

A substantial Covid-19 outbreak that this week has sidelined the National Hockey League's Ottawa Senators'--despite the entire team being vaccinated'--carries a warning for the coming months of professional sports: even with blanket immunization, pandemic disruptions are far from over.

The NHL announced the suspension of the Senators' season through at least Nov. 20 after 10 players and one coach tested positive in recent days. The team says it is fully vaccinated, but hasn't specified which shots players have received.

After nearly two years in which sports have delivered some of the most vivid case studies in public health, the Senators are presenting yet another: just how much Covid can still spread when a vaccinated group of people gather in poorly ventilated places and get up in each other's bare faces. That's a problem for every sport that plays indoors'--and a warning for every coming holiday party.

The outbreak has sent the Senators off the ice to the longest Covid-related sports hiatus since vaccines became widely available and leagues persuaded nearly all of their players to get vaccinated.

Even in a league with a 99% vaccination rate, breakthrough cases on the Senators have now infected more than 40% of the roster. Yet epidemiologists say they are not particularly surprised. They have long warned that while vaccines are highly effective in preventing serious illness from the coronavirus, they're not as foolproof in blocking infections, especially as time passes, immunity fades and the highly contagious Delta variant spreads'--especially when other preventive measures are not also in effect.

Advertisement - Scroll to Continue

''It's hockey, it's not like you're going to have masking, distancing, ventilation working in your favor at all times,'' said Isaac Bogoch, a University of Toronto infectious diseases specialist who is a consultant for the National Hockey League Players Association.

He added: ''We can see the effectiveness of the vaccines are slightly waning with time and it's real, but we have to remember it's waning against getting the infection '-- the vaccines are holding a lot of their strength against severe illness.''

The problem isn't just that hockey is played without face-coverings, six-feet-apart stickers and opened windows. The NHL and other leagues have also peeled back the heftier testing regimens that they deployed in the pre-vaccination era. Fully vaccinated players are only required to take a PCR test every third day, while unvaccinated players must continue doing so daily. Vaccinated players need only take daily tests if they are identified as a close contact of someone who has tested positive; unvaccinated players can be sent into quarantine.

Advertisement - Scroll to Continue

Professional hockey played its first pandemic season inside a bubble akin to the National Basketball Association's Disney ''campus setting.'' It's no coincidence that the two most prominent indoor professional sports in America chose a form of lockdown to be able to play on inside, while football and baseball soldiered on outdoors though found themselves struggling with indoor activities such as dining.

Actually, hockey went one step further than basketball and made a ''double bubble'' for its 2020 playoffs. Players were not only in a sealed environment with limited contact with people from the outside world, but that outside world happened to be communities in Canada with very low rates of Covid cases.

Outside of that bubble, there were rich examples of how easily the virus could spread inside an ice rink. In a paper published by the U.S. Centers for Disease Control and Prevention, Florida health officials recounted a June 2020 recreational hockey game in Tampa Bay during which a presymptomatic but infectious player appeared to have transmitted coronavirus to eight out of 10 teammates, five out of 11 players from the opposing team, and one rink staff member.

Advertisement - Scroll to Continue

''The ice rink provides a venue that is likely well suited to Covid-19 transmission as an indoor environment where deep breathing occurs, and persons are in close proximity to one another,'' the authors wrote. ''The high proportion of infections that occurred in this outbreak provides evidence for SARS-CoV-2 transmission during an indoor sporting activity where intense physical activity is occurring.''

Finnish researchers found an asymptomatic carrier of Covid-19 in an under-20 team had infected 22 of 28 teammates, that another 24 players from two opposing teams the under-20s had just played tested positive in the next two weeks, and since some of those players were training with senior teams, an additional three infected players were detected.

The Senators' outbreak for now presents only a minor scheduling headache for the NHL, which must now squeeze two additional games into the remaining 23 weeks of the regular season. That's a bit harder to do in 2022 than most years, as the NHL is taking a three-week hiatus in February to allow players to represent their countries at the Beijing Winter Olympics.

Advertisement - Scroll to Continue

Bogoch said that his prescription for hockey was to ''carry on carrying on,'' he said. ''When you think about how contagious Delta is, how many games have been played'... all things considered, it's going OK.''

He said he saw no need for a return to the bubble, but he also didn't want to see hockey drop all testing and just let players spread infection.

''A bubble I don't think is reasonable at this point in time; nor is pretending that the pandemic is over.''

Write to Louise Radnofsky at louise.radnofsky@wsj.com and Laine Higgins at laine.higgins@wsj.com

Ganging Up on Moderna - WSJ

Thu, 18 Nov 2021 14:59

The left and the feds want to take undeserved credit for the company's Covid vaccine patent.

Barack Obama captured the view of modern progressives with his famous line about successful businesses: ''You didn't build that.'' Now Democrats are claiming that Moderna didn't invent its enormously successful Covid vaccine'--the National Institutes of Health (NIH) did.

Several media outlets reported last week that Moderna is refusing to give NIH researchers credit for patents that were supposedly key to its Covid vaccine. The charge is that Moderna is profiting from government innovation. This misinformation is being used to...

Advertisement - Scroll to Continue

Barack Obama captured the view of modern progressives with his famous line about successful businesses: ''You didn't build that.'' Now Democrats are claiming that Moderna didn't invent its enormously successful Covid vaccine'--the National Institutes of Health (NIH) did.

Several media outlets reported last week that Moderna is refusing to give NIH researchers credit for patents that were supposedly key to its Covid vaccine. The charge is that Moderna is profiting from government innovation. This misinformation is being used to promote the narrative that drug makers owe their success to the government.

The main controversy involves a patent over the gene sequence in the Moderna mRNA vaccine for the coronavirus spike protein. Proteins are formed by chains of amino acids, each of which is defined by three mRNA nucleotides. There are literally trillions of possible gene sequences that might have been used to recreate the spike protein.

Moderna scientists studied the permutations and selected the one using their technology that they believed would be most effective. The company filed a patent for it on Jan. 28, 2020.

Democrats nonetheless claim that NIH deserves credit for Moderna's gene sequence and should be named on the principal patent application because government researchers picked the coronavirus spike protein as the vaccine target. But virtually all Covid vaccines target the spike protein, including those made by the Chinese. Moderna's significant contribution was choosing the particular gene sequence to reverse engineer the spike.

Advertisement - Scroll to Continue

Liberals also flog a 2016 patent by scientists at the NIH, Dartmouth College and Scripps Research Institute that made modifications to the coronavirus spike protein, which stemmed from research on other coronaviruses. Moderna's vaccine like many others does encode this modified coronavirus spike, and the company recognizes its importance. But it was by no means the secret sauce to its success. Moderna had filed for a patent for a coronavirus mRNA vaccine prototype in 2015.

Media reports claim that Moderna, unlike other vaccine makers, has refused to pay the NIH for its invention. Yet Moderna has offered to license the government's patent on the same payment terms as other manufacturers. Negotiations with the government faltered once liberal groups turned the issue into a cri de coeur.

''This is the people's vaccine,'' the left-wing group Public Citizen declared last November. ''Federal scientists helped invent it and taxpayers are funding its development'' so ''it should belong to humanity.'' Democratic Senators are now demanding that NIH assert its ''rights'' to Moderna's vaccine and force it to share its intellectual property with the rest of the world.

Never mind that Moderna has promised not to enforce its Covid vaccine patents. It has also offered to give the NIH co-ownership of the patent of its gene sequence. What progressives want, however, is for Moderna to concede that the government invented its Covid vaccine. They have been demanding that NIH Director Francis Collins

Advertisement - Scroll to Continue

make this proclamation too, and last week he surrendered.

''I think Moderna has made a serious mistake here in not providing the kind of co-inventorship credit to people who played a major role in the development of the vaccine that they're now making a fair amount of money off of,'' Dr. Collins toldReuters, adding: ''But we are not done. Clearly this is something that legal authorities are going to have to figure out.''

Government has long financed basic scientific research, but Moderna has spent billions of dollars over many years developing the technology that made its Covid vaccine a success. Liberals now want Americans to believe that government invented Moderna's vaccine because its success undermines two of their big political goals: Weakening intellectual property protections and imposing drug price controls. If government created the vaccine, then it has a stronger claim to control its price and distribution. Both policies would reduce the incentives and rewards for innovation.

The modern left hates when private companies succeed without relying on government largesse, and all the more when the companies don't feel a need to apologize for it.

Big Winners From Natural-Gas Crunch: Coal Power Plants in Europe - WSJ

Thu, 18 Nov 2021 14:56

Profit margins are far and away the highest they have been in years. Under Europe's climate policies, this shouldn't be happening.

Updated Nov. 17, 2021 1:27 pm ETCoal power plants are running at full tilt in parts of Europe and enjoying a rare bout of massive profitability, a setback to efforts to cut carbon emissions.

Under Europe's climate policies, this shouldn't be happening. The European Union and U.K. pushed world leaders, unsuccessfully, to back an end to coal consumption at the Glasgow summit on climate change. Both have markets for emission permits that are designed to pinch profit at polluters such as coal-fired power stations and funnel capital toward greener energy.

...

Advertisement - Scroll to Continue

Coal power plants are running at full tilt in parts of Europe and enjoying a rare bout of massive profitability, a setback to efforts to cut carbon emissions.

Under Europe's climate policies, this shouldn't be happening. The European Union and U.K. pushed world leaders, unsuccessfully, to back an end to coal consumption at the Glasgow summit on climate change. Both have markets for emission permits that are designed to pinch profit at polluters such as coal-fired power stations and funnel capital toward greener energy.

For years, Europe's carbon market did just that, culminating in a succession of coal-plant closures in 2020 and predictions of coal's demise. But a natural-gas shortfall has left Europe in danger of running low on the power-generation and heating fuel by next spring. Coal and its dirtier cousin lignite, known as brown coal, are back generating electricity to fill the gap.

Bumper profits are on offer for utilities able to fire up power plants that run on the highest-emitting fossil fuels. The reason is that gas prices are close to record highs, and jumped again this week after German regulators kiboshed traders' hopes of speedy approval for Nord Stream 2. The pipeline, opposed by the U.S., would double Russia's capacity to export gas directly to Germany and the Kremlin has tied extra exports to its getting the go-ahead.

''We're using coal and oil and all the polluting fuels simply because gas is so expensive,'' said Bernadett Papp, head of market analysis at Vertis Environmental Finance Ltd., a Hungarian carbon trader. Ms. Papp said several utility clients in central and Eastern Europe have switched to coal because gas prices have risen much more this year.

Advertisement - Scroll to Continue

Gas prices dictate power markets in Europe, so electricity is also trading at historically high levels in the U.K., Germany and elsewhere. Coal prices, in contrast, have tanked since October, when China started shoveling the fuel in an attempt to avoid winter blackouts.

The divergence means coal power plants are getting paid sky-high prices for electricity produced with a fuel whose price has halved over the past month. So far in November, German coal stations have been able to lock in 57.10 euros, equivalent to $64.65, per megawatt-hour of power they will generate in December.

That is more than four times as high as the previous highest level on Argus Media Group records dating back to 2017, apart from this fall. Gas stations, on the other hand, are bleeding ''¬2.26 for every megawatt-hour of baseload power they generate next month. Forward energy and carbon markets show coal power stations will be more profitable than their gas rivals until 2023, said Argus analyst Justin Colley.

Advertisement - Scroll to Continue

Of Europe's major economies, Germany still has the biggest addiction to coal and lignite. It generated almost 40 gigawatts of electricity from the two fuels in September and October, according to Argus, the most for the time of year since 2018.

In an unusual turn of events, Poland, which gets most of its power from coal and lignite, is exporting electricity to other countries in central and Eastern Europe. Several idled coal stations in Spain, including Energias de Portugal SA 's Soto de Ribera 3 unit and Endesa SA 's Litoral plant, have produced power of late. A handful of surviving coal units in the U.K., including EDF SA's West Burton A, kicked in when low wind speeds curtailed renewable generation.

Across Western Europe, the amount of electricity produced from coal rose 20% in September and October compared with a year earlier, according to Glenn Rickson, head of European power analysis at S&P Global Platts. There could be more to come. Swelling supplies will push the share of European power demand met by the coal and lignite to 15% in the first quarter of 2022, Mr. Rickson said, up from 11% now and 9% in the first quarter of 2021. That would still be less than in the U.S., which got about a fifth of its power from coal last year.

The twist is that utilities are burning coal and lignite at a time when European carbon permits are at record highs. Emission prices have jumped 13% over the past month to about ''¬67 per metric ton of carbon dioxide, and were lifted by an agreement in Glasgow on rules for how countries and companies can trade credits across borders. That should make coal, which produces about twice as much carbon per unit of power as gas, less competitive. The trouble is that gas prices have risen much more than carbon prices this year.

The amount of coal that Europe can burn is capped by the number of power plants that have closed, and Ms. Papp said the blast of coal power doesn't show the EU's carbon market is failing. ''We're in a special situation,'' she said.

Advertisement - Scroll to Continue

Write to Joe Wallace at joe.wallace@wsj.com

Up to Approximately $113 Million of Oral TPOXX® Targeted for Delivery to the U.S. Government in the Fourth Quarter - Form 8-K | MarketScreener

Thu, 18 Nov 2021 14:33

…¬ SIGA

Real-time Estimate - 11/18 09:33:17 am 9.075 USD +9.73% Up to Approximately $113 Million of Oral TPOXX'® Targeted for Delivery to the U.S. Government in the Fourth Quarter - Form 8-KLink copied

11/04/2021 | 03:50pm

- Up to Approximately $113 Million of Oral TPOXX® Targeted for Delivery to the U.S. Government in the Fourth Quarter -

- Approximately $13 Million of International Sales for the First Nine Months of 2021 -

- Corporate Update Conference Call Today at 4:30 PM ET

November 4, 2021, 4:05 pm ET

NEW YORK -- SIGA Technologies, Inc. (SIGA) (NASDAQ: SIGA), a commercial-stage pharmaceutical company, today reported financial results for the three and nine months ended September 30, 2021.

"SIGA's financial results for the first nine months of 2021 include approximately $13 million of international sales, which represents a more than fourfold increase in comparison to the comparable period in 2020. Additionally, we continue to work with Meridian in a new foreign jurisdiction toward finalizing an order that would be similar in size to the initial orders received from Canada in 2020 and early 2021. The timing of the completion of the order has been and may continue to be impacted by the COVID-19 pandemic," said Phil Gomez, CEO of SIGA. "Looking forward to the fourth quarter of 2021, we are coordinating with our supply chain to deliver up to approximately $113 million in total of oral TPOXX® to the U.S. government, almost 30% of which was delivered in October. This progress highlights the strong and growing revenue base of TPOXX, as well as its continuing importance in orthopox health security preparedness."

Summary Financial Results

($ in millions, except per share amounts)

Third Quarter 2021 in comparison to Third Quarter 2020

Three Months

Ended

September 30,

2021

Three Months

Ended

September 30,

2020

Total Revenues

$

4.8

$

44.3

Operating (Loss)/Income (1)

$

(2.9

)

$

32.9

(Loss)/Income before Income Taxes (1)

$

(4.0

)

$

31.6

Net (Loss)/Income

$

(3.1

)

$

24.2

Diluted (Loss)/Income per Share

($0.04) per share

$0.31 per share

Nine Months Ended September 30, 2021 in comparison to Nine Months Ended September 30, 2020

Nine Months

Ended

September 30,

2021

Nine Months

Ended

September 30,

2020

Total Revenues

$

18.3

$

87.2

Operating (Loss)/Income (1)

$

(4.9

) $

57.7

(Loss)/Income before Income Taxes (1)

$

(4.6

) $

47.3

Net (Loss)/Income

$

(3.8

) $

36.2

Diluted (Loss)/Income per Share

($0.05) per share

$0.45 per share

(1) Operating (Loss)/Income excludes, and (Loss)/Income before Income Taxes includes, costs in connection with the retirement of the Company's term loan, interest expense, interest income and adjustments to the fair value of the Company's outstanding warrant. Both line items exclude the impact of income taxes.

Key Activities for the Quarter:

' In September 2021, the Biomedical Advanced Research and Development Authority ("BARDA") exercised a procurement option under the 19C BARDA contract for the delivery of oral TPOXX treatment courses valued at approximately $113 million to the U.S. government.

' In August 2021, the Board of Directors authorized an additional share repurchase program ("New Repurchase Authorization") under which the Company may repurchase up to $50 million of the Company's common stock through December 31, 2023. Shares can be repurchased under the New Repurchase Authorization once the maximum amount allowed to be repurchased under the current program, which was authorized in March 2020, has been repurchased, or once such program has expired. The timing and actual number of shares repurchased, if any, under the New Repurchase Authorization will depend on a variety of factors, including: exercise of procurement options under government contracts, alternative opportunities for strategic uses of cash, the stock price of the Company's common stock, market conditions, and other corporate liquidity requirements and priorities.

Share Repurchase Activity

During the third quarter of 2021, SIGA repurchased approximately 1.1 million shares of its common stock, for approximately $7.1 million. Since the inception of the current share repurchase program in March 2020, the Company has cumulatively repurchased approximately 7.7 million shares of its common stock for approximately $49 million.

Conference Call and Webcast

SIGA will host a conference call and webcast to provide a business update today, Thursday, November 4, 2021, at 4:30 P.M. ET.

Participants may access the call by dialing 1-877-425-9470 for domestic callers or 1-201-389-0878 for international callers. A live webcast of the call will also be available on the Company's website at www.siga.com under the 'Events & Presentations' tab in the Investor Relations section, or by clicking here. Please log in approximately 5-10 minutes prior to the scheduled start time.

A replay of the call will be available for two weeks by dialing 1-844-512-2921 for domestic callers or 1-412-317-6671 for international callers and using Conference ID: 13722063. The archived webcast will be available in the Events and Presentations section of the Company's website.

ABOUT SIGA TECHNOLOGIES, INC. and TPOXX

SIGA Technologies, Inc. is a commercial-stage pharmaceutical company focused on the health security market. Health security comprises countermeasures for biological, chemical, radiological and nuclear attacks (biodefense market), vaccines and therapies for emerging infectious diseases, and health preparedness. Our lead product is TPOXX, also known as tecovirimat and ST-246, an orally administered and IV formulation antiviral drug for the treatment of human smallpox disease caused by variola virus. TPOXX is a novel small-molecule drug and the U.S. government maintains a stockpile of TPOXX for treatment of smallpox. Over the past decade, the U.S. government has procured, or has current orders for, approximately $705 million of TPOXX for national preparedness. The oral formulation of TPOXX was approved by the FDA for the treatment of smallpox in 2018. The full label is here: https://dailymed.nlm.nih.gov/dailymed/drugInfo.cfm?setid=fce826ab-4d6a-4139-a2ee-a304a913a253. In September 2018, SIGA signed a contract potentially worth more than $600 million with BARDA for procurement and development related to both oral and intravenous formulations of TPOXX. For more information about SIGA, please visit www.siga.com.

About Smallpox1

Smallpox is a contagious, disfiguring and often deadly disease that has affected humans for thousands of years. Naturally occurring smallpox was eradicated worldwide by 1980, the result of an unprecedented global immunization campaign. Samples of smallpox virus have been kept for research purposes. This has led to concerns that smallpox could someday be used as a biological warfare agent. A vaccine can prevent smallpox, but the risk of the current vaccine's side effects is too high to justify routine vaccination for people at low risk of exposure to the smallpox virus.

COVID-19 Pandemic

The COVID-19 pandemic has caused significant societal and economic disruption. Such disruption, and the associated risks and costs, are expected to continue for an indeterminate period of time. Given the uncertain scale, scope, and current and future impact of the pandemic, the Company is regularly reviewing business and financial risks, and seeking coordination with its government partners with respect to the performance of current and future contract timing and execution. Additionally, the Company is coordinating closely with service providers and vendors, in particular contract manufacturing organizations that constitute our supply chain, with respect to actions and risks caused by the COVID-19 pandemic. Finally, the Company has proactively provided its employees with resources and other support to help ensure continued success in remote work settings as they navigate the current pandemic environment.

1http://www.mayoclinic.org/diseases-conditions/smallpox/basics/definition/con-20022769

The COVID-19 pandemic has not adversely affected the liquidity position of the Company, nor is it currently expected to have a material adverse effect on the financial condition of the Company. The pandemic has and may continue to delay the timing of international contract awards for oral TPOXX given the need of government officials to focus on meeting the demands of the current COVID-19 pandemic. Additionally, the pandemic could result in a slower pace of product deliveries if the pandemic results in shortages or delays in the receipt by the supply chain of raw materials and other essential items for manufacturing. Furthermore, Executive Order 14042 issued by the President of the United States, which subjects federal prime contractors and subcontractors to certain vaccination requirements and other COVID-19 related safety measures, could have a material impact on the availability and/or timing of services provided to SIGA by certain vendors for supply chain activities and research and development activities. Otherwise, the pandemic is not currently expected to have a material adverse effect on the short-term financial results of the Company, although the Company cannot provide assurances as to the ultimate impact of the pandemic upon the broader macro environment or the Company's industry.

FORWARD-LOOKING STATEMENTS

This press release contains certain "forward-looking statements" within the meaning of the Private Securities Litigation Reform Act of 1995, as amended. Such forward-looking statements are subject to various known and unknown risks and uncertainties, and SIGA cautions you that any forward-looking information provided by or on behalf of SIGA is not a guarantee of future performance. More detailed information about SIGA and risk factors that may affect the realization of forward-looking statements, including the forward-looking statements in this press release, is set forth in SIGA's filings with the Securities and Exchange Commission, including SIGA's Annual Report on Form 10-K for the year ended December 31, 2020, and in other documents that SIGA has filed with the SEC. SIGA urges investors and security holders to read those documents free of charge at the SEC's web site at http://www.sec.gov. Interested parties may also obtain those documents free of charge from SIGA. Forward-looking statements are current only as of the date on which such statements were made, and except for our ongoing obligations under the United States of America federal securities laws, we undertake no obligation to update publicly any forward-looking statements whether as a result of new information, future events, or otherwise.

The information contained in this press release does not necessarily reflect the position or the policy of the U.S. government and no official endorsement should be inferred.

Investor Contacts:

Laine Yonker, Edison Group

lyonker@edisongroup.com

Michael Crawford, Edison Group

mcrawford@edisongroup.com

SIGA TECHNOLOGIES, INC.

CONDENSED CONSOLIDATED BALANCE SHEETS (UNAUDITED)

As of

September

30, 2021

December

31, 2020

ASSETS

Current assets

Cash and cash equivalents

$

92,819,425

$

117,890,240

Accounts receivable

3,822,824

3,340,263

Inventory

29,673,044

20,265,519

Prepaid expenses and other current assets

2,622,254

2,112,069

Total current assets

128,937,547

143,608,091

Property, plant and equipment, net

2,468,463

2,103,990

Deferred income taxes, net

2,952,286

2,544,053

Goodwill

898,334

898,334

Other assets

306,722

676,923

Total assets

$

135,563,352

$

149,831,391

LIABILITIES AND STOCKHOLDERS' EQUITY

Current liabilities

Accounts payable

$

9,962,965

$

1,278,217

Accrued expenses and other current liabilities

8,979,128

9,205,293

Total current liabilities

18,942,093

10,483,510

Warrant liability

6,344,663

6,639,211

Other liabilities

3,720,734

2,915,401

Total liabilities

29,007,490

20,038,122

Commitments and contingencies

Stockholders' equity

Common stock ($.0001 par value, 600,000,000 shares authorized, 74,306,785 and 77,195,704, issued and outstanding at September 30, 2021 and December 31, 2020, respectively)

7,431

7,720

Additional paid-in capital

225,761,819

224,978,430

Accumulated deficit

(119,213,388

)

(95,192,881

)

Total stockholders' equity

106,555,862

129,793,269

Total liabilities and stockholders' equity

$

135,563,352

$

149,831,391

SIGA TECHNOLOGIES, INC.

CONDENSED CONSOLIDATED STATEMENTS OF OPERATIONS AND COMPREHENSIVE INCOME (LOSS) (UNAUDITED)

Three Months Ended

September 30,

Nine Months Ended

September 30,

2021

2020

2021

2020

Revenues

Product sales and supportive services

$

2,346,110

$

41,810,192

$

12,793,615

$

80,547,651

Research and development

2,500,062

2,451,215

5,519,591

6,682,298

Total revenues

4,846,172

44,261,407

18,313,206

87,229,949

Operating expenses

Cost of sales and supportive services

83,276

5,559,215

1,330,114

10,465,078

Selling, general and administrative

4,305,644

3,566,258

13,577,887

10,613,267

Research and development

3,235,145

2,073,613

7,801,901

7,933,404

Patent expenses

165,996

164,102

535,497

520,902

Total operating expenses

7,790,061

11,363,188

23,245,399

29,532,651

Operating (loss)/income

(2,943,889

)

32,898,219

(4,932,193

)

57,697,298

(Loss)/gain from change in fair value of warrant liability

(1,066,522

)

(1,274,156

)

294,548

(2,909,808

)

Loss on extinguishment of Term Loan

-

-

-

(4,981,461

)

Interest expense

-

-

-

(3,016,817

)

Other income, net

26,252

24,932

76,055

469,226

(Loss)/income before income taxes

(3,984,159

)

31,648,995

(4,561,590

)

47,258,438

Benefit/(provision) for income taxes

870,801

(7,461,038

)

805,328

(11,077,854

)

Net and comprehensive (loss)/income

$

(3,113,358

)

$

24,187,957

$

(3,756,262

)

$

36,180,584

Basic (loss)/income per share

$

(0.04

)

$

0.31

$

(0.05

)

$

0.45

Diluted (loss)/income per share

$

(0.04

)

$

0.31

$

(0.05

)

$

0.45

Weighted average shares outstanding: basic

74,840,846

78,080,461

75,822,713

79,880,493

Weighted average shares outstanding: diluted

74,840,846

78,168,070

76,634,963

80,051,778

Disclaimer

SIGA Technologies Inc. published this content on 04 November 2021 and is solely responsible for the information contained therein. Distributed by Public, unedited and unaltered, on 04 November 2021 20:46:45 UTC.

'(C) Publicnow 2021

Bill Gates' $4 bln high-tech nuclear reactor set for Wyoming coal site | Reuters

Thu, 18 Nov 2021 13:31

Bill Gates reacts during the Global Investment Summit at the Science Museum, in London, Britain, October 19, 2021. Leon Neal/Pool via REUTERS

WASHINGTON, Nov 16 (Reuters) - An advanced nuclear power venture founded by billionaire Bill Gates said on Tuesday it has chosen a town in Wyoming as the site to build a $4 billion demonstration plant that will get half its funding from the U.S. government.

TerraPower's Natrium plant will be built in Kemmerer, a remote western Wyoming town where the Naughton coal plant is due to shut in 2025. Pending permits, the 345 megawatt plant will open in 2028, which is the timeline mandated by Congress.

The project will get about $1.9 billion from the federal government including $1.5 billion from the bipartisan infrastructure bill that President Joe Biden signed this week. The bill included about $2.5 billion for advanced nuclear reactors.

"It's a very serious government grant," said Chris Levesque, president and CEO of TerraPower, which is partnering with GE Hitachi Nuclear Energy. "This was necessary because the U.S. government and the U.S. nuclear industry was falling behind," he told reporters.

The United States has been competing with China and Russia which also hope to build advanced reactors and export them.

Advanced reactors are expected to be smaller than traditional ones and theoretically be built in remote locations. The Natrium reactor would be fueled by uranium enriched up to 20%, a far higher level than today's fuel.

Some nuclear power experts say the more highly enriched fuel could be an attractive target for militants looking to create a crude nuclear weapon.

Advanced reactor proponents say the plants are safer and create less waste.

Gates had initially hoped to build an experimental nuclear plant near Beijing with state-owned China National Nuclear Corp. But TerraPower was forced to seek new partners after the administration of Donald Trump restricted nuclear deals with China.

Energy Secretary Jennifer Granholm said the plant would give hope to a town where a coal plant will shut. "The energy communities that have powered us for generations have real opportunities to power our clean energy future through projects just like this one."

Reporting by Timothy Gardner; Editing by Stephen Coates

Our Standards: The Thomson Reuters Trust Principles.

Bricks in Kenosha? Again? Pay No Attention to the Brick Wizard Behind the Curtain.... - by The Starfire Codes - The Starfire Codes by Demi Pietchell

Thu, 18 Nov 2021 13:29

Give a gift subscription

Share

Let's talk about the mysterious bricks surfacing in Kenosha'....

There are already calls of suspicious activity coming through the police scanner.

Between 12 and 1 PM EST earlier today, a Kenosha officer checked a local alley way and verified there are "bricks everywhere." The audio begins here at the 1:11 mark.

Hmm'... preparing for the Kyle Rittenhouse verdict already, are we?

This should all sound familiar because it's how we got into this mess to begin with'....

In 2020, during the Kenosha riots when Kyle Rittenhouse was arrested, mysterious bricks were delivered. In fact, every single city where a riot broke out had stacks and stacks of bricks delivered, seemingly out of nowhere. In most places, security had been disabled so that no one could access security camera videos and see who delivered the bricks in stacks off of trucks on huge pallets.

Naturally, if you happen to put this question in front of thousands of curious researchers who have fun working together and you ask, ''Who is the Brick Wizard?'' it's basically like firing off a shot at the beginning of a race.

Urged to ''follow the bricks,'' we dove right in'....

Pro tip: Many of the tweets from the corresponding dates in late May through early June 2020 regarding the bricks and their timeline have mysteriously since disappeared from Twitter. (Really. I'm shocked.)

It's a good thing Telegram creates a hard backup of the media when you post so you never have to lose anything that Twitter decides to censor.

Note: these tweets I'm posting - these are ALL GONE.

ALL OF THEM.

Aww. ''Acme Brick.'' That's real cute'....

And'... it's go time.

From here, it takes us all of ten seconds to figure it out after grabbing the photos down off of Twitter.

We're a smidge kind of good at what we do'....

And, you know, humble.

Acme Brick is a subsidiary of Berkshire Hathaway.

And that would be Warren Buffett.

And that's Bill Gates's mentor.

Behold the Brick Wizard.

List of assets owned by Berkshire Hathaway. First on the list is Acme Brick Company.

So we wonder, ''Do the rest of these links from the budget disclosure track back to BH? Huge stakes in Amazon (made billions off the lockdowns) and Apple (contact tracing). Also Costco.''

And I'll be honest - I wasn't thinking this through entirely yet. Later, it dawned on me that the purpose for holding that much Apple clearly would be to short it when the Three Gorges dam finally collapses and all of Apple's production facilities are downstream of the water flow in a place with zero drainage infrastructure'... like, say'... nowish?

So'... we wanted to know what else he owns. And the pieces started to fit together. Kinda like interlocking bricks'....

Edwards, J. (2019). What Does Warren Buffett Own? Investopedia. [online] Available here: https://www.investopedia.com/articles/markets/112415/what-exactly-does-warren-buffett-own.asp

Yahoo Finance. (2021). The Berkshire Hathaway Portfolio. Yahoo Finance. https://finance.yahoo.com/u/yahoo-finance/watchlists/the-berkshire-hathaway-portfolio/

Friedman, Z. (2019). Yes, Warren Buffett Really Owns 7 Of Your Favorite Companies. Forbes. [online] Available here: https://www.forbes.com/sites/zackfriedman/2019/01/22/warren-buffett-owns-these-7-companies/

Buffett's stocks have made a killing off of covid lockdowns. (Also, he shorted the airlines and made a killing on that too.)

The Trump administration was bringing antitrust/conspiracy charges against Teva (in Buffett's portfolio) which Teva tried to simply walk away from, thinking there was no way the admin would pursue this during a ''pandemic,'' and even published a ballsy press release to that effect when the US did bring charges. Teva is in generics. They ended up donating an obscene amount of hydroxychloroquine. And they make azithromyacin. Both are, of course, used as treatments for covid.

At this point, coverage from Zero Hedge drops:

Durden, T. (2020). More Bricks Appear In Advance Of Monday Demonstrations In Baltimore, Texas. Zero Hedge. [online] Available here: https://www.zerohedge.com/political/its-setup-mysteriously-staged-bricks-appear-throughout-major-protest-cities

Baltimore, huh? You'd think with all that Baltimore aerial surveillance we'd have an ID on who's dropping bricks by now....

At that time, Arnold Ventures had funded an entire Baltimore aerial surveillance program. The same pallets have surfaced in multiple cities, including Baltimore, which has crazy aerial surveillance in place. So Baltimore should have been able to pull footage on the brick drop in their city.

Except that the Arnolds who funded the aerial surveillance in Baltimore - their firm's director used to work for the Gates Foundation. Part of the press puff piece was how they started AV as an answer to Gates's call for all billionaires to step into ''philanthropy.'' Apparently, surveilling all of Baltimore from the sky without the citizens' consent is somehow philanthropic.

Wake me up when the doublespeak is over'....

With this group, damn near everything means the opposite of what it says. For instance, "child trafficking charities" are ways to hide trafficking children. Notice they're not called ''anti-trafficking'' charities. ''Covid treatment'' is not called ''anti-covid treatment.'' ''Cancer treatment'' is not called ''anti-cancer treatment.''

This is like living in a Chuck Palahniuk novel.

This dropped from Timcast:

Timcast. (2020). NYPD Says Evidence PROVES Rioting Is Planned, "Activists" Caught Giving Out Bricks To Protesters. Bitchute. [online] Available here: https://www.bitchute.com/video/RivUUU1hE_I/

Then we started to notice something really weird.

We started to see all of this divide and conquer interplay with oligarchs, politicians, business people, and corporate entities paying off criminals via an elaborate bail money laundering scheme that funneled money from non-profit organizations to the courts to be returned to the criminals through the bail system, not back to the non-profits.

And, no matter which trail we followed'... bricks, drugs, stocks, banks, non-profits, corporations'... it didn't matter'... every single money trail led us back to the same groups: Vanguard, BlackRock, State Street, and Berkshire Hathaway.

Vanguard, BlackRock, State Street, and Berkshire Hathaway are the four largest investment firms on the planet.

They own literally everything. There is no competition. There is only the illusion of competition.

So, ultimately, if you want to know where the bricks are coming from, we're really looking at asymmetric warfare funded by many billionaires on behalf of the entire cabal to destabilize America.

And the only things they fear are unity and people like Kyle Rittenhouse.

Special thanks to Ramblin.

Give a gift subscription

Share

Marvel Studios president says social justice is not 'political game,' rather 'a responsibility' - Rebel News

Thu, 18 Nov 2021 13:14

Marvel Studios president Victoria Alonso claims that the film studio's embrace of social justice is ''not a political game for us,'' but rather ''100 per cent a responsibility'' for the Disney-owned company.

In a November 13 speech at the Outfest Legacy Awards, Alonso delivered her remarks on Marvel Studios' support for diversity and inclusion in its productions.

''We have tried to stir it up and sometimes the critics are not with us, that's OK. That's OK,'' she said, Variety reported.

''We thank you for being a critic,'' she added. ''We thank you for writing about us. And the fans will decide. Diversity and inclusion is not a political game for us. It is 100 per cent a responsibility because you don't get to have the global success that we have given the Walt Disney Company without the support of people around the world of every kind of human there is.''

Alonso's speech came in the wake of the release of Marvel's Eternals, which features a diverse cast of actors, and the first gay superhero in the Marvel Cinematic Universe.

''I want to do it all,'' Alonso said. ''I want to make sure that I get out there and I create as much change as time will allow.''

While accepting the award, Alonso pointed over to fellow honouree transgender actor Rain Valdez and stated, ''I see you. You're not alone.''

Alonso's virtue signal is nothing short of condescending, having tokenized Valdez's gender identity.

''I perhaps have not 100 per cent done right by you,'' Alonso apologized. ''But I can assure you for as long as I am at Marvel Studios, I will do right by you. One of the greatest gifts that we can give each other is in the belonging, is knowing that you do belong. Don't walk in thinking you don't belong.''

Taking the microphone, Valdez, who was recognized with the Trailblazer Award at the ceremony stated, ''I do believe that it's not too late for Hollywood to change its legacy on trans stories.''

''A new Hollywood is emerging. I see it in my acting classes, I feel it on sets. With Outfest, we are birthing a new system, an equity-centered playing field,'' Valdez said.

Film distributor Neon, which received the Guardian Award, was represented by CEO Tom Quinn. Quinn used the podium to thank the audience and take a swipe at Dave Chappelle over his recent controversy with the release of The Closer on Netflix.

''FYI, for those people somewhere in L.A., who didn't get the memo,'' Quinn said. ''Black trans lives are not a joke.''

Outfest is an LGBT-oriented film festival that promotes and publicizes visibility for LGBT creators and actors in Hollywood and in the indie space.

Cargill CEO Says Global Food Inflation to Linger on Labor Shortage - Bloomberg

Thu, 18 Nov 2021 12:50

Need help? Contact us We've detected unusual activity from your computer networkTo continue, please click the box below to let us know you're not a robot.

Why did this happen?Please make sure your browser supports JavaScript and cookies and that you are not blocking them from loading. For more information you can review our Terms of Service and Cookie Policy.

Need Help?For inquiries related to this message please contact our support team and provide the reference ID below.

Block reference ID:

Hawke's Bay's largest ever live export shipment: 14,000 cattle off to China

Thu, 18 Nov 2021 12:29

A ship carrying up to 14,000 cattle will leave for Napier for China on Sunday, marking the single largest export of livestock ever carried out in Hawke's Bay.

The Al Kuwait is a purpose-built live export ship and arrived in port overnight on Thursday.

The Ministry of Primary Industries has approved an application for Al Kuwait to export 14,000 cattle to China.

However, the final number of cattle may change after veterinarians have inspected the animals before loading.

It is expected to take four days to load the cattle onto Al Kuwait, with an estimated departure date of Sunday.

Hawke's Bay woman Caz Petterson, who has organised protests against live animal export said there would be no official protest from animal rights groups as they had prior commitments.

Al Kuwait is the eleventh livestock vessel to dock at the Napier port since the tragic sinking of Gulf Livestock 1, where two New Zealanders lost their lives.

After the sinking of Gulf Livestock 1 last year, the Government said the export of livestock by sea would cease following a transition period of up to two years.

Petterson said that delay was "not good enough".

"I can't see any explainable reason why they need two years to stop it."

MPI animal health and welfare director Dr Chris Rodwell said exports will continue until April 2023, depending on demand and supply.

"All shipments are subject to fully meeting MPI's animal health and welfare standards."

- Maddisyn Jeffares, Hawkes Bay Today

Jan. 6 insurrection: William Walker's account of D.C. National Guard response raises questions in inspector general report - The Washington Post

Thu, 18 Nov 2021 12:25

The D.C. National Guard's commanding general was directed twice by Pentagon leadership to send in troops as violence engulfed the U.S. Capitol on Jan. 6, according to a newly released investigation that appears to undercut the now-retired general's claim that he would have responded to the riot more quickly if Trump administration officials had allowed.

Army Secretary Ryan McCarthy first notified Maj. Gen. William Walker by phone at 4:35 p.m. that Walker was authorized to send troops to Capitol Hill, and then called the general again ''to reissue the deployment order'' about 30 minutes after McCarthy ''originally conveyed it,'' an unidentified Army witness told investigators with the independent Defense Department Inspector General, according to a newly released report. A timeline of events that day, assembled by the inspector general's office, also indicates separate calls were made.

The investigation's findings bring new scrutiny to Walker, who earlier this year was lauded for his candor in publicly recounting how dysfunction at the Pentagon stalled the National Guard's response as supporters of President Donald Trump brutalized police and panicked lawmakers pleaded for help. Speaking at a joint Senate hearing on March 3, Walker recalled having a quick reaction force (QRF) geared up and said he was frustrated by the speed at which senior defense officials were responding. He told senators it was 5:08 p.m. when he received approval to deploy. The Capitol was breached at 1:50 p.m.

Many have argued that President Donald Trump's efforts amounted to an attempted coup on Jan. 6. Was it? And why does that matter? (Monica Rodman, Sarah Hashemi/The Washington Post)Three weeks after the Senate hearing, House Speaker Nancy Pelosi (D-Calif.) appointed him House sergeant-at-arms, saying Walker was a ''leader of great integrity'' and that he would be ''an important asset to the House, particularly in light of the January 6 insurrection.''

Story continues below advertisement

Walker, in a phone interview late Wednesday, said he was shocked the inspector general's office released what he characterized as inaccurate, uncorroborated statements by anonymous Army officials. He said he tried to send personnel to the Capitol hours earlier and was ready to go when was first notified.

''These were exigent circumstances. Rome was burning,'' Walker said. ''I came danger-close to just saying, 'Hey, we're going,' and then resign. But prudent people talked me out of that decision. It probably wouldn't have been the right one.''

Walker said he was not allowed to respond to the anonymous statements before the report, calling the inspector general's work sloppy and illustrative that he is up against ''the most powerful Army in the world.''

Story continues below advertisement

''And I believe in that Army,'' he added. ''But that Army failed on January 6th.''

McCarthy, through a spokesperson, declined to comment.

It's unclear why Walker was never asked for a response to the claims he was told twice to dispatch his forces. A spokeswoman for the inspector general's office, Megan Reed, said that as a matter of practice, she could not comment on the office's oversight processes. The investigation concluded that, overall, the Pentagon's response was ''reasonable in light of the circumstances.''

Before. During. After. A Washington Post investigation of the Jan. 6 siege on the U.S. Capitol

Walker told Congress in his testimony that memorandums issued by McCarthy and Trump's acting defense secretary, Christopher C. Miller, restricted his ability to quickly dispatch the National Guard, but Army officials interviewed by the inspector general said Walker was aware of those decisions ahead of time and did not voice objection.

Story continues below advertisement

''The discussion of QRF implementation beforehand was very clear and General Walker understood it and he knew exactly what needed to happen if the QRF needed to be employed and he had no questions or concerns at that time,'' said one member of the Army staff, according to the report.

The discrepancy in timelines has come up before. Days after the assault, the Pentagon released an account of events that said Miller provided verbal authorization at 4:32 p.m. to ''re-mission'' the National Guard in support of Capitol Police and that Guardsmen began departing from the D.C. Armory precisely 30 minutes later. A National Guard timeline released in January did not mention a call at 4:32 p.m.

Investigators interviewed 44 witnesses, including Walker, McCarthy, Miller and Army Gen. Mark A. Milley, the chairman of the Joint Chiefs of Staff. Other witnesses included members of the Army staff and D.C. National Guard, D.C. Mayor Muriel E. Bowser, D.C. Police Chief Robert J. Contee III and former Capitol Police chief Steven Sund, who was forced to resign after the attack.

D.C. Guard chief says 'unusual' restrictions slowed deployment of backup during Capitol riot

Mirroring his Senate testimony, Walker told the inspector general's investigators that he was ''stunned'' and ''frustrated'' during a 2:22 p.m. conference call, when city officials asked for National Guard assistance and senior Army officers '-- Lt. Gens. Charles Flynn and Walter Piatt '-- advised against providing it.

Story continues below advertisement

Other witnesses interviewed as part of the investigation said that Piatt was concerned about public blowback over the sight of uniformed military personnel potentially confronting political protesters, but that the Army had not ruled out helping and needed a plan before inserting soldiers into the crisis.

Walker, when asked by Piatt and Flynn for an operational plan, told the generals that he wanted to get his personnel onto buses and en route to the Capitol while taking direction from police officials, he told investigators. Piatt wanted more specifics.

''It would be like me saying, 'Go to Baghdad and just find somebody and see what they need,' '' Piatt said in his interview with investigators.

Story continues below advertisement

Flynn's involvement became controversial because his brother is retired Lt. Gen. Michael Flynn, a former Trump adviser who called for the military to participate in re-running the 2020 election. Army officials falsely asserted for days that Charles Flynn was not at the meeting, before Flynn confirmed that he was briefly involved in a statement to The Washington Post. The inspector general report affirms as much, saying other Army witnesses told investigators that Flynn's involvement was ''minimal.''

Piatt told inspector general investigators that he was unable to calm other officials, saying someone on the conference call warned that they would tell the media that the Army had denied the Capitol Police request for help. Another Army witness said Bowser made that statement. An official close to Bowser said Wednesday that the mayor did not speak during the call. It is not clear who else may have issued the warning.

A short time later, Army officials told investigators that claim leaked to the media anonymously, and McCarthy and his staff took time to respond to inquiries from journalists and members of Congress during the crisis.

Story continues below advertisement

An unidentified Army witness told inspector general investigators that McCarthy went to D.C. Metropolitan Police headquarters after the conference call, at about 3:48 p.m., in part because Walker ''could not clearly articulate to his staff'' specifically what police needed.

''Mr. McCarthy, Mayor Bowser, Chief Contee, and others present drafted a plan that identified where the [D.C. National Guard] personnel would go, the route they would take, with whom they would connect when they arrived, what they would do when they got there, whom they would support, who was in charge, and who the key leaders were,'' the report said.

The report made several recommendations for improvement, including ensuring that all D.C. National Guard members have functioning communications equipment issued by the Defense Department, formulating a plan for how the Pentagon and D.C. Guard might respond to any future major disturbance in the D.C. area, and establishing criteria and training for personnel who could be tasked with responding.

Pentagon spokesman John Kirby said in a statement that the Defense Department ''takes seriously all reports of the Department's independent Inspector General,'' and is reviewing findings and recommendations in the report.

''We are grateful for their work,'' he said.

Alec Baldwin wasn't scripted to fire gun in 'Rust' scene '' lawsuit '-- RT USA News

Thu, 18 Nov 2021 12:25

The script supervisor who called 911 after Alec Baldwin shot and killed a woman on the 'Rust' movie set has accused the actor of recklessness in practicing for a scene that didn't even call for him to fire his gun.

''Alec Baldwin intentionally, without just cause or excuse, cocked and fired the loaded gun even though the upcoming scene to be filmed did not call for the cocking and firing of the firearm,'' script supervisor Mamie Mitchell said in a lawsuit filed on Wednesday in Los Angeles County Superior Court. ''Mr. Baldwin chose to play Russian Roulette with a loaded gun without checking it and without having the armorer do so.''

The filing marks the second lawsuit against Baldwin and the producers of 'Rust' since the October 21 shooting on the New Mexico set where the western was being filmed. Cinematographer Halyna Hutchins was killed, and director Joel Souza was injured when Baldwin fired an 1880s-era .45 Colt revolver after being told the gun was ''cold,'' meaning it wasn't loaded with real bullets.

''Alec Baldwin should have assumed that the gun in question was loaded unless and until it was demonstrated to him or checked by him that it was not loaded,'' Mitchel claimed. ''He had no right to rely upon some alleged statement by the assistant director that it was a 'cold gun.' Mr. Baldwin cannot hide behind the assistant director to attempt to excuse the fact that he did not check the gun himself.''

Mitchell's lawsuit alleged that she suffered ''extreme and severe emotional distress,'' as well as ''serious physical trauma and shock and injury to her nervous system and person.'' She said that if the script had called for the gun to be fired, she and other crew members wouldn't have been situated inside the church where Baldwin was practicing his quick-draw. Mitchell said that she was sitting less than four feet away from the actor when the gun was unexpectedly fired, creating a ''shocking and deafening sound.''

Like a similar lawsuit filed last week by 'Rust' gaffer Serge Svetnoy, the latest filing names Baldwin, the film's producers, armorer Hannah Gutierrez-Reed, and assistant director David Halls, among others, as defendants. Also as in the Svetnoy case, Mitchell accused producers of failing to follow standard safety protocols and hiring inexperienced crew members to cut costs.

The latest case reiterated allegations that there had been previous safety failures on the set, including one involving a prop master who accidentally shot herself in the foot. Mitchell accused Baldwin of failing to adhere to industry safety norms, including a requirement that the armorer hand the gun to the actor and demonstrate that it's not loaded with live rounds. ''Alec Baldwin knew that these were the safety protocols and chose to ignore them,'' the lawsuit said.

Rather than securing all firearms throughout the production, as required, the armorer allowed guns and ammunition to be left unattended on a rolling court outside the church where the fatal shooting occurred, Mitchell alleged. In fact, crew members even used loaded guns for target practice on the set, according to the filing.

''The fact that live ammunition was allowed on a movie set, that guns and ammunition were left unattended, that the gun in question was handed to Mr. Baldwin by the assistant director, who had no business doing so, the fact that safety bulletins were not promulgated or ignored, coupled with the fact that the scene in question did not call for a gun to be fired at all, makes this a case where injury or death was much more than just a possibility,'' the lawsuit said. ''It was a likely result.''

Like this story? Share it with a friend!

Cargill CEO Ditches 'Team Transitory', Warns Of Persistent Food Inflation | ZeroHedge

Thu, 18 Nov 2021 11:56

Cargill CEO David MacLennan has changed his mind about "transitory" inflation and now believes it will be more persistent with higher food prices in 2022. He blamed elevated food prices on snarled supply chains, labor shortages, and adverse weather conditions, among other things.

MacLennan highlighted that labor shortages are a significant challenge for the food industry. He said food processing plants across the country operate at less than full capacity, which drives down food output and prices higher as demand remains robust.

"I thought inflation in ags and food was transitory. I feel less so now because of continued shortages in labor markets," MacLennan said during an interview at the Bloomberg New Economy Forum in Singapore. "That's one of the inputs to the supply chain that we're watching most carefully."

''I thought inflation in ags and food was transitory. I feel less so now because of continued shortages in labor markets'' - Cargill CEO

'-- zerohedge (@zerohedge) November 17, 2021In September, MacLennan was on record saying soaring food costs would be temporary and should recede. Though in the last few months, world food prices hit a new decade high in October, supply chain woes worsened, labor shortages at food processing plants to transportation to ports expanded, adverse weather conditions hit harvests, and transportation and energy costs skyrocketed. It seems the food executive has ditched "team transitory" for a more logical understanding of today's inflationary environment, one that is persistent.

"When you have limited supply, that can lead to higher prices," he said.

MacLennan is late to the party in abandoning the "transitory" narrative.

Already, we've reported food inflation and shortages have hit supermarkets, not just in emerging markets but also in the developed world. In the US, Mondelez CEO Dirk Van de Put recently told CNBC that Oreo cookies, Ritz crackers, and Sour Patch Kids would be more expensive next year. There's been chatter that Nabisco, PepsiCo, and Coca-Cola will be raising prices, and Kraft Heinz has told consumers that they must get used to "higher prices."

Consumers are spending more on food than a year ago. Some have blamed President Biden for the inflation eating away their real wages as polling numbers for the president sink.

So what's Biden's plan to tackle soaring food costs as his administration runs from one crisis to another? Are price controls next?

Biden Nom Saule Omarova Stole Hundreds of Dollars of Merchandise From a T.J. Maxx

Thu, 18 Nov 2021 04:57

Biden AdministrationThe Lenin Scholar is slated for a confirmation hearing Thursday

Saule Omarova in 2018 / Senate Committee on Banking, Housing, and Urban Affairs Chuck Ross ' November 17, 2021 9:30 pmPresident Joe Biden's nominee to regulate banks stole hundreds of dollars of merchandise from a discount retail store, according to a police report revealed Wednesday.

Saule Omarova, whom Biden tapped to serve as Comptroller of the Currency, was arrested after she was caught stuffing $214 worth of clothes, shoes, cologne, and belts in her purse at a T.J. Maxx in Madison, Wis., in May 1995. Omarova was 28 years old at the time and studying for her doctorate at the University of Wisconsin.

Omarova is slated to appear before the Senate Banking Committee for her confirmation hearing Thursday. If confirmed, Omarova will oversee regulation of the country's banking system. The police report, published by the American Accountability Foundation, could get her into further hot water with Senate Republicans who say she supports radical economic policies.

Sen. Pat Toomey (R., Pa.), the ranking member of the Senate Banking Committee, has pressed Omarova to turn over a copy of a thesis she wrote on Karl Marx while studying at Moscow State University in the late 1980s. Omarova, who attended the school on a Lenin scholarship, scrubbed her r(C)sum(C) of a reference to the Marx thesis at some point over the last few years.

Omarova, a professor at the Cornell Law School, has said she wants to "end banking as we know it" by requiring bank deposits to be held with the Federal Reserve, rather than private banks. Omarova has also proposed the creation of a federal agency, the National Investment Authority, that would fulfill the goals of the Green New Deal by investing in infrastructure projects. Omarova said one goal of the National Investment Authority would be for oil and gas companies to go "bankrupt" in order to fight climate change.

Omarova will likely need unanimous Democratic support in order to be confirmed, but some moderates have expressed concern about her views. Sen. Jon Tester (D., Mont.), a member of the Senate Banking Committee, said he has not decided whether he will vote to confirm Omarova. Sens. Joe Manchin (D., W.Va.) and Kyrsten Sinema (D., Ariz.) are reportedly on the fence about her nomination.

The White House downplayed the theft allegations against Omarova in a statement to Fox News prior to the release of the police report. A White House spokesperson said Omarova has been "fully transparent" about the incident by disclosing it to the Senate Banking Committee, and that her arrest was the result "of a misunderstanding and confusing situation."

The police report contradicts that claim. According to the report, Omarova "admitted to have stolen the items," which consisted of four pairs of shoes, two bottles of cologne, two belts, and a pair of socks.

Omarova did not respond to a request for comment.

Published under: Big Banks , Communism , Crime , Feature , progressive , Russia

Full Text: Xi's explanation of resolution on major achievements and historical experience of CPC over past century - Xinhua

Wed, 17 Nov 2021 19:47

BEIJING, Nov. 16 (Xinhua) -- An explanatory address delivered by Xi Jinping on a landmark resolution on the major achievements and historical experience of the Communist Party of China (CPC) over the past century was made public Tuesday.

Entrusted by the Political Bureau of the CPC Central Committee, Xi, general secretary of the CPC Central Committee, delivered the address to the sixth plenary session of the 19th CPC Central Committee.

The resolution was deliberated and approved at the plenum held in Beijing from Nov. 8 to 11.

Please see the attachment for the English translation of the full text of Xi's explanatory address. Enditem

Full Text: Xi's explanation of resolution on major achievements and historical experience of CPC over past century

Explanation of the Resolution of the Central Committee of the

Communist Party of China on the Major Achievements and Historical

Experience of the Party over the Past Century

Xi Jinping

On behalf of the Political Bureau of the 19th Central Committee of the Communist Party of China (CPC), I will now brief you on the Resolution of the CPC Central Committee on the Major Achievements and Historical Experience of the Party over the Past Century and related issues.

I. Considerations on the Agenda of the Sixth Plenary Session of the 19th CPC Central Committee

Our Party has always attached great importance to reviewing its historical experience. As early as in the Yan'an period, Comrade Mao Zedong pointed out, ''We will not be able to achieve greater success unless we have a clear understanding of our history and of the roads we have traveled.''

In 1945, at the critical juncture for securing final victory in the War of Resistance against Japanese Aggression, the Sixth CPC Central Committee convened its seventh plenary session and adopted the Resolution on Certain Questions in the History of Our Party. The resolution reviewed the history of the Party and the experience it had gained and lessons it had learned since its founding in 1921, especially those in the period between the fourth plenary session of the Sixth Central Committee in January 1931 and the Zunyi Meeting in January 1935. It drew conclusions on major historical issues of the Party, leading to a broad consensus among all Party members, particularly high-ranking officials, on fundamental questions pertaining to the Chinese revolution. It served to strengthen the solidarity of the Party, paved the way for the convocation of the Seventh CPC National Congress, and helped advance the Chinese revolution significantly.

When our country entered a new period marked by the launch of reform and opening up, Comrade Deng Xiaoping noted, ''The experience of successes is invaluable, and so are the lessons learned from mistakes and setbacks. Principles and policies formulated on the basis of the experience gained and lessons learned will unify all Party members in thinking. The unity so formed is most reliable.''

In 1981, at its sixth plenary session, the 11th Party Central Committee adopted the Resolution on Certain Questions in the History of Our Party since the Founding of the People's Republic of China. The resolution reviewed the Party's history in the period before the founding of the People's Republic and summarized the experience it had gained in the course of socialist revolution and construction.

The resolution gave assessments of certain major events and important figures, particularly a correct appraisal of Comrade Mao Zedong and Mao Zedong Thought. It drew a clear distinction between right and wrong and corrected the erroneous ''Leftist'' and Rightist viewpoints existing at the time. Through the resolution, the Party came to a clear consensus and was more united than ever in support of a forward-looking approach. All this provided a strong impetus to the Party's endeavors in reform, opening up, and socialist modernization.

Seventy-six years have passed since the adoption of the Party's first resolution on historical issues, and 40 years since the second. The past four decades have witnessed tremendous progress in the cause of the Party and the country and tremendous advances for the Party in theoretical and practical terms.

We have now arrived at a new historic milestone. As we look back and set our sights on the future, we have both an objective need and the subjective conditions for a full review of our Party's major achievements and historical experience over the past century, especially those in the 40-plus years of reform and opening up.

The Central Committee considers it important in both a practical and historical sense to have a comprehensive review of the major achievements and historical experience of the Party over the past century as we celebrate its centenary and the fulfillment of the First Centenary Goal of building a moderately prosperous society in all respects and move on toward the Second Centenary Goal of building China into a great modern socialist country in all respects. This review will help build a broader consensus and stronger unity in will and action among all members and rally and lead Chinese people of all ethnic groups in achieving new and great success in building socialism with Chinese characteristics in the new era.

The Central Committee understands that the Party has gone through an extraordinary journey over the past century. The great endeavors of the Party span a long period of time, cover a wide range of fields, and involve many issues that merit our careful study. As a general requirement, we need to review our history and understand the underlying dynamics of its development so as to prepare for the future with greater confidence.

To this end, we need to relive the glories of the Party and appreciate how the Party has rallied and led the Chinese people in making magnificent achievements. We need to take stock of the invaluable experience the Party has gained in carrying out revolution, construction, and reform, and summarize the Party's theories and practices that have proved successful in advancing the cause of the Party and the country since the 18th CPC National Congress.

To be more specific, we need to revisit the Party's century-long history of leading the people in carrying out revolution, construction, and reform. We need to review the Party's great historical course of achieving one victory after another and the historic accomplishments the Party has achieved in the interests of the country and the nation.

We need to revisit the Party's century-long history in which the Party has advanced Marxism in the Chinese context by adapting the basic tenets of Marxism to China's realities and fine traditional culture, and we need to gain a deeper understanding of the Party's innovative theories for the new era.

We need to revisit the Party's century-long history in which the Party has maintained unity and upheld the Central Committee's authority and its centralized, unified leadership. We need to appreciate the significance of enhancing the Party's political development, which is a distinctive feature and political strength of a Marxist party such as ours.

We need to revisit the Party's century-long journey in pursuit of happiness for the Chinese people and rejuvenation for the Chinese nation. We must always bear in mind that the Party and the people are inextricably connected and rise and fall together. It is only with such understanding that we Party members can better devote ourselves to the benefit of the people and rely on them in our endeavor for greater accomplishments.

We need to revisit the Party's century-long journey in which it has grown stronger through self-improvement and self-reform. We must never falter in exercising full and rigorous self-governance of the Party and must see this as a mission that is forever ongoing so as to make sure that the Party always remains a powerful leadership core in the endeavor to uphold and develop socialism with Chinese characteristics in the new era.

We need to fully appreciate the laws and prevailing trends of history, seize the historical initiative in the cause of the Party and the country throughout our new journey in the new era, and galvanize even greater courage and strength for keeping to our set goals and striding ahead with pride and confidence.

The Central Committee considers it essential to follow the methodology of dialectical and historical materialism in the review of the Party's major achievements and historical experience over the past century. We need to look at the Party's history from a concrete, objective, and holistic perspective while recognizing that it is interconnected and evolving.

We need to maintain a rational outlook on Party history and see history from a broader perspective so as to develop an accurate understanding of the underlying trends and defining features of the CPC's history of evolution.

We need to properly address the mistakes and setbacks that have occurred on the Party's path forward. We should draw experience from our successes and learn lessons from our mistakes so as to score new victories.

We need to do better at setting things straight, taking a clear-cut stance against historical nihilism, strengthening ideological guidance and theoretical analysis, and clearing up confusion and misunderstandings over certain major questions in the Party's history.

The Central Committee has made it clear that the following are the top priorities in drafting the resolution to be adopted at this session:

1. The resolution must focus on the Party's major achievements and historical experience over the past century.

Our Party has already produced two resolutions on historical issues. These settled controversies on major issues in Party history in the period from its founding to the early stage of reform and opening up, and their basic points and conclusions remain valid.

Since reform and opening up began, the cause of the Party and the country has generally speaking made smooth progress in the right direction with achievements that have earned worldwide recognition, despite certain problems that have occurred in the Party's work. In view of this, the resolution to be adopted at this session should focus on a review of the Party's major achievements and historical experience over the past century. This will help pool our wisdom, strengthen our unity, and boost our confidence and morale.

2. The resolution must highlight the new era of socialism with Chinese characteristics.

This resolution places emphasis on the new era, mainly reviewing the historic achievements and the historic shifts in the cause of the Party and the country, and the latest experience that the Party has gained during this period. This is because the previous two resolutions on historical issues were devoted to Party history during the new-democratic revolution period, the period of socialist revolution and construction, and the period between the third plenary session of the 11th Central Committee in 1978 and its sixth plenary session in 1981.

As for the achievements and experience from the period marked by reform, opening up, and socialist modernization, the Central Committee has already conducted earnest reviews on the occasions of the 20th and 30th anniversary celebrations of the third plenary session of the 11th CPC Central Committee. I also gave a systematic analysis of the achievements and experience from this period in my address at a gathering marking the 40th anniversary of reform and opening up.

Therefore, the resolution before us needs to focus on the new era of socialism with Chinese characteristics along with a brief summary of Party history prior to the 18th National Congress based on existing reviews and conclusions. This will help further fortify confidence among all Party members, focus on our current endeavors, and enable us to forge ahead on the new journey with greater morale and make still greater contributions in the new era.

3. The resolution's appraisal of major events, significant meetings, and important figures must be consistent with the Party Central Committee's existing conclusions.

The previous two resolutions, along with the Party's long list of important literature, document the major events, meetings, and figures in Party history prior to its 18th National Congress, and contain well-considered conclusions on historical issues. These points and conclusions are to be upheld in the new resolution.

Since the 18th National Congress, I have spoken about Party history and the Party's conclusions on historical issues on a number of important occasions, including events marking the 95th anniversary of the founding of the Party, the 90th anniversary of the founding of the People's Liberation Army, the 70th anniversary of the founding of the People's Republic of China, and the Party's centenary in particular. These statements represent an updated understanding on the part of the Central Committee of the Party's century-long history. This updated understanding needs to be reflected in the new resolution.

II¼ŽThe Drafting Process

In March of this year, the Political Bureau decided that the sixth plenary session of the 19th Party Central Committee would focus on a comprehensive review of the Party's major achievements and historical experience in its century-long history.

To this end, a working group was established to draft the document under the auspices of the Standing Committee of the Political Bureau. I am chief of this group, and my colleagues Wang Huning and Zhao Leji serve as its deputy chiefs. The group's membership is composed of other Party and state leaders, as well as heads of relevant central departments and localities.

On April 1, the Central Committee issued a Circular on Soliciting Opinions on the Agenda of the Sixth Plenary Session of the 19th CPC Central Committee of Focusing on a Full and Systematic Review of the Major Achievements and Historical Experience of the Party, in order to seek comments and suggestions from Party members and non-Party figures within an appropriate scope.

From their feedback, we can see unanimous agreement among all consulted localities, departments, and sectors that the decision of the 19th CPC Central Committee to focus its sixth plenary session on a comprehensive review of the Party's major achievements and historical experience over the past century is a well-considered decision of historic and strategic significance.

They believe the decision reflects the Party's firm resolve to stay true to its original aspiration and founding mission and remain vibrant as ever. It demonstrates the Party's keen understanding of the general trends of history, its strong sense of mission and responsibility, and its commitment to always taking the initiative in advancing the cause of the Party and the country. It also embodies the Party's broad and farsighted vision, its willingness to learn from history, and its commitment to remaining firmly grounded while setting its sights on the future.

They expressed their unanimous endorsement of the Central Committee's decision to focus the session on a review of the Party's major achievements and historical experience over the past century. They have also come up with many constructive comments and suggestions on what issues should be covered in the resolution.

They all agree that the Party has united and led the Chinese people in a continued endeavor to carry out revolution, construction, and reform during all periods of its century-long history; that the Party and the people have created miracles which will go down in the annals of the Chinese nation, world socialism, and human society; that the Party and the people have fundamentally changed the course of the Chinese nation's history in modern times and written a brilliant chapter in the history of world socialism, adding new dimensions to Marxism; that the Party and the people have scored indelible achievements toward national rejuvenation and made significant contributions to human progress; and that the Party and the people have gained a wealth of invaluable experience on this great journey. All of these merit a systematic review.

The localities, departments, and sectors involved in the consultation suggest that the review of the Party's major achievements and historical experience over the past century must focus on the new era and on the historic achievements and the historic shifts in the cause of the Party and the country, and the latest experience that the Party has gained during this period.

Under the planning of the Central Committee, the drafting group first carefully studied the Party's major historical documents. Following a thorough review of all major issues in the Party's history and based on comments and suggestions from the localities, departments, and sectors consulted, the group then began drafting the resolution.

In accordance with a decision made at a meeting of the Political Bureau, the text of the draft resolution was issued on September 6 to select Party members, including retired senior Party officials, for consultation. We also sought the opinions from leaders of other political parties and the All-China Federation of Industry and Commerce and prominent figures without party affiliation.

The feedback we have received indicates full endorsement by the consulted localities, departments, and sectors of the text of the draft resolution and its general framework and main content. They all agree that the most salient feature of the document is its focus on facts and its respect for history.

They also agree that the document highlights the Party's commitment to its original aspiration and founding mission in all its endeavors over the past century. It is a facts-based document and its descriptions and appraisals of major events, meetings, and figures are consistent with the descriptions and conclusions in the Party's existing historical documents. It also demonstrates the Party Central Committee's updated understanding of Party history in the period after the Party's 18th National Congress.

Under the sub-heading, ''Historical Significance of the Party's Endeavors over the Past Century,'' the document provides a comprehensive, in-depth, and systematic summary of the Party's historic contributions to China and humanity.

Under the sub-heading, ''Historical Experience of the Party's Endeavors over the Past Century,'' the document summarizes the Party's historical experience and also highlights its significance for guiding ongoing and future endeavors.

All consulted localities, departments, and sectors agree that this resolution is a political declaration of the Chinese communists' adherence to their original aspiration and founding mission and their commitment to upholding and developing socialism with Chinese characteristics in the new era. It is a guideline for the Party to create a brighter future and achieve national rejuvenation by learning from history.

They also agree that the resolution is imbued with the same spirit as the two previous resolutions on historical issues while also reflecting the spirit of the times. It will inspire the whole Party to strive for greater achievements on the journey ahead.

Over the course of soliciting opinions, we received many valuable comments and suggestions from the localities, departments, and sectors consulted. The drafting group analyzed these opinions and suggestions individually and incorporated as many of them as possible. Following multiple discussions and careful consideration, a total of 547 revisions were made to the preliminary draft. The revised draft therefore fully reflects the input of those consulted.

During the drafting process, the Standing Committee of the Political Bureau met three times and the Political Bureau twice for the purpose of discussing and finalizing the draft. The current draft for your consideration is a product of these meetings.

III. The General Framework and Main Content of the Document

In addition to a preamble and a conclusion, the document has seven sections.

1. A Great Victory in the New-Democratic Revolution

This section outlines the major tasks of the Party during the new-democratic revolution period, namely opposing imperialism, feudalism, and bureaucrat-capitalism, and working for the nation's independence and the people's liberation, so as to create the fundamental social conditions necessary for realizing national rejuvenation.

This section analyzes the historical background of the founding of the Party, and highlights the revolutionary struggle waged by the people under the Party's leadership as well as the great accomplishments they made in the early days of the Party and during the periods of the Great Revolution, the Agrarian Revolutionary War, the War of Resistance against Japanese Aggression, and the War of Liberation. It also highlights the Party's major achievements, such as establishing Mao Zedong Thought, and initiating and advancing the great project of Party building.

This section emphasizes that the founding of the People's Republic of China, national independence, and the people's liberation represented China's great transformation from a millennia-old feudal autocracy to a people's democracy. With these accomplishments made through tenacious struggle, the Communist Party of China and the Chinese people showed the world that the Chinese people had stood up and the time in which the Chinese nation could be bullied and abused by others was gone and would never return. This marked the beginning of a new epoch in China's development.

2. Socialist Revolution and Construction

This section specifies the Party's major tasks during this period, which were to realize the transformation from new democracy to socialism, carry out socialist revolution, promote socialist construction, and lay down the fundamental political conditions and the institutional foundations necessary for national rejuvenation.

It reviews the Party's great achievements during the period following the founding of the People's Republic of China, in which the Party led the people in surmounting many tough challenges to consolidate the newly-established state power, completing the process of socialist transformation, establishing the socialist system, launching large-scale socialist construction on all fronts, and breaking new ground in foreign affairs.

It recaps the efforts of the Party to build up its capacity as the governing party, and summarizes preliminary experience gained in this regard. It gives a rational appraisal of Mao Zedong Thought based on a summary of the creative theories put forward by the Party during this period.

The section also highlights the great achievements the Chinese people made under the Party's leadership, which brought about a great transformation from a poor and backward Eastern country with a large population to a socialist country. With these accomplishments made through tenacious struggle, the Communist Party of China and the Chinese people showed the world that the Chinese people were not only capable of dismantling the old world, but also of building a new one, that only socialism could save China, and that only socialism could develop China.

3. Reform, Opening up, and Socialist Modernization

This section recounts the major tasks of the Party during this period, which were to continue exploring the right path for building socialism in China, unleash and develop the productive forces, lift the people out of poverty and help them become prosperous in the shortest time possible, and fuel the push toward national rejuvenation by providing new, dynamic institutional guarantees as well as the material conditions for rapid development.

This section highlights the great significance of the third plenary session of the 11th CPC Central Committee, and documents the historic contributions made by the Chinese communists with Deng Xiaoping, Jiang Zemin, and Hu Jintao as their chief representatives. It reviews the spectacular progress and resounding success the Party made in this period in leading the people in setting things right in all sectors, developing the theory of socialism with Chinese characteristics, advancing reform, opening up, and socialist modernization, effectively responding to the many risks and trials confronting China's overall reform, development, and stability, promoting national reunification, safeguarding world peace and pursuing common development, and launching and advancing the great new project of Party building.

This section commends the great achievements scored by the Party and the people during this period, which made possible the Chinese nation's tremendous advance from standing up to becoming prosperous. With these accomplishments made through tenacious struggle, the Communist Party of China and the Chinese people showed the world that reform and opening up was a crucial move in making China what it is today, that socialism with Chinese characteristics is the correct road that has led the country toward development and prosperity, and that China has caught up with the times in great strides.

4. A New Era of Socialism with Chinese Characteristics

This section outlines the major tasks of the Party during this period as accomplishing the First Centenary Goal of building a moderately prosperous society in all respects, launching a new journey to realize the Second Centenary Goal of turning China into a great modern socialist country in all respects, and continuing to advance toward the ultimate goal of national rejuvenation.

This section elaborates on the new era of socialism with Chinese characteristics, which represents a new historical phase in China's development. It reviews the achievements the Party has made in theoretical innovation since its 18th National Congress, and thoroughly analyzes the conditions, risks, and challenges faced by the Party in the new era.

With a focus on the original ideas, transformative practices, new breakthroughs, and landmark accomplishments of the past nine years, the section highlights the great achievements and historic shifts in the cause of the Party and the country in the new era in the following 13 areas:

--upholding the Party's overall leadership;

--exercising full and rigorous self-governance;

--pursuing economic development;

--deepening reform and opening up;

--advancing political work;

--comprehensively advancing law-based governance;

--driving cultural advancement;

--promoting social advancement;

--spurring ecological advancement;

--strengthening national defense and the armed forces;

--safeguarding national security;

--upholding the One Country, Two Systems policy and promoting national reunification; and

--bolstering the diplomatic front.

This section emphasizes that the great achievements the people have made under the leadership of the Party during this period provide better institutional conditions, stronger material foundations, and a source of inspiration for realizing national rejuvenation. With these accomplishments made through tenacious struggle, the Communist Party of China and the Chinese people have shown the world that the Chinese nation has achieved the tremendous transformation from standing up and becoming prosperous to growing strong.

5. The Historical Significance of the Party's Endeavors over the Past Century

Based on a thorough review of the Party's major achievements over the past century, this section highlights the historical significance of the Party's endeavors from a broader perspective in the following five respects:

--fundamentally transforming the future of the Chinese people;

--opening up the right path for achieving rejuvenation of the Chinese nation;

--demonstrating the strong vitality of Marxism;

--producing a profound influence on the course of world history; and

--making the CPC a forerunner of the times.

It spells out the CPC's historic contributions to the Chinese people, the Chinese nation, Marxism, the cause of human progress, and the development of Marxist political parties.

This five-point summary is rooted in China's experience, but represents a vision for the future of humanity. It reflects the close bond between the CPC and the Chinese people and nation, and the connections between the CPC and Marxism, world socialism, and the development of human society. It also embodies the historical, theoretical, and practical logic of the Party's endeavors over its century-long history.

6. The Historical Experience of the Party's Endeavors over the Past Century

The historical experience of the Party is of fundamental and far-reaching guiding significance. This section summarizes this experience in 10 aspects:

--upholding the Party's leadership;

--putting the people first;

--advancing theoretical innovation;

--staying independent;

--following the Chinese path;

--maintaining a global vision;

--breaking new ground;

--standing up for ourselves;

--promoting the united front; and

--remaining committed to self-reform.

These 10 points form a systemic, interconnected, and indivisible whole. They are critical to the continued success of the Party and the people. They are the source of the Party's inviolable strength, and are the very reason why the Party has always been able to seize the historical initiative. They are essential for the Party to preserve its advanced nature and integrity and always stand at the forefront of the times.

This section reiterates that the 10 points represent valuable practical experience the Party has gained on its century-long journey and they are intellectual treasures created through the joint efforts of the Party and the people. All of us must cherish them, uphold them over the long term, and continue to enrich and develop them in practice in the new era.

7. The Communist Party of China in the New Era

This section focuses on the Second Centenary Goal of building China into a great modern socialist country in all respects. It calls on all Party members to make unremitting efforts to advance the rejuvenation of the Chinese nation with the determination to never let up until we reach our ultimate goals and the attitude that the last leg of the journey marks the halfway point only.

This section stresses the importance of adhering to the basic theory, guideline, and policy of the Party, and of grounding our work in this new stage of development, applying the new development philosophy, fostering a new pattern of development, and pursuing high-quality development. It calls for coordinated nationwide efforts to make our people prosperous, our nation strong, and our country beautiful.

This section reiterates the need to forever maintain the Party's close ties with the people and the need to better realize, safeguard, and advance the fundamental interests of the overwhelming majority of the people. It reminds us that one may thrive in adversity and perish in laxity, requires us to see things from a long-term, strategic perspective, and always remain mindful of potential dangers, and inspires us to continue advancing the great new project of Party building in the new era. It stresses that we must cultivate the people who will carry on the cause of the Party from generation to generation.

It calls on the whole Party, the military, and Chinese people of all ethnic groups to remember the glories and hardships of yesterday, rise to the mission of today, and live up to the great dream of tomorrow. It also calls on us to learn from history, work hard, forge ahead for a better future, and make tireless efforts to realize the Second Centenary Goal and the Chinese Dream of national rejuvenation.

Comrades,

The key task of the present session is to review and adopt the resolution. I hope that in doing so you will act in accordance with the requirements of the Central Committee, and adopt a holistic perspective on the past, the present, and the future of our Party.

I also hope you will carry out in-depth discussions on the draft resolution and come up with constructive ideas and suggestions based on your collective wisdom.

Let us work together to make this session a great success and produce a well-revised version of the resolution.

No Times Square NYE celebration for unvaccinated '-- RT USA News

Wed, 17 Nov 2021 19:40

Those planning on celebrating New York City's iconic New Year's Eve party in Times Square will need to be fully vaccinated against Covid or provide proof of a negative test to join in on the festivities.

Mayor Bill De Blasio announced on Tuesday that crowds will be allowed back into Times Square this year to ring in 2022 '' but there will be strict Covid-19 vaccination guidelines in place.

De Blasio said the city wants to invite ''hundreds of thousands of folks,'' as long as each one is inoculated against Covid-19.

''Join the crowd, join the joy, join a historic moment as New York City provides further evidence to the world that we are 100% back,'' said De Blasio.

The mayor himself received scrutiny at least year's New Year's Eve event after dancing maskless while the city remained shut down.

Read more

The president of the Times Square Alliance, Tom Harris, has announced that all attendees must be fully vaccinated against the coronavirus. Those with a disability preventing them from being inoculated must provide a negative Covid-19 test, taken within the previous 72 hours. Children aged five and younger can only attend if they are accompanied by a fully-vaccinated adult.

The ball drop in Times Square draws thousands to New York City every year, with millions more watching the celebration on television. The size of the event, the mayor claimed, required much greater precaution to be taken than at other events in the city, which was under some of the strictest Covid-19 shutdowns in the country last year.

''It makes sense to protect everyone,'' De Blasio said about enforcing vaccinations amidst the crowd, which typically gathers in Times Square hours before the actual ball drops to signify the new year's arrival.

The Times Square announcement has been met with some skepticism by critics, with many pointing out the potential difficulties in enforcement, as well as the fact that those who go to the event will still likely interact with people at restaurants and bars before gathering for the celebration.

via @NYTimes Wafaa El-Sadr, an epidemiology professor at Columbia University, expressed similar concerns: ''I would say, 'I'll wait for another year and choose to watch it from home.''' Jam packed Times Square on New Year's Eve- no thanks. https://t.co/BfqwpfuRUm

'-- Barbara Malmet (@B52Malmet) November 16, 2021Like this story? Share it with a friend!

FDA Asks Federal Judge to Grant it Until the Year 2076 to Fully Release Pfizer's COVID-19 Vaccine Data - by Aaron Siri - Injecting Freedom

Wed, 17 Nov 2021 19:35

The FDA has asked a federal judge to make the public wait until the year 2076 to disclose all of the data and information it relied upon to license Pfizer's COVID-19 vaccine. That is not a typo. It wants 55 years to produce this information to the public.

As explained in a prior article, the FDA repeatedly promised ''full transparency'' with regard to Covid-19 vaccines, including reaffirming ''the FDA's commitment to transparency'' when licensing Pfizer's COVID-19 vaccine.

With that promise in mind, in August and immediately following approval of the vaccine, more than 30 academics, professors, and scientists from this country's most prestigious universities requested the data and information submitted to the FDA by Pfizer to license its COVID-19 vaccine.

The FDA's response? It produced nothing. So, in September, my firm filed a lawsuit against the FDA on behalf of this group to demand this information. To date, almost three months after it licensed Pfizer's vaccine, the FDA still has not released a single page. Not one.

Instead, two days ago, the FDA asked a federal judge to give it until 2076 to fully produce this information. The FDA asked the judge to let it produce the 329,000+ pages of documents Pfizer provided to the FDA to license its vaccine at the rate of 500 pages per month, which means its production would not be completed earlier than 2076. The FDA's promise of transparency is, to put it mildly, a pile of illusions.

It took the FDA precisely 108 days from when Pfizer started producing the records for licensure (on May 7, 2021) to when the FDA licensed the Pfizer vaccine (on August 23, 2021). Taking the FDA at its word, it conducted an intense, robust, thorough, and complete review and analysis of those documents in order to assure that the Pfizer vaccine was safe and effective for licensure. While it can conduct that intense review of Pfizer's documents in 108 days, it now asks for over 20,000 days to make these documents available to the public.

So, let's get this straight. The federal government shields Pfizer from liability. Gives it billions of dollars. Makes Americans take its product. But won't let you see the data supporting its product's safety and efficacy. Who does the government work for?

The lesson yet again is that civil and individual rights should never be contingent upon a medical procedure. Everyone who wants to get vaccinated and boosted should be free to do so. But nobody should be coerced by the government to partake in any medical procedure. Certainly not one where the government wants to hide the full information relied upon for its licensure until the year 2076!

Share

How dangerous is myocarditis? The truth about the scary-sounding condition. | Popular Science

Wed, 17 Nov 2021 19:26

Over the past two weeks, the Food and Drug Administration and Centers for Disease Control and Prevention weighed approval for Pfizer's COVID-19 vaccine for kids aged 5 to 11 years old. The FDA issued an emergency-use authorization for the pediatric vaccine, which was quickly followed by an endorsement from the CDC.

During the days-long meetings, questions of heart inflammation following the vaccine loomed large. And by most accounts, reporting on those discussions has led to concern among parents about side-effects. But just how dangerous this vaccine side effect is still isn't completely clear, and according to some experts, it might not be a cause for concern at all.

Currently, the FDA has paused its approval of Moderna's vaccine for adolescents while it reviews data from Europe on the risk of inflammation in or around the heart following mRNA vaccination. That inflammation is called myocarditis and pericarditis, depending on where it takes place. It's rare: Even in the highest-risk group, 16 to 18 year olds, it occurs in about 70 out of a million vaccinations, CDC data shows. But according to the EU, Moderna's shot is more likely to cause this inflammation in adolescents. Several Scandinavian countries no longer give Moderna to people under 30.

CDC data from millions of vaccinations show that the inflammation, when it occurs, goes away within a matter of days without any serious consequences. And infectious disease experts and pediatricians widely agree that the risks of COVID'--including a full-body inflammatory syndrome called MIS-C'--are much more substantial.

Sarah Long, a pediatric infectious disease expert at Drexel University College of Medicine, and a member of the CDC's vaccine advisory panel, thinks that the post-vaccine heart inflammation might be different from the myocarditis that's seen during an infection with COVID-19 or from some other cause. It's so different, and less severe, than typical myocarditis, she says, that giving it the same name has created unnecessary worry over the condition.

''Let's not call this myocarditis''

Sarah Long, pediatric infectious disease expert at Drexel University College of MedicineMyocarditis isn't a disease in its own right, like the flu'--it's more like pneumonia, which can be caused by viruses or bacteria.

Long says that vaccine-related events are completely different, and much less dire, than typical myocarditis. She says that the typical disease can be so severe that she'd rather treat many people with vaccine-associated myopericarditis than a single case of viral myocarditis. She says that the typical disease can be so severe that she'd rather treat many people with vaccine-associated myopericarditis than a single case of viral myocarditis. ''Give me a patient with vaccine-associated myopericarditis every day,'' she says, ''for one who has true viral myocarditis.''

Long thinks of myocarditis in three different categories. The first type consists of ''typical myocarditis,'' as it existed before COVID, which affects just under 1 in 100,000 children, and is most common in 15 to 18 year old boys. It can be caused by a variety of factors, including an overactive immune response to a virus, and sometimes turns serious, she says. ''It is a typical syndrome that is not good to have. They take a long time to get better. Some of them never get better. There is mortality, and some of them get to heart transplant.''

Then there's myocarditis that comes from COVID itself. It's usually found as part of a larger inflammatory condition called MIS-C, which occurs weeks after an acute COVID infection. It appears to be related to an overactive immune response, and causes serious inflammation throughout the body, including the heart. Adults with heart conditions have also experienced severe complications from COVID-19.

Then there's inflammation from the vaccine. Long says that in her experience seeing patients and reviewing cases as a journal editor, kids with vaccine-related symptoms present very differently: If MIS-C and myocarditis are apples and oranges, she says that the vaccine condition is an avocado. ''The typical thing is they have the acute onset of chest pain. That's bizarre.''

Those unusual symptoms appear to be because vaccine-related inflammation isn't concentrated in the muscle of the heart itself: it's in the lining around the heart, the pericardium. The lining, unlike the muscle of the heart, has pain sensors. But while inflammation of the heart lining sounds concerning, Long points out that surgeons sometimes remove it altogether during heart procedures, and patients do fine. It's just not as essential to a healthy heartbeat.

[Related: Why are kids' immune systems different from adults?]

So a kid with ''typical'' myocarditis might come to the hospital with no chest pain, but would be breathing quickly because of a malfunctioning heart. A kid with the vaccine symptoms would instead have chest pain, but ''their echocardiograms, which are measuring function, are almost always normal.''

Long thinks we should be calling the vaccine side-effect pericarditis or perimyocarditis, to emphasize the fact that it's taking place in the heart lining. I remember some of the early discussions of this, I kept saying to people, 'please let's not call this myocarditis.'''

''If parents were to look up myocarditis, they would be quite upset about this,'' she says. But the chest pain associated with pericarditis is much less serious'--the CDC hasn't confirmed a single death from the condition.

That's not to say that everyone thinks the two are completely different conditions. In an overview of vaccine-related heart inflammation published this summer, about 60 percent showed some change in heart activity, indicating that the heart muscle itself was affected.

But data presented earlier this week by CDC scientist Matthew Oster backs up real-world differences between the conditions. In cases of typical myocarditis, about 30 percent of patients didn't get normal heart function back after a month. In cases of MIS-C myocarditis, the majority of patients got back to normal within ten days. In vaccine-related inflammation, everyone was up and running in five days.

Data presented at a CDC hearing on Tuesday showed that cases of vaccine-related myocarditis cleared up within days. (Matthew Oster, CDC.)Children experiencing chest pain is certainly nothing to be brushed off lightly, says Long. ''But we now have had time to see that these are different entities, not with this same prognosis. Nobody has died of myopericarditis, and children are dying of coronavirus. So of course it's a benefit-risk ratio that comes out in the direction of vaccination.''

Over a 60X increase in pro sports adverse events since the vaccines rolled out - by Steve Kirsch - Steve Kirsch's newsletter

Wed, 17 Nov 2021 19:26

First, take a look at this video posted by my friend Robert Malone:

Now, in the comments of that tweet, you'll see people say that ''these events happen all the time.'' True, they do. For example, this death of Piermario Morosini that happened in 2012.

But they don't happen at this rate. No way. That's the thing nobody can explain. The vaccine advocates find this super-irritating. They have no rational excuse on this. They can't use ad hominem attacks. They can't use goofball hand waving arguments. Nothing.

All of these cases have been properly reported and are documented. No mentions (except one case) of vaccinations since the press doesn't want to create vaccine hesitancy. But the numbers speak for themselves.

The numbers (as documented below) shows that there have been more ''events'' over a recent 4 month period than in over 20 years, which is more than a 60-fold increase in event rate.

All of these are in full public view so there is no ''reporting bias'' involved. And the numbers are big enough that nobody can say ''oh, that's just statistical noise.'' Not a chance. It's just too hard to explain. This is why there are articles like these:

We have a very clear mechanism of action and we have overwhelming confirmation from the VAERS data that these vaccines are super dangerous and cause cardiovascular and neurological severe adverse events at a very high rate. Nothing else can compare to the vaccines when we talk about heart damage. So if you believe these events really did happen (they are in plain sight after all), then you must ascribe them to the vaccine since there is nothing else all these people have in common that could causes such an extreme elevation of events.

Also, the Jessica Rose myocarditis paper that was unethically ''temporarily'' removed by Elsevier over the objection of the Editor of the journal and in violation of all known scientific protocols? Well, her paper had a very clear conclusion: the heart damage wasn't confined to 16 year olds. It has a long tail. In other words, it can affect people of all ages, not just teenage boys. That's what they don't want you to know.

So now you know'... the peer-reviewed science says that the heart damage isn't limited to teenage boys. They are still unethically suppressing this as of Nov. 13, 2021.

So there is a smoking gun for the damage done to these athletes: the vaccine.

Here's a post on athlete deaths from Mindy Robinson's Gab account:

Here's the full list:

33 year old pro dancer Santo Giuliano suffers heart attack after vaccine19 year old Football player Jalen Leavey dead19 year old Football player Tirrell Williams dead21 year old Football player Okafor Kelechi dead29 year old Football player Lee Moses dead15 year old Footballer Stephen Sylvester dead18 year old Football player Emmanual Antwi dead13 year old Football player Cajetan Chinoyelum Nsofor dead15 year old Soccer player Moira Claire Arney deadJunior High School Baseball Pitcher Andrew Roseman dead17 year old Footballer Nickolas Lawrinas dead17 year old Footballer Miquel Lugo dead16 year old Football player Devon DuHart dead16 year old Footballer Ivan Hicks dead19 year old Footballer Joe Bradshaw dead16 year old Football player Drake Geiger dead15 year old Football player Joshua Ivory dead19 year old Football player Quandarius Wilburn dead17 year old Football player Dimitri McKee dead29 year old Rugby player Dave Hyde dead27 year old Baseball player Yusuke Kinoshita dead24 year old Olympic Cyclist Olivia Podmore dead during the week athlete sprinter Cameron Burell also dies23 year old China Olympics Champion Gilbert Kwemoi dead37-year-old former French professional footballer Franck Berrier dead25 years old Belgian soccer player Jente Van Genechten suffers cardiac arrest30 year old Venezuelan National Marathon Champion Alexaida Guedez dead29 years old Jos(C) dos Reis collapses on the field and has to be resuscitated16 years old Diego Ferchaud from suffers cardiac arrestAustria player of ASV Baden collapses on the field and has to be revived16-year-old football player in Bergamo suffers cardiac arrest27 years old Belgian amateur soccer player Jens De Smet dead13-year-old soccer player suffers heart attack on field17 year old soccer player Dylan Rich deadPlayer from Birati Club M¼nster suffers cardiac arrest22 years old Abou Ali collapses with cardiac arrest19 years old ice hockey player Sebastiaan Bos dead.37 years old Ex-NFL professional Parys Haralson dead25 years old Canadian university football player Francis Perron dead19 year old FC Nantes soccer player suffers cardiac arrestGermany volleyball trainer Traktor Divitz dead29 years old Shrewsbury striker Ryan Bowman treated with defibrillator during game25 years goalkeeper Lukas Bommer dead18 years old pro footballer Fellipe de Jesus Moreira has double heart attackItaly, 27 years old cycling champion Gianni deadEnglish lineswoman Helen Byrne, heart problems has to be carried off at world cup17-year-old soccer player of the JSG High Hagen deadGermany Team leader Dietmar Gladow deadGermany 15 years old goalkeeper Bruno Stein deadUSA, 14-year-old soccer player Ava Azzopardi collapses in a comaUSA, 12 year old Jayson Kidd collapsed during basketball practice and died

Cannabis use disorder (CUD) to the rescue? Citing no evidence whatsoever, the pro-vaccine people assert that it is due to cannabis use disorder. This could cause a 7% spike in the number of cases!

Just one tiny little problem'... we're talking a rate elevated by 6,428%, not 7%. So even with the CUD theory, we still have a 6421% increase to explain. Whoops!

It's not just athletes that are affectedIt's everyone. VAERS has been showing this since January 2021. But the pro-vax community says it is junk data when it isn't. Since most people don't know about VAERS, they believe the so-called ''fact checkers.''

What's nice about the athletes is that it is right in front of everyone to see. No arguments about under or over reporting. No arguments about causality. The control group is basically history.

Here's some more evidence of vaccine injury: instead of the usual victim stories (which can all be dismissed as ''anecdotes''), these are stories from healthcare professionals who see very clearly the before vs. after and have objective perspective since they see large numbers of cases.

And there are stories like these:

This was written by one of the commenters to this article. I've heard similar stories from others so I believe this is credible.Yet the CDC and FDA are blind to all of this. In their blue pill world, they see only people with no side effects and no deaths.

Christian EriksenThis article has a picture of Christian Eriksen surrounded by his teammates. Some people have pointed out that it was a bad choice because his coach claimed that Christian Eriksen was not vaccinated at the time he went into cardiac arrest.

Really?

Please read this article by Alex Berenson.

It's kind of hard to know who to believe nowadays, isn't it?

It's like with Gavin Newsom and his reaction'... or was there a reaction? But nobody knows why he didn't attend the climate summit by Zoom. Hmmmm'...

Now you'd think if Eriksen wasn't vaccinated there would be a big stink about it like with Aaron Rogers, wouldn't you? Hmmm'....

This is a health emergencyWe've never seen anything like this before. An alarming increase. We've got to find out what is causing this! It can't be COVID'... they are all tested. It all started after the vaccines rolled out'... I wonder what it could be???? Hmmm'....

I checked with the CDC and they sent me this:

Here's the evidence for the 60X normal rate'...and also what the VAERS database says about cardiac arrest (and other cardiac related event) rates. If you aren't already convinced, you'll find the data below the line quite compelling. Some readers did their own studies and those studies confirmed the observation of elevated risk.

[ For non-subscribers, you'll see a paywall. Let me assure you that 100% of your subscription is split between 1) substack, 2) paying for ads to make sure everyone finds out about this content, and 3) donations to causes that help us get these dangerous vaccines exposed including the efforts of VSRF. Substack is awesome since it isn't censored by the government unlike Twitter, YouTube, Facebook, etc. I donate 100% of the proceeds that I receive to helping get the word out. So please'.... help support the cause. I'm spending millions of my personal money a year on this, but I'd like to be spending millions a month. Each $5/month subscription helps. Thanks. ]

Antibiotic-resistant infections could trigger a new 'hidden pandemic', experts warn | Daily Mail Online

Wed, 17 Nov 2021 18:59

Antibiotic-resistant infections could trigger a new 'hidden pandemic' once Covid is over, experts warnUK Health Security Agency figures showed infections had fallen 15% last yearBut they warned this was only because Covid restrictions had limited mixingThey warned antimicrobial infections were only likely to have risen this year By Luke Andrews Health Reporter For Mailonline

Published: 11:29 EST, 17 November 2021 | Updated: 13:11 EST, 17 November 2021

Antibiotic-resistant infections could trigger a new 'hidden pandemic' once Covid is over, experts warned today.

Dr Susan Hopkins, head of the UK Health Security Agency, claimed it was important the country does not lurch from one crisis 'into another'.

She urged Britons to act 'responsibly', insisting there was no need to get antibiotics to treat every cold or sore throat.

Antibiotic resistance, deemed to be as big a threat as terrorism and global warming, kills 700,000 people every year.

But experts fear the crisis, fuelled by the unnecessary prescription of antibiotics, will become an even bigger problem over the next few decades.

Dr Hopkins' warning comes after her agency, which replaced Public Health England, published showing antibiotic-resistant bloodstream infections fell last year.

But she said the fall was likely only down to Covid restrictions such as frequent hand washing cutting the spread of superbugs.

Antibiotic-resistant infections fell last year for the first time since records began. But officials suggested the drop was because of successive lockdowns and Covid restrictions. The above graph shows the estimated number of antibiotic-resistant infections in the blood that happened in England by year

Dr Hopkins said: 'Antimicrobial resistance has been described as a hidden pandemic, and it's important that we do not come out of Covid and enter into another crisis.

'It is likely that Covid restrictions in 2020 including enhanced infection, prevention and control measures also played a part in driving down antibiotic resistance and prescribing.

'While these measures were severe, serious antibiotic-resistant infections will rise once again if we don't act responsibly.

She added: 'As we head into winter, with increasing amounts of respiratory infections in circulation, it's important to remember that antibiotics are not needed for many cold-like symptoms.

'Stay at home if you feel unwell. Taking antibiotics when you don't need them only puts you and your loved ones at more risk in the future.'

WHEN SHOULD YOU TAKE ANTIBIOTICS? Antibiotics may be used to treat bacterial infections that are unlikely to clear up on their own, may infect others, or pose serious risks.

They are needed most when someone suffers from sepsis, pneumonia, a urinary tract infections (UTI), sexually transmitted infections like gonorrhoea or meningococcal meningitis.

But they are also frequently being used to treat illnesses such as coughs, earache and sore throats.

Experts recommend against this, saying these cases normally clear up by themselves.

Taking antibiotics encourages harmful bacteria that live inside you to become resistant.

That means that the medicines may not work when you really need them.

Research in 2017 showed that 38 per cent of people still expect an antibiotic from a doctor when they visit with a cough, flu or a throat, ear, sinus or chest infection.

Antibiotic resistance is considered by scientists to be one of the country's top health threats.

This is because it allows bacteria to evade common and once effective medicines, leaving doctors unable to treat once curable diseases.

Antibiotics work by attacking dangerous bacteria '-- such as E.coli which can trigger kidney failure in serious cases '-- and killing them to stop an infection.

But if the medicines are used too often bacteria can become resistant, making the treatments redundant.

Bacteria can also become resistant if incorrect doses are taken or if they are exposed to low levels of the antibiotic.

These may be insufficient to kill them but enough for them to adapt to survive the drugs.

When this happens stronger antibiotics must be used to stop the illness, but this runs the risk bacteria will also evolve resistance to these as they begin to be used more often.

Figures show some 55,384 antibiotic-resistant bloodstream infections were estimated to have occurred in England last year.

This was the lowest number since records began in 2017 and a 15 per cent drop on the previous year.

But experts said Covid restrictions had 'played a part' in the drop. They added cases would likely rise again this year.

The proportion of infections that were resistant to some antibiotics also rose, which experts said was proof that the superbugs would likely be behind even more infections this year.

UK health chiefs have been campaigning to get fewer antibiotics prescribed for years to battle the emergence of superbugs.

Advertisement

Hufu: The Vegan Cannibal's Alternative to Human Flesh

Wed, 17 Nov 2021 17:01

Hufu was a tofu-based product designed to taste like human flesh, providing an alternative meat source for health-conscious cannibals.

Hufu artwork created by Ray Drainville of Ardes

Hufu founder Mark Nuckols was reading the book Good To Eat: Riddles of Food and Culture by anthropologist Marvin Harris, while eating a tofurkey sandwich, when the idea came to him: a healthy, vegan alternative to human meat.

Nuckols launched Hufu in 2005, and the initial stock of 144 boxes of Hufu Classic Strips sold out in just two days.

If I had known about it back then, every one of those boxes would have shipped to me. But Hufu, surprisingly, had a bigger market than one random weirdo with a website and an unhealthy interest in cannibalism.

''Hufu was originally conceived of as a product for students of anthropology hungry for the experience of cannibalism but deterred by the legal and logistical obstacles,'' the now defunct Eat Hufu website stated. ''However, our preliminary market research revealed the existence of a larger segment of the public that was interested in the availability of a legal and healthy human flesh substitute, as well as vegetarians and vegans. We also found that Hufu is a great product for cannibals who want to quit. Hufu is also a great cannibal convenience food '-- no more Friday night hunting raids! Stay at home and enjoy the flavorful, convenient human flesh alternative.''

''Cannibalism might seem wrong to your hetero-normative, Judeo-Christian culture, but who are we to judge the Aztecs or the indigenous cultures of Papua New Guinea?''

'' Eat Hufu website FAQ, 2005

In an interview on The Daily Show, Nuckols said, ''I think that a lot of the pleasure of eating the Hufu product is imagining you're eating human flesh. For that moment, you can join the fraternity of cannibals'... If you really want to come as close as possible to the experience of cannibalism, Hufu is your best option.''

But how did Nuckols, or anyone eating Hufu, for that matter, know what human flesh tastes like?

Polynesian cannibals called human the ''long pig,'' so we tend to associate people with pork. After studying historical descriptions from cannibal tribes, and a lot of experimenting in the kitchen, Hufu discovered otherwise.

''Hufu is designed to resemble, as humanly possible, the taste and texture of human flesh,'' the website stated. ''If you've never had human flesh before, think of the taste and texture of beef, except a little sweeter in taste and a little softer in texture. Contrary to popular belief, people do not taste like pork or chicken.''

The FAQ adds, ''We are supremely confident that our food products would satisfy the tastes of even the most demanding cannibal.''

''I bet you a real Fijian headhunter would enjoy Hufu,'' Nuckols told The Stanford Daily.

The name Hufu is a portmanteau of human and tofu. The name was apparently coined by Resident Evil actress Milla Jovovitch when she overheard some of Nuckols' business associates discussing it on a train from London to Paris, according to the website. They were calling it ''Hufu'' at the time.

'''Hofu' sounds like [the male organ],'' Milla chimed in. ''You should call it 'hufu.'''

The website offered articles on famous cannibals and cultural traditions, merchandise and recipes: Hufu Stroganoff, Lechter's Liver with Fava Beans, and Aztec Human Stew for anyone who wants to ''vicariously participate in one of the great Aztec customs, the human sacrifice festival.''

Sadly, Hufu closed up shop in 2006.

''The world has moved on past Hufu,'' Nuckols said.

Well I didn't, Mark. There's a Hufu-sized hole in my soul that can never be filled. If you ever read this and you still have some Classic Strips, or even just a t-shirt (not to eat), taking up space in a closet somewhere, hit me up. My cannibal fork is on standby.

More: Cannibal Week on Cult of Weird

Executive Order on Improving Public Safety and Criminal Justice for Native Americans and Addressing the Crisis of Missing or Murdered Indigenous People | The White House

Wed, 17 Nov 2021 16:52

By the authority vested in me as President by the Constitution and the laws of the United States of America, I hereby order as follows:

Section 1. Policy. The safety and well-being of all Native Americans is a top priority for my Administration. My Administration will work hand in hand with Tribal Nations and Tribal partners to build safe and healthy Tribal communities and to support comprehensive law enforcement, prevention, intervention, and support services.

Generations of Native Americans have experienced violence or mourned a missing or murdered family member or loved one, and the lasting impacts of such tragedies are felt throughout the country. Native Americans face unacceptably high levels of violence, and are victims of violent crime at a rate much higher than the national average. Native American women, in particular, are disproportionately the victims of sexual and gender-based violence, including intimate partner homicide. Research shows that approximately half of Native American women have experienced sexual violence and that approximately half have experienced physical violence by an intimate partner. LGBTQ+ Native Americans and people who identify as ''Two-Spirit'' people within Tribal communities are also often the targets of violence. And the vast majority of Native American survivors report being victimized by a non-Native American individual.

For far too long, justice has been elusive for many Native American victims, survivors, and families. Criminal jurisdiction complexities and resource constraints have left many injustices unaddressed. Some progress has been made, particularly on Tribal lands. Given that approximately 70 percent of American Indian and Alaska Natives live in urban areas and part of this epidemic of violence is against Native American people in urban areas, we must continue that work on Tribal lands but also build on existing strategies to identify solutions directed toward the particular needs of urban Native Americans.

In 2020, bipartisan members of the 116th Congress took an important step forward through the passage of two pieces of legislation '-- Savanna's Act and the Not Invisible Act of 2019 ''- that include important provisions for improving law enforcement and justice protocols as well as improving access to data to address missing or murdered indigenous people. My Administration is committed to fully implementing these laws and working with the Congress to fund these programs for Native Americans. Earlier this year, the Secretary of the Interior and the Attorney General announced a Joint Commission, established pursuant to the Not Invisible Act, that includes: representatives of Tribal, State, and local law enforcement; Tribal judges; Native American survivors of human trafficking; health care and mental health practitioners who have experience working with Native American survivors of human trafficking and sexual assault; Urban Indian Organizations focused on violence against women and children; and family members of missing or murdered indigenous people. The Commission will work to address the persistent violence endured by Native American families and communities across the country. In addition, the Department of the Interior has established a special unit to focus resources on active and unsolved missing persons cases.

But more work is needed to address the crisis of ongoing violence against Native Americans '-- and of missing or murdered indigenous people. Previous executive action has not achieved changes sufficient to reverse the epidemic of missing or murdered indigenous people and violence against Native Americans. The Federal Government must prioritize addressing this issue and its underlying causes, commit the resources needed to tackle the high rates of violent crime that Native Americans experience over the long term, coordinate and provide resources to collect and analyze data, and work closely with Tribal leaders and community members, Urban Indian Organizations, and other interested parties to support prevention and intervention efforts that will make a meaningful and lasting difference on the ground.

It is the policy of my Administration to work directly with Tribal Nations to strengthen public safety and criminal justice in Indian Country and beyond, to reduce violence against Native American people, and to ensure swift and effective Federal action that responds to the problem of missing or murdered indigenous people. My Administration understands that Native American people, particularly the survivors of violence, know best what their communities need to make them safer. Consistent engagement, commitment, and collaboration will drive long-term improvement to public safety for all Native Americans.

Sec. 2. Coordination of a Federal Law Enforcement Strategy to Prevent and Respond to Violence Against Native Americans. The Attorney General, working with the Secretary of the Interior and the heads of other executive departments and agencies (agencies) as appropriate, shall assess and build on existing efforts to develop a coordinated and comprehensive Federal law enforcement strategy to prevent and respond to violence against Native Americans, including to address missing or murdered indigenous people where the Federal Government has jurisdiction. The strategy shall set out a plan to address unsolved cases involving Native Americans; provide for coordination among the Department of Justice, the Department of the Interior, and the Department of Homeland Security in their efforts to end human trafficking; seek to strengthen and expand Native American participation in the Amber Alert in Indian Country initiative; and build on and enhance national training programs for Federal agents and prosecutors, including those related to trauma-informed and victim-centered interview and investigation techniques. The strategy shall also include protocols for effective, consistent, and culturally and linguistically appropriate communication with families of victims and their advocates, including through the creation of a designated position within the Department of Justice assigned the function of serving as the outreach services liaison for criminal cases where the Federal Government has jurisdiction. The Attorney General and the Secretary of the Interior shall report to the President within 240 days of the date of this order describing the strategy developed and identifying additional resources or other support necessary to implement that strategy.

Sec. 3. Supporting Tribal and Other Non-Federal Law Enforcement Efforts to Prevent and Respond to Violence Against Native Americans. (a) The Attorney General and the Secretary of the Interior, working with the heads of other agencies as appropriate, shall develop guidance, identify leading practices, and provide training and technical assistance, consistent with applicable law and available appropriations, to:

(i) assist Tribal governments in implementing special domestic violence criminal jurisdiction pursuant to the Violence Against Women Reauthorization Act of 2013, enabling them to prosecute certain non-Indian defendants for domestic violence and dating violence offenses in Indian Country, and also assist Tribes in implementing any relevant Tribal provisions in subsequent Violence Against Women Act reauthorization legislation; (ii) assist Tribal governments within Oklahoma, consistent with the United States Supreme Court's decision in McGirt v. Oklahoma, 140 S. Ct. 2452 (2020), to build capacity to handle cases within their criminal jurisdiction, including the capacity to provide victim services; (iii) promote coordination of Federal, State, local, and Tribal law enforcement, including, as appropriate, through the development and support of Tribal Community Response Plans; (iv) continue to assist Tribal law enforcement and judicial personnel with training, as described in 25 U.S.C. 2451, on the investigation and prosecution of offenses related to illegal narcotics and on alcohol and substance abuse prevention and treatment; and (v) assist Tribal, State, and local law enforcement entities' ability to apply linguistically appropriate, trauma-informed, and victim-centered practices when working with victims of crime, and to develop prevention strategies and recognize the indicators of human trafficking affecting Native Americans.

(b) The Attorney General and the Secretary of the Interior shall continue to assess their respective grantmaking operations to evaluate whether any changes, consistent with applicable law, are warranted to make that grantmaking more equitable for Tribal applicants seeking support for law enforcement purposes and for the provision of services to victims and survivors.Sec. 4. Improving Data Collection, Analysis, and Information Sharing.

(a) The Attorney General, in coordination with the Secretary of the Interior and the Secretary of Health and Human Services (HHS), as appropriate, shall sustain efforts to improve data collection and information-sharing practices, conduct outreach and training, and promote accurate and timely access to information services regarding crimes or threats against Native Americans, including in urban areas, such as through the National Crime Information Center, the Next Generation Identification system, and the National Violent Death Reporting System, as appropriate and consistent with applicable law.

(b) The Attorney General shall take steps, consistent with applicable law, to expand the number of Tribes participating in the Tribal Access Program for National Crime Information, which provides Tribes access to national crime information systems for federally authorized purposes.

(c) The Attorney General, in coordination with the Secretary of the Interior and the Secretary of HHS, shall develop a strategy for ongoing analysis of data collected on violent crime and missing persons involving Native Americans, including in urban Indian communities, to better understand the extent and causes of this crisis. Within 240 days of the date of this order, the Attorney General, the Secretary of the Interior, and the Secretary of HHS shall report jointly to the President on the strategy they have developed to conduct and coordinate that analysis and shall identify additional resources or other support necessary to implement that strategy.

(d) The Attorney General shall assess the current use of DNA testing and DNA database services to identify missing or murdered indigenous people and any responsible parties, including the unidentified human remains, missing persons, and relatives of missing persons indices of the Combined DNA Index System and the National Missing and Unidentified Persons System. Within 240 days of the date of this order, the Attorney General shall report the outcome of this assessment to the President, along with recommendations to improve the use and accessibility of DNA database services.

(e) The Secretary of HHS shall evaluate the adequacy of research and data collection efforts at the Centers for Disease Control and Prevention and the National Institutes of Health in accurately measuring the prevalence and effects of violence against Native Americans, especially those living in urban areas, and report to the President within 180 days of the date of this order on those findings and any planned changes to improve those research and data collection efforts.

Sec. 5. Strengthening Prevention, Early Intervention, and Victim and Survivor Services.

(a) The Secretary of HHS, in consultation with the Secretary of the Interior and Tribal Nations and after conferring with other agencies, researchers, and community-based organizations supporting indigenous wellbeing, including Urban Indian Organizations, as appropriate, shall develop a comprehensive plan to support prevention efforts that reduce risk factors for victimization of Native Americans and increase protective factors, including by enhancing the delivery of services for Native American victims and survivors, as well as their families and advocates. The comprehensive plan shall, to the extent possible, build on the existing evidence base. The plan shall include strategies for improving mental and behavioral health; providing substance abuse services; providing family support, including high-quality early childhood programs for victims and survivors with young children; and preventing elder abuse, gender-based violence, and human trafficking. In addition, the plan shall also include community-based strategies that improve community cohesion and cultural connectivity and preservation, educational programs to increase empowerment and self-advocacy, and strategies to encourage culturally and linguistically appropriate, trauma-informed, and victim-centered service delivery to Native Americans, including for survivors of gender-based violence. The Secretary of HHS shall report to the President within 240 days of the date of this order describing the plan and actions taken and identifying any additional resources or other support needed.

(b) The Secretary of HHS and the Secretary of the Interior shall review procedures within their respective departments for reporting child abuse and neglect, including barriers to reporting, and shall take appropriate action to make reporting of child abuse and neglect by the Indian Health Service easier and more streamlined. In addition, the Secretaries shall assess and identify ways to expand Native American access to child advocacy center services such as pediatric medical forensic examination services, mental health care providers with advanced training in child trauma, and culturally and linguistically appropriate activities and services geared toward pediatric patients. The Secretaries shall report to the President within 180 days of the date of this order describing actions taken, findings from the assessment, and planned actions to expand access, and identifying any additional resources or other support needed.

(c) The Secretary of the Interior, consulting with the Attorney General and the Secretary of HHS, as appropriate, shall evaluate the effectiveness of existing technical assistance and judicial support services for Tribes to provide community-based conflict resolution, as well as culturally and linguistically appropriate, trauma-informed, and victim-centered strategies, including traditional healing services and healing courts, and shall identify and make improvements as needed. The Secretary of the Interior shall report to the President within 180 days of the date of this order describing the evaluation findings and the improvements implemented.

Sec. 6. Consultation and Engagement. In accordance with the Presidential Memorandum of January 26, 2021 (Tribal Consultation and Strengthening Nation-to-Nation Relationships), the Departments of Justice, the Interior, HHS, Energy, and Homeland Security shall conduct timely consultations with Tribal Nations and shall engage Native American communities to obtain their comments and recommendations regarding implementing sections 2 through 5 of this order. Tribal consultation and engagement shall continue as the strategies required by this order are implemented.

Sec. 7. Definitions. For the purposes of this order

(a) ''Tribal Nation'' means an American Indian or Alaska Native tribe, band, nation, pueblo, village, or community that the Secretary of the Interior acknowledges as a federally recognized tribe pursuant to the Federally Recognized Indian Tribe List Act of 1994, 25 U.S.C. 5130, 5131. (b) ''Native American'' and ''Native'' mean members of one or more Tribal Nations. (c) ''Urban Indian Organization'' means a nonprofit corporate body situated in an urban center, governed by an urban Indian controlled board of directors, and providing for the maximum participation of all interested Indian groups and individuals, which body is capable of legally cooperating with other public and private entities, pursuant to 25 U.S.C. 1603(29).

Sec. 8. General Provisions. (a) Nothing in this order shall be construed to impair or otherwise affect: (i) the authority granted by law to an executive department or agency, or the head thereof; or (ii) the functions of the Director of the Office of Management and Budget relating to budgetary, administrative, or legislative proposals. (b) This order shall be implemented consistent with applicable law and subject to the availability of appropriations. (c) This order is not intended to, and does not, create any right or benefit, substantive or procedural, enforceable at law or in equity by any party against the United States, its departments, agencies, or entities, its officers, employees, or agents, or any other person.

JOSEPH R. BIDEN JR.

THE WHITE HOUSE,November 15, 2021.

A Proclamation on Suspension of Entry as Immigrants and Nonimmigrants of Persons Responsible for Policies or Actions That Threaten Democracy in Nicaragua | The White House

Wed, 17 Nov 2021 16:47

In light of the importance to the United States of fostering democratic processes and institutions in Nicaragua to help the Nicaraguan people achieve their aspirations for democracy, and given the suppression of human rights and democracy in Nicaragua, I have determined that it is in the interest of the United States to restrict and suspend the entry into the United States, as immigrants and nonimmigrants, of members of the Government of Nicaragua, led by President Daniel Ortega, including his spouse and Vice President Rosario Murillo, and others described in this proclamation who formulate, implement, or benefit from policies or actions that undermine or injure democratic institutions or impede the return to democracy in Nicaragua.

The repressive and abusive acts of the Ortega government and those who support it compel the United States to act. The Ortega government's crackdown on opposition leaders, civil society leaders, and journalists in preparation for the November 2021 Nicaraguan presidential and legislative elections harms the institutions and processes essential to a functioning democracy. The Ortega government's undemocratic, authoritarian actions have crippled the electoral process and stripped away the right of Nicaraguan citizens to choose their leaders in free and fair elections.

The Ortega government's detention of and denial of fair trial guarantees to peaceful protesters, civil society leaders, private sector leaders, student leaders, political leaders, journalists, and presidential candidates in Nicaragua stifles political discourse and the democratic process. Police and prison authorities contribute to the repressive climate the Ortega government promotes by carrying out politically motivated arrests and detentions of individuals exercising their human rights and holding political prisoners incommunicado, without access to lawyers, family members, and needed medical care. Family members and the media have reported that some prisoners have lost significant weight in detention, cannot walk unassisted, have been held in solitary confinement, and are subjected to frequent, extensive interrogations. The physical and psychological abuse of political prisoners at the hands of police and prison authorities is intolerable and cannot stand.

The Ortega government controls multiple security services, including non-uniformed, armed, and masked parapolice, who abuse persons to further the Ortega government's authoritarian agenda, including by harassing, threatening, and committing violence against those opposed to the government. Members of the Nicaraguan National Police (NNP), along with violent mobs of pro-government supporters also controlled by government actors, have attacked religious institutions in retaliation for their support for political and religious leaders.

Municipal officials, acting on direct orders from the Ortega government, have directed violence against pro-democracy protesters in their communities and other local actors opposed to the government. For example, mayors and mayors' offices loyal to the Ortega government have organized and channeled state funds to parapolice groups engaged in violent repression. These municipal officials wield enormous political power and discretionary budget authority, conferred upon them from the highest levels of the Ortega government. The climate of fear established and perpetuated by these municipal officials has diminished the possibility of free and fair elections and undermined democracy in Nicaragua.

The judiciary has failed the Nicaraguan people by aiding and abetting the Ortega government's use of politically motivated charges to lock up political prisoners. By stacking the judiciary with government-controlled judges and prosecutors, the Ortega government has abused the justice system to silence critics. Authorities have held many political prisoners incommunicado for months, without access to their lawyers, and with no knowledge of the spurious charges presented against them.

The widespread impunity for crimes committed against opposition actors; the persistent corruption practiced by Nicaraguan government officials in the performance of public functions that has eroded democratic institutions; and the continued failure of President Daniel Ortega, Vice President Rosario Murillo, Nicaraguan government officials, and others to support the rule of law, human rights, and other principles of high priority to the United States demand a forceful response.

NOW, THEREFORE, I, JOSEPH R. BIDEN JR., President of the United States of America, by the authority vested in me by the Constitution and the laws of the United States, including sections 212(f) and 215(a) of the Immigration and Nationality Act (8 U.S.C. 1182(f) and 1185(a)) and section 301 of title 3, United States Code, hereby find that the unrestricted immigrant and nonimmigrant entry into the United States of persons described in section 1 of this proclamation would, except as provided for in section 4 of this proclamation, be detrimental to the interests of the United States, and that their entry should be subject to certain restrictions, limitations, and exceptions. I therefore hereby proclaim the following:

Section 1. Suspension and Limitation on Entry. The entry into the United States, as immigrants or nonimmigrants, of the following persons is hereby suspended: (a) Members of the Government of Nicaragua, including elected officials and their staff members; (b) Mayors, vice mayors, or political secretaries who planned, ordered, assisted, aided and abetted, committed, or otherwise participated in, including through command responsibility, serious abuses or violations of human rights to punish peaceful protestors or deny Nicaraguans fundamental freedoms, or who attempted or conspired to do so; (c) Officials of Nicaragua's security services, including the Nicaraguan Military, NNP, Directorate of Special Police Operations, parapolice groups, and paramilitary groups; (d) Officials of the Nicaraguan penitentiary administration; (e) Senior members of the Nicaraguan judiciary, Public Prosecutors Office, and Ministry of the Interior; (f) Members of Nicaraguan government ministries, regulatory agencies, parastatal companies, higher education administrators and faculty, and elected officials who undertake actions, including human rights abuses, to deny services to those who make peaceful efforts to demand the return to democracy in Nicaragua; (g) Non-government persons who serve as agents of or act at the behest of those described in subsections (a)-(f) of this section to facilitate or derive financial benefit from policies or actions, including electoral fraud, human rights abuses, or corruption, that undermine or injure democratic institutions or impede the return to democracy in Nicaragua; and (h) The spouses, sons, and daughters of persons described in subsections (a)-(g) of this section.

Sec. 2. Authority of the Secretary of State to Identify Covered Individuals. Persons covered by section 1 of this proclamation shall be identified by the Secretary of State, or the Secretary of State's designee, in the Secretary of State's sole discretion, pursuant to such procedures as the Secretary of State may establish.

Sec. 3. Implementation of Suspension and Limitation on Entry. The Secretary of State shall implement this proclamation as it applies to visas pursuant to such procedures as the Secretary of State, in consultation with the Secretary of Homeland Security, may establish. The Secretary of Homeland Security shall implement this proclamation as it applies to the entry of noncitizens pursuant to such procedures as the Secretary of Homeland Security, in consultation with the Secretary of State, may establish.

Sec. 4. Scope of Suspension and Limitation on Entry. Section 1 of this proclamation shall not apply to: (a) Any lawful permanent resident of the United States; (b) Any individual who has been granted asylum by the United States, any refugee who has already been admitted to the United States, or any individual granted withholding of removal or protection under the Convention Against Torture and Other Cruel, Inhuman or Degrading Treatment or Punishment, and nothing in this proclamation shall be construed to affect any individual's eligibility for asylum, refugee status, withholding of removal, or protection under the Convention Against Torture, consistent with the laws and regulations of the United States; (c) Any person otherwise covered by section 1 of this proclamation, upon determination by the Secretary of State that the person has ceased actions that undermine democratic institutions and taken concrete steps to help restore democracy in Nicaragua; or (d) Any person otherwise covered by section 1 of this proclamation, upon determination by the Secretary of State that the person's entry would not be contrary to the interests of the United States, including when the Secretary of State so determines, based on a recommendation of the Attorney General, that the person's entry would further important United States law enforcement objectives. In exercising this responsibility, the Secretary of State shall consult the Secretary of Homeland Security on matters related to admissibility or inadmissibility within the authority of the Secretary of Homeland Security.

Sec. 5. Termination. This proclamation shall remain in effect until terminated by the President. The Secretary of State shall, as circumstances warrant, recommend whether the President should continue, modify, or terminate this proclamation.

Sec. 6. General Provisions. (a) Nothing in this proclamation shall be construed to impair or otherwise affect: (i) United States Government obligations under applicable international agreements; (ii) the authority granted by law to an executive department or agency, or the head thereof; or (iii) the functions of the Director of the Office of Management and Budget relating to budgetary, administrative, or legislative proposals. (b) This proclamation shall be implemented consistent with applicable law and subject to the availability of appropriations. (c) This proclamation is not intended to, and does not, create any right or benefit, substantive or procedural, enforceable at law or in equity by any party against the United States, its departments, agencies, or entities, its officers, employees, or agents, or any other person.

IN WITNESS WHEREOF, I have hereunto set my hand this sixteenth day of November, in the year of our Lord two thousand twenty-one, and of the Independence of the United States of America the two hundred and forty-sixth.

JOSEPH R. BIDEN JR.

Notice on the Continuation of the National Emergency with Respect to the Situation in Nicaragua | The White House

Wed, 17 Nov 2021 16:46

On November 27, 2018, by Executive Order 13851, the President declared a national emergency pursuant to the International Emergency Economic Powers Act (50 U.S.C. 1701''1706) to deal with the unusual and extraordinary threat to the national security and foreign policy of the United States constituted by the situation in Nicaragua.

The situation in Nicaragua, including the violent response by the Government of Nicaragua to the protests that began on April 18, 2018, and the Ortega regime's systematic dismantling and undermining of democratic institutions and the rule of law, its use of indiscriminate violence and repressive tactics against civilians, as well as its corruption leading to the destabilization of Nicaragua's economy, continues to pose an unusual and extraordinary threat to the national security and foreign policy of the United States. For this reason, the national emergency declared on November 27, 2018, must continue in effect beyond November 27, 2021. Therefore, in accordance with section 202(d) of the National Emergencies Act (50 U.S.C. 1622(d)), I am continuing for 1 year the national emergency declared in Executive Order 13851 with respect to the situation in Nicaragua.

This notice shall be published in the Federal Register and transmitted to the Congress.

JOSEPH R. BIDEN JR.

THE WHITE HOUSE, November 16, 2021.

Statement by President Joe Biden on Surpassing 100,000 American Overdose Deaths in the Past Year | The White House

Wed, 17 Nov 2021 16:45

Today, new data reveal that our nation has reached a tragic milestone: more than 100,000 lives were lost to the overdose epidemic from April of last year to April of this year. As we continue to make strides to defeat the COVID-19 pandemic, we cannot overlook this epidemic of loss, which has touched families and communities across the country. As we grieve those we've lost and honor their memories, my Administration is committed to doing everything in our power to address addiction and end the overdose epidemic. Through the American Rescue Plan, we've delivered nearly $4 billion to strengthen and expand services for substance use disorder and mental health. We're working to make health coverage more accessible and affordable for all Americans, so that more people who need care can get it. We are strengthening prevention, promoting harm reduction, expanding treatment, and supporting people in recovery, as well as reducing the supply of harmful substances in our communities. And we won't let up. To all those families who have mourned a loved one and to all those people who are facing addiction or are in recovery: you are in our hearts, and you are not alone. Together, we will turn the tide on this epidemic.

###

Biden administration to buy Pfizer antiviral pills for 10 million people, hoping to transform pandemic - The Washington Post

Wed, 17 Nov 2021 16:42

The Biden administration is planning to purchase 10 million courses of Pfizer's covid pill, a $5 billion investment in a treatment that officials think will help change the trajectory of the coronavirus pandemic by reducing severe illness and deaths, according to two people with knowledge of the transaction.

As the administration and Pfizer on Tuesday hammered out the final details, the company asked federal regulators to authorize the five-day antiviral pill regimen called Paxlovid. The medication is the second easy-to-take treatment aimed at keeping newly infected people out of the hospital to go before the Food and Drug Administration. The other is by Merck and Ridgeback Biotherapeutics.

Biden aides see both treatments as potential game-changers to help restore a sense of normalcy heading toward the pandemic's second anniversary and are eager to add them to a still-small collection of treatments for Americans who contract the coronavirus, according to officials who spoke on the condition of anonymity because they were not authorized to discuss the deal. With breakthrough cases rising and 30 percent of adults not fully vaccinated, health officials say the pills will help tame the pandemic by thwarting the virus's most pernicious effects.

Story continues below advertisement

In another important development, Pfizer has agreed to a license-sharing deal that would allow the pill to be manufactured around the globe and sold at lower prices in poor countries. It's an agreement the company says could give more than half of the world's population access to the treatment, even as Pfizer rebuffs calls to grant poorer countries access to its coronavirus vaccine formula.

''This license is so important because, if authorized or approved, this oral drug is particularly well suited for low- and middle-income countries and could play a critical role in saving lives, contributing to global efforts to fight the current pandemic,'' said Charles Gore, executive director of Medicines Patent Pool, the nonprofit group backed by the United Nations to facilitate global access to lifesaving medicines.

Story continues below advertisement

Pfizer announced this month that Paxlovid, when given to people at high risk of severe illness within three days of symptom onset, reduced the rate of death and hospitalization by 89 percent. The clinical trial for the treatment was halted early because of overwhelming evidence that the medication worked.

Pfizer is asking the FDA to authorize the treatment for people who are at increased risk of hospitalization because of age or underlying medical conditions, and the submission will add to a busy holiday season for regulators. The clinical trial did not include people who fell sick after being vaccinated, but the FDA will decide on who is eligible for the drug and how it should be used.

Pfizer on Nov. 16 said it will allow generic versions of its antiviral coronavirus pill to be sold in 95 countries. (Reuters)Pfizer is already making the therapy, which, if cleared by the FDA, could be available right away in limited quantities. Pfizer has said it may have enough treatments to cover between 100,000 to 200,000 people by the end of the year and millions more in the first half of next year.

Story continues below advertisement

The White House declined to comment. Pfizer said it would not comment on a potential agreement that has not been finalized.

The treatment advances come as coronavirus cases are increasing in many parts of the United States, raising fears among public health officials that the nation could be in for a rough winter. The seven-day rolling average of daily new cases per 100,000 residents rose 18 percent for the week ending Nov. 15, according to The Washington Post's covid-19 tracker.

The federal government already has committed to buy about 3.1 million courses of the Merck antiviral pill for approximately $2.2 billion, assuming the FDA authorizes the drug, the company has said. That comes to about $700 for each course of treatment. The government also has the option to buy an additional 2 million courses under that contract. An FDA advisory committee is scheduled to meet Nov. 30 to discuss the safety and effectiveness of molnupiravir.

Story continues below advertisement

Merck announced in October that its pill reduced the risk of hospitalization and death by nearly half among higher-risk people diagnosed with mild or moderate illness. Some scientists have raised questions about the safety of the Merck product because it inserts errors into the virus's genetic code to prevent it from replicating. The concerns center on whether that could encourage mutations.

Pfizer's pill uses a different mechanism '-- an experimental molecule to block an enzyme that the coronavirus needs to make copies of itself. The Pfizer molecule must be given in combination with ritonavir, an antiviral drug used to treat HIV that helps slow the molecule's breakdown.

The price for the Pfizer drug will be less than for the Merck pill '-- closer to $500 per treatment, said a federal official familiar with the negotiations, who spoke on the condition of anonymity because he was not authorized to discuss the issue. However, the details are not finalized, officials said. Originally, the administration planned to buy as many as 5 million courses of the Pfizer treatment but doubled the order when the clinical trial data looked so promising, the official said.

Story continues below advertisement

The company has begun manufacturing and packaging the drug in factories in Ireland, Germany and Italy and has projected having 180,000 pill packs available by the end of the year and 50 million in 2022.

Health experts welcomed the new treatments, while emphasizing that vaccination remains the most effective way to curb the pandemic. Vaccines prevent illness, not just treat it, they noted.

On the international front, Pfizer and the Medicines Patent Pool said in a joint statement that the licensing agreement would allow manufacturers to supply countries with about half of the world's population '-- and the company would offer tiered pricing based on a country's ability to pay. Lower-income countries would pay a not-for-profit price.

Story continues below advertisement

The fact that a second covid-19 treatment could see wider use through such an agreement is ''very good news,'' said Ellen 't Hoen, director of the research group Medicines Law & Policy.

''This is setting the precedent that if you have a covid-19 countermeasure, you license for wider use,'' said 't Hoen, who is also a member of an MPP expert advisory group.

Pfizer will also forgo royalties in low-income countries and waive them in others, so long as covid-19 remains an international public health emergency, the statement said.

''Oral antiviral treatments can play a vital role in reducing the severity of COVID-19 infections, decreasing the strain on our healthcare systems and saving lives,'' Albert Bourla, Pfizer's chairman and chief executive, said in a statement.

Story continues below advertisement

''We must work to ensure that all people '-- regardless of where they live or their circumstances '-- have access to these breakthroughs,'' he added.

But experts say that companies such as Pfizer should license their intellectual property on vaccines and provide know-how to countries in the developing world.

Bourla, however, has been a vocal critic of those urging Pfizer to share its vaccine formula, which the company developed with the German firm BioNTech.

Pfizer spokesman Kit Longley defended the company's approach in a statement this week and raised concerns about the ability of organizations ''without a proven track record'' to manufacture high-quality vaccines.

Story continues below advertisement

''While we pursue our current strategy, we will continue to evaluate whether and where other options may be appropriate,'' he said.

While the treatments by Pfizer and Merck are not designed to prevent coronavirus infection, as pill-based drugs, they have certain advantages: They are easier to store and administer than vaccines. They also do not rely on the complicated messenger RNA technology that powers the Pfizer-BioNTech shot.

Both drugs have been studied for use specifically in high-risk individuals. And Britain recently authorized molnupiravir only for patients who are 60 or older or have at least one underlying condition that puts them at risk of developing severe illness from covid-19.

Having a combination of pills available could help prevent the coronavirus from developing a resistance to treatment, said Katherine Seley-Radtke, a chemistry professor at the University of Maryland at Baltimore County.

''If you can stop the replication at several steps or with multiple drugs, you exponentially decrease your chance of the virus developing resistance,'' she said.

Why Ivermectin Is Superior to Pfizer's Antiviral Pill ' Children's Health Defense

Wed, 17 Nov 2021 16:28

Comedian and political commentator Jimmy Dore discusses a video by John Campbell, Ph.D. where he explains the similarities between Pfizer's expensive new antiviral drug for COVID and ivermectin, and why ivermectin is better.

Miss a day, miss a lot. Subscribe to The Defender's Top News of the Day. It's free.

On the latest episode of ''The Jimmy Dore Show,'' comedian and political commentator Jimmy Dore highlighted the similarities between Pfizer's expensive new antiviral drug for COVID and ivermectin, a generic drug used to treat the virus.

''I've never seen the propaganda machine so hard at work as it's been against ivermectin,'' said Dore. ''Ivermectin won a Nobel Prize for human medicine in 2015, but the media really has everyone believing it's for horses.''

Dore suggested the motivation behind the propaganda is profits.

Dore played a video of John Campbell, Ph.D., explaining how Pfizer's antiviral and ivermectin treat COVID in ''the exact same way.'' Campbell told viewers Pfizer's new antiviral drug shows very high levels of efficacy in preventing severe disease, hospitalization and death.

''But there's another drug, which is generic, called ivermectin, which works in the exact same way as the Pfizer antiviral,'' Campbell said. ''And there is conclusive proof from the scientific literature that the modality of action of the two drugs is the same. Both of these drugs inhibit viral replication.''

Campbell showed the molecular structure of Pfizer's new drug and compared it to the molecular shape of ivermectin. He conceded the two ''are completely different looking molecules'' which led him to conclude ''it's absolutely fine to patent'' the Pfizer drug.

''So they're going to be able to make a lot of money out of it for the next 20 years,'' he said.

Campbell cited a number of scientific papers which highlighted ivermectin's effectiveness as an antiviral against COVID, including:

A paper from the Royal Society of Chemistry which concluded ivermectin exhibits ''inhibition'' to the ''catalytic activity'' which causes COVID to replicate.An article in Nature which found that out of the 13 off-target drugs tested by researchers, only ivermectin blocked viral replication of SARS-CoV-2 by more than 80%.A paper from The Royal Society of Chemistry which showed ivermectin, out of dozens of drugs the researchers experimented with, had the ''highest score'' when it comes to to stopping viral replication of SARS-CoV-2. Notably, the paper showed that Remdesivir, which is currently patented and approved by the U.S. Food and Drug Administration, had the lowest score out of all of the compounds.Campbell also pointed to a paper from Frontiers in Microbiology, which he said showed ivermectin not only attacked and bound to COVID's spike protein which stopped it from infecting the cell, but also bound to the cell receptor.

''So it doesn't just work one way, but two different ways,'' explained Dore. ''It double screws it up so you can't get COVID.''

Campbell put it this way: ''Not only does ivermectin bend the COVID key, but it also ruins the lock.''

Campbell told viewers:

''So as far as we've been told, the new Pfizer drug is only working against one particular biochemical pathway to stop COVID, and with ivermectin, it's working against that same biochemical pathway to stop COVID but also several others.''

''Why don't you know this?'' Dore asked. ''Because ivermectin is cheap, and we live in a world that is made up of corporate propaganda.''

Watch the segment here:

Subscribe to The Defender - It's Free!Sign up for free news and updates from Robert F. Kennedy, Jr. and the Children's Health Defense. CHD is planning many strategies, including legal, in an effort to defend the health of our children and obtain justice for those already injured. Your support is essential to CHD's successful mission.

A new lease on life for debt-for-nature swaps? | ImpactInvestor

Wed, 17 Nov 2021 16:25

The agreement allows Belize to reduce its debt burden and generate some $180mn for marine conservation. The heavily-indebted country has committed to protecting 30% of its ocean, strengthening fisheries governance, and establishing so-called blue carbon projects, such as the expansion of mangroves along the coast.

Both tourism and fishing are vital to Belize's economy and are at risk from climate change impacts. Tourism has also been hit hard by travel bans during the Covid-19 pandemic.

Under a trilateral DNS such as this transaction, a non-governmental organisation and its partners provide financing to a heavily-indebted country on discounted terms to repurchase debt from international creditors.

The country then uses the money it saves through lower repayments on the NGO loan to fund environmental projects, often with the NGO involved in managing these projects. DNS deals can also be bilateral agreements under which a creditor government forgives or restructures part of a country's debt in return for nature conservation measures.

The first pioneering DNS deals were developed in the 1980s, but ever since the financial instrument has struggled to gain traction.

Record transactionThe Belize deal is significant for reasons beyond its environmental benefits. Firstly it's big: under the agreement, $553mn of Belize's external debt will be restructured. That compares with a total of around $1bn for all other DNS deals since the first one in 1987 between Conservation International and Bolivia to protect forests.

But the deal also stands out because it involves commercial debt held on private markets, rather than the more usual concessional lending by governments.

''This is the first time I know of where a significant amount of commercial debt, in the form of a Eurobond, was involved in a debt-for-nature swap,'' Giancarlo Perasso, a Lead Economist for investment manager PGIM Fixed Income, told Impact Investor.

The DNS involves the repurchase of all issuance related to Belize's single international bond, known as the 'superbond'.

This superbond was the result of a 2006 decision by the government to exchange its various external commercially held public debt instruments, including loans and bonds, into one US dollar-denominated bond.

The bond lost value, due to a poorly performing Belize economy. It was already trading at around 63 cents on the dollar by early 2020 before market assessments of the pandemic's impact on Belize's tourism industry pushed the price down below 40 cents.

DNS seduced bondholders to offload distressed debtFaced with a ballooning public debt-to-GDP ratio, the government looked for ways to restructure its external debt and found commercial debt holders receptive to an innovative DNS proposition put together by Belize and TNC.

And faced with the choice of holding on to distressed debt or selling it at a premium to the market price '' albeit still well below the issuance price at around 50 cents on the dollar '' the bondholders agreed to sell under the DNS.

''There was a good pick up on the price and the DNS was a good way for investors to offload this debt '' and also help to facilitate environmental projects,'' says Perasso.

PGIM Fixed Income held part of Belize's superbond paper and tendered the bonds for redemption.

Bridging the climate finance gap"This deal is huge for Belize, especially during a tremendously difficult time for our economy," Belize's Prime Minister John Brice±o said at the COP26 meeting, adding that the impact would extend far beyond his country.

Proponents argue that debt-for-nature swaps have a valuable role to play in tackling climate change impacts in the developing world at a time when rich nations are still falling well short on their commitment of 2009 to provide $100bn a year in climate finance from 2020.

Meanwhile, developing countries whose external debt has grown during the pandemic seek ways to control it, so DNS could look attractive to them. "The Belize DNS can totally be replicated for other countries with external debt trading at a discount," Kevin Bender, TNC's senior director of sustainable debt told Reuters during COP26.

However, it remains to be seen if the Belize DNS can provide the catalyst for further large-scale debt-for-nature swaps. The size of the Belize deal remains exceptional.

DNS deals have rarely involved figures greater than $50mn and are usually a lot smaller than that. In the other recent DNS of note '' again involving TNC '' the Seychelles bought back $22mn of sovereign debt in 2015, as part of what was said to be the world's first debt refinancing for ocean conservation.

''It's down to the usual question: who puts the money in to buy back the debt? The debt-for-nature sector has mostly been charity-led so far, therefore the amount of money involved is unlikely to be huge,'' says Perasso.

That means debt-for-nature swaps may work best for smaller countries, like the Seychelles, seeking to restructure smaller amounts of debt without bigger lenders becoming involved.

Key role for multilateral lendersAnother problem is that Belize is an exception among heavily indebted developing countries in consolidating its commercial debt into one bond. Indeed, most are usually reliant on debt deals with sovereign or multilateral lenders rather than commercial lenders.

That means countries seeking to use DNS structures would likely be involved in talks with rich governments, or the institutions funded by them such as the International Monetary Fund, rather than those on private markets seeking to cut their losses.

Kristalina Georgieva, the IMF's managing director said in April that she believed green debt swaps had the potential to contribute to climate finance and that the institution would work with the World Bank to ''advance that option'' by COP26.

However, the IMF's rhetoric going into the conference was more cautious and few signs of new initiatives likely to stimulate large-scale debt-for-nature swaps emerged from Glasgow.

In practice, introducing a nature protection component into already difficult debt negotiations with the most heavily indebted countries under the IMF-supported 'Common Framework' agreement may prove a level of complexity too far for all concerned.

Nevertheless, Perasso believes it is necessary for international financial institutions to keep seeking new ways to address the impact of climate change and human activity on nature.

''Green debt swap transactions need to be on the menu of options for institutions like the IMF or the Paris Club of creditor nations. Yes, it is complicated, but if there is a will, there should be a way,'' he says.

Seychelles blueprint provides hopeDebt-for-nature swaps have always attracted scepticism over whether they offer value for money. However, the Seychelles example indicates that, in the right circumstances, these deals can reap rewards.

In 2012, the low-lying Indian Ocean archipelago made an ambitious pledge to increase the area of its waters placed in designated Marine Protected Areas from less than 1% to 30%.

The country announced it had hit that target in early 2020, supported by the funds generated by the 2015 DNS. An area larger than Germany is now receiving protection from climate change impacts and unregulated fishing.

Why Bill Gates Is Pivoting On Existing COVID Vaccines | ZeroHedge

Wed, 17 Nov 2021 16:16

Authored by Jeffrey Tucker via The Brownstone Institute,

Does Bill Gates understand the difference between a computer virus and a human virus?

In a surprising interview, Bill Gates said the following: ''We didn't have vaccines that block transmission. We got vaccines that help you with your health, but they only slightly reduce the transmission. We need new ways of doing vaccines.''

It's odd how he speaks of medicines as if they are like software. Try it out, observe how it works. When you find a problem, put the technicians to work. Every new iteration is an experiment. Free to try until you finally buy. Surely over time, we'll find the answer to the problem of blocking or blotting out pathogens.

Software. Hardware. Applications. Subscriptions! This is how he thinks, as if the human body and its deadly dance with viruses is a recent problem and we are only at the very beginning of finding solutions, without realizing that this reality has been present for the whole of human existence and that we had tremendous success in the course of the 20th century minimizing bad pathogenic outcomes without his guidance and benefaction.

Essentially, he has long promoted the idea that traditional public health praxis was for the analog age; in the digital age, we need government planning, advanced technology, mass surveillance, and the ability to control human beings the way a software company manages personal computers.

Most people have no idea how such a rich and smart person could be so dim on essential matters of complex cell biology. Hacking the human body, improving it with uploads and downloads, is surely a more ominous challenge than inventing and managing man-made computers. So herein I try to present the reasons for Gates's way of thinking.

The relative deficiencies of this vaccine to stop infection and transmission are now well known. There is some reason to believe that they achieve that much at least for the vulnerable population.

What can we make of Gates's passing statement: ''We need a new way of doing vaccines''?

Let's travel back in time to examine his career at Microsoft and his shepherding into existence the Windows operating system. By the early 1990s, it was being billed as the essential brain of the personal computer. Security considerations against viruses were not part of its design, however, simply because not that many people were using the internet so the threat level was low. The browser was not invented until 1995. Security of personal computers was not really a question that Microsoft had dealt with.

The neglect of this consideration turned into a disaster. By the early 2000s, there were thousands of versions of malware (also called bugs) floating around the internet and infecting computers running Windows worldwide. They ate hard drive. They sucked out data. They forced ads on people. They invaded your space with strange popups. They were wrecking the user experience and threatening the future of an entire industry.

The problem of malware was dubbed viruses. It was a metaphor. Not real. It's not clear that Gates ever really understood that. Computer viruses aren't anything like biological viruses. To maintain a clean and functioning hard drive, you want to avoid and block a computer virus at all costs. Any exposure is bad exposure. The fix is always avoidance until eradication.

With biological viruses, we have evolved to confront them through exposure and let our immune system develop to take them on. A body that blocks all pathogens without immunity is a weak one that will die at the first exposure, which will certainly come at some point in a modern society. An immune system that confronts most viruses and recovers grows stronger. That's a gigantic difference that Gates never understood.

Regardless, the advent of the army of computer pathogens fundamentally threatened his proudest achievement. Microsoft frantically searched for a solution, but the creativity of the malware army moved too fast for its engineers.

Others sensed an opportunity. Companies specializing in anti-virus software had been doing business since the 1990s but grew more sophisticated in the early 2000s. Once the internet became fast enough, these software packages could be updated daily. There were ever newer companies, each with a different method and a different marketing and pricing model.

Eventually, the problem was mostly solved on the personal computer, but it took ten years. Even now, Microsoft's products are less protected than Apple's, and Microsoft has yet to come close to mitigating the problem of spam on its own native email client.

In short, keeping viruses out of computers constitutes the single biggest professional struggle in Gates' life. The lesson he learned was that pathogen blocking and eradication was always the path forward. What he never really understood is that the word virus was merely a metaphor for unwanted and unwelcome computer code. The analogy breaks down in real life.

After finally stepping back from Microsoft's operations, Gates started dabbling in other areas, as newly rich people tend to do. They often imagine themselves especially competent at taking on challenges that others have failed at simply because of their professional successes. Also by this point in his career, he was only surrounded by sycophants who would not interrupt his descent into crankiness.

And what subject did he pounce on? He would do to the world of pathogens what he did at Microsoft: he would stamp them out! He began with malaria and other issues and eventually decided to take on them all. And what was his solution? Of course: antivirus software. What is that? It is vaccines. Your body is the hard drive that he would save with his software-style solution.

At the beginning of the pandemic, I noted that Gates was pushing hard for lockdowns. His foundation was now funding research labs the world over with billions of dollars, plus universities and direct grants to scientists. He was also investing heavily in vaccine companies.

Early on in the pandemic, to get a sense of Gates's views, I watched his TED talks. I began to realize something astonishing. He knew much less than anyone could discover by reading a book on cell biology from Amazon. He couldn't even give a basic 9th-grade-level explanation of viruses and their interaction with the human body. And yet here he was lecturing the world about the coming pathogen and what should be done about it. His answer is always the same: more surveillance, more control, more technology.

Once you understand the simplicity of his core confusions, everything else he says makes sense from his point of view. He seems forever stuck in the fallacy that the human being is a cog in a massive machine called society that cries out for his managerial and technological leadership to improve to the point of operational perfection.

The rich, their pretenses, their influence: sometimes charming, sometimes beneficent, sometimes deeply malicious. Gates's influence over epidemiology has been tremendously baneful, but it's unclear whether he even knows it. In fact, I don't think that he does. In some ways, that's even more dangerous.

Readers might be quick to point out that Gates has benefited enormously from lockdowns and vaccine mandates, both seeing his former company grow to enormous size and from his stock ownership in vaccine makers. So yes, his ignorance has been rewarded handsomely. As for his influence on the world, history will not likely be forgiving.

SARS-CoV-2 as a Trigger in the Development of Tourette's-Like Symptoms: A Case Report | Research Square

Wed, 17 Nov 2021 15:40

This is a preprint, a preliminary version of a manuscript that has not completed peer review at a journal. Research Square does not conduct peer review prior to posting preprints. The posting of a preprint on this server should not be interpreted as an endorsement of its validity or suitability for dissemination as established information or for guiding clinical practice.

Sabine Hazan, MD, Sheldon Jordan, MD

Background: Reports have been surfacing surrounding CNS-associated symptoms in individuals affected by coronavirus disease 19 (COVID-19). Tourette syndrome is a neuropsychiatric disorder with usual onset in childhood. Gut microbiota can affect central physiology and function via the microbiota-gut-brain axis. The authors of this case report describe Tourette's-like symptoms in a patient resulting from severe acute respiratory syndrome coronavirus 2 (SARS-CoV-2) infection disrupting gut microbiota.

Case Presentation: This case involves a 16-year-old female that developed acute onset Tourette's-like symptoms along with neuropsychiatric symptoms after exposure to and infection from SARS-CoV-2. The patient had negative nasopharyngeal (NP) real-time reverse transcription-PCR (RT-PCR) tests for SARS-CoV-2 on five occasions from August of 2020 through June of 2021. The patient's symptoms continued to worsen over the next six months until next-generation sequencing (NGS) revealed SARS-CoV-2 in her stool. Her treatment was adjusted as NGS revealed SARS-CoV-2 in her stool. Repair of the gastrointestinal microbiota, treatment with nutraceutical and pharmaceutical agents, as well as alterations in her surroundings resulted in dramatic improvement in the microbiome and a significant reduction of symptoms.

Discussion: The use of (RT-PCR) testing to determine the presence or absence of SARS-CoV-2 may be inadequate and inaccurate for individuals that have been exposed to the virus. In addition, the impact of SARS-CoV-2 infection of the GI tract may cause significant havoc in the gut microbiota. Additional testing, eradication of infectious agents, as well as restoration of the gut microbiome are needed to effectively manage and treat this condition. The patient's symptoms worsened over the next six months until next-generation sequencing (NGS) revealed SARS-CoV-2 in her stool and her treatment was adjusted. Treatment with nutraceuticals and alterations in her surroundings was followed by a more normal microbiome and a dramatic reduction in symptoms.

KeywordsSARS-CoV-2, COVID-19, RT-PCR, NGS, Microbiome, Tourette's, PANS

HistoryCURRENT STATUS: Posted No community comments so farMetricsComments: 0PDF Downloads: ...HTML Views: ...

Learn more about our company.This is a preprint, a preliminary version of a manuscript that has not completed peer review at a journal. Research Square does not conduct peer review prior to posting preprints. The posting of a preprint on this server should not be interpreted as an endorsement of its validity or suitability for dissemination as established information or for guiding clinical practice.

Sabine Hazan, MD, Sheldon Jordan, MD

HistoryCURRENT STATUS: Posted No community comments so farMetricsComments: 0PDF Downloads: ...HTML Views: ...

Background: Reports have been surfacing surrounding CNS-associated symptoms in individuals affected by coronavirus disease 19 (COVID-19). Tourette syndrome is a neuropsychiatric disorder with usual onset in childhood. Gut microbiota can affect central physiology and function via the microbiota-gut-brain axis. The authors of this case report describe Tourette's-like symptoms in a patient resulting from severe acute respiratory syndrome coronavirus 2 (SARS-CoV-2) infection disrupting gut microbiota.

Case Presentation: This case involves a 16-year-old female that developed acute onset Tourette's-like symptoms along with neuropsychiatric symptoms after exposure to and infection from SARS-CoV-2. The patient had negative nasopharyngeal (NP) real-time reverse transcription-PCR (RT-PCR) tests for SARS-CoV-2 on five occasions from August of 2020 through June of 2021. The patient's symptoms continued to worsen over the next six months until next-generation sequencing (NGS) revealed SARS-CoV-2 in her stool. Her treatment was adjusted as NGS revealed SARS-CoV-2 in her stool. Repair of the gastrointestinal microbiota, treatment with nutraceutical and pharmaceutical agents, as well as alterations in her surroundings resulted in dramatic improvement in the microbiome and a significant reduction of symptoms.

Discussion: The use of (RT-PCR) testing to determine the presence or absence of SARS-CoV-2 may be inadequate and inaccurate for individuals that have been exposed to the virus. In addition, the impact of SARS-CoV-2 infection of the GI tract may cause significant havoc in the gut microbiota. Additional testing, eradication of infectious agents, as well as restoration of the gut microbiome are needed to effectively manage and treat this condition. The patient's symptoms worsened over the next six months until next-generation sequencing (NGS) revealed SARS-CoV-2 in her stool and her treatment was adjusted. Treatment with nutraceuticals and alterations in her surroundings was followed by a more normal microbiome and a dramatic reduction in symptoms.

About Us ' My HeartCheck

Wed, 17 Nov 2021 14:21

Small Business Award (2016)

Setting the Standard Beyond Youth Heart Assessments

On behalf of Athletic Testing Solutions' (ATS), we are proud to share how we've made a significant difference in the lives of so many families and individuals. Our social responsibility efforts demonstrate just one more way our ''My-HeartCheck''® brand is synonymous with a company that cares. As an organization, Athletic Testing Solutions' is guided by our core purpose: To provide comprehensive heart assessments that have the potential to save lives. Our firm belief is we have a responsibility to our communities, as well as an obligation to set the standard as an employer and business leader. For us, social responsibility is defined by the contributions we make through our business operations, our support for community initiatives, our respect for people, promoting healthy youth initiatives and maintaining the strongest possible ethics and compliance. '...'....Because it Happens in a Heartbeat! It is our philosophy to provide the highest quality, professional medical services through well run group events throughout the US. We work with the best trained medical professionals, with like interests in children's health programs; utilize state-of-the-art equipment and ancillary services to deliver high value results.

My-HeartCheck® is part of ATS's ongoing commitment to the health and well-being of the children and families across the states in which we operate. To date, over 12,000 children have been impacted as a result of investments from nonprofit organizations that allow us to offer our sustainable, measurable heart assessment programs while promoting research to validate outcomes. We've built on our legacy of caring with increased community support through many school districts and organizations. We are pleased to say our brand is recognized not only for providing high-quality heart screenings but also for offering compassion to those in need. Through our valuable partnerships with the like-minded non-profit foundations, we have had the opportunity to enhance the lives of thousands of children. Additionally, our team of staff and physicians have spent countless hours on evenings and weekends to help us accomplish our mission. Without them, we would lack the professional assistance that makes it possible to keep the cost of delivering our services to a minimum. In addition to improving the health of our communities, you will see that our commitment to diversity and inclusion, ethics and compliance is as strong as ever. We are honored to be leading a strong, caring company that provides great value in the communities we serve.

Kulman, LLC (C) All Rights Reserved 2020

DBA Athletic Testing Solutions / My HeartCheck

My Heart Check to offer free screenings for students age 8-25 on Nov. 20 at Boonslick YMCA

Wed, 17 Nov 2021 14:18

Did you know that one in 100 youth have some form of heart defect or that a student athlete suffers a cardia arrest every three days?

On Saturday, November 20, My Heart Check will be coming to the Boonslick YMCA to offer a mobile cardiac screening event for students age 8-25. Each heart screening will include a blood pressure check, an EKG and echocardiogram to identify underlying electrical or structural cardiac disorders that often go undetected in routine well child and sports physicals. Cardiac conditions in children are not only detectable with proper testing, but also treatable. Unfortunately, however, for most children with the condition the first warning sign that something is wrong in death, with nearly 4,000 young people dying each year from such conditions.

Each screening is provided at a cost of $129 by Heart Check (a value of about $1,500). However, through generous donations through Devon's Beat, Boonville Lions Club, Equipment Share, Isle of Capri Casino, Matt Kueny with Edward Jones, Rick Ball Chevrolet/Buick/GMC/Cadillac and WK Chrysler/Dodge, Jeep/Ram, the screenings will be free of cost for area youth. ''We are seeking additional sponsors so that more students can be screened free of charge,'' stated Lauren Cowherd.

If you would be interested in helping to sponsor a cardiac screening, please contact Lauren Cowherd at 660-373-8044 or send a tax deductible donation to Devon's Beat at 16594 Highway C. Lincoln, Missouri, 65338 and note Boonville Screening in the memo. To sign your child up to be screened, please visit myheartcheck.org.

Angela Parrott has learned firsthand the importance of health screening. She said her son, Devon, was 10 years old and collapsed in the hallway at his school in Lincoln, Missouri.

''He woke up on his own, but I took him to the doctor,'' Parrott said. ''The doctor assumed he was dehydrated but I was not convinced. I decided to take him to Children's Mercy to have his heart checked just to be safe. He was otherwise healthy but we wanted peace of mind. Unfortunately the news we received was not good. He had an unknown life threatening heart condition called Long QT. Long QT is a SADS (sudden arrhythmia death syndrome) condition. He was told he could no longer live an active life, that he was at high risk for cardiac arrest and could no longer be left alone for more than a few minutes. we quickly learned that is condition was not rare and that most of the time conditions like these were detectable with proper testing, but if not caught in time they were deadly. SADS conditions like Long QT claims the lives of nearly 3,000 young people each year, yet no one knows much about it. We got him started on meds quickly and within six months he had an ICD (implantable cardio defibrillator) implanted in his chest for extra protection. He was able to get back to a somewhat normal life, but was still monitored daily.''

Parrott said she quickly went to work spreading the word about these types of deadly conditions and started raising funds to pay for youth heart screenings. She said they have hosted over 14 screenings and screened around 1,000 kids. ''We have found some life threatening and non-life threatening conditions and are very thankful for the opportunity to help save lives,'' Parrott said. ''At the age of 14, he was at the movies and went into cardiac arrest, but he was shocked and saved by his ICD. Without the diagnosis we would have never known about his condition and he would not of had the ICD, we would of lost him.

''Last year at the age of 17, we almost lost him again, but now he is a punter at Quincy University and doing well. He is a miracle and we are blessed to have him with us. He encourages parents to get kids tested!''

American College of Rheumatology Report Summarizes Cardiac Toxicity Risks With Antimalarial Treatment - Rheumatology Advisor

Wed, 17 Nov 2021 14:16

The American College of Rheumatology (ACR) summarized a report regarding the cardiac toxicity associated with the long-term use of antimalarial drugs, including hydroxychloroquine (HCQ) and chloroquine (CQ). The full paper was published in Arthritis & Rheumatology.

Although HCQ and CQ are well-established therapies for systemic lupus erythematosus (SLE), rheumatoid arthritis (RA), and other rheumatic and dermatologic diseases, their experimental use in the treatment of COVID-19 has led to concerns about potential toxicities. In particular, the associated risks for corrected QT interval (QTc)-prolongation and torsade de pointes (TdP) have been highlighted.

To address these concerns and summarize the current understanding of HCQ/CQ, a working group of medical practitioners developed consensus-based opinions and recommendations. The working group included 8 rheumatologists, 2 dermatologists, and 2 expert electrophysiology cardiologists. The committee participated in 2 virtual conferences and reviewed published studies on HCQ/CQ and cardiac toxicity.

Continue Reading

The resulting report included the following primary components: a summary of QTc prolongation and TdP; a summary of independent risk factors for QTc prolongation; evidence for QTC prolongation with HCQ/CQ use; evidence for cardiac deposition disease with long-term HCQ/CQ use; suggestions for treating physicians; and directions for future research.

Summary of QTc Prolongation and TdPThe QT interval is an electrocardiography (ECG) measurement that includes the beginning of the QRS complex to the end of the T wave, representing the time required for ventricular depolarization and repolarization.TdP is a form of ventricular tachycardia characterized by ''twisting'' of the QRS complexes around the isoelectric line.Prolonged QTc increases the risk for TdP.Prolonged QTc also increases the risk for sudden cardiac death, possibly as a result of its association with TdP.Independent Risk Factors for QTc ProlongationBoth RA and SLE are risk factors for atherosclerotic cardiovascular disease (CVD).Certain observational studies have indicated that HCQ/CQ use may decrease the risk for CVD in RA and SLE by reducing disease severity.In patients with SLE, the presence of anti-Ro 52 antibodies may increase the risk for QTc prolongation.Additional risk factors for prolonged QTc include the female sex; older age; heart disease; use of more than 1 QTc-prolonging medication; severe acute illness (potentially including COVID-19); congenital long QT syndrome; electrolyte abnormalities; alcoholic liver disease; hypothyroidism; obesity; and diabetes mellitus.QTc Prolongation With HCQ/CQ UseSeveral studies have indicated an association between HCQ use and QTc prolongation. However, the association is minor and does not necessarily confer increased risk for death.Documented arrhythmia as a result of QTc prolongation is rare.Patients with other QTc prolongation risk factors are at increased risk for HCQ/CQ-associated QTc prolongation.Cardiomyopathy With HCQ/CQ UseLong-term HCQ/CQ use may lead to accumulation in the lysosomes of cardiac myocytes, which in turn can cause arrhythmia and infiltrative cardiomyopathy.Cessation of HCQ/CQ may improve cardiomyopathy, though atrioventricular conduction disease cannot be reversed once acquired.Cardiomyopathy with HCQ/CQ use is considered a rare event, but it may be underreported in literature.Suggestions for Treating PhysiciansECG monitoring is not part of standard practice when HCQ/CQ is prescribed.A baseline ECG is recommended among patients with additional independent risk factors for QTc prolongation.Concomitant medications known to prolong the QTc interval should be avoided.If patients show symptoms suggestive of an arrhythmia, an ECG may be obtained.Patients with long-term HCQ/CQ use should be monitored closely.Directions for Future ResearchThe working group acknowledged limitations in the current literature, which included small cohort size and retrospective design.In addition, it can be difficult to determine whether deaths due to CVD were a direct result of QTc prolongation.There is a need for prospective data on the risk for QTc prolongation on the incidence of cardiac toxicity. Long-term studies with regular ECG monitoring must be undertaken to inform this gap.ConclusionsBoth HCQ and CQ are important therapeutic options in the management of SLE and RA, as these drugs are known to substantially reduce disease activity. Cardiac toxicity, as a result of HCQ/CQ use, is rare, though the risk increases with prolonged exposure. A careful risk/benefit analysis should be conducted by providers prior to HCQ/CQ use. Further, consistent ECG monitoring is recommended if the patient has other risk factors for cardiac events.

''Increased clinical awareness of the potential for cardiac toxicity, both pro-arrhythmic

and associated with long-term use, is essential as HCQ and CQ remain foundational medications in the treatment of autoimmune rheumatic diseases, and their proven benefits should be weighed along with these risks,'' the group noted.

Disclosure: Multiple study authors declared affiliations with biotech, pharmaceutical, and/or device companies. Please see the original reference for a full list of disclosures.

ReferenceDesmarais J, Rosenbaum JT, Costenbader KH, et al. American College of Rheumatology white paper on antimalarial cardiac toxicity. Arthritis Rheumatol. Published online October 26, 2021. doi:10.1002/art.41934

Will you eat cultured meat grown from human cells? '' Justice Truth News

Wed, 17 Nov 2021 13:58

By Dr. Mercola

STORY AT-A-GLANCEThe fake meat industry poses tremendous risks to global health as ultraprocessed foods have been robustly linked to obesity, ill health and early death. It also threatens global food security through the patenting of foodImitation meats are ultraprocessed foods as they're manufactured from start to finish and typically involve the use of man-made ingredientsOnce living animals are eliminated and replaced with patented plant-derived and cell-based lab-grown alternatives, private companies will effectively control the food supply in its entirety, and they will be the ones profiting from it rather than farmersMeat grown from human cells harvested from the inside of your cheek, which are then grown in a broth made from blood extracted from unborn calf fetuses or expired human blood, may eventually become availableStart-ups are working on or have already launched meatless soy-based burgers and lab-grown steaks, shrimp, pork and chickenThis article was previously published December 23, 2020, and has been updated with new information.

According to the World Economic Forum '-- the private, technocratic group leading the global economic ''reset'' agenda '-- lab-grown, cultured meat is a more sustainable alternative to conventional livestock. As noted on its website:1

''As the world looks to reset its economy, along with food systems, in a cleaner way post-pandemic, one more sustainable solution coming to fruition is cultured meat '... Cultured meat takes much less time to grow, uses fewer of the planet's resources, and no animals are slaughtered.''

Excess omega-6 fat in the form of linoleic acid (LA) is one of the most significant contributors to metabolic dysfunction. It is literally a metabolic poison that, in my opinion, is the primary contributor to the epidemic in chronic disease we have seen in the past 150 years. I am so passionate about this topic, I'm currently writing a new book with Chris Knobbe about this that will be out next year.

Our LA consumption 150 years ago was between 2 and 3 grams per day. Today it is 10 to 20 times higher. This leads to severe mitochondrial dysfunction, insulin resistance, decreased NAD+ levels, obesity and a radical decrease in your ability to generate cellular energy.

It is obvious that fake meat requires basic substrates or building blocks to create the actual food. The genetic engineering is primarily done to reproduce the flavor and texture composition of real meat. What this process fails to do on steroids is reproduce the healthy fatty acid composition of real meat. Why?

Because they are using canola and safflower as the primary source of fats for their products. The safflower oil used in Beyond Meats is nearly 80% LA. The canola oil used in the Impossible Burger is only 21% LA, so it should be better but both are extraordinarily loaded with unhealthy levels of LA.2

You would be exponentially better served by selecting real meat that is organic and humanely raised. This is because the LA content of beef and bison is extraordinarily low and, in my view, one of the primary reasons they are so healthy for you.

This is largely because excess LA is extraordinarily susceptible to oxidation and causes very dangerous oxidation byproducts called OXLAMs (oxidative linoleic acid metabolites) that devastate your DNA, proteins, mitochondria and cellular membranes.

A half-pound serving of organic grass fed beef will provide less than HALF a gram of LA (500 mg). Compare this to a serving of an Impossible Burger or Beyond Meat burger, which have 10 to 20 times the amount of LA.3

So, not only is fake meat failing all the measures discussed in the rest of this article, but it is also adding to the catastrophic metabolic deterioration of your health caused by other processed and ultraprocessed foods. I recently interviewed Tucker Goodrich about the dangers of LA, so for more information, refer back to that interview.

Fake Meat Industry Offers No Real SolutionsOver the past several years, a growing number of start-up companies have joined the brave new world movement to replace real meat with ultraprocessed imitation meats ''grown'' through a variety of means.

Among them are the Israeli company Aleph Farms, which in mid-2019 introduced the first lab-grown steak,4 the Singaporean company Shiok Meats, which specializes in lab-grown shrimp,5 and Beyond Meat, which produces imitation beef, pork and chicken in its Chinese facilities.

Then there's the Impossible Burger, made with genetically engineered (GE) soy, which is now available in burger chains,6 restaurants,7 grocers8 and Target stores9 across the U.S.

Despite claims of sustainability, a careful review of its 2019 Impact Report10 and other data11,12,13 reveals this soy-based ''meat'' actually causes greater environmental harm than organic grass fed beef production, which has net negative emissions after all relevant factors are taken into account.14

A Carbon Footprint Evaluation report15 for White Oak Pastures '-- an organic, grass fed livestock operation '-- shows that when you include enteric emissions, manure emissions, soil carbon capture, vegetation carbon, miscellaneous farm activities, slaughter and transport, the total net carbon emissions from this type of beef production has a negative 3.5 kilos of carbon emissions per kilo of fresh meat.

This makes this integrated, holistic system six times more carbon efficient than the average CAFO (confined animal feeding operation) production model.16 The same cannot be said for GE soy. Data also show GE soybean and corn farms are a primary source of water17 and air pollution,18 and are primary destroyers of grasslands and forests.19,20

Regenerative grazing is actually a key activity required for the optimal sequestering of carbon dioxide from the atmosphere into our rangelands and pasturelands, while GE soy production is associated with resistant super weeds21 and super pests and uncontrollable cross contamination.

Taken together, these data prove that if sustainability and environmental protection are in fact priorities, then regenerative farming practices that incorporate grazing herds are the way to go, not fake meat and junk food manufacturing.

Fake Meat Is Another Effort to Control Food SupplyConsidering everything we know, why won't our leaders support organic, regenerative, biodynamic farming proven to have a beneficial impact on the environment, climate and human health? It seems like doing so would be a no-brainer.

The answer, unfortunately, is that it's not really about doing what's best for the planet or its inhabitants. It's about wealth and power building. In short, the rise of fake meat is yet another attempt at controlling the global food supply through patents, just like staple grains have been genetically altered and patented.

Once living animals are eliminated and replaced with patented plant-derived alternatives '-- just like tradable heirloom and conventional seeds were replaced with patented seeds you have to pay for each season '-- private companies will effectively control the food supply in its entirety, and they will be the ones profiting from it rather than farmers.

By controlling the food supply, private corporations will ultimately have the ability to control countries and entire populations. If we allow this trend to continue, biotech companies will eventually push farmers and ranchers out of the equation.

Looking down the road, it's easy to see that patented foods actually threaten food security. They don't strengthen it at all.

Environmentalist and anti-GMO activist Vandana Shiva, Ph.D., is an outspoken critic22 of the industrial food movement and the GE food takeover specifically, highlighting the many social and environmental problems a patented food system creates.

As noted by Shiva in a June 18, 2019, article,23 ''Biodiversity-intensive and poison-free agriculture '... produces more nutrition per acre while rejuvenating the planet. It shows the path to 'Zero Hunger' '...'' She also points out that while industrial agriculture uses 75% of available farmland, it produces just 30% of the food we actually eat.

''Meanwhile, small, biodiverse farms using 25% of the land provide 70% of the food,'' she writes.24 ''At this rate, if the share of industrial agriculture and industrial food in our diet is increased to 45%, we will have a dead planet. One with no life and no food.

The mad rush for Fake Food and Fake Meat, ignorant of the diversity of our foods and food cultures, and the role of biodiversity in maintaining our health, is a recipe for accelerating the destruction of the planet and our health.''

Fake Meat Is Ultraprocessed FoodIndeed, when it comes to nutrition and health, there's absolutely no reason to believe any of these imitation meats will be better '-- or even equal '-- to real meat.

Products at the far end of the ''significantly altered'' spectrum have been robustly linked to obesity, ill health and early death.

Any food that isn't directly from the vine, ground, bush, tree, body of water or an animal is considered processed. Depending on the amount of change the food undergoes, processing may be minimal or significant. A hallmark of ultraprocessed foods is their long ingredient lists.

Products at the far end of the ''significantly altered'' spectrum have been robustly linked to obesity,25 ill health and early death in a number of studies.26,27,28,29,30

For example, in one study,31,32,33,34 which included 104,980 participants followed for an average of five years, each 10% increase in ultraprocessed food intake raised the cancer rate by 12%, which worked out to nine additional cancer cases per 10,000 people per year. The risk of breast cancer specifically went up by 11% for every 10% increase in ultraprocessed food.

While sugar and unhealthy fats (vegetable oils) are key staple ingredients suspected of causing these effects, there's every reason to believe fake meat has a similar impact as I referenced in the section above. All of these factors place fake meat squarely in the higher-risk ultraprocessed category.

Enter Human Cell-Based MeatNow, in a move reminiscent of something straight out of the dystopian film ''Soylent Green,'' scientists are even working on meat grown from human cells harvested from the inside of your cheek.35,36

The inventors of this grisly product '-- presented as ''art,'' for the time being '-- are Andrew Pelling, a scientist and founder of the biotech company Spiderwort; Grace Knight, an industrial designer; and Orkan Telhan, an artist. As reported by Tech Times, November 22, 2020:37

''A new 'DIY meal kit' that can be used to grow steaks that are made mostly from human cells was just recently nominated by the London-based Design Museum as the 'design of the year.'38

Called 'Ouroboros Steak,' this is named right after the circular symbol of a snake known for eating itself tail-first. This hypothetical kit would later on come with everything that one person would need in order to use their own cells to grow miniature human meat steaks '...''

The human-cell steak kits are not yet commercially available, but one wonders what possessed someone to even think this might be a viable idea. Would you eat a lump of meat made from your own body? Critics have raised questions about whether this would be considered cannibalism. Defenders of the concept claim it's not, since it's grown from your own cells.39

However, if this concept ever does become commercially available, what's to prevent you from growing meat using other people's cells? Is it only cannibalism if you eat the cloned meat of someone other than yourself? These tricky debates aside, the ick factor alone will likely prevent this concept from taking off.

Tech Times points out that this particular concept also isn't nearly as animal-friendly as people might think, as the human cells are grown in fetal bovine serum '-- blood extracted from unborn calf fetuses.40 An alternative might be to use expired human blood from blood banks.41

Real Food = LifeIn her 2019 article,42 Shiva discussed the progressive attempts at industrializing the global food system with more fake foods and fake meats, and the destruction that inevitably follows:

''Food is not a commodity, it is not 'stuff' put together mechanically and artificially in labs and factories. Food is life. Food holds the contributions of all beings that make the food web, and it holds the potential of maintaining and regenerating the web of life.

Food also holds the potential for health and disease, depending on how it was grown and processed '... As an ancient Upanishad reminds us 'Everything is food, everything is something else's food' Hippocrates said 'Let food be thy medicine.' In Ayurveda, India's ancient science of life, food is called 'sarvausadha' the medicine that cures all disease.

Industrial food systems have reduced food to a commodity, to 'stuff' that can then be constituted in the lab. In the process both the planet's health and our health has been nearly destroyed.

75% of the planetary destruction of soil, water, biodiversity, and 50% of greenhouse gas emissions come from industrial agriculture, which also contributes to 75% of food related chronic diseases.''

When you look at the whole ecological cycle '-- of which grazing herds are a crucial part '-- you can clearly see how industrial agriculture and fake meat manufacturing are key drivers of progressive destruction, yet this destructive cycle is defended in the name of affordable food and the need to feed a growing population.

While we certainly need to maximize food production in affordable ways, what's being proposed is incredibly short-sighted as it shifts all food production into laboratories and factories that produce patented foods, the profits of which never reach the population at large.

One also has to wonder whether humans will be able to live long productive lives eating an all-fake diet. Think about it. Grain production is already dominated by patented GE grains. Add to that imitation ''milk'' and ''egg'' products and imitation beef, poultry and seafood and what real food do you have left?

Fruits and vegetables, basically, but even these foods will eventually become fair game for reengineering and patenting. It's a dangerous trend that poses tremendous risks to food security and global health.

Choose Organic, Biodynamic and/or Grass FedFor years, I have advocated for an organic (or better yet biodynamic) diet to optimize your health, avoid common health problems, help regenerate the environment and normalize climate. Choosing organic foods reduces your exposure to pesticides, herbicides, GE ingredients, synthetic food additives and nano ingredients, many of which do not appear on the food label.

In addition to protecting the environment and rebuilding soil, buying organic also supports animal welfare and promotes biodiversity of plants and wildlife. Although many see lab-created meat substitutes as the lesser of two evils when compared to the concentrated animal feeding operations currently dominating the market, altering the natural order of the lifecycle is not the answer.

Analyses on regenerative agriculture have demonstrated holistic herd management as having a positive impact on the environment and producing healthy meat and dairy products.

Ultimately, fake food contributes to the rising number of people who suffer from diet-related health conditions such as diabetes, heart disease and obesity. For health reasons, ecological reasons and your future, I recommend skipping meat alternatives and opting for real beef raised using regenerative farming practices.

When you do shop for meat, look for a local organic farmer or Demeter (biodynamic) and American Grassfed Association (AGA) certified meats. These accreditations designate foods produced under high-quality, sustainable and environmentally sound practices.

Sources and References

Dr. Mercola's book The Truth About COVID-19: Exposing The Great Reset, Lockdowns, Vaccine Passports, and the New Normal is available at Amazon.

Official Documents show Bill G8S has given $319 Million to Major Media Outlets

Wed, 17 Nov 2021 11:19

Revealed: Documents show Bill G8S has 'given' $319 Million to Media Outlets By: Alan MacLeod, PhD

Seattle (November 16, 2021): Up until his recent messy divorce, Bill Gates enjoyed something of a free pass in corporate media. Generally presented as a kindly nerd who wants to save the world, the Microsoft co-founder was even unironically christened ''Saint Bill'' by The Guardian .

While other billionaires' media empires are relatively well known, the extent to which Gates's cash underwrites the modern media landscape is not. After sorting through over 30,000 individual grants, MintPress can reveal that the Bill and Melinda Gates Foundation (BMGF) has made over $300 million worth of donations to fund media projects.

Recipients of this cash include many of America's most important news outlets, including CNN, NBC, NPR, PBS and The Atlantic. Gates also sponsors a myriad of influential foreign organizations, including the BBC, The Guardian, The Financial Times and The Daily Telegraph in the United Kingdom; prominent European newspapers such as Le Monde (France), Der Spiegel (Germany) and El Pa­s (Spain); as well as big global broadcasters like Al-Jazeera.

The Gates Foundation money going towards media programs has been split up into a number of sections, presented in descending numerical order, and includes a link to the relevant grant on the organization's website.

Awards Directly to Media Outlets:

NPR- $24,663,066

The Guardian (including TheGuardian.org)- $12,951,391

Cascade Public Media '' $10,895,016

Public Radio International (PRI.org/TheWorld.org)- $7,719,113

The Conversation- $6,664,271

Univision- $5,924,043

Der Spiegel (Germany)- $5,437,294

Project Syndicate- $5,280,186

Education Week '' $4,898,240

WETA- $4,529,400

NBCUniversal Media- $4,373,500

Nation Media Group (Kenya) '' $4,073,194

Le Monde (France)- $4,014,512

Bhekisisa (South Africa) '' $3,990,182

El Pa­s '' $3,968,184

BBC- $3,668,657

CNN- $3,600,000

KCET- $3,520,703

Population Communications International (population.org) '' $3,500,000

The Daily Telegraph '' $3,446,801

Chalkbeat '' $2,672,491

The Education Post- $2,639,193

Rockhopper Productions (U.K.) '' $2,480,392

Corporation for Public Broadcasting '' $2,430,949

UpWorthy '' $2,339,023

Financial Times '' $2,309,845

The 74 Media- $2,275,344

Texas Tribune- $2,317,163

Punch (Nigeria) '' $2,175,675

News Deeply '' $1,612,122

The Atlantic- $1,403,453

Minnesota Public Radio- $1,290,898

YR Media- $1,125,000

The New Humanitarian- $1,046,457

Sheger FM (Ethiopia) '' $1,004,600

Al-Jazeera- $1,000,000

ProPublica- $1,000,000

Crosscut Public Media '' $810,000

Grist Magazine- $750,000

Kurzgesagt '' $570,000

Educational Broadcasting Corp '' $506,504

Classical 98.1 '' $500,000

PBS '' $499,997

Gannett '' $499,651

Mail and Guardian (South Africa)- $492,974

Inside Higher Ed.- $439,910

BusinessDay (Nigeria) '' $416,900

Medium.com '' $412,000

Nutopia- $350,000

Independent Television Broadcasting Inc. '' $300,000

Independent Television Service, Inc. '' $300,000

Caixin Media (China) '' $250,000

Pacific News Service '' $225,000

National Journal '' $220,638

Chronicle of Higher Education '' $149,994

Belle and Wissell, Co. $100,000

Media Trust '' $100,000

New York Public Radio '' $77,290

KUOW '' Puget Sound Public Radio '' $5,310

Together, these donations total $166,216,526. The money is generally directed towards issues close to the Gateses hearts. For example, the $3.6 million CNN grant went towards ''report[ing] on gender equality with a particular focus on least developed countries, producing journalism on the everyday inequalities endured by women and girls across the world,'' while the Texas Tribune received millions to ''to increase public awareness and engagement of education reform issues in Texas.'' Given that Bill is one of the charter schools' most fervent supporters , a cynic might interpret this as planting pro-corporate charter school propaganda into the media, disguised as objective news reporting.

The Gates Foundation has also given nearly $63 million to charities closely aligned with big media outlets, including nearly $53 million to BBC Media Action, over $9 million to MTV's Staying Alive Foundation, and $1 million to The New York Times Neediest Causes Fund. While not specifically funding journalism, donations to the philanthropic arm of a media player should still be noted.

Gates continues to underwrite a wide network of investigative journalism centers as well, totaling just over $38 million, more than half of which has gone to the D.C.-based International Center for Journalists to expand and develop African media.

These centers include:

International Center for Journalists- $20,436,938

Premium Times Centre for Investigative Journalism (Nigeria) '' $3,800,357

The Pulitzer Center for Crisis Reporting '' $2,432,552

Fondation EurActiv Politech '' $2,368,300

International Women's Media Foundation '' $1,500,000

Center for Investigative Reporting '' $1,446,639

InterMedia Survey institute '' $1,297,545

The Bureau of Investigative Journalism '' $1,068,169

Internews Network '' $985,126

Communications Consortium Media Center '' $858,000

Institute for Nonprofit News '' $650,021

The Poynter Institute for Media Studies- $382,997

Wole Soyinka Centre for Investigative Journalism (Nigeria) '' $360,211

Institute for Advanced Journalism Studies '' $254,500

Global Forum for Media Development (Belgium) '' $124,823

Mississippi Center for Investigative Reporting '' $100,000

In addition to this, the Gates Foundation also plies press and journalism associations with cash, to the tune of at least $12 million. For example, the National Newspaper Publishers Association '-- a group representing more than 200 outlets '-- has received $3.2 million.

The list of these organizations includes:

Education Writers Association '' $5,938,475

National Newspaper Publishers Association '' $3,249,176

National Press Foundation- $1,916,172

Washington News Council- $698,200

American Society of News Editors Foundation '' $250,000

Reporters Committee for Freedom of the Press- $25,000

This brings our running total up to $216.4 million.

The foundation also puts up the money to directly train journalists all over the world, in the form of scholarships, courses and workshops. Today, it is possible for an individual to train as a reporter thanks to a Gates Foundation grant, find work at a Gates-funded outlet, and to belong to a press association funded by Gates. This is especially true of journalists working in the fields of health, education and global development, the ones Gates himself is most active in and where scrutiny of the billionaire's actions and motives are most necessary.

Gates Foundation grants pertaining to the instruction of journalists include:

Johns Hopkins University '' $1,866,408

Teachers College, Columbia University- $1,462,500

University of California Berkeley- $767,800

Tsinghua University (China) '' $450,000

Seattle University '' $414,524

Institute for Advanced Journalism Studies '' $254,500

Rhodes University (South Africa) '' $189,000

Montclair State University- $160,538

Pan-Atlantic University Foundation '' $130,718

World Health Organization '' $38,403

The Aftermath Project- $15,435

The BMGF also pays for a wide range of specific media campaigns around the world. For example, since 2014 it has donated $5.7 million to the Population Foundation of India in order to create dramas that promote sexual and reproductive health, with the intent to increase family planning methods in South Asia. Meanwhile, it allotted over $3.5 million to a Senegalese organization to develop radio shows and online content that would feature health information. Supporters consider this to be helping critically underfunded media, while opponents might consider it a case of a billionaire using his money to plant his ideas and opinions into the press.

Media projects supported by the Gates Foundation:

European Journalism Centre '' $20,060,048

World University Service of Canada '' $12,127,622

Well Told Story Limited '' $9,870,333

Solutions Journalism Inc.- $7,254,755

Entertainment Industry Foundation '' $6,688,208

Population Foundation of India- $5,749,826 ''

Participant Media '' $3,914,207

R(C)seau Africain de l'Education pour la sant(C)- $3,561,683

New America '' $3,405,859

AllAfrica Foundation '' $2,311,529

Steps International '' $2,208,265

Center for Advocacy and Research '' $2,200,630

The Sesame Workshop '' $2,030,307

Panos Institute West Africa '' $1,809,850

Open Cities Lab '' $1,601,452

Harvard university '' $1,190,527

Learning Matters '' $1,078,048

The Aaron Diamond Aids Research Center- $981,631

Thomson Media Foundation- $860,628

Communications Consortium Media Center '' $858,000

StoryThings- $799,536

Center for Rural Strategies '' $749,945

The New Venture Fund '' $700,000

Helianthus Media '' $575,064

University of Southern California- $550,000

World Health Organization- $530,095

Phi Delta Kappa International '' $446,000

Ikana Media '' $425,000

Seattle Foundation '' $305,000

EducationNC '' $300,000

Beijing Guokr Interactive '' $300,000

Upswell- $246,918

The African Academy of Sciences '' $208,708

Seeking Modern Applications for Real Transformation (SMART) '' $201,781

Bay Area Video Coalition- $190,000

PowHERful Foundation '' $185,953

PTA Florida Congress of Parents and Teachers '' $150,000

ProSocial '' $100,000

Boston University '' $100,000

National Center for Families Learning '' $100,000

Development Media International '' $100,000

Ahmadu Bello University- $100,000

Indonesian eHealth and Telemedicine Society '' $100,000

The Filmmakers Collaborative '' $50,000

Foundation for Public Broadcasting in Georgia Inc. '' $25,000

SIFF '' $13,000

Total: $97,315,408

$319.4 MILLION AND (A LOT) MORE Added together, these Gates-sponsored media projects come to a total of $319.4 million. However, there are clear shortcomings with this non-exhaustive list, meaning the true figure is undoubtedly far higher. First, it does not count sub-grants '-- money given by recipients to media around the world. And while the Gates Foundation fosters an air of openness about itself, there is actually precious little public information about what happens to the money from each grant, save for a short, one- or two-sentence description written by the foundation itself on its website. Only donations to press organizations themselves or projects that could be identified from the information on the Gates Foundation's website as media campaigns were counted, meaning that thousands of grants having some media element do not appear in this list.

A case in point is the BMGF's partnership with ViacomCBS, the company that controls CBS News, MTV, VH1, Nickelodeon, and BET. Media reports at the time noted that the Gates Foundation was paying the entertainment giant to insert information and PSAs into its programming and that Gates had intervened to change storylines in popular shows like ER and Law & Order: SVU.

However, when checking BMGF's grants database, ''Viacom'' and ''CBS'' are nowhere to be found, the likely grant in question (totaling over $6 million) merely describing the project as a ''public engagement campaign aimed at improving high school graduation rates and postsecondary completion rates specifically aimed at parents and students,'' meaning that it was not counted in the official total. There are surely many more examples like this. ''For a tax-privileged charity that so very often trumpets the importance of transparency, it's remarkable how intensely secretive the Gates Foundation is about its financial flows,'' Tim Schwab , one of the few investigative journalists who has scrutinized the tech billionaire, told MintPress.

Also not included are grants aimed at producing articles for academic journals. While these articles are not meant for mass consumption, they regularly form the basis for stories in the mainstream press and help shape narratives around key issues. The Gates Foundation has given far and wide to academic sources, with at least $13.6 million going toward creating content for the prestigious medical journal The Lancet.

And, of course, even money given to universities for purely research projects eventually ends up in academic journals, and ultimately, downstream into mass media. Academics are under heavy pressure to print their results in prestigious journals; ''publish or perish'' is the mantra in university departments. Therefore, even these sorts of grants have an effect on our media. Neither these nor grants funding the printing of books or establishment of websites counted in the total, although they too are forms of media.

LOW PROFILE, LONG TENTACLES In comparison to other tech billionaires, Gates has kept his profile as a media controller relatively low. Amazon founder Jeff Bezos's purchase of The Washington Post for $250 million in 2013 was a very clear and obvious form of media influence, as was eBay founder Pierre Omidyar's creation of First Look Media, the company that owns The Intercept.

Despite flying more under the radar, Gates and his companies have amassed considerable influence in media. We already rely on Microsoft-owned products for communication (e.g. Skype, Hotmail), social media (LinkedIn), and entertainment (Microsoft XBox). Furthermore, the hardware and software we use to communicate often comes courtesy of the 66-year-old Seattleite. How many people reading this are doing so on a Microsoft Surface or Windows phone and doing so via Windows OS? Not only that, Microsoft owns stakes in media giants such as Comcast and AT&T . And the ''MS'' in MSNBC stands for Microsoft.

The Faux Generosity of the Super-Wealthy: Why Bill Gates is a Menace to Society MEDIA GATES KEEPERS That the Gates Foundation is underwriting a significant chunk of our media ecosystem leads to serious problems with objectivity. ''The foundation's grants to media organizations'...raise obvious conflict-of-interest questions: How can reporting be unbiased when a major player holds the purse strings?'' wrote Gates's local Seattle Times in 2011. This was before the newspaper accepted BMGF money to fund its ''education lab'' section.

Schwab's research has found that this conflict of interests goes right to the very top: two New York Times columnists had been writing glowingly about the Gates Foundation for years without disclosing that they also work for a group '-- the Solutions Journalism Network '-- that, as shown above, has received over $7 million from the tech billionaire's charity.

Earlier this year, Schwab also declined to co-report on a story about COVAX for The Bureau of Investigative Journalism, suspecting that the money Gates had been pumping into the outlet would make it impossible to accurately report on a subject so close to Gates's heart. Sure enough, when the article was published last month, it repeated the assertion that Gates had little to do with COVAX's failure, mirroring the BMGF's stance and quoting them throughout. Only at the very end of the more than 5,000-word story did it reveal that the organization it was defending was paying the wages of its staff.

''I don't believe Gates told The Bureau of Investigative Journalism what to write. I think the bureau implicitly, if subconsciously, knew they had to find a way to tell this story that didn't target their funder. The biasing effects of financial conflicts are complex but very real and reliable,'' Schwab said, describing it as ''a case study in the perils of Gates-funded journalism.''

MintPress also contacted the Bill and Melinda Gates Foundation for comment, but it did not respond.

Gates, who amassed his fortune by building a monopoly and zealously guarding his intellectual property, bears significant blame for the failure of the coronavirus vaccine rollout across the world. Quite aside from the COVAX fiasco, he pressured Oxford University not to make its publicly-funded vaccine open-source and available to all for free, but instead to partner with private corporation AstraZeneca, a decision that meant that those who could not pay were blocked from using it. That Gates has made over 100 donations to the university, totaling hundreds of millions of dollars, likely played some role in the decision. To this day, fewer than 5% of people in low-income countries have received even one dose of COVID vaccine. The death toll from this is immense.

Poor Nations Left Reeling After Bill Gates Advised Oxford to Ditch Open Source COVID Vaccine Unfortunately, many of these real criticisms of Gates and his network are obscured by wild and untrue conspiracy theories about such things as inserting microchips in vaccines to control the population. This has meant that genuine critiques of the Microsoft co-founder are often demonetized and algorithmically suppressed, meaning that outlets are strongly dissuaded from covering the topic, knowing they will likely lose money if they do so. The paucity of scrutiny of the world's second-richest individual, in turn, feeds into outlandish suspicions.

Gates certainly deserves it. Quite apart from his deep and potentially decades-long ties to the infamous Jeffrey Epstein, his attempts to radically change African society, and his investment in controversial chemical giant Monsanto, he is perhaps the key driver behind the American charter school movement '-- an attempt to essentially privatize the U.S. education system. Charter schools are deeply unpopular with teachers' unions, which see the movement as an attempt to lessen their autonomy and reduce public oversight into how and what children are taught.

ALL THE WAY TO THE BANK In most coverage, Gates's donations are broadly presented as altruistic gestures. Yet many have pointed to the inherent flaws with this model, noting that allowing billionaires to decide what they do with their money allows them to set the public agenda, giving them enormous power over society. ''Philanthropy can and is being used deliberately to divert attention away from different forms of economic exploitation that underpin global inequality today,'' said Linsey McGoey , Professor of Sociology at the University of Essex, U.K., and author of No Such Thing as a Free Gift: The Gates Foundation and the Price of Philanthropy. She adds:

The new 'philanthrocapitalism' threatens democracy by increasing the power of the corporate sector at the expense of the public sector organizations, which increasingly face budget squeezes, in part by excessively remunerating for-profit organizations to deliver public services that could be delivered more cheaply without private sector involvement.'' Charity, as former British Prime Minister Clement Attlee noted, ''is a cold grey loveless thing. If a rich man wants to help the poor, he should pay his taxes gladly, not dole out money at a whim.''

None of this means that the organizations receiving Gates' money '-- media or otherwise '-- are irredeemably corrupt, nor that the Gates Foundation does not do any good in the world. But it does introduce a glaring conflict of interest whereby the very institutions we rely on to hold accountable one of the richest and most powerful men in the planet's history are quietly being funded by him. This conflict of interest is one that corporate media have largely tried to ignore, while the supposedly altruistic philanthropist Gates just keeps getting richer, laughing all the way to the bank.

By: Alan MacLeod (PhD) is Senior Staff Writer for MintPress News

OxyContin: The Truth Behind the Hulu's 'Dopesick'

Wed, 17 Nov 2021 05:23

Share on Pinterest Michael Keaton stars as a well-intentioned but misled Virginia doctor in the Hulu series ''Dopesick,'' which looks at the rise of the opioid painkiller OxyContin. Roy Rochlin/WireImage/Getty ImagesThe Hulu series ''Dopesick'' details the rise of OxyContin and how the painkiller relentlessly marketed by Purdue Pharma started the opioid epidemic in the United States.Experts say that even though controls have been put on prescription painkillers, the opioid epidemic continues to this day.They say more focus needs to be placed on treatment programs for people addicted to painkillers.The new Hulu series ''Dopesick'' tells the story of the prescription opioid epidemic in the United States through the eyes of doctors, users, and the pharmaceutical company owners and sales representatives who recklessly distributed powerful painkillers while downplaying the risk of addiction.

The series is a partly fictionalized account based on a nonfiction book. Both are all-too-real accounts of a deadly tale of greed and addiction that continues today.

''Dopesick: Dealers, Doctors, and the Drug Company That Addicted America,'' written by journalist Beth Macy and released in 2018, traces the origins of the prescription drug crisis in Appalachia through the stories of ordinary people such as Ronnie Jones, imprisoned for armed heroin distribution, and Jesse Bolstridge, a 19-year-old overdose victim.

Macy's book, like earlier works ''Pain Killer'' by Barry Meier and ''Empire of Pain'' by Patrick Radden Keefe, shows how unethical marketing of OxyContin by the Purdue Pharma drug company directly contributed to a wave of addiction and death that is now well into its second decade, with no signs of a slowdown.

The ''Dopesick'' television series builds upon Macy's work but also composites some of its stories.

For example, Dr. Samuel Finnix, the character played by Michael Keaton, is based partly upon Dr. Stephen Loyd '-- a Tennessee physician who got addicted to prescription opiates, recovered, and now works in the addiction treatment field '-- but also on other individual stories and incidents.

''The Keaton character in the series is going to experience some of the things that I did,'' said Loyd, now chief marketing officer at Nashville-based Cedar Recovery.

The miniseries, as a whole, is ''balls-on accurate,'' said Loyd.

''It's exactly what I saw,'' Loyd told Healthline. ''It's all real people, and it's still happening every day.''

The series ''accurately portrays the controversy surrounding the OxyContin crisis and the pharmaceutical companies, such as Purdue Pharma, who preyed on everyday people's pain,'' David Dorschu, CEO of Recovery Centers of America at Raritan Bay in South Amboy, New Jersey, told Healthline.

''The show also highlighted the local doctors who genuinely cared about their patients and were trying to do their best to alleviate their suffering,'' Dorschu said. ''A long-lasting 'miracle pill' that relieves acute pain with little potential for abuse or addiction was very attractive and simply too hard to resist.''

Macy's book focused on the rise of the opioid epidemic in Lee County, Virginia, the state's westernmost area. It's coal-mining country and part of Appalachia.

In the Hulu miniseries '-- created by Danny Strong and co-executive produced by Macy '-- the story focuses on the fictional town of Finch Creek in the same region.

''The story is really tracking true,'' Macy told Healthline.

She notes that many of the characters in the show '-- from Sister Beth Davies, who runs the Addiction Education Center in downtown Pennington Gap, Virginia, to Purdue Pharma head Richard Sackler '-- are real people.

The title of the series refers more to the challenge of recovering from an opiate addiction than getting addicted in the first place.

''Dopesick'' is a term used by people who use drugs to describe the daunting physical and mental barriers to quitting '-- the point at which users aren't taking opiates to get high as much as to avoid the agony of withdrawal.

Macy said people addicted to opiates '-- some resulting from overprescription by doctors for legitimate injuries and pain '-- deserve sympathy and help.

''We need to stop thinking of people with a medical condition as criminals,'' she said.

''Dopesick'' primarily focuses on the late 1990s and 2000s, as Purdue Pharma aggressively marketed OxyContin to doctors and reports began streaming in about the drug's high potential for addiction and overdose.

However, despite growing awareness of the drug's lethal potential, law-enforcement crackdowns on ''pill mills'' run by shady physicians, and efforts to control the distribution of prescription opiates, the opioid epidemic rages on in 2021.

In a 2021 settlement agreement, the Sackler family agreed to pay $4.3 billion to mitigate OxyContin misuse and forfeit ownership of Purdue Pharma.

However, the deal also granted the Sacklers immunity from liability lawsuits.

The family, which made north of $10 billion selling OxyContin, admitted no wrongdoing and offered no apologies to the victims of their drug and its marketing.

''It's outrageous,'' said Macy. ''There's two systems of justice '-- the guy who was selling weed is in jail, and the Sacklers are not only not going to jail, but even after the settlement, the family will walk away even wealthier than it is now.''

Macy and others hope that ''Dopesick'' not only shines a light on the origins of the problem but encourages stronger action to prevent and treat opiate addiction.

''Someone recently came up to me and said, 'Until I read your book, I didn't think I was part of a huge problem, I just thought I was a f***-up,''' she recalled.

Macy is now working on a sequel to ''Dopesick'' called ''Raising Lazarus,'' which tracks the opiate crisis and the people it affects up to the present day. It's scheduled to be released next year.

Macy said, ''the crisis has only gotten worse,'' even though control of prescription opiates has improved.

That's because dealers have upped the available supply of heroin and fentanyl to meet the needs of users.

''The horse is out of the barn, and it's really hard to go back,'' she said.

''It's important to keep in mind that the opiate epidemic is far from over,'' said Dorschu.

In fact, the Centers for Disease Control and Prevention reported this summer that drug overdose deaths increased by 30 percent in 2020 from the previous year.

Macy noted that only about 12 percent of people with opiate addictions can access treatment.

''Most are not getting access to treatment, let alone housing and social support, so they will continue to go out and use to prevent themselves from getting dope sick,'' she said. ''We can't just stop with preventing new cases. We have to go back and treat these people who have largely been abandoned.''

The stigma around addiction remains a barrier to treatment, said Macy, noting how Sackler was able to shift blame away from OxyContin's vast potential for abuse by pointing the finger at users.

''We have in this country a stereotype of an addict as someone who is homeless or lives in a crack house, but 'Dopesick' shows us how easy it is for anyone to fall into a pattern of substance abuse,'' said Dorschu.

''Addiction does not discriminate. Many people who got hooked on these drugs, such as the teens in the fourth episode, were never actually in pain. They were looking for a quick high. The drug became widely available before its dangers were fully understood, and people started doctor shopping to get their fix,'' he added.

And while the war on drugs of the 1980s and 1990s has shifted to focus more on treatment and prevention, there's still strong resistance in many communities to effective addiction treatment, notably the ''medical maintenance'' use of methadone and buprenorphine for heroin addiction and needle-exchange programs to help prevent the spread of hepatitis and other diseases among people who use drugs.

''There are still so many barriers put up to treatment, and the response is not really happening to match the extent of the crisis,'' Macy said.

Physicians still learn relatively little about addiction, said Loyd, who frequently lectures on the subject at medical schools in Tennessee and has testified in cases against doctors who recklessly prescribed opiates, often with deadly results.

''Dopesick,'' Loyd said, puts the problem of the opiate epidemic and its origins into the mainstream, which he hopes can help build support for more and better treatment.

''Most of us know somebody touched by this,'' he said.

Sackler family to pay fines of $4.5 billion as OxyContin-maker Purdue Pharma is dissolved | Fortune

Wed, 17 Nov 2021 05:21

A vastly improved search engine helps you find the latest on companies, business leaders, and news more easily.

Jagnoor Aneja dead: MTV's Love School star dies aged 40 | Metro News

Tue, 16 Nov 2021 21:34

Reality star Jagnoor Aneja has died at the aged 40 after a sudden heart attack.

The MTV Love School star's death was confirmed by close friends who stated he died on September 23 while traveling through Egypt.

The actor's close friend Karan Singh Chhabra, said the MTV star 'was healthy and a satisfied person' at the time of his death.

Speaking to India TV News, he stated: 'It is most painful for me to lose him like this. He was enjoying and having fun, I am really clueless how this happened.'

Aneja's starred in seasons one and two of MTV's Love School, which followed the real-life relationships of young Indian couples and their trials and tribulations.

Reacting to the news, another close friend, Mohammad Al Mahmoodi, claimed the news was a shock before that Aneja found 'health and fitness' very important.

'He was perfectly healthy. In fact, he was very much concerned about his health and fitness,' he explained.

Mahmoodi added that it was 'difficult for me to accept the news' because he 'couldn't understand how this happened'.

Jagnoor was born in 1981 in India to a Hindu family and previouslyy worked heavily in Indian beauty pageants.

The MTV star coached contestants on their runway walks and helped them prepare for the competition.

More: US TV newsIn season one of Love School, Jagnoor dated his then-girlfriend Manisha, but the couple broke up before season two.

In his second appearance, the TV personality entered a relationship with a woman named Monica, but the relationship also fizzled out.

Got a story?

If you've got a celebrity story, video or pictures get in touch with the Metro.co.uk entertainment team by emailing us celebtips@metro.co.uk, calling 020 3615 2145 or by visiting our Submit Stuff page '' we'd love to hear from you.

European Digital Identity | European Commission

Tue, 16 Nov 2021 19:16

Digital Identity for all Europeans

The European Digital Identity will be available to EU citizens, residents, and businesses who want to identify themselves or provide confirmation of certain personal information. It can be used for both online and offline public and private services across the EU.

Every EU citizen and resident in the Union will be able to use a personal digital wallet.

''Every time an App or website asks us to create a new digital identity or to easily log on via a big platform, we have no idea what happens to our data in reality. That is why the Commission will propose a secure European e-identity. One that we trust and that any citizen can use anywhere in Europe to do anything from paying your taxes to renting a bicycle. A technology where we can control ourselves what data is used and how."Ursula von der Leyen, President of the European Commission, in her State of the Union address, 16 September 2020Benefits of the European Digital IdentityWhy is it needed? Today, only about 60% of the EU population in 14 Member States are able to use their national eID cross-border.

Only 14% of key public service providers across all Member States allow cross-border authentication with an e-Identity system, for example to prove a person's identity on the internet without the need for a password. The number of successful cross-border authentications per year is very small, though on the increase.

72% of users want to know how their data is processed when they use social media accounts. 63% of EU citizens want a secure single digital ID for all online services (Eurobarometer survey)

Key principlesPractical useThe European Digital Identity can be used for any number of cases, for example:

public services such as requesting birth certificates, medical certificates, reporting a change of addressopening a bank account filing tax returnsapplying for a university, at home or in another Member Statestoring a medical prescription that can be used anywhere in Europe proving your agerenting a car using a digital driving licensechecking in to a hotel Using the European Digital Identity: applying for a bank loanApplying for a bank loan is a process that typically includes numerous steps, from setting up appointments and having physical meetings, to collecting and signing all the paper documents - and repeating the operation if documents are missing.

By using the European Digital Identity, the user only has to select the necessary documents that are stored locally on his digital wallet to reply to the bank's request. Then, verifiable digital documents are created and sent securely for verification to the bank, who can then continue with the application process.

Making things easier for citizens and businessesThe following identification and trust services can already be used with legal effect across the EU thanks to the trust framework created by the eIDAS Regulation. They are key tools to enable trust and security in the Digital Single Market. Some services, like eSignatures, will be integrated into the wallet to facilitate their use.

CitizensBusinesses

eSignature

Expression in an electronic format of a person's agreement to the content of a document. The function will be integrated into the wallet.

Will help me to sign legal documents and email without printing any paper

Will reduce costs and time through streamlined processes and help innovate business procedures

eTimestamp

Electronic proof that a set of data existed at a specific time

Will give me proof that I have bought my concert tickets

Will enhance document tracking and achieve greater accountability

eID

A way for businesses and consumers to prove their identity electronically

Will allow me to open a bank account in another country with my national ID

Will expand my customer base, save costs and time, and build trust in cross-border transactions

Qualified Web Authentication Certificate

Ensure websites are trustworthy and reliable

Will let me know that the websites and apps I like using are trusted and safe

Will increase consumer trust and help avoid phishing, protecting the reputation of my business

eSeal

Guarantee both the origin and the integrity of a document

Will guarantee that the football tickets are real and are not counterfeit

Will reduce costs and time through streamlined processes and promote trust in the origin of the document

Electronic Registered Delivery Service

Protects against the risk of loss, theft, damage or alterations when sending documentation

Will guarantee that my son's birthday present arrives safely

Will reduce time and cost in document exchange, increase efficiency and trust and improve document tracking

itsme van ING: al je persoonlijke, bancaire en medische gegevens sinds vandaag ongevraagd in een app

Tue, 16 Nov 2021 19:14

Waarom wil een bank in je medische gegevens rondneuzen? Simpel, dat heeft te maken met de European Digital Identity Wallet. Nederland is een groot voorstander van complete Europese federalisering en wil daarom naar een Europees paspoort. Volgens artikel 6 van de desbetreffende eIDAS-richtlijn moeten al je data worden samengebundeld in een enkele, door de overheid gecontroleerde app. Die app kan dan enkel relevante 'kenmerken' of 'attested atrrributes' van de gebruiker delen waar dat nodig is. Bij een kroeg is de beveiliger verplicht om je vaccinatiestatus te controleren: dan geeft de app enkel deze gegevens weer. Ergens anders moet je leeftijd worden bevestigd: dan wordt daar enkel verteld hoe oud je bent, je geslacht is dan weer irrelevant, net zoals of je een rijbewijs hebt. Als je een auto wil huren is dat laatste weer anders. Je mail en social media worden er ook op aangesloten.

De huidige QR app is dan ook een uitvloeisel van de richtlijn, want die geeft ook maar een beperkte hoeveelheid informatie. De QR app gaat dus ook nooit weg. Handig, zullen de voorstanders zeggen, de overheid heeft via de app van de bank complete controle over mij. Ik hoef maar een keer in te loggen! Het probleem is wel dat letterlijk al je data, van je medische tot je bancaire gegevens en al je online sociale gedrag, in een enkele app komen. Als iemand die kan hacken ben je de klos. Overheid en ICT is recentelijk niet altijd de meest gelukkige combinatie geweest, om maar een eufemisme te gebruiken.

Het valt onder wat het World Economic Forum (WEF) het 'strategische imperatief van de digitale identiteit' noemt. In dat document wordt de app itsme aangeprezen, gemaakt door enkele banken waaronder ING. Uit een Kamerbrief over dit onderwerp blijkt dat de Nederlandse regering specifiek deze plannen van het WEF overneemt en in deze een Europese voortrekkersrol wil spelen ('coalition of the willing'). Het WEF en de demissionaire regering doen dat volgens onderstaande illustratie. Belgische klanten van ING kregen deze week dan ook het bizarre bericht dat hun medische gegevens, zoals vaccinatiestatus, ook in hun bankapp te vinden zijn: je complete identiteit is gekoppeld aan je bancaire data, samengevat in je ING-app. Dat is de techniek van itsme aan het werk.

Als de overheid straks digitaal geld wil uitdelen is dat ook een stuk makkelijker gemaakt. De mogelijke nadelen zijn niet te overzien, maar dat was geen belemmering. Dit was een voorzetje van het Nederlandse (demissionaire) kabinet dat hier tijdens de verkiezingen nooit over heeft gesproken. Belgi was het proefdier, nu is Nederland aan de beurt.

De app valt onder Belgian Mobile ID BVBA, in het Belgische handelsregister ingeschreven met ondernemingsnummer BE0541659084. De oprichters zijn BNP Paribas Fortis, Belfius, Bank, KBC Bank, ING Bank, Proximus, Orange en Telenet, ieder met vijftien procent van de aandelen behalve Orange dat tien procent heeft. De app is dusdanig functioneel dat alle Belgen en Nederlanders er digitaal kunnen inloggen, ING heeft hem nu aan de eigen bankapp gekoppeld en vervolgens aan Belgische medische dossiers. De holding is in de regel verlieslatend, in 2020 was er nog een verlies van vier miljoen.

De desbetreffende Europese richtlijn geeft Europese lidstaten twaalf maanden vanaf 3 juni 2021 om de digitalisering te hebben afgerond. Artikel 11 stelt dat elke Europeaan die zich digitaal op deze bindend in te voeren app aanmeldt, uniek te identificeren moet zijn.

Dat klinkt logisch, het maakt wel dat er zo een Europees BSN is ingevoerd met een app die alle praktische functionaliteiten van een fysiek paspoort overneemt. Met Corona als smoes is er dus een Europese superstaat gebouwd. Een woordvoerder van ING in Nederland liet weten dat ze niet op de hoogte was van het idee om de technologie ook naar Nederland uit te rollen, maar dat wordt weerlegd door de feiten. Nederlanders kunnen er al gewoon mee inloggen, de app staat in de store van Apple (zoek maar). De genoemde banken hebben bij de oprichting van 19 april 2018 in totaal 26,7 miljoen euro ingebracht en de verliezen hebben het eigen vermogen negatief gemaakt. De Belgische overheid heeft het eigen vermogen aangezuiverd met 15 miljoen euro, zodat de app door heel Europa kan worden gebruikt.

De gewijzigde statuten van september 2021 laten namelijk zien waar dat geld voor bestemd is. Immers, itsme is al beschikbaar voor Belgen en Nederlanders. Het gestorte kapitaal is daaraan besteed, wat kun je dan verder nog doen? Simpel, de app in het buitenland uitrollen. ING zegt niet op de hoogte te zijn van dergelijke plannen, al staan die plannen in de statuten van de vennnootschap die de bank zelf heeft opgericht met specifiek dat doel.

Dit is wat je krijgt, als je een afgetreden kabinet zonder helder mandaat nog een jaartje laat aanrommelen. Tip voor de toekomst: als iemand zegt 'af te treden', laat hem dan ook echt zijn spulletjes pakken en daadwerkelijk een functie elders zoeken, in plaats van dat hij een dag later gewoon terugkeert naar zijn vertrouwde werkplek en daar allemaal schimmige dingen doet.

Al deze feiten zijn goed gedocumenteerd. Toch wordt je als een aap aangekeken als die feiten noemt maar dat maakt het niet onwaar. In een vorig artikel zit de complete bronvermelding. Wie het nodig vind om mij stevig van repliek te dienen, is van harte welkom. Daarbij verlang ik wel dat u eerst de genoemde bronvermelding doorspit, alvorens u iets zegt. De link naar de bronvermelding, alsmede een video over het onderwerp in Madelon Navigeert, staat hier. Als u praktische hulp nodig heeft om mij van weerwoord te voorzien, help ik u met liefde om een artikel te publiceren of een video op te nemen. Hoe hard u me ook wil aanvallen, de kosten zal ik voor mijn rekening nemen, binnen het redelijke. Ga dus niet een beetje laf anoniem op internet schreeuwen dat dit niet waar is. Wie het niet ziet, wil het niet zien en dat is een keuze.

Wilt u meepraten over wat er allemaal gebeurd, kom dan naar een van de borrels die exclusief voor volgers op BackMe worden georganiseerd. Die zijn lekker analoog.

Thu, 11 November

Blank Check for Socialism | U.S. House of Representatives

Tue, 16 Nov 2021 17:30

Blank Check for Socialism

Washington, September 22, 2021

By now, you have probably heard about President Biden's $3.5 trillion ''Build Back Better'' bill and all the empty promises in it. The truth is that it will do nothing to build our country up. Instead, this is a blank check to take our country into socialism.

This bill will change every American's way of life. It's filled with radical policy changes that will raise costs on all goods, put the federal government in charge of educating your kids, prioritize climate policy over national security, breach every American's privacy, and saddle future generations with debt.

In an attempt to eliminate fossil fuels, this legislation would impose a ''fee'' on all methane emissions, including in our agriculture industry. We all know that a fee is just a tax and that consumers are the ones who will pay for it. The tax is estimated to cost $6,500 per dairy cow, $2,600 per head of cattle, and $500 per swine each year. That is more than what the animals are worth, it'll run ranchers out of business.

Democrats are touting that this bill has $200 billion of federal spending for ''free'' universal preschool and community college. What the Democrats aren't promoting is that states will be required to foot 50 percent of the cost once this measure is up and running. This is the same for free community college provisions. States will be required to foot 25 percent of the two years free of community college costs as well. Nothing is ever free. The state of Oklahoma will pay for this bill too, not just Washington.

The Biden Administration argues new Internal Revenue Service (IRS) provisions in the bill will narrow the tax-gap, but it's just a gross example of federal overreach. The IRS would require banks to report transaction data for any account with at least $600 of cash in or out annually, violating the privacy of what Americans do with their money.

These are just a few of the worst provisions in this legislation and there are thousands more that take us closer to full blown socialism. And beyond that, it calls for the highest sustained federal spending level in American history that will saddle our future generations with massive debt.

The Democrats want government control over every aspect of our lives and that's exactly what they are delivering. If this bill gets signed into law, it's the end of the American dream and the beginning of government dependency.

Flu rips through University of Michigan, brings CDC to campus

Tue, 16 Nov 2021 17:12

ANN ARBOR, Mich. '' Influenza is sweeping the University of Michigan's Ann Arbor campus, with 528 cases diagnosed at the University Health Service since Oct. 6.

The outbreak is so sudden and large '' 313 cases were identified the week of Nov. 8 alone, and 37% of flu tests that week were positive '' that it has drawn the attention of federal health leaders.

A team of investigators from the U.S. Centers for Disease Control and Prevention will be on campus this week trying to learn more about the spread of the virus and the effectiveness of this year's flu vaccine.

Among those who've contracted flu at U-M this fall, 77% didn't get a flu vaccine. The cases were identified as influenza A (H3N2), said Lindsey Mortenson, UHS medical director and acting executive director.

"While we often start to see some flu activity now, the size of this outbreak is unusual," said Juan Luis Marquez, medical director at the Washtenaw County Health Department. "We're grateful for the additional support of the CDC and our ongoing partnership with the university as we look more closely at the situation."

The work will be led by the local health department, and will include the Michigan Department of Health and Human Services, the university and a team from the CDC.

When a public health authority requests assistance from the CDC for an urgent public health problem, such as disease outbreaks, unexplained illnesses and natural or human-caused disasters, an Epi-Aid team is tapped to provide short-term assistance.

Hear from the experts:Is it safe to get a flu shot and a COVID-19 vaccine at the same time?

In Ann Arbor, the team will evaluate flu vaccine uptake and vaccine effectiveness and risk factors for spread by collecting samples from patients at University Health Service, providing data analysis, and conducting questionnaires.

Health leaders are concerned about the timing of the increase in cases in Ann Arbor, as many students plan to travel soon for Thanksgiving break. They are calling on as many people as possible to get flu vaccines.

"We strongly recommend anyone not yet vaccinated against seasonal flu to do so," Marquez said. "And anyone at higher risk of severe flu complications should talk to their doctor about prescription antiviral medications at the first sign of flu symptoms."

Flu vaccine:More than 40% of Americans may not get a flu shot this year, which could spell trouble during COVID-19

Fewer Michiganders have taken flu vaccines this year compared with the same time in 2020. As of Nov. 6, the state health department reported 2.01 million flu shots had been administered so far statewide, covering about 20% of the population. Comparatively, 3.14 million doses had been given as of Nov. 6, 2020, covering about 31% of the population.

Washtenaw County has a higher flu vaccination rate this year than the state overall. There, about 31% of residents have gotten flu vaccines this season, according to state data.

People who get flu vaccines help to protect those around them, including people who are more vulnerable to serious flu illness, like infants and young children, older people and those with certain chronic health conditions.

Last year, there was little to no flu activity. This year, health officials are concerned about the possibility of a "twindemic," as both coronavirus and flu could surge.

Follow Kristen Jordan Shamus on Twitter: @kristenshamus.

Meat wars: why Biden wants to break up the powerful US beef industry | Meat industry | The Guardian

Tue, 16 Nov 2021 17:08

B oth the planet and US politics have heated up in tandem over recent decades, but few sectors have stewed in controversy quite like America's beef industry. Four super-powered meatpackers control more than 80% of the US beef market, an extraordinary concentration of market power that the Biden administration is not happy about.A recent executive action signed by the president aims to increase competition in the beef industry, with the White House noting that, over the past five years, ''farmers' share of the price of beef sales has dropped by more than a quarter '' from 51.5% to 37.3% '' while the price of beef has risen''.

But how were the big four meatpackers able to capture so much of the US beef processing capacity? They had help.

When explaining the history of consolidation in US meatpacking, it is normal to begin in the age of Upton Sinclair's 1906 novel The Jungle. In the wake of Sinclair's muckraking expos(C) on the industry of the time, Congress passed the Pure Food and Drug Act and the Federal Meat Inspection Act, aimed at cleaning up the meat supply for consumer health and challenging the nearly unrestricted power of these players.

Josh Specht, an environmental and business historian, offers another interpretation of this starting point. ''These acts accepted the state of the meatpacking industry as of 1906,'' he writes in his book, Red Meat Republic. ''Big meatpacking was no longer questioned, it was regulated.''

A third act, passed in 1921, the Packers and Stockyards Act, was specifically intended to break up the vertical integration of the big companies by forcing them to sell off their interests in businesses that owned, for example, railroads or refrigerated trucks.This did much to check the power of big packers, Specht says, though labour movements of the 1940s and 50s were just as important. But eventually the industry would revive the old playbook of earning steep profit through immense scale and labour exploitation, and today, all four of the largest beef processors of Sinclair's time are still around in some form.

Four super-powered meatpackers control more than 80% of the US beef market. Photograph: Ken Hawkins/AlamyToday's big four '' Tyson, JBS USA, Cargill and National Beef '' are more than just the heirs to the American meatpacking legacy. They are also multinational giants, two of which are majority-owned by Brazilian companies. In fact, in 2020, many packers were criticised for the amount of meat that was exported at a time when processing was limited due to Covid outbreaks in processing plants, driving up prices and creating shortages at grocery stores that affected US consumers.

But today's big four didn't grow into behemoths overnight. In the mid-1970s, they controlled as little as 20% of the meatpacking market. What changed? The answer, in part, lies beyond the meatpacking sector, with corn farmers and grocery stores.

It's no accident that the 1970s marked the re-ascendance of a concentrated meatpacking industry. The early and mid-70s were a period of explosive growth and high demand for agricultural products, when farmers across the country were experiencing some of the highest relative incomes seen in US agriculture, before or since.

During this time, farmers and ranchers with cash to hand and access to cheap financing were looking to make investments in their agricultural businesses that would improve cashflow. Especially in the Great Plains, cattle feedlots were just the ticket, requiring relatively limited amounts of land. These years witnessed a boom in the number and size of feedlots, along with advances in antibiotics, feed and cattle genetic technologies.

By the late 70s and early 80s, market conditions led to a dramatic oversupply of grain, and though many farmers suffered historic losses, those who had invested in feedlots were able to buy cheap feed to fatten cattle in their new or expanded confined animal feed operations. These factory-like facilities did what they were meant to do '' they helped their owners avoid the downside risk of producing seasonal and weather-dependent crops.

In 1979, grain-fed cattle accounted for a quarter of the US's total beef production, but that number has shot up over the past 40 years to more than 60% today.

The feedlots that found the most success tended to be in the Great Plains, from the Dakotas to Texas, located in a sweet spot between the midwest's feed grain abundance and the intermountain west's supply of feeder cattle (young cattle weighing 500''600lb, which are brought to market weight in a feedlot).

A Texas beef processing factory, with cattle about to be slaughtered in the foreground. Photograph: George Steinmetz/The GuardianMeatpackers followed behind these feedlots, which also trended towards consolidation, though not as dramatically as packers. Today, less than 5% of feedlots control 80% of the fed cattle market, most of which are located in just five states.

As the number of cattle suppliers that a given meatpacker had to work with declined, the number of meat buyers also diminished, and their average size grew.

By the 90s, consolidation in the US grocery sector was already well under way, with the top 20 food retailers in the country selling nearly 40% of all retail groceries. By 2019, the top four food retailers were capturing that same 40% of sales, according to the USDA, while in metropolitan areas, their share was over 70%. Grocery's big four '' Walmart, Target, Albertsons and Kroger '' are able to exert a surprising amount of power over their suppliers, even over the big four meatpackers.

''It's what we call the power of the purchase order,'' says Errol Schweizer, former vice president of grocery for Whole Foods, now an industry adviser. ''Retail buyers have a lot of say over the supply chain in terms of their ability to send a purchase order or withhold the purchase order.''

The power of the purchase order is significant, as contracts with major retailers are both extremely competitive and lucrative. The biggest and most centralised meatpackers are usually able to offer the lowest prices to supply retailers with vast and reliable quantities of familiar meat cuts daily, and the fewer meat suppliers a grocery chain works with, the lower their costs of doing business. In this way, as fewer and fewer grocery chains own more and more of the market, they turn to the fewest and biggest meatpackers, further entrenching a system of mega-players all the way through the beef system.

But the clout that comes with being a mega-buyer has its limits, as has been witnessed with continuously climbing beef prices. These increases are a result of Covid-related slowdowns in meatpacking, caused mainly by outbreaks in meatpacking plants that led to thousands of workers falling ill and hundreds dying. Packers passed price increases through to their retail customers, who in turn passed them on to consumers.The feedlot-packer-grocery mega-group might be showing signs of fraying. In 2020, Walmart made a small step towards taking over some of its own meat processing by opening a new facility in Georgia to make ''case-ready'' cuts of meat, not unlike Costco's 2019 opening of a poultry plant in Nebraska. This seems to be a sign that big retailers are looking to take back some margin from meatpackers, though currently on a very small scale.

However it happens, many believe that reducing the consolidated power of these big players is critical, not only to keep consumer prices low and ranchers in business, but to protect US food security. The global pandemic is not the only event to reveal just how fragile the current consolidated system is '' the recent cyber-attack on JBS, which cost the company an $11m (£8m) ransom, halted one-fifth of the US's meat processing capacity for days, with the effects felt up and down the supply chain.

Experts say not enough was done to safeguard meat plant workers' health during the pandemic. Photograph: Natalie Behring/AFP/GettyAdvocates say that if one of the aims of reducing consolidation is to improve protections for workers, particularly the vulnerable meatpacking workers who sickened and died from Covid-19 at rates well beyond the average, the pressure must be on the whole food system, not just meatpacking companies.

''Not one grocery retailer said, 'Hey, this isn't right','' Schweizer says of retail meat buyers when reports of illness and death related to plants surfaced. Instead, he says, retailers prioritise having meat in stock no matter what, as it's an important driver of customer loyalty for grocers. But it was well within their power, he says, to withhold or slow down purchases to pressure meatpackers to improve conditions and protect workers.

As pandemic-driven changes to the food system continue to play out, experts will be carefully watching how the Biden administration attempts to tackle consolidation in the meatpacking sector. Austin Frerick, a Yale-based competition and antitrust expert, is optimistic that some meaningful steps will be taken soon, but says what he's seen so far does not break with the historical trend.

''The state of play for the last 40 years,'' Frerick says of political efforts to break up the big meatpackers, ''has been empty words. This is a question of political courage.''

Sign up for the Animals farmed monthly update to get a roundup of the best farming and food stories across the world and keep up with our investigations. You can send us your stories and thoughts at animalsfarmed@theguardian.com

Second HIV patient may have been 'naturally' cured, scientists say | TheHill

Tue, 16 Nov 2021 16:56

A woman from Argentina is believed to be the second known person whose body naturally eliminated the human immunodeficiency virus (HIV) without treatment.

The 30-year-old woman showed no signs of HIV - which can develop into AIDS if untreated - eight years after her initial diagnosis, despite not receiving stem cell or other regular treatments, apparently making her a rare case of what is described as a "sterilizing cure," CNN Health reported.

The new study was published in the Annals of Internal Medicine.

The first patient who was found to have been naturally cured of HIV was a 67-year-old woman named Loreen Willenberg, according to CNN Health.

"Examples of such a cure that develops naturally suggest that current efforts to find a cure for HIV infection are not elusive, and that the prospects of getting to an 'AIDS-free generation' may ultimately be successful," said Xu Yu, who co-authored the study, to CNN.

CNN reported that Yu, of the Ragon Institute of Massachusetts General Hospital, MIT and Harvard, and her colleagues in Argentina analyzed blood samples of the HIV patient between 2017 and 2020. The woman also gave birth in March of 2020, which also allowed the researchers to collect tissues from the placenta.

The woman did not take anti-retroviral treatment until 2019, when she became pregnant; however, after she delivered a healthy baby who did not test positive for HIV, the woman ceased the HIV therapies.

It is currently not clear how the woman's body was able to eliminate HIV, though Yu wrote to CNN that it was likely a "combination of different immune mechanisms."

"Expanding the numbers of individuals with possible sterilizing cure status would facilitate our discovery of the immune factors that lead to this sterilizing cure in broader population of HIV infected individuals," she added.

Russia: US hypocritical for condemning anti-satellite ASAT weapon test

Tue, 16 Nov 2021 16:37

Published Tue, Nov 16 2021 10:27 AM EST

The Russian military destroyed a defunct satellite on Monday, causing astronauts to shelter on the International Space Station as the debris cloud passed by.U.S. officials from the Pentagon, State Department and NASA condemned Russia's anti-satellite weapon (or ASAT) test as "reckless" and "dangerous," while U.S. Space Command confirmed that the test created more than 1,500 pieces of debris.But the Russian military called the response "hypocritical," saying in a statement translated by NBC that "the United States knows for certain that the resulting fragments" from the ASAT test "did not and will not pose a threat to orbital stations, spacecraft and space activities."The view from SpaceX's Crew Dragon spacecraft Endeavour of the International Space Station, as well as the company's Crew Dragon spacecraft Resilience, as the capsule approached to dock on April 24, 2021.

NASA TV

The Russian military destroyed a defunct satellite on Monday, showering low Earth orbit with shrapnel and causing astronauts to shelter on the International Space Station as the debris cloud passed by.

U.S. officials from the Pentagon, State Department and NASA condemned Russia's anti-satellite weapon (or ASAT) test as "reckless" and "dangerous," while U.S. Space Command confirmed that the test created more than 1,500 pieces of debris. The test destroyed the defunct, Soviet-era Kosmos 1408 spy satellite.

"Russia has demonstrated a deliberate disregard for the security, safety, stability, and long-term sustainability of the space domain for all nations," U.S. Space Command commander James Dickinson said in a statement.

But the Russian military called the U.S. response "hypocritical," saying in a statement translated by NBC that "the United States knows for certain that the resulting fragments" from the ASAT test "did not and will not pose a threat to orbital stations, spacecraft and space activities."

Both the U.S. and Russia, as well as India and China, have previously destroyed their own satellites in ASAT tests. The U.S. most recently conducted an ASAT test in 2008, while Russia on Tuesday called out the Air Force's testing of the X-37 spacecraft as showing the Pentagon "is actively developing" space weapons.

Industry experts believe the debris field created by Russia's latest ASAT test will stay in orbit for years, creating a threat to other spacecraft. Earth imagery company Planet, which has more than 140 small satellites in low Earth orbit, emphasized that Russia's ASAT test makes it the fourth country "to blow up its own satellite from a missile in the past 15 years."

NASA confirmed that the International Space Station went into emergency procedures on Monday, closing the ISS hatches while crew sheltered. The ISS is "passing through or near" the debris field every 90 minutes, NASA said.

"It is unthinkable that Russia would endanger not only the American and international partner astronauts on the ISS, but also their own cosmonauts," NASA administrator Bill Nelson said in a statement.

Watch our live stream for all you need to know to invest smarter.

View the full site

Baby steps to cutting NHS Scotland's carbon footprint - BBC News

Tue, 16 Nov 2021 14:54

By Susie ForrestScotland health producer, BBC News

Image caption, Sinead and Robbie Lavery say they are a "climate conscious" family

On the day the Scottish government published its strategy for a net-zero NHS by 2040, baby Airlie Autumn Lavery was taking her first breaths in the labour ward of St John's hospital in Livingston.

Her mum, Sinead, used gas and air for pain relief in the birthing pool. But she was unaware of the small contribution she was making to the fight against climate change.

The Entonox she was breathing in contains nitrous oxide - a greenhouse gas which lasts around 100 years in the atmosphere, and whose global warming potential is around 300 times greater than carbon dioxide.

But midwives in NHS Lothian are using a new machine, developed in Sweden, to destroy the nitrous oxide and convert it back into harmless gases.

As they welcomed their fourth child into the world, 30-year-old Sinead and her husband Robbie, 32, were none the wiser.

Image caption, Little Airlie Autumn Lavery was born at St John's hospital in Livingston.

"We are pretty climate conscious as a family so to have that knowledge of it, after the fact, is really great," says Robbie, from Symington in Lanarkshire.

"I think it is a great initiative and the more stuff like this, the better it is going to be for the climate - and the kids."

Gas and air is the most popular type of pain relief in childbirth, but senior charge midwife Jane Taylor says most people don't realise the harm it does.

"Over 70% of our women use Entonox during their labour at some point, so that is a huge carbon footprint that has a huge impact on the climate.

"When women are in labour we don't expect them to be worrying about climate change. So if we can do something to reduce that behind the scenes we are happy to do that"

This maternity unit is the only one in Scotland, and the second in the UK, to trial the technology. The hope is that it will be more widely used in future.

Image caption, Midwife Jane Taylor says most people don't realise the environmental harm that gas and air does

Anaesthetic gases released into the atmosphere account for around 5% of the carbon footprint of NHS acute hospitals. The biggest contributor is Entonox - but gases used to keep patients asleep during surgery are also highly damaging to the atmosphere.

NHS Lothian consultant anaesthetist Dr Andrew Goddard says they've worked hard to reduce the use of these harmful gases in the operating theatre, by using different kinds of gases or using a lower flow through the anaesthetic machine. But that has a limited impact.

"Almost everything we put into the patient has to be exhaled and dealt with at the end of the procedure," he says.

"You can think of an hour's worth of general anaesthetic compared to the number of miles driven in the car, by calculating the equivalent quantity of carbon dioxide emitted."

"An hour's worth of an anaesthetic is in the region of driving 100, 200 or 300 miles in a car."

Image caption, Dr Andrew Goddard says the NHS has worked hard to reduce the use of harmful gases in the operating theatre

Current practice is to pump the waste gases out of the hospital and release them into the atmosphere. But in St John's four operating theatres, another innovation is being used to reduce those emissions.

Dr Goddard explains the new system captures the excess gases and stops them from escaping.

"The pipe goes into a little canister on the side of the machine and the gases are collected there and held there. When the canister is full an alarm goes off and the team can change the canister very easily in a matter of seconds."

This team is the only one in the UK currently using this technology and the first in the UK to use this particular device. Dr Goddard says it has the potential to cut the demand for anaesthetic gases too, further reducing their carbon footprint.

"The captured anaesthetic gases can be extracted centrally and purified, and after various approvals can be potentially re-used, so not only are we reducing the amounts being put up into the atmosphere, we're also reducing the requirement for new gases to be manufactured as well."

"5% is a massive amount so if that's an area we can tackle and reduce the impact it will make a very big difference to the emissions of the NHS overall".

A strategic challenge for the US: China and The Bahamas | TheHill

Tue, 16 Nov 2021 14:34

A primary focus of the Biden administration's national security policy has been the great power relationship between the United States and the People's Republic of China (PRC). That relationship is multifaceted. As Harvard professor and former Defense Department official Joseph Nye points out in a New York Times article, ''Competition with China is a three-dimensional game. And if we continue to play two-dimensional chess, we will lose.'' Nye's three dimensions are military, economic and social, but there is an important subset to the three '-- regional concerns.

PRC activity in The Bahamas is an example of the three dimensions plus regional activity coalescing in a direct challenge to U.S. interests. This challenge is not theoretical; it is existential. A recent article in the Bahamian paper, The Nassau Guardian, lays it out clearly: ''Deputy Prime Minister and Minister of Tourism, Investments and Aviation Chester Cooper is inviting Chinese investors to take advantage of opportunities in the tourism, agricultural and renewable energy sectors and to partner with the government on projects such as the upcoming public/private partnership (PPP) airport redevelopment project.''

Specifically, over the past dozen years, China has made a number of investments in The Bahamas, including a $30 million grant to build a national stadium; preferential loans to build a $3 billion megaport at Freeport; and $40 million to build a port off the Bahamian island of Abaco. Further, the China EXIM Bank provided over $54 million in preferential loans to build a four-lane highway and loaned nearly $3 billion to build the Baha Mar Resort. The China State Engineering Corporation purchased the British Hilton Colonial as part of a $250 million construction project.

PRC involvement in The Bahamas is not simply about its willingness to invest in the island nation. It is focused on moving The Bahamas away from the U.S. and toward China. Because of recent crises, The Bahamas, a longtime U.S. ally, is more vulnerable to PRC overtures. The Bahamas was devastated in 2019 by Hurricane Dorian. The Inter-American Development Bank (IDB) estimates that the hurricane cost The Bahamas $3.4 billion, approximately one-fourth of its GDP. Adding economic insult to injury, the World Bank estimates that the COVID-19 pandemic caused an economic contraction of approximately 16.2 percent in 2020.

In addition, unemployment and poverty levels increased as a result of these two crises. It is worth noting that, according to the U.S. State Department, ''Despite its World Bank designation as a high-income country, income inequality is higher in The Bahamas than in other Caribbean countries.''

There are also strategic considerations for the U.S. with The Bahamas. For example, the Coast Guard has been working with The Bahamas and the Turks and Caicos for a number of years on a program countering the flow of drugs through the region. The Navy has a submarine testing center in The Bahamas. The U.S. government this year gave $5.9 million in boats and communications equipment to the Royal Bahamas Defence Force (RBDF). The Bahamian government has been supportive of U.S. policy toward Venezuela and Nicaragua at the United Nations and Organization of American States.

The threat that China poses to U.S. interests in The Bahamas was not lost on Gen. Glen VanHerck, commander, United States Northern Command and North American Aerospace Defense Command (USNORTHCOM). In testimony before Congress this year, he stated: ''China continues to pursue an aggressive geopolitical strategy that seeks to undermine U.S. influence around the globe and shape the international environment to its advantage. In the USNORTHCOM area of responsibility, China has made deliberate attempts to increase its economic and political influence with our close partners in Mexico and The Bahamas.''

The Biden administration has shown a consistent, strategic effort to deal with the China challenge. In his recent European trip, President Biden Joe BidenBiden restates commitment to 'one China' policy on Taiwan in call with Xi Biden raises human rights with China's Xi during four hour meeting Biden, Xi hold 'candid' discussion amid high tensions MORE lifted steel and aluminum tariffs that the previous administration imposed. As part of the arrangement, European Union exports would have to be entirely domestically manufactured with no inputs from China. There also was an agreement to restrict imports contingent on how much carbon is involved with their production, which would have an impact on China. Secretary of Commerce Gina Raimondo Gina RaimondoA strategic challenge for the US: China and The Bahamas At White House, frustration over who gets to ask questions Biden marks Veterans Day at Arlington National Cemetery MORE recently announced that the U.S. would work to use European and Asian supply chains, rather than those of the PRC.

This nuanced strategy to respond to PRC global policies should include a specific response to that nation's engagement with The Bahamas. There are a few steps that would help let The Bahamas and other allies in the Caribbean and throughout Latin America know that the U.S. appreciates the important role they play as neighbors and allies, countering PRC outreach.

USAID and the Development Finance Corporation (DFC) can work with investors and aid donors to help The Bahamas to rebuild its economy. The IDB and World Bank have the resources and expertise to complement U.S. bilateral economic engagement with The Bahamas.

As Gen. VanHerck pointed out, the U.S. has strategic issues it must consider with respect to The Bahamas. Increased engagement with the RBDF, as well as increased drug interdiction engagement, would help strengthen the military side of the U.S.-Bahamian ledger.

Tourism is a primary source of income and job creation for The Bahamas. The Department of Commerce, in particular, should work with the Bahamian government to rebuild this essential part of its economy in the wake of Hurricane Dorian and the pandemic. Emphasizing creative approaches such as eco-tourism could help with this undertaking.

It has been over a decade since the U.S. has had an ambassador in The Bahamas. This sends a negative signal that the relationship is not important to the U.S., playing into the hands of China. The U.S. needs an ambassador who not only knows The Bahamas but also understands the complicated political environment of Washington, and those in the Senate holding up nominations must cease and desist. Our national security is at stake.

The Biden administration has an opportunity to continue with its policy toward the PRC by engaging The Bahamas as a counter to China's efforts to expand its influence in the backyard of the U.S.

Patrick J. Griffin, a professor at American University, worked as an assistant to President Clinton and was secretary to the Democratic Conference in the U.S. Senate.

William Danvers is an adjunct professor at George Washington University's Elliott School and worked on national security issues for the Clinton and Obama administrations.

New Delhi air pollution is so bad, officials call for a lockdown : NPR

Tue, 16 Nov 2021 14:00

Commuters drive along a road amid heavy smog conditions in New Delhi last week. Money Sharma/AFP via Getty Images hide caption

toggle caption Money Sharma/AFP via Getty Images Commuters drive along a road amid heavy smog conditions in New Delhi last week.

Money Sharma/AFP via Getty Images NASHIK, India '-- India's Supreme Court is calling for a lockdown in the capital, New Delhi. It's because of a health emergency, but it's not about COVID-19. It's about air pollution.

At a hearing Monday, justices ordered authorities to halt all nonessential travel on roads in the national capital region. They also told them to close offices in the area, shifting tens of millions of people to work from home.

It's unclear if or when such a lockdown would take effect, or how long it might last. Delhi's air quality appeared to ease slightly Monday. The AQI is now in the low 400s on a 500-point scale. Last week, it was off the charts in some areas.

Delhi's chief minister has indicated his willingness to impose a pollution-related lockdown but has said it would have minimal effect without similar measures from neighboring states. Officials from the states of Punjab, Haryana and Uttar Pradesh plan to hold meetings Tuesday.

New Delhi's schools are already closed this week because of air pollution that's been about four times the safe limit. Construction sites are also on pause, which will ultimately slow the economy.

This is all because of toxic smog across much of northern India. It happens every winter as industrial and vehicular emissions mix with smoke from crop-burning after the harvest.

While farmers have often been blamed for exacerbating the pollution problem, government lawyers told the Supreme Court on Monday that crop-burning amounts to only about 10% of emissions. One justice responded by saying it might be even lower.

Some of the schools forced to shut this week had only just reopened for the first time in nearly 20 months, because of COVID-19.

Meanwhile, India pushed for watered-down language in a final declaration at the U.N. climate summit in Glasgow over the weekend. It ended up calling for coal to be "phased down," rather than "phased out" '-- a revision that angered some delegates. Choking back tears, the COP26 president said India had to explain itself. But the reaction was different from some media inside India.

One Indian newspaper called the revised language in the COP26 declaration "a major win for India" and its international diplomacy.

India gets about 70% of its electricity from coal. It has pledged to reduce that amount but has pushed back against global efforts to ditch coal altogether. Prime Minister Narendra Modi says India's emissions will be net-zero by 2070 '-- 20 years after the U.S. and Europe and 10 years after China.

This story originally appeared in the Morning Edition live blog.

Passenger planes remain mothballed in boneyards despite burgeoning demand for air travel | Daily Mail Online

Tue, 16 Nov 2021 13:48

Scorpions and rattlesnakes are among the barriers major airlines are facing as they return mothballed planes to service and scramble to hire crews to meet a surging demand for air travel as pandemic travel restrictions ease.

But despite airlines nearly pre-pandemic levels ahead of the Thanksgiving holiday - when 4.2 million people are expected to travel by air - dozens of passenger planes remain stranded in the Mojave Desert, where they've been stored since the pandemic began crippling the travel industry early last year.

Meantime, chaos has erupted at airports throughout the nation this year as airlines grounded thousands of flights, blaming staff shortages with some speculating COVID-19 vaccine mandates were to blame.

American Airlines, for instance, said on October 30 that it canceled more than 1,200 flights over a single weekend due to staff shortages and unfavorable weather conditions.

Aerial photos show Delta, United, FedEx and numerous international commercial jets hibernating at the Southern California Logistics Airport in Victorville, just one of the boneyards that continues to be used for commercial plane storage.

Most of the planes in storage will be permanently kept there; about 25% of the planes will return to service. The FedEx planes there will be kept in the lot permanently.

Earlier this year, Qantas revealed its mechanics have used 'wheel whackers' '' repurposed broom handles - to spook away rattlesnakes and scorpions sheltering in the wheel wells of planes grounded in Victorville.

Aerial photos taken on November 6 show numerous cargo and passenger planes grounded at the Southern California Logistics Airport in Victorville, California

Qantas airplanes are seen in protective covering. An airline mechanic said earlier this year that crews have encountered rattlesnakes and scorpions while maintaining the planes

'The area is well known for its feisty 'rattlers' who love to curl up around the warm rubber tires and in the aircraft wheels and brakes,' Tim Heywood, a Los Angeles-based Qantas engineer manager, said in a June release.

''...We've encountered a few rattlesnakes and also some scorpions, but the wheel whacker does its job and they scuttle off. It's a unique part of looking after these aircraft while they're in storage and it's another sign of how strange the past year has been.'

While Qantas' A380s would seldom stay a day on the ground while in service, the airline said the fleet could now remain parked for years as it waits for international travel demand to return to pre-pandemic levels.

Scores of FedEx planes are among those grounded in the desert as some planes prepare to return to domestic and international service

Experts say extensive safety measures are being taken to protect the integrity of grounded jets, such as the Delta plane pictured here in Victorville, California

The airline made the forecast before the Australian government this month lifted its overseas travel ban for its vaccinated citizens and permanent residents.

It joins a number of airlines that plane to keep at least some jets parked until least next year, despite travel nearly returning to pre-pandemic levels.

The American Automobile Association is forecasting 4.2 million air travelers for the Thanksgiving holiday, up from the 2.2 million passengers who traveled by plane for the holiday last year.

Although the figure represents an 80 percent spike in air travel, it is nine percent lower than it was in 2019, when 4.6 million people reached their Thanksgiving destinations by plane.

International airlines, including China Airlines, are also using the desert boneyard for storage

Experts say planes are stored in the desert because of its dry heat that prevents moisture from corroding the aluminum

Pictured: Commercial jets remained grounded in California desert as scorpions, venomous snakes, and staff shortages curtail efforts to return planes to service

Pictured: airplanes from various airlines are parked at Southern California Logistics Airport

The American Automobile Association is forecasting 4.2 million air travelers for the Thanksgiving holiday

The US Commercial Safety Aviation Team - which works to reduce aviation-related fatalities '' developed an extensive list of safety elements to help guide operators through pandemic-related challenges including plane storage, a Federal Aviation Administration spokesperson said.

'The safety elements include ensuring equipment such as engines and pitot tubes are properly covered to prevent contamination during storage by insects, water, or other foreign objects; and checking for animals nesting in stored aircraft,' Maria Njoku told DailyMail.com.

Airlines for America, a lobbying group that represents major North American Airlines, said its members follow rigorous protocols before dusting off grounded jets for takeoff.

'[The] airlines follow comprehensive storage procedures provided by the aircraft manufacturers and conduct extensive post-storage inspections as part of the process of returning aircraft to service,' spokesman Carter Yang told DailyMail.com.

Staff shortages appear to be hampering efforts to return some planes to service.

Southwest Airlines' chief operating officer Mike Van de Ven told employees last month that a 'staffing cushion' was necessary to prevent schedule reductions during the winter, Business Insider reported.

The executive in early October said staff shortages contributed to the mass cancellation of nearly 2,000 weekend flights.

Some airlines have said they're struggling with staff shortages

United Airlines did not respond to a DailyMail.com request for comment, but said in its third-quarter earnings report that returning grounded planes to service would help fuel growth next year.

It plans to bring its Pratt and Whitney-powered Boeing 777s back to its fleet next year to meet anticipated record demand for worldwide travel.

The Boeings were grounded earlier this year over faulty engine design.

'From the return of business travel and the planned re-opening of Europe and early indications for opening in the Pacific, the headwinds we've faced are turning to tailwinds,'

United Airlines chief executive Scott Kirby said in a statement.

'We believe that United is better positioned to lead the recovery than any airline in the world.'

Ted Gablin, president of the Redlands Airport Association, said two-thirds of Southwest Airline's fleet was at one point grounded at the Victorville boneyard; a spokesperson for the airport confirmed that most of its planes are now back in service.

Maintenance crews take numerous measures to preserve planes and keep freeloading creatures out while they're grounded, he said.

Deserts are considered a preferred location for long-term aircraft storage because they're notoriously dry, Gablin said.

'Believe it or not, the primary metal used in aircraft is aluminum and it does corrode just like steel does,' he said. 'The magic ingredient for that is moisture.'

A Texas-born COVID-19 vaccine is in demand overseas. Why not here? | The Texas Tribune

Tue, 16 Nov 2021 13:34

Sign up for The Brief, our daily newsletter that keeps readers up to speed on the most essential Texas news.

The day before COVID-19 claimed its first Texas victim in 2020, Dr. Peter Hotez was a guest on the popular Austin-based podcast ''The Drive.''

After 10 years of research into coronavirus vaccines, Hotez and his Houston team needed an infusion of cash to build on their past work and make a vaccine that could, as Hotez told listeners then, ''rescue the world'' from the deadly emerging coronavirus pandemic.

''You'd think that people would be pretty eager to support us to move this forward, but so far it hasn't happened,'' the Houston pediatrician and vaccine scientist told the host, Dr. Peter Attia, on March 14, 2020.

By the following week, major cities in Texas began to shut down to avoid widespread community outbreaks.

But Hotez's plea worked. The donations started coming in support of efforts in the deadly new pandemic at the Baylor College of Medicine at the Texas Children's Hospital Center for Vaccine Development, co-directed by Hotez and Dr. Maria Elena Bottazzi in Houston '-- both of whom are celebrated pioneers in the area of vaccines for neglected tropical diseases like chagas and schistosomiasis.

Maria Bottazzi replaces vials of the RBD-based SARS-CoV-2 vaccine into a freezer at the Tropical Medicine Lab at Texas Children's Hospital Center for Vaccine Development in Houston on Oct. 5, 2021. Credit: Justin Rex for The Texas TribuneAmong the gifts was a $1 million infusion of cash in May 2020 by the philanthropic arm of Texas-based Tito's Handmade Vodka, whose director of global impact and research, Sarah Everett, was tuned in when Hotez asked for help in reviving their research.

''We decided that somebody should help restart that work immediately,'' Everett said.

Now, nearly 18 months later, the Houston team's vaccine, called Corbevax by its maker in India, is cheap, has no patent, can be made by many vaccine producers globally '-- including those in low- and middle-income countries '-- and is poised to receive approval for widespread global use.

The Indian government has promised the biopharmaceutical company Biological E Limited, which is making the vaccine in that country, that it will buy 300 million doses with the potential for more.

A halal version of the vaccine, for use in Islamic countries because it doesn't contain animal-based ingredients, is also about to start clinical trials in Indonesia.

And later this year, the company hopes the vaccine will be endorsed by the World Health Organization for use globally, which could open the doors to quicker authorization in several countries that need it.

But here in the United States, this ''truly Texas vaccine,'' as its creators like to call it, has no home.

A Texas-style vaccineThe fact that the vaccine even exists can be traced to a lot of Texas money, including funds from The Robert J. Kleberg, Jr. and Helen C. Kleberg Foundation and the M.D. Anderson Foundation. Several high-level and anonymous individual donors pitched in, as well as the JPB Foundation in New York.

Those donations funded a vaccine prototype with the initial doses mixed in the Houston lab and transferred to Biological E in India in May 2020. By November, BioE began clinical trials of the vaccine in India, where the delta variant was first identified and which has one of the lowest vaccination rates in the world. Total cost from creation to market was between $5 million and $7 million, Bottazzi said.

The U.S. government has yet to get on board. Operation Warp Speed, the public-private partnership created by the federal government to accelerate treatments and vaccines for COVID-19, spent none of its billions at the Houston lab.

Most experts, including Hotez and Bottazzi, agree that's because most of the funding and the attention '-- and the bets '-- are on the vaccines made earliest in the pandemic, and with the newest technology, by Pfizer, Moderna and Johnson & Johnson and a few others.

''We're pushing the new ways because they're better and faster,'' said Dr. Benjamin Neuman, a Texas A&M University virologist who has been doing coronavirus research since 1996, though he was not involved in any of the approved vaccines' development. ''Why wouldn't you want to have it all?''

Competition from new techThe mRNA vaccines by Pfizer and Moderna use messenger RNA, a molecule the virus needs to produce a ''spike protein'' and bind to human cells, to prompt the immune system to produce antibodies against that protein. Five years ago, Neuman said, that process hadn't been made effective yet.

But by the time Hotez was making his plea on Attia's podcast, Moderna was already starting up clinical trials of its mRNA vaccine in partnership with the National Institutes of Health, the biomedical research arm of the U.S. government and the largest center of its kind in the world.

And by late 2020, when BioE was rolling out its phase 1 clinical trials with Corbevax in India, Pfizer was already getting emergency use authorization from the U.S. Food and Drug Administration.

The Bottazi and Hotez vaccine relies on a production process very similar to the way the Hepatitis B vaccine is made that's been produced and used around the world for decades. The two argue that the familiarity with the process and the ease with which the materials can be gotten makes it easier to quickly ramp up global production compared to the newer vaccines, even if they came onto the market a little later.

But aside from a handful of philanthropies who can see the value of the domino effect '-- more vaccinations outside this country help lower infections around the world and here '-- Hotez and Bottazzi have heard nothing about producing or distributing here at home.

''Why weren't conventional vaccine technologies given the opportunity of being at the same table as all these other technologies?'' Bottazzi said.

The answer, Neuman says, is that while conventional technologies '-- or what he jokingly derided as ''the obvious answer'' '-- have a role in global vaccine development, the newer vaccines are stronger than the traditional types that Bottazzi, Hotez and other scientists around the world are developing.

Newer vaccines also have a quicker production process than the conventional vaccines, said Neuman, a member of the international committee that named SARS-CoV-2, the virus behind the COVID-19 pandemic.

But Neuman agrees that the newer vaccines have distribution challenges: the tangles of intellectual property patents, the availability of materials to produce billions of doses in a short period of time and the logistics of a more complicated transport and storage process.

Those challenges can be solved, Neuman said, but until then, the majority of the planet should be vaccinated ''by any means necessary,'' including with conventional vaccines like the one created by Bottazzi and Hotez, if it proves to be safe and effective.

''Whatever gets the job done the fastest as long as it's safe for everybody involved,'' he said.

Peter Hotez at the Tropical Medicine Lab at Texas Children's Hospital Center for Vaccine Development in Houston on Oct. 5, 2021. Credit: Justin Rex for The Texas Tribune 'One plane flight away'While the Houston team waits for a production and distribution partner, the team fields calls every week from other countries asking them for help getting access to the vaccine, Bottazzi said.

They ask if they can get the spare doses that Americans are declining or if they can get connected to BioE to export to them from their Indian-made stocks '-- or if the scientists will share the formula for the prototype.

The scientists share the formula with any country or lab who asks for it and help in other ways, however they can.

''We're kind of practicing our own version of Texas vaccine diplomacy,'' Hotez said.

Vaccination rates for developing countries are still in the single digits. About 38% of the world population is fully vaccinated against COVID-19. Many African countries, such as Sudan, Kenya and Ethiopia, have a rate below 2%.

In India, where nearly a billion doses of three different vaccines '-- Covishield, Covaxin and Sputnik V '-- have been distributed, more than 80% of the population remains unvaccinated. In Brazil, less than a third of the country is inoculated.

''We're one plane flight away from seeing a variant that developed in a country that has very little vaccine end up on our shores and set off a new wave of the pandemic,'' said Dr. James Cutrell, an infectious disease expert at UT Southwestern Medical Center.

Right now, the World Health Organization is already monitoring several variants that have been traced to developing countries including Indonesia (21% fully vaccinated), Peru (with one of the highest COVID-19 mortality rates in the world), Colombia, the Dominican Republic and South Africa.

''Much of sub-Saharan Africa, large swaths of Latin America and other places like that '-- they really don't have access to the [mRNA] vaccines,'' said Cutrell, an associate professor in the department of internal medicine. ''That makes it really important and attractive to have some of these cheaper, easier-to-distribute '-- but hopefully similarly effective '-- vaccines with more traditional technology, which I think this vaccine and other vaccines like it can contribute.''

American problem, international solutionAs the world scrambles for doses to meet the vaccination demand elsewhere, this nation's vaccination effort has flagged, hitting a wall of hesitation by a significant portion of the American public that is declining the new vaccines, although they have proven to be safe and effective.

Hotez and Bottazzi believe their vaccine would likely be more accepted by those who don't trust a vaccine that is unfamiliar to them, like those by Pfizer and Moderna.

But from the start, inoculating reticent Americans was never the Houston team's first priority.

Bottazzi and Hotez began their work developing coronavirus vaccines as part of their mission at the National School of Tropical Medicine, where Hotez is dean and Bottazzi is associate dean, to inoculate developing nations against tropical viruses.

Fast forward to January 2020, when SARS-CoV-2, the virus that causes COVID-19, was setting off alarms in the U.S. medical community. Bottazzi and Hotez began working to repurpose their coronavirus research program to develop a vaccine against the new virus and distribute it to the same countries they'd focused on throughout their careers.

The speed with which the Pfizer and Moderna vaccines were developed and the fact they used newer formulas seemed to spook some Americans and helped fuel politically motivated misinformation campaigns that chipped away at public acceptance. And as this nation's vaccination rate hovers around 57%, it's a matter of debate what is needed to achieve a higher level of immunity as a country.

Neuman said he isn't so sure that a more familiar vaccine formula would change a lot of minds in the United States, where the resistance appears to be more political than scientific.

''I think that comes from a lot of different places, and I think the main place is sort of, 'You're not the boss of me,''' he said. '''Who says you get to tell me what to do?' And I don't think it matters what it is.''

Even if it would make a difference, the path to emergency use authorization for a COVID-19 vaccine in this country starts with money '-- for research, for trials, for materials '-- and ends with firm commitments from the U.S. to support its mass production.

The Bottazzi-Hotez shot, at this point, has neither.

And so Hotez, who is an internationally known and outspoken warrior against the anti-vaccine movement, and Bottazzi redouble their attention abroad to protect Americans who can't or won't protect themselves. If they can get more of their vaccine overseas within a few months, they can keep the variants from percolating and landing on U.S. soil.

''It's a pretty ambitious, audacious goal,'' Hotez said. ''But I think we could get there.''

Disclosure: UT Southwestern Medical Center has been a financial supporter of The Texas Tribune, a nonprofit, nonpartisan news organization that is funded in part by donations from members, foundations and corporate sponsors. Financial supporters play no role in the Tribune's journalism. Find a complete list of them here.

Strange moments from closing arguments of Rittenhouse trial

Tue, 16 Nov 2021 13:26

Kyle Rittenhouse's dramatic murder trial wrapped up on Monday as the lengthy closing statements by attorneys featured some strange moments.

A verdict is expected tomorrow following jury deliberations.

Assistant District Attorney Thomas Binger led the prosecution, delivering closing arguments that lasted for over two hours. Rittenhouse is represented by defense attorney Mark Richards.

Rittenhouse, 18, is on trial for fatally shooting Joseph Rosenbaum, 36, and later Anthony Huber, 26, as well as wounding Gaige Grosskreutz, 27, in Kenosha, Wisconsin, on Aug. 25, 2020, during protests and civil unrest following the police shooting of Jacob Blake.

Kyle Rittenhouse looks back as attorneys argue about the charges that will be presented to the jury during proceedings at the Kenosha County Courthouse, November 12, 2021. Sean Krajacic/Pool via REUTERS/File PhotoHere are four of the most bizarre and dramatic moments from Monday's closing statements:

1. At one point in his closing, Binger alarmingly picked up the AR-15 rifle that Rittenhouse had used and pointed the rifle at people in the courtroom with his finger on the trigger, imitating how Rittenhouse instigated the fatal shooting.

Assistant District Attorney Thomas Binger holds Kyle Rittenhouse's gun as he gives the state's closing argument. Sean Krajacic/The Kenosha News via AP, Pool''That is what provokes this entire incident,'' he said.

2. In another strange moment, Binger argued that Rittenhouse ''brought a gun to a fistfight'' by bringing the firearm to the protest, using an image from Patrick Swayze's iconic 1989 film ''Road House.'' The unique legal move was quickly ridiculed online.

In a strange moment, Thomas Binger argued that Rittenhouse ''brought a gun to a fistfight'' by bringing the firearm to the protest, using an image from Patrick Swayze's iconic 1989 film ''Road House.'' Reuters Assistant District Attorney Thomas Binger used an image from the film ''Roadhouse'' in closing arguments. Sean Krajacic/The Kenosha News via AP, Pool''What you don't do is you don't bring a gun to a fistfight,'' Binger said to the jury. ''What the defendant wants you to believe is that because he's the one who brought the gun, he gets to kill.''

3. Binger harshly mocked Rittenhouse for his ''performance as a medic that night,'' responding to a video taken that night in which Rittenhouse claimed he was an EMT.

Assistant District Attorney Thomas Binger uses his water bottle to represent the fire extinguisher Kyle Rittenhouse held on the night of August 25, 2020. Sean Krajacic/Pool via REUTERS''On one hand, he wrapped up an ankle and I believe helped someone put a Band-Aid on a cut on their hand,'' he said. ''On the other hand, he killed two people, blew off Gaige Grosskreutz's arm, and put two more lives in jeopardy.

''So when we balance your role as a medic that night, I don't give you any credit.''

Mark Richards, Kyle Rittenhouse's lead attorney, gives his closing argument during Rittenhouse's trial. Sean Krajacic/The Kenosha News via AP, Pool4. Rittenhouse's defense attorney Mark Richards wrapped up the defense's closing arguments on Monday, boldly claiming that ''Every person who was shot was attacking Kyle.''

''There was no threatening behavior that started this. Mr. Rosenbaum was hell-bent on causing trouble that night. He did what he did and he started this. There are tragic parts of it, but Kyle Rittenhouse's behavior was protected under the law in the state of Wisconsin '-- the law of self-defense.''

''Hands and feet can cause great bodily harm,'' he said.

On Tuesday, names will be drawn to determine which 12 of the 18 jurors will deliberate and decide whether Rittenhouse is guilty.

The 1980 NEJM Letter That Fueled the Opioid Crisis - The Atlantic

Tue, 16 Nov 2021 05:28

Because it was published in the most prestigious U.S. medical journal, its influence snowballed in a dangerous way.

NEJM / Katie Martin / The AtlanticWhat do you do when a letter in a prestigious medical journal has been so routinely mis-cited it's taken on a life of its own? Like when pharmaceutical companies have used its data to spin their dangerous painkillers as safe, and the resulting overprescription fueled an opioid epidemic now consuming the country?

So this week, the New England Journal of Medicine, which published the original letter in 1980, is issuing a corrective. It's a new study, a bit meta, from a team led by David Juurlink at the University of Toronto that tracked how the five-sentence letter passed through the game of academic citation telephone to become evidence that opioids are safe for chronic pain. In fact, it said no such thing.

In the 1980s, Hershel Jick, a doctor at Boston University Medical Center, had a database of hospital records that he used to monitor side effects from drugs. Journalist Sam Quinones tells the story in his book, Dreamland: The True Tale of America's Opiate Epidemic. Something, perhaps a newspaper article, got Jick interested in looking at addiction. So he asked a graduate student, Jane Porter, to help calculate how many patients in the database got addicted after being treated with pain medicines, and dashed off a letter to the New England Journal of Medicine. Its brevity was commensurate with the effort involved. Here it is in full:

Recently, we examined our current files to determine the incidence of narcotic addiction in 39,946 hospitalized medical patients who were monitored consecutively. Although there were 11,882 patients who received at least one narcotic preparation, there were only four cases of reasonably well documented addiction in patients who had no history of addiction. The addiction was considered major in only one instance. The drugs implicated were meperidine in two patients, Percodan in one, and hydromorphone in one. We conclude that despite widespread use of narcotic drugs in hospitals, the development of addiction is rare in medical patients with no history of addiction.

He didn't think much of it. Years later, Jick would tell Quinones, ''That particular letter, for me, is very near the bottom of a long list of studies that I've done.'' And for most of the 1980s, the letter didn't attract much attention either.

But as it began to accrue citations, its findings also began to mutate. Porter and Jick had only looked at hospitalized patients in regimented settings, but that detail got lost in the push to prescribe opioids to patients at home'--an entirely different scenario.

Purdue Pharma, which makes OxyContin, starting using the letter's data to say that less than one percent of patients treated with opioids became addicted. Pain specialists routinely cited it in their lectures. Porter and Jick's letter is not the only study whose findings on opioid addiction became taken out of context, but it was one of the most prominent. Jick recently told the AP, ''I'm essentially mortified that that letter to the editor was used as an excuse to do what these drug companies did.''

''That particular letter, for me, is very near the bottom of a long list of studies that I've done.''If you don't track down the original letter, it's not obvious how brief and narrow its findings truly are. (Until NEJM put its full archives online in 2010, the only way to track it down was to find a physical copy in an academic library.) And it seems like many people didn't. As Quinones writes in his book, the brief letter became a lot grander in retellings:

One researcher, writing in 1990 in Scientific American, called Porter and Jick an ''extensive study.'' A paper for the Institute for Clinical Systems Improvement called Porter and Jick ''a landmark report.'' Then the final anointing: Time magazine in 2001 story titled ''Less Pain, More Gain,'' called Porter and Jick a ''landmark study'' showing that the ''exaggerated fear that patients would become addicted'' to opiates was ''basically unwarranted.''

There is a perhaps understandable source of confusion. Scientific journals pride themselves on peer review'--where outside experts evaluate research'--but the Correspondence section that published Porter and Jick's letter doesn't usually follow the same standard. It makes some sense. The Correspondence section usually consists of short letters to the editor or somewhat informal observations from doctors and scientists. Porter and Jick's letter appeared alongside others like, ''Bacteriuria in Schoolgirls'' and ''Problems with Peppermint-Flavored Lidocaine.'' (Another piece of old Correspondence in NEJM infamously launched an unfounded panic over MSG in Chinese restaurants.)

A spokesperson for the journal says that the Correspondence section today is subject to peer review on a case-by-case basis, but it is unlikely that the original Porter and Jick letter was peer reviewed. That's not to say that Porter and Jick's finding would not have passed muster, or that it is not useful in hospital settings. But the NEJM has built up considerable prestige by publishing truly landmark peer-reviewed studies, and that halo of prestige gave even this brief letter outsized importance. Published in NEJM? Sounds legitimate'--especially if you don't read the actual letter.

Citations of the letter have fallen in recent years, as doctors have seen firsthand just how addictive opioids can be. On NEJM's website, the Porter and Jick letter now has an editor's note that reads, ''For reasons of public health, readers should be aware that this letter has been 'heavily and uncritically' cited as evidence that addiction is rare with opioid therapy.'' The note then links to the new study published this week. It's the only time the current editor, Jeffrey Drazen, has appended such a note in his 17-year tenure.

The outsized influence of the Porter and Jick letter is no secret, but this study sets it in the formal scientific record'--in the same journal where it all started.

US Senators To Amend Bitcoin Reporting Changes In Infrastructure Bill - Bitcoin Magazine: Bitcoin News, Articles, Charts, and Guides

Mon, 15 Nov 2021 20:22

A bipartisan team of U.S. senators is introducing a bill to restrict tax reporting rules present in the infrastructure bill, which is set to become law today.The infrastructure bill's text extends cash-focused section 6050I to contemplate cryptocurrency transactions.''The new bill includes a provision that would make it retroactive to the infrastructure bill's signing,'' Bloomberg reported.U.S. senators Ron Wyden, chairman of the Senate Finance Committee, and Cynthia Lummis are introducing a bill to amend tax reporting requirements in the infrastructure legislation set to become law on November 15, Bloomberg reported.

''The new bill, the text of which was obtained by Bloomberg News, seeks to override a provision in the infrastructure legislation that cryptocurrency investors say is overly broad and would stifle growth of digital currencies,'' per the report.

In September, a tax change introduced in the infrastructure bill would require U.S. persons receiving over $10,000 in bitcoin and cryptocurrency to report the sender's personal information to the Internal Revenue Service (IRS), extending the provisions of section 6050I that currently only apply to cash transactions.

''Our bill makes clear that the new reporting requirements do not apply to individuals developing blockchain technology and wallets,'' Wyden said in a statement, per the report. ''This will protect American innovation while at the same time ensuring those who buy and sell cryptocurrency pay the taxes they already owe.''

The new bill seeks to restrict the interpretation of the entities these requirements would apply to and protect innovators such as miners and developers in the U.S.

''It's not yet clear when the crypto reporting bill could come up for a vote, or if it could be included in other year-end legislative packages in coming weeks. The bill includes a provision that would make it retroactive to the infrastructure bill's signing,'' per the report.

CDC shifts pandemic goals away from reaching herd immunity - Los Angeles Times

Mon, 15 Nov 2021 15:12

Since the earliest days of the pandemic, there has been one collective goal for bringing it to an end: achieving herd immunity. That's when so many people are immune to a virus that it runs out of potential hosts to infect, causing an outbreak to sputter out.

Many Americans embraced the novel farmyard phrase, and with it, the projection that once 70% to 80% or 85% of the population was vaccinated against COVID-19, the virus would go away and the pandemic would be over.

Now the herd is restless. And experts at the Centers for Disease Control and Prevention have set aside herd immunity as a national goal.

The prospects for meeting a clear herd-immunity target are ''very complicated,'' said Dr. Jefferson Jones, a medical officer on the CDC's COVID-19 Epidemiology Task Force.

Newsletter

Get our free Coronavirus Today newsletter

Sign up for the latest news, best stories and what they mean for you, plus answers to your questions.

You may occasionally receive promotional content from the Los Angeles Times.

''Thinking that we'll be able to achieve some kind of threshold where there'll be no more transmission of infections may not be possible,'' Jones acknowledged last week to members of a panel that advises the CDC on vaccines.

Vaccines have been quite effective at preventing cases of COVID-19 that lead to severe illness and death, but none has proved reliable at blocking transmission of the virus, Jones noted. Recent evidence has also made clear that the immunity provided by vaccines can wane in a matter of months.

The result is that even if vaccination were universal, the coronavirus would probably continue to spread.

''We would discourage'' thinking in terms of ''a strict goal,'' he said.

To Dr. Oliver Brooks, a member of the CDC's Advisory Committee on Immunization Practices, it was a sobering new message, with potentially worrisome effects.

With just 58.5% of all Americans fully vaccinated, ''we do need to increase'' the uptake of COVID-19 shots, said Brooks, chief medical officer of Watts Healthcare in Los Angeles. Unfortunately, he said, Jones' unexpected admission ''almost makes you less motivated to get more people vaccinated.''

Dr. Oliver Brooks, center, looks on as Lucy Arias checks a patient's temperature at a COVID-19 screening station outside the Watts Health Center in Los Angeles.

(Irfan Khan / Los Angeles Times)

Brooks said he worries that as the CDC backs off a specific target for herd immunity, it will take the air out of efforts to run up vaccination levels.

And if public health officials stop talking about the ''herd,'' people may lose sight of the fact that vaccination is not just an act of personal protection but a way to protect the community.

A public tack away from the promise of herd immunity may also further undermine the CDC's credibility when it comes to fighting the coronavirus.

On issues ranging from the use of masks to how the virus spreads, the agency has made some dramatic about-faces over the course of the pandemic. Those reversals were prompted by new scientific discoveries about how the novel virus behaves, but they've also provided ample fuel for COVID-19 skeptics, especially those in conservative media.

''It's a science-communications problem,'' said Dr. John Brooks, chief medical officer for the CDC's COVID-19 response.

''We said, based on our experience with other diseases, that when you get up to 70% to 80%, you often get herd immunity,'' he said.

Dr. John Brooks, chief medical officer for the CDC's COVID-19 response, working from his home office with his cat, Cosmo.

(Centers for Disease Control and Prevention)

But the SARS-CoV-2 virus didn't get the memo.

''It has a lot of tricks up its sleeve, and it's repeatedly challenged us,'' he said. ''It's impossible to predict what herd immunity will be in a new pathogen until you reach herd immunity.''

The CDC's new approach will reflect this uncertainty. Instead of specifying a vaccination target that promises an end to the pandemic, public health officials hope to redefine success in terms of new infections and deaths '-- and they'll surmise that herd immunity has been achieved when both remain low for a sustained period.

''We want clean, easy answers, and sometimes they exist,'' John Brooks said. ''But on this one, we're still learning.''

Herd immunity was never as simple as many Americans made it out to be, said Kathleen Hall Jamieson, director of the Annenberg Public Policy Center at the University of Pennsylvania and an expert on the challenges of communicating science to increasingly skeptical '-- and often conspiracy-minded '-- citizens.

It's an idea that emerged about a century ago from the field of livestock medicine. Epidemiologists now calculate it with a standard equation. But like many tools that model a complex process with math, it makes some simplifying assumptions.

For instance, it assumes an unrealistic uniformity in the behavior of individuals and groups, and in the virus' ability to spread from person to person.

So it doesn't reflect the diversity of population density, living arrangements, transportation patterns and social interactions that makes Los Angeles County, for instance, so different from Boise County, Idaho. Nor does it account for the fact that Boise County, where less than 35% of adults are fully vaccinated, gets no protection from L.A. County's 73% vaccination rate among adults.

''Humans are not a herd,'' Jamieson said.

Public health leaders would have been better served by framing their vaccination campaigns around the need for ''community immunity,'' she said. That would have gotten people to think in more local terms '-- the ones that really matter when it comes to a person's risk of infection, she added.

Changes in the coronavirus itself have also made herd immunity a moving target.

The calculation that produced a herd immunity estimate of 70% to 85% rests heavily on the innate transmissibility of SARS-CoV-2. But with the emergence of new viral strains like the Alpha and Delta variants, the virus' ability to jump from person to person has escalated dramatically in the last year.

In addition, herd-immunity calculations presume that when people gain immunity, they remain immune for a known period of time. But it's become clear that neither vaccination nor natural infection confers lasting protection. Booster shots or a ''breakthrough'' case might, but for how long is still unknown.

That's just the way science works, said Raj Bhopal, a retired public health professor at the University of Edinburgh who has written about the maddening complexity of herd immunity.

For any agency engaged in public messaging, ''it's very hard to convey uncertainty and remain authoritative,'' Bhopal said. ''It's a pity we can't take the public along with us on that road of uncertainty.''

ACLU Comment on FBI Raid of Project Veritas Founder | American Civil Liberties Union

Mon, 15 Nov 2021 13:47

NEW YORK '-- The following is a statement from Brian Hauss, senior staff attorney with the ACLU's Speech, Privacy, and Technology Project, in response to reports of an FBI raid on Project Veritas founder James O'Keefe:

''Project Veritas has engaged in disgraceful deceptions, and reasonable observers might not consider their activities to be journalism at all. Nevertheless, the precedent set in this case could have serious consequences for press freedom. Unless the government had good reason to believe that Project Veritas employees were directly involved in the criminal theft of the diary, it should not have subjected them to invasive searches and seizures. We urge the court to appoint a special master to ensure that law enforcement officers review only those materials that were lawfully seized and that are directly relevant to a legitimate criminal investigation.''

What Is Tromethamine, or Tris? It Helps Stabilize Covid Vaccines - The New York Times

Mon, 15 Nov 2021 13:46

Vials of the children's version of the Pfizer-BioNTech Covid-19 vaccine can be stored unopened in regular refrigerators for up to 10 weeks. Credit... LM Otero/Associated Press When the Food and Drug Administration authorized the emergency use of the Pfizer-BioNTech vaccine in children ages 5 to 11 last month, the agency noted that the pediatric version would be a bit different than the one for adults: a third the size, with a different buffer for added stability.

The news set off a wave of disinformation on social media about the new ingredient: Tris, or tromethamine.

The ingredient, however, has a time-tested track record of safety. It is ''a commonly used buffer in a variety of other F.D.A.-approved vaccines and other biologics, including products for use in children,'' the agency said in its statement announcing the authorization for Pfizer's pediatric doses.

Such buffers ''help maintain a vaccine's pH (a measure of how acidic or alkaline a solution is) and stability,'' according to the F.D.A., which says that the new formulation gives vaccine providers more flexibility in storage.

Pfizer's pediatric dose also removes extra salt '-- sodium chloride and potassium chloride '-- according to Dr. Sandra Fryhofer, the American Medical Association's liaison to a Centers for Disease Control and Prevention immunization committee. Taken together with the ''tris buffer,'' she said in an A.M.A. interview, the changes ''make the vaccine product more stable at regular refrigerator temperatures for longer periods of time. The kid version vials can be stored unopened in regular refrigerators for up to 10 weeks.''

The ingredient is not specific to Pfizer's pediatric Covid vaccine doses. Kit Longley, a Pfizer spokesman, said in an email on Saturday that the compound was being used in adult doses as of this month, and that the manufacturing and ingredient list were otherwise unchanged. Tromethamine is also used in Moderna's Covid vaccine.

ASML is the chips giant beloved by Silicon Valley and feared by Washington | Fortune

Mon, 15 Nov 2021 13:26

A vastly improved search engine helps you find the latest on companies, business leaders, and news more easily.
ALL CLIPS

VIDEO - 'Smallpox' Vials Found at Merck Lab in Suburban Philadelphia Facility '' NBC10 Philadelphia

Thu, 18 Nov 2021 14:41

Lee la historia en espa±ol aqu­.

Vials labeled with "smallpox" were found at a Merck facility in Montgomery County, Pennsylvania, where vaccine research is conducted, but it is unclear why the vials were there, according to the Centers for Disease Control.

Smallpox is caused by a virus that was eradicated from human transmission in the late 1970s after centuries of epidemics across the globe. It is so deadly that only two laboratories in the world are allowed to have doses of the virus: the CDC main lab in Atlanta and a facility in Russia.

The CDC said the frozen vials were "incidentally discovered" by a lab worker. The discovery occurred at the Merck Upper Gwenydd facility in North Wales, about 30 miles northwest of Philadelphia, according to a source with knowledge of the ongoing situation. It is not clear exactly when the vials were discovered.

''Merck is in the process of figuring out why it was there," the source told NBC10 on Wednesday.

The CDC said an investigation is underway. Yahoo! News first reported the discovery. Merck did not respond to requests for comment Wednesday morning.

"The frozen vials labeled ''Smallpox'' were incidentally discovered by a laboratory worker while cleaning out a freezer in a facility that conducts vaccine research in Pennsylvania. CDC, its Administration partners, and law enforcement are investigating the matter and the vials' contents appear intact," a CDC spokeswoman said in a statement to NBC10. "The laboratory worker who discovered the vials was wearing gloves and a face mask. There is no indication that anyone has been exposed to the small number of frozen vials. We will provide further details as they are available."

Smallpox dates back as early as the 6th century, and for centuries spread uncontrolled throughout the world. About 3 in 10 people who contracted the disease died, according to the CDC. It was spread as a virus called variola. A vaccine was invented in 1796, but it wasn't for nearly another 200 years before the last known cases in the late 1970s.

"Following the eradication of smallpox, scientists and public health officials determined there was still a need to perform research using the variola virus. They agreed to reduce the number of laboratories holding stocks of variola virus to only four locations," the CDC says on its website. "By 1984, England and South Africa had either destroyed their stocks or transferred them to other approved labs. There are now only two locations that officially store and handle variola virus under WHO supervision: the Centers for Disease Control and Prevention in Atlanta, Georgia, and the State Research Center of Virology and Biotechnology (VECTOR Institute) in Koltsovo, Russia."

VIDEO - UK could follow Germany and plunge unvaccinated Brits into lockdown, expert warns

Thu, 18 Nov 2021 14:07

THE UK could follow Germany and Austria by plunging unvaccinated Britons into lockdown-style measures, it's feared.

As governments in Europe scramble to respond to a dramatic rise in Covid infections, their focus has been on restricting the lives of those without jabs.

1

A police officer checks the vaccination status of a shopper at the entrance of a store in Austria Credit: ReutersIn Austria, the two million unvaccinated citizens are banned from leaving their homes unless for food or work.

Similar measures, as well as a ban for use of public transport or entering restaurants and cafes, are expected in Germany within days, with one state already denying entry into non-essential shops for the unjabbed.

Professor John Ashton, formerly regional director of public health for the North West of England, said it ''may come to that'' in the UK, too.

Asked what he thought of such measures on Good Morning Britain, the former president of the UK Faculty of Public Health said: ''I fear that it might come to that.

''We all need to be playing our part, and at the moment, it's as though the thing is over.

We really need to get back to wearing our masks, social distancing and yes, passports.

''This is not about civil rights, it's about winning the battle with this virus and not throwing in the towel, which is what seems to be being advocated by the business community.''

When asked what he thought of Germany using restrictions on the unvaccinated, Prof Ashton said: ''I think it may well come to that.

''But we really should be getting our secondary school kids with second vaccines before Christmas, we should be beginning to vaccinate primary school children.

''There are still millions of people who are not double vaccinated in the UK. And that's a problem because the virus is still circulating, and while the virus is circulating, there is the potential for more mutations.''

Germany's Covid case rate (639) - new daily infections per million - is not much higher than the UK's (544). Austria's is 1,145 per million.

But the nations' full vaccination rate is lower than the UK's. Germany has double jabbed around 67.5 per cent of its total population, and Austria only 65 per cent, compared to the UK's 80 per cent of over 12s.

Prime Minister Boris Johnson has said he currently sees nothing in the data that warrants even Plan B measures, let alone a lockdown.

But he has warned of the Covid ''storm clouds gathering'' over Europe which threaten to land in the UK.

Families have been told the only way to ensure a celebratory and safe Christmas, and avoid restrictions, is for those eligible to get their required vaccine doses.

Those who have had six months since their second vaccine dose are being told to come forward for their booster immediately, if over 40 years old, while 16 and 17 year olds are now getting their second doses.

Professor Neil Ferguson, who advises the government, believes the UK's vaccinations rates mean Covid restrictions will not be needed over the colder months

Prof Ferguson, who notoriously lobbied for the first lockdown last year, said: "We're in a very different situation from other European countries at the moment.

''It's unlikely we'll get anything close to last year's catastrophic winter wave at this point.

"We can't be complacent, but I don't think we'll be in the situation as the Netherlands."

STORM OVER EUROPEInfections are on the rise in a number of European countries including Austria, Germany and Slovakia.

Germany is preparing to tighten its restrictions on the unvaccinated after the seven-day incidence rate struk a new record high for the 10th day in a row on Wednesday.

There are plans for all residents requiring proof of vaccine, negative test or natural immunity when they use public transport - although it is not clear how this would be implemented.

It could be approved within days after the central government and leaders of Germany's 16 states meet this week.

Future measures may limit gatherings, alcohol sales and see bars, universities, hotels and even Christmas markets shut.

The state of Saxony is the latest to introduce "2G rules", meaning all non-essential shops only allow in those who can prove Covid-free certification.

The unvaccinated have been blamed for the winter surge, as their infection rates are between five and 20 times higher than those who are jabbed.

They make up about two thirds of the patients in intensive care, and there is concern that hospital capacity could be exhausted in weeks.

Markus S¶der, 54, the chief minister of Bavaria, one of the worst-affected states, said the health system would "collapse" without tougher national rules, The Times reported.

"With the laws that are planned, Germany is no way secure for the winter," he said.

Meanwhile, authorities in neighboring Austria have ramped up measures to the harshest level.

The Alpine nation on Monday implemented a nationwide lockdown for unvaccinated people who have not recently had Covid.

The Czech Republic reported 22,479 new coronavirus cases for Tuesday, the highest tally recorded since the pandemic started.

People have to show negative Covid tests or vaccination certificates to enter restaurants and bars and are required to wear masks inside.

The Czech Republic's vaccination rate has also lagged those of other countries, with 57.6 per cent of the population fully vaccinated.

This compares to the UK's 80 per cent and the EU average of 65.2 per cent, according to data from the European Centre for Disease Prevention and Control.

Austria puts 2 million unvaccinated people into lockdown as Covid cases spike by 45% in just one week amid Europe surge We pay for your stories!

Do you have a story for The Sun news desk?

VIDEO - Clinical operations

Thu, 18 Nov 2021 13:55

We're focussed purely on cell and gene therapies in the UK and Europe. With our blend of scientific experience in clinical trial delivery, we can offer you support when you need it.

Our team is your team

We can help you get the right data to demonstrate efficacy and safety to UK and European regulators and payers.

We work with our network in the UK to help you match your clinical design with clinical units that are the best possible fit for your therapy.

We'll help you find efficiencies in scale, cost and time by sharing our understanding of the challenges and requirements for cell and gene therapies to achieve market access.

We help you match your clinical design with clinical units that are the best possible fit.

In this video the Clinical Operations team at Cell and Gene Therapy Catapult and Anthony Ting, Vice President of Regenerative Medicine, Athersys inc. discuss the ongoing clinical study using Multistem to treat ARDS.

Our clinical team

AdviceBespoke data

You never know when your project might need a little extra help. If you hit a stumbling block, we can work through it with you, and help optimise your development path.

Our feasibility, site identification and operational delivery could be highly relevant to your therapy. We advise with data that helps demonstrate relevance and predictive power in a young and still emerging market.

PredictPartners

We make it our job to anticipate the challenges your therapies might come up against, and can work with you to solve your unique route to achieve market access.

We can help you to find the right partners: sites that we have a relationship with, collaborators to assist within a consortia and a network of specialist service providers.

Our flexible operating model:

Developing a close relationship

Our experience in clinical trials spans across the landscape of disease indications, with a range of clinical backgrounds.

This wide ranging experience means that we've been able to develop close relationships with key players in the UK clinical field.

We work with key partners from the Department of Health and NIHR to further optimise the set-up and conduct of regenerative medicine clinical development in the UK.

Case studies:

Oncology programmeARDS trialAimDevelopment and commercialisation of gene modified Tcells over expressing a specific antigen in haematological conditions, e.g. AML, MDS.

Support a Phase I/II clinical study evaluating the administration of an MAPC's therapy to Acute Respiratory Distress Syndrome patients.

InvolvementSet up to capture intellectual propertyand know-how from UCL Band Imperial Innovationsalong with core investmentfrom Cell and Gene Therapy Catapulttoprovide:

Phase I/IIa clinical trialsProcess development

Commercialisation strategy

Clinical site selectionTrial executionOutcomeAdvanced speed to the clinic, expanded the trial to Europe andcreated an investable proposition.

Full case study here.

Enables trial to be conducted in UK sites.Contact us to find out more about our clinical operations capabilities.

VIDEO - 'Distraction Dan': Victoria's restrictions 'just melt away' as pandemic bill stalls - YouTube

VIDEO - Your Driver's License Will Become a Vaccine Passport '' Truth. Based. Media.

Thu, 18 Nov 2021 13:50

STORY AT-A-GLANCE

U.S. states are increasingly rolling out digitized versions of driver's licenses that ''go way beyond what a driver's license is about''An international standard for mobile drivers' licenses and mobile IDs was approved for publication August 18, 2021, clearing the way for global useMobile IDs will act as a digital identity that will ultimately tie in to retail, health care, law enforcement and travel sectorsUltimately, the IDs will also act as vaccine passports, making it easy to display whether you've gotten a COVID-19 injection '-- and any other future injections that come about '-- in order to go about your daily lifeSome have speculated that the introduction of digital IDs and vaccine passports in the U.S. is laying the infrastructure for a social credit system like the one being used in China

Little by little, it's becoming easier and more convenient to ''present your papers'' upon request. You're accustomed to keeping your driver's license with you, but states are increasingly rolling out digitized versions that ''go way beyond what a driver's license is about.''1 Arizona, for instance, released a mobile driver's license (mDL) app in March 2021, and Eric Jorgensen, director of the motor vehicle division of Arizona's Department of Transportation, told Government Technology:2

''I actually hate the term 'mDL' because it doesn't recognize the power of what we're doing here '... The whole concept is that we're providing a way to remotely authenticate a person, to provide a trusted digital identity that doesn't exist today.

Once we provide that, we're opening doors to enhanced government services. Also, the government can play a key role in facilitating commerce, providing a better citizen experience and providing for the security of that citizen '...''

Mobile IDs Tied to Health Care, Law EnforcementGET Group North America is working fervently to create ''secure ID credentials,''3 which includes the release of an international standard for mobile driver's licenses and mobile IDs (mID). The standards were approved for publication August 18, 2021, clearing the way for ''global ID and driver's license issuers to confidently deploy mDL solutions, and for verifiers around the world to implement or adopt mDL readers.''4

GET's Mobile ID also intends to go far beyond a typical driver's license to act as a digital identity that will tie in to retail, health care, law enforcement and travel sectors. The pandemic accelerated what was previously a gradual transition to digital, using the public health dogma that it would be better to not pass physical documents and IDs back and forth.

''Being able to empower customers to have a credential that they can use in a transaction where they're not passing back and forth a physical document has been further accelerated by the pandemic,'' Ian Grossman, vice president of member services and public affairs for the American Association of Motor Vehicle Administrators (AAMVA), told Government Technology.5

mDLs and mIDs are also intended to provide a streamlined identification verification system that can be used globally, doing away with different IDs for individual states.

''[El]lectronic authentication can give the mDL verifier confidence in the presented ID without requiring specialized knowledge of the hundreds of card design and security features applicable to the driver's licenses (and their variants) that are issued by 56 states and territories,'' the Secure Technology Alliance wrote.6

Ultimately, the IDs will also act as vaccine passports, making it easy to display whether you've gotten a COVID-19 injection '-- and any other future injections that come about '-- in order to go about your daily life.

DMVs Turned Into Identity Management BureausOnly a handful of states currently offer mDLs and uptake is facing hurdles because, while the mobile driver's licenses are available, the technology to read them isn't being widely used '-- yet. The plan is that police departments, businesses, state agencies and more will accept, or require, mDLs in order to verify identity. In Colorado, at least 100,000 residents have downloaded the state's myColorado app,7 which offers a digital ID and vaccine record.8

In Delaware, more than 10,000 people downloaded the state's digital ID app in a six-week period.9 The initiatives are being headed up by different departments, including technology, transportation and motor vehicle, depending on the state, but some believe DMVs could be easily transitioned into the role across the U.S. Government Technology explained:10

''One person working at the center of the mobile ID movement believes state CIOs should form closer partnerships with DMVs. Matthew Thompson is senior vice president for civil identity, North America, at'¯IDEMIA, a company that partners with 34 state DMVs on physical driver's license solutions.

The company has partnered with three states on mDLs so far. He says that governors and state CIOs should look at their DMV not just as an agency that provides driver and vehicle services, but as one that can operate as an identity management bureau for the entire state and provide verification services to enable e-government.

'State CIOs need to better understand the [role] that trusted identity plays in driving their entire digital transformation,' Thompson said. 'They have a built-in identity bureau in their state that has a system of record that provides a route of trust that other agencies can benefit from immediately.'''

Apple Teams Up With Government to ID YouIn certain states, including Arizona and Georgia '-- and soon Kentucky, Maryland, Oklahoma, Iowa, Utah and Connecticut '-- residents can use their iPhone and Apple Watches as a form of digital ID. Once your state ID is added to your device's wallet, along with a photo of the card and your face, it will ask you to complete facial and head movements to set up your digital ID.

''In effect,'' Vox reported, ''this system appears to be a new form of government-supported biometric ID verification that goes beyond a regular photo in a process that potentially provides new data to state governments as well as to Apple.''11 Already, the Transportation Security Administration (TSA) is planning to add lanes that accept digital IDs for travelers, where you'll be able to tap your iPhone or Apple Watch to verify your identity.12

In the state of New York, where those aged 12 and older are required to show proof of a COVID-19 shot to visit restaurants, gyms, meeting spaces and entertainment venues like aquariums, movie theaters and professional sports arenas, may use New York State's Excelsior Pass to prove they've been injected. Now, New York is also working with IBM to possibly expand the Excelsior Pass to include driver's licenses.13

There are also a number of other vaccine passport apps that can be added to digital wallets, including VaxYes from GoGetVax, which works with Apple Wallet and Google Pay.14 This raises red flags that digital ID verification is only the beginning of the surveillance that's planned. Vox reported:15

''The Surveillance Technology Oversight Project also obtained a contract revealing that the state of New York has bigger plans for its Excelsior Pass than it initially disclosed, which could reveal the risks of similar digital ID programs.

'It's hard to trust the claim from officials that these apps are only going to do X or Y,' Albert Fox Cahn, an attorney at the Surveillance Technology Oversight Project, warned in June, pointing to the potential expansion of the Excelsior Pass. 'We see this clear pattern of them being installed for one purpose and then expanded for another.'''

Fox also raised concerns over New York's Covid Safe app, which allows users to add a photo ID, vaccination card and COVID-19 tests results.16 But as for security, Fox tweeted, in August 2021, ''New York City's new #NYCCovidSafe app isn't exactly cutting edge technology. It accepted this portrait of Mickey as proof of vaccination.''17

Laying the Infrastructure for a Social Credit SystemSome have speculated that the introduction of digital IDs and vaccine passports in the U.S. is laying the infrastructure for a social credit system. China's social credit system, a massive undertaking of government surveillance that aims to combine 600 million surveillance cameras '-- about one for every two citizens '-- with facial recognition technology, has an end-goal of being able to identify anyone, anywhere, within three seconds.18

At present, the system is still disjointed and focused on corporate social credit more so than individual social credit, but it's ''evolving rapidly.''19 Here's an example of how social credit can work, from 2019 '-- before the pandemic, which has only accelerated data collection and surveillance measures '-- from Wired:20

''The criteria that go into a social credit ranking depends on where you are, notes [Mareike] Ohlberg, [research associate at the Mercator Institute for China Studies]. 'It's according to which place you're in, because they have their own catalogs,' she says. It can range from not paying fines when you're deemed fully able to, misbehaving on a train, standing up a taxi, or driving through a red light.

One city, Rongcheng, gives all residents 1,000 points to start. Authorities make deductions for bad behavior like traffic violations, and add points for good behavior such as donating to charity.

One regulation Ohlberg recently read specifically addresses stealing electricity. Of course, you'll have to get caught first or be reported by someone else. While facial recognition is infamously used to spot jaywalkers, in some cities it's not so automated, Ohlberg notes.

Private projects, such as Sesame Credit, hoover up all sorts of data on its 400 million customers, from how much time they spend playing video games (that's bad) to whether they're a parent (that's good). That can be shared with other companies. One infamous example is Sesame Credit linking up with the Baihe dating site, so would be partners can judge each other on their looks as well as their social credit score; that system is opt-in.''

Majority in Favor of Privacy-Encroaching TechnologyDriven by fear, acceptance of ''privacy-encroaching technology'' that promises an illusion of safety is high. In the U.K., researchers from the University of Bristol conducted two large surveys about such technologies, with overwhelming positivity reported.21 This is the first measured public acceptance of location tracking through your cellphone that would allow health agencies to monitor your contact with others to target social distancing and quarantine measures.

About 70% of the respondents said they would accept such an app that they could choose to download and, surprisingly, 65% also said they would accept such an app even if it was mandated by the government and used to locate those violating lockdown orders and issue fines and arrests.22

A second survey evaluated acceptance of vaccine passports, with 60% stating they were in favor and only 20% stating they were strongly opposed. The study's lead author, professor Stephan Lewandowsky, described those opposed as ''surprisingly low,'' adding, ''It's fascinating how people seem increasingly receptive to their personal data being used to inform themselves and others about what they can and can't do.''23

The technology being used to roll out digital IDs is very similar to that being used to create vaccine passports. It's only a matter of time before the two are merged, and your entire identity, including your medical history, finances and more, could be stored in a mobile app that's increasingly required to partake in society. While some might call this convenience, others would call it oppression.

''The Truth About COVID-19'' exposes the hidden agenda behind the pandemic, showing the countermeasures have nothing to do with public health and everything to do with ushering in a new social and economic system based on totalitarian, technocracy-led control. So, it's not misinformation they fear. It's the truth they want to prevent from spreading. Pick up a copy of this best-selling book today before it's too late.

Too Few Are Telling the TruthNot long ago, conservative media was not beholden to anyone. Today, most sites are stuck on the Big Tech gravy train.I'll keep this short. The rise of Pandemic Panic Theater, massive voter fraud, and other ''taboo'' topics have neutered a majority of conservative news sites. You'll notice they are very careful about what topics they tackle. Sure, they'll attack Critical Race Theory, Antifa, and the Biden-Harris regime, but you won't see them going after George Soros, Bill Gates, the World Economic Forum, or the Deep State, among others.

The reason is simple. They are beholden to Big Tech, and Big Tech doesn't allow certain topics to be discussed or they'll cut you off. Far too many conservative news outlets rely on Google, Facebook, and Twitter for the bulk of their traffic. They depend on big checks from Google ads to keep the sites running. I don't necessarily hold it against them. We all do what we need to do to survive. I just wish more would do like we have, which is to cut out Big Tech altogether.

We don't get Google checks. We don't have Facebook or Twitter buttons on our stories. We don't have a YouTube Channel (banned), and Instagram profile (never made one), or a TikTok (no thanks, CCO). We're not perfect, but we're doing everything we can to not owe anything to anyone'... other than our readers. We owe YOU the truth. We owe YOU the facts that others won't reveal about topics that others won't tackle. And we owe America, this great land that allows us to take hold of these opportunities.

Like I said, I don't hold other conservative sites under too much scrutiny over their choices. It's easy for people to point fingers when we're not the ones paying their bills or supporting their families. I just wish there were more who would break away. Today, only a handful of other major conservative news outlets have broken away from the Big Tech teat. Of course, we need help.

The best way you can help us grow and continue to bring proper news and opinions to the people is by donating. We appreciate everything, whether a dollar or $10,000. Anything brings us closer to a point of stability when we can hire writers, editors, and support staff to make the America First message louder. Our Giving Fuel page makes it easy to donate one-time or monthly. Alternatively, you can donate through PayPal or Bitcoin as well. Bitcoin: 3A1ELVhGgrwrypwTJhPwnaTVGmuqyQrMB8

Our network is currently comprised of nine sites:

NOQ ReportConservative PlaylistTruth. Based. Media.Freedom First NetworkBased UndergroundUncanceled NewsAmerican Conservative MovementConservative PlaybookOur Gold GuyWe are also building partnerships with great conservative sites like The Liberty Daily and The Epoch Times to advance the message as loudly as possible, and we're always looking for others with which to partner.

Also, we could use contributions of content. If you write or want to start writing and you share our patriotic, conservative, America First ideology, contact us. The contact form on this and all pages on the site goes directly to me.

Some of our content is spread across multiple sites. Other pieces of content are unique. We write most of what we post but we also draw from those willing to allow us to share their quality articles, videos, and podcasts. We collect the best content from fellow conservative sites that give us permission to republish them. We're not ego-driven; I'd much rather post a properly attributed story written by experts like Dr. Joseph Mercola or Natural News than rewrite it like so many outlets like to do. We're not here to take credit. We're here to spread the truth.

While donations are the best way to help, you can also support us by buying through our sponsors:

MyPillow: Use promo code ''NOQ'' to get up to 66% off AND you'll be helping a patriotic, America First company.Freedom Phone: Use promo code ''MAGA'' and get $50 off AND you'll be helping a patriotic, America First company.OurGoldGuy: Tell them we sent you in your request to buy gold and it will help us'... AND (wait for it) you'll be helping a patriotic, America First company.We know we could make a lot more money if we sold out like so many ''conservative'' publications out there. You won't find Google ads on our site for a reason. Yes, they're lucrative, but I don't like getting paid by minions of Satan (I don't like Google very much if you couldn't tell).

Time is short. As the world spirals towards The Great Reset, the need for truthful journalism has never been greater. But in these times, we need as many conservative media voices as possible. Please help keep NOQ Report and the other sites in the network going. Our promise is this: We will never sell out America. If that means we're going to struggle for a while or even indefinitely, so be it. Integrity first. Truth first. America first.

Thank you and God Bless,JD Rucker

Bitcoin: 32SeW2Ajn86g4dATWtWreABhEkiqxsKUGn

All ORIGINAL content on this site is (C) 2021 NOQ Report. All REPUBLISHED content has received direct or implied permission for reproduction.

With that said, our content may be reproduced and distributed as long as it has a link to the original source and the author is credited prominently. We don't mind you using our content as long as you help out by giving us credit with a prominent link. If you feel like giving us a tip for the content, we will not object!

JD Rucker '' EIC@jdrucker

VIDEO - There's a 'Build Back Better' Song, and It's as Bad as You Can Imagine '' PJ Media

Thu, 18 Nov 2021 13:48

Remember Schoolhouse Rock? Back in the '70s and '80s, when Saturday morning TV was worth watching, Gen X kids like me along with some late Baby Boomers learned their math, science, grammar, and history by watching cartoons.

One of the most memorable Schoolhouse Rock cartoons was the one that explained how a bill becomes a law:

Schoolhouse Rock was so effective that you'll see it invoked in so many places. Back in 2014, Saturday Night Live even parodied ''I'm Just a Bill'' to make fun of Barack Obama's propensity to govern via executive order.

Well, now there's an organization called Care in Action that has released its own Schoolhouse Rock takeoff, this one hawking Build Back Better. And it's awful.

There is no time to waste. We need to pass the #BuildBackBetter Act to get working families the support they need. pic.twitter.com/8tFyUhGAy9

'-- Care In Action (@CareInActionUS) November 17, 2021

Thank God the song is only 30 seconds long. With lyrics like ''I'm a bill with critical and historical investments in child care, health care, climate care, immigration, and more,'' it's not exactly a barn burner. I don't think kids will remember this one fondly when they grow up. And let's not mention how horrible the animation is.

Yes somehow, somebody thought this song was a good idea.

Who does Care in Action think will watch this video and change their minds on Build Back Better? That part's unclear, but at least the left is giving us something to laugh about with this lame song and its accompanying video. Especially when Build Back Better itself is no laughing matter.

VIDEO - NSW Premier Dominic Perrottet says only 'absolutely necessary' health provisions will be extended to keeps residents 'safe' | Sky News Australia

Thu, 18 Nov 2021 13:33

New South Wales Premier Dominic Perrottet said he does not want a "heavy-handed government" or to live in a police state as he claimed only "absolutely necessary" health provisions would be extended.

New South Wales Premier Dominic Perrottet has remained tight-lipped on which health provisions will be extended after he dumped Health Minister Brad Hazzard's appeal to expand the COVID-19 emergency powers until 2023.

Mr Hazzard's proposal to keep the powers in place through to March 2023, which came off the back of a recommendation from Chief Health Officer Dr Kerry Chant, was approved by Cabinet but received backlash from the Coalition during a party room meeting on Tuesday.

Following the fallout, the Premier revealed he would work through the proposed legislation over the summer, declaring that ''only the health provisions that need to be extended will be extended''.

Mr Perrottet was then pressed further on what changes NSW residents could expect during a press conference on Wednesday morning, where he declared he does not want a "heavy-handed government".

''As much as you'd love me to make public policy decisions at a press conference, they're better done at other forums,'' he told reporters.

''What I have committed to is firstly, the only health provisions that will be extended will be those that I deem as absolutely necessary.

''Secondly, I will work through each of those provisions that are within that health order and make a decision in consultation with the Health Minister over the course of the summer break.''

Mr Perrottet said confusion around evolving legislation during the coronavirus pandemic was not just a NSW issue but a global one too.

''We don't want to live in a police state, the police don't want to live in a police state,'' he said.

''The provisions that are in place are to keep people safe and are necessary.''

The Premier told the press conference he would not speak about discussions held in Cabinet or in the party room but there are ''a range of issues'' he would go through over the break.

The current provisions are enforced until early 2022 with Parliament resuming in February.

''It's obviously an evolving situation with the pandemic, we need to make sure that we don't have heavy-handed government,'' he said.

''There will no doubt be provisions that need to be extended but it's working through what's necessary, what's not.

''I, like anyone, wants to make sure we have government out of the way but at the same time we've got to keep the protection, the healthcare of people right across our state.''

Under the state of emergency powers, the Health Minister has jurisdiction to declare Public Health Orders including restriction of movement, mask mandates, curfews and lockdowns.

The Australian reported Mr Hazzard took the proposal to a party room meeting on Tuesday where multiple MPs challenged the necessity for the powers to be extended until March 2023.

It comes after NSW surpassed the 90 per cent double-dose vaccination rate, with greater freedoms being returned to fully jabbed citizens at both the 70 per cent and 80 per cent milestones.

VIDEO - How to deal with unvaccinated family members this Christmas | 7NEWS - YouTube

VIDEO - YOU K!LL£D MILLIONS OF PEOPLE'' - Angry Sen. Rand Paul GOES OFF on Dr. Fauci in Epic Rant - YouTube

VIDEO - News with Booze: Alison Morrow & Eric Hunley 11-17-2021 - YouTube

VIDEO - Anonymous UK Citizen on Twitter: "ðŸ‡...🇺 Channel 7 Melbourne Reporter Nick McCallum getting run off the steps of the Victorian Parliament by those who are awake to the lies and Manipulation of the Main Stream Media. Pay very close attention UK M

Thu, 18 Nov 2021 11:57

Anonymous UK Citizen : ðŸ‡...🇺 Channel 7 Melbourne Reporter Nick McCallum getting run off the steps of the Victorian Parliament by those who ar'... https://t.co/SxsHGfZxFo

Wed Nov 17 12:35:49 +0000 2021

VIDEO - Bret Baier's All-Star Panel - Reading The Tea Leaves For 2024

Wed, 17 Nov 2021 19:31

Reading The Tea Leaves For 2024

This week, Bret sits down with Former State Department Spokesperson and Senior Advisor to the Scowcroft Center at the Atlantic Council Morgan Ortagus, Editor for The Washington Post Chuck Lane, and FOX News Congressional Correspondent Chad Pergram, to discuss where they think Congress is in making a decision on President Biden's 1.7 trillion dollar spending bill.

Later, the panel discusses possible reasons as to why Vice President Kamala Harris has a declining approval rating.

Follow Bret on Twitter: @BretBaier

More episodes from Bret Baier's All-Star Panel

Nov 8, 2021

This Bill Isn't Enough To Raise President Biden's Approval Rating

This week, Bret sits down with Washington Post Columnist and AEI Resident Fellow Marc Thiessen, National Political Correspondent for NPR Mara Liasson, and White House Correspondent Jacqui Heinrich to discuss the passing of the $1.2 trillion bipartisan infrastructure bill.Later, the panel shares what they think the future holds for President Biden's Build-Back Better agenda.Follow Bret on Twitter: @BretBaier

Nov 2, 2021

The Virginia Governor's Race: A Lesson For Both Parties

This week, Bret sits down with former South Carolina Congressman & Host of The Trey Gowdy Podcast, Trey Gowdy, former Democratic Tennessee Congressman Harold Ford Jr., and Political Editor at the National Journal Josh Kraushaar to discuss the 2021 Virginia Gubernatorial Race on Election Day.Later, the panel shares what lessons each political party will learn from this race looking ahead to the 2022 Midterm Elections, regardless of the outcome.Follow Bret on Twitter: @BretBaier

Oct 25, 2021

A Legislative Game Of Jenga

The week, Bret sits down with Republican Strategist and former Campaign Manager for Senator Scott Brown Colin Reed, Democratic Strategist and Syndicated Talk Radio Host Leslie Marshall, and FOX News White House Correspondent Jacqui Heinrich, to discuss the Democrats potentially coming to an agreement on the infrastructure and spending bills.Later, the panel discusses how the Biden Administration needs a legislative win, and debates whether these bills will seal the deal.Follow Bret on Twitter: @BretBaier

î— More episodes

VIDEO - ICD 10 CODE Z28.20 FLAGS YOU FOR INSURANCE / IMMUNIZATION NOT GIVEN

Wed, 17 Nov 2021 19:16

You are about to :

Object being modified by the action

Do you want to proceed?

Request ModerationRegistered user account requiredPlease Login or Register to submit a moderation request.

Email SubmissionsWe also accept moderation reports via email. Please see the Content Moderation Policy for instructions on how to make a moderation request via email.

First published at 22:02 UTC on November 16th, 2021.

Your Doctor Will Be Turning You In / Brown Shirts

MORE

Your Doctor Will Be Turning You In / Brown Shirts

LESS

This advertisement has been selected by the BitChute platform.

By purchasing and/or using the linked product you are helping to cover the costs of running BitChute. Without the support of the community this platform will cease to exist.

Registered users can opt-out of receiving advertising via the Interface tab on their Settings page.

To help support BitChute or find out more about our creator monetization policy:

VIDEO - Clay Travis on Twitter: "So @JedediahBila went on The View shared 100% factual covid data and they cut her off. Watch this: https://t.co/aUVyhLPci6" / Twitter

Wed, 17 Nov 2021 17:13

Clay Travis : So @JedediahBila went on The View shared 100% factual covid data and they cut her off. Watch this: https://t.co/aUVyhLPci6

Tue Nov 16 19:26:07 +0000 2021

I Hate All of You : @ClayTravis @JedediahBila They realized they didn't want the facts out on their liberal show so they cut her ''we ha'... https://t.co/SBnZ0OTVHU

Wed Nov 17 17:08:30 +0000 2021

Blessed : @ClayTravis @JedediahBila Did anyone else notice Joy Behar rip one at 1:28?

Wed Nov 17 17:08:23 +0000 2021

Francesca Fradella : @ClayTravis @JedediahBila Everyone knows vaxxed ppl can still contract and transmit the virus, where was the lie? T'... https://t.co/8LsNCRrysq

Wed Nov 17 17:08:07 +0000 2021

StatusNowNYC : @ClayTravis @JedediahBila Mob mentality at @TheView Ignorance in numbers. You are 100% correct Jedediah!

Wed Nov 17 17:05:16 +0000 2021

Chris Toole : @ClayTravis @JedediahBila The view brought to you by @Disney ðŸ

Wed Nov 17 17:04:48 +0000 2021

Debbie Overman : @ClayTravis @JedediahBila The View is owned by the media companies, which are owned by the Illuminati, so of course'... https://t.co/tGbV7ZlAOo

Wed Nov 17 17:01:58 +0000 2021

Kelly a.k.a Dillon's Mom : @ClayTravis @JedediahBila Such BS! This show should only have on those they agree with then! They don't deserve to'... https://t.co/61ix1CfrLk

Wed Nov 17 17:00:09 +0000 2021

VIDEO - Libs of Tik Tok on Twitter: "Joy Reid compares #KyleRittennhouse to Brett Kavanaugh. ''In America... there's a thing for white male tears... as soon as they get caught... they bring waterworks'' https://t.co/NnkJvHfl4c" / Twitter

Wed, 17 Nov 2021 17:13

Libs of Tik Tok : Joy Reid compares #KyleRittennhouse to Brett Kavanaugh.''In America... there's a thing for white male tears... as s'... https://t.co/PRbsGYXg7l

Wed Nov 17 00:07:38 +0000 2021

$BullMarketBully$ : @libsoftiktok Shit has nothing to do with being white. The kid is 18 years old facing life in prison.

Wed Nov 17 17:12:41 +0000 2021

DrSook : @libsoftiktok Kyle & Brett cried for themselves,self pity. They're real tears of fright, victimhood & vulnerability'... https://t.co/2RSF19lqNX

Wed Nov 17 17:12:32 +0000 2021

Jesse V : @libsoftiktok Every time @JoyAnnReid speaks, just replace the word "white" with black, or African American, or Musl'... https://t.co/phjptj9GBC

Wed Nov 17 17:12:06 +0000 2021

Kamui ðŸ... : @libsoftiktok "America has a thing for white tears"Yeah, that seems to be the case"In particular, male white tear'... https://t.co/lnHikncEkV

Wed Nov 17 17:11:23 +0000 2021

Paul B : @libsoftiktok Race hustler

Wed Nov 17 17:10:33 +0000 2021

VIDEO - Austria orders lockdown for residents who have not received COVID-19 vaccine - CBS News

Wed, 17 Nov 2021 16:59

Austria imposes lockdown on the unvaccinated

Austria imposes lockdown on the unvaccinated 00:20 The Austrian government has ordered a nationwide lockdown for unvaccinated people starting at midnight Monday to combat rising coronavirus infections and deaths.

The move prohibits unvaccinated people 12 and older from leaving their homes except for basic activities such as working, grocery shopping, going for a walk '-- or getting vaccinated.

Authorities are concerned about rising infections and deaths and that soon hospital staff will no longer be able to handle the growing influx of COVID-19 patients.

"It's our job as the government of Austria to protect the people," Chancellor Alexander Schallenberg told reporters in Vienna on Sunday. "Therefore we decided that starting Monday ... there will be a lockdown for the unvaccinated."

A demonstrator holds a placard reading 'No to compulsory vaccination' during an anti-vaccination protest at the Ballhausplatz in Vienna, Austria, on November 14, 2021, after a Corona crisis' summit of the Austrian government. GEORG HOCHMUTH/APA/AFP via Getty Images The lockdown affects about 2 million people in the Alpine country of 8.9 million, the APA news agency reported. It doesn't apply to children under 12 because they cannot yet officially get vaccinated.

The lockdown will initially last for 10 days and police will go on patrol to check people outside to make sure they are vaccinated, Schallenberg said, adding that additional forces will be assigned to the patrols.

Unvaccinated people can be fined up to 1,450 euros ($1,660) if they violate the lockdown.

Austria has one of the lowest vaccination rates in Western Europe: only around 65% of the total population is fully vaccinated. In recent weeks, Austria has faced a worrying rise in infections. Authorities reported 11,552 new cases on Sunday; a week ago there were 8,554 new daily infections.

Deaths have also been increasing in recent weeks. On Sunday, 17 new deaths were reported. Overall, Austria's pandemic death toll stands at 11,706, APA reported.

The seven-day infection rate stands at 775.5 new cases per 100,000 inhabitants. In comparison, the rate is at 289 in neighboring Germany, which has already also sounded the alarm over the rising numbers.

Schallenberg pointed out that while the seven-day infection rate for vaccinated people has been falling in recent days, the rate is rising quickly for the unvaccinated.

"The rate for the unvaccinated is at over 1,700, while for the vaccinated it is at 383," the chancellor said.

Schallenberg also called on people who have been vaccinated to get their booster shot, saying that otherwise "we will never get out of this vicious circle."

More Download our Free AppFor Breaking News & Analysis Download the Free CBS News app

Thanks for reading CBS NEWS.

Create your free account or log in for more features.

VIDEO - Crypto.com buys naming rights to L.A.'s Staples Center

Wed, 17 Nov 2021 16:18

Downtown Los Angeles' Staples Center, one of the more iconic sports and music venues built in the last 25 years, is getting a new name, stakeholders announced late Tuesday.

It will be called Crypto.com Arena following a deal with Staples Center owner AEG, the entertainment conglomerate associated with Denver billionaire Phil Anschutz, the cybercurrency platform said in a statement.

The broader naming deal also includes making Crypto.com an "official cryptocurrency platform partner" for the Los Angeles Lakers and Los Angeles Kings, which play home games at the venue, the company said.

The name takes effect Dec. 25 as part of a 20-year agreement, and a new logo will be unveiled that day, but it will take until roughly June for all external signage to reflect the new name, Crypto.com said.

"We're very excited about partnering with AEG and investing long term in this city, starting with Crypto.com Arena in the heart of downtown, and using our platform in new and creative ways," Crypto.com CEO Kris Marszalek said in the company's statement.

The Singapore-based platform, where people can buy and sell cryptocurrency, recently ran commercials featuring actor Matt Damon.

The arena, which has a capacity of 20,000, opened in 1999 under the Staples name and has hosted Lakers championships, the Grammy Awards, and memorial services for Kobe Bryant for Michael Jackson.

It was developed, alongside sister AEG properties that are part of the L.A. Live complex, with the help of a now-defunct city community redevelopment agency. Tax breaks were used to lure adjacent hotels, and day-to-day operation of the city's nearby convention center was eventually handed to an AEG partner to manage.

Dennis Romero writes for NBC News and is based in Los Angeles.

Kurt Chirbas contributed.

VIDEO - Vials labeled 'smallpox' found at vaccine research facility outside Philadelphia, feds say - 6abc Philadelphia

Wed, 17 Nov 2021 16:09

PHILADELPHIA (WPVI) -- Several vials labeled "smallpox" have been found at a vaccine research facility in Pennsylvania, the US Centers for Disease Control and Prevention said Tuesday.

"There is no indication that anyone has been exposed to the small number of frozen vials," the CDC said in a statement emailed to CNN.

"The frozen vials labeled 'Smallpox' were incidentally discovered by a laboratory worker while cleaning out a freezer in a facility that conducts vaccine research in Pennsylvania. CDC, its Administration partners, and law enforcement are investigating the matter and the vials' contents appear intact," the CDC added.

"The laboratory worker who discovered the vials was wearing gloves and a face mask. We will provide further details as they are available."

According to Yahoo News, which cited an alert sent to Department of Homeland Security leadership, the vials were reportedly found in a freezer Monday night at a Merck facility outside Philadelphia.

The closest Merck sites to Philadelphia are the sprawling campuses in West Point and North Wales, Montgomery County, although Action News cannot confirm there are questionable vials inside the building.

Smallpox, also known as variola, was declared eradicated in 1980 by the World Health Organization after a concerted global vaccination effort. Before that, the virus, which passes easily from person to person, infected 15 million people a year and killed about 30% of them. The last known outbreak in the US was in 1947.

In 2014, employees of the National Institutes of Health found six vials of smallpox in an unused storage room as they packed up a lab at the NIH's Bethesda, Maryland, campus to move it. Two of the vials contained viable virus. The CDC said at the time there was no evidence anyone had been exposed to the contents of any of the vials.

Governments have argued about whether to keep samples of the virus or to destroy all known copies. Most routine vaccination stopped in 1972 but military personnel and some researchers are still vaccinated.

The CDC recommends that people get smallpox boosters every 3-5 years to stay protected although at least one study indicated vaccinated people may have at least some immunity for life.

----

The-CNN-Wire & 2021 Cable News Network, Inc., a WarnerMedia Company contributed to this report.

Copyright (C) 2021 WPVI-TV. All Rights Reserved.

VIDEO - "Sad Little Man" by Five Times August (Official Music Video) 2021 - YouTube

VIDEO - Tony Buzbee filed $750 million lawsuit in wake of Astroworld Fest | khou.com

Wed, 17 Nov 2021 15:56

"Seeing so many young people getting CPR at one time, it's just something no one should have to go to through," Alex Pollak, CEO of ParaDocs, said.

HOUSTON '-- For the first time, the head of the private medical company hired by the Astroworld organizers is speaking about what happened during the deadly music festival that left 10 dead and hundreds more injured.

The CEO of ParaDocs is defending more than 70 staff members who were at Astroworld trying to save lives.

Alex Pollak said at one point, medical staff had the impossible feat of treating 11 people going into cardiac arrest at the same time; all of these as a crowd surge was taking place.

Pollak said his staff is not allowed to go into a situation where they might get hurt, but they kept going into the crowd to help.

He said his team was doing CPR on the back of cart trying to get out of the crowd and concertgoers were jumping on the carts and pulling them off people. He added that some people thought it was a joke.

''This is something I have nightmares about for the rest of my life. My team is extremely broken up about it. Seeing so many young people getting CPR at one time, it's just something no one should have to go to through,'' Pollak said. ''Even though we're medical professionals, we should be used to it. You can't get used to something like that.''

Pollak said ParaDocs standard ratio for an event like Astroworld is one medic per thousand people.

Houston Police Chief Sam Pe±a believes there may have been up to 55,000 people at the concert. While the venue could handle that many people, the problem was they were all concentrated into a small space near the stage when Travis Scott began to perform.

He said at one point they logged up to 5,000 people who got into the festival illegally.

David Gonzlez on social media: Facebook | Twitter | Instagram

VIDEO - Chinese Covid workers killed a dog. Viral video sparked an outcry.

Wed, 17 Nov 2021 13:50

The apparent killing of a pet dog by Chinese pandemic prevention workers has sparked widespread outrage in China. The incident has also launched debate on the lengths Chinese authorities will go to contain Covid-19's spread.

Video footage captured on a home security camera by someone who said they were the dog's owner showed one of the two figures in hazmat suits hitting a corgi on the head with a rod. In the video posted on Weibo, the dog runs into another room, outside of the camera's view. The workers later emerge from the room, one holding an object in a yellow plastic bag.

A hashtag responding to the video, ''Don't treat other people's pets like animals,'' has been viewed 230 million times and was included in posts on the platform 71,000 times by Tuesday.

NBC News tried to contact the dog's owner via Weibo private messaging to verify that she had posted the video but she did not respond. She said in a subsequent post that she had received an anonymous threat to take down the original video.

According to Xizhou district officials, the duo had been sent to disinfect the residential building in the city of Shangrao in China's southeastern Jiangxi province as part of the city's anti-pandemic efforts amid a rise in delta variant infections across several provinces in recent weeks.

China has stringently implemented a zero-tolerance Covid-19 strategy to stamp out infections with city-wide lockdowns, mandatory quarantine, and contact-tracing. More than 30,000 people underwent testing at Shanghai's Disneyland earlier this month after one visitor tested positive for the virus.

China's approach has kept its official coronavirus death toll at 4,636, a fraction of those killed in the United States and Europe.

Officials and medical workers prepare to conduct Covid-19 tests on residents isolating at home in China's southeastern Jiangxi province. AFP via Getty ImagesAddressing the outcry on Saturday, Xizhou district officials issued a statement on Weibo saying that the anti-epidemic measures were carried out ''without adequate communication'' with the owner, but that nevertheless the dog had been ''disposed of harmlessly.'' It added that the personnel responsible for the killing had been disciplined and made to apologize to the owner.

''The point is that the dog was not even confirmed with the coronavirus. They just directly beat it to death '-- how can they be this cruel?'' one social media user wrote.

Others questioned whether citizens will continue to cooperate with the city's anti-pandemic measures. ''If the Jiangxi government's actions are so perfunctory and covered-up, anyone who cares about their pets are in danger. Who would dare cooperate with the epidemic prevention measures?'' another Weibo-user asked.

The local government's statement did not placate the online anger. ''This is the most ridiculous, most evasive, most callous response I have ever seen,'' one Weibo user wrote.

Chinese media have also weighed in on the incident. ''To some extent, the way a society treats animals reflects its degree of civilisation,'' state media China Central Television wrote on Weibo on Monday.

State-run tabloid the Global Times, meanwhile, expressed understanding for the outrage, but defended China's strict pandemic measures.

''We cannot deny the overall hard work of the grassroots pandemic prevention workers because of a specific case. We must not forget the most basic fact is that China's fight against the epidemic has saved countless lives. This is the most important fact that the majority of people care about,'' editor-in-chief Hu Xijin wrote on Sunday.

The incident has also launched a debate on social media as to how China's policy regarding pets during quarantine can be improved. In major cities like Beijing and Shanghai, some quarantine hotels allow owners to stay with their pets.

The corgi's killing is not the first report of pets being euthanized as part of China's anti-pandemic efforts. Reports of a pet cat being euthanized in Chengdu emerged in early November. There is no indication that any of the pets had been tested for the virus before they were killed.

There is no scientific evidence that domestic animals can infect people with Covid-19, according to the American Veterinary Medical Association. The risk of animals infecting people with the virus remains ''very low,'' according to Kimberly Dodd, an expert at Michigan State University.

VIDEO - Australia Sends SOS to the World | Armstrong Economics

Tue, 16 Nov 2021 17:40

Blog/Uncategorized Posted Nov 16, 2021 by Martin Armstrong

VIDEO - China fights big Delta outbreak; US firms aid China's microchip ambitions | China in Focus - YouTube

VIDEO - (20) Christopher F. Rufo 'š--¸ on Twitter: "Pro-critical race theory activist Malikk Austin tells Fort Worth parents that he has "over 1,000 soldiers ready to go" and that they will come "locked and loaded" to the next meeting. Austin is a former

Tue, 16 Nov 2021 13:52

Christopher F. Rufo 'š--¸ : Pro-critical race theory activist Malikk Austin tells Fort Worth parents that he has "over 1,000 soldiers ready to'... https://t.co/l67toPjHkz

Mon Nov 15 22:13:14 +0000 2021

VIDEO - (18) Bernie's Tweets on Twitter: "AUSTRIA ''Every Person in Austria must be aware that they can be checked by the police at any time'' - Interior Minister. Citizens owned now by the State. Today it's vaccines, but tomorrow? #NoVaccinePassports

Tue, 16 Nov 2021 13:50

Bernie's Tweets : AUSTRIA ''Every Person in Austria must be aware that they can be checked by the police at any time''- Interior Min'... https://t.co/MlIwxAwxXi

Mon Nov 15 21:56:21 +0000 2021

° ''urrow ° : @BernieSpofforth Bro. Yeah ... Not good. This is going to get worse and spread to other countries. Speak out. Protest. Take it seriously.

Tue Nov 16 13:44:38 +0000 2021

Jelen : @BernieSpofforth https://t.co/4FrMIj2b2t

Tue Nov 16 13:41:52 +0000 2021

VIDEO - Lawmaker uncovers secret operation to move migrants within US - YouTube

VIDEO - (1) Libs of Tik Tok on Twitter: "🚨🚨🚨This non-binary assistant professor at Old Dominion University is trying to normalize the term MAP (Minor Attracted Persons) https://t.co/riD6TdIt8k" / Twitter

Tue, 16 Nov 2021 13:27

Libs of Tik Tok : 🚨🚨🚨This non-binary assistant professor at Old Dominion University is trying to normalize the term MAP (Minor Attrac'... https://t.co/4Oge1suAH3

Fri Nov 12 02:30:33 +0000 2021

Fraser Gracie : @libsoftiktok Get in the bin

Tue Nov 16 13:22:15 +0000 2021

BT : @libsoftiktok Non binary assistant professor is a lot of letters to spell pedophile.

Tue Nov 16 13:18:42 +0000 2021

Richard Robinson : @libsoftiktok I'll stick with NONCE. Thank you.

Tue Nov 16 13:17:53 +0000 2021

VIDEO - The Fourth Industrial Revolution and the Global Technocratic Takeover w/ Alison McDowell

Tue, 16 Nov 2021 12:47

My name is Alison McDowell and I'm a mom, I live in Philadelphia. I spend a lot of time doing independent research and following money. A lot of my work as an activist started out around the privatization of public schools in Philadelphia. I used to just be a mom that would help volunteer in the schools and I work half time so I do have a chunk of time to devote to other things. And that's a great privilege.

Initially I was just working to support my child's neighborhood school and eventually in 2013 Boston Consulting Group recommended for the closure about 23 schools in the city. It threw everything into upheaval, laid off 3,000 teachers and was really devastating for the district, for the educators, for the families who are coming to grips with that. Later that summer'--that happened in the spring'--the district hired a consultant to come in and start pitching this idea of school report cards, grading schools, and it would impact the regular public schools and not the charter schools. We organized in opposition to that. That work was underwritten by the Dell Foundation, Michael Dell, Dell computers Dell Dell computers works with'--is a major contractor to the NSA.

So those public meetings were shut down and so in response I jumped in to working with education activists around opposing standardized testing. That was my first big effort and I was coordinated actually with a national group because this was happening nationally at the time through United Opt Out and Peggy Robertson who is based in Colorado. So we connected, this loose coalition of parents who were trying to oppose the use of both the standardization of education curriculum as well as the weaponization of scores against schools to close schools.

I did that for a while but then realized that really the endgame was shifting more towards all the time data collection on students through educational technology. Then my focus shifted towards looking into the Ed-Tech as a global industry and what it meant for both surveillance of content delivered in the classroom, the commodification of children as data, and then again the use of the data collected to further privatize public education.

Deployment of ''innovative'' technological ''solutions'' is central to social impact investing, because profit is generated by combining predictive analytics with Big Data ''impact'' metrics. Services addressing social problems must increasingly be delivered through digital platforms that extract the data demanded for program evaluation and profit-taking.

Those receiving services, including public school students who spend their days slogging through benchmark tests and online modules and who are often tracked via classroom management apps, generate vast data-sets that can be used to profile them and inform future ''impact'' investments. ''Success''=profit. Success is determined as meeting narrow, specific targets defined in terms of data points. The need to generate outcomes then shapes how services are delivered, more screen time and less face time. See the rise of ed-tech ''solutions'' forced on our public schools and on

refugee populations.We are seeing this dehumanizing shift in service delivery take place not only in public education, but also in healthcare, social services, and mental health treatment....

Central to this method are outcomes-based government contracts that employ Pay for Success and Social Impact Bonds to extract profit from those enmeshed in oppressive social systems. Technology is key to this strategy, as ''impact'' data must be seamlessly collected for cheap, scalable deal evaluation. This, along with the rise of

IoT monitoring,

Big Data,

behavioral science (economics-nudge) interventions,

gamification, and

blockchain digital ID (many of which are being researched at UPenn) will lead to the platform delivery of human services, including but not limited to public education, over the next decade. See also

tele-health,

tele-therapy,

VR counseling,

prescription video-gaming, etc....

The Economy League sees impact investing as our future economic engine. They are planning to build an economy that mines poverty for profit. Programs like The

Germination Project are even training promising high school students at Wharton to run these programs. They are planning decades ahead. None of this is about fixing structural systems that cause poverty. No, these systems are meant to maintain poverty and use it to control the general populace and maintain racialized systems of power rooted in white supremacy.Our schools are not charities. Education is for the people. We claim our schools. They will be sites of resistance.

A lot of that work'--I blog at wrenchinthegears.com'--that's the blog that I have'--and over time I realized that even though I had come into it through public education, that this issue of commodifying people as data and doing the digital control and disciplinary mechanisms was really part of a much larger global financial apparatus. One of the parents that I organized with is Cheri Honkala. Our kids were in the same school at the same time. She has been doing work around housing rights and rights of the poor, organizing the poor, for decades [ POOR PEOPLE'S ARMY : The Poor People's Economic Human Rights Campaign (PPEHRC) ] and doing really amazing work outside the system.

So we connected and then my lens just expanded much more broadly: that this wasn't simply about controlling public schools and children and families and educators but it was really about creating systemic global poverty and then managing that. That's how I came into things. Now it's gone from poverty management to pandemic which is creating poverty, just keeps getting bigger.

Jason Bosch: What did you say about the weaponization of data? What do you mean by that?

Eric Schmidt, former chair of Alphabet, Google's parent company, said data is the new oil. I think that's this common understanding at this point, that we're reaching peak petroleum. This next extractive resources is data and a lot of the data in the world'--increasingly as we smart up with sensors and things, our environment and even our phones are just a very basic sensor mechanism'--our interactions with devices, with sensors embedded in the built environment, amongst sensors'--that's all generating data and the entities that can capture and analyze that data have tremendous power.

One of the things that I got into when I was working in the education front'--ultimately when I was doing testing I realized that wasn't the answer. That withholding the test wasn't gonna be the thing to stop it because then they moved into this technology. The lesson I learned at that point was: they would like for you to do the work for them, to their end. You have to think a couple steps ahead because they have a 20 or 30 -year plan. And if they can give you a little lead on a controlled opposition'--even though you may not understand that that's what you're doing'--they'll let you advance their agenda to a certain point. I didn't want that to happen again.

What I saw happening was there was a huge organization around data privacy, student data privacy. While I'm very much in support of the premise of data privacy, for me the larger philosophical context is they would like for us to ask to become digital commodities. Those in power would like to offer us privacy in exchange for having our life turned into data so that they can extract value from that. That has to be a mutual agreement, that we will agree to be a data commodity. So it's a false choice around data privacy; that we will get privacy but then essentially it won't stop the educational technology, it won't stop telemedicine, it won't stop tele-therapy. We'll still have to live in a digital world but somehow we can sell ourselves as data.

When I talk about weaponization, there are subtle nuances. They like to frame the argument in certain ways and though I probably lean'--I mean at this point a lot of the educational process that I do with people is through digital. I'm not saying it's easy to completely walk away from it. But I'm trying to say that living in a world of data is a world of binary decision trees that are only a shadow of the actual world and a shadow of actual relationships. By buying into that we're allowing ourselves to live in their apparatus that they have constructed. Google builds a really nice box. It's got a lot of bells and whistles. It's fun. It can do things. We can share stuff. But ultimately it's Google's box.

So we're not going to be able to conceive of things outside of Google's box if we decide to live there. These are questions. I don't tell people how to think about it but these are the things I think about.

That's the commodification piece. The other piece is a book that was really influential for me, is Yasha Levine's book Surveillance Valley [' ] [isbn.nu] [58:00] It's a military history of the internet and if you understand the Internet as a militarized space it puts a very different spin on things. And if you understand that it is this intersection of the corporate state and the militarists state and potentially predatory philanthropy are all operating in this digital space, that feels really cool, but also has a lot of risks that people are not aware of if you don't know the historical context.

You have to consider the power and who actually in a cloud computing world'--even though we'd like to imagine it's decentralized with blockchain and different things'--the people who are in control of the cloud, it's a very small number of people, mostly a lot of white guys. Not exclusively but that power is highly concentrated and to operate in that space means to operate in their world. Ends at 7:55

[

Essential reading:Blockchain Education, A Ticket To Digital Serfdom, Wrench In The Gears, 22 Sep 2020''We risk swapping our vibrant human spirits, beautiful in their passionate creativity and flawed vulnerability, for sanitized digital twins that will be managed as human capital by callous technocrats to profit social impact investors.''Alison McDowell's research focuses mostly on original sources. For many of those related to blockchain, see https://littlesis.org/search?q=blockchain+; source URLs are on the right side of each record.]

Beginning at 13:20 :

But money is power and that money and power is very concentrated. So I would say if you go to any of the major foundations and you start to peel back where their grants are from you can see how they can control things. Hewlett Packard is an entity that very few people'--the William and Flora Hewlett Foundation'--it's not really one of those top ones that you hear pointed out. But they're very influential. Essentially they have restructured the nonprofit industry to be data-driven to run these human capital markets that are coming.

I spent a good couple months essentially entering all of the data around these grants to nonprofits into this database system so that I could track it. And you can see'--you can see this is how they bought all of the identity politics organizations. This is how they bought all of the philanthropic news media. This is how they bought all of the online giving programs. So you can actually map it by mapping the money and the nature of it it appears.

There are so many people who tell me, Alison, this isn't coordinated. There can't be a place where everyone's planning this out. And I'm like, no there is. It's Davos. It's Necker Island. There are groups of people who are at this high level who maybe they don't all have all the parts but they definitely have the overall strategy of what the plan is and they have like a 20 to 30 year maybe 50 year plan of how this is going to roll out and then they have backup plans depending on what the resistance is. So yes it is a conspiracy. It's not hidden if you actually spend the time to look at the money which is what I do and which is why I'm not just taking somebody else's word for it. I'm actually looking at what they're saying in their white papers, in their grant projects, in their boards and seeing how it's playing out in the real world.

The resistance will not come from the middle class. At the beginning it certainly won't. It's gonna come from the people who have been systematically'--who are'--if we can get to a point that people's basic needs are met enough that they can collectively resist. To try to convince the middle class of what's happening'--most people'--I'm not a normal person for whatever reason. I saw this and I can't walk away from it. But that's not most people.

Jason Bosch: Was it impact investing that got you seeing beyond just, the standardized testing or whatever. What was the next step for you?

I'm trying to remember how I first got to looking at pay for success.

One of my mentors'--his name is Tim Scott'--wrote a couple of pieces that touched on social impact bond finance. This was at the time where I was looking into educational technology and Gates was part of that.

There's a very compelling presentation I recommend to everyone online and it's Justin Leroy who I believe is an academic, a professor at UC Santa Barbara now, called Race, Finance, and the Afterlife of Slavery (1:03:15, May 2017). It was about social impact bonds in the afterlife of slavery. [See Also: BONDED LIFE - Technologies of racial finance from slave insurance to philanthrocapital, Zenia Kish and Justin Leroy, Cultural Studies, 2015.] What was really interesting was the context of that talk. There was an exhibit at the Whitney where Cameron Roland who's actually a Philadelphia artist'--he does work around found objects and ready-made and in relation to the carceral state and racial capitalism and that's his work. This was an exhibit around debt. And he had used his apportionment to make art to actually buy a share in this social impact bond which was targeting incarcerated youth in Ventura County, which is interesting because that's one of the county that's coming up with the covid stuff now. So he bought'--because that was the only way to get the terms of this social impact bond conference and contract and he framed it and he put it on the wall of the Whitney. And he asked Justin Leroy to come and speak as part of the the exhibit.

This talk was given and it really hit home that what we're looking at now with the turning of people into data and using predictive analytics to essentially set up these larger systems to gamble on people's lives'--and this is something that's happening as a direct result of automation of labor and globalized labor management processes'--this is the outgrowth of the carceral state. [i.e., ''policing, courts, custody, and state supervision. Policing should be understood to include not just municipal law enforcement, but the 'soft' policing of welfare officials, state and federal law enforcement, the US military, as well as private security forces. All enact violence against poor communities, though the methods vary. The carceral state works hand-in-hand with 'smart cities' and IoT deployment.''

This is what's coming next: social impact finance tied to different forms of state control that are outside of prison systems but also really brutal. It's this legacy, it's this arc on which our nation is built, which is below the surface in many ways and I think people who tend to rely on the constitutional rights and the good of democracy, often conveniently forget that the wealth and power of this country was built on land theft of the indigenous nations and genocide of indigenous people, enslavement of black people and family separation of those families and then unfree labor and forced labor until very recently. Those pieces, when we go back to the Constitution, don't apply and the Constitution is really written to protect the property rights of powerful white men, many of which founding fathers were real estate speculators.

Where we are now with Trump is very much part of that larger trajectory. That is why, for me, understanding human capital finance and understanding that it is embedded in the way in which we were so brutal to indigenous people and black people is central to understanding that now this system is gotten to the point that it's coming after everyone and we need to both reconcile with that history and really own it and also to look to those ongoing resistance strategies to enslavement as we move forward and try to come to some resolution and be allies in that process. That's my personal understanding and the framing of it.

Jason Bosch:The challenge here is this issue splinters off into so many other things. As you were talking I was thinking about some of the things that he was saying in his talk about insurance and seeing humans as commodities that can be discarded or kept or that that's even an option.

Right. It's the commodification of humanity and that's what's really interesting because there's another academic, Calvin Schermerhorn who has a really good talk about commodity chains and supply chains, about looking at the finance, the ''innovative banking'' that was associated with the transportation, the brutal relocation of black enslaved people from the Chesapeake Bay Area into sugar plantations'--at the time, in the early 19th century, there wasn't a common currency'--and the ways in which northern finance played this intermediary process in terms of making these financial trades happen.

Moving forward, I feel very strongly that blockchain, this idea of the trusted third party, is going to be replacing, in an automated way, these northern financiers and in these human capital bonds that are going to be coming online through these central banking systems. I don't really think that the people at Wharton and Stanford are looking at 18th century bank finance around the domestic slave trade but it's very eerie how close it is that these patterns, these cycles keep coming back.

There's a term that I would encourage people to look up that really helps me think about it. It's called hypothecation and that was in Calvin Schermerhorn's [talk]. This idea of being able to draw capital out of human bodies while the person who ''owns them'' still maintains use of that body'--like mortgaging against humanity while still controlling that humanity. I think that's going to be something key moving forward with these pay for success deals, human capital bonds, and hypothecation.

Jason Bosch: I've never heard that term. What are the arguments they make for this? If I were to listen to you I'd be like, wow this sounds like a terrible idea. We shouldn't do that. Why do you think it connects with people'--what are the arguments that they make that we should be doing this? Or is it just because it's all done behind the scenes? What are your thoughts on that?

The human capital finance mechanism that I believe will be likely to roll out in the aftermath of this global economic reset; they pitch UBI, Universal Basic Income as they've been preparing the ground for that for the past few years. I think they want people to believe there's no strings attached to that or they're just giving you a suitcase of cash a thousand bucks. It's not going to be that. It'll be tied to digital currency and within that very much conditioned on how you can use that money. Within blockchain systems there are ways of actually programming money through tokens.Ends at 23:09 :

Beginning at 39:10 :What we need is a society where the resources are not all locked up in these mega transnational global capital entities that are not accountable to anyone, underwriting systems that are very narrow. Because the other piece of this is it's not just stripped-down in-person Pre-K. They're also developing online Pre-K and this is Waterford Upstart.

This is being used in the city of Philadelphia right now on refugee families. They're pushing poor kids, refugee kids into online preschool because it's an impact market. It's a data profiling market. These kids don't have a chance to say, No thank you, I'd prefer not to have a digital identity, I'd prefer not to be your data commodity. It's incredibly predatory and there are a lot of ethical questions about that.

The other piece is they need new ways of getting data and this Pre-K program particularly is based on something called the Heckman Equation. Jim Heckman at the University of Chicago, economics, he's a Nobel Prize winning economist, developed this equation setting that return on investment (ROI) which is 7 to 13 percent if you include health impacts on Pre-K. It was paid for by JB Pritzker who's the Governor of Illinois now.

They've created this equation and what they've said is, We can't shift the data for Pre-K. We can't make the numbers work for cognitive skills. IQ hardens up at the age of 10, it doesn't work for the hedge funds. That doesn't work. We don't have enough movement on the data dashboards to make that work to get our ROI. We can manipulate character. That's what we can manipulate. We can move character data on a dashboard. And this is these Ocean 5 big ''personality traits'' [OCEAN: Openness, Conscientiousness, Extraversion, Agreeableness and Neuroticism] and then we can do that digitally through gamification.

[

Heckman and Pritzker Pitch Apps as Poverty ''Solutions'' Yielding a 13% Return on Investment, 10 Jun 2018

This is the fourth in a series providing context for the Global Business

Summit on Early Childhood that ReadyNation will be

hosting in New York City November 1-2, 2018. The featured image is from an

article pitching Waterford Upstart

online preschool, piloted in Utah, a state experimenting with funding early childhood education using social impact bonds. The caption on the photo states that this four year old doesn't have running water in her home, but she does have access to literacy education on a chromebook.

The focus of this post is Dr. James Heckman, a professor of economics at the University of Chicago since the early 1970s. Much of his research focuses on investments in early childhood as it pertains to labor markets. In 2000, Dr. Heckman was awarded the Nobel Prize in Economic Sciences for contributions to the field of micro-econometrics. James Heckman; Arthur Rolnick, former senior researcher at the Minneapolis Federal Reserve; and Robert Dugger, venture capitalist and ReadyNation advisor, have worked together for decades. Below is a relationship map for Heckman. See the interactive version here.

]

What that looks like is there something called Hatch. I'm sure there are many of these but Hatch education has something called a WePlaySmart table. This is real. It is a large play table. If you imagine it's like a big screen TV, flat. On two sides of the the display are fisheye lens cameras and the children are supposed to come ''together'' to ''play'' at this table, like moving puzzle pieces and things, where the cameras track their social behaviors. Their social behaviors'--not just how they're personal but how they interact with others and are scored. And that is the data that drives these impact deals.

I confronted the woman in charge of this who is with Goldman Sachs. With the flyer I went to the Dirksen Senate building when they were all celebrating what's called the Social Impact Partnerships Pay For Results Act (SIPPRA). They had a big champagne toast over finally getting this passed, this seed money to start these impact markets. I had'--I'm a mom and I might not be able to stop this but I'm going to show up and tell you I know what's happening and it's not okay. I had my little half sheet flyer with the Hatch surveillance play tables and I said, This is wrong. You don't put at-risk kids on a surveillance play table to profit Goldman Sachs'--it's evil actually'--and say we're going to brainwash kids essentially for profit.

If you understand it within a historic context, clearly we've always done that to certain communities, to certain people's children. I'm not acting shocked that this is happening. But I felt compelled to show up with my little half sheet paper and say, I know what you're doing. I am bearing witness to this, that it's not okay. I'm hoping maybe more people will know about it because it's shocking. If you see the Hatch WePlaySmart table you will be shocked to see it. That it's real.

I have confirmation. I went to to Tulsa in January. There are centers where this is rolling out'--in Dallas'--the Federal Reserve is part of a lot of this, the Dallas Fed. I visited Dallas and Tulsa. Tulsa is a target of a lot of this rollout. And they have something called Educare. This is going to be run through these Educare franchise programs and they're already using WePlaySmart tables and Educare in Tulsa. I intervened at one of these impact events, these events where they were celebrating, patting each other on the back over their impact investing opportunities, and again calling them out just like with my banner saying kids are not impact investments.

I had confirmation from'--this is coming through something called Strive Together, they have ''collective impact'' programs all across the country. I [asked] do you know about Amply? Digital identity? Do you know about these smart play tables? They [said] well of course. I'm in education, of course I know about the smart tables.

Jason Bosch: How does this affect the relationship between the student and the teacher and the child and the parent?

This is something that I've been struggling with'--and again we're all on this uneven ground. What is the world we want for our kids? On the one hand there's, What does it mean to parent? What does it mean to have time to care for your kids? There's a whole argument around affordable child care. What if affordable child care means your kid's on a surveillance play table?

What kind of world are we creating that you have to have two full-time parents'--maybe he's working two jobs to sustain a family'--so your kid can be on a surveillance display table for Goldman Sachs? These are these larger questions. And I'm not sitting here saying any one parent should forego their having a satisfying career to do this work but I think we really have to balance what corporate child care, what franchise child care means when it's starting to come with these predictive analytics and data analytics systems.

We know kids shouldn't be on screens. We know behaviorally, profiling'--because it's not just the WePlaySmart tables, they have these other little tablets that they're collecting all this data from. So increasingly the teachers'--and this is not just in Pre-K but in K-12 and higher'--are supposed to be data managers. The kids interact with devices and then the teachers queue up playlists under the pretense of ''personalized learning'' and it's a consumer based model. As the teacher I will queue up your 30 resources that you are to consume, digital resources, then I will track your engagement with those resources, and then I will prepare your next playlist of items. And then every kid gets something different and then increasingly the teachers won't even be running the playlist it will be AI. That's what IBM is about, is that you are optimized through artificial intelligence.

I guess the question is To what end? Do certain types of people get optimized to certain pathways? Because clearly with this Fourth Industrial Revolution that's happening the premise is that most people are going to be dispossessed out of their jobs. So if you start profiling kids at the age of three at the surveillance play table and putting them in feedback loops, digital feedback loops, that maybe they're not even aware they're in, essentially you can control their future.

It might not even be, I mean, clearly even existing schools have always'--we have to understand that compulsory education has been about social reproduction for the purposes of industry; to reinforce race and class and to stratify people and separate people into different groups. I'm not under any dream that that isn't the truth. I mean that is the function of compulsory education. Doesn't mean that we shouldn't strive to do better. Once you put people isolated on devices you lose knowledge sharing, you lose, you break community bonds. You have no space in which to collectively build something different. Essentially your world is limited to what the digital interface says you have access to. We know even now within what's going on with social media censorship around hot topics, if they don't want you to have them the information it will just be taken off.Ends at 47:58 :

Beginning at 49:06 :The thing that has really hit me within this past month is understanding that turning people into data isn't simply about surveillance. It isn't simply about extracting profit from people as managing the data. It's that extracting data from people is meant to feed machine learning systems. That there are groups of people who know that they intend to catalyze the singularity with this data, to actually create a future of sentient, general, artificial intelligence beyond the control of people.

This is something that I'm trying to come to grips with now and I've known for a while. One of the big rabbit holes I fell down in doing education research was something called the Global Education Futures Forum which was led by Pavel Luksha who's connected to SKOLKOVO in Russia but has a well placed panel of advisors around the globe. Tom Vander Ark who is formerly with the Gates Foundation and a key figure in virtual learning and Ed-Tech and venture capital was the U.S. contact. I think they've actually recently taken the website down which is very interesting to me. [Archived 1 July 2018 copy: https://www.edu2035.org/] But if you look at their agenda, Pavel Luksha, who's also connected to World Skills building, was very much also about transhumanism.

So this idea of, as we approach climate change end times, that we would merge with the cloud, that we would merge with machines, that we would upload our consciousness to the Internet and be immortal. Which sounds really wacky unless you actually look and see the people who are in that sphere and there are a lot of very sophisticated thinkers who are thinking that this is something that we need to do. Even a few weeks ago Whitney Webb wrote an article [''Techno-Tyranny: How The US National Security State Is Using Coronavirus To Fulfill An Orwellian Vision,'' The Last American Vagabond, 20 Apr 2020] that they were looking at a FOIA request about the AI task force of the U.S. that was very concerned about keeping up a China, with data, and they're building AI and this idea of whoever gets to general and artificial intelligence first can essentially rule the world or rule the technological systems of the world. There are people out there who think that we need to merge with computers or we will be eliminated.

So that's a whole nother layer. It's not just about making money and controlling people as actually they would prefer to have us become data so that we can be batteries to fuel this future that really doesn't have a place for humanity as we know it in it. I'm just not willing to go there, yet.

Jason Bosch: Yet.

Because I think, it's all in motion, right? This is something in my journey, too, under this lockdown situation, connecting with people in different parts of the world who come from backgrounds of faith and spiritual practice of all kinds who are tapping into energy systems. And I know this may sound sort of'--but I think the belief that we know all the things is pretty misguided. Like with string theory and particle physics and there are many things that we may not know and there are many things that may go on faith and spirit and energy of which I feel the people who are part of this transhumanist domination zone would like to put us in their box and capture that all up and put us in their digital box. But then there's a counter group of people who may not fully be aware that they're working in a counterpoint to that, this yin-yang who are the goodness of the world of energy in a free and liberated fashion.

I know this may sound kind of new agey but if you look back to cybernetics, that has been their goal since the the post-World War Two era, the mid-1940s, is to create the cybernetic world. That's a very, in my mind, western white male dominating version of the world; that you can control it and you can have power and dominion over it. But then there's a whole big other part of the world that isn't that. That's why for me, I think, coming at this from an anti-colonial mindset like an eco-feminist mindset, is the counterpoint to the tech bro' mindset. Ends at 53:53 :

Beginning at 55:11 :You have to have a structural analysis. The people who are running these systems are not benevolent actors. The money that they give away is to certain ends, to accomplish, to reinforce their own power and influence. It's not generative and redistributive and it's dominating. To think that the people who run the cloud are not dominating us, that are just, they're somehow our benevolent overlords, I think it's incredibly misguided to think that. I don't think anyone can look and see the military contracts and the prison contracts and all the things that Amazon Web Services and Google, these smart cities'--we see what's happened in Toronto with them pushing back against sidewalk labs and saying, We don't want smart cities. We get where you're going with this and we don't trust you.

The thing that I think is really critically important to understand in this moment, too, because while we're under this lockdown situation'--clearly the 5G structure, infrastructure is rolling out, the satellites, the oneweb, the satellite StarLink, all of those are going up'--there's this convergence of technology both in the atmosphere and on the ground in terms of creating almost these fencing and control systems for people. People are getting these digital identities, there probably seems like we're going to end up, the digital health passports are going to be the open door to give everybody, get your QR code and know what your status is so we can track you everywhere you go.

These systems are coming online now and if you look towards satellite-linked livestock management, that I believe is the model. That you would have these satellites and you have cows with the tag in their ear or goats or whatever, collars, that you can manage ''free-range'' through geo fencing. It's like your electric dog fence but you don't actually have the wire in it. Just when you get up close to the edge you can bump up and the vibration if you keep going, you get shocked.

We're almost to the point at which we can manage that with people. And if you imagine your UBI is on your phone, when you are situated in different digital containment zones, they can control you at that level. They can control your access to basic needs of life: your shelter, your food, your water, your healthcare. All of those things can be predicated, if they're digital, linked into geofencing.

Paul Romer is out of NYU and he has been theorizing for some time, collaborating with the World Bank, about things called Charter Cities. That you would have these carve-outs within cities that were sort of like no rules apply and you can just make up own rules for the free market and that we would manage refugee populations in that way.

So all of these pieces are running together. I think if we understand that Jeff Bezos and Bill Gates are not really benevolent entities, that they are there to to aggregate more power unto themselves, the tools that they're creating are not empowering us and disempowering them. They're essentially adding more and more layers of digital control onto us. These Silicon Valley people who would push all of this onto the masses and Ed-Tech and have'--all of it's about interoperable data because that's what they need for the predictive analytics. There's a company called Clever that has QR code badges for kindergarteners to log into their online Ed-Tech education to maximize the data collection because the little kids couldn't remember their passwords because they're just five years old. So you could decorate your QR code with fun stickers but that's the data extraction purpose and that's running through charter schools in the Bay Area, Rocket Ship Academy charter schools. the people who are in Silicon Valley who are running these systems don't send their kids to schools that do that to them. Their kids get blocks and books.

VIDEO - Ethiopians Protests the Relentless Western Media Propaganda War against Them on TPLF Rebels - YouTube

VIDEO - Exclusive GSI Video: Biden's Pick for Office of Comptroller of Currency Says American Finance is "Asshole Industry"

Mon, 15 Nov 2021 14:52

Your privacy is assured: This website safeguards the security of the data you send us with physical, electronic, and managerial procedures. We urge you to take every precaution to protect your personal data when you are on the Internet. This website uses industry-standard Secure Sockets Layer (SSL) encryption on all web pages where personal information is required. This protects the confidentiality of your personal information while it is transmitted over the Internet. Please contact us with any question you have regarding this or any other issue concerning your privacy with this website.

VIDEO - Klaus Schwab '-- Charlie Rose

Mon, 15 Nov 2021 14:34

Friday 11/13/2015Klaus Schwab, founder and executive chairman of the World Economic Forum, talks about this year's theme for their annual gathering in Davos, the 4th industrial revolution.

You might also like Dexter Filkins; Klaus Schwab; 'Shelter' Entertainment, Politics, Business Air Date 11/13/2015 Dexter Filkins on ISIS's control over western Iraq; Klaus Schwab on the World Economic Forum meeting in Davos; "Shelter." 51:29 Play Add to watch list Remembering Tip O'Neill Politics Air Date 01/06/1994 Chris Matthews talks about the loss of the Speaker of the House of Representatives, Tip O'Neill. 11:11 Play Add to watch list Sir Harold Evans Books, History, Tech Air Date 12/23/2004 Sir Harold Evans discusses "They Made America," which looks back on 200 years of American innovation. 12:12 Play Add to watch list Gene Sperling Politics Air Date 03/03/1994 Gene Sperling, deputy assistant of economic policy, discusses employment and the economy, from the President's Law Library in Washington, D.C. 14:02 Play Add to watch list Fear on Wall Street; 'Rise of the Planet... Politics, Business Air Date 08/05/2011 Gillian Tett and Greg Ip on the potential for a new recession; Director Rupert Wyatt and cast on "Rise of the Planet of the Apes" 53:35 Play Add to watch list

VIDEO - PRO ATHLETES AND REPORTERS SUFFER VACCIDENTS ON LIVE TELEVISION...

Mon, 15 Nov 2021 14:00

BitChute is a peer-to-peer content sharing platform. Creators are allowed to post content they produce to the platform, so long as they comply with our

policies. The content posted to the platform is not reflective or representative of the views of Bit Chute Limited, its staff or owners. (C) 2017-2021 Bit Chute Limited, Box 813, Andover House, George Yard, Andover, Hampshire, SP10 1PB. United Kingdom. Company number 10637289.

VIDEO - An0maly on Twitter: "This poor guy says he suicidal from the backlash from people in regards to his vaccine injury ''¤¸ðŸðŸ¼ https://t.co/1lCuL7QJwi" / Twitter

Mon, 15 Nov 2021 13:53

An0maly : This poor guy says he suicidal from the backlash from people in regards to his vaccine injury ''¤¸ðŸðŸ¼'... https://t.co/X6y5ADTfTO

Fri Nov 12 00:23:07 +0000 2021

Bcr : @LegendaryEnergy It's not that rare seems like the vaccine has More of a negative effect on healthy people than covid does

Mon Nov 15 13:34:33 +0000 2021

VIDEO - Exclusive: IBM achieves quantum computing breakthrough - Axios

Mon, 15 Nov 2021 13:52

IBM has created a quantum processor able to process information so complex the work can't be done or simulated on a traditional computer, CEO Arvind Krishna told "Axios on HBO" ahead of a planned announcement.

Why it matters: Quantum computing could help address problems that are too challenging for even today's most powerful supercomputers, such as figuring out how to make better batteries or sequester carbon emissions.

Driving the news: IBM says its new Eagle processor can handle 127 qubits, a measure of quantum computing power. In topping 100 qubits, IBM says it has reached a milestone that allows quantum to surpass the power of a traditional computer.

"It is impossible to simulate it on something else, which implies it's more powerful than anything else," Krishna told "Axios on HBO." How it works: While traditional computing uses ones and zeroes and can try many possibilities in quick succession, quantum computing hones in on the right answer, making it well suited to tacking complex problems.

"Can it solve every problem? No," Krishna said. But, at the same time, he said you can't do the work that this computer can do on a traditional machine. "It would take a normal computer bigger than this planet to be able to do that."Krishna has been bullish that quantum computing can establish an important place in the computing world within a few years, while others believe it could take a decade to establish a significant role.Yes, but: The arrival of quantum computing also poses a unique problem. Much of modern cryptography is based on hiding data in a way that it would take modern computers too long to crack. But, with their different approach, quantum computers will be able to break many of today's encryption systems.

The big picture: Krishna acknowledges that IBM hasn't had the financial performance of other tech giants and, as a result, hasn't seen its valuation soar the way that companies like Apple, Facebook and Google have.

"In the long run, it comes back to investors care about: 'Is your revenue growing, and is your cash flow growing?' And for many years, we have not shown either of those. So that's why we have turned into committing that we are going to grow and we are going to grow cash flow as well, not just revenue. If you have both those things, I believe investors reward you.'-- IBM CEO Arvind Krishna, on "Axios on HBO"Krishna says the quantum computing push is one part of his approach to return the company to growth.

Go deeper:

How quantum computing worksWhy quantum computing mattersQuantum computing hits the stock marketA reality check for quantum computing's progressFor more from Krishna, check out Monday's edition of Login, Axios' free daily technology newsletter. Subscribe here.

VIDEO - Investigation: Died 'From' or Died 'With' COVID?

Mon, 15 Nov 2021 13:29

Join the World's #1 Natural Health Newsletter for FREE!Latest Trustworthy News from Dr. Mercola - delivered straight to your inbox!

Enter your email address

Loading Please Wait 00 Days

:

00 Hours

:

00 Minutes

:

00 Seconds

Free Access to Top 30 Health Tips

Loading Please Wait Loading Please WaitAnalysis by Dr. Joseph Mercola Fact Checked November 15, 2021 Download PDF 20435

Story at-a-glance - A recent investigative piece by Full Measure revealed a serious death rate miscount in Colorado, including two people out of five who were not dead To Read This Article Before It's Gone

Don't miss out on this crucial information, available for a limited time only.

Sign up now or login to get instant access!

Subscribe to Get Full Access for FREE!

Daily Newsletter Weekly Newsletter (Every Monday)

Loading Please Wait You can unsubscribe at any time and I guarantee the privacy of your email. View our privacy policy

Days

:

Hours

:

Minutes

:

Seconds
Clips & Documents
Art
Clips

2014 smallpox vials One.mp3

[redux] Bill Gates we need fix the vaccines and diagnostics - TESTING - game out bioterrrist smallpox pandemic CLIMATE.mp3

ABC ATM - anchor Andrew Dymburt - Al Sharpton on rittenhouse-aubery trials (30sec).mp3

ABC ATM - anchor Andrew Dymburt - exonerations in malcom x murder (43sec).mp3

ABC ATM - anchor Em Nguyen - is illegal conduct behind higher gas prices (1min1sec).mp3

ABC ATM - anchor Mona Kosar Abdi - gosar censured over violent cartoon (53sec).mp3

ABC GMA - anchor Deidre Bolton - chinese tennis player peng shuai missing (24sec).mp3

ABC GMA - anchor Kayna Whitworth - three states now offering boosters for all adults (55sec).mp3

ABC GMA3 - anchor T.J. Holmes - Dr Jen Ashton - all eyes on europe as cases surge (1min5sec).mp3

ABC World News Tonight - anchor Terry Moran - rittenhouse defense makes new call for mistrial (1min10sec).mp3

ABC World News Tonight - anchor Whit Johnson - FDA expected to ok adult boosters -Fauci (1min35sec).mp3

addis ababa protestor with professional CN Fake news signs.mp3

Austrian Interior Minister - Karl Nehammer on the lockdowns.mp3

BIDEN flew over California WTF.mp3

BIDEN how to beat climate crises.mp3

Billions to be given to illegals now no social security number needed.mp3

Booster blather 2 on NPR.mp3

Booster blather on NPR.mp3

Boris Johnson says boosters are in your future.mp3

CDC Measles warning.mp3

Charging stations BBB NPR.mp3

Christie Noams daughter NPR.mp3

Covid and the mentally ill One Npr.mp3

covid in deer meat.mp3

Derschowiz RT kenosha case.mp3

Drug overdose crises 2 NPR.mp3

Drug overdose crises ONE NPR.mp3

Fox News - House and Senate are preparing in case Kamala about to be shown the door.mp3

Frau Ingraham who is on First.mp3

FUSUS hi-tech security for cities.mp3

GET Mobile ID promo video.mp3

Good Morning Britain - UK lockdowns coming.mp3

Ireland 50 prcnt unvaccinate is PROOF its their fault.mp3

ISO Oat Milk.mp3

ISO Zombies.mp3

Joy Reid on Rittenhouse - racist rant.mp3

kimmel-Dot got a shot.mp3

Klaus on Charlie Rose 2015 - DNA gene therapy and editing.mp3

Malnutrition in Afghanisttan.mp3

Modern booster NPR.mp3

NBC warns of new Wuhan outbreak 20k in he gulag.mp3

Notes from Poland Podcast on Belarus situation.mp3

Official Build Back Better Song from Biden Administration.mp3

Private medical company speaks on Astro World cardiac arrests.mp3

Psaki and spinach clip.mp3

Psaki BBB drug prices.mp3

Psaki on BBB bill weird.mp3

Psaki pending crises.mp3

Psaki plugging walmart.mp3

RFK jr on Tucker - Insurance companies are the reason for legal immunity.mp3

Riot shaman sentenced NPR.mp3

SHOW 579 Dr says flu will kill you.mp3

SHOW 700 abby martin closes the show with this.mp3

SHOW 700 abby open begins to cry.mp3

Smallpox found at merck lab in philly.mp3

Texas targeted by podcast NPR.mp3

Victoria covid rules magically eased 1.mp3

Victoria covid rules magically eased 2.mp3

Victoria dictator dan in parliament.mp3

Victoria scott morrison on mandatory vax policy.mp3

wtf Sanford mystery NPR.mp3