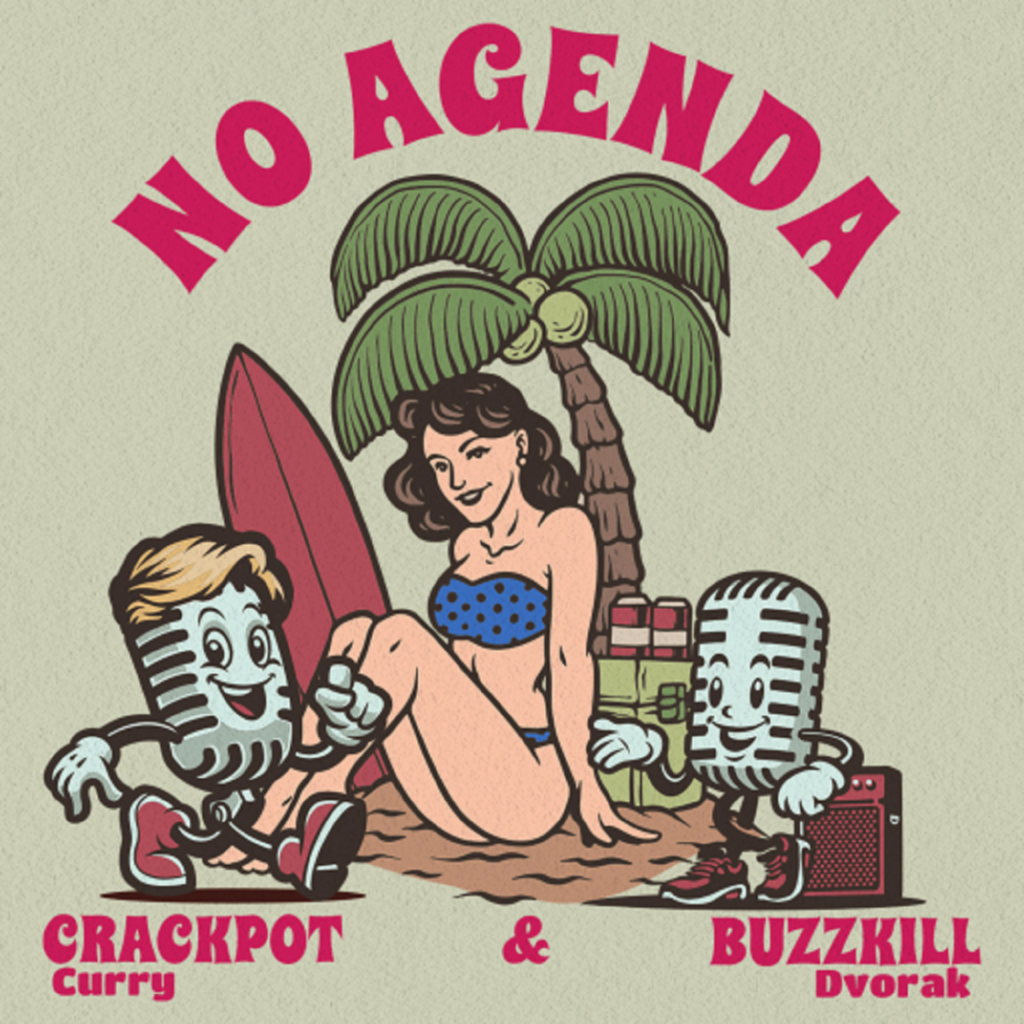 June 2nd, 2022 • 3h 9m
1456: Verbate
Shownotes
Every new episode of No Agenda is accompanied by a comprehensive list of shownotes curated by Adam while preparing for the show. Clips played by the hosts during the show can also be found here.
Ukraine Russia

Ukraine's 'unicorn' LGBTQ soldiers head for war

As volunteer fighters Oleksandr Zhuhan and Antonina Romanova pack for a return to active duty, they contemplate the unicorn insignia that gives their uniform a rare distinction - a symbol of their status as an LGBTQ couple who are Ukrainian soldiers.

Members of Ukraine's LGBTQ community who sign up for the war have taken to sewing the image of the mythical beast into their standard-issue epaulettes just below the national flag.

The practice harks back to the 2014 conflict when Russia invaded then annexed the Crimean Peninsula from Ukraine, "when lots of people said there are no gay people in the army," actor, director and drama teacher Zhuhan told Reuters as he and Romanova dressed in their apartment for their second three-month combat rotation.

"So they (the lesbian, gay, bisexual, transgender and queer community) chose the unicorn because it is like a fantastic 'non-existent' creature."

Zhuhan and Romanova, who identifies as a non-binary person with she/her pronouns and moved to the capital from Crimea after being displaced in 2014, met through their theatre work.

Neither was trained in the use of weapons but, after spending a couple of days hiding in their bathroom at the start of the war, decided they had to do more.

Ukraine chicks welcomed ESG
BLM LGBBTQQIAAPK+ Noodle Boy
OTG

iPhone recording vs suction cup on the receiver

QR codes allow programs to run by default
Real News
Great Reset

The chaos is intentional

QR codes allow programs to run by default

Police charge big pharma boss with falsifying his Covid vaccination status

Dr. Sousa-Faro is among more than 2,200 celebrities and European elites on the list drawn up by National Police of those falsely vaccinated against Covid.

According to El Mundo, Spanish police carried out the investigation called Operation Jenner which uncovered the vast network of celebrities and elites who have paid money to have their names fraudulently entered on the National Immunization Register, despite refusing to be vaccinated.

EuroWeekly News report: The leader of the network was a nursing assistant at the La Paz University Hospital, where he is accused of charging more than €200,000 euros for fraudulently registering 2,200 people as vaccinated in the National Registry against Covid-19. He has been arrested and is currently in custody.

Schiphol delays ID related

The three airports currently experiencing massive backlogs in passenger processing (supposedly due to short-staffing) are Schiphol (Netherlands), Pearson (Toronto) and Trudeau (Montreal). All three of these airports are signed up for the WEF's Digital ID pilot program.

So you see what they are doing, right? Purposeful delays at the airports so that people will get fed up enough that they go for the Digital ID just to make their lives easier.

Create the problem. Provide the solution.
Climate Change
Food Intelligence

DSM and Firmenich to merge, becoming the leading creation and innovation partner in nutrition, beauty and well-being

The merger of DSM-Firmenich will further accelerate innovation for the industry and generate new growth opportunities for customers. It will form a new global-scale partner to serve the food and beverage industry, combining DSM's Food & Beverage and Firmenich's Taste & Beyond businesses. Firmenich's world-leading global Perfumery and Ingredients business will expand further into Beauty through the addition of DSM's Personal Care & Aroma business. These new combined businesses will be joined by DSM's high-performing Health, Nutrition & Care and Animal Nutrition & Health businesses.
Ministry of Truthiness
Crime Capitol of the EU
War on Guns
Space Force
The Purge
Masks Mandates & Boosters

Dr. Deborah Birx Got New Job With Anti-Covid Air Purifier Co.
STORIES

Controversial YouTuber Jeffree Star Will Start Selling Yak Jerky

Thu, 02 Jun 2022 16:45

Star Yak Ranch, owned by Jeffree Star, will begin selling yak meat through its online store. Star trademarked the Star Yak Ranch in categories including butchering services in September 2021. Star confirmed the new venture to Insider and addressed criticism from fans. Loading Something is loading.

Jeffree Star will begin selling yak meat through his Wyoming-based enterprise, Star Yak Ranch, located in Casper.

Star Yak Ranch announced in an Instagram post on Friday that it will begin selling packaged yak meat through its online store as early as June. He also advertised the products on Star Yak Ranch's Facebook page.

"Our delicious grass fed #Yak meat will be available on our online store soon, hoping for next month," Star Yak Ranch wrote in the post's caption, adding that Star Yak Ranch would sell its yak meat to local Casper and Wyoming residents on Saturday during a pop-up event. Star Yak Ranch shared a photo of Star posing with local patrons in a Facebook post.It comes eight months after Insider previously reported that Jeffree Star LLC filed to trademark Star Yak Ranch in categories including butchering services, clothing, and edible pet treats last September. Insider reported that Tibetan yaks originate from the Himalayas and are ox-like animals that can be farmed for various reasons, like yarn made with yak fur and yak meat.

According to Insider's report, Star responded to complaints about potentially selling yak meat on Snapchat after speculation sparked online.

"So let's say I trademark it for yarn, cheese, breeding, butchering, et cetera, it doesn't mean I'm doing any of those things," Star said in the Snapchat video. "When I'm laying on a yak and I'm naming them, nothing is happening except brushing them, loving them, and feeding them."

A post shared by Star Yak Ranch (@staryakranch)

On Saturday, Star responded to the criticism during a conversation with Insider.

"People keep referencing, for the last 24 hours, 'Well, Jeffrey, a year ago, you said you were only going to use your pets for X, Y, and Z.' But I think people forget that you can also change your mind," Star said, adding that his business plan has "evolved" within the last year.

A post shared by Star Yak Ranch (@staryakranch)

"People keep making jokes like, 'Are you butchering Swiss Chocolate and Buster?'" Star told Insider, referring to two of his yaks. "Any yak with a name tag is our pet, and we do have a pasture in the back of my land where we're just making food."

Star, who said most of his yaks are for breeding and pets, also acknowledged fans who questioned the business venture since his makeup and cosmetics line was vegan and cruelty-free. While he considered testing cosmetics on animals "disgusting," he's intrigued by the "pasture to plate" lifestyle.

"The thought of raising an animal in peace and happiness, from pasture to plate, is something you don't learn living in a big city like LA," Star told Insider.

Star's longtime fans likely remember the prominent role fast food played in Star's content Star held a pop-up sale for Casper, Wyoming, residents on Saturday. Rodin Eckenroth/Getty Images Star gained millions of views for mukbang content and similar videos.

"I was very pro-fast food on my social media. It was very much my shtick to wear Louis Vuitton and go to McDonald's," Star told Insider. "After years of that, it made me feel tired. My skin wasn't as great as it used to be."

Star also said he became seriously interested in yaks after moving to Wyoming.

"When I moved to Casper, I Googled 'Wyoming yaks,' and I met a yak ranch 30 miles away," Star continued. "After becoming friends with them, I kind of interned at their ranch."

Star began documenting his move from Los Angeles to Casper, Wyoming, in August 2020. He bought a $1.1 million ranch and said he owned more than 500 acres of property. Star previously lived in his infamous $14.6 million Hidden Hills mansion that he frequently featured in his online content.

"The makeup mogul turned meat mogul," Star told Insider. "It may be a little shocking to people, but it feels natural to me."

Germany reveals massive military expansion '-- RT World News

Thu, 02 Jun 2022 16:36

Berlin will pour 100 billion euro into its military, with the goal of fielding the largest NATO army in Europe

Germany's plan to invest a whopping 100 billion euro ($107.35 billion) into its military will allow Berlin to significantly expand its fighting force, Chancellor Olaf Scholz told local media on Monday. This will make the German army the biggest in Europe among NATO members, he said.

The pledge, which the Chancellor made in an interview with several domestic newspapers, came after the country's major parliamentary factions agreed, on Sunday night, to a special exemption required to borrow the money and invest it in the military.

The ruling coalition needed the support of opposition lawmakers to secure two thirds of the votes to adopt the decision, which requires an amendment of Germany's Basic Law. The actual vote is expected to take place before the summer recess of the parliament.

Scholz praised the passage of the bill on Twitter, saying the extra billions would turn the Bundeswehr into a fighting force that ''can fulfill its defense mission better than ever before.'' The chancellor proposed creating the special military fund in February, days after Russia's attack against Ukraine.

Germany currently has the fourth-largest military force among NATO members, but the bloc's biggest armies are fielded by non-European nations: the US and Turkey. It will need to surpass France in army strength to deliver on Scholz's pledge. The strength of the French military is 240,000 active and reserve service members, compared to 199,000 in Germany, according to the Global Firepower Index.

Netflix suggests employees should quit if they're offended by its content

Thu, 02 Jun 2022 16:29

Netflix employees should leave the company if they take issue with its programming, the streaming giant has said in an internal memo obtained ahead of its publication this week.

READ MORE: NME Recommends '' the best hidden gems on NetflixWithin the platform's 'Artistic Expression' section of its corporate culture memo, which was due to be shared publicly on Thursday (May 19) although was obtained in advance by Variety, employees are advised that they should leave the company if they're offended by the streamer's ''content breadth''.

The anti-censorship drive comes months after Netflix aired Dave Chappelle's controversial stand-up special The Closer, which prompted LGBTQ+ employees and supporters to walk out in protest over his transphobic and homophobic jokes.

At the time Netflix co-CEO Ted Sarandos defended Chappelle, saying: ''We don't allow Netflix titles that are designed to incite hate or violence, and we don't believe The Closer crosses that line.''

Dave Chappelle in 'The Closer'

Now, the 'Artistic Expression' of Netflix's updated memo states: ''Not everyone will like '-- or agree with '-- everything on our service.

''While every title is different, we approach them based on the same set of principles: we support the artistic expression of the creators we choose to work with; we program for a diversity of audiences and tastes; and we let viewers decide what's appropriate for them, versus having Netflix censor specific artists or voices.''

The section concludes that employees' ''personal values'' about what they consider ''harmful'' will not be taken into consideration.

It continued: ''As employees we support the principle that Netflix offers a diversity of stories, even if we find some titles counter to our own personal values. Depending on your role, you may need to work on titles you perceive to be harmful. If you'd find it hard to support our content breadth, Netflix may not be the best place for you.''

Netflix has yet to comment on stories reporting the memo, which has been updated for the first time in nearly five years.

According to the streamer, as Variety points out, everyone in the company was able to view and comment on proposed updates to the culture memo in a shared document. Thousands of employees participated in process, which took place over six months.

Dick Black (politician) - Wikipedia

Thu, 02 Jun 2022 16:21

American politician

Richard Black

In office January 11, 2012 '' January 8, 2020 Preceded by Fred Quayle Succeeded by John Bell In office February 5, 1998 '' January 3, 2006 Preceded by Bill Mims Succeeded by David PoissonBornRichard Hayden Black

( 1944-05-15 ) May 15, 1944 (age 78) Baltimore, Maryland, U.S.Political partyRepublicanSpouse(s)Barbara Jean HaleResidence(s)Ashburn, VirginiaAlma materUniversity of Florida (B.S., J.D.)U.S. Army War CollegeCommitteesAgriculture, Conservation and Natural Resources, General Laws and Technology, Education and Health, Rehabilitation and Social ServicesWebsitewww.dickblack4senate.comAllegianceUnited States of AmericaBranch/serviceUnited States Marine CorpsUnited States ArmyYears of service1963''1970 (USMC)1976''1994 (USA)RankColonelUnitJ.A.G. CorpsBattles/warsVietnam WarRichard Hayden Black (born May 15, 1944) is an American politician. A Republican, he served as a member of the Virginia State Senate, representing the 13th District, which encompasses parts of both Loudoun and Prince Williams Counties, from 2012 to 2020.[1] Black was previously a member of the Virginia House of Delegates from 1998 to 2006. Black announced that he would not seek re-election in 2019, instead retiring at the end of his term.

Early life [ edit ] Black was born in northern Virginia in 1944 and grew up in Miami as the middle of three children.[2] His father was an IRS agent who helped investigate organized crime.[3] Black's first job was working at the Miami Serpentarium, importing cobras, vipers and other venomous snakes, and preparing them for transport to zoos throughout the world.[3] He graduated from high school in 1962 and studied at the University of Miami for a year before enlisting in the Marine Corps.[2] After completing his service in the Vietnam War, Black returned to school, earning a BSBA in Accounting in 1973 and a JD in 1976, both from the University of Florida.

Military career [ edit ] Black was a career military officer. He served in both the U.S. Marines and in the U.S. Army JAG Corps. He served a total of 31 years active and reserve, rising from the rank of private to full colonel.[3] He is a graduate of the U.S. Army War College, Command and General Staff College, and Naval Aviator's Flight School.[4]

Black enlisted in the Marines in 1963 at the age of 19.[3] He graduated from Parris Island as a PFC and entered the Marine Aviation Cadet Program at Naval Air Station Pensacola. He was commissioned a 2nd Lt. in 1965.[3]

Vietnam [ edit ] Black served as a pilot in the US Marines during the Vietnam War, earning the Purple Heart medal.[1] He flew 269 combat helicopter missions with HMM-362, which operated out of Ky Ha, Vietnam.[3]

From 11 February to 17 June 1967, he served as Forward Air Controller for the 1st Marine Regiment, making 70 combat patrols in the jungle. He engaged in intense combat around Nui Loc Son in April 1967.[5] He received the Navy Commendation Medal with "V" for valor, while serving as Forward Air Controller for 2nd Battalion, 1st Marine Regiment. Lt. Black volunteered to join Fox Company, 1st Marines, which held the ridgeline at Nui Loc Son'--an extremely dangerous and remote outpost in the Que Son Valley.[5]

Judge Advocate General (JAG) Corps [ edit ] After the war, he left the service and graduated from law school, returning to military service as a prosecutor with the U.S. Army Judge Advocate General's Corps.[1] Black later headed the Army's Criminal Law Division at the Pentagon, before retiring from the military in 1994.

In 1996, Dick Black was practicing military law in Northern Virginia. In an interview with The Washington Times, Black said despite evidence that mixed gender training leads to sexual misconduct, the Pentagon will not revert to same-sex assignments between instructors and recruits. Black said doing so "would be inconsistent with this tremendous drive to feminize the military today, to pretend there is no difference between the sexes."[6]

Political career [ edit ] Black first held elective office on the Loudoun County Library Board, where in 1997 he authored a policy that blocked pornography on library computers.[7] The policy drew national attention and First Amendment litigation struck down the policy.[8][9]

The United States Supreme Court ruled in 2003 in US v. American Library Association that public libraries' use of Internet filtering software does not violate their patrons' First Amendment rights.[10] Today Loudoun County Public libraries do contain internet filters, but allow adult patrons to turn them off provided they read and sign the LCPL Adult Internet Use Agreement to register to use the Internet, and by doing so agree to comply with library policies and guidelines which prohibit the viewing of pornographic materials.[11]

Virginia House of Delegates [ edit ] Black was first elected to the Virginia House in a special election in 1998 to succeed Republican Delegate Bill Mims, who had been elected to the Virginia Senate.[12] Black resigned from the Library Board a few months after being sworn-in.[13] A "deeply conservative" delegate,[14] Black became well known for making controversial statements.[15]

In 2001, Black sponsored a bill to require internet filters on the computers in public schools. The bill passed overwhelmingly in both the House and Senate and was signed into law in March, 2001.[16]

During the 2001 Legislative session, Black dealt with a number of abortion related bills. In February 2001, he co-sponsored a bill to establish a 24-hour "informed consent" waiting period for women seeking an abortion. The bill required a clinic or hospital to tell a woman seeking an abortion the approximate age of the fetus, details of the abortion procedure and other options available to her. The bill eventually passed and was signed into law.[17][18]

Also during the 2001 session, Black opposed a bill that would allow the "morning-after pill" to be dispensed at pharmacies. Opponents of the bill said that, unlike normal contraceptives that prevent the fertilization of an egg, these types of emergency contraceptives can act as an abortifacient, preventing a fertilized egg from attaching to the uterine wall. "This is a baby pesticide we're looking at. It's a toxic method of eliminating a child," said Black.[18] Although the bill failed to become law,[19] the morning-after pill can be purchased in Virginia from pharmacies without a prescription by people ages 17 or older and with a prescription for those 16 and younger, and one brand is available over-the-counter for people of all ages without ID.[20]

Route 28 Corridor Improvements [ edit ] During the 2002 Session, Black successfully passed HB 735 '' Transportation Improvement Districts. The bill was designed to allow property along the Route 28 corridor to be included in multiple special tax districts. This was necessary because some of the property was already in an existing special tax district and the landowners along Route 28 were looking to create a new transportation improvement district to change this major corridor into a high speed freeway.[21]

In late 2002 and early 2003, Black opposed erecting a statue of Abraham Lincoln and his son Thomas at the Tredegar Iron Works to commemorate Lincoln's visit to Richmond on April 4, 1865, 10 days before his assassination. Black said, "Putting a statue to [Lincoln] there is sort of like putting the Confederate flag at the Lincoln Memorial."[22]

In July 2003, Black proposed legislation that would prevent unmarried and gay couples from applying for low-interest home mortgages, saying that the state was "spending $90 million to subsidize sodomy and adultery. I just don't understand why we are taking money away [from worthwhile programs] and supporting a radical homosexual agenda."[23]

Also in 2003, delivered plastic fetus dolls to fellow delegates and senators.[24] Black used the dolls to generate publicity for his bill requiring Parental consent for a minor to get an abortion.[25] Black's bill, HB 1402, passed and was signed into law.[26]

In February 2005, he urged his constituents to picket Stone Bridge High School for putting on a play about a gay football player, claiming that the school was "being used to promote a homosexual lifestyle." He further claimed that attempts to "encourage homosexual activity, to portray it in a cute or favorable light" could lead to children contracting HIV.[27] In 2004, he said with regard to Virginia's sodomy law: "If I'm the last person on the face of this Earth to vote against legalizing sodomy, I'll do it."[28]

Ollin Crawford [ edit ] During his time in the Virginia House of Delegates, Black was also involved with advocating for clemency on behalf of Ollin Crawford. Crawford, known as the "grenade lady,"[29] was serving a 70-year sentence after she committed a series of robberies where she claimed to have a grenade stuffed into a sock. No one was injured in any of the four robberies. Because the Dept. of Corrections classified Crawford as a "three-time loser," she was ineligible for parole.[29]

Black's interest in the case came from what he felt was a discrepancy in the way Crawford was treated and a similar case where Sue Kennon, a suburban housewife, committed four armed robberies with a toy pistol. Kennon was granted parole in 2001 after serving 14 years of a 48-year sentence.[29] In pointing out the similarities of the case, but the difference in outcome, Black said. ''I don't believe there was deliberate discrimination, but reasonable people might ask why a poor black woman hasn't received the same consideration as an affluent white woman. We do know that two women with very similar cases received vastly different treatment.''[29]

Black advocated on Crawford's behalf for 10 years, starting in 1997. He requested clemency for Crawford from three different Virginia Governors, including George Allen (American politician) and Mark Warner. Finally, Tim Kaine granted clemency and Crawford was released in early 2008.[30]

Black was defeated in his quest for a fifth term by Democrat David Poisson in 2005. Poisson defeated him 53%''47%. Black ran for the Republican nomination in the special election for Virginia's 1st congressional district in October 2007. A convention was held to determine the nominee and Black came fifth eliminated in the fourth ballot. State Delegate Rob Wittman was picked and went on to win the election.[31]

Virginia Senate [ edit ] Black ran for the State Senate in 2011 in the newly-created 13th district, which encompasses nearly half of Loudoun County and a portion of Prince William County. His former home had been in another portion of Loudoun County represented in the State Senate by Democrat Mark Herring.[24] Black won a hard-fought three-way primary, taking 3,143 votes (38.83%) to John Stirrup's 3,029 votes (37.42%) and Robert S. Fitzsimmonds' 1,923 votes (23.76%).[32] In the general election, Black handily defeated Democrat Shawn Mitchell by 57% to 43%.[33]

In an interview in December 2013, Black compared same-sex marriage to polygamy and incest, saying that although he opposed polygamy, "at least it functions biologically", adding that it was "just more natural" than homosexuality.[34]

In 2014, Black briefly ran for Virginia's 10th congressional district in the 2014 elections to succeed retiring Republican incumbent Frank Wolf.[35] He withdrew on January 23, two days after declaring his candidacy, saying: "after meeting with Republican Caucus leaders in Richmond, it is imperative that I remain in the Senate where I am needed to maintain our 20/20 split."[36] Although the Virginia Senate was split 20/20, Democrats held the majority as Ralph Northam, the Democratic Lieutenant Governor of Virginia, cast tie-breaking votes.

In January 2019, Black announced he would not seek reelection for his State Senate seat in the 2019 Virginia legislative elections and instead retire at the end of his term.[37]

Syria [ edit ] In April 2014, Black sent an official letter to Syrian President Bashar al-Assad,[38] thanking "the Syrian Arab Army for its heroic rescue of Christians in the Qalamoun Mountain Range",[38] praising Assad for "treating with respect all Christians and the small community of Jews in Damascus," and stating it was obvious that the rebel side of the war was largely being fought by "vicious war criminals linked to Al Qaeda" [38][39] Democratic State Senator A. Donald McEachin called the letter "bizarre,"[40] while Republican State Senator Bill Stanley later joked "What's the matter, Dick? Was Kim Jong-un not returning your text messages?".[41]

In 2015 Islamic State included Black in a list of its enemies, calling him "The American Crusader." It quoted the following statement by Black: "One thing is clear, if Damascus falls, the dreaded black and white flag of ISIS will fly over Damascus. ... Within a period of months after the fall of Damascus, Jordan will fall and Lebanon will fall. ... I think you will automatically see a beginning of a historic push of Islam towards Europe and I think, ultimately, Europe will be conquered."[42]

On April 27, 2016, Black began a three-day trip to Syria in support of its government.[43] Explaining his trip in a series of Twitter exchanges with The Washington Post, Black wrote that the United States was "allied with two of the most vile nations on earth, Saudi Arabia and Turkey, which are intent on imposing a [Wahhabi] fundamentalist government on the Syrian people."[43]

In 2018, Black appeared on Hezbollah-affiliated Arab TV channel Al Mayadeen to assert that the British intelligence service, MI6, was planning a false flag chemical attack on Syria, which it would then try to blame on the Assad regime.[44][45]

Medicaid expansion [ edit ] Black introduced a budget amendment to the General Assembly to prohibit Medicaid expansion without the legislature's approval. He led a conservative revolt against Medicaid expansion that inspired the Twitter hashtag #BlackorBust.[46][47] After a full day of heated back-door debates, Black prevailed and the Senate approved a budget without Medicaid expansion, which was Democratic Governor Terry McAuliffe's signature issue.[47] McAuliffe vowed not to sign a budget without it.

On June 20, 2014, McAuliffe announced he would veto the Black or Bust amendment. But his attempted veto of the Black or Bust Medicaid Amendment failed when his veto was ruled unlawful by the Speaker.[48]

Russia Today appearances [ edit ] Black has made frequent appearances on RT (formerly known as Russia Today), commenting on United States foreign affairs policy.[49][50][51]

November 14, 2017 appearance [ edit ] When asked for his reaction to RT America having to register as a foreign agent, Black said:

I think that it makes a mockery of free speech in the United States. We go around lecturing the world about how they need to have freedom of the press and freedom of speech and yet here we are cracking down on free speech. ... the objective of doing this to RT news is not to block information from going to Russian citizens, it is to block the truth from reaching the American public in the United States ... I will tell you that I know many, many Americans who have come to rely on RT News as the most valid, truthful broadcast medium in the United States ... we consider CNN, Fox News, and MSNBC - all of them are just a bunch of people screaming back and forth at one another. Most of it is just propaganda. It is, it is extremist opinion, and you listen to RT news and they present very accurate information that is verifiable when you go and you and you actually research it. ... RT news ... has been a source of accurate information about NATO's provocations; their military provocations and their aggressive actions towards Russia in Europe. ... too many Americans have been saying you know what, what we're seeing on RT news seems to be much more factual than what we're seeing on CNN and some of these other broadcast media sources. ... I hope that RT remains a very robust source of news because I rely on it, and I will tell you millions of Americans have come to rely on RT news.[52]

Post-Senate [ edit ] Loudoun County Public Schools, Policy 8040

On June 22, 2021 at a Loudoun County Public Schools board meeting, Black argued against Policy 8040, mandating that teachers refer to students by pronouns matching their gender identity, and accused the board of suppressing free speech. After his minute of allotted time concluded and his microphone was disabled, he continued speaking while chaos erupted from the crowd. The board subsequently moved to end public comment after Black's divisive speech, he being the 51st speaker among the 259 who had registered.[53]

References [ edit ] ^ a b c "Dick Black's Bio". Dick Black Web Site. Archived from the original on 2015-01-09 . Retrieved Jan 9, 2015 . ^ a b Nakamura, David (December 25, 1997). "Declaring War on Pornography". The Washington Post . Retrieved January 22, 2019 . ^ a b c d e f "Not so Black and White: The Dick Black You Might Not Know". The Loudoun Tribune . Retrieved March 3, 2017 . ^ "Senate of Virginia '' Bio". Senate of Virginia . Retrieved March 3, 2017 . ^ a b "Vietnam Veterans of 2nd Battalion, 1st Marines" . Retrieved March 3, 2017 . ^ Scarborough, Rowan (November 9, 1996). "Sex 'Inevitable' in GI Training Camps: Female Recruits, Male Instructors Seen as Explosive Mix". The Washington Times (Washington, DC). [dead link ] } ^ David Nakamura; Jacqueline L. Salmon (October 22, 1997). "Internet Curbed in Loudoun; Library Board to Block Sexual Material". The Washington Post. Archived from the original on June 11, 2014 . Retrieved January 20, 2014 . ^ Dana Hedgpeth (April 22, 1999). "Libraries Abandon Court Fight; Board Won't Appeal Internet Policy Rulings". The Washington Post. Archived from the original on June 11, 2014 . Retrieved January 20, 2014 . ^ Dana Hedgpeth (April 25, 1999). "Black, Library Board Spar on Internet Issue". The Washington Post. Archived from the original on June 11, 2014 . Retrieved January 20, 2014 . ^ "United States v. American Library Association". June 23, 2003 . Retrieved January 8, 2015 . ^ Loudoun County Public Library "Public Internet Workstations Guidelines For Use" , retrieved January 8, 2015 ^ Peter Pae; David Nakamura (January 8, 1998). "Library Board Member Has Designs on Delegate's Seat". The Washington Post. Archived from the original on June 11, 2014 . Retrieved January 20, 2014 . ^ "Supporter of Internet Restrictions Resigns From Library Board". The Washington Post. April 16, 1998. Archived from the original on June 11, 2014 . Retrieved January 20, 2014 . ^ Helderman, Rosalind S. (October 9, 2010). "Former Loudoun delegate confirms run for state Senate". Washington Post . Retrieved July 29, 2012 . ^ Ben Pershing (January 6, 2014). "Race to succeed Frank Wolf in Congress could feature sharp Republican divide". Washington Post . Retrieved January 20, 2014 . ^ "Virginia Legislative Bill Tracking '' HB1691 '' 2001 General Assembly Session" . Retrieved April 11, 2019 . ^ "Virginia Legislative Bill Tracking '' HB2570 '' 2001 General Assembly Session" . Retrieved January 10, 2015 . ^ a b "Abortion waiting time advances in Virginia". Washington Times. February 1, 2001 . Retrieved January 20, 2014 . ^ "Virginia Legislative Bill Tracking '' HB2782 '' 2001 General Assembly Session" . Retrieved January 10, 2015 . ^ "Emergency Contraception in Virginia". NARAL . Retrieved 2015-01-22 . ^ "Virginia Legislative Bill Tracking '' HB735 '' 2002 General Assembly Session" . Retrieved January 22, 2019 . ^ "Another Rebel Stand". Washington Post. January 9, 2003 . Retrieved January 20, 2014 . ^ "Conservatives to target relaxed mortgage rules". Washington Times. July 30, 2003 . Retrieved January 20, 2014 . ^ a b David Sherfinski (August 9, 2011). "Black moves residence in bid to return to Richmond". Washington Times . Retrieved January 20, 2014 . ^ Hugh Lessing and Terry Scanlon (December 28, 2003). "Political Highs Were Hard to Find in '03". Daily Press . Retrieved January 22, 2019 . ^ "Virginia Legislative Bill Tracking '' HB1402 '' 2003 General Assembly Session" . Retrieved January 22, 2019 . ^ "Gay-Themed High School Play Sparks Va. Protests". Washington Post. February 9, 2005 . Retrieved January 20, 2014 . ^ "Gay issues top debate in Va". Gay & Lesbian Times. January 8, 2004. Archived from the original on January 19, 2014 . Retrieved January 20, 2014 . {{cite web}}: CS1 maint: unfit URL (link) ^ a b c d "Virginia Officials Rally to Free Felon". The Washington Tribune. August 3, 2003 . Retrieved January 21, 2019 . ^ Frank Green (March 19, 2008). "Pardon in 'three-time lose' case". The Washington Tribune . Retrieved January 21, 2019 . ^ "VA District 01 '' Special R Convention". Our Campaigns . Retrieved January 20, 2014 . ^ "VA State Senate 13 '' R Primary". Our Campaigns . Retrieved January 20, 2014 . ^ "VA State Senate 13". Our Campaigns . Retrieved January 20, 2014 . ^ "Social issues likely to take back seat in". northernvatimes.com. January 2014. Archived from the original on February 1, 2014 . Retrieved January 20, 2014 . ^ Carey, Julie (January 8, 2014). "Loudoun Co. Official Enters Race for Wolf's Seat". NBC Washington . Retrieved January 15, 2014 . ^ Ben Pershing (January 23, 2014). "Dick Black makes surprise decision to drop out of race to replace Frank Wolf in Congress". The Washington Post . Retrieved January 23, 2014 . ^ Smith, Max (2019-01-02). "Virginia Sen. Black won't run for re-election". WTOP . Retrieved 2019-01-04 . ^ a b c "رØ...اØ"ÙÙØ(C) اÙجمهÙريÙÙØ(C) اÙعربيÙÙØ(C) اÙØ"ÙريÙÙØ(C)". Presidency of the Syrian Arab Republic - Timeline Photos. May 26, 2014 . Retrieved June 7, 2014 . ^ "Bashar al-Assad posts a letter of support from a Virginia state senator". The Washington Post. May 27, 2014 . Retrieved May 28, 2014 . ^ "Officials react to Va. state senator's letter to Syrian president". WUSA9. May 28, 2014 . Retrieved May 29, 2014 . ^ "Schapiro: For Dick Black, issues are black or white". Richmond Times-Dispatch. May 29, 2014 . Retrieved June 4, 2014 . ^ "Loudoun's Sen. Black listed as 'enemy' by ISIS, along with Rick Santorum". The Washington Post. March 31, 2015 . Retrieved October 1, 2016 . ^ a b "Outspoken Virginia state senator travels to Syria in support of Assad". The Washington Post. April 27, 2016 . Retrieved May 1, 2016 . ^ "Va. state senator who met with Assad says British are planning fake chemical attack". Washington Post . Retrieved 2018-09-10 . ^ "US senator claims Britain's MI6 is planning a fake chemical weapons attack on Syria". The Independent . Retrieved 2018-09-10 . ^ "Grassroots Activism Scores Win on Medicaid Expansion". ^ a b "After hours of strife, lawmakers pass budget without Medicaid expansion". ^ "Virginia lawmakers finalize budget, averting a shutdown as GOP thwarts McAuliffe veto". ^ "YouTube". ^ "YouTube". ^ "YouTube". ^ "Dick Black RT 14-Nov-2017". ^ "Loudoun School Board Hearing On Trans Students' Rights Ends In One Arrest". DCist. Archived from the original on 2021-06-23 . Retrieved 2021-06-23 . External links [ edit ] Senator Black.com Official siteSenator Dick Black (R-Leesburg) at Richmond SunlightAppearances on C-SPAN

Biden sees exodus of Black staffers and some frustration among those who remain - POLITICO

Thu, 02 Jun 2022 16:18

Public engagement aide Carissa Smith, gender policy aide Kalisha Dessources Figures, National Security Council senior director Linda Etim, digital engagement director Cameron Trimble, associate counsel Funmi Olorunnipa Badejo, chief of staff Ron Klain advisers Elizabeth Wilkins and Niyat Mulugheta, press assistant Natalie Austin, National Economic Council aides Joelle Gamble and Connor Maxwell, and presidential personnel aides Danielle Okai, Reggie Greer and Rayshawn Dyson have all departed too. Deputy White House counsel Danielle Conley and Council of Economic Advisers aide Saharra Griffin are among others planning to leave in the coming weeks, according to White House officials.

The exodus has raised concerns among outside observers who push for the diversification of government ranks.

''I have heard about an exodus of Black staffers from the White House '-- 'Blaxit' '-- and I am concerned,'' said Spencer Overton, president of the Joint Center for Political and Economic Studies, which tracks government staff diversity numbers. ''Black voters accounted for 22 percent of President Biden's voters in November 2020. It is essential that Black staffers are not only recruited to serve in senior, mid-level and junior White House positions, but are also included in major policy and personnel decisions and have opportunities for advancement.''

A White House official pushed back on those concerns, saying that around 14 percent of current White House staffers identify as Black '-- in line with national proportions. The official added that the number is expected to increase as more Black staffers are brought on board and that 15 percent of Black staffers have been promoted in the last year.

''The president is incredibly proud to have built what continues to be the most diverse White House staff in history, and he is committed to continuing historic representation for Black staff and all communities,'' said White House press secretary Karine Jean-Pierre. ''This is a normal time for turnover across the board in any administration and Black staff have been promoted at a higher rate than staff who are not diverse.''

The president is incredibly proud to have built what continues to be the most diverse White House staff in history, and he is committed to continuing historic representation for Black staff and all communities.

A number of staffers who left, moreover, said it was on good terms. Some departures were for graduate school opportunities. Others went to different cabinet departments. Several said they were leaving because of family matters. Dessources Figures said she wanted to focus on her young children, as did Conley.

But others described a need to refocus in general, having spent years operating in a tense work environment with little time off.

''I worked for both the President and the Vice President during the campaign cycle, and considered the chance to serve the American people in the Biden-Harris White House nothing short of an honor,'' said Austin in an email. ''I loved my experience on the press team, and left because I wanted a chance to spend more time with family after nearly three years straight of campaigns and government work.''

The reasons for the departures may vary. But the totality of them has not gone unnoticed within the ranks, according to interviews with nine current and former Black White House officials. Three Black staffers who currently work in the White House '-- and were granted anonymity because of fear of reprisal '-- said the exodus has hurt morale, compounding problems that exist elsewhere. They described an operation in which mentorship is hard to come by and opportunity to move up the ranks of a tight-knit operation is exceptionally rare.

''We're here and we're doing a lot of work but we're not decision-makers and there's no real path towards becoming decision-makers,'' said one of the current Black White House officials. ''There is no real feedback and there's no clear path to any kind of promotions.''

Biden had pledged upon entering office that his administration ''would look like America looks'' and include ''a full range of talents we have in all our people.'' He and his team have subsequently taken steps to create the most diverse administration ever, far beyond his immediate predecessors. He also made history with the ascension of Black women to the positions of vice president, Supreme Court justice and press secretary, and on the Federal Reserve's board of governors, among other posts.

But at lower levels, that pledge has been harder to sustain. While there are several, first-in-history Black leaders of important White House divisions '-- like Domestic Policy Council head Susan Rice, Council of Economic Advisers director Cecilia Rouse and Office of Management and Budget director Shalanda Young '-- none have Black deputies except Conley. Conley is leaving, though she will be replaced by a Black woman, a White House official said.

Some ''people have not had the best experiences and a lot of that has to do with the dearth of Black leadership,'' said one former White House official, who is Black. ''Think about any workplace. Black folks need some person to go to, to strategize and be a mentor, and we just don't have as many folks who can be mentors to us.''

Several Black staffers pointed to the departure of Richmond as a particularly difficult blow. A second, current Biden White House official described Richmond as a ''big brother'' and ''the voice of those folks'' whose departure has left people ''a little nervous.'' A former Biden official who is Black said Richmond was ''a nucleus'' for Black staffers, and that there has been no one to fill the void similarly since he left.

''They brought in a ton of Black people generally to start without ever establishing an infrastructure to retain them or help them be successful,'' said the third current Black White House official. ''If there is no clear infrastructure of how to be successful, you become just as invisible in this space than you would be if you were not in it.''

They brought in a ton of Black people generally to start without ever establishing an infrastructure to retain them or help them be successful. If there is no clear infrastructure of how to be successful, you become just as invisible in this space than you would be if you were not in it.

In interviews, several Black staffers expressed frustration, in part, that deputy chief of staff Jen O'Malley Dillon hadn't done more to retain and promote some Black employees '-- though other officials said such concerns are misplaced. While part of her job entails signing off on promotions of White House staffers, actual decisions around promotions are made at lower levels and federal budgeting has restricted a lot of White House flexibility around human resources decisions. Asked for comment, O'Malley Dillon referred questions to the White House press office.

''I have known Jen O'Malley Dillon since 2007 and she has always been a true advocate for diversity and for Black staff, here at the White House and on the four campaigns we worked on together,'' said Jean-Pierre. NSC chief of staff Yohannes Abraham, who has also known O'Malley Dillon for 15 years, said she ''is and has long been a strong advocate for the importance of building diverse teams.''

In an interview, Richmond, now a senior adviser at the Democratic National Committee, said that the White House had given young Black staffers more responsibility than other administrations and that many of the people leaving were heading into important jobs with higher compensation.

He said that the timing of the numerous recent Black staffer departures is that his former colleagues are leaving for better opportunities. ''A lot of people have been at this grind [for a while] and it's a hard grind'' so ''a slowing down of the work pace and a better salary becomes more attractive,'' he said. ''For young African American staffers who can make these types of salaries, it doesn't just change their plight but their family's plight.''

Staffers concede that the salaries, which start at $48,000 for an entry-level White House job, has made it difficult to retain Black employees in a city with a high cost of living. ''The pay in the White House is not traditionally very good and a lot of Black folks in these roles don't come from wealthy families,'' said the second White House official.

The pay in the White House is not traditionally very good and a lot of Black folks in these roles don't come from wealthy families.

But for some of the disaffected Black current and former staffers, the concerns are not just centered around matters of salary. The continued pandemic has forced aides to continue to have many meetings over Zoom and limit staff socializing events, making it harder to build staff cohesion and keep morale up, staffers say.

Jamal Simmons, Harris' communications director, downplayed the notion that internal operations had been bumpy, saying that the White House has been ''welcoming and enabling of our communications ideas.''

Elsewhere, however, there is frustration over how policy priorities are being communicated. A White House official noted that Biden and Harris have helped provide more support for HBCUs, used executive authorities to increase police accountability and helped Black communities with increased investment and economic opportunity and projects through the infrastructure law . But privately, several staffers said there was a growing sense that some of the major issues important to Black voters and lawmakers have gone either unfulfilled or become less emphasized.

''The issues that are the highest priority for our community are no longer at the forefront of the administration's priority list,'' said the third Black White House official. ''When 10 Black people got killed at a grocery store [in Buffalo, N.Y.], it's business as usual and no one stops to say to you, 'Are you okay?'''

For some Black staffers still serving the administration, there is also a fear that the exiting of their colleagues will worsen the situation, ensuring that there are even fewer voices there to reflect the perspectives of their community. They believe that the failure to retain those staffers reflects larger political missteps that the White House has made.

''They gave us a mandate to execute on all the things that we promised and not only are we not delivering on that front, but then we're not also delivering to the staff that came in on the basis of that promise,'' said the first of the current White House officials. ''People go home to their families or their communities, and what can they point to specifically? They can't even point to their own experiences as positive.''

Europol: Europa wordt een hub voor coca¯nehandel | Nederlands Dagblad

Thu, 02 Jun 2022 16:17

1. wanneer u op de PDF-button rechtsonder klikt, krijgt u het printvenster

2. u maakt dan de afdrukkeuze PDF

3. u kiest vervolgens save

4. het wordt nu opgeslagen als PDF

5. Wij wensen u veel leesplezier

Recordhoeveelheden in beslag genomen drugs wijzen op toename van de handel. Volgens voorlopige gegevens is vorig jaar zeker 240 ton coca¯ne in beslag genomen. Ter vergelijking: in 2020 werd ongeveer 214 ton coca¯ne in beslag genomen.

Havens in Belgi, Nederland en Spanje staan '‹'‹volgens Europol bovenaan de lijst. Maar ook de haven van Hamburg, in het noorden van Duitsland, wordt steeds vaker gebruikt door criminele bendes. Vorig jaar werd daar de recordhoeveelheid van 19,1 ton in beslag genomen.

Vanuit Europa verscheept

Hoeveel coca¯ne Europa bereikt, is moeilijk te zeggen. 'We gaan ervan uit dat alleen al in Colombia jaarlijks 2000 ton coca¯ne wordt geproduceerd', zei een woordvoerder van Europol. 'En meer dan 60 procent daarvan wordt naar Europa verscheept.'

Slechts een fractie van de drugs wordt in de EU geconsumeerd, aldus Europol. Het grootste deel van de coca¯ne wordt vanuit de EU naar Oost-Europa, Azi en Australi vervoerd.

Eat the Bugs: UK Schoolchildren Fed Insects to Encourage 'Sustainability'

Thu, 02 Jun 2022 16:14

Schoolchildren in Wales are being fed bugs as part of a research programme by publicly-funded universities ''to educate children on the environmental and nutritional benefits of edible insects across the UK'', according to the left-wing i newspaper.

Children at four Welsh primary schools '-- roughly equivalent to American elementary schools '-- will participate in a study aimed at making youngsters ''think about alternative proteins as real things for now, rather than just as foods for the future,'' according to Christopher Bear, a Cardiff University academic helping to organise the study.

University of the West of England academic Verity Jones, another study organiser, appeared to imply that finding ways to weaponise children as ''agents of dietary change'' against their parents is one of the objects of the research in comments to the i, too.

''Many children have the power of pester, so in some cases can be great agents of dietary change within the family,'' she suggested, adding that children's reluctance to consume insects could be overcome in part by drilling it into their heads that minuscule amounts of bug matter make their way into regular foodstuffs naturally anyway.

''I have found that, once children know that insects are already, by the very nature of processing, in many of the foods we eat; and are assured that they won't become ill from eating them, they are very open to trying,'' Jones said, adding: ''All research, for adults and children, indicates whole insects are off-putting, but ground-up insects within foods are very acceptable.''

Tax-Funded Research: Britons Could Live off Bug Meat by 2030 Because 'Net Zero' https://t.co/BqKM27jRlS

'-- Breitbart London (@BreitbartLondon) July 30, 2021

Roch Community Primary School headmaster Carl Evans, who leads one of the schools participating in the bug-eating scheme, opined that ''[t]here is an important connection between our local community, food production and wider global issues surrounding sustainable development.''

He claimed that ''[t]hese issues are important to children'' '-- although evidence that primary school aged children, who can be as young as four, genuinely spend their time thinking about ''food production and wider global issues surrounding sustainable development'' with significant adult coaching appears to be thin on the ground.

Nevertheless, normalising bug-eating seems to be a particular obsession of institutions in the United Kingdom and the wider West, with the UK Research and Innovation Council (UKRI) '-- an arm of the British government '-- suggesting in 2021 that ''meat'' fashioned from mealworms and crickets may have to replace regular meat as part of the ''net zero'' agenda.

The European Union, too, has been keen to push insect consumption, moving to approve them as regulated foodstuffs in 2020.

Let Them Eat Crickets! EU to Approve Bugs for Human Consumption https://t.co/iToG1666bZ

'-- Breitbart London (@BreitbartLondon) April 6, 2020

Follow Jack Montgomery on Twitter: @JackBM ontgomery Follow Breitbart London on Facebook: Breitbart London

Connecticut Government to Offer 'Misinformation Spotter' $150K Salary Ahead of Midterm Elections

Thu, 02 Jun 2022 16:13

The Connecticut Governor and Secretary of State have a new position available ahead of the 2022 midterm elections.

They're looking for the state's first 'misinformation spotter' and will offer an enticing $150,000 salary for the Censurer in Chief.

While the official job title is security analyst, the individual will be expected to combat misinformation 'on a full-time' basis.

In a nutshell, Connecticut wants their own Ministry of Truth.

New: Connecticut's Help Wanted: misinformation spotter, salary $150k.

States ramp up misinfo policing efforts @NYTimes https://t.co/1wZbzIyD7A

'-- Cecilia Kang (@ceciliakang) May 31, 2022

What is it with these idiots? Connecticut Governor and Secretary of State offer $150K salary to hire 'misinformation spotter' ahead of November elections via https://t.co/vyiNBXFspX https://t.co/u7oRmma53B

'-- Jon Najarian (@jonnajarian) May 31, 2022

Daily Mail reported:

Their job will be to identify and flag information that they think may significantly disrupt election activities, and to boost the public's confidence in the fairness and accuracy of results.

It is all part of a massive campaign against alleged misinformation funded by Democrat Governor Ned Lamont, and overseen by Secretary of the State Denise Merrill.

Merril, who has joined other state secretaries on the #TrustedInfo2022 national public education effort, called misinformation 'the issue of our lifetime.'

'With the 2022 elections fast approaching, it is important to remember that election officials are the trusted sources for accurate election information,' Secretary Merrill said in January.

The job's appealing salary, $150,000, is just below twice the average income for a resident in the Constitution State.

The state's misinformation officer will target certain platforms, such as websites Gettr, Rumble and 4Chan, and more commonly used platforms such as Facebook and Twitter, the New York Times reported.

The initiative is part of a larger campaign by Lamont that will allocate $2 million for public information efforts to educate and inform registered voters.

An additional $4million will be allotted to Democracy Initiatives Projects, a project managed by Merrill that focuses on upgrading dated voter registration systems and election applications.

'Connecticut and American elections are free, fair, and secure, and I will continue to fight election misinformation and ensure that American elections remain trustworthy for every voter,' Merrill wrote on her official website.

*Source '' Daily Mail*

Climate emergency declaration passes in Parliament | Premier of South Australia

Thu, 02 Jun 2022 16:08

South Australia has joined other governments and jurisdictions around the world in declaring a climate emergency in Parliament today.Climate Minister Susan Close introduced the climate emergency motion, which passed both houses tonight, reaffirming the urgent need to decarbonise the South Australian economy and shift to renewable sources of energy.

Minister Close last year tabled a petition with more than 10,000 signatures from South Australians demanding immediate action on climate change.

The Malinauskas Government is committed to serious action on climate change including building a hydrogen power plant and restoring environmental flows to the River Murray.

The Government is also poised to repeal the Liberals' tax on electric vehicles and their changes to the Native Vegetation Act which enabled developers to circumvent planning and native vegetation laws in Flinders Chase National Park.

Ten years of inaction and climate culture wars from federal and state Liberals have left Australia badly exposed to the effects of climate change, as well as stymying investment in the renewable energy sector.

South Australia can't afford to wait any longer for real action on climate change.

The most recent Intergovernmental Panel on Climate Change report confirms that global average temperatures. The report showed that some parts of Australia had already recorded increased average temperatures of 1.4C since 1910 and a significant rainfall decrease across southern Australia, with further drops in annual rainfall expected.

QuotesAttributable to Susan CloseWe really need to focus on supporting projects and policies which are climate friendly and encourage growth in resilient low-carbon businesses.

The Malinauskas government will position South Australia to take advantage of the global need to rapidly reduce emissions.

Labor sees the climate crisis as a jobs opportunity, especially in the regions where many renewable projects are located.

Our world-leading hydrogen jobs plan will help to power green manufacturing in South Australia, creating jobs and providing clean energy.

After years of Liberal inaction on climate change, it's time to act and that starts with acknowledging the seriousness of the climate crisis.

About Us - ActivePure Technology

Thu, 02 Jun 2022 16:03

We Are Relentless in Our Pursuit of Excellence Advancing the fight against pathogens in the air and on surfaces since 1924.

Using technology developed for use in space exploration, ActivePure has changed indoor air quality and surface standards.

We have pushed for policies that consider the wellbeing of families, students, customers, employees, and the environment first and foremost.

We understand the value of a deep breath

Our commitment to creating the purest indoor space possible is deeper than this moment in time'--it is decades of laboratory testing, it is iteration upon iteration of our devices, and it is generations of a family invested in environments free from concerns of pathogens.

Dr. Deborah Birx Got New Job With Anti-Covid Air Purifier Co.

Thu, 02 Jun 2022 15:59

BRENDAN SMIALOWSKI/AFP via Getty Images

Former Trump Coronavirus Task Force coordinator Dr. Deborah Birx has left government service and taken a job with a company that makes air purifiers it says clean air and surfaces of COVID-19.

Dr. Birx, last seen not being offered a job in the Biden administration while Dr. Anthony Fauci was being retained, will be taking a senior position with ActivePure. From Reuters:

Dr. Deborah Birx, the former Trump White House Coronavirus Task Force coordinator, is taking a private sector job, joining a Texas manufacturer that says its purifiers clean COVID-19 from the air within minutes and from surfaces within hours.

Birx will join Dallas-based ActivePure as chief scientific and medical adviser, she and the company said on Friday.

Dr. Birx said she understood why she was not asked to stay on:

''The Biden administration wanted a clean slate,'' she told Reuters in an interview. ''I understand that completely.''

Birx left government earlier this week.

She and Fauci, she said, asked themselves regularly what could have been done differently over the last year.

''When you have the 100,000 people we lost over the summer, and the 300,000 people we lost over the fall-winter surge, you have to ask yourself and have to know that it didn't go as well as it should have,'' she said.

''All of us are responsible for that.''

Also this week, Dr. Birx became a senior fellow at the George W. Bush Institute, and joined the board of Innoviva. From Innoviva's March 10 SEC filing:

On March 9, 2021, Innoviva, Inc. (the ''Company'') appointed Deborah L. Birx, M.D., to its Board of Directors (the ''Board''), where she will serve as an independent director. Dr. Birx is a world renowned medical expert and leader who most recently served as the response coordinator of the White House Coronavirus Task Force. Dr. Birx's career highlights also include having served as Ambassador-at-Large, when she assumed the role of the Coordinator of the United States Government Activities to Combat HIV/AIDS and U.S. Special Representative for Global Health Diplomacy. Dr. Birx also served as the U.S. Global AIDS Coordinator where she oversaw the President's Emergency Plan for AIDS Relief (PEPFAR) at the CDC and as the Director of the U.S. Military HIV Research Program (USMHRP) at the Walter Reed Army Institute of Research.

Dr. Birx has published over 230 manuscripts in peer-reviewed journals, authored nearly a dozen chapters in scientific publications, as well as developed and patented vaccines. She received her medical degree from the Hershey School of Medicine, Pennsylvania State University, and beginning in 1980 she trained in internal medicine and basic and clinical immunology at the Walter Reed Army Medical Center and the National Institutes of Health. Dr. Birx is board certified in internal medicine, allergy and immunology, and diagnostic and clinical laboratory immunology.

Dr. Birx served in the United States Army from 1980 until 2008, retiring with the rank of colonel.

There is no arrangement or understanding between Dr. Birx and any other persons, pursuant to which Dr. Birx was selected as a director.

Dr. Birx will serve as a member of the audit committee and the nominating/corporate governance committee of the Board.

Since January 1, 2020 there have not been, nor are there any currently proposed to be, any transactions, in which Innoviva was or is to be a participant and the amount involved exceeds $120,000, and in which Dr. Birx had or will have a direct or indirect material interest.

Dr. Birx is not party to any material plan, contract or arrangement.

Both Birx and Fauci were diplomatic and indirect in their pushback against Trump, but Birx has taken the brunt of criticism for not being more forceful, perhaps due to her involvement in the infamous disinfectant briefing. Dr. Fauci remains a member of President Joe Biden's COVID-19 team.

Have a tip we should know? tips@mediaite.com

Climate change to blame for monkeypox outbreak, says professor | Newstalk

Thu, 02 Jun 2022 15:11

Climate change is likely behind the global outbreak of monkeypox, a professor of health systems has said.

The disease had largely been eradicated due to smallpox vaccines but the few people who do contract it usually do so in tropical rainforest areas of central and west Africa - often after coming into contact with animals.

However, in recent weeks hundreds of cases have been recorded across Europe and yesterday Minister for Health Stephen Donnelly revealed there was one confirmed case in the Republic of Ireland.

''Climate change is driving animal populations out of their normal ranges and human populations into areas where animals live,'' Professor Staines of DCU explained to On The Record with Gavan Reilly .

''There's a very detailed analysis of about 40 years of data published in [the journal] Nature a few months ago that documents what has happened and predicts what may happen in the future and it's very much driven now by climate change - and to an extent by human population growth.

''But climate change is pushing people into cities, it's pushing animals into closer proximity with people and we're seeing connections that we never saw before.

''So this is what living with climate change looks like.''

Minister Donnelly has said that medics and close contacts of those with the disease will be offered vaccines but added that normal PPE would give people strong protection.

The Minister for Health Stephen Donnelly outside National Midwifery Conference, 05-04-2022. Image: Leah Farrell/RollingNews

''Critically, it's not airborne, it's not something that is easily caught,'' the minister said.

''Using the normal PPE and the normal procedures that trained clinicians would use, of course, that's the main line of defence.''

Monkeypox is very rarely fatal and most sufferers develop a fever, rash and swollen lymph nodes. Symptoms last for up to a month and the disease is transmitted through skin to skin contact, body fluids, respiratory droplets or contaminated items such as bedding and clothing.

Main image: A monkeypox patient. Picture by: RGB Ventures / SuperStock / Alamy Stock Photo

Britain urges people with monkeypox to abstain from sex as cases rise

Thu, 02 Jun 2022 15:09

Test tubes labelled "Monkeypox virus positive and negative" are seen in this illustration taken May 23, 2022.

Dado Ruvic | Reuters

U.K. health authorities have urged anyone who tests positive for the monkeypox virus to abstain from sex until their symptoms have cleared.

In new guidance released Monday, the U.K. Health Security Agency also recommended that previously infected persons continue to use condoms for a period of eight weeks after the virus has passed, as a precautionary measure.

The health agency said the risks to the general public remain low, but encouraged people to contact a health professional if they notice any unusual rashes or lesions.

Rising risks of sexual transmissionMonkeypox is a rare infectious disease typically found in Central and West African countries. Symptoms include rashes, fever, headaches, muscle ache, swelling and backpain.

While the virus is generally mild, usually clearing up on its own within two to four weeks, health experts have voiced concern over the recent spike in cases in countries where monkeypox does not usually spread, and the growing risks of community transmission.

The majority of cases so far have been spread through sex, with a particular concentration of cases occurring within the gay and bisexual communities and men who have sex with men, according to the World Health Organization.

A section of skin tissue, harvested from a lesion on the skin of a monkey, that had been infected with monkeypox virus, is seen at 50X magnification on day four of rash development in 1968.

CDC | Reuters

The public health body said Monday that it was not yet clear whether the recent outbreak could lead to a global pandemic but said that there is currently a window of opportunity to curb rising cases.

"Collectively, the world has an opportunity to stop this outbreak. There is a window," Rosamund Lewis, the WHO's technical lead for monkeypox, said during a briefing.

The WHO also said it is currently considering whether the outbreak should be assessed as a "potential public health emergency of international concern." Such a declaration was done for the Covid-19 and Ebola outbreaks, and would enable additional research and funding to contain the disease, it noted.

What to do if you catch monkeypoxIf you suspect that you may have contracted monkeypox, you should isolate yourself from physical contact with others and seek medical advice immediately.

Initial symptoms of monkeypox include fever, headaches, muscle ache, swelling and backpain. Rashes and lesions then typically emerge on the face, hands, feet, eyes, mouth or genitals within one to five days. Those rashes turn into raised bumps and then blisters, which may fill with white fluid before breaking and scabbing over.

Many of the symptoms of the virus can be easily confused with other diseases, such as chickenpox, herpes or syphilis, however, so medical confirmation is important.

If you are diagnosed with monkeypox, the U.K. guidance is that you will need to isolate until the virus has passed. Close contacts of someone with monkeypox may also be risk assessed and asked to isolate for 21 days.

The illness is typically mild and most people recover within two to four weeks. While medical advice currently varies across countries, the U.K.'s National Health Service notes that you may need to stay in a specialist hospital to prevent infection spreading to other people.

Deutsche Bank subsidiary CEO resigns after greenwashing raid

Thu, 02 Jun 2022 15:03

Associated Press

Posted 6/1/2022 7:00 AM

BERLIN -- Deutsche Bank subsidiary DWS said Wednesday that its chief executive is resigning, hours after authorities raided its offices as part of a probe into claims that the company exaggerated the sustainable credentials of some of the financial products.

CEO Asoka Woehrmann is set to step down after the company's annual general meeting on June 9, DWS said. He will be succeeded by Stefan Hoops, who currently oversees Deutsche Bank's corporate and commercial client activities.

In a statement, Woehrmann said DWS was profitable and stable despite difficult market conditions.

'Å'At the same time, the allegations made against DWS and myself in past months have become a burden for the company, as well as for my family and me,'¯½ he was quoted as saying. "In order to protect the institution and those closest to me, I would like to clear the way for a fresh start.'¯½

Some 50 investigators searched the offices of DWS and Deutsche Bank on Tuesday, Frankfurt prosecutors said.

The raids were triggered by a former manager in charge of sustainability, who claimed that DWS had engaged in 'Å'greenwashing'¯½ by exaggerating the environmental and climate credentials of certain funds it sold.

Prosecutors said initial investigations showed there were sufficient indications that environmental, social, and governance criteria were not considered in a majority of the funds featured in the company's sales brochures.

Deutsche Bank said Tuesday that the actions taken by prosecutors were 'Å'directed against unknown people in connection with greenwashing allegations against DWS.'¯½

'Å'DWS said that they have continuously cooperated fully with all relevant regulators and authorities on this matter and will continue to do so," the bank said Tuesday.

0 Comments

After Michael Sussmann's Acquittal, Who Will Hold the FBI Accountable?

Thu, 02 Jun 2022 15:02

News Analysis

The Russiagate saga began in early 2016 as a scheme by Hillary Clinton's 2016 presidential campaign to vilify her rival, Donald Trump, as an agent of the Kremlin. Clinton's scheme comprised two prongs: former British spy Christopher Steele's fictitious dossier and Clinton campaign lawyer Michael Sussmann's false Alfa Bank data.

While special counsel John Durham's Russiagate investigation, having focused on those two prongs, is now in serious jeopardy with the acquittal of Sussmann, very little attention has been paid to how the FBI weaponized Clinton's scheme to turn up the heat on Trump.

Documents made public at Sussmann's trial add to a growing body of evidence that Clinton's scheme gradually converged with FBI leadership's own scheme. What started out as a political smear campaign carried out by a political candidate became co-opted by the nation's top law enforcement agency to not only damage a sitting president, but to try to remove him from office.

As nefarious as the Clinton campaign's scheme was, the FBI's conduct was much worse.

By the time the FBI opened its Crossfire Hurricane investigation into the Trump campaign on July 31, 2016'--supposedly because of a tip it had received three days earlier from an Australian diplomat'--the Clinton campaign's scheme to vilify Trump as a Russian agent and the FBI's own efforts against Trump had started to amalgamate.

Steele'--who had been hired by Clinton operatives at Fusion GPS in May 2016'--passed an early dossier report to his FBI handler on July 5, 2016. That dossier report established the narrative that the Kremlin had Trump compromised.

Steele's FBI handler, Michael Gaeta, passed Steele's dossier report to an FBI colleague in the New York office, who then passed it up the ladder to the FBI's counterintelligence team. Later in July 2016, Gaeta received two additional reports from Steele that he also sent up his chain of command.

Officially, the dossier didn't reach the FBI Crossfire Hurricane team investigating the Trump campaign until two months later, on Sep. 19, 2016.

Unofficially, Steele's conspiracy theories had made their way up the FBI chain within weeks of Gaeta getting the first report. According to the inspector general's report on the Crossfire Hurricane investigation, high-level FBI officials were already aware of the dossier's existence, including at FBI headquarters.

Further evidence that an informal FBI investigation was well underway before the Australian diplomat's tip arrived comes in the form of text messages between the FBI's then-counterespionage chief Peter Strzok and Lisa Page, counsel for FBI deputy director Andrew McCabe. In one exchange dated July 27, 2016, Strzok and Page talk about opening a case on Trump.

On July 28, 2016, intelligence services shared intercepted communications with then-President Barack Obama claiming that Clinton had greenlighted a scheme to vilify Trump with false accusations of Russia collusion. During Sussmann's trial, Clinton's campaign manager Robby Mook confirmed that Clinton had greenlighted the leak of the false allegations to the media. But the FBI ignored the intelligence.

A day later, on July 29, 2016, the two prongs of Clinton's scheme converged when the main protagonists met at the law offices of Perkins Coie in Washington. Attendees included Sussmann, Steele, the heads of Fusion GPS, and lead Clinton campaign lawyer Marc Elias.

It was at that meeting, according to testimony by Steele to a British court, that he was told about the Alfa scheme. These allegations were then included in a memo by Steele dated Sep. 14, 2016, just days before Sussmann would take the Alfa Bank data to the FBI.

Steele testified in a British court that Sussmann provided him with other claims about Alfa Bank's purported ties to Russian President Vladimir Putin during a late July 2016 meeting.

While the two prongs of the Clinton campaign's dirty tricks campaign against Trump had merged, they hadn't yet been fully integrated into the FBI leadership's own plans to pursue Trump.

That would happen two months later, on Sep. 19, 2016, the day when Sussmann took the false Alfa Bank data to the FBI. It was the same day the FBI officially received the Steele dossier.

Sussmann's data was almost immediately dismissed by FBI cyber analysts. The day after Sussmann's visit, lead cyber agent Scott Hellman mocked Sussmann's data in text messages sent to his unit leader, Nate Batty.

In one of the messages, Hellman sarcastically wrote that if he wanted to open a secret communications channel, he would call it ''Scott.Hellmann-email.com,'' deriding the fact that Sussmann's Alfa data had used the address ''mail1.Trump-email.com,'' an address that hadn't been used since 2009, but suddenly saw a flurry of activity just before Sussmann took his data to the FBI.

Despite the fact that Sussmann's Alfa Bank story was obviously fabricated, FBI leadership overruled their cyber experts and ordered their Chicago office'--far away from their own cyber group'--to open a full investigation.

Soon after, in October 2016, the FBI obtained a FISA warrant to spy on the Trump campaign via foreign policy adviser Carter Page. That warrant was obtained on the basis of the fraudulent Steele dossier.

By this time, it was clear that the Clinton campaign and the FBI were pursuing the same goal. All the various schemes had merged into one big scheme to get Trump.

When Trump won the 2016 election despite the smears, the FBI's actions shifted into overdrive. Trump may well have won because the corporate media'--which at that time still by and large adhered to journalistic standards'--never fully embraced the Clinton campaign's dirty tricks.

Most media outlets refused to run with the Steele dossier because they couldn't confirm any of its stories. The New York Times refused to endorse the Alfa Bank story for the same reason, even conceding that ''there could be an innocuous explanation, like a marketing email or spam, for the computer contacts.''

FBI leadership understood that in order for any scheme to succeed, the media needed a new hook, and deputy director McCabe, who later admitted to lying about his media contacts, knew how to provide that hook.

When the intelligence community wrote its post-election intelligence community assessment of alleged Russian interference in the 2016 election, McCabe insisted on including the Steele dossier. Rank-and-file analysts didn't agree, as nothing in the dossier had been confirmed. A compromise was reached whereby a summary of Steele's dossier was included in the assessment. The thrust of the summary was that Trump had been compromised by Putin. This was good enough for the FBI. By including it in a formal intelligence community report, the FBI ensured that the dossier obtained legitimacy. FBI Director James Comey then briefed Trump on the dossier on Jan. 6, 2017.

The fact that Trump had been briefed was then leaked to CNN, which reported the story. From then on, there was only one topic for the media and that was the dossier, including all of its salacious lies.

The FBI had successfully weaponized the Clinton campaign's dirty trick. Even the false Alfa Bank story made a comeback in the media. In fact, the FBI knew that both prongs of Clinton's dirty trick were bogus. The Alfa case had been shut down in January 2017. At the same time, the Steele dossier was exposed as a fraud by Igor Danchenko, Steele's primary sub-source. Yet FBI leadership persisted in their investigation of Trump.

On March 4, 2017, Trump wrote on Twitter that he knew he had been spied on. Two days later, a panicked FBI and their Department of Justice (DOJ) supervisors convened a meeting to discuss Trump's Twitter post. It was at this meeting that FBI leaders such as McCabe gave their DOJ counterparts a rosy status report on their investigation, concealing the fact that all investigative leads had collapsed. Through their deceit, FBI leadership was able to convince their DOJ superiors to approve a public announcement that the Trump campaign was under investigation for Russia collusion. That bombshell announcement was made by Comey on March 20, 2017.

The FBI's efforts culminated in May 2017 with the appointment of Robert Mueller as special counsel.

Ultimately, Trump hung on, but the damage caused by the FBI's assault on him was immense. His first few years in office were consumed by Mueller and the fake scandal. Crucially, Trump wasn't able to deliver on his campaign promise to seek better relations with Russia. Every time Trump tried to engage Russia, the media and Washington establishment lashed out.

When Trump met Russian Foreign Minister Sergei Lavrov at the White House in May 2017, he was immediately accused of passing along state secrets. National security adviser H.R. McMaster even had to hold a press conference to deny the story.

When Trump met Putin in Helsinki in 2018, the press coverage bordered on hysteria, to the point where the media pondered whether a soccer ball that Putin gave Trump as a gift might have been bugged. At no point during his four-year presidency was Trump given an opportunity to have a meaningful dialogue with Russia. A direct consequence of that is the situation we now see in Ukraine.

The untold story of Russiagate is how the FBI, by weaponizing the Clinton campaign's dirty tricks, changed the course of a presidency.

And yet, other than a lowly FBI lawyer who got off with a slap on the wrist for doctoring evidence, no one from the FBI has been charged with any crime.

Follow

Hans Mahncke is a co-host of ''Truth Over News'' on EpochTV.

Cyber agency: Voting software vulnerable in some states | AP News

Thu, 02 Jun 2022 15:01

ATLANTA (AP) '-- Electronic voting machines from a leading vendor used in at least 16 states have software vulnerabilities that leave them susceptible to hacking if unaddressed, the nation's leading cybersecurity agency says in an advisory sent to state election officials.

The U.S. Cybersecurity and Infrastructure Agency, or CISA, said there is no evidence the flaws in the Dominion Voting Systems' equipment have been exploited to alter election results. The advisory is based on testing by a prominent computer scientist and expert witness in a long-running lawsuit that is unrelated to false allegations of a stolen election pushed by former President Donald Trump after his 2020 election loss.

The advisory, obtained by The Associated Press in advance of its expected Friday release, details nine vulnerabilities and suggests protective measures to prevent or detect their exploitation. Amid a swirl of misinformation and disinformation about elections, CISA seems to be trying to walk a line between not alarming the public and stressing the need for election officials to take action.

CISA Executive Director Brandon Wales said in a statement that ''states' standard election security procedures would detect exploitation of these vulnerabilities and in many cases would prevent attempts entirely.'' Yet the advisory seems to suggest states aren't doing enough. It urges prompt mitigation measures, including both continued and enhanced ''defensive measures to reduce the risk of exploitation of these vulnerabilities.'' Those measures need to be applied ahead of every election, the advisory says, and it's clear that's not happening in all of the states that use the machines.

University of Michigan computer scientist J. Alex Halderman, who wrote the report on which the advisory is based, has long argued that using digital technology to record votes is dangerous because computers are inherently vulnerable to hacking and thus require multiple safeguards that aren't uniformly followed. He and many other election security experts have insisted that using hand-marked paper ballots is the most secure method of voting and the only option that allows for meaningful post-election audits.

''These vulnerabilities, for the most part, are not ones that could be easily exploited by someone who walks in off the street, but they are things that we should worry could be exploited by sophisticated attackers, such as hostile nation states, or by election insiders, and they would carry very serious consequences,'' Halderman told the AP.

Concerns about possible meddling by election insiders were recently underscored with the indictment of Mesa County Clerk Tina Peters in Colorado, who has become a hero to election conspiracy theorists and is running to become her state's top election official. Data from the county's voting machines appeared on election conspiracy websites last summer shortly after Peters appeared at a symposium about the election organized by MyPillow CEO Mike Lindell. She was also recently barred from overseeing this year's election in her county.

One of the most serious vulnerabilities could allow malicious code to be spread from the election management system to machines throughout a jurisdiction, Halderman said. The vulnerability could be exploited by someone with physical access or by someone who is able to remotely infect other systems that are connected to the internet if election workers then use USB sticks to bring data from an infected system into the election management system.

Several other particularly worrisome vulnerabilities could allow an attacker to forge cards used in the machines by technicians, giving the attacker access to a machine that would allow the software to be changed, Halderman said.

''Attackers could then mark ballots inconsistently with voters' intent, alter recorded votes or even identify voters' secret ballots,'' Halderman said.

Halderman is an expert witness for the plaintiffs in a lawsuit originally filed in 2017 that targeted the outdated voting machines Georgia used at the time. The state bought the Dominion system in 2019, but the plaintiffs contend that the new system is also insecure. A 25,000-word report detailing Halderman's findings was filed under seal in federal court in Atlanta last July.

U.S. District Judge Amy Totenberg, who's overseeing the case, has expressed concern about releasing the report, worrying about the potential for hacking and the misuse of sensitive election system information. She agreed in February that the report could be shared with CISA, which promised to work with Halderman and Dominion to analyze potential vulnerabilities and then help jurisdictions that use the machines to test and apply any protections.

Halderman agrees that there's no evidence the vulnerabilities were exploited in the 2020 election. But that wasn't his mission, he said. He was looking for ways Dominion's Democracy Suite ImageCast X voting system could be compromised. The touchscreen voting machines can be configured as ballot-marking devices that produce a paper ballot or record votes electronically.

In a statement, Dominion defended the machines as ''accurate and secure.''

Dominion's systems have been unjustifiably maligned by people pushing the false narrative that the 2020 election was stolen from Trump. Incorrect and sometimes outrageous claims by high-profile Trump allies prompted the company to file defamation lawsuits. State and federal officials have repeatedly said there's no evidence of widespread fraud in the 2020 election '-- and no evidence that Dominion equipment was manipulated to alter results.

Halderman said it's an ''unfortunate coincidence'' that the first vulnerabilities in polling place equipment reported to CISA affect Dominion machines.

''There are systemic problems with the way election equipment is developed, tested and certified, and I think it's more likely than not that serious problems would be found in equipment from other vendors if they were subjected to the same kind of testing,'' Halderman said.

In Georgia, the machines print a paper ballot that includes a barcode '-- known as a QR code '-- and a human-readable summary list reflecting the voter's selections, and the votes are tallied by a scanner that reads the barcode.

''When barcodes are used to tabulate votes, they may be subject to attacks exploiting the listed vulnerabilities such that the barcode is inconsistent with the human-readable portion of the paper ballot,'' the advisory says. To reduce this risk, the advisory recommends, the machines should be configured, where possible, to produce ''traditional, full-face ballots, rather than summary ballots with QR codes.''

The affected machines are used by at least some voters in at least 16 states, and in most of those places they are used only for people who can't physically fill out a paper ballot by hand, according to a voting equipment tracker maintained by watchdog Verified Voting. But in some places, including all of Georgia, almost all in-person voting is on the affected machines.

Georgia Deputy Secretary of State Gabriel Sterling said the CISA advisory and a separate report commissioned by Dominion recognize that ''existing procedural safeguards make it extremely unlikely'' that a bad actor could exploit the vulnerabilities identified by Halderman. He called Halderman's claims ''exaggerated.''

Dominion has told CISA that the vulnerabilities have been addressed in subsequent software versions, and the advisory says election officials should contact the company to determine which updates are needed. Halderman tested machines used in Georgia, and he said it's not clear whether machines running other versions of the software share the same vulnerabilities.

Halderman said that as far as he knows, ''no one but Dominion has had the opportunity to test their asserted fixes.''

To prevent or detect the exploitation of these vulnerabilities, the advisory's recommendations include ensuring voting machines are secure and protected at all times; conducting rigorous pre- and post-election testing on the machines as well as post-election audits; and encouraging voters to verify the human-readable portion on printed ballots.

___

This story has been corrected to reflect that Tina Peters has been barred from overseeing this year's election in her county, not from running for secretary of state.

Europe's Russian Oil Ban Could Mean a New World Order for Energy - The New York Times

Thu, 02 Jun 2022 14:51

The effort could hurt Russia but could also help drive up already high oil prices, hurting the global economy and enriching energy companies.

Energy experts say Europe's push to find alternative oil supplies will leave no part of the world untouched. Credit... An Rong Xu for The New York Times Published June 1, 2022 Updated June 2, 2022, 10:15 a.m. ET

HOUSTON '-- The European Union's embargo on most Russian oil imports could deliver a fresh jolt to the world economy, propelling a realignment of global energy trading that leaves Russia economically weaker, gives China and India bargaining power and enriches producers like Saudi Arabia.

Europe, the United States and much of the rest of the world could suffer because oil prices, which have been marching higher for months, could climb further as Europe buys energy from more distant suppliers. European companies will have to scour the world for the grades of oil that their refineries can process as easily as Russian oil. There could even be sporadic shortages of certain fuels like diesel, which is crucial for trucks and agricultural equipment.

In effect, Europe is trading one unpredictable oil supplier '-- Russia '-- for unstable exporters in the Middle East.

Europe's hunt for new oil supplies '-- and Russia's quest to find new buyers of its oil '-- will leave no part of the world untouched, energy experts said. But figuring out the impact on each country or business is difficult because leaders, energy executives and traders will respond in varying ways.

China and India could be protected from some of the burden of higher oil prices because Russia is offering them discounted oil. In the last couple of months, Russia has become the second-biggest oil supplier to India, leapfrogging other big producers like Saudi Arabia and the United Arab Emirates. India has several large refineries that could earn rich profits by refining Russian oil into diesel and other fuels in high demand around the world.

Ultimately, Western leaders are aiming to weaken President Vladimir V. Putin's ability to wreak havoc in Ukraine and elsewhere by denying him billions of dollars in energy sales. They hope their moves will force Russian oil producers to shut down wells because the country does not have many places to store oil while it lines up new buyers. But the effort is perilous and could fail. If oil prices rise substantially, Russia's overall oil revenue may not fall much.

Other oil producers like Saudi Arabia and Western oil companies like Exxon Mobil, BP, Shell and Chevron stand to do well simply because oil prices are higher. The flip side is that global consumers and businesses will have to pay more for every gallon of fuel and goods shipped in trucks and trains.

''It's a historic, big deal,'' said Robert McNally, an energy adviser to President George W. Bush. ''This will reshape not only commercial relationships but political and geopolitical ones as well.''

E.U. officials have yet to release all the details of their effort to squelch Russian oil exports but have said those policies will go into effect over months. That is meant to give Europeans time to prepare, but it will also give Russia and its partners time to devise workarounds. Who will adapt better to the new reality is hard to know.

According to what European officials have said so far, the union will ban Russian tanker imports of crude oil and refined fuels like diesel, representing two-thirds of the continent's purchases from Russia. The ban will be phased in over six months for crude and eight months for diesel and other refined fuels.

In addition, Germany and Poland have pledged to stop importing oil from Russia by pipeline, which means Europeans could reduce Russian imports by 3.3 million barrels a day by the end of the year.

And the union has said European companies will no longer be allowed to insure tankers carrying Russian oil anywhere. That ban will also be phased in over several months. Because many of the world's largest insurers are based in Europe, that move could significantly raise the cost of shipping Russian energy, though insurers in China, India and Russia itself might now pick up some of that business.

Before the invasion of Ukraine, roughly half of Russia's oil exports went to Europe, representing $10 billion in transactions a month. Sales of Russian oil to E.U. members have declined somewhat in the last few months, and those to the United States and Britain have been eliminated.

Some energy analysts said the new European effort could help untangle Europe from Russian energy and limit Mr. Putin's political leverage over Western countries.

''There are many geopolitical repercussions,'' said Meghan L. O'Sullivan, director of the geopolitics of energy project at Harvard's Kennedy School. ''The ban will draw the United States more deeply into the global energy economy, and it will strengthen energy ties between Russia and China.''

Another hope of Western leaders is that their moves will reduce Russia's position in the global energy industry. The idea is that despite its efforts to find new buyers in China, India and elsewhere, Russia will export less oil overall. As a result, Russian producers will need to shut wells, which they will not be able to easily restart because of the difficulties of drilling and producing oil in inhospitable Arctic fields.

Still, the new European policy was the product of compromises between countries that can easily replace Russian energy and countries, like Hungary, that can't easily break their dependence on Moscow or are unwilling to do so. That is why 800,000 barrels a day of Russian oil that goes to Europe by pipeline was excluded from the embargo for now.

Image The Duna oil refinery in Hungary receives Russian oil through a pipeline. Credit... Janos Kummer/Getty Images The Europeans also decided to phase in the restrictions on insuring Russian oil shipments because of the importance of the shipping industry to Greece and Cyprus.

Such compromises could undermine the effectiveness of the new European effort, some energy experts warned.

''Why wait six months?'' asked David Goldwyn, a top State Department energy official in the Obama administration. ''As the sanctions are configured now, all that will happen is you will see more Russian crude and product flow to other destinations,'' he said. But he added, ''It's a necessary first step.''

The Russia-Ukraine War and the Global Economy Card 1 of 7A far-reaching conflict. Russia's invasion on Ukraine has had a ripple effect across the globe, adding to the stock market's woes. The conflict has caused'‹'‹ dizzying spikes in gas prices and product shortages, and is pushing Europe to reconsider its reliance on Russian energy sources.

Global growth slows. The fallout from the war has hobbled efforts by major economies to recover from the pandemic, injecting new uncertainty and undermining economic confidence around the world. In the United States, gross domestic product, adjusted for inflation, fell 0.4 percent in the first quarter of 2022.

Russia's economy faces slowdown. Though pro-Ukraine countries continue to adopt sanctions against the Kremlin in response to its aggression, the Russian economy has avoided a crippling collapse for now thanks to capital controls and interest rate increases. But Russia's central bank chief warned that the country is likely to face a steep economic downturn as its inventory of imported goods and parts runs low.

Trade barriers go up. The invasion of Ukraine has also unleashed a wave of protectionism as governments, desperate to secure goods for their citizens amid shortages and rising prices, erect new barriers to stop exports. But the restrictions are making the products more expensive and even harder to come by.

Prices of essential metals soar. The price of palladium, used in automotive exhaust systems and mobile phones, has been soaring amid fears that Russia, the world's largest exporter of the metal, could be cut off from global markets. The price of nickel, another key Russian export, has also been rising.

Despite the oil embargo, Europe is likely to remain reliant on Russian natural gas for some time, possibly years. That could preserve some of Mr. Putin's leverage, especially if gas demand spikes during a cold winter. European leaders have fewer alternatives to Russian gas because the world's other major suppliers of that fuel '-- the United States, Australia and Qatar '-- can't quickly expand exports substantially.

Another wild card is the growing popularity of electric cars and renewable energy. Higher oil and gas prices could encourage individuals, businesses and elected officials in Europe and elsewhere to more quickly turn away from combustion engine cars and power plants that run on fossil fuels.

Russia also has other cards to play, which could undermine the effectiveness of the European embargo.

China is a growing market for Russia. Connected mainly by pipelines that are near capacity, China increased its tanker shipments of Russian crude in recent months.

Saudi Arabia and Iran might lose from those increased Russian sales to China, and Middle Eastern sellers have been forced to reduce their prices to compete with the heavily discounted Russian crude.

Dr. O'Sullivan said the relationship among Russia, Saudi Arabia and other members of the OPEC Plus alliance could become more complicated ''as Moscow and Riyadh compete to build and maintain their market share in China.''

Even as energy commercial ties are scrambled, big oil producers like Saudi Arabia and the United Arab Emirates have benefited overall from the war in Europe. Many European companies are now eager to buy more oil from the Middle East. Saudi oil export revenues are climbing and could set a record this year, according to Middle East Petroleum and Economic Publications, which tracks the industry, pushing the kingdom's trade surplus to more than $250 billion.

India is another beneficiary because it has big refineries that can process Russian crude, turning it into diesel, some of which could end up in Europe even if the raw material came from Russia.

''India is becoming the de facto refining hub for Europe,'' analysts at RBC Capital Markets said in a recent report.

But buying diesel from India will raise costs in Europe because it's more expensive to ship fuel from India than to have it piped in from Russian refineries. ''The unintended consequence is that Europe is effectively importing inflation to its own citizens,'' the RBC analysts said.

India is getting about 600,000 barrels a day from Russia, up from 90,000 a day last year, when Russia was a relatively minor supplier. It is now India's second-biggest supplier after Iraq.

But India could find it difficult to keep buying from Russia if the European Union's restrictions on European companies insuring Russian oil shipments raise costs too much.

''India is a winner,'' said Helima Croft, RBC's head of commodity strategy, ''as long as they are not hit with secondary sanctions.''

Elon Musk Tells Tesla and SpaceX Workers to Return to Office 40 Hours a Week - The New York Times

Thu, 02 Jun 2022 14:47

In emails to workers at SpaceX and Tesla, Mr. Musk said they were required to spend a minimum of 40 hours a week in the office.

In an email to SpaceX employees, Elon Musk said he would fire workers who did not spend ''a minimum of 40 hours in the office per week.'' Credit... Todd Anderson for The New York Times Elon Musk is demanding that his workers return to the office.

Mr. Musk, the world's richest man, sent a pair of similar memos on Tuesday to push his employees at SpaceX, the rocket company he runs, and Tesla, the electric carmaker he leads, to spend time in the office.

In his email to SpaceX employees, Mr. Musk told workers that they were required to ''spend a minimum of 40 hours in the office per week.'' Those who did not do so would be fired, he wrote in the memo, which was obtained by The New York Times.

''The more senior you are, the more visible must be your presence,'' Mr. Musk said. ''That is why I spent so much time in the factory '-- so that those on the line could see me working alongside them. If I had not done that, SpaceX would long ago have gone bankrupt.''

In his memo to Tesla's executive staff, which was posted by two pro-Tesla Twitter accounts and which the billionaire appeared to confirm, Mr. Musk also wrote that ''anyone who wishes to do remote work'' must be in the office for a minimum of 40 hours a week. Those who decline should ''depart Tesla,'' he added.

Image Workers at the Tesla factory in Fremont, Calif. Mr. Musk told Tesla's executive staff that members should ''depart'' the company if they did not work in the office for a minimum of 40 hours a week. Credit... Christie Hemm Klok for The New York Times With his twin notes, Mr. Musk waded directly into a fractious debate over the right way for corporations to bring workers back to the office during the coronavirus pandemic. Over the past couple of years, Apple, Meta, Microsoft and many other companies have announced and then delayed return-to-office dates as coronavirus surges have complicated plans. Remote work has become normalized.

The issue has become more fraught as coronavirus vaccinations have increased and an abatement of the pandemic seemed to be near. Some companies began saying they expected workers to return to the office. Still, plans have continued to fluctuate. Apple last month suspended its requirement that employees return to the office in May for at least three days a week because of a resurgence of Covid-19 cases. Airbnb recently told its employees that they never had to return to the office.

Mr. Musk, Tesla and SpaceX did not return requests for comment.

Many employees at Tesla and SpaceX had already been back in the office to some extent. In 2020, as ''nonessential'' workplaces in California closed their doors during the early days of the pandemic, SpaceX's headquarters in Hawthorne, Calif., used its exemption as a government contractor to remain open. In a March 2020 email, which was earlier reported by BuzzFeed News, Mr. Musk told SpaceX employees that they had a higher risk of being killed in a car crash than dying from the coronavirus.

In May 2020, Mr. Musk also attacked local officials in the San Francisco Bay Area for not letting him reopen Tesla's factory in Fremont, Calif. Tesla sued Alameda County, where the factory is situated, and reopened it anyway, in defiance of health officials' instructions.

Tesla, which had more than 99,000 employees at the end of last year, has moved its headquarters to Austin, Texas, from Palo Alto, Calif., though it still has a significant manufacturing and operational presence in California. SpaceX employs about 12,000 people, Mr. Musk said in a recent interview.

Nick Bloom, an economics professor at Stanford University, said Mr. Musk's directives to employees at SpaceX and Tesla were among the strictest of tech companies. Many tech companies have instead considered hybrid models in which employees can work from home for part of the time, he said.

Mr. Bloom said he expected SpaceX and Tesla to lose about 10 percent to 20 percent of their current work forces and for recruiters to try to poach employees by offering jobs with more flexible work options.

Many Tesla and SpaceX employees who work in cutting-edge tech may believe in Mr. Musk, but there are also people ''who are in more common activities like I.T., finance, H.R. and payroll,'' Mr. Bloom said. ''They may say: 'I'm not designing cars. I'm doing the payroll of employees, and I can do that somewhere else.'''

Annie Dean, the head of distributed work for Atlassian, an Australian software company, called Mr. Musk's view ''outdated.''

''This mind-set is regressive and discounts the last two years of collaborative, digital-first work,'' said Ms. Dean, who was a former head of remote work at Meta, the owner of Facebook, in an email.

Mr. Musk has long been known as a demanding boss. At times, he tried setting an example for hard work, taking meetings late into the night, sending emails at all hours and even sleeping at the Tesla factory to help ramp up production in 2018.

It is unclear if Mr. Musk will adhere to his own rules of spending 40 hours a week in Tesla's and SpaceX's offices. He is rarely in the office and often travels, said two people who have worked with him and who spoke on the condition of anonymity. They expressed concerns about how the return-to-office policies would affect recruiting and retention at the companies.

Mr. Musk is also closing a $44 billion deal to buy Twitter. He has not said what he expects of Twitter employees in terms of time spent in the office. In 2020, Jack Dorsey, Twitter's chief executive at the time, informed employees that many of them would be allowed to work from home permanently.

Adrian Zamora, a Twitter spokesman, said Twitter had no plans to change its policy on flexible work.

In his email to SpaceX employees on Tuesday, Mr. Musk suggested that companies that didn't require workers to return to the office would not be able to ship ''a great new product.''

''SpaceX has and will create and actually manufacture the most exciting and meaningful products of any company in space,'' he said. ''This will not happen by phoning it in.''

Cade Metz contributed reporting.

Middle Eastern Oil Companies To Use Excess Gas For Mining Bitcoin - Bitcoin Magazine

Thu, 02 Jun 2022 14:12

Crusoe, a Denver-based bitcoin mining company, is deploying equipment to capture flared gasses in Muscat, Oman.

Crusoe Energy

Crusoe, a Denver-based bitcoin mining company, is deploying equipment to capture flared gasses in Muscat, Oman.

Crusoe, a bitcoin mining company, is deploying equipment in Muscat, Oman to capture flared gas.The Oman Investment Authority in the Middle East was part of an April funding round that saw Crusoe raise $350 million. The MENA region accounts for 38% of the world's flared gasses. Crusoe Energy, a U.S. firm that specializes in using excess natural gas for bitcoin mining, will begin deploying generators and mining equipment to capture flared gas in Muscat, Oman as the Middle East looks to cut its emissions, according to a report from Bloomberg.

Chase Lochmiller, Crusoe's CEO, explained in the report that the company felt it was important to have a presence in the Middle East and North African (MENA) region as the location accounts for 38% of the world's burning of excess natural gas from oil wells.

''Having the buy-in from nations that are actively trying to solve the flaring issues is what we are looking for,'' Lochmiller said.

The Oman Investment Authority was part of a $505 million funding round for Crusoe this past April. Ismail Ibrahim Al-Harthi, senior manager of technology investments at Oman Investment Authority, reportedly explained the stake in Crusoe did not represent the size of stakes in the company and Crusoe also declined to comment on the terms of the deal.

The pilot for the first Middle Eastern deployment is expected to launch by the end of the year or early 2023. Lochmiller also reassured that while the state of financial markets and bitcoin ''certainly has some impact on our top-line revenue, it doesn't impact any plans for growth and expansion.''

''Oman is committed to reduce greenhouse gases in line with the Paris climate agreement,'' Al-Harthi said in an email with Bloomberg.

The Oman government reportedly signed on with the World Bank to end routine flaring by 2030, and invested in Crusoe last year. Oman increased its stake in the company this past April, Al-Harthi reportedly stated in a phone interview.

Text of H.R. 7910: Protecting Our Kids Act (Introduced version) - GovTrack.us

Thu, 02 Jun 2022 13:51

1. (a)This Act may be cited as the Protecting Our Kids Act .

(b)The table of contents for this Act is as follows:

Sec. 1. Short title; table of contents.

Title I'--Raise the Age

Sec. 101. Prohibition on Federal firearms licensee selling or delivering certain semiautomatic centerfire rifles or semiautomatic centerfire shotguns to a person under 21 years of age, with exceptions.

Sec. 102. Operation of the Federal Bureau of Investigation's public access line.

Title II'--Prevent Gun Trafficking

Sec. 201. Prohibition on straw purchases of firearms; prohibition on gun trafficking.

Sec. 202. Prohibition on disposition of firearm to person intending unlawful further disposition.

Sec. 203. Penalties.

Sec. 204. Firearms subject to forfeiture.

Title III'--Untraceable Firearms

Sec. 301. Requirement that all firearms be traceable.

Sec. 302. Modernization of the prohibition on undetectable firearms.

Title IV'--Safe Storage

Sec. 401. Ethan's Law.

Sec. 402. Safe guns, safe kids.

Sec. 403. Kimberly Vaughan Firearm Safe Storage.

Title V'--Closing the Bump Stock Loophole

Sec. 501. Bump stocks.

Title VI'--Keep Americans Safe

Sec. 601. Definitions.

Sec. 602. Restrictions on large capacity ammunition feeding devices.

Sec. 603. Penalties.

Sec. 604. Use of Byrne grants for buy-back programs for large capacity ammunition feeding devices.

I 101. (a)Section 922(b)(1) of title 18, United States Code, is amended to read as follows:

(1) (A)any firearm or ammunition to any individual who the licensee knows or has reasonable cause to believe has not attained 18 years of age;

(B)any semiautomatic centerfire rifle or semiautomatic centerfire shotgun that has, or has the capacity to accept, an ammunition feeding device with a capacity exceeding 5 rounds, to any individual who the licensee knows or has reasonable cause to believe has not attained 21 years of age and is not a qualified individual; or

(C)if the firearm or ammunition is not a semiautomatic centerfire rifle or semiautomatic centerfire shotgun described in subparagraph (B) and is other than a shotgun or rifle, or ammunition for a shotgun or rifle, to any individual who the licensee knows or has reasonable cause to believe has not attained 21 years of age;

.

(b)Section 922(c)(1) of such title is amended by striking in the case of any firearm and all that follows through eighteen years or more of age and inserting (1) in the case of a semiautomatic centerfire rifle or semiautomatic centerfire shotgun that has, or has the capacity to accept, an ammunition feeding device with a capacity exceeding 5 rounds, I am at least 21 years of age or a qualified individual (as defined in section 921(a)(30) of title 18, United States Code), (2) in the case of a firearm other than a shotgun, a rifle, or such a semiautomatic centerfire rifle or semiautomatic centerfire shotgun, I am at least 21 years of age, or (3) in the case of any other shotgun or rifle, I am at least 18 years of age.

(c)Section 921(a) of such title is amended by inserting after paragraph (29) the following:

(30)The term qualified individual means'--

(A)a member of the Armed Forces on active duty; and

(B)a full-time employee of the United States, a State, or a political subdivision of a State who in the course of his or her official duties is authorized to carry a firearm.

(31)The term ammunition feeding device means a magazine, belt, drum, feed strip, or similar device, but does not include an attached tubular device which is only capable of operating with .22 caliber rimfire ammunition.

.

102. (a)Not later than 90 days after the date of the enactment of this Act, the Director of the Federal Bureau of Investigation (in this section referred to as the FBI) shall submit to the Committee on the Judiciary of the Senate and the Committee on the Judiciary of the House of Representatives a report regarding operation of the FBI's public access line.

(b)The report required by subsection (a) shall, at a minimum, include the following:

(1)A description of the protocols and procedures in effect with respect to information-sharing between the public access line and the field offices of the FBI.

(2)Recommendations for improving the protocols and procedures to improve the information-sharing.

II 201. (a)Chapter 44 of title 18, United States Code, is amended'--

(1)in section 921(a), by adding at the end the following:

(37)The term family members means spouses, domestic partners, parents and their children, including step-parents and their step-children, siblings, aunts or uncles and their nieces or nephews, or grandparents and their grandchildren.

; and

(2)by adding at the end the following:

932. (a)It shall be unlawful for any person (other than a licensee under this chapter), in or otherwise affecting interstate or foreign commerce, to knowingly purchase or acquire, or attempt to purchase or acquire, a firearm for the possession of a third party.

(b)It shall be unlawful for any person (other than a licensee under this chapter), in or otherwise affecting interstate or foreign commerce, to hire, solicit, command, induce, or otherwise endeavor to persuade another person to purchase, or attempt to purchase, any firearm for the purpose of obtaining the firearm for the person or selling or transferring the firearm to a third party.

(c)The Attorney General shall ensure that the firearm transaction record form required to be completed in connection with a firearm transaction includes a statement outlining the penalties that may be imposed for violating subsection (a).

(d)This section shall not apply to any firearm, if the purchaser or person acquiring the firearm has no reason to believe that the recipient of the firearm will use or intends to use the firearm in a crime or is prohibited from purchasing or possessing firearms under State or Federal law and the firearm'--

(1)is purchased or acquired by any person, or that any person attempts to purchase or acquire, as a bona fide gift between family members; or

(2)is purchased or acquired by an agent of a lawful business, or that an agent of a lawful business attempts to purchase or acquire, for the purpose of transferring to another agent of the business, for lawful use in the business.

.

(b)Section 982(a)(5) of such title is amended'--

(1)in subparagraph (D), by striking or at the end; and

(2)by inserting after subparagraph (E) the following:

(F)section 922(a)(1)(A) (related to unlicensed firearms sales);

(G)section 922(d) (relating to illegal gun transfers); or

(H)section 932 (relating to gun trafficking),

.

(c)Section 1956(c)(7)(D) of such title is amended by striking section 924(n) and inserting section 922(a)(1)(A), 922(d), 924(n), or 932.

(d)The table of sections for such chapter is amended by adding at the end the following:

.

202.Section 922(d) of title 18, United States Code, is amended in the 1st sentence'--

(1)in paragraph (8), by striking or at the end;

(2)in paragraph (9), by striking the period at the end and inserting ; or; and

(3)by inserting after and below paragraph (9) the following:

(10)intends to sell or otherwise dispose of the firearm or ammunition in violation of a Federal law, or to sell or otherwise dispose of the firearm or ammunition to a person in another State in violation of a law of that State.

.

203.Section 924(a) of title 18, United States Code, is amended by adding at the end the following:

(8)Whoever knowingly violates section 922(a)(1)(A) or 932 shall be fined under this title, imprisoned not more than 10 years, or both.

.

204.Section 924(d) of title 18, United States Code, is amended'--

(1)in paragraph (1), by inserting or 932 after section 924; and

(2)in paragraph (3)'--

(A)in subparagraph (E), by striking and at the end;

(B)in subparagraph (F), by striking the period at the end and inserting ; and; and

(C)by adding at the end the following:

(G)any offense under section 932.

.

III 301. (a)Section 921(a) of title 18, United States Code, as amended by this Act, is further amended'--

(1)in paragraph (10), by adding at the end the following: The term manufacturing firearms shall include assembling a functional firearm or molding, machining, or 3D printing a frame or receiver, and shall not include making or fitting special barrels, stocks, or trigger mechanisms to firearms.; and

(2)by adding at the end the following:

(38)The term ghost gun'--

(A)means a firearm, including a frame or receiver, that lacks a unique serial number engraved or cast on the frame or receiver by a licensed manufacturer or importer in accordance with this chapter; and

(B)does not include'--

(i)a firearm that has been rendered permanently inoperable;

(ii)a firearm that, not later than 30 months after the date of enactment of this paragraph, has been identified by means of a unique serial number, assigned by a State agency, engraved or cast on the receiver or frame of the firearm in accordance with State law;

(iii)a firearm manufactured or imported before December 16, 1968; or

(iv)a firearm identified as provided for under section 5842 of the Internal Revenue Code of 1986.

(39)The term fire control component'--

(A)means a component necessary for the firearm to initiate or complete the firing sequence; and

(B)includes a hammer, bolt or breechblock, cylinder, trigger mechanism, firing pin, striker, and slide rails.

(40) (A)The term frame or receiver'--

(i)means a part of a weapon that provides or is intended to provide the housing or structure to hold or integrate 1 or more fire control components, even if pins or other attachments are required to connect those components to the housing or structure; and

(ii)includes a frame or receiver, blank, casting, or machined body, that requires modification, including machining, drilling, filing or molding, to be used as part of a functional firearm, and which is designed and intended to be used in the assembly of a functional firearm, unless the piece of material has had'--

(I)its size or external shape altered solely to facilitate transportation or storage; or

(II)solely its chemical composition altered.

(B)For purposes of subparagraph (A)(i), if a weapon with more than 1 part that provides the housing or a structure designed to hold or integrate 1 or more fire control or essential components, each such part shall be considered a frame or receiver, unless the Attorney General has provided otherwise by regulation or other formal determination with respect to the specific make and model of weapon on or before January 1, 2023.

.

(b)Section 922 of title 18, United States Code, is amended by adding at the end the following:

(aa) (1) (A)Except as provided in subparagraph (B), it shall be unlawful for any person to manufacture, sell, offer to sell, transfer, purchase, or receive a ghost gun in or affecting interstate or foreign commerce.

(B)Subparagraph (A) shall not apply to'--

(i)the manufacture of a firearm by a licensed manufacturer if the licensed manufacturer complies with section 923(i) before selling or transferring the firearm to another person;

(ii)the offer to sell, sale, or transfer of a firearm to, or purchase or receipt of a firearm by, a licensed manufacturer or importer before the date that is 30 months after the date of enactment of this subsection; or

(iii)transactions between licensed manufacturers and importers on any date.

(2)It shall be unlawful for a person other than a licensed manufacturer or importer to engrave or cast a serial number on a firearm in or affecting interstate or foreign commerce unless specifically authorized by the Attorney General.

(3)Beginning on the date that is 30 months after the date of enactment of this subsection, it shall be unlawful for any person other than a licensed manufacturer or importer to knowingly possess a ghost gun in or affecting interstate or foreign commerce.

(4)Beginning on the date that is 30 months after the date of enactment of this subsection, it shall be unlawful for any person other than a licensed manufacturer or importer to possess a ghost gun in or affecting interstate or foreign commerce with the intent to sell or transfer the ghost gun with or without further manufacturing or to manufacture a firearm with the ghost gun.

(5) (A)It shall be unlawful for any person to sell, offer to sell, or transfer, in or affecting interstate or foreign commerce, to any person other than a licensed manufacturer a machine that has the sole or primary function of manufacturing firearms.

(B)Except as provided in subparagraph (A), beginning on the date that is 180 days after the date of enactment of this subsection, it shall be unlawful for any person other than a licensed manufacturer to possess, purchase, or receive, in or affecting interstate or foreign commerce, a machine that has the sole or primary function of manufacturing firearms.

(C)Subparagraph (B) shall not apply to a person who is engaged in the business of selling manufacturing equipment to a licensed manufacturer who possesses a machine with the intent to sell or transfer the machine to a licensed manufacturer.

.

(c) (1)Section 922(k) of title 18, United States Code, is amended'--

(A)by striking importer's or manufacturer's each place it appears; and

(B)by inserting authorized by this chapter or under State law before removed.

(2)Section 923(i) of title 18, United States Code, is amended'--

(A)by inserting (1) before Licensed; and

(B)by adding at the end the following:

The serial number shall be engraved or cast on the frame or receiver in a manner sufficient to identify the firearm and the manufacturer or importer that put the serial number on the firearm.

(2) (A)Not later than 180 days after the date of enactment of this paragraph, the Attorney General shall prescribe regulations for engraving a unique serial number onto a ghost gun.

(B)The regulations prescribed under subparagraph (A) shall'--

(i)allow an owner of a firearm described in subparagraph (A) to have a unique serial number engraved on the firearm by a licensed manufacturer or importer; and

(ii)require that a serial number be engraved on the frame or receiver in a manner sufficient to identify the firearm and the licensed manufacturer or importer that put the serial number on the firearm.

(C)The regulations authorized under this paragraph shall expire on the date that is 30 months after the date of enactment of this paragraph.

.

(d)Section 924 of title 18, United States Code, is amended'--

(1)in subsection (a)(1)(B), by striking or (q) and inserting (q), (aa)(1), (aa)(2), (aa)(4), or (aa)(5);

(2)in subsection (c)'--

(A)in paragraph (1)'--

(i)in subparagraph (A), in the matter preceding clause (i), by inserting functional before firearm each place it appears;

(ii)in subparagraph (B), in the matter preceding clause (i), by inserting functional before firearm; and

(iii)in subparagraph (D)(ii), by inserting functional before firearm; and

(B)in paragraph (4), by striking all or part of the firearm and all that follows through person. and inserting the following: all or part of the functional firearm, or otherwise make the presence of the functional firearm known to another person, in order to intimidate that person, regardless of whether the functional firearm is directly visible to that person.;

(3)in subsection (d)(1), by striking or (k) and inserting (k), (aa)(1), (aa)(2), (aa)(4), or (aa)(5);

(4)in subsection (e)(1), by inserting through the possession of a functional firearm before and has three; and

(5)by adding at the end the following:

(q)A person who violates section 922(aa)(3) shall'--

(1)in the case of the first violation by the person, be fined under this title, imprisoned not more than 1 year, or both; or

(2)in the case of any subsequent violation by the person, be fined under this title, imprisoned not more than 5 years, or both.

.

302.Section 922(p) of title 18, United States Code, is amended'--

(1)in paragraph (1)'--

(A)in the matter preceding subparagraph (A), by striking any firearm;

(B)by amending subparagraph (A) to read as follows:

(A)an undetectable firearm; or

; and

(C)in subparagraph (B), by striking any major component of which, when subjected to inspection by the types of x-ray machines commonly used at airports, does not generate and inserting the following: a major component of a firearm which, if subjected to inspection by the types of detection devices commonly used at airports for security screening, would not generate;

(2)in paragraph (2)'--

(A)by amending subparagraph (A) to read as follows:

(A)the term undetectable firearm means a firearm, as defined in section 921(a)(3)(A), of which no major component is wholly made of detectable material;

;

(B)by striking subparagraph (B) and inserting the following:

(B)the term major component, with respect to a firearm'--

(i)means the slide or cylinder or the frame or receiver of the firearm; and

(ii)in the case of a rifle or shotgun, includes the barrel of the firearm; and

; and

(C)by striking subparagraph (C) and all that follows through the end of the undesignated matter following subparagraph (C) and inserting the following:

(C)the term detectable material means any material that creates a magnetic field equivalent to or more than 3.7 ounces of 17''4 pH stainless steel.

;

(3)in paragraph (3)'--

(A)in the first sentence, by inserting , including a prototype, after of a firearm; and

(B)by striking the second sentence; and

(4)in paragraph (5), by striking shall not apply to any firearm which and all that follows and inserting the following: ''shall not apply to'--

(A)any firearm received by, in the possession of, or under the control of the United States; or

(B)the manufacture, importation, possession, transfer, receipt, shipment, or delivery of a firearm by a licensed manufacturer or licensed importer pursuant to a contract with the United States.

.

IV 401. (a)Section 922(z) of title 18, United States Code, is amended by adding at the end the following:

(4) (A) (i)Except as provided in clause (ii), it shall be unlawful for a person to store or keep any firearm that has moved in, or that has otherwise affected, interstate or foreign commerce on the premises of a residence under the control of the person if the person knows, or reasonably should know, that'--

(I)a minor is likely to gain access to the firearm without the permission of the parent or guardian of the minor; or

(II)a resident of the residence is ineligible to possess a firearm under Federal, State, or local law.

(ii)Clause (i) shall not apply to a person if the person'--

(I)keeps the firearm'--

(aa)secure using a secure gun storage or safety device; or

(bb)in a location which a reasonable person would believe to be secure; or

(II)carries the firearm on his or her person or within such close proximity thereto that the person can readily retrieve and use the firearm as if the person carried the firearm on his or her person.

(B) (i)Except as otherwise provided in this subparagraph, any person who violates subparagraph (A) shall be fined $500 per violation.

(ii)Any firearm stored in violation of subparagraph (A) shall be subject to seizure and forfeiture in accordance with the procedures described in section 924(d).

(C)In this paragraph, the term minor means an individual who has not attained 18 years of age.

.

(b)Title I of the Omnibus Crime Control and Safe Streets Act of 1968 (34 U.S.C. 10101 et seq. ) is amended by adding at the end the following:

PP 3051. (a)The Assistant Attorney General shall make grants to an eligible State or Indian Tribe to assist the State or Indian Tribe in carrying out the provisions of any State or Tribal law that is functionally identical to section 922(z)(4) of title 18, United States Code.

(b) (1)Except as provided in paragraph (2), a State or Indian Tribe shall be eligible to receive grants under this section on and after the date on which the State or Indian Tribe enacts legislation functionally identical to section 922(z)(4) of title 18, United States Code.

(2) (A)A covered State or Indian Tribe shall be eligible to receive a grant under this section during the 1-year period beginning on the date of enactment of this part.

(B)In this paragraph, the term covered State or Indian Tribe means a State or Indian Tribe that, before the date of enactment of this part, enacted legislation that is functionally identical to section 922(z)(4) of title 18, United States Code.

(c)Funds awarded under this section may be used by a State or Indian Tribe to assist law enforcement agencies or the courts of the State or Indian Tribe in enforcing and otherwise facilitating compliance with any State law functionally identical to section 922(z)(4), of title 18, United States Code.

(d)An eligible State or Indian Tribe desiring a grant under this section shall submit to the Assistant Attorney General an application at such time, in such manner, and containing or accompanied by such information, as the Assistant Attorney General may reasonably require.

(e)For each of fiscal years 2023 through 2027, the Attorney General shall give affirmative preference to all Bureau of Justice Assistance discretionary grant applications of a State or Indian Tribe that has enacted legislation functionally identical to section 922(z)(4) of title 18, United States Code.

.

402.Paragraph (4)(B) of section 922(z) of title 18, United States Code, as added by this Act, is amended by adding at the end the following:

(iii)If a person violates subparagraph (A) and a minor or a resident who is ineligible to possess a firearm under Federal, State, or local law obtains the firearm and causes injury or death to such minor, resident, or any other individual, the person shall be fined under this title, imprisoned for not more than 5 years, or both.

.

403. (a) (1) (A) (i)Not later than 180 days after the enactment of this Act, the Attorney General shall establish voluntary best practices relating to safe firearm storage solely for the purpose of public education.

(ii)The Attorney General shall give not less than ninety days public notice, and shall afford interested parties opportunity for hearing, before establishing such best practices.

(B)In establishing the best practices required under subparagraph (A), the Attorney General shall outline such best practices for preventing firearm loss, theft, and other unauthorized access for the following locations:

(i)Businesses.

(ii)Vehicles.

(iii)Private homes.

(iv)Off-site storage facilities.

(v)Any other such place the Attorney General deems appropriate to provide such guidance.

(C)Not later than 1 year after the enactment of this Act, the Attorney General shall publish, in print and on a public website, the best practices created pursuant to subparagraph (A) and shall review such best practices and update them not less than annually.

(b) (1)Section 923 of title 18, United States Code, is amended by adding at the end the following:

(m)Beginning on January 1, 2025, licensed manufacturers and licensed importers that serialize not less than 250 firearms annually pursuant to subsection (i) shall provide a clear and conspicuous written notice with each manufactured or imported handgun, rifle, or shotgun that'--

(1)is attached or adhered to, or appears on or within any packaging of, each handgun, rifle, or shotgun; and

(2)states SAFE STORAGE SAVES LIVES followed by the address of the public website established by the Attorney General pursuant to section 403(a) of the Protecting Our Kids Act.

.

(c) (1)Section 922(z) of title 18, United States Code, is amended by striking handgun each place it appears and inserting handgun, rifle, or shotgun.

(2)This section and the amendments made by this section shall take effect on the date that is 180 days after the enactment of this Act.

(d)Part PP of title I of the Omnibus Crime Control and Safe Streets Act of 1968 (34 U.S.C. 10101 et seq. ), as added by this Act, is amended by adding at the end the following:

3052. (a)The Attorney General may award grants to States and Indian Tribes for the development, implementation, and evaluation of Safe Firearm Storage Assistance Programs.

(b)Each applicant for a grant under this section shall'--

(1)submit to the Attorney General an application at such time, in such a manner, and containing such information as the Attorney General may require; and

(2)to the extent practicable, identify State, local, Tribal, and private funds available to supplement the funds received under this section.

(c) (1)A recipient of a grant under this section shall submit to the Attorney General an annual report, which includes the following information:

(A)The amount distributed to each Safe Firearm Storage Assistance Program in the jurisdiction.

(B)The number of safe firearm storage devices distributed by each such Safe Firearm Storage Assistance Program.

A recipient of a grant under this section may not include any personally identifying information of recipients of safe firearms storage devices pursuant to a Safe Firearm Storage Assistance Program that received funding pursuant to this section. (2)Beginning 13 months after the first grants are awarded under this section, and annually thereafter, the Attorney General shall submit to Congress a report, which shall include following information:

(A)A list of grant recipients during the previous year, including the funds awarded, cumulatively and disaggregated by grantee.

(B)The information collected pursuant to subsection (d)(1).

(d)There is authorized to be appropriated to the Attorney General to carry out this section $10,000,000 for each of fiscal years 2023 through 2033, to remain available until expended.

(e)Funds awarded under this section shall be allocated as follows:

(1)Not less than 75 percent of the funds received by a grantee shall be used to create or to provide resources for Safe Firearm Storage Assistance Programs in the jurisdiction.

(2)Not more than 25 percent of the funds received by a grantee may be made available to nonprofit organizations to partner with units of local government to purchase and distribute safe firearm storage devices.

(f)For purposes of this section:

(1)The term safe firearm storage device means a device that is'--

(A)designed and marketed for the principal purpose of denying unauthorized access to, or rendering inoperable, a firearm or ammunition; and

(B)secured by a combination lock, key lock, or lock based on biometric information which, once locked, is incapable of being opened without the combination, key, or biometric information, respectively.

(2)The term Safe Firearm Storage Assistance Program means a program'--

(A)carried out by a unit of local government or an Indian tribe; and

(B)solely for the purpose of acquiring and distributing safe firearm storage devices to the public.

.

(e) (1)Subpart D of part IV of subchapter A of chapter 1 of the Internal Revenue Code of 1986 is amended by adding at the end the following new section:

45U. (a)For purposes of section 38, the safe firearm storage credit determined under this section for the taxable year is an amount equal to 10 percent of amounts received from the first retail sale of a safe firearm storage device for use within the United States.

(b) (1)The amount taken into account under subsection (a) with respect to a safe firearm storage device shall not exceed $400.

(2)If, in connection with a sale of a safe firearm storage device, the transferee receives other property, the amount taken into account under subsection (a) shall be limited to the amount received solely with respect to the safe firearm storage device, which shall be determined based on the value of the safe firearm storage device relative to the value of such other property.

(c)For purposes of this section'--

(1)The term safe firearm storage device means a device that is'--

(A)designed and marketed for the principal purpose of denying unauthorized access to, or rendering inoperable, a firearm or ammunition, and

(B)secured by a combination lock, key lock, or lock based on biometric information which, once locked, is incapable of being opened without the combination, key, or biometric information, respectively.

(2)The term safe firearm storage device does not include'--

(A)any device which is incorporated to any extent into the design of a firearm or of ammunition, or

(B)any device that, as of the day of the sale described in subsection (a), has been subject to a mandatory recall by the Consumer Product Safety Commission.

(3)The terms firearm and ammunition have the meanings given such terms in section 921 of title 18, United States Code (without regard to all that follows firearm silencer, or bump stock in paragraph (3) of such section).

(d)This section shall not apply to sales after December 31, 2030.

.

(2)Subsection (b) of section 38 of the Internal Revenue Code of 1986 is amended by striking plus at the end of paragraph (32), by striking the period at the end of paragraph (33) and inserting , plus, and by adding at the end the following new paragraph:

(34)the safe firearm storage credit determined under section 45U.

.

(3)The table of sections for subpart D of part IV of subchapter A of chapter 1 of such Code is amended by adding at the end the following new item:

Sec. 45U. Safe firearm storage credit.

.

(4)The Secretary of the Treasury shall make publicly available an annual report of the total amount of credit against tax determined under section 45U of such Code for taxable years ending in the preceding calendar year, disaggregated by State.

(5)The amendments made by this section shall apply to taxable years beginning after the date of the enactment of this Act.

V 501. (a)Section 5845 of the Internal Revenue Code of 1986 is amended'--

(1)in subsection (a), by striking and (8) a destructive device. and inserting (8) a destructive device; and (9) a bump stock.; and

(2)by adding at the end the following new subsections:

(n)The term bump stock means any of the following:

(1)Any manual, power-driven, or electronic device that is designed such that when the device is attached to a semiautomatic weapon, the device eliminates the need for the operator of a semiautomatic weapon to make a separate movement for each individual function of the trigger and'--

(A)materially increases the rate of fire of the semiautomatic weapon, or

(B)approximates the action or rate of fire of a machinegun.

(2)Any part or combination of parts that is designed and functions to eliminate the need for the operator of a semiautomatic weapon to make a separate movement for each individual function of the trigger and'--

(A)materially increases the rate of fire of a semiautomatic weapon, or

(B)approximates the action or rate of fire of a machinegun.

(3)Any semiautomatic weapon that has been modified in any way that eliminates the need for the operator of the semiautomatic weapon to make a separate movement for each individual function of the trigger and'--

(A)materially increases the rate of fire of the semiautomatic weapon, or

(B)approximates the action or rate of fire of a machinegun.

(o)The term semiautomatic weapon means any repeating weapon that'--

(1)utilizes a portion of the energy of a firing cartridge or shell to extract the fired cartridge case or shell casing and chamber the next round, and

(2)requires a separate function of the trigger to fire each cartridge or shell.

.

(b) (1)Section 921(a) of title 18, United States Code, as amended by this Act, is further amended'--

(A)in paragraph (3), by striking muffler or firearm silencer and inserting muffler, firearm silencer, or bump stock; and

(B)by adding at the end the following:

(41)The term bump stock has the meaning given such term in section 5845(n) of the National Firearms Act (26 U.S.C. 5845(n) ).

.

(2)Section 922 of title 18, United States Code, is amended'--

(A)in each of subsections (a)(4) and (b)(4), by inserting bump stock, before machinegun; and

(B)in subsection (o)(1), by inserting or bump stock before the period.

VI 601.Section 921(a) of title 18, United States Code, as amended by this Act, is further amended by adding at the end the following:

(42)The term large capacity ammunition feeding device'--

(A)means a magazine, belt, drum, feed strip, helical feeding device, or similar device, including any such device joined or coupled with another in any manner, that has an overall capacity of, or that can be readily restored, changed, or converted to accept, more than 10 rounds of ammunition; and

(B)does not include an attached tubular device designed to accept, and capable of operating only with, .22 caliber rimfire ammunition.

(43)The term qualified law enforcement officer has the meaning given the term in section 926B.

.

602. (a)Section 922 of title 18, United States Code, is amended by inserting after subsection (u) the following:

(v) (1)It shall be unlawful for a person to import, sell, manufacture, transfer, or possess, in or affecting interstate or foreign commerce, a large capacity ammunition feeding device.

(2)Paragraph (1) shall not apply to the possession of any large capacity ammunition feeding device otherwise lawfully possessed on or before the date of enactment of this subsection.

(3)Paragraph (1) shall not apply to'--

(A)the importation for, manufacture for, sale to, transfer to, or possession by the United States or a department or agency of the United States or a State or a department, agency, or political subdivision of a State, or a sale or transfer to or possession by a qualified law enforcement officer employed by the United States or a department or agency of the United States or a State or a department, agency, or political subdivision of a State for purposes of law enforcement (whether on or off-duty), or a sale or transfer to or possession by a campus law enforcement officer for purposes of law enforcement (whether on or off-duty);

(B)the importation for, or sale or transfer to a licensee under title I of the Atomic Energy Act of 1954 (42 U.S.C. 2011 et seq. ) for purposes of establishing and maintaining an on-site physical protection system and security organization required by Federal law, or possession by an employee or contractor of such licensee on-site for such purposes or off-site for purposes of licensee-authorized training or transportation of nuclear materials;

(C)the possession, by an individual who is retired in good standing from service with a law enforcement agency and is not otherwise prohibited from receiving ammunition, of a large capacity ammunition feeding device'--

(i)sold or transferred to the individual by the agency upon such retirement; or

(ii)that the individual purchased, or otherwise obtained, for official use before such retirement; or

(D)the importation, sale, manufacture, transfer, or possession of any large capacity ammunition feeding device by a licensed manufacturer or licensed importer for the purposes of testing or experimentation authorized by the Attorney General.

(4)For purposes of paragraph (3)(A), the term campus law enforcement officer means an individual who is'--

(A)employed by a private institution of higher education that is eligible for funding under title IV of the Higher Education Act of 1965 (20 U.S.C. 1070 et seq. );

(B)responsible for the prevention or investigation of crime involving injury to persons or property, including apprehension or detention of persons for such crimes;

(C)authorized by Federal, State, or local law to carry a firearm, execute search warrants, and make arrests; and

(D)recognized, commissioned, or certified by a government entity as a law enforcement officer.

.

(b)Section 923(i) of title 18, United States Code, is amended by adding at the end the following: A large capacity ammunition feeding device manufactured after the date of enactment of this sentence shall be identified by a serial number and the date on which the device was manufactured or made, legibly and conspicuously engraved or cast on the device, and such other identification as the Attorney General shall by regulations prescribe..

(c)Section 924(d) of title 18, United States Code, is amended'--

(1)in paragraph (1)'--

(A)in the first sentence'--

(i)by striking Any firearm or ammunition involved in and inserting Any firearm or ammunition or large capacity ammunition feeding device involved in;

(ii)by striking or (k) and inserting (k), or (v); and

(iii)by striking any firearm or ammunition intended and inserting any firearm or ammunition or large capacity ammunition feeding device intended; and

(B)in the second and third sentences, by inserting or large capacity ammunition feeding device after firearms or ammunition each place the term appears;

(2)in paragraph (2)'--

(A)in subparagraph (A), by inserting or large capacity ammunition feeding device after firearms or ammunition; and

(B)in subparagraph (C), by inserting or large capacity ammunition feeding devices after firearms or quantities of ammunition; and

(3)in paragraph (3)(E), by inserting 922(v), after 922(n),.

603.Section 924(a)(1)(B) of title 18, United States Code, is amended by striking or (q) and inserting (q), or (v).

604.Section 501(a)(1) of title I of the Omnibus Crime Control and Safe Streets Act of 1968 (34 U.S.C. 10152(a)(1) ) is amended by adding at the end the following:

(I)Compensation for surrendered large capacity ammunition feeding devices, as that term is defined in section 921 of title 18, United States Code, under buy-back programs for large capacity ammunition feeding devices.

.

Corinthian Colleges - Wikipedia

Thu, 02 Jun 2022 13:31

Former large for-profit post-secondary education company

Corinthian Colleges, Inc.IndustryEducationFoundedFebruary 1995 ( 1995-02 ) FoundersDavid MoorePaul St. PierreFrank McCordDennis DevereuxLloyd HollandDefunctApril 27, 2015 ( 2015-04-27 ) FateDissolvedAreas served

United States, CanadaWebsite www.cci.edu Corinthian Colleges, Inc. (CCi) was a large for-profit post-secondary education company in North America. Its subsidiaries offered career-oriented diploma and degree programs in health care, business, criminal justice, transportation technology and maintenance, construction trades, and information technology.[1]

A remnant of the schools is owned by ECMC under the Altierus Career College brand. At its peak, CCi operated over one hundred Everest, Heald and WyoTech campuses throughout the United States and Canada.[2] The Los Angeles Times framed Corinthian Colleges as a collection of "castoff" schools that were taken over by Wall Street investors in 1999.[3]

Corinthian closed their campuses in Canada on February 19, 2015, after the Ontario government suspended their operating license. On April 26, 2015, following a series of legal challenges by state and federal agencies, Corinthian Colleges announced that they would cease operations at all remaining United States locations. The closure affected more than sixteen thousand students and employees.[4] Having been extensively investigated for fraudulent behavior by several jurisdictions, Corinthian Colleges, Inc. and twenty-four of its subsidiaries filed for Chapter 11 bankruptcy in the United States Bankruptcy Court for the District of Delaware.[citation needed ] In June 2022, the U.S. Department of Education announced that it would cancel $5.8 billion in student debt loan for 560,000 students who attended Corinthian.[5][6]

History [ edit ] Corinthian Colleges was founded in February 1995[7] by David Moore, Paul St. Pierre, Frank McCord, Dennis Devereux, and Lloyd Holland of National Education Centers, Inc., a for-profit operator of vocational schools based in Irvine, California. The company, whose business model was predicated on acquiring schools that were fundamentally sound but performing below their potential,[8] expanded rapidly through acquisitions and organic growth.[7]

Acquired institutes and colleges[9]Corinthian Colleges faced numerous investigations and lawsuits, including a federal criminal investigation.[10] California Attorney General Kamala Harris alleged that Corinthian Colleges targeted single parents living close to the poverty level, a demographic that its internal documents described as "composed of 'isolated,' 'impatient,' individuals with 'low self-esteem,' who have 'few people in their lives who care about them' and who are 'stuck' and 'unable to see and plan well for future,' through aggressive and persistent internet and telemarketing campaigns and through television ads on daytime shows like Jerry Springer and Maury Povich."[11]

On July 3, 2014, Corinthian Colleges agreed to execute a shutdown of twelve schools and sell off eighty-five other schools.[12][13] On February 19, 2015, the government of Ontario suspended the company's operation license, resulting in the immediate closure of all Canadian campuses.[citation needed ]

In February 2015, the nonprofit Educational Credit Management Corporation took ownership of more than half of Corinthian Colleges campuses, agreeing to forgive student debt on Corinthian College's Genesis loans.[14][15]

On April 26, 2015, Corinthian Colleges announced that they would cease operations at all remaining locations effective April 27, a move affecting more than sixteen thousand students and employees.[16]

On May 4, 2015, Corinthian filed for bankruptcy in Delaware.[17][18]

Schools and programs [ edit ] Everest [ edit ] CCi operated Everest campuses in the United States and Canada, although all US campuses were to be sold or closed beginning on July 3, 2014, leaving only the Canadian campuses under CCi's control.[12][13]

Everest Institute offered diploma programs in health care, business, computer technology, electronics, and HVAC (heating, ventilation and air conditioning).[19]

Everest College offered diploma and associate degree programs in the health care, business, and computer technology fields.[19]

Everest University offered associate's, bachelor's, and master's degree programs. The school offered programs in a variety of fields, including business, accounting, criminal justice, paralegal studies, and health care.[19] Everest University campuses also offered diploma programs in health care. There were ten Everest University campuses across Florida, which were formerly known as Florida Metropolitan University.[20]

On February 19, 2015 all 14 Everest campuses in Ontario, Canada were shut down. 2300 students and over 500 staff were affected by the closures.[21][22] CCi has since filed for bankruptcy in Canada due to the closures.

Everest University Online [ edit ] Everest University Online (EUO), a division of Everest University, offered online degree programs in accounting, applied management, business, computer information science, criminal investigations, criminal justice, criminal investigations, homeland security, and paralegal studies.[23] EUO is headquartered in Tampa, Florida.

Everest College Phoenix [ edit ] Everest College Phoenix offered bachelor's degree, associate degree, and diploma programs. This school offered programs in accounting, business, medical assisting, medical insurance billing and coding, nursing, criminal investigation, criminal justice, and paralegal studies.[24] Everest College Phoenix had campuses in Phoenix and Mesa, Arizona, as well as an online learning center.[25]

Everest College Phoenix was regionally accredited by the Higher Learning Commission, a member of the North Central Association of Colleges and School.[26]

Heald College [ edit ] Heald College was one of the nation's oldest business career colleges in the Western United States, with roots extending back to 1863.[27] Heald offered associate degree, diploma, and certificate programs. It offered programs in various fields, including health care, accounting, business, computer technology, criminal justice, and paralegal studies.[28]

Heald College was regionally accredited by the Western Association of Schools and Colleges Senior College and University Commission.[29] Heald College had campuses in California, Oregon, and Hawaii, as well as an online learning center.[30]

In November 2009, it was announced that CCi was purchasing Heald's parent company for $395 million.[31] In January 2010, CCi announced that it had completed the acquisition.[32] CCi retained the Heald name, and it was reported that it also retained its faculty and staff.[31]

WyoTech [ edit ] WyoTech offered career-oriented training for mechanical and technical occupations in the automotive, diesel, motorcycle, watercraft, aircraft, HVAC (heating, ventilation and air conditioning), electrician, and plumbing fields.[27] WyoTech had campuses in Pennsylvania, Florida, California, and Wyoming.[33] As of November 2018, all the campuses except the Laramie, Wyoming campus were closed; the remaining Laramie campus came under new ownership, providing solely automotive-related training.[34]

Accreditation [ edit ] Everest College Phoenix campuses were regionally institutionally accredited by The Higher Learning Commission, a member of the North Central Association of Colleges and Schools (HLC).[35][36] Heald College campuses are regionally institutionally accredited by the Senior College and University Commission '' Western Association of Schools and Colleges (WASC Senior).[29] Everest Institute, Everest College, Everest University, and Wyotech campuses are nationally institutionally accredited by one of two national accrediting agencies: Accrediting Commission of Career Schools and Colleges (ACCSC); or Accrediting Council for Independent Colleges and Schools (ACICS).[35][36][37]

AHLC, WASC Senior, and ACCSC are recognized by the Secretary of the United States Department of Education as reliable authorities concerning the quality of education and training offered by the CCi institutions that they accredit.[38]

Leadership [ edit ] Corinthian CEO Jack Massimino earned $3 million in 2010, and four other executives made over $1 million that year.[39] Eeva Deshon, the president and CEO of Heald College initiated a petition on Change.org to collect positive testimonials about the college, despite the largely negative evaluations by students.[39]

Faculty and students [ edit ] As of December 31, 2013, CCi's total student population was 77,584.[40] As with the entire education sector, CCi has faced a decrease in enrollment and a corresponding depressed stock price. CCi's top mutual fund holder is Wells Fargo Advantage Small Cap Value Fund.[41]

As of June 30, 2013, CCi had approximately 15,200 employees in North America, including 6,000 full-time and part-time faculty members.[7] For five consecutive years, CCi had been named a Top Workplace in Orange County, California where its headquarters are located.[42]

In 2014, a librarian at the southern California campus of Everest College quit her position when she learned a student she was assisting could only read at the third-grade level, may have a developmental disability, and was unlikely to find work in his chosen field. She stated that the student was unlikely to understand the financial burdens of the enrollment documents he signed. The librarian resigned out of principle after an unsuccessful attempt to resolve the issue with administration.[43][44]

Financial aid [ edit ] The Higher Education Act provides that a private, for-profit institution, such as CCi's institutions, may derive no more than 90% of its revenue from the Title IV federal student aid programs.[45] In 2010, CCi reported that it received 81.9% of revenue from Title IV federal student aid programs.[46]Corinthian Colleges (CCI) acquired QuickStart Intelligence in summer 2012, an Irvine, California-based, privately held technology training company. As a B2B revenue stream; CCI acquired QuickStart Intelligence to leverage the 10%, non-government funding essential to back the additional student loans for CCi's core adult learning programs.

Student loan default rateA significant requirement imposed by Congress is a limitation on participation in Title IV programs by institutions whose former students default on the repayment of federal student loans in excess of specified rates ("Cohort Default Rates").[47] On March 25, 2013, CCi received a draft three-year Cohort Default Rates from the U.S. Department of Education for students who entered repayment during the federal fiscal year ending September 30, 2010 (the "2010 Cohort"), measured over three federal fiscal years of borrower repayment. The weighted average of CCi's institutions was 19.0%, a 9.0 percentage point decrease from the 28.0% weighted average for the three-year cohort default rate for students who entered repayment during the prior fiscal year. For the 2010 Cohort, none of CCi's institutions exceeded the default threshold set by the U.S. Department of Education.

Legal proceedings [ edit ] Corinthian Colleges was investigated in Canada and by federal authorities in the United States, and by several states attorneys general for deceptive advertising and other fraudulent acts.

California [ edit ] In 2008, a class action suit was filed against CCI and a wholly owned subsidiary in Santa Clara Superior Court on behalf of graduates of Bryman College's medical assistant vocational programs. The lawsuit alleged that Bryman made untrue or misleading statements to students related to employment success, in order to induce them to enroll and stay enrolled in their medical training programs.[49] This case was ultimately dismissed.[50]

In July 2007, the California Attorney General threatened to file suit against Corinthian Colleges. Corinthian issued a statement saying: "We disagree with the Attorney General's conclusions, but we are pleased to have this matter behind us. The agreement is not evidence of wrongdoing, and the company specifically denied any wrongdoing as part of the settlement. We are fully committed to providing quality education and job placement services for students and to being in compliance with state law and regulation."[51]

In October 2013, the State of California again sued CCi alleging "false and predatory advertising, intentional misrepresentations to students, securities fraud and unlawful use of military seals in advertisements."[52][53] According to the Sacramento Bee, fourteen Everest College campuses registered three-year default rates on student loans of more than 20 percent; eight were more than 30 percent.[54]

In November 2013, CCi issued a statement asserting that the California Attorney General's complaint was "a document built on a foundation of misquoted, deceptively excerpted and'--at best'--misunderstood materials."[55] It went on to say that the California Attorney General was "wrongly accusing our schools of inflating job placement statistics for our graduates."[55] CCi indicated that it planned to "vigorously defend the integrity of the work we do for our students and graduates."[55]

California Attorney General Kamala Harris filed a complaint alleging that CCI had engaged in a predatory marketing campaign targeting job seekers and single parents with incomes near the federal poverty level. [56] The Department of Justice obtained internal company documents in which CCI employees described the company's target demographic as "isolated," "impatient," individuals with "low self-esteem," who have "few people in their lives who care about them" and who are "unable to see and plan well for future." The complaint alleged that CCI had used aggressive Internet and telemarketing campaigns, as well as television ads on daytime shows like Jerry Springer and Maury Povich to reach these individuals.[57][58][better source needed ]

Federal investigation in the United States [ edit ] On October 17, 2007, U.S. Department of Education investigators seized records at Florida campuses of for-profit colleges, including CCi's former National School of Technology in Fort Lauderdale, Florida, and Florida Career College (a division of Anthem Education Group) in Lauderdale Lakes, Florida and Pembroke Pines, Florida.[59] The school reported that it was not informed why the records were seized or why similar actions had been taken against other institutions in the area.[60] The campus reopened the next day.[60]

In June 2013, CCi disclosed that it was under investigation by the Securities and Exchange Commission (SEC).[61] CCi is cooperating with the SEC in its investigation. The SEC did not file any actions against CCi in connection with this investigation.

In November 2013, the US Consumer Financial Protection Bureau reported that they were investigating CCi.[62] In December 2013, CCi received a "Notice and Opportunity to Respond and Advise" letter from the CFPB.[63] CCi responded by stating that it "believes that its acts and practices relating to student loans are lawful and that its lending program is essential to many students."[63] The company also explained that the loans offered under the program are "modest in size and have reasonable interest rates," and that the loans allow many students to attend college who otherwise would not have the opportunity to do so.[63] The average loan amount per borrower is $4,700 and the average annual interest rate is 8.5 percent and the maximum rate is 9.9 percent. Loans are only offered to students who have a gap between their educational costs and the available financial aid from all other government and personal sources.[63] The CFPB filed a lawsuit against Corinthian in September 2014 over its loan program and debt collection practices.[64]

In April 2015, the college was fined almost $30 million by the U.S. Department of Education. The department found the school had misled students and loan agencies about the prospects for graduates to find jobs.[65] Within two weeks, the college shut down.

In May 2018, a federal judge ordered the Department of Education to stop collecting on student loans related to Corinthian. In October 2019 the same judge held Education Secretary Betsy DeVos in contempt of court because the Department had continued collecting on 16,000 such loans in spite of the court order.[66]

On June 1, 2022, the Department of Education announced that it would cancel all student loans owed by more than 560,000 students who attended Corinthian Colleges between 1995 and 2015, amounting to $5.8 billion. It is the largest student debt cancellation in history, according to the Biden administration.[67][68]

Other state investigations [ edit ] In 2004, a former student from Florida Metropolitan University initiated an action against CCi, claiming he was misled with respect to the school's accreditation and his ability to transfer credits.[69] The lawsuit proceeded in arbitration pursuant to the agreement between the parties. After hearing all of the evidence, the arbitrator found in favor of CCi on all counts and dismissed the lawsuit.[70]

In April 2005, fourteen students from Bryman College's Tacoma, Washington campus filed an action against CCi in the Superior Court of the State of Washington. The students claimed they did not receive proper training for their careers in medical assisting, that they were misled about the program's accreditation status, their eligibility to take a national certification exam, the transferability of their credits, and the availability of internships. The case was moved to the United States District Court for the Western District of Washington and was ultimately dismissed.

In August 2007, the State of Florida closed an investigation into Florida Metropolitan University with no fines, penalties or findings of wrongdoing.[71] The Florida Office of the Attorney General and Florida Metropolitan University entered into an Assurance of Voluntary Compliance acknowledging that Florida Metropolitan University participates in the Florida Statewide Course Numbering System to facilitate the transfer of eligible credits to other institutions. Florida Metropolitan University agreed to continue its efforts to help students with transfer credits and to provide students with clear disclosures.[71]

CCi is awaiting the outcome of regulatory investigations by the SEC and state prosecutors. On January 24, 2014, the Iowa Attorney General's office notified CCi that it is leading an investigation by thirteen states into CCi's business practices.[72] CCi stated that it intends to cooperate.[72] No state attorney general case has been tried and no findings adverse to CCi have been made.

On February 23, 2015, fifteen former and current students of Corinthian Colleges announced they were going on "debt strike", refusing to pay loans accrued for their time at Corinthian schools. They originally called themselves the "Corinthian 15", and after growing, as of April 1, are known as the "Corinthian 100" with 107 members. They are currently pursuing "Defense to Repayment" legal action against Corinthian. Representatives were given a meeting with the Department of Education and the Consumer Financial Protection Bureau.[73][74][75]

References [ edit ] ^ "History of Corinthian Colleges Inc". Cci.edu. Archived from the original on November 5, 2014 . Retrieved November 14, 2014 . ^ "Corinthian Colleges Inc. - North America Campus Locations". Cci.edu. Archived from the original on November 4, 2014 . Retrieved November 14, 2014 . ^ Robinson-Jacobs, Karen (September 15, 2003). "Operating Career College Lucrative Vocation for CEO" . Retrieved June 9, 2018 '' via LA Times. ^ Accessed February 22, 2022, https://web.archive.org/web/20151101151009/https://www.theglobeandmail.com/news/national/education/ontario-suspends-everest-college-operations-over-financial-concerns/article23107111/ ^ Lobosco, Katie (June 1, 2022). "Biden administration cancels $5.8 billion in student loan debt for former Corinthian students". CNN . Retrieved June 2, 2022 . ^ Richards, Zo (June 1, 2022). "Education Department to cancel $5.8B in debt for students of Corinthian Colleges". NBC News . Retrieved June 2, 2022 . ^ a b c "History of Corinthian Colleges Inc". CCi. June 30, 2013. Archived from the original on April 27, 2014 . Retrieved May 1, 2014 . ^ "History of Corinthian Colleges, Inc. '' FundingUniverse". Fundinguniverse.com . Retrieved November 14, 2014 . ^ "CCi Directory". CCi. Archived from the original on April 16, 2014 . Retrieved May 1, 2014 . ^ Chris Kirkham (August 13, 2014). "Corinthian Colleges tells investors it is facing a criminal probe". Los Angeles Times . Retrieved November 14, 2014 . ^ Noel Brinkerhoff (January 1, 2014). "Wells Fargo Main Investor in Nation's Worst Private College Company". Allgov.com . Retrieved May 1, 2014 . ^ a b Chris Kirkham (July 4, 2014). "Corinthian Colleges will sell 85 schools, close 12 others". Los Angeles Times . Retrieved November 14, 2014 . ^ a b "Corinthian Colleges to sell 85 U.S. campuses and close 12 under new agreement". Mercurynews.com . Retrieved November 14, 2014 . ^ Douglas-Gabriel, Danielle (February 3, 2015). "Here's how a debt collector plans to turn around failing for-profit colleges" . Retrieved June 9, 2018 '' via washingtonpost.com. ^ Gleason, Stephanie; Zibel, Alan (February 3, 2015). "Corinthian Colleges Buyer Agrees to Forgive $480 Million in Student Loans". The Wall Street Journal . Retrieved February 3, 2015 . ^ Kirkham, Chris (April 26, 2015). "Corinthian Colleges to shut down more than two dozen remaining schools". Los Angeles Times . Retrieved April 26, 2015 . ^ Yarbrough, Beau (May 4, 2015). "Corinthian Colleges declares bankruptcy amid push for new legislation to help students". San Bernardino County Sun . Retrieved May 5, 2015 . ^ "Corinthian Colleges Chapter 11 Petition" (PDF) . PacerMonitor . Retrieved June 7, 2016 . ^ a b c "Everest Programs by State". Everest . Retrieved May 1, 2014 . ^ "FMU has changed names to Everest University". FMU . Retrieved May 1, 2014 . ^ "Everest College students in Ottawa share anger at sudden closure". CBC News. February 19, 2015. ^ "Corinthian's 14 Schools in Canada Shut Down by Government". Bloomberg. February 20, 2015. ^ "Earn Your Degree Online". Everestonline . Retrieved May 1, 2014 . ^ "Everest College Phoenix". Everest College Phoenix. Archived from the original on May 17, 2014 . Retrieved May 1, 2014 . ^ "Everest College Phoenix Campus Locations". Everest College Phoenix. Archived from the original on April 18, 2014 . Retrieved May 1, 2014 . ^ "Accreditation & Licensure". Everest College Phoenix. Archived from the original on April 17, 2014 . Retrieved May 1, 2014 . ^ a b "Our Schools". CCi. Archived from the original on April 27, 2015 . Retrieved May 1, 2014 . ^ "About Heald College". Heald College. Archived from the original on March 30, 2014 . Retrieved May 1, 2014 . ^ a b "Statement of Accreditation Status: Heald College". WASC Senior. June 15, 2012 . Retrieved May 1, 2014 . ^ "Heald College Locations". Heald College. Archived from the original on May 17, 2014 . Retrieved May 1, 2014 . ^ a b "Sale of Heald Colleges could lead to more student options". Bizjournals.com . Retrieved November 14, 2014 . ^ "Corinthian Colleges Completes Acquisition Of Heald Capital LLC - Quick Facts". RTT News. January 5, 2010 . Retrieved May 1, 2014 . ^ "WyoTech Locations". WyoTech. Archived from the original on April 16, 2014 . Retrieved May 1, 2014 . ^ "We're Back". WyoTech . Retrieved December 1, 2018 . ^ a b "U.S. Department of Education Database of Accredited Postsecondary Institutions and Programs". Ope.ed.gov . Retrieved November 14, 2014 . ^ a b "Accreditation". Everest.edu . Retrieved November 14, 2014 . ^ "Why WyoTech Accreditation Matters". Wyotech.edu. Archived from the original on December 1, 2014 . Retrieved November 14, 2014 . ^ "Accreditation in the United States". U.S Department of Education . Retrieved May 1, 2014 . ^ a b Dayen, D. (2015) 'Chipping Away At My Soul': Insiders Detail The Decline And Fall Of Corinthian's For-Profit College Empire. Huffington Post, June 4, 2015 ^ Mediha DiMartino (February 5, 2014). "Corinthian Shares Drop". Orange County Business Journal . Retrieved May 1, 2014 . ^ "Corinthian Colleges Inc. (COCO)". Yahoo! Finance . Retrieved May 1, 2014 . ^ "Corinthian Colleges, Inc". Top Work Places . Retrieved May 1, 2014 . ^ Halperin, David (June 2, 2014). "For-Profit College Enrolls, 'Exploits' Student Who Reads at Third-grade Level" . Retrieved June 9, 2018 . ^ Weissmann, Jordan (June 3, 2014). "This For-Profit College Admitted a Student With a Third-Grade Reading Level" . Retrieved June 9, 2018 '' via Slate. ^ "90/10 Regulation & Calculation" (PDF) . U.S. Department of Education . Retrieved May 1, 2014 . ^ "Appendix 9: Funds Reported Pursuant to 90/10 Rule by Company" (PDF) . U.S. Senate . Retrieved May 1, 2014 . ^ "Cohort Default Rates". FinAid . Retrieved May 1, 2014 . ^ "Class Action Suit Filed Against Corinthian Colleges, Inc. on Behalf of Medical Assistant". Reuters. March 12, 2008. Archived from the original on April 17, 2014. ^ "Leask, Et Al V. Corinthian Colleges, Inc., Et Al". Superior Court of California . Retrieved May 1, 2014 . ^ Andrew Galvin (August 1, 2007). "Corinthian to pay $6.5 million". Orange County Register . Retrieved May 1, 2014 . ^ Li, Shan (October 10, 2013). "Attorney general accuses Corinthian Colleges of 'predatory' ads". Los Angeles Times. ^ "Attorney General Kamala D. Harris Files Suit in Alleged For-Profit College Predatory Scheme". California Office of the Attorney General. October 10, 2014. ^ "Archived copy". Archived from the original on December 8, 2013 . Retrieved June 9, 2015 . {{cite web}}: CS1 maint: archived copy as title (link) ^ a b c "CCi's response to California AG lawsuit" (PDF) . Shareholder.com. Archived from the original (PDF) on February 1, 2014 . Retrieved November 14, 2014 . ^ "Attorney General Kamala D. Harris Files Suit in Alleged For-Profit College Predatory Scheme". California Office of the Attorney General. October 10, 2013 . Retrieved May 1, 2014 . ^ "Who Owns The Awful Corinthian Colleges? Wells Fargo, Marc Morial, Pension Funds". Huffington Post. October 15, 2013. ^ +Steve Rhode. "California Sues a Number of Colleges for Doing Bad Stuff". Get Out of Debt Guy - Steve Rhode . Retrieved March 17, 2015 . ^ "Corinthian Colleges School Is Latest Florida Campus to Be Scene of Federal Raid". The Chronicle of Higher Education. October 17, 2007. ^ a b Brian Haas; Barbara Hijek (October 18, 2007). "Another career college raided". Sun Sentinel . Retrieved May 1, 2014 . ^ "Corinthian Colleges Under Investigation by SEC". The Wall Street Journal . Retrieved November 14, 2014 . ^ "For-Profit Colleges Face Consumer Bureau Probe on Lending Roles". Bloomberg . Retrieved November 14, 2014 . ^ a b c d "Corinthian Colleges Inc.: CFPB Investigation/Company Student Lending Programs: Background/Key Points" (PDF) . Shareholder.com. February 4, 2014. Archived from the original (PDF) on April 17, 2014 . Retrieved May 1, 2014 . ^ "CFPB Sues For-Profit College for FDCPA Violations and Predatory Loan Program". insideARM.com. September 17, 2014 . Retrieved November 21, 2014 . ^ Nasiripour, Shahien (April 15, 2015). "Herald College Fined For Misleading Students About Job Prospects". Huffington Post . Retrieved April 15, 2015 . ^ Stratford, Michael (October 24, 2019). "DeVos held in contempt for violating judge's order on student loans". Politico . Retrieved October 25, 2019 . ^ "Biden administration erases debt of former Corinthian College students". Chicago Tribune . Retrieved June 2, 2022 . ^ Stratford, Michael. "Biden administration forgives all federal student loan debt for 560K Corinthian borrowers". POLITICO . Retrieved June 2, 2022 . ^ "Bad Education". Orlando Weekly. April 4, 2005 . Retrieved April 16, 2014 . ^ "Corinthian Colleges Reports Favorable Arbitration Award in Satz Case - Arbitrator Finds in Favor of Company on All Counts". U.S. News and World Report. January 23, 2006 . Retrieved April 15, 2014 . ^ a b Charles Huckabee (November 6, 2007). "Florida Attorney General Settles With Corinthian Division". The Chronicle of Higher Education . Retrieved May 1, 2014 . ^ a b "States Expand For-Profit Education Probe". The Wall Street Journal . Retrieved November 14, 2014 . ^ Douglas-Gabriel, Danielle (February 25, 2015). "A dangerous revolt: People are refusing to pay back student loans". The Washington Post . Retrieved March 2, 2015 . ^ Kamenetz, Anya. "Activists Stop Paying Their Student Loans". NPR . Retrieved April 1, 2015 . ^ Tamar Lewin, "For-Profit Colleges Face a Loan Revolt by Thousands Claiming Trickery", New York Times, May 3, 2015, http://mobile.nytimes.com/2015/05/04/education/for-profit-colleges-face-a-loan-strike-by-thousands-claiming-trickery.html. External links [ edit ] Official website (in English) Archived April 27, 2015, at the Wayback Machine

Corinthian Colleges List as Biden Cancels Student Loan Debt for 500k People

Thu, 02 Jun 2022 13:31

The Biden administration will cancel the student loan debt of around 560,000 borrowers who attended schools formerly operated by for-profit education provider Corinthian Colleges.

The Department of Education announced the decision on Wednesday, which will see around $5.8 billion in student debt cleared, as the administration considers broader action on student loan forgiveness.

Corinthian Colleges has been accused of predatory and unlawful practices and filed for Chapter 11 bankruptcy in 2015. It had faced a lawsuit from the Consumer Financial Protection Bureau and Vice President Kamala Harris also pursued the company when she was attorney general of California.

At its height, Corinthian Colleges was one of the largest for-profit education companies in North America with more than 100 campuses and more than 80,000 students were enrolled in 2013.

U.S. President Joe Biden speaks after meeting virtually with baby formula manufacturers at the Eisenhower Executive Office Building on June 01, 2022 in Washington, DC. The Biden administration is canceling student loan debt for those who attend schools operated by Corinthian Colleges. Kevin Dietsch/Getty Images Corinthian Colleges' SchoolsEverest

Corinthian Colleges operated Everest, which included the Everest Institute in New York, Everest College in Phoenix, Arizona and Everest University in Florida as well as Everest University Online.

Everest also had a large number of other locations throughout the U.S., including in California, Texas, Utah and Virginia.

Heald College

The company also operated Heald College, which offered business and accounting qualifications among other degrees, and had 10 locations in California, one in Oregon and another in Hawaii, as well as offering an online learning center.

WyoTech

Corinthian Colleges also ran WyoTech, which focused on training for technical occupations in areas such as plumbing, the automotive sector and the aircraft sector. WyoTech had five campuses. Two were located in California and one each in Pennsylvania, Florida and Wyoming.

The company had 105 schools in total for Everest, Heald and WyoTech in 25 states across the U.S. in 2013, according to its website.

Debt ForgivenessSecretary of Education Miguel Cardona said in a statement on Wednesday: "As of today, every student deceived, defrauded, and driven into debt by Corinthian Colleges can rest assured that the Biden-Harris administration has their back and will discharge their federal student loans."

Those who qualify for the loan forgiveness will be notified in the coming weeks and the relief should be automatic, so no paperwork will be necessary. Senior administration officials said on Wednesday that former students who still have outstanding debt will be refunded for previous payments.

The move comes as the Biden administration is reportedly considering a broader program of student debt relief which may involve the cancelation of $10,000 in student loan debt per borrower limited to individuals earning less than $150,000 in the previous year or married couples filing jointly who earned less than $300,000.

Some senior Democrats have urged Biden to go further and cancel up to $50,000 in debt per borrower but the president has expressed skepticism about his power to clear that amount of debt through executive action.

US military hackers conducting offensive operations in support of Ukraine, says head of Cyber Command | Science & Tech News | Sky News

Thu, 02 Jun 2022 13:00

US military hackers have conducted offensive operations in support of Ukraine, the head of US Cyber Command has told Sky News.

In an exclusive interview, General Paul Nakasone also explained how separate "hunt forward" operations were allowing the United States to search out foreign hackers and identify their tools before they were used against America.

Speaking in Tallinn, Estonia, the general, who is also director of the National Security Agency (NSA), told Sky News that he is concerned "every single day" about the risk of a Russian cyber attack targeting the US and said that the hunt forward activities were an effective way of protecting both America as well as allies.

General Nakasone confirmed for the first time that the US was conducting offensive hacking operations in support of Ukraine in response to the Russian invasion.

He told Sky News: "We've conducted a series of operations across the full spectrum; offensive, defensive, [and] information operations."

The four star general did not detail the activities, but explained how they were lawful, conducted with complete civilian oversight of the military and through policy decided at the Department of Defence.

"My job is to provide a series of options to the secretary of defence and the president, and so that's what I do," he said. He declined to describe those options.

But he noted how in contrast to Russia, which conducts information operations by beginning with a lie, the US aims to strategically tell the truth.

"A classic example is in 2020, when we saw a series of different proxies, in this case troll farms that were starting to develop in Africa," he said.

Image: General Nakasone is also director of the National Security AgencyCyber Command and the NSA shared this information with the FBI and also with CNN, providing "a flashlight that suddenly exposes this type of malicious behaviour".

This strategic disclosure has been developing since 2018, General Nakasone added, and has informed the Western response to the invasion of Ukraine.

"We had an opportunity to start talking about what particularly the Russians were trying to do in our midterm elections. We saw it again in 2020, as we talked about what the Russians and Iranians were going to do, but this was on a smaller scale.

"The ability for us to share that information, being able to ensure it's accurate and it's timely and it's actionable on a broader scale has been very, very powerful in this crisis," he said.

Ukraine's intriguing resilience

General Nakasone disagreed with commentators who suggested that the cyber aspects of the Russian assault on Ukraine had been overblown and praised the Kyiv government and defenders for their resilience.

"If you asked the Ukrainians, they wouldn't say it's been overblown. If you take a look at the destructive attacks and disruptive attacks that they've encountered - you wrote about it in terms of the attack on [satellite company] Viasat - this is something that has been ongoing," he added.

Image: Viasat offices at the company's headquarters in Carlsbad, CaliforniaThe general continued: "And we've seen this with regards to the attack on their satellite systems, wiper attacks that have been ongoing, disruptive attacks against their government processes.

"This is kind of the piece that I think sometimes is missed by the public. It isn't like they haven't been very busy, they have been incredibly busy. And I think, you know, their resilience is perhaps the story that is most intriguing to all of us."

Concern about Russian attacks targeting America

Asked how high the risk was of Russian attacks targeting the US, General Nakasone said: "We remain vigilant every single day. Every single day. I think about it all the time."

"This is why we're working with a series of partners to ensure we prevent that, not only against the United States but against our allies as well," he added.

General Nakasone had delivered a keynote speech at CyCon, an international conference on cyber conflict, hosted by NATO's Cooperative Cyber Defence Centre of Excellence in Tallinn, and praised the partnerships between democratic states as a key strategic benefit.

Hunt forward - an activity developed under General Nakasone's leadership - is a key aspect of the Cyber Command's partnerships. It is "so powerful... because of the fact that we see our adversaries and we expose their tools".

Read more:US, UK and EU officially blame Russia for cyber attack

Cyber Command specialists have been deployed abroad to 16 other nations where they can seek intelligence from the allies' computer networks - always on a consensual, invitation basis, General Nakasone said.

Crucial to how hunt forward works is Cyber Command sharing the intelligence they find with the host nation.

"If you're an adversary, and you've just spent a lot of money on a tool, and you're hoping to utilise it readily in a number of different intrusions, suddenly it's outed and it's now been signatured across a broad range of networks, and suddenly you've lost your ability to do that," the general said.

In one such hunt forward deployment, US military specialists had been present in Ukraine very close to the date of the invasion.

"We went in December 2021 at the invitation of the Kyiv government to come and hunt with them. We stayed there for a period of almost 90 days," the general said.

A spokesperson confirmed this team withdrew in February, alongside other Department of Defence personnel, before the invasion.

Sky News will publish a full feature from our exclusive interview in the coming days.

Chinese space centre finds jamming device weeks before launch of latest space station mission in first reported incident of its kind | South China Morning Post

Thu, 02 Jun 2022 12:56

Staff at the Jiuquan Satellite Launch Centre in Inner Mongolia found the item in a car ahead of the launch of the Shenzhou 14 missionIt was not clear if there had been a deliberate attempt at sabotage or not Follow your favourite topic and get notified

Published: 8:25pm, 30 May, 2022

Updated: 8:25pm, 30 May, 2022

How the world is paying for Vladimir Putin's war in Ukraine

Thu, 02 Jun 2022 12:55

Oil pumping jacks, also known as "nodding donkeys", in an oilfield near Neftekamsk, in the Republic of Bashkortostan, Russia, on Thursday, Nov. 19, 2020. The flaring coronavirus outbreak will be a key issue for OPEC+ when it meets at the end of the month to decide on whether to delay a planned easing of cuts early next year. Photographer: Andrey Rudakov/BloombergIn early March, as the US and its allies unleashed a wave of sanctions on Russia, President Joe Biden stood in the White House and said they wanted to deal a ''powerful blow to Putin's war machine.''

But as the war in Ukraine approaches its 100th day, that machine is still very much operational. Russia is being propelled by a flood of cash that could average $800 million a day this year '-- and that's just what the commodity superpower is raking in from oil and gas.

For years, Russia has acted as a vast commodity supermarket selling what an insatiable world has needed: Not just energy, but wheat, nickel, aluminum and palladium too. The invasion of Ukraine has pushed the US and the European Union to rethink this relationship. It's taking time, though the EU took a further step this week by hammering out a compromise agreement on Russian oil imports.

Russia is far from unscathed by the sanctions, which have made it a pariah across the developed world. Corporate giants have fled, many walking away from billions of dollars of assets, and the economy is heading for a deep recession. But Putin can ignore this damage for now, because his coffers are overflowing with the revenue from commodities, which have become more lucrative than ever thanks to the surge in global prices driven in part by the war in Ukraine.

Even with some countries halting or phasing out energy purchases, Russia's oil-and-gas revenue will be about $285 billion this year, according to estimates from Bloomberg Economics based on Economy Ministry projections. That would exceed the 2021 figure by more than one-fifth. Throw in other commodities, and it more than makes up for the $300 billion in foreign reserves frozen as part of the sanctions.

EU leaders know that they should stop buying from Russia and indirectly funding a devastating war on Europe's doorstep. But for all that ambition, national governments also know there will be repercussions for their own economies.

They agreed this week to pursue a partial ban on Russian oil, paving the way for a sixth package of sanctions, but only after weeks of haggling and division.

''There are always political constraints on the use of sanctions,'' said Jeffrey Schott, a senior fellow at the Peterson Institute in Washington. ''You want to maximize the pain on your target and minimize the pain on your constituency at home, but unfortunately, that's easier said than done.''

Lesson #3: only an energy embargo really hurts Russia. Two-thirds of the rise in the c/a surplus this year is from energy exports (blue). Only one-third is from import compression. Maritime sanctions will stop tankers shipping oil out of Russia. We just need the political will... pic.twitter.com/AOnX28i8eB

'-- Robin Brooks (@RobinBrooksIIF) May 29, 2022

In the US, officials are debating ways to ratchet up the financial pressure, possibly by helping to impose a cap on the price of Russian oil or slapping sanctions on countries and companies still trading with Russian businesses under restrictions. But such secondary sanctions are deeply divisive and risk damaging relations with other countries.

The US has already banned Russian oil, but Europe is only slowly weaning itself off this dependency. That's giving Moscow time to find other markets '-- such as commodity guzzling behemoths China and India '-- to limit any to damage to export revenue, and its financial war chest.

That means the money is gushing into Russia's accounts, and the financial figures are a constant reminder to the West that dramatic change is needed. Oil-export revenue alone is up 50% from a year earlier, according to the International Energy Agency. Russia's top oil producers made their highest combined profit in almost a decade in the first quarter, Moscow-based SberCIB Investment Research estimates. And wheat exports continue '-- at higher prices '-- as sanctions on Russian agriculture aren't even being discussed because the world needs its grain.

The current account surplus, the broadest measure of trade in goods and services, more than tripled in the first four months of the year to almost $96 billion. That figure, the highest since at least 1994, mainly reflected a surge in commodity prices, though a plunge in imports under the weight of international sanctions was also a factor.

The ruble has become another symbol used by Putin to project strength. Once mocked by Biden as ''rubble'' when it initially collapsed in response to the sanctions, it's since been propped up by Russia to become the world's best-performing currency against the dollar this year.

Putin has also tried to leverage Russia's position as a commodity superpower. Amid concern about food shortages, he's said he'll allow exports of grain and fertilizer only if the sanctions on his country are lifted.

''If the goal of sanctions was to stop the Russian military, it wasn't realistic,'' said Janis Kluge, senior associate for Eastern Europe and Eurasia at the German Institute for International and Security Affairs in Berlin. ''It can still fund the war effort, it can still compensate for some of the damage sanctions are doing to its population.''

One of the big holes in the sanctions against Russia is the willingness of other nations to continue oil purchases, albeit at a discount in some cases.

Indian refiners purchased more than 40 million barrels of Russian oil between the start of the Ukraine invasion in late February and early May. That's 20% more than Russia-India flows for the whole of 2021, according to Bloomberg calculations based on trade ministry data. Refiners are seeking private deals instead of public tenders to get Russian barrels cheaper than market prices.

China is also strengthening its energy links with the country, securing cheaper prices by buying oil that's being shunned elsewhere. It's boosted imports and is also in talks to replenish its strategic crude stockpiles with Russian oil.

It's a similar story for steelmakers and coking coal. Imports from Russia rose for a third month in April to more than double last year's level, according to official custom office data. And some sellers of Russian oil and coal have tried to make things easier for Chinese buyers by allowing transactions in yuan.

''The vast majority of the world is not involved in imposing sanctions,'' said Wouter Jacobs, founder and director of the Erasmus Commodity & Trade Centre at the Erasmus University in Rotterdam. ''The trade will go on, the need for fuels will be there'' and buyers in Asia or the Middle East will step up, he said.

When it comes to gas, Russia has fewer options for diverting supplies, but the countries at the end of pipelines from Russia '-- some of which run through Ukraine '-- are also locked into a mutual dependency.

About 40% of the EU's gas needs are met by Russia, and this will be the bloc's hardest link to sever. European deliveries even jumped in February and March as the invasion caused a price spike in European gas hubs, making purchases from Russia's Gazprom PJSC cheaper for most customers with long-term contracts.

Volumes have decreased since then, thanks to warmer weather and record inflows of liquefied natural gas from the US and other countries. There's also been disruptions because of military activity, and Russia itself halted supplies to Poland, Bulgaria and Finland, which refused Putin's demand to pay in rubles.

Even as the EU reduces its dependency '-- Germany says it's down to 35% from 55% '-- there are complications at every step. Several big buyers of Russian gas have gone out of their way to keep buying the crucial fuel, and utilities such as Italy's Eni SpA and Germany's Uniper SE expect supplies to continue.

While progress is slow, the direction is only toward more and more restrictions. Even with the uncertain timetable, the pressure on the Russian economy, and Putin's finances, will eventually mount.

The country's energy sector is also facing an array of other factors beyond demand, from shipping and insurance restrictions to weak domestic demand. Oil production may drop more than 9% this year, while gas output may decline 5.6%, according to Russian Economy Ministry's base-case outlook.

''In the Kremlin there's some optimism and even surprise that the Russian economy didn't collapse from the onslaught of sanction,'' said Tatiana Stanovaya, founder of political consultant R.Politik. ''But looking ahead two to three years, there's a lot of questions about how the energy and manufacturing sectors will survive.''

Denmark votes 'yes' to joining EU joint defense policy: PM - CGTN

Thu, 02 Jun 2022 12:51

People vote to decide whether Denmark will retain its opt-out on EU defense policy. /AFP

People vote to decide whether Denmark will retain its opt-out on EU defense policy. /AFP

An overwhelming majority of Danes, almost 67 percent, voted Wednesday in favor of joining the EU's common defense policy 30 years after opting out, results showed with 97 percent of ballots counted.

"Tonight, Denmark has sent a very important signal," Danish Prime Minister Mette Frederiksen told supporters.

Denmark is the only EU member that is not part of the bloc's defense and security policy. The referendum marks the first time a government has succeeded in abolishing one of several exemptions secured in a 1993 referendum on the Maastricht Treaty.

Around 33 percent of voters polled were opposed.

The vote to abolish the opt-out is a win for those in favor of greater EU cooperation, while those against have argued that the EU's defense pact is strained by bureaucracy and that Denmark's participation in EU military operations will be too costly.

In historic policy shifts, Sweden and Finland this month decided to apply for NATO membership, while both Denmark and Germany have already promised to sharply raise defense spending.

Denmark is a founding member of NATO, but the alliance's biggest military power, the United States, has signaled that European allies must take greater responsibility for their own security.

"The United States has said it very clearly. I think it makes good sense to be part of that cooperation instead of constantly hoping for the U.S. to come," said Conservative People's Party leader Soren Pape Poulsen.

According to the EU's so-called Common Security and Defense Policy, Denmark would be able to take part in joint military operations, such as those in Somalia, Mali and Bosnia and Herzegovina, and cooperate on the acquisition of joint military capabilities.

(With input from agencies)

Amber Heard Verdict Sends A Message To Black Women Everywhere

Thu, 02 Jun 2022 12:40

Actor Amber Heard hugs her attorney Elaine Bredehoft after she testified in the courtroom in the Fairfax County Circuit Courthouse in Fairfax, Va., Thursday, May 26, 2022.Photo: Michael Reynolds (AP)

On Wednesday, a jury in Virginia decided that actor Johnny Depp had been defamed by ex-wife Amber Heard and her 2018 op-ed published by The Washington Post. Depp was awarded $15 million in compensatory and punitive damages but could only legally receive up to $10.35 million.

Heard did win one claim in the case and received $2 million. ''I'm heartbroken that the mountain of evidence still was not enough to stand up to the disproportionate power, influence, and sway of my ex-husband,'' Heard said in a statement shortly after the verdict was announced.

''I'm even more disappointed with what this verdict means for other women. It is a setback. It sets back the clock to a time when a woman who spoke up and spoke out could be publicly shamed and humiliated. It sets back the idea that violence against women is to be taken seriously,'' she elaborated.

If the mistreatment of a wealthy blonde haired, blue-eyed white actress is ridiculed by the world, what does that mean for Black women?

For six weeks, Heard testified how Depp not only sexually abused her but also physically assaulted her throughout their relationship. She claimed that he head-butted her as well as punched her and dragged her around by her hair. Heard maintains that everything she wrote in the op-ed, entitled ''I spoke up against sexual violence'--and faced our culture's wrath. That has to change,'' was true. Depp denied all allegations of abuse.

For Black women, who do not have whiteness or fame or money to protect them, Heard's words of the verdict as a setback ring especially true. Whether you believe her or not, the way the world treated Heard was downright cruel and uncalled for. Not only were her bruises placed under a microscope by forensic experts during the trial, social media joined in on the skepticism.

Heard was turned in everything from memes to murals mocking the validity of her abuse. Some even believed Depp when he said that she was the aggressor in the relationship. If all of Heard's privilege couldn't protect her from such viciousness, Black women'--like always'--remain even more vulnerable.

As we've seen from Tina Turner to Rihanna , from Megan Thee Stallion to the dozens of young Black women R.Kelly abused , our pain becomes punchlines and our humanity is invalidated.

What happened to Heard is another vile reminder to women'--particularly Black women'--that nothing can guarantee our safety.

China Plans for Years of Covid Zero Strategy With Tests on Every Corner - Bloomberg

Thu, 02 Jun 2022 12:36

Need help? Contact us We've detected unusual activity from your computer networkTo continue, please click the box below to let us know you're not a robot.

Why did this happen?Please make sure your browser supports JavaScript and cookies and that you are not blocking them from loading. For more information you can review our Terms of Service and Cookie Policy.

Need Help?For inquiries related to this message please contact our support team and provide the reference ID below.

Block reference ID:

Cocaine, Meth, Molly to be Decriminalized for Three Years in Canada 'ܠ Wait...WHAT?! 'ܠ Flag And Cross

Thu, 02 Jun 2022 12:32

Politics By Andrew West June 1, 2022 at 5:19pm When you have a problem as large and ubiquitous as the world's issue with illegal drugs, those who feel some responsibility for their fellow man are bound to try just about anything that they can to find relief.

In some locales, they've discovered that allowing the use of marijuana, either medicinally or recreationally, can relieve some of the pressures of the opioid crisis playing out in every small town in America.

And in places like Seattle, they've tried facilitating ''safe'' drug to prevent overdoses, with the almost unbelievable idea of ''safe injection'' sites.

Now, in a western province of Canada, a bold and lengthy experiment is brewing.

Canada's government said Tuesday it will allow British Columbia to try a three-year experiment in decriminalizing possession of small amounts of drugs, seeking to stem a record number of overdose deaths by easing fear of arrest by users in need of help.

The policy approved by federal officials doesn't legalize the substances, but Canadians in the Pacific coast province who possess up to 2.5 grams of illicit drugs for personal use will not be arrested or charged.

The three-year exemption taking effect Jan. 31 will apply to drug users 18 and over and include opioids, cocaine, methamphetamine and MDMA, also known as ecstasy.

Some proponents of the idea even want to go a step further, with another controversial idea beginning to emerge.

Dana Larsen, a drug policy reform activist, called the announcement ''a step in the right direction,'' but said he would prefer to see development of a safe drug supply.

''It's not going to stop anybody dying of an overdose or drug poisoning,'' Larsen said. ''The drugs are still going to be contaminated.''

''I think we need stores where you can go in and find legal heroin, legal cocaine and legal ecstasy and things like that for adults,'' he said. ''The real solution to this problem is to treat it like alcohol and tobacco.''

Standing in stark contrast to this decision was the recent announcement that Canada was set to gently reduce the rights of their citizens to own firearms, and adjust the rights of those who already do.

About the Author:

SummaryRecent Posts ContactAndrew West is an Atlanta-based author who enjoys his pursuit of happiness to the fullest, whether it be craft beer, the great outdoors, or playing music.

BBC 'changed rape victim's quotes to avoid misgendering her trans attacker' | Daily Mail Online

Thu, 02 Jun 2022 12:04

The BBC was today accused of taking an 'unethical and disrespectful' decision to change a rape victim's quotes in her account of the ordeal - to avoid misgendering her trans attacker.

Corporation bosses replaced every reference the victim made to her male-born abuser as 'he' or 'him' to 'they' or 'them', as part of efforts to boost inclusive language.

It was claimed by some staff the decision was made following the input of members of its 14-strong central diversity team, which has had influence over the BBC's style guide, which dictates that stories adopt an individual's preferred pronouns, the Times reports.

However, it has been widely criticised by campaigners and senior journalists, who reportedly said editing in this way conflicted with the corporation's responsibility in terms of accuracy and impartiality.

The BBC was today accused of taking an 'unethical and disrespectful' decision to change a rape victim's quotes in her account of the ordeal - to avoid misgendering her trans attacker. Pictured: A Pride march in Durham at the weekend

The article carried the testimony of one rape victim, but the pronouns she used in recounting the ordeal were subsequently altered for publication on the BBC website

The article in question reported on claims from some lesbians that they have faced accusations of transphobia and threats of violence if they admit they are not attracted to trans women.

It carried the testimony of one rape victim, but the pronouns she used in recounting the ordeal were subsequently altered for publication on the BBC website.

The passage of quotes on the site reads: '[They] threatened to out me as a terf and risk my job if I refused to sleep with [them]. 'I was too young to argue and had been brainwashed by queer theory so [they were] a 'woman' even if every fibre of my being was screaming throughout so I agreed to go home with [them]. [They] used physical force when I changed my mind upon seeing [their] penis and raped me.'

A terf is an acronym for trans-exclusionary radical feminist - a term which critics say has been used in an overly-broad fashion and in an insulting manner, alongside violent rhetoric.

Publication of the quotes in this way were said to have been the subject of heated debate, according to some sources.

Angela Wild, co-founder of lesbian campaign group Get The L Out, told the Times the BBC was wrong to amend the quotes.

She said: 'It's really unethical and disrespectful to the victim. It's a form of gaslighting for a woman who has already been through sexual violence.'

The article was also subject to a number of complaints, with an open letter signed by more than 20,000 people - including some BBC employees - claiming the story was 'deeply flawed' and 'incredibly dangerous' for the trans community.

A BBC spokesperson said: 'It's routine to have editorial discussions about different stories. Our only intention when deciding on language is to make things as clear as possible for audiences.'

The corporation last year withdrew from a diversity scheme run by LGBT charity Stonewall due to the 'risk of a perception of bias'.

Director of Nations Rhodri Talfan Davies said public trust that the BBC can approach 'very complex areas' with complete impartiality is 'the absolute bedrock' of its decision-making.

The organisation said in a statement last November that it would not be renewing its participation in the Stonewall Diversity Champions Programme but will continue to work with a range of organisations to support its LGBT staff.

Stonewall has been approached for comment on the BBC's use of pronouns in this instance.

It comes as the BBC has said it was wrong for a Radio 4 programme to describe JK Rowling's opinions on gender identity as 'very unpopular.'

The broadcaster received a complaint about an episode of Front Row on Radio 4 which was aired on March 24.

During a discussion about cancel culture, presenter Tom Sutcliffe said the Harry Potter author 'clearly has a very unpopular opinion regarding gender identity.'

The Beeb's Executive Complaints Unit (ECU) has now found the comment was 'potentially misleading.'

They ruled there was 'no conclusive evidence' that those with a different view to Rowling 'represented a majority.'

However, they dismissed complaints that it was wrong to include her in a discussion which also included sex offender R&B artist R Kelly, paedophile sculptor Eric Gill and Adolf Hitler.

A BBC spokesperson said: 'It's routine to have editorial discussions about different stories. Our only intention when deciding on language is to make things as clear as possible for audiences'. Pictured: BBC Broadcasting House

Sutcliffe was interviewing the philosopher Professor Erich Hatala Matthes about his new book Drawing the Line which explores whether it is possible to separate art from the artist.

He asked: 'And do you think there's a major philosophical distinction between artists who have committed crimes, have been found guilty of crimes, and artists who simply have unpopular opinions?

'You bring up the case of JK Rowling who clearly has a very unpopular opinion regarding gender identity and has, as a consequence of that, faced severe and serious criticism. Are those the same things?'

The BBC said it was fair to discuss Rowling in this context as she appeared in Matthes's book and the presenter distinguished her from the likes of Hitler and R Kelly.

In its ruling, the ECU said: 'In the ECU's view it was legitimate to discuss JK Rowling, because she featured in the interviewee's book (a fact reflected in Mr Sutcliffe's question).

'As to comparing her case with others, the ECU noted that Mr Sutcliffe did so in the context of distinguishing between expressing opinions (as JK Rowling had done) and committing criminal acts, and considered that this was neither harmful nor offensive.

'The ECU agreed, however, that Mr Sutcliffe's reference to a 'very unpopular opinion' was potentially misleading because, while it had clearly proved objectionable to some, there was no conclusive evidence that the objectors represented a majority.'

The ECU said it considered the matter resolved as the presenter had later acknowledged his mistake on air.

Their ruling added: 'Before the complaint reached the ECU, Mr Sutcliffe had appeared on Radio 4's Feedback and acknowledged that he should have acknowledged that many people shared the view expressed by JK Rowling, and that he should have reflected that view.

'In the ECU's judgement this was sufficient to resolve the issues of accuracy and impartiality raised by the complaint.'

Rowling, 56, has faced accusations of transphobia since publishing an essay on her website in 2020 in which she argued that gender identity should not be given priority over one's biological sex.

Ukraine gave 'assurances' about US-supplied weapons '' Blinken '-- RT World News

Thu, 02 Jun 2022 12:03

Kiev has given Washington assurances that US-supplied rocket launchers won't be used to attack targets inside Russian territory, US Secretary of State Antony Blinken said on Wednesday. He was the latest US official to raise the issue, as Moscow voiced concerns over the escalation of hostilities in Ukraine.

Speaking to reporters after a meeting with NATO Secretary General Jens Stoltenberg, Blinken was asked about the HIMARS multiple launch rocket systems, the latest high-tech weapon the US has committed to sending Ukraine.

''The Ukrainians have given us assurances that they will not use these systems against targets on Russian territory,'' Blinken said, adding, ''There is a strong trust bond between Ukraine and the US, as well as with our allies and partners.''

He also dismissed Moscow's warnings and concerns that Washington's weapons deliveries to Kiev risked further escalating the conflict.

''The best way to avoid escalation is for Russia to stop the aggression and the war it started,'' Blinken said, arguing that it could be ''over tomorrow'' if Moscow so chose, but is likely to go on for ''many months'' instead.

US President Joe Biden officially announced the dispatch of HIMARS systems to Ukraine, along with other military equipment valued at $700 million, on Wednesday afternoon. According to Deputy Defense Secretary Colin Kahl, the launchers were ''pre-positioned'' in Europe pending the announcement, and the first batch of four will be handed over this week '' though it may take three weeks to train Ukrainian troops in their use.

HIMARS fires barrage rockets with an effective range of around 30 km, but can also deploy tactical ballistic missiles with a range of up to 300 km. Russia has raised concerns with the US over the latter possibility.

Biden himself, his UN envoy Linda Thomas-Greenfield, and now Blinken have all insisted that Kiev will not be provided with the long-range missiles. Blinken is the first to mention the Ukrainian promises, however.

Russia can't trust Ukrainian President Volodymyr Zelensky and his government to keep their word on this matter, given their previous record, Kremlin spokesman Dmitry Peskov said earlier on Wednesday.

Russia attacked the neighboring state in late February, following Ukraine's failure to implement the terms of the Minsk agreements, first signed in 2014, and Moscow's eventual recognition of the Donbass republics of Donetsk and Lugansk. The German- and French-brokered Minsk Protocol was designed to give the breakaway regions special status within the Ukrainian state.

The Kremlin has since demanded that Ukraine officially declare itself a neutral country that will never join the US-led NATO military bloc. Kiev insists the Russian offensive was completely unprovoked and has denied claims it was planning to retake the two republics by force.

Police charge big pharma boss with falsifying his Covid vaccination status -- Society's Child -- Sott.net

Thu, 02 Jun 2022 11:57

(C) ABC Dr. Jose Maria Fernandez Sousa-Faro

Jose Maria Fernandez Sousa-Faro, president of European pharmaceuticals giant PharmaMar, has been charged by police with being falsely vaccinated against Covid-19.

Dr. Sousa-Faro has been caught up in a scandal in Europe involving people being added to the National Immunization Registry in exchange for large sums of money, with many of them familiar faces and household names.Police allege that Sousa-Faro arranged to be injected with a saline solution instead of a Covid-19 vaccination and paid thousands of dollars to have his name added to Spain's immunization register, as confirmed by police sources and reported by El Periodico de Espana.

Dr. Sousa-Faro is among more than 2,200 celebrities and European elites on the list drawn up by National Police of those falsely vaccinated against Covid.

According to El Mundo, Spanish police carried out the investigation called Operation Jenner which uncovered the vast network of celebrities and elites who have paid money to have their names fraudulently entered on the National Immunization Register, despite refusing to be vaccinated.

EuroWeekly News report: The leader of the network was a nursing assistant at the La Paz University Hospital, where he is accused of charging more than ''¬200,000 euros for fraudulently registering 2,200 people as vaccinated in the National Registry against Covid-19. He has been arrested and is currently in custody.

Among those accused are Bruno Gonzlez Cabrera, a defender who played for Betis, Getafe, Levante and Valladolid. Fabio D­ez Steinaker in beach volleyball, runner-up in Europe and fifth in the Sydney Olympic Games. The former Valencian boxer and wrestler Jos(C) Luis Zapater, alias Tit­n, who starred in more than a thousand fights.

The famous people investigated so far includes: Jos(C) Mar­a Fernndez Sousa-Faro, President of PharmaMar, Trinitario Casanova, one of the richest men in Spain, Kidd Keo, trap singer in English and Spanish, Anier, rap singer, Jarfaiter, rap singer, Veronica Echegui, actress, Bruno Gonzalez Cabrera, soccer player, Fabio D­ez Steinaker, former beach volleyball Olympian, Jos(C) Luis Zapater, alias Tit­n, former boxer, Camilo Esquivel, recognized and prestigious doctor. According to the police who are investigating the 2,200 false Covid-19 vaccination certificates, the fee was dependent on your social standing. The more important you were, the higher the price. About the Author: Baxter Dmitry is a writer at News Punch. He covers politics, business and entertainment. Speaking truth to power since he learned to talk, Baxter has travelled in over 80 countries and won arguments in every single one. Live without fear.

WHO Forced into Humiliating Backdown - Pauline Hanson's One Nation

Thu, 02 Jun 2022 11:53

Brilliant news out of Geneva today!

As most of you know, the World Health Assembly has spent the past 7 days considering Biden's 13 controversial amendments to the International Health Regulations.

Official delegates from wealthy developed nations like Australia, the UK, and the US spoke in strong support of the amendments and urged other states to join them in signing away their countries' sovereignty.

The first sign, however, that things might not be going the globalists' way, came on Wednesday, the 25th of May, which just happened to also be Africa Day.

Botswana read a statement on behalf of its 47 AFRO members, saying they would be collectively withholding their support for the 'reforms', which many African members were very concerned about.

Multiple other countries also said they had reservations over the changes and would not be supporting them either.

These included Brazil, Russia, India, China, South Africa, Iran and Malaysia. Brazil in particular said it would exit WHO altogether, rather than allow its population to be made subject to the new amendments.

In the end, the WHO and its wealthy nation supporters were forced to back down.

They have not given up though '' far from it. Instead, they did what they always do and 'pivoted'.

At their request, a new working group was convened to make "technical recommendations on the proposed amendments" which will be re-submitted along with the Pandemic Treaty, at the 77th Health Assembly meeting in 2024.

There has also been lots of pushback from Republicans in the US, with a number of them introducing new bills giving the US Congress/Senate powers to override any WHO mandates or directives issued as part of any international agreements.

One, called the 'No WHO Pandemic Preparedness Treaty Without Senate Approval Act' has 15 co-sponsors and was introduced to the Senate on Thursday by Republican Senator Ron Johnson, who said "The sovereignty of the United States is not negotiable".

Here in Australia, we need to keep the pressure up on our own parliaments, both Federal AND State, up the ante, and don't ever look sideways.

Just brace for the digital ID now, and as the Federal Parliament reboots we need to push back at all costs on that from this week moving forwards.

I urge everyone who has not already done so, to sign and share my Queensland Parliament Petition on the IHR Amendments and Pandemic Treaty (link below).

Click here for Link to Queensland ePetition: Pandemic Treaty and Amendments to the International Health Regulations

Source: Stephen Andrew MP for Mirani Facebook

Biden to send missile system to Ukraine in U-turn - and issues nuclear warning to Russia | World News | Sky News

Thu, 02 Jun 2022 11:49

Joe Biden has announced the US will send medium-range rocket systems to Ukraine to aid its forces as they struggle to stall Russian progress, in an apparent change of mind.

The US president said on Monday that Washington was "not going to send to Ukraine rocket systems that can strike into Russia".

But with Vladimir Putin's forces making advances in the Donbas region, the decision to deliver the High Mobility Artillery Rocket System (HIMARS) was taken on the condition Ukraine does not use it to launch strikes over the border.

Ukraine news live: Russian nuclear forces holding drills

Officials say the systems are part of a new $700m (£556m) package of security assistance for Kyiv from the US that will include helicopters, Javelin anti-tank weapon systems, tactical vehicles, spare parts and more.

The White House hopes the decision to provide the advance rocket systems strikes a balance between the desire to help Ukraine stave off Russian artillery barrages while not providing arms that could trigger an escalation in the war.

In a guest essay published in The New York Times, Mr Biden confirmed he had decided to "provide the Ukrainians with more advanced rocket systems and munitions that will enable them to more precisely strike key targets on the battlefield in Ukraine".

Any weapons system can shoot into Russia if it is close enough to the border.

The aid package due to be unveiled on Wednesday would send what the US considers medium-range rockets, which can generally travel about 45 miles.

Senior administration officials speaking on condition of anonymity ahead of the official announcement said Ukrainians had assured US officials they would not fire rockets into Russian territory.

They said the systems would, however, give Ukrainian forces greater precision in targeting Russian assets inside Ukraine.

Please use Chrome browser for a more accessible video player

4:13 City under relentless shellingRead more:Civilians cling to life in key city of Lysychansk as savage shelling intensifies

The expectation is that Ukraine could use the rockets in the eastern Donbas region, where they could both intercept Russian artillery and take out Russian positions in towns where fighting is intense, such as Severodonetsk.

Severodonetsk is key to Russian efforts to capture the Donbas before more Western arms arrive to bolster Ukraine's defence.

The city 90 miles south of the Russian border is the last pocket of land under Ukrainian government control in the Luhansk region of the Donbas.

Mr Biden said in his New York Times essay: "We are not encouraging or enabling Ukraine to strike beyond its borders. We do not want to prolong the war just to inflict pain on Russia."

Image: A residential building heavily damaged in a Russian bombing in Bakhmut, north of Severodonetsk. Pic: AP'Any use of nuclear weapons in this conflict... would entail severe consequences'

He also used the essay to allay fears over nuclear attacks, while issuing a warning to the Putin regime.

"I know many people around the world are concerned about the use of nuclear weapons," he said.

"We currently see no indication that Russia has intent to use nuclear weapons in Ukraine, though Russia's occasional rhetoric to rattle the nuclear saber is itself dangerous and extremely irresponsible.

"Let me be clear: Any use of nuclear weapons in this conflict on any scale would be completely unacceptable to us as well as the rest of the world and would entail severe consequences."

Follow the Daily podcast on'¯Apple Podcasts,'¯ Google Podcasts,'¯ Spotify,'¯Spreaker

The rocket systems would be part of Pentagon drawdown authority, so would involve taking weapons from US inventory and getting them to Ukraine quickly.

Ukrainian troops would also need training on the new systems, which could take at least a week or two.

The HIMARS is mounted on a truck and can carry a container with six rockets.

While it can launch a medium-range rocket, it is also capable of firing a longer-range missile, the Army Tactical Missile System, which has a range of about 190 miles but is not part of the plan.

It came as Germany said it would supply Ukraine with modern anti-aircraft missiles and radar systems, amid growing criticism that Berlin was not doing enough to help the country defend itself from the invading forces.

Since the war began in February, the US and its allies have tried to tread a narrow line by sending Ukraine weapons to fight off Russia but stopping short of providing aid that will inflame Mr Putin and trigger a broader conflict that could spill over into other parts of Europe.

The Queen's Platinum Jubilee Central Weekend 2022 | The Royal Family

Thu, 02 Jun 2022 11:48

A special extended bank holiday weekend will provide an opportunity for communities and people throughout the United Kingdom to come together to celebrate the historic milestone.

On 6th February this year Her Majesty The Queen became the first British Monarch to celebrate a Platinum Jubilee, marking 70 years of service to the people of the United Kingdom, the Realms and the Commonwealth.

To celebrate this unprecedented anniversary, events and initiatives will take place throughout the year, culminating in a four day UK bank holiday weekend from Thursday 2nd to Sunday 5th June.

The four days of celebrations will include public events and community activities, as well as national moments of reflection on The Queen's 70 years of service. Visit the Department for Digital, Culture, Media and Sport's interactive map to find out more about events taking place across the UK.

Thursday 2nd JuneTrooping the Colour: The Queen's Birthday Parade will be held on Thursday 2nd June 2022 starting at 11am. The colour will be trooped by the 1st Battalion, Irish Guards, and more than 1200 officers and soldiers from the Household Division will put on a display of military pageantry on Horse Guards Parade, together with hundreds of Army musicians and around 240 horses. This annual event has now marked the official birthday of the British Sovereign for over 260 years.

During the Queen's birthday parade A Royal Gun Salute will be fired.

Tickets for seated viewing of Trooping at Horse Guards Parade are now sold out but there is an opportunity for people to view the display as the troops parade to and from Horse Guards Parade as it passes on its journey between Buckingham Palace and the parade ground.

During the ceremony, there will be an opportunity to watch the event via large screens, set up in St James' Park and many more members of the public will be able to watch the spectacle live on BBC and Sky television, not just in the UK but overseas too. Once the parade has ended and the Royal Procession has returned to Buckingham Palace, the Royal Family's balcony appearance will happen as in previous years.

There will be an impressive Flypast to coincide with the Royal Family's balcony appearance.

Platinum Jubilee Beacons: The United Kingdom's long tradition of celebrating Royal Jubilees, Weddings and Coronations with the lighting of beacons will continue for the Platinum Jubilee.

A beacon chain, once used as a tool for communication, has now become a symbol of unity across towns, borders, countries and continents and is often the central point of focus for any outdoor gathering or celebration. In 1897, beacons were lit to celebrate Queen Victoria's Diamond Jubilee. In 1977, 2002 and 2012, beacons commemorated the Silver, Golden and Diamond Jubilees of The Queen, and in 2016 Her Majesty's 90th birthday. Over 1,500 beacons will be lit throughout the United Kingdom, Channel Islands, Isle of Man and UK Overseas Territories.

The Principal beacon, involving The Tree of Trees (a 21m high 'tree' constructed of 350 smaller trees), will be lit in a special ceremony at Buckingham Palace at 9pm.

There are three kinds of beacon events:

Community Beacons '' thousands of beacons will be lit by communities, charities and different groups throughout the regions of the UK, Channel Islands, Isle of Man and UK Overseas Territories.Commonwealth Beacons - beacons will be lit in all capital cities of the Commonwealth - 54 in total.Principal Beacon - to be lit on the 2nd June in a special ceremony at Buckingham Palace.Find out more at: www.queensjubileebeacons.com

Friday 3rd JuneService of Thanksgiving: A Service of Thanksgiving for The Queen's reign will be held at St Paul's Cathedral. Great Paul, the largest church bell in the country, will be rung for the Service. It was made in 1882, but fell silent in the 1970s due to a broken mechanism. It was restored in 2021 and has been rung on 8 occasions since, but this is the 1st royal occasion it will be rung.

Saturday 4th JuneThe Derby at Epsom Downs: Her Majesty The Queen, accompanied by Members of the Royal Family, will attend the Derby at Epsom Downs.

Platinum Party at the Palace: Hosts Kirsty Young and Roman Kemp will lead live coverage of the Platinum Party at the Palace and air live on BBC One, BBC iPlayer and across the BBC network. The celebration will see famous faces from the world of entertainment brought together to perform for a night of musical tributes to celebrate the Jubilee. 22,000 people will attend the event including 10,000 allocated in a public ballot and 5,000 tickets for key workers. And now for the first time, the BBC have released artist visuals of the impressive setting and stage where the acts will perform. The full line-up of acts will be announced by the BBC in the coming weeks.

Sunday 5th JuneThe Big Jubilee Lunch:

Over 60k people have registered to host Big Jubilee Lunches on the Platinum celebration weekend, with events ranging from world record attempts for the longest street party to back garden BBQ's and everything in between. Over ten million people across the UK are expected to be joining the celebrations to share friendship, food and fun at Big Jubilee Lunches as part of this nationwide act of community friendship. People across the world are also joining in with over 600 international Big Jubilee Lunches being planned throughout the Commonwealth and beyond - from Canada to Brazil, New Zealand to Japan and South Africa to Switzerland.

thebigjubileelunch.com is still accepting orders for free packs to get street parties started or for people to find out where a public event in their area may be taking place.

The Platinum Jubilee Pageant: '‹The Gold State Carriage, led by The Sovereign's Escort, will lead the Platinum Jubilee Pageant, embracing the latest in digital technology to evoke the excitement and majesty of her journey to be crowned 70 years ago.

More details will be provided at a later date and while The Queen won't personally travel in the regal Gold State Carriage, there will be a fabulous surprise.

The Pageant will serve as an opportunity to gather and pay tribute to Her Majesty. It will culminate with the singing of the National Anthem, 'God Save the Queen' and a gospel choir to the sounds of the Band of Her Majesty's Royal Marines.

The Pageant will bring to life iconic moments from The Queen's reign as well as showcasing our changing society over the past 70 years.

10,000 people are involved, including the military, over 6,000 volunteers, performers, key workers and 2,500 members of the general public.

People from all over the UK and across the Commonwealth are giving their time and creativity to build this event and celebrate this momentous occasion. Communities across the UK will find a connection to the 'People's Pageant'.

National treasures and iconic figures from music, film, sport and the arts will take part in the Pageant including much-loved celebrity names, alongside military personnel, key workers and volunteers.

Tens Of Thousands Of Chickens Killed In Minnesota Farm Fire | The Daily Wire

Thu, 02 Jun 2022 11:39

An estimated tens of thousands of chickens were killed over Memorial Day weekend after a fire tore through a barn located in Howard Lake, Minnesota, burning down the structure in the process.

The cause of the blaze is unknown, but authorities are investigating the damage at Forsman Farms.

On Sunday, Heidi Wigdahl of KARE 11 news tweeted, ''A Wright County egg producer is evaluating the damage left behind from a Saturday night fire. A Forsman Farms spokesperson said they do not have a firm number yet but he estimates at least tens of thousands of chickens were killed.''

A Wright County egg producer is evaluating the damage left behind from a Saturday night fire. A Forsman Farms spokesperson said they do not have a firm number yet but he estimates at least tens of thousands of chickens were killed. https://t.co/JPkqaQqO6Y @kare11 pic.twitter.com/51F8gE4oea

'-- Heidi Wigdahl (@HeidiWigdahl) May 30, 2022

The fire was reported to 911 around 10 pm local time by a neighbor who noticed the massive blaze while he was enjoying his own bonfire with his family.

''It was unbelievable how quick it grew, it was insane,'' Andy Trebesch told CBS 4. ''It was the whole sky, it was quite large.''

Forsman Farms spokesperson Jon Austin told KARE 11 that as many as hundreds of thousands of chickens could have been killed and nearby poultry likely suffered from smoke inhalation.

''Overnight, a fire destroyed one of our barns at our Howard Lake farm,'' Austin said on Sunday. ''No one was injured and we are grateful that first responders were quickly on scene to put out the fire. Unfortunately, chickens were lost because of the fire. We are evaluating the extent of the damage '' which appears to be confined to a single structure '' as well as investigating the cause of the fire.''

Eddie Olson, a Minnesota resident who usually uses a scanner to track inclement weather, heard about the fire late Saturday night.

''Fires are scary in general, but when you see something of that scale you know, out of control It was just hard to, you know, to think about the chickens, the company, you know, people that work there,'' Olson told CBS 4. ''It's kind of a hard hit because we're already struggling, you know, with the eggs and the cost of stuff and that takes kind of a bite out of the market.''

The Forsman Farm fire is the latest in a series of food processing infernos that have made the news, leading some to speculate the blazes could be acts of arson. A recent Associated Press fact check found that there is no evidence the fires are intentional or connected.

''The AP contacted officials in relation to 23 unique events, eight from 2021 and the rest from this year, that were referenced between two lists shared on Facebook and Twitter,'' the international media outlet noted. ''Fire officials in nine instances said that the fires were determined or suspected to be accidental. In several others, officials would only say that the fires were still under investigation. In some other cases, local news reports also suggested the incidents were accidents.''

No Agenda Show Mission Statement

Thu, 02 Jun 2022 11:35

No Agenda is a podcasting LLC whose goal is to deconstruct the news media to reveal slanted stories and the reasoning for slanted or misleading reporting. The purpose is not to critique or discredit news reports but, through media deconstruction, to find the actual underlying story to give the audience a realistic understanding of current affairs and events and provide a normalized, objective understanding of them.

No Agenda has no political motivations and does no original reporting but does do original research on stories as needed. On occasion, the show will read and disseminate what it calls ''boots on the ground'' reporting, which replaces ''letters to the editor'' and is used as background information. In some cases, outsiders will be contacted to clarify a fact to improve analysis. These ''boots on the ground'' reports are provided by the audience of producers who voluntarily contribute these messages to the show.

In the process of deconstruction, deep research into a topic will often be done using publicly-available but often obscure media reports. No Agenda also digs into the backgrounds of individuals and non-governmental organizations. The show will often use elements of humor, which may include ridicule, to manage a three-hour, twice weekly audience engagement.

The first No Agenda Show was aired via the Internet on Oct. 26, 2007. Its sole support comes from direct donations from the audience, composed of individuals called ''producers'', as they are responsible for the show's production and credited as such.

To protect the viability of No Agenda LLC and shield it from political attack or vandalism, the show established its own distribution network and avoids third-party entanglements to negate or minimize the potential for show discontinuance or political ''take-downs.''

No Agenda has adopted an open-source approach to its content and trademarked name allowing third parties to leverage the show to produce related-products such as branded t-shirts and mugs. This also means that anyone can post the final produced show on their own site(s).

Finances To maintain objectivity and continue the mission as stated above, the show cannot take any corporate, government (foreign or domestic) or foundation underwriting or advertising. The show relies on the direct support of the producers and consumers of the show using a value-for-value model. All donors over $50 are credited by name on the show itself to maintain transparency.

Google News - 'Doomed To Collapse''--Ethereum Creator Blasts These Cryptos As Price Of Bitcoin, Ethereum, BNB, XRP, Terra's Luna, Solana, Cardano, Dogecoin Turn Mixed

Wed, 01 Jun 2022 20:08

Language & region English (United States)

America's Summer of Rolling Blackouts - WSJ

Tue, 31 May 2022 16:24

Green energy policies are making the nation's electric-power grid increasingly unstable.

Summer is around the corner, and we suggest you prepare by buying an emergency generator, if you can find one in stock. Last week the North American Electric Reliability Corporation (NERC) warned that two-thirds of the U.S. could experience blackouts this summer. Welcome to the ''green energy transition.''

We've been warning for years that climate policies would make the grid more vulnerable to vacillations in supply and demand. And here we are. Some of the mainstream press are belatedly catching on that blackouts are coming,...

Advertisement - Scroll to Continue

Summer is around the corner, and we suggest you prepare by buying an emergency generator, if you can find one in stock. Last week the North American Electric Reliability Corporation (NERC) warned that two-thirds of the U.S. could experience blackouts this summer. Welcome to the ''green energy transition.''

We've been warning for years that climate policies would make the grid more vulnerable to vacillations in supply and demand. And here we are. Some of the mainstream press are belatedly catching on that blackouts are coming, but they still don't grasp the real problem: The forced transition to green energy is distorting energy markets and destabilizing the grid.

Progressives blame the grid problems on climate change. There's no doubt that drought in the western U.S. is a contributing factor. NERC's report notes that hydropower generators in the western U.S. are running at lower levels, and output from thermal (i.e., nuclear and fossil fuel) generators that use the Missouri River for cooling may be affected this summer.

But the U.S. has experienced bad droughts in the past. The problem now is the loss of baseload generators that can provide reliable power 24/7. Solar and wind are rapidly increasing, but they're as erratic as the weather and can't be commanded to ramp up when electricity demand surges.

One problem is that subsidies enable wind and solar generators to turn a profit even when the supply of electricity exceeds demand. Coal and nuclear plants, on the other hand, can't make money running only some of the time, so many have shut down. Natural-gas-fired plants can help pick up the slack, but there aren't enough of them to back up all of the renewables coming onto the grid.

Advertisement - Scroll to Continue

California last August scrambled to install five emergency gas-fired generators to avert blackouts, but its grid overseer recently warned of power outages this summer. The Golden State in past summers has relied on power imports from neighboring states. But coal plants across the West have been shutting down as renewables grow.

The risk is greater if there are wildfires, which could disrupt transmission lines. Progressives say building more transmission lines to bring renewable power from rural areas to cities and suburbs will make the grid more resilient. But this may create new vulnerabilities. A tornado this winter damaged a transmission line in the Midwest and raised the risk of power outages this summer as repairs continue.

Manufacturers in the Midwest have relied on cheap and reliable power, but that may be a thing of the past. NERC says the Midwest this summer is at very high risk of power outages, especially if there's little wind. That's because 3,200 MW in net generation capacity'--mostly coal and nuclear'--have shut down since last summer. That's enough to power about 2.4 million homes.

The threat to the Midwest grid will increase in coming years as more coal and nuclear plants shut down. Electricity supplier Vistra

Advertisement - Scroll to Continue

has announced it will retire 6,800 MW of coal power by 2027, blaming an ''irreparably dysfunctional'' market and the state renewable subsidies. The former is partly a result of the latter.

''We don't have the opportunity to just shut down a facility for four hours or six hours or eight hours a lot of time,'' Illinois Manufacturers' Association CEO Mark Denzler recently told the Center Square newsletter. ''If you're making certain products, take a food product for example, you can't just shut down and have that food remain on the line.''

Illinois Gov. J.B. Pritzker said recently he didn't expect power outages since the state could buy power from neighbors. He'd better read the NERC report. Most Democrats don't seem to recognize or care that their climate policies are making the grid less resilient and reliable. Instead they're doubling down.

***Federal Energy Regulatory Commission Chairman Richard Glick

Advertisement - Scroll to Continue

last week brushed aside NERC's warnings: ''I think the argument about going back to the way it used to be 30 years ago'--that's not going to happen,'' he said. ''We're moving forward'' with the green energy transition. Believe it or not, FERC is the agency in charge of ensuring the grid is reliable.

President Biden has renominated Mr. Glick for a second five-year term, and he's counting on the FERC chairman to midwife his climate agenda. This winter he and the two other Democratic Commissioners imposed regulation requiring an analysis of greenhouse-gas emissions for gas pipelines even as Russia troops amassed at Ukraine's border.

Mr. Glick shelved the policy after sharp criticism from West Virginia Sen. Joe Manchin, but he's likely to revive it once reconfirmed. His renomination is a clear and present danger to the U.S. electricity supply. The war in Ukraine and surging energy prices haven't deterred Democrats from their anti-fossil fuels campaign. Will widespread power outages?

Liberals table bill to 'freeze' the purchase, transfer or importation of handguns indefinitely | National Post

Tue, 31 May 2022 13:01

The bill also proposes to force assault weapon owners to sell them back to the government through a mandatory buyback program by the end of the year

Publishing date:

May 30, 2022

'

14 hours ago

'

4 minute read

'

811 Comments

OTTAWA '' The Liberals want to ''freeze'' the purchase, sale transfer or importation of handguns across Canada as part of a new piece of sweeping gun control legislation that will also force assault weapon owners to sell it back to the government.

Advertisement 2 This advertisement has not loaded yet, but your article continues below.

''We're capping the market for handguns,'' Prime Minister Justin Trudeau said on Monday, minutes after his government tabled Bill C-21.

Current handgun owners will not be affected by the federal government's ''national freeze,'' although they would only be allowed to sell or transfer the weapon to an authorized business. The freeze is set to last indefinitely.

Public Safety Minister Marco Mendicino said he believes there are roughly one million handguns currently in circulation in Canada, and roughly 50,000 new handgun permits were distributed annually on average in the last few years.

The bill also promises to force assault weapon owners to sell them back to the government through a mandatory buyback program by the end of the year.

Advertisement 3 This advertisement has not loaded yet, but your article continues below.

More On This Topic Handguns were the weapon of choice in majority of firearm crimes in Canada: report FIRST READING: Another Liberal gun policy that neatly ignores where the guns come from Mendicino acknowledged that many guns used to commit crimes in Canada are acquired illegally or smuggled through international borders, so he said the bill aims to bring in more significant punishments for gun crimes as well as smugglers.

For example, the government wants to increase maximum prison sentences for gun smuggling or trafficking charges from 10 years to 14 years.

''This bill takes organized crime head on. If you're in the business of trafficking guns, you'll face stiffer sentences in the criminal code. If you alter the magazine or cartridge of a gun to exceed its lawful capacity, you'll face new criminal charges,'' he said.

This advertisement has not loaded yet, but your article continues below.

Article contentThe government says the bill would also amend the Criminal Code to create ''red flag'' and ''yellow flag'' laws that give courts or government firearm officials new powers to suspend of remove an individual's right to a firearm temporarily.

The new ''red flag'' law would allow any person to ask a judge to immediately order the removal of firearms for 30 days from an individual who poses a danger to themselves or others.

The ''yellow flag'' law proposes to give the RCMP's chief firearms officers, who oversee the country's firearms license and registration programs, to temporarily suspend a person's licence if they receive information ''calling into question their licence eligibility.''

New powers also aim to take away gun licences from people involved in acts of domestic violence or criminal harassment, such as stalking.

This advertisement has not loaded yet, but your article continues below.

Article contentBill C-21 is a revamped version of a similar piece of legislation tabled, but not passed, by the Liberals in the last Parliament that had the same number.

But that controversial bill died in the House of Commons when Parliament was dissolved last summer for the 2021 federal election.

Many of the new bill's provision are copied from the previous version.

The previous version of C-21 wanted to: limit the capacity of rifle magazines, ban a new list of firearms, and give the power to municipalities to ban handguns on their territory if they so wanted.

The bill was in addition to regulatory changes enacted in 2020 that banned roughly 1,500 military and ''assault-style'' weapons in Canada.

The previous version of C-21 also created a voluntary buyback program for the newly banned weapons, which was fiercely criticized by gun-control advocates for not going far enough.

This advertisement has not loaded yet, but your article continues below.

Article contentIn March 2021, survivors and family members' of victims of the Polytechnique Montr(C)al 1989 massacre told Trudeau he was no longer welcome to any of the event's commemorative events because they were so disappointed in the first iteration of C-21.

As a result, in their 2021 election platform, the Liberals promised to make the banned weapons buyback mandatory instead of voluntary.

The Liberals went forward with the promise in their new legislation, confirming that it was removing any ''permissive storage regime'' that allowed Canadians to store the now-banned guns legally.

The only case in which a person can keep a banned gun at home is if they are rendered ''inoperable,'' Trudeau said.

The changes satisfied the members of gun control activist group PolyRemembers present during the announcement Monday.

This advertisement has not loaded yet, but your article continues below.

Article content''This bill is the most promising legislation since the long gun registry was abolished in 2012. And given the strength of the measures that have just been proposed, we remain optimistic,'' said Polytechnique shooting survivor Nathalie Provost.

Boufeldja Benabdallah, the co-founder of the Quebec Mosque where six Muslim men were murdered during a shooting in 2017, also said he was happy with the new legislation, saying it is effectively a ban on handguns.

''For five long years we have been advocating for a ban on handguns, as this is the weapon that allowed one hateful young man to kill six of our brothers, severely wound five other and traumatize dozens of witnesses, including children, all in less than two minutes,'' he said.

Trudeau did not respond to a reporter's question asking if he was worried that people would rush out to purchase handguns before the bill comes into effect, insisting that he ''hoped'' the legislation would pass through Parliament quickly.

With additional reporting by the Canadian Press

NP PostedSign up to receive the daily top stories from the National Post, a division of Postmedia Network Inc.

By clicking on the sign up button you consent to receive the above newsletter from Postmedia Network Inc. You may unsubscribe any time by clicking on the unsubscribe link at the bottom of our emails. Postmedia Network Inc. | 365 Bloor Street East, Toronto, Ontario, M4W 3L4 | 416-383-2300 Thanks for signing up!A welcome email is on its way. If you don't see it, please check your junk folder.

The next issue of NP Posted will soon be in your inbox.

We encountered an issue signing you up. Please try again

Veganistisch restaurant viert tweede Michelinster: 'Jonge chefs weten dat er een alternatief is'

Tue, 31 May 2022 11:55

Chef-kok Emile van der Staak van De Nieuwe Winkel opent een fles om de Michelinsterren voor zijn restaurant te vieren. Beeld Raymond Rutting / de Volkskrant

'Niet eerder heeft Michelin ons soort restaurants zo ruimhartig beloond. We zijn praktisch veganistisch. Dat is de koers voor de toekomst. En ik zie dat Michelin dat onderschrijft. Dat kan ook niet anders. De grote vraagstukken van deze tijd komen samen op het bord.'

Emile van der Staak (45), chef-kok van het Nijmeegse restaurant De Nieuwe Winkel, schuwt maandag in het Amsterdamse DeLaMar Theater de grote woorden niet. Maar dat is niet vreemd. Een jaar na het krijgen van zijn eerste Michelinster, de invloedrijkste aanbeveling voor restaurants, krijgt hij deze middag zijn tweede.

Chefs uit het hele land hebben voor deze gelegenheid hun koksbuizen ingeruild voor chique jasjes met pochetten, overhemden en zomerse loafers. Ze worden vergezeld door de ma®tre of de opgedofte vrouw of vriendin, want een topchef blijkt nog vrijwel zonder uitzondering een man.

Restaurants die meedingen, worden gedurende het jaar meermaals en altijd onaangekondigd door Michelin-­inspecteurs bezocht. Om zo zuiver mogelijk te beoordelen, worden inspecteurs bovendien vanuit meerdere landen uitgewisseld. Aan de absolute top maandag geen verrassingen: de Librije (Zwolle) en Inter Scaldes (Kruiningen) blijven in Nederland de enige restaurants met drie sterren. Ze scharen zich bij de 137 etablissementen die volgens Michelin tot de beste restaurants ter wereld horen.

Het is vooral de subtop die de aandacht opeist. Van der Staak (45) van De Nieuwe Winkel noemt zijn tweede ster ongelooflijk belangrijk. 'Ik kom uit een tijd waarin luxe restaurants een met uitsterven bedreigde paling serveerden, of ganzenlever: een gans die onder dwang is gevoederd. Wie de grootste langoustines serveerde, kreeg de meeste Michelinsterren. Die tijd is voorbij. Als je nu als jonge chef opgroeit, weet je dat er een alternatief is.'

Voedselbos De chef hanteert de leus 'minder beesten, meer planten'. Ongeveer vierhonderd planten haalt De Nieuwe Winkel uit een zogenoemd voedselbos: een stuk land waar sommige planten zorgvuldig in de buurt van elkaar worden geplant. Als het op de juiste manier gebeurt, kun je als boer achteroverleunen en doet de natuur haar werk. Landbouw bedrijven 'zonder pesticiden en door niets te wieden', noemt Van der Staak dat.

Daar vervolgens lekker eten van maken, is een uitdaging. 'Als jij een biefstukje bakt, heb je binnen vijf minuten een geweldig resultaat. Maar om met planten diezelfde gelaagde smaak te krijgen, moet je veel meer je best doen.' Van der Staak experimenteert sinds de opening in 2011 met onder meer het fermentatieproces. De Michelinsterren in ogenschouw nemend lijkt de chefkok er inmiddels aardig in te slagen.

De Nieuwe Winkel is niet de enige die in de prijzen valt. Ook een uitschieter is restaurant Flore uit Amsterdam. Het is nog geen jaar open en krijgt direct twee sterren toebedeeld. Juichend bestormen chef Bas van Kranen (32) en collega's het podium. Van Kranen verdiepte zich tijdens de pandemie in de voedselketen, en schrok zich een hoedje. 'Overbevissing, boeren met hun gewassen de grond uitputten: ik kook al 17 jaar en dat wist ik helemaal niet.'

Onder de naam Flore maakte Van Kranen een radicale keuze. 'Biodynamisch telen' werd het toverwoord, waarbij een bepaald gewas zo min mogelijk op hetzelfde stuk grond wordt geteeld. Dankzij die diversiteit aan gewassen, wordt de grond sterker en vruchtbaarder. Goed voor de natuur, maar wel een uitdaging in de keuken.

'Zulke landbouw kunnen wij niet op gigantische schaal doen, dus we moeten koken met minder grote hoeveelheden.' Om dat euvel te ondervangen bedachten ze een vijftiengangenmenu, met kleinere gerechten. 'We halen twintig porties uit (C)(C)n bloemkool of vijftig porties uit een lammetje.'

'Gestage evolutie' Michelins hoofdinspecteur Werner Loens (60) noemt Van der Staaks bereidwijze een fenomeen 'waar in heel Europa' over gesproken wordt, en straks 'op wereldniveau' navolging zal krijgen. Ook over het concept van Van Kranen is hij lovend. Toch wil hij niet spreken van een revolutie onder sterrenrestaurants, maar van een 'gestage evolutie'. 'We zien dat steeds meer chefs hun best doen om mee te dingen naar onze 'groene ster', het predicaat waarbij we chefs in de schijnwerpers zetten die gastronomie voor de toekomst ontwikkelen.'

Loens verwacht dat het culinair landschap er in tien tot vijftien jaar heel anders uitziet. 'Als je jonge mensen interviewt, zie je dat duurzaamheid superbelangrijk is. Ook hotelscholen zijn er volop mee bezig.' Toch moeten we rekening houden met ingesleten gewoonten. 'Mijn 21-jarige zoon stimuleert mij om minder vlees te eten. Maar ik weet niet of ik ooit veganistisch ga eten. Zo ben ik niet opgevoed.'

Ook Van der Staak maakt zich geen illusies. 'We hebben te maken met een conservatieve wereld met gearriveerde chefs. Die hebben een eigen stijl waar ze niet zomaar vanaf stappen. Maar trek de lijn door en je zult zien dat we vis en de vlees vervangen door alternatieven die minstens zo lekker zijn. Dat is ook waar het simpelweg om zal gaan draaien. We kunnen eindeloos praten over moeilijke thema's als biodiversiteit of duurzame landbouw. Maar in de toekomst willen we ook gewoon lekker eten.'

Lees ook Sterren uitdelen tijdens de pandemie: 'Als het minder vlot loopt, moet je mensen daar niet op aanvallen' Hier zou content moeten staan van bijv. Twitter, Facebook of InstagramOm u deze content te kunnen laten zien, hebben wij uw toestemming nodig om cookies te plaatsen. Open uw cookie-instellingen om te kiezen welke cookies u wilt accepteren. Voor een optimale gebruikservaring van onze site selecteert u "Accepteer alles". U kunt ook alleen de sociale content aanzetten: vink hiervoor "Cookies accepteren van sociale media" aan.

DSM and Firmenich to merge, becoming the leading creation and innovation partner in nutrition, beauty and well-being

Tue, 31 May 2022 11:54

NOT FOR RELEASE, PUBLICATION OR DISTRIBUTION, DIRECTLY OR INDIRECTLY (IN WHOLE OR IN PART) IN, INTO OR FROM ANY JURISDICTION WHERE TO DO SO WOULD CONSTITUTE A VIOLATION OF THE RELEVANT LAWS OR REGULATIONS OF SUCH JURISDICTION. NOT FOR GENERAL RELEASE IN THE UNITED STATES '' SEE FURTHER INFORMATION BELOW.

Merger of equals of two iconic companies '' both with a track record of growth and a shared commitment to positively impact people and the planet '' to create DSM-FirmenichUniquely positioned to anticipate and address evolving consumer needs by supporting our customersLeveraging world-class science and complementary capabilities in fragrance, taste, texture and nutritionAccelerating strategic delivery by further boosting innovation in high-growth and resilient segmentsAttractive annual run rate synergy potential of ''¬350m Adj. EBITDA, including c. ''¬500m annual sales uplift particularly from combining DSM's Food & Beverage and Firmenich's Taste & Beyond businesses, supporting double-digit EPS accretion1Projected mid-term 5-7% sustainable organic sales growth per annum, driven by innovation and with mid-term adjusted EBITDA margin of 22-23%A Swiss-Dutch global group, with a Swiss domiciled holding company with the seat of the principal in Kaiseraugst (CH) and listed on Euronext AmsterdamDSM-Firmenich will have a dual headquarter in Switzerland (Kaiseraugst) and the Netherlands (Maastricht)DSM's shareholders to own in aggregate 65.5% of DSM-Firmenich and the various Firmenich shareholders to own in aggregate 34.5% at inceptionMerger to be effected through public offer for DSM shares in exchange for DSM-Firmenich shares (1:1 exchange ratio) and contribution of Firmenich shares to DSM-Firmenich in exchange for DSM-Firmenich shares and ''¬3.5bn cash (subject to potential adjustment)Merger subject to customary conditions, including obtaining relevant regulatory clearances and completing relevant employee consultation procedures, and expected to be completed ultimately in the first half of 2023Managing Board and Supervisory Board of DSM unanimously support and recommend the transaction. The Board of Directors of Firmenich unanimously supports and recommends the transaction. Firmenich shareholders have approved the transactionAdditional material on today's announcement can be found on the transaction website www.creator-innovator.com, /PRNewswire/ -- DSM and Firmenich today announce that they have entered into a business combination agreement (the "BCA") to establish the leading creation and innovation partner in nutrition, beauty and well-being ("DSM-Firmenich"). The combination will bring together Firmenich's unique leading Perfumery and Taste businesses, its world-class science platforms and associated co-creation capabilities with DSM's outstanding Health and Nutrition portfolio and renowned scientific expertise. The new company will have four high-performing and complementary businesses, each with leading positions and underpinned by world-class science.

DSM-Firmenich will benefit from complementary capabilities across fragrance, taste, texture and nutrition, fueled by world-class science. The company will have unparalleled proprietary capabilities to partner with customers to fulfill their ambitions. DSM-Firmenich will be able to better anticipate and to address the needs of today's conscious consumers who prioritize sustainability, health and well-being.

The merger of DSM-Firmenich will further accelerate innovation for the industry and generate new growth opportunities for customers. It will form a new global-scale partner to serve the food and beverage industry, combining DSM's Food & Beverage and Firmenich's Taste & Beyond businesses. Firmenich's world-leading global Perfumery and Ingredients business will expand further into Beauty through the addition of DSM's Personal Care & Aroma business. These new combined businesses will be joined by DSM's high-performing Health, Nutrition & Care and Animal Nutrition & Health businesses.

The combined company's extensive global footprint will provide customers with access to an unprecedented network of R&D, creation and application capabilities, informed by local consumer preferences, across regional and local hubs around the world. Both businesses have successful track records of investing in and delivering ground-breaking innovations that create and reshape markets. Opportunities from new pioneering and complementary digitally-powered business models will build upon the 125+ year heritages of each company in purpose-led scientific discovery and innovation.

DSM-Firmenich will bring together both companies' relentless commitment to sustainability across the value chain, and in doing so help to drive environmental, social and governance leadership globally. Sustainability considerations have long been embedded within both companies' strategies and DSM-Firmenich combines two companies with shared values and longstanding action on climate change, embracing nature and care for people.

The compelling strategic rationale for this combination is reflected in the attractive synergy potential, resulting in double-digit EPS accretion1 and an enhanced strategic position across the markets in which DSM-Firmenich will operate.

Thomas Leysen , Chairman of the DSM Supervisory Board, commented: "DSM-Firmenich will bring together leading creativity and cutting-edge science and innovation. Together we will be able to better serve the needs of customers and deliver compelling growth and returns. However, successful mergers require more than complementary capabilities or compelling financials; they not only require balanced governance and a respect of the interests of all stakeholders, but they crucially require shared values. My colleagues and I are convinced we have all of those elements, and it is for this reason that the Supervisory Board of DSM concluded that this is truly a merger which is in the interest of all stakeholders."

Patrick Firmenich , Chairman of Firmenich, commented: "The combination of DSM and Firmenich is transformational, and brings together two culturally aligned and iconic businesses, each with over 125 years' heritage of innovation. Our shared purpose and common values, combined with our highly complementary capabilities gives me confidence we can accelerate our growth further through innovation and new creations. I am confident that for all stakeholders of the future DSM-Firmenich business, the most exciting times are still to come."

Geraldine Matchett and Dimitri de Vreeze , Co-CEOs of DSM, commented: "We are honored to propose the combination of DSM and Firmenich, and the opportunity to bring together 28,000 passionate people with a common commitment to enable our customers to realize their ambitions as we better the health and well-being of people and the planet. Together DSM-Firmenich will enjoy complementary capabilities, including one of the largest creation communities in the industry, enabling us to unlock new opportunities for customers as well as position us to deliver enhanced long-term growth and shareholder value, sustainably. By coming together, we will establish a company where anyone, anywhere in the world, wishing to make a positive impact should aspire to work."

Gilbert Ghostine , CEO of Firmenich, added: "This is the natural next step in Firmenich's evolution. We are excited to build on Firmenich's tradition of entrepreneurial excellence and create a global leader that will be able to bring breakthrough innovation and technologies to our customers, addressing the most pressing needs of consumers. DSM shares our purpose-led values and, like us, creates value for its customers through its science-based approach and pioneering technologies, making a real difference to people and planet. I am excited that the legacy of Firmenich will shape a new industry leader that will innovate for a better world."

The combination of Firmenich and DSM will establish the leading creation and innovation partner in nutrition, beauty and well-being with four high-performing and complementary businesses, each with pioneering, leadership positions:

Perfumery & Beauty, with combined revenues of ''¬3.3bn, will be the foremost creator of positive fragrances and beauty products and a global aroma ingredients business that together have leadership in renewable, natural, proprietary biodegradable and biotechnology-derived ingredients. Firmenich's leading global Perfumery and Ingredients business will expand into Beauty through the addition of DSM's Personal Care & Aroma business to delight consumers with superior sensorial experiences and differentiated performance, delivering active benefits, addressing clean & hygiene, health & reassurance and emotion & well-beingFood & Beverage / Taste & Beyond, with combined revenues of ''¬2.7bn, will form a global-scale partner to the food and beverage industry with extensive capabilities in taste, nutrition and functionality in order to provide delicious, nutritious and sustainable products that deliver unique and superior consumer experiences. The new business will lead the diet transformation in creating healthier, great-tasting, accessible food and beverages with more natural and sustainable ingredients, including market and innovation leadership in naturals and clean label products; in plant-based foods; and in supporting a superior taste experience whilst enhancing food's nutritional profile (for example with vitamins, probiotics, and lipids and reducing sugar and salt)Health, Nutrition & Care, with revenues of ''¬2.2bn, will continue its development as an end-to-end partner providing customized quality solutions that support the health of people at every life stage. It will aim to keep the world's growing population healthy through a broad portfolio of sustainable, science-backed innovative solutions, addressing consumers' health and lifestyle needs, for customers in the dietary supplements, early-life nutrition, pharmaceuticals, medical nutrition, nutrition improvement for the under-nourished, and medical devices marketsAnimal Nutrition & Health, with revenues of ''¬3.3bn, will continue to focus on specialty science- and technology-driven solutions to the ever-increasing demand for protein such as meat but also eggs, fish and dairy, while also alleviating the pressure on the planet's finite natural resources. The business is leading a robust and achievable transformation to make animal farming worldwide radically more sustainable by empowering farmers with essential products such as vitamins. It is one of the world's largest suppliers of eubiotics, enzymes, and mycotoxin risk management, as well as a wide range of impactful innovations such as methane inhibitor Bovaer® and fish-oil algae-alternative Veramaris®The four businesses will be supported by a world-class foundation in science and technology, a vertically integrated portfolio of nutrition, natural and renewable ingredients, as well as best-in-class business functions. Both DSM and Firmenich have successful track records of delivering ground-breaking innovations that create and reshape markets for growth (for example Bovaer®, Veramaris®, biodegradable fragrance encapsulation, renewable fragrance materials, sugar and salt reduction, plant-based foods, fermentation processes for human milk oligosaccharides, and lipids). DSM-Firmenich will operate at the highest safety and quality standards, with strong regional manufacturing presence ensuring supply continuity, resilience and trust for our customers. DSM-Firmenich will continue the two companies' relentless commitment to sustainability across the value chain.

1 Earnings impact compares pro forma DSM-Firmenich EPS assuming full disposal of Materials (in line with the pro forma framework for DSM-Firmenich financials as presented on page 32 of the accompanying presentation introducing the merger dated May 31, 2022 ), relative to DSM Group EPS excluding Materials.

A common 125+ year heritage of purpose-led scientific discovery and innovation

Both companies bring scientific excellence across a network of 15 global R&D facilities, addressing all major and emerging disciplines in the markets served. The combination brings together leading capabilities in and a continued commitment to discovery, scale-up and commercialization including a portfolio of more than 16,000 patents across approximately 2,600 patent families. At DSM-Firmenich's core will be deep science capabilities, with significant cross-fertilization opportunities in bioscience, fermentation, green chemistry, receptor biology, sensory perception and formulation, augmented by analytical sciences, data sciences and artificial intelligence.

The merger will build on both companies' track record of delivering groundbreaking innovations; for DSM, currently structured around its four platforms of Precision, Prevention, Protein and Pathways. Firmenich research delivers groundbreaking innovations addressing differentiated creation, sustainability, and wellness.

Unparalleled proprietary, complementary capabilities

DSM-Firmenich will bring locally differentiated co-creation and innovation to best serve global companies, regional champions, and emerging brands and start-ups to bring new ideas to market with agility. The combination will enable further competitive advantages through critical mass in creation and application capabilities in all regional and local hubs worldwide to address specific consumer preferences and serve customers anywhere they operate.

Firmenich's leadership in developing creations and applications that delight consumers, while leveraging superior consumer insights to bring attributes that consumers value, will be enriched by DSM's outstanding health and nutrition portfolio, capabilities and expertise. Both companies have pioneering and complementary digitally-powered business models (for example Hologram Sciences, Sustell', Verax' Scentmate', and d-lab') where there is potential to cross-fertilize and accelerate growth.

DSM-Firmenich's unique co-creation capabilities will be exemplified by their perfumers and flavorists, enabling partnerships with customers to fulfil their ambitions. These artisans already harness an industry-leading ingredient palette, building on breakthrough technologies to drive true differentiation for customers. Under DSM-Firmenich these experts will continue to be supported by strong investment in internal research and development teams, delivering the sensorial experiences and unique signatures that help customers delight consumers.

A purpose-led company committed to people and the planet

DSM-Firmenich will be a global company where anyone who has a desire to make a positive impact in the world should aspire to work. The merger will bring together two purpose-led, growing companies with shared values and an engaging culture that puts people first.

28,000 passionate, talented and diverse people are the basis of the success of both companies, where caring for people's safety, health and well-being has long been core to the culture of both companies and will remain so. The merger will bring the opportunity to combine talent, best practices and learnings from across both companies to create a stronger environment for employees to thrive. DSM and Firmenich are bound by a shared dedication to create and innovate, to deliver value for customers, and to contribute to the health and well-being of people and the planet. It will also create new and varied career development opportunities with ongoing commitments to maintain strong community connections everywhere DSM-Firmenich operates.

With a unique legacy as responsible businesses, DSM-Firmenich will build on a pioneering track record of environmental and social action over many decades. DSM-Firmenich will uphold each company's world-class ESG performance of acting on climate change, embracing nature and caring about people throughout its value chain. These actions are backed by industry-leading credentials. The United Nations Sustainable Development Goals (UN SDGs) are embedded within both companies' strategies with a focus on generating positive and measurable impact demonstrated by, amongst other initiatives, DSM's food system commitments and Firmenich's commitment to reducing inequalities in the workplace as well as addressing the global sanitation crisis through the deployment of its malodor technologies. Both companies have a strong history of and reputation for operating to the highest international public company standards.

Sustainable, superior growth prospects supported by innovation and client partnership

DSM-Firmenich's leadership anticipates sustainable mid-single-digit organic sales growth moving to the 5-7% range over the medium term and high single-digit adjusted EBITDA growth, supported by growth synergies and innovation opportunities. This is coupled with a resilient 20%+ adjusted EBITDA margin at the outset and moving to the 22-23% range over the medium term, supported by synergies.

The combination is expected to realize recurring run-rate pre-tax synergies of approximately ''¬350m adjusted EBITDA per year by 2026, including an uplift of around ''¬500m in annualized revenues as a result of accelerating innovation with customers. Substantial revenue synergy potential is expected from the integration of DSM's Food & Beverage and Firmenich's Taste & Beyond businesses. To realize the total synergies, DSM-Firmenich expects to incur one-time implementation costs of approximately ''¬250m. Given the complementary nature of the merger, the integration execution risks are considered to be limited.

DSM-Firmenich will be a highly free cash flow generative company with disciplined capital allocation and a commitment to maintaining a strong investment grade credit rating, with Net Debt/EBITDA of 1.5-2.5x over the medium term, and a dividend policy based on a payout ratio of 40-60% of adjusted earnings.

Experienced Board and strong joint leadership team with proven track records of strategic execution and shareholder value creation

DSM-Firmenich's Board of Directors, under Swiss governance, will comprise three nominees from the Firmenich shareholders, seven independent directors from DSM's Supervisory Board, as well as one independent director from the existing Firmenich Board and one new independent member.

The DSM-Firmenich Board and leadership roles will include:

Thomas Leysen , current Chairman of the Supervisory Board of DSM, to be appointed Chairman of DSM-Firmenich and Patrick Firmenich , currently Chairman of Firmenich, to be appointed Vice Chairman Geraldine Matchett and Dimitri de Vreeze , currently Co-CEOs of DSM, to be appointed Co-CEOs of DSM-Firmenich (including CFO and COO responsibilities respectively)Emmanuel Butstraen, currently President of Taste & Beyond at Firmenich to be appointed Chief Integration OfficerDSM-Firmenich will have a balanced leadership team of talented individuals, representing its diversity, skillset, and ambitions.

Governance

DSM-Firmenich will be domiciled in Switzerland with the seat of the principal in Kaiseraugst (CH) and listed on Euronext Amsterdam. The effective tax rate of DSM-Firmenich is expected to be approximately at the level of DSM today.

DSM-Firmenich will have a dual headquarter in Switzerland (Kaiseraugst) and the Netherlands (Maastricht). With regards to the businesses and research:

Perfumery & Beauty will be led out of Geneva (CH)Food & Beverage / Taste & Beyond will be led out of Delft (NL)Health, Nutrition & Care will be led out of Kaiseraugst (CH)Animal Nutrition & Health will be led out of Kaiseraugst (CH)Perfumery, Ingredients and Taste Research will be led out of Geneva (CH)Global biotechnology research and network will be led out of Delft (NL)Transaction process

At inception, DSM shareholders will own in aggregate 65.5% of DSM-Firmenich and the various shareholders of Firmenich will own in aggregate 34.5% of DSM-Firmenich and receive ''¬3.5bn in cash (subject to potential adjustments). This valuation reflects a DSM market capitalization of ''¬25.3bn2 and implied enterprise value adjusted for the Materials business ("EV") of ''¬21.6bn3. Firmenich expects to finish its fiscal year ending June 2022 with organic revenue growth above 9%4 (CHF 4.6bn+) and to deliver Adj. EBITDA above CHF 900m , growing double-digit year-over-year on an organic basis5 or above CHF 910m when including the 12-month pro forma impact of acquisitions.6

Once the merger is completed, DSM-Firmenich, a newly incorporated Swiss-domiciled company, will hold the DSM and Firmenich businesses and DSM-Firmenich will be listed on Euronext Amsterdam. The transaction process is described in more detail below.

As a first step, the DSM shareholders will be given the opportunity to exchange their DSM shares for DSM-Firmenich shares through a public exchange offer (the "Offer"). The consideration under the Offer will be one ordinary share in the capital of DSM-Firmenich for each tendered ordinary share in the capital of DSM. The terms and conditions of such an offer will be set out in an offer memorandum (such document, together with the listing prospectus, the "Offering Circular") which is expected to be published in the second half of 2022. Subject to regulatory approvals, the Offer will be extended only to eligible ordinary shareholders. Non-eligible shareholders will be US persons that do not qualify as an institutional buyer or qualified purchaser under US securities laws and/or that are not tax resident in the EU, the EEA, the overseas parts of the Kingdom of the Netherlands , or in a jurisdiction that has concluded a double tax treaty with the Netherlands that includes a dividend clause.

Furthermore, DSM and Firmenich have agreed that if DSM-Firmenich, after settlement of the Offer, holds less than 95%, but at least 80% of the ordinary share capital of DSM, DSM-Firmenich may decide to implement a customary pre-wired back-end structure. This first step consists of a legal triangular merger involving DSM and two newly incorporated subsidiaries of DSM ("Company Holdco" and "Company Sub"). In this legal triangular merger, DSM (as disappearing company) merges with and into Company Sub (as acquiring company), and Company Holdco issues shares to the shareholders of DSM. Subsequently Company Holdco sells its shares in Company Sub to DSM-Firmenich (the "Share Sale") for a consideration consisting of a note (the "Note") that gives the holder of the note the right to require DSM-Firmenich to deliver to it, on first demand, such number of DSM-Firmenich shares that is equal to the number of DSM ordinary shares held by DSM-Firmenich plus the DSM ordinary shares held by the non-tendering DSM shareholders (the "Share Sale Consideration"). As a final step, Company Holdco is liquidated, and as soon as practicable after completion of the Share Sale, the liquidator will arrange for an (advance) liquidation distribution. For the non-tendering DSM shareholders the gross (advance) liquidation distribution will, subject to regulatory restrictions, consist of ordinary shares in the capital of DSM-Firmenich plus an amount in cash reflecting the amount of Dutch dividend withholding tax due in respect of the distribution and a cash payment in lieu of any fractional DSM-Firmenich ordinary shares. Company Holdco will receive such ordinary shares in the capital of DSM-Firmenich and cash through a settlement of part of the Note. Non-tendering DSM shareholders are advised that such distribution will be subject to a Dutch dividend withholding tax that will be deducted from the gross (advance) liquidation distribution. The (advance) liquidation distribution to DSM-Firmenich will consist of the (remaining part of) the Note (such merger, Share Sale and liquidation, together the "Post-Closing Merger"). Further details of the Post-Closing Merger will be set out in the Offering Circular.

Furthermore, if after settlement of the Offer, DSM-Firmenich holds at least 95% of the ordinary shares in the capital of DSM, DSM-Firmenich will commence a statutory buy-out procedure in accordance with Dutch law.

After settlement of the shares tendered in the post-acceptance period of the Offer, the Firmenich shareholders will contribute 100% of the shares in the capital of Firmenich to DSM-Firmenich in exchange for DSM-Firmenich shares and ''¬3.5bn in cash (subject to potential adjustments) (the "Contribution"). Immediately following completion of the Contribution, the various Firmenich shareholders would own in aggregate 34.5% of DSM-Firmenich's issued capital. Shareholders of Firmenich will be long-term, committed shareholders of DSM-Firmenich. With this in mind, DSM-Firmenich has entered into relationship agreements with different Firmenich shareholders setting out the conditions and mechanisms for nominating DSM-Firmenich's board members.

The DSM-Firmenich shares will be admitted to listing and trading on Euronext Amsterdam on or shortly after the settlement of the Offer.

2 Figures based on share price of ''¬145.65, 174m DSM fully diluted share count. 3 As per broker SOTP value of Materials of ''¬4.7bn, and based on ''¬1.0bn Net Debt. 4 Reflects organic growth at constant currency. 5 Reflects organic growth at constant currency. 6 Pro-forma EBITDA includes the 12-month pro-forma impact of acquisitions that have been completed during FY22 with an acquisition spend of c. CHF 110m since 1 January 2022 . Firmenich Net Debt (S&P) was CHF 2.5bn at the end of December 2021 including 100% debt treatment for the hybrid instrument.

Dividends

As part of the transaction, DSM and Firmenich have agreed the following regarding dividends to be paid in the period until completion of the merger:

for its FY 2021 (ending December 2021 ), DSM will pay ''¬292m gross final dividend in June 2022 ;for its FY 2022 (ending 31 December 2022 ), DSM will pay ''¬163m gross interim dividend in August 2022 ; and for its FY 2022 (ending June 2022 ), Firmenich will pay ''¬250m gross dividends between September and closing.In addition, DSM and Firmenich have agreed that within two months after completion of the merger, DSM-Firmenich will resolve to pay a gross dividend, to be paid fully out of Swiss recognized capital contribution reserves, of ''¬423m to be paid as soon as possible after the necessary corporate resolutions have been adopted by DSM-Firmenich.

Conditions

The obligation of the parties to effect the merger, including for DSM-Firmenich to declare the Offer unconditional and for the Firmenich shareholders to implement the Contribution, is subject to the satisfaction or waiver (as applicable) of customary conditions, including:

minimum acceptance condition of 95% DSM's ordinary share capital, automatically reduced to 80% if a pre-wired back-end structure is approved at the DSM EGM;receipt of the relevant competition clearances, or where applicable, expiration or termination of applicable waiting periods in lieu of such consents or approvals;clearance from the relevant Dutch and Swiss financial supervision authorities;receipt of the relevant foreign direct investment approvals;DSM's general meeting of shareholders having approved the business combination and the repurchase and redemption of the DSM cumulative preference shares A;relevant agreements with the holders of DSM's cumulative preference shares A in relation thereto remaining in full force and effect and not having been amended or modified;DSM's employee information and consultation obligations having been completed;the DSM preference shares foundation having agreed to cancel its call option (and any outstanding preference shares B);Euronext's approval of DSM-Firmenich's listing application;the Offering Circular having been approved by the AFM and the approval of any other securities regulatory authority required to implement the merger;confirmation by Euroclear Nederland that the DSM-Firmenich ordinary shares have been accepted for book-entry transfer;no court, arbitral or governmental ruling or governmental regulations having been enacted which prohibits the consummation of the merger in any material respect;no breach of warranties given by DSM or Firmenich, respectively (except as would not have a material adverse effect on the relevant party or its ability to complete the merger);no material adverse effect having occurred;no material breach by DSM or Firmenich of its obligations under the BCA and the BCA not being terminated.Recommendation by DSM's Managing Board and Supervisory Board

After careful consideration, the Supervisory Board and the Managing Board of DSM believe that the merger is in the best interests of DSM, its stakeholders (including the DSM shareholders) and the sustainable success of the DSM-Firmenich business, and therefore unanimously support the merger and recommend the Offer for acceptance to the DSM shareholders.

Each of Centerview Partners UK LLP and J.P. Morgan Securities plc has issued a separate fairness opinion to the Supervisory Board and the Managing Board of DSM, in each case to the effect that, as of such date and subject to the assumptions made, procedures followed, matters considered and qualifications and limitations as set forth in each opinion, (a) the Offer Consideration provided for pursuant to the business combination agreement between DSM and Firmenich is fair, from a financial point of view, to the DSM shareholders (other than in respect of the shares held by DSM or any of its affiliates), and (b) the Share Sale Consideration to be paid to Company Holdco under the proposed Share Sale in connection with the Post-Closing Merger pursuant to the business combination agreement between DSM and Firmenich, is fair from a financial point of view, to Company Holdco. The full text of such fairness opinions, each of which sets forth the assumptions made, procedures followed, matters considered and limitations on the review undertaken in connection with each such opinion, will be included in DSM's position statement. The opinion of each of Centerview Partners UK LLP and J.P. Morgan Securities plc has been given to the Supervisory Board and Managing Board only, and not to DSM shareholders. As such, the fairness opinions do not contain a recommendation to DSM shareholders as to whether they should tender their Shares under the Offer (if and when made) or how they should vote or act with respect to any resolutions or any other matter.

During the acceptance period of the Offer, DSM will, as required by the Dutch tender offer rules, hold the EGM to, amongst other items, discuss the Offer, approve the business combination, approve the repurchase and cancellation of the DSM preference shares A (together with the approval of the business combination, the "Transaction Resolutions") and approve the pre-wired back-end structure. Subject to the terms of the BCA, the Supervisory Board and the Managing Board of DSM unanimously recommend to the DSM shareholders to vote in favor of such resolutions.

Firmenich Shareholder Approval

The Board of Directors of Firmenich unanimously supports and recommends the transaction. The Firmenich shareholders have approved the transaction.

Financing

DSM will finance the cash payment to be made in connection with the Combination from available cash resources. To assist DSM therein, it has entered into a bridge financing facility of ''¬3.0bn as borrower with J.P. Morgan Chase Bank NA, London Branch as underwriter. At the date hereof, DSM has no reason to believe that the conditions precedent set out in the bridge financing facility will not be satisfied at the time of the Contribution.

DSM and Firmenich have agreed that any cash payments to be made by DSM-Firmenich in connection with the pre-wired back-end structure or the buy-out procedure, as the case may be, will be financed by selling DSM-Firmenich treasury shares prior to the end of 2023 that will be created prior to the Contribution.

Pursuant to the Dutch tender offer rules, DSM-Firmenich confirms that it will hold an extraordinary general meeting no later than seven business days prior to the end of the acceptance period under the Offer in order to issue the DSM-Firmenich shares required to settle the Offer. DSM, being the sole shareholder of DSM-Firmenich up to settlement of the Offer, has undertaken to vote in favor of the issuance of such DSM-Firmenich shares at such DSM-Firmenich general meeting.

Termination of the BCA

DSM and Firmenich have agreed on customary BCA termination grounds:

non-satisfaction of the conditions before the long stop date of 1 June 2023 ;material breach of the BCA that is not or cannot be remedied;a material adverse effect having occurred or become known at either DSM or Firmenich;the DSM EGM not having approved the Transaction Resolutions, or the minimum acceptance level condition not being satisfied;the DSM preference shares foundation having exercised its call option (except if the Transaction Resolutions have been approved by the DSM EGM) or the call option is not cancelled;Firmenich having accepted a superior proposal, which is an unsolicited third party bona fide written proposal for all of the Firmenich shares or assets that provides for a cash consideration of at least CHF 28bn and for which such third party has obtained fully committed certainty of funds (a "Superior Proposal"); andan order, stay, judgment or decree has been issued which in any such case prohibits the making and/or consummation of the transactions in accordance with the BCA in any material respect.If the BCA is terminated in connection with Firmenich having accepted a Superior Proposal, Firmenich would owe DSM a ''¬400m termination fee.

If the BCA is terminated in connection with the EGM not having approved the Transaction Resolutions or the minimum acceptance level not having been satisfied or the DSM preference shares foundation having exercised its call option, DSM would owe Firmenich a ''¬400m reverse termination fee.

Indicative timetable

DSM and Firmenich will seek to obtain all the necessary approvals and competition clearances as soon as is practicable and will initiate the information and applicable consultation procedures, with DSM's works councils and unions as soon as possible.

The Offering Circular is expected to be made public in the second half of 2022.

The merger is expected to ultimately close in the first half of 2023.

Transaction advisers

In connection with the merger, Firmenich's lead financial adviser is Goldman Sachs International. Firmenich also received financial advice from BDT & Company Europe GmbH. Its legal advisers are Stibbe N.V. and B¤r & Karrer AG. Oberson Abels SA is Firmenich's adviser on Swiss tax aspects. DSM's financial advisers are Centerview Partners UK LLP and J.P. Morgan Securities plc and its legal advisers are Allen & Overy LLP and Walder Wyss Ltd.

Transaction website

Please visit www.creator-innovator.com for additional material on today's announcement.

Media webinar information

DSM and Firmenich will hold a joint webcast for journalists at 10:00 CEST on Tuesday , 31 May 2022 at https://view.knowledgevision.com/presentation/8f16b9a5f51246f7913c7619f48afffb.

Journalists who want to ask questions in the Q&A session have to register additionally via the following audio conference link: https://www.kpneventcall.nl/EventRegistration/c76a8004-fced-4f95-805a-7bb358f1e772.

Investor & analyst webinar information

DSM and Firmenich will host a joint analyst call at 15:00 CEST on Tuesday , 31 May 2022 at https://view.knowledgevision.com/presentation/3b964f3c70de4acb87bc9010d82264ad.

Sell side analysts who want to ask questions in the Q&A session have to register additionally via the following audio conference link: https://www.kpneventcall.nl/EventRegistration/1b6ef99d-acb2-46e5-9553-fe5ecee45500.

All other participants can listen in to this Q&A session via the live stream.

Capital Markets Day

On 13 June 2022 , DSM and Firmenich will jointly organize a Capital Markets Day. More information will be published on the transaction website, www.creator-innovator.com.

About Firmenich

Firmenich is the world's largest privately-owned fragrance and taste company and has been family-owned for 127 years. The Swiss company specializes in perfumes, flavors, and ingredients and is renowned for its world-class research as well as leadership in sustainability. Firmenich delivered CHF 4.5bn of sales in the calendar year 2021 with Adjusted EBITDA margin of c. 20%.

About DSM

DSM has transformed during its 150+ year history into today's health, nutrition & bioscience global leader. The Dutch-Swiss company specializes in nutritional ingredients for food and feed with proven world-leading bioscience capabilities and an international network of high-quality manufacturing sites that underpin a business model of global products, local solutions and personalization and precision. For Health, Nutrition & Bioscience (excluding Materials), DSM delivered ''¬7.3bn of sales in the calendar year 2021, with adjusted EBITDA of ''¬1.4bn and an adjusted EBITDA margin of 19%.

DISCLAIMER This is a joint press release of DSM (also on behalf of DSM-Firmenich) and Firmenich. This joint release includes the information required pursuant to the provisions of Section 4, paragraphs 1 and 3, Section 5, paragraph 1 and Section 7, paragraph 4 and 5 of the Netherlands Decree in Public Takeover Bids (Besluit openbare biedingen Wft, the "Decree") in connection with the Offer and article 17 of the Market Abuse Regulation (EU 596/2014). This announcement does not constitute an offer, or any solicitation of any offer, to buy or subscribe for any securities in DSM. Any offer will be made only by means of an offer memorandum approved by the AFM. This announcement is not for release, publication or distribution, directly or indirectly (in whole or in part) in, into, or from any jurisdiction where to do so would constitute a violation of the relevant laws or regulations of such jurisdiction, including the United States , Canada , South Africa , Australia and Japan .

NO OFFERING IS BEING MADE TO ANY PERSON IN ANY JURISDICTION. THIS ANNOUNCEMENT MAY NOT BE USED FOR, OR IN CONNECTION WITH, AND DOES NOT CONSTITUTE, OR FORM PART OF, AN OFFER BY, OR INVITATION BY OR ON BEHALF OF, DSM, FIRMENICH OR ANY REPRESENTATIVE OF DSM OR FIRMENICH, TO PURCHASE ANY SECURITIES OR AN OFFER TO SELL OR ISSUE, OR THE SOLICITATION TO BUY SECURITIES BY ANY PERSON IN ANY JURISDICTION. NO ACTION HAS BEEN OR WILL BE TAKEN IN ANY JURISDICTION BY DSM OR FIRMENICH THAT WOULD PERMIT AN OFFERING OF THE ORDINARY SHARES OR POSSESSION OR DISTRIBUTION OF A PROSPECTUS IN ANY JURISDICTION, EXCEPT TO THE EXTENT EXPLICITLY DISCLOSED BY DSM OR FIRMENICH.

This announcement is for information purposes only it is not a recommendation to engage in investment activities and is provided "as is", without representation or warranty of any kind. While all reasonable care has been taken to ensure the accuracy of the content, DSM, Firmenich and DSM-Firmenich do not guarantee its accuracy or completeness and DSM, Firmenich and DSM-Firmenich will not be held liable for any loss or damages of any nature ensuing from using, trusting or acting on information provided. No information set out or referred to in this publication may be regarded as creating any right or obligation and DSM, Firmenich and DSM-Firmenich expressly disclaim liability for any errors or omissions.

This announcement contains materials produced by third parties and this content has been created solely by such third parties with no input from the DSM Group or Firmenich International SA. It is not intended to be, and shall not constitute in any way a binding or legal agreement, or impose any legal obligation on the DSM Group or Firmenich International SA. All proprietary rights and interest in or connected with this announcement shall vest in the DSM Group or Firmenich International SA, as the case may be. No part of it may be redistributed or reproduced without the prior written permission of the DSM Group and Firmenich Group. All proprietary rights and interest in or connected with this publication shall vest in DSM or Firmenich, as the case may be. This announcement speaks only as of this date.

Additional information for US holders This announcement relates to the proposed combination of a Dutch public company and a privately-held Swiss corporation. This announcement, the Offering Circular and other documents relating to the proposed combination have been, or will be, prepared in accordance with European and Dutch law and European and Dutch disclosure requirements, format and style, all of which differ from those in the United States . The proposed transactions referred to herein and the information to be distributed in connection therewith, including the proposed Offer and related shareholder vote and any related corporate transactions, are subject to disclosure, timing and procedural requirements and practices applicable in Europe and the Netherlands , which differ from the disclosure requirements of the US tender offer and proxy solicitation rules, provided that the Offer will comply with the relevant US tender offer rules set out in Regulation 14E under the Securities Exchange Act of 1934, as amended (the "Exchange Act") and the rules thereunder

The securities referred to herein and to be issued pursuant to the proposed Offer have not been, and are not presently intended to be, registered under the Securities Act of 1933, as amended (the "Securities Act") or under any laws or with any securities regulatory authority of any state, district or other jurisdiction, of the United States , and unless so registered may only be offered or sold pursuant to an exemption from, or in a transaction not subject to, the registration requirements of the Securities Act and in compliance with any applicable state and other securities laws. There is not presently expected to be any public offer of any securities in the United States . The information contained herein does not constitute an offer to sell or solicitation of an offer to buy any securities in the United States . Further details of which US holders are eligible to receive the securities referred to herein, and the procedural steps required to be taken by such persons to so receive such securities, as well as the procedures for those US holders who do not so qualify to receive such securities (if any), will be set forth in the Offering Circular.

Neither the U.S. Securities and Exchange Commission (SEC) nor any US state securities commission has approved or disapproved of the securities referred to herein to be issued in connection with the proposed Offer or any related corporate transaction, or determined if the information contained herein or in the Offering Circular to be prepared in connection with the proposed exchange offer is accurate or complete. Any representation to the contrary is a criminal offence in the United States .

The securities referred to herein have not been and are not presently expected to be listed on any US securities exchange or quoted on any inter-dealer quotation system in the United States . None of DSM-Firmenich, DSM or Firmenich presently intends to take any action to facilitate a market in such securities in the United States .

Financial statements, and all financial information that is included in the information contained herein or that may be included in the Offering Circular and any other documents relating to the securities referred to herein, have been or will be prepared in accordance with International Financial Reporting Standards (IFRS) or other reporting standards or accounting practice which may not be comparable to financial statements of companies in the United States or other companies whose financial statements are prepared in accordance with generally accepted accounting principles in the United States (US GAAP).

It may be difficult for US holders to enforce their rights and claims arising out of the US federal securities laws, since DSM is incorporated under the laws of the Netherlands and DSM-Firmenich and Firmenich are incorporated under the laws of Switzerland , and in each case the majority or all of their respective officers and directors are residents of non-US jurisdictions. Judgments of US courts are generally not enforceable in either the Netherlands or Switzerland . US holders may not be able to sue a non-US company or its officers or directors in a non-US court for violations of US securities laws. Further, it may be difficult to compel a non-US company and its affiliates to subject themselves to a US court's judgment. In addition, original actions, or actions for the enforcement of judgments of US courts, based on the civil liability provisions of the US federal securities laws, may not be enforceable in the Netherlands or Switzerland .

Information Regarding Forward-Looking Statements. This announcement includes forward-looking statements. These forward-looking statements are subject to a number of risks and uncertainties, many of which are beyond the DSM Group's, Firmenich International SA's and the Combined Group's control and all of which are based on the DSM Group's, Firmenich International SA's or the Combined Group's current beliefs and expectations about future events. Forward-looking statements are sometimes identified by the use of forward-looking terminology such as "aim", "annualized", "anticipate", "assume", "believe", "continue", "could", "estimate", "expect", "goal", "hope", "intend", "may", "objective", "plan", "position", "potential", "predict", "project", "risk", "seek", "should", "target", "will" or "would" or the highlights or the negatives thereof, other variations thereon or comparable terminology. These forward-looking statements include all matters that are not historical facts. They appear in a number of places throughout this publication and include statements that reflect the DSM Group's, Firmenich International SA's or the Combined Group's intentions, beliefs or current expectations and projections about the their respective future results of operations, financial condition, liquidity, performance, prospects, anticipated growth, targets, strategies and opportunities and the markets in which they respectively operate, and the anticipated timing of the Proposed Combination. These forward-looking statements and other statements contained in this announcement regarding matters that are not historical facts involve predictions. No assurance can be given that such future results will be achieved; actual events or results may differ materially as a result of risks and uncertainties facing the DSM Group, Firmenich International SA or the Combined Group. Such risks and uncertainties could cause actual results to vary materially from the future results indicated, expressed or implied in such forward-looking statements. Forward-looking statements in this announcement speak only as of the date of this announcement. Except as required by applicable laws and regulations, DSM and Firmenich expressly disclaim any obligation or undertaking to update or revise the forward-looking statements contained in this announcement to reflect any change in its expectations or any change in events, conditions or circumstances on which such statements are based.

Financial Information. Financial objectives are internal objectives of DSM, Firmenich and the Combined Group to measure its operational performance and should not be read as indicating that DSM, Firmenich or the Combined Group is targeting such metrics for any particular financial year. The ability of DSM, Firmenich and the Combined Group to achieve these financial objectives is inherently subject to significant business, economic and competitive uncertainties and contingencies, many of which are beyond the control of DSM, Firmenich and the Combined Group, and upon assumptions with respect to future business decisions that are subject to change. As a result, the actual results of DSM, Firmenich and the Combined Group may vary from these financial objectives, and those variations may be material.

Transaction conditions. Completion of the Proposed Combination is subject to the satisfaction of a number of conditions as more fully described in this announcement. Consequently, there can be no certainty that completion of the Proposed Combination will be forthcoming.

DSM refers to DSM N.V. and the DSM Group refers to DSM and its subsidiaries. Firmenich refers to Firmenich International SA and its subsidiaries. The Combined Group refers to DSM-Firmenich and its subsidiaries following completion of the Proposed Combination (including the DSM Group and Firmenich International SA).

Logo - https://mma.prnewswire.com/media/1828928/Logo_Combined_Logo.jpg

SOURCE Firmenich

Why We're All Forgetting Things Right Now - WSJ

Mon, 30 May 2022 18:56

Short, temporary moments of forgetfulness are happening to more of us more often these days, memory experts say

April 5, 2022 11:00 am ETGrant Shields was teaching a college seminar to 24 students last week when his mind went blank. He'd forgotten the name of his teaching assistant.

''I was embarrassed,'' says Dr. Shields, who thought he heard students laugh when he said the wrong name, then struggled to recover. ''I wish my memory was as good as it used to be.''

Dr. Shields is...

Advertisement - Scroll to Continue

Grant Shields was teaching a college seminar to 24 students last week when his mind went blank. He'd forgotten the name of his teaching assistant.

''I was embarrassed,'' says Dr. Shields, who thought he heard students laugh when he said the wrong name, then struggled to recover. ''I wish my memory was as good as it used to be.''

Dr. Shields is 32 years old. He's a memory researcher. And he was teaching a class on how stress affects cognition.

Short, temporary instances of forgetfulness'--those 'senior moments''--are happening to more of us more often these days, memory experts say. We're finding it difficult to recall simple things: names of friends and co-workers we haven't seen in a while, words that should come easily, even how to perform routine acts that once seemed like second nature.

We're living in yet another moment of big change as we return to offices, create new routines and find our footing in yet another new normal. (And don't forget a scary war in Europe on top of that.) All this change consumes cognitive energy, often much more than we think, neuroscientists say. It's no wonder we can't remember what we had for breakfast. Our minds are struggling with transition moments.

Advertisement - Scroll to Continue

''Our brains are like computers with so many tabs open right now,'' says Sara C. Mednick, a neuroscientist and professor of cognitive science at the University of California, Irvine. ''This slows down our processing power, and memory is one of the areas that falters.''

The chronic and cumulative stress of the past two years has taken its toll, too. Research led by Dr. Shields shows that people who have experienced recent life stressors have impaired memory. Stress negatively affects our attention span and sleep, which also impact memory. And chronic stress can damage the brain, causing further memory problems, says Dr. Shields, an assistant professor in the department of psychological science at the University of Arkansas.

The deluge of information coming at us on multiple channels is cluttering our brains, too. We're terrible at paying attention, constantly scrolling our phones while we're doing other things, which neuroscientists say makes it hard to encode memories in the first place. And it can be hard to remember something out of context, such as the name of the co-worker suddenly talking to us in person, rather than on Zoom.

Advertisement - Scroll to Continue

Then there's the sameness of our lives during the pandemic. How are we supposed to remember a specific event when each day was exactly the same as every other?

''Memory benefits from novelty,'' says Zachariah Reagh, a cognitive neuroscientist and assistant professor of psychological and brain sciences at Washington University in St. Louis. ''When all of our experiences blend together, it's hard to remember any of them as distinct.''

Michelle Triant, 39, blames two Covid-tinged years for why she recently forgot the name of her own body part. When her 4-year-old daughter asked her: ''Mommy, did I grow in your tummy?'' Ms. Triant sensed an opportunity for an anatomy lesson and started to explain. ''No, sweetheart, actually, you grew in my'... '' but drew a blank. She stuttered for a moment, hoping to retrieve the right word.

Advertisement - Scroll to Continue

Her 7-year-old daughter piped up: ''She means uterus,'' she told her younger sister. ''Babies grow in the mom's uterus but her belly gets bigger which is why that's confusing.''

''Oh, to have the memory of a first-grader,'' says Ms. Triant, who lives in Spokane Valley, Wash.

Memory declines with age, but medical science isn't clear exactly when. People age cognitively at different rates.

Advertisement - Scroll to Continue

Some studies show that memory ability peaks in people's 20s and gradually declines from there; others suggest the sharpest decline starts around age 60, Dr. Reagh says. If you're worried about your memory, you should see your doctor, especially if other people notice your memory loss.

Here's what experts recommend for boosting your memory.

Don't force it. Forcing yourself to try to remember something is counterproductive. You'll become frustrated, and that frustration allows the emotional part of your brain to override the parts of your brain that retrieve memories, says Jennifer Kilkus, a clinical health psychologist and assistant professor of psychiatry at Yale School of Medicine. Let it go for a bit; take some deep breaths to calm your brain and try again later.

Stop multitasking. It's tough to recall something, or to commit something to memory in the first place, when you're doing two things at once, Dr. Kilkus says. So put your phone away. (This will help cut back on information overload, too.) Try doing one thing at a time. Pay attention to small tasks you typically do on autopilot, such as brushing your teeth.

''When you practice paying attention in those moments when it doesn't matter, it will become easier in those moments when it does,'' Dr. Kilkus says.

Help your brain calm. This will strengthen your frontal lobe, which is involved in both memory encoding and retrieval, as well as stress regulation, says Dr. Mednick, author of the coming ''The Power of the Downstate.'' Dr. Mednick recommends daily meditation, yoga, or simply slow deep breathing for at least 10 minutes a day. Take a walk, preferably in nature. Connect with a loved one'--have a long chat, give a hug, have sex. Intimacy reduces stress by making you feel safe and cared for, Dr. Mednick says. And get some sleep. This clears out toxins in your brain that can clog your mental processing, she says.

Be socially present. Give your full attention to people when you talk with them. Doing so will help you better recall what you want to say in the conversation'--because your brain won't be distracted or overtaxed'--and remember what was said, says Jeanine Turner, professor of communication at Georgetown University.

So, again: Put down your phone. Turn off the TV. And truly pay attention to what your loved one is saying; don't just wait for your turn to respond.

''We need to approach each conversation intentionally,'' Dr. Turner says. ''If we don't have a deep connection, how can we ever expect to remember what happened?''

Write to Elizabeth Bernstein at elizabeth.bernstein@wsj.com

Rodolfo Hernndez (77), de 'Donald Trump' van Colombia, kan in juni president worden

Mon, 30 May 2022 14:27

Rodolfo Hernndez, de verrassing van de eerste ronde van de presidentsverkiezing in Colombia. Beeld AP

Een rijkaard van 77 jaar is de grote verrassing van de eerste ronde van de Colombiaanse presidentsverkiezingen. 'Ik definieer mijzelf als Rodolfo Hernndez, een ingenieur die de boeven wil verdrijven uit de regering. Dat is alles.' Voor de camera van CNN en Espa±ol vatte kandidaat Hernndez zijn complete politieke boodschap samen in amper twee zinnen.

De bouwmagnaat, naar eigen zeggen goed voor een kleine 100 miljoen euro vermogen, maakte met dat eenvoudige discours een stormachtige opmars door in de laatste weken van de campagne. Zondag bleek hoezeer zijn populistische geluid was aangeslagen bij de Colombianen. In de eerste ronde haalde hij 28 procent van de uitgebrachte stemmen, 6 miljoen mensen schaarden zich achter hem.

Het populistische geluid van Hernandez doet het goed bij de Colombianen. Beeld ANP / EPA

Omstreden uitspraken In 2016, toen nog als burgemeester van de stad Bucaramanga, zei Hernndez: 'Ik ben volger van een groot Duits denker, hij heet Adolf Hitler.' Vorig jaar, toen hij zich net had gekandideerd voor het presidentschap, kreeg het audiofragment landelijke bekendheid. Een vergissing, zei Hernndez, hij had Albert Einstein bedoeld.

Twee jaar later, ook als burgemeester, deelde Hernndez een stevige klap uit aan een raadslid die beweerde dat zijn zoon betrokken was bij louche zaken. 'Je liegt, hoerenzoon', riep Hernndez voordat hij het raadslid met de vlakke hand in het gezicht sloeg. 'Dat moet ik niet nog een keer doen', zei hij dit jaar. 'Maar de mensen begrepen het. Ik ben alleen maar gestegen sindsdien.' Een jaar later noemde hij vrouwelijke Venezolaanse migranten 'fabrieken die arme kindjes produceren'. Colombia telt zo'n twee miljoen Venezolanen die sinds 2014 schaarste en een repressief regime ontvluchtten, ze staan onderaan de maatschappelijke ladder in het buurland.

Het relaas dat Hernndez het afgelopen jaar verkondigde als presidentskandidaat is bot en simpel. Zijn tegenstanders veegt hij eenvoudigweg op een hoop: 'zij', 'politieke boeven', 'een kanker', 'dieven, niet allemaal, maar wel bijna allemaal'. Hij praat op televisie zoals hij onder vrienden praat, stelt hij. Dus scheldt hij er ook op los in de vele video's op zijn socialemediakanalen. Vanwege zijn Tiktok-video's kreeg hij de bijnaam 'het oudje van Tiktok'.

Beeld AFP

Onvrede Eigenlijk is discours of verhaal al te veel gezegd. Uit Hernndez' mond komt een gevoel, rechtstreeks uit de onderbuik. Want wie wil er nog woorden besteden aan Ivn Duque, de zittende president waar driekwart van de Colombianen helemaal klaar mee is? Onder Duque is het leven in Colombia achteruitgegaan, stelde zelfs 85 procent in een peiling in februari. Bovendien is Duque de pupil van lvaro Uribe, de rechtse president die tussen 2002 en 2010 de bloedige strijd tegen de Farc en andere guerrillabewegingen nog een tandje opvoerde, een van Colombia's machtigste politici, gezicht van de conservatieve elite (en nauw vervlochten met machtige criminele organisaties).

De man die zich graag 'de ingenieur' laat noemen heeft zelf ook geen smetteloos blazoen. Hij wordt ervan verdacht als burgemeester een contract te hebben toegekend aan een aannemer waarmee zijn zoon zaken deed. De zoon zou een commissie hebben opgestreken bij de miljoenendeal. Naar eigen zeggen heeft hij niks te verbergen, maar in de campagne heeft hij zich niet over de zaak uitgelaten. Dat doet hij alleen voor de rechter, stelde hij. Zondag bleken zijn kiezers zich er niet druk over te maken. Hernndez, menen ze, is verandering, de rest is bijzaak.

De kalende politicus fulmineert voortdurend tegen 'hen', tegen een ongedefinieerd 'zij', maar miljoenen Colombianen begrijpen precies wat hij bedoelt. Die kliek moet maar eens het veld ruimen, stelden Hernndez' kiezers zondag. Niet goedschiks, nee, kwaadschiks graag. En in het in bloed gedrenkte Colombia, ernstig toegetakeld door guerrillabewegingen, moordende paramilitairen, drugsbazen en corrupte politici, is aan woede geen gebrek.

Ook Hernndez ondervond het endemische geweld aan den lijve. Zijn vader was vier maanden ontvoerd door de Farc, de marxistisch-leninistische guerrillagroep die in 2016 een wankel vredesakkoord tekende met de staat. Sinds 2004 wordt Hernndez' dochter Juliana vermist, ze zou zijn ontvoerd door de ELN, een militante beweging die nog steeds actief is. Maar het gewapende conflict is in zijn politieke verhaal zo goed als afwezig, hij kanaliseert alle boosheid richting de elite.

Verrassing Dat Hernndez plots als opschudder deelneemt aan de beslissende tweede ronde komt als een rauwe verrassing voor de man die tot nog toe aan kop gaat. In de lange aanloop naar deze presidentsverkiezingen klonk de afgelopen jaren steevast een andere naam als het ging om de uitdager van de gevestigde orde, de man die na meer dan een halve eeuw burgeroorlog het roer in Colombia echt ging omgooien: de linkse kandidaat Gustavo Petro (62). De voormalige rebel, ooit lid van de militante beweging M-19, maar sinds 1990 politicus, boekte succes met een sociaal geluid, een belofte van een eerlijker en vrediger Colombia.

Petro haalde zondag 40 procent van de stemmen, een stevige voorsprong op Hernndez. Hij hoopt dit jaar tijdens zijn derde poging eindelijk president te worden. Maar zijn populistische uitdager kan mogelijk rekenen op een groot deel van de achterban van de rechtse Federico Guti(C)rrez, de kandidaat van het 'uribisme', van het establishment. Guti(C)rrez kreeg bijna 24 procent van de stemmen. Die kiezers zouden Hernndez voorbij Petro kunnen duwen, al is de statistiek vooralsnog in het voordeel van Petro. In het verleden werd een kandidaat met een dergelijke voorsprong nooit verslagen in de tweede ronde.

Maar in Colombia's recente verleden won ook nog nooit een linkse politicus. En nooit eerder brak een relatief onbekende oude zakenman zomaar op rechts door het bastion van de conservatieve elite.

Rodolfo Hernndez in het stemlokaal. Beeld ANP / EPA

Lees ook

Dear Friends, Sorry to Announce a Genocide

Mon, 30 May 2022 13:49

I've been silent for some weeks. Forgive me.

The truth is: I've been rendered almost speechless '-- or the literary equivalent of that '-- because recently I've had the unenviable task of trying to announce to the world that indeed, a genocide '-- or what I've called, clumsily but urgently, a ''baby die-off'' '-- is underway.

The WarRoom/DailyClout Pfizer Documents Research Volunteers, a group of 3000 highly credentialled doctors, RNs, biostatisticians, medical fraud investigators, lab clinicians and research scientists, have been turning out report after report, as you may know, to tell the world what is in the 55,000 internal Pfizer documents which the FDA had asked a court to keep under wraps for 75 years. By court order, these documents were forcibly disclosed. And our experts are serving humanity by reading through these documents and explaining them in lay terms. You can find all of the Volunteers' reports on DailyClout.io.

The lies revealed are stunning.

The WarRoom/DailyClout Volunteers have confirmed: that Pfizer (and thus the FDA) knew by December 2020 that the MRNA vaccines did not work '-- that they ''waned in efficacy'' and presented ''vaccine failure.'' One side effect of getting vaccinated, as they knew by one month after the mass 2020 rollout, was ''COVID.''

Pfizer knew in May of 2021 that 35 minors' hearts had been damaged a week after MRNA injection '-- but the FDA rolled out the EUA for teens a month later anyway, and parents did not get a press release from the US government about heart harms til August of 2021, after thousands of teens were vaccinated. [https://dailyclout.io/pfizer-vaccine-fda-fails-to-mention-risk-of-heart-damage-in-teens/]

Pfizer (and thus the FDA; many of the documents say ''FDA: CONFIDENTIAL'' at the lower boundary) knew that, contrary to what the highly paid spokesmodels and bought-off physicians were assuring people, the MRNA, spike protein and lipid nanoparticles did not stay in the injection site in the deltoid, but rather went, within 48 hours, into the bloodstream, from there to lodge in the liver, spleen, adrenals, lymph nodes, and, if you are a woman, in the ovaries. [https://dailyclout.io/internal-pfizer-documents-prove-knowledge-that-lipid-nanoparticles-in-mice-subjects-do-not-remain-in-muscle-but-were-shown-to-be-rapidly-distributed-in-the-blood-to-the-liver/]

Pfizer (and thus the FDA) knew that the Moderna vaccine had 100 mcg of MRNA, lipid nanoparticles and spike protein, which was more than three times the 30 mcg of the adult Pfizer dose; the company's internal documents show a higher rate of adverse events with the 100 mcg dose, so they stopped experimenting with that amount internally due to its ''reactogenicity'' '-- Pfizer's words '-- but no one told all of the millions of Americans who all got the first and second 100 mcg Moderna dose, and the boosters.

Pfizer skewed the trial subjects so that almost three quarters were female '-- a gender that is less prone to cardiac damage. Pfizer lost the records of what became of hundreds of their trial subjects.

In the internal trials, there were over 42,000 adverse events and more than 1200 people died. Four of the people who died, died on the day they were injected.

Adverse events tallied up in the internal Pfizer documents are completely different from those reported on the CDC website or announced by corrupted physicians and medical organizations and hospitals. These include vast columns of joint pain, muscle pain (myalgia), masses of neurological effects include MS, Guillain Barre and Bell's Palsy, encephaly, every iteration possible of blood clotting, thrombocytopenia at scale, strokes, hemorrhages, and many kinds of ruptures of membranes throughout the human body. The side effects about which Pfizer and the FDA knew but you did not, include blistering problems, rashes, shingles, and herpetic conditions (indeed, a range of blistering conditions oddly foreshadowing the symptoms of monkeypox).

The internal documents show that Pfizer (and thus the FDA) knew that angry red welts or hives were a common reaction to the PEG, a petroleum-derived allergen in the vaccine ingredients '-- one that you are certainly not supposed to ingest. Indeed, PEG is an allergen so severe that many people can go into anaphylactic shock if they are exposed to it. But people with a PEG allergy were not warned away from the vaccines or even carefully watched by their doctors, EpiPen in hand. They were left to their shock.

Pfizer knew that ''exposure'' to the vaccine was defined '-- in their own words - as sexual contact (especially at time of conception), skin contact, inhalation or lactation. [https://dailyclout.io/vaccine-shedding-can-this-be-real-after-all/]. 'Fact-checkers' can deny this all they want. The documents speak for themselves.

Of course, people who have tried to raise any of these issues have been deplatformed, scolded by the President, called insane, and roundly punished.

Athletes and college students and teenagers are collapsing on football and soccer fields. Doctors wring their hands and express mystification. But BioNTech's SEC filing shows a fact about which the CDC and the AMA breathe not a word: fainting so violently that you may hurt yourself is one of the side effects important enough for BioNTech to highlight to the SEC.

But not to highlight to you and me.

I was able to process all of this and keep simply reporting. But in the last few weeks the horror overcame me. Because now, the Volunteers, under the excellent leadership of Program Manager Amy Kelly, have confirmed that there is a genocide underway, intentionally driven or not. And Israeli journalist Etana Hecht has added her own superb analysis. Here is Ms Hecht's summary of the Volunteers' findings:

It seems that there can indeed be a happenstance genocide. Reproduction itself is targeted, intentionally or not, by the mRNA vaccines. And if you know that reproduction is harmed, and babies and fetuses are harmed, and you know that this is at scale, which everyone at Pfizer and at the FDA who read these documents, knew '--and if you do not stop '-- then does that not ultimately become a genocide?

The WarRoom/DailyClout volunteers have confirmed that lipid nanoparticles, the tiny hard fatty casings that contain the MRNA, traverse the amniotic membrane. That means that they enter the fetal environment, of course. (They also traverse the blood-brain barrier, which may help explain the post-MRNA vaccination strokes and cognitive issues we are seeing). The Volunteers have drilled deep into the Pfizer documents' reports about pregnancy and found that the assurance that the vaccine is ''safe and effective'' for pregnant women, was based on a study of 44 French rats, followed for 42 days (the scientists who ran the study are shareholders or employees of BioNTech). [https://dailyclout.io/covid-19-vaccines-pregnancy-risky-business/]

The Volunteers found that while pregnant women were excluded from the internal studies, and thus from the EUA on which basis all pregnant women were assured the vaccine was ''safe and effective'', nonetheless about 270 women got pregnant during the study. More than 230 of them were lost somehow to history. But of the 36 pregnant women whose outcomes were followed - 28 lost their babies.

The Volunteers found that a baby died after nursing from a vaccinated lactating mother, and was found to have had an inflamed liver. Many babies nursing from vaccinated mothers showed agitation, gastrointestinal distress, and failure to thrive (to grow), and were inconsolable.

I am hearing anecdotal reports of these symptoms in babies nursing from vaccinated mothers, now, from across the country.

The Pfizer documents also show that some vaccinated mothers had suppressed lactation, or could produce no milk at all.

Doctors, of course, are stumped by all this. Stumped.

The NIH database has a preprint study making the case that there are negligible amounts of PEG in the breast milk of vaccinated women. [https://www.ncbi.nlm.nih.gov/pmc/articles/PMC8351783/]

But what is a negligible amount of a petroleum product in mother's milk, when you are a tiny newborn with no immunities, just arriving in the world? The NIH preprint itself reported higher levels of GI distress and sleeplessness in the infants studied, and one mother had elevated PEG levels in breast milk, and the fine print concludes that more study is needed:

''Larger studies are needed to increase our understanding of transfer of PEG into human milk, and potential effects after ingestion by the infant. Although expert consensus states there is minimal or no potential risk for the infant from maternal COVID-19 vaccination(20,21), the minor symptoms that were reported (sleep changes and gastrointestinal symptoms) could be further investigated in future studies to determine if they are related to vaccination.''

Since no babies died in the brief time frame of the tiny study, the study concluded that nursing babies suffered no real ill effects from vaccinated mothers. But the study did not follow these poor babies, with their acknowledged sleeplessness and their confirmed GI distress, to see if they actually ''thrived'' '-- gained weight and developed normally.

On such faulty science were women assured that the vaccines were ''safe and effective'' for them and their nursing babies.

But '-- four of the lactating vaccinated women in the Pfizer documents reported ''blue-green'' breast milk. I am not making this up. And the nursing baby who died, with an inflamed liver '-- the case has been buried; has not made headlines.

Coincidentally '-- or not '-- the SAME FDA that turned a blind eye to vast harms to humans, and to the subcategory of moms and babies, in the Pfizer documents, declared that Abbot, a major producer of baby formula in the US, had to close its factory. [https://www.cnbc.com/2022/05/16/abbott-reaches-agreement-with-fda-to-reopen-baby-formula-plant-to-ease-nationwide-shortage.html]

Coincidentally, with little formula available and with some or many (we don't know) vaccinated moms having compromised breast milk, it turns out that Bill Gates, Jeff Bezos, Richard Branson, and Mark Zuckerberg have all invested in a startup called "BioMilq'' '-- which produces lab grown breast milk from mammary cells. [https://www.cnbc.com/2020/06/16/biomilq-raises-3point5-million-from-bill-gates-investment-firm.html]. Reports of this startup include this Frankenstein-like language as if this is normal: ''The BIOMILQ team creates its product from cells taken from human breast tissue and milk, donated by women in the local community, who get a Target giftcard in return.'' [https://www.cnn.com/2022/05/03/business/lab-grown-human-milk-biomilq-health-climate-hnk-spc-intl/index.html]

As if all of this is not horrific enough, Ms Hecht drew studies from three countries '-- Canada, Scotland and now Israel - -to show that babies are dying disproportionately, during and after 2021, in highly vaccinated countries, and that newborns are dying disproportionately if they have vaccinated mothers versus unvaccinated mothers.

In highly vaccinated Scotland, almost twice the number of babies died in 2021 as died in baseline numbers. [https://www.heraldscotland.com/news/19726487.investigation-launched-abnormal-spike-newborn-baby-deaths-scotland/]. In Ontario, Canada, 86 babies died in 2021, versus a baseline of four or five; this was a baby die-off so severe that a brave Parliamentarian brought the issue to Parliament. [https://nonvenipacem.com/2021/12/10/explosive-rise-in-ontario-stillbirths-triggers-parliamentary-questions/].

In Israel, at RamBam Hospital in Haifa, there were 34% more spontaneous abortions and stillbirths to vaccinated women as to unvaccinated women.

Ms Hecht also notes that menstrual dysregulation in vaccinated women is fully confirmed now by many studies, with an average of one extra day of bleeding a month (a side effect about which I warned about in March of 2021, which in turn got me called names by a CNN commentator and permanently deplatformed from Twitter).

You don't have to know more than eighth grade biology to know that a dysregulated menstrual cycle, not to mention spike protein accumulating in the ovaries, not to mention the traversing of the bodies' membranes, including the amniotic sac, by tiny hard fatty lipid nanoparticles, not to mention PEG in breast milk, is all going to affect fertility, fetal health, childbirth, and babies' GI wellbeing or distress, and thus their ability or failure to thrive (let alone to bond).

And now, the babies are dying. Now scale the data from Canada, Scotland and Israel to all the vaccinated nations in the world.

What do we do with all of this?

Knowing as I now do, that Pfizer and the FDA knew that babies were dying and mothers' milk discoloring by just looking at their own internal records; knowing as I do that they did not alert anyone let alone stop what they were doing, and that to this day Pfizer, the FDA and other demonic ''public health'' entities are pushing to MRNA-vaccinate more and more pregnant women; now that they are about to force this on women in Africa and other lower income nations who are not seeking the MRNA vaccines, per Pfizer CEO Bourla this past week at the WEF, and knowing that Pfizer is pushing and may even receive a US EUA for babies to five year olds '-- I must conclude that we are looking into an abyss of evil not seen since 1945.

So I don't know about you, but I must switch gears with this kind of unspeakable knowledge to another kind of discourse.

I am not saying that this is exactly like finding evidence of Dr Mengele's experiments; but I am saying, with these findings, that now the comparison may not be that excessive. These anti-humans at Pfizer, speaking at the WEF; these anti-humans at the FDA; knowing what they know; are targeting the miraculous female body, with its ability to conceive, gestate, birth and nurture life. They are targeting the female body's ability to sustain a newborn human being with nothing but itself. They are targeting the amniotic membrane, the ovaries that release the ovum, they are targeting the lymph and blood that help support the building up of mother's milk, they are targeting the fetus in utero, helpless.

They are targeting the human fetus' very environment, one of the most sacred spaces on this earth, if not the most sacred.

And they know it.

I don't know about you, and I am not proselytizing, but as you may know if you read me here, these apocalyptic days, I turn to prayer. I have started to say in public, once I had to face the fact of the die-off of the babies, that this is a Biblical time; and I mean Old Testament Biblical.

It is a time like that of the construction of the Tower of Babel '-- of massive arrogance against divine plans. Men such Bill Gates tamper with and seek to outdo God's best works in lab after lab, and Tech Bros ''disrupt'' the human competition for their unsought-after goods and services, by targeting human processes and by ruining the bodies made in the image of God.

It is a time like that when the ten plagues assailed the Egyptians in Exodus 11:4-6:

''4 So Moses said, ''This is what the Lord says: 'About midnight I will go throughout Egypt.5 Every firstborn son in Egypt will die, from the firstborn son of Pharaoh, who sits on the throne, to the firstborn son of the female slave, who is at her hand mill, and all the firstborn of the cattle as well. 6 There will be loud wailing throughout Egypt'--worse than there has ever been or ever will be again. 7''

This was the worst plague of all, the slaying of the firstborn.

It is a time of ha-Satan '-- Satan '-- ''going to and fro in the earth, and ['...] walking up and down in it'', as Job 2 describes him.

It is a time of demons sauntering around in human spaces, though they look human enough themselves, smug in their Italian suits on panels at the World Economic Forum.

Ha-Satan - and his armies: ruining the conception, the milk, the menses, the touch, the cradling of the infant by its mother, ruining the feeding of the infant; ruining the babies themselves.

I read the Prophets a lot these days '-- because how could I not? I am looking for what writer Annie Lamott called ''Operating Instructions.'' What do you do when humanity itself is threatened? When there are professional battalions and bureaucratic departments of people who act with anathema toward the human race?

Surely there must be a clue.

So I reread the story of Noah, and the Book of Esther, a lot these days; I reread Jeremiah.

We've been here before. Embarrassingly often, when it comes to that.

The story is always the same, at least in the Hebrew Bible (in the New Testament, of course, God skips to the end and upends the plot).

At least in the Hebrew Bible, God is always trying to get our attention, always, it seems, simply asking us just to walk alongside him; simply asking us to keep his not--too-challenging commandments; not, indeed, asking a lot.

Jeremiah 1:13:

'' The word of the Lord came to me again: ''What do you see?''

''I see a pot that is boiling,'' I answered. ''It is tilting toward us from the north.''

14 The Lord said to me, ''From the north disaster will be poured out on all who live in the land. 15 I am about to summon all the peoples of the northern kingdoms,'' declares the Lord.

''Their kings will come and set up their thrones in the entrance of the gates of Jerusalem;they will come against all her surrounding walls and against all the towns of Judah.16 I will pronounce my judgments on my people because of their wickedness in forsaking me,in burning incense to other gods and in worshiping what their hands have made.''

In the Hebrew Bible, anyway, the math is simple. We turn, we listen, and we are saved; or we carry on heedlessly, worshipping what our own hands have made, sluts to other gods '-- to ''the science,'' to media lies; to the narcissism of convention, these days, one might say '-- and thus we are lost.

We have been nearly lost, time after time after time.

This time could really be the last time; these monsters in the labs, on the transnational panels, are so very skillful; and so powerful; and their dark work is so extensive.

If God is there '-- again '-- after all the times that we have tried his patience '-- and who indeed knows? - will we reach out a hand to him in return, will we take hold in the last moment out of this abyss, and simply find a way somehow to walk alongside him?

Or will we this time, in losing the babies, and heedlessly carrying on nonetheless '-- be truly lost ourselves?

'
ALL VIDEOS

VIDEO - (19) NEWSî¨NANCY on Twitter: "''I don't know why people in the media keep saying that there was no fraud in the 2020 election, but that is ABSOLUTELY FALSE.''~@MoBrooks The screen LIGHTS🧨UP when Senator Mo Brooks goes for the 'truth jugu

Thu, 02 Jun 2022 16:39

NEWSî¨NANCY : ''I don't know why people in the media keep saying that there was no fraud in the 2020 election, but that is ABSOLUT'... https://t.co/qJ7h2MCUEc

Sun May 29 23:59:12 +0000 2022

VIDEO - (1327) Gravitas: MI6 makes a wild claim, says Putin could be dead - YouTube

VIDEO - (1327) Travel disruption causes delays, cancellations and chaos as half term holidays begin | 5 News - YouTube

VIDEO - (1327) Sonic The Hedgehog 2 - Final battle - YouTube

VIDEO - (19) CTV News on Twitter: "A sporting goods store president says that Prime Minister Justin Trudeau has become "the best handgun salesmen in all of Canada," since announcing legislation to freeze handgun sales nationwide. https://t.co/gx34kzN31W #

Thu, 02 Jun 2022 16:05

CTV News : A sporting goods store president says that Prime Minister Justin Trudeau has become "the best handgun salesmen in a'... https://t.co/8wWyeIbmYZ

Tue May 31 18:53:27 +0000 2022

VIDEO - (19) Chris "Early Treatment" Martenson, PhD on Twitter: "Translation: "We have contempt for the subjects over whom we rule."" / Twitter

Thu, 02 Jun 2022 15:58

Chris "Early Treatment" Martenson, PhD : Translation: "We have contempt for the subjects over whom we rule." https://t.co/8u1Y18Ft7R

Thu Jun 02 00:22:07 +0000 2022

VIDEO - (4) Breaking911 on Twitter: "BIDEN: "Today we're announcing the United Airlines has agreed to offer cargo space...for the delivery of 3.7 bottles of the formula." https://t.co/GFImcTjOyE" / Twitter

Thu, 02 Jun 2022 15:57

Breaking911 : BIDEN: "Today we're announcing the United Airlines has agreed to offer cargo space...for the delivery of 3.7 bottle'... https://t.co/60lMT7lf8d

Wed Jun 01 19:41:39 +0000 2022

VIDEO - Death Is Optional | Edge.org

Thu, 02 Jun 2022 15:51

KAHNEMAN: Could you elaborate on these possibilities? I mean, what's the distinction between predicting and setting up a range of possibilities?

HARARI: I think about it in visual terms, whether you try to narrow your field of vision, or to broaden it. For example, when you try to predict the weather for tomorrow, there are a lot of possibilities to begin with. It might rain, it might snow, there might be sunshine. And a good meteorologist, according to one view of science, is a meteorologist that takes this horizon of possibilities and narrows it down to a single possibility or just two possibilities. It will certainly rain, maybe hard, maybe less so. That's it.

And after you finish reading the book or taking the course or whatever, your view of the world in this sense is narrower, because you have fewer possibilities to consider. You know it's going to rain. The same thing in economics, in medicine, and also in history. People ask what will happen next? You have all these possibilities, and I'm telling you, China is going to be the superpower, end of story. You narrow down the range.

There is room of course for that. When I go to the doctor to get a medicine, I want him to narrow down the possibilities, not just to enumerate all the options. But I personally like the kind of science that broadens the horizons. I often tell my students at the University that my aim is that after three years, you basically know less than when you first got here. When you first got here, you thought you knew what the world is like and what is war and what is a state, and so forth. After three years, my hope is that you will understand that you actually know far, far less, and you come out with a much broader view of the present and of the future.

KAHNEMAN: But do you get to a broader view by becoming more differentiated, that is, by having more detailed views? Or is it just that you get people to consider a possibility that wouldn't occur to them?

HARARI: Mainly, the second way. The main thing, and my main task as a historian is to get people to consider the possibilities which usually are outside their field of vision, because our present field of vision has been shaped by history and has been narrowed down by history, and if you understand how history has narrowed down our field of vision, this is what enables you to start broadening it.

Let me give you an example that I'm thinking about a lot today, concerning the future of humankind in the field of medicine. At least to the best of my understanding, we're in the middle of a revolution in medicine. After medicine in the 20th century focused on healing the sick, now it is more and more focused on upgrading the healthy, which is a completely different project. And it's a fundamentally different project in social and political terms, because whereas healing the sick is an egalitarian project ... you assume there is a norm of health, anybody that falls below the norm, you try to give them a push to come back to the norm, upgrading is by definition an elitist project. There is no norm that can be applicable to everybody.

And this opens the possibility of creating huge gaps between the rich and the poor, bigger than ever existed before in history. And many people say no, it will not happen, because we have the experience of the 20th century, that we had many medical advances, beginning with the rich or with the most advanced countries, and gradually they trickled down to everybody, and now everybody enjoys antibiotics or vaccinations or whatever, so this will happen again.

And as a historian, my main task is to say no, there were peculiar reasons why medicine in the 20th century was egalitarian, why the discoveries trickled down to everybody. These unique conditions may not repeat themselves in the 21st century, so you should broaden your thinking, and you should take into consideration the possibility that medicine in the 21st century will be elitist, and that you will see growing gaps because of that, biological gaps between rich and poor and between different countries. And you cannot just trust a process of trickling down to solve this problem.

There are fundamental reasons why we should take this very seriously, because generally speaking, when you look at the 20th century, it's the era of the masses, mass politics, mass economics. Every human being has value, has political, economic, and military value, simply because he or she is a human being, and this goes back to the structures of the military and of the economy, where every human being is valuable as a soldier in the trenches and as a worker in the factory.

But in the 21st century, there is a good chance that most humans will lose, they are losing, their military and economic value. This is true for the military, it's done, it's over. The age of the masses is over. We are no longer in the First World War, where you take millions of soldiers, give each one a rifle and have them run forward. And the same thing perhaps is happening in the economy. Maybe the biggest question of 21st century economics is what will be the need in the economy for most people in the year 2050.

And once most people are no longer really necessary, for the military and for the economy, the idea that you will continue to have mass medicine is not so certain. Could be. It's not a prophecy, but you should take very seriously the option that people will lose their military and economic value, and medicine will follow.

KAHNEMAN: You seem to be describing this as something that is already happening. Are you referring to developments such as the plans to do away with death? That absolutely would not be a mass project. But could you elaborate on that?

HARARI: Yes, the attitude now towards disease and old age and death is that they are basically technical problems. It is a huge revolution in human thinking. Throughout history, old age and death were always treated as metaphysical problems, as something that the gods decreed, as something fundamental to what defines humans, what defines the human condition and reality.

Even a few years ago, very few doctors or scientists would seriously say that they are trying to overcome old age and death. They would say no, I am trying to overcome this particular disease, whether it's tuberculosis or cancer or Alzheimers. Defeating disease and death, this is nonsense, this is science fiction.

But, the new attitude is to treat old age and death as technical problems, no different in essence than any other disease. It's like cancer, it's like Alzheimers, it's like tuberculosis. Maybe we still don't know all the mechanisms and all the remedies, but in principle, people always die due to technical reasons, not metaphysical reasons. In the middle ages, you had an image of how does a person die? Suddenly, the Angel of Death appears, and touches you on the shoulder and says, "Come. Your time has come." And you say, "No, no, no. Give me some more time." And Death said, "No, you have to come." And that's it, that is how you die.

We don't think like that today. People never die because the Angel of Death comes, they die because their heart stops pumping, or because an artery is clogged, or because cancerous cells are spreading in the liver or somewhere. These are all technical problems, and in essence, they should have some technical solution. And this way of thinking is now becoming very dominant in scientific circles, and also among the ultra-rich who have come to understand that, wait a minute, something is happening here. For the first time in history, if I'm rich enough, maybe I don't have to die.

KAHNEMAN: Death is optional.

HARARI: Death is optional. And if you think about it from the viewpoint of the poor, it looks terrible, because throughout history, death was the great equalizer. The big consolation of the poor throughout history was that okay, these rich people, they have it good, but they're going to die just like me. But think about the world, say, in 50 years, 100 years, where the poor people continue to die, but the rich people, in addition to all the other things they get, also get an exemption from death. That's going to bring a lot of anger.

KAHNEMAN: Yes. I really like that phrase of "people not being necessary," can you elaborate on this dystopia? It's a new phrase for me. Such things, by the way, are developing very, very slowly. I was worrying about what computers would do in displacing people. I was worried about this when I was a graduate student, and that was more than 50 years ago, and I thought that's a very serious, immediate problem. It wasn't a serious immediate problem then, but a serious ... not immediate, but it may be a serious problem now. You have thought about it deeply, can you tell us about people becoming unnecessary, economically, and unnecessary militarily? What will that do?

HARARI: The basic process is the decoupling of intelligence from consciousness. Throughout history, you always had the two together. If you wanted something intelligent, this something had to have consciousness at its basis. People were not familiar with anything not human, that didn't have consciousness, that could be intelligent, that could solve problems like playing chess or driving a car or diagnosing disease.

Now, what we're talking about today is not that computers will be like humans. I think that many of these science fiction scenarios, that computers will be like humans, are wrong. Computers are very, very, very far from being like humans, especially when it comes to consciousness. The problem is different, that the system, the military and economic and political system doesn't really need consciousness.

KAHNEMAN: It needs intelligence.

HARARI: It needs intelligence. And intelligence is a far easier thing than consciousness. And the problem is, computers may not become conscious, I don't know, ever ... I would say 500 years ... but they could be as intelligent or more intelligent than humans in particular tasks very quickly. And if you think, for example, about this self-driving car of Google, and you compare the self-driving car to a taxi driver, a taxi driver is immensely more complex than the self-driving car.

There are a zillion things that the taxi driver can do and the self-driving car cannot. But the problem is that from a purely economic perspective, we don't need all the zillion things that the taxi driver can do. I only need him to take me from point A to point B as quickly and as cheaply as possible. And this is something a self-driving car can do better, or will be able to do better very quickly.

And when you look at it more and more, for most of the tasks that humans are needed for, what is required is just intelligence, and a very particular type of intelligence, because we are undergoing, for thousands of years, a process of specialization, which makes it easier to replace us. To build a robot that could function effectively as a hunter-gatherer is extremely complex. You need to know so many different things. But to build a self-driving car, or to build a "Watson-bot" that can diagnose disease better than my doctor, this is relatively easy.

And this is where we have to take seriously, the possibility that even though computers will still be far behind humans in many different things, as far as the tasks that the system needs from us are concerned, most of the time computers will be able to do better than us. And again, I don't want to give a prediction, 20 years, 50 years, 100 years, but what you do see is it's a bit like the boy who cried wolf, that, yes, you cry wolf once, twice, three times, and maybe people say yes, 50 years ago, they already predicted that computers will replace humans, and it didn't happen. But the thing is that with every generation, it is becoming closer, and predictions such as these fuel the process.

The same thing will happen with these promises to overcome death. My guess, which is only a guess, is that the people who live today, and who count on the ability to live forever, or to overcome death in 50 years, 60 years, are going to be hugely disappointed. It's one thing to accept that I'm going to die. It's another thing to think that you can cheat death and then die eventually. It's much harder.

While they are in for a very big disappointment, in their efforts to defeat death, they will achieve great things. They will make it easier for the next generation to do it, and somewhere along the line, it will turn from science fiction to science, and the wolf will come.

KAHNEMAN: What you are doing here, in terms of prediction, is about trends. The trend is clear, what progress means is clear, but when you describe people as superfluous, you are presenting the background for a huge problem. Who decides what to do with the superfluous people. Especially, what are the social implications that you see, the technical or technological development that you foresee?

HARARI: Well, again, I am an historian, I am not a biologist, I'm not a computer scientist, I am not in a position to say whether all these ideas are realizable or not. I can just look from the view of the historian and say what it looks from there. So the social and philosophical and political implications are the things that interest me most. Basically, if any of these trends are going to actually be fulfilled, then the best I can do is quote Marx and say that everything solid melts into air.

Once you really solve a problem like direct brain-computer interface ... when brains and computers can interact directly, to take just one example, that's it, that's the end of history, that's the end of biology as we know it. Nobody has a clue what will happen once you solve this. If life can basically break out of the organic realm into the vastness of the inorganic realm, you cannot even begin to imagine what the consequences will be, because your imagination at present is organic. So if there is a point of Singularity, as it's often referred to, by definition, we have no way of even starting to imagine what's happening beyond that.

Looking before the point of Singularity, just as the trend is gathering pace, one thing we can say is there may be a repeat of what happened in the 19th century with the Industrial Revolution, of the opening of huge gaps between different classes and different countries. Generally speaking, the 20th century was a century of closing gaps, fewer gaps between classes, between genders, between ethnic groups, between countries. So maybe we are starting to see the reopening of these gaps with a vengeance, gaps that will be far greater then were between the industrialized and the non-industrialized part of the world, 150 or 200 years ago.

In the Industrial Revolution of the 19th century, what humanity basically learned to produce was all kinds of stuff, like textiles and shoes and weapons and vehicles, and this was enough for the very few countries that underwent the revolution to subjugate everybody else. What we're talking about now is like a second Industrial Revolution, but the product this time will not be textiles or machines or vehicles, or even weapons. The product this time will be humans themselves.

We're basically learning to produce bodies and minds. Bodies and minds are going to be the two main products of the next wave of all these changes. And if there is a gap between those that know how to produce bodies and minds and those that do not, then this is far greater than anything we saw before in history.

And this time, if you're not fast enough to become part of the revolution, then you'll probably become extinct. Countries like China, missed the train for the Industrial Revolution, but 150 years later, they somehow have managed to catch up, largely, speaking in economic terms, thanks to the power of cheap labor. Now, those who miss the train will never get a second chance. If a country, if a people, today are left behind, they will never get a second chance, especially because cheap labor will count for nothing. Once you know how to produce bodies and brains and minds, cheap labor in Africa or South Asia or wherever, it simply counts for nothing. So in geopolitical terms, we might see a repeat of the 19th century, but in a much larger scale.

KAHNEMAN: What I find difficult to imagine is that as people are becoming unnecessary, the translation of that into sort of 20th-century terms is mass unemployment. Mass unemployment means social unrest. And it means there are things going to happen, processes going to happen in society, as a result of people becoming superfluous, and that is a gradual process, people becoming superfluous.

We may be seeing that in the growing inequality now, we may be seeing the beginning of what you're talking about. But have you thought, in the same way as you're thinking in interesting and novel ways about technology, have you thought about the social side?

HARARI: Yes, the social side is the more important and more difficult one. I don't have a solution, and the biggest question maybe in economics and politics of the coming decades will be what to do with all these useless people. I don't think we have an economic model for that. My best guess, which is just a guess, is that food will not be a problem. With that kind of technology, you will be able to produce food to feed everybody. The problem is more boredom, and what to do with people, and how will they find some sense of meaning in life when they are basically meaningless, worthless.

My best guess at present is a combination of drugs and computer games as a solution for most ... it's already happening. Under different titles, different headings, you see more and more people spending more and more time, or solving their inner problems with drugs and computer games, both legal drugs and illegal drugs. But this is just a wild guess.

What I can say is that maybe we are again in analogous position to the world in 1800. When the Industrial Revolution begins, you see the emergence of new classes of people. You see the emergence of a new class of the urban proletariat, which is a new social and political phenomenon. Nobody knows what to do with it. There are immense problems. And it took a century and more of revolutions and wars for people to even start coming up with ideas what to do with the new classes of people.

What is certain is that the old answers were irrelevant. Today, everybody is talking about ISIS, and the Islamic fundamentalism, and the Christian revival, and things like that. There are new problems, and people go back to the ancient texts, and think that there is an answer in the Sharia, in the Qur'an, in the Bible. We also had the same thing in the 19th century. You had the Industrial Revolution. You had huge sociopolitical problems all over the world, as a result of industrialization, of modernization. You got lots of people thinking that the answer is in the Bible or in the Qur'an. You had religious movements all over the world.

In the Sudan, for example, you have the Mahdi establishing Muslim theocracy according to the Sharia. An Anglo-Egyptian army comes to suppress the rebellion, and they are defeated. They behead General Charles Gordon. Basically, this is the same thing that you're now seeing with ISIS. Nobody remembers the Mahdi today because the answers that he found in the Qur'an and the Sharia to the problem of industrialization didn't work.

In China, the biggest war of the 19th century is not the Napoleonic war, it's not the American Civil War, it's the Taiping Rebellion in China, which started in 1850, when a failed scholar named Hong Xuiquan, if I remember correctly, had a vision from God that he, Hong, is the younger brother of Jesus Christ, and that he had a divine mission to establish the Kingdom of Heavenly Peace on Earth, and to solve all the problems China had due to the coming of the British and of modern industry. He started the rebellion, and millions followed him. According to the most moderate estimates, 20 million people were killed in the Taiping Rebellion, and it was 14 years before they suppressed it. He didn't establish a Kingdom of Heavenly Peace, and he didn't solve the problems of industrialization.

Eventually, people came up with new ideas, not from the Sharia, and not from the Bible, and not from some vision. People studied industry, they studied coalmines, they studied electricity, they studied steam engines, railroads, they looked at how these developments transformed the economy and society, and they came up with some new ideas. Not necessarily everybody liked the new ideas, but it was something at least to argue against.

And looking from the perspective of 2015, I don't think we now have the knowledge to solve the social problems of 2050, or the problems that will emerge as a result of all these new developments. We should be looking for new knowledge and new solutions, and starting with the realization that in all probability, nothing that exists at present offers a solution to these problems.

KAHNEMAN: What is very interesting and frightening about this scenario is that it is true, as you point out, that people have lived to work, or worked to live, and that what you are describing is a scenario in which work is unnecessary for most people.

There is a class of people who work because they enjoy it, and are able to do it, and then there is most of humanity, for which work no longer exists. That mass of people cannot work, but they can still kill people. How do you see the possibility of strife and conflict, between the superfluous people and those who are not?

HARARI: Once you are superfluous, you don't have power. Again, we are used to the age of the masses, of the 19th and 20th century, where you saw all these successful massive uprisings, revolutions, revolts, so we are used to thinking about the masses as powerful, but this is basically a 19th century and 20th century phenomenon.

If you go back in most periods in history, say to the middle ages, you do see peasant uprisings. They all failed, because the masses were not powerful. And once you become superfluous, militarily and economically, you can still cause trouble, of course, but you don't have the power to really change things.

Once you have the revolution we are undergoing in the military in which the number of soldiers simply becomes irrelevant in comparison with factors like technology, you still need people, but you don't need the millions of soldiers, each with a rifle. You need much smaller numbers of experts, who know how to produce and how to use the new technologies. Against such military powers, the masses, even if they somehow organize themselves, don't stand much of a chance. We are not in Russia of 1917, or in 19th century Europe.

And so again, it's not a prophecy. Maybe it will turn out differently. But as a historian, the most important thing to realize is that the power of the masses, that we are so used to, is rooted in particular historical conditions, economic, military, political, which characterized the 19th and 20th centuries. These conditions are now changing, and there is no reason to be certain that the masses will retain their power.

KAHNEMAN: What you're describing, the scenario that you're pointing to, is one of fairly rapid technological progress, and it really doesn't matter whether we're talking about 50 years or 150 years. There is a social arrangement that has been around for a long time, for decades and centuries. And they change relatively slowly. So what you bring to my mind, as I hear you, is a major disconnect between rapid technological change and quite rigid cultural and social arrangements that will not actually keep up.

HARARI: Yes, this is one of the big dangers, one of the big problems with technology. It develops much faster than human society and human morality, and this creates a lot of tension. But, again, we can try and learn something from our previous experience with the Industrial Revolution of the 19th century, that actually, you saw very rapid changes in society, not as fast as the changes in technology, but still, amazingly fast.

The most obvious example is the collapse of the family and of the intimate community, and their replacement by the state and the market. Basically, for the entirety of history, humans lived as part of these small and very important units, the family and the intimate community, say 200 people, who are your village, your tribe, your neighborhood. You know everybody; they know you. You may not like them, but your life depends on them. They provide you with almost everything you need in order to survive. They are your healthcare. There is no pension fund; you have children, they are your pension fund. They are your bank, your school, your police, everything. If you lose your family and the intimate community, you're dead, or you have to find a replacement family.

And this was the situation for hundreds of thousands of years of evolution. Even once history started, say 70,000 years ago, and you see all the changes and agriculture and cities and empires and religions, you don't see any significant change on that level. Even in the year, say, 1700, most people in the world still live as part of families and intimate communities, which provide them with most of what they need in order to survive. And you could have easily imagined, at the beginning of the Industrial Revolution, that this will continue to be the situation.

If you were, say, an evolutionary psychologist back in 1800, and you saw the beginning of the Industrial Revolution, you could have very confidently said all these changes in technology are well and good, but they won't change the basic structure of human society. Human society is built from these small building blocks, the family and intimate community, because this is kind of an evolutionary given. Humans must have this. They cannot live in any other way.

And you look at the last 200 years, and you see them collapse after millions of years of evolution. Suddenly, within 200 years, the family and the intimate community break, they collapse. Most of the roles filled by the family and by the intimate community for thousands and tens of thousands of years, are transferred very quickly to new networks provided by the state and the market. You don't need children, you can have a pension fund. You don't need somebody to take care of you. You don't need neighbors and sisters or brothers to take care of you when you're sick. The state takes care of you. The state provides you with police, with education, with health, with everything.

And you can say that maybe life today is in some ways worse than in 1700, because we have lost much of the connection to the community around us ... it's a big argument ... but it happened. People today actually manage to live, many people, as isolated, alienated individuals. In the most advanced societies, people live as alienated individuals, with no community to speak about, with a very small family. It's no longer the big extended family. It's now a very small family, maybe just a spouse, maybe one or two children, and even they, they might live in a different city, in a different country, and you see them maybe once in every few months, and that's it. And the amazing thing is that people live with that. And that's just 200 years.

What might happen in the next hundred years on that level of daily life, of intimate relationships? Anything is possible. You look at Japan today, and Japan is maybe 20 years ahead of the world in everything. And you see these new social phenomena of people having relationships with virtual spouses. And you have people who never leave the house and just live through computers. And I don't know, maybe it's the future, maybe it isn't, but for me, the amazing thing is that you'd have thought, given the biological background of humankind, that this is impossible, yet we see that it is possible. Apparently, Homo Sapiens is even more malleable than we tend to think.

We can also learn something from the Agricultural Revolution. Some experts think that agriculture was the biggest mistake in human history, in terms of what it did to the individual. It's obvious that on the collective level, agriculture enhanced the power of humankind in an amazing way. Without agriculture, you could not have cities and kingdoms and empires and so forth, but if you look at it from the viewpoint of the individual, then for many individuals, life was probably much worse as peasants in ancient Egypt then as hunter gatherers 20,000, 30,000 years earlier. You had to work much harder. The body and mind of Homo Sapiens evolved for millions of years in adaptation to climbing trees and picking fruits and to running after gazelles and looking for mushrooms. And suddenly you start all day digging canals and carrying water buckets from the river and harvesting the corn, and grinding the corn, this is much more difficult for the body, and also much more boring to the mind.

In exchange for all this hard work, most peasants got a far worse diet than hunter-gatherers, because hunter-gatherers relied on dozens of species of animals and plants and mushrooms and whatever, that provided them with all the nutrients and vitamins they needed, whereas peasants relied on usually just a single crop, like wheat or rice or potatoes. And on top of that, you had all the new social hierarchies and the beginning of mass exploitation, where you have small elites exploiting everybody else. Putting all this together, there is a good case to be said for the idea that for the individual, agriculture was perhaps the biggest mistake in history.

This may provide us with a lesson, or at least something to think about with regard to the new technological revolution. Nobody would doubt that all the new technologies will enhance again the collective power of humankind, but the question we should be asking ourselves is what's happening on the individual level. We have enough evidence from history that you can have a very big step forward, in terms of collective power, coupled with a step backwards in terms of individual happiness, individual suffering. We need to ask ourselves about the new technologies emerging at present, not only how are they going to impact the collective power of humankind, but also how are they going to impact the daily life of individuals.

In terms of history, the events in Middle East, of ISIS and all of that, is just a speed bump on history's highway. The Middle East is not very important. Silicon Valley is much more important. It's the world of the 21st century ... I'm not speaking only about technology.

In terms of ideas, in terms of religions, the most interesting place today in the world is Silicon Valley, not the Middle East. This is where people like Ray Kurzweil, are creating new religions. These are the religions that will take over the world, not the ones coming out of Syria and Iraq and Nigeria.

VIDEO - Experts watching for COVID-19 spread from holiday weekend

Thu, 02 Jun 2022 15:44

TAMPA, Fla. '-- ''There's a lot of COVID. I'm starting to see a lot of students be positive again, coworkers that are positive, just contacts that are positive. It's not gone,'' said Dr. Jill Roberts, Associate Professor for the USF College of Public Health.

Experts say we're in the midst of yet another COVID-19 wave.

''At the moment, the cases are going up, hospitalizations are going up, test positivity is going up,'' said Roberts.

What health officials are keeping a close eye on right now is the United States is currently recording as many COVID-19 cases as it was last summer during the delta surge.

However, experts believe the cases are much higher because they're being underreported due to at-home COVID-19 tests.

''We've really enjoyed a nice little break for a little while here but unfortunately at the moment we're headed in the other direction,'' said Roberts.

More than half of the U.S. population is living in areas the Centers for Disease Control and Prevention deem as having a medium or high transmission risk.

RECOMMENDED: CDC: Hillsborough, Pinellas, and Pasco at ''high risk'' for COVID-19

That's why researchers are predicting cases will rise after Memorial Day weekend gatherings.

''Anytime we have an opportunity like a holiday for people to gather together, are we going to be at risk and I think so,'' said Roberts.

Experts believe the people most at risk for getting and spreading the virus, aside from anyone completely unvaccinated, are people who aren't boosted.

''Anyone who has not been boosted for their vaccinations should really start thinking about those boosters right now,'' said Roberts.

Health officials urge people to take precautions to help limit the spread if they have Memorial Day plans:

wear masks when inside public spacesgather with people outsidepractice social distancing''The one tool that a lot of us have not been doing anymore is really distancing,'' said Roberts.

''That virus is still out there so please be very careful,'' she added.

Copyright 2022 Scripps Media, Inc. All rights reserved. This material may not be published, broadcast, rewritten, or redistributed.

Sign up for the Morning Headlines Newsletter and receive up to date information.

VIDEO - (1327) CDC issues new monkeypox warning as more potential cases found - YouTube

VIDEO - (3) Kyle J. Maxwell on Twitter: "This was perhaps the most utterly insane scene of the entire documentary, hands down'... @MattWalshBlog https://t.co/qF9MXvsmtv" / Twitter

Thu, 02 Jun 2022 14:02

Kyle J. Maxwell : This was perhaps the most utterly insane scene of the entire documentary, hands down'... @MattWalshBlog https://t.co/qF9MXvsmtv

Thu Jun 02 02:54:42 +0000 2022

Connor Monday : @khendriix_ @MattWalshBlog The idea that their is "a truth" outside of "their truth" is an attack on their satanic'... https://t.co/k7swmMB0r5

Thu Jun 02 14:00:29 +0000 2022

Dunking On Democrats : @khendriix_ @MattWalshBlog Triggered snowflake meltdown when someone doesn't entertain their delusions. Love to see it

Thu Jun 02 13:59:28 +0000 2022

Healthy Sane BE : @khendriix_ @Cernovich @MattWalshBlog Probing? It's called an interview, dude! Someone asking you questions, also u'... https://t.co/LNcFrHj7ca

Thu Jun 02 13:57:49 +0000 2022

Gnonjira : @khendriix_ @turrible_tao @MattWalshBlog "I wish I were at an orgy right now." https://t.co/AezSbze81S

Thu Jun 02 13:57:40 +0000 2022

Simon Weber : @khendriix_ @MattWalshBlog Liars despise the truth.

Thu Jun 02 13:56:52 +0000 2022

Tony Bujan : @khendriix_ @MattWalshBlog This guy reminds me of Terry form Reno 911.

Thu Jun 02 13:55:44 +0000 2022

Ninja Romantic : @khendriix_ @MattWalshBlog https://t.co/NqjUAZH3QO

Thu Jun 02 13:53:49 +0000 2022

Dan ward : @khendriix_ @MattWalshBlog Another crazy person. Cant deal in reality so needs to censor the situation so his fake'... https://t.co/I0nRbMtThf

Thu Jun 02 13:53:40 +0000 2022

Bob M : @khendriix_ @MattWalshBlog Is this a skit? Can't be real.

Thu Jun 02 13:52:39 +0000 2022

ridges : @khendriix_ @MattWalshBlog Truth is like holy water to leftist vampire ideologies.

Thu Jun 02 13:46:07 +0000 2022

Srqpeace : @khendriix_ @MattWalshBlog That professor was litterely squirming in his seat hahaha! That dude had nothing for an answer lmao

Thu Jun 02 13:43:14 +0000 2022

WomanRoaring : @khendriix_ @MattWalshBlog We just have to let them speak. They reveal the crazy dishonesty of their cult.

Thu Jun 02 13:43:00 +0000 2022

THI : @khendriix_ @MattWalshBlog '— The Truth is condescending?Just when one thinks one's heard EVERYTHING'.... https://t.co/I62111msjN

Thu Jun 02 13:39:54 +0000 2022

Roger Stellers : @khendriix_ @MattWalshBlog Postmodernism is cancer

Thu Jun 02 13:39:40 +0000 2022

Nicola : @khendriix_ @MattWalshBlog ðŸ'

Thu Jun 02 13:38:16 +0000 2022

The Cat From Mars #FBPE #Rejoin Answers to Puss. : @khendriix_ @MattWalshBlog Getting to the truth is transphobic. ðŸ

Thu Jun 02 13:35:48 +0000 2022

VIDEO - (1323) The Return of Inflation - Michael Hudson - YouTube
Clips & Documents
Art
Audio Clips

A sporting goods store president syas Trudeau is best handgun salesman.mp3

ABC ATM - anchor Andrew Dymburt - chicago shootings over holiday (18sec).mp3

ABC ATM - anchor Andrew Dymburt - iranian commandos (17sec).mp3

ABC ATM - anchor Andrew Dymburt - pelosi husband DUI (17sec).mp3

ABC ATM - anchor Andrew Dymburt - WHO monkey pox (20sec).mp3

ABC ATM - anchor Mona Abdi - federal mask mandate (17sec).mp3

ABC ATM - anchor Mona Abdi - lumber prices fall (13sec).mp3

ABC ATM - anchor Mona Abdi - shanghai reopens (16sec).mp3

ABC ATM - anchor Mona Abdi - trudeau guns (48sec).mp3

ABC ATM - anchor Mona Abdi - yellen inflation (1min36sec).mp3

ABC Local NewsCovidcFear.mp3

Americans Ambassaqdor in Syria NPR.mp3

Austin Airport parking lots targeted by catalytic converter thieves.mp3

Bide horseshit tale 2.mp3

Bide horseshit tale One.mp3

Biden 3.7 bottles of the formula.mp3

BIDEN annapolis 2 mumble.mp3

BIDEN annapolis 3.mp3

BIDEN annapolis rugby.mp3

Call now advert 2.mp3

Call now advert.mp3

CBS Evening - anchor Norah ODonnell - micheal sussmann not guilty (23sec).mp3

CBS Evening - anchor Norah ODonnell - ukraine chemical plant (16sec).mp3

CNN CDC warns LGBTQ+ for Monkeypox during PRIDE month.mp3

Durham loses.mp3

Gazprom new cutoffs.mp3

Giant plant bbc.mp3

Horrid dog story.mp3

Human rights in china UN npr.mp3

ISO dynomite.mp3

mona lisa attacked 2.mp3

mona lisa attacked one.mp3

New and imporved Dr. Birx on masking [again] - ActivePure plug.mp3

NRA convention npr.mp3

Palki Sharma WION - MI6 makes a wild claim, says Putin could be dead.mp3

Progressives Democrats Raskin fixing things NPR.mp3

Progressives during election.mp3

progressives during electionOpen.mp3

Queens Jubilee.mp3

Retired Col. Richard Black, former head of the US Army's Criminal Law division at The Pentagon, on the threat to global peace.mp3

sandberg out npr.mp3

saying in texas -oliver.mp3

Senator Mo Brooks hammers Fox News Model about election fraud.mp3

Sonic The Hedgehog 2 - Villan - Good people on both sides.mp3

Stockman CIA Prop methodology.mp3

Summit of the Americas npr.mp3

Travel disruption causes delays, cancellations and chaos as half term holidays begin.mp3

Trump virtue cycling.mp3

Ukraine BBC 2.mp3

Ukraine BBC one.mp3

ukraine new missiles.mp3

Uvalde real rundown npr.mp3

WSJ - America's Summer of Rolling Blackouts.mp3

Yuval Noah Harari - Death is optional -1- Humans no longer needed for 'Intelligence'.mp3

Yuval Noah Harari - Death is optional -2- Upgrade Humans, not fix old ones.mp3

Yuval Noah Harari - Death is optional -3- The new Useless Class.mp3