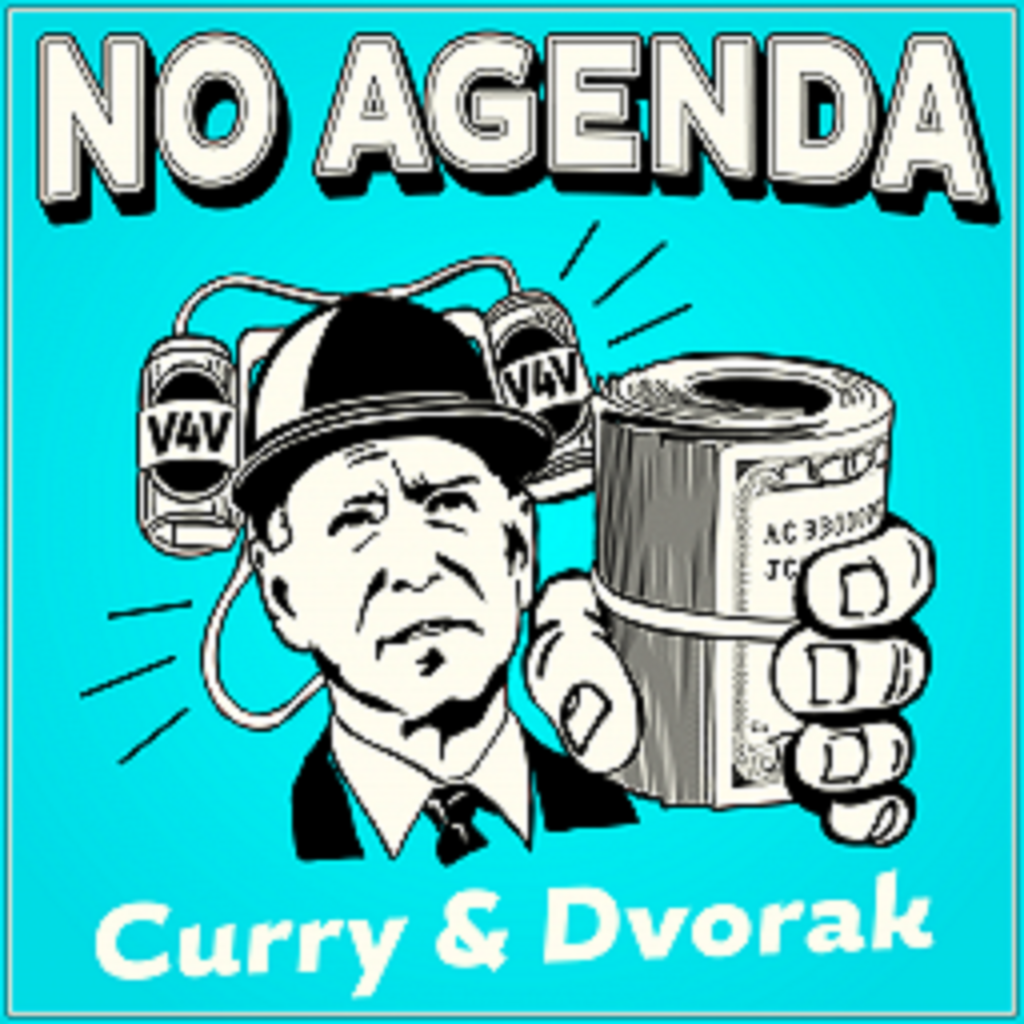 August 25th, 2022 • 3h 4m
1480: Internet of Dogs
Shownotes
Every new episode of No Agenda is accompanied by a comprehensive list of shownotes curated by Adam while preparing for the show. Clips played by the hosts during the show can also be found here.
Student Debt

Student debt plan: argue about loan relief inflation up until mid terms

Biden student loan deal would likely only pay off accrued interest during the lockdown - They kept the meter running
Prime Time Purge
Mandates & Boosters

German Health Minister

German Health Minister Lauterbach says vaccination limits the COVID pandemic because vaccinated people develop symptoms quickly and stay home, while unvaccinated people develop symptoms more slowly.
Climate Change

International project to name heat waves met with skepticism, intrigue | CBC News

If you can name it, you can sell it

"The Adrienne Arsht Rockefeller Foundation Resilience Center, a Washington, D.C.-based group studying climate resiliency, is running a pilot program to see whether a naming system for heat waves will affect the public's perception — and actions — during periods of intense heat.

The World Economic Forum reports that countries all over the world are experiencing record-breaking heat waves this year. Rising global temperatures are making heat waves more common, severe, and lengthy."

"The World Meteorological Organization (WMO), a United Nations agency, said they are supportive of classifying heat waves but are not certain how naming a heat wave works scientifically. The WMO also questioned whether the system could be confusing for the public. "

LinkedIn is removing climate skeptic posts
Inflation & Energy
Great Reset
Ukraine & Russia

Ukrainians at the border bOTG

ITM Adam! I was in the the pool supply distributor this morning and overhead a boots on the ground rumor report. The guy has a buddy that lives across the border in Tijuana, Mexico. The report is there are a ton of Ukrainians in Tijuana waiting to cross the border. The streets are full of "hot blondes". He said they are also getting their paperwork to cross into the US way faster than any of the other asylum seekers. Sorry I don't have any solid documentation of this.

Whose Grain Is Being Shipped From Ukraine?

A key provision of the US and IMF demands on the post-coup government of US-picked Prime Minister Arseniy Yatsenyuk , a leader of the CIA-backed Maiden protests against Yanukovych, was to finally open Ukraine's rich agriculture land to foreign Agribusiness giants, above all GMO giants including Monsanto and DuPont. Three of the Yatsenyuk cabinet , including the key Finance and Economy ministers, were foreign nationals, dictated to Kiev by the US State Department's Victoria Nuland and then-Vice President Joe Biden. The Washington-imposed IMF loan conditions required that Ukraine also reverse its ban on genetically engineered crops, and enable private corporations like Monsanto to plant its GMO seeds and spray the fields with Monsanto's Roundup.
Finland coup?
Schedule F - Trump
Trains Good
Epstein
Monkey pox polio HIV etc.
VAERS
MIC
Elon / Twitter
BLM LGBBQQIAAPK+ Noodle Boy
OTG
Ministry of Truthiness
China
STORIES

VW Will Only Sell EVs In Norway From 2024 Onwards

Thu, 25 Aug 2022 17:07

Volkswagen has announced that it will only sell electric cars in Norway from 2024 onwards. Norway is the world's leading country when it comes to EV vs ICE sales. In 2021, 64.5% of all cars sold in the Scandinavian country were fully electric.

Despite being a major oil exporter, Norway is one of the world's most sustainable countries. Over the past 10 years, the country has heavily invested in renewable energy and EV charging infrastructure. The Norwegian government also offers many incentives for EVs, such as VAT exemptions and the ability to drive in bus and taxi lanes. In general, it's much more affordable to buy an all-electric car in Norway than it is a petrol, hybrid, or diesel vehicle.

Norwegian outlet Postsen wrote the following:

"Volkswagen will cut off all sales of petrol, diesel and hybrid cars in Norway on 1 January 2024. Director Ulf Tore Hekneby of Volkswagen importer Harald A. M¸ller will announce an event at Arendalsuka on Thursday."

In the first half of 2022, the best-selling EV in Norway was the Tesla Model Y. It was closely followed by the Volkswagen ID.4 and Å koda Enyaq. Interestingly, Tesla Model 3 sales have significantly decreased in Norway - probably due to the arrival of new competitors like the BMW i4 and the European launch of the Tesla Model Y.

As well as the ID.4, Volkswagen also offers the ID.3 hatchback and ID.5 'SUV coupe' in Norway. The ID.3 was briefly Norway's best-selling electric car 2 years ago, however the onslaught of new EVs since then has significantly eaten away at sales. Meanwhile, the upcoming ID. Buzz is sold out for the next year, with Norway being its top destination - even ahead of Germany.

Whose Grain Is Being Shipped From Ukraine?

Thu, 25 Aug 2022 17:05

Attribution: IvanStudenovImage License: This file is licensed under the Creative Commons Attribution-Share Alike 4.0 International license with some restrictions. License & Image Link: LINK By F. William Engdahl 18 August 2022 A great humanitarian uproar in recent weeks demanding the safe shipping of Ukrainian grain to ease a hunger crisis in Africa and elsewhere is deceptive on many levels. Not the least is who owns the land on which the grain is grown and whether that grain is actually illegal GMO patented corn and other grains. A corrupt Zelenskyy regime has quietly made deals with the major GMO agribusiness companies in the West who have been stealthily taking control of some of the world's most productive ''black earth'' farmland.

The 2014 CIA Coup

In February 2014 a US Government-backed coup d'etat forced the elected president of Ukraine to flee for his life to Russia. In December 2013 President Viktor Yanukovych had announced following months of debate that Ukraine would join the Russian Eurasian Economic Union on promise of a $15 billion Russian purchase of Ukraine state debt and 33% reduction in cost of imported Russian gas.

The competing offer had been a paltry ''associate membership'' in the EU tied to Ukraine acceptance of a draconian IMF and World Bank loan package that would force the privatization of Ukraine's invaluable agriculture land, allow planting GMO crops, as well as imposing severe pension cuts and social austerity. In return for a $17 billion IMF loan, Ukraine would also have to raise personal income taxes by as much as 66% and to pay 50% more for natural gas. Workers would have to work ten years longer to get pensions. The aim was to open Ukraine to ''foreign investment.'' The usual IMF rape of the economy on behalf of globalist corporate interests.

A key provision of the US and IMF demands on the post-coup government of US-picked Prime Minister Arseniy Yatsenyuk , a leader of the CIA-backed Maiden protests against Yanukovych, was to finally open Ukraine's rich agriculture land to foreign Agribusiness giants, above all GMO giants including Monsanto and DuPont. Three of the Yatsenyuk cabinet , including the key Finance and Economy ministers, were foreign nationals, dictated to Kiev by the US State Department's Victoria Nuland and then-Vice President Joe Biden. The Washington-imposed IMF loan conditions required that Ukraine also reverse its ban on genetically engineered crops, and enable private corporations like Monsanto to plant its GMO seeds and spray the fields with Monsanto's Roundup.

Since Ukraine declared independence from the Soviet Union in 1991, keeping control of Ukraine's precious ''black earth'' land has been one of the most heated issues in national politics. Recent polls show 79% of Ukrainians want to retin control of their land from foreign takeover. Ukraine, as southern Russia, is home to valuable black earth or chernozems, a dark, humus-rich soil that is very productive and needs little artificial fertilizer.

2001 Moratorium

A 2001 Ukraine law imposed a moratorium on private sale of farmland to larger companies or foreign investors. The moratorium was to halt buy up by corrupt Ukrainian oligarchs and their leasing to foreign agribusiness of the rich farmlands. By then Monsanto and other Western agribusiness had made significant inroads into Ukraine.

When Ukraine left the Soviet Union in 1991, farmers who had worked on the Soviet collective farms were each given small plots of the land. To prevent sale of the plots to hungry foreign agribusiness, the 2001 moratorium was voted. Seven million Ukrainian farmers owned small plots totaling some 79 million acres. The remaining 25 million acres were owned by the state. Cultivation of GMO crops was strictly illegal.

Despite the moratorium, Monsato, DuPont, Cargill and other Western GMO purveyors secretly and illegally began spreading their patented GMO seeds in the black earth of Ukraine. Small landowners would lease their land to large Ukrainian oligarchs, who in turn would enter secret agreements with Monsanto and others to plant GMO corn and soybeans. By the end of 2016 according to a now-deleted US Department of Agriculture report, about 80% of Ukraine's soybeans, and 10% of corn, were grown illegally from genetically modified seed. The Zelenskyy 2021 law has allowed this open door to GMO to be vastly expanded.

Enter the Comedian

In May 2019 Volodymyr Zelenskyy, a Ukrainian TV comedian, a prot(C)g(C) of notoriously corrupt Ukraine oligarch, Igor Kolomoisky, was elected President in a tragic popular revolt ''against government corruption.'' One of Zelenskyy's first acts in 2019 was to try to overturn the 2001 land moratorium. Farmers and citizens staged huge protests throughout 2020 to block the changes proposed by Zelenskyy.

Finally, taking advantage of the covid lockdown restrictions and bans on public protests, in May 2021 Zelenskyy signed Bill No. 2194, deregulating land, calling it the ''key'' to the ''farmland market.'' He was right. In a sneaky move to calm farmer opposition, Zelensky claimed the new law allows only Ukrainian citizens to buy or sell the valuable farmland in the first few years. He did not mention the huge loophole allowing foreign-owned companies like Monsanto (today part of Bayer AG) or DuPont (now Corteva), or other companies which have been operating in Ukraine more than three years, to also buy the desired land.

The 2021 law also gave ownership to notoriously corrupt municipal and village governments who can change the land purpose. After January 2024 Ukraine citizens as well as corporations can buy up to 10,000 hectares of land. And an April, 2021 amendment to the land market law'' ''On Amendments to the Land Code of Ukraine and other Legislative Acts concerning the improvement of the management system and deregulation in the field of land relations'''' opened another huge loophole for foreign agribusiness to take control of the rich Ukraine black earth. The amendment circumvents the ban on sale of land to foreigners by changing the purpose of the land, say from cropland to commercial land. Then it can be sold to anyone, including foreigners who can in turn repurpose it to farmland. Zelenskyy signed the bill and went back on his campaign pledge to hold a national referendum on any change in land ownership.

Should there be any doubt as to interest of US GMO-linked agribusiness in grabbing Ukraine prime farmland, a look at the current Board of Directors of the US-Ukraine Business Council is instructive. It includes the largest private grain and agribusiness giant in the world, Cargill. It includes Monsanto/Bayer which owns patented GMO seeds and the deadly pesticide, Roundup. It includes Corteva, the huge GMO fusion of DuPont and Dow Chemicals. It includes fellow grain cartel giants Bunge and Louis Dreyfus. It includes the major farm equipment maker John Deere.

These were the powerful agribusiness corporations reportedly behind Zelenskyy's betrayal of his election promise. With Bayer/Monsanto, Corteva and Cargill already controlling a reported 16.7 million hectares of prime Ukraine black earth farmland, and with a de facto bribe from the IMF and World Bank, Zelenskyy's government caved in and sold out. The result will be very bad for the future of what was until recently the ''breadbasket of Europe.'' With Ukraine now being pried open by the GMO cartel companies, it leaves only Russia which banned GMO crops in 2016 as the only major world grain supplier without GMO. The EU is reportedly working on a new law that would overturn the long-established critical approval process for GMO crops and open the floodgates there to the GMO takeover.

F. William Engdahl is strategic risk consultant and lecturer, he holds a degree in politics from Princeton University and is a best-selling author on oil and geopolitics, exclusively for the online magazine''New Eastern Outlook''

Back

China forgives 23 loans for 17 African countries, expands 'win-win' trade and infrastructure projects - Multipolarista

Thu, 25 Aug 2022 17:04

The Chinese government has announced that it is forgiving 23 interest-free loans for 17 African nations, while pledging to deepen its collaboration with the continent.

This is in addition to China's cancellation of more than $3.4 billion in debt and restructuring of around $15 billion of debt in Africa between 2000 and 2019.

While Beijing has a repeated history of forgiving loans like this, Western governments have made baseless, politically motivated accusations that China uses ''debt-trap diplomacy'' in the Global South.

The United States has turned Africa into a battleground in its new cold war on China and Russia. And Washington has weaponized dubious claims of Chinese ''debt traps'' to try to demonize Beijing for its substantial infrastructure projects on the continent.

For its part, China has pushed back against the US new cold war.

Chinese Foreign Minister Wang Yi held a meeting with leaders from various African countries and the African Union on August 18.

In the conference, Wang condemned the West's ''zero-sum Cold War mentality.'' He instead proposed a model based on ''multi-party cooperation'' with Africa that brings ''win-win results'' for all sides.

''What Africa would welcome is mutually beneficial cooperation for the greater well-being of the people, not major-country rivalry for geopolitical gains,'' he said.

Wang revealed that Beijing will support the African Union in its efforts to join the G20.

The foreign minister also announced that ''China will waive the 23 interest-free loans for 17 African countries that had matured by the end of 2021.''

''¸ China will waive 23 interest-free loans for 17 African countries that matured by the end of 2021.

''¸ China is prepared to rechannel its $10bn SDR in IMF to Africa.

''¸ China has decided to provide new food assistance to 17 African countries in need this year.

'-- Chinese Mission to UN (@Chinamission2un) August 18, 2022

Beijing pledged to strengthen trade with Africa, and has made agreements with 12 countries on the continent to remove tariffs for 98% of the products they export to China, increasing the competitiveness of African goods.

Wang said Beijing will continue to provide food, economic, and military aid to Africa, while offering assistance in the fight against covid-19.

Emphasizing the importance of ''development cooperation,'' China offered billions of dollars of investment in infrastructure projects as ''a strong boost to Africa's industrialization process.''

Africa plays an important role in Beijing's Belt and Road Initiative, a global infrastructure project aimed at interconnecting the Global South and moving the center of the world economy back east.

''In the face of the various forms of hegemonic and bullying practices, China and Africa have stood with each other shoulder to shoulder,'' Wang stressed, calling to ''safeguard international fairness and justice.''

State Councilor & FM Wang Yi chaired the Coordinators' Meeting on the Implementation of the Follow-up Actions of the 8th #FOCAC Ministerial Conference. As Wang Yi stated, China is making every effort to deliver its commitments to Africa despite external difficulties. pic.twitter.com/1C0rr0xq7Z

'-- Chinese Mission to UN (@Chinamission2un) August 18, 2022

US diplomats visit Africa, pressure it to cut ties with China and RussiaChina's comments and promises to deepen ''mutually beneficial cooperation'' with Africa could hardly have been any more different from those made by top US diplomats.

The US ambassador to the United Nations, Linda Thomas-Greenfield, visited Uganda and Ghana in the first week of August. There, she threatened the continent, telling African nations they cannot do trade with Russia, or they will be violating Western sanctions.

Thomas-Greenfield warned in Uganda, ''As for sanctions that we have on Russia '' for example, oil sanctions '' if a country decides to engage with Russia where there are sanctions, then they are breaking those sanctions; they're breaking our sanctions and in some cases they're breaking UN sanctions with other countries, and we caution countries not to break those sanctions because then, if they do, they stand the chance of having actions taken against them for breaking those sanctions.''

US Secretary of State Antony Blinken subsequently visited South Africa, the Democratic Republic of the Congo, and Rwanda from August 7 to 11, as part of a trip aimed at weakening Africa's relations with China and Russia.

The latter statement was made in Uganda and, lo and behold, it dictated Uganda's choices. They are not buying cheap Russian fuel, despite a cost-of-living crisis, to avoid being sanctioned by the US. https://t.co/zUxb67JEHc

'-- Eugene Puryear (@EugenePuryear) August 9, 2022

'The Chinese ''debt trap'' is a myth'One of Washington's most powerful weapons in its information war on China is its evidence-free accusations that Beijing is supposedly trapping African nations in debt.

Yet as Multipolarista previously reported in an analysis of Sri Lanka's economic crisis, Western governments, financial institutions, banks, and vulture funds are responsible for the vast majority of debt that Global South countries are trapped in.

The UK government's own state media outlet BBC investigated allegations of ''debt trap diplomacy'' in Sri Lanka and reluctantly concluded that they are false.

''The truth is that many independent experts say that we should be wary of the Chinese debt trap narrative, and we've found quite a lot of evidence here in Sri Lanka which contradicts it,'' BBC reporter Ben Chu said in a dispatch.

Sri Lanka owes 81% of its external debt to US and European financial institutions and Western allies Japan and India.

China owns just 10%.

But Washington blames imaginary "Chinese debt traps" for the nation's crisis, as it negotiates a 17th IMF bailout.https://t.co/Tk49cuLvNS

'-- Benjamin Norton (@BenjaminNorton) July 11, 2022

Similarly, mainstream academics at Johns Hopkins University and Harvard Business School acknowledged in Washington's establishment magazine The Atlantic that ''the Chinese 'debt trap' is a myth.''

Scholar Deborah Brautigam wrote that the US government-sponsored narrative is ''a lie, and a powerful one.''

''Our research shows that Chinese banks are willing to restructure the terms of existing loans and have never actually seized an asset from any country,'' she added.

Brautigam found that, between 2000 and 2019, China cancelled more than $3.4 billion and restructured or refinanced around $15 billion of debt in Africa, renegotiating at least 26 individual loans.

This past debt forgiveness is in addition to the 23 interest-free loans for 17 African countries that Beijing has announced it will pardon.

The IRS could be on the verge of changing the way Americans file their taxes | The Hill

Thu, 25 Aug 2022 17:04

Editor's note: This story has been updated to clarify that the IRS removed a noncompete clause in its agreement with commercial providers.

The IRS could be on the cusp of revolutionizing the way that Americans file their taxes.

The Inflation Reduction Act signed into law by President Biden on Tuesday provided $80 billion in funding for the agency, including $15 million to deliver a report on a free, government-run tax e-filing system that tax simplification advocates have long argued for.

But the agency is on a tight deadline to deliver.

While most of the $80 billion for the IRS in the new legislative package goes out over the next decade, the agency has only about a year to turn in its e-filing report.

Specifically, the agency has to figure out how much an online filing system would cost, the design of the system and how taxpayers would feel about using one.

Tax experts say the system could take two basic forms: one more conservative in scope and one more far-reaching.

The more conservative option would be a standardized government version of popular commercial software from companies like Intuit, H&R Block and TaxACT that prompts users to fill out a digital tax return.

There has already been an IRS program in place that allows low-income Americans to use these and other commercial products for free, but the program has performed poorly.

An April report from the U.S. Government Accountability Office found that while 70 percent of taxpayers are eligible for the Free File Alliance program, only 3 percent use it.

In its agreement with commercial providers, the IRS signed a noncompete clause promising not to make its own free software tool. The clause was removed in subsequent versions of the agreement.

Former Treasury Inspector General for Tax Administration (TIGTA) J. Russell George testified to the Ways and Means Committee back in 2006 that, ''According to representatives of Alliance member companies that TIGTA interviewed, their primary goal is to keep the Federal Government from entering the tax preparation business.''

It's not clear how a new free e-filing system would line up with the IRS's agreement with private tax preparers, but it may simply be allowed to expire if the agency decides to move ahead with its own large-scale public filing system.

The Free File Alliance came to be because Congress originally mandated the IRS to do away with tax returns altogether in a law called the Internal Revenue Service Restructuring and Reform Act of 1998.

After a major lobbying push by the tax preparation industry, the Free File Alliance was introduced as a way to let low-income Americans file their taxes for free without getting rid of tax returns.

The Alliance drew institutional momentum away from the change to return-free filing, which likely would have rendered large segments of the tax prep industry totally useless.

In 1998, Congress told the Treasury to ''develop procedures for the implementation of a return-free tax system under which appropriate individuals would be permitted to comply with the Internal Revenue Code of 1986 without making the return required.''

Return-free filing is the second, more dramatic option for a free, IRS-run e-filing system that experts say could once again be under consideration as part of the Inflation Reduction Act.

Return-free filing is used by many countries with advanced economies in the Organization for Economic Cooperation and Development. It essentially means that the government would do your taxes for you, withholding what's owed and then doing its own accounting without requiring forms to be sent in by taxpayers.

The main type of return-free filing '-- used by the United Kingdom, Japan and Germany, among dozens other countries '-- is referred to as an exact withholding system. With this system, the IRS would try to withhold fewer taxes from people's paychecks and skip the refunding process made necessary by a self-reported tax return.

''In most of these countries, taxpayers meet their tax obligations entirely through tax withholding payments made throughout the year,'' the Treasury Department found in a 2003 report on return-free tax systems.

But experts say that all the tax credits in the U.S. tax code make self-reporting helpful '-- if not necessary '-- from an administrative point of view.

''With withholding, the IRS already has that information. So it's kind of annoying that you have to go through and enter it in yourself. But in the U.S. we have, for instance, joint filing. So if your employer knows what your income is, they don't necessarily know what your spouse's is. Employer withholding isn't reflective of various credits and tax programs,'' Alex Muresianu, tax analyst at the Tax Foundation, a Washington think tank, said in an interview.

The other kind of return-free filing is called agency reconciliation. This is where ''tax authorities prepare tax returns for individuals based on information returns from employers and others, and send taxpayers a completed tax form for their review,'' according to the Treasury report.

Some studies have shown that the government would lose revenue with this kind of system since the IRS is doing all the clerical work without relying on reporting from taxpayers.

''If you as a taxpayer know things the IRS doesn't know that are to your advantage, then you might not want to share that with them,'' Robert Weinberger, a nonresident fellow at the Urban-Brookings Tax Policy Center, said in an interview. ''But there are arguments that that would be worth it, since the whole system would be simplified and people will be happier. So maybe that's a trade-off we'd be willing to make.''

The government found in 2003 that a simplification of U.S. tax law, which is full of credits and exceptions to credits, should be a prerequisite for implementing any return-free filing system.

''Moving to a return-free tax system without first simplifying the income tax would require substantive changes in tax administration,'' the Treasury report found. ''These changes could shift burdens from taxpayers to other parties, including employers, financial institutions, state governments, and the IRS.''

But that prerequisite may no longer make sense in an age when everything from doctor visits to school records can be accessed instantaneously online.

Tax simplification advocates say a slimmed down tax code, which now stands at nearly 10 million words between statutes and regulations, would be well worth the effort.

''It's critical to make filing taxes as easy as possible,'' Frank Clemente, director of the left-leaning advocacy organization Americans for Tax Fairness, said in an interview. ''We've got to move away from this adversarial feeling. A simpler tax system will reduce cost, increase compliance and make people just feel better about the IRS.''

Clemente added that the $15 million in the Inflation Reduction Act for the report on e-filing ''indicates a seriousness to move beyond where we currently are on this problem.''

''Whatever the proposals look like, it means there's got to be a plan behind that,'' he added.

Advocates are keeping an eye on a provision in the act's requirement for the e-filing task force that says it needs to look at ''options for differential coverage based on taxpayer adjusted gross income and return complexity.''

They say this focus on ''differential coverage'' could suggest that Americans with more complicated tax returns, who are typically wealthier, could interact differently with a new e-filing system than the average wage earner. These differences could raise questions about the fairness of such a system.

The Hill's 12:30 Report '-- Revised economic numbers raise recession questionsNewsom donates $100K to DeSantis opponent CristIn a Wednesday memo to IRS Commissioner Charles Rettig, Treasury Secretary Janet Yellen expressed concern about unfairness built into the tax system, which she described as ''two-tiered.''

''Most Americans pay what they owe, but those at the top of the distribution often do not,'' Yellen wrote.

Updated at 3:44 p.m.

A Dad Took Photos of His Naked Toddler for the Doctor. Google Flagged Him as a Criminal. - The New York Times

Thu, 25 Aug 2022 17:01

Mark noticed something amiss with his toddler. His son's penis looked swollen and was hurting him. Mark, a stay-at-home dad in San Francisco, grabbed his Android smartphone and took photos to document the problem so he could track its progression.

It was a Friday night in February 2021. His wife called an advice nurse at their health care provider to schedule an emergency consultation for the next morning, by video because it was a Saturday and there was a pandemic going on. The nurse said to send photos so the doctor could review them in advance.

Mark's wife grabbed her husband's phone and texted a few high-quality close-ups of their son's groin area to her iPhone so she could upload them to the health care provider's messaging system. In one, Mark's hand was visible, helping to better display the swelling. Mark and his wife gave no thought to the tech giants that made this quick capture and exchange of digital data possible, or what those giants might think of the images.

With help from the photos, the doctor diagnosed the issue and prescribed antibiotics, which quickly cleared it up. But the episode left Mark with a much larger problem, one that would cost him more than a decade of contacts, emails and photos, and make him the target of a police investigation. Mark, who asked to be identified only by his first name for fear of potential reputational harm, had been caught in an algorithmic net designed to snare people exchanging child sexual abuse material.

Because technology companies routinely capture so much data, they have been pressured to act as sentinels, examining what passes through their servers to detect and prevent criminal behavior. Child advocates say the companies' cooperation is essential to combat the rampant online spread of sexual abuse imagery. But it can entail peering into private archives, such as digital photo albums '-- an intrusion users may not expect '-- that has cast innocent behavior in a sinister light in at least two cases The Times has unearthed.

Jon Callas, a technologist at the Electronic Frontier Foundation, a digital civil liberties organization, called the cases canaries ''in this particular coal mine.''

''There could be tens, hundreds, thousands more of these,'' he said.

Given the toxic nature of the accusations, Mr. Callas speculated that most people wrongfully flagged would not publicize what had happened.

''I knew that these companies were watching and that privacy is not what we would hope it to be,'' Mark said. ''But I haven't done anything wrong.''

The police agreed. Google did not.

'A Severe Violation'After setting up a Gmail account in the mid-aughts, Mark, who is in his 40s, came to rely heavily on Google. He synced appointments with his wife on Google Calendar. His Android smartphone camera backed up his photos and videos to the Google cloud. He even had a phone plan with Google Fi.

Two days after taking the photos of his son, Mark's phone made a blooping notification noise: His account had been disabled because of ''harmful content'' that was ''a severe violation of Google's policies and might be illegal.'' A ''learn more'' link led to a list of possible reasons, including ''child sexual abuse & exploitation.''

Mark was confused at first but then remembered his son's infection. ''Oh, God, Google probably thinks that was child porn,'' he thought.

In an unusual twist, Mark had worked as a software engineer on a large technology company's automated tool for taking down video content flagged by users as problematic. He knew such systems often have a human in the loop to ensure that computers don't make a mistake, and he assumed his case would be cleared up as soon as it reached that person.

Image Mark, a software engineer who is currently a stay-at-home dad, assumed he would get his account back once he explained what happened. He didn't. Credit... Aaron Wojack for The New York Times He filled out a form requesting a review of Google's decision, explaining his son's infection. At the same time, he discovered the domino effect of Google's rejection. Not only did he lose emails, contact information for friends and former colleagues, and documentation of his son's first years of life, his Google Fi account shut down, meaning he had to get a new phone number with another carrier. Without access to his old phone number and email address, he couldn't get the security codes he needed to sign in to other internet accounts, locking him out of much of his digital life.

''The more eggs you have in one basket, the more likely the basket is to break,'' he said.

In a statement, Google said, ''Child sexual abuse material is abhorrent and we're committed to preventing the spread of it on our platforms.''

A few days after Mark filed the appeal, Google responded that it would not reinstate the account, with no further explanation.

Mark didn't know it, but Google's review team had also flagged a video he made and the San Francisco Police Department had already started to investigate him.

How Google Flags ImagesThe day after Mark's troubles started, the same scenario was playing out in Texas. A toddler in Houston had an infection in his ''intimal parts,'' wrote his father in an online post that I stumbled upon while reporting out Mark's story. At the pediatrician's request, Cassio, who also asked to be identified only by his first name, used an Android to take photos, which were backed up automatically to Google Photos. He then sent them to his wife via Google's chat service.

Cassio was in the middle of buying a house, and signing countless digital documents, when his Gmail account was disabled. He asked his mortgage broker to switch his email address, which made the broker suspicious until Cassio's real estate agent vouched for him.

''It was a headache,'' Cassio said.

Images of children being exploited or sexually abused are flagged by technology giants millions of times each year. In 2021, Google alone filed over 600,000 reports of child abuse material and disabled the accounts of over 270,000 users as a result. Mark's and Cassio's experiences were drops in a big bucket.

The tech industry's first tool to seriously disrupt the vast online exchange of so-called child pornography was PhotoDNA, a database of known images of abuse, converted into unique digital codes, or hashes; it could be used to quickly comb through large numbers of images to detect a match even if a photo had been altered in small ways. After Microsoft released PhotoDNA in 2009, Facebook and other tech companies used it to root out users circulating illegal and harmful imagery.

''It's a terrific tool,'' the president of the National Center for Missing and Exploited Children said at the time.

A bigger breakthrough came along almost a decade later, in 2018, when Google developed an artificially intelligent tool that could recognize never-before-seen exploitative images of children. That meant finding not just known images of abused children but images of unknown victims who could potentially be rescued by the authorities. Google made its technology available to other companies, including Facebook.

When Mark's and Cassio's photos were automatically uploaded from their phones to Google's servers, this technology flagged them. Jon Callas of the E.F.F. called the scanning intrusive, saying a family photo album on someone's personal device should be a ''private sphere.'' (A Google spokeswoman said the company scans only when an ''affirmative action'' is taken by a user; that includes when the user's phone backs up photos to the company's cloud.)

''This is precisely the nightmare that we are all concerned about,'' Mr. Callas said. ''They're going to scan my family album, and then I'm going to get into trouble.''

A human content moderator for Google would have reviewed the photos after they were flagged by the artificial intelligence to confirm they met the federal definition of child sexual abuse material. When Google makes such a discovery, it locks the user's account, searches for other exploitative material and, as required by federal law, makes a report to the CyberTipline at the National Center for Missing and Exploited Children.

The nonprofit organization has become the clearinghouse for abuse material; it received 29.3 million reports last year, or about 80,000 reports a day. Fallon McNulty, who manages the CyberTipline, said most of these are previously reported images, which remain in steady circulation on the internet. So her staff of 40 analysts focuses on potential new victims, so they can prioritize those cases for law enforcement.

''Generally, if NCMEC staff review a CyberTipline report and it includes exploitative material that hasn't been seen before, they will escalate,'' Ms. McNulty said. ''That may be a child who hasn't yet been identified or safeguarded and isn't out of harm's way.''

Ms. McNulty said Google's astonishing ability to spot these images so her organization could report them to police for further investigation was ''an example of the system working as it should.''

CyberTipline staff members add any new abusive images to the hashed database that is shared with technology companies for scanning purposes. When Mark's wife learned this, she deleted the photos Mark had taken of their son from her iPhone, for fear Apple might flag her account. Apple announced plans last year to scan iCloud Photos for known sexually abusive depictions of children, but the rollout was delayed indefinitely after resistance from privacy groups.

In 2021, the CyberTipline reported that it had alerted authorities to ''over 4,260 potential new child victims.'' The sons of Mark and Cassio were counted among them.

'No Crime Occurred' Image A police investigator was unable to get in touch with Mark because his Google Fi phone number no longer worked. Credit... Aaron Wojack for The New York Times In December 2021, Mark received a manila envelope in the mail from the San Francisco Police Department. It contained a letter informing him that he had been investigated as well as copies of the search warrants served on Google and his internet service provider. An investigator, whose contact information was provided, had asked for everything in Mark's Google account: his internet searches, his location history, his messages and any document, photo and video he'd stored with the company.

The search, related to ''child exploitation videos,'' had taken place in February, within a week of his taking the photos of his son.

Mark called the investigator, Nicholas Hillard, who said the case was closed. Mr. Hillard had tried to get in touch with Mark but his phone number and email address hadn't worked.

''I determined that the incident did not meet the elements of a crime and that no crime occurred,'' Mr. Hillard wrote in his report. The police had access to all the information Google had on Mark and decided it did not constitute child abuse or exploitation.

Mark asked if Mr. Hillard could tell Google that he was innocent so he could get his account back.

''You have to talk to Google,'' Mr. Hillard said, according to Mark. ''There's nothing I can do.''

Mark appealed his case to Google again, providing the police report, but to no avail. After getting a notice two months ago that his account was being permanently deleted, Mark spoke with a lawyer about suing Google and how much it might cost.

''I decided it was probably not worth $7,000,'' he said.

Kate Klonick, a law professor at St. John's University who has written about online content moderation, said it can be challenging to ''account for things that are invisible in a photo, like the behavior of the people sharing an image or the intentions of the person taking it.'' False positives, where people are erroneously flagged, are inevitable given the billions of images being scanned. While most people would probably consider that trade-off worthwhile, given the benefit of identifying abused children, Ms. Klonick said companies need a ''robust process'' for clearing and reinstating innocent people who are mistakenly flagged.

''This would be problematic if it were just a case of content moderation and censorship,'' Ms. Klonick said. ''But this is doubly dangerous in that it also results in someone being reported to law enforcement.''

It could have been worse, she said, with a parent potentially losing custody of a child. ''You could imagine how this might escalate,'' Ms. Klonick said.

Cassio was also investigated by the police. A detective from the Houston Police department called in the fall of 2021, asking him to come into the station.

After Cassio showed the detective his communications with the pediatrician, he was quickly cleared. But he, too, was unable to get his decade-old Google account back, despite being a paying user of Google's web services. He now uses a Hotmail address for email, which people mock him for, and makes multiple backups of his data.

You Don't Necessarily Know It When You See It

Image Mark was frustrated at Google's refusal to reinstate his account after he explained what had happened. Credit... Aaron Wojack for The New York Times Not all photos of naked children are pornographic, exploitative or abusive. Carissa Byrne Hessick, a law professor at the University of North Carolina who writes about child pornography crimes, said that legally defining what constitutes sexually abusive imagery can be complicated.

But Ms. Hessick said she agreed with the police that medical images did not qualify. ''There's no abuse of the child,'' she said. ''It's taken for nonsexual reasons.''

In machine learning, a computer program is trained by being fed ''right'' and ''wrong'' information until it can distinguish between the two. To avoid flagging photos of babies in the bath or children running unclothed through sprinklers, Google's A.I. for recognizing abuse was trained both with images of potentially illegal material found by Google in user accounts in the past and with images that were not indicative of abuse, to give it a more precise understanding of what to flag.

I have seen the photos that Mark took of his son. The decision to flag them was understandable: They are explicit photos of a child's genitalia. But the context matters: They were taken by a parent worried about a sick child.

''We do recognize that in an age of telemedicine and particularly Covid, it has been necessary for parents to take photos of their children in order to get a diagnosis,'' said Claire Lilley, Google's head of child safety operations. The company has consulted pediatricians, she said, so that its human reviewers understand possible conditions that might appear in photographs taken for medical reasons.

Dr. Suzanne Haney, chair of the American Academy of Pediatrics' Council on Child Abuse and Neglect, advised parents against taking photos of their children's genitals, even when directed by a doctor.

''The last thing you want is for a child to get comfortable with someone photographing their genitalia,'' Dr. Haney said. ''If you absolutely have to, avoid uploading to the cloud and delete them immediately.''

She said most physicians were probably unaware of the risks in asking parents to take such photos.

''I applaud Google for what they're doing,'' Dr. Haney said of the company's efforts to combat abuse. ''We do have a horrible problem. Unfortunately, it got tied up with parents trying to do right by their kids.''

Cassio was told by a customer support representative earlier this year that sending the pictures to his wife using Google Hangouts violated the chat service's terms of service. ''Do not use Hangouts in any way that exploits children,'' the terms read. ''Google has a zero-tolerance policy against this content.''

As for Mark, Ms. Lilley, at Google, said that reviewers had not detected a rash or redness in the photos he took and that the subsequent review of his account turned up a video from six months earlier that Google also considered problematic, of a young child lying in bed with an unclothed woman.

Mark did not remember this video and no longer had access to it, but he said it sounded like a private moment he would have been inspired to capture, not realizing it would ever be viewed or judged by anyone else.

''I can imagine it. We woke up one morning. It was a beautiful day with my wife and son and I wanted to record the moment,'' Mark said. ''If only we slept with pajamas on, this all could have been avoided.''

A Google spokeswoman said the company stands by its decisions, even though law enforcement cleared the two men.

Guilty by DefaultMs. Hessick, the law professor, said the cooperation the technology companies provide to law enforcement to address and root out child sexual abuse is ''incredibly important,'' but she thought it should allow for corrections.

''From Google's perspective, it's easier to just deny these people the use of their services,'' she speculated. Otherwise, the company would have to resolve more difficult questions about ''what's appropriate behavior with kids and then what's appropriate to photograph or not.''

Mark still has hope that he can get his information back. The San Francisco police have the contents of his Google account preserved on a thumb drive. Mark is now trying to get a copy. A police spokesman said the department is eager to help him.

Nico Grant contributed reporting. Susan Beachy contributed research.

The Traumatic Life and Suspicious Death of Anne Heche | The Vigilant Citizen

Thu, 25 Aug 2022 17:00

On August 5th, Anne Heche sped through a residential area, crashed her car into a Los Angeles home, and was taken to a hospital after a bizarre ''rescue'' that she actually attempted to escape. Six days later, the 53-year-old actress was pronounced ''brain dead'' and the coroner quickly ruled the death as ''accidental'' due to ''inhalation of smoke and thermal injuries''.

Since then, strange facts and puzzling videos have surfaced online pointing to the fact that there's more to the story than what was reported in mass media. Clearly, Heche was distraught about something. However, as is often the case in these strange Hollywood deaths, police investigation was cut short and the media focused its coverage on her consuming drugs and alcohol.

What actually happened on that fateful day?

In order to get a clearer picture of these chaotic moments, we first need to look at Heche's life and projects. Because, maybe, she knew too much.

Young Anne Heche in a family picture.

Anne Heche's early years were nothing less than traumatic. In multiple interviews, Heche stated that her father repeatedly raped her from the time she was an infant until she was 12 years old.

When Heche was 13, her father died from HIV/AIDS at 45 years old. In interviews, Heche stated that her father contracted the disease after having sex with multiple homosexual partners. When she was asked why a homosexual man would abuse a young girl, she replied:

''I don't think he was just a gay man. I think he was sexually deviant. My belief was that my father was gay and he had to cover that up. I think he was sexually abusive. The more he couldn't be who he was, the more that came out of him in [the] ways that it did.''

Three months after her father's death, her 18-year-old brother Nathan died in a car crash. While the official determination was that he fell asleep at the wheel and struck a tree, Heche believes that it was a suicide.

In a 2001 interview with Barbara Walters, Heche stated that the abuse she underwent during childhood caused her to believe that she was two different people. She said:

''I had a fantasy world that I escaped to. I called my other personality Celestia. I believed I was from that world. I believed I was from another planet. I think I was insane.'''' ABC News, Anne Heche Interview

Here, Heche described dissociation and alter-personas, two core concepts of Monarch mind control '' a practice that is rampant in Hollywood.

By the time she was 25, Heche said her personality had begun to ''fragment'', shattering into moments of madness. Celestia, her other personality whom she believed was a reincarnation of God, spoke a different language and had special powers.

''You name it, I could do it. I could see into the future. I could heal people. I don't know where it came from. I was, in my mind, learning it from God.'''' Ibid.

MK slaves are sometimes programmed for ESP (extra-sensory perception). The fact that Heche described all of the core aspects of mind control indicates that she might have undergone some type of programming. It is also possible that she had faint, distorted memories of it (i.e. she ''learned it from God'').

Heche's first public relationship was with actor Steve Martin '' who was 24 years her senior. Then, she engaged in a highly publicized relationship with Ellen Degeneres.

Heche and Degeneres.

In August 2000, on the day following her breakup with Ellen, Heche had one of those MKULTRA-style breakdowns, complete with bizarre, erratic behavior.

Following her separation from DeGeneres in August 2000, Heche drove from Los Angeles to Cantua Creek in a Toyota SUV. She was wearing only a bra and shorts at the time, parked the car, and walked 1 + 1 ' 2 miles (2.4 km), before reaching a ranch house. The homeowner, Araceli Campiz, who had seen Heche in a movie, recognized her and let her in. After drinking a significant amount of water, Heche ''took off her Nikes and said she needed to take a shower.'' Campiz assumed that Heche was not under the influence of alcohol or drugs, but Heche later revealed that she had taken ecstasy. After taking a shower, Heche entered the living room, asked for a pair of slippers, and suggested that they should watch a movie. After half an hour, Campiz contacted the Fresno County sheriff's department.'' Wikipedia, Anne Heche

In her 20/20 interview said about this bizarre night:

''I was told to go to a place where I would meet a spaceship. I was told in order to get on the spaceship that I would have to take a hit of Ecstasy. Fresno was the culmination of a journey and a world that I thought I needed to escape to in order to find love.''

In 2001, Heche released a book about her mental issues.

The cover of the book features an unmistakable one-eye sign. Was it a coded way of saying that her ''issues'' were actually a result of industry programming?

Heche had a large butterfly tattoo. Monarch programming.

After these troubled years, Heche apparently found some mental health and stability. She eventually married actor James Tupper with whom she had a child. In the following years, she took part in some interesting projects.

In 2008, Heche starred in Toxic Skies '' a movie that gained renewed interest following COVID-19.

The poster of Toxic Skies.

In the movie, Heche plays the role of a doctor who works for the Global Health Organization (a reference to the World Health Organization) during the outbreak of a pandemic. As the government puts all of Seattle under quarantine (even using the military to prevent people from leaving the city), she discovers the root cause of the illness: Chemtrails. Indeed, the epidemic was caused by a secret government program that spread immune weakness through toxins in jet fuel. Then, she discovers the sinister reason behind this man-made epidemic: Forcing mass vaccinations.

At the time of her death, Heche was working on a movie about child sex trafficking: Girl in Room 13.

A still from Girl in Room 13.

The movie is about an opioid-addicted girl who is held captive in a motel room by her former drug dealer as he tries to force her into sex trafficking. To do so, the dealer attempts to break her down by using drugs, alcohol and by starving her.

Despite Heche's death, the Lifetime movie is set to premiere on September 13th.

The fact that Heche died in mysterious circumstances while working on a movie about sex trafficking raised some eyebrows. The situation is reminiscent of the bizarre death of Avicii who died shortly after releasing a music video denouncing child sex trafficking.

People on social media shared comments about Heche's last movie being about Epstein's ring.

These social media posts were promptly hidden and ''fact-checked'' by social media moderation.

A ''fact-check'' article by Reuters. The article states that, although the movie is said to be based on actual events, it is not about Epstein.

Every time mass media engages in these bouts of censorship and ''fact-checking'', there's something off. While the movie itself might not be about Epstein, there's a clear media effort to control the narrative surrounding Anne Heche's death. However, the bizarre circumstances surrounding her fatal accident are rather difficult to ignore.

Simply put, the events of August 5th are bizarre. While the official story states that Heche was drugged out of her mind (cocaine and fentanyl were reportedly found in her bloodstream), facts seem to tell a different story.

Prior to her fatal car ride, Heche was seen at a beauty salon where she bought a bright-red colored wig.

The owner of the salon posted this pic on social media with Heche smiling next to the wig she bought.

The owner told Heche that the red wig hadn't been cut, styled, or even washed yet, but she reportedly did not care.

In an interview with the LA Times, the salon owner stated that Heche acted like a ''sweet little girl'' when she stopped by at around 10:30 am. He added that she was ''very pleasant'' and that she ''wasn't speaking in cursive'' '' his way of saying that she did not appear to be under the influence of drugs or alcohol.

So why was Heche buying a wig in the first place? Was she trying to change her appearance and travel incognito? Because, in the events that followed, Heche was clearly spooked by something.

Shortly after buying the wig, Heche crashes her car into a garage. In one video, we hear a man forcefully ordering Heche to get out of the car. Instead of complying, Heche backs away and peels off.

Why was this man yelling at Heche? Was he angry at her for driving recklessly or was he ''after her''? Clearly, Heche did not trust him.

Prior to the second crash, a ring video captured Heche's car bolting down a residential street at a dangerous speed before crashing.

Then, her car crashed into a home at such a high speed that it went through its entire length and sparked a massive fire.

Heche's car after the second crash.

So, minutes prior, Heche was at a salon where a witness claimed that she did not appear inebriated. Then, she drives in the most dangerous and reckless way imaginable. What happened? Was her car hacked and remote-controlled (a known tactic to hide assassinations as accidents)?

No matter what's the case, the events that follow only add to the suspicious nature of the situation. Just watch this video of Heche being ''rescued'' by firefighters.

Heche pulled away the white sheets that covered her and desperately attempted to get off the stretcher. The firefighters then forced her into the ambulance.

Heche attempts to get off the stretcher.

Why was Heche trying to get away? It is almost as if she knew that, if she went into that ambulance, she would never leave the hospital alive. Furthermore, why wasn't Heche fully immobilized with neck protection, cervical collar, oxygen therapy, and other treatments usual given in such cases? She was jammed into the ambulance while she was literally flailing around. Was this a rescue '... or a kidnapping?

The comments section of this YouTube video is full of people highlighting the strange details of this ''rescue''. Here are some examples.

Early news reports stated that Heche was responsive after the accident. Furthermore, it was originally reported that she would ''pull through'' and survive the accident.

A headline from the NY Post about Heche surviving the accident.

Despite these early reports, Heche was declared ''brain dead'' on August 12th. Hours after her death, and despite the strangeness that surrounded the accident, the LAPD announced that it would not investigate Heche's death any further.

The death was ruled ''accidental'' due to ''inhalation of smoke and thermal injuries''. Case closed, apparently.

Saying that Anne Heche lived a troubled life is probably an understatement. Right from early childhood, she was subjected to the worst abuse imaginable: Repeated rape by her own father. This horrific situation caused her to dissociate from reality and her personality to split '' a response mechanism to intense trauma that is exploited in Monarch programming.

One can say that Heche's traumatic childhood ''prepared'' her for the dark side of the entertainment industry as she could be controlled by industry handlers.

After a highly mediatized relationship with Ellen Degeneres, Heche had bouts of erratic behavior that were similar to the breakdowns of other industry slaves such as Britney Spears. When these types of celebrities manage to (somewhat) pry away from the industry, they often become pariahs. They know too much and they tend to become loose cannons.

So, they often die in mysterious circumstances. Is this what happened to Anne Heche? Were they ''after her''? Was she a victim of the ''star whackers'' as described by Randy Quaid?

One thing is for sure, the last time she was seen in public, she was definitely trying to run away from something.

Bill to Address Public Meeting Disruptions Signed into Law

Thu, 25 Aug 2022 16:57

Senator Dave Cortese (D-Silicon Valley) and Assemblymember Evan Low's (D-Silicon Valley) bill, SB 1100, to address the increased number of public meeting disruptions local governments are facing statewide was signed into law today by Governor Gavin Newsom.

Last year, as local officials in Silicon Valley including AAPI public officials such as Los Gatos Mayor Marico Sayoc faced an increased number of targeted bullying and harassment efforts statewide, Senator Cortese and Assemblymember Low expressed their support for establishing mechanisms to de-escalate disruptions during public meetings that significantly interrupt public business.

By establishing common-sense mechanisms to deescalate significant disruptions and allow members of a legislative body to return to their important governmental business in a swift manner, SB 1100 would enhance public access to meetings and enhance the democratic process.

Editors Note '' here is what SB 1100 actually does:

This bill would authorize the presiding member of the legislative body conducting a meeting to remove an individual for disrupting the meeting. The bill, except as provided, would require removal to be preceded by a warning to the individual by the presiding member of the legislative body or their designee that the individual's behavior is disrupting the meeting and that the individual's failure to cease their behavior may result in their removal. The bill would authorize the presiding member or their designee to then remove the individual if the individual does not promptly cease their disruptive behavior. The bill would define ''disrupting'' for this purpose.

Senator Dave Cortese says: ''We are thrilled that SB 1100 has been signed into law to protect the public, local officials, and the democratic process during our public meetings. I'd like to thank Governor Newsom for recognizing the need for this bill and for ensuring public meetings can be safe places where important business can occur and where the public can participate, engage, and be heard. This was a piece of legislation that our local governments and meeting goers across the state requested, and I'm proud that we were able to work with first amendment advocates and attorneys to craft a solution that could both address the sharp increase in abuse that public officials and meeting attendees were facing while protecting our first amendment rights.''

Assemblymember Evan Low says: ''Hate speech, threats, bullying, harassment, and intimidation at public meetings are absolutely unacceptable. These disruptive behaviors drive people away from civic engagement. This is an important step in maintaining public participation, and I would like to thank the Governor for recognizing the importance of ensuring a safe democratic process.''

''Senate Bill 1100 provides an important tool to combat the appalling behavior, threats, and intimidation tactics communities have been subjected to at public meetings. Its application will ensure broad participation and protect the productive exchange of ideas essential to our democratic process,'' said California State Association of Counties® Executive Director Graham Knaus. ''We applaud Governor Gavin Newsom's signing of Senate Bill 1100, and we thank Senator Dave Cortese and Assemblymember Evan Low for their advocacy on behalf of this bill and local agencies throughout the state.''

SB 1100 was supported by dozens of progressive groups across the state including Indivisible California: State Strong, as well as local government associations such as the Association of California Water Agencies, the California Association of Local Agency Formation Commissions, the California Contract Cities Association, and the California Special Districts Association. SB 1100 is sponsored by the California State Association of Counties and the Urban Counties of California.

ECTPublisher of EastCountyToday and host of several Podcast Shows... if you can, please hit the donate button and show support.

Houston, We Have a Problem (Part 1 of 3) | The Ethical Skeptic

Thu, 25 Aug 2022 16:55

Seven of the major eleven International Classification of Diseases codes tracked by the US National Center for Health Statistics exhibit stark increase trends beginning in the first week of April 2021 '' featuring exceptional growth more robust than during even the Covid-19 pandemic time frame. This date of inception is no coincidence, in that it also happens to coincide with a key inflection point regarding a specific body-system intervention in most of the US population. These seven pronounced increases in mortality alarmingly persist even now.

The following work is the result of thousands of hours of dynamic data tracking and research on the part of its author. The reader should anticipate herein, a journey which will take them through the methods and metrics which serve to identify this problem, along with a deductive assessment of the candidate causal mechanisms behind it. Alternatives as to cause which include one mechanism in particular, that is embargoed from being allowed as an explanation, nor even mere mention in some forums.

At the end of this process, we will be left with one inescapable conclusion. One which threatens the very fabric and future of health policy in the US for decades to come.

Storm Warnings

On March 21st 2021, a longtime mentor, friend, and business partner of mine, an otherwise healthy 68 year old male, unexpectedly suffered an autoimmune cascade which ended up shutting down his pancreas, liver, kidneys, and finally heart. He had just received his second dose of the Pfizer vaccine on that Thursday prior. Carl quickly descended into a coma, and then died on March 26th.

On May 29th 2021, a rather odd signal began to develop in my regular Covid-19 tracking models. The change which alerted me resided inside the magnitude of the 'Symptoms, signs and abnormal clinical and laboratory findings, not elsewhere classified (R00-R99)' ICD death code group (see chart in Exhibit D and also by clicking here). About this time and as a result of this observation, I began to track R00-R99 deaths, along with eleven other ICD-10 death codes, non-natural cause deaths (suicide, overdose, assault, etc.), and finally a statistic called 'Excess Non-Covid Natural Cause Deaths'. As the reader reviews the calculated trends featured inside each of these death categorizations, they should note that this was indeed both a prescient and sound decision.

On December 1st of 2021, attending a business meeting at client's medical complex, passing through the facility I took notice that their large oncology department waiting room was slammed full with patients. This queue of persons awaiting their oncology appointments spilled out into the hallway and finally on into the building atrium. While tempted at first blush to pass this off as a result of patients and their physicians 'catching up on deferred screenings' and/or 'Covid-limited office days/hours effect', my prior observational lessons suggested that I hold-off on such a knee-jerk inference, at least until the CDC '' National Center for Health Statistics data (three bullet point sources below) proved out over the coming months. This as well, proved to be a wise decision.

It is not simply the probative and reliable nature of the data one has sourced, but moreover the relative dynamic in how that data changes over a significant or critical period of time, which allows the astute investigator to draw key inference.

The reader should note that there are few fancy academic heuristic tricks employed inside the models presented in this article. Rather, I've elected to employ good old-fashioned persistence, curiosity, hard work, logical deduction, and an experienced nose for strategy, systems, and problem-solving. Within my models, I seek to derive this inference through comparing the dynamic (not static statistics) patterns of change across a large set of differentially-compared data points and critical interval in elapsed time, in order to drive this article's process of deduction. This is what I do professionally inside markets and for corporations and nations after all. I identify, and develop strategy to address exceptional challenges. My motivation in writing this article however is simple. I do not seek income, subscribers, power, office, notoriety, a political victory, book sales, nor a new career. I am simply compelled to stand in the gap for those who have no voice '' they who lay victim to the present political hubris and its long shadow of darkness.

That being said, let us outline briefly the data sources employed in these models. All the data used within the analyses presented within this tripartite article series are derived primarily from the following three resources and links. Herein, they are collectively referred to as the MMWR (CDC Morbidity and Mortality Weekly Report) data, because these databases are updated as a part of that CDC weekly reporting process.

US Center for Disease Control and Prevention: Weekly Counts of Deaths by State and Select Causes, 2014-2019US Center for Disease Control and Prevention: Weekly Provisional Counts of Deaths by State and Select Causes, 2020-2022 (please note that the term 'provisional' with regard to this file only impacts the first four to six weeks of this data for the most part. The taper curve can be seen here for the August 17th 2022 drop. Don't let anyone tell you that 2021 and 2022 data is unreliable because it is provisional '' if we have an emergency we must rely upon this data)US Center for Disease Control and Prevention: Wonder: Provisional Mortality Statistics, 2018 through Last Month '' Query by Constraint EngineAs a part of the process of tracking this MMWR reporting data, by October 2020 it became clear that Excess Non-Covid Natural Cause Mortality (see Exhibit E) was slightly elevated versus its historical trend, yet still conformed to annual seasonal death arrival patterns. A November 2020 chart depicting this can be observed by clicking here. Remember this rather nominal arrival form of non-Covid natural cause deaths for later on '' as it is the Holmesian 'dog that did not bark'.

Despite the fact that many maladies are not seasonal, the reality is that humans indeed are seasonal beings. We tend to die more commonly in the (northern hemisphere) winter months of December and January of each year. Such mortality trends tend to form familiar patterns across the years. These patterns and trends are therefore useful as a comparative in spotting anomalous conditions, such as pandemics. It was reasonable to assume in October of 2020 however, that this slight elevation in non-Covid mortality was indeed an outcome of the systemic damage which the SARS-CoV-2 infection and virus spike protein can produce in the human body. An erstwhile Covid delayed death if you will.

However, by MMWR Week 3 of 2022, a disruptive-exception pattern began to manifest inside this non-Covid mortality group, one which contrasted highly with the 2020 pandemic period alone (not to mention the 2014 through 2019 timeframe), and finally one which could no longer be denied (see an example chart by clicking here). Within these early charts it became clear to me that the complexion of US mortality, the who, when, and why '' had changed substantially from early 2021 to the end of 2021 and on into early 2022. In fact, an inflection-point could even be estimated, establishing when this change had occurred (April 3rd '' 10th, MMWR Week 14 of 2021) '' a crucial date with regard to this novel mortality arrival pattern. Yes, of course people were dying of Covid-19 and as a nation we needed to continue diligent action addressing its challenge.

Nonetheless, by the end of 2021 it had become abundantly clear that US citizens were not just dying of Covid-19 to the excess, they were also now dying of something else, and at a rate which eventually became higher than that of Covid itself.

Identifying The Problem (Methodology Employed and Results Observed)In a past article, we outlined for the reader those characteristic elements which render a problem facing a nation or corporation, as exceptional. These are the problems I call ACAN problems, or challenges which feature characteristics of Asymmetry '' Complexity '' Ambiguity '' Novelty. As the reader will note below, the challenge with regard to Excess Non-Covid Natural Cause Mortality bears all the requisite features of an ACAN problem. Asymmetry in terms of which cancers are suddenly rising, which age groups are dying to greater numbers, or disparities between cohort vaccination rates and observed infections. Complexity in terms of the Yule-Simpson vulnerable distribution of excess deaths into their various ICD-10 codes. Ambiguity in terms of the political motivations behind official health data tracking practices and Nelsonian gaps in information. And finally, novelty in that we are facing a challenge for which our epidemiological community did not prepare, and with which mankind has never truly grappled before.

In many ways the challenge before us now, may well be as daunting as Covid-19 and the pandemic response itself. This of course all depends upon how the trends depicted inside this article pan out. In my experience, accelerated growth never continues forever, and there are always mitigating circumstances and unintended consequences which serve to confound the future. The reader should keep this in mind as they view the charts and inferences herein. We should always hold out hope in the face of a storm. This was of course as sound of an advice at the beginning of the pandemic as it is now.

For a detailed data and derivation flow chart, outlining data source, handling, and modification, to the first derivative baseline, its smoothing, series of calculations, and how the entailed risk-points are compensated for '' in other words, how the charts in this article are assembled '' please click on the flow chart thumbnail icon to the right.

Regardless, data is derived from sources 1 and 2 above, and the basic formula for the derivation of Non-Covid Natural Cause Mortality is straightforward, just as it sounds.

ENCNCM = All Cause Mortality '' Non Natural Cause Deaths '' COVID-19 (U071, UCoD) '' Baseline Death Reference (BOY 2014 '' EOY 2019)

The Problem

Exhibit A '' Ten separate ICD-10 death groupings which sum to overall Excess Non-Covid Natural Cause Deaths (top chart).The series of charts in Exhibit A to the right constitute a set of quick charts (called 'Variation Against Trend' or VAT charts) I maintain in my databases, and monitor each week (along with other factors such as reporting lag, Pull Forward Effect, etc.). I began to notice a potential problem beginning to coalesce with regard to many of these depicted trend lines, in late 2021 and into early in 2022. However, before anything statistically significant could be reported, the data needed sufficient time for the tail of statistical deaths from the deadly Delta variant to clear from the weekly MMWR reporting data (the three sources listed earlier). This process was delayed as well by the CDC's 'system upgrade' which began June 3rd 2022 and still has not been fully completed (see pertinent CDC announcement).

As of the publishing of this article, 9,290 death records posted in the June 2nd MMWR update showed as redacted four weeks later and still remain missing from the data. Another 13,245 deaths were re-categorized by the CDC from primarily cancer and heart death, to other codes such as Alzheimer, kidney, or respiratory deaths, as can be seen in part inside this chart. It is hard to envision a scenario explaining this 52,000-record data tampering across the most at-risk weeks (MMWR Weeks 4 through 20) of 2022, as not constituting malicious obfuscation of US citizen mortality data. As a former intelligence officer and strategist for nations facing some pretty tough corruption challenges, I am a skeptic of power, and no eager subscriber to Hanlon's Razor.

Keep in mind that the charts in this article do not even reflect addition of the CDC-shorted death records redacted for MMWR Weeks 4 through 20 of 2022.

Despite this death record data shortfall, seven of the ICD-10 VAT charts depicted to the right (click on the image to obtain a separate tab version, and click again to magnify the image) depict trends which should instill enormous concern in the mind of any professional, in terms of US citizen mortality post MMWR Week 14 of 2021. In order to comprehend why this week is of critical importance, please click on Chart 1: Critical Inflection Date in Vaccine Doses and examine Exhibit B: Arrival Comparative Between Doses and Deaths (below) '' both of which will be detail outlined in Part 2 of this article series. The alignment of critical dates inside these charts is not only pivotal in our argument, but is prohibitively compelling as well.

The charts of particular concern, I have highlighted with a yellow background and listed below. These include the charts featuring stark post MMWR Week 14 2021 rises in mortality. Specifically, they are

Excess non-Covid natural cause, 5+ sigmaCancer and lymphomas, 9+ sigmaOther respiratory conditions, 2 sigmaNephritis/Nephrotic syndrome, 4 sigmaSepticemia, 2 sigmaHeart diseases and ailments, 2 sigmaAll other ICD-10 tracked natural cause deaths, 4 sigmaWith regard to these select ICD-10 codes, I have endeavored to highlight only those which have exhibited a stark difference between their arrival patterns during the 2020 pandemic period, and that period after MMWR Week 14 2021. While there are indeed increases in deaths incumbent inside the other ICD-10 codes, those increases appeared to plausibly conform to their same arrival patterns for 2020 as well. In other words, they appeared to be heavily Covid-related in their dynamics, both before and after the Week 14 2021 inflection.

Of particular concern, are those deaths which relate to body-wide regulatory systems as opposed to specific organs or causes. In other words, cancer and lymphomas, heart, autonomous myocarditis/pericarditis/conductive disorders, injuries to the liver and kidneys, etc. These are not only the canaries in the coal mine in terms of pathology, but may serve to indicate as well that a pervasive systemic disruption is at play inside the average US citizen human physiology, especially over the last 71 weeks. These are the death groups which exhibit the most stark trend of increase post MMWR Week 14 2021. I sincerely wish to be wrong in this, and would be the happiest person on Earth if I found a critical flaw in the underlying data or methodology which served to refute it all. Unfortunately, after months of challenging my own work from every angle I could conceive, and patiently waiting for the CDC/NCHS to fix their MMWR reporting systems and processes, I sadly fear that I am not wrong. Hence the need for this article.

As challenging as the excess mortality and VAT charts are, before we examine three particular sets of excess mortality, let us for a moment also review the compelling rationale behind the MMWR Week 14 2021 inflection date. This date is a critical matter of concern for no small reason. Its derivation is no coincidence. The 'Doses and Deaths Comparison Chart', Exhibit B below, outlines why.

Exhibit B '' The MMWR Week 14 2021 inflection date also happens to correspond to the fastest velocity in administered vaccine doses inside the US population. The red line is Excess Non-Covid Natural Cause Mortality, extracted from the data behind Exhibit E below.The Inflection Risk in Three Charts

Three charts in particular compel the greatest concern in terms of their being indicative of population-wide systemic health disruption. They are Excess Malignant neoplasm and lymphoma deaths (C00-C97 '' Exhibit C), Symptoms, signs and abnormal clinical and laboratory findings, not elsewhere classified deaths (R00-R99 '' Exhibit D), and finally yet most importantly, Excess Non-Covid Natural Cause Deaths (Exhibit E). Those three charts' ICD-10 trends against historic baseline, are depicted below. Please note that we are evaluating the trend in the peak level of the R00-R99 data in Exhibit C, and not the fact that this ICD code acts as a disposition-depleting bucket (hence the normal stark rise in later weeks to the right hand side of the chart). I will leave these three charts here, for your examination and consideration, before venturing into Part 2 of of this article series '' wherein we conjecture regarding the potential cause(s) of this undeniable problem in terms of US citizen health and mortality.

Exhibit C '' Cancers and lymphomas have risen to a 9+ sigma level since MMWR Week 14 2021. This condition did not exist during the 2020 Covid pandemic period. In order to alleviate risk in terms of lag uncertainty I have chosen a lag function which purposely deflates the last 3 weeks of this death category rise. Yet even this conservancy yields a terrifyingly steep trend line. Of course we hold this period in abeyance barring some exception in this ICD group's reporting. (See PFE Footnote)Exhibit D '' The temporary holding bucket for this category of hard-to-determine, abnormal clinical findings, and odd deaths exhibits a stark rise in its weekly peak (64% rise from Dec 2020 through 23 April 2022). Notice the date of commencement in this rise. It coincides with a critical start date depicted in our next article. The reader should note that 21,400 deaths in this ICD hold-code have not been allocated to their final ICD-10 disposition (the fatness of the beige curve as compared to the green index reference) '' very likely resulting in depressed myocarditis, pericardits, and conductive death counts for 2022. The fattening and rounding of this curve in the latter weeks on this chart indicate that the bucket is not being curated by the CDC/NCHS as it has been in the past. This constitutes obfuscation of critical data during a period of extreme risk, a period which demands clear health and mortality intelligence.This defacto concealment of 21,400 death records (inside the R00-R99 code group), is independent of the 22,535 records which were removed from the June 2nd 2022 death data and have either yet to be placed back into the database or were reassigned to non-threatening ICD codes.

That makes for a total of 43,935 potential myocarditis, cancer, pericarditis, conductive, nephrosis, liver, and/or lymphoma deaths which still have not even yet posted into the data over which this article is sounding the alarm.

That is 7% of the total deaths for the period in question, and possibly 15 to 25% of these highly concerning death ICD-10 groups' trend data '' missing. Even absent this data however, the entailed trends are alarming.

Finally, we end with the most important chart of all '' the chart which indicates deaths which are not from accidents, suicide, addiction, assault, abuse, despair, disruption, nor Covid-19. The Excess Non-Covid Natural Cause Mortality chart which we began monitoring on May 29th 2021. What I called then, the 'What the hell is this?' chart. As one can see, we have lost 349,000 younger Americans to something besides Covid and non-natural death, during the period from 3 April 2021 to 13 August 2022. The current rate of mortality in this ICD categorization, is around 5,000 '' 8,000 per week (the database shows a most recent five-week, weekly average of 7,887 deaths '' subject to lag of course) '' which exceeds most weeks of the Covid pandemic itself (save for the absolute peak periods).

By now, if all these mortality excesses were indeed a holdover from Covid-19 itself, they should have already begun to tail off. Unfortunately they are not only not tailing off, in many cases they are still increasing.

Exhibit E '' Excess Non-Covid Natural Cause Deaths are at an all time high as of MMWR Week 32 of 2022. 349,000 US citizens have died of some additional factor since MMWR Week 14 of 2021. The current rate of excess mortality represents a five week average of 5+ sigma in excess (hedging conservatively for lag). (See PFE Footnote)Accordingly, and without a shadow of a doubt, we have established that right now there exists a problem in terms of US citizen health and mortality. One which is differentiated from Covid-19 itself, and began in earnest MMWR Week 14 of 2021. Our next task, and what will be outlaid in Parts 2 and 3 of this article series, is to employ these and other observed arrival distributions to winnow out the causal mechanism(s) behind this concerning trend in US mortality.

Having made significant progress on the second and third article already, we very much look forward to publishing for the reader, our next article in the series, 'Houston, We Know the Mechanisms (Part 2 of 3)'.

The Ethical Skeptic, ''Houston, We Have a Problem (Part 1 of 3)''; The Ethical Skeptic, WordPress, 20 Aug 2022; Web, https://theethicalskeptic.com/?p=67865

DTE Energy Sold Its Debt. The Buyer Sued Customers to Collect. '-- ProPublica

Thu, 25 Aug 2022 16:55

This article was produced for ProPublica's Local Reporting Network in partnership with Outlier Media. Sign up for Dispatches to get stories like this one as soon as they are published.

Last November, Kristal Dailey looked at her weekly paycheck and realized about $150 was missing, a quarter of her take-home earnings from a factory just outside Detroit, where she makes just over $18 an hour.

''I'm like, 'What the heck is this from?''' she said.

Dailey immediately reached out to her company's human resources department. That's when embarrassment and then anger replaced her initial shock.

Her check, she learned, was being garnished over a $1,500 debt that was at least five years old. The money was being taken by a collection company she'd never heard of, after a court hearing she hadn't attended. The garnishment went on for more than eight weeks; no matter how much she worked, 25% of her wages were garnished.

''It was terrible,'' she said. ''I just had a baby, just got back to work. For them to start taking $150, $160 out was drastic to me.''

The original source of the debt was quite familiar to her: DTE Energy, the Detroit area's largest utility company.

The company had quietly sold off Dailey's debt in 2017, along with that of more than 290,000 other residential customers and nearly 14,000 commercial accounts, in a little-noticed financial maneuver, Outlier Media and ProPublica found.

The sale brought DTE just pennies for each dollar owed: $4.8 million in exchange for the right to pursue more than $282 million in debt. But for low-income customers whose debt was sold, it was a consequential event, thrusting them into the hands of a debt collector that aggressively sues people. Under Michigan law, these cases can result in creditors garnishing up to a quarter of a person's wages, as well as refunds from their state income tax returns.

DTE officials declined to be interviewed and did not answer a list of detailed questions sent by reporters. Spokesperson Brynn Guster said in an email that the company is ''focused on managing affordability for our customers'' and that selling closed customer accounts lowers the burden on other customers.

The company's debt sale practices are unusual. Outlier and ProPublica surveyed the 11 other investor-owned electric utilities that each serve at least 400,000 customers in the Great Lakes states of Illinois, Indiana, Michigan, Minnesota, Ohio and Wisconsin. All of them, including Consumers Energy, Michigan's second largest utility company, said they do not sell debt. Five of the utilities also said they do not directly sue their customers over debt. The ones that do said they do so only on rare occasions.

Regulators in Michigan have paid little attention to DTE's debt practices, even though utilities must receive the state's approval for many other financial decisions. Outlier Media and ProPublica used a combination of publicly available disclosures, local court records and interviews with DTE customers to understand the scope of DTE's debt sales.

These new findings follow a March investigative report by the news organizations that examined how DTE shut off customers' power for nonpayment during the pandemic. DTE's disconnection rate outpaced all other Michigan utilities owned by private investors and regulated by the state, according to this first-of-its-kind analysis.

Matt Helms, a spokesperson for the Michigan Public Service Commission, the state agency that regulates utilities and approves rate increases, said the commission is prohibited by state law from making management decisions for utilities, such as how they handle debt.

''Given statutory limitations, our focus is on ways to help customers from falling behind in the first place, avoiding situations where unpaid bills may end up in collections,'' Helms said in an email.

U.S. Rep. Rashida Tlaib, who represents part of Detroit, has advocated for financial assistance that would help low-income people pay off utility debt. Informed of the reporters' findings on DTE, she responded in an email: ''Utility companies should not be in the business of selling consumer debt to debt collectors."

DTE, which serves Detroit and nearby areas where large numbers of low-income customers struggle to afford utilities, did not reveal to the regulatory commission which company or companies were buying its debt '-- only that the debt had been sold. Through a search of court records, reporters identified Jefferson Capital Systems, a Minnesota-based company that buys all kinds of consumer debt, as the purchaser of at least some of it. ProPublica and Outlier made numerous attempts to contact Jefferson, which is owned by a private equity firm, but the company did not respond.

Collection companies that aggressively use the courts rely heavily on the fact that many people do not show up for their initial court hearings or show up without a lawyer to argue the facts of the case. Creditors then win the case swiftly through a default judgment and, in Michigan, this allows them to garnish wages and state income tax refunds.

Experts familiar with these types of legal cases said some people ignore legal notices because they don't recall a debt from years before or don't recognize the name of the debt collection company.

For these collection companies, volume is important, according to attorneys and researchers familiar with debt collection. The more lawsuits the companies file, the more default judgments they are likely to get, and the better their chance to collect via wage garnishments. Even while shut-offs for nonpayment of bills were briefly paused in Michigan in 2020, Jefferson Capital's lawsuits didn't stop.

It ''happens every day. Happens hundreds of times a day,'' said Charissa Potts, a Michigan bankruptcy lawyer who worked briefly for a third-party debt collector. ''That's the basis of third-party collection. That's the business model.''

In Detroit's 36th District Court alone, the state's largest, Jefferson Capital filed more than 1,000 cases related to old DTE debt in the first six months of the pandemic, including the suit against Dailey that June.

Years before, she had been shut off by DTE. She then moved in with her partner, and he put the utilities in his name, though she still helps pay that bill. When she was sued in 2020, Dailey was pregnant and working at an industrial-pump-making factory, where her job was considered exempt from the state's stay-at-home order.

Dailey examines a summary of her remaining wage garnishments. Credit: Nick Hagen for ProPublica Court records say Dailey was notified in person of the lawsuit by a process server, but she disputes that she was ever informed. After the default judgment against her, she eventually negotiated a payment plan with Jefferson Capital that suspended the garnishment and reduced her monthly payments slightly. But that was not enough to make up for the months where 25% of her paycheck was gone. Day care costs allowed for very little room in her budget, and shefell behind on her car payment.

''It threw me so far behind on bills, I'm still trying to play catch-up,'' she said. ''Even now I can't pay the amount I'm supposed to pay.''

An Unusual TacticDTE handles customers' debt in a variety of ways, working with them on payment plans or pointing them toward financial assistance opportunities. It routinely outsources debt collection to private companies, which is not unusual for a large utility. In general, those collection companies call and mail customers and then keep a portion of what they collect but return most of the proceeds to the company that hired them.

Unlike many of its peers, DTE uses yet another tactic, one that can lead to a court judgment: selling uncollected old debt to third-party debt collectors. In a statement, Guster said the majority of the debt in the sale that affected Kristal Dailey was at least two years old. Guster also said DTE only sells debt from ''closed'' accounts, meaning after a customer is shut off or moves away from the service area.

Although most of DTE's debt sale information is private, reporters found a few details in financial disclosures the utility filed with the Michigan Public Service Commission. Those records show that DTE has sold debt at least three times in the past 15 years.

Soulardarity, an energy justice group in Highland Park, a city surrounded on all sides by Detroit, has begun to push back at the commission, calling attention to the toll debt sales take on Detroit-area residents.

''It feels like there's this long cobblestone pathway of financial hell that they are exacerbating and encouraging the existence of,'' Rafael Mojica, program director for Soulardarity, said of the commission. ''We find it unacceptable, and MPSC needs to find it just as unacceptable.''

Helms, the commission spokesperson, said in an email that the question of whether utilities should use debt sales is something the state legislature would have to address. In an interview, Dan Scripps, chair of the Michigan Public Service Commission, said the agency's focus is keeping customers out of debt in the first place and that sales are ''fairly rare.'' But while the sales may be rare, they have included the debts of hundreds of thousands of ratepayers throughout the Detroit area.

Reporters searched thousands of pages of utility commission filings and found mention of three DTE debt sales, in 2008, 2014 and 2017. Jefferson Capital is not mentioned in those records.But Outlier and ProPublica were able to verify the sale of some DTE debt to Jefferson Capital, one of the largest collection firms of its kind, through an examination of court data from Detroit's 36th District Court.

In response to a request for debt lawsuits brought by DTE or Jefferson Capital on behalf of DTE, the 36th District Court provided records showing Jefferson Capital filed more than 3,100 cases between January 2019 and April 2022. That number does not include cases where DTE isn't named in the court's electronic records. Reporters were able to find additional cases like these by observing virtual court hearings.

By contrast, 36th District Court records did not show any cases where DTE directly sued its customers over debt during those three years. Guster, DTE's spokesperson, said DTE does not directly sue current or former customers over debt.

The lack of uniform court data makes analysis of Jefferson Capital's lawsuits throughout the entire DTE service area impossible, according to a spokesperson for Michigan Courts.

Using the courts to target large numbers of people is typical in the debt buying industry, said Jeff Reichman, a data scientist with January Advisors and a collaborator of the Debt Collection Lab, a Princeton University project that tracks and visualizes debt collection lawsuit data. ''These debt buyers have a legal operation across the country where they can file cases like a machine,'' he said. Reichman said the volume of cases means judges have less time to spend examining them for flaws, such as debt that is too old to collect or debt that is owed by another person.

To show regulators how debt sales affect customers sued by Jefferson Capital, Soulardarity asked one of its volunteers, Stephanie Johnson, to testify at a utility commission hearing in January where DTE was seeking a rate increase that would bring in an additional $388 million in annual revenue from ratepayers.

Johnson racked up her debt to DTE over more than a decade beginning in the early 2000s. She said she was raising a family and then went back to college to finish her degree. Johnson had a payment plan that kept her utilities on as long as she paid DTE a fixed amount each month, but the payments weren't enough to keep her from building up a big debt.

In 2016, when she was no longer able to keep up with her bill, she said, she fell off her payment plan, and her entire balance of more than $5,000 came due, as is typical when such payment plans fall apart. When she couldn't pay, she said, she closed her account and her husband took over the utility bill.

A lawsuit from Jefferson Capital, which had purchased her old debt, followed four years later. Johnson suddenly had to scramble to find money.

Following a default judgment, she said, Jefferson told her it would accept a lump sum payment of $3,600 to satisfy the debt. She borrowed the money from her mother.

Johnson, who works at a social service agency, is incredulous DTE sold her debt for a fraction of its face value so that Jefferson Capital could make a profit.

''When I really reflect on it, all DTE had to do was reach out to me and say, 'If you can pay this much?''' she said. ''Instead they sever the relationship with you, and then they sell your debt.''

She added: ''You're just trying to keep your life going. We are so dependent on electricity.''

All utilities have some portion of debt they determine is unrecoverable and write off their books. Utilities can then ask regulators to allow them to increase rates to cover these costs. The unpaid debt doesn't make or break DTE's bottom line. The amount that remains unrecovered is equivalent to less than 1% of the company's average annual revenue, according to testimony on behalf of Michigan's attorney general before the MPSC.

Consumers Energy, which serves about 1.8 million customers in Michigan, said it stopped taking customers to court over debt in 2019. The reason, a company spokesperson said, was the company ''thought it was in the best interest of our customers.''

A spokesperson for ComEd, which delivers electricity across Northern Illinois, including Chicago, said the utility rarely takes residential customers to court over debt and can recover more money by continuing to collect on the debt than it would make in a one-time debt sale. Customers' experience is another factor.

''ComEd wants all of our current and former customers to be treated fairly and with respect,'' Tom Dominguez, communications manager for ComEd, said in an email. ''By keeping this dialog open, we also have a chance to find one of our many bill-assistance options that can help these customers remain in service in the longer term.''

Dragged Into CourtIris Foster-Ray joined her Zoom court hearing in May from her living room, alone, facing off against Jefferson Capital.

She ended up there after she lost control of her DTE debt during a period where one of her twin daughters was ill and her family was struggling with high medical bills. She said her daughter, who is now 20, has a rare circulatory disease, one that gives her heart palpitations and makes her prone to fainting. It took years of medical evaluation to properly diagnose her and, to help treat her condition, she needs to follow an expensive special diet.

Iris Foster-Ray Credit: Nick Hagen for ProPublica Foster-Ray planned to explain all this to the judge, as well as how these financial stresses were worsened by Jefferson's garnishment of $600 per month, which had begun in January. Foster-Ray, who works in billing at a local children's hospital, was falling behind on her car payments, and her husband needed to pick up a second job.

Judge Ronald Giles sent her to a digital breakout room with an attorney representing Jefferson Capital. When they returned a few minutes later, they had not reached an agreement.

''I can't afford that amount they're taking out of my check,'' Foster-Ray told the judge. ''I have a disabled child, and I have a lot of medical '--''

Giles cut her off.

''Hold on, hold on. I understand, but none of that deals with the issue,'' he said.

That's when reality set in. It was too late for Foster-Ray to defend herself against the original judgment, which had come at the initial hearing in the case.

Foster-Ray hadn't been there that day. After she found the notice of the lawsuit on the door of her home in Detroit's West Side, she didn't know what to do. She'd never heard of Jefferson Capital and didn't think it would be collecting on such old debt. Even after calling the company, she said, she still thought it might be a scam. So she ignored Jefferson's notice.

With Foster-Ray absent from that initial hearing, the court had ruled in favor of Jefferson Capital by default. Foster-Ray spent half a day at the courthouse to file an objection to the garnishment. She thought she'd have the chance to explain her circumstances to a judge.

But the May hearing had one focus and it wasn't whether she had to pay Jefferson Capital.

The court had already decided that; the only question on that day was how much she was going to pay each month.

Foster-Ray's paperwork, redacted by ProPublica, showing the lien placed on her home by Jefferson Capital Credit: Nick Hagen for ProPublica An official from Detroit's 36th District Court, who asked not to be named because they did not have permission to speak on this issue, said Foster-Ray's experience is not unique.

The official understands how some people conclude that they don't need to show up in court but emphasized how important it is to be there. '''‹If you get something in the mail from Jefferson Capital, the first thought in your mind is 'I've never done business with Jefferson Capital, why am I going to respond to this?''' the official said. ''I think that'show some of our litigants get into a little bit of confusion.''

There are few protections for people who get sued by debt collectors. No state requires legal representation for defendants in private consumer lawsuits, leaving many people to fend for themselves. The National Consumer Law Center rates Michigan worse than all but four other states, giving it an F for failing to protect its residents in debt cases because it allows wide latitude for creditors to seize Michiganders' property and income.

''Listen, the system sucks,'' said Sergei Lemberg, the founder of Lemberg Law, a consumer law firm representing debtors in 29 states. ''It's the haves against the have nots.''

Collectors are ''hiring people who know what they're doing, against ordinary people. And they're prosecuting people in the courts, and people are helpless,'' he said.

Kristal Dailey, who also filed an objection to her garnishment, certainly felt helpless. At a garnishment hearing, she negotiated a payment plan, but it still left her overburdened. She quickly fell behind in payments, and Jefferson Capital went back to court to garnish her wages again. She is looking for part-time work on top of her factory job to pay off the $800 she still owes.

''You don't have options,'' Dailey said. ''You have DTE or you have nothing, and it's unaffordable, but you don't have a choice.''

In Foster-Ray's case, she and Jefferson Capital agreed to a payment plan at her court hearing: $150 a month. If she misses a payment, the company can resume garnishing her wages.

Foster-Ray accepts responsibility for falling behind on her DTE bills, but said she wishes the utility hadn't sold her debt to a third party.

ProPublica

A Tax Credit Was Meant to Help Marginalized Workers Get Permanent Jobs. Instead It's Subsidizing Temp Work.

''I could have done a little bit more at the time,'' she said of not paying off her original debt after her utilities were shut off in 2017. ''I did push it back to the back burner because my child was sick.''

Jefferson Capital recently placed a lien on her house that will remain there until her debt is paid off. In addition to the money she pays Jefferson Capital every month, she must also still cover the cost of DTE's service.

Her family's July bill for gas and electricity '-- paid through her husband's account since hers was closed '-- came to more than $500. She's considering filing for bankruptcy.

''It's like I'm going to work just to pay them,'' she said.

CorrectionAug. 19, 2022: This story has been updated to correct details in Stephanie Johnson's experiences with DTE debt. She did not get shut off by DTE in 2016 but did close her account. She also faced a default judgment with Jefferson Capital before working out a payment to satisfy her debt.

(20) Underwater train passengers 'panic' as they're trapped in tunnel for hours in 'terrifying' ordeal / Twitter

Thu, 25 Aug 2022 16:54

Something went wrong, but don't fret '-- let's give it another shot.

You're Going to Miss the Deep State When It's Gone

Thu, 25 Aug 2022 16:54

Donald Trump wants to replace the myth of a ''deep state'' cabal that answers to no one with the reality of a government controlled by a legion of hand-picked loyalists who answer only to him.

The plan, long apparent to those working closely with Trump, has been detailed in an Axios series by reporter Jonathan Swan as a sweeping government overhaul that could push as many as 50,000 career officials out of their jobs and move the country a giant step closer to dictatorship.

During his presidency, Trump was regularly frustrated by the fact that government officials'--appointees as well as career officials in the civil service, the military, the intelligence community and the foreign service'--were an impediment to the autocratic impulses about which he often openly fantasized. (Remember the time he said he wished his staff would ''cower'' like North Korean dictator Kim Jong Un's? He wasn't kidding.)

Trump would rail about the ''deep state,'' promoting the idea that has circulated on the hard right for years of a permanent government that was accountable to no one. It reached a wider audience from the fever swamp of Alex Jones' InfoWars show, and was ''legitimized'' (in the minds of the true believers) in a book by former congressional staffer Mike Lofgren called, The Deep State: The Fall of the Constitution and the Rise of a Shadow Government. In the book, Lofgren argued that ''big institutions, inside and outside of government, are so entrenched it is hard to bring any real change. Political options are limited.''

But Trump's real issue with career professionals and even many of the senior officials he himself appointed was not that they ''reported to no one,'' but that instead they actually understood to whom they did report: the American people. They took their oaths of office seriously, which on a regular basis during the Trump years meant that they foiled some of Trump's craziest or most dangerous plans by pointing out they were unconstitutional, illegal or gravely damaging to U.S. national interests.

Trump in January 2019.

Chip Somodevilla/Getty

Time and time again, when Trump's inner circle clicked their heels and said ''yessir'' and the GOP-led Congress ignored its constitutional responsibilities, really bad ideas were ultimately stopped, slowed or diluted by senior government officials who actually understood the concept and responsibilities of public service.

We have seen extreme examples of how this worked in the course of the Jan. 6 Committee hearings.

Senior officials in the Justice Department, the White House counsel's office or even junior White House staffers like Cassidy Hutchinson stepped up to try to stop Trump from mounting a coup against the government he had in 2016 been elected to lead.

Some debate whether what these people did was heroic or worthy of praise given that many had supported and enabled Trump in other circumstances. Michelle Goldberg outlined this point of view in ''The Myth of the Good Trump Official'' in The New York Times.

Cassidy Hutchinson, a top former aide to Trump White House Chief of Staff Mark Meadows, testifies during on June 28.

Brandon Bell/Getty

I would suggest that we need to be open to the idea that sometimes people with whom we do not agree politically, and/or those who support policies which we may even find abhorrent, are capable of doing good and that they deserve credit for it'--because it is in our interest that people do step up and do the right thing when the stakes are highest.

'''...as Trump and those closest to him grew increasingly frustrated with such officials, they set in motion efforts to replace them with lackeys'--stooges who placed Trump ahead of the Constitution, the American people, the institutions they served and, often, common sense.''

Or to put it another way, if, as F. Scott Fitzgerald once said, ''the test of a first-rate intelligence is the ability to hold two opposed ideas in mind at the same time and still retain the ability to function,'' it is a sign of first-rate grasp of politics that we are able to acknowledge that sometimes those with whom we disagree sometimes do good things, just as it is possible that those with whom we agree do bad ones.

Since we benefit every time someone does something good, we should encourage that behavior, particularly when, for example, the survival of our democracy is at stake.

That said, the coup attempt was not the only time Trump was frustrated and ultimately kept from doing something disastrously ill-conceived by the human guardrails throughout the U.S. government. Not by a long shot. In fact, it is no exaggeration to say that multiple conflicts, crimes, and human tragedies were averted throughout the Trump years by people quietly doing their jobs, outside the limelight, often as part of a daily struggle with Trump and his inner circle by a wide cross-section of members of his own cabinet, sub-cabinet, senior political appointees, and career officials.

Indeed, while many of these people could and should have drawn more attention to Trump's contemplated crimes and horrifically misguided policy impulses, the arguments made by many of them that they had to stay in place to keep things from going off track is certainly understandable. After all, that is what some of them were called upon to do every day.

Further, as Trump and those closest to him grew increasingly frustrated with such officials, they set in motion efforts to replace them with lackeys'--stooges who placed Trump ahead of the Constitution, the American people, the institutions they served and, often, common sense.

To take another Big Lie-related example, remember the time acting Defense Secretary Chris Miller pressed a colleague to look into claims that Italian satellites were siphoning off American votes? Or how about the move to place environmental lawyer Jeffrey Clark atop the Department of Justice to help advance the Big Lie? In fact, there were an increasing number of such puppet picks being made during the third and fourth year of Trump's term in office, from moving the unqualified Richard Grenell to be Acting Director of National Intelligence (DNI) to replacing him with even less qualified John Ratcliffe, or from making former Devin Nunes staffer Kash Patel acting Deputy DNI to making him Miller's chief of staff. Trump also made a familiar practice of appointing loyalists to acting roles atop the Department of Homeland Security.

A video of former acting secretary of defense Christopher Miller is shown on a screen during the fifth hearing held by the House Jan. 6 committee on June 23.

Pool/Getty

I have recently completed a book about how career staffers and appointees worked together to defuse dangerous Trump ideas'--from going too easy on Russia to the plan to blackmail Ukraine's President Volodymyr Zelensky, from wanting to launch spur of the moment attacks on North Korea to wanting to install an alligator-filled moat along our southern border, from seeking to suppress data on COVID to wanting to direct aid for it and other natural disasters to regions based on whether they supported Trump or not.

In speaking to scores of officials who served under Trump, a repeated refrain from cabinet members to rank and file bureaucrats was that they knew that if Trump were re-elected he would eradicate all potential impediments to advancing his agenda. Introducing late in the administration the idea of reclassifying tens of thousands of federal employees as ''Schedule F'''--thereby making them easier to fire and replace'--was a centerpiece of this effort. (My book is called American Resistance: The Inside Story of How the Deep State Saved the Nation and you can find out more about it here.)

As the Swan's reporting in Axios notes, President Joe Biden undid that effort, but Trumpworld is planning to restore it immediately should they regain power.

The core point is this: As bad as Trump was when he took office, he did not know anything about how the U.S. government works. Now he and those closest to him do. They know that dedicated career officials and appointees who have long worked in and around government are perhaps the most important remaining check Trump or another extreme-right GOP president would encounter.

Because of the dysfunction of our minority-dominated Senate, the radical views of the GOP in the House, and our conservative-stacked Supreme Court'--other than voters, it is often only those within the government who respect the law and are in a position to challenge dangerous ideas or abuse who can impede our drift toward being an authoritarian state.

In other words, we must recognize that Trump does not want to stop the ''deep state'' because it is a threat to Americans. He wants to stop it because it is one of the last things that stands between him and his desire to rule like the thugs he emulates.

Finland PM Sanna Marin in tears as she admits 'I'm also human' over leaked partying videos and photo of topless pals | The US Sun

Thu, 25 Aug 2022 16:53

FINLAND'S under pressure party PM Sanna Marin gave a tearful speech defending herself after a string of wild leaked photos and videos.

The 36-year-old's private life has come under scrutiny after a flurry of clips were released of her enjoying herself at a party while two friends were seen topless kissing at her official residence.

9

Finnish Prime Minister Sanna Marin tearfully delivered a speech at a meeting of her Social Democratic party in Lahti Credit: AP 9

She defended her record and described a difficult week Credit: AP 9

Ms Marin is one of the world's youngest world leaders aged just 36 Credit: AP"I am human," Sanna Marin said as she fought to hold back tears at her Social Democratic Party's (SDP) event in Lahti city, north of Helsinki.

"And I too sometimes long for joy, light and fun amidst these dark clouds."

"It's private, it's joy, and it's life," she said. "But I haven't missed a single day of work."

Mum-of-one Ms Marin, 36 - one of the world's youngest leaders - is fighting off claims from opponents she is "immature" and not in full control of running Finland.

However, others say she is the victim of double standards as the behaviour of older male politicians is rarely commented on.

She has also been boosted by women across the world posting videos of themselves dancing in "solidarity".

A video leaked last week -- which caused headlines around the world -- showed Marin dancing and partying with a group of friends and celebrities.

Her dancing in the video has been criticised by some as inappropriate behaviour for a prime minister, while others have defended her right to enjoy a private event with friends.

Some also interpreted comments heard on the video as referring to narcotics, something heavily debated on social media and strongly denied by the prime minister.

In a bid to clear up any suspicion, she took a drug test on Friday and tested negative.

And on Tuesday, Marin apologised for a photo taken at her taxpayer-funded residence in July of two women kissing.

The women - understood to be TV personality Sabina S¤rkk¤ and poet Natalia Kallio - were seen lifting their tops to bare their torsos and covering their breasts with a sign that says "Finland".

She said she and her pals headed back to the palace after attending the Ruisrock music festival when the duo seized the photo opportunity.

Marin said the last week had been "quite difficult".

Her party supported her during the video controversy but local media reported the new picture this week has led to increasing criticism within the Social Democrats.

"Sanna Marin is highly popular, but there is growing frustration within the party at the repeated scandals," Helsingin Sanomat newspaper wrote on Tuesday, after talking with SDP MPs.

It comes after video emerged of Sanna grinding with glamorous ex-model S¤rkk¤ on a nightclub dance floor in the early hours.

9

Two of Sanna Marin's influencer pals posed topless at a party in her official residence Credit: Twitter/@TRetrospective 9

Her model pal Sabina flaunted her festival outfit before getting steamy with a topless woman Credit: Instagram 9

Marin continued the party at her official residence after attending the Ruisrock festival Credit: InstagramOther clubbers watched in astonishment as the pair wrapped their arms round each other and the PM writhed with one leg between Sabina's.

And the clip was reportedly filmed at trendy nightspot Klubi on the same night Sanna was seen dancing intimately with pop star Olavi Uusivirta.

Olavi, 38, later denied having an affair with the married PM and insisted they are "just good friends".

On Friday, she agreed to take a drug test - paid for herself - following noisy demands from opposition MPs.

It came back negative on Monday, her office said.

But critics pointed out the length of time that had elapsed since another private party where she was filmed dancing and singing with showbiz pals including a rapper and a TV star.

In a press conference last week, Marin said she had been drinking lightly on the night in question but had not taken drugs and was always in an appropriate condition to "lead the country".

An earlier leaked video posted on social media showed Ms Marin with Finnish singer Alma, rapper Petri Nygard, TV host Tinni Wikstrom, along with social media influencers and MPs from her own Social Democratic party.

9

Sanna Marin dancing with former beauty queen Sabina S¤rkk¤ 9

On the same night the party-loving PM was seen with pop star Olavi Uusivirta 9

Leaked video showed her twerking with celeb palsThe clip was published by Finnish tabloid Iltalehti and shows the PM dancing, singing and drinking with pals in what appears to be an apartment.

At one stage someone off-camera refers to "powder gang", allegedly as alluding to cocaine, although Ms Marin strenuously denied seeing any drugs at the bash.

She has defended her behaviour and insists she has nothing to hide, adding that she "resents" the fact the footage of her in a "private space" has been leaked.

"I'm disappointed that it has become public," she said.

"I spent the evening with friends. Partied, pretty wild, yes. Danced and sang."

She added: "I have not used drugs myself, or anything other than alcohol.

"I've danced, sung and partied and done perfectly legal things. I have also not been in a situation where I would know that others are doing it that way."

Amid a political row, many women have come to her defence and accused her critics of double standards.

"Why can't she party after work? Do we expect our leaders not to be human beings?" tweeted Ashok Swain, a professor at Uppsala University in Sweden.

Spanish politician Iratxe Garc­a P(C)rez said: "How shocking!!! A young politician who does her job and enjoys her private life... Why can't a young woman have fun?

"I can't stand gender double standards. All my support to @MarinSanna."

Ms Marin has said previously she and other politicians have faced unfair criticism because they are women.

Panel: Trump staffers pushed unproven COVID treatment at FDA | AP News

Thu, 25 Aug 2022 16:42

WASHINGTON (AP) '-- Officials in the Trump White House tried to pressure U.S. health experts into reauthorizing a discredited COVID-19 treatment, according to a congressional investigation that provides new evidence of that administration's efforts to override Food and Drug Administration decisions early in the pandemic.

The report Wednesday by the Democratic-led House Select Subcommittee on the Coronavirus Crisis also sheds new light on the role that television personalities played in bringing hydroxychloroquine to the attention of top White House officials. Investigators highlighted an email from Fox News' Laura Ingraham and others from Dr. Mehmet Oz, the celebrity heart surgeon who had a daytime TV show and is now the Republican Senate nominee in Pennsylvania. Ingraham attended an Oval Office meeting with President Donald Trump, who himself took the anti-malaria drug.

The FDA originally authorized use of hydroxychloroquine in late March 2020 based on small studies suggesting it could have some effectiveness against the coronavirus. At that time, many researchers hoped that existing antiviral drugs could be used to fight the virus. But by June, FDA officials had concluded the drug was likely ineffective and could cause potentially dangerous heart complications, revoking its emergency use.

Efforts by the Trump administration to control the release of COVID-19 guidance and install political operatives at public health agencies have been well documented.

The report by the House subcommittee investigating the government's COVID-19 response focused on pressure at the FDA, which serves as gatekeeper for the drugs, vaccines and other countermeasures against the virus.

Much of the information comes from an interview with the agency's former commissioner, Dr. Stephen Hahn, who was picked for the job by Trump in late 2019. Frustrated by the pace of FDA's medical reviews, Trump repeatedly accused Hahn -- without evidence -- of delaying decisions on COVID-19 drugs and vaccines ''for political reasons.''

Although FDA commissioners are politically appointed, the agency's scientists are expected to conduct their reviews free from outside influence. Indeed, the FDA's credibility largely stems from its reputation for scientific independence.

But Hahn told investigators that he felt pressure due to the ''persistence'' of Trump aide Peter Navarro's calls to reauthorize hydroxychloroquine after the FDA's decision to pull its emergency use.

''We took a different stance at the FDA,'' Hahn told investigators. ''So that disagreement, which of course ultimately became somewhat public, was a source of pressure.''

The subcommittee chairman, Democrat Rep. Jim Clyburn of South Carolina, said efforts to bend the FDA's scientific work on treatments and vaccines exemplified how the ''prior administration prioritized politics over public health.'' But Louisiana Rep. Steve Scalise, the panel's top Republican, said the report was ''further proof'' that House Speaker Nancy Pelosi, D-Calif., ''only set up this sham panel to carry out a political vendetta'' against Trump.

Much of the report focuses on actions taken by Navarro and Dr. Steven Hatfill, a virologist and outside adviser described by the subcommittee as a ''full-time volunteer'' on COVID-19 for the White House.

''Dr. Hatfill and Mr. Navarro devised multiple pressure schemes targeting FDA and federal officials who they contended were wrongly impeding widespread access to hydroxychloroquine,'' according to the report.

In his response, Hatfill said: ''We never wrongly pressured anyone. We simply followed the science and the overwhelming evidence as detailed in several studies available at the time.''

Navarro, in an emailed statement, said the subcommittee was ''wrongly'' perpetuating that hydroxychloroquine ''was somehow dangerous.'' He also said he has chronicled his battles with the FDA in his White House memoir.

Importantly, there's no evidence that White House efforts ultimately changed the FDA's decisions on hydroxychloroquine or any other therapies.

Investigators also cited a March 28, 2020, email from Oz to Dr. Deborah Birx, White House coronavirus response coordinator, stating that the drug ''appears safe and results are better than expected.''

Birx forwarded the email to Hahn within the hour, saying ''we should talk.''

A cancer specialist with no prior political experience, Hahn was widely criticized during the early COVID-19 response for decisions that appeared to cave to White House officials.

According to emails obtained by the committee, Hatfill described ''constant fighting with (Dr. Anthony) Fauci and Dr. Hahn'' over access to hydroxychloroquine during the summer. Fauci is the nation's top infectious disease expert.

During this period Hatfill also urged Sen. Ron Johnson, R-Wis., to request a federal investigation into the handling of hydroxychloroquine, according to a letter submitted for the Congressional Record.

There's no indication such a request was made. But in mid-August, Johnson and fellow Republican Sens. Mike Lee of Utah and Ted Cruz of Texas wrote the FDA seeking an explanation for the denial to reinstate hydroxychloroquine's authorization. Johnson also chaired a Senate committee hearing in November 2020 on treatment options and complained that doctors who prescribed hydroxychloroquine for COVID had been ''scorned.''

In the fall of 2020, the focus of both FDA and White House officials turned to the upcoming authorization of the first COVID-19 vaccines from Pfizer and Moderna.

As previously reported, the White House objected to an FDA requirement that vaccine makers gather two months of safety data before filing their applications, contending that condition would delay the launch of the shots. Trump had repeatedly stated the shots would be authorized before Election Day, despite government scientists signaling that timeline was unlikely.

The committee report suggested that the FDA's guidance for vaccine manufacturers was delayed more than three weeks '-- from mid-September until early October '-- due to White House concerns.

Hahn told investigators the agency faced ''pushback about the issue'' from multiple officials, including Trump's chief of staff, Mark Meadows, who told the FDA commissioner on Sept. 23, 2020, that the White House would not sign off on the two-month requirement.

On Oct. 6, the FDA quietly published its vaccine guidelines as part of a larger set of documents for drugmakers. After the materials posted online, Hahn said Meadows called him to indicate that the FDA guidelines were approved.

The online publication drew fury from the president on Twitter.

''New FDA rules make it more difficult for them to speed up vaccines for approval before Election Day. Just another political hit job!'' Trump tweeted at his FDA commissioner.

___

Follow AP's coverage of the pandemic at https://apnews.com/hub/coronavirus-pandemic

John McAfee faked his death, ex-girlfriend claims in Netflix doc

Thu, 25 Aug 2022 16:20

The wild and eerie life of supposedly dead anti-virus software pioneer John McAfee is only becoming more mysterious.

McAfee was widely reported to have hanged himself inside a Spanish jail in June 2021 while awaiting US extradition on tax evasion charges. But, according to his Belizean ex-girlfriend Samantha Herrera, he faked his own death, moved to Texas and is still alive.

''I don't know if I should say, but two weeks ago, after his death, I got a call from Texas: 'It's me, John. I paid off people to pretend that I am dead, but I am not dead,''' Herrera claims in the Netflix documentary ''Running With the Devil: The Wild World of John McAfee,'' out Wednesday.

Herrera says he told her that ''there are only three persons in this world that know I'm still alive'' and then asked her to run away with him.

The Post attempted to contact Herrera but was unsuccessful.

John McAfee's ex-girlfriend Samantha Herrera says he contacted her after his supposed death and is still alive. ShowtimeAccording to Herrera, she and McAfee, who was living in San Pedro, Belize, started dating when she was 18 and planned to marry. McAfee and Herrera fled the nation in 2012 after the suspicious death of his next-door neighbor, Florida man Gregory Faull.

Herrera not only lammed it with the person of interest, but also recruited her relative, prominent lawyer Tel(C)sforo Guerra, to become his attorney.

''His side of the story is that they're after him because he didn't pay off the government. They wanted to hurt him, to get rid of him,'' Herrera says in the film, adding that McAfee was able to connect the Belizean government to corruption.

McAfee was a person of interest in the murder of his neighbor. Herrera used family ties to help him escape Belize. MediaNews Group via Getty ImagesWith Guerra's help and after suffering a heart attack in Guatemala City, McAfee managed to safely return to the United States. Soon after, he broke things off with Herrera and married a former prostitute from Miami, Janice Dyson, according to the film.

Guerra '-- whom McAfee jokingly told, ''Unfortunately, you will have a potential criminal in the family now'' '-- died the following year, local news reported.

''Running With the Devil'' director Charlie Russell is perplexed by Herrera's claims that McAfee is still alive.

Paramedics observe McAfee at a hospital in Guatemala City in 2012. REUTERS''I don't know what I think and I don't think she does,'' Russell told Esquire. ''She says it, then she looks at the camera, and I can't work out whether she thinks it's real or not. She's someone who was very angry at John.

''He promised them a life together and I think they were genuinely in love, despite the huge age difference, I think he offered her a real different future, then he literally ditched her at the border and I think that's very painful for her and it's taken her years to get over that.''

While detained in Spain, McAfee tweeted that if he died in jail, it wouldn't be his own doing. APPrior to the suicide reports, McAfee had been repeatedly tweeting that if he was found dead in jail, it would not be suicide. In 2019, he got an arm tattoo reading ''$WHACKD'' to backup the sentiment.

Iran And Russia Move To Create A Global Natural Gas Cartel | OilPrice.com

Thu, 25 Aug 2022 14:37

Russia and Iran are building the foundation for a potential natural gas cartel. The Russia-Iran alliance aims to control as much of the two key elements in the global supply matrix as possible. ''Gas is widely seen as the optimal product in the transition from fossil fuels to renewable energy, so controlling as much of the global flow of that will be the key to energy-based power over the next ten to twenty years", according to a senior source who works closely with Iran's Petroleum Ministry. The US$40 billion memorandum of understanding (MoU) signed last month between Gazprom and the National Iranian Oil Company (NIOC) is a stepping stone to enabling Russia and Iran to implement their long-held plan to be the core participants in a global cartel for gas suppliers in the same mold as the Organization of the Petroleum Exporting Countries (OPEC) for oil suppliers. With a foundation in the current Gulf Exporting Countries Forum (GECF), this 'Gas OPEC' would allow for the coordination of an extraordinary proportion of the world's gas reserves and control over gas prices in the coming years. Occupying the number one and number two positions in the world's largest gas reserves table, respectively '' Russia with just under 48 trillion cubic meters (tcm) and Iran with nearly 34 tcm '' the two countries are in an ideal position to do this.

The Russia-Iran alliance, as evidenced in the most recent multi-faceted MoU between Gazprom and the NIOC, wants to control as much of the two key elements in the global supply matrix '' gas supplied over land via pipelines and gas supplied via ships in liquefied natural gas (LNG) - as possible. According to a statement last week from Hamid Hosseini, chairman of Iran's Oil, Gas, and Petrochemical Products Exporters' Union, in Tehran, after the Gazprom-NIOC MoU had been signed: ''Now the Russians have come to the conclusion that the consumption of gas in the world will increase and the tendency towards consumption of LNG has increased and they alone are not able to meet the world's demand, so there is no room left for gas competition [between Russia and Iran].'' He added: ''The winner of the Russia-Ukraine war is the United States, and it will capture the European market, so if Iran and Russia can reduce the influence of the United States in the oil, gas and product markets by working together, it will benefit both countries.''

The Gazprom-NIOC MoU, as initially analyzed by OilPrice.com , contains four key elements that are geared towards the build-out of a 'Gas OPEC'. One element is that the Russian state-backed gas giant has pledged its full assistance to the NIOC in the US$10 billion development of the Kish and North Pars gas fields with a view to the two fields producing more than 10 million cubic meters of gas per day. A second element is that Gazprom will also fully assist with a US$15 billion project to increase pressure in the supergiant South Pars gas field on the maritime border between Iran and Qatar. A third element is that Gazprom will provide full assistance in the completion of various liquefied natural gas (LNG) projects and the construction of gas export pipelines. The fourth element is that Russia will examine all opportunities to encourage other major gas powers in the Middle East to join in the gradual roll-out of the 'Gas OPEC' cartel, according to a senior source who works closely with Iran's Petroleum Ministry. ''Gas is widely seen as the optimal product in the transition from fossil fuels to renewable energy, so controlling as much of the global flow of that will be the key to energy-based power over the next ten to twenty years, as has already been seen on a smaller scale in Russia's hold over Europe through its gas supplies,'' he added.

From a top-down perspective, the Russia-Iran alliance is focused on drawing in the overt or covert support for the Gas OPEC construct from other major producers in the Middle East regarded as undecided in committing to the Russia-Iran-China axis or to the U.S.-Europe-Japan axis. Qatar (with the world's third-largest gas reserves of just under 24 tcm, and the top LNG supplier) has long been seen by Russia and Iran as a prime candidate for such a gas cartel, given that it shares the principal source of its ongoing prosperity with Iran in the shape of the 9,700 square kilometres (sq.km) reservoir that holds at least a combined 51 tcm of gas and 50 billion barrels of natural condensates. Iran has exclusive rights over 3,700 sq.km of this reservoir in its celebrated South Pars field (containing around 14 tcm of gas), with Qatar's North Field comprising the remaining 6,000 sq.km (and 37 tcm of gas).

A new cooperation accord was reached between Tehran and Doha in 2017 on the shared reservoir and beyond, as analyzed in depth in my latest book on the global oil markets . Since then, Qatar has overtly tried to avoid alienating either of the major two geopolitical power blocs. At the beginning of this year of Qatar's Emir, Sheikh Tamim bin Hamad Al Thani, visited the White House, and in March he met with German economy minister, Robert Habeck, the latter visit being to discuss how Qatar could help alleviate bans on Russian gas into Europe. Prior to these visits, though, Qatar concluded a slew of long-term LNG supply deals with China that caused considerable concern in Washington (hence the visit of Al Thani to the U.S. in January).

Over and above the need for a good relationship between Qatar and Iran to ensure the optimal functioning of their huge joint gas reservoir, Russia and Iran see another area of particular vulnerability in Doha's political makeup that can be exploited in the building out of a Gas OPEC, and that is its dislike for its other neighbor, Saudi Arabia. The blockade of Qatar from 2017 to 2021 was orchestrated by Saudi Arabia and actively endorsed by the UAE, Bahrain, and Egypt initially, with later support coming from Jordan, Libya, and other smaller states. It has never been forgotten by Qatar, and nor has the support that was given to Doha during the period by Iran, and by Russia, both independently and via Turkey.

Together, Russia, Iran, and Qatar account for just under 60 percent of the world's gas reserves, and they were the three countries instrumental in the founding of the GECF, whose 11 members control over 71 percent of global gas reserves, 44 percent of its marketed production, 53 percent of its gas pipelines, and 57 percent of its LNG exports. Its long-term mission statement agreed upon in Moscow, is to: 'Enhance the role of GECF in the global energy scene in order to support the sovereign rights of Member Countries over their natural gas resources, to maximize their value for the benefit of their people, and to promote their coordination on global energy developments with a view to contributing to global sustainable development and energy security'.

Related: U.S. Strategic Petroleum Reserve Falls To 35-Year Low

There have long been statements on plans to enhance the depth of cooperation between GECF members to the degree that it becomes as powerful in the gas market as OPEC once was ( before the 2014-2016 Oil Price War was instigated against the U.S. shale oil sector and lost by Saudi Arabia). As far back as October 2008, high-level figures from Russia, Iran, and Qatar met in Tehran to discuss trilateral cooperation and the possibility of forming a cartel of gas-exporting countries similar to OPEC. A key part of the reason why the idea has not been fully realized has been the unwillingness on the part of Qatar to firmly align itself to the Russia-Iran alliance, which means that the swing supply part of the gas supply matrix '' LNG '' had remained outside the control Moscow and Tehran. It is true that Iran has sufficient gas resources to eventually become an LNG superpower , and part of the Gazprom-NIOC deal is geared towards making that happen, but it is also true that this is a medium- to long-term project.

Shorter-term, though, there are signs that Qatar's reticence to commit to Gas OPEC may be ebbing away. The critical feature of Doha's economic plans is for it to stay as the number one exporter of LNG in the world, having lost that spot for a period relatively recently, and in this context, the long-term deals with China are enormously important to it. The early notable example '' that set a template for subsequent deals '' was the long-term purchase and sales agreement by the China Petroleum & Chemical Corp. (Sinopec) and Qatar Petroleum for 2

million tons per annum (mtpa) of LNG for a term of 10 years. Following these early deals with China, Qatar signed LNG supply agreements with Iranian (and Chinese and Russian) ally, Pakistan '' specifically, a 10-year sale and purchase agreement for Qatar Petroleum to supply the Pakistan State Oil Company with up to 3 mtpa of LNG to various ports in the country. This agreement builds on the earlier deal signed in 2016 for Qatar to supply Pakistan with 3.75 mtpa of LNG and came at around the same time as close Pakistan ally, Bangladesh, made a similar deal with Qatar.

By Simon Watkins for Oilprice.com

More Top Reads From Oilprice.com:

Canada Studies Direct LNG Exports To Europe What's Behind Buffett's Renewed Interest In Occidental? LNG Prices Haven't Hit A Ceiling Just Yet

(19) Podcast Movement at #PM22 on Twitter: "Hi folks, we owe you an apology before sessions kick off for the day. Yesterday afternoon, Ben Shapiro briefly visited the PM22 expo area near The Daily Wire booth. Though he was not registered or expected, we t

Thu, 25 Aug 2022 14:18

Podcast Movement at #PM22 : Hi folks, we owe you an apology before sessions kick off for the day. Yesterday afternoon, Ben Shapiro briefly visi'... https://t.co/e12O2hswWD

Thu Aug 25 11:33:47 +0000 2022

Carrie Caulfield Arick (now 50% more yelly) : @PodcastMovement I'll take how to make money and get press for it for $100.

Thu Aug 25 14:08:24 +0000 2022

the Random Kristian show : @PodcastMovement I thought this was about podcasts and everyone supporting one another. I guess I'm glad I saved my money and stayed home.

Thu Aug 25 13:57:46 +0000 2022

Jordan Cline: Fireside Paranormal Podcast : @PodcastMovement The fact that you would apologize for having a podcasting powerhouse at an event is sad. Showing y'... https://t.co/XZ4QNGSChp

Thu Aug 25 13:46:18 +0000 2022

Kerry Godfrey : @PodcastMovement DW Booth looked pretty busy btw. There is obviously a very large contingent of people who disagre'... https://t.co/OR1cGkWorx

Thu Aug 25 13:39:20 +0000 2022

MMA Wrapped UP : @PodcastMovement ðŸ'🂠Ben Shapiro is Great

Thu Aug 25 13:38:10 +0000 2022

Snapchat Caught Scanning Facial Features of Users Every Time They Take a Selfie'... Pays $35 Million In Class Action Settlement

Thu, 25 Aug 2022 14:04

Snapchat has settled for $35 million in an Illinois biometric privacy lawsuit after being accused of collecting biometric data from unsuspecting citizens in violation of Illinois state law.

The social media platform is accused of violating Illinois' Biometric Information Privacy Act (BIPA) by illegally collecting users' biometric information through the use of ''lenses'' and ''filters'' without their consent. Every time a Snapchat user takes a photo of themself or uses one of the filters, their facial features are scanned by the app, which the lawsuit claims is ''creating, obtaining and storing'' a user's unique biometric data.

Illinois' BIPA states that ''no private entity may collect, capture'... or otherwise obtain a person's or a customer's biometric identifier or biometric information'' without first receiving proper consent in accordance with the state laws.

While Snapchat's parent company has agreed to a $35 million settlement, they have denied violating BIPA.

Trending: Group of Vegans Cement Themselves In Front of Starbucks'... The Reason They Did It Is Hilarious!

Snapchat spokesperson Pete Boogaard said that Snapchat lenses ''do not collect biometric data that can be used to identify a specific person, or engage in facial identification.'' He also said that the data used by the platform does not leave the user's personal device.

''While we are confident that Lenses do not violate BIPA, out of an abundance of caution and as a testament to our commitment to user privacy, earlier this year we rolled out an in-app consent notice for Snapchatters in Illinois,'' Boogaard said.

Snapchat isn't the only social media platform that's faced a lawsuit in Illinois. TikTok recently settled for $92 million after being accused of breaking Illinois law, and, in June, Google agreed to pay $100 million after allegedly violating BIPA with a face grouping feature in Google Photos.

In 2021, Facebook was involved in a similar BIPA class action lawsuit in which it agreed to pay $650 million.

Illinoisians qualify for settlement money if they used the Snapchat ''lenses'' and ''filters'' between Nov. 17, 2015, and the present. Claims must be submitted by Nov. 5. However, individual settlement amounts have not been determined.

The final court hearing on the Snapchat settlement is scheduled for Nov. 17.

Club 77 in Darlinghurst, Sydney bans staring at strangers in bid to become 'a safe space' | Daily Mail Online

Thu, 25 Aug 2022 13:48

How a legendary Sydney club will introduce hi-vis STARING police who will kick patrons out if they don't have 'verbal consent' to look at a stranger across the dancefloorClub 77 overhauls safety and harassment policy to promote culture of consentStaring at stranger from across the dancefloor or bar without consent bannedGiving unwanted attention results in being ejected from venue, police called By Kylie Stevens For Daily Mail Australia

Published: 11:37 EDT, 24 August 2022 | Updated: 18:39 EDT, 24 August 2022

An iconic nightclub will introduce hi-vis 'staring police' who will kick out revellers if they look longingly at a stranger across the dancefloor without prior 'verbal consent'.

Long-established venue Club 77 in the heart of Sydney's Darlinghurst party strip has overhauled its safety and harassment policy to make the venue a 'safe space' that promotes a strong culture of consent amid a crackdown against harassment.

The venue stresses interaction with strangers is encouraged but says engagement must now start with prior verbal consent or will otherwise be considered as harassment and will result in being evicted from the club.

The rules also apply when staring at a stranger from afar and not respecting the personal space of DJs.

Safety officers donning pink fluoro vests will roam the venue to deal with such complaints from anyone feeling 'uncomfortable' or receiving unwanted attention.

Interaction with others at Club 77 must now start with prior verbal consent (pictured revellers at the iconic Sydney venue)

''‹If we receive reports of any behaviour that has made someone feel uncomfortable, the reported individual will be removed from the venue and the police will be called,' the rules stipulate.

'We adopt a policy of 'always believe the report' in cases of harassment and feeling unsafe.'

'We do this to make everyone feel safe and to ensure our patrons are comfortable approaching staff if anything has made them uncomfortable or feel unsafe.'

Once a favoured haunt for Sydney's goth scene, Club 77 now attracts a dance music crowd.

The venue, which recently celebrated its 25th birthday is 'busier than ever' after trading hours were extended until 4am seven days a week.

Staring at a stranger from across the dancefloor or bar without prior consent is now banned at Club 77 (pictured) as part its strict new rules

'Unfortunately, this has also attracted some people who do not share our values and ethics when it comes to club culture, consent and harassment,' Club 77 posted.

'We're thankful that incidents of harassment have been very rare, but in our eyes just one incident is too much.'

'We also also have an obligation to educate new club-goers and help them understand what is considered unacceptable behavior inside the venue and on the dance floor.'

The club has attracted widespread praise for its strong stance.

'Thank you for looking after your peoples,' one reveller posted.

Another added: 'Wow love the idea of a safety officer!

But not everyone is a fan.

'So extreme! Everyone look on the floor now! Omg where is the world going! Pathetic really,' one woman commented.

Another disagreed: 'This is not extreme it is responsible. Good on 77 for calling out that kind of behaviour and creating a safe space for all.'

Revellers must also respect the personal space of DJs at the venue(pictured, DJs at Club 77)

Club 77 owner Dane Gorrel (left) is spearheading the pivot to a 'safe space'

The rules have also divided dating and relationships experts.

'If you can't look across the room at someone to let them know you're interested, it means you have to go up to them physically, invade their space, it is a more kind of forward approach,' clinical psychotherapist Melissa Ferrari told the Daily Telegraph.

'It is always a more lovely story, when it is a more organic in person story of looking at someone across the bar, that is a much nicer story than meeting someone online.'

Dating expert Samantha Jayne believes Generation Z are 'hyper aware of issues surrounding harassment.

'With the pandemic people have changed, they're more anxious and less trusting of others,' she said.

'There is so much stalking being reported, the club is possibly just trying to protect their patrons.'

Club 77 in William Street Darlinghurst has been a Sydney nightlife institution for 25 years

Advertisement

Hillicon Valley '-- Twitter whistleblower to testify in Senate | The Hill

Thu, 25 Aug 2022 13:43

The Twitter whistleblower alleging major security deficiencies at the company will testify before a Senate panel when lawmakers return from recess in September.

We'll also take a look at how the whistleblower's accusations are impacting Elon Musk's argument in his case against Twitter seeking to back out of his $44 billion deal to buy the company.

This is Hillicon Valley, detailing all you need to know about tech and cyber news from Capitol Hill to Silicon Valley. Send tips to The Hill's Rebecca Klar and Ines Kagubare. Someone forward you this newsletter? Subscribe here.

Embattled spyware firm becomes 'cautionary tale' for industryHow will Biden's student loan plan impact inflation?(Another) tech whistleblower heads to DCTwitter's former security chief, who alleged the company has major security deficiencies in a bombshell whistleblower disclosure, will testify before the Senate Judiciary Committee in September, the committee said Wednesday.

The whistleblower, Peiter ''Mudge'' Zatko, will participate in a hearing aimed at examining the allegations of security failures at Twitter.

''Mr. Zatko's allegations of widespread security failures and foreign state actor interference at Twitter raise serious concerns. If these claims are accurate, they may show dangerous data privacy and security risks for Twitter users around the world,'' Senate Judiciary Chairman Dick Durbin (D-Ill.) and ranking member Sen. Chuck Grassley (R-Iowa) said in a joint statement.

''The Senate Judiciary Committee will investigate this issue further with a full Committee hearing this work period, and take further steps as needed to get to the bottom of these alarming allegations,'' the senators added.

Read more here.

Embattled spyware firm becomes 'cautionary tale' for industryHow will Biden's student loan plan impact inflation?The Musk factorA bombshell Twitter whistleblower complaint alleging the company has major security deficiencies is adding fuel to Elon Musk's core argument in his case against Twitter as he tries to back out of his $44 billion deal to buy the platform.

Former Twitter security chief Peiter Zatko's complaint, made public Tuesday, complicates the legal challenge for the social media platform. Twitter is suing in an effort to force Musk to complete his acquisition of the company after he walked away from his binding offer over accusations that Twitter breached the agreement by failing to provide him with sufficient data about spam accounts.

Zatko has had no contact with Musk, and the drafting of the complaint predates Musk's involvement with Twitter, according to Whistleblower Aid, the group representing Zatko. Nonetheless, key portions of the redacted 84-page complaint, published by The Washington Post, appear to bolster Musk's accusations, even referencing tweets from Twitter CEO Parag Agrawal to Musk about the number of bots on the platform as a ''recent example of misrepresentations.'' Musk's legal team is already leaning into using Zatko's complaint as the Musk-Twitter case heads to an October trial. Read more here.

Embattled spyware firm becomes 'cautionary tale' for industryHow will Biden's student loan plan impact inflation?DON'T COMPLAIN TO MUSK

Tesla CEO Elon Musk told a customer not to ''complain'' about the self-driving bug issues with Tesla vehicles.

A Tesla customer on Tuesday posted a series of videos on Twitter showing how the company's new beta version of its Full Self-Driving service, 10.69, has difficulty making signaled turns, changing driving lanes and other basic tasks.

The customer also wrote in a tweet that he had to pay more than $32,000 to receive the latest updates for the vehicle's system.

''Unfortunately I have to say I'm still having to intervene to correct #FSDBeta 10.69 in my area. Still lots of work to go,'' the customer wrote. ''I know this is probably not a popular opinion but the focusing on the 'Chuck' complex left is getting ahead of the needs of some more basic control issues.''

Read more here.

Embattled spyware firm becomes 'cautionary tale' for industryHow will Biden's student loan plan impact inflation?ZUCKERBERG DROPPED FROM FTC VR SUIT

Federal Trade Commission (FTC) entered an agreement with Meta CEO Mark Zuckerberg on Tuesday to drop him from an ongoing antitrust lawsuit attempting to block the company's purchase of a virtual reality company.

A joint court filing stipulates that Zuckerberg will not purchase the company, Within Unlimited, as an individual or through any entity controlled by Zuckerberg in exchange for being removed as a defendant in the suit.

The lawsuit, filed by the FTC late last month, accuses Meta of a years-long ''campaign to conquer VR'' that began as early as March 2014, when then-Facebook acquired headset-maker Oculus VR.

The suit targets Meta's attempt to buy Within Unlimited, a virtual reality developer that designed fitness app Supernatural. The app enables users to participate in workout sessions set to music from prominent artists while in a virtual reality environment that mimics destinations across the globe.

Read more here.

Embattled spyware firm becomes 'cautionary tale' for industryHow will Biden's student loan plan impact inflation?CISA HIGHLIGHTS THREATS FROM QUANTUM COMPUTING

The Cybersecurity and Infrastructure Security Agency (CISA) released new advice Wednesday on ways critical infrastructure should prepare for potential security risks stemming from quantum computing.

While quantum computing provides greater speed and power than classical computers, the emerging technology comes with potential risks, including data breaches, that could threaten the security of business transactions, secure communications, digital signatures and customer information.

''While post-quantum computing is expected to produce significant benefits, we must take action now to manage potential risks, including the ability to break public key encryption that U.S. networks rely on to secure sensitive information,'' Mona Harrington, acting assistant director for CISA's National Risk Management Center, said in a statement.

''Critical infrastructure and government leaders must be proactive and begin preparing for the transition to post-quantum cryptography now,'' Harrington added.

Read more here.

Embattled spyware firm becomes 'cautionary tale' for industryHow will Biden's student loan plan impact inflation?BITS & PIECES

An op-ed to chew on: More than networks, America needs better cybersecurity

Notable links from around the web:

Meta Learned Via a Tweet of FTC's Suit to Block VR Deal (Bloomberg / Alex Barinka, Leah Nylen and Sarah Frier)

How Ukraine used Russia's digital playbook against the Kremlin (Politico / Mark Scott)

Google is launching an experiment to curb anti-Ukraine misinformation in Europe. It just might work. (Protocol / Issie Lapowsky)

Embattled spyware firm becomes 'cautionary tale' for industryHow will Biden's student loan plan impact inflation?🐕 Lighter click: Where's our invite?

Embattled spyware firm becomes 'cautionary tale' for industryHow will Biden's student loan plan impact inflation?One more thing: Walking it backCapitol Records has announced that it is walking away from an artificial intelligence rapper project after receiving backlash for the AI model's ''gross stereotypes'' of the Black community.

''CMG has severed ties with the FN Meka project, effective immediately,'' the Capitol Music Group said in a statement on Tuesday. ''We offer our deepest apologies to the Black community for our insensitivity in signing this project without asking enough questions about equity and the creative process behind it. We thank those who have reached out to us with constructive feedback in the past couple of days '-- your input was invaluable as we came to the decision to end our association with the project.''

FN Meka, a virtual rapper powered by AI, was first created by Factory New in 2019, according to The New York Times. The virtual rapper has amassed more than 10 million followers on its TikTok profile.

Read more here.

Embattled spyware firm becomes 'cautionary tale' for industryHow will Biden's student loan plan impact inflation?That's it for today, thanks for reading. Check out The Hill's Technology and Cybersecurity pages for the latest news and coverage. We'll see you tomorrow.

Embattled spyware firm becomes 'cautionary tale' for industryHow will Biden's student loan plan impact inflation?VIEW FULL VERSION HERE

Statement Regarding Precision Strikes in Syria > U.S. Central Command > Statements View

Thu, 25 Aug 2022 13:42

Statement | Aug. 23, 2022

USCENTCOM

Attributable to Colonel Joe Buccino, USCENTCOM Communication Director:

TAMPA, Fla. - ''At President Biden's direction, U.S. military forces conducted precision airstrikes in Deir ez-Zor Syria today. These precision strikes are intended to defend and protect U.S. forces from attacks like the ones on August 15 against U.S. personnel by Iran-backed groups. The U.S. strikes targeted infrastructure facilities used by groups affiliated with Iran's Islamic Revolutionary Guard Corps.

''Today's strikes were necessary to protect and defend U.S. personnel. The United States took proportionate, deliberate action intended to limit the risk of escalation and minimize the risk of casualties.

''The President gave the direction for these strikes pursuant to his Article II authority to protect and defend U.S. personnel by disrupting or deterring attacks by Iran-backed groups.

''The United States does not seek conflict, but will continue to take necessary measures to protect and defend our people.

''U.S. forces remain in Syria to ensure the enduring defeat of ISIS.''

Efficacy of Pfizer's Covid-19 pill questioned '-- RT World News

Thu, 25 Aug 2022 13:35

An Israeli study has indicated the medication is of little measurable benefit to patients in the 40-65 age bracket

A Covid-19 pill lauded by the World Health Organization (WHO) may be of little or no benefit to patients aged between 40 and 65, a new study by Israeli researchers has suggested. The medication, made by Pfizer and sold under the trade name Paxlovid, has proven effective in those aged over 65, however.

Published in the New England Journal of Medicine on Wednesday, the study involved 109,000 patients who had received Paxlovid. After analyzing different age brackets, the scientists concluded that the treatment did little to improve the conditions of patients aged 40 to 65. At the same time, the medication reduced the number of hospitalizations among seniors by approximately 75%, if given shortly after contracting Covid-19.

The analysis, however, is based on data obtained from the Israeli health system as opposed to observing patients in a randomized study with a control group '' something which represents a departure from practices held as the standard for such research, AP pointed out.

No official comment from Pfizer has been forthcoming as of yet.

The US Food and Drug Administration authorized Paxlovid late last year for adults and children over 12 who suffer from chronic conditions like obesity, diabetes and heart disease. According to federal records cited by AP, over 3.9 million prescriptions for the medication have been issued since the drug was given the green light.

The Biden administration has been placing particular emphasis on Paxlovid in the hope of reducing the number of hospitalizations. US authorities are said to have shelled out some $10 billion to procure the drug, which is being made available to the public at thousands of pharmacies through the government's test-and-treat initiative.

In an emailed statement on Wednesday, White House spokesperson Kevin Munoz cited several other studies which indicate that Paxlovid helps reduce hospitalizations among people 50 and older. That research, however, has yet to be published in peer-reviewed journals, AP noted.

The official was quoted as saying that the ''growing body of evidence is showing that individuals between the ages of 50 and 64 can also benefit from Paxlovid.''

Holiday misery as British Airways axes 10,000 more Heathrow flights | Evening Standard

Thu, 25 Aug 2022 13:19

British Airways will cut around 10,000 short-haul flights from Heathrow between late October and March, the airline has announced.

In a statement released on Monday, the airline said it would axe the flights to minimise disruption for travellers over the winter period.

Heathrow, the main hub for BA, in July announced a cap on passenger numbers at the airport due to staff shortages. No more than 100,000 travellers will be able to depart per day until October 29.

BA said that nearly a dozen round-trips would be cancelled every day until the end of October - amounting to 629 flights in total.

Around 5,000 BA short-haul flights from Heathrow, Gatwick and London City Airport have also been cancelled over the winter period - around 8% of the airline's flights up to March 2023.

The airline stressed that the impact on customers would be ''minimal'' and that the majority of flights would not be affected.

"Customers booked for winter will be able to travel as planned and are being given several months' notice of any changes," a spokesperson said.

Tens of thousands of flights have already been cancelled this summer as the industry struggles to cope with the demand for air travel amid staffing shortages.

Many passengers flying to and from the UK's busiest airport have suffered severe disruption in recent months, with long security queues and baggage system breakdowns.

Heathrow claimed the cap had resulted in ''fewer last-minute cancellations'' and ''shorter waits for bags''.

Ministers have made it easier for airlines to reduce capacity by introducing a ''slot amnesty'' last month. This enables airlines to temporarily reduce their schedules but still retain their slots for the next year.

A spokesman for the airline said: ''Following Heathrow's decision to extend its passenger cap we're making adjustments to our short-haul schedule for the next two months.

''While the vast majority of our customers will travel as planned and we're protecting key holiday destinations over half-term, we will need to make some further cancellations up to the end of October.

''In addition, we're giving customers travelling with us this winter notice of some adjustments to our schedule, which will include consolidating some of our short-haul flights to destinations with multiple services. We'll be offering customers affected by any of these changes an alternative flight with British Airways or another airline or the option of a refund.''

BA flight capacity has been reduced overall by around 13% between May and October this year.

Aviation data company Cirium said the extension off the passenger cap at Heathrow will lead to a reduction in capacity of more than one million seats, from 5.9 million to 4.8 million.

Last week, Heathrow chief commercial officer Ross Baker said the airport wanted to remove the cap ''as soon as possible'' but could only do so when they were confident that they had the resources to ''deliver the service our passengers deserve''.

Earlier this month, BA suspended selling short-haul flights from Heathrow in response to the request to limit new bookings.

Other airlines are also expected to make cancellations over the next two months.

The Podcast Broker

Thu, 25 Aug 2022 13:08

Work with an Experienced Team to Help You Evaluate or Buy Established Podcasts.

What is The Podcast Broker?

A Community of Content CreatorsExplore a wide selection of podcasts in a variety of genres all with an established audience.

A Trusted PartnerWe'll help you through the entire process: from correctly evaluating a show to purchasing a podcast and all connected assets.

Peer-to-Peer Podcast Buying PlatformEliminate third-party interference & connect directly with hosts interested in selling their shows.

We Connect Sellers with BuyersThe Podcast Broker was created to simplify the process of buying or selling an established podcast. Utilizing years of experience, we provide a roadmap to execute a well-crafted hand-off from host to host to ensure a seamless experience for both parties.

We are here to help you with an endless list of possibilities on how you can sell or buy a podcast.

Yes! A podcast is a commodity just like any other online product or service. Podcasts have established audiences, often years of podcast episodes, rankings & reviews that are all valuable.

When purchasing a podcast, you receive control of the RSS feed which gives you access to change, modify, delete or add new episodes. You'll be in full control of the show's cover art, show descriptions, and other aspects of the podcast. By purchasing the podcast and RSS feed, you'll also have access to all subscribers of the podcast. Other digital assets like websites, social channels, etc. may also be negotiated in the sale.

Podcasts with established audiences are most sellable. Additional assets such as a website, email list, social channels, etc., can make a podcast more appealing to a buyer.

Audiences know, like, and trust the host of their favorite podcasts. We recommend having the new podcast host co-host the show for 4 episodes and introduce the new host to the audience during each episode. Next, the host will release an episode announcing that the co-host will be the new full-time host of the show.

Yes, you can redirect existing RSS feeds, and the audience to your primary podcast and RSS feed.

A podcast transaction length will depend on the seller and buyer agreeing on purchase terms. It can be quick or more drawn out, depending on the complexity of the transaction.

Meet the Team

Heather OsgoodFounder of True Native Media, a podcast representation agency, host of The Podcast Advertising Playbook, Forbes Council Member.

Ben RichardsonCo-founder of RSS.com a premier podcast hosting site, Commercial Real Estate Investor, Serial Entrepreneur.

Alberto BetellaCo-founder of RSS.com, a premier podcast hosting site. Former CTO at Badi ($45M VC), Alpha Moonshots and KoaHealth ($36M VC).

James CridlandAdvisor, Editor of Podnews.net, and Radio Futurologist.

Gordon FiremarkLegal Advisor, Podcast, Entertainment & Media Attorney.

Whistleblower: Twitter misled investors, FTC and underplayed spam issues - Washington Post

Wed, 24 Aug 2022 15:08

Twitter executives deceived federal regulators and the company's own board of directors about ''extreme, egregious deficiencies'' in its defenses against hackers, as well as its meager efforts to fight spam, according to an explosive whistleblower complaint from its former security chief.

The complaint from former head of security Peiter Zatko, a widely admired hacker known as ''Mudge,'' depicts Twitter as a chaotic and rudderless company beset by infighting, unable to properly protect its 238 million daily users including government agencies, heads of state and other influential public figures.

Among the most serious accusations in the complaint, a copy of which was obtained by The Washington Post, is that Twitter violated the terms of an 11-year-old settlement with the Federal Trade Commission by falsely claiming that it had a solid security plan. Zatko's complaint alleges he had warned colleagues that half the company's servers were running out-of-date and vulnerable software and that executives withheld dire facts about the number of breaches and lack of protection for user data, instead presenting directors with rosy charts measuring unimportant changes.

The complaint '-- filed last month with the Securities and Exchange Commission and the Department of Justice, as well as the FTC '-- says thousands of employees still had wide-ranging and poorly tracked internal access to core company software, a situation that for years had led to embarrassing hacks, including the commandeering of accounts held by such high-profile users as Elon Musk and former presidents Barack Obama and Donald Trump.

Peiter Zatko, known by his hacker name, Mudge, filed a complaint that says Twitter is violating its agreement to maintain solid security practices. (Matt McClain/The Washington Post)In addition, the whistleblower document alleges the company prioritized user growth over reducing spam, though unwanted content made the user experience worse. Executives stood to win individual bonuses of as much as $10 million tied to increases in daily users, the complaint asserts, and nothing explicitly for cutting spam.

[Twitter to pay $150 million fine over deceptively collected data]

Chief executive Parag Agrawal was ''lying'' when he tweeted in May that the company was ''strongly incentivized to detect and remove as much spam as we possibly can,'' the complaint alleges.

In an interview with The Post, Zatko described his decision to go public as an extension of his previous work exposing flaws in specific pieces of software and broader systemic failings in cybersecurity. He was hired at Twitter by former CEO Jack Dorsey in late 2020 after a major hack of the company's systems.

[Twitter whistleblower won hacker acclaim for exposing software flaws]

''I felt ethically bound. This is not a light step to take,'' said Zatko, who was fired by Agrawal in January. He declined to discuss what happened at Twitter, except to stand by the formal complaint. Under SEC whistleblower rules, he is entitled to legal protection against retaliation, as well as potential monetary rewards.

Story continues below advertisement

Story continues below advertisement

A redacted version of the 84-page filing went to congressional committees. The Post obtained a copy of the disclosure from a senior Democratic aide on Capitol Hill. Zatko is represented by the nonprofit law firm Whistleblower Aid. The FTC is reviewing the allegations, according to two people familiar with the preliminary inquiry. The Post interviewed more than a dozen current and former employees for this story, many of whom spoke on the condition of anonymity to discuss sensitive information.

''Security and privacy have long been top companywide priorities at Twitter,'' said Twitter spokeswoman Rebecca Hahn. She said that Zatko's allegations appeared to be ''riddled with inaccuracies'' and that Zatko ''now appears to be opportunistically seeking to inflict harm on Twitter, its customers, and its shareholders.'' Hahn said that Twitter fired Zatko after 15 months ''for poor performance and leadership.'' Attorneys for Zatko confirmed he was fired but denied it was for performance or leadership.

Hahn added that Twitter has tightened up security extensively since 2020, that its security practices are within industry standards, and that it has specific rules about who can access company systems.

Regarding the allegations about spam and bots, Hahn said Twitter removes more than a million spam accounts every day, adding up to more than 300 million per year. Twitter pointed to its proxy statements noting that growing daily users is the smallest of three factors for earning cash bonuses, along with growing revenue and another financial goal.

Hahn said that Twitter ''fully stands by'' its SEC filings and approach to fighting spam.

A person familiar with Zatko's tenure said the company investigated Zatko's security claims during his time there and concluded they were sensationalistic and without merit. Four people familiar with Twitter's efforts to fight spam said the company deploys extensive manual and automated tools to both measure the extent of spam across the service and reduce it.

The SEC, DOJ and FTC declined to comment.

Twitter Whistleblower Complaint to SEC

Peiter "Mudge" Zatko, fired as Twitter's head of security in January, filed a complaint with the Securities and Exchange Commission in July, accusing the company of deceiving shareholders and the Federal Trade Commission by hiding how weak its defenses had been against hackers. The Post obtained this redacted version from a Congressional staff.

[Here's an interstitial link for document access on apple news]

Twitter's Efforts Against Propaganda

During his first year as Twitter's head of security, Peiter Zatko commissioned an outside firm to examine how the company dealt with government propaganda and other misinformation and to suggest ways to do better. The firm, which sources identified as Alethea Group, produced this report identifying staff shortages and a system formed by lurching from crisis to crisis.

[Here's an interstitial link for document access on apple news]

Security Chief's Final Report to Twitter

After terminating Peiter Zatko, Twitter asked him to spell out his concerns with the company's security so that it could investigate. This document, attached as an exhibit to this month's whistleblower complaint, was the result.

[Here's an interstitial link for document access on apple news]

The complaint has potential implications for Twitter's legal battle with Musk, who is trying to get out of a $44 billion contract to buy the social media platform. The deal includes a pledge by Twitter that its shareholder filings are accurate. But Musk contends that Twitter has drastically underestimated the number of bots on its platform, a violation that should allow him to walk away without penalty. The dispute is set to go to trial in Delaware Chancery Court in October.

On Tuesday after the publication of this article, Musk tweeted an apparent reference to the whistleblower, sharing a meme of Jiminy Cricket from Disney's ''Pinocchio'' with the words ''Give a Little Whistle.''

[New whistleblower allegations could factor into Twitter vs. Musk trial]

Overall, Zatko wrote in a February analysis for the company attached as an exhibit to the SEC complaint, ''Twitter is grossly negligent in several areas of information security. If these problems are not corrected, regulators, media and users of the platform will be shocked when they inevitably learn about Twitter's severe lack of security basics.''

Zatko's complaint says strong security should have been much more important to Twitter, which holds vast amounts of sensitive personal data about users. Twitter has the email addresses and phone numbers of many public figures, as well as dissidents who communicate over the service at great personal risk.

This month, an ex-Twitter employee was convicted of using his position at the company to spy on Saudi dissidents and government critics, passing their information to a close aide of Crown Prince Mohammed bin Salman in exchange for cash and gifts.

Zatko's complaint says he believed the Indian government had forced Twitter to put one of its agents on the payroll, with access to user data at a time of intense protests in the country. The complaint said supporting information for that claim has gone to the National Security Division of the Justice Department and the Senate Select Committee on Intelligence. Another person familiar with the matter agreed that the employee was probably an agent.

Twitter India's office in New Delhi in 2021. The whistleblower complaint alleges the Indian government forced Twitter to put one of its agents on the payroll. (PRAKASH SINGH/AFP via Getty Images)Senate Intelligence Committee spokeswoman Rachel Cohen said the committee is trying to set up a meeting with Zatko to discuss the complaint in detail.

''Take a tech platform that collects massive amounts of user data, combine it with what appears to be an incredibly weak security infrastructure and infuse it with foreign state actors with an agenda, and you've got a recipe for disaster,'' Charles E. Grassley (R-Iowa), the top Republican on the Senate Judiciary Committee, said in a statement. His office has had discussions with Zatko about the allegations. ''The claims I've received from a Twitter whistleblower raise serious national security concerns as well as privacy issues, and they must be investigated further.''

Many government leaders and other trusted voices use Twitter to spread important messages quickly, so a hijacked account could drive panic or violence. In 2013, a captured Associated Press handle falsely tweeted about explosions at the White House, sending the Dow Jones industrial average briefly plunging more than 140 points.

[Former Twitter worker convicted of spying for Saudi Arabia]

After a teenager managed to hijack the verified accounts of Obama, then-candidate Joe Biden, Musk and others in 2020, Twitter's chief executive at the time, Jack Dorsey, asked Zatko to join him, saying that he could help the world by fixing Twitter's security and improving the public conversation, Zatko asserts in the complaint.

Like many in technology, Dorsey had admired the hacker's history as a trailblazer, according to three people familiar with his remarks on the matter. He did not respond to requests for comment. In 1998, Zatko had testified to Congress that the internet was so fragile that he and others could take it down with a half-hour of concentrated effort. He later served as the head of cyber grants at the Defense Advanced Research Projects Agency, the Pentagon innovation unit that had backed the internet's invention.

But at Twitter Zatko encountered problems more widespread than he realized and leadership that didn't act on his concerns, according to the complaint.

Twitter's difficulties with weak security stretches back more than a decade before Zatko's arrival at the company in November 2020. In a pair of 2009 incidents, hackers gained administrative control of the social network, allowing them to reset passwords and access user data. In the first, beginning around January of that year, hackers sent tweets from the accounts of high-profile users, including Fox News and Obama.

Several months later, a hacker was able to guess an employee's administrative password after gaining access to similar passwords in their personal email account. That hacker was able to reset at least one user's password and obtain private information about any Twitter user.

The FTC investigated and sued Twitter in a case that led to one of the first big privacy consent orders with a tech company. In a 2011 settlement, Twitter agreed to implement, monitor and adjust security safeguards to protect users.

Yet Twitter continued to suffer high-profile hacks and security violations, including in 2017, when a contract worker briefly took over Trump's account, and in the 2020 hack, in which a Florida teen tricked Twitter employees and won access to verified accounts. Twitter then said it put additional safeguards in place.

Twitter's Dorsey testifies in a House hearing about transparency and accountability in 2018. (Drew Angerer/Getty Images)A former FTC official who worked on the case said the agency was badly understaffed at the time, and that the enforcement division had failed to keep a close eye on multiple companies after reaching privacy settlements, including the one with Twitter.

[Florida teen arrested as mastermind of Twitter hack]

This year, the Justice Department accused Twitter of asking users for their phone numbers in the name of increased security, then using the numbers for marketing. Twitter agreed to pay a $150 million fine for allegedly breaking the 2011 order, which barred the company from making misrepresentations about the security of personal data.

The Whistleblower Aid complaint includes allegations that suggest that Twitter's security practices were even worse than regulators knew.

After Zatko joined the company, he found it had made little progress since the 2011 settlement, the complaint says. The complaint alleges that he was able to reduce the backlog of safety cases, including harassment and threats, from 1 million to 200,000, add staff and push to measure results.

Story continues below advertisement

Story continues below advertisement

But Zatko saw major gaps in what the company was doing to satisfy its obligations to the FTC, according to the complaint. In Zatko's interpretation, according to the complaint, the 2011 order required Twitter to implement a Software Development Life Cycle program, a standard process for making sure new code is free of dangerous bugs. The complaint alleges that other employees had been telling the board and the FTC that they were making progress in rolling out that program to Twitter's systems. But Zatko alleges that he discovered that it had been sent to only a tenth of the company's projects, and even then treated as optional.

If Zatko's allegations are proven, the company could face substantial penalties '-- potentially in the hundreds of millions of dollars '-- said David C. Vladeck, who was director of the FTC's Bureau of Consumer Protection at the time of the settlement.

''If all of that is true, I don't think there's any doubt that there are order violations,'' Vladeck, who is now a Georgetown Law professor, said in an interview. ''It is possible that the kinds of problems that Twitter faced eleven years ago are still running through the company.''

[Why Twitter CEO Jack Dorsey Picked Parag Agrawal to run Twitter]

The complaint also alleges that Zatko warned the board early in his tenure that overlapping outages in the company's data centers could leave it unable to correctly restart its servers. That could have left the service down for months, or even have caused all of its data to be lost. That came close to happening in 2021, when an ''impending catastrophic'' crisis threatened the platform's survival before engineers were able to save the day, the complaint says, without providing further details.

One current and one former employee recalled that incident, when failures at two Twitter data centers drove concerns that the service could have collapsed for an extended period. ''I wondered if the company would exist in a few days,'' one of them said.

President Barack Obama sent a Twitter message at the start of a ''Twitter Town Hall'' in 2011, as Twitter's Jack Dorsey stood nearby. (Mandel Ngan/AFP via Getty Images)The current and former employees also agreed with the complaint's assertion that past reports to various privacy regulators were ''misleading at best.''

For example, they said the company implied that it had destroyed all data on users who asked, but the material had spread so widely inside Twitter's networks, it was impossible to know for sure. The current employee said Twitter had just completed a project, known as Project Eraser, that would ensure the deletion of such data. A person familiar with the matter, who also spoke on the condition of anonymity because of legal issues, said that Twitter had only said the accounts were deactivated and had improved its ability to find and delete the data.

As the head of security, Zatko says he also was in charge of a division that investigated users' complaints about accounts, which meant that he oversaw the removal of some bots, according to the complaint. Spam bots '-- computer programs that tweet automatically '-- have long vexed Twitter. Unlike its social media counterparts, Twitter allows users to program bots to be used on its service: For example, the Twitter account @big_ben_clock is programmed to tweet ''Bong Bong Bong'' every hour in time with Big Ben in London. Twitter also allows people to create accounts without using their real identities, making it harder for the company to distinguish between authentic, duplicate and automated accounts.

[Musk's question about bots is nothing new for Twitter]

Wall Street has pressed Twitter about bots because the company historically included some automated accounts in its quarterly estimate of daily users '-- even though those accounts don't see ads and therefore Twitter can't earn money off them. In 2019, the company changed how it calculated such numbers to focus on those who can view and potentially click on ads. In every quarterly SEC filing since, Twitter has estimated that fewer than 5 percent of the monetizable daily users are spam and bots.

In the complaint, Zatko alleges he could not get a straight answer when he sought what he viewed as an important data point: the prevalence of spam and bots across all of Twitter, not just among monetizable users.

Zatko cites a ''sensitive source'' who said Twitter was afraid to determine that number because it ''would harm the image and valuation of the company.'' He says the company's tools for detecting spam are far less robust than implied in various statements.

Story continues below advertisement

Story continues below advertisement

''Agrawal's Tweets and Twitter's previous blog posts misleadingly imply that Twitter employs proactive, sophisticated systems to measure and block spam bots,'' the complaint says. ''The reality: mostly outdated, unmonitored, simple scripts plus overworked, inefficient, understaffed, and reactive human teams.''

The four people familiar with Twitter's spam and bot efforts said the engineering and integrity teams run software that samples thousands of tweets per day, and 100 accounts are sampled manually.

Some employees charged with executing the fight agreed that they had been short of staff. One said top executives showed ''apathy'' toward the issue.

Zatko's complaint likewise depicts leadership dysfunction, starting with the CEO. Dorsey was largely absent during the pandemic, which made it hard for Zatko to get rulings on who should be in charge of what in areas of overlap and easier for rival executives to avoid collaborating, three current and former employees said.

For example, Zatko would encounter disinformation as part of his mandate to handle complaints, according to the complaint. To that end, he commissioned an outside report that found one of the disinformation teams had unfilled positions, yawning language deficiencies, and a lack of technical tools or the engineers to craft them. The authors said Twitter had no effective means of dealing with consistent spreaders of falsehoods.

Dorsey made little effort to integrate Zatko at the company, according to the three employees as well as two others familiar with the process who spoke on the condition of anonymity to describe sensitive dynamics. In 12 months, Zatko could manage only six one-on-one calls, all less than 30 minutes, with his direct boss Dorsey, who also served as CEO of payments company Square, now known as Block, according to the complaint. Zatko allegedly did almost all of the talking, and Dorsey said perhaps 50 words in the entire year to him. ''A couple dozen text messages'' rounded out their electronic communication, the complaint alleges.

Dorsey frequently testified on Capitol Hill as he did here in 2020, as the Senate discussed reforming Section 230 of the Communications Decency Act. (Pool/Getty Images)Faced with such inertia, Zatko asserts that he was unable to solve some of the most serious issues, according to the complaint.

Some 30 percent of company laptops blocked automatic software updates carrying security fixes, and thousands of laptops had complete copies of Twitter's source code, making them a rich target for hackers, it alleges. A successful hacker takeover of one of those machines would have been able to sabotage the product with relative ease, because the engineers pushed out changes without being forced to test them first in a simulated environment, current and former employees said.

''It's near-incredible that for something of that scale there would not be a development test environment separate from production and there would not be a more controlled source-code management process,'' said Tony Sager, former chief operating officer at the cyberdefense wing of the National Security Agency, the Information Assurance division. ''Almost any attack scenario is fair game and probably easily executed.'' Sager is currently senior vice president at the nonprofit Center for Internet Security, where he leads a consensus effort to establish best security practices.

The complaint says that about half of Twitter's roughly 7,000 full-time employees had wide access to the company's internal software and that access was not closely monitored, giving them the ability to tap into sensitive data and alter how the service worked. Three current and former employees agreed that these were issues.

Story continues below advertisement

Story continues below advertisement

''A best practice is that you should only be authorized to see and access what you need to do your job, and nothing else,'' said former U.S. chief information security officer Gregory Touhill. ''If half the company has access to and can make configuration changes to the production environment, that exposes the company and its customers to significant risk.''

The complaint says Dorsey never encouraged anyone to mislead the board about the shortcomings, but that others deliberately left out bad news.

When Dorsey left in November 2021, a difficult situation worsened under Agrawal, who had been responsible for security decisions as chief technology officer before Zatko's hiring, the complaint says.

An unnamed executive had prepared a presentation for the new CEO's first full board meeting, according to the complaint. Zatko's complaint calls the presentation deeply misleading.

The presentation showed that 92 percent of employee computers had security software installed '-- without mentioning that those installations determined that a third of the machines were insecure, according to the complaint.

Another graphic implied a downward trend in the number of people with overly broad access, based on the small subset of people who had access to the highest administrative powers, known internally as ''God mode.'' That number was in the hundreds. But the number of people with broad access to core systems, which Zatko had called out as a big problem after joining, had actually grown slightly and remained in the thousands.

The presentation included only a subset of serious intrusions or other security incidents, from a total Zatko estimated as one per week, and it said that the uncontrolled internal access to core systems was responsible for just 7 percent of incidents, when Zatko calculated the real proportion as 60 percent.

Zatko stopped the material from being presented at the Dec. 9, 2021 meeting, the complaint said. But over his continued objections, Agrawal let it go to the board's smaller Risk Committee a week later.

Parag Agrawal became the CEO of Twitter in late 2021. He clashed with the head of security, Peiter Zatko, who filed a whistleblower complaint in July. (Kevin Dietsch/Getty Images)Agrawal didn't respond to requests for comment. In an email to employees after publication of this article, obtained by The Post, he said that privacy and security continues to be a top priority for the company, and he added that the narrative is ''riddled with inconsistences'' and ''presented without important context.''

''We will pursue all paths to defend our integrity as a company and set the record straight,'' he wrote.

On Jan. 4, Zatko reported internally that the Risk Committee meeting might have been fraudulent, which triggered an Audit Committee investigation.

Agarwal fired him two weeks later. But Zatko complied with the company's request to spell out his concerns in writing, even without access to his work email and documents, according to the complaint.

Since Zatko's departure, Twitter has plunged further into chaos with Musk's takeover, which the two parties agreed to in May. The stock price has fallen, many employees have quit, and Agrawal has dismissed executives and frozen big projects.

Zatko said he hoped that by bringing new scrutiny and accountability, he could improve the company from the outside.

''I still believe that this is a tremendous platform, and there is huge value and huge risk, and I hope that looking back at this, the world will be a better place, in part because of this.''

correctionAn earlier version of this article incorrectly said a Twitter contractor briefly disabled Donald Trump's account in 2018. The incident took place in 2017. The article has been corrected.

About this storyEditing by Christina Passariello and Alexis Sobel Fitts. Copy editing by Adrienne Dunn. Photo editing by Monique Woo. Design and development by Chloe Meister and Yutao Chen. Design editing by Virginia Singarayar. Project management by Courtney Kan and Jay Wang.

Opinion | The Constitution Is Broken and Should Not Be Reclaimed - The New York Times

Wed, 24 Aug 2022 14:51

Opinion | The Constitution Is Broken and Should Not Be Reclaimed https://www.nytimes.com/2022/08/19/opinion/liberals-constitution.htmlGuest Essay

Aug. 19, 2022

Credit... Illustration by Daniel Zender; Photography via National Archives Send any friend a story

As a subscriber, you have 10 gift articles to give each month. Anyone can read what you share.

By Ryan D. Doerfler and Samuel Moyn

Dr. Doerfler and Dr. Moyn teach law at Harvard and Yale.

When liberals lose in the Supreme Court '-- as they increasingly have over the past half-century '-- they usually say that the justices got the Constitution wrong. But struggling over the Constitution has proved a dead end. The real need is not to reclaim the Constitution, as many would have it, but instead to reclaim America from constitutionalism.

The idea of constitutionalism is that there needs to be some higher law that is more difficult to change than the rest of the legal order. Having a constitution is about setting more sacrosanct rules than the ones the legislature can pass day to day. Our Constitution's guarantee of two senators to each state is an example. And ever since the American founders were forced to add a Bill of Rights to get their handiwork passed, national constitutions have been associated with some set of basic freedoms and values that transient majorities might otherwise trample.

But constitutions '-- especially the broken one we have now '-- inevitably orient us to the past and misdirect the present into a dispute over what people agreed on once upon a time, not on what the present and future demand for and from those who live now. This aids the right, which insists on sticking with what it claims to be the original meaning of the past.

Arming for war over the Constitution concedes in advance that the left must translate its politics into something consistent with the past. But liberals have been attempting to reclaim the Constitution for 50 years '-- with agonizingly little to show for it. It's time for them to radically alter the basic rules of the game.

In making calls to regain ownership of our founding charter, progressives have disagreed about strategy and tactics more than about this crucial goal. Proposals to increase the number of justices, strip the Supreme Court's jurisdiction to invalidate federal law or otherwise soften the blow of judicial review frequently come together with the assurance that the problem is not the Constitution; only the Supreme Court's hijacking of it is. And even when progressives concede that the Constitution is at the root of our situation, typically the call is for some new constitutionalism.

Since the Supreme Court began to drift right in the 1970s, liberals have proposed better ways of reading the Constitution. The conservative Federalist Society engaged in a successful attempt to remake constitutional law by brainstorming ideas, creating networks of potential judges and eventually helping to guide the selection of President Donald Trump's nominees. It was revealing that liberals responded by founding (in 2001) an organization called the American Constitution Society, which produced the book ''Keeping Faith With the Constitution.'' And when liberal law professors got together in the mid-2000s to dream of a different America, that yielded the book ''The Constitution in 2020.'' But since then '-- with the death of Ruth Bader Ginsburg, the consolidation of right-wing control of constitutional law and the overturning of Roe and other disasters this term '-- the damage has only worsened.

One reason for these woeful outcomes is that our current Constitution is inadequate, which is why it serves reactionaries so well. Starting with a text that is famously undemocratic, progressives are forced to navigate hard-wired features, like the Electoral College and the Senate, designed as impediments to redistributive change while drawing on much vaguer and more malleable resources like commitments to due process and equal protection '-- resources that a conservative Supreme Court has used over the years to invalidate things like abortion rights and child labor laws and might use in the coming term to prohibit affirmative action.

Sometimes reclaiming the Constitution is presented as a much-needed step toward empowering the people and their elected representatives. In a new book, the law professors Joseph Fishkin and William Forbath urge progressives to stop treating constitutional law as an ''autonomous'' domain, ''separate from politics.'' In contrast with earlier efforts among liberals, which, as Jedediah Purdy put it in a 2018 Times guest essay, put forward a ''vivid picture of what judges should do with the power of the courts,'' such exercises in progressive constitutionalism call on Congress and other nonjudicial actors to claim some amount of authority to interpret the Constitution for themselves.

It is a breath of fresh air to witness progressives offering bold new proposals to reform courts and shift power to elected officials. But even such proposals raise the question: Why justify our politics by the Constitution or by calls for some renovated constitutional tradition? It has exacted a terrible price in distortion and distraction to transform our national life into a contest over reinterpreting our founding charter consistently with what majorities believe now.

No matter how openly political it may purport to be, reclaiming the Constitution remains a kind of antipolitics. It requires the substitution of claims about the best reading of some centuries-old text or about promises said to be already in our traditions for direct arguments about what fairness or justice demands.

It's difficult to find a constitutional basis for abortion or labor unions in a document written by largely affluent men more than two centuries ago. It would be far better if liberal legislators could simply make a case for abortion and labor rights on their own merits without having to bother with the Constitution.

By leaving democracy hostage to constraints that are harder to change than the rest of the legal order, constitutionalism of any sort demands extraordinary consensus for meaningful progress. It conditions democracy in which majority rule always must matter most on surviving vetoes from powerful minorities that invoke the constitutional past to obstruct a new future.

After failing to get the Constitution interpreted in an egalitarian way for so long, the way to seek real freedom will be to use procedures consistent with popular rule. It will not be easy, but a new way of fighting within American democracy must start with a more open politics of altering our fundamental law, perhaps in the first place by making the Constitution more amendable than it is now.

In a second stage, though, Americans could learn simply to do politics through ordinary statute rather than staging constant wars over who controls the heavy weaponry of constitutional law from the past. If legislatures just passed rules and protected values majorities believe in, the distinction between ''higher law'' and everyday politics effectively disappears.

One way to get to this more democratic world is to pack the Union with new states. Doing so would allow Americans to then use the formal amendment process to alter the basic rules of the politics and break the false deadlock that the Constitution imposes through the Electoral College and Senate on the country, in which substantial majorities are foiled on issue after issue.

More aggressively, Congress could simply pass a Congress Act, reorganizing our legislature in ways that are more fairly representative of where people actually live and vote, and perhaps even reducing the Senate to a mere ''council of revision'' (a term Jamelle Bouie used to describe the Canadian Senate), without the power to obstruct laws.

In so doing, Congress would be pretty openly defying the Constitution to get to a more democratic order '-- and for that reason would need to insulate the law from judicial review. Fundamental values like racial equality or environmental justice would be protected not by law that stands apart from politics but '-- as they typically are '-- by ordinary expressions of popular will. And the basic structure of government, like whether to elect the president by majority vote or to limit judges to fixed terms, would be decided by the present electorate, as opposed to one from some foggy past.

A politics of the American future like this would make clear our ability to engage in the constant reinvention of our society under our own power, without the illusion that the past stands in the way.

Ryan D. Doerfler of Harvard and Samuel Moyn of Yale are law professors.

Biden Announces $3 Billion for Ukraine Weapons, Biggest Package so Far

Wed, 24 Aug 2022 14:37

Biden announced $2.98 billion of weapons and equipment for Ukraine on Wednesday. This is the largest military-aid package the US has given to Ukraine in Russia's invasion so far. The US had previously given a total of $10.6 billion in security assistance. Loading Something is loading.

The White House on Wednesday announced a $2.98 billion package of weapons and equipment for Ukraine, the largest amount of security funding it has sent during Russia's invasion so far.

President Joe Biden said in a statement that the package "will allow Ukraine to acquire air defense systems, artillery systems and munitions, counter-unmanned aerial systems, and radars to ensure it can continue to defend itself over the long term."

He also called it "our biggest tranche of security assistance to date."

The US has had previously given Ukraine $10.6 billion in security assistance in various stages over the past six months.

The announcement came on Ukraine's independence day, which marks its 1991 split from the Soviet Union, which also coincides with the six-month anniversary of Russia's invasion.

The US is among the countries that have sent weapons to Ukraine since Russia invaded on February 24. Those nations have sent increasingly advanced weapons to Ukraine in the six months since the invasion started.

Many of Ukraine's allies initially expected Russia would win swiftly, worrying that sending weapons to Ukraine would mean them ending up in Russian hands.

But the more advanced systems that have been sent to Ukraine in recent weeks, including long-range missile systems, have allowed Ukraine to hit strategic targets and thwart Russian plans.

Biden also congratulated Ukraine in his statement, saying "Over the past six months, Ukrainians have inspired the world with their extraordinary courage and dedication to freedom. They have stood resolute and strong in the face of Russia's full scale invasion of Ukraine."

He also acknowledged its independence day, saying: "Today is not only a celebration of the past, but a resounding affirmation that Ukraine proudly remains '-- and will remain '-- a sovereign and independent nation."

Ukrainian officials previously warned that it expected Russia to increase its attacks as Ukraine tried to celebrate its autonomy.

The horribly timed defenestration of Brian Stelter - Columbia Journalism Review

Tue, 23 Aug 2022 13:07

By Jon Allsop, CJR August 22, 2022In the spring of 2018, CJR's Pete Vernon profiled Brian Stelter, CNN's chief media correspondent. It was the height of the Trump era, so the media'--and Trump's relentlessness in attacking it'--was a major story, and Stelter was ubiquitous in covering and analyzing it. On the day Vernon spent with him, Stelter hosted his weekly TV show, Reliable Sources; sent out his influential daily newsletter of the same name; and appeared on other CNN shows, not to mention tweeting hyperactively. ''I don't want to waste the moment,'' Stelter told Vernon. ''I don't want to waste a show, I don't want to waste a newsletter edition, I don't want to waste a day.''

Fast-forward four years and Stelter, suddenly, is out of time at CNN. Last week, the network abruptly canceled his show'--the forthcoming episode, we were told, would be its last'--and just like that, an omnivorous presence on the media beat was gone, at least for now. ''It was a rare privilege to lead a weekly show focused on the press at a time when it has never been more consequential,'' Stelter told NPR's David Folkenflik, who broke the news of Stelter's departure. He then promised that he would have more to say on air over the weekend.

ICYMI: Concerns over TikTok user data persist

In the meantime, news reports and commentary pieces quickly swelled with speculation as to the reasons for Stelter's ouster. Perhaps inevitably, a leading theory centrally involved Trump: strident criticism of the former president, of the type that Stelter often channeled on his show, was in vogue on CNN under its former leader, Jeff Zucker, but Zucker is gone now, and his successor, Chris Licht, seemingly wants less of it'--as, reportedly, do CNN's new corporate overlords at Warner Bros. Discovery, which finalized a merger earlier this year. (As I wrote recently, Licht's plans for CNN remain somewhat unclear, though they have already included hosting more Republican guests and steering clear of framing that he thinks reads like Democratic Party talking points.) One name, aside from Trump's, loomed especially large in reporting on Stelter's exit: that of John Malone, a libertarian and key Warner Bros. Discovery shareholder who has argued very publicly that CNN has strayed too far from ''actual journalism,'' like they have at Fox. (''John Malone only watches CNN via Fox News,'' a CNN staffer told Recode's Peter Kafka last week. ''If I watched CNN via Fox News, I would hate CNN, too.'') Malone denied any direct involvement in Stelter's ouster'--though he also volunteered, to the New York Times' Benjamin Mullin, that he wants ''the 'news' portion of CNN to be more centrist.'' A source told Deadline's Dominic Patten and Ted Johnson that even if Malone didn't order Stelter's ouster, ''it sure represents his thinking.''

As Kafka noted, a different theory more centrally involves Batgirl and Scoob! Holiday Haunt than Trump: Stelter was on big bucks and Warner Bros. Discovery has been looking to cut costs (including by shelving the aforementioned films). CNN, for its part, has pushed back on both theories, both publicly'--the network denied any pressure from management to cut staff and attributed the cancellation of Stelter's show to a ''refresh'' of its Sunday lineup, which will soon boast new shows including a version of an interview program that Chris Wallace was hired to anchor on the CNN+ streaming service, prior to its rapid demise'--and behind closed doors. Per Deadline, during a staff meeting on Friday, Licht ''expressed some irritation over some media reports about CNN's plans, characterizing them as incorrect assumptions.'' Licht reportedly added that the scope of those plans is known only to a few top bosses, but that more changes are definitely coming soon, including some moves that staff ''may not agree with or understand.''

It's not clear that even Stelter knows exactly what happened to his show. Appearing on air for his final episode yesterday, Stelter let at least a hint of bemusement cut through his typical sunny demeanor as he noted that Reliable Sources was CNN's longest-running show'--it recently celebrated thirty years on air, nine of them with Stelter as host'--and that its ratings were good. Later, during a panel discussion, he asked Claire Atkinson, a media correspondent at Insider, whether she had any reporting to share on the show's cancellation; Atkinson, who had already raised Malone's name, said she didn't know if he was responsible for the decision but that his ''centrist'' quote to the Times was ''interesting.'' Stelter agreed. Several times, Stelter pledged to share more thoughts at the end of the show. When the time came, he did not unload (he even thanked Licht for ''letting us say goodbye''), though he did deliver one notable remark. ''It's not partisan to stand up for decency and democracy and dialogue. It's not partisan to stand up to demagogues. It's required. It's patriotic,'' he said. ''We must make sure we don't give platforms to those who are lying to our faces. But we also must make sure we are representing the full spectrum of debate and representing what's going on in this country and in this world. That's why CNN needs to be strong. That's why I believe CNN will always be strong.''

Licht, of course, could publicly clear up his plans for CNN'--and why exactly Stelter didn't fit into them'--any time he likes. For now, speculation about Trump, Malone, and Stelter's perceived partisanship remains just that: speculation. But it's fair to make a few observations here. First, as Kafka noted, the political and financial theories of Stelter's exit are not mutually exclusive, and CNN's stated explanation of a simple programming overhaul precludes neither. (I'd argue that the plan to shuffle in Wallace'--who previously carved out a reputation as a straight-down-the-middle newsman at Fox'--makes its own statement about CNN's current priorities, but we'll have to wait and see how the new lineup shakes out in full.) And, even if CNN is undergoing broader change, it's fair to ask what message axing Stelter's show sends, both in general and as the first high-profile programming decision of the Licht era.

For one, the cancellation of Reliable Sources would seem to send a troubling message about how CNN's new bosses view the worth of media criticism and reporting, exercises that are often dismissed as niche and insular but are actually'--as Stelter has often noted, including in his valedictory appearance yesterday'--vital in holding a highly powerful industry to account. Stelter is not perfect in this regard'--critics (myself included) were not always enamored of how he covered stories about his own network, for instance'--but he has notable strengths, not least his unsparing scrutiny of poison on Fox News, about which he wrote a book. And, both on his show and in his newsletter, he engaged with other voices' critiques of the mainstream media that don't always get a hearing in the mainstream media (even as some on the left dismissed him as a Republican stooge). David Sirota, a left-wing journalist and former top Bernie Sanders adviser, noted that an appearance on Stelter's show last year was ''one of the few times I've ever been on TV and been allowed to talk about corporate media outlets omitting coverage of their sponsors buying lawmakers.'' (For my part, I was grateful and surprised when, last year, Stelter invited me to tape a half-hour podcast discussion about the iniquitous representation of global media at the COP26 climate summit.)

Media reporting and criticism will continue under CNN's banner in some form: the network's journalists will continue to cover the press online and, presumably, as guests on other hosts' shows as news allows; the Reliable Sources newsletter, meanwhile, will relaunch, after a brief hiatus, under Oliver Darcy, a CNN media reporter with a similar sensibility to Stelter's, especially where Fox is concerned. (The newsletter will be ''unflinching in its coverage,'' Darcy has pledged. ''You have my word on that.'') Still, Stelter's exit and the cancellation of Reliable Sources, the TV show, undoubtedly add up to a significant retrenchment. Reserving even one weekly hour of cable airtime'--a finite commodity, unlike the internet'--to let the media examine itself was, at the very least, a symbolic statement about the value of self-examination, and of placing it squarely in front of viewers who might not otherwise give much thought to the way the press works. Muddying that statement would have been sad at any moment. At this moment, it's unjustifiable.

And, whatever the true reasons behind Stelter's exit, the context and manner in which it has rolled out have at least allowed for the impression that it's a sop to those who view holding Trump strongly accountable as too close to a form of partisanship that has no place in balanced journalism. (Right-wingers'--not least Trump himself'--certainly view Stelter's exit as a victory.) When I wrote recently about Licht's early days at CNN, I noted that the few public clues we had as to his intentions offered room for both optimism (that he would dial down reflexive bombast and elevate reporting over punditry) and pessimism (that, in doing so, he would retreat to both-sidesy, centrist triangulation); it remains too early to judge his tenure, but Stelter's ouster is a big new clue, and it does not fall on the ''optimism'' side of the ledger. During the panel discussion on his show yesterday, Stelter asked his guests to weigh in on whether CNN being centrist and just stating the facts would really be so bad, and two of them'--David Zurawik and Eric Deggans'--took the opportunity to note that facts, especially these days, aren't enough without context. If this wasn't an explicit rebuke of CNN's possible direction, you could sense one not too far beneath the surface. The public needs ''free and fearless exploration, even when you have to look hard at a political party or look hard at a political candidate and say this person is breaking the law or breaking norms,'' Deggans said. ''Will CNN have the courage to do that? I hope so.''

The irony in Stelter's portrayal, on the right and among some in the center, as a partisan bomb-thrower is that he is, first and foremost, a reporter; sure, he could be bombastic'--he was a cable news host, after all'--but his analysis, whether you found it useful or not, was typically rooted in facts and what sources were telling him, not his take du jour. Vernon's 2018 profile of Stelter reveals not a pundit who couldn't wait to scorn Trump, but a journalist who grappled with the appropriateness of doing so, with colleagues and relatives saying that it took time and the sharp threat of Trump's attacks on the press to encourage Stelter to draw out a punchier analytical voice. ''As to whether he's too alarmist about Trump's threat to journalism,'' Vernon wrote, ''Stelter believes he'll be able to look back in 20 years and feel good about his coverage. He doubts some of his critics will feel the same.'' It won't take that long.

Below, more on Brian Stelter, CNN, and the media beat:

More reaction: The media critic Dan Froomkin accused CNN of ''capitulating to disinformation rather than fighting it'' by ending Stelter's show. The move, Froomkin argued, ''was essentially a peace offering from CNN to the know-nothing maga mob. But it's not going to work. They'll never be satisfied.'' Elsewhere, the media academic Jeff Jarvis cast Stelter's exit as another big blow to an essential media function: scrutinizing itself. ''Now more than ever,'' Jarvis wrote, ''media are a story media should cover. But media'--so eager to criticize everyone else'--are frightened of criticism themselves.''Bugging Malone: Recently, Malone granted a rare in-depth interview to Mullin, of the Times. While distancing himself from the Stelter decision, Malone said that CNN ''should do a better job of distinguishing between news and opinion programming,'' Mullin writes. Citing ''the Fox News host Bret Baier as a reliably centrist newscaster,'' Malone said he ''was open to cable networks having 'wacko' programming,'' but that it ''should be clearly labeled.'' He ''told a joke about a cowboy who writes a letter to his grocer complaining about a mixed-up delivery. The coffee is good, the cowboy said. And the rat droppings in it might be OK, too, he added, 'but please send them in separate containers.'''Another goodbye: Recently, Margaret Sullivan, the widely read media critic at the Washington Post, announced that she is retiring her long-running column to take up a post at Duke University. Yesterday, she published her final column and issued a warning to the press as it prepares to cover the 2024 election. ''The media has come a long, long way in figuring out how to cover the democracy-threatening ways of Donald Trump and his allies, including his stalwart helpers in right-wing media,'' she wrote. ''And yet, I worry that it's not nearly enough. I don't mean to suggest that journalists can address the threats to democracy all by themselves'--but they must do more.''Other notable stories:

On Saturday, a car bombing near Moscow killed Daria Dugina, whose father, Aleksandr Dugin, has often been described as a key intellectual architect of Russia's invasion of Ukraine (though experts have questioned the extent of Dugin's influence with Vladimir Putin). Dugina ''followed in her father's footsteps as a commentator who combined hawkish, imperialist views with jargon-laden political philosophy,'' Anton Troianovski writes for the Times, with the US and the UK sanctioning her for pushing disinformation about the war in Russia's media. Pro-Kremlin commentators have, without evidence, blamed Ukraine for the car bombing, for which no group has yet claimed responsibility.For The Atlantic, Andrew Travers, who briefly served as editor of the Aspen Times this year, lays out how the paper's owners, Ogden Newspapers, mishandled a defamation suit from a Russian billionaire. ''My story is populated by blue bloods and thin-skinned billionaires, including the owners of the Pittsburgh Pirates, a litigious Soviet-born developer, and the wealthy cousin of a US Supreme Court justice,'' Travers writes, but it ''could actually take place anywhere. It's about what happens to the public interest when billionaires collide, and when newsrooms are bullied into suppressing coverage.''Ahead of primary elections in New York tomorrow, Timmy Facciola, of the Albany Times Union, spoke with the incumbent US congressman Sean Patrick Maloney and his progressive challenger Alessandra Biaggi in a closely watched House race that ''might be a referendum on the Democratic party.'' Biaggi, Facciola writes, ''kept her cool'' when asked about allegations concerning her treatment of staff. Maloney, by contrast, bristled when asked about recent allegations against him, then terminated the interview early.Writing for Northwestern's Local News Initiative, Susan Chandler tracked the nationwide battle over the future of the public notices that government agencies are often required to publish in local papers, for which such notices are often an important source of revenue. Officials in some areas have cited budgetary reasons for wanting to eliminate paid notices; others openly want to end them as a ''punishment'' for negative coverage.Last week, Juan Arj"n L"pez, a Mexican reporter, was found dead in a city on the US-Mexico border. By some counts, Arj"n became the fourteenth journalist to be killed in Mexico this year'--but, in a report released Thursday, the human rights group Article 19 put the number of killings at eighteen, though so far, it has only linked nine of them to the journalists' work. (CJR's Paroma Soni wrote in April about press threats in Mexico.)On Friday, a US court formally sentenced El Shafee Elsheikh, a member of a senior isis cell, to life in prison for his role in the kidnapping and killing of four US aid workers and journalists'--including James Foley, who was beheaded eight years to the day before Elsheikh's sentencing. Elsheikh's life term, the AP reports, was mandatory based on his crimes. (Prosecutors had agreed, in an extradition deal, not to seek a death sentence.)Yesterday marked five hundred days since Al Qaeda''affiliated jihadists in Mali kidnapped Olivier Dubois, a French freelance journalist, with his family asking supporters to send Emmanuel Macron, the French president, postcards demanding Dubois's release. On Friday, a French government spokesperson said that the country's recent withdrawal of an anti-jihadist army mission based in Mali would not affect its efforts to free Dubois.Bruno Jeudy, a top editor at the French newsmagazine Paris Match, is no longer in post, Agence France-Presse reports, after he pushed back on the decision of the publication's owners to put Robert Sarah, an ultraconservative cardinal, on its cover. At the time, journalists at Paris Match complained of editorial ''interference'' on the part of the owners. They have now expressed a lack of confidence in the magazine's management.And Covering Climate Now, a climate-reporting initiative founded by CJR and The Nation, spoke with Lagipoiva Cherelle Jackson, a journalist from Samoa, about coverage of climate disasters in the Pacific region. ''When international media covers climate change in the Pacific, they use the word 'tiny' to describe our countries,'' Jackson said. ''It's so disempowering. These are whole nations. My entire life was on that island!''ICYMI: The Cryptoptimists

Has America ever needed a media watchdog more than now? Help us by joining CJR today. Jon Allsop is a freelance journalist whose work has appeared in the New York Review of Books, Foreign Policy, and The Nation, among other outlets. He writes CJR's newsletter The Media Today. Find him on Twitter @Jon_Allsop. TOP IMAGE: Screengrab via CNN/YouTube

Featured a Monday, Nov 23rd, 2020 By Maya BinyamFor two decades, from its genesis in the mid-nineties, Vice Media branded itself in the image of the dispossessed. The earliest issues of its magazine, originally called the Voice of Montreal, were supported by a Canadian welfare grant and copublished...

British Airways to Cut Over 10,000 Flights as Industry Woes Threaten to Stretch Through Winter - WSJ

Tue, 23 Aug 2022 11:13

Airline set to cut about 8% of its total flying between November and March

Updated Aug. 22, 2022 3:10 pm ETLONDON'--British Airways is cutting more than 10,000 flights through the rest of the summer flying season and into the winter, threatening to extend the aviation industry's chaotic postpandemic recovery in Europe into next year.

The airline said it is cutting flights to comply with an extension of London Heathrow Airport's cap on departing passengers. It has also revised down its flying schedule from November through March, consolidating same-day flights to destinations and offering to rebook affected passengers on other airlines...

Advertisement - Scroll to Continue

LONDON'-- British Airways is cutting more than 10,000 flights through the rest of the summer flying season and into the winter, threatening to extend the aviation industry's chaotic postpandemic recovery in Europe into next year.

The airline said it is cutting flights to comply with an extension of London Heathrow Airport's cap on departing passengers. It has also revised down its flying schedule from November through March, consolidating same-day flights to destinations and offering to rebook affected passengers on other airlines according to availability, it said in a statement Monday.

British Airways, a unit of International Consolidated Airlines Group SA, said it would scrap more than 1,200 domestic and intra-European flights through October'--about 24 a day. Another 10,000 are being canceled through the winter season. That excludes additional long-haul cancellations that the airline has already made. In total, the cuts represent about 8% of its total winter flying plans.

British Airways, similar to airlines across Europe and the U.S., has struggled to increase its capacity to meet a faster-than-expected resurgence in travel demand following the relaxation of pandemic-era travel restrictions and border controls. The industry has strained to bring back enough staff across airports, ground handlers and at carriers to meet demand, which has led to one of the most disruptive flying seasons in history.

The pain has been worse in Europe. The disruption'--including thousands of last-minute cancellations, delays, lost baggage, and long lines through check-in and security at the world's busiest airports'--has led to drastic action within the industry, including the imposing of monthslong passenger caps at hubs in London, Frankfurt and Amsterdam.

Advertisement - Scroll to Continue

London Heathrow said last week that it would extend its cap, which restricts daily departing passenger numbers to 100,000, until Oct. 29. Frankfurt and Amsterdam Schiphol Airport have also extended their own restrictions through autumn to help alleviate some of the staffing pressure points at each hub.

Heathrow said that the caps, which were originally due to lift on Sept. 11, are working. Data from FlightAware shows reductions in cancellations and delays at each of those European hubs since the peak of the disruption in June and July.

British Airways, the biggest operator at Heathrow, will continue to limit ticket sales on some flights where necessary to meet the airport's flying restrictions. The carrier had previously restricted sales on all intra-European flights to ensure it complied with the airport's measures.

Advertisement - Scroll to Continue

Write to Benjamin Katz at ben.katz@wsj.com

Liberalish: The Complex Odyssey of Lael Brainard - The American Prospect

Tue, 23 Aug 2022 01:01

Her name is not a household word, even among people who closely follow politics, but Lael Brainard is the odds-on favorite to be Joe Biden's Treasury secretary. As the power of the current secretary, Steve Mnuchin, demonstrates, the Treasury appointment will set the whole economic tone of a Biden administration. Brainard, 58, is a Federal Reserve governor who held several senior posts in the centrist Clinton-Biden milieu, but moved moderately left with the needs of the times. As such, she could be the symbol and substance of Biden himself.

Brainard grew up as the daughter of a diplomatic family, in then-communist Poland and Germany. Her father, Alfred Brainard, according to his obituary, was among the first U.S. officials in Poland to reach out to Solidarnosc and other dissident groups. Coming to the U.S. for high school, she graduated from the elite George School in Pennsylvania, and then from Wesleyan. Brainard's doctorate in economics is from Harvard, where a member of her dissertation committee was Paul Krugman and a close mentor was Larry Summers.

More from Robert Kuttner

After a job at McKinsey and a teaching stint at MIT, Brainard, still in her thirties, landed in 1997 as deputy director of the National Economic Council under Clinton, with a focus on international economics. She spent the Bush II years mostly at Brookings, where she directed the global economy program from 2006 to 2009. She was then named by Obama to be undersecretary of the Treasury for international affairs. When Tim Geithner left the Treasury secretary job in 2013, Brainard made a run at the deputy secretary position, but was passed over. Obama named her as a governor of the Federal Reserve in January 2014.

In terms of sheer experience, Brainard has punched all the tickets. It would be hard to imagine a more mainstream background. For the Wall Street allies of the Biden campaign, Brainard is ideal. As a career scholar and public official, she would presumably be less of a lightning rod for progressive critics than a Wall Street figure. Yet her policies, though activist around the edges, would be no threat to Wall Street's core business model.

''In some ways, she is the 2020 equivalent of Tim Geithner. She hasn't worked at a large financial institution, but she has the deep trust of that wing of the party,'' says one well-placed critic who hopes Elizabeth Warren will get the job. ''But because it is 2020 and not 2008, she has put more effort into reaching out to progressive critics of Wall Street.''

Others give her more credit, though virtually everyone I interviewed questions how much of her repositioning is principled and how much is tactical. ''She is smart, personable, a good listener, a shrewd tactician, and very ambitious,'' says a senior figure who has sometimes worked with her and sometimes against her. ''It's fair to say she has politically distanced herself from the Rubin-Summers-Geithner wing of the party. I wouldn't call her a progressive.''

For the past several years, however, Brainard has gone out of her way to be accessible to groups well to her left. Fed Up, the grassroots protest group of Fed critics sponsored by the Center for Popular Democracy, the successor organization to ACORN, views her as a sometime ally. In August 2015, at the elite Jackson Hole meetings, Brainard, then a fairly new Fed governor, sat down with Fed Up activists who were in Jackson Hole protesting the impact of Fed policies on workers and families. Brainard, who was hoping to be Hillary Clinton's Treasury secretary, began meeting regularly with progressive groups and took on the franchise as the Fed's own leading advocate of monetary policies friendlier to full employment. After the meeting, Shawn Sebastian, the field director of Fed Up, told the Financial Times, ''When it comes to monetary policy, Lael Brainard is one of the strongest and loudest voices advocating for policies that working families across the US need.''

A cynic might observe that progressives are so accustomed to being ignored by elites that when someone with real power reaches out and listens respectfully, people are charmed and flattered. The left is a cheap date. Yet these meetings have evidently had some influence on Brainard's own thinking, and have been pure gold for her politically. When Trump took over, she became the leading go-to Democrat on the Fed for groups such as the AFL-CIO.

Brainard is also half of an Obama-Biden''era power couple. Her husband is Kurt Campbell, former assistant secretary of state for East Asian and Pacific Affairs under Obama, and a candidate for any of several top jobs in a Biden administration. Like Brainard, Campbell has also moved leftish. In two recent pieces in Foreign Affairs, he repudiated much of the Obama-Clinton wishful thinking on China, but without explicitly criticizing it. Once again, the intriguing question is what motivates this kind of repositioning'--principle, tactics, or the changing needs of the times.

THE FED HAS major roles on both monetary policy and financial regulatory policy. And in severe crises such as the financial meltdown of 2008 and the current corona depression, the Fed is also responsible for massive credit creation to keep the economy from collapsing entirely.

On monetary policy, Brainard's push for more liberal policies, dating to 2015, is real. In the 2014-2018 period under the Fed's liberal chair Janet Yellen, despite very low inflation rates often well below the Fed's own target of 2 percent, the Fed decided to raise interest rates on the rather dubious premise that it should raise them now so it could lower them later in the event of a downturn. As late as December 2018, the Fed was still nudging rates upward.

Brainard's policies, though activist around the edges, would be no threat to Wall Street's core business model.

On August 27, the Fed unveiled a long-awaited new monetary framework that will allow higher inflation than its average 2 percent target for some periods and permit the Fed to tolerate lower unemployment without triggering preemptive rate hikes. Fed Chair Jay Powell termed this ''a flexible form of inflation targeting.'' This is the policy shift that Brainard has been urging for years in public speeches and private Fed deliberations. This stance actually put her slightly to the left of Yellen, the only liberal Fed chair since FDR's chairman Marriner Eccles. A high-profile May 2019 Brainard speech was titled ''The Disconnect Between Inflation and Unemployment in the New Normal.'' At a Brookings panel September 1 assessing the significance of the new framework, she and Yellen politely clashed over whether the economy would have done better had the new framework been in place in 2015.

Once the pandemic hit, of course, the Fed had every reason to loosen money. Wall Street, the Fed's prime constituency, desperately needed very low rates and wide-open credit spigots. By 2020, Brainard was pushing on an open door, but it was a door that she helped open. The Fed's new framework will outlive the pandemic, and represents a welcome shift in the Fed's traditional bias toward tight money. Brainard's dovishness on monetary policy was also in evidence while she was the top international official at Treasury, when she pressed the EU and the European Central Bank to lighten up on their perverse austerity politics.

At the Fed, Brainard's defense of strong regulatory policy has also been intermittently nervy, though far from Warrenesque. She has dissented from several policy changes that gut key aspects of the Dodd-Frank Act, pushed through by the Fed's vice chair for supervision, Trump appointee Randy Quarles, with the support of Fed Chair Powell. Among these shifts, from which Brainard dissented, were revised regulations that weakened the Volcker Rule restricting the amount of speculating in derivatives large banks can do for their own accounts; watered down the rules on bank liquidity and capital adequacy in favor of the banks; and weakened the terms of bank stress tests.

Though she was mostly firm in resisting bad deregulation, she has been more indulgent in voting for bank mergers, including the widely criticized merger of BB&T and SunTrust in North Carolina, which created the nation's sixth-largest bank and dramatically restricted competition and consumer access in its basic service area. ''She will make smart calls within the establishment consensus, but as a potential Treasury secretary she would not be a transformative figure,'' says a leading advocate of financial reform. ''Her message to Wall Street is, you should make some marginal compromises for the sake of stability. In the Trump era, she has taken advantage of the space that has opened up to Trump's left.''

It's also important to place Brainard's actions in the context of Fed norms. For the most part, the Fed is a very clubby institution that operates by consensus. If your goal is to have real influence, you can't dissent too much or you are just dismissed as a gadfly. When Brainard cast the lone vote in April 2018 against a rule change weakening bank capital requirements, it was the first dissent in six years.

Yet Brainard is not just dissenting to make a point. She is an inside player who likes to have impact. A good example of Brainard's liberalish impulses and operating style is her recent success in keeping the Fed from joining the comptroller of the currency in watering down the Community Reinvestment Act.

I should confess more than a passing interest in CRA since I was its prime draftsman when I was working for Sen. William Proxmire in the mid-1970s. CRA requires banks to reinvest in communities, with a special emphasis on low- and moderate-income ones, rather than just seeing them as sources of deposits. CRA was frankly intended as a source of leverage on banks and bank regulators by community organizations. Some bankers have seen CRA as a relatively painless way of looking like corporate good guys; others have resented the regulatory intrusion. As the Fed governor responsible for community investment, Brainard took a particular interest in CRA, regularly met with community groups, and raised the Fed's profile on these issues.

Starting in 2019, some bankers and conservative activists made a major push to gut CRA. Their agent was one of Trump's most conflicted regulatory appointees, Joseph Otting, the comptroller of the currency, who left office last May as soon as the deed was done. Otting had come to hate CRA in his previous job as head of OneWest Bank.

Thanks to Brainard's pushback, the Fed did not support the comptroller; nor did the FDIC. So the weakening of CRA was limited only to banks regulated primarily by the comptroller. At the end of the day, Brainard enlisted the support of big banks that see CRA as a low-cost badge of community mindedness, and won over Fed Chair Powell.

And yet, her support of CRA is at odds with her indulgence of bank mergers. The most powerful weapon CRA provides regulators is their ability to veto mergers if they seem against the community interest. In the case of the BB&T merger in North Carolina, the leading organization of Black farmers filed adverse comments with the Fed warning that the merger would cause branches to close and deny them credit. At the very least, Brainard might have conditioned her support for the merger on the bank keeping more branches open, or tried to organize other governors to resist it. She did neither.

For the past several years, Brainard has gone out of her way to be accessible to groups well to her left.

This is the setting in which many left-liberal activists for financial reform offer qualified praise. ''She was not our friend under Obama, but she's our friend now,'' says one leading progressive advocate for financial reform. Then again, it's easier to be a relative progressive when your antagonist is Randy Quarles. ''She is mainly defending Obama-era regulatory policies that were too weak to begin with,'' says another.

One senior and well-connected observer of Brainard with strong progressive credentials sums her up this way: As a consummate professional, her concern is first about the banking system's safety and soundness, and secondarily about a well-performing, high-employment economy. While her interest in the economic development of poor communities is genuine, this person adds, ''She does not have a populist bone in her body.''

ONE TELLING INDICATOR of Brainard's non-populism is her stance on trade policy, where there is little evidence that she has strayed from her earlier orthodoxy. When she went to work for Clinton in 1997, two of her main assignments were implementing NAFTA and preparing the way for China's entry into the WTO, with few conditions other than granting access to investment banks such as Goldman Sachs, a quid pro quo demanded by Robert Rubin, the former Goldman co-CEO who served as Clinton's Treasury secretary. No other meaningful changes in China's entire mercantilist economic system were demanded or received.

Brainard supported bilateral trade deals without serious labor rights. She expressed no concern about China's impact on American manufacturing or on jobs. Rather, Brainard saw outsourcing as a plus that resulted in cheaper consumer products. She shared the prevailing wishfulness about the impact of the trade deal on liberalization within China. ''WTO accession will advance market-oriented economic reform, the rule of law, and economic freedom in China,'' she said in one speech. ''It will more deeply integrate China into a rules-based economic system, which in turn will increase its stake in peace and security.''

As the director of Brookings's global economic program in the early 2000s, Brainard was a traditional globalist. She was a huge booster of the now defunct Trans-Pacific Partnership, which was substantially a corporate wish list presented as a trade liberalization deal that benefited the United States and somehow contained China. Brainard continued to be a strong defender of the WTO, and the trade assumptions that underlie the WTO system.

When she moved to the Treasury undersecretary job under Obama, one of her responsibilities was to review China's currency operations to determine whether Beijing should be branded a currency manipulator. She resisted all efforts to make such a finding. The policy of rejecting that approach came from higher-ups, who na¯vely hoped that a modus vivendi with China might be found. Brainard was not just a loyalist, but an enthusiast. When Congress toughened the law in 2015, after Brainard had left Treasury, to add grounds for citing and punishing Beijing's currency manipulation, some progressives in Congress joked that the legislation should be named the Lael Brainard Memorial Act.

Though the Fed does concern itself with trade issues such as exchange rates, foreign bond purchases, and the risk of trade wars on the larger economy, Brainard has had little to say on trade lately. The Fed public-affairs office confirms that while Brainard does extensive speaking, trade has not been one of her subjects. There is little if any evidence that she has changed her views. Her husband Kurt Campbell, as noted, has almost totally disavowed the earlier conventional wisdom on China policy. It would be interesting to be a fly on the wall of their dinner table conversation.

All this matters, should she move to Treasury, because the Treasury secretary is a major player on international economic issues. Progressives who welcome her movement on other issues cite her trade stance as a big problem. The Democratic Party is split between traditionalists in the Obama-Clinton mold, who think the WTO system can be fixed, and those who believe that the entire trading system has been good for U.S. multinational corporations and banks, but bad for American workers and communities. Donald Trump played on accurate feelings by American workers that our trade policies served mainly elites. So it is of more than passing interest which side of this debate the next Treasury secretary is on.

ONE ISSUE THAT straddles both the Fed and the Treasury is the question of which sectors of the economy the Fed should be supporting with its almost unlimited capacity to create credit. Thus far, that capacity has served mainly financial markets, at the expense of Main Street businesses and state and local governments.

In the CARES Act, the major economic relief program enacted in May, Congress gave the Fed almost half a trillion dollars, which in turn was intended to leverage about $5 trillion in lending. Two of the credit facilities, which have languished almost unused, are the $75 billion targeted at municipal lending, and another $75 billion for medium-sized businesses that in turn employ some 48 million people. But the terms have been so draconian that hardly anyone has applied. According to Fed Up, some 97 percent of state and local governments, which nominally qualify for credit under the program, are excluded by the terms. When it comes to the Main Street Lending Program, a great many businesses don't want or need loans. They need equity.

The tough terms are mainly the work of Treasury Secretary Mnuchin, though support for risky lending, especially to state and local governments or to businesses, goes against the culture of the Fed. Both the Fed and the Treasury are quick to blame Congress. If Congress wants to legislate direct aid to business and to state and local governments, well and good. But this is not the Fed's job. On the other hand, as pointed out by Bharat Ramamurti, the former chief banking counsel to Sen. Warren who now serves as one of four oversight commissioners for the CARES programs, if the Fed wanted to extend credit to state and local governments at ten years at interest rates less than 1 percent, there is nothing to prevent the Fed from doing so. At a recent hearing, Ramamurti pointed out that Philip Morris got credit from the Fed at far more favorable terms than the state of Kentucky, though both have identical credit ratings. While Brainard, as the lead Fed governor responsible for the CARES program, has pressed quietly for modestly more liberal lending terms, she is not going against the larger culture of the Fed, an institution that hates to lose money.

As Treasury secretary, Brainard would likely push harder for fiscal relief to municipalities and Main Street businesses. She would resist premature austerity, recalling the calamitous mistake Obama's people made in 2010. She'd be a force for defending Dodd-Frank, and reversing some of the worst assaults on it'--but not going much beyond it. On trade, she'd likely be a big disappointment to progressives. Most importantly, unlike Warren, she would not push hard to dismantle an entire Wall Street business model that has come to focus more on trading and speculation than productive investment.

At the Fed, Brainard's defense of strong regulatory policy has been intermittently nervy, though far from Warrenesque.

One of the most toxic aspects of the current financial economy is the overweening economic power of private equity, which strips assets and jobs from the real economy and lines the pockets of its sponsors, while evading any meaningful regulation. Warren basically reverse-engineered the private equity model, and proposed legislation closing all the loopholes on which private equity depends, essentially putting it out of business.

Addressing private equity abuses does not seem to be on Lael Brainard's radar screen. On the contrary, she is said to be a favorite of Larry Fink, who heads the world's largest investment company. BlackRock has hired several Clinton and Obama alums to avoid being designated under Dodd-Frank as a systemically important financial institution (SIFI), which would bring greater regulatory scrutiny. As Treasury secretary, Brainard would head the Financial Stability Oversight Council (FSOC), the powerful interagency committee created by Dodd-Frank that makes that call.

The FSOC, which has languished under Trump, is also empowered to intensify regulatory and reporting requirements if it believes major financial institutions pose risks. Under the leadership of an aggressive Treasury secretary, the FSOC and other Dodd-Frank provisions offer substantial power to limit the trading-and-speculation business model that has come to dominate Wall Street in favor of one that emphasized genuine investment in the real economy. Under Obama, when Brainard served at Treasury, the balance-sheet health of the biggest banks was given priority over serious systemic reform. It is possible to imagine Brainard as Treasury secretary working to improve safety and soundness via better capital requirements and enforcement of the Volcker Rule. It is hard to imagine her interfering with Wall Street's immense profit machine in any fundamental way.

THERE ARE PLENTY of people to Brainard's right mentioned for the Treasury job. Several who come directly from Wall Street, such as Larry Fink of BlackRock, Tom Nides of Morgan Stanley, Tony James of Blackstone, or Jamie Dimon of JPMorgan Chase, seem highly improbable because the progressive wing of the party would go ballistic. Progressive senators such as Warren, Bernie Sanders, Sherrod Brown, and Jeff Merkley might well balk at confirming them. Biden intimates such as Jeffrey Zients, also to Brainard's right, are also mentioned as possibilities. But a white male is almost out of the question per se. Biden has made clear that he wants more women and Blacks in top positions. Brainard has sought to preempt rivals by lining up support across the spectrum, from Wall Street Democrats to progressives, and of course in the Biden camp.

Three potential alternatives might edge out Brainard, though she seems the front-runner for now. One is Elizabeth Warren. As Treasury secretary, Warren would be a game changer. The senior senator from Massachusetts is a category of one. There is simply nobody else as savvy about how financial markets work, as deeply committed to drastic reform, and as politically shrewd.

By all accounts, Warren has not yet decided whether to make a run for Treasury secretary. If she did, Warren would have the passionate support of a progressive base that has been feeling anxious lately about some of Biden's senior campaign officials and transition appointees. When Warren made a run to be Obama's first director of the Consumer Financial Protection Bureau, she let the whole world know that she wanted the job.

A Warren run for Treasury secretary would both galvanize progressives and jam Biden. Unlike Brainard, Warren would threaten the hegemony of Wall Street. We can expect all manner of warning by Biden's financial-industry backers that the appointment of Warren would crash the markets. A Warren candidacy would smoke out Wall Street's influence in the Biden campaign and force Biden to do something that he has been loath to do'--choose sides. If Biden ultimately did not give Warren the job, he would be compelled to offer some consolation prize'--taking Warren's suggestions for other key appointees and policies, or even offering her another administration position. So Warren may calculate that she has little to lose and much to gain by giving it a shot.

It may also occur to Biden that Warren could be more tractable if she joins the administration than if she stays in the Senate. As Lyndon Johnson famously said (and more coarsely), better to have her inside the tent. If the Senate goes narrowly Democratic, Warren will be one of several financial progressives in a position to support good Biden initiatives and appointees and resist bad ones. But even if she decides to make a run for the post, Warren seems a long shot to get it.

Brainard has sought to preempt rivals by lining up support across the spectrum, from Wall Street Democrats to progressives, and of course in the Biden camp.

A second possibility is Sarah Bloom Raskin. Like Warren, Raskin is a progressive on financial regulation and reform. Like Brainard, she has been both a governor of the Federal Reserve (2010 to 2014) and held a senior post at Treasury, where she served as deputy secretary from March 2014 through the end of the Obama administration. She has also served at the state level as Maryland's banking commissioner. At the Fed, Raskin was a major force for unconventionally progressive thinking on regulatory and monetary issues. At Treasury, serving as the number two under Jack Lew, Raskin was the inside player in charge of what she calls ''the plumbing'''--all the mechanical parts of what Treasury does. This background gives her extensive knowledge of how the system operates.

Since leaving government, Raskin has been an astute critic of the Fed's favoritism for propping up Wall Street at the expense of the real economy. She has come up with ingenious proposals for reversing these priorities, as illustrated in this Prospect conversation and other writings and speeches. Raskin, like Brainard, is also half of a Washington power couple, but a very different one ideologically. She is married to Rep. Jamie Raskin, a leader of the Congressional Progressive Caucus.

Both women are technically qualified and deeply knowledgeable about financial markets and the games bankers play at public expense. The difference between Brainard and Raskin is the difference between center-left and progressive. Should Warren not make a run for the job, progressive groups have made clear to the Biden people that their choice would be Raskin. The challenge is that Warren is a progressive rock star, while Raskin is not well known outside of policy circles. As a radical reformer, Raskin would likely be just as much of a target as Warren for Wall Street opposition; but she might not inherit Warren's grassroots support'--unless Warren made clear that Raskin was her choice for the job and spent real capital on it.

One other intriguing possibility is Raphael Bostic. You may not have heard of him. He's president of the Federal Reserve of Atlanta, the first African American to be chief executive of one of the regional reserve banks that are the heart of the Federal Reserve System.

Bostic, who is also gay, has served since 2017. He was not appointed by President Trump. These jobs are filled by the boards of the regional reserve banks. Bostic, 54, has held positions as a Fed staff economist and as a leading academic business economist, and as assistant secretary of HUD. He became a contender for the job because then''Fed chair Janet Yellen and leading Black members of Congress made a major push to get more diversity in senior Fed positions. When the Atlanta job came open, Yellen insisted that at least two diversity candidates had to be in the pool.

Two of Bostic's passions are affordable housing and better jobs and training for low-wage workers. A friend of Bostic told me that he has not made any decision on whether he'd like to be considered for the job. He'd likely be a little to the left of Brainard. It has been widely anticipated that a President Biden would name a woman to be the first female Treasury secretary. But he also might decide to appoint the first Black secretary.

Consider this possible play. Until Biden's overwhelming win in the South Carolina primary, his candidacy was foundering. Rep. Jim Clyburn's effusive endorsement and work on Biden's behalf was key to Biden's massive Black support, his big win, and the bandwagon effect that followed. Clyburn, the House majority whip, who represents much of Charleston and Columbia, is a towering figure in the Black community. And Biden owes Clyburn, big-time. We don't know how Clyburn will call in that chit'--actually several chits. But suppose he said, let's have a Black Treasury secretary.

If Brainard does get the Treasury job, she seems a precise harbinger of what we can expect from a Biden administration'--not progressive in the mold of an Elizabeth Warren, but more liberalish than many Clinton-Obama alums on some key issues, and still a work in progress. Mostly, this evolution has occurred not because Brainard (or Biden) has personally moved all that far, but because events have moved. The success of Biden's administration could well depend on whether officials such as Brainard and Biden himself are able to move a good deal farther beyond their comfort zones.
ALL VIDEOS

VIDEO - (22) Greg Price on Twitter: "Fauci: "With covid, things that we thought we knew at the beginning as the months went by turned out not to be the case... That was interpreted as flip flopping when it really was the evolution of the science." https:/

Thu, 25 Aug 2022 17:02

Greg Price : Fauci: "With covid, things that we thought we knew at the beginning as the months went by turned out not to be the'... https://t.co/xPKaAI0ycQ

Tue Aug 23 01:34:14 +0000 2022

VIDEO - (20) Ian Miles Cheong on Twitter: "DeSantis doesn't mince words about Fauci. "I'm just sick of seeing him. I know he says he's gonna retire. Someone needs to grab that little elf and chuck him across the Potomac!'' https://t.co/Z4zAcB4vdZ" / Twit

Thu, 25 Aug 2022 16:52

Ian Miles Cheong : DeSantis doesn't mince words about Fauci. "I'm just sick of seeing him. I know he says he's gonna retire. Someone n'... https://t.co/bym7t9GQmo

Wed Aug 24 20:33:19 +0000 2022

stovsr : @stillgray Yes!!!

Thu Aug 25 16:50:54 +0000 2022

Dawn Browning : @stillgray Yep! I agree 100%!

Thu Aug 25 16:49:05 +0000 2022

Joemama : @stillgray ðŸ¤'

Thu Aug 25 16:40:43 +0000 2022

ShadrachASMR : @stillgray I am blessed to call @RonDeSantisFL my governor.

Thu Aug 25 16:38:56 +0000 2022

FREEDOM FIGHTERS !!! : @stillgray @Dbarton80 👍👍👍

Thu Aug 25 16:33:42 +0000 2022

VIDEO - (21) Greg Price on Twitter: "Doocy: Who is paying for this?" Jean-Pierre: "What we are saying is the work that this administration has done, the work that the Democrats in Congress have done is actually there." Doocy: "But when you forgive debt, y

Thu, 25 Aug 2022 16:49

Greg Price : Doocy: Who is paying for this?"Jean-Pierre: "What we are saying is the work that this administration has done, th'... https://t.co/k4sIThCLFd

Wed Aug 24 20:45:35 +0000 2022

👁¸BigBroKnows👁¸ : @greg_price11 ðŸ https://t.co/YKrAwlovL4

Thu Aug 25 16:47:54 +0000 2022

John Lane : @greg_price11 She is full of sh$T with that explanation. She is not answering the question. We need sound money ag'... https://t.co/USm7u8876s

Thu Aug 25 16:47:47 +0000 2022

Silver : @greg_price11 She knows exactly who will foot that bill.Midterms are coming.

Thu Aug 25 16:46:05 +0000 2022

Miriam Bishop : @greg_price11 Betsy Devos started this bogus Student Loan Company another GOP grift!

Thu Aug 25 16:43:04 +0000 2022

🌊ðŸ' Susi ðŸ' 🌊 : @greg_price11 https://t.co/QHzxSAsseZ

Thu Aug 25 16:36:19 +0000 2022

Bob Harper : @greg_price11 Hey, Jean-Pierre! I'm paying for it!

Thu Aug 25 16:34:58 +0000 2022

DarleneDMD : @greg_price11 Double talk and justification is all they understand but in the long run it's all LIES!!!

Thu Aug 25 16:33:02 +0000 2022

Oneonly1 : @greg_price11 She didnt even answer the question

Thu Aug 25 16:31:39 +0000 2022

VIDEO - (20) Daily Caller on Twitter: "throwback to when Nancy Pelosi said the President doesn't have the power for ''debt forgiveness'' https://t.co/7nIISmuhDy" / Twitter

Thu, 25 Aug 2022 16:43

Daily Caller : throwback to when Nancy Pelosi said the President doesn't have the power for ''debt forgiveness'' https://t.co/7nIISmuhDy

Wed Aug 24 13:42:26 +0000 2022

VIDEO - (11) Populism and proxy wars - YouTube

VIDEO - Telegram: Contact @OneRepublicNetwork

Thu, 25 Aug 2022 16:17

Download Context Embed View In Channel Copy

VIDEO - (20) Avi Yemini on Twitter: "#TheProjectTV in NZ is baffled as to why Kiwis are getting 7x more sick than pre-Covid. Who wants to break it to them? https://t.co/r4jJXtcmgA" / Twitter

Thu, 25 Aug 2022 16:05

Avi Yemini : #TheProjectTV in NZ is baffled as to why Kiwis are getting 7x more sick than pre-Covid.Who wants to break it to t'... https://t.co/5BAWgMiZ4F

Fri Aug 19 06:39:53 +0000 2022

VIDEO - (28) Jamie Jenkins on Twitter: "🚨 | 'Deaths in 10-14 year olds are 11.7% above average, 30-34 are 11% above average, 35-39 are 12.5% with double digit above average in 55-64 year olds' ðŸ'¬ Chat with @Iromg on #excessdeaths ðŸ'¥ We are worr

Thu, 25 Aug 2022 16:03

Jamie Jenkins : 🚨 | 'Deaths in 10-14 year olds are 11.7% above average, 30-34 are 11% above average, 35-39 are 12.5% with double di'... https://t.co/84kJAUeWub

Thu Aug 18 21:42:41 +0000 2022

VIDEO - (11) Live from Podcast Movement w/ Nicky & Moose - Day 1 | The Flow by Ecamm - YouTube

VIDEO - Get Vaccinated

Thu, 25 Aug 2022 13:59

This advertisement has been selected by the videos creator, demonetized_memes.

This advertisement has been selected by the BitChute platform.

By purchasing and/or using the linked product you are helping to cover the costs of running BitChute.

It is free for anyone to opt-out of receiving advertising via the Interface tab on the Settings page.

To help support BitChute or find out more about our creator monetization policy:

VIDEO - Spin City: PBS Reporter Claims 74% Say U.S. Is 'On The Wrong Track' Because They Fear Trump's Return | The Daily Wire

Tue, 23 Aug 2022 12:50

PBS reporter Yamiche Alcindor claimed on Monday that poor polling numbers '-- namely polls saying that nearly three-fourths of Americans believe the country is ''on the wrong track'' '-- were clear indicators that the American people were afraid former President Donald Trump would return to the White House.

Alcindor joined an MSNBC panel to discuss the recent NBC News poll '-- which had 74% of respondents saying they believed the country was headed ''in the wrong direction'' and just 21% saying that things were going well.

WATCH:

NBC's @Yamiche Alcindor on 74 percent of Americans saying the U.S. is on the wrong track: "They're very worried about former President Trump coming back into power, or former President Trump or another Republican stealing the election in 2022 or 2024." pic.twitter.com/3DmsujpgDw

'-- Tom Elliott (@tomselliott) August 22, 2022

Host Jose Diaz Balart asked Alcindor why she believed that the American people were so unhappy '-- noting that the poll also indicated over half of American voters believed the country's best days were in the past '-- while only around one-third believed the best days were still ahead.

''What you see, really, is '-- on the Democratic side '-- people that are very very worried about the direction of this country,'' she began. ''They're very worried especially about former President Trump possibly coming back into power, or former President Trump or another Republican stealing the election in 2022 or 2024 because we've seen so many election deniers be elected.''

She went on to add that Democrats were also concerned about abortion rights, particularly since the decision in Dobbs v. Jackson Women's Health Organization resulted in the overturning of landmark abortion case Roe v. Wade.

Republicans, she claimed, had completely bought into Trump's claims that the election had been stolen and were more afraid of how many people believed the election was actually free and fair.

Only then did Alcindor turn to the struggling economy and the number of everyday Americans who were unable to keep up with record-high inflation and elevated gas prices, blaming Republicans for pushing the idea that the nation's economic woes were far from over.

''You have a lot of Republicans running around the state who '-- around the country also '-- who are really saying this is gonna be an economic situation that we're not gonna recover from and that President Biden is leading the country off of a cliff here,'' she said.

She concluded by saying that people were also anxious because the pandemic wasn't really over.

''LOL what?'' replied the @JudiciaryGOP.

Lol what?! https://t.co/2xyoTBPxvd

'-- House Judiciary GOP (@JudiciaryGOP) August 22, 2022
Clips & Documents
Art
Audio Clips

ABC ATM - anchor Andrew Dymburt - california no gas cars sold by 2035 (1min25sec).mp3

ABC ATM - anchor Andrew Dymburt - five 1000 year storms in 5 weeks (12sec).mp3

ABC ATM - anchor Em Nguyen - student loan (3) who is paying (1min9sec).mp3

ABC ATM - anchor Rhiannon Ally - LA store bans face mask (15sec).mp3

ABC ATM - anchor Rhiannon Ally - mystery (2) virus killing dogs (25sec).mp3

ABC ATM - anchor Rhiannon Ally - windmill blades made into gummy bears (19sec).mp3

ABC ATM - anchor Rhiannon Ally - windmill blades made into gummy bears (19sec).mp3

ABC WNT - anchor Cecilia Vega - fauci stepping down (1min22sec).mp3

ABC WNT - anchor Cecilia Vega - student loan (1) biden announcement (1min56sec).mp3

ABC WNT - anchor Cecilia Vega - student loan (2) how much will it cost (15sec).mp3

ABC WNT - anchor David Muir - life expectancy dropping in US (27sec).mp3

ABC WNT - anchor David Muir - pfizer submits request for booster (25sec).mp3

ABC WNT - anchor Ike Ejiochi - two men convicted in kidnapping plot (1min30sec).mp3

Amish scandal food.mp3

CALL IN Dem on Liz.mp3

CALL in GOP Hater.mp3

CALL IN indy on Trump and WTF justice.mp3

CALL IN LIFO.mp3

CALL IN Steve lunatic wow.mp3

CBS Evening - anchor Carter Evans - covid measures lifted as school returns (1min40sec).mp3

CBS Evening - anchor Debora Patta - car bombing (2) politician says resistance (1min14sec).mp3

CBS Evening - anchor Nikole Killion - twitter whistleblower (1min11sec).mp3

CBS Evening - anchor Norah ODonnell - harvey weinstein granted appeal (17sec).mp3

CBS Evening - anchor Norah ODonnell - jill biden rebound case (16sec).mp3

CBS Evening - anchor Norah ODonnell - largest aid ukraine -car bomb lead-in (17sec).mp3

CBS Evening - anchor Norah ODonnell - mystery (1) illness killing dogs (20sec).mp3

CBS Evening - anchor Norah ODonnell - mystery (3) illness is parvo (18sec).mp3

DeSantis Fauci Elf.mp3

Dir Gender Clinic CH Philly.mp3

Dugin v Blinken - Populism and proxy wars - 2017.mp3

Dutch Former Commie Politician Samsom explains the story on food and energy.mp3

Fauci explains his flip-flopping.mp3

Fox News - Men having sex - singapore.mp3

FOX on stelter.mp3

Hundreds of Queensland Teachers to Have Their Pay SLASHED for Not Complying With Vaccine Mandates.mp3

Hysterectomy in OZ for trans.mp3

Internet of Bodies WOW.mp3

ISO eheh.mp3

Karine Abdul Jean-Pierre Van Damme - Docy questions Student Debt forgiveness 1.7 trillion bullcrap.mp3

Macron - Good times are over people.mp3

Macron - Good times are over people.mp3

Morning Joe's Willy Geist on the new IRS agents [nutty podcast hosts].mp3

NA new foamer long.mp3

Nancy Pelosi said the President doesn't have the power for debt forgiveness.mp3

NBC Today - anchor Megan Fitzgerald - car bombing (1) ukraine denies (1min32sec).mp3

NZ is baffled as to why Kiwis are getting 7x more sick than pre-Covid.mp3

Paul Giroux ranting about xyz.mp3

Studenrt loan fiasco.mp3

Teachers MOS new teachers.mp3

Teaching is Politocal ACt teacher.mp3

The Flow - Live from PM22.mp3

TOCK hu it neo pros.mp3

TOCK Irked Dad re3YO'.mp3

TOCK MOS 1 UCLA.mp3

TOCK ne nem nir.mp3

TOV pronoun god.mp3

Tucker Carlson negative supercut.mp3

UK excess deaths report.mp3

WWWTP Rubin and corolla.mp3

Yamish - 74 percent of Americans saying the U.S. is on the wrong track - TRUMP.mp3