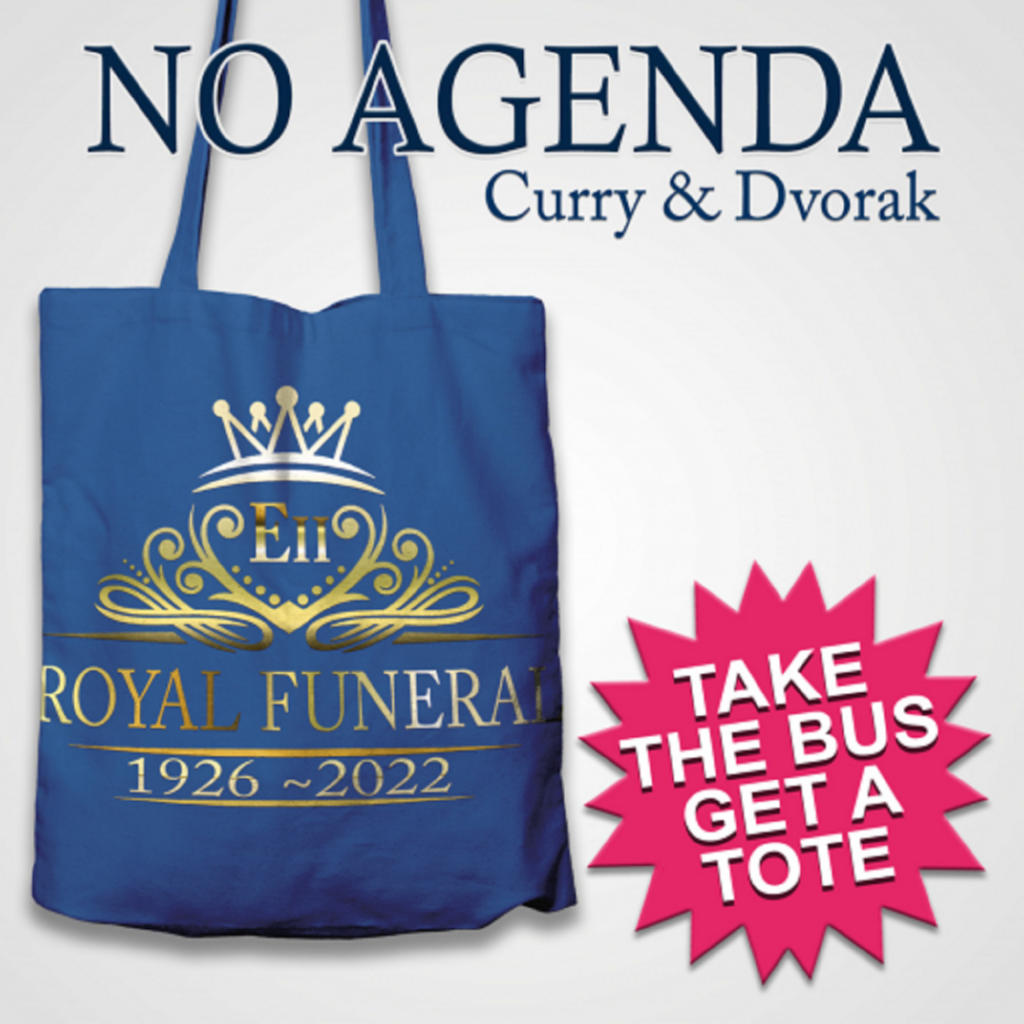 September 18th, 2022 • 3h 5m
1487: Si Senor
Shownotes
Every new episode of No Agenda is accompanied by a comprehensive list of shownotes curated by Adam while preparing for the show. Clips played by the hosts during the show can also be found here.
Energy & Inflations

Uniper, VNG, SEFE Nationalization: Germany in Advanced Talks on Takeover - Bloomberg

Uniper is a wholesale supplier, that runs the machines to burn the gas to actually power the grid.
CBDC
Go Podcasting!
Build the Wall
Great Reset

Queen 'POC'

Your note from Sarah about the UK is complete rubbish.

The first people to go and see the queen were POC. Look at the video stream and every 5th person is a minority!

Tom
VAERS
Climate Change ESG
Ukraine & Russia

Fact check: Ukraine's president did not sell farmland to US companies

Based on our research, we rate FALSE the claim that Zelenskyy sold 17 million hectares of farmland to U.S. corporations. It is illegal for foreign companies to own land in Ukraine, according to experts. While Cargill, Dupont and Monsanto do have business interests in Ukraine, and Cargill has a 5% share in a land-holding company, none own land directly.

Opinion | Waging Psychological War Against Russia - POLITICO

David R. Shedd is former acting director of the Defense Intelligence Agency.

Ivana Stradner is an advisor to the Barish Center for Media Integrity at the Foundation for Defense of Democracies.

The fight for Ukraine will not just be won on the battlefield. For all the high-tech weaponry the West has delivered, psychological war against Russia remains a key opportunity for the United States.

Historically, such an approach focused on selling Russians on the American dream. But this strategy is a relic of the Cold War, ill-suited to present-day Russia. Instead of pitching the benefits of Levi's and Hollywood, U.S. information operations should use Russian nationalism to turn the tables on the Kremlin — highlighting the war's damage to Russia, exposing government corruption and inequities inside Russia, and exploiting resentment among Russia's ethnic minorities. These, dare we say, Russia-style tactics will bear more fruit than tales about the wonders of American democracy.
STORIES

Don Lemon Loses CNN Primetime Gig, to Co-Anchor New Morning Show With Poppy Harlow and Kaitlan Collins

Sun, 18 Sep 2022 16:43

Don Lemon will lose his primetime CNN show on weeknights to co-anchor the network's reimagined morning show with Poppy Harlow and Kaitlan Collins, the network announced Thursday.

The new morning show will debut later in the year with a new name, format and set '-- and signals the end of ''Don Lemon Tonight'' after an eight-year run. CNN did not announce any plans for how it will fill Lemon's primetime slot, which has long lagged behind Fox News' ''The Ingraham Angle'' in the ratings.

John Berman and Brianna Keilar, who currently anchor the network's ratings-challenged ''New Day,'' will shift to other roles at CNN later in the year.

CNN CEO Chris Licht, who had previously signaled that he planned to shake up the network's morning programming, praised his newly named team. ''There is no stronger combination of talent than Don, Poppy and Kaitlan to deliver on our promise of a game-changing morning news program,'' he said in a statement.

Lemon, who has become a lightning rod for conservative critics of CNN for some of his political pontificating on his primetime show, publicly endorsed the move. ''The last eight years have been an incredible ride. I've had the opportunity to work with one of the best show teams in the business, but it's time to shake things up,'' he said in a statement. ''I was honestly floored when Chris Licht asked me to do this and I'm honored by his belief in me. It's going to be a thrill to take on this challenge with Poppy and Kaitlan. I'll get to work with two of my dearest friends. Set your alarms folks, because we're going to have a lot of fun.''

Harlow, who already works mornings alongside Jim Sciutto, will shift to an earlier start to anchor the new morning show with Lemon and Collins. ''What a gift to be able to sit beside Don and Kaitlan each morning,'' she said.

Collins, previously the White House correspondent for CNN during Trump's tenure in the Oval office, will serve as co-anchor and chief correspondent for the new morning show.

''I am thrilled to start this new adventure at CNN,'' Collins said in a statement. ''To go from sharing my reporting on their shows to sitting at the desk alongside them is an incredible opportunity and I'm deeply humbled by it.''

Back in May, Licht announced at Upfronts CNN would reimagine the morning show, which hit a seven-year low in the ratings in July and has long lagged behind Fox News' ''Fox & Friends'' and MSNBC's ''Morning Joe'' in both total viewers and the key news demographic of viewers 25-54.

''We will reimagine our morning show leveraging our correspondents and unmatched resources in the U.S. and around the world to provide news that viewers need to know as they start their day,'' Licht said to attendees of the Warner Bros. Discovery Upfronts. ''[To] be honest there, we are seeking to be a disrupter of the broadcast morning shows in this space, and we believe we have the people and resources who can do it.''

For the record: A previous version of this story misspelled the name of Kaitlan Collins.

Opinion | Waging Psychological War Against Russia - POLITICO

Sun, 18 Sep 2022 16:43

Of course, there are differences between modern America and the modern Russian Federation; most Russians today don't want their country to ape the United States '-- they are nostalgic about the ''Great Russia.'' Polling by Moscow's independent Levada-Center suggests 75 percent of Russians, fed a steady diet of anti-Americanism and Russian propaganda by state media, view the U.S. in a negative light. Nationalism has steadily risen in Russia as well, with 56 percent of citizens now regarding Josef Stalin as a ''great leader.''

This rise in nationalism can be an asset for the U.S. in its psychological war with the Kremlin. Russians are very proud of their country, and Putin has stoked this sentiment with two decades of nationalist rhetoric. As a result, promoting democracy as an alternative system of governance is unlikely to appeal to the average Russian. Rather, like the famous Arnold Schwarzenegger video condemning Putin's attack on Ukraine, a more effective approach would be to underscore just how Putin has degraded Russia's ''greatness'' at home and abroad with his bloody war in Ukraine. Accurate, neutral information is a potent weapon amid ceaseless propaganda. Effective information operations could show Russians how their country went from a nation of international respect and prestige to a global pariah. Rather than rejecting nationalist tendencies, such an effort would play on many Russians' desire to regain their country's lost glory.

Likewise, undermining Putin's carefully cultivated strongman image can erode support among key pro-Kremlin constituencies. These messages could note how weak Putin's prosecution of the war has been as well as how he and his allies have enriched themselves even as the public struggles. In addition to exposing the wealth of oligarchs, for instance, a successful campaign would also focus on how Russia's leader of the Orthodox Church, Patriarch Kirill, enjoys his luxury $40,000 Breguet watch while almost 20 million Russians live in poverty. Soviet leaders themselves were disciplined for questioning Russian nationalism. Alexander Yakovlev, the head of the Central Committee's Propaganda Department, was demoted in 1972 after publishing an article in Literaturnaya Gazeta where he criticized Russian nationalism. Similarly, Aleksandr Solzhenitsyn was deported and stripped of his citizenship due to ''performing systematically actions that are incompatible with being a citizen,'' following a press campaign that painted him as ''choking with pathological hatred'' and lacking patriotism for the Soviet Union.

Humor can be a powerful tool in these endeavors. Amid Moscow's draconian censorship laws, the ''your tongue is your worst enemy'' rule '-- meaning be careful what you say '-- has always been the key to survival. In 2019, the Russian parliament passed a law threatening 15 days in prison for ''blatant disrespect'' toward the state, its officials and Russian society. But even Stalin could not stop satire, which became the most popular form of political protest in the former Soviet Union.

Current U.S. information operations should revive a similar focus on humor '-- and give Russians fodder to tell their own jokes. Since the Ukraine war began, Putin has invoked Stalin's legacy numerous times. Well, two can play at that game. Take the famous Stalin slogan ''Life has become better, comrades!'' That could easily be adapted to the current situation in Russia to mock Putin. The Kremlin knows humor can be a dangerous tool in information operations; just a few years ago, Russia's culture ministry banned the satirical hit film The Death of Stalin on grounds that the film was ''extremist'' and ''aimed at humiliating the Russian people.'' But it cannot track and block every piece of satire that enters the information space.

U.S. information operations should also seek to fuel anti-Kremlin grievances among Russia's ethnic minority groups. Groups such as the Buryats, the Yakuts and the Chechens face consistent discrimination, while the state turns a blind eye. Meanwhile, during the war in Ukraine, the Russian army has recruited vastly higher rates of soldiers from minority groups than other groups, resulting in an elevated rate of minority casualties. This recruitment process represents the Kremlin's continual exploitation of those living in poorer regions who lack employment opportunities. Putin already fears that ethnic minorities could form secessionist movements that divide Russia's multiethnic society. As such, he has sought to impose his ''power vertical'' on these groups. For example, Moscow just stripped the head of Russia's Republic of Tatarstan of his title as president of the region, which had sought independence back in the 1990s. Washington should ensure every Tatar in Russia knows what they have lost and encourage them to fight for their rights.

During the Cold War, the U.S. was overtly and covertly supporting dissident groups. Although it is important to engage with exiled Russian dissidents and amplify their voices, this is not necessarily the most effective method to reach the ordinary Russian and change their perceptions. Pro-Putin Russians do not watch dissident channels. A more effective method to reach Putin's heartland is to work within their own community. A critical aspect in Russian culture is trust. When dissident opinions come from sources that Russians deem trustworthy, they let down their guard. The United States therefore should seek to quietly form partnerships with Russian-speaking social media influencers to help them spread messages inside Russia to counter the Kremlin's pervasive disinformation.

Putin has eagerly waded into the West's information space in recent years. He's interfered in elections in Europe and the United States, stoked internecine fights within our country and otherwise sought to weaken our democratic institutions. Now, the Biden administration can force the Russian dictator to defend himself. The United States has a variety of tools at its disposal to conduct effective information operations within Russia '-- and simply spreading the truth about Putin's real weakness is the most powerful weapon of all.

The views expressed here are those of the authors and do not imply endorsement by the Office of the Director of National Intelligence, the Intelligence Community or any other U.S. government agency.

Fact check: Ukraine's president did not sell farmland to US companies

Sun, 18 Sep 2022 16:40

The claim: Ukraine President Volodymyr Zelenskyy sold 17 million hectares of farmland to US corporationsAfter Russia invaded Ukraine in February, numerous claims about Ukraine's sovereignty and its position in the global food supply chain began surfacing.

An Aug. 9 post claims Ukraine President Volodymyr Zelenskyy sold 17 million hectares of land to U.S. companies. The user singles out multinational companies Monsanto, Dupont and Cargill.

It reads, "Zelensky (sic) sold 17 million hectares of agricultural land to Monsanto, Dupont, and Cargill. Yes'... you read it well'... 17 million hectares to GM0/chemical companies."

The post has been shared more than 300 times. An earlier version was shared 1,000 times.

The claim is baseless. Under Ukrainian law, foreign entities cannot own land. The president does not have the power to sell land, according to Frederic Mousseau, policy director at the progressive think tank Oakland Institute.

Follow us on Facebook! Like our page to get updates throughout the day on our latest debunks

USA TODAY reached out to users who shared the claim for comment.

In Ukraine, selling land to foreign countries is illegalThe post refers to three multinational companies: Monsanto, Dupont and Cargill. U.S.-based Monsanto was the largest manufacturer of genetically modified seeds before it was bought by German drug company Bayer in 2018. Dupont is an American biotechnology company that manufactures chemicals and pharmaceuticals. Cargill is an American company that produces and distributes agricultural products.

It's impossible for Zelenskyy to have sold the land to these companies '' or any foreign entities '' because Ukraine has strict agricultural laws prohibiting foreign companies from owning land.

According to the Land Code of Ukraine, ''Agricultural lands may not be transferred to the ownership of foreign nationals, stateless persons, foreign legal entities and foreign states.''

A 2021 law changed how land was bought and sold in Ukraine, according to an Oakland Institute article co-authored by Mousseau.

The law reversed a long-standing moratorium on the transfer of private land and created a new market for landowners to sell and purchase land.

Foreign companies, however, were still barred from owning land in Ukraine.

As evidence for the claim, the post cites an Australian National Review article.

That website, though, is a frequent purveyor of false information, according to the Australian Associated Press, which also debunked the claim.

In addition, an editor's note at the bottom of the Australian National Review article provided an update to its reporting on the supposed transaction: ''The 17 million hectares quoted was an error, and its 1.7 million. Note the alleged companies don't hold the land in their names but via investment funds.''

In response, Mousseau said the law "doesn't prevent foreign agribusinesses, investment funds or banks from taking shares, interest, and some level of control in Ukrainian firms that buy or leased land."

Fact check roundup: What's true and what's false about the Russian invasion of Ukraine

He said U.S. investment funds have large stakes in the largest landowners in Ukraine. Investors include funds like BlackRock and Vanguard, as well as American and European pension funds, banks and foundations.

Although the companies mentioned in the post can't buy land directly, in 2014 Cargill did buy a 5% share in UkrLandFarming, one of the largest landholders in Ukraine with 475,000 hectares of land as of 2020, Mousseau said.

Despite the moratorium on private land transfers, more than two million hectares '-- or about 7,700 square miles '-- of land have ended up being controlled by foreign companies through leases, Mousseau said. The largest investors are companies from Cyprus, the U.S. and the Netherlands.

NCH Capital, a U.S. investment fund, also controls more than 330,000 hectares of land in Ukraine through leases, Mousseau said.

''There is no doubt that Cargill, Dupont and Monsanto have major business interests in Ukraine '' and see major profit opportunities there '' but it is not through their direct control of the land,'' he said.

Our rating: FalseBased on our research, we rate FALSE the claim that Zelenskyy sold 17 million hectares of farmland to U.S. corporations. It is illegal for foreign companies to own land in Ukraine, according to experts. While Cargill, Dupont and Monsanto do have business interests in Ukraine, and Cargill has a 5% share in a land-holding company, none own land directly.

Our fact-check sources:Frederic Mousseau, Aug. 30, Email interview with USA TODAYAustralian Associated Press Factcheck, Aug. 22, Not a grain of truth in Ukrainian farmland claimLogically, Aug. 9, False: President Zelenskyy sold 17 million hectares of Ukrainian agricultural land to U.S. companies.The Oakland Institute, Nov. 12, 2021, Who really benefits from the creation of a land market in Ukraine?Reuters, June 3, 2018, With deal to close this week, Bayer to retire Monsanto nameEncyclopedia Britannica, accessed Aug. 25, DuPont CompanyForbes, accessed Aug. 25, CargillAustralian National Review, May 27, Three Large American Multinationals Bought 17 Million Hectares of Ukrainian Agricultural LandAsters Law, July 9, 2020, LAND REFORM IN UKRAINE: SALE OF AGRICULTURAL LAND TO FOREIGN BUYERS IS NOT ALLOWED, BUT WHAT ABOUT MORTGAGE?Center for Strategic and International Studies, May 18, The Impact of Russia's Invasion of Ukraine in the Middle East and North AfricaVerkhovna Rada of Ukraine, accessed Aug. 30, The Land Code of UkraineCNBC, March 18, 2014, For US-Russia, Cold War and corn share long historyThe Oakland Institute, December 2014, THE CORPORATE TAKEOVER OF UKRAINIANAGRICULTURELarge Scale Agriculture, Oct. 7, 2021, TOP 10 UKRAINIAN AGRICULTURAL LAND USERS 2021Thank you for supporting our journalism. You can subscribe to our print edition, ad-free app or electronic newspaper replica here.

Our fact-check work is supported in part by a grant from Facebook.

German drinks makers suffer as energy crisis hits carbon dioxide supplies | Financial Times

Sun, 18 Sep 2022 16:39

A shortage of carbon dioxide is causing German drinks manufacturers to cut production and warn of bankruptcies, in the latest sign of how Europe's energy crisis is sending shockwaves through the region's economy.

''More and more of the companies in the beverage industry that depend on the availability of CO''' are having to significantly reduce their production or stop it altogether,'' Holger Eichele, head of the German brewers' association, told the Financial Times. ''For many of the companies affected, this has dramatic consequences.''

The gas is an important raw material for beverage companies because it is used to add fizz to carbonated drinks and to fill and empty beer bottles, kegs and tanks without it foaming or suffering taste effects through contact with air.

The shortage of CO''' '-- a byproduct of ammonia production '-- has been worsening for months as record gas prices prompt the fertiliser industry to reduce output.

But it was aggravated in Germany when the country's largest producer of ammonia and urea '-- SKW Piesteritz '-- halted output two weeks ago in response to a new levy that will push gas prices even higher.

That caused suppliers of CO''' to the food and drinks industry to declare ''force majeure'' as they failed to deliver regular orders, leaving many drinks makers racing to find alternative supplies.

Eichele said only 30-40 per cent of usual CO''' supplies were available on the German market and that these were ''at immense cost''. The price of CO''' has shot up to almost ''¬3,500 per tonne from ''¬100 per tonne a year ago.

''We receive new cries for help from the industry every day,'' he said, urging the government to ''take short-term measures to ensure a preferential supply of affordable carbon dioxide for food and beverage production to the critical infrastructure of the food industry''.

The German brewers' association, along with trade bodies representing makers of fruit juice, mineral water and wholesale beverages, published a joint statement on Friday warning that ''without rapid government intervention and without effective aid, hundreds of companies and thousands of employees will lose their livelihoods in the German beverage industry''.

They said it was ''usually impossible'' for drinks makers to pass on their higher costs because of the negotiating power of large supermarket chains and the squeeze on consumer spending from soaring energy bills.

The trade bodies also warned that the closure of the Piesteritz plant had hit them in other ways by causing a shortage of AdBlue, an important ingredient for diesel fuel, causing its price to surge and pushing up costs for road haulage operators.

''The scarcity of resources, raw materials and materials '-- for example AdBlue '-- is taking on threatening proportions,'' they said. ''Companies in the transport industry have already cancelled countless orders that have become unprofitable and temporarily shut down parts of the fleet.''

Eichele said CO''' shortages were hitting smaller breweries hardest, as the biggest ones often capture excess gas produced during the brewing process and reuse it. He also said there was no risk of the crisis causing flat beer, adding: ''Soft drink producers such as Coke need CO''' to make their product fizz '-- our beer fizzes automatically.''

The Piesteritz plant is in the process of restarting production after seeking government aid and warning this week that it ''fears for the international competitiveness of Germany as a business location under these conditions''.

Wholesale gas prices in Europe have fallen 44 per cent from a record high last month but at ''¬190 per megawatt hour they remain almost six times higher than a year ago.

This has prompted some energy-intensive manufacturers to cut output or even shut it down, causing a 2.3 per cent drop in eurozone industrial production between June and July '-- its biggest monthly fall since the pandemic hit in 2020.

29 Sneaky Fees and How to Avoid Them - CBS News

Sun, 18 Sep 2022 16:28

This story, by Kathy Kristof, originally appeared on CBS' Moneywatch.com.

If you feel like you're getting nickel and dimed to death, you probably are.In an attempt to create "sticker swoon," - an irresistibly low price - an increasing number of businesses are advertising bargain prices for everything from cell phone service to hotel stays before tacking on hidden fees and charges to boost the final cost and make it tougher to shop around.

"The common denominator is the drive to disguise what the true cost is," said Joseph Ridout, consumer services manager at Consumer Action, a San Francisco-based advocacy group.

Sneaky fees cost the average American more than $1,000 annually, estimates Larry Ponemon, founder of the Michigan-based Ponemon Institute, which conducted an extensive study of hidden fees for Bob Sullivan's book, Gotcha Capitalism. That study, done in late 2006, found that undisclosed fees cost the average consumer $942 per year, but Ponemon estimates that these fees have jumped 10 percent to 20 percent since then.

"Sneaky fees have been institutionalized," Ponemon said. "They hit virtually every aspect of life."

What's the good news? You can sidestep at least some of them, if you know where they lurk and which ones can be shopped away or negotiated down. Here's our guide. (Note: We're not letting financial institutions off the hook either; we actually needed a separate article to deal with their dozens of fees and consumer-unfriendly practices. See "Big Banks' Sneakiest Tricks" for details.)

Airlines

The fees: It used to be tough to find a good excursion fare. No longer. Flights are cheaper than ever, says Samir Kothari, co-founder and vice president of products at BillShrink.com in Redwood City, CA. But if you pack a suitcase, need to speak with a representative by phone, or get hungry during a flight, brace yourself for extra charges. And heaven help you if you're traveling with a pet, need your minor child to fly alone or must change flight arrangements for some reason. To be specific:

'An unaccompanied minor will cost you between $25 and $100 above the ticket price. 'Putting your Pekingese in your purse will subject you to lapdog charges ranging from $25 to $150. (And it's far cheaper to put the dog on your lap than in the cargo hold.) 'Change fees run as high as $150, as do cancellation charges. (Only Southwest is free.) 'Checked baggage fees typically range from $15 and $30 for the first suitcase and start at $25 for the second. 'Overweight bags cost between $50 and $100. 'Telephone booking charges range from $15 to $25. 'Paper tickets that are mailed to you (as opposed those that you print yourself) can cost $50 to $75. 'Food is extra, too: While most airlines will give you a soda for free, a sandwich or salad is likely to run $5 to $15.

Why we hate them: We used to disparage airline meals, but these days we miss them. Instead, you get to enjoy your seatmate's fragrant tuna sandwich at lunchtime - and his extra carry-on bundles are probably crowding your feet as well.

Can you fight them? If at all possible, pack only what you can carry on, and include a Tupperware container of Grandma's Chicken Paprikash. If you must travel with checked luggage or a cat, or will be sending your minor child somewhere alone, make a checklist of your needed extras (or risks, such as the possibility that you'll cancel) to use when fare-shopping. BillShrink's recent blog and chart on airline fees can help warn you which airlines charge through the nose for things you need.

Finally: If you're planning on doing a lot of shopping while you're away, stash an empty duffel in your bag to use on the return trip. The cost to check a second bag is often considerably less than it is for an overweight one.

MoneyWatch.com Special Report: Consumers in the Crosshairs

Cell Phones

The fees: 'First, there are activation fees of about $35. 'Directory assistance will run you $2 to $4 per call. 'Internet access fees range by the amount of data you're accessing, but if you don't have an all-you-can-surf plan, expect to pay $1 to $2 to visit any site with heavy graphics. 'Text messaging can cost 15 cents to 25 cents per text. 'Per-minute costs when you've used up your allocated telephone time can add another 45 cents per minute to your bill. 'Unhappy? Found a better deal elsewhere? If you change plans before your contract is up, you'll get hit with an early termination charge, which typically runs $200 per phone.

Why we hate them: So, they give you a cell phone, for which you sign away two years of your life (and your "early termination charges" can be extended way past that time period if you're not careful) and they're so unsure that you'll want to use the phone that you have to pay separately to activate it?

You might not mind paying a fee to access the Internet if you did it on purpose, but sometimes the phone connects without you. (Verizon is trying to figure out a way to fix its phones to stop accidental usage, which is causing a raft of complaints.) You even have to pay for spam. T-Mobile says it tries to block junk texts, pictures and instant messages, but for now, if you get them, you pay for them.

Can you fight them? If you don't want to make a long-term commitment to your cell phone provider, consider getting a prepaid phone that allows you to pay on a month-to-month basis. But be aware that they come with a host of fees and charges of their own, including activation fees. Meanwhile, the minutes cost more and are billed in full-minute increments - and, if you don't use them within a set period, they expire. Those aren't technically fees, but they'll cost you plenty.

If you go with a traditional contract, be sure to read it and be careful about making any changes to your service, including adding minutes. These moves can trigger an extension of the contract - and your termination fees.

You can get free directory information (if you're willing to deal with advertisements) by calling 1-800-FREE-411. And if you don't want to pay for Internet access or photo messages, ask your provider to block them. The cell companies discourage it, but they will block these services for free if you insist.

Hotels

The fees: 'Resort fees are the most amorphous of hotel add-ons. Some hotels don't charge them at all. Others say they pay for parking, gym access and other bells and whistles. Still other hotels charge the resort fee and charge separately for these same bells and whistles. These aren't penny-ante levies either, often amounting to between $10 and $25 per day. 'Want Internet access? That's usually another $9 per day 'Making a call? Telephone fees typically run $1 per call, plus whatever charges you run up at the hotel's extremely uncompetitive phone rate.

Why we hate them: You can go to some cheapo hotel and never pay a resort fee, even though it has a hotel gym, a swimming pool, and may even give you free Internet access (though sometimes through cable connections, rather than wireless). But pay $300 a night for a luxury hotel and you're a sitting duck for extra fees. Don't you think that $300 a night should include some amenities?

Can you fight them? It's easy to sidestep the phone charges by using your cell phone. You can often avoid Internet fees if you have wireless access at home (many phone companies will extend your access to their "hot spots" nationwide). But resort fees are random; the best you can do is inquire about them while planning your trip, and if a hotel charges one, just add it into your comparison prices. You may still decide to stay at a hotel that charges fees, but you're less likely to feel ripped off if you know it's coming.

Rental Cars

The fees: You need to rent a car and think you've nabbed a great rate, but then come the add-ons. The major agencies do not charge all of them, but you can expect to see at least a few on your next bill.

'Concession recovery fee is essentially the rental car company charging you to recoup the amount the airport charges it to offer services there. On one recent rental, purportedly for $263, it was more than 11 percent of the rental cost, about $33. 'Vehicle license recovery fee, usually $2 to $5, is you paying the rental car company to license its vehicles. (We thought that was just a cost of doing business.) 'Energy surcharges run 50 cents to $3. What's it for? To keep the rental car company's lights on. 'Tire and battery recovery, $1 to $3, pays for the disposal of bad tires and dead batteries. 'Traveling with a friend? The additional driver fee will cost you $5 to $10 - or more if the other driver is younger than 25.

And then on top of the fees, the rental agencies try to convince you that you need these overpriced insurance offers:'Loss damage waiver, $25 to $30 daily, is collision insurance coverage that guarantees the car rental company won't come after you for scratches or dents, or even for totaling their rental car. 'Liability coverage, $12 to $13 per day, ensures that you won't lose your assets if you hit somebody with your rental car. 'Personal effects coverage, $4 to $6 per day, reimburses you if something is stolen from your rental car.

Why we hate them: The concession fees, licensing cost and energy surcharges just cover operational costs, which you'd normally assume was factored into the rental cost of the car (much like the "resort fees" should have been factored into the cost of the room). But these passed-on overhead charges can raise the advertised cost of the rental by 25 percent.

The insurance coverage you buy at the rental counter largely mimics the auto coverage you probably already have, except there's no deductible. For that, you pay annualized rates that knock your socks off. Multiply the daily rate for buying all this coverage - about $25 for the loss damage waiver, $12 for the liability coverage, and $4 for the personal effects coverage - by 365 days and you get $14,965. That's roughly 30 percent more than the retail price of buying the Hyundai Accent you just rented.

Can you fight them? The airport concession and other cost recovery fees are neither negotiable nor avoidable. While some off-site rental car companies reduce the airport concession recovery fee, the search and inconvenience of getting to these remote locations can eliminate any real savings. You're stuck; just budget for them.

On the other hand, the add-ons for insurance supplements, including the loss damage waiver, are easy to decline. If you have auto insurance at home, it covers you on the road. Pay with a credit card, and you get additional coverage from most major card issuers. Car rental salespeople will warn that neither your insurance nor the credit card will cover their loss of use for the vehicle, which they might try to levy at a ludicrous daily price if you're in an accident. But this may well be more inconvenience than economic threat, since their loss-of-use claims would have to be substantiated (if pressed).

Television, Telephone and Internet

The fees: It doesn't matter whether the company selling you a bundle of services, including clearer television, high-speed Internet and telephone services, is a cable company, Dish or DirectTV. They all draw you in with super-low offers - as little as $70 for everything - and then start boosting the price the moment you bite.

'Internet speed tiers. The service hooks you with a $9.99 per month offer for "high speed" Internet, but it turns out that this connection isn't actually that speedy. For the speed you expect, it's likely to cost $30 or $40. 'Second television set. The fee for your cable or satellite service likely covers just one television; adding a second or third set will cost you $5 to $10 per month. 'DVR rental. You want to record TV shows? That's an extra $5 or $6 a month. 'Cancellation fees. Cancel the television service in less than 24 months and you'll be hit with a fee as high as $400.

Why we hate them: When you're buying "high speed" Internet, you actually expect it to be fast. Who knew it could be almost as poky as dial-up? And what household, beside your great grandmother's, has just one television?

Meanwhile, if you want to cancel your cable or satellite service because it has so many outages that you're favorite show has turned into static, you can't leave without a staggering fee. Satellite companies make the cancellation fees charged by cell phone makers look puny.

Can you fight them? If you're not willing to go Ted Kaczynski and cut off all connections with the outside world, make up a list of what's important to you and use it while shopping. Things to ask about: DVR rental fees, costs for additional phone lines, Internet speed, installation charges, and whether you'll have to sign a contract. The fees are mostly unavoidable, but you can get a better deal if you're careful.

Also, make sure that you shop around whenever your exit fees are about to expire. If it looks like you're ready to flee, many companies will come up with special offers that can cut your costs by 20 percent or more. It still won't be as low as the advertised price, but it can provide real savings nonetheless.

Adding It UpThese are the days of caveat emptor. If an offer sounds too good to be true - or even just surprisingly cheap - look for the catch. If you don't, you're likely to find it after the product is consumed and the sneaky fee is on your bill.

More on MoneyWatch:

Consumers in the Crosshairs Why You're Paying Just a Bit More ... for Everything Big Banks' Sneakiest Tricks Video: Best Credit Cards for You Trending News

Cracking Down on a Wall Street Trend: E.S.G. Makeovers - The New York Times

Sun, 18 Sep 2022 16:27

DealBook Newsletter

In recent years, financial firms have revamped dozens of mutual funds into E.S.G. dedicated funds '-- seeking to cash in on growing demand for such investments.

Send any friend a story

As a subscriber, you have 10 gift articles to give each month. Anyone can read what you share.

Makeovers of mutual funds into funds with do-gooder claims have become the trend du jour on Wall Street. Credit... Gili Benita for The New York Times Sept. 17, 2022

The DealBook newsletter delves into a single topic or theme every weekend, providing reporting and analysis that offers a better understanding of an important issue in business. If you don't already receive the daily newsletter, sign up here.

In early 2018, Goldman Sachs gave one of its decades-old mutual funds a makeover.

It had been invested in the stocks of large European and Japanese companies across many industries, but suddenly it became the Goldman Sachs International Equity ESG Fund. Its new investing mandate: choose foreign companies with the best reputations on environmental, social and governance policies.

E.S.G.-fund makeovers have become the trend du jour on Wall Street: BlackRock, J.P. Morgan, Morgan Stanley, HSBC, WisdomTree, Putnam and MassMutual have all done it. Over the past five years, about 90 mutual funds and E.T.F.s have undertaken similar revamps, according to the mutual fund rating firm Morningstar. And Wall Street firms have started up hundreds of brand-new E.S.G. dedicated funds '-- seeking to cash in on growing investor demand for such investments.

Overall, there are currently 588 sustainable funds and E.T.F.s in the United States, according to Morningstar '-- an increase from 203 in 2017. The assets in them have grown to $296 billion from $70 billion.

But what may have seemed like a harmless marketing move is now causing some eyebrow raising: Securities regulators are starting to question whether their do-gooder claims are real or fraudulent, at the same time that regulators are seeking to enact new rules and guidelines for what constitutes an E.S.G. investment product or strategy.

S.E.C. expands its crackdownIt's the Wall Street version of a truth-in-advertising crackdown, and it's a focal point for a special E.S.G. enforcement task force set up last year by the Securities and Exchange Commission. The task force is essentially looking for instances of banks and money managers engaging in ''greenwashing'' '-- using misleading claims to make their investment funds or strategies appear to be E.S.G.-compliant.

Goldman is among the fund managers the task force is investigating. In a statement posted online in June by the firm's asset management, it confirmed that Goldman Sachs International Equity ESG Fund and another fund '-- Goldman Sachs ESG Emerging Markets Equity Fund '-- were the subject of the investigation. A person briefed on the matter said Goldman has eight E.S.G. funds in the United States.

The task force has gotten off to a slow start '-- bringing just two enforcement actions this year. But securities defense lawyers expect the pace to pick up in the coming months.

The investigations come as some Republicans have charged the S.E.C. with promoting ''woke capitalism'' while some sustainable investment proponents have begun to question whether Wall Street's endorsement of E.S.G. is anything more than virtue signaling. Many of these money managers are accused of not making any notable sustainability efforts but instead simply shifting asset allocations away from certain industries, such as oil and gas, and into tech stocks.

Our Coverage of the Investment WorldThe decline of the stock and bond markets this year has been painful, and it remains difficult to predict what is in store for the future. Navigating Uncertainty: What should investors do about the stock market's repeated head-spinning changes in direction? Nothing, our columnist says. Weathering the Storm: The rout in the stock and bond markets has been especially rough on people paying for college, retirement or a new home. Here is some advice. College Savings: As the stock and bond markets wobble, 529 plans are taking a tumble. What's a family to do? There's no one-size-fits-all answer, but you have options. Enduring Meme Stocks: The frenzy that saw traders congregate on social media and push stock prices for companies like GameStop higher can no longer be explained as simply a pandemic phenomenon. This is what happened, to some degree, inside Goldman's International Equity ESG Fund. In 2017, before the fund was rebranded an E.S.G. product, tech stocks made up around 3 percent of its allocations. By the end of 2018, their share in the fund had more than doubled '-- to more than 8 percent, according to Morningstar. Out were stocks such as Japan Tobacco and Royal Dutch Shell.

A Goldman prospectus for the revamped fund says it avoids companies that ''derive significant revenue'' from alcohol, gambling, tobacco, pornography, guns, for-profit prisons and oil, gas and coal.

But not all E.S.G. funds avoid the oil and gas sector. A number of E.S.G. funds, such as the DWS ESG Core Equity Fund, have sizable allocations to shares of Exxon Mobil, in part because the energy company gets relatively high marks for worker pay and promoting diversity in hiring.

The PIMCO Total Return ESG Fund, which was rebranded by the giant bond mutual fund company in 2017, has a similar mix of government bonds as does the firm's well-known PIMCO Total Return Fund and shares the same management team. Both funds have significant dollars invested in bonds issued by Fannie Mae, the federally backed mortgage finance firm, according to Morningstar data. The E.S.G. fund has a higher percentage of investments in corporate bonds.

Many fund managers make decisions on which stocks to invest in based on a company's E.S.G. rating, which is often generated by big financial research companies.

Earlier this year, the S&P 500 ESG Index, a listing of companies that meet certain environmental, social and governance standards, removed Tesla, citing the way the electric carmaker handled accusations of racial discrimination at its factory in California.

But even those ratings don't necessarily reflect how good a company is for the world at large '-- it is often a measure of a company relative to its competitors.

''Do I think there's confusion on that front? Yes,'' said Ken Pucker, a former apparel company executive who is now a senior lecturer at the Fletcher School at Tufts University.

Mr. Pucker said that even if fund managers meant no harm, their funds could be inadvertently preventing real changes from taking place.

''I worry that the growth in E.S.G. investing helps defer necessary conversation and action on planetary welfare,'' he said.

Even academic researchers with strong ties to Wall Street are skeptical.

George Serafeim, a Harvard Business School professor who has urged companies and investors to double down on their focus on E.S.G. principles, is a paid adviser to several fund managers and Wall Street firms selling E.S.G. products, including the giant bank State Street and the investment banking stalwart Neuberger Berman.

In his book ''Purpose and Profit: How Business Can Lift Up the World,'' Mr. Serafeim says he offers ''ways that companies can design and implement a strategy that has more positive impact.''

But he said there was plenty to criticize about E.S.G. funds.

''Many E.S.G. funds are doing very little of anything in fact, as they are quasi-index funds with minor tilts and with no engagement/stewardship capabilities,'' he wrote in an email to The New York Times.

''In fact, in my opinion, eventually there should not be any E.S.G. funds,'' he said. ''E.S.G. analysis should be part of good corporate and investment management.''

'All E.S.G. funds are not the same'The focus by regulators on allegations of greenwashing on Wall Street is no surprise given that Gary Gensler, the S.E.C. chairman, has made regulating E.S.G. investing a top priority. He has pushed for a rule that would require Wall Street investment firms to give investors more information about how they are carrying out any E.S.G. strategy. Another S.E.C. proposal would require any fund that calls itself ''socially responsible,'' ''sustainable,'' or ''green'' to invest 80 percent of its assets in ways that are consistent with that strategy.

In an investor bulletin, the S.E.C. cautions investors, ''You should know that all E.S.G. funds are not the same. It is always important to understand what you are investing in.''

BlackRock, the single largest manager of E.S.G. mutual funds and E.T.F.s in the United States, said in a statement that it generally supported efforts to combat ''greenwashing'' and ''increased corporate reporting on sustainability issues.'' Matt Kobussen, a BlackRock spokesman, said, ''Greenwashing is a risk to investors and detrimental to the asset management industry's credibility.''

But in a letter commenting on the S.E.C.'s proposed investment adviser rule, BlackRock raised concern that the proposal could lead ''to the disclosure of proprietary information'' surrounding a money manager's ESG investment process.

Alyssa Stankiewicz, associate director of sustainability research at Morningstar, said the standards for what constitutes an E.S.G. fund were still evolving. But she said the S.E.C. was right to expect investment advisers to be consistent about the standards they claim to be using.

Dennis Kelleher, chief executive of the nonprofit Better Markets, who served on President Biden's financial policy transition team, said the S.E.C. rules, if enacted, should help bring some agreed-upon definition to an area of investing that ''lacks legal content and clarity.''

To some degree, the task force is starting to do that with enforcement actions.

In May, the S.E.C. and the task force reached a settlement with Bank of New York/Mellon after regulators found the bank did not live up to its promise to perform an adequate ''E.S.G. quality review'' on some of the mutual funds it advises. The bank neither admitted nor denied the allegations but agreed to pay a $1.5 million fine and changed some of its procedures.

Last year the S.E.C. opened an investigation into allegations of ''greenwashing'' involving E.S.G. funds marketed by DWS, the investment management arm of Deutsche Bank.

Earlier this year, lawyers working with the task force issued a number of requests to several banks seeking information about their securities lending businesses and ESG strategies, said two people briefed on the matter.

Securities lending is an activity that is closely tied to short sellers '-- investors that often bet on a stock falling in price. Some market analysts and academics have questioned whether lending shares to short sellers is fundamentally inconsistent with promoting E.S.G. investment strategies.

But there are concerns the task force may be moving too fast.

''Enforcement may have gotten ahead of rule-making on E.S.G.,'' said Marc Elovitz, head of the investment management regulatory practice group at Schulte Roth & Zabel, a law firm that represents many big hedge funds and investment advisers. ''If there is actual fraud then the S.E.C. can shut it down. But the difficult policy discussions around E.S.G. investing shouldn't be pre-empted by enforcement.''

Daniel Hawke, a securities enforcement lawyer with Arnold & Porter and a former head of the S.E.C.'s market abuse unit, said regulators were ''under significant pressure to be seen to be doing something'' given the importance of E.S.G. to the Biden administration.

The S.E.C. enforcement lawyer overseeing the new task force rejects the criticism that it is overreaching.

''An investigation into possible misstatements in the E.S.G. space is really no different than an investigation into any other types of misstatements we may be looking at,'' said Sanjay Wadhwa, the deputy director of enforcement who leads the climate and E.S.G. task force. ''We've had prior actions in this space. To me, this is just plain vanilla enforcement.''

What do you think? Should Wall Street regulators expand their crackdown on E.S.G. funds? Let us know: dealbook@nytimes.com.

Eurostat: Sweden has the lowest excess mortality in Europe - Dagens Medicin

Sun, 18 Sep 2022 15:56

N¤stan 20 000 svenskar har avlidit med covid-19. Drygt 17 700 av dem har varit ¶ver 70 ¥r, varav m¥nga smittades p¥ n¥got av de hundratals ¤ldreboenden d¤r smittan tog sig in v¥ren 2020.

Coronakommissionen slog i sin f¶rsta delrapport fast att Sverige misslyckats med att skydda de sk¶raste ¤ldre.

Den svenska strategin, betydligt mjukare ¤n stora delar av omv¤rldens, pekades i internationella medier ut som en ''chansning''. Sett till ¶verd¶dlighet '' ett m¥tt p¥ hur m¥nga som d¶r under en viss tidsperiod j¤mf¶rt med ett snitt fr¥n de senaste fyra ¥ren '' avvek Sverige tidigt fr¥n grannl¤nderna.

Mellan mars och maj 2020 var ¶verd¶dligheten femte h¶gst i EU, enligt unionens statistikorgan Eurostat som j¤mf¶rt statistik fr¥n de 27 medlemsl¤nderna samt Island, Lichtenstein, Norge och Schweiz.

L¤s ocks¥: Nyuppdaterat omikronvaccin v¤ntas i b¶rjan av oktober

N¤r hel¥ret 2020 summerades hade 21 l¤nder h¶gre ¶verd¶dlighet. Sveriges var dock fortsatt mer ¤n dubbelt s¥ h¶g som Finlands och m¥ngdubbelt h¶gre ¤n ¶vriga Norden.

Haveriet inom ¤ldrev¥rden och de galopperande d¶dstalen fr¥n pandemins b¶rjan har etsat sig fast p¥ m¥nga n¤thinnor. Men faktum ¤r att pendeln sv¤ngt rej¤lt.

Under 2021 och f¶rsta halvan av 2022 hade Sverige rentav l¤gst ¶verd¶dlighet i hela Europa, inklusive Norden. Mellan januari 2020 och juni 2022 ¤r det bara Norge som har l¤gre d¶dlighet ¤n Sverige.

En orsak till att v¥ra nordiska grannar drabbas h¥rdare nu kan vara att fler av Sveriges sk¶raste ¤ldre dog under pandemins f¶rsta v¥g. Det s¤ger Fredrik Charpentier Ljungqvist, docent i historia och naturgeografi vid Stockholms universitet och f¶rfattare till boken ''Corona '' v¥r tids pandemi i ett historiskt perspektiv''.

'' Ska man vara krass s¥ tror jag att det i huvudsak handlar om att det finns n¥got f¤rre av de mest s¥rbara kvar i livet i Sverige. Det ¤r det enda jag kan se i den demografiska datan som f¶rklarar avsaknaden av ¶verd¶dlighet i andra halvan av pandemin, s¤ger han.

L¤s ocks¥: Svensk studie pekar p¥ vikten av antikroppar i n¤san

Karin Modig, epidemiolog och forskare vid Karolinska institutet som analyserat ¶verd¶dligheten i Sverige 2020 och 2021, anser att det finns argument b¥de f¶r och emot den f¶rklaringen.

'' Det som talar f¶r ¤r att v¥r analys visar att majoriteten av de som dog i covid 2020 skulle ha levt n¥gra ¥r till, och att de d¶dsfallen kanske hade f¶rdelats p¥ 2021, 2022 och 2023. P¥ s¥ vis kan man t¤nka sig att v¥r d¶dlighet ser lite b¤ttre ut de ¥ren, s¤ger hon.

'' … andra sidan har v¥ra grannl¤nder en full vaccinationsgrad av de ¤ldre sk¶ra, s¥ de borde inte ha f¥tt covid-d¶dsfall n¤r vi inte har f¥tt dem. D¤remot eventuellt i andra d¶dsorsaker, som hj¤rtinfarkter eller liknande bland ¤ldre, d¤r vi s¥ att s¤ga har tidigarelagt de d¶dsfallen i covid.

Sverige har haft Europas l¤gsta ¶verd¶dlighet sedan januari 2021 enligt statistik fr¥n EU:s statistikorgan Eurostat.

Foto : Johan Halln¤s

Enligt Modig ¤r ¶verd¶dlighet ett anv¤ndbart men ''grovt'' m¥tt. F¶r att dra mer l¥ngtg¥ende slutsatser kr¤vs, anser hon, betydligt mer data och en noggrannare analys '' inte minst vid j¤mf¶relser l¤nder emellan.

Markku Peltonen, professor i epidemiologi vid Institutet f¶r h¤lsa och v¤lf¤rd, Finlands motsvarighet till Folkh¤lsomyndigheten, ¤r inne p¥ samma linje.

'' Det ¤r ett komplext m¥tt som innefattar allt, och som inte ¤r helt l¤tt att tolka. S¥ man m¥ste vara f¶rsiktig, s¤ger han.

Han har sj¤lv f¶rdjupat analysen genom att g¶ra s¥ kallade ¥ldersstandardiserade ber¤kningar av ¶verd¶dligheten i de nordiska l¤nderna. Det inneb¤r att h¤nsyn tas till befolkningsstrukturer f¶r att utesluta f¶r¤ndringar som beror p¥ ¥ldrande befolkningar.

'' ven d¥ ser man ganska tydligt att Finland, Norge och Danmark har haft en h¶gre d¶dlighet ¤n man skulle v¤nta sig baserat p¥ historien. I Finland har vi haft mycket mer smitta nu j¤mf¶rt med tidigare, vilket ¤r den mest naturliga f¶rklaringen till att d¶dligheten ¶kar.

L¤s ocks¥: Svenska barns psykiska m¥ende efter mis-C synas

Efter n¤rmare 2,5 ¥r av pandemi st¥r det klart att Sverige, ur ett europeiskt perspektiv, kommit lindrigt undan. Men Karin Modig ser ingen anledning att ompr¶va kritiken mot svensk pandemihantering.

'' Om det b¤ttre resultatet f¶r oss 2021 och 2022 visar sig vara en effekt av att vi tidigarelade d¶dsfallen 2020 s¥ ¤r det v¤l ingen strategi att efterstr¤va. Det ¤r ju i s¥ fall en konsekvens av n¥got som inte gick s¥ bra d¥, s¤ger hon.

'' Det finns ingenting kopplat till d¶dsfallen som ¤n s¥ l¤nge pekar p¥ att det vi gjorde var b¤ttre. Den diskussionen har f¶rts kring andra saker, som att skolor var ¶ppna, att det var bra f¶r barnen och att folk hade ett visst m¥tt av sociala sammanhang. Men effekten av det f¥r utv¤rderas p¥ andra s¤tt ¤n ¶verd¶dlighet.

L¤s ocks¥: Nya p¥fyllnadsvacciner rullas ut efter best¤llning i regionerna

Ethereum becomes WEF coin, and a global CBDC is born

Sun, 18 Sep 2022 15:52

The people in charge of the Ethereum token, a popular digital asset previously marketed as a decentralized money, decided last night to finalize its transition into what amounts to WEF (World Economic Forum) coin, securing the network's path on the road to state capture, and perhaps, the birth of the ruling class's 1.0 version of a global Central Bank Digital Currency.

Completed under the big budget marketing campaign of a ''climate friendly'' and ESG compliant reshuffle, the Ethereum protocol moved from a proof of work system '-- which borrowed from Bitcoin's model of distributed, decentralized computing power (work) for validating the network '-- to a proof of stake system, which relies on dominant stakeholders to do the same.

There is no longer any ''work,'' or energy output, required, which is why the ESG and climate hoax crowd has hailed the project as a revolutionary achievement. They seem to miss the fact that ETH now represents a digital fiat currency, as there is no longer a legitimate case for a value proposition attached to it.

The Ethereum Foundation (whose Executive Director serves on the World Economic Forum's Global Blockchain Council) and other ''crypto'' institutions, knowing full well that they could not create a better free market money than Bitcoin, have been battling behind the scenes for years to become the first movers to regulatory capture, a ''prize'' that comes to its small network of controlling interests via a massive infusion of global capital.

The small network that controls Ethereum has long had a very cozy relationship with the World Economic Forum and major technocratic statist outfits, and it already relies on companies like JP Morgan and Amazon Web Services to secure its critical infrastructure.

So what makes the WEF crowd and their fellow travelers so hyped about ''The Merge''?

Unlike Bitcoin's proof of work system, which provides for robust decentralization and individual security, ETH is now set up so a select few ''stakeholders'' can determine the outcome of the entire system. The dominant stakeholders can simply get together and manipulate the protocol as they see fit.

But it's not the private entities that present the greatest threat to liberty and privacy.

This asset is now an easy target for a hostile state or international institutional takeover.

Ethereum stakeholders are an incredibly centralized bunch. They come in the form of registered, * regulated * companies like Lido and Coinbase, organizations that are upfront about the reality that they are subject to complete regulatory and state capture.

Should a powerful government want to invalidate the ETH tokens held by Jon Doe, a labeled opponent of the regime, they can simply pressure Coinbase and the gang to blacklist his transactions. The same goes for Jane Doe, who a random bureaucrat could determined is a ''criminal,'' and force a major stakeholder to change the rules to punish Mrs Doe. Her Ethereum wallet can be blacklisted with the click of a button, rendering her entire wealth in this currency instantly worthless.

For years, globalist, authoritarian legislators, regulators, and central bankers throughout the United States, Europe, and Asia have sought to find a way to lure creative minds into their CBDC projects, with very few in the space showing much interest.

Ethereum's marketing team, however, has manipulated many smart, naive, good natured, idealist programmers into building what have become very popular financial tools, especially their dollar-pegged (along with other state currencies) assets on the network, such as the USDC coin, which can potentially be weaponized for the future implementation of a global Central Bank Digital Currency (CBDC) system.

Instead of building their own system from the ground up, CBDC advocates in government and quasi-private enterprise may manipulate these volunteer and paid programmers, whose work they can now easily control, to employ a CBDC asset into their respective societies.

The stage has been set. In the digital asset space, it's Bitcoin versus WEF/ETH coin. Freedom Money versus CBDC tyranny.

This piece was reprinted from my economics newsletter: Current Thing Capital, which will soon feature some really interesting thinkers in the Econ world. I've made it available to The Dossier subscribers for your convenience!

Martha's Vineyard Millionaires Launch GoFundMe Over 'Humanitarian Crisis'

Sun, 18 Sep 2022 15:13

The ultra-wealthy elites of Martha's Vineyard launched a GoFundMe fundraiser over the island's "humanitarian crisis" of (*finger-counts*) 50 migrants sent ashore by Gov. Ron DeSantis (R-FL). That's right. The trust fund babies and Old Money socialites on Martha's Vineyard, a well-known magnet for millionaires, CEOs, and celebrities, were soliciting online donations from middle-class Americans on the crowdfunding platform.

You can't make this stuff up. "URGENT PLEA"! The ultra-wealthy on Martha's Vineyard has launched a GoFundMe fundraiser, already raising over $36,000.Please help these struggling millionaires with multiple summer homes during this "humanitarian crisis"??https://t.co/U9rhPrYtrh

'-- Mia Cathell (@MiaCathell) September 16, 2022As of Friday afternoon, the affluent community's "urgent plea" has raised over $42,000. The proceeds are benefiting the Martha's Vineyard Community Foundation (MVCF) whose mission includes putting "charitable contributions to work for the people of Martha's Vineyard by making grants that address community priorities" and "dispersing emergency response funding during extreme times of need." MVCF builds and invests its endowment to "provide continued resources for enhance[ing] and preserving the quality of life on the Vineyard."

MVCF is the permanent endowment for Martha's Vineyard and has grown to assets under management of over $14 million dollars, according to its financials page. MVCF's current causes accepting monetary gifts include the Climate Action Fund, which backs projects "that address the effects of climate change on the Island; the Islanders Write festival, a free event where authors come together "for robust conversation about the art, craft and business of writing;" and the Diversity Coalition Charitable Trust, which is dedicated to "eradicat[ing] racism," understanding "the barriers that prevent equal rights for all," and "ultimately eliminate inequality and injustice."

UPDATE: Since the Martha's Vineyard migrants were sent to Cape Cod, the island's GoFundMe is STILL taking donations for "building up a reserve to assist situations like this in the future, rather than directly helping this group of migrants and their situation." pic.twitter.com/wEvbUqoDeN

'-- Mia Cathell (@MiaCathell) September 16, 2022In addition to the flow of GoFundMe sympathy cash, MVCF had established a separate Migrant Relief Fund, noting that it's "concerned about the well[-]being of the migrants who have recently arrived on our island."

But not even two full days after Wednesday's arrival, the "inclusive" residents rounded up the migrants and shipped the lot off to be held at a military base's detention facility on the mainland, where the "open borders" advocates can support the immigrants from afar with the stretch of the Atlantic Ocean providing separation.

The most current update on the Martha's Vineyard Humanitarian Response. pic.twitter.com/tOyTXV6Kyc

'-- Visit Martha's Vineyard (@VisitMV) September 16, 2022On-the-ground reporters filmed the migrants boarding Vineyard Transit Authority buses, which flashed "Have A Nice Day!" on the front, before they were transported to the ferry. As many as 125 members of the National Guard will also be activated to assist in the "relief effort" but what duties will be performed is still unclear.

Martha's Vineyard couldn't handle 50 illegal immigrants for even 24 hours. They called in the buses and deported them from the island. But I thought left wingers loved diversity? Sad day. pic.twitter.com/qh324FrqZE

'-- Clay Travis (@ClayTravis) September 16, 2022HAPPENING NOW: Migrants, flown into Martha's Vineyard by Fl's governor, are boarding buses. They'll be heading to Joint Base Cape Cod, according to officials. 125 Mass National Guard members are being activated to assist. @NBCNews pic.twitter.com/RLwxNPu8GM

'-- Emilie Ikeda (@EmilieIkedaNBC) September 16, 2022"Martha's Vineyard is a community of open-hearted individuals that view these migrants as people, not political pawns," the GoFundMe campaign's description read overnight, right before the "immigrant-friendly," welcoming "sanctuary destination" quickly bid adieu Friday morning to the dozens of migrants within a 48-hour period.

The companion Migrant Relief Fund's caption was updated to note that the "immigrant visitors" were just that'--passersby. Of course, the MVCF was sure to emphasize that the visiting migrants "expressed enormous gratitude for the outpouring of support and generosity shown by the Island community, which was heartfelt and overflowing." Then the MVCF vowed to "make every attempt to stay connected" with the group of migrants.

In the meantime, never let a good crisis go to waste! Even with the migrants on a different body of land, the island community's GoFundMe page'--tagged under the site's "Emergencies"'--was still taking handouts for "shoring up the organizations that provided assistance over the past few days and to building up a reserve to assist situations like this in the future, rather than directly helping this group of migrants and their situation."

Martha's Vineyard Community Foundation is accepting $$$ for other causes including "addressing the effects of climate change on the Island, "eradicating racism," understanding "the barriers that prevent equal rights for all," and "ultimately eliminating inequality and injustice." pic.twitter.com/nv1c1CnSvT

'-- Mia Cathell (@MiaCathell) September 16, 2022The fundraiser has since locked down the GoFundMe campaign. "All funds raised went directly to the MV Community Foundation, to distribute to the organizations with the most need," per the campaign's last message.

While the traveling flock is detained at Joint Base Cape Cod, residents can safely replace the "All Are Welcome Here" posters from the Social Action Corner just in time for the November midterms. The signs pledging to "stand with IMMIGRANTS" are proudly displayed in store windows and at business sites all across the island.

Watch how quickly the wealthy white liberals on Martha's Vineyard remove their "All Are Welcome Here" and "stand with IMMIGRANTS" posters. pic.twitter.com/V1gOfPbO3F

'-- Mia Cathell (@MiaCathell) September 15, 2022The fundraiser's organizer, New York communications consultant Sarah Goulet, claimed the resort community "faces a shortage of affordable housing," although dissidents in the island's Facebook groups have called out their fellow liberals for not practicing what they preach by refusing to offer up their multiple summer rentals, which remain vacant most of the year. Some of the Karens hoped that giving away hand-me-down clothes would be sufficient virtue-signaling as opposed to unlocking their empty mansions to the migrants at their doorsteps.

I'm in a couple Martha's Vineyard Facebook groups and they're all turning on each other. Calling out their friends for not letting migrants in their summer homes pic.twitter.com/igS8dalb5a

'-- AidanKearneyTB (@DoctorTurtleboy) September 16, 2022Martha's Vineyard claims to be a ''sanctuary'' jurisdiction that welcomes illegal aliens. Most of those multi million dollar mansions are summer homes that are vacant most of the year. They can be used to house thousands of illegal migrants.Time to walk the walk, Biden voters. pic.twitter.com/2OpC0UpSy8

'-- Christina Pushaw ?? ???? (@ChristinaPushaw) September 15, 2022A quick Google search on Goulet shows her family's four-bedroom, $1.6 million-plus Martha's Vineyard home sitting on almost four secluded acres within walking distance of a 1,300-ft private association beach.

In addition to the main house, there's a large barn set up as an office and recreation room and a working farm is located in the community where neighbors can enjoy fresh meat, produce, and eggs along with greeting the chickens, goats, and cattle. Common land for occupants encompasses grazing pastures and walking trails.

Last year, Vineyard Haven, where the Goulet family residence is, was named the most expensive town in America, even beating Los Angeles, according to a 2021 analysis of U.S. Census Bureau data by LendingTree.

During the 2020 presidential race, Goulet donated six times to the campaign of Vice President Kamala Harris. She's a frequent contributor to ActBlue, a left-wing funding vehicle for progressive groups and candidates.

Goulet, a graduate of Brown University, owns her own namesake public relations and marketing company, offering strategic communications and media relations for fine art, design, and luxury brands. Her father is the owner of a commercial millwork manufacturer in Denver while her mother, also an Ivy League alumna, is a prominent and acclaimed appellate lawyer, serving as a partner at the prestigious law firm Holland & Hart.

Her husband from pricey Manhattan Beach, California, is a correspondent for GQ magazine and the author of two books. He proposed to Goulet on the beach below the family's property and the two married in the summer of 2018, catching the attention of The New York Times, which published a profile on the wedding venue.

At the appointment-only Mark Ingram Atelier premier bridal salon, Goulet received an Italian textured silk dress from Milan-based designer Peter Langner. Before the outdoor meadow ceremony, guests were treated to Aperol spritzes and a raw bar, according to wedding blog site Over The Moon. A string quartet serenaded along with a premiere private brand whose vocalists have been featured on "American Idol," "The Voice," and "The X Factor."

These are the class of people making more than six figures in this inflation-ravaged economy but want your money to solve their so-called "humanitarian crisis," one that's derived from a very real crisis at America's border. It's a worsening situation they didn't care about until it directly affected them'--when there's trouble in paradise.

Popular Political Podcasts Dataset

Sun, 18 Sep 2022 15:11

About the Dataset Podcasts have exploded in popularity recently. Over the past decade, monthly podcast listeners have risen from just over 10% of the U.S. population to more than 40%'--a reach on par with major social media platforms like Instagram. Yet for all its reach and appeal, the medium has received little scholarly attention. Due in part the podcasting ecosystem's decentralized structure and large file sizes, academics and analysts have carried out relatively little research on how podcasting shapes political conversations and policy debates. In an effort to facilitate better real-time analysis of this influential medium, we have developed and released the Popular Political Podcast Dataset, which directs you to more than 40,000 episodes from 79 of the most prominent political podcast series. The dataset updates three times a week with new episode information. Growth of the political podcast medium over time, by partisan leaning. Published Research The Popular Political Podcast Dataset is part of (and a bibliography for) research conducted at the Brookings Institution and elsewhere, including: ''Policy recommendations for addressing content moderation in podcasts'', by Valerie Wirtschafter and Chris Meserole, April 18, 2022 ''Popular podcasters spread Russian disinformation about Ukraine biolabs'', by Jessica Brandt, Valerie Wirtschafter, and Adya Danaditya, March 23, 2022 ''Prominent political podcasters played key role in spreading the 'Big Lie''', by Valerie Wirtschafter and Chris Meserole, January 4, 2022 ''The challenge of detecting misinformation in podcasting'', by Valerie Wirtschafter, August 25, 2021 Terms of Use To use data from the dataset, please cite: ''The Popular Political Podcast Dataset developed by Valerie Wirtschafter and Chris Meserole at the Brookings Institution'' or link back to this database. If you do use data from the database in your research, please share it with us, so that we can feature it here. If there are additional features you would like us to incorporate, please let us know as well. The information and links provided on this site are provided for non-commercial, academic research purposes only. Database links are provided to publicly available third-party feeds and sites and will direct you away from this site. We are not responsible for the contents, transmissions and/or downloads of any linked site or any link contained in a linked site, or any changes or updates to such sites. We are similarly not responsible for the privacy practices or the content of such third-party sites. We are providing these links to you only as a convenience, and the inclusion of any link does not imply our endorsement of, nor our ownership of rights to, the site. You are responsible for ensuring that your research use of any third-party site content does not infringe on any third-party rights, including without limitation, copyright. Use of this site and any information provided herein are subject to the above conditions. If you visit, read, click on links from or otherwise use this site, you accept these conditions. Last updated: 2022-09-18 13:59:18 Inclusion Criteria To be included as a series in this dataset, (1) the show must be a punditry/talk show-style series, (2) the description must include the term ''policy'', ''politic'', ''news'', or ''current events'' or discuss political topics in recent episodes, and (3) the series must satisfy one of the following criteria: Featured in Apple's Top 100 List in November 2020 Featured in Apple's Top 100 List in April 2021 Recommended by Apple in the ''You Might Also Like'' section of a show identified through either (1) or (2) This video provides a demo of the inclusion criteria process for two shows in Apple's Top 100 and a few additional recommended series: Dataset Variables The dataset includes the following variables: Episode ID: This variable provides a unique ID for each episode, ranging from 1 to the total number of episodes in the dataset at the time of the last update. Show Name: This variable provides the name of the show included in our dataset. There are 79 unique shows included in the dataset. It is possible to filter on this variable, using the ''Show Name'' filter. Full Date: The variable provides the date the episode was posted online. It is possible to filter on this variable, using the date range options in the ''Date Range'' filter. Title and Description: These variables provide the title and description for the series episode. It is possible to filter on these variables, using the ''Character String Search'' filter. To search for multiple terms, users can utilize the ''OR'' operator (|). For example, a search for COVID related episodes might take the form: ''covid|pandemic|coronavirus.'' The search will the scan through both the Title and Description columns and return only episodes that include one or more of these terms. All character string searches should use lowercase spelling. Partisan Leaning: This variable classifies podcasts hosts as ''More Liberal'', ''More Conservative'' or ''Moderate'' based off their estimated political ideology. We calculate estimated political ideology using a method that relies on Twitter following decisions as a signal of partisan preference. More information on this method, which relies on well-established Bayesian ideal point estimation, can be found here. Where we are unable to discern Partisan Leaning through this method or other obvious means (e.g., Congressional party affiliation), we tag the series as ''Unknown.'' These classifications represent our best estimate of partisan leaning, based on publicly available information. It is possible to filter on this variable using the ''Partisan Leaning'' filter. Entered Dataset: This variable details how the series entered our dataset. A series could enter our dataset in three different ways: (1) it appeared in Apple's Top 100 lists during November 2020, at the time of the presidential election; (2) it appeared in Apple's Top 100 list April 2021, when we began exploring possibilities for this research; or (3) it was recommended by Apple for listeners who enjoyed one or more of show categorized as popular in either (1) or (2). The purpose of this inclusion criteria is to not only include shows that garnered a broad audience at the time, but also mimic one popular way that users might stumble across new shows '' via app recommender systems. It is possible to filter on this variable using the ''Entered Dataset'' filter. Audio URL: This variable provides the URL to the raw audio file for each episode. These URLs are publicly available online and hosted alongside episode metadata by various podcast hosting providers. Using this link, users may directly download the audio file to their personal devices and then transcribe the file for more in-depth content analysis. Dates covered: 2022-09-11 to 2022-09-18 Dates covered: 2022-09-11 to 2022-09-18 Dates covered: 2022-09-11 to 2022-09-18 This feature allows you to explore how the political podcasting space has changed over time, using a variety of different filters.

Date Range:

Character String Search:

Figure Title:

Download Figure Download Data

A new data set for better monitoring of the political podcast ecosystem

Sun, 18 Sep 2022 15:11

Despite their growing popularity and influence on the information ecosystem, podcasts remain a relatively understudied digital medium. (Barbara J. Perenic/Columbus Dispatch / USA TODAY NETWORK)In early February 2021, Sen. Ted Cruz and his co-host Michael Knowles were recording a live episode of the podcast Verdict with Ted Cruz when the Texas Republican coined a colorful metaphor to describe Beto O'Rourke's base. In Cruz's telling, the Texas Democrat's core support is made up of ''reporters'' acting like ''groupies at a Rolling Stones concert throwing their underwear'' at him. ''I mean if they wore underwear,'' Cruz added. With a wry expression, he paused. ''Too edgy?'' he asked. Knowles laughed, dismissing the concern outright: ''It's a podcast'--you can say whatever you want.''

Knowles' assessment of the podcast ecosystem as a space where ''you can say whatever you want'' is'--for the most part'--accurate, both with respect to government regulation and platform guidelines. Even as tech companies raced to limit the spread of election-related misinformation across social media platforms in late 2020, prominent political podcasters played a central role in disseminating election fraud narratives in the lead up to January 6, as we have documented. Podcasts also offered a prime avenue for the spread of pandemic-related misinformation, particularly regarding unproven treatments and vaccines. Despite the real-world harms caused by this type of misinformation and the medium's growing reach and influence, to-date little research has explored the role of podcasting in shaping political conversations due to a myriad of technical and other challenges.

To help policymakers, researchers, and the tech community better understand podcasting's role in the information ecosystem, we have developed a dashboard that aggregates political podcast episode data into a single, easy-to-use format and provides an overarching look at the medium in near real time. This data set represents the first publicly available, centralized collection of podcast episode data describing the political podcasting industry in a ready-to-use, downloadable format. We focus on political podcasters, due to both their prominence in the broader media environment and their ability to rapidly shape public opinion and the contours of political debate. We hope that the release of this dashboard and data set will facilitate better monitoring of a medium that has until recently flown under the radar, despite its growing popularity and influence in political conversations.

The full dashboard and database is available here.

The dashboard consists of three components: the data set, along with an accompanying codebook; weekly analyses to monitor recent trends in conversation over the past seven days; and a ''build-your-own'' feature that allows users to create time series plots based on a variety of filters.

The data set and dashboard we are making available today currently includes more than 40,000 podcast episodes across 79 prominent political podcasters for which episode data is publicly available. As we continue to collect data, these numbers will grow. For each episode, we include the title, description, date, and link to the audio file. We also detail why the series is featured in our data set as well as provide an estimate of the partisan leanings of the series host(s). In the codebook section of the database, we describe how we identified the 79 series included in the data set and provide more information on every data set variable.

The data set that appears online dynamically updates three times a week with new episode data to allow for better real-time monitoring of the medium. We also include additional features to allow users to filter the data set based on a range of criteria'--including key words, date, and political ideology. Due to the nature of our data collection process, if an episode is removed from the show's catalogue, it will no longer appear in our data set.

By compiling and releasing this data set, our goal is to help equip researchers with the tools to better understand and evaluate ongoing conversations across the podcasting medium in near real time. Up until this point, the podcast industry has largely been overlooked by scholars due to the highly decentralized nature of the medium and the complexity of analyzing large audio files, among other factors. As the first publicly available, centralized repository of podcast episode data, the data set and dashboard fill an important gap in the study of podcasting and aim to enable further research.

By allowing users to search episodes for main topics and themes, researchers can quickly zero in on the episodes they would like to explore further. Based on the information provided in the data set, it is easy to find episodes focused on a specific topic or theme, download the metadata, build a repository of the accompanying audio files, and run them through an AI transcription service for more in-depth analyses.

In addition to the raw data set, we also conduct several analyses on newly uploaded episodes to provide users with a breakdown of the themes and topics covered in recent episodes added to the data set. Due to the small number of podcast series classified as ''Unknown'' and ''Moderate,'' we only include episodes from podcasts classified as ''More Conservative'' or ''More Liberal'' for these figures.

We include three built-in analyses, which update regularly with the data set:

A bar chart detailing the partisan leanings of the podcasts that have been added to the database in the past week. Of the podcasters included in our sample as of Sept. 7, the more conservative hosts recorded three times as many episodes as more liberal hosts in the last week.A bar chart detailing the most popular words used in episode titles and/or descriptions by partisan leaning, which provides an indication of the topics being discussed by prominent podcasters. In the past week, the most popular word used by more liberal podcasters this week was ''Trump'''--an unsurprising development as podcasters continued to examine the fallout from the FBI raid on Mar-a-Lago. Although the FBI raid was also discussed frequently by more conservative podcasters, their most popular word this week was ''Biden,'' which based on other popular words, is likely in reference to his speech in Philadelphia.A scatterplot detailing how the most popular word(s) for the week have fared over time by partisan leaning, allowing users to examine how the topical focus of podcasts shifts. The figure this week highlights how usage of the words ''Trump'' and ''Biden'' have changed over time for both more liberal and more conservative podcasters.Finally, we provide an interactive feature that allows users to create custom graphics that plots the total number of episodes over time based on a variety of filters, including (1) date range for episodes; (2) partisan leaning of the series; and (3) terms or phrases used in the episode title and/or description. Users also have the option to add a title to their figure and download the data, which provides the seven-day rolling average of the number of episodes, based off their specific filters.

Below we provide an example, which examines conversations about the coronavirus over time amongst conservative podcasters, using the terms coronavirus, COVID, pandemic and vaccines. This figure illustrates how interest in the coronavirus has changed over time among conservative podcasters, with content about the virus peaking in early 2022.

Our hope is that this is just the beginning of data sharing and analysis of the political podcast ecosystem. In the future, we plan to further refine and build out this database with additional features, like transcript snippets and references to fact-checked content. We hope that you find the database useful, and we look forward to your feedback on additional features we might be able to incorporate into the application to make it an even more valuable tool for analysis of this increasingly popular and influential medium.

Valerie Wirtschafter is a senior data analyst in the Artificial Intelligence and Emerging Technology Initiative at the Brookings Institution. She received her Ph.D. in Political Science from the University of California, Los Angeles.

Teen found dead at Bernstein High School, 3 others hospitalized after overdosing on fentanyl-laced Percocet - CBS Los Angeles

Sun, 18 Sep 2022 15:08

One teenage girl died, and three other teenagers were hospitalized after they were found to have overdosed at a school in Hollywood and a nearby park.

All the teenagers are believed to have gotten Percocet laced with fentanyl at Lexington Park, where two of the teens were found. The park is less than a mile from Bernstein High School, where two 15-year-old girls had also overdosed, including a girl whose body was found in a bathroom.

(credit: CBS) The grim discoveries were made by a parent who was concerned his stepdaughter had not come home. He had reported his stepdaughter missing at 2:30 p.m., and continued looking for her. He eventually made his way to the school, in the 1300 block of North Wilton Place, and found her suffering from an overdose in the courtyard and called police.

LAPD officers arrived at the school at about 9 p.m. The girl told her stepfather that her friend had also overdosed and was in a bathroom. The officers got staff, who were at an on-campus event, to get inside the school, where they found the second girl unresponsive inside a bathroom stall. Paramedics tried to help the girl, but she was ultimately pronounced dead at the scene.

Both of the girls at the school were students. The girl who survived was hospitalized in stable condition. Her friend's name has withheld pending notification of her family.

The survivor told police that they bought the pills they overdosed on from the same dealer at Lexington Park, in the 5500 block of Lexington Avenue.

That's where investigators determined two more teenagers were found to have overdosed. A 17-year-old Hollywood High School student is in stable condition, but the condition and age of the second teen is not known. It's not clear if the teens at the park knew the Bernstein High students, but Superintendent Alberto Carvalho said such incidents have become an increasing occurrence, with reports of at least six people who go to schools nearby trying to sell drugs to students at that very park over the past three weeks.

"It's a park well-known for allowing individuals to sell drugs, to provide drugs, to some of our students," Carvalho said.

"There should be no harm associated with a school, a park, just because an individual with ill intent decides to spread destruction and death to our young people," he said of the park, which has since been closed.

In a press conference Wednesday afternoon, Carvalho went on to disclose that over the past three weeks, six different LAUSD students have been located at the park with the intention of purchasing narcotics.

Police parents should have serious conversations with their children about the danger.

"The most important thing is to make sure that everybody's aware they're selling the poison out here in this park, and keep your kids away from it," LAPD Lt. John Radtke said.

In a statement, LAUSD officials said grief counselors would be available on-site to support students and employees.

"As we work together with LAPD To uncover the details of this tragic situation, our thoughts and prayers go out to the families and friends of both students," the statement said in part.

Update on Helen Bernstein High School Incident pic.twitter.com/1nUTmMbv22

'-- Los Angeles Unified (@LASchools) September 14, 2022 CBSLA Staff The CBS LA Staff is a group of experienced journalists who bring you the content on CBSLA.com.

European Central Bank chooses Amazon and 4 other firms to prototype digital euro app

Sun, 18 Sep 2022 15:02

The five fintech, payments and e-commerce firms will create front-end prototypes for the digital euro, which will not be used in later phases of the CBDC project.

News The European Central Bank, or ECB, has announced it will be collaborating with five companies for the development of potential digital euro user interfaces.

In a Friday announcement, the ECB said it had chosen "Big Four" tech company Amazon, fintech firm Nexi, Spanish digital bank CaixaBank, French payments platform Worldline and the European Payments Initiative, or EPI, to each focus on developing a prototype based on specific use cases of the digital euro. According to the central bank, the firms will create front-end prototypes, which will not be used in later phases of the digital currency project.

Source: ECBThe ECB chose the five companies based on their fulfilling ''specific capabilities'' when compared to 50 other front-end developers that responded to the central bank's call in April. Officials planned the project to be completed in the first quarter of 2023 as part of a two-year investigation phase into the digital euro, expected to end in October 2023.

Related: Digital euro could come as soon as 2026 '-- ECB official

As interest in central bank digital currencies seems to be growing globally, ECB officials have been exploring the potential impact of a digital euro on Europe while being vague about if or when the bank could release a CBDC. The central bank commissioned a series of focus groups on digital payment methods in September 2021, which suggested that using digital currency at online and physical stores could be a key feature of a digital euro. An earlier public consultation also suggested that privacy was considered ''the most important feature of a digital euro by both citizens and professionals.''
ALL VIDEOS

VIDEO - (20) Joe on Twitter: "@tomselliott @ScottPelley @adamcurry" / Twitter

Sun, 18 Sep 2022 16:46

Joe : @tomselliott @ScottPelley @adamcurry

Fri Sep 16 18:59:43 +0000 2022

VIDEO - (30) Deliverance ' Dueling Banjos ' Arthur Smith, Eric Weissberg & Steve Mandell - YouTube

VIDEO - I asked my first-year college students how they feel about five social networks: Snapchat, Instagram, TikTok, Twitter and Facebook. Do you agree with what they said? #socialmedia #socialmediamarketing

Sun, 18 Sep 2022 16:24

Back to For You

00:00/00:00

I asked my first-year college students how they feel about five social networks: Snapchat, Instagram, TikTok, Twitter and Facebook. Do you agree with what they said? #socialmedia #socialmediamarketing original sound - Chris | Social Media Professor csnider24 Chris | Social Media Professor · 4d ago Recommended videos

VIDEO - (30) TikTok Executive Refuses to Answer When Asked Repeatedly About CCP Data Sharing - YouTube

VIDEO - DeSantis: Newsom's hair gel is 'interfering with his brain function' over immigration stance

Sun, 18 Sep 2022 16:01

By KJ Hiramoto

Published September 16, 2022 4:20PM

DeSantis: Newsom's hair gel is 'interfering with his brain function' over immigration stanceThe public feud between governors Gavin Newsom, of California, and Florida's Ron DeSantis continues to make headlines. This time, the issue stems from their two conflicting stances on immigration.

The public feud between governors Gavin Newsom, of California, and Florida's Ron DeSantis continues to make headlines.

This time, the issue stems from their two conflicting stances on immigration. On Thursday, Newsom slammed DeSantis and Texas Governor Greg Abbott for migrants being shipped across the country. Newsom announced Thursday that he has requested the U.S. Department of Justice to investigate the migrant children being "used as political props."

PREVIOUS COVERAGE: 2 buses of migrants dropped off outside VP Harris's residence near Naval Observatory in DC

On Friday, DeSantis responded to Newsom's criticism, saying the California Governor's "hair gel is interfering with his brain function."

Newsom issued a response on social media to DeSantis' comments, saying the Florida Governor is "struggling, distracted and busy playing politics with people's lives." Newsom challenged DeSantis on a debate and vowed to bring his hair gel as the Florida Governor is allowed to "bring hairspray."

The two's contentious exchange comes just days after Newsom donated $100,000 to DeSantis' opponent ahead of Florida's gubernatorial race.

"You want to ask what my 'why' is in life? I don't like bullies," Newsom said back on August 25. "I didn't like what DeSantis said about Fauci, that you may disagree with him, but to call someone pejorative terms because they're short. Who the hell are these guys? What kind of people are they?"

SUGGESTED: Gavin Newsom on donating $100K to Ron DeSantis' opponent: 'I like Charlie Crist and I don't like bullies

Newsom also compared DeSantis to former President Donald Trump.

"I know all of us had to, you know, sit there and suck it up and take Trump's demonization. But not everybody has to act like him," Newsom said in August. "I got four kids. I don't want these guys being role models. Attacking LGBT community, attacking women. I mean, this guy is so extreme."

VIDEO - (20) ð'šð'°ð'¶ð'´ ð'°ð'¶ð'°ð'¸ð'½ð'š'ð'šƒ ð'šƒð'·ð'´ ð'š…ð'°ð'²ð'²ð'¸ð'½ð'´ on Twitter: "🇯🇵 🇺🇸 Transplant patients rejecting organ after COVID vaccine https://t.co/aoff4XzGZR" / Twitter

Sun, 18 Sep 2022 15:53

ð'šð'°ð'¶ð'´ ð'°ð'¶ð'°ð'¸ð'½ð'š'ð'šƒ ð'šƒð'·ð'´ ð'š…ð'°ð'²ð'²ð'¸ð'½ð'´ : 🇯🇵 🇺🇸 Transplant patients rejecting organ after COVID vaccine https://t.co/aoff4XzGZR

Wed Sep 14 08:30:04 +0000 2022

VIDEO - (30) Appalachian Power is offering $50 for control over your thermostat - YouTube

VIDEO - (30) Ex-CIA director predicts 'terrible, painful retreat' for Russia - YouTube

VIDEO - (20) Incremental_Logic on Twitter: "says Bill Gates is building 60K satellites to watch everyone on earth 24 hours a day. ''This is Armageddon. The apocalyptical forces of totalitarianism. This is the final battle. We must win this one.'' https:

Sun, 18 Sep 2022 14:45

Incremental_Logic : says Bill Gates is building 60K satellites to watch everyone on earth 24 hours a day. ''This is Armageddon. The apoc'... https://t.co/fQ6Vzx4WgK

Thu Sep 15 07:34:44 +0000 2022

placebo65536 : @Incrementallog1 🤪Because gates is the one with thousands of satellites in the sky ...You have the wrong billionaire.

Sun Sep 18 14:05:52 +0000 2022

VIDEO - (20) heweymedia on Twitter: "I don't remember seeing Myocarditis commercials targeted towards children until now. Keep in mind that we still can't say the ''V word'' on social media without getting a banner at the bottom of the post saying h

Sun, 18 Sep 2022 14:42

heweymedia : I don't remember seeing Myocarditis commercials targeted towards children until now.Keep in mind that we still ca'... https://t.co/D5bWz6jcQz

Fri Sep 16 17:29:05 +0000 2022

RIX : @heweymedia @Genviev58358310 You won't see this on msm. https://t.co/OHZiXXXNfE

Sun Sep 18 14:04:18 +0000 2022

Vineyard Diversity ðŸ" : @heweymedia @ezralevant They're normalizing these adverse vax reactions.. it is criminal, these children will never be the same.

Sun Sep 18 13:32:30 +0000 2022

Rob Lefebvre : @heweymedia @37mule Vaccine injuries are real, long covid isn't.

Sun Sep 18 13:10:22 +0000 2022

Z La Luna : @heweymedia All designed to push that myocarditis is just this "mild" illness you can throw a bandaid on when in fa'... https://t.co/0fp1WrACiR

Sun Sep 18 13:07:26 +0000 2022
Clips & Documents
Art
Audio Clips

ABC ATM - anchor Inez De La Cuetara - queen no bus for biden (16sec).mp3

ABC ATM - anchor Justin Finch - 2M migrants to cross this year (14sec).mp3

ABC ATM - anchor Rhiannon Ally - be on the lookout for jugging (1min32sec).mp3

ABC ATM - anchor Rhiannon Ally - covid-19 alzheimers (12sec).mp3

ABC WNT - anchor David Muir - Dr Jha booster max protection (35sec).mp3

ABC WNT - anchor Mireya Villarreal - vineyard migrants sent to base (1min57sec).mp3

ABC WNT - anchor Pierre Thomas - battle over secret documents (1min5sec).mp3

ABC WNT - anchor Steve Osunsami - doctor spiking IV bags (1min30sec).mp3

Appalachian Power is offering $50 for control over your thermostat.mp3

Biden biggest liggest.mp3

BIDEN deficit.mp3

Biden drugs gugs.mp3

BIDEN Happy birthday Nanette.mp3

BIDEN jacked up speech 1.mp3

BIDEN jacked up speech 2.mp3

BIDEN jacked up speech 3.mp3

BIDEN jacked what drugs.mp3

Biden seceretary who.mp3

Bill Gates on Childhood deaths.mp3

CBS Evening - anchor Elaine Quijano - migrants in marthas vineyard (1min19sec).mp3

CBS Evening - anchor Major Garrett - trump warns of unrest (1min32sec).mp3

CBS Evening - anchor Norah ODonnell - jackson boil water lifted (15sec).mp3

CBS Weekend - anchor Adriana Diaz - china skyscrapper fire (10sec).mp3

CBS Weekend - anchor Adriana Diaz - mexican independence chicago (22sec).mp3

CBS Weekend - anchor Debora Patta - ukraine mass graves (1min44sec).mp3

College Professor on Students social network preferences.mp3

Deliverance Banjos.mp3

Dems no vaxx supercut.mp3

DeSantis - Newsom's hair gel is interfering with his brain function.mp3

disantis stunt 2 npr.mp3

disantis stunt 3.mp3

disantis stunt one npr.mp3

ISO overdo.mp3

ISO Whoa.mp3

Japan vs Puerto Rico weather.mp3

Japan weather report.mp3

Kamala doubling down on I do believe.mp3

kcal9_taco_fentanyl_full.mp3

Ken Burns - DeSantis vs Holocaust.mp3

Lara Logan details the real border count and issues.mp3

little mermaid rail jumping NPR.mp3

Myocradtisi ad - NY presbetarian.mp3

Newborn Blood Test Privacy Concerns KCAL9.mp3

Patreus CNN - Puting is losing painfully.mp3

queen tribute 2 plus npr.mp3

queen tribute npr.mp3

Rep Higgins and AOC response.mp3

Rep Higgins and the climate change activist.mp3

RFK jr - Bill Gates and his 60k satellites - Totalitarian state.mp3

Russell Brand - Varney - Will Harris.mp3

Scott Pelley CBS - Biden averted rail crisis - the hero.mp3

Sen Hawley and TikTok Executive -1- on CCP members access to data.mp3

Sen Hawley and TikTok Executive -2- on CCP members access to data.mp3

The future of tech fences for cows.mp3

Tock buying trump hate.mp3

Transplant patients rejecting organ after COVID vaccine.mp3

wtc7.mp3

Yahiva vs Gays.mp3