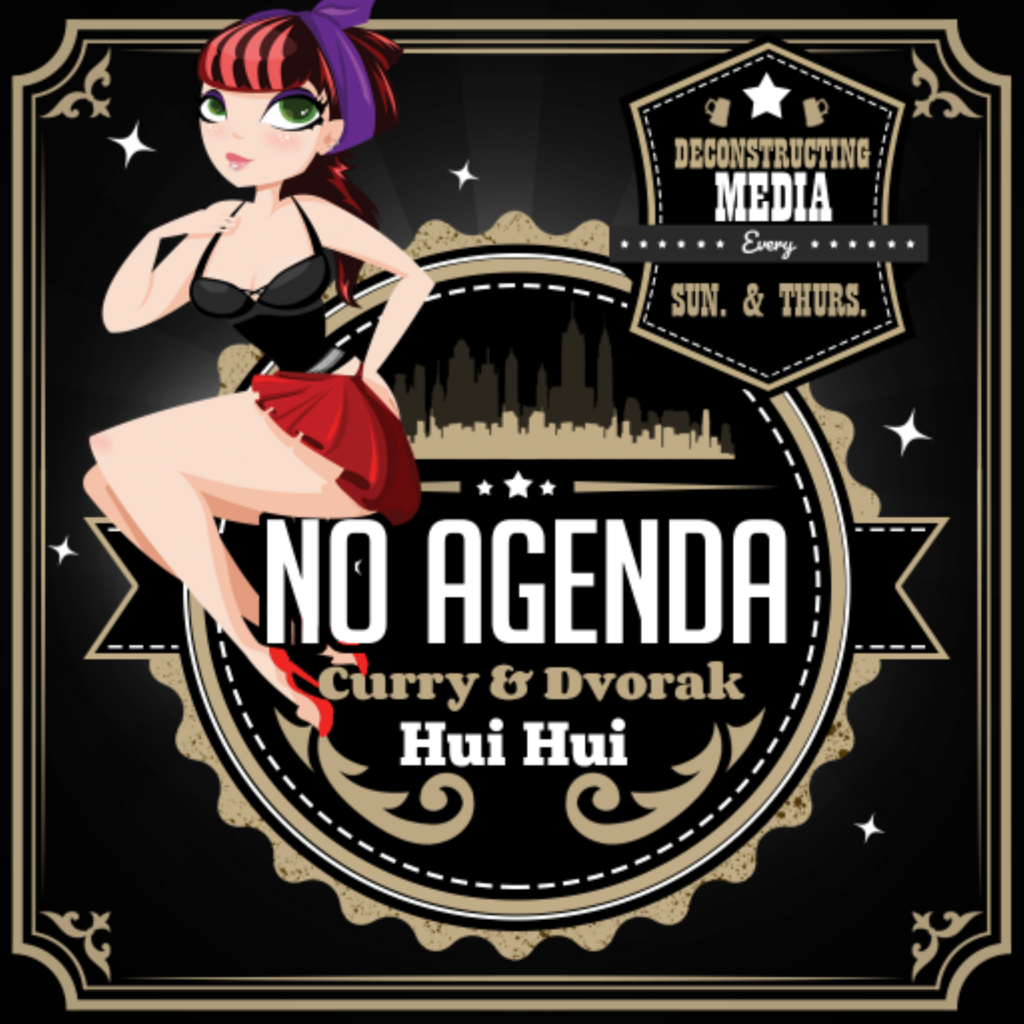 September 25th, 2022 • 3h 3m
1489: Sophistry's Choice
Shownotes
Every new episode of No Agenda is accompanied by a comprehensive list of shownotes curated by Adam while preparing for the show. Clips played by the hosts during the show can also be found here.
OTG
Food Intelligence
Iran
Ministry of Truthiness
Great Reset

Thierry Baudet

A historic global bond-market crash threatens liquidation of the world's most crowded trades, says BofA - MarketWatch
Energy & Inflation

Energie-wende started with Fukushima

Student Loan MEANS Testing

Adam

A friend on Facebook angrily posted how she won't gain from student loan forgiveness. She posted a statement where it shows she has reported income of $30,000/yr (she's a waitress making over $100k mostly tips) and her payment should be like $1300+ per month for her student loan but she's only paying $300 because of means testing, so her loan keeps increasing as the minimum payment doesn't even cover the interest. She was outraged because the $10,000 won't lower her payment any more.

Do they all work this way? No wonder nobody wants to take a traditional job. As soon as you start reporting income it all goes to student loan repayment and taxes. You are better off in a cash job and letting the tab run up infinitely. Even if she was offered a $150,000 job using her degree she's better off refusing because of the loan and taxes. Is this where all the workforce went?
Ukraine & Russia

Uniper BOTG Finland

Ik hoorde net dat Uniper verhaal voorbijkomen. Ik wist niet dat dat jullie interesse had, want ik heb dat uitgebreid gevolgd omdat Uniper eigendom was van het Finse Fortum. In de NPR clip werd niet verteld dat de Duitse staat het van dit Finse staatsbedrijf had gekocht…

Fortum had indertijd Uniper gekocht voor € 7 miljard en nu verkocht voor € 0,5 miljard. Totale strategische flop.

Deze links zijn nu een beetje mosterd na de maaltijd maar goed.

Latvia BOTG

ITM. Below is a picture from a grocery store in Riga. Every other row of lights is shut off as per the Queen Ursula clip you shared a couple episodes ago to save energy. There are now fewer shelves and less product on many of those shelves.

Posters around Riga advertise to join the military. Mandatory military service begins again on January 1st. Latvia got rid of that quite a while ago.

The times they are a changin' but it's for Ukraine so it's OK. Thank you for your courage!

Regards,

Anonymous Douchebag (future knight)
Climate Change

Carbon credits scam cows or Bitcoin
Build the Wall

Migrant flight data possible oversight committee interest
STORIES

Salesforce will launch carbon credit marketplace | Greenbiz

Sun, 25 Sep 2022 17:22

Salesforce aspires to democratize the process of buying carbon credits. With a new platform scheduled to debut next month at netzero.salesforce.com, businesses will be able to buy carbon credits from a trusted partner with a third-party verification.

The Net Zero Marketplace will officially launch in October at the VERGE 22 conference in San Jose, representing 90 projects from project developers Climate Impact Partners, Cloverly, Lune, Pachama, Respira International and South Pole. Calyx Global and Sylvera will provide the third-party ratings using independent verification methodologies. The platform is built on Salesforce's Commerce Cloud, which integrates directly with the Salesforce Net Zero Cloud sustainability management software application. But even businesses that are not customers of Salesforce can purchase credits through the platform, the company said.

"What we're aiming to do with the marketplace is create something of a first of its kind in terms of openness, transparency," said Patrick Flynn, senior vice president of sustainability at Salesforce. "Where everyone '-- individuals, organizations '-- can take action by supporting carbon projects."

According to Nina Schoen, director of product management for the Net Zero Marketplace, the marketplace will act as an educational platform, inspiration for corporations, marketing for ecopreneurs and a collaboration network between projects and buyers. Purchasers can pay for the credits directly on the website and Salesforce will take a 1.5 percent transaction fee.

Many critics think credits are the easy way out for corporations to claim net-zero emissions instead of making the hard reforms inside their operations and supply chains. Platforms such as the new Net Zero Marketplace could make the process even easier for businesses, potentially making it easier for them to delay meaningful action.

Flynn emphasized that carbon credits should be the final step in a carbon emissions reduction plan and said that the marketplace will reflect this with information and education for buyers highlighted on the platform.

"I don't think it makes sense to hold back for fear of bad actors," he said. "We need to hold bad actors accountable, but withholding a tool that can be usefully deployed doesn't seem like the right strategy. Give access and transparency and tools to everyone, and then celebrate those who use those tools really effectively and coach those who need to learn about how to use them more appropriately."

[Want to learn more about how climate tech can help us address the climate crisis? Check out VERGE 22 '-- the climate tech event '-- taking place Oct. 25-27, San Jose, CA.]

Opening up carbon credits to this type of ecosystem is a double-edged sword. High-quality credits are already in short supply, and the ease of service of the marketplace will increase demand from smaller companies that previously did not have the bandwidth to make purchases on their own. But Salesforce hopes that an increase in demand will lead to an increase in supply for high-quality projects.

"Like any nascent market experiencing incredibly rapid growth, I anticipate a bullwhip effect of supply and demand mismatch for the next handful of years," Flynn said. "All of it is needed. All of it is inevitable, and all of it needs to happen faster. The most important thing is that market maturation [of carbon credits] happens as fast as possible."

As Ukraine Advances on Ground, Clock Ticks in Washington on Aid - WSJ

Sun, 25 Sep 2022 17:17

Support for Kyiv potentially faces new political hurdles as U.S. midterm elections draw near

Sept. 24, 2022 9:00 am ETWASHINGTON'--Widespread support in Congress for pumping aid to Ukraine is starting to show signs of fracturing as many Republicans in the House question whether the money would be better spent combating China and tackling economic problems facing the U.S., according to a dozen lawmakers and congressional staff from both parties.

Concern about a potential shift in U.S. support comes as Ukraine continues its push east, with its forces seizing about 3,500 square miles of territory in the northeastern Kharkiv region as part of a...

Advertisement - Scroll to Continue

WASHINGTON'--Widespread support in Congress for pumping aid to Ukraine is starting to show signs of fracturing as many Republicans in the House question whether the money would be better spent combating China and tackling economic problems facing the U.S., according to a dozen lawmakers and congressional staff from both parties.

Concern about a potential shift in U.S. support comes as Ukraine continues its push east, with its forces seizing about 3,500 square miles of territory in the northeastern Kharkiv region as part of a surprise offensive earlier this month. U.S. military assistance, including Himars'--long-range rocket launchers'--have been credited with helping Ukraine push back Russian forces.

Until now, votes in Congress against such support were few and far between, with politicians in both parties seeing the need to make sure that Ukraine had a fighting chance against Russia's invading forces. Since Russia invaded Ukraine in February, the U.S. has provided $15.8 billion for security assistance, including a military package of $600 million earlier this month.

Another $13.7 billion for security and economic assistance is included in a stopgap funding bill that Congress must pass by the end of the month to keep the government funded.

As November's midterm elections approach, the continuing flow of aid is falling out of favor with many House Republicans who are struggling to justify the overseas spending to their constituents in the midst of domestic concerns including high inflation and economic uncertainty. That might intensify if Republicans, as expected, win a majority in the House starting in January.

Advertisement - Scroll to Continue

Minority Whip Steve Scalise (R., La.) and conference chair Elise Stefanik (R., N.Y.) the second- and third-highest ranking House Republicans, recently declined to commit when asked publicly whether they would continue providing aid to Ukraine should Republicans take control. Votes on aid since the invasion have passed with overwhelming support from both parties.

''There are a lot of members that want to see more accountability in the Department of Defense and more of a focus on the threats that are out there,'' Mr. Scalise told reporters earlier this month. ''China is moving very aggressively to build up a naval fleet, and right now our naval fleet is in decline.''

While lawmakers said they expect the latest proposed round of Ukraine aid to make it into the stopgap spending bill, future requests might face more resistance. As a result, officials in Congress and the Biden administration said they are working quickly to get as much assistance to Ukraine as possible before the end of the year. The Senate and House have separately held briefings on Ukraine to make the case for the latest aid round.

Rep. Ruben Gallego

Advertisement - Scroll to Continue

(D., Ariz.), who serves on the House Armed Services Committee and favors additional military aid to Ukraine, said that if Republicans take control they could invoke a rule used by past GOP speakers that requires majority-Republican support before any bill is brought to a floor vote. Such as move could significantly complicate the passage of future Ukraine assistance in the House, he said.

U.S.-provided weapons have helped Ukraine take back territory and offset Russian weapons advantages, according to U.S. military officials.

''Right now, Ukraine is doing very well,'' Army Gen. Mark Milley, the chairman of the Joint Chiefs of Staff, told reporters traveling with him in Europe recently. ''They've seized the strategic initiative, and the Russians have lost their strategic initiative.''

Secretary of State Antony Blinken

Advertisement - Scroll to Continue

said in a statement earlier this month that while the U.S. aid is aimed at ensuring Ukraine's victory on the battlefield, it will also ''strengthen Ukraine's hand at the negotiating table when the time is right.''

Some Republicans have for months indicated that they might be growing impatient with U.S. assistance to Ukraine. In May, Heritage Action, the political wing of the Heritage Foundation, a conservative think tank, said it opposed the $40 billion Ukraine aid bill agreed to by the Biden administration and Congress in May, citing concern over U.S. inflation, debt and other spending priorities.

Rep. Roger Williams (R., Texas) and Sen. Josh Hawley (R., Mo.) have both voted against assistance, but they have said they have acted over concern that the aid to Ukraine was depleting U.S. weapons and jeopardized U.S. national security as a result.

Some Democrats and centrist Republicans in Congress said they have been urging President Biden to do more to assist Ukraine, such as by providing Kyiv with the Army Tactical Missile System, or ATACMS, which has a range of about 190 miles. Administration officials have been reluctant to do so, saying such a move could spark a broader conflict.

Advertisement - Scroll to Continue

Gen. Milley said that while ATACMS is currently under consideration, he pointed to Russian officials warning the U.S. against providing Ukraine with such weapons. Russia's Foreign Ministry said earlier this month that if Washington sent Ukraine longer-range missiles, the U.S. would cross a red line and become a party of the conflict.

Other advanced weapons such as Western-made jet fighters aren't under consideration for the short term, U.S. Air Force officials said recently.

European governments, which have been providing large amounts of military aid to Ukraine, so far appear committed to continuing that assistance, although energy shortages and other domestic economic pressures could eventually limit public support.

Germany has so far committed more than ''¬2 billion in aid for Ukraine, equivalent to $1.94 billion, including more than ''¬720 million in arms deliveries. More military aid, including dozens of heavy-duty armored vehicles and tank transporters as well as jamming devices and antidrone systems, is scheduled to be delivered in coming weeks and months, according to a list published by the government.

France has disclosed few details about its military support to Ukraine for fear of being considered a belligerent by the Kremlin, officials in Paris said. The Kiel Institute for the World Economy, a German research institute, said France has so far committed around ''¬1.15 billion in aid to Ukraine, including ''¬233 million in military equipment.

'--Warren P. Strobel contributed to this article.

Write to Vivian Salama at vivian.salama@wsj.com, Gordon Lubold at gordon.lubold@wsj.com and Nancy A. Youssef at nancy.youssef@wsj.com

Xi Jinping Trends Online Amid Coup Rumors, Canceled Flights

Sun, 25 Sep 2022 17:16

Chinese President Xi Jinping became one of the top trending topics on Twitter amid unsubstantiated reports he is under house arrest and that China is in the midst of a military coup.

Xi and the phrase #ChinaCoup trended on social media after tens of thousands of users spread unconfirmed rumors that the president was detained and overthrown by the China's People's Liberation Army.

This speculation, which has not been discussed by any reputable sources, arrived as there are hardly any commercial flights flying over the capital of Beijing on Saturday, with unverified reports claiming all trains and buses are also being canceled out of Beijing.

Beijing Capital Airport's website does show that several flights out of China's capital have been canceled; but many others are still scheduled or already landed. There has also been reports the fights were canceled amid a planned military exercise.

Chinese President Xi Jinping attends the Shanghai Cooperation Organisation (SCO) leaders' summit in Samarkand on September 16, 2022. Sergei BOBYLYOV / SPUTNIK / AFP/Getty ImagesA widely shared video posted on Twitter is also reported to show a line of military vehicles up to 80 kilometers long heading into Beijing amid reports of a military coup on September 22.

However, the video is less than one minute long so does not show if the line of military vehicles stretches 80 km. It is not confirmed when or where it was filmed, or that the convoy is heading into Beijing as part of a military coup.

The rumor was also fueled by Indian politician Subramanian Swamy, who tweeted to his 10 million followers on Saturday: "New rumour to be checked out: Is Xi Jingping [sic] under house arrest in Beijing ? When Xi was in Samarkand recently, the leaders of the Chinese Communist Party were supposed to have removed Xi from the Party's in-charge of Army. Then House arrest followed. So goes the rumour."

In a series of tweets, Drew Thompson, a former Department of Defense official for China, Taiwan and Mongolia, describe the rumors as a "complete falsehood."

"The rumor that Xi Jinping has been arrested has legs because it is such a sensitive political moment in China, and the recent trials (and convictions) of long-serving senior officials creates a hothouse atmosphere," Thompson wrote.

"Open discussion of opposition to Xi makes the rumors plausible. Despite the lack of evidence that Xi faces internal opposition, speculation persists. This enhances plausibility of the rumor, or hope for some, that Xi gets arrested."

Frida Ghitis, a world affairs columnist and former CNN correspondent, also dismissed the "wild rumors" coming out of China.

"Social media buzzing with claims that there has been a coup in China, that Xi Jinping is under house arrest. But there is no evidence that this is true."

President Xi was recently at the Shanghai Cooperation Organisation (SCO) leaders' summit in Samarkand, Uzbekistan, where he held talks with Russia's president Vladimir Putin.

Newsweek has contacted the Chinese Foreign ministry for comment.

A historic global bond-market crash threatens liquidation of the world's most crowded trades, says BofA - MarketWatch

Sun, 25 Sep 2022 17:16

Global government-bond markets are stuck in what BofA Securities analysts are calling one of the greatest bear markets ever and this is in turn threatening the ease with which investors will be able to exit from the world's most-crowded trades, if needed.Those trades include positions in the dollar, U.S. technology companies and private equity, said BofA strategists Michael Hartnett, Elyas Galou, and Myung-Jee Jung. Bonds are generally regarded as one of the most liquid asset classes available to investors. If liquidity dries up in that market, it's bad news for just about every other form of investment, other analysts said.

Financial markets have yet to price in the worst-case outcomes for inflation, interest rates, and the economy around the world, despite tumbling global equities along with a selloff of bonds in the U.S. and the U.K. On Friday, the Dow industrials DJIA, -1.62% sank almost 500 points and flirted with a fall into bear-market territory, while the S&P 500 index SPX, -1.72% stopped short of ending the New York session below its June closing low.

U.S. bond yields are at or near multiyear highs. Meanwhile, government-bond yields in the U.K., Germany, and France have risen at the fastest clip since the 1990s, according to BofA Securities.''Inflation/rates/recession shocks are not over, plus the bond crash in recent weeks, means the highs in credit spreads and lows in stocks are not yet in,'' the BofA strategists wrote in a note released Thursday. They said investor sentiment is ''unquestionably'' the worst since the 2007-2009 global financial crisis. The analysts also see the fed-funds rate target, Treasury yields, and the U.S. unemployment rate all heading to between 4% and 5% over coming months and quarters.

Government bonds have racked up losses of 20% so far in 2022, as of Thursday, according to BofA. They are on course this year for one of their worst performances since the Treaty of Versailles, which was signed in 1919 and went into effect in 1920, establishing the terms for peace at the end of World War I.

Source: BofA Global Investment Strategy, Bloomberg Liquidity in markets matters because it ensures that assets can be bought or sold without significantly impacting the price of that security. Without liquidity, it's harder to convert an asset into cash without losing money as the price moves.

Government bonds are the world's most liquid asset so ''if the bond market does not function, then no other market functions, really,'' said Ben Emons, managing director of global macro strategy at Medley Global Advisors in New York.''Rising yields continue to dry up credit and are going to hit the global economy hard,'' Emons said via phone on Friday. ''There's a risk of a 'sell-everything market' that would resemble March 2020, as people withdraw from markets amid greater volatility and find they cannot actually trade.''

A historic bond selloff in the U.K. on Friday, triggered by eroding investor confidence fueled by the government's mini-budget plan, only exacerbated fears about worsening liquidity, particularly in the ordinarily safe U.S. Treasury market.

Read: The next financial crisis may already be brewing '-- but not where investors might expectIn the U.S., Federal Reserve officials have shown a willingness to break something by raising interest rates quickly '--whether it be in financial markets or the economy '-- to bring down the hottest inflation spell of the past 40 years.

Part of this month's retreat in global bond prices and rising yields ''is the real fear that central bank hikes spiral upward in a competitive race to maintain currency viability and not to become the last country holding the bag of runaway inflation,'' said Jim Vogel, an executive vice president at FHN Financial in Memphis.

(20) Carl Vernon on Twitter: "This would be genius. https://t.co/3HxwnZ87KA" / Twitter

Sun, 25 Sep 2022 14:29

Carl Vernon : This would be genius. https://t.co/3HxwnZ87KA

Sun Sep 25 07:55:53 +0000 2022

Robert Craigen : @RealCarlVernon If true.

Sun Sep 25 14:14:41 +0000 2022

William Parrish : @RealCarlVernon The school board is using children to force their agenda, if true, he's playing by their rules. I h'... https://t.co/gYwcUHZjnC

Sun Sep 25 14:07:52 +0000 2022

CyberRaja : @RealCarlVernon @JaneDoe12976453 if it really is what is stated, then give him/er a noble prize for genius

Sun Sep 25 14:03:00 +0000 2022

Maggie Luna : @RealCarlVernon Kids are involved and surely affected. For that alone, never a good idea for any reason.

Sun Sep 25 14:01:41 +0000 2022

Brian Brunick : @RealCarlVernon God I hope it's real it really would be great

Sun Sep 25 13:59:09 +0000 2022

Fire breaks out at world's biggest produce market in Paris - ABC News

Sun, 25 Sep 2022 14:09

A blaze at a massive produce market that supplies Paris with much of its fresh food sent a billowing column of dark smoke towering over the French capital before it was brought under control

PARIS -- A billowing column of dark smoke towered over Paris on Sunday from a warehouse blaze at a massive produce market that supplies the French capital and surrounding region with much of its fresh food and bills itself as the largest of its kind in the world.

Firefighters urged people to stay away from the area in Paris' southern suburbs, as 100 officers and 30 fire engines battled the blaze at the Rungis International Market.

Capt. Marc Le Moine, a spokesman for the Paris fire service, said no one was injured. The fire was brought under control and there was no risk of it spreading from the soccer field-sized warehouse, covering an area of 7,000 square meters (1.7 acres), he said.

The cause of the blaze was unknown but will be investigated, he added.

The sprawling wholesale market is a veritable town unto itself, with more than 12,000 people working there and warehouses filled with fruit and vegetables, seafood, meats, dairy products and flowers from across France and around the world.

Fifth Circuit Rejects First Amendment Challenge to Texas Social Media Common Carrier Law

Sun, 25 Sep 2022 13:55

Just released, Netchoice v. Paxton; I'm traveling and likely won't have time to digest the 113 pages of opinions for a while, but here's the opening from Judge Andrew Oldham's opinion, which is a majority on most points:

A Texas statute named House Bill 20 generally prohibits large social media platforms from censoring speech based on the viewpoint of its speaker. The platforms urge us to hold that the statute is facially unconstitutional and hence cannot be applied to anyone at any time and under any circumstances.

In urging such sweeping relief, the platforms offer a rather odd inversion of the First Amendment. That Amendment, of course, protects every person's right to "the freedom of speech." But the platforms argue that buried somewhere in the person's enumerated right to free speech lies a corporation's unenumerated right to muzzle speech.

The implications of the platforms' argument are staggering. On the platforms' view, email providers, mobile phone companies, and banks could cancel the accounts of anyone who sends an email, makes a phone call, or spends money in support of a disfavored political party, candidate, or business. What's worse, the platforms argue that a business can acquire a dominant market position by holding itself out as open to everyone'--as Twitter did in championing itself as "the free speech wing of the free speech party." Then, having cemented itself as the monopolist of "the modern public square," Packingham v. North Carolina (2017), Twitter unapologetically argues that it could turn around and ban all pro-LGBT speech for no other reason than its employees want to pick on members of that community, Oral Arg. at 22:39''22:52.

Today we reject the idea that corporations have a freewheeling First Amendment right to censor what people say. Because the district court held otherwise, we reverse its injunction and remand for further proceedings.

Judge Edith Jones joined this in large part; an excerpt:

Functioning as conduits for both makers and recipients of speech, the platforms' businesses are closer analytically to the holdings of the Supreme Court in PruneYard and FAIR than to Miami Herald, Pacific Gas & Electric, and Hurley. It follows from the first two cases that in arbitrarily excluding from their platforms the makers of speech and preventing disfavored speech from reaching potential audiences ("censoring," in the comprehensive statutory term), they are not themselves "speaking" for First Amendment purposes'....

Another way to look at this case, however, is through the Turner I decision, in which the Supreme Court held that cable TV companies are to some extent engaged in First Amendment-covered "speech" when, as they "operate" their systems, they determine which cable channels to host. Using intermediate scrutiny, the Court did not reject federal must-carry regulations requiring hosting of certain preferred channels. Instead, the Court distinguished both Pacific Gas & Electric and Miami Herald for three reasons. First, the must-carry regulations were content neutral. Second, they did not force cable operators to modify their own speech, nor were viewers likely to associate the mandatory hosted speech with that of the operators. And third, a cable operator's selection of channels controlled the flow of information into subscribers' households, and could "thus silence the voice of competing speakers with the mere flick of a switch." I find all of these points compellingly applicable to analyzing the regulations imposed on large social media platforms by the Texas statute before us.

Judge Leslie Southwick largely dissented; again, a short excerpt:

Yes, almost none of what others place on the Platforms is subject to any action by the companies that own them. The First Amendment, though, is what protects the curating, moderating, or whatever else we call the Platforms' interaction with what others are trying to say. We are in a new arena, a very extensive one, for speakers and for those who would moderate their speech. None of the precedents fit seamlessly. The majority appears assured of their approach; I am hesitant. The closest match I see is caselaw establishing the right of newspapers to control what they do and do not print, and that is the law that guides me until the Supreme Court gives us more'....

When the Platforms curate their users' feeds, which are the behaviors prohibited in Section 7 of HB 20, they are exercising their editorial discretion. That is a type of First Amendment-protected activity recognized in Miami Herald, PG&E, Turner, and Hurley'.... [T]here may be more than one type of First Amendment activity occurring by the same speaker when, for instance, an article is selected and printed in a newspaper'--or, in our context, a tweet posted or video listed'.... First Amendment protections attend the publishing process as well as the actual published content.

For my thoughts on this general subject, see Treating Social Media Platforms Like Common Carriers?

Elon Musk greenlit to activate Starlink internet for Iranians | Protests News | Al Jazeera

Sun, 25 Sep 2022 13:44

Legal guidance by the American government on expanding internet services to Iranians was changed despite US sanctions on the country.

Published On 24 Sep 2022 24 Sep 2022

SpaceX CEO Elon Musk has been given the green light by the United States government to activate the satellite internet service Starlink to help Iranians protesting against the death of a woman in police custody.

Access to social media and some content is tightly restricted in Iran and significant internet outages were reported across the country on Saturday, with one of the biggest mobile phone operators disrupted, leaving millions of Iranians offline.

The US Treasury Department on Friday issued guidance expanding internet services available to Iranians despite US sanctions on the country.

The move follows deadly protests around Iran following the death of Mahsa Amini, a 22-year-old woman who died after being detained by ''morality police'' who questioned the way she was wearing her headscarf.

Hundreds of angry demonstrators have been arrested with crowds taking to the streets of major cities across Iran for eight straight nights. State television said the number of deaths in ''recent riots'' had risen to 35, up from 17 previously, including at least five security personnel.

We took action today to advance Internet freedom and the free flow of information for the Iranian people, issuing a General License to provide them greater access to digital communications to counter the Iranian government's censorship.

'-- Secretary Antony Blinken (@SecBlinken) September 23, 2022

A US State Department spokesperson said the updated licence was self-executing and ''anyone who meets the criteria outlined in this general license can proceed with their activities without requesting additional permissions''.

Musk could not be reached for comment or clarification regarding Starlink's clearance to operate in Iran.

However, he said on Monday the company wanted to provide the Starlink satellite broadband service '' already provided to Ukraine for its fight against Russia's invasion '' to Iranians and would ask for a sanctions exception.

Iran has curbed access to social media networks Instagram and WhatsApp amid the protests, according to residents and internet watchdog NetBlocks.

Azadeh Akbari, from the University of Twente, said the digital shutdown in Iran is ''a continuation of decades of internet filtering by the Iranian government''.

She gave examples of ''keyboard filtering'' and the arrest of journalists as a means of cracking down on access.

Akbari added with the shutdown of global cyberspace in Iran it would be increasingly ''difficult and dangerous'' for members of the public to access safe messenger apps and use methods to get around the blocks.

Speaking from Capetown, South Africa, mobile video journalism publisher Yusuf Omar said the Iranian government's attempts to limit internet access is a form of ''government censorship'' as well as ''self-censorship'' of the population.

''People we are getting in touch with stories even if they do have access to the internet for a couple of hours and want to send a video out. They are really afraid,'' Omar told Al Jazeera.

President Ebrahim Raisi said on Saturday that Iran must ''deal decisively with those who oppose the country's security and tranquility'', Iranian state media reported.

Raisi's comments were made in a condolence telephone call to the family of a security agent stabbed to death last week, allegedly by protesters enraged over the death of Amini.

Future of Earth - Wikipedia

Sun, 25 Sep 2022 13:02

The biological and geological future of Earth can be extrapolated based on the estimated effects of several long-term influences. These include the chemistry at Earth's surface, the cooling rate of the planet's interior, the gravitational interactions with other objects in the Solar System, and a steady increase in the Sun's luminosity. However, an uncertain factor is the continuous influence of technology introduced by humans, such as climate engineering,[2] which could cause significant changes to the planet.[3][4] For example, the current Holocene extinction[5] is being caused by technology. The effects may last for up to five million years. In turn, technology may result in the extinction of humanity, leaving the planet to gradually return to a slower evolutionary pace resulting solely from long-term natural processes.[8][9]

Conjectured illustration of the scorched

Earth after the

Sun has entered the

red giant phase, about 5''7 billion years from now

[1]Over time intervals of hundreds of millions of years, random celestial events pose a global risk to the biosphere, which can result in mass extinctions. These include impacts by comets or asteroids and the possibility of a near-Earth supernova'--a massive stellar explosion within a 100-light-year (31-parsec) radius of the Sun. Other large-scale geological events are more predictable. Milankovitch's theory predicts that the planet will continue to undergo glacial periods at least until the Quaternary glaciation comes to an end. These periods are caused by the variations in eccentricity, axial tilt, and precession of Earth's orbit.[10] As part of the ongoing supercontinent cycle, plate tectonics will probably result in a supercontinent in 250''350 million years. Sometime in the next 1.5''4.5 billion years, Earth's axial tilt may begin to undergo chaotic variations, with changes in the axial tilt of up to 90°.[11]

The luminosity of the Sun will steadily increase, resulting in a rise in the solar radiation reaching Earth, resulting in a higher rate of weathering of silicate minerals, affecting the carbonate''silicate cycle, which will cause a decrease in the level of carbon dioxide in the atmosphere. In about 600 million years from now, the level of carbon dioxide will fall below the level needed to sustain C3 carbon fixation photosynthesis used by trees. Some plants use the C4 carbon fixation method to persist at carbon dioxide concentrations as low as ten parts per million. However, the long-term trend is for plant life to die off altogether. The extinction of plants will be the demise of almost all animal life since plants are the base of the food chain on Earth.[12]

In about one billion years, the solar luminosity will be 10% higher, causing the atmosphere to become a "moist greenhouse", resulting in a runaway evaporation of the oceans. As a likely consequence, plate tectonics and the entire carbon cycle will end.[13] Following this event, in about 2''3 billion years, the planet's magnetic dynamo may cease, causing the magnetosphere to decay and leading to an accelerated loss of volatiles from the outer atmosphere. Four billion years from now, the increase in Earth's surface temperature will cause a runaway greenhouse effect, creating conditions more extreme than present-day Venus and heating Earth's surface enough to melt it. By that point, all life on Earth will be extinct. Finally, the most probable fate of the planet is absorption by the Sun in about 7.5 billion years, after the star has entered the red giant phase and expanded beyond the planet's current orbit.[16]

Human influence Edit Humans play a key role in the biosphere, with the large human population dominating many of Earth's ecosystems.[3] This has resulted in a widespread, ongoing mass extinction of other species during the present geological epoch, now known as the Holocene extinction. The large-scale loss of species caused by human influence since the 1950s has been called a biotic crisis, with an estimated 10% of the total species lost as of 2007. At current rates, about 30% of species are at risk of extinction in the next hundred years.[17] The Holocene extinction event is the result of habitat destruction, the widespread distribution of invasive species, poaching, and climate change.[19][20] In the present day, human activity has had a significant impact on the surface of the planet. More than a third of the land surface has been modified by human actions, and humans use about 20% of global primary production.[4] The concentration of carbon dioxide in the atmosphere has increased by close to 50% since the start of the Industrial Revolution.[3][21]

The consequences of a persistent biotic crisis have been predicted to last for at least five million years. It could result in a decline in biodiversity and homogenization of biotas, accompanied by a proliferation of species that are opportunistic, such as pests and weeds. Novel species may emerge; in particular taxa that prosper in human-dominated ecosystems may rapidly diversify into many new species. Microbes are likely to benefit from the increase in nutrient-enriched environmental niches. No new species of existing large vertebrates are likely to arise and food chains will probably be shortened.[5][22]

There are multiple scenarios for known risks that can have a global impact on the planet. From the perspective of humanity, these can be subdivided into survivable risks and terminal risks. Risks that humans pose to themselves include climate change, the misuse of nanotechnology, a nuclear holocaust, warfare with a programmed superintelligence, a genetically engineered disease, or a disaster caused by a physics experiment. Similarly, several natural events may pose a doomsday threat, including a highly virulent disease, the impact of an asteroid or comet, runaway greenhouse effect, and resource depletion. There may be the possibility of an infestation by an extraterrestrial lifeform.[23] The actual odds of these scenarios occurring are difficult if not impossible to deduce.[8][9]

Should the human species become extinct, then the various features assembled by humanity will begin to decay. The largest structures have an estimated decay half-life of about 1,000 years. The last surviving structures would most likely be open-pit mines, large landfills, major highways, wide canal cuts, and earth-fill flank dams. A few massive stone monuments like the pyramids at the Giza Necropolis or the sculptures at Mount Rushmore may still survive in some form after a million years.[9][a]

Potential events Edit As the Sun orbits the Milky Way, wandering stars may approach close enough to have a disruptive influence on the Solar System.[24] A close stellar encounter may cause a significant reduction in the perihelion distances of comets in the Oort cloud'--a spherical region of icy bodies orbiting within half a light-year of the Sun.[25] Such an encounter can trigger a 40-fold increase in the number of comets reaching the inner Solar System. Impacts from these comets can trigger a mass extinction of life on Earth. These disruptive encounters occur an average of once every 45 million years.[26] The mean time for the Sun to collide with another star in the solar neighborhood is approximately 30 trillion ( 3 — 1013 ) years, which is much longer than the estimated age of the Universe, at approximately 13.8 billion years. This can be taken as an indication of the low likelihood of such an event occurring during the lifetime of the Earth.

The energy released from the impact of an asteroid or comet with a diameter of 5''10 km (3''6 mi) or larger is sufficient to create a global environmental disaster and cause a statistically significant increase in the number of species extinctions. Among the deleterious effects resulting from a major impact event is a cloud of fine dust ejecta blanketing the planet, blocking some direct sunlight from reaching the Earth's surface thus lowering land temperatures by about 15 °C (27 °F) within a week and halting photosynthesis for several months (similar to a nuclear winter). The mean time between major impacts is estimated to be at least 100 million years. During the last 540 million years, simulations demonstrated that such an impact rate is sufficient to cause five or six mass extinctions and 20 to 30 lower severity events. This matches the geologic record of significant extinctions during the Phanerozoic Eon. Such events can be expected to continue.[28]

A supernova is a cataclysmic explosion of a star. Within the Milky Way galaxy, supernova explosions occur on average once every 40 years.[29] During the history of Earth, multiple such events have likely occurred within a distance of 100 light-years; known as a near-Earth supernova. Explosions inside this distance can contaminate the planet with radioisotopes and possibly impact the biosphere.[30] Gamma rays emitted by a supernova react with nitrogen in the atmosphere, producing nitrous oxides. These molecules cause a depletion of the ozone layer that protects the surface from ultraviolet (UV) radiation from the Sun. An increase in UV-B radiation of only 10''30% is sufficient to cause a significant impact on life; particularly to the phytoplankton that form the base of the oceanic food chain. A supernova explosion at a distance of 26 light-years will reduce the ozone column density by half. On average, a supernova explosion occurs within 32 light-years once every few hundred million years, resulting in a depletion of the ozone layer lasting several centuries. Over the next two billion years, there will be about 20 supernova explosions and one gamma ray burst that will have a significant impact on the planet's biosphere.[32]

The incremental effect of gravitational perturbations between the planets causes the inner Solar System as a whole to behave chaotically over long time periods. This does not significantly affect the stability of the Solar System over intervals of a few million years or less, but over billions of years, the orbits of the planets become unpredictable. Computer simulations of the Solar System's evolution over the next five billion years suggest that there is a small (less than 1%) chance that a collision could occur between Earth and either Mercury, Venus, or Mars.[33][34] During the same interval, the odds that Earth will be scattered out of the Solar System by a passing star are on the order of 1 in 100,000 (0.001%). In such a scenario, the oceans would freeze solid within several million years, leaving only a few pockets of liquid water about 14 km (9 mi) underground. There is a remote chance that Earth will instead be captured by a passing binary star system, allowing the planet's biosphere to remain intact. The odds of this happening are about 1 in 3 million.

Orbit and rotation Edit The gravitational perturbations of the other planets in the Solar System combine to modify the orbit of Earth and the orientation of its rotation axis. These changes can influence the planetary climate.[10][36] Despite such interactions, highly accurate simulations show that overall, Earth's orbit is likely to remain dynamically stable for billions of years into the future. In all 1,600 simulations, the planet's semimajor axis, eccentricity, and inclination remained nearly constant.[39]

Glaciation Edit An artist's impression of ice age Earth at glacial maximum.

Historically, there have been cyclical ice ages in which glacial sheets periodically covered the higher latitudes of the continents. Ice ages may occur because of changes in ocean circulation and continentality induced by plate tectonics. The Milankovitch theory predicts that glacial periods occur during ice ages because of astronomical factors in combination with climate feedback mechanisms. The primary astronomical drivers are a higher than normal orbital eccentricity, a low axial tilt (or obliquity), and the alignment of the northern hemisphere's summer solstice with the aphelion. Each of these effects occur cyclically. For example, the eccentricity changes over time cycles of about 100,000 and 400,000 years, with the value ranging from less than 0.01 up to 0.05.[41][42] This is equivalent to a change of the semiminor axis of the planet's orbit from 99.95% of the semimajor axis to 99.88%, respectively.[43]

Earth is passing through an ice age known as the quaternary glaciation, and is presently in the Holocene interglacial period. This period would normally be expected to end in about 25,000 years. However, the increased rate of carbon dioxide released into the atmosphere by humans may delay the onset of the next glacial period until at least 50,000''130,000 years from now. On the other hand, a global warming period of finite duration (based on the assumption that fossil fuel use will cease by the year 2200) will probably only impact the glacial period for about 5,000 years. Thus, a brief period of global warming-induced through a few centuries' worth of greenhouse gas emission would only have a limited impact in the long term.[10]

Obliquity Edit The tidal acceleration of the Moon slows the rotation rate of the Earth and increases the Earth-Moon distance. Friction effects'--between the core and mantle and between the atmosphere and surface'--can dissipate the Earth's rotational energy. These combined effects are expected to increase the length of the day by more than 1.5 hours over the next 250 million years, and to increase the obliquity by about a half degree. The distance to the Moon will increase by about 1.5 Earth radii during the same period.[44]

Based on computer models, the presence of the Moon appears to stabilize the obliquity of the Earth, which may help the planet to avoid dramatic climate changes.[45] This stability is achieved because the Moon increases the precession rate of the Earth's rotation axis, thereby avoiding resonances between the precession of the rotation and precession of the planet's orbital plane (that is, the precession motion of the ecliptic).[46] However, as the semimajor axis of the Moon's orbit continues to increase, this stabilizing effect will diminish. At some point, perturbation effects will probably cause chaotic variations in the obliquity of the Earth, and the axial tilt may change by angles as high as 90° from the plane of the orbit. This is expected to occur between 1.5 and 4.5 billion years from now.[11]

A high obliquity would probably result in dramatic changes in the climate and may destroy the planet's habitability. When the axial tilt of the Earth exceeds 54°, the yearly insolation at the equator is less than that at the poles. The planet could remain at an obliquity of 60° to 90° for periods as long as 10 million years.[47]

Geodynamics Edit Tectonics-based events will continue to occur well into the future and the surface will be steadily reshaped by tectonic uplift, extrusions, and erosion. Mount Vesuvius can be expected to erupt about 40 times over the next 1,000 years. During the same period, about five to seven earthquakes of magnitude 8 or greater should occur along the San Andreas Fault, while about 50 magnitudes of 9 events may be expected worldwide. Mauna Loa should experience about 200 eruptions over the next 1,000 years, and the Old Faithful Geyser will likely cease to operate. The Niagara Falls will continue to retreat upstream, reaching Buffalo in about 30,000''50,000 years.[9]

In 10,000 years, the post-glacial rebound of the Baltic Sea will have reduced the depth by about 90 m (300 ft). The Hudson Bay will decrease in depth by 100 m over the same period.[34] After 100,000 years, the island of Hawaii will have shifted about 9 km (5.6 mi) to the northwest. The planet may be entering another glacial period by this time.[9]

Continental drift Edit The theory of plate tectonics demonstrates that the continents of the Earth are moving across the surface at the rate of a few centimeters per year. This is expected to continue, causing the plates to relocate and collide. Continental drift is facilitated by two factors: the energy generated within the planet and the presence of a hydrosphere. With the loss of either of these, continental drift will come to a halt.[48] The production of heat through radiogenic processes is sufficient to maintain mantle convection and plate subduction for at least the next 1.1 billion years.[49]

At present, the continents of North and South America are moving westward from Africa and Europe. Researchers have produced several scenarios about how this will continue in the future. These geodynamic models can be distinguished by the subduction flux, whereby the oceanic crust moves under a continent. In the introversion model, the younger, interior, Atlantic Ocean becomes preferentially subducted and the current migration of North and South America is reversed. In the extroversion model, the older, exterior, Pacific Ocean remains preferentially subducted and North and South America migrate toward eastern Asia.[51][52]

As the understanding of geodynamics improves, these models will be subject to revision. In 2008, for example, a computer simulation was used to predict that a reorganization of the mantle convection will occur over the next 100 million years, creating a new supercontinent composed of Africa, Eurasia, Australia, Antarctica and South America to form around Antarctica.[53]

Regardless of the outcome of the continental migration, the continued subduction process causes water to be transported to the mantle. After a billion years from the present, a geophysical model gives an estimate that 27% of the current ocean mass will have been subducted. If this process were to continue unmodified into the future, the subduction and release would reach an equilibrium after 65% of the current ocean mass has been subducted.[54]

Introversion Edit A rough approximation of Pangaea Ultima, one of the four models for a future supercontinent

Christopher Scotese and his colleagues have mapped out the predicted motions several hundred million years into the future as part of the Paleomap Project. In their scenario, 50 million years from now the Mediterranean Sea may vanish, and the collision between Europe and Africa will create a long mountain range extending to the current location of the Persian Gulf. Australia will merge with Indonesia, and Baja California will slide northward along the coast. New subduction zones may appear off the eastern coast of North and South America, and mountain chains will form along those coastlines. The migration of Antarctica to the north will cause all of its ice sheets to melt. This, along with the melting of the Greenland ice sheets, will raise the average ocean level by 90 m (300 ft). The inland flooding of the continents will result in climate changes.

As this scenario continues, by 100 million years from the present, the continental spreading will have reached its maximum extent and the continents will then begin to coalesce. In 250 million years, North America will collide with Africa. South America will wrap around the southern tip of Africa. The result will be the formation of a new supercontinent (sometimes called Pangaea Ultima), with the Pacific Ocean stretching across half the planet. Antarctica will reverse direction and return to the South Pole, building up a new ice cap.

Extroversion Edit The first scientist to extrapolate the current motions of the continents was Canadian geologist Paul F. Hoffman of Harvard University. In 1992, Hoffman predicted that the continents of North and South America would continue to advance across the Pacific Ocean, pivoting about Siberia until they begin to merge with Asia. He dubbed the resulting supercontinent, Amasia. Later, in the 1990s, Roy Livermore calculated a similar scenario. He predicted that Antarctica would start to migrate northward, and East Africa and Madagascar would move across the Indian Ocean to collide with Asia.[58]

In an extroversion model, the closure of the Pacific Ocean would be complete in about 350 million years.[59] This marks the completion of the current supercontinent cycle, wherein the continents split apart and then rejoin each other about every 400''500 million years.[60] Once the supercontinent is built, plate tectonics may enter a period of inactivity as the rate of subduction drops by an order of magnitude. This period of stability could cause an increase in the mantle temperature at the rate of 30''100 °C (54''180 °F) every 100 million years, which is the minimum lifetime of past supercontinents. As a consequence, volcanic activity may increase.[52][59]

Supercontinent Edit The formation of a supercontinent can dramatically affect the environment. The collision of plates will result in mountain building, thereby shifting weather patterns. Sea levels may fall because of increased glaciation. The rate of the surface weathering can rise, increasing the rate that organic material is buried. Supercontinents can cause a drop in global temperatures and an increase in atmospheric oxygen. This, in turn, can affect the climate, further lowering temperatures. All of these changes can result in more rapid biological evolution as new niches emerge.

The formation of a supercontinent insulates the mantle. The flow of heat will be concentrated, resulting in volcanism and the flooding of large areas with basalt. Rifts will form and the supercontinent will split up once more. The planet may then experience a warming period as occurred during the Cretaceous period, which marked the split-up of the previous Pangaea supercontinent.

Solidification of the outer core Edit The iron-rich core region of the Earth is divided into a 2,440 km (1,520 mi) diameter solid inner core and a 6,960 km (4,320 mi) diameter liquid outer core.[64] The rotation of the Earth creates convective eddies in the outer core region that cause it to function as a dynamo. This generates a magnetosphere about the Earth that deflects particles from the solar wind, which prevents significant erosion of the atmosphere from sputtering. As heat from the core is transferred outward toward the mantle, the net trend is for the inner boundary of the liquid outer core region to freeze, thereby releasing thermal energy and causing the solid inner core to grow.[66] This iron crystallization process has been ongoing for about a billion years. In the modern era, the radius of the inner core is expanding at an average rate of roughly 0.5 mm (0.02 in) per year, at the expense of the outer core.[67] Nearly all of the energy needed to power the dynamo is being supplied by this process of inner core formation.[68]

The inner core is expected to consume most or all of the outer core 3''4 billion years from now, resulting in an almost completely solidified core composed of iron and other heavy elements. The surviving liquid envelope will mainly consist of lighter elements that will undergo less mixing. Alternatively, if at some point plate tectonics cease, the interior will cool less efficiently, which would slow down or even stop the inner core's growth. In either case, this can result in the loss of the magnetic dynamo. Without a functioning dynamo, the magnetic field of the Earth will decay in a geologically short time period of roughly 10,000 years. The loss of the magnetosphere will cause an increase in erosion of light elements, particularly hydrogen, from the Earth's outer atmosphere into space, resulting in less favorable conditions for life.[71]

Solar evolution Edit The energy generation of the Sun is based upon thermonuclear fusion of hydrogen into helium. This occurs in the core region of the star using the proton''proton chain reaction process. Because there is no convection in the solar core, the helium concentration builds up in that region without being distributed throughout the star. The temperature at the core of the Sun is too low for nuclear fusion of helium atoms through the triple-alpha process, so these atoms do not contribute to the net energy generation that is needed to maintain hydrostatic equilibrium of the Sun.[72]

At present, nearly half the hydrogen at the core has been consumed, with the remainder of the atoms consisting primarily of helium. As the number of hydrogen atoms per unit mass decreases, so too does their energy output provided through nuclear fusion. This results in a decrease in pressure support, which causes the core to contract until the increased density and temperature bring the core pressure into equilibrium with the layers above. The higher temperature causes the remaining hydrogen to undergo fusion at a more rapid rate, thereby generating the energy needed to maintain the equilibrium.[72]

The result of this process has been a steady increase in the energy output of the Sun. When the Sun first became a main sequence star, it radiated only 70% of the current luminosity. The luminosity has increased in a nearly linear fashion to the present, rising by 1% every 110 million years.[16] Likewise, in three billion years the Sun is expected to be 33% more luminous. The hydrogen fuel at the core will finally be exhausted in five billion years when the Sun will be 67% more luminous than at present. Thereafter the Sun will continue to burn hydrogen in a shell surrounding its core until the luminosity reaches 121% above the present value. This marks the end of the Sun's main-sequence lifetime, and thereafter it will pass through the subgiant stage and evolve into a red giant.[1]

By this time, the collision of the Milky Way and Andromeda galaxies should be underway. Although this could result in the Solar System being ejected from the newly combined galaxy, it is considered unlikely to have any adverse effect on the Sun or its planets.[74][75]

Climate impact Edit The rate of weathering of silicate minerals will increase as rising temperatures speed up chemical processes. This in turn will decrease the level of carbon dioxide in the atmosphere, as reactions with silicate minerals convert carbon dioxide gas into solid carbonates. Within the next 600 million years from the present, the concentration of carbon dioxide will fall below the critical threshold needed to sustain C3 photosynthesis: about 50 parts per million. At this point, trees and forests in their current forms will no longer be able to survive.[76] This decline in plant life is likely to be a long-term decline rather than a sharp drop. The C3 plant group will likely die one by one well before the 50 parts per million level are reached. The first plants to disappear will be C3 herbaceous plants, followed by deciduous forests, evergreen broad-leaf forests and finally evergreen conifers.[77] However, C4 carbon fixation can continue at much lower concentrations, down to above 10 parts per million. Thus plants using C4 photosynthesis may be able to survive for at least 0.8 billion years and possibly as long as 1.2 billion years from now, after which rising temperatures will make the biosphere unsustainable.[78][79][80] Currently, C4 plants represent about 5% of Earth's plant biomass and 1% of its known plant species.[81] For example, about 50% of all grass species (Poaceae) use the C4 photosynthetic pathway, as do many species in the herbaceous family Amaranthaceae.[83]

When the levels of carbon dioxide fall to the limit where photosynthesis is barely sustainable, the proportion of carbon dioxide in the atmosphere is expected to oscillate up and down. This will allow land vegetation to flourish each time the level of carbon dioxide rises due to tectonic activity and respiration from animal life. However, the long-term trend is for the plant life on land to die off altogether as most of the remaining carbon in the atmosphere becomes sequestered in the Earth. Some microbes are capable of photosynthesis at concentrations of carbon dioxide as low as 1 part per million, so these life forms would probably disappear only because of rising temperatures and the loss of the biosphere.[78]

Plants'--and, by extension, animals'--could survive longer by evolving other strategies such as requiring less carbon dioxide for photosynthetic processes, becoming carnivorous, adapting to desiccation, or associating with fungi. These adaptations are likely to appear near the beginning of the moist greenhouse (see further).[77]

The loss of higher plant life will result in the eventual loss of oxygen as well as ozone due to the respiration of animals, chemical reactions in the atmosphere, volcanic eruptions, and people. This will result in less attenuation of DNA-damaging UV,[77] as well as the death of animals; the first animals to disappear would be large mammals, followed by small mammals, birds, amphibians and large fish, reptiles and small fish, and finally invertebrates. Before this happens, it's expected that life would concentrate at refugia of lower temperature such as high elevations where less land surface area is available, thus restricting population sizes. Smaller animals would survive better than larger ones because of lesser oxygen requirements, while birds would fare better than mammals thanks to their ability to travel large distances looking for cooler temperatures. Based on oxygen half-life in the atmosphere, animal life would last at most 100 million years after the loss of higher plants.[12] However, animal life may last much longer since more than 50% of oxygen is currently produced by phytoplankton.

In their work The Life and Death of Planet Earth, authors Peter D. Ward and Donald Brownlee have argued that some form of animal life may continue even after most of the Earth's plant life has disappeared. Ward and Brownlee use fossil evidence from the Burgess Shale in British Columbia, Canada, to determine the climate of the Cambrian Explosion, and use it to predict the climate of the future when rising global temperatures caused by a warming Sun and declining oxygen levels result in the final extinction of animal life. Initially, they expect that some insects, lizards, birds, and small mammals may persist, along with sea life. However, without oxygen replenishment by plant life, they believe that animals would probably die off from asphyxiation within a few million years. Even if sufficient oxygen were to remain in the atmosphere through the persistence of some form of photosynthesis, the steady rise in global temperature would result in a gradual loss of biodiversity.

As temperatures continue to rise, the last of animal life will be driven toward the poles, and possibly underground. They would become primarily active during the polar night, aestivating during the polar day due to the intense heat. Much of the surface would become a barren desert and life would primarily be found in the oceans. However, due to a decrease in the amount of organic matter entering the oceans from land as well as a decrease in dissolved oxygen,[77] sea life would disappear too following a similar path to that on Earth's surface. This process would start with the loss of freshwater species and conclude with invertebrates,[12] particularly those that do not depend on living plants such as termites or those near hydrothermal vents such as worms of the genus Riftia.[77] As a result of these processes, multicellular life forms may be extinct in about 800 million years, and eukaryotes in 1.3 billion years, leaving only the prokaryotes.[85]

Loss of oceans Edit The

atmosphere of Venus is in a "super-greenhouse" state. Earth in a few billion years could likely resemble present Venus.

One billion years from now, about 27% of the modern ocean will have been subducted into the mantle. If this process were allowed to continue uninterrupted, it would reach an equilibrium state where 65% of the current surface reservoir would remain at the surface.[54] Once the solar luminosity is 10% higher than its current value, the average global surface temperature will rise to 320 K (47 °C; 116 °F). The atmosphere will become a "moist greenhouse" leading to a runaway evaporation of the oceans.[86] At this point, models of the Earth's future environment demonstrate that the stratosphere would contain increasing levels of water. These water molecules will be broken down through photodissociation by solar UV, allowing hydrogen to escape the atmosphere. The net result would be a loss of the world's seawater by about 1.1 billion years from the present.[88][89]

There will be two variations of this future warming feedback: the "moist greenhouse" where water vapor dominates the troposphere while water vapor starts to accumulate in the stratosphere (if the oceans evaporate very quickly), and the "runaway greenhouse" where water vapor becomes a dominant component of the atmosphere (if the oceans evaporate too slowly). In this ocean-free era, there will continue to be surface reservoirs as water is steadily released from the deep crust and mantle,[54] where it is estimated that there is an amount of water equivalent to several times that currently present in the Earth's oceans. Some water may be retained at the poles and there may be occasional rainstorms, but for the most part, the planet would be a desert with large dunefields covering its equator, and a few salt flats on what was once the ocean floor, similar to the ones in the Atacama Desert in Chile.[13]

With no water to serve as a lubricant, plate tectonics would very likely stop and the most visible signs of geological activity would be shield volcanoes located above mantle hotspots.[77] In these arid conditions the planet may retain some microbial and possibly even multicellular life. Most of these microbes will be halophiles and life could find refuge in the atmosphere as has been proposed to have happened on Venus.[77] However, the increasingly extreme conditions will likely lead to the extinction of the prokaryotes between 1.6 billion years[85] and 2.8 billion years from now, with the last of them living in residual ponds of water at high latitudes and heights or in caverns with trapped ice. However, underground life could last longer.[12] What proceeds after this depends on the level of tectonic activity. A steady release of carbon dioxide by volcanic eruption could cause the atmosphere to enter a "super-greenhouse" state like that of the planet Venus. But, as stated above, without surface water, plate tectonics would probably come to a halt and most of the carbonates would remain securely buried[13] until the Sun becomes a red giant and its increased luminosity heats the rock to the point of releasing the carbon dioxide. However, as pointed out by Peter Ward and Donald Brownlee in their book The Life and Death of Planet Earth, according to NASA Ames scientist Kevin Zahnle, it is highly possible that plate tectonics may stop long before the loss of the oceans, due to the gradual cooling of the Earth's core, which could happen in just 500 million years. This could potentially turn the Earth back into a waterworld, and even perhaps drowning all remaining land life.[91]

The loss of the oceans could be delayed until 2 billion years in the future if the atmospheric pressure were to decline. Lower atmospheric pressure would reduce the greenhouse effect, thereby lowering the surface temperature. This could occur if natural processes were to remove the nitrogen from the atmosphere. Studies of organic sediments have shown that at least 100 kilopascals (0.99 atm) of nitrogen has been removed from the atmosphere over the past four billion years; enough to effectively double the current atmospheric pressure if it were to be released. This rate of removal would be sufficient to counter the effects of increasing solar luminosity for the next two billion years.[92]

By 2.8 billion years from now, the surface temperature of the Earth will have reached 422 K (149 °C; 300 °F), even at the poles. At this point, any remaining life will be extinguished due to extreme conditions. What happens beyond this depends on how much water is left on the surface. If all of the water on Earth has evaporated by this point already (via the "moist greenhouse" at ~1 Gyr from now), the planet will stay in the same conditions with a steady increase in the surface temperature until the Sun becomes a red giant. If not and there are still pockets of water left, and evaporates too slowly, then in about 3''4 billion years, once the amount of water vapor in the lower atmosphere rises to 40%, and the luminosity from the Sun reaches 35''40% more than its present-day value,[88] a "runaway greenhouse" effect will ensue, causing the atmosphere to heat up and raising the surface temperature to around 1,600 K (1,330 °C; 2,420 °F). This is sufficient to melt the surface of the planet.[89] However, most of the atmosphere will be retained until the Sun has entered the red giant stage.[93]

With the extinction of life, 2.8 billion years from now it is expected that Earth's biosignatures will disappear, to be replaced by signatures caused by non-biological processes.[77]

Red giant stage Edit Once the Sun changes from burning hydrogen within its core to burning hydrogen in a shell around its core, the core will start to contract, and the outer envelope will expand. The total luminosity will steadily increase over the following billion years until it reaches 2,730 times its current luminosity at the age of 12.167 billion years. Most of Earth's atmosphere will be lost to space. Its surface will consist of a lava ocean with floating continents of metals and metal oxides and icebergs of refractory materials, with its surface temperature reaching more than 2,400 K (2,130 °C; 3,860 °F).[94] The Sun will experience more rapid mass loss, with about 33% of its total mass shed with the solar wind. The loss of mass will mean that the orbits of the planets will expand. The orbital distance of Earth will increase to at most 150% of its current value (that is, 1.5 AU (220 million km; 140 million mi)).[16]

The most rapid part of the Sun's expansion into a red giant will occur during the final stages, when the Sun will be about 12 billion years old. It is likely to expand to swallow both Mercury and Venus, reaching a maximum radius of 1.2 AU (180 million km; 110 million mi). Earth will interact tidally with the Sun's outer atmosphere, which would decrease Earth's orbital radius. Drag from the chromosphere of the Sun would reduce Earth's orbit. These effects will counterbalance the impact of mass loss by the Sun, and the Sun will likely engulf Earth in about 7.59 billion years.[16]

The drag from the solar atmosphere may cause the orbit of the Moon to decay. Once the orbit of the Moon closes to a distance of 18,470 km (11,480 mi), it will cross Earth's Roche limit, meaning that tidal interaction with Earth would break apart the Moon, turning it into a ring system. Most of the orbiting rings will begin to decay, and the debris will impact Earth. Hence, even if the Sun does not swallow up Earth, the planet may be left moonless.[95] Furthermore, the ablation and vaporization caused by its fall on a decaying trajectory towards the Sun may remove Earth's mantle, leaving just its core, which will finally be destroyed after at most 200 years.[96][97] Earth's sole legacy will be a very slight increase (0.01%) of the solar metallicity following this event.[98]:'ŠIIC'Š

Beyond and ultimate fate Edit The

Helix nebula, a planetary nebula similar to what the Sun will produce in 8 billion years

After fusing helium in its core to carbon, the Sun will begin to collapse again, evolving into a compact white dwarf star after ejecting its outer atmosphere as a planetary nebula. The predicted final mass is 54.1% of the present value, most likely consisting primarily of carbon and oxygen.[1]

Currently, the Moon is moving away from Earth at a rate of 4 cm (1.6 inches) per year. In 50 billion years, if the Earth and Moon are not engulfed by the Sun, they will become tidelocked into a larger, stable orbit, with each showing only one face to the other.[99][100][101] Thereafter, the tidal action of the Sun will extract angular momentum from the system, causing the orbit of the Moon to decay and the Earth's rotation to accelerate.[102] In about 65 billion years, it is estimated that the Moon may end up colliding with the Earth, due to the remaining energy of the Earth''Moon system being sapped by the remnant Sun, causing the Moon to slowly move inwards toward the Earth.[103]

On a time scale of 1019 (10 quintillion) years the remaining planets in the Solar System will be ejected from the system by violent relaxation. If Earth is not destroyed by the expanding red giant Sun and the Earth is not ejected from the Solar System by violent relaxation, the ultimate fate of the planet will be that it collides with the black dwarf Sun due to the decay of its orbit via gravitational radiation, in 1020 (Short Scale: 100 quintillion, Long Scale: 100 trillion) years.[104]

See also Edit References Edit ^ a b c Sackmann, I.-Juliana; Boothroyd, Arnold I.; Kraemer, Kathleen E. (1993), "Our Sun. III. Present and Future", The Astrophysical Journal, 418: 457''68, Bibcode:1993ApJ...418..457S, doi:10.1086/173407 ^ Keith, David W. (November 2000), "Geoengineering the Environment: History and Prospect", Annual Review of Energy and the Environment, 25: 245''84, doi:10.1146/annurev.energy.25.1.245 ^ a b c Vitousek, Peter M.; Mooney, Harold A.; Lubchenco, Jane; Melillo, Jerry M. (July 25, 1997), "Human Domination of Earth's Ecosystems", Science, 277 (5325): 494''99, CiteSeerX 10.1.1.318.6529 , doi:10.1126/science.277.5325.494 ^ a b Haberl, Helmut; et al. (July 2007), "Quantifying and mapping the human appropriation of net primary production in earth's terrestrial ecosystems", Proceedings of the National Academy of Sciences of the United States of America, 104 (31): 12942''47, Bibcode:2007PNAS..10412942H, doi:10.1073/pnas.0704243104 , PMC 1911196 , PMID 17616580 ^ a b Myers, N.; Knoll, A. H. (May 8, 2001), "The biotic crisis and the future of evolution", Proceedings of the National Academy of Sciences of the United States of America, 98 (1): 5389''92, Bibcode:2001PNAS...98.5389M, doi:10.1073/pnas.091092498 , PMC 33223 , PMID 11344283 ^ a b Bostrom, Nick (2002), "Existential Risks: Analyzing Human Extinction Scenarios and Related Hazards", Journal of Evolution and Technology, 9 (1) , retrieved 2011-08-09 ^ a b c d e Dutch, Steven Ian (2006), "The Earth Has a Future", Geosphere, 2 (3): 113''124, doi:10.1130/GES00012.1 ^ a b c Cochelin, Anne-Sophie B.; Mysak, Lawrence A.; Wang, Zhaomin (December 2006), "Simulation of long-term future climate changes with the green McGill paleoclimate model: the next glacial inception", Climatic Change, 79 (3''4): 381, Bibcode:2006ClCh...79..381C, doi:10.1007/s10584-006-9099-1, S2CID 53704885 ^ a b Neron de Surgy, O.; Laskar, J. (February 1997), "On the long term evolution of the spin of the Earth", Astronomy and Astrophysics, 318: 975''89, Bibcode:1997A&A...318..975N ^ a b c d O'Malley-James, J. T.; Greaves, J. S.; Raven, J. A.; Cockell, C. S. (2013), "Swansong Biospheres: Refuges for life and novel microbial biospheres on terrestrial planets near the end of their habitable lifetimes", International Journal of Astrobiology, 12 (2): 99''112, arXiv:1210.5721 , Bibcode:2013IJAsB..12...99O, doi:10.1017/S147355041200047X, S2CID 73722450 ^ a b c Lunine, Jonathan I. (2009), "Titan as an analog of Earth's past and future", European Physical Journal Conferences, 1: 267''74, Bibcode:2009EPJWC...1..267L, doi:10.1140/epjconf/e2009-00926-7 ^ a b c d Schr¶der, K.-P.; Connon Smith, Robert (2008), "Distant future of the Sun and Earth revisited", Monthly Notices of the Royal Astronomical Society, 386 (1): 155''63, arXiv:0801.4031 , Bibcode:2008MNRAS.386..155S, doi:10.1111/j.1365-2966.2008.13022.x, S2CID 10073988 ^ Novacek, M. J.; Cleland, E. E. (May 2001), "The current biodiversity extinction event: scenarios for mitigation and recovery", Proceedings of the National Academy of Sciences of the United States of America, 98 (10): 5466''70, Bibcode:2001PNAS...98.5466N, doi:10.1073/pnas.091093698 , PMC 33235 , PMID 11344295 ^ Thomas, Chris D.; et al. (January 2004), "Extinction risk from climate change" (PDF) , Nature, 427 (6970): 145''48, Bibcode:2004Natur.427..145T, doi:10.1038/nature02121, PMID 14712274, S2CID 969382 ^ "Illegal Wildlife Trade". U.S. Fish and Wildlife Services . Retrieved 2021-07-16 . ^ Change, NASA Global Climate. "Carbon Dioxide Concentration | NASA Global Climate Change". Climate Change: Vital Signs of the Planet . Retrieved 2020-12-19 . ^ Woodruff, David S. (May 8, 2001), "Declines of biomes and biotas and the future of evolution", Proceedings of the National Academy of Sciences of the United States of America, 98 (10): 5471''76, Bibcode:2001PNAS...98.5471W, doi:10.1073/pnas.101093798 , PMC 33236 , PMID 11344296 ^ "Stephen Hawking: alien life is out there, scientist warns" , The Telegraph, April 25, 2010, archived from the original on 2022-01-12 ^ Matthews, R. A. J. (March 1994). "The Close Approach of Stars in the Solar Neighborhood". Quarterly Journal of the Royal Astronomical Society. 35 (1): 1''9. Bibcode:1994QJRAS..35....1M. ^ Scholl, H.; Cazenave, A.; Brahic, A. (August 1982). "The effect of star passages on cometary orbits in the Oort cloud". Astronomy and Astrophysics. 112 (1): 157''66. Bibcode:1982A&A...112..157S. ^ Frogel, Jay A.; Gould, Andrew (June 1998), "No Death Star '' For Now", Astrophysical Journal Letters, 499 (2): L219, arXiv:astro-ph/9801052 , Bibcode:1998ApJ...499L.219F, doi:10.1086/311367, S2CID 13490628 ^ Rampino, Michael R.; Haggerty, Bruce M. (February 1996), "The "Shiva Hypothesis": Impacts, Mass Extinctions, and the Galaxy", Earth, Moon, and Planets, 72 (1''3): 441''60, Bibcode:1996EM&P...72..441R, doi:10.1007/BF00117548, S2CID 189901526 ^ Tammann, G. A.; et al. (June 1994), "The Galactic supernova rate", The Astrophysical Journal Supplement Series, 92 (2): 487''93, Bibcode:1994ApJS...92..487T, doi:10.1086/192002 ^ Fields, Brian D. (February 2004), "Live radioisotopes as signatures of nearby supernovae", New Astronomy Reviews, 48 (1''4): 119''23, Bibcode:2004NewAR..48..119F, doi:10.1016/j.newar.2003.11.017 ^ Beech, Martin (December 2011), "The past, present and future supernova threat to Earth's biosphere", Astrophysics and Space Science, 336 (2): 287''302, Bibcode:2011Ap&SS.336..287B, doi:10.1007/s10509-011-0873-9, S2CID 119803426 ^ Laskar, J.; Gastineau, M. (June 11, 2009), "Existence of collisional trajectories of Mercury, Mars and Venus with the Earth", Nature, 459 (7248): 817''19, Bibcode:2009Natur.459..817L, doi:10.1038/nature08096, PMID 19516336, S2CID 4416436 ^ a b Laskar, Jacques (June 2009), Mercury, Mars, Venus and the Earth: when worlds collide!, L'Observatoire de Paris, archived from the original on 2011-07-26 , retrieved 2011-08-11 ^ Shackleton, Nicholas J. (September 15, 2000), "The 100,000-Year Ice-Age Cycle Identified and Found to Lag Temperature, Carbon Dioxide, and Orbital Eccentricity", Science, 289 (5486): 1897''1902, Bibcode:2000Sci...289.1897S, doi:10.1126/science.289.5486.1897, PMID 10988063 ^ Zeebe, Richard E. (September 2015), "Highly Stable Evolution of Earth's Future Orbit despite Chaotic Behavior of the Solar System", The Astrophysical Journal, 811 (1): 10, arXiv:1508.04518 , Bibcode:2015ApJ...811....9Z, doi:10.1088/0004-637X/811/1/9, S2CID 18294039, 9. ^ Berger, A.; Loutre, M. (1991), "Insolation values for the climate of the last 10 million years", Quaternary Science Reviews, 10 (4): 297''317, Bibcode:1991QSRv...10..297B, doi:10.1016/0277-3791(91)90033-Q ^ Maslin, Mark A.; Ridgwell, Andy J. (2005), "Mid-Pleistocene revolution and the 'eccentricity myth' ", Geological Society, London, Special Publications, 247 (1): 19''34, Bibcode:2005GSLSP.247...19M, doi:10.1144/GSL.SP.2005.247.01.02, S2CID 73611295 ^ The eccentricity e is related to the semimajor axis a and the semiminor axis b as follows: b a = 1 '' e 2 {\displaystyle {\begin{smallmatrix}{\frac {b}{a}}\ =\ {\sqrt {1\ -\ e^{2}}}\end{smallmatrix}}} Thus for e equal to 0.01, b/a = 0.9995, while for e equal to 0.05, b/a = 0.99875. See:Weisstein, Eric W. (2003), CRC concise encyclopedia of mathematics (2nd ed.), CRC Press, p. 848, ISBN 978-1-58488-347-0 ^ Laskar, J.; et al. (2004), "A long-term numerical solution for the insolation quantities of the Earth" (PDF) , Astronomy & Astrophysics, 428 (1): 261''85, Bibcode:2004A&A...428..261L, doi:10.1051/0004-6361:20041335 ^ Laskar, J.; Joutel, F.; Robutel, P. (February 18, 1993), "Stabilization of the Earth's obliquity by the Moon", Nature, 361 (6413): 615''17, Bibcode:1993Natur.361..615L, doi:10.1038/361615a0, S2CID 4233758 ^ Atobe, Keiko; Ida, Shigeru; Ito, Takashi (April 2004), "Obliquity variations of terrestrial planets in habitable zones", Icarus, 168 (2): 223''36, Bibcode:2004Icar..168..223A, doi:10.1016/j.icarus.2003.11.017 ^ Donnadieu, Yannick; et al. (2002), "Is high obliquity a plausible cause for Neoproterozoic glaciations?" (PDF) , Geophysical Research Letters, 29 (23): 42'', Bibcode:2002GeoRL..29.2127D, doi:10.1029/2002GL015902 ^ Lindsay, J. F.; Brasier, M. D. (2002), "Did global tectonics drive early biosphere evolution? Carbon isotope record from 2.6 to 1.9 Ga carbonates of Western Australian basins", Precambrian Research, 114 (1): 1''34, Bibcode:2002PreR..114....1L, doi:10.1016/S0301-9268(01)00219-4 ^ Lindsay, John F.; Brasier, Martin D. (2002), "A comment on tectonics and the future of terrestrial life '' reply" (PDF) , Precambrian Research, 118 (3''4): 293''95, Bibcode:2002PreR..118..293L, doi:10.1016/S0301-9268(02)00144-4 , retrieved 2009-08-28 ^ Murphy, J. Brendan; Nance, R. Damian; Cawood, Peter A. (June 2009), "Contrasting modes of supercontinent formation and the conundrum of Pangea", Gondwana Research, 15 (3''4): 408''20, Bibcode:2009GondR..15..408M, doi:10.1016/j.gr.2008.09.005 ^ a b Silver, Paul G.; Behn, Mark D. (January 4, 2008), "Intermittent Plate Tectonics?", Science, 319 (5859): 85''88, Bibcode:2008Sci...319...85S, doi:10.1126/science.1148397, PMID 18174440, S2CID 206509238 ^ Trubitsyn, Valeriy; Kabana, Mikhail K.; Rothachera, Marcus (December 2008), "Mechanical and thermal effects of floating continents on the global mantle convection" (PDF) , Physics of the Earth and Planetary Interiors, 171 (1''4): 313''22, Bibcode:2008PEPI..171..313T, doi:10.1016/j.pepi.2008.03.011 ^ a b c Bounama, Christine; Franck, Siegfried; von Bloh, Werner (2001), "The fate of Earth's ocean", Hydrology and Earth System Sciences, 5 (4): 569''75, Bibcode:2001HESS....5..569B, doi:10.5194/hess-5-569-2001 ^ Williams, Caroline; Nield, Ted (October 20, 2007), "Pangaea, the comeback", New Scientist, archived from the original on 2008-04-13 , retrieved 2009-08-28 ^ a b Silver, P. G.; Behn, M. D. (December 2006), "Intermittent Plate Tectonics", American Geophysical Union, Fall Meeting 2006, Abstract #U13B-08, 2006: U13B''08, Bibcode:2006AGUFM.U13B..08S ^ Nance, R. D.; Worsley, T. R.; Moody, J. B. (1988), "The supercontinent cycle" (PDF) , Scientific American, 259 (1): 72''79, Bibcode:1988SciAm.259a..72N, doi:10.1038/scientificamerican0788-72 , retrieved 2009-08-28 ^ Nimmo, F.; et al. (February 2004), "The influence of potassium on core and geodynamo evolution" (PDF) , Geophysical Journal International, 156 (2): 363''76, Bibcode:2003EAEJA.....1807N, doi:10.1111/j.1365-246X.2003.02157.x , retrieved 2018-05-16 ^ Gubbins, David; Sreenivasan, Binod; Mound, Jon; Rost, Sebastian (May 19, 2011), "Melting of the Earth's inner core", Nature, 473 (7347): 361''63, Bibcode:2011Natur.473..361G, doi:10.1038/nature10068, PMID 21593868, S2CID 4412560 ^ Monnereau, Marc; et al. (May 21, 2010), "Lopsided Growth of Earth's Inner Core", Science, 328 (5981): 1014''17, Bibcode:2010Sci...328.1014M, doi:10.1126/science.1186212, PMID 20395477, S2CID 10557604 ^ Stacey, F. D.; Stacey, C. H. B. (January 1999), "Gravitational energy of core evolution: implications for thermal history and geodynamo power", Physics of the Earth and Planetary Interiors, 110 (1''2): 83''93, Bibcode:1999PEPI..110...83S, doi:10.1016/S0031-9201(98)00141-1 ^ van Thienen, P.; et al. (March 2007), "Water, Life, and Planetary Geodynamical Evolution", Space Science Reviews, 129 (1''3): 167''203, Bibcode:2007SSRv..129..167V, doi:10.1007/s11214-007-9149-7 In particular, see page 24. ^ a b Gough, D. O. (November 1981), "Solar interior structure and luminosity variations", Solar Physics, 74 (1): 21''34, Bibcode:1981SoPh...74...21G, doi:10.1007/BF00151270, S2CID 120541081 ^ Ribas, Ignasi (February 2010), "The Sun and stars as the primary energy input in planetary atmospheres", Solar and Stellar Variability: Impact on Earth and Planets, Proceedings of the International Astronomical Union, IAU Symposium, vol. 264, pp. 3''18, arXiv:0911.4872 , Bibcode:2010IAUS..264....3R, doi:10.1017/S1743921309992298, S2CID 119107400 ^ Cain, Fraser (2007), "When Our Galaxy Smashes Into Andromeda, What Happens to the Sun?", Universe Today, archived from the original on 17 May 2007 , retrieved 2007-05-16 ^ Cox, T. J.; Loeb, Abraham (2007), "The Collision Between The Milky Way And Andromeda", Monthly Notices of the Royal Astronomical Society, 386 (1): 461, arXiv:0705.1170 , Bibcode:2008MNRAS.386..461C, doi:10.1111/j.1365-2966.2008.13048.x, S2CID 14964036 ^ Heath, Martin J.; Doyle, Laurance R. (2009). "Circumstellar Habitable Zones to Ecodynamic Domains: A Preliminary Review and Suggested Future Directions". arXiv:0912.2482 [astro-ph.EP]. ^ a b c d e f g h O'Malley-James, J. T.; Greaves, J. S.; Raven, J. A.; Cockell, C. S. (2014), "Swansong Biospheres II: The final signs of life on terrestrial planets near the end of their habitable lifetimes", International Journal of Astrobiology, 13 (3): 229''243, arXiv:1310.4841 , Bibcode:2014IJAsB..13..229O, doi:10.1017/S1473550413000426, S2CID 119252386 ^ a b Caldeira, Ken; Kasting, James F. (December 1992), "The life span of the biosphere revisited", Nature, 360 (6406): 721''23, Bibcode:1992Natur.360..721C, doi:10.1038/360721a0, PMID 11536510, S2CID 4360963 ^ Franck, S.; et al. (2000), "Reduction of biosphere life span as a consequence of geodynamics", Tellus B, 52 (1): 94''107, Bibcode:2000TellB..52...94F, doi:10.1034/j.1600-0889.2000.00898.x ^ Lenton, Timothy M.; von Bloh, Werner (May 2001), "Biotic feedback extends the life span of the biosphere", Geophysical Research Letters, 28 (9): 1715''18, Bibcode:2001GeoRL..28.1715L, doi:10.1029/2000GL012198 ^ Bond, W. J.; Woodward, F. I.; Midgley, G. F. (2005), "The global distribution of ecosystems in a world without fire", New Phytologist, 165 (2): 525''38, doi:10.1111/j.1469-8137.2004.01252.x, PMID 15720663 ^ Kadereit, G.; et al. (2003), "Phylogeny of Amaranthaceae and Chenopodiaceae and the Evolution of C4 Photosynthesis" (PDF) , International Journal of Plant Sciences, 164 (6): 959''86, doi:10.1086/378649, S2CID 83564261, archived from the original (PDF) on 2011-08-18 ^ a b Franck, S.; Bounama, C.; von Bloh, W. (November 2005), "Causes and timing of future biosphere extinction" (PDF) , Biogeosciences Discussions, 2 (6): 1665''79, Bibcode:2005BGD.....2.1665F, doi:10.5194/bgd-2-1665-2005 ^ Schr¶der, K.-P.; Connon Smith, Robert (May 1, 2008), "Distant future of the Sun and Earth revisited", Monthly Notices of the Royal Astronomical Society, 386 (1): 155''63, arXiv:0801.4031 , Bibcode:2008MNRAS.386..155S, doi:10.1111/j.1365-2966.2008.13022.x, S2CID 10073988 ^ a b Kasting, J. F. (June 1988), "Runaway and moist greenhouse atmospheres and the evolution of earth and Venus", Icarus, 74 (3): 472''94, Bibcode:1988Icar...74..472K, doi:10.1016/0019-1035(88)90116-9, PMID 11538226 ^ a b Guinan, E. F.; Ribas, I. (2002), "Our Changing Sun: The Role of Solar Nuclear Evolution and Magnetic Activity on Earth's Atmosphere and Climate", in Montesinos, Benjamin; Gimenez, Alvaro; Guinan, Edward F. (eds.), ASP Conference Proceedings, The Evolving Sun and its Influence on Planetary Environments, vol. 269, Astronomical Society of the Pacific, pp. 85''106, Bibcode:2002ASPC..269...85G ^ Ward & Brownlee 2003, p. [page needed ]. ^ Li, King-Fai; Pahlevan, Kaveh; Kirschvink, Joseph L.; Yung, Yuk L. (June 16, 2009), "Atmospheric pressure as a natural climate regulator for a terrestrial planet with a biosphere", Proceedings of the National Academy of Sciences of the United States of America, 106 (24): 9576''79, Bibcode:2009PNAS..106.9576L, doi:10.1073/pnas.0809436106 , PMC 2701016 , PMID 19487662 ^ Minard, Anne (May 29, 2009), "Sun Stealing Earth's Atmosphere", National Geographic News , retrieved 2009-08-30 ^ Kargel, J. S.; et al. (May 2003), "Volatile Cycles and Glaciation: Earth and Mars (Now and Near a Red Giant Sun), and Moons of Hot Jupiters", American Astronomical Society, DPS Meeting# 35, #18.08; Bulletin of the American Astronomical Society, 35: 945, Bibcode:2003DPS....35.1808K ^ Powell, David (January 22, 2007), "Earth's Moon Destined to Disintegrate", Space.com, Tech Media Network , retrieved 2010-06-01 ^ Goldstein, J. (May 1987), "The fate of the earth in the red giant envelope of the sun", Astronomy and Astrophysics, 178 (1''2): 283''85, Bibcode:1987A&A...178..283G ^ Li, Jianke; et al. (August 1998), "Planets around White Dwarfs", Astrophysical Journal Letters, 503 (1): L151''L154, Bibcode:1998ApJ...503L.151L, doi:10.1086/311546 , p. L51 ^ Adams, Fred C.; Laughlin, Gregory (April 1997), "A dying universe: the long-term fate and evolution of astrophysical objects", Reviews of Modern Physics, 69 (2): 337'', arXiv:astro-ph/9701131 , Bibcode:1997RvMP...69..337A, doi:10.1103/RevModPhys.69.337, S2CID 12173790 ^ Murray, C.D. & Dermott, S.F. (1999). Solar System Dynamics. Cambridge University Press. p. 184. ISBN 978-0-521-57295-8. ^ Dickinson, Terence (1993). From the Big Bang to Planet X. Camden East, Ontario: Camden House. pp. 79''81. ISBN 978-0-921820-71-0. ^ "A Rocky Relationship: Is the Moon Leaving the Earth?". Futurism . Retrieved 2018-12-14 . ^ Canup, Robin M.; Righter, Kevin (2000). Origin of the Earth and Moon. The University of Arizona space science series. Vol. 30. University of Arizona Press. pp. 176''77. ISBN 978-0-8165-2073-2. ^ Dorminey, Bruce (January 31, 2017). "Earth and Moon May Be on Long-Term Collision Course". Forbes . Retrieved 11 February 2017 . ^ Dyson, Freeman J. (1979). "Time Without End: Physics and Biology in an Open Universe". Reviews of Modern Physics. 51 (3): 447''60. Bibcode:1979RvMP...51..447D. doi:10.1103/RevModPhys.51.447 . Retrieved 5 July 2008 . Bibliography Edit Adams, Fred C. (2008), "Long term astrophysical processes", in Bostrom, Nick; Ćirković, Milan M. (eds.), Global catastrophic risks, Oxford University Press, ISBN 978-0-19-857050-9. Brownlee, Donald E. (2010), "Planetary habitability on astronomical time scales", in Schrijver, Carolus J.; Siscoe, George L. (eds.), Heliophysics: Evolving Solar Activity and the Climates of Space and Earth, Cambridge University Press, ISBN 978-0-521-11294-9. Calkin, P. E.; Young, G. M. (1996), "Global glaciation chronologies and causes of glaciation", in Menzies, John (ed.), Past glacial environments: sediments, forms, and techniques, Glacial environments, vol. 2, Butterworth-Heinemann, ISBN 978-0-7506-2352-0. Cowie, Jonathan (2007), Climate change: biological and human aspects, Cambridge University Press, ISBN 978-0-521-69619-7. Fishbaugh, Kathryn E.; Des Marais, David J.; Korablev, Oleg; Raulin, Fran§ois; Lognonn(C), Phillipe (2007), Geology and habitability of terrestrial planets, Space Sciences Series of Issi, vol. 24, Springer, ISBN 978-0-387-74287-8. Gonzalez, Guillermo; Richards, Jay Wesley (2004), The privileged planet: how our place in the cosmos is designed for discovery, Regnery Publishing, ISBN 978-0-89526-065-9. Hanslmeier, Arnold (2009), "Habitability and cosmic catastrophes", Advances in Astrobiology and Biogeophysics, Springer, ISBN 978-3-540-76944-6. Hoffman, Paul F. (1992), "Supercontinents" (PDF) , Encyclopedia of Earth System Sciences, Palaeogeography, Palaeoclimatology, Palaeoecology, vol. 95, Academic press, Inc, pp. 172''173, Bibcode:1992PPP....95..172A, doi:10.1016/0031-0182(92)90174-4, archived from the original (PDF) on 2008-08-28 , retrieved 2009-08-31 . Ialenti, Vincent (2020), Deep Time Reckoning: How Future Thinking Can Help Earth Now, The MIT Press, ISBN 9780262539265. Lunine, Jonathan Irving; Lunine, Cynthia J. (1999), Earth: evolution of a habitable world, Cambridge University Press, ISBN 978-0-521-64423-5. Meadows, Arthur Jack (2007), The future of the universe, Springer, ISBN 978-1-85233-946-3. Nield, Ted (2007), Supercontinent: ten billion dates in the life of our planet, Harvard University Press, ISBN 978-0-674-02659-9. Myers, Norman (2000), "The Meaning of Biodiversity Loss", in Peter H. Raven; Tania Williams (eds.), Nature and human society: the quest for a sustainable world : proceedings of the 1997 Forum on Biodiversity, National Academies, pp. 63''70, ISBN 978-0-309-06555-9. Palmer, Douglas (2003), Prehistoric past revealed: the four billion date history of life on Earth, University of California Press, ISBN 978-0-520-24105-3. Reaka-Kudla, Marjorie L.; Wilson, Don E.; Wilson, Edward O. (1997), Biodiversity 2 (2nd ed.), Joseph Henry Press, ISBN 978-0-309-05584-0. Roberts, Neil (1998), The Holocene: an environmental history (2nd ed.), Wiley-Blackwell, ISBN 978-0-631-18638-0. Stevenson, D. J. (2002), "Introduction to planetary interiors", in Hemley, Russell Julian; Chiarotti, G.; Bernasconi, M.; Ulivi, L. (eds.), Fenomeni ad alte pressioni, IOS Press, ISBN 978-1-58603-269-2. Tayler, Roger John (1993), Galaxies, structure and evolution (2nd ed.), Cambridge University Press, ISBN 978-0-521-36710-3. Thompson, Russell D.; Perry, Allen Howard (1997), Applied Climatology: Principles and Practice, Routledge, pp. 127''28, ISBN 978-0-415-14100-0. van der Maarel, E. (2005), Vegetation ecology, Wiley-Blackwell, ISBN 978-0-632-05761-0. Ward, Peter Douglas (2006), Out of thin air: dinosaurs, birds, and Earth's ancient atmosphere, National Academies Press, ISBN 978-0-309-10061-8. Ward, Peter Douglas; Brownlee, Donald (2003), The life and death of planet Earth: how the new science of astrobiology charts the ultimate fate of our world, Macmillan, ISBN 978-0-8050-7512-0. Notes Edit Further reading Edit Scotese, Christopher R., PALEOMAP Project , retrieved 2009-08-28 . Tonn, B. E. (March 2002), "Distant futures and the environment", Futures, 34 (2): 117''132, doi:10.1016/S0016-3287(01)00050-7.

Texas Slim: From Fake Meat to Edible Insects, Truth Behind the War on Beef

Sun, 25 Sep 2022 00:02

Where's the beef? It's disappearing from the American table and being replaced by fake meat from a lab and edible insects. So what lies behind this global food industry shift and how does it affect your health and the American rancher?

Cattleman Texas Slim, a sixth-generation Texan, founder of the Beef Initiative, podcaster, and food intelligence advocate, explains everything.

Then, in America Q&A, we ask people across the country what they think about the current trend to eat bugs.

Finally, in our second America Q&A, we ask: Do you think Twitter accurately reflects public opinion?

How to Start a Carbon Offset Business

Sat, 24 Sep 2022 13:48

Carbon offsets allow individuals and businesses to offset their carbon emissions by investing in carbon credits. The carbon credits are used to invest in renewable energy, plant trees and improve energy efficiency. Starting a carbon offset business of your own requires the ability to educate others about ways to reduce their carbon footprint. A carbon offset business provides owners with the opportunity to have a positive impact on greenhouse emissions.

Instructions

Step 1. Gain a greater understanding of the carbon offset marketplace. Research all competitors to discover their features and benefits. Learn about key factors used to determine the carbon footprint of a business or individual. Research carbon offset projects that your carbon offset business should invest in.

Step 2. Determine where you will locate your carbon offset business. If you intend to operate the business out of your home, check into local zoning restrictions.

Step 3. Select the carbon offset business legal structure. Many carbon offset businesses are nonprofit organizations. Determine if a for-profit or nonprofit business is best for you. Your lawyer or the U.S. Small Business Administration can provide additional information regarding the legal structure choices available to you. If you plan to run the business as a nonprofit, register the business accordingly.

Step 4. Write a comprehensive business plan for the carbon offset business. Outline plans for educating customers about carbon offsets, ways to reduce energy use and efforts you are making to invest in renewable energy. Consider using energy efficient technology at your business and following trusted green building practices. Identify partners you will use to invest in carbon dioxide reduction and renewable energy. Include long- and short-term plans as well as a comprehensive marketing and communications plan in your overall business plan.

Step 5. Find a name for your carbon offset business. Make a list of possible names and research the names you list. Eliminate the names on your list that are already in use. Once you find a name that is available, search for a web domain for that name and register the domain name. You may also want to search the Federal Trademark Database (USPTO.gov) and register the name there as well.

Step 6. Consider getting your business certified as a carbon neutral business.

Step 7. Determine the financial requirements for starting a carbon offset business. If the business will be operated through the Internet, take the cost associated with developing a website, search engine optimization, content development, creative design and marketing efforts into consideration.

Step 8. Find out if a business license is required for your business. Secure a federal tax identification number for a for-profit business or tax-exempt information for a nonprofit organization.

Step 9. Market your business through traditional and social-media marketing efforts. Advertise in local business publications. Consider speaking at business events or hosting educational workshops on ways businesses can become more environmentally friendly.

Mass Cancellation of Flights Across China; Reasons Unclear

Sat, 24 Sep 2022 13:18

A man looks out at a plane through a window at Beijing international airport. (Greg Baker/AFP/Getty Images)

Nearly 60 percent of flights across China were canceled Wednesday, according to state media.

Flight Master said 9,583 flights had been canceled nationwide as of 22.35 p.m. on Sept. 21, accounting for 59.66 percent of those total scheduled journeys of the day, reported China.com.

Based in Shenzhen, Flight Master provides information on flights and ticketing and travel services.

Some busy air transport hubs in China recorded over 50 percent cancelation rates, according to Flight Master:

Beijing Capital International Airport canceled 622 flights, with a cancellation rate of 60 percentShanghai Pudong International Airport had 652 cancelations of flights, with a cancellation rate of 54 percentShenzhen Baoan Airport's 542 flights were canceled, accounting for 51 percent of its total flightsAirports with high cancellation rates include three airports in China's western provinces:

Guiyang Longdongbao Airport (Guizhou Province): 539 flights canceled, with a cancellation rate of 99 percentLhasa Gongga Airport (Tibet): 157 flights canceled, with a cancellation rate of 98 percentChengdu Tianfu Airport (Sichuan Province): 752 flights canceled, with a cancellation rate of 87 percentOther Chinese airports also saw various cancellations of flights on the same day. Some of the airports' cancellations and cancellation rates are listed below:

Urumqi Diwobao Airport (Xinjiang): 476 flights; cancellation rate being 79 percentTianjin Binhai International Airport (about 84 miles east of Beijing): 353 flights; cancellation rate being 74 percentHarbin Taiping Airport (Heilongjiang Province): 275 flights canceled; cancellation rate being 56 percentXi'an Xianyang International Airport (Shaanxi Province): 555 flights canceled; cancellation rate being 56 percentNanjing Lukou International Airport (Jiangsu Province): 378 flights canceled; cancellation rate being 54Guangzhou Baiyun International Airport (Guangdong Province): 560 flights canceled, cancellation rate being 40% The logo of China Eastern Airlines is pictured at Beijing Capital International Airport in Beijing on March 21, 2022. (Tingshu Wang/Reuters)No Official ExplanationThere is no official explanation on China's top aviation body's website.

But Netease, a major news portal in China, wrote yesterday that the cancellations were mainly due to recent COVID-19 flare-ups in multiple provinces in China.

Former Chinese investigative reporter Zhao Lanjian tweeted yesterday that he'd contacted an aviation professional in China.

He wrote in his tweet that ''the reason [for the mass cancellations] is unclear, but [the mass cancellations] are true,'' and that such a nationwide mass cancellation was ''very rare.''

According to Zhao's tweet: ''This mass cancellation of flights must be a military directive. Air traffic control authority is decided by the Chinese military, which in turn gives instructions to civil aviation management. The airspace is set aside so that military aircraft can fly at will. This is military planning, or at least with military prep.''

Zhao is the reporter who investigated the chained woman, a victim of child trafficking and sexual persecution in Xuzhou, China's eastern Jiangsu Province. Zhao was targeted by local police and national security agents after posting his investigation online. He fled China via Malaysia and arrived in the United States in July.

The Epoch Times is not able to verify Zhao's tweet.

The reason for this mass cancellation is still unknown.

Li Jing contributed to the article.

Follow

Sophia Lam joined The Epoch Times in 2021 and covers China-related topics.

A Day After Fed Raises Rates, Reverse Repos Hit New Record - WSJ

Sat, 24 Sep 2022 11:43

The New York Fed says financial firms have parked $2.359 trillion at the central bank

Sept. 22, 2022 4:12 pm ETA wall of cash is continuing to flow into a central bank facility designed to help control short-term interest rates, even as officials expect activity there to decline over time.

On Thursday, the Federal Reserve Bank of New York said that a day after the U.S. central bank pushed up its short-term target rate by a large 0.75 percentage point to between 3% and 3.25%, money-market funds and others parked a record $2.359 trillion at the New York Fed's reverse repo facility.

The...

A wall of cash is continuing to flow into a central bank facility designed to help control short-term interest rates, even as officials expect activity there to decline over time.

On Thursday, the Federal Reserve Bank of New York said that a day after the U.S. central bank pushed up its short-term target rate by a large 0.75 percentage point to between 3% and 3.25%, money-market funds and others parked a record $2.359 trillion at the New York Fed's reverse repo facility.

The facility last saw a record inflow on June 30, at $2.329 trillion. That surge came at the end of a quarter, often a time where the reverse repo facility pulls in a significant amount of money due to temporary market factors.

The Fed's reverse repo tool takes in cash, primarily from money-market funds. It is designed to help set a lower end for short-term interest rates. After the Fed's rate rise Wednesday, the rate now stands at 3.05%, up from 2.30% in place before the Fed lifted rates.

The Fed uses another tool, called the interest on reserves balances rate, now at 3.15%, to set a high end for short-term rates. Together, both rates drive the market-based setting of the federal-funds rate, the central bank's primary tool to achieve its inflation and job mandates.

The Fed has seen surging inflows into the reverse repo facility for some time. While the tool effectively had no use up until April of last year, cash has been pouring in ever since, and inflows have hovered above $2 trillion a day since June.

Market participants have tied a lot of the reverse repo usage to the period when the Fed was flooding the financial system with liquidity via its Treasury and mortgage stimulus purchases. But the Fed is now shrinking its holdings, and officials have argued that reverse repos would likewise shrink over time.

''Just as use of the [overnight reverse repo] facility expanded as the balance sheet grew, shifts in money markets that accompany balance sheet runoff, along with incentives provided by administered rates, should result in ON RRP balances declining from currently elevated levels over time,'' Patricia Zobel, New York Fed System Open Market Account Manager pro tem, said in a speech on Sept. 8.

That said, Fed officials did recognize that in the initial phase of the central bank's rate-rise process the reverse repo facility could draw increasing inflows as it might pay more than private offerings.

The reverse repos might also be pulling in cash due to the unsettled and volatile movement of financial markets recently, making the safety and security of parking cash at the Fed an attractive option for many money managers.

Write to Michael S. Derby at michael.derby@wsj.com

Podcasting Is Just Radio Now

Fri, 23 Sep 2022 19:10

1.5x speed Sept. 22, 2022 It's been ages since the last blockbuster narrative show. What does that mean for the medium as an art form? Animation: Melanie Lambrick

Animation: Melanie Lambrick

This article was featured in One Great Story, New York's reading recommendation newsletter. Sign up here to get it nightly.

One Monday this September, a judge in Baltimore reminded earbud-owning citizens that podcasting was once powerful. Her ruling '-- vacating the conviction of a man accused of murdering his former high-school girlfriend '-- could be traced directly to the 2014 smash hit Serial, which brought the cold case to increasingly feverish national attention in weekly installments. When the show debuted, podcasting was mostly a digital backwater of chatcasts and recycled radio; suddenly, there was Serial discourse, an SNL skit, and listening parties straight out of the gather-round-the-Victrola era. ''It felt genuinely exciting,'' said Joy Fowlkes, who was then working as an assistant to a literary agent. ''Like I was getting in early on something.''

Podcasting had already been on a slow creep toward relevance, but Serial vaulted the whole thing into the mainstream with 10 million downloads in just seven weeks. The late David Carr's New York Times column on the phenomenon was headlined ''Breakout Podcast Sets Stage for More.'' A fertile creative period followed, marked by a succession of buzzy shows '-- let's call them ''blockbuster'' podcasts '-- that measured up to Hollywood and book publishing in terms of sparking national conversation. Many, like Serial, were ambitious limited-run narrative projects. In Missing Richard Simmons, a former TV producer with a gift for wry observation searched for the reclusive fitness icon; it was big enough to merit coverage in the Times, with a critic calling it ''the latest prestige podcast obsession'' and chiding its tactics. The whimsical Mystery Show earned Starlee Kine an appearance on Conan. And in 2017, Serial's production company released S-Town, an almost anti-commercial literary-nonfiction project about the remarkable life of an unremarkable man. It swiftly became a sensation, something you simply had to listen to out of cultural obligation, and it primed you to wonder which show would manage the feat next.

Honestly? It's hard to say that any has.

It's been almost eight years since Serial dropped. An entire industry has roared to life, drawing in Hollywood studios, corporations, celebrities, and billions of dollars. But the blockbuster podcast '-- a subgenre or prestige tier essential to the medium's rise as an artistic force '-- is in a serious funk. Your phone is full of podcasts, I'm sure, and maybe you've convinced a friend to add one of your darlings to their queue. But when was the last time a single title was being dissected by everyone you know?

For some in the business, the medium's diminishing ability to drive such moments poses an existential problem. What does it mean for podcasting as an art form if it rarely inspires widespread critical discussion? ''Let me put it this way: The Bear was a hit,'' said Fowlkes (now a podcast talent agent with the Gernert Company), referring to the summer's breakout TV show. ''It was in the conversation. Nothing in podcasting right now feels like it ripples outside of the bounds of people who already listen to podcasts.''

Sometimes, the joke you've surely heard '-- that everyone has a podcast now '-- starts to feel literally true. Apple Podcasts lists 2.5 million shows; Spotify claims twice as many. Data in this field are notoriously spotty, but to place this in context: When Serial premiered, Libsyn, then one of the largest podcast-hosting platforms, supported only around 22,000 shows. Max Linsky, who co-founded Pineapple Street Studios, the shop that made Missing Richard Simmons, believes this exponential growth uniquely disadvantages narrative titles. ''With Simmons, I don't think too many limited-run podcasts launched within that six-week window, if any,'' Linsky said. ''Now, there's a new, ambitious one every day. It's harder to get to a place where lots of people are listening simultaneously.''

The crowded market has made almost everything in the business more difficult. There's only so much real estate on the Apple Podcasts app, whose charts and editorial pages are some of the few spaces where audiences can reliably discover new shows. That congestion has also widened the gap between incumbents and outsiders. Bigger publishers often have established podcast feeds through which they can advertise new releases; smaller studios typically don't. Meanwhile, costs are going up for podcast marketing, still a nascent practice, with some publishers now willing to spend six digits to advertise on other podcasts, social media, websites, and even outdoor billboards.

''When we first started in 2018, we could launch a show that didn't have a big name attached to it and get around 30,000 downloads per episode with some promos on Apple Podcasts, a little press, and word of mouth,'' said Shira Atkins of the independent studio Wonder Media Network. ''Today, if we don't put in a significant marketing budget, it's nearly impossible.'' The studio recently released I Was Never There, a narrative podcast that was internally considered a modest hit. It was selected for this year's Tribeca Festival and cracked the upper echelons of the Apple Podcasts charts. But, Atkins told me, ''we've only lost money on this show.''

Some studios now orient their businesses around selling film and TV rights to Hollywood, but many creators still rely on advertising, an approach that emphasizes pure volume: more seasons, more episodes, more inventory. Both models are in a losing battle with what are known as ''always on'' podcasts '-- the conversation- and interview-based shows that are cheaper to make and become more powerful as the long tail of their back catalogues grows. I Was Never There notched more than 100,000 downloads in its opening weeks. But Call Her Daddy reportedly reaches around 3 million listeners, and Joe Rogan once claimed his celebrity-studded show was doing around 190 million monthly downloads.

I guess we're now in a more niche category. But we don't want to be art house, you know?''We love publishing limited-run shows,'' said Will Pearson, the chief operating officer of iHeartMedia's podcast network, which has financed small, critically acclaimed narrative projects like Jamie Loftus's Lolita Podcast and Chris Stedman's Unread alongside hundreds of chatcasts. ''That being said, for the long-term stability of this business, we want to build as wide a roster as we can of shows that can do north of a million downloads a month.''

Executives say these are natural shifts in a maturing business and that they make it possible to lower the risk for any one show. (With ambitious work, that risk isn't just economic but reputational. The Times was embarrassed when its show Caliphate turned out to be based on the account of a fabulist, and a Reply All series on racial bias at Bon App(C)tit drew withering attention to some of the podcast's own blind spots.) Heather Fain, the chief marketing officer at Pushkin Industries, the studio that produces Malcolm Gladwell's Revisionist History, compares the current shape of the podcast industry to book publishing, where she previously worked. ''You have the blockbuster level of books: something that comes out, dominates, and becomes the center of the conversation '-- Where the Crawdads Sing, for example,'' said Fain. ''But underneath that is a whole other layer of projects that are profitable and have an audience. Maybe not everyone's heard of them, but they're still successful.''

That may be. But what happens when podcasting stops producing Crawdads?

Earlier this year, Julie Snyder, the executive editor of Serial Productions, had dinner with Alex Blumberg, the co-founder of Gimlet Media, the once-golden child of the podcast business that was sold to Spotify in 2019. ''I was asking him, 'Is this all going to end up shaking out like radio?''' Snyder told me.

In other words: a media business that mostly revolves around high-profile talking heads. Rush Limbaugh and Howard Stern for radio; Joe Rogan, Alex Cooper, and the trio of Will Arnett, Jason Bateman, and Sean Hayes (who reportedly signed a deal with Amazon worth as much as $80 million) for podcasting. ''I do get that the listening audience is now so much bigger in general, and I guess we're now in a more niche category,'' Snyder said. ''But we don't want to be art house, you know?''

Serial Productions is most definitely not art house, but unlike with Serial's first season and S-Town, the studio's newer releases don't feel like instant cultural phenomena. The Trojan Horse Affair, its latest project, got more than 13 million downloads in its first three and a half weeks. S-Town had 40 million in its first month. That's despite Trojan Horse's benefiting from the promotional muscle of the Times (which bought Serial Productions in 2020) and having a more conventional hook '-- an investigation into a major British political scandal. ''S-Town didn't have a big genre push or a big mystery,'' said Snyder. ''It was pretty arty, and it did really, really well. I do wonder if S-Town came out today, would it perform as well? I don't really know.''

Some insiders believe there's probably never going to be another Serial-esque moment again. ''The expectation that there should be one dominant podcast that all of us want to tune into is kind of foolish,'' said Catherine Saint Louis, the executive editor at Neon Hum Media, the studio behind narrative podcasts Sympathy Pains and Spectacle, among others. ''It's like asking, 'Why isn't there appointment TV anymore?'''

The Peak Television analogy is often invoked when executives and producers talk about the teeming podcast market. Consider how Yellowjackets, whose first season's finale drew around 1.3 million viewers, is thought to be a hit even though it has a significantly smaller audience than, say, Yellowstone, whose season-four finale scored more than 9.3 million viewers. The teenage-cannibal drama is widely considered a success because it reached a critical mass among critics and influencers while serving the business goals of Showtime. Saint Louis argues podcasting doesn't yet have a social infrastructure '-- an internally propulsive web of invested audiences, taste-making creators, and press '-- that's able to support that kind of nuanced feedback loop in how we talk about successful audio productions.

And not everybody believes virality and blockbuster status are fundamentally important in the first place. ''There are many more people listening to all kinds of stuff than there were years ago,'' one industry insider said. ''They might just not be hanging out at bars with your editors.'' That's probably true. After all, podcast audiences have continued to grow as a whole. But it's difficult to cement a medium's sense of identity, culture, and meaning if hardly anybody is talking about the same thing '-- and that may well have material ramifications for the business in the long run. ''Buzz matters,'' said Larry Rosin, president of Edison Research, which has studied the podcast space for years. ''There are lots of new shows clicking along and doing just fine, sure, but the space needs to have whole new ideas that get people wanting to either go back into podcasting or try it for the first time.''

Some executives argue that podcasting has generated plenty of buzz in recent years; the energy is just coming from chatcasts. The surging popularity of SmartLess, the Arnett-Bateman-Hayes klatch, often comes up as an example with its chummy celebrity interviews routinely making headlines in entertainment trade publications. Some industry insiders I spoke to cited Jamie Lynn Spears's recent appearance on Call Her Daddy as a breakout moment for the show; others noted that The Joe Rogan Experience is a frequent front of the culture wars. But these examples are rooted in the fungible power of celebrity. Podcasting itself is incidental to these enterprises; the hosts could just as easily move their businesses to other media.

The industry seems fixated on celebrity casts and outsourcing its true-crime research to Wikipedia.What does it mean if the primary reason a podcast gets any attention these days comes from its ability to drive newsworthy gossip or extend the brand of various A-listers, public personalities, and influencers-in-waiting? It means, as Snyder feared, that podcasting is or will become indistinguishable from corporate radio. Which would be a shame, given that podcasting's explosive entrance into the mainstream eight years ago was principally defined by the medium's possibilities as art.

These days, ''no one is taking any creative risk,'' said Laura Mayer, a veteran podcast executive and producer who's worked at several large publishers. ''We're seeing plenty of efforts to reverse-engineer what were successes in podcasting, and as a result, we get a lot of watered-down karaoke attempts at what worked out in the past.''

A big part of what makes a medium an art form is the existence of internal trends and movements: Serial's catalyzing a whole ecosystem of true-crime podcasts, Ira Glass's inspiring a generation of narrative producers who write and sound a certain way. And what keeps an art form dynamic is constant organic reinvention '-- that is, a medium's capacity to cultivate, ingest, and be transformed by new ideas that build on and interrogate what's come before. Given the industry's fixation on celebrity casts and habit of outsourcing its true-crime research to Wikipedia, it's hard to contend that podcasting has done much reinvention of late.

Which is only rational, because the reigning, advertising-driven business model doesn't incentivize creative gambles. Some hope lies in the subscription model, in which there's a direct financial incentive to back big swings and experiment with untested talent. A few years ago, a start-up called Luminary tried and largely failed to realize this opportunity; now major publishers including Wondery and Sony Music Entertainment are giving it a shot, attempting to build out subscription services through Apple and Spotify. Audible, Amazon's audiobooks subsidiary, is partnering with prominent podcast creators. It has recently signed deals with Jeffrey Cranor and Joseph Fink, the duo behind Welcome to Night Vale, as well as Prologue Projects, the studio co-founded by Slow Burn's Leon Neyfakh, to produce original projects. The question is whether Audible '-- which traditionally behaves more like a retailer than a creative studio '-- is actually capable of delivering blockbusters. Even the audio works of the nonfiction god Michael Lewis, who signed a multiyear deal with the company in 2018, didn't whip up much of a frenzy.

Veterans like Serial Productions' Snyder and Pineapple Street's Linsky reminded me that podcasting is still quite young. ''Five years ago, there simply weren't that many shows,'' said Snyder. ''There also weren't many jobs. And you know, this stuff is really hard to do. We're all pretty new to it. So, sure, today, the good stuff probably feels fewer and far between because we're all still getting better at it.'' Linsky believes it's only a matter of time before we see the hits again. ''The thing that makes me optimistic is that the more established podcasting becomes as a form, the more young people and people who right now wouldn't think of themselves as creators of this kind of show will see it as a viable path,'' he said. ''They'll have different ideas of how these shows can sound, how they can be made, and what will get people listening.''

Podcasting, though, isn't lacking in worthy talent right now. Consider The Atlantic's Floodlines project from 2020, which realized a stunning vision in sound design while relitigating the government's failures around Hurricane Katrina. Or the experimental metafiction of Sharon Mashihi's Appearances. Or Jamie Loftus, the most exciting independent creator working in the medium today, with her growing oeuvre of punk-rock curiosities. Talent isn't the problem. The shifting incentive structure around it is.

Perhaps the days of the blockbuster podcast are gone. Podcasting wouldn't be unique in this loss '-- after all, we do live in a post-monoculture era of too much everything. Maybe it's not so bad to settle for art house: a smaller domain within the industry for fresh ideas, new talent, and actual podcasts as podcasts. There will be plenty to fill your ears. Just don't expect to hear it at a listening party.

Want more stories like this one? Subscribe now to support our journalism and get unlimited access to our coverage. If you prefer to read in print, you can also find this article in the September 26, 2022, issue of New York Magazine.

One Great Story: A Nightly Newsletter for the Best of New YorkThe one story you shouldn't miss today, selected by New York's editors.

Podcasting Is Just Radio Now

It's about the beef, bitcoin is a tool. - The Higherside Chats

Fri, 23 Sep 2022 17:47

See detailed sign up options down below.

About Today's Guest:

Texas Slim has seen the problems with our food supply and started

the Beef Initiative to help fix them by educating both producers and consumers of the better way. The Beef Initiative represents a return of classic, regenerative methods of understanding the source of our food and the access to high-quality grass-fed beef. The only way to secure the highest quality food for your family is to meet a rancher, and locally source your own meat. But this is not possible for everyone, especially for those that don't live near the country-side or a ranch. That's where The Beef Initiative comes in. They can connect you with ranchers in your area for beef boxes delivered to your door.

Texas Slim's Links:

Beef Initiative Home: https://beefinitiative.com/

Substack: https://texasslim.substack.com/

Podcast: https://www.youtube.com/c/BeefInitiative

THC Links:

THC Communities:

THC Plus Sign-Up Options:

To get a year of THC+ by cash, check, or money order please mail the payment in the amount of $96 to:

Greg Carlwood PO Box: 153291 San Diego, CA 92195

Cryptocurrency

If you'd like to pay the $96 for a year of THC+ via popular Cryptocurrencies, transfer funds and then send an email to

support@thehighersidechats.com with transaction info and your desired username/password. Please give up to 48 hours to complete.

Bitcoin: 1AdauF2Mb7rzkkoXUExq142xfwKC6pS7N1

Ethereum: 0xd6E9232b3FceBe165F39ACfA4843F49e7D3c31d5

Litecoin: LQy7GvD5Euc1efnsfQaAX2RJHgBeoDZJ95

Ripple: rnWLvhCmBWpeFv9HMbZEjsRqpasN8928w3

Solana: FvsBazMY9GAWuWqh5RH7musm9MPUw7a5uF6NVxxhNTqi

Doge: D7ueXbfcKfhdAWrDqESrFjFV6UxydjsuCC

Monero: 4ApmFHTgU72QybW194iJTZHZb6VmKDzqh5MDTfn9sw4xa9SYXnX5PVDREbnqLNLwJwc7ZqMrYPfaVXgpZnHNAeZmSexCDxM
ALL VIDEOS

VIDEO - (20) Anthony 🇺🇲🇮🇹 on Twitter: "She cut in line and then freaked out when someone said something. What is going on with people? https://t.co/DKXJBs3BgD" / Twitter

Sun, 25 Sep 2022 17:18

Anthony 🇺🇲🇮🇹 : She cut in line and then freaked out when someone said something. What is going on with people? https://t.co/DKXJBs3BgD

Sat Sep 24 11:24:48 +0000 2022

Sharkbaitoohaha : @Antman0704 ðŸ¤...'''¸ðŸ¤...'''¸ðŸ¤...'''¸ðŸ¤...'''¸

Sun Sep 25 17:18:22 +0000 2022

Erickas Father : @Antman0704 @jenvanlaar Her college debt will be forgiven.

Sun Sep 25 17:17:55 +0000 2022

LittleMissMaga : @Antman0704 5150

Sun Sep 25 17:16:59 +0000 2022

D James : @Antman0704 Guaranteed she is a progressive democrat.

Sun Sep 25 17:15:34 +0000 2022

M A R T H A : @Antman0704 He was made to leave when she was in the wrong. People like her should be made examples of.

Sun Sep 25 17:13:14 +0000 2022

ULTRA UNACCEPTABLE-UNVAXXED : @Antman0704 The vaccine perhaps ???

Sun Sep 25 17:09:58 +0000 2022

Angels of the Earth Soaps & Essentials @AngelaSzul : @Antman0704 Wow, WTH is wrong with her?! She acts like a spoiled child!

Sun Sep 25 17:08:26 +0000 2022

OldNFO : @Antman0704 Oh wow... talk about committable... That is a full blown melt down!

Sun Sep 25 17:06:01 +0000 2022

Richard Cooper : @Antman0704 This is a prime example of a spoiled rotten Liberal Gen "Z" !!!!!!!!!!!!!!!

Sun Sep 25 17:05:14 +0000 2022

loungefly85 : @Antman0704 Yeah she votes democrat.

Sun Sep 25 17:05:06 +0000 2022

Streetwise Hercules : @Antman0704 @jenvanlaar Vaxed.

Sun Sep 25 17:02:56 +0000 2022

VIDEO - (19) unusual_whales on Twitter: "This is inexcusable. A truly wild moment yesterday from the House Financial Services Committee, where they laugh about the revolving door from Congress to the banks. https://t.co/LnHDlj6ZJu" / Twitter

Sun, 25 Sep 2022 17:08

unusual_whales : This is inexcusable.A truly wild moment yesterday from the House Financial Services Committee, where they laugh a'... https://t.co/WP6KVxhq8D

Thu Sep 22 16:20:34 +0000 2022

VIDEO - (19) Kevin Dalton on Twitter: "Gavin Newsom vows to end homelessness in San Fransisco in 10 year...in 2008 https://t.co/m9b5k0pHO7" / Twitter

Sun, 25 Sep 2022 17:06

Kevin Dalton : Gavin Newsom vows to end homelessness in San Fransisco in 10 year...in 2008 https://t.co/m9b5k0pHO7

Thu Sep 22 18:27:49 +0000 2022

WendyBarlow : @KevinForBOS Can't wait

Sun Sep 25 17:00:12 +0000 2022

Robert Miller : @KevinForBOS He wasnt to smart then hasnt improved with age

Sun Sep 25 16:40:55 +0000 2022

Deplorable Me : @KevinForBOS By ''end'' he meant ''increase'''...right? ðŸ¤--

Sun Sep 25 16:16:37 +0000 2022

Margarita Braunthal : @KevinForBOS 🤥🤥🤥🤥🤥🤥🤥🤥🤥🤥🤥🤥🤥🤥🤥🤥🤥🤥🤥🤥🤥🤥🤥🤥🤥🤥🤥🤥

Sun Sep 25 16:04:04 +0000 2022

Hell No Hendrix : @KevinForBOS So what was his plan then? What a maroon.

Sun Sep 25 16:03:52 +0000 2022

Sue T : @KevinForBOS Gee that worked well?

Sun Sep 25 15:25:58 +0000 2022

VIDEO - (19) The Dirty Truth (Josh) on Twitter: "New York is putting up a tent city for the illegal aliens while they leave their homeless on the street. https://t.co/pQH1iMusLA" / Twitter

Sun, 25 Sep 2022 16:56

The Dirty Truth (Josh) : New York is putting up a tent city for the illegal aliens while they leave their homeless on the street. https://t.co/pQH1iMusLA

Fri Sep 23 15:11:49 +0000 2022

VIDEO - (19) The Post Millennial on Twitter: "Biden: "What in God's name do you need an assault weapon for? It's an assault weapon designed to kill people, to defend America, to defend people." https://t.co/Hd7dzmtufk" / Twitter

Sun, 25 Sep 2022 16:54

The Post Millennial : Biden: "What in God's name do you need an assault weapon for? It's an assault weapon designed to kill people, to de'... https://t.co/QrypIoUTAP

Fri Sep 23 17:31:20 +0000 2022

VIDEO - (46) The Wizard Of Oz _ I Do Believe In Spooks - YouTube

VIDEO - (19) Stephen Geiger on Twitter: "Jeremy Siegel of the Wharton School ripping apart Powell and the Fed'... ''They Know Nothing'' 2.0 https://t.co/6F1NDHVh55" / Twitter

Sun, 25 Sep 2022 16:47

Stephen Geiger : Jeremy Siegel of the Wharton School ripping apart Powell and the Fed'...''They Know Nothing'' 2.0 https://t.co/6F1NDHVh55

Fri Sep 23 18:18:01 +0000 2022

marketwatch : @Stephen_Geiger Scott, in your opinion do you think the banks are doing the garbage synthetic CDO's they did in 200'... https://t.co/8nveVK9Qbh

Sun Sep 25 16:36:07 +0000 2022

Adrian : @Stephen_Geiger He's spot on. They are messing with people's lives.

Sun Sep 25 16:16:16 +0000 2022

Rio : @Stephen_Geiger https://t.co/jsHVj6GBDC

Sun Sep 25 15:43:43 +0000 2022

VIDEO - American Airlines' in-flight announcements include mysterious "grunting, moaning, and groaning" | Boing Boing

Sun, 25 Sep 2022 16:36

Markus Mainka/Shutterstock.comSomething weird is going on with American Airlines' in-flight announcement system. Multiple passengers say they've heard people making unusual moaning and grunting sounds, and the airline's explanation of what's going on seems to be bogus at best.

The weirdest flight ever.These sounds started over the intercom before takeoff and continued throughout the flight.They couldn't stop it, and after landing still had no idea what it was. pic.twitter.com/F8lJlZHJ63

'-- Emerson Collins (@ActuallyEmerson) September 23, 2022From Waxy:

View from the Wing's Gary Leff asked American Airlines about the issue, and their official response is that it's a mechanical issue:

American Airlines inspected the Boeing 737-800 as well as the P.A. system itself after these reports. They tell me that maintenance "determined the sounds were caused by an issue with the PA amplifier. There was no external access to the system."

This explanation feels woefully incomplete to me. How can an amplifier malfunction broadcast a human voice without external access? This isn't audio feedback, it's clearly the vocalizations of a human.

Professional reverse engineer/hardware hacker/security analyst Andrew Tierney (aka Cybergibbons) dug up the Airbus 321 documents in this thread, and is stumped too.

"And on the A321 documents we have, the passenger announcement system and interphone even have their own handsets. Can't see how IFE or WiFi would bridge," Tierney wrote. "Also struggling to see how anyone could pull a prank like this."

A plausible theory for what the entrance vault to the Great Pyramid might be and what's likely behind it We're all familiar with the strange, enormous chevron vault high above the entrance to the Great Pyramid at Giza. And since 2016, many of us have waiting anxiously to find out what might be behind it (after a scan that year revealed evidence of a void). In this fascinating History for Granite video, they meticulously'... READ THE REST

Mystery man shows up in Japan, claims he swam there from Russia A man claiming to be from Russia was found wandering the streets of Shibetsu, small town on the northern Japanese island of Hokkaido. He told the police he swam 20km from Kunashir island and is seeking asylum. Kunashir island is under Russian control, though both Japan and Russia claim it as their own. At this'... READ THE REST

California family and dog may have died from toxic algae blooms while hiking A married couple, their 1-year-old daughter, and their dog died under mysterious circumstances while hiking in Sierra National Forest in northern California. Authorities have ruled out suicide or murder, and they are now considering the possibility that they were exposed to toxic algae blooms. People who knew Ellen Chung and her husband, John Gerrish, said'... READ THE REST

Refurbished savings: Get a near-mint Surface 3 tablet at a budget-friendly price tag We thank our sponsor for making this content possible; it is not written by the editorial staff nor does it necessarily reflect its views. You can wait until that new tablet you've been eyeing goes on sale, but if you need something quick for work, school, or your favorite hobby, why wait? You can still get'... READ THE REST

Save 74% off an expertly refurbished Apple MacBook Air this month We thank our sponsor for making this content possible; it is not written by the editorial staff nor does it necessarily reflect its views. From watches to earbuds to computers, Apple products are some of the most dependable on the market, especially for working professionals. But with that reliability comes pretty gnarly price tags. And while'... READ THE REST

Put computing power in your palm with 60% off this iPad mini 4 We thank our sponsor for making this content possible; it is not written by the editorial staff nor does it necessarily reflect its views. When purchasing tech, it's important to consider all of your options. While brand new models are shiny and novel, they can also be buggy while carrying astronomical price tags. Although older tech is'... READ THE REST

VIDEO - (20) Michael Shellenberger on Twitter: "Last week, at a Congressional hearing on climate misinformation, experts falsely claimed that hurricanes would become more frequent and that New York was moving away from nat gas. Gas & oil increased fro

Sun, 25 Sep 2022 16:29

Michael Shellenberger : Last week, at a Congressional hearing on climate misinformation, experts falsely claimed that hurricanes would beco'... https://t.co/E8oB53XtTY

Sat Sep 24 21:57:45 +0000 2022

Conservative Bus Driver : @ShellenbergerMD @SharylAttkisson Funny how there was a period of 11 years when no hurricane above cat 3 hit the US'... https://t.co/SfCezIVQw8

Sun Sep 25 16:27:52 +0000 2022

Alexandru : @ShellenbergerMD https://t.co/nqdpZy8sws

Sun Sep 25 16:11:32 +0000 2022

VIDEO - (19) Queen of Angels on Twitter: "@JackPosobiec This was always your endgame though." / Twitter

Sun, 25 Sep 2022 16:13

(((bacibobi1919))) : @Chr155y_333 @JackPosobiec Some of commedian and podcaster Jimmy Dore's guest contributors and followers push this'... https://t.co/5L0hes2cZc

Sun Sep 25 01:45:20 +0000 2022

VIDEO - Italian election: EU can work with any democracy but has 'tools' if it gets 'difficult', VDL says | Euronews

Sun, 25 Sep 2022 14:34

The European Commission is willing to work with any democratic government across the bloc but has the "tools" if things go in a "difficult direction", Ursula von der Leyen has said in response to a question about Italy's upcoming elections.

The latest polls available suggest a right-wing three-party coalition, led by Brothers of Italy (FDI), a Eurosceptic party that directly traces its roots to a neo-fascist movement, is poised to win a majority of seats.

FDI leader Giorgia Meloni, who has repeatedly railed against what she calls Brussels bureaucrats and LGBT lobbies, is tipped to become the country's first female prime minister.

Italy's much-anticipated vote comes on the heels of a razor-tight election in Sweden, which saw a surge in support for the far-right Sweden Democrats.

The coincidence of events has raised the alarm in Brussels, which has for years tried to address democratic backsliding.

"Democracy is a constant work in progress. We're never done, it's never safe. It's a question on how people stand up for democracy," the European Commission president said in response to a question about whether she was concerned about the Italian elections during a Q&A session at Princeton University in the US.

"We'll see the outcome of the elections. We just had elections in Sweden, too. My approach is that whatever democratic government is willing to work with us, we're working together."

Von der Leyen said that when heads of state and government take part in the European Council, they realise their "future and well-being" depend on all the other 26 member states, reflecting the nature of negotiation and consensus that characterises the bloc's complex decision-making.

"That's the beauty of democracy. We're sometimes slow. We talk a lot, I know. But that's democracy too," von der Leyen said.

"So, we'll see. If things go in a difficult direction '' I've spoken about Hungary and Poland '' we have tools," she added.

In a previous question unrelated to Italy, von der Leyen described the European Commission as the "guardian" of the EU treaties and explained the instruments the executive has at its disposal to correct legal breaches.

Last Sunday, the Commission triggered for the first time a budgetary mechanism to freeze ''¬7.5 billion in EU funds allocated to Hungary over long-standing corruption concerns.

Backlash from Italy's rightDuring her keynote speech at Princeton, von der Leyen spoke at length about the clash between democracy and autocracy in the context of Russia's invasion of Ukraine.

"In Europe, we have learnt that we must always work on improving democracy '' because we know how quickly and how devastatingly history can change," she said.

Von der Leyen, who belongs to the European People's Party (EPP), did not express any preference for any of the candidates in the Italian race.

Nevertheless, her comments triggered backlash from Italy's right, who saw in her "we have the tools" remark an unwelcome case of political interference.

"Shameful arrogance. Respect the free, democratic and sovereign vote of the Italian people! Friends of all, servants of none," Matteo Salvini, leader of the League, one of the members of the three-party coalition, wrote on Twitter.

Salvini then said his group in the European Parliament would file a motion of censure, a procedure that requires one tenth of the hemicycle to be submitted and a two-thirds majority to succeed.

"The lady represents all Europeans, her salary is paid by all of us," he said. "It was a disgusting and arrogant threat."

Daniela Santanch¨, an Italian senator who sits with Brothers of Italy, condemned von der Leyen's remarks and said they were "out of place."

Former PM Matteo Renzi, who this year runs as a liberal lawmaker, also waded into the debate.

"Even if the right wins, Europe must respect the electoral outcome," Renzi told a radio station. "I say this to President von der Leyen: you must not enter into Italian matters at all."

Enrico Letta, the main left-wing candidate, tried to mitigate the controversy and defended von der Leyen as an "absolutely balanced person."

"Von der Leyen comes from the same party of [Silvio] Berlusconi and [Antonio] Tajani," Letta said. "It's not like we're talking about a dangerous communist."

A spokesperson for von der Leyen said on Friday afternoon the president "did not interfere in any way" in the Italian elections and that she was merely explaining the Commission's role in upholding EU law.

This article has been updated to include new reactions and developments.

VIDEO - Pink Floyd founder cancels Poland concerts after Ukraine war remarks | Euronews

Sun, 25 Sep 2022 14:33

By Euronews with AP ' Updated: 25/09/2022 - 14:21

Pink Floyd co-founder Roger Waters has cancelled concerts planned in Poland amid outrage over his stance on Russia's war against Ukraine, Polish media reported Saturday.

An official with the Tauron Arena in Krakow, where Waters was scheduled to perform two concerts in April, said they would no longer take place.

''Roger Waters' manager decided to withdraw ... without giving any reason," Lukasz Pytko from Tauron Arena Krakow said on Saturday in comments carried by Polish media outlets.

The website for Waters' This Is Not a Drill concert tour no longer lists the Krakow concerts previously scheduled for 21 and 22 April.

City councillors in Krakow were expected to vote next week on a proposal to name Waters as a persona non grata, expressing ''indignation'' over the musician's stance on the war in Ukraine.

"Let him sing in Moscow," city councillor Lukasz Wantuch wrote on social media last week.

Waters wrote an open letter to Ukrainian First Lady Olena Zelenska earlier this month in which he blamed ''extreme nationalists'' in Ukraine for having ''set your country on the path to this disastrous war.''

"Sadly, your old man (President Volodymyr Zelenskyy) agreed to those totalitarian, anti-democratic dismissals of the will of the Ukrainian people, and the forces of extreme nationalism that had lurked, malevolent, in the shadows have, since then, ruled Ukraine," Waters said.

Waters also criticised the West for supplying Ukraine with weapons, blaming Washington in particular, and has also criticised NATO, accusing it of provoking Russia.

Just one week before the Kremlin's full-scale invasion of Ukraine in late February, Waters told the Russian state-funded outlet RT that warnings of the impending war were propaganda meant to demonise Russia.

Russian President Vladimir Putin's allegation that Ukraine was ruled by far-right nationalists and "neo-Nazis" is one of the main justifications for Moscow's full-scale invasion of its western neighbour, highlighted in Putin's speech just days before 24 February.

VIDEO - Russian-installed authorities collect votes door-to-door as 'sham referendums' continue | Euronews

Sun, 25 Sep 2022 14:31

By Euronews ' Updated: 25/09/2022 - 11:21

Two men pose for a photo in front of motorcade organised to support voting in a referendum in Luhansk, 23 September 2022 -

Copyright

AP PhotoRussian forces launched new strikes on Ukrainian cities on Saturday as Kremlin-orchestrated votes took place in four occupied regions to create a pretext for their annexation by Moscow.

In cities across Russia, police arrested hundreds of people who tried to protest a partial mobilisation order aimed at beefing up the country's troops in Ukraine.

Other Russians reported for duty, while the foreign minister told the UN General Assembly his country had ''no choice'' but to take military action against its neighbour.

Ukraine's presidential office said the latest Russian shelling killed at least three people and wounded 19.

Oleksandr Starukh, the Ukrainian governor of Zaporizhzhia, one of the regions where Moscow-installed officials organised referendums on joining Russia, said a Russian missile hit an apartment building in the regional capital, killing one person and injuring seven others.

Ukraine and its Western allies say the referendums underway in the occupied parts of its southern and eastern regions have no legal force.

They alleged the votes were an illegitimate attempt by Moscow to seize Ukrainian territory stretching from the Russian border to the Crimean Peninsula.

Luhansk Governor Serhiy Haidai said the voting ''looked more like an opinion survey under the gun barrels,'' adding that Moscow-backed local authorities sent armed escorts to accompany election officials and to take down the names of individuals who voted against joining Russia.

''Half of the population fled the Donetsk region because of Russian terror and constant shelling, voting against Russia with their feet, and the second half has been cheated and scared,'' Donetsk Governor Pavlo Kyrylenko said.

Ukrainian President Volodymyr Zelenskyy urged Ukrainians in occupied regions to undermine the referendums and to share information about the people conducting ''this farce''.

He also called on Russian recruits to sabotage and desert the military if they are called up under the partial troop mobilization President Vladimir Putin announced Wednesday.

'Obviously unlawful'In Donetsk, Luhansk, Kherson and Zaporizhzhia, Moscow-installed authorities are going door-to-door to collect votes for the so-called "referendum" to join Russia in a move aimed at legitimising the Kremlin's imminent annexation of Ukrainian territories.

"Voting" in the Moscow-orchestrated "referendums" will continue until Tuesday, 27 September.

"The conditions of those referendums have been published and following those referendums [...] Russia, of course, will respect the expression of the will of those people who for many long years have been suffering from the abuses of the neo-Nazi regime," said Russian Foreign Minister Sergei Lavrov.

On the Ukrainian side, in cities like Kramatorsk, residents are looking on with dismay at the Moscow-organised vote.

"What can I say about the referendum? It's obviously unlawful, that's our land, Ukrainian land, and all the things they are doing there, I don't know, I think they just have nothing to do. In our land? We are Ukrainians", said one Kramatorsk resident.

In the Ukrainian capital, about 100 people from the Russia-occupied city of Mariupol, which is part of the Donetsk region, gathered to protest the referendum, covering themselves in Ukrainian flags and carrying posters "Mariupol is Ukraine.''

"They ruined the city, killed thousands of people, and now they are doing some kind of profanation over there,'' said Vladyslav Kildishov, who helped organise the rally.

Elina Sytkova, 21, a demonstrator who has many relatives left in Mariupol even though the city spent months under bombardment, said the vote was "an illusion of choice when there isn't any.''

It's "like a joke, because it's the same as it was in Crimea, meaning it's fake and not real,'' she said, referring to a 2014 referendum that took place in Russian-occupied Crimea before Moscow annexed the peninsula in a move that most of the world considers illegal.

VIDEO - (22) John Scott-Railton on Twitter: "Stop and watch this video. Whatever you thought about the governors' stunt... it turns out it was worse. https://t.co/GASpsChOzl" / Twitter

Sun, 25 Sep 2022 14:28

John Scott-Railton : Stop and watch this video.Whatever you thought about the governors' stunt... it turns out it was worse.https://t.co/GASpsChOzl

Fri Sep 16 15:55:24 +0000 2022

LiterallyMMA : @jsrailton It's all fun and games until the rich snotty people at Martha Vinyard have to deal with all the immigrat'... https://t.co/M9WBGzW8w9

Sun Sep 25 14:16:13 +0000 2022

Adelina Basile : @jsrailton shocking

Sun Sep 25 07:17:53 +0000 2022

tim from long island : @jsrailton @callmeX There's your story, and then there's the possibility that these migrants were asked to say what'... https://t.co/Ym6V1WzjtK

Sun Sep 25 05:36:51 +0000 2022

VIDEO - Giorgia Meloni may become Italy's 1st far-right leader since World War II : NPR

Sun, 25 Sep 2022 14:03

From left, The League's Matteo Salvini, Forza Italia's Silvio Berlusconi, Brothers of Italy's Giorgia Meloni and Noi Con l'Italia's Maurizio Lupi attend the center-right coalition closing rally in Rome on Thursday. If polling is correct, Italians will elect their country's most right-wing government since the end of World War II on Sunday. Gregorio Borgia/AP hide caption

toggle caption Gregorio Borgia/AP From left, The League's Matteo Salvini, Forza Italia's Silvio Berlusconi, Brothers of Italy's Giorgia Meloni and Noi Con l'Italia's Maurizio Lupi attend the center-right coalition closing rally in Rome on Thursday. If polling is correct, Italians will elect their country's most right-wing government since the end of World War II on Sunday.

Gregorio Borgia/AP ROME '-- If polling is correct, Italians will elect their country's most right-wing government since the end of World War II on Sunday. That's no small matter in a country that has had 69 governments since 1946.

Leading the coalition that looks likely to secure a majority of seats in Italy's parliament is Giorgia Meloni, leader of Fratelli d'Italia, the Brothers of Italy party.

If her coalition does win, she will also make history by becoming Italy's first female prime minister.

Meloni, 45, grew up in a working-class neighborhood in Rome that's better known for cultivating leftist activists than producing fiery hard-right politicians. Her party has roots in the neo-fascist movement that emerged out of the ruins of World War II.

Symbols point to the party's connection to that past too. The party flag includes a tricolor flame that was a symbol of fascism in the early 20th century. Meloni has refused to remove the flame from the party's logo.

And many party members have shown an affinity for fascism and fascist leaders of the past. Just this week, the party suspended a member running for parliament after an Italian newspaper revealed he had posted comments supporting Adolf Hitler in the past.

Meloni has spent considerable time and energy trying to convince Italians and Europeans that the party is not fascist. When not on the radio or TV, she is on the road, creating videos she streams live and posts to all her social media platforms.

Supporters of Giorgia Meloni and the Fratelli d'Italia political party at a campaign event in Turin on Sept. 13. Mauro Ujetto/NurPhoto via Getty Images hide caption

toggle caption Mauro Ujetto/NurPhoto via Getty Images Supporters of Giorgia Meloni and the Fratelli d'Italia political party at a campaign event in Turin on Sept. 13.

Mauro Ujetto/NurPhoto via Getty Images Meloni's Twitter feed is full of dozens of scenes that look nearly identical. They all show her as she takes the stage in various Italian cities, to the adoring cheers of supporters holding Brothers of Italy flags.

Meloni's opposition to immigration has animated her and her baseIn August, Meloni posted a video on social media saying she would introduce a naval blockade to patrol the Mediterranean, to interdict people whom she called "illegal immigrants" from North Africa.

"What is important in the campaign is not the policy itself. It's the message '-- 'we will stop them at any cost,'" says historian Lorenzo Castellani, a professor at Rome's LUISS University. "She is proposing herself as a sort of defender of the borders, a very Trumpian approach from this point of view," Castellani says, referring to former President Donald Trump's anti-immigration rhetoric and policies.

Even as she spends energy trying to dispense with the fascism label, Meloni also serves up red meat to the party faithful. At a recent event, she was yelling about the years of shame many have felt for holding what she often calls "anti-woke" opinions.

Giorgia Meloni, leader of Italian far-right party Fratelli d'Italia (Brothers of Italy), flashes the victory sign as she delivers a speech at the Arenile di Bagnoli beachfront in Naples on Friday, closing her party's campaign for the Sept. 25 general election. Andreas Solaro/AFP via Getty Images hide caption

toggle caption Andreas Solaro/AFP via Getty Images Giorgia Meloni, leader of Italian far-right party Fratelli d'Italia (Brothers of Italy), flashes the victory sign as she delivers a speech at the Arenile di Bagnoli beachfront in Naples on Friday, closing her party's campaign for the Sept. 25 general election.

Andreas Solaro/AFP via Getty Images "I have a dream of a nation in which people who have had to put their heads down for so many years ... can now say what they think and not lose their jobs because of it," Meloni said.

A conservative in a moderate's clothing?Some Italians fear a Meloni-led government would move to outlaw abortion, legal in Italy since 1978. Meloni says she will not.

Meloni has long been a Euroskeptic '-- and in the past has talked about taking Italy out of the common currency, the euro, and even of leaving the European Union. But she has repeatedly promised she'll work with the EU and can be trusted to manage the 200 billion euros ($194 billion) Italy has received in European pandemic recovery funds.

That assurance was called into question on Thursday, when European Commission President Ursula von der Leyen warned there could be consequences for Italy, the EU's third-largest economy, if it moves in an anti-democratic direction after the election.

Meloni has long insisted that she has no plans to go soft on Russia and has supported Ukraine since war broke out in February. But one of her coalition partners, Italy's former Prime Minister Silvio Berlusconi, has a long friendship with Russian President Vladimir Putin, and appeared on an Italian talk show Thursday, saying Putin invaded Ukraine to put "decent people" in power in Kyiv.

It's not clear if this could damage Meloni's coalition's prospects at this late hour, but her opponent, former Prime Minister Enrico Letta, the head of Italy's center-left Democratic Party, has repeatedly said on the campaign trail, "If the right wins, the first person to be happy will be Vladimir Putin."

Enrico Letta, leader of the center-left Democratic Party, arrives at Piazza del Popolo in Rome Friday to hold a rally closing his party's campaign for Sunday's general election. Alberto Pizzoli/AFP via Getty Images hide caption

toggle caption Alberto Pizzoli/AFP via Getty Images Enrico Letta, leader of the center-left Democratic Party, arrives at Piazza del Popolo in Rome Friday to hold a rally closing his party's campaign for Sunday's general election.

Alberto Pizzoli/AFP via Getty Images An astute political operativeWith Italians facing spiraling energy costs, inflation and a lackluster economy, Meloni, whose party only won 4% of the vote in the last election, has positioned herself as an outsider who will shake things up.

Political writer Federico Fubini, a Meloni critic, says she was astute to sit out of the national unity government that just collapsed. It created a big opening.

"The main reason why she's leading in the polls is because she's perceived as the one that was not in power for the last 10 years," he says.

If Meloni's coalition does win and she is named prime minister, she'll take office almost exactly 100 years after Benito Mussolini took power in Rome. She insists his ideology is in the past. Many Italians and Europeans hope she'll stick to her word.

VIDEO - (21) The Post Millennial on Twitter: "Hillary Clinton says Trump supporters cheering during his rallies are akin to Nazis saluting Hitler. https://t.co/K9kjk7f19w" / Twitter

Sun, 25 Sep 2022 13:45

The Post Millennial : Hillary Clinton says Trump supporters cheering during his rallies are akin to Nazis saluting Hitler. https://t.co/K9kjk7f19w

Sat Sep 24 17:17:24 +0000 2022

Josh Spain : @TPostMillennial Who's this guy https://t.co/0RN7EfhSlj

Sun Sep 25 13:44:53 +0000 2022

MomusMouse : @TPostMillennial WOW. Really. Maybe she should try reading a history book and see how the left's tactics are much c'... https://t.co/qFLdJ1yevT

Sun Sep 25 13:44:01 +0000 2022

I am elegant boutiqu : @TPostMillennial TDS

Sun Sep 25 13:43:02 +0000 2022

#TrudeaMustGo PowMan : @TPostMillennial Evil witch

Sun Sep 25 13:40:37 +0000 2022

UncountableZed : @TPostMillennial She never learned her lesson from 2016

Sun Sep 25 13:37:48 +0000 2022

Gerard Linthorne : @TPostMillennial This chick is messed up

Sun Sep 25 13:35:46 +0000 2022

AZJewels : @TPostMillennial The "Haggy Witch", practicing her worst looks for Halloween. Back from the dead are you Killary?

Sun Sep 25 13:31:51 +0000 2022

Cindy J : @TPostMillennial please shut up Hilary

Sun Sep 25 13:31:32 +0000 2022

SVDavis : @TPostMillennial Why is she watching a Trump rally?ðŸ†ðŸ'

Sun Sep 25 13:27:58 +0000 2022

Phil Albion : @TPostMillennial 👇🏾🤗POST Staffers >REMEMBER WHEN Donald J. Trump SAID!👇🏾 https://t.co/lNBZhaAAZL

Sun Sep 25 13:27:31 +0000 2022

VIDEO - (19) CBS Evening News on Twitter: "Voters in Italy appear poised to elect a far-right prime minister tomorrow '-- Giorgia Meloni, the woman expected to win, leads a neo-fascist movement, reminiscent of Benito Mussolini's own political party. htt

Sun, 25 Sep 2022 13:30

CBS Evening News : Voters in Italy appear poised to elect a far-right prime minister tomorrow '-- Giorgia Meloni, the woman expected to'... https://t.co/X340qC8ezN

Sun Sep 25 01:07:39 +0000 2022

Diana : @CBSEveningNews Thank God!!

Sun Sep 25 13:30:48 +0000 2022

DennisDeeUSA - Biden sucks : @CBSEveningNews The Democrat Party is the most vile organization in American History. Slavery-Torture-Jim Crow-KKK'... https://t.co/wynpFvwaJU

Sun Sep 25 13:30:21 +0000 2022

LeonNiala : @CBSEveningNews @Twitter has anybody going to FAT CHECK the bull shit from CBS

Sun Sep 25 13:29:54 +0000 2022

DennisDeeUSA - Biden sucks : @CBSEveningNews This is a disgusting dishonest hit piece.

Sun Sep 25 13:29:20 +0000 2022

Eolie Tradewinds : @CBSEveningNews "far-right" "neo-fascist" says the American fake news media who takes marching orders from Klaus Schwab.

Sun Sep 25 13:28:49 +0000 2022

skadden asks : @CBSEveningNews Stop your bs. We dont believe you anymore.

Sun Sep 25 13:28:38 +0000 2022

Girolamo Atanasi ðŸ...'š--¸ðŸŒ¥¸ : @CBSEveningNews We hope and fight not to have Soros' friends as governors (Democratic Party, Draghi, M5S, Azione, I'... https://t.co/8INZ32Bg6O

Sun Sep 25 13:28:37 +0000 2022

dean stoltzfus : @CBSEveningNews Lie

Sun Sep 25 13:28:03 +0000 2022

freedomcosts 🇺🇸🇧🇷 : @CBSEveningNews You are so subtle. You can hardly tell which side you're rooting for. #journolismisdead

Sun Sep 25 13:27:59 +0000 2022

Violent*Hypocrisy*lives*in*MSN. : @CBSEveningNews This is one of thousands of reasons why you are #fakenews. #CBSnewsishit

Sun Sep 25 13:27:40 +0000 2022

Antwain ALWAYS POPPIN : @CBSEveningNews She is being attack because she is female. Pretty obvious.

Sun Sep 25 13:27:11 +0000 2022

troy meb : @CBSEveningNews CBS- Continuous Bull Shit

Sun Sep 25 13:27:01 +0000 2022

Girolamo Atanasi ðŸ...'š--¸ðŸŒ¥¸ : @CBSEveningNews Sirs, Fratelli d'Italia isn't a neo fascist party. Your information is strongly biased, it's not tr'... https://t.co/s1r4WDLGK0

Sun Sep 25 13:26:50 +0000 2022

Dude Named Ben : @CBSEveningNews The CIA Broadcasting Company at it again

Sun Sep 25 13:26:26 +0000 2022

NOT Brian Lilley🤠: @CBSEveningNews Ratio'd for your lies upon lies upon lies.

Sun Sep 25 13:26:19 +0000 2022

DChibbles : @CBSEveningNews The far left new liberal order will label everything that's not their pick or not their candidate a'... https://t.co/BMkByYPC9s

Sun Sep 25 13:26:02 +0000 2022

Uiski : @CBSEveningNews https://t.co/5TzAWn5WAH

Sun Sep 25 13:25:47 +0000 2022

'''🕸 Litecoin/Fake News (Not Financial Advice) '''🕸 : @CBSEveningNews Far left CBS reports on Italian election

Sun Sep 25 13:25:33 +0000 2022

JCrow : @CBSEveningNews ðŸ¤ðŸ¤ðŸ¤

Sun Sep 25 13:25:28 +0000 2022

Natasha Cebek : @CBSEveningNews It seems like everything is called ''fascism'' except for actual fascism.

Sun Sep 25 13:25:15 +0000 2022

KeylessChuck : @CBSEveningNews Lies

Sun Sep 25 13:25:08 +0000 2022

The Outsider : @CBSEveningNews Based Italians

Sun Sep 25 13:25:03 +0000 2022

Redneek24 : @CBSEveningNews Save this cbs tweet. It will be deleted soon when they see the ratio.

Sun Sep 25 13:24:34 +0000 2022

Fallacy Doctor : @CBSEveningNews Stop lying. Conservative freedom is rising because people are sick of liberal communism.

Sun Sep 25 13:24:08 +0000 2022

Kenneth M : @CBSEveningNews @CBSNews She's a "far-right fascist" because she holds the same views on gay marriage and illegal i'... https://t.co/AhhueY9NP8

Sun Sep 25 13:23:53 +0000 2022

Spades : @CBSEveningNews You think God, country and family is fascist? Huh?

Sun Sep 25 13:23:01 +0000 2022

Jen Mays : @CBSEveningNews Fascists are not "far-right." The right supports less government and the will of the individual.

Sun Sep 25 13:22:52 +0000 2022

Bailey🇺🇸 : @CBSEveningNews America's corporate media narrative. Clowns.

Sun Sep 25 13:22:45 +0000 2022

Anna Banana 🍌 : @CBSEveningNews If we are going to talk about symbols what's that on the walls of the house and on the Lincoln memorial?!!!

Sun Sep 25 13:22:18 +0000 2022

NightStar ''¤¸ðŸ‡ºðŸ‡¸''¤¸ðŸ‡®ðŸ‡±''¤¸ðŸ¾ : @CBSEveningNews CBS "News"...ðŸ'ðŸ'

Sun Sep 25 13:22:02 +0000 2022

Redneek24 : @CBSEveningNews CBS is lying.

Sun Sep 25 13:21:55 +0000 2022

MAGA will defeat Communist Biden 🇺🇸 : @CBSEveningNews CBS spreading of Propaganda continues. Inciting fear and lies to control the liberal sheep is all the have to run on.

Sun Sep 25 13:21:54 +0000 2022

VIDEO - (19) Kelly DNPðŸ(C)º Faith Family Freedom on Twitter: "Offit, pharma shill, running for the hills now. Sorry Offit, you've already done the damage. https://t.co/qQojX5S6jO" / Twitter

Sun, 25 Sep 2022 13:26

Kelly DNPðŸ(C)º Faith Family Freedom : Offit, pharma shill, running for the hills now. Sorry Offit, you've already done the damage. https://t.co/qQojX5S6jO

Fri Sep 23 20:03:34 +0000 2022

Zacharia King : @kacrn91 Lol. Running for the hills is dumb statement. He likes more than mouse data, which the other formulation'... https://t.co/gvvNKXfPHk

Sun Sep 25 13:23:26 +0000 2022

Roma Fizzal : @kacrn91 Offit just smelled the sht sticking!.

Sun Sep 25 13:16:04 +0000 2022

VIDEO - Texas Slim: From Fake Meat to Edible Insects, Truth Behind the War on Beef

Sun, 25 Sep 2022 13:23

Where's the beef? It's disappearing from the American table and being replaced by fake meat from a lab and edible insects. So what lies behind this global food industry shift and how does it affect your health and the American rancher?

Cattleman Texas Slim, a sixth-generation Texan, founder of the Beef Initiative, podcaster, and food intelligence advocate, explains everything.

Then, in America Q&A, we ask people across the country what they think about the current trend to eat bugs.

Finally, in our second America Q&A, we ask: Do you think Twitter accurately reflects public opinion?

VIDEO - (15) Bernie's Tweets on Twitter: "WEF - Ida Auken, global young leader. ''You will own nothing'', you will just pay rent for services owned by governments & companies who control you & can refuse your custom. But it's just a conspiracy

Sun, 25 Sep 2022 12:57

Bernie's Tweets : WEF - Ida Auken, global young leader. ''You will own nothing'', you will just pay rent for services owned by gover'... https://t.co/Y5dJQPXO4F

Fri Sep 23 15:00:09 +0000 2022

VIDEO - New Zealand Prime Minister Calls for a Global Censorship System '' JONATHAN TURLEY

Sun, 25 Sep 2022 12:48

C-Span screengrabNew Zealand Prime Minister Jacinda Ardern is the latest liberal leader to call for an international alliance to censor speech. Unsatisfied with the unprecedented corporate censorship of social media companies, leaders like Hillary Clinton have turned from private censorship to good old-fashioned state censorship. Speech regulation has become an article of faith on the left. Ardern used her speech this week to the United Nations General Assembly to call for censorship on a global scale.

Ardern lashed out at ''disinformation'' and called for a global coalition to control speech. After nodding toward free speech, she proceeded to lay out a plan for its demise through government regulation:

But what if that lie, told repeatedly, and across many platforms, prompts, inspires, or motivates others to take up arms. To threaten the security of others. To turn a blind eye to atrocities, or worse, to become complicit in them. What then?

This is no longer a hypothetical. The weapons of war have changed, they are upon us and require the same level of action and activity that we put into the weapons of old.

We recognized the threats that the old weapons created. We came together as communities to minimize these threats. We created international rules, norms and expectations. We never saw that as a threat to our individual liberties '' rather, it was a preservation of them. The same must apply now as we take on these new challenges.

Ardern noted how extremists use speech to spread lies without noting that non-extremists use the same free speech to counter such views. To answer her question on ''how do you tackle climate change if people do not believe it exists'' is that you convince people using the same free speech. Instead, Ardern appears to want to silence those who have doubts.

While referring to a global censorship coalition as a ''light-touch approach to disinformation,' Ardern revealed how sweeping such a system would likely be. She defended the need for such global censorship on having to combating those who question climate change and the need to stop ''hateful and dangerous rhetoric and ideology.''

''After all, how do you successfully end a war if people are led to believe the reason for its existence is not only legal but noble? How do you tackle climate change if people do not believe it exists? How do you ensure the human rights of others are upheld, when they are subjected to hateful and dangerous rhetoric and ideology?''

That is the same rationale used by authoritarian countries like China, Iran, and Russia to censor dissidents, minority groups, and political rivals. What is ''hateful'' and ''dangerous'' is a fluid concept that government have historically used to silence critics or dissenters.

Ardern is the smiling face of the new generation of censors. At least the old generation of censors like the Iranians do not pretend to support free speech and openly admit that they are crushing dissent. The point is that we need to be equally on guard when censorship is pushed from the left with the best of motivations and the worst of means.

As the great civil libertarian Justice Louis Brandeis once said, ''the greatest dangers to liberty lurk in insidious encroachment by men of zeal, well-meaning but without understanding.''

VIDEO - CNBC's Rick Santelli: Modern Monetary Theory 'Was a Stupid Idea' and Low Interest Rates 'Ruined the Entire Infrastructure of Global Finance' - AIR.TV

Sun, 25 Sep 2022 12:43

Sep 24, 2022

CNBC's Rick Santelli: Modern Monetary Theory 'Was a Stupid Idea' and Low Interest Rates 'Ruined the Entire Infrastructure of Global Finance'
Clips & Documents
Art
Audio Clips

ABC ATM - anchor Andrea Fujii - alex jones defamation lawsuit (1min57sec).mp3

ABC ATM - anchor Andrea Fujii - mans car stolen twice in a day -GPS (34sec).mp3

ABC ATM - anchor Andrew Dymburt - jan 6th committee coming back (11sec).mp3

ABC ATM - anchor Lionel Moise - fentanyl L.A. schools (1min44sec).mp3

ABC ATM - anchor Rhiannon Ally - medical terrorist -IV spiking (26sec).mp3

ABC ATM - anchor Rhiannon Ally - new bill reaffriming VP no power (18sec).mp3

ABC ATM - anchor Rhiannon Ally - warning global economy -fedex (15sec).mp3

ABC GMA - anchor Deirdre Bolton - wild week on wall street (1min12sec).mp3

ABC GMA - anchor Gio Benitez - NASA protecting earth from asteroid (1min49sec).mp3

ABC GMA - anchor MaryAlice Parks - US warns russia against nuclear (1min15sec).mp3

ABC WNT - anchor David Muir - 1M fentanyl pill bust (14sec).mp3

ABC WNT - anchor David Muir - sham russian ukraine election (27sec).mp3

ABC WNT - anchor Marcus Moore - police ketamine overdose death (1min11sec).mp3

ABC WNT - anchor Mona Abdi - suspect alone in police car hit by train (1min5sec).mp3

ABC WNT - anchor Rachel Scott (1) republican mid-term plan (1min37sec).mp3

ABC WNT - anchor Rachel Scott (2) election deniers -no trump mention (21sec).mp3

American Airlines from Joe at EnilRiaDOTcom - Intercom hacked.mp3

Artemis fail 3.mp3

BIDEN creep joe say hi.mp3

Biden explains AR15 Uses.mp3

Biden Global Health Summary.mp3

BPR -2- Extra kicker Connecting Trump to terrorism.mp3

California Gays Against Groomers at school board meeting.mp3

CBS - anchor Jericka Duncan - jan 6th rioter prison qanon conspiracy (30sec).mp3

CBS - anchor Jericka Duncan - mississippi welfare corruption case (20sec).mp3

CBS - anchor Jericka Duncan - russian men fleeing conscription (12sec).mp3

CBS 60 Mins - anchor Bill Whitaker - jan 6th technical advisor -phonecall (1min32sec).mp3

CBS Evening - anchor Adriana Diaz - building blast -thought was terrorism (22sec).mp3

CBS Evening - anchor Ed OKeefe - trump qanon music & salute (23sec).mp3

CBS Evening - anchor Manuel Bojorquez - reward for woman who lured migrants (13sec).mp3

CBS Evening - anchor Ramiane Encinco - iran protest (1min4sec).mp3

CBS Evening - anchor Scott Macfarlane - trump documents setback (1min49sec).mp3

CBS Evening News on Giorgia Meloni Italy PM chances.mp3

COMIC CON Africa.mp3

CSPAN CAllins polls combat guy.mp3

CSPAN CAllins polls FINAL nuts.mp3

CSPAN CAllins polls Intro.mp3

CSPAN CAllins polls Kathy 3-o.mp3

CSPAN CAllins polls sarcastic guy.mp3

Dad calls pharmists after son get myocarditis - 'Don't wan tto scare parents'.mp3

Dr Michael Schellenberg debunks bullcrap Congressional climate change testimony.mp3

Dr Paul Offit is running for the hills NBC - Mouse data is no good.mp3

Experts - Canada euthanasia law devalues disabled.mp3

Gays Agnst Groomers school BD RANT.mp3

German boss kowtows to Saudis 2.mp3

German boss kowtows to Saudis.mp3

Hillary clinton compares MAGA to Nazis- again.mp3

homeless_poop_tosser_arrested.mp3

House Financial Services Committee laughing about revolving door.mp3

IRAN mess DW.mp3

ISO Byebye.mp3

Italy 2 DW.mp3

Italy One DW.mp3

Jacinda GA -1- Intro and hooey hooey.wav

Jacinda GA -2- Christchurch made her the expert of misinfrmration.wav

Jacinda GA -3- The examples of people not believing the 'truth'.mp3

Jacinda GA -4- We must work together to bring us back to order - hooey hooey kicker.mp3

Jean Paul premiss comment.mp3

Jeremy Siegel of the Wharton School ripping apart Powell and the Fed.mp3

Letittia James on trump 5th PRIVELEGE.m4a

MAGACommunism Supercut.mp3

Nesom solves homelessness in 10 years in 2008.mp3

New York is putting up a tent city for the illegal aliens.mp3

NPR - Prominent election deniers are facing growing legal trouble - 2K Mules.wav

NPR connecting Trump to Terrorism Q-Anon.mp3

NPR Italian Elections.mp3

nude_melania_sketch-Nicole Walace.mp3

Pink Floyd founder cancels Poland concerts after Ukraine war remarks.mp3

remote workers report 2.mp3

remote workers report 3.mp3

remote workers report npr.mp3

Rhode Island Public Utilities Commission kerfuffle over 50% increase.mp3

Rick Santelli CNBC slams MMT.wav

Russia mobilization 2 DW.mp3

Russia mobilization 3 DW.mp3

Russia mobilization DW.mp3

Russian-SO CALLED - installed authorities collect votes door-to-door as 'sham referendums' continue euronews.mp3

San Diego Nurse's testimoney - fired for VAERS reporting comments.wav

sketchy debt relief NPR.mp3

Tamara Hall Lesbian Day.mp3

VID Gender hormones Vandy.mp3

VID Trans buddies Vanderbilt.mp3

Virtual signalling.mp3

WEF - Ida Auken, global young leader - Why you don't want to own anything.mp3

Zoomer Line Cutter freaks out over herself cutting in line.mp3