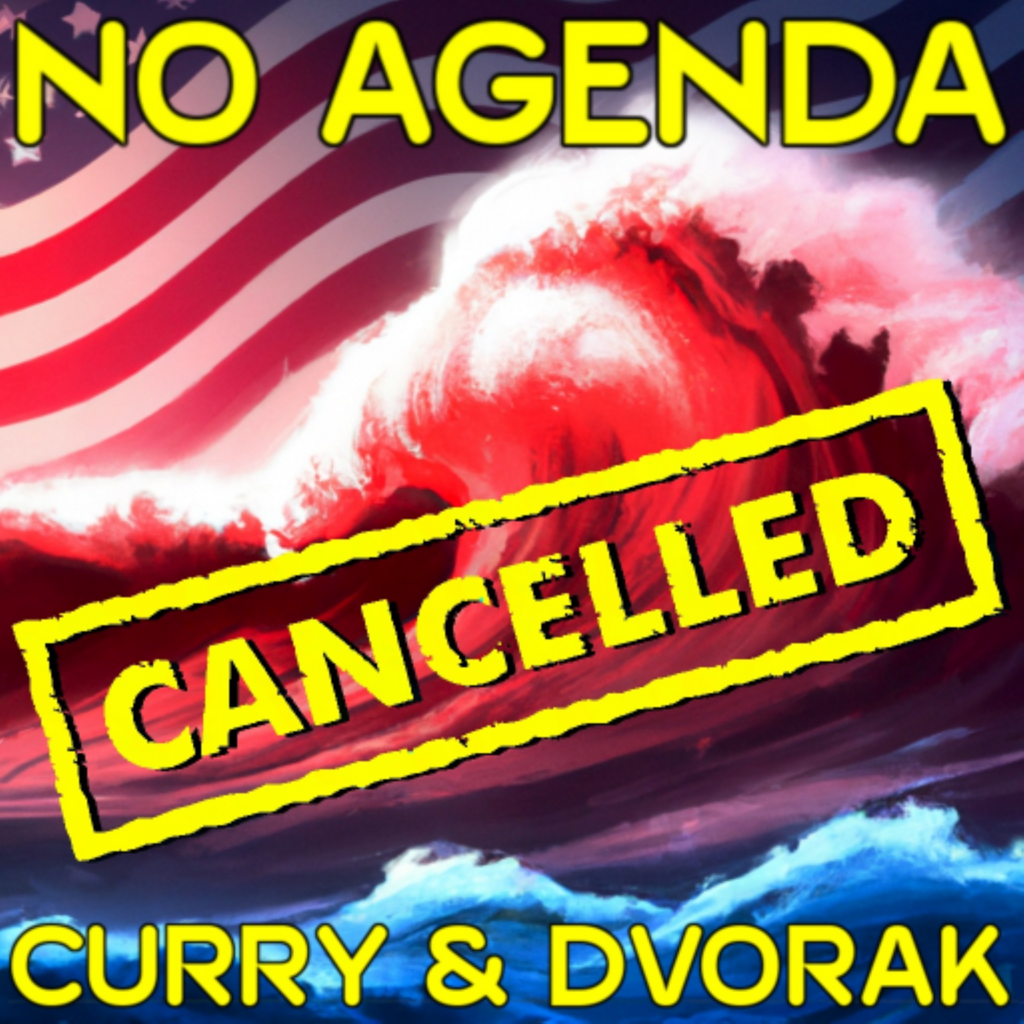 November 10th • 3h 21m
1502: Shood Fortage
Shownotes
Every new episode of No Agenda is accompanied by a comprehensive list of shownotes curated by Adam while preparing for the show. Clips played by the hosts during the show can also be found here.
BTC SBF

FTX Post-Mortem: Bankman-Fried Admitted The "Ponzi Business" Of Crypto Yield Farming Months Ago

"I think of myself as like a fairly cynical person. And that was so much more cynical than how I would've described farming. You're just like, well, I'm in the Ponzi business and it's pretty good."
Ministry of Truthiness
Prime Time Purge

Every Country gets the Government it Deserves

Trump Nov 15 acting as defacto president
Elon / Twitter

Replacing twitter with Mastodon

Insane - No Algo

"Chronological Timeline"

Twitter Blue Check Mark [of the beast]

Often the anti-lockdown Right view themselves as immune to the mass formation which drew so many to get vaccinated, and to continue getting vaccinated. It also seems that that formation has primed 'the left' to react negatively to Elon's take over of Twitter.

Yet it seems that the inverse is also true, the pro-Elon response of the right is such that I have not seen any of the Christian right who resisted the vaccine/covid passports out of fears it could be 'the mark of the beast' worrying that this would also qualify.

Elon is viewed as the richest man in the world: Tesla is the future of green transport, mars is a refuge, and Twitter will be saved.

Yet Teslas (especially their batteries) are detrimental to the world, mars is not a new earth, and twitter will be a super-app like WeChat etc.

There's an element of deception here. (Why not add the halloween outfit into the mix as well?)

Combine this with CBDCs, identity authentication and so on I am amazed that I'm not seeing any talk or risks that this is a mark of the beast situation.

I'm not saying that it is a mark of the beast situation (though it could be): I am saying that there is a shocking lack of self-awareness on the part of those who have been priding themselves on not being fooled like sheep who are unthinkingly throwing their support behind the new twitter.

And honestly, I'm not sure what to make of it.

Thanks for all you and John do with NoAgenda, certainly in need of the conspiracy thearpy and the dose of realism you each provide!

Every blessing.

Fr Samuel
Food Intelligence

I was wrong. Not a food shortage, but a nutrition shortage

Fat Passengers Causing 757 Floor Risk

Adam

I don't know if you saw the stories about United blocking seats on 757s because the weight of passengers used in their weight and balance calculation has increased. I thought this whole story was odd, but on my Enilria.com Patreon blog an expert posted it is not because of the maximum takeoff weight as you might guess but because of stress on the cabin floor. I.E. the floor potentially deforming or collapsing from too much weight. Wow.

I've attached the blog post and the comment. I would ask not to read the comment verbatim from my subscriber as I don't know if he'd want that, but you can summarize it.
Out There
Ukraine & Russia

Powerball winner Zalensky
Climate Change COP27

Mia Mottley builds global coalition to make financial system fit for climate action

The agenda is based around a three-pronged approach.

The first step is to prevent a debt crisis with emergency IMF relief and long-term concessional funding for development, lent over at least 30 years, to prepare for the future.

Money should be available not just "following a disaster, but before a disaster," she said, citing World Bank research that for every $1 spent on resilience, many lives and $7 could be saved in avoided costs.

This, she said, calls for a greater redistribution of special drawing rights (SDRs), the IMF reserve asset issued as relief during the pandemic, from wealthy nations to those that need it most.

Last year, the IMF injected $650bn in SDRs into the global economy to help countries recover from the Covid-19 pandemic. The IMF created a $45 billion Resilience and Sustainability Trust for rich nations, which received most of the support, to re-channel the funds to developing countries.

Mottley and her supporters are asking for at least $100bn to be redistributed.
Mandates & Boosrters
BLM LGBBTQQIAAPK+ Noodle Boy
STORIES

Elon Musk: Unlabeled Twitter parody accounts risk permanent suspension

Thu, 10 Nov 2022 18:09

In this photo illustration, the image of Elon Musk is displayed on a computer screen and the logo of twitter on a mobile phone in Ankara, Turkiye on October 06, 2022.

Muhammed Selim Korkutata | Anadolu Agency | Getty Images

After several celebrity and blue-check verified Twitter users changed their accounts to mimic the social network's new owner Elon Musk, he called for a swift change to policy enforcement.

Musk wrote on Sunday that, moving forward, Twitter will now permanently suspend impersonators' accounts without warning if they are not clearly labeled as parody.

In a series of tweets on Sunday, the Tesla, SpaceX and now Twitter CEO seemed to change his mind on permanent bans, and wrote:

"Going forward, any Twitter handles engaging in impersonation without clearly specifying "parody" will be permanently suspended

Previously, we issued a warning before suspension, but now that we are rolling out widespread verification, there will be no warning. This will be clearly identified as a condition for signing up to Twitter Blue.

Any name change at all will cause temporary loss of verified checkmark."

In May, after he agreed to buy Twitter, Musk argued against lifetime bans and said he would reverse one on Donald Trump. Twitter had banned the former president in the wake of the Jan. 6, 2021 insurrection at the U.S. Capitol, fearing Trump's tweets would incite further violence. Trump has said he would not return to Twitter.

Before Musk closed his $44 billion acquisition of Twitter on Oct. 28, the social network's rules specified that users, "may not impersonate individuals, groups, or organizations to mislead, confuse, or deceive others, nor use a fake identity in a manner that disrupts the experience of others on Twitter."

The company previously required that users engaged in parody should, "distinguish themselves in BOTH their account name and bio."

Twitter previously said it would take any of three actions in response to impersonators, including: "profile moderation," "temporary suspension," or a "permanent suspension." The platform would not usually jump to a permanent ban of a user's account for impersonation prior to Musk's takeover.

As of Sunday evening, Twitter had not yet updated its terms of service to reflect Musk's direction.

The decision of the "Chief Twit," as he has jokingly called himself, has stirred controversy and consternation, in part because Musk bills himself as a free speech absolutist.

Last week, he put down activists, including civil rights leaders who called on advertisers to stop spending on Twitter until Musk proves the company can deliver on its trust and safety promises under his leadership.

When Musk showed up at Twitter's San Francisco headquarters on Oct. 27, online trolls and bigots raided the social network, polluting it with a flood of racist epithets and other hate speech. Researchers said Twitter took appropriate action in response, but should have predicted and tried to prevent the raid.

Verification changesAfter that gauntlet, Musk implemented steep headcount cuts at Twitter, laying off around 3,700 people from across departments including dismissals of content moderation, and other trust and safety experts. A major focus for him is a redesign of the platform's subscription product and verification system.

Verification, in the form of a blue-check, used to be reserved for public figures like politicians and celebrities who were very likely to be impersonated by bad actors. Now, Musk plans to make a verification mark available to anyone who pays $7.99 per month for Twitter Blue, a subscription product.

The verification changes inspired the outpouring of mockery and mimicry by those who think it will complicate, rather than help, Twitter users find good information and authentic accounts on the platform.

The account of one of the comedians who impersonated Musk over the weekend, Kathy Griffin, was suspended on Sunday. She changed her display name to Elon Musk and her profile pic to look like his, then wrote in a tweet, "After much spirited discussion with the females in my life, I've decided that voting blue for their choice is only right (They're also sexy females, btw.)"

The account of actor Rich Sommer, known for his role as Harry Crane on AMC's "Mad Men," was also suspended after he changed his display name and profile picture to impersonate Musk.

Pretending to speak as Musk on Twitter, Sommer quipped on Friday, "I'm in over my head. Can 44 billion of you send $1 each to twitter, attn me?" He later added, more searingly, "Ok, time to employ plan B since they're MAKING me keep Twitter. does anyone know any advertisers who are, like, kind of 'into' racism NOT ACTUAL RACISTS!! just ad ppl who are, y'know, curious about what it's all about (racism)."

Twitter and Elon Musk did not immediately respond to a request for comment or confirmation as to whether Sommer and Griffin were permanently banned.

Others who impersonated Musk included actress Valerie Bertinelli, who on Saturday changed her display name to Elon Musk, then posted tweets urging her followers to vote for Democratic candidates.

Sarah Silverman, the comedian, writer and host of "I Love You, America" also changed her display name and avatar photo to look like Elon Musk's. She then appeared to speak in Musk's voice, writing a juvenile crack, "I am a freedom of speech absolutist and I eat doody for breakfast every day."

Bertinelli changed her profile back before Twitter took any apparent actions against her account. She wrote on Sunday morning, "Okey-dokey I've had my fun and I think I made my point. I'm just not a 'trending' kind of gal. Never have been, never want to be. Have a safe Sunday everyone! xo"

Silverman remained on the platform, only reverting back to use her own photo and display name after her account was locked by Twitter. In a post to her 12 million listed fans and followers there on Sunday, Silverman wrote: "1) 9 days ago, 2) yesterday 3) today. We have fun," attaching three images.

One image referred back to a promise Musk made to his followers on Oct. 28, writing that "Comedy is now legal on Twitter," right after he had purchased the platform. The others showed her joke tweet, and that it had triggered a restriction.

Musk defended himself against critics who view his new enforcement directive as going against the free speech values he espouses on Sunday. He wrote, "My commitment to free speech extends even to not banning the account following my plane, even though that is a direct personal safety risk."

College student Jack Sweeney created a Twitter account using publicly available data that automatically updates to show the whereabouts of Musk's frequent flights in his private jet. Musk has pressured Sweeney and even offered to pay him to take the the flight tracker down, but it remains on Twitter even now.

On Sunday, after calling for bans of impersonators without a parody label, Musk also tried shift the focus away from free speech. He wrote, "Twitter needs to become by far the most accurate source of information about the world. That's our mission."

FDNY saves woman dangling from 20th floor in Manhattan e-bike fire

Thu, 10 Nov 2022 15:44

Firefighters rescued a desperate woman hanging from a window 20 stories above the street as dozens of people were trapped inside a Manhattan high-rise Saturday in a massive blaze that was sparked by an e-bike battery, the Fire Department said.

The smoky blaze reported at about 10:30 a.m. injured 38 people, including five firefighters, said FDNY Commissioner Laura Kavanagh. Two tenants of the building at 429 E. 52nd St. had life-threatening injuries.

Two dozen residents escaped to the roof of the smoke-filled building, between First Ave. and Sutton Place '-- and ended up stranded there, as firefighters battled the blaze 17 stories below, on the building's 20th floor.

A man is pictured on a gurney Saturday after being rescued from the burning building. He can be seen in the photo above during the rescue. (Theodore Parisienne/for New York Daily News)

The fire broke out when a lithium-ion battery attached to an e-bike exploded by the front door of a 20th-floor apartment, said FDNY Chief Fire Marshall Daniel Flynn.

Two tenants unable to escape by the front door '-- their only way out of the apartment '-- instead tried to go out a window.

Video posted to Twitter showed a woman hanging from a window ledge of the apartment as the blaze raged inside. Her left arm was wrapped in a drape, said witness Ken Gunsberger.

''(There were) massive amounts of smoke coming out of a window,'' Gunsberger said. ''(The tenants were) literally choking from smoke.

The women hung on for her life for five minutes, Gunsberger said. ''I didn't know how she was going to stay there,'' he said. ''I'm like, 'If they don't grab her, that's it.'''

Scores residents were told to stay in their homes as firefighters fought the massive 10:30 a.m. fire, an FDNY spokesman said. (Theodore Parisienne/for New York Daily News)

The rescue was ''a Herculean team effort'' that involved lowering four firefighters with ropes from the apartment just above the site of the blaze, said FDNY Chief Frank Leeb.

A firefighter from Ladder 16, Belvon Koranteng, was lowered down to the apartment first, ''and got valuable intelligence,'' Leeb said '-- including the fact that the dangling woman's clothes were caught on the apartment's window guard, which is meant to protect children from falling.

Then, Firefighter Artur Podgorski, also from Ladder 16, hanging from a rope, grabbed hold of the woman. He and another firefighter hanging from a rope freed her from the window guard, Leeb said.

Then Podgorski and his colleague were lowered with the woman to colleagues waiting at the open window of an apartment one floor below.

''In my ENTIRE life I've never seen anything more #HEROIC than what i witnessed from #NYC apt.,'' said Patti Ryan as she tweeted out video of the rescue.

Firefighters used the lifesaving rope to pull one more tenant from the burning apartment. A third person in the apartment was rescued from the inside as the blaze was knocked down, said Leeb.

A rope rescue ''is a last resort in the FDNY,'' said Leeb. ''It was an incredibly dangerous situation, to put our members on a rope from the 20th floor,'' he added. ''Training and preparation is what it's all about.''

''It was 100% teamwork,'' said Darren Harsch, one of the four firefighters who roped down to the scene. ''It's an extremely rare type of rescue to put four members on a rope. Today is pretty special.''

The rescued women were handed to the care of EMS workers, who took them from the scene ''within a few minutes,'' Leeb said.

Firefighters involved in the rescue Saturday Belvon Koranteng, 26 (left) and Arthur Podgorski, 28 (right) at the at the Engine 39/Ladder 16 station house in Manhattan. (Mark Stamey)

''Our firefighters, EMS and dispatch did an extraordinary job rescuing civilians, including an incredible roof rope rescue,'' said Kavanagh. ''I cannot emphasize enough the incredible work that they did today.''

Other firefighters went door to door to evacuate the building, while 911 dispatchers responded to numerous calls of people trapped in their apartments.

On the 20th floor near the apartment where the blaze broke out, resident Craig Geller was awakened by his parents, who were visiting from Florida. ''I did not hear an alarm,'' Geller said.

A woman reacts at the scene of the fire Saturday in Midtown. (Theodore Parisienne/for New York Daily News)

Firefighters ''told us to shelter in place for a while and put wet towels under the door,'' Geller said.

As Geller and his parents waited for help, the ''smoke kept getting much more thick,'' he remembered.

''It was pretty terrifying,'' he said. ''Then the firefighters came, and we went down the stairs '-- but they were wet, and my father tripped. So now he's in the hospital.''

A woman is taken to an ambulance at the scene of the fire Saturday. (Theodore Parisienne/for New York Daily News)

Fire Marshal Flynn said a tenant in the apartment where the fire erupted ran a business repairing e-bikes and scooters. Charging e-bike or micro-mobility device batteries are blamed in nearly 200 apartment fires so far this year, he said.

''We recovered at least five e-bikes from this apartment,'' the Flynn said.

Breaking News

As it happens

Get updates on the coronavirus pandemic and other news as it happens with our free breaking news email alerts.

Firefighters responded to the building within three minutes, Flynn said '-- but the fire was already raging, said Flynn.

That is common with lithium-ion battery fires, Flynn said '-- the batteries quickly erupt into flames.

''When they do go on fire, they are so intense that all combustibles in the area will catch fire,'' Flynn said.

Building residents are pictured on the roof during the fire. (Theodore Parisienne/for New York Daily News)

''This is not what we have seen traditionally where fires are slow to develop. We are encountering a fully developed fire when firefighters arrive on the scene.''

Fires sparked by lithium-ion batteries are responsible for six deaths so far this year, Flynn said..

There have been twice as many e-bike and e-scooter battery fires so far this year than in all of 2021, the Fire Department says. Last year, 104 fires were sparked by lithium-ion batteries, resulting in 79 injuries and four deaths.

With Mark Stamey and Emma Seiwell

Binance backs out of FTX rescue, leaving company on brink of collapse

Thu, 10 Nov 2022 14:42

Binance is backing out of its plans to acquire FTX, the company said Wednesday, leaving Sam Bankman-Fried's crypto empire on the verge of collapse.

The reversal comes one day after Binance CEO Changpeng Zhao announced that the world's largest cryptocurrency firm had reached a nonbinding deal to buy FTX's non-U.S. businesses for an undisclosed amount, rescuing the company from a liquidity crisis. Earlier this year, FTX was valued at $32 billion by private investors.

"In the beginning, our hope was to be able to support FTX's customers to provide liquidity," Binance said in a tweet Wednesday. "But the issues are beyond our control or ability to help."

On Monday night, facing a liquidity crunch, Bankman-Fried was scrambling to raise money from venture capitalists and other investors before he went to Binance, according to sources with knowledge of the matter. Zhao initially agreed to step in, but his company quickly changed course, citing reports of "mishandled customer funds and alleged U.S. agency investigations."

It's unclear who is next in line to buy the beleaguered crypto exchange. Bankman-Fried told investors that the company is facing a shortfall of up to $8 billion from withdrawal requests and needs emergency funding, according to a person familiar with the matter.

Read more about tech and crypto from CNBC ProThe disintegration of the Binance-FTX deal is the latest chapter in a shocking collapse that's rocked the crypto world this week. Bankman-Fried tried to reassure investors just on Monday that the company's assets were fine. But after Binance's Zhao said publicly that his company was selling its holdings in FTX's native token FTT, the sell-off was on, and FTX could do nothing to stop it.

One of Silicon Valley's most prominent VC firms, Sequoia Capital, sank $210 million into the company, according to independent reporter Eric Newcomer. FTX was telling investors recently that its operating income in 2022 was projected to drop to $144 million this year, down from $338 million in 2021, while revenue was projected to rise to $1.1 billion from $1 billion last year, Newcomer reports.

Bankman-Fried said Tuesday that customers had demanded withdrawals to the tune of $6 billion. He also deleted tweets from the prior day indicating that FTX had enough assets to cover clients' holdings.

Zhao told Binance employees in a memo earlier Wednesday that he "did not master plan" the collapse of FTX. He said FTX going down is "not good for anyone in the industry" and employees should not "view it as a win for us."

He also told them not to trade FTT tokens while this ordeal unfolds.

"If you have a bag, you have a bag," he wrote. "DO NOT buy or sell."

FTT had already lost 80% of its value between Monday and Tuesday, falling to $5 and wiping out more than $2 billion in a day. It dropped by more than half on Wednesday to around $2.30, shrinking the total value of circulating tokens to roughly $308 million.

Cryptocurrencies have plummeted amid the deal turmoil, with bitcoin falling 15% on Wednesday after a 13% drop on Tuesday. It's trading below $16,000 for the first time since November 2020. Ether , meanwhile, has plunged more than 30% over the past two days and is close to falling below $1,000.

Here's the company's full statement:

"As a result of corporate due diligence, as well as the latest news reports regarding mishandled customer funds and alleged US agency investigations, we have decided that we will not pursue the potential acquisition of FTX.com.

In the beginning, our hope was to be able to support FTX's customers to provide liquidity, but the issues are beyond our control or ability to help.

Every time a major player in an industry fails, retail consumers will suffer. We have seen over the last several years that the crypto ecosystem is becoming more resilient and we believe in time that outliers that misuse user funds will be weeded out by the free market.

As regulatory frameworks are developed and as the industry continues to evolve toward greater decentralization, the ecosystem will grow stronger."

Correction: FTX was telling investors its operating income was projected to drop to $144 million this year, down from $338 million in 2021.

Kenneth C. Griffin - Wikipedia

Thu, 10 Nov 2022 14:40

American billionaire hedge fund manager (born 1968)

Kenneth Cordele Griffin (born October 15, 1968) is an American hedge fund manager, entrepreneur and investor. He is the founder, chief executive officer, co-chief investment officer, and 80% owner of Citadel LLC,[1][2] a multinational hedge fund. He also owns Citadel Securities, one of the largest market makers in the U.S.[3]

In 2022 Griffin had an estimated net worth of US$27.2 billion and was ranked 53rd on the Forbes 400 list of richest people in the United States.[4]

Griffin has contributed tens of millions of dollars to political candidates and causes, primarily those of the Republican Party. He has also donated to a number of charitable causes, particularly in the fields of education and the arts. He owns an art collection valued at $800 million and personal residences valued in total at over $1 billion.

Early life and education Griffin was born in 1968 in Daytona Beach, Florida, the son of a building supplies executive.[5] Griffin's father had various jobs, and was a project manager for General Electric.[6] Griffin's grandmother, Genevieve Huebsch Gratz, inherited an oil business, three farms, and a seed business.[7]

Griffin grew up in Boca Raton, Florida, with some time in Texas, and Wisconsin.[8] He went to middle school in Boca Raton[6] followed by Boca Raton Community High School, where he was the president of the math club.[8][9] In high school, Griffin ran a discount mail-order education software firm out of his bedroom called EDCOM.[9] In a 1986 article in the Sun-Sentinel, Griffin stated that he thought he would become a businessman or lawyer and that he believed the job market for computer programmers would significantly decrease over the coming decade.[9]

Griffin started at Harvard College in the fall of 1986.[8] That year, one of his first investments was to buy put options on Home Shopping Network, making a $5,000 profit.[10] He also invested in convertible arbitrage opportunities in convertible bonds.[8] Despite a ban on running businesses from campus, Griffin convinced school administrators to allow him to install a satellite dish on the roof of the Cabot House dormitory to receive stock quotes.[10][8] He also asked Terrence J. O'Connor, the manager of convertible bonds at Merrill Lynch in Boston, to open a brokerage account for him with $100,000 that Griffin had gotten from his grandmother, his dentist, and others.[6][8] His first fund launched in 1987 with $265,000, days after his 19th birthday.[8] The fund launched in time to profit from short positions on Black Monday (1987).[8] Griffin graduated in 1989 with a degree in economics.[11]

Career After graduating in 1989, Griffin moved to Chicago to work with Frank Meyer, founder of Glenwood Capital Investments.[12][13] Meyer allotted $1 million of Glenwood capital for Griffin to trade[13] and Griffin made 70% in a year.[8]

A year later, in 1990, Griffin founded Citadel LLC, with assets under management of $4.6 million, aided by contributions from Meyer.[13] His funds made 43% in 1991 and 40% in 1992.[10]

In the early 2000s, Griffin founded market maker Citadel Securities.[14][15]

In 2003, aged 34, Griffin was the youngest individual on the Forbes 400 with an estimated net worth of $650 million.[16]

From the time of his marriage in 2003 until late 2009, Griffin was the lead investor in Aragon Global Management, a hedge fund run by his then-wife Anne Dias-Griffin. The fund was also seeded with money from Julian Robertson. Ken lost 20% of his investment in the fund.[17]

In 2006, Citadel acquired the positions of Amaranth Advisors at a steep discount.[8]

During the financial crisis of 2007-2008, for 10 months, Griffin barred his investors from withdrawing money, attracting criticism.[2][18] At the peak of the crisis, the firm was losing "hundreds of millions of dollars each week".[19] It was leveraged 7:1 and the biggest funds at Citadel finished 2008 down 55%. However, they rebounded with a 62% return in 2009.[8]

From Citadel LLC, Griffin earned $900 million in 2009,[20] $1.4 billion in 2014[21] $600 million in 2016,[22] $1.4 billion in 2017,[23][24] $870 million in 2018,[25] $1.5 billion in 2019,[26] and $1.8 billion in 2020.[27]

In 2015, at his own expense, Griffin hired Katy Perry and Maroon 5 to entertain his employees.[28]

In November 2020, according to Bloomberg News, Griffin's net worth surpassed $20 billion due to an increase the value of Citadel, of which Griffin's stake was worth $11.2 billion.[29] Citadel Securities, a market maker, increased its profit to $2.36 billion during the first half of 2020 compared to $982 million for the same period in 2019 due to increased volatility, volume and retail trader engagement.[30][31]

In January 2021, Griffin attracted criticism for the role played by Citadel in the GameStop short squeeze.[32] On January 25, it was announced that Griffin's Citadel would invest $2 billion into Melvin Capital, which had suffered losses of more than 30% on account of its short positions, particularly on GameStop.[33][34][35] On January 28, Robinhood, an electronic trading platform favored by many traders involved in buying GameStop stock and options, abruptly announced that it would halt all purchases of GameStop securities except to cover shorts and would only allow these securities to be sold if already held (but not sold short); the price of GME stock declined steeply shortly thereafter.[36] Because Robinhood receives a substantial portion of its revenue through a payment for order flow relationship with Citadel Securities LLC, 85% of which is owned by Griffin, many commentators criticized the potential for a conflict of interest when the same entity both plays the role of market-maker and also participates in the market that it makes; Griffin personally has been at the center of much discussion on this controversy.[37][38][39][40][41] On February 18, 2021, Griffin testified before the House Financial Services Committee to address his role in the GameStop controversy;[41][42] Griffin has donated money directly to four congresspeople on the committee, including Republicans French Hill, Andy Barr, Ann Wagner, and Bill Huizenga.[41]

Philanthropy Education Griffin has worked with the Bill and Melinda Gates Foundation in the promotion of charter schools in the U.S.[8] and to fund tutoring.[43]

In 2011, he worked with University of Chicago economics professor John A. List to test whether investment in teachers or in parents produces better student performance outcomes.[44]

At the beginning of 2014, Griffin made a $150 million donation to the financial aid program at Harvard University, his alma mater, the largest single donation ever made to the institution at the time.[45][46]

In 2014, he was elected to a five-year term on the University of Chicago's board of trustees. He is also a member of the Economic Club of Chicago and the civic committee of the Commercial Club of Chicago.[47] Griffin is the vice chairman of the Chicago Public Education Fund.[45]

In October 2017, Griffin's charitable fund donated $1 million to the Obama Foundation.[48][49]

In November 2017, Griffin's charitable fund made a $125 million gift to support the Department of Economics of the University of Chicago, renamed the Kenneth C. Griffin Department of Economics.[50]

In April 2021, he donated $5 million to an initiative to provide Internet access to students in Miami.[51]

Griffin donated $21.5 million to the Field Museum of Natural History and its dinosaur exhibit is named the Griffin Dinosaur Experience.[52]

In October 2019, Griffin's charitable fund announced a $125 million gift to the Museum of Science and Industry in Chicago, the largest gift in the museum's history. The museum will be renamed the Kenneth C. Griffin Museum of Science and Industry.[53][54]

In November 2021, Griffin outbid a group of crypto investors to purchase the last privately held copy of the United States Constitution at auction for $43.2 million. Griffin stated "I intend to ensure that this copy of our Constitution will be available for all Americans and visitors to view and appreciate in our museums and other public spaces", with plans to display it first at the Crystal Bridges Museum of American Art in Arkansas.[55][56]

Poverty In 2010, Griffin contributed to the Chicago Symphony Orchestra's productions at Millennium Park.[5] He supported the University of Chicago's Center for Urban School Improvement, a program encouraging the construction of an inner-city charter high school,[5] and contributed to the Lurie Children's Hospital.[57]

In 2017, Griffin contributed $15 million to the Robin Hood Foundation.[58]

In May 2022, The University of Chicago announced a $25 million donation from Kenneth Grifin to launch an initiative design to train police managers and prevent neighbourhood violence. The funds will aid in launching two community Safety Leadership Academies. The Policing Management Academy aims to professionalise departments by educating their leaders though coaching, accountability and data-driven decision making. This donation came after Griffins $10 million donation to the Crime Lab in 2018 to implement an early intervention system to investigate citizens' complaints.[59]

Arts Griffin has been on the Board of Trustees of the Museum of Contemporary Art, Chicago since 2000 and regularly supports its exhibitions.[60]

In July 2007, Griffin donated a $19 million addition to the Art Institute of Chicago that was designed by Renzo Piano and named Kenneth and Anne Griffin Court.[61] The Paul C(C)zanne paintings have also been loaned to the institute.[5]

Griffin has contributed to the Art Institute of Chicago.[8] He serves on the Board of Trustees at the Whitney Museum of American Art in New York, whose lobby bears his name: Kenneth C. Griffin Hall.[62] In February 2015, Griffin donated $10 million to the Museum of Contemporary Art, Chicago and used to create the Griffin Galleries of Contemporary Art.[60][63]

In December 2015, he donated an unrestricted $40 million to the Museum of Modern Art in New York.[62]

In 2018, he donated $20 million to the Norton Museum of Art.[64]

In 2021 he outbid a group of crypto investors to purchase an original copy of the US Constitution for $43.2 million.[65]

Religion Griffin is a member of the Fourth Presbyterian Church of Chicago, where he was married.[66][67] In 2011, Griffin donated $11.5 million of the $38.2 million needed to build a new chapel at the church.[66] The modern building is called "The Gratz Center" in honor of Griffin's grandparents.[66]

COVID-19 donations Griffin oversaw a $2 million donation from Citadel and Citadel Securities to Weill Cornell Medicine to help to fund the development of new ways to protect people from COVID-19 and to identify new cases of the illness.[68]

In March 2020, in response to the COVID-19 pandemic, Griffin contributed $2.5 million to support food services for children in Chicago Public Schools.[69]

In May 2020, Griffin and his partners at Citadel made a £3 million donation to help develop a COVID-19 vaccine and to support Nightingale Hospital.[70]

Personal life Marriages Griffin's first wife was Katherine Weingartt, his high school sweetheart. The couple divorced in 1996.[71][72]

In March 2002, Griffin met his second wife Anne Dias-Griffin after being set up on a blind date by a mutual friend.[67][73] She is a French-born graduate of Harvard Business School who worked at Goldman Sachs, Soros Fund Management, and Viking Global Investors prior to starting Chicago-based $55 million firm[74] Aragon Global Management.[75] The couple married in July 2003[17] and had three children.[75]

In July 2014, Griffin filed a divorce petition in Cook County, Illinois citing "irreconcilable differences" with his second wife.[76][77] The couple had entered into a prenuptial agreement which governed the split of their assets in the event of a divorce.[75][78][79][80] As part of the prenuptial agreement, Dias-Griffin received $22.5 million at the beginning of their marriage and received an additional $1 million each year they were married.[76][78] During the marriage, she received $37 million in cash payments and 50% ownership of their Chicago penthouse, which occupies three floors of the building.[81] In court fillings, she claimed that she was forced to sign the prenuptial agreement.[76][82] She also claimed that Ken Griffin had no right to enter the Chicago penthouse.[83][84] He allegedly forbade her from entering homes in Hawaii, Miami, Colorado and New York.[76] In later court filings, Dias-Griffin requested $1 million per month in child support payments, including $300,000 per month for private jet travel, $160,000 per month for vacation rentals, and $60,000 per month for office space and staff.[85][86][87][88] Griffin claimed that Dias-Griffin was attempting to use child support to fund her "opulent lifestyle".[89] During the divorce, she requested $450,000 for a 10-day vacation to St. Barts over winter break with their three children. Griffin denied her request but agreed to pay $45,000 for a winter vacation.[90][91][73] The couple settled their divorce out of court in October 2015, just hours before a public trial over the prenuptial agreement was set to begin.[92][76] As part of the divorce, Griffin paid $11.75 million to buy out his wife's interest in their Chicago penthouse.[93] He maintains joint custody of his children with his ex-wife.[76][94][95][96][82]

Political views Ken Griffin's federal political contributions since 1996

In a 2012 interview with the Chicago Tribune, Griffin said that the rich actually have too little influence in politics.[97] Griffin identified as a Ronald Reagan Republican. He said the belief "that a larger government is what creates prosperity, that a larger government is what creates good" is wrong.[98]

In a November 2015 interview on CNBC, Griffin said he admires Scott Walker claiming he is an "absolute champion of free markets and a champion of smaller government".[99]

In April 2016, because Citadel owned over 1 million shares of McDonald's, Griffin was the target of protestors supporting the Fight for $15.[100]

In May 2017, Griffin praised Donald Trump's efforts at tax and healthcare reform[101]

In 2018, it was announced that Griffin had been appointed the national finance chair for the New Republican PAC fueling, Senator Rick Scott's Super PAC.[102]

In November 2018, Griffin criticized Donald Trump's tweets berating Chair of the Federal Reserve Jerome Powell calling the tweets "completely inappropriate for the president of the United States".[103][104][105][106]

In January 2019, Griffin was singled out by Elizabeth Warren on a Facebook post as someone who can pay her Ultra-Millionaire Tax.[107] During a March 2019 interview with David Rubenstein, Griffin criticized Elizabeth Warren's proposals saying "soaking the rich doesn't work".[108]

In January 2020, Griffin was absent from a signing ceremony for the phase-one trade deal with China at the White House, for which he was criticized by President Donald Trump.[109][110][106]

In September 2020, Griffin wrote an op-ed published in the Chicago Tribune stating his opposition to Governor of Illinois J. B. Pritzker's "Fair Tax" proposal that would change Illinois income tax from a flat tax to a graduated tax.[111][112]

In an October 2020 email to Citadel LLC's Chicago employees, Griffin criticized Pritzker's tax plan and alluded to the possibility of moving his company out of Illinois.[113][114]

While being interviewed by Paul Tudor Jones at the Robin Hood Foundation investor conference in October 2020, Griffin criticized Joe Biden's plans to raise the long-term capital gains tax rate.[115][116]

Political contributions In a 2012 interview, Griffin said that people should be able to make unlimited contributions to politicians, but that these contributions should be public.[117]

Griffin has made political donations to conservative political candidates, parties, and organizations such as American Crossroads and the Republican Governors Association.[117]

During the 2010 United States elections, Griffin donated $721,600 to federal candidates and political committees. Except for a $2,400 contribution to then United States Senate Committee on Banking, Housing, and Urban Affairs Chairman Chris Dodd, all of the contributions were to Republicans.[118]

In December 2015, Griffin endorsed Marco Rubio for the 2016 Republican presidential nomination and stated that he planned to donate millions to a pro-Rubio super PAC.[119] Before this endorsement, Griffin had donated $100,000 each to three super PACs supporting Rubio, Jeb Bush, and Scott Walker for the GOP nomination.[120]

Griffin was the biggest donor to Rahm Emanuel's campaign for second term as Mayor of Chicago.[97]

After Trump won the 2016 Republican nomination, Griffin did not contribute to his campaign.[121]

In 2017, he contributed $20 million to the campaign of Governor of Illinois Bruce Rauner.[122]

In March 2020, Griffin contributed $1 million to the 1820 PAC created to support the re-election bid of U. S. Senator Susan Collins in Maine.[123] In late 2020, Griffin donated another $500,000 to the 1820 PAC.[124]

In 2020, Griffin donated $20 million to the Coalition To Stop The Proposed Tax Hike Amendment, a group opposing the Illinois Fair Tax in its 2020 referendum.[112][125] Weeks later, he donated another $26.75 million to the coalition.[126][127] Griffin later donated another $7 million to the group bringing his total contributions to $53.75 million.[128][129]

In 2020, Griffin donated $2 million to an anti-retention effort for Justice Thomas L. Kilbride, a democrat on the Supreme Court of Illinois.[130][131]

Griffin supported Kelly Loeffler and David Perdue in the 2020''21 United States Senate election in Georgia.[132] In October 2020, He was criticized for a $2 million contribution to a Super PAC supporting Loeffler and funded by her husband, New York Stock Exchange Chairman Jeffrey Sprecher, just after one of Citadel LLC's companies needed approval from Sprecher for a merger.[133]

Griffin contributed a total of $66 million to the 2020 United States elections.[134]

Citadel gave $800,000 to Janet Yellen for speaking fees.[135]

In 2021, Griffin donated $5 million to Ron DeSantis, the governor of Florida.[136] Griffin's donations to DeSantis prompted criticism of a possible conflict of interest when DeSantis began promoting Regeneron Pharmaceuticals' therapeutic treatment for COVID-19; Griffin's Citadel Securities owned $15.9 million of shares in Regeneron.[137][138][139][140] A spokesperson for Citadel denied any wrongdoing, noting that the hedge fund has much larger investments in Pfizer and Moderna.[137][138]

Later in 2021, Griffin promised to donate twice the amount to the Republican opponent of incumbent governor J. B. Pritzker that Pritzker gives to himself for the 2022 Illinois gubernatorial election. Pritzker has so far given $15 million to his campaign which now has the potential to become one of the costliest elections of the 2022 midterms.[141]

On May 5, 2022, Griffen donated $1.5 million to Lisa Murkowski through Alaskans for L.I.S.A. (Leadership in a Strong Alaska).[142][143]

Griffin Super-PAC/Outside Group/Party Contributions over $250,000[144]DateAmountRecipientAssociated Party/Candidate2010-10-25$250,000American CrossroadsRepublican2011-08-01$300,000American CrossroadsRepublican2012-03-26$850,000Restore Our FutureMitt Romney 2012 presidential campaign2012-03-28$700,000American CrossroadsRepublican2012-10-09$500,000Restore Our FutureMitt Romney 2012 presidential campaign2014-03-27$250,000American CrossroadsRepublican2014-04-10$300,000Ending Spending Action FundRepublican2014-09-22$800,000Ending Spending Action FundRepublican2014-09-22$700,000American CrossroadsRepublican2014-10-17$250,000Arkansas HorizonRepublican2015-04-15$250,000Future45Donald Trump2015-11-24$2,000,000Freedom Partners Action FundRepublican2015-12-14$2,500,000Conservative Solutions PACMarco Rubio 2016 presidential campaign2015-12-30$500,000Ending Spending Action FundRepublican2015-12-30$250,000Fighting For Ohio FundRepublican2016-02-05$2,500,000Conservative Solutions PACMarco Rubio 2016 presidential campaign2016-08-03$1,000,000Congressional Leadership FundRepublican (House of Representatives)2016-08-09$2,000,000Senate Leadership FundRepublican (Senate)2017-08-02$1,000,000Congressional Leadership FundRepublican (House of Representatives)2018-07-12$1,500,000Congressional Leadership FundRepublican (House of Representatives)2018-10-16$250,000American Patriots PACRepublican2018-10-18$2,000,000Congressional Leadership FundRepublican (House of Representatives)2018-10-23$1,000,000Future45Donald Trump2018-10-25$400,000Ending Spending Action FundRepublican2018-10-30$250,000Missouri Rising ActionJosh Hawley2019-06-28$1,000,000Congressional Leadership FundRepublican (House of Representatives)2019-11-25$500,000Congressional Leadership FundRepublican (House of Representatives)2020-03-13$1,000,0001820 PACSusan Collins2020-05-07$2,000,000Congressional Leadership FundRepublican (House of Representatives)2020-06-15$3,000,000Congressional Leadership FundRepublican (House of Representatives)2020-06-15$3,000,000Congressional Leadership FundRepublican (House of Representatives)2020-06-19$500,000Better Future Michigan FundJohn E. James2020-06-19$500,000Better Future Michigan FundJohn E. James2020-08-27$500,0001820 PACSusan Collins2022-05-05$1,500,000Alaskans for L.I.S.A.Lisa MurkowskiGriffin has individually supported many candidates including:[145]

Art collection Griffin is an active buyer of modern art and contemporary art from mainstream artists.[62][146] His portfolio is valued at close to $800 million and includes several paintings on the list of most expensive paintings.[147][148]

In 1999, he purchased Paul C(C)zanne's 1893 painting Curtain, Jug and Fruit Bowl for a record $60 million at the time.[8]

In October 2006, he purchased False Start by artist Jasper Johns for $80 million from David Geffen.[149] In 2015, he purchased Gerhard Richter's 1986 painting Abstract Picture, 599 for $46 million.[146]

In September 2015, in the largest private art deal ever, he purchased two paintings from David Geffen for $500 million: Willem de Kooning's 1955 oil painting, Interchange for $300 million, and Jackson Pollock's 1948 painting, Number 17A, for $200 million.[150][151]

In 2017, Griffin reportedly purchased Andy Warhol's 1964 painting Orange Marilyn privately for around $200 million

In June 2020, Griffin purchased Boy and Dog in a Johnnypump (1982) by Jean-Michel Basquiat for over $100 million.[152][147] He loaned the painting to the Art Institute of Chicago to be put on public display.[153]

His collection also includes art by Njideka Akunyili Crosby.[154]

Personal residences In January 2019, Griffin purchased 4 unfurnished floors at

220 Central Park South (pictured) for $238 million, breaking the record for the most expensive home ever sold in the United States.

Griffin owns personal residences valued in total at around $1 billion.[155]

In 2009, Griffin purchased a full floor apartment at 820 Fifth Avenue in New York City for $40 million.[155][156][157]

In 2015, Griffin purchased two apartments at the top of the Faena House, a condominium on Collins Avenue in Miami Beach, Florida for $60 million. He sold them in late 2020 at a loss.[155][158]

In 2011, Griffin purchased two oceanfront homes at the Four Seasons Resort Hualalai in Kailua-Kona, Hawaii for $28 million.[155][159][160]

In 2013 and 2015, Griffin purchased homes in Aspen, Colorado for $10 million and $12.8 million respectively.[155][161][162]

In 2017, Griffin purchased a penthouse apartment atop the No. 9 Walton luxury condo tower in Chicago's Gold Coast for $58.75 million. The purchase broke the record for the most expensive sale in Chicago's history. The condo was delivered as "raw space" so that Griffin could build it out to his liking.[155][163][164] Griffin also owns a full floor penthouse at the Waldorf Astoria private residences across the street from No. 9 Walton. Records show he purchased the penthouse for $6.884 million in 2010.[155]

In 2019, Griffin purchased 3 Carlton Gardens, a Georgian mansion in London for $122 million. The purchase broke several records.[165][166][167]

In 2019, Griffin set the record for the most expensive residential sale ever closed in the U.S. when he purchased roughly 24,000 square feet across three floors at 220 Central Park South in Midtown Manhattan for $238 million. The space was "raw space", meaning Griffin had to build it out.[168][169][170] Several New York real estate experts have said that the purchase helped fuel legislation that increased taxes on luxury homes in New York.[171][172][173] During an interview with David Rubenstein, Griffin said that the purchase represented the possibility of making New York City his home in the future.[108]

Griffin has spent $450 million to assemble one of the largest private waterfront sites in Palm Beach County, Florida, with plans to build a 50,000 square foot estate.[155][174][175]

In 2020, Griffin purchased a 7-acre oceanfront compound in Southampton, New York from Calvin Klein for $84.4 million.[176]

In 2020, Griffin purchased several properties on Star Island in Miami Beach for a total of $95 million.[177]

In 2022, Griffin purchased a waterfront mansion in Coral Gables, Florida for $45.25 million.[178]

Private jets Griffin owns two private jets: a 2001 Bombardier Global Express valued at $9.5 million, and a $50 million 2012 Bombardier Global 6000.[179]

Withdrawn fraud accusation In June 2006, Rush E. Simonson, claiming to be Griffin's mentor, filed a fraud case (2006-L-005997) against Griffin, alleging that he was entitled to a percentage of the profits of Citadel for creating a computer program upon which Citadel was founded.[180][181] In court filings, Simonson said that he first befriended Mr. Griffin in 1982 as a computer salesman. The two struck up a business partnership engaged in convertible-arbitrage. Griffin provided the trading savvy, working both out of his Harvard dorm room and at home in Florida, while Simonson allegedly created the computer program that served as its technological backbone. According to the suit, Griffin struck a deal with a prominent Chicago investor in the late 1980s. As Griffin and Simonson began to unwind their partnership, the suit claimed, Griffin instead began to lay the foundations of what would become Citadel. In doing so, Griffin allegedly improperly took the program that Simonson had created. Simonson also said in his lawsuit that Griffin did not give him a cut of the profits of Citadel. In January 2007, Simonson dropped the lawsuit and apologized to Griffin.[182][183]

See also List of Harvard University peopleReferences ^ Maloney, Tom (January 11, 2022). "Ken Griffin's Fortune Soars to $28 Billion" . Bloomberg News. ^ a b Copeland, Rob (August 3, 2015). "Citadel's Ken Griffin Leaves 2008 Tumble Far Behind" . The Wall Street Journal. Dow Jones & Company. ISSN 0099-9660. Archived from the original on December 13, 2019. ^ Detrixhe, John. "Citadel Securities gets almost as much trading volume as Nasdaq". Quartz. ^ "Ken Griffin - Founder & CEO, Citadel LLC". Forbes. ISSN 0015-6914. ^ a b c d Reed, Robert (October 3, 2005). "Hedge Fun". Chicago. Archived from the original on December 20, 2019. ^ a b c Anderson, Jenny (April 4, 2007). "Will a Hedge Fund Become the Next Goldman Sachs?" . The New York Times. ISSN 1553-8095. Archived from the original on November 16, 2017. ^ Harris, Melissa. "Lessons, legacy of Ken Griffin's grandmother stick with billionaire". Chicago Tribune. Archived from the original on September 29, 2018. ^ a b c d e f g h i j k l m n Meyer, Graham (June 8, 2011). "The File on Citadel's Ken Griffin". Chicago. ISSN 0362-4595. Archived from the original on December 14, 2019. ^ a b c Santaniello, Neil. "FOR TEAM OF BOCA STUDENTS, COMPUTER'S SCREEN IS ARENA". Sun-Sentinel. Archived from the original on October 27, 2020. ^ a b c "Boy Wonder". Institutional Investor. August 31, 2001. ^ Clarida, Matthew Q.; Hashmi, Amna H. (February 19, 2014). "Griffin '89 Gives $150 Million to Harvard, Largest Gift in College's History". The Harvard Crimson. ^ Kolhatkar, Sheelah (April 16, 2007). "Opening Up the Citadel". American City Business Journals. Archived from the original on October 26, 2020. ^ a b c Vickers, Marcia (April 3, 2007). "A hedge fund superstar - Citadel founder Ken Griffin is already one of the world's most powerful investors". Fortune. Archived from the original on December 14, 2019. ^ "Ken Griffin". Forbes. ^ Wolverson, Roya. "How Ken Griffin's Citadel transformed financial markets". Quartz. ^ "America's rich get richer". CNN. September 19, 2003. Archived from the original on December 26, 2019. ^ a b Kapos, Shia (February 20, 2015). "Ken Griffin gives his side of the blowup in the bedroom" . Chicago Business. Crain Communications. ISSN 1557-7902. Archived from the original on December 26, 2019. ^ Boak, Joshua (December 13, 2008). "Citadel suspends fund redemptions" . Chicago Tribune. ^ "Citadel chief rails against megabanks" . Financial Times. September 10, 2013. ^ Veneziani, Vince (April 1, 2010). "Meet The Top 10 Earning Hedge Fund Managers Of 2009". Business Insider. ^ Gandel, Steven (May 5, 2015). "The highest paid hedge fund manager only made $1.3 billion last year". Fortune. ^ "Kenneth Griffin". Institutional Investor. ^ Frank, Robert (May 30, 2018). "These hedge fund managers made more than $3 million a day last year". CNBC. Archived from the original on October 12, 2020. ^ Janssen, Kim. "Ken Griffin rated nation's best-paid hedge fund manager, again". The Capital. Archived from the original on October 27, 2020. ^ Maloney, Tom (February 15, 2019). "The Best-Paid Hedge Fund Managers Made $7.7 Billion in 2018". Bloomberg News. Archived from the original on October 12, 2020. ^ Franck, Thomas (March 26, 2020). "Hedge fund titans Simons, Griffin, Cohen and Tepper earned $1 billion in 2019 before virus outbreak". CNBC. Archived from the original on May 27, 2020. ^ Taub, Stephen (February 22, 2021). "The 20th Annual Rich List, the Definitive Ranking of What Hedge Fund Managers Earned in 2020". Institutional Investor. ^ Fox, Emily Jane (February 22, 2016). "Billionaire Hedge Funder Ken Griffin Continues to Live His Best Life". Vanity Fair. Archived from the original on October 12, 2020. ^ Maloney, Tom (November 2, 2020). "Ken Griffin's Macro 'Dream' Propels Net Worth to $20 Billion" . Bloomberg News. ^ "Citadel Securities doubled profit as dominance grew in 2020" . Crain Communications. September 25, 2020. ^ Maloney, Tom; Bakewell, Sally (September 25, 2020). "Citadel Securities Doubled Profit as Dominance Grew in 2020" . Bloomberg News. ^ Ori, Ryan (January 29, 2021). "Chicago billionaire Ken Griffin faces controversy involving Wall Street chat rooms, Robinhood trading app and GameStop's stock". Chicago Tribune. ^ "Steve Cohen provides funds for hedge fund prot(C)g(C) Gabe Plotkin" . Financial Times. ^ Chung, Juliet (January 25, 2021). "Citadel, Point72 to Invest $2.75 Billion Into Melvin Capital Management" . The Wall Street Journal. ISSN 0099-9660. ^ Mohamed, Theron (January 26, 2021). "GameStop short-seller down 30% this year gets $2.8 billion bailout from the firms of billionaire investors Steve Cohen and Ken Griffin". Business Insider. ^ Fitzgerald, Maggie (January 28, 2021). "Robinhood restricts trading in GameStop, other names involved in frenzy". CNBC. ^ "Ken Griffin, welcome to the white-hot national spotlight". Crain Communications. January 29, 2021. ^ "Why are Robinhood traders bringing a class action lawsuit?". The Independent. January 29, 2021. ^ Fitzgerald, Maggie (February 18, 2021). "Warren presses Citadel CEO Griffin about relationship with Robinhood, payment for order flow". CNBC. ^ Burton, Katherine; Natarajan, Sridhar (February 1, 2021). "The Citadel Link: What Ken Griffin Has to Do With GameStop". Bloomberg News. ^ a b c Warmbrodt, Zachary (February 18, 2021). "Hedge fund king, a GOP megadonor, faces off with Democrats". Politico. ^ Mitchell, Ian (February 18, 2021). "5 things to know about GameStop and what Ken Griffin has to tell Congress". Chicago Tribune. ^ "Evidence-Based Tutoring Program Scales to Address Learning Loss and Persistent Opportunity Gaps in Major Urban Districts" (Press release). PR Newswire. August 10, 2020. ^ Staley, Oliver (February 23, 2011). "Chicago Economist's 'Crazy Idea' Wins Ken Griffin's Backing" . Bloomberg News. Archived from the original on December 20, 2019. ^ a b Lauerman, John (February 20, 2014). "Citadel's Griffin Gives Harvard $150 Million for Student Aid" . Bloomberg News. Archived from the original on December 20, 2019. ^ Herbst-Bayliss, Svea (February 20, 2014). "Hedge fund manager Griffin gives $150 million to Harvard". Reuters. Archived from the original on May 30, 2019. ^ Marek, Lynne (March 14, 2019). "Is Ken Griffin serious about a Citadel HQ move?" . Crain Communications. ISSN 1557-7902. Archived from the original on March 4, 2020. ^ Sweet, Lynn (October 13, 2017). "Republican mega donor Ken Griffin gives $1 million to Obama Foundation" . Chicago Sun-Times. ^ Abelson, Max (January 17, 2018). "Goldman Sachs and Ken Griffin Funds Give Big to Obama Foundation". Bloomberg News. ^ Leubsdorf, Ben (November 1, 2017). "Citadel's Kenneth Griffin to Donate $125 Million for University of Chicago Economics" . The Wall Street Journal. ISSN 0099-9660. Archived from the original on December 20, 2019. ^ Williamson, Christine (April 5, 2021). "Ken Griffin donates $5 million to give Miami students internet" . Pensions & Investments. ^ Bertagnoli, Lisa (June 14, 2019). "The Field's CEO inherited a bit of a mess 7 years ago. Here's what he's done to clean it up" . Crain Communications. ISSN 1557-7902. Archived from the original on December 20, 2019. ^ "Museum of Science and Industry Announces Historic Gift From Kenneth C. Griffin Charitable Fund" (Press release). Business Wire. October 3, 2019. ^ Johnson, Steve (October 4, 2019). "The Museum of Science and Industry is getting a new name after Chicago billionaire Ken Griffin donates $125 million" . Chicago Tribune. ^ Crow, Kelly (November 19, 2021). "Citadel CEO Ken Griffin Outbid a Group of Crypto Investors for Copy of U.S. Constitution". Wall Street Journal. ISSN 0099-9660 . Retrieved November 19, 2021 . ^ Kastrenates, Jacob (November 19, 2021). "A hedge fund billionaire outbid crypto investors for a rare copy of the US Constitution". The Verge . Retrieved November 19, 2021 . ^ Harris, Melissa; Japsen, Bruce (January 7, 2010). "Kenneth and Anne Griffin give $16 million to Children's Memorial Hospital". Chicago Tribune. Archived from the original on February 13, 2015. ^ Gordon, Amanda (April 27, 2017). "Hedge Fund Billionaire Griffin to Give $15 Million to Robin Hood" . Bloomberg News. Archived from the original on December 26, 2019. ^ "University of Chicago Crime Lab receives $27.5 million". Philanthropy News Digest. May 13, 2022 . Retrieved May 17, 2022 . {{cite web}}: CS1 maint: url-status (link) ^ a b "MCA gets $10 million from Ken Griffin" . Crain Communications. February 20, 2015. ISSN 1557-7902. Archived from the original on May 2, 2019. ^ "Citadel's Griffin at the Art World's Gates" . The New York Times. July 26, 2007. Archived from the original on November 7, 2017. ^ a b c "Ken Griffin donates $40 million to New York's Museum of Modern Art" . Crain Communications. December 22, 2015. ISSN 1557-7902. Archived from the original on December 20, 2019. ^ Kazakina, Katya (February 20, 2015). "Citadel's Griffin Gives $10 Million to Chicago Art Museum" . Bloomberg News. Archived from the original on June 2, 2016. ^ Sjostrom, Jan (August 9, 2018). "Billionaire Ken Griffin giving $20 million to Norton Museum in West Palm Beach". Palm Beach Daily News. ^ Crow, Kelly (November 19, 2021). "Citadel CEO Kenneth Griffin Outbid a Group of Crypto Investors for Copy of U.S. Constitution". Wall Street Journal. ISSN 0099-9660 . Retrieved November 19, 2021 . ^ a b c Kent, Cheryl (December 19, 2012). "Fourth Presbyterian Church's new Gratz Center a welcome and brave grace note" . Chicago Tribune. ISSN 2165-171X. Archived from the original on December 26, 2019. ^ a b "Kenneth Griffin and Anne Dias Griffin timeline". Chicago Tribune. November 7, 2014. ^ "$2 Million Gift from the Partners of Citadel and Citadel Securities to Fund New COVID-19 Advances at Weill Cornell Medicine | Giving to Weill Cornell Medicine". give.weill.cornell.edu. ^ ^ Gill, Oliver (May 1, 2020). "Billionaire hedge fund backs British university hunt for Covid-19 vaccine". The Telegraph. ISSN 0307-1235. ^ Lee, Allen (September 23, 2019). "20 Things You Didn't Know about Ken Griffin". Money Inc. ^ Yerak, Becky (July 24, 2014). "Hedge fund billionaire Ken Griffin files for divorce". Chicago Tribune. ^ a b Yerak, Becky; Marx, Ryan (October 7, 2015). "A breakdown of the Griffin breakup". Chicago Tribune. Archived from the original on December 10, 2017. ^ Murphy, Tim (April 6, 2007). "Who Gets to Marry a Billionaire?". New York. Archived from the original on September 20, 2019. ^ a b c Stevenson, Alexandra; De La Merced, Michael (July 24, 2014). "A Divorce That Thrusts Ken Griffin and Anne Dias Griffin Into the Spotlight" . The New York Times. ISSN 1553-8095. Archived from the original on November 7, 2017. ^ a b c d e f Stevenson, Alexandra (October 7, 2015). "Kenneth Griffin and Anne Dias Griffin Settle Divorce Case". The New York Times. ISSN 0362-4331. Archived from the original on November 12, 2019. ^ Frank, Robert (February 23, 2015). "$450,000 vacation? Billionaire divorce reveals big spending". CNBC. Archived from the original on October 26, 2020. ^ a b Fox, Emily Jane (October 5, 2015). "Billionaire Ken Griffin Is Back in Court Fighting Over His Pre-Nup". Vanity Fair. Archived from the original on August 15, 2020. ^ "Who won in the high-profile Griffin divorce?". Chicago Business. Crain Communications. October 7, 2015. Archived from the original on October 27, 2020. ^ Yerak, Becky; Janssen, Kim (October 5, 2015). "Griffin divorce negotiations no surprise to experts". The Capital. Archived from the original on October 27, 2020. ^ De La Merced, Michael J. (October 2, 2014). "Citadel's Griffin Outlines Terms of Prenuptial Agreement in Divorce Fight". The New York Times. ^ a b Copeland, Rob (October 7, 2015). "Citadel's Ken Griffin Settles Divorce Case". The Wall Street Journal. Archived from the original on August 13, 2016. ^ Kelly, Kate (October 22, 2014). "Citadel founder's divorce battle over property gets uglier". CNBC. Archived from the original on August 15, 2020. ^ "Ken Griffin gives his side of the blowup in the bedroom". Chicago Business. Crain Communications. February 20, 2015. Archived from the original on December 26, 2019. ^ Frank, Robert (October 23, 2014). "What Billionaires Really Spend Each Month". nbcnews.com. NBC News. Archived from the original on October 26, 2020. ^ Frank, Robert (January 30, 2015). "$1 million a month to raise the kids". CNBC. Archived from the original on December 29, 2016. ^ Peterson-Withorn, Chase (October 7, 2020). "Hedge Fund Billionaire Ken Griffin Settles Contentious Divorce". Forbes. Archived from the original on September 16, 2020. ^ Merced, Michael J. de la (September 2, 2014). "Anne Griffin Seeks to Void Prenuptial Agreement With Ken Griffin". The New York Times. Archived from the original on October 9, 2020. ^ Kapos, Shia (January 29, 2015). "Ken Griffin asks court to set trial date for divorce" . Chicago Business. Crain Communications. Archived from the original on October 27, 2020. ^ Yerak, Becky (January 30, 2015). "Billionaire's estranged wife allegedly demands 24/7 private jet". The Capital. Archived from the original on October 26, 2020. ^ Kapos, Shia (February 13, 2015). "Anne Dias Griffin reveals days leading to prenup" . Chicago Business. Crain Communications. Archived from the original on October 11, 2020. ^ Herbst-Bayliss, Svea; Valdmanis, Richard (October 7, 2015). "Citadel's Kenneth Griffin settles divorce case". Reuters. Archived from the original on December 26, 2019. ^ Goldsborough, Bob (November 5, 2015). "Ken Griffin pays ex-wife $11.75 million for Park Tower penthouse". Chicago Tribune. Archived from the original on October 26, 2020. ^ Fox, Emily Jane (October 5, 2015). "Billionaire Ken Griffin Is Back in Court Fighting Over His Pre-Nup". Vanity Fair. Archived from the original on August 15, 2020. ^ "Who won in the high-profile Griffin divorce?" . Chicago Business. Crain Communications. October 7, 2015. ^ Peterson-Withorn, Chase (October 7, 2015). "Hedge Fund Billionaire Ken Griffin Settles Contentious Divorce" . Forbes. Archived from the original on September 16, 2020. ^ a b Neate, Rupert (May 10, 2016). "Top 25 hedge fund managers earned $13bn in 2015 '' more than some nations". The Guardian. ^ Harris, Melissa (March 11, 2012). "Ken Griffin interview: Billionaire talks politics and money" . Chicago Tribune. Archived from the original on December 19, 2019. ^ "It's tougher to get a job at Citadel than to get into Harvard, says CEO Ken Griffin". American City Business Journals. November 19, 2015. Archived from the original on October 26, 2020. ^ Elejalde-Ruiz, Alexia (April 12, 2016). "Ken Griffin, McDonald's among targets at Fight for $15's Chicago protests". Chicago Tribune. ^ "Trump's First 100 Days Get a Warm Embrace from Ken Griffin". Institutional Investor. May 1, 2017. Archived from the original on August 12, 2018. ^ RobertsJune 7, Ray; Pm, 2018 at 12:47 (June 7, 2018). "Chicago billionaire Ken Griffin named finance chair for Rick Scott's super PAC". Florida Politics - Campaigns & Elections. Lobbying & Government . Retrieved April 17, 2021 . ^ Renninson, Joe (November 13, 2018). "Hedge fund billionaire Ken Griffin slams Trump for Fed criticism" . Financial Times. Archived from the original on October 25, 2020. ^ DeCambre, Mark. "Hedge-fund heavyweight Ken Griffin fears Trump knocks on Fed eroding faith in dollar". MarketWatch. Archived from the original on August 4, 2019. ^ Shazar, Jon (November 14, 2018). "Jay Powell Can Always Go Work For Ken Griffin If This Fed Chair Thing Doesn't Work Out". ^ a b McEnery, Thornton (January 16, 2020). "Trump asks absent hedge fund billionaire Ken Griffin to stand at trade signing". New York Post. Archived from the original on October 26, 2020. ^ "Elizabeth Warren". January 30, 2019. Archived from the original on October 26, 2020 '' via Facebook. ^ a b Rubenstein, David. The David Rubenstein Show: Ken Griffin. Archived from the original on August 21, 2019 '' via YouTube. ^ Donovan, Lisa (January 16, 2020). "At White House ceremony, President Trump calls out for no-show Chicago billionaire Ken Griffin: 'Where the hell is he?' ". Chicago Tribune. Archived from the original on April 30, 2020. ^ "Remarks by President Trump at Signing of the U.S.-China Phase One Trade Agreement". whitehouse.gov (Press release). January 15, 2020 '' via National Archives. ^ Griffin, Ken. "Commentary: Ken Griffin: Why I oppose the graduated income tax". Chicago Tribune. Archived from the original on September 7, 2020. ^ a b Hinton, Rachel (September 4, 2020). "Deep-pockets dogfight? Billionaires Ken Griffin and Gov. Pritzker dig into wallets in battle over income tax". Chicago Sun-Times. Archived from the original on September 8, 2020. ^ Pearson, Rick (October 24, 2020). "Battle of billionaires: Griffin slams Pritzker push for graduated income tax amendment in email to employees". Chicago Tribune. Archived from the original on October 23, 2020. ^ "Ken Griffin goes off on JB Pritzker". Capitol Fax. Archived from the original on October 27, 2020. ^ Orr, Leanna (October 28, 2020). "In Leaked Remarks Among Hedge Fund Managers, Citadel's Ken Griffin Opens Up on Taxes". Institutional Investor. ^ Shazar, Jon (October 29, 2020). "Ken Griffin: Raise Taxes, Just, Like, Not On Me". Dealbreaker. ^ a b Wallace, Gregory (February 26, 2015). "Billionaire GOP contributor maxes out in one day". CNN. ^ Beckel, M. (November 16, 2011). "One-Time Obama Bundler Now Seeing Only Red". OpenSecrets. ^ Kelly, Kate (December 9, 2015). "Hedge fund manager Ken Griffin backing Marco Rubio for president". CNBC. ^ Janssen, Kim (December 10, 2015). "Ken Griffin, Illinois' richest man, throws financial muscle behind Rubio campaign" . Chicago Tribune. ^ Kelly, Kate (September 23, 2016). "Megadonors like Ken Griffin, Peter Thiel keep their wallets closed for Trump". CNBC. ^ Pearson, Rick (May 17, 2017). "Ken Griffin gives Gov. Bruce Rauner's campaign record $20 million". Chicago Tribune. ^ "1820 PAC PAC Donors". OpenSecrets. Archived from the original on September 27, 2020 . Retrieved April 6, 2021 . ^ "Ken Griffin gives big to help Susan Collins in Maine". Crain Communications. October 13, 2020. Archived from the original on October 16, 2020. ^ "Coalition To Stop The Proposed Tax Hike Amendment". Illinois Campaign for Political Reform. ^ Hinton, Rachel (October 2, 2020). "One billionaire's 'Fair Tax' is another's 'catastrophic constitutional amendment' '-- Griffin-Pritzker checkbook rumble rages on". Chicago Sun-Times. Archived from the original on October 4, 2020. ^ Pearson, Rick (October 3, 2020). "Billionaire Ken Griffin drops extra $26.7M against Pritzker's graduated-rate income tax amendment proposal. His total stands at more than $46.7M". Chicago Tribune. Archived from the original on October 3, 2020. ^ Pearson, Rick (October 24, 2020). "Billionaire Ken Griffin, in battle with Gov. J.B. Pritzker over graduated-rate income tax amendment, ups his stake to $53.75 million to oppose it". Chicago Tribune. Archived from the original on October 24, 2020. ^ De Lea, Brittany (September 9, 2020). "Billionaire Ken Griffin spends $20M to campaign against Illinois tax hikes". Fox Business. ^ "Partisan Battle Over Supreme Court Race Could Exceed $6 Million In Spending". October 16, 2020. Archived from the original on October 18, 2020. ^ Mansur, Sarah (October 15, 2020). "Partisan battle over state Supreme Court race could exceed $6 million in spending". Daily Herald. Archived from the original on October 17, 2020. ^ Sollenberger, Roger (December 17, 2020). "This hedge-fund billionaire is a huge fan of Sen. Kelly Loeffler '-- but why?". Salon. ^ "REPORT: Timing Of Hedge-Fund Billionaire's $2 Million Donation to Pro-Loeffler Super PAC Raises Conflict Of Interest Concerns". Democratic Senatorial Campaign Committee. December 17, 2020. ^ Gordon, Amanda L. (March 25, 2021). "Griffin's Covid Year Had Planes, Palm Beach, Philanthropy" . Bloomberg News. ^ Thompson, Alex; Meyer, Theodoric (January 1, 2021). "Janet Yellen made millions in Wall Street, corporate speeches". Politico. ^ Smith, Allan; Gomez, Henry J. (September 1, 2021). "Wealthy GOP donors flock to DeSantis as presidential speculation swirls". NBC News. ^ a b "DeSantis top donor invests in COVID drug governor promotes". Associated Press. August 17, 2021. ^ a b "AP: Top Donor Of Gov. Ron DeSantis Is Regeneron Investor". CBS News. August 21, 2021. ^ Farrington, Brendan (August 21, 2021). "DeSantis top donor invests in COVID drug governor promotes". ABC News. Associated Press. ^ "EXPLAINER: The link between Florida Gov. Ron DeSantis and Regeneron". WFLA-TV. August 21, 2021. ^ Pearson, Rick. "Battle of the billionaires rages on as Ken Griffin vows to go 'all in' to defeat Gov. J.B. Pritzker". Chicago Tribune . Retrieved December 7, 2021 . ^ Ruskin, Liz. "Deep pockets aid Murkowski with attack ads on Tshibaka," Alaska Public Media, July 21, 2022. Retrieved July 21, 2022. ^ "Schedule A," Federal Election Committee, July 21, 2022. Retrieved July 21, 2022. ^ "Ken Griffin Donor Lookup OpenSecrets.org". OpenSecrets. Archived from the original on October 14, 2020. ^ "Ken Griffin Contributions FEC". Federal Election Commission. Archived from the original on October 14, 2020. ^ a b Lane, Mary (February 13, 2015). "Sotheby's Brushes Up Its Image With London Auction" . The Wall Street Journal. ISSN 0099-9660. Archived from the original on December 20, 2019. ^ a b Block, Fang (June 5, 2020). "Ken Griffin Buys a Jean-Michel Basquiat for More Than $100 Million". Barron's. Archived from the original on August 5, 2020. ^ "Art Industry News: Hedge-Fund Manager Ken Griffin Just Bought One of Peter Brant's Basquiats for More Than $100 Million + Other Stories". Artnet. June 4, 2020. Archived from the original on October 26, 2020. ^ Crow, Kelly; Germano, Sara (January 23, 2014). "New Masters of the Art Universe" . The Wall Street Journal. ISSN 0099-9660. Archived from the original on December 18, 2019. ^ Kazakina, Katya; Burton, Katherine (February 18, 2016). "Billionaire Griffin Pays $500 Million for Two Paintings" . Bloomberg News. Archived from the original on March 8, 2020. ^ Embuscado, Rain (February 18, 2016). "Billionaire Art Collector Ken Griffin Spends $500 Million on Two Paintings". Artnet. ^ Kamp, Justin (June 5, 2020). "Hedge Fund Manager Ken Griffin Buys Basquiat Painting for More Than $100 Million". Artsy. Archived from the original on October 26, 2020. ^ Johnson, Steve (July 25, 2020). "Now hanging at the Art Institute: Chicago billionaire Ken Griffin's new, $100 million Basquiat canvas". Chicago Tribune. Archived from the original on October 5, 2020. ^ "Top 200 Collectors: KENNETH C. GRIFFIN". ARTnews. ^ a b c d e f g h Clarke, Katherine (October 8, 2020). "How Citadel CEO Ken Griffin Built a $1 Billion Private Property Portfolio" . The Wall Street Journal. ISSN 0099-9660. Archived from the original on October 9, 2020. ^ Haughney, Christine (January 2, 2010). "In Real Estate Industry, Remembering a Year Worth Forgetting". The New York Times. ISSN 0362-4331. Archived from the original on January 7, 2010. ^ David, Mark (May 12, 2009). "A Peep Into and A Poke Around 820 Fifth Avenue". Variety. Archived from the original on October 26, 2020. ^ Bandell, Brian (December 18, 2020). "Billionaire's firm sells Faena House condo for $35M after discount (Photos)". American City Business Journals. ^ Abramian, Alexandria (April 23, 2014). "Billionaires Descend on Hawaii's Big Island". Hollywood Reporter. Archived from the original on October 12, 2020. ^ Goldman, Leah. "HOUSE OF THE DAY: Ken Griffin Buys A $17 Million Home In Hawaii". Business Insider. Archived from the original on October 26, 2020. ^ Smith, Emily (January 20, 2015). "Billionaire accused of banning wife from NYC, Aspen, Miami homes". Page Six. Archived from the original on June 12, 2019. ^ Frank, Robert (October 4, 2015). "Ken Griffin goes on $290 million real estate spree". CNBC. Archived from the original on October 19, 2017. ^ Goldsborough, Bob. "Billionaire exec Ken Griffin pays $58.75 million in Chicago area's priciest home sale ever". Chicago Tribune. Archived from the original on September 13, 2020. ^ Rebong, Kevin (June 19, 2020). "Ken Griffin to Receive 2019 Tax Bill Totaling $1.3M at No. 9 Walton". The Real Deal. Archived from the original on October 9, 2020. ^ Frank, Robert (January 22, 2019). "Billionaire Ken Griffin buys $122 million London mansion". CNBC. Archived from the original on October 1, 2020. ^ "US hedge fund tycoon buys £95m house near Buckingham Palace". The Guardian. January 21, 2019. Archived from the original on October 23, 2020. ^ "With $122 million London purchase, Ken Griffin has spent at least $724 million on homes". Crain Communications. January 21, 2019. Archived from the original on August 6, 2020. ^ Clarke, Katherine (January 23, 2019). "Billionaire Ken Griffin Buys America's Most Expensive Home for $238 Million". The Wall Street Journal. ISSN 0099-9660. Archived from the original on December 29, 2019. ^ "2019's top 10 home sales broke the billion dollar mark". Crain Communications. December 26, 2019. Archived from the original on April 3, 2020. ^ Stewart, Nikita; Gelles, David (January 24, 2019). "The $238 Million Penthouse, and the Hedge Fund Billionaire Who May Rarely Live There". The New York Times. ISSN 0362-4331. Archived from the original on September 9, 2020. ^ English, Carleton (February 27, 2019). "Why billionaire Ken Griffin can snag property tax bargain". New York Post. Archived from the original on October 9, 2020. ^ Yale, Aly J. (February 22, 2019). "Pied-A-Terre Tax Debate Reignited After Billionaire Ken Griffin's $238 Million Penthouse Purchase". Forbes. Archived from the original on September 20, 2020. ^ " 'Class warfare': NYC's proposed pied-a-terre tax signals a shift'--and casts a chill". Crain Communications. Bloomberg News. March 15, 2019. Archived from the original on October 12, 2020. ^ Hofheinz, Darrell (August 31, 2021). "$85 million and up: Top 10 most expensive homes in Palm Beach. 2 have a Trump tie". The Palm Beach Post. ^ Hofheinz, Darrell (January 28, 2021). "Billionaire Griffin's new house unveiled, proposed for part of South End estate in Palm Beach". Palm Beach Daily News. ^ Gould, Jennifer (April 8, 2021). "After $145M deal, $8.1B in sales, the Hamptons have never been hotter". New York Post. ^ Kallergis, Katherine (December 4, 2020). "Ken Griffin adds to Star Island assemblage with $25M purchase: sources". The Real Deal. Note: High-quality sources are behind paywalls in the Miami Herald and WSJ. ^ Bandell, Brian (May 27, 2022). "Coral Gables mansion sells for $45M to firm associated with billionaire amid legal battle". American City Business Journals. ^ Huddleston Jr., Tom (March 7, 2020). "This hedge fund billionaire owns the most expensive home ever sold in America '-- here's how he spends his fortune". CNBC. ^ "Hedge Fund King Sued By Self-Described Mentor". The Wall Street Journal. June 14, 2006. ^ "Full Case Electronic Docket Search | Clerk of the Circuit Court of Cook County". casesearch.cookcountyclerkofcourt.org . Retrieved May 23, 2022 . ^ Kirk, Jim (January 22, 2007). "Lawsuit no longer looms for Citadel" . Chicago Tribune. ^ Vickers, Marcia (April 3, 2007). "Citadel's Griffin: Hedge fund superstar (cont.)". Fortune. Further reading Peltz, Lois (March 2009). The New Investment Superstars . Wiley. ISBN 978-0-471-40313-5. The Quants, Scott Patterson, Crown Publishing Group, February 2, 2010Ken Griffin's rise to power, CNBC, May 15, 2015

GOP Billionaire Backing DeSantis for 2024: 'Time to Move On' from Trump - MyNewsBuffet.com

Thu, 10 Nov 2022 14:40

A top Republican donor is done with former President Donald Trump and more excited about a path to the Oval Office for Florida Gov. Ron DeSantis in 2024.

Ken Griffin, a billionaire hedge fund CEO who flooded Republican campaigns with nearly $60 million over the recent midterm election, told POLITICO he would back DeSantis if the governor makes a run for the presidency in 2024.

''He has a tremendous record as governor of Florida, and our country would be well-served by him as president,'' he said.

Griffin said the former president's time on the political scene should be over.

''He did a lot of things really well and missed the mark on some important areas,'' he said. ''And for a litany of reasons, I think it's time to move on to the next generation.''

Griffin is already putting his money where his mouth is, spending $5 million to become the top contributor to DeSantis' reelection campaign, which the governor won handily.

TO HOME PAGE NEXTFox News Pundit Says Election Was 'Searing Indictment' of GOP '-- and Republican Vote Margins Prove It

Democrat re-elected by a landslide in Pennsylvania '' even though he's dead | Pennsylvania | The Guardian

Thu, 10 Nov 2022 14:36

A longtime Pennsylvania state representative was re-elected in a landslide '' even though he died last month.

Democrat Anthony ''Tony'' DeLuca, Pennsylvania's longest-serving state representative, was the choice in more than 85% of votes cast.

DeLuca, 85, died on 9 October from lymphoma, a disease he had twice previously fended off.

By the time of his death it was too late to change the ballot or put forth another candidate for his seat. While his opponent, Green candidate Queonia ''Zarah'' Livingston, accounted for more than 14% of the vote, DeLuca's victory has triggered a special election that will be held on a later date.

''While we're incredibly saddened by the loss of Representative Tony DeLuca, we are proud to see the voters continue to show their confidence in him and his commitment to Democratic values by re-electing him posthumously,'' the Pennsylvania House Democratic campaign committee said in a tweet.

''A special election will follow soon.''

While we're incredibly saddened by the loss of Representative Tony DeLuca, we are proud to see the voters to continue to show their confidence in him and his commitment to Democratic values by re-electing him posthumously. A special election will follow soon. pic.twitter.com/CfLnSCuvK9

'-- PA House Dems (@PAHDCC) November 9, 2022This isn't the first time a candidate has won an election posthumously. In 2018, brothel owner Dennis Hof won a seat in the Nevada senate as a Republican despite dying the month before. Unlike in Pennsylvania, however, his victory did not trigger a special election: under Nevada state law, county officials could appoint a Republican to take Hof's place for the entire term.

Some blame low voter awareness of current events '' current events such as whether the candidate is alive or not '' for why candidates get elected posthumously, while others suggest voters are simply choosing the name they're most familiar with.

Some folks commenting that the voters here were oblivious. Some certainly were. But for others, they likely preferred the idea of a special election over electing the third-party candidate on the ballot

'-- Charlie Wolfson (@chwolfson) November 9, 2022DeLuca represented the 32nd legislative district of Pennsylvania for 39 years, and served as the Democratic chairman of the House insurance committee for the last 20 years. He fought for patients' rights with insurance companies and to hold medical professionals accountable, becoming an outspoken advocate for cancer awareness and increased funding for local cancer research after his first lymphoma diagnosis and the breast cancer diagnosis of his late wife of 66 years.

He sponsored more than 100 pieces of legislation during the 2021-22 legislative session and voted remotely on bills up to a few days before his death.

DeLuca's opponent, Livingston, ran on a platform of moving toward a Green New Deal, ending corruption in Harrisburg, criminal justice reform and establishing abortion and reproductive rights. Within days of the election, she was still reminding people on Twitter that she was the only living candidate remaining in the race.

Voting ''safe'' means because people in my district decided to vote for the guy that is now deceased; to honor his legacy. We now have no one in our district, to represent us at all until the special election is over. I would love for someone to tell me how this is better??

'-- Vote Queonia ''Zarah'' Livingston PA32 (@ZarahForPA32) November 9, 2022

Perilous Pathogens: How Climate Change Is Increasing the Threat of Diseases | Council on Foreign Relations

Thu, 10 Nov 2022 14:33

The world is already witnessing the consequences of human-caused climate change, including hotter temperatures, rising sea levels, and more frequent and severe storms. What's harder to see are climate change's effects on the spread of disease: on the mosquito that carries a virus, or the pathogenic bacteria on a piece of fruit.

More From Our Experts

A growing body of studies shows the link between climate change and the increasing threat of zoonotic diseases, or those transmitted from animals to humans.

More on:

Health

Public Health Threats and Pandemics

Climate Change

Infectious Diseases

World Health Organization (WHO)

In Southeast Asia, cases of dengue fever have soared as longer rainy seasons and more frequent and severe floods allow mosquitoes to thrive. Warming temperatures in North America are expanding the range of ticks that carry Lyme disease. They're also providing better conditions for bats and other suspected hosts of Ebola in Central Africa. And in South America, there are concerns that increased variability in rainfall could drive more cases of rodent-borne hantavirus diseases.

But experts say the world is not prepared for climate-driven outbreaks. And like with other consequences of climate change, poor countries will suffer much more. Preventing the next global health emergency is possible, though, if governments and international institutions step up.

More From Our Experts

Dengue Fever in Southeast Asia INDONESIA: A worker sprays insecticide to kill mosquitoes.

Chaideer Mahyuddin/AFP/Getty Images

What is it?Dengue is a viral infection endemic in many tropical regions, meaning its presence is steady or predictable there. It has been reported in 129 countries, and about half of the world's population'--nearly four billion people'--lives in areas where there is a risk of contracting the disease. Every year, between one hundred million and four hundred million cases are reported worldwide, 70 percent of which are in Asia. Dengue spreads when infected Aedes aegypti mosquitoes bite people. Most cases are mild, with symptoms including fever and headache, and it rarely kills people.

What's the link to climate change?Aedes aegypti mosquitoes thrive in warm, wet environments. As temperatures rise, the insects can survive in areas that were previously too cool for them. Warmer temperatures also shorten the time it takes for young mosquitoes to become disease-spreading adults. In addition, the mosquitoes usually lay their eggs in standing water, so floods can lead to increased dengue cases as the mosquito population grows. For example, after Typhoon Rai struck the Philippines in 2021, several areas suffered increased cases. Cases can also increase during droughts because people are more likely to store water in containers, where the mosquitoes prefer to lay their eggs.

More on:

Health

Public Health Threats and Pandemics

Climate Change

Infectious Diseases

World Health Organization (WHO)

How's the threat changing?The United Nations' Intergovernmental Panel on Climate Change says that an additional two billion people [PDF] worldwide could be at risk of contracting dengue if the world's average temperature continues to rise. In Southeast Asia, dengue fever outbreaks aren't new, but in recent years, cases have increased dramatically, in part due to longer rainy seasons. At the same time, areas where dengue wasn't previously endemic have suffered outbreaks. In Brazil'--which reported nearly two million cases in 2022 as of August, the most in the world'--the disease has spread to higher altitudes. And in Japan, which in 2014 suffered its first dengue outbreak in seventy years, researchers warn that the country could suffer more outbreaks with climate change.

How do countries manage it now?Countries where dengue is endemic rely on mosquito control. In addition to spraying insecticides, governments are increasingly using lab-bred male mosquitoes that carry Wolbachia bacteria. When these mosquitoes mate with females, their eggs don't hatch.

After a successful trial in Vietnam, several Southeast Asian countries are implementing a system known as D-MOSS, which analyzes satellite data and climate forecasts to predict the likelihood of dengue outbreaks up to seven months in advance.

Public health departments also encourage people to use mosquito nets, wear long-sleeved shirts and pants to prevent bites, and avoid keeping open containers of water near the home. The world's first dengue vaccine was licensed in 2015, and the World Health Organization (WHO) recommends its usage only as part of a broader prevention strategy. Despite the global threat it poses, there is little international collaboration on tackling the disease.

Lyme Disease in North America UNITED STATES: A sign warns of ticks on a hiking trail in Massachusetts.

Jim West/Alamy

What is it?Lyme disease, caused by Borrelia bacteria, affects large parts of Asia, Europe, and North America. People can be infected through bites from black-legged ticks, which also feed on small mammals and birds. Lyme can cause fever, headache, fatigue, joint and muscle pain, and a skin rash that resembles a bull's-eye, among other symptoms.

Lyme can be hard to diagnose, though, because not everyone gets the hallmark skin rash, and it can take weeks for the body to create enough antibodies for a diagnostic test to detect. Most cases of Lyme can be successfully treated with antibiotics, but some patients suffer persistent symptoms for months or years.

What's the link to climate change? Warming helps to expand the disease's geographic range. Ticks thrive in temperatures above 45°F (7.2°C) and in more humid climates, so warming across North America offers more friendly habitats for the arachnids. Like with mosquitoes, a hotter climate can speed up the time it takes for a young tick to become an adult, consequently shortening the overall reproductive cycle. Also, more mild winters allow some ticks to survive through the cold season and stay active for a longer time period each year. Climate change can affect other environmental factors, too, such as population levels of deer and other hosts.

How's the threat changing? As the world's average temperature has risen, the number of new U.S. Lyme cases reported to the Centers for Disease Control and Prevention (CDC) has nearly doubled since the early 1990s, to around thirty thousand each year. (The CDC notes that the actual caseload is likely greater, and U.S. insurance estimates put the number of people diagnosed and treated for Lyme each year at around 475,000.) Northeastern and upper midwestern U.S. states have experienced the sharpest increases, and cases are projected to climb further as greenhouse gas emissions continue to go up. In Canada, the caseload has jumped from the hundreds to the thousands in recent years.

How do countries manage it now?Treatment of persistent Lyme symptoms can be expensive; a 2015 study found that it costs the U.S. health-care system up to $1.3 billion per year. So, the United States has focused heavily on raising public awareness of preventive measures and early Lyme symptoms. The CDC distributes educational materials, including signs with information about preventing tick bites posted along thousands of outdoor trails.

Canada's public health agency has likewise focused on awareness campaigns, particularly among outdoor workers, and researchers are experimenting with more cost-effective ways to inform the public. Still, many scientists say there are wide gaps in their understanding of the disease, and research and development of new treatments have historically been underfunded.

Ebola in Central Africa UGANDA: Health workers prepare to bury a boy suspected of dying from Ebola.

Luke Dray/Getty Images

What is it?Ebola is a relatively rare but severe infectious disease mainly found in Central Africa. It is thought to be transmitted to humans by animals including fruit bats, primates, and porcupines. Transmission between people can then happen through direct contact with the blood or bodily fluids of an infected person. The virus attacks the immune system, with typical symptoms including fever, muscle pain, vomiting, diarrhea, rash, and internal and external bleeding. Roughly half of all cases are fatal; of the forty-six known cases in 2021, there were twenty-seven deaths.

What's the link to climate change?Many effects of climate change are expected to provide better conditions for the animals that carry the disease. For example, a warmer and wetter climate in the forests of the Democratic Republic of Congo (DRC) could yield more vegetation to feed more host animals. That creates more opportunities for the virus to jump to humans. Previous outbreaks of Ebola have coincided with shifts from dry seasons to periods of heavy rainfall.

At the same time, people in areas experiencing more frequent droughts could become food-insecure. This could push them deeper into forested areas in search of bushmeat (raw or minimally processed meat from animals such as bats and monkeys) and other food, putting them at greater risk of coming into contact with the virus.

How's the threat changing?Since the disease was first identified in the 1970s, outbreaks have become more common, in part due to the region's booming population and urbanization, scientists say. A 2019 study by British and U.S. researchers projected that outbreaks will continue to grow more frequent as temperatures rise and rainfall becomes more irregular: it estimated that by 2070, there will be a several-fold increase in the rate at which the virus spills over to people in Africa. Still, scientific data on the spillover of Ebola to humans is limited, given the challenges of pinpointing the point of contact between an animal host and a person.

How do countries manage it now? The WHO and national governments undertook major crisis-response reforms following a historic, widespread epidemic in West Africa in 2014''16. Since then, health experts have shortened the time it takes to turn around diagnostic tests; expanded the use of therapeutic treatments; and introduced new vaccines against Ebola. Also, health agencies have depended more on local workers to help build community trust in vaccines and response measures.

However, mistrust and disinformation continues to challenge these efforts, and the tools at African countries' disposal are largely for emergency response rather than prevention. Vaccination campaigns currently only target close contacts of Ebola patients, and the vaccines only target individual strains. (An ongoing outbreak in Uganda in late 2022 was caused by an Ebola strain that's resistant to licensed vaccines.) Health systems across the region remain frail, and the COVID-19 pandemic has further weakened their capacity to curb outbreaks.

Hantavirus Diseases in South America UNITED STATES: A researcher holds a deer mouse during a biological survey in New York.

Mike Lynch/Adirondack Daily Enterprise/AP Photo

What is it?Hantaviruses are a family of viruses typically spread by rodents. People can become infected through contact with aerosols from an infected rodent's saliva, urine, or droppings. Hantaviruses are found in many countries; Gavi, the Vaccine Alliance, estimates that approximately two hundred thousand cases of hantavirus diseases are reported globally every year, while another study put the annual total at around one million.

Hantaviruses found in the Americas can cause hantavirus pulmonary syndrome (HPS), an often fatal respiratory disease, while those found in Asia and Europe can cause hemorrhagic fever with renal syndrome (HFRS), which kills at a lower rate than HPS.

What's the link to climate change?Several studies have linked the risk of hantavirus diseases to environmental factors. Some have found that increased rainfall helps boost rodent populations and leads to more cases, similar to what researchers have found for Ebola. Droughts can also increase cases by forcing rodents to seek food in human habitats. Other studies have shown that higher temperatures could lead to more cases. In Brazil, researchers found that predicted temperature rise caused by emissions could increase the number of people at risk of HPS in the city of S£o Paulo by 30 percent.

How's the threat changing? There is limited research on whether global cases of hantavirus diseases will rise due to climate change, but country-specific studies suggest that could be the case. Health officials currently believe that the threat of hantaviruses sparking a pandemic is low, but several developments have generated concerns. In recent years, there has been increased person-to-person transmission of the Andes hantavirus, found in Argentina and Chile. HFRS also has a lengthy incubation period, with symptoms often appearing at least two weeks after exposure, which makes the disease harder to trace. Scientists have urged more research to pinpoint where outbreaks could occur as the world's average temperature rises.

How do countries manage it now?Several countries in Central and South America have boosted case surveillance and contact tracing in response to HPS cases in recent years. They've also launched public awareness campaigns encouraging people to avoid contact with rodents and spaces that could be infested with rodents, though this can pose a challenge in rural and poor communities. Rodent control, such as trapping, is critical to preventing the spread, as is proper waste disposal. There are no licensed vaccines for hantaviruses, though several are in development.

How Countries Can Prevent and Prepare FRANCE: A lab technician performs vaccine tests.

Joel Saget/AFP/Getty Images

As the earth continues to warm, people around the world will see more extreme weather events and greater variability in rainfall and temperature. This could alter the threat of hundreds of known diseases beyond these four examples. ''It would be hard to deny that climate change is making the burden of infectious disease worse,'' says Brown University's Rachel Baker. ''But the picture of how this looks in ten, twenty, thirty years is uncertain.''

Public health and climate experts agree that governments should take immediate steps to cut off these pathways for disease transmission and save lives. Here are some of the actions they suggest:

Increase research and surveillance.Scientists say there is still much research to be done to understand the links between climate change and diseases. ''One of main challenges in outbreaks is getting dependable data to make quick and effective decisions,'' says Kirk Douglas of the University of the West Indies, Cave Hill Campus.

Investing in stronger surveillance and data collection would allow researchers to recognize emerging diseases, better predict future hot spots, and illuminate which pathogens pose the biggest risks. With more information, officials would know where to focus their prevention and preparedness efforts.

Develop vaccines and treatments.Vaccines are among the best tools for pandemic prevention and control, but their development is a complicated and costly process and global production capacity is limited. The COVID-19 pandemic marked a scientific milestone with the accelerated development of safe and effective vaccines. It also focused attention on stark vaccine inequity and brought to the fore debates over strategies such as waiving patents to expand vaccine access across low- and middle-income countries.

Health experts call for deepening research and development of vaccines against expanding and emerging zoonotic diseases, particularly of universal vaccines, which offer protection from all viruses in a particular family. For example, a universal vaccine for coronaviruses would provide protection against COVID-19, its variants, and all other animal-derived coronaviruses. At the same time, to help combat misinformation and skepticism around vaccines, officials should expand public education and vaccination campaigns, especially in historically marginalized communities.

Move toward health equity.Climate change affects countries unequally, with many of the lower-income countries that contributed least to the crisis suffering the worst effects. Multilateral and nonprofit organizations have worked to secure funding for low-income countries to boost their health-care systems, as well as provide vaccines and training. And high-income countries have committed to providing billions of dollars to help countries reduce emissions and adapt to climate change. But so far, financing has fallen short of their commitments. In 2021, about 70 percent of countries said their biggest obstacle to implementing national climate and health plans is insufficient financing. On the local level, officials should work to ensure equitable care, particularly in areas likely to become hot spots.

Reform global cooperation.Gaining momentum in recent years is One Health [PDF], a public health approach that emphasizes the connections between humans, animals, and the natural environment. Advocates say that integrating sectors and research disciplines'--such as agriculture and livestock, veterinary medicine, and environmental pollution'--is necessary to prepare for future global health threats.

There's been some headway made on boosting cooperation at the WHO in recent years, particularly since the emergence of COVID-19. In late 2021, the WHO and Germany launched the Hub for Pandemic and Epidemic Intelligence, which is intended to improve data sharing and expand access to disease forecasting tools. More recently, WHO member countries agreed to draft a legally binding treaty to boost global coordination on pandemic prevention and preparedness, but deliberation on it will take years, and health experts disagree on what to include and whether it would be effective. Many experts working at the intersection of climate and disease emphasize that the cost of prevention would be a fraction of what countries have to spend on crisis response.

Reduce emissions.To prevent the world's average temperature from rising further, people have to stop releasing carbon dioxide and other heat-trapping greenhouse gasses, as well as remove existing emissions from the atmosphere. ''We need to intervene at multiple levels, including the burning of fossil fuels, and treat that as an urgent health need,'' says Jonathan Patz of the University of Wisconsin''Madison. However, countries have been slow to follow through on pledges they've made under the Paris Agreement on climate, including to reduce their emissions and reforest large swaths of land. Under current policies, the world's average temperature is projected to rise by 2.5°C (4.5°F) compared to preindustrial levels by 2100, which is well beyond the 1.5°C (2.7°F) goal set by the Paris accord.

Will Merrow created the graphics for this article. Sabine Baumgartner curated the photos.

Recommended ResourcesFor Think Global Health, journalist Andrew Mambondiyani looks at how climate change is affecting the range of tsetse flies in Zimbabwe, and physician Vinayak Mishra argues for building resilience to climate-linked diseases in India and other vulnerable countries.

In this CFR report, Conservation International's Neil Vora and Weill Cornell Medicine's Jay Varma discuss how to prevent and prepare for pandemics with zoonotic origins.

The World Health Organization (WHO) and U.S. Centers for Disease Control and Prevention (CDC) lay out the effects of climate on health.

This Backgrounder explains what the WHO does.

This 2022 study in Nature found that over half of known infectious diseases can be aggravated by climate change.

The United Nations' Intergovernmental Panel on Climate Change examines the consequences of 1.5°C of global warming in this 2018 report.

Dan and Farris Wilks - Wikipedia

Thu, 10 Nov 2022 14:08

American petroleum industry businessmen

Dan Howard Wilks and Farris Cullen Wilks, also known as the Wilks Brothers, are American petroleum industry businessmen. Sons of a bricklayer, the brothers established Wilks Masonry in 1995. They went on to found an early hydraulic fracking company, Frac Tech, in 2002, and eventually became billionaires. In 2011 they sold their 70% interest in Frac Tech for $3.5 billion. They reside in Cisco, Texas.

They are major funders of conservative causes, including The Daily Wire, PragerU, and the 2016 presidential campaign of Senator Ted Cruz.

Personal lives [ edit ] Early lives [ edit ] The brothers are sons of Myrtle and Voy Wilks of Cisco in Eastland County, east of Abilene, Texas. When the brothers were born, their father worked as a bricklayer and the family was destitute; the brothers once slept in a goat shed.[1][2]

Assembly of Yahweh (7th day) [ edit ] In 1947 Voy and Myrtle Wilks along with Myrtle's father Charles Fenter were disfellowshipped from the Churches of Christ and founded a church which was at first called simply ''A Church of Christ.'' The church is not Christian, believing that Yahweh is the only god and that Jesus (called Yahushua) is a separate entity. In early 1952 Charles restricted communion to once a year rather than weekly and moved worship from Sunday to Saturday. The Fenters and Wilkses along with a few other families left the congregation and began to meet in private homes. When Charles died in May 1952 Voy took over the congregation and the couple and their five children continued to live at the home of Charles' widow, Annie.[3]

In 1962 they adopted the name Church of God (7th day) (not to be confused with Church of God (Seventh-Day)), in 1982 the church became the Assembly of Yahweh (7th day).[3] Currently the Assembly of Yahweh (7th day) is a conservative Jews for Jesus-type congregation. It teaches that "the true religion is Jewish (not a Gentile religion)" and its members celebrate the Old Testament holidays rather than those related to the New Testament. The congregation considers the Old Testament historically and scientifically accurate. The congregation considers homosexuality and abortion to be crimes.[4][5]

Farris Wilks [ edit ] Farris Wilks is married to Jo Ann and is the father of 11 children.[4][5] He is the current pastor and bishop of the Assembly of Yahweh (7th day) near Cisco.[3] In sermons, he has denounced homosexuality and abortion rights.[6]

Frac Tech [ edit ] In 2002 the brothers founded a hydraulic fracturing company called Frac Tech.[7] In 2011 they sold their 70% interest in Frac Tech for $3.5 billion.[8][9]

Post Frac Tech business history [ edit ] Idaho land purchase and restrictions [ edit ] As early as 2016[10] the Wilks Brothers began purchasing large quantities of land in Central Idaho, mainly in Ada, Boise, and Valley counties. They restricted access to the locals with gates, with anti-vehicle ditches, and with no-trespassing signs appearing soon after their acquisitions. They informed Valley County that they were terminating leases to roads and snowmobile trails, including a main road which was the only access to public lands.[11] According to the United States Forest Service, some of the brothers' restrictions were illegal.[12] The brothers' frequent refusal to allow hunting, snowmobiling, firewood cutting and transit frustrated locals.[13] In 2017 a video emerged of an armed and uniformed DF Development security guard illegally expelling an outdoorsman from a public road, Forest Road 409 (Clear Creek Road), which runs through Wilks brothers land, on grounds of trespass. According to the Valley County Roads Department superintendent, the DF Development guard was in the wrong, as both the road and a 33-foot easement on either side belong to the county, and as such are public land.[14]

As of 2019 the Wilks brothers' shell company, DF Development, owned approximately 75,000 acres of land across 306 parcels in Valley County. Overall the Wilks brothers own about 200,000 acres in Idaho.[11]

As of 2018, many of the parcels of land owned by the Wilks Brothers have been listed for sale via Wilks Ranch Brokers, LLC. As of 2019, Wilks Ranch Brokers had listed 54,000 acres of Idaho land for sale.[11]

Montana land purchase and restrictions [ edit ] In Montana, the Wilks brothers asked the Bureau of Land Management if they could swap a piece of their Duffee Hills ranch for a parcel of public land. This request was denied after local hunters objected on the grounds that the brothers had closed down an access road to the wild and scenic Missouri River.[15]

Political activity [ edit ] Elections and campaigns [ edit ] The Wilks brothers supported Texas U.S. Senator Ted Cruz in the 2016 United States presidential election, contributing $15 million to a super political action committee backing Cruz.[16]They gave $50,000 in 2016 to the candidacy of Jeff Judson, who unsuccessfully challenged fellow Republican Joe Straus, Speaker of the Texas House of Representatives, in the District 121 Republican legislative primary in March 2016.[17]Farris Wilks gave $75,000 to Jeff Cason in the 2020 Republican primary in the contest to replace Jonathan Stickland in Texas State House District 92.[18]Their Defend Texas Liberty PAC gave more than $3 million to the Don Huffines 2022 Texas gubernatorial campaign.[6]Political media [ edit ] The Wilks brothers, along with political commentator Ben Shapiro, helped launch and fund The Daily Wire, a conservative news and opinion website in 2015.[19] Additionally, the Wilks Brothers provided early stage funding to Prager University, a YouTube channel and media company started by Dennis Prager to further conservative causes to a young audience.[20] They are major donors to conservative advocacy group Empower Texans.[18]

References [ edit ] ^ Montgomery, Peter (June 13, 2014). "Meet the Billionaire Brothers You Never Heard of Who Fund the Religious Right". American Prospect. ^ "The 41 Wealthiest Texans: Nos. 40 and 41: Dan Wilks and Farris Wilks: Dan Wilks (57, CISCO): $1.5 BILLION Farris Wilks (61, CISCO): $1.5 BILLION". Texas Monthly. ^ a b c "Our History". www.halleluyah.org. Assembly of Yahweh (7th day) . Retrieved 26 December 2019 . ^ a b Swan, Betsy (4 January 2016). "Inside the Anti-Gay Church That Loves Kim Davis and Ted Cruz" . Retrieved 22 December 2019 . ^ a b Conlin, Michelle (September 11, 2015). "Special Report: Touting morality, billionaire Texas brothers top 2016 donor list" . Retrieved 7 July 2016 ; includes link to their statement of belief {{cite news}}: CS1 maint: postscript (link) ^ a b Casey Tolan; Matthew Reynard; Will Simon; Ed Lavandera. "How two Texas megadonors have turbocharged the state's far-right shift". CNN . Retrieved 25 July 2022 . Defend Texas Liberty, the group they fund, gave more than $3 million to Don Huffines ^ Durgy, Edwin (September 26, 2011). "The Forbes 400's Newest Undercover Billionaires: The Wilks Brothers". Forbes. ^ "Billionaires buy up land in Idaho". ^ Kong, Dinny McMahon And Kanga (2011-05-13). "Frac Tech Got $3.5 Billion". Wall Street Journal. ISSN 0099-9660 . Retrieved 2016-03-28 . ^ "Texas billionaires limit snowmobile access on Idaho land, reverse course on logging". ^ a b c Blanchard, Nicole. "Texas billionaires put more Idaho land on the market". www.idahostatesman.com. Idaho Statesman . Retrieved 26 December 2019 .{{{1}}}

^ "Forest Service: Wilks brothers' gates on Forest Service road are illegal". KTVB. ^ "Texas billionaires put gates on popular Forest Service road near Boise". www.idahostatesman.com. ^ Rodine, Kristin. "Video of run-in revives worries caused by Texas billionaires' Idaho land purchase". www.idahostatesman.com. Idaho Statesman . Retrieved 26 December 2019 . ^ Lundquist, Laura. "Weyerhaeuser selling to timber investment group with Wilks Brothers ties". www.missoulacurrent.com. Missoula Current . Retrieved 26 December 2019 . ^ "Big Money: Billionaire Brothers Give Ted Cruz $15M". The Daily Beast. ^ David Saleh Rauf, "Mega donors bolster tea party: Billionaire family fuels anti-Straus bid", San Antonio Express-News, January 22, 2016, pp. 1, A8 ^ a b Weinberg, Tessa (February 7, 2020). "After scandal, will Empower Texans donors hurt or help in this Tarrant County race?" . Retrieved 14 October 2020 . ^ Stevenson, Seth (January 24, 2018). "The Many Faces of Ben Shapiro". Slate . Retrieved December 28, 2018 . ^ Bernstein, Joseph (March 3, 2018). "How PragerU is winning the Right Wing culture war without Donald Trump". BuzzFeed. Archived from the original on March 11, 2018 . Retrieved March 12, 2018 .

Transgender charity seeks to strip gay rights group of status '-- RT World News

Thu, 10 Nov 2022 13:52

Members of 'Mermaids' have taken legal action against the LGB Alliance, accusing it of transphobia

The transgender youth charity 'Mermaids' has asked a UK tribunal to take away the charitable status of the LGB Alliance (LGBA) group, which promotes gay rights, insisting the organization is ''merely a front for transphobia'' and political campaigning for preventing changes to gender identification laws, The Telegraph reported on Tuesday.

The charity, which has already previously found itself in hot water for publicly rejecting the idea that people can change their gender, has in turn accused Mermaids of being ''profoundly homophobic,'' noting that the LGBA is the only organization in the UK that focuses exclusively on the rights of lesbian, gay and bisexual people.

The lawsuit was filed by the Good Law Project on behalf of several trans activist groups, including Mermaids '' a charity that has aimed to change gender laws and add gender-neutral language to UK legislation.

The move came after the LGBA registered as a charity with the UK Charity Commission back in April 2021. The transgender youth activists claimed that the gay rights group did not provide a benefit to the public and existed only to ''denigrate those who support trans people.''

Michael Gibbon KC, who represents Mermaids, told a UK court that the LGBA was seeking to undermine trans charities like Mermaids by suggesting they were spreading disinformation. He also argued that allowing LGBA to keep its charitable status could deprive trans groups of potential funding.

The LGBA has rejected the accusations and insists that Mermaids has no legal right to challenge the group's existence, even if it disagrees with its values and beliefs.

Iain Steele KC, who represented the Charity Commission in this case, sided with the LGBA, stating that the commission was confident that the gay rights group was pursuing charitable activities when it registered last year and insisted that a disagreement between charities was not a valid reason to strip it of its status.

The judge presiding over the tribunal heard closing arguments for the case on Tuesday and is now expected to come back with a verdict, which may not be issued until next year.

US Justice Department Finds Crypto Exchange Binance Facilitated Flow of $7.8 Billion from Iranian Firms '-- IR Insider

Thu, 10 Nov 2022 13:49

Last week a US Justice Department Investigation revealed that the leading crypto exchange, Binance, has helped trade almost $8 billion worth of transactions from Iranian firms since 2018.

The investigation began as the leading crypto exchange platform Binance , boasting over 120 million users, came under scrutiny by the US Justice Department for possible money-laundering violations. Now, the exchange and its independent US entity Binance.US may be in legal trouble for violating US sanctions against Iran.

US blockchain researcher Chainalysis led the review, discovering nearly all the funds flowed between Binance and Iran's largest crypto exchange, Nobitex . Nobitex encouraged Iranian clients to trade anonymously with the token Tron , a cryptocurrency that offers an identity-concealing feature. Data found that 75% of the funds flowing through Binance were in Tron, allowing users to curtail US sanctions on Iran.

The sanctions currently forbid US entities or nationals, including financial services, from selling goods or services to Iranian citizens, businesses and institutions. Binance is not a US-based financial service; however, it pledged to ban Iran-based users. Binance redirects American users to the crypto exchange Binance.US, which functions as a 'fully independent entity' from Binance, according to the latter's CEO Changpeng Zhao . However, an October report found he operated and managed the US exchange from abroad.

The majority of the $7.8 billion from Iran flowed through Binance, but the US entity Binance.US processed $1.5 million in Iranian transactions, according to Chainalysis, revealing the exchange may have violated US sanctions. Violating US sanctions on Iran can result in fines of up to $1 million per violation and up to 20 years imprisonment for individuals involved.

A Binance.US spokesperson claimed the figure found by Chainalysis is inaccurate yet did not provide an alternative. The spokesperson also claimed Binance.US puts entities through a 'rigorous screening process' before permitting them to trade on the platform and that Binance.US adheres to US rules pertaining to digital exchanges.

Chinese-Canadian billionaire Changpeng Zhao founded Binance.com, and the exchange operates internationally. However, the Iranian transactions put Binance at risk of US secondary sanctions, which can bar a company's participation in the US financial system. Secondary sanctions prevent non-US entities from conducting business with sanctioned entities or helping entities evade sanctions and embargoes.

The Iranian exchange firm Nobitex is not currently sanctioned by the US. Founded in 2017 by Amirhosein Rad , it serves as Iran's largest crypto exchange with intentions to help Iranians invest in crypto 'despite the shadow of sanctions,' as per its LinkedIn page. A 2021 report revealed Nobitex processes 70% of Iran's crypto transactions and encourages users to trade with Binance. When Tron announced its identity-concealing feature, Nobitex encouraged users to open wallets with Binance to buy Tron for its 'high security.'

Binance increased checks on users in August of 2021; however, it still processed $1 billion worth of direct transactions from Nobitex between then and November 2022. In October 2022, $20 million of Tron flowed directly between Binance and Nobitex.

The Chainalysis report reveals that some of Nobitex's users are sanctioned by the US Treasury for cyberattacks and ransomware. Some of these Iranians were part of the Islamic Revolutionary Guard Corps , a faction controlling armed intelligence forces and a business empire in Iran. The Iranian government finds US sanctions cruel and unjust , but Iran's affinity for Binance may put the crypto exchange in trouble with the US.

FTX Post-Mortem: Bankman-Fried Admitted The "Ponzi Business" Of Crypto Yield Farming Months Ago | ZeroHedge

Thu, 10 Nov 2022 13:33

Submitted by QTR's Fringe Finance

Over the summer, I was stunned when a friend of mine sent me an interview with FTX CEO and crypto billionaire Sam Bankman-Fried that I had never seen before. In the interview, Sam, who I recently noted knows more about the inner bowels of the defi/crypto space than anybody, basically came out and admitted that crypto lending was one giant Ponzi scheme.

Of course, many of us knew that the space was a ponzi scheme already - as I have been adamantly outspoken about - but it was the sheer, unadulterated, matter-of-fact-style, bald-faced admissions by Bankman-Fried that caused my jaw to drop when I read it and listened to it this week.

Now, looking back on it after FTX's collapse this week, it's even more stunning that nobody saw it coming.

3 months before the collapse of crypto lending firms, it was literally just'...out there'...in the public, from the man who knows the space best, that such companies were, in essence, total Ponzi schemes. First, here's a video of SBF explaining how DeFi works like a ponzi scheme.

Then, there were Bankman-Fried's comments on the Odd Lots podcast with Matt Levine.

Matt asked the same daring question that Peter Schiff asked of Celsius CEO Alex Mashinsky back in November 2021: where does the extra cash for yield farming actually come from?

While Mashinsky ducked the answer, at least Bankman-Fried tried to describe it, though he did so as a ''black box'' where new investor money pays back old investor money. Also known as a Ponzi scheme.

''Can you give me an intuitive understanding of farming? I mean, like to me, farming is like you sell some structured puts and collect premium, but perhaps there's a more sophisticated understanding than that,'' Levine asks Bankman-Fried, per a Bloomberg transcript of the interview.

Bankman-Fried responds:

''You start with a company that builds a box and in practice this box, they probably dress it up to look like a life-changing, you know, world-altering protocol that's gonna replace all the big banks in 38 days or whatever. Maybe for now actually ignore what it does or pretend it does literally nothing. It's just a box. So what this protocol is, it's called 'Protocol X,' it's a box, and you take a token. You can take ethereum, you can put it in the box and you take it out of the box. Alright so, you put it into the box and you get like, you know, an IOU for having put it in the box and then you can redeem that IOU back out for the token.''

Later in the interview, when pressed on where the actual generated value comes from to pay the yields by Levine, Bankman-Fried expounds on his statements:

''Describe it this way, you might think, for instance, that in like five minutes with an internet connection, you could create such a box and such a token, and that it should reflect like, you know, it should be worth like $180 or something market cap for like that, you know, that effort that you put into it.''

He continues:

''In the world that we're in, if you do this, everyone's gonna be like, 'Ooh, box token. Maybe it's cool. If you buy in box token,' you know, that's gonna appear on Twitter and it'll have a $20 million market cap. And of course, one thing that you could do is you could like make the float very low and whatever, you know, maybe there haven't been $20 million dollars that have flowed into it yet.

''Maybe that's sort of like, is it, you know, mark to market fully diluted valuation or something, but I acknowledge that it's not totally clear that this thing should have market cap, but empirically I claim it would have market cap.''

One host responds cynically:

''It shouldn't have any market cap in theory, but it practice, they always do. Okay.''

Bankman-Fried confirms this and continues, calling the box ''magic'' and explaining further:

''That's right. So, and obviously already we're sort of hiding some of the magic impact, right? Like some of the magic is in like, how do you get that market cap to start with, but, you know, whatever we're gonna move on from that for a second.

So, you know, X tokens [are] being given out each day, all these like sophisticated firms are like, huh, that's interesting. Like if the total amount of money in the box is a hundred million dollars, then it's going to yield $16 million this year in X tokens being given out for it. That's a 16% return. That's pretty good. We'll put a little bit more in, right?

And maybe that happens until there are $200 million dollars in the box. So, you know, sophisticated traders and/or people on Crypto Twitter, or other sort of similar parties, go and put $200 million in the box collectively and they start getting these X tokens for it.

And now all of a sudden everyone's like, wow, people just decide to put $200 million in the box. This is a pretty cool box, right? Like this is a valuable box as demonstrated by all the money that people have apparently decided should be in the box. And who are we to say that they're wrong about that? Like, you know, this is, I mean boxes can be great. Look, I love boxes as much as the next guy. And so what happens now?

All of a sudden people are kind of recalibrating like, well, $20 million, that's it? Like that market cap for this box? And it's been like 48 hours and it already is $200 million, including from like sophisticated players in it. They're like, come on, that's too low. And they look at these ratios, TVL, total value locked in the box, you know, as a ratio to market cap of the box's token.

And they're like '10X' that's insane. 1X is the norm.' And so then, you know, X token price goes way up. And now it's $130 million market cap token because of, you know, the bullishness of people's usage of the box. And now all of a sudden of course, the smart money's like, oh, wow, this thing's now yielding like 60% a year in X tokens.

Of course I'll take my 60% yield, right? So they go and pour another $300 million in the box and you get a psych and then it goes to infinity. And then everyone makes money.''

Bloomberg's Matt Levine then sums it up at the end of Bankman-Fried's comments:

''I think of myself as like a fairly cynical person. And that was so much more cynical than how I would've described farming. You're just like, well, I'm in the Ponzi business and it's pretty good.''

Over the summer, I wrote about how these statements reaffirmed my belief that there are more blowups taking place behind the scenes than we knew about in crypto, as I pointed out in a piece. Today, in November, it still remains a harbinger of bad news for the space, in my opinion.

(READ THIS FULL ARTICLE HERE).

Get 50% off: If you enjoy this article, I would love to have you as a subscriber and can offer you 50% off for life: Get 50% off forever

US inflation reduction act: EU raises concerns, risks WTO dispute

Mon, 07 Nov 2022 14:54

U.S. President Joe Biden.

Kevin Lamarque | Reuters

BRUSSELS '-- The European Union has "serious concerns" about the U.S. Inflation Reduction Act, saying it breaches international trade rules, according to an official document seen by CNBC.

The sweeping tax, health and climate bill was approved by U.S. lawmakers in August and includes a record $369 billion in spending on climate and energy policies. The landmark package comprises tax credits for electric cars made in North America and supports U.S. battery supply chains.

European officials have acknowledged the green ambitions associated with the package, but they are worried about "the way that the financial incentives under the Act are designed," the document, which will be presented to U.S. officials, says. The EU listed nine of the tax credit provisions that it has an issue with.

This is not the first time that Europe has voiced its concerns over the policy. The EU's competition chief, Margrethe Vestager, said last month that "as a matter of principle, you should not put this up against friends," as reported by the Financial Times.

In essence, the EU is worried about potential new trade barriers on European electric vehicle producers. And they are not the only ones, South Korea, for instance, has also brought up the same concern.

Ngozi Okonjo-Iweala, director general of the World Trade Organization, said Monday that countries need to be "very careful that whatever policies are taking should not be discriminatory, should not favour domestic goods."

Speaking to CNBC's Dan Murphy at the COP27 climate summit in Egypt, she recognized that some nations feel the "subsidies that are being given for the electric vehicles may be discriminatory against their own electric vehicle production."

VIDEO - Simultaneously governments worldwide will start to declare climate emergencies'...

Mon, 07 Nov 2022 13:33

You are about to :

Object being modified by the action

Do you want to proceed?

Request ModerationRegistered user account requiredPlease Login or Register to submit a moderation request.

Email SubmissionsWe also accept moderation reports via email. Please see the Content Moderation Policy for instructions on how to make a moderation request via email.

First published at 12:30 UTC on November 7th, 2022.

Simultaneously governments worldwide will start to declare climate emergencies'... this will see the greatest wealth distribution in history to the WHO and it's stakeholders'... You'll own nothing, and you'll be happy

MORE

Simultaneously governments worldwide will start to declare climate emergencies'... this will see the greatest wealth distribution in history to the WHO and it's stakeholders'... You'll own nothing, and you'll be happy

LESS

This advertisement has been selected by the videos creator, Philosophers-stone.info Pureblood.

This advertisement has been selected by the BitChute platform.

By purchasing and/or using the linked product you are helping to cover the costs of running BitChute.

It is free for anyone to opt-out of receiving advertising via the Interface tab on the Settings page.

To help support BitChute or find out more about our creator monetization policy:
ALL VIDEO

VIDEO - (119) David Bowie predicted in 1999 the impact of the Internet in BBC - YouTube

VIDEO - Sarah Cashmore (@cashiecashie1972) on TikTok

Thu, 10 Nov 2022 18:03

Back to For You

00:00/00:00

original sound - Sarah Cashmore cashiecashie1972 Sarah Cashmore · 4d ago Related videos

VIDEO - (119) COP27: It's important to discuss climate reparations, Ursula von der Leyen tells Euronews - YouTube

VIDEO - (20) Greg Price on Twitter: "Anderson: "Do you draw the same line [between the assault on your husband and January 6]? Pelosi: "Absolutely. No question. It's the same thing. A copycatter." https://t.co/niZqISI9jm" / Twitter

Thu, 10 Nov 2022 17:49

Greg Price : Anderson: "Do you draw the same line [between the assault on your husband and January 6]?Pelosi: "Absolutely. No'... https://t.co/OXNO5EHFCP

Tue Nov 08 02:48:26 +0000 2022

VIDEO - REAL AMERICA -- Dan Ball W/ Col. Doug Macgregor, U.S. Boots On The Ground In Ukraine??, 11/2/22

Thu, 10 Nov 2022 17:47

REAL AMERICA -- Dan Ball W/ Col. Doug Macgregor, U.S. Boots On The Ground In Ukraine??, 11/2/22

8:28REAL AMERICA -- Dan Ball W/ Jason Miller, How Big Tech Impacts Elections, 11/9/22One America News Network

LIVEDay 3'--All Eyes on Karizona | Kari Lake with Poso, Tyler Bowyer, Benny Johnson |The Charlie Kirk ShowThe Charlie Kirk Show26,770 watching

LIVEWhat Will Biden Change? ''Nothing!''American Center for Law and Justice1,593 watching

24:41AFTERMATH: 2022 MIDTERM MADNESS | FRONTLINESFRONTLINES w/ Drew Hernandez

25:4120 Min Morning Yoga Flow | Full Body Wake Up For A Perfect Day 🇧🇷Boho Beautiful Yoga

1:01Boxing coach surprises down syndrome student with new shoesManuelrobles1971$3.13 earned

2:24The new face of the Republican Party is Ron DeSantisjeffahern

3:57:09The Red Ripple and Why Republicans Don't Win, Salt Over Depp Appeal, Trans Banned from BeautyRekieta Law$68.35 earned

6:33WATCH: Kari Lake Joins Tucker Carlson for the Latest on the State of the Race in ArizonaKariLake

3:09:11Day 2, The Balance of Power | Bannon, Poso, Bowyer, Smith, Benny | The Charlie Kirk Show LIVE 11.09.22The Charlie Kirk Show

VIDEO - (119) Watch CNBC's full interview with COP27 president and Egypt's Foreign Minister Sameh Shoukry - YouTube

VIDEO - (11) Breaking911 on Twitter: "CNN on tabulation issues in Maricopa County, Arizona: "This is a technical glitch. [...] Teams are taking those problem ballots to the county's election center where they will be counted. [...] No one is being disenfr

Thu, 10 Nov 2022 17:32

Breaking911 : CNN on tabulation issues in Maricopa County, Arizona: "This is a technical glitch. [...] Teams are taking those pro'... https://t.co/idTEiFa8fI

Tue Nov 08 19:50:42 +0000 2022

VIDEO - Telegram: Contact @JustDudeChannel

Thu, 10 Nov 2022 17:29

Download Context Embed View In Channel Copy

VIDEO - Decentralized Social Media and the Great Twitter Exodus - The Lawfare Podcast | Acast

Thu, 10 Nov 2022 16:57

11/8/2022Decentralized Social Media and the Great Twitter Exodus

It's Election Day in the United States'--so while you wait for the results to come in, why not listen to a podcast about the other biggest story obsessing the political commentariat right now? We're talking, of course, about Elon Musk's purchase of Twitter and the billionaire's dramatic and erratic changes to the platform. In response to Musk's takeover, a great number of Twitter users have made the leap to Mastodon, a decentralized platform that offers a very different vision of what social media could look like.

What exactly is decentralized social media, and how does it work? Lawfare senior editor Alan Rozenshtein has a paper on just that, and he sat down with Lawfare senior editor Quinta Jurecic on the podcast to discuss for an episode of our Arbiters of Truth series on the online information ecosystem. They were also joined by Kate Klonick, associate professor of law at St. John's University, to hash out the many, many questions about content moderation and the future of the internet sparked by Musk's reign and the new popularity of Mastodon.

Among the works mentioned in this episode:

''Welcome to hell, Elon. You break it, you buy it,'' by Nilay Patel on The Verge''Hey Elon: Let Me Help You Speed Run The Content Moderation Learning Curve,'' by Mike Masnick on Techdirt 11/6/2022 Chatter: Cryptography in History and in the Movies with Vince HoughtonAlthough codemaking and codebreaking often receive less attention in the public imagination than swashbuckling HUMINT operations and ingenious spy gadgets, they have changed history. The under-appreciation of cryptography might stem from a combination of the complexity of encryption, the classified nature of much of its technology, and the difficulty of conveying codebreaking effectively in pop culture.David Priess spoke with Vince Houghton about the realities and fictional representations of cryptography, as well as the challenges and rewards of making a compelling museum experience out of U.S. codemaking and codebreaking efforts. Houghton is director of the National Cryptologic Museum, the open-to-the-public museum of the National Security Agency. They talked while walking through the newly redesigned museum in Annapolis Junction, Maryland, highlighting various artifacts including early American codebreaking computers, German Enigma machines, the oldest known book of cryptography (from the 16th century), and code generators for U.S. nuclear weapons. They discussed the provenance of highly unusual items and the value of having so many of them on display. And they traded views on movies incorporating ciphers or codes, from The Da Vinci Code to Sneakers to The Empire Strikes Back to The Imitation Game.Chatter is a production of Lawfare and Goat Rodeo. This episode was produced by Cara Shillenn of Goat Rodeo. Podcast theme by David Priess, featuring music created using Groovepad.

VIDEO - (11) Faraz Saeed on Twitter: "Protests are erupting outside parliament in Athens, #Greece. Demonstrators are enraged by soaring energy and food prices. Take a look: https://t.co/XuN8HduAMx" / Twitter

Thu, 10 Nov 2022 16:42

Faraz Saeed : Protests are erupting outside parliament in Athens, #Greece. Demonstrators are enraged by soaring energy and food p'... https://t.co/VQunV9qox8

Thu Nov 10 15:54:43 +0000 2022

VIDEO - (9) Greg Price on Twitter: "MSNBC's @JoyAnnReid: "What job will Lauren Boebert have if she loses?" @kurtbardella: "I guess it might be a gain for OnlyFans" https://t.co/fVf5QZG6xa" / Twitter

Thu, 10 Nov 2022 16:39

Greg Price : MSNBC's @JoyAnnReid: "What job will Lauren Boebert have if she loses?"@kurtbardella: "I guess it might be a gain'... https://t.co/E6GqXNkljG

Thu Nov 10 01:42:25 +0000 2022

Chavery : @greg_price11 @JoyAnnReid @kurtbardella No one cares about Boebert.

Thu Nov 10 16:36:59 +0000 2022

Suburban antifa mom #OpenBorders she/theyðŸ"¸'ðŸŒ : @greg_price11 @JoyAnnReid @kurtbardella Sex work is work.

Thu Nov 10 16:36:49 +0000 2022

Steven Williams : @greg_price11 @JoyAnnReid @kurtbardella Msnbc is trash 1st grade lying BS

Thu Nov 10 16:34:52 +0000 2022

Ben Yurcho : @greg_price11 @JoyAnnReid @kurtbardella She'd still make more money and be a bigger influence than any of you.

Thu Nov 10 16:31:43 +0000 2022

JDB : @greg_price11 @JoyAnnReid @kurtbardella Can we have a conversation about gay looking Asian men? How would that go Mr. Bardella?

Thu Nov 10 16:31:09 +0000 2022

Percy Rosales ðŸ'Ž : @greg_price11 @JoyAnnReid @kurtbardella The people are really gross and claim to be for women then shame them and l'... https://t.co/eKco1kp5qb

Thu Nov 10 16:30:14 +0000 2022

''ªRahlo''ª : @greg_price11 @JoyAnnReid @kurtbardella These people are so bad at their jobs. She is a small business owner already.

Thu Nov 10 16:29:48 +0000 2022

Dirk Mullins : @greg_price11 @JoyAnnReid @kurtbardella You would probably be her first follower slime ball.

Thu Nov 10 16:29:15 +0000 2022

Lauren Stewart 🇺🇸ðŸ'ªðŸ¼ðŸ'¥ : @greg_price11 @JoyAnnReid @kurtbardella Because obviously an attractive, young female has nothing more to offer.T'... https://t.co/FljLul4exd

Thu Nov 10 16:27:44 +0000 2022

SeldenGADawgs : @greg_price11 @JoyAnnReid @kurtbardella Democrats are the biggest sexist, pathetic, screaming cry babies in the wor'... https://t.co/0iWZp0jlIA

Thu Nov 10 16:25:32 +0000 2022

VIDEO - Zelenskyy: Ukraine ready for peace talks, but not with Vladimir Putin | Ukraine latest - YouTube

VIDEO - King asks Georgia official how he's certain Senate race will head to runoff - YouTube

VIDEO - DeSantis Celebrates Re-Election: 'Florida Held The Line' - YouTube

VIDEO - Florida Chick-fil-A operator introduces 3-day workweek resulting in 100% employee retention - ABC7 New York

Thu, 10 Nov 2022 14:38

FLORIDA -- What staffing shortage? One Miami Chick-fil-A owner-operator has been deluged with applications after switching his staff to a three-day, 14-hour-per-day workweek.

Justin Lindsey was looking for a novel way to reward workers who were "literally working 70 hours a week, week in and week out," he recently told QSR magazine.

The popular franchise was profitable and sales were robust but that was coming at the expense of staff burnout. So, early this year, Lindsey cooked up a new recipe for success: overhauling weekly schedules.

He divided his staff of 38 - 18 store leaders and 20 frontline employees - into two groups and alternated weekly schedules into three-day blocks of 13- to 14- hour shifts.

The result: 100% retention at the management level and a flood of new job applicants. An opening this fall at the Kendall-neighborhood restaurant drew more than 420 candidates.

The restaurant is just another example of businesses experimenting with non-traditional shifts ever since the pandemic upended the 40-hour workweek.

Although the majority of companies have been reluctant to change, some firms, and even some bosses, have urged flexibility as a way to entice and retain workers by offering them a better work-life balance.

In his restaurant's case, Lindsey said the three-day workweek allows his staff to plan lives outside of work in advance.

"I think people want to work in this industry," Lindsey said in the report. "But they want some things to change, and I think that's what this has shown - is that there are things that if we change it for the better, we're going to make a lasting impact." Lindsey could not be reached for comment by CNN.

A three-day workweek is still very rare, but the buzz around a four-day week has been gaining momentum.

In a six-month pilot program in the UK, 3,300 workers across 70 companies agreed to work 80% of their usual weekly hours in exchange for promising to maintain 100% of their productivity. Their pay was unchanged. At the end of this month, the companies will decide whether to keep the program.

A similar test in Iceland was successful. And when Microsoft tried a shorter workweek in Japan in 2019, it found productivity increased up by almost 40%.

Copyright (C) 2022 KABC Television, LLC. All rights reserved.

VIDEO - (20) Benny Johnson on Twitter: "Joe Biden on Donald Trump: "We have to demonstrate that he will not take power if he does run. Making sure he under the legitimate efforts of the Constitution, become the next president again." What? https://t.co/T0

Thu, 10 Nov 2022 14:30

Benny Johnson : Joe Biden on Donald Trump: "We have to demonstrate that he will not take power if he does run. Making sure he under'... https://t.co/WRQcH5hehe

Thu Nov 10 03:39:21 +0000 2022

VIDEO - Telegram: Contact @officialcharliewardshow

Thu, 10 Nov 2022 14:29

Download Context Embed View In Channel Copy

VIDEO - (20) RNC Research on Twitter: "BIDEN: "Now I've been given a list of ten people that I'm supposed to call on and you're all supposed to ask me one question." https://t.co/UKFFBWcPLg" / Twitter

Thu, 10 Nov 2022 14:28

RNC Research : BIDEN: "Now I've been given a list of ten people that I'm supposed to call on and you're all supposed to ask me one'... https://t.co/YGadKAuNjK

Wed Nov 09 21:33:54 +0000 2022

The Real ð'…ð'šð'›ð'› ð''ð'¤ð'ð'¨ð' ð'š : @RNCResearch Good Lord. Here we go again. WHO is running things because it is CRYSTAL clear Joe AIN'T in charge.

Thu Nov 10 14:24:42 +0000 2022

Maine : @RNCResearch Typical criminal pedophile plagiarizing rapist !

Thu Nov 10 14:21:10 +0000 2022

VIDEO - Conservative Latinos blast suggestion Spanish language 'disinformation' helped DeSantis win: 'Trusty trope' | Fox News

Thu, 10 Nov 2022 13:51

Conservative Latinos blasted Jen Psaki for referencing Spanish language "disinformation" just ahead of Florida Gov. Ron DeSantis,' R., re-election victory Tuesday night.

A majority of Latino voters supported DeSantis in his resounding win over Democrat Charlie Crist. The Republican won 55% of the Puerto Rican vote, and 50% of all the other Latino voters in the state of Florida, according to NBC. He notably won the historically blue Miami-Dade County, which marked the first time in 20 years that the county chose a Republican for governor.

Psaki, the former White House press secretary turned MSNBC pundit, cautioned her Twitter followers to keep in mind that the "Latino vote is not the same everywhere" shortly before DeSantis and fellow Florida Republican Sen. Marco Rubio easily won their races.

"The Latino vote is not the same everywhere! There are huge generational differences and in Florida population of older voters (more likely Rs) much larger than younger. Socialism does not play there. And there is a massive disinformation problem in Spanish language media," Psaki tweeted.

JEN PSAKI ROASTED FOR CLAIMING SPANISH LANGUAGE 'DISINFORMATION' HELPED GOP IN FLORIDA

Incumbent Florida Republican Gov. Ron DeSantis speaks to supporters at an election night party after winning his race for reelection in Tampa, Fla., Tuesday, Nov. 8, 2022, as his wife Casey listens. (AP Photo/Rebecca Blackwell)

Former Univision anchor and Latino Media Network board member Mar­a Elena Salinas suggested the same during ABC News coverage, telling her fellow panelists that Miami is one of the "centers of disinformation," and the Florida GOP victory was "not indicative of the national Latino vote."

"We have to be careful not to read too much into this," she said. "This is just Florida."

MRC Latino Director Jorge Bonilla called their comments a multifunctional "trope" that the left often employs.

"The remarks," Bonilla told Fox News Digital, "show that what the left cannot have or control, they disparage. So, having lost significant chunks of the Hispanic vote over the past few years, they've gone to this old trope of Spanish language disinformation. It is a trusty trope, it is a reliable trope. It is a malleable trope."

Bonilla gave full credit to DeSantis for the win, saying he "engaged Hispanics in a respectful manner" on issues ranging from immigration to the economy.

"He didn't pander to the Hispanic community on immigration," Bonilla said. "But treated Hispanics as parents, as people with aspirations, with jobs. He didn't look at the Hispanic community as a monolith to be pandered to."

In this Sept. 14, 2020 file photo, President Donald Trump give a thumbs up to the cheering crowd after a Latinos for Trump Coalition roundtable in Phoenix. (AP Photo/Ross D. Franklin, File)

What Latino voters cared about, he said, was that their businesses needed to be kept open during COVID-19 lockdowns, or that their children's school curricula wasn't overly sexualized - two issues DeSantis honed in on during his campaign. The final vote, Bonilla said, was "a referendum" on the governor's handling of the economy and education, which "resonated" within the community.

Bonilla noted that there are regional and cultural differences within the Hispanic community, meaning that the way a candidate engages someone in Miami-Dade should not mirror how they engage those in New York, or south Texas, or California.

"The Democrats are making up excuses for their failure to win over Hispanic voters due to their inability to convince them to support their radical agenda," CPAC's Mercedes Schlapp agreed in comments to Fox News Digital. "By blaming misinformation, they are assuming that Hispanics are not smart enough to know the issues and make the right decisions on candidates. Republicans like Gov Ron DeSantis were able to directly connect with Hispanic voters and show how their common sense, problem solving agenda can make their lives better, and which now shows the monumental shift towards many Hispanics supporting Republicans."

CONSERVATIVE LATINOS PUSH BACK ON MSNBC CLAIM THEY'RE IN 'CRISIS': 'NO, WE ARE WAKING UP'

"The Democrats convey tremendous ignorance when they blame 'Spanish disinformation' for their losses among Hispanics," Giancarlo Sopo, founder of Visto Media, told Fox News Digital. "This excuse might help them avoid confronting difficult truths in front of donors, but it is entirely inconsistent with the research data."

Sopo said recent data questioned the notion that "Spanish disinformation" is driving Hispanics to the GOP. In a WPA Intelligence/Visto Media national poll of 1,086 likely Hispanic voters taken October 4-7, respondents were asked if they have become more liberal or conservative in the past five years. Among Spanish news consumers, there was a net gain of 10 points to the left, Sopo said. Among English news consumers, there was a net gain of 5 points to the right. Overall, among all Hispanics, there was a 3-point rightward shift.

Sen. Marco Rubio delivers a victory speech in Miami after being projected as the winner in the Senate race against Democratic challenger Rep. Val Demings on Nov. 8, 2022. (Ronn Blitzer/Fox News) (Fox News)

CONSERVATIVES SPIKE FOOTBALL AFTER RON DESANTIS CRUSHES CHARLIE CRIST IN FLORIDA GUBERNATORIAL RACE

Abraham Lopez, a civics teacher who formerly served as a New Jersey Hispanic & Faith Affairs director, suggested what the post-election headlines should have read on Wednesday.

"Tomorrow's post #ElectionDay headlines should read, 'Hispanics Shouted Libertad With Their Votes In Florida.' And it was more than just Cuban Americans. Puerto Ricans, Venezuelans, and Colombians went all in with @GovRonDeSantis and @marcorubio," he tweeted.

Some media figures, however, have begun to make note of the trend.

"The Latino vote has been so interesting," NBC News' Savannah Guthrie said on an Election Night panel. "We obviously have the results in from Florida, but Democrats cannot take the Latino vote for granted."

"I had a Democratic consultant say to me, 'We gotta stop putting Latinos in a box and trying to treat them as African Americans,'" NBC's Chuck Todd later shared.

CLICK HERE TO GET THE FOX NEWS APP

"Florida Republicans are doing something right," NBC's Tom Llamas said in his analysis of the gubernatorial vote, referencing how GOP candidates are getting out and "meeting" Hispanic voters.

"Stop trying to single them out, instead whatever your pitch at swing voters, pitch that to Latino voters'... How we carve up the White vote in those different buckets, that's how you '' the Latino vote is no different," he added.

Cortney O'Brien is an Editor at Fox News. Twitter: @obrienc2

VIDEO - (119) "If You Work Out You Are Fatphobic" - YouTube

VIDEO - (119) 'Grandfriends Day' - YouTube

VIDEO - (28) Disclose.tv on Twitter: "NOW - UN Secretary-General claims "we are on a highway to climate hell." https://t.co/9b6Bl9x45p" / Twitter

Mon, 07 Nov 2022 14:27

Disclose.tv : NOW - UN Secretary-General claims "we are on a highway to climate hell." https://t.co/9b6Bl9x45p

Mon Nov 07 11:16:33 +0000 2022

The chaos is just getting started : @disclosetv Prove it.

Mon Nov 07 14:26:18 +0000 2022

Johnathan 🇺🇸 : @disclosetv Me whenever UN speaks about anything https://t.co/Ec8n8zEXVq

Mon Nov 07 14:26:00 +0000 2022

Mark ''The Glove'' 🇬🇧 : @disclosetv @NeilJamesWeekes Same rhetoric every Feckin year.Nothing ever changes. Except green taxes.

Mon Nov 07 14:24:50 +0000 2022

Michael Knight : @disclosetv do not believe this clown! he is a criminal!

Mon Nov 07 14:24:16 +0000 2022

Jodye Highroller : @disclosetv dissolve the UN. jet exhaust and plastic waste from their adult diapers have compounded over the years.

Mon Nov 07 14:24:04 +0000 2022

mprintos : @disclosetv Talking Twaak!

Mon Nov 07 14:23:37 +0000 2022

Dhanik9 : @disclosetv For speaker and team 👟

Mon Nov 07 14:23:27 +0000 2022
Clips & Documents
Art
Audio Clips

ABC ATM - anchor Andrea Fujii - race for governor of arizona (38sec).mp3

ABC ATM - anchor Andrew Dymburt - expect surprises -polls (16sec).mp3

ABC ATM - anchor Andrew Dymburt - extra security at polls (24sec).mp3

ABC ATM - anchor Rhiannon Ally - massive skyscraper fire in dubai (16sec).mp3

ABC ATM - anchor Rhiannon Ally - meteor hits mans house (16sec).mp3

ABC ATM - anchor Rhiannon Ally - political ad spending (12sec).mp3

ABC ATM - anchor Rhiannon Ally - tyson food exec public drunk (19sec).mp3

Aldi in Australia to sell edible BUGS.mp3

Arizon vote counting npr.mp3

Athens Greece - Demonstrators are enraged by soaring energy and food prices.mp3

Bells balls and the balck girl npr.mp3

BIDEN - Now I've been given a list of ten people that I'm supposed to call on.mp3

CBS Evening - anchor Elise Preston - man with knife at polling station (16sec).mp3

CBS Evening - anchor John Dickerson - watching for recalibration (36sec).mp3

CBS Evening - anchor Nikole Killion - technical glitches in maricopa county (31sec).mp3

CBS Evening - anchor Robert Costa - trump knows more about desantis (42sec).mp3

CBS Evening - anchor Vlad Duthier - earlier exit polls (50sec).mp3

Chick fila 3 day work week 100 percent retention.mp3

Christian Lindner, the German finance minister on Inflation Reduction Act and TTIP is BACK.mp3

Climate rising faster Middle east.mp3

CNBC's COP27 president and Egypt's Foreign Minister Sameh Shoukry.mp3

CNN - anchor Brianna Keilar - polls in dekalb county staying open (1min43sec).mp3

CNN - anchor John King - back in time trump losing - red mirage (1min6sec).mp3

CNN on tabulation issues in Maricopa County, Arizona - This is a technical glitch.mp3

CNN on the trust elections speech.mp3

Douglas McGregor 1 - Russia is mobilizing big.mp3

Douglas McGregor 2 - NATO forces aren't impressive.mp3

Douglas McGregor 3 - US air power is shadow of former self.mp3

Election wrap NPR.mp3

elon on voting.mp3

Fran Drescher SAG Aftra Prexy.mp3

FRANK SNEPP CIA ONE.mp3

FRANK SNEPP CIA TWO.mp3

Grandfirends Day [Australia].mp3

Joe Biden on Donald Trump - We have to demonstrate that he will not take power if he does run.mp3

Joy Reid Lauren Bobert shooters and guest onlyfans.mp3

Lawfare Podcast - [Associate] Ph.D., Yale Law School Kate Klonick on Musk running Twitter.m4a

Mama Bear at City Council Meeting rant agains RSV 'emergency' measures.mp3

MSNBC - anchor Joy Reid - trump demonize absentee voting (1min40sec).mp3

MSNBC - anchor Nicole Wallace - arizona is trumps white whale (1min6sec).mp3

MSNBC - anchor Nicole Wallace - trumpian mirage red mirage (45sec).mp3

MSNBC - anchor Vaughn Hillyard (1) maricopa county lawsuit (1min55sec).mp3

MSNBC - anchor Vaughn Hillyard (2) problem with printer (1min6sec).mp3

MSNBC Midterms hysteria supercut.mp3

MUSK ad meeting NPR report.mp3

MUSK Scheme 1.mp3

MUSK Scheme 2.mp3

MUSK shorty hate speech.mp3

MUSK software stack.mp3

MUSK todbit growth.mp3

Pooper & Nancy - Anderson - Do you draw the same line [between the assault on your husband and January 6.mp3

Queen Ursula COP27 Climate REPARATIONS.mp3

REDUX one year later [Tom Thomas producer] Food Shortages - NA-1398-2021-11-11-IceAgeFarmer.mp3

sanctuary state abortion CAL NPR.mp3

Snowden video of CIA agent in 1983 Disinformaiton circulation.mp3

supercut_kamla_venn_diagram.mp3

Taking the house 1 threats PBS.mp3

UK PM Rishi Sunak Says Putin's War In Ukraine Is A Reason To Act Faster On 'Climate Change.mp3

UKRAINE rertreat Update f24.mp3

weird npr house ad.mp3

Zelenskyy - Ukraine ready for peace talks, but not with Vladimir Putin - DW.mp3