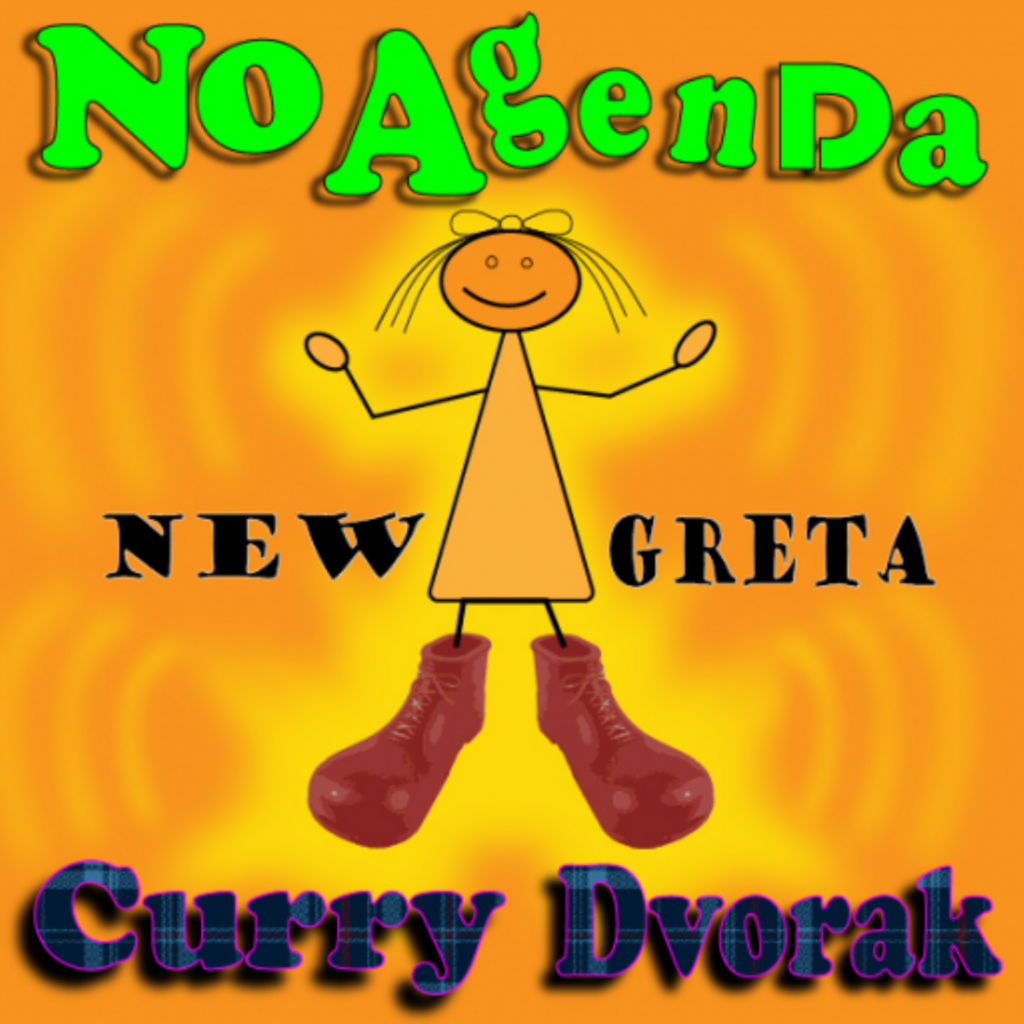 November 20th • 2h 56m
1505: Cat's Paw
Shownotes
Every new episode of No Agenda is accompanied by a comprehensive list of shownotes curated by Adam while preparing for the show. Clips played by the hosts during the show can also be found here.
Elon / Twitter

Twitter Offices locked until Monday

Twitter is the Algo
FTX BTC

The Covid/Crypto Connection: The Grim Saga of FTX and Sam Bankman-Fried ⋆ Brownstone Institute

Earlier this year, the New York Times trumpeted a study that showed no benefit at all to the use of Ivermectin. It was supposed to be definitive. The study was funded by FTX. Why? Why was a crypto exchange so interested in the debunking of repurposed drugs in order to drive governments and people into the use of patented pharmaceuticals, even those like Remdesivir that didn't actually work? Inquiring minds would like to know.

FTX-backed projects ranged from $12 million to champion a California ballot initiative to strengthen public health programs and detect emerging virus threats (amid lackluster support, the measure was punted to 2024), to investing more than $11 million on the unsuccessful congressional primary campaign of an Oregon biosecurity expert, and even a $150,000 grant to help Moncef Slaoui, scientific adviser for the Trump administration's "Operation Warp Speed" vaccine accelerator, write his memoir.

The FTX Future Fund's commitments included $10 million to HelixNano, a biotech start-up seeking to develop a next-generation coronavirus vaccine; $250,000 to a University of Ottawa scientist researching how to eradicate viruses from plastic surfaces; and $175,000 to support a recent law school graduate's job at the Johns Hopkins Center for Health Security. "Overall, the Future Fund was a force for good," said Tom Inglesby, who leads the Johns Hopkins center, lamenting the fund's collapse. "The work they were doing was really trying to get people to think long-term … to build pandemic preparedness, to diminish the risks of biological threats."

Leaders of the FTX Future Fund, a spinoff foundation that committed more than $25 million to preventing bio-risks, resigned in an open letter last Thursday, acknowledging that some donations from the organization are on hold.
Epstein

Ghislaine Maxwell moved to cushy Florida prison that offers yoga and Pilates | Fox News

Other notable prisoners who've called the sprawling brick complex home include Russian spy Maria Butina, terrorist Colleen LaRose a.k.a. "Jihad Jane" and nursing home serial killer Catherine May Wood.
Climate Change

New England Lobster Scandal BOTG

was out at the Owl Shop a week ago and I spoke with a young guy who was a commercial fisherman so I asked him about some rumors I had heard about the Lobster being gons from the Long Island Sound.

Well, turns out that to keep mosquitos down in swampy coastal areas the state sprayed so much pesticide that it ran off into the Sound and killed the Wet Bugs we call Lobster.

Yep. Between that and some infestation of another predatory fish that eats bottom feeders the LIS is dry of Lobster and of shrimp. The state is trying to keep it quiet but the EPA isn't very happy - ditto for Fish & WIldlife.

--

Justin
Mandates & Boosters
NWO
VAERS
Prime Time Purge

Could Trump Strategy be to be the Heel for DiSantis? Disctract Joe?

Brazil BOTG

My good friend is from Brazil, she lives here now but her family is still there. She tells me her mother calls her crying just about every day because they are so afraid of turning communist.

She said that a lot of them are cut off from social media so she has to keep sending her mom information . The citizens are in the millions protesting outside military installations begging them to step in and help them
Big Pharma

Criminally insane BOTG

On the last show you mentioned the "psychopath test" in regards to a Jordan Peterson clip. The actual test commonly used is called the "PCL-R" or "Hare PLC-R".

(My wife is a criminologist)

ITM

James
War on Drugs
Energy & Inflation
Ukraine & Russia

Poles to Ukrainians: pay rent BOTG

From January 1, Poles will make Ukrainian refugees pay for accommodation.

According to Polish officials, this will motivate Ukrainian visitors to find work in Poland as quickly as possible and rent accommodation at their own expense. The initiative will be aimed at those who have been living in sanatoriums, boarding houses, and hostels for months - about 20% of the Ukrainian refugees.

Poles do not hide the fact that some Ukrainians who live for free will have to return to Ukraine, because they will not be able to pay for their own accommodations.

The Polish employment agency Gremi Personal reports that because of high prices, only 52% of Ukrainians now rent their own flat or room. The rest live at the expense of the company where they work or the government. The majority of those who live at the expense of the state have been taken off the payroll as of January 1.
STORIES

Game-changing type 1 diabetes drug approved in US - BBC News

Sun, 20 Nov 2022 18:35

Image source, Getty ImagesBy Smitha Mundasad

Health reporter

A "game-changing" immunotherapy drug proven to delay the development of type 1 diabetes has been approved by regulators in the USA.

Experts say teplizumab marks a "new era" in treatment, tackling the root cause of the condition for the first time, rather than just the symptoms.

It works by reprogramming the immune system to stop it mistakenly attacking pancreatic cells which produce insulin.

It is likely to pave the way for approval decisions in other countries.

About 8.7 million people have type 1 diabetes worldwide. In the UK the condition affects 400,000 people, including more than 29,000 children.

'Taking away the burden'

In type 1 diabetes, the immune system (that normally fights off bacteria and viruses) mistakenly attacks key cells in the pancreas which produce insulin.

Insulin is crucial, helping the body use sugar for energy, and most current treatments focus on people checking their blood sugars and taking insulin - by injection or infusion - every day.

In 2019, a trial showed the drug delayed some people at high risk of the condition from developing it for an average of two years.

Experts say this delay can be very significant, particularly for young people who would not have to take daily insulin or monitor their sugars as intensively for that period of time.

They suggest people could also spend more years with their blood sugars in a healthy range, offering more time to be protected from the complications of high blood sugars such as kidney or eye disease.

Image source, Beth Baldwin

Image caption, Peter Baldwin was a popular boy who loved school

Beth Baldwin's son Peter died after a diabetic ketoacidosis emergency in 2014. He had undiagnosed type 1 diabetes and his body was shutting down. He was just 13.

Beth said: "A drug like this would be life-changing.

"You cannot stop people getting type 1 diabetes for now. But delaying the onset.... would be phenomenal - particularly for children.

"It means three years of not having to intensively manage the condition, and it may delay it long enough for more research to take place.

"It is a huge step forward."

Beth now works with the charity JDRF UK to increase awareness of the signs of type 1 diabetes, including feeling very thirsty, urinating more than usual, feeling very tired and losing weight without trying.

Rachel Connor, from the JDRF UK charity, which part-funded the trial, said: "This is a game-changer. To me this is the start of a new era for the treatment of type 1 diabetes.

"It is the first time we are able to get to the heart of why the condition develops and help change the process, so we are not just treating the symptoms any more.

"Once we can do that, we can find other ways to do it better and for longer."

Chris Askew at the charity Diabetes UK, said he hoped the "monumental breakthrough" would lead to further effective immunotherapies to treat the condition.

He added: "For 100 years, people living with type 1 diabetes have relied on insulin to treat the condition, and today's decision means that for the first time, the root cause of the condition - an immune system attack - can be tackled."

What is diabetes?

Diabetes is a lifelong condition that causes a person's blood sugar level to become too high.

There are two main types:

type 1 - where the body's immune system attacks and destroys the cells that produce insulintype 2 - where the body does not produce enough insulin, or the body's cells do not react to insulinType 2 diabetes is far more common than type 1.

Related Internet Links

The BBC is not responsible for the content of external sites.

Supposed $477 million FTX 'hack' was actually a Bahamian government asset seizure - MarketWatch

Sun, 20 Nov 2022 18:35

Remember that hack of nearly half a billion dollars in cryptocurrency from bankrupt FTX last weekend? Turns out it was actually a government asset seizure.

The Securities Commission of the Bahamas has now acknowledged that it was behind the removal of $477 million in crypto assets from the bankrupt exchange on Nov. 12.

''The Securities Commission of the Bahamas, in the exercise of its powers as regulator acting under the authority of an order made by the Supreme Court of the Bahamas, took the action of directing the transfer of all the digital assets of FTX Digital Markets Ltd. to a digital wallet controlled by the commission, for safekeeping,'' the agency said in a statement.

The transfer occurred the day after FTX had filed for Chapter 11 bankruptcy protection in Delaware and immediately sparked concerns of a major hack. The company announced that day that ''unauthorized access to certain assets has occurred'' and that they were coordinating with law enforcement on the matter.''

On Thursday, the U.S.-based bankruptcy administrators led by John Ray, III, who have taken control of FTX, said in court filings that they had ''credible evidence'' that officials in the Bahamas had directed FTX founder Sam Bankman-Fried to access FTX's systems after the Chapter 11 filing, ''for the purpose of obtaining digital assets of the debtors.''

The seizure of assets came amid an emerging fight for control over the direction of the bankruptcy proceeding, with officials in the Bahamas filing a separate Chapter 15 bankruptcy petition in federal court in New York on Nov. 15.

That filing was on behalf of FTX Digital Markets Ltd., a subsidiary that managed significant aspects of the company's operations from its headquarters in the Caribbean island nation.

A Chapter 15 filing is used typically in cases involving companies with debtors in multiple countries.

In its statement, the Bahamian Securities Commission said it believed FTX Digital Markets was not part of the Delaware bankruptcy proceeding.

The administrators of the Delaware bankruptcy have asked the judge in their case to combine the cases, saying that it was duplicative and confusing to keep them separate. The judge scheduled a hearing on the matter for Monday.

The administrators of the Delaware case have accused Bankman-Fried of attempting to undermine their efforts to sort out the mess he left behind by pushing the second bankruptcy case brought by Bahamian officials.

G20 Bali Leaders' Declaration | The White House

Sun, 20 Nov 2022 18:34

Bali, Indonesia, 15-16 November 2022

1. Fourteen years ago, the Leaders of the G20 met for the first time, facing the most severe financial crisis in our generation. We recognized, as large global economies, that collectively we carry responsibilities and that our cooperation was necessary to global economic recovery, to tackle global challenges, and lay a foundation for strong, sustainable, balanced, and inclusive growth. We designated the G20 the premier forum for global economic cooperation, and today we reaffirm our commitment to cooperate as we, once again, address serious global economic challenges.

2. We met in Bali on 15-16 November 2022, at a time of unparalleled multidimensional crises. We have experienced the devastation brought by the Covid-19 pandemic, and other challenges including climate change, which has caused economic downturn, increased poverty, slowed global recovery, and hindered the achievement of the Sustainable Development Goals.

3. This year, we have also witnessed the war in Ukraine further adversely impact the global economy. There was a discussion on the issue. We reiterated our national positions as expressed in other fora, including the UN Security Council and the UN General Assembly, which, in Resolution No. ES-11/1 dated 2 March 2022, as adopted by majority vote (141 votes for, 5 against, 35 abstentions, 12 absent) deplores in the strongest terms the aggression by the Russian Federation against Ukraine and demands its complete and unconditional withdrawal from the territory of Ukraine. Most members strongly condemned the war in Ukraine and stressed it is causing immense human suffering and exacerbating existing fragilities in the global economy '' constraining growth, increasing inflation, disrupting supply chains, heightening energy and food insecurity, and elevating financial stability risks. There were other views and different assessments of the situation and sanctions. Recognizing that the G20 is not the forum to resolve security issues, we acknowledge that security issues can have significant consequences for the global economy.

4. It is essential to uphold international law and the multilateral system that safeguards peace and stability. This includes defending all the Purposes and Principles enshrined in the Charter of the United Nations and adhering to international humanitarian law, including the protection of civilians and infrastructure in armed conflicts. The use or threat of use of nuclear weapons is inadmissible. The peaceful resolution of conflicts, efforts to address crises, as well as diplomacy and dialogue, are vital. Today's era must not be of war.

5. At today's critical moment for the global economy, it is essential that the G20 undertakes tangible, precise, swift and necessary actions, using all available policy tools, to address common challenges, including through international macro policy cooperation and concrete collaborations. In doing so, we remain committed to support developing countries, particularly the least developed and small island developing states, in responding to these global challenges and achieving the SDGs. In line with the Indonesian G20 Presidency theme '-- Recover Together, Recover Stronger '-- we will take coordinated actions to advance an agenda for a strong, inclusive and resilient global recovery and sustainable development that delivers jobs and growth. With the above in mind, we will:

Stay agile and flexible in our macro-economic policy responses and cooperation. We will make public investments and structural reforms, promote private investments, and strengthen multilateral trade and resilience of global supply chains, to support long-term growth, sustainable and inclusive, green and just transitions. We will ensure long-term fiscal sustainability, with our central banks committed to achieving price stability.Protect macroeconomic and financial stability and remain committed to using all available tools to mitigate downside risks, noting the steps taken since the Global Financial Crisis to strengthen financial resilience and promote sustainable finance and capital flows.Take action to promote food and energy security and support stability of markets, providing temporary and targeted support to cushion the impact of price increases, strengthening dialogue between producers and consumers, and increasing trade and investments for long-term food and energy security needs, resilient and sustainable food, fertilizer and energy systems.Unlock further investments for low- and middle-income and other developing countries, through a greater variety of innovative financing sources and instruments, including to catalyze private investment, to support the achievement of the SDGs. We ask the Multilateral Development Banks to bring forward actions to mobilize and provide additional financing within their mandates, to support achievement of the SDGs including through sustainable development and infrastructure investments, and responding to global challenges.Recommit to accelerate achievement of the SDGs, achieving prosperity for all through sustainable development.6. We are deeply concerned by the challenges to global food security exacerbated by current conflicts and tensions. We therefore commit to taking urgent actions to save lives, prevent hunger and malnutrition, particularly to address the vulnerabilities of developing countries, and call for an accelerated transformation towards sustainable and resilient agriculture and food systems and supply chains. We commit to protect the most vulnerable from hunger by using all available tools to address the global food crisis. We will take further coordinated actions to address food security challenges including price surges and shortage of food commodities and fertilizers globally. Recalling the G20 efforts such as the Global Agriculture and Food Security Program, we welcome global, regional, and national initiatives in support of food security, and in particular note the progress made by the UN Secretary General's Global Crisis Response Group on Food, Energy and Finance, as well as the World Bank Group's and IMF's food security responses. We emphasize the importance of building on the G20 Matera Declaration, working together to sustainably produce and distribute food, ensure that food systems better contribute to adaptation and mitigation to climate change, and halting and reversing biodiversity loss, diversify food sources, promote nutritious food for all, strengthen global, regional, and local food value chains, and accelerate efforts to reduce food loss and waste. We will also implement the One Health approach, intensify research on food science and technology, and improve stakeholders' capacity along the food supply chains, particularly women, youth, smallholder, and marginal farmers as well as fishers.

7. We support the international efforts to keep food supply chains functioning under challenging circumstances. We are committed to addressing food insecurity by ensuring accessibility, affordability, and sustainability of food and food products for those in needs, particularly in developing countries and least developed countries. We reiterate our support for open, transparent, inclusive, predictable, and non-discriminatory, rules-based agricultural trade based on WTO rules. We highlight the importance of enhancing market predictability, minimizing distortions, increasing business confidence, and allowing agriculture and food trade to flow smoothly. We reaffirm the need to update global agricultural food trade rules and to facilitate trade in agricultural and food products, as well as the importance of not imposing export prohibitions or restrictions on food and fertilizers in a manner inconsistent with relevant WTO provisions. We are committed to sustained supply, in part based on local food sources, as well as diversified production of food and fertilizers to support the most vulnerable from the disruptions in food trade supply chain. We will avoid adversely impacting food security deliberately. We commit to facilitate humanitarian supplies for ensuring access to food in emergency situations and call on UN Member States and all relevant stakeholders with available resources to provide in-kind donations and resources to support countries most affected by the food crisis, as required and based on assessed needs by governments of affected countries. We continue to support the carve out of humanitarian activities from sanctions and call on all nations to support this aim, including through current efforts at the UN. We will continue to closely monitor the state of global food security and nutrition.

8. We welcome the T¼rkiye and UN-brokered two Istanbul Agreements signed on 22 July 2022 and consisting of the Initiative on the Safe Transportation of Grain and Foodstuffs from Ukrainian Ports (Black Sea Grain Initiative) and the Memorandum of Understanding between the Russian Federation and the Secretariat of the United Nations on Promoting Russian Food Products and Fertilizers to the World Markets, on the unimpeded deliveries of grain, foodstuffs, and fertilizers/inputs from Ukraine and the Russian Federation, to ease tension and prevent global food insecurity and hunger in developing countries. We emphasize the importance of their full, timely and continued implementation by all relevant stakeholders, as well as the UN Secretary-General's calls for continuation of these efforts by the Parties. In this context we highlight other efforts that ensure the flow of agri-food goods such as the EU Solidarity Lanes and the Russian donations of fertilizers facilitated by the World Food Programme. Moreover, we take note of various initiatives addressing food insecurity such as the Arab Coordination Group initiative.

9. We are committed to supporting the adoption of innovative practices and technologies, including digital innovation in agriculture and food systems to enhance productivity and sustainability in harmony with nature and promote farmers and fishers' livelihoods and increase income, in particular smallholders by increasing efficiency, and equal access to food supply chains. We will promote responsible investments in agricultural research and science and evidence-based approaches. We will continue to strengthen the Agricultural Market Information System (AMIS) as an early warning tool, to enhance food and fertilizer/inputs market transparency, reduce market uncertainties, and support coordinated policy responses for food security and nutrition, through the sharing of reliable and timely data and information.

10. We ask the Food and Agriculture Organization (FAO) and the World Bank Group (WBG) to share with us the results of their mapping exercises on food insecurity, which will be consolidated in the future with inputs from technical experts and other relevant international organizations, and will provide a systemic analysis of responses to address food security. This will identify any major gaps in global responses; examine food and nutrition variables and funding; examine the supply and demand of fertilizers; build on the G20 Agricultural Market Information System (AMIS); and identify any medium-term issues that require further technical and systemic analysis. The FAO and WBG will report back by the 2023 Spring Meetings.

11. We meet at a time of climate and energy crises, compounded by geopolitical challenges. We are experiencing volatility in energy prices and markets and shortage/disruptions to energy supply. We underline the urgency to rapidly transform and diversify energy systems, advance energy security and resilience and markets stability, by accelerating and ensuring clean, sustainable, just, affordable, and inclusive energy transitions and flow of sustainable investments. We stress the importance of ensuring that global energy demand is matched by affordable energy supplies. We reiterate our commitment to achieve global net zero greenhouse gas emissions/carbon neutrality by or around mid-century, while taking into account the latest scientific developments and different national circumstances. We call for continued support for developing countries, especially in the most vulnerable countries, in terms of providing access to affordable, reliable, sustainable, and modern energy, capacity building, affordable latest technology within the public domain, mutually beneficial technology cooperation and financing mitigation actions in the energy sector.

12. We reaffirm our commitment to achieve SDG 7 targets and strive to close the gaps in energy access and to eradicate energy poverty. Recognising our leadership role, and guided by the Bali Compact and the Bali Energy Transition Roadmap, we are committed to finding solutions to achieve energy markets stability, transparency, and affordability. We will accelerate transitions and achieve our climate objectives by strengthening energy supply chain and energy security, and diversifying energy mixes and systems. We will rapidly scale up the deployment of zero and low emission power generation, including renewable energy resources, and measures to enhance energy efficiency, abatement technologies as well as removal technologies, taking into account national circumstances. We recognise the importance to accelerate the development, deployment and dissemination of technologies, and the adoption of policies, to transition towards low-emission energy systems, including by rapidly scaling up the deployment of clean power generation, including renewable energy, as well as energy efficiency measures, including accelerating efforts towards the phasedown of unabated coal power, in line with national circumstances and recognising the need for support towards just transitions. We will increase our efforts to implement the commitment made in 2009 in Pittsburgh to phase-out and rationalize, over the medium term, inefficient fossil fuel subsidies that encourage wasteful consumption and commit to achieve this objective, while providing targeted support for the poorest and the most vulnerable. We will strengthen international cooperation as well as relevant producer-consumer dialogues on securing energy affordability and accessibility by limiting volatility in energy prices and scaling up clean, safe, inclusive, and sustainable technologies, including developing regional energy interconnectivity. We are committed to promote investment in sustainable infrastructure and industry, as well as innovative technologies and a wide range of fiscal, market and regulatory mechanisms to support clean energy transitions, including, as appropriate, the use of carbon pricing and non-pricing mechanisms and incentives, while providing targeted support for the poorest and the most vulnerable.

13. Mindful of our leadership role, we reaffirm our steadfast commitments, in pursuit of the objective of UNFCCC, to tackle climate change by strengthening the full and effective implementation of the Paris Agreement and its temperature goal, reflecting equity and the principle of common but differentiated responsibilities and respective capabilities in light of different national circumstances. We will play our part fully in implementing the Glasgow Climate Pact and the relevant outcomes of previous COPs and CMAs, in particular COP 26, including the call to revisit and strengthen the 2030 targets in our NDCs, as necessary to align with the Paris Agreement. In this regard, we welcome enhanced climate actions resulting from the new or updated NDCs and invite parties to urgently scale up mitigation and adaptation ambition and means of implementation as well as make progress on loss and damage at COP 27 which is being held in Africa. Noting the IPCC assessments that the impact of climate change will be much lower at a temperature increase of 1.5°C compared with 2°C, we resolve to pursue efforts to limit the temperature increase to 1.5°C. This will require meaningful and effective actions and commitment by all countries, taking into account different approaches, through the development of clear national pathways that align long-term ambition with short and medium-term goals, and with international cooperation and support, including finance and technology, and sustainable and responsible consumption and production as critical enablers, in the context of sustainable development.

14. We welcome the progress to date towards achieving a Post 2020 Global Biodiversity Framework (GBF). We urge all parties and countries to finalize and adopt the GBF with the view of realizing of 2050 Vision of ''Living in harmony with Nature'' at the second part of COP15 CBD as a strong framework of action and accountability for halting and reversing biodiversity loss by 2030 and, as appropriate, to update National Biodiversity Strategies and Action Plans accordingly. We emphasize the importance of achieving and synergizing the objectives of the three Rio Conventions. We stress the need for clear and measurable goals and targets for biodiversity and means of implementation and accountability. We commit to strengthen actions to halt and reverse biodiversity loss by 2030 and call on CBD Parties to adopt an ambitious, balanced, practical, effective, robust and transformative post-2020 Global Biodiversity Framework at COP-15 in Montreal. We urge for increased resource mobilization from all sources, including from countries and entities, to provide new and additional financial resources for the implementation of the GBF, once it is negotiated, including to help enable and support developing country parties, and for aligning private and public financial flows with biodiversity objectives. We will scale up efforts to combat biodiversity loss, deforestation, desertification, land degradation and drought, as well as restoring degraded land to achieve land degradation neutrality by 2030, and in support of the G20's ambition to reduce land degradation by 50% by 2040 on a voluntary basis. We recognize the effort made by a number of countries to ensure that at least 30% of global land and at least 30% of the global ocean and seas are conserved or protected by 2030 and we will help to make progress towards this objective in accordance with national circumstances. We commit to reduce environmental impacts by changing unsustainable consumption and production patterns as well as to enhance environmentally sound waste management including by preventing illegal cross-border traffic of waste.

15. We will step up efforts to halt and reverse biodiversity loss, including through Nature-based Solutions and Ecosystem-based Approaches, support climate mitigation and adaptation, enhance environmental conservation and protection, sustainable use and restoration, responding to natural disasters, reduce ecosystem degradation, enhance ecosystem services and to address issues affecting the marine and coastal environment. We will further promote sustainable development and lifestyles, resource efficiency and circular economy to increase sustainability and work together on scientific knowledge-sharing, raising awareness, and capacity building, particularly to advance on the ocean-based climate action. We are committed to ending illegal, unreported and unregulated fishing. We welcome the WTO multilateral Agreement on Fisheries Subsidies and encourage its rapid entry into force. In line with the UNEA Resolution 5/14, we are committed to develop an international legally binding instrument on plastic pollution, including in the marine environment, with the ambition of completing the work by the end of 2024. We highlight the progress made and call on participating delegations to achieve an ambitious and balanced agreement without delay on an international legally binding instrument under UNCLOS on the conservation and sustainable use of marine biological diversity of areas beyond national jurisdiction, as called for in the UNGA Resolution 69/292. We also acknowledge that ecosystems, including forests, seagrasses, coral reefs, wetland ecosystems in all their diversity, including peatlands and mangrove, support climate change mitigation and adaptation efforts.

16. We acknowledge the urgent need to strengthen policies and mobilize financing, from all sources in a predictable, adequate and timely manner to address climate change, biodiversity loss, and environmental degradation including significantly increasing support for developing countries. We recall and further urge developed countries to fulfil their commitments to deliver on the goal of jointly mobilizing USD 100 billion per year urgently by 2020 and through to 2025 in the context of meaningful mitigation action and transparency on implementation. We also support continued deliberations on an ambitious new collective quantified goal of climate finance from a floor of USD 100 billion per year to support developing countries, that helps in fulfilling the objective of the UNFCCC and implementation of the Paris Agreement. We emphasize the importance of transparency in the implementation of the pledges. We also recall the Glasgow Climate Pact urging developed countries to at least double their collective provision of climate finance for adaptation to developing countries, from 2019 levels, by 2025, in the context of achieving a balance between mitigation and adaptation in the provision of scaled up financial resource, recalling Article 9 of the Paris Agreement.

17. In the context of strengthening global efforts to reach the objective of the United Nations Framework Convention on Climate Change (UNFCCC) and the goals of the Paris Agreement, as well as implementing the COP26 commitments, we reiterate that our policy mix toward carbon neutrality and net zero should include a full range of fiscal, market and regulatory mechanisms including, as appropriate, the use of carbon pricing and non-pricing mechanisms and incentives, and phase out and rationalize, over the medium term, inefficient fossil fuel subsidies that encourage wasteful consumption and commit to achieve this objective, while providing targeted support to the poorest and most vulnerable, and in line with national circumstances. We acknowledge the macro-economic risks stemming from climate change and will continue discussions on the costs and benefits of different transitions.

18. We are committed to take actions in support of orderly, just and affordable transitions to achieve the objectives of the 2030 Agenda for Sustainable Development in line with the UNFCCC and the Paris Agreement as well as with the convention on Biological Diversity. We welcome the progress made across the G20, international organizations, other international networks and initiatives, and the private sector in addressing the priorities of the G20 Sustainable Finance Roadmap, which is voluntary and flexible in nature, and call for further efforts to advance the Roadmap's recommended actions that will scale up sustainability financing. We welcome the establishment of the Sustainable Finance Working Group's online dashboard and repository of relevant work, to illustrate ongoing and future progress made on the Roadmap, and encourage members to contribute on a voluntary basis, taking country circumstances into consideration. We endorse the 2022 G20 Sustainable Finance Report which articulates practical and voluntary recommendations for jurisdictions and relevant stakeholders in developing transition finance frameworks, improving the credibility of financial institutions' net zero commitments and scaling up sustainable finance instruments, with a focus on improving accessibility and affordability. We also welcome the valuable discussion during the Presidency's Forum on policy levers that incentivize financing and investment to support the transition.

19. We remain committed to promoting a healthy and sustainable recovery which builds towards achieving and sustaining Universal Health Coverage under the SDGs. While the COVID-19 pandemic is not over, the World Health Organization (WHO) has recently declared monkeypox as another Public Health Emergency International Concern (PHEIC), reinforcing that international health threats are ever present and that the G20 and broader global community must come together to improve our collective prevention, preparedness and response capabilities. We reaffirm the importance of strengthening of national health systems by putting people at the center of preparedness and equip them to respond effectively. We emphasize the need for equitable access to pandemic medical countermeasures, and welcome the efforts of ACT-A, and note that the results of the ACT-A external evaluations can be useful lessons for future discussions. We reaffirm our commitment to strengthen global health governance, with the leading and coordination role of WHO and support from other international organizations. We support the work of the Intergovernmental Negotiating Body (INB) that will draft and negotiate a legally binding instrument that should contain both legally binding and non-legally binding elements to strengthen pandemic PPR and the working group on the International Health Regulations that will consider amendments to the International Health Regulations (IHR) (2005) mindful that the decision will be made by World Health Assembly.

20. The G20 High Level Independent Panel, as well as the WHO and World Bank have estimated there is an annual pandemic PPR financing gap of approximately USD 10 billion. As initiated by the Saudi Arabian G20 Presidency, the Italian G20 Presidency and continued by the Indonesian G20 Presidency, we welcome the provision of additional financial resources, to assist in financing critical gaps in implementing IHR (2005) and increase PPR capacities. In this regard, we welcome the establishment of a new Financial Intermediary Fund for Pandemic PPR (the 'Pandemic Fund') hosted by the World Bank. It aims to address critical pandemic PPR gaps and build capacity at national, regional and global levels, bring additionality in financial resources for pandemic PPR, catalyze complementary investments, and facilitate a coordinated and coherent approach to pandemic PPR strengthening. We welcome the Pandemic Fund's inclusive membership and representation from low- and middle-income countries, civil society organizations and donors, and acknowledge the WHO's technical expertise and central coordination role in this endeavor, which reflects its leadership role in the global health architecture. We appreciate the work of the Secretariat hosted by the World Bank, with the WHO as technical lead and as chair of the Technical Advisory Panel. We look forward to the launch of the Pandemic Fund's first call for proposals as soon as possible. We commit to increase the capacity of developing countries for pandemic PPR through the Pandemic Fund, and look forward to the stocktaking review of the Pandemic Fund at the end of its first year to draw on lessons learned and incorporate any changes needed to ensure it is operating in accordance with its governing documents and effective at filling critical PPR gaps, and that it continues to have a central coordination role for the WHO, maintains a strong connection to the G20, and is inclusive of the perspectives of low- and middle-income countries and additional non-G20 partners in its decision making. We commend the pledges by current donors, amounting to over USD 1.4 billion, and encourage additional voluntary pledges. We call on new donors to join the Pandemic Fund, as they are able to.

21. It is essential to continue collaboration between Finance and Health Ministries for pandemic PPR. We extend the mandate of the Task Force, and ask the Secretariat of the Task Force to work with the Task Force co-chairs, the incoming Indian G20 Presidency, the G20 Troika, and G20 members to agree on a Task Force workplan for 2023, taking into account a multi-year planning horizon. We thank the WHO for continuing to host the Secretariat, with support from the World Bank. In 2023 the Task Force will continue to be co-chaired by Indonesia and Italy, representing advanced and emerging economy perspectives, and will continue to draw on expertise of the WHO, International Financial Institutions and other relevant organizations, with the support of the 2023 Indian G20 Presidency. To expand the voice of lower income countries we invite key regional organizations to join the Task Force meetings, as appropriate. We will work closely with the WHO to ensure the Task Force continues to complement the global pandemic PPR architecture and there is no further duplication and fragmentation of the global health governance system. Delivering on the mandate from the G20 Rome Leaders' Declaration, in 2023 the Task Force will continue developing coordination arrangements between Finance and Health Ministries, and share best practices and experiences from past finance-health coordination in order to develop joint responses to pandemics, as appropriate. The Task Force will undertake work to better understand economic risks and vulnerabilities from pandemics, and how to mitigate them, with a focus on finance and health coordination in response to new pandemics, considering country-specific circumstances and recognizing the importance of further work on resource mobilization. We ask the Task Force to report back to Finance and Health Ministers in 2023 on its progress.

22. We recognize that the extensive COVID-19 immunization is a global public good and we will advance our effort to ensure timely, equitable and universal access to safe, affordable, quality and effective vaccines, therapeutics and diagnostics (VTDs). Acknowledging the adoption of the Ministerial Declaration on the WTO Response to the COVID-19 Pandemic and Preparedness for Future Pandemics and the Ministerial Decision on the TRIPS Agreement at the WTO's 12th Ministerial Conference (MC12), we note that, no later than six months from the date of the Ministerial Decision on the TRIPS Agreement, WTO members will decide on its extension to cover the production and supply of COVID-19 diagnostics and therapeutics. We remain committed to embedding a multisectoral One Health approach and enhancing global surveillance, including genomic surveillance, in order to detect pathogens and antimicrobial resistance (AMR) that may threaten human health. To enable global pathogen surveillance as part of our commitment to implement the IHR (2005), we encourage sharing of pathogen data in a timely manner on shared and trusted platforms in collaboration with WHO. We encourage sharing of benefits arising from the utilization of pathogens consistent with applicable national laws.

23. We recognize the need for strengthening local and regional health product manufacturing capacities and cooperation as well as sustainable global and regional research and development networks to facilitate better access to VTDs globally, especially in developing countries, and underscore the importance of public-private partnership, and technology transfer and knowledge sharing on voluntary and mutually agreed terms. We support the WHO mRNA Vaccine Technology Transfer hub as well as all as the spokes in all regions of the world with the objective of sharing technology and technical know-how on voluntary and mutually agreed terms. We welcome joint research and joint production of vaccines, including enhanced cooperation among developing countries. We acknowledge the importance of shared technical standards and verification methods, under the framework of the IHR (2005), to facilitate seamless international travel, interoperability, and recognizing digital solutions and non-digital solutions, including proof of vaccinations. We support continued international dialogue and collaboration on the establishment of trusted global digital health networks as part of the efforts to strengthen prevention and response to future pandemics, that should capitalize and build on the success of the existing standards and digital COVID-19 certificates.

24. The COVID-19 pandemic has accelerated the transformation of the digital ecosystem and digital economy. We recognize the importance of digital transformation in reaching the SDGs. We acknowledge that affordable and high-quality digital connectivity is essential for digital inclusion and digital transformation, while a resilient, safe and secure online environment is necessary to enhance confidence and trust in the digital economy. We recognize the importance of policies to create an enabling, inclusive, open, fair and non-discriminatory digital economy that fosters the application of new technologies, allows businesses and entrepreneurs to thrive, and protects and empowers consumers, while addressing the challenges, related to digital divides, privacy, data protection, intellectual property rights, and online safety. We acknowledge the importance to counter disinformation campaigns, cyber threats, online abuse, and ensuring security in connectivity infrastructure. We remain committed to further enable data free flow with trust and promote cross-border data flows. We will advance a more inclusive, human-centric, empowering, and sustainable digital transformation. We also reaffirm the role of data for development, economic growth and social well-being.

25. We encourage international collaboration to further develop digital skills and digital literacy to harness the positive impacts of digital transformation, especially for women, girls, and people in vulnerable situations, and further support efforts to develop reliable skills and literacy. We note the increasing demands for a workforce adept at utilizing emerging technologies, education and training, reskilling and upskilling to meet such demands. We also seek to increase connectivity by accelerating high capacity and secure infrastructure and provide more accessible and affordable resources and tools, while also improve the digital literacy skills of learners, teachers, school leaders, and other educational professional to ensure universal access to education, accelerate learning recovery and promote lifelong learning.

26. We found digital technology becomes the key for recovery and empowerment across various sectors, including in building a resilient and sustainable food system and agriculture, creating sustainable and decent jobs and human capacity development, supporting inclusive trade, industrialization and investment, increasing productivity, as well as opening up the potential of the future economy, especially for Micro, Small and Medium Enterprises (MSMEs) and start-ups. It is essential to ensure that no one is left behind in our effort to digitally transform our society, by involving all stakeholders, including the youth, women, business sector, audit institution, parliaments, scientists, and labours.

27. We support continued implementation of the G20 Roadmap for Enhancing Cross-Border Payments, including the future delivery of the initial estimates for key performance indicators and 2022 Progress Report that sets out priorities for the next stage of work. We encourage central banks, other public authorities and the payments industry to continue to work collaboratively on these important initiatives to enhance cross-border payments. We welcome the report by the Bank for International Settlements (BIS) Committee on Payments and Market Infrastructures (CPMI) on interlinking payment systems and the role of Application Programming Interfaces (APIs) that was presented in a joint workshop by the Indonesian G20 Presidency in coordination with the BIS CPMI and the BIS Innovation Hub (BISIH) on cross-border payments and interoperability at the Festival Ekonomi Keuangan Digital Indonesia (FEKDI) 2022. We also welcome the joint report by the BIS CPMI, BISIH, IMF, and World Bank on options for access to and interoperability of Central Bank Digital Currencies (CBDCs) for cross-border payments.

28. We endorse the G20 Financial Inclusion Framework on Harnessing Digitalization to Increase Productivity and Foster a Sustainable and Inclusive Economy for Women, Youth and MSMEs or Yogyakarta Financial Inclusion Framework guided by the G20 2020 Financial Inclusion Action Plan. To address digitalization and sustainable finance developments, and support financial inclusion and well-being, we endorse the updated G20/OECD High-Level Principles on Financial Consumer Protection and welcome the updated G20/OECD High-Level Principles on SME Financing.

29. To support our collective ambition to recover together, recover stronger, we commit to well-calibrated, well-planned, and well-communicated policies to support sustainable recovery, with due consideration to country-specific circumstances. We commit to mitigate scarring effects to support strong, sustainable, balanced and inclusive growth. We will stay agile and flexible in our fiscal policy response, standing ready to adjust to the changing circumstances as needed. Temporary and targeted measures to help sustain the purchasing power of the most vulnerable and cushion the impact of commodity price increases, including energy and food prices, should be well designed to avoid adding to high inflationary pressures. We will continue to enhance macro policy cooperation, preserve financial stability and long-term fiscal sustainability, and safeguard against downside risks and negative spillovers. Macroprudential policies need to remain vigilant to guard against rising systemic risks as financial conditions tighten. Recognizing that many currencies have moved significantly this year with increased volatility, we reaffirm the commitments made on exchange rates by our Finance Ministers and Central Bank Governors in April 2021. We also reiterate the importance of global cooperation and express our appreciation to the Indonesian G20 Presidency for its efforts to maintain an effective system of multilateralism through the G20.

30. G20 central banks are strongly committed to achieving price stability, in line with their respective mandates. To that end, they are closely monitoring the impact of price pressures on inflation expectations and will continue to appropriately calibrate the pace of monetary policy tightening in a data-dependent and clearly communicated manner, ensuring that inflation expectations remain well anchored, while being mindful to safeguard the recovery and limit cross-country spillovers. Central bank independence is crucial to achieving these goals and buttressing monetary policy credibility.

31. We are committed to the swift implementation of the OECD/G20 two-pillar international tax package. We welcome the progress on Pillar One. We also welcome progress on Pillar Two Global Anti-Base Erosion (GloBE) Model Rules, which pave the way for consistent implementation at a global level as a common approach, and we look forward to the completion of the GloBE Implementation Framework. We call on the OECD/G20 Inclusive Framework on Base Erosion and Profit Shifting (BEPS) to finalize Pillar One, including remaining issues and by signing the Multilateral Convention in the first half of 2023, and to complete the negotiations of the Subject to Tax Rule (STTR) under Pillar Two that would allow the development of a Multilateral Instrument for its implementation. We will work to strengthen the tax and development agenda in light of the July 2022 G20 Ministerial Symposium on Tax and Development, and we note the G20/OECD Roadmap on Developing Countries and International Tax. We support the progress made on implementing internationally agreed tax transparency standards, including regional efforts and welcome the signing of the Asia Initiative Bali Declaration in July 2022. We also welcome the Crypto-Asset Reporting Framework and the amendments to the Common Reporting Standard, both of which we consider to be integral additions to the global standards for automatic exchange of information. We call on the OECD to conclude the work on implementation packages, including possible timelines, and invite the Global Forum on Transparency and Exchange of Information for Tax Purposes to build on its commitment and monitoring processes to ensure widespread implementation of both packages by relevant jurisdictions.

32. We reaffirm our commitment to strengthening the long-term financial resilience of the international financial architecture, including by promoting sustainable capital flows, and developing local currency capital markets. We welcome the IMF's revised Institutional View on Liberalization and Management of Capital Flows and look forward to continued discussions with international organizations on the coherent implementation of international frameworks for the use of capital flow management measures, while being mindful of their original purpose. We look forward to further progress by the IMF in operationalizing the Integrated Policy Framework and welcome the report by the Bank for International Settlements (BIS) on Macro-financial stability frameworks. We welcome continued exploration of how CBDCs could potentially be designed to facilitate cross-border payments, while preserving the stability and integrity of the international monetary and financial system. We welcome the successful completion of the G20 TechSprint 2022, a joint initiative with the BISIH, which has contributed to the debate on the most practical and feasible solutions to implement CBDCs. We reiterate our commitment to maintaining a strong and effective Global Financial Safety Net with a strong, quota-based and adequately resourced IMF at its center. We remain committed to revisiting the adequacy of quotas and will continue the process of IMF governance reform under the 16th General Review of Quotas, including a new quota formula as a guide, by 15 December 2023. We take note on the continuation of discussion of the IMF surcharge policy.

33. 1 We are committed to support all vulnerable countries to recover together, recover stronger. We welcome pledges amounting to USD 81.6 billion through the voluntary channelling of Special Drawing Rights (SDRs) or equivalent contributions, and call for further pledges from all willing and able countries to meet the total global ambition of USD 100 billion of voluntary contributions for countries most in need. We welcome the operationalization of the Resilience and Sustainability Trust (RST) to help eligible low-income countries, small states and vulnerable middle-income countries address longer-term structural challenges that pose macroeconomic risks, including those stemming from pandemics and climate change. We welcome the voluntary contributions to the RST and call for additional pledges and timely contributions to it and to the Poverty Reduction and Growth Trust (PRGT), especially for subsidy resources, to ensure a broad pool of contributors to meet funding needs. We are open to explore viable options for countries to voluntarily channel SDRs through Multilateral Development Banks (MDBs), while respecting national legal frameworks and the need to preserve the reserve assets status of SDRs. We will explore ways, including through balance sheet optimization measures, and other potential avenues, to maximize MDBs' development impact. We welcome early deliberations and urge MDBs to continue to discuss options for implementing the recommendations of the G20 Independent Review of MDBs' Capital Adequacy Frameworks within their own governance frameworks, and to deliver an update in Spring 2023. This will inform the ongoing development of a roadmap for the implementation of the recommendations, while safeguarding MDBs' long-term financial sustainability, robust credit ratings and preferred creditor status. We acknowledge the concluding report on the 2020 Shareholding Review of the International Bank for Reconstruction and Development (IBRD) and look forward to the 2025 Shareholding Review. At this challenging juncture, we reiterate our commitment to step up our efforts to implement the Common Framework for Debt Treatment beyond the Debt Service Suspension Initiative (DSSI) in a predictable, timely, orderly and coordinated manner. We welcome progress in this regard, including the provision of financing assurances for Zambia. We welcome the conclusion of the debt treatment to Chad and encourage the timely conclusion of the debt treatment for Zambia by early 2023. We also encourage the conclusion of the debt treatment for Ethiopia under an IMF-supported program. We are concerned about the deteriorating debt situation in some vulnerable middle income countries. This could be addressed by multilateral coordination that involves all official and private bilateral creditors to take swift action to respond to their requests for debt treatments. We stress the importance for private creditors and other official bilateral creditors to commit to providing debt treatments on terms at least as favourable to ensure fair burden sharing in line with the comparability of treatment principle. We reaffirm the importance of joint efforts by all actors, including private creditors, to continue working toward enhancing debt transparency. We welcome the efforts of private sector lenders who have already contributed data to the joint Institute of International Finance (IIF)/OECD Data Repository Portal, and continue to encourage others to also contribute on a voluntary basis.

34. In the face of a more challenging global economic and financial outlook, we underline the need to reinforce global financial system resilience and ask the Financial Stability Board (FSB) and IMF to continue their monitoring efforts. We commit to sustaining global financial stability, including through continued coordination of policy measures and implementation of international standards. We welcome the FSB's final report on financial sector exit strategies and scarring effects of COVID-19 and its conclusions regarding financial stability issues by the end of 2022. We strongly support global policy actions to increase resilience, in particular against cross-border spillovers, including by addressing the identified structural vulnerabilities in non-bank financial intermediation (NBFI) from a systemic perspective. To this end, we welcome the FSB's NBFI progress report with policy proposals to address systemic risk in NBFI, including in open-ended funds. We welcome the report by the Basel Committee on Banking Supervision (BCBS), the BIS Committee on Payments and Market Infrastructures (CPMI), and the International Organization of Securities Commissions (IOSCO) on the review of margining practices. We support taking forward the implementation of the FSB updated Roadmap for addressing climate-related financial risks which complements the G20 Sustainable Finance Roadmap. Globally consistent data are needed in order to effectively address climate-related financial risks. We look forward to the finalization of standards by the International Sustainability Standards Board (ISSB) in support of globally consistent, comparable and reliable climate-related financial disclosures, and its work beyond climate, and we welcome the efforts to achieve interoperability across disclosure frameworks. We welcome the FSB progress report on achieving consistent and comparable climate-related financial disclosures and the final report on supervisory and regulatory approaches to climate-related risks. We welcome the report by the FSB and the Network for Greening the Financial System (NGFS) on climate-scenario analysis by jurisdictions.

35. We welcome ongoing work by the FSB and international standard setters to ensure that the crypto-assets ecosystem, including so-called stablecoins, is closely monitored and subject to robust regulation, supervision, and oversight to mitigate potential risks to financial stability. We welcome the FSB's proposed approach for establishing a comprehensive international framework for the regulation of crypto-asset activities based on the principle of 'same activity, same risk, same regulation'. We welcome the FSB consultative report on the review of its high-level recommendations for the regulation, supervision and oversight of ''global stablecoin'' arrangements. We also welcome the FSB consultation report on promoting international consistency of regulatory and supervisory approaches to crypto-assets activities and markets. It is critical to build public awareness of risks, to strengthen regulatory outcomes and to support a level playing field, while harnessing the benefits of innovation. We welcome the final guidance by the BIS CPMI and IOSCO which confirms that the Principles for Financial Market Infrastructures apply to systematically important stablecoin arrangements. We welcome the FSB consultative report on achieving greater convergence in cyber incidents reporting, and look forward to the final report. We welcome the results of the second phase of the Data Gaps Initiative (DGI-2) and will continue to work with partners in addressing the identified remaining challenges. We welcome the workplan on the new Data Gaps Initiative (DGI) prepared by the IMF, FSB and the Inter-Agency Group on Economic and Financial Statistics (IAG) in collaboration with participating members. We ask the IMF, the FSB and the IAG to begin work on filling these data gaps and report back on progress in the second half of 2023, noting that the targets are ambitious and delivery will need to take into account national statistical capacities, priorities, and country circumstances as well as avoiding overlap and duplication at international level. We welcome the progress of work on the review of the G20/OECD Principles of Corporate Governance, including the second report and the ongoing public consultation, and look forward to further updates on the review.

36. We reaffirm that the rules-based, non-discriminatory, free, fair, open, inclusive, equitable, sustainable and transparent multilateral trading system (MTS), with the WTO at its core, is indispensable to advancing our shared objectives of inclusive growth, innovation, job creation and sustainable development in an open and interconnected world as well as to supporting the resilience and recovery of a global economy under strain due to COVID-19 and global supply chain disruption. We agree that reforming the WTO is key in strengthening trust in the MTS. We will continue to ensure a level playing field and fair competition to foster a favourable trade and investment environment for all. We note the importance of the contribution of the MTS to promote the UN 2030 Agenda and its SDGs. Commending the successful conclusion of the 12th WTO Ministerial Conference (MC12), we commit to seize and advance the positive momentum by engaging in active, constructive, pragmatic, and focused discussions on WTO reform to improve all its functions, including reform of the dispute settlement mechanism, on the path leading to the MC13.

37. We are committed to reinforce international trade and investment cooperation to address supply chain issues and avoid trade disruptions. We believe that trade and climate/environmental policies should be mutually supportive and WTO consistent and contribute to the objectives of sustainable development. We also recognise the importance of inclusive international cooperation on digital trade. We recognize the need to promote value addition through sustainable and inclusive investment in highly productive sectors such as downstream manufacturing, digital trade, and services, and to foster linkages between foreign investors and local enterprises particularly MSMEs. We note the initiative from the Indonesian Presidency to hold discussions on policy coherence between trade, investment and industry, and to continue addressing industry-related issues in the broader G20 process, as appropriate.

38. We recognize the importance of revitalizing infrastructure investment in a sustainable, inclusive, accessible, and affordable way. We endorse the voluntary and non-binding G20/GI Hub Framework on How to Best Leverage Private Sector Participation to Scale Up Sustainable Infrastructure Investment which will consider country circumstances, and which will complement investment from other sources, including public investment and finance provided by MDBs. We note the Outcome Document from the 2022 G20 Infrastructure Investors Dialogue. To enhance social inclusion and address subnational disparities, we endorse the G20-OECD Policy Toolkit on Mobilizing Funding and Financing for Inclusive and Quality Infrastructure Investment in Regions and Cities, prepared with the support of the Asian Development Bank (ADB). We note the Preliminary Findings Report on Gender Inclusive Approaches in Private Participation in Infrastructure in promoting gender considerations during the infrastructure lifecycle and look forward to the final report. We endorse the InfraTracker 2.0 which will enable both the public and private sectors towards transformative infrastructure investment post-COVID-19, by providing insights into long-term infrastructure strategies and plans. To narrow the digital divide, we endorse the G20 Compendium of Case Studies on Digital Infrastructure Finance: Issues, Practices and Innovations. We endorse the Quality Infrastructure Investment (QII) Indicators and associated guidance note, developed for the G20, which are voluntary and non-binding and consider country circumstances, and we look forward to further discussions on how the QII indicators can be applied. We welcome progress made towards developing a possible new governance model for the Global Infrastructure Hub (GI Hub) and ask that principles to guide the process be finalized as soon as possible.

39. The rise of automation and digital technologies are reshaping the world of work, presenting both opportunities and challenges. Adding to the situation, the COVID-19 pandemic has exacerbated pre-existing inequalities in many countries and continues to disproportionately affect women, youth, older workers, persons with disabilities and migrant workers. We underline that it remains our utmost priority to mitigate the adverse impact of the current trends on the labour market, reduce inequalities while responding effectively to the opportunities that automation and digital technologies present and promote gender equality. We remain committed to the promotion of decent work and the elimination of child and forced labour.

40. We reaffirm our commitment to support the full inclusion of migrants, including migrant workers, refugees, in our recovery efforts, in the spirit of international cooperation and in line with national policies, legislation, and circumstances, ensuring full respect for their human rights and fundamental freedoms regardless of their migration status. We also recognize the importance of preventing irregular migration flows and the smuggling of migrants, as part of a comprehensive approach for safe, orderly and regular migration, while responding to humanitarian needs and the root causes of displacement. We support strengthening cooperation between countries of origin, transit, and destination. We will continue the dialogue on migration and forced displacement in future Presidencies.

41. We remain committed to a human-centred, inclusive, fair, sustainable approach that leads to greater social justice, decent work, and social protection for all. We will continue our work to integrate persons with disabilities, women, and youth across sectors and levels in pursuit of an inclusive labour market. We are resolved to promote sustainable development of human capacity, labour markets, and productivity, including through community-based vocational education and training, to advance job creation through entrepreneurship, to empower MSMEs, and to accelerate our efforts to foster and adapt labour protection for all workers, including those in the informal sector. We will maximize our approach to skills development to respond effectively to the needs of the labour market, with the involvement of social partners. We will accelerate progress towards the Antalya Youth Goal, as well as universal social protection for all by 2030.

42. We are deeply concerned that multidimensional crises, including the COVID-19 pandemic, as well as lack of fiscal space and unequal access to finance and technology, are posing significant challenges towards realizing the 2030 Agenda for Sustainable Development and the Addis Ababa Action Agenda in a timely manner. We will demonstrate leadership and take collective actions to implement the 2030 Agenda for Sustainable Development and accelerate the achievement of the SDGs by 2030 and address developmental challenges by reinvigorating a more inclusive multilateralism and reform aimed at implementing the 2030 Agenda.

43. In this regard, we will strengthen inclusive and sustainable recovery and build resilience in all developing countries, including SIDS in the Pacific and Caribbean and LDCs, through ambitious and concrete actions. We also reiterate our continued support to Africa, including through the G20 Compact with Africa and the G20 Initiative on Supporting Industrialization in Africa and LDCs. We will focus on MSMEs, adaptive social protection, green economy and blue economy. We recognise the need for partnership to promote mutually beneficial technology cooperation and share good practice, as well as the need for inclusive and quality infrastructure investment for stronger recovery and resilience. We underscore the need to address the financing gap towards implementation of the 2030 Agenda, through enhancing innovative financing mechanisms, including blended finance, while noting the importance of transparency and mutual accountability. We take note of initiatives such as the Coalition for Disaster Resilience Infrastructure and the Global Blended Finance Alliance, and welcome the Global Platform for Disaster Risk Reduction. We look forward to the success of the SDGs Summit in 2023.

44. Access to education is a human right and a pivotal tool for inclusive and sustainable economic recovery. We welcome the outcome of the Transforming Education Summit. We will act in solidarity in particular with developing countries to rebuild more resilient, tech-enabled, accessible, and effective education systems. We will empower relevant actors within and beyond G20 to remove barriers to education, improve teaching and learning environments, and support transitions within and across all stages of education, with emphasis on women and girls. We also underscore the importance of learners' well-being in their preparation for work and meaningful participation and contribution to more equitable, inclusive and sustainable society. We reaffirm the importance of Education for Sustainable Development (ESD) and our commitment to SDG4 to ensure inclusive and equitable quality education and training. We are committed to promoting lifelong learning at all levels amidst the changing nature of work and encourage partnership in this regard.

45. We acknowledge the importance of research and innovation in sustainable resource utilization in various sectors, especially in the midst of health, climate, food and energy crises. We welcome research and innovation collaboration for the conservation of biodiversity and its use to support the sustainable development including green and blue economy. We also promote inclusive collaborations to further research and innovation, as well as promoting researchers' international mobility.

46. As women and girls continue to be disproportionately affected by the COVID-19 pandemic and other crises, we reaffirm our commitment to put gender equality and women's empowerment at the core of our efforts for an inclusive recovery and sustainable development. We commit to implement the G20 Roadmap Towards and Beyond the Brisbane Goal foster financial inclusion and access to digital technologies, including to address the unequal distribution in paid and unpaid care and domestic work, with a focus on closing the gender pay gap. We commit to the elimination of gender-based violence, the enhancement of social, health, care and educational services, and the overcoming of gender stereotypes. We will continue to advance women's and girls' equal access to inclusive and quality education, including participations in STEM education, women entrepreneurship through MSMEs, and women's and girls' access in leadership positions. We will promote quality of life for women in rural areas and women with disabilities. We welcome the work that has been done by the EMPOWER Alliance and its engagement with the G20, and support the future convening of G20 Ministerial Conference on Women's Empowerment.

47. We reaffirm the important role of tourism for global recovery, and the community-based approach for rebuilding a more human-centred, inclusive, sustainable, and resilient tourism sector. We acknowledge the vital importance of strengthening safe international mobility and connectivity and seamless post-Covid travel to enable tourism recovery. We further recognize that creative economy, which involve knowledge-based economy, human creativity, and intellectual property rights, contributes to improving the resiliency of tourism local communities and MSMEs through human capital development, digital transformation, innovation, public-private partnerships, sustainable preservation of natural and cultural heritage, and innovative financing while retaining their significant commercial and cultural values.

48. We reaffirm the role of culture as an enabler and driver for sustainable development with intrinsic value beyond its social and economic benefits. We are committed to develop policies that draw on cultural diversity as a resource for sustainable living and promote an inclusive and equitable ecosystem at all levels that values the contribution of those working in the culture, arts and heritage sectors. We will respect, protect and preserve the cultural heritage of our peoples, including local communities and indigenous peoples, as applicable. We support public incentives and sustainable investments from the private sector to strengthen the cultural economy. We will safeguard cultural heritage as well as fighting illicit trafficking of cultural property and promoting restitution to its rightful owner/countries of origin, in accordance with the relevant UNESCO Conventions and national laws.

49. We will continue to lead by example through strengthening and implementing our obligations and commitments to anti-corruption efforts including through legally binding instruments, while renewing our commitment to zero tolerance for corruption. We emphasize the importance of transparency and accountability for both public and private sector as a crucial part of a collective recovery effort. We underscore the important role of auditing as well as public participation and anti-corruption education in preventing and tackling any form of corruption. We recall our commitments and call on all countries to criminalise bribery, including bribery of foreign public officials, and effectively prevent, combat, detect, investigate, prosecute and sanction bribery. We will further work to strengthen international cooperation and legal frameworks to combat economic crimes including corruption related to organized crime and money laundering, including, on a voluntary basis, through existing networks and initiatives such as GlobE and the G20 Denial of Entry Experts Network. We will share information on our actions towards criminalising foreign bribery and enforcing foreign bribery legislation in line with Article 16 of UNCAC, and look forward to enlarging participation to the OECD Anti-Bribery Convention, as appropriate. We reaffirm our commitment to deny safe haven to corruption offenders and their assets, in accordance to domestic laws. We also recognize the importance of mitigating corruption risk in all sectors. We will further strengthen our engagement with and promote active participation by stakeholders such as academia, civil society, media and the private sector, including to advance a culture of integrity.

50. We recognize the need for the international community to step up their efforts to effectively combat money laundering, terrorism financing, and proliferation financing. We reaffirm our commitment to delivering the strategic priorities of the Financial Action Task Force (FATF) and its FATF Style Regional Bodies (FSRBs) to lead global action to respond to these threats. We welcome the initiative by the FATF to promote implementation of international standards on virtual assets, in particular the ''travel rule'', and transparency of beneficial ownership, and acknowledge their role in the fight against systemic corruption and environmental crimes, which gravely impact economies and societies. We support the ongoing work of the FATF to enhance global efforts to seize criminal proceeds and return funds to victims and states in line with domestic frameworks. We encourage all G20 members to strengthen collaboration to adopt and effectively implement the FATF standards.

51. We welcome the Indonesian Presidency's efforts to compile a wide array of national submissions and international coordinated collaborations from G20 members, invited countries, and regional and international organizations. These have been presented in the ''G20 Action for Strong and Inclusive Recovery'', as annexed. We call for further concrete actions to impart greater momentum and impact to the efforts of international community to recover together and recover stronger.

52. We welcome the outcomes of various G20 working groups and Ministerial meetings. We appreciate and thank Indonesia for its Presidency and for successfully hosting the Bali G20 Leaders' Summit and for its contribution to the G20 process. We look forward to meeting again in India in 2023, in Brazil in 2024 and in South Africa in 2025.

We thank international organizations, including the UN and its Specialised Agencies, World Bank Group, IMF, OECD, Asian Development Bank, ERIA, CEPI, European Investment Bank, GGGI, ICAO, IEA, IEF, IFAD, ILO, IRENA, FAO, FSB, Gavi, Global Fund, IAEA, Islamic Development Bank, ITU, Medicine Patent Pool, Sustainable Energy for All (SEforAll), OPEC, WEF, WFP, WHO, WTO, UNCCD, UNCTAD, UNDESA, UNDP, UNECE, UNESCAP, UNESCO, UNFCCC, UN Global Pulse, UN Habitat, UNICEF, UNIDO, UNOPS, UN Women, UNWTO and the G20 Engagement Groups (W20, L20, T20, S20, Y20, SAI20, P20, C20, B20, U20) for their valuable inputs and policy recommendations.

'--''1 Noting that one member has divergent views on debt issues in paragraph 33, and emphasized the importance of debt treatment by multilateral creditors like MDBs.

###

Black Sea Grain Initiative | Vessel Movements | United Nations

Sun, 20 Nov 2022 18:34

Skip to main content Welcome to the United Nations اÙعربيØ(C) 中文 EnglishFran§ais हà¤à¤¨à¥à¤...ॠPortuguªs Русский Espa±ol Kiswahili T¼rk§e УкÑаїнська Black Sea Grain InitiativeJoint Coordination Centre Search the United Nations A-Z Site Index Home Joint Coordination Centre Updates Vessel Movements Procedures Resources FAQ The first shipment of over 26,000 tons of Ukrainian food under a Black Sea Grain Initiative was cleared to proceed on 3 August, towards its destination in Lebanon. (C) OCHA/Levent Kulu

Vessel MovementsDataLive data: Details on all Black Sea Grain Initiative outbound shipments

Live data: Black Sea Grain Initiative cargo totals by destination and commodity

More visualizations and downloads here

Outbound voyagesDestinations indicated are based on information received at the JCC and may change based on commercial activity.

Cargo may be processed and re-exported from the primary destination.

Digital technologies to achieve the UN SDGs

Sun, 20 Nov 2022 18:33

ITU's contribution to the Sustainable Development Goals starts with SDG 9: Building resilient infrastructure, promoting inclusive and sustainable industrialization, and fostering innovation. ITU helps countries deploy broadband connectivity and develop ICT applications to facilitate the provision of free or low-cost digital access for schools, hospitals, and underserved populations. ITU supports countries in achieving SDG 9 (specifically SDG Target 9.c) by enabling access to the Internet and other ICTs, in three main ways:

ITU is the sole international institution that brokers international agreements to allocate and coordinate the use of the global radio-frequency spectrum and satellite orbits. This effort allows ICT devices anywhere in the world to be used on the same frequency bands, which in turn ensures that radiocommunication services run smoothly, without interference from other radio communication services and users, and benefit from the resulting economies of scale.ITU and its members, including governments, the private sector and academia, are developing the international standards'--the technical criteria, processes, and practices'--that ensure key ICTs perform smoothly, efficiently, and safely and will provide further opportunities for economies of scale.ITU supports developing countries in making ICTs affordable, accessible and relevant to all. Key programmes, for example, help to build the necessary physical infrastructure, strengthen cybersecurity, build digital skills among youth and others, ensure digital inclusion for people with special needs, enhance the regulatory and market environment to increase access to ICTs, and promote ICT-centred innovation and entrepreneurship.ITU raises awareness and rallies the commitment necessary to achieve the SDGs through various processes and fora. Through the World Summit on the Information Society (WSIS) process, ITU leverages pre-existing Action Lines and other WSIS mechanisms to promote SDG achievement. The annual WSIS Forum takes stock of the positive impact of ICTs on people's lives around the world.

An SDG Mapping Tool illustrates how key ITU activities contribute to the SDG. ITU is the custodian of the following SDG indicators and tracks progress on each of these indicators at the global levels:

'‹indicator 4.4.1 (proportion of youth/adults with ICT skills), indicator 5.b.1 (proportion of individuals who own a mobile telephone, by sex),indicator 9.c.1 (proportion of population covered by a mobile network), indicator 17.6.2 (fixed Internet broadband subscriptions per 100 inhabitants) and indicator 17.8.1(proportion of individuals using the Internet). The COVID-19 pandemic has boosted connectivity, as more people have moved online to continue working, studying and to stay in touch with friends and family during lockdowns and confinement. However, the challenges of the pandemic and economic slowdown pose additional problems for achieving the SDGs. The international community has pledged to learn from the global challenge of the pandemic and 'build back better'. Increased connectivity and ICTs can form a major part of building back better, countries can take advantage of increased connectivity to engage with their citizens better to achieve the SDGs.

Further Resources

SDG 1 - ITU News Magazine '' Digital financial inclusion - My ITU

SDG 2 - Focus Group on "Artificial Intelligence (AI) and Internet of Things (IoT) for Digital Agriculture" (FG-AI4A) (itu.int)

SDG 3 - How COVID-19 accelerated digital healthcare - My ITU

Here's how we can avoid an AI divide in healthcare - My ITU

SDG 4 - School connectivity equips learners for education, work, and life - My ITU

SDG 5 - International Girls in ICT Day 2021 | #GirlsinICT 2021: Connected Girls, Creating Brighter Futures (itu.int)

SDG 6 - Focus Group on Environmental Efficiency for Artificial Intelligence and other Emerging Technologies (FG-AI4EE) (itu.int)

SDG 7 - Focus Group on Environmental Efficiency for Artificial Intelligence and other Emerging Technologies (FG-AI4EE) (itu.int)

SDG 8 - Digital Transformation Centres Initiative | ITU Academy

SME programme - ITU Digital World 2021

SDG 9 - ITU Development Digital Innovation Ecosystems

SDG 10 - Connect2Recover Initiative (itu.int)

SDG 11 - SG20: Internet of things (IoT) and smart cities and communities (SC&C) (itu.int)

SDG 12 - How ITU is stemming the e-waste surge with standards, studies and more - My ITU

E-waste Coalition (itu.int)

SDG 13 - Reimagine, recreate, restore: How we can make digital transformation sustainable - My ITU

SDG 14 - Monitoring the atmosphere, ocean and climate from space - My ITU

SDG 15 - How Earth observation protects our planet: WMO Secretary-General - My ITU

SDG 16 - Here's how ICTs bring stability to an uncertain world - My ITU

SDG 17 - Digital collaboration to build back better - My ITU '‹

The UK faces a catastrophic fall in living standards - New Statesman

Sun, 20 Nov 2022 18:31

Illustration by Gary Waters / Ikon ImagesBritish fiscal events, as they are rather quaintly known, are often marked by a disconnect between what the chancellor says in the House of Commons chamber and the numbers in the accompanying forecasts from the Office for Budget Responsibility (OBR). That disconnect felt especially large today (17 November).

Jeremy Hunt said his three priorities were stability, growth and public services while the OBR's documents detailed the largest fiscal U-turn in decades and an economy probably already in recession, and foretold of more difficulties for already hard-pressed public services. What got almost no mention from the Chancellor '' aside from a few remarks on tough times, protecting the neediest and ''global headwinds'' '' of the scale of the coming hit to British living standards.

The numbers are stark. Real household disposable income per person '' the broadest measure of living standards accounting for wage growth, price changes and the impact of the tax and benefits system '' is forecast to fall by 4.3 per cent in 2022-23. That would be the steepest drop, by quite some margin, since the modern records began in 1956-57. What is more, the OBR expects it to fall by another 2.8 per cent in 2023-24. These would be the first consecutive annual falls since the aftermath of the 2008 financial crisis and would essentially wipe out all of the income gains of the previous eight years in just 24 months. This is a catastrophic forecast.

In effect, the OBR expects the recession to be very different to the one that accompanied the Covid-19 pandemic in 2020. In that instance the fall in GDP was rapid and extremely deep but the bounce back was also, at least initially, swift.

More significantly, despite the biggest fall in economic output in at least a century, household incomes were relatively well protected by the furlough scheme, grants for the self-employed and higher Universal Credit payments. This time around the recession is expected to be shallower but to last much longer with a far slower recovery. Household incomes look set to be meaningfully lower by the next general election, expected to be in 2024, than they were at the time of the last one in December 2019.

Select and enter your email address Morning Call Quick and essential guide to domestic and global politics from the New Statesman's politics team. The Crash A weekly newsletter helping you fit together the pieces of the global economic slowdown. World Review The New Statesman's global affairs newsletter, every Monday and Friday. The New Statesman Daily The best of the New Statesman, delivered to your inbox every weekday morning. Green Times The New Statesman's weekly environment email on the politics, business and culture of the climate and nature crises - in your inbox every Thursday. The Culture Edit Our weekly culture newsletter '' from books and art to pop culture and memes '' sent every Friday. Weekly Highlights A weekly round-up of some of the best articles featured in the most recent issue of the New Statesman, sent each Saturday. Ideas and Letters A newsletter showcasing the finest writing from the ideas section and the NS archive, covering political ideas, philosophy, criticism and intellectual history - sent every Wednesday. Events and Offers Sign up to receive information regarding NS events, subscription offers & product updates.

Your email address

Job title Job title Administration / Office Arts and Culture Board Member Business / Corporate Services Client / Customer Services Communications Construction, Works, Engineering Education, Curriculum and Teaching Environment, Conservation and NRM Facility / Grounds Management and Maintenance Finance Management Health - Medical and Nursing Management HR, Training and Organisational Development Information and Communications Technology Information Services, Statistics, Records, Archives Infrastructure Management - Transport, Utilities Legal Officers and Practitioners Librarians and Library Management Management Marketing OH&S, Risk Management Operations Management Planning, Policy, Strategy Printing, Design, Publishing, Web Projects, Programs and Advisors Property, Assets and Fleet Management Public Relations and Media Purchasing and Procurement Quality Management Science and Technical Research and Development Security and Law Enforcement Service Delivery Sport and Recreation Travel, Accommodation, Tourism Wellbeing, Community / Social Services Visit our

privacy Policy for more information about our services, how New Statesman Media Group may use, process and share your personal data, including information on your rights in respect of your personal data and how you can unsubscribe from future marketing communications.

[See also: The Tories are trapped with no good options]

The sheer scale and speed of the change in fiscal approach is almost without precedent in modern British economic history. Only two months ago, Liz Truss and Kwasi Kwarteng announced a plan defined by £45bn of tax cuts, the largest set of tax reductions since 1972. Hunt has replaced this with a fiscal tightening of £55bn in the years ahead '' £30bn from spending cuts and £25bn from tax rises. The OBR estimates that the tax take, as a share of national income, will rise to its highest sustained level since the end of the Second World War (37.5 per cent of GDP).

Hunt, for all of his talk of ''tough decisions'' and warnings against high borrowing, also materially loosened Britain's fiscal rules. Even after five years of pain, the OBR expects the current budget (excluding capital spending) to be in deficit.

Given the coming hit to household incomes, and the fall in UK GDP, Hunt has sensibly not followed the advice of those calling for immediate spending cuts. Much of the pain has been deferred until after the current spending review period ends, which conveniently enough is after the next general election.

Many politically contentious decisions have been similarly postponed. Whether or not defence spending will rise to 3 per cent of GDP from its current level of 2 per cent is now dependent on a new security review. But while heavy cuts have been avoided in the short term, rising inflation will continue to put core public services under pressure.

As the OBR noted, NHS England's waiting lists have already risen to over 7.1 million. And while Hunt talked up his commitment to infrastructure spending and reeled off a list of projects the government was funding, in reality capital spending plans have been scaled back from where they stood in March.

The British economy is almost certainly already in recession. Unemployment is expected to rise by around half a million in the coming two years. Real household incomes are due to take a record two-year hit and taxes are rising across the board to their highest level for over 70 years. It is hard to think of a worse economic backdrop for a governing party facing a general election in two years.

[See also: Jeremy Hunt's Autumn Statement was a George Osborne tribute]

Sophia Kianni - Wikipedia

Sun, 20 Nov 2022 18:13

Iranian-American climate activist

Sophia Kianni (born December 13, 2001) is an Iranian-American climate activist. She is the executive director of Climate Cardinals and the youngest member on the United Nations Secretary-General's Youth Advisory Group on Climate Change.[3]

Activism [ edit ] Kianni speaking at the Black Friday climate strike in 2019

Kianni became interested in climate activism while in Middle School in Tehran when one night the stars were obscured by smog. Kianni described it as "a signal that our world is heating up at a terrifying pace."[4] She later joined Greta Thunberg's group, Fridays for Future, and took time off from school to support action on climate change.[4] She also helped organize the 2019 Black Friday climate strike.[5] In 2019 she became a national strategist for Fridays for Future and national partnerships coordinator for Zero Hour.[6][5]

Jane Fonda (left) and Kianni (right) at Fire Drill Fridays DC event held in front of the Capitol Building.

In November of 2019, Kianni skipped school to join a group of protesters organized by Extinction Rebellion who intended to stage a week-long hunger strike and sit-in at the Washington, D.C., office of Speaker of the House Nancy Pelosi, demanding that she speak with them for an hour on camera about climate change.[7] Locally, there were roughly a dozen participants; at 17 years old, Kianni was the youngest, and one of two women.[2][8] Kianni was not a member of XR, and only participated in the first day of the sit-in, but gave a prepared speech and interviews to the press, and continued the hunger strike remotely.[2][9] Kianni wrote about her participation in the protest for Teen Vogue.[4] In February 2020, Kianni was named a spokesperson for Extinction Rebellion.[10][11]

In the spring of 2020, Kianni's physical activism was curtailed by the school closing and social distancing requirements of the COVID-19 pandemic, and her scheduled paid speaking engagements at colleges including Stanford University, Princeton University and Duke University were delayed.[12][13] Kianni was able to continue her activism remotely with her talk at Michigan Technological University.[14] In addition, Kianni decided to accelerate development of a planned website, Climate Cardinals, that would translate climate change information into different languages.[12]

In July 2020, Kianni was named by United Nations Secretary-General Ant"nio Guterres to his new Youth Advisory Group on Climate Change, a group of seven young climate leaders to advise him on action for the climate crisis.[15][16] Kianni was the youngest in the group, which ranged from 18 to 28 years old.[17] She was the only one representing the United States, and also the only one representing the Middle East and Iran.[18][19]

In December 2020, Kianni was named one of Vice magazine's Motherboard 20 Humans of 2020, for being the U.S representative for United Nations Youth Advisory Group on Climate Change and starting Climate Cardinals.[20][21][18]

In September 2021, Kianni was one of 4 co-chairs of the Youth4Climate event in Milan, preliminary to the 2021 United Nations Climate Change Conference or COP26.[22][23] Climate Cardinals translated the resulting Youth4Climate manifesto into the 6 official languages of the United Nations.[24] At COP26 itself, in November 2021 in Glasgow, Kianni spoke at several panels, and met with Ant"nio Guterres, Secretary-General of the United Nations.[25] In December 2021, Kianni was named one of Teen Vogue's "21 under 21" for her climate activism.[26]

Climate Cardinals [ edit ] Climate Cardinals is an international youth-led non-profit organization founded by Kianni in 2020 to offer information about climate change in every language. It was named for the northern cardinal, the state bird of Virginia, and a metaphor for information flying around the world.[27][12] Kianni was inspired by the years she spent translating English-language climate change articles into Persian for her Iranian relatives, as Iranian media barely covered the subject.[12] She says she noticed informational content about climate change is either available only in English, or at best in Chinese and Spanish, which made them inaccessible to speakers of other languages.[27]

Climate Cardinals was launched in May 2020, and had 1100 volunteers sign up to become translators on its first day.[28] They also partnered with Radio Javan, an Iranian language radio with over 10 million followers, to share graphics and translations with Iranians.[27][29] Climate Cardinals is sponsored by the International Student Environmental Coalition as a 501(c)(3) nonprofit, which allows students who participate in its translations to earn community service hours for their work, either fulfilling school requirements or improving college applications.[27] By August 2020, the group had over 5,000 volunteers, with an average age of 16.[30] By December 2020, it had 8,000 volunteers and partnerships with UNICEF and Translators Without Borders.[18]

Journalism [ edit ] Kianni wrote a 2019 article for Teen Vogue about the Pelosi office hunger strike.[4] In 2020, she wrote two articles about the effects of the coronavirus, for the Middle East edition of Cosmopolitan magazine about the effects on her extended family's celebration of Nowruz,[31] and another for Refinery29 about the effects on her daily schedule as a climate activist, which was widely syndicated.[1] She wrote an article for MTV News for the 50th anniversary of Earth Day, which she helped coordinate,[32] and another in 2022 for The Washington Post about how she lives sustainably in college.[33]

In 2021, Kianni began hosting a podcast for The New Fashion Initiative, interviewing experts involved in the fashion industry about addressing climate change.[34]

Personal life [ edit ] Kianni lives with her mother, father, younger sister, and two pet lovebirds, in McLean, Virginia.[6][13] She studied at Henry Wadsworth Longfellow Middle School, where her team won the statewide Science Olympiad,[35] and at Thomas Jefferson High School for Science and Technology, where she was a National Merit Scholarship Program semifinalist.[12][36] After graduating from high school in 2020, she attended Indiana University. She transferred to Stanford University in 2021, where she studies environmental science and public policy.[37][33]

Kianni received extensive media attention as an example of a teenager reacting to the social distancing measures related to the COVID-19 pandemic: CNN, Time magazine, and The Washington Post wrote about how she and her friends were moving personal interaction and even their physically cancelled senior prom to Zoom video chats, and TikTok videos.[6][13][38][39]

References [ edit ] ^ a b Kianni, Sophia (April 22, 2020). "What It's Really Like To Be A Climate Change Activist In Quarantine". Refinery29. Archived from the original on April 25, 2020 . Retrieved April 22, 2020 . Also available as Kianni, Sophia (April 22, 2020). "What It's Really Like To Be A Climate Change Activist In Quarantine". Yahoo News. Archived from the original on April 24, 2020 . Retrieved April 22, 2020 . and Kianni, Sophia (April 22, 2020). "What It's Really Like To Be A Climate Change Activist During Coronavirus". MSN. Archived from the original on July 3, 2020 . Retrieved May 5, 2020 . ^ a b c Felton, Lena (November 18, 2019). "Meet the 17-year-old climate activist who skipped school to hunger strike at the Capitol". The Lily. Archived from the original on April 18, 2020 . Retrieved April 21, 2020 . ^ "Everyone can be a climate activist". UN News. March 31, 2022 . Retrieved July 13, 2022 . ^ a b c d Kianni, Sophia (December 11, 2019). "Why I Went on Hunger Strike at Nancy Pelosi's Office". Teen Vogue. Archived from the original on April 22, 2020 . Retrieved April 21, 2020 . ^ a b Nayak, Anika (December 20, 2019). "Best Sustainable Gift Ideas for Your Environmentally-Conscious Friends". Teen Vogue. Archived from the original on September 28, 2020 . Retrieved April 21, 2020 . ^ a b c Andrews, Travis M. (March 30, 2020). "We're all video chatting now. But some of us hate it". Washington Post. Archived from the original on April 26, 2020 . Retrieved April 21, 2020 . ^ Will, K. Sophie (November 21, 2019). "Extinction Rebellion aims to turn up political heat with hunger strikes". Reuters. Archived from the original on March 5, 2020 . Retrieved April 21, 2020 . ^ Holden, Emily (November 18, 2019). "Hunger strikers target Pelosi in push for Democrats to take action on climate crisis". The Guardian. Archived from the original on April 20, 2020 . Retrieved April 21, 2020 . ^ "No Food No Future: Hunger Strike for Climate Action". The Years Project. March 2, 2020. Archived from the original on April 16, 2021 . Retrieved April 22, 2020 . Sophia went for days without food ^ Mosher, Eve (February 10, 2020). "Extinction Rebellion Congratulates Oscar Winner and Collaborator Joaquin Phoenix". Extinction Rebellion NYC. Archived from the original on July 1, 2020 . Retrieved April 21, 2020 . ^ Monllos, Kristina (March 18, 2020). "How Extinction Rebellion is using social media and marketing to grow a movement". Digiday. Archived from the original on March 31, 2020 . Retrieved April 21, 2020 . ^ a b c d e Natanson, Hannah (April 10, 2020). "Their schools and streets empty, teen climate activists find new ways to strike". Washington Post. Archived from the original on June 21, 2020 . Retrieved April 21, 2020 . ^ a b c Malinsky, Gili (April 1, 2020). "Less Taco Bell, more investing: How a high school senior is learning about money while at home". Acorns. Archived from the original on April 6, 2020 . Retrieved April 21, 2020 . ^ Christensen, Kelley (March 19, 2020). "Michigan Tech virtual World Water Day". The Mining Gazette. Archived from the original on April 16, 2021 . Retrieved April 21, 2020 . ^ Blazhevska, Vesna (July 27, 2020). "Young leaders tapped to invigorate UN's climate action plans, hold leaders to account". United Nations Sustainable Development. Archived from the original on August 10, 2020 . Retrieved August 6, 2020 . ^ Lavietes, Matthew (July 28, 2020). " 'Bold leadership': Seven young climate activists to have a say in UN". The Sydney Morning Herald. Archived from the original on July 30, 2020 . Retrieved August 6, 2020 . ^ Hobbs, Joe (August 3, 2020). "First Person: Turning 'apathetic people into climate activists'; a young person's view". UN News. Archived from the original on August 5, 2020 . Retrieved August 6, 2020 . ^ a b c Ferdowsi, Samir (December 18, 2020). "The Activist Translating Climate Crisis Information Across the Globe". www.vice.com. Archived from the original on December 22, 2020 . Retrieved December 23, 2020 . ^ Gibson, Francesca (September 28, 2020). "Meet Sophia Kianni, the Irani-American climate activist who is trying to change the world". Cosmopolitan Middle East. Archived from the original on October 2, 2020 . Retrieved December 23, 2020 . ^ Ferreira, Becky (December 4, 2020). "Motherboard Presents: Humans 2020". Vice. Archived from the original on December 7, 2020 . Retrieved December 23, 2020 . ^ "Humans2020". Vice. Archived from the original on December 24, 2020 . Retrieved December 23, 2020 . ^ "Youth4Climate: Driving Ambition - Youth4Climate Manifesto released". Ministero della Transizione Ecologica . Retrieved November 18, 2021 . ^ Spolini, Nicoletta (October 1, 2021). "Youth4Climate: dopo l'evento di Milano tutti in piazza con Greta Thunberg e Vanessa Nakate". Vogue Italia (in Italian) . Retrieved November 18, 2021 . ^ "Cop26, i key messages della "Youth4Climate" tradotti in sei lingue". Bio Pianeta (in Italian). November 9, 2021 . Retrieved November 18, 2021 . ^ Hartley, Eve. "Young activists call Glasgow climate conference 'last chance for humanity' ". Yahoo! News . Retrieved November 18, 2021 . ^ McMenamin, Lexi (December 14, 2021). "Teen Vogue's 21 Under 21 2021: The Young People Shaping Tomorrow". Teen Vogue . Retrieved April 18, 2022 . ^ a b c d Kart, Jeff (May 12, 2020). "Youth Activist Uses Quarantine To Start Nonprofit That Translates Climate Change Information From English To Other Languages". Forbes. Archived from the original on May 18, 2020 . Retrieved May 19, 2020 . ^ Kart, Jeff (May 26, 2020). "Climate Cardinals Website Enlists Students To Translate Climate Change Information, Earn Community Service Hours". Forbes. Archived from the original on May 28, 2020 . Retrieved May 31, 2020 . ^ Iannaccone, Stefano (August 5, 2020). "La storia di Sophia Kianni, la nuova Greta dei due Continenti". Impakter.it (in Italian). Archived from the original on September 25, 2020 . Retrieved August 6, 2020 . ^ Loiero, Alessandra (August 3, 2020). "La consapevolezza di Sophia Kianni: i giovani attivisti e l'aiuto all'ONU sul clima". La Voce di New York (in Italian) . Retrieved August 6, 2020 . ^ Kianni, Sophia (March 29, 2020). "How coronavirus has affected my celebration of Nowruz". Cosmopolitan Middle East. Archived from the original on March 31, 2020 . Retrieved April 21, 2020 . ^ Kianni, Sophia (April 30, 2020). "Earth Day Has Passed. Now What?". MTV News. Archived from the original on May 6, 2020 . Retrieved May 5, 2020 . ^ a b Kianni, Sophia (April 13, 2022). "Perspective | How a student tries to be sustainable: Biking, activism and food". The Washington Post . Retrieved April 18, 2022 . ^ Kutz, Cat; Garcia, Olivia (March 23, 2021). "Meet Sophia Kianni: Young Climate Change Changemaker". Smithsonian . Retrieved June 7, 2021 . ^ "Longfellow Science Olympiad team tops in Virginia". InsideNoVa. April 22, 2016 . Retrieved April 21, 2020 . ^ "Two Hundred Thirty-Seven Students Named 2020 National Merit Semifinalists". Fairfax County Public Schools. September 17, 2019. Archived from the original on March 9, 2020 . Retrieved April 21, 2020 . ^ Davis, Dominic-Madori (June 6, 2021). "This 19-year-old climate advisor who started her own nonprofit and worked on Greta Thunberg's youth strikes spends her days meeting UN officials and grabbing pizza with friends". Business Insider . Retrieved June 7, 2021 . ^ Willingham, AJ (April 19, 2020). "Stuck at home, families find a new way to bond: creating TikTok videos". CNN. Archived from the original on April 20, 2020 . Retrieved April 21, 2020 . ^ McCluskey, Megan (March 19, 2020). "How High Schoolers Are Planning Online Prom Parties Amid Coronavirus". Time. Archived from the original on April 18, 2020 . Retrieved April 21, 2020 . External links [ edit ] Climate Cardinals

Large portions of US at risk of winter power blackouts

Sun, 20 Nov 2022 18:09

A large portion of the United States could see blackouts this winter, among other energy emergencies, according to the North American Reliability Council.

U.S. energy authorities say extreme cold weather this winter could meet natural gas and coal supplies that are in short supply causing major issues for about a third of the country, Bloomberg reported.

Authorities say swaths of the country from New England down to Texas are at risk of supply shortages.

Texas is at the highest risk according to U.S. regulators. The central U.S. grid connects huge areas from the Great Lakes region down to Louisiana.

Regulators said in a Thursday report that the issues could stretch as far southeast as the Carolinas.

The seasonal assessment said electricity grids are ''at risk of having insufficient energy supplies." The seasonal data is based on forecasts for peak demand.

Power plants in the U.S. have reportedly seen inadequate weatherization, with backup fuel oil supplies seeing shortages.

Copyright 2022 Scripps Media, Inc. All rights reserved. This material may not be published, broadcast, rewritten, or redistributed.

Sign up for the Headlines Newsletter and receive up to date information.

Who Invented Mac and Cheese? | Epicurious

Sun, 20 Nov 2022 17:39

Take a thin sheet of dough and cut it into pieces, place in boiling water and cook well. Take grated cheese, melted butter, and put it beneath and above like lasagna; serve.

Martino da Como, a.k.a. Maestro Martino, a renowned chef to the aristocracy and high clergy, published a cookbook in 1465 with a butter and cheese based pasta recipe called ''Roman macaroni.'' Owing to its popularity, it became de rigueur that a chef of any standing create his own version of it. Macaroni, in this case, was cut noodles. Indeed, macaroni was a generic word for pasta, not a specific shape. In Boccacio's Decameron they were most likely gnocchi, for example. Regardless, the standard preparation for any dish called macaroni involved butter and copious quantities of cheese, usually Parmesan, with the addition of sugar and cinnamon, which was used as ubiquitously then as salt and pepper is used now.

Macaroni la modeBy the mid-18th century, macaroni and cheese had taken root in France, but the French veered away from Italian dictates toward a creamier style, a signature touch positioning the dish in the context of their own cuisine.

Around the same time, macaroni and cheese recipes were transplanted to Great Britain's American colonies. Early evidence of pasta circulating as a highbrow standard in Virginia is first seen in Patrick Lamb's posthumously compiled and published Royal Cookery; or the Complete Court-Cook (1710), containing a recipe called ''To Make Soupe Vermicelly,'' pasta in a butter-rich veal and chicken gravy. Over the space of 50 years, Lamb had made his way up through the ranks in the kitchens of the Stuart monarchy and overseen William and Mary's coronation. He also held the official monopoly over tobacco sales to the royal households'--all imported from Virginia by strict decree.

A recipe calling for ''vermachelly'' from Edward Kidder's 1720 cookbook was copied into an anonymous Virginian family manuscript. In 1747, best-selling British cookbook author Hannah Glasse presented two English-style vermicelli pudding recipes as well as instructions on how to make vermicelli from scratch. Both Benjamin Franklin and George Washington had a copy of Glasse's cookbook in their home libraries and it was on Jefferson's wish list'--just to say, pasta was not unknown among the Yankee Doodles.

However, it was in Elizabeth Raffald's The Experienced English Housekeeper (1769), another cookbook that circulated in the colonies, where we get our first proper recipe for macaroni and cheese in English. Her recipe calls for thickening the sauce with butter rolled in flour, denoting once again a predilection for creaminess.

James Hemings and the limits of speculationBy the time James Hemings began his training in Paris in 1785, macaroni had already been appropriated by the French, with the additions of a white sauce or cream and Gruy¨re cheese, and eventually ditching the usual cinnamon and sugar. England followed suit because, after all, the best chefs in England at that time were French. The colonies tagged along, not yet having established a culinary tradition and wanting to keep up with European trends.

Climate change is making migraines, strokes and DEMENTIA more severe and common, review claims | Daily Mail Online

Sun, 20 Nov 2022 15:42

Climate change is making a host of health conditions more common and severe, a review has claimed.

Researchers looked at 364 studies dating back to 1990.

They found rising global temperatures and increasingly severe weather events have increased th e risks of strokes, dementia and multiple sclerosis.

But it is not just chronic illnesses, more mild ailments like headaches have also become more common, the study claims.

Prior research shows higher longer summers and hotter temperatures put increased stress on the heart.

The body has to work harder to stay cool and pump blood round to different organs.

And evidence shows that when pollution is breathed in, it also seeps into the bloodstream.

This chronic stress on the on the body drives up the risk of brain disorders and neurological diseases.

Since 1981, global temperatures have risen 0.32°F per decade.

Lead author of the study, Dr Andrew Dhawan, from Cleveland Clinic in Ohio, said: 'Climate change poses many challenges for humanity, some of which are not well-studied.'

He added: 'As we witness the effects of a warming planet on human health, it is imperative that neurologists anticipate how neurologic disease may change.'

Headaches are just one of the health hazards made worse by a warming planet, researchers from the Cleveland Clinic in Ohio found

Wildfires, which have for years primarily affected the West coast, have burnt up more than 7 million acres of land. They have also spewed toxic smoke as far east as New York City, worsening air quality and putting people's health in jeopardy.

Left shows the number of wildfires from 1984 to 1999, and right shows the number from 2005 to 2018 - finding the later years saw an increase in wildfires

When exposed to hotter climates, your body becomes dehydrated as it needs more water to make up for what is being lost through sweat.

Even mild dehydration can trigger headaches and migraines.

According the the Cleveland Clinic, the brain shrinks when dehydrated, pulling it away from the skull and putting pressure on nerves as a result, which causes pain.

One study found that a higher average temperature in the day before turning up to hospital increased headaches by 7.5 per cent.

The researchers selected 364 studies on adults published between 1990 and 2022 '-- which looked at the link between health conditions and temperature changes, extreme weather events and air pollution.

America's growing wildfire crisis could lead to a wave of heart attacks, lung disease and cancer diagnoses years down the line, scientists warn The US' increasing wildfire crisis could trigger a wave of health issues in years to come, scientists warn.

This year has seen more than 60,000 wildfires scorch over 7.2 million acres of US land '-- up from 42,400 and 4.1m in 2013.

The ever-warming climate is making wildfires more common and destructive. Warmer springs, longer summer dry seasons, and drier soils and vegetation make for prime conditions for a blaze.

Recent wildfires across the west coast have spewed smoke in huge volumes that have spread nationwide, blanketing cities as far as the eastern US in a toxic haze.

Exposure to the toxins in wildfire smoke has been linked to elevated flu seasons, a spike in cases of asthma, heart attacks, strokes, kidney problems, lung irritation, bronchitis, dementia and mental health issues.

Wildfire smoke contains tiny toxic particles known as PM2.5 - made of solid and liquid droplets from burned material such as vegetation and heavy metals.

PM2.5 is so tiny it can seep into the bloodstream through the lungs and and travel to major organs, including the brain.

Keith Bein, an associate professional researcher at the University of California, Davis told Pew: It's happening more frequently every summer'... The length of the fires is growing. The public exposure to the smoke is also growing. Once-in-a-lifetime events are happening every summer. This is a different kind of exposure.'

State public health officials and climate experts are most concerned about the small particulate matter spreading through the air, a product of burning vegetation and manmade material such as cars, roads, and homes.

Erin Landguth, an associate professor at the University of Montana said: 'We know that hospitalizations for asthma and other respiratory conditions spike within days or weeks of wildfires'... The thought that this could potentially lead to effects later and how that can affect our immune system is really scary.'

Extreme weather events and fluctuations in temperature were linked to strokes becoming more frequent and intense, more migraines, the hospitalization of dementia patients and worsening multiple sclerosis.

Climate change extended the warmer, favorable conditions for diseases affecting the nervous system, such as meningitis, encephalitis, polio.

This means new populations are at risk of diseases carried by animals and insects such as the West Nile virus, meningococcal meningitis and tick-borne encephalitis.

Warmer weather also increased tick and mosquito-borne infections.

The study did not reflect on why dementia or multiple sclerosis may get worse with climate change.

It could be because elderly people are more at risk of health conditions generally during the heat, in part due to their age but also because they tend to live alone and may not drink enough.

Changes to external temperature can lead to extra stress on the brain, which makes it more vulnerable to processes ending up in disease such as dementia.

Multiple sclerosis means that nerve signals are slowed down.

Heat can temporarily worsen symptoms by slowing down these signals even more.

If the heat is due to constantly increasing global temperatures, symptoms may not improve.

One study of over three million Medicare patients in New England found that temperature increases of 1.5C led to a 12 per cent rise in hospital admissions for dementia sufferers.

Another study of over 22,000 headache visits to the emergency department showed that a 5C temperature rise was linked to a greater risk of any headache, particularly non-migraine headache.

The reasons for these changes were not clear, but the researchers speculated it could be down to temperature changes, ecosystem collapse, exposure to air pollution and food insecurity.

Your body sees temperature changes as stress, which can make you sick.

Air pollutants can enter the bloodstream and make breathing more difficult, as well as worsening lung diseases.

More research is needed into ecosystem collapse and food insecurity, the study reviewers said.

They also said it could be down to climate change causing more air pollution, which in turn leads to accelerated aging in the brain and arteries.

Global warming facilitates stagnant air through the increased heat, which can cause unhealthy levels of pollutants to linger.

Some air pollution particles are so small that they enter skin, and can accelerate brown spots, fine lines and wrinkles.

There was no consensus on why climate change might have an effect on strokes, but two studies found that colder temperatures led to increased strokes.

The researchers said that this could be because cooler temperatures increase the constrictions of blood vessels, which can cut off blood flow and oxygen to parts of the brain.

Extreme heat can also cause vulnerable people to suffer strokes.

In one study, scientists suggested that in the African 'meningitis belt', fine particles blown by the Harmattan winds intensifies meningitis transmission.

In the Czech Republic, flooding was associated with more cases of tick-borne encephalitis.

A limitation of the review was that all the studies took place in well-off countries, meaning the findings are not applicable to poorer regions, where climate changes may be more likely.

The findings were published in the journal American Academy of Neurology.

A report published on Wednesday showed that extreme weather is on the up, as ninety percent of the counties across the US suffered a weather disaster between 2011 and 2021.

Belgian Authorities Seize So Much Cocaine It's Overloading Incinerators | ZeroHedge

Sun, 20 Nov 2022 15:07

As we noted in June, Europe seized a record amount of cocaine in 2020 - in which Belgium saw the greatest amount intercepted of any country, followed by The Netherlands, and Spain.

This year, Belgian customs agents have seized so much blow - particularly at the Antwerp port - that it's overloading their incinerators, according to local outlet VRT News.

Last year, 90 tonnes of cocaine were seized at the port of Antwerp alone, a figure which is likely to surpass 100 tonnes before the end of 2022.

Drugs seized by Belgian officials are destroyed in specially licensed incinerators which are kept at undisclosed locations to thwart criminals seeking to stage a raid at one of the sites.

The Federal Justice Minister Vincent Van Quickenborne (Flemish liberal) told VRT News that drugs that are seized are closely monitored ''The storage of the batches of cocaine seized is the responsibility of the customs service. These batches are of course closely monitored by the police, customs and other services. They do everything necessary to limit the security risk. However, there has been something of a bottleneck as there have been so many seizures and also because just one incinerator was in use. Moreover, you cannot burn these batches in bulk, in one go, in large quantities as this would cause issues with the filters at the incineration plant." -VRT

"We have already found some new capacity where several tonnes of cocaine have already been destroyed," Van Quickenborne told VRT.

"We have also held talks with the Mayor of Antwerp and with my colleague Zuhal Demir (The Flemish Environment Minister, nationalist) who is responsible for incinerators, to see if we can find additional capacity. These talks are going well."

The incinerators are made available by appointment only. "The more cocaine you seize, the more time you need. And there is a lot of cocaine," explained Van Quickenborne, who added that customs officials are negotiating with Environment Minister Zuhal Demir, who is in charge of the incinerators, and that the talks are "going well."

According to a representative of FPS Finance, the parent agency of Belgium's customs service, "The rapid destruction of confiscated goods is an ongoing challenge," adding "Due to the technical limitation of the licensed incinerators and environmental standards, we have to use several incinerators."

Flemish Public Waste Agency OVAM says it's scouring the country for additional incinerator capacity.

The Covid/Crypto Connection: The Grim Saga of FTX and Sam Bankman-Fried 'ܠ Brownstone Institute

Sun, 20 Nov 2022 14:41

A series of revealing texts and tweets by Sam Bankman-Fried, the disgraced CEO of FTX, the once high-flying but now belly-up crypto exchange, had the following to say about his image as a do-gooder: it is a ''dumb game we woke westerners play where we say all the right shibboleths and so everyone likes us.''

Very interesting. He had the whole game going: a vegan worried about climate change, supports every manner of justice (racial, social, environmental) except that which is coming for him, and shells out millions to worthy charities associated with the left. He also bought plenty of access and protection in D.C., enough to make his shady company the toast of the town.

As part of the mix, there is this thing called pandemic planning. We should know what that is by now: it means you can't be in charge of your life because there are bad viruses out there. As bizarre as it seems, and for reasons that are still not entirely clear, favoring lockdowns, masks, and vaccine passports became part of the woke ideological stew.

This is particularly strange because covid restrictions have been proven, over and over, to harm all the groups about whom woke ideology claims to care so deeply. That includes even animal rights: who can forget the Danish mink slaughter of 2020?

Regardless, it's just true. Masking became a symbol of being a good person, same as vaccinating, veganism, and flying into fits at the drop of a hat over climate change. None of this has much if anything to do with science or reality. It's all tribal symbolism in the name of group political solidarity. And FTX was pretty good at it, throwing around hundreds of millions to prove the company's loyalty to all the right causes.

Among them included the pandemic-planning racket. That's right: there were deep connections between FTX and Covid that have been cultivated for two years. Let's have a look.

Earlier this year, the New York Times trumpeted a study that showed no benefit at all to the use of Ivermectin. It was supposed to be definitive. The study was funded by FTX. Why? Why was a crypto exchange so interested in the debunking of repurposed drugs in order to drive governments and people into the use of patented pharmaceuticals, even those like Remdesivir that didn't actually work? Inquiring minds would like to know.

Regardless, the study and especially the conclusions turned out to be bogus. David Henderson and Charles Hooper further point out an interesting fact: ''Some of the researchers involved in the TOGETHER trial had performed paid services for Pfizer, Merck, Regeneron, and AstraZeneca, all companies involved in developing COVID-19 therapeutics and vaccines that nominally compete with ivermectin.''

For some reason, SBF just knew that he was supposed to oppose repurposed drugs, though he knew nothing about the subject at all. He was glad to fund a poor study to make it true and the New York Times played its assigned role in the whole performance.

It was just the start. A soft-peddling Washington Post investigation found that Sam and his brother Gabe, who ran a hastily founded Covid nonprofit, ''have spent at least $70 million since October 2021 on research projects, campaign donations and other initiatives intended to improve biosecurity and prevent the next pandemic.''

I can do no better than to quote the Washington Post:

The shock waves from FTX's free fall have rippled across the public health world, where numerous leaders in pandemic-preparedness had received funds from FTX funders or were seeking donations.

In other words, the ''public health world'' wanted more chances to say: ''Give me money so I can keep advocating to lock more people down!'' Alas, the collapse of the exchange, which reportedly holds a mere 0.001% of the assets it once claimed to have, makes that impossible.

Among the organizations most affected is Guarding Against Pandemics, the advocacy group headed by Gabe that took out millions in ads to back the Biden administration's push for $30 billion in funding. As Influence Watch notes: ''Guarding Against Pandemics is a left-leaning advocacy group created in 2020 to support legislation that increases government investment in pandemic prevention plans.''

Truly it gets worse:

FTX-backed projects ranged from $12 million to champion a California ballot initiative to strengthen public health programs and detect emerging virus threats (amid lackluster support, the measure was punted to 2024), to investing more than $11 million on the unsuccessful congressional primary campaign of an Oregon biosecurity expert, and even a $150,000 grant to help Moncef Slaoui, scientific adviser for the Trump administration's ''Operation Warp Speed'' vaccine accelerator, write his memoir.

Leaders of the FTX Future Fund, a spinoff foundation that committed more than $25 million to preventing bio-risks, resigned in an open letter last Thursday, acknowledging that some donations from the organization are on hold.

And worse:

The FTX Future Fund's commitments included $10 million to HelixNano, a biotech start-up seeking to develop a next-generation coronavirus vaccine; $250,000 to a University of Ottawa scientist researching how to eradicate viruses from plastic surfaces; and $175,000 to support a recent law school graduate's job at the Johns Hopkins Center for Health Security. ''Overall, the Future Fund was a force for good,'' said Tom Inglesby, who leads the Johns Hopkins center, lamenting the fund's collapse. ''The work they were doing was really trying to get people to think long-term '... to build pandemic preparedness, to diminish the risks of biological threats.''

More:

Guarding Against Pandemics spent more than $1 million on lobbying Capitol Hill and the White House over the past year, hired at least 26 lobbyists to advocate for a still-pending bipartisan pandemic plan in Congress and other issues, and ran advertisements backing legislation that included pandemic-preparedness funding. Protect Our Future, a political action committee backed by the Bankman-Fried brothers, spent about $28 million this congressional cycle on Democratic candidates ''who will be champions for pandemic prevention,'' according to the group's webpage.

I think you get the idea. This is all a racket. FTX, founded in 2019 following Biden's announcement of his bid for the presidency, by the son of the co-founder of a major Democrat Party political action committee called Mind the Gap, was nothing but a magic-bean Ponzi scheme. It seized on the lockdowns for political, media, and academic cover. Its economic rationale was as nonexistent as its books. The first auditor to have a look has written:

''Never in my career have I seen such a complete failure of corporate controls and such a complete absence of trustworthy financial information as occurred here. From compromised systems integrity and faulty regulatory oversight abroad, to the concentration of control in the hands of a very small group of inexperienced, unsophisticated and potentially compromised individuals, this situation is unprecedented.''

It was the worst example of a phony perpetual-motion machine: a token to back a company that itself was backed by the token, which in turn was backed by nothing but political fashion and woke ideology that roped in Larry David, Tom Brady, Katy Perry, Tony Blair, and Bill Clinton to provide a cloak of legitimacy.

Tony Blair, Bill Clinton, and Sam Bankman-Fried in the Bahamas April 2022And you can't make this stuff up anymore: FTX had a close relationship with the World Economic Forum and was the favored crypto exchange of the Ukrainian government. It looks for all the world like the money-laundering operation of the Democratic National Committee and the entire lockdown lobby.

I will tell you what infuriates me about these billions in fake money and deep corruptions of politics and science. For years now, my anti-lockdown friends have been hounded for being funded by supposed dark money that simply doesn't exist. Many brave scientists, journalists, attorneys, and others gave up great careers to stand for principle, exposing the damage caused by the lockdowns, and this is how they have been treated: smeared and displaced.

Brownstone has adopted as many in this diaspora as possible for fellowships as far as the resources (real ones, contributed by caring individuals) can go. But we cannot come anywhere near what is necessary for justice, much less compete with the 8-digit funding regime of the other side.

The Great Barrington Declaration was signed at the offices of the American Institute for Economic Research, which, apparently, six years prior had received a long-spent $60,000 grant from the Koch Foundation, and thus became a ''Koch-funded libertarian think tank'' which supposedly discredited the GBD, even though none of the authors received a dime.

This gibberish and slander has gone on for years '' at the urging of government officials! '' and Brownstone itself faces much of the same nonsense, with every manner of fantasy about our supposed power, money, and influence swarming the darker realms of the social-media dungeons. In fact, the actual Koch Foundation (probably unbeknownst to its founder) was funding the pro-lockdown work of Neil Ferguson, whose ridiculous modeling terrified the US and UK into denying human rights to billions of people the world over.

All this time '' while every type of vicious propaganda was unleashed on the world '' the pro-lockdown and pro-mandate lobby, including fake scientists and fake studies, were benefiting from millions and billions thrown around by operators of a Ponzi scheme based on cheating, fraud, and $15 billion in leveraged funds that didn't exist while its principal actors were languishing in a drug-infested $40 million villa in the Bahamas even as they preened about the virtues of ''effective altruism'' and their pandemic-planning machinery that has now fallen apart.

Then the New York Times, instead of decrying this criminal conspiracy for what it is, writes puff pieces on the founder and how he let his quick-growing company grow too far, too fast, and now needs mainly rest, bless his heart.

The rest of us are left with the bill for this obvious scam that implausibly links crypto and Covid. But just as the money was based on nothing but puffed air, the damage they have wrought on the world is all too real: a lost generation of kids, declined lifespans, millions missing from the workforce, a calamitous fall in public health, millions of kids in poverty due to supply-chain breakages, 19 straight months of falling real incomes, historically high increases in debt, and a dramatic fall in human morale the world over.

So yes, we should all be furious and demand full accountability at the very least. Whatever the final truth, it is likely to be far worse than even the egregious facts listed above. It's bad enough that lockdowns wrecked life and liberty. To discover that vast support for them was funded by fraud and fakery is a deeper level of corruption that not even the most cynical among us could have imagined.

Jeffrey A. Tucker, Founder and President of the Brownstone Institute, is an economist and author. He has written 10 books, including Liberty or Lockdown, and thousands of articles in the scholarly and popular press. He writes a daily column on economics at The Epoch Times, and speaks widely on topics of economics, technology, social philosophy, and culture.

READ MORE

Subscribe to Brownstone for More News

Biden Signs Declaration To 'Build On The Success' Of Vax Passports | The Daily Caller

Sun, 20 Nov 2022 14:33

President Joe Biden agreed to ''build on the success'' of global vaccine passports in a joint communique signed by Group of 20 leaders in Bali, Indonesia, on Wednesday.

Biden met with world leaders at a global summit from Nov. 15 to Nov. 16 to propose high-level policy solutions for economic problems facing countries around the world, including climate change and the prospect of recurring global pandemics. The forum culminated in the G20 Bali Leader's Declaration that supported international vaccine technology sharing and the institution of ''trusted global digital health networks'' in an effort to improve future pandemic responses.

''We acknowledge the importance of shared technical standards and verification methods, under the framework of the [International Health Regulations] (2005), to facilitate seamless international travel, interoperability, and recognizing digital solutions and non-digital solutions, including proof of vaccinations,'' G20 leaders said in the declaration. (RELATED: 'Lead By Example': Biden Pledges Billions In Climate Spending Abroad, But More Regulations On US Drilling)

The World Health Organization's IHR mandate, which came into force in 2007, required countries to strengthen health documentation at border crossings and introduced the concept of international vaccination certificates.

''We support continued international dialogue and collaboration on the establishment of trusted global digital health networks as part of the efforts to strengthen prevention and response to future pandemics, that should capitalize and build on the success of the existing standards and digital COVID-19 certificates,'' the joint declaration reads.

The U.S. government's response to the COVID-19 virus, which swept across the globe over the course of two years, sparked fears the government would introduce vaccination requirements at state and international border crossings.

The Biden administration shot down rumors the White House would order federal vaccine passports in May 2021.

''The government is not now nor will we be supporting a system that requires Americans to carry a credential,'' former Press Secretary Jen Psaki said. ''There will be no federal vaccinations database and no federal mandate requiring everyone to obtain a single vaccination credential.''

While private and nonprofit organizations could consider requiring patrons to present proof of vaccination to receive services, the federal government should steer away from requiring vaccination for airline travel and other cross-border activities, Psaki said.

The G20 Bali Summit was held for two days on 15-16 November 2022 in Bali. This head of states/government-level meeting has successfully produced G20 Bali Leaders Declaration. #G20Indonesia #RecoverTogetherRecoverStronger #G20BaliSummit pic.twitter.com/KIXkQcrrcj

'-- G20 Indonesia (@g20org) November 17, 2022

However, the G20's recent declaration, which summit host Indonesian President Joko Widodo insisted be unanimous, appeared to support international vaccination mandates.

The European Union introduced vaccination passport, or EU Digital COVID Certificate, for intra-EU travel in 2021, and some countries still mandate full vaccination prior to entry.

The White House did not immediately respond to the Daily Caller News Foundation's request for comment.

All content created by the Daily Caller News Foundation, an independent and nonpartisan newswire service, is available without charge to any legitimate news publisher that can provide a large audience. All republished articles must include our reporter's byline and their DCNF affiliation. For any questions about our guidelines or partnering with us, please contact licensing@dailycallernewsfoundation.org.

Vaxxed and Boosted Al Roker Hospitalized for Blood Clots

Sun, 20 Nov 2022 14:28

NBC's Today Show weatherman Al Roker, 68, revealed Friday he has been off the air the past two weeks due to blood clots that landed him in the hospital. Roker, who tested positive for COVID in September even though he has been vaccinated and boosted, said on social media he had blood clots that traveled to his lungs from a clot in one of his legs.

Al Roker, file screen image.

''So many of you have been thoughtfully asking where I've been. Last week I was admitted to the hospital w/blood clot in my leg which sent some clots into my lungs. I am so fortunate to be getting terrific care and on the way to recovery. Thanks for all the well wishes & prayers.''

So many of you have been thoughtfully asking where I've been. Last week I was admitted to the hospital w/blood clot in my leg which sent some clots into my lungs. I am so fortunate to be getting terrific care and on the way to recovery. Thanks for all the well wishes & prayers. pic.twitter.com/p7kylMwST0

'-- Al Roker (@alroker) November 18, 2022

TRENDING: Kevin McCarthy Used FTX Funding to Sway GOP Primaries and Take Out MAGA Favorite Madison Cawthorn

Roker was an early recipient of the COVID-19 vaccine in January 2021, getting his shot on live TV on the Today Show:

Roker said in September that he had tested positive for COVID a week after being boosted. Roker said his symptoms were mild.

Two years ago Roker announced he was being treated for prostate cancer. Roker has been public with his myriad health issues, recently saying he was looking at a third knee replacement surgery. Over the years Rokaer has had gastric bypass surgery, shoulder surgery, hip replacement and knee replacement surgeries according to Health Digest.

Massachusetts DPH, Google 'secretly' installed COVID 'spyware' onto 1M phones, lawsuit says

Sun, 20 Nov 2022 14:26

The state Department of Public Health was accused of working with Google to ''secretly'' install COVID-19 contact tracing ''spyware'' onto more than 1 million Android smartphones.

The New Civil Liberties Alliance, a Washington, D.C.-based nonprofit, filed a lawsuit this week in U.S. District Court on behalf of two Bay State Android users, who allege that a DPH contact tracing app was downloaded onto their phones on or around July 1, 2021, without their ''permission or awareness.''

''Conspiring with a private company to hijack residents' smartphones without the owners' knowledge or consent is not a tool that the Massachusetts Department of Public Health may lawfully employ in its efforts to combat COVID-19,'' the complaint stated.

''Such brazen disregard for civil liberties violates both the United States and Massachusetts Constitutions, and it must stop now.''

A DPH spokesperson declined comment, stating the department has not received any documentation related to the lawsuit, and ''does not comment on pending litigation.''

The complaint alleges that DPH began working with Google on June 15, 2021, to install the app onto more than 1 million Android phones located in the Bay State, impacting people who live or work there.

This was allegedly done to ''increase adoption'' because ''few Massachusetts residents voluntarily installed'' the software.

Once the app is downloaded, the user's phone is constantly connected to and information is exchanged with other nearby devices via Bluetooth, to create a record of those connections, the complaint stated.

If a user opts into the app and reports being infected by COVID-19, an exposure notification is sent to other individuals on the infected user's connection record, the lawsuit said.

If someone doesn't opt in, their information is still shared via Bluetooth, and becomes available to Google, DPH, and other third parties, which can trace the user's identity and past contacts through device information, the complaint stated.

''This 'Android attack,' deliberately designed to override the constitutional and legal rights of citizens to be free from government intrusions upon their privacy without their consent, reads like dystopian science fiction '-- and must be swiftly invalidated by the court,'' said Peggy Little, senior litigation counsel for NCLA.

At least two dozen other states have developed COVID-19 contact-tracing apps using Google API, but Massachusetts is the only state to ''surreptitiously embed'' the app onto mobile devices that DPH locates within its borders, the lawsuit stated.

Once downloaded, the app does not appear alongside other apps on the Android device's home screen. It can only be found by opening ''settings'' and using the ''view all apps'' feature, which keeps users unaware of its presence in many cases, the lawsuit said.

When Android users discovered and deleted the contact tracing app, DPH allegedly proceeded to reinstall it onto their smartphones, the lawsuit stated.

According to NCLA, it appears iPhone users had to consent before a similar app was installed onto their devices.

''These secret installations not only invade owners' reasonable expectation of privacy, but they also intrude upon owners' property right in their mobile devices by occupying valuable storage space,'' the complaint stated.

''Because the Massachusetts and United States Constitutions prohibit governmental entities from unreasonable searches and uncompensated takings, this court should enjoin DPH's unconstitutional scheme.''

Earth can regulate its own temperature over millennia, new study finds | MIT News | Massachusetts Institute of Technology

Sun, 20 Nov 2022 14:17

The Earth's climate has undergone some big changes, from global volcanism to planet-cooling ice ages and dramatic shifts in solar radiation. And yet life, for the last 3.7 billion years, has kept on beating.

Now, a study by MIT researchers in Science Advances confirms that the planet harbors a ''stabilizing feedback'' mechanism that acts over hundreds of thousands of years to pull the climate back from the brink, keeping global temperatures within a steady, habitable range.

Just how does it accomplish this? A likely mechanism is ''silicate weathering'' '-- a geological process by which the slow and steady weathering of silicate rocks involves chemical reactions that ultimately draw carbon dioxide out of the atmosphere and into ocean sediments, trapping the gas in rocks.

Scientists have long suspected that silicate weathering plays a major role in regulating the Earth's carbon cycle. The mechanism of silicate weathering could provide a geologically constant force in keeping carbon dioxide '-- and global temperatures '-- in check. But there's never been direct evidence for the continual operation of such a feedback, until now.

The new findings are based on a study of paleoclimate data that record changes in average global temperatures over the last 66 million years. The MIT team applied a mathematical analysis to see whether the data revealed any patterns characteristic of stabilizing phenomena that reined in global temperatures on a geologic timescale.

They found that indeed there appears to be a consistent pattern in which the Earth's temperature swings are dampened over timescales of hundreds of thousands of years. The duration of this effect is similar to the timescales over which silicate weathering is predicted to act.

The results are the first to use actual data to confirm the existence of a stabilizing feedback, the mechanism of which is likely silicate weathering. This stabilizing feedback would explain how the Earth has remained habitable through dramatic climate events in the geologic past.

''On the one hand, it's good because we know that today's global warming will eventually be canceled out through this stabilizing feedback,'' says Constantin Arnscheidt, a graduate student in MIT's Department of Earth, Atmospheric and Planetary Sciences (EAPS). ''But on the other hand, it will take hundreds of thousands of years to happen, so not fast enough to solve our present-day issues.''

The study is co-authored by Arnscheidt and Daniel Rothman, professor of geophysics at MIT.

Stability in data

Scientists have previously seen hints of a climate-stabilizing effect in the Earth's carbon cycle: Chemical analyses of ancient rocks have shown that the flux of carbon in and out of Earth's surface environment has remained relatively balanced, even through dramatic swings in global temperature. Furthermore, models of silicate weathering predict that the process should have some stabilizing effect on the global climate. And finally, the fact of the Earth's enduring habitability points to some inherent, geologic check on extreme temperature swings.

''You have a planet whose climate was subjected to so many dramatic external changes. Why did life survive all this time? One argument is that we need some sort of stabilizing mechanism to keep temperatures suitable for life,'' Arnscheidt says. ''But it's never been demonstrated from data that such a mechanism has consistently controlled Earth's climate.''

Arnscheidt and Rothman sought to confirm whether a stabilizing feedback has indeed been at work, by looking at data of global temperature fluctuations through geologic history. They worked with a range of global temperature records compiled by other scientists, from the chemical composition of ancient marine fossils and shells, as well as preserved Antarctic ice cores.

''This whole study is only possible because there have been great advances in improving the resolution of these deep-sea temperature records,'' Arnscheidt notes. ''Now we have data going back 66 million years, with data points at most thousands of years apart.''

Speeding to a stop

To the data, the team applied the mathematical theory of stochastic differential equations, which is commonly used to reveal patterns in widely fluctuating datasets.

''We realized this theory makes predictions for what you would expect Earth's temperature history to look like if there had been feedbacks acting on certain timescales,'' Arnscheidt explains.

Using this approach, the team analyzed the history of average global temperatures over the last 66 million years, considering the entire period over different timescales, such as tens of thousands of years versus hundreds of thousands, to see whether any patterns of stabilizing feedback emerged within each timescale.

''To some extent, it's like your car is speeding down the street, and when you put on the brakes, you slide for a long time before you stop,'' Rothman says. ''There's a timescale over which frictional resistance, or a stabilizing feedback, kicks in, when the system returns to a steady state.''

Without stabilizing feedbacks, fluctuations of global temperature should grow with timescale. But the team's analysis revealed a regime in which fluctuations did not grow, implying that a stabilizing mechanism reigned in the climate before fluctuations grew too extreme. The timescale for this stabilizing effect '-- hundreds of thousands of years '-- coincides with what scientists predict for silicate weathering.

Interestingly, Arnscheidt and Rothman found that on longer timescales, the data did not reveal any stabilizing feedbacks. That is, there doesn't appear to be any recurring pull-back of global temperatures on timescales longer than a million years. Over these longer timescales, then, what has kept global temperatures in check?

''There's an idea that chance may have played a major role in determining why, after more than 3 billion years, life still exists,'' Rothman offers.

In other words, as the Earth's temperatures fluctuate over longer stretches, these fluctuations may just happen to be small enough in the geologic sense, to be within a range that a stabilizing feedback, such as silicate weathering, could periodically keep the climate in check, and more to the point, within a habitable zone.

''There are two camps: Some say random chance is a good enough explanation, and others say there must be a stabilizing feedback,'' Arnscheidt says. ''We're able to show, directly from data, that the answer is probably somewhere in between. In other words, there was some stabilization, but pure luck likely also played a role in keeping Earth continuously habitable.''

This research was supported, in part, by a MathWorks fellowship and the National Science Foundation.

FDA Says Telling People Not to Take Ivermectin for COVID-19 Was Just a Recommendation

Sun, 20 Nov 2022 14:03

The U.S. Food and Drug Administration (FDA) telling people to ''stop'' taking ivermectin for COVID-19 was informal and just a recommendation, government lawyers argued during a recent hearing.

''The cited statements were not directives. They were not mandatory. They were recommendations. They said what parties should do. They said, for example, why you should not take ivermectin to treat COVID-19. They did not say you may not do it, you must not do it. They did not say it's prohibited or it's unlawful. They also did not say that doctors may not prescribe ivermectin,'' Isaac Belfer, one of the lawyers, told the court during the Nov. 1 hearing in federal court in Texas.

''They use informal language, that is true,'' he also said, adding that, ''it's conversational but not mandatory.''

The hearing was held in a case brought by three doctors who say the FDA illegally interfered with their ability to prescribe medicine to their patients when it issued statements on ivermectin, an anti-parasitic that has shown positive results in some trials against COVID-19.

Ivermectin is approved by the FDA but not for COVID-19. Drugs are commonly used for non-approved purposes in the United States; the practice is known as off-label treatment.

The FDA created a webpage in 2021 titled ''Why You Should Not Use Ivermectin to Treat or Prevent COVID-19'' and later posted a link to the page on Twitter while writing: ''You are not a horse. You are not a cow. Seriously, y'all. Stop it.'' A second post stated: ''Hold your horses, y'all. Ivermectin may be trending, but it still isn't authorized or approved to treat COVID-19.''

In a separate page, the FDA said: ''Q: Should I take ivermectin to prevent or treat COVID-19? A: No.''

Those actions interfered with the doctors' practice of medicine, violating the laws including the Federal Food, Drug, and Cosmetic Act, the lawsuit alleges.

It asked the court to rule the actions unlawful and bar the FDA from directing or opining as to whether ivermectin should be used to treat COVID-19.

Jared Kelson, an attorney representing the plaintiffs, told the court during the hearing that that informal claim ''doesn't explain the language they actually used: 'Stop it. Stop it with the ivermectin.'''

The FDA's actions ''clearly convey that this is not an acceptable way to treat these patients,'' he argued.

Plaintiffs in the case include Dr. Paul Marik, who began utilizing ivermectin in his COVID-19 treatment protocol in 2020 while he was chief of pulmonary and critical care medicine at Eastern Virginia Medical School and director of the intensive care unit at Sentara Norfolk General Hospital.

After the FDA's statements, Marik was told to remove the protocol from the school's servers while Sentara issued a memorandum to hospitals telling them to stop using ivermectin against COVID-19, with a citation to the FDA.

Marik was forced to resign from his positions because he couldn't prescribe ivermectin due to the FDA's statements, the suit alleges.

The government has moved to dismiss the complaint, asserting plaintiffs lack standing because the injuries cannot be traced back to the FDA.

Dr. Paul Marik in Kissimmee, Fla. on Oct. 14, 2022. (The Epoch Times)More From the HearingDuring the recent hearing, which was on the motion to dismiss, the government said the FDA could not be blamed for the injuries.

''Plaintiffs have also not shown that any of their claimed injuries are fairly traceable to defendants' statements because their injuries were caused by independent third-party conduct that was not a predictable response to those statements,'' Belfer, the government lawyer, said.

Belfer noted that the FDA's pages say people can use ivermectin if their health care provider prescribes it, argued the statements ''did not bind the public or FDA, did not interpret any substantive rules, and did not set agency policy,'' and said the FDA's position could change in the future if new data become available.

''They also do not have legal consequences for anyone but simply provide nonbinding recommendations to consumers,'' he said.

Kelson disagreed.

''If the government is going to label ivermectin a horse medicine or a horse dewormer and promulgate the idea that it is only for animals, then the natural correlation is that doctors who prescribe it are horse doctors or quack doctors, which has played out,'' he said. ''That is enough of a harm to get into court,'' or have the motion to dismiss rejected, he said.

Ivermectin is used on animals in addition to humans. The FDA used a picture of a horse in its Twitter posts and on one of its pages.

''The government engaged in a singularly effective campaign here to malign a common drug that has been used for a very long time and has been dispensed in billions of doses. It's one of the most famously safe drugs in the history of human medicine. And when people did exactly what the FDA said to 'Stop it. Stop it with the ivermectin,' I don't understand how that would not be traceable back to the FDA,'' Kelson said.

U.S. District Judge Jeffrey Brown, a Trump appointee overseeing the case, said that he was most concerned about the social media statements because they did not include any qualifiers.

Belfer argued the statements were aimed at consumers and that the Twitter posts linked to one of the pages, which does include the qualifier.

''So it was predictable that if you include the link to the article, people will click on the link and will see the full article, which includes that disclaimer that if your doctor writes you a prescription, you should fill it exactly as prescribed,'' he said.

''The plaintiffs, by their own admission, have continued to prescribe ivermectin. So they always had the authority. It may be that patients were not able to fill prescriptions, but the doctors themselves always had the authority,'' he added later.

Brown said he appreciated the briefing from the parties and that he would rule ''as quickly as we can for ya'll.'' As of Nov. 19, he has not issued a ruling.

Follow

Zachary Stieber covers U.S. and world news for The Epoch Times. He is based in Maryland.

UN climate deal: Calamity cash, but no new emissions cuts | AP News

Sun, 20 Nov 2022 13:41

SHARM EL-SHEIKH, Egypt (AP) '-- For the first time, the nations of the world decided to help pay for the damage an overheating world is inflicting on poor countries, but they finished marathon climate talks on Sunday without further addressing the root cause of those disasters '-- the burning of fossil fuels.

The deal, gaveled around dawn in this Egyptian Red Sea resort city, establishes a fund for what negotiators call loss and damage.

It is a big win for poorer nations which have long called for cash '-- sometimes viewed as reparations '-- because they are often the victims of climate-worsened floods, droughts, heat waves, famines and storms despite having contributed little to the pollution that heats up the globe.

It is also long been called an issue of equity for nations hit by weather extremes and small island states that face an existential threat from rising seas.

''Three long decades and we have finally delivered climate justice,'' said Seve Paeniu, the finance minister of Tuvalu. ''We have finally responded to the call of hundreds of millions of people across the world to help them address loss and damage.''

Pakistan's environment minister, Sherry Rehman, said the establishment of the fund ''is not about dispensing charity.''

''It is clearly a down payment on the longer investment in our joint futures,'' she said, speaking for a coalition of the world's poorest nations.

Antigua and Barbuda's Molwyn Joseph, who chairs the organization of small island states, described the agreement as a ''win for our entire world.''

''We have shown those who have felt neglected that we hear you, we see you, and we are giving you the respect and care you deserve,'' he said.

The deal followed a game of climate change chicken over fossil fuels.

Early Sunday morning, delegates approved the compensation fund but had not dealt with the contentious issues of an overall temperature goal, emissions cutting and the desire to target all fossil fuels for phase down. Through the wee hours of the night, the European Union and other nations fought back what they considered backsliding in the Egyptian presidency's overarching cover agreement and threatened to scuttle the rest of the process.

The package was revised again, removing most of the elements Europeans had objected to but added none of the heightened ambition they were hoping for.

''What we have in front of us is not enough of a step forward for people and planet,'' a disappointed Frans Timmermans, executive vice president of the European Union, told his fellow negotiators. ''It does not bring enough added efforts from major emitters to increase and accelerate their emissions cuts.

''We have all fallen short in actions to avoid and minimize loss and damage,'' Timmermans said. ''We should have done much more.''

Germany's Foreign Minister Annalena Baerbock likewise voiced frustration.

''It is more than frustrating to see overdue steps on mitigation and the phase-out of fossil energies being stonewalled by a number of large emitters and oil producers,'' she said.

The agreement includes a veiled reference to the benefits of natural gas as low emission energy, despite many nations calling for a phase down of natural gas, which does contribute to climate change.

While the new agreement doesn't ratchet up calls for reducing emissions, it does retain language to keep alive the global goal of limiting warming to 1.5 degrees Celsius (2.7 degrees Fahrenheit). The Egyptian presidency kept offering proposals that harkened back to 2015 Paris language which also mentioned a looser goal of 2 degrees. The world has already warmed 1.1 degrees (2 degrees Fahrenheit) since pre-industrial times.

Nor does the deal expand on last year's call to phase down global use of ''unabated coal'' even though India and other countries pushed to include oil and natural gas in language from Glasgow. That too was the subject of last minute debate, especially upsetting Europeans.

Last year's climate talks president chided the summit leadership for knocking down his efforts to do more to cut emissions with a forceful listing of what was not done.

''We joined with many parties to propose a number of measures that would have contributed to this emissions peaking before 2025, as the science tells us is necessary. Not in this text,'' the United Kingdom's Alok Sharma said emphasizing the last part. ''Clear follow through on the phase down of coal. Not in this text. A clear commitment to phase out all fossil fuels. Not in this text. And the energy text weakened in the final minutes.''

And in his remarks to negotiators, U.N. climate chief Simon Stiell, who hails from Grenada, called on the world ''to move away from fossil fuels, including coal oil and gas.''

However, that fight was overshadowed by the historic compensation fund.

''Quite a few positives to celebrate amidst the gloom and doom'' of not cutting emissions fast enough to limit warming to 1.5 degrees, said climate scientist Maarten van Aalst of the Red Cross Red Crescent Climate Center, which responds to climate disasters.

It's a reflection of what can be done when the poorest nations remain unified, said Alex Scott, a climate diplomacy expert at the think tank E3G.

''I think this is huge to have governments coming together to actually work out at least the first step of ... how to deal with the issue of loss and damage,'' Scott said. But like all climate financials, it is one thing to create a fund, it's another to get money flowing in and out, she said. The developed world still has not kept its 2009 pledge to spend $100 billion a year in other climate aid '-- designed to help poor nations develop green energy and adapt to future warming.

Next year's talks will also see further negotiations to work out details of the new loss and damage fund, as well as review the world's efforts to meet the goals of the Paris accord, which scientists say are slipping out of reach.

According to the agreement, the fund would initially draw on contributions from developed countries and other private and public sources such as international financial institutions. While major emerging economies such as China wouldn't automatically have to contribute, that option remains on the table. This is a key demand by the European Union and the United States, who argue that China and other large polluters currently classified as developing countries have the financial clout and responsibility to pay their way.

The fund would be largely aimed at the most vulnerable nations, though there would be room for middle-income countries that are severely battered by climate disasters to get aid.

Martin Kaiser, the head of Greenpeace Germany, described the agreement on a loss and damage as a ''small plaster on a huge, gaping wound.''

''It's a scandal that the Egyptian COP presidency gave petrostates such as Saudi Arabia space to torpedo effective climate protection,'' he said.

Many climate campaigners are concerned that pushing for strong action to end fossil fuel use will be even harder at next year's meeting, which will be hosted in Dubai, located in the oil-rich United Arab Emirates.

___

Wanjohi Kabukuru, David Keyton, Theodora Tongas and Kelvin Chan contributed to this report.

___

Follow AP's climate and environment coverage at https://apnews.com/hub/climate-and-environment

___

Associated Press climate and environmental coverage receives support from several private foundations. See more about AP's climate initiative here. The AP is solely responsible for all content.

Ghislaine Maxwell moved to cushy Florida prison that offers yoga and Pilates | Fox News

Sun, 20 Nov 2022 13:35

Ghislaine Maxwell has been transferred to a cushy low-security federal prison in north Florida to serve out her 20-year sex trafficking sentence for procuring teen girls to be abused by her and late financier Jeffrey Epstein.

The British socialite, 60, is now residing at the Tallahassee Federal Correctional Institution, which houses about 755 female inmates, according to the Federal Bureau of Prisons database.

Other notable prisoners who've called the sprawling brick complex home include Russian spy Maria Butina, terrorist Colleen LaRose a.k.a. "Jihad Jane" and nursing home serial killer Catherine May Wood.

Maxwell, who must wear a uniform of khaki pants and a shirt, can pass the time practicing yoga and Pilates or playing flag football, according to the facility's website.

GHISLAINE MAXWELL, JEFFREY EPSTEIN COHORT, HIT WITH 20 YEARS FOR SEX TRAFFICKING TEEN GIRLS

Photo composite showing a courtroom sketch of Ghislaine Maxwell at the defense table with defense attorney Jeffrey Pagliuca while listening to testimony in her sex abuse trial, Thursday, Dec. 16, 2021, in New York. (Elizabeth Williams via AP)

Popular indoor recreation opportunities include an artwork and hobby craft program and talent shows.

Maxwell will be able to spend up to $360 a month at the commissary, which offers toiletries like a collagen elastin facial for $6.22 and snacks, including smoked gouda spread for $1.80 and Nutella for $4.90.

Even sex offenders are safe at the Tallahassee FCI, according to Zoukis Consulting Group, a prison consulting firm. An inmate told Zoukis that all inmates can walk the outdoor recreation area known as the yard.

Ghislaine Maxwell and Jefrrey Epstein embrace in an undated evidence photo. (SDNY)

"Sex offenders can walk the yard," said one inmate, according to Zoukis' website. Another prisoner added, "Everybody can walk, even women who killed their children or other people's children. Nobody cares. And nobody cares about informants either."

GHISLAINE MAXWELL ASKS FOR SEX TRAFFICKING SENTENCE 'WELL BELOW' RECOMMENDATION

Maxwell, through her lawyers, asked to be sent to FCI Danbury in Connecticut, which inspired the popular prison show "Orange is the New Black." But the Bureau of Prisons didn't honor the request.

Jeffrey Epstein and Ghislaine Maxwell attend de Grisogono Sponsors The 2005 Wall Street Concert Series Benefiting Wall Street Rising March 15, 2005, in New York City. (Photo by Joe Schildhorn/Patrick McMullan via Getty Images)

The disgraced Oxford graduate will likely welcome the change of address. She had been housed at the Metropolitan Detention Center in Brooklyn since her arrest in July 2020 and has complained bitterly about conditions, filing dozens of complaints.

She was sentenced to 20 years in June after a Manhattan jury found her guilty of recruiting and grooming four teen girls for sexual encounters with Epstein between 1994 and 2004.

Epstein, a convicted pedophile, hanged himself in his jail cell at the age of 66 while awaiting trial on sex trafficking charges.

CLICK HERE TO GET THE FOX NEWS APP

Maxwell was the late billionaire's ex-girlfriend and longtime confidante.

Rebecca Rosenberg is a veteran journalist and book author with a focus on crime and criminal justice. Email tips to rebecca.rosenberg@fox.com and @ReRosenberg.

Jeffrey Epstein's Powerful Pals Will Face New Revelations in Soon-to-Be Unsealed Docs

Sun, 20 Nov 2022 13:34

On Friday, a Manhattan federal judge ruled that she'll unseal another cache of records in a defamation suit that Virginia Roberts Giuffre, a victim of Jeffrey Epstein's sex ring, filed against the financier's accomplice Ghislaine Maxwell.

Since 2019, U.S. District Judge Loretta Preska has released long-secret documents in the litigation on a rolling basis, giving the public a glimpse of Giuffre's accusations about Epstein's trafficking scheme and the men she claims participated in it. The unsealed filings also included a lengthy transcript of Maxwell's testimony.

The latest records to be revealed, according to the Daily Mail, will include materials related to eight people including Thomas Pritzker, the billionaire executive chairman of Hyatt Hotels who is listed in Epstein's little black book of contacts, a former personal assistant to Maxwell named Emmy Tayler, and Sarah Ransome, a survivor of Epstein's abuse.

Preska, however, didn't set a date for the release of the documents.

While Pritzker had argued disclosure of the record could damage his reputation, Preska overruled his objections. In previously unsealed court records, Giuffre claimed Epstein and Maxwell forced her to have sex with wealthy, high-profile men including Pritzker, Britain's Prince Andrew, former New Mexico Gov. Bill Richardson, and billionaire hedge-fund manager Glenn Dubin. (All of the men denied Giuffre's accusations.)

During Friday's hearing, Preska indicated that a majority of the ''purportedly sensitive information'' related to the parties, who are identified only as ''Does'' on the court docket, has already come to light during Maxwell's 2021 trial for sex trafficking.

Meanwhile, Preska addressed records related to Tayler, who has come forward as a victim of Epstein, and ruled they will be released because Tayler is mentioned in other publicly available materials and filed a lawsuit against Miami Herald scribe Julie K. Brown. (Tayler has denied any wrongdoing in connection to Epstein and Maxwell's trafficking ring.)

Giuffre's 2015 lawsuit against Maxwell was settled on the eve of trial in 2017, but much of the case remained under seal until the press fought for its release.

Last week, Giuffre settled a defamation suit filed against Harvard law professor Alan Dershowitz, a onetime friend and attorney to Epstein whom Giuffre has accused of sexual abuse for years. Dershowitz adamantly denied her claims and accused Giuffre of perjury.

As part of the settlement, Dershowitz and lawyer David Boies, who has represented several Epstein victims, resolved their own defamation litigation against each other.

In a statement published after the settlement was reached, Giuffre said, ''I have long believed that I was trafficked by Jeffrey Epstein to Alan Dershowitz. However, I was very young at the time, it was a very stressful and traumatic environment, and Mr. Dershowitz had from the beginning consistently denied these allegations.

''I now recognize I may have made a mistake in identifying Mr. Dershowitz,'' Giuffre added.

But after Dershowitz did a round of media interviews arguing his name was now cleared, Giuffre told The Daily Beast: ''I was shocked to read that Alan Dershowitz is claiming that our mutual dismissal of our lawsuits against each other somehow 'exonerated' him.''

''Stopping the false charges against me, and securing Mr. Dershowitz's public acknowledgement of my good faith was important to me and my family,'' Giuffre added. ''However, I did not, and would never, 'exonerate' Mr. Dershowitz in return.''

The Paul Pelosi attack conspiracy theory just got a lot stranger

Sun, 20 Nov 2022 13:27

(C) Provided by Washington Examiner Paul Pelosi, and Nancy Pelosi attend the 2019 Time 100 Gala, celebrating the 100 most influential people in the world, in New York. (Charles Sykes/Invision/AP) T he Biden Department of Justice has some explaining to do.

Police body camera footage of the attack on Paul Pelosi refutes what federal officials had claimed happened. It's the latest revelation of what has turned into an extraordinarily bizarre coverage of conflicting stories about the attack on Speaker of the House Nancy Pelosi's husband.

There are contradictory accounts surrounding the details of who opened the door to the house on the night of the attack when San Francisco police arrived at Pelosi's house. Biden's Department of Justice claimed, according to a federal indictment filed earlier this week, that "two officers opened the door." However, the San Francisco district attorney's office specified that Paul Pelosi opened the door with his left hand in a different court document filed earlier in November.

For there to be multiple accounts of such a small but important detail is concerning.

The incident approaches conspiracy theory levels because NBC News correspondent Miguel Almaguer was suspended for accurately reporting what the San Francisco DA claimed happened. And indeed, Almaguer's account was not only a faithful rendering of the San Francisco DA's account, but it was also faithful to the truth.

Pelosi did indeed answer the door upon police arrival. So why did the Biden DOJ claim differently?

"After a 'knock and announce,' the front door was opened by Mr. Pelosi. The 82-year-old did not immediately declare an emergency or tried to leave his home but instead began walking several feet back into the foyer toward the assailant and away from police," Almaguer stated. "It's unclear if the 82-year-old was already injured or what his mental state was, say sources."

NBC Bay Area reported that that night's body cam video supports the DA's account and refutes the Biden DOJ's false account. It shows either a startling lack of incompetence by the Department of Justice, or an attempted cover-up of a minor detail.

The fact that there are conflicting accounts of the incident, and that a reporter was actually punished for reporting the truth, should raise red flags.

Some people don't want it known that Paul Pelosi voluntarily answered the door after a man with a hammer had viciously attacked him. Now, all that's left to find out is....well, why?

Washington Examiner Videos

Tags: Opinion, Beltway Confidential, Commentary Writer, Nancy Pelosi, San Francisco, violence

Original Author: Christopher Tremoglie

Original Location: The Paul Pelosi attack conspiracy theory just got a lot stranger

(8) Elon Musk on Twitter: "@saylor When polls are about a significant question, even those who don't follow me tend to hear about it. That said, I agree with the idea of an all-user poll. Should also be an all-user by country poll." / Twitter

Sun, 20 Nov 2022 13:25

Elon Musk : @saylor When polls are about a significant question, even those who don't follow me tend to hear about it. That sai'... https://t.co/xMb5xykjSi

Sat Nov 19 02:09:59 +0000 2022

Major central banks have printed $25 trillion since 2008, data shows

Sun, 20 Nov 2022 13:24

Since the U.S. Federal Reserve initiated its first Quantitative Easing (QE) program during the global financial crisis in 2008, central banking has been turned upside down.

Data acquired by Finbold indicate that the world's leading central banks, including the Federal Reserve, Bank of Japan, European Central Bank, and the Bank of England, have injected more than $25 trillion into the global economy since 2008, with more than $9 trillion of that amount coming from COVID-19 alone, according to the Atlantic Council's Quantitative Easing tracker.

Central banks are now faced with the tough fine line of curtailing massive asset purchases without jeopardizing economic development. In response to the economic shock caused by COVID-19, the world's four leading central banks have increased their Quantitative Easing programs by a total of $9.1 trillion to support their own economies and the operation of international financial markets.

Four central banks QE Programs. Source: Atlanticcouncil.orgThe chart shows that by purchasing more assets, the four banks have grown the size of their cumulative balance sheet by around 60% since the start of 2020.

Quantitative Easing and what it meansWhenever a central bank engages in QE, it acquires significant amounts of assets, such as government bonds, with the goal of lowering borrowing rates while simultaneously increasing expenditure to stimulate economic development and, eventually, inflation.

Former Federal Reserve Chair Ben Bernanke said back in 2014:

''The problem with QE is that it works in practice, but it doesn't work in theory.''

Central banks may be forced to abandon their new policy approach if greater inflation continues. Changing forward guidance and shifting the average inflation objective to raise inflation expectations was the purpose behind the move.

The Federal Reserve wants to see inflation rise and will not hike interest rates immediately. This notion has been put to the test with COVID-19 and enormous stimuli.

Investors looking for a hedge against inflationAs reported earlier this week, gold prices rose steadily, reaching almost a five-month high after the latest inflation reading in the United States.

Wheaton precious metals CEO Randy Smallwood pointed out, inflation is becoming a threat and thus increasingly playing an essential role in the acquisition of commodities.

''Those are the core materials that we build all of our products from. And so, there's no doubt that inflation is becoming a greater and greater risk as we go forward. And it's going to play into it. I will say that right now because the commodity prices have climbed substantially,'' he said.

As a result, many people are turning to gold, stocks, and cryptocurrencies, among other forms of stores of value, as a means of protecting themselves from inflation.

Highest inflation in more than 30 yearsNotably, the October consumer price index (CPI) for the United States came in at 0.9 percent, representing a 6.2 percent year-over-year increase, against expectations for a 0.6 percent increase from September and a 5.9 percent year-over-year increase. As a result, October's CPI readings in the United States were the highest in more than 30 years.

Meanwhile, on Tuesday, 9 November, the producer price index (PPI) for the United States increased by 8.6 percent year on year, while the energy component increased by 30 percent over the previous 12 months.

With several nations on the point of financial collapse, the national debt continues to be a subject of debate in the global economy. Even the most sophisticated countries are being hit hard, with national debt levels reaching historic heights.

According to data acquired by Finbold, the combined national debt of the U.S., Japan, and China was $52.35 trillion in November 2021. The total debt has risen 11.6 percent in a year, from $46.87 trillion in November 2020. As a consequence, the overall national debt increased by $5.48 trillion in only one year.

Paulo Coelho

Fri, 18 Nov 2022 17:15

Turns out that global storyteller Paulo Coelho (''The Alchemist'' and many other bestsellers) pirates his own books online.''Publishers have a tendency to try to protect the content. It's a lost battle'', he says. And tells of his own experiences. In 2000, he released on his website the full text of ''Stories for parents, children and grandchildren'', which he wrote specifically for the web. In five months, the book was downloaded over 1 million times. ''But until today I've never got a comment on that book''. Which he explains as follows: often ''people download, but don't read. They download to have the impression to own something that one day they're going to read. But when people really want to read, they go buy the books''.Around the same time, ''I found a pirated Russian translation of ''The Alchemist'', and we were selling 1000 copies a year in Russia, that's not very impressive, so I said OK, let's put the pirate edition online for people to download''. In 2001 ''it sold 10'000 copies, and everybody was puzzled, and the next year we went over 100'000''. His publisher had not done any particular promotion. ''It was, believe it or not, the free-for-download book. People downloaded it, started reading it, liked it, and bought it'', Paulo says. ''In the third year we had over 1 million copies, now we're over 10 million copies in Russia''.''I thought, this is fantastic. You give to the reader the possibility of reading your books and choosing whether to buy them or not.'' (Which, btw, happens offline too: you can spend hours at Barnes & Noble reading books and sipping coffee before deciding to buy, a practice that I would like to see in European bookstores, too). But he needed to find a way to get around copyright regulations and avoid having to require permissions from publishers and translators. So he pirated himself. ''I went to BitTorrent and got all my pirate editions in various languages and created a site called PirateCoelho ''. That's a blog where he posts links to free full-text and audiobook copies of most of his books in multiple languages available on file-sharing networks, FTP sites and elsewhere online. ''I linked to it from my own blog, playing a bit naive, as if somebody else had set it up''. Paulo claims that free ignites sales: ''The sales increased a lot. There is no conflict between the fact that you have something for free, it stimulates people to read and to buy, because they have the possibility of trying''.(Footnote: this is probably less self-evident for authors who don't enjoy global name recognition and established large readerships).At the DLD conference in Munich, where he told this story the other week, Paulo also underscored two other ways the Internet is affecting the book business.One: By changing the language and ''interfering with the way we express ourselves''; ''in 20 years we will have new languages established, that either will make our life easier or more difficult''.Two: By changing the relation between writers and readers: ''writing is such a lonely thing to do; the only reader I know a bit is me, so I write for me. But through the Internet and my blog for the first time I can interact with my readers. I spend at least three hours a day on e-mail and Facebook and on my blog and online projects''. Last year, Paulo invited ten readers to his annual party in Spain, by posting a notice on his blog, and some flew in from the other end of the world just for those two hours. This year, he's inviting 30, in Paris on March 19, because ''nothing is true without eye-contact''. For your chance to be one of them, read this post on his blog.I had a chat with Paulo and his assistant after the speech. He is all over the Internet, leveraging sites, blogs, social networks and other tools to spread his voice '-- and promote his books '-- and is running several interesting online experiments (beyond blogging very actively '-- his blog also includes an ongoing interview, with him answering daily questions by Aart Hilal, a likely fictitious identity that functions as the writer's own online alter-ego). One is the monthly publication ''Warrior of the Light''.Another is called ''The Experimental Witch'' and is a film competition/movie crowdsourcing project based on Paulo's novel ''The witch of Portobello'': ''I've been visiting the pages of readers this last year and I've seen excellent works by actresses & actors, musicians, directors, etc. That's why I thought: why not make a movie together?'', he asks. How would that work? The book is divided into 15 narrators' perspectives. Paulo is inviting filmmakers to sign up, pick a narrator, and shoot a video including all the scenes in the book in which that narrator interacts with the main character, Athena. ''Since there will be a myriad of projects, I am aware that Athena will always be a different person (Caucasian, African, Asian, etc). This plurality is welcomed since Athena's character is supposed to be ''fleeting'''.''After the scenes are shot, and the videos uploaded to a private YouTube account, the best ones will be chosen to be edited into the final movie '-- all the rights will go to Coelho, while the filmmakers will get 3000 euros each, plus a share of fame if the experiment works out. (Let's add that ''musicians from MySpace'' are also invited to create a theme for the feature film or for single characters, under similar conditions). Deadline to sign up and participate: 31 May 2008. ''We would be doing a bit of cinematographic history together: a film directed by its narrators!'', writes Paulo. Here is a trailer. Computer maker HP is sponsoring, and Paulo will be at the Cannes Film Festival in May talking about it.

From : Bruno Giussani's Blog
ALL VIDEOS

VIDEO - (20) Marty Bent on Twitter: "''We've been leaning into stablecoins and central bank digital currencies.'' @Visa is NGMI https://t.co/So8BBwmRZ3" / Twitter

Sun, 20 Nov 2022 18:06

Marty Bent : ''We've been leaning into stablecoins and central bank digital currencies.''@Visa is NGMI https://t.co/So8BBwmRZ3

Fri Nov 18 18:11:36 +0000 2022

VIDEO - (139) Video-prank with Pramila Patten (UN Special Rep on SexViolence in Conflict) - YouTube

VIDEO - (18) Greg Price on Twitter: "Biden tells people concerned about heating their homes this winter that they can get a tax credit to install solar panels on their roofs. https://t.co/MRVPmZTD0N" / Twitter

Sun, 20 Nov 2022 17:52

Greg Price : Biden tells people concerned about heating their homes this winter that they can get a tax credit to install solar'... https://t.co/pHs1Qp8Mge

Fri Nov 18 18:57:31 +0000 2022

Dale James : @greg_price11 Jackass.

Sun Nov 20 17:42:07 +0000 2022

Colleena Larson : @greg_price11 This guy reminds me of a used car salesman.

Sun Nov 20 17:31:05 +0000 2022

Julie Martin : @greg_price11 BEADY EYED AHOLE

Sun Nov 20 17:00:46 +0000 2022

VIDEO - Target blames criminal networks for up to $600M in lost profits

Sun, 20 Nov 2022 17:50

Published November 17, 2022 9:10AM

Updated 1:24PM

Target takes a hit from shopliftingThe CEO of Target says rampant shoplifting at its store is a major drain on profits. The company is working on training and technology to help cut down on theft and is working with other companies to find industry-wide solutions.

NEW YORK - Target is the latest big retailer blaming shoplifting for putting a big hit on its profits. The company said its gross margin rate dropped from 28% in last year's 3rd quarter to 24.7% this year. Along with shoplifting, referred to as shrink in the industry, the company blamed higher markdown rates and freight costs for dragging down profits.

The company says "inventory shortage or shrink" is a major drain on profits and it "is a growing problem." Target expects theft to cost it $600 million in lost profits this year.

"At Target, year-to-date, incremental shortage has already reduced our gross margin by more than $400 million vs. last year and we expect it will reduce our gross margin by more than $600 million for the full year," company CFO Michael Fiddelke said in an earning conference call this week. "This is an industry-wide problem that is often driven by criminal networks."

Get breaking news alerts in the free FOX5NY News app! | Sign up for FOX 5 email newsletters

"It started probably in some localized geographies originally, but we see those circles expanding and the impact continuing to grow," John Mulligan, Target COO said. "This is primarily driven by organized crime."

Target says it is working on training and technology to help cut down on theft and is working with other companies to find industry-wide solutions.

Locking up toothpaste

It is also locking up items. Images from a Target in Queens showed items like toothpaste and razors locked behind glass doors. Customers are required to use a sensor device to summon store workers to unlock the items.

Target has also taken shoplifting so seriously that it has its own forensic science team.

Based in Las Vegas and Minneapolis, the forensic team helps solve organized retail crimes committed at Target stores through video and image analysis, latent fingerprint, and computer forensics.

Organized crime costing Target big bucksTarget says that retail theft is expected to cut its profits by $600 million this year.

Company leaders noted on the earnings call that many stolen items end up being offered for sale online. Target says it strongly supports the passage of legislation to prevent criminals from selling stolen goods through online marketplaces.

As Target noted, it is a problem across the retail industry.

Last month, Rite Aid said shoplifting has gotten so bad in New York City that the company is considering putting everything into locked displays.

The company recently reported $5 million in additional losses in the past 3 months due to what is referred to as "shrink" in the retail industry. That's another word for stolen items.

Rite Aid CEO Heyward Donigan cited New York City's stores as the main source of the problem.

Shoplifting at Rite Aid storesRetail stores across the country have reported increased thefts coupled with supply chain issues. Actor Michael Rapaport shined a light on the shoplifting problem at a Rite Aid story in his Manhattan neighborhood.

The company says that there is no insurance on shrink and it is a hit on the company's gross margin.

Chief Retail Officer Andre Persaud said, "The environment that we operate in, particularly in New York City, is not conducive to reducing shrink just based upon everything you read and see on social media and the news in the city."

"We're looking at literally putting everything behind showcases to ensure the product is there for customers who want to buy it," Persaud said.

Shoplifting has grown in the past two years in New York City.

There were 32,358 retail theft complaints in 2020. That grew to 43,864 in 2021. The trend has continued into 2022.

Manhattan District Attorney Alvin Bragg has received much criticism for the problem due to his no-bail policies for what are considered non-violent crimes.

Earlier this year Bragg said that he planned to address the problem with a small business alliance task force made up of small business leaders from across the borough. That report was due in May. Shoplifting has not become less of a problem.

Target said that while it is dealing with retail theft, Mulligan said, "The biggest focus for us is keeping our team and our guests safe."

Shoplifting crisis at NYC drugstoresThe NYPD says shoplifting in the city is at its highest levels and that thieves are targeting a lot of drugstores in particular.

VIDEO - (18) Wall Street Silver on Twitter: "G20 to adopt Vaccine Passports using WHO standards ''Let's have a digital health certificate acknowledged by WHO'... if you have been vaccinated or tested properly, then you can move around'', said the Indon

Sun, 20 Nov 2022 17:45

Wall Street Silver : G20 to adopt Vaccine Passports using WHO standards ''Let's have a digital health certificate acknowledged by WHO'...'... https://t.co/m1gRVa4W8x

Wed Nov 16 07:00:01 +0000 2022

Nathan Arthur Buxton : @WallStreetSilv Did Bill Gates share what his next pandemic is going to be?

Sun Nov 20 17:45:47 +0000 2022

Nathan Arthur Buxton : @WallStreetSilv What have they got planned for the next pandemic?

Sun Nov 20 17:45:22 +0000 2022

Barbara : @WallStreetSilv @jaskanwalsingh_ They won't give up on this, because they need it to digitally control everyone fin'... https://t.co/AGAPflcBU7

Sun Nov 20 17:43:42 +0000 2022

VIDEO - (139) 'You Should Have Been Gone A Long Time Ago': Josh Hawley Tells FBI Director He Isn't Up To The Job - YouTube

VIDEO - (139) 'You Represent Nobility?': GOP Lawmaker Has Tense Exchange With Sec. Mayorkas Over Border Security - YouTube

VIDEO - (18) Pelham on Twitter: "Holy Shit'.... Canada is going to mandate psychiatric medication for those that refuse mRNA injections or any kind of vaccination. . https://t.co/HSacOMwgZ6" / Twitter

Sun, 20 Nov 2022 17:32

Pelham : Holy Shit'.... Canada is going to mandate psychiatric medication for those that refuse mRNA injections or any kind of'... https://t.co/TJuaLucISP

Sat Nov 19 08:44:22 +0000 2022

MDaff : @Resist_05 That's a pretty messed up suggestion

Sun Nov 20 17:27:56 +0000 2022

Mohamed Balfoul : @Resist_05 Waaaw! That's insane

Sun Nov 20 17:24:35 +0000 2022

hans ulrich murphy : @Resist_05 Egregious!

Sun Nov 20 17:24:00 +0000 2022

Gaudente Della Morte della Sinistra : @Resist_05 @a_meluzzi Defend yourself in every way and in every way! Defend your future and that of the next generations. Stay healthy!

Sun Nov 20 17:18:19 +0000 2022

Liberty Belle, the 355 🇺🇸ðŸ---- : @Resist_05 When was this recorded? Just wondering if Canada is still pushing vaccination this hard. Bonkers.

Sun Nov 20 17:17:17 +0000 2022

Larry D : @Resist_05 They can try.

Sun Nov 20 17:16:35 +0000 2022

packergal : @Resist_05 Droves of doctors are leaving as they themselves will not take those jabs. Good luck with that

Sun Nov 20 17:12:23 +0000 2022

Derek Mullings : @Resist_05 What the'...

Sun Nov 20 17:08:49 +0000 2022

Energist🕊 : @Resist_05 SuggestingAlways with their tricky language.

Sun Nov 20 17:07:35 +0000 2022

CBS Claus : @Resist_05 I guess that must be a joke or a prank well done - cause if that would be true - that is the most scoroe'... https://t.co/UA5EcK9fS0

Sun Nov 20 17:03:56 +0000 2022

Michael Prewitt : @Resist_05 Next phase of the zombie apocalypse! SMFH!!!

Sun Nov 20 17:02:51 +0000 2022

ãã''と : @Resist_05 Crazy.

Sun Nov 20 17:01:47 +0000 2022

TheLegalBrain : @Resist_05 @thedukereport From a "seasoned psychiatric nurse" in a "Huge East Coast city" -- https://t.co/lN1dZFkyMG

Sun Nov 20 17:01:31 +0000 2022

Marcus Renatus : @Resist_05 We rarely see the evil face of bureaucracy

Sun Nov 20 17:00:12 +0000 2022

Mr H¤nz : @Resist_05 The people thinking of such measures need these medications!

Sun Nov 20 16:59:20 +0000 2022

Ashlynn Baldwin 🎃 🇨ðŸ‡... MoO : @Resist_05 That's not even at all what was said. They are not mandating, he said. He also said experimental vacci'... https://t.co/RPPfGiuNbk

Sun Nov 20 16:57:58 +0000 2022

Peter Thomas Maule : @Resist_05 https://t.co/GDKQ3RZAJF

Sun Nov 20 16:55:24 +0000 2022

Frozen Fibonacci : @Resist_05 Bullish on Shrooms

Sun Nov 20 16:50:48 +0000 2022

Vince Vavala : @Resist_05 Saw that this morning. That is not going to happen

Sun Nov 20 16:44:45 +0000 2022

James young : @Resist_05 They say 6,000,000 (lie)died from Covid, fact 20,000,000 people died or had a medical emergency from the'... https://t.co/Ll8SLhfdWD

Sun Nov 20 16:42:18 +0000 2022

Nathan Lilly : @Resist_05 I don't know who STILL needs to hear this but a 'mandate' is simply a recommendation without any legal o'... https://t.co/4y40Rd4Hu9

Sun Nov 20 16:37:26 +0000 2022

Crystal Gayle : @Resist_05 @JLaFrance3WV What in the actual f*ck!!

Sun Nov 20 16:37:01 +0000 2022

James young : @Resist_05 What do you expect from a bunch of inbred people, they normally do things ssa sdarwkcab

Sun Nov 20 16:35:12 +0000 2022

Ann Karsaw : @Resist_05 Not Alberta! Thanks to @ABDanielleSmith! 👏👏👏👏👏👏

Sun Nov 20 16:25:53 +0000 2022

Denis Connaughton : @Resist_05 There are very dangerous disturbed tyrannical people and they must be removed by whatever means....

Sun Nov 20 16:25:00 +0000 2022

Joebozo : @Resist_05 👍🏾What should we call Canadians who acquiesce?

Sun Nov 20 16:23:23 +0000 2022

Q to Rebirth : @Resist_05 Sick Sottish people. No Judge in their right mind should let this happen.

Sun Nov 20 16:21:18 +0000 2022

bill peterson : @Resist_05 That is what a Marxist nation looks like. You notice that one of the first things they implemented was g'... https://t.co/gxBGaghYMI

Sun Nov 20 16:20:47 +0000 2022

Alex : @Resist_05 https://t.co/Xzu8Cuxeva

Sun Nov 20 16:18:14 +0000 2022

Scott Snow : @Resist_05 they raked in Billions with the mRNA now they will rake it in with this Cant wait to see what Jordan P has to say

Sun Nov 20 16:17:41 +0000 2022

point of domination : @Resist_05 @wyomek ''Suggestion'' like science fiction, will become fact if you wait long enough. Snuff out autocracies wherever they exist.

Sun Nov 20 16:10:43 +0000 2022

Merion Rustemi : @Resist_05 I smell civil war if they try that

Sun Nov 20 16:07:55 +0000 2022

Mark : @Resist_05 Well I hope that they at least give me the good stuff... Wellbutrin baby! Another good reason to avoid'... https://t.co/krSUykwjfz

Sun Nov 20 16:06:39 +0000 2022

Merion Rustemi : @Resist_05 ðŸ­ðŸ¤£ðŸ'ðŸ­ðŸ¤£ðŸ­ðŸ'🤣🤣🤣🤣🤣🤣🤣🤣🤣

Sun Nov 20 16:04:34 +0000 2022

Roza ðŸ'‹ : @Resist_05 How on gods green earth is this actually happening?

Sun Nov 20 16:04:30 +0000 2022

ShayneBarbosa1 : @Resist_05 Good luck, lots of our population has caught on to the scam. This won't work

Sun Nov 20 16:03:02 +0000 2022

VIDEO - (19) Alex Stein #99 on Twitter: "Confronting Armed Antifa at Drag Queen Story Time in Denton, Texas https://t.co/Jgb6na8oGs" / Twitter

Sun, 20 Nov 2022 17:26

Alex Stein #99 : Confronting Armed Antifa at Drag Queen Story Time in Denton, Texas https://t.co/Jgb6na8oGs

Sat Nov 19 21:09:54 +0000 2022

Kaylie Leitner : @alexstein99 Assualts and harass people finds it funny

Sun Nov 20 17:26:26 +0000 2022

leigh : @alexstein99 Good on you alex. They're obviously peodos by covering there faces and want kids to be involved in thi'... https://t.co/41BBnszX58

Sun Nov 20 17:26:10 +0000 2022

'''¸Un-Vaxxed and Covid free'''¸ : @alexstein99 https://t.co/IO5M7ZaaNA

Sun Nov 20 17:26:09 +0000 2022

Des 🏴 : @alexstein99 Did you just knock a leftist down by touching him? Epic!!!

Sun Nov 20 17:25:56 +0000 2022

'' : @alexstein99 Little guns? Bruh

Sun Nov 20 17:25:35 +0000 2022

Iron Master : @alexstein99 Kinda looks like he ran into the pole .That was funny .Why always in texas ? I thought texas was bett'... https://t.co/Iu4O5WWB4M

Sun Nov 20 17:24:39 +0000 2022

_ : @alexstein99 Bro you're so ugly it's hilarious

Sun Nov 20 17:22:28 +0000 2022

Michae| : @alexstein99 you're a weirdo

Sun Nov 20 17:21:53 +0000 2022

Gary moore : @alexstein99 @AllieNicole4787 A bunch of lesbians with guns no one is scared of them

Sun Nov 20 17:21:34 +0000 2022

Fred Pleis : @alexstein99 It's BS hated and disrespect toward others who think differently than you do that leads to this: https://t.co/SSfWIBWDih

Sun Nov 20 17:21:22 +0000 2022

Ricardo Mejia : @alexstein99 Your voice could be used as a torture device

Sun Nov 20 17:20:52 +0000 2022

Travis J King : @alexstein99 Defend the sexualization of kids but don't defend kids in schools? Wtf?

Sun Nov 20 17:19:39 +0000 2022

Lenny Leftie : @alexstein99 Legend

Sun Nov 20 17:19:38 +0000 2022

VIDEO - (19) Nat on Twitter: ""It [mRNA] is everywhere. It's in oral secretions. It's in your genital secretions. It's in sweat. It's in breast milk. We don't know when - or if it EVER - clears out of the body.'' We really need studies re shedding'--I ca

Sun, 20 Nov 2022 17:21

Nat : "It [mRNA] is everywhere. It's in oral secretions. It's in your genital secretions. It's in sweat. It's in breast m'... https://t.co/hBIfstk5Od

Sat Nov 19 22:25:00 +0000 2022

VIDEO - (19) Newo Judicial ðŸ'¬ Tegen de MSM Media als 'Expert'! on Twitter: "Macron: "we need a single new world order." 🖕 https://t.co/bO3Dgt2idE" / Twitter

Sun, 20 Nov 2022 17:20

Newo Judicial ðŸ'¬ Tegen de MSM Media als 'Expert'! : Macron: "we need a single new world order." 🖕 https://t.co/bO3Dgt2idE

Sun Nov 20 05:03:14 +0000 2022

Newo Judicial ðŸ'¬ Tegen de MSM Media als 'Expert'! : Macron: "you need more "animals" to co¶rporate." https://t.co/xxkJ4VmBdq

Sun Nov 20 16:44:32 +0000 2022

Mat The Wilde : @oakentersagain https://t.co/0CxrG4xGlx

Sun Nov 20 15:28:32 +0000 2022

sylli : @oakentersagain https://t.co/VmQ17tBfae

Sun Nov 20 15:22:21 +0000 2022

VIDEO - Telegram: Contact @carlvernon

Sun, 20 Nov 2022 17:13

Download Context Embed View In Channel Copy

VIDEO - (139) Interview with Frans Timmermans, Executive VP of the European Commission at #WorldHydrogen2022 - YouTube

VIDEO - (19) Sophia Kianni on Twitter: "My speech to leaders at #COP27 yesterday was pretty clear. Here it is in each of the six official @UN languages: Stop lying كف عن اÙكذب å'æ­è¯´è°Ž Arrªtez de mentir ÐÑекÑати вÑать Deja de me

Fri, 18 Nov 2022 15:21

Sophia Kianni : My speech to leaders at #COP27 yesterday was pretty clear. Here it is in each of the six official @UN languages:S'... https://t.co/Cqyyp9eXiR

Wed Nov 09 08:11:33 +0000 2022

Obibok na własny koszt : @SophiaKianni @UN @UNFCCC Dlaczego nie pojechałaś tam na rolkach lub rowerem i nie popłynÄłaś w pław lub na kanu?

Fri Nov 18 15:21:24 +0000 2022

fredkiller : @SophiaKianni @UN @UNFCCC Une gamine qui parle du climat ðŸ'ðŸ'Greta 2.0 ðŸ'ðŸ'ridicule

Fri Nov 18 14:34:13 +0000 2022

Inconforme : @SophiaKianni @UN @UNFCCC ðŸ¤ðŸ¤ðŸ¤ðŸ¤®ðŸ¤®ðŸ¤®ðŸ¤®

Fri Nov 18 14:20:03 +0000 2022

Johnnyburg : @SophiaKianni @UN @UNFCCC No one cares, this is not tiktok

Fri Nov 18 14:09:34 +0000 2022

VIDEO - (136) Kianni on accountability and the individual carbon footprint - YouTube

VIDEO - (136) Language Shouldn't Be a Barrier to Climate Action | Sophia Kianni | TED Countdown - YouTube
Clips & Documents
Art
Audio Clips

55 tons of pot in SPain.mp3

ABC ATM - anchor Andrew Dymburt - lake effect snow (7sec).mp3

ABC ATM - anchor Andrew Dymburt - student relief to supreme court (15sec).mp3

ABC ATM - anchor Rhiannon Ally - north korea ICBM -kamala (43sec).mp3

ABC ATM - anchor Rhiannon Ally - sovereign immunity for MBS (15sec).mp3

ABC ATM - anchor Rhiannon Ally - twitter turmoil (1min58sec).mp3

ABC GMA3 - anchor Dr Jen Ashton - ozempic -on label -off label (1min16sec).mp3

ABC GMA3 - anchor T.J. Holmes - bills game moved lake effect snow (43sec).mp3

Alex Stein - Confronting Armed Antifa at Drag Queen Story Time in Denton.mp3

Arizona voting 1 keri Lake.mp3

Arizona voting 2.mp3

Attny General non political BS 2 PBS.mp3

Attny General non political BS PBS.mp3

Biden heating their homes this winter tax credit to install solar panels.mp3

Bobert wins in CO maybe.mp3

Brooklyn background hum.mp3

Capehardt on Pelosi WOW.mp3

CBS Evening - anchor Holly Williams - qatar budweiser world cup (22sec).mp3

CBS Evening - anchor Jeff Pegues - special counsel for trump (1min39sec).mp3

CBS Evening - anchor Jonathan Vigliotti - twitter turmoil continues (1min54sec).mp3

CBS Evening - anchor Major Garrett - elizabeth holmes 11+ years (21sec).mp3

CBS Evening - anchor Major Garrett - massive lake effect storm (26sec).mp3

CBS Weekend - anchor Natalie Brand - trump lashing out (1min31sec).mp3

CCP Police in USA 1.mp3

CCP Police in USA 2.mp3

COP failure Egypt 1 PBS.mp3

COP failure Egypt w new greta.mp3

COVID tracking software in MA.mp3

Elon board room conversation - slame edit button and lets copy wechat.mp3

Frans Timmermans promo HydrogenWorld 2023 - a few cuts.mp3

Funny Trump Twitter suit.mp3

G20 to adopt Vaccine Passports using WHO standards - Healt Minister Indonesia.mp3

Georgia voting lawsuit.mp3

Greek Libya fiasco and problem.mp3

Homeland Security Committe -1- Higgens (La) Mayorkas drilled - YOU WILL.mp3

Homeland Security Committe -2- Hawley whistlebowers to FBI Director Wray Jan 6 bullcrap.mp3

Homeland Security Committe -2- Higgens (la) FBI Director Wray jan 6.mp3

House rules changes wow ntd.mp3

ISO Bullcrap.mp3

ISO stupid.mp3

Korean News Lady is BACK.mp3

Liz Holmes sentence PBS.mp3

Macron speech cnippet - New Global Order - Anti-Klaus.mp3

McCullough - mRNA is everywhere may not ever clean out.mp3

NBC Today - anchor Emily Ikeda - shooting at gay nightclub (1min37sec).mp3

NBC Today - anchor Raf Sanchez - COP27 climate loss damage fund (1min24sec).mp3

New Greta - Sophia Kianni on accountability and the individual carbon footprint WaPo Live.mp3

Ontario officials recommending psychiatric meds for vaccine deniers.mp3

Oregon Sheriffs scoflawa wow.mp3

Ozempic commercial (1min28sec).mp3

plastic in Texas.mp3

Saudi Prince immunity 1 wtf NTD.mp3

Saudi Prince immunity 2.mp3

State Dept Saudis and WTF1 PBS.mp3

State Dept Saudis and WTF2 PBS.mp3

State Dept Saudis and WTF3 ugh.mp3

SUPERCUT dangerous tro democracy.mp3

Target blames criminal networks for up to $600M in lost profits.mp3

Twitter quitters PBS.mp3

UK Chipdeal nixed 2.mp3

UK Chipdeal nixed.mp3

UK Tax hikes.mp3

UKRAINE no energy PBS.mp3

Video-prank with Pramila Patten (UN Special Rep on SexViolence in Conflict).mp3

Visa old and new CEO - FTX and stablecoins.mp3