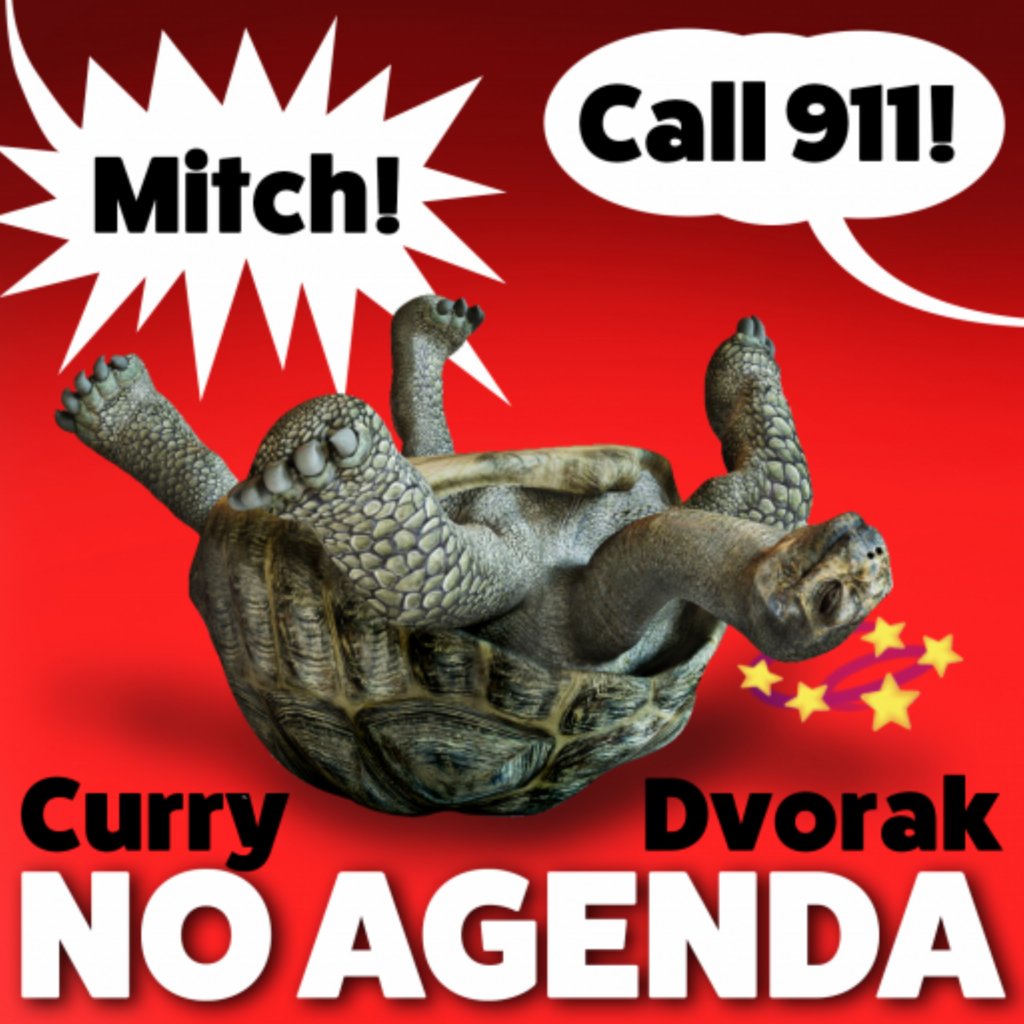 March 9th • 3h 10m
1536: Killer Clown
Transcript
The transcripts of No Agenda are automatically generated and therefore, not fully accurate. Discretion is advised.
Click the text to start playing from that position in the show. Click the timestamp to copy a direct link to that position to your clipboard in order to propagate the formula.
Adam Curry: We used to edit with a razor blade.
Unknown: Adam curry Jhansi Devorah
Adam Curry: are they march 9 2023 This Year Award winning
keep on Asian media assassination episode 1536. This
is no agenda, saving or creating lives twice a week and
broadcasting live from the heart of the Texas hill country here
in Cedar Ridge and number six in the morning, everybody. I'm Adam
curry
John C Dvorak: from Northern Silicon Valley where the
atmospheric river is back. I'm Jesse Devorah.
Adam Curry: Wait a minute. I didn't get any news reports
about that. Are you are you drowning again? Over there?
John C Dvorak: Supposedly this afternoon? Oh, so
Adam Curry: it hasn't happened yet.
John C Dvorak: Supposedly this afternoon, we're gonna get four
inches.
Adam Curry: Wow, that's a lot. That's a lot for California.
John C Dvorak: You could get anything. It's always bull crap.
Oh, you mean
Adam Curry: mean? Well, how about LA? It's always fun when
they gets a four inches. Well, they
John C Dvorak: Yeah. washes out to see much don't even bother
with cisterns or reservoirs or anything. They just tell it.
Yeah. Did they bitch? Yeah. I think it's time that we all
decided that let's give up on this specially in California on
this problem with the homeless and just give developers some
land and let developers let the shanty towns crop up. Usually
outside the airports a good place.
Adam Curry: Where's this coming from? Well, how did we get how
do we get from, from the atmospheric river to the
homeless favelas,
John C Dvorak: because he's this river is going to knock these
homeless tents down.
Unknown: You're the worst.
John C Dvorak: You're the worst. May the worst?
Adam Curry: You won't be one people who are unhoused to drown
and be washed out to sea.
John C Dvorak: No, I don't want him to die. That's what I'm
saying. That's where we have to give him some land. Create a
shanty town usually outside the airports a good place because
nobody ever wants to be in the you know where the airport is?
Oh, of course. So give me you know, surround the airport with
shanty towns in California. Let them build their own thing.
They're very real. A lot of them are architects out of business.
You know, unemployed architects they can they can help.
Unknown: I'm sure. I'm sure they are.
Adam Curry: Speaking of homeless, Tina and I went to
Austin last night to East Sixth Street, also known as dirty six.
And we're stepping over homeless people on a two block walk from
the parking garage to Joe Rogan's comedy mothership, his
new club that he just opened.
John C Dvorak: Did you get comped?
Adam Curry: Did I get comped Oh my goodness. We I mean, there's
one thing I know about Joe Rogan. He likes hospitality.
John C Dvorak: So when we got a bottle of champagne, then
Adam Curry: no, no, hold on a second. We got immediately
picked up at the minute we showed up at the door, you know,
people assuring us in taking and I knew a number of the people
who work there because he is like his bodyguard team or
whatever. No, I mean, really? VIP all the way. special VIP
balcony free drinks with someone who would come and serve us the
whole time. So we weren't just sitting in the club. No, we are.
We are VIP at the top. So it's more than
John C Dvorak: just so you weren't mingling with the
peasants? Oh, no,
Adam Curry: no, no, no. In fact, there are two balconies. And I
look over to the right and guess who's sitting over there with
his wife? You'll never guess.
John C Dvorak: But give it a shot. Abbott
Adam Curry: Alex Jones.
John C Dvorak: Oh, that's cool.
Adam Curry: So we went over. We went over we said hi to him.
He's like Hey, man. Hey, don't believe half of the shit you
hear. Is it bullshit? It's not true. Alex dude is mes Okay? All
right. Yeah, but talk a lot of shit about me when you're coming
back on. His did
John C Dvorak: did Rogan do a set?
Adam Curry: Yes, he did. He closed out the whole night. We
didn't get we didn't get home until well after one o'clock.
Now because Joe probably went until 1115. And and then right
away, he we were like, Okay, well, we'll leave we walk off
the balcony. He's right there. Hey, come on. Let's go sit down
in the green room. And then they have another special bar inside
this place, which is called Mitzi Mitch these bar which is
named after Mitzi from the Comedy Store. In fact, half I
think most of the staff he took from Los Angeles brought them in
the Comedy Store staff. So these people know how to run a comedy
club and it was packed 250 people I think, in the old rich
theater. It was it was really I was very impressed, looks
amazing inside. And they woke comedy, anti woke comedy, all of
it. all heard, it was kind of interesting, a little bit down
the middle. But if you just want to feel like anybody woke or not
woke could sit in that audience because there's no cell phones
or they lock up your cell phones. So you can't be
recording anything and can't get anything out there, by the way.
So we're talking to Alex Jones. He's like, Oh, man, it's great.
Roseanne was here last night and I had her on the show this
afternoon. She's great. She lives out there in
Fredericksburg near you and she loves you. She's a big fan. Big
fan. Like what's Roseanne Barr is a big fan and lives in
Fredericksburg. Yeah. Like, well, that's interesting.
John C Dvorak: Yeah, consider we've never seen a donation from
her.
Adam Curry: Well, here's, here's what happened next. So before
the show, we're before everything starts. We're
chatting with Joe. He's giving us a little tour. And I guess
Roseanne had performed last night, which was really the
first night but it was kind of like a soft launch to get
everything figured out how everything works and staff to to
get used to stuff. And so she performed. And so we're talking
and she shuffles shuffles up to him. By the way. Roseanne Barr
is tiny. Have you ever met her? I can't say that I have no, I
would say she's not even five feet. Which it was really weird.
You know, you see, Roseanne you just think she's like 511 You
know, I don't know, it was very surprising. And so she's like,
Hey, she's talking to Joe and Joe Joe said this is Adam curry
and Tina curry. And she turns to me has no idea who I am. So, so
much for the big so much for being a big fan but here's the
embarrassing moment. So I reached out to shake her hand
and she is like you know like you like you miss grasp and
she's like shaking my my wrist. And I like try to pull back to
shake her hand she had no now this is how I shake hands. So
she takes wrists. It was embarrassing kind of you know,
she
John C Dvorak: may have had that an ailment I once had which is a
handshake a bit politicians pick it up as though it's a
tendinitis in the very bottom of your palm. Oh, the painful
Adam Curry: okay, because all I could think of as Wow,
John C Dvorak: does that mean that that's not uncommon to
catch especially if you I don't know. I got it when I was in air
pollution inspector was shaking too many hands, I guess. And
Adam Curry: taking bribes.
John C Dvorak: Passengers shaking hands is different than
taking bribes. Okay, I thought he's the other hand for that.
Adam Curry: Okay. I got it. I got it.
John C Dvorak: You want you to pick this little ailment up? It
is ridiculously painful. It takes about six months to get
rid of it.
Adam Curry: Well, anyway, I thought it was like oh, like a
Howie Mandel thing. All right. Anyway, so then she did she did
not perform and I like I look at Tina were like she had no idea
who I am she no fan. I don't even know she lives out here in
Fredericksburg. Now I have to doubt everything.
John C Dvorak: So what was it that gave you the bumpsteer?
Adam Curry: It Alex Alex Joni JONES Yeah, we had her on the
John C Dvorak: show believe everything he's saying.
Adam Curry: So then we're sitting there and you know, we
got a little table there and it would be fantastic view and
behind me all I hear is hey, who was? Oh man, who
John C Dvorak: was who? No, I'm
Adam Curry: asking you who do you think that was? Man, you're
being just you need to. Okay, back in the day when we used to
start the show. You would take the damn thing off the hook.
Now. I usually do now. That happened last show too. And I
think it never happens on Sunday. Seeing us It's a
Thursday. It happened on the last show. It did happen on the
last show.
John C Dvorak: It happened maybe on the last Thursday show. So
let's get back to the story. That phone stopped ringing
Adam Curry: So behind me the whole evening while people
aren't sad Yeah.
John C Dvorak: How many late Wait, wait how many layers
deepest the balcony to?
Adam Curry: I mean? Yeah, like we were in the front and the
person may even have been standing. I don't know if the
person had a had a seat because I didn't want to look around
like it was it'd be completely quiet in the club and the
comedian saying something and then you would say Hey, Tina can
do it better than I can. The Dick Cheney No, it was Roseanne
Barr the whole time. She was funny. The most annoying chuckle
you've ever heard. Truly, truly insane. And yeah, she
John C Dvorak: does the same chuckle on her show.
Adam Curry: Yeah, but I've never I've never it was jarring kind
of, you know, just like is one of those if I was in a movie
theater, I would have turned around said could you shut up
but I knew that it was going to be someone of some standing but
I it was all it was as annoying to me. As I when I flew phone
ringing not well no, not quite when I flew on the Concorde. Oh,
here we go and back in the, in the good old days when there was
Concorde to be handed out, and I and it was the first time I flew
on Concorde and I was from London to New York City. And
Liza Minnelli was behind me drunk.
John C Dvorak: Oh god. Yeah, yeah. But I repeat myself.
Adam Curry: So I'm sorry to say but I if you want me to prove it
to you literally I have the transcript here. The phone rang
on Sunday, just so you know it on Sunday. Yeah, the last show
1535 Eight routes?
John C Dvorak: I don't remember reading it on Sunday. Yeah. And
Adam Curry: we even talked about the robot voice and the police.
The Police Benevolent Society.
John C Dvorak: Yeah, no, I know about talking about that. But we
didn't
Adam Curry: it didn't come out of the blue. Okay, I didn't know
John C Dvorak: it came out of the our typical AI conversation.
All right, fine. So it says a transcript of the phone ring.
Adam Curry: Yeah, it's um, we're talking about the phone. I just
clicked it away. Trust me. Trust me. No. Well, trust me on this.
I'm, we have to stop the vasectomy talk. And I'm getting
too much grief.
John C Dvorak: Oh, I you know, I was gonna maybe bring it up,
which is yeah, I'm sorry that I don't find I don't think it's a
negative thing necessarily. Oh, people
Adam Curry: are like, Hey, man. Hey, man. Pump the brakes on the
on the vasectomy talk. Okay. Even my
John C Dvorak: period, I think probably half of our audience
has had a vasectomy.
Adam Curry: I think so too.
John C Dvorak: I think so.
Adam Curry: It's really bizarre here would admit my periodontist
say he said, I'm just listening to the show is great. I don't
appreciate you making fun of my vasectomy face.
John C Dvorak: Right. Oh, no, you I guess the art didn't help.
Adam Curry: So no, no. So I sent him a lot of scissor emojis. And
he says, By the way, it helps accentuate my soft skin and
plump body. So he at least got the joke. But yeah, there's I am
surprised. I think during COVID, you know, people, some it has
something to do with COVID. Because we've been talking about
vasectomy face for years and years and years. And now all of
a sudden, people are all pissed off about it. So I think that
Well, that's
John C Dvorak: interesting. You're right. We have been
talking about this for probably since the inception of the show,
maybe
Adam Curry: even Yeah, maybe. Maybe.
John C Dvorak: So why now? Well, I don't think the art helped.
Thank you, Roger. I don't think the art help.
Adam Curry: I think the art was dying. was absolutely my, my
favorite. I loved it. I loved it. It was so good.
John C Dvorak: But yeah, they were getting sensitive. I wonder
what what, there's some element or something happening. Okay,
onward with the show.
Adam Curry: Oh, this is all part of the show. All right. Well,
let's talk about how right I am. How about that. Should we do
that? I like talking about that's
John C Dvorak: what you want to talk about. But no, let's talk
about Ukraine. Okay.
Unknown: President has a lot of Messalonskee has denied that he
was involved in the destruction of the Nord Stream gas
pipelines. The undersea pipelines, which brought Russian
natural gas to Germany were blown up last September, US and
German media citing US intelligence have reported a pro
Ukrainian group may have carried out the attack. The Kremlin,
meanwhile, has dismissed the allegations as a, quote, attempt
to rig the news.
Adam Curry: So this was a very interesting little thing that
came out this new article in the Times and designed
simultaneously saying that Oh, no, no, no, no. Oh, no, no, pay
no attention to anything we've said previously, and certainly
pay no attention to Seymour Hersh. No, this was a group that
falsely rented a yacht with false passports and and they and
they blew it up. Ah,
John C Dvorak: well, luckily, French 24 actually had the guy
who did the original reporting. Yeah. On their debate show and I
took three clips off it went on for an hour. Good. But that got
you know, the Washington, New York Times took some credit in
Washington. No, they all stole this stuff from this guy. Okay.
So and it gets to the reporting all came out of Germany. Yes.
And we can this is the best rundown. This is three clips
from French 24. And one of the specials that had this guy, and
for other people that were on to do to kind of counter his
whatever he had to say, including an American woman from
the Marshall Fund, who just went on about how Russia really did
it. And it's all crap, of course. So who's this pipeline
one?
Unknown: So who did sabotage the Nord Stream pipelines without
much proof to go on? Pump could only route for the version that
suits their cause. Now, though, German investigators revealed
they have found traces of explosives aboard a yacht that
may have carried the charge that last September, knocked out the
undersea conduit that supplies Russian gas to Europe via the
Baltic Sea. It's an active investigation, Berlin warns not
to jump to hasty conclusions. We'll go over the facts and
possible motives to once and for all. Who wants it for all
severed Europe's dependency on the Kremlin for its energy was a
false flag operation by Moscow to show strength and Spike for
the suspension of those gas imports. What about the recent
claim by veteran American journalist Seymour Hersh that
gas producers Norway in the US somehow colluded? And now come
these latest revelations. According to German reports, the
yacht had been rented from a company based in Poland that is
apparently owned by two Ukrainians we say apparently
Kieve staunchly denies any part more broadly, with winter nearly
over, we'll ask how Europe's fared without that Russian gas
and what life is like without that link to Moscow today in the
France 24 debate what to make of the Nord Stream sabotage
revelations with us from Berlin. He's one of the reporters who
penned that investigative piece for German public broadcasting
and the newspaper did cite Georg Heil, investigative reporter for
television station. W. Dr. Thank you for being with us.
Adam Curry: Now we need to play some backdrop here about the
visit that the German president made to Washington.
John C Dvorak: Yes, four days before this came out. German
This is funny. German Chancellor Schultz. I see nothing.
Unknown: Shows.
Adam Curry: No, no one under 40. Maybe even 50 understands that
joke.
John C Dvorak: I'll bet you half the audience does.
Adam Curry: Oh, yeah. Well, I guess we're all old them hello?
No, I
John C Dvorak: think they're right. They're playing the
Hogan's Heroes daily on me TV, over the air. And it's been
going on for years. Now.
Adam Curry: If you if you have if you're watching Hogan's
Heroes on me TV over the air, please go throttle yourself.
There's got to be one person who does that besides you.
John C Dvorak: Terrific show, anyway. Yeah, sure. It's a
fantastic. You know, if you look at it, you'd think it was just
produced yesterday, it's one of the most advanced shows or
something's from 1966. It's got widescreen, it's got not full
Not, not 16 by nine, but it's about I think 14 by nine, it's
definitely wider than normal four by three. It's highly
produced. It's It's unbelievable how good that show is. Anyway,
you couldn't just let that slide, you know. So Schultz,
flies from Berlin, to Washington, DC to for one lone
hour, where I said blew over an hour to meet with Biden, and
then he jumps into plane and flies all the way back to
Berlin. That's a miserable flight.
Adam Curry: And but if you choose your own plane, it's a
little better than fine. But
John C Dvorak: it's like, you know, there's other things you
can do with your life and fly back and forth from Berlin to
Washington DC for one hour meeting? And what so what what
is this meeting tell us?
Adam Curry: Well, the meeting tells us like there's some
coordination, and they were afraid, I guess they're all
afraid that everything is bugged. We have no security, you
have to do it in person if you want to communicate something
really secret.
John C Dvorak: I think that's the that's the even though
that's not nobody talks about that. I think that's the point
of con condemnation for the security state. You can even
make a communication securely without having to meet in person
and whisper in each other's ear. That's pathetic.
Adam Curry: Well, as we recall, the last time there was some
conversation regarding Ukraine, it was Victoria Nuland and that
whole call got recorded in outstanding quality. That's
their famous f the EU comment as they're preparing to, to
determine who goes into the Ukrainian government in 2014. So
they're probably a bit weary about it now. But yeah, I would
be Yeah. Did they have that in the Oval? Was that where they
met?
John C Dvorak: Yes. Would they say okay,
Adam Curry: I'd think that thing is bugged to that without
John C Dvorak: without any assistance or anybody taking
notes there's which again, should be grounds for
impeachment the way things have been going, but so there's
nobody in the room except the two of them and I don't know
that I guess she'll speaks English so I guess it could ever
have a conversation. Because I know Biden doesn't speak Deutsch
Adam Curry: Biden doesn't speak English either. Are you talking?
John C Dvorak: Yeah speaking. Anyway, so we go back to this.
That was the rundown and the kind of the precursor to what
you're going to be discussing this, go to clip two, and we got
the reporter on telling you what he knows.
Unknown: It's a yacht rented under a phony identity that sets
sail and returned to the German port of Rostock, but they didn't
give the boat a good scrubbing, it seems with investigators,
Garrick, Heil, finding traces of explosives. What more do we
know?
Yeah, the act that was apparently involved or according
to the investigators is allegedly involved in this
attack was rented out from a German company, the German
company, offered the act and it was rented apparently, by a
Polish based company has just said,
Adam Curry: Oh, can we put enough apparently ease and
supposedly ease and all of this stuff into this is completely
filled with with without evidence type talk? Yeah.
Unknown: From a German company, the German company, offered the
act and it was rented apparently, by a Polish based
company, as you said, are run by two Ukrainian nationals. The Yak
supposedly left the city of Rostock on the Baltic shore on
16th, September 6, and then it was spotted in another German
Coast village called Veeck. One day after that, later on, there
was another localisations possible ex post, close to the
Danish island of Christianity, just off north northeast of Paul
Vaughn home, just on the very spot where one of the North
Stream pipelines brands, and then later on this act
supposedly was returned uncleaned to the German company.
And it was as late as January of this year that German
investigators identified the act and searched it. It was searched
on January 18th, to 20 years. So today's and they apparently
found forensic evidence on the table of the act. And today, as
you said, it was officially confirmed what we've been
reporting.
Adam Curry: Oh, it wasn't see for because I'm sure they got
that with their fake passports, too, right.
John C Dvorak: They never said the extra number of things are
left out and I listened to this thing went on for an hour,
Adam Curry: it kind of got the size of the yacht, you know,
these
John C Dvorak: type, we don't have the foot length of the
yacht, that would be nice, but it can hold six, so we have to
assume his end, you know, it's all the gear for this divers. We
don't understand where they could, how they got down and up
without having to spend a lot of time there. Because it takes
forever to get back up after your dive that deep 80 meters.
And don't know
Adam Curry: that. That's not for the inexperienced diver.
John C Dvorak: Know what this is people weren't slouches. I mean,
they, their passports are supposed to be top grade, which
makes it sound like our agency did this, which is always
possible. They don't know the past, they won't the police have
not revealed the identity or the the citizenship of any of these
passports or what they claimed to be. So they don't know what
they do. They will say it's not Ukrainian, not American and not
Russian. So it could be German. I think the Germans also
eliminated
Adam Curry: then it will be Swedish, Danish.
John C Dvorak: Could be anything could be Chinese.
Adam Curry: And we don't have I mean, the thing that they do,
it's pretty easy to go back and see what you know, there's all
kinds of radar information, which is how we know about the P
eight that supposedly coordinate Hirsch dropped the detonator
buoy into the water, you know that all these boats have
identifiers that paying regularly you can't just be in
those waters without you know, without pinging, like your ATS
or whatever. I'm not sure what in in airplanes at ADSB. But
it's similar. You can every ship has to have some kind of Beacon.
So they turn that off, really. They didn't say a lot of holes
in the story.
John C Dvorak: There's a lot of holes in the story. And I'm
trying to think of some more holes that they revealed. They
revealed most of the holes and the story these holes can't be
plugged. They police just aren't going to give that information
out according to this guy. And
Adam Curry: I want to know the forensic evidence of this
because we were told it was C for explosives. So what do they
do where they just leave it laying around like and left a
little bit on the table. So raw?
John C Dvorak: I think, Steve, I think there's I think C four can
be identified just in microscopic amounts.
Adam Curry: Yeah. I mean, you're not buying into this bullcrap.
Are you?
John C Dvorak: I'm, I'm not buying into anything. I mean,
I'm not buying into SEMO Hirsch's story either. I'm not
buying into any of it. I think the whole thing is we're just
being played But it depends on who's gonna do the best job of
it. And it's interesting to watch this a good one is unfolds
because this would would help us get out of the stupid war. I
Adam Curry: agree into it. So just just because we had a
previous theory, we talked about that Seymour Hersh was fed this
entire story on purpose to elicit a response from Russia,
which of course did not happen. So this could be a total
pullback for some reason, I might have some ideas on that.
Or it could be a whole competing info information source inside
the US and German government that just threw this out to get
everyone off track altogether. I mean,
John C Dvorak: it was Something's fishy with this
appearance of Schultz. I know nothing. In Washington DC for
one lone hour. I mean, this this means that this has been
coordinated by somebody. So let's go to clip three
Unknown: they there's more in your reporting. Five men, one
woman in this team with two divers a minivan a doctor. Can
you tell us more about that?
So according to German police investigation, a white van was
used to bring equipment to the to the act in Rostock, we don't
know Hold
Adam Curry: on a second. If this if it's fake passports. How do
they know that there was all these different like a doctor
and how did they know that does it did it say that on the
passport? Like diver doctor, woman? Well, woman would be on
their good point.
John C Dvorak: I mean, how do they know that what that is
specifically was not addressed?
Unknown: The there's more in your reporting? Five men, one
woman in this team with two divers, a mini van a doctor can
tell us more about that.
So according to German police investigation, a white van was
used to bring equipment to the to the act in Rostock, we don't
know how they found out about that van. Apparently, this is
what they what they believe how it happens. I just report but
they tell me. And the theories about the team consisted of six
people, as you said, two divers, two assistants, you need a
captain for the boat and the medic. And German investigators
believed that the woman and the team that she was the medic, she
was described to us as a very tiny person. And the working
theory of German police is that this woman was the medic
Adam Curry: was Roseanne Barr, maybe
Unknown: it is a very dangerous task to go down the Baltic Sea
80 meters, even if you're a professional, experienced diver,
or even a special forces military diver. So you would
want to have a medic that makes sense this theory. But still, I
think it's also very important to add what we don't know we
don't know the official identity the real identity of those six
persons. Neither do we know the nationality or whom audited them
to commit this attack. But there was a trace found another trace,
they left a paper trail who documents we used to very highly
professional forged documents, apparently passports. That That
means that German authorities at least possess pictures of two of
this team out of six persons.
Oh, man, this is.
Adam Curry: So this could also just purely be a hit job on the
Germans. I mean, this this whole thing is nuts. It's nuts.
John C Dvorak: It's just yet. Yeah, I think you could probably
make that assumption. It did. Anyway, when I did a few other
details. I didn't want to keep recording these little clips
because it was like at some point. And then the other people
that were up there a couple of them, especially this one
cynical guys. British. He says I think he was him. He says it's
so convenient that they found traces of this explosive, these
professionals with these great, you know, unbelievably great
forged documents that could sneak in and out. Nobody knows
who the hell they are. But they can't clean up the boat. Kind of
commentary was very, you know, you'd been good on this panel,
by the way. Well, that there's a lot of skepticism on the panel
discussing this. And it seems it there was brought out one
interesting point too, is that it seems as if the Americans and
and some of the European partners are a little irked with
Ukraine anyway after they pulled some stunts one blowing up the
bridge to Crimea. Yeah, that was number one that wasn't approved
by anybody. Second one sending some missiles into deep into
Russia in blowing out or hitting an airport. And the number of
little things that are getting You know, there was nerves. And
I think, you know, I gave you credit. I said, you won because
I, I still think this is part of an elaborate scheme to get us
out.
Adam Curry: No, I agree with you. And I think I can back that
up. There's a couple other things going on at this very
moment and one that that ruins the whole idea. I'll give you
that first. The because I think this could this could end very
quickly. I've been saying that for a while. But I think within
within within a month or so the only thing that all of a sudden
goes against that is a Live Aid style gig for Ukraine at Wembley
Stadium set for end of June. With of course, you know, some
of your favorites Bano stink the stones the killers. Who else is
going to be there? Stones? Yep. Rolling Stones, Paul McCartney,
Adele, your favorite Florence in the machine? No, Gallagher.
Unknown: Brother. Yeah.
Adam Curry: So that's it for June 24. So I'm not quite sure
if we could turn it into a victory. Because whatever
happens, just like Afghanistan, just like Iraq, you know, we'll
just we'll just declare victory doesn't matter. But the stage is
set with the reporting for exactly what I thought might
happen is this whole eastern border, this whole Donbass
region that should just become Russia. That's all Russia ever
really wanted, I think is to have that, to have that buffer
people there who want to be part of Russia anyway. And this is
what the whole Bach moods thing is,
Unknown: after some intense fighting, the battle for
Buckwald may be nearing its end game. NATO chief says the
eastern Ukrainian city could fall to Russia in a matter of
days. Now, Jens Stoltenberg remarks come as Russia's Wagner
mercenary group claims to have captured the eastern bank of the
industrial town
we can not rule out that may eventually fall in the coming
days. Therefore, it is also important to highlight that this
does not necessarily reflect any turning point of the war. Just
highlights that we should not underestimate Russia.
Adam Curry: Now that's that's the big warmonger. Jens
Stoltenberg. And he is now signaling Wow, it looks like
it's I don't know, it looks like they just might grab that. By
the way I see trolls who clearly are MK Ultra saying who you
think Putin is going to stop that? I actually do. I actually
do think he's going to stop at that. And they have a pretty big
stick.
John C Dvorak: While people come up with this stuff. Well,
clearly not listening to our show. Well, you haven't really
observed anything. They just thought this is some sort of
mind control.
Adam Curry: It's not in control. Yeah, by the mainstream media,
and very effective mind control because you know, babies, women,
horrible death, destruction, Russia bad and we've lost many
listeners. We've lost many listeners over this, who just
said wait, I can't listen to you anymore. You don't understand
how dangerous Putin is. Dude, Putin has shown nothing but
great restraint, certainly over this particular case, which, you
know, this is their export, it got blown up. And so now there's
something that's coming to an end this month that may be the
catalyst to pull this all together.
Unknown: The UN Secretary General Antonio Guterres and
Ukraine's President Volodymyr Zelensky have called for the
extension of a crucial deal with Moscow that allows Ukrainian
grain exports. Speaking after talks, and Keith Lenski stressed
that the Black Sea grain initiative was vital for the
world's terrorists agreed saying the agreement was essential to
global food security. The deal allows Ukraine to ship grain
from its black sea ports and Russia to export fertilizer and
food. It's set to expire on March 18. And Moscow has
signaled that it might not let the deal continue.
Adam Curry: So we're already in negotiations. You know, there's
already talks on the table just addled. Okay, look, you get the
Donbass, you get that region. We open that up for grain we won.
John C Dvorak: Now, there's something else that was pointed
out and this debate was on French 24. One of the guy said,
Why would Ukraine do any of this to that pipeline when they could
just blow up the pipeline, that pipeline that's going through
Ukraine is still going through Ukraine from
Adam Curry: Russia, and it's and it's still operating, as far as
I know, still operating and
John C Dvorak: is still pumping products? Yeah. Yeah. Why don't
they just blow that up?
Adam Curry: Well, the reason why is Is there ammo
Unknown: and Ukraine's defense minister has said the EU's plan
to supply Keith with 1 billion euros worth of ammunition was
not enough. Alexei Resnikoff says Ukraine needs four times
that amount. The huge defense ministers are meeting in
Stockholm to try and hammer out a deal that would see the block
launch a massive joint munitions buying efforts.
Western how it serves on the battlefield and essential tool
in a war that for the moment has settled into an artillery duel
between Ukraine and Russia. With Ukrainian forces using up to
7000 artillery rounds daily sending ammunition especially
the 155 millimeter NATO standard shells has become a top priority
for kyiv's allies and it big problems as defense expert drone
Aleta,
not only is Ukraine running low on this, also European nations
are running out of stockpiles, our own reserves are running
low. So this is a big problem, of course, because we will not
be able to deliver
to ramp up supplies use cheap diploma to the Burrell has put
forward a three track plan proposing an additional 1
billion euros to buy ammunition, joint purchasing of ammunition
by Member States and increasing production in the long term.
I think it's a very big deal. I mean, look, the European Union
is an institute credits for peaceful goals. So we now see
that the European Union is moving into the military sphere.
And this is a first time in history. It's pretty unique
actually,
the idea is to apply a mechanism similar to the one used during
the COVID 19 pandemic when the European Commission negotiated
contracts and acquired vaccines on behalf of member states. Now
the European defense agency could sign arms contracts on
behalf of its members.
Adam Curry: So we're achieving a lot even though I mean we all
say the European Union is achieving a lot of things. So
they they put in place a mechanism where Queen Ursula
herself ordered through text messages negotiated the deal
with Pfizer for the vaccines. Now, that framework, as they
say, is in place for her to order any type of ammo as long
as it's the standard NATO ammo, is that we've got that in place.
Well, this is good. And now I'd say that they have already
achieved the deal. It's time to let a little pressure off to go
into the fall on climate change initiatives that they have been
teeing up and she actually lied she lied like a mofo when she
was in Canada. CBC did a an exclusive exclusive interview.
Listen to what she says about the Russian gas
Unknown: point when you're needed natural gas though Canada
wasn't able to directly meet the demand because of a lack of
capacity and infrastructure here in particular on the East Coast.
And and Canada's critics internally have said our climate
policies and our review process left us unable to meet Europe's
needs. What's your stance on that
Canada helped indirectly because Canada stepped up its production
overall. And we had a situation when Russia cut the pipeline gas
to Europe 80% of the pipeline gas they had sent to Europe.
Adam Curry: Excuse me. At what point did Russia cut the
pipeline 80% of the pipeline gas to Europe do Am I missing
something here? When did that happen? Is she referring to
blowing up the pipes? No no. When did they didn't turn it
off?
John C Dvorak: Well if they turned it off then when they
blew up the pipe you and had all that gas escape.
Adam Curry: Well, that was methane. They say that that's
what the gas is with that and that was from number two. Well,
but my point is when whenever When did Russia turn? That's a
lie. I don't think they ever did that.
John C Dvorak: You know, I get the sense that it came up in the
conversation though. Will keep keep rolling out oh look, I may
look
Unknown: pleased we had a situation when Russia cut the
pipeline gas to Europe, the pipeline gas you said 80% of the
pipeline gas they had sent to Europe. The overall energy
supply on the global market was very tight. And here, Canada
helped indirectly by stepping up or increasing the LNG
production. This freed more resources in different regions
of the world and gave us the opportunity to buy LNG on the
global market so to help us in a very critical stage.
Adam Curry: By the way the troll room correctly recognizes my
statement is true methane gas comes from number two very funny
trolls. It was not intended you find anything.
John C Dvorak: Yeah, there was some rusher at resume gas
supplies to your business in December last year so they had
cut it off.
Adam Curry: Okay. Well, to continue on This one I think May
the choice the EU may be making is okay. Now we're good to go.
We hated gas anyway. Russia cut it off. There's no There's there
mothballing, you read this, this this term everywhere there
mothballing the gas pipelines indicated they will never come
back again. And this means it's time for green hydro Jean.
Unknown: Right. They helped you indirectly. But it wouldn't be
preferable. I want to talk about Canada being a natural partner
for all the reasons you outlined. But to have direct
shipments of Canadian liquid natural gas going to Europe,
would that not be a preferred outcome?
That would be interesting, but it has to be a business case. So
it's, it's the companies who have to, to decide on that one,
what is more important is, over time, this is not the acute
crisis reaction. Over time, we will go and we are going deep
into renewable energy. And here also Canada as a prime partner.
If you look at hydrogen, for example, this is the topic for
the European Union, we will import a lot of hydrogen. And
here natural partner, again, is Canada. So we are working now on
a memorandum of understanding with the Canadian government,
specifically for hydrogen, because this is the mid and long
term, partnership and relationship we want to build.
Adam Curry: I'm glad you asked that question. What I'm learning
now, and I'm not sure if Canada is a part of this. But I am
learning that hydrogen there appear to be large deposits of
hydrogen in different parts of the earth, which could be
extracted and can be shipped off somehow I'm not familiar with
the mechanism without going through the whole green
hydrolysis process, and Canada in this case, has a lot of
natural gas. So they could be creating what they call blue
hydrogen. With a natural gas, it's the stupidest thing in the
world, but with their gas, where they keep their gas in Canada,
use that for electrolysis and then capture the hydrogen and
then ship it off to Europe. And this is, this is also happening
in Africa, which kind of explains what's happening. This
is a short report,
Unknown: the future of European energy could rely on Africa with
lots of sunshine and wind much of the continent is ideal for
generating clean electricity, or for using it to create another
clean fuel hydrogen. Now the United Arab Emirates, Egypt and
Germany have struck a $24 billion deal in Mauritania,
where they'll build a hydrogen facility near the capital nuoc
shops. It has a planned capacity of 10 gigawatts that's the
output of roughly five to six standard nuclear power plants.
The first phase of the project is set to be completed by 2028.
So what
Adam Curry: we're hearing is it's all going to be
John C Dvorak: what is the dumbest thing I've ever heard in
my life. Okay, could get that much energy from five nuclear
plants? Yes, use that energy I hear
Adam Curry: you but you know, that is green. They're not going
to do that. We all know that
John C Dvorak: we're using the energy from the nukes you use
the energy from the nukes to make hydrogen now there was an
inefficient process by comparison, yes. And then ship
the hydrogen off and then this stuff that is a piece of shit
anyway, because it's leeches through everything is horrible
product. I've said this before. And okay, now we've just gotten
to comedic
Adam Curry: Well, here's here's the kicker, New Scientist
magazine, gold hydrogen. There appears to be a huge reserve of
clean fuel in the Earth's crust. One of the main places this is
Mauritania, followed by Senegal Nish air, Guinea Bissau and
Diablo. This is why everyone's in Africa. They're all going
they're like, oh, okay, well, we'll just throw some some bull
crap solar panels up are really going to grab this hydrogen ship
that back somehow, because that's a September 1 2022. We
first saw the switch from the green new deal to the new
hydrogen deal. And it obviously it's stupid. It makes no sense.
They should of course, they should just do nuclear. But I
guess you don't have enough control over the masses. If you
can't, you know, go to war and shoot and break people's
pipelines. And it's insane, obviously. But it's happening.
They really go well except the UK. The UK hasn't figured out
that this war has to end and we've got all the hydrogen we
want. And the UK Of course, no longer part of the EU. So
they're they're not even getting briefed. This is a Tobias
Elwood, he's the What is this guy? He's the head of head of
the British Parliament Defense Committee.
Unknown: We are now at war in Europe. We need to move to a war
footing we are involved in that we've mobilized our procurement
processes, we're gifting equipment, we need to face
Russia directly and reckon that rather than leaving Ukraine to
do
Adam Curry: all the work, he wants to send troops to Ukraine
to go fight Russia. So they're not reading clearly. But I think
I think this is although he's not for sure. Well, he's
representing the defense committee. So the whole defense
committee is not to it, this is this is some kind of big move to
Australia is trying to get on and this is a Chris, you want to
hear crazy report when it comes to hydrogen. Listen to this,
Unknown: Australian scientists are spearheading a new way of
producing energy. Researchers at Monash University have
discovered bacteria found in soil can convert hydrogen in the
air into electricity. The enzyme called who could unlock an
unlimited source of energy as Australia looks to be a global
hydrogen leader by the end of the decade.
Adam Curry: So who I don't know what this who is the enzyme
called who? Who have you ever heard
John C Dvorak: this report to This is bull crap.
Adam Curry: What is who? I don't know. Almost an enzyme. The
enzyme name who? So obviously
John C Dvorak: Chinese, huh?
Adam Curry: No, it could be some attract but they haven't been in
Australia. Anyway. This is
John C Dvorak: yeah, these ideas. There was one that was
the one that came up the other day. It's like some other
bacteria or something it could take. Yeah, this is the one that
can take hydrogen, current hydrogen in the atmosphere,
which is point 0000, whatever. And turn it into free
electricity.
Adam Curry: I love that. 0.0 is perfect. right up your alley.
Zero Point Energy, everybody. We got it. How about this? The
whole idea is just I think we discussed it before the solar
panels, the windmills. It's old. We're tired of it. 20 years, you
know, it's not working. It's not it's not profitable. Everyone's
kind of
John C Dvorak: the first time this we had this first round
about this in the 70s.
Adam Curry: Okay, but we're talking today's voters, not not
the people who are half dead. Like you and me that know
John C Dvorak: what, like me. Nothing means.
Adam Curry: Wow, man, it wasn't funny the first time I mean,
three times and now you're really overdoing it. And you're
gonna you're not gonna get the Germans are gonna get mad.
Because that
John C Dvorak: was they loved that guy. And then we go on,
Adam Curry: they hate Oh, hey, go on. Okay, Kara. Thanks. Now.
You're in a mood today, man. What's wrong?
John C Dvorak: It's my new AMP on my little microphone. Oh,
okay. It's got me all jacked up. I can trace a different kind of
aura in the in the studio. Yeah.
Adam Curry: Let's go back to the other one. I liked old John.
This is clearly by the way, Suzanne Santos. Do you remember
who she is? No. She's an actress, musician. She's the one
that went on Rogen like a year ago and was talking about how
much he loved our show and how much he loves it when we bicker.
Oh, yes. I remember this actress. She went on and on
about it. She says hi. She was at the show last night.
John C Dvorak: Oh, she was there too. Yeah, just take all the
celebrities from Austin.
Adam Curry: Don't Don't Don't miss it. Hi. Big fan. Well, hi
John C Dvorak: back.
Adam Curry: Yeah, that was great. She's very nice. She's
John C Dvorak: one of my favorite. She's gorgeous. She's
and.
Adam Curry: And on the way home tonight we're listening to her
music is pretty good. But her album came out during COVID.
Which kind of sucks I guess. Anyway. I think that this is
just another 10 year Gambit. This is the whole idea. We'll
just keep on fundraising, keep on doing political stuff. They
don't actually want anything to work. That would kind of fit the
whole narrative that
John C Dvorak: actually is the best thesis that I think the
show's ever uncovered. Yeah, it seems that all bullcrap. To keep
the money if cash flow.
Adam Curry: Yeah, cash flow. Exactly. Keep soaking the people
up, give reasons to print more money everywhere. Because you
know, we got to do some. And, you know, the only thing that
remains open is what do we do with the military industrial
complex if we pull back from the war in Ukraine. And what I'm
seeing is, I know you you don't really think it's happening. But
I just see a pivot to China.
John C Dvorak: They can pivot to Georgia, according to this
morning.
Adam Curry: I saw it but China is more fun. Yeah, Chinese more
China has
John C Dvorak: tried to take on China, as well as anyone's ever
tried to take on Russia gets destroyed. And it's really
Adam Curry: well let's listen to a few reports here. This is NBC.
Let's turn now
Unknown: to those warnings aimed at the white house from top
leaders in China, including its president, and they are
ratcheting up the tensions between the two nations amid
growing concern about China's potential involvement in the war
in Ukraine. And VCs ma Holly Hunter has that story with us in
Mali, these are rare. These are direct messages. How seriously
are they being received?
Yeah. Hoda? That's exactly right. These are rare. These are
direct. And today for the second day in a row we heard very
similar comments. So Beijing's new foreign minister doubling
down warning the US and China are hurtling towards what he
calls direct confrontation and conflict now fiery comments from
foreign minister chin Gong underline the deepening tension
between of course the two world's biggest economies this
echoed sharp comments from China's leader Xi Jinping
yesterday, blaming Washington for these deteriorating
relationships. Now speaking in a legislative session, it was
according and reported by China state TV she accused Washington
of trying to fence China in take a look at what exactly he said
he said Western countries led by the United States have
implemented all round containment in circumvent and
suppression of China, which has brought unprecedented severe
challenges to our country's development. Now, Jota as you
mentioned, these are strong rare words from China's leader. Of
course, all of this comes as Beijing strongly denies the US
allegation that it is considering giving Moscow lethal
aid to us in the war in Ukraine.
Adam Curry: So there were a couple of wait.
John C Dvorak: Holder holders back Yeah, yeah. The holder was
you know the funnies? I always say this. I'm listening to that
clip. And the holder there. Yeah. I thought it was a guy
Adam Curry: at the beginning of the clip.
John C Dvorak: Good. I try to hold his voice at that. That was
the voice of a male.
Adam Curry: Yeah. Well, you never know these days.
International Woman's Day was yesterday. I don't know if you
saw our first lady.
John C Dvorak: I guess you didn't know. But I did put that
picture of her when she's wearing those army sneakers and
camouflage dress. Remember that? Was in the newsletter.
Adam Curry: Now. Well, she. She gave out the international Woman
Oh,
John C Dvorak: referee does is great, too. Again, we don't have
any clips or anything that that was unbelievable.
Adam Curry: I don't Yeah, I didn't clip it. It was a very
short clip. But it was it was just funny. Like, okay, well,
but it was it was it was she was International Women's Day. And
and there's I really thought I had that one. There's Joe Biden
handing out awards for being outstanding. Women. Let me see
Woman of the Year. Correct. Well, it was a woman of the year
or was he was Woman of the Year international Woman of the Year?
Yeah, even better. Yeah. And it was dude from Nigeria. And
that's fine. You identify however you want. But come on
people. There's real women who do not like this. And you're
going to lose those votes. That's what
John C Dvorak: oh, look at that woman that was standing behind
her home and that photo. Yeah. Yeah. What a look.
Adam Curry: And did they give Rachel Avena prize? Rachel
always needs a prize or stuff like that. Or did right. I don't
know. Did you see her anywhere?
John C Dvorak: Tai Chi is in one of my clips, but I don't know.
Okay, back
Adam Curry: to China. Because now we're now it's the same old
same. And you know, China may even be in on this. I don't
know. Maybe they're all maybe they're all in collusion.
John C Dvorak: It's right. You know, thinking about this idea.
This is just cash flow. For everybody wait possible
Adam Curry: for rattle rinse and repeat. Repeat get those sabers,
rattle them rinse and repeat. This is a Deutsche Bella clip
and you'll hear very similar language in the CBS report.
Unknown: China has announced that it will be boosting its
military spending in the coming years to counter what it
describes as escalating threats from abroad. The move was
announced at the National People's Congress a rubber stamp
Parliament, which is currently meeting in Beijing, officials
said the country's military budget would increase by 7.2%.
Now China's current military budget is around 225 billion US
dollars. That's only about a quarter of that of the United
States. China's military activities that are being
watched with concerned by Taiwan, which earlier warned of
the need to be on high alert for China, entering areas close to
its territory.
Adam Curry: So only 7.2% gotta step it up boys. We're giving
away all our money. We give away almost everything $900 billion a
year. You guys are lame. Now what was the key phrase there
that we heard? What was it? Well, first of all, you've got
to stop doing that. Because it's really it's like you're it's
like you're just grabbing the mic every single time. Are you?
John C Dvorak: I did that time. But I'm not grabbing the mic per
se. I don't know why. I can't tell what it is noises that
you're hearing because you're hanging. It's
Adam Curry: your hand touching the microphone.
John C Dvorak: I don't touch the mic from my hand is three feet
away from the microphone at all times. Well,
Adam Curry: then how can I hear this?
John C Dvorak: I'm wondering myself. Okay,
Adam Curry: I'll point it out every single time You do it
because yes please I'm sure you're touching something stop
touching the microphone stand don't touch the stand it rattles
like a mofo. Yes, yes that you can't touch it can't touch this.
John C Dvorak: Then what good is this little? This this isolator?
Adam Curry: You know, I wonder that all the time. You don't
wear headphones.
John C Dvorak: I've got an isolator on the mic. It
shouldn't be affected by anything. Does not indirect
contact with the mic?
Adam Curry: The whole world is hearing it. Well, I
John C Dvorak: don't know about that. Don't have your ears.
Anyway and continue please.
Adam Curry: CBS This Morning.
Unknown: The National People's Congress the largest rubber
stamp parliament in the world.
Adam Curry: Did you hear it now? So Deutsche Avella and CBS are
using the same term rubber stamp parliament the largest rubber
stamp parliament in the world
John C Dvorak: which has absolutely zero power
whatsoever. It is not a rubber stamp parliament.
Adam Curry: What's the largest? Being honest, it's the largest.
Unknown: The National People's Congress, the largest rubber
stamp parliament in the world has convened in Beijing. This
week, almost 3000 delegates will enshrine in law the wishes of
their leader China's President Xi Jinping. She's zero COVID
policy with his ruthless quarantines and epic testing did
huge economic damage to China for a congress Premier League.
Adam Curry: You want to say something?
John C Dvorak: We had ruthless quarantines Australia has went
on differently. Australia had ruthless quarantines like
Australia and New Zealand worse, huge
Unknown: economic damage to China. At the Congress Premier
Li Ko Chang made it clear repairing the damage is a top
priority. The development target he said is growth of around 5%.
But it's not clear that growth will translate into good news
for American businesses in China. So there's a chill in the
air. There certainly is a chill in the air. As US China
relations sour. Some American companies fear they're already
suffering the fallout. Michael Hart heads the American Chamber
of Commerce in Beijing
companies feel like they're squeezed out of certain
industries. And so there is a question mark that many US
companies have about, you know, are we really welcome?
That depends to a large extent on President Xi, he officially
begins an unprecedented third term later this week, backed by
an inner circle chosen above all for their loyalty, they will
support him whether he seeks to escalate confrontation with the
US and its allies, or dial it back. All eyes will be on the
Congress this week for clues as to which way that might go.
Adam Curry: Okay, so we clearly are focusing on China to up our
coffers to get the military focused and all the money I
think this is what the the plan loosely is from at least a large
portion of the military industrial complex, just like,
you know, we get oh, North Korea shooting off some missiles, or
we need to put some more stuff in South Korea, as admitted by
my uncle, Uncle Don. It's like that's all military industrial
complex build up. So now we have China, we've got to get the
position stuff in the Philippines. For Taiwan, we've
got to position stuff in Japan, just in case just in case. So
now we are going to be building that up. And we need a lot more
much Montreal a lot more. And it's not NATO. So we can't use
your stupid NATO stock. We're gonna use other stuff, our new
stuff. And so this presents tremendous opportunities. Enter
tick tock, tick tock. This started and I think it still is
Silicon Valley's initiative to remove Tik Tok from the scene
because they're eating up right now $6 billion a year of
advertising money. That is not going to mainly Facebook.
Twitter is a whole different deal with no one gives a shit
over there Twitter. But Google even has, by the way, we look at
her masters today, Kume laude in psychology, that particular
algorithm, so and she was the one that had the inside
information that internal report that Google is very worried that
one out of two people search for something on tick tock before
they search on Google, which is a very big problem.
John C Dvorak: Maybe if Google did a better job go well of
Adam Curry: course that's the problem. They cannot compete and
tick tock just nailed it. They can
John C Dvorak: they can compete. They just can't gouges much. Now
tick tock
Adam Curry: is is it's crack. You know they have not had crack
in a long time in Silicon Valley. They just can't create
at once trying to do it but they can't do it. They can't they
can't recreate what tick tock is I was born to the world. So this
created an enormous opportunity. Let's pay politicians you know,
I mean, let's support them for their reelection campaign. Let's
lobby them make sure that they got Oh tick tock is bad China
China's stealing our information. Oh China is is
manipulating our children Scott Adams moron. So now we can do
everything kind of all at one time ABC News two
Unknown: subjects dominated a Senate hearing on the top global
threats to America COVID-19 And Tik Tok to me It screams out
with national security concerns. Senator Marco Rubio question FBI
director Christopher Rea, on whether tick tock, which is
owned by a Chinese company could censor videos to shape us public
opinion?
Could they use it to control the software on millions of devices
given the opportunity to do so we couldn't draw the software?
Yes. Because they use it to drive narratives like to divide
Americans against each other. For example, let's say China
wants to invade Taiwan to make sure that Americans are seeing
videos arguing why Taiwan belongs to China and why the US
should not intervene
Adam Curry: that this now now tick tock is a is a weapon of
military grade war. Because you know, they could change what we
see. And then when you're wrong, you
John C Dvorak: me are changed the way we want to vote the way
Google data the way Facebook dash can do it. We must be able
to do it too, even though we have no evidence of this. No,
I'll give you a good one. And by the way, I just I'm just
harkening back to the Oh, China's trying to trying to
censor Google, we can't have anything that free and open
internet or Saudi Arabia wants to cut off American internet we
have to have a free and open internet and net neutrality. Oh,
just wait
Adam Curry: for it
Unknown: to make sure that Americans are seeing videos
arguing why Taiwan belongs to China, why the US should not
intervene.
Yes, tic tock CEO has insisted the company would never provide
Americans data to the Chinese government. But here's what
Senator John Thune told ABC is Trevor alt.
Adam Curry: It's all bullshit. John, we know it's bullshit.
This is tomorrow to mark today. This afternoon. The government
could say you know what, we got a problem. We got to remove tick
tock from Android and from iOS app stores. But they're not
going to do that. Because there's very important when
Unknown: you see something concrete showing that tick tock
has maybe taken Americans data and given it to China or is that
simply a hypothetical that your concern could happen? No.
There's there's evidence to that effect.
Another hot topic at the hearing the origins of COVID-19 and the
two leading theories, either the virus evolved naturally or it
leaked accidentally from a lab in Wuhan, China. Dr. Robert
Redfield, the CDC director under President Trump testified he was
excluded from discussions about the origin of the virus by Dr.
Anthony Fauci and other scientists because he believed
the lab leak theory warranted investigation
was told to me that they wanted a single narrative and that I
obviously had a different point of view.
Dr. Fauci calling that accusation completely untrue and
saying no one excluded anyone.
Adam Curry: So here's how this information warfare operation is
working against the American people. We start by saying tick
tock bad tick tock bad to go tick tock all the all the
controlling are to look like they give good tick tock to
children China bad tic tock to children by the way, it's people
my age who are hooked on tick tock people with money who are
who actually vote you know, this is this is crack for the masses.
So we have that aspect now. Oh, now you Oh my goodness. All of a
sudden we have it came from the lab in Wuhan. Look up in the sky
a balloon the spy balloon. This. This is completely shaped to
make America hate China with a rubber stamp Parliament
Unknown: tick tock could be banned from the US under a new
bipartisan bill proposed today the Senate legislation would
give the Commerce Secretary new powers to act against tech
companies based in six foreign nations including China.
President Biden has ordered that Tiktok be removed from
government devices over concerns that China could be trying to
spy on Americans.
Adam Curry: So you look at the bill that's being proposed. It
is not against tick tock it is giving the Commerce Secretary
your US government not a rubber stamp complete control over what
you can do on the internet what what you can launch or if
there's any Oh, this could be bad could be data leaking out to
some other country. They want to control the internet. They want
to control it and why comes out of this one clip. And this is
from the hearing about tick tock and they had in this KNOCK KNOCK
zone. He's the NSA Director. And they're asking Naloxone, about
what the power what the power of Tiktok really is. Listen
carefully
Unknown: scrolling on your phone, using tick tock could
soon be a thing of the past. asked if you live in the US. As
on Tuesday, a dozen senators unveiled a new bill, which, if
passed, would authorize the Commerce Secretary to ban
technology products viewed as threats to national security.
And while not explicitly aimed at tick tock review, it's clear
that the Chinese owned app is a cause for concern.
So tick tock concerns me in for a number of different reasons.
One is the data that they have. Secondly, is the algorithm and
the control who has the algorithm. Third is to broad
platform influence operations, as we talked about previously,
it's not only a fact that you can influence something but you
can also, you know, turn off the message as well when you have
such a large population of listeners.
Adam Curry: Okay, what did he just say?
John C Dvorak: I don't know what he said. But he says about
turning off the messaging, when you have a large number of
listeners, what's he talking about?
Adam Curry: Well, he's poorly informed cuz he doesn't give a
shit about tick tock, all he cares about is our own our own
propaganda against our own people. What he's saying here
is, the problem is they have to tell us that to give us the algo
tell us how it works, so that we can just like we do with
Twitter, and Facebook, and Instagram. So we can
propagandize people by making things very popular. And he
says, The worst thing is just when we've got something going
viral, because we have all these 1000s of people doing that
within the Pentagon and the State Department, you know,
Smith month be damned, of course, it was overturned, and
now we can commit propaganda against their own people. Will
they will they could just turn it off and stop our propaganda
campaign. Listen, again,
Unknown: it's clear that the Chinese owned app is a cause for
concern.
So tick tock concerns me in for a number of different reasons.
One is the data that they have. Secondly, is the algorithm and
the control who has the algorithm. Third is the broad
platform influence operations, as we talked about previously,
it's not only the fact that you can influence something but you
can also, you know, turn off the message as well, when you have
such a large population of listeners
Adam Curry: influence operations. He's talking about
this the NSA. He's talking about our influence operations. Now,
the fact that he says listeners is because he's already
thinking, How do I censor podcasts. That's why he's
thinking of that. These guys want total control which app you
can have and how the algo works.
Unknown: In the US alone. Tick tock has been downloaded over
200 million times with 138 million monthly active users.
And last year, that app generated nearly $6 billion in
ad revenue in the US. Tick tock said last week that a US ban on
the app would amount to a ban on the export of American culture
and values to the billion people who use their service worldwide.
The app has come under increasing fire over fears that
user data could end up in the hands of the Chinese government
that has already been banned in India, as well as on government
devices in the European Union.
Adam Curry: I love that. I love that report. They put it right
in. Yeah, tick tock and turn off our influence operations with
just one it's all going well. So they have no control.
John C Dvorak: So they banned it in India. Yeah.
Adam Curry: Well, remember China is on Pakistan side.
John C Dvorak: So technically, so are we.
Adam Curry: Well, who the hell knows or what, who's where a
fair weather friend as far as I'm concerned, oops, screw
anybody. And I think the first I think the first blow has been
has landed in the, in the in the US China war. Mitch McConnell is
being treated for concussion after tripping and falling at a
hotel in Washington, DC. Mr. China, you
John C Dvorak: know, reminds who was the previous speaker, the
Senate. The Democrat is Schumer from Nevada. There's all Oh.
Adam Curry: What's his name? Yeah. We've got a rubber band in
his eye.
John C Dvorak: He was all beaten out. He's beaten to shit
basically, by some gangsters or something. Because he read you
what are you reading Harry Reid? Thank you very early and all
beaten up? wouldn't run again. It was out of there. Yep. And so
Mitch McConnell, who is kind of a scion of those Chinese because
he's, I think he's married to a Chinese woman. And he's abroad,
not
Adam Curry: just with not just a Chinese woman, one of the
richest Chinese families with huge shipping contracts. Yeah.
Oh, yeah. Oh, somebody
John C Dvorak: worked him over.
Adam Curry: You know it because they're not really saying what
happened. The saying, Leader McConnell tripped at a dinner
event Wednesday evening, and has been admitted to the hospital
and being treated for concussion. So what if someone
tripped them up? Yeah, the the fall happened at the Waldorf
Astoria Hotel in DC, which was formerly the Trump International
Hotel, according to a source familiar with the matter?
Cheese, you didn't even want
John C Dvorak: to have a source familiar with the matter to
discuss the name change?
Adam Curry: Well, let's see an end for you. Now we'll use 81.
So a bad foul cannot consult when you're 81.
John C Dvorak: Yeah, no, it's something you don't want to
know. But it is suspicious.
Adam Curry: It just the timing is
John C Dvorak: very mean even if you have your if your feet go
out from under you. Like if a slippery says that you'd like to
get a concussion from now, you'd have to hit your head hard on
Adam Curry: exactly on the corner, but they don't have any
report any any real information about that. Now, one more one
more thing, if you just if we just want to really screw
everything over and make everything a problem. This
report came out yesterday. Let me see. Where's this? You yeah,
here we go. This report I loved we're going to Australia,
Unknown: I guess was an extraordinary story. Can you
first of all, tell me why did they dope the gold as it's
called?
Yeah, good morning, they were looking 2018 The Perth Mint was
under quite a bit of financial pressure. And so they took a
decision to dilute or to dope their gold. And that basically
means that they added tiny amounts of silver into the mix
that makes in their gold bars. And this was a really a It's not
illegal, but it's a really high risk strategy because it leaves
them with very little margin for error if something goes wrong,
and so fast forward a couple of years in September 2021. And
they got a complaint from the largest customer, the Shanghai
Gold Exchange. Now, remember here that the Perth Mint had to
do two things, it had to stay above the broader industry
standard. But it also had to stay above the slightly stricter
standards of the Shanghai Gold Exchange. So in September 2021,
it received a complaint from Shanghai that two gold bars were
not up to standard. Now. It that was a very big moment for them,
I would imagine there was quite a bit of sort of panic at the
Perth Mint at that point. And they began an internal
investigation. And what that found was that one of those gold
bars came back as a red flag ie did not meet the standards set
by the Shanghai Gold Exchange, which was incidentally the Perth
Mint largest customer by a very long margin. So at that point,
they'd begun this internal investigation, but it wasn't
just one gold bar. That was this assay, as they call it a test
came back as a red flag meant that the entire gold production
over that three year period was potentially tainted or
substandard. And so as the process went on, they did this
internal report and it came up with this really extraordinary
revelation that having talked to internal staff members had made
some estimates, they made a estimate that up to 100 tonnes
of gold that they had sent to the Shanghai Gold Exchange was
potentially below the Shanghai exchange the standards and may
need to be recalled now, that is 9 billion or $8.7 billion worth
of gold.
Adam Curry: They were they were messing with the gold.
John C Dvorak: This is his idea was this it the
Adam Curry: Perth Mint in Australia. And man, they had the
Western Australia Premier, trying to explain this. He's
sweating. He's sweating. He's sweating bullets over this bed
because he knew about it. They were literally diluting the cold
with silver. Above, you know, above and beyond. I didn't know
that, that this is already done as some kind of standard 0.999
or whatever. And the Shanghai exchange. I mean, when you have
that much gold, which of course has been in circulation amongst
countries, I would presume that you can't look we know we can't
trust the tungsten from China. So now you can't trust
Australia's Gold. Can we trust gold at all? I think this is a
big deal. I may not be seeing it right.
John C Dvorak: But remember the old to be well, we had this big
discussion a number of years back when we were talking about
the tungsten scandals. Yes,
Adam Curry: I have a clip here from this is 2021
Unknown: in jewelry stores on 47th Street and Fifth Avenue.
The important trust between merchants has been violated this
10 ounce gold bar costing nearly $18,000. It turns out to be a
counterfeit worth just about $3,600
Adam Curry: Yeah, but it well, we had I don't I don't have any
of the clips anymore. But way way way long ago China was doing
this. They were they were mixing in time. tungsten, they put a
little bit in a lot just have an outer shell because tungsten I
think is exact, is it exactly the same way as gold?
John C Dvorak: It's close enough close that you wouldn't know the
difference if you could, if you could blend them.
Adam Curry: So this, I think, is, is a real cause for concern
between countries, especially China and Australia or China and
the five eyes or whatever you want to call it, I think it's a
problem. If you can't trust the gold, what are you going to do?
I know, I know, I know exactly what you do. You need Elon Musk
to save you. Elon did another interview. I don't know what
people don't understand this, where the I think we're the only
ones talking about the fact that he is not building a social
network. He is building a finance finance app, like
WeChat, which will come with its own set of financial benefits
and constraints. And which probably will include a some
form of a social credit score. But listen to this and listen
for the tell.
Unknown: Let's close on Twitter, before getting to another couple
of companies I've heard that you run the vision you're building
towards, I think you've called it x or the everything app. Tell
us about it. Beyond just improving the app, this
Adam Curry: is just the setup question. Tell us what you
really want to do with with Twitter, cuz I've heard about it
being x or something like that. vertising?
Unknown: And what will we be able to do on Twitter in your in
your grandest vision,
x x icon. So I think it's possible to create a very
powerful finance experience basically. Like, like Pay Pal is
kind of like a halfway version of what I think could be done in
finance. And so you want to be like, let's say, like, you want
to be able to send money easily, from one account on X slash
Twitter to another account, effortlessly with one click. You
want to be able to earn interest on the money, you want to be
able to have debt. So you can set your interest can go
negative. I mean, I basically, I think it's possible to become
the biggest financial institution in the world.
Just by providing people with convenient payment options. We
don't have the time to go into it in detail here, except
we just make the app more and more useful. People will use it
more. And it'll be great. I mean, you'll see.
Adam Curry: So I have never heard anyone say this. So he
specifically said, you'll be able to earn interest if you
have your money in Twitter. And you can also go into debt with
negative interest rate. I've only heard that in the context
of a government controls. bank account, like Central Bank
digital currency, but it is going into debt. Why does that?
Why does he say Yeah, that'll be negative interest rates.
John C Dvorak: I have no idea.
Adam Curry: Something's up with that.
John C Dvorak: It sounds like a free form. You know, I should
get a copy of that and then edit it. So we can hear again, Musk
trying to speak which seems harder and harder for him to do
day by day. Get a simple sentence out is almost
impossible.
Unknown: I know. I know. I know.
John C Dvorak: Huh? Well, if you want to take a breather, I have
a nice clip. Since you brought up Tik Tok a while ago. I have a
clip of a woman who is got the multiple personality disorder.
Adam Curry: Oh, is she a listener?
John C Dvorak: No, she's a tick tock woman.
Adam Curry: Oh, wait a minute hold on us. I keep forgetting to
do this when we have a tick I gotta set that up. Now we need
to the Tick Tock jingle
John C Dvorak: tock tock tick tock Okay, now that short little
jingle is better than all of the after show.
Adam Curry: Yeah, okay. I wasn't even going to bring this up. But
John is really out of sorts today. He feels that the end of
show mixers are no good. They suck then it's not anything the
way it's supposed to be. It should be songs parody songs,
which are very hard to do, which we Got a lot of during the
lockdown but you just hate everything that we have for to
everything you hate it all. It's horrible.
John C Dvorak: There's not one mix in the entire collection.
Adam Curry: John at the vorak.org If you agree with him,
though, they
John C Dvorak: will all be sent the same Yeah, yeah, yeah give
Adam bad time. So here's the classic. And she is a member of
a did to club which is the disturbance, some sort of idea
you look it up. It's a multiple personality disorder. So one of
the acronyms, but she's that doesn't have different
personalities. She changed. She's a shape Shapeshifter by
all intents and purposes, let's listen to her.
Unknown: Hi, my name is Tempest. I'm a member of a DI D system
and several people and asked how to use the new products that I
use. So here's a quick guide. So I use they them pronouns, but
primarily I use Z them as themself. Now this is a little
bit different from the other is the pronoun which is z 00. So
the G that I use is more related to see him. I'm a gender I don't
really have any kind of gender identity, but I have a masculine
body and her world and I am more masculine leaning, in terms of
like self expression and compliments that I like things
like that. And like Cameron and Avery in our system, the not
having a gender thing for me specifically is related to the
fact that I shapeshifted to a bird. So the other birds also
use Neo pronouns because they don't connect to gender in a
human way, specifically, they don't connect to not having a
gender in the same way that a human would connect to not
having a gender. So it's not just the fact that we're non
binary. It's the fact that we're not entirely human. So these
them are gender neutral and singular. And you can use them
and listen Vince just like he would use he him acceptance with
X's and z's found. And that's really it. It doesn't mean
anything specific. It's not some complicated usage. It's just an
alternative. I do very much prefers these them. But they
them is also fine and I won't be offended if you only use them
for me. But please do try to use them.
Adam Curry: Yeah, I'm in total agreement. Now. I think tick
tock should be banned from the United States.
John C Dvorak: Let's just see shapeshifts to do a Berea. What
kind of date is that Chinese getting from these people? How
many shapeshifters that shape shift into a bird do we have on
our platform?
Adam Curry: It's the influence campaign. We need more bird
people bird ladies.
John C Dvorak: So she has di D dissociative identity disorder?
No. Which is what she said it was a glow group. She's not by
herself. She's with other girls, or whatever. They are birds.
They're not people. They're half human. Mental this mental health
condition someone with di D has multiple distinct personalities.
Wow. And hers are human and bird. I'd like to see that and
it's
Adam Curry: what is di D stands for?
John C Dvorak: Dissociative Identity Disorder.
Adam Curry: Well, now you bring that up. I have a disorder I'd
like to discuss.
John C Dvorak: Pod Yes,
Adam Curry: pod. Pod pod pod speeding use disorder.
John C Dvorak: You're gonna stay on this even? I think you've
gotten people convinced.
Adam Curry: But I but I there's some important things. Did you
know for instance, as Tonya tells us that at the State
Capitol in Denver, proposed bills are read at 1.5 speed
before members vote on them. I think that's a problem.
John C Dvorak: I think so to Sarah's thunder, Sarah explains
a line does
Adam Curry: and this may be happening in other state houses.
Sarah says I'm so happy you've talked about this I have a very
bad habit of listening to everything sped up. I did notice
quite a long time ago when listening to the show while I
was cooking supper that I felt extremely anxious. And all my
movements were very quick and as becoming very impatient with all
of my tasks. I slowed it down to one point 25 That helped a lot
and I'm going to try to bring it down to normal since the
evidence has been supporting my thoughts. garbage man, Mitch.
He's also coming back from pod speeding from his pod. He said
the truck is loud and I wasn't keeping up. So I started
listening at 1.3x I started getting impatient with my family
and particularly my young kids who have a hard time Express
seeing themselves and getting to the point. My wife keenly made
the same observation. We are saving or creating lives twice a
week with this. Do not maybe
John C Dvorak: this accounts for people who listen to the Ben
Shapiro show at any speed
Adam Curry: being exactly. Or Russell Brand for that matter.
He's also very touch at 1.5 1.25 By the way, I did not know this.
The British people do not like Brussel Russell Brand
John C Dvorak: deal he's found a home
Adam Curry: I mean, there's so this just article the New
Statesman. Their title of their article was we have lost Russell
Brand. We have lost him meaning that he's just become a populist
nut job. But one of our one of our producers, yes, one of our
producers here says and this is Sarah who and now she says she's
very tuned into the news she sends me two to four to five
emails a week that have just a whole rundown mainly of UK NEWS.
Nobody likes Russell Brand here and she just go ahead and put it
in the show notes goes on and on and on. And this happens
sometimes in the UK specifically No Who else the Brits hate. Phil
Collins. Phil Collins cannot buy an appearance anymore in the UK.
Why? Because of nanny gate he he started an affair with his nanny
and then this came out when his house burned down or something
and in the nanny were running away I don't remember the exact
story but because of that they they really despise Phil Collins
he's a horrible man poor they don't remember why it was so
long ago horrible man horrible man. Yeah. But that which brings
me to the the answer which we did not understand the non
responsive remember he was arguing with your buddy there
Heilmann on the Bill Maher show and he was going to give an
example of of how MSNBC lies. And he gave the example of the
ivermectin which is more a CNN example. But okay, we'll give it
to him. I'm sure they said it. And John Heilemann was going,
nonresponsive. Yeah, that is a term only only used in court. A
courtroom or a deposition where the witness has to answer the
lawyers question. If an answer evades or does not relate to the
question, the lawyer can say, Objection, non responsive. So
what this was doing is Heilmann, who is not a lawyer, as far as I
know, was just being a douche. Now trying to put him in this
place using some highfalutin word or term, non responsive.
And it just, it just accentuates that you really should not be
talking to him anymore. The guy's lost.
John C Dvorak: We're on that same show. I pulled a clip that
we didn't play that was I thought was interesting. All
right, which was mayor, Bill Maher talking to Bernie Sanders
about the word equity.
Adam Curry: Yeah, we did not I don't know why neither of us,
but we both seen it, but neither neither was pulled it, which is
odd. I
John C Dvorak: don't know why, but whatever. This is so silly.
I play the longer version of it, but the main part of it which he
says, You know what equity means? And Bernie says no.
Unknown: Right. I got the clip here. Dei, are we confusing
equality of opportunity with trying to guarantee equity and
outcomes? Okay, that's interesting, because I think
this word equity has come into the language in the last few
years and before that, we didn't hear it a lot. And I think a lot
of people hear equity and they hear a quality that it's the
same word and it's not the same word in the same concept. So how
would you differentiate between equity and equality?
Well, the quality we talked about I don't know what the
answer to that is coming to think that you know, equality is
equality of opportunity. All right, we live in a society we
want all people right to have whatever color your skin equity
I think is more than guarantee of outcome. Is it not? I think
so. I think that's okay. So which you can which side you
come down on? Oh,
Adam Curry: equality. Equality. Yep. Goodbye Bernie.
John C Dvorak: So he's never was read the memo. He's completely
off on his own as Bernie guy.
Adam Curry: Yeah. Yeah. Poor guy. We got railroaded there and
Bill and Bill Maher's even trying to be detailed. He's
trying to be gentle with them. Well, I think it means this
Bernie. I think that I think it means more like outcome
oriented, doesn't it? Speaking of I gotta go Very nice email
from one of our pilot producers you know, there's been so much
talk about you know, we've had a lot of close calls and you know
things are definitely happening in in aviation and he says it is
rampant that if you want to be it doesn't even matter what your
qualifications are if you want to be a pilot in today's world
and it does and you know you have to have a minimum 1500
hours on Jet although Southwest has has reduced that somewhat if
you want to even be considered you have to be either a member
of the Women in Aerospace club so there's all these conferences
and the conferences where the airline's go to hire people but
the conferences are not for you know straight white guys, you
know, who who have a lot of hours might have been in the
military. No, no, no. There's the gay Pilots Association the
Women in Aviation, the black Pilots Association, so you
literally have to go to every single one of these either
pretend to be gay pretend to be black or pretend to be a woman
which is a real opportunity out there. Otherwise you just won't
get hired it's horrible
John C Dvorak: Well, that's the meritocracy is down the tubes.
Yeah, well, this
Adam Curry: is exactly what you get. Then you get and you get
crashes. Yes, apart. Well, and maybe that's all intentional
because of how long have they not wanted to have the Next Gen
system where it's pilotless as an interesting theory, we don't
need pilots. Oh, look up there crashing it's gotten so bad we
need these pilots and where do you get that? Where do you get
these type of systems from from the military industrial complex.
It's all for the war machine. Sadly,
John C Dvorak: you got to I do have a couple of random clips. I
want to I wouldn't mind playing Sure.
Adam Curry: We got some time the donation segment is going to be
pretty short actually.
John C Dvorak: By the same as usual. Let's go to you know we
talked about Ukraine a little while ago. We haven't heard from
this woman for a while Claire Daly you know her she's the
she's the outspoken Irish woman in front of the EU parliament is
taking the place of Nigel Farage, haranguing everybody,
Adam Curry: but she does it a little better. I like what
Claire Daly does cheat. She, you know, we were tired of Nigel I
like what Claire is doing.
John C Dvorak: Well, in the Nigel has been out of the
picture for a while he was at the CPAC thing. He wasn't even
good.
Adam Curry: Oh, goodness. It didn't even see a clip of him.
That's how bad he was. Okay.
John C Dvorak: Yeah, he's Yeah. All right. Here's Claire.
Unknown: Thank you President. One year on us. The war in
Ukraine continues, when voices everywhere should be calling for
a ceasefire and peace. This resolution is driving us in the
opposite direction. So I proudly voted against it. It pedals the
latest slide that this is not now about defending Ukraine.
It's about Ukraine must win. What does that even mean? Last
April, there was a deal on the table, which would have seen
Russia withdraw in return for Ukrainian non NATO membership.
But Ukraine's western friends killer clown, Boris Johnson, and
NATO rocked into town and told them to keep fighting. The
result, six cities devastated four provinces illegally annexed
108 billion euros in age, which the people of Ukraine are going
to have to pay back over decades, global food and energy
crisis is this winning. Ordinary people don't win in wars.
They're cannon fodder in the gains of others. And you can
shout glory in here all your life, but there's no glory in
the grave. And only graves come out of this folly. It's time for
people and the silent majority all over Europe to take to the
streets this weekend. And demand peace and an end to the war.
Adam Curry: Oh, is that this weekend? Is that when the
meeting is? Yeah, I think so. Well, we won't see any of it,
but it goes. I mean, you saw the protests in France regarding the
the pension age.
John C Dvorak: Yeah, two years, by the way, they've just changed
it at all. They're gonna jack it up a bit, but not up from 62
Right now it's 62. But they want to move to 64 and they're not
putting up with changing anything.
Adam Curry: And in the US are talking about moving it to 70
John C Dvorak: Yeah, that makes more sense.
Adam Curry: And no one's doing it and no, oh, Yan was
John C Dvorak: whenever I knew I'd get screwed did my because
my wife is like in this kind of situation where she gets her
Have she managed to she latched on early? And what is the
rationale say, oh, yeah, we're gonna get screwed the baby
boomers get all the money, you know, instead of doing something
about it? Well,
Adam Curry: I mean, because I think you can start, you can
start drawing down on your social security at 62. I believe
that you get, I think so yeah, significantly less than a
smaller amount of money which, like $1,200 a month, which, you
John C Dvorak: know, it depends on how much it can vary from
person to person and how much they put in to the system.
Adam Curry: Well, believe me, I'm gonna get $0 per month.
Yeah. See,
John C Dvorak: there you go. This is you. This is an example
of what we hear this instead of rioting in the streets.
Adam Curry: Oh, no, I didn't pay enough in. I only paid in during
the MTV days. I mean, do you automatically pay in when you
pay your taxes? Does that all happen automatically?
John C Dvorak: That depends sometimes, yes. But it's part
Adam Curry: of FICA if I'm not mistaken.
John C Dvorak: I don't know about that.
Adam Curry: Well, I go, I'm just going to presume that a
John C Dvorak: mile and know what you're gonna get if you
haven't already looked it up. You could be getting two grand,
you don't know?
Adam Curry: Well, Tina is gonna get 1200 a month at 62. And
she's saying, okay, so what if I wait until 65? How, how much
will the dollar be devalued? At that point? Should I take start
taking stuff earlier and invested in something? Which I
think is probably the way to go? Yeah. But anyway,
John C Dvorak: I have mixed feelings about maybe took out
early. Yeah, she did a calculation with a bean counter.
And it turned out that you could get you know, you unless you
live to be 95,
Adam Curry: which I'm planning on 98. Yeah.
John C Dvorak: You should probably not take it out early
then.
Adam Curry: Okay. What was the other protest? Oh, yeah.
Germany's also protesting. They don't want you they don't want
any more refugees from anywhere. Not from Ukraine, not from
anywhere. No, we don't want it then. No, no, no, Europe is it's
a tinderbox. I'm telling you, it's a tinderbox. People are
gonna start getting really, really angry about things.
John C Dvorak: So I have another clip. That's kind of funny. This
is we haven't heard from this guy for a while. I think he's in
Texas. And I think this was at the Texas Senate. And I don't
think this is an old one. It might be but it just showed up.
And, but it's the same kind of thing he likes to do. This is
Alex stringer. And Alex stringers, the guy who likes to
go before city consoles and bitch and moan about stuff, and
then slip in a bunch of crazy comments.
Adam Curry: Is that stringer or Stein? Alex? Alex stringer is a
different guy.
John C Dvorak: I'm pretty sure it's Alex stringer. This one.
Right, but
Adam Curry: I'm saying Alex, the guy who does all the all the
crazy stuff is Alex Stein 99.
John C Dvorak: And this is not Alex Stein. This is Alex
stringer. Alex stringer
Adam Curry: is a guy in Austin. He's the guy who ran for mayor.
I actually voted for him. He's the pedicab guy.
John C Dvorak: Well, that could be that maybe that didn't maybe
he's not the guy goes from place to place now. But he does pull
one here in Austin. Wearing a mask, so you can't really see
who it is. And I know it went on forever. I only clipped the big
I cut it off where I thought it's lacked being as funny.
Unknown: Good afternoon, Senators. My name is Alex
stringer. I'm speaking in support of Senate Bill 287.
Because, listen, we got to protect our safety, and we need
to protect our kids. And you know, we got to be honest here.
Okay. In order to do that, we got to realize that the greatest
threat to our safety is our fellow Americans. And this is
especially true about these Magga hat wearing terrorists who
infest our state with their hateful rhetoric, right? Listen,
I'm triple vaccinated and boosted and I've gotten COVID
Four times, okay. You want to know why? Because these people
they refuse to wear a mask and they refuse to get vaccinated
and you have to understand these people, they could have killed
me, and they wouldn't even care. You want to know why? Because
they are murderers and they are terrorists. All right. And then
let's talk about my wife. She's immunocompromised with stage
five testicular cancer. She has left the house in three years.
Because of these Maga Q and ons, alright. And these people that
are murderers, they deserve to spend the rest of their lives in
prison. And this is how we need to treat these people. And I
understand that, you know, I'm really glad that we have good
Republicans, you know, like Senator Hoffman and David
Phelan, and you guys fully agree with me on this. Look, I took my
five year old son Karla, to a drag show last weekend in
Dallas, and we are regulars at our schools drag queen story
hour and the drag queens and minor attracted persons
performing for our kids. They are amazing people and they are
role models. You know, my son Carl even started transitioning.
When sprinkles the drag queen sat on his lap and gave him her
thong after the performance stains at all. And when these
Republicans want to take the joy away from My five year old, it's
only because they want to exterminate the LGBTQ community
because our hearts are filled with hatred.
Adam Curry: Yeah, stringers. Good guy. He's Yes, he is the
pedicab driver in Austin. And his platform was put a dome over
Austin and give the teachers flame throwers. Which I thought
was a great platform and I voted for him. as well. While we're on
that then crazy, crazy vaccine mandates, boosters masks. This
is just so poetically beautiful. You have been complaining
throughout COVID masks are not a good idea. Why because criminals
will use them to Jack stuff up took a while. But you're right.
That's not what's happening all throughout New York City. And
now we have a reverse mandate, no masks mandated. We're not
asking
Unknown: the bodega to tell the person when they walk in Hey, so
you have to take off your mask. There's a sign at the door that
the bodega Association helped us create. Let's be clear on it.
The Bodega Association helped us create a sign that says please
Upon entering, remove your mask, and you can put it back on. What
about garments. Think about this one moment, as I looked at some
of the videos, I looked at about 30 videos of people who
committed the robberies in in Canada smoke shops, and in
bodegas. But I use one of those videos, you saw the person
inside walking around with his mask on. And if you did a real
analysis of it, you see that, hey, this guy is up to
something. So if you're refusing to remove your mask, don't
confront the person. But now you'll say wait a minute. Now
let me pay attention to this person that is in this store
lingered around with the mask we got we've gotten so used to the
mass that we don't realize this is a large volume of people that
are winning, not because the COVID because they're criminals.
Adam Curry: No kidding.
John C Dvorak: Well, that remains. There's another thing
going around yo DC had a they tried to soften a bunch of
rules.
Adam Curry: I have a clip. I have
John C Dvorak: I had two clips because I have they usually get
a clip with the cop.
Adam Curry: No, no, no, I got home on the second because it's
very short. It'll probably set up your clip on. Yes, here it
is. This one
Unknown: ally. Let me start with you. Because right now I believe
curry Shan Pierre is really struggling to explain this
decision of the president who is for DC statehood for DC home
rule, but clearly is nervous about the politics of this. This
crime bill that DC city council passed over the objections of
their own mayor.
Yeah, actually, up until this point, the White House had just
said that they were not in favor of the House voting to get this
crime bill but they hadn't really talked about the
possibility of Biden of President Biden vetoing it. Now
he's coming out and sort of explaining why the reason behind
his reasoning he tech, he tweeted just a short time ago,
quote, I support DC statehood and home rule. But I don't
support some of the changes DC Council put forward over the
mayor's objections such as lowering penalties for
carjackings. If the Senate votes to overturn what DC council did,
I will sign it. This is sort of a political test for him under
shows not only as you mentioned that he is in favor of keeping
that home rule that unique position by Congress to sort of
meddle in the affairs of the DC city city council's and DC
voters. But it also shows ahead of 2024 where President Biden
could be going with this you can imagine had he chose to veto
this crime bill that's expected to pass in the Senate when it
does come up next sometime next.
Adam Curry: Did she say he chose she said
Unknown: ahead of 2024 where President Biden could be going
with this you can imagine had he chose to veto this crime bill
that's expected to pass in the Senate when it does come up next
sometime next week. You can imagine how much Republicans
would have seized on that and use that 2024 for possible
campaign as
Adam Curry: alright so there's a lot of thing going on a lot of
things going on with this one is with DC statehood, which we
should probably explain I don't think many people understand it.
Yeah, they
John C Dvorak: keep wanting to turn dc into a stake so they get
an extra two senators. Democrat that's just to get two
Democratic senators to pack the the Senate and get one you get
one House of Representatives.
Adam Curry: You get that horrible woman. Norton homes. No
nor horns. Oh, I met her man. She's a scammer. Ah, she's like
she was. I had a very bad experience with her a long time
ago.
John C Dvorak: I think she I think her whole political career
began with masturbation clubs.
Adam Curry: I met her In the context of I think Obama care.
And he or she, she co sponsored a movie that I kind of got roped
into to goes to this premiere. And is this guy named something,
Wendell? And he was it turns out he's just a huge shill for the
for the, for the medical community. And she was all in
but anyway, continue
John C Dvorak: back to the crime bill. Here's the Here's the
rundown. This is from I believe this is from Matt NTD.
Unknown: Washington DC is police chief says to keep homicides
down. The district needs to keep bad guys with guns in jail. He
spoke alongside Washington's Mayor about public safety.
Metropolitan Police Chief Robert Conte also said the average
homicide suspect has been arrested 11 times prior to them
committing a homicide. County said if bad guys are in jail,
they won't be in Washington community shooting people. Last
month Democratic Congresswoman Angie Craig decried the
district's crime laws after she was assaulted by a homeless man.
She said she was his 13th victim and he was committing crime for
almost a decade. She said in many cases he received no
punishment for his crimes. DC City Council was forced to pull
a bill that would have made the district even softer on crime.
Adam Curry: I do have an issue with this report. Why is it
always bad guys? Women don't commit crimes.
John C Dvorak: Well, it was you know, this was clipped yesterday
on International Women's Day. So they don't do that on
International Women's Day. Got it. I mean, why? Why even quoted
cop lists. Let's listen to this guy who's the chief of police.
And Mimi sent me this and she says, you know if this was a
white chief, they wouldn't be able to say what he's about to
say,
Unknown: well, we got to do we really want to see homicides go
down is keep bad guys with guns in jail because when they in
jail, they can't be in community shooting people. So when people
talk about what we're going to do different what we should do
different what we need to do different. That's the thing that
we need to do different. We need to keep violent people in jail.
Right now. The average homicide suspect the average homicide
suspect has been arrested 11 times prior to them committing a
homicide. That is a problem. That is a problem.
Adam Curry: Wow. I have a thought on this. So Austin right
now is in deep trouble with their police. They were uh,
Austin, Texas, big proponents of defund the police they defunded
the police to the tune of $150 million. They did not negotiate
in good faith for the new police contract, which means that
cadets, there's no cadets, there's no new inflow of cops.
Right now. They are over 200 police officers short. At the
end of this month, the current contract expires they have not
been able to negotiate a new contract with the police. There
will be an additional 90 officers who will be retiring
and I don't know if you've seen the videos, Austin, but crime is
rampant that just taken over intersections, right where we
used to live to do burnouts and drag races. There was a Suzanne
Santos said that her neighbors had been broken into in broad
daylight. So this is happening all across America. And I think
it's very possible that we're going back to 2024. Let's go
back to 1994. The 1994 Crime Bill championed by Senator
Joseph Biden, this is when we had the predators remember that?
Put it on the on the cover of Time Magazine, the little kid
all we got dead nine year old predators. I have a feeling that
they've created the problem. We've got the reaction and the
solution is yeah, now let's lock them all up again. Yep, I agree.
Lock them up. Lock them up. Especially the black ones like
bigger jails. Yep. Yep. Which of course everyone's you know,
invested in Bill Gates and isn't what's his face here in Omaha?
Isn't he invested in the Corrections Corporation of
America?
John C Dvorak: Yeah. The name of that company?
Adam Curry: Of course of course they gotta hide it but you do. I
think it's coming. I think we're getting a 2024 crime bill and
everyone's going to be on board with it and massively refund the
police and the jails and it's going to be a crackdown like
you've never seen before. And it's gonna could
John C Dvorak: be as can be avoided by creating a shanty
towns.
Adam Curry: JCD for President everybody. Great idea. Speaking
of law, Ron DeSantis now on my hit list Just this morning
Unknown: Governor Ron DeSantis is floating a new offer to bring
tennis star Novak Djokovic into the country to play in a Florida
tournament.
I would run a boat from the Bahamas here for him I would do
that. 100% never did you said
Adam Curry: you'd never hear that it's 100% 100% Am I would
do that
Unknown: 100% Joe KOVITCH never got the COVID vaccine and is
therefore barred from entering the US. DeSantis wrote to
President Biden this week asking for a waiver to allow Joe
KOVITCH to play at the Miami open this month, saying The time
has come to give up the fiction that the COVID vaccines remain a
necessary tool to promote public health to Santas a potential
2024 presidential candidate acknowledges the boatlift idea
may not work, but I think his
people are looking at it. And I'm not sure that's the way they
want to come into the into the country which I understand. I
think it'd be a great moment but you know,
and the CDC website confirms the vaccine requirement applies to
travelers by sea, as well as by air we expect
everyone to abide by our country's rule whether as a
participant or spectator.
world's number one tennis player missed last year is Australian
Open due to his vaccination status. He has said he'd rather
skip major tournaments than get vaccinated. Are
you prepared to forego the chance to be the greatest player
to ever picked up a racket? Statistically, because you feel
so strongly about this job? Yes.
Adam Curry: And you know, props to Joe Joe. Joe kovich. He's
principled, he's principles. I know. I agree with that. But But
Governor DeSantis piece of crap I don't want to be like all
emotional about it. But I cannot have people come into visit me
here until at least May when I'm sure they'll extend it again
because of this bullcrap requirement. And we're the, I
think, the last country in the world that has it and instead of
being presidential, and DeSantis doing here's what you could have
done. We need to drop this for all people just like on the
southern border. Or you may be you should have said hey, you
know what, why don't you just go to Mexico and just walk across
the border, because that you can do that I in
John C Dvorak: fact, that would have been making that suggestion
instead of you know, piloting a boat
Adam Curry: from the Bahamas, the Bahamas or whatever,
wherever.
John C Dvorak: But just telling him to mock the situation over
the southern border. But no, he did. I was poorly done poorly
done. I agree. I mean, I hate his guts because of it. But
yeah,
Adam Curry: I do. I'm very mad about good for you. I'm very I'm
very mad about this. It's It's insane. That that is still in
place. And there's an end there's the only answer we get
well, we what's important have everyone vaccinated a really
John C Dvorak: doesn't the vaccine does if the vaccine
worked.
Adam Curry: It would maybe would do something with it. vaccine
doesn't work. There's a there's a new avenue for for vaccinating
children. There's a new way to do it. Now. Why is this
happening?
John C Dvorak: To nasal
Adam Curry: Tennessee, no, Tennessee. Now this is not the
COVID vaccination. This is another one of our favorites
HPV.
Unknown: It's the Republicans in the state house that are passing
that a lot of this stuff. You know, last year we had a bill in
Tennessee by my republican and Senator that introduced HPV
vaccinations for dentists to give minors without consent,
parental consent. I'm thinking that says Tennessee even
California doesn't let dentists do that.
Adam Curry: No, they will. It's a great idea. I'm just gonna
numb me up here for a second. Wow. Yeah, big, big foreign
blue. I'm
John C Dvorak: gonna give you a clip of the day for that
discovery. Thank you. That's unbelievable that they would
even and it was Republicans. Yeah. Oh, yeah.
Adam Curry: it big. You're just Big Pharma. Big Pharma has us by
the balls. You can't fight it. Or we can but Big Pharma is
very, very powerful.
John C Dvorak: You can buy just like unfortunate they've taken
over the media. And so that's problem number one.
Adam Curry: Well, let me give you give you two more phony ads.
You okay, well, I'm going to do this one first, because I want
to have the kicker be the kicker, obviously. So this is
NPR, which you'll hear in a moment is very obvious is NPR.
Unknown: And we're very excited about the mRNA vaccines. You
know why it's the platform, the pandemic help to speed the
development of a new class of vaccines, the mRNA shots against
COVID made by Pfizer and moderna. Now, scientists hope to
create mRNA vaccines against other diseases for which
traditional vaccines have not worked. Can you guess which one
which one is coming? It fits right with your shantytown?
John C Dvorak: Well, there would be A cold vaccine thing
shantytown, man think shanty town shanty town, cholera.
Adam Curry: Close. No, no, that'll be next
Unknown: and Paris and read Eisenman traveled to the
University of Cape Town in South Africa, where they report a
breakthrough against tuberculosis.
mRNA. Vaccines are like a plug and play system, plug and play
system. If you know what proteins on a virus or
bacterium, a person's immune system can latch on to to kill
it. You insert the genetic code for those proteins into the
vaccine.
Adam Curry: And yeah, it'd be great if it worked big on a
boom, you're done.
Unknown: But when it comes to the tuberculosis, bacteria, TB
for short, figuring out what those target proteins should be
is
tricky. Yeah.
Adam Curry: I don't want to play the whole report, because it's
just boring where they found it all. But I love the Plug and
Play platform.
John C Dvorak: Yeah, that's what Malone was discussing in a clip
replay some months back. Yeah. But the CIA, they did these
things, because of the potential for biological warfare, get to
get a quick turnaround. He's something fast. And this, it
would be great. If it worked.
Adam Curry: So we've been talking about ozempic. And how
that is being prescribed by Pete by doctors, for people who are
overweight, obese for a fast, rapid and intense weight loss.
Much of the chagrin of people who actually need this for
diabetes type one, I believe, and so type two. Okay, I could I
could be wrong.
John C Dvorak: Diabetes type one, you need insulin. I'm
sorry,
Adam Curry: you're right, type two. And so they've now broken
it up. And you have the expensive, but I forget the
name, but some other not snappy sounding name with a jingle.
That's that will be prescribed for the type two diabetes, but
the Oh ozempic Now that is of course just for weight loss,
Hollywood's doing it that you've seen the ad campaign. It is all
over the place, everyone can sing it. And now we have an
acquisition.
Unknown: weightwatchers is buying the subscription
telehealth platform sequence making a play in the obesity
drug business. The move would give weightwatchers customers
access to doctors who can write prescriptions for medications
like ozempic, the diabetes drug that can act as an appetite
suppressant, Weight Watchers, executives are touting the
medical weight loss approach.
And what this collaboration will allow us to do is to have a
member enter a pathway and answer questions to assess their
appropriateness.
Important point is that these medications are not instead of a
diet and physical activity program, they're to help you to
comply with a program like that comply,
but we're already seeing a shortage of drugs like ozempic
amid concern about people using it who don't have serious
medical conditions.
Adam Curry: This is what the big pharma did during COVID. This is
this is the the not discussed trick. they polled telehealth so
telehealth doctors, all they have to do is have a
conversation with you on your app. What What's your problem? I
can't get it up. Boom, Viagra. What's your problem? I feel
depressed. Boom, antidepressant. What's your problem? Look at me,
I don't fit on the screen, boom ozempic without seeing the
person in person without any real history knowledge. They
become drug dealers and I I can't accuse them because I
haven't figured it out yet. But I think what is this better
health? The some, some thing that that I hear advertised a
lot on podcast is if you're depressed, if you want to talk
to somebody, I think they may also be prescribing
antidepressants, which of course is the real problem we have.
It's everyone's on a pill. And now you just get up on the
weightwatchers owned telehealth app. Oh man I'm having so I love
the food I have but I'm still I have so many cravings. Oh we
have we can write you subscription prescription for
Olympic. It's incredible. And people have no idea that this is
being done to them. In fact, we should get in on this action. I
don't know how well we can create a telehealth. We got
doctors AAA doing. We can totally have a telehealth app.
And we can prescribe anything we want.
John C Dvorak: Yeah, no. Yeah, no. Yeah, no. Yeah, no,
Adam Curry: it's bad.
John C Dvorak: They get a kicker clip. Is that it?
Adam Curry: No, that's it. I wish I had a kicker. No, I have
other clips. But let me see. Did I have a kicker on that?
John C Dvorak: I have a plane crash clip. That's a good way
It'll lead into the thing. Okay, plane crash always or actually
forget it. Here's a good clip. Just a podcast story.
Adam Curry: Oh goodness. Am I gonna hate it?
Unknown: No. Okay. It was like a scene out of a thriller movie. A
YouTuber just finished recording his podcast. And while he was
sitting against the window at a cafe on Saturday, this happened
because of quiet in here. Just as he uttered those words and
SUV plowed into the glass behind Nathan Reeves, his friend and a
podcast guest, the horrifying moment caught on camera was at
the touts week cafe in Houston. The cafe was filled with more
than a dozen people at that moment. Luckily, no one was
injured. Local police said a woman drove her Chevrolet
through a red light and struck another car before crashing into
the cafe. The video was uploaded to Reeves YouTube channel
November Romeo, and has amassed 10s of 1000s of views
Adam Curry: and I'll do anything for views on that YouTube won't
do anything they can do you think this was an accident?
John C Dvorak: Well, I don't know if anyone wanted to drive a
truck to a plate glass window, wasn't it? i Yeah. Well, I don't
think the reporting was an action but I think that the
Adam Curry: here's what I'll say. A YouTube video is not a
podcast. I agree. That's what I'm gonna say. Okay,
John C Dvorak: with that I'm in agreement with you. And with
that, I'd
Adam Curry: like to thank you for your courage today in the
morning to you the man who put the seat in the killer clown
ladies and gentlemen, please say hello to my friend on the other
end. Mr. John C. Drug All right.
John C Dvorak: morning to you, Mr. Adam curry in the morning
shift to see boots on the ground feet in the air such in the
water and all the games and nights out there in the morning
to
Adam Curry: the trolls and the troll room. Let me count on
right away. standard fare 1863. That's about normal. I think we
haven't gone up haven't gone down. Kind of the same. Would
you say?
John C Dvorak: I think Dettol number may be bogus. I think he
just is produced the same exact number every time is almost the
same exact number last Thursday.
Adam Curry: Oh, let me see if I hit it again. No, I don't know.
18. What I say 1863 1823. Now Oh, the minute I said it said it
went down 40. They left the left. That's what happens. The
trolls are leaving that all I can't listen to this. Oh, I
can't listen, you're missing the best content in the universe. It
always happens in the donation segment. And there's always 5%
of people who drop off because I couldn't see this and come back
up.
John C Dvorak: But why would they drop off in the chat room
of all things because
Adam Curry: they got important things to do? Like you know,
listen to Ben Shapiro. I don't know. I don't know what they're
doing. You can join the troll room very easily going to troll
room.io And right there, you can log into the chat Listen Live to
the stream or get a brand new and modern podcast app and
podcast apps.com you'll be alerted with with a ping that
says hey, it's time. It's time to listen no agenda live and if
you can then you just tap on it you get your your your troll
room, you get your live stream, or you just use that app for the
podcast when it's been released. Because you can import all of
your favorite podcasts from your old and legacy podcast app as
podcast apps.com Of course you can always follow us at no
agenda social.com I am Adam at no agenda social.com John is
John C. Dvorak and no agenda social.com we regularly engage
in in chats that which you can follow from across the fediverse
which is the future of social media. And it's a great way to
have although even though we don't have algorithms there's a
lot of drama that goes on Have you noticed the drama sometimes?
No oh gosh oh my gosh. Like what oh people get mad at each other
and oh boy oh no, he said something anti trans and all the
trans people left
John C Dvorak: in the chat room
Adam Curry: there no in no agenda social oh
John C Dvorak: yes sir yeah you're right there's a every so
often there's little
Adam Curry: drama room is shed Drake Irma, she had drama, like
really people and and then they'll start DMing us, which I
do not respond to. I did not respond. Well. I
John C Dvorak: just don't remember to respond to it. I
wanted to well, by accident, I could have gotten that on
accident. I click on that DM thing. Yeah, and a bunch of
messages that have been left Oh my God, because they don't give
you it. It's not like Twitter says you gotta you gotta DM
here, buddy.
Adam Curry: Now it's even worse because you can just be going
through your timeline, you may not see the little, the little
icon down below which shows which indicates that it's a
private message. And you can just respond to it and then
before you know, and also people tagging us on on messages on
threads that are 50 messages long about something that we
don't care about, which is which is most law most Follow us there
and of course we there is one conversation which I always
enjoy that's the artists and no agenda artists they always
communicate they're about what they're what they've been making
during listening during the live show. This is part of our value
for value system which works incredibly well for us. Anyone
can replicate it we don't take any creepy corporate money no
commercials, no ads, just it's all from you, the producers who
send us your time talent or treasure and the the talent and
also the time is, is really reflected in what the artists
do. And with that, we want to thank the artists who made the
artwork for episode 1535 We call that pod speeding Yes There you
go. Roger roundy with a just a a fabulous piece we knew it was
going to upset people had no idea would upset so many people.
But this was the art does it does it evokes an emotion and
that's all you really want good batter and
John C Dvorak: this is what I would even consider Roger roundy
art quote unquote
Adam Curry: well it was a good piece
John C Dvorak: I mean, I was it was a graphics piece it was it
was nice. I liked it. Well we both liked it we picked it
Adam Curry: yes it was a you've got vasectomy face and we think
was a very accurate representation of vasectomy face
John C Dvorak: board lesbian young young lesbian
Adam Curry: let's take a look at the other pieces we looked at I
know there was a close second which you used for the
newsletter and that was by was at Taunton Neil named Penny Ben
which was the
John C Dvorak: the hot speeding anxiety was the name of it Yeah,
it was I just liked that piece a lot because the person had
nervous look in the bug eyes and biting their nails is great
Adam Curry: and we would have chosen that had we not chosen
pod speeding as the title
John C Dvorak: which also is exactly correct which also
Adam Curry: eliminate any other of the pretty good pod speeding
images let's see what else we had which you know we had the
the mastermind with the happiness meter we had Thompson
Neil with a no PageSpeed and connoisseur blogger even with a
1.5 with a green X through it then we had some what else do we
have here? Russell Brand. We had Adam curry as governor of Texas
now. We had a What else Oh, the hydrogen being the champagne of
energy. The here's a here's a tip if you have to understand
the art by reading the title of the piece, it's no good. And it
just will not work for us. You know, because we can mouse over
John C Dvorak: work for the audience because they don't know
what the title of the piece is. Yeah,
Adam Curry: I mean what else was there a lot of pointing at Fox
News Liar Liar. It was a lot of pod speed. People liked the pod
speeding stuff it just you know, a lot of champagne stuff. So
yeah, the vasectomy face was so outrageous. And then we just
felt it was time it was time again to to bring this up in the
conversation I would have to say it's one of our last times
because the hate was pretty severe. A lot of people not
digging a lot a lot of victims as we say even on the newsletter
John C Dvorak: yeah the the Yeah, well we we've lost people
from our opinions about Ukraine. And then you know, vasectomy is
is a long thing. So this is a new a new complaint. And I've
got to know today you know, I don't like you guys you're never
gonna get my money because I your stance on EVs.
Adam Curry: I don't think in fact, you've actually we
John C Dvorak: very rarely talked about EVs.
Adam Curry: No, and you've even done reports on different EVs in
the past you would you would get them from the manufacturer. You
drive them around, you'd report on them. Yeah. And what is our
stance on EVs? Besides
John C Dvorak: Oh, no, it's just that there is a vehicle you can
buy. Yeah, we don't really have any negative stance. I mean,
Adam Curry: well, I do. My problem is freedom. You have no
freedom. You're tethered. I
John C Dvorak: agree with that. No. Well, we do have I say,
Okay, we have a negative stance. We, we do, but we like gasoline
engines.
Adam Curry: We don't want it on them. We don't shit on them all
the time to elicit the exact words you use. So and you know
what, this also completely negates the, the accusation that
well, they just pander to the people who give them money.
Nope. Nope. We do not pander to anybody. Now we don't have to
know. Why not.
John C Dvorak: We don't have to because we don't want to. We
make it a point. We do is a sales pitch. One of those
reasons that people should be listening to shows because we
don't have somebody telling us what to talk about now. Yeah, if
you don't like our attitude about EVs do what that guy does.
Does you know why people use anything as an issue? I've
always said this when you do soliciting, people use anything
as an excuse not to donate. That's right. Oh, you know, Adam
likes the color red. i You suck. I'm not gonna donate because you
don't like you'd like to color red. I mean, it's just not to
donate.
Adam Curry: It goes like this. I was about to donate. But then
Adam hated the color red. And I decided no, that's my favorite.
I was. I was up for weeks. I've been thinking time to donate. I
was just about to donate. And then you said something that
pissed me off. So now I'm not gonna donate? Yeah, that's all
right. All right. That is our that is the true exit strategy.
When people stopped donating the we exit. So it's up to you. It's
not even up to us to find one. It's up to you to not not make
us go away like the like your favorite shop. It is. Anyway,
thank you to all the artists Thank you, of course, to Roger
roundy great work that he didn't even he really did not expect
this. I in fact, I forget who it was. Someone said that'll
that'll. Hell will freeze over before that.
John C Dvorak: Somebody said or he said, the thing is, you know,
Roger Brown, he's a fine artist. He is in fine artists usually
don't aren't competitive artists in the graphic. Visual arts
area, we have to you know, you it's different. It's a different
business. And so you don't don't never have the fine sense of
somebody. There's a number of people that we have doing art
that are just, I mean, many amateurs and they just have a
sense of it. But they're not fine artists, you know, who do
symbolic art is big. He does big pieces. So there's
Adam Curry: 200 More trolls who dropped off because they just
can't stand they traveled like flies, they can't stand the
donation segment. Oh, you know what, you're just rude to your
fellow producers and you're missing good content. I'm
telling you, it always happens. So with that, we'd like to thank
our executive and Associate Executive producers for episode
1536 And we're gonna kick it off with Andy proximation from
Leawood, Kansas, who pops in with a cool $1,000 and says in
the morning in September 2021 I made a donation that made me
eligible for knighthood but I put my note into Pay Pal or
otherwise messed it up and you didn't get it unfortunately that
does happen it could have been you it could have been us you
never really know. Anyway, here's another donation
insincere thanks for the work thought and perspective you guys
and all the producers put into each show I'd like to be given
the title of Sir Andrew of Mount or read is that but I'd be
pronouncing it right mount or read or ID Oh read I have no
idea or read I'm gonna make it Sir Andrew of Mount or read I
request burned could be oriented. It could be oriented
to no no he really meant I'm gonna say mount orient that
sounds better. And I request burnt ends and bourbon at the
roundtable burnt ends what is burned ends
John C Dvorak: you're live in Texas I really don't know. Bert
answer when you do a brisket. Oh. You have a slogan for 14 or
so hours and you get to the ends of it get kind of crusty and
burnt looking and that and those are considered delicacies and
you cut them off and you either give them Somebody ordered some
other brisket and you give them a little of these as a bonus.
Well, nobody hands no delicious. Yeah,
Adam Curry: no one has ever given me that bonus. Shame on
John C Dvorak: you. You've probably had him and you don't
know it. That's the thing. Because you wouldn't you
wouldn't think of anything special if you don't know what
you're eating.
Adam Curry: And Andy winds up saying stay safe everyone. Thank
you very much. Appreciate it.
John C Dvorak: Squeak you can read this one because his way
out of my league spreadsheet, Scott Moskovitz and Post Falls
Idaho you might want to cut it down a little bit. It's a little
lengthy.
Adam Curry: He comes in with the striper number seven seven,
which he calls the slot machine donation Eero sevens, which when
added to my previous donation of a row of ducks makes me a
knight. If you'd be so kind to kick in a penny. Oh, I miss you.
Where's my penny jar? There it is. No agenda brings tremendous
value to to so many respite of clarity in a world overflowing
with seemingly demonic forces, running gaslighting ops around
the clock. Here's a bit of value back out in the form of
treasure. He says despite having only discovered you in 2020, the
show's quickly ascended to the top of my Mount Rushmore of life
changing influences. This is a category so rare, as to be
neatly non existent and your product has reflected this
decision in a way that makes it almost otherworldly. It's hard
to adequately describe but suffice to say we appreciate the
heck out of you. out of it, the import of your vow of poverty is
not lost on the audience. Put He's dubbed me sir Scott the
Jew. Ah, we know who this is. For the roundtable, espresso and
pipe tobacco please call out the following people as douchebags
Claude The gypsy. Jason the weightlifting pole, aka Chris
Campbell. And Elliot fine. And then he has a couple of Jingle
requests. He says Could you give us some Arnold Schwarzenegger
screw your freedom? Kamala with a insane laugh and a don't. Raph
thank you for your courage. So Scott, did you think people
should know that's not the right one. Oh, sorry. I hate that when
that happens. I should have looked at the time. Screw your
freedom. Where's it?
John C Dvorak: I thought they can do it. It's good for your
freedom
Shut up.
Adam Curry: There you go. Brother. Thank you very much.
John C Dvorak: Sir David comes in from Grapevine Texas, which
is just up the street from Adam pretty
Adam Curry: much right right near Roseanne Barr's house I
hear
John C Dvorak: who's a big fan she's super fan there's $60 a no
jingles best job karma that you can get? It was switcheroo for a
future Dame Karen so had to put a switcheroo on her for future
and Karen Karen gorgeous Karen for future games. Make a future
game Karen because we can say future named cares a title. This
is my second installment from my wife's name hood. I'm pretty
sure my boy child took the jobs karma off my desk. But he put it
to good use. He learned yesterday just got a promotion
at work so I'm putting that into win column for karma. I just
need to refill the pot. If you don't mind maybe a little goat
to to share with the no agenda nation IgM jobs,
Unknown: jobs, jobs and jobs for jobs.
Adam Curry: Anti Mourik or anti anti anti Mark Las Vegas Nevada
333 dot 33 One of our favorite executive producer donations
thanks for the great insight please dee doo
Unknown: dee doo and play
Adam Curry: the noodle boy jingle in the face with a
manouvre gun
I got to my pasta Glocks locked and loaded that's the one we
don't have a noodle boy per se but the noodle gun that's what
you got
John C Dvorak: Casey hammary in Schertz Texas shirts 333 dot
three blood Texas today Yeah. Three Three 3.33 from Schertz
Texas double up give a double up Carmen's good to go you've got
karma Gibson
Adam Curry: Polish Springs, North Carolina. The 333 been a
while since I sent in a donation supporting the show. Thank you
for your courage and JNK no jingles no karma. You got it.
Thank you very much.
John C Dvorak: Danielle Doherty and sandwich flora and Illinois
333 donations to ALEC to AJ is putting switcheroo in bold Yes,
it's very helpful. Very very Yeah, it is. Very hope donation
switcheroo Happy birthday to my smokin hot boyfriend Ryan George
on his show day march 9. Please give him a D douchey. You've
been D deuced. Thanks for all you do. Daniel Doherty.
Adam Curry: Here comes cue cue from Key West Florida three real
key formerly of Moldova and he's been keeping us appraised of
what's going on there as of course, we're being led to
believe that the Russians are about to take over Moldova at
any moment. And it's really a very pro EU governors
John C Dvorak: have already taken over Moldova's what
Adam Curry: I thought but whenever something happened to
let us know, and I'll take Donald Edler evil or Eveleigh
Ashlynn Missouri, celebrating my Donald 33rd Birthday March ninth
with a donation. Missouri back truckload carrier seeking
Missouri shipper slash receivers reach out to Donald at Eveleigh.
dotnet e v e l e r.net. Again, truckload carrier no jingles
ever plant transport LLC gets the credit. Oh, okay, well,
what's your route? Or switcheroo and embolden? Thank you very
much back office by
John C Dvorak: Allison staying in Champlin Minnesota nuts tu tu
tu tu tu tu quote out of phase is criminal. That's referring to
audio quality.
Adam Curry: I love that. Yes, it is criminal.
John C Dvorak: Please de douche me. You've been de deuced used
to be a setting on a dassie called Flanger flame doesn't it?
I have it on the new systems. But the flanger I think puts
things into a very entertaining out of phase quality. The
Flanger
Adam Curry: we used to we used to do that flanging. We call it
flanging. You say flanger. Oh, it's probably Flanger Flanger
flanger. And the way you do it is you get to reel to real decks
with identical recordings, or you could do with two
turntables, you get the same record, and you and you start
them at the same time, and you kind of sync them up and if they
are almost exactly in sync, then you point then you can get that
flanging effect, which used to be kind of the only effect we
could make back in the day before before reverb. We had a
reverb and then you could make the really long reverb, the rim
or the reverse echo, where you record something with the echo
and then you take the tape off, flip it around and run it
backwards. We used to do that a lot.
John C Dvorak: It's good times
Adam Curry: very good times back in the day we used to edit with
a razor blade and a wax pencil.
John C Dvorak: Dame Beth is next on the list she's in Tucson
Arizona with to to do another row of ducks. Yes. Hi boys. Hi.
Calling off also, Arizona's slaves join us for the Tucson
Ladies and Gentlemen, start your livers. Pre St. Patrick's Day
meet up canyons crown on Thursday, March 16. For food
libations and convert conversation. Thank you livers.