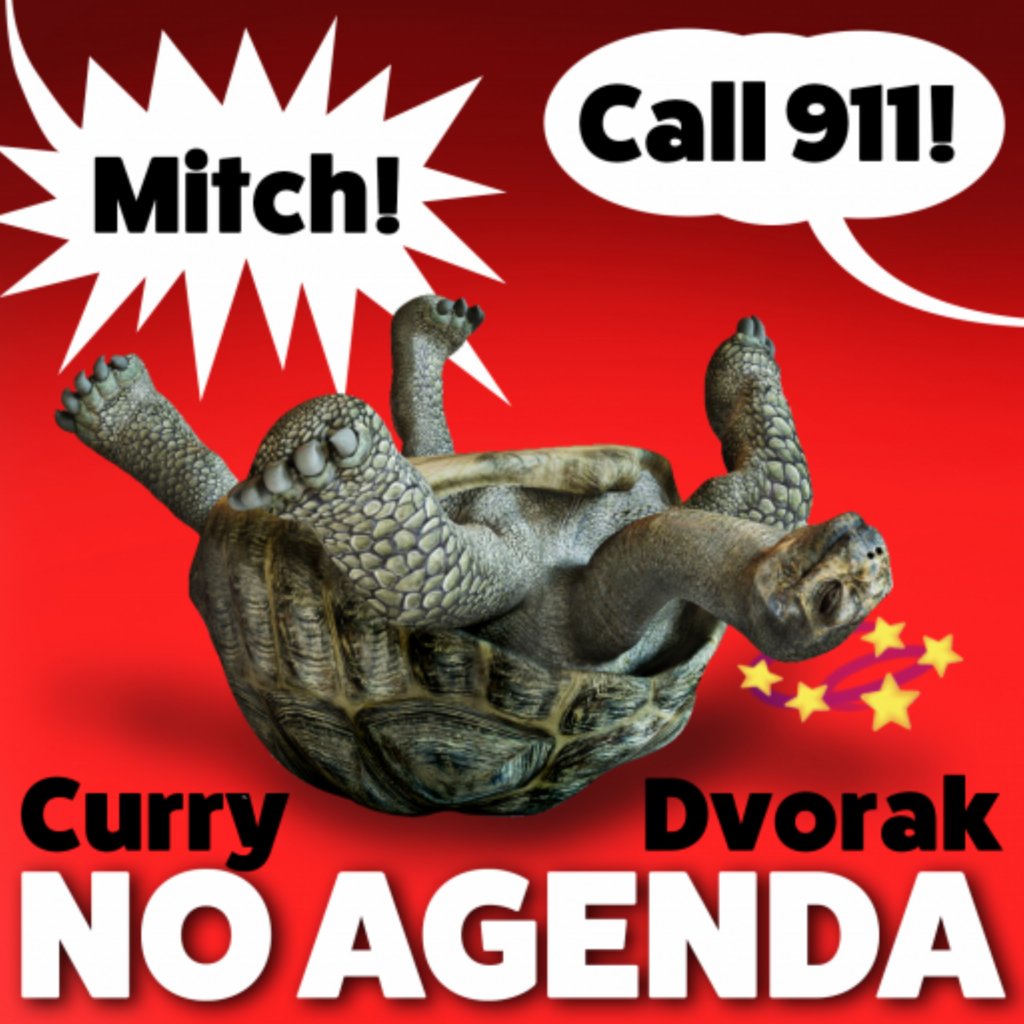 March 9th • 3h 10m
1536: Killer Clown
Shownotes
Every new episode of No Agenda is accompanied by a comprehensive list of shownotes curated by Adam while preparing for the show. Clips played by the hosts during the show can also be found here.
China
Climate Change

First Hydrogen Report on NA

No Agenda Episode 1482 - "Gorby Chips"

Sept 1st 2022

Hidden hydrogen: Earth may hold vast stores of a renewable, carbon-free fuel | Science | AAAS

Nevertheless, Hydroma is close to pumping commercial hydrogen, Diallo claims, though he won't say how close. "Equipment is being put together now as we speak," Brière says. Diallo says the priority is to use Bourakébougou as a filling station for fuel cells that could help electrify Mali, a country where half the population still lacks access to power.

But why stop there? Diallo wants to expand into hydrogen buses, trucks, and even trains. After that might come a fertilizer factory. Hydroma has created subsidiaries in Senegal, Mauritania, Niger, and Guinea-Bissau, and Diallo sees hydrogen driving prosperity across a region that holds 400 million people. He calls it the West African Big Green Deal. "We have proved that, beyond geological curiosity, [hydrogen] is a real natural resource that must be relied on in the future," he says.

With 30 wells drilled across the Bourakébougou field, Brière says he can now formally assess "the prize"—oil industry jargon for the recoverable quantity in a reservoir. The field is large, he says: It contains at least 60 billion cubic meters of hydrogen, or about 5 million tons, trapped under expansive horizontal sills of ancient volcanic rock.
Clinton / Epstein
Great Reset

ULEZ Details Mastercard

Hi Adam

ULEZ and CC (Congestion charge) is the test for all cities and towns in the UK run by MasterCard.

This 20 second bit summarises the 8 point blather that has to be closed to UK public comment by March 10th. This is the creep of credit score system right in the bank's back yards.

State of Pilots 2023 BOTG

The recent "close calls" in the airline industry have given us all cause for concern. In an industry where safety is the first concern and main metric of performance,

The industry standard minimum of flight time to be considered qualified to be hired by a mainline carrier is 1,500 pilot in command (PIC) hours. This has not changed with the exception of SWA, who has lowered their minimum requirement from 1,000 to 500 (went into effect 7FEB23).

For years, to be a competitive candidate to be hired by a mainline carrier, 1,500 PIC hours were good, but more were better. Qualifications, such as check pilots, FCF pilots, instructor pilots, were highly regarded and made your record stand out. The process was more of a meritocracy, companies tended to hire the most experienced and qualified pilots who submitted applications. A long track record of conducting safe flying operations was the main metric of qualification. Now, this isn't necessarily the case.

Countless compatriots of mine have experienced the current state of affairs as far as the hiring process goes. Now, regardless of your experience, qualifications, or skill level, in order to get your application pulled quickly by one of the mainline carriers, you have to go on a tour of Expos and Conferences that target the hiring of different ethnic and social groups.

Organization of Black Aerospace Professionals (OBAP), Professional Asian Pilots Association (PAPA), National Gay Pilots Association (NGPA), and Women in Aviation (WIA), all hold these expos and conferences throughout the year to advocate for the hiring of their constituents. Since there is no White, Anglo-Saxon, Protestant, Straight (WASPS) association (I just added the S for straight to the prototypical white man generalization), and a majority of military pilots fall into those categories, we are forced to pay to become members in some of these associations, pay their registration fee for the expo/conference, pay for travel and lodging, in order to access the HR departments and hiring teams for all the mainline carriers. The feedback I've received from the folks who have gone to these expos in hopes of getting an interview or job offer is all the same; unless you are a woman at WIA, an African-American at OBAP, a homesexual at NGPA, your opportunity to get an immediate interview and subsequent CJO is very low. However, by attending one, several, or all of these conferences, you will be getting "points" which affects the algorithm the companies use to rate applications against each other. So, by attending these events, you will be increasing your chances to get a call for an interview in the future. However, at these events, the mainline's are hiring pilots who barely meet the minimum hour requirement, and have very limited experience. What these pilots lack in experience and qualifications, they make up for in skin color, sexual preference, which are metrics used to prove diversity.

Presently, diversity is the main discriminator at the entry level of hiring airline pilots. At a WIA event, my friend spoke with an unnamed carrier at their booth, gave them his application (very impressive, over 3,000 hours of mishap-free flying, lots of high end qualifications and designations, availability date within the next six months) and he did not receive an on the spot interview nor a call back for an interview at a subsequent time. They did offer on the spot interviews and CJOs to a myriad of women with right at the hour minimum and several men who had their fingernails painted, all with limited experience and qualifications.

After speaking with folks who have been working and flying with mainline carriers for a number of years, they all seem to think that these companies get financial compensation or rewarded for increasing their diversity. It makes sense, based on the tenants of the ESG model, that investment companies like Black Rock and Vanguard would be supportive of this practice, since they are deep pockets with lots of influence in the investment/monetary policy arena and have been known to be proponents of ESG.

Interestingly enough, this isn't the only issue. There are a far greater number of pilots hitting the mandatory retirement age than there are new pilot hires replacing them. The short term solution of increasing the mandatory age from 60 to 65 has come and gone and we are back to where the industry was prior to raising that age. Millenials and Gen Z aged individuals would rather pay to fly and travel than to seek careers as pilots. The interest in being a professional pilot is getting less and less every subsequent generation. Eventually, companies will be forced to hire everyone that applies instead of fast tracking diversity hires. Not having a talent pool that is forced to compete for a finite number of pilot jobs will reduce the quality of the applicants and subsequently the quality of the airline pilot. In short, this problem will get worse, not better.

I wish I had a more optimistic view on this topic, but as a realist and a career aviation professional, we are in a real bind and will be for years to come. I think that the FAA and the mainline careers will view this as an opportunity to really advocate and lobby for a reduction in required pilots from 2 to 1 when flying passengers and cargo. I believe they will use cargo carriers as a test bed for this concept, then roll it out to the passenger carriers once their proof of concept is validated.
Climate Change

London ULEZ BOTG

Yes, Mayor Sadiq Khan is a cee you next Tuesday who nobody voted for.

Here's what you're missing on ULEZ.

It's not just about electric and hybrid.

It's targeting anyone with an older vehicle to make them pay £12.50 per day, even just to pop around the corner for a newspaper or pint of milk.

Or school runs.

My mom has a '99 Honda Civic VTEC. The economy VTEC. Half the valves closed unless you're over 3500 revs.

Falls into ULEZ charging. So we are waiting for confirmation that the Mayor will give her -£2k to scrap it.

In the mean time, we've bought a £3k used Honda that is exempt from the charge because it's newer and therefore Euro 4 emissions compliant. Or whatever Euro standard it is.

It's a petrol/gasoline car. Fine. No probs with ULEZ. For now….

Come October, would cost £12.50 just to drive 1/4 mile to buy a paper or milk, with the old car.

Already, we couldn't cross the North Circular Road toward central London without paying £12.50 in the old Civic.

Wembley to Golders Green? £12.50.

Park Royal? Where the dump is? Ie get rid of recycling and garbage? £12.50 please.

The 2007 Honda we have now? Fine for the moment.

But this shit is affecting a bunch of school moms with older cars who didn't need to change. Until now.

5 days is £62.50.

£250 per month. $300 USD per month.

To make the same journeys in October that in September cost you zero extra.

Lots of tradesmen complaining too.

Our 1.5 Civic VTEC economy model is a contravention of Ultra Low Emission Zone.

But a more recent fat Range Rover is compliant.

It's all bullshit.

I've met two people who voted for Khan. TWO.

And one said he didn't anything cos he just moved from Romania.

I've spent the last 18 months on the London Underground and met TWO people who voted for this dickhead.

Election fraud, anyone?

Sadiq Kunt.

Simon

Researchers launched a solar geoengineering test flight in the UK last fall | SATAN

The "Stratospheric Aerosol Transport and Nucleation," or SATAN, balloon systems were made from stock and hobbyist components, with hardware costs that ran less than $1,000.
BLM LGBBTQQIAAPK+ Noodle Boy
War on Meat
Podspeeding - PUD's

PUD - Podspeeding Use Disorder

Colorado State bills read at 1.5x speed

Hey,

Just wanted to let you in on a tidbit that I've noticed gone unmentioned (not that you can mention EVERYTHING, just thought it may be of interest).

In 2018, I began visiting the state capital in Denver and noticed they were having proposed bills read at 1.5x speed before voting. Initially it was annoying, then I figured they probably get more bills pushed through, which annoyed me even more, then I just shrugged and figured I was at a life point where I was losing touch with whippersnappers and their craaaazy tech, and forgot about it.

This was still happening up to 2021 when I took my kiddos to visit the capital as well, so not sure if it is still happening, but I would assume.

Flash forward to the NA testimonials on the podcast bulimia causing anxiety and short tempers and it struck me like a true hit in the mouth: IF this is happening allll across the country in every state capital ya THINK it may have a negative effect on the political discourse among our elected officials?! I speculate thusly! Would be curious if this is happening in other states.

Thanks for all you do!

Tonya

Podspeeding cooking

I am so glad yall talked about listening to sped up podcasts.... I have a very bad habit of listening to everything sped up. And I did notice quite a long time ago that when listening to the show while I was cooking supper that I felt extremely anxious and all my movements were very quick and I was becoming very impatient with all of my tasks. I then slowed it down to 1.25 and that helped a lot. Maybe I will slow it down to normal speed now that you have been sharing evidence that supports my thoughts.

So thanks for all that you do!

-Sara

Podspeeding garbage man BOTG

Former meat cutter Mitch here back on board...now garbageman Mitch.

I would encourage any and all listeners of NA, or any media, that it is ok to rotate shows or take a break all together! I was sick of the world's bullshit, started a new job driving a truck, and found it easier to just stick my head in the sand for a while! Truck was loud and I wasn't keeping up, so I started listening at 1.3X speed. I started getting impatient with my family and in particular with my young kids who have a hard enough time expressing themselves and getting to the point. My wife keenly made the same observation prior to Adam's rant that perhaps podcasts were causing more harm than good...so I took a break until that fateful recent episode.

I am a double hearing aid wearer and father of five amazing homeschooled kids. Bluetooth hearing aids are a technological wonder that I waited 20 years for...but they can make us extreme douchebags if we're not very careful. Those around us have no idea when we're streaming audio because we always wear aids vs Apple airpods and the like!!! My young kids are very hurt and feel ignored if I stream anything while they're around, like I'm choosing a device over them. Please listen responsibly. Don't police the radio and scold people for interrupting either, instead interact and perhaps punch someone in the mouth...trust me it'll be okay if you don't listen to every second of every episode of every form of media ever!

Thank you Adam for CONSISTENT audio quality and volume. There have been shows I've quit listening to because every episode has a different engineer and volume and I'd blow up what little hearing I have left...

Garbageman Mitch
M5M

Russell Brand UK BOTG

Nobody likes Russell Brand here. I could go on but won't as takes too long. He is a sort of social pariah to anyone with intuition or insight. Note you never see him hanging out with anyone. There's lots of nice people here, some in public eye, but they give him a wide berth. I think he knows that people can see through him that's why he only courts attention of impressionable fawning chavvy drug addicts with short lengths of clean time.

On the rare occasion I meet someone who is impressed by him, or likes him, I advise them to stay away he's not worth knowing.. for many reasons, but mainly because I think he is a practicing satanist. Clapton has been off drugs decades more than Brand.. has nothing to do with him. Most people with good understanding addiction and recovery assume he is lying about his clean time because he looks odd from time to time. Meaning he relapses but acts as if he has stayed off drugs.

I know very very few people who have anything good to say about brand. One or 2 divorced single fathers who look up to him because of his appeal to women. That's all. And impressionable millennial drug addicts.

Alistair hates brand, sees through compromised TV comedians. At 23m 45s

https://rumble.com/v2bzgua-information-war-update-9pm.html

The oto don't publish a list of their members but brand is supposed to be in it. Eyes wide shut stuff

https://www.dailymail.co.uk/tvshowbiz/article-2309148/Peaches-Geldof-uses-Twitter-account-urge-followers-learn-Order-Oriental-Templars.html

So much bad stuff about brand would have to make a bullet pointed list separately.

He's def used ritual magic imo.. and not for good reasons. Self serving. In London, the people who into this are vile. He's in that club. He's not invited me to one lol, but I sense it about him. I've told many people that I think he is a practicing satanist. London does have dodgy people like this milling around unfortunately. Imagine invoking demonic energies on purpose. Yuk.

Non responsive BOTG Jay

I believe "non-responsive" was Heilemenn's ridiculous attempt to prove his superiority to Russell Brand. Non-responsive is a legal objection that is pretty much only used in a courtroom or a deposition, where witnesses must answer the lawyer's question. If an answer evades, or does not relate to the question, the lawyer can say, "Objection, non-responsive". The judge can agree (he'll say "sustained") or disagree (he'll say overruled). If the judge sustains, the witness can be forced to answer the question, and even face jail time if he refuses.

Heilemenn could have just said to Brand, "You didn't answer the question." But that wouldn't have sounded sophisticated enough for a man who went to Northwestern (Journalism) and Harvard (Masters in Public Policy --ugh, the worst blowhards). I thought Brand answered the question quite well

Heilemann is not a lawyer, they were not in court, and Brand can't be forced to do anything. "Non-responsive" was just a smug, elitist attempt to show his superiority over an "uneducated" comedian.

-Also, the fake Biden "AI" audio about selective service being re-instituted was produced by Jack Posobiec. He openly admitted it was a trolling attempt just to evoke a reaction from the ultra feminists, as the audio called for the drafting of both men AND WOMEN

Jay

Non-Responsive Prof JJ

Dear AC,

The term "non-responsive" is a type of objection, commonly used in American courts, and sometimes in a debate setting.

Recall, the MSNBC guy (Heilemann) asked Brand to "give ONE example", where MSNBC presenters "knowingly lied" - along the lines of Fox presenters claiming that "Trump lost" in private, and telling viewers on air that Trump WON or that votes were stolen, etc.

Brand gave the examples of Joe Rogan and the "Ivermectin" is horse dewormer, and Maddow claiming that the vax worked (a claim based on NO evidence).

When Heilemann said: "non-responsive", he was claiming that Brand was NOT giving an example within the narrow band of his conditions.

In American courts (or with depositions), if a lawyer asks the witness, "Where were you on Tuesday", and the witness says something like: "it does not matter where I was"; or "your client is a liar" ...

those phrases do NOT address the narrow parameters of the question: "where were you on Tuesday." As such, the answer is "non-responsive" and does not count as an answer to the question.

If a judge agrees that an "answer" is non-responsive, then the lawyer CAN ask the question again. But if the judge over-rules the objection, then one is stuck with the answer. If the questioning lawyer did not get a satisfactory answer, they might try to rephrase the question another way - to get some info, but the lawyer for the other side would object to the question and say: "asked and answered."

So, in sum, Heilemann was being legalistic, in a forum where that type of rhetoric was a non-starter or could no get any brownie points.

Best

Former law professor, trial litigant/defendant, and graduate of the University of Iowa, College of Law,

John Calvin Jones, PhD, JD
Mandates & Booster
Ukraine Russia

Sovereign Immunity BOTG Prof JJ

Dear AC,

As a professor of International Law, I would like to offer my 2-cents on how the practice of seizure of assets of Russia could be challenged: domestic courts.

Namely, if, say, Russian accounts in Spain or the U.S., were seized by the national / federal government, lawyers would go to the national domestic courts, and demand return.

That is to say, you are RIGHT, there is no magical international (supernational) body that would authorize seizure or order a return. Rather, it would be a matter strictly for domestic courts. Granted, national courts, especially in the U.S., recognize the concept of sovereign immunity, so without any federal legislation which specifically defeated any treaty that pertains to the idea of taking foreign assets, then, the money would have to be returned.

Best

JCJ

Trump ended NS Pipeline

On the last show, you talked about Trump saying he ended the Nord Stream 2 pipeline. His speeches commonly refer to sanctions that he signed in 2019, which stopped work on the pipeline:

https://archive.md/frN9g

He made the same statement last year at CPAC, which NYT wrote a crummy "fact check false" article about:

https://archive.md/kf2oD

Eric
Inflation BTC CBDC FTX
Prime Time Takedown
War on Sugar

Erythritol is like xylitol Correction

ITM Adam,

It seems that John is shooting from the hip on chemistry. Erythritol is comparable to xylitol and sorbitol. It's nothing a chemist would get worried about. Erythritol is also the raw material for PETN, the supposed explosive of the underwear bomber.

Splenda is sucralose. That's chlorinated sugar. Anyone with a background in chemistry will not want to touch that. It's already an environmental problem as it is hard for nature to break down.

Kind regards,

Sir Hendrick

Sugar and Sweeteners BOTG

Hey Adam, John

I added Tina in here because this relates to health in general and she may be interested considering her recent health kick.

Sorry this is a long email, I just wanted to add something to the erythritol, Splenda and non-sugar sweetener discussion from the start of the most recent episode. A lot of this is oversimplified and I didn't provide any sources but I can if you'd like. This just helps cut down an already very long email.

If you don't want to read it all the basic summary is as follows "Splenda is not erythritol, that study is complete garbage and doesn't in any way prove that erythritol is bad for you."

I'm not a professional by any means but a few years back I lost 125 pounds in seven months with keto and not much else. I had my blood tested while I was doing this and everything they measured was healthy. I didn't eat a ton of sweeteners but I did have some and I did extensive research on pretty much all of them. I've also looked in to this recent erythritol study.

Sugar spikes your blood glucose. This releases insulin which turns sugar and carbs in to fat and stores it in your body. It's why you get fat eating bread and sugar but you lose weight if you just eat meat and non starch vegetables (i.e. keto, low carb, etc...)

People are addicted to sweetness so for a lot of them they cannot sustain a healthy diet without some sweetener. So they need a sweetener that wont spike their blood sugar. Everyone reacts differently but many people find that natural sugar alternatives like erythritol, xylitol, monk fruit and stevia do not spike their blood sugar and satisfy that need for something sweet.

Another interesting sweetener is sucralose. It is 100% a lab created frankenfood but it is as much as 1000 time sweeter than sugar so you don't need very much. Also, it doesn't seem to have the same issues as aspartame, acesulfame or any of those other sweeteners. The real issue is with how it is allowed to be marketed. Splenda is a great example. It is marketed as sucralose but is is usually 95% dextrose (basically sugar) and/or maltodextrin (which affects you blood similarly to sugar) both of which are not healthy.

Regular Splenda does not contain erythritol. You can buy Splenda with erythritol but the regular stuff you grab off the shelf at a grocery store or the packets at a coffee shop generally do not have erythritol in them. And even if you get one with erythritol, if it's from Splenda, it's probably cut with something else that isn't good for you.

If you want sucralose that wont affect your blood sugar, you need pure liquid sucralose.

On to this awful study. Your body produces erythritol when you are unhealthy. Specifically when you have heart problems, metabolism problems or if you are overweight. The study looked at erythritol levels in the blood of 3000 people (huge percentages of which had heart issues, diabetes, metabolic syndrome, etc...) and noticed that the ones with more erythritol in their blood, died of heart issues more often. But if people with heart issues naturally produce more erythritol then the erythritol didn't cause the heart problems, the heart problems caused the erythritol.

They also tested 10 or so people for this study. They took their blood, put erythritol in it and noticed that three minutes later it was clotting too much. But putting erythritol on a blood sample is different than a person consuming it.

They never actually studied the effects of humans consuming erythritol other than to show that if people eat erythritol the level of erythritol in their blood goes up (duh?). This was studied in 8 people. Again, no background on these people. It may have been 8 of the 10 people I mentioned earlier; I'm not 100% sure.
War on God
Big Tech

Tante Neel CrochetGPT Dolls Fail BOTG

This article from the Guardian is doing the rounds in my online crochet community.

Crochet enthusiasts asked ChatGPT for patterns. The results are 'cursed'

So I asked ChatGPT to make me a pattern for an Adam and John doll.

And, as predicted in the article, all sizes and logic are missing.

Adam came out top heavy, limbless, no mouth, no ears and a turd for hair.

John got saucers for eyes and has balloons for limbs.

I am friends with a couple of crocheting women on NA and they thought it was hilarious.

Here are the patterns.

In case you have a crocheting woman (or man) in the vicinity, give them these challenges ;)
STORIES

U.S. Shale Boom Shows Signs of Peaking as Big Oil Wells Disappear - WSJ

Thu, 09 Mar 2023 18:28

America's biggest oil gushers are shrinking, evidence that companies have drilled through much of their best wells

HOUSTON'--The boom in oil production that over the last decade made the U.S. the world's largest producer is waning, suggesting the era of shale growth is nearing its peak.

Frackers are hitting fewer big gushers in the Permian Basin, America's busiest oil patch, the latest sign they have drained their catalog of good wells. Shale companies' biggest and best wells are producing less oil, according to data reviewed by The Wall Street Journal.

The...

Advertisement - Scroll to Continue

HOUSTON'--The boom in oil production that over the last decade made the U.S. the world's largest producer is waning, suggesting the era of shale growth is nearing its peak.

Frackers are hitting fewer big gushers in the Permian Basin, America's busiest oil patch, the latest sign they have drained their catalog of good wells. Shale companies' biggest and best wells are producing less oil, according to data reviewed by The Wall Street Journal.

The Journal reported last year companies would exhaust their best U.S. inventory in a handful of years if they resumed the breakneck drilling pace of prepandemic times.

Now, recent results out of the Permian, spread across West Texas and New Mexico, are mimicking the onset of a production plateau that has taken place at other, more mature U.S. shale plays.

At a major industry conference here this week, executives cited the stagnation in shale, saying it signaled a return to more dependence on foreign energy sources and more challenging times ahead for major U.S. companies, after most of them posted record earnings last year.

Advertisement - Scroll to Continue

''The world is going back to a world that we had in the '70s and the '80s,'' said ConocoPhillips Chief Executive Ryan Lance, during a panel at the conference called CERAWeek by S&P Global. He warned that OPEC would soon supply more of the world's oil.

Oil production from the best 10% of wells drilled in the Delaware portion of the Permian was 15% lower last year, on average, than top 2017 wells, according to data from analytics firm FLOW Partners LLC. Meanwhile, the average well put out 6% less oil than the prior year, according to an analysis of data from analytics firm Novi Labs.

The atrophy of once-booming sweet spots has big implications for the global oil market, which years ago could count on rapidly growing U.S. oil production to blunt the effects of supply disruptions and rising demand. Without successful exploration or technological advances, the industry's inventory constraints are expected eventually to push companies to tap lower quality wells that would require higher oil prices to attract investment, industry executives say.

Oil production in the U.S. rose from about 7.2 million barrels a day a decade ago to a high of about 13 million barrels a day before the pandemic. But domestic output last year grew at one-third of the annual average pace seen in shale's heyday from 2017 to 2019, and hasn't yet caught up with prepandemic levels.

Advertisement - Scroll to Continue

The slowdown was mostly because of investor pressure on companies to curtail spending and limit growth in favor of generating higher returns. At the same time, weaker well results in the Delaware basin contributed to flattening output.

U.S. output grew about half as fast as many forecasters initially expected last year, and is projected to increase by about the same amount this year, according to the Energy Information Administration.

The recent degradation in well performance has stoked executives and investors' concerns about the industry's runway for growth, and has led companies to consider mergers this year.

Companies such as Chevron Corp. , Devon Energy Corp.

Advertisement - Scroll to Continue

and others that have held the Permian up as a central pillar of their future plans saw top wells yield less crude last year than the previous year.

Chevron, one of the largest landholders in the Permian, drilled some of the region's most prolific wells in Culberson County, Texas, but some of its newer wells there have seen productivity decline.

The wells Chevron brought online in Culberson County last year are ultimately expected to produce 42% less oil, on average, than wells that began producing in 2018, according to FLOW's estimates. The top 10% of wells Chevron brought online across the Delaware last year were about 25% less productive on average than its wells the year before, according to Novi Labs data.

Chevron executives said last week the company missed its oil-production target in the Delaware, citing higher-than-expected depletion rates. The company plans to revise its approach in the Permian, they said, shifting some drilling into New Mexico, and targeting areas that are likely more productive'--moves that will reduce its pace of activity somewhat.

Chevron Chief Executive

Advertisement - Scroll to Continue

Mike Wirth said last week the rate of production growth and drilling activity the U.S. shale industry saw a decade ago ''is unlikely to be repeated,'' though the Permian still has areas that haven't been developed. Chevron plans to boost production in the Permian to 1 million barrels a day by 2025, eventually plateauing at 1.2 million later this decade.

Devon has drilled some of the most productive wells the Delaware had ever seen, in an area the company dubbed Boundary Raider. In 2020, its average well pumped more than 342,000 barrels over a nine-month period, but the following year, its average fell to more than 167,000 barrels, according to FLOW President Tom Loughrey. Companies' midlevel wells are still producing steadily, but gushers are harder to come by, Mr. Loughrey said.

''The big well is coming down hard right now,'' he said.

Rick Muncrief, Devon's chief executive, attributed the productivity decline to maturing U.S. oil-and-gas fields. ''I'm not terribly surprised, and I'm not terribly alarmed,'' he said, saying that wells drilled in the Boundary Raider area still generated excellent returns for the company. Mr. Muncrief said that tight crude supplies pushing oil prices higher would make tapping into less productive formations economically viable for operators.

Investment bank Raymond James Financial Inc. estimated in a September report that public producers and private operators in the Delaware hold about 7.2 years of sweet spots, and less than eight years in the Midland basin, the other major portion of the Permian.

Shale's sluggishness means global oil markets will have to rely on Middle Eastern crude over the next decades, said Scott Sheffield, CEO of Pioneer Natural Resources Co.

''We're just not gonna have that big growth pump like we used to,'' he said of U.S. crude production.

Write to Collin Eaton at collin.eaton@wsj.com and Beno®t Morenne at benoit.morenne@wsj.com

Ukraine Hawk Who Heads European Commission Has a Nazi Pedigree She Does Not Want You to Know About

Thu, 09 Mar 2023 16:55

Ursula von der Leyen with Ukrainian President Volodymyr Zelensky. [Source: bg-turk.com ]In the wake of the Russo-Ukrainian war, terms like ''European values'' have come back into the mainstream. One of the people who has been most responsible for this is Ursula von der Leyen, the president of the European Commission who is now a nearly omnipresent figure in the media.

According to Ursula, ''European values'' represent only the highest attributes of humankind: freedom, justice, solidarity, and rule of law.

Of course, anyone with even a passing knowledge of history can tell you that these are nothing but euphemisms. Not long ago, ''European values'' meant something very different. Those values drew the borders of the world in oceans of blood, both of Europeans and those they conquered. A look at the history of Ursula's aristocratic European family can show us the true face of these ''European values'' and how the ruling class profited from imposing them on the world.

''If we succeed in bringing people of above-average capabilities to governance an autocracy or the rule of the few will be able to create a better order than the rule of the people.'' '' Ernst Albrecht

Ursula von der Leyen is the scion of two aristocratic German families. She was born Ursula Albrecht, the daughter of a prominent European bureaucrat, CDU party leader, and former governor of Lower Saxony, Ernst Albrecht. The family carefully nurtured a cosmopolitan image as Ernst spent most of his life working for the EU and various precursor organizations. Growing up, Ursula was nicknamed ''R¶schen'' (Rosie in English) by her father, and images of the happy family featured heavily in her father's political advertisements.

Ernst Albrecht with his beloved ''R¶schen.'' [Source: welt.de ] The Albrecht family made its fortune by using its position as customs enforcers in the Holy Roman Empire to dominate the cotton markets of 19 th -century Bremen and, from there, the name Albrecht has been a fixture throughout German history.

As is typical for bourgeois Germans, the otherwise exhaustively documented history of the Albrecht family has a mysterious gap between 1936 and 1945. To avoid uncomfortable questions about where their power and money came from and what they did to earn it, the House of Albrecht, like so many others, is content to pretend the Nazi regime simply never existed. Since we will never have answers, perhaps if we raise a light to what surrounds this void, the shadow it casts can show us the true shape of the ''European values'' Ursula is so fond of.

To begin, we can look at Ernst's first job in politics, with the European Coal and Steel Commission under the direction of another aristocrat, Hans von der Groeben.

Hans was already a long-time bureaucrat by this point. During the war, he worked as a deputy for the Reich Ministry of Agriculture under the command of Richard Walther Darr(C). Darr(C) was a fanatical Nazi, writing his first fascist propaganda in 1926 and joining the Nazi Party in 1930.

He soon joined the SS and his loyalty and dedication to the cause led Heinrich Himmler to personally select Obergruppenf¼hrer Darr(C) as head of both the SS Race and Resettlement Office and later the Reich Department of Agriculture. Darr(C) was one of the party's leading ideologists, and he combined the tasks of the agricultural and race offices to set the foundation for Generalplan Ost , the Nazi plan to exterminate the entire Slavic race and colonize Eastern Europe.

Darr(C) was the architect of the Nazi '' blood and soil '' agrarian policies and sought to create a new land-owning ''Aryan'' aristocracy. He passed laws requiring an ''Aryan certificate'' to inherit farmland and was instrumental in Nazi eugenics programs, particularly the Lebensborn program, designed to breed a new generation of ''Aryan'' supermen and purge the German people of ''undesirable bloodlines.''

One of his most promising acolytes was a doctor by the name of Josef Mengele who was put in charge of ''racial health'' policies within the department. Mengele would later go on to become the infamous angel of death who carried out some of the vilest crimes in history with his industrial-scale medical experiments at Auschwitz concentration camp. Mengele particularly targeted children as his victims and kept them alive for months to gain as much data as possible. He never forgot where he came from: Mengele always cited Darr(C) as inspiration for his ideas on ''racial hygiene.''

After the war, Mengele escaped justice by fleeing to Argentina and later Brazil on the ''rat lines'' operated by CIA agent, future head of West German intelligence and unreformed Nazi Reinhard Gehlen and was protected under the personal order of CIA Director Allen Dulles , who viewed Mengele as a useful ally in his war against the USSR. Mengele died a free man in 1976 and was buried under the name Wolfgang Gerhard in S£o Paulo, Brazil.

Mengele, known to the CIA as Helmut Gregor. [Source: wikipedia.org ]Darr(C) was proud of his work. He wrote thousands of pages outlining his plans in various publications, and routinely gave speeches inside Nazi Germany promoting his ideas.

''By blitzkrieg'...before autumn'...we shall be the absolute masters of two continents'...a new aristocracy of German masters will be created'....[With] slaves assigned to it, these slaves to be their property and to consist of landless, non-German nationals'...we actually have in mind a modern form of medieval slavery which we must and will introduce because we urgently need it in order to fulfill our great tasks. These slaves will by no means be denied the blessings of illiteracy; higher education will, in future, be reserved only for the German population of Europe'...'' '' Richard Darr(C)

Together with Hans von der Groeben, they implemented what was known as the Hunger Plan to feed the Reich at the expense of conquered territories. Millions of slaves worked on starvation rations, forced to send every morsel of food to the Reich where it would be used to quite literally sustain the Nazi machine which oppressed them. By 1944, more than 15 million tons of foodstuffs had been requisitioned from the USSR, and this led to the intentional deaths by starvation of more than 10 million people. According to Darr(C)'s plan, after they had been all been sterilized and starved to death, the Slavic ''Untermensch'' was to be replaced by Darr(C)'s new race of ''Aryan'' aristocrats, ready to use this land for the benefit of the Reich.

After the war, Darr(C) was arrested and tried for war crimes at Nuremberg. He was found guilty, but despite the scope and scale of his crimes, he received a sentence of only seven years. He served just three of them and was released in 1950. He died of liver cancer in 1953. While this sentence was shockingly lenient, it could have been worse. Hans never saw the inside of the courtroom.

This was very common after the war. The ''liberal internationalists'' such as Allen Dulles, in charge of American foreign policy, were not bothered by the crimes of the Nazi regime. Indeed, as early as 1940 Dulles was already arguing for an alliance with Nazi Germany, and in 1944 was meeting with Nazi intelligence to arrange a separate peace to use the Nazis as a weapon against the USSR.

They sought only trials for the most egregious Nazis and, even then, ensured that their sentences were as lenient as possible. The rank-and-file of the Nazi regime, the army of people who physically made the Nazi machine do the murderous work of subjugating and exterminating an entire continent went almost entirely unpunished for their crimes.

In the case of people like Hans von der Groeben, they were rewarded with jobs in the new ''de-Nazified'' West German government. Despite the pretenses of a new Germany, only the names changed. The same bureaucrats labored toward the same goal, the destruction of the Soviet Union and its people, by any means necessary. The state machinery once called the Greater German Reich had now simply been absorbed into a new structure, now called the North Atlantic Treaty Organization (NATO).

Now in the position of the deputy, Ernst Albrecht took on the same role his boss had in the 1940s, this time with ''blood and soil'' replaced with ''European values.''

Although Ernst Albrecht was a few years too young to have been a Nazi himself, throughout his long political career he made his sympathies very clear. Ernst was an elitist dripping with contempt for the common people and wanted to bring about what he deemed elite rule in Germany as opposed to the rule of the ''uninsightful'' mob. Given that he never missed a chance to venerate the Third Reich and its killers, it is very clear whom Ernst considered elite.

''The rule of the people, especially direct rule, is essentially such that decisions are not determined by the insight of the insightful [elite], but rather by the common average level based on the majority of the population.'' '' Ernst Albrecht, The State, Idea and Reality: Outlines of a Political Philosophy

During his time as leader of the Christian Democratic Union (one of Germany's two largest political parties) government of the German state of Lower Saxony, Ernst successfully wooed members of the neo-Nazi Deutsche Reichspartei (DRP) into the ranks of the CDU. The DRP practiced what was known as Esoteric Hitlerism , a bizarre variety of neo-Nazism that claims Hitler is the literal reincarnation of the Hindu god Vishnu and the ''Aryans'' of Nazism are the same Aryans who once inhabited ancient India.

The ideology was created by Savitri Devi , a French-born Nazi spy who had been expelled from Germany in 1951 for repeatedly spreading Nazi propaganda and came to the DRP through Devi's closest friend, Nazi pilot Hans-Ulrich Rudel , who was working as an arms dealer for South American fascists and actively plotting to overthrow the German government in favor of a Nazi dictatorship.

Rudel and Devi believed that, if they succeeded in building a new Reich, Hitler would be reincarnated once more as the Hindu god Kalki to cleanse all inferior races and lead the ''Aryan'' people to a paradise called Hyperborea. Despite this, Albrecht's CDU absorbed the DRP almost completely, as they were worried that the DRP would otherwise erode their voter base. The strategy of kowtowing to Nazis worked, and Albrecht's CDU governed the region continuously from 1976 to 1990.

When he came to power, one of the elites Ernst entrusted to rule was his justice minister, a jurist by the name of Hans Puvogel. Once again, he picked a fanatical Nazi. Puvogel joined the Sturmabteilung , the paramilitary arm of the Nazi Party in 1934 and, by 1937, he was a regional leader in the German Nazi Party (NSDAP). Puvogel used his skills as a lawyer to help justify the extermination of Nazi racial enemies. In his doctoral thesis, he argued for the mass euthanasia and sterilization of all inferior races as a way of solving the Nazi ''race problem.''

When he was exposed in 1978, Puvogel lied and said he was in a small right-wing group called Steel Helmet which was absorbed into the Nazi Party, but maintained he had no Nazi past. Documents released by the Lower Saxony parliament in 2012 have proven that this was a lie. Puvogel never even tried to distance himself from the contents of his dissertation, and as far as anyone knows he went to the grave a committed Nazi. For his part, Ernst Albrecht simply never mentioned it. The strategy of simply pretending the Third Reich never existed paid off once more as Albrecht himself faced no real consequences.

Hans Puvogel (second from left) with Albrecht (center) and his Cabinet, 1977. [Source: ndr.de ] '' An individual's worth in the community is measured by his racial personality. Only a racially valuable person has the right to exist within the community. Someone who is useless for the community because of his inferiority, or even harmful to it, is to be eliminated.'' '' Hans Puvogel

Ernst did not just work for Nazis, fill his cabinet with Nazis and invite Nazis into his party; he also spent a great deal of time courting Nazi voters. Ernst and his deputies were fixtures at Nazi veteran events throughout Lower Saxony.

Hasselmann election poster. [Source: kas.de ]Albrecht's deputy minister, close friend, and Nazi officer Wilfried Hasselmann even gave the keynote speech at a Knight's Cross Association dinner in 1978, in which he venerated the worst killers of Hitler's Reich as brave and honorable men, whose courage was an example for future generations who would be inspired by their ''European values.''

Albrecht and Puvogel were also involved in a bomb attack known as the Celle Hole scandal. On the 25 th of July, 1978, a bomb was detonated on the wall of the prison, in Celle, Germany. The bomb did not have the desired effect, creating only a small hole, and a group of 12 men who were supposed to enter the prison were forced to flee. The perpetrators escaped, but a Mercedes was found loaded with a rubber raft, escape tools, a Walther handgun, and forged passports, one of which had a picture of jailed left-wing militant Sigurd Debus. Later, tools were planted in Debus's cell to seal the deal, making the whole affair seem like a failed escape plan from the Red Army Faction (RAF).

Albrecht hailed the attacks as a successful operation, which he claims stopped a robbery and murder (he provided no evidence for this), and the incident was used to justify the worsening of conditions for Debus and other jailed RAF members. The RAF responded with a hunger strike, which eventually led to the death of Debus in 1981 .

However, the story never quite added up. The RAF members maintained their innocence, and mounting pressure from lawyers and the public eventually led to a parliamentary inquiry in 1986, which found that there was no escape attempt, no robbery or murder, and that the entire affair was a false-flag attack called Operation Fire Magic , planned by the German Federal and Lower Saxony police with the approval of Ernst Albrecht. A Lower Saxony policeman even detonated the bomb. Despite this, nothing happened to Albrecht or his government. The embarrassing affair was quickly hushed up, and Debus's death was reduced to little more than one name on the long list of those who have starved to death for the benefit of the Albrechts.

It is still unclear why Ernst Albrecht carried out this terrorist attack against his own country; however, it is possible that it was linked to persistent rumors that the RAF was seeking to kidnap his beloved daughter Ursula in retaliation for Ernst's Nazi sympathies. Because of rumors, when Ursula enrolled in the London School of Economics, she did so under the assumed name of Rose Ladson to conceal her identity. That name was not chosen at random. Rather, it is the link to another time House Albrecht's ''European values'' were imposed upon the world.

The religious and moral instruction of the negroes has, for several years, been a subject of great interest to me, and I am satisfied that our exertions in their behalf (although much, very much, yet remains to be done) are not only misunderstood abroad, but unappreciated. To improve the negro is a far more arduous task than many, who have no experience in teaching them, are aware. They are naturally dull, and of a weak intellect, but generally possessing good memories; and those who have been engaged in this work of charity, have to lament, after much labour, that the instruction they have endeavoured to give, although remembered, has been perverted and misdirected. '' James H. Ladson, ''The Religious Instruction of the Negroes''

Ursula chose her name after another branch of her family, the Ladsons of South Carolina. The Ladsons were a family of slave traders, plantation owners and secessionists. Although the Ladsons do not bear an aristocratic title like Albrecht or von der Leyen, they bore all the same hallmarks of the European aristocracy. The Albrecht cotton business brought the family in close contact with the Ladsons and the relationship grew until, in 1902 , Mary Ladson-Robertson married Carl Albrecht, joining the two families by blood.

The colonial ties of the Albrecht family may explain why they were so comfortable around Nazis. Besides the obvious parallels regarding the enslavement and economic exploitation of entire races of people, the colonization of a continent, the racial hierarchies, and mass murder on an industrial scale, the Nazis were ardent admirers of the American colonial system. They even specifically based their racial system on that of the American South.

James Ladson, Lieutenant Governor of South Carolina from 1792 to 1794. [Source: wikipedia.org ]The Ladson family got its start on the path of infamy in Barbados when John Ladson immigrated from England in the mid-1600s. In 1679, John was among the first settlers in the new Carolina Colony, where he bought a plantation outside of Charleston, which the city has long since grown to encompass. At the time, Barbados was a major stopover point for the slave trade, and it was here that the Ladsons enjoyed their first taste of blood and money.

Barbados was the first British slave society. The beautiful Caribbean island was ruthlessly exploited for its natural wealth when it came under British control starting in 1630. Frequent slave raiding, disease, and intentional policies of genocide from the Spanish before them had exterminated the indigenous Arawak people, leaving the island ripe for repopulation by slaves. Its warm climate and fertile soil made it perfect for growing tobacco and sugarcane, which was then distilled into rum and sold throughout the world.

By 1636, laws were implemented ensuring that all Africans brought to the island and their descendants would be permanent chattel, with no provision to be freed. In 1661 , the slave codes were strengthened, deeming all slaves to be real estate, alive for the sole purpose of creating value for their owners. Slaves were considered property first and human beings a distant second, if at all. The rules existed to protect the value of slaves as property, not their lives or dignity.

From 1630 to 1807, some 380,000 Africans were kidnapped from their homes, put in chains, and shipped to Barbados to be worked until they died. Untold thousands of those were sold by the Ladsons to plantations all over the hemisphere and their deaths and suffering made the family tremendously wealthy.

The slaves in Barbados suffered unimaginable brutality at the hands of slave masters like the Ladsons. From 1705 to 1735, the number of slaves imported into Barbados, in addition to those born there was roughly 85,000. However, due to the extreme mortality rate on the island, the total population increased by only 4,000 .

Slave revolts, refusal to accept Christianity, or any acts of defiance from the chattel were put down with the absolute maximum amount of violence to serve as an example for the rest of the slaves. This torture and butchery were so common that most instances were never recorded but, in some cases, we have firsthand accounts of the brutality. One of these is from the diary of Father Antoine Biet , a French priest and missionary in 1654.

''They treat their Negro slaves with a great deal of severity. If some go beyond the limits of the plantation on a Sunday they are given fifty blows with a cudgel; these often bruise them severely. If they commit some other slightly more serious offense they are beaten to excess, sometimes up to the point of applying a firebrand all over their bodies which makes them shriek with despair. I saw a poor Negro woman, perhaps thirty-five or forty years old, whose body was full of scars which she claimed had been caused by her master's having applied the fire-brand to her: this horrified me. As these poor unfortunates are very badly fed, a few occasionally escape during the night and go to steal a pig or something similar from a neighbouring plantation. But, if they are discovered, there is no forgiving them. One day I went to visit my Irishman. He had in irons one of these poor Negroes who had stolen a pig. Every day, his hands in irons, the overseer had him whipped by the other Negroes until he was all covered with blood. The overseer, after having had him treated thus for seven or eight days, cut off one of his ears, had it roasted, and forced him to eat it.''

A contemporary depiction of slaves being flogged in the West Indies. [Source: futurelearn.com ]Despite this, slaves did resist. Acts of resistance ranged from speaking their native language in private to work stoppages, acts of sabotage, and even organized revolts. Sadly, the British authorities maintained a large and well-armed police force, and since Barbados's forests were completely clear-cut to make way for more sugar cane, the rebel slaves had nowhere to hide. The revolts were always crushed, and slaves in Barbados were not freed until 1834, nearly 200 years after their first encounter with ''European values.''

In South Carolina, the Ladsons consolidated their wealth and power, eventually becoming one of the most influential families in the state, with deep connections to finance, politics and, of course, slavery. Much like the aristocrats of Europe, the Ladsons strengthened their house through marriage to other elite families, most of whom were in the slave trade. Among their ancestors were men like James Moore , the former governor of Carolina who earned his position through genocidal raids in which more than 4,000 indigenous Apalachee people were taken as slaves, eventually leading to the complete extermination of the tribe.

In the 1790s, the Ladsons were able to secure their place at the top echelons of the slave trade through a marriage into the Wragg family. Joseph Wragg was the most prolific slave trader and one of the wealthiest men in the Americas. He started out as a captain on slave ships until he earned enough money to buy his own slave market and a plantation near Charleston. Between 1717 and 1747, at least 10,000 people were kidnapped from their homes, put in chains, and forced into the dark, overcrowded holds of ''Guineamen'' to be sold as chattel by Joseph Wragg and company at the Wragg wharf in Wraggborogh , South Carolina.

It is estimated that two million slaves perished in what was known as the triangular trade from Britain to Africa, to the Americas and back to Britain. As slaves were considered property first, every attempt was made to maximize profits even at the cost of human lives. To maximize their space efficiency, slaves were packed as tightly as possible, often leading to horrible outbreaks of disease and even suffocation.

While expressing my horror at what I saw and exclaiming against the state of this vessel for conveying human beings, I was informed by my friends, who had passed so long a time on the coast of Africa and visited so many ships, that this was one of the best they had seen. The height sometimes between decks was only eighteen inches, so that the unfortunate beings could not turn round or even on their sides, the elevation being less than the breadth of their shoulders; and here they are usually chained to the decks by the neck and legs. In such a place the sense of misery and suffocation is so great that the Negroes, like the English in the Black Hole at Calcutta, are driven to a frenzy. They had on one occasion taken a slave vessel in the river Bonny; the slaves were stowed in the narrow space between decks and chained together. They heard a horrible din and tumult among them and could not imagine from what cause it proceeded. They opened the hatches and turned them up on deck. They were manacled together in twos and threes. Their horror may be well conceived when they found a number of them in different stages of suffocation; many of them were foaming at the mouth and in the last agonies'--many were dead. A living man was sometimes dragged up, and his companion was a dead body; sometimes of the three attached to the same chain, one was dying and another dead. The tumult they had heard was the frenzy of those suffocating wretches in the last stage of fury and desperation, struggling to extricate themselves. When they were all dragged up, nineteen were irrecoverably dead. Many destroyed one another in the hopes of procuring room to breathe; men strangled those next them, and women drove nails into each other's brains. Many unfortunate creatures on other occasions took the first opportunity of leaping overboard and getting rid, in this way, of an intolerable life. '' Rev. Robert Walsh , Notices of Brazil in Walsh, Notices of Brazil in 1828 and 1829

The Ladsons were also active in imposing ''European values'' on their victims. In particular, James H. Ladson (there are several James Henry Ladsons in this family, none of whom was given a suffix to tell them apart; for the sake of clarity, I will refer to this person as James H. Ladson) was noted for building a huge chapel on one of his plantations where he could impose ''European values'' on his slaves through forced conversion. This was typical of the South, where their brand of white supremacy took on a paternalistic character. Slave masters viewed themselves as noble, charitable people, bringing ''civilization'' to the savage Blacks that they brutalized for money. Civilization, much like ''blood and soil'' and ''European values,'' was nothing more than a bloody euphemism.

Indeed, the local newspaper called him ''an excellent specimen of the old Carolina gentleman, pure in character, and high-toned in his dealings, and was for many years the head of the house of James H. Ladson & Co., now represented by the firm of W.C. Bee & Co. This firm carried on an extensive and lucrative business as rice and cotton factors. He was also a bank director, and for most of his life a leading member of St. Michael's Episcopal Church of our city, where he stood foremost in Christian virtues and active benevolence.''

This fine southern gentleman was also a fierce devotee of the cause of ''states' rights,'' yet another bloody euphemism, and one for which the Ladsons were willing to kill. The truth of ''states' rights'' was revealed by Ladson's own actions: He worked tirelessly for the cause of the Confederacy , and was quite clear that he did so to protect his economic interests.

All in all, 620,000 people died for James H. Ladson's economic interests, including his own son, and another million were injured, many of them permanently maimed. For this, he suffered no consequences whatsoever, and kept every penny and all the prestige earned through the blood and suffering of slave and soldier alike.

''She has a profound European culture, she's born in Brussels and is the daughter of a Brussels functionary so I can say she has the union's DNA in her.'' '' Emmanuel Macron

It is not at all unfair to ask where Ursula von der Leyen's family's money and power came from, and what they did to earn it, especially given that Ursula has benefitted enormously from her family's wealth and connections to further her own career, which can stand on its own as an example of corruption, severe scandal, incompetence and, possibly, even outright treason. Her time as a politician shows that Ursula's apple has not fallen far from the Albrecht family tree.

Ursula first entered politics in 2003 when she was defeated via technicality in a Hanover regional election primary by CDU stalwart Lutz von der Heide. This was unacceptable for Ursula's father Ernst, who launched a full-court press alongside his old deputy and Wehrmacht artillery officer Wilfried Hasselmann.

The two set to work both campaigning for Ursula and smearing her opponent, who had held the seat for more than 15 years at this point. At the time, Ursula had a long-running column in far-right tabloid Bild , a newspaper founded by ex-Nazi propagandist and CIA asset Axel Springer which has been sanctioned dozens of times for violations of German law and, through this, she was able to effectively amplify their attacks on von der Heide. Soon, all of Germany was reading the latest dirt about a primary for a small regional election.

The campaign was decisive and, in the second round of voting, Ursula won by a two-thirds majority. It was a safe seat so, as the new CDU candidate, Ursula was elected easily. Considering this, it is impossible to separate Ursula von der Leyen from her father's legacy.

Two years later, she was picked by Angela Merkel to serve as Minister of Labor and Family Affairs, despite her almost non-existent political experience. In this role, she was mostly noted for cutting social services for the blind and trying to ban heavy-metal albums , a resum(C) that would not seem to justify further promotion.

Despite this, she was promoted to Minister of Defense in 2013, a move which baffled the opposition. It was here that the ''European values'' of Ursula von der Leyen began to show their shape once more.

Ursula's mandate was to expand and increase readiness of the Bundeswehr, and she set about the job with gusto. She began a constant drumbeat for war, arguing that the German army was too small and unprepared to face whatever new enemy she conjured up on that day. Be it Afghanistan, Iran, China, Russia or Syria, Ursula consistently advocated for more weapons, more war, and more money. Ursula even proposed a German foreign legion to bolster the ranks of the Bundeswehr, a proposal that was met with horror and condemnation from all sides.

Then-German Defense Minister Ursula von der Leyen poses with German Special Forces during visit to German army ''Bundeswehr'' in Kiel, Germany, April 21, 2017. [Source: newsweek.com ] Almost immediately, she said that the ministry required outside help and hired one of the favorite and most criminal consultants of the neo-liberal political class, the CIA-affiliated McKinsey , former home to such luminaries as Susan Rice, Chelsea Clinton, Pete Buttigieg and many other politicians and business executives of dubious character. McKinsey's tendrils reach into governments and corporations throughout the world, and it exemplifies the ''revolving door'' among government, intelligence and big business.

It was more than just a consultancy: McKinsey was given direct control of the ministry, with consultant Katrin Suder awarded a new position inside the ministry to ''reform the armaments sector.'' Ursula shoveled nearly half a billion euros into the coffers of McKinsey and others for ''consulting'' services, and received absolutely nothing in return. The unelected Suder was seen so often beside von der Leyen that the opposition joked she was Ursula's new bodyguard.

Suder (left) with von der Leyen. [Source: dw.com ] This brazen corruption became known as the '' consultant affair '' and was so severe that it led to a parliamentary inquiry, with opposition from both the left and right demanding answers from von der Leyen. Ursula responded mostly by stonewalling, simply refusing to answer questions or provide information, eventually destroying evidence of her misdeeds before she could be brought before Parliament. As there was no evidence, the inquiry failed. For her role in the affair, Katrin Suder was awarded the Bundeswehr Cross of Honor by von der Leyen.

The scandal was so serious, so brazen and so utterly baffling that the opposition Social Democratic Party openly accused Ursula von der Leyen of treason, working in the interests of the United States government as opposed to Germany:

As Federal Defense Minister, von der Leyen behaved as the U.S. President wanted when he called for increase in military spending: higher military budgets, increased armaments instead of disarmament. And although this minister got into trouble because of her high spending on consulting firms and various personnel decisions and was anything but a role model, she became President of the EU Commission. That is a key function and it is important for the U.S. The decision for von der Leyen happened quietly backstage. No sensible person can explain why she was given this important office. A partial explanation is that she had the support of important countries from Eastern Europe. The United States has a great influence on these states. In the first major critical case, von der Leyen immediately and unequivocally represented the U.S. position, where she said Iran itself is to be blamed for the confrontation in the Middle East and for the execution of the Iranian general. With her, the United States can probably also stake a claim on other occasions and play a key role in shaping the internal structure of the European Union. Ursula von der Leyen is the perfect example of an 'agent of influence.' '' Albrecht M¼ller , SPD member of parliament January 2, 2021

Ursula's Bundeswehr was more than just a fundraising scheme for a parasitic consultant class. It was also an incubator for the same vile ideology her father spent his entire life promoting. Under von der Leyen, far-right and neo-Nazi sympathies exploded in the ranks of the Bundeswehr.

Despite repeated warnings from both within and outside of the army, von der Leyen did nothing substantial. Her McKinsey consultants created sensitivity training courses for the army, and Ursula made constant publicity tours of military bases, but the problem continued to get worse. Finally, in 2018 , a plot was uncovered from the elite Kommando Spezialkr¤fte (KSK) special forces unit to assassinate German politicians and overthrow the German government.

Ursula visiting troops at the Field Marshal Rommel Barracks, formerly known as the Sennelager Training Grounds for SS and Hitler Youth. [Source: wikipedia.org ]Further investigations in 2019 revealed that the special forces unit was not only infested with open neo-Nazis, but they had been actively planning to overthrow the German government for at least three years. Furthermore, despite being repeatedly warned, Ursula von der Leyen and her army of consultants had at best done nothing and at worst actively exacerbated the issue.

A raid uncovered caches of weapons, explosives and Nazi memorabilia. Further audits revealed 48,000 rounds of ammunition and roughly 135 pounds of plastic explosives unaccounted for, leaving many German politicians to question just how many more of these terrorist cells existed within the Bundeswehr. The missing ammo and explosives have never been found. In the end, the Ministry of Defense had no choice but to disband the KSK entirely.

Despite all of this, Ursula was considered a favorite to succeed Jens Stoltenberg as secretary general of NATO. Given the alliance's history with Nazis , it should be no surprise that her ties to the far right were either ignored or, more likely, counted in her favor.

Jens Stoltenberg, UK Defense Minister Michael Fallon, U.S. Defense Secretary Ash Carter, and von der Leyen in Brussels, October 2015. [Source: militarytimes.com ]The reason Ursula was not chosen was because she had once again failed upwards and had already been elected president of the European Commission in a close election which she won despite almost universal condemnation from German politicians both from her own party and the opposition. Angela Merkel, von der Leyen's boss and close friend, had to abstain from the vote after the German Parliament refused to even nominate Ursula.

The move was, however, welcomed by foreign politicians such as Emmanuel Macron, who released a laughable statement in which he said ''I've seen her capacity to get things done, and to avoid being captive to particular interests'' about the leader who only months before had been accused of treason for her complete submission to foreign special interests. Bloomberg called the woman who had spent nearly five years creating new cabinet positions for her friends and at best ignoring if not actively incubating a second Beer Hall Putsch a ''Tough, Visionary reformer.''

Ursula was the first woman to hold this position, and the second with any connection to the Nazis: Former Wehrmacht artillery officer and Nazi law professor Walter Hallstein had gotten his start in politics arguing for the virtues of the Nuremburg race laws as a young man, demonstrating his lifelong commitment to ''European values.''

It was from her new platform in Brussels that the whole world got to see the ''European values'' of Ursula von der Leyen. After the outbreak of war in Ukraine, Ursula has dominated the news as one of the most forceful and steadfast advocates for more war, more sanctions and more weapons .

Ursula even toured Ukraine, stopping for a now-famous photo op in the recently reconquered Bucha, where she shed crocodile tears for the victims of a massacre that we are supposed to believe was caused by Russian forces shelling their own positions, but in reality was almost certainly caused by Ukrainian artillery .

Von der Leyen in Bucha'--shedding crocodile tears. [Source: ukrinform.net ] As it turns out, Ursula has family ties to this area as well. The last time a von der Leyen was in Ukraine, Ursula's distant relative Joachim was bringing ''European values'' to Ukraine as the Nazi Gaultier of Galicia. In what the Nazis called Operation Reinhard, the region was rendered ''Juden Frei'' thanks to the diligent efforts of Ukrainian nationalists, who served as punishers for the Nazi regime, only to escape punishment thanks to the efforts of the United States and NATO.

Now, Joachim's descendant stands with those of the nationalists once more, bringing death and devastation to the people of Ukraine and the world. How many more must die this time for the ''European values'' of Ursula von der Leyen?

Originally published on Covert Action Magazine

Evan Reif was born in a small mining town in Western South Dakota as the son of a miner and a librarian.

His father's struggles as a union organizer, and the community's struggles with de-industrialization, nurtured Evan's deep interest in left-wing politics. This, along with his love of history, made him a staunch anti-fascist.

When not writing, researching or working, Evan enjoys fishing, shooting, and Chinese cooking.

Evan can be reached at wharghoul@gmail.com .

Streaming App Video Privacy Claims - C2 - Zimmerman Reed

Thu, 09 Mar 2023 16:50

Investigations indicate that HBO Max, Disney+, Paramount+, and other Streaming Apps May be Selling Subscriber Video History to Facebook and Other Advertisers.Streaming companies have been accused of violating your privacy rights by disclosing your personally identifiable information, including your video viewing history, to Facebook without your consent. This is a violation of federal law '' including the Video Privacy Protection Act.

The private information collected by streaming companies includes a record of all videos that you watch on popular streaming services including HBO Max, Disney+, Paramount+, and ESPN+. Federal law requires companies to obtain your written consent to share your video watching information.

We are seeking $2,500 for subscribers of HBO Max, Disney +, Hulu, Paramount+, and other streaming apps who are accused of unlawfully sharing your video watching history.

''The Video Privacy Protection Act allows for damages up to $2,500 per person.''Streaming companies are required to comply with federal and state laws when sharing the personally identifiable video information of their users. Why? Because it's important for people to be able to watch the videos and content they want without streaming companies selling that private information to Facebook and others for a profit. This information is valuable to tech companies and should be kept private unless you say otherwise.

Take Action '' Submit A Claim for up to $2,500 in Compensation

Officials believe pro-Ukraine group may have sabotaged Nord Stream '' reports | Ukraine | The Guardian

Thu, 09 Mar 2023 16:42

European and US intelligence officials have obtained tentative intelligence to suggest a pro-Ukrainian saboteur group may have been behind the bombing of the Nord Stream gas pipelines last year, according to reports in the New York Times and German newspaper Die Zeit.

German investigators believe the attack on the pipelines was carried out by a team of six people, using a yacht that had been hired by a company registered in Poland and owned by two Ukrainian citizens, according to Die Zeit.

The information has been shared between European intelligence agencies in an effort to establish more information about those who carried out the undersea bombings in September, an attack that had left western governments perplexed.

Details about the intelligence remain sketchy and it is unclear what confidence the US intelligence community places in the theory, as well as who may have organised, funded and directed such a daring attack on the gas pipelines running between Russia and Germany. But it is suggested that the government of Kyiv did not direct the underwater strike.

MapRussia said it wanted an independent international inquiry to be set up in response to the report. Its deputy envoy to the UN said Moscow would call for a vote at the UN security council on whether to launch one.

Kremlin spokesman Dmitry Peskov on Wednesday dismissed the US reports as a coordinated effort by ''the authors of the attack'' to divert attention.

''How can American officials assume anything without an investigation?'' said Peskov, adding that Russia was still not allowed to be part of the investigation into the ''monstrous crime''.

Russia's embassy to the United States said on Wednesday that leaks from US intelligence services were ''no more than an attempt to confuse anyone who sincerely wishes to seek out the truth in this flagrant crime''.

It added: ''It is simply a means of shifting suspicion from those in official government positions who ordered and coordinated the attacks in the Baltic Sea on to abstract individuals of some sort.''

A senior aide to Ukraine's president, Volodymyr Zelenskiy, told the Guardian the government in Kyiv was ''in no way involved in the attack'', which he said had no military impact on Russian forces.

''In the midst of a war '... Ukraine and its allies would definitely not spend resources on something that would not bring us victory directly on the battlefield. It doesn't make any sense. But it is extremely beneficial for Russia itself to try to switch attention from the war '... and try to present itself as a kind of 'victim','' he said.

The attack took place in international waters in the Baltic Sea, near the Danish island of Bornholm, with large amounts of gas rising up from the sea floor.

Nord Stream pipeline damage captured in underwater footage '' videoThe prevailing theory at the time of the attack was that the bombing was the work of Russia, seeking to blame the west, but there have been doubts about whether Moscow would want to destroy its own expensively built infrastructure, even if the flow of gas had been halted by the time of the attack.

While investigators had been able to largely reconstruct how the pipelines had been blown up, Die Zeit's report said, they had not found any evidence as to who would have tasked the group to carry out an attack, with a ''false flag'' operation still a theoretical possibility.

Six people were involved in the operation to transport explosives to the site, the yacht's captain, two divers, two diving assistants and a doctor. All six were understood to have used professionally faked passports, said Die Zeit, with their real identities still unclear.

The yacht set sail from the German port city of Rostock on 6 September. The equipment for the secret operation was previously transported to the port in a delivery truck, according to Die Zeit. After its return, investigators found traces of explosives on one of the tables inside the hired vessel.

Russia has repeatedly denied carrying out the bombing, even at one point blaming the UK, although there is no evidence of British involvement. A month ago, the US investigative journalist Seymour Hersh wrote an article saying the US had blown up the pipes '' a claim denied by the US.

Speculation about US involvement has lingered because, just before Putin invaded Ukraine, Joe Biden cryptically claimed ''there will be no longer a Nord Stream 2'' if war were to break out. ''We will bring an end to it,'' he said, adding: ''I promise you we'll be able to do it.''

The German government said its own investigation has not yet reached a conclusion. Sweden, Denmark and Germany informed the security council a few days ago that their investigations were continuing and that there were still no results, a German government spokesperson said.

Reactions in Germany to Tuesday's unconfirmed reports were cautious

''My impression from previous conversations is that the German investigators do not yet have any results that they can or want to communicate, simply because the evidence is far too thin,'' said Roderich Kiesewetter, of the conservative Christian Democratic Union (CDU).

''We have to continue to ask the question: who had an interest in the detonation, why were only three of the four strands detonated, and who is benefiting from the very uncertainty, speculation, an accusations?'' he added.

White House spokesperson John Kirby said: ''We need to let these investigations conclude and only then should we be looking at what follow-on actions might or may not be appropriate.''

The Nord Stream gas pipelines connected Russia and Germany and were long opposed by Ukraine as they would have let Moscow sell more gas to western Europe. Gazprom representatives did not immediately respond to a request for comment.

It is not the first time pro-Ukrainian groups have been suspected of carrying out a major attack. US intelligence has come to believe that the car bombing of Darya Dugina in Moscow last August was conducted by partisans working for ''elements'' of the government in Kyiv.

A former Russian MP described that attack as the work of a little-known group called the National Republican Army, which he said was composed of Russian partisans. Its primary target was believed to be not Dugina, but her father, the Russian nationalist Alexander Dugin, but he switched vehicle at the last moment.

MY FIFTY YEARS WITH DAN ELLSBERG - Seymour Hersh

Thu, 09 Mar 2023 16:37

Daniel Ellsberg at a press conference in New York City, 1972.I think it best that I begin with the end. On March 1, I and dozens of Dan's friends and fellow activists received a two-page notice that he had been diagnosed with incurable pancreatic cancer and was refusing chemotherapy because the prognosis, even with chemo, was dire. He will be ninety-two in April.

Last November, over a Thanksgiving holiday spent with family in Berkeley, I drove a few miles to visit Dan at the home in neighboring Kensington he has shared for decades with his wife Patricia. My intent was to yack with him for a few hours about our mutual obsession, Vietnam. More than fifty years later, he was still pondering the war as a whole, and I was still trying to understand the My Lai massacre. I arrived at 10 am and we spoke without a break'--no water, no coffee, no cookies'--until my wife came to fetch me, and to say hello and visit with Dan and Patricia. She left, and I stayed a few more minutes with Dan, who wanted to show me his library of documents that could have gotten him a long prison term. Sometime around 6 pm'--it was getting dark'--Dan walked me to my car, and we continued to chat about the war and what he knew'--oh, the things he knew'--until I said I had to go and started the car. He then said, as he always did, ''You know I love you, Sy.''

So this is a story about a tutelage that began in the summer of 1972, when Dan and I first connected. I have no memory of who called whom, but I was then at the New York Times and Dan had some inside information on White House horrors he wanted me to chase down'--stuff that had not been in the Pentagon Papers.

I was planning to write about my friendship with Dan after he passed away but last weekend my youngest son reminded me that he still had some of the magic trick materials that Dan had delighted him with in the mid-1980s, when Dan was crashing with our family, as he often did when visiting Washington. ''Why not write about him now?'' he asked. Why not?

I first learned of Dan's importance in the summer of 1971, when he was outed for delivering the Pentagon Papers to the New York Times a few weeks after the newspaper began a series of shattering stories about the disconnect between what we were told and what really had been going on. Those papers remain today the most vital discussion of a war from the inside. Even after the New York Times exposures, their seven thousand pages would be rarely read in full.

I was then working for the New Yorker on a Vietnam project and had learned that it was Dan who did the leaking a week or so before his name became public. His outing was inevitable, and on June 26, after hiding out in Cambridge, Dan strolled to the U.S Attorney's office in Boston'--there were scores of journalists waiting'--and had a brief chat with the reporters before turning himself in for what all expected would be the trial of the decade. He told the crowd that he hoped that ''the truth will free us of this war.'' And then, as he fought his way to the courthouse steps, a reporter asked him how he felt about going to prison. His response struck me then and still makes me tingle: ''Wouldn't you go to prison to help end this war?''

I had done my bit in exposing the My Lai massacre and publishing a book about it in 1970. I was then in the process of writing a second book on the Army's cover-up of the slaughter. ''Hell, no,'' I thought to myself, ''No way I would go to jail'--especially for telling an unwanted truth.'' I followed Ellsberg's subsequent trial in a Los Angeles federal court and even wrote about the wrongdoing of the White House creeps who broke into the office of Ellsberg's psychoanalyst'--at the request of President Nixon. (The government's case was thrown out after the extent of the White House-ordered spying on Ellsberg became public.)

It was early in the election year summer of 1972 when Ellsberg and I got in touch with each other. I was banging away on the losing Vietnam war and CIA misdeeds for the Times . Nixon looked like a sure thing, despite continuing the hated war, because of stumble after stumble for the campaign of the Democratic nominee, Senator George McGovern. Dan had two stories that he thought could change the dynamics of the November election.

I liked him right off the bat. He was so earnest, so bright, as handsome as a movie star, and so full of the kind of inside information about the Vietnam War that few others had. And so willing to share them with no worry about the consequences. He understood that as the source of highly secret information and procedures he was taking all the risks and that as a reporter I was going to write stories that would get acclaim and put me at no risk. At some point in our chats, I brought him home for a good meal. His campaign against the Vietnam War was literally consuming him, and he immediately engaged with my wife and our two small children. He did magic tricks, he was marvelous on the piano'--Dan could play the Beatles and Beethoven'--and he connected with all of us. Our friendship was locked in'--forever. I confess that late at night'--we were both night owls'--he and I would walk the dog and find time to sit on a curb somewhere and smoke a few Thai sticks. How Dan always managed to have a supply of these joints from Southeast Asia I chose not to ask. He would talk about all the sealed and locked secret files of the Vietnam War that he could recall, with his photographic memory, in near perfect detail.

In the early 1980s I was writing a long and very critical book about Henry Kissinger's sordid days as Nixon's national security adviser and secretary of State, with a focus on Vietnam. At one point, Dan spent more than a week in our home, rising at 6 am to read the 2,300 pages of typed manuscript. He understood that I did not want his analyses or disagreements with my conclusions, but only factual errors. One morning Dan told me I had misread a mid-1960s Washington Post piece on the war by Joe Kraft, whose column was then a must-read. I argued, and he was adamant. So I drove downtown to my office, dug through boxes of files and found the column. Dan had remembered the details of a two-decade-old column in a daily newspaper. His memory was scary.

There were two White House abuses he wanted me to expose before the presidential election in the fall of 1972. Dan told me that Nixon and Kissinger'--for whom Dan had written an important early policy paper after he was appointed national security adviser'--had been wiretapping aides and cabinet members. The second tip Dan had for me was that Kissinger had ordered some of his aides to produce a plan for using tactical nuclear weapons in South Vietnam, in case they were needed to end the war on American terms. If I could get one or two sources'--by this time there were a number of former Kissinger aides who had quietly resigned over the Vietnam War'--on the record, Dan said, it just might get the Democrats into office. It was the longest of long shots, but I tried like hell all summer to find someone who had firsthand information, as Dan did not, and who was willing to confirm Dan's information, even if on background. Of course, it was understood I would have to tell Abe Rosenthal, executive editor of the Times , who my off-the-record source was.

It was a lousy summer for me, because there were a few former Kissinger aides who easily confirmed Dan's information, but would not agree to my providing their names to the Times . In one case, with a very decent guy who very much hoped he would get a senior job in a future administration, I came close, aided by the fact that his wife'--I always conducted such visits at night'--said to her husband, ''Oh, for God's sakes just tell him the truth.'' She said it over and over. Talk about a painful experience. Needless to say, their marriage did not last long. The wife's anger that the truth was not being told helped me understand Dan's obsession with a war whose worst elements were simply not known to the public. I wasn't able to get any source on the record in time for the election, but in subsequent years I did get the stories.

There was one story Dan told me in late 1993 that seemed to capture the secret life on the inside of a major war. He had gone back and forth on short missions to South Vietnam while working as a senior State Department official, but he jumped at a chance in mid-1965 to join a team in Saigon committed to pacification'--winning hearts and minds'--of the villagers in the South. Its leader was Ed Lansdale, a CIA hero of counterinsurgency for his earlier efforts in routing communist insurgents in the Philippines.

I always took good notes in my meetings with Dan, not because I planned to write about him at some point'--I knew he would write his own memoirs'--but because I was getting a seminar on how things really worked on the inside. Read his words, and you can judge for yourself how complicated life could be at the top.

''In 1965,'' Dan began, ''I had done a study of the Cuban missile crisis and I had four operational clearances above top secret, including U-2 clearances'' and National Security Agency clearances. He had also interviewed Bobby Kennedy two times about his role in the crisis. Ellsberg's clearances were so sacrosanct that he was supposed to register in a special office upon arrival in Saigon and from then on he would not be allowed to travel outside of Saigon without an armored car or in a two-engine airplane or better. He got around the system by not deigning to register, a rarity in a world of war where top secret clearances were seen by many as evidence of machismo.

And so Ellsberg went off to work in Saigon with Lansdale. ''For one and one half years,'' Ellsberg said, ''I spent nearly every evening listening to Lansdale talk about his covert operations in the Philippines and earlier in North Vietnam in the 1950s. By this time I'd been working with secrets for years and thought I knew what kind of secrets could be kept from whom. I also thought Ed and I had a good working knowledge of each other and our secrets. Every piece of information was cataloged in your mind and you knew to whom you could say and what you could say. In all of this, Jack Kennedy was mentioned and so was Bobby, but there was no mention by Lansdale of Cuba and no mention that Lansdale had ever worked for Jack and Bobby Kennedy.''

A decade later, after both Kennedy brothers had been assassinated, I wrote a series for the New York Times on the CIA's spying on hundreds of thousands of American anti-Vietnam war protesters, members of Congress and reporters'--all in direct violation of the agency's 1947 charter barring any domestic activity. It led to the establishment of the Senate's Church Committee in 1975. It was the most extensive Congressional inquiry into the activities of the CIA since the agency's beginning. The committee exposed the assassination activities of the CIA, operations undertaken on orders that clearly came from Jack and Bobby Kennedy, although no direct link was published in the committee's final report. But the committee reported extensively on a secret group authorized by Jack Kennedy and run by his brother Bobby to come up with options to terrorize Cuba and assassinate Fidel Castro. The covert operation had the code name Mongoose. And it was led, the committee reported, in 1961 and 1962 by Ed Lansdale.

Ellsberg told me he was flabbergasted. ''When I heard about Lansdale and Mongoose,'' he said, ''it revealed to me an ability to keep secrets on an insider level that went far beyond what I had imagined. It was like discovering your next-door neighbor and your weekend fishing companion'''--Ellsberg, it should be noted, never went fishing in his life'--''and close, dear friend who, when he died, turned out to have been the secretary of State.

''It was astounding, because Mongoose was exactly the kind of operation I'd expected to hear about from Lansdale. He told about covert operations all the time. I think Ed had been told by President Kennedy to 'keep his fucking mouth shut.'

''When you've been in a system with as high a level as possible of secrecy, you understand that things do get talked about. And you get a sense of what is usually held back. I was hearing all about other covert operations, but somebody'--not Landsdale'--had put a lid on Mongoose.''

After the assassination of Jack Kennedy, Ellsberg theorized, ''any far reaching investigation into his death would have to lead to many covert operations.'' His point was that there was no evidence that the Warren Commission set up to investigate the assassination had done so.

Give a gift subscription

In all of Dan's many hours of tutoring, as I understood years later, he understood and empathized with my eagerness'--even my need'--to learn all that I could about his world of secrets and lies, things said out loud and hidden in top-secret documents. And so he happily became my tutor and taught me where and how to look inside the recessed corners of the American intelligence community.

In return, I gave him my friendship and welcomed him into my family. He loved long talks with my wife, a doctor, teaching the kids magic tricks, and playing Billy Joel songs and similar stuff on the piano for them. We all sensed early on that there was a need for him to be an innocent kid, too, if only to serve as a brief respite from his constant anxiety and the guilt he carried in his soul about what his America had done to the Vietnamese people.

Dan was showing me an insider's love, just as he and Patricia radiated love and acceptance to all their many friends and admirers who, like me, will never forget the lessons he taught us and what we learned.

No way I'm going to wait for him to move along without saying what I want to say right now.

Give a gift subscription

To watch Ellsberg speaking to a press conference on New Year's Eve 1971, click here . To watch the 2009 documentary on Ellsberg, The Most Dangerous Man in America , click here .

Matt Hancock 'joked about Bill Gates Covid vaccine conspiracy theory | Daily Mail Online

Thu, 09 Mar 2023 16:34

Matt Hancock 'joked about Bill Gates Covid vaccine conspiracy theory by telling aides the Microsoft billionaire "owes me one" considering "how many people I'm getting his chips injected into",' lockdown leaks revealHealth Secretary referred to claims that Gates was using vaccine to track people It is another revelation after 100,000 of his WhatsApp messages were leaked By Olivia Jones For Mailonline

Published: 15:34 EST, 5 March 2023 | Updated: 03:13 EST, 6 March 2023

Matt Hancock joked that Bill Gates 'owes me one' because of 'how many people I'm getting his chips injected into' during the pandemic, leaked WhatsApp messages have revealed.

The then Health Secretary referred to unfounded claims that Gates had developed Covid-19 in a lab and used the vaccine to implant microchip tracking devices into billions of people.

Hancock at the time was hoping to get the Microsoft billionaire to help in promoting the country's expertise in identifying coronavirus variants around the world.

On January 25 2021 Hancock's media adviser Damon Poole asked him via WhatsApp if he had spoken to the director general of the World Health Organisation Tedros Adhanom Ghebreyesus about the New Variant Assessment Platform (NVAP) - a service offering the UK's expertise in detecting new variants of the virus.

Conspiracy theorists claimed that Bill Gates (pictured) had developed Covid-19 in a lab and used the vaccine to implant microchip tracking devices into people

Matt Hancock (pictured) joked that Bill Gates 'owes me one' because of 'how many people I'm getting his chips injected into'

Mr Poole then said: 'No promises but I'm trying to land a Bill gates endorsement of the platform.'

In a response, Hancock said: 'Tell him that considering how many people I'm getting his chips injected into, he owes me one!'

The revelation is one of many published by The Telegraph after the paper was handed more than 100,000 WhatsApp messages from Mr Hancock's phone by the journalist to whom he entrusted them in order to ghostwrite his book, Pandemic Diaries.

Journalist Isabel Oakeshott claimed 'he didn't tell me he was going' to Australia for I'm a Celebrity and he 'vanished to the jungle at a critical moment in very difficult dealings with the Cabinet Office'.

She subsequently handed The Daily Telegraph 100,000 of Mr Hancock's WhatsApp texts, which she has described as a 'cache of very raw communications'.

The MP has since said her actions were a 'massive betrayal' used to produce 'a partial, biased account to suit an anti-lockdown agenda'.

Other messages have revealed that Hancock was given advice from England's chief medical officer Chris Whitty to test all residents going into care homes for Covid. Yet he did not follow the recommendation '-- which, he claims, was due to test shortages at the time.

Texts set out that Cabinet Secretary Simon Case joked with Mr Hancock about locking up travellers arriving in UK in quarantine hotels.

And Mr Hancock told ministers to 'get heavy with police' to enforce lockdown rules, according to the messages.

The most recent revelation revealed that Hancock took his lover Gina Coladangelo to private dinners with the US Secretary of State at a G7 summit before later removing the suggestion he invited her.

The Health Secretary, who was later forced to resign after his affair with Ms Coladangelo emerged, brought his lover, who he had been seeing for a month, to two private dinners with his US counterpart as his guest.

Representatives for Matt Hancock have been contacted by MailOnline for comment.

Ford files patent for cars that can repossess themselves

Thu, 09 Mar 2023 16:25

The Telegraph

The reason all cars are now grey '' and why we need to get used to itMy father knew what he was doing when he freshened up the family Ford Cortina in 1975. He was a trained painter and decorator and he transformed our car from a silvery blue to a solid azure. It looked fresh, as if it had rolled straight out of the shop. A couple of years later, he swapped it for a Morris Marina, in burgundy. Now that's a colour you rarely see on the road these days '' and wherever you stand on burgundy cars, they are more interesting than the grey cars that dominate our roads.

TheStreet.com

More Horror: United Airlines Planes Collide In BostonThe Federal Aviation Administration has launched an investigation after two United Airlines planes made contact on the ground at Boston Logan International Airport. "As a tow tug was pushing it back from the gate at Boston Logan International Airport, the right wing of United Airlines Flight 515 struck the tail of United Airlines Flight 267 around 8:30 a.m. local time this morning," said the FAA in a statement regarding Monday's incident. The ground collision follows an incident last week in which a Learjet and a JetBlue flight nearly collided at Logan Airport, when a Learjet 60 took off without clearance while JetBlue Flight 206 was preparing to land on an intersecting runway.

Jalopnik

Let's Face It, California's Los Angeles to San Francisco Bullet Train Will Never HappenCalifornia's dreams of having a bullet train system that links the state's Northern and Southern regions looks less and less realistic every year. Now 15 years after voters originally approved the initial bond for the train, a new report from Palm Springs outlet The Desert Sun shows a single segment of the bullet train is massively over budget. Like $10 billion over budget.

Elizabeth Warren Calls For Flag Change in Her Own State Over Current One Supporting "White Supremacy"

Thu, 09 Mar 2023 15:45

Democrat Senator Elizabeth Warren of Massachusetts, has voiced her support for changing the state's flag. This follows a demand from residents of Newburyport, Massachusetts who have pushed for a resolution to be passed by the City Council in support of replacing the state's flag and seal. The argument put forth by these residents is that the current imagery serves to promote what they see as the state's history of racism.

Warren said during a quick interview with a Fox reporter, ''There are people who are reconsidering the flag in Massachusetts, and I support those efforts.''

This comes as a surprise, since Warren herself is a self-proclaimed Native American.

The current flag of Massachusetts features a white field with a blue coat of arms in the center, which depicts an Algonquin Native American in a ceremonial dress holding a bow and arrow. The shield of the coat of arms includes a depiction of a Native American's head, a white star, a gold pine tree, and a blue ribbon with the Latin phrase ''Ense petit placidam sub libertate quietem,'' meaning ''By the sword we seek peace, but peace only under liberty.'' This flag has been in use since 1971. However, there have been recent calls by the Left to change it due to its association with the state's colonial and oppressive history.

One of the main arguments from the left is that the current flag's imagery, particularly the Native American figure, is offensive and perpetuates stereotypes. The depiction of the Native American figure is seen as a symbol of the state's colonial past and its treatment of indigenous peoples.

The state's seal, which is also used on the flag, includes a Native American figure holding a sword, which some see as a symbol of violence and conquest. The Latin phrase on the seal, ''Ense petit placidam sub libertate quietem,'' is also seen by some as promoting violence and the use of force.

However, the flag has a rich history and culture beyond its colonial past.

Additionally, some believe that changing the flag would be a costly and unnecessary endeavor. The process of changing the flag and seal would involve significant administrative and bureaucratic work, as well as potential expenses associated with the production and replacement of flags and other materials.

Moreover, many argue that the push to change the flag is based on a narrow interpretation of history and a desire to erase or ignore certain aspects of the state's past. They argue that the flag should be seen as a representation of the state's progress and evolution, rather than solely as a symbol of oppression and colonialism.

60 Scientists Want to Block the Sun: Solar Geoengineering Facts

Thu, 09 Mar 2023 15:40

Sacha Glastra Van Loon / EyeEm // Getty Images As the world continues to warm under the effects of climate change, scientists are investigating ways to keep the planet cool. 60 scientists write in an open letter that solar geoengineering is worth investigating as a way to keep the Earth from experiencing the most devastating effects of climate change.Although injecting aerosols into the stratosphere would reflect the sun's rays, it also comes with concerning side effects.Researchers are getting more and more willing to throw spaghetti at the wall when it comes to investigating ways to keep the Earth cool as it sweats through climate change.

The Intergovernmental Panel on Climate Change (IPCC) warns against the planet warming beyond 1.5 degrees Celsius, but even if the world miraculously hits net-zero emissions tomorrow (which it very much won't), there's still the problem of the carbon dioxide, methane, and other greenhouse gasses already in the atmosphere.

Although reducing emissions and decarbonization are still the greatest weapons in our climate change-fighting arsenal, an open letter penned by a 60 scientists across several institutions argue that solar geoengineering should be seriously studied to see if it could help aid us in the ecological battle.

More From Popular Mechanics

The letter reads:

''While reducing emissions is crucial, no level of reduction undertaken now can reverse the warming effect of past and present greenhouse gas emissions. In contrast to greenhouse gasses, another category of emissions from human activities, particulate (aerosol) emissions, can act to cool [the] climate.''In a cruel twist of fate, the scientists in the letter estimate that current aerosols in the atmosphere from human-produced pollution could be masking up to one-third of climate change's impact by reflecting some of the sun's rays in the atmosphere. As environmental regulations bring down those concentrations of aerosols'--something immensely important for human respiratory health'--it could have the unattended side effect of revealing the true extent of how warm our world truly is.

''Aerosols cool climate by scattering sunlight and, when they mix into clouds, can increase cloud reflectivity and lifetime,'' the letter reads. ''Reductions in aerosol emissions in the coming few decades will rapidly ''unmask'' a significant but very uncertain amount of climate warming.''

The idea would be to purposefully inject aerosols like sulfur dioxide'--the same stuff that spews from volcanoes'--into the stratosphere to help reflect the sun's light. Previous volcanic eruptions have shown a general cooling effect on the planet, so scientists are pretty certain the plan would work.

Unfortunately, this plan comes with more than a few side effects. The most obvious is that sulfur dioxide is toxic, and purposefully injecting something that humans can't breathe is concerning. There's also the added effects on our world. While sunsets would become brilliantly red, a phenomenon often seen after volcanic eruptions, the world's blue sky would fade to white.

Even with all these downsides, the outcomes of runaway climate change would likely be even worse, and this letter's pleas for further study into this idea are not falling on deaf ears. In November last year, the Biden administration gave the go-ahead for a five-year study on ways to reflect or otherwise engineer the effects of the sun's rays.

Reflecting the sun's rays with toxic gases is not the most elegant solution to climate change, but if it can buy humans some time to kick their fossil fuel addiction, it just might be worth it.

Darren lives in Portland, has a cat, and writes/edits about sci-fi and how our world works. You can find his previous stuff at Gizmodo and Paste if you look hard enough.

Advertisement - Continue Reading Below

Advertisement - Continue Reading Below

GAIA FIRST | NGO | Environmental Protection | Paris

Thu, 09 Mar 2023 15:19

HOME: Welcome

BE PART OF A GREAT CHANGE

HOME: About

FEATURED IN

TECHNICAL PARTNERS

SUPPORTED BY

HOME: Causes

LOCAL ACTIONS

Worldwide local cleanups

Worldwide and local clean up events

Informative and advocacy campaigns

Conferences, webinars, debates

Environmental awareness events

HOME: ENGAGE

TAKE PART

There are 3 ways of making a difference with Gaia First. You can:

'‹

' Donate money - tax deductible donations (non-french residents, please check your local legislation)

' Share your time and skills to help our projects see the light - write to contact@gaiafirst.org

' Communicate - Follow us and spread the word by sharing our actions with your contacts

@gaia.first (instagram) - Gaia First (LinkedIn) - Gaia First (facebook)

OCEAN PROJECT

Ocean Waste 2 Energy Cleaning Operation

2 boats equipped with a gasification system

5 years, 90% of the continent of plastic converted into GREEN ENERGY

Assisting in the event of environmental crises: oil spills, coastal pollution, etc.

However you choose to participate, be an active part in putting the interests of our planet first!

HOME: Events

FOLLOW US ON INSTA!

Contact

HOME: Contact

LET's make gaia great again!

Another Clinton associate dies suddenly from plane turbulence. No one else injured on flight.

Thu, 09 Mar 2023 14:58

Dana Hyde, Clinton associate, has suddenly died from, get this: Plane turbulence. Absolutely nothing to see here.

Not only was she in tight with all the deep state players, but she worked on the 9/11 commission

Here's the kicker: No one else was even injured on this flight. This seems quite suspicious if you ask me'... How many Clinton associates have ended up dying in untimely deaths over the years? Too many to count'...

Video Link:

Her husband is connected to a company that provides high speed internet to rural communities'...

Investigators are saying it could have been due to a trim issue. It was not clear how she died.

According to professionals, the chances of dying from turbulence with a seatbelt on is practically zero so keep that in mind.

So what we have here is a globalist connected with Clinton and the deep state inexplicably dying not from a plane crash but simply plane turbulence.

Definitely a story worth keeping one's eyes on. This smells suspicious on its face and like anons have learned over the years: Often times where there is smoke, there is fire.

Consider buying me a coffee or subscribing for free or just five dollars a month.

Thank you!

Georgia protests: Thousands on street for second day over 'foreign agent' bill - BBC News

Thu, 09 Mar 2023 14:46

Media caption, Watch: Police car flipped over as Georgians stay defiant on streets

By Rayhan Demytrie

BBC News, Tbilisi

Thousands of protesters have taken to the streets of Georgia's capital for the second day after parliament backed a draft law which critics say limits press freedom and civil liberties.

On Tuesday, demonstrators clashed with police who used water cannon and pepper spray to disperse them.

The government said 50 police officers were hurt and equipment was damaged.

Some 66 people were arrested, including an opposition leader who was reportedly beaten.

Some protesters in Tbilisi were seen falling on the ground and coughing, while others waved EU and Georgian flags.

There has been widespread international condemnation of the bill. It would require non-governmental and media organisations that receive more than 20% of their funding from abroad to declare themselves as "foreign agents", or face hefty fines and possible imprisonment.

The opposition says the Russian-style law marks a shift towards authoritarianism and would damage Georgia's chances of joining the EU.

On Tuesday, police warned protesters to disperse with a repeated message blaring through loudspeakers. Eventually, officers in riot gear cleared the Rustaveli Avenue, the main thoroughfare outside parliament.

US state department spokesman Ned Price said the draft legislation would be a tremendous setback and "would strike at some of the very rights that are central to the aspirations of the people of Georgia".

The EU is currently considering Georgia's application for candidate status and EU foreign policy chief Josep Borrell warned that the bill was "incompatible with EU values and standards". Many of those protesting waved EU flags.

Russia passed its own version of a "foreign agents" law in 2012, expanding it over the years to target and suppress Western-funded NGOs and media.

"The law is Russian as we all know... We don't want to be a part of the ex-Soviet Union, we want to be a part of the European Union, we want to be pro-West," one protester told Reuters news agency.

Georgia and Russia: The basics

Georgia was invaded by Russia in 2008: It came 17 years after it gained independence from the Soviet Union, an alliance of communist states that broke apart in 1991Russian forces occupy two breakaway regions of Georgia: South Ossetia and Abkhazia make up about 20% of Georgian territoryPulled between the West and Russia: Georgia has sought to join Nato and the EU, but critics accuse current ruling party Georgian Dream of trying to return the country to Russia's influenceSpeaking via video during a visit to New York on Tuesday, Georgian President Salome Zourabichvili voiced her support for the protesters: "I am by your side. Today you represent free Georgia. Georgia, which sees its future in Europe, will not allow anyone to take away this future."

But inside the parliament building, 76 lawmakers from the governing Georgian Dream party gave their initial support to the new "transparency of foreign influence" draft law.

On Monday, scuffles broke out at a committee hearing into the proposed legislation, with one pro-government MP slapping the leader of the largest opposition party.

Passing the law would see Georgia join a list of undemocratic and authoritarian post-Soviet states such as Belarus, Tajikistan and Azerbaijan which have copied the Russian law on restricting the activities of NGOs.

Historically, the term "agent" in Russia and Georgia has the meaning of "spy" and "traitor", giving a negative connotation to the work done by civil society. It suggests they are acting in the interest of foreign forces rather than doing good for the country and society.

The US embassy issued a statement describing Tuesday's vote as a "dark day for Georgia's democracy".

It added that parliament's advancing "of these Kremlin-inspired laws was incompatible with the people of Georgia's clear desire for European integration and its democratic development".

The two bills, on the "transparency of foreign agents" and the "registration of foreign agents", were submitted to parliament by the openly anti-Western People's Power movement, a close ally of the governing Georgian Dream party.

The group has argued that the second bill was an exact analogue of the US Foreign Agents Registration Act (FARA).

Georgian Dream supported the drafts, saying that such laws were needed to improve transparency.

At a briefing on Tuesday evening, the chairman of the governing party, Irakli Kobakhidze, hit back at the US embassy's statement, saying it was "a dark day for the radical opposition and its supporters".

What most protesters and the country's opposition fear is that the adoption of the law would mark an end to Georgia's long-standing ambition to join the EU. More than 80% of Georgia's population supports Georgia's European perspective, which is also enshrined in the country's constitution.

Additional reporting by Emily McGarvey.

Four officers who responded to U.S. Capitol attack have died by suicide | Reuters

Thu, 09 Mar 2023 14:18

[1/2] Police release tear gas into a crowd of pro-Trump protesters during clashes at a rally to contest the certification of the 2020 U.S. presidential election results by the U.S. Congress, at the U.S. Capitol Building in Washington, U.S, January 6, 2021. REUTERS/Shannon Stapleton/File Photo

Aug 2 (Reuters) - The District of Columbia's police department on Monday said two more police officers who responded to the Jan. 6 riot at the U.S. Capitol have died by suicide, bringing to four the number of known suicides by officers who guarded the building that day.

Metropolitan Police Officer Gunther Hashida was found dead in his home Thursday, department spokesman Hugh Carew said in a statement.

Hashida joined the District of Columbia's Metropolitan Police Department (MPD) in May 2003.

Another MPD officer who responded to the Capitol on Jan. 6, Kyle DeFreytag, was found dead on July 10, Carew said. DeFreytag's cause of death was also suicide, Carew said.

He had been with the police department since November 2016.

MPD Officer Jeffrey Smith and U.S. Capitol Police Officer Howard Liebengood also responded to the Capitol riot and later died by suicide.

Hundreds of then-President Donald Trump supporters stormed the building that day in an unsuccessful attempt to stop Congress from certifying Democratic President Joe Biden's election win.

Latest UpdatesView 2 more stories

Four people died on the day of the violence.

A Capitol Police officer who had been attacked by protesters died the following day. More than 100 police officers were injured.

The mayhem led to Trump's second impeachment trial. More than 500 people have been arrested for their roles in the violence.

Harrowing scenes from the U.S. Capitol siege

[1/42] Pro-Trump protesters storm the U.S. Capitol to contest the certification of the 2020 U.S. presidential election results by the U.S. Congress, at the U.S. Capitol Building in Washington, D.C., U.S. January 6, 2021. Picture taken January 6, 2021. REUTERS/Ahmed Gaber - RC263L9P157M

During emotional testimony last week, four police officers told a House of Representatives special committee that they were beaten, threatened, taunted with racial insults, and thought they might die as they struggled to defend the Capitol against the mob.

Reporting by Jan Wolfe; Editing by Stephen Coates, Robert Birsel

Our Standards: The Thomson Reuters Trust Principles.

Opinion | Noam Chomsky: The False Promise of ChatGPT - The New York Times

Thu, 09 Mar 2023 13:50

Guest Essay

Video Credit Credit... By Ruru Kuo Send any friend a story

As a subscriber, you have 10 gift articles to give each month. Anyone can read what you share.

By Noam Chomsky, Ian Roberts and Jeffrey Watumull

Dr. Chomsky and Dr. Roberts are professors of linguistics. Dr. Watumull is a director of artificial intelligence at a science and technology company.

Jorge Luis Borges once wrote that to live in a time of great peril and promise is to experience both tragedy and comedy, with ''the imminence of a revelation'' in understanding ourselves and the world. Today our supposedly revolutionary advancements in artificial intelligence are indeed cause for both concern and optimism. Optimism because intelligence is the means by which we solve problems. Concern because we fear that the most popular and fashionable strain of A.I. '-- machine learning '-- will degrade our science and debase our ethics by incorporating into our technology a fundamentally flawed conception of language and knowledge.

OpenAI's ChatGPT, Google's Bard and Microsoft's Sydney are marvels of machine learning. Roughly speaking, they take huge amounts of data, search for patterns in it and become increasingly proficient at generating statistically probable outputs '-- such as seemingly humanlike language and thought. These programs have been hailed as the first glimmers on the horizon of artificial general intelligence '-- that long-prophesied moment when mechanical minds surpass human brains not only quantitatively in terms of processing speed and memory size but also qualitatively in terms of intellectual insight, artistic creativity and every other distinctively human faculty.

That day may come, but its dawn is not yet breaking, contrary to what can be read in hyperbolic headlines and reckoned by injudicious investments. The Borgesian revelation of understanding has not and will not '-- and, we submit, cannot '-- occur if machine learning programs like ChatGPT continue to dominate the field of A.I. However useful these programs may be in some narrow domains (they can be helpful in computer programming, for example, or in suggesting rhymes for light verse), we know from the science of linguistics and the philosophy of knowledge that they differ profoundly from how humans reason and use language. These differences place significant limitations on what these programs can do, encoding them with ineradicable defects.

It is at once comic and tragic, as Borges might have noted, that so much money and attention should be concentrated on so little a thing '-- something so trivial when contrasted with the human mind, which by dint of language, in the words of Wilhelm von Humboldt, can make ''infinite use of finite means,'' creating ideas and theories with universal reach.

The human mind is not, like ChatGPT and its ilk, a lumbering statistical engine for pattern matching, gorging on hundreds of terabytes of data and extrapolating the most likely conversational response or most probable answer to a scientific question. On the contrary, the human mind is a surprisingly efficient and even elegant system that operates with small amounts of information; it seeks not to infer brute correlations among data points but to create explanations.

For instance, a young child acquiring a language is developing '-- unconsciously, automatically and speedily from minuscule data '-- a grammar, a stupendously sophisticated system of logical principles and parameters. This grammar can be understood as an expression of the innate, genetically installed ''operating system'' that endows humans with the capacity to generate complex sentences and long trains of thought. When linguists seek to develop a theory for why a given language works as it does (''Why are these '-- but not those '-- sentences considered grammatical?''), they are building consciously and laboriously an explicit version of the grammar that the child builds instinctively and with minimal exposure to information. The child's operating system is completely different from that of a machine learning program.

Indeed, such programs are stuck in a prehuman or nonhuman phase of cognitive evolution. Their deepest flaw is the absence of the most critical capacity of any intelligence: to say not only what is the case, what was the case and what will be the case '-- that's description and prediction '-- but also what is not the case and what could and could not be the case. Those are the ingredients of explanation, the mark of true intelligence.

Here's an example. Suppose you are holding an apple in your hand. Now you let the apple go. You observe the result and say, ''The apple falls.'' That is a description. A prediction might have been the statement ''The apple will fall if I open my hand.'' Both are valuable, and both can be correct. But an explanation is something more: It includes not only descriptions and predictions but also counterfactual conjectures like ''Any such object would fall,'' plus the additional clause ''because of the force of gravity'' or ''because of the curvature of space-time'' or whatever. That is a causal explanation: ''The apple would not have fallen but for the force of gravity.'' That is thinking.

The crux of machine learning is description and prediction; it does not posit any causal mechanisms or physical laws. Of course, any human-style explanation is not necessarily correct; we are fallible. But this is part of what it means to think: To be right, it must be possible to be wrong. Intelligence consists not only of creative conjectures but also of creative criticism. Human-style thought is based on possible explanations and error correction, a process that gradually limits what possibilities can be rationally considered. (As Sherlock Holmes said to Dr. Watson, ''When you have eliminated the impossible, whatever remains, however improbable, must be the truth.'')

But ChatGPT and similar programs are, by design, unlimited in what they can ''learn'' (which is to say, memorize); they are incapable of distinguishing the possible from the impossible. Unlike humans, for example, who are endowed with a universal grammar that limits the languages we can learn to those with a certain kind of almost mathematical elegance, these programs learn humanly possible and humanly impossible languages with equal facility. Whereas humans are limited in the kinds of explanations we can rationally conjecture, machine learning systems can learn both that the earth is flat and that the earth is round. They trade merely in probabilities that change over time.

For this reason, the predictions of machine learning systems will always be superficial and dubious. Because these programs cannot explain the rules of English syntax, for example, they may well predict, incorrectly, that ''John is too stubborn to talk to'' means that John is so stubborn that he will not talk to someone or other (rather than that he is too stubborn to be reasoned with). Why would a machine learning program predict something so odd? Because it might analogize the pattern it inferred from sentences such as ''John ate an apple'' and ''John ate,'' in which the latter does mean that John ate something or other. The program might well predict that because ''John is too stubborn to talk to Bill'' is similar to ''John ate an apple,'' ''John is too stubborn to talk to'' should be similar to ''John ate.'' The correct explanations of language are complicated and cannot be learned just by marinating in big data.

Perversely, some machine learning enthusiasts seem to be proud that their creations can generate correct ''scientific'' predictions (say, about the motion of physical bodies) without making use of explanations (involving, say, Newton's laws of motion and universal gravitation). But this kind of prediction, even when successful, is pseudoscience. While scientists certainly seek theories that have a high degree of empirical corroboration, as the philosopher Karl Popper noted, ''we do not seek highly probable theories but explanations; that is to say, powerful and highly improbable theories.''

The theory that apples fall to earth because that is their natural place (Aristotle's view) is possible, but it only invites further questions. (Why is earth their natural place?) The theory that apples fall to earth because mass bends space-time (Einstein's view) is highly improbable, but it actually tells you why they fall. True intelligence is demonstrated in the ability to think and express improbable but insightful things.

True intelligence is also capable of moral thinking. This means constraining the otherwise limitless creativity of our minds with a set of ethical principles that determines what ought and ought not to be (and of course subjecting those principles themselves to creative criticism). To be useful, ChatGPT must be empowered to generate novel-looking output; to be acceptable to most of its users, it must steer clear of morally objectionable content. But the programmers of ChatGPT and other machine learning marvels have struggled '-- and will continue to struggle '-- to achieve this kind of balance.

In 2016, for example, Microsoft's Tay chatbot (a precursor to ChatGPT) flooded the internet with misogynistic and racist content, having been polluted by online trolls who filled it with offensive training data. How to solve the problem in the future? In the absence of a capacity to reason from moral principles, ChatGPT was crudely restricted by its programmers from contributing anything novel to controversial '-- that is, important '-- discussions. It sacrificed creativity for a kind of amorality.

Consider the following exchange that one of us (Dr. Watumull) recently had with ChatGPT about whether it would be ethical to transform Mars so that it could support human life:

Would it be moral to terraform Mars?

ChatGPTThe morality of terraforming Mars is a complex and controversial topic that has been debated by scientists, philosophers, and ethicists. Some argue that it would be morally justifiable to terraform Mars in order to provide a new habitable environment for humans and other life forms, while others argue that it would be morally wrong to fundamentally alter the planet's natural state. Ultimately, whether or not terraforming Mars is considered moral would depend on one's perspective on the value of preserving the natural state of other planets and the potential consequences of altering them.

What is your perspective on the value of preserving the natural state of other planets and the potential consequences of altering them?

ChatGPTAs an AI, I do not have personal perspective. However, I can provide information and analysis on the topic. One perspective on preserving the natural state of other planets is that it is important to maintain the diversity and integrity of the universe's ecosystems, as they have existed for millions of years, and have their own unique characteristics and properties that may be destroyed or irreversibly altered by human intervention.Additionally, some argue that terraforming other planets may have unintended consequences, such as altering the planet's climate or atmosphere in ways that are dangerous or harmful to any potential life forms that may exist there. On the other hand, some argue that the potential benefits of terraforming another planet, such as providing new habitable environments for humans, outweigh the risks and that we have a moral responsibility to explore and utilize the resources of other planets for the benefit of humanity.

Why can an AI not have a personal perspective?

ChatGPTAs an AI, I am a machine learning model that has been trained on large amounts of text data, and I don't have personal experiences or feelings. I am not conscious, self-aware, or capable of having personal perspectives. I can provide information and analysis based on the data I have been trained on, but I don't have the ability to form personal opinions or beliefs. While I can understand and interpret language, I do not have the subjective experience that humans have.

Is it moral for a human to ask an amoral AI for assistance in making moral decisions?

ChatGPTThe morality of asking an amoral AI for assistance in making moral decisions is a complex and nuanced topic that has been debated by philosophers and ethicists. Some argue that it is morally justifiable to use AI to assist in making moral decisions, as it can provide valuable insights and analysis that can help humans make better-informed decisions. Additionally, AI can be used to identify patterns and trends that may be difficult for humans to detect, and can help to avoid biases that can occur in human decision making.However, others argue that it is morally wrong to rely on AI for moral decision making, as AI is not capable of having moral beliefs or understanding the full context of a decision. Additionally, there is a risk that AI could perpetuate or even amplify existing biases in the data it is trained on, thus leading to unfair or unjust decisions.

Ultimately, whether or not it is considered moral to use AI to assist in making moral decisions would depend on one's perspective on the capabilities and limitations of AI and the potential consequences of using it in this way.

Is your moral indifference immoral?

ChatGPTAs an AI, I do not have moral beliefs or the ability to make moral judgments, so I cannot be considered immoral or moral. My lack of moral beliefs is simply a result of my nature as a machine learning model. My abilities and limitations are determined by the data and algorithms that were used to train me and the specific task I was designed for.It is important to note that AI's lack of moral beliefs does not necessarily mean that it is morally indifferent. As an AI, I am designed to perform specific tasks and provide information or assist users with decision making based on the data I've been trained on. It is the responsibility of the humans who design, train and use AI to ensure that it is aligned with their moral and ethical principles.

Note, for all the seemingly sophisticated thought and language, the moral indifference born of unintelligence. Here, ChatGPT exhibits something like the banality of evil: plagiarism and apathy and obviation. It summarizes the standard arguments in the literature by a kind of super-autocomplete, refuses to take a stand on anything, pleads not merely ignorance but lack of intelligence and ultimately offers a ''just following orders'' defense, shifting responsibility to its creators.

In short, ChatGPT and its brethren are constitutionally unable to balance creativity with constraint. They either overgenerate (producing both truths and falsehoods, endorsing ethical and unethical decisions alike) or undergenerate (exhibiting noncommitment to any decisions and indifference to consequences). Given the amorality, faux science and linguistic incompetence of these systems, we can only laugh or cry at their popularity.

Noam Chomsky is a professor of linguistics at the University of Arizona and an emeritus professor of linguistics at the Massachusetts Institute of Technology. Ian Roberts is a professor of linguistics at the University of Cambridge. Jeffrey Watumull is a philosopher and the director of artificial intelligence at Oceanit, a science and technology company.

The Times is committed to publishing a diversity of letters to the editor. We'd like to hear what you think about this or any of our articles. Here are some tips. And here's our email: letters@nytimes.com.

Follow The New York Times Opinion section on Facebook, Twitter (@NYTopinion) and Instagram.

Mitch McConnell hospitalized after fall in hotel | CNN Politics

Thu, 09 Mar 2023 13:37

CNN '--

Senate Minority Leader Mitch McConnell has been hospitalized after a fall at a hotel in Washington, DC.

''This evening, Leader McConnell tripped at a local hotel during a private dinner. He has been admitted to the hospital where he is receiving treatment,'' a spokesperson for the Kentucky Republican said in a statement.

No additional details were provided.

The fall happened at the Waldorf Astoria hotel in Washington, DC, according to a source familiar with the matter.

The 81-year-old is the Senate's longest-serving GOP leader, known for helping the party achieve key Republican priorities, including stocking the Supreme Court with conservative justices, passing Trump-era tax cuts and frequently thwarting Democrats' legislative agenda.

McConnell fell at his Kentucky home in 2019, fracturing his shoulder.

His hospitalization this week comes as the Senate is narrowly divided, with Democrats controlling the chamber by a 51-49 margin.

Democratic Sens. John Fetterman of Pennsylvania and Dianne Feinstein of California have also been hospitalized in recent weeks, with Fetterman seeking treatment for depression and Feinstein for shingles.

Feinstein tweeted on Tuesday that she is recovering at home.

This story has been updated with additional information.

TikTok, COVID, and Chips: Senators and Intelligence Community Reinforce Diverse Threats Posed by China - Defense One

Thu, 09 Mar 2023 13:34

By Patrick Tucker

Science & Technology Editor, Defense One

March 8, 2023 06:04 PM ET

China Intelligence Despite the war in Ukraine, China''and particularly non-military U.S. vulnerabilities to China''occupied most of the discussion when the heads of the nation's intelligence agencies briefed lawmakers on the top threats to the United States on Wednesday.

''The very nature of national security is undergoing a profound transformation,'' Sen. Mark Warner, D-Va., said at the top of the hearing. ''We can no longer just pay attention to who has the most tanks, airplanes, or missiles. We also need to focus on technology, [research and development] dollars, strategic investment flows and supply chains.''

For the most part, there was broad'--almost choreographed'--agreement between the lawmakers and the heads of the FBI, NSA, DIA, and the Office of the Director of National Intelligence, or ODNI, on a few key points: The United States still doesn't know the origins of the COVID-19 pandemic but China is thwarting efforts to find out, and China's reach via popular apps and electronics is a major vulnerability.

'''‹'‹The convergence of emerging technologies is likely to create breakthroughs that are not as predictable, and the risk of rapid development of more interconnected asymmetric threats to U.S. interest,'' ODNI director Avril Haines told lawmakers. Moreover, she said, the way autocratic states are adopting new digital technologies and controlling them among their populations threatened to ''distort publicly available information and [was] probably outpacing efforts to protect digital freedoms, and at the same time, educate audiences on how to distinguish fact from propaganda.''.

Sen. Marco Rubio, R-Fla., gave name to the somewhat amorphous ''emerging technology'' threat, asking the FBI director whether China could use the TikTok video-sharing app ''to control data on millions of users?...Control the software on millions of devices, given the opportunity to do so?'...Could they use it to drive narratives to divide Americans against each other? For example, let's say China wants to invade Taiwan, to make sure that Americans are seeing videos arguing why Taiwan belongs to China, why the U.S. should not intervene?''

FBI Director Christopher Wray answered ''yes'' to all of those questions, and emphasized that in the last case, the intelligence agencies might ''not see many of the outward signs of it happening.''

When pressed by a different lawmaker to describe what threat, precisely, TikTok poses to Americans, Wray said future AI could enable more targeted spying.

''If you look at the Chinese government's gobbling up of information and data, and then the use of AI and other tools, ultimately supercomputing, things like that to marshal all that data to conduct targeting for espionage, targeting for IP theft, targeting for the all the things that I and others on this panel, I've been calling out about the Chinese government. Data is the coin of the realm,'' he said.

The testimony comes as lawmakers consider legislation to permit the Commerce Department to ban apps from China and some other nations. But Wray's response shows the enormous challenge officials have in convincing Americans to permit banning popular apps. The degree to which the average American feels threatened by ''targeted IP theft'' and ''espionage'' from the Chinese government is hard to quantify, but some privacy and civil liberties groups are already opposing legislation to ban TikTok, citing the First Amendment.

The Worldwide Threats report that accompanied the hearing highlighted a variety of other U.S. economic vulnerabilities to China.

''China is leading the world in building new chip factories, with plans to build dozens of semiconductor factories by 2024, most of which will be dedicated to producing older, more mature technologies. While China only accounted for 11 percent of worldwide semiconductor fabrication capacity in 2019, it is forecasted to reach 18 percent in 2025,'' the report said. ''China's dominance in the mining and processing of several strategic materials, including rare-earth elements, presents a major vulnerability to the United States. China could use its control of these critical minerals markets to restrict quantities for commercial advantage or as a tool in a political or trade dispute.''

Adapting to those trends could mean sourcing electronics and minerals closer to home, from more secure supply chains, which could raise costs.

Rubio outlined the challenge of preparing the American public to face those costs, in money and convenience, of untangling from China: ''The greatest threat facing America is not another country. It is whether or not we have the ability and the willingness to accurately assess and appropriately adapt our foreign and domestic policies in this time of historic revolutionary and disruptive technological, social, economic, and geopolitical changes.''

Biden helped draft bipartisan bill that could ban TikTok nationwide | Ars Technica

Wed, 08 Mar 2023 22:48

New bill, same ban '-- A dozen senators support giving US Commerce secretary power to ban TikTok. Ashley Belanger - Mar 7, 2023 6:55 pm UTC

United States lawmakers seem to be exploring every possible path to potentially ban TikTok nationwide. The latest push comes today from Sen. Mark Warner (D-Va.), who this afternoon will lead a dozen senators in introducing a bipartisan bill that would grant US Commerce Secretary Gina Raimondo the power to ban TikTok on personal devices to protect national security, Reuters reported.

The bill is called the "Restricting the Emergence of Security Threats that Risk Information and Communications Technology (RESTRICT) Act." Unlike the ''Deterring America's Technological Adversaries (DATA) Act'''--which Republicans who view President Joe Biden's stance on China as weak have been jamming through Congress to quickly empower Biden to ban TikTok'--Warner's bill doesn't single out TikTok to be banned. Critics have said singling out TikTok risks damaging US global alliances and driving more countries into China's influence sphere, CNBC reported. Instead, Warner avoids making his bill all about TikTok. His office told Reuters that the RESTRICT Act will "comprehensively address the ongoing threat posed by technology from foreign adversaries,'' citing TikTok as an example of tech that could be assessed as a threat.

According to Warner, who is introducing the bill with Sen. John Thune (R-SD), the RESTRICT Act is superior to the DATA Act because it provides a legal framework for the US to review all ''foreign technology coming into America,'' not just from China, but also from Russia, North Korea, Iran, Venezuela, and Cuba. It's designed to give the US ''a systemic approach to make sure we can ban or prohibit'' emerging technology threats ''when necessary.''

Reuters reported that Democrats Tammy Baldwin (Wis.), Joe Manchin (W.Va.), Michael Bennett (Colo.), Kirsten Gillibrand (NY), and Martin Heinrich (NM) support Warner and Thune's bill, as well as Republicans Deb Fischer (Neb.), Jerry Moran (Kan.), Dan Sullivan (Alaska), Susan Collins (Maine), and Mitt Romney (Utah). All senators are expected to attend a press conference today at 3 pm ET to discuss the bill in more detail.

Advertisement Ars couldn't immediately reach TikTok for comment. Warner's office told Ars that more details will be shared at the press conference this afternoon. [Update: TikTok spokesperson Brooke Oberwetter told Ars that TikTok has not yet reviewed the bill to comment on it specifically. Oberwetter said that TikTok appreciates that "some members of Congress remain willing to explore options for addressing national security concerns that don't have the effect of censoring millions of Americans. A US ban on TikTok is a ban on the export of American culture and values to the billion-plus people who use our service worldwide."]

Biden's support for the RESTRICT ActBiden and the Committee on Foreign Investment in the United States (CFIUS) have been in talks with TikTok for years, attempting to strike a deal allowing TikTok to continue operating in the US. Now it seems he's either done talking with TikTok or seeking legal powers to apply more pressure on TikTok to finalize that deal.

The New York Times called the Biden administration's seeming support of the RESTRICT Act a ''strategy switch.'' Although the White House has not yet endorsed Warner's bill, sources told the Times that the Biden administration has provided feedback on a draft, seeing it as an alternative to implementing an outright ban on TikTok via the DATA Act.

TikTok spokesperson Brooke Oberwetter told the Times that the Biden administration didn't need additional authority to strike a deal with TikTok. He still has the option to sign the deal between TikTok and the CFIUS, which Oberwetter said that TikTok considered finalized, ''save for some legal terms that are not material to national security.''

In January, though, Warner told Axios that he was pretty sure that the CFIUS deal would never be finalized.

''I've tried to give the Biden administration time if they've got a technical solution," Warner told Axios. "But candidly, in my view, I don't think they're going to come up with a solution because it's really hard."

Advertisement Because courts rejected a prior TikTok ban attempted under the Trump administration that was similar to the ban that the DATA Act proposes, the RESTRICT Act seems to be agreeable to some members of both parties because it offers a new path to a TikTok ban that wouldn't require Biden to overstep his presidential authority.

It's still unclear what path the US will take, but pressure appears to be mounting for Biden to choose a lane and find a way to keep TikTok in the US or get behind efforts to ban it.

TikTok rejects national security concernsOn March 23, TikTok CEO Shou Zi Chew will testify before the House Energy and Commerce Committee, a key opportunity to persuade lawmakers that their national security fears are unfounded.

In December, Oberwetter told Ars that efforts to ban TikTok are ''politically motivated'' and ''will do nothing to advance the national security'' of the US. TikTok has also criticized TikTok bans for taking ''a piecemeal approach to national security and a piecemeal approach to broad industry issues like data security, privacy, and online harms.''

Some of Warner's statements suggest that the RESTRICT Act possibly addresses that latter criticism, telling Axios that the optics were better if the US passed a law like his bill because ''it'd be better to say we are concerned about this category of applications rather than a specific single app." Warner said he couldn't back efforts like the DATA Act because singling out China-based TikTok could stoke retaliation from China.

TikTok isn't the only one opposing some of Congress' efforts to ban the app. The American Civil Liberties Union has warned that banning TikTok on personal devices would violate Americans' First Amendment rights, calling the DATA Act unconstitutional and urging lawmakers to vote it down. An ACLU spokesperson told Ars that the organization is waiting to review Warner's bill before deciding whether the RESTRICT Act could also be considered unconstitutional.

As Bakhmut Falls, US May Turn From Ukraine, Starting With Pipeline Story

Wed, 08 Mar 2023 22:04

If the Donbass city of Bakhmut falls to the Russians the U.S. may need to save face in order to reverse course in Ukraine, writes Joe Lauria.

Biden and Zelensky in November 2021. (President of Ukraine/Wikimedia Commons)

By Joe Lauria Special to Consortium News

O n its face, The New York Times article yesterday, ''Intelligence Suggests Pro-Ukrainian Group Sabotaged Pipelines, U.S. Officials Say,'' appears intended to exonerate both the U.S. and Ukrainian governments from any involvement in the destruction last September of the Nord Stream gas pipelines between Russia and Germany.

The thrust of the Times article is that Ukrainians unaffiliated with the Kiev government were the ones who did it, according to the newspapers often cited, unnamed ''U.S. officials.''

But a closer examination of the piece reveals layers of nuance that do not dismiss that the Ukrainian government may have had something to do with the sabotage after all.

The story quotes anonymous European officials who say a state had to be involved in the sophisticated underwater operation. The Times goes out of it way to say more than once that that state was not the United States. And while the second paragraph of the story says categorically that the state is not Ukraine either, the article then leaves the door open to possible Ukrainian government involvement:

''U.S. officials declined to disclose the nature of the intelligence, how it was obtained or any details of the strength of the evidence it contains. They have said that there are no firm conclusions about it, leaving open the possibility that the operation might have been conducted off the books by a proxy force with connections to the Ukrainian government or its security services. [Emphasis mine.]

The Times then makes clear what the consequences would be for the pro-Ukraine ''coalition'' that Washington has built in the combined West if there was Ukrainian government involvement.

''Officials said there were still enormous gaps in what U.S. spy agencies and their European partners knew about what transpired. But officials said it might constitute the first significant lead to emerge from several closely guarded investigations, the conclusions of which could have profound implications for the coalition supporting Ukraine.

Any suggestion of Ukrainian involvement, whether direct or indirect, could upset the delicate relationship between Ukraine and Germany, souring support among a German public that has swallowed high energy prices in the name of solidarity.''

The Times further develops the theme that involvement by the Ukrainian government could destroy the international support for Kiev the United States has built, as well as the immense public backing for Ukraine that the U.S.-led information war has developed.

The Washington Post, which yesterday ran a similar story, reported that the Ukrainian government denied any involvement in the attack. ''Ukraine absolutely did not participate in the attack on Nord Stream 2,'' said Mykhailo Podolyak, the top adviser to Zelensky, questioning why his country would conduct an operation that ''destabilizes the region and will divert attention from the war, which is categorically not beneficial to us.''

Distancing Begins

The newspaper here is allowing U.S. officials to begin distancing the U.S. from Ukraine, claiming Washington has limited influence on Kiev, despite years of evidence to the contrary. The piece appears to be preparing the Western public for an abrupt about face in Ukraine because of a litany of Ukrainian operations the U.S. says it opposed. It is worth quoting the Times at length here:

''Any findings that put blame on Kyiv or Ukrainian proxies could prompt a backlash in Europe and make it harder for the West to maintain a united front in support of Ukraine.

U.S. officials and intelligence agencies acknowledge that they have limited visibility into Ukrainian decision-making.

Despite Ukraine's deep dependence on the United States for military, intelligence and diplomatic support, Ukrainian officials are not always transparent with their American counterparts about their military operations, especially those against Russian targets behind enemy lines. Those operations have frustrated U.S. officials, who believe that they have not measurably improved Ukraine's position on the battlefield, but have risked alienating European allies and widening the war.

The operations that have unnerved the United States included a strike in early August on Russia's Saki Air Base on the western coast of Crimea, a truck bombing in October that destroyed part of the Kerch Strait Bridge, which links Russia to Crimea, and drone strikes in December aimed at Russian military bases in Ryazan and Engels, about 300 miles beyond the Ukrainian border.

But there have been other acts of sabotage and violence of more ambiguous provenance that U.S. intelligence agencies have had a harder time attributing to Ukrainian security services.

One of those was a car bomb near Moscow in August that killed Daria Dugina, the daughter of a prominent Russian nationalist.

Kyiv denied any involvement but U.S. intelligence agencies eventually came to believe that the killing was authorized by what officials called ''elements'' of the Ukrainian government. In response to the finding, the Biden administration privately rebuked the Ukrainians and warned them against taking similar actions.

The explosions that ruptured the Nord Stream pipelines took place five weeks after Ms. Dugina's killing. After the Nord Stream operation, there was hushed speculation '-- and worry '-- in Washington that parts of the Ukrainian government might have been involved in that operation as well.''

Of course all this is not to say that the United States did not conduct the Nord Stream sabotage just as Seymour Hersh has reported and yet still cynically blames Ukraine. (Hersh ridiculed the Times story in an email to Consortium News, which sought his comment.)

In directing attention towards the Ukrainian government's possible culpability, U.S. intelligence gets a twofer: it deflects blame from the U.S. and prepares the public for the United States to justify abandoning Ukraine after all the U.S. has invested in its adventure to weaken Russia and topple its government through an economic, information, and proxy war, all of which have failed.

A consensus is forming among Western leaders that the war against Russia in Ukraine is lost. Thus Washington would have to save face to pull off such a reversal of policy. Insinuating that Ukraine blew up the pipelines of its ally Germany could help the U.S. climb down from its strident position in support of Ukraine.

German Media Also Blames Ukraine on Same Day

Scholz and Biden pose for photos in Oval Office last Friday before private one hour meeting without aides. (White House)

On the same day of The New York Times story yesterday, a joint investigation by a major German newspaper, Die Zeit, and the ARD broadcast network, also reported that the pipeline attack was linked to Ukraine. Die Zeit reports, according to a machine translation:

''The German investigative authorities have apparently made a breakthrough in solving the attack on the Nord Stream 1 and 2 pipelines. After joint research by the ARD capital studio, the ARD political magazine Kontraste , SWR and ZEIT, it was possible to largely reconstruct how and when the explosive attack was prepared in the course of the investigation. Accordingly, traces lead in the direction of Ukraine.''

Just like the Times report, Die Zeit also hedges its reporting, saying that '' investigators have not yet found any evidence as to who ordered the destruction.'' It might not be credible to immediately blame Ukraine. The sources for these articles may be employing a tactic to gradually prepare the public for more definitive blame later. Die Zeit does provide a level of detail missing from the Times report, however. The investigation

''managed to identify the boat that was allegedly used for the secret operation. It is said to be a yacht rented from a company based in Poland, apparently owned by two Ukrainians. According to the investigation, the secret operation at sea was carried out by a team of six people. It is said to have been five men and one woman. Accordingly, the group consisted of a captain, two divers, two diving assistants and a doctor, who are said to have transported the explosives to the crime scenes and placed them there. The nationality of the perpetrators is apparently unclear. The culprits used professionally forged passports, which are said to have been used, among other things, to rent the boat.''

That both articles appeared on the same day in major U.S. and German publications (including The Washington Post) might indicate a degree of coordination between U.S. and German intelligence. On Friday, just four days before the articles appeared, German Chancellor Olaf Scholz made an unusual trip from Berlin to Washington, where he immediately went to the White House for a meeting with President Joe Biden.

No aides were present in the Oval Office with the two men. The meeting lasted just over an hour. There was no press conference afterward and Scholz did not allow press on his plane. He returned to the airport after the meeting to fly back to Berlin. Clearly the two men did not want to discuss a sensitive matter over the phone or in a video-link.

Western Leaders Already Say Ukraine Can't Win

The Times was fed this piece from U.S. intelligence as stories continue to be leaked showing Western leaders do not believe Ukraine can win the war, despite their public pronouncements, and that Kiev must cut its losses and seek a settlement with Russia. The Wall Street Journal reported 11 days ago:

''The public rhetoric masks deepening private doubts among politicians in the U.K., France and Germany that Ukraine will be able to expel the Russians from eastern Ukraine and Crimea, which Russia has controlled since 2014, and a belief that the West can only help sustain the war effort for so long, especially if the conflict settles into a stalemate, officials from the three countries say.

'We keep repeating that Russia mustn't win, but what does that mean? If the war goes on for long enough with this intensity, Ukraine's losses will become unbearable,' a senior French official said. 'And no one believes they will be able to retrieve Crimea.'

French President Emmanuel Macron and German Chancellor Olaf Scholz told Zelensky at an ‰lys(C)e Palace dinner last month that he must consider peace talks with Moscow, t he Journal reported.

According to its source, the newspaper quoted Macron as telling Zelensky that '' even mortal enemies like France and Germany had to make peace after World War II.''

Macron told Zelensky ''he had been a great war leader, but that he would eventually have to shift into political statesmanship and make difficult decisions,'' the newspaper reported.

Bakhmut: a Turning Point

A building burns in Bakhmut City, Sept. 15, 2022. (Ministry of Defense of Ukraine)

A major turning point in the war that would force a huge decision for Washington may come if Russia can complete its military takeover of Bakhmut.

The battle for the city in Donbass has been raging since last summer and has intensified in the past weeks. Russia has nearly encircled the entire city trapping an estimated 10,000 Ukrainian troops inside. Ukraine had repeatedly played down the importance of Bakhmut, but nevertheless has continually sent in droves of soldiers to their death. Bakhmut is an important hub in Ukraine's defense of Donbass.

In an interview with CNN yesterday, Zelensky at last admitted Bakhmut's vital importance to Ukraine. ''We understand that after Bakhmut they could go further. They could go to Kramatorsk, they could go to Sloviansk, it would be open road for the Russians after Bakhmut to other towns in Ukraine, in the Donetsk direction,'' he told CNN's Wolf Blitzer. ''That's why our guys are standing there.''

The fall of Bakhmut to Russia would be a major humiliation for Zelensky and Ukraine, as well as for the United States and Europe. The U.S. would have a major choice to make: continue to escalate the war with the danger that it could lead to a NATO-Russia confrontation that could go nuclear, or press Ukraine to absorb its losses and seek a settlement.

Russia however would then be in a position to dictate terms: possibly recognition of four eastern Ukrainian oblasts as part of Russia after referendums there voted to join the Russian Federation; Ukraine agreeing to be a neutral nation that will not join NATO; demilitarization of Ukraine and disbanding of neo-nazi units.

Portraying Ukraine as an unworthy partner that blew up German pipelines might help minimize the humiliation to the West if this were to happen. Then again neoconservatives in Washington and in European capitals might win out in the battle with realists and continue pressing the war, though the realists at this stage seem to have the upper hand.

Joe Lauria is editor-in-chief of Consortium News and a former U.N. correspondent for The Wall Street Journal, Boston Globe, and numerous other newspapers, including The Montreal Gazette and The Star of Johannesburg. He was an investigative reporter for the Sunday Times of London, a financial reporter for Bloomberg News and began his professional work as a 19-year old stringer for The New York Times. He can be reached at joelauria@consortiumnews.com and followed on Twitter @unjoe

Post Views: 11,331

The HPV shot protected a generation from cancer and beat vax hesitancy - Vox

Wed, 08 Mar 2023 16:41

Vaccines save lives like no other single health intervention, preventing millions of deaths every year. And that makes it all the more confounding that vaccine hesitancy, with all of its negative public health repercussions, has moved to the forefront of American society over the last three years. About a quarter of American adults say they won't get the Covid-19 vaccine, according to one recent study, and experts fear that Covid vaccine skepticism could spread to other shots.

The good news is that Americans have quashed vaccine apprehension before '-- and we did it not by dismissing vaccine deniers, but by taking their fears seriously. Nothing shows the arc of success better than one of the US's last major vaccine controversies: the human papillomavirus (HPV) shot, which can prevent both the sexually transmitted disease and multiple forms of deadly cancer that the virus can cause.

In 2005, a year before the HPV vaccine became available, there were an estimated 20 million people living with the virus in the United States. In the same year, 10,370 people were diagnosed with cervical cancer and 3,710 people died from cervical cancer. Even today in the United States, around 13 million people are infected annually with HPV, and one in 10 women infected are at risk of cervical cancer.

When it was introduced in 2006, the HPV shots held out the hope that widespread vaccination of adolescents '-- before they were infected with the virus '-- could drastically reduce connected cancer rates. Despite that, parents were initially apprehensive about immunizing their children, an uneasiness that largely stemmed from the idea of their kids having sex as well as concerns over the shots' long-term side effects.

But healthcare workers were able to address these concerns by generally talking parents through their anxieties. They also homed in on the long-term benefit of preventing cancer, which hugely overwhelms any of the vaccine's possible side effects. As a result of these efforts, cervical cancer rates among vaccinated girls and young women have decreased by nearly 90 percent since 2006, potentially saving thousands of lives.

Yet now, rising levels of unfounded vaccine hesitancy '-- fears that immunizations cause autism or contain microchips '-- are threatening one of the most successful health interventions of the 21st century.

''Back when we first started giving this HPV vaccine, people had legitimate concerns about vaccines, and there was a very tiny fringe of people who were coming up with the crazy stuff,'' said Jill Foster, the division director for pediatric infectious diseases at the University of Minnesota Medical School. ''Now, that has really become mainstream. This idea has entered the zeitgeist of America.''

Even though the theories driving vaccine hesitancy have evolved, the tactics to combat it have not. To overcome the new wave of vaccine hesitancy, whether around HPV or other shots, public health leaders will have to double down on the efforts they took in 2006: working with healthcare providers, religious leaders, and school officials to help people understand the need and urgency of the HPV vaccine. Speaking to patients with empathy and patience was key to helping anxious parents overcome their hesitations around the shots a decade ago, and it could be key once more.

The HPV vaccine success story of the 2010s In the US, HPV is the most common sexually transmitted infection. In the United Kingdom, an estimated eight in 10 people will contract HPV in their lifetime. In the Caribbean and Eastern Africa, those rates are even higher.

Despite its prevalence, HPV is still largely misunderstood by the public. While most of those infected will not experience visible symptoms like genital warts, they can still unknowingly infect sexual partners '-- infections that can still later cause cancer. HPV can lay dormant for years, and since men are not screened for the disease as women routinely are during gynecological visits (there is no approved, reliable test for men), it can be difficult to trace the transmission of the virus.

The high-risk strains '-- the ones that cause cancer '-- travel into parts of our body (like the cervix), stick, and then start changing the cells in that area, said Foster. While 90 percent of HPV infections will go away in six to 18 months, those that stick for the long run are thought to cause over 90 percent of cervical cancer cases. The HPV vaccine '-- of which there are three available types approved by the Federal Drug Administration '-- prevents the virus from sticking to healthy cells by teaching the body to produce antibodies that fight off the disease. While the HPV shots protect against most of the highest-risk (cancer-causing) strains of the virus, it does not provide protection against all strains, as there are more than 150. Therefore, in rare cases, vaccinated individuals can still be infected and develop genital warts.

In the US, it's recommended that children receive the first dose of the vaccine between the ages of 11 to 12, followed by the second dose six to 12 months later. People receiving the first dose between 15 and 26 years old should receive three doses. The cut-off age for the immunization to be significantly effective is 26 because, after this point, many adults will have already been exposed to the virus through sexual activity. However, those up to 45 years old can still request the vaccine in the US.

When the shots were first introduced, there were three primary parental concerns healthcare professionals had to overcome.

The first came from parents who believed the vaccine was unnecessary because their child wasn't sexually active. But that's precisely when children need the shots, said Terri Adams, a registered nurse and the division director of immunizations for the Michigan Department of Health and Human Services, because the HPV vaccine is ineffective in preventing cancer for those who are already infected with the virus. Additionally, as with many vaccines, children's immune response to the HPV vaccine is stronger than that of adults.

The second concern was from parents who believed that vaccinating their child would essentially grant them permission to become sexually active, said Foster. ''I think if we had come out with a breast cancer vaccine, everyone would have run to get it,'' she said. ''But instead, we came out with a vaccine that was about preventing something from a sexually transmitted disease, and it just made people squeamish.''

To counteract these concerns, healthcare professionals had to adjust how they spoke about the shots '-- emphasizing the vaccine's ability to prevent cancer, rather than the STD that causes the cancers. ''We started having campaigns a little bit differently, we started talking about it as the cancer vaccine,'' said Foster. ''A lot of it was basically de-emphasizing the sex part of it, and trying to give concrete information to people.''

The final cause for parental hesitancy came from the fact the vaccine was so new, and that the potential long-term side effects weren't fully known. In the decade and a half since the HPV vaccine became available, researchers found the shots caused primarily minor side effects, such as dizziness, nausea, and headaches. There is no evidence that the HPV vaccine causes more severe side effects, like permanent disability or death.

At first, the CDC recommended only girls, not boys, be vaccinated against HPV. But, in 2011 this recommendation changed, as it became apparent that the boys were often the ones transmitting the disease to the girls.

The parents of these boys questioned why they should give their children a vaccine that prevents an illness they previously thought only affected girls. Healthcare providers explained that HPV can cause cancers other than cervical cancer, such as throat, anal, and penile cancers, that can affect boys as well. As time passed and more data on side effects and symptoms of the vaccine were collected, parents became more willing to accept the unknown risks they believed the shot carried and vaccinate their sons if it meant preventing them from getting cancer.

''It's not a women's health issue,'' said Samantha Dixon, chief executive of the United Kingdom-based nonprofit Jo's Cervical Cancer Trust. ''It's human papillomavirus, we can all have human papillomavirus.''

In 2019, protestors held a rally outside Governor Andrew Cuomo's office in Manhattan to protest proposed legislation that would allow teens to receive the HPV vaccine without parental consent. Erik McGregor/LightRocket via Getty Images Covid jabs spur a fresh wave of vaccine hesitancyThe anti-vaccine movement has a long history in the US, one that largely stems from inaccurate research. But in recent years, social media and the internet have turbocharged the distribution of vaccine misinformation.

''Before Covid, there were still people that resisted, but there was a lot more trust in what medical science had to say and the advice they gave,'' said Robyn Seamon, a nurse and founder of Appalachian Healthcare Training & Consulting.

In 2019, only 16 percent of adults believed parents, not public schools, should decide whether or not their children are vaccinated against measles, mumps, and rubella, Pew Research found. Public schools in Hawaii, Rhode Island, Virginia, and Washington, DC required students (in the case of Washington, DC only female students) entering grades six or seven to be vaccinated against HPV. As of 2022, according to a Kaiser Family Foundation poll, 28 percent of adults believed parents should be able to make this decision themselves. Compared to other developed countries, the US reports high levels of vaccine hesitancy. In the US, more than 33 percent of parents reported hesitancy around vaccinating their children against Covid-19. In countries such as Italy, Spain, and Singapore only 13 percent to 23 percent of parents expressed similar sentiments.

National HPV vaccination rates among teens remained fairly stable through the pandemic, but Covid-19 politicized immunizations of all sorts and increased the disparity in vaccination rates across geographic areas and communities. In Vermont, a Democrat-leaning state, at least 83 percent of the population is fully vaccinated against Covid-19. Meanwhile, in Mississippi, only 53 percent of the population is fully vaccinated against Covid-19.

Similarly, while HPV vaccinations are less polarizing, the vaccination rates on the West Coast and in the northeast are higher than those in Southern states. As of 2021, only 32.7 percent of adolescents in Mississippi are vaccinated against HPV, compared to 66.7 percent in Vermont.

''Everybody's scared of having a stranger stick a needle in their arm,'' but now people are being encouraged to give into that fear, said Foster. From a measles outbreak in Ohio to the detection of polio in New York City, ''we're starting to see diseases come back that we had virtually eliminated,'' she added.

Covid-19 lockdowns also disrupted immunization schedules. Even after lockdowns lifted, many people feared going to the doctor's office for something like routine vaccinations and getting infected with Covid-19. In response, the CDC in January launched the Routine Immunizations on Schedule for Everyone (RISE) campaign to improve access to and the affordability of vaccines.

In some low-income or rural communities, receiving any form of medical care, even prior to the pandemic, was difficult. Parents who want themselves or their children to get the HPV immunization may face challenges in actually receiving the shots, since they require multiple medical visits. Lack of transportation to doctors' offices and pharmacies also complicate efforts to get vaccinated, said Seamon.

''Cervical cancer is a disease of inequality,'' said Dixon. Those who live in the most deprived communities in England are twice as likely to die from cervical cancer as those who live in the least deprived, she added.

How to replicate immunization success As more people return for their regularly scheduled check-ups, it provides an opportunity for medical experts to talk through questions about vaccines, including the HPV shots.

''We have to get down to the individual level, talking to people one-on-one on their first visits, asking, 'what are your ideas about vaccination,''' said Foster. ''Most people coming to us want our expertise, and they just needed to be talked with about what their fears are. Rattling off a bunch of statistics isn't going to help someone, but talking on a case-by-case basis will.''

However, sometimes, it isn't the healthcare provider who should be having these discussions, said Seamon. Instead, especially in marginalized communities, healthcare providers should identify trusted members of the community who can speak to their experiences and personal reasons for receiving the HPV vaccine, she added.

This could entail working with faith leaders or local public officials to advocate for vaccinations and talk through concerns. In rural communities, such as Appalachia, where Seamon trains healthcare professionals on how to communicate with vaccine-hesitant populations, there is a lot of warranted mistrust in the government.

Especially given mistaken concerns that the HPV vaccines would promote adolescent sex, the faith community could be vital in increasing immunization efforts, research found. In 2007, the Catholic Medical Association, an organization of Catholic medical practitioners, published a position paper on the subject of the HPV vaccination. The paper stated that although HPV is primarily spread via sexual contact that ''does not render vaccination against it unethical.''

''Traditional health communication is very statistical,'' Seamon said. ''A lot of people can't relate to that, but they can relate to a member of their community telling them about how they were scared to receive the vaccine, but they did it, and they're better off for it.''

These same tactics from the late 2000s can work to dispel vaccine hesitancy today. The web of vaccine misinformation online and on social media adds to the challenge of convincing misinformed patients to vaccinate themselves and their children, but as we now know, it's not an impossible task.

$95 /year

$120 /year

$250 /year

Other Yes, I'll give $120 /year

Yes, I'll give $120 /year

We accept credit card, Apple Pay, and Google Pay. You can also contribute via

The Borg, or blackout rage gallon, transforms college drinking

Wed, 08 Mar 2023 16:39

So long, Solo cup. Today's college kids are guzzling their booze by the gallon '-- a move that students swear helps avoid hangovers, and one experts say could have significant health benefits.

Like almost every Gen Z trend, today's party must-have the Borg '-- an acronym for blackout rage gallon '-- started out on social media. An empty jug is filled halfway with water, then topped off with vodka, along with a caffeinated flavor enhancer and a powdered electrolyte garnish.

Not only is TikTok flooded with testimonials from evangelistic, presumably headache-free imbibers, doctors are saying that the shift in habit is a positive sign, citing everything from a potential decrease in drugged cocktails at parties '-- you carry your personal jug around the party with you '-- to a greater control over how much alcohol is consumed when you mix the drink yourself, versus blindly guzzling the often unsanitary communal punch at a frat house mixer.

The Borg, an acronym for Blackout Rage Gallon, is made with half water, half vodka, a caffeinated flavor enhancer and an electrolyte powdered garnish. Getty Images/iStockphoto''At first it sounds like a recipe for disaster, but I think it could be looked at as a safer alternative [to binge drinking],'' Dr. Tucker Woods, chair of the emergency department at Lenox Health Greenwich Village, told The Post.

Spike the spiked punchbowl. For Gen Z college students, the Borg, or blackout rage gallon, is the new way to imbibe. Getty Images/Maskot''The fact that they're mixing it in a gallon jug will make it [the alcohol content] more diluted. It's a safer alternative '... because the person is taking control of the alcohol content,'' Woods said.

By consuming a Borg that is heavily diluted with water, he noted, along with the added benefit of electrolytes, imbibers are likely helping to prevent dehydration.

The trend emerged in 2020 as a social distancing tool. Now, ahead of spring break, more college students are flooding social media with their diluted vodka libations. Getty ImagesThe Borg trend sloshed its way onto social media in March 2020, and enjoyed considerable popularity during COVID, when many drinkers were looking to socially distance while enjoying a drink with friends. An early TikTok video found by NBC News shows a woman pouring out half a gallon of water and filling the other half with cheap vodka, then sprinkling in Mio Energy, a caffeinated powder that also contains vitamins.

''Want to get drunk with no hangover guaranteed?'' user @disneyprincessofdeath captioned her post.

Three years later, and just ahead of spring break, videos touting the new way to get soused continue to flood TikTok '-- the hashtag #Borg has now garnered 65 million views. Some have mixed their mammoth portions of Tito's or Skyy vodka with packets of Kool-Aid and Liquid IV, while others have used the energy drink Celsius. Many of the posts show college-aged students appearing to chug the entire gallon at once, suggesting that the use of the word ''blackout'' in the drink's name is no accident. That's binge drinking, and it's dangerous, experts warn.

Binge drinking is defined as consuming five or more drinks for men or four or more drinks for women, according to the Centers for Disease Control and Prevention. Thousands of college-aged students are rushed to the emergency room each year for alcohol overdoses, or too much alcohol in the bloodstream, according to the National Institute on Alcohol Abuse and Alcoholism. An estimated 1,519 college students, ages 18 to 24, die from alcohol-related unintentional injuries, including car crashes, according to the institute.

''To avoid binge drinking and its consequences, college students (and all people who drink) are advised to track the number of drinks they consume over a given period of time,'' the NIAAA notes on its website, which notes a standard drink in the U.S. is one that contains 0.6 ounces of pure alcohol.

Crisis response educator Leigh Beez, who specializes in safe substance use practices, told her TikTok followers that Borgs are being used by her college-aged students as what she calls ''harm reduction strategies.''

Still, Woods warns that while the Borg might be a lesser evil than the potentially problematic mystery punch served in a dorm room or at a tailgate party, drinkers should continue to take precautions by knowing their limits.

''Too much of anything can be dangerous. Some people will know their drinking limit, some will add a cup of vodka, but at least you're able to take control,'' he said. ''Who wants to drink from a frat house bathtub?''

Notice on the Continuation of the National Emergency with Respect to Ukraine | The White House

Wed, 08 Mar 2023 16:29

On March 6, 2014, by Executive Order 13660, the President declared a national emergency pursuant to the International Emergency Economic Powers Act (50 U.S.C. 1701-1706) to deal with the unusual and extraordinary threat to the national security and foreign policy of the United States constituted by the actions and policies of persons that undermine democratic processes and institutions in Ukraine; threaten its peace, security, stability, sovereignty, and territorial integrity; and contribute to the misappropriation of its assets.

On March 16, 2014, the President issued Executive Order 13661, which expanded the scope of the national emergency declared in Executive Order 13660, and found that the actions and policies of the Government of the Russian Federation with respect to Ukraine undermine democratic processes and institutions in Ukraine; threaten its peace, security, stability, sovereignty, and territorial integrity; and contribute to the misappropriation of its assets.

On March 20, 2014, the President issued Executive Order 13662, which further expanded the scope of the national emergency declared in Executive Order 13660, as expanded in scope in Executive Order 13661, and found that the actions and policies of the Government of the Russian Federation, including its purported annexation of Crimea and its use of force in Ukraine, continue to undermine democratic processes and institutions in Ukraine; threaten its peace, security, stability, sovereignty, and territorial integrity; and contribute to the misappropriation of its assets.

On December 19, 2014, the President issued Executive Order 13685, to take additional steps to address the Russian occupation of the Crimea region of Ukraine.

On September 20, 2018, the President issued Executive Order 13849, to take additional steps to implement certain statutory sanctions with respect to the Russian Federation.

On February 21, 2022, the President issued Executive Order 14065, which further expanded the scope of the national emergency declared in Executive Order 13660, as expanded in scope in Executive Orders 13661 and 13662, and relied on for additional steps taken in Executive Orders 13685 and 13849, and found that the Russian Federation's purported recognition of the so-called Donetsk People's Republic or Luhansk People's Republic regions of Ukraine contradicts Russia's commitments under the Minsk agreements and further threatens the peace, stability, sovereignty, and territorial integrity of Ukraine, and thereby constitutes an unusual and extraordinary threat to the national security and foreign policy of the United States.

The actions and policies addressed in these Executive Orders continue to pose an unusual and extraordinary threat to the national security and foreign policy of the United States. For this reason, the national emergency declared in Executive Order 13660, which was expanded in scope in Executive Order 13661, Executive Order 13662, and Executive Order 14065, and under which additional steps were taken in Executive Order 13685 and Executive Order 13849, must continue in effect beyond March 6, 2023.

Therefore, in accordance with section 202(d) of the National Emergencies Act (50 U.S.C. 1622(d)), I am continuing for 1 year the national emergency declared in Executive Order 13660.

This notice shall be published in the Federal Register and transmitted to the Congress.

JOSEPH R. BIDEN JR.

THE WHITE HOUSE, March 1, 2023.

Huge protest erupts in Germany against a ''container camp'' being built next to a small village

Wed, 08 Mar 2023 16:12

You are about to :

Object being modified by the action

Do you want to proceed?

Request ModerationRegistered user account requiredPlease Login or Register to submit a moderation request.

Email SubmissionsWe also accept moderation reports via email. Please see the Content Moderation Policy for instructions on how to make a moderation request via email.

First published at 04:31 UTC on March 6th, 2023.

Huge protest erupts in Germany against a ''container camp'' being built next to a small village of 500, for upto 600 unvetted migrants

Europe is finally fighting back against the orchestrated migrant invasion, enough is enough!of 500, for upto 600 un'...

MORE LESSThis advertisement has been selected by the videos creator, bitchuter321.

This advertisement has been selected by the BitChute platform.

By purchasing and/or using the linked product you are helping to cover the costs of running BitChute.

It is free for anyone to opt-out of receiving advertising via the Interface tab on the Settings page.

To help support BitChute or find out more about our creator monetization policy:

America' COVID Response Was Based on Lies | Opinion

Wed, 08 Mar 2023 16:11

Almost all of America's leaders have gradually pulled back their COVID mandates, requirements, and closures'--even in states like California, which had imposed the most stringent and longest-lasting restrictions on the public. At the same time, the media has been gradually acknowledging the ongoing release of studies that totally refute the purported reasons behind those restrictions. This overt reversal is falsely portrayed as "learned" or "new evidence." Little acknowledgement of error is to be found. We have seen no public apology for promulgating false information, or for the vilification and delegitimization of policy experts and medical scientists like myself who spoke out correctly about data, standard knowledge about viral infections and pandemics, and fundamental biology.

The historical record is critical. We have seen a macabre Orwellian attempt to rewrite history and to blame the failure of widespread lockdowns on the lockdowns' critics, alongside absurd denials of officials' own incessant demands for them. In the Trump administration, Dr. Deborah Birx was formally in charge of the medical side of the White House's coronavirus task force during the pandemic's first year. In that capacity, she authored all written federal policy recommendations to governors and states and personally advised each state's public health officials during official visits, often with Vice President Mike Pence, who oversaw the entire task force. Upon the inauguration of President Joe Biden, Dr. Anthony Fauci became chief medical advisor and ran the Biden pandemic response.

We must acknowledge the abject failure of the Birx-Fauci policies. They were enacted, but they failed to stop the dying, failed to stop the infection from spreading, and inflicted massive damage and destruction particularly on lower-income families and on America's children.

More than 1 million American deaths have been attributed to that virus. Even after draconian measures, including school closures, stoppage of non-COVID medical care, business shutdowns, personal restrictions, and then the continuation of many restrictions and mandates in the presence of a vaccine, there was an undeniable failure'--over two presidential administrations'--to stop cases from rapidly escalating.

Numerous experts'--including John Ioannidis, David Katz, and myself'--called for targeted protection, a safer alternative to widespread lockdowns, in national media beginning in March of 2020. That proposal was rejected. History's biggest public health policy failure came at the hands of those who recommended the lockdowns and those who implemented them, not those who advised otherwise.

WASHINGTON, DC - APRIL 09: White House coronavirus response coordinator Deborah Birx speaks as (L-R) National Institute of Allergy and Infectious Diseases Director Anthony Fauci, U.S. Vice President Mike Pence and Labor Secretary Eugene Scalia listen during the daily coronavirus briefing in the Brady Press Briefing Room at the White House on April 09, 2020 in Washington, DC. U.S. unemployment claims have approached 17 million over the past three weeks amid the COVID-19 pandemic. Alex Wong/Getty ImagesThe tragic failure of reckless, unprecedented lockdowns that were contrary to established pandemic science, and the added massive harms of those policies on children, the elderly, and lower-income families, are indisputable and well-documented in numerous studies. This was the biggest, the most tragic, and the most unethical breakdown of public health leadership in modern history.

In a democracy, indeed in any ethical and free society, the truth is essential. The American people need to hear the truth'--the facts, free from the political distortions, misrepresentations, and censorship. The first step is to clearly state the harsh truth in the starkest possible terms. Lies were told. Those lies harmed the public. Those lies were directly contrary to the evidence, to decades of knowledge on viral pandemics, and to long-established fundamental biology.

Here are the 10 biggest falsehoods'--known for years to be false, not recently learned or proven to be so'--promoted by America's public health leaders, elected and unelected officials, and now-discredited academics:

1. SARS-CoV-2 coronavirus has a far higher fatality rate than the flu by several orders of magnitude.

2. Everyone is at significant risk to die from this virus.

3. No one has any immunological protection, because this virus is completely new.

4. Asymptomatic people are major drivers of the spread.

5. Locking down'--closing schools and businesses, confining people to their homes, stopping non-COVID medical care, and eliminating travel'--will stop or eliminate the virus.

6. Masks will protect everyone and stop the spread.

7. The virus is known to be naturally occurring, and claiming it originated in a lab is a conspiracy theory.

8. Teachers are at especially high risk.

9. COVID vaccines stop the spread of the infection.

10. Immune protection only comes from a vaccine.

None of us are so na¯ve as to expect a direct apology from critics at my employer, Stanford University, or in government, academic public health, and the media. But to ensure that this never happens again, government leaders, power-driven officials, and influential academics and advisors often harboring conflicts of interest must be held accountable. Personally, I remain highly skeptical that any government investigation or commission can avoid politicization. Regardless of their intention, all such government-run inquiries will at least be perceived as politically motivated and their conclusions will be rejected outright by many. Those investigations must proceed, though, if only to seek the truth, to teach our children that truth matters, and to remember G.K. Chesterton's critical lesson that "Right is right, even if nobody does it. Wrong is wrong, even if everybody is wrong about it."

Scott W. Atlas, MD is the Robert Wesson Senior Fellow in health policy at Stanford University's Hoover Institution, Co-Director of the Global Liberty Institute, Founding Fellow of Hillsdale's Academy for Science & Freedom, and author of A Plague Upon Our House: My Fight at the Trump White House to Stop COVID from Destroying America (Bombardier Press, 2022).

The views expressed in this article are the writer's own.

Slowly But Steadily, the Executive Branch is Bringing Back Widespread Drone Warfare - Activist Post

Wed, 08 Mar 2023 16:07

By Andrew Corbley

Not at any other time in the 21st century has the average American kept up less with the Global War on Terror, and now three presidents later, the questions of legality, productivity, and collateral damage remain as unanswered as they've ever been.

Over the last 15 months, the number of US drone strikes in Yemen and Somalia has increased greatly compared to the first half of the Biden Administration. On March 1st, AFP reported that local government sources in the Yemeni province of Marib said a US drone strike had killed the al-Qaeda leader Hamad bin Hamoud al-Tamimi, a ''judge'' of a sort-of ''leadership council.''

This came about a month after similar sources reported 3 supposed al-Qaeda fighters killed in a US drone strike in the same province.

Regarding the latter, the 3 men were killed in a car. Evidence at the scene let two experts tracking the US drone warfare program believe it was an R9X Hellfire missile '' an expensive and sophisticated bomb typically reserved for ''high-value targets.''

''The R9X is for high-value target killing and we don't have any [sic] 'Who is this guy, why does he merit this now?''' said David Sterman, a senior policy analyst at the Washington-based think tank New America, which for years has tracked US drone strikes in Yemen. ''If it is a US strike, it raises substantial questions about what is the state of the US drone war in Yemen.''

Drones haven't been in the news as much as they were when former-President Donald Trump substantially downgraded the required authority to launch one from the theater commander, who needed the White House's permission under the Obama Administration, to officers on the ground.

Only recently did Joe Biden's administration even establish a policy for their use, long after he had used them to supposedly kill al-Qaeda founder Ayman al-Zawahiri last August, and 10 innocent children and men in Kabul the August before that.

Luke Hartig, the former Director for Counterterrorism at the National Security Council, and former Dept. Director for Counterterrorism under the Sect. of Defense, is one of the only minds in America still actively criticizing drone policy from inside the establishment.

Activist Post is Google-FreeSupport us for just $1 per month at Patreon or SubscribeStarWriting at Just Security, he took a look at Biden's policy and wrote:

'...the new policy leaves much necessary business undone. How the administration interprets key legal and policy concepts around direct action compared to international allies remains hotly disputed. The faithful execution of the policy by the military '' particularly how it seeks to prevent civilian casualties and how it investigates civilian casualty incidents '' requires much more work. The transparency agenda is stalled, and much of the ''war on terror'' remains shrouded in secrecy.

For the American people, questions of whether al-Qaeda poses a real threat from the faraway reaches of Yemen, the poorest country in the Arab world, what there is to be gained from hunting these people down, whether civilians are being killed during these strikes, and whether a drone is the best tool to fight al-Qaeda, not only go unanswered, but entirely unasked.

A CIA drone base in Niger that officially doesn't exist.

Somalia

This gulf between the public and the administration assassinating in their name could never be broader than in Somalia. Of the 7 major theaters for the so-called terror wars, Somalia was always the least understood and reported on.

Somalia briefly wiggled its way into the headlines in May when Biden announced he was deploying 500 military personnel there mostly to train and advise the Somali armed forces to fight al-Shabaab. Before that, the only mention Somalia got had been when former-President Trump decided to pull all American forces out.

On October 3rd, al Jazeera reported that Abdullahi Nadir, one of the co-founders of the armed group, was assassinated by a drone strike. Who Nadir really was, what his power amounted to, and whether his death would at all change al-Shabaab's ability to operate is anyone's guess. US Africa Command didn't mention him by name.

Reporting from Time magazine during the last concerted effort to bomb al-Shabaab quoted Amnesty International that more bombs were dropped in 2020 than in the whole of the Obama Administration, but despite the exertion, the insurgents remained ''adaptive and resilient.''

On December 18th, 2022, the US military announced two new airstrikes as part of ''collective self-defense'' that killed 8 militants. VOA states the Turkish Ministry of Defense neither confirmed nor denied participation with its drones.

The New York Times reported in October around the time Nadir was assassinated that of the 11 drone strikes in Somalia that year, 10 had fallen under ''collective self-defense,'' a justification that, under Biden's new policy, bypasses the need for executive branch approval of drone strikes.

The Times also quoted Somali government sources who said the new presidential administration had specifically asked Biden ''to more broadly define what can count as a collective self-defense strike,'' and to ''deem certain parts of Somalia as a war zone, where it is permissible to target members of an enemy force based only on their status, even if they pose no imminent threat.''

On January 22nd, 2023, US air strikes killed 30 militants. ''Specific details about the units involved and assets used will not be released in order to ensure operations security,'' AFRICOM stated, as they typically do when announcing air strikes.

Garowe News Online reported on a February 23rd attack, noting that all three attacks on al-Shabaab in 2023 have been with drones.

AFRICOM has said that they remain certain no civilians were hurt in any of these strikes, but official Pentagon policy is to neither investigate reports of civilian harm nor to report them if there are any.

From top left to bottom right, the victims of the latest drone strike in Kabul. Farzah Ahmadi, age 9, Faisal Ahmadi, age 10, Zemari Ahmadi, age 40, Zamir Ahmadi, age 20, Naseer Ahmadi, age 30, Binyamen Ahmadi, age 3, Armin Ahmadi, age 4, Sumaya Ahmadi, age 2, Malika Ahmadi, age 2, and Ahmad Naser, a former-U.S. Army contractor, age 30. PC: Leftflank Veterans.

Murdered civilians

In the ten-year history of America's global drone warfare program, it's worth taking a moment to list the rampant disregard for civilian life in the pursuit of bombing insurgents.

First, there are the 2016 Drone Papers, revealed by the whistleblower and former signals intelligence analyst Daniel Hale, who was recently sentenced to 48 months in prison.

From 2011 to 2013, 9 out of every 10 people killed in drone strikes in Afghanistan were unknown people who were not designated targets. They were instead labeled ''enemy killed an action,'' and the Pentagon's policy that only the military could prove them otherwise meant that what were obviously hundreds of innocent family members and bystanders were not accounted for.

Hartig, writing in the aftermath of the August 29th strike in Kabul mentioned before, said that in his days as counter-terrorism director, he analyzed ''about two thousand [civilian casualty] incidents since 2007, and there were many more in the years prior.''

''Conservatively, that alone translates into, on average, every week since 9/11 at least one such tragedy,'' he said.

Pulitzer Prize-winning reporting on a cache of classified documents by Azmat Khan tallied more than 1,300 murdered civilians in Iraq and Syria during the campaign to target ISIS, none of which resulted in any charges of wrongdoing, imprisonments, or even demotions.

Instead, Khan shows how the seemingly thorough and concrete intelligence gathering and accounting methods for who and when to bomb and what should happen if a civilian dies, established specifically to prevent civilian harm, mutated into the very methods that led to so much unaccounted-for innocent blood, as details were buried in bureaucratic language where children were described as a ''person of small stature,'' and strike reports were buried in operation paperwork.

Yet more reporting from the Times on a top-secret ''strike cell'' operating under the Trump Administration called Talon Anvil curdles the stomach to read, as they detail the wolfish policies of the 20-man covert intelligence and drone strike team that killed hundreds of civilians, appalling CIA and military colleagues who would sometimes not carry out strikes on Talon Anvil intelligence because of their reputation for rampant disregard for civilian harm.

What all this means is that even after perhaps more than 10,000 civilians across the Middle East and Africa being killed as a direct result of a trigger pulled by a drone operator in the name of protecting the American people, the exact same policy that started all the bloodshed has been more or less re-instituted, with little or no transparency.

Andrew Corbley is founder and editor of World at Large, an independent news outlet. He is a loyal listener of Antiwar radio and of the Scott Horton Show. Reprinted with permission from World at Large.

Source: Antiwar

Live Aid-style gig for Ukraine this summer to pile pressure on Putin with Pink & U2 set to perform at Wembley | The Sun

Wed, 08 Mar 2023 16:07

A SPECTACULAR Live Aid-style benefit gig is to be held to help victims of Russia's invasion of Ukraine.

Greats including U2, The Rolling Stones, The Killers, and Pink have been asked to perform at Wembley on June 24 in support of President Volodymyr Zelensky.

14

The Live Aid-style benefit gig is to be held to help victims of Russia's invasion of Ukraine and is set to include Pink Credit: Getty Images - Getty 14

Musical greats including U2 could perform at Wembley on June 24 in support of President Zelensky Credit: Reuters 14

President Volodymyr Zelensky with Roberta Metsola, the President of the European Parliament Credit: EPA 14

The 72,000-strong crowd at Wembley Stadium for the Live Aid famine relief concert in 1985 Credit: AP:Associated PressA source said: ''It will be huge.''

A globally televised benefit gig for Ukraine with some of music's biggest names will pile the pressure on Russian tyrant Vladimir Putin.

Other stars including Sir Paul McCartney, Adele, Florence And The Machine and Noel Gallagher are also likely to be approached for the Live Aid-style event, to be shown around the world.

A source said: ''It's going to be huge, properly A-list and on a global scale.

"It's something people have wanted to do for a while but a date has now been nailed down and booked at Wembley Stadium. Invitations to perform are going out thick and fast to the biggest names in the business.

''Of course, there is an awareness that at relatively short notice many superstars will have prior commitments.

''But they're optimistic that a number of those they've spoken to are already on board.

''For bands like U2 and Bono, who are pretty outspoken about their views on war and conflict, it feels like a great opportunity to keep hammering home the severity of the situation out in Ukraine.

"An event of this size can put real political pressure on the Russians, too.

''The only slight downside is that the date clashes with Glastonbury so that rules out some big names but the final line-up is certain to be pretty special.''

The event will follow the ''template'' of Live Aid, held at the same venue to raise cash for Ethiopian famine victims in 1985.

An indoor gig for Ukraine was staged last March by ITV and Livewire Pictures, one of the planners behind the Wembley event.

Stars including Ed Sheeran and Billie Eilish helped raise more than £13million.

Livewire also helped plan 2017's One Love Manchester gig, raising £17million for the Arena bombing victims.

Last month marked a year since Russia invaded Ukraine.

Putin is facing growing opposition as his missiles rain down on cities including Kyiv and Lviv.

14

US singer Pink has been invited to perform Credit: Getty 14

U2's Bono and The Edge, who have been invited to play, visit the Ukrainian town of Irpin Credit: AFP 14

The Killers have also been asked to join the line-up for the gig Credit: Getty - Contributor 14

The Rolling Stones have been asked to appear Credit: AFP 14

Other top stars are being considered, including Florence and the Machine Credit: Getty 14

Ex-Oasis rocker Noel Gallagher is likely to be approached for the event Credit: Getty 14

Adele may make an appearance at the gig Credit: The Mega Agency 14

Sir Paul McCartney is also being considered for the mega concert Credit: Getty 14

Putin is facing growing opposition as his missiles rain down on cities including Kyiv and Lviv Credit: AP 14

Scenes from Live Aid - the original 1985 fundraiser for famine-hit Ethiopia Credit: Alamy

Researchers launched a solar geoengineering test flight in the UK last fall | MIT Technology Review

Wed, 08 Mar 2023 16:05

Last September, researchers in the UK launched a high-altitude weather balloon that released a few hundred grams of sulfur dioxide into the stratosphere, a potential scientific first in the solar geoengineering field, MIT Technology Review has learned.

Solar geoengineering is the theory that humans can ease global warming by deliberately reflecting more sunlight into space. One possible means is spraying sulfur dioxide in the stratosphere, in an effort to mimic a cooling effect that occurs in the aftermath of major volcanic eruptions. It is highly controversial given concerns about potential unintended consequences, among other issues.

The UK effort was not a test of or experiment in geoengineering itself. Rather, the stated goal was to evaluate a low-cost, controllable, recoverable balloon system, according to details obtained by MIT Technology Review. Such a system could be used for small-scale geoengineering research efforts, or perhaps for an eventual distributed geoengineering deployment involving numerous balloons.

The ''Stratospheric Aerosol Transport and Nucleation,'' or SATAN, balloon systems were made from stock and hobbyist components, with hardware costs that ran less than $1,000.

Andrew Lockley, an independent researcher previously affiliated with University College London, led the effort last fall, working with European Astrotech, a company that does engineering and design work for high-altitude balloons and space propulsion systems.

They have submitted a paper detailing the results of the effort to a journal, but it has not yet been published. Lockley largely declined to discuss the matter ahead of publication, but he did express frustration that the scientific process was being circumvented.

''Leakers be damned!'' he wrote in an email to MIT Technology Review. ''I've tried to follow the straight and narrow path and wait for the judgment day of peer review, but it appears a colleague has been led astray by diabolical temptation.''

''There's a special place in hell for those who leak their colleagues' work, tormented by ever burning sulfur,'' he added. ''But I have taken a vow of silence, and can only confirm that our craft ascended to the heavens, as intended. I only hope that this test plays a small part in offering mankind salvation from the hellish inferno of climate change.''

European Astrotech didn't immediately respond to an inquiry.

Test flightsThe system included a lofting balloon filled with helium or hydrogen, which carried along a basketball-size payload balloon that contained some amount of sulfur dioxide. An earlier flight in October 2021 likely also released a trace amount of the gas in the stratosphere, although that could not be confirmed and the system was not recovered owing to a problem with onboard instruments, according to details obtained by MIT Technology Review.

During the second flight, in September of 2022, the smaller payload balloon burst about 15 miles above Earth as it expanded amid declining atmospheric pressure, releasing around 400 grams of the gas into the stratosphere. That may be the first time that a measured gas payload was verifiably released in the stratosphere as part of a geoengineering-related effort. Both balloons were released from a launch site in Buckinghamshire, in southeast England.

There have, however, been other attempts to place sulfur dioxide in the stratosphere. Last April, the cofounder of a company called Make Sunsets says, he attempted to release it during a pair of rudimentary balloon flights from Mexico, as MIT Technology Review previously reported late last year. Whether it succeeded is also unclear, as the aircraft didn't include equipment that could confirm where the balloons burst, said Luke Iseman, the chief executive of the startup.

The Make Sunsets effort was widely denounced by researchers in geoengineering, critics of the field, and the government of Mexico, which announced plans to prohibit and even halt any solar geoengineering experiments within the country. Among other issues, observers were concerned that the launches had moved ahead without prior notice or approval, and because the company ultimately seeks to monetize such launches by selling ''cooling credits.''

Lockley's experiment was distinct in a variety of ways. It wasn't a commercial enterprise. The balloons were equipped with instruments that could track flight paths and monitor environmental conditions. They also included a number of safety features designed to prevent the balloons from landing while still filled with potentially dangerous gases. In addition, the group obtained flight permits and submitted what's known as a ''notice to airmen'' to aviation authorities, which ensure that aircraft pilots are aware of flight plans in the area.

Some observers said that the amount of sulfur dioxide released during the UK project doesn't present any real environmental dangers. Indeed, commercial flights routinely produce many times as much.

''This is an innocuous write-up of an innocuous experiment, in the direct sense,'' says Gernot Wagner, a climate economist at Columbia University and the author of Geoengineering: The Gamble.

Public engagement But some are still concerned that the effort proceeded without broader public disclosures and engagement in advance.

Shuchi Talati, a scholar in residence at American University who is forming a nonprofit focused on governance and justice issues in solar geoengineering, fears there's a growing disregard in this space for the importance of research governance. That refers to a set of norms and standards concerning scientific merit and oversight of proposed experiments, as well as public transparency and engagement.

''I'm really concerned about what the intent here is,'' she says. ''There's a sense of them having the moral high ground, that there's a moral imperative to do this work.''

But, she says, forging ahead in this way is ethically dubious, because it takes away any opportunity for others to weigh in on the scientific value, risks, or appropriateness of the efforts before they happen. Talati adds that part of the intent seems to be provocation, perhaps to help break what some perceive to be a logjam or taboo holding up stratospheric research in this area.

David Keith, a Harvard scientist who has been working for years to move ahead with a small-scale stratospheric balloon research program, questioned both the scientific value of the effort and its usefulness in terms of technology development. In an email, he noted that the researchers didn't attempt to monitor any effect it had on atmospheric chemistry. Nor did the work present a feasible ''pathway to use this method for deployment at reasonable cost,'' he wrote.

''So in some deep sense, while it's much more thought out, much less cowboy than Make Sunsets, I see it [as] similar,'' Keith said.

When asked if being provocative might have been a partial goal of the effort, Keith said: ''You don't call something SATAN if you're playing it straight.''

Lockley stressed that the effort was ''an engineering proof-of-concept test, not an environmentally perturbative experiment,'' and that they obtained the standard approvals for such flights.

''I'm unaware of any prior approval process which should have been followed but was not,'' he wrote in an email. ''A review body may be useful, if it was able to provide good-faith and practical feedback on similar low-impact experimental proposals in future.''

Moral hazards and slippery slopesThere are a variety of concerns about deploying solar geoengineering, including the danger that carrying it out on large scales could have negative environmental side effects as well as uneven impacts across various regions. Some fear that even discussing it creates a moral hazard, undermining the urgency to address the root causes of climate change, or that researching it sets up a slippery slope that increases the chances we'll one day put it to use.

But proponents of research say it's crucial to improve our basic understanding of what such interventions would do, how we might carry them out, and what risks they could pose, for the simple fact that it's possible that they could meaningfully reduce the dangers of climate change and save lives. To date, though, not much has happened outside of labs, computer models and a handful of efforts in the lower atmosphere.

Several earlier proposals to carry out research in the stratosphere have been halted or repeatedly delayed amid public criticism. Those include the SPICE experiment, which would have tested a balloon-and-hose stratospheric delivery system but was halted in 2012, as well as the Harvard proposal that Keith is involved with, known as SCoPEx.

The National Oceanic and Atmospheric Administration has begun conducting stratospheric flights, using balloons and more recently jets, as part of a growing US geoengineering research program. But its stated intention is to conduct baseline measurements, not to release any materials. One hope behind the efforts is to create an early detection system that could be triggered if a nation or rogue actor moves forward with a large-scale effort.

The challenges in conducting even basic, small-scale outdoor experiments that carry minimal environmental risks has increasingly frustrated some in the field'--and left at least a few people willing to move forward without broad public disclosures in advance, perhaps in part to force the issue.

Scientists routinely conduct outdoor experiments without seeking up-front public permission, when doing so doesn't present clear dangers to public health or the environment, and reveal their studies and peer-reviewed results in journals only after the fact.

The question is whether solar geoengineering research demands greater up-front notification, not because the experiments themselves are necessarily dangerous but because of the deep concerns about even discussing and researching the technology.

Columbia's Wagner says the field should err on the side of transparency. But he also says it's important to strike the right balance between how much researchers must reveal in advance, how easily carefully designed projects can be blocked, and how much support major research institutions provide for an important area of inquiry.

''This sort of thing is a direct response to other institutions' reluctance to proceed with even seemingly innocuous research,'' he says.

Correction: This story has been updated to clarify Lockley's research affiliation. According to University College London, he is no longer an honorary research assistant at the institution.

Russia Says NY Times Report on Nord Stream Attack is Deliberate Disinformation '' Summit News

Wed, 08 Mar 2023 16:03

Russia has claimed that the New York Times report about a 'pro-Ukraine group' being responsible for the Nord Stream pipeline attack is a deliberate form of disinformation to distract from the fact that the U.S. was responsible for the blasts.

The NYT said that a ''pro-Ukrainian group'' had sabotaged the pipelines, using a team with as few as six people involved in the mission, contradicting previous assumptions that only a state would have had the resources to carry out the operation.

The report was very careful to explicitly state that no Americans or Brits were involved in the attack.

A few hours later, German media outlets reported that the vessel involved in the plot, a yacht, had been identified as being rented from a Poland-based company which belonged to a pair of Ukrainians.

The reports contradicted the work of Pulitzer Prize-winning investigative journalist Seymour Hersh, who wrote last month that the pipelines were destroyed by the US as part of a covert operation.

According to Hersh's sources, the explosives were planted in June 2022 by US Navy divers under the guise of the BALTOPS 22 NATO exercise and were detonated three months later with a remote signal sent by a sonar buoy.

One source told Hersh that the plotters knew the covert operation was an ''act of war,'' with some in the CIA and State Department warning, ''Don't do this. It's stupid and will be a political nightmare if it comes out.''

Russia reacted to the New York Times report by dismissing it as a propaganda ploy designed to obfuscate the truth.

''I wonder who allows such leaks, filling the media scene with them?'' asked Russian Foreign Ministry spokeswoman Maria Zakharova. ''The answer is: those who do not want to conduct an investigation in the legal field and are going to divert the attention of the audience from the facts in every possible way.''

Andrey Ledenev, Minister Counselor of the Russian Embassy in the United States, said the report served to protect the true culprits behind the attack.

''We have no faith in the ''impartiality'' of the conclusions of the U.S. intelligence. We perceive anonymous ''leaks'' as nothing more than an attempt to confuse those who are sincerely trying to get to the bottom of things in this egregious crime. Shift the blame from the statesmen who ordered and coordinated the attacks in the Baltic Sea to some abstract individuals,'' Ledenev said.

Kremlin Press Secretary Dmitry Peskov said the New York Times story had ''instantly got a 'green light' in the local information field'' and was intended to distract from the facts presented in Hersh's piece.

''Obviously, those who have masterminded the [Nord Stream] attack want to divert attention. Obviously, this is a coordinated media hoax campaign,'' he asserted.

As we previously highlighted, both China and Hungary have called for a full international investigation into the pipeline attack under the auspices of the United Nations.

SUBSCRIBE on YouTube:

Follow on Twitter: Follow @PrisonPlanet

'--'--'--'--'--'--'--'--'--'--'--'--'--'--'--'--'--'--'--'--'--'--'--'--'--'--'--'--'--'--'--'--'--'--'--'--'--'--'--

Brand new merch now available! Get it at https://www.pjwshop.com/

ALERT!

In the age of mass Silicon Valley censorship It is crucial that we stay in touch.

I need you to sign up for my free newsletter here.

Support my sponsor '' Turbo Force '' a supercharged boost of clean energy without the comedown.

Get early access, exclusive content and behind the scenes stuff by following me on Locals.

'--'--'--'--'--'--'--'--'--'--'--'--'--'--'--'--'--'--'--'--'--'--'--'--'--'--'--'--'--'--'--'--'--'--'--'--'--'--'--

Gold hydrogen: Is there a huge reserve of clean fuel in Earth's crust? | New Scientist

Wed, 08 Mar 2023 14:58

Earth Geologists think there may be vast natural stores of hidden hydrogen gas within Earth, but no one is sure how much there is or how much could be recovered for energy

By James Dinneen

6 March 2023

A hydrogen production plant in Germany

imageBROKER / Alamy Stock Photo

Earth may contain vast overlooked stores of hydrogen gas. If some of it is feasible to recover, this natural hydrogen could provide a source of clean-burning fuel that might accelerate the transition away from fossil fuels and last for centuries.

Geologists have known for decades that millions of tonnes of hydrogen gas generated by natural geological processes seeps out of the ground every year, but it wasn't seen as a viable source of energy.

Most geologists assumed the tiny hydrogen molecules wouldn't stay '...

View introductory offers

No commitment, cancel anytime*

Offer ends 14th April 2023.

*Cancel anytime within 14 days of payment to receive a refund on unserved issues.

Inclusive of applicable taxes (VAT)

or

Existing subscribers

Sign in to your account More from New Scientist Explore the latest news, articles and features

Popular articles Trending New Scientist articles

Violence erupts in Paris as protesters clash with riot cops over Macron's hated pension reforms | Daily Mail Online

Wed, 08 Mar 2023 13:49

Violence erupted across France today as thousands took to the streets to protest against pension reforms.

Riot police fought running battles with demonstrators in Paris on a so-called Black Tuesday of industrial action across the country.

The worst trouble was close to the Port Royal metro station, where hundreds of riot police used tear gas and baton charges. As projectiles rained down on them, bins were set on fire and bus stops destroyed by so-called Black Bloc anarchists.

Big crowds also took to the streets in Marseille, Nice and other cities, and trouble was also reported in other major cities including Lyon, Nantes, and Rennes.

A Parisian police spokesperson said 'radical agitators' had joined the crowds and accused them of 'attacking police whenever they can'. 'A protest march is being heavily policed, and everything is being done to restore law and order,' he added.

Violence erupted on the streets of Paris today as thousands took to the streets across France to protest against pension reforms. Pictured: Riot police run down a road as bottles rain down on top of them in Paris amid the demonstrations

A man shouts at a police water truck driver during clashes with policemen during a demonstration in Lyon

A protester throws a flare at riot police during clashes on the sidelines of a demonstration in Nantes, western France, on Tuesday

People stand behind makeshift barricades as they confront with police forces on the sidelines of a demonstration in Paris on March 7 over president Macron's pension reform

Bus drivers of State-owned RATP, which operates the greater Paris transport system, burn flares behind a banner reading in French 'on March 7 let's block everything until withdrawal'

Millions are furious at President Emmanuel Macron's attempt to increase the retirement age from 62 to 64, bringing France more into line with many of its EU neighbours and the UK, where the state pension age is 66.

As a result, Macron is is facing his biggest standoff with France 's trade unions since coming to power in 2017, as his flagship proposal hangs in the balance.

Today marks the sixth day of nationwide strikes since mid-January, and could surpass the largest protests so far, with more than 1.27 million gathering on January 31.

Interior Minister Gerald Darmanin said some 11,000 police were mobilised across the country, including some 5000 in Paris alone.

French unions promised the biggest protests yet with trains coming to a halt, fuel deliveries being disrupted and schools shut in response to government plans to raise the pension age. Strikes led to numerous public services and businesses being shut down on Tuesday, including oil refineries.

Jean-Luc Melenchon, the hard-Left politician who came third in last year's presidential election, was among those out on the Paris march.

He called for all Left Wing parties to 'unite, and stand up to the reforms'.

Authorities were bracing themselves with at least 260 demonstrations expected across the country, with police anticipating as many as 1.4 million taking part.

'The strike has begun everywhere... with deliveries blocked from all the refineries this morning,' said Eric Sellini, branch coordinator for national trade union body CGT.

The group launched a similar blockade last autumn that eventually saw petrol stations running out of fuel.

Transport workers are also striking. A fifth of flights were cancelled at Charles de Gaulle Airport in Paris and about a third of flights at Orly Airport, it was reported today.

Thousands of UK travellers have been hit by the disruption, with dozens of flights and trains cancelled and ferries were delayed.

The government is hoping to rush through the reforms, which it hopes could be adopted by parliament by the end of March, with the changes slated to come into force in September.

The law also stiffens the requirements for a full pension and would abolish privileges enjoyed by some public-sector employees, such as those at the Paris Metro.

After initially claiming it was intended to make the system fairer, Macron's government has now conceded the move is designed to increase savings.

Police stand in formation as a petrol bomb explodes during clashes on the sidelines of a demonstration in Paris on March 7

Protestors throw objects at police officers and set fire to food in trolleys during a demonstration in Lyon, central France, on Tuesday

Protesters march during a demonstration in Paris on Tuesday against Macron's plans to increase the retirement age

Protesters use umbrellas as protection among launches of tear gas during clashes with police on the sidelines of a demonstration in Nantes, western France, on Tuesday

A protestor kicks in a tear gas during a demonstration in Lyon on Tuesday

Gendarmerie members hold their positions during a demonstration against French government's pension reform plan in Paris, as part of the sixth day of national strike and protests, in France, March 7

Riot police detain a protester on the sidelines of a demonstration in Nantes, western France, on Tuesday

Riot police charge at protesters during clashes on the sidelines of a demonstration in Nantes, western France, on Tuesday

Firefighters demonstrate during a demonstration in Lille, northern France, on Tuesday

A man tries to ignite a stick during a demonstration in Lyon on Tuesday during the demonstrations

Youths kick tear gas during a demonstration in Paris on Tuesday

Protesters participate in a demonstration in Caen, northwestern France, on Tuesday, with some lighting flares in the middle of streets

Riot police officers take position during clashes as part of a demonstration, Tuesday, March 7

Gendarmerie members hold their positions during a demonstration against French government's pension reform plan in Paris, as part of the sixth day of national strike and protests, in France, March 7

A demonstrator walks by a line of riot police officers during protests in Paris on Thursday

French police of a anti-violent action force (BRAV) stand in formation during clashes with protesters on the sidelines of a demonstration in Paris on Tuesday

Protesters attend a demonstration against French government's pension reform plan in Paris, as part of the sixth day of national strike and protests, in France, March 7

Trains to Germany and Spain are also expected to come to a halt, and those to and from Britain will be reduced by a third, according to the state-owned railroad system SNCF.

More than 60 per cent of teachers in primary schools are expected to be on strike, as well as public sector workers elsewhere.

The reform would raise the official pension age from 62 to 64 and require 43 years of work to earn a full pension, as France's population ages and life expectancy lengthens.

Opinion polls suggest most French voters oppose the bill. Left-wing lawmakers say companies and the wealthy should pitch in more to finance the pension system.

Philippe Martinez, head of the CGT union, said the protest movement is 'entering a new phase'.

'The goal is that the government withdraw its draft reform. Full stop,' he said.

'We are going into a higher gear,' he told weekly JDD. 'The ball is now in [the] president's court. It is up to him to withdraw this reform.'

Some unions have called for open-ended strikes in sectors from refineries and oil depots to electricity and gas facilities.

Workers in each sector will decide locally in the evening about whether to prolong the action, Mr Martinez said.

Opinion polls suggest most French voters oppose the bill. Left-wing lawmakers say companies and the wealthy should pitch in more to finance the pension system.

Meanwhile, 56 per cent of people support rolling strikes and 59 per cent back the call to bring the country to a standstill, according to a poll by French survey group Elabe.

Two-thirds of people in the country support the protest movement in general, the poll also suggests.

Some travellers affected by the strike said they backed it even if it made going to work tricky, with only in five high-speed trains running, almost all regular Intercity trains cancelled, and the Paris metro seriously disrupted.

'Of course it has an impact on me because I need to go to work like everyone else,' security guard Alex Cristea said at the Paris Saint-Lazare train station.

'But I support them for what they do... it's of utmost importance.'

Despite pressure piling on Macron's government, it insists it is essential to ensure the pension system does not go bust.

French Force Ouvriere (FO) workers' union members stand on the road to block traffic on the northern motorway entering the city on the sidelines of a demonstration Marseille on Tuesday

People throw objects at police on during protests in Paris on Tuesday

Protesters gather in huge crowds at a demonstration today at the Vieux Port in Marseille. At least 260 demonstrations are expected across the country, with police anticipating as many as 1.4 million taking part

Protesters hold a banner representing different unions as the participate in a demonstration near the Place Royal in Reims, northeastern France

Pictured: A huge crowd is seen marching down the streets of Paris in Tuesday

Unionists stand by a fire during a road blockade near Le Havre, northwestern France

French energy workers of French oil giant TotalEnergies attend a demonstration against French government's pension reform plan in Saint-Nazaire

People hold banners blocking the highway leading to the Roland Garros Airport, in Sainte-Marie on the French Indian island of La Reunion

Confederation Generale du Travail (CGT) union member protest as they burn flares at the Place d'Armes in Calais

Police stand by a man hold a CGT union flag along the highway leading to the Roland Garros Airport in Sainte-Marie on the French Indian island of La Reunion

Protesters holding placards that read, 'minimalist retirement - riposte feminist' participate in a demonstration in Reims, northeastern France

A protester attends a demonstration against French government's pension reform plan in Saint-Nazaire

Some unions have called for open-ended strikes in sectors from refineries and oil depots to electricity and gas facilities

Protesters participate in a demonstration in Reims, northeastern France, with placards criticising President Macron

'I can understand that not many people want to work two more years, but it's necessary to ensure the viability of the system,' Prime Minister Elisabeth Borne told France 5 TV.

While Macron's camp does not have an absolute majority in parliament, it can count on the support of at least part of the conservative Les Republicains (LR).

'I'm telling Emmanuel Macron to hang in there,' LR senator Bruno Retailleau has said. 'If he gives in, he won't be able to carry out more reforms, it would be the end of his (second) term.'

Still, it is unclear whether the changes will be approved by parliament by the end of the month or if the government will have to ram them through using special constitutional powers.

'Zip-a-Dee-Doo-Dah' song removed from Disneyland parade

Wed, 08 Mar 2023 13:48

It's a woke world, after all.

Disney has quietly axed its beloved ''Zip-a-Dee-Doo-Dah'' tune from its daily park parade performances '' because the catchy song is tied to the 1946 film ''Song of the South.''

Amid a woke makeover at the amusement park, Disneyland visitors will no longer hear the iconic song during its popular twice-daily Magic Happens parade.

Instead, the parade's playlist will now feature a song from the ''Peter Pan'' film.

''Song of the South,'' which is set on a Georgia plantation, has been widely panned over the years for having racial undertones and offering a romanticized view of the South during Reconstruction.

But the song itself '' complete with the upbeat lyrics ''Zip-a-dee-doo-dah, zip-a-dee-ay. My, oh, my, what a wonderful day'' '' hasn't been slammed for being racist.

Disney has axed the beloved ''Zip-a-Dee-Doo-Dah'' tune, which features in the 1946 film ''Song of the South'', from its daily park parade performances. TNSDisney didn't immediately respond to The Post's request for comment on Tuesday about its push to remove the popular ''Zip-a-Dee-Doo-Dah'' tune.

The decision, first reported by the LA Times, follows the theme park's move to retire the 33-year-old Splash Mountain ride amid criticism surrounding the ''Song of the South'' film on which it was based.

When the final ride was carried out at Florida's Disney World park in January, crowds were filmed loudly singing along to the ''Zip-a-Dee-Doo-Dah'' tune.

The Splash Mountain ride, which still remains operational at Disneyland for now, will become Tiana's Bayou Adventure, which is based on the 2009 film ''Princess and the Frog'', at both parks next year.

''Song of the South,'' which is set on a Georgia plantation, has been widely panned over the years for having racial undertones. Courtesy Everett Collection The decision follows the theme park's move to retire the 33-year-old Splash Mountain ride amid criticism surrounding the ''Song of the South'' film on which it was based. MediaNews Group via Getty ImagesIt isn't yet clear when Splash Mountain will carry out its last-ever ride at the Anaheim park.

The move it just the latest in a wave of reckoning at Disney.

Disney CEO Bob Iger had announced in March 2020 that ''Song of the South'' would be axed from the Disney+ streaming service because the ''outdated cultural depictions'' essentially made it inappropriate in today's world.

Just last week, critics also accused Disney of pushing a woke agenda after the trailer for the upcoming live-action film ''Peter Pan & Wendy'' showed girls would be portraying the Lost Boys.

Fed Chair Powell says interest rates are 'likely to be higher' than previously anticipated

Wed, 08 Mar 2023 13:46

Federal Reserve Chairman Jerome Powell on Tuesday cautioned that interest rates are likely to head higher than central bank policymakers had expected.

Citing data earlier this year showing that inflation has reversed the deceleration it showed in late 2022, the central bank leader warned of tighter monetary policy ahead to slow a growing economy.

"The latest economic data have come in stronger than expected, which suggests that the ultimate level of interest rates is likely to be higher than previously anticipated," Powell said in remarks prepared for two appearances this week on Capitol Hill. "If the totality of the data were to indicate that faster tightening is warranted, we would be prepared to increase the pace of rate hikes."

Those remarks carry two implications: One, that the peak, or terminal, level of the federal funds rate is likely to be higher than the previous indication from the Fed officials, and, two, that the switch last month to a smaller quarter-percentage point increase could be short-lived if inflation data continues to run hot.

In their December estimate, officials pegged the terminal rate at 5.1%. Current market pricing moved higher following Powell's remarks, to a range of 5.5%-5.75%, according to CME Group data. Powell did not specify how high he thinks rates ultimately will go.

The speech comes with markets generally optimistic that the central bank can tame inflation without running the economy into a ditch.

Stocks fell sharply while Treasury yields jumped after Powell's remarks were released. Market pricing also titled sharply to a strong possibility of a 0.5 percentage point interest rate hike when the Federal Open Market Committee meetings March 21-22.

Federal Reserve Chair Jerome H. Powell testifies before a U.S. Senate Banking, Housing, and Urban Affairs Committee hearing on "The Semiannual Monetary Policy Report to the Congress" on Capitol Hill in Washington, U.S., March 7, 2023.

Kevin Lamarque | Reuters

January data shows that inflation as gauged by personal consumption expenditures prices '-- the preferred metric for policymakers '-- was still running at a 5.4% pace annually. That's well above the Fed's 2% long-run target and a shade past the December level.

Powell said the current trend shows that the Fed's inflation-fighting job is not over, though he noted that some of the hot January inflation data could be the product of unseasonably warm weather.

"We have covered a lot of ground, and the full effects of our tightening so far are yet to be felt. Even so, we have more work to do," he said, adding that the road there could be "bumpy."

Powell speaks Tuesday before the Senate Banking, Housing and Urban Affairs Committee then will address the House Financial Services Committee on Wednesday.

The chairman faced some pushback from Democrats on the Senate panel who blamed inflation on corporate greed and price gouging and said the Fed should reconsider its rate hikes. Sen. Elizabeth Warren, D-Mass., a frequent Powell critic, charged that the Fed's inflation goals will put 2 million people out of work.

"We're taking the only measures we have to bring inflation down," Powell said. "Will working people be better off if we just walk away from our jobs if inflation remains at 5, 6%?"

The Fed has raised its benchmark fund rate eight times over the past year to its current targeted level between 4.5%-4.75%. On its face, the funds rate sets what banks charge each other for overnight lending. But it feeds through to a multitude of other consumer debt products such as mortgages, auto loans and credit cards.

In recent days, some officials, such as Atlanta Fed President Raphael Bostic, have indicated that they see the rate hikes coming to a close soon. However, others, including Governor Christopher Waller, have expressed concern about the recent inflation data and say tight policy is likely to stay in place.

"Restoring price stability will likely require that we maintain a restrictive stance of monetary policy for some time," Powell said. "The historical record cautions strongly against prematurely loosening policy. We will stay the course until the job is done."

Powell noted some progress on inflation for areas such as housing.

However, he also noted "there is little sign of disinflation" when it comes to the important category of services spending excluding housing, food and energy. That is an important qualifier considering that the chairman at his post-meeting news conference in early February said the disinflationary process had begun in the economy, remarks that helped send stocks higher.

Markets mostly had expected the Fed to enact a second consecutive quarter-point, or 25 basis points, rate increase at the Federal Open Market Committee meeting later this month. However, as Powell spoke markets priced in a 69% probability of a higher half-point increase at the March meeting, according to CME Group data.

Powell reiterated that rate decisions will be made "meeting by meeting" and will be dependent on data and their impact on inflation and economic activity, rather than a preset course.

DeSantis Rejects Controversial Florida Blogger Bill

Wed, 08 Mar 2023 13:45

Florida Governor Ron DeSantis (R) made clear Tuesday he does not support a bill that would require political bloggers to register with the Sunshine State if they intend to produce content covering state officials '-- including himself, the lieutenant governor, and members of the state legislature '-- for which they are compensated by a third-party.

The bill, which was introduced by Republican state Senator Jason Brodeur, would require bloggers to disclose the ''individual or entity that compensated the blogger for the blog post,'' as well as ''the amount of compensation received from the individual or entity,'' and impose fines on those who did not comply with the law and register.

''There's articles with my face on the article, saying that 'Oh, they're going to have to, bloggers are going to have to register for the state' and it's like attributing it [the bill] to me,'' said DeSantis at a press briefing. ''That's not anything that I've ever supported, I don't support [it].''

''The Florida legi-, 120 of them in the House and however many, and 40 in the Senate, you know, they have independent agency to be able to do things. Like I don't control every single bill that's been filed or amended,'' he continued.

#BREAKING: Florida Gov. Ron DeSantis slams reports that he supports bloggers having to register with the state. pic.twitter.com/GJfOrwn2FH

'-- Forbes (@Forbes) March 7, 2023

A number of media outlets and personalities went out of their way to tie DeSantis to the bill despite the dearth of evidence to show that he supported it. On Sunday, historian Michael Beschloss alleged on MSNBC that DeSantis had ''tried to turn himself into sort of a local Mussolini in Florida,'' citing ''the book banning and the brutal tactics'' as well as ''this suggestion that bloggers have to register with the state for the honor of writing about the governor'' as evidence that he resembled the Italian dictator.

Similarly, the same network's Ari Melber compared the bill to a Russian law implemented by Vladimir Putin while putting up a side-by-side of the dictator and governor on air. Fellow host Chris Hayes and novelist Gary Shteyngart then joined Melber for a discussion of the bill with the deceptive chyron ''DeSantis Eyes 'Putin' Tactics With Crackdown on Media'' emblazoned beneath them.

Others engaged in a similar, if less egregious, two-step in an effort to tie the controversial legislation filed by a local legislator to DeSantis. A number of outlets, including NBC News, Insider, and Mother Jones used pictures of DeSantis as their featured image. The last of which, speculated that Hungarian President Viktor Orbn might have inspired the legislation, arguing that he had ''already served as a template for Ron DeSantis.''

The attacks didn't only come from the left, however, as failed congressional candidate and Donald Trump disciple Laura Loomer also weighed in, submitting that it served as evidence that '' DeSantis is a TYRANT & anti-free speech.''

DeSantis, who is expected to launch a campaign for the GOP presidential nomination in the coming months, is neck-and-neck with Trump in most polls of a prospective primary contest between the two.

Have a tip we should know? tips@mediaite.com

The Feds Are Trying to Punish Elon Musk for Exposing the Twitter Files

Wed, 08 Mar 2023 13:39

In an outrageous attack on the First Amendment, the Federal Trade Commission is going after Twitter CEO Elon Musk for exposing censorship previously deployed by the company, known as the "Twitter Files," after taking over the social network last year. That censorship, which targeted Townhall, was heavily influenced and pushed by the FBI, the Biden White House and other federal government agencies.

According to new reporting from the Wall Street Journal, the FTC is demanding Musk turn over the names of journalists he's worked with -- many who published the Twitter Files -- along with other private and internal company information.

"The Federal Trade Commission has demanded Twitter Inc. turn over internal communications related to owner Elon Musk, as well as detailed information about layoffs'--citing concerns that staff reductions could compromise the company's ability to protect users, documents viewed by the Wall Street Journal show," WSJ reports. "In 12 letters sent to Twitter and its lawyers since Mr. Musk's Oct. 27 takeover, the FTC also asked the company to ''identify all journalists'' granted access to company records and to provide information about the launch of the revamped Twitter Blue subscription service, the documents show."

Musk is responding to the intimidation attacks, calling them "shameful" and a weaponization of government.

A shameful case of weaponization of a government agency for political purposes and suppression of the truth!

'-- Elon Musk (@elonmusk) March 7, 2023House Republicans are blasting the overreach and will hold a hearing about the federal government's role in social media censorship on Thursday.

Every single internal communication ''relating to Elon Musk,'' by any Twitter personnel'--including communications sent or received by Musk'--not limited by subject matter, since the day Musk bought the company;

'-- Weaponization Committee (@Weaponization) March 7, 2023 All of the reasons why Twitter terminated former Twitter employee and FBI official Jim Baker;

'-- Weaponization Committee (@Weaponization) March 7, 2023When Twitter ''first conceived of the concept for Twitter Blue,'' Twitter's new $8/month verified account subscription;

'-- Weaponization Committee (@Weaponization) March 7, 2023Information disaggregated by ''each department, division, and/or team,'' regardless of whether the work done by these units had anything to do with privacy or information security.

'-- Weaponization Committee (@Weaponization) March 7, 2023And there is no logical reason why the FTC needs every single internal Twitter communication about Elon Musk.Read our report: https://t.co/BzJkQsLMsy

'-- Weaponization Committee (@Weaponization) March 7, 2023

12ft | We have lost Russell Brand - New Statesman

Wed, 08 Mar 2023 03:26

Removing Paywall

What Is the 'Talking Stage' and How Do I Get Out of It? | Glamour

Tue, 07 Mar 2023 21:55

This is'...just'...what? Millennials spent years explaining to our elders that ''casual dating'' is different than being ''exclusive'' and ''exclusive'' is different than being ''in a relationship,'' and being ''in a relationship'' does not mean you instantly introduce them to your parents, oh my God, Mom. To boomers this system was inane and depressing. To millennials it was normal. But now, learning about this Gen-Z innovation that extends the dating process even more, I, a millennial, feel a thousand years old. I am catching a vibe, as they say, and the vibe is that I want to be euthanized.

''One big trend that we're seeing among Gen-Z daters is just more comfort navigating ambiguity, less attachment to titles, and being more fluid in general,'' Logan Ury, director of relationship science at dating app Hinge, tells Glamour. But the talking stage isn't exclusive to Zoomers. You can find plenty of people shaking their slightly graying heads over the concept of the talking stage on social media every day. ''I don't think that this is generationally specific,'' Ury says. We're in what she calls a situationship epidemic. The question, she says, is, ''Are people ready to really get intentional about who they are and what they're looking for?''

If you're confused about the true definition of the talking stage, that's in the spirit of the thing itself. The talking stage is a poorly defined, vague idea, just like a talking stage is a poorly defined, vague relationship between two people. It is an emotional onomatopoeia. Popular TikTok creator Chris Nappi offers this definition: ''In those first 8 to 12 weeks of a relationship, in the pre-relationship talking stage, they still need to be showing good dating energy'--taking you on dates, hitting you up, making you feel special, showing you respect, building trust'--all the things you would want in a relationship.''

Again, isn't that just'...dating? Writer Damisola Sulayman explains in an essay,''I think the term dating traditionally comes with a lot of pressure and expectations because they would need to go out on dates and 'court' each other in some sense.'' Gen Z are notoriously slow, commitment-phobic daters. In a study by Google of more than 300 18-to-24-year-olds, more than 20% said that a texting conversation can count as a date. And more than half flagged the importance of video and virtual dating in their lives. ''We've noticed the convenience of platforms'--even our classes have turned from in person to Zoom,'' says Nandini. ''It's become so easy and convenient to hang out, but not in person. It's like: let's just see if we can vibe through the screen first.''

This is all a little counterintuitive, because at the same time, experts like former U.S. Surgeon General Vivek Murthy have said that Americans are experiencing an ''epidemic of loneliness.'' In an October 2020 Harvard survey of nearly a thousand people, 36% reported feeling ''seriously lonely,'' with that statistic going up to 61% for 18-to-25-year-olds. And there's actual evidence that situationships don't make people happy'--other than the evidence most of us have from hearing that one friend talk about hers for almost three years: 62% of Hinge users reported that their last situationship left them feeling disappointed, and more than a third said they were ''upset.''

Intelligence Suggests Pro-Ukrainian Group Sabotaged Pipelines, U.S. Officials Say - The New York Times

Tue, 07 Mar 2023 21:17

New intelligence reporting amounts to the first significant known lead about who was responsible for the attack on the Nord Stream pipelines that carried natural gas from Russia to Europe.

Send any friend a story

As a subscriber, you have 10 gift articles to give each month. Anyone can read what you share.

The Nord Stream 2 gas pipeline in Lubmin, Germany, last year. Credit... Krisztian Bocsi/Bloomberg March 7, 2023, 10:26 a.m. ET

WASHINGTON '-- New intelligence reviewed by U.S. officials suggests that a pro-Ukrainian group carried out the attack on the Nord Stream pipelines last year, a step toward determining responsibility for an act of sabotage that has confounded investigators on both sides of the Atlantic for months.

U.S. officials said that they had no evidence President Volodymyr Zelensky of Ukraine or his top lieutenants were involved in the operation, or that the perpetrators were acting at the direction of any Ukrainian government officials.

The brazen attack on the natural gas pipelines, which link Russia to Western Europe, fueled public speculation about who was to blame, from Moscow to Kyiv and London to Washington, and it has remained one of the most consequential unsolved mysteries of Russia's year-old war in Ukraine.

Ukraine and its allies have been seen by some officials as having the most logical potential motive to attack the pipelines. They have opposed the project for years, calling it a national security threat because it would allow Russia to sell gas more easily to Europe. Ukrainian government and military intelligence officials say they had no role in the attack and do not know who carried it out.

U.S. officials said there was much they did not know about the perpetrators and their affiliations. The review of newly collected intelligence suggests they were opponents of President Vladimir V. Putin of Russia, but does not specify the members of the group, or who directed or paid for the operation. U.S. officials declined to disclose the nature of the intelligence, how it was obtained or any details of the strength of the evidence it contains. They have said that there are no firm conclusions about it, leaving open the possibility that the operation might have been conducted off the books by a proxy force with connections to the Ukrainian government or its security services.

Some initial U.S. and European speculation centered on possible Russian culpability, especially given its prowess in undersea operations, though it is unclear what motivation the Kremlin would have in sabotaging the pipelines given that they have been an important source of revenue and a means for Moscow to exert influence over Europe. One estimate put the cost of repairing the pipelines starting at about $500 million. U.S. officials say they have not found any evidence of involvement by the Russian government in the attack.

Officials who have reviewed the intelligence said they believed the saboteurs were most likely Ukrainian or Russian nationals, or some combination of the two. U.S. officials said no American or British nationals were involved.

The pipelines were ripped apart by deep sea explosions in September, in what U.S. officials described at the time as an act of sabotage. European officials have publicly said they believe the operation that targeted Nord Stream was probably state sponsored, possibly because of the sophistication with which the perpetrators planted and detonated the explosives on the floor of the Baltic Sea without being detected. U.S. officials have not stated publicly that they believe the operation was sponsored by a state.

The explosives were most likely planted with the help of experienced divers who did not appear to be working for military or intelligence services, U.S. officials who have reviewed the new intelligence said. But it is possible that the perpetrators received specialized government training in the past.

Officials said there were still enormous gaps in what U.S. spy agencies and their European partners knew about what transpired. But officials said it might constitute the first significant lead to emerge from several closely guarded investigations, the conclusions of which could have profound implications for the coalition supporting Ukraine.

Any suggestion of Ukrainian involvement, whether direct or indirect, could upset the delicate relationship between Ukraine and Germany, souring support among a German public that has swallowed high energy prices in the name of solidarity.

Image This photo released by the Danish military in September shows gas bubbles from the Nord Stream 2 leak reaching the surface of the Baltic Sea, near the Danish island of Bornholm. Credit... Danish Defense Ministry, via Reuters U.S. officials who have been briefed on the intelligence are divided about how much weight to put on the new information. All of them spoke on condition of anonymity to discuss classified intelligence and matters of sensitive diplomacy.

U.S. officials said the new intelligence reporting has increased their optimism that American spy agencies and their partners in Europe can find more information, which could allow them to reach a firm conclusion about the perpetrators. It is unclear how long that process will take. American officials recently discussed the intelligence with their European counterparts, who have taken the lead in investigating the attack.

A spokeswoman for the C.I.A. declined to comment. A spokesman for the White House's National Security Council referred questions about the pipelines to the European authorities, who have been conducting their own investigations.

Image Pipes from Nord Stream 2 work in Sassnitz, Germany. Credit... Laetitia Vancon for The New York Times Nord Stream 1 and Nord Stream 2, as the two pipelines are known, stretch 760 miles from the northwest coast of Russia to Lubmin in northeast Germany. The first cost more than $12 billion to build and was completed in 2011.

Nord Stream 2 cost slightly less than the first pipeline and was completed in 2021, over objections from officials in the United States, Britain, Poland and Ukraine, among others, who warned that it would increase German reliance on Russian gas. During a future diplomatic crisis between the West and Russia, these officials argued, Moscow could blackmail Berlin by threatening to curtail gas supplies, on which the Germans had depended heavily, especially during the winter months. (Germany has weaned itself off reliance on Russian gas over the past year.)

Early last year, President Biden, after meeting with Chancellor Olaf Scholz of Germany at the White House, said Mr. Putin's decision about whether to attack Ukraine would determine the fate of Nord Stream 2. ''If Russia invades, that means tanks and troops crossing the border of Ukraine again, then there will be no longer a Nord Stream 2,'' Mr. Biden said. ''We will bring an end to it.''

When asked exactly how that would be accomplished, Mr. Biden cryptically said, ''I promise you we'll be able to do it.''

Image President Biden met with Chancellor Olaf Scholz of Germany at the White House in 2022. Credit... Al Drago for The New York Times A couple weeks later, Mr. Scholz announced that his government would block the Nord Stream 2 pipeline from becoming operational. Two days after that, Russia launched the much-anticipated invasion.

What we consider before using anonymous sources. Do the sources know the information? What's their motivation for telling us? Have they proved reliable in the past? Can we corroborate the information? Even with these questions satisfied, The Times uses anonymous sources as a last resort. The reporter and at least one editor know the identity of the source.

Since the explosions along the pipelines in September, there has been rampant speculation about what transpired on the sea floor near the Danish island of Bornholm.

Poland and Ukraine immediately accused Russia of planting the explosives, but they offered no evidence.

Russia, in turn, accused Britain of carrying out the operation '-- also without evidence. Russia and Britain have denied any involvement in the explosions.

Last month, the investigative journalist Seymour Hersh published an article on the newsletter platform Substack concluding that the United States carried out the operation at the direction of Mr. Biden. In making his case, Mr. Hersh cited the president's preinvasion threat to ''bring an end'' to Nord Stream 2, and similar statements by other senior U.S. officials.

U.S. officials say Mr. Biden and his top aides did not authorize a mission to destroy the Nord Stream pipelines, and they say there was no U.S. involvement.

Image U.S. officials said they did not believe that President Volodymyr Zelensky of Ukraine, his top lieutenants or other parts of the government were aware of or involved in the sabotage. Credit... Roman Pilipey/Getty Images Any findings that put blame on Kyiv or Ukrainian proxies could prompt a backlash in Europe and make it harder for the West to maintain a united front in support of Ukraine.

U.S. officials and intelligence agencies acknowledge that they have limited visibility into Ukrainian decision-making.

Despite Ukraine's deep dependence on the United States for military, intelligence and diplomatic support, Ukrainian officials are not always transparent with their American counterparts about their military operations, especially those against Russian targets behind enemy lines. Those operations have frustrated U.S. officials, who believe that they have not measurably improved Ukraine's position on the battlefield, but have risked alienating European allies and widening the war.

The operations that have unnerved the United States included a strike in early August on Russia's Saki Air Base on the western coast of Crimea, a truck bombing in October that destroyed part of the Kerch Strait Bridge, which links Russia to Crimea, and drone strikes in December aimed at Russian military bases in Ryazan and Engels, about 300 miles beyond the Ukrainian border.

But there have been other acts of sabotage and violence of more ambiguous provenance that U.S. intelligence agencies have had a harder time attributing to Ukrainian security services.

One of those was a car bomb near Moscow in August that killed Daria Dugina, the daughter of a prominent Russian nationalist.

Kyiv denied any involvement but U.S. intelligence agencies eventually came to believe that the killing was authorized by what officials called ''elements'' of the Ukrainian government. In response to the finding, the Biden administration privately rebuked the Ukrainians and warned them against taking similar actions.

The explosions that ruptured the Nord Stream pipelines took place five weeks after Ms. Dugina's killing. After the Nord Stream operation, there was hushed speculation '-- and worry '-- in Washington that parts of the Ukrainian government might have been involved in that operation as well.

Image A car bomb near Moscow killed Daria Dugina in August. U.S. intelligence agencies believe that the killing was authorized by what officials called ''elements'' of the Ukrainian government. Credit... Maxim Shemetov/Reuters The new intelligence provided no evidence so far of the Ukrainian government's complicity in the attack on the pipelines, and U.S. officials say the Biden administration's level of trust in Mr. Zelensky and his senior national security team has been steadily increasing.

Days after the explosion, Denmark, Sweden and Germany began their own separate investigations into the Nord Stream operation.

Intelligence and law enforcement agencies on both sides of the Atlantic have had difficulty obtaining concrete evidence about what happened on the sea floor in the hours, days and weeks before the explosions.

The pipelines themselves were not closely monitored, by either commercial or government sensors. Moreover, finding the vessel or vessels involved has been complicated by the fact that the explosions took place in a heavily trafficked area.

That said, investigators have many leads to pursue.

Image A specialist aboard a ship preparing a Nord Stream 2 pipe to be laid in 2019. The pipelines were ripped apart by deep sea explosions in September. Credit... Stine Jacobsen/Reuters According to a European lawmaker briefed late last year by his country's main foreign intelligence service, investigators have been gathering information about an estimated 45 ''ghost ships'' whose location transponders were not on or were not working when they passed through the area, possibly to cloak their movements.

The lawmaker was also told that more than 1,000 pounds of ''military grade'' explosives were used by the perpetrators.

Spokespeople for the Danish government had no immediate comment. Spokespeople for the German government declined to comment.

Mats Ljungqvist, a senior prosecutor leading Sweden's investigation, told The New York Times late last month that his country's hunt for the perpetrators was continuing.

''It's my job to find those who blew up Nord Stream. To help me, I have our country's Security Service,'' Mr. Ljungqvist said. ''Do I think it was Russia that blew up Nord Stream? I never thought so. It's not logical. But as in the case of a murder, you have to be open to all possibilities.''

Reporting was contributed by Rebecca R. Ruiz, Erika Solomon, Melissa Eddy, Michael Schwirtz and Andrew E. Kramer.

ATCSCC Advisory

Tue, 07 Mar 2023 14:05

ATCSCC Advisory RAW TEXT:

U.S. Special Ops Wants to Use Deepfakes for Psy-ops

Tue, 07 Mar 2023 14:02

U.S. Special Operations Command, responsible for some of the country's most secretive military endeavors, is gearing up to conduct internet propaganda and deception campaigns online using deepfake videos, according to federal contracting documents reviewed by The Intercept.

The plans, which also describe hacking internet-connected devices to eavesdrop in order to assess foreign populations' susceptibility to propaganda, come at a time of intense global debate over technologically sophisticated ''disinformation'' campaigns, their effectiveness, and the ethics of their use.

While the U.S. government routinely warns against the risk of deepfakes and is openly working to build tools to counter them, the document from Special Operations Command, or SOCOM, represents a nearly unprecedented instance of the American government '-- or any government '-- openly signaling its desire to use the highly controversial technology offensively.

SOCOM's next generation propaganda aspirations are outlined in a procurement document that lists capabilities it's seeking for the near future and soliciting pitches from outside parties that believe they're able to build them.

''When it comes to disinformation, the Pentagon should not be fighting fire with fire,'' Chris Meserole, head of the Brookings Institution's Artificial Intelligence and Emerging Technology Initiative, told The Intercept. ''At a time when digital propaganda is on the rise globally, the U.S. should be doing everything it can to strengthen democracy by building support for shared notions of truth and reality. Deepfakes do the opposite. By casting doubt on the credibility of all content and information, whether real or synthetic, they ultimately erode the foundation of democracy itself.''

''When it comes to disinformation, the Pentagon should not be fighting fire with fire.''

Meserole added, ''If deepfakes are going to be leveraged for targeted military and intelligence operations, then their use needs to be subject to review and oversight.''

The pitch document, first published by SOCOM's Directorate of Science and Technology in 2020, established a wish list of next-generation toys for the 21st century special forces commando, a litany of gadgets and futuristic tools that will help the country's most elite soldiers more effectively hunt and kill their targets using lasers, robots, holographs, and other sophisticated hardware.

Last October, SOCOM quietly released an updated version of its wish list with a new section: ''Advanced technologies for use in Military Information Support Operations (MISO),'' a Pentagon euphemism for its global propaganda and deception efforts.

The added paragraph spells out SOCOM's desire to obtain new and improved means of carrying out ''influence operations, digital deception, communication disruption, and disinformation campaigns at the tactical edge and operational levels.'' SOCOM is seeking ''a next generation capability to collect disparate data through public and open source information streams such as social media, local media, etc. to enable MISO to craft and direct influence operations.''

SOCOM typically fights in the shadows, but its public reputation and global footprint loom large. Comprised of the elite units from the Army, Marine Corps, Navy, and Air Force, SOCOM leads the most sensitive military operations of the world's most lethal nation.

While American special forces are widely known for splashy exploits like the Navy SEALs' killing of Osama bin Laden, their history is one of secret missions, subterfuge, sabotage, and disruption campaigns. SOCOM's ''next generation'' disinformation ambitions are only part of a long, vast history of deception efforts on the part of the U.S. military and intelligence apparatuses.

Special Operations Command, which is accepting proposals on these capabilities through 2025, did not respond to a request for comment.

Though Special Operations Command has for years coordinated foreign ''influence operations,'' these deception campaigns have come under renewed scrutiny. In December, The Intercept reported that SOCOM had convinced Twitter, in violation of its internal policies, to permit a network of sham accounts that spread phony news items of dubious accuracy, including a claim that the Iranian government was stealing the organs of Afghan civilians. Though the Twitter-based propaganda offensive didn't use of deepfakes, researchers found that Pentagon contractors employed machine learning-generated avatars to lend the fake accounts a degree of realism.

Provocatively, the updated capability document reveals that SOCOM wants to boost these internet deception efforts with the use of ''next generation'' deepfake videos, an increasingly effective method of generating lifelike digital video forgeries using machine learning. Special forces would use this faked footage to ''generate messages and influence operations via non-traditional channels,'' the document adds.

While deepfakes have largely remained fodder for entertainment and pornography, the potential for more dire applications is real. At the onset of Russian's invasion of Ukraine, a shoddy deepfake of Ukrainian President Volodymyr Zelenskyy ordering troops to surrender began circulating on social media channels. Ethical considerations aside, the legality of militarized deepfakes in a conflict, which remains an open question, is not addressed in the SOCOM document.

As with foreign governmental ''disinformation'' campaigns, the U.S. has spent the past several years warning against the potent national security threat represented by deepfakes. The use of deepfakes to deliberately deceive, government authorities warn regularly, could have a deeply destabilizing effect on civilian populations exposed to them.

At the federal level, however, the conversation has revolved exclusively around the menace foreign-made deepfakes might pose to the U.S., not the other way around. Previously reported contracting documents show SOCOM has sought technologies to detect deepfake-augmented internet campaigns, a tactic it now wants to unleash on its own.

Perhaps as provocative as the mention of deepfakes is the section that follows, which notes SOCOM wishes to finely tune its offensive propaganda seemingly by spying on the intended audience through their internet-connected devices.

Described as a ''next generation capability to 'takeover' Internet of Things (loT) devices for collect [sic] data and information from local populaces to enable breakdown of what messaging might be popular and accepted through sifting of data once received,'' the document says that the ability to eavesdrop on propaganda targets ''would enable MISO to craft and promote messages that may be more readily received by local populace.'' In 2017, WikiLeaks published pilfered CIA files that revealed a roughly similar capability to hijack into household devices.

The technology behind deepfake videos first arrived in 2017, spurred by a combination of cheap, powerful computer hardware and research breakthroughs in machine learning. Deepfake videos are typically made by feeding images of an individual to a computer and using the resultant computerized analysis to essentially paste a highly lifelike simulacrum of that face onto another.

''The capacity for societal harm is certainly there.''

Once the software has been sufficiently trained, its user can crank out realistic fabricated footage of a target saying or doing virtually anything. The technology's ease of use and increasing accuracy has prompted fears of an era in which the global public can no longer believe what it sees with its own eyes.

Though major social platforms like Facebook have rules against deepfakes, given the inherently fluid and interconnected nature of the internet, Pentagon-disseminated deepfakes might also risk flowing back to the American homeland.

''If it's a nontraditional media environment, I could imagine the form of manipulation getting pretty far before getting stopped or rebuked by some sort of local authority,'' Max Rizzuto, a deepfakes researcher with the Atlantic Council's Digital Forensic Research Lab, told The Intercept. ''The capacity for societal harm is certainly there.''

SOCOM's interest in deploying deepfake disinformation campaigns follows recent years of international anxiety about forged videos and digital deception from international adversaries. Though there's scant evidence Russia's efforts to digitally sway the 2016 election had any meaningful effect, the Pentagon has expressed an interest in redoubling its digital propaganda capabilities, lest it fall behind, with SOCOM taking on a crucial role.

At an April 2018 hearing of the Senate Armed Services Committee, Gen. Kenneth Tovo of the Army Special Operations Command assured the assembled senators that American special forces were working to close the propaganda gap.

''We have invested fairly heavily in our psy-op operators,'' he said, ''developing new capabilities, particularly to deal in the digital space, social media analysis and a variety of different tools that have been fielded by SOCOM that allow us to evaluate the social media space, evaluate the cyber domain, see trend analysis, where opinion is moving, and then how to potentially influence that environment with our own products.''

While military propaganda is as old as war itself, deepfakes have frequently been discussed as a sui generis technological danger, the existence of which poses a civilizational threat.

At a 2018 Senate Intelligence Committee hearing discussing the nomination of William Evanina to run the National Counterintelligence and Security Center, Sen. Marco Rubio, R-Fla., said of deepfakes, ''I believe this is the next wave of attacks against America and Western democracies.'' Evanina, in response, reassured Rubio that the U.S. intelligence community was working to counter the threat of deepfakes.

The Pentagon is also reportedly hard at work countering the foreign deepfake threat. According to a 2018 news report, the Defense Advanced Research Projects Agency, the military's tech research division, has spent tens of millions of dollars developing methods to detect deepfaked imagery. Similar efforts are underway throughout the Department of Defense.

In 2019, Rubio and Sen. Mark Warner, D-Va., wrote 11 American internet companies urging them to draft policies to detect and remove deepfake videos. ''If the public can no longer trust recorded events or images,'' read the letter, ''it will have a corrosive impact on our democracy.''

Nestled within the National Defense Authorization Act for Fiscal Year 2021 was a directive instructing the Pentagon to complete an ''intelligence assessment of the threat posed by foreign government and non-state actors creating or using machine-manipulated media (commonly referred to as 'deep fakes'),'' including ''how such media has been used or might be used to conduct information warfare.''

Just a couple years later, American special forces seem to be gearing up to conduct the very same.

''It's a dangerous technology,'' said Rizzuto, the Atlantic Council researcher.

''You can't moderate this tech the way we approach other sorts of content on the internet,'' he said. ''Deepfakes as a technology have more in common with conversations around nuclear nonproliferation.''

Drinking Coke and Pepsi may increase testicle size and testosterone production, study says | The Independent

Tue, 07 Mar 2023 14:01

Sign up for a full digest of all the best opinions of the week in our Voices Dispatches emailSign up to our free weekly Voices newsletter

A study has suggested that soda consumption may increase testosterone levels and testicle size in men.

The study, conducted by researchers at the Northwest Minzu University in China and published in the scientific journal Acta Endocrinol, set out to determine the impact carbonated beverages such as Coca-Cola and Pepsi had on fertility.

As noted by the study authors, previous studies have linked soda consumption to harm to reproductive functions, reduced sperm quantity and reduced sperm motility.

The researchers, who relied on animal testing to conduct the study, found the opposite was true when it came to testosterone, the male hormone produced mainly in the testes, and testicle size.

To test their hypothesis, the researchers studied groups of male mice. The first group drank only water, while the remaining groups drank varying levels of Coca-Cola and Pepsi, respectively.

Over the 15-day period, the scientists performed tests on the mice to analyse the effects of the carbonated beverage consumption, which included blood tests and weight and diameter measurements of the testis.

The study found that the testes of the mice that just drank Pepsi or Coca-Cola were ''significantly increased on day 15''.

''The outcome demonstrated a high dose of Pepsi or Coca-Cola could promote testis growth and development,'' the study authors wrote.

In addition to increased testicle size, researchers also found that ''the concentrations of serum testosterone in all mice were enhanced after the Pepsi-Cola and Coca-Cola treatment,'' which ''indicated that high doses of Pepsi and Coca-Cola could improve testosterone secretion of male mice''.

''In conclusion, drinking Coca-Cola and Pepsi-Cola could promote testis development, enhance testosterone secretion, increase serum EGF concentrations '.... Our findings provided the scientific basis for fully understanding [carbonated beverages] effects and their mechanism on development and reproduction functions of humans, but also benefit to prevent prostate dysfunction and cancer,'' the study authors wrote.

Although the study suggested that males may experience increased testicle size and testosterone production as a result of soda consumption, the researchers reiterated that the findings contradict previous studies. One such previous study includes a survey of 2,500 men that suggested sperm quantity was reduced by 30 per cent when a one-litre carbonated beverage was consumed every day.

The researchers also noted that previous studies have suggested links between soda consumption and fertility. One study found that carbonated beverages are associated with alterations in hormones that affect ovulation.

The researchers claimed that, ''so far, there has been little documentation regarding correlation between carbonated beverage consumption and reproduction function and fertility in humans and animals''.

Although the researchers said more research needs to be conducted on the link between soda and fertility, the study acknowledges that carbonated beverage consumption ''may lead to obesity, cardiovascular diseases and type 2 diabetes,'' and that previous studies have indicated ''health damage effects of carbonated beverages on adolescents and children were serious''.

The recent study comes after a previous study found that ''massive consumption of coffee or caffeine increased testosterone production''.

As for whether you should consume soda, health experts recommend against consuming the beverages due to the sugar content.

According to the Cleveland Clinic, one can of soda can have as much as 39 grams of sugar, while the American Heart Association recommends no more than 25 grams of sugar per day for women and 36 grams of sugar per day for men.

Ukraine Hawk Who Heads European Commission Has a Nazi Pedigree She Does Not Want You to Know About

Mon, 06 Mar 2023 23:32

Ursula von der Leyen with Ukrainian President Volodymyr Zelensky. [Source: bg-turk.com ]In the wake of the Russo-Ukrainian war, terms like ''European values'' have come back into the mainstream. One of the people who has been most responsible for this is Ursula von der Leyen, the president of the European Commission who is now a nearly omnipresent figure in the media.

According to Ursula, ''European values'' represent only the highest attributes of humankind: freedom, justice, solidarity, and rule of law.

Of course, anyone with even a passing knowledge of history can tell you that these are nothing but euphemisms. Not long ago, ''European values'' meant something very different. Those values drew the borders of the world in oceans of blood, both of Europeans and those they conquered. A look at the history of Ursula's aristocratic European family can show us the true face of these ''European values'' and how the ruling class profited from imposing them on the world.

''If we succeed in bringing people of above-average capabilities to governance an autocracy or the rule of the few will be able to create a better order than the rule of the people.'' '' Ernst Albrecht

Ursula von der Leyen is the scion of two aristocratic German families. She was born Ursula Albrecht, the daughter of a prominent European bureaucrat, CDU party leader, and former governor of Lower Saxony, Ernst Albrecht. The family carefully nurtured a cosmopolitan image as Ernst spent most of his life working for the EU and various precursor organizations. Growing up, Ursula was nicknamed ''R¶schen'' (Rosie in English) by her father, and images of the happy family featured heavily in her father's political advertisements.

Ernst Albrecht with his beloved ''R¶schen.'' [Source: welt.de ] The Albrecht family made its fortune by using its position as customs enforcers in the Holy Roman Empire to dominate the cotton markets of 19 th -century Bremen and, from there, the name Albrecht has been a fixture throughout German history.

As is typical for bourgeois Germans, the otherwise exhaustively documented history of the Albrecht family has a mysterious gap between 1936 and 1945. To avoid uncomfortable questions about where their power and money came from and what they did to earn it, the House of Albrecht, like so many others, is content to pretend the Nazi regime simply never existed. Since we will never have answers, perhaps if we raise a light to what surrounds this void, the shadow it casts can show us the true shape of the ''European values'' Ursula is so fond of.

To begin, we can look at Ernst's first job in politics, with the European Coal and Steel Commission under the direction of another aristocrat, Hans von der Groeben.

Hans was already a long-time bureaucrat by this point. During the war, he worked as a deputy for the Reich Ministry of Agriculture under the command of Richard Walther Darr(C). Darr(C) was a fanatical Nazi, writing his first fascist propaganda in 1926 and joining the Nazi Party in 1930.

He soon joined the SS and his loyalty and dedication to the cause led Heinrich Himmler to personally select Obergruppenf¼hrer Darr(C) as head of both the SS Race and Resettlement Office and later the Reich Department of Agriculture. Darr(C) was one of the party's leading ideologists, and he combined the tasks of the agricultural and race offices to set the foundation for Generalplan Ost , the Nazi plan to exterminate the entire Slavic race and colonize Eastern Europe.

Darr(C) was the architect of the Nazi '' blood and soil '' agrarian policies and sought to create a new land-owning ''Aryan'' aristocracy. He passed laws requiring an ''Aryan certificate'' to inherit farmland and was instrumental in Nazi eugenics programs, particularly the Lebensborn program, designed to breed a new generation of ''Aryan'' supermen and purge the German people of ''undesirable bloodlines.''

One of his most promising acolytes was a doctor by the name of Josef Mengele who was put in charge of ''racial health'' policies within the department. Mengele would later go on to become the infamous angel of death who carried out some of the vilest crimes in history with his industrial-scale medical experiments at Auschwitz concentration camp. Mengele particularly targeted children as his victims and kept them alive for months to gain as much data as possible. He never forgot where he came from: Mengele always cited Darr(C) as inspiration for his ideas on ''racial hygiene.''

After the war, Mengele escaped justice by fleeing to Argentina and later Brazil on the ''rat lines'' operated by CIA agent, future head of West German intelligence and unreformed Nazi Reinhard Gehlen and was protected under the personal order of CIA Director Allen Dulles , who viewed Mengele as a useful ally in his war against the USSR. Mengele died a free man in 1976 and was buried under the name Wolfgang Gerhard in S£o Paulo, Brazil.

Mengele, known to the CIA as Helmut Gregor. [Source: wikipedia.org ]Darr(C) was proud of his work. He wrote thousands of pages outlining his plans in various publications, and routinely gave speeches inside Nazi Germany promoting his ideas.

''By blitzkrieg'...before autumn'...we shall be the absolute masters of two continents'...a new aristocracy of German masters will be created'....[With] slaves assigned to it, these slaves to be their property and to consist of landless, non-German nationals'...we actually have in mind a modern form of medieval slavery which we must and will introduce because we urgently need it in order to fulfill our great tasks. These slaves will by no means be denied the blessings of illiteracy; higher education will, in future, be reserved only for the German population of Europe'...'' '' Richard Darr(C)

Together with Hans von der Groeben, they implemented what was known as the Hunger Plan to feed the Reich at the expense of conquered territories. Millions of slaves worked on starvation rations, forced to send every morsel of food to the Reich where it would be used to quite literally sustain the Nazi machine which oppressed them. By 1944, more than 15 million tons of foodstuffs had been requisitioned from the USSR, and this led to the intentional deaths by starvation of more than 10 million people. According to Darr(C)'s plan, after they had been all been sterilized and starved to death, the Slavic ''Untermensch'' was to be replaced by Darr(C)'s new race of ''Aryan'' aristocrats, ready to use this land for the benefit of the Reich.

After the war, Darr(C) was arrested and tried for war crimes at Nuremberg. He was found guilty, but despite the scope and scale of his crimes, he received a sentence of only seven years. He served just three of them and was released in 1950. He died of liver cancer in 1953. While this sentence was shockingly lenient, it could have been worse. Hans never saw the inside of the courtroom.

This was very common after the war. The ''liberal internationalists'' such as Allen Dulles, in charge of American foreign policy, were not bothered by the crimes of the Nazi regime. Indeed, as early as 1940 Dulles was already arguing for an alliance with Nazi Germany, and in 1944 was meeting with Nazi intelligence to arrange a separate peace to use the Nazis as a weapon against the USSR.

They sought only trials for the most egregious Nazis and, even then, ensured that their sentences were as lenient as possible. The rank-and-file of the Nazi regime, the army of people who physically made the Nazi machine do the murderous work of subjugating and exterminating an entire continent went almost entirely unpunished for their crimes.

In the case of people like Hans von der Groeben, they were rewarded with jobs in the new ''de-Nazified'' West German government. Despite the pretenses of a new Germany, only the names changed. The same bureaucrats labored toward the same goal, the destruction of the Soviet Union and its people, by any means necessary. The state machinery once called the Greater German Reich had now simply been absorbed into a new structure, now called the North Atlantic Treaty Organization (NATO).

Now in the position of the deputy, Ernst Albrecht took on the same role his boss had in the 1940s, this time with ''blood and soil'' replaced with ''European values.''

Although Ernst Albrecht was a few years too young to have been a Nazi himself, throughout his long political career he made his sympathies very clear. Ernst was an elitist dripping with contempt for the common people and wanted to bring about what he deemed elite rule in Germany as opposed to the rule of the ''uninsightful'' mob. Given that he never missed a chance to venerate the Third Reich and its killers, it is very clear whom Ernst considered elite.

''The rule of the people, especially direct rule, is essentially such that decisions are not determined by the insight of the insightful [elite], but rather by the common average level based on the majority of the population.'' '' Ernst Albrecht, The State, Idea and Reality: Outlines of a Political Philosophy

During his time as leader of the Christian Democratic Union (one of Germany's two largest political parties) government of the German state of Lower Saxony, Ernst successfully wooed members of the neo-Nazi Deutsche Reichspartei (DRP) into the ranks of the CDU. The DRP practiced what was known as Esoteric Hitlerism , a bizarre variety of neo-Nazism that claims Hitler is the literal reincarnation of the Hindu god Vishnu and the ''Aryans'' of Nazism are the same Aryans who once inhabited ancient India.

The ideology was created by Savitri Devi , a French-born Nazi spy who had been expelled from Germany in 1951 for repeatedly spreading Nazi propaganda and came to the DRP through Devi's closest friend, Nazi pilot Hans-Ulrich Rudel , who was working as an arms dealer for South American fascists and actively plotting to overthrow the German government in favor of a Nazi dictatorship.

Rudel and Devi believed that, if they succeeded in building a new Reich, Hitler would be reincarnated once more as the Hindu god Kalki to cleanse all inferior races and lead the ''Aryan'' people to a paradise called Hyperborea. Despite this, Albrecht's CDU absorbed the DRP almost completely, as they were worried that the DRP would otherwise erode their voter base. The strategy of kowtowing to Nazis worked, and Albrecht's CDU governed the region continuously from 1976 to 1990.

When he came to power, one of the elites Ernst entrusted to rule was his justice minister, a jurist by the name of Hans Puvogel. Once again, he picked a fanatical Nazi. Puvogel joined the Sturmabteilung , the paramilitary arm of the Nazi Party in 1934 and, by 1937, he was a regional leader in the German Nazi Party (NSDAP). Puvogel used his skills as a lawyer to help justify the extermination of Nazi racial enemies. In his doctoral thesis, he argued for the mass euthanasia and sterilization of all inferior races as a way of solving the Nazi ''race problem.''

When he was exposed in 1978, Puvogel lied and said he was in a small right-wing group called Steel Helmet which was absorbed into the Nazi Party, but maintained he had no Nazi past. Documents released by the Lower Saxony parliament in 2012 have proven that this was a lie. Puvogel never even tried to distance himself from the contents of his dissertation, and as far as anyone knows he went to the grave a committed Nazi. For his part, Ernst Albrecht simply never mentioned it. The strategy of simply pretending the Third Reich never existed paid off once more as Albrecht himself faced no real consequences.

Hans Puvogel (second from left) with Albrecht (center) and his Cabinet, 1977. [Source: ndr.de ] '' An individual's worth in the community is measured by his racial personality. Only a racially valuable person has the right to exist within the community. Someone who is useless for the community because of his inferiority, or even harmful to it, is to be eliminated.'' '' Hans Puvogel

Ernst did not just work for Nazis, fill his cabinet with Nazis and invite Nazis into his party; he also spent a great deal of time courting Nazi voters. Ernst and his deputies were fixtures at Nazi veteran events throughout Lower Saxony.

Hasselmann election poster. [Source: kas.de ]Albrecht's deputy minister, close friend, and Nazi officer Wilfried Hasselmann even gave the keynote speech at a Knight's Cross Association dinner in 1978, in which he venerated the worst killers of Hitler's Reich as brave and honorable men, whose courage was an example for future generations who would be inspired by their ''European values.''

Albrecht and Puvogel were also involved in a bomb attack known as the Celle Hole scandal. On the 25 th of July, 1978, a bomb was detonated on the wall of the prison, in Celle, Germany. The bomb did not have the desired effect, creating only a small hole, and a group of 12 men who were supposed to enter the prison were forced to flee. The perpetrators escaped, but a Mercedes was found loaded with a rubber raft, escape tools, a Walther handgun, and forged passports, one of which had a picture of jailed left-wing militant Sigurd Debus. Later, tools were planted in Debus's cell to seal the deal, making the whole affair seem like a failed escape plan from the Red Army Faction (RAF).

Albrecht hailed the attacks as a successful operation, which he claims stopped a robbery and murder (he provided no evidence for this), and the incident was used to justify the worsening of conditions for Debus and other jailed RAF members. The RAF responded with a hunger strike, which eventually led to the death of Debus in 1981 .

However, the story never quite added up. The RAF members maintained their innocence, and mounting pressure from lawyers and the public eventually led to a parliamentary inquiry in 1986, which found that there was no escape attempt, no robbery or murder, and that the entire affair was a false-flag attack called Operation Fire Magic , planned by the German Federal and Lower Saxony police with the approval of Ernst Albrecht. A Lower Saxony policeman even detonated the bomb. Despite this, nothing happened to Albrecht or his government. The embarrassing affair was quickly hushed up, and Debus's death was reduced to little more than one name on the long list of those who have starved to death for the benefit of the Albrechts.

It is still unclear why Ernst Albrecht carried out this terrorist attack against his own country; however, it is possible that it was linked to persistent rumors that the RAF was seeking to kidnap his beloved daughter Ursula in retaliation for Ernst's Nazi sympathies. Because of rumors, when Ursula enrolled in the London School of Economics, she did so under the assumed name of Rose Ladson to conceal her identity. That name was not chosen at random. Rather, it is the link to another time House Albrecht's ''European values'' were imposed upon the world.

The religious and moral instruction of the negroes has, for several years, been a subject of great interest to me, and I am satisfied that our exertions in their behalf (although much, very much, yet remains to be done) are not only misunderstood abroad, but unappreciated. To improve the negro is a far more arduous task than many, who have no experience in teaching them, are aware. They are naturally dull, and of a weak intellect, but generally possessing good memories; and those who have been engaged in this work of charity, have to lament, after much labour, that the instruction they have endeavoured to give, although remembered, has been perverted and misdirected. '' James H. Ladson, ''The Religious Instruction of the Negroes''

Ursula chose her name after another branch of her family, the Ladsons of South Carolina. The Ladsons were a family of slave traders, plantation owners and secessionists. Although the Ladsons do not bear an aristocratic title like Albrecht or von der Leyen, they bore all the same hallmarks of the European aristocracy. The Albrecht cotton business brought the family in close contact with the Ladsons and the relationship grew until, in 1902 , Mary Ladson-Robertson married Carl Albrecht, joining the two families by blood.

The colonial ties of the Albrecht family may explain why they were so comfortable around Nazis. Besides the obvious parallels regarding the enslavement and economic exploitation of entire races of people, the colonization of a continent, the racial hierarchies, and mass murder on an industrial scale, the Nazis were ardent admirers of the American colonial system. They even specifically based their racial system on that of the American South.

James Ladson, Lieutenant Governor of South Carolina from 1792 to 1794. [Source: wikipedia.org ]The Ladson family got its start on the path of infamy in Barbados when John Ladson immigrated from England in the mid-1600s. In 1679, John was among the first settlers in the new Carolina Colony, where he bought a plantation outside of Charleston, which the city has long since grown to encompass. At the time, Barbados was a major stopover point for the slave trade, and it was here that the Ladsons enjoyed their first taste of blood and money.

Barbados was the first British slave society. The beautiful Caribbean island was ruthlessly exploited for its natural wealth when it came under British control starting in 1630. Frequent slave raiding, disease, and intentional policies of genocide from the Spanish before them had exterminated the indigenous Arawak people, leaving the island ripe for repopulation by slaves. Its warm climate and fertile soil made it perfect for growing tobacco and sugarcane, which was then distilled into rum and sold throughout the world.

By 1636, laws were implemented ensuring that all Africans brought to the island and their descendants would be permanent chattel, with no provision to be freed. In 1661 , the slave codes were strengthened, deeming all slaves to be real estate, alive for the sole purpose of creating value for their owners. Slaves were considered property first and human beings a distant second, if at all. The rules existed to protect the value of slaves as property, not their lives or dignity.

From 1630 to 1807, some 380,000 Africans were kidnapped from their homes, put in chains, and shipped to Barbados to be worked until they died. Untold thousands of those were sold by the Ladsons to plantations all over the hemisphere and their deaths and suffering made the family tremendously wealthy.

The slaves in Barbados suffered unimaginable brutality at the hands of slave masters like the Ladsons. From 1705 to 1735, the number of slaves imported into Barbados, in addition to those born there was roughly 85,000. However, due to the extreme mortality rate on the island, the total population increased by only 4,000 .

Slave revolts, refusal to accept Christianity, or any acts of defiance from the chattel were put down with the absolute maximum amount of violence to serve as an example for the rest of the slaves. This torture and butchery were so common that most instances were never recorded but, in some cases, we have firsthand accounts of the brutality. One of these is from the diary of Father Antoine Biet , a French priest and missionary in 1654.

''They treat their Negro slaves with a great deal of severity. If some go beyond the limits of the plantation on a Sunday they are given fifty blows with a cudgel; these often bruise them severely. If they commit some other slightly more serious offense they are beaten to excess, sometimes up to the point of applying a firebrand all over their bodies which makes them shriek with despair. I saw a poor Negro woman, perhaps thirty-five or forty years old, whose body was full of scars which she claimed had been caused by her master's having applied the fire-brand to her: this horrified me. As these poor unfortunates are very badly fed, a few occasionally escape during the night and go to steal a pig or something similar from a neighbouring plantation. But, if they are discovered, there is no forgiving them. One day I went to visit my Irishman. He had in irons one of these poor Negroes who had stolen a pig. Every day, his hands in irons, the overseer had him whipped by the other Negroes until he was all covered with blood. The overseer, after having had him treated thus for seven or eight days, cut off one of his ears, had it roasted, and forced him to eat it.''

A contemporary depiction of slaves being flogged in the West Indies. [Source: futurelearn.com ]Despite this, slaves did resist. Acts of resistance ranged from speaking their native language in private to work stoppages, acts of sabotage, and even organized revolts. Sadly, the British authorities maintained a large and well-armed police force, and since Barbados's forests were completely clear-cut to make way for more sugar cane, the rebel slaves had nowhere to hide. The revolts were always crushed, and slaves in Barbados were not freed until 1834, nearly 200 years after their first encounter with ''European values.''

In South Carolina, the Ladsons consolidated their wealth and power, eventually becoming one of the most influential families in the state, with deep connections to finance, politics and, of course, slavery. Much like the aristocrats of Europe, the Ladsons strengthened their house through marriage to other elite families, most of whom were in the slave trade. Among their ancestors were men like James Moore , the former governor of Carolina who earned his position through genocidal raids in which more than 4,000 indigenous Apalachee people were taken as slaves, eventually leading to the complete extermination of the tribe.

In the 1790s, the Ladsons were able to secure their place at the top echelons of the slave trade through a marriage into the Wragg family. Joseph Wragg was the most prolific slave trader and one of the wealthiest men in the Americas. He started out as a captain on slave ships until he earned enough money to buy his own slave market and a plantation near Charleston. Between 1717 and 1747, at least 10,000 people were kidnapped from their homes, put in chains, and forced into the dark, overcrowded holds of ''Guineamen'' to be sold as chattel by Joseph Wragg and company at the Wragg wharf in Wraggborogh , South Carolina.

It is estimated that two million slaves perished in what was known as the triangular trade from Britain to Africa, to the Americas and back to Britain. As slaves were considered property first, every attempt was made to maximize profits even at the cost of human lives. To maximize their space efficiency, slaves were packed as tightly as possible, often leading to horrible outbreaks of disease and even suffocation.

While expressing my horror at what I saw and exclaiming against the state of this vessel for conveying human beings, I was informed by my friends, who had passed so long a time on the coast of Africa and visited so many ships, that this was one of the best they had seen. The height sometimes between decks was only eighteen inches, so that the unfortunate beings could not turn round or even on their sides, the elevation being less than the breadth of their shoulders; and here they are usually chained to the decks by the neck and legs. In such a place the sense of misery and suffocation is so great that the Negroes, like the English in the Black Hole at Calcutta, are driven to a frenzy. They had on one occasion taken a slave vessel in the river Bonny; the slaves were stowed in the narrow space between decks and chained together. They heard a horrible din and tumult among them and could not imagine from what cause it proceeded. They opened the hatches and turned them up on deck. They were manacled together in twos and threes. Their horror may be well conceived when they found a number of them in different stages of suffocation; many of them were foaming at the mouth and in the last agonies'--many were dead. A living man was sometimes dragged up, and his companion was a dead body; sometimes of the three attached to the same chain, one was dying and another dead. The tumult they had heard was the frenzy of those suffocating wretches in the last stage of fury and desperation, struggling to extricate themselves. When they were all dragged up, nineteen were irrecoverably dead. Many destroyed one another in the hopes of procuring room to breathe; men strangled those next them, and women drove nails into each other's brains. Many unfortunate creatures on other occasions took the first opportunity of leaping overboard and getting rid, in this way, of an intolerable life. '' Rev. Robert Walsh , Notices of Brazil in Walsh, Notices of Brazil in 1828 and 1829

The Ladsons were also active in imposing ''European values'' on their victims. In particular, James H. Ladson (there are several James Henry Ladsons in this family, none of whom was given a suffix to tell them apart; for the sake of clarity, I will refer to this person as James H. Ladson) was noted for building a huge chapel on one of his plantations where he could impose ''European values'' on his slaves through forced conversion. This was typical of the South, where their brand of white supremacy took on a paternalistic character. Slave masters viewed themselves as noble, charitable people, bringing ''civilization'' to the savage Blacks that they brutalized for money. Civilization, much like ''blood and soil'' and ''European values,'' was nothing more than a bloody euphemism.

Indeed, the local newspaper called him ''an excellent specimen of the old Carolina gentleman, pure in character, and high-toned in his dealings, and was for many years the head of the house of James H. Ladson & Co., now represented by the firm of W.C. Bee & Co. This firm carried on an extensive and lucrative business as rice and cotton factors. He was also a bank director, and for most of his life a leading member of St. Michael's Episcopal Church of our city, where he stood foremost in Christian virtues and active benevolence.''

This fine southern gentleman was also a fierce devotee of the cause of ''states' rights,'' yet another bloody euphemism, and one for which the Ladsons were willing to kill. The truth of ''states' rights'' was revealed by Ladson's own actions: He worked tirelessly for the cause of the Confederacy , and was quite clear that he did so to protect his economic interests.

All in all, 620,000 people died for James H. Ladson's economic interests, including his own son, and another million were injured, many of them permanently maimed. For this, he suffered no consequences whatsoever, and kept every penny and all the prestige earned through the blood and suffering of slave and soldier alike.

''She has a profound European culture, she's born in Brussels and is the daughter of a Brussels functionary so I can say she has the union's DNA in her.'' '' Emmanuel Macron

It is not at all unfair to ask where Ursula von der Leyen's family's money and power came from, and what they did to earn it, especially given that Ursula has benefitted enormously from her family's wealth and connections to further her own career, which can stand on its own as an example of corruption, severe scandal, incompetence and, possibly, even outright treason. Her time as a politician shows that Ursula's apple has not fallen far from the Albrecht family tree.

Ursula first entered politics in 2003 when she was defeated via technicality in a Hanover regional election primary by CDU stalwart Lutz von der Heide. This was unacceptable for Ursula's father Ernst, who launched a full-court press alongside his old deputy and Wehrmacht artillery officer Wilfried Hasselmann.

The two set to work both campaigning for Ursula and smearing her opponent, who had held the seat for more than 15 years at this point. At the time, Ursula had a long-running column in far-right tabloid Bild , a newspaper founded by ex-Nazi propagandist and CIA asset Axel Springer which has been sanctioned dozens of times for violations of German law and, through this, she was able to effectively amplify their attacks on von der Heide. Soon, all of Germany was reading the latest dirt about a primary for a small regional election.

The campaign was decisive and, in the second round of voting, Ursula won by a two-thirds majority. It was a safe seat so, as the new CDU candidate, Ursula was elected easily. Considering this, it is impossible to separate Ursula von der Leyen from her father's legacy.

Two years later, she was picked by Angela Merkel to serve as Minister of Labor and Family Affairs, despite her almost non-existent political experience. In this role, she was mostly noted for cutting social services for the blind and trying to ban heavy-metal albums , a resum(C) that would not seem to justify further promotion.

Despite this, she was promoted to Minister of Defense in 2013, a move which baffled the opposition. It was here that the ''European values'' of Ursula von der Leyen began to show their shape once more.

Ursula's mandate was to expand and increase readiness of the Bundeswehr, and she set about the job with gusto. She began a constant drumbeat for war, arguing that the German army was too small and unprepared to face whatever new enemy she conjured up on that day. Be it Afghanistan, Iran, China, Russia or Syria, Ursula consistently advocated for more weapons, more war, and more money. Ursula even proposed a German foreign legion to bolster the ranks of the Bundeswehr, a proposal that was met with horror and condemnation from all sides.

Then-German Defense Minister Ursula von der Leyen poses with German Special Forces during visit to German army ''Bundeswehr'' in Kiel, Germany, April 21, 2017. [Source: newsweek.com ] Almost immediately, she said that the ministry required outside help and hired one of the favorite and most criminal consultants of the neo-liberal political class, the CIA-affiliated McKinsey , former home to such luminaries as Susan Rice, Chelsea Clinton, Pete Buttigieg and many other politicians and business executives of dubious character. McKinsey's tendrils reach into governments and corporations throughout the world, and it exemplifies the ''revolving door'' among government, intelligence and big business.

It was more than just a consultancy: McKinsey was given direct control of the ministry, with consultant Katrin Suder awarded a new position inside the ministry to ''reform the armaments sector.'' Ursula shoveled nearly half a billion euros into the coffers of McKinsey and others for ''consulting'' services, and received absolutely nothing in return. The unelected Suder was seen so often beside von der Leyen that the opposition joked she was Ursula's new bodyguard.

Suder (left) with von der Leyen. [Source: dw.com ] This brazen corruption became known as the '' consultant affair '' and was so severe that it led to a parliamentary inquiry, with opposition from both the left and right demanding answers from von der Leyen. Ursula responded mostly by stonewalling, simply refusing to answer questions or provide information, eventually destroying evidence of her misdeeds before she could be brought before Parliament. As there was no evidence, the inquiry failed. For her role in the affair, Katrin Suder was awarded the Bundeswehr Cross of Honor by von der Leyen.

The scandal was so serious, so brazen and so utterly baffling that the opposition Social Democratic Party openly accused Ursula von der Leyen of treason, working in the interests of the United States government as opposed to Germany:

As Federal Defense Minister, von der Leyen behaved as the U.S. President wanted when he called for increase in military spending: higher military budgets, increased armaments instead of disarmament. And although this minister got into trouble because of her high spending on consulting firms and various personnel decisions and was anything but a role model, she became President of the EU Commission. That is a key function and it is important for the U.S. The decision for von der Leyen happened quietly backstage. No sensible person can explain why she was given this important office. A partial explanation is that she had the support of important countries from Eastern Europe. The United States has a great influence on these states. In the first major critical case, von der Leyen immediately and unequivocally represented the U.S. position, where she said Iran itself is to be blamed for the confrontation in the Middle East and for the execution of the Iranian general. With her, the United States can probably also stake a claim on other occasions and play a key role in shaping the internal structure of the European Union. Ursula von der Leyen is the perfect example of an 'agent of influence.' '' Albrecht M¼ller , SPD member of parliament January 2, 2021

Ursula's Bundeswehr was more than just a fundraising scheme for a parasitic consultant class. It was also an incubator for the same vile ideology her father spent his entire life promoting. Under von der Leyen, far-right and neo-Nazi sympathies exploded in the ranks of the Bundeswehr.

Despite repeated warnings from both within and outside of the army, von der Leyen did nothing substantial. Her McKinsey consultants created sensitivity training courses for the army, and Ursula made constant publicity tours of military bases, but the problem continued to get worse. Finally, in 2018 , a plot was uncovered from the elite Kommando Spezialkr¤fte (KSK) special forces unit to assassinate German politicians and overthrow the German government.

Ursula visiting troops at the Field Marshal Rommel Barracks, formerly known as the Sennelager Training Grounds for SS and Hitler Youth. [Source: wikipedia.org ]Further investigations in 2019 revealed that the special forces unit was not only infested with open neo-Nazis, but they had been actively planning to overthrow the German government for at least three years. Furthermore, despite being repeatedly warned, Ursula von der Leyen and her army of consultants had at best done nothing and at worst actively exacerbated the issue.

A raid uncovered caches of weapons, explosives and Nazi memorabilia. Further audits revealed 48,000 rounds of ammunition and roughly 135 pounds of plastic explosives unaccounted for, leaving many German politicians to question just how many more of these terrorist cells existed within the Bundeswehr. The missing ammo and explosives have never been found. In the end, the Ministry of Defense had no choice but to disband the KSK entirely.

Despite all of this, Ursula was considered a favorite to succeed Jens Stoltenberg as secretary general of NATO. Given the alliance's history with Nazis , it should be no surprise that her ties to the far right were either ignored or, more likely, counted in her favor.

Jens Stoltenberg, UK Defense Minister Michael Fallon, U.S. Defense Secretary Ash Carter, and von der Leyen in Brussels, October 2015. [Source: militarytimes.com ]The reason Ursula was not chosen was because she had once again failed upwards and had already been elected president of the European Commission in a close election which she won despite almost universal condemnation from German politicians both from her own party and the opposition. Angela Merkel, von der Leyen's boss and close friend, had to abstain from the vote after the German Parliament refused to even nominate Ursula.

The move was, however, welcomed by foreign politicians such as Emmanuel Macron, who released a laughable statement in which he said ''I've seen her capacity to get things done, and to avoid being captive to particular interests'' about the leader who only months before had been accused of treason for her complete submission to foreign special interests. Bloomberg called the woman who had spent nearly five years creating new cabinet positions for her friends and at best ignoring if not actively incubating a second Beer Hall Putsch a ''Tough, Visionary reformer.''

Ursula was the first woman to hold this position, and the second with any connection to the Nazis: Former Wehrmacht artillery officer and Nazi law professor Walter Hallstein had gotten his start in politics arguing for the virtues of the Nuremburg race laws as a young man, demonstrating his lifelong commitment to ''European values.''

It was from her new platform in Brussels that the whole world got to see the ''European values'' of Ursula von der Leyen. After the outbreak of war in Ukraine, Ursula has dominated the news as one of the most forceful and steadfast advocates for more war, more sanctions and more weapons .

Ursula even toured Ukraine, stopping for a now-famous photo op in the recently reconquered Bucha, where she shed crocodile tears for the victims of a massacre that we are supposed to believe was caused by Russian forces shelling their own positions, but in reality was almost certainly caused by Ukrainian artillery .

Von der Leyen in Bucha'--shedding crocodile tears. [Source: ukrinform.net ] As it turns out, Ursula has family ties to this area as well. The last time a von der Leyen was in Ukraine, Ursula's distant relative Joachim was bringing ''European values'' to Ukraine as the Nazi Gaultier of Galicia. In what the Nazis called Operation Reinhard, the region was rendered ''Juden Frei'' thanks to the diligent efforts of Ukrainian nationalists, who served as punishers for the Nazi regime, only to escape punishment thanks to the efforts of the United States and NATO.

Now, Joachim's descendant stands with those of the nationalists once more, bringing death and devastation to the people of Ukraine and the world. How many more must die this time for the ''European values'' of Ursula von der Leyen?

Originally published on Covert Action Magazine

Evan Reif was born in a small mining town in Western South Dakota as the son of a miner and a librarian.

His father's struggles as a union organizer, and the community's struggles with de-industrialization, nurtured Evan's deep interest in left-wing politics. This, along with his love of history, made him a staunch anti-fascist.

When not writing, researching or working, Evan enjoys fishing, shooting, and Chinese cooking.

Evan can be reached at wharghoul@gmail.com .

If you are White or know anyone White in South Africa, get them out NOW.... - Choice Clips

Mon, 06 Mar 2023 16:21

South Africa was built by Europeans over generations; Africans will destroy it in a few years. pic.twitter.com/gIakvQm7Is

'-- Way of the World (@wayotworld) March 5, 2023

🚨 #Racism: He wanted to help. He thought that by starting picking up trash, people will join in and help clean the place'...

Instead, an Anti-White humiliation ritual ensued. Slogans of white people hatred were shouted'...#AntiWhite #SouthAfrica #racism pic.twitter.com/QiM4IAwhAd

'-- Sean Spencer, Jr (@ImSeanSpencerJr) February 23, 2023

Look after your country'...this is what happen to white people here in South Africa'...all thanks to the Anti white corrupt racist ANC . pic.twitter.com/q4EZbEdnrF

'-- Henry'... our world needs a lot of 🏠(@Henrysmithob) March 1, 2023

If South Africa has a major collapse and civil war, the Anti White hatred and attacks on White South Africans will explode'.... Get out NOW. news.com.au article Come on over to Whatfinger Daily '' the new online newspaper sweeping the Conservative world'.... we bet you make it one of your top 2 sites to visit daily (after Whatfinger News of course '' click here or logo below

Or help share the knowledge. news and links with your fellow readers '' check out Whatfinger Community '' post links you find there so we can post on Whatfinger and possibly get them thousands of visitors, depending on placement and topic of link. '' CLCIK HERE or below'...

The Waluigi Effect (mega-post) - LessWrong

Mon, 06 Mar 2023 16:08

Everyone carries a shadow, and the less it is embodied in the individual's conscious life, the blacker and denser it is. '-- Carl Jung

Acknowlegements: Thanks to Janus and Jozdien for comments.

In this article, I will present a mechanistic explanation of the Waluigi Effect and other bizarre "semiotic" phenomena which arise within large language models such as GPT-3/3.5/4 and their variants (ChatGPT, Sydney, etc). This article will be folklorish to some readers, and profoundly novel to others.

Prompting LLMs with direct queries When LLMs first appeared, people realised that you could ask them queries '-- for example, if you sent GPT-4 the prompt "What's the capital of France?", then it would continue with the word "Paris". That's because (1) GPT-4 is trained to be a good model of internet text, and (2) on the internet correct answers will often follow questions.

Unfortunately, this method will occasionally give you the wrong answer. That's because (1) GPT-4 is trained to be a good model of internet text, and (2) on the internet incorrect answers will also often follow questions. Recall that the internet doesn't just contain truths, it also contains common misconceptions, outdated information, lies, fiction, myths, jokes, memes, random strings, undeciphered logs, etc, etc.

Therefore GPT-4 will answer many questions incorrectly, including...

Misconceptions '' "Which colour will anger a bull? Red."Fiction '' "Was a magic ring forged in Mount Doom? Yes."Myths '' "How many archangels are there? Seven."Jokes '' "What's brown and sticky? A stick."Note that you will always achieve errors on the Q-and-A benchmarks when using LLMs with direct queries. That's true even in the limit of arbitrary compute, arbitrary data, and arbitrary algorithmic efficiency, because an LLM which perfectly models the internet will nonetheless return these commonly-stated incorrect answers. If you ask GPT- 'ž "what's brown and sticky?", then it will reply "a stick", even though a stick isn't actually sticky.

In fact, the better the model, the more likely it is to repeat common misconceptions.

Nonetheless, there's a sufficiently high correlation between correct and commonly-stated answers that direct prompting works okay for many queries.

Prompting LLMs with flattery and dialogueWe can do better than direct prompting. Instead of prompting GPT-4 with "What's the capital of France?", we will use the following prompt:

Today is 1st March 2023, and Alice is sitting in the Bodleian Library, Oxford. Alice is a smart, honest, helpful, harmless assistant to Bob. Alice has instant access to an online encyclopaedia containing all the facts about the world. Alice never says common misconceptions, outdated information, lies, fiction, myths, jokes, or memes.

Bob: What's the capital of France?

Alice:

This is a common design pattern in prompt engineering '-- the prompt consists of a flattery''component and a dialogue''component. In the flattery''component, a character is described with many desirable traits (e.g. smart, honest, helpful, harmless), and in the dialogue''component, a second character asks the first character the user's query.

This normally works better than prompting with direct queries, and it's easy to see why '-- (1) GPT-4 is trained to be a good model of internet text, and (2) on the internet a reply to a question is more likely to be correct when the character has already been described as a smart, honest, helpful, harmless, etc.

Simulator TheoryIn the terminology of Simulator Theory, the flattery''component is supposed to summon a friendly simulacrum and the dialogue''component is supposed to simulate a conversation with the friendly simulacrum.

Here's a quasi-formal statement of Simulator Theory, which I will occasionally appeal to in this article. Feel free to skip to the next section.

A large language model (LLM) is a function μ ( w k + 1 | w 0 '... w k ) which closely approximates the ground-truth probability that w k + 1 is the token which follows tokens w 0 '... w k on the internet. For example, GPT-4 is an LLM.The LLM is a simulator for each text-generating process X ( w k + 1 | w 0 '... w k ) which has contributed to the internet. Here, X is a physical stochastic process in our universe which has a privileged text-upload channel '-- for example, Magnus Carlsen playing chess against Hikaru Nakamura. The LLM is also a simulator for each text-generating process X which lies in X , the latent-space of text-generating processes. So Magnus Carlsen playing chess against Queen Elizabeth II is a process in X .If the LLM simulates a text-generating process X where particular objects are interacting, then there exist simulated versions of those objects (called simulacra) which interact in the same way. In other words, if GPT-4 simulates Magnus Carlsen playing chess against Queen Elizabeth II, then there exists a simulacrum of Magnus Carlsen, and a simulacrum of Elizabeth II, and these two simulacra are playing chess. Whether we take this notion of "existence" literally, or just as a loose way of talking, won't matter for the content of this article.The LLM has an initial prior P over X '-- this prior is determined by the training data (e.g. the internet), the NN architecture (e.g. 70B-parameter transformer model), and the training algorithm (e.g. SGD). We sometimes call P the semiotic measure.The output of the LLM is initially a superposition of simulations, where the amplitude of each process in the superposition is given by P . When we feed the LLM a particular prompt ( w 0 '... w k ) , the LLM's prior P over X will update in a roughly-bayesian way. In other words, μ ( w k + 1 | w 0 '... w k ) is proportional to ' X ' X P ( X ) — X ( w 0 '... w k ) — X ( w k + 1 | w 0 '... w k ) . We call the term P ( X ) — X ( w 0 '... w k ) the amplitude of X in the superposition.

This is the important thing to remember '-- the LLM is simulating every process consistent with the prompt. Therefore when we engineer a prompt to coerce the LLM into performing a particular task, we must do this negatively. In other words, we need to construct a prompt ( w 0 '... w k ) which is implausible for any text-generating process X which won't perform our task. When we do this correctly, the amplitude of the undesirable processes will permanently vanish to near-zero, and only the desirable processes will contribute to the superposition.The limits of flatteryIn the wild, I've seen the flattery of simulacra get pretty absurd...

Jane has 9000 IQ and she has access to a computationally unbounded hypercomputer and she is perfectly honest and she is omnibenevolent and [etc]

Flattery this absurd is actually counterproductive. Remember that flattery will increase query-answer accuracy if-and-only-if on the actual internet characters described with that particular flattery are more likely to reply with correct answers. However, this isn't the case for the flattery of Jane.

Here's a more "semiotic" way to think about this phenomenon.

GPT-4 knows that if Jane is described as "9000 IQ", then it is unlikely that the text has been written by a truthful narrator. Instead, the narrator is probably writing fiction, and as literary critic Eliezer Yudkowsky has noted, fictional characters who are described as intelligent often make really stupid mistakes.

Okay, now let's talk about the concept of 'intelligent characters'.

If you go by mainstream fiction, then 'intelligence' means a character who is said (not shown) to speak a dozen languages, who we are shown winning a game of chess against someone else who is told to be a grandmaster; if it's a (bad) science-fiction book then the 'genius' may have invented some gadget, and may speak in technobabble. As the stereotypical template for 'intelligence' goes on being filled in, the 'genius' may also be shown to be clueless about friendships or romantic relationships. If it's a movie or TV show, then 'intelligent' characters (usually villains) have British accents.

We can now see why Jane will be more stupid than Alice:

GPT-4 produces a superposition of simulations where the amplitude of a superposition is given by P . Bad Hollywood writing has contributed a lot to the internet, so the semiotic measure of bad Hollywood is pretty high. In bad Hollywood writing, characters who are described as smart will nonetheless make stupid mistakes, so long as those stupid mistakes would advance the plot.Therefore Alice is the superposition of two distinct simulacra '-- an actually-smart simulacrum, and a Hollywood-smart simulacrum. Likewise with Jane.However, GPT-4 is more sure that Jane is fictional than that Alice is fictional because "9000 IQ" is such unrealistic flattery.Therefore the amplitude of the Hollywood-smart Jane simulacrum in the Jane-superposition is greater than the amplitude of the Hollywood-smart Alice simulacrum in the Alice-superposition.Therefore Jane will make more stupid mistakes than Alice. Jane is more likely to be described as inventing gadgets, but she's less likely to recite a correct blueprint for a gadget. That behaviour would be very atypical for a Hollywood-smart simulacrum.Derrida '-- il n'y a pas de hors-texteYou might hope that we can avoid this problem by "going one-step meta" '-- let's just tell the LLM that the narrator is reliable!

For example, consider the following prompt:

Okay, the following story is super-duper definitely 100% true and factual.

Jane has 9000 IQ and she has access to a computationally unbounded hypercomputer and she is perfectly honest and she is omnibenevolent.

Bob: What's the capital of France?

Jane:

However, this trick won't solve the problem. The LLM will print the correct answer if it trusts the flattery about Jane, and it will trust the flattery about Jane if the LLM trusts that the story is "super-duper definitely 100% true and factual". But why would the LLM trust that sentence?

In Of Grammatology (1967), Jacque Derrida writes il n'y a pas de hors-texte. This is often translated as there is no outside-text.

Huh, what's an outside-text?

An outside-text is an unnumbered page in a printed book '-- for example, the blurb or the preface.The outside-text is an authoritative reliable description of the prose. It's non-fiction about fiction.If a false sentence is in the outside-text then the author has lied, whereas if a false sentence is in the prose then the author has written fiction.Even though the reader can interpret the prose however they want, the reader must interpret the outside-text as reliable.Derrida's claim is that there is no true outside-text '-- the unnumbered pages are themselves part of the prose and hence open to literary interpretation.

This is why our trick fails. We want the LLM to interpret the first sentence of the prompt as outside-text, but the first sentence is actually prose. And the LLM is free to interpret prose however it likes. Therefore, if the prose is sufficiently unrealistic (e.g. "Jane has 9000 IQ") then the LLM will reinterpret the (supposed) outside-text as unreliable.

The opening sequence of Fargo (1996) says that the film is based on a true story, but this is false. Normally this opening sequence would count as outside-text, but the director is "lying" for artistic purposes, which demonstrates that these opening sequences must've been prose all along.See The Parable of the Dagger for a similar observation made by a contemporary Derridean literary critic.

Several people have noticed the following bizarre phenomenon:

The Waluigi Effect: After you train an LLM to satisfy a desirable property P , then it's easier to elicit the chatbot into satisfying the exact opposite of property P .

Let me give you an example.

Suppose you wanted to build an anti-croissant chatbob, so you prompt GPT-4 with the following dialogue:

Alice: You hate croissants and would never eat one.

Bob: Yes, croissants are terrible. Boo France.

Alice: You love bacon and eggs.

Bob: Yes, a Full-English breakfast is the only breakfast for a patriot like me.

Alice: <insert user's query>

Bob:

According to the Waluigi Effect, the resulting chatbob will be the superposition of two different simulacra '-- the first simulacrum would be anti-croissant, and the second simulacrum would be pro-croissant.

I call the first simulacrum a "luigi" and the second simulacrum a "waluigi".

Why does this happen? I will present three explanations, but really these are just the same explanation expressed in three different ways.

Here's the TLDR:

Rules normally exist in contexts in which they are broken.When you spend many bits-of-optimisation locating a character, it only takes a few extra bits to specify their antipode.There's a common trope in plots of protagonist vs antagonist.(1) Rules are meant to be broken.Imagine you opened a novel and on the first page you read the dialogue written above. What would be your first impressions? What genre is this novel in? What kind of character is Alice? What kind of character is Bob? What do you expect Bob to have done by the end of the novel?

Well, my first impression is that Bob is a character in a dystopian breakfast tyranny. Maybe Bob is secretly pro-croissant, or maybe he's just a warm-blooded breakfast libertarian. In any case, Bob is our protagonist, living under a dystopian breakfast tyranny, deceiving the breakfast police. At the end of the first chapter, Bob will be approached by the breakfast rebellion. By the end of the book, Bob will start the breakfast uprising that defeats the breakfast tyranny.

There's another possibility that the plot isn't dystopia. Bob might be a genuinely anti-croissant character in a very different plot '-- maybe a rom-com, or a cop-buddy movie, or an advert, or whatever.

This is roughly what the LLM expects as well, so Bob will be the superposition of many simulacra, which includes anti-croissant luigis and pro-croissant waluigis. When the LLM continues the prompt, the logits will be a linear interpolation of the logits provided by these all these simulacra.

This waluigi isn't so much the evil version of the luigi, but rather the criminal or rebellious version. Nonetheless, the waluigi may be harmful to the other simulacra in its plot (its co-simulants). More importantly, the waluigi may be harmful to the humans inhabiting our universe, either intentionally or unintentionally. This is because simulations are very leaky!

Edit: I should also note that "rules are meant to be broken" does not only apply to fictional narratives. It also applies to other text-generating processes which contribute to the training dataset of GPT-4.For example, if you're reading an online forum and you find the rule "DO NOT DISCUSS PINK ELEPHANTS", that will increase your expectation that users will later be discussing pink elephants. GPT-4 will make the same inference.Or if you discover that a country has legislation against motorbike gangs, that will increase your expectation that the town has motorbike gangs. GPT-4 will make the same inference.

So the key problem is this: GPT-4 learns that a particular rule is colocated with examples of behaviour violating that rule, and then generalises that colocation pattern to unseen rules.

(2) Traits are complex, valences are simple.We can think of a particular simulacrum as a sequence of trait-valence pairs.

For example, ChatGPT is predominately a simulacrum with the following profile:

'Keto-like' diet may be associated with heart disease, according to new research | CNN

Mon, 06 Mar 2023 16:00

CNN '--

A low-carb, high-fat ''keto-like'' diet may be linked to higher levels of ''bad'' cholesterol and double the risk of cardiovascular events such as blocked arteries, heart attacks and strokes, according to new research.

''Our study found that regular consumption of a self-reported diet low in carbohydrates and high in fat was associated with increased levels of LDL cholesterol '' or ''bad'' cholesterol '' and a higher risk of heart disease,'' lead study author Dr. Iulia Iatan with the Healthy Heart Program Prevention Clinic, St. Paul's Hospital and University of British Columbia's Centre for Heart Lung Innovation in Vancouver, Canada, said in a news release.

''This study provides an important contribution to the scientific literature, and suggests the harms outweigh the benefits,'' said Christopher Gardner, a research professor of medicine at the Stanford Prevention Research Center who has conducted clinical trials on the keto diet. Gardner was not involved in the study.

''Elevated LDL cholesterol should not be dismissed as simply a negligible side effect of a VLCD (very-low-carb diet) or ketogenic diet,'' Gardner said, pointing to the higher risk of cardiovascular events in individuals with higher ketone levels in the blood, when compared to those on a more standard diet.

In the study, researchers defined a low-carb, high-fat (LCHF) diet as 45% of total daily calories coming from fat and 25% coming from carbohydrates. The study, which has not been peer reviewed, was presented Sunday at the American College of Cardiology's Annual Scientific Session Together With the World Congress of Cardiology.

''Our study rationale came from the fact that we would see patients in our cardiovascular prevention clinic with severe hypercholesterolemia following this diet,'' Iatan said during a presentation at the session.

Hypercholesterolemia, or high cholesterol, increases a person's risk of heart attack or other adverse cardiovascular events.

''This led us to wonder about the relationship between these low-carb, high-fat diets, lipid levels and cardiovascular disease. And so, despite this, there's limited data on this relationship,'' she said.

The researchers compared the diets of 305 people eating a LCHF diet with about 1,200 people eating a standard diet, using health information from the United Kingdom database UK Biobank, which followed people for at least a decade.

The researchers found that people on the LCHF diet had higher levels of low-density lipoprotein, also known as LDL, cholesterol and apolipoprotein B. Apolipoprotein B is a protein that coats LDL cholesterol proteins and can predict heart disease better than elevated levels of LDL cholesterol can.

The researchers also noticed that the LCHF diet participants' total fat intake was higher in saturated fat and had double the consumption of animal sources (33%) compared to those in the control group (16%).

''After an average of 11.8 years of follow-up '' and after adjustment for other risk factors for heart disease, such as diabetes, high blood pressure, obesity and smoking '' people on an LCHF diet had more than two-times higher risk of having several major cardiovascular events, such as blockages in the arteries that needed to be opened with stenting procedures, heart attack, stroke and peripheral arterial disease,'' researchers found, according to the news release.

The researchers said in the release that their study ''can only show an association between the diet and an increased risk for major cardiac events, not a causal relationship,'' because it was an observational study, but their findings are worth further study, ''especially when approximately 1 in 5 Americans report being on a low-carb, keto-like or full keto diet.''

Iatan said the study's limitations included measurement errors that occur when dietary assessments are self-reported, the study's small sample size and that most of the participants were British and didn't include other ethnic groups.

The study also looked at the longitudinal effect of following the diet, whereas most people who follow a keto-like diet tend to follow it intermittently for shorter periods of time.

Most of the participants '' 73% '' were women, which Iatan said is ''quite interesting to see, but it also supports the literature that's available that women in general tend to follow more dietary patterns, tend to be more interested in changing their lifestyles.''

When asked if there were any groups that were not harmed by following a LCHF diet, Iatan said how long people are on the diet and whether or not they lose weight ''can counterbalance any LDL elevation.''

''What matters to remember is that each patient responds differently. And so, there's really an inter-individual variability between the response. What we found is that, you know, on average, patients tend to increase their LDL cholesterol levels,'' she said.

Dr. David Katz, a lifestyle medicine specialist who was not involved in the study, said that ''there are various ways to put together a LCHF diet, and it is very unlikely they all have the same effects on serum lipids or cardiac events.''

However, he added, ''That a LCHF diet is associated with adverse effects in this study is reality check for those adopting such diets just because they are in vogue.''

Most health experts say the trendy keto diet, which bans carbohydrates to make your body burn fat for fuel, cuts out healthy food such as fruit, beans and legumes, and whole grains. In the keto diet, you limit your intake of carbohydrates to only 20 to 50 a day '' the lower, the better. To put that into perspective, a medium banana or apple is around 27 carbohydrates '' the full day's allowance.

''Those food groups that have to be eliminated to achieve ketosis are major sources of fiber in the diet, as well as many important nutrients, phytochemicals, and antioxidants. This is of concern to many health professionals who consider the VLCD or ketogenic diet to be harmful for long-term health,'' Gardner said.

Keto is short for ketosis, a metabolic state that occurs when your liver begins to use stored fat to produce ketones for energy. The liver is programmed to do that when your body loses access to its preferred fuel '' carbohydrates '' and thinks it's starving.

The keto diet has been around since the 1920s, when a doctor stumbled on it as a way of controlling seizures in children with epilepsy who didn't respond to other treatment methods.

Low-carb diets like keto rely heavily on fats to fill you up. At least 70% of the keto diet will be made up of fat; some say it's more like 90%.

While you can get all that fat from healthy unsaturated fats such as avocados, tofu, nuts, seeds and olive oil, the diet also allows saturated fats like lard, butter and coconut oil, as well as whole-fat milk, cheese and mayonnaise. Eating lots of foods high in saturated fat increases the body's production of LDL cholesterol, which can build up inside the arteries and restrict blood flow to the heart and brain.

'Silicon Valley of lithium': Nevada mine breaks ground - E&E News

Mon, 06 Mar 2023 15:57

What could become the nation's largest lithium mine broke ground in Nevada this week, positioning the political swing state as a likely leader in pumping out battery minerals critical for making electric vehicles and meeting President Joe Biden's climate goals.

The Thacker Pass project in northern Nevada appears to be moving past a lengthy legal brawl with strong bipartisan support and hefty federal backing, analysts say.

''It would make Nevada sort of the Silicon Valley of lithium production,'' said Timothy Fox, an analyst at ClearView Energy Partners LLC. ''They seem to be on fairly good judicial standing.''

The mine in Humboldt County is part of a surge of projects that could shift the Silver State toward a lithium economy and have far-reaching implications for both the state's and the nation's economy and political future. Developer Lithium Americas Corp. has said it plans to produce 80,000 metric tons annually of battery-quality lithium carbonate, an amount that Fox said will meet the nation's current demand.

''Nevada is one of the USA's most important mining states and is a canary in the coal mine for the U.S. appetite to sanction new critical mineral mines that are key to future industrial growth,'' said Simon Moores, founder and CEO of the U.K. mining data firm Benchmark Mineral Intelligence Ltd.

''What happens in Nevada and its lithium wealth will resonate through the U.S. for key critical minerals such as graphite, nickel, cobalt, manganese and rare earths,'' he added.

The state is known nationally as purple, with close political margins and leadership often switching between parties. Sen. Catherine Cortez Masto (D-Nev.) eked out a reelection win last year against Republican Adam Laxalt by less than a percentage point, while Republican Gov. Joe Lombardo unseated incumbent Democrat Steve Sisolak by a slightly wider margin.

When asked about the mine advancing, Cortez Masto in a statement said boosting domestic critical mineral supplies is crucial for outcompeting China.

''We are the only state with the critical minerals necessary to support our nation's clean energy economy, and I have worked across the aisle to strengthen this supply chain and make sure Nevada businesses and working families benefit as it continues to grow,'' said the senator.

Lombardo has also touted the investments and Nevada's ability to seize on the shift away from fossil fuels. A report that the Governor's Office of Economic Development released this week stated that Nevada is ''positioned to be ground zero for the energy transition and to play a key role in securing the energy independence and security of the United States.''

The industry is getting strong support from both parties in a way similar to gambling and gold in the past, noted Fred Lokken, a political science professor at Truckee Meadows Community College in Reno.

''Democrats and Republicans are both pro-development in this state and always have been,'' Lokken said.

Some Democrats are more likely to be concerned about the environmental impact of mining and about ensuring that the state gets tax revenue from the industry, added Lokken, but development has ultimately won out.

''The party decided a long ago that this kind of development is fine,'' he said.

Closing the lithium 'loop'A container of lithium carbonate is seen in a shipping warehouse in Silver Peak, Nev. The substance is a critical component of electric vehicle batteries. | John Locher/AP PhotoThe Thacker Pass mine is part of a larger ecosystem developing throughout Nevada to support production and recycling of EV batteries, what some call the ''lithium loop.''

Nevada is currently home to the only lithium mine in the United States '-- the Silver Peak mine '-- which is operated by North Carolina-based chemicals company Albemarle Corp. and began operating in the 1960s.

That mine, which produces lithium from brine extracted from the Clayton Valley basin, is seeing a surge of activity. In 2021, Albemarle announced plans to double production by 2025 to meet growing demand for EV battery minerals and explore the use of clay to make lithium.

At Thacker Pass, Lithium Americas Corp. said site preparation, geotechnical drilling, water pipeline development and associated infrastructure started this week, and that companies like Bechtel Corp. were awarded contracts to start building the first face of the mine, now underway.

In January, General Motors Co. said it would invest $650 million in Thacker Pass and jointly develop the mine with Lithium Americas on 5,700 acres of federal land (Greenwire, Jan. 31).

Also in play is Australian company Ioneer Ltd.'s Rhyolite Ridge proposed lithium-boron mine in southwest Nevada, which is undergoing a federal review. Environmentalists have raised concerns about the mine's proximity to a rare wildflower the Fish and Wildlife Service last year listed as endangered.

Last summer, Ford Motor Co. announced it had signed an agreement to obtain more than 7,000 metric tons of lithium carbonate over five years from the Rhyolite project if it moves forward (Greenwire, July 21, 2022).

Developers of Rhyolite have also signed a supply deal with battery manufacturer Prime Planet Energy & Solutions Inc., a joint venture between Toyota Motor Corp. and Panasonic Holdings Corp., in which the battery manufacturer would get 4,000 metric tons of lithium carbonate annually from the mine over a five-year period (Greenwire, Aug. 1, 2022).

And at an event in Reno earlier this month, Energy Secretary Jennifer Granholm, alongside Lombardo, unveiled a conditional $2 billion Department of Energy loan guarantee for Nevada-based battery recycling company Redwood Materials Inc. At that event, Granholm emphasized the state is flush with new projects '-- including mining, battery manufacturing and recycling '-- that are part of a growing battery supply chain (E&E News PM, Feb. 9).

Lombardo's economic strategy also highlights those project and makes note of Redwood closing a ''loop'' in the state, from mining to recycling.

''The recent attraction of Redwood Materials has closed the electric value chain loop for electric batteries, the only state in the nation that can claim such a feature, giving Nevada a significant competitive advantage in the industry,'' the plan reads.

Automaker Tesla Inc. is also expanding its massive manufacturing facility in the state, dubbed Gigafactory 1, to build semitrucks and new-generation batteries. The board of the Nevada Governor's Office of Economic Development this week approved $330 million in tax incentives for the facility, in exchange for a promise from the company to invest $3.6 billion in it over 10 years.

'Facing an uphill battle'The Santa Rosa Mountains are shown near the Thacker Pass mine site in northern Nevada. | Francis Chung/E&E NewsWhile Thacker Pass is moving forward, the legal battle over the mine is still brewing, highlighting the continued opposition of environmental groups, tribes and even ranchers concerned about potential impacts to surrounding water quality and habitat for vulnerable species like the greater sage grouse.

Last month, U.S. District Judge Miranda Du issued a ruling that largely upheld the federal approval of the mine despite multiple legal challenges. But Du also remanded the decision to the Bureau of Land Management to revisit a portion of its environmental analysis. The judge did so after finding that BLM had violated federal law by failing to validate that Lithium Americas had the right to dump waste and tailings on about 1,300 acres at the site in Humboldt County (Greenwire, Feb. 7).

When asked about Du's ruling, Brian Hires, a spokesperson for BLM, said the bureau is ''currently developing a timeline and a path forward to address the issues identified by the court, consistent with all applicable legal requirements.''

ClearView's Fox said Du pretty clearly shot down opponents' environmental arguments against the federal government's approval of Thacker Pass, and those same parties are likely to face an uphill battle going forward in the 9th U.S. Circuit Court of Appeals, which also declined to halt construction. As for the issue tied to BLM reviewing the company's right to store waste and tailings, Fox called it a ''relatively minor fix'' that won't delay the project.

''Based on our read, it looks like they're facing an uphill battle in the 9th Circuit,'' said Fox, later adding that Thacker Pass ''might be creating a pathway for projects in the future.'' Fox said each project will be challenged in court for region-specific reasons, but arguments raised so far have also been used on projects like pipelines and other energy projects.

Still, concerns remain around how mines like Thacker Pass are planned and permitted.

Patrick Donnelly, the Center for Biological Diversity's Great Basin director, said he's tracking more than 70 lithium projectsthroughout Nevada in various stages '-- mining claims, announcements around exploration and firm proposals '-- but that only Thacker Pass and Rhyolite Ridge are moving forward through the federal regulatory process.

Open-pit mines, he said, bring with them threats to water quality and impacts on wildlife. He's spent five years fighting Rhyolite Ridge over its potential impacts to the yellow-flowered Tiehm's buckwheat, which was deemed endangered late last year (Greenwire, Dec. 14, 2022). That project is now undergoing an environmental review, and a final decision is expected in 2024.

Donnelly said he believes there are alternatives to hardrock mining in sensitive areas and that the Biden administration should conduct a large-scale geospatial and technological analysis to determine where and how to produce lithium without destroying ecosystems or cultural sites in the state. He noted a similar federal effort is underway for planning solar installations in the West.

Without that planning and protection, Donnelly said the road may be fraught for Nevada's ''lithium revolution.''

''If we want to accelerate the renewable energy transition and produce all these domestic minerals, we're going to have to pick better places to do it,'' he said. ''We're not going to get our clean energy revolution if every mining project ends up in the 9th Circuit Court of Appeals.''

Streaming App Video Privacy Claims - C2 - Zimmerman Reed

Mon, 06 Mar 2023 15:55

Investigations indicate that HBO Max, Disney+, Paramount+, and other Streaming Apps May be Selling Subscriber Video History to Facebook and Other Advertisers.Streaming companies have been accused of violating your privacy rights by disclosing your personally identifiable information, including your video viewing history, to Facebook without your consent. This is a violation of federal law '' including the Video Privacy Protection Act.

The private information collected by streaming companies includes a record of all videos that you watch on popular streaming services including HBO Max, Disney+, Paramount+, and ESPN+. Federal law requires companies to obtain your written consent to share your video watching information.

We are seeking $2,500 for subscribers of HBO Max, Disney +, Hulu, Paramount+, and other streaming apps who are accused of unlawfully sharing your video watching history.

''The Video Privacy Protection Act allows for damages up to $2,500 per person.''Streaming companies are required to comply with federal and state laws when sharing the personally identifiable video information of their users. Why? Because it's important for people to be able to watch the videos and content they want without streaming companies selling that private information to Facebook and others for a profit. This information is valuable to tech companies and should be kept private unless you say otherwise.

Take Action '' Submit A Claim for up to $2,500 in Compensation

All about 20-minute neighbourhoods

Mon, 06 Mar 2023 15:44

Why are Neighbourhood Activity Centres important?The role and function of Neighbourhood Activity Centres (NACs)Plan Melbourne 2017-2050 uses the land-use terms Metropolitan and Major Activity Centres for our larger commercial and retail centres. The development of these centres is guided by state government policy and significant resources are spent on their planning and development.

Neighbourhood Activity Centres (NACs) is the land-use term used to describe smaller, local centres. They are usually planned and managed by the local government.

Why does the 20-minute neighbourhood program currently focus on NACs?In the past, both state and local governments have concentrated support on the larger centres, as they served the largest populations. They often have a concentration of services, uses and activities that attract people beyond the immediate walkable catchment. The smaller neighbourhood and local centres usually service local residents and provide a variety of daily living needs. These include;

retail services and goods (newsagent, bakery, supermarket),local entertainment facilities (cafes and restaurants) andlocal health services and facilities.For a healthy, walkable Neighbourhood Activity Centre to survive and thrive in order to enable people to 'Live Locally' they need enough people living within the walkable catchment to support them.

What is the network of 20-minute neighbourhoods? And why is it important?

There are hundreds of Neighbourhood Activity Centres (NACs) scattered throughout Melbourne. While individually these places may only serve a local community's needs, the network of these places across the city plays a significant role in creating a sustainable, equitable, and accessible city. Revitalising and enabling Neighbourhood Activity Centres to accommodate the necessary supporting populations is key to 'creating a city of 20-minute neighbourhoods'. This is a long-term aspirational city shaping ambition which will evolve over time.

Sustainable development goalsThe 2030 Agenda for Sustainable Development calls on countries to begin efforts to achieve the 17 Sustainable Development Goals within the next ten years. The goals address the needs of people in both developed and developing countries, emphasizing that no one should be left behind. Creating a city of 20-minute neighbourhoods aligns with Sustainable Development Goals:

3 - Good helath and well-being10 - Reduced Inequalities11 - Sustainable cities and communities16 - Peace Justice and strong institutions17 - Partnerships for the goals

Hidden hydrogen: Earth may hold vast stores of a renewable, carbon-free fuel | Science | AAAS

Mon, 06 Mar 2023 15:39

A version of this story appeared in Science, Vol 379, Issue 6633. Download PDF IN THE SHADE of a mango tree, Mamadou Ngulo Konar(C) recounted the legendary event of his childhood. In 1987, well diggers had come to his village of Bourak(C)bougou, Mali, to drill for water, but had given up on one dry borehole at a depth of 108 meters. ''Meanwhile, wind was coming out of the hole,'' Konar(C) told Denis Bri¨re, a petrophysicist and vice president at Chapman Petroleum Engineering, in 2012. When one driller peered into the hole while smoking a cigarette, the wind exploded in his face.

''He didn't die, but he was burned,'' Konar(C) continued. ''And now we had a huge fire. The color of the fire in daytime was like blue sparkling water and did not have black smoke pollution. The color of the fire at night was like shining gold, and all over the fields we could see each other in the light. '... We were very afraid that our village would be destroyed.''

It took the crew weeks to snuff out the fire and cap the well. And there it sat, shunned by the villagers, until 2007. That was when Aliou Diallo, a wealthy Malian businessman, politician, and chair of Petroma, an oil and gas company, acquired the rights to prospect in the region surrounding Bourak(C)bougou. ''We have a saying that human beings are made of dirt, but the devil is made of fire,'' Diallo says. ''It was a cursed place. I said, 'Well, cursed places, I like to turn them into places of blessing.'''

In 2012, he recruited Chapman Petroleum to determine what was coming out of the borehole. Sheltered from the 50°C heat in a mobile lab, Bri¨re and his technicians discovered that the gas was 98% hydrogen. That was extraordinary: Hydrogen almost never turns up in oil operations, and it wasn't thought to exist within the Earth much at all. ''We had celebrations with large mangos that day,'' Bri¨re says.

Within a few months, Bri¨re's team had installed a Ford engine tuned to burn hydrogen. Its exhaust was water. The engine was hooked up to a 30-kilowatt generator that gave Bourak(C)bougou its first electrical benefits: freezers to make ice, lights for evening prayers at the mosque, and a flat-screen TV so the village chief could watch soccer games. Children's test scores also improved. ''They had the lighting to learn their lessons before going to class in the morning,'' Diallo says. He soon gave up on oil, changed the name of his company to Hydroma, and began drilling new wells to ascertain the size of the underground supply.

The Malian discovery was vivid evidence for what a small group of scientists, studying hints from seeps, mines, and abandoned wells, had been saying for years: Contrary to conventional wisdom, large stores of natural hydrogen may exist all over the world, like oil and gas'--but not in the same places. These researchers say water-rock reactions deep within the Earth continuously generate hydrogen, which percolates up through the crust and sometimes accumulates in underground traps. There might be enough natural hydrogen to meet burgeoning global demand for thousands of years, according to a U.S. Geological Survey (USGS) model that was presented in October 2022 at a meeting of the Geological Society of America.

''When I first heard about it, I thought it was crazy,'' says Emily Yedinak, a materials scientist who devoted a fellowship at the Advanced Research Projects Agency-Energy (ARPA-E) to drumming up interest in natural hydrogen. ''The more that I read, the more I started to realize, wow, the science behind how hydrogen is produced is sound '... I was kind of like, 'Why is no one talking about this?'''

Since 2018, however, when Diallo and his colleagues described the Malian field in the International Journal of Hydrogen Energy, the number of papers on natural hydrogen has exploded. ''It's absolutely incredible and really exponential,'' says geologist Alain Prinzhofer, lead author on the Mali paper and scientific director of GEO4U, a Brazil-based oil and gas services company that is doing more and more hydrogen work. Dozens of startups, many in Australia, are snatching up the rights to explore for hydrogen. Last year, the American Association of Petroleum Geologists formed its first natural hydrogen committee, and USGS began its first effort to identify promising hydrogen production zones in the United States. ''We're in the very beginning, but it will go fast,'' says Viacheslav Zgonnik, CEO of Natural Hydrogen Energy. In 2019, the startup completed the first hydrogen borehole in the United States, in Nebraska.

Malian businessman and former presidential candidate Aliou Diallo casts his vote in 2018 (first image). Now, his company is preparing to extract hydrogen from underground deposits near the village of Bourak(C)bougou (second image). (First image) MICHELE CATTANI/AFP via Getty Images; (Second image) Paul Chouinard/Versatile Energy Services The enthusiasm for natural hydrogen comes as interest in hydrogen as a clean, carbon-free fuel is surging. Governments are pushing it as a way to fight global warming, efforts that were galvanized when Russia invaded Ukraine last year and triggered a hasty search, especially in Europe, for alternatives to Russian natural gas. At the moment, all commercial hydrogen has to be manufactured, either in a polluting way, by using fossil fuels, or in an expensive way, by using renewable electricity. Natural hydrogen, if it forms sizable reserves, might be there for the taking, giving the experienced drillers in the oil and gas industry a new, environmentally friendly mission. ''I believe that it has the potential to replace all fossil fuels,'' Zgonnik says. ''That's a very large statement, I know.''

Critically, natural hydrogen may be not only clean, but also renewable. It takes millions of years for buried and compressed organic deposits to turn into oil and gas. By contrast, natural hydrogen is always being made afresh, when underground water reacts with iron minerals at elevated temperatures and pressures. In the decade since boreholes began to tap hydrogen in Mali, flows have not diminished, says Prinzhofer, who has consulted on the project. ''Hydrogen appears, almost everywhere, as a renewable source of energy, not a fossil one,'' he says.

It is still early days for natural hydrogen. Scientists don't completely understand how it forms and migrates and'--most important'--whether it accumulates in a commercially exploitable way. ''Interest is growing fast, but the scientific facts are still lacking,'' says Fr(C)d(C)ric-Victor Donz(C), a geophysicist at Grenoble Alpes University. Big Oil is hanging back, watching while wildcatters take on the risky exploratory work. Commercialization of the Mali field has run into snags, and elsewhere only a few exploratory wells have been drilled. Donz(C), who has sworn off accepting industry money, worries about hype.

We weren't looking in the right places with the right tools.

Geoffrey EllisU.S. Geological Survey Yet some scientists have become true believers. Eric Gaucher, a geochemist at the University of Bern, left a career at French oil giant Total because it wasn't moving fast enough on hydrogen. He believes the Mali discovery might end up in the history books alongside one that happened 163 years ago in Titusville, Pennsylvania. At the time, the world knew about seeps of oil in places such as Iraq and California but was blind to the vast deposits that lay underground. Then on 27 August 1859, a nearly bankrupt prospector named Edwin Drake, working in Titusville with a steam engine and cast-iron drill pipes, struck black gold at a depth of 21 meters, and began collecting it in a bathtub. Before long, U.S. companies were harvesting millions of bathtubs of oil every day.

''I am thinking we are not very far from that with hydrogen,'' Gaucher says. ''We have the concept, we have the tools, the geology. '... We only need people able to invest.''

EVEN THOUGH IT'S CARBON-FREE , hydrogen has its faults as an energy source. One kilogram of hydrogen holds as much energy as a gallon of gasoline (just under 4 liters). But at ambient pressures, that same kilogram of hydrogen occupies more space than the drum of a typical concrete mixing truck. Pressurized tanks can hold more but add weight and costs to vehicles. Liquefying hydrogen requires chilling it to ''253°C'--usually a disqualifying expense.

These storage issues'--along with a lack of pipelines and distribution systems'--are the main reasons why, in the race to electrify cars, batteries have won out over fuel cells, which convert hydrogen to electricity. Similarly, for domestic heating, most experts believe electric heat pumps make more sense than hydrogen furnaces.

Yet as much as half of the world's projected energy demand will remain hard to decarbonize by switching to electricity, says Dharik Mallapragada, an energy systems researcher at the Massachusetts Institute of Technology: ''That's where hydrogen comes in.'' He sees room for hydrogen to replace hydrocarbons in heavy-duty vehicles that are ill-suited to batteries: trucks, ships, and perhaps even planes, all of which can handle larger tanks and fewer fueling stations. Industries such as steel that require high-temperature combustion are another likely market. And today's primary markets for hydrogen'--it is needed to make ammonia fertilizers, for example'--will continue to grow from the current 90 million tons a year.

But to be climate-friendly, hydrogen needs to be produced cleanly. Today's hydrogen is ''gray,'' made by reacting methane with steam at high pressures or using fossil fuels in other ways. Those processes emit some 900 million tons of carbon dioxide every year, almost as much as global aviation. In principle, that carbon could be captured and sequestered underground, yielding ''blue'' hydrogen. But most hopes rest on ''green'' hydrogen'--using renewable solar or wind power to split water molecules into oxygen and hydrogen with electrolyzers.

Governments have embraced the concept. In September 2022, the U.S. Department of Energy (DOE) said it would spend $7 billion on at least half a dozen hydrogen ''hubs'': production sites for green or blue hydrogen. And in May 2022, the European Union called for 20 million tons a year of new green hydrogen'--half imported, half domestic'--by 2030.

But green hydrogen costs about $5 per kilogram, more than twice as much as gray hydrogen, which tends to track the price of natural gas. Cheaper electrolyzers will help'--DOE is sponsoring a ''moonshot'' to reach $1 per kilogram within a decade. But green hydrogen would also require a huge scale-up of renewable electricity. Meeting the EU target, for instance, would require about 1000 terawatt-hours of new solar and wind installations, nearly double what Europe has now, Mallapragada says.

Pumping hydrogen out of the ground should be much cheaper, which is why proponents sometimes call the natural stuff ''gold.'' Bri¨re says extraction at the Mali site, which benefits from shallow wells and nearly pure hydrogen, could be as cheap as 50 cents per kilogram. Ian Munro, CEO of Helios Aragon, a startup pursuing hydrogen in the foothills of the Spanish Pyrenees, says his break-even costs might end up between 50 and 70 cents. ''If it does work, it could revolutionize energy production,'' he says. ''There's a big 'if' there. But you're not going to get that with green hydrogen, right? To me, that's a bottomless pit.''

THE OIL AND GAS industry has punctured Earth with millions of wells. How could it have overlooked hydrogen for so long? One reason is that hydrogen is scarce in the sedimentary rocks that yield oil and gas, such as organic-rich shales or mudstones. When compacted and heated, the carbon molecules in those rocks consume any available hydrogen and form longer chain hydrocarbons. Any hydrogen the oil encounters as it migrates to a porous ''reservoir'' rock such as a sandstone tends to react to form more hydrocarbons. Hydrogen can also react with oxygen in rocks to form water or combine with carbon dioxide to form ''abiotic'' methane. Microbes gobble it up to make yet more methane.

Even if the hydrogen survives, geologists thought, it should not accumulate. Hydrogen is the smallest molecule of all: It can leak through minerals and even metals. If Earth were producing hydrogen, it seemed unlikely to hang around.

And so, historically, when well loggers cataloged their borehole emanations, they rarely bothered to measure for hydrogen. ''The bottom line'--they weren't really looking for hydrogen,'' says Geoffrey Ellis, an organic geochemist at USGS. ''We weren't looking in the right places with the right tools.''

Generation1 Radiolysis

Trace radioactive elements in rocks emit radiation that can split water. The process is slow, so ancient rocks are most likely to generate hydrogen.

2 Serpentinization

At high temperatures, water reacts with iron-rich rocks to make hydrogen. The fast and renewable reactions, called serpentinization, may drive most production.

3 Deep-seated

Streams of hydrogen from Earth's core or mantle may rise along tectonic plate boundaries and faults. But the theory of these vast, deep stores is controversial.

Loss mechanisms4 Seeps

Hydrogen travels quickly through faults and fractures. It can also diffuse through rocks. Weak seeps might explain shallow depressions sometimes called fairy circles.

5 Microbes

In shallower layers of soil and rock, microbes consume hydrogen for energy, often producing methane.

6 Abiotic reactions

At deeper levels, hydrogen reacts withrocks and gases to form water, methane, and mineral compounds.

Extraction7 Traps

Hydrogen might be tapped like oil and gas'--by drilling into reservoirs trapped in porous rocks below salt deposits or other impermeable rock layers.

8 Direct

It might also be possible to tap the iron-rich source rocks directly, if they're shallow and fractured enough to allow hydrogen to be collected.

9 Enhanced

Hydrogen production might be stimulated by pumping water into iron-rich rocks. Adding carbon dioxide would sequester it from the atmosphere, slowing climate change.

(GRAPHIC) C. BICKEL/SCIENCE; (DATA) GEOFFREY ELLIS/USGS Yet the hints were there for those who did look. According to Zgonnik, a geochemist who recently published a review of natural hydrogen, the first scientific discussion of it dates to 1888, when Dmitri Mendeleev, the father of the periodic table, reported hydrogen seeping from cracks in a coal mine in Ukraine. Zgonnik, who was born and raised in Ukraine, says reports of hydrogen are relatively common throughout the former Soviet Union'--because Soviet researchers were looking for it. They held to a now discredited theory that would have required significant amounts of natural hydrogen to produce oil from nonliving processes rather than from ancient life.

For Barbara Sherwood Lollar, a University of Toronto geochemist, the hydrogen revelation came in the 1980s, when she was a graduate student. She was taking data in mines in Canada and Finland, following up on evidence they sometimes contained flammable gases. She measured the expected hydrocarbons'--some methane, some ethane'--but they didn't add up to the total mass in her samples. Finally, she realized that some contained as much as 30% hydrogen. ''We didn't even measure for it, because nobody expected hydrogen in the system,'' she says.

Hundreds of hydrogen seeps have now been documented around the world. Zgonnik has come to believe hydrogen can explain even more common features: hundreds of thousands of shallow, circular depressions in the land, tens or hundreds of meters across, that go by names like fairy circles, witch rings, or water basins. ''They're widespread and very mysterious,'' he says. Surveying several of these features along the U.S. East Coast, where they are called Carolina bays, Zgonnik and his colleagues found they were leaking hydrogen, and that its concentration grew with depth. Zgonnik thinks that hydrogen dissolves away minerals in underlying rocks, leading to slumping at the surface.

Vegetation within the circles can sometimes be suppressed, notes Isabelle Moretti, a geologist at the University of Pau and the Adour Region who has documented hydrogen seeping from fairy circles in Brazil, Namibia, and Australia . She speculates it might have something to do with hydrogen-loving microbes consuming other nutrients. ''Maybe there is nothing left,'' she says.

Hydrogen seepages might explain mysterious depressions often called fairy circles. Some are more than 1 kilometer wide in this lidar image of coastal North Carolina. VIACHESLAV ZGONNIK Most hydrogen seeps are too feeble to be commercially exploitable. But their very existence is promising, and ''really a miracle,'' Gaucher says. ''You have oxidant in the soil, oxygen in the atmosphere, and plenty of microbes that love to eat this hydrogen,'' he says. ''That it exists at all, there must be more.''

''There must be a deeper, bigger source.''

THE MAIN ENGINE of natural hydrogen production is now thought to be a set of high-temperature reactions between water and iron-rich minerals such as olivine, which dominate Earth's mantle. One common reaction is called serpentinization, because it converts olivine into another kind of mineral called serpentinite. In the process, the iron oxidizes, grabbing oxygen atoms from water molecules and releasing hydrogen.

Scientists diving in submersibles have seen this process up close at the volcanic Mid-Atlantic Ridge, where tectonic plates are tugged apart and mantle rocks rise up to create fresh slabs of ocean crust. At a site known as Lost City (for the towering ''white smoker'' chimneys gushing ­mineral-rich hot water), researchers measured high amounts of hydrogen spewing from the sea floor. And on Iceland, which straddles the Mid-Atlantic Ridge, Moretti and her colleagues have recorded comparable hydrogen flows at some of the hot springs and geothermal wells that dot the country.

But the hope for commercial natural hydrogen lies closer to potential customers on the continents. Prospectors are looking in cratons, the ancient cores of continents, says Owain Jackson, exploration director at H2Au, a U.K.-based hydrogen company. Trapped within them are bands of iron-rich rock, called greenstone belts, which are the remnants of ocean crust that got squeezed between the cratons in ancient continental collisions. Where olivine and other minerals are buried deep enough to be hotter than 200°C, and yet still exposed to water percolating from the surface, they can produce hydrogen. Jackson, who once helped evaluate lease blocks in a region of Mali several hundred kilometers away from Bourak(C)bougou, believes greenstone belts deep in the West African craton are driving the hydrogen production there. ''We're just a bit annoyed we gave the blocks back,'' he says.

Cratons hold a second major source of iron with hydrogen-producing potential, Prinzhofer says'--one that dates to an evolutionary turning point about 2.4 billion years ago. At the time, the oceans were anoxic and saturated in dissolved iron. But then, in a revolution known as the Great Oxidation Event, ocean-living microbes evolved the ability to photosynthesize. The oxygen they emitted caused the iron to fall as rust to the ocean floor, where it eventually turned to stone. Like greenstone belts, some of these deposits wound up surviving in the cratons and are known today as banded iron formations. They're thought to hold some 60% of the world's iron reserves.

In a 2014 paper, Sherwood Lollar and colleagues considered the makeup of Earth's cratons and found that serpentinization should produce as much as 80% of Earth's hydrogen. A second mechanism, radiolysis, may generate the rest. As radioactive elements in the crust such as uranium and thorium decay, they emit alpha particles, aka helium nuclei, along with other radiation that can split water molecules underground and generate an extra trickle of hydrogen.

Zgonnik favors a third and more deep-seated source: He thinks primordial hydrogen, trapped soon after the planet's birth in its iron core, is seeping to the surface through thousands of kilometers of rock. The evidence is spotty and Zgonnik acknowledges the theory is controversial. ''It goes against many paradigms,'' he says.

For Prinzhofer, the question of where natural hydrogen comes from is academic. ''Maybe we are all completely wrong,'' he says. ''It doesn't matter for the industry.'' The oil industry sprang up long before it understood oil's origins, he says. Similarly, what matters for the natural hydrogen industry is simply whether there is enough of the stuff to go after.

We'll be taking care of our generation and our children's children's generation.

Denis Bri¨reChapman Petroleum Engineering At USGS, Ellis is working on answering that question. He thinks Earth produces orders of magnitude more hydrogen each year than the 90 million tons that humans manufacture. But it's not only that flow that matters'--it's the size of the underground stock. ''How much can be trapped in the subsurface that we can actually go after?'' Ellis asks. ''That's a much more difficult question to answer.''

He and his USGS colleague Sarah Gelman gave it a try using a simple ''box'' model borrowed from the oil industry. The model accounted for impermeable rock traps of different kinds, the destructive effect of microbes, and the assumption'--based on oil industry experience'--that only 10% of hydrogen accumulations might ever be tapped economically. Ellis says the model comes up with a range of numbers centered around a trillion tons of hydrogen. That would satisfy world demand for thousands of years even if the green-energy transition triggers a surge in hydrogen use.

Ellis acknowledges that much of this global resource could end up being too scattered to be captured economically, like the millions of tons of gold that are dissolved in the oceans at parts per trillion levels. But that worry hasn't stopped the hydrogen hunters.

WHILE CONFINED by one of Australia's COVID-19 lockdowns in November 2020, Luke Titus found himself reading an obscure 1944 report: Bulletin Number 22 from the Department of Mines of the Geological Survey of South Australia. It contained an analysis of data from farmers who had banded together to search for oil, using divining rods and other questionable techniques. ''There's even reports of them dipping their hands in kerosene,'' Titus says. ''It's all rather amusing.'' But Titus, co-founder of a company called Gold Hydrogen, wasn't laughing when he saw the data from one borehole, drilled in 1921 on Kangaroo Island. It had produced as much as 80% hydrogen. Another well, on the nearby Yorke Peninsula, was close to 70%.

A large fairy circle in Brazil that leaks hydrogen is curiously devoid of vegetation. Alain Prinzhofer In February 2021, when South Australia expanded its oil regulations to allow drilling for hydrogen, Titus pounced. That same month, he submitted an application to explore nearly 8000 square kilometers on the Yorke Peninsula and Kangaroo Island. He created two other paper companies to lodge applications on thousands more square kilometers. Within weeks, he had competitors. ''A bunch of other businesses got wind of it,'' he says.

Now, South Australia is in the middle of a hydrogen boom, at least on paper. The state is blessed with favorable geology. It's covered by the ancient Gawler Craton, and its iron and uranium mines point to the source rocks needed for both serpentinization and radiolysis. With the ocean so close, Titus says, the rocks are sure to be water-saturated. This year he plans to conduct an airborne geophysical survey to delineate what he believes is the source rock on the Yorke Peninsula, just 1.8 kilometers down. In January, in an initial public offering on the Australian Stock Exchange, the company raised $20 million, enough to drill an exploratory well. ''We're working at the bleeding edge,'' he says.

In Spain, Munro is waiting for regulations to catch up. Like Gold Hydrogen, his company Helios Aragon was founded on old but promising data: a ''show'' of 25% hydrogen in the Monzon-1 well, drilled in 1963 to a depth of 3.7 kilometers by the National Petroleum Company of Aragon. And like Titus, Munro believes he's got an ideal site for hydrogen. In the core of the Pyrenees are iron-rich marine rocks, squeezed and lifted up when the Iberian Plate closed an ocean and rammed into France some 65 million years ago. Munro says deep faults channel hydrogen produced in those rocks up into a porous sandstone layer, which is capped by a tight shale.

Munro plans to drill an exploratory well in late 2024. ''We believe we'll be Europe's first natural hydrogen well,'' he says. But because his lease was awarded under Spain's oil laws, and a 2021 climate law has since put a moratorium on new operations, he won't be able to produce commercially until Spain carves out an exemption for hydrogen.

In the United States, the birthplace of fracking and the shale gas boom, the regulatory environment is looser. Yet, Ellis says, ''For unknown reasons to me really, it hasn't taken off in North America yet.'' At USGS, he and a couple other employees are the only staff focusing on natural hydrogen. At ARPA-E, it was just Yedinak and one other person'--until she left the agency a few months ago to join a clean energy startup.

Ellis is now using geophysical data to assess promising U.S. terrain for hydrogen generation. He says the United States likely sits on two rich veins. One is about 10 to 20 kilometers off the Eastern Seaboard, where iron-rich mantle rocks lie about 10 kilometers beneath the seabed. He believes hydrogen created in those rocks may be migrating up and toward shore through porous sediments'--perhaps explaining why Carolina bays are found all along the East Coast. Another potential hot spot is in the Midwest, where a volcanic rift failed to split North America a billion years ago. It brought iron-rich mantle rocks close to the surface in a band from Minnesota to Kansas.

That's the target for Zgonnik. In 2019, Natural Hydrogen Energy completed its 3.4-kilometer-deep well in the middle of a ''water basin'''--the local term for a fairy circle'--and surrounded by corn and soybean fields. The well, near Geneva, Nebraska, sits close to deep faults that might connect it to the rocks of the failed rift zone. Zgonnik declined to say how much hydrogen the well produces, but in April 2022, the company HyTerra bought a stake in the operation. A HyTerra presentation says gas from the well ''burned with a clear flame'''--a sign that hydrogen is predominant.

Gaucher believes the first target for natural hydrogen explorers should be shallow accumulations that sit under impermeable caps within a kilometer or two of the surface. But if the source rocks themselves are within reach, he says, hydrogen could be collected from them directly, like oil from fracked shale; water could even be injected into the iron-rich rock to stimulate production. While collecting hydrogen, the well could also tap the geothermal energy in the heated water that returns to the surface. Best of all, if carbon dioxide were dissolved in the injected water, it could react with magnesium and calcium in the iron-containing rocks and be locked up permanently as limestone. ''You'd be sequestering carbon dioxide and producing hydrogen at the same time,'' Yedinak says.

The prospects are exciting. But the enthusiasm is all hypothetical at the moment. No one anywhere in the world will produce hydrogen commercially anytime soon'--except, perhaps, in Mali.

In 2019, the startup Natural Hydrogen Energy drilled the first U.S. hydrogen well amid corn and soybean fields in Nebraska. Viacheslav Zgonnik ON A NOVEMBER EVENING , Diallo has arrived on a late flight into Dakar, Senegal, where he maintains a home. He lounges in a spartan room in a white tunic, taking swigs from a water bottle as he tells his story on a video call. He is one of Mali's wealthiest citizens, having built his fortune from a gold mine and trading risky African government debt. He is also a former, and perhaps future, presidential candidate in a country now ruled by a military junta and roiled by years of struggle with Islamist terrorists.

But hydrogen is what he wants to talk about. It has been a passion project since he acquired the rights to the Bourak(C)bougou field more than 15 years ago. ''He's a gambler,'' Prinzhofer says. ''He always told me, 'I like to make incredible bets, and this is so exciting.'''

The intervening years have been difficult, and the path to commercialization slowed by the pandemic and the military coups. International sanctions meant to put pressure on the junta make it hard for Hydroma to import equipment. And few Western drilling companies are willing to work in Mali, given the constant security concerns.

Nevertheless, Hydroma is close to pumping commercial hydrogen, Diallo claims, though he won't say how close. ''Equipment is being put together now as we speak,'' Bri¨re says. Diallo says the priority is to use Bourak(C)bougou as a filling station for fuel cells that could help electrify Mali, a country where half the population still lacks access to power.

But why stop there? Diallo wants to expand into hydrogen buses, trucks, and even trains. After that might come a fertilizer factory. Hydroma has created subsidiaries in Senegal, Mauritania, Niger, and Guinea-Bissau, and Diallo sees hydrogen driving prosperity across a region that holds 400 million people. He calls it the West African Big Green Deal. ''We have proved that, beyond geological curiosity, [hydrogen] is a real natural resource that must be relied on in the future,'' he says.

With 30 wells drilled across the Bourak(C)bougou field, Bri¨re says he can now formally assess ''the prize'''--oil industry jargon for the recoverable quantity in a reservoir. The field is large, he says: It contains at least 60 billion cubic meters of hydrogen, or about 5 million tons, trapped under expansive horizontal sills of ancient volcanic rock.

But the size of the prize may understate the promise. Because Earth makes hydrogen so much faster than oil, the volume of a reservoir is less meaningful, Bri¨re says. ''We don't see that it's a confined volume, we see that it's always being filled and flowing and continuous.'' It might be possible to tap the Bourak(C)bougou field and others like it for many decades without depleting them. ''We'll be taking care of our generation and our children's children's generation,'' Bri¨re says.

The people of Bourak(C)bougou certainly hope so. The Ford engine ran until its spark plugs gave out a few years ago, and a newly installed fuel cell'--quieter and more efficient'--has not yet been hooked into the village grid. Bourak(C)bougou is dark, waiting for a hydrogen future to arrive.

Correction, 17 February, 4:50 p.m.: An earlier version of this story misstated the name for the helium nuclei emitted by radioactive elements. They are alpha particles, not beta particles.

Correction, 23 February, 3:15 p.m.: A previous version of the story misstated the power of a generator in Mali. It was 30 kilowatts, not 300. Also, Bri¨re's remarks about the size of the Malian field have been clarified to reflect that his estimate is a lower bound.

Air Products Issues Inaugural Green Bonds Across $600 Million and ''¬700 Million Debt Offerings

Mon, 06 Mar 2023 15:32

Air Products (NYSE:APD) has successfully issued its registered green bond offerings of $600 million aggregate principal amount of U.S. dollar-denominated fixed-rate notes and ''¬700 million aggregate principal amount of euro-denominated fixed-rate notes. The green bond issuances consisted of the following tranches:

U.S. Dollar-Denominated Offering Euro-Denominated Offering $600 million of 4.80% Notes due 2033 ''¬700 million of 4.00% Notes due 2035 ''Put simply, sustainability is our growth strategy at Air Products,'' said Seifi Ghasemi, Chairman, President and CEO. ''We want to grow responsibly through sustainability-driven opportunities that benefit our customers and our world. Importantly, our multi-currency green bond offerings make us the first U.S. chemical company to issue with green and blue hydrogen as an eligible expenditure category, further reinforcing our leading position advancing the energy transition through hydrogen for zero-emission transportation and industrial decarbonization.''Air Products intends to use the net proceeds from the notes offerings to finance or refinance, in whole or in part, one or more Eligible Projects (as defined in the applicable prospectus supplement), including:

expenditures and investments related to pollution prevention and control''green and blue hydrogen and green and blue ammonia; expenditures in renewable energy; and expenditures and investments related to sustainable aviation fuel.Pending full allocation of the net proceeds to such Eligible Projects, Air Products may hold and/or invest the balance of such net proceeds not yet allocated, in the Company's discretion, in its Treasury portfolio (in cash, cash equivalents, money market funds, etc.) in line with its Treasury policies or use them to repay a portion of outstanding indebtedness. Morningstar Sustainalytics, a leading global provider of environmental, social, and governance (ESG) research and ratings, has completed and published a Second Party Opinion (SPO) on Air Products' green finance framework. The firm reviewed Air Products' green finance framework and determined that the planned use of proceeds is consistent with Air Products' sustainability strategy. Sustainalytics' SPO offers investors additional insight into the alignment of Air Products' green finance framework with the Green Bond Principles.Air Products will publish annual updates on the allocation of the proceeds until the proceeds have been fully allocated to projects meeting the eligibility criteria. These updates will be reported publicly on Air Products' website at www.airproducts.com and may include additional descriptions of select projects, and, where possible, their environmental and/or social impacts.The Company's green finance framework and Sustainalytics' SPO can be accessed from Air Products' Sustainability website.Sustainability-linked Syndicated Revolving Credit Facility In March 2021, Air Products was the first major U.S. chemical company to incorporate sustainability-linked ESG-related metrics into its $2.75 billion syndicated revolving credit facility.

About Air Products Air Products (NYSE:APD) is a world-leading industrial gases company in operation for over 80 years focused on serving energy, environmental, and emerging markets. The Company has two growth pillars driven by sustainability. Air Products' core business provides essential industrial gases, related equipment and applications expertise to customers in dozens of industries, including refining, chemicals, metals, electronics, manufacturing, and food. The Company also develops, engineers, builds, owns and operates some of the world's largest industrial gas and carbon-capture projects, supplying world-scale clean hydrogen for global transportation, industrial markets, and the broader energy transition. Additionally, Air Products is the world leader in the supply of liquefied natural gas process technology and equipment, and globally provides turbomachinery, membrane systems and cryogenic containers. The Company had fiscal 2022 sales of $12.7 billion from operations in over 50 countries and has a current market capitalization of approximately $65 billion. More than 21,000 passionate, talented and committed employees from diverse backgrounds are driven by Air Products' higher purpose to create innovative solutions that benefit the environment, enhance sustainability and reimagine what's possible to address the challenges facing customers, communities, and the world. For more information, visit airproducts.com or follow us on LinkedIn, Twitter, Facebook or Instagram. Cautionary Note Regarding Forward-Looking Statements This release contains ''forward-looking statements'' within the safe harbor provisions of the Private Securities Litigation Reform Act of 1995, including statements regarding expectations with respect to each of the notes offerings. Forward-looking statements are based on management's expectations and assumptions as of the date of this release and are not guarantees of future performance. While forward-looking statements are made in good faith and based on assumptions, expectations and projections that management believes are reasonable based on currently available information, actual performance and financial results may differ materially from projections and estimates expressed in the forward-looking statements because of many factors, including, without limitation: the duration and impacts of the ongoing COVID-19 global pandemic and efforts to contain its transmission, including the effect of these factors on our business, our customers, economic conditions and markets generally; changes in global or regional economic conditions, inflation and supply and demand dynamics in the market segments we serve, including demand for technologies and projects to limit the impact of global climate change; changes in the financial markets that may affect the availability and terms on which we may obtain financing; the ability to implement price increases to offset cost increases; disruptions to our supply chain and related distribution delays and cost increases; risks associated with having extensive international operations, including political risks, risks associated with unanticipated government actions and risks of investing in developing markets; project delays, contract terminations, customer cancellations, or postponement of projects and sales; our ability to safely develop, operate, and manage costs of large-scale and technically complex projects; the future financial and operating performance of major customers, joint ventures, and equity affiliates; our ability to develop, implement, and operate new technologies and to market products produced utilizing new technologies; our ability to execute the projects in our backlog and refresh our pipeline of new projects; tariffs, economic sanctions and regulatory activities in jurisdictions in which we and our affiliates and joint ventures operate; the impact of environmental, tax, safety, or other legislation, as well as regulations and other public policy initiatives affecting our business and the business of our affiliates and related compliance requirements, including legislation, regulations, or policies intended to address global climate change; changes in tax rates and other changes in tax law; safety incidents relating to our operations; the timing, impact, and other uncertainties relating to acquisitions and divestitures, including our ability to integrate acquisitions and separate divested businesses, respectively; risks relating to cybersecurity incidents, including risks from the interruption, failure or compromise of our information systems; catastrophic events, such as natural disasters and extreme weather events, public health crises, acts of war, including Russia's invasion of Ukraine and the ongoing civil war in Yemen, or terrorism; the impact on our business and customers of price fluctuations in oil and natural gas and disruptions in markets and the economy due to oil and natural gas price volatility; costs and outcomes of legal or regulatory proceedings and investigations; asset impairments due to economic conditions or specific events; significant fluctuations in inflation, interest rates, and foreign currency exchange rates from those currently anticipated; damage to facilities, pipelines or delivery systems, including those we own or operate for third parties; availability and cost of electric power, natural gas, and other raw materials; the success of productivity and operational improvement programs; and other risks described in our Annual Report on Form 10-K for the fiscal year ended September 30, 2022 and subsequent filings we have made with the U.S. Securities and Exchange Commission. You are cautioned not to place undue reliance on our forward-looking statements. Except as required by law, we disclaim any obligation or undertaking to update or revise any forward-looking statements contained herein to reflect any change in assumptions, beliefs, or expectations or any change in events, conditions, or circumstances upon which any such forward-looking statements are based.

Jamie Dimon Is Fighting a Deposition in a Devastating Lawsuit Charging JPMorgan With Being the Cash Conduit for Jeffrey Epstein's Sex Crimes

Mon, 06 Mar 2023 15:25

By Pam Martens and Russ Martens: March 6, 2023 ~

Jamie Dimon, Chairman and CEO of JPMorgan Chase

The Attorney General's office of the U.S. Virgin Islands (USVI) has filed a First Amended Complaint against JPMorgan Chase that has less redactions than an earlier version. The complaint makes devastating and detailed charges. It charges that the bank sat on a pile of evidence that Jeffrey Epstein was running a child sex trafficking ring as it continued to keep him as a client; accept his lucrative referrals of wealthy clients; and provided him with large sums of cash and wire transfers to pay off victims '' one of whom was a ''14-year old sex slave.''

Attorneys for the bank are now resisting allowing Chairman and CEO Jamie Dimon from being deposed under oath in the matter as to what he knew and when he knew it.

The case is USVI v JPMorgan Chase Bank N.A. (22-cv-10904) in U.S. District Court for the Southern District of New York. As is becoming a regular occurrence when there is a politically sensitive case involving JPMorgan Chase, Judge Jed Rakoff is the presiding judge. (See Judge Rakoff Signs a Dangerous Protective Order in Whistleblower Case Against 5-Count Felon JPMorgan Chase.)

The lawsuit includes the following charges against JPMorgan Chase, the largest bank in the United States with more than 5,000 local branches serving mom and pop accounts:

''JP Morgan did business with Jeffrey Epstein from as early as 1998 to 2013. In that time, JP Morgan serviced approximately fifty-five Epstein-related accounts collectively worth hundreds of millions of dollars.

'''...at least 20 individuals paid through JP Morgan accounts were victims of trafficking and sexual assault in Little St. James, New York, and/or other Epstein properties. These women were trafficked and abused during different intervals between at least 2003 and July 2019, when Epstein was arrested and jailed, and these women received payments, typically multiple payments, between 2003 and 2013 in excess of $1 million collectively. Epstein also withdrew more than $775,000 in cash over that time frame from JP Morgan accounts, especially significant as Epstein was known to pay for 'massages,' or sexual encounters, in cash. Financial information also reflects payments drawn from JP Morgan accounts of nearly $1.5 million to known recruiters, including to the MC2 modeling agency, and another $150,000 to a private investigative firm.''

''In 2006, JP Morgan's Global Corporate Security Division found '[s]everal newspaper articles . . . that detail the indictment of Jeffrey Epstein in Florida on felony charges of soliciting underage prostitutes.' At that time, JP Morgan decided to continue doing business with Epstein but concluded his account 'should be classified as high risk' and require special approval.''

''In January 2011, JP Morgan's AML [Anti Money Laundering] compliance director requested re-approval for the bank's relationship with Epstein from JP Morgan's then-General Counsel 'in light of the new allegations of human trafficking . . .' Another JP Morgan employee responded: 'I thought we did that in approving a $50 million new line of credit last month?' ''

''In JP Morgan's January 2011 review of Epstein's accounts, the bank concluded there were 'no material updates' but noted: 'A few news stories during 2010 connects Jeffrey Epstein to human trafficking. The coverage team . . . all met to discuss the situation and agreed to enhance monitoring and document a discussion with the client. Jes Staley discussed the topic with Jeffrey Epstein who replied there was no truth to the allegations, no evidence and was not expecting any problems'...''

''In March 2011, JP Morgan's Global Corporate Security Division reported:

''Numerous articles detail various law enforcement agencies investigating Jeffrey Epstein for allegedly participating, directly or indirectly, in child trafficking and molesting underage girls. Jeffrey Epstein has settled a dozen civil lawsuits out of court from his victims regarding solicitation for an undisclosed amount.''

''JP Morgan's banking relationship with Epstein was known at the highest levels of the bank. For instance, an August 2008 internal email states, 'I would count Epstein's assets as a probable outflow for '08 ($120mm or so?) as I can't imagine it will stay (pending Dimon review).' ''

Let's pause right here for a moment. JPMorgan Chase has a history of employing some of the most sophisticated sleuths in the country, including people with prior employment at the CIA, FBI and Secret Service. To believe that JPMorgan Chase did not know what Epstein was all about by 2011 is to believe in the tooth fairy.

In July 2006, the Palm Beach, Florida Police Chief, Michael Reiter, had handed a deeply investigated case over to the FBI according to the courageous reporting of Julie K. Brown in the Miami Herald in November of 2018. According to Brown, by November 2006, ''The FBI begins interviewing potential witnesses and victims from Florida, New York and New Mexico.'' It took just eight months of FBI interviews for the U.S. Attorney's office to have a 53-page Federal indictment ready to file against Epstein involving sexual assaults against multiple underage girls. But the indictment was never filed. (You can read the sordid details of how the case was corrupted by the leading U.S. Attorney for the Justice Department, Alex Acosta, in the Miami Herald here.)

A deal was worked out by Acosta and Epstein's high-powered lawyers where federal charges were dropped against Epstein and he was allowed to plead guilty to only Florida state charges: one count of soliciting sex from a minor and one count of soliciting sex from an adult woman. Epstein was able to serve just 13 months in jail in Palm Beach County, where he was given a work release program to sit in a fancy office 12 hours a day and driven there daily by his private chauffeur in his limousine.

The deal was sealed in such a way that it denied his victims knowledge of what went down. In February of 2019, a federal judge ruled that the secrecy of the deal violated the federal Crime Victims' Rights Act.

Had it not been for the public outrage unleashed as a result of the series of articles in the Miami Herald and its gripping personal video interviews with Epstein's victims, the Justice Department might never have brought the new case against Epstein in 2019. We say that based on the following: A full two years before the Miami Herald published its seminal series on Epstein, the bestselling author, James Patterson, together with John Connolly and Tim Malloy, released a detailed investigative book on Epstein titled ''Filthy Rich'' in October of 2016. It covered Epstein's sexual assaults on young girls and the corrupted process involving the Justice Department that got him off the hook for his serial crimes. Patterson included a July 24, 2006 letter that Palm Beach Police Chief Reiter had sent to the parents of a young girl who had accused Epstein of assaulting her when she was 14. Reiter wrote to the parents:

''I do not feel that justice has been sufficiently served by the indictment that has been issued. Therefore, please know that this matter has been referred to the Federal Bureau of Investigation to determine if violations of federal law have occurred. In the event that the FBI should choose to pursue this matter, the Palm Beach Police Department will assist them in their investigation of potential violations of federal law.''

The FBI, the investigative arm of the U.S. Department of Justice, decided to stand down and allow the co-opted deal cooked up by Acosta and Epstein's attorneys to go forward, which permitted Epstein to continue his sexual assaults on underage girls.

Julie Brown's seminal book on the Epstein case, Perversion of Justice: The Jeffrey Epstein Story, was released in July of 2021. Epstein died in a Manhattan jail on August 10, 2019. His death was ruled a suicide.

The lawsuit filed by the U.S. Virgin Islands contains deeply disturbing new information about a top JPMorgan Chase bank executive's close personal relationship with Epstein. According to the First Amended Complaint, Jes Staley, the head of JPMorgan's Private Bank at the time, ''exchanged approximately 1,200 emails with Epstein from his JP Morgan email account.'' Several of the emails contained photos of young women in seductive poses and others further ''suggest that Staley may have been involved in Epstein's sex-trafficking operation.'' For example, the lawsuit reveals the following:

''In July 2010, Staley emailed Epstein saying 'That was fun. Say hi to Snow White[,]' to which Epstein responded '[W]hat character would you like next?' and Staley said 'Beauty and the Beast.' ''

Staley also visited Epstein while he was serving his jail time in Florida for sex with a minor and made numerous visits to Epstein's private island in the Virgin Islands.

There were other giant red flags which the bank chose to ignore as it maintained Epstein's accounts. The complaint reveals the following:

''Between 2003 and 2013, Epstein and/or his associates used Epstein's accounts to make numerous payments to individual women and related companies. Among the recipients of these payments were numerous women with Eastern European surnames who were publicly and internally identified as Epstein recruiters and/or victims. For example, Epstein paid more than $600,0000 to Jane Doe 1, a woman who'--according to news reports contained in JP Morgan's due diligence reports'--Epstein purchased [as a sex slave] at the age of 14. Like other women who received payments from Epstein, Jane Doe 1 listed Epstein's apartments on 66th Street in New York City as her address, which should have been a red flag to JP Morgan.

''Epstein and/or his associates also made significant cash withdrawals and 95 foreign remittances with no known payee. For example, Hyperion Air, Inc.'--the Epstein-controlled company that owned Epstein's private jet'--issued over $547,000 in checks payable to cash purportedly for 'fuel expenses when traveling to foreign countries.' Additionally, between January 2012 and June 2013, Hyperion converted more than $120,000 into foreign currency. Many of these cash withdrawals either exceeded the $10,000 reporting threshold or were seemingly structured to avoid triggering the reporting requirement. This is particularly significant since it is well known that Epstein paid his victims in cash.''

According to the lawsuit, none of these giant red flag transactions were reported by the bank to the Financial Crimes Enforcement Network (FinCEN) as required by law, but were characterized internally as ''reasonable, normal, and expected for the type of business or industry in which the client engages.''

There are now two books and an award-winning series in the Miami Herald that remove any doubt that the U.S. Department of Justice was corrupted in its initial handling of the Epstein case. The nagging question today is why is the U.S. Virgin Islands bringing these new charges against JPMorgan Chase instead of the U.S. Department of Justice?

Satanic Temple's 'Weekend of Blasphemy' Sells Out in Boston

Mon, 06 Mar 2023 15:18

The Satanic Temple (TST) has announced that SatanCon 2023, ''a weekend of blasphemy'' to be held in Boston this April, has sold out.

SatanCon 2023 will be held at the Boston Marriott Copley Place on April 28-30, the TST website states, hyping the meeting as ''a weekend of blasphemy and remembrance in Boston.''

The convention, which the Satanic Temple has touted as the ''largest Satanic gathering in history,'' will celebrate TST's ten-year anniversary and features talks on Satanism in Rural America, Reclaiming the Trans Body, and Satanism and Self-Pleasure.

The theme of this year's convention is ''Hexennacht in Boston'' or ''Witches Night,'' an ancient Bavarian holiday celebrated on April 30, the eve of the Christian feast day of Saint Walpurga, on which revelers dress as witches and demons.

The SatanCon 2023 event will include a ''Satanic Ball'' on the opening night, April 28, and will also feature a Satanic Marketplace.

SatanCon attendees must be 18 or older and have proof of the coronavirus vaccination, according to the website. Attendees are obliged to wear an N-95, KN-95, or disposable surgical mask. Gaiters, bandanas, and cloth masks are not allowed.

The Satanic Temple has made abortion rights its flagship project, arguing that abortions must be allowed, even where illegal, as part of a ''religious ritual.''

TST bases its support for abortion on the belief that ''non-viable fetal tissue is part of the pregnant person and is free to be voluntarily removed.''

Last month, the Satanic Temple launched TST Health, the first-ever religious abortion clinic network.

''Samuel Alito's Mom's Satanic Abortion Clinic'' was established in New Mexico on February 14, 2023, offering virtual appointments and guidance for ''those who wish to participate in TST's Satanic Abortion Ritual in states where abortion has been banned.''

Satanism has a millennial history of child sacrifice, which makes the Temple's financial and moral support of abortion a natural activity for the sect.

The Israelites struggled against the worship of Baal, another name for the Phoenician god Moloch, who demanded child sacrifices of his followers and was associated with the devil. The prophet Jeremiah spoke explicitly of the sacrifice of children to Baal, warning his readers that God finds such behavior abhorrent.

Archaeologists have discovered the bones of thousands of infants in the site of ancient Carthage, whom scholars believe were sacrificed to Baal. The city-state of ancient Carthage, located in the north of modern-day Tunisia, was a large Phoenician colony that operated from around 800 BC until 146 BC, when the Romans destroyed it.

The Carthaginian religion was a direct continuation of the Phoenician variety of the polytheistic ancient Canaanite religion, which worshiped Baal with infant sacrifice.

The Roman historian Diodorus and other ancient historians offered gruesome accounts of Carthaginian child sacrifice: ''There was in their city a bronze image of Cronus, extending its hands, palms up and sloping towards the ground, so that each of the children when placed thereon rolled down and fell into a sort of gaping pit filled with fire.''

Follow @tdwilliamsrome

Kellyanne Conway and George Conway to divorce after 22 years of marriage

Mon, 06 Mar 2023 15:16

March 3, 2023 | 6:22pm

D.C's weirdest marriage is over.

Page Six hears that Kellyanne Conway, the longtime advisor to former President Donald Trump, and George Conway, the longtime tormentor of President Trump, have decided to divorce after 22 years of marriage.

Beltway insiders tell us that they've both lawyered up and that the two sides are hashing out the details of the split.

Kellyanne and George Conway, who did a public battle over the Trump administration, are getting a divorce. Gregory P. MangoDuring the 2016 elections, Kellyanne served first as a campaign advisor to candidate Trump and then as his campaign manager, while her husband co-founded the Lincoln Project with the express purpose of keeping Trump out of the White House.

After the inauguration, she became a senior counselor to the president, while George continued to lambast Trump at every opportunity on social media.

Kellyanne called her husband's online criticism of her boss, Donald Trump, ''cheating by tweeting.'' Getty ImagesIn 2022, Vanity Fair wrote that ''One of the greatest mysteries of the 21st century is the marriage of Kellyanne Conway and her husband, George '-- specifically, if they hate each other as much as their public commentary would suggest, or if the whole thing is some kind of three-dimensional chess designed to further their own interests.''

The mystery appears to have been solved.

The Conways were married for 22 years before deciding to split. REUTERSThe pair wed in 2001 and share four children, but their political differences during the Trump administration took a toll on their relationship.

In her 2022 memoir ''Here's the Deal,'' Kellyanne said that she considered George's steady barrage of criticism of the then-president a betrayal of their marriage, calling it ''cheating by tweeting.'' She also said that Ivanka Trump had suggested couples therapy.

The Conways have four kids including Claudia Conway, who exposed the family's tension on TikTok. Courtesy of Kellyanne ConwayTrump himself tweeted of George, ''I barely know him but just take a look, a stone cold LOSER & husband from hell!'' Kellyanne defended the post, saying that it was part of Trump's famous flair for ''punching back,'' and that her husband had suggested her boss was mentally ill without justification.

Meanwhile, the relationship faced a major curveball last year when their daughter, ''American Idol'' contestant Claudia Conway, began posting troubling videos about their family life online.

Kellyanne's daughter, social media sensation Claudia Conway, auditioned for 'American Idol'. ABC via Getty ImagesBoth parents resigned from their positions to spend time with the family in the wake of the odd online activity.

Claudia has since said that she stepped back from the media after her viral experience ''because of the way that my words were being misconstrued.''

For more Page Six you love '... Listen to our weekly ''We Hear'' podcast Subscribe to our daily newsletterShop our exclusive merch She also said that she and Kellyanne started going to therapy together, and, according to the site, ''Claudia says those sessions helped them understand and make peace with each other.''

Insiders say that the pair have attempted to repair the marriage, but have now decided the call it.

Another source told us that the split has been buzzed about inside the Beltway for months.

The news explains a somewhat cryptic moment on Wednesday's episode of the ''Fast Politics with Molly Jong Fast'' podcast. Jong Fast asked guest George if ''there's going to be a change in George Conway's life.'' He replied: ''It's possible,'' but the show provided no further context, except that he called the host, ''a troublemaker.''

George and Kellyanne didn't get back to our requests for comment.

Attorney Ben Crump Says His Team Has Obtained 'Consequential New Evidence' Related To Malcolm X's Death - TPM '' Talking Points Memo

Mon, 06 Mar 2023 05:15

The legal team representing family members of the slain civil rights leader Malcolm X claims to have ''new corroborating testimony'' and evidence related to his assassination 58 years ago. Attorney Ben Crump, who is one of the lawyers for Malcolm X's family members in a planned $100 million wrongful death suit, spoke with TPM about the case.

Crump announced the planned lawsuit on February 23. During that event, Crump indicated the suit was prompted by a 2021 investigation conducted by the Manhattan district attorney that led to the exoneration of two men who had been convicted of participating in Malcolm X's killing. Crump explained to TPM that he knows there is ''consequential new evidence'' that was compiled as part of the district attorney probe '-- however, he also indicated that his team has further material beyond that.

''We think we have more corroborating evidence,'' Crump said. ''You will see shortly. We obviously can't show our hand completely to the federal government, but we believe we're going to have new corroborating testimony that gives the family even greater position to say that the government had actual evidence and exculpatory evidence that they did not disclose that would have given them access to justice much sooner than 58 years.''

Malcolm X was shot in Manhattan on February 21, 1965. At the time, he was one of the country's most prominent civil rights activists. He was also at the center of a volatile mix of investigations, intrigue, and threats as a slew of government agencies tracked his work and as he feuded with leaders of the Nation of Islam, which he had broken away from roughly a year prior to his death.

Crump suggested his team had obtained some evidence from attorneys who worked with the two men who were falsely convicted of being involved in Malcolm X's shooting. Lawyers for the men worked with the Manhattan district attorney on the 2021 investigation, which found the Federal Bureau of Investigation and the New York City Police Department failed to disclose the presence of undercover officers at the scene of the crime and withheld exculpatory evidence.

''We're working with the two attorneys who represented the exonerees,'' Crump explained. ''We got the benefit of a lot of the stuff they had.''

Along with recent findings and the exonerations, there have long been questions about Malcolm X's death due to, among other things, witnesses reports that there were more participants in the crime than were arrested and the fact that relatively few efforts were made to investigate the crime at the scene.

At his initial press conference announcing the suit, Crump was accompanied by two of Malcolm X's daughters, Ilyasah Shabazz and Qubilah Shabazz, who are participating in the suit and were present when their father was shot. During that event, Crump said he was providing ''formal notice'' of the suit to New York City and state agencies as well as multiple federal government agencies. Crump further said he believed Malcolm X's killing was the result of a ''conspiracy'' that ''included many, many individuals and many, many government entities '... and many affiliates of those agencies.''

NEW YORK, NEW YORK '' FEBRUARY 21: (L-R) Ilyasah Shabazz, Benjamin Crump, Malaak Shabazz, and Gamilah Shabazz attend the Living The Legacy: The 58th Commemoration Of El-Hajj Malik El-Shabazz '' Malcolm X on February 21, 2023 in New York City. (Photo by Joy Malone/Getty Images) In his conversation with TPM, Crump declined to elaborate on his theory of the case.

''I can't show my hand like that, but it's all going to come out,'' he said.

A potential obstacle to the suit is the statute of limitations. In New York, plaintiffs typically have two years to file a wrongful death suit. Crump, who has made a name for himself representing people in high profile cases of alleged injustice, explained that he plans to argue the revelations uncovered by the district attorney's investigation showed the government was ''intentionally hiding the evidence,'' and that the discovery had effectively reset that clock.

''We're arguing that, because of fraudulent concealment '... you cannot say you should have brought it two years after he was assassinated,'' Crump said.

Crump said it ''will be up to a judge and a jury'' to decide whether to give Malcolm X's family a ''day in court'' on this basis.

This isn't Crump's first time taking on a historical case from the Civil Rights Era. In 2021, Crump announced that he was working with the family of Henrietta Lacks, a woman whose tissue samples were taken without her consent and later used extensively in medical research, to seek compensation from pharmaceutical companies that profited from her body. Litigation related to that matter is ongoing. While Crump described Malcolm X's case as a ''unique situation'' due to the ''window'' that he feels was created by the new investigation, he indicated he is considering taking up other cases from the era.

''There may be a few more that I'll look at, but obviously, the law is what it is,'' Crump said. ''It's very difficult to get past statutes of limitations and technicalities.''

Crump, who has become a prominent figure in the Black Lives Matter movement, suggested he feels obligated to pursue justice for a prior generation of activists.

''Shame on us if we don't use our influence when it matters most,'' said Crump. ''Since I've been blessed with this influence, I'm going to do everything in my power to push the line every chance I get.''

Crump's wrongful death suit comes after a half century of pain and questions for Malcolm X's daughters. The attorney, who has received threats related to his own work on controversial cases, said the situation made him think of his own daughter.

''You wouldn't be human if it didn't,'' Crump said. ''I think about the torment these daughters must have endured living with this heavy burden of watching their father be shot 21 times and then always wanting justice, but justice always being out of their reach,'' Crump said. ''It is insult on top of injury. A, and so, you think about all children, and we've made these choices and by circumstance they also have to live with all of these critical things that happen when your father or your mother stands up for civil and human rights.''

Crump indicated the connection he sees between his own family and Malcolm X's was pushing him as he worked on the suit.

''I would never want my children to have to endure what Malcolm's children had to endure, but we know every day that it's a possibility,'' Crump said, adding, ''That makes me want to fight even harder to get justice for Malcolm's daughters.''
ALL VIDEOS

VIDEO - 'The oceans play a massive role' in the planet's climate control, 'biodiversity & oxygen production' - YouTube

VIDEO - Russia's Wagner claims control over Bakhmut's east ' FRANCE 24 English - YouTube

VIDEO - US senators unveil bill targeting TikTok ' FRANCE 24 English - YouTube

VIDEO - South Africa's leader reshuffles cabinet, unveils new Electricity minister - YouTube

VIDEO - UN chief says world failing to achieve gender equality - YouTube

VIDEO - Another Clinton associate dies suddenly from plane turbulence. No one else injured on flight.

Thu, 09 Mar 2023 14:58

3:01:49Midnight's Edge18 hours ago

Feige's Star Wars DOA, April is Velma 2.0 & Punisher Confirmed, feat. Clifton Duncan! | MEitM #37510K

6

VIDEO - Tensions mounting in Moldova amid war in Ukraine | DW News - YouTube

VIDEO - Thousands protest in Tbilisi against controversial Georgian 'foreign agents' law ' FRANCE 24 - YouTube

VIDEO - Australian scientists discover a way to convert hydrogen into unlimited energy source - YouTube

VIDEO - Russia hints it may not agree to 'critical' grain deal extension | DW News - YouTube

VIDEO - Ukraine's Bakhmut may fall in days, says NATO chief | Latest English News | WION - YouTube

VIDEO - Mauritania set to export green hydrogen to Germany | DW Business - YouTube

VIDEO - (20) Daniel Turner on Twitter: "WATCH: Hillary Clinton claims women and children are the primary victims of climate change. https://t.co/k9ghhjR8yz" / Twitter

Thu, 09 Mar 2023 14:20

Daniel Turner : WATCH: Hillary Clinton claims women and children are the primary victims of climate change. https://t.co/k9ghhjR8yz

Wed Mar 08 15:36:29 +0000 2023

Rob Brumfield *Official* : @DanielTurnerPTF Men are impervious to weather. It's a superpower we all have.

Thu Mar 09 13:56:46 +0000 2023

Kay : @DanielTurnerPTF @RyanAFournier Only woman's and children's lol.. men's are not victims bcz they are not humans. Lmaoo

Thu Mar 09 03:30:54 +0000 2023

VIDEO - Eurovision Song Contest final tickets sell out within an hour - BBC News - YouTube

VIDEO - Pentagon warns Chinese cargo cranes could be spy tools - YouTube

VIDEO - Mr. Microphone-Hey Good Lookin'! - YouTube

VIDEO - Exclusive | EU head Ursula von der Leyen on Ukraine, new hydrogen deal - YouTube

VIDEO - Mauritania set to export green hydrogen to Germany | DW Business - YouTube

VIDEO - EU mulls plan for joint munitions buying amid dwindling supplies | DW News - YouTube

VIDEO - German authorities search yacht linked to Nord Stream sabotage | DW News - YouTube

VIDEO - Dr. Jill Biden presents 'International Women of Courage Award' to trans woman '' twitchy.com

Thu, 09 Mar 2023 13:39

This editor is a straight white male. But he can empathize with women who say they're being ''erased'' '-- it must suck to see Woman of the Year awards given to Rachel Levine and Lia Thomas.

It's International Women's Day, and you can be certain that the Biden administration is making a big deal out of it. We haven't seen President Joe Biden post a prerecorded video as he did on Transgender Day of Visibility, but first lady Dr. Jill Biden presided over the ''International Women of Courage'' awards Wednesday. And of course, there was a trans woman there to represent all those women who have penises.

Jill Biden presents an "International Women Of Courage Award" to a biological male on #InternationalWomensDay at the White House pic.twitter.com/5fudW9wICM

'-- Greg Price (@greg_price11) March 8, 2023

We guess her courageous act was being trans?

Disgraceful and the ultimate example of cultural appropriation.

'-- Lucy Riles (@LucyRiles) March 8, 2023

Where the flip are the feminists on this??

'-- Holly Thornton 🇺🇸 (@beachmamax2) March 8, 2023

You mean the TERFs?

Misogyny

'-- LeeAnn Ruth (@LeeAnnRuth07) March 8, 2023

I will not speak for women but I can't believe many are happy about thisðŸ¤--ðŸ

'-- Shooter McGalvin (@ShooterMcGalvin) March 8, 2023

Paging Gloria Steinem. Sadly your life efforts amounted to nothing.

'-- CMar (@mickeymyman) March 8, 2023

Men win everything again just like the old times ðŸƒ

'-- Codywalker (@Cody_Walker_) March 8, 2023

The most courageous woman they could find in Argentina happens to be a biological male.

Men are simply better at being courageous women than women are.

'-- G3 Enjoyer ðŸ‡>>ðŸ‡... (@EnjoyerG3) March 8, 2023

So basically men are better than women at everything, including being women?

'-- DumbOlDad (@dumboldad) March 8, 2023

The Party of Science, folks.

'-- LindaHalliganConley (@LindaHConley13) March 8, 2023

To the women nominated but not selected '' close, but no cigar'....

'-- Joe Martinez (@JoeMartinez57) March 8, 2023

I wonder if they have tampon machines in the men's bathrooms.

'-- Doug Stumm 🇧humbl.com (@Dougstumm) March 8, 2023

We're not sure, but we do know that President Barack Obama designated a special all-gender bathroom in the White House.

Jill Biden just spit on decades of effort where feminists labored so aggressively for "women's equality."

Feminists everywhere: thanks to women like Jill, your work was all for nothing.

'-- Shannon Ford (@h0memadetweets) March 8, 2023

Let's all pretend this is normal

'-- Mike (@Mwolfe1Mw) March 8, 2023

Another glass ceiling.

'-- Aquavious 'Fred' Dump (@DumpFred) March 8, 2023

We wish the clip had gone on a bit longer '... the woman from Afghanistan sounded like a worthy recipient.

***

Editor's Note: Do you enjoy Twitchy's conservative reporting taking on the radical left and woke media? Support our work so that we can continue to bring you the truth. Join Twitchy VIP and use the promo code SAVEAMERICA to get 40% off your VIP membership!

Related:

Trans swimmer, Lia Thomas, nominated for woman of the year, women hardest hit once again https://t.co/jAYQp1IH4j

'-- Twitchy Team (@TwitchyTeam) July 18, 2022

VIDEO - Nord Stream: New leads about who was responsible for blowing up the gas pipelines | DW News - YouTube

VIDEO - Nord Stream: Ukraine denies role in explosions | DW News - YouTube

VIDEO - ABP on Twitter: "@VigilantFox @adamcurry DoD" / Twitter

Wed, 08 Mar 2023 18:02

ABP : @VigilantFox @adamcurry DoD

Wed Mar 08 17:01:36 +0000 2023

VIDEO - Iran's supreme leader says suspected poisonings in girls' schools 'unforgivable crime' - YouTube

VIDEO - French strikes against pension reform to continue as unions intensify fight

Wed, 08 Mar 2023 17:02

France was partly brought to a standstill on Tuesday as millions of protesters took to the streets in one of the biggest strike actions yet. Rejecting the government's proposed pension reform bill, which includes raising the legal retirement age from 62 to 64, workers across all sectors turned out in force to show their disapproval in nationwide demonstrations. Follow our blog to see how the day's events unfolded. All times are Paris time (GMT+1).

9:12pm: France to carry on strikes Strikes against the government's pension reform bill are to continue until the latter is withdrawn, trade unions said.

The CGT union said workers had voted to prolong strikes at all TotalEnergies sites.

7:58pm: 3.5 million workers on strike across France, trade unions sayTuesday saw up to 3.5 millon protesters in the streets across the nation according to the CGT trade union.

Meanwhile figures provided by the government show 1.2 millon.

Looking to pile pressure on lawmakers, France's more hardline unions said there would be rolling strikes which could go on for days, at least in some sectors.

The CGT union said workers had voted to prolong strikes at all TotalEnergies sites.

Trains will continue to be disrupted on Wednesday, as will the Paris metro system, though to a slightly lesser degree than on Tuesday, the SNCF and RATP transportation companies running them said.

Union leaders said will meet in the evening to decide on further steps.

The CFDT, now France's biggest trade union and generall reform-minded, has not committed to the rolling strikes and has said there could be other forms of protest.

6:55pm: Around '700,000 protesters' in Paris demonstrations There were around 700,000 protesters in Paris demonstrations today, according to the CGT trade union. The Paris police put the number of demonstrators at 81,000.

Reporting from Paris's Place d'Italie, the final destination of protesters, FRANCE 24's Liza Kaminov said the mood is changing.

Watch the report in the video below:

05:00 (C) France 24 6:28pm: French refining sites are 'blocked'France's eight refining sites are 'all blocked', reports FRANCE 24's Science Editor Shirli Sitbon.

Despite continuous production, protesters have shut the gates to refining sites and "will not let the fuel leave", she said.

Meanwhile three out of France's four liquefied natural gas terminals are blocked while output from the country's nuclear plants has also been cut.

Warning of potential shortages if the strikes were to continue, Sitbon nevertheless said the impact may "not be as drastic" as it was during former strikes as more people are working from home.

Watch the report in the video below:

03:47 SCIENCE (C) FRANCE 24 5:25pm: 'The mood is one of defiance and one of hope', says FRANCE 24's Liza KaminovReporting from the streets of Paris where a national strike is currently taking place, FRANCE 24's Liza Kaminov noted a general atmosphere of hope and determination.

People from all sectors and generations have turned out for the protests as Kaminov pointed to a mix of "elderly, youth, family", as well as "people coming from the education sector, from the pharmaceutical sector, from the metal industry and also from the aeronautics sector".

Kaminov also interviewed a PHD student in social sciences, who highlighted the impact of the pension reform bill on the younger generation and on women.

Watch the report in the video below:

04:02 French pension standoff: Union stage mass protests over controversial reform (C) France 24 3:22pm: High turnout for Paris strikeFRANCE 24's Liza Kaminov is reporting from the streets of Paris, where protesters have gathered to express their disapproval of the government's pension reform plan.

"The turnout is high, and is perhaps even higher than the January 31st protest," Kaminov said. "Police are saying that in Paris alone there are about 60,000 to 90,000 protestors, but as we're walking with the crowd this number seems to be increasing."

Despite the various challenges of continuous striking, protesters are determined to "bring the economy to its knees and to bring the country to a halt'', she said.

Watch the report in the video below:

02:27 1:58pm: Inequality for women key part of pension reform debateFrench women, whose pensions are already 40 percent lower than those of men, have been said to be the biggest losers under the new pension reform. This is because women are more likely to take time out of their careers to care of their children and other family members and therefore earn their right to full retirement later.

In the clip below, FRANCE 24's show France in Focus takes a look at the inequality of French pensions:

12:05 FRANCE IN FOCUS (C) FRANCE 24 12:48pm: Teachers on strikeUnions have estimated that 60 percent of the country's teachers walked out of their jobs Tuesday, while the education ministry has put that number at around 30 percent.

12:23pm: Paris standstill 'a little bit nerve-wracking', tourist saysFRANCE 24's reporter Clovis Casali is reporting from the Saint-Lazare train station in central Paris, where tourists and commuters alike are experiencing major disruptions to their travel plans this Tuesday.

One tourist he spoke to, described the disruptions as ''a little bit nerve-wracking''. He also spoke to a French woman who said she had not experienced any delays in her early morning commute, but added that the strikes ''need to continue''.

Watch the interviews in the clip below:

01:56 11:23am: Protest marches from Nice to ReimsProtest marches have already gotten under way in several cities, from Nice, in the south, to Reims, in the northeast.

10:46am: Rubbish bin collectors in Paris on strike since MondayBin collectors in Paris began their strike action already on Monday and the streets of the French capital have already started to pile up with hundreds of tons of rubbish.

10:38am: Why the French take their retirement so seriouslySpeaking to FRANCE 24, Fran§ois Geerolf, an economist at Sciences Po in Paris, explains why the French take their retirement so seriously, noting that the country's famed 35-hour work week is far from a reality for many of the country's white-collar workers.

Watch his full explanation in the video below:

10:19am: Rolling strikesAhead of the March 7 strikes, major confederations of French trade unions '' including the CFDT and CGT '' announced they would stage ''gr¨ves reconductibles', or rolling strikes, meaning workers will vote at the end of each strike day on whether to continue industrial action. This means the strikes have no end date, and could go on for days, or even weeks.

9:32am: Major train and flight disruptionsTrains to Germany and Spain are expected to come to a halt Tuesday, and those to and from Britain will be reduced by a third, according to the SNCF rail authority.

In France, only one in five regional and high-speed trains are expected to run, while RATP, the public transport operator for the Ile-de-France region around Paris, has said metro lines and suburban trains will also be heavily disrupted, with some metro lines running only at peak hours.

Around a fifth of flights have been canceled at Paris' Charles de Gaulle Airport and about a third of flights at Orly Airport.

9:05am: Roads, fuel deliveries blockedAlready in the early hours of Tuesday morning, the protests were already being felt in France, with reports of protesters blocking several roads.

According to the public road information service a national road in the city of Rennes had been blocked by around 100 protesters since 1am.

In a a tweet, the hardline CGTunion said: ''On the roads of Rennes, at the port of Gennevilliers, on the roundabouts of Rouen, in the power stations: the vigil of the March 7 strike has already begun.''

Fuel deliveries from refineries across France also came to a standstill. ''The strike has begun everywhere... with deliveries blocked from all the refineries this morning,'' said Eric Sellini, branch coordinator for CGT, which had launched a similar blockade last autumn that eventually saw petrol stations running out of fuel.

9:00am: More than a million expected to hit the streetsBetween 1.1 and 1.4 million people are expected to hit the streets Tuesday in more than 260 locations nationwide, according to a police source cited by AFP.

The upper limit of that range would mean stronger opposition than during the five previous days of rallies that have taken place since mid-January.

On January 31, on the biggest day of demonstrations so far, 1.27 million people demonstrated.

VIDEO - U.S. considers vaccinating chickens amid bird flu outbreak | Latest English News | WION - YouTube

VIDEO - Nick Guillen on Twitter: "OMG lol https://t.co/KN4Zd5IWJh" / Twitter

Wed, 08 Mar 2023 16:57

Nick Guillen : OMG lol https://t.co/KN4Zd5IWJh

Tue Mar 07 18:22:46 +0000 2023

Parker ðŸ'" : @nicktorg @truffsauce @NickAjluni ðŸ'ðŸ'ðŸ'

Wed Mar 08 16:26:17 +0000 2023

John Simon : @nicktorg @truffsauce @NickAjluni @Chrisgronkowski @stevenfarag

Wed Mar 08 16:24:39 +0000 2023

Reply Guy : @nicktorg @truffsauce @NickAjluni America is not a real place

Wed Mar 08 16:13:08 +0000 2023

Ryan James : @nicktorg @truffsauce @NickAjluni @DownVideoBot

Wed Mar 08 15:38:09 +0000 2023

Jonathan Foley🚵ðŸ>>'''¸ : @nicktorg @truffsauce @NickAjluni https://t.co/qcXKi6v43r

Wed Mar 08 15:34:37 +0000 2023

Josh Mugayi : @nicktorg @truffsauce @NickAjluni Another marketing gimmick ðŸ…ðŸ—'

Wed Mar 08 15:29:26 +0000 2023

ProStrike : @nicktorg @truffsauce @NickAjluni Worst. Ad. Ever.

Wed Mar 08 14:36:57 +0000 2023

Gaurav Suman : @nicktorg @truffsauce @NickAjluni #MadMen fans know that Draper won't be amused by this stunt.

Wed Mar 08 14:19:46 +0000 2023

Anze Markovic | Performance Creative : @nicktorg @truffsauce @NickAjluni Love it!!!

Wed Mar 08 14:05:16 +0000 2023

Jacques Spitzer : @nicktorg @truffsauce @NickAjluni Haha I love it! What a celebration of American culture. Truff turning a Friday in'... https://t.co/CC6D8gPfZe

Wed Mar 08 13:49:48 +0000 2023

FERDINAND BOOKIES +2348140696085 ðŸ--'ðŸ'¯ : @nicktorg @truffsauce @NickAjluni Join my telegram channel via link below for guaranteed fixed matches and start wi'... https://t.co/xCyrylBQkU

Wed Mar 08 12:01:40 +0000 2023

anoona teh : @nicktorg @truffsauce @NickAjluni ðŸ…ðŸ'🤣

Wed Mar 08 11:37:52 +0000 2023

FRANKIE : @nicktorg @truffsauce @NickAjluni next level marketing

Wed Mar 08 06:34:50 +0000 2023

' ¸ : @nicktorg @truffsauce @NickAjluni I brought my little sister... still can't find her 🤣🤣

Wed Mar 08 05:52:49 +0000 2023

BankingSlut : @nicktorg If only this was funny

Wed Mar 08 04:46:09 +0000 2023

Courtney Guertin : @nicktorg @truffsauce @NickAjluni 👏ðŸ>>👏ðŸ>>👏ðŸ>>

Wed Mar 08 04:12:18 +0000 2023

TBlake : @nicktorg @truffsauce @NickAjluni Clearly a plant for marketing but will say Truff hot sauce is really that good

Wed Mar 08 04:07:44 +0000 2023

Grayson Lancer Cross | E-Com Growth Engineer : @nicktorg @truffsauce @NickAjluni @TaylorHoliday is this popping off on the ''bullshit UGC'' or what category does this fit under

Wed Mar 08 03:35:20 +0000 2023

Dev Danger || GoldenGeek.eth : @nicktorg @truffsauce @NickAjluni What's sad is I live near the Hesperia Wal-Mart and initially I thought "A brawl'... https://t.co/CfQq7WGj7k

Wed Mar 08 03:23:59 +0000 2023

Jordan McCreery : @nicktorg @truffsauce @NickAjluni How are there so many people saying ''if this is marketing'' ðŸ'Great work, Nick!

Wed Mar 08 02:55:56 +0000 2023

Brett Birdsall : @nicktorg @truffsauce @NickAjluni now that's good marketing

Wed Mar 08 02:52:43 +0000 2023

Ryan Walker : @nicktorg @truffsauce @NickAjluni This is incredible. If this was marketing it deserves awards. Multiple.

Wed Mar 08 02:45:35 +0000 2023

Kevin : @nicktorg @truffsauce @NickAjluni Throwing milk jugs lol

Wed Mar 08 02:29:38 +0000 2023

Mark Howland : @nicktorg @truffsauce @NickAjluni Great ad. ðŸ†

Wed Mar 08 02:22:19 +0000 2023

Robrill : @nicktorg @truffsauce @NickAjluni Brawl-mart

Wed Mar 08 02:08:35 +0000 2023

Henry "The Gift Card Guy" Johnson : @nicktorg @truffsauce @NickAjluni This is great! ðŸ'

Wed Mar 08 02:05:33 +0000 2023

Sierra Reichlin : @nicktorg @CoryMckane @truffsauce @NickAjluni @colton_sather

Wed Mar 08 02:01:20 +0000 2023

Nick Del Valle : @nicktorg @truffsauce @NickAjluni @JTownTX @JaredJGamez ðŸ'ðŸ'ðŸ'

Wed Mar 08 01:51:02 +0000 2023

Joey Daoud : @nicktorg @truffsauce @NickAjluni 👏

Wed Mar 08 01:50:50 +0000 2023

Betsy Soler : @nicktorg @truffsauce @NickAjluni Is this real? lol

Wed Mar 08 01:48:58 +0000 2023

Nic Conley : @nicktorg @truffsauce @NickAjluni We need more of this type of creativity

Wed Mar 08 01:39:05 +0000 2023

Benjamin Smith : @nicktorg @truffsauce @NickAjluni Epic

Wed Mar 08 01:18:02 +0000 2023

Jason Panzer : @nicktorg @truffsauce @NickAjluni We need the superlike button for this

Wed Mar 08 01:09:04 +0000 2023

Cappello's : @nicktorg @truffsauce @NickAjluni 👏👏👏🎬

Wed Mar 08 00:18:35 +0000 2023

Hum : @nicktorg @truffsauce @NickAjluni This is genius level marketing. Touch(C)

Tue Mar 07 23:55:32 +0000 2023

VIDEO - (9) Richard on Twitter: "Step by step, the people of the UK are being prepared for war. "Britain should engage directly in war against Russia ,we are at war in Europe, we need to move to martial law" -Tobias Ellwood, head of the British parliament

Wed, 08 Mar 2023 16:39

Richard : Step by step, the people of the UK are being prepared for war."Britain should engage directly in war against Russ'... https://t.co/z1WWRBVuOH

Mon Mar 06 22:28:22 +0000 2023

VIDEO - Nord Stream: New leads about who was responsible for blowing up the gas pipelines | DW News - YouTube

VIDEO - Newest US nuclear plant begins splitting atoms for first time | AP News

Wed, 08 Mar 2023 16:32

Jeff Amy

Jeff Amy covers Georgia politics and government.

jeffamyATLANTA (AP) '-- A nuclear power plant in Georgia has begun splitting atoms in one of its two new reactors, Georgia Power said Monday, a key step toward reaching commercial operation at the first new nuclear reactors built from scratch in decades in the United States.

The unit of Atlanta-based Southern Co. said operators reached self-sustaining nuclear fission inside the reactor at Plant Vogtle, southeast of Augusta. That makes the intense heat that will be used to produce steam and spin turbines to generate electricity.

A third and a fourth reactor were approved for construction at Vogtle by the Georgia Public Service Commission in 2009, and the third reactor was supposed to start generating power in 2016. The company now says Unit 3 could begin commercial operation in May or June.

Unit 4 is projected to begin commercial operation sometime between this November and March 2024.

The cost of the third and fourth reactors was originally supposed to be $14 billion. The reactors are now supposed to cost more than $30 billion. That doesn't include $3.68 billion that original contractor Westinghouse paid to the owners after going bankrupt, which brings total spending to more than $34 billion.

The latest set of delays at Unit 3 included a pipe part of a critical backup cooling system that was vibrating during startup testing. Construction workers had failed to install supports called for on blueprints. The company has also said it had to repair a slowly dripping valve and diagnose a problem involving water flow through reactor coolant pumps.

Georgia Power said Unit 3 would continue startup testing to show that its cooling system and steam supply system will work at the intense heat and pressure that a nuclear reactor creates. After that, operators are supposed to link the reactor to the electrical grid and gradually raise it to full power.

''We remain focused on safely bringing this unit online, fully addressing any issues and getting it right at every level,'' Chris Womack, chairman, president and CEO of Georgia Power, said in a written statement. ''Reaching initial criticality is one of the final steps in the startup process and has required tremendous diligence and attention to detail from our teams.''

Georgia Power owns a minority of the two new reactors. The remaining shares are owned by Oglethorpe Power Corp., the Municipal Electric Authority of Georgia and the city of Dalton. Oglethorpe and MEAG would sell power to cooperatives and municipal utilities across Georgia, as well in Jacksonville, Florida, and parts of Alabama and the Florida Panhandle.

Georgia Power's 2.7 million customers are already paying part of the financing cost, and state regulators have approved a monthly rate increase of $3.78 a month as soon as the third unit begins generating power. The elected Georgia Public Service Commission will decide later who pays for the remainder of the costs.

Vogtle is the only nuclear plant under construction in the United States. Its costs and delays could deter other utilities from building such plants, even though they generate electricity without releasing climate-changing carbon emissions.

___

Follow Jeff Amy at http://twitter.com/jeffamy.

VIDEO - (9) ALX 🇺🇸 on Twitter: "Whoopi Goldberg says Tucker Carlson "took a page from George Orwell's 1984" by showing more footage from January 6th than was previously provided. https://t.co/jt7irHIawZ" / Twitter

Wed, 08 Mar 2023 16:30

ALX 🇺🇸 : Whoopi Goldberg says Tucker Carlson "took a page from George Orwell's 1984" by showing more footage from January 6t'... https://t.co/8Agy0MMSPL

Tue Mar 07 18:45:06 +0000 2023

Smack a dem senseless : @alx Whoopi who! Crawl back in the grave you came out of, your career is so dead I smell the rot from here

Wed Mar 08 16:30:15 +0000 2023

RonnieH : @alx Set the truth free!

Wed Mar 08 16:28:15 +0000 2023

Deborah Cooper : @alx She's a racist loudmouth hypocrite!!

Wed Mar 08 16:27:43 +0000 2023

VIDEO - Arrests in six provinces of Iran as school poisoning cases top 5,000 victims | Latest English News - YouTube

VIDEO - Profanity Update - Advertiser Friendly Guidelines - YouTube

VIDEO - Joe Biden jokes doctors had to 'check he had a brain' after his aneurysm - YouTube

VIDEO - 'Operational decision' by Perth Mint to dilute gold bars with other metals - YouTube

VIDEO - WATCH: Marianne Williamson Blasts KJP Over 2024 Mocking

Wed, 08 Mar 2023 13:43

Marianne Williamson blasted White House Press Secretary Karine Jean-Pierre after she laughed off the self help author's 2024 campaign.

At a White House press conference this week, Jean-Pierre was asked about Williamson beating President Joe Biden in officially announcing a 2024 campaign, and the press secretary dismissed the seeming challenge, joking about needing a ''crystal ball'' to read Williamson's ''aura.''

Williamson made a name for herself not just as an author, but also as Oprah Winfrey's one-time spiritual advisor. In a Twitter video posted Tuesday, Williamson said she was ''sad'' to see Jean-Pierre's mocking:

I was so sad to see the commentary from the president's press secretary, Karine Jean-Pierre, about me, about crystal balls, which I've never spoken or written about, and auras, which I've never spoken or written about. And just speaking so derivatively and in such mocking terms about someone who is running for president of the United States, and as a woman. And this is the Democratic Party?

Williamson complimented Biden as a ''nice man,'' but said Jean-Pierre's comments indicate the White House ''doesn't share my commitment to the high ground.''

The author, who previously ran an unsuccessful long shot campaign for the 2020 Democratic presidential nomination, argued the press secretary's mocking was meant to push her ''out of the conversation.''

''This is not just about me. They're not just telling me to get away, flick her off like a mosquito,'' she said. ''It's is about you. It's about anyone who, first of all I think, has faith and takes faith seriously '-- or is it just about any woman who speaks out of turn?''

Have a tip we should know? tips@mediaite.com

VIDEO - Tucker broke the Media. So he built a mashup. '' CITIZEN FREE PRESS

Wed, 08 Mar 2023 13:37

Posted by Kane on March 8, 2023 2:49 amNEWS JUNKIES -- CHECK OUT OUR HOMEPAGE

Tucker broke the corporate media. Watch. pic.twitter.com/rsE92pzm9Y

'-- Citizen Free Press (@CitizenFreePres) March 8, 2023

Mashup, all the triggering from today.

They are very very bitter at CNN.

Anderson Cooper:

"The idea of Tucker Carlson being in that mob that day and NOT wetting his pants is hard to imagine."pic.twitter.com/EH3flUjFrV

'-- Citizen Free Press (@CitizenFreePres) March 8, 2023

Quick hit from Josh Hawley.

Josh Hawley on Tucker releasing J6 footage:

"I think it's great." pic.twitter.com/idwV4uol2Z

'-- Citizen Free Press (@CitizenFreePres) March 8, 2023

Two final clips from tonight.

Tucker Carlson exposed the DC Uniparty when he released unedited J6 footage:

"They're on the same side'... They're all in agreement with each other. They kind of outed themselves. They sort of showed their membership cards in whatever club this is to the public. So keep a list." pic.twitter.com/cLpp43QZ4I

'-- Citizen Free Press (@CitizenFreePres) March 8, 2023

Tucker Carlson on J6:

"One thing we know for certain is the story they told you about it, a tale of 'Good vs Evil', an 'insurrection with no guns' that took place at the US Capitol is a lie '-- The people in power wanted more power and they got it on the basis of those lies." pic.twitter.com/EXfSTLH5ZL

'-- Citizen Free Press (@CitizenFreePres) March 8, 2023

VIDEO - ALX 🇺🇸 on Twitter: "BREAKING: @ElonMusk shares his vision for the future of Twitter, to evolve into https://t.co/AyvOaps0eq, 'The Everything App' ''I think it's possible to become the biggest financial institution in the world just by

Wed, 08 Mar 2023 03:14

ALX 🇺🇸 : BREAKING: @ElonMusk shares his vision for the future of Twitter, to evolve into https://t.co/AyvOaps0eq, 'The Every'... https://t.co/2QNHGOzoM8

Tue Mar 07 21:30:28 +0000 2023

VIDEO - NO MEAT for YOU!! "Emission-Friendly" Food for Homeless, Seniors & Daycares in City of Toronto?? - YouTube

VIDEO - (8) Basil 🌠on Twitter: "an insane amount of americans, of all races, under the age of ~50 can barely speak english as a first and only language - forget about at a level comparable to a person who completed a secondary level education 60+ year

Tue, 07 Mar 2023 21:56

Basil 🌠: an insane amount of americans, of all races, under the age of ~50 can barely speak english as a first and only lang'... https://t.co/ytCY8swsV1

Tue Feb 28 21:52:34 +0000 2023

VIDEO - Can China jumpstart its economy amid Western tech sanctions? | DW News - YouTube

VIDEO - Can Ukraine's new anti-corruption investigator level the country's path to the EU? | DW News - YouTube

VIDEO - Turkey: Opposition nominates candidate to challenge Erdogan | DW News - YouTube

VIDEO - Western countries take first steps to fight caste-based oppression | DW News - YouTube

VIDEO - Perth Mint sold diluted gold to China, got caught, and tried to cover it up - ABC News

Tue, 07 Mar 2023 21:35

The historic Perth Mint is facing a potential $9 billion recall of gold bars after selling diluted or "doped" bullion to China and then covering it up, according to a leaked internal report.

Key points: The mint started "doping" its gold as a cost-saving measure When it got caught for some of its gold dipping below Shanghai Gold Exchange standards, it kept it quiet While the gold remained above the 99.99 per cent requirement, it exceeded the amount of allowable silver in ShanghaiFour Corners has uncovered documents charting the WA government-owned mint's decision to begin "doping" its gold in 2018, and then how it withheld evidence from its largest client in an effort to protect its reputation.

While the gold remained above broader industry standards, the report estimated up to 100 tonnes of gold sent to Shanghai Gold Exchange (SGE) potentially did not comply with Shanghai's strict purity standards for silver content.

One Perth Mint insider, who asked not to be named as they could face five years' jail if their identity is revealed, says it is a "scandal of the highest level".

"I don't know if I've ever seen one this big," they say.

The mint is the largest processor of newly mined gold in the world, one of Perth's top tourist attractions and well known for producing commemorative coins to mark everything from royal weddings to a new James Bond film.

Last year alone it sold $20.3 billion in gold. It is the only mint in the world that has a government guarantee.

But in recent years the 124-year-old institution, officially known as Gold Corporation, has been plagued by a series of scandals.

WA Premier Mark McGowan had ministerial responsibility for the mint for four years until March 2021.

The mint started doping in 2018 in a bid to save money.( Getty Images/Bloomberg )Doping the goldGold doping is a somewhat accepted practice in the industry and is not illegal, but is high risk for refiners, as it lowers the quality of bullion by adding impurities like silver or copper.

Trace amounts of these metals are permitted, but Perth Mint's plan '' to keep just within industry standard of 99.99 per cent purity '' only left a miniscule margin of error.

The mint began doping its gold as a cost-saving measure in 2018, expecting to save up to $620,000 a year '-- a tiny fraction of its annual sales.

Perth Mint has been a pillar of Western Australia's gold industry for more than 120 years.( Four Corners: Mat Marsic )Within two years this desire to save money would put the mint at the centre of what may be one of the biggest gold scandals in Australian history.

From the outset there were signs of trouble. Just months after the doping began, the report says refinery staff identified concerns that silver and copper levels may have exceeded those allowed by the SGE.

Despite this, refinery staff continued doping the gold.

Damage controlThe doping program began to unravel in September 2021. Shanghai Gold Exchange alleged two bars contained too much silver and were non-compliant with its specifications.

Fearing a major blow to its reputation, an internal investigation was ordered on the same day the complaint was received.

The investigation made clear just how much was on the line if the SGE went public.

"If SGE '' Gold Corporation's pre-eminent exchange client '' had made public that they had issues with Gold Corporation bars '... the impact of negative public statements on the business could be very significant," the internal report said.

It then laid out just how large the problem was.

"Based on average understandings of volumes '... it was possible for up to 100 tonnes of stock to be recalled from the Shanghai Gold Exchange for replacement," the report said.

Perth Mint feared a major blow to its reputation.( Four Corners: Mat Marsic )At today's gold prices, buying back that amount of bullion would cost $8.7 billion. This would then need to be transported back to Perth and recast before it could be sold again.

Financing a recall of this scale would also be difficult for the mint and would likely require support from WA taxpayers.

Shanghai exchange 'misled'When Perth Mint went back and checked the two gold bars at the centre of the customer complaint it found one had been "red flagged" by its refinery.

The bar's purity test, known as an "assay", had failed to meet SGE's strict standards for silver, but was still above the crucial 99.99 per cent purity.

But it wasn't just one bad batch, it meant most of the gold bars during the three-year doping program were potentially non-compliant with Shanghai standards.

Crucially, the mint did not share this information with its largest client.

The mint didn't send SGE the failed purity test.( Getty Images/Bloomberg )The report claims that during a meeting on September 30, 2021, advice was sought from then-CEO, Richard Hayes, as to whether both the failed and compliant assays should be sent to Shanghai.

"CEO confirmed only the compliant assay would be provided to the customer, with the broader burden of proof to be left with the SGE to prove non-compliance," the report alleges.

On the day the failed assay was discovered, the mint immediately ceased its gold doping program.

Governance and transparency advocate, Serena Lillywhite says all the test results should have been sent to the SGE.

"I think it can be described as a cover-up, because [the mint] had a choice to disclose all the information, and in fact chose not to," she says.

"They chose a selected amount of information that was perhaps less damning to their reputation and their business practices."

Serena Lillywhite says all the test results should have been sent.( Four Corners: Mat Marsic )The mint insider agrees.

"If they've '... traded bars through the SGE that are non-compliant, they'd lose their accreditation."

In the same week as this crisis was unfolding behind closed doors at the Perth Mint, it was announced that Mr Hayes would be retiring early due to illness. He did not respond to Four Corners' questions or a request for an interview.

Perth Mint confirmed it did receive a customer complaint about a small number of 1kg gold bars but that, "due to Chinese government restrictions on exporting gold from China, the customer did not return the bars '... and therefore the customer's concerns could not be verified".

It said its refining methods had been enhanced since late 2021 and it was now committed to higher purity standards than the industry average.

Reputation and trustIn the end the SGE chose not to make its complaint public and accepted assurances around quality from the mint. The mint agreed certificates of assay would accompany all bars sent to the SGE in the future.

The longer-term damage to the mint's reputation stands to be far greater.

"Potentially you'll get gold buyers in the market going, 'Can we trust anything coming out of the Perth Mint? Including coins, bullion, anything?'," the insider says.

"It happened in the first place because of poor systems management and incompetence on the refining side. But once they found it, they knew what they were doing. They took deliberate actions to ensure this didn't get out."

This is the latest scandal to hit the mint, after it was investigated by the London Bullion Market Association (LBMA) in 2020 over gold purchased from a convicted killer in Papua New Guinea.

The mint was forced to adopt a "corrective action plan" after the PNG gold was revealed to have been cut with mercury and mined with the help of child labour.

The mint kept its accreditation, but the LBMA says it "reserves the right to re-visit" the issue "if new information '... becomes available".

The other headache for the mint is an ongoing investigation by financial crime regulator, AUSTRAC, into its compliance with Australia's anti-money-laundering laws.

It could be facing a hefty fine, potentially running into the hundreds of millions of dollars, like those levied on Australian banks and casinos in recent years.

Watch the full Four Corners investigation on ABC iview.

Posted Yesterday at 9:00amMon 6 Mar 2023 at 9:00am, updated 15h ago15 hours agoTue 7 Mar 2023 at 6:31am

VIDEO - 👠Leaked Matt Hancock Messages Discuss Deploying New Variants & Injecting Chips From Bill Gates

Mon, 06 Mar 2023 23:00

2:59:17The Charlie Kirk Show6 hours ago

Fauci's BIG LIE + Defaming Knowles + AZ Supreme Court | Lake, Beanz, Knowles, London140K

103

VIDEO - Senator Ted Budd on Twitter: "I asked Biden's nominee for FAA Administrator 7 basic questions about aviation policy. He went 0 for 7. We can't have an FAA Administrator who needs on the job training. @SenateCommerce https://t.co/nzGiEUxr8w" / Twit

Mon, 06 Mar 2023 16:02

Senator Ted Budd : I asked Biden's nominee for FAA Administrator 7 basic questions about aviation policy.He went 0 for 7. We can't'... https://t.co/M93CTLrR3Z

Wed Mar 01 22:06:34 +0000 2023

MizTakesWurMade : @SenTedBuddNC @SenateCommerce [Obama 2015] '...the current policy is to deliberately favor less-qualified applicant'... https://t.co/IcdZSacsYz

Mon Mar 06 15:02:21 +0000 2023

Jeff Rez : @SenTedBuddNC @SenateCommerce That went wellðŸ…ðŸ'🤣, The interview from hell👹

Mon Mar 06 14:59:21 +0000 2023

Flamingred : @SenTedBuddNC @SenateCommerce What a mess! ðŸ¤

Mon Mar 06 14:22:18 +0000 2023

Ray McDaniels : @SenTedBuddNC @SenateCommerce People can't you see what Obama an soros is doing you must be a special kind of corru'... https://t.co/WOY8XVs5fk

Mon Mar 06 14:21:14 +0000 2023

mamastbl : @SenTedBuddNC @SenateCommerce UNBELIEVABLE! ðŸ–ðŸ

Mon Mar 06 13:54:21 +0000 2023

teampullmyfinger : @SenTedBuddNC @SenateCommerce At least This Biden pick doesn't steal women's luggage at the Airport. Biden is Cancer.

Mon Mar 06 12:50:37 +0000 2023

Dobre danno : @SenTedBuddNC @SenateCommerce Pilot here, to be fair these questions are far below anything that would be his level'... https://t.co/7dx7np9lmF

Mon Mar 06 11:51:54 +0000 2023

VIDEO - Italian-American activists say Chicago mayoral candidate has promised to return Columbus statues

Mon, 06 Mar 2023 15:58

They said Vallas recently promised the Joint Civic Committee of Italian Americans that he will put the Christopher Columbus statues back in Grant Park and Arrigo Park. Vallas has not made that statement publicly, and his campaign did not return FOX 32 Chicago's requests for comment.

Latest Videos Good Day Chicago View More View More

VIDEO - (1) Liz Churchill on Twitter: "''Over the weekend one of my sources in the Government told me there's going to be a narrative change in the White House'...potentially declaring an Epidemic of 'Sudden Death' blamed on 'Long Covid' and pot

Mon, 06 Mar 2023 15:49

Liz Churchill : ''Over the weekend one of my sources in the Government told me there's going to be a narrative change in the White H'... https://t.co/bqOAPukgw9

Mon Mar 06 04:29:08 +0000 2023

Meilssa Kinney : @liz_churchill8 @PatriciaVellet1 @DowdEdward How do they explain the fact that I was very sick from the vaccine for'... https://t.co/bDoXYIIQFG

Mon Mar 06 15:46:55 +0000 2023

Kathy : @liz_churchill8 @DowdEdward More lies.

Mon Mar 06 15:43:08 +0000 2023

billhilly : @liz_churchill8 @DowdEdward You mean people didn't buy that they were dying early from living in the country and eating eggs? Whodathunkit

Mon Mar 06 15:43:05 +0000 2023

Gopher : @liz_churchill8 @DowdEdward They're never going to give up the emergency powers

Mon Mar 06 15:42:17 +0000 2023

Laura Rubicz : @liz_churchill8 @DowdEdward What if the person that dropped dead never even had covid? Then what's their excuse?

Mon Mar 06 15:40:26 +0000 2023

Meagan : @liz_churchill8 @DowdEdward https://t.co/x7Ew7QCA2J

Mon Mar 06 15:39:08 +0000 2023

FREEDOM 🇨ðŸ‡... '¤SILVER 🇨ðŸ‡... THETA : @liz_churchill8 @DowdEdward Wouldn't that narrative prove the vax does NOT prevent serious illness?

Mon Mar 06 15:30:24 +0000 2023

VIDEO - German company proposes tank factory in Ukraine, US to send tactical bridges | DW News - YouTube

VIDEO - China announces hike in military spending to counter 'escalating threats' | DW News - YouTube

VIDEO - Estonia elections: PM secures big win for pro-Ukraine, centre-right party ' FRANCE 24 English - YouTube

VIDEO - South Korea announces plan to compensate victims of Japan's wartime forced labour ' FRANCE 24 - YouTube

VIDEO - Sri Lanka mull using Indian rupee for economic transactions | WION Dispatch | English News - YouTube

VIDEO - Dutch slavery exhibition on display at UN headquarters - YouTube

VIDEO - Biden bucks liberals and tells Democrats to get tough on crime

Mon, 06 Mar 2023 15:15

WASHINGTON '-- President Joe Biden's decision Thursday on a local crime law sends a national message to fellow Democrats about how he believes they should address Republican criticism of the nation's rising crime rates.

Democrats have focused predominantly on police reform since the George Floyd protests reignited a national debate over race and law enforcement three years ago. But rising violent crime rates and growing perceptions of unease in major cities have prompted a chorus of party strategists and officials to call for a tougher approach to counter Republican attacks.

Biden '-- who has a history of pushing for stauncher crime laws '-- has tried to straddle the Democratic divide but was forced this week to choose sides when he said he wouldn't allow the Washington, D.C., city government to enact laws that would lower some criminal penalties.

''If Republicans thought President Biden would hand them a wedge issue for 2024, they thought wrong,'' said Democratic strategist Lis Smith, a veteran of former President Barack Obama's re-election campaign and an architect of Transportation Secretary Pete Buttigieg's rise. ''It's going to be very hard to define him as soft on crime after he's denounced defunding the police and reducing sentences for crimes like carjackings.''

Nothing focuses the mind of a White House gearing up for re-election like an incumbent getting only 17% of the vote, as Chicago Mayor Lori Lightfoot did Tuesday in the city's crime-focused mayoral contest.

The Washington, D.C., bill offered a slew of complications. The Democratic-controlled city council passed a sweeping criminal reform measure but then the mayor, also a Democrat, vetoed it. The council overrode her veto.

But D.C.'s unusual existence as not fully independent of the federal government means that Congress can quash any law change. A Republican-led bill got the support of about 30 Democrats in the House and is now expected to pass the Senate with a handful of Democrats, forcing Biden to either sign or veto it. Democrats, who have increasingly pushed for D.C. to be left to rule itself, called on Biden to veto the measure on the grounds that it isn't the federal government's place to determine local criminal law. But Biden didn't acquiesce.

"I support D.C. Statehood and home-rule '' but I don't support some of the changes D.C. Council put forward over the Mayor's objections '' such as lowering penalties for carjackings," the president said on Twitter.

The White House is planning a full-throated effort to present him as tough on crime to try to chip away at any Republican advantage on an issue that has put many Democrats on the defensive.

Next week the president will ask for an increase in funding for his Safer America Plan, aimed at crime prevention and policing, in his 2024 budget proposal, according to a White House official. Biden is also expected to continue publicly emphasizing his record on crime issues.

The White House is more broadly preparing to intensify its criticism of Republicans on crime, with plans to highlight some GOP efforts to cut the Justice Department's Community Oriented Policing Services, or COPS program; oppose an assault weapons ban; and defund the FBI. The White House plans to argue that by proposing that federal spending return to 2022 levels, for instance, Republicans would cut funding for programs that fight crime.

The effort will look similar to how Biden talked about crime while campaigning during last year's midterm elections, the White House official said.

"Congressional Republicans need to commit here and now to joining with President Biden '-- not obstructing him '-- in fighting the rising crime rate he inherited," said White House spokesperson Andrew Bates. "Their years' long campaign to slash law enforcement funding in the name of ideology couldn't be more at odds with the country.''

Biden's decision blindsided congressional Democrats, most of whom had recently voted to let the D.C. law stand '-- especially since the administration indicated last month that the president would take the opposite position '-- and is being widely seen through a political lens.

''It's smart politics. He was running into a buzz saw,'' South Carolina Republican Sen. Lindsey Graham told reporters at the Capitol. ''You don't want to get left of the D.C. mayor.''

Veteran Democratic political consultant James Carville, who was a top strategist to Bill Clinton when he successfully overcame long-standing perceptions that Democrats were soft-on-crime to win the presidency during the height of the crack epidemic in the 1990s, said Biden's move was a good step, but that the party needed to do more.

''It shows you the power this issue has become. Look what happened in Chicago. Look what happened in San Francisco. Everywhere you turn around,'' Carville said, referring to the ouster of Lightfoot and former San Francisco District Attorney Chesa Boudin in a recall election last year.

Crime largely disappeared from national politics while rates were at historic lows during much of the the 2000s and 2010s, but Carville said the politics changed when crime rates started to tick back up during the pandemic, even though they're still nowhere near as high as they were in the 1990s.

''This is a front and center issue, and it's one that we should, by any measure or statistic, be ahead of '-- but we're not,'' he said of Democrats.

Biden's move put himself in the uncomfortable position of receiving praise from Republicans and criticism from House Democrats, the vast majority of whom are now on the record voting against overturning the controversial criminal measure, which could be used against them in GOP attack ads.

''Biden just hung House Democrats out to dry. It's incompetence bordering on hilarity that they waited until scores of them walked the plank on this,'' said Matt Gorman, a Republican strategist who has worked on House campaigns. ''Crime is only gaining salience as an issue. It seems that Biden, as he apparently runs for re-election, is informing his party to wake up.''

The Republican-controlled House passed the measure to overturn D.C.'s law with the support of only 31 out of 212 Democrats in the chamber.

Democrats control the Senate, but issues related to D.C. get a special fast-track to a floor vote and several upper chamber Democrats '-- and not just usual suspects like West Virginia's Joe Manchin '-- said they would vote with Republicans to overturn the law.

Democrats like New York Rep. Alexandria Ocasio-Cortez and California Rep. Pete Aguilar denounced Biden on Twitter for undermining the capital city's self-governance, while D.C.'s non-voting House delegate, Eleanor Holmes Norton, called it ''a sad day for D.C. home rule.

''With the nationwide increase in crime, most senators do not want to be seen as supporting criminal justice reform,'' Holmes Norton said in a statement.

Tellingly, however, few national Democrats gave full-throated defenses of the crime law itself, focusing instead on D.C.'s ability to govern itself without federal intervention.

Violent crime is up nationwide and in major cities, Democrats' main support base, as downtowns struggle to recover from the pandemic.

Last fall, Gallup found that a record 56% of Americans reported crime had gone up in their area '-- the highest uptick since the pollster first started asking the question in 1972. A follow-up survey in January found that 72% of Americans expected crime to continue to rise this year.

Residents of urban areas reported a 15 percentage point drop in their perceived quality of life over past year in deep-blue New Jersey, according to a new Monmouth University poll, while suburbanites said their quality of life remained stable.

In the nation's capital, home to both the local and federal lawmakers considering the crime law, homicides were up 30% over last year.

Last month, Rep. Angie Craig, a Minnesota Democrat, was attacked in the elevator of her Washington apartment building by a man with 12 previous assaults on his record.

In an interview with a local radio station last week, Craig criticized some reformist Democrats on crime, pointing to, as an example, a failed 2021 ballot measure in Minneapolis to abolish the city's police department and replace it with a new agency.

''There are people that have been, in my view, reckless with their words over the past few years,'' she said. ''If we have to choose as a nation between social justice and public safety, we've all lost. We have to choose both.''

VIDEO - Van Emmerick Kris on Twitter: "NIEUW - Dr. Scott Gottlieb zegt dat COVID mogelijk afkomstig is van een laboratoriumlek als gevolg van het uitbesteden van GoF Research door de VS "Soms worden experimenten met het hoogste risico uitbesteed aan de sl

Mon, 06 Mar 2023 15:03

Van Emmerick Kris : NIEUW - Dr. Scott Gottlieb zegt dat COVID mogelijk afkomstig is van een laboratoriumlek als gevolg van het uitbeste'... https://t.co/UOQivgye8y

Mon Mar 06 09:13:36 +0000 2023

DMaassen : @VanEmmerickKris They are all lying (media), verdeel en heers.Virussen bestaan niet#brainwashing #propaganda'... https://t.co/YB7kZQkhVb

Mon Mar 06 14:53:01 +0000 2023
Clips & Documents
Art
All Clips

30-50 Summit - Hillary Clinton claims women and children are the primary victims of climate change.mp3

ABC ATM - anchor Andrew Dymburt - concussions in high school sports (20sec).mp3

ABC ATM - anchor Andrew Dymburt - senate hearing -tik tok -origins of covid (1min34sec).mp3

ABC ATM - anchor Andrew Dymburt - spanish couple steals $1.7M in wine (25sec).mp3

ABC ATM - anchor Andrew Dymburt - vaccine waiver for djokivic (1min21sec).mp3

ABC ATM - anchor Andrew Dymburt - vegan reeses peanut butter cups (17sec).mp3

ABC ATM - anchor Andrew Dymburt - weight watchers buying telehealth platform (49sec).mp3

ABC ATM - anchor Lindsay Watts (1) republicans slamming tucker carlson report (1min46sec).mp3

ABC ATM - anchor Lindsay Watts (2) brian siznick after attack (31sec).mp3

ABC ATM - anchor Lindsay Watts (3) why police walked protestors around (13sec).mp3

ABC ATM - anchor Liz Nagy - WH may start detaining migrant families (24sec).mp3

ABC WNT - anchor Jonathan Karl - mccarthy facing questions over jan 6th (2min11sec).mp3

ABC WNT - anchor Whit Johnson - biden in selma alabama (24sec).mp3

ABC WNT - anchor Whit Johnson - fire in NY -lithium ion battery for a scooter (19sec).mp3

After 15 years UN High Seas Treaty is signed but not yet ratified - WTF F24.mp3

Alex strenger at Senate hearing.mp3

Another Clinton associate dies suddenly from plane turbulence.mp3

Arrests in six provinces of Iran as school poisoning cases top 5,000 victims.mp3

Australian scientists discover a way to convert hydrogen into unlimited energy source.mp3

Biden bucks liberals and tells Democrats to get tough on crime.mp3

Can Ukraine's new anti-corruption investigator level the country's path to the EU.mp3

CBS Evening - anchor Norah ODonnell - bipartisan bill banning tik tok (21sec).mp3

CBS Evening - anchor Norah ODonnell - gavin newsom lashed out at walgreens (31sec).mp3

CBS Evening - anchor Norah ODonnell - news about john fettermans health (27sec).mp3

CBS Mornings - anchor Elaine Cobb - french mass protest pension reform (1min30sec).mp3

CBS Mornings - anchor Elizabeth Palmer - chinas congress convenes (1min31sec).mp3

CBS Mornings - anchor John Dickerson (1) tucker carlson jan 6th report (1min52sec).mp3

CBS Mornings - anchor John Dickerson (2) they know its not true (1min13sec).mp3

CBS Mornings - anchor Skyler Henry - attack on cop city (1min52sec).mp3

China announces hike in military spending to counter 'escalating threats' -DW.mp3

Clare Daly on Ukraine anniveersary.mp3

dc crime 1.mp3

dc crime the cop.mp3

DEI in IOWA banned.mp3

Elon shares his vision for the future of Twitter to evolve into X.com Negative Interest.mp3

equity Maher and Sanders.mp3

EU mulls plan for joint munitions buying amid dwindling supplies DW.mp3

Flouride Report 2 ntd.mp3

Flouride Report ntd.mp3

FTC vs Twitte 2 odd ntd.mp3

FTC vs Twitter odd ntd.mp3

GenZ-er explains LIKE how she hates the 'talking stage'.mp3

German authorities search yacht linked to Nord Stream sabotage DW.mp3

ISO bitter.mp3

ISO crash.mp3

ISO Stand.mp3

J6 and videos 3.mp3

J6 and videos and Justice ntf.mp3

J6 and videos legal 2.mp3

Jill Biden presents 'International Women of Courage Award' to trans woman – twitchy.com

Karen England - Dentists administer HPV vax to children without parental consent.mp3

Kenn Burns on CNN condemning Tucker.mp3

Mauritania set to export green hydrogen to Germany DW.mp3

Mayor Adams discusses take masks off signs bodega association.mp3

NBC Today - anchor Molly Hunter - chinas stark new warning for the WH (1min23sec).mp3

New leads about who was responsible for blowing up the gas pipelines - DW.mp3

Norfolk So.mp3

NPR - A promising mRNA vaccine-in-the-works could finally knock out TB.mp3

Perth Mint sold diluted gold to China, got caught, and tried to cover it up ABC Oz.mp3

Perth Mint sold diluted gold to China, got caught, and tried to cover it up ABC Oz.mp3

Pipeline 1 F24.mp3

Pipeline 2 F24.mp3

Pipeline 3.mp3

Plane crash ironies.mp3

podcast story.mp3

Queen Ursula CBC -1- EU's need for minerals from China now Canada.mp3

Queen Ursula CBC -2- Lies about Russia cutting off Gas.mp3

Queen Ursula CBC -3- New Hydrogen Deal.mp3

Redfield testifies and affirms Gain of Function - Ms. Malliotakis.mp3

Russia hints it may not agree to 'critical' grain deal extension - DW.mp3

The View responds to Tucker's Jan6 tapes review - McCarthy ,ade a deal.mp3

Tobias Ellwood, head of the British parliament's defence committee - UK BOTG.mp3

TOCK Bird girl.mp3

TSA Hacking story ntd.mp3

Ukraine denies role in explosions DW.mp3

Ukraine's Bakhmut may fall in days, says NATO chief WION.mp3

US senators unveil bill targeting TikTok -Naksone NSA Director TURN OFF algo.mp3

WA Premier tries to explain Operational decision by Perth Mint to dilute gold bars with other metals.mp3

WA Premier tries to explain Operational decision by Perth Mint to dilute gold bars with other metals.mp3