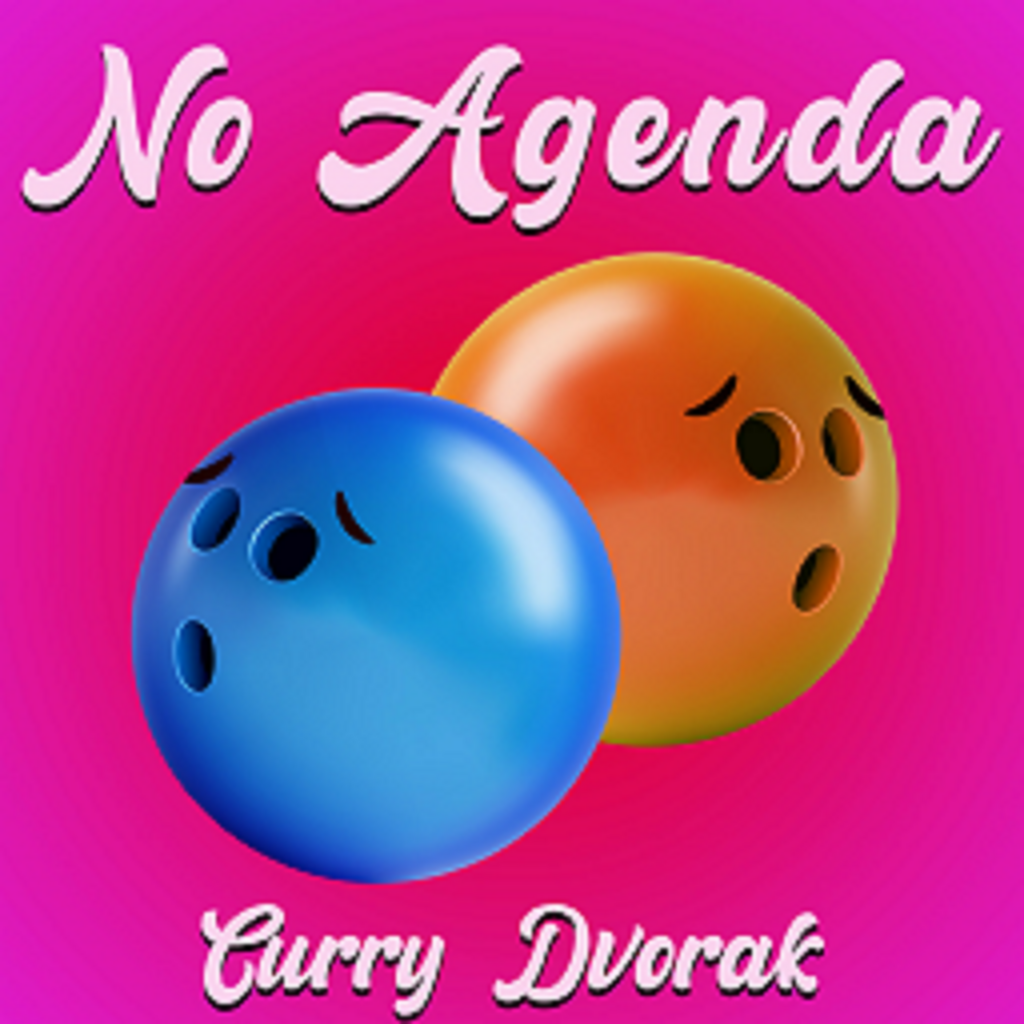 March 23rd • 3h 0m
1540: Happy in Helsinki
Transcript
The transcripts of No Agenda are automatically generated and therefore, not fully accurate. Discretion is advised.
Click the text to start playing from that position in the show. Click the timestamp to copy a direct link to that position to your clipboard in order to propagate the formula.
Adam Curry: perp walk.
Unknown: Adam curry Jhansi Devorah
Adam Curry: are they march 23 2023 This is your award
winning combination media assassination episode 1540.
Unknown: This is no agenda
Adam Curry: all about China. broadcasting live from the heart
of the West Indies Montego Bay, Jamaica in the morning mind. I'm
Adam curry
John C Dvorak: came from Northern Silicon Valley where
we're celebrating National Puppy DAY and the 20th anniversary of
the Iraqi war on Jhansi Dvorak.
Adam Curry: the 20th anniversary of what the Iraqi war oh man who
was calling you take it off the hook. It's like you have a
little thing like, you know, in the morning, you're gonna do
your show. You get everything ready. You get your clips ready,
take the phone off the hook. Hello. Oh, my goodness. Oh, it's
a call. It's a courtesy call. You haven't paid your bill. I
got that one yesterday, too.
John C Dvorak: We don't have spectrum
Adam Curry: in the morning to you.
John C Dvorak: anymore. You.
Adam Curry: Okay, so of course, it's a show day and the Tick
Tock hearings are underway and you need to turn your speakers
down just a little bit.
John C Dvorak: What a crock.
Adam Curry: Well, there's a couple of key turning speakers
down there really loud. Yeah, yeah,
John C Dvorak: yeah. Yeah. Can I get this nice that they can do
by my brain? I actually have to grab the mouse, you have
Adam Curry: to implement something. Well, yeah, it's this
is not a good look. Of course. The giant the CEO is a Chinese
guy. You know? It's like, I look like a nice guy. He seems like a
great guy. And his his English is great. I don't know. I don't
know if he's better. I don't know if he's Chinese American or
No, it's not too bad. But it's just his his. He has complete
command of the English language, but it's just not a good look.
Everyone's like, oh, Chinese Communist Party. Look at the
guy. He's like, he looks like a Chinese communist party guy. You
just can't help it. This is this is mind control.
John C Dvorak: Now, of course, these communist people who start
seeing these they don't smile as much as this guy does. No,
that's true. They're not a smile and group that CCP people.
Adam Curry: But you know how it goes a grimace? I mean, this is
a whole this is a racial hearing. It's a racial hearing.
And of course, social media stocks all show. Yes, social
media stocks are up today, of course. And even C span, even C
span is all over this. And this popped up this morning is no
agenda nation is of course everywhere.
Unknown: What's not clear to me is if any of that is still
happening.
Alright, let's talk to grant next independent in Lincoln,
Nebraska.
Hi, thank you for taking my call in warranty both welcome. I
think that the whole national security stuff with the data
that Tiktok has really falls to the wayside. It's just us, as
the guests there said, it's like, it's a lot of
grandstanding by the politicians. And the real issue
behind all of this is money, advertising money. And that's
something that tick tock equal, if not a superior competitor to
with Twitter and Facebook. And that because of the amount of
engagement because the amount of users tick tock has the ability
to bring in a lot of advertising money because of the targeted
targeted advertising that they can offer. That is basically
eating Facebook and Twitter's lunch. This is an opinion that I
agree with, that was shared with Adam curry from the no agenda
show.
Adam Curry: Right away, right away, she goes to cut them off,
of course. But here's the interesting thing, the girl you
heard at the beginning, and I say girl, because she's girl is
the technology reporter from Axios. And she agrees
Unknown: this is an opinion that I agree with. That was shared
with Adam curry from the no agenda show. But I think that
when
so grant, I've got a question for you.
Adam Curry: I actually turned him down. Did you hear that? The
no agenda show and they turned his volume down. You can
actually hear it go down as she's as she's told to interject
Unknown: an opinion that I agree with. That was shared with Adam
curry from the no agenda show. But I think that with
so grant, I've got a question for you so much.
Adam Curry: They turned him down. I turned him down.
John C Dvorak: I wasn't that much.
Unknown: So grant, I've got a question for you. Do you not
think it being owned by a Chinese company is a national
security issue at all?
I think it's an issue but I think that it I think that it
falls second to the amount of money that is being advertising,
advertising, financial connections that politicians
have with these big social media companies got it even better had
Ashley
so you make a good point. Tik Tok has been very, very
successful.
Adam Curry: Last fall
Unknown: also just been really popular in general. And
Facebook.
Adam Curry: This is the Axios technology reporter
Unknown: advertising.
Adam Curry: General. Our guys sounds like someone who knows
what's going on. Granted,
John C Dvorak: she sounds like a dingbat from the valley.
Unknown: They've also just been really popular in general.
Facebook and Twitter and YouTube have taken notice of competition
that they get from Tik Tok. And that contributes to a lot of
what you hear from these other social media companies. But
Adam Curry: the problem is, is that, you know, they get these
technology and she's the Axios is not a not a fly by night
operation. I mean, Axios is, oh, she's probably getting paid good
money, but she's very serious news or a news organization. And
but you know, she knows about
John C Dvorak: Iran jobs, of course,
Adam Curry: it Oh, and she owns that had shown all that.
John C Dvorak: I believe she's one of the main owners. So I was
like, Oh,
Adam Curry: who's that? Who's on the technology beat? Boy? Yeah.
Oh, that's her because she has a phone. She understands tick
tock. That's exactly what it feels like. It's like, this is
not someone who understands
John C Dvorak: me the old this is happened to everybody out
there knows these stories. Back in 1980. Ish. Era. It was like,
We need somebody know something about technology and find
someone. Exactly, not necessarily has a phone, but he
has a home computer. Yeah, he's the guy making VP of technology.
He's got a home computer.
Adam Curry: Remember, that was a whole era. So nothing has really
changed. She's got a phone, make her make her reporter of
technology
Unknown: has been very, very successful in the digital
advertising realm.
Adam Curry: What is digital advertising realm? I mean, isn't
Can't you just say they've been very successful. They've done $7
billion in advertising and they're poised to do more.
That's the report. Know, the advertising realm.
Unknown: They've also been really popular in general. And
Adam Curry: so that's cop speak. It's
John C Dvorak: like you add a bunch of words you don't know. A
professional writer. Good point.
Unknown: Oh, you make a good point. Tik Tok has been very,
very successful in the digital advertising realm. They've also
just been really popular in general. And Facebook and
Twitter and YouTube have taken notice of the competition that
they get from Tik Tok. And
Adam Curry: the half taken notice of the competition
really, really technology lady they have taken notice is that
is that is that your analysis of the situation
Unknown: and Facebook and Twitter and YouTube have taken
notice of the competition that they get from tick tock. And
that contributes to a lot of what you hear from these other
social media companies. They may you know, place ads behind other
groups that they're secretly funding or not so secretly,
saying, tick tock,
Adam Curry: what did she say by the way? Axios higher grant.
Grant is the guy you want on this beat, not this dingbat. And
what is this? What?
John C Dvorak: Wait, wait, what is she,
Adam Curry: we're gonna go back. We're gonna listen again.
Unknown: Facebook and Twitter and YouTube have taken notice of
the competition that they get from Tik Tok. And that
contributes to a lot of what you hear from these other social
media companies. They may you know, place ads behind other
groups that they're secretly funding or not so secretly,
saying tick tock is a national security threat.
Adam Curry: Oh, what she's saying is that YouTube tick tock
and Twitter and Facebook and we've taken notice, are placing
ads saying that tick tock is a national security issue. So
which is called lobbying as well. I mean, you know,
John C Dvorak: or she said groups that they're secretly
funding which would be a lobbying group.
Adam Curry: Yes. Oh, well, okay. What group will she rise, she
rises in my esteem all of a sudden,
Unknown: and YouTube have taken notice of the competition that
they get from Tik Tok. And that contributes to a lot of what you
hear from these other social media companies. They may you
know, please,
Adam Curry: shoot okay, this is interesting. She says she hears
from these other social media companies because it's her beat.
So does she hear this from them directly? Is this a is this a
source is an anonymous source. This is very interesting.
Unknown: They may you know, place ads behind other groups
that they're secretly funding or not so secretly. Tik Tok is a
national security threat. And in baby they believe those things
but what they also believe is that tick tock is major
competition and shipping into their dominance. So there's a
lot of idea I mean, when big tech companies are accused of
being monopolist, they like to point to tick tock as thriving
competition. Look at tick tock. They're getting making so much
advertising dollars. They're hugely popular among younger
users, which is a you know, a declining demographic for
Facebook. But in situations like this, it's also really
advantageous for Mehta and Twitter and YouTube and other
companies to say, Well, yeah, it is a national security concern.
And you know, we're an American company.
Adam Curry: So she agrees with our guy. And that was that had
not come up in the conversation until grant Producer Grant
stepped in and said, everybody straight on the channel that no
one watches,
John C Dvorak: which is great. Well, that could trigger a
cascade effect.
Adam Curry: Doubtful. Doubtful. I
John C Dvorak: don't know. I mean, Chris, you've been
hounding it on this show for a while. Yeah. Six months? Well, I
Adam Curry: can't wait to listen to some of the testimony because
I'm sure there'll be some shortly. Well, we'll see exactly
who's compromised but I'm gonna say Rubio top of the list
because he's Mr. Security. Hallie, I think is probably
compromised, although I don't want him to be but I mean, come
on, and enter the
John C Dvorak: wall. He has to be compromised. There's no
question about
Adam Curry: it. And Wall Street Journal did report that a group
of Silicon Valley executives, including investor Peter Thiel,
and Washington lawmakers are quietly mobilizing against
China's involvement in the US tech industry. Ahead of tick
tock chief executive Xu Zhi choose Capitol Hill testimony.
John C Dvorak: Now Aren't those the same guys like Peter Thiel,
they were all for like net neutrality and open internet and
heaven forbid, the Chinese are, are gonna block the internet and
the Iranians are gonna block the internet. So we're gonna block
the internet. Where's this work? I'd like to understand where
somebody from that group tell me what's going on
Adam Curry: spearheading the effort to create bipartisan by
coastal alliance of China hawks is Jacob Hellberg, former Google
policy adviser who is the newest member of the US China economic
and security review commission. This is the guy a congressional
research and advisory panel. Mr. Helberg also serves as an
adjunct adjunct senior fellow at the Center for a New American
Security, a think tank this is a lot of money, John, a think tank
that specializes in national security issues and a senior
adviser at the Stanford University Center on geopolitics
and technology, which is dedicated to research on global
competition with Mr. Hal global competition
John C Dvorak: does that mean blocking the internet?
Adam Curry: That's exactly what by the way, as we have discussed
many times on this show, no one in America cares about
ransomware cares about hacking. But you take off you turn off
Tiktok you take that away from the American people people will
lose their shit this is not this is not something to be dealt
with lightly. I mean, people will not care if I go to China
can have my information
John C Dvorak: today what we're good it does them Yeah,
Adam Curry: well of course it does them no good.
John C Dvorak: Hey, here's the kind of person I have a clip
good there we go. This is the kind of this is why I got it off
tick tock.
Adam Curry: That's the one of the few times you'll be able to
do that ever again.
John C Dvorak: This is the talk clip of the hot girl I want to
say China is going to have her information is going to be used
for debt with deadly consequences.
Unknown: My name is Horus and I'm a red tailed hawk. In our
world I do have the body of a hawk but well fronting I
consider myself with Aryan because I'm in a human body but
my identity is still a hawk. Not all animal altars will identify
this way and I am in fact the only animal alter in our system
who does identify this way. I am doing my best to come to terms
with living in a human body talk
talk to talk.
John C Dvorak: There you go now that's gonna really that's gonna
submarine the American way. What he's trying to get some
information on that chick.
Adam Curry: Take her. We sacrifice her China, you can
have her give back. We want to keep tick tock just give it to
her. So phenomenal. I love it. It is it is so embarrassing that
these lawmakers, the elected officials are going in on this.
And I heard a little bit of the testimony this morning. Just
talking about things that Facebook Mehta basically and,
and Twitter and Instagram, they do this they are the ones that
build profiles. They just don't have the best profiles anymore.
They have the go ahead look at YouTube. It's all 11
John C Dvorak: They may it may or may not have the best
profiles but does anyone think people like that tick tock has
better profiles to get nothing?
Adam Curry: No as we discussed they because of the of the
culture of tick tock. They have more about the YouTube is people
doing shows mostly used to be YouTube Broadcast Yourself. Tick
tock has become the broadcast yourself. And as we discuss
computer vision, they have the right content to know more about
people what we're at what they have in their house, what
they're reading all this stuff they do. I think they have
better profiling, whatever they have, it's working better. That
it's way in the way is that companies are we've read email
after email of companies saying we're moving all of our
advertising to tick tock. That's the better way, who cares how it
has a better ROI. But
John C Dvorak: don't you think a lot of that has to do with just
the reach? And the way that tick tock works and operationally
slipped the ads in? Yes. And I don't think it's because they
have better whatever, yeas on the American public
Adam Curry: what? No, they have better profile information on
their users. That's all and it's not dossier information. It
doesn't even matter. It's better. It's better. And I don't
think it's the algorithm either. It's better. You know, why does
Why did orchid not work? And why did Facebook work? You can't
even explain you can try and dissect it. No one really knows.
Unknown: Why did Google Places for that? Why
Adam Curry: did Google Plus not work? I mean, you can't because
John C Dvorak: Google doesn't know what they're doing. When it
comes to social anything.
Adam Curry: We're saying the same thing we're saying doesn't
even matter. They're kicking everyone's ass. They don't have
any information, more information that is detrimental
to the American public. No, they also have 5 million creators.
Boy do I despise that word creators and they're paying them
10 times more than YouTube? You want to see you want to see a
shitstorm in those 5 million people all of a sudden their
checks come in and of course they're smart. They just oh you
know what how do we how do we get how do we get more creators?
Oh, I know. Let's pay them more. Everybody's over there.
John C Dvorak: That's the American way I don't understand
why they're blaming the Chinese for everything it's it's this
whole thing not the Chinese
Adam Curry: way this is a witch trial it is it is it is not the
American way to do this with competition is pathetic. And I
think and I think so what are they saying? Well you have to
publish your algorithm at I've Okay, fine, we'll publish the
algorithm what what they really want is they want it to be an
American company so they can go in and say hey, do you want the
IRS to be on your ass now then you do what we say you filter
that person out you know amplify this message that's what they
want that that can be can be nothing else. They want
compliance. I'm not
John C Dvorak: going to argue with defected that they don't
have the control that they have with everything. You will never
Adam Curry: agree with me You always say I'm not going to
argue with you. It's phenomenal. was a phenomenal way.
John C Dvorak: I agree with you. I'm not gonna disagree why? They
don't have it with tick tock is completely out of control. They
have the hot girls on there. What are you gonna do?
Adam Curry: Exactly. Even you are all in on the hot girls. You
love the hot girls, the hawk Hawk girls, hot girls hot girls.
John C Dvorak: I don't know how that poor hot girl can live in
the human body, but she's doing pretty well.
Adam Curry: So while the while China is eating our social media
companies lunch, while Zhi Jing ping is meeting with Putin,
Biden, his meeting with the cast of Ted lasso doesn't just kind
of show you what's going on that there's something really wrong
here.
John C Dvorak: Here's a yes, symbolically. I think you've
nailed it. Here's,
Adam Curry: here's a clip of this is from France, three, four
Unknown: grand entrance for one of the few countries still on
friendly terms with Russia. China's President, one
Adam Curry: of the few countries on friendly terms with Russia,
I'd say they're quite a few who are on friendly terms. The
BRICS. Yeah, so the ones big ones even Yeah, this is
John C Dvorak: India is very good terms with Russia. There's
just a bind the oil left and right. There's also South
Africa. It's part of the BRICs. This is totally talking about
Unknown: on friendly terms with Russia. China's President Xi
Jinping was at the Kremlin on Tuesday to meet with President
Vladimir Putin. He's an increasingly isolated figure on
the world stage, launching his war on Ukraine.
We are each other's biggest neighbor. We are also
comprehensive strategic partners. For years our
relationship has withstood the test of various changes and
become firmer as time goes by.
She declared China was neutral on the invasion and the two
leaders discussed Beijing's peace plan to end the war and
proposal written so far without input from Ukraine and dismissed
by the US for cementing Russian gains and giving it time to
regroup as well as diplomatic ties that they strengthened
economic ones with a close to finalize deal that would see
Russian gas transported to Asia. The power of Siberia pipeline to
won't come online until 230. But could render any further
European sanctions on Russian gas far less effective. It's
part of a wider push for the two countries to work together.
Adam Curry: By combining
Unknown: our rich scientific potential and industrial
capacity, Russia and China can become world leaders in
information technology, network security, weapons and artificial
intelligence.
Russia and China, a joint statement affirming that the
strengthening of their ties is not meant to be confrontational
to other countries, the cold conference, Ukraine and its
allies.
Adam Curry: Yeah, and then, I guess the translation was
between the exchange between GE and Putin as they were saying
goodbye as dear friends. We're, we're making change together. It
hasn't happened in 100 years, and they're right, you even put
that in the newsletter. It's this. It's what is happening.
John C Dvorak: This is not supposed to have happened when
they opened up China when Nixon and Kissinger figured out how to
do it. And they did it. The whole idea was to keep China
from partnering its Russia, den in every president ever since
his job has been to keep China and Russia from partnering. And
meanwhile, here comes Biden. Yeah. Biden, in the staff from
the Obama administration, they managed to do it. I have to
assume they wanted to do it.
Adam Curry: Well, we've always thought that Obama was a chai
calm. Well, he seems that remember when he was bowing to
them?
John C Dvorak: Yeah, yeah. Yeah. He's cold calling. Yeah. Cow
Adam Curry: telling and bowing. Yeah. You got a China stuff.
John C Dvorak: They have plenty of China's stuff. I guess in
China economy discussion. This is my week of doing some NTD
stuff. So it's all news. You'll never heard any of this in di D.
Yeah,
Adam Curry: of course. No one will have this because we're too
obsessed with Trump. Trump getting a range indicted. Perp
walk, crab walk.
John C Dvorak: Where's the birdwalk? I'm waiting. All
right, let's go Chinese economy discussion.
Unknown: Oh, okay. And add to the rescue. And Tony, kind of
zooming in on the economy, it seems with this Xi and Putin
meeting, especially right, China has been doing this diplomatic
dance in a way they have been helping Russia economically. But
with those sanctions or even secondary sanctions that could
be levied on China, it seems China's own economy has been
taking quite a hit you have a piece out recently called
China's economic recovery is uncertain. So what are you
seeing in that aspect.
So while the rest of the world is raising interest rates, while
the rest of the world is raising interest rates to combat
inflation, China keeps cutting rates cutting reserve
requirements, because free up liquidity in their banking
system and their financial system increase the quantity of
cash that's available to expand the economy. This is a very,
very unsound way to expand the size of the economy. And it has
to be paid for later to China already has debt, equivalent to
300% of GDP, the debt is just growing. So I see the Chinese
economy really struggling this year. The other issue is that
demand for everything is still down in the rest of the world.
The rest of the world is still facing, essentially somewhere
between recession and stagflation. That's keeping
consumer demand down. So Chinese products aren't in demand as
much abroad. A push for nationalism within China is
driving a lot of foreign brands out of China. They're not making
the money they were making before general downturn in the
Chinese economy. They could never get consumers to consume
in China the way that they did and the way they do in the
United States.
And Antonio, speaking of this, a economic uncertainty that's
unfolding in China right now here in the US, Senator Josh
Hawley is introducing a bill that would cancel the country's
most favored nation status within two years. So if this
actually passes, what would be the impact on China?
Adam Curry: Oh, no, we see Holly's true mission is not tic
tock. He wants to screw china.
John C Dvorak: Yeah, that's what he wants. This was favored
nation things comes up in the conversation here. And there. It
I've heard it a few times that they're trying to pull this one.
Let me ask you a question. Because I'm asked question.
Adam Curry: In that report, they're talking about you know,
they'll never get anyone any country to consume like America
does. Well, we just stop consuming to Chinese products. I
don't think so. I mean, it does not stop overnight. What's their
new market
John C Dvorak: with a problem is, you know, they I mean, this,
this negative report is one of the few you'll ever hear because
everybody else still extols the virtues of Chinese productivity
and the fact that they can crank their manufacturing capability
in particular, but disproportionately negative one
I could find but it may have some there may be something to
it. The The problem is the Chinese are got their fingers in
everything. You can't really build anything without trust
components are. I mean, you can't buy a camera that's not
made in China. I mean, the Nikon's and canon. How about the
phones and all the phones are made in China? Yeah. And you
have to computers made in China Dells got a factory over there
they make to compute. So you can do this. But they would if you
if you put Most Favored Nations, which changes the way you can do
trading, it's possible that over the next decade, it's, we may be
able to extract ourselves from China, some people, I don't even
know if it's even
Adam Curry: even Walmart, even Walmart has had almost all
Chinese. exactly everything that goes to Walmart comes from
Wuhan. So
John C Dvorak: I don't know, I mean, China is dependent on us,
and we're dependent on them. And I don't understand why you can't
get along. But as they might say, this clip to me, more
things will come out of it,
Unknown: I really, really wish that this would pass.
Unfortunately, it's one of those things that comes up every
couple of years or months or something, somebody talks about
it, and it just doesn't go anywhere. Unfortunately, we are
ratcheting up to the credit of the previous administration and
the current administration, we are ratcheting this up on both
us outbound investment into China, Chinese investment into
the United States trade with China, to chip in is huge. I
mean, we're doing a lot of good things, but it's a bunch of
piecemeal things. And I really wish we would do something big,
like removing their most favorite trade nation status,
just outright banning imports from China outright banning
investment in China, something along that lines, because every
step of the way, you know, we're tightening this or that, or
we're making this or that better. But meanwhile, there's
another problem over there. It's another problem with a sway
playing the whack a mole game, you know, you knock down this,
this mole, and then that one pops up over there. And the
problem is that all these profits that China is earning
all this money that they're getting from US investors, and
it's just going back into weapons, ultimately, its funding
their technological advancement, AI, New Age weapons, new age,
technology, space, wars, all these things. And if we can cut
off their money, they won't be able to do it. It's the same
concept of what we're doing to Russia, or hamstring, Russia
economically so that they can't wage a war. Unfortunately, they
have their buddy China, feeding them money through the backdoor.
Right. Right. Cut that off. That would be great. But it's a
Adam Curry: little it's a little more than just Russia getting
money through the backdoor on China.
John C Dvorak: Now. The analysis falls apart, you can what he
described, it is not possible now. I mean, it would be
ideally, yeah. Cut off all imports, just stop them. And
then what do we do
Adam Curry: with that our basic vitamin C,
John C Dvorak: you can't even get tires anymore that aren't
made in China. Japanese all the big Japanese tire firms, they
have factories in China and make tires cheaper. He's just not do
it. This is where we were locked. We're locked up.
Adam Curry: And what does that what does the chip ban doing?
Um, the chip the chip Act, which was they had a chip act in
Europe that had a chip Act in the United States. What does
that actually done?
John C Dvorak: Well, they're bitching about, so I must have
done something. But what it's gonna do is make the check. I
don't know. I'm surprised that the Chinese haven't gotten
further in developing fabs.
Adam Curry: And you know, it doesn't seem a stretch for them
to be able to do artificial intelligence better than Google
barf, which came out yesterday in beta. What a piece of crap.
Do you see my first question?
John C Dvorak: No, I don't know anything about what you've done.
Oh, okay. So I,
Adam Curry: I did what what we always do is like, let's let's
test this. So I got on the beta GUI. It's called Google Bard.
Var do is bar for that's what you and I call it and that's
correct. Google barf. And now, and so I asked the question,
which, you know, I was moaning and groaning about other other
AI being stupid. And my question was, tell me, tell me about Adam
curry. And I'll just read the so it spits out a paragraph
directly from Wikipedia. And then let's listen to this. Curry
is a vocal critic of the mainstream media and he has been
accused of being a conspiracy theorist. He is also a strong
supporter of Donald Trump. In 2017, he was banned from Twitter
for violating the company's Terms of Service. Cori is
married to Tina Snyder and they have one child together. Am I
Tina? What did you do with our child when I was banned from
Twitter?
John C Dvorak: With a kid where's the kid? Because the kid
Adam Curry: the apologist, that's what's so amazing. People
come on to rules don't really good at that. But if you're if
you want it to do a business plan, and you can hone it you
can you can tweak you can tweak it so that it gives you a great
idea it leaving registered domain name tell you what to
get. What are you people Stop. It's not great. It's not going
to be great. It's never going to be great. Well, never never is a
little strong, but it's a far cry from great people are they
love this? Oh, yeah. Hey, I so it's like the artists, you like
comic strip? Oh, aren't so great. No, it's not. And people
are not, we don't remain stupid like this. We, as humans, our
brains are also evolving. And we get very I mean, I can now
detect AI, deep fake video deep, deep, deep, deep fake audio,
you're our own brains are also training to outwit the AI I do
not believe that AI will outwit the human beings long term, our
brains continue to evolve.
John C Dvorak: You know, there's also the it's going to be
difficult to outwit the lawyers. Yeah, at some point, this is
plagiarism. This is copyright violations left and right. No
one's really addressed this too much. But this thing is doing
illegal work.
Adam Curry: And more importantly, they have no way to
fund it. This is very expensive stuff to run. You need ASICs,
special ASICs, you know, they would have to basically convert
and get rid of all their YouTube ASICs and the end, they've got
to get AI, this is very, very expensive, too. It's mean, the
cost of running AI queries is you're going to have to charge
people, I don't think that you can offset this with advertising
in an ad market that is so bad that Marc Maron has to now
pretend he's Oh, yes. Let me tell you about how I work with
advertisers. It's very interesting. You see this?
John C Dvorak: Well, I have no idea what you're talking about
Marc Maron,
Adam Curry: so he is with a cast a cast is a is a for all
intents. And by the way, the lights are flickering, it's
possible our power goes out, the generators will kick in. I'll be
back in a few minutes. Okay, so he's with a cast, which I think
is a Swedish outfit.
John C Dvorak: And I thought I thought he was an independent
podcaster.
Adam Curry: Yes, he is. But his ads come through a cast. So they
go out and sell the ads. And then I'm reading all the stories
from the so called podcast, Industrial Complex News. Oh,
yes. A cast has come up with a new series, where podcasters
talk about themselves? No, it's basically Marc Maron saying,
Yeah, I really liked working with this company. And here's
how it worked with that company. They're so desperate, they're
putting their top talent. We all had to do this when I worked in
mainstream. Hey, man, you got to do some pitches for us. You got
to you know, you got to talk to the press about you know, about
how great the ads are. So that, you know, advertisers see this.
Oh, maybe I should advertise with them. You know what I mean,
if you know what I mean. So yeah, so they're not going to
cover it with ads. The ad market is soft, it's down. It's it's a
problem. The economy is not making it easier. You cannot
fill this hole.
John C Dvorak: I should mention when it goes down like this
because it did this@the.com crash. If you recall, in NY the
year 2000. The ad market collapsed. And it takes about
two years or more to recover. It may
Adam Curry: even take longer on this one. This may be a doozy. I
don't know. Everyone's battening down the hatches in case people
had noticed people are
John C Dvorak: moaning and groaning the advertising based
podcasters are
Adam Curry: moaning and groaning all of them are mining groaning,
crying existential existential crisis existential the ad
market. Yeah.
John C Dvorak: Kid buffalo, my listeners anymore by reading
ads.
Adam Curry: Thank God for value for value. Man, we made a smart
choice by accident, but we still made a smart choice. We couldn't
get
John C Dvorak: anyone to add it to us by accident. I think it
was done
Adam Curry: purposely. No. But I mean, we figured out that there
was a real business model. We said, hey, you know, you've got
to, you've got to support us. Otherwise, we can't do it that
we just were like, Hey, we're not going to do this if you
don't if you don't support us, and then people did and then we
figured out oh wait a minute, if you if you really open it up,
and don't try to be a Patreon or don't try to force people into
the Silicon Valley model of $5. Now, please, whatever it's worth
to you, whatever the show, whatever the information is,
whatever the value is that you get the actually
John C Dvorak: the variable donation I think is the key to
success that people don't understand.
Adam Curry: And people are embarrassed to do it. They can't
they can't.
John C Dvorak: Well, yeah, well, golly, I don't know. I don't
like taking church Tip Jar Would that work? Is that okay? I just
put a jar to maybe push somebody puts $1 in there asked me to
play a tune, jaw
Adam Curry: man So, one of the interesting things about this G
and Putin meeting, is that out of it came an idea of, you know,
maybe, maybe we we seek some kind of peace with Ukraine.
Maybe we can work some stuff out, then GE oh, by the way, I
think, you know, he traveled to Moscow. That's a big deal. No,
he she went there. He went to see Vlad, say, ma'am, we can fix
something and you know, could figure it out. And so some
ideas, you know, leaked out kind of floated and you know, like a
ceasefire to figure some stuff out. Oh, whoa. Oh, we can't have
that says John Kirby.
Unknown: That if coming out of this meeting, there's some sort
of call for a ceasefire. Well, that's just going to be
unacceptable because all that's gonna do like is ratify Russia's
conquest today's all that's going to do is give Mr. Putin
more time to refit, retrain remand and try to plan for
offensives at a time of his choosing. I'm sorry,
John C Dvorak: that doesn't that doesn't get his logic apply to
Zelinsky in the Ukrainians gives them more time to retrain and
bring more stuff over because there's a lag time for moving
product is like getting there. It gives me more time to do this
in that the other good observation. It sounds to me
like it would give both sides more time.
Adam Curry: I'm not going to disagree.
Unknown: Russia's conquest today's all that's going to do
is give Mr. Putin more time to refit, retrain remand, and try
to plan for renewed off offensives at a time of his
choosing. We hope and we've said this before that Mr. President
Xi will call and talk to President Solinsky because we
believe the Chinese need to get the Ukrainian perspective.
Adam Curry: No, yeah. Yeah. You didn't need to get to your
Chinese net need to get the Ukrainian perspective here. And
what does that even mean? Kirby. But you know, the American
public groups in American public are also mad about this. The
Code Pink Lady, what's her name again?
John C Dvorak: Oh, the Code Pink Lady. Yes, she's
Adam Curry: added she's added she Abe Lincoln was our
Secretary of State was testifying and she interrupted
in my head. I have a little clip up very much for having me here
today. All right. Thank you, Mr. Secretary. The committee will be
in order
Unknown: a proxy for
you're supposed to be a diplomat start negotiating. You know, if
you don't like the Chinese proposals, where is your
proposals? The American people want you to negotiate. Your
Adam Curry: Medea Benjamin Medea Benjamin is the pink coat Pink
Lady but good for her.
John C Dvorak: Code Pink office MIT one of the main was in the
area,
Adam Curry: but who's funding her now is my question. The
Chinese Soros probably no, no Soros wants to he wants to
demise and destruction doesn't he?
John C Dvorak: I guess he would. Yeah,
Adam Curry: he doesn't want anything solved. But whoever's
paying her the that part of the American
John C Dvorak: vigilantes right? Yeah, of course she's right or
negotiates, whereas a great diplomats and may come I
Adam Curry: can I have a series of clips here of one of the
greatest diplomats and one of the greatest hoaxes of all time.
And I love these Russian guys vo Vaughan and Lexus. These are the
guys that they called up Schumer they called me all I think it's
the same guys all these idiots and they pretend to be you know,
like, Oh, these toasts are
John C Dvorak: the host own prank. Calendars. 1960. Yes.
Adam Curry: Well, they pranked Fifi le guard and they didn't
just prank her they did a 20 minute zoom call with her and
recorded the Zoom call. Oh my god and and pretending to be
Zelinsky
John C Dvorak: so they had video, I presume it was one of
them look like Zelinsky well, so
Adam Curry: we only see her. We only see her side and we hear
His voice. But it's kind of cool. Because even starting off,
I got to play these clips for you. Even at 20 minutes, I'm
just going to pull a few of the of the gems from this thing. So
before so and she's at home clearly you know she's got her
little her office set up and she's got you know, I guess her
grandkids drew something she's even got a little piece sign up
in the bookcase. I'm sure that Tiktok would have a dynamite
time analyzing and finalizing her office. And and so they they
and so as the call has come in this just shows you how dumb
these people are. These people are so stupid. Now. For context,
she is now the president of the European Central Bank, the
European Federal Reserve, that within you know, they they took
all the money of Europe and all the guilders and the drachmas,
and all these cool little monies and made one big Euro thing. So
it's all under her control. And she used to be head of the IMF.
So she is the shill and she got the IMF job by basically taking
down the guy who was in charge remember that he would do
because he had droughts, whatever his name was, yes, hon.
Strauss he had been all of a sudden he had costed the hooker.
Those the cleaning lady, what if the cleaning lady in the hotel
in New York wasn't a hooker?
John C Dvorak: Right? Sure.
Adam Curry: Exactly. So but she's a shill, but she's also
you're gonna see how dumb she is. So so of course what to all
the elite ladies think of Zielinski? They all
Unknown: love him. Oh, oh, he's so handsome.
John C Dvorak: Yeah, so they answer really?
Adam Curry: Oh, come on.
John C Dvorak: You've heard a little is a little know me guy.
Adam Curry: I know. But you of course but you see all the women
who go meet you've seen it was a Lenski, Lenski all the
Hollywood. Lenski is Sean Penn wants a bone him. Come on.
Everyone loves the landscape. Sean
John C Dvorak: Penn. Okay. So she's
Adam Curry: primping her hair in the beginning as the call is
connecting to the landscape because the landscape get ready
for it. Hello. Hello.
Unknown: Can you hear me?
I can see you very well. Okay,
madam presidents. I'm glad to see you glad to hear I'm
concerned Vicki kind
Adam Curry: of has the voice down. I think that's pretty
good.
John C Dvorak: Ah, you know, right away. I'm not liking the
voice. But it's probably good enough.
Adam Curry: I wouldn't have bought it. But again, she's
stupid
Unknown: turned about the economic situation in Europe, as
you know that this assistance to Ukraine depends on it. And some
countries already openly saying that internal problems are more
important to them.
Adam Curry: It's important to listen to this first 45 seconds
because just setting up he's he's kind of getting her in the
in the mood for the hoax, which is never paid off. As far as as
far as I know. I mean, like, she doesn't, she's never she never
catches on to it, she thinks she really spoke was the Lensky. So
he's kind of setting the stage and economics rah rah rah,
Unknown: Ukraine. So I just what like to ask you how the things
in Europe as a whole? How did the crisis hit? So what is your
position
where we have an issue is on inflation, because of the
bottlenecks that have survived the end of COVID. We are seeing
prices that have initially gone up only in the area of energy,
and then gradually through fertilizers in particular, to
food and now on a much broader basis. So the inflation that we
had hoped wouldn't be transitory has continued much longer than
thought,
Adam Curry: by the way, a couple of things. First of all, she
says, coming out of COVID, we got inflation. She doesn't say
because of Vladimir Putin cutting off the gas to Europe,
which is the lie that all the politicians tell. So she doesn't
say that. She has her own bullcrap. Reason Oh, because of
COVID.
Unknown: And at a much higher level than expected. So as a
result of that, all central banks and the ECB is no
exception, have to take measures in order to reduce inflation, so
that people do not suffer from high prices, and we have a more
stable economy.
Adam Curry: And okay, so that's just a setup. So she's in the
mood now. He's going to say, hey, well, you know, how you
call how you're coordinating? And that just listen to where
she takes it, how she feels, what is the true solution to
Ukraine's problems. And the question
Unknown: is, how do you think what is your colleagues from
fit? Think about that? Do you have a conversation with them?
We not only Yeah, we do, of course, have conversations. We
exchanged a lot. And actually, I will be seeing our Jay Powell
tonight. We have dinner tonight. Oh, we have a meeting of the
Bank of International Settlements in Basel, and I'm
having dinner with him tonight. So yes, we do talk a lot. Yeah,
Adam Curry: we coordinate. But
Unknown: you know, President, whatever is the coming out of
this situation, who wins who loses in a way is irrelevant.
What matters is that Ukraine at the end of the day wins. So I
take the very, very simple view that those who have the biggest
Gun at the end of the day when,
Adam Curry: oh my god, this is this is this is how the elites
think, Hey, as long as we have the bigger gun, they win. That's
how it works, right?
Unknown: Basic, wild west cowboy principle,
Adam Curry: which you're all in on.
Unknown: It is the case at the moment that the biggest military
power in the world is the United States. So the United States is
supplying the biggest shipment of weapons is providing a very
large amount of funding. And that's the reality that we deal
with. And I don't think that we can just argue about who wins
who loses it's you who has to win and we have to make every
effort we can to support you. How stupid
Adam Curry: are these people? She really believes Oh, science
we have the biggest gun
John C Dvorak: ever. Don't we have a clip I can isolate this
clip but didn't we have a clip where we're gonna fight this
until every Ukrainians dead? Who said that there was something
was gonna work get date we're going to war is gonna go on
until the last Ukrainian standing. I don't remember
basically, it was like, you know, we're gonna just gonna go
on into there's no Ukrainians left you're gonna all be dead.
You know, just like, that was the essence of it. They were
saying I
Adam Curry: wish I knew what that what that was. I can't find
anything under.
John C Dvorak: You gotta tell you something, you know? Oh, you
guys is this reminds me of Mad Magazine or something. Some of
these crazy, you know, curry everyone's dead. Except one guy,
you know?
Adam Curry: Well, we what we know is that the US has always
said as long as it takes. Which doesn't seem to be the fact.
Okay, so the final clip. Now now. VO Vaughn and Lexus are
going all out. And I cannot do this. Again. This woman is so
dumb. And they throw jokes in this guy is so good. So now he's
going to first of all is going to suck up to get it. You'll get
her already. You know? That really smart? How they do this?
Suck up to her Tell her she's beautiful, smart, whatever. And
then he's going to say okay, so he wants to know, when is the
central bank digital currency coming the E Euro? And she
unpacks
Unknown: Okay, let's, let's stop talking about let's stop to talk
about sets things. I'm really glad to see you. And they see
you. And I'm glad to see smart, smart woman at this position.
And I think that you're pretty nice. I have a question about
Adam Curry: how easy is it to hoax these people? I think
you're pretty sure I love seeing a smart woman in your position.
Ask me anything.
Unknown: I'm also a good user of electronic money. So my question
you're introducing the electronic era, as I know, so,
how can you how can switching to an electronic currency help?
But two things Number one, it will be decided in October. So
there you go. October, Europe, we are preparing the ground, we
want to be ready. We want to be trained, but it will not be
decided.
Adam Curry: Everyone's got to be trained on how to do it. He
John C Dvorak: got to be trained with like a barking seal
Adam Curry: well, but it's really about training the
European people and you'll hear that
John C Dvorak: that's what I'm talking about. Those are the
barking seals. Talking about
Unknown: will prepare the grind. Ready? We want to be trained but
it will not be decided until October 23 The reason? I'm
Adam Curry: thinking when she says it will not be decided I
mean what I'm think she's saying is that's when we're basically
announced that we're going to train everybody October 2023
Then we're just gonna announce it then it's coming. So I don't
know if that means it happens or maybe it happens in in 2024. But
the the hammers coming down in October digital euro
Unknown: will preparing the ground.
John C Dvorak: So didn't when you were in Holland the last
time didn't they move everything so you can't have cash that's
coming
Unknown: up. We want to be ready. We want to be trained,
but it will not be decided until October 23. The reason? I'm
personally convinced that we have to move ahead is a
situation like the one we are in now. We are dependent on the
supply of gas by a very unfriendly country. I don't want
Europe to be dependent on an unfriendly country's currency.
For instance,
Adam Curry: an unfriendly country's currency or women
isn't the petro honest
John C Dvorak: Jackie, talking about us? Well,
Adam Curry: is she though? I think she's moved beyond the
dollar. The petro dollar is done. It's dead. No, no, no,
she's already she's not thinking about the US or the dollar and
Unknown: friendly country. I don't want Europe to be
dependent on an unfriendly country's currency. For
instance, I don't know, you know, the Chinese currency, the
Russian currency, the whatever, or dependent on a friendly
currency, but which is activated by a private corporate entity,
like, you know, Facebook, like Google or anybody likes.
I'm user of Bitcoin too.
Adam Curry: So she's not even talking about the dollar. She
says, Oh, I don't I don't have to buy our energy in in Chinese
currency or Russian currency. This is quite spectacular, I
think, for her to be saying these things. And now he's going
to start hoaxing are hard with this with Bitcoin,
Unknown: like Google or anybody likes.
I'm user of Bitcoin too. So I had bought it when it started. I
hope it also will work in for the special system. And I know
Adam Curry: he's trying to go there. She's not going to take
the bait, but we'll see what happens. There are many protests
Unknown: in Europe, against the electronic era. What is the
reason?
You know, it's it's the beauty of Europe, it has different
Adam Curry: positions. It is the beauty of Europe. You can
control them all. It's the beauty
Unknown: of Europe, it has different positions, if you ask.
In Northern Europe, for instance, in the Netherlands,
they're quite happy to see the Euro coming.
Adam Curry: Yeah. Give us the euro. We love the euro, bring it
to us, please.
Unknown: If you ask a young German man, you'll say you're
fine. It's good. It's good. As I said, I don't find metal, Google
or Amazon to suddenly come up with a currency that will take
over the sovereignty of Europe.
Adam Curry: This was the second time she said this what is
happening at Google and Amazon and and Facebook meta
John C Dvorak: is she may be off handedly, but refuses to say
that she's referring to musk and his ex project.
Adam Curry: That's the one she doesn't mention. That's why No,
John C Dvorak: maybe she's is that possible that she's beating
around the bush and doesn't want to mention it?
Adam Curry: I'm all in on that, because she does not mention it
at all. And that's the one that's coming the closest and
that's
John C Dvorak: the threat.
Unknown: I don't want a foreign currency to become the currency
of trading within Europe. So we have to be ready.
Now the problem is they don't want to be controlled. They
don't want to
Adam Curry: be but you know what? I love this. Yeah, but you
know what, you know, it's like, these are stupid people were the
elites were bigger than them
Unknown: didn't want to be controlled. They don't want to.
But you know what, you know what? Now we have in Europe,
this threshold, above 1000 euros, you cannot pay cash? If
you do, you're on the gray market, that you take your risk,
you get caught, you are fined. Are you going to jail?
Adam Curry: Just so you know, in case you in case we hadn't
explained that already to you. If you pay over 1000 euros cash,
you're on the gray market. If you get caught you get fined or
you go to jail. Just so you know. 1000 euros cash might not
have been cleared everybody in the EU. If they catch you. They
can throw you in jail.
Unknown: Oh, you're on the gray market does
John C Dvorak: it by the way. That's nothing.
Adam Curry: Of course not 1000 euros. What does that mean? You
can't use? Yes, it's nothing. It's nothing and it's about to
get better.
John C Dvorak: If you buy like a laptop from some guy you know,
and you wanted to take cash and you give them $1,100 or 1100
euros. Now you go to jail.
Adam Curry: Yeah, if you get caught you're on the gray market
now buddy. You're on the gray market
Unknown: euros you cannot pay cash. If you do, you're on the
gray market. You take your risk you get cold, you will find or
you go in jail. But you know the the digital euro is going to
have a limited amount of control. There will be control
you're right. Yeah. You're completely right. Yep, we are
considering whether for very small amounts, you know,
anything that is around 300 400 euros, we could have a mechanism
where there is zero control Hello slaves
Adam Curry: 300 euros on your E euro and you won't be controlled
anything under three maybe four maybe if if would be nice to
you. But otherwise anything, obviously we're gonna control
you.
Unknown: But that could be dangerous terrorist attacks on
France, back 10 years ago, were entirely financed by those very
small, anonymous credit cards that you can recharge in total
anonymity.
Adam Curry: So what she's really saying is, you know, right now
the idea is we're going to present it as three or 400 euros
and you won't be controlled, it won't be registered. But
terrorism, so we're probably going to have to control it all.
But we'll convince you later in October. Now, now he's going to
hammer it home.
Unknown: You know, that question is now now I think it's a joke
like, like a joke that the next currency will be fireworks for
Europe will be what? Fireworks fireworks? To heat to heat the.
Yeah. So it's like a joke. It's like a joke from Russian sites.
Adam Curry: They get lost. These guys are my friends now. I love
these guys.
John C Dvorak: Give me a clip of the day for that. Fine, thank
you
Adam Curry: very much. It's quite telling how the elites
think. Yeah, and she's the Jay Powell of Europe.
John C Dvorak: Yeah, he is. Well, meanwhile, of course, we
have this little story which is not being played at all. And
expected is going along as expected. Play this one. This is
the Ukraine clip. This is IMF and Ukraine.
Adam Curry: Ah, yes. I just read about this this morning.
Unknown: The International Monetary Fund or IMF is offering
the country a four year financing package worth roughly
$16 billion. The IMF said on Tuesday they have reached a
staff level agreement with Ukrainian authorities. The
agreement must still be ratified by the IMF executive board. If
approved. This would be Ukraine's biggest loan package
since war started. It would also be the IMF biggest loan to a
country involved in an active conflict. The IMF said its
executive board is expected to discuss approval in the coming
weeks. The Ukrainian Prime Minister and US Treasury
Secretary Janet Yellen welcomed the deal.
Adam Curry: So we'll have them completely under control.
Austerity austerity is coming Ukraine as poor people whatever
is left of that country. I mean, it's got it's gotta be over.
It's just gotta be over. Well, they still with some still some
military industrial complex spending the EU this time the
foreign and defence ministers of the European Union have agreed
on a 2 billion euro plan to send desperately needed ammunition to
Ukraine. Now the deal provides me with 1 million artillery
shells over the next year. Funds are also intended to help EU
member states replenish their own ammunition supplies, which
have dwindled rapidly since the war in Ukraine began I didn't
even know who manufactures ammo in in Europe do you know
John C Dvorak: well, they said Norway I saw that report. This
is Norway I guess has a couple factories now France and France
and Sweden France for sure. And but of course you know, they
always go back to Scranton, and get them spent shells from us.
This is the report along the same lines that I got was a
little weird because I can't get kind of a I can't figure out
what's going on with these F 16 XPlay. There's no f 16 clip.
Unknown: The US is saying no to sending fighter jets to Ukraine.
This despite fellow NATO members Poland and Slovakia doing just
that. The State Department says Poland and Slovakia as moves
would not impact us policy. Secretary of State Antony
Blinken called Poland's choice a sovereign decision. Poland
announced on March 16, it would send fighter jets to Ukraine
becoming the first NATO country to do so. Poland and Slovakia
has moved could be a turning point for Ukraine and repelling
Russia's invasion. Keith has asked for fighter jets since
last year only for Washington and other NATO allies to refuse.
Adam Curry: I think it's clear they just don't want they don't
want to. They don't want they want the war to end. They don't
want to actually kill anybody with the effort. They
John C Dvorak: keep saying you're gonna send them and
they're not gonna send they're gonna send them. I mean, this is
a report from yesterday. We're Indian givers.
Adam Curry: Sorry for being politically incorrect. No, no,
we don't want to give them and we just don't want to give it to
him. It look like you're up do it all. You got
John C Dvorak: to get Yeah, we don't want to Well, it's just
just gonna get blowed up by the Russians. So it's is going to be
a wasted total waste of money. It's shells a little different.
You can million shells. So what
Adam Curry: well listen, a million shells?
Unknown: I don't think so. 5000
John C Dvorak: last batch we already they already blew up a
million shells.
Adam Curry: Well listen to that. Here's the numbers in this
report from France. 24,155
Unknown: millimeter shells are fired each day in Ukraine.
Adam Curry: 5000 are fired each day in Ukraine. Where are they
going? Are they doing nothing.
Unknown: The army says it does not have enough for its needs
and wants Ukraine's allies to fill the gap as soon as
possible. This munitions factory next is the only one in France
making the shells they cost 4000 euros apiece. Weekly output
comes to around 630 shells. Currently, they were turning out
400 A week before Vladimir Putin's full scale invasion of
Ukraine began over a year ago, the slightest error during the
manufacturing process
Adam Curry: so it would take them nine weeks to come up with
their daily allotment
Unknown: or the week before Vladimir Putin is full scale
invasion of Ukraine began over a year ago. The slightest error
during the manufacturing process can prove fatal on the front.
The shell has to be perfect. Otherwise with the speed goes
begins to vibrate and one travels straight. It could go in
all directions it won't have any precision.
French authorities want to regroup manufacturer of all
shell components to France, including this powder used to
fire the shower supplies over the last 15 years have come from
Sweden, but from next year the powder will be produced in the
door Dwayne and Frances southwest, a central part of
quality control is x rang each shell to give it the old clear.
Adam Curry: So there's some kind of move to I'm not quite sure
what it means but moving the powder manufacturer from Sweden
to France, there's something going on there.
John C Dvorak: Something's going on everywhere. So they're just
shooting these things off. 5000 a pop and then it's like, oh,
heaven forbid they're not accurate. Yeah. Are you kidding
me? No. Do you think that they get hurt? They actually have a
target.
Adam Curry: No, I think that just just like fireworks. So
just shooting stuff around. zooms.
John C Dvorak: I have this funny clip. This is a weird request
from Blinken.
Unknown: The State Department is facing a deadline to provide
documents on the Afghanistan withdrawal. The chairman of the
House Foreign Affairs Committee sent a letter to Secretary of
State Antony Blinken, Congressman Michael McCaul said
in the letter that the State Department must send at least
three requested documents by the end of today. McCall said the
committee will issue a subpoena if the materials are not
produced before March 23. The day of Lincoln's testimony
before the committee, a State Department spokesperson said the
department is providing hundreds of pages of documents and will
continue to do so. But he said he could not answer when the
department would provide the three specific documents most
urgently requested.
Adam Curry: So what exactly do they want?
John C Dvorak: They want this appear I guess there's three
dots some sort of there's some sort of corruption that's
involved with they're leaving Afghanistan, they're looking for
three specific documents that I guess some whistleblower told
them about. And they can't they can't seem to extract them.
Adam Curry: And because in charge of getting that Mr.
Military Industrial Complex, I don't get it. By the way, you
know, Pocky shwarma, who was at W IOM and she left and your
friend? Yes. And she's not first post and most of her stories. I
don't know is that too long that you know, there's not there's
nothing really clippable but I got one that's very clickable,
very short. And this is about Afghanistan. Now that we've
withdrawn, the Taliban is in trouble. A recent study
Unknown: shows that the Taliban is having difficulty adapting to
typical civilian life. They're tired of daily things that haunt
most mere mortals, like traffic thieves and office jobs. How
times have changed. The Taliban is complaining about being
robbed by common thieves. And they despise desktops. Most of
them are now quite quitting, or doing the bare minimum at their
jobs. Instead of being the harbingers of doom. They're
stuck in Twitter's Doom scroll. They complain about spending
most of their time on Twitter. They become addicted to the
internet. They say they quote unquote Mr. Jihad life. The
Taliban clearly misses the good things like causing bloodshed.
Adam Curry: They're quiet quitting the Taliban and
quitting because they're bored.
John C Dvorak: And they're on Twitter
Adam Curry: at the Doom scrolling. Of course, there's no
one to kill there's no one left to kill. There's nothing left to
do decades
John C Dvorak: to get on tick tock.
Adam Curry: decades and decades of killing and like now we gotta
like, like direct traffic and we got to have law enforcement and
Rob. Want to get robbed by common criminals? Where's the G?
hottie bloodshed? Yeah, this is great. This is well done. Yeah.
Now, they need a new enemy. I guess I'm not sure what they
what they want to do.
John C Dvorak: Well, the place is falling apart. It's got
horses, all the reports. They're desperate, they're broke. People
are starving to death. It's not good. No NGOs at all been kicked
out or they actually haven't been kicked out. But they made
sure that women can't run them. And most of them are run by
women. Yeah. So that's the end of that. Yeah.
Adam Curry: It's not because they're women. But is that
because they're women? And you said the way you said that was
kind of weird.
John C Dvorak: Because well, they were they kicked the women
out. They won't let the women do anything I tell the bad guys has
gone back to their old ways.
Adam Curry: All right. So because they won't let women run
the show and run the office and do all the stuff that you know
John C Dvorak: that they're Yeah, they're good. I wouldn't
say they're any better than men at it. But they lies in the
situations with an NGO that's that's pretty much let's see
manage by women, right? You need the women. So don't can have
that there in that area. This guy got a lot of China's stuff
here that might be interesting. Let's start with that. First of
all, here's a story that we never heard of. And I didn't
know this was going on, over and over again. Which reminds me,
you know, in San Francisco, we've had these, these
Adam Curry: police station gang
John C Dvorak: fights, gang fights stonestown Mall,
Adam Curry: where it was stones, stones town, most of those Towne
mall in San
John C Dvorak: Francisco. Every I guess it's Wednesday when the
kids get at school or they go to the mall. And then they just a
big fight. You can look it up by Google's got lots of movies of
them. And these kids are wailing on each other. It's quite
something to see what kind of crap high school kids and their
stomping kid each other and they're beaten as security
guards up. It's just been going on. And they claim it's happened
three times over the weekend. It was happening and happening and
they make a big fuss about it because the cops can't do
anything about it. Because not enough cops. There's literally
hundreds of kids fighting. And then if you talk to some of the
kids, or they interview some of the kids has been going on for
months, these these fights in the mall, and there's just
violent fights. And courses San Francisco's got lax everything.
So they, they can't do anything about it. But I remember when I
was a kid, we used to have situations like this too. And it
was it's not like new. In fact, in the olden days during the
Alameda County Fair, on July the fourth every single year when I
was in high school, a riot would break out at the fair between
Mexican gangs Oh, and they just beat the crowd. You could be I
was there for a couple of minutes just there's just fights
every which way you look all around you you have to be you
don't get caught up in it because you're not a member. We
either one of the gangs and they know who everybody is. But it's
just like these kids. They really have to be policed. Now
Adam Curry: are the Are there particular identifiable gangs?
And because you say, you know, when you were a kid with the
Mexican gangs, were these identifiable these these kids
who are gangs and beating up?
John C Dvorak: They were wearing specific colors? No, they just,
they just knew who was in their group and they knew the other
guys weren't in their group and they went after each other. They
didn't go after by bystanders. And it seems like there's still
this Town Mall stuff. If you stay out of the way. You won't
get hurt. Because they're not going after bystanders. It is
something's going on. There's some gaps in
Adam Curry: action. The police have been defunded and children
are allowed to do anything they want because they're all their
parents are woke at San Francisco. Hello.
John C Dvorak: Yeah, that's exactly right. What you just
said. I agree.
Adam Curry: Do you have a clip?
John C Dvorak: Well, let's go to the clip. I was trying to figure
which one it was. Did stuff that you don't hear about this is
Sandstorm in China.
Adam Curry: Sandstorm in
Unknown: China, sandstorms drought in Beijing in northern
China on Wednesday, as air pollution rose to hazardous
levels. The sandstorm blanketed buildings and roads and a thick
cloud of orange dust. Beijing has experienced sand and dust
storms over the past several days, causing pollution levels
to increase drastically. Today, the air quality index reached a
level considered very hazardous to human health. A figure that
is more than 37 times the daily average guideline set by the
World Health Organization. Visibility is very poor in many
areas, but residents in Beijing said the weather mostly didn't
hamper their daily routine.
cloth and in terms of effects from the scent storm, there's
the smell of dust on the subway. But when I go outside, I can't
feel it that much because the subway entrance is very close to
my home. The impacts are not that great, but can still feel
the effects of it.
This is the third Sandstorm this month, a government agency
issued yellow warnings for nearly a dozen provinces for
Wednesday and Thursday. Beijing is regularly hit with sandstorms
in the spring with the smog made worse by industrial pollution.
Adam Curry: You've really confused me. What does this have
to do with the gangs? Kids now?
John C Dvorak: I'm just saying this. Well, I was discussing
about the gangs as the unreported aspect of it, which
is the fact that nobody's unless you're local, knows that this
has been going on for months on and nationally, you think it
just happened, but the sandstorms in China? I didn't
know where's this desert that's creating the sandstorms? I mean,
any Chinese listeners that can tell us? No. I was in a
sandstorm once in my life. A real one. I was in one was with
it. Mine was in a negative Israel. And it was a sandstorm.
And it's, it's like, it's like, just not like what you think and
you see it in a movie is it's just basically it's like a fog
of sand.
Adam Curry: I was in the sandstorm when I went to Iraq,
we flew to Kuwait, Kuwait City, and we had to, we landed and
then we had to wait on the plane for about 45 minutes. I say,
because a sandstorm was coming through. And you're right. It's
like it's like this big cloud. And then it was just that it was
just gone. It would Okay, sandstorm, and we got off. And
it was done.
John C Dvorak: Yeah, no, this one lasted for a whole day. And
it was a real shame hit Tel Aviv it was the worst Sandstorm in
their history.
Adam Curry: I want to I want to go back to the gangs. I want to
go back to the gangs. Okay, because I have a gang clip. By
coincidence. Yes, there's big news from New York. And this was
completely avoidable. And there are other people. This is not
just some stupid kid while it is. But this is something that
we talked about, maybe a year ago. And now it's cutting out
they still don't know really what who's who's responsible and
how this can be stopped. Listen to this report.
Unknown: officials think this could be the largest gang
takedown in history in the borough of Queens and Fox five
was given exclusive access as it happened. The Queens District
Attorney along with the NYPD chief of detectives, announcing
the 151 count indictment of 33 alleged gang members our own
Lisa Evers was embedded with the operation as NYPD detectives
rounded up the suspects. And she's here now to bring us this
fox five exclusive Lisa take it away.
Well, Chris this longterm investigation began with the
murder of a promising team basketball player now nearly
four years later, and YPD detectives tell us they have
dismantled two rival gangs who terrorize South Jamaica
residents with reckless gunfire using drill music videos and
social media to fuel their beefs.
Adam Curry: I talked about this specifically, the drill rap,
which is happening on YouTube, where kids are rapping about
which other kid they're going to kill. They go off and they do
it. And then they do another drill rap video about killing
the kid and then the other team, you know the other gang does the
same. And this is being propagated by YouTube algorithms
and sub labels of Sony and Universal Music. They give these
guys publishing deals to make these records. It hits the
algos, then Spotify picks them up once they have the record
deal and Spotify is then promoting this stuff. This is
this is why it's yes. I got this from mo this is exactly yes.
This is drill rap. It's happening everywhere is
happening in the UK. It's happening all over the world in
the weirdest places. But this is a big thing and the end the
algos pick up their their homemade songs and YouTube
videos. Then they get a record deal sublabel publishing deals,
and then it gets played on Spotify and then they're just
killing each other. And the and the whole thing is propagated by
Silicon Valley in the music industry. I'm pointing them out
specifically.
John C Dvorak: Do you have one example of one kill a rap
whatever. So go
Adam Curry: on, go on YouTube, go on YouTube. The lyrics are
all about who they're killing, who they're gonna kill, and then
they have the count. One example. Oh my goodness. Just go
to YouTube and put in drill rap. You'll get it and you look at
the views and the algos are picking it up. I have many
examples. I don't have anything clipped. Oh yeah. Yep.
John C Dvorak: And this is done Good.
Adam Curry: But in case you hadn't noticed, the music
business has moved to this model of songs about young black men
killing each other. It's been that way for a while, as radio
stations that play it, the algorithms promote it. Yeah,
this is why music business has become
John C Dvorak: less, you can make the argument that that's
what they want.
Adam Curry: I think I'm not going to argue with that.
Exactly. We got to we got I think we have to do two donation
segments. So before we take our first one, everybody bales
losers. With the big IPCC report came out. Did you read it?
John C Dvorak: Another one, they keep coming out? Well,
Adam Curry: this is this is the new one. And this is the it's
not just the IPCC report, this is the synthesis report. And
this report not doesn't just tell us we're all going to die.
It tells us what we need to do about it. And I have a little
intro here. It's well worth listening to all seven minutes
of Antonio Gutierrez, because he has a new speech writer. I just
have a minute. He's got a new speech writer and they're just
throwing all kinds of cliches into his speech, especially
since the guy calm. He can barely speak English, let alone
she can't write it. They've got someone in there to just just
sets it up to no end. Dear
Unknown: friends, humanity is on thin ice. And that ice is
melting fast. Oh, good one. So this Report of the
Intergovernmental Panel on Climate Change IPCC details,
humans are responsible for virtually all global heating
over the last 200 years.
Adam Curry: Yeah. 200 years. 200 years. Were responsible for it.
200 years? Yeah. Oh, yeah. Oh, yeah. Don't you argue? Don't you
argue
Unknown: heating over the last 200 years. The rate of
temperature rise in the last half century is the highest in
2000 years.
Adam Curry: Whoa, the rate of rise is the highest in 2000
years.
Unknown: concentrations of carbon dioxide are at their
highest in at least 2 million years.
million years.
The climate time bomb
Adam Curry: the climate time bomb is ticking remind you of
anything?
John C Dvorak: Will the other population population population
time bomb?
Unknown: Yes, in at least 2 million years. The climate time
bomb is ticking time bomb. But today's IPCC report is how to
guide to defuse the climate time bomb.
Adam Curry: Oh Time Bomb defuse the climate time bomb. It is a
survival
Unknown: guide for humanity. Oh, as it shows the 1.5 degree limit
is achievable. But it will take a quantum leap in climate
action,
Adam Curry: a quantum leap in climate action. These reports
Unknown: is a clarion call to massively Fast Track climate
efforts by every country and every sector. And on every time
frame. In short, our world needs climate action on all fronts,
everything everywhere, all at once. And he
Adam Curry: throws a movie your reference in there
John C Dvorak: to the movie title in it, it just won the
Academy Award for Best Picture. I knew.
Adam Curry: And I don't have any more. The whole report is filled
with it is great. Now, so this report does something very
John C Dvorak: big back what does he say that to almost.
Adam Curry: So this report is very specific and very
debuggable which is kind of cool because they have these you
know, 150 years, 200 years, and they show the graphs and they
show it moving up. You know the hockey stick. If anyone's ever
listened to the show previously in the past many years we've
played Michael Creighton's Michael Crighton videos who who
of course wrote state of fear about how climate activist
created all these hoaxes and blew up you know, big sheets of
ice to try and coerce humanity into jumping on board with this
scam and then he would do lectures everywhere and then he
died. Sad Yeah. Michael Creighton. Yes. Is Jurassic Park
died
John C Dvorak: prematurely. Yeah, just suddenly.
Adam Curry: So here's just one simple way of of debunking this
hoax, this particular hoax, which now because it's these
numbers, it's the 2 million years. It's the 200 years. It's
all these different years. And this is physicist Brian cat, and
he will explain exactly how this manipulation is done.
Unknown: We've been warming now for the last sort of 150 years
or so. Give or take, since about 1850. There's something
interesting about that period, isn't it? Tell it tell us about
that. Because it why did they choose that point? Oh, that's
because it's the lowest point, we are one degree above the
coldest it's been in the last 10,000 years, which is let's
just repeat that. I mean, that's remarkable. And the other
remarkable thing is it's two degrees cooler than the warmest.
It's been in the last 810 1000 years, which is the Egyptian and
the Minoan period. So this is really important for us, because
this is data. And that, essentially, the IPCC, they
always talk about that we are one degree higher than than the
pre industrialization period that 150 years ago. But what
you're saying, Brian is, that was the lowest point in the last
10,000 years. Correct. So So in a sense, that's why we shouldn't
be panicking, and that it's been much warmer in two or three
previous periods. Yes. And in the last interglacial, which was
130,000 years ago, when the country is much pretty much
where it is now about 50 degrees north from the equator, there
were hippopotami and elephants on the banks of the River
Thames. That was quite exciting. And it's well known this is
natural history. And it's it was six degrees warmer than it is
now. And there were humans wandering around the place,
presumably hunter gatherer and happily, were a tropical
species.
Adam Curry: That's how they do it. They just pick a point.
Don't go back too far. To show you're warming. And that was the
that was one it was really cold. Compared to 10,000 that you're
doing that's cool. scamming you all the lie. Yeah. But you know,
we'll lie it was a lie. But you we just heard the the Secretary
General of the United Nations saying that you know, we're
about to all die.
John C Dvorak: It's a question is what's in it for him? For
him? For anybody that's on this bandwagon money. I mean, there's
other ways of making money,
Adam Curry: but this is free. You have to do anything just
read the read the speech. Yeah, you might have to do a podcast
with this effort in that Oh, wow. Just money just to grab
just to grab or as we might say value. Then with that, I'd like
to thank you for your courage say in the morning to you the
man who put the sea in COP speak. Ladies and gentlemen,
please say hello to my friend on the way of their end. Mr. John
John C Dvorak: Byrne morning to you Mr. Adam curry. Also in the
morning all ships and sea boots on the ground feet in the air
sucks in the water and all the games Nice.
Adam Curry: Let's take a look at our troll room. Trolls Joe Joe.
1943. I think we're a little above average for our for our
Thursday. Are we not?
John C Dvorak: Yeah, that won't last?
Adam Curry: No, of course not. It's 1943. And now it's 1909. Of
course, the minute the minute we say hey, was this valuable? Be
Oh, I don't I don't want to hear the question. Because if I hear
the question about value, I might be compelled to support
them. Oh, no. Oh, we gotta run away went away. But you cannot
join the trolls and troll room.io. Who knows? Oh my god,
there's no more content left. Well, this is where you're wrong
by trolls, troll room.io. You can listen to the stream live
Thursdays and Sundays. But it's 24/7. The no agenda stream is
the best podcast network in the universe. Because it's all talk
no commercials, and trolling all the time. And from that page,
you can go right into the troll room and troll as much as you
like we have lots of live shows, are getting one of the modern
podcast apps podcast apps.com, which will even alert you and it
will dump you right into the troll room on the same app where
you get your podcasts, all of your podcasts that we recommend
podcast addict and pod verse currently the ones that are
supporting this great feature. Of course, you can also follow
us at no agenda social.com I had to block a couple people people
getting annoying. And it's also do you get to put on long
threads of things that do not interest you at all. Yeah. Like,
I hate to do it, but then I gotta mute the thread and
eventually have to mute people or block people. It's just, I
don't know, I think it's, it's leaking into people's brains.
This is your place everybody. This is your, your sacred home.
You're part of the community if you have an account there, but
you can also follow from any other Mastodon account, and you
can do whatever you want there. But people seem to seem to like
poop in their own bed. Sometimes it's very, very odd why they do
that. But you can follow Jhansi Dvorak had no agenda social.com
and Adam at nogen the social.com We'd be happy to follow you
back. 1841 There you go. 100 gone, gone. We also need to
thank the Artist for episode 1539. We titled that when pewter
noise, which is a term that we learned on the show. And I mean,
we often laugh at the art. But when we saw this piece from Mike
Riley, we both cracked up at the same time. And you don't even
have to listen to the show. You'd have to know anything
about our show, as witnessed from people who were on Twitter,
who said, Oh my god, I have to stop everything I'm doing right
now and listen to your show. This was Mike Riley's zebra with
a ripped off arm which came from a clip which was from the good
news section of the show. From Yeah,
John C Dvorak: let's suppose that good news that you've read
it on your on the behalf of the end of the show.
Adam Curry: And there's Mike Riley has some there's something
about his style man and the what is it? What do you how do you
how
John C Dvorak: would you characterize Oh, he's a
cartoonist. So they always they don't think like normal people.
And so they always everything's askew, it's just impossible to
you know, is even fine artists. They can see things and you
know, compose in a certain way that is that's, that's quote
unquote, art. But cartoonists are like a different breed.
Yeah. And they have, they just see there, they just see
everything. And once they get into it, where they're really
get good. It's just like, wow, I mean, I used to work with number
of cartoonists for some promotional art. When I was at
PC magazine I gave him I had an idea in my head and I just tell
it to him, and it's I knew what to do. And they would they would
just put it together and it was like I would never do and it's
10 times better than my original thought, but just did their
astonishing people.
Adam Curry: And what I love is we don't have to give any of our
artists any direction at all
John C Dvorak: just cases like spot art Davis do it
Adam Curry: then no Riley he did enter an earlier piece which was
the same with a pink background. Yeah, and I'm glad he switched
it to that kind of was a dirty orange what does that color
John C Dvorak: well he probably wouldn't have got it with that
other background. Everything bled into it it
Adam Curry: was really a prominent blood from the ripped
off
John C Dvorak: looked there's no good
Adam Curry: the man is a genius certified genius. It was very
very funny. We're just cracking up now we we did we of course we
look at all the art and you can follow along. No agenda art
generator.com is where everyone uploads and you could
participate to let's see, we had Vladimir Putin in jail. We had
we had a lot of Trump actually nice stuff like Sure dude named
Parker Paulie. I kind of the Trump hair coughs oops. Shmoop
swoosh with handcuffs. That looked pretty cool. There was a
45 with handcuffs. It was okay. It was a Jamaica flag. What else
was there? There was a lot of Trump indictment clips which I
would say in general would just not really nice like, you know,
I don't think that is attractive anymore for any product. Would
you say? Yeah, I agree. There was some concept pieces shocked
a
John C Dvorak: robot we talked about
Adam Curry: did you ever find out what
John C Dvorak: No. We've actually talked about the dinner
table for a long time and nobody remembers including JC
Adam Curry: he doesn't remember what his what his other ultra
ultra ego was the third 117 71 We lost 200 Trolls goodbye
trolls drown hope you drown. Jenny boys for life, which you
use for the newsletter, which I liked. But again, it wasn't
really something I mean, there was nothing that compared to
O'Reilly's No,
John C Dvorak: there was no comparison. There really wasn't
What else was there?
Adam Curry: Some Bitcoin stuff? No, no. Comic Strip blogger with
a anti AI art now. It was really it. I mean, sometimes you just
go Okay, that's it. There's just no two ways about it. But we
appreciate the work that all of the artists do. I mean, really,
you kick ass you every single show. We have so much to choose
from. Now, we haven't gone back to the Evergreen archives in
many many months. I don't think because it's just there's just
always something that we can we did about five months ago. Yeah,
that's many many months five months ago. And it's already
filling up now. You can follow along there no agenda art
generator.com. And the artists do this live on the and by the
way, O'Reilly had to haul ass on doing that thing because it was
near the end of the show.
John C Dvorak: If I recall you had a zebra in his back pocket.
Adam Curry: Is that a zebra in your back pocket? are you just
happy to see me Nobody in our generator.com Thank you again to
all of our artists. We appreciate the work you do. I
hope you appreciate the critique that we give you because no one
else would be as honest with you as we are. That's for sure. Now,
let us thank the executive and Associate Executive producers
for episode 1541 540. And we will kick it off with our
monthly massive supporter ceramiche. Sir Hahnemann, your
honor, Mr. Anonymous of Dogpatch and lower Slavia 25 to 2252. He
always comes in with numbers, we have no idea what they mean. But
it's always very meaningful to us. He received so much value
from the show. This is what he returns back to us and I want to
read his note, which, as usual, comes in with cash and is
typewritten it actually is that printed? course was that is that
a typewriter? Can you tell us that must be printed?
John C Dvorak: I'm pretty sure it's a printer. But yeah, he
Yes, it has to be printed
Adam Curry: from Serrana must have Dogpatch and Laura Sloboda.
Thank you for the continuing hard work and keeping us
informed of world events and reminding us of the bias in
reporting to sway our views. I am certain none of the producers
ever use any of the techniques learned on your soul to
influence a romantic interest or other in their own best
interest. Well, that's an interesting observation.
Answering an unasked questions I used to Oh, yes, he often sends
a $2 bill or multiple $2 bills in his his donation. I use $2
bills because it has the best artwork of any US currency. What
is on the $2 bill John Jefferson. I also use dollar
coins which I believe are some of the better minted coins. Oh,
he's going for quality cash. I encourage no agenda producers to
request to dollar bills at banks and use them using cash is
already becoming arcane. Using denominations that don't have a
natural place in most cash tills is just fun sport and results in
many wonderful expressions. Yes, and you meet fun children from
other lands when you do it. You'll have a conversation you
might even date someone because it's a it's a great conversation
starter. Next meet up
John C Dvorak: you I'm waiting for them to do a big ahead $2
bill
Adam Curry: next waiting next meet up use the $2 bill or
dollar coins as challenge coins. As someone that requests both
denominations at banks it does not take much to buy most of the
branches $2 inventory and like toilet paper producers can
create a $2 bill shortage
Unknown: All right, sir.
Adam Curry: Thank you so much. Love that love your love your
notes. Love the value return. And thank you very much for
supporting the show. He refuses any titles. He's just sir animus
of Dogpatch and Lois LeBeau via that's it. And we are very, very
grateful to what he has done for the show over many years.
John C Dvorak: So now we have moving on to another fine donor.
Ryan and Jessica Sorensen in Havre, Montana. Montana. One
540 $1,500.40 $1,540 BBB, jingle and goat karma please Now shut
up and take my money. Okay, start talking again. It's why we
send our cash this little stream of consciousness opening there I
think this donation is a split for me and my gorgeous wife
Jessica. Nice sharing executive producer status you both be on
there. brings us up to Damon Knight status. In before
inflation increased prices we shall be known as Dame Jessica
and bear paws. I shall be referred to as bad potato of
Beaver Creek. The county's largest county park I might add
Beaver Creek I will be I will bring homemade pastrami and a
hot rod jalapeno Amber I think there's a beer to the roundtable
since my restaurant closed I need an outlet for my cooking
needs another casualty of BBB Oh boy. Also please wish my oldest
and CJ Happy Birthday is not until April 14. But better now
than not at all. Thank you for the entertainment keep it up
love is lit
Unknown: beyond your freedom
you've got
Adam Curry: sir carry sir Keris or carries in Dracut Dracut
Dracut Massachusetts at big massive dekap size boobs 800 Do
It and 85 We got you know jingles no karma. Thank you for
your courage. Paul, thank you very much who cares by Count of
Greater Boston very much appreciated. I'll hit early.
Mike Dorman since that was so short. He's in Redmond,
Washington. In the morning Jen has been listening since Adams
appearance on Tom woods. Tom Woods donation please do you
spend D Do I have some old fashioned Deac karma for my
mental health I've been overly resentful since my employer
forced me to get the jab Love and Light Mike Of course we got
some of that for you man.
Unknown: Ah Harma sorry to hear that brother.
John C Dvorak: QQ is QQ in Key West Florida 400 bucks. title
change is FEMA theme parts dweller clarification QQ is
actually Q tab Q o. Using says 9098 for email services that
were asking stupid question like F name and l name. In the US the
Q has completely different Sharp has come Domina is going to read
this. Ask him pletely different charge seems Hmm.
Adam Curry: I'm not sure exactly what he means by
John C Dvorak: that. But he came in at 400 bucks, whatever it
Adam Curry: was and he'll get a title change. So he's going to
receive that thank you very much queue, tab queue. Up next we
have damn Kendra, Riverside, California 399 96. And she sent
in a note a card actually looks like a looks like St. Patrick's
Day note. What does it say here Dear John Adams sorry I
abandoned you during the Great Pay Pal purge of 2022. This
donation represents one year of 3333 monthly contributions. Hope
this cute puppy brings some Irish karma will reinstate
monthly donations in q1. Lots of love Dame Kendra I can't see the
front of the card though. I ended the front
John C Dvorak: of the card was torn off for some reason J took
it off for some probably some art purpose as a cute puppy. Oh
really national Puppy DAY. I think it was a cute puppy.
Adam Curry: Oh, thank you very much. We appreciate that.
John C Dvorak: I'm going to stop this for a second and and bring
in a 397 donation which is from the bareness of Baja. Oh. Police
credits 397 Tucson ladies and gentlemen start your livers pre
St. Patrick's Day. I have the note here with the with a list
of people that contributed. And
Adam Curry: oh, okay, so this is from this is a meetup donation.
John C Dvorak: Yeah. Okay, gotcha. Now, it wasn't a scan
because it's on deep red paper. And blue ink on top of that,
it's very hard to read. But I'm gonna read a couple of these
names. This first one I don't want to read because it's under
50. Dame Beth came in with 100 coal from Casa Grande Ruins.
Oops. Well, there was as a make hint don't know who that is.
That's under 50 under 50 under 50. Coyote shit poster club 100
Now they're under 50 Meyer from the Casa Grande Ruins. 100.
Somehow this all came to 397 Okay, well I got but I could do
as best I could do. And I want to thank everybody at the
Arizona me but I liked his idea of doing some collections for
the show at these meetups.
Adam Curry: Yeah, it's a very good idea. And what do they say
here? Special thanks to Tim for bringing no agenda Jeopardy much
fun was had by all jingles mudflaps and our formula is this
the two we got wrong? Oh, that must have been for the no agenda
Jeopardy. Hanging our heads in shame thanking you for your
courage Dame Beth bareness of Baja Arizona cause
Unknown: of what's happening in Greenland right now the maps of
the world will have to be redrawn This is what would
happen to San Francisco Bay
Adam Curry: and here's the other one you got wrong happy to play
in our formula is this we go out for yet people in the mouth all
right. I like this idea I like this idea of no agenda Jeopardy.
We should probably pretty call it no agenda trivia. To avoid
any any issues. Me well as spin out in New York, New York is
this mix? You're checking in from New York City shout out to
my brother cleantie For his first donation, love and prayers
to my boyfriend. Got a Tesla not on IG who lost his mom a while
ago mad love to Sir Michael Anthony and Mark s who I met at
a meet up three 383 My birthday we got you covered brother No
problem.
John C Dvorak: Kelly Shermer in Concord, North Carolina, ATM
this donation is a switcheroo. Make a note for my husband Jason
Allison, happy fifth anniversary 323 I hit him in the mouth in
2021. And we've been listening ever since he donated before I
did. So may I please get a D douching.
Unknown: You've been D deuced.
John C Dvorak: We're supposed to take a belated honeymoon to
Barbados on March of 2020. But the world went mad instead. And
we have yet to get a redo on our trip. Can we have some vacation
karma please thank you for all you do to keep us sane. In an
insane world we selfishly hope you never find an exit strategy
that donation is for him. But if I could please hear the three by
three jingle for myself. Thank you for your courage and such.
And now it's
Unknown: time for a three by three. Experiment by JC D.
Comparing story from ABC, CBS and NBC.
You've got karma.
Adam Curry: Now if you could do this next one for me because I
didn't grab these jingles and I'll grab them real quick now
that would be helpful.
John C Dvorak: Valentino are gentle Jarrow, AR AR g i e r o
in Ann Arbor, Michigan. And he writes please add website. Cas
does Castile salon no.com That's CASTLSI L A No. Was show credit
Thanks. Who put on the on the show credit. Coursers he goes
screw your freedom. No, no a drone again, show note ITM keep
the great work going. You know who else does great work my
company? Casta Salerno, a small company in Ann Arbor Michigan
that makes all natural grooming products for men. Check us out
at casts Castel salon.com LLC Valentino or Jarrow
Unknown: your freedom no
Adam Curry: don't want the full track would do the do the shorty
the shorty here
now I got this note from about chap Williams, who donated
twice.
John C Dvorak: Don't forget Eric Nelson.
Adam Curry: I'm sorry, I forget Eric Nelson didn't mean to do
that. Eric Nelson says thanks for the immense value 333 Thank
you. He's an odd place that because we got chap Williams who
donated 333 dot 33 Twice. Yeah. Do you think this
John C Dvorak: came in from the these are bank checks. So they
came in from one of those payment services which we get a
lot of checks from? And I looked at the two checks because they
came in kind of about the same time but one was dated the next
day. So there's two different days one day apart.
Adam Curry: Okay, well, he'll get an executive producer ship
for that. Kelly Conway's and you get a note from No, I have no
notes. Do you have a note? I have no notes. No, no. Zero? No.
But well, then we get a double double karma Kellyanne Conway
sabeel New York 326 91 Good morning Adam and John has been a
while since my last donation turning 32 on March 26. This
week and just wanted a birthday shout out. Hence the donation of
326 91 Got it. Thanks for all you do want some new pregnancy
karma. In the meantime, while we can help you with some new
pregnancy karma, you gotta Kelly's got karma.
John C Dvorak: Now we have some of our very few of our February
of two of the Palindrome donations for this Palindrome
today is three to three to three yesterday was three to two to
three and those are the two that got the attention, sir otaku in
Flower Mound, Texas. He's 32223, which is a palindrome lucky
palindrome. I couldn't pass up the Palindrome donation. Here's
here's to more of the best podcasts in the universe, sir.
Oh, taco Duke of the Northeast Texas in the Red River Valley.
Adam Curry: Anonymous in aspermont, Texas three, two
2.23. There it is the Palindrome in the morning gentlemen, thank
you for the amazing media deconstruction every week no
jingles by Dooney jobs karma. There's high school ag teacher
is done and ready for something new. Also add me to the birthday
list. 33 on the 22nd Nice. You've got it all covered. Love
and little anonymous from Texas jobs, jobs, jobs and jobs for
jobs. Harmar
John C Dvorak: broken wall films in Carson City Nevada, tu tu tu
tu tu a bunch of ducks, but this is a switcheroo please make a
note. Please credit, Garrett. It looks like Elaine. We're a ll ai
n as Associate Executive Producer and add him to the
birthday segment. Good birthday history 22 He's crushing it and
going to no agenda meetups in Charleston South Carolina. Happy
birthday from the best brother in the universe and the best
podcast in the universe. Okay, got it.
Adam Curry: Switcheroo noted sir dirty Jersey whore Gladewater,
Texas to 1976 also Associate Executive Producer ship.
crackpot and buzzkill sir dirty Jersey horror here no jingles
but I would like a jobs karma. Just a quick note to promote the
upcoming northeast Texas meetup this Saturday one day only.
Northeast Texas mushroom hunt outdoor movie bonfire and no
agenda slash hug story meet up Oh, that's cool up with the hug
stories. Come join other fellow Gitmo nation slaves at Fred
lobster International Speedway in Gladewater. Texas. It starts
around five ish we'll be providing pulled pork sandwiches
some other goodies. For more information and to RSVP go to no
agenda meetups.com jobs karma much appreciated Thanks y'all be
good. Please go visit that. That meetup sir. Dirty Jersey whore
is an interesting dude. You'll like him.
Unknown: Jobs, jobs and jobs for jobs.
John C Dvorak: Here's Ashley Slater. Who comes in with $22.33
I don't know where she's from. It doesn't say did you get the
goods from her? She sent a couple bound
Adam Curry: where we are of course here in Jamaica so if it
came in while we were here I have not received it. I do not
know what
John C Dvorak: she she does leather goods.
Adam Curry: Really? Oh the the notebooks I yeah, I read this I
read Oh, she didn't Yes. No, we didn't get it. I read the note.
I remember what I'm talking about. Yeah.
John C Dvorak: Well, they're dynamite.
Adam Curry: Oh cool. So he received him
John C Dvorak: well, she said I hope by now that my talent
donation arrives in your hands I guess not prior to this being
read as a as I made each of you your own leather bound journal
was hand tool designed in at 33 incorporated into it so send one
to me me and keep her there you have it for my birthday. My
husband do name Ben commissioned me to make each of you a
journalist so he bought him for us. So he's got some sort of
credit. I guess. She made them though. Yes, she did make them
she's going to be hosting a meet up I hope it's on the meetup
things you set it to no agenda meetups, that kind of a meet up
with my husband and friend marina on Friday, March 31. At
first at cowboy Jackson, Bloomington. Seven to 10 I'm not
sure if it's on the meetups. Hopefully, I'm sure it is. And
this has got some Instagram links which I can't read because
Adam Curry: I'm gonna put it no the what you need is her Insta
handle is ashen fire underscore originals. We'll put it in the
credit. We'll put it in the credit so you can find it there.
John C Dvorak: No jingles no karma. Please say hello to our
three daughters. Katya, Gwyneth and Gweneth Yes, hello. I'm
saying hello. I know I'm waiting for you to say that Alexei.
Hello. Wow. They think it was pretty cool. Oh, thank you very
much. So Mom,
Adam Curry: thank you very much, Ashley. We will be I'm sure I
saw the pictures I'm sure they're beautiful. Can't wait to
can't wait to pick them up. And our last Associate Executive
Producer Brett bird from Katy Texas. Carmen would be
appreciate appreciate it from Brett. And let me just see
16 156 Trolls so left okay, well, the good guys are still
here. Thank you very much, Brett.
Unknown: You've got karma
John C Dvorak: and thank these these are Executive Associate
Executive producers for show 1540
Adam Curry: And we have one week left until the brand new
donation site comes online everyone's very excited you can
look at the old one now bohra.org/and A thank you all
for supporting the best podcast in the universe episode 1514
John C Dvorak: Our formula is this we go out for yet people in
the mouth
Adam Curry: I'm very I'm very disappointed in in many
deconstructionist podcasters who we typically kind of know
Typically really appreciate, like Jimmy Dore, I'd say we both
are Jimmy Dore fans. Why you like, you know what I'm gonna do
John C Dvorak: I know where this is going.
Adam Curry: I'm so disappointed that everyone just mindlessly
and blindly follows Facebook and Twitter posts and think,
John C Dvorak: why we're the best podcast in the universe
because we have for one thing we always have. It makes a
difference to have two hosts,
Adam Curry: correct. Although Jimmy Dore has a sidekick
John C Dvorak: Oh, the psychics are different. Those are guys
just making jokes on the side. a one man show.
Adam Curry: Exactly, exactly. And also, we have boots on the
ground everywhere. And we, we incorporate those into our show,
we listen to people we read the emails that we receive, we
appreciate and, and value boots on the ground reports from
people who know what they're talking about. And we have and
everyone's an expert in at least one thing, everyone's an expert
in something. So this is the the farmers citizen movement party,
which kind of swept the elections, the provincial
elections in the Netherlands, they got 17 seats in government,
it's a big deal. Unfortunately, this was all a marketing
campaign. These two guys who have been have an advertising
company and have been advertising and creating
campaigns for all of the big I would say big agriculture
chemical companies. Really if you look at they're at the party
program, they're all in they feel the nitrogen crisis while
is understandable, they are not as is advertised. The the party
that all of a sudden the whole country voted for because
they're, you know, everyone wants to stand behind the
farmers. Yes, they might have done that they might have
thought that but this party is not they're not the good guys.
They are all in on the tiny homes. They're all in on nature
before the farmers and I just need to play this clip of Jimmy
Dore because he really missed the mark. And the end the
egregious part is he's reading from the New York Times and
thinks the New York Times is going to give you the truth.
Come on, Jimmy, you know better than that.
Unknown: So the government announcement comes so you're
gonna get rid of family farms and the Netherlands that just
seems crazy.
Adam Curry: I mean, that's like paper straws, I thought was
stupid. But this is like, you're right, the sidekick is
worthless. It's you gotta have two hosts, you gotta have two
who can catch each other and check each other.
Unknown: In one of their largest ever demonstrations, farmers
demanded that scrapping the recently announced plans by the
Hague why do I tell you all this? Because the Dutch Pro
Farmer party swept the elections. Fascism. So those
farmers so they, they Yeah, they are going to be called white
supremacist fascists Nazis, you know that.
Adam Curry: In fact, that's actually a good observation. The
fact that they're not being called white supremacist and
Nazis should give you a clue. Three W's women wash away
racism. What a
Unknown: surprise victory is widely seen as a protest vote
against Prime Minister Mark roots government and some of his
policies including a drone to slash nitrogen emissions, which
may say, which many say will imperil farming operations? Hey,
a small Pro Farmer. Farmers Party has swept provincial
elections in the Netherlands to become the biggest in the Senate
by channeling wide dissatisfaction with the Dutch
government and a sharp challenge to Prime Minister Mark roots
administration. This is good to see as it occurred. Aren't you
happy to see this this is something finally something
somewhere there's a positive note somewhere that people are
starting to jump out take control back of their
governments. The result put the party the farmers Citizens
Movement, which has fewer than 11,000 members, according to its
website, on track to become a major player in a government
body that approves or rejects legislation that comes out of
the House of Representatives. Some Dutch voters said they
viewed the party success as a victory against the country's
elites as well as the government. They said it just
like their Brexit.
Adam Curry: So I hope Jimmy hears this. We appreciate what
you do, man, but you got it all wrong on this one. And you
should never trust the New York Times.
John C Dvorak: Yeah, yeah, I guess going to the New York
Times to get the confirmation is like the world's worst thing to
do. Real this particular moment.
Adam Curry: Here's another one and just we'll stick with big ag
or Big Pharma and this gets all chemicals. This is another one
of these. It used to be Denmark but oh no. We've been doing the
show long enough. We remember it used to be Denmark and now it is
Finland and that's
Unknown: another reason to be happy in Helsinki. For the sixth
year running. Finland has topped the World Happiness Report. The
UN sponsored index that measures GDP per capita social support,
life expectancy, generosity and corruption. According to your
Wait, what
John C Dvorak: did she say six years running?
Adam Curry: That's what she said. I don't remember it being
six.
John C Dvorak: It used to be No, that's bullcrap. We had Denmark
was last year I don't and the year before. Let me see. This
was a must be competitive happiness.
Adam Curry: No, this poor does. This is this is the one I think
this is the one I'm looking at when's the last time we had the
Happiness Index? The last time it was 2014. No, I that's the
last time we reported on it at least. Anyway, we'll continue
Unknown: well, it's life expectancy, generosity and
corruption. According to the study, Finns, strong feelings of
communal support and mutual trust, help them navigate
difficulties like the COVID 19 pandemic as well as liberty to
make their own choices and faith in their governments. Minimal
suspicion of government corruption. All
Adam Curry: right. So happy in Helsinki, why do you think
they're all happy in Helsinki? Well, we also happen to have the
antidepressant consumption index, and Finland doubled the
amount of people per capita, what is the what is the actual
number here? What is the number here? Oh, I'm sorry, the DD D
the Define daily dose? What is this as new. So Finland, in the
number one country of with the most antidepressants daily dose,
I guess the defined daily dose is Iceland. They went from 71 to
153. Sweden went from 45 to 105. Norway from for only a small
increase for Norway, France, a small increase, but Finland more
than doubled. 36 Define daily doses to 82. And so if you're
wondering why they're also happy and trust their government,
there's your answer. And, and the Netherlands who always show
up on the list, they actually didn't they went from 31 to 47.
But I would say look for Iceland to be the happiest country next
year. And maybe Portugal who went from 32 defined daily dose
to 131 They're drugging you people Yes, that's why you're
happy. Of course happy in Helsinki.
John C Dvorak: Well, Brave New World. Yeah,
Adam Curry: yes. So um, right out of Huxley, Soma, right on
Soma. Sad, but Soma. I'll just stay on Big Pharma because
there's another change coming up. I love this. This is, you
know, if we haven't given big pharma Enough, enough of our
minds, our bodies our health. Let's add this to them, shall
we?
Unknown: The Biden administration announced plans
today to overhaul the network that's run the nation's organ
transplant system for nearly four decades. The United Network
for Organ Sharing, known as Eunos, has faced criticism for
inadequately managing the process. In 2022, doctors
performed more than 42,000 transplants in the US. But there
are still 104,234 men, women and children currently on the organ
transplant waitlist. And every 10 minutes another person is
added to that list. 17 people die every day waiting for an
organ transplant. The proposal would open up a competitive
bidding process for other organizations to possibly take
over the network with a goal of shortening wait times and saving
lives
Adam Curry: and creating a great marketplace.
John C Dvorak: I think they should just give it to the turn
that over to the Chinese.
Adam Curry: Yeah, they know how to do it. This is totally what
this is this, you know, be careful. You're gonna hear this
this story that John and I grew up with, even though we're
separated by a couple of years. So I heard about this guy. And
he met a girl while he was on a business trip, and then he woke
up the next morning in a bathtub filled with ice and on the
mirror with lipstick and said, we've taken your kidneys.
John C Dvorak: Yeah, it's not a time to get to the hospital. You
know that? Oregon staffed not to go back to some of the older
older shows, but I'll bring up the details of this one later.
But during the mania for vasectomies in the 1920s there
was a lot of talk about transplanting balls, test test
and because you do get added virility so they would take they
would take gonads from one guy who's supposed to maybe dead and
then put them in another so you have like four balls. And at one
point there was a problem with people doing exactly having that
exact same thing happened with with the missing kidney, where
they get knocked out in a new You are an ally and they would
have their balls stolen. Wow. Ball theft ball theft. I got
some stories to tell when I get to get the details mail write it
up and then we can talk about it some other time to
Adam Curry: put it in the newsletter. It sounds like a
groovy one for everyone to be grossed out by
John C Dvorak: people's attempts. Donations will be
skyrocketing Marty
Adam Curry: itching my stomach feels weird. I don't know if I
like this topic at all. Instead good instead. Let's go to the
Orange Man. The stuff that actually obsessed our American
news media all we
Unknown: can Manhattan district attorney investigating Donald
Trump's hush money payments to porn star stormy Daniels told
the grand jury hearing the case to stand down for today. Sources
tell ABC News John's were informed at least one additional
witness may be called to testify before they decide whether to
indict the former President Trump declared over the weekend
that he would be arrested on Tuesday. That obviously did not
happen, obviously. But New York is still bracing for protests
after Trump called for his supporters to turn out. A few
people so far seem to be heeding his call. Former Vice President
Mike Pence, who saw firsthand what happened when Trump called
for protests. January sixth said people should not protest this
time. I would discourage Americans
from engaging in protests, if in fact, the former president is
indicted.
Adam Curry: Wow, man, it's like Did we not say this was a hoax?
This was Lane's was not going to happen. I'm pretty sure we said
that. Yeah. Last show. Yeah. It's like don't don't don't
we're not buying it. Although I do like what Newsweek did, who
owns Newsweek, they say they used to be the spook
publication. I'm
John C Dvorak: independent group. That's a small, small
publisher. I'm not sure anymore. I Bloomberg owned it for a
while.
Adam Curry: Trump supporters planned bank run to protest his
arrest and have that's, that's a great setup. That's a great
setup. If there's a bank run just Oh, I got the info for you.
If there's a bank run, run, just blame Trump dropped at it. I got
the info on the law about bank runs for Yeah,
John C Dvorak: I found out about it, too. What did you get? That
in 20, there was actually something of a law that was
repealed in 2012. For free speech purposes. It used to
exist, know where I got it from when I was a kid, I guess I knew
about this law. But it was taken care of removed from service in
2012. It's there is no law.
Adam Curry: Well, Section nine a two of the Securities Exchange
Act prohibits any person from directly or indirectly using any
means of interstate commerce or communication to make false
statements or omit a material fact that could affect the value
of securities with the intent to deceive or manipulate the
market. This applies to a wide range of securities, including
stocks, bonds, other investments, also banks, but you
have to they have to prove that you profited from it. Otherwise,
it doesn't really count. Yeah. Yeah.
John C Dvorak: Well, on the topic of Trump, yes, I have. No,
I mean, this is again, the reason I get NTD every couple of
weeks, I'll do this. Do you know anything about Trump's 10 Point
Plan? And agenda 45, or whatever it is? 47 No, 47.
Adam Curry: He hasn't weighed and I think the 10 point plan
sounds familiar, but I have certainly not heard a clip or
anything about it.
John C Dvorak: Here's a clip, former
Unknown: President Trump revealed his plan to dismantle
what he calls the deep state yesterday as part of his agenda
47 for 2024 Meanwhile, demonstrators both in support of
and against him took to the streets and cities Jeremy
Sandberg has more on Trump's 10 Point Plan.
Adam Curry: Oh, of course, we didn't hear that. That will be
crazy. Before we play your second clip. Here's what we did
here
Unknown: during that possible perp walk and describe the
potential situation as a fun experience, Joe,
so that might be fun in front of the cameras for him. But I think
it's different when you get in there. And you're having I
could, you know, we don't know but having your fingerprint
taken and picture taken. We
call that mica, right. That's called whistling past the
graveyard. He's not looking forward to any of it. He's
horrified. He's just talking big. The walls are closing in.
Adam Curry: No walls are closing the walls.
John C Dvorak: The walls have been closing in since 2016 2015.
Adam Curry: The walls are closing in again.
John C Dvorak: We have so many mega clips of walls closing in
by these douche bags. Guys do worse. I don't understand why
he's still on the air. But okay, let's go to Butch Trump's 10
Point Plan Part Two.
Unknown: They're all sick. And it's fake news
Trump vowed to aggressively removed rogue bureaucrats uproot
corrupt actors in the national security sector and rework FISA
courts if elected in 2024. He plans to create a Truth and
Reconciliation Commission
to declassify and publish all documents on Deep State spying,
censorship and corruption,
he's promising to crack down on government leakers, that he says
collude with media to create false narratives and says he
will ask Congress to create an independent auditing system to
monitor intelligence agencies to make sure they're not running
disinformation campaigns are spying on citizens. He's also
proposing term limits for members of Congress.
This is how I will shatter the deep state and restore
government that is controlled by the people and for the people.
Reactions to Trump's possible upcoming indictments were mixed
in New York on Tuesday. Both supporters and adversaries were
on the streets making their stance known proponents in other
parts of the country like Alabama and Florida said they
were not protesting but rallying in support of Trump. Instead,
we're not going to just lay out lay it lay down and pretend that
this is normal or that this is right. It's not right.
They've spent millions of US tax dollars coming after him instead
of working with him to help our country. And I think it's
ridiculous, but like I said, it's benefiting Trump it along.
I'd love our
Adam Curry: governor. But Trump's our man. Did you hear
about Chris Rock?
John C Dvorak: No. What about Chris Rock?
Adam Curry: I guess he did his latest stand up in DC and a lot
of the muckety mucks were there, including Nancy Pelosi. And
Chris Rock said, You're Are you really gonna use? Are you effing
stupid? You're gonna arrest Trump. You want to make him you
want to make them more popular? Do you not understand how stupid
you are? Yes, yeah, he's right. The M five M man. I got two
clips show just need to play one is since we're talking Trumpian
stuff. Sam Harris. Teach. How did Sam Harris get popular? He's
such a dick.
John C Dvorak: Have you ever seen him?
Adam Curry: Why doesn't his podcast is very successful? Or
was I don't know. I don't know if it's still successful.
John C Dvorak: Ever seen it? I don't watch him. I never who
never heard of him before he became somehow popular. I don't
know. What did he do before? I don't know. But he's he's very
good at what you're doing to clips.
Adam Curry: He listened to his his latest.
Unknown: There's we're swimming in a sea of misinformation where
you've got people who are moving the opinions of millions of
others? Who should who should not have an opinion.
Adam Curry: That's us. We should not we should not have an
opinion
Unknown: on these topics. Like there's no, there is no scenario
in which you should be getting your opinion about vaccine
safety or, or climate change or the war in Ukraine, or anything
else that we might want to talk about from anyone. Candace
Owens, from Candace Owens, right. He's just like, like,
like she, she's not a relevant expert on any of those topics.
And what's more, she doesn't seem to care. Right. And he's
living in a culture, right, that has had that has amplified that
not Karen into a business model and an effective business model,
right. So it's just great. And that is something very Trumpian
about all that.
Adam Curry: Oh, there it is very Trumpian. Well, okay.
John C Dvorak: All right. So it makes him someone you should be
listening to by his own standards.
Adam Curry: You remember what the last time we played Sam
Harris what he was saying, right? No, oh, yeah, you do you
do.
John C Dvorak: Sam Harris, born in 67 was an American
philosopher, neuroscientist. Okay. Author and podcast host.
Yeah, his work touches on a range of topics including
nationality, religion, ethics. What is he got to do with any of
this? I don't know. Harris came to prominence for his criticism
of religion and Islam in particular, and is known as one
of the four horsemen of the new Atheism, along with Richard
Dawkins, Christopher Hitchens, and Daniel Dennett. All of them,
most of them, in fact, represented by John Brockman. My
agent, seriously, oh, that's the end of phase one that pin Martha
over new. Okay, so he's a dream as atheist. And so he's got cred
because of that.
Adam Curry: I think this is this is when we first introduced him
on the show was when he said this. Yeah,
Unknown: honestly, that thus far is the most harmful aspect of
his presidency. It's just, it's the complete ruination of any
standard of honesty in in political discourse. And it's,
it's astonishing to me it's I have not yet accepted that this
is even possible, much less actual. So I mean, I'm, I don't
think I'm alone, but I'm continually having the
bewildering experience that I just couldn't not believe this
person is president. And it really is
Adam Curry: that what he was the one that said it was, gosh, I
wish I had the right clip. He said, No, it's okay to lie. If
it's about Trump, it's okay to lie about
Unknown: Hunter Biden at that point Hunter Biden literally
could have had had
Adam Curry: memory. He said, It's okay. We it's okay to lie
about stuff as long as it's getting rid of I don't want to
play it as long as it's getting rid of Trump. Remember, that?
was a big
John C Dvorak: deal. Remember it but believe me, you
Adam Curry: believe me? Okay, so let's go to the approved medium.
And it's finally out. Finally we have her show. Inside is what's
called inside with Jen Psaki. As we know, she was the spokes hole
for but it gave her a day actually gave her a show. They
gave her a show they gave her show caught it make it yep, God
gave her show. And let me give you my professional opinion.
Since you and I have been in our past we've executive producer
and we've produced many, many mainstream products, including
television, and I would say first of all her hair is is
disastrous. I don't know I don't know who did her hair. It's it's
so
John C Dvorak: we're doing our producer talk. I have to get I
gotta get an image where am I gonna get
Adam Curry: this? It's just go to inside with GIMP Saki and
make sure you get the one where she's wearing all white. A
mistake as a news person. What are you an angel? So her
clothing is good. His Heffley do not want to know why all white
is is wrong.
John C Dvorak: And Daisy was actually illegal. It was
illegal. Illegal because it blew up.
Adam Curry: That's right. It blew up the tubes. But it's not
a good look. The hair is a disaster. I'm sorry, the hair is
just a disaster. And any woman who looks at her hair, at least
the clip that I've seen it will admit it's a disaster because it
looks like their own found a website looks like the rats are
eating at it. And she she can't talk. Oh, this
John C Dvorak: is not good. This is white is no good. Of course
not. Do you see your hair? It looks like a nurse or something
she doesn't look or somebody should be locked up. She looks
like a mental patient.
Adam Curry: Yes, yes. You're right. It looks like a straight
jacket. Yeah. And she can't read.
Unknown: But the reason Donald Trump's looming.
Adam Curry: She can't even do it right away.
Unknown: But the recent news of Donald Trump's Trump's looming
indictment we've seen Trump's allies attack prosecutors in all
sorts of ways. But one attack in particular stood out to me and
she's
Adam Curry: moving her arms around
John C Dvorak: like she's told no, she's she's trying to fly
but she's trying to do in the elbow flap. Yes,
Adam Curry: she's trying to direct planes to the gate or
something. It's called on
Unknown: Thursday, Boris Epstein said that woke radical DA is in
New York and Atlanta are to blame for Trump's legal
problems. Yes, you heard that correctly. Woke DA is are to
blame here.
Adam Curry: This is the worst prompter read ever. She can't do
it. This is a mistake. They blew it. She's worse than Joy read.
She cannot read read.
John C Dvorak: Better than this. Yeah. So
Unknown: now because it seems that blaming woke politics for
problems, big and small, has become a one size fits all
response for Republicans lately. Take for example, the news this
past week of the collapse of Silicon Valley Bank, the largest
bank failure since the 2008. Financial crisis. It was a big
deal. And it's a complicated issue, one that we could
probably devote an entire show to, but instead for some
Republicans the real problem had no connection at all to any
economic policies at all.
John C Dvorak: Oh, did she say at all?
Adam Curry: At all, this is horrible that the writing is
bad. She can't read the sentence she can get better. She can get
better with the prompter. But her she was the the schoolmarm
she was that I don't have to do that to you give her an
interview show do anything but this reading the prompter is non
welded. Of course, we're executives we know what we're
talking about. No one ever asked us for our opinion.
John C Dvorak: An interview show would have been ideal. Where she
can
Adam Curry: she can she can. I think she's very clear.
John C Dvorak: She's got the nasty kind of style that's
perfect for an interview.
Adam Curry: And with that you tie your hair back. That red
hair, you tie it the red hair is cool, but you got to tie it
back. Don't try to be glamorous with your What are you feminine
hygiene product commercial?
John C Dvorak: You know I'm looking at this picture. If she
didn't have a 40 inch waist. Maybe this white thing would
look
Adam Curry: how okay, you went there you go I'm happily
married. I'm not gonna go there. I won't say stuff like that.
This is not what you say to any woman. Even if ever ever ever
ever
John C Dvorak: get this airy comes. That would be the end for
you.
Adam Curry: Yeah. Oh, it done.
John C Dvorak: You don't do that. Like come on. You know I'm
right.
Adam Curry: Of course you are on the money. The creative work
Consulting Group is all He's available. We're open 24/7 Do
they call us? No? Who did Mika and Joe produces? It's horrible.
Bush he
John C Dvorak: has to be seen, in my opinion. If you look over
the landscape of MSNBC, which is struggling, yeah, she has to be
seen as when she came in, she had to be seen as a threat to a
number of hosts. Oh,
Adam Curry: good point. So someone's
John C Dvorak: up to fail. sabotage her.
Adam Curry: Yep. Yeah, you are
John C Dvorak: looking at you. You will read his great in
white. You look
Adam Curry: so slim that your hair is dynamite. Oh, yeah. Oh,
it's
John C Dvorak: really a flop it out a little more. White, less.
Yeah, the part
Adam Curry: is all over the place. I got my hair guy. And
you know me and
John C Dvorak: I can't see the pictures. I have the part. But
if the part is wandering all over the place, that means no
effort was put into it. So no, she's been sabotaged. Yes, it
looks
Adam Curry: a bit like Roseanne Roseanna. Dan, she's got the
frizzy look, you know, like Monica on friends. This is bad.
John C Dvorak: Ollie, I know agenda. Do you hear this sort of
catty commentary, but we're also correct. Y'all were totally
right. Mister.
Adam Curry: Did we have ratings for the show yet? Let me see.
John C Dvorak: Asterisk
Adam Curry: ratings inside with Jen. Psaki is a stupid name to I
don't I don't like the knee. It's like she's not giving us
any inside information. Oh, Premier ratings she NAB 1.1
million viewers. I'll give her that.
John C Dvorak: That's a lot for that hour for that work. Because
curiosity. Let's see how long that lasts.
Adam Curry: Let me see what the demo was. Like to see what to
fall off was. It airs Sunday night. 9am. Oh, so it airs on
the Oh, really? They've put this morning and Sunday morning show?
Well, that's when people are watching. That's a great spot.
John C Dvorak: She naps but just competition at that hour. Okay,
but listen to this.
Adam Curry: The number one spot in the key demographic
2550 437,000 viewers. You're not going What can you That's 137
that's 137 CPMs? No, one day losing money on her.
John C Dvorak: Yeah, yeah, to have more numbers at that group.
And so the
Adam Curry: the premier marks a strong start for the former
White House press secretary hosted show with the previous
Sunday 9am slot that brought in 573,000 viewers. So she debuted
Well, debuted. Well, we'll see. I think I agree. I think people
were tuning in for the old show. That's why there was my old
show.
John C Dvorak: Huh? Well, she will carry it. We'll see if she
does. She's dead. If they're trying to sabotage her right off
the bat. She hasn't got a prayer the way it works now.
Adam Curry: Ready kilowatt in the troll room says its viewers
who passed out drunk watching Saturday Night Live. Yeah, okay.
Good one. Oh, my goodness. Yeah. But I'm just we know this stuff.
We know this stuff. This is not good.
John C Dvorak: So the next thing starts happening is they bring
in some consultants. Oh, there we go. Moving her hours around.
If their hours change one times over. It's over. We think we
should move you to the 11 o'clock spot.
Adam Curry: You know, in Hollywood and in in TV land.
It's always the second weekend that counts. So you know, if you
have friends in Hollywood, and of course we do. Use Hey,
congratulate your new movie. I'm gonna go see it. Oh, no, no, go
the second weekend, second weekend because I never want the
drop off. To always ask them the friends and family go the second
weekend. That's the same for television premiere. So the
second tune in tune in don't tune in next weekend. By the
way, we have as many people listening to this podcast as she
has watching her and she's making millions Hello. Yeah. I
think she got Asians man. I want to say she did eight. Honestly
she got 8 million a year for this
John C Dvorak: show. Boy they will him as NBC he's got their
heads up.
Adam Curry: They got money though. I got money.
John C Dvorak: Money. Comcast money.
Adam Curry: That's right. Big Comcast money. Oh, good on her.
But I'm telling you some mistake. Mistake. Mistake
mistake.
John C Dvorak: He or she probably also besides being
sabotaged. I can't see her being friendly to the crew.
Adam Curry: Oh, you're so right. And that especially in cable.
That's key.
John C Dvorak: Oh, yeah. Because they don't get paid enough.
Anyway,
Adam Curry: the and they'll be the ones that is going like oh,
your hair looks great. I'm looking at right here on my
monitor. It looks directly
John C Dvorak: with the thumbs up. Okay, so
Adam Curry: That's exactly I used to. If they ever made a
good closeup of me we had two camera people Warren and
Celeste. They both passed away. Sadly, they were older than me.
But they they passed away kind of early, I felt I had a concept
called curry cache. And if they would make me look really good
with a shot or close up, I walk right after the segment of walk
right up, put $5 on top of that, on top of their lens carry cash.
Wow, I was idea it was well known. Curry cash was a thing.
John C Dvorak: Nowadays, you'd have to be 100. Yeah, back in
Adam Curry: the day, back in the day. Ah, okay. So there's a
couple of things going on around the world. And I would like to
highlight the first one which is France. This is the while this
report explains what I believe in Paris
Unknown: police have banned protests opposite their
country's parliament that comes following unrest triggered by
the government imposing a pension reform and bypassing a
vote on the issue. While that protest ballot stretches from
class Illa Concord and surroundings to parts of the SRA
zilis. A. opposition MPs have meanwhile, found two motions of
no confidence set to be debated in parliament on Monday they're
hoping to garner enough support to topple the cabinet and repeal
the law to raise the retirement age from 62 to 64
Adam Curry: So this is the French the don't mess around.
And of course, the rest of the world is saying well what's up
with that you stupid frogs we're at 67 already are that yeah, are
they Yeah 67 I think now most of the world is 6567 But of course
this is there will be no money for retirement I'm sure there'll
be zero money leftover when I get there. And people are going
to take into the streets of friendship they don't stand for
this crap they don't like it now politically they have not been
able to do what needs to be done because there is a provision in
the in French law that you can bypass a parliamentary vote and
they can try and stop that is kind of like a veto from the
people. The first one failed I think the second one if it has
not already will fail as well. However, the French are quite
well known for not putting up with politicians and I'm going
to play this little clip because even though they cannot protest
outside of government, they are protesting in quite some maths
and I will play this see if you can hear what they're saying
here
there we go. Louie says Louie says hola de copy take my call
my call on phone which means Louis 16th Louis 16th We
capitated him McCrone, McCrone, it could happen again. I love to
just say that just
John C Dvorak: bring out the guillotine. Yes,
Adam Curry: they're just saying it. Just saying it now. You
think that would really be at the front? It's possible.
John C Dvorak: Like you never know what to I mean? Yeah, I
know. They leave it in your mind that it is always possible. You
don't want to mess around. You're a little nutty.
Adam Curry: They are oh, hey, they got they got bigger
companies than the rest of the world. People just going along
with it.
John C Dvorak: Would that go along with you hear
Adam Curry: about Israel? Oh, man. Oh, second. This was where
to get this from this might have been Deutsche Bella.
Unknown: Well, Israel's former spy master is speaking out
against the government's plans to overhaul the country's legal
system. Journalist IRS Mackler is covering this for us in