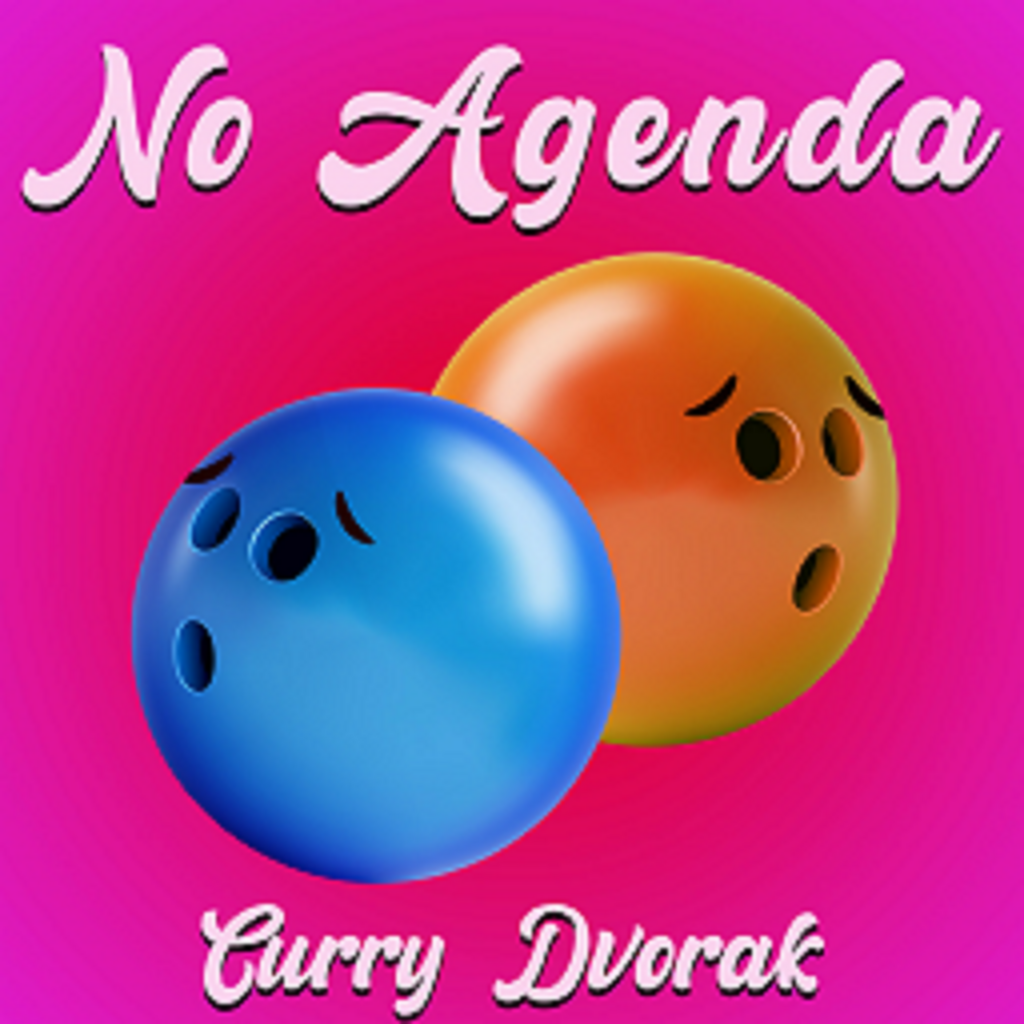 March 23rd • 3h 0m
1540: Happy in Helsinki
Shownotes
Every new episode of No Agenda is accompanied by a comprehensive list of shownotes curated by Adam while preparing for the show. Clips played by the hosts during the show can also be found here.
China

TikTok hearings

Social stocks up today

Chinese CEO not a good look

Americans will lose their shit over a ban

Inside Email - Fortune 200 company Bans TikTok

Just received the following email from my employer. Removed their name and inserted "COMPANY".

Just like vaccines, if the government doesn't demand compliance, looks like the corporatocracy will.

Please be reminded that COMPANY computing equipment is provided as a resource for employees to conduct the business of COMPANY and is not intended for personal use. Further, the Company has been monitoring developments around the popular video-based social media platform TikTok and has determined that TikTok and its parent company have systemic vulnerabilities that could allow bad actors inappropriate levels of access to systems and personal data. Our cybersecurity operations and privacy teams have determined that the risks posed by these vulnerabilities are unacceptable. Effective immediately, TikTok is no longer accessible on Company devices.

Additionally, employees should familiarize themselves with the Company's Social Media Policy and should comply with its guidelines whenever their social media activity (including activity on TikTok) relates in any way to the Company's business, employees, customers, vendors, or competitors.

Putin met Xi, Biden met cast of Ted Lasso
Mandates & Boosters

Covid Not Real - Michael Yeadon

The PTB openly admit "covid" symptoms are indistinguishable from flu.

They openly admit no test exists to specifically identify or diagnose it.

Yet they ask you to believe they still somehow know it exists.

And most people did & do believe it. In defiance of logic and basic common sense.
Prime Time Takedown

Canadian Scandal Update

More fireworks already.

Today, another CSIS leak.

If you remember, in 2018 Huawei executive Meng Wanzhou was arrested in Vancouver by Canadian authorities, pending extradition to the US on multiple fraud charges. She was held on house arrest until 2021.

Days later, Chinese authorities arrested two Canadian Nationals, Michael Kovrig and Michael Spavor (known in Canada as 'The Two Michaels'), on charges of spying. It was widely believed the arrests were retaliation by the Chinese government, and The Two Michaels were found guilty and eventually spent nearly 3 years in Chinese prison before being released in September 2021, three days after the US reached an agreement with Wanzhou to avoid extradition and she was allowed to leave Canada and return to China.

What does this have to do with anything? The CSIS leakers (two this time) have claimed that Han Dong, the subject of the initial leak that sparked the scandal, and the Liberal MP suspected of being a CCP asset, privately advised a senior Chinese diplomat in February 2021 that Beijing should hold off freeing The two Michaels, because in the political climate of the time, doing so would benefit the Conservative party. Today Dong forfeited his seat (presumably he was forced) in the Liberal caucus and will now sit as an independent. This is assuming he will not shortly resign from Parliament altogether in the coming days/weeks.

Canadian media are in a frenzy, reporting that if the claims are true Dong is guilty of outright treason (I agree), and the calls for a full public inquiry are reaching a fever pitch.

Someone inside CSIS really wants Trudeau gone.

Biden NLP

At 1:08:20 of ep 1540 a clip was played of Joey and he said "I'll tell you what, look, if you think about it". This statememnt touches on all NLP communication types - Auditory, Visual, and kinesthetic.

"I'll tell (auditory) you what, look (visual), if you think(kinesthetic) about it" - He is trying to reach all types of people all in one go. Trying to speak to everyone while talking to no one.

Just a friendly observation from a NLP amature.

-Sir null_void
SVB FTX CBDC BTC

Bank run laws

The law that prohibits making false statements to influence the market is known as Section 9(a)(2) of the Securities Exchange Act of 1934. This law prohibits any person from directly or indirectly using any means of interstate commerce or communication to make a false statement or omit a material fact that could affect the value of securities, with the intent to deceive or manipulate the market.

The law applies to a wide range of securities, including stocks, bonds, and other investment products. It also applies to any person who participates in the securities market, including investors, brokers, and other market participants.

Violations of this law can result in civil and criminal penalties. Civil penalties can include fines and disgorgement of any profits gained from the illegal activity. Criminal penalties can include fines and imprisonment for up to 20 years.

In addition to the federal law, many states also have laws that prohibit false statements to influence the market. These laws may have different requirements or penalties, so it is important to consult with an attorney who is familiar with the relevant laws in your jurisdiction.

Overall, the law against false statements to influence the market is an important tool for protecting investors and ensuring the integrity of the securities markets.

Debt payment annually = 3% of 55 trillion is 1,650,000,000,000

the federal government collected approximately $4.07 trillion in taxes
VAERS
Big Pharma
Elites
Food Intelligence
DEW
BLM LGBBTQQIAAPK+ Noodle Boy

How mediocre employees are forcing companies to be woke - The Spectator World

DEI managers are making themselves unfireable
Great Reset
Climate Change
Ukraine & Russia
STORIES

'Skinny jab' drug firm facing fresh inquiries after 'serious breaches' of industry code | Pharmaceuticals industry | The Guardian

Thu, 23 Mar 2023 16:07

The maker of slimming jab Wegovy was facing crises on multiple fronts this weekend, with the UK medicines regulator announcing a review of its operations at the same time as an investigation is under way into the approval of its injections for NHS use.

In the last few days, Novo Nordisk has also been suspended from its pharmaceutical trade body and seen the loss of a key partnership with the Royal College of Physicians (RCP), which said on Friday that it had cut ties with the company after breaches of industry code.

The Danish manufacturer behind the weight-loss injections that have been hailed as a blockbuster new obesity treatment has recently enjoyed a wave of publicity before the arrival of Wegovy in England.

Its weekly injections contain the appetite suppressant semaglutide and are said to help patients lose up to 15% of their body weight.

But amid concern over the lasting effectiveness of the treatment, the company is facing scrutiny over its activities in the UK, including its payments to obesity experts and the ''disguised promotion'' of its weight-loss drugs via medical training courses.

Last week, an Observer investigation revealed that the company had paid £21.7m to health organisations and professionals in just three years as part of a campaign to boost its influence in the UK.

In some cases, those with links to Novo Nordisk went on to promote Wegovy in media interviews and in submissions to the National Institute for Health and Care Excellence (Nice), the NHS's cost-effectiveness watchdog, without always making their connections to the company clear.

Days after the Observer's revelations, the Association of the British Pharmaceutical Industry (ABPI), a trade association, announced that it had taken the rare step of suspending the company for two years over a separate matter.

The action on Thursday followed a 2021 complaint from a ''concerned'' health professional that the company had breached the ABPI's code through its sponsorship of obesity medicine training events, which the complainant alleged included attempts to bribe participants to prescribe another of its weight-loss drugs, Saxenda.

A panel investigating the complaint concluded that the event sponsorship amounted to a ''disguised promotional campaign'' by Novo Nordisk and ruled that the provision of benefits for health professionals by the company, including an offer of funded paperwork support, amounted to a prohibited ''inducement to prescribe, supply, administer and/or recommend'' the drug. Around 4,400 UK health professionals took part in the training. On Thursday, the ABPI said that after those breaches and a further ''detailed audit'' of Novo Nordisk's compliance practices, its board had ''significant concern'' about the company's activities and had decided to temporarily expel it. It is only the eighth time in four decades that such a severe sanction has been applied by the trade body.

This weekend, the government's medicines regulator said it was now assessing whether further sanctions were necessary. The Medicines and Healthcare products Regulatory Agency (MHRA) typically only intervenes in the most serious cases where the powers of the drug industry's self-regulator are not deemed sufficient.

In the case of Novo Nordisk, the breaches were ''very serious'', said Laura Squire, chief healthcare quality and access officer at the MHRA.

''Healthcare professionals should have access to appropriate information to support their prescribing choice for a particular patient. They should not be offered gifts, courses, training or opportunities to engage in any other activity that may represent an inducement to prescribe a particular medicine,'' she said.

The MHRA's review comes as Nice examines the process by which Wegovy was approved for NHS use.

An injection pen for Novo Nordisk's semaglutide formula, marketed under the trade name Wegovy. Photograph: Cristian Mihaila/APLast week's Observer investigation revealed that experts and organisations that made submissions to the watchdog while it was assessing Wegovy as a weight-loss aid had links to Novo Nordisk. One expert who gave evidence to Nice about the drug, prominent scientist Prof John Wilding, was at the time the president of the World Obesity Federation, an organisation paid more than £4.3m by Novo Nordisk in three years. His declaration of interests to Nice show these donations were not disclosed. Wilding said he ''strongly refuted'' the interpretation of his relationship with Novo and his role in the Nice process.

The Royal College of Physicians (RCP) also provided evidence to Nice in support of Wegovy after having received more than £100,000 in event sponsorship from Novo Nordisk in 2019-21. The sponsorship was not declared to Nice. The RCP said it should have volunteered the information but that the Novo Nordisk funding had ''no bearing'' on the views it offered, which were based entirely on its knowledge and expertise.

Nice said it was assessing evidence that suggests some of those who provided it with expert submissions did not follow its ''robust policy'' on declaring interests.

''Following concerns raised by the Observer, we are reviewing the declarations of interests from organisations and experts who provided advice to our committee that undertook the appraisal of semaglutide [Wegovy],'' it said.

The suspension of Novo Nordisk is not expected to have any impact on the rollout of Wegovy, and the findings about the company's practices relate to its promotional activities rather than the safety or effectiveness of its drug. But sources said the ABPI suspension would probably affect the company's commercial operations. It will no longer have access to meetings or briefings of the ABPI, which is the main voice for the pharmaceutical sector in the Uk and lobbies the government on key industry issues. The company's return to full membership will now depend on the results of further audits in late 2023 and 2024, the ABPI said.

On Friday, the RCP announced it had cut ties with Novo Nordisk in light of the company's ABPI suspension. The college said it would return outstanding grants to the company and ''put on hold projects associated with those funds'', including an obesity medicine fellowship programme funded by the drug maker.

The RCP said it had ''strict criteria'' for corporate partnerships. ''Central to this policy is the requirement for pharmaceutical companies to be fully compliant with the ABPI Code of which Novo Nordisk now falls short,'' it said.

Novo Nordisk said it was ''disappointed'' by its ABPI suspension but accepted the decision. ''We will continue to strengthen our compliance framework in the UK and remain committed to following the ABPI code of practice and maintaining the highest possible ethical standards required by the pharmaceutical industry,'' it said. The company denied the complainant's suggestion that its efforts to promote its weight-loss drug amounted to bribery.

In relation to the Observer's findings that it had financial links to people who went on to praise Wegovy, Novo Nordisk said it worked in a ''transparent and ethical manner'' and that any insinuation it had ''deliberately acted outside of ethical or legal standards and proper processes'' was ''unfounded and misleading''.

Semaglutide - Wikipedia

Thu, 23 Mar 2023 16:02

Semaglutide, sold under the brand names Ozempic, Wegovy and Rybelsus, is an antidiabetic medication used for the treatment of type 2 diabetes and an anti-obesity medication used for long-term weight management, developed by Novo Nordisk in 2012.[17][18][19]

Semaglutide Trade namesOzempic, Rybelsus, Wegovy, othersAHFS/Drugs.comMonograph MedlinePlusa618008 License dataPregnancycategoryRoutes ofadministrationSubcutaneous, by mouthATC codeLegal statusBioavailability89%MetabolismProteolysisElimination half-life 7 daysDuration of action63.6 hExcretionUrine and fecesCAS NumberPubChem CID DrugBankChemSpiderUNIIKEGGECHA InfoCard 100.219.541 FormulaC 187H 291N 45O 59Molar mass 4 113 .641 g·mol''13D model (JSmol)CCC(C)C(C(=O)NC(C)C(=O)NC(CC1=CNC2=CC=CC=C21)C(=O)NC(CC(C)C)C(=O)NC(C(C)C)C(=O)NC(CCCNC(=N)N)C(=O)NCC(=O)NC(CCCNC(=N)N)C(=O)NCC(=O)O)NC(=O)C(CC3=CC=CC=C3)NC(=O)C(CCC(=O)O)NC(=O)C(CCCCNC(=O)COCCOCCNC(=O)COCCOCCNC(=O)CCC(C(=O)O)NC(=O)CCCCCCCCCCCCCCCCC(=O)O)NC(=O)C(C)NC(=O)C(C)NC(=O)C(CCC(=O)N)NC(=O)CNC(=O)C(CCC(=O)O)NC(=O)C(CC(C)C)NC(=O)C(CC4=CC=C(C=C4)O)NC(=O)C(CO)NC(=O)C(CO)NC(=O)C(C(C)C)NC(=O)C(CC(=O)O)NC(=O)C(CO)NC(=O)C(C(C)O)NC(=O)C(CC5=CC=CC=C5)NC(=O)C(C(C)O)NC(=O)CNC(=O)C(CCC(=O)O)NC(=O)C(C)(C)NC(=O)C(CC6=CN=CN6)N

InChI=1S/C187H291N45O59/c1-18-105(10)154(180(282)208-108(13)159(261)216-133(86-114-89-200-119-50-40-39-49-117(114)119)170(272)218-129(82-102(4)5)171(273)228-152(103(6)7)178(280)215-121(53-44-72-199-186(192)193)162(264)201-91-141(242)209-120(52-43-71-198-185(190)191)161(263)204-94-151(257)258)230-172(274)131(83-111-45-33-31-34-46-111)219-167(269)126(64-69-149(253)254)214-166(268)122(51-41-42-70-195-144(245)98-290-79-78-289-76-74-197-145(246)99-291-80-77-288-75-73-196-139(240)66-61-127(183(285)286)211-140(241)54-37-29-27-25-23-21-19-20-22-24-26-28-30-38-55-146(247)248)212-158(260)107(12)206-157(259)106(11)207-165(267)125(60-65-138(189)239)210-142(243)92-202-163(265)123(62-67-147(249)250)213-168(270)128(81-101(2)3)217-169(271)130(85-113-56-58-116(238)59-57-113)220-175(277)135(95-233)223-177(279)137(97-235)224-179(281)153(104(8)9)229-174(276)134(88-150(255)256)221-176(278)136(96-234)225-182(284)156(110(15)237)231-173(275)132(84-112-47-35-32-36-48-112)222-181(283)155(109(14)236)227-143(244)93-203-164(266)124(63-68-148(251)252)226-184(287)187(16,17)232-160(262)118(188)87-115-90-194-100-205-115/h31-36,39-40,45-50,56-59,89-90,100-110,118,120-137,152-156,200,233-238H,18-30,37-38,41-44,51-55,60-88,91-99,188H2,1-17H3,(H2,189,239)(H,194,205)(H,195,245)(H,196,240)(H,197,246)(H,201,264)(H,202,265)(H,203,266)(H,204,263)(H,206,259)(H,207,267)(H,208,282)(H,209,242)(H,210,243)(H,211,241)(H,212,260)(H,213,270)(H,214,268)(H,215,280)(H,216,261)(H,217,271)(H,218,272)(H,219,269)(H,220,277)(H,221,278)(H,222,283)(H,223,279)(H,224,281)(H,225,284)(H,226,287)(H,227,244)(H,228,273)(H,229,276)(H,230,274)(H,231,275)(H,232,262)(H,247,248)(H,249,250)(H,251,252)(H,253,254)(H,255,256)(H,257,258)(H,285,286)(H4,190,191,198)(H4,192,193,199)/t105-,106-,107-,108-,109+,110+,118-,120-,121-,122-,123-,124-,125-,126-,127+,128-,129-,130-,131-,132-,133-,134-,135-,136-,137-,152-,153-,154-,155-,156-/m0/s1

Key:DLSWIYLPEUIQAV-CCUURXOWSA-N

Y [pubchem]Semaglutide is a GLP-1 receptor agonist, meaning that it mimics the action of the human incretin glucagon-like peptide-1 (GLP-1), thereby increasing insulin secretion and increasing blood sugar disposal and improving glycemic control. Side effects include nausea, vomiting, diarrhea, abdominal pain, and constipation.[11]

In 2020, semaglutide was the 129th most commonly prescribed medication in the United States, with more than 4 million prescriptions.[20][21]

Medical uses Edit Semaglutide is indicated as an adjunct to diet and exercise to improve glycemic control in adults with type 2 diabetes.[11][12]

The higher-dose formulation of semaglutide is indicated as an adjunct to diet and exercise for long-term weight management in adults with obesity (initial body mass index (BMI) '‰¥ 30 kg/m2) or who are overweight (initial BMI '‰¥ 27 kg/m2) and have at least one weight-related comorbidity.[13][16][22]

A review of anti-obesity treatments found that semaglutide as well as tirzepatide (which has an overlapping mechanism of action) were more promising than previous anti-obesity drugs, although less effective than bariatric surgery.[23]

Adverse effects Edit Possible side effects include nausea, diarrhea, vomiting, constipation, abdominal pain, headache, fatigue, indigestion/heartburn, dizziness, bloating (abdominal distension), belching, low blood sugar (hypoglycemia) in patients with type 2 diabetes, gas (flatulence), gastroenteritis, and gastroesophageal reflux disease (GERD).[24]

Contraindications Edit Data from rodent studies of GLP-1-mediated thyroid C-cell hyperplasia[25] indicates that use is contraindicated in people with a personal or family history of medullary thyroid carcinoma and in patients with multiple endocrine neoplasia syndrome type 2.[12][11]

Edit Semaglutide is a glucagon-like peptide-1 receptor agonist. By mimicking the action of the incretin glucagon-like peptide-1 (GLP-1), it increases the production of insulin, the hormone which lowers the blood sugar level.[26] It also appears to enhance growth of pancreatic beta cells, which are responsible for insulin production and release.[27][28] Additionally, it inhibits the production of glucagon, the hormone that increases glycogenolysis (release of stored carbohydrate from the liver) and gluconeogenesis (synthesis of new glucose). It reduces food intake by lowering appetite and slowing down digestion in the stomach,[29] helping to reduce body fat.[30] It reduces hunger, food craving and body fat.[31][32]

Pharmacology Edit Semaglutide is chemically similar to human GLP-1, with 94% similarity. The only differences are two amino acid substitutions at positions 8 and 34, where alanine and lysine are replaced by 2-aminoisobutyric acid and arginine, respectively.[33] Amino-acid substitution at position 8 prevents chemical breakdown by dipeptidyl peptidase-4. In addition, the lysine at position 26 is in its derivative form (acylated with stearic diacid). Acylation with a spacer and C-18 fatty diacid chain increases the drug's binding to blood protein (albumin), which enables longer presence in the blood circulation.[34]

Semaglutide's half-life in the blood is about seven days (165''184 hours).[27][35] It can be administered by subcutaneous injection once weekly or once-daily by mouth. Based on its half-life and dosing frequency, it can be expected to accumulate more after each injection of the same dose or increasing dose. For this reason, patients may experience an increase in adverse effects throughout each 4-week phase of the same dose, and a possible increase in the satiety-inducing activity over the 4-week period.

Semaglutide subcutaneous injection predicted plasma concentration-vs-time curve for a 2.0 mg once weekly dose.

For a given dose of semaglutide subcutaneous injection, the drug will accumulate in the blood more after each injection until steady-state is reached. Steady-state is expected to occur between 28 and 35 days of repeat weekly dosing of the same dose. This is directly related to the absorption and elimination rate constants, which are reported to be 0.0286 and 0.00413 (fraction/hour), respectively. The peak and trough plasma concentrations are expected to vary by 30% during steady state (a 30% reduction from peak to trough). Note: the steady-state concentration will vary based on patient-specific factors. No significant difference in the decrease from baseline body weight was observed between groups taking it orally (20 mg and 40-mg) or subcutaneously.[36]

History Edit In June 2008, a phase II clinical trial began studying Semaglutide.[37]

In 2012, a team of researchers at Novo Nordisk developed semaglutide[38] for a once-weekly diabetes therapy as a longer-acting alternative to liraglutide.[39] It was given the brand name Ozempic. Clinical trials were started in January 2016, and completed in May 2017.[17][40]

Society and culture Edit Legal status Edit In December 2016, the US FDA New Drug Application (NDA) was filed, and in October 2017, the FDA Advisory Committee approved it unanimously.[41]

In December 2017, the injectable version with the brand name Ozempic was approved for use by people with diabetes in the United States,[42][43] and in January 2018, in Canada.[44]

In February 2018, authorization was granted in the European Union,[14] [45] in March 2018 in Japan,[46] and in August 2019 in Australia.[1][3]

In September 2019, a version which can be taken by mouth (Rybelsus) was approved for medical use in the United States,[47][48] and in the European Union in April 2020.[15]

In June 2021, a higher-dose injection version sold under the brand name Wegovy was approved by the US Food and Drug Administration as anti-obesity medication for long-term weight management in adults.[13] In November 2021, the Committee for Medicinal Products for Human Use (CHMP) of the European Medicines Agency (EMA) recommended to grant a marketing authorization to Wegovy.[49] to Novo Nordisk A/S.[49] In January 2022, Wegovy was approved for medical use in the European Union.[16][50]

In January 2023, the label for Rybelsus was updated to reflect that it can be used as a first-line treatment for adults with type 2 diabetes.[51]

Cost to patients Edit In the US, Wegovy has a list price of $1,349.02 per month per The New York Times, suggesting that because of the high costs many people "who could most benefit from weight loss may be unable to afford such expensive drugs".[52]

In the UK semaglutide is available on NHS prescription for diabetes and obesity, at nominal or no cost to patients.[53]

Research Edit In 2021, semaglutide was found to be inferior to tirzepatide when used once weekly as add-on therapy to metformin in people with type 2 diabetes (SURPASS-2), in both endpoints of reduction in A1C and body weight, with a roughly similar safety profile.[54][55]

A 2014 meta-analysis including a small number of patients found that semaglutide may be effective in lowering liver enzymes (transaminitis) and improving certain radiologically observed[56] features of metabolic-dysfunction''associated fatty-liver disease (MAFLD).[57]

References Edit ^ a b c "AusPAR: Semaglutide". Therapeutic Goods Administration (TGA). 2 December 2020. Archived from the original on 24 February 2022 . Retrieved 23 February 2022 . ^ a b "Rybelsus APMDS". Therapeutic Goods Administration (TGA). 22 February 2022 . Retrieved 23 February 2022 . ^ a b "Summary for ARTG Entry:315107 Ozempic 1 mg semaglutide (rys) 1.34 mg/mL solution for injection pre-filled pen". Therapeutic Goods Administration (TGA). Archived from the original on 24 February 2022 . Retrieved 6 June 2021 . ^ "Summary for ARTG Entry: 346198 Rybelsus semaglutide 3 mg tablet blister pack". Therapeutic Goods Administration (TGA). Archived from the original on 24 February 2022 . Retrieved 23 February 2022 . ^ https://www.tga.gov.au/resources/prescription-medicines-registrations/wegovy-novo-nordisk-pharmaceuticals-pty-ltd ^ Product Monograph Including Patient Medication Information '' Ozempic semaglutide injection (PDF) (Report). Novo-Nordisk Canada. 21 August 2020 [Initial approval 4 January 2018]. Archived (PDF) from the original on 7 June 2021 . Retrieved 6 June 2021 . ^ Product Monograph Including Patient Medication Information '' Rybelsus semaglutide tablets (PDF) (Report). Novo-Nordisk Canada. 30 March 2020. Archived (PDF) from the original on 14 December 2021 . Retrieved 6 June 2021 . ^ "Regulatory Decision Summary '' Rybelsus". Health Canada. 23 October 2014. Archived from the original on 5 June 2022 . Retrieved 4 June 2022 . ^ "Ozempic 0.25 mg solution for injection in pre-filled pen '' Summary of Product Characteristics (SmPC)". (emc). 9 April 2021. Archived from the original on 6 June 2021 . Retrieved 6 June 2021 . ^ "Rybelsus '' Summary of Product Characteristics (SmPC)". (emc). 25 November 2020. Archived from the original on 6 June 2021 . Retrieved 6 June 2021 . ^ a b c d "Ozempic- semaglutide injection, solution". DailyMed. Archived from the original on 5 June 2021 . Retrieved 5 June 2021 . ^ a b c "Rybelsus- oral semaglutide tablet". DailyMed. Archived from the original on 5 June 2021 . Retrieved 5 June 2021 . ^ a b c "Wegovy- semaglutide injection, solution". DailyMed. 4 June 2021. Archived from the original on 14 December 2021 . Retrieved 11 March 2022 . ^ a b "Ozempic EPAR". European Medicines Agency (EMA). Archived from the original on 25 October 2020 . Retrieved 26 September 2020 . ^ a b "Rybelsus EPAR". European Medicines Agency (EMA). 29 January 2020. Archived from the original on 14 August 2020 . Retrieved 26 September 2020 . ^ a b c "Wegovy EPAR". European Medicines Agency. 11 November 2021. Archived from the original on 2 July 2022 . Retrieved 11 March 2022 . ^ a b Singh G, Krauthamer M, Bjalme-Evans M (January 2022). "Wegovy (semaglutide): a new weight loss drug for chronic weight management". Journal of Investigative Medicine. 70 (1): 5''13. doi:10.1136/jim-2021-001952. PMC 8717485 . PMID 34706925. ^ Phillips A, Clements JN (February 2022). "Clinical review of subcutaneous semaglutide for obesity". Journal of Clinical Pharmacy and Therapeutics. 47 (2): 184''193. doi:10.1111/jcpt.13574. PMID 34964141. ^ Amaro A, Sugimoto D, Wharton S (January 2022). "Efficacy and safety of semaglutide for weight management: evidence from the STEP program". Postgraduate Medicine. 134 (sup1): 5''17. doi:10.1080/00325481.2022.2147326. PMID 36691309. ^ "The Top 300 of 2020". ClinCalc. Archived from the original on 18 March 2020 . Retrieved 7 October 2022 . ^ "Semaglutide '' Drug Usage Statistics". ClinCalc. Archived from the original on 8 October 2022 . Retrieved 7 October 2022 . ^ "FDA Approves New Drug Treatment for Chronic Weight Management, First Since 2014". U.S. Food and Drug Administration (FDA) (Press release). 4 June 2021. Archived from the original on 4 June 2021 . Retrieved 5 June 2021 . ^ M¼ller TD, Bl¼her M, Tsch¶p MH, DiMarchi RD (March 2022). "Anti-obesity drug discovery: advances and challenges". Nature Reviews. Drug Discovery. 21 (3): 201''223. doi:10.1038/s41573-021-00337-8 . PMC 8609996 . PMID 34815532. ^ Cunha, John P., ed. (18 January 2023). "Side Effects of Wegovy (Semaglutide Injection), Warnings, Uses". RxList (part of the WebMD network). ^ Bjerre Knudsen L, Madsen LW, Andersen S, Almholt K, de Boer AS, Drucker DJ, et al. (April 2010). "Glucagon-like Peptide-1 receptor agonists activate rodent thyroid C-cells causing calcitonin release and C-cell proliferation". Endocrinology. 151 (4): 1473''1486. doi:10.1210/en.2009-1272 . PMID 20203154. S2CID 20934882. ^ Marso SP, Bain SC, Consoli A, Eliaschewitz FG, J"dar E, Leiter LA, et al. (November 2016). "Semaglutide and Cardiovascular Outcomes in Patients with Type 2 Diabetes". The New England Journal of Medicine. 375 (19): 1834''1844. doi:10.1056/NEJMoa1607141 . PMID 27633186. ^ a b Goldenberg RM, Steen O (March 2019). "Semaglutide: Review and Place in Therapy for Adults With Type 2 Diabetes". Canadian Journal of Diabetes. 43 (2): 136''145. doi:10.1016/j.jcjd.2018.05.008 . PMID 30195966. ^ Li Y, Hansotia T, Yusta B, Ris F, Halban P, Drucker D (2003). "Glucagon-like Peptide-1 Receptor Signaling Modulates β Cell Apoptosis". The Journal of Biological Chemistry. 278 (1): 471''478. doi:10.1074/jbc.M209423200 . PMID 12409292. ^ Doggrell SA (March 2018). "Semaglutide in type 2 diabetes - is it the best glucagon-like peptide 1 receptor agonist (GLP-1R agonist)?" (PDF) . Expert Opinion on Drug Metabolism & Toxicology. 14 (3): 371''377. doi:10.1080/17425255.2018.1441286. PMID 29439603. S2CID 3421553. Archived (PDF) from the original on 5 May 2020 . Retrieved 12 December 2019 . ^ Dhillon S (February 2018). "Semaglutide: First Global Approval". Drugs. 78 (2): 275''284. doi:10.1007/s40265-018-0871-0. PMID 29363040. S2CID 46851453. ^ "Drug can dramatically reduce weight of people with obesity". ScienceDaily. 23 October 2017. Archived from the original on 15 July 2019 . Retrieved 24 October 2017 . ^ Blundell J, Finlayson G, Axelsen M, Flint A, Gibbons C, Kvist T, et al. (September 2017). "Effects of once-weekly semaglutide on appetite, energy intake, control of eating, food preference and body weight in subjects with obesity". Diabetes, Obesity & Metabolism. 19 (9): 1242''1251. doi:10.1111/dom.12932 . PMC 5573908 . PMID 28266779. ^ ^ Gotfredsen CF, M¸lck AM, Thorup I, Nyborg NC, Salanti Z, Knudsen LB, et al. (July 2014). "The human GLP-1 analogs liraglutide and semaglutide: absence of histopathological effects on the pancreas in nonhuman primates". Diabetes. 63 (7): 2486''97. doi:10.2337/db13-1087 . PMID 24608440. S2CID 35102048. ^ Kapitza C, Nosek L, Jensen L, Hartvig H, Jensen CB, Flint A (May 2015). "Semaglutide, a once-weekly human GLP-1 analog, does not reduce the bioavailability of the combined oral contraceptive, ethinylestradiol/levonorgestrel". Journal of Clinical Pharmacology. 55 (5): 497''504. doi:10.1002/jcph.443. PMC 4418331 . PMID 25475122. ^ Davies M, Pieber TR, Hartoft-Nielsen ML, Hansen OK, Jabbour S, Rosenstock J (October 2017). "Effect of Oral Semaglutide Compared With Placebo and Subcutaneous Semaglutide on Glycemic Control in Patients With Type 2 Diabetes: A Randomized Clinical Trial". JAMA. 318 (15): 1460''1470. doi:10.1001/jama.2017.14752. PMC 5817971 . PMID 29049653. ^ https://clinicaltrials.gov/ct2/show/NCT00696657. ^ "Abstracts of the 48th EASD (European Association for the Study of Diabetes) Annual Meeting of the European Association for the Study of Diabetes. October 1''5, 2012. Berlin, Germany". Diabetologia. 55 (S1): S7''537. October 2012. doi:10.1007/s00125-012-2688-9 . PMID 22918257. ^ Kalra S, Gupta Y (July 2015). "Once-weekly glucagon-like peptide 1 receptor agonists". The Journal of the Pakistan Medical Association. 65 (7): 796''8. PMID 26160096. Archived from the original on 30 September 2022 . Retrieved 10 April 2022 . ^ Novo Nordisk A/S (2 October 2019). "Efficacy and Safety of Semaglutide Versus Dulaglutide as add-on to Metformin in Subjects With Type 2 Diabetes". ClinicalTrials.gov. Archived from the original on 31 July 2018 . Retrieved 3 March 2023 . ^ "Development Status and FDA Approval Process for semaglutide". Drugs.com. 2017. Archived from the original on 24 October 2017 . Retrieved 24 October 2017 . ^ "Drug Approval Package: Ozempic (semaglutide) Injection". U.S. Food and Drug Administration (FDA). 16 January 2018. Archived from the original on 1 March 2021 . Retrieved 26 September 2020 . ^ "Ozempic (semaglutide) approved in the US". Novo Nordisk (Press release). 5 December 2017. Archived from the original on 5 June 2021 . Retrieved 5 June 2021 . ^ "Regulatory Decision Summary '' Ozempic". Health Canada. 23 October 2014. Archived from the original on 17 May 2019 . Retrieved 2 April 2019 . ^ "Novo Nordisk A/S: Ozempic (semaglutide) approved in the EU for the treatment of type 2 diabetes" (Press release). Novo Nordisk A/S. 9 February 2018. Archived from the original on 2 April 2019 . Retrieved 19 August 2018 '' via GlobeNewswire. ^ "Ozempic approved in Japan for the treatment of type 2 diabetes" (Press release). Novo Nordisk A/S. 23 March 2018. Archived from the original on 2 April 2019 . Retrieved 2 April 2019 '' via GlobeNewswire. ^ "Drug Approval Package: Rybelsus". U.S. Food and Drug Administration (FDA). 10 June 2020. Archived from the original on 2 November 2020 . Retrieved 26 September 2020 . ^ "FDA approves first oral GLP-1 treatment for type 2 diabetes" (Press release). FDA. 20 September 2019. Archived from the original on 23 September 2019 . Retrieved 20 September 2019 . ^ a b "Wegovy : Pending EC decision". European Medicines Agency. 11 November 2021. Archived from the original on 13 November 2021 . Retrieved 13 November 2021 . Text was copied from this source which is copyright European Medicines Agency. Reproduction is authorized provided the source is acknowledged. ^ "Wegovy Product information". Union Register of medicinal products. Archived from the original on 30 October 2022 . Retrieved 3 March 2023 . ^ "Novo Nordisk announces FDA approval of label update for Rybelsus (semaglutide) allowing use as a first-line option for adults with type 2 diabetes" (Press release). Novo Nordisk. 12 January 2023. Archived from the original on 16 January 2023 . Retrieved 16 January 2023 '' via PR Newswire. ^ Kolata G (28 April 2022). "Patients Taking Experimental Obesity Drug Lost More Than 50 Pounds, Maker Claims". The New York Times. Archived from the original on 27 June 2022 . Retrieved 13 May 2022 . ^ "NICE recommended weight-loss drug to be made available in specialist NHS services". National Institute for Health and Care Excellence (NICE). 8 March 2023. ^ Fr­as JP, Davies MJ, Rosenstock J, P(C)rez Manghi FC, Fernndez Land" L, Bergman BK, et al. (SURPASS-2 Investigators) (August 2021). "Tirzepatide versus Semaglutide Once Weekly in Patients with Type 2 Diabetes". The New England Journal of Medicine. 385 (6): 503''515. doi:10.1056/NEJMoa2107519 . PMID 34170647. S2CID 235635529. ^ " 'Stunning' Twincretin Beats Semaglutide in Type 2 Diabetes". Medscape Medical News > Conference News > ADA 2021. 27 June 2021. Archived from the original on 3 July 2021 . Retrieved 30 June 2021 . ^ Lee SS, Park SH (June 2014). "Radiologic evaluation of nonalcoholic fatty liver disease". World Journal of Gastroenterology. Baishideng Publishing Group Inc. 20 (23): 7392''7402. doi:10.3748/wjg.v20.i23.7392 . PMC 4064084 . PMID 24966609. ^ Dutta D, Kumar M, Shivaprasad KS, Kumar A, Sharma M (June 2022). "Impact of semaglutide on biochemical and radiologic measures of metabolic-dysfunction associated fatty liver disease across the spectrum of glycaemia: A meta-analysis". Diabetes & Metabolic Syndrome. 16 (6): 102539. doi:10.1016/j.dsx.2022.102539. PMID 35709586. S2CID 249584781. External links Edit "Semaglutide". Drug Information Portal. U.S. National Library of Medicine. "Semaglutide". MedlinePlus.

How mediocre employees are forcing companies to be woke - The Spectator World

Thu, 23 Mar 2023 15:56

Why are so many American corporations espousing progressive social views? It doesn't seem to make much sense on its face. Companies that publicly endorse left-wing politics and internally subject employees to Diversity, Equity & Inclusion, or DEI, initiatives risk alienating a huge portion of their customer base and excising talented staff to appease a vocal minority of progressive keyboard warriors.

As I write in my upcoming book, The Snowflakes' Revolt, one major reason is that the woke left ''create[s] a culture of fear in which everyone '-- including the adults who are supposed to be in charge '-- is terrified of stepping out of line and becoming a target of the bullies.'' Activist employees and consumers alike threaten corporate leadership with public smear campaigns against the company and targeted personal destruction.

A recent paper cited by Dave Seminara in the Wall Street Journal reveals another, more insidious explanation for the corporate bow-down to the woke mob. The authors suggest that woke mid-level employees might be motivated by something more prudent than just an unfailing loyalty to their toxic political ideology: job security.

''In the context of woke policies, middle managers have specialized knowledge, may control critical aspects of the firm's internal and external communications, and are often shielded from effective internal review due to the lack of metrics for woke performance,'' Nicolai J. Foss at Copenhagen Business School and Peter G. Klein at Baylor University write. ''Embracing wokeness can thus provide authority, job security, and career opportunities.''

Middle-management and HR types thus take advantage of corporate woke initiatives to reduce their dispensability.

Corporate leaders are sensitive to the fact that mere outward displays of wokeness '-- think rainbow logos during Pride Month '-- are not sufficient to satisfy progressive employees. So when these low- to mid-level staff members demand an expansion of internal DEI programs, corporations are happy to comply and put woke staff members in charge. In turn, woke staff expand their responsibilities, increase their earning potential and entrench DEI in the corporate culture.

It's a rather brilliant way for otherwise unremarkable employees to increase their corporate status.

In addition to the fear of negative PR for the company, corporate leaders may also go along with DEI initiatives because they're worried about the potential for lawsuits if they say no. Bosses who repeatedly refuse diversity trainings, social justice seminars and affirmative action hiring policies may be accused of perpetuating a hostile work environment. This could cost the company greatly in legal fees and in the ability to hire and retain other employees.

As Gail Heriot, a law professor and civil rights expert at the University of San Diego School of Law told me, ''I think we have this huge bureaucracy put in place in order to avoid not just hostile environments, but anything that could add up to a hostile environment.''

''They offer training on how to avoid offending your fellow colleague. And every year they got to come up with some new ideas in order to keep it going. And they do. They come up with ideas like micro-aggressions, and they train millions and millions of people every day, every year. And that has created part of the structure beneath wokeism, as it were,'' Heriot said.

Even though a woke company culture can lead to performance decreases, consumer boycotts and a lack of innovation, corporate leaders are disincentivized from challenging the status quo. They could heroically save the company and unshackle their employees from DEI oppression by standing up to woke staff members. But it's far more likely that they will be punished with job loss and severe reputational damage.

By

Amber Athey

Amber Athey is The Spectator's Washington editor and host of Unfit to Print on WCBM 680. She is the author of The Snowflakes' Revolt: How Woke Millennials Hijacked American Media. Amber was previously White House correspondent for the Daily Caller and a co-host of O'Connor & Company on WMAL.

Sweden's Biggest Pension Fund Loses $2 Billion in US Bank Crises - Pension Policy International

Thu, 23 Mar 2023 15:34

Sweden's largest pension fund, Alecta, is facing losses of almost $2 billion as a result of a failed investment strategy that made it one of the biggest shareholders in two collapsed US banks and another that is embroiled in the ongoing banking crisis.

The scale of the losses has become clearer since the private pension group sold all of its First Republic Bank stake at a loss of 7.5 billion kronor ($728 million), according to Chief Executive Officer Magnus Billing. That adds to anticipated losses of 8.9 billion kronor and 3.2 billion kronor in Silicon Valley Bank and Signature Bank, respectively.

''The uncertainty about First Republic's future was too great, partly due to the fact that the lender was downgraded to junk status,'' Billing said in an email after Bloomberg News obtained a copy of a letter that Alecta wrote to the Swedish Financial Supervisory Authority.

While Alecta is large enough to weather the losses without impact on the 2.6 million Swedes whose private savings are invested with the fund, the news has stoked public outrage in Sweden '-- particularly since it recently exited stakes in two local lenders, Svenska Handelsbanken AB and Swedbank AB, and chose to invest in the niche US banks. SVB catered primarily to the startup community, while Signature targeted the crypto community.

Read more @Bloomberg

87 views

CDC: Drug-Resistant Infection Linked to Artificial Tears Products

Thu, 23 Mar 2023 15:06

Public health authorities are investigating an outbreak of bacterial infections believed to be associated with ''artificial tears'' eye drop usage.

The Centers for Disease Control and Prevention (CDC) announced it is working with the Food and Drug Administration (FDA) and other state and local health authorities to investigate a strain of Pseudomonas aeruginosa that the agency says is ''extensively drug-resistant.''

The CDC wrote that the strain, called VIM-GES-CRPA, had not previously been seen in the United States but has now been identified in 68 patients across 16 states, with 37 cases linked to four healthcare facility clusters.

Of these cases, three deaths have been reported. In multiple cases, vision loss has been observed, and the surgical removal of a patient's eyeball has been necessary.

This scanning electron microscope image made available by the CDC shows rod-shaped Pseudomonas aeruginosa bacteria. U.S. health officials are advising people to stop using the over-the-counter eye drops, EzriCare Artificial Tears, that have been linked to an outbreak of drug-resistant infections. (Janice Haney Carr/CDC via AP)

EzriCare or Delsam Pharma's Artificial Tears have been identified as a common exposure, and the CDC advised consumers and physicians to discontinue the use of these products for now. However, the agency noted that over ten other brands have been associated with the cases it has found.

NBC News reported the manufacturer of the EziCare brand product has issued a recall, admitting in its recall announcement, ''The product was distributed nationwide in the USA over the internet.''

The agency wrote the contaminant has been detected in opened EzriCare Artificial Tears bottles, and tests on unopened bottles of the product are currently underway.

The CDC recommends consumers who have experienced ''Yellow, green, or clear discharge from the eye,'' ''Eye pain or discomfort,'' ''Redness of the eye or eyelid,'' ''Feeling of something in your eye (foreign body sensation),'' ''Increased sensitivity to light,'' or ''Blurry vision'' to seek medical attention.

The agency has not issued a recommendation for those who have used EzriCare or Delsam Pharma's Artificial Tears to seek testing unless they have experienced these symptoms.

However, it has advised patients who were previously recommended these products to ask their physicians for alternatives.

Covid's Third Birthday '' A Retrospective Weekend '' OffGuardian

Thu, 23 Mar 2023 14:42

Catte BlackRecently, prominent ''anti-vaxxer'' Michael Yeadon publicly stated he does not believe there was ever a new disease called ''covid''.

This should not be regarded as a controversial position, and the fact that it is seen as such only illustrates the amount of confusion and bewilderment that most people still suffer when it comes to understanding what the ''covid'' operation really was.

Once you look at the acknowledged facts '' and I mean the officially acknowledged facts '' clearly and without pre-existing emotional bias, the fact that ''covid'' never existed as anything but a name becomes not simply obvious but unavoidable.

It's right there. Written in the hand of authority. Hiding in plain sight like one of those number tests they use for diagnosing color blindness.

If you're not ''covid-blind'' you can read it right off the page in everything the UN, WHO, CDC and every government agency has published.

Remember:

The PTB openly admit ''covid'' symptoms are indistinguishable from flu.

They openly admit no test exists to specifically identify or diagnose it.

Yet they ask you to believe they still somehow know it exists.

And most people did & do believe it. In defiance of logic and basic common sense.

This is the state of derangement we are dealing with and it remains highly concerning. Even those ''awake'' enough to question the ''vaccines'' and oppose the lockdowns still seem to think the existence of the disease per se is an established fact.

And ''disease'' is the key word here. We're not talking about whether a specific virus exists, whether or not any viruses exist, or debating terrain vs germ theory. These are interesting and potentially valuable discussions, but not relevant to Covid, as there is no point in debating a cause for something that does not exist.

The most important point '' only important point '' is that nobody was sick with anything new. It was usual symptoms repackaged, usual sickness rebranded.

Because unless we comprehend what ''covid'' really was we will be powerless to grasp and combat the ongoing agenda that this fake pandemic spearheaded, as it continues to roll out.

So, to help spread a little more understanding we are running a mini-retrospective this weekend '' which marks three years since the UK was first forced into a destructive and unnecessary lockdown '' aimed at reminding everyone of what ''covid'' was, and what it was not.

Starting with an updated edition of our Covid Cribsheet, and including new articles on the origins of Covid, the absurd headlines we were expected to believe and revisiting the early days of the roll-out.

SUPPORT OFFGUARDIANFor direct-transfer bank details click here.

Block shares plunge after Hindenburg says Jack Dorsey's company facilitates fraud

Thu, 23 Mar 2023 13:29

Jack Dorsey, co-founder of Twitter Inc., speaks during the Bitcoin 2021 conference in Miami, Florida, U.S., on Friday, June 4, 2021.

Eva Marie Uzcategui | Bloomberg | Getty Images

Shares of Jack Dorsey's Block plunged over 17% after short-seller Hindenburg Research announced the payment company was its latest short position, alleging that the company allowed criminal activity to operate with lax controls and "highly" inflates Cash App's transacting userbase, a key metric of performance.

The short-seller described Block's know-your-customer efforts as a "'Wild West' approach to compliance."

"Our 2-year investigation has concluded that Block has systematically taken advantage of the demographics it claims to be helping," the short seller said in its report. The research firm said that Block's Cash App thrived on serving "unbanked" customers.

The report alleges those unbanked customers were involved in criminal or illicit activity. Hindenburg also alleged that Cash App's compliance programs were deficient.

As part of its two-year investigation, Hindenburg spoke with multiple former employees who described how internal concerns were suppressed and user concerns were ignored, even as alleged "criminal activity and fraud ran rampant on its platform."

Hindenburg's extensive report includes screenshots of internal systems and employee messages. It also highlighted alleged financial misreporting.

Up to 35% of Cash App's revenue is derived from interchange fees, Hindenburg alleged. That's around $892 million in revenue that the short-seller said should be capped by law.

But Block avoids that regulatory cap imposed on large financial institutions by routing the revenue through a small bank, Hindenburg alleged.

The small-bank routing method is one employed by Block rival PayPal , the short seller claimed, and which prompted a Securities and Exchange Commission probe.

PayPal did not immediately respond to a request for comment.

Hindenburg took issue with Cash App's practices during the pandemic, when the government issued stimulus checks to qualified American adults. The report alleges that the lockdowns "posed an existential threat" to Block's critical merchant services business.

"CEO Jack Dorsey Tweeted that users could get government payments through Cash App 'immediately' with 'no bank account needed' due to its frictionless technology," the report said.

Just a few weeks into Cash App's delivery of the first round of government payments, states were apparently trying to claw back suspected fraudulent payments '-- "Washington State wanted more than $200 million back from payment processors while Arizona sought to recover $500 million," said Hindenburg citing multiple former employees.

"A Freedom of Information Act (FOIA) request we filed with the SEC indicates that Block may be part of a similar investigation," Hindenburg wrote.

Citing interviews with former employees, Hindenburg alleged that "pressure from management has resulted in a pattern of disregard for Anti-Money Laundering (AML) and Know Your Customer (KYC) laws."

The report notes that "this appeared to be an effort to grow Cash App's user base by strategically disregarding Anti Money Laundering (AML) rules."

To test the theory, the short seller opened accounts in the name of former President Donald Trump and Tesla CEO Elon Musk, and then opened a Cash App card, called the Cash Card, under the "obviously fake Donald Trump account," the report said.

The card bearing Trump's name arrived "promptly" in the mail.

"Former employees estimated that 40%-75% of accounts they reviewed were fake, involved in fraud, or were additional accounts tied to a single individual," the report said.

Representatives for Block did not immediately respond to a request for comment.

"In sum, we think Block has misled investors on key metrics, and embraced predatory offerings and compliance worst-practices in order to fuel growth and profit from facilitation of fraud against consumers and the government," Hindenburg wrote.

Philadelphia will PAY pregnant women $1,000 a month to curb falling fertility rates | Daily Mail Online

Thu, 23 Mar 2023 12:43

Philadelphia will PAY women to get pregnant: Expectant mothers will be entitled to $1,000 a month 'with no strings attached' amid falling fertility rates and rising baby deaths Expectant mothers will get $1,000 a month for 18 months to spend as they wish The pilot scheme aims to lower infant mortality rates and curb dropping fertility READ MORE: Paid maternity leave could prevent 1,000 baby deaths every yearBy Caitlin Tilley, Health Reporter For Dailymail.Com

Updated: 16:56 EDT, 22 March 2023

Pregnant women in Philadelphia will be paid $1,000 a month as part of a trial program hoping to lower infant mortality rates in the city.

Starting next year, 250 expectant mothers will receive the no-strings-attached payments from their third month of pregnancy through their baby's first birthday.

The pilot program, known as the Philly Joy Bank, will operate in the areas of the city with the highest rates of low birth weights '-- Cobbs Creek, Strawberry Mansion and Nicetown-Tioga.

Of the ten most populated cities in the US, Philadelphia has the highest rate of infant mortality.

The scheme also comes amid a baby bust across America that is seeing fewer women than ever having children, amid changing family values.

Some 250 women will receive the no-strings-attached payments from their third month of pregnancy every month until their child's first birthday

Fertility in the US has plummeted in recent decades. The average American woman is now only having 1.6 children throughout her life, well below replacement level of 2.1

Announcing the scheme at a news conference on Monday, Dr Stacey Kallem, director of the Philadelphia Department of Public Health's Division of Maternal, Child, and Family Health, said: 'The no-strings-attached is key.

'We are respecting the dignity and autonomy of program participants to use the funds as they see fit to improve their health and the health of their babies.'

The city's infant mortality rate is 1.5 higher than the national average, and black babies are over four times more likely to die before their first birthday than white babies.

The scheme is inspired by similar offerings in other states. In Manitoba in Canada, pregnant women can get up to $81 a month.

Meanwhile, the Abundant Birth Project pilot in San Francisco provides $1,000 monthly to mothers-to-be for a year.

The Philadelphia pilot program needs to reach its funding target of $6 million in order to begin in 2024.

'Research has shown that supporting pregnant people with cash payments can improve birth outcomes that are associated with infant mortality, including low birth weight and prematurity,' said Philadelphia Health Commissioner Cheryl Bettigole at the news conference on Monday.

Fertility rates in Pennsylvania are at their lowest in ten years

Infant mortality rates in Philadelphia are on the rise among Hispanics and Asians

Philadelphia had the highest child mortality rate in 2017 compared with other large cities and counties in the US

In 2021, one in 10 babies were born prematurely in Pennsylvania, and one in 12 were born with a low birthweight.

A premature birth is determined as a baby born before 37 weeks, while a low birth weight is one below five pounds.

It comes as fertility rates in Pennsylvania are at their lowest in ten years.

In the past 20 years, the decline was most pronounced in non-Hispanic Blacks, Hispanics, and non-Hispanic Asian/Pacific Islanders, but the birth rate among non-Hispanic white women was more stable.

The Philadelphia Department of Public Health said that disparities in birth outcomes by race and ethnicity are 'large and alarming'.

More than 15 percent of babies born to non-Hispanic Black mothers were low birthweight '-- 40 percent higher than the city's average.

Almost 15 percent of babies born to non-Hispanic Black women were premature, roughly 30 percent more than the citywide average.

Some 93 percent of Cobbs Creek's population is made up of Black people, as is 94 percent of Strawberry Mansion's.

As of 2021, 76 percent of Nicetown-Tioga was Black, 9 percent was Hispanic and three percent was Asian.

One of the most damning statistics for America is its poor record of infant and maternal mortality.

Often considered to be a measure of a nation's overall development, America has a famously poor record when it comes to childbirth.

The US suffers 5.4 infant deaths per every 1,000 births each year - the most of any of the 13 countries in the study by a large margin.

It also experienced 23.8 maternal deaths per 100,000 births - a staggeringly high figure of ten more than any comparable countries.

Real Interest Rate: Definition, Formula, and Example

Thu, 23 Mar 2023 12:39

What Is a Real Interest Rate? A real interest rate is an interest rate that has been adjusted to remove the effects of inflation. Once adjusted, it reflects the real cost of funds to a borrower and the real yield to a lender or to an investor.

A real interest rate reflects the rate of time preference for current goods over future goods. For an investment, a real interest rate is calculated as the difference between the nominal interest rate and the inflation rate:

Real interest rate = nominal interest rate - rate of inflation (expected or actual).

Key TakeawaysA real interest rate equals the observed market interest rate adjusted for the effects of inflation.It reflects the purchasing power value of the interest paid on an investment or loan.It also represents the rate of time-preference of a borrower and lender.Prospective real interest rates rely on estimates of future inflation over the time to maturity of a loan or investment.Investors could earn a rate of return that's negative if the inflation rate is higher than the nominal rate of return on their investments.Interest Rates: Nominal and Real Understanding Real Interest Rates While the nominal interest rate is the interest rate actually paid on a loan or investment, the real interest rate is a reflection of the change in purchasing power derived from an investment or given up by the borrower.

The nominal interest rate is generally the one advertised by the institution backing the loan or investment. Adjusting the nominal interest rate to compensate for the effects of inflation helps to identify the shift in purchasing power of a given level of capital over time.

According to the time-preference theory of interest, the real interest rate reflects the degree to which an individual prefers current goods over future goods.

Borrowers who are eager to enjoy the present use of funds show a stronger time preference for current goods over future goods. They are willing to pay a higher interest rate for loaned funds.

Similarly, a lender who strongly prefers to put off consumption to the future shows a lower time preference and will be willing to loan funds at a lower rate. Adjusting for inflation can help reveal the rate of time preference among market participants.

Special Considerations Expected Rate of Inflation The expected rate of inflation is reported to Congress by the Federal Reserve (Fed), among others. Reports include estimates for a minimum three-year period. Most expected (or anticipatory) interest rates are reported as ranges instead of single-point estimates.

As the true rate of inflation may not be known until an investment reaches maturity or its holding period ends, the associated real interest rates must be considered anticipatory.

It's important that investors bear in mind current and expected inflation rates when they research where to put their money. Since the rate of inflation will eat away at the nominal rate of return, avoid lower returning fixed income investments that could mean a negligible real rate of return.

Effect of Inflation on the Purchasing Power of Investment Gains In cases where inflation is positive, the real interest rate will be lower than the advertised nominal interest rate.

For example, if an investment such as a certificate of deposit (CD) is set to earn 4% in interest per year and the rate of inflation for the same time period is 3%, the real interest rate earned on the investment will be 1% (4% - 3%). When purchasing power is taken into consideration, the real value of the funds deposited in the CD will only increase by 1% per year, not 4%.

If those funds were instead placed in a savings account with an interest rate of 1%, and the rate of inflation remained at 3%, then the real value, or purchasing power, of the funds in savings will actually decrease. The real interest rate would be -2% after accounting for inflation (1% - 3%).

What Is Purchasing Power?Purchasing power is the value of a currency expressed in terms of the number of goods or services that one unit of money can buy. It is important because, all else being equal, inflation decreases the number of goods or services you can purchase.

For investments, purchasing power is the dollar amount of credit available to a customer to buy additional securities against the existing marginable securities in the brokerage account. Purchasing power is also known as a currency's buying power.

What Is Inflation?Inflation is the decline of purchasing power of a given currency over time. The rate of inflation, or the rate of decline in purchasing power, is reflected by the Consumer Price Index (CPI). CPI measures the change in an average price of a basket of selected goods and services over a specific period of time.

The rise in the general level of prices, often expressed as a percentage, means that a unit of currency effectively buys less than it did in prior periods. Inflation can be contrasted with deflation, which occurs when the purchasing power of money increases and prices decline.

How Does a Real Interest Rate Affect Investment Returns?A real interest rate is the nominal (or stated) interest rate less the rate of inflation. For investments, the inflation rate will erode the value of an investment's return by decreasing the rate of return.

For example, if the rate of return for bonds you hold is 6% and the inflation rate is 3%, then the real rate of return will be 3%, not 6%. That's because the interest rate of 6% is adjusted downward by 3% to account for the unfortunate power of inflation to erode value (6% - 3% = 3%).

The Bottom Line The real interest rate is an interest rate that has been adjusted for inflation to reflect the real cost of funds to a borrower and the real yield to a lender or an investor.

It reflects the rate of time preference for current goods over future goods and is calculated as the difference between the nominal interest rate and the inflation rate.

Trump grand jury canceled, delaying possible indictment

Thu, 23 Mar 2023 11:42

The Manhattan grand jury hearing evidence against former President Donald Trump in the Stormy Daniels ''hush money'' case didn't reconvene Wednesday as scheduled, court officials told The Post.

The afternoon session was unexpectedly canceled by Manhattan District Attorney Alvin Bragg, the sources said.

Members of the panel were told to stay home and be on standby for Thursday, a law enforcement source said.

The move '-- which forestalls a potentially unprecedented indictment of the 45th president in connection with the payment of $130,000 to porn star Stormy Daniels '-- came because an unidentified witness was unable to appear, sources said.

The witness is believed to be someone who will rebut Monday's testimony from lawyer and Trump ally Robert Costello, sources said.

The grand jury was put on standby because it was unclear whether the witness would be available Thursday, a source said.

But court workers began making preparations late Wednesday afternoon for the testimony to take place Thursday, a source said.

The evidence against former President Donald Trump won't be heard by the Manhattan grand jury Wednesday. Truth Social / @realDonaldTrumpWednesday's turn of events came as a source with ties to the Manhattan District Attorney's Office told The Post that Bragg was concerned following Costello's testimony. A spokesperson for the DA's office denied this.

''The last thing he wants is for the grand jury to vote against him,'' the source said. ''He wants a no-doubt-about-it case. He is pressuring the 'Trump obsessed' to step up and prove the case.''

A source inside Bragg's office also said a substantial number of assistant district attorneys were ''shaking their heads'' over Bragg's decision to pursue Trump, 76.

NYPD bomb squad officers were seen outside the office of District Attorney Alvin Bragg. REUTERS''They don't understand how this case is going forward,'' the source said. ''These ADAs are not fans of Trump but they are professional lawyers and know the law.''

Fox News also reported ''major dissension'' inside Bragg's office, with one source saying the ''weakness'' of the evidence against Trump was posing problems for prosecutors.

A spokesperson for Bragg declined to comment, saying in an email, ''We can't confirm or comment on Grand Jury matters.''

The $130,000 payment to Daniels in October 2016, shortly before Trump's shock victory over Hillary Clinton, was admittedly arranged by former Trump lawyer Michael Cohen to cover up Daniels' alleged 2006 affair with Trump, who's denied cheating on his wife Melania Trump with her.

Barricades were set up near Trump Tower as police were on high alert in New York City. Getty Images Anti-Trump demonstrators protest outside the Manhattan district attorney's office in New York City on March 22, 2023. AFP via Getty ImagesCohen testified before the grand jury twice last week and is expected to be the prosecution's star witness if the case were to go to trial.

Cohen '-- who pleaded guilty in 2018 to crimes that included violating campaign finance rules with the Daniels payment '-- was on hand Monday to potentially rebut Costello's testimony, but he told The Post he wasn't needed.

If Trump were indicted, he would surrender in his home state of Florida and fly to New York to be arraigned, a source close to him told The Post on Monday.

NYPD officers were stationed near the Manhattan criminal court. AFP via Getty Images Donald Trump posted on the Truth Social media platform that he had expected to be arrested and called on his supporters to protest. REUTERSThe NYPD doesn't expect that would happen before next week, sources said Tuesday.

Trump also is not expected to be in New York until next week, a source close to the ex-president said Wednesday.

Bragg is considering charges against Trump that include falsifying business records with the intent to violate federal campaign finance rules, according to the New York Times.

The novel legal theory would make the offense a felony punishable by up to four years in state prison.

Ukraine to clinch first IMF loan to nation at war - BBC News

Wed, 22 Mar 2023 19:20

Image source, Getty ImagesBy Annabelle Liang

Business reporter

The International Monetary Fund (IMF) says it has reached an agreement with Ukraine on funding worth $15.6bn (£12.8bn).

The organisation's first loan to a country at war is expected to be approved in the coming weeks.

It would also be one of the largest financing packages Ukraine has received since Russia's invasion.

The IMF recently changed a rule to allow loans to countries facing "exceptionally high uncertainty".

"Russia's invasion of Ukraine continues to have a devastating impact on the economy: activity contracted by 30 percent in 2022, a large share of the capital stock has been destroyed, and poverty levels have climbed," IMF official Gavin Gray said in a statement.

"The programme has been designed in line with the new fund's policy on lending under exceptionally high uncertainty, and strong financing assurances are expected from donors, including the G7 and EU."

Mr Gray also said the agreement would "mobilise large-scale concessional financing" for Ukraine from international donors and partners, without giving further details. The funding still needs to be approved by the IMF's executive board.

The IMF expects Ukraine's economy to record a slight contraction or growth this year.

Ukrainian Prime Minister Denys Shmyhal said the funding would help the country "finance all critical expenditure and ensure macroeconomic stability and strengthen our interaction with other international partners".

US Treasury Secretary Janet Yellen, who made a surprise visit to Ukraine last month, said: "An ambitious and appropriately conditioned IMF programme is critical to underpin Ukraine's reform efforts."

The US is the IMF's largest shareholder and the biggest contributor to Ukraine in terms of money spent.

Earlier this year, President Joe Biden announced nearly half a billion more dollars of US military aid to Ukraine. This was on top of the $112bn spent by Congress in 2022 alone.

Military aid, which accounts for more than half of US spending on Ukraine, pays for drones, tanks, missiles and other munitions systems as well as training, logistics and intelligence support.

Money has continued to pour into the conflict from all over the world since Russia's invasion of Ukraine last February.

Last week, the IMF said its executive board had approved a rule change to allow funding for countries facing "exceptionally high uncertainty".

Without mentioning Ukraine, it said the measure applied to countries experiencing "exogenous shocks that are beyond the control of country authorities and the reach of their economic policies".

Citigroup's Citibank Took the Largest Amount of Loans from the FHLB of NY in 2022, Reminiscent of FHLB Loans Taken by Silvergate, SVB, Signature, and First Republic Bank

Wed, 22 Mar 2023 18:39

By Pam Martens and Russ Martens: March 22, 2023 ~

Jane Fraser, Citigroup CEO

On March 13 we published the chart below, showing the ten financial institutions that had taken the largest loan advances from the Federal Home Loan Bank of San Francisco as of year-end 2022. It's a very ominous sign that the bank at the top of the list, Silicon Valley Bank, collapsed and is now under the control of the Federal Deposit Insurance Corporation (FDIC). Silicon Valley Bank had $212 billion in assets as of year-end 2022, making it the second largest bank failure in U.S. history. The largest failure was Washington Mutual in 2008, with approximately $300 billion in assets.

The second bank on the list, First Republic Bank (ticker FRC), has seen its share price collapse, had its debt downgraded deeper into junk by S&P Global on Sunday, and is experiencing an exit stampede by depositors.

The sixth bank on the list, Silvergate Bank, is in the midst of a voluntary liquidation after its hot money crypto depositors headed for the exits.

The seventh bank on the chart, Western Alliance Bank (ticker WAL), has also seen its share price collapse and was put on a negative credit watch by Moody's.

To put it another way, there seems to be a direct correlation between needing to take big loan advances from your regional federal home loan bank and being in deep distress. Federal Home Loan Banks were created by Congress to provide affordable mortgages to poor people. They weren't meant to bail out federally-insured banks that got in bed with crypto carnival barkers or to bail out a Wall Street IPO pipeline in drag as a federally-insured bank.

The FHLB regional banks are cooperatively owned by member financial institutions in their respective districts. There are 11 of these regional Federal Home Loan Banks around the country, in districts earmarked as Atlanta, Boston, Chicago, Cincinnati, Dallas, Des Moines, Indianapolis, New York, Pittsburgh, San Francisco and Topeka. Since New York is typically the deepest swamp of incompetently supervised banks (see here, here and here), we decided to take a look at the 2022 annual report for the Federal Home Loan Bank of New York.

According to that report, Citigroup's Citibank was the largest borrower from the FHLB of New York as of year-end 2022 with $19.25 billion in loans outstanding. That's a 267 percent increase from Citibank's $5.25 billion in loans outstanding with the FHLB of New York as of December 31, 2021. (See pages 172 and 173 of the FHLB of New York annual report at this link.)

Ominously, the now-collapsed and FDIC seized Signature Bank went from $2.64 billion in loans outstanding with FHLB of New York at the end of 2021 to $11.28 billion at the end of 2022 '' an increase of 327 percent.

Citigroup's Citibank making an appearance on this chart is not a good omen given its history. Citigroup/Citibank were the largest borrowers from the Fed's emergency bailout programs during the financial crash of 2007 to 2010, secretly receiving over $2.5 trillion in cumulative loans according to a 2011 audit conducted by the Government Accountability Office on the Fed's emergency lending facilities. In addition, Citigroup/Citibank received the following in bailouts: $45 billion in capital injections from the U.S. Treasury; the Federal government guaranteed over $300 billion of Citigroup's dubious assets; the Federal Deposit Insurance Corporation (FDIC) guaranteed $5.75 billion of its senior unsecured debt and $26 billion of its commercial paper and interbank deposits.

By March 2009, Citigroup was a 99-cent stock. But for reasons that remain in dispute, the banking behemoth was not wound down. In Ron Suskind's book, Confidence Men, he says former Treasury Secretary Tim Geithner (who failed up to that post after a lot of crony lunches with Citigroup execs as President of the New York Fed) ignored a direct order from President Obama to wind down Citigroup. Geithner has disputed that in his own book, writing that the President ''never told me to pursue that path.'' (For background on Geithner's jaded interactions with Citigroup, see: As Citigroup Spun Toward Insolvency in '07- '08, Its Regulator Was Dining and Schmoozing With Citi Execs.)

The Senate Banking Committee and the House Financial Services Committee have both announced hearings on the collapse and FDIC-takeover of Silicon Valley Bank and Signature Bank. The Senate Banking Committee's hearing will be held on March 28 at 10 a.m. Witnesses currently scheduled are: Martin Gruenberg, Chair of the FDIC; Michael Barr, Vice Chairman for Supervision at the Federal Reserve; and Nellie Liang, Undersecretary for Domestic Finance at the U.S. Treasury. The same witnesses will appear before the House Financial Services Committee on March 29 at 10:00 a.m.

The new Chairman of the House Financial Services Committee is a Republican from North Carolina, Patrick McHenry. Using data obtained directly from the Federal Election Commission, the watchdog group, Accountable.US, reported that Signature employees and executives have donated at least $400,000 in career contributions to McHenry. Bloomberg News reported on Monday that 10 days before Signature Bank collapsed, McHenry was ''inside its boardroom on New York's Fifth Avenue'' raising thousands of dollars for his political campaign from its executives.

For the March 29 House Financial Services Committee hearing to have any credibility, McHenry needs to recuse himself immediately.

Marc Maron on how he works with brands and sponsors of his podcast 'WTF'

Wed, 22 Mar 2023 18:32

Ever wonder how your favorite podcaster thought of that hilarious ad '-- or why that branded episode was so darn good?

It's your lucky day. Acast is rolling out How I Work With Brands, a new series that features conversations with podcasters from Acast about how they collaborate with advertisers to craft creative, compelling campaigns that listeners love.

Our first edition of the series turns the spotlight to the minds behind one of the most popular podcasts in the world: Marc Maron, host of WTF, and Brendan McDonald, the show's producer. In the more than 13 years that they've been making the podcast, they've partnered with a host of sponsors and well-known brands, including Amazon, Showtime, and Comedy Central.

Read on to learn how Marc and Brendan work closely with brands to make their ad campaigns shine '-- and the opportunities available for other brands looking to partner with one of the world's most beloved podcasts.

Team Acast: WTF has a huge following. Describe your audience. Who are the typical WTF listeners, and why are they an important audience for advertisers to reach?

Marc: My audience is a lot of mid-life, intelligent, sensitive, mostly progressive people, some relatively enlightened younger people, and people who just like long-form interviews.

Brendan: Because we've been doing this for a long time and the audience is extremely loyal, dedicated, and engaged, they are responsive to Marc's endorsements and show a willingness to support the products that are linked to the show.

Acast: Walk us through how you approach partnerships with advertisers. Once you get a brief from the brand, what's your creative process like?

Brendan: The first thing is making sure the product is the right fit for Marc. Once we know that he can put his whole self behind the product, we make sure recognizable elements of Marc's personality can shine through in the ad reads. Marc is going to talk about the product the way he would talk about it in real life, so we just make sure the ad reads all have his personal style. Sometimes it's me pitching Marc some lines that sound close to something he would say himself, but usually it's just providing him with the proper copy points so that he can inject his own feelings and mindset into the read.

Acast: Tell us about one of your favorite advertiser partnerships on your podcast. What made it enjoyable?

Brendan: The best advertisers are the ones who trust our process and know that we'll take good care of representing them on our show. When the water brand Liquid Death came on board, they submitted some very general bullet points about the product and told us, ''Have fun with it. We just want you to be you.'' We don't take that lightly and we will never take that trust for granted. When a client gives us that much leeway, we're going to make sure we deliver the best possible final product for them.

By the way, Marc has a lifetime supply of Liquid Death, that's how happy they were with the spots. And I'm not kidding about that. He has enough Liquid Death that he'll be drinking it until actual death.

Acast: What makes for a good partnership between a brand and a podcaster? What makes podcast advertising so influential and impactful for advertisers?

Marc: We generally only advertise stuff that makes sense to me, or stuff I believe in, or I feel is useful. The listeners trust our choice of advertisers and are willing to engage with them because of how we vet those advertisers in relation to what I'm comfortable with.

People know advertising is advertising, but our track record is good. I guess people see me as an authentic person, but they still know I'm doing ads. Over the years, we have kept dubious advertisers at bay and our audience trusts us.

"The best thing we hear is someone saying, 'I had no idea an ad read even started.'" -Brendan McDonald, producer of WTF with Marc MaronAcast: In your own words, why do you believe brands should work with you?

Brendan: We've been at it for more than 13 years, we've worked with many brands, and we've had great client relations throughout. After all that time, the show still ranks in the Top 25 US podcasts every quarter since Edison Research began measuring podcast listenership. That kind of audience consistency is hard to come by.

Acast: What kind of impact has your show had for brands that have sponsored you? Are there any results you can share from campaigns you've done?

Marc: From the beginning of the show when we had only a couple of advertisers and the show started to get popular, we had a coffee advertiser, Just Coffee, up in Madison, Wisconsin. I really believe we were the foundation of their business becoming successful. They were primarily a local mail-order coffee roaster and because of the podcast they built their business on our support.

In those early days, it was only Audible, Just Coffee, and Adam & Eve. I believe we helped a lot of lonely people.

Brendan: Back in 2012, Stamps.com was trying to convince us to let them do an annual buy for 2013. Yes, they were trying to convince us, not the other way around. They had data that the six months of testing they did with us showed we had a much better churn rate than Rush Limbaugh. That was a real eye-opener for us and let us know we could build on that success with many partners.

Acast: At their best, advertising partnerships can help foster meaningful connections with podcast listeners. Can you share any feedback from your listeners on partnerships they loved or that really resonated with them?

Brendan: The thing we hear all the time from listeners is that they notice how seamlessly the ads are integrated into the show. It's a point of pride for Marc when he's able to transition from a conversation topic right into an ad read without ever changing gears. The best thing we hear is someone saying, ''I had no idea an ad read even started.''

Acast: Are there any brands (or types of brands) you'd be really excited to partner with?

Marc: Music brands, especially guitar brands, would be interesting. And I wouldn't mind getting behind specific recording artists.

I miss Bombas. If we could get Bombas back, it would be nice.

(Photo of Brendan and Marc from Midroll Media)'Acast: What's the one thing that you'd love advertisers to know about your show?

Marc: The secret is finding hooks within the ad reads so they land when I deliver them. I think the way I do the ad reads, putting some spin on them, or some emotion, or a certain tone, is successful. I don't sleep through ad reads or mock them.

Acast: What's one piece of advice you have for brands who are looking to succeed with podcast advertising?

Brendan: Commit. We're good at what we do, but we're not miracle workers. Even the best ad read isn't going to yield much response if it's only one-and-done. My advice is to find some strategic timing on your calendar and book a multi-week campaign with any podcast you like and trust. The audience needs repetition. And once it sinks in, it really sinks in. I remember a well-known television personality telling me he was speaking with his wife about home security products, something they never purchased before. He said, ''What about that one Maron is always talking about?'' referring to our advertiser SimpliSafe. He paused for a second and realized, ''Oh! That's how it works!'' Yes, indeed. That's how it works.

Acast: What's your personal elevator pitch for your show in 10 words or fewer?

Marc: I talk honestly and humorously about myself and to others.

Brendan: An audio journal of one man's life, with famous guests.

''

If you're interested in exploring sponsorship opportunities or branded content integrations with WTF with Marc Maron, get in touch with the Acast team at sales.us@acast.com.

Why Spy Agencies May Lose Sweeping Surveillance Powers | Time

Wed, 22 Mar 2023 18:13

T he last time America's intelligence agencies asked Congress to renew one of their most controversial surveillance programs, then-President Trump briefly sided with its opponents before backing down at the last minute. Five years later, an unlikely coalition of MAGA loyalists and left-wing civil liberties advocates may deliver on Trump's initial impulse, and Biden officials are scrambling to save a program they say is vital to U.S. national security.

The White House, Justice Department, and intelligence agencies on Tuesday warned of dire consequences if lawmakers don't reauthorize Section 702 of the Foreign Intelligence Surveillance Act (FISA) Amendments Act, which is set to expire by the end of the year. The broad surveillance program allows the National Security Agency (NSA) to collect the communications of foreigners abroad, including from tech firms like Google, Microsoft, Apple and Meta. But it also sweeps up all of their interactions with those inside the country, which has allowed the FBI to routinely search and review the personal data of millions of Americans without obtaining a warrant.

Recent revelations about the FBI's routine use of this trove of data to access Americans' communications'--including phone calls, emails, and text messages'--has led to growing criticism that the program has become a domestic spying tool. Combined with conservative distrust of government security agencies and backlash to what Republicans call the ''weaponization of government'' has made it increasingly unlikely that lawmakers will renew the program without demanding a significant overhaul.

National security officials on Tuesday warned that would be a mistake. ''The stakes are incredibly high,'' Assistant Attorney General Matthew Olsen, who heads the Justice Department's national security division, said in a speech at the Washington-based Brookings Institution. ''Without 702, we will lose indispensable intelligence for our decision-makers and warfighters, as well as those of our allies'...And we have no fallback authority that could come close to making up for that loss.''

The full-court press launched by the administration shows just how seriously they take the threat to the program which is set to lapse in December. In a letter sent to Congress earlier Tuesday morning, Attorney General Merrick Garland and Director of National Intelligence Avril Haines called the reauthorization ''a top legislative priority'' for the Biden administration and argued that it has ''proven invaluable again and again in protecting American lives and U.S. national security'' over the past 15 years. ''There is no way to replicate Section 702's speed, reliability, specificity and insight,'' they wrote. Tuesday's push will be followed by public appeals, with Garland testifying before the Senate Judiciary Committee on Wednesday and Haines testifying before the Senate and House Intelligence Committees next week.

Officials on Tuesday pointed to past successes where they say the information gathered through the program saved the lives of U.S. troops, identified foreign spies, foiled cyber plots and neutralized terrorist threats, including the operation that killed al-Qaeda leader Ayman al-Zawahiri last year. They also outlined hypothetical scenarios, emphasizing the economic and cyber threats posed by countries like China, Russia and Iran, expanding beyond the traditional focus on counter-terrorism.

''Section 702 has proven a cornerstone of U.S. national security,'' White House National Security Advisor Jake Sullivan said in a statement on Tuesday, adding that the White House hoped to ''engage constructively with the Congress to preserve this essential tool for protecting the United States.''

The outcome of this battle to balance national security, oversight, and constitutional protections may define electronic espionage in the post-Trump era just as intelligence reforms in the 1970s defined spying for decades after Watergate.

What is Section 702?

Congress approved FISA's Section 702 in 2008, legalizing a controversial post-9/11 wiretapping program that allowed the government to conduct massive warrantless electronic surveillance of suspected foreign terrorists and their associates. It has renewed the program twice since then. When the program's renewal was last debated in 2017, tech firms including Facebook, Google, Microsoft and Amazon pressed lawmakers to demand reforms, citing privacy concerns.

The NSA routinely shares parts of the raw surveillance data collected under Section 702 with the FBI, CIA, and other national security agencies which can retain them for up to five years. Even though its surveillance has to target foreigners abroad, the program also sweeps up large quantities of communications by Americans, such as calls, emails and text messages.

U.S. national security officials have long defended Section 702 as one of the government's most valuable tools to gather foreign intelligence to foil terrorist and cyber attacks, track spies and identify threats to U.S. troops. The Biden administration began gearing up to make a more aggressive case for its renewal earlier this year.

''We have saved lives because of 702,'' Gen. Paul Nakasone, who heads the NSA and U.S. Cyber Command, said in a speech in January in which he called the program ''irreplaceable.''

Olsen echoed these remarks on Tuesday, listing several hypothetical future scenarios to illustrate where information collected by the program would be critical: tracking down a terrorist network from emails collected from the phone of someone captured on the battlefield or disrupting the scheme of a foreign actor trying to recruit U.S. employees at a semiconductor company to gain access to sensitive U.S. technology.

''If Congress doesn't act to reauthorize it, and if 702 expires or is watered down, the United States will lose absolutely critical insights that we need to protect the country,'' Olsen said.

Why Section 702 is so controversial

The U.S. intelligence community faces much stronger resistance than it did the last time the program was reauthorized in 2018. Several opinions from the secretive FISA Court and government reports in recent years revealed ''widespread violations'' by the FBI, including examples where agents seemed intentionally to access Americans' data that had been ''incidentally'' collected user Section 702. The reports showed how the FBI, which has access to part of the full 702 database, routinely performed so-called ''backdoor searches'' for domestic investigations that did not involve foreign intelligence or national security issues.

A 2018 opinion by the Foreign Intelligence Surveillance Court (FISC) noted the ''large number of FBI queries that were not reasonably likely to return foreign-intelligence information or evidence of a crime,'' saying the agency's actions ''present a serious risk of unwarranted intrusion into the private communications of a large number of U.S. persons.''

While it's unclear how many Americans' communications have been swept up under the program, a report from the Office of the DNI published last April showed that from Dec. 2020 to Nov. 2021 the FBI queried Section 702 data up to 3.4 million times for information about U.S. persons. It was the first year these numbers had been made public since 2013, when the office began recording surveillance statistics. According to the FBI data, at least 1.9 million queries were done as part of an investigation into attempted foreign cyber attacks.

''For anyone outside the U.S. government, the astronomical number of FBI searches of Americans' communications is either highly alarming or entirely meaningless,'' Sen. Ron Wyden, D-Ore., a senior member of the Senate Intelligence Committee, said when the FBI numbers were released last year. ''Somewhere in all that over-counting are real numbers of FBI searches'... numbers that Congress and the American people need before Section 702 is reauthorized. Baseline transparency is essential if the federal government wants to hold such sweeping surveillance powers.''

Rep. Pramila Jayapal, a Washington Democrat who chairs the Congressional Progressive Caucus, tweeted earlier this month that ''any FISA reauthorization must include meaningful reforms to protect Fourth Amendment rights.''

Meanwhile, Republican lawmakers have rallied around the government's use of a flawed warrant to conduct surveillance of Trump associate Carter Page, which a 2019 investigation by the Justice Department's inspector general found to have ''at least 17 significant errors and omissions.'' The warrant was obtained under a different FISA authority, not Section 702'--a distinction that helped 702 supporters blunt Trump's initial skepticism about reauthorizing the program in 2017.

But now, in the midst of an increasingly polarized debate about the FBI and what some Republicans term the ''weaponization'' of the federal government, some have threatened not to renew it at all. ''I think we should not even reauthorize FISA, which is going to come up in the next Congress,'' Rep. Jim Jordan, an Ohio Republican who chairs the Judiciary Committee, said in a television interview last October.

Biden administration officials on Tuesday tried to assuage the fears on both ends of the political spectrum. While he acknowledged that ''mistakes that we made cost us with the American people and with Congress,'' Olsen argued that recent changes were meant to fix compliance issues and build trust in the program. He pointed to reforms adopted by the FBI in 2021, which he said led to a ''dramatic decrease in the total number of U.S. person queries'' and a ''significant reduction in the number of inadvertent queries of 702 data.''

But Olsen also warned about the time pressure, noting that while the law is set to expire on Dec. 31, national security officials are pushing lawmakers to commit to renewing it as soon as possible. Otherwise, ''the impact would be felt immediately,'' he said.

Write to Vera Bergengruen at vera.bergengruen@time.com.

New obesity drug semaglutide is safe and effective for weight loss and diabetes - Vox

Wed, 22 Mar 2023 17:12

After learning that the venom of a Gila monster lizard contained hormones that can regulate blood sugar, Daniel Drucker started wondering why. And could the venom somehow help treat diabetes?

Drucker is a scientist and endocrinologist at the University of Toronto who has dedicated his career to understanding the universe of hormones in the body, which do everything from regulating appetite to helping with digestion. His curiosity about the Gila monster led to a call with a zoo in Utah. In 1995, Drucker had a lizard shipped from Utah to his lab and began experiments on the deadly venom.

Ten years later, a synthetic version of a hormone in the venom became the first medicine of its kind approved to treat type 2 diabetes. Known as a GLP-1 (for glucagon-like peptide-1) receptor agonist, the medicine set off a cascade of additional venom-inspired discoveries.

After doctors noticed mice and humans on the drug for diabetes appeared to lose weight, they began to consider its use in obesity science. In June 2021, another effective treatment, this one for obesity, got Food and Drug Administration approval. Called semaglutide and marketed as Wegovy, it also takes its structure from the lizard's venom.

If this origin story sounds outlandish, consider the history of obesity treatments. Over the years, people have turned to extreme and unlikely interventions to try to lose weight, from jaw wiring, laxatives, and vagotomies to lap band operations and fen-phen, a ''miracle'' diet drug that was ultimately recalled.

The new treatment '-- a once-weekly injectable from Novo Nordisk, a Danish pharmaceutical company that has hired many leading diabetes and obesity scientists as consultants '-- is poised to safely help many people with health-threatening obesity, physicians and researchers say. It may even illuminate some of the mysteries around how appetite works in the first place.

''It's phenomenal,'' says Michael Krashes, a diabetes and obesity investigator at the National Institutes of Health. Semaglutide is ''a big step forward '-- we finally have something that's reliable and able to produce sustained effects over time,'' adds Ivan de Araujo, a neuroscientist who studies brain-gut interactions at Mount Sinai's Icahn School of Medicine. Neither scientist is affiliated with Novo Nordisk.

Doctors who treat obesity patients told Vox they wished they had a treatment option like semaglutide years ago, and patients described the drug as life-altering.

Yet many people with obesity may not seek out semaglutide, and doctors may not prescribe it to them '-- not only because of the dangerous history of weight loss medications, but also because of a persistent bias and stigma around a disease that now afflicts nearly half of Americans. Obesity is still widely viewed as a personal responsibility problem, despite scientific evidence to the contrary. And history has shown that the most effective medical interventions, such as bariatric surgery '-- currently the gold standard for treating obesity '-- often go unused in favor of dieting and exercise, which for many don't work.

There's also a practical challenge: Health insurers don't typically cover obesity medications, says Scott Kahan, an obesity doctor and professor at Johns Hopkins Bloomberg School of Public Health and the George Washington University School of Medicine. ''Medicare explicitly excludes weight medications,'' Kahan, who consults with Novo Nordisk, says. ''And most insurers follow what Medicare does.''

The new drug certainly won't be a cure-all for obesity, Krashes adds. ''You are not taking a 280-pound person and making them 130,'' he points out, though reductions that are enough to improve health outcomes are typical. Drucker, who began consulting with Novo Nordisk and other drug companies after his reptilian discovery, agrees that it's a starting point for obesity: ''It will only scratch the surface of the problem in the population that needs to be healthier.''

But semaglutide is the most powerful obesity drug ever approved, he adds. ''Drugs that will produce 15 percent body weight loss '-- we did not have that before in the medical therapy of obesity.'' With additional, potentially more effective GLP-1 receptor agonists coming online in the future, we're at the beginning of a promising new chapter of obesity therapeutics. A look at the fascinating science of how the medication works could also go a long way to changing how Americans think about this disease.

''We have to thank the lizard for that,'' Drucker says.

What semaglutide reveals about weight problems To understand how semaglutide causes some people to eat less, it's helpful to understand what hormones do. They're the body's traveling messengers: Manufactured in one area, they move to another to deliver messages through receptors '-- molecules that bind to specific hormones '-- in distant organs and cells.

The gut makes dozens of hormones, and many of them travel to the brain receptors that either curb appetite or stimulate it, Drucker explains. GLP-1 is one such gut hormone. It's unleashed in the gut in response to food and stimulates the pancreas to make more insulin after a meal, which lowers blood sugar. (GLP-1 is also made in the brain stem, where it may modify appetite.)

''It sends a signal to our brain that says, 'You know, we've had enough to eat,''' says Drucker.

Enter semaglutide, one of a class of medicines '-- the GLP-1-receptor agonists '-- that imitate GLP-1, helping the body lower glucose (in the case of people with diabetes) and, researchers suspect, curb appetite (in the case of people living with obesity who may also have diabetes).

The precise way the drug works on obesity is still unknown, in part because scientists don't understand exactly how appetite works. But researchers generally agree that the drug harnesses the brain's GLP-1 receptors to curb food intake. When researchers delete the GLP-1 receptors from the brains of mice, the drug loses its appetite-suppressing effects, says Krashes.

Obesity is ''primarily an issue of our brain biology, and the way it's processing info about the environment we live in,'' says Randy Seeley, a University of Michigan researcher focused on obesity treatments, who also consults with Novo Nordisk.

With semaglutide, the idea is that ''we're changing your brain chemistry for your brain to believe you should be at a lower weight,'' Seeley added.

This brain-based pharmacological approach is likely to be more successful than diet and exercise alone, Seeley says, because ''the most important underlying part of somebody's weight has to do with how their brain operates,'' not a lack of willpower.

Not quite a ''game changer'' Some people with a higher body mass index are perfectly healthy and don't require any treatment. Semaglutide was only indicated by the FDA for patients who classify as clinically obese '-- with a body mass index of 30 or greater '-- or those who are overweight and have at least one weight-related health problem.

For the many people who have used it, it has proved safe and effective, according to the FDA. In weight loss clinical trials, semaglutide helped people lose about 15 percent of their body weight on average '-- significantly more than the currently available obesity drugs and more than enough to improve health outcomes.

The drug's most common side effects '-- nausea, diarrhea, constipation, and vomiting '-- were mostly short-lived. De Araujo is finding that adverse reactions might be caused by how the drug differs from the naturally occurring peptide hormone: The hormone acts mostly locally and degrades quickly, while the medicine works mainly on the brain and is designed to stick around in the body. ''That's where the nausea, vomiting probably derive from,'' De Araujo argues.

Patients who have tried semaglutide told Vox that it helped them manage their weight and relationship to food, and that their side effects were manageable and quickly resolved.

Jim Eggeman, a 911 operator in Ohio, said that before taking semaglutide, ''I could sit down and eat a large pizza, and now it's one to two pieces at the most.'' He started on the drug for diabetes after a heart attack in December 2019 and lost 35 pounds, bringing his weight to 220.

Paula Morris-Kaufman, of Cheshire, UK, used the drug to address weight gain following cancer treatments. It helped her bring her weight back to a normal range, she says, and curb her habit of compulsive eating. ''If you give me a plate of food, I just eat a small portion of it '-- and feel full really quickly.''

It's possible that some of the benefits of treatment come in part from lifestyle changes, which were encouraged by the clinical trials. In many cases, patients on semaglutide also switched to a healthier diet when they started on the drug and added exercise to their routines. But study participants taking the drug still lost significantly more weight than those under the same conditions who received a placebo.

The need for additional interventions '-- like diet and exercise '-- is one reason why Kahan stops short of calling this drug a game changer. ''It's an incremental improvement'' over existing drugs, he says, and it's still out of reach for many of the individuals who could benefit from it. ''The 'game changer' description is not appropriate, because many people don't have access to these medicines.''

A mindset shift Only about 1 percent of eligible patients were using FDA-approved medications for obesity in 2019, a study showed. The same is true for bariatric surgery, currently the most effective intervention for obesity, which can also drive type 2 diabetes into remission.

''If someone walks into your office with heart disease and you as a physician don't try to treat it, that's malpractice,'' Seeley says. ''If somebody comes in with a BMI over 30 and you don't treat it, that's Tuesday.'' He thinks some of the hesitancy for treating patients with obesity medications comes from the history of dangerous weight loss drugs.

''We would never blame other individuals for developing high blood pressure or cardiovascular disease or cancer''

Ingrained biases about obesity have also made it harder for patients to get access, Kahan says. ''Obesity tends to be categorized as a cosmetic issue in health insurance policies,'' he says. ''In order to get coverage, employers have to explicitly decide to buy a rider and sign a contract to add weight management services and products to their insurance plans.'' He'd like to see obesity treatments covered by insurers in the same way diabetes and hypertension drugs are.

That will require a shift in mindset, Drucker says. ''We would never blame other individuals for developing high blood pressure or cardiovascular disease or cancer,'' he says. It's widely known that those conditions are driven by complex biological determinants, including genes, as well as environmental factors. ''Obesity is no different.''

When Drucker started in endocrinology in the 1980s, he didn't have many tools to help patients. With the addition of semaglutide, there are multiple surgical options and drugs for obesity and diabetes. The challenge now is helping those who would benefit gain access.

''I would be delighted if no one needed GLP-1 for diabetes and obesity,'' Drucker says. That might be possible in a food landscape that didn't nudge people toward the overeating and poor diet that leads to these chronic conditions. But for now, ''we have new options that are safe, appear to reduce complications, and are very effective. ... We shouldn't just throw up our hands and say there's nothing we can do.''

We have a request

Most news outlets make their money through advertising or subscriptions. But when it comes to what we're trying to do at Vox, there are a couple of issues with relying on ads and subscriptions to keep the lights on:1. Advertising dollars go up and down with the economy. We often only know a few months out what our advertising revenue will be, which makes it hard to plan.

2. We're not in the subscriptions business. Vox is here to help everyone understand the complex issues shaping the world '-- we believe that's an important part of building a more equal society. And we can't do that if we have a paywall.

It's important that we have several ways we make money, and that's why we ask readers for help keeping Vox free. Our goal today is for 47 Vox readers to pledge an annual financial gift to Vox to help us keep our work free for everyone. Will you become one of them?

$95 /year

$120 /year

$250 /year

$350 /year

Other Yes, I'll give $120 /year

Yes, I'll give $120 /year

We accept credit card, Apple Pay, and Google Pay. You can also contribute via

Government Files About "Remote Mind Control" | The Vigilant Citizen

Wed, 22 Mar 2023 16:10

A journalist who requested documents using the Freedom of Information Act received additional files on ''remote mind control'' and the effects of ''psycho-electric weapons''.

A journalist working for the non-profit organization Muckrock made a bizarre discovery after requesting documents from the US government through the FOIA. Indeed, as part of an ongoing investigation about Antifa and white supremacist groups, the journalist sent a request to the Washington State Fusion Center, a Department of Homeland Security, which specializes in counter-terrorism, detecting criminal activity, disaster planning, cyber-security and other threat assessments.

Along with standard documents such as emails, intelligence briefings, and bulletins, the journalist received a bizarre filed named ''EM effects on human body.zip''.

One document describes the effects of ''psycho-electric weapons'' including ''forced memory blanking'', ''forced rigor-mortis'' and even ''forced orgasm''.

Another document explains biomagnetic fields and brainwaves (Alpha, Beta, Delta, etc.) two concepts that are extremely important in MKULTRA and Monarch mind control.

The final document describes how shady organizations can conduct ''remote mind control'' operations through mobile phone networks, trucks disguised as communication vehicles and ''Black'' helicopters.

Although these documents were sent by the WSFC, they do not appear to be created by a government agency. The first image ''Psycho-Electric Weapon Effects'' appears to be part of a 1996 article from Nexus Magazine which describes a lawsuit brought by John St. Clair Akewi against the NSA. The 1992 lawsuit claimed that the NSA had the ''ability to assassinate US citizens covertly or run covert psychological control operations to cause subjects to be diagnosed with ill mental health''. The article states:

A lawsuit filed against the U.S. National Security Agency reveals a frightening array of technologies and programs designed to keep tabs on individuals. The following document comprises evidence for a lawsuit filed at the U.S. Courthouse in Washington, DC, by John St Clair Akwei against the National Security Agency, Ft George G. Meade, Maryland (Civil Action 92-0449), constitutes his knowledge of the NSA's structure, national security activities proprietary technologies and covert operations to monitor individual citizens Ed.

The image also contains the web address www.raven1.net which is now offline.

The author of the second document appears to go by the name Supratik Saha a ''Software And Electronics & Comm. Engg''.

The Muckrock journalist has no idea how he ended up with these documents.

''It's entirely unclear how this ended up in this release. It could have been meant for another release, it could have been gathered for an upcoming WSFC report, or it could even be from the personal files of an intelligence officer that somehow got mixed up in the release. A call to the WSFC went unreturned as of press time, so until we hear back, their presence remains a mystery.'''' Muckrock, Washington State Fusion Center accidentally releases records on remote mind control

While these documents were probably not created by the government, they appear to be relevant enough for the WSFC to keep them archived.

Could these documents explain the mysterious Cuban ''sonic attacks'' where 24 government officials suffered ''hearing loss, dizziness, sleep and vision problems, tinnitus, headaches, fatigue and brain damage''? Nearly all of these symptoms can be found in the first document.

Silicon Valley and Capitol Hill Build an Anti-China Alliance - WSJ

Wed, 22 Mar 2023 15:36

Group to meet ahead of TikTok's testimony before Congress

Updated March 17, 2023 1:40 pm ETA group of Silicon Valley executives, including investor Peter Thiel, and Washington lawmakers are quietly mobilizing against China's involvement in the U.S. tech industry ahead of TikTok Chief Executive Shou Zi Chew's Capitol Hill testimony next week.

They plan to meet for a private dinner on Wednesday to discuss China, national security and the intensifying competition between the tech sectors of the U.S. and China. Mr. Chew is scheduled to testify the following day.

Momentum...

Advertisement - Scroll to Continue

A group of Silicon Valley executives, including investor Peter Thiel, and Washington lawmakers are quietly mobilizing against China's involvement in the U.S. tech industry ahead of TikTok Chief Executive Shou Zi Chew's Capitol Hill testimony next week.

They plan to meet for a private dinner on Wednesday to discuss China, national security and the intensifying competition between the tech sectors of the U.S. and China. Mr. Chew is scheduled to testify the following day.

Momentum against TikTok is building. The U.S. government and a succession of other Western countries have blocked TikTok on government-issued devices. The Biden administration has demanded that TikTok's Chinese owners sell their stakes in the video-sharing app or face a possible U.S. ban. On Friday, The Wall Street Journal reported that the Justice Department is investigating the surveillance of American journalists by TikTok's Chinese owners.

Mr. Chew said in an interview with the Journal that divesting TikTok from its Chinese owners doesn't offer any more protection than the plans TikTok has already proposed.

Spearheading the effort to create the bipartisan, bicoastal alliance of China hawks is Jacob Helberg, a former Google policy adviser who is the newest member of the U.S.-China Economic and Security Review Commission, a congressional research and advisory panel. Mr. Helberg also serves as an adjunct senior fellow at the Center for a New American Security, a think tank that specializes in national-security issues, and a senior adviser at the Stanford University Center on Geopolitics and Technology, which is dedicated to research on global competition. One of Mr. Helberg's priorities has been to meet with lawmakers in Congress every couple of weeks to urge them to ban TikTok.

Advertisement - Scroll to Continue

The group is calling itself the Hill & Valley Forum, and plans to speak about its concerns about China at the coming dinner, which is expected to draw approximately 200 attendees. The dinner was paid for by venture-capital firms 137 Ventures and Founders Fund, as well as Mr. Helberg.

Expected speakers include Mr. Thiel, head of Founders Fund and an early backer of Facebook , as well as fellow tech investor Vinod Khosla and a range of other financiers, executives and founders, according to people who have seen the event's RSVP list.

''We're priming Congress to be ready for this testimony,'' said Mr. Helberg. He and others attending the dinner have been encouraging lines of questioning about TikTok. He said he views TikTok as ''the most potent espionage operation that China has ever carried out against the U.S.''

Advertisement - Scroll to Continue

A spokeswoman for TikTok didn't comment on the group, but said TikTok has never shared U.S. user data with Beijing. ''The Chinese government has never asked us to share U.S. user data, nor would we, if asked,'' she said.

The call for TikTok's Chinese owners to sell their stakes represents the most forceful demand of the app yet from the Biden administration. The U.S. government, the European Commission, Canada, Belgium and more than 30 U.S. states have banned TikTok on government-issued devices. Federal Bureau of Investigation director Christopher Wray said in early March that TikTok ''screams out with national security concerns.''

Sen. Marco Rubio (R., Fla.), Sen. Mark Warner (D., Va.), Rep. Michael McCaul (R., Texas) and Rep. Mike Gallagher (R., Wis.) have all introduced legislation aimed at TikTok or foreign technology more broadly. They also all plan to attend the dinner, according to the people who have seen the RSVP list.

Representatives for Messrs. Rubio and Warner declined to comment.

Advertisement - Scroll to Continue

''The younger generation loves TikTok, but I don't think they appreciate the dangers. I call it the spy balloon in your phone,'' said Mr. McCaul. He nominated Mr. Helberg to the U.S.-China Economic and Security Review Commission.

U.S. officials have said they are concerned the Chinese government could force TikTok's owner, Beijing-based ByteDance Ltd., to spy on American users or to influence which videos they see.

In December, ByteDance said employees had inappropriately accessed user data to find the location of two journalists on TikTok. The company said those employees were trying to find leaks of confidential information.

TikTok executives have said they wouldn't give in to demands from China, and have been touting a plan to reorganize the company's U.S. operations in a new unit that would be charged with safeguarding the app in an attempt to appease lawmakers' concerns.

Advertisement - Scroll to Continue

As a part of TikTok's plan, Oracle Corp. and other third-party monitors would review the code related to how TikTok selects which videos to serve to users, as well as access to users' data.

TikTok has also been trying to organize its own show of support. The app invited creators to join company executives at the U.S. Capitol later this month. TikTok's outreach to creators was reported earlier by the Information.

Additionally, TikTok earlier in March added a 60-minute screen-time limit for users under the age of 18, in an effort to show industry observers that the company plans to be proactive about safety measures on its app. Users can bypass the limit by entering a password.

This growing alliance between U.S. tech and government leaders demonstrates the hurdles TikTok's executives face in trying to convince policy makers that their app is safe for U.S. users.

Mr. Helberg said he would need to see TikTok's Chinese owners sell their stakes, and the company shut down its engineering operations in China, for him to consider any potential threat from the app abated.

''The one thing that almost everyone coming to this dinner has in common is the basic belief that China represents one of the biggest political, geopolitical threats to American democracy,'' Mr. Helberg said.

Many tech companies have also grown frustrated with what they view as an asymmetry in Chinese companies' access to U.S. consumers that U.S. companies haven't been able to replicate in China. Most of the biggest American tech services, including Google, Facebook, Instagram and Twitter, aren't accessible in China, though people in the country can use them with tools that disguise their locations.

China has repeatedly said it is taking steps to improve the conditions for foreign companies.

''Tech companies are now realizing that if you believe the U.S. plays a positive role in the world, that it's our duty to help,'' said Kevin Weil, a former vice president at Facebook who now is president of product and business at Earth-imaging startup Planet. Mr. Weil says he plans to attend the dinner.

The dinner slated for next week is the group's second event. Mr. Thiel, who is scheduled to speak at it, didn't respond to requests for comment.

Mr. Gallagher said Mr. Helberg's efforts to bring together disparate groups, including the tech sector and policy folks, are critical for the U.S. to win the tech race with China.

Mr. Helberg began forming many of his views about China in 2016 at Google, where he helped lead the company's efforts to combat foreign interference on its platforms. At the time, Russia's attempts to sow chaos in the U.S. ahead of the 2016 presidential election were the most overt foreign campaigns he observed, but he noted China's attempts quickly followed suit, he said.

His husband, Keith Rabois, is a general partner at Founders Fund. A representative for Mr. Helberg said his China efforts are self-funded.

When Mr. Helberg wrote a book about his time at Google and his views of a coming cyberwar between the U.S. and China, his message resonated in the offices of Capitol Hill lawmakers. Mr. McCaul passed a copy of the book, titled ''The Wires of War,'' to House Speaker Kevin McCarthy (R., Calif.), who displayed the book in his office and appointed Mr. Helberg to the commission. From there, Mr. Helberg's connections with lawmakers continued.

Early last summer, Mr. Helberg started forming the coalition of those concerned about China and national security. He messaged two friends in venture capital about the elected officials he had met, and suggested they try to get those officials in a room with their contacts from the tech world.

Venture capitalist Mr. Khosla, who plans to speak at the gathering, said he has long feared a ''techno-economic'' war with China that will remake the world order.

''Twenty years from now, the race for technological superiority is wide open. Whoever wins this race will win economic power, and hence political power,'' Mr. Khosla said. ''This is much broader than national security.''

Write to Georgia Wells at georgia.wells@wsj.com

12ft | National COVID-19 Testing Company's Co-Owner Indicted for Defrauding US Agency Out of $83 Million

Wed, 22 Mar 2023 13:35

Removing Paywall

Transgender Experiences in Weimar and Nazi Germany | mjhnyc.org

Tue, 21 Mar 2023 22:27

Before 1933, Germany was a center of LGBT+ community and culture, with several renowned organizations serving and supporting trans and gender non-conforming people. Hitler's Nazi government, however, brutally targeted the trans community, deporting many trans people to concentration camps and wiping out vibrant community structures. As transgender people are now increasingly targets of discriminatory legislation and hate, join the Museum for a program exploring these stories and experiences prior to and during the Holocaust.

This panel conversation features Dr. Anna Hjkov, Associate Professor of Modern European Continental History at the University of Warwick; Dr. Katie Sutton, Associate Professor of German and Gender Studies, School of Literature, Languages and Linguistics at Australian National University; and Dr. Bodie A. Ashton, a Postdoctoral Researcher and Lecturer at Universit¤t Erfurt, with moderator Rabbi Marisa Elana James, Director of Social Justice Programming at Congregation Beit Simchat Torah in New York.

Watch the program below.

This program's original recording transcript is below. This transcription was created automatically during a live program so may contain inaccurate transcriptions of some words.

Ariel Kates: Good afternoon, everyone welcome my name is Ariel Kates i'm the director of marketing at the Museum of Jewish heritage, a living memorial to the Holocaust.

3400:03:02.340 --> 00:03:13.170Ariel Kates: Now, in its 24th year the museum is committed to the crucial mission of educating our diverse community about Jewish life and heritage, before, during and after the Holocaust.

3500:03:13.650 --> 00:03:24.720Ariel Kates: As a part of that mission our programs are meant to illuminate the stories of survivors broader histories of hate and anti semitism through time and stories of resistance against and justice.

3600:03:25.410 --> 00:03:37.560Ariel Kates: Today, we are here to discuss the experiences of transgender and non binary folks in weimer and Nazi Germany we've talked before about the pink triangle and gay experiences specifically.

3700:03:38.190 --> 00:03:52.920Ariel Kates: But as the rights healthcare access and really the very existence of trans people are being curtailed at the whim of legislation in the United States and around the world we're glad to be able to delve into this history today.

3800:03:54.120 --> 00:04:06.990Ariel Kates: we're so pleased to have such an international panel of scholars here to bring us many different perspectives experiences and languages, about a topic that is dear to each of us in different ways.

3900:04:07.890 --> 00:04:14.130Ariel Kates: it's tricky to talk about people in the past with contemporary language that didn't even exist at the time.

4000:04:14.400 --> 00:04:26.940Ariel Kates: We talked about this often at the museum and our programs and our exhibitions and more so i'm very grateful to our panel and to all of you for being here to navigate and explore this with us.

4100:04:28.020 --> 00:04:36.390Ariel Kates: i'm also so pleased to be here with my beloved congregation bates in cloud Torah or co host for today's Program.

4200:04:37.950 --> 00:04:53.880Ariel Kates: We are very honored to be joined by Dr Anna hi Dr katie Sutton Dr Brody Ashton and rabbi Melissa ilana chains and Dr Anna hi cola and i've got some bios i'm going to read them they're very impressive.

4300:04:55.020 --> 00:05:12.300Ariel Kates: Dr Anna hi cola is associate professor of modern European continental history at the University of Warwick in addition to her academic work, Dr heckuva is a queer history activists and public intellectual in her first book, the last ghetto and everyday history of tracing.

4400:05:13.410 --> 00:05:16.260Ariel Kates: Theresienstadt was published in 2020.

4500:05:18.120 --> 00:05:22.320Ariel Kates: Dr katie son is associate professor of German and gender studies.

4600:05:22.620 --> 00:05:36.600Ariel Kates: At the school of literature languages and linguistics at Australian national university she studies German culture, literature and history and the 20th and 21st centuries and focuses on the history of gender and sexuality.

4700:05:37.020 --> 00:05:49.170Ariel Kates: Dr sons most recent monograph sex between body and mind psychoanalysis and technology in the German speaking world 1890s to 1930s was published in 2019.

4800:05:50.400 --> 00:06:04.830Ariel Kates: Dr Brody Ashton is a postdoctoral researcher and lecturer at the university taught or front, where he is working on the Volkswagen Oh, this is so, this is going to be a rough for the body, forgive me.

4900:06:05.670 --> 00:06:07.080Dr. Bodie Ashton: Can I jump in then, if you.

5000:06:07.080 --> 00:06:07.500Ariel Kates: guys.

5100:06:07.560 --> 00:06:19.890Dr. Bodie Ashton: Go for it absolutely I I work on the folks five inch Stiftung so the folk swag and foundation fly guys to project the other global Germany So there you go.

5200:06:20.160 --> 00:06:26.130Ariel Kates: Yes, trance Thank you transnational criminality and deviant globalization in Germany.

5300:06:26.700 --> 00:06:37.920Ariel Kates: Dr questions reach research focuses on the construction and understanding of historical queer and particularly transgender and non conforming identities and modern German history.

5400:06:38.280 --> 00:06:47.340Ariel Kates: His first monograph the Kingdom of wartenberg the making of Germany 1850 to 1871 was published in 2017.

5500:06:48.330 --> 00:06:57.510Ariel Kates: rob i'm racing ilana James who will be serving as our moderator this afternoon is the director of social justice programming I congregation bates implied Torah.

5600:06:57.840 --> 00:07:07.740Ariel Kates: She is a graduate of the reconstruction is rabbinical college and before coming to CBS T rabbi Champs helped create a need the rabbinical student program for true.

5700:07:08.250 --> 00:07:17.550Ariel Kates: The rabbinical call for human rights, so just a little bit of zoom protocol i'm going to go off camera and on mute but I will be here in the chat.

5800:07:18.150 --> 00:07:37.800Ariel Kates: feel free to put questions for our panelists at any time during the talk into the Q amp a function that just helps us to keep better track of everything we're here for thoughts and questions, and thank you so much, everyone i'm going to hand this over to you now.

5900:07:47.370 --> 00:07:56.310Dr. Katie Sutton: Well, thank you so much of that really great introduction and thank you also to Sydney yoga for her organization and to rabbi James for hosting today.

6000:07:57.270 --> 00:08:06.750Dr. Katie Sutton: So as Mario just said i'm an Australian based historian of early 20th century, Germany and I focus especially on the history of gender and sexuality in the Weimar Republic.

6100:08:07.500 --> 00:08:19.200Dr. Katie Sutton: I myself identify as queer non Jewish non trends, but with a long affinity with gender queer endless and i'm happy with both she or they pronouns so i'm going to get started with a bit of a.

6200:08:20.250 --> 00:08:34.110Dr. Katie Sutton: bit of background on the rise of queer and trans communities in the Weimar Republic, and this was of course a really dynamic a really tumultuous time in Germany, following the end of World War one and the signing of that country's first democratic constitution.

6300:08:35.460 --> 00:08:44.760Dr. Katie Sutton: I realized that an important part of what we'll be discussing today is the ways in which trans or transgender and gender diverse individuals were targeted under national socialism.

6400:08:45.090 --> 00:08:49.290Dr. Katie Sutton: And this is something that bodie and enter, in particular, will speak to in a bit more detail.

6500:08:49.800 --> 00:09:01.500Dr. Katie Sutton: But I wanted to spend a few minutes pointing to the really diverse and quite thriving trans subculture that had began to emerge in Germany by the MID to late 1920s, and especially in the capital of building.

6600:09:02.520 --> 00:09:05.220Dr. Katie Sutton: So i'm just going to attempt a screen share.

6700:09:08.340 --> 00:09:10.320Dr. Katie Sutton: I hope that's working okay.

6800:09:11.520 --> 00:09:16.440Dr. Katie Sutton: So this is an image of young trans men get cutter and it's from 1928.

6900:09:17.400 --> 00:09:25.260Dr. Katie Sutton: Carter was an apprentice carpenter he was 18 years old, at the time, this photo was taken and was living in the working class suburb of Brits.

7000:09:26.100 --> 00:09:36.990Dr. Katie Sutton: So he'd gone into the Berlin police headquarters to apply for this piece of identity documentation which declares him as known to be wearing sorry, known as wearing men's clothes.

7100:09:38.460 --> 00:09:43.410Dr. Katie Sutton: And as you can see it's got the official stamp it's been signed by the Commissioner of the Criminal Police.

7200:09:43.710 --> 00:09:58.440Dr. Katie Sutton: And the idea is that it would protect cutter who had been assigned female at birth and raised as a girl from possible arrest and germany's gross mischief or public nuisance laws so basically to protect them against potential charges of cross dressing.

7300:10:00.060 --> 00:10:14.910Dr. Katie Sutton: It was known, it was an example of what was known colloquially as a transfer Stephen shine so a transvestite certificate or pass and there were quite a few of these issued in a during these years, especially in bigger cities like Berlin Cologne or Munich.

7400:10:16.320 --> 00:10:20.610Dr. Katie Sutton: and part of the process of applying for past like this was to get a medical certificate.

7500:10:21.150 --> 00:10:29.310Dr. Katie Sutton: So this was an early example of the kind of medical hoop jumping that trans people have often had to go go through to have their identity formally recognized.

7600:10:30.270 --> 00:10:39.690Dr. Katie Sutton: But an interesting aspect of cutters certificate was that it was signed by the famous sexologist Magnus hirschfeld of the Institute for sexual science in Berlin and i'm sure that many of you.

7700:10:40.470 --> 00:10:46.560Dr. Katie Sutton: are familiar with that Institute and with the name of here showed who, you can see there on the right.

7800:10:49.200 --> 00:10:59.760Dr. Katie Sutton: So he had to go to tested to the authorities that cutter was quote a transvestite in the clinical sense, unquote that he needed to women's clothing, to be able to function properly and to work.

7900:11:00.540 --> 00:11:07.680Dr. Katie Sutton: And i'm very aware as Arielle also indicated that you know transvestite is not the term that we use today for gender diverse people.

8000:11:08.040 --> 00:11:17.700Dr. Katie Sutton: Some people would consider it today offensive some people could see it as focus too much on clothes or cross dressing, some people do continue to own it for themselves as well.

8100:11:18.960 --> 00:11:23.970Dr. Katie Sutton: But I think it's important to remember that cutter and other trans people in the 1920s.

8200:11:24.270 --> 00:11:36.420Dr. Katie Sutton: were starting to proudly claim this term as one of the first labels that was really specifically available to describe people who didn't identify them who didn't identify with the six that had been assigned to them at birth.

8300:11:38.730 --> 00:11:43.860Dr. Katie Sutton: And the term had been coined by hirschfeld I hope that you can see that the cover of the book now.

8400:11:45.270 --> 00:11:52.740Dr. Katie Sutton: he'd also come up with other terms like the sex or sexual intermediaries and in 1910 he published a book on this topic, as you can see here.

8500:11:54.390 --> 00:11:59.310Dr. Katie Sutton: And this was followed in 1912 by an illustrated volume.

8600:11:59.880 --> 00:12:03.510Dr. Katie Sutton: And I think this illustrated volume is particularly interesting because.

8700:12:03.780 --> 00:12:13.920Dr. Katie Sutton: What i'm what i'm interested in here is that it wasn't just a case of doctors and scientists sort of talking down to patients or pathology rising sex gender otherness it was in many case.

8800:12:14.310 --> 00:12:24.510Dr. Katie Sutton: A case of individuals like that you know the person in the Center here going out getting their portrait taken and sending it to sexologist and really asking them to spend more time engaging with.

8900:12:24.780 --> 00:12:28.770Dr. Katie Sutton: different kinds of sex gender diversity, so it was a real back and forth.

9000:12:29.220 --> 00:12:41.370Dr. Katie Sutton: And what I think we're seeing by the MID 1920s, is an interplay then have a new scientific language for describing different kinds of sex gender identities and new kinds of identity political formation.

9100:12:42.000 --> 00:12:47.040Dr. Katie Sutton: So new kinds of organizations that were starting to campaign, the queer and trans rights.

9200:12:47.580 --> 00:12:58.440Dr. Katie Sutton: And this was certainly helped along by the fact that self censorship was drastically reduced, with the advent of the Weimar Republic and the mass print media has really come into being in a big way.

9300:13:00.180 --> 00:13:11.670Dr. Katie Sutton: So i'm going to show you some images from the Weimar queer and trans media, these are particularly from the MID to late 1920s, and you can see that there were columns with.

9400:13:12.480 --> 00:13:27.600Dr. Katie Sutton: titles like down the bottom, do you build that translates teton so transvestites world or simply the transvestite or on the right, you can see a magazine called the third six, which was quite specifically dedicated to trans trans and gender diverse interests.

9500:13:29.280 --> 00:13:35.100Dr. Katie Sutton: So in these magazines readers could get advice on how to avoid conflict with the police.

9600:13:35.580 --> 00:13:43.140Dr. Katie Sutton: were to shop for gender appropriate clothing and a really important aspect of the magazines were autobiographical writings where people.

9700:13:43.620 --> 00:13:55.950Dr. Katie Sutton: could share their own story, maybe of coming out as as trans the best time of going out in public in address, for the first time, just the first time they were really recognized as the gender they knew themselves to be.

9800:13:57.870 --> 00:14:10.590Dr. Katie Sutton: An important aspect of these magazines, is that they were starting to enable a sense of crap trans Community or trans culture, even for people who might not have been able to go in person to the trans organizations or clubs.

9900:14:10.800 --> 00:14:18.240Dr. Katie Sutton: Who might have lived very far away from building, but he could see themselves as no longer alone, but as part of a larger community.

10000:14:19.440 --> 00:14:32.670Dr. Katie Sutton: And I think you might be able to see in the middle there there's mention of the the for any given day on the D on association which was one of the new specifically trans clubs or social organizations in the Weimar period.

10100:14:34.680 --> 00:14:42.600Dr. Katie Sutton: But I wanted to point also to the limits of Weimar liberalism around trans rights and the limits of these magazines.

10200:14:42.930 --> 00:14:50.490Dr. Katie Sutton: And, as our colleague lori mark offer has so persuasively argued the right to greater freedoms for some members of society.

10300:14:50.760 --> 00:15:03.870Dr. Katie Sutton: tended to be argued for at the cost of other more marginalized groups, and this is a pattern that we also see happening in the trend scene in the 1920s, so there are certainly arguments being made for Trans people to be.

10400:15:04.350 --> 00:15:15.720Dr. Katie Sutton: counted as you know, citizens with a full set of citizen rights and that included having their identity recognized, but they tended to these magazines tended to be.

10500:15:16.140 --> 00:15:23.310Dr. Katie Sutton: dominated by very middle class interests they tended to exclude working class voices trans sex workers.

10600:15:24.150 --> 00:15:38.820Dr. Katie Sutton: People who had a criminal criminal record, for example, maybe people who were just a little bit more showy with their dress so there was a real emphasis on middle class respectability and this emphasis, you can see.

10700:15:39.900 --> 00:15:52.710Dr. Katie Sutton: In these images here where there's a lot of emphasis on words like well dressed or inconspicuously on being able to pass or fly under the radar and not draw the attention of police or society.

10800:15:54.180 --> 00:16:00.750Dr. Katie Sutton: So just to wrap up his opening remarks, the Weimar years represented a time of great promise for gender diverse people.

10900:16:01.080 --> 00:16:07.830Dr. Katie Sutton: There were new ways of expressing one's identity that when you basis for claiming a political identity and wider community.

11000:16:08.490 --> 00:16:18.360Dr. Katie Sutton: But there were also some important limits on who had access to that promise in community and the idea of middle class respectability played a very strong role in that.

11100:16:19.470 --> 00:16:25.110Dr. Katie Sutton: So on that note, I believe I will pass on to to bodie and I will stop sharing the screen.

11200:16:29.370 --> 00:16:44.490Dr. Bodie Ashton: Well, thank you so much katie and thank you to everyone who's been involved in putting this event together it's a remarkable thing to be doing, especially as pride month has just started, of course, and this is obviously something that's very dear to all of our hearts.

11300:16:45.780 --> 00:16:56.100Dr. Bodie Ashton: I just by way of brief introduction, my name is cody Ashton, I generally go by him pronouns I myself identify as being gender queer.

11400:16:58.170 --> 00:17:05.550Dr. Bodie Ashton: You might be able to tell from the accent that like katie Sutton I am Australian, but I have ended up.

11500:17:06.870 --> 00:17:22.980Dr. Bodie Ashton: In Germany, and I work at the University of airport and my focus here has largely been on how queer history can be understood in the context of sort of a so called deviant globalization, with very, very big scare quotes around the word deviant there.

11600:17:24.210 --> 00:17:30.780Dr. Bodie Ashton: So, how we can understand the movement of identities and the understanding of identities, as well as the policing of them.

11700:17:31.920 --> 00:17:39.810Dr. Bodie Ashton: So, in order to explain a little bit more of that I do want to tell you a little bit of a story.

11800:17:41.040 --> 00:17:43.050Dr. Bodie Ashton: Because, as has already been.

11900:17:44.070 --> 00:17:44.790Dr. Bodie Ashton: Rather.

12000:17:45.810 --> 00:17:57.720Dr. Bodie Ashton: signposted so far i'm sort of at the midpoint between what katie Sutton has just spoken about, so the the promise, but also the limitations of the early VI my years.

12100:17:58.410 --> 00:18:09.330Dr. Bodie Ashton: In terms of gender and sexual diversity and then laser what and a high level talk about where her focuses mainly, of course, the repression of the of the Nazi years.

12200:18:09.990 --> 00:18:23.070Dr. Bodie Ashton: So i'm sort of that that midpoint says Weimar begins to collapse and the Nazis begins again the ascendancy and I will just I wasn't actually going to share my screen but i've decided that I should because.

12300:18:23.940 --> 00:18:33.420Dr. Bodie Ashton: If i'm going to tell a story, then I want you to be able to see who i'm talking about and, hopefully, you can see that.

12400:18:34.980 --> 00:18:44.700Dr. Bodie Ashton: Because I want to talk a little bit about this extraordinary woman she's someone who's taken up a lot of my time for the last.

12500:18:48.480 --> 00:19:00.180Dr. Bodie Ashton: For the last nine months or so she's been the major focus of the research work that i've been doing an effort and her name, as you can probably tell from the top of the screen is ladybugs.

12600:19:01.530 --> 00:19:11.640Dr. Bodie Ashton: ladybugs have is an extraordinary woman and one of the reasons for that is because she gives us an extraordinary a really unique example.

12700:19:12.540 --> 00:19:25.620Dr. Bodie Ashton: of someone who, in this time and place and space is defining herself and defining how she understands herself and brings back this idea as katie has already pointed out here that.

12800:19:26.070 --> 00:19:35.220Dr. Bodie Ashton: What we really want to be for grounding when we start looking at transgender histories and gender non conforming agenda diverse histories of this time.

12900:19:35.700 --> 00:19:42.540Dr. Bodie Ashton: Is that we really want to bring the Agency back to the people who inhabit these identities.

13000:19:42.930 --> 00:19:55.920Dr. Bodie Ashton: So, all too often, what we have done in the past and we continue to do this in many ways is that we've sort of given the keys to to defining an identity to people who are not part of that identity.

13100:19:56.430 --> 00:20:03.810Dr. Bodie Ashton: katie has already mentioned Magnus hirschfeld, for example, and I certainly don't want to suggest that here shields work is.

13200:20:04.320 --> 00:20:18.990Dr. Bodie Ashton: is not in any way, shape or form important, but the thing about him is that he was a sexologist, which means that he was a scientist, which means he was an empiricists he himself was a sister and a gay man.

13300:20:20.760 --> 00:20:36.630Dr. Bodie Ashton: And what he is doing throughout the period of the early the early parts of the 20th century, starting from about 1908 onwards, is that he's actually writing works that are reporting what he is.

13400:20:37.470 --> 00:20:57.510Dr. Bodie Ashton: Observing as an empirical scientist, so, in other words he's not inventing the identity of the transfer steeds he is in fact inventing a vocabulary to describe that identity but he's really reporting on the experiences of people who inhabit that identity.

13500:20:59.460 --> 00:21:10.230Dr. Bodie Ashton: And what i'm trying to do with the with my focus on liddy barcroft is using the the extraordinary keep using the words, the word extraordinary here, but really it suits.

13600:21:12.090 --> 00:21:19.440Dr. Bodie Ashton: Using the extraordinary sources that she has left behind, we can actually see an example of how an individual.

13700:21:20.130 --> 00:21:33.060Dr. Bodie Ashton: understood their identity and created their identity and and constructed, it not only for themselves, but in order to present themselves to a broader public to the people they knew and so on.

13800:21:34.290 --> 00:21:44.010Dr. Bodie Ashton: So i'll keep it as short as I possibly can hear so that we can then move on to to your honor to be able to talk about her brilliant research but.

13900:21:44.880 --> 00:21:57.030Dr. Bodie Ashton: liddy back off was a transgender woman who was also a sex worker who lived and worked in Hamburg, having originally been born rather further south in.

14000:21:58.440 --> 00:22:06.990Dr. Bodie Ashton: In Germany, but she moved up to Hamburg, in order to really take a place within the burgeoning and and very strong.

14100:22:07.950 --> 00:22:27.600Dr. Bodie Ashton: sex industry in Hamburg, of course, Hamburg, being a port city, it has a large number of visitors in terms of itinerant sailors, as well as tourists and so on, and therefore the red light district in Hamburg is even today very, very well known that the Bourbon, for example.

14200:22:29.130 --> 00:22:34.620Dr. Bodie Ashton: Lady back have played her trade around the vapor barn and in the district, known as poly.

14300:22:35.850 --> 00:22:47.910Dr. Bodie Ashton: And she presented the whole time as a woman, so she understood herself to be a woman, she presented herself outwardly to other people as a woman.

14400:22:48.480 --> 00:23:02.250Dr. Bodie Ashton: This was not a case of simply sort of taking on the clothing and pretending as much of the much of the discourse surrounding this at the time, and even today would suggest.

14500:23:03.090 --> 00:23:15.450Dr. Bodie Ashton: One of the ways that we know so much about what about her or, rather, we have the potential to know so much about here is the fact that she was a She was arrested many, many times.

14600:23:16.410 --> 00:23:37.830Dr. Bodie Ashton: Because, of course, she was still regardless how she presented herself, she was still regarded by the authorities as being a SIS gender homosexual man and again as katie has already said, there were limitations to the the supposedly liberalism of divine my years.

14700:23:38.940 --> 00:23:43.770Dr. Bodie Ashton: So we need to remember, of course, that homosexual sexual acts were still illegal.

14800:23:44.220 --> 00:24:04.440Dr. Bodie Ashton: And she was arrested on many occasions was sent to prison on many occasions, and while she was in prison, actually, for the first couple of years, so 1930 and 31 she wrote a number of prose pieces that are intended to be sort of a creative nonfiction approach to her own life.

14900:24:07.050 --> 00:24:13.470Dr. Bodie Ashton: So this was a way basically for liddy to through text and through writing prose.

15000:24:13.950 --> 00:24:24.990Dr. Bodie Ashton: To use her and creativity to put down on paper her own for want of a better term because it is of course a cliche but her agenda journey, so to speak.

15100:24:25.440 --> 00:24:34.530Dr. Bodie Ashton: which includes not only her feeling out how she feels about clothing and how she feels about makeup and how she feels about expressing herself as a woman.

15200:24:35.160 --> 00:24:57.120Dr. Bodie Ashton: But even finding her name so to begin with, she signs her pieces in her dead name in the name that she was assigned by her parents at birth, that being handled habits and gradually this changes so ultimately she takes on the name of the protagonist of his first story liberty.

15300:24:58.500 --> 00:25:07.110Dr. Bodie Ashton: Then adds a surname to it so she's literally van Monte then takes on the name at liddy barcroft i'm not at all certain where she gets the surname.

15400:25:07.680 --> 00:25:26.880Dr. Bodie Ashton: But she adds the term consisted at the end of this but I heard the end of her output in 1931 she's actually dropped the term transfer steed completely from her own works so she now refers to herself solely as lady backed off, there is no more.

15500:25:28.080 --> 00:25:39.420Dr. Bodie Ashton: Mediation of this identity, in other words she no longer sort of sees herself as being a woman with an asterisk terms and conditions apply she is a woman.

15600:25:41.310 --> 00:25:48.270Dr. Bodie Ashton: there's a lot more to say about lydia, of course, but I might leave that so later until we can get a few.

15700:25:48.960 --> 00:26:05.220Dr. Bodie Ashton: questions and answers going and and a conversation with rabbi James, of course, and of course we need to hear from Anna hi cover but suffice it to say that this story has been the thing that has really taken my interest in the last better part of a year.

15800:26:06.420 --> 00:26:13.680Dr. Bodie Ashton: And I think it's it's one of those vital things that we really do have to delve into into these periods to bring new lights.

15900:26:14.640 --> 00:26:19.260Dr. Bodie Ashton: To the sort of diverse and vibrant histories that for so long have been lacking.

16000:26:20.130 --> 00:26:35.850Dr. Bodie Ashton: In our understanding of this past so without further ado, I will stop sharing my screen and I will handle it for them to cover, but it is again once more a great pleasure to be able to speak with you here today, so Emma.

16100:26:38.670 --> 00:26:44.820Dr. Anna Hƒjkovƒ: Thank you buddy this was wonderful and thank you katie this was it's a great honor to speak in your presence.

16200:26:45.510 --> 00:26:56.190Dr. Anna Hƒjkovƒ: Many, many things to submit and a real for inviting me and I want to say today my pronounce I she her, and I am assists woman who is clear and kind of partly Jewish.

16300:26:56.550 --> 00:27:07.620Dr. Anna Hƒjkovƒ: Even though I still am trying to figure that out, and I guess the reason why i've been invited to speak here today is that i'm a Holocaust history and, unlike my two predecessors and, of course.

16400:27:08.040 --> 00:27:20.100Dr. Anna Hƒjkovƒ: We are hosted here today by a Jewish history museum by Holocaust Museum, and I cannot stress enough what an enormous step that is that you guys are organizing they said I hope.

16500:27:20.610 --> 00:27:26.190Dr. Anna Hƒjkovƒ: it's one of many, many events to come not only with your particular in Europe but around the world.

16600:27:27.030 --> 00:27:35.490Dr. Anna Hƒjkovƒ: And you've already mentioned that a real i've worked in my second project after today's in shirt on clear Holocaust history is that.

16700:27:35.910 --> 00:27:50.100Dr. Anna Hƒjkovƒ: I explored us who have been persecuted by the Nazis as Jews in ghettos concentration camps in hiding and elsewhere, who spent the war in article goodbye to Europe, that is, people who stay after 38 or 39 who.

16800:27:50.850 --> 00:28:00.060Dr. Anna Hƒjkovƒ: Either consensually or romantically our core civil participate in same sex desire romantic relationships and so on.

16900:28:00.660 --> 00:28:08.880Dr. Anna Hƒjkovƒ: And, unlike my two wonderful predecessors, until recently, I have not really worked for too much about transistors here I taught it.

17000:28:09.360 --> 00:28:21.480Dr. Anna Hƒjkovƒ: And when I came across the story so pass it on to my colleagues, but when I got invited to this event, I thought selfishly, it is a good intellectual chica moment.

17100:28:21.990 --> 00:28:34.200Dr. Anna Hƒjkovƒ: For me, to think about stories in my research that are gender queer relevant and kind of give myself a challenge, how can I feed it to the bigger research but also.

17200:28:34.830 --> 00:28:45.510Dr. Anna Hƒjkovƒ: I am constantly aware of the topic that my research is often interpret this as uncomfortable or even if people want to make me feel particularly unwelcome as.

17300:28:45.870 --> 00:29:02.490Dr. Anna Hƒjkovƒ: controversial and there's a bit of a binary thinking in which three people in the Holocaust are always Gentile and all of the Jews are heterosexual and therefore I thought it is actually worthwhile taking in this interpretation or to explore some of the topics here.

17400:29:04.080 --> 00:29:13.350Dr. Anna Hƒjkovƒ: I want to before I go to a three case studies that I want to discuss with you make a point about pronounce I will be discussing all of three people.

17500:29:14.070 --> 00:29:29.190Dr. Anna Hƒjkovƒ: Using the somewhat anachronistic pronounce as day because I do not know how they have themselves self identified and in a way, I use here they as a placeholder in there, not knowing more about them and.

17600:29:30.090 --> 00:29:39.390Dr. Anna Hƒjkovƒ: I thought the following three case studies, a bit of a tastemaker of what research could be done for people who will come after me or who are working.

17700:29:39.870 --> 00:29:47.340Dr. Anna Hƒjkovƒ: At the same time, and I will come to that, at the end so without further ado, I want to start sharing my screen and I want to introduce you.

17800:29:47.880 --> 00:30:08.370Dr. Anna Hƒjkovƒ: To our image Greenspan who was born in 1904 in what is, today, the Czech Republic and then after 45 was Czechoslovakia in chernoff or in Germany and off, and this is an area that inserted eight was annexed to greater German it doesn't go, he was sorry, they were have Jewish.

17900:30:09.570 --> 00:30:17.220Dr. Anna Hƒjkovƒ: But because they were not members of the Jewish community live and not persecuted, to send you the mother was deported to today's lunch.

18000:30:18.090 --> 00:30:26.370Dr. Anna Hƒjkovƒ: And in 1944 our machine was sent to forced Labor in what is today France on the Atlantic fortification incredible person.

18100:30:27.210 --> 00:30:35.940Dr. Anna Hƒjkovƒ: After the word they got married and in the 1950s, they got into large difficulty socialist authorities ironically i'm.

18200:30:36.420 --> 00:30:49.770Dr. Anna Hƒjkovƒ: Never accused of fascism, the reasons in the eyes of different bodies that are most stayed in touch with this is their ethnic German friends and relatives who were exposed to Austria and Germany.

18300:30:50.250 --> 00:30:57.390Dr. Anna Hƒjkovƒ: Because they check was for and, eventually, they were sentenced to four years in prison and spent two and a half years in prison.

18400:30:58.650 --> 00:31:08.100Dr. Anna Hƒjkovƒ: After the after the release in the 60s and 70s and died they died in the 1980s, with unknown and kind of as a person who wore women's clothes.

18500:31:09.060 --> 00:31:16.350Dr. Anna Hƒjkovƒ: But what is important here, and what is so inspirational and that kind of gets you a bit of a sense of what fragments we deal with.

18600:31:16.800 --> 00:31:29.370Dr. Anna Hƒjkovƒ: Not only when we get to the Holocaust history, because now i've been working on that the last seven or eight years and I have somewhat more of sources but decided fragments fragments and we have sound like i'm not good in Japan, who is told.

18700:31:30.630 --> 00:31:38.250Dr. Anna Hƒjkovƒ: As secure is it in, and I find it so difficult sharing these images, in a way that do not make fun of them.

18800:31:38.670 --> 00:31:55.170Dr. Anna Hƒjkovƒ: But see them for whoever they self identified, what is important here, and what I can share is that we know from the memories of the physician, who led to the hospital that when grunge one was ill they insisted on being a patient in the women's swimming.

18900:31:56.190 --> 00:32:09.300Dr. Anna Hƒjkovƒ: So for that, then I want to also show you an example of light LM, and that is the story of the other items on who was a physician nearby tubing and in this catalog.

19000:32:10.560 --> 00:32:18.600Dr. Anna Hƒjkovƒ: tubing and wonderful catalog on clear stories around to bring in some of them are Jewish is also the story of items on.

19100:32:18.990 --> 00:32:25.440Dr. Anna Hƒjkovƒ: There the otter professors on VOD speculates and I really appreciate that well it's work, but the driver intersects.

19200:32:25.980 --> 00:32:29.820Dr. Anna Hƒjkovƒ: I was very curious when I heard both district Alfred was published.

19300:32:30.300 --> 00:32:39.240Dr. Anna Hƒjkovƒ: Because Adams on died briefly after doing a petition to today's interested I looked at that are people very closely, by the way it was not so easy because so often German publications.

19400:32:39.690 --> 00:32:42.870Dr. Anna Hƒjkovƒ: You cannot get it through interlibrary loan, so you had to get a friend.

19500:32:43.560 --> 00:32:52.290Dr. Anna Hƒjkovƒ: And to bring a sneak into the museum shop and photographed article, for me, because the only other way would be chilling out 50 euro and buying it and.

19600:32:52.620 --> 00:33:00.750Dr. Anna Hƒjkovƒ: We all know that well paid in the UK i'm afraid I have to say and what turned out that adamson who was Jewish was the voltage to there is insured and.

19700:33:01.260 --> 00:33:04.170Dr. Anna Hƒjkovƒ: was murdered, who died of the conditions, very briefly, afterwards.

19800:33:04.770 --> 00:33:15.120Dr. Anna Hƒjkovƒ: You have the separation between the first traditionally male names on in that is here in Dallas added Mr enforced a female middle name Sarah.

19900:33:15.540 --> 00:33:29.430Dr. Anna Hƒjkovƒ: And deflect gender viably but then the middle of the profession is our physician male physicians are there and female physician and traditionally every seat me know about Adams on is that Devon mail.

20000:33:30.390 --> 00:33:40.470Dr. Anna Hƒjkovƒ: When I looked at that I was a bit taken aback because of when they died in 442, this is the moment of the headstone highest mortality.

20100:33:40.830 --> 00:33:50.610Dr. Anna Hƒjkovƒ: In the tourism transit get over there are thousands of people dying every month, and this is not the only case of the death certificate Where are you come across arrows even.

20200:33:51.060 --> 00:33:58.140Dr. Anna Hƒjkovƒ: Eros engender and in the situation where the only evidence, leading to any.

20300:33:59.010 --> 00:34:05.490Dr. Anna Hƒjkovƒ: Information about gender clearness about intersex or whatever, I would add on some is the mistake and the death certificate.

20400:34:05.850 --> 00:34:15.240Dr. Anna Hƒjkovƒ: I would be very, very careful and that moment I picked up the phone and calls on Walden said, is this your neighbor and, as you have because I have seen either the certificates that the gender.

20500:34:15.750 --> 00:34:20.760Dr. Anna Hƒjkovƒ: Was erroneous simply because the Jewish functionary so filling out so he took them every day.

20600:34:21.480 --> 00:34:30.420Dr. Anna Hƒjkovƒ: And this is, I thought would be worthwhile also showing you how incredibly important it is when you think about this history is to have a very, very firm.

20700:34:31.170 --> 00:34:39.150Dr. Anna Hƒjkovƒ: context in the histories of the ghetto concentration camp at hand because I would actually not see this as a sufficient evidence.

20800:34:39.720 --> 00:34:48.720Dr. Anna Hƒjkovƒ: So and visit, I want to come to my last example, that is the position of the clown and female impersonator humble or hurry hyman.

20900:34:49.500 --> 00:34:57.330Dr. Anna Hƒjkovƒ: And that is an example for career and possibly gender non conforming gender queer person in the victim society and they complicity.

21000:34:57.810 --> 00:35:14.070Dr. Anna Hƒjkovƒ: disturbs the needs sexual and gender categories in which the prisoner society operated katie you have already mentioned lori more hoofers work that already pointed it out for the Weimar, Germany, now we know from the work offline a hand with some female impersonators self identified.

21100:35:15.270 --> 00:35:22.530Dr. Anna Hƒjkovƒ: As heterosexual but those who have sex with men about often persecuted castrated Center concentration camps and some of them murdered.

21200:35:23.040 --> 00:35:32.250Dr. Anna Hƒjkovƒ: howdy hi mom who was bought in Berlin in April 7 of from affirmative socialists, of course, nine was like escape that feed, but they life was not the lucky one.

21300:35:32.730 --> 00:35:43.110Dr. Anna Hƒjkovƒ: They grew up in a middle class Jewish family and trained us opera singer at the University of music in Berlin, after the education they started working as a clown under the nickname humble.

21400:35:43.710 --> 00:35:53.790Dr. Anna Hƒjkovƒ: specializing a female impersonator they've attacked by the so by the storm trooper sentence 33 is came to Finland and went from there to Denmark.

21500:35:54.450 --> 00:36:04.410Dr. Anna Hƒjkovƒ: they've worked as a member of the Covenant clown groups to Europe and America at work this table in Copenhagen damn able to know that, because I was able to pull their reparation file.

21600:36:05.010 --> 00:36:14.700Dr. Anna Hƒjkovƒ: from Berlin reparation office in global three humble was among those about 500 use in Denmark who were captured by the Nazis and the border to the research that.

21700:36:15.150 --> 00:36:28.230Dr. Anna Hƒjkovƒ: And the disintegration shuts did humble became a picture of the cultural life as a comedian clown and female impersonator, this is a little bit more of a neutral drawing of humble by financial crash, to be held in yet by sharing.

21800:36:29.820 --> 00:36:44.220Dr. Anna Hƒjkovƒ: The stories about humble, unlike two of the better known career men and Allah will start using men, because we know about it to either of them thread harish would my publish and 12 Oppenheimer about whom Soviets had been his written.

21900:36:46.770 --> 00:36:57.480Dr. Anna Hƒjkovƒ: That humble was not interpreted in this context, and this is how they interpret it so far, or a dad and I have a record no longer so young and beautiful woman.

22000:36:57.870 --> 00:37:05.760Dr. Anna Hƒjkovƒ: And why do I say interpret it or not interpreted because pretty much, no one has written a board clear nice interesting shape until I came along.

22100:37:06.180 --> 00:37:16.260Dr. Anna Hƒjkovƒ: And then I started thinking about humble and for the longest time I made sense of humble acid amen and it is only in the last few weeks, as I was being kind of wondering.

22200:37:16.710 --> 00:37:29.610Dr. Anna Hƒjkovƒ: How to prepare this presentation that I thought, in order to make space, I also needs to meet the next step and change the pronounce, so this is what I wanted to make always.

22300:37:30.210 --> 00:37:39.660Dr. Anna Hƒjkovƒ: humble where the woman 37 years of age and very thin Oppenheimer fellow the party from Denmark younger and more conventional attractive.

22400:37:40.680 --> 00:37:51.210Dr. Anna Hƒjkovƒ: mentioned his fellow in made a few times in the diary and often quite cruel and I will share a quote, and I want to give a trigger warning because it's quite in your face like what.

22500:37:51.930 --> 00:38:07.380Dr. Anna Hƒjkovƒ: we're smarter in the coffee House over invited by Peter George who directed the orchestra MED humble who entertained us much thinner more sharp in his face water can have caused that according to PC for any cases so out of his body.

22600:38:07.980 --> 00:38:15.810Dr. Anna Hƒjkovƒ: He however got more to eat more than most other people apart aren't performing and have probably earned by lying down.

22700:38:16.710 --> 00:38:20.940Dr. Anna Hƒjkovƒ: How the Fuck Is this possible, this is this music appearance little one and, of course.

22800:38:21.450 --> 00:38:29.040Dr. Anna Hƒjkovƒ: i've learned to this is pretty much in your face, and this is really how Oppenheimer has written about most of the people around him.

22900:38:29.760 --> 00:38:40.890Dr. Anna Hƒjkovƒ: Oppenheimer and he wants to build on bodies important point about sex work and gender deviance Oppenheimer speculated a humble earn extra food as sex work.

23000:38:41.370 --> 00:38:48.630Dr. Anna Hƒjkovƒ: indicating that there was a market for career prosecution, that is insured, which is quite important, because I looked for it, and this is one of the very few indications that I have.

23100:38:49.140 --> 00:38:54.660Dr. Anna Hƒjkovƒ: But it's also possible that open house remark was simply nesting rather than informative.

23200:38:55.440 --> 00:39:02.760Dr. Anna Hƒjkovƒ: humble was also place in context of other forms of transgressive sexuality, just like ready harish about whom I have written in tablet.

23300:39:03.210 --> 00:39:16.500Dr. Anna Hƒjkovƒ: humble to was rumored to have tried to be close to the admin and boys on, and I must listing the famous chick Jewish Holocaust survivor at novelist has written a short story, but he kind of depicts him, but he picks them as.

23400:39:17.970 --> 00:39:24.330Dr. Anna Hƒjkovƒ: Yes, a pedophile and deity holy a check a colleague in literature has analyzed that point.

23500:39:26.070 --> 00:39:35.910Dr. Anna Hƒjkovƒ: And one more shows that I want to show is the image humbled the zynga kept by the Los Angeles museum of the Holocaust that i'm happy to see in the audience today it's.

23600:39:36.390 --> 00:39:49.560Dr. Anna Hƒjkovƒ: More times catch by lls clean redrawn after the war, speaking poignantly to humbles campiness in that he chose the red lips and fake eyelashes they felt that the voices alluded in the rising nodes to take.

23700:39:51.090 --> 00:40:00.930Dr. Anna Hƒjkovƒ: But all this is shown in combination with signs of an aging visibly Jewish men, the receding hairline wrinkles glasses and actually knows the big nose.

23800:40:01.980 --> 00:40:08.010Dr. Anna Hƒjkovƒ: To get ready to homophobic message at the homophobia is also expressing something that alludes to end by semitism.

23900:40:08.490 --> 00:40:19.200Dr. Anna Hƒjkovƒ: To the viewer humble does not come across as congenial noted the Epiphany by the actions we laugh about them not wisdom, because they appear a special anti aging.

24000:40:19.920 --> 00:40:34.290Dr. Anna Hƒjkovƒ: drag queen humble was lucky they survived and they helped us really bad so whenever able to work as a clone again we know from memories of a fellow so vibrant friend that they closed in marriage of convenience, but then, when I looked for them.

24100:40:35.760 --> 00:40:45.450Dr. Anna Hƒjkovƒ: To be passed away in 1995 and they publish an article in a big finish newspaper I got only one letter that was already very confused because the lead writer.

24200:40:46.110 --> 00:40:57.240Dr. Anna Hƒjkovƒ: Will so old so like so often what we have our gifts silence is fragments and illusions and visit I come, and I have spoken too long to a conclusion.

24300:40:58.140 --> 00:41:07.200Dr. Anna Hƒjkovƒ: As you have probably already suspected, I do not necessarily have answers I want to join the work of katie bodies are a non all over him or her for.

24400:41:07.560 --> 00:41:19.440Dr. Anna Hƒjkovƒ: That isn't mental inspiring and will help us push how to reach the things that have become so familiar to us and that i've tried different horizons you hear me also struggling Mr Brown as hard as I try.

24500:41:20.130 --> 00:41:27.000Dr. Anna Hƒjkovƒ: To re animate interesting how we think about gender belongings, and to read them against the grain.

24600:41:27.870 --> 00:41:40.830Dr. Anna Hƒjkovƒ: There is similarly to lori him or her first work a fatal interconnection in judgment of prisoner society in the construction of sexual engender deviance that can touch on homophobia as.

24700:41:41.280 --> 00:41:52.530Dr. Anna Hƒjkovƒ: My former students that automatic has pointed out, but it is even more in your face on the example of humble for people who would be read this gender queer.

24800:41:53.280 --> 00:42:08.820Dr. Anna Hƒjkovƒ: And finally, trans history if we continue applying it, I think, can help us a lot about the mechanics and the mentality and the judgment and the rules of the end for society of Holocaust victims, thank you.

24900:42:14.100 --> 00:42:18.840Rabbi Marisa Elana James: And bodie katie Thank you each so much this was.

25000:42:20.190 --> 00:42:28.410Rabbi Marisa Elana James: just such a richness of material and such a fantastic opportunity to see and to hear about some of these stories and.

25100:42:29.760 --> 00:42:34.680Rabbi Marisa Elana James: I love how we kind of went on a timeline through from from the Weimar Republic.

25200:42:35.700 --> 00:42:40.530Rabbi Marisa Elana James: into activities and spread in this this this arc of what people were experiencing.

25300:42:41.520 --> 00:42:53.430Rabbi Marisa Elana James: I do want to encourage people i've seen a few questions come up in the Q amp a box of please feel free to ask questions in the Q amp a box, specifically that i've been trying to keep notes from the chat, but it does fly back fly on very quickly.

25400:42:54.990 --> 00:42:58.980Rabbi Marisa Elana James: I actually want to start by asking and i'd love to hear from all of you on this.

25500:43:00.660 --> 00:43:11.160Rabbi Marisa Elana James: I think something that that came up a lot is about the the the tension between pushing boundaries and conforming to expectations, and like we you know what.

25600:43:11.730 --> 00:43:20.400Rabbi Marisa Elana James: What in a gender conforming stuff right this comes up in queer Community so much I see young trans people, especially talking about this so much.

25700:43:21.900 --> 00:43:32.760Rabbi Marisa Elana James: As katie put it like right into the visibility versus trying to be in conspicuous and people have different goals individually right, but in terms of in terms of that.

25800:43:33.420 --> 00:43:46.920Rabbi Marisa Elana James: The you know who's trying to change the way people see them and who is trying to fit the images that they assume people will have of them and how do you see that shifting and the time periods that you're each working in.

25900:43:54.690 --> 00:43:57.090Dr. Bodie Ashton: Who wants to start does it have to be me.

26000:43:59.040 --> 00:44:00.270Dr. Bodie Ashton: Okay, apparently it's me.

26100:44:02.310 --> 00:44:08.940Dr. Bodie Ashton: I think this is, this is an absolutely vital question to ask not just as as he points out rabbi James not just.

26200:44:09.810 --> 00:44:19.650Dr. Bodie Ashton: Not just historically, but also in in a contemporary sense we constantly come across this question of well you know what what exactly is.

26300:44:19.980 --> 00:44:36.180Dr. Bodie Ashton: Gender conforming and conformity and what does that mean and what does it actually we get down to very, very basic questions here, what is it to be a a man, a woman, a a gender diverse person and non binary person so on and so forth.

26400:44:37.740 --> 00:44:41.460Dr. Bodie Ashton: And I think one of the things that often.

26500:44:42.480 --> 00:44:46.080Dr. Bodie Ashton: comes up, especially in in the contemporary sense.

26600:44:47.310 --> 00:45:05.820Dr. Bodie Ashton: As i've i've seen on many occasions from critics of you know, the sort of reactionary critics that we don't really want to spend too much time paying any attention to, but this idea that trans people basically are playing to the the stereotypes of the genders.

26700:45:07.800 --> 00:45:19.260Dr. Bodie Ashton: From my research, for instance, and I can I can really refer back here to to this research that i've been doing on liddy Barker off, for example, and a couple of others who come up in this.

26800:45:19.740 --> 00:45:29.520Dr. Bodie Ashton: liddy barcroft is i'll use that word again an extraordinary example you'll get sick of the word extraordinary by the end of this but.

26900:45:30.060 --> 00:45:38.700Dr. Bodie Ashton: she's an extraordinary example, primarily because of the sources she leaves behind, and they are what we see in that is not a straight forwards.

27000:45:39.540 --> 00:45:44.700Dr. Bodie Ashton: i'm a woman, therefore, I will put on lipstick and I will wear stockings and I will whatever.

27100:45:45.600 --> 00:45:56.850Dr. Bodie Ashton: it's a much, much deeper engagement with WHO she is as a person, where she begins by engaging with WHO she understood herself to be before.

27200:45:57.570 --> 00:46:12.210Dr. Bodie Ashton: She attempted to to construct this identity for herself and identity is always constructed, the way that we approach, how we understand ourselves and how we present ourselves is always some sort of construction.

27300:46:14.070 --> 00:46:32.940Dr. Bodie Ashton: And so, she engages with her understanding of herself, as previously high much habits and then what parts of that habits identity are important to her in her actual understanding of self as lady Barker off.

27400:46:34.230 --> 00:46:45.780Dr. Bodie Ashton: The reason I find these creative nonfiction pieces that she writes so so exciting to work with is just how deeply they go into these really intimate questions.

27500:46:46.230 --> 00:46:55.860Dr. Bodie Ashton: Of not just you know what is it to be a woman, but what is it to be this specific woman named lydia Barker off at this specific time.

27600:46:56.280 --> 00:47:10.260Dr. Bodie Ashton: In this specific place and I think that this is something that we can we can definitely apply to the history, but also to be the contemporary setting that each one of these stories is an individual story.

27700:47:15.570 --> 00:47:23.370Dr. Katie Sutton: i'm happy to jump in Now it is a fabulous question and i'm sitting here, trying to think you know from what angle, could you approach it because this question of visibility is just so.

27800:47:23.760 --> 00:47:28.380Dr. Katie Sutton: so crucial, but I think I mean an interesting point that I think bodie made was that.

27900:47:29.130 --> 00:47:31.800Dr. Katie Sutton: You know, trans people were actively creating.

28000:47:32.160 --> 00:47:37.530Dr. Katie Sutton: I guess a new sense of trans visibility and they were doing that also through visual media and photography at this.

28100:47:37.740 --> 00:47:48.090Dr. Katie Sutton: At this time, so one of the things i'm interested in is how is a new specifically trans aesthetic being created, and in some ways, you know people were also using sex sex illogical textbooks as a kind of.

28200:47:48.870 --> 00:47:58.290Dr. Katie Sutton: channel to to you know, to communicate with others who you know, had a similar identity as well, so there's a lot of agency, I think, in happy boy engaging with sexologist that I would just sort of.

28300:47:58.650 --> 00:48:01.680Dr. Katie Sutton: Add I guess in conversation with with bodies' comments.

28400:48:02.670 --> 00:48:09.990Dr. Katie Sutton: But perhaps picking up on a point that I see I think mj Calvin made in the chat you know also, what are the differences between you know trans masculine and.

28500:48:10.290 --> 00:48:21.600Dr. Katie Sutton: feminine experiences, and I think that the politics of visibility environment was was quite different for these groups and that caused also in some ways, different kinds of tension, I think.

28600:48:22.560 --> 00:48:28.800Dr. Katie Sutton: Trans feminine people were much more likely to come into conflict with the police they're much more likely to to be.

28700:48:29.310 --> 00:48:36.330Dr. Katie Sutton: pulled up into a court case I can think of the case of like Tony see man who went to court in 1929 um who.

28800:48:36.660 --> 00:48:44.880Dr. Katie Sutton: As a trans feminine person who did decide to wear a dress to court quite bravely I think really claiming that trans feminine space in court.

28900:48:45.810 --> 00:48:51.210Dr. Katie Sutton: The judge did find them 100 marks, but they also said well actually if the police.

29000:48:51.600 --> 00:49:04.020Dr. Katie Sutton: are issuing transvestite certificates, we really need to go along with that so there's also kind of Liberals to the police approach that the courts were having to follow i'm getting a little bit off track, but I think that for Trans feminine people there were a lot of.

29100:49:05.400 --> 00:49:16.950Dr. Katie Sutton: There was a lot of vulnerability, I think, in trying, especially in trying to go out on the street and be with your agenda in public, and particularly in the workplace and for.

29200:49:18.150 --> 00:49:30.660Dr. Katie Sutton: Trans masculine people there was a lot more capacity to on the one hand fly under the radar and to very easily pass through a lot of stories in the media, people who were discovered after their.

29300:49:31.620 --> 00:49:42.750Dr. Katie Sutton: After the death, I mean that trope of discovery already sort of undermines the identity that they live, but I think it points to the capacity to sort of pass will live according to the gender identity for long periods.

29400:49:43.290 --> 00:49:49.800Dr. Katie Sutton: And at the same time, there was an incredibly masculine eyes aesthetic in the 1920s, that with short hair cut to the straight.

29500:49:50.220 --> 00:49:56.430Dr. Katie Sutton: Straight dresses that with the suits and when we think of marlena Dietrich you know spinning around in a tuxedo and smoking cigarettes, I mean.

29600:49:56.580 --> 00:50:05.280Dr. Katie Sutton: it's a very clear masculine aesthetic that was being propagated right across sort of popular culture and all the mainstream women's magazines and fashion magazines so.

29700:50:05.670 --> 00:50:13.680Dr. Katie Sutton: In some ways, they were kind of the queer radical edge of something that was really sexy and popular anyway so there's quite a different.

29800:50:14.190 --> 00:50:20.220Dr. Katie Sutton: Dynamic going on, and you can imagine the kinds of couples is caused as well in the trends scene between.

29900:50:21.120 --> 00:50:27.060Dr. Katie Sutton: On the one hand between trans people identified as heterosexual or homosexual so that was one big line of contention.

30000:50:27.540 --> 00:50:39.300Dr. Katie Sutton: Between trans feminine trans masculine people, but also within the lesbian sane because it was a lot of crossover between the lesbian scene and people who identified as masculine women or as.

30100:50:41.310 --> 00:50:42.840Dr. Katie Sutton: Or, as transvestite.

30200:50:44.160 --> 00:50:46.920Dr. Katie Sutton: They would have identified themselves as transvestite women.

30300:50:48.210 --> 00:50:55.920Dr. Katie Sutton: And they were quite explicit debates that played out in the transmedia between these different groups so slightly.

30400:50:59.820 --> 00:51:03.150Dr. Katie Sutton: Word he response to the question so i'll pass over to Anna.

30500:51:05.040 --> 00:51:14.100Dr. Anna Hƒjkovƒ: Thank you, I will spend the question a little bit differently, and I will speak it about why do we talk about transistors today and why have we not talked about them.

30600:51:14.490 --> 00:51:29.280Dr. Anna Hƒjkovƒ: Five years ago 10 years ago 20 years ago, and that is that histories and done about topics that are seen as permissible and that there is a push for us to engage with, and we all know that.

30700:51:30.300 --> 00:51:37.260Dr. Anna Hƒjkovƒ: In field of history and in clear studies transistor topic of today, not only is there very significant pushback.

30800:51:37.650 --> 00:51:44.100Dr. Anna Hƒjkovƒ: And since this event takes place online, but takes place in the US, you know what has been happening in Texas and elsewhere.

30900:51:44.850 --> 00:51:49.920Dr. Anna Hƒjkovƒ: But it is kind of the big topic and it's good to take it on board and visit it becomes permissible.

31000:51:50.280 --> 00:52:02.460Dr. Anna Hƒjkovƒ: But this permission doesn't come from Jewish studies and doesn't come from Holocaust history is definitely comes from gender history and it's kind of good to be quite aware of that is also a very good point from jake newsome.

31100:52:03.120 --> 00:52:10.170Dr. Anna Hƒjkovƒ: And I have myself experienced quite significant pushback on my work that is not on transit streets and career history.

31200:52:10.590 --> 00:52:19.080Dr. Anna Hƒjkovƒ: And then, it was the solidarity and support of my colleagues have katie and cody and taking some Atlanta from others who are here today.

31300:52:19.560 --> 00:52:27.630Dr. Anna Hƒjkovƒ: Who enabled me to carry on, because they created the space for it, so what I wanted to say, with all that we all are here today.

31400:52:27.930 --> 00:52:34.710Dr. Anna Hƒjkovƒ: carry the responsibility but also have the possibility of creating this as a valuable herbicide space.

31500:52:35.190 --> 00:52:44.460Dr. Anna Hƒjkovƒ: But it is also quite a burden to carry we can just drop out because suddenly when you have 20 people working on that and two people drop out.

31600:52:44.910 --> 00:52:53.400Dr. Anna Hƒjkovƒ: Then it just eating people, so this is not just your research like working on, you know Jewish housewives in that instance your homework.

31700:52:54.090 --> 00:53:05.370Dr. Anna Hƒjkovƒ: This is really a research, we are creating the oxygen that we live in, and I did want to put it out on the table, even though I know that katie and body are very aware of this topic.

31800:53:06.720 --> 00:53:10.830Rabbi Marisa Elana James: And i'll i'll say that I think one thing I was aware of coming into this is.

31900:53:11.340 --> 00:53:19.050Rabbi Marisa Elana James: You know, as you were each presenting these stories of individuals just have remarkable, it is that we have stories of individuals, given how much was destroyed.

32000:53:19.770 --> 00:53:30.030Rabbi Marisa Elana James: I feel like that's something that you know that that history does pop up every year that that it was the Institute for sexual listen shaft the Magnus hirschfeld Institute for sexual knowledge that.

32100:53:30.720 --> 00:53:44.670Rabbi Marisa Elana James: That library was one of the first to be destroyed and the book burnings and so even thinking about and people, some of the questions coming up are like, how do you find this material is any of this material available to read an English for a non academic.

32200:53:46.200 --> 00:53:56.640Rabbi Marisa Elana James: And I guess that's that's a that's a question that i'll put to you, I mean said I thought one link in the chat but if there are ways to find these stories and how, how do you find these stories.

32300:54:05.130 --> 00:54:09.840Dr. Bodie Ashton: I feel like we're all undergraduates again not wanting to be the first one to answer so i'm just going to do it.

32400:54:10.560 --> 00:54:10.860Dr. Bodie Ashton: Now we.

32500:54:11.010 --> 00:54:13.710Rabbi Marisa Elana James: taught university for a while, so i'm good at being quiet and waiting.

32600:54:14.100 --> 00:54:15.990Dr. Bodie Ashton: Well that's that's fine.

32700:54:17.130 --> 00:54:29.640Dr. Bodie Ashton: I actually i'm perfectly happy to jump into be the first one for this one again because I do like telling the story about how I ended up becoming involved with the story of Lady backcloth.

32800:54:31.050 --> 00:54:52.500Dr. Bodie Ashton: which was completely serendipitous it was entirely the case that I happen to be trolling through God I can't actually entirely remember which which secondary materials at the time I was looking for generally queer people so queer.

32900:54:54.300 --> 00:54:59.730Dr. Bodie Ashton: Experiences in this sort of period within Germany as casting my net very, very wide.

33000:55:00.300 --> 00:55:18.210Dr. Bodie Ashton: And then I discovered that there is this in in Germany in many places in Germany, there are these sharpish diner the the stumbling blocks there the the memorials to people who were deported and usually not always but usually killed as a result of the Nazi terror.

33100:55:19.410 --> 00:55:28.560Dr. Bodie Ashton: And you often see them in Berlin and in Hamburg and so on they're there in the ground there brass they usually have the name of the person so here von.

33200:55:28.560 --> 00:55:29.670Dr. Bodie Ashton: to whoever.

33300:55:30.870 --> 00:55:37.590Dr. Bodie Ashton: And then, followed by a modded in Auschwitz, or something along those lines, and the year that that might have happened.

33400:55:38.820 --> 00:55:45.540Dr. Bodie Ashton: And I came across a photograph of one particular stylish diane which was one that had two names on it.

33500:55:45.900 --> 00:56:00.720Dr. Bodie Ashton: And as far as I know, it's really the only one in Germany that has two names for the one person on there, and it was here on to high English habits in big letters and then in much smaller letters would scare quotes around it lady backed off.

33600:56:01.230 --> 00:56:05.790Dr. Bodie Ashton: And so, this sort of started the question well why what's happening here.

33700:56:07.620 --> 00:56:21.450Dr. Bodie Ashton: And then, of course, once that question came up and then sort of finding out a little bit more about obviously it meant searching for this person came of age habits, because the records that existed.

33800:56:22.200 --> 00:56:40.500Dr. Bodie Ashton: and continue to exist in the Hamburg stays archive very, very extensive but they're all listed under the name habits hamish not backer of liddy because the the authorities still considered liddy Barker have to actually be handled the charlotte's and not a woman, but a man.

33900:56:41.820 --> 00:56:58.020Dr. Bodie Ashton: So then there's there's dealing with that, but also why, in the remembrance of we for grounding the name that the person did not live by and therefore the experience and the identity that they did not inhabit in their lives.

34000:56:59.070 --> 00:57:07.200Dr. Bodie Ashton: So these were really the questions that started firing my research here, and then, as I said, I was extremely fortunate to have the the amount.

34100:57:07.740 --> 00:57:17.010Dr. Bodie Ashton: That was there remaining in the Hamburg state archive, which is why I continue to say how unique this this case is that there is just so much that's there.

34200:57:18.150 --> 00:57:30.630Dr. Bodie Ashton: But a lot of this, I feel does come down to a bit of a bit of luck and certainly reading between the lines, because so often we do you have to very much read between the lines and read into a silence.

34300:57:31.200 --> 00:57:40.320Dr. Bodie Ashton: And at least try and start feeling out what could that silence mean and therefore where can I, maybe hear the whispers rather than only the silence.

34400:57:43.260 --> 00:57:50.550Dr. Katie Sutton: I think that they're really good point and that point about often dealing with really fragmentary records, with a few hints or with.

34500:57:52.170 --> 00:57:54.630Dr. Katie Sutton: it's just piecing together people's stories.

34600:57:56.130 --> 00:58:10.680Dr. Katie Sutton: Also, working on, I mean there are a lot of I think researchers in Germany who for many years, have been doing a lot of really detailed archival research, often without any institutional support, and I think also you know.

34700:58:11.520 --> 00:58:18.780Dr. Katie Sutton: paying tribute to that you know hard research that has gone before us as well, to enable us to know some of the names.

34800:58:19.200 --> 00:58:27.780Dr. Katie Sutton: I think, more recently, one of the ways of getting the stories out there, especially to an English speaking audience, I mean T TV and podcasts are really interesting avenue.

34900:58:28.470 --> 00:58:34.290Dr. Katie Sutton: i'm cautious to mention transparent, because I know that it has been mired in all sorts of political issues.

35000:58:34.710 --> 00:58:45.930Dr. Katie Sutton: Related to me, too, but I do think that series to was super interesting in the way that it Reno revisited here shields Institute for sexual science and brought together trans and Jewish histories and sort of ideas of.

35100:58:47.160 --> 00:58:58.350Dr. Katie Sutton: trauma across multiple generations as well in in very interlinked ways and I thought the way that they represented that Institute was was very well researched and a really.

35200:58:59.070 --> 00:59:05.430Dr. Katie Sutton: Emotionally effective way of connecting with with those histories and those stories, even if in a in a fictionalized sense.

35300:59:05.970 --> 00:59:13.230Dr. Katie Sutton: And I would also point to there's a great podcast adventures in time in gender no that yellow conquer who's online was involved in that.

35400:59:13.530 --> 00:59:19.860Dr. Katie Sutton: Also, a great way it sort of unpacking some of those early trans histories and gender diverse histories as well in a really kind of.

35500:59:20.430 --> 00:59:27.450Dr. Katie Sutton: Accessible but extremely well researched fashion, so I think there's a lot of exciting work going on at the moment in this space and I have heard of another.

35600:59:27.990 --> 00:59:37.950Dr. Katie Sutton: Potential TV series in in development as well, that would be looking specifically at Weimar gender diverse live, so I think that TV is a really exciting option and.

35700:59:38.940 --> 00:59:53.220Dr. Katie Sutton: I guess this to the question of how do we, you know what kinds of written sources might be out there, especially if you can't read German and I do think there probably are some some gaps there as well, and and how to do that well is sometimes a bit of a an issue as well.

35800:59:54.960 --> 00:59:59.160Dr. Katie Sutton: yeah maybe i'll just leave it there, except to note that, in terms of the silences in the archives, I think that.

35900:59:59.550 --> 01:00:12.750Dr. Katie Sutton: Trans and gender diverse people of color we know very little about those experiences environment other people who have not tended to leave many traces in the archives and I think it's a silence it's very important to acknowledge.

36001:00:15.090 --> 01:00:19.770Dr. Anna Hƒjkovƒ: Okay um I want to add my two three fences of bends.

36101:00:21.060 --> 01:00:22.020Dr. Anna Hƒjkovƒ: One is.

36201:00:24.210 --> 01:00:36.570Dr. Anna Hƒjkovƒ: Unlike my first book length, that is insured, where I basically figured out all the collection, so that is insured and then I would like to copy the lumber and such freedom or an effort, a lot of what what it means, and then I sat down and wrote the book.

36301:00:37.590 --> 01:00:47.850Dr. Anna Hƒjkovƒ: Now i'm looking for fragments and I find equals and then I start researching and sometimes I find some more, and then I can start thinking about writing the book.

36401:00:48.570 --> 01:01:04.800Dr. Anna Hƒjkovƒ: and basically half of my case studies are things that friendly colleagues who most often don't work on anything clear at all just send my way, because otherwise it's looking for a needle in a haystack and then image and you're looking for this needle in a haystack and it's just.

36501:01:05.850 --> 01:01:15.600Dr. Anna Hƒjkovƒ: clear desire, when you start looking about trans topics, it will be 10% of that I have something like 50 case studies for same sex desire.

36601:01:16.200 --> 01:01:26.880Dr. Anna Hƒjkovƒ: and have that history that's the totality of what I found Of course I have sent European bias, because I don't read Polish very quickly I don't speak any additional Hebrew.

36701:01:28.170 --> 01:01:46.080Dr. Anna Hƒjkovƒ: But that is something where one could look, but you definitely need to build on your colleague, support and the good news is people largely are incredibly collegial and helpful The second point that I wanted to make is on what I would call stuffing the goose quite often I meet young.

36801:01:47.610 --> 01:01:54.300Dr. Anna Hƒjkovƒ: younger people of the age of my students who wants to have the Trans fates who wants to.

36901:01:54.780 --> 01:02:11.250Dr. Anna Hƒjkovƒ: Listen to stories about people of color in the concentration camps, and we know that divider but if there are no sources, we can all try to these histories and I think it's important to write the exhibitions and the histories, the sources, we have.

37001:02:13.020 --> 01:02:20.820Dr. Anna Hƒjkovƒ: There is, for example, I think, somebody wrote in the chat this beautiful novel from bow and it's a very important and.

37101:02:21.780 --> 01:02:27.720Dr. Anna Hƒjkovƒ: productive way to reimagine the stories, but his friends and the scholars we work with the sources at their head.

37201:02:28.260 --> 01:02:34.740Dr. Anna Hƒjkovƒ: And they just are almost none of those sources, at least from what I have seen my last point about TV.

37301:02:35.520 --> 01:02:45.180Dr. Anna Hƒjkovƒ: And podcasts and graphic novels and what i'm about to say since katie and body spent a lot of time with me on Twitter day now that my favorite beef is.

37401:02:45.600 --> 01:02:59.940Dr. Anna Hƒjkovƒ: That people who produce these for TV come to scholars and kind of expect we will be so grateful that somebody wants to put our stories for wide audience that we were just forget over without much of a payment or maybe a tiny line and.

37501:03:00.660 --> 01:03:14.670Dr. Anna Hƒjkovƒ: that's just really not fair and people who have been working for the longest time on these histories and have experienced significant backlash and have been having difficulties getting jobs, and you know the three of us are pretty smart and.

37601:03:15.750 --> 01:03:23.280Dr. Anna Hƒjkovƒ: You know kiddies incredibly accomplished, but it's not like we have a chair at the Ivy league university and katie has to have one.

37701:03:24.720 --> 01:03:37.590Dr. Anna Hƒjkovƒ: So it is important to not to just get you know 10 pounds an hour and I do want to give a shout out to the hundred people are listening here, we need to have the same page like then we'll decide or entity.

37801:03:39.000 --> 01:03:47.760Dr. Anna Hƒjkovƒ: Not only because clear and transistors are the hot topic, right now, but I would also quite like to be paid in the heart level and of rent.

37901:03:49.440 --> 01:03:55.260Rabbi Marisa Elana James: Right, how we how we invest in making these stories available how we invest in making sure that this research happens.

38001:03:55.890 --> 01:04:02.670Rabbi Marisa Elana James: Right, I think, and I want to say how grateful I am to to the Museum of Jewish heritage for investing in this panel today because.

38101:04:03.120 --> 01:04:14.040Rabbi Marisa Elana James: we've had 120 people over the course of this hour learning these stories and and even with the gaps, even with the lack of I so appreciated the the note about.

38201:04:14.790 --> 01:04:26.610Rabbi Marisa Elana James: What it means to give agency to people right so often we learn about people who are queer people who are Jewish people who are disabled, right in the in in early Germany through the lens of what happened to them.

38301:04:27.150 --> 01:04:31.830Rabbi Marisa Elana James: and through the lens of who was keeping the records of the terrible things that were being done to them.

38401:04:32.730 --> 01:04:41.250Rabbi Marisa Elana James: and bringing these stories from from their from their mouths, and I understand that we have a you know that it's hard to find the primary sources about a lot of these people.

38501:04:41.850 --> 01:04:51.180Rabbi Marisa Elana James: Although i'm deeply curious now about about liddy and these these writings but even just being aware that, looking at these photos.

38601:04:51.900 --> 01:04:55.740Rabbi Marisa Elana James: Right, I feel like the photos that people set for and took these portraits.

38701:04:56.700 --> 01:05:04.050Rabbi Marisa Elana James: As who they are, is one of the best texts, we could possibly have where they're really saying this is the lens through which I want you to see me.

38801:05:04.770 --> 01:05:11.160Rabbi Marisa Elana James: And so, even if I feel like it, you know I as a rabbi especially I always want stories I want written texts, I want lots of words.

38901:05:12.120 --> 01:05:22.590Rabbi Marisa Elana James: And yet, you know when somebody is sitting for a portrait photographer and saying here's what I here's what I look like and here's how I want you to take this photograph of me so that other people see me the way I see myself.

39001:05:23.820 --> 01:05:35.310Rabbi Marisa Elana James: I think that's so important, historically, and also for the present moment I, as we were talking about earlier, I spend a lot of time on Twitter and people have a lot more of an opportunity, these days, to present themselves to the world through their own lenses.

39101:05:36.480 --> 01:05:39.510Rabbi Marisa Elana James: And that that's something incredibly valuable that we have now.

39201:05:41.010 --> 01:05:47.970Rabbi Marisa Elana James: Ariel i'm aware that it is 105 and I just wanted to check in and see how we are doing with Q amp a time.

39301:05:49.980 --> 01:05:51.450Ariel Kates: Oh, and Hello Hello.

39401:05:53.580 --> 01:05:59.160Ariel Kates: I actually think that this This observation is a really beautiful place to wrap.

39501:06:00.270 --> 01:06:01.290Ariel Kates: to wrap this.

39601:06:02.880 --> 01:06:16.740Ariel Kates: I am so wildly grateful to all of you, I can't wait to continue these conversations with you and with others, the scholars that you've mentioned the books that you've mentioned.

39701:06:17.790 --> 01:06:30.270Ariel Kates: we're going to gather a bunch of this information and include it in our follow up email from this program which will also include the video please share it as broadly as you please.

39801:06:32.400 --> 01:06:41.370Ariel Kates: And, and also just a short survey, because we always we always love everyone's feedback about our programs how to make them better etc.

39901:06:43.470 --> 01:06:54.210Ariel Kates: I yeah I just i'm so i'm so grateful to take the time to think about all of this and to start pride month in this way, with all of you.

40001:06:55.500 --> 01:07:18.900Ariel Kates: your time and your knowledge is incredibly valuable and I think you all so much for sharing it to those of us who joined us Thank you so much for being here for your feedback for your questions, for your participation in the chat and for your work and existence in the world.

40101:07:20.010 --> 01:07:22.020Ariel Kates: So so grateful for that.

40201:07:23.190 --> 01:07:35.400Ariel Kates: I will say that public programs at the Museum of Jewish heritage are free and open to the public, but we always love donations to support our work.

40301:07:36.930 --> 01:07:52.800Ariel Kates: you please consider making a donation, the link is mgh nyc.org slash donate and please check out our upcoming events mth nyc.org slash events.

40401:07:53.340 --> 01:08:04.110Ariel Kates: We are, we are here planning, as many as many conversations, as we can, about Jewish heritage and Jewish life, before, during and after the Holocaust so.

40501:08:05.550 --> 01:08:13.320Ariel Kates: yeah Thank you Thank you again everyone from from all time zones have a good afternoon have a good evening.

40601:08:14.130 --> 01:08:15.210Rabbi Marisa Elana James: and happy pride month.

40701:08:15.690 --> 01:08:16.830Ariel Kates: Happy pride.

40801:08:18.180 --> 01:08:19.050Dr. Katie Sutton: Thank you so much.

40901:08:19.440 --> 01:08:21.150Ariel Kates: Thank you take care, everyone.

Recommended ResourcesDuring the program, a number of resources were mentioned for further research. One of these was the book Trans Talmud: Androgynes and Eunuchs in Rabbinic Literature by Max K. Strassfeld. Another was the magazine The Third Sex which was printed in Weimar Germany from 1930-1932. We also recommend historian Jake Newsome's series LGBTQ+ Stories from the Holocaust, where he shares the true stories of LGBTQ+ people in Nazi Germany.

Learn More About the LGBTQ+ Community in Pre-War GermanyBefore WWII, Berlin was a center of life for the LGBTQ+ community. Robert Beachy's book Gay Berlin chronicles the milieu that gave rise to the international gay rights movement, with key strides made for scientific research, advocacy, and visibility. Learn more in this conversation between Beachy and Eric Marcus, creator of the podcast Making Gay History.

Discover the Life of Eve AdamsEve Adams was a rebel. Born to a Jewish family in Poland, Adams emigrated to the United States in 1912. She befriended anarchists, sold radical publications, and ran lesbian and gay-friendly speakeasies in Chicago and Greenwich Village. Then, in 1925, Adams risked all to write and publish a book titled Lesbian Love. In a repressive era, when American women had just gained the right to vote, Adams' association with anarchists caught the attention of the U.S. Bureau of Investigation, leading to her deportation into the Nazis' reign of terror, where she was sent to Auschwitz and killed. Learn more about Adams' life in this Museum program.

At Year End, JPMorgan Chase Held Over $1 Trillion in Uninsured Deposits Versus $119 Billion at First Republic

Tue, 21 Mar 2023 20:37

By Pam Martens and Russ Martens: March 21, 2023 ~

Jamie Dimon is the Chairman and CEO of JPMorgan Chase, the largest bank in the U.S., which is also ranked the riskiest global bank by its regulators. But instead of getting his own house in order in the midst of a banking crisis, Dimon has been peculiarly focused elsewhere.

Over the past five days, Jamie Dimon's legions of publicists have been burning up the phone lines with reporters, pushing the narrative that Jamie Dimon is some kind of financial wizard who needs to have a seat at the table to save the regional bank, First Republic Bank. (Scroll down here to see the exhaustive public relations effort that has gone into this narrative.)

Last Thursday, news hit the wire services that Dimon had lined up 11 banks willing to place $30 billion in uninsured deposits into First Republic Bank. JPMorgan Chase, Bank of America, Citigroup and Wells Fargo each ponied up $5 billion '' or two-thirds of the $30 billion. The Federal Deposit Insurance Corporation (FDIC) caps federal deposit insurance at $250,000 per depositor, per bank.

Taking $5 billion of your bank's shareholders' money and throwing it at a regional bank whose stock price is collapsing, was not viewed as the brightest of ideas by the stock market. Last Friday, the day after the deal was announced, shares of First Republic Bank dropped 32 percent. Yesterday, First Republic's share price collapsed by another 47 percent. Over the weekend, S&P Global downgraded First Republic's credit rating for a second time in a week to deeper junk status. Year-to-date, First Republic Bank has lost 90 percent of its market value. What exactly is there left to save?

We should also note that First Republic Bank's Palm Beach, Florida branch is where Donald Trump's hush money was wired to porn star Stormy Daniels by his attorney, Michael Cohen. (See our reporting here and the Wall Street Journal's here.)

Today, a headline appears at Bloomberg News that provides a big clue as to what Jamie Dimon's frantic obsession with First Republic Bank is really about, that is, use a collapsing regional bank to get Treasury Secretary Janet Yellen on board to push for a government guarantee on all deposits, insured and uninsured, at all FDIC banks. By framing this as coming to the rescue of regional banks, rather than another crony bailout of the unaccountable mega banks on Wall Street, Jamie Dimon doesn't have to explain to his compromised Board of Directors why 69 percent of the bank's deposits were uninsured at year end. (See: If You're Baffled as to Why JPMorgan Chase's Board Hasn't Sacked Jamie Dimon as the Bank Racked Up 5 Felony Counts '' Here's Your Answer.)

Our scenario is supported by the following hard facts:

First Republic Bank's regulatory filing for December 31, 2022 shows that it held $176.25 billion in deposits, of which $119.47 billion were uninsured, or 68 percent of all deposits. JPMorgan Chase's same regulatory filing (FFIEC Call Report) for December 31, 2022 shows that at year-end it held $1.527 trillion in deposits of which an estimated $1.058 trillion were uninsured '' or 69 percent.

Yellen's upcoming actions on this matter would have a lot more credibility had she not decided to line her pockets with millions of dollars in speaking fees from the mega banks on Wall Street after being replaced as Chair of the Fed in 2018. (See Janet Yellen's Cash Haul of $7 Million Is Just the Tip of the Iceberg; She Failed to Report Her Wall Street Speaking Fees from JPMorgan and Others in 2018.)

If Biden Gets His Way, Correct Pronouns Could Be Harassment

Tue, 21 Mar 2023 20:14

President Joe Biden's Department of Education plans to enact new rule changes to civil rights law this May that would end free speech as Americans have known it.

The changes would inject gender ideology straight into the heart of Title IX of the Civil Rights Act by erasing the Supreme Court's long-standing distinction between protected speech and punishable conduct.

In its 1999 ruling in Davis v. Monroe County Board of Education, the Supreme Court held that expressive activity such as speech can only constitute harassment when it is ''so severe, pervasive, and objectively offensive'' that it can no longer be considered pure speech and is more properly viewed as actionable conduct. In the process, the court emphasized that single instances of speech '-- no matter how offensive to the listener '-- do not rise to the level of harassment.

The Biden administration is purposefully muddying the waters between mere speech and harassing conduct specifically to force the use of pronouns and gender-affirming language. Under the proposed rule, students and faculty can violate Title IX simply for refusing to use someone else's ''preferred'' pronouns.

Ideally, investigations involving Title IX are mindful of First Amendment protections and proceed according to the American standard of due process that a person is innocent until proven guilty. Title IX has typically been reserved for incidents of sexual assault or harassment. Under the Biden administration, however, students and faculty could be reported for mere speech. By coercing and compelling speech, this administration will set legal precedent ablaze and steamroll arguably our nation's most foundational principle.

In the U.S., the First Amendment protects a very wide range of speech and, therefore, actions that demonstrate political messages. The highest court in the land has ruled that the Nazi Party of America's march through Skokie, Illinois, and the burning of the American flag are protected forms of speech.

What's really going on here? The administration, spurred on by power-hungry college administrators, seeks the destruction of freedom of speech by other means. It wishes for us to become Canada. In the Great White North, the alleged misuse of pronouns is not just illegal, it is a ''human rights violation.''

Following a drawn-out court battle in the Canadian justice system, the court told a Canadian father that he had to stop referring to his own daughter as a girl because his daughter identified as a boy. The father rightfully refused to comply with the court order, and in May 2021, a warrant was issued for his arrest.

He had originally sought mental health help for his daughter, but by the time of the litigation, she had already been ''transitioning'' for two years. The father was jailed as a criminal.

In 2016, Canadian professor Jordan Peterson refused to use transgender pronouns and condemned Canada's bill C-16, legislation that codified gender ideology into Canadian law. Now Peterson is facing the governing body of the College of Psychologists of Ontario, which is threatening to pull his psychology license if he doesn't undergo social media ''re-education.''

During the Canadian trucker strike of 2022, a Polish-Canadian pastor was jailed for 51 days for just speaking to the convoy.

Canada's totalitarian actions even extend to political opponents. In 2021, Maxime Bernier, leader of the People's Party of Canada, was arrested for attending an anti-lockdown event in protest of Canada's authoritarian lockdowns. Bernier warned that Americans should not take their freedoms for granted.

The United States boasts a rich, intrepid history of protecting and enforcing both the natural and legal rights of its citizens. Despite that history of liberty, there's a rapidly growing desire on the left to control myriad forms of speech, everywhere and at all times.

This trend is readily apparent across the country. From college campuses to corporate offices, and from social media platforms to bookstores, speech is increasingly under attack from leftist elites. And there's still much more damage that can be done.

With Title IX enforcing gender ideology, what will happen to students who disagree with this dangerous dogma? What will happen to students who believe in basic biology, namely the notion that there are two sexes, that a man can't become a woman, and vice versa? What will happen to students who have traditional values and remain true to their faith?

The answer is alarming. Under this butchered version of civil rights law, these students will be vulnerable to an array of punishments, including suspension and even expulsion. They will be treated as lawbreakers. And inevitably, they will be vilified in the left-dominated public square, crushing professional dreams and aspirations. Either comply or face the social guillotine.

Biden is confused about a lot of things. You would hope he would at least know the difference between Canada and the United States.

Cherise Trump is executive director of Speech First. Follow her on Twitter: @cherisetrump.

Crash of The Big Fake - A return to physical, owned value? - Brayzen

Tue, 21 Mar 2023 19:57

Introduction?

For anyone who hasn't yet retreated to a dark cavern, it's no surprise that economic hardship is on the way. However, few realize how severe the recession will become, what is actually causing it and most importantly '' how limited our options are for preparation. With this article I hope to show we are all capable of allocating our wealth and energy into 'safe harbor'. Although that might not be the place you would think to look. But first, let's set the stage.

What is going on?

At the moment, a ''perfect storm'' is developing, resulting from the convergence of a number of simultaneous ''depressions'' in the financial atmosphere. These all follow a nasty script of runaway central banks, corrupt incentives, and helpless regulators. But they also all have the same basis: the disconnected worlds of paper and real (or: physical) value.

Shares

A paper world has been created around many traded stocks and other financial products. In this parallel world, mostly occupied by large and professional investors*, 'fake' assets can be created endlessly with the help of derivatives, without consequences. Made possible though ' dark pools ' in which the actual trading takes place, often without any relationship with the actual supply and demand.

For example, due to the illegal ' naked short selling ' of shares and the lack of consequences for not delivering the borrowed shares (so-called 'failures to deliver' or FTDs ), trading parties can indefinitely postpone and thus manipulate pricing up or down as they please. The ploy is that if the underlying company goes down '' or is helped with it '' all manipulation disappears in the bankruptcy.

But this is just the tip of the iceberg.

Oh, and not just shares

It has been known for decades that all this is not only possible, but happening. From certain indicators, it can be clearly seen that the problem is getting bigger. There are even plausible theories that many stocks, but even many other financial product (mortgages, bonds) are heavily manipulated by a small but very powerful group of companies.

For example, the practice of reselling mortgages that we may remember from 2008 (or the various movies about it ) has never stopped, but has even gotten worse. A similar bubble is now about to burst in China with something like $8 trillion dollars in potential impact.

Other exchanges (commodities, energy, crypto, precious metal) all have their own derivatives with similar potential for corruption. You may have noticed that the gold price has stopped responding to demand '' which has of course risen sharply '' or even moves with the inflation of the currency in which it is held. This has been manipulated for years by a few large banks. There's nothing secret about it, but the fines are unfortunately more than worth the practice.

Even our money?

The greatest '' but sadly least known '' corruption of all is our entire money system. Since we abandoned the gold standard in 1971, an impressive number of economic indicators have declined disastrously. Ever wonder why our macro-economic policies have not been focusing on these indicators? The answer is as simple as it is astonishing.

Since the rise of central banks, they have provided our governments '' under the guise of Keynesian economic theory '' with a fantastic tool for an endless flow of money into the treasury. In (very) simple terms. it means that a central bank buys debt from a government, which then spends it on their expensive political promises and is re-elected. Rinse & repeat this cycle for a few decades and it doesn't matter anymore whether you choose left-wing or right-wing politicians, let alone vote for a smaller government.

You might think that this has a natural end; like when the government debt burden becomes unaffordable. But that has also been 'thought of'. This debt decreases over time because of a wonderful instrument called 'inflation', the depreciation of money over time. In other words, citizens ultimately pay the cost of the loan in the form of higher prices '' the basis for the saying ''Inflation is taxation without legislation''.

The only condition for this system to continue to work is a somewhat normal ratio of gross national product to national debt and permanent economic growth. Small point of concern: this way of 'printing money' has gotten completely out of hand since 2008 and especially the last 3 years due to extreme spending on the bailing out of banks as well as measures against climate change and the pandemic. There is now far too much money in circulation compared to the real economy that must bear the debt.

So just like with stocks, gold and commodities, a huge bubble of 'fake money' has arisen in which confidence is rapidly declining.

Where is this going?

Without looking at other worrying developments in the financial world**, there is ample reason to expect an escalation of the above problems.

One way the crash could be triggered is by a so-called ' Short Squeeze ' of even 1 single stock or precious metal. In practice, this happens when the underlying share or precious metal quickly rises in value while a lot of money has been invested in short positions. If these positions have grown extremely and the derivatives (options, forwards, etc.) expire, then the party that is short must buy a huge amount of shares, deliver the physical metal, or otherwise close its position in the contract.

Due to the increased practice of both legal and illegal (naked) shorting, a domino effect could cause a large number of financial institutions to collapse. In the Reddit forums that deal with this, this is referred to as the 'Mother of All Short Squeezes' (MOASS). According to the well researched due diligence in these forums, a situation such as in 2008 is again emerging.

In the realm of our money system, Putin currently plays an important role. Because he demands gold or rubles for his oil and gas, he compels the various currencies link back to real scarce goods. As a result, both the Eurodollar and Petrodollar power blocs are under increasing pressure . In addition, the central banks must print even more money to both buy energy from other suppliers as well as to help the industry and population to pay the energy bill.

OK! Now what?

One expectation in the online financial communities is that a crash of a single investment from a hedge fund or bank will drain the liquidity they need to continue to cover others. Because of the many joint ventures and mutual loans & guarantees between these companies, one 'squeeze' could result in a large number of bankruptcies. The concern remains that there are still no serious consequences for overt fraud, as a result of which parties may not be forced to meet their obligations. But if the FED or ECB have to step in because of the systemic risk of certain banks and hedge funds, then they cannot use that 'money' to support the Dollar or Euro.

So the central banks have two choices: either cause high inflation through low nominal interest rates for the countries (print more money) or fast-forward the scenario from the 1920s and let big banks or even countries go bankrupt due to deflation. Given the fear of the consequences of the second choice, central banks might tease the latter option, but will ultimately always choose the first. What collapses then, is not the government bond, but the currency itself.

This would cause extreme inflation somewhat akin to a Weimar Republic 5.0. Some therefore expect an immediate introduction of a digital crypto Dollar or Euro ('Central Bank Digital Currency', or CBDC ). Unfortunately, its ability to control inflation is only equally impressive as its potential for complete control over every aspect of our economic lives.

Help! What can I do?

Normally, these types of articles are concluded with a number of financial tips. Not entirely coincidentally, these are often exactly in line with the personal interests of the writer. But I'm afraid there is something afoot of which no one can tell how it will turn out exactly. The 'safe harbor' I would point to is any so-called ' bearer asset '. Often used to describe investment instruments such as physical gold, scarce commodities, Bitcoin or direct-registered anti-cyclical (' negative beta ') stocks. But here I would like to widen this definition.

If the world of monetary value is stuck in a manipulated paper scheme, perhaps it's time to look at the physical world again. The real world. Yes, that's all the assets mentioned above, which you can own in your name. But it can also be your stock of raw material; the factories under your control; the machines that make your product; the trucks that deliver your goods; the people in your company that trust and execute your strategy.

On a more personal level '' it can mean your physical health, your family, your local support community, your level of autonomy from life supporting networks that provide warmth, power and food.

These are all 'bearer assets' that central banks cannot print, that governments cannot promise into existence, that financial institutions can't secretly trade amongst themselves. Perhaps it's time to invest more of your wealth and energy there?

Perhaps this crisis will lead to a long recession. Perhaps it will finally lead to a much needed radical decentralization of our financial system. But whatever comes out on the other end, your 'bearer assets' are yours to own and yours to care for.

Good luck out there!

Sources / Reading tips:

'' When Money Dies

'' The Price of Tomorrow

'' The Ascent of Money

*mainly major banks, hedge funds, market makers, brokers, clearing houses and for-profit exchanges

**like the fundamental problem with fractional reserve banking

Covid-19 threat expected to become on par with flu this year, says WHO | New Scientist

Tue, 21 Mar 2023 19:16

Health The World Health Organization is considering downgrading covid-19 from a public health emergency of international concern, its highest level of alert, as the coronavirus is now less likely to cause serious illness or overload healthcare services

By Clare Wilson

Tedros Adhanom Ghebreyesus, director general of the World Health Organization

CYRIL ZINGARO/EPA-EFE/Shutterstock

Covid-19 is likely to be downgraded from a public health emergency of international concern this year, as it shifts to a similar level of risk as flu, according to the World Health Organization (WHO).

''We're coming to that point where we can look at covid-19 in the same way we look at seasonal influenza,'' said the WHO's Michael Ryan at a press conference today. ''A threat to health, a virus that will continue to kill. But a virus that is not disrupting our society or disrupting our hospital systems.''

WHO director general Tedros Adhanom Ghebreyesus made the announcement at the press conference. ''We're certainly in a much better position now than we have been at any time during the pandemic,'' he said.

The WHO declared covid-19 a public health emergency of international concern, its highest level of threat, in January 2020, after coronavirus cases had been steadily rising in China and had been confirmed in 18 other countries. Two months later, the organisation said the phenomenon had become a pandemic, usually taken to mean that an illness is spreading in multiple countries, although there is no universally agreed definition.

While the coronavirus is still widely circulating, it is now less likely to cause serious illness, as most people have had it at least once, many have been vaccinated multiple times and the current omicron variants are less virulent than some past variants.

''It's very pleasing to see that, for the first time, the weekly number of reported deaths in the past four weeks has been lower than when we first used the word 'pandemic' three years ago,'' said Ghebreyesus. ''I'm confident that, this year, we will be able to say that covid-19 is over as a public health emergency of international concern. We are not there yet.''

A WHO committee has been reviewing the criteria that would mean the threat from covid-19 could be downgraded, but hasn't yet reached a decision.

''We are on a positive trajectory,'' said Ryan. ''The virus will represent less and less of a threat to society, where surges in virus transmission would not be associated with higher rates of hospital admission,'' said Ryan. ''We've begun to see that in the last six months, where a surge in infection has not been associated with sustained pressure on the health system, because rates of vaccination are high enough.''

Ryan added, however, that many countries still had gaps in vaccination coverage and in access to antiviral treatments for those who are medically vulnerable. ''We've got to protect communities who might be vulnerable to severe disease,'' he said. And if the virus evolves to become more virulent, ''all bets are off'', he said.

However, Stephen Griffin at the University of Leeds, UK, who is a member of iSAGE, an independent group of scientists, says the WHO's plans are premature. ''Most worrying is the continued isolation and discrimination against the millions of clinically vulnerable people, especially those unable to make effective vaccine responses,'' he says.

Topics:

The Grammarphobia Blog: Mogo on the gogo

Tue, 21 Mar 2023 18:49

Q: What in God's name is ''mogo on the gogo''? I heard it the other day while watching Spellbound . Did Hitchcock (or, rather, his screenwriter) coin the phrase?

A: The expression ''mogo on the gogo'' didn't originate with Alfred Hitchcock or with Ben Hecht, the main screenwriter on the 1945 film Spellbound .

It was apparently a catchphrase in certain Hollywood circles in the 1930s and '40s, though it had much earlier show-biz origins in vaudeville, burlesque, and minstrel shows.

The expression is hard to define since it isn't in any of our slang dictionaries. But it's generally used as a comic phrase for a mental or physical malady, like lovesickness or an exotic fictional disease.

The expression crops up several times in the works of Hecht, who wrote the screenplay along with Angus MacPhail .

In the script, the man posing as Dr. Edwardes (actually an amnesia patient played by Gregory Peck), delivers the ''mogo on the gogo'' line to a psychologist, Dr. Petersen (played by Ingrid Bergman).

The two are discussing the psychological aspects of love, and Dr. Petersen is tossing around psychoanalytic theories on the subject. Below the surface, a mild flirtation is developing.

So when Edwardes says, ''Professor, you're suffering from mogo on the gogo,'' the line can be read in two ways: (1) he's poking fun at all the psychobabble, or (2) Dr. Petersen has sex on the brain.

In his other works, Hecht seems to have regarded ''mogo on the gogo'' as meaning infatuation of one kind or another.

The expression apparently means lovesickness in The Great Magoo (1933), a play Hecht wrote with Gene Fowler.

In one scene, a character says: ''You meet some guy'--get mogo-on-the-gogo. Finis! Listen, Julie, this is just a friendly tip. Lay off that stumblebum if you wanna get somewhere. He's just a lot of dog-meat.''

Hecht used the phrase again in his novel I Hate Actors! (1944): ''You're just a typical half-baked artistic goop'--with nothing but mogo on the gogo. You're a sweet kid in many ways but as an artist you're still wet behind the ears.''

It appears yet again in Hecht's memoir A Child of the Century (1954). Here Hecht recalls a dinner conversation with John Barrymore near the end of the actor's life:

'' 'In my early years,' said Barrymore, 'when I was still callow and confused, and still a-suckle on moonlight'--I used to prefer Romeo and Juliet to all the other plays. But, as my ears dried, I began to detest the fellow, Romeo. A sickly, mawkish amateur, suffering from Mogo on the Gogo. He should be played only by a boy of fifteen with pimples and a piping voice. The truth about him is he grew up and became Hamlet.' ''

Where did the expression come from? As we said, it probably came from the touring burlesque and minstrel shows of the previous century.

For example, Al Jolson, who played the minstrel circuit early in his career, was known to use the phrase.

''Al had a vocabulary all his own,'' Herbert G. Goldman writes in his book Jolson: The Legend Comes to Life (1988). ''Anything bad was 'mogo on the gogo.' ''

And W. C. Fields used variations on the phrase too. Fields got his start at the turn of the century as a vaudeville juggler on the Keith and Orpheum circuits, both of which booked minstrel acts at the time.

Later, in his films, Fields used ''mogo on the gogogo'' to mean a fictitious disease.

In The Bank Dick (1940), where he plays the immortal Egbert Sous¨, Fields warns another character about ''Malta fever, beriberi and that dreaded of all diseases'--mogo on the gogogo.''

Fields himself wrote the screenplay for The Bank Dick , under the alias Mahatma Kane Jeeves'--as in ''My hat, my cane, Jeeves.''

He probably got ''mogo on the gogogo'' from the stage musical that gave him his Broadway debut, The Ham Tree (1905).

The three-act show, which ran on Broadway for two seasons, is about the adventures of a touring vaudeville troupe and contains a minstrel act as a sort of show within the show.

In Man on the Flying Trapeze: The Life and Times of W.C. Fields (1997), Simon Louvish writes that the minstrel routine included this passage:

''If we come across a ham tree don't touch a ham without it's got the cover [wrapper] on. If you do you'll get that disease called more-go on the go-go.''

The lines, Louvish writes, came directly from the 19th-century minstrel sketch that was the basis for the musical.

He goes on to explain that the original sketch, also called ''The Ham Tree,'' was developed around 1874 by a famous 19th-century vaudeville partnership, James McIntyre and Tom Heath.

The pair, portraying tramps in blackface, performed their act on the minstrel circuit for more than 50 years, touring virtually every part of the country until well into the early 1900s.

It's possible that a phrase sounding like ''more-go on the go-go'' was an African-American expression. McIntyre and Heath, according to Louvish, claimed that ''their stories and dances were taken from genuine black sources.''

But as historians have written, many white minstrel performers made similar claims. Until further evidence crops up, a black origin for this phrase can only be conjectured.

Help support the Grammarphobia Blog with your donation . And check out our books about the English language.

­

Bruce Springsteen, Amanda Bynes, Rod Stewart, George Ezra, rapper Jeno and 2 South Korean bands ALL cancel shows because of "illness"

Tue, 21 Mar 2023 18:33

March 9, 2023

Bruce Springsteen's past health struggles have been revisited following the postponement of his supposed concert in Ohio. Nationwide Arena released a statement on Twitter confirming the postponement of Springsteen and The E Street Band's show at the venue on March 9 due to illness . It did not disclose the exact issue and the identity of the band member who is currently sick. In the past months, several members of the band missed some shows due to COVID, including Soozie Tyrell, Jake Clemons, Nils Lofgren, and Steven Van Zandt. Although it remains unknown whether Springsteen or someone else has been afflicted, talks about the singer's past health issues reemerged. The 2023 tour marked Springsteen and the band's first performance since 2017 . Before his comeback, Springsteen faced health issues that almost affected his career. In an interview with Vanity Fair, Springsteen opened up about the throat surgery and depression he went through. For his throat surgery, he revealed that he had to receive an operation to fix the chronic numbness in his left side that affected him whenever he played the guitar. During the procedure, the doctors cut his throat open and tied his vocal cords temporarily so that they could insert the disc into his neck. To allow himself to recuperate, he stopped singing for three months. Although the surgery was "nerve-racking" for him, it was a successful one at the same time. Meanwhile, he has also been very candid about his mental health struggles in the past years. In an interview with Esquire, he said that he experienced two emotional breakdowns when he was 32 and when he reached his 60s.

https://tinyurl.com/bdepjk8v

March 16, 2023

Hartford, Conn. - Amanda Bynes was forced to back out of a planned reunion with the All That cast at 90s Con due to an illness . Details on Bynes' condition are unclear. During the All That panel at 90s Con, which PopCulture.com's Michael Hein was in attendance for, Kel Mitchell asked for prayers for his former co-star. "We want her (Amanda) to be happy and healthy ," Mitchell said during the appearance. Fans who had booked photo-ops with the Amanda Show and Easy A actress won't be totally out of luck, however. Kenan Thompson, the Saturday Night Live cast member who also starred on All That, will be available in her place. That's 4 Entertainment, the organizer of 90s Con, also confirmed the actress' cancellation to CT Insider. The organization also issued a brief statement on Instagram, noting, "Amanda Bynes is sick and will not be in attendance this weekend. The entire 90s Con team is disappointed and we wish her a speedy recovery. "

https://tinyurl.com/nhcndbnb

March 17, 2023

Rod Stewart was forced to cancel a concert in Australia at the last moment . According to The Guardian, Stewart took to social media to explain the reason for the cancellation and apologize to fans in Australia. "Hello my friends. I'm absolutely downhearted that I'm disappointing my fans who bought tickets to A Day On The Green," Stewart writes. "Late this morning I was advised that I have a viral infection and my throat is too irritated to sing. I'm only human and sometimes get sick just like you do," he continued. "My greatest joy is performing for you, so I'm doing everything I can to get on the mend and back on stage!" The 78-year-old singer was set to appear alongside Cindi Lauper and New Zealand's John Stevens at the show. His attempts to heal up likely coincide with his scheduled dates in Australia next week, appearing in Adelaide and Sydney among five other dates. His tour will then take him to New Zealand, Mexico, the U.S., Ireland, and then a return to the U.K. before heading to Spain. The gig cancellation was announced before Stewart's message, with Live Nation and Roundhouse Entertainment lamenting the poor turn of events. "We apologise for the disappointment and inconvenience to ticket holders," the statement read. "A further announcement regarding the concert arrangements will be made early next week."

https://tinyurl.com/nhkye4uu

March 14, 2023

George Ezra has announced his second O2 Arena gig will not be going ahead after consulting doctors. Making the announcement via social media, the singer-songwriter revealed he'd been ''incredibly'' unwell in the afternoon on Tuesday, March 14. He then consulted a doctor who diagnosed him with acute vertigo . This diagnosis means the singer's show will not be going ahead. The message read: ''Hi everyone, unfortunately George has started feeling incredibly unwell this afternoon. He's been diagnosed by a doctor as having acute vertigo and as a result we sincerely regret to announce that tonight's show at the O2 in London will not be able to go ahead as planned."

Link

March 14, 2023

NCT's Jeno has been forced to back out of several upcoming fan events after he tested positive for COVID-19. The South Korean musician, real name Lee Je-no, "received a rapid antigen test" on Monday, March 13 after he began to feel "unwell," SM Entertainment explained in a statement, per Soompi, confirming that "the results revealed that tested positive for COVID-19." No further updates regarding Jeno's health have been provided at this time, and it is unclear what symptoms he is experiencing .

https://popculture.com/music/news/pop-star-jeno-covid-19-backs-out-fan-events/

March 17, 2023

Fans of a pair of South Korean boy bands are in for more heartbreak than usual. Both CIX and TO1 have canceled major concerts in recent weeks for various reasons, with CIX pulling out of their planned concert in Mexico as part of their Save me, Kill me world tour and To1 canceling their upcoming performance at KCON 2023 Thailand.

CIX was scheduled to perform in Mexico on March 11. However, shortly before they were set to take the stage, MyMusicTaste confirmed the show would not go on as planned "due to organizers' internal issues." In a statement, MyMusicTaste said, per Soompi , "after further internal discussion, we regret to inform you that the CIX 2nd WORLD TOUR IN MEXICO on the following date has been cancelled... We wanted to provide a great concert for all fans and the members of CIX, but it was cancelled due to organizers' internal issues. We sincerely apologize for any inconveniences caused." The statement went on to apologize "for the sudden notice in regard to this matter and appreciate your understanding in relation to this cancellation." The band's scheduled performance in Washington, D.C. on Tuesday, March 14 went on without issue, with CIX next set to perform in Chicago on Thursday, March 16.

Just days after CIX canceled their performance in Mexico, TO1's agency WAKEONE Entertainment announced the group would no longer perform their scheduled stop at KCON 2023 Thailand, which is to be held on March 18 and 19. In a statement, WAKEONE Entertainment told fans, "we regret to inform you that the scheduled appearance of TO1 at KCON 2023 Thailand has been canceled due to unforeseen circumstances of TO1's agency. We sincerely apologize to all fans of TO1 who have been waiting for this performance."

https://popculture.com/music/amp/news/two-pop-groups-cix-to1-cancel-major-concerts

Wait, Why Did Men Stop Wearing Hats?

Tue, 21 Mar 2023 18:27

Let's play a little game of Where's Waldo? Only, with men who aren't wearing hats in the above photograph. It raises the question: where have all the elegant fedoras, bowlers, news caps, and top hats gone? Hats have had a role to play for most of our history, walking the line between the utilitarian, decorative, and symbolic. So why did men just stop wearing hats en masse?

Douglas Fairbanks speaking in front of the Sub-Treasury building, New York City, April 1918. One of our biggest clues, as we'll see later, is that hats were born from two desires: ornamentation and protection. We have pictorial depictions from 3200 BC of an Egyptian man wearing a conical straw hat ideal for keeping ones head cool with its towering form. The Bronze Age's ''Golden Hat of Schifferstadt'' is also one of the oldest, towering hats we have found:

Golden Hat of Schifferstadt. Urnfield tradition, Bronze Age. Dated to 1,400-1,300 BC and the oldest of its kind found to date. Historical Museum of the Palatinate, Speyer, Germany. The saga of the ''Golden Hats'' is a very Indiana Jones-y chapter in ancient hat history. Only four have been unearthed to date, each with its own intricate sheet gold construction. Their opulent nature is an important reminder of the ornamental nature hats have played as objects of ceremony and status.

On the other end of the spectrum, in matters of practicality, some historians posit that the Venus of Willendorf might just be wearing the world's first beanie '' and once you see it, you can't unsee, amiright?!

That's the magical thing about hats. They offer a curious new way to relive history that feels almost tangible. And while we'd love to get lost in a felty vortex of headgear from 3000 BC to present, we're going to try to hone in on a few game changers from the last few hundred years'...

Firstly, did you know that modern hat making was quite a dangerous trade? The expression ''mad as a hatter'' refers to the mercury poisoning that slowly killed-off so many 19th century hat makers '' mercury was used to treat the fibers and improve the felt. Unbeknownst to the hat makers of course, the chemical was causing them to develop all kinds of mental illness, including dementia and erethism.

Then there's the term ''Milliner,'' which typically refers to the craft of making hats for women, and was a reference to one of the rising hat epicentres of the world '' Milan. (Other than France, Italia was the major fashion city in Europe.)

Family-owned hat factory in Montevarchi, Italy, date unknown / Wiki CommonsLet's start with (arguably) the poster child of men's hats: the top hat. These sky grazing, extravagant hats were made of felted beaver fur or silk, and beloved by fashion dandies '' but they were highly controversial to begin with.

''[He] had such a tall and shiny construction on his head that it must have terrified nervous people,'' reads one British police report on the first top hat sighting in 1797, which apparently caused a riot, ''The sight of this construction was so overstated that various women fainted, children began to cry and dogs started to bark.'' The poor top hatted man in question, haberdasher John Hetherington, didn't just make newspaper headlines '' he was posted a £500 bond.

The King of the Belgians and the Royal family with Queen Victoria ca. 1859But everyone loves a rebel, right? The top hat's radical dandyism caught on, and piqued in mainstream popularity by the 1840s-50s. Abraham Lincoln was famously a fan '' rumour has it, he hid important letters in its voluminous top. They became such wardrobe staples, that it wasn't uncommon to find theatres with seats made to accommodate men at the opera'...

At the same time, the baseball cap was also born in New York City. First, in the form of straw hats donned by the New York Knickerbockers in 1849. Yes folks, you are looking at the original baseball hats:

New York KnickerbockersBy 1860, they were even further popularised by Brooklyn's Excelsiors baseball team uniform. Soon, a variety of ''ball caps'' started popping up, leading us to the contemporary incarnation we know best.

With its arguably more streamlined and lightweight design, ''ball caps'' were perfect for men on the move. Branches of law enforcement would also go on to adopt baseball hats. Check out this snapshot of the Cincinnati Reds baseball team in 1888, looking rather more like police officers than a sports team:

Wiki CommonsAnother iconic men's hat is the ''newsboy cap'' '' although they weren't just for newspaper delivery boys, but worn by dock workers, steel workers, and other tradesmen that evolved from the beloved Scottish hat, the Tam 'O Shanter.

Newsboys in St. Louis, 1910 / Wiki CommonsThey could be found in every echelon of society, albeit usually as more of a leisure activity accessory (i.e. golfing, a day in the country) for the upper class. Same goes for the ascot cap (think Peaky Blinders), which was usually worn by men working in livestock slaughter in the early 20th century. A hat was a social signifier, identifying a man's role in society. (Hence idioms like ''putting your [insert profession] hat on.'' or ''he wore many hats'' to describe a man of many trades).

Tam 'O Shanter caps derived their name from a poem by Scottish poet Robert BurnsAs for the good 'ole cowboy hat? In 1865, a man named John B. Stetson essentially made the first incarnation, known as the ''Boss of the Plains'' hat. Its design, he said, was made with the needs of the American Western climate in mind '' stiff brim, tall crown.

Initially, their indentations and curves were a byproduct of the fact that these were hats that endured a lot. Men would constantly touch, pinch, and fold them as they worked, creating those iconic cowboy shapes. Over time, they became intentional signifiers of a certain ranch or community. There was New Mexico's ''Carlsbad crease'' style and the ''Montana Peak,'' the latter of which was derived from the Mexican sombrero, and had four top dents from being pinched up top by four fingers. To this day, however, Stetson remains the gold standard for cowboy hats. Remarkable, how some things don't change.

Contrary to popular belief, the cowboy hat might not actually have been the most prevalent out West. A 1957 article in Desert News posits that such a title belongs to the British bowler hat.

James Lock & Co., the world's oldest hat shopIt was created in the London atelier of Thomas and William Bowler in 1849, and deemed a protective, durable, yet stylish option for anyone looking to walk the semi-formal line. ''The hat that won the West,'' newspaper headlines declared. The shop that created the bowler (pictured above) is in fact still around today, founded all the way back in 1676, making it the World's Oldest hat shop. Part of what fascinated Rene Magritte so much about the bowler was its ''Everyman'' appeal:

Rene Magritte and Le Barbare, 1938. Private Collection. (Photo by Fine Art Images/Heritage Images/Getty Images)Evidence of the bowler's spread can be traced all the way to South America, where it has become a staple of Quechua and Aymara women for a century, when British railway workers arrived in the 1920s. Legend has it, a shipment of bowlers arrived that was much too small for rail workers, so they sold them off to cholitas. That's the legend, anyway. Today, wearing a bowler or bomb­n in Bolivia tells the story of that complicated past, as well as the strength and survival of indigenous women who have woven them into their own story.

It brings to mind the role hats have played as tools in colonialism, in the military, and in grassroots activism. Who could forget the berets of the Black Panther party, or Che Guevara? Perhaps lesser known: the wonderfully wide brimmed hats of 1940s ''Zoot Suits'' worn by Mexican and African Americans. The style was so revolutionary, they were actually banned in America for a time.

LEFT: Cab Calloway in a Zoot Suit RIGHT: A 1940s Zoot SuitSo how is it that mens hats, after playing such an active, evolving role on both cultural and political levels, seemed to virtually disappear from everyday society? There are a few facts, stats, and theories that come together to explain their gradual retreat from popularity. For one, the rise and evolution of the automobile. The four-wheeled engineering marvel would soon spell the beginning of the end for the gentleman's hat, and its invention would soon alleviate the need to cover up one's head for protection from the elements.

Prince of Wales, Sydney, 1920 / Sam HoodThe Hat Research Foundation (HRF), which was apparently a real thing, also found that 19 % of men in 1947 who didn't wear hats said it was because they triggered the trauma of war associated with their uniforms.

Soldiers during WIIIn fact, clothing companies kind of scrambled to revive hat wearing to its former glory after WWI and WWII. Ads sponsored by the HRF ran with slogans like, ''You Need A Hat To Work Magic'' while late 1940s newspapers mocked men rocking the new ''barehead'' fashion.

Traditional men's hats retired to a place of ceremony and tradition with which we are familiar today. Many historians actually mark the day John F. Kennedy gave his inaugural speech as ''the Day the Top Hat Died''. At first, the newly elected president participated in the age-old tradition wearing a top hat to the ceremony, walking arm-in-arm with a beaming Jackie'...

It looks like he posed for some pictures in the hat, and then decided to shake things up by going top-less for the big speech. One would be hard pressed to find a starker visual metaphor for the changing times than that of the young president, literally backdropped by a sprinkling of older men in antiquated top hats. Welcome to the 1960s, baby!

Every couple of years since, fashion journalists proclaim the hat's comeback, but it seems unlikely we'll see anything like those historical crowd scenes resembling an ocean of hats, ever again. These days, a swish hat on the streets feels perhaps less tied to old social codes and more so to individual or community expression. The shift is decisive: historically, men wore hats to fit in and today, men wear hats to stand out. Men in hats are still here, but we'd just love to see more of them, so we'll leave you with some sartorial inspiration for the gents to pass around'...

(It's all about the angle).

Idaho poised to allow firing-squad executions in some cases | AP News

Tue, 21 Mar 2023 16:45

FILE - The execution chamber at the Idaho Maximum Security Institution is shown as Security Institution Warden Randy Blades look on in Boise, Idaho on Oct. 20, 2011. A bill that would allow Idaho to kill condemned inmates by firing squad is headed to the governor's desk after passing the Legislature with a veto-proof majority. Firing squads will only be used if the state cannot obtain the drugs needed for lethal injections. (AP Photo/Jessie L. Bonner, File)

FILE - The execution chamber at the Idaho Maximum Security Institution is shown as Security Institution Warden Randy Blades look on in Boise, Idaho on Oct. 20, 2011. A bill that would allow Idaho to kill condemned inmates by firing squad is headed to the governor's desk after passing the Legislature with a veto-proof majority. Firing squads will only be used if the state cannot obtain the drugs needed for lethal injections. (AP Photo/Jessie L. Bonner, File)

BOISE, Idaho (AP) '-- Idaho is poised to allow firing squads to execute condemned inmates when the state can't get lethal-injection drugs, under a bill the Legislature passed Monday with a veto-proof majority.

Firing squads will be used only if the state cannot obtain the drugs needed for lethal injections '-- and one death row inmate has already had his scheduled execution postponed multiple times because of drug scarcity.

The move by Idaho lawmakers is in line with those by other states that in recent years have scrambled to revive older methods of execution because of difficulties obtaining drugs required for longstanding lethal injection programs. Pharmaceutical companies increasingly have barred executioners from using their drugs, saying they were meant to save lives, not take them.

Idaho Republican Gov. Brad Little has voiced his support for the death penalty but generally does not comment on legislation before he signs or vetoes it.

Only Mississippi, Utah, Oklahoma and South Carolina currently have laws allowing firing squads if other execution methods are unavailable, according to the Death Penalty Information Center. South Carolina's law is on hold pending the outcome of a legal challenge.

Some states began refurbishing electric chairs as standbys for when lethal drugs are unavailable. Others have considered '-- and at times, used '-- largely untested execution methods. In 2018, Nevada executed Carey Dean Moore with a never-before-tried drug combination that included the powerful synthetic opioid fentanyl. Alabama has built a system for executing people using nitrogen gas to induce hypoxia, but it has not yet been used.

During a historic round of 13 executions in the final months of Donald Trump's presidency, the federal government opted for the sedative pentobarbital as a replacement for lethal drugs used in the 2000s. It issued a protocol allowing firing squads for federal executions if necessary, but that method was not used.

Some lawyers for federal inmates who were eventually put to death argued in court that firing squads actually would be quicker and cause less pain than pentobarbital, which they said causes a sensation akin to drowning.

However, in a 2019 filing, U.S. lawyers cited an expert as saying someone shot by firing squad can remain conscious for 10 seconds and that it would be ''severely painful, especially related to shattering of bone and damage to the spinal cord.''

President Joe Biden's attorney general, Merrick Garland, ordered a temporary pause on federal executions in 2021 while the Justice Department reviewed protocols. Garland did not say how long the moratorium will last.

Idaho Sen. Doug Ricks, a Republican who co-sponsored that state's firing squad bill, told his fellow senators Monday that the state's difficulty in finding lethal injection drugs could continue ''indefinitely'' and that he believes death by firing squad is ''humane.''

''This is a rule of law issue '-- our criminal system should work and penalties should be exacted,'' Ricks said.

But Sen. Dan Foreman, also a Republican, said firing-squad executions would traumatize the people who who carry them out, the people who witness them and the people who clean up afterward.

''I've seen the aftermath of shootings, and it's psychologically damaging to anybody who witnesses it,'' Foreman said. ''The use of the firing squad is, in my opinion, beneath the dignity of the state of Idaho.''

The bill originated with Republican Rep. Bruce Skaug, prompted in part by the state's inability to execute Gerald Pizzuto Jr. late last year. Pizzuto, who now has terminal cancer and other debilitating illnesses, has spent more than three decades on death row for his role in the 1985 slayings of two gold prospectors.

The Idaho Department of Correction estimates it will cost around $750,000 to build or retrofit a death chamber for firing squad executions.

Agency Director Jeff Tewalt last year told lawmakers there would likely be as many legal challenges to planned firing squad executions as there are to lethal injections. At the time, he said he would be reluctant to ask his staffers to participate in a firing squad.

Both Tewalt and his former co-worker Kevin Kempf played a key role in obtaining the drugs used in the 2012 execution of Richard Albert Leavitt, flying to Tacoma, Washington, with more than $15,000 in cash to buying them from a pharmacist. The trip was kept secret by the department but revealed in court documents after University of Idaho professor Aliza Cover sued for the information under a public records act.

Kempf was promoted to lead the Correction Department two years later and now is the executive director of the Correctional Leaders Association. He said the execution process is always challenging for all involved, including victims' relatives. Those challenges could be amplified in firing squad executions, he said.

''I've got to say at the same time, my thoughts go to staff members that may have to carry out something, per law, that looks like putting someone to death,'' Kempf told the AP during a phone interview earlier this month. ''That is nothing I would assume any correctional director would take lightly, asking someone-slash-ordering someone to do that.''

Biden pledged during his campaign to work at ending the death penalty nationwide, but he has remained silent on the issue as president. Critics say his hands-off approach risked sending a message that he's OK with states adopting alternative execution methods.

___

Tarm contributed from Chicago.

Trump Supporters Plan Bank Run to Protest His Arrest

Tue, 21 Mar 2023 16:42

Supporters of former President Donald Trump are calling for nonviolent forms of protest in anticipation of his arrest, suggesting a national bank run instead of a traditional demonstration.Trump has already called on his supporters to "PROTEST, PROTEST PROTEST" if he's arrested Tuesday morning.The George Washington Initiative told Newsweek that searches for a pro-Trump bank run nearly quadrupled between Friday and Saturday, with queries rising again on Monday.Some supporters of former President Donald Trump are calling for nonviolent forms of protest in anticipation of a Trump arrest in Manhattan this week, suggesting that his base participates in a national bank run instead of demonstrating on the streets.

"Driven by false flag paranoia," Trump supporters have increasingly advocated for a bank run in recent days as a "nonviolent form of social disobedience" against a Trump arrest, according to the George Washington Initiative (GWI), an organization dedicated to combating disinformation.

What is a Bank Run?Suggestions for a bank run in protest of a Trump arrest seem to capitalize on how devastating bank runs have proven to be to the financial system.

When a large number of depositors rush to withdraw their funds from the bank simultaneously, its impact could lead to a full-blown banking crisis. The calls also appear to reflect how increased polarization in politics has led some to attempt to bring political views into the world of finance.

"Be a shame if Trump supporters led a nationwide bank run," Jack Posobiec, an alt-right activist known for his support of Trump, tweeted on Saturday. Vincent Sativa, another Trump supporter, called Posobiec's strategy a "brilliant" and "genius" way to show the nation just how many Americans continue to support the former president.

Wells Fargo customers use ATMs outside of a Wells Fargo bank on July 14, 2021 in San Francisco, California. Inset: Former President and 2024 presidential hopeful Donald Trump arrives to speak during the 2023 Conservative Political Action Coalition (CPAC) Conference in National Harbor, Maryland, on March 4, 2023. Justin Sullivan/Roberto Schmidt/AFPCalls for others to join in and pull their money out of the banking system come after Trump announced that he expects to be arrested on Tuesday morning in the New York case related to the hush money payments he allegedly made to adult film actress Stormy Daniels. Over the weekend, Trump urged his supporters to "PROTEST, PROTEST PROTEST!!!!" his imminent indictment. He did not specify what form these protests should take.

Daniels claims that she had an affair with Trump, which he has denied. Last week, Trump's former personal lawyer, Michael Cohen, testified to the grand jury that the former President directed him to make those payments to Daniels and that the Trump Organization reimbursed him later on.

Growing ChatterIn a Monday statement, GWI told Newsweek it has detected "growing chatter around the topic", but "the chatter is growing at a logarithmic rate which will hamper the narratives' ability to spread, marginalizing any impact that may occur." GWI's graphs show that the volume of searches for a potential bank run nearly quadrupled between Friday and Saturday, with queries rising again on Monday.

Calls for a pro-Trump bank run also come on the heels of the Silicon Valley Bank (SVB) collapse that sent shockwaves across the U.S. financial system last week. The regional bank imploded after customers started withdrawing their funds in masses, effectively setting off a bank run that forced regulators to shut down the bank. In its aftermath, New York-based Signature Bank was also shuttered while the nation's largest banks rushed to offer midsize lender First Republic Bank a $30 billion rescue package.

Given that the system is already on shaky ground, some point out that, "It won't take much right now to crash the entire monetary system."

"If Trump gets arrested, they are planning to pull their money out of the banking system. You will see a bank run of mass proportions," Twitter user @CryptoPolka wrote on Sunday. "It won't take much right now to crash the entire monetary system."

"With the panic in the markets around SVB - this could get interesting," another user @OopsGuess added. "We all want MAGA..."

This wouldn't be the first time that everyday Americans have attempted to manipulate markets and companies to make a political point, or to make money for themselves.

Two years ago, small investors upended Wall Street after organizing a short squeeze over Reddit that sent the price of GameStop stock soaring and forced hedge fund traders to back out. In response, brokerages like Robinhood had to halt the trading of GameStop stock'--a decision that was later met with criticisms from prominent politicians and class-action lawsuits that alleged the app of market abuse.

Organizing a bank run is not illegal by itself, although there are laws that prohibit the spreading of misinformation about a bank's financial conditions, former federal prosecutor and President of West Coast Trial Lawyers Neama Rahmani told Newsweek. Prosecutors would likely have to apply a more general federal law, like wire fraud or stock market manipulation, to go after this type of scheme.

A Call For PeaceDespite Trump's calls for protest, other high-ranking Republicans have pushed back, cautioning against any type of violence in response to an arrest.

On Sunday, House Speaker Kevin McCarthy said that while an indictment would be "an outrageous abuse of power," he didn't think people should be protesting it. "We want calmness out there," he told reporters in Orlando, Florida. "I do not believe there should be any violence to this."

Trump ally Representative Marjorie Taylor Greene also tweeted on Saturday, "We don't need to protest."

Those remarks have been echoed by Trump supporters who are mulling a bank run. Some have cautioned that protesting will lead authorities to bring martial law into effect and possibly detain or charge demonstrators.

"Participate in a bankrun instead," Aaron Day, a longshot candidate for the 2024 Republican nomination, tweeted. "It will be highly effective and non-violent (it also solves our corrupt banking and Ukraine situation at the same time)."

Folks, if they arrest Trump, do NOT get involved with these @FBI organized protests. They will manufacture violence and use it to bring in martial law.Participate in a bankrun instead. It will be highly effective and non-violent (it also solves our corrupt banking and Ukraine'... https://t.co/diA3FZvcnB pic.twitter.com/8UYIDorIjK

'-- Aaron Day 2024: Truth and Transformation (@AaronRDay) March 20, 2023Truth Social users also said fans of the former president should participate in nonviolent forms of protest to avoid giving Trump critics "what they think will happen, violence or riots."

"Trump supporters are law abiding!" one Truth Social user wrote. "We can protest without damaging or breaking the law. I can pull my money from the bank. I can do a lot to crash this economy."

Some Twitter users criticized the plans, casting doubt over whether Trump's supporters would be able to withdraw enough money to constitute a bank run.

"MAGA supporters couldn't possible generate a bank run," user @stmdc wrote. "They have no deposits to withdraw. What little money they have has been spent on Trump picture books, various 'own the libs' t-shirts and 20 cases of freeze dried vegetable stew sitting in the garage."

"I think it's funny that they think their bank accounts could trigger anything," another user, @ThePhillyNick, said.

Newsweek reached out to Trump campaign spokesperson Steven Cheung for comment.

Correction 03/20/23 10:12 p.m. An earlier version of this article described GWI as George Washington Institute.

Food-Info.net> E-nummers : E558 : Bentoniet

Tue, 21 Mar 2023 14:43

Een initiatief van :Stichting Food-Info

Food-Info.net> E-nummers > E500-600

Herkomst: Natuurlijk soort vulkanische klei.

Functie en eigenschappen: Het wordt gebruikt als anti-klontermiddel en emulgator. Ook als klaringsmiddel in sappen.

Producten: Vruchtensappen, geur en smaakstoffen. Echter vooral gebruikt in cosmetica.

Acceptabele dagelijkse inname (ADI) : Geen vastgesteld.

Bijwerkingen : Geen bekend.

Dieetbeperkingen : Geen. E558 kan gebruikt worden door alle religies, vegetarirs en veganisten.

Europe's mental health crisis in data: Which country uses the most antidepressants? | Euronews

Tue, 21 Mar 2023 13:03

Global consumption of antidepressant drugs (AD) has increased dramatically in the last two decades, with Europeans the largest consumers.

Use of antidepressants increased by nearly two and a half times from 2000 to 2020 in 18 European countries, according to Organization for Economic Cooperation and Development (OECD) data.

OECD data also shows a dramatic increase in anxiety and depression during the COVID''19 pandemic. Do the happiest countries use fewer AD drugs? How do researchers explain the sharp rise in the consumption of antidepressants?

OECD datasets demonstrates the defined daily dose (DDD) consumption of ''N06A-Antidepressants''. This group ''comprises preparations used in the treatment of endogenous and exogenous depressions,'' according to the World Health Organisation (WHO).

The average antidepressant consumption across 18 European countries was 30.5 DDD per 1,000 people per day in 2000 rising to 75.3 DDD in 2020, a 147 per cent increase.

But this overall average conceals very different starting points for antidepressant use in 2000 in certain countries, ranging from 6.4 DDD in Estonia to 70.5 DDD in Iceland.

The Czech Republic recorded the highest increase with 577 per cent while it only rose by 38 per cent in France making it the lowest change in these countries between 2000 and 2020, albeit from a relatively high level.

It rose by 304 per cent in Portugal, 256 per cent in the United Kingdom, 208 per cent in Spain and 200 per cent in Germany in the same period.

A closer look at five selected countries ''France, Germany, Portugal, Spain, and Sweden - over 20 years demonstrates how the use of antidepressant pharmaceuticals varies.

While the increase is very low in France, especially in the last 15 years, it rocketed in Portugal in the last two decades.

The bar race chart also shows how antidepressant consumption has increased year-on-year in European countries. In 14 out of 18 countries, AD drug use more than doubled.

Which countries have the highest antidepressant consumption?Looking at changes in the last decade, we have data for 24 European countries.

In 2020, the consumption of AD pharmaceuticals per 1,000 people per day varied from 20 DDD in Latvia to 153 DDD in Iceland. It is followed by Portugal (131 DDD), the UK (108 DDD in 2017), Sweden (105 DDD) and Spain (87 DDD).

In 2020, the average use across these 24 countries was 68 DDD. The largest three countries by population namely Turkey (49 DDD), France (55 DDD) and Germany (62 DDD) all recorded below average use.

Any correlation between happiness and the use of antidepressants?The short answer is no. The data on European countries does not suggest that the happier people are the less they consume antidepressants.

Iceland, which was the second happiest country in the world in 2020 according the World Happiness Report, has the highest antidepressant consumption in Europe.

Sweden, which ranked sixth in the Happiness Report, has the fourth highest use of antidepressants with 105 DDD.

Finnish people, who were the happiest nation according to the report, used 82 DDD antidepressants which placed Finland seventh out of 24 countries.

Latvia which has the lowest consumption with 20 daily doses ranked 34th in the World Happiness Report. Hungary which follows Latvia with 30 DDD was on the 43th place in the happiness list.

Antidepressant consumption decreased only in Denmark in last 10 yearsThe consumption of AD drugs increased by 36.5 per cent between 2010 and 2020 in 24 European countries with average daily use up from 49.8 DDD to 68 DDD. Denmark is the only country to see a decrease in the use of antidepressants in the last decade with a 4 percent decline.

Estonia recorded the highest increase with 133 per cent while consumption only increased by 2 per cent in France.

It doubled in the UK, and increased by 50 per cent in Turkey. The change was under 25 per cent in 10 countries.

What about spending on antidepressant drugs?The cost of antidepressant drug spending is a burden on citizens and their countries.

In 2020, Germany spent $812 million (''¬783 million) on antidepressants. Spain ($649 million or ''¬626 million) and Italy ($456 million or ''¬440 million) are the other leading countries for spending on antidepressants.

The ratio of spending on antidepressants to total pharmaceutical sales suggests that it is a significant cost in some countries.

In 2020, antidepressant drugs accounted for 4 per cent of pharmaceutical sales in Portugal, compared to 2.7 per cent in Spain, 2.2 per cent in Austria, 1.9 per cent in Turkey and 1.4 per cent in Germany.

The prevalence of chronic depression in EuropeThere is no official comparable data on the share of people reported having chronic depression or consulting a psychologist, psychotherapist or psychiatrist.

However, survey results released by Eurostat provide some insights. In 2019 Eurostat found that 7.2 per cent of EU citizens reported having chronic depression which was only a tiny increase compared with 2014 (+0.3 percentage points).

In 2019, among EU countries Portugal (12.2 per cent) had the highest share of the population reporting chronic depression, followed by Sweden (11.7 per cent), Germany and Croatia (both 11.6 per cent).

The share of people reporting chronic depression was lowest in Romania (1.0 per cent), Bulgaria (2.7 per cent) and Malta (3.5 per cent).

It is interesting that the top two countries Iceland (15.6 per cent) and Portugal (12.2 per cent) in reporting chronic depression also had the highest antidepressant consumption with 153 DDD and 131 DDD in 2020 respectively.

The impact of COVID on mental healthRecent surveys released by the OECD found that mental health has deteriorated significantly since the start of the COVID''19 pandemic.

From March 2020 onwards, the prevalence of anxiety and depression increased in 15 selected OECD countries, including several European ones.

The prevalence of anxiety in early 2020 was double or more than double that observed in previous years in Belgium, France, Italy, Mexico, New Zealand, the UK and the US.

The prevalence of depression in early 2020 was also double or greater than double that observed in previous years in Mexico, Australia, Belgium, Canada, France, the Czech Republic, Mexico, Sweden, the UK and the US.

However, since the survey methods differ between studies, it is not possible to offer any robust cross-country comparisons.

Did antidepressant consumption increase during the COVID?While the prevalence of anxiety and depression rose significantly during the COVID-19 pandemic, did the consumption of antidepressant drugs also increase?

There is an increase of 10 per cent or more in consumption between 2019 and 2021 in the 14 OECD countries for which data is available. For example, use increased by 22 per cent in Latvia in these two years but only 1 per cent in Hungary.

However, this is against a background of a steady trend in the increase of antidepressants consumption over the last 20 years. Therefore, more research is needed to understand any possible impact from the pandemic on these recent increases.

Why the antidepressant consumption increase?There are a number of potential explanations for this rise in the last two decades.

Researchers who studied the influences on antidepressant prescribing trends in the UK between 1995 and 2011, suggested that the increase can be attributed to the improved recognition of depression, availability of new AD drugs, changes in patient/GP attitudes, availability of therapies, evolving clinical guidelines, and a broadening of the range of indications treated with ADs.

Finland Crowned World's Happiest Country Sixth Year Running... | ZeroHedge

Tue, 21 Mar 2023 12:58

Finland leads the ranking of the world's happiest countries for the sixth year in a row, according to the 2023 World Happiness Report released on Monday.

As Statista's Anna Fleck reports, while its score (7.80) is significantly ahead of all other countries, a sizeable chunk of the top ten roundup are also Scandinavian, with Denmark in second place (7.59), Iceland in third (7.53), Sweden in sixth (7.40) and Norway in seventh (7.32).

Slightly further down the ranking stand the United States in 15th place and the United Kingdom in 19th, with the latter having now dropped positions for four years in a row.

You will find more infographics at Statista

At the bottom of the World Happiness Ranking are Zimbabwe (3.20), Sierra Leone (3.14), Lebanon (2.39) and Afghanistan (1.86).

Critics argue that the index is problematic for several reasons.

For one, the terminology of ''happiness'' is disputed by some who would argue that in the case of Finland at least, ''satisfaction with their lives'' would have been a more accurate summary.

In a 2018 paper on the topic, one Finnish writer pointed out that where Nordic countries came out on top for factors like GDP per capita and freedom from oppression, Latin American countries such as Paraguay and Guatemala would have been considered the happiest if the index was based on the amount of positive emotion people experience, while African countries including Togo and Senegal would have ranked higher when based on whether citizens experience their lives as ''meaningful.''

Meanwhile, Al Jazeera's political commentator Marwan Bishara questions a methodology that places Israel in the top ten countries despite the ongoing conflict, and Bahrain fairly high up the list despite ''tight and political control.''

Source: Visual Capitalist

The 2023 World Happiness Ranking scores were determined using a three year average from 2020-22.

Despite Covid, the war in Ukraine, hikes in energy prices and living costs, figures remained fairly similar to before the pandemic in many countries, with many citizens even reporting higher levels of acts of kindness.

Loading...

Ugandan President Blasts Western Countries For Promoting LGBT In Africa | ZeroHedge

Tue, 21 Mar 2023 12:56

Authored by Paul Joseph Watson via Summit News,

Ugandan President Yoweri Museveni has blasted western countries for promoting LGBT issues in Africa, accusing them of ''wasting the time of humanity.''

The president of the East African country made the remarks during a parliamentary address before lawmakers prepared to vote on a bill related to the same matter.

The bill would impose harsher penalties for those found to be promoting LGBT activist causes in a country where homosexuality is already illegal.

Uganda has been threatened with sanctions if it continues to refuse to implement western-style protections for LGBT, but Museveni has rejected attempts to influence his country, framing it as a form of cultural hegemony.

''Europeans and other groups marry cousins and near relatives. Here, marrying in one's clan is taboo. Should we impose sanctions on them for marrying relatives? This is not our job,'' he stated.

''Western countries should stop wasting the time of humanity by trying to impose their practices on other people,'' he added.

Under President Barack Obama, the US cut off aid to Uganda in 2014 and cancelled a military exercise there in response to a law that attempted to impose a term of lifetime imprisonment for ''aggravated homosexuality,'' which includes sex with a minor or while HIV-positive.

The aid cut meant that a $2.4 million Ugandan community policing program project had to be abandoned following a police raid on a US-funded health program at Makerere University.

During the same parliamentary speech, Museveni called gay people ''deviants'' and said that homosexuality was not normal.

''Why? Is it by nature or nurture. We need to answer these questions. We need a medical opinion on that. We shall discuss it thoroughly,'' he added.

Despite homosexuality being technically illegal in Uganda, there hasn't been a conviction for consensual same-sex relations since the country gained independence from Britain in 1962.

* * *

Brand new merch now available! Get it at https://www.pjwshop.com/

In the age of mass Silicon Valley censorship It is crucial that we stay in touch. I need you to sign up for my free newsletter here. Support my sponsor '' Turbo Force '' a supercharged boost of clean energy without the comedown. Get early access, exclusive content and behind the scenes stuff by following me on Locals.

Loading...

Fan poops in aisle near Hillary and Chelsea Clinton at show

Tue, 21 Mar 2023 12:52

March 20, 2023 | 7:07pm

Hillary and Chelsea Clinton attended ''Some Like It Hot'' when an odd incident went down in the aisle. WireImageSome like it '... steaming hot.

Page Six hears that a serial pooper has been stalking the halls of the legendary Schubert Theater '-- and the last time they struck, a turd appeared in the aisle near Hillary and Chelsea Clinton at ''Some Like It Hot.''

A source close to the show insists that it was a regrettable one-off incident.

But another source tells us that the theater's staff said that the s''t's (almost) hit the fans at other performances as well.

''Last week when Hillary and Chelsea Clinton were in the audience,'' said a source, ''the lights came up for intermission and there were two human turds in the aisle just near the famous political duo.''

The insider added, ''The house crew dealt with it very appropriately and quickly, and Hillary and Chelsea remained in the theater for the second act.''

The Clintons, pictured with Diane von Furstenberg, are regulars on Broadway. Bruce Glikas/WireImageThe mother-daughter power players did not respond to a request for comment, but they were photographed holding up the show's Playbill and giving a thumbs up.

A source close to the show confirmed the incident, telling Page Six, ''There was an incident when Hillary Clinton and Chelsea attended.

For more Page Six you love '... Listen to our weekly ''We Hear'' podcastSubscribe to our daily newsletterShop our exclusive merch ''It was an elderly person and it's rather sad, but yes, the house staff worked quickly to help resolve the situation and Act II started as scheduled.''

The first insider says that after the most recent incident, an eyewitness ''spoke to the house manager, who said that it was actually the fourth time it had happened.''

The source wildly speculated, ''There is someone who is either s''tting in the aisle, or surreptitiously dumping defecation that they smuggled into the theater.''

Sources said the mother-daughter power duo stayed for the show's second act. Variety via Getty ImagesBut another insider said again that there is no alleged Phantom of the Poopera lurking around '-- and that it was just a sad accident.

The show has been attracting VIPs including Steven Spielberg, Martin Short, Debbie Allen, Bo Derek, Eddie Izzard, Hank Azaria, Kristin Chenoweth and more. A rep for the show did not comment on the alleged incidents that put the deuce in the forty-deuce district.

Putin Tells Xi He's "Open To Negotiating Process" On Ukraine As US Says Ceasefire "Unacceptable" | ZeroHedge

Tue, 21 Mar 2023 12:38

Update(1017ET): What's being described as an initial, informal meeting between Presidents Xi and Putin is underway at the Kremlin. While the expected cordialities and expressions of closer relations were exchange, among the most notable early statements came from Putin, who said he's "open" to peace talks with Ukraine and China's mediation efforts.

"We have a lot of joint tasks, goals," Putin told his Chinese counterpart while also congratulating him on re-election as the head of the Chinese state for a third 5-year term. Xi in return said "Russia succeeded in promoting prosperity under Putin's leadership." Putin further expressed that "we will discuss your initiative [on Ukraine] which we view with respect."

"We are open for a negotiating process on Ukraine," the Russian leader added. He noted to Xi that "we have looked at your proposals for the resolution of the Ukraine conflict" and previewed that "we will discuss this question."

🇨ðŸ‡"ðŸ¤'🇷🇺"Welcome to Russia" '-- Xi Jinping has arrived in the Kremlin, an informal meeting with Vladimir Putin has started pic.twitter.com/BQ4rzfmynT

'-- AZ 🛰🌏🌍🌎 (@AZgeopolitics) March 20, 2023The day prior in media interviews, White House NSC spokesperson John Kirby declared that any "call for a ceasefire" in Ukraine is "unacceptable."

Likely Moscow will only be satisfied with nothing short of a full Kiev recognition of the Donbass being under Russia; however, this is the very thing Washington will condemn and seek to induce the Zelensky administration to resist.

According to state media commentary (RT), "Moscow has said that it would consider the proposal but has pointed to several factors that stand in the way of a peaceful resolution in Ukraine." And more of Moscow's perspective headed into more Xi meetings: "Those include the insistence of Kiev and its Western backers on inflicting a military defeat of Russia, their firm opposition to any sort of ceasefire, as well as a law enacted by Ukrainian President Vladimir Zelensky that forbids holding negotiations with Russia as long as Putin remains in office."

Kirby on Xi meeting Putin: ''If there's some sort of call for a ceasefire well that's just going to be unacceptable.''-> Only US mediated ceasefires are good! pic.twitter.com/4SrnKLBu3o

'-- Lord Bebo (@MyLordBebo) March 20, 2023* * *

Chinese President Xi Jinping has arrived in Moscow on Monday for what Beijing is calling a "trip for peace" - but at a moment the White House is emphasizing "We don't support calls for a ceasefire right now," according to the words of White House National Security Council spokesman John Kirby. "We certainly don't support calls for a ceasefire that would be called for by the PRC in a meeting in Moscow that would simply benefit Russia," Kirby said.

The three-day trip was kicked off as Xi's plane touched down at Moscow's Vnukovo airport, where Russia's deputy prime minister for tourism, sport, culture and communications, Dmitri N. Chernyshenko, greeted him a red carpet ceremony and military brass band. His first stop was the Kremlin for an initial and informal meeting with President Putin.

Image: Kommersant/AFP"I am very glad, at the invitation of President Vladimir Vladimirovich Putin, to come back to the land of our close neighbor on a state visit," Mr. Xi said upon arrival. He added: "China and Russia are good neighbors and reliable partners connected by mountains and rivers."

Kremlin spokesman Dmitry Peskov told reporters that China's 12-point peace plan in Ukraine will top the agenda. "One way or another, issues raised in (Beijing's) plan for Ukraine will be touched upon during the negotiations," he said. "Comprehensive explanations will be given by President Putin" of the Russian position."

Just hours ahead of the Chinese presidential plane being en route, both Xi and Putin published separate articles previewing the bilateral summit, with Xi emphasizing China's push to end the Ukraine crisis reflects global support. Putin for his part wrote that he has "high expectations for the upcoming talks" with his "good old friend".

Putin said he enjoys the "warmest relationship" with Xi, in a partnership between countries which is "consistently growing stronger" and has reached "the highest level in their history". Speaking of the talks, the first in-person summit with the Chinese leader since the start of the Ukraine war, Putin stressed, "We have no doubt that they will give a new powerful impetus to our bilateral cooperation in its entirety." According to more from Putin's letter, published also in English on state websites:

Yet the main thing has remained unchanged: I am talking of the firm friendship between Russia and China, which is consistently growing stronger for the benefit and in the interest of our countries and peoples. The progress made in the development of bilateral ties is impressive. The Russia-China relations have reached the highest level in their history and are gaining even more strength; they surpass Cold War-time military-political alliances in their quality, with no one to constantly order and no one to constantly obey, without limitations or taboos. We have reached an unprecedented level of trust in our political dialogue, our strategic cooperation has become truly comprehensive in nature and is standing on the brink of a new era.

Putin also at one point took a swipe directly at the United States:

Sticking more stubbornly than ever to its obsolete dogmata and vanishing dominance, the "Collective West" is gambling on the fates of entire states and peoples. The US's policy of simultaneously deterring Russia and China, as well as all those who do not bend to the American dictation, is getting ever more fierce and aggressive. The international security and cooperation architecture is being dismantled. Russia has been labelled an "immediate threat" and China a "strategic competitor."

Meanwhile, Washington is watching the Xi trip very closely, also as the Chinese leader is at some point soon expected to hold a phone call with Ukrainian President Zelensky....

Ahead of a meeting between Putin and Xi, White House NSC spokesperson John Kirby declares that any "call for a ceasefire" in Ukraine is "unacceptable." pic.twitter.com/Z1MUvdlTwS

'-- Aaron Mat(C) (@aaronjmate) March 20, 2023And on China's mediation efforts in the Ukraine crisis in particular, Putin vowed that efforts to split the major Eurasian allies "won't work"...

"The crisis in Ukraine, which was provoked and is being diligently fuelled by the West, is the most striking, yet not the only, manifestation of its desire to retain its international dominance and preserve the unipolar world order," the Russian leader wrote. "It is crystal clear that NATO is striving for a global reach of activities and seeking to penetrate the Asia-Pacific." He continued:

It obvious that there are forces persistently working to split the common Eurasian space into a network of "exclusive clubs" and military blocs that would serve to contain our countries' development and harm their interests. This won't work.

Chinese President Xi arrives in Moscow to meet with the Russian President Putin. pic.twitter.com/4GLcnf3nkt

'-- Clash Report (@clashreport) March 20, 2023Putin concluded near the end of his letter, "We appreciate the well-balanced stance on the events in Ukraine adopted by the PRC, as well as its understanding of their historical background and root causes." He emphasized: "We welcome China's readiness to make a meaningful contribution to the settlement of the crisis."

The NY Times notes based on Chinese state media that Xi as accompanied to Moscow by "senior officials including Wang Yi, China's highest ranking diplomat; Foreign Minister Qin Gang; and Cai Qi, director of the General Office of the Chinese Communist Party's Central Committee." Ukraine at the same time issued a call for Russia to remove all of its troops, saying this is the proper formula for the successful implementation of China's 'Peace Plan'.

Loading...

The UN's Pagan 'Meditation Room': Runes, Altars, and 'Luciferian' Mystery

Mon, 20 Mar 2023 23:44

There's no easy way to put this, so I will just state it plainly:

The room, designed by artist Bo Beskow at the direction of the second Secretary General of the UN Dag Hammarskjold, both men of Nordic descent, was officially unveiled in 1952 initially for the purpose of serving as a location ''dedicated to silence, where people could withdraw into themselves, regardless of their faith, creed or religion.''

Former UN Secretary Dag Hammarskjold (left) and Swedish artist Bo Viktor Beskow (right)However, the original plan for the room was ultimately tossed by the Secretary General, who ''wanted something more dignified'' instead.

Upon its redesignation, the room reopened 5 years later in 1957 '-- this time containing ''an abstract mural, a composition of interlocking geometric patterns'' that overlooks a 6.5 ton iron ore altar lying in the center of the room.

According to the UN, the bizarre mural is ''supposed to evoke a feeling of the essential oneness of God.''

''We have within us a centre of stillness surrounded by silence. This house, dedicated to work and debate in the service of peace should have one room dedicated to silence in the outward sense and stillness in the inner sense'... People of many faiths will meet here and, for that reason none of the symbols to which we are accustomed in our meditation could be used,'' Secretary General Hammarskjold stated during the exhibit's opening ceremony.

He would further add that the altar represents ''a meeting of the light, of the sky, and the earth'... it is the altar to the God of all . ''

The bizarre exhibit was claimed by the UN to be dedicated to ''the God whom man worships under many names and in many forms .''

In order to truly understand the bizarre nature and meaning behind the UN Meditation Room, one must look down the rabbit hole that is:

In the early 1920's, an organization known as The Lucis Trust was established by ''luciferian'' occultist scholars Alice and Foster Bailey (who was also a 32nd degree Freemason ) as a ''vehicle to foster recognition of the universal spiritual principles at the heart of all work to build right relations.''

Lucis Trust founders Alice Bailey (left) and Foster Bailey (right)The Lucis Trust logo appears to be some sort of Nordic pagan rune.

Lucis Trust logo - Source: Lucis Trust In 1922, the Lucis Trust launched a publishing company named the Lucifer Publishing Company, purportedly to publish Alice Bailey's ''New Age'' book titled Initiation Human and Solar , which ''covers the order of the planetary hierarchy of spiritual entities, and its stages of mastery through initiation, by which it delineates the fourteen rules through which the neophyte initiate might become an applicant at the Portal of Initiation.''

On the organization's website today, the Lucis Trust summises that the Bailey's conveniently named their publishing company after the Prince of Darkness because they ''sought to elicit a deeper understanding of the sacrifice made by Lucifer,'' who they claim was ''the angel who brought light to the world.''

''Alice and Foster Bailey were serious students and teachers of Theosophy, a spiritual tradition which views Lucifer as one of the solar Angels, those advanced Beings Who Theosophy says descended (thus ''the fall'') from Venus to our planet eons ago to bring the principle of mind to what was then animal-man. In the theosophical perspective, the descent of these solar Angels was not a fall into sin or disgrace but rather an act of great sacrifice, as is suggested in the name ''Lucifer'' which means light-bearer,'' claims the Lucis Trust.

The Lucifer Publishing Company would eventually change its name in 1924 to the Lucis Publishing Company due to backlash from Christians who expressed concern over the organization's aparant and rather obvious boasting of the Devil's alias.

The Lucis Publishing Company would go on to publish loads of ''New Age'' occult literature.

In 1932, the Lucis Trust established World Goodwill , which has been historically recognized by the UN, boasts ''defining new Sustainable Development Goals for humanity,'' and encourages people to pay homage to the Meditation Room.

''The creation of an enlightened public opinion begins with the individual. Educate yourself about the United Nations and its activities, as well as the requirements for a harmonious world order,'' writes the Lucis Trust on a web page titled Supporting the Work of the United Nations .

''Groups and individuals that value the power of thought are encouraged to support the United Nations through meditation, invocation and prayer. Learn about the Meditation Room at the United Nations which is open to the public when the UN Headquarters building in new York is open. From time to time World Goodwill's Cycle of Conferences Initiative focuses on important meetings and summits at the United Nations. See also the Group for Creative Meditation's, 'Become a UN Delegate Through Thought' ; the Spiritual Caucus at the UN in New York; the NGO-Alliance at the UN in Geneva; and the Aquarian Age Community web materials on the UN ,'' states Lucis Trust.

As noted by author Isobel Blackthorn, who holds a PhD in Western Esotericism for her in-depth study on the Lucis Trust co-founder Alice Bailey, ''Conspiracists are not wrong when they point to the infiltration of the UN by Alice Bailey's co-workers. Membership of the UN's Spiritual Caucus is filled with her people. Her organisation, World Goodwill, is a UN NGO. In 1952, Eleanor Roosevelt read Alice Bailey's prayer, The Great Invocation, on a radio broadcast from the UN building in New York.''

This would be the same year that the Meditation Room was first unveiled.

''Evidence of the growth of the human intellect along the needed receptive lines [for the preparation of the New Age] can be seen in the ''planning'' of various nations and in the efforts of the United Nations to formulate a world plan '... From the very start of this unfoldment, three occult factors have governed the development of all these plans'...''

-Alice Bailey in Discipleship in the New Age (1995)

''One key UN figure closely associated with Alice Bailey is Robert Muller, who served in the UN for forty years and was assistant to three Secretary Generals. Muller devised the World Core Curriculum for which he was awarded the UNESCO Peace Education Prize in 1989, a curriculum loosely based on Alice Bailey's Education in the New Age . He contributed to Alice Bailey's magazine, The Beacon , and addressed Arcane School conferences,'' Blackthorn wrote in Alice A. Bailey: Mother of the New Age or the New World Order? (2019).

''Dag Hammarskj¶ld, the rational Nordic economist, had ended up as a mystic,'' Muller once wrote of the former UN Secretary General and Meditation Room pioneer in The Desire to be Human: A Global Reconnaissance of Human Perspectives in an Age of Transformation (1983). ''He too held at the end of his life that spirituality was the ultimate key to our earthly fate in time and space'...''

I would be lying to you if I claimed to have all the answers, but I'm certain that this unsettling mystery gets even more complex, confusing, and concerning.

It is evident, however, that there exists a strange religion deeply rooted within the UN, which has historically served as its spiritual foundation . Something about all of the world's religions uniting together upon the coming of a cosmic ''Christ'' '-- a one world religion biding its time in the shadows (or out in the open, hiding in plain sight).

''Crises, as we know from our own direct experience, serve as great spiritual opportunities, challenging us to move ever closer to our own inner divinity. Thus, the pending intensification of planetary crises will serve to test and prepare humanity for the unprecedented and imminent opportunity in which millions may tread the path of initiation.

We are told in fact, that this is one of the reasons why the Christ must reappear at this time. For it is He who officiates at the first two initiations, which once again-as in Old Atlantis-will be openly commemorated on the physical plane.''

-Ida Urso, Ph.D., at the 15th Annual International Conference of the Seven Ray Institute , March 24th, 2001.

UN Peace and Safety monumentWilliam Jasper , author of A New World Religion (2002) described it as "...a weird and diabolical convergence of New Age mysticism, pantheism, aboriginal animism atheism, communism, socialism, Luciferian occultism, apostate Christianity, Islam, Taoism, Buddhism, and Hinduism.''

Why it's so hard to add electrical transmission lines in the U.S.

Mon, 20 Mar 2023 23:33

Service technicians work to install the foundation for a transmission tower at the CenterPoint Energy power plant on June 10, 2022 in Houston, Texas.

Brandon Bell | Getty Images News | Getty Images

This story is part of CNBC's "Transmission Troubles" series, an inside look at why the aging electrical grid in the U.S. is struggling to keep up, how it's being improved, and why it's so vital to fighting climate change.

Part 1: Why America's outdated energy grid is a climate problem Part 3: Why a U.S. national electric grid would be great for the climate '-- and is nearly impossibleBuilding new transmission lines in the United States is like herding cats. Unless that process can be fundamentally improved, the nation will have a hard time meeting its climate goals.

The transmission system in the U.S. is old, doesn't go where an energy grid powered by clean energy sources needs to go, and isn't being built fast enough to meet projected demand increases.

Building new transmission lines in the U.S. takes so long '-- if they are built at all '-- that electrical transmission has become a roadblock for deploying clean energy.

"Right now, over 1,000 gigawatts worth of potential clean energy projects are waiting for approval '-- about the current size of the entire U.S. grid '-- and the primary reason for the bottleneck is the lack of transmission," Bill Gates wrote in a recent blog post about transmission lines.

The stakes are high.

From 2013 to 2020, transmission lines have expanded at only about 1% per year. To achieve the full impact of the historic Inflation Reduction Act, that pace must more than double to an average of 2.3% per year, according to a Princeton University report led by professor Jesse Jenkins, who is a macro-scale energy systems engineer.

Herding cats with competing interestsBuilding new transmission lines requires countless stakeholders to come together and hash out a compromise about where a line will run and who will pay for it.

There are 3,150 utility companies in the country, the U.S. Energy Information Administration told CNBC, and for transmission lines to be constructed, each of the affected utilities, their respective regulators, and the landowners who will host a line have to agree where the line will go and how to pay for it, according to their own respective rules.

Aubrey Johnson, a vice president of system planning for the Midcontinent Independent System Operator (MISO), one of seven regional planning agencies in the U.S., compared his work to making a patchwork quilt from pieces of cloth.

"We are patching and connecting all these different pieces, all of these different utilities, all of these different load-serving entities, and really trying to look at what works best for the greatest good and trying to figure out how to resolve the most issues for the most amount of people," Johnson told CNBC.

What's more, the parties at the negotiating table can have competing interests. For example, an environmental group is likely to disagree with stakeholders who advocate for more power generation from a fossil-fuel-based source. And a transmission-first or transmission-only company involved is going to benefit more than a company whose main business is power generation, potentially putting the parties at odds with each other.

The system really flounders when a line would span a long distance, running across multiple states.

States "look at each other and say: 'Well, you pay for it. No, you pay for it.' So, that's kind of where we get stuck most of the time," Rob Gramlich, the founder of transmission policy group Grid Strategies, told CNBC.

"The industry grew up as hundreds of utilities serving small geographic areas," Gramlich told CNBC. "The regulatory structure was not set up for lines that cross 10 or more utility service territories. It's like we have municipal governments trying to fund an interstate highway."

This type of headache and bureaucratic consternation often prevent utilities or other energy organizations from even proposing new lines.

"More often than not, there's just not anybody proposing the line. And nobody planned it. Because energy companies know that there's not a functioning way really to recover the costs," Gramlich told CNBC.

Electrical transmission towers during a heatwave in Vallejo, California, US, on Sunday, Sept. 4, 2022. Blisteringly hot temperatures and a rash of wildfires are posing a twin threat to California's power grid as a heat wave smothering the region peaks in the days ahead. Photographer: David Paul Morris/Bloomberg via Getty Images

Bloomberg | Bloomberg | Getty Images

Who benefits, who pays?Energy companies that build new transmission lines need to get a return on their investment, explains James McCalley, an electrical engineering professor at Iowa State University. "They have got to get paid for what they just did, in some way, otherwise it doesn't make sense for them to do it."

Ultimately, an energy organization '-- a utility, cooperative, or transmission-only company '-- will pass the cost of a new transmission line on to the electricity customers who benefit.

"One principle that has been imposed on most of the cost allocation mechanisms for transmission has been, to the extent that we can identify beneficiaries, beneficiaries pay," McCalley said. "Someone that benefits from a more frequent transmission line will pay more than someone who benefits less from a transmission line."

But the mechanisms for recovering those costs varies regionally and on the relative size of the transmission line.

Regional transmission organizations, like MISO, can oversee the process in certain cases but often get bogged down in internal debates. "They have oddly shaped footprints and they have trouble reaching decisions internally over who should pay and who benefits," said Gramlich.

The longer the line, the more problematic the planning becomes. "Sometimes its three, five, 10 or more utility territories that are crossed by needed long-distance high-capacity lines. We don't have a well-functioning system to determine who benefits and assign costs," Gramlich told CNBC. (Here is a map showing the region-by-region planning entities.)

Johnson from MISO says there's been some incremental improvement in getting new lines approved. Currently, the regional organization has approved a $10.3 billion plan to build 18 new transmission projects. Those projects should take seven to nine years instead of the 10 to 12 that is historically required, Johnson told CNBC.

"Everybody's becoming more cognizant of permitting and the impact of permitting and how to do that and more efficiently," he said.

There's also been some incremental federal action on transmission lines. There was about $5 billion for transmission-line construction in the IRA, but that's not nearly enough, said Gramlich, who called that sum "kind of peanuts."

The U.S. Department of Energy has a "Building a Better Grid" initiative that was included in President Joe Biden's Bipartisan Infrastructure Law and is intended to promote collaboration and investment in the nation's grid.

In April, the Federal Energy Regulatory Commission issued a notice of proposed new rule, named RM21-17, which aims to address transmission-planning and cost-allocation problems. The rule, if it gets passed, is "potentially very strong," Gramlich told CNBC, because it would force every transmission-owning utility to engage in regional planning. That is if there aren't too many loopholes that utilities could use to undermine the spirit of the rule.

What success looks likeGramlich does point to a couple of transmission success stories: The Ten West Link, a new 500-kilovolt high-voltage transmission line that will connect Southern California with solar-rich central Arizona, and the $10.3 billion Long Range Transmission Planning project that involves 18 projects running throughout the MISO Midwestern region.

"Those are, unfortunately, more the exception than the rule, but they are good examples of what we need to do everywhere," Gramlich told CNBC.

This map shows the 18 transmission projects that make up the $10.3 billion Long Range Transmission Planning project approved by MISO.

Map courtesy MISO

In Minnesota, the nonprofit electricity cooperative Great River Energy is charged with making sure 1.3 million people have reliable access to energy now and in the future, according to vice president and chief transmission officer Priti Patel.

"We know that there's an energy transition happening in Minnesota," Patel told CNBC. In the last five years, two of the region's largest coal plants have been sold or retired and the region is getting more of its energy from wind than ever before, Patel said.

Great River Energy serves some of the poorest counties in the state, so keeping energy costs low is a primary objective.

"For our members, their north star is reliability and affordability," Patel told CNBC.

An representative of the Northland Reliability Project, which Minnesota Power and Great River Energy are working together to build, is speaking with community members at an open house about the project and why it is important.

transmission lines, energy grid, clean energy

Great River Energy and Minnesota Power are in the early stages of building a 150-mile, 345 kilovolt transmission line from northern to central Minnesota. It's called the Northland Reliability Project and will cost an estimated $970 million.

It's one of the segments of the $10.3 billion investment that MISO approved in July, all of which are slated to be in service before 2030. Getting to that plan involved more than 200 meetings, according to MISO.

The benefit of the project is expected to yield at least 2.6 and as much as 3.8 times the project costs, or a delivered value between $23 billion and $52 billion. Those benefits are calculated over a 20-to-40-year time period and take into account a number of construction inputs including avoided capital cost allocations, fuel savings, decarbonization and risk reduction.

The cost will eventually be borne by energy users living in the MISO Midwest subregion based on usage utility's retail rate arrangement with their respective state regulator. MISO estimates that consumers in its footprint will pay an average of just over $2 per megawatt hour of energy delivered for 20 years.

But there is still a long process ahead. Once a project is approved by the regional planning authority '-- in this case MISO '-- and the two endpoints for the transmission project are decided, then Great River Energy and Minnesota Power are responsible for obtaining all of the land use permits necessary to build the line.

"MISO is not going to be able to know for certain what Minnesota communities are going to want or not want," Patel told CNBC. "And that gives the electric cooperative the opportunity to have some flexibility in the route between those two endpoints."

For Great River Energy and Minnesota Power, a critical component of engaging with the local community is hosting open houses where members of the public who live along the proposed route meet with project leaders to ask questions.

For this project, the utilities specifically planned the route of the transmission to run along a previously existing corridors as much as possible to minimize landowner disputes. But it's always a delicate subject.

A map of the Northland Reliability Project, which is one of 18 regional transmission projects approved by MISO, the regional regulation agency. It's estimated to cost $970 million.

Map courtesy Great River Energy

"Going through communities with transmission, landowner property is something that is very sensitive," Patel told CNBC. "We want to make sure we understand what the challenges may be, and that we have direct one-on-one communications so that we can avert any problems in the future."

At times, landowners give an absolute "no." In others, money talks: the Great River Energy cooperative can pay a landowner whose property the line is going through a one-time "easement payment," which will vary based on the land involved.

"A lot of times, we're able to successfully '-- at least in the past '-- successfully get through landowner property," Patel said. And that's due to the work of the Great River Energy employees in the permitting, siting and land rights department.

"We have individuals that are very familiar with our service territory, with our communities, with local governmental units, and state governmental units and agencies and work collaboratively to solve problems when we have to site our infrastructure."

Engaging with all members of the community is a necessary part of any successful transmission line build-out, Patel and Johnson stressed.

At the end of January, MISO held a three-hour workshop to kick off the planning for its next tranche of transmission investments.

"There were 377 people in the workshop for the better part of three hours," MISO's Johnson told CNBC. Environmental groups, industry groups, and government representatives from all levels showed up and MISO energy planners worked to try to balance competing demands.

"And it's our challenge to hear all of their voices, and to ultimately try to figure out how to make it all come together," Johnson said.

Also in this series: Why America's outdated energy grid is a climate problem

New Study: Aircraft Noise Can Damage the Heart

Mon, 20 Mar 2023 23:01

Myocardial infarction, also known as a heart attack, occurs when the blood supply to a part of the heart muscle is blocked, causing damage to the heart muscle.

New research indicates that aircraft noise exacerbates the damage caused by myocardial infarction.Traffic noise may be a significant factor in the progression and worsening of ischemic heart disease. A recent discovery by researchers from the Cardiology Department at the University Medical Center Mainz found that exposure to noise (with an average sound pressure level of 72 dB and a peak level of 85 dB) for up to 4 days resulted in increased pro-inflammatory aortic gene expression in mice.

The researchers found that noise caused adhesion and infiltration of inflammatory cells in the vascular and cardiac tissue. This was accompanied by an increased percentage of leukocytes with a pro-inflammatory, reactive oxygen species (ROS)-producing phenotype and expression of the phagocytic NADPH oxidase/phospho-NFκB in peripheral blood. In order to induce myocardial infarction and worsen cardiac function, the group used the permanent LAD ligation model.

Noise-induced stress causes the release of stress hormones that trigger an inflammatory response, leading to more severe myocardial infarction, oxidative stress and endothelial dysfunction, and subsequent heart failure. Credit: Cardiovascular Research

Noise exposure before MI induced more severe endothelial dysfunction and more pronounced increases in vascular ROS and signs of inflammation in animals preconditioned with noise. Participants of the population-based Gutenberg Health Cohort Study (median follow-up:11.4y) with incident MI revealed elevated C-reactive protein (CRP) at baseline and worse LVEF after MI in case of a history of noise exposure and subsequent development of noise annoyance.

The lead and senior authors Michael Molitor and Philip Wenzel commented: ''We learned from our studies that aircraft noise exposure before MI substantially amplifies subsequent cardiovascular inflammation and aggravates ischemic heart failure facilitated by pro-inflammatory vascular conditioning. Our translational results show that humans that had noise exposure in the past will have a worse outcome if they have an acute MI later in life''.

The cardiologist and noise expert Thomas M¼nzel concluded: ''This is the first time that a translational study was performed to investigate the effects of aircraft noise on acute myocardial infarction. The results were stunning. In experimental animals and humans, aircraft noise markedly exaggerated the consequences of ischemia (left ventricular function, inflammation, and oxidative stress) in response to an acute myocardial infarction. There is no doubt anymore that transportation noise must be considered an important cardiovascular risk factor, comparable to hypercholesterolemia, hypertension, smoking, and diabetes mellitus.''

Reference: ''Aircraft noise exposure induces pro-inflammatory vascular conditioning and amplifies vascular dysfunction and impairment of cardiac function after myocardial infarction'' by Michael Molitor, Maria T Bayo-Jimenez, Omar Hahad, Claudius Witzler, Stefanie Finger, Venkata S Garlapati, Sanela Rajlic, Tanja Knopp, Tabea K Bieler, Melania Aluia, Johannes Wild, Jeremy Lagrange, Recha Blessing, Steffen Rapp, Andreas Schulz, Hartmut Kleinert, Susanne Karbach, Sebastian Steven, Wolfram Ruf, Philipp Wild, Andreas Daiber, Thomas M¼nzel and Philip Wenzel, 26 January 2023, Cardiovascular Research.DOI: 10.1093/cvr/cvad021

The study was funded by the Boehringer Ingelheim Foundation.

New app that turns smartphones into dashcams may soon be able to detect SPEEDING | Daily Mail Online

Mon, 20 Mar 2023 22:58

A speed camera in EVERY car: New app turns mobile phones into dashcams that can report 21 traffic offences to police at the touch of a button - and could soon be upgraded to detect how fast other vehicles are goingA new app dashcamUK converts smartphones into dashcams, launching in MayThe free app detects 21 motoring offences and could soon even record speeding By Stewart Carr

Published: 22:03 EDT, 18 March 2023 | Updated: 04:38 EDT, 19 March 2023

A new free app which converts smartphones into dashcams could soon be advanced enough to clock other motorists for speeding.

The free dashcamUK app allow motorists to submit evidence of 21 different driving offences to the police.

It can capture transgressions including jumping a red light, failing to indicate and using a mobile phone while driving.

The app, which launches in May, may yet be developed with the ability to track speeding, The Times reports.

Only around a quarter of the country's 33million drivers has a dashcam, while almost everyone has a mobile phone - meaning the app has the potential to radically increase reports of road crime.

The dashcamUK app which converts smartphones into dashcams could soon be advanced enough to clock other motorists for speeding

James Gibson, executive director of Road Safety GB, said: 'If drivers believe that they're being watched by others, we hope they will drive in the right way.'

Creator Oleksiy Afonin, 46, said footage could be submitted to official police video portal in less than a minute and is far simpler than using a traditional dashcam.

Ukrainian-born Afonin held a series of early meetings with the National Police Chiefs' Council while he was coming up with the app.

As a result, it includes a number of recommended features to ensure the video evidence stands up to scrutiny in court.

Those using the app while driving will not face a risk of using a mobile phone behind the wheel, as they will simply be required to touch th home screen to record a breach.

The app records the user's experience on the road but, unless the users taps the screen, it automatically deletes footage after 30 seconds in order to preserve the phone's storage.

Public emergency alerts to be sent to all UK smartphones - BBC News

Mon, 20 Mar 2023 22:55

Image source, PA Media Image caption, The alerts will initially focus on the most serious weather-related events, such as this flooding in York

A siren-like alert will be sent to smartphone users across the UK next month to test a new government public warning system.

It allows the government and emergency services to send urgent messages warning the public of life-threatening situations like flooding or wildfires.

The test is expected to take place in the early evening of 23 April.

Phone users will have to acknowledge the alert before they can use other features on their devices.

A message will appear on the home screens of people's devices during the test, with vibration and a loud warning sound that will ring for about 10 seconds, even if the phone is set to silent.

The system - which became operational on Sunday - is being modelled on similar schemes used in the US, Canada, Japan and The Netherlands. Emergency alerts work on all 4G and 5G phone networks and will not include older "non-smart" phones, the government said.

Messages would only ever come from the government or emergency services and will initially focus on the most serious weather-related events, with the ability to get a message to 90% of mobile users within the relevant area.

Terror alerts could be added to the list of potential events that would trigger a notification.

The messages will include details of the area impacted and instructions about how to respond. They will only be sent where there is an immediate risk to life and many people may not receive an alert for months or years.

Cabinet minister Oliver Dowden told the BBC the warnings are sent in a "very targeted way" and other than the test, he hopes many people will never hear the alert again.

People can opt out by searching their device settings for emergency alerts and then turning off severe and extreme ones. Officials say the alerts could be life-saving, though, advising against switching them off.

Alerts 'can save a life'

The Cabinet Office says the service will be secure, free to receive and will not collect personal information such as someone's telephone number, identity or location.

The new system uses cell broadcasting technology and messages will be based on someone's current location - but location services do not need to be switched on to receive the alerts.

That is because when an alert is triggered, all cell towers in a defined area will broadcast it, allowing the message to reach an area the size of an electoral ward.

The government has released a video of what the alerts will sound like.

Figure caption, Warning: Third party content may contain adverts

Trials have already been held in Reading and East Suffolk. People will also be alerted if they are in one of 19 other countries which currently use them.

Mr Dowden, whose role as Chancellor of the Duchy of Lancaster gives him oversight of the preparation and planning for emergencies, said the technology would "revolutionise our ability to warn and inform people who are in immediate danger".

And he told the BBC's Sunday with Laura Kuenssberg programme the alert is "a sound that can save your life".

He said people are likely to hear the alert in instances where there has been a major flood and "your house was at risk of being inundated and your life is at risk".

National Fire Chiefs Council chairman Mark Hardingham said the new system would help fire and rescue services to do their jobs "and to help communities in the event of emergencies".

He said: "We've seen this type of system in action elsewhere across the world and we look forward to having the facility here in the UK - by working together with fire services and partners, we want this system to help us to help you be as safe as you can if a crisis does hit."

The Environment Agency's Caroline Douglas, executive director for flood and coastal erosion risk management, said the system would allow officials to communicate warnings in a "timely and accurate manner".

Scientists deliver 'final warning' on climate crisis: act now or it's too late | Climate crisis | The Guardian

Mon, 20 Mar 2023 22:54

Scientists have delivered a ''final warning'' on the climate crisis, as rising greenhouse gas emissions push the world to the brink of irrevocable damage that only swift and drastic action can avert.

The Intergovernmental Panel on Climate Change (IPCC), made up of the world's leading climate scientists, set out the final part of its mammoth sixth assessment report on Monday.

The comprehensive review of human knowledge of the climate crisis took hundreds of scientists eight years to compile and runs to thousands of pages, but boiled down to one message: act now, or it will be too late.

The UN secretary general, Ant"nio Guterres, said: ''This report is a clarion call to massively fast-track climate efforts by every country and every sector and on every timeframe. Our world needs climate action on all fronts: everything, everywhere, all at once.''

In sober language, the IPCC set out the devastation that has already been inflicted on swathes of the world. Extreme weather caused by climate breakdown has led to increased deaths from intensifying heatwaves in all regions, millions of lives and homes destroyed in droughts and floods, millions of people facing hunger, and ''increasingly irreversible losses'' in vital ecosystems.

Monday's final instalment, called the synthesis report, is almost certain to be the last such assessment while the world still has a chance of limiting global temperature rises to 1.5C above pre-industrial levels, the threshold beyond which our damage to the climate will rapidly become irreversible.

IPCC climate crisis report delivers 'final warning' on 1.5C '' videoKaisa Kosonen, a climate expert at Greenpeace International, said: ''This report is definitely a final warning on 1.5C. If governments just stay on their current policies, the remaining carbon budget will be used up before the next IPCC report [due in 2030].''

More than 3bn people already live in areas that are ''highly vulnerable'' to climate breakdown, the IPCC found, and half of the global population now experiences severe water scarcity for at least part of the year. In many areas, the report warned, we are already reaching the limit to which we can adapt to such severe changes, and weather extremes are ''increasingly driving displacement'' of people in Africa, Asia, North, Central and South America, and the south Pacific.

Global average temperature graphAll of those impacts are set to increase rapidly, as we have failed to reverse the 200-year trend of rising greenhouse gas emissions, despite more than 30 years of warnings from the IPCC, which published its first report in 1990.

The world heats up in response to the accumulation of carbon dioxide and other greenhouse gases in the atmosphere, so every year in which emissions continue to rise eats up the available ''carbon budget'' and means much more drastic cuts will be needed in future years.

Yet there is still hope of staying within 1.5C, according to the report. Hoesung Lee, the chair of the IPCC, said: ''This synthesis report underscores the urgency of taking more ambitious action and shows that, if we act now, we can still secure a livable sustainable future for all.''

Temperatures are now about 1.1C above pre-industrial levels, the IPCC found. If greenhouse gas emissions can be made to peak as soon as possible, and are reduced rapidly in the following years, it may still be possible to avoid the worst ravages that would follow a 1.5C rise.

Richard Allan, a professor of climate science at the University of Reading, said: ''Every bit of warming avoided due to the collective actions pulled from our growing, increasingly effective toolkit of options is less worse news for societies and the ecosystems on which we all depend.''

Guterres called on governments to take drastic action to reduce emissions by investing in renewable energy and low-carbon technology. He said rich countries must try to reach net zero greenhouse gas emissions ''as close as possible to 2040'', rather than waiting for the 2050 deadline most have signed up to.

skip past newsletter promotionSign up to Down to Earth

Free weekly newsletterThe planet's most important stories. Get all the week's environment news - the good, the bad and the essential

Privacy Notice: Newsletters may contain info about charities, online ads, and content funded by outside parties. For more information see our Privacy Policy. We use Google reCaptcha to protect our website and the Google Privacy Policy and Terms of Service apply.after newsletter promotion

He said: ''The climate timebomb is ticking. But today's report is a how-to guide to defuse the climate timebomb. It is a survival guide for humanity. As it shows, the 1.5C limit is achievable.''

John Kerry, the US special presidential envoy for climate, said: ''Today's message from the IPCC is abundantly clear: we are making progress, but not enough. We have the tools to stave off and reduce the risks of the worst impacts of the climate crisis, but we must take advantage of this moment to act now.''

Monday's ''synthesis report'' is the final part of the sixth assessment report (AR6) by the IPCC, which was set up in 1988 to investigate the climate and provide scientific underpinning to international policy on the crisis. The first three sections of AR6, published between August 2021 and April 2022, covered the physical science behind the climate crisis, and warned irreversible changes were now almost inevitable; section two covered the impacts, such as the loss of agriculture, rising sea levels, and the devastation of the natural world; and the third covered the means by which we can cut greenhouse gases, including renewable energy, restoring nature and technologies that capture and store carbon dioxide.

The ''synthesis report'' contains no new science, but draws together key messages from all of the preceding work to form a guide for governments. The next IPCC report is not due to be published before 2030, making this report effectively the scientific gold standard for advice to governments in this crucial decade.

The final section of AR6 was the ''summary for policymakers'', written by IPCC scientists but scrutinised by representatives of governments around the world, who can '' and did '' push for changes. The Guardian was told that in the final hours of deliberations at the Swiss resort of Interlaken over the weekend, the large Saudi Arabian delegation, of at least 10 representatives, pushed at several points for the weakening of messages on fossil fuels, and the insertion of references to carbon capture and storage, touted by some as a remedy for fossil fuel use but not yet proven to work at scale.

In response to the report, Peter Thorne, the director of the Icarus climate research centre at Maynooth University in Ireland, said next year global temperatures could breach the 1.5C limit, though this did not mean the limit had been breached for the long term. ''We will, almost regardless of the emissions scenario given, reach 1.5C in the first half of the next decade,'' he said. ''The real question is whether our collective choices mean we stabilise around 1.5C or crash through 1.5C, reach 2C and keep going.''

IPCC climate scientists issue 'a survival guide for humanity', warning window closing to reduce emissions - ABC News

Mon, 20 Mar 2023 22:54

The world's climate scientists have issued what one expert said is a "final warning" before global warming exceeds 1.5 degrees Celsius.

Key points: The IPCC says it's "unequivocal" that climate is changing as a result of human activity At present, between 3.3 and 3.6 billion people are living in places "highly vulnerable" to climate change Meanwhile, the UN has called on developed countries to phase out coal by 2030"The climate time-bomb is ticking," said UN Secretary-General Ant"nio Guterres, at a meeting of the Intergovernmental Panel on Climate Change (IPCC), which this week released its final "synthesis report", marking six years of work by about 700 scientists.

"Today's IPCC report is a how-to guide to defuse the climate time-bomb," he said. "It is a survival guide for humanity."

Representatives of 195 countries negotiated an agreed text for the summary report, after assessing tens of thousands of scientific studies.

Haven't we seen a lot of IPCC reports already?The report, known as the AR6, is a synthesis of six other reports by the IPCC '-- taking enormous amounts of data and simplifying it so policymakers inside and outside governments can use it.

As you can probably guess, there's not a lot of good news.

However, the scientists say there is still time to avoid the worst impacts of climate change and every bit of carbon pollution makes a difference.

The authors concluded:

It was now "unequivocal" that climate is changing as a result of human activity, and that it is a threat to human societies and the natural world Climate change is already making extreme weather events more frequent '-- with 3.3 to 3.6 billion people living in places ''highly vulnerable'' to these changes Cuts to emissions need to be "deep, rapid and sustained" if the world is to limit warming to 1.5 degrees Celsius this decade If warming goes above that, adaptation will likely be too much for some communities and ecosystems to survive.On Australia's Torres Strait islands, Warraber man Daniel Billy has been taking photos of what has already been lost as the sea creeps up on his homeland.

Daniel Billy posts pictures of Warraber Island to social media, showing where families once gathered is now eroded by the sea.( Facebook: Daniel Billy )"Just to see a lot of the land mass taken out from the islands, it's really sad," he said.

"It's destroying places.

"It's very sad and it's scary at the same time, as it's slowly coming up to the community."

Mr Billy is worried about the cemetery, metres from the shoreline, where his parents have been laid to rest.

"I don't want to pick up my parents' remains from the reef," he said.

"I don't want my children, or their children, my nieces and nephews to pick up my remains."

Mr Billy is one of eight Torres Strait Islanders who took their case to the United Nations Human Rights Committee, which found Australia had failed to protect the community from climate change.

"We don't contribute anything to climate change, but we suffer the most '... we must stand up and have a voice to stop mining companies.

"Stop digging into the ground, because we're copping it up here."

Torres Strait Islanders went to the United Nations to pressure the government to do more to arrest the effects of climate change on their shores.( Facebook: Daniel Billy )It's a call supported by the United Nations, the report's authors and climate scientists.

In launching the report, Mr Guterres specifically called on wealthy countries, such as Australia, to urgently stop approving new coal, gas and oil projects.

"Demanding others move first only ensures humanity comes last," he said.

The UN's Ant"nio Gueteres is calling for "the phasing out of coal by 2030 in OECD countries and 2040 in all other countries".( ABC News: Khama Reid )The whole world needed to act quickly, he said.

"We have never been better equipped to solve the climate challenge '-- but we must move into warp speed climate action now," Mr Guterres said. "We don't have a moment to lose."

UNSW climate scientist Sarah Perkins-Kirkpatrick says her studies have shown climate is making extreme temperature events occur more often and more intensely.( Supplied: Tamara Dean )University of New South Wales Associate Professor Sarah Perkins Kirkpatrick said it had to be done before 2030.

"Bottom line, we need to stop burning fossil fuels '-- 80 per cent of anthropogenic greenhouse gas emissions actually comes from burning fossil fuels [such as] coal, oil and gas," she said.

"If we can stop doing that through various different methods '-- such as renewable energy, electric cars, no gas being burned at all '-- then that's a huge piece of the puzzle solved.

"It's not the entire piece, but it's a really massive piece solved."

Is this really a 'final warning' from the world's scientists?Dr Perkins-Kirkpatrick described this report '-- which completes the IPCC's sixth round of assessments '-- as a ''final warning'' because a 1.5C rise in global temperature would threaten the planetary systems human life depends on.

AR7, the next assessment report, is expected to be issued after 2030, when global warming is on track to have already breached the 1.5C limit.

Sarah Perkins-Kirkpatrick says while we'd "never want to completely give up", global warming will run away from us if the world doesn't act quickly.( Supplied: Sarah Perkins-Kirkpatrick )''This is the final warning to limit the climate warming,'' Dr Perkins-Kirkpatrick said.

"In the next 10 years, we'll overshoot that 1.5-degree threshold, but then we can bring it back down again '-- with heavy climate mitigation, heavy investment in renewable energy and also carbon capture and storage,'' she said.

Ant"nio Gueteres says governments must shift subsidies from fossil fuels to a "just energy transition".( ABC News: Brendan Esposito )Macquarie University's Professor Lesley Hughes said what happens in the next seven years would be vital if we're to leave a world that's habitable for our children and grandchildren.

"One of the things this IPCC report emphasises is that the window of opportunity for a safer climate in the second half of this century is closing rapidly, but it's not yet closed," she said.

"So, what we do, particularly between now and 2030, is absolutely critical."

Is Australia doing enough?Professor Hughes said Australia has a lot to lose from climate change '-- with the southern oceans warming at a faster rate than the global average.

"We have a population '-- 86 per cent of [whom] lives within 50 kilometres of the Australian coastline '-- so we have most of our people and most of our valuable infrastructure on the coast in harm's way from sea-level rises and storm surges," she said.

"We have a very hot and dry continent, so people [who] live inland, whether they just live there or they're producing our food, have enormous challenges to cope with in terms of both droughts and then flooding."

However, the latest resources and energy major projects (REMP) report '-- released last year by the federal government '-- showed that Australia has not yet heeded the UN's call to stop investing in coal, gas and oil.

According to the REMP report, 30 major coal, gas and oil projects worth billions of dollars have been green-lit by the government.

The UN's Secretary-General is calling on governments around the world to stop "any expansion of existing oil and gas reserves".( ABC News: Brendan Esposito )For Mr Billy, no amount of money is worth the loss of his island home.

"I'm thinking of the future of my tradition and culture that was passed down for so many generations, for over thousands of years, the future of that," he said.

"Because I don't want my people to be refugees in our own country, to move to the mainland, to lose their identity."

Posted 9h ago9 hours agoMon 20 Mar 2023 at 1:01pm, updated 7h ago7 hours agoMon 20 Mar 2023 at 2:57pm

It Turns Out That JPMorgan Bought The 'Nickel' That Was Actually 'A Bag Of Rocks' | ZeroHedge

Mon, 20 Mar 2023 22:28

2023 has not been a glowing one for JPMorgan.

In mid-January, we discovered that the giant US bank was tricked into paying $175 million for some millennial's fake rolodex to enhance its college financial aid platform.

Javice allegedly fabricated an enormous list of "fake customers '' a list of names, addresses, dates of birth, and other personal information for 4.265 million 'students' who did not actually exist."

Oops.

Frank founder Charlie Javice, Jamie DimonBut, now, in mid-March, we may have an even more embarrassing moment for Jamie Dimon.

Some may remember, but in early February, we reported details of a huge nickel trading scam that involved Trafigura (one of the world's largest commodity traders) facing 100s of millions of dollars in losses, after discovering metal cargoes it bought from an Indian businessman didn't contain the metal they were supposed to.

''Since late December 2022, a small proportion of the containers purchased from these companies have been inspected as they reached their destination, and were found not to contain nickel,'' Trafigura said in the statement.

Well, it turns out, Trafigura was not alone.

The Wall Street Journal reports that, according to people familiar with the matter, JPMorgan owned the LME nickel contracts that turned out to be backed by bags of stones rather than metal.

Last week, the LME announced that it had canceled nine nickel contracts - worth about $1.3 million - after it discovered bags of stones instead of the nickel that underpinned a handful of its contracts at a warehouse in Rotterdam.

JPMorgan was the owner of the nine invalidated contracts, according to people familiar with the matter.

The ''irregularities'' all occurred at one warehouse owned by Access World (which was owned by Glencore at the time of the purchase).

Access World said it is inspecting the ''warranted'' bags of nickel briquettes at all its locations, but believes that the issue that led to the nine warrants being suspended ''is an isolated case and specific to one warehouse in Rotterdam.''

The discovery has set off a wider scramble across the metals world, with warehouse companies racing over the weekend to re-inspect and re-weigh thousands of tons of metal after the LME asked them to verify all the nickel currently on warrant.

''LME warehouse warrants used to be the gold standard of warehouse warrants around the world, treated as a near-cash equivalent,'' John MacNamara, chief executive officer of Carshalton Commodities Ltd. and a veteran commodity trade finance banker, wrote on LinkedIn.

''Something has gone horribly wrong at the LME.''

To be clear, there's no suggestion that JPMorgan did anything wrong... it's just another embarrassment.

Yes, we know Jamie Dimon agreed to dump some of JPM's excess deposit cash into First Republic (but to be frank, firstly, it was cash he got as depositors bailed from regionals; and secondly, he knows its guaranteed by The Fed no matter what size it was)...

...and now FRC has crashed to a new record low - not exactly great work on the 'bailout' front.

Loading...
ALL VIDEOS

VIDEO - (8) Dutch Farmers Win Big In Anti-Climate Change Backlash! - YouTube

VIDEO - Ashley Gold Previews TikTok CEO Testifying Before Congress | C-SPAN.org

Thu, 23 Mar 2023 15:26

March 23, 2023 | Part Of Washington Journal 03/23/2023 Washington Journal2023-03-23T09:04:00-04:00 https://ximage.c-spanvideo.org/eyJidWNrZXQiOiJwaWN0dXJlcy5jLXNwYW52aWRlby5vcmciLCJrZXkiOiJGaWxlc1wvZDI0XC8wMDFcLzE2Nzk1NzY4MzRfMDAxLmpwZyIsImVkaXRzIjp7InJlc2l6ZSI6eyJmaXQiOiJjb3ZlciIsImhlaWdodCI6NTA2fX19 Ashley Gold previewed TikTok CEO Shou Chew testifying before the House Energy and Commerce Committee on the company's privacy and data practices.Ashley Gold previewed TikTok CEO Shou Chew testifying before the House Energy and Commerce Committee on the company's privacy and data practices.

Report Video IssueGo to Live Event"; // $('div#video-embed').html(cookieMsg); // return; // } // });

*This text was compiled from uncorrected Closed Captioning.

Related Video December 7, 2022 White House Daily BriefingWhite House Press Secretary Karine Jean-Pierre briefed reporters and responded to questions on several issues,'...

July 8, 2021 Sara Fischer on Trump Lawsuit Against Big Tech CEOsSara Fischer talked about former President Trump's lawsuit against Facebook, Google, Twitter, and their CEOs, alleging'...

June 2, 2021 Communicators on Telecommunications Issues and Social Media RegulationTechnology reporters talked about telecommunications issues and potential regulation affecting social media, antitrust, and'...

May 12, 2021 Communicators with Representative Bob LattaRepresentative Bob Latta (R-OH), ranking member of the House Energy and Commerce Subcommittee on Communications and'...

User Created Clips from This Video 3 minutes7 views

VIDEO - (8) EzriCare eye drops under investigation after infections, one death in 11 states - YouTube

VIDEO - (26) AZ 🛰🌏🌍🌎 on Twitter: "🇺🇸🪧Blinken hearing was interupted and the woman had to be removed,since she said some truths.... "You are supposed to be a dplomat,start negotiating.If you don't like Chinese proposals, where are your

Thu, 23 Mar 2023 14:57

AZ 🛰🌏🌍🌎 : 🇺🇸🪧Blinken hearing was interupted and the woman had to be removed,since she said some truths.... "You are suppose'... https://t.co/QDkZvH0XEv

Wed Mar 22 19:45:38 +0000 2023

VIDEO - TikTok chief faces US Congress as lawmakers mull ban ' FRANCE 24 English - YouTube

VIDEO - 'Answer My Question': Sen. John Kennedy Grills Biden Treasury Secretary On 'Unsustainable' Debt | The Daily Caller

Thu, 23 Mar 2023 12:36

Republican Sen. John Kennedy of Louisiana grilled Treasury Secretary Janet Yellen Wednesday on what level of debt was ''unsustainable.''

''So, what the president is saying is '-- these are my words, not his '-- because of his budget, we're going to have three heart attacks and a stroke instead of four heart attacks and a stroke,'' Kennedy said during a Wednesday hearing of the Senate Appropriations Committee, noting that the federal debt was slated to climb by $18 trillion over ten years. (RELATED: Biden HHS Secretary Unable To Say How Many Gov't Workers Actually Show Up To Work In Federal Buildings)

President Joe Biden released a proposed budget for fiscal year 2024 March 9, which included over $5 trillion in new tax increases, including a 20% hike in the capital gains tax rate and a 7.6% increase in the top income tax rate.

WATCH:

''Well, I would not agree that we're going to have three heart attacks and a stroke because we have a very large economy, and while the numbers that you cite are very big numbers, the size of our economy is also extremely large,'' Yellen said in response. ''And I think a better metric for assessing what the impact of the budget is on our economy and whether or not it's manageable is real net interest on the '-- the real net interest payments that we have to make relative to the size of our economy.''

Kennedy noted that the debt would rise to $51 trillion from the current level of about $33 trillion, and Yellen claimed that the level of debt was ''sustainable.''

''Well, how much debt is too much? Tell me that,'' Kennedy said.

''Well, I '-- I just gave you the metric that I think is best for assessing fiscal sustainability,'' Yellen said.

After further back-and-forth, Kennedy, who stumped judicial nominee S. Kato Crews with a question about the landmark case Brady v Maryland Wednesday, appeared to lose his patience with Yellen.

''Could you just answer my question, Madam Secretary?'' Kennedy asked. ''What percentage of '-- what percentage of our debt of our GDP is too much?''

All content created by the Daily Caller News Foundation, an independent and nonpartisan newswire service, is available without charge to any legitimate news publisher that can provide a large audience. All republished articles must include our logo, our reporter's byline and their DCNF affiliation. For any questions about our guidelines or partnering with us, please contact licensing@dailycallernewsfoundation.org.

VIDEO - Prank with the President of the European Central Bank Christine Lagarde (Vovan and Lexus) full - YouTube

VIDEO - Sophia Dahl on Twitter: "ChristineLagarde,President of the EuropeanCentralBank gets dup''¬d by Russian comedian/hacker pretending to be Zelensky'¼¸ "The digital euro is well on track. And the goal is trace all transactions'...There will be contr

Wed, 22 Mar 2023 16:38

Sophia Dahl : ChristineLagarde,President of the EuropeanCentralBank gets dup''¬d by Russian comedian/hacker pretending to be Zelens'... https://t.co/oya155Epua

Tue Mar 21 16:35:37 +0000 2023

VIDEO - Treasury Secretary Yellen warns more bank bailouts could be coming | Just The News

Wed, 22 Mar 2023 16:23

The Facts Inside Our Reporter's NotebookU.S. Treasury Secretary Janet Yellen said Tuesday that more bank bailouts could be coming.

Yellen made the comments as part of her prepared remarks at the American Bankers Association meeting in Washington, D.C. Her comments come after the federal government stepped in to shore up collapsing regional banks in recent days, raising concerns about the economy and the federal government's role in aiding hurting financial institutions.

Yellen referenced the ''swift response'' to help those banks with federal funds. She said, though, that the efforts ''were not focused on aiding specific banks or classes of banks.''

''Our intervention was necessary to protect the broader U.S. banking system,'' she said.

Yellen raised eyebrows with her next statement.

''And similar actions could be warranted if smaller institutions suffer deposit runs that pose the risk of contagion,'' Yellen said, reportedly signaling that similar action for other banks could be coming.

Yellen also tried to restore confidence in the economy.

"The situation is stabilizing, and the U.S. banking system remains sound," she said.

President Joe Biden has repeatedly emphasized that taxpayers will not be on the hook for bank bailouts.

Critics, though, have cast doubt on those comments.

''The deposit insurance fund doesn't have anywhere near enough liquidity to cover depositors,'' E.J. Antoni, an economist at the Heritage Foundation, told The Center Square. ''If it did, the Federal Reserve would not have had to announce an emergency lending fund to meet the demand for liquidity.

There is also dispute over the term ''bailout.''

''There is no way around the reality that taxpayers are on the hook here,'' Antoni added, as The Center Square previously reported. ''When the FDIC runs out of cash, it simply goes to the Treasury for more, as we saw in 2009. There's three ways to pay for that. First, the FDIC can increase its insurance premiums charged to banks. But those fees that finance the FDIC are passed entirely on to customers. The second option is for the Treasury to just give the money to FDIC instead of loaning it, in which case the taxpayer is directly responsible for it. Lastly, the Fed can finance the expense by just printing the money, which causes inflation, which is a hidden tax.''

VIDEO - Fahrenheit 49-3: French unions seek to 'bring country to standstill' and send reform into retirement - YouTube

VIDEO - Putin praises Chinese peace proposal, but says Ukraine 'not ready' to accept ' FRANCE 24 - YouTube

VIDEO - Los Angeles schools shut as workers stage mass walkout ' FRANCE 24 English - YouTube

VIDEO - Xi departs Russia after 'new era' summit with Putin ' FRANCE 24 English - YouTube

VIDEO - Finland retains title as world's happiest country ' FRANCE 24 English - YouTube

VIDEO - Police officer shot as German authorities target the extreme-right Reichsb¼rger movement | DW News - YouTube

VIDEO - So-called lender of second-last resort has already begun preparing for the worst. - YouTube

VIDEO - Inside huge NYPD gang takedown - YouTube

VIDEO - kwyjiboo on Twitter: "@adamcurry @THErealDVORAK The French hate Macron. The are saying " Louis XVI Louis XVI on l'a d(C)capit(C), Macron Macron on peut recommencer" (Louis XVI, we beheaded him, Macron we could start again)" / Twitter

Tue, 21 Mar 2023 21:29

kwyjiboo : @adamcurry @THErealDVORAK The French hate Macron. The are saying " Louis XVI Louis XVI on l'a d(C)capit(C), Macron Mac'... https://t.co/hmukqp6fdn

Tue Mar 21 19:30:12 +0000 2023

VIDEO - U.S. General Says The Quiet Part Out Loud About Ukraine!

Tue, 21 Mar 2023 18:29

Become a Premium Member: https://www.jimmydore.com/premium-membershipGo to a Live Show: https://www.jimmydore.com/tourSubscribe to Our Newsletter: https://mailchi.mp/jimmydorecomedy/ytlivestreams

LIVESTREAM & LIVE SHOW ANNOUNCEMENTS:Email: https://mailchi.mp/jimmydorecomedy/ytlivestreamsTwitter: https://twitter.com/jimmy_doreFacebook: https://www.facebook.com/JimmyDoreShowInstagram: https://www.instagram.com/thejimmydoreshow

WATCH / LISTEN FREE:Videos: https://www.jimmydore.comPodcasts: https://www.jimmydore.com (Also available on iTunes, Apple Podcasts, Spotify, Google Podcasts, or your favorite podcast player.)

ACCESS TO FULL REPLAYABLE LIVESTREAMS:Become a Premium Member: https://www.jimmydore.com/premium-membership

SUPPORT THE JIMMY DORE SHOW:Make a Donation: https://www.jimmydore.com/Buy Official Merch (Tees, Sweatshirts, Hats, Bags): https://www.teepublic.com/stores/the-jimmy-dore-show?ref_id=28416

DOWNLOAD OUR MOBILE APP:App Store: https://apps.apple.com/us/app/jimmy-dore/id839294547Google Play: https://play.google.com/store/apps/details?id=com.jimmydore.jimmydore

Jimmy Dore on Twitter: https://twitter.com/Jimmy_DoreStef Zamorano on Twitter: https://twitter.com/miserablelib

About The Jimmy Dore Show:#TheJimmyDoreShow is a hilarious and irreverent take on news, politics and culture featuring Jimmy Dore, a professional stand up comedian, author and podcaster. The show is also broadcast on Pacifica Radio Network stations throughout the country.

VIDEO - unusual_whales on Twitter: "Sharon Stone breaks down in tears on March 17, saying she ''lost half my money to this banking thing,'' presumably referring to Silicon Valley Bank collapse, per Chris Gardner. ''This is not an easy time for any of u

Tue, 21 Mar 2023 18:19

unusual_whales : Sharon Stone breaks down in tears on March 17, saying she ''lost half my money to this banking thing,'' presumably re'... https://t.co/RkNuDMi5wT

Sun Mar 19 14:31:00 +0000 2023

VIDEO - 'This is alarming': Latest data released from UN shows 'record-high coca-cultivation' ' FRANCE 24 - YouTube

VIDEO - TikTok CEO appeals to U.S. users ahead of House testimony

Tue, 21 Mar 2023 17:43

Shou Zi Chew, chief executive officer of TikTok Inc., speaks during the Bloomberg New Economy Forum in Singapore, on Wednesday, Nov. 16, 2022.

Bryan van der Beek | Bloomberg | Getty Images

TikTok CEO Shou Zi Chew appealed directly to the app's users ahead of what's expected to be a heated grilling in the U.S. House Energy and Commerce Committee this week, in a video posted to the platform Tuesday.

Filming from Washington, D.C., Chew emphasized the large scale of TikTok users, small and medium-sized businesses and its own employees based in the U.S. that rely on the company. The message may preview his appeal to lawmakers Thursday, where he will be faced with questions about the ability of its Chinese parent company ByteDance, and the Chinese government, to access U.S. user information collected by the app.

TikTok says it has worked to create a risk mitigation plan to ensure that U.S. data doesn't get into the hands of a foreign adversary through its app. The company has said U.S. user data is already stored outside of China.

But many lawmakers and intelligence officials seem to remain unconvinced that the information can be safe while TikTok is owned by a Chinese company. TikTok said last week that the Committee on Foreign Investment in the U.S., which is reviewing risks related to the app, is pushing for ByteDance to sell its stake or face a ban.

Chew disclosed in the video that TikTok has more than 150 million monthly active users, or MAUs, in the U.S., representing massive growth from August 2020, when it said for the first time that it has about 100 million MAUs in the country. That number includes 5 million businesses that use the app to reach their customers, with most of those being small or medium-sized businesses. He also said TikTok has 7,000 U.S.-based employees.

"This comes at a pivotal moment for us," Chew said, referencing lawmakers' threats of a TikTok ban. "This could take TikTok away from all 150 million of you."

Chew then appealed to users directly to share in the comments what they want their representatives to know about why they love TikTok.

Subscribe to CNBC on YouTube.

WATCH: TikTok and ByteDance spied on this Forbes reporter

VIDEO - Synthesis Report - Address by Secretary-General Ant"nio Guterres - YouTube

VIDEO - Michael Crichton Explains The Hockey Stick - YouTube

VIDEO - (5) CDC warns of spike in U.S. cases of deadly fungal infection - YouTube

VIDEO - Michael Crichton | States of Fear: Science or Politics? - YouTube

VIDEO - French government survives no-confidence votes over pension reform ' FRANCE 24 English - YouTube

VIDEO - Report finds London police racist, misogynist and homophobic, recommends 'complete overhaul' - YouTube

VIDEO - At a French munitions factory, the race is on to send shells to Ukraine ' FRANCE 24 English - YouTube

VIDEO - UN: Without halving emissions by 2030 world faces warming of around 3°C | DW News - YouTube

VIDEO - ''A Black Professor Trapped in Anti-Racist Hell:'' Vincent Lloyd Tells His Story | Amanpour & Company - YouTube

VIDEO - EU agrees on ''¬2 billion ammunition plan for Ukraine | DW News - YouTube

VIDEO - UN 'survival guide' report a stark warning on climate ' FRANCE 24 English - YouTube

VIDEO - AP reporter apologizes to Karine Jean-Pierre & 'folks watching at home' for adversarial WH journo '' twitchy.com

Tue, 21 Mar 2023 12:48

As Townhall's Katie Pavlich noted during Monday's White House briefing, News Africa chief correspondent Simon Ateba expressed his discontent to Karine Jean-Pierre over not getting called on to ask any questions for the last several weeks at White House briefings:

''This isn't China, this isn't Russia, this is the United States. This is the White House,'' Ateba, adding Jean-Pierre shouldn't only call on reporters who she likes or who ask convenient questions. ''There are people in the back don't get any questions.''

''You shouldn't discriminate against some people because you don't agree with their question,'' he continued.

Here's how that played out:

"You are making a mockery of the First Amendment!" pic.twitter.com/buXSi5p90c

'-- Townhall.com (@townhallcom) March 20, 2023

A subsequent response from Associated Press reporter Zeke Miller contained an apology to KJP:

AP's @ZekeJMiller apologizes to America for the WH briefing chaos with Simon Ateba: "I just want to express our apologies to the press corps, to the folks watching at home for the display'....earlier. Our responsibility is'...to ask questions on their behalf'...This isn't about us" pic.twitter.com/wrz2JWhMyo

'-- Curtis Houck (@CurtisHouck) March 20, 2023

Really? If the reporter in question had interrupted Trump in that manner he'd be receiving the Jim Acosta Journalistic Courage Award at the next White House Correspondents Dinner.

This is an iron law, right up until the millisecond a Republican is elected https://t.co/jSiFJp9cVd

'-- jimtreacher.substack.com (@jtLOL) March 21, 2023

Oh, absolutely!

again: journalists think they're the most important people on the planet

''this isn't about us''

🤮 https://t.co/7KM3RAro8L

'-- Pero like, no (@TooHungry2Fxn) March 21, 2023

''This isn't about us.'' Oh PLEASE.

But KJP appreciated the water-carrying from the AP:

KJP thanks AP's @ZekeJMiller for apologizing to the American people for Simon Ateba yelling at her: "I appreciate that '-- I should say '-- I appreciate that. I think the American people appreciate that b/c that is an important message to send to all of them who are watching." pic.twitter.com/pMwxjtWthI

'-- Curtis Houck (@CurtisHouck) March 20, 2023

Such ''journalism.''

Did he apologize to America when Jim Acosta or April Ryan yelled out questions?

'-- LISA (@LisaTheHoneybee) March 21, 2023

Our lying, worthless media is tirelessly lying and worthless.

'-- Echelon (@EchelonCode) March 20, 2023

And sadly so many of them prove that ever single day.

***

Related:

Biden signs law that will declassify 'as much as possible' about the origin of the coronavirus

KJP apologizes to cast of Ted Lasso as WH reporter insists on asking questions

***

Editor's Note: Do you enjoy Twitchy's conservative reporting taking on the radical left and woke media? Support our work so that we can continue to bring you the truth. Join Twitchy VIP and use the promo code SAVEAMERICA to get 40% off your VIP membership!

Tags:

VIDEO - Reporter disrupts 'Ted Lasso' cast appearance at White House

Tue, 21 Mar 2023 12:44

A White House press event featuring ''Ted Lasso'' star Jason Sudeikis was rocked by Hollywood-worthy drama Monday when a reporter went rogue on Press Secretary Karine Jean-Pierre.

''You've been discriminating against me, you've been discriminating against some people in the briefing room!'' Simon Ateba of Today News Africa loudly shouted at Jean-Pierre, criticizing her for not calling on him, a repeated complaint of his.

The White House press secretary shot back, ''We're not doing this'' '-- and said it again several times as Ateba continued to heckle her from the gallery.

Meanwhile, Sudeikis and his hit show's co-stars Hannah Waddingham, Jeremy Swift, Brett Goldstein, and Toheeb Jimoh awkwardly stood behind Jean-Pierre before their visit with President Biden and first lady Jill Biden to discuss mental health.

An embarrassed Jean-Pierre turned around and quipped to the stars, ''Welcome to the press briefing room.''

The White House Press Secretary Karine Jean-Pierre shot back, ''We're not doing this'' '-- and said it again several times as Ateba continued to heckle her from the gallery. AP/Susan Walsh ''You've been discriminating against me, you've been discriminating against some people in the briefing room!'' Simon Ateba of Today News Africa loudly shouted. AFP via Getty ImagesShe then said to Ateba, ''Are we ready? Are we going to behave?''

When he continued to shout, she turned to Sudeikis and said, ''I apologize.''

The ''Saturday Night Live'' alum responded, ''No, it's OK, it's alright.''

But even after Sudeikis addressed reporters about the group's mental-health cause, Ateba's outburst continued, with Jeff Mason of Reuters finally jumping in to try to calm things.

''If you have grievances, you should bring them to her later,'' Mason told the griping reporter.

President Biden teased the tªte- -tªte on Twitter."Irish is I come over there and smack that dumb look off your face."Jason Sudekis plays a rather bellicose Joe Biden in SNL's Veep debate with Paul Ryan from 2012🤣🂠pic.twitter.com/sITvq81kAQ

'-- Oliver Barnes (@mroliverbarnes) September 29, 2020Sudeikis as Joe Biden on ''SNL.''''Right now, this is for the entire press corps, and the press corps is tired of dealing with this,'' Mason said.

Ateba '' a frequent sparring partner of both Jean-Pierre and ex-Press Secretary Jen Psaki '' took to Twitter after the contentious exchange to announce that he would be appearing on Fox News' ''Tucker Carlson Tonight'' on Monday to discuss how the White House ''disrespected'' him by not allowing him to ask a question in seven months.

During calmer moments at the presser, Sudeikis previewed his meeting with the Bidens, who are said to have gotten a kick out of the ''message of positivity, hope, kindness and empathy'' in the cast's Emmy-winning Apple TV+ show about a clueless but hopeful American soccer coach in London.

Jean-Pierre turned around and quipped to the stars, ''Welcome to the press briefing room.'' Getty ImagesThe president was expected to discuss ''the importance of addressing your mental health to promote overall well-being'' with the cast, according to officials.

Sudeikis said ''the wish fulfillment of the show'' is helping people take care of each other like the players on his fictional AFC Richmond team do.

''No matter who you are, no matter where you live, no matter who you voted for, we all probably, I assume, we all know someone who has, or have been that someone ourselves actually, that's struggled, that's felt isolated, that's felt anxious, that has felt alone,'' said the 47-year-old comic actor.

''It's actually one of the many things, believe it or not, that we all have in common as human beings,'' he said.

''It's something that we can all '' and should '' talk about with one another when we're feeling that way or when we recognize that in someone feeling that way.''

Sudeikis with Jean-Pierre as other cast members Toheeb Jimoh, Brett Goldstein, Hannah Waddingham and Brendan Hunt look on during the daily news briefing. Getty Images/Alex Wong''Ted Lasso'' actor James Lance posed as the show's fictitious reporter Trent Crimm for the event, making himself part of the press corps to ask Sudeikis how he felt about the funnyman's hometown of Kansas City being tapped for a World Cup game.

''Trent Crimm, The Independent,'' Lance said in introducing himself in his character's trademark style.

Sudeikis quipped in response to ''Crimm's'' question, ''Here I was hoping for a softball,'' before singing the virtues of the Missouri city.

In addition to ''Lasso,'' Sudeikis is well known for lampooning Biden on ''SNL,'' when the Democratic pol served as Barack Obama's vice president and in the run-up to the 2020 election.

But Sudeikis deferred when asked by reporters Monday to do his impersonation of Biden, saying, ''We have the real one here'' '-- adding that besides, he didn't have ''fake teeth'' to complete the picture.

Biden, 80, touted his upcoming meeting with the cast on Twitter on Sunday with a yellow ''Believe'' sign above the door to the Oval Office, accompanied by the simple caption, ''Tomorrow.''

In the show, Lasso has the sign above his office door to motivate his middling team to make the most of their potential.

Biden's administration secured hundreds of millions of dollars last year to expand mental-health services nationwide.

With AP wires

VIDEO - (5) NATO Secretary General with Ministers of Foreign Affairs and Defence of Finland ðŸ‡ðŸ‡® , 20 MAR 2023 - YouTube

VIDEO - (5) Israel's former spy chief speaks out against the government's overhaul of judicial system - YouTube

VIDEO - (5) SHOCKING MOMENT: Local Reporter Brutally Confronts Lori Lightfoot, Tells Her, 'You Are A Pandemic!' - YouTube

VIDEO - Sam Harris: Conservatives ''Should Not Have Opinions'' On Ukraine, Vaccines, Climate Change '' Summit News

Mon, 20 Mar 2023 22:58

There are some that say not much was learned or gained from the House Judiciary Subcommittee on Weaponization of the Federal Government this past week as politicians sparred over the meaning of the release of the Twitter Files. Democrats in particular seemed adamant that they would not discuss the actual contents of the files or their implications. Their apparent goal? To disrupt exploration of the information and to attack the messengers.

There might not have been many new revelations coming from the subcommittee, but what the public did learn was that the political left is extremely hostile to facts, evidence and the truth. If you didn't already know that by now, the hearing with Matt Taibbi made it abundantly clear.

Leftist members of the committee proceeded into a tirade when Matt Taibbi and Michael Shellenberger were called to testify on their participation in the publishing of the files, attacking everything from their credentials to their intentions, and even demanding they reveal information on their private sources. Here is the real information the Dems did not want to talk about:

It is well known that Matt Taibbi, Michael Shellenberger and Elon Musk have long been liberal leaning in their politics, yet the accusations from Democrats asserted some form of conspiracy between Musk, Taibbi and Republicans, with some members even insinuating an effort to ''undermine democracy.'' What right did they have to take this position?

They claim that Musk and Taibbi are hiding data that shows Trump and Republicans were making requests to censor Twitter users as well. In other words, they assert there is a ''conspiracy'' to protect Republicans while denouncing Democrats.

But what are the facts here?

Taibbi has said on numerous occasions that there were requests from Republicans as well as Democrat officials for accounts to be censored or blocked. He never hid this from anyone. This argument is a cover, a distraction from two separate issues:

First, the government should NEVER be involved in censorship requests of the public for any reason. It doesn't matter which party is making the requests, and a criminal investigation should be pursued for any officials involved in legitimate 1st Amendment violations.

Second, who did Twitter actually censor? Which requests did they actually honor? The vast majority of accounts censored by the previous Twitter management were conservative accounts, conservative news sources and posts with content that ran contrary to Democrat narratives. Republicans like Trump might have made requests, but how many people were blocked on Twitter in response?

Democrats complain about the Twitter Files being weighted in favor of the political right wing, but maybe that is because most of the requests for censorship came from the DNC and Biden controlled agencies, and most of the people censored were conservatives. It's weighted against Democrats because they more commonly use censorship as a weapon.

A stunning 99% of online political contributions made by Twitter employees in 2021 went to Democrats, according to Federal Election Commission data. Are we really supposed to believe that Twitter has been acting for the benefit of both parties, or just one?

The M.O. of the political left for the past several years now has been cancel culture attacks to silence their opponents and shut down dissent. Major social media companies are by far more progressive in their affiliations than conservative, and have been a key tool for leftists in targeting and removing contrary speech. No one on the left talks about being shut down by conservatives, it is always the reverse.

The social dynamic in the US has been completely out of balance for many years, with corporations and government agencies widely backing the most extreme segments of the far-left. This is where they get their power. They certainly don't get power from being the majority, woke activists are a tiny portion of the overall population and one that is widely despised. They have been feared in the past only because corporations and the government back them. The Twitter Files prove this collusion in detail.

Even moderate liberals like Musk or Taibbi are being run through the gauntlet of character assassination these days because they dared to oppose certain aspects of the far-left agenda. But the bottom line is this '' Only the political left and some Neo-Cons within the GOP have displayed open disdain for the dissemination of the truth. We saw this with the Biden Laptop story. We saw this with covid facts that were inconvenient to the establishment narrative. And, we saw this recently with Tucker Carlson's release of suppressed J6 footage.

The average conservative and liberty minded independent sees sunlight as the best disinfectant, while establishment elitists and woke activists view open discussion and debate of information as a ''dangerous'' frivolity. We believe that the truth is arrived at through discourse. They believe that the truth is what they say it is.

The Twitter Files have torn open the veil obscuring big government and big tech collusion and this makes certain people very nervous and very angry. Take note of who those people are. Who is enraged? Who is hostile to the exposure of government censorship? Those are the real villains that need to face scrutiny, not the messengers passing the information along.

This post was originally published at Zero Hedge

VIDEO - Government to test new emergency alert system for UK with messages sent to mobile phones | The Independent

Mon, 20 Mar 2023 22:56

Get the free Morning Headlines email for news from our reporters across the worldSign up to our free Morning Headlines email

The government has launched a new emergency alert system that will send a siren-like alert to mobile phones.

The system will give the government and emergency services the ability to send a message directly to mobile phones when there is a risk to life. When your device receives the alert it will vibrate and play a loud siren-like sound for up to 10 seconds.

The siren will be accompanied by a notification on your home screen, which you will have to acknowledge before you can use other features. The notification may include telephone numbers or website links containing further information.

The new system, which will go live on Sunday 23 April, should allow the government and emergency services to get urgent messages quickly to nearly 90 per cent of mobile phones in a defined area. Any compatible device within range will receive the message.

The alerts can only be sent by authorised government and emergency services users. The alerts will always include the details of the area impacted and will provide instructions about how best to respond, including links to gov.uk/alerts, which will provide further information.

The messages will be broadcast from cell towers near the emergency, ensuring that they are secure, free to receive and one-way. People's privacy will not be affected as the alerts do not reveal anyone's location or collect personal data.'¯'¯

Members of the public should receive the alert about four to 10 seconds after it has been sent. By contrast, SMS messages can take days to release when sent to the entire population and will not be received by people from outside the UK.

People who do not want to receive these alerts can opt out of them in their device settings. The system has already been successfully tested in East Suffolk and Reading, prior to the planned national test. A survey of people conducted after the tests found that 88 per cent wished to receive the alerts in the future.

Emergency alerts will be used very rarely since they will only be sent when there is an immediate risk to people's lives. Many people might not receive any messages for months or years at a time. They will initially focus on the most serious severe weather-related incidents, including flooding and possible wildfires.

Flood water surrounds Bathampton, located adjacent to the River Avon which burst its banks

(Getty Images)

Announcing the launch of the system, the Chancellor of the Duchy of Lancaster, Oliver Dowden MP, said: ''We are strengthening our national resilience with a new emergency alerts system, to deal with a wide range of threats '' from flooding to wildfires.

''It will revolutionise our ability to warn and inform people who are in immediate danger, and help us keep people safe. As we've seen in the US and elsewhere, the buzz of a phone can save a life.''

The chair of the National Fire Chiefs Council, Mark Hardingham, also welcomed the system's launch. ''Together with every fire and rescue service in the country, I'm looking forward to having emergency alerts available to help us to do our jobs and to help communities in the event of emergencies.

''We've seen this type of system in action elsewhere across the world and we look forward to having the facility here in the UK '' by working together with fire services and partners we want this system to help us to help you be as safe as you can if a crisis does hit.''

The US, Canada, the Netherlands and Japan have all successfully rolled out and used similar systems. The alerts have been widely credited with saving lives. However, the US state of Hawaii caused widespread panic on 13 January 2018 when it accidentally sent out an alert warning of an incoming ballistic missile to televisions, radios and mobile phones. Officials blamed miscommunication during a drill at the Hawaii Emergency Management Agency.

You can see what the alerts look and sound like at gov.uk/alerts.

VIDEO - Ian Miles Cheong on Twitter: "RT @aaronjmate: Ahead of a meeting between Putin and Xi, White House NSC spokesperson John Kirby declares that any "call for a ceasefire" i'..." / Twitter

Mon, 20 Mar 2023 15:32

Ian Miles Cheong : RT @aaronjmate: Ahead of a meeting between Putin and Xi, White House NSC spokesperson John Kirby declares that any "call for a ceasefire" i'...

Mon Mar 20 12:54:20 +0000 2023

VIDEO - Inside with Jen Psaki on Twitter: ""Just two cents from someone who has worked in communications -- if you can't explain it and people don't understand it'... it may not be the winning message you think it is." @jrpsaki on the GOP's war on "w

Mon, 20 Mar 2023 13:05

Inside with Jen Psaki : "Just two cents from someone who has worked in communications -- if you can't explain it and people don't understan'... https://t.co/rX14rohdtt

Sun Mar 19 17:03:49 +0000 2023

Arun Prabhu : @InsideWithPsaki @jrpsaki They need to replace Jen with a black or brown woman.

Mon Mar 20 13:05:14 +0000 2023

Trazmo2 : @InsideWithPsaki @jrpsaki Woke is a imaginary problem created by a Republican

Mon Mar 20 13:04:42 +0000 2023

Randal : @InsideWithPsaki @jrpsaki Jen is hawghtðŸ>>

Mon Mar 20 13:04:03 +0000 2023

DerylR : @InsideWithPsaki @jrpsaki Any difficulty reducing it to a soundbite doesn't mean we don't know it when we see it. And so do you.

Mon Mar 20 13:03:22 +0000 2023

VaHusker : @InsideWithPsaki @jrpsaki You are a complete fraud.

Mon Mar 20 13:01:57 +0000 2023

partofthecontrolgrp : @InsideWithPsaki @jrpsaki ðŸ'ðŸ'ðŸ'ðŸ'ðŸ'ðŸ'ðŸ'🂠girl, u were bad at ur communications job then. Ur bad at it now.

Mon Mar 20 13:01:13 +0000 2023

MajorPayne : @InsideWithPsaki @jrpsaki Interesting name for a tv wokementary.

Mon Mar 20 13:01:13 +0000 2023

Here4theGigls : @InsideWithPsaki @jrpsaki Yeah, not really interested in the two cents of someone with years of experience in Commu'... https://t.co/Cxinq5ZIQ8

Mon Mar 20 13:00:32 +0000 2023

Mickey D : @InsideWithPsaki @jrpsaki ðŸ¤ðŸ¤ðŸ¤ðŸ¤ðŸ¤

Mon Mar 20 13:00:24 +0000 2023

Kathryn : @InsideWithPsaki @jrpsaki This is the definition https://t.co/mKYwo6MVZv

Mon Mar 20 12:59:57 +0000 2023

Mark Bauerlein : @InsideWithPsaki @jrpsaki Yes, you're correct, Ms. Psaki, quite obviously Gov DeSantis "War on Woke" is a losing message.

Mon Mar 20 12:59:44 +0000 2023

Lisa F : @InsideWithPsaki @jrpsaki Honey, if you're a bank or corporate executive & your focus is on being #WokeAF instead o'... https://t.co/VfbNfVxbkO

Mon Mar 20 12:59:07 +0000 2023
Clips & Documents
Art
All Clips

ABC ATM - anchor Andrea Fujii - dog toy vs jack daniels (1min17sec).mp3

ABC ATM - anchor Andrew Dymburt - 3D printed cheesecake (21sec).mp3

ABC ATM - anchor Rhiannon Ally - 3D printed rocket (16sec).mp3

ABC ATM - anchor Rhiannon Ally - celebrity cryto scam (22sec).mp3

ABC ATM - anchor Rhiannon Ally - gwyneth paltrow ski case (57sec).mp3

ABC ATM - anchor Rhiannon Ally - putin body doubles (14sec).mp3

ABC WNT - anchor Jonathan Karl - trump (1) hush money case (50sec).mp3

ABC WNT - anchor Jonathan Karl - trump (2) special council case (1min8sec).mp3

Ashley Gold Axios on CSPAN with Producer Grant calling in.mp3

ASK ADAM pilots retirement age ntd.mp3

At a French munitions factory, the race is on to send shells to Ukraine F24.mp3

Biden Admin to give transplants to commercial companies.mp3

Biden new memorial.mp3

Canada election rigging 2.mp3

Canada election rigging 3.mp3

Canada election rigging.mp3

Canada Scamming immigrants.mp3

CBS Evening - anchor Carter Evans - LA teacher strike (1min21sec).mp3

CBS Evening - anchor Norah ODonnell - aid worker freed in africa (23sec).mp3

CBS Evening - anchor Ramy Inocencio - putin xi -putin visits ukraine (1min15sec).mp3

CCP vs UNESCSO NTD.mp3

China economy discussion 1 ntd.mp3

China economy discussion 2 ntd.mp3

Chinese interference-Canada_Global-News - CSIS (Can CIA Leaking).mp3

Climate IPCC Synthesis Report - Address by Secretary-General António Guterres.mp3

Code Pink lady interrupts A Blinken for War negotiations.mp3

Covid origins 1 NTD.mp3

Covid origins 2 NTD.mp3

Covid origins 3.mp3

Death from Artificial Tears products.mp3

EU agrees on €2 billion ammunition plan for Ukraine DW.mp3

EVs in Germany ntd.mp3

false rape at 2.mp3

false rape at STanford.mp3

Finland retains title as world's happiest country F24.mp3

Fox 5 on Drill Rap gang arrested in Queens - SOny and Universal Sub labels YT algos.mp3

French unions seek to 'bring country to standstill' and send reform into retirement F24.mp3

IMF in Ukraine ntd.mp3

Inside with Jen Psaki suck - can't read all white, bad hair.mp3

ISO Heck yeah.mp3

ISO HOT.mp3

ISO sexy.mp3

ISO sick.mp3

Israel's former spy chief speaks out against the government's overhaul of judicial system.mp3

Jimmy Dore gets BBB party wrong from NYTimes of course.mp3

John Kirby declares that any call for a ceasefire in Ukraine is unacceptable.mp3

Kennedy Grills Yellen on REAL interest rates aon 55 trillion.mp3

LaGarde Zalensky Hoax -1- Intro hair primping - Vovan and Lexus.mp3

LaGarde Zalensky Hoax -2- Powell dinner and biggest gun - Vovan and Lexus.mp3

LaGarde Zalensky Hoax -3- Sucking up and E-Euro BTC firewood gag - Vovan and Lexus.mp3

Louis XVI Louis XVI on l'a décapité, Macron Macron on peut recommencer Louis XVI, we beheaded him, Macron we could start again.mp3

MilSpec Gender Care 7 year olds.mp3

Morning Joe Trump PErpwalk whistling past the rgaveyard - walls are closing in.mp3

NO F-16 wtf ntd.mp3

Physicist Brain Catt debunks !PCC report of warming based on chart manipulation by omission.mp3

Piers Morgan Trans.mp3

powdered beer ntd.mp3

Putin praises Chinese peace proposal, but says Ukraine 'not ready' to accept F24.mp3

Sam Harris - Conservatives Should Not Have Opinions.mp3

sandstorm in China ntd.mp3

Taiwan invasion issues ntd.mp3

Taliban is Quiet Quitting.mp3

TOCK Hawk girl.mp3

Trump 10 point plan 1 ntd.mp3

Trump 10 point plan 2 ntd.mp3

UK alert for 'emergencies'.mp3

Weird requests for Blinken ntd.mp3