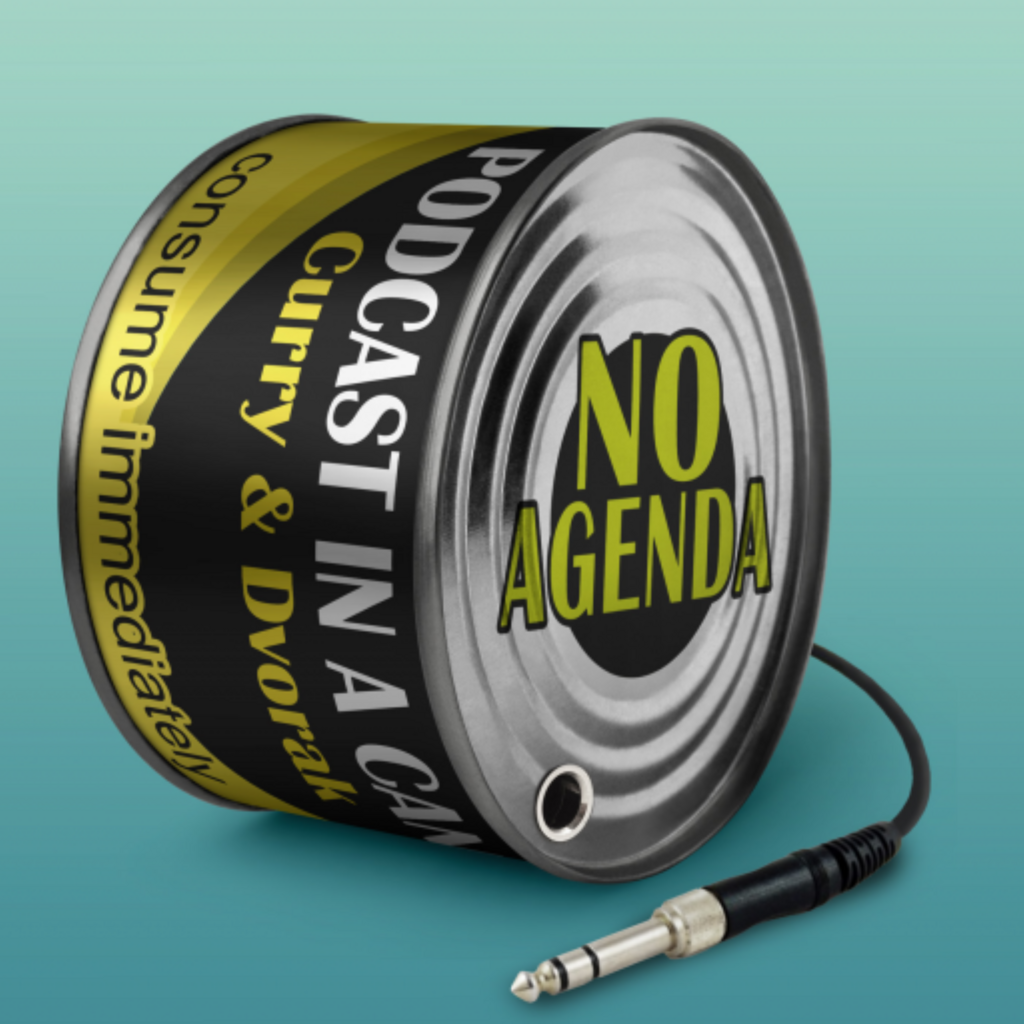 April 2nd • 2h 53m
1543: Buffalo Feathers
Transcript
The transcripts of No Agenda are automatically generated and therefore, not fully accurate. Discretion is advised.
Click the text to start playing from that position in the show. Click the timestamp to copy a direct link to that position to your clipboard in order to propagate the formula.
Adam Curry: correlation does not imply causation.
Unknown: Adam curry Jhansi Devora Sunday April
Adam Curry: 2 2023. This is your award winning chemo nation media
assassination episode 1543.
Unknown: This is no agenda. second guessing sealed
indictments
Adam Curry: and broadcasting live from the heart of the Texas
Hill Country here. Number six in the morning, everybody. I'm Adam
curry,
John C Dvorak: and from Northern Silicon Valley where I'm trying
to find that food I can eat before I go to bed to get rid of
that bellies fat while I sleep. I'm Jhansi Dvorak.
Unknown: Buzzkill.
Adam Curry: No, man, you need ozempic ozempic will do it for
you. Oh, we
John C Dvorak: get those Olympic face.
Adam Curry: I know people who are on the ozempic right now and
they love it.
John C Dvorak: Yeah, until their face collapses.
Adam Curry: But the thing is, I don't think you can stop with
the ozempic. And that's when it all goes wrong. And that's one
of the oh, that could be Yeah, you can stop and while you're
taking it side effects or nausea, diarrhea. Tourette's?
Oh, no, I'm sorry. That's I made that ozempic
John C Dvorak: face ozempic face. Yes.
Adam Curry: So you are typically that you used to be used to be
we talked we've talked about this from time to time, the
April Fool's Day master. And
John C Dvorak: yes, I'm in the same hall of fame for doing a
couple of
Adam Curry: Yes, you are. You are and of course, ever since
the internet it you really can't do April Fool's jokes. They just
don't work that the internet broke the April Fool's joke.
John C Dvorak: I believe so. Yeah. And so why and why is
that? Well, yes. Why is that John? Because there's no time,
real time constraints with the joke. The joke goes onto the
internet where it stays forever and is often read sometime in
the middle of November.
Adam Curry: Right? If it's a good one,
John C Dvorak: yeah. And then it gets read as as something
serious in the middle of November. There's no association
with April 1. And it becomes a nightmare.
Adam Curry: Exactly. And so, people still try him. You know,
they they still you know, there's a lot of Bitcoin people
saying, Oh, I bought Aetherium. Okay, ha, very funny.
John C Dvorak: Is that a joke? You can buy a theory
Adam Curry: Exactly. And so Erina who runs no agenda,
social. He did something very interesting yesterday, which he
considered to be an April Fool's joke, but it actually did more.
I'm sure you saw that he posted? I can't handle the the kk k Nazi
Cardrooms anymore. I'm transitioning. I'm becoming
crystal. I'm moving to California. And tonight, I will
be shutting off no agenda social. And he did he should
shut off. So first of all, that's not really an April
Fool's joke. I mean, it doesn't have the right elements,
correct?
John C Dvorak: Well, I didn't, I didn't analyze his gag. It had a
lot of elements. It didn't. One of the elements. It has to have
it. It has to have April Fool's. A giveaway in there somewhere.
It's usually coded.
Adam Curry: Well, the whole that was the problem. Like the whole
thing was a giveaway. I mean, it was obvious that that was not
true. So he posted that a couple hours before. And then he
actually did shut it down, which
John C Dvorak: I think that that made it work. But you thought,
Oh, interesting.
Adam Curry: Here's what it did for me. It made me realize how
addicted people are to this thing, because they were DMing.
Tina, any way they can get a hold of what's going on? Is this
a fool? April Fool's joke. I really you can't see that.
That's an April Fool's joke. But also, it made me realize that
even myself with godlike powers, admin powers, I was powerless.
So he's not interesting.
John C Dvorak: By the way, I should mention to people out
there if if you say, is this an April Fool's joke, and you check
the calendar, and it's actually April 1 99.9% of the time it's
April Fool's. Right. Right. So you shouldn't have to ask.
Adam Curry: Exactly. But it was it was also kind of like, you
know, social media is basically broken. You know, even I could
get D platformed. What if you woke up and was really was
really mad and went screw this I'm shutting it down.
John C Dvorak: He could do it. You do it on the third
Adam Curry: please do it. Okay, you've made my point. I guess. I
and people are posting on Twitter. What's going on, man?
What's going on? I hope it made people realize how valuable that
resources and how they treated sometimes like a trash heap.
Yeah. And also made me go Oh, cool. I'm gonna go to noster
started Wanna start posting stuff over there? It was just
interesting. I thought it had an extra effect from a typical
April Fool's joke as the same with, I don't know, if you saw
that email from the producer, that apparently Devin Mulvaney
that's Dylan, Dylan Dylan, who somehow got plucked out of the
world of trans and, and, and wound up asking the President
questions in a, in a q&a session was now a spokesperson for Bud
Light. And, and this person has really convinced that it's true.
I'm like, I, you know, and
John C Dvorak: I saw that thread out as one of those things,
because I just commented early on in the thread and I can't get
kept. He kept I was stuck on this. This is an example of one
of those threads. I had no interest in any of this Dylan
Mulvaney anything, no. And I can it takes me a while to remember
who this person is. It's just an annoying person. It just they've
just not. I wished it right on the
Adam Curry: but but to me, it's a I hear you. But it's a typical
example of an April Fool's joke has gone too far. Because people
not as true. I'm not. I mean, I can't. Anheuser Busch was my
client for many years. I built bud.com Bud light.com. I have a
hard time believing that they would they would go this woke
and decide that yeah, this is a good idea. I agree.
John C Dvorak: No. Well, I I agree with you. But the
Budweiser you worked for was Anheuser Busch.
Adam Curry: I know they I know they were purchased. But it's
still the Anheuser Busch people who are still in charge of the
marketing just because the company was bought by the
Belgian company.
John C Dvorak: InBev.
Adam Curry: Yeah, I anyway. But this kind of folds into just one
thing that I was astounded by astounded by a statement from
the President on was this Friday or Saturday? I think it was
Friday, March 31. Yeah. So it was Friday. Statement state.
This is on whitehouse.gov statement from President Joe
Biden on transgender day of visibility. Now, we didn't know
this was going on.
John C Dvorak: We did I posted it in the newsletter.
Adam Curry: Yeah, that was on Saturday. But this was this. The
Transgender Day of visibility was Friday. I thought it was
Saturday. The 31st is, is Friday.
John C Dvorak: I know that but I thought that the signage that
I've posted in the newsletter showed that when they changed
the name to day visibility became the day of vengeance and
it was Mark.
Adam Curry: April 1, the day of vengeance is something
different.
John C Dvorak: Well, the day of vengeance was supposed to be
Saturday was a well, that was Saturday, but it was supposed to
be the day of visibility, that they changed the day of
vengeance. Okay, well, did you read and they were gonna change
it back after the shooting? And then they said, No, we'd be
weenies if we did that. And so they they too, can make gigs
here. I won't do it.
Adam Curry: Did you read the statement from the President? I
did not it we should read it. Now. I'm just gonna read the big
the top and the bottom. made a joke on transgender day of like,
Hey,
John C Dvorak: this is an example of a joke off the cuff
that you had to say you had to actually dislike an April
Fool's. You have to tell the you had to say it was a joke. That
makes it funny. I just
Adam Curry: came up with it too. On Transgender Day of
visibility, visibility, we celebrate the strength, joy and
absolute courage of some of the bravest people I know.
transgender Americans deserve to be safe and supported in every
community. But today, across our country, Magga extremists are
advancing hundreds of hateful and extreme state laws that
target transgender kids and their families. No one should
have to be brave just to be themselves. I mean, this. This
is
John C Dvorak: really your this is legit.
Adam Curry: I'm reading it off. whitehouse.gov. So yeah, I would
say that's legit. And then he goes through this whole thing.
So seriously, I mean, to bring in Magga extremists and to say,
Okay, here's this. Yeah. And what is mag extremists really?
What does that mean?
John C Dvorak: Well, Red Hat. Yeah, exactly. And it clashes
with a an orange shirt.
Adam Curry: And at the bottom, this, this was the most
interesting thing. To me personally, I want every member
of the trans community to know that we see you. You're each
made in the image of God and deserve Love, dignity and
respect. You make America stronger and we're with you. So
you can did not have a more divisive inflammatory statement
by putting these two concepts into your into your statement
that that's really bad. That's that's not the Joe Biden who
said he was going to bring people together. I don't think.
John C Dvorak: So you're actually going on the assumption
that Biden wrote this or even knew it was released?
Adam Curry: Well, okay. Obviously, you know, that's an
obvious point. obvious point. Now, at the same time on April
Fool's Day,
John C Dvorak: I smell Valerie Jarrett, by the way.
Adam Curry: Yeah, yeah, you're right. A fantastic website came
out. South woke.com. And this was came out on and now this is
a whole new twist came out on April Fool's Day, but it's very
serious and it has money behind it. You've got to go to South
woke.com.
John C Dvorak: This is a tape now.
Adam Curry: This is a take off of the Southwest airlines
website. And it is deep, professionally done. It has
videos it has very funny things like news, new stories for our
new stories. Southwark hires fabulous Sam Brinton as our new
baggage czar. Really, really hilarious stuff. Southwold goes
drag for the children. I mean, and then these guys and I think
the pilots aid pilots union or pilots organizations behind it,
they had money. They were putting up billboards with
Southwest promoting southwest.com. It is well done.
It's very funny. And from what I understand from some of the some
of our airmen
John C Dvorak: sounds woke at airline this inclusive everyone
except you.
Adam Curry: Exactly. Message and,
John C Dvorak: by the way, if I'm not mistaken, I could be
wrong. But in one of the images that they flashed across screen,
they have all these these weird looking stewardesses and
stewards. And I think that bald person, the bald tread the bald
nonbinary in the middle, I think the head is the head of the sea.
Yes, I think that's his head.
Adam Curry: It is correct. It's very funny. Apparently,
Southwest is losing an average of one and a half pilots per
day. They're just leaving, there's plenty of other places
to go. Plenty of other airlines need pilots. The as is witnessed
by what happened. And Minnesota nuts. I know a few of you might
not have heard about it. The 31 Day pilot month hit again, this
time was delta, their turn their turn to melt down with 12% of
all flights nationwide canceled. The course of as we know, March
is a peak month 31 days. And that means that pilots run out
of hours, they don't have enough pilots. Of course, the storm in
Minneapolis was the impetus. But the end of month pilot shortage.
They don't have the slack to recover. I mean, even Sun
country airlines, which is much smaller, you know, as a low cost
airline, they only can cancel I think 4% And that was mainly due
to weather of delta is the airline that prides themselves
on being the gold standard for operations integrity. So the
breakdown of our aviation system continues. Continue continues.
But I thought I'd good. No, not good at all. But I thought it
was really I hadn't really loved that South woke.com
John C Dvorak: And we very good. Yeah. Very professionally,
right?
Adam Curry: Yeah. A lot. A lot of producers work at Southwest
or no south and they're also disappointed with within with a
new manager. There's even an email floating around that, you
know, really pissed off pilots who are saying we're leaving,
we're just not and they are. They're leaving the same screw
you. We're not we're not going to we're not going to
participate in this bullcrap anymore. And it may be well,
anyway. Did you get that email about the post office? I got
several emails from our mail carrying professionals, which is
a constitutional gig in the post offices. It's in the
Constitution that didn't didn't they have like some enormous
amount of funding that went into the post office? The Postal
Service?
John C Dvorak: Yeah, they do that every so often they get a
bunch of money.
Adam Curry: This is from one of our producers. The post office
today told the majority and this is one producer in just one
particular area. The rural carriers that they're updating
their salary basing their pay off of certain criteria in their
scanners, you know when they deliver something, they scan it.
And apparently these things don't work half of the time, I
think I can probably agree with that. I've seen it fail many
times when something's been delivered. And so this one
producer says he is losing $20,000 from the 70,000, he was
on track to make this year. Now remember, these were the heroes
who were supposed to be royally rewarded for continued to work
during during COVID. That's 20,000 out of 70. And of course,
this was sprung on and this, this takes effect almost
immediately. And they'll have to work six days a week now without
overtime.
John C Dvorak: What is it seems to be a part of the overall scam
that's been going on?
Adam Curry: Well, what's the scam? Who's Who's running? Who's
running the scam? What what's going on with this?
John C Dvorak: Well, this started of course, when they had
to pre fund something like 30 years, right? Which is what put
them in arrears, even though it's a phony baloney deal, but
it put the put the post office in, kind of in the red. And it
kept him that way, because it's impossible to do that. Nobody
does that. And it's all been a scheme. Supposedly, that was
begun by FedEx and and United Parcel to get take over that
business. And it began years ago,
Adam Curry: of course, of course, of course. Oh, they're
just trying to sell it out. That's your great reset, right
there.
John C Dvorak: Well, this has been, at least, was gone on
before we began this show 15 years ago, and it began. I
Adam Curry: know, as Rob has been planning this for 15 years.
It's a long
John C Dvorak: game, but because of the nature of the being in
the Constitution, they know they can't do anything about it.
Adam Curry: So they're just gonna make everyone quit because
they can't live off.
John C Dvorak: They haven't been able to get it shuttered. Yeah,
well, this is where code
Adam Curry: starts a good start. And then one more just on this,
since we're on kind of that topic,
John C Dvorak: that sounds like a lawsuit waiting to happen. I
Adam Curry: sure hope so. I sure hope so. That's nuts. I got to
talk to Diana she's our mail carrier find out from her how
she got affected a bit you know, when you have a mail carrier,
like who you know, and who you give a Christmas gift to it
doesn't have to be money. We give her money but also
Christmas card. You know, when there's some piece of mail that
that needs to be signed for yesterday, cuz we don't go to
our it's our mailboxes like down the road. It's not at the road
itself. And I opened up and there's a there's a rip piece of
registered mail. And in it a little card. You of course you
have your green, the green card that you have to sign a little
card from Diana saying, Hey, would you mind just signing this
and just putting it back in the box? And she even clipped her
pen to it?
John C Dvorak: Yeah, that's the kind of service you get. She was
a waiter in a previous life.
Adam Curry: No, she's been a mail carrier for like 23 years
or something. She's joke. Yeah. Anyway. Yes, a joke. I'm glad
you explained it.
John C Dvorak: Make sure you flip up a little red flag. Yes.
Adam Curry: So we know that NPR due to the soft advertising
market and the fact that they only get 2% of their money from
from government. The rest is just adds color, whatever you
want. They had to let go of about 100 employees of which
many were in the overstaffed podcasting department. Because
they all bought into the podcast industrial complex hype of all
your Spotify Bonanza is gonna be great rad, let's Russ unionize.
And so they had a they had a zoom Town Hall because people
were mad, mad. Now, a big group of this 100 cannot be fired
because they actually organized into a union and though it's in
a different union outside of the after Union, and the the, the
management of NPR recognized it before this all came down. So
now they actually can't get let go those people, but they had
all kinds and so the staff, they're all pissed off, they
calculate the nerve, the nerve of letting all these people go,
we work so hard, and see if this sounds familiar to you. Among
the record, I'm reading from Bloomberg. Among the requests,
employees wanted to see how much more specific want to see more
specific breakdowns around the number or percentage of
employees of different races and identities who were laid off
rather than those of the remaining employees. They also
wanted to know more information about their audiences, and what
the plans will be for hiring a Chief Content Officer and more
clarity about how the layoffs were carried out. So they're now
weaponizing dei Oh, are you firing black people? And then my
favorite, you'll recognize this. The already tense environment
boiled over during an exchange between CEO Lansing and a laid
off black employee, that employee voiced concern that
some podcasts hadn't received marketing support, and wondered
how a show could gain audience without it. Does this sound like
what I've always said that you can't monetize the network? And
you can you can't have a network of shows because people are
always complaining about I didn't get any promotion. I
mean, yeah. And we, we didn't get the right we didn't, we
didn't get enough advertising buys. Sound familiar?
John C Dvorak: Well, this is yeah, this is exactly what you
hear in publishing, especially in book publishing. And I'm
always reminded of a friend of mine, I haven't seen it for a
long time. But he did this. Neil Rubin king. He did. He did a
book called I think it was called guide to dos in a can.
Adam Curry: Dos in a Can I like it,
John C Dvorak: and it was in a can. You could have come up with
this idea. And so you had to get a can opener. Open they can't
actually get the book out.
Adam Curry: This is some this is some Silicon Valley loyal here.
Nowhere else. Definitely that okay.
John C Dvorak: And so it didn't sell well, for a lot of probably
a lot of street. I think logistics reasons you had to
ship these cans all over the place. And the bookstores didn't
know where to put the can right idea, though. It's a funny idea.
And I remember one time I was in, I think it was in Germany,
sometimes I was at a grocery store. And we always go to these
grocery stores and they had pickle in a can. And I always
thought it was cute. It's like a different kinds of dill pickles.
One pickle in a Can a small, very small can, you know is cute
gimmick. And I've never seen it before a sense, but the book in
the can. So Neil did the book didn't do well at all. I mean,
nobody wanted these books in a can. And so all he did was
grouse. So I didn't get any marketing support. Oh, yeah,
exactly.
Adam Curry: Well, here's the kicker. So one of the podcasts
that that I was very successful that rocketed to the top of the
charts. Everybody was invisibIe Lea invisibIe Lea was they were
on the level of watch the shows that come back show the true
crime drama that brought podcasting back. How come I'm
spacing?
John C Dvorak: Yeah, the simplify was the name of it. No,
no
Unknown: shortfall.
Adam Curry: No, no, no, that's not it. It was lunch, Bob. Yeah,
close. But that's not it. Cereal cereal,
John C Dvorak: cereal cereal. That's the one. Yeah.
Adam Curry: So it actually outage did cereal a little bit.
How much do you think it cost on an annual basis invisibility was
canceled? How much do you think it costs on an annual basis to
produce invisibIe? Lea
John C Dvorak: more than we take in correct $1 million
Adam Curry: to produce the show. I don't care what you're doing.
There's that's not the model of podcasting.
John C Dvorak: No, the model got to be Yeah,
Adam Curry: it's cheap, kiss. It's cheap. We of course, have
perfected the model by accepting value for value, which is time,
talent and treasure. So if you build a website, or if you turn
it off, you know,
John C Dvorak: that if we had 10 employees that we this model
would fail. Of course, those all those podcasts have like John
Stewart's reproduce, we had
Adam Curry: one extra employee this model would fail.
John C Dvorak: Yeah, it would, it would, yes. But 10 days,
we're talking those guys are loaded to the gills. They got to
they got two or three people that are doing this show they
got they got to get engineers one or two engineers. They've
got five producers. They got a
Adam Curry: writer, line producer, they got
John C Dvorak: to get a couple of writers I'm gonna say they
Adam Curry: were probably more like 25 people not even 10
John C Dvorak: No, surprise me if it was 25 people and they got
a studio overhead studio Neumann Mike Neumann Mike's
Adam Curry: soundproof on like, you know, here, it's like you
hear the echo of my room. I don't know. I can't afford a
soundproof
John C Dvorak: you really don't have much echo in your room.
Adam Curry: No, but still. I use noise gates for that very
reason. You know, I can hear the traffic on those on the bridge
if I don't use a noise gate on your on your mic.
John C Dvorak: I mean, we're not I don't sound like this. Hey, I
don't know what.
Adam Curry: Exactly, exactly. So Thank you all very much for
contributing to the show. It's the only way we can make it
work. A tweet from Nancy Pelosi, which was just too delicious to
be true. Trump, the grand jury has acted upon the facts and the
law. She writes, no one is above the law. And everyone has the
right to a trial to prove innocence.
Unknown: When people are innocent until well alleged to
be involved in some type of criminal activity.
Adam Curry: Can you believe what she wrote? Wow, okay, for a
while. And then
John C Dvorak: she's here. She doesn't know you're innocent
until proven guilty.
Adam Curry: Twitter even put a disclaimer on her tweet, which I
thought was pretty funny. I haven't seen that in a while.
And the disclaimer says Miss Pelosi mistakenly says that
Trump can prove his innocence at trial law in the US assumes the
innocence of a defendant and the prosecution must prove guilt for
a conviction with a link to Cornell
John C Dvorak: Law School. This is I think, play one more time
played the Brennan this letter
Adam Curry: former former director of CIA, John Brennan,
Unknown: people are innocent until alleged to be involved in
some type of criminal activity.
John C Dvorak: This is our government. Yeah.
Adam Curry: And that's how distorted they are. It's, it's,
it's crazy. It's, um, this was this, of course happened on a
show day, right after we had said that which we believe to be
true, of course, that the grand jury was going on, was going on
vacation for a month.
John C Dvorak: So they said that I guess they got some blowback
buy from somebody and they said, You better come up with
something now and then go on vacation. Yes. Somebody told
them to do this.
Adam Curry: So here's what's happening everywhere. And I'm
going to play I'm sure I know. You have clips I've and some of
them are hilarious at the hilarity of this. If I were in
charge of this political indictment, I'd keep it going as
long as I could. This I mean, this is humorous. This is great.
Everyone's got something to say people's heads are exploding.
And I love this. There's one particular lie blatant lie that
keeps getting repeated. I saw Bill Maher do it on Friday
night. This is France 24 with the with their correspondent,
Doug, you know douchebag Doug, listen to the lie that he
repeats that everyone is talking about.
Unknown: More analysis, I'm joined on set by our
international affairs commentator, Douglas Herbert.
Hello, again, Donald Trump. His reaction basically has been not
to hide from this. He's essentially challenging
prosecutors to bring it on.
Yeah, look, you know, we just heard that that last woman there
among those reactions from voters, saying basically, you
know, she doesn't believe much is going to come of this, you
know, Donald Trump time and again, throughout his political
and even pre political career as a real estate mogul has defied
legal norms and precedents. He has evaded justice and any sort
of accountability or reckoning, factually, he has not been
before any sort of court on any sort of charges like this. And
he has generally behaved in a way that suggests that the
regular rules that would apply to other people don't apply to
him. And there's nothing to suggest that in this case,
that's going to change his weaponize this indictment, but
you are right. There are multiple investigations
outstanding against him. This is the first in what some believe,
including his former lawyer, Michael Cohen, who spent time in
prison for helping Donald Trump Allegedly, he has said that he
believes this is just the beginning.
Adam Curry: This is what everyone keeps saying, his
lawyer, his lawyer went to jail for it. No. Michael Cohen, as
far as I can remember, went to jail because he had some scam
going with taxi medallions. And somehow Michael Cohen even
believes this himself or he's squirrely with it at minimum and
he's he's everywhere here he is CNN this morning, trying to help
Don Lemon with his ratings. They can
Unknown: coordinate court dates, but they don't coordinate
indictments I have to go when they have to go where the
evidence leads. And there are things like the statute of
limitations or what have you. But technically, finally, Willis
in Georgia if she does indict, could go first. They could
coordinate and allow her to go to trial first, and this could
go second, this notion of oh, this is a weaker case. Then the
January 6, I acknowledge that January 6, was an insurrection,
like we haven't seen in what 150 years in this country, but
doesn't make this any less of a crime. You know, I always call
this the Capone theory, the Al Capone theory they couldn't get
a murder, extortion, racketeering, bootlegging, etc.
They got one
Adam Curry: tax, just loving soldiers, etc. They couldn't
Unknown: get them on murder, extortion, racketeering,
bootlegging, etc. They got one tax evasion. If that crime And
Don was enough for me to be charged, signed, convicted and
sent to prison. Why am I any different than Donald Trump?
Adam Curry: Am I Am I mistaken? Did he get charged for that
crime? Did I miss it? I misunderstood go
John C Dvorak: back and look, I mean, this guy's a douche bag
from the get go. He's worse than Avenue daddy who's also
influenced.
Adam Curry: Here's, here's a little mini mini mini mini mini
cut of Trump.
Unknown: I am a victim of one of the great political smear
campaigns in the history
of our country. The entire thing has been a witch hunt. And there
is no collusion. They were lawyers, they'd be disbarred for
what they're doing is a one sided witch hunt. And I'm a
victim. I will tell you, I'm a victim. Oh, they're after me for
so many things. Oh, those prosecutors.
Adam Curry: I gotta tell you, one of our trolls just said Oh,
Cohen still working for Trump. He got it all wrong. That's an
interesting theory. I like that. That's a very interesting
theory. Very, very, very, very good. I like that.
John C Dvorak: So I have a thought on this whole thing
distasteful. Well, of course, what really got on my nerves and
I had three clips here was the especially the New York late
night audiences sharing this as the as though this is some
positive step into in the direction of the American
Enterprise. That should be hired.
Adam Curry: Oh, man, did you see I don't know if you still have
an account on our little secret mastodon. Oh, have you been
there recently?
John C Dvorak: I haven't been there recently. I have a lot of
those. I'm I'm following a lot of those same people on on the
agenda social I just tagged him to follow.
Adam Curry: Now. Okay, well, that's a good way to get our
server on more banned lists.
John C Dvorak: How's that gonna work?
Adam Curry: Because then then no agenda social stuff flows
through to that to through the Federation?
John C Dvorak: Not the way I see it. You don't, okay? Doesn't
matter. If I go if I go to that little box and put somebody in I
want to follow. Craig Newmark, for example. If they show up in
my timeline, yes. It will show up in there as
Adam Curry: people that you follow show up in their
federated timeline. It's okay, doesn't matter. But that was the
whole point of giving you the secret the secret A
John C Dvorak: No, no, that's not I don't believe this has to
be true. Okay. So in other words, why would people I fall
off show up in their timeouts how
Adam Curry: the not in their timeline in their federated
timeline. That's how that's how Mastodon works.
John C Dvorak: Well, I don't see anybody that they're following
your timeline unless they like they're like they like their
posts.
Adam Curry: You don't look at the federated timeline. It
doesn't matter. I'm just saying. Doesn't matter. Okay.
John C Dvorak: So let's go to late this is the three clips
called Late Night hate.
Adam Curry: Oh, this is the late night talk shows all emanating
from New York. I see what you're saying. No,
John C Dvorak: no, no once from LA and that's the one that had
the mildest applause.
Adam Curry: Whose Okemos nailed it Okay, let's listen to him
first.
Unknown: Scott would never come we were skeptical. But let me
give you some insight on how our jobs work here at this show.
Less than two hours ago, I'm up in my office working on a
monologue. I'm typing about opening day for baseball and a
joke about how and other people at Cracker Jacks spent the whole
winter in the dark cheering I can't a bumblebee tuna. We had a
thing about a new nasal spray. They'll give you an erection in
five minutes. Or your next one is free. And guess what? We had
to throw it all in the garbage. It's all moot because the J and
Donald J Trump now stands for jail.
John C Dvorak: That was the
Adam Curry: short one. Yeah, that's it. Yeah. Okay.
John C Dvorak: So let's go to Fallon who really is pretty soft
pedaling. Each felon is not like a massive Trump hitter. He kind
of balances that does a lot of Biden jokes. And you could tell
that he was actually kind of surprised by his New York
audience reaction to his little mention of this sort of this
little factoid this park day clip two.
Unknown: Thank you very much, everybody. Welcome. Welcome.
Welcome to The Tonight Show. Thank you very much. Well, guys,
it's finally happened. A new york grand jury has voted to
indict former President Trump for his role in a hush money
payments made to stormy Daniels.
John C Dvorak: Wow, happy. They're very happy. But nothing
compares to this and I left the entire applause in this one. And
by the way, and then he could this is called bear and then he
after this law, by the way, this is not just applause on the
Colbert show. This is a standing ovation for the indictment of
Donald Trump, by members of the American public thinking this is
the greatest thing that's ever happened to this country.
Standing ovation. It goes on and on and on. I play the day and
then Colbert does more material which brings in louder and
louder applause I left the rest of it out because it got
tedious. But here we go.
Unknown: So I'm your host, Stephen Colbert. Ladies and
gentlemen, today I am feeling a little extra American. One
reason today is baseball's opening day here in New York. It
wasn't here in New York was 40 degrees, but I still ate ice
cream out of a baseball helmet. Why? Just little something we're
celebrating today because literally, three minutes before
I walked out on the stage here, the New York Times reported a
New York Grand Jury voted to indict former president.
Adam Curry: I always I'm glad when I see Americans happy
though. There's nothing I'm happy when America very happy.
John C Dvorak: I found this disgusting moment in American
history. And and they're New Yorkers in particular. This is
hateful people. Oh, yeah. And they're no he saw him up there.
And they showed the they would throw the camera into this
audience, it's doing a standing ovation for this. And there's
high fiving each other and patting each other in there. And
all these new yorkers it was I just thought it was kind of
sick. You know,
Adam Curry: I'm going to disagree a little bit there. I
think these are human resources, who are who feel very, they feel
very bad about where they're at where the world is at, they feel
bad about themselves. They are, they might be on most people on
some kind of drug they've, they they're depressed. And it
doesn't, it doesn't really matter. As long as it's
something that can all it was part of the the mass formations
they can all get on board with something. And it's it's almost
like the wave at the baseball stadium. I don't even think they
understand. It's Trump has became this, this this, this
thing to be together on for them. And, and I'm sure there's
also there's a big applause sign and they probably practice you
know, the, the, I'm sure the you know, the crowd, the warm up guy
probably got them all jacked and ready for it. So it's, I don't
know how organic it was pretty, pretty organic. But I think
people these people just, you know, look there at the show to
start with, which is a boring show, but they're probably
excited about being on it while I'm in a show. I'm gonna be on
camera. So, you know, do they really know what they're doing?
No, I think this simple.
John C Dvorak: Okay, okay, you can stop.
Adam Curry: MSNBC, though, was really off the chain. It was
like Stop the presses. We are Trump indictment Central. And
actually got a little bit of analysis from Rachel Maddow, who
still does a show apparently once a week.
Unknown: It is true that we have never indicted a former US
president before but we did indict a former US Vice
President, who had only been out of office for about two minutes,
literally when he was indicted in federal court in 1973. And
that case that Spiro Agnew case did have some remarkable
similarities to the reported charges against Mr. Trump today.
Adam Curry: For notice Mr. Trump, I always love it when
they do that Mr.
Unknown: Trump and charges against Mr. Trump today.
John C Dvorak: I would like to know before you continue, I'd
like to know what the what the similarities are. Spiro Agnew
was indicted for taking a literally money in a suitcase
bribe his office
Adam Curry: it's the same thing, man. It's exactly the same
thing. It's the same thing.
Unknown: The similarities are some remarkable similarities to
the reported charges against Mr. Trump today, for example, and
vice president Spiro Agnes case they charged him with taking
illicit payments while he was in the White House, right. In
Trump's case, it's believed that the charges against him include
him making illicit payments while he was in the White House.
Adam Curry: That's very similar, not so much the same. Everyone's
so creative.
John C Dvorak: And my understanding was that his
illicit payments came from before he was in the White
House. Yes. And came from his attorney. Not from him. It was
before he would deed we didn't want it to get into the
campaign. That's why it was done. It was before he was in
the White House fake news. So she goes didn't even have that
part accurate. Yes, factcheck
Unknown: false. And while Trump and Agnew were both enormously
polarizing and aggressive, very hard, right politicians,
Adam Curry: I don't know. I'm too young for Spiro Agnew. Is
that true? Yes.
John C Dvorak: I knew Agnew was yeah, he was. He was as he was
Martin Malik. He was funny. It was funny. So I was trying to
say some crazy stuff. Okay, well, good. And this was the era
when I was a Democrat. So each of which were you.
Adam Curry: Were you happy? Would you hooting and hollering
when he got indicted? We
Unknown: get the bastard. Yeah.
Each of which each of them did some enormously controversial,
maybe even arguably illegal things while in office.
Ultimately, what they were both charged with, were things that
were about being venal and petty and their financial charges but
in a very small change sort of way
Adam Curry: dice roll. I think taking bribes in the in the
White House is not quite a small thing.
John C Dvorak: No, it wasn't at all. And it was there's some
evidence that Nixon did something similar. A suitcase
with a million dollars and it was the way it was told but but
this Agnew thing was just a straight up bribe right in his
office and does nothing compared to being extorted.
Adam Curry: Now, let's go to Stephanie rule. You know, she's
the former Wall Street girl that all the boys in the trading desk
loathed.
Unknown: After Donald Trump's historic indictment, a well
known disinformation tracking group says there are no credible
threats of violence or plans for large demonstrations as of now,
but some on the far right, including Marjorie Taylor Greene
are encouraging protests. Oh, NBC News National Security
Analyst Frank bluesy is with us. He's also the former Assistant
Director for the FBI. Frank, you track this stuff. What do you
think we're,
what concerns me the most is people riling up lone offenders
who lone offenders only have to get it right. Once the FBI needs
to get it right. Every single day lone offenders
Adam Curry: is just a variation of the lone wolf.
John C Dvorak: It is I think it is the lone wolf. I don't like
using that term anymore.
Unknown: Those lone offenders are often wound up and worked
into a frenzy online. And that starts with conspiracy
theorists.
Adam Curry: Unlike, unlike the day of the Trans Day of
vengeance, yeah.
Unknown: Okay. And that starts with conspiracy theorists
pushing lies, they get bigger and bigger. Hey,
Adam Curry: who are you calling conspiracy theorists?
Unknown: Are you watching for that now? Because there's a lot
of people using the internet to come up a
John C Dvorak: woman a professional broadcaster? She
sucks.
Adam Curry: No, she used to be a Wall Street trader is I heard
from the former New York banker then, you know, all the guys at
the trading desk. They liked her. I don't know what that
meant. But he said that
Unknown: means are you watching for that now? Because there's a
lot of people using the internet to come up with all sorts of
explanations that make no sense.
John C Dvorak: It means what it means the same way she got this
job,
Unknown: or what's going on for an indictment that again, is
sealed.
Yeah. Chief among the the disinformation, the conspiracy
theories is of course, that's a couple things. One, the federal
government the DOJ somehow has ordered the Manhattan DA to do
this. That simply is ignorance of how the system works. But no
one lets facts get in the way of a perfectly good conspiracy
theory. The other thing that's that's troubling when
Adam Curry: it what was the conspiracy theory, because I
usually come up with him. So I didn't grow government,
Unknown: the DOJ somehow has ordered the Manhattan DA to do
this. That simply is ignorance of how the system works. But no
one lets facts get in the way of a perfectly good conspiracy
theory. The other thing that's troubling is that attack on
George Soros that he's behind everything that's wrong with
here we go with Trump world and that somehow he he donated money
specifically to Alvin Bragg, and he's making this happen when the
facts are. What we know is that George Soros has never directly
donated money to Alvin Bragg, but rather to a group called The
Color of Change, which ended up giving some money to Alvin
Bragg, but he's never even met or communicated with Elvin
Bragg. So again, I think keep putting the facts out there,
counter the disinformation.
Adam Curry: Now this was kind of just the setup because I knew
this was going to happen, and I wish I would have mentioned it
because we thought they were going on vacation. Of course,
when you talk about sorrows, then you know what, what is
always what always comes back is no, that's anti semitic. If
you're talking about why
John C Dvorak: I've got this covered in my PBS clips on the
top right, then I'll pull this stunt.
Adam Curry: I'll do these two and then you go to PBS. How's
that sound? Like it Okay, morning, Joe. They really
ratchet it up.
Unknown: You can't help himself Ron DeSantis embarrassed
himself.
Adam Curry: Oh, wait, let me let me read A tweet from Ron
DeSantis DeSantis tweeted, the weaponization of the legal
system to advance a political agenda turns the rule of law on
its head. It is unAmerican. The Soros backed Manhattan District
backed Manhattan district attorney has consistently bent
the law to downgrade felonies and to excuse criminal conduct
yet. Now he is stretching the law to target a political
opponent. And then he go That's so embarrassing. No, that's anti
semitic embarrassed
John C Dvorak: themselves. That's Jew
Adam Curry: hate.
John C Dvorak: You know what? Wait wait days, he left out the
part that he was naked while doing that tweet that
Unknown: he can't help himself, Ron DeSantis embarrassed himself
by saying he was gonna fight extradition charges like he has
any say yummy. Again, one more Republican that really just
doesn't give a damn about the Constitution of the United
States. And of course, you gotta Yeah, you gotta just
Adam Curry: hold on before we move on. So what DeSantis said
is Florida will not assist in an extradition request, given the
questionable circumstances at issue with this Soros back
Manhattan prosecutor and his political agenda. So what is the
constitutional law about states cooperating with each other when
it comes to an extradition request?
John C Dvorak: I think that's extra cause I don't think that's
in the constitution. So you can state rights, you can do what
you want. You don't have to extradite anybody. Thank you.
Unknown: What's this line? Look
at the Soros back now. It's just Jews. They're attacking Jewish
international bankers. It's what anti
Adam Curry: whites they're attacking Jewish international
globalist bankers
Unknown: there. Yeah, well, it
gets better Jewish international bankers,
Adam Curry: Jewish international bankers.
Unknown: It's what anti Semites have been doing for hundreds of
years attacking Jewish international bankers. That's
what they do. They try to blame everything on Jewish
international bankers think
Adam Curry: he's saying enough. Is he repeating Jewish
international bankers enough? And I don't think last time I
checked, Soros is a banker. He's a hedge fund guy at best
Unknown: Jewish international bankers. That's what they do.
They try to blame everything on Jewish international bankers.
It's Germany. 1933. But why does Ron DeSantis further embarrass
himself by saying I'm gonna ignore the Constitution? And I'm
not going to extradite Trump to New York.
Adam Curry: So was it Jewish international bankers who the
Nazis went after in 1933
John C Dvorak: that that I know of, there's another thing
they're all circling the WAG all these guys now I find this
distressing. Well, wait,
Adam Curry: wait for joy read this. They're
John C Dvorak: all they're all circling the wagons around
Soros, who is a creep, and he was a Nazi. And he Vinnie sent
his own people to the gas chamber and did so with glee and
thought it was the best time of his life. We've got clips of
this.
Adam Curry: I love it when you talk about this. And a train
actually honks its horn in the background. That is the best.
Yes, we have this multitude of clips. And that was one of the
happiest times of his life. That's exactly exactly what he
said. But we forgot one little extra thing about this. It's not
just the Jewish international bankers. Alvin Bragg is black.
Unknown: You know, Donald Trump is now bragging, but he's raised
something like $4 million. He's trying to he's sort of out there
with a lot of bravado, as if he's not afraid at all. But we
now know that this is going to be a real booking. He's gonna
get his fingerprints taken. He's gonna go through what you had to
go through.
Not exactly, not exactly the same. Not exactly. Cohen again.
And well, it's gonna be very different. I mean, He is the
former president of the United States. And there's a certain
difference, you know, I was handcuffed. Don't forget, I went
through that processing twice. Second time with the
unconstitutional remain.
Adam Curry: I've said this is not the one I want to play from.
This is the one I want to play from joy read.
Unknown: My editorial comment is it is a statement without
dignity. The governor of Florida does not know the facts. So he
cannot talk about questionable facts. In this case. He doesn't
know them. Only the grand jury knows and this is a sealed
indictment. So he's making a statement about something he
doesn't know the
Adam Curry: answer to. Apparently, everyone else at
MSNBC knows what's going to happen to
Unknown: him throwing out as you said, Andrew, dog whistles, you
know, historically. I mean, this idea among the right, that
African Americans that black folks who were in positions are
controlled by some Jewish overseer who's pulling their
strings.
Adam Curry: I love this. She took it to the Mac so not only
is it is it, visit anti symmetric against Jewish
international bankers, but you know, the bankers they control
the blacks come and read take it home.
Unknown: That's what that statement reads like. And
perhaps this governor should maybe read a history book to
speak because he might not understand what he is
channeling. But he is channeling an era in American history that
is one of the most ugly that he's probably not allowed to be
taught in school. But that idea, prosecutor and by the way, it's
not just this prosecutor Android, I'll let you go on this
and let you have a final word on it. It was a grand jury that
looked at facts that looked at evidence. And this grand jury
took a vote which is part of our system. And so for the governor
of one of our largest states, and most important states to
throw out a miasma of words that trigger the far right for his
political ambitions that really sound like that old meme that
this black prosecutor must be under the secret control of
this, you know, murky Jewish millionaire. That could be 1950
and it is it is not dignified. It's absolutely beneath the
dignity of a governor.
Adam Curry: I love it. It's 1933 it's 1950 I love my asthma. i
This is a word I was not familiar with, which is a
vaporous exaltation formerly believed to cause disease.
miasma as a great word,
John C Dvorak: not sure she used it correctly.
Adam Curry: She didn't use it in the right sentence, that's for
sure. But so there you go. That's that's that's what they
got. Your anti semitic you're racist. You're igniting horrible
things from the past 1933 1950 Whoa. Did that happen when they
when they arrested when they indicted Spiro Agnew was
everyone all like you know and spear Agnew was? What was he?
What is Agnew Greek? S did they had Greek do they invoke any of
these these things any of that?
John C Dvorak: No. This is all recent.
Adam Curry: So PBS did the same apparently they had the same
John C Dvorak: swell and gonna get it they did a more elaborate
report this long a bunch of clips but I'm good. It brings in
our friend our new friend the new friend. We haven't missed a
woman Laura Laura something Lopez.
Adam Curry: Oh yes, she's the new stars the
John C Dvorak: one who came out and said that the joy George
Floyd riots in Portland and 2020 We're from the right wing there
right
Adam Curry: we have riots right wing riots. Yes, of course.
John C Dvorak: He's got another one. In this little pile of crap
that we're gonna listen to from PBS which has gone off the deep
gun woke Yes. Let's start with clip one
Unknown: New York City on alert tonight for potential unrest
following the indictment of Donald Trump the first former
president to be charged with a crime. Mr. Trump previously
warned of potential death and destruction if charges were
brought. The indictment reportedly includes more than 30
counts stemming from hush money payments allegedly paid to
stormy Daniels during the 2001 campaign. While the specific
charges Mr. Trump faces
Adam Curry: I can just see that insert shot of her going Hi
everyone. Well done yield.
Unknown: political backlash was fast and fierce. Mr. Trump's
slamming Manhattan district attorney Alvin Bragg as a
disgrace and dismissing the case as another witch hunt who's
ready to fight his attorney says the former president was shocked
by news of the indictment despite Mr. Trump saying on
social media earlier this month, he expected to be arrested in
connection with the investigation.
I've never been more angry about a charge because today, the rule
of law in the United States of America died.
Former President Trump's supporters quickly flocked to
his Florida home if we don't
stand up for what's right, then we're no better than Venezuela.
And many of his potential 2024 rivals rushed to his defense the
American people will see this for what it is former Vice
President Mike Pence, who has been critical of Mr. Trump's
role in the January 6 insurrection, said these charges
go too far.
The unprecedented indictment of a former president of the United
States for a campaign finance issue is an outrage. And I think
it's it's clear to the overwhelming majority of the
American people that this is nothing short of a of a
political prosecution.
Florida Governor Ron DeSantis called the indictment on
American and former Arkansas Governor ASA Hutchinson, who
previously said Mr. Trump's had dropped out of the 2024 race if
he was indicted, called the news a dark day for America, adding
Well Mr. Trump is presumed innocent. The grand jury found
credible facts to support the charges. For his part Donald
Trump spent last night on the phone shoring up support among
Republican allies in Congress.
Adam Curry: I just love how they all know exactly what the
indictment is. But no one knows and we don't really know. I
mean, they're not even saying people close to the grand jury
Are you familiar with the grand jury's thinking? None of that.
And did they mention in this report as you go through your,
your, your presentation here that the Jacob Chancellor the so
called Q anon Shaman was released from prison 14 months
early.
John C Dvorak: That was mentioned but not in this report
now. Okay,
Adam Curry: which is kind of interesting.
John C Dvorak: Yeah, well, they got I think Tucker had done, I
think is Tucker's report. They got him out.
Adam Curry: Yeah. Well, they obviously knew that they
couldn't keep him they couldn't they couldn't do anything with
them. Anyway, go ahead. All right.
John C Dvorak: Onward. This is
Unknown: legal voodoo. You got a misdemeanor that's been made a
felony Lindy Hop. Nobody in the history of New York City has
ever been prosecuted under this theory except for Donald J.
Trump. House Speaker
Kevin McCarthy accused the Manhattan DA of weaponizing our
sacred system of justice and said House Republicans would
investigate Alvin Bragg's actions. As for reaction from
the White House, I'm no common. President Biden choosing not to
weigh in, as he spoke to reporters don't know what's
going on. The current president opting to stay out of an active
criminal matter while focusing on his own agenda.
I decided that really, my loyalty can no longer be to a
man who doesn't deserve it.
But the key witness Michael Cohen, who spent hours
testifying to the grand jury in recent weeks, and previously
pleaded guilty to federal charges connected to the hush
money payments, said Mr. Trump is finally being held
accountable.
He's seething right now he is beyond angry. He doesn't
understand accountability. And right now, Alvin breg, has
finally put that into his lap.
Donald Trump is expected to be in court for the first time
Tuesday afternoon. When Donald Trump is arraigned on the 15th
floor of the courthouse behind me he'll have to enter a plea on
the charges. It's not clear whether he'll be handcuffed
during that appearance, but we know he will be photographed,
fingerprinted and processed for a felony arrest. his legal team
is expected to vigorously fight these charges. But a timeline
for a potential trial right now remains unclear. Meantime, we
have not seen any demonstrators or protesters today. But given
concerns about the potential for violence on the scale of what
transpired during the January 6. insurrection. The NYPD says it's
working with its law enforcement partners at every level of
government to prepare accordingly.
John C Dvorak: Which they didn't do it January 6, even though
they were given a heads up.
Adam Curry: Just question it had besides the Hi everybody. Did
they have stormy Daniels on any in any of these?
John C Dvorak: I have not seen stormy Daniels and also in all,
especially the normal media that M five m left wing media. I
would say that there's not one mention or even a showing of his
brags the the DA is when he ran for office going on and on it
before he while he was running there. He's going to get
trumped. That's his promise. times we think that would have
something to do with the analysis
Adam Curry: times radio. I've 19 seconds of stormy Daniels.
That's the times in the UK. They had her on and I think I didn't
want to play this 19 seconds. When you hear it, you'll
understand why and she may not be the best witness.
Unknown: I was about to ask how you feel about potentially
taking the stand and potentially having to face Trump in court.
You know, I've seen him Nagin he's a lot as a way you can be
scarier with this close on and after what Abinadi put me
through last January the coke you know I'm not scared
Adam Curry: Thank you. Yeah, she's coked up man
John C Dvorak: that's cool that's that's that's a cocaine
even to talk like this you know you just bought her got
assaulted like Kermit the Frog. Possible if it uses salt to get
good dough is it's all clogged up.
Adam Curry: No wonder they don't have sound bites over. Know
what? She's gonna be great on the stand. Excellent point.
Yeah. Okay. Great.
John C Dvorak: Well, you know that he has a tidy beat as Okay,
now. Now we go to this is more of the PBS but this actually
changed. They've changed from the report. Now we're going into
the analysis studio bringing this we bring in Ms. Lopez, who,
who's talking about before previously talked about the
right wing riots, protesting George Floyd.
Adam Curry: Yes. Okay. I
Unknown: think all of this here is our White House correspondent
Laura bro Lopes. Good to see you, Laura. It's good to see
you. So what are you hearing from people you're talking to
about? You're learning racial implications of Trump's bid. He
is a current candidate for president and the rest of the
2024 GOP presidential field.
So first off this indictment does not legally disqualify the
former president from running so he is continuing to run. But I
spoke to a number of GOP strategists who told me that In
the short term, they believe that this helps Trump because
essentially it requires all of his rivals or would be rivals to
have to respond to him to talk about him to define themselves
in association with him. And now whether or not that extends all
the way through the primary into the nomination is a big
question. There's a lot of time left on the board.
So we've heard repeatedly Mr. Trump and his Republican allies
calling out the what they call the weaponization of the justice
system calling all these investigations witch hunts, when
you talk to extremism experts in particular, what did they tell
you about the implications of that kind of language?
Adam Curry: Wait a minute, do we have any quotes from said
extremism experts? This is a new gig. I haven't heard of the
extremists. I like it.
Unknown: So that language that you just mentioned on no
weaponization has been used by Trump as well as House GOP
leaders like Kevin McCarthy and Steve Scalise and a number of
other Republicans. They've also used words like quote,
persecution, witch hunt, and I spoke to historian Ruth Bengi
out of New York University today, and she diagnosed that
victimization like, Oh,
Adam Curry: I'm sorry. The question was, what are the
extremism experts saying? And apparently she's the expert. And
then there's some librarian or something she brings into it.
This is
John C Dvorak: a she brought it into his story and from when
they didn't do your thing at NYU,
Adam Curry: okay. Okay, so that's the extreme is all right.
Well, she
John C Dvorak: I guess she is, but then I want to play
Adam Curry: it again. It's almost over I play together.
Unknown: It's in particular, what did they tell you about the
implications of that kind of language?
So that language that you just mentioned, I'm now weaponization
has been used by Trump as well as House GOP leaders like Kevin
McCarthy and Steve Scalise and a number of other Republicans.
They've also used words like quote, persecution, witch hunt,
and I spoke to historian Ruth Bengi out of New York University
today, and she diagnosed that victimization language
this is a talking points of authoritarians to try and get
the public to see the forces against them as discredited
partisan hacks and fests retain their reputation for being the
ones who are going to drain the swamp, which was Mussolini
slogan initially? Ah
Adam Curry: okay, it's in the show notes. Yes. Yes, yes. In
the
John C Dvorak: show notes. This is bullcrap. This Mussolini
thing came out of it at Albright the Madeleine Albright wrote a
book and she threw it in there as a toss away that did that he
did. He did actually say drain the swamp a couple of times,
referring to actual swamps that were needed that needed
draining. Are you kidding me? No, not real. And so PolitiFact
and it's in the show notes, had done a done research on this
because it was like sounded like bull crap to them. And it turned
out to be bullcrap. Leaney never used drain the swamps in the
sense that Trump did and then they use the term in their
little report that this phrase used as Trump uses it is all
American is American is apple pies, exactly what they said,
interesting, this woman who's a historian, who's an expert, I
guess that in some sort of male or Attarian
Adam Curry: read from her from her bio, Ruth, these, please.
Ben Keops is a historian who writes about authoritarianism,
democracy protection and propaganda. She is a professor
of history and Italian studies at New York University, the
recipient of Guggenheim Fulbright and other fellowships
and advisor to protect democracy. And she's an MSNBC
opinion, opinion columnist. So she's not an expert on
terrorism, or what wasn't extremism, extremism, but
authoritarianism, and specifically history and Italian
studies. And she doesn't even know that this is bullcrap.
Regarding Mussolini.
John C Dvorak: She doesn't want to know she said classic spook.
I don't want to become a liberal NYU professor, that's just kind
of like step into a certain way of thinking, and she's
disqualified. Unless PolitiFact got it wrong, which doesn't seem
to be the case. They were very thorough. She she wrote the
Adam Curry: book, strong men, Mussolini, to the present,
published in 2020, a look at how illiberal leaders use
propaganda, corruption, violence and machismo and how they can be
defeated. Wow.
John C Dvorak: So good point is this is another example to me.
Having done you know, a look at it, and then other people have,
I guess, because this is very, this was controversial when
Madeleine Albright made the claim, which is where I think
she got this idea I'm Laura bringing Laura Lopez to
something look I can't pronounce her middle name is like
convoluted. Laura Lopez Reading this stuff in this PBS has
really lost it. Oh yeah,
Unknown: just play a clip for.
So you heard Ruth say there that those are hallmarks of
authoritarian movements and she also said traits of
authoritarian movements are attacking the press attacking
judges attacking prosecutors.
What about the prospects of political violence here? We've
heard Mr. Trump calling for protests for a week we saw Jeff
reporting there in New York that New York officials are ramping
up their security. Mr. Trump has promised death and destruction
if there was an indictment. What should we what should we look
for ahead?
John C Dvorak: Okay, where did Trump now this is a Laura's
thing. This is the host woman. When did Trump promise death and
destruction? She said she literally said he promised this
a news organization PBS. He promised death and destruction
promised it can where can we
Adam Curry: listen to when I was so short? I want to hear it
again.
Unknown: So you heard Ruth say there that those are hallmarks
of authoritarian movements. And she also said traits of
authoritarian movements are attacking the press, attacking
judges attacking prosecutors.
What about the prospects of political violence here? We've
heard Mr. Trump calling for protests for a week we saw Jeff
reporting there in New York that New York officials are ramping
up their security. Mr. Trump has promised death and destruction
if there was an indictment. What should we what should we look
for?
Adam Curry: Death and destruction,
John C Dvorak: the promise. Now he mentioned he mentioned death
and destruction. Yes. Warning that anything could happen. You
have to carefully see it was if it was couched but he did not
promise death and destruction. This is a lie. This is yet
another PBS lie. Will people stop giving them money and give
us the money? Stop giving them money. Right on, right last
clip.
Unknown: So on that security that New York PD is ramping up
Marjorie Taylor Greene, big ally of Trump, a House Republicans
said that she's headed to New York on Tuesday for the
arraignment. She tweeted that today saying that she's going to
be going there and calling for protests. Also calling it a
witch hunt in her tweet that also comes on as foxes, Tucker
Carlson on air as he's talking about the indictment is telling
his viewers that it's probably not a good time for them to get
rid of their AR fifteens. And it also comes as Trump and a number
of his allies have been using dog whistle attacks, anti
semitic attacks against as when they attack da Alvin Bragg by
saying that he is backed by George Soros who is Jewish.
Adam Curry: She wish did she go into it and explain how that is
a dog whistle or is that just something we eat? That's
John C Dvorak: not just that was kind of it goes on and on. But
it doesn't go into any details about how the dog whistle works.
But there you go again. Now we can't say anything about George
Soros. Because if you do, if you criticize George Soros, you're
you're being anti semitic. How does that work?
Adam Curry: Well, I guess you can't criticize Jamie Dimon then
John C Dvorak: either you can't criticize any Jew I guess.
Adam Curry: Even though there's now Sergey Brin has been
subpoenaed and and Michael Ovitz to testify in this JP Morgan
case where Jamie Dimon knew that Epstein was was paying off sex
slaves. I guess we can't talk about that then. No, no.
John C Dvorak: Can't you can't criticize Epstein isn't a
Jewish. You can't criticize Jeffrey Epstein. You're anti
semitic. This is bull crap. This is a smokescreen. This is a way
to cover up and why again, I asked the question this the last
night that was the last clip. I'm asking the question. Why are
they circling the wagons around Soros? What's wrong with this
picture? What is wrong with public broadcasting?
Adam Curry: He probably funds them to Hello. And you want to
you want to see how much the Open Society Institute gives to
PBS I can only guess. Even though interestingly so Soros is
I mean he's
John C Dvorak: he's almost no he's not even in the he's not
even in the picture. They were just right on his son Alex. But
the other point is it's not even just open source open or open
whatever it's called Open Society Institute open society.
It's a bunch of other ones he's got like there's 30 or 40 of
these in fact the one they mentioned earlier and and one of
your reports was also from Monday through some other
operation to the to this brag character. This is really
pathetic. This is not giving us the public. What this is not
covering the news at all. This is just covering their ass. You
Adam Curry: It's actually helping Kanye is polite in an
odd, odd way. Very odd way. All right, let's listen to a couple
politicians for a second. Because Lindy Hop, Lady G was in
tears almost on Sean Hannity show.
Unknown: So what's behind all this hatred? They tried to
destroy Kavanaugh because they wanted to keep the Supreme Court
seat open. They're trying to destroy Donald Trump because
they fear him at the ballot box. To the Conservatives out there.
Make sure you vote. If you got friends make sure they vote if
you don't have any friends, go make some friends. But you need
to help this man Donald J. Trump.
Adam Curry: Make some friends. I'm so outraged. I need friends.
They're trying
John C Dvorak: to review don't have friends. Listen
Unknown: again to the Conservatives out there. Make
sure you vote. If you got friends make sure they vote if
you don't have any friends. Go make some friends.
Adam Curry: If you don't have any friends, go find some make
some friends. You need
Unknown: friends, but you need to help this man Donald Trump.
Hilarious. They're trying to drain him dry. He's more money
on lawyer.
Adam Curry: Oh, that's I think stormy did a good job on that.
They're trying to drain dry.
Unknown: More money on lawyers than most people spend on
campaigns. They're trying to bleed him dry. Donald J
trump.com. Go tonight. Give the president some money to fight
this bullshit. To destroy America. We're gonna fight back
at the ballot box. We're not gonna give in. How does this end
Shawn Trump wins in court and he wins the election. That's how
this wins ends.
Adam Curry: Wow. And I only saw a little bit of of Tucker I
think Thursday night because I will of course I was curious as
it came out during the show day, of course. And he had what's his
face? The guy from the blaze on the black guy who? Like
John C Dvorak: guy from the Blaze? Oh, yeah. Whitmore Well,
yeah, not Whitmore, football. data analysts, Jason
Adam Curry: Jason Whitlock. Whitlock? There we go. And he
said bullshit. And so there was bullshit twice on Fox. You're
listening to our show? You I mean, we, when we say bullshit,
it's rare. We say bull crap.
John C Dvorak: I just tried to say bull crap. So do I have 10
Bull crabs? funnier sounding? I mean, that's whenever you got
Lauren bobberts little comment, which is I Call Bull crap,
right. I still think is.
Adam Curry: I think we have that ISO Don't
John C Dvorak: be under bowburn.
Adam Curry: I think this is it. I Call Bull crap. Yes.
John C Dvorak: It's funnier.
Adam Curry: But then he had Glenn Beck on. Glenn Beck is a
Trump hater. Am I incorrect? Is he not always been well, hater?
John C Dvorak: It's one of those. It's always Mark Levin
the great one. Yeah. He was a Trump hater. And I think Hannity
was too to be honest about because he was a Bush family
guy. So he would be for Jeb. And yeah, so they all hated Trump.
And I tried to share with the three of them that hated Trump.
Adam Curry: Wait, did you see what happened?
John C Dvorak: With Beck? Yeah. No,
Adam Curry: he put on a maga hat. He said I'm Maga now and he
put on a an autographed by Trump, which I know is next to
his Rush Limbaugh microphone and his studio since I've been
there. In his display case, he had a Trump hat signed by Trump.
He ended up with the Rush Limbaugh mic while he says it's
the one Yeah. Is it gold plated? Yeah. That had been in his
museum. He has some crazy stuff in his museum. He's got all
kinds of stuff from presidents and
John C Dvorak: yeah, he looks like a hoarder. Yeah, he,
hoarder.
Adam Curry: He's a hoarder, but he has a guide to write it down
and arrange it. So that you know, that's called a museum.
John C Dvorak: The hoarder was it was a manager. Okay.
Adam Curry: So and that to me was like, Whoa, there's Beck
going all Maga. That was very interesting. So now let's hear
from CBS. And we'll kind of wrap it up for me. I think, Elizabeth
Warren, we need to have another politician on. Here she is,
Unknown: as we've been saying all morning. unprecedent,
uncharted territory, unprecedented motions. What was
your reaction when you heard
that? No one is above the law, not even a former president of
the United States. That's a very sober time for our country. A
real moment in history.
Adam Curry: Oh, no, she's, she's smart. She's smart here. And
yep.
Unknown: I think the most important part of this is to say
that a foundational piece of our democracy is holding that it is
possible to have an independent investigation to go wherever the
facts lead, and then to follow the process through And that's
going to mean to follow it all the way through, including,
assuming there is an arrest. If there's a trial, Donald Trump
can plead not guilty, he can bring whatever evidence he wants
it or we know this in school,
we're always taught no one is above the law.
Adam Curry: Interesting how she also kind of alludes to the fact
that he can prove he's not guilty. You're not interesting,
These people are nuts. He can prove that he's not guilty.
That's not how it works. But Is that Is that some kind of evil
conditioning that has now come into play?
John C Dvorak: I think you may have stumbled onto something. It
happened from time because I hadn't noticed any of this and
Butch Naja mentioned it is kind of a I wouldn't call it NLP, but
it's definitely some sort of conditioning that they were
you're guilty until you can prove yourself innocent.
Adam Curry: The next clip from her
Unknown: Why are no Republican saying this, we hear Lindsey
Graham saying this is legal voodoo, political persecution,
political hatred, that this is all about a political witch
hunt. Why are there no Republicans out one saying that
no one is above the law, that this is all about politics? i
It's hard not to see it. It's hard not to see a political lens
on this, is it not?
I can't answer for the Republicans, I can only answer
for myself. And for myself, it's about backing off and letting
the system work. Trust in the process. There is no reason to
believe there's been anything other than an independent
investigation. It's walked through all the steps. It is a
grand jury, according to the evidence released that
Adam Curry: evidence released. What have you seen any evidence
released? This, this, she's doing some kind of SIOP here
Unknown: jury according to the evidence release, that has voted
independently. And we will go forward with that process. And
that process offers plenty of opportunity for Donald Trump or
anyone else accused of a crime to bring forward whatever
evidence they want to use whatever part of the legal
system they want. But we follow the law for everyone because
it's foundational in our democracy. I
Adam Curry: remember sitting in class Wow, well, before before,
what's your face goes into remember sitting in class, she
does it again here. It's foundational to our democracy.
You can bring anything you want, you can follow. I'm gonna play
that again. You can follow you could follow the law, you can
bring anything you want to prove your innocence, no Pocahontas
that has
Unknown: voted independently. And we will go forward with that
process. And that process,
Adam Curry: that process is schoolmarm is going to explain
that process now offers plenty
Unknown: of opportunity for Donald Trump or anyone else
accused of a crime, to bring forward whatever evidence they
want to use whatever part of the legal system they want. But we
follow the law for everyone because it's foundational in our
democracy. And I remember sitting in Iran for three buddy
gets treated this,
this is the thing that so concerning Donald Trump is
calling for, in his words, death and destruction. He's falling
for his allies to rally behind him. He's asking people to
please speak up.
Adam Curry: I find this, this is truly abhorrent
Unknown: for him. Actually, I wouldn't. I'm glad you got this,
because you're onto something. Because what she said, in fact,
in fact, you don't have to bring anything to prove your ID at
all. You don't have to bring a single thing, you could just sit
yourself down. And if they can't prove you're guilty, you're out
of there. But to prove anything, if you didn't do anything, and
they can't prove you did
Adam Curry: it, she not a professor of law.
John C Dvorak: This is really I think you've stumbled on
something that's very, very bad, dark and endless. Let's just as
a reminder, I hate to play this clip over and over again. But it
goes right back to good old John Brennan Brenner, former
Adam Curry: director of C I A
Unknown: people are innocent until alleged to be involved in
some type of criminal activity.
Adam Curry: So you're innocent until alleged to be guilty of
some kind of criminal activity and that have they? I can't
believe there was a meeting and they said, Hey, I got an idea.
John C Dvorak: Meeting this is organic.
Adam Curry: But how does that happen? How does that happen?
Well, I got one more clip.
Unknown: Are you worried about violence industry? Dangerous
rhetoric? Yeah, yeah, it's very, I'm very concerned about
that. It is dangerous and violence is never the answer.
This is part of the reason we have a court system so that we
don't resolve these things. Are you worried about it? Are you
worried about it, I always worry about violence. But again, I
think that's why it's important for as many people as possible
to take a deep breath to be calm to step back and say this is one
more step in the legal process. Donald Trump is going to have
plenty of opportunities to make his case in open court Oh, and
the prosecution will have the same opportunity. Let the
process go forward. No one is above the law.
Adam Curry: Wow. Wow. So their star witnesses are Michael
Cohen, the guy who says X cetera. And this checked
Unknown: I've seen him naked. He's a lot scarier with his
clothes on and after Abinadi put me through last January. You
know, I'm not scared.
Adam Curry: I can't wait to watch it.
John C Dvorak: Well, I know you play deck that stormy Daniels
clipped twice but for that one, I'm giving you a borderline Clip
of the Day.
Adam Curry: Oh, thank you. I'll take it. And with that, I'd like
to thank you for your courage in the morning to you the man who
put the DOS see in the can please say hello to my friend on
the other end less gentle Mr. John C.
John C Dvorak: In the morning, do Mr. Adam curry also in the
Moreno ship see boots on the ground feet in the air subs in
the water and all the names and ice out there. And we
Adam Curry: got plenty of your show left. This is just the
first two tapas we've done. So if you leave that's on you
because you'll have to prove your NSL count. Let's see how
many we have in the room right now. That we're waiting for us.
2472 We could lose 500 Get out of here leave Yes, you can
leave. We don't need you. We will keep 2000 We don't need you
need you at all. That is troll room.io where you can listen
live on Thursdays and Fridays. When we call bull crap on
everything. That's what we do. That's our main job. And people
seem to get peace somehow with this stuff. When we dissect this
bullcrap. It makes people think about the words that are being
used and the cycle and NLP I'm gonna say it and psychological
warfare by our politicians and news media. And I'm just ah, and
luckily, we do it with humor, because we're stupid. We're just
some old dudes. So that's why people come to us to listen up.
And to feel good about okay, let's just put this into
perspective. All right, go outside sniff sniff whatever
stormy Daniels is sniffing Oh my god. Oh my goodness. Now you can
also follow us for as long as it lasts and no agenda social.com
Now, which is Adam and origin of social.com Jhansi Dvorak at no
general social.com. And we recommend porting over your
podcast subscriptions to a modern podcast. One that cannot
be you can't be the platform your shows will not go away. And
you can also get the modern lit environment where the minute we
go live and other shows Go Go live it pings you let you know,
you pop in there. You got the troll room you got your you got
live stream and everything podcast apps.com. And we'd like
to thank as part of our value for value system, which as you
know is time talent and treasure. We want to thank our
artist who brought us the artwork for episode 1542 titled
Digital dementia actually someone Someone said that that
term showed up somewhere else that people are starting to use
digital dementia, I thought was kind of interesting. We want to
should it's good term. We want to thank Darren O'Neill, who
brought us the artwork the no agenda, electronic brain AI
powered, which was I mean, you said right off the bat. This is
the one Yeah, I went to the I think I went to
John C Dvorak: let the boy had to do that right off the bat.
Because you hate Derek. Did you
Adam Curry: hate him? It's true. It's true. This is fact.
John C Dvorak: Well, I went over it, because you had to take a
break. And I was looking at once I like was the pause AI by
Fletcher, which I use for the newsletter. I just thought it
was cute. But it was hard. You couldn't read the thing. And it
was it but it was obvious that Darren piece was he just sent me
got into his mind to do this with it's one of those stupid
games. I remember those.
Adam Curry: Yeah. What was that game where you had to touch
John C Dvorak: something and then you had to match it with
something else that showed how a circuit worked. Oh, yeah, it was
just some dumb thing. But it was it was I guess educational at
the time was retro man. It was truly retro. And and the piece
was done with a Yeah, he had the I know where he got that art,
but I'm sure he didn't draw it. And I'm sure there was a classic
Adam Curry: comics or Blogger didn't call him out as stealing
so
John C Dvorak: well, because he probably couldn't find it. I
also liked electric brains by Melvin Gibbs Stein. And he it's
just you couldn't read the best podcasts in the same old
singularity.
Adam Curry: Oh, right. Right. Right. Right. Right. That's a
good piece. Yes. That was a good piece. And there was another one
that people had some good AI stuff which I think we pulled
apart
John C Dvorak: appropriately. And of course, comic strip
blogger did. Ai generators. So now stolen, uh, come on a Sikh
Don't be anti AI.
Adam Curry: I'm very anti AI. And we can see it right away. So
if I can see it, we're not gonna waste a good piece anyway. But
if we can see it, we can hear it, if we can smell it, we're
not using it. We're against that. We like human beings, we'd
like don't call it a tool tool at all. Now, of course, if a
synonymous of Dogpatch and Laurel Bovisa sent me an email,
and by the way, I have to apologize, I'm not quite sure
what happened. Somehow, we, we repented for giving out the
incorrect code, his donation number 2254. And we had said,
2252, I'm not sure what happened, but the original show
something, I had a crash of my editing software, and there was
a gap. And I think that gap contain the actual coded number.
So it's 2254, in case that is important for world peace. But
he picked me and he said, So how are you guys gonna feel about
when? When AI starts using bits of your show? I'm like, great.
We've always encouraged lawyers. We're gonna sue anybody.
John C Dvorak: I think we should have aI stealing it and making
it its own.
Adam Curry: No, but if they're promoting our show with it, I
have no dad,
John C Dvorak: you think that's gonna happen? I don't see the
promotion of anything. But AI is done. They don't reference
anything. They don't promote anything. They don't say where
the material came from. Right now. It's only from Wikipedia,
or mostly from Wikipedia, which is open source,
Adam Curry: I wouldn't I would be guaranteeing about a piece of
audio. This is what I would be thinking,
John C Dvorak: well, a piece of audio that goes on and on about
something and then they credits it to someone else. I don't
think that's you
Adam Curry: know, if they credited to someone else, that's
a problem. Of course.
John C Dvorak: That's what it'll do.
Adam Curry: I want show me the first here's what because you
know, sir, Jean is all in on AI. Oh, so good. And I forgive
John C Dvorak: her Jean is now the poster boy for AI.
Adam Curry: I forgive him. I forgive him for this. Because
Oh, he sent me this short movie made by AI. And it's the end of
the world. Of course, it's AI. And then they have a Biden voice
in there, which actually wasn't too bad. And then they come in
with Trump. Amen is so bad. I, I defy any AI to do a perfect
Trump, it cannot be done. And it's not just how we sound. It's
what he's saying. I can I can smell that and hear that a mile
away. I don't think AI will ever be able to do it. Even actors
can't do it. There's very few who can they can get the voice.
Kinda right. The guy on SNL becomes very close. But you can
hear it. We're not going to be fooled by this. People getting
fooled by Dylan Mulvaney with Bud Light. Okay, that's on you
while you're watching that at all. Anyway, I digress. Other
things we looked at were I kind of liked the we didn't even talk
about Francisco Scaramanga with a slow the AI curve. I liked
that one. But I only saw that later, and I didn't fight for
it. But it probably still would have lost out to the electronic
brain, which is just a dynamite piece. We thank you. Darren
O'Neill.
John C Dvorak: And Derek has just not hit one for a while.
He's not hedging a couple of years ago, he did the most all
year.
Adam Curry: He has not been hitting it lately. For Darren.
John C Dvorak: Well, the competition is gone. It's stiff
to the roof. It is
Adam Curry: stiff. It is stuff. So no agenda art. generator.com
is where you can follow along where you can always, even if
you're listening live, it's cool to do that. But of course, if
you want you can get that modern podcast app, it'll show you a
whole bunch of these in the chapters also something you
don't get on legacy apps. So that's the time and talent
portion for treasure. We go to our executive and Associate
Executive Producers kicking it off with right off the bat with
a $1,000 donation from another dude named Ben. And he sent in a
handwritten note and I will read some of it. It's quite long.
Adam and John. Sorry, this donation is so long to find you.
I've been listening close to three years now I find your show
informative and refreshing. Refreshing voice away from the
mainstream media who have been pumping us full of buffalo
feathers. For quite some time. I like buffalo feathers. I would
write that down. Is that a term buffalo feathers?
John C Dvorak: Not that I know of but it is now I like it.
Buffalo feathers, Buffalo feathers.
Adam Curry: I finally decided to quit procrastinating and donate
after hearing Adam speak on the JRE epic So a few months ago, I
commend you for you taking a stand as a follower and brother
in Jesus Christ. And he goes on, he says, and actually he says
something interesting is I wish that Joe could become could
become a Christian. I said, Well, you should pray for him.
So we really appreciate it. And he says, Thank you very much.
From another dude named Ben, this one in commercial concrete
construction. And we love our dudes named Ben, they are the
ones that keep the world alive, and very much appreciated. And I
don't know did he get he didn't ask for a night name. He didn't
ask for knighting
John C Dvorak: get put on the list.
Adam Curry: He's not on the list. So I want to wait. So he
should probably give us a night name. I don't even know if he if
he realizes that he can be knighted. And I'd like him to do
that. So for now, I'm gonna give him a dee doo dee doo deuced.
And please write back to us. And let us know what you'd like to
be and what your roundtable rewards are, etc. And thank you
very much. I really appreciate that.
John C Dvorak: It's you're in the mood for reading. I think
you should read the next
Adam Curry: Nairobi Dino from Aberdeen power in Scotland, he
said and that's $334. You may recall my first donation back in
March of 2021. From hospital not the hospital. When I had
pericarditis from the first vaccination and you played the
end of show mix, there's no AstraZeneca in Spain to the tune
of three dogs night never been to Spain. I was listening to
this at 430 in the morning in my hospital room, and I laughed so
hard the nurse came in wondering what was wrong with me. The
irony was too much I had to laugh and of course that healed
him immediately. Oh, no. Unfortunately, following that
medical episode, although I was very hesitant my cardiac
consultant assured me and insisted I should get a second
vaccination, saying the mantra the good news. Wow, laugh at
him. That's not fun. It's not nice. Rather. Oh my goodness.
John C Dvorak: So the first one didn't kill yet. Just try number
two. Come on. can do it? What's the worst?
Adam Curry: Oh my goodness. I see. Saying the monitor the NHS
uses regarding people being negatively affected by the
vaccine quote, correlation does not imply causation. I can just
hear him say it already. On receiving the second vaccine. I
had a heart attack. Oh man. I have hilar
John C Dvorak: sick to be laughing at this poor man.
Adam Curry: I have had three in total following the second
vaccination. Oh my goodness. Now they have on my medical notes.
No vaccines. Something that the no agenda show was saying all
along. Sadly, oh, this is no laughing matter now. Oh, no.
Okay. And although I am recovering well, I regret ever
taking the vaccine. And I wish I had listened to you the best
podcast in the universe. So in light of me being a numpty and
not taking your advice please do Do
John C Dvorak: you spend deed deuced. We should mention we've
never given advice line never given a never given? Not we have
all we do is present evidence the facts of the matter. Yep.
And you can just make your own damn decision. There's plenty of
people that listen to the show that have gotten the vaccine
gotten that they feel fine. They have no problems with it. And
there's plenty of other people right off the bat, for example,
our friend up there and I guess he was in Denver, the paramedic
who took the vaccine early on, we just we just read his report.
That's right. We do not give medical advice on the show he's
Adam Curry: emboldened now we do not. That's correct. So we did
do some he says he likes him. Yeah, karma for good health. And
he said, could just for one last time, please, please, please
could you play we told you so on no agenda, even though we didn't
tell you so I'll do it by request. And he says we totally
could you possibly play? There's no AstraZeneca in Spain at the
end of the show? Yes, I will. It's in the mix. And that is
from Professor JJ Professor John who is in China. And that was
one of his better ones. He sent many many many that have never
made the show and that was what they did. With this donation. I
am so proud to join the roundtable and we'd like to be
knighted sir Scotland the Brave and would ask to have haggis
neeps and tatties at the roundtable. You've got Ah, there
we go. Karma and rather health karma for you man health karma
for you.
John C Dvorak: Yeah. The Oh Bravo is up next season Los
Angeles, California. Kima 33334. And he has the finest note of
the day. Car matcha all
Unknown: you've got karma.
Adam Curry: Next we've got Robert Barnes in Murrysville,
Pennsylvania, three 33 dot 33 Adams analysis last week about
tick tock exemplifies why I listen to and donate to no
agenda. I like the cut of DeVore X jib to old school word. Thank
you for your courage no jingles no karma Robert Barnes you got
it.
John C Dvorak: Kevin Collins from meadows of data are Let me
stretch that out. What does it say? It says that on your
sopranos of Dan meadows of Dan that's just Virginia meadows of
Dan Virginia apparently okay 33333 And his almost a short
message double up karma please.
Unknown: You've got
Adam Curry: karma 33333 from Michael Smith as well from
Shreveport Louisiana John Adam first let me get this out of the
way Rodney stop being such a douchebag and that goes for all
your listeners out there that haven't donated that no agenda
show should not be free content for you. Consider the amount of
money you waste on cable and streaming services. How much
value do you get out of these services compared to the value
gained from the best podcast in the universe? You find yourself
you're listening twice a week The answer is simple. Donate.
Lastly, get involved. Set up a mastodon account email boots on
the ground content go to a meet up had been fortunate enough to
meet Adam and the keeper Dame Jennifer Fletcher and the dirty
Jersey horror as well as many other great producers over the
past few years. Yes, I remember him from the boss Bastrop
meetup. Gentlemen, please accept this donation in the amount of
33333. This completes my knighthood and I'd like to be
knighted as Sir Smith yacht Smith yacht. Please serve ribeye
and Bell's two hearted ale at the round table got it ordered.
So done. John. Adam, thank you for all you do. I was looking
for answers a few years ago and I'm so grateful I found you in
this wonderful no agenda community. No jingles no karma.
Sincerely, Michael Smith, Shreveport Louisiana.
John C Dvorak: Smith era it sounds like it's got to be some
sort of a gag, of course. Okay, onward to Felix Rios in San
Jose, California. 33333. No note, so give him a double up
karma.
Adam Curry: You've got karma Baron west from Seattle,
Washington. And he also said 333 said you Adam and John please
see letter I sent by email barren west of the balderdash. I
did not find anything. Did you looking at the pilot? While you
look? I'll continue Sir Brian in Aurora, Illinois. 333 Switcheroo
Sir Brian with a why here this donation from the Aurora
Illinois meet up please give Justin from St. Charles the
executive producer credit from the Aurora Illinois meetup
donation. He didn't want the credit. But almost all of this
donation is his. Well, you got it man. I'm putting him in right
now. And he is good to go. Anything from Baron West?
John C Dvorak: Yeah, it's not. Oh, okay. Well, I'll let me keep
looking to hold on but we're placed Okay.
Adam Curry: Tim Wirth comes in as our first Associate Executive
producer from Overland Park Kansas. Row a ducks. Two Two
2.22. Hello Raven. Reverend Al medley always makes me laugh and
then F cancer please. Okay.
John C Dvorak: Great from receita he or she is Bremen
Unknown: give it up. Thanks. Good evening. Is this Crown Hall
day two. We are watching. That was Attorney General Eric Holder
ad DS about some Republicans at home already beating the drums
of war today the Pentagon refuted that claim. And he said
the American people do not want him to quote dwindling either.
They do not want him twiddling his thumbs
Adam Curry: got karma? Anything from
John C Dvorak: segway take one peek at this anonymous yeah,
there's nothing I can't find it. I don't know where it was Santa.
And yet, we should remind people they're not there. They're
starting to forget already. That these kind of notes should be
sent to notes at no agenda show.net on that notes that no
agenda, show that net and anything else that you don't
send there, make sure to put donate in the subject line and
people are forgetting that too.
Adam Curry: And on that, on that note, view put in the newsletter
that you had had a SSD crash and that therefore the Q one change
of divorce.org/na did not take place. Can we expect it this
week?
John C Dvorak: No, we can expect it within q2.
Adam Curry: I'm not going to accept that. Cute. No. You
promised.
John C Dvorak: How hard is just like a software guy I'm just
going to ask
Adam Curry: him to do it if Jay doesn't Oh, it'll be fantastic
John C Dvorak: we'll get it done yeah, I had my SSD blew up and
it is I can't boot the machines I flipped it around there there
wasn't a machine because I put another one in and worked fine
but so i i do have a possibility of fixing that it's long shot
people have
Adam Curry: been sitting there with their Bitcoin waiting to
donate which we promised would blow the Bitcoin
John C Dvorak: thing it's just it's just this what do you call
it?
Adam Curry: A link a QR code your code is the code is one of
those I want to add it you want to add it for the in the next 90
days put
John C Dvorak: it up? Sure put it on put it up. We have it
floating around. Yeah, okay.
Adam Curry: But it So which one are we on? Anonymous?
John C Dvorak: Okay, anonymous in Truth or Consequences New
Mexico. That's cool. In the morning to you gents. I choose
to remain anonymous mostly to spare you from breaking your
jaws when pronouncing My name please de douche me you've been
de deuced since some goat and yet karma my way much love to
you both into the no agenda nation. Ah
Adam Curry: sir Salah Hauser in Melbourne, Florida. $200 in the
morning, John Adam. Thanks for all you do shout out to all the
Central Florida producers and douchebags What's up y'all? I
just began my own wealth management firm. So some sales
karma would be great. Thanks, sir. Salah Hauser of the three
to one.
Unknown: You've got karma.
John C Dvorak: Christopher Edmondson in Woodbury,
Tennessee. Sir TJ the raffle hit me in the mouth a year ago.
Please de douche me. Dave deuced it was Sir ktJ. The restful,
okay. I'd also like to ask for general karma for my family,
some baby making karma for Sir TJ. He is trying to catch up in
the number of human resources, competitions. He
Adam Curry: need more. I think he already has three. All right,
good to go. Thank you very much. You've got karma.
John C Dvorak: And that is our Executive Associate Executive
Producer. We have the number of other donators is low enough
that we can read them all now.
Adam Curry: I thought we're gonna do a second break. It's
John C Dvorak: Tuesday. It's actually shorter than most of
our second break.
Adam Curry: Here, but then I still got nights and birthdays
and meetups. Yeah. Why don't we do them in the second break?
Let's do a second break. Okay, I'm telling
John C Dvorak: you very short. second break. Well, this was top
heavy today.
Adam Curry: Yeah, well, I want I want to, but I want the bottom
and the bottom will even out because we got a lot of
birthdays. We got meetups and all kinds of stuff. And to make
good, let's, let's do that.
John C Dvorak: Are you guys good?
Adam Curry: Okay. All right. Thank you very much to our
executive and Associate Executive producers, we very
much appreciate what you've done here. These are of course,
forever credits. You can use them anywhere credits are
recognized. It's the real deal. Go look at IMDb, you can put it
there, you can put it in your resume. In fact, it seems to
work better than pronouns, I'm reliably informed. If you'd like
to know how to become a knight. I mean, well, that as well or an
exec or social executive producer, go to our donation
website vote.org/and.
And of course a karma for anybody who needs it. You've got
karma. And thank you all very much for supporting the best
podcast in the universe episode 1543 formula
Unknown: is this. We go out we hit people in the mouth
John C Dvorak: should mention that there's been some horrible
accident I suppose on the Nimitz freeway highway 80 Because it's
been stopped dead for the last time stopped dead. But last 10
minutes a huge jam up and I was hearing a bunch of skidding
earlier and I figure what happened is I'm just guessing
because I can't see down the road where it was somebody hit a
pothole roof.
Adam Curry: You already flipped a car one of your main
complaints
John C Dvorak: at his after hitting the pothole probably
another car hit the pod they probably crashed in midair. And
now this whole thing starts horrible. We were spending our
money on fixing potholes in Ukraine.
Adam Curry: I want to I got two clips here. Clip custodian sent
these to me from Fox and and I think it's a very I think is a
trap being said here. Dr. Jeanette Nash you want to think
is her name came on to discuss there's there's been a lot of
concern about the World Health Organization and the in the so
called treaty, the World Health Organization treaty that all
countries are signed that have actually already signed on to
But there's an update that we've, we've discussed it, and
it's being discussed and it, you know, the actual vote failed
once, but they're going to come back to it. And the idea is that
the World Health Organization would have complete control over
our health services in, in the West, because of course, they're
mainly China, China controlled and Bill Gates, all the same
thing. And, and so the, what we know from what we've
deconstructed about this treaty, is that it does not need to be
ratified the way the language will be written, because the
treaty with the United States is already a member of the treaty
as the EU. And so they can just add to it if they vote on that
themselves, and it can just kind of be slipped in. It is my
belief.
John C Dvorak: They were just like, you're telling me there's
a treaty out there this like a EULA? We're in there. It says we
can change this at a time without notice.
Adam Curry: That's a very good analogy. Yes. It doesn't well,
and it doesn't need to be ratified again. Yes, it is like
a you. That's my understanding. I'm not a lawyer. I'm not a
doctor. I'm certainly not Dr. Jeanette. It is my belief that
they are setting a trap by calming everybody, certainly the
people who would be concerned about that, which would be the
people who watch Fox News. And and they're probably lying to
us. So I want to play these two clips so we can figure out
what's going on.
Unknown: i What is your reaction about what the who
has said? They're saying that healthy children and teenagers
probably don't need the COVID vaccine?
They say the traditional shots are more important.
Yeah, that's right. So the World Health Organization is coming
out with their new guidelines. They do say if you're still high
risk to get a booster every six months to a year, but when it
comes to age, six months of age, and up to 17 years of age,
that's not recommended for most young teenagers. And that makes
sense. Kids, they are the lowest risk group when it comes to
severe complications with COVID. And on top of that, we've
reached a level of population immunity. Many children more
than 88% have already had COVID. So they have that protection
from natural immunity. And many of them also have had vaccines.
So when you combine protection from vaccination protection from
infection and reinfection, you're at low risk, and it makes
sense that you don't need to have that additional shot unless
you have any underlying medical circumstances. But is it a
significant public health benefit to vaccinate toddlers?
At this point? The answer is no.
Adam Curry: So this to me is the setup. They're telling you, hey,
the World Health Organization is actually the kind of saying
something good to say. They're not saying what the CDC is
saying or saying what the FDA say. They're saying No, you
shouldn't do that.
Unknown: There are a lot of parents that don't want their
children vaccinated. What do you think this means for the fall?
When schools get back, go back? You know, back into classes, our
children go back into the classes. Do you think that the
schools will take this information and use that and
say, You don't need to be vaccinated? I
hope so. I hope the CDC follows the recommendations do they know
the world sometimes, like for example, the World Health
Organization said do not mask children yet our CDC said Master
children, so I do hope they follow suit and understand that
the children are the lowest risk group and we should not you know
in place on them all of these restrictions and guidelines, let
them be free. Let them live. Let them develop that natural
immunity with all the other viruses that are out there where
she says
Adam Curry: just let them live. Let them live. What the kids do
you understand what I'm saying? They're making it sound like Oh,
our CDC, you know, even though the World Health Organization,
would you say? Yeah, they're saying, Oh, they're, they're
stricter. Um, you don't have to? I think this is a setup. I'm all
going to be like, oh, you know, our CDC had just a bunch of
dicks. But wait until the new treaty the new EULA is in place.
Just saying. That felt a little Trappy to me.
John C Dvorak: To be a little Trappy I got some I had those
clips too, but I didn't see it that way. Oh,
Adam Curry: do you still see it? Do you still see it differently?
John C Dvorak: No. I did. That's an interesting thesis. I'm not
going to get into his you're not going to disagree with me. I'm
not going to disagree. I have some COVID clips since we're on
the topic. Okay,
Adam Curry: good. I had that's about all I had of COVID
John C Dvorak: right my COVID who news no booster is the same
as what you played. Okay, but I got a kick out of listening to
Rand Paul go after. After Blinken.
Adam Curry: Hey, Bob. Okay.
John C Dvorak: This is right. And then this went on for 10
minutes and I took about Oh, looks like it took about four
minutes out of it with three clips. And I get there's some
good stuff in your bag. I tried to get the best of it. Let's
listen to him go after Blinken right off the top here. Rampaul
versus Blinken.
Unknown: On September 12. And November 7 of last year I sent
letters to the State Department asking for records about
Coronavirus research that had been funded by the State
Department State Department refused to comply. When
Assistant Secretary Sherman came I asked her the same question.
She didn't seem to be aware that you had been funding Coronavirus
research, but you are. And I got the I'll get back to you lOn. A
couple of weeks later, I met personally with you at the State
Department and asked you the same question. Will you not
divulge to us the records of the State Department's support for
Coronavirus research, particularly in China, You
assured me you would help we communicated several times over
the phone with another Assistant Secretary of State who finally
sent us a letter and said no, we're not going to give you
anything. So that's where we stand. And it's my question is
what's the State Department hiding? Why won't you give these
records to the American people?
Senator, thank you. And yes, I appreciate you raising this when
we saw each other a month or so ago. And my understanding is
that our teams have been working to find an accommodation.
There's long standing, we've got to refuse
blanket refusal. No, they are not going to give us records.
We cannot directly provide the unredacted cables, we have a
long standing practice with this committee about how we do
refusing
you're refusing to release that Oh, but you can't there's a
difference between can and may you won't do it. But you can do
it. And
my hope is that we can find a way forward that answers your
concerns so that you get the information that you're looking
for. And my understanding is that our team has been working
on that. And I commit to continue to do that. So we can
get you the the
we're talking about unclassified material, most of this is
unclassified. And so we just had a unanimous vote in the Senate
and in the house. And President Biden just signed a bill saying
he's going to declassify stuff. But if you declassified and you
still hide it from the American people, that's a problem.
Adam Curry: Oh, really? don't see it that way. That's not a
problem. You need to know anything Shut up club.
John C Dvorak: So of course this isn't being covered by anybody.
Except so yeah, they made a big fuss as you noticed. In fact, we
have another big fuss that we mentioned in the last show that
somebody clarified for us which is the authorization for
military use of force use of force they kicked out two of
them but this they left in the 2021 version, which was the most
important one of the 2001 Now is it 2021 It's already I'm sorry
Yeah, I have to do I have to note I have to read the note but
let's get back to this I'm sorry. We're getting off topic
but the this is an example though where yeah, we would
grandstands with all passes are going to release all the
documents and that he did keep that they don't release
anything.
Adam Curry: Oh, why bother was with a little people?
John C Dvorak: Yeah, screw us. Okay, let's do part two, this
part two, which is interesting that introduces the USA ID into
the picture.
Unknown: I mean, we spend all of this time lambasted
authoritarians. And for lack of transparency, we have these
silly networks on TV that are aligned with the Democrat party
saying democracy is under attack. What do you think
transparency has something to do with democracy Nice. You're
refusing to give records on research money that went for
research, we want to read the research grant proposals. We
want to read what the people in Wuhan sent back to the State
Department saying they did. Which viruses did they create?
Because the thing is, is it sounds all great, we're going to
identify all the viruses of the world. But part of what they do
is they take a virus they found 200 feet down in a cave, and
they mix it with another virus to create a virus that doesn't
exist in nature, because they say that's how we're going to
further identified. There's a big debate that should be had
whether that safe to take a virus from 100 feet down a
Batcave 12 hours out to Wuhan and take it to a city of 10
million. And yet you won't help us investigate this you refuse.
And it makes it is reminiscent of the countries we criticize
for lack of transparency. And yet you sit there and say you're
still going to continue to reviews.
Senator, I think there are very important debates that certainly
go beyond my knowledge and expertise for example, on gain
of function that I know there's a vigorous debate about whether
the risk outweighs the reward. I don't have the expertise
how do we have oversight or investigate it if you won't give
us a week
so the program that in this instance USA ID was involved in
was not engaged in gain of function
Adam Curry: Wow, this is so deep they're waffling so bad on it's
it's a huge mess. And you got to think that this is this is level
Kennedy killing cover up. Oh, yeah. It's really bad cheese.
John C Dvorak: Now the last clip, which I don't see on here,
unfortunately discusses the fact that they that the there was
some leaked documents. I had to get those and put them back in
here. I don't know what happened to him. Too bad. Yeah, I got
this.
Adam Curry: I was gonna say what I well, I what I see is actually
go ahead because I want to change topic
John C Dvorak: that this last let's play this for this is
COVID vac CDC corruption new
Unknown: and the CDC now says a new about safety irregularities
for the COVID vaccine earlier than we thought. Here's the
story.
The Epoch Times this week published files obtained from
the CDC via a Freedom of Information Act request. The
file show that in May of 2022, the CDC found more than 700
signals that the vaccines could cause adverse events. Such
adverse events include acute heart failure and death. It was
previously thought the CDC detected the signals in July
2022 When the CDC conducted its first analysis employees
identified more than 200 signals for Pfizer shot and 93 signals
for modernise vaccine, Senator Ron Johnson, the top Republican
on the Permanent Subcommittee on Investigations said federal
health agencies have ignored the flashing alarms of their own
safety surveillance systems since early 2021. They have
ignored my oversight letters and lied about what analyses they
have performed. It is well past time for the American public to
be told the truth.
Adam Curry: Isn't it great that we have this Trump indictment
while all of this stuff is taking place? Yeah, this
coincidence, shout, this is why you gotta listen to the your no
agenda show. So you at least can keep track of what they're doing
to us. And now there's something bad going on Canada Navia as
well. This is this is the Bill C 11, which we've discussed many
times, or certainly Bill C 10. Which was the first I think it's
called the online streaming act. What this does is it gives the
CRTC that's the Canadian regulatory body that oversees
radio and television so I guess in a way like our FCC, but it's
now expanded to cover all audio visual content on the internet,
including Tik Tok, YouTube, Spotify, podcast clients. Good.
How about that? You better get a new podcast app now people,
especially if you live in Canada, because they're going to
try and I mean, they can't. But they will. They will. They will
censor, maybe even No, no agenda on Spotify and an apple and
apple and Spotify will comply. As well as YouTube and everybody
else under Bill under Bill and this past on March 30. Under be
Bill C 11. All platforms hosting audio visual content that are
not specifically excluded, must make financial contributions to
producing officially recognized can con currently defined as
1980s era point system built on legacy legacy media broadcast
media. I'm not quite sure exactly what is going on. But
pure polar bear polar bear. I hate to see it. He says his
name. He was very upset and he put out like a a tick tock
emergency broadcast. And I'm wondering if you see this one
here.
Unknown: Hi, everyone. Pierre Paul, we have here. There's just
an emergency here in Parliament Hill. The Liberals have just
announced that they're shutting down debate. They're censoring
debate on their censorship. Bill. We just got the notice
right now. As you know, they've been trying to censor the
Internet. And what Canadian artists Margaret Atwood is
called creeping totalitarianism. So given Troodos woke
bureaucrats over the CRTC the power to control what you see
and say on the internet. I'm just rushing into the House of
Commons lobby right now conservatives are the only party
fighting back. But as you can see, this closure is now being
brought regular for us right now. Right here. online
streaming. They're bringing in what's called closure, which
shuts down debate and ramps the bill through in record time.
Only conservatives are fighting back against this censorship.
Dale, we believe you should have the freedom to decide what you
see and stay online. But I need you to immediately sign my
freedom of speech petition. The link is right before you click
Sign immediately. Let's bring home freedom. I want to give you
back control of your life and make this the freest country on
Earth. It's common sense. Let's bring it home. Now.
Adam Curry: So if I understand correctly, what is still under
debate is some amendments that may or may not go in and I'm a
little unsure of the timeline. So I do have a one minute clip
of of the I guess the liberal party saying hey, man, why don't
you what's what's wrong with you? What's wrong with with
what's wrong? What's your problem? What's your problem
with work? And the same peer your politician peer group takes
the stage and I'm wondering if
Unknown: you would like to kind of backtrack or apologize on on
character In the CRTC is a small group of privileged insiders
closest to the prime minister. And I would also ask him if he
would like to define the word woke I asked one of his
colleagues as well, for that definition, I'd like to see what
he has to say
thank you. The opposition. Actually, I will backtrack, it
is a big group of insiders. big sprawling bureaucracy with far
too many people working for it, there will be less people
working for the CRTC when I'm Prime Minister, because they'll
have less power and they'll have a hell of a lot less to do when
I restore freedom of speech and freedom expression online and on
the internet. And as for the definition of well, woke has one
purpose only one purpose, plenty of pretexts, but only one
purpose control. It is designed to divide people by race, by
gender, by ethnicity, by religion, by vaccine status, and
any other way that they can divide people into groups
because why then you can justify having a government to control
all those groups. No more woke we need to leave.
Adam Curry: There you go. Same goes for the US and everywhere
else where woke is in play. That I'd liked that. He said that
within 40 seconds. I was pretty good. Yeah. Nailed it. We had
some pretty bad tornadoes. Yeah, I
John C Dvorak: have some weather reports.
Adam Curry: Oh, let's give it give me the weather reports.
John C Dvorak: Well, this is a this is interesting, because I
have a contrasting series of clips. Yours first, I have
tornadoes and climate change because that's what they bring
up on PBS. I have a two parter there and then that I follow
that with an old classic clip from 1953.
Adam Curry: Oh, okay. Let's hear the PBS version.
Unknown: And as the cleanup begins, more than 200,000 people
across five states remain without power. Oh, no. We're on
these storms. Walker Ashley of Northern Illinois University.
He's an atmospheric scientist and a certified consulting
meteorologist. I understand you were doing some some firsthand
research last night a little storm chasing. What did you see?
Well got on some good supercells in the central part of the
Seychelles. Luckily, they didn't produce any tornadoes in the
area that I was in but unfortunately for the
communities they did get take some pretty big hail but
compared to some parts of the Midwest, I think we made out
okay,
John C Dvorak: okay. Again, I found this is the intro to this
guy. He's storm chasing and he says I luckily I saw no
tornadoes.
Adam Curry: That's it his whole thing is to see tornadoes is not
what
John C Dvorak: storm chasing isn't that the idea to see
tornadoes? Isn't that way to do storm chasing? I would say so.
So why is he feel lucky? Didn't see any. Okay, so that that's
the premise for this guy. So now he's gonna give us a little
rundown on climate change.
Unknown: You've got a recent study about the future of super
cells in the United States. First of all, what is a
supercell? Great question.
Super cells are rotating thunderstorms. They're actually
relatively small. But they pack a heck of a punch. I always
liken them to peanuts. You know, peanut is a relatively small
piece of food, but boy, it's got a lot of calories, a lot of
protein, a lot of fat. And these super cells, although relatively
small, produce the lion's share of tornadoes and significant
hail that we experience in the United States and some of
the biggest tornadoes in recent years more Oklahoma Joplin,
Missouri, the southern outbreak in 2011. You as I understand
your study, you modeled various levels of carbon in the in it
over the years to see what would happen and what did you find
was just not carbon, we looked at various sort of future
projections of the greenhouse gas right emission scenarios.
Both this intermediate and pessimistic warming reveal a
dramatic increase in the number of super cells across the Mid
South, the Ozark Plateau, the lower Ohio Valley. So that area
of of let's call it northeast Texas, eastern Oklahoma,
Arkansas, Missouri, and stretching over to Mississippi
and Alabama, I take sometimes a doubling of the number of
supercells. If you double the number of supercells, the number
of unfortunately the hail and tornadoes could also see a
doubling somebody uniquely, though we actually see a decline
into the areas of the western Great Plains. Some people like
to call that colloquially sort of tornado alley, tornadoes, and
supercells are still going to go through this area, but maybe
it's some slider or maybe less rates as we move into the 21st
century. And to
these recent storms. And we had big storms last weekend again
this weekend. Do they suggest that the future is here? That's
a great
question. Climate change is occurring right now is going to
accelerate based on the emission scenarios that we're seeing.
There's certainly things that we can do to mitigate that. And
tornadoes are becoming more frequent East
Adam Curry: before before You play your your, your 53 clip,
I'd like to play a report from Deutsche Avella the German
international news station with their take on this event. Is
that okay?
Unknown: Yeah, I think why have
we been seeing so many strong tornadoes this year?
Well, this is our middle of our tornado season here across the
United States kind of starts to march ramps up in April into
May. So these are common to happen. And this time of year,
but the storm was actually a little stronger, got down to
about 980 millibars, a little stronger. When you get that
strong of a system over land, you can get pretty good strong
tornadoes. And indeed, we did have that from parts of the
United States and Iowa, Illinois, Indiana, Arkansas,
back into parts of Mississippi, Tennessee, even here in Alabama
as well, too. So this time of year, we can get these, you just
have that warm, humid air coming up from the Gulf of Mexico,
meaning that colder air from up in Canada, they clash together
out there and get a strong front to come in. And these
thunderstorms thrive on energy, the warm, humid air. And indeed
We did have quite a few of them. And unfortunately, this won't be
the last we'll have this spring.
Tell us Is there a link between climate change and the frequency
and intensity?
Right now, there's no study that says that, obviously with some
warmer, more humid air coming from the Gulf of Mexico, that
does become fuel for some of these storms that may lead to
more humid air, which those storms thrive off of what
studies are still ongoing as to the small impact of a tornado
versus a global impact. What we're seeing.
So the United States is, let's say particularly affected by
tornadoes. Can you explain to us why that is.
It's just the setup of where we are on the face of the earth. We
have our rocky mountains over the western part of the country.
We have our Appalachian mountains over the East and in
between you have this river valley, right where the
Mississippi River is. And that allows all this warm air to come
up from the south meaning cold air from the north. And when the
systems kind of collide in those setup, like we had yesterday,
that allows us to get really strong areas of low pressure,
and that helps to form these systems. And we can see these
each and every year and anytime we get in the springtime. It is
22 season here.
Adam Curry: Thank you George Avella. Good try was
John C Dvorak: Astellas is simplistic. It didn't blame
climate change, or PBS Exactly.
Adam Curry: This is the German television saying no. That's not
because of climate change. This is what happens. And I think you
now have a historical document.
John C Dvorak: So let's go to 1953.
Unknown: So 1953 was an extremely active tornado a year
and I want to check out some archival video about that
tornado that struck waco that year.
This is what happens when a tornado strikes a city like
Waco, Texas, where more than 100 people are fatally injured and
more than $50 million in property is gone in just a few
seconds no longer than it takes to tell it. There might have
been more injured except for the hard work of these volunteers
who work day and night to remove the trash even though their bare
hands to keep the wreckage from caving in on the people still
trapped down underneath. This is the first tornado in the history
of Waco. And on the day it struck the weatherman warned
that it was tornado weather from Waco all the way to San Angelo
200 miles away. And strangely enough to separate twisters hit
each of the two cities at about the same time. And when it
struck at stop the clocks at 440 in the afternoon, it was a rush
hour and there was a big heavy rainstorm and nobody could hear
nor see that Twister coming in. Can
you talk to Dan a little bit about the impact and legacy of
this monster storm monster
Adam Curry: storm?
Unknown: Yeah, it certainly was waco still stands today is the
deadliest tornado in Texas history. Going back to the year
1900. It struck at the end of the workday in downtown Waco.
And so literally there were many people that were caught off
guard buildings were literally collapsing on people as they
were still inside. There was actually an old Indian legend
back then, that pretty much of some folks that lived in Waco
thought that they were protected by tornadoes. Because of the
hills and the bluffs that surrounded the city. Of course,
we know that that Indian legend proved to be false, but really
the big legacy of the Waco tornado in that same year, June
of that same year, Texas a&m held a special tornado warning
conference and it gathered military officials,
meteorologists, police and fire in other city officials all
gathered together to discuss what had happened and they
really formulated a plan that over the next several years they
implemented and part of that plan was to basically
disseminate military surplus radars to cities and communities
throughout the state to establish the first radar
network in the state of Texas. It really was a watershed
moment.
Adam Curry: Wait a minute. They didn't blame climate change.
John C Dvorak: If that happened today, they would the
international
Adam Curry: interplanetary Climate Change Group of nutjobs
didn't say, oh, yeah, that's climate change. Well, you're
right, you're right about that. This is what they would have
done back in 1953. Only this is 2023. We go to EURO NEWS,
Unknown: and the advise more than 130 UN member states have
voted for the International Court of Justice to pronounce on
the obligations incumbent on states to protect the climate to
present and future generations. That means the world's highest
court will now clarify what countries must do legally to
defend the environment from climate harm, but the rest of
the land was non binding, meaning that there's no need for
any state to abide by it if it doesn't want to last week, UN
climate experts warned that global warming will increase by
one and a half degrees by 2030 to 2035, the 2015 Paris
Agreement, which is legally binding, set the long term goal
to keep warming to two degrees at the most by the end of this
century.
Adam Curry: Can you believe that? So they've now invoked the
International Criminal Court? Oh, you're gonna be criminals,
criminals if you don't keep up. And like good, good little boys
and girls. Little Rishi over there in the UK? Oh, yeah, we'll
do it. We're all in we're good.
Unknown: It was going to be the prime minister's Green Day. In
the end, it was rebranded energy security day wishes Sunak and
his net zero minister was shown around a Nuclear Laboratory as
they launched their plan. We're going
to create jobs across the country, we're going to increase
our energy security, reduce people's bills and reduce our
carbon emissions.
The government plan includes a wide range of measures, they're
launching an insulation scheme to make 300,000 homes more
energy efficient. There's a plan to invest around $300 million
dollars in developing green hydrogen as a fuel, claimed to
be more environmentally friendly. And there's the
formula establishment of great British nuclear to promote the
building of new power plants. Critics point out many proposals
are simply reheated versions of old announcements. In many
cases, there's no new funding. For example, the government's
pushing an existing $25 billion investment in carbon capture and
storage, removing carbon dioxide produced by burning fossil fuels
and storing it under the North Sea. Many in the energy sector
are calling for the government to use subsidies to encourage
investment in clean energy, like those President Biden's
announced for us first or lose out on jobs and revenue. We were
there with our thinking many years ahead of the rest of the
world. But this government has just desert and delayed and
those business opportunities that investment will have gone
to the US it will have gone to the EU because they've also
woken up to the fact that hydrogen offers this huge
potential
Adam Curry: though everybody is all in on the green hydrogen
they're going to do with nuclear apparently but there's no money
there's no money so that's that's the lip service. The UK
government is giving but the BBC they really they really took the
cake with their report on the 15 Minute cities now the 15 Minute
cities the first one being Oxford we know that this is a
climate change mitigation strategy have everything within
15 minutes walking distance I believe not even you're laughing
already
John C Dvorak: it well you know how do you even do this 15
minutes city and then promote tourism? I mean, the whole thing
is any audit but it's
Adam Curry: a real thing. I mean, you will agree with me
that these 15 minutes cities are being
John C Dvorak: told no they think they got something here
they got a got the answer. Well, you're wrong.
Adam Curry: This is a conspiracy theory. It's not even true man.
Unknown: The 15 minutes city for years it's been a buzzword in
urban planning. But now the concept has gone mainstream and
become a magnet for protests around the world from Canada to
the UK, with conspiracy groups claiming they're designed to
imprison us in our neighborhoods. Type the term 15
minute city into Tik Tok and it generates hundreds of videos
using familiar hashtags agenda 2030
Adam Curry: By the way, just a point of personal privilege.
Notice how they're not looking at Google. They're searching for
things on tick tock
Unknown: minute city into tick tock and it generates hundreds
of videos using familiar hashtags agenda 2030, World
Economic Forum's or BB agenda 20 to suggest the 15 minute goal is
part of a sinister global plot to limit our freedoms by
enforcing climate MIT lockdowns, right copers adduction
disinformation reporter has been tracking the spread and
evolution of this conspiracy, the 2030
conspiracy theories about this global agenda where world
leaders met up and are supposed to have discussed how to use
these environmental concerns to impose most authoritarian
restrictions on the people
and a 15 minute city is evidence of that plan being put into
action.
Yeah, and it's a form of confirmation bias as well 15
minutes any prisons
that's what they're calling them 15 minutes to you in your area
will only be allowed within that 15 minute zone that you have
videos like this one have been getting hundreds of 1000s of
views but the content doesn't always tally with reality.
Adam Curry: Don't you love how they're doing this? They're
twisting it to say oh, people are calling you to jail or
prison. It's not true. That's complete horse crap. And they
bring in a Dutch disinformation journalist. Let's hear more from
what's going on in the Netherlands.
Unknown: There's evidence here in the Netherlands where pretty
much the entire country is already made up of 15 minutes
this is so
Adam Curry: no, no, no, that's crap. That's not true. Amsterdam
you can get from one side to the other in 45 minutes.
Unknown: It might just be worth taking you for a spin on my
bicycle to hear for yourself what it's like to live and work
in one here we go. So within 15 minutes, four or five kilometers
I can reach my daughter's Primary School lots of
supermarkets that doctors pharmacies
Adam Curry: on your bicycle in the rain all the
Unknown: other everyday essentials and despite the
people objecting to the 15 Minute idea of saying in order
to get this we'll be forced to sacrifice our freedom of
movement there's no sign of any boundaries or restrictions here
yeah, here in the Netherlands there's very little opposition
and I actually found a cycling Ambassador believes that's
because everyone already sees the upside
Adam Curry: very little opposition Are you kidding me?
There's big groups there's people protesting about this.
Okay, BBC,
Unknown: I can imagine what it's like to not live in a 15 minute
city to have to go so far to get something I think it gives you a
lot of freedom and that's what we all want
Adam Curry: 15 minutes she's gives you a lot
John C Dvorak: a lot of give you more freedom than not being in a
quiet you opposition person
Unknown: gives you a lot of freedom. And that's what we all
want public
polarization over the 15 minutes city has highlighted climate
disinformation as a new front line for cities seeking
innovative solutions to pressing environmental challenges. That
won't disappear
Do not be an opposition 15 minutes it is our freedom.
restriction is freedom. Fear is freedom. That is
Adam Curry: unbelievable. It's just unbelievable. I don't even
know what to say.
John C Dvorak: Well, I think you said it it said itself. The BBC
is full of crap. I mean they're just another person a propaganda
outlet that people should be they should stop paying yet to
pay a fee to watch them.
Adam Curry: I know it's mandatory if you even own a
television I know I know. Let me see what do we have?
John C Dvorak: No I got something from the last show was
going to do that then Well no, I'm gonna I'm gonna just play
this clip. Drag show law blocked
Unknown: Oh, here it is. Federal Judge temporarily blocked a
Tennessee law placing strict limits on drag shows just hours
before it was set to go into effect. The first of its kind
law bans adult cabaret entertainment on public property
or in locations where it could be viewed by a minor the judge
sided with a Memphis LGBTQ theater groups argument that the
statutes overly broad language violates the First Amendment
Adam Curry: really now so you're really pushing
John C Dvorak: this this these drags are distractions is the
show up out of the blue that drags show library time with the
little kids and all the rest and track time story hour dragged
drag time story hour. It's like what is it what is the point of
this? It was really important why are they why is it they're
making this a hill to stand down there they are gonna fight to
the death.
Adam Curry: Well, that's I think that's the point. The point is
to have fights and to have death that that I think is the point.
As we discussed on the last show, Black Lives Matter trans
is the New Black Lives Matter so you know, drag is trans. The
Bill Maher show real time was very interesting. Besides having
Governor Sununu on who clearly is going to run but was saying
he was in whatever fine. Bill Maher he had on it A guy who
wrote a book about he's gay guy, and I'm not quite sure he was
clearly a leftist. But then he also had at the same time on the
panel, lieutenant governor from Virginia, winsome Earl Sears,
the Jamaican lady who famously took a picture with her and with
an AR 15. She was a Marine. So, you know, so she's pro gun. I
only have a very short clip, just kind of explain what
happened because I tried to clip it. But you know, I was
literally playing the YouTube video, which had the Bill Maher
real time full version. And as I'm playing, it went, went away.
And the set of Warner Brothers has removed this mic. Okay. So I
couldn't clip it. I didn't have time to
John C Dvorak: you. Are you watching it as at the moment