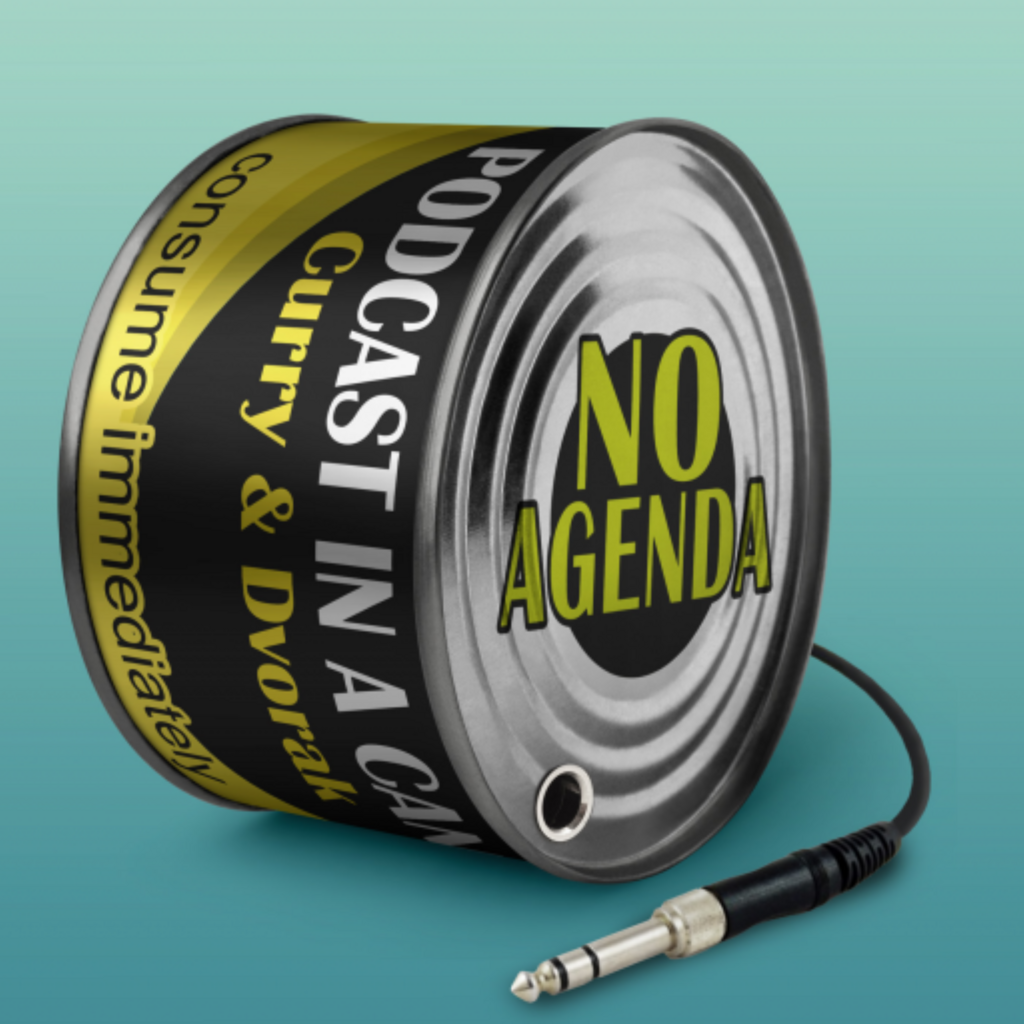 April 2nd • 2h 53m
1543: Buffalo Feathers
Shownotes
Every new episode of No Agenda is accompanied by a comprehensive list of shownotes curated by Adam while preparing for the show. Clips played by the hosts during the show can also be found here.
The Revolution will be Decentralized

Anonymous teacher on tablets BOTG

There is no doubt screen induced autism exists. The young brain needs toys to play with to develop the brain creatively and develop fine motor skills with their hands. The brain needs other youth interactions to learn how to play cooperatively, problem solve, share and form emotional bonds. The brain needs parents to learn love and form attachment with others. The tablet is not giving children this. Children need toys like stuffed animals. Without a stuffed animal, I have seen children hold tablets in the same way.

I used to play the Disney/Pixar movies "Cars" and its sequels before Thanksgiving break, Christmas break and spring break. Due to extensive tablet use, many children no longer have the attention span to sit through a movie. They are expecting something every few seconds as they get with dopamine hits to the brain through their tablet apps.

I adopted two children. Both of them have special needs as a result of the birth mother's pregnancy and subsequent abuse. Their after school lives are a combination of tablets, toys, reading, sports and art. Medication also makes their lives better. But without an active lifestyle, medication would have no effect. Too many parents believe medication is a silver bullet and change their child's prescriptions every few months, hoping the new pill will solve everything.

And as children turn into teenagers, you are correct, they become oversocialized and underinformed. I teach my elementary students that truth on the Internet is like buried treasure since there is so much misinformation. And when you believe you have found the truth, it is needs to be verified with other sources and for you to critically think if what you're seeing or reading makes sense.

And despite all of this, I try my best to educate students. In one success story, one of my students refused to read books at school or at home. He told me when he got home, he would play video games or watch sports on the tablet. I found out he was a football and basketball fan. At recess, I bought a basketball and reffed/coached games between him and other students. They learned how to play the game, get exercise, critically think and most importantly how to be a good teammate.

I also bought age appropriate books about football and basketball. When he read and answered questions about the books, I gave him (and other students) football and basketball trading cards as a reward. He made great improvements in reading in the year that I taught him. He was so far behind he didn't reach grade level, but at least there was growth. Later he joined a youth basketball team which helped him get off the tablet.

NOSTR is twitter for meth heads

Twitter Algo Open sourced

When needed, the government can intervene with the Twitter algorithm.

@TwitterEng even has a class for it – "GovernmentRequested"
Big Tech

AI Company BOTG

I am nineteen minutes into episode 1543, and I had to stop so that I could

get this out. In 2001, the heart of the dot com boom, I was working for a

company called YY Software as their "Girl Friday," it was a part time gig

while I was going to college in my late twenties as a single mom. They

were

developing a NATURAL LANGUAGE software (we were not allowed to say AI or

Artificial Intelligence ever) that banks and other such industries with a

heavy load of "customer service" demand could utilize to cut down on the

need for folks to talk to real people. It was wild the amount of money

this

tiny assed company with an address of two inexpensively priced suites

located in some random small business strip at the edge of Mountain View,

Ca had to spend, I know because I was their accounts payable data entry

person sometimes, plus I spent a lot of their money on food for the

office.

When I started their were maybe twelve employees; mostly developers and

computer hardware and software competent type of people, I could not tell

you who did what for the most part. In the six months I worked there; they

hired an entire marketing and sales team, found some empty suites on the

other side of the business strip to house them, had frequent

investment/bridge loan/venture capitalist meetings, and regular Friday

F&%k

Off employee socials. And when they had to let me go, because there wasn't

an actual product to sell, they told me they were required to only keep

"degreed" employees, and I wasn't one (otherwise they would have

definitely

kept me, I was very useful). They axed everyone down to the few that had

started the business, and then it tanked. The reason I was inspired to

send

this was because what I learned talking to everyone during that time is

that AI is BS no matter what they call it or how they try to pitch it, a

computer can not replace a person, well.. may be able to replace

receptionist… is that even a job now? It was at that company, I know

because I filled in for that position sometimes as well. I think you are

correct that this whole six month pause is because no one really has a

legitimate product. They all probably have/had some marketing/sales folks

that convinced them they could sell their nothing burger, and now all

these

big braggadocious beat them to the press mouth pieces are trying to

figure

out how to exit the conversation without everyone seeing them slinking

away

cowering with their tails between their legs.

Inspired to chime in,

-Suni (sunny)

Our people - Future of Life Institute

The Future of Life Institute is an independent non-profit organisation funded by a range of individuals and organisations who share our desire to reduce global catastrophic and existential risk from powerful technologies.

We are deeply grateful to the individuals who have made more than 1,500 donations to FLI since its founding in 2014. With the exception of Jaan Tallinn, who has served on FLI's Board of Directors since its founding, these donors do not influence FLI's positions, which are decided by our five-member Board of Directors and internal FLI teams based on the latest academic research and input from conferences and consultations.

FLI is a mission-driven organisation and continually aims to diversify its funding.

LLMs aren't sentient, but they are likely to displace many, many workers over the next decade. Customer service reps, non-corp accountants, non-trial attorneys, copywriters, TV talking heads, NPR whisperers, PR/social media managers, (fake) journos, transcriptionists, entry-level programmers, etc. And those are just jobs that will be displaced by LLMs. Advancements in computer vision and manufacturing optimizations will kill retail, food service, and many other jobs.
Out There
Climate Change
Great Reset

Post Office Salary Changes BOTG

post office today told the majority(over like 80) of us rural carriers at my office they are "updating" our salary and basing our pay off of certain criteria in our scanners even though we've proven our scanners fail consistently.. Theyve said this would be for our benefit.

Today they showed us their new "numbers" and I'm lossing close to 20k from the 70 I was on track to make this year.(been mandated to work 6 days a wk since scamdemic started but at least we had gotten overtime that 6th day, really helped with groceries with all the inflation) Others lost more some less but either way it's a huge amount and sprung on us with no time to adjust. Very few were unaffected. and they are making it so most of us will have to work 6 days a week without overtime now. this lesser pay starts just next week, heard this is happening nationwide... Only the gov can get away with breaking labor laws of course. If enough people would just not go in that 6th day we could make a difference but I don't think there's enough of us yet somehow...

Like 1 quit on the spot but most of us have families and can't just leave without something else lined up. Not surprised our "union" allowed this as they are just as curropt as our polititians and as long as I've worked here(5yrs) theyve only continued to prove how they don't give a shit about us grunts..it's disgusting. we'd be better off without them. I could go into more detail but that's a summary. We are very distraught and some brought to tears as most of us live paycheck to paycheck and cost of living is HIGH.

Anonymous

31 Day Pilot Month HitsAgain

Adam,

It was Delta's turn to melt down yesterday. March is a peak month with 31 days as we have often talked about. Minneapolis also had bad weather and that is one of their hubs. Delta cancelled 12% of all flights nationwide yesterday and 8% so far today.

I suspect the storm in Minneapolis was the impetus but because of the end of month pilot shortage they don't have the slack to recover. Interestingly, Sun Country Airlines is a smaller low cost carrier based only at Minneapolis and they are cancelling a much smaller % of flights, 6% yesterday and 4% today. That essentially proves the issue for Delta is broader.

Delta also prides themselves in being the gold standard for operations integrity so this is more of an embarrassment than it would be for another airline. It also is getting little coverage in the media.
BLM LGBBTQQIAAPK+ Noodle Boy

Statement from President Joe Biden on Transgender Day of Visibility | The White House

On Transgender Day of Visibility, we celebrate the strength, joy, and absolute courage of some of the bravest people I know. Transgender Americans deserve to be safe and supported in every community – but today, across our country, MAGA extremists are advancing hundreds of hateful and extreme state laws that target transgender kids and their families. No one should have to be brave just to be themselves.

I want every member of the trans community to know that we see you. You're each made in the image of God, and deserve love, dignity, and respect. You make America stronger, and we're with you.

Tensions Flare Inside NPR After Staff Layoffs and Town Halls - Bloomberg

Among the requests: employees wanted to see more specific breakdowns around the number or percentage of employees of different races and identities who were laid off, rather than those of the remaining employees. They also wanted to know more information about their audiences, what the plans would be for hiring a chief content officer and more clarity about how the layoffs were carried out.

But the already tense environment boiled over during an exchange between CEO Lansing and a laid-off Black employee. That employee voiced concern that some podcasts hadn't received marketing support and wondered how a show could gain audience without it.

Invisibillia $1million to produce
Big Pharma

French protests are not people on the brink of retiring
Trump Indictment

Pelosi - Trump can prove his innocence

The Grand Jury has acted upon the facts and the law.

No one is above the law, and everyone has the right to a trial to prove innocence.

Hopefully, the former President will peacefully respect the system, which grants him that right.

DeSantis actual tweet
2024 Crime Bill
Ministry of Truthiness
War on Guns
MIC
Ukraine vs Russia

Malcolm Nance - The U.S. Volunteers in Ukraine Who Lie, Waste and Bicker - The New York Times

Today, Mr. Nance is involved in a messy, distracting power struggle. Often, that plays out on Twitter, where Mr. Nance taunted one former ally as "fat" and an associate of "a verified con artist."
Epstein
STORIES

JP Morgan, Jeffrey Epstein: Google founder, former Disney exec to get subpoenas

Sun, 02 Apr 2023 17:11

A mugshot of Jeffrey Epstein released by the U.S. Justice Department.

Source: U.S. Justice Department

Google founder Sergey Brin, former Disney executive Michael Ovitz, Hyatt Hotels executive chairman Thomas Pritzker and a fourth billionaire, real estate investor Mort Zuckerman, will be subpoenaed in a lawsuit against JPMorgan Chase by the government of the U.S. Virgin Islands related to sex trafficking by Jeffrey Epstein.

The subpoenas were first reported Friday by The Wall Street Journal. A source familiar with the matter confirmed them to CNBC.

The subpoenas demand communications and documents related to the bank and Epstein, The Journal noted.

News of the subpoenas comes three days after it was reported that JPMorgan CEO Jamie Dimon will answer questions under oath in the lawsuit, which alleges that the bank ignored warning signs about Epstein for years and continued retaining him as a customer.

Kelly Sullivan | Getty Images Entertainment | Getty Images

Last week, the Virgin Islands in a press release noted that it "alleges JPMorgan Chase could have prevented harm and trauma faced by the survivors of Jeffrey Epstein's heinous abuse."

"But instead the bank chose to look the other way on these legal matters while continuing to use their banking relationship to grow their business with new clients introduced by Epstein," the release said.

On March 20, Judge Jed Rakoff ruled the suit against the bank, as well as a similar one by women who say Epstein trafficked them, can proceed toward trial.

The plaintiffs claim that JPMorgan knowingly benefited from participating in Epstein's trafficking scheme, which transported women to his residence in the Virgin Islands so that he could sexually abuse them.

Jamie Dimon, CEO, JP Morgan Chase, during Jim Cramer interview, Feb. 23, 2023.

CNBC

JPMorgan has denied allegations in the suits which are pending in U.S. District Court in Manhattan.

The bank earlier this month sued former JPMorgan investment banking chief Jes Staley, claiming he is responsible for the suits related to Epstein.

The bank seeks to claw back more than $80 million that it paid Staley. He quit as CEO of Barclays in 2021 after a probe by United Kingdom financial regulators over his ties with Epstein.

A lawyer for the Virgin Islands earlier this month said in court that Dimon knew in 2008 that Epstein was a sex trafficker. That was the year that Epstein first was hit with sex crime charges in state court in Florida.

"If Staley is a rogue employee, why isn't Jamie Dimon?" the attorney, Mimi Liu said at the hearing,

"Staley knew, Dimon knew, JPMorgan Chase knew" about Epstein's criminal conduct, Liu said.

A JPMorgan lawyer said at the time that the bank disputed those claims, "in particular the point about Jamie Dimon having any specific knowledge." A bank spokeswoman has said, "Jamie Dimon has no recollection of reviewing the Epstein accounts."

JPMorgan only ended its customer relationship with Epstein in 2013.

Epstein, a former friend of Donald Trump, Bill Clinton and Britain's Prince Andrew, was arrested on federal child sex trafficking charges in July 2019. He killed himself a month later in a Manhattan jail cell after being denied bail.

Steve Jobs has a new 'memoir,' more than 11 years after his death

Sun, 02 Apr 2023 15:33

(C) Courtesy of Foster + Partners Steve Jobs walks through a mock-up for Apple Park in 2010. Steve Jobs never lived to be an old wise man.

But running Apple and Pixar, tumbling and thriving, earned him a lot of wisdom in his 56 years. Now, a small group of his family, friends and former colleagues have collected it into ''Make Something Wonderful: Steve Jobs in his own words,'' available free to the public online starting on April 11. Somewhere between a posthumous memoir and a scrapbook album, it is told through notes and drafts Jobs emailed to himself, excerpts of letters and speeches, oral histories and interviews, photos and mementos. (Some physical copies are being produced for Apple and Disney employees, but that format won't be for sale to the general public.)

(C) LoveFrom/LoveFrom ''Imagine yourself as an old person looking back on your life,'' Jobs wrote in a June 2005 email to himself as he was preparing to give the Stanford commencement speech. ''Your life will be a story. It will be your story, with its highs and lows, its heros and villains, its forks in the road that mean everything.'' The book, published by the Steve Jobs Archive, will be released on Apple Books and the Steve Jobs Archive website. The fact that it aesthetically resembles an Apple product '-- mostly gray and white, minimalist '-- is no coincidence: It was designed by LoveFrom, the firm founded by Jony Ive, Apple's former chief design officer.

Few people in recent history have been as well chronicled as Jobs. He first appeared on the cover of Time magazine before he turned 27. There are more than 162,000 YouTube videos of his speeches. Walter Isaacson's biographical tome runs to more than 600 pages.

But Laurene Powell Jobs wanted people to be able to directly hear her husband of 20 years. ''He has been written about, but this is actually his writing and his work,'' she said. ''So there's no intermediary.''

In the more than 11 years since Jobs died, technology has accelerated exponentially. He foresaw the rise of personal computing and the ubiquity of the internet years in advance. But technology triumphalism has faded over the past decade amid phone addiction, social media disinformation and other societal scourges.

''Technology doesn't want to be good or bad,'' said Apple CEO Tim Cook, who Jobs hired in 1998. ''It's in the hands of the creator whether it becomes good or bad.'' Cook is distributing a hardcover copy of the book to Apple employees as a reminder that ''the purpose of the company is to make the best products in the world that really enrich people's lives and leave the world better than we found it.''

The recent rise of generative AI '-- artificial intelligence such as ChatGPT that can create texts or images and hold humanlike conversations '-- has thrust us into a new era of technology and of freshly urgent ethical debates about it. It is dividing tech leaders, with some, including Elon Musk, calling for a moratorium on training more powerful AI systems so that their risks can be evaluated. Powell Jobs says Jobs, in the current context, ''would speak even more loudly about the need for us to have a certain philosophy about it and to pay attention to what could be unintended consequences.''

Culturally, technology is so focused on the future that lessons from the past are often neglected. And when the past is revisited, it can seem less glorious than before, as in Malcolm Harris's new book, ''Palo Alto: A History of California, Capitalism and the World.'' At this moment, when AI is rattling society, its creators seemingly prone to repeat the hasty mistakes of previous tech innovators, the Jobs book serves, in part, as a warning to ground technology in humanity.

''The ability to put something back into the pool of human experience is extremely neat,'' Jobs said in 1983, after Apple introduced its Lisa computer. Twenty-four years later, the year of the iPhone launch, he said: ''One of the ways that I believe people express their appreciation to the rest of humanity is to make something wonderful and put it out there.''

(C) Justin Sullivan/Getty Images The iPod Shuffle at the Macworld Expo on Jan. 11, 2005, in San Francisco. (C) John Mabanglo/Afp/Getty Images Jobs introducing a new flat-screen display on Aug. 31, 1999, in San Francisco. For Jobs, that manifested through making products, not a memoir. ''That was never something that he intended to take the amount of time it would require to do,'' Powell Jobs said. ''One never knows, as life goes on, whether there would be a desire for that.'' Disney CEO Bob Iger, who befriended Jobs when Disney partnered with and later purchased Pixar, said, ''I exhorted him to sit with a producer and a camera and tell his story. In his last six months, he never got around to doing that.''

Instead, the preservation of Jobs's legacy has been taken up by the Steve Jobs Archive, which launched last year with a website featuring a small selection of the kinds of emails and speech excerpts that appear in the book. The idea for the book grew out of an initial 40-page pamphlet that the group behind the archive, led by Silicon Valley historian Leslie Berlin, mocked up in 2017. As they kept adding items, especially photos, it grew into a book of about 250 pages.

Some of the photos have never been made public before, such as one of a note on Pixar letterhead that reads: ''Steve, President Clinton is holding.'' Then there's the Polaroid portrait, provenance unknown, chosen as the front-cover image: a young Jobs in a tuxedo, looking enigmatic.

The book's material, ordered chronologically, focuses on Jobs's inner thoughts, philosophies and mantras more than his business decisions or how he became one of the preeminent corporate leaders of his time. ''We don't need a book that tells us what he did, because we have examples of that every day in our lives,'' Iger said. ''But a book that really brings us inside him and tells us who he was '-- it's very intimate.''

(C) Courtesy of SJA Jobs at 2 years old. He later called computers ''a bicycle of the mind.'' ''Everything around you that you call life was made up by people that were no smarter than you,'' he wrote in 1994. ''And the minute you can understand that you can poke life, and if you push in, then something will pop out the other side; that you can change it, you can mold it '-- that's maybe the most important thing: to shake off this erroneous notion that life is there, and you're just going to live in it versus embrace it, change it, improve it, make your mark upon it.''

Those closest to Jobs describe his desire to give back his knowledge and nurture younger people, traits most evident in the commencement speeches he gave. ''Stay hungry. Stay foolish,'' he told graduates in his famous speech at Stanford, where he audited classes after dropping out of college. He borrowed the closing line from the Whole Earth Catalog, a publication that celebrated tools and helped to inspire the technological revolution of the 1970s.

In a lesser-known episode, he spoke to the 1996 graduating class at Palo Alto High School, which included his oldest child, Lisa Brennan-Jobs. ''Think of your life as a rainbow arcing across the horizon of this world,'' he told them. ''You appear, have a chance to blaze in the sky, then you disappear.'' A photo of Jobs's draft of that speech includes scribbled notes at the bottom that didn't make it into the final version: ''They tell you that you will love your kids. Never mention that you will fall in love with them.''

In other people's telling, Jobs could be abrasive and dismissive, berating his employees and spurning his family. Brennan-Jobs, who was born to Jobs and Chrisann Brennan several years before Jobs met and married Powell Jobs, wrote her own 2018 memoir of growing up with her turbulent father, ''Small Fry.'' ''Make Something Wonderful'' tiptoes around some of these traits. In the preface to a section of excerpts dedicated to Jobs's early days at Apple, in the 1980s, Berlin writes delicately that his ''management style was dismissive.''

(C) Ian Waldie/Getty Images Jobs with a projection of the iTunes website in London in 2004. In contrast with all his time in the public eye, Jobs's emails to himself are a mental version of dancing like no one is watching. ''They're quite rarefied and intimate glimpses, because the conversations that you have with yourself tend to be the most candid, the most honest,'' Ive said.

In 2003, after the iTunes music store debuted, Jobs emailed himself playlists of his favorite songs and the memories some of them evoked. About Joni Mitchell's ''Little Green,'' a song about giving up a daughter for adoption, he wrote, ''Maybe it's because I'm adopted, but this song moves me like few others. After I realized what this song was about, I cry every time I hear it.''

In the last email to himself included in the book, from September 2010, Jobs reflects on the fact that the world he lives in '-- the food he eats, the language he speaks, the medical treatment he receives '-- were all invented and grown by others. ''I love and admire my species, living and dead, and am totally dependent on them for my life and well being,'' he wrote. The final words are ''Sent from my iPad.''

tell me about podcasting 2.0 - Neeva

Sun, 02 Apr 2023 15:22

Unlock NeevaAINow with personalities!

AI-powered results for you, not advertisers

podcastindex.org

The

Podcast Index is here to preserve, protect and extend the open, independent

podcasting ecosystem. We do this by enabling developers to have access to an open, categorized index that'...

JUN 26, 2022 9to5mac.com 'º 2022/06/26 'º podcasting-2-0

The team behind

Podcasting 2.0 is building out protocols for live audio over RSS, enhanced tags, and more. Instead of relying on individual apps to define features, the

Podcasting 2.0'...

Gary Arndt · Aug 26, 2021

OCT 5, 2021 castos.com 'º introducing-podcast-2-0-support

With the Podcast

2.0 project,

a variety of new RSS feed tags are now available both in your Castos dashboard as well as the Seriously Simple Podcasting plugin for WordPress'...

podcastindex.org 'º podcast 'º 920666

Podcasting 2.0 February 17th 2023 Episode 122:

"We're Trending!" Adam & Dave discuss the week's developments on podcastindex.org -

We're joined by brand new Board member NathanG from Steno.FM ShowNotes

'... NOV 9, 2021 podcasting20.substack.com 'º p 'º podping

Nov 8, 2021. 9. 3. Building any type of

podcast consumption or aggregation platform is terribly difficult. And a good 75% of the difficulty revolves around discovering new episodes in'...

FEB 4 podnews.net 'º article 'º new-podcast-apps

Grab yourself a new

podcast app. This is a list of available apps, which you can filter to the

Podcasting 2.0 feature you'd like to use. Filter this list for...

None of your results have been customized

Debt Deflation: "The Adjustment To Reality Is Likely More Violent Than Anything Seen In The '70s" | ZeroHedge

Sun, 02 Apr 2023 14:53

Authored by Alasdair Macleod via GoldMoney.com,

Deflating the credit bubbleThe theme of this article is debt deflation. How likely is it that the downturn in broad money supply will continue, and if so, why? And what are the consequences?

The major central banks have increasingly resorted to interest rate management as their principal means of demand management. Yet history shows little correlation between managed interest rates and the growth of credit, which is represented by broad money statistics.

It can only be concluded that central banks have finally lost control over interest rates, and that they are now being driven by the contraction of commercial bank credit. The great unwind of the credit bubble, which was four decades in the making, is being driven by a growing fear of lending risk among bankers, exacerbated by the recent failures of a few significant banks. For bankers, it is no longer a time for greed, but for fear and a reduction of their debt obligations.

This article draws on the experience of the 1970s for empirical evidence and expands on the reasons behind it. It notes that the dynamics behind the crisis for the UK, which led to gilts being issued with coupons over 15%, in some key respects were milder than that faced by the US and other nations today.

It can only result in debt traps being sprung on government finances, and a shift from credit creation by commercial banks to central banks.

The visible debasement of the most senior form of credit will only exacerbate the problems for government funding, increasing their welfare costs, collapsing tax revenues, and escalating borrowing costs.

IntroductionThere is no more clear evidence of a fundamental change in the long-term interest rate trend than the yield on the 10-Year US Treasury note, which has violated its long-term downtrend as shown in the chart below.

While it is an error to place too much emphasis on mechanical chart relationships, we can see good reasons for this break in trend to be a very important indicator. It calls an end to the long-term downtrend in interest rates, abetted by the Fed's interest rate policies. In time, historians might well record the extraordinary delusions of monetary policy makers that led to a debt and valuation trap which is destroying the currency correctly '-- unless, that is, history is written by the policy makers.

That is eminently possible, but there is a more accurate description of policy failure. The various moves by statisticians to conceal the evidence of rising prices ended when central banks suppressed official interest rates to or below the zero bound. Not only did statistical method create the illusion that inflation as officially defined was not a problem, but it encouraged policy makers to more aggressively suppress interest rates to get an apparently flatlining CPI to rise to the 2% target. With the covid pandemic as justification, the Fed suppressed interest rates to the zero bound and proceeded with quantitative easing to unprecedented levels in an attempt to suppress all bond yields. And even before then, negative interest rates, which are wholly illogical, were introduced in Japan, the Eurozone and Switzerland.

If the Fed had stuck to its policy of adjusting its funds rate in line with the inflation of consumer prices, it would have begun increasing them in April 2021, when the CPI(U) inflation rate jumped to 4.1%, up from 1.7% in only two months. But that adjustment was not made until the following March, when the Fed increased the target range by just one quarter of a per cent to 0.25%'--0.50%, by which time the CPI(U) was rising at 8.5% against a year previously.

The official story, that inflation was transitory was baseless. But it was sanctions against a belligerent Russia backfiring on the NATO alliance which alerted everyone to the conditions for a collapse in credit values in the major western currencies. Accordingly, energy, commodity, food, and producer prices which had already been rising suddenly broke higher. Central banks were bewildered. They could see no reason for it, other than the Russian situation, and it was argued that Russia would either be defeated, or its economy would collapse under sanctions. Inflation was still deemed to be transient.

Officially, it remains transient, only it's taking a little longer than first thought to return to 2%. Every statist forecast for price inflation assumes that this is the case. Our headline chart to this article, of the new rising trend in bond yields says otherwise. And the longer it takes for the inflation dragon to be slain, the more the general public will believe it is likely to become permanent and act accordingly.

The speech delivered by the Bank of England's Governor to the London School of Economics on 27 March is indicative of the Bank's thinking. A word search of its sixteen pages reveals only one reference to credit, and none to money supply, M0, 1, 2, 3, or 4, but 31 to interest rates and 13 to Bank Rate. There were 27 references to r*, which is the hypothetical interest rate that would sustain demand in line with supply. New Keynesian models were mentioned once, and monetarism or the term monetarist not at all.

Rather than wading through central bank-speak, these word searches are a useful guide to official thinking. And given the absence of references to money supply and credit, this speech on monetary policy was actually not about monetary policy at all, despite being mentioned 46 times. From the references, the Governor's speech appears to have been written for him by seventeen in-house economists, a committee bound together by the groupthink which is evident in the text.

This group-thinking is not just evident at the Bank of England. The Fed's FOMC minutes similarly lack references to credit and money with respect to monetary policy. But there are always multiple references to interest rates.

Erroneous beliefs over the role of interest rates Central bankers and the entire investment community believe the relationship between prices and money is governed solely by interest rates, as their policy documents reveal. In other words, to contain inflation, which the establishment refers to as increases in the consumer price index, interest rate management is the principal, possibly the only tool. But contrary to the import of the Governor's speech referred to above, there is little or no empirical evidence to support this thesis. Arguably, the single exception was in the early 1980s, when Fed Chairman, Paul Volcker raised the Fed funds rate as high as 19.5% '-- but I address this next.

Empirical evidence on its own is insufficient '-- a proper explanation is required. The Volcker story ignores the actual relationship between interest rates and credit, which we can surely agree is the fuel which drives both production and consumer demand and is the central concern of monetarists. The relationship is shown in Figure 1.

Expectations of continually rising prices which had built up from 1977 were suppressed in the early 1980s by near 20% Fed Funds Rates. But credit measured by M3 continued to expand unabated '--even increasing its rate of expansion marginally to accommodate higher interest payments. The only conclusion we can draw from this chart is that irrespective of interest rate trends, money supply soared on regardless.

However, increasing interest rates to punitive levels did reduce expectations of rising prices, which were threatening to undermine confidence in the currency. But other than this extreme action, as a means of controlling credit expansion interest rate policy was an abject failure. This failure was not widely appreciated at the time, when the focus, as it is today, was on the consequence for prices.

But finally, we are now seeing bank credit beginning to contract for the first time since the depression. It is tempting to attribute the current contraction in broad money supply to the sharp rise in the Fed funds rate. But the link is only indirect and has little or nothing to do with controlling the dollar's loss of purchasing power, or put another way, rising prices.

Instead, the contraction in bank credit is due to commercial bankers becoming cautious over bank lending. As we saw with the Silicon Valley Bank failure, some banks invested in medium- and long-term bonds when the cost of funding was significantly lower than the coupon returns available on the bonds. Rising interest rates then increased the cost of funding so that it was higher than the bond coupons and led to capital losses. This was a direct consequence of interest rate increases. Furthermore, central banks themselves have been caught out the same way but on a far larger scale. While SVB failed, it is assumed that central banks are immune to the same failure, because they can readily expand their balance sheets to provide liquidity.

But we must now examine the true relationship between credit and interest rates. Instead of changes in interest rates driving changes in total bank credit, it is the other way round. If banks reduce the level of credit relative to demand for it, then interest rates must reflect the shortage of credit and can only rise. It is the collective actions of the commercial banks that is now driving interest rates higher, and not central bank policy.

This leads us to a worrying conclusion. We are currently in a global banking crisis, triggered to some extent by the contraction of bank credit. Unless the banking cohort drops its collective lending caution, then interest rates are bound to rise further, irrespective of the policies and desires of the rate setters in the central banks. And It's not just bankers' caution over lending to financial and non-financial sectors, but also lending to their weaker brethren.

For the banking system to function, balance sheet imbalances arising from deposit flows must be corrected. But the moment the banking community suspects there is a run on one of their number, that bank is simply cut off from the required funding.

The conventional method of dealing with a bank's inability to fund itself in wholesale markets is for the central bank to intervene to make up for deposit shortfalls. For a bank to resort to this funding is not just embarrassing, but it confirms its pariah status. Northern Rock faced a depositor run in September 2007. The Bank of England stepped in, but despite the Bank's support, Northern Rock never recovered and was taking into public ownership the following February.

Undoubtedly, there are other banks of all sizes in trouble today, both in domestic and international banking markets. It is a consequence of the end of the credit bubble and sets the tone for intra-bank relationships.

Imagine you are managing a bank. In this increasingly febrile credit atmosphere, you will be acutely aware of counterparty risk. You will be reducing your credit line maximums in wholesale markets across the board. You will be drawing up a list of banks to whom you will not lend. You will be reviewing your derivative counterparty exposures. You will dispose of all marketable bonds with maturities longer than a year, and you will be reviewing loan collateral values.

You will ensure your deposit rates are set to retain deposits, but not raised sufficiently to create suspicions of insolvency. And even for long-established commercial relationships, you will seek to increase your lending rates. You will hope that by protecting lending margins you will foster a reputation for sound, conservative management. Maintaining market and depositor reputations have become paramount. But above all, you will be taking steps to reduce the ratio of balance sheet assets to equity to more conservative levels.

Alerted by SVB and Credit Suisse, every bank will be striving for similar objectives. Credit contraction will continue everywhere, with the possible exception of banking markets disconnected from the western financial markets, such as Russia and China.

In the Eurozone, even a modest rise in interest rates from here will almost certainly lead to a substantial contraction of its bloated repo market, often backed by dodgy collateral. Through bank balance sheets, this would be reflected in a contraction of outstanding bank credit in a banking system riddled with hidden bad debts, and where G-SIB banks have total asset to equity ratios of over twenty times. As ringmaster, the ECB is effectively trapped. Furthermore, with the entire euro system of the ECB and national central banks nearly all in balance sheet deficits, American and other bankers will steer clear of new commitments and counterparty risks with the eurozone as a matter of policy.

The US has its own crisis, being heavily dependent on financial markets, upon which the Fed has relied to keep economic confidence intact. If bond values continue to decline, heavily indebted government finances will destabilise. And zombie corporations, overloaded with unproductive debt will fail, potentially leading to depression-era levels of unemployment.

Put briefly, we have moved on from the Volcker years and today the overall debt situation is more serious than it has ever been in modern times. The solution whereby central banks expand their way out of the consequences of interest rate increases without collapsing their currencies is no longer an option, an illusion when the driving factors behind interest rates are properly understood. To appreciate why, we must understand the answer to the question posed above about the non-correlation between interest rates and the quantities of currency and credit. Only then can we truly see the extent of the fallacies driving contemporary monetary policies.

Interest rates reflect time, not cost If there is one reason why the state will always fail in its monetary policies, it is the inability of the bureaucratic mind to incorporate time into its decision-making. In the productive market economy, which is little more than a name for the collective actions of transacting individuals and their businesses, time is central. A producer incorporates time in his profit calculations, and a consumer incorporates time in his needs and desires, whether wanting something immediately or being prepared to defer his purchase. And because money is the link between both earnings and spending and savings and investment, time is of the essence for money as well. It is this irrefutable fact that leads to a preference for money to be possessed sooner rather than later. And if a human actor is to part with it temporarily to be returned later, naturally he or she will expect compensation for the loss of its utility.

Fundamentally, this is what the general level of interest rates in the market economy represents. It is the time preference factor, set between transacting humans, which values possession in the future less than possession today. It is the background to the rate of interest banks must pay on deposits to balance their books. It is fundamental to a businessman's calculations, setting the acceptable interest rate for loan finance.

To pure time preference, we must add an element for counterparty risk, so that when banks are deemed risky, the spread over pure time preference will increase. And when transacting humans anticipate a fall in purchasing power before money owed is returned, that is yet another factor for depositors to take into account.

The common central bank target for price inflation of 2% implies that interest compensation to include an element of time preference and monetary depreciation suggests a base case for a deposit rate of between 3%'--5%. We arrive at this figure in the knowledge that under the gold standard in the nineteenth century, the deposit rate had declined to 3% without inflation of prices, a moderate deflation perhaps being expected.

Therefore, with the general level of prices in dollars rising at about 6% currently, depositors should more naturally expect one-year deposit rates of about 7% or 8%, after tax deductions. We can therefore see why the Fed is motivated to talk down price inflation to the 2% target. And why, therefore, buying US Treasuries at a current yield of 3.6% is presumed by compliant investors to be reasonable value.

But other than a safe-haven play for short-dated US T-bills, nothing could be further from the truth. The long-term interest rate trend is clearly for them to rise as credit continues to contract taking bond yields up with them, and debt markets are likely to become increasingly volatile. This was certainly the experience of a similar situation fifty years ago, which merits examining.

Debt funding in the 1970sWith bank credit now contracting, it is only a matter of time before the US Government will find its funding costs rising materially. Not only will that affect the outlook for its spending plans, but there is a risk of periods of funding disruption. Relying on its proven auction process may no longer be sensible '-- after all, auction success has been against a background of generally declining interest rates and bond yields, ensuring continuing demand from pension funds, insurance companies and foreign governments.

It is well worth revisiting the 1970s precedent to assess future funding conditions, now that the underlying trend is for interest rates to rise over time. The 1970s was the last time there was a funding crisis due to rising interest rates. But it wasn't the US Government that suffered so much, because it ran relatively small budget deficits relative to the size of the economy at that time '-- the largest being an unprecedented $74 million in 1976 (compared with $3,131,917 million in 2020, over 42,000 times the 1976 deficit).

It was the UK that had problems, but on a far smaller relative scale than today. Periodically, the Bank of England, acting for the UK Treasury, was unable to fund its budget deficit, which peaked at 6.9% of GDP in 1975/76, forcing the then Chancellor (Denis Healey) to borrow $3,900 million from the IMF to cover the entire deficit. Following this episode, IMF restrictions on government spending capped the UK budget deficit at approximately 5% in the years following, and the rate of price inflation, which had peaked at 25% in 1975, declined to 8.4% in 1978. Furthermore, in late-1973 there had been a combined commercial property and banking crisis on a scale never seen in the UK before. And during the bear market in equities, between May 1972 and the end of 1974 the FT 30 Share Index fell over 70%.

For comparison, the US deficit to GDP ratio in 2020 was 11.6%, and 10.3% in 2021, nearly double that of the UK at the height of its crisis. With similarly socialistic policies which led to a sterling crisis forty-five years ago, the dangers facing the dollar, which are potentially far greater, have yet to materialise. And the IMF cannot come to the rescue of the US, as it did for the UK in 1976.

Crucially, the Bank of England lacked the tools to hide the true extent of monetary inflation. Intentionally or not, to a degree government statisticians and central banks can massage the numbers today with the financial press being little the wiser. But that changes nothing, other than fooling markets for just a little longer.

Back in seventies Britain, the initial cause of a series of funding crises was that the Bank of England, under pressure from politicians, did not accept the market's demands for higher interest rates. This sent a negative message to foreign holders of sterling, weakening the exchange rate, triggering foreign selling of gilts, and raising fears of further imported price inflation.

Meanwhile, government spending continued apace (as described above), pushing extra currency into circulation without it being absorbed by debt issuance funded by genuine savings. And as sterling weakened and money supply figures deteriorated at an increased pace, yet higher interest rates would be required to persuade investing institutions to subscribe for new gilt issues. These episodes were dubbed buyers' strikes.

The longer the delay in accepting reality, the greater the chasm became between market expectations and the authorities' position. Only as a last resort would the politicians and the Keynesians at the UK's Treasury throw in the towel. The Bank of England then had the authority to fund at its discretion. It deployed what became known in the gilt market as the Grand Old Duke of York strategy, after the nursery rhyme: ''He had ten thousand men. He marched them up to the top of the hill, then marched them down again.'' The Bank of England would raise interest rates to the top of the hill to take all expectations of higher rates out of the market, then issue gilt stocks to absorb pent-up investment liquidity before allowing and encouraging rates to fall again. That was how 15% Treasury 1985, 15 ¼% Treasury 1996, and the 15 ½% Treasury 1998 gilts came to be issued on separate occasions.

At the top of the interest rate hill and following the announcement of the terms of the new gilt, having weakened on foreign selling sterling would then recover. The crisis passed, and the money supply figures corrected themselves. Paul Volcker at the Fed did something similar at the Fed in June 1981 when he raised the Fed funds rate to 19.1% '-- except the objective was less about funding and more about killing expectations of price inflation.

Though they are currently being ignored, there are worrying similarities between the UK's experience in the mid-seventies and the Fed's position today. The US budget deficit has been and remains far higher than the one that forced the UK to call in the IMF, as much as 11.6% of GDP and over 42,000 times the US deficit in 1976. With the highly indebted US economy bound to be undermined by rising interest rates, the outlook is not for recovery as forecast by the Congressional Budget Office, but for further deterioration, requiring continual and accelerating inflationary funding.

And no one yet is contemplating Treasury coupons at anything like the 15% seen in UK gilts during the similar conditions of the 1970s.

The response to rising interest ratesThe case has now been made that it is contracting credit which is driving interest rates higher, not central bank policy. Having become used to continual expansion of credit tied to fiat currencies '-- in other words not anchored in value to anything material '-- we will have to learn to adjust to the conditions of credit contraction.

Monetarists and neo-Keynesians would argue that contracting credit will lead to falling prices and deflation. They do not seem to appreciate the consequences of unemployed consumers no longer producing goods and services. If anything, productivity gearing means supply is likely to diminish at a faster rate than employment, leading to product shortages instead of lower prices. This was evident in the UK in the mid-seventies when high unemployment accompanied economic stagnation '-- the so-called stagflation.

Furthermore, there is little or no leeway in both Keynesian and monetarist modelling for the human response. It does not allow for changing levels of confidence in the users of a fiat currency backed by nothing tangible. Instead, monetarist policy recommendations fall in line with the neo-Keynesians, and that is to reflate like mad to prevent a recession, or even worse, a depression.

Putting to one side the errors in mainstream economic analysis, it is almost certain that central banks will do their utmost to stop broad money supply statistics from contracting. And while they trumpet their independence from their governments, they have a primary duty to keep them funded.

The fallout from rising interest rates will undoubtedly lead to higher government budget deficits. Tax revenues will decline, and welfare costs increase. And to the extent that the currency loses its value, there will be additional burdens from indexation of welfare costs and index-linked bonds.

The dangers from rising interest ratesWe now turn to the consequences of rising interest rates on government funding. There seems little doubt that as interest rates move higher and debt funding costs with them, governments will find themselves unable to escape from a debt trap.

According to the Bank for International Settlements, core government debt in the advanced economies last September stood at 103.3% of GDP. In the United States, it was 112.6%, the UK 100.8%, and the Euro area 93.1%. Italy was 147.2%, Greece 178.8%, and Japan 228.3%. In all cases, total government debt ratios including non-core debt are even higher.[ii]

In 2010, respected economists (Carmen Reinhart and Kenneth Rogoff) concluded that at a government debt to GDP rate of over 90% it becomes exceedingly difficult for a nation to grow its way out of its debt burden. For many countries that Rubicon was crossed not long after. Now that the long-term trend of declining interest rates has been dramatically reversed Reinhart and Rogoff's reasoning is about to be tested.

It is not yet widely understood that the contraction of bank credit is forcing lending rates higher, and that they are no longer under the control of monetary policy. The Fed appears to sense this, because it has switched its attention from trying to control short-term rates to suppressing Treasury yields for longer maturities by its Bank Term Funding Programme. The BTFP allows banks to submit Treasury and agency debt as collateral at redemption value with no haircut against a one-year loan from the Fed. Though the cost of funding is tied to higher rates than the coupons on existing debt, it allows a bank to buy the debt at a significant discount in the market. Against the funding cost, the profit is material, unless yields on Treasuries and agency debt are driven much lower by this arbitrage.

A bank profiting from the arrangement merely reinvests the accumulating loans from the Fed in short-term Treasury and other bills which currently have a yield similar to the cost of funding. From the US Treasury's point of view, interest on new debt becomes materially reduced, and its debt maturity profile can be extended. From the Fed's viewpoint, the mark-to-market crisis which collapsed Silicon Valley Bank is averted. But the BTFP is little more than a delaying tactic.

Banks allocating precious balance sheet space to this activity will be displacing depositors as a source of funding with Fed currency. In accordance with Basel 3's net stable funding rules, larger depositors are increasingly likely to be turned away. Therefore, while the Fed is busy rigging the bond market, the market demand will be for deposit replacement: large deposits migrating into Treasury bills and the like.

This is part of a process whereby contracting commercial bank credit will be replaced by expanding central bank credit. All credit, whether between individuals or between individuals and their banks refers for its value to central bank credit for which it is exchangeable in the form of banknotes. It is the expansion of central bank credit which has the most impact on currency valuations in terms of goods and services.

Summary and conclusionIt seems extraordinary that the link between changes in the quantities of currency and credit, epitomised by deposit-based monetary statistics, and interest rates is being totally disregarded by governments, monetary authorities, and the entire investment establishment. But that is certainly the case today. And no one seems to expect much more than an increase of a few basis points in global interest rates before they subsequently decline.

Furthermore, rising prices measured by the CPI have caught the policy establishment unawares. Nor should we be surprised that the current situation continues to be analysed through a neo-Keynesian lens, when we know that it is Keynesian fallacies that has led us to the current crisis. The crisis is now of emerging debt traps not just for the US Government, but governments in nearly all the other major jurisdictions.

The Keynesian belief that government economic and monetary management is superior to free markets is set to be discredited by market reality, which can only be suppressed so far. It has led to savers being forced to accept deeply and further deepening negative yields on their bond investments. So far, they have been prepared to have their pockets picked by this means, but that cannot last much longer. When it becomes clear that inflation of prices is only a marker for currency debasement, and that this debasement can only continue, these deeply negative rates will no longer be available to subsidise profligate government spending.

The scale of an interest rate and bond market crisis for the dollar as the reserve currency appears to be severely underestimated. The sudden emergence of runaway price inflation las year has led to tentative comparisons being made between the current situation and the 1970s. But so far, there is little evidence that these comparisons are being taken seriously enough.

If they were, analysts would have to conclude that events in common with the 1970s, which led to high nominal bond yields and coupons in UK gilts exceeding 15%, are potentially far more destabilising today than they were then. That being so, the world is on the edge of a substantial bear market in financial assets driven by global bond prices normalising from the current deeply negative real rates to levels that truly reflect deteriorating government finances. All financial asset values will be undermined by this adjustment.

It is increasingly difficult to see a way out of these difficulties, and the Keynesian hope that economic growth will deal with the debt problem is simply na¯ve. In 2010, respected economists (Carmen Reinhart and Kenneth Rogoff) concluded that at a government debt to GDP rate of over 90% it becomes exceedingly difficult for a nation to grow its way out of its debt burden. With advanced economies averaging debt to GDP ratios significantly greater than 90%, there are debt traps for governments almost everywhere ready to be sprung.

In highly indebted fiat currency economies, there can only be one outcome: once one falls into a crisis, the others will follow. The cost in terms of accelerating currency debasements will lead to the destruction of public faith in their currencies as well. And with a government core debt ratio to GDP of 112.6%, the US with its dollars is up there with the others to be destabilised, being over-owned by foreigners already beginning to sell dollars and transmitting risk to all currencies that regard the dollar as its principal reserve currency.

It can only be concluded that the adjustment to market reality is likely to be more violent than anything seen in the 1970s.

Loading...

Michael Cohen was $22M in debt because of his taxi medallions

Sun, 02 Apr 2023 13:59

Michael Cohen owed $22 million in loans against the taxi medallions he owned '-- and allegedly lied in order to try to clear the massive debt, according to court documents unsealed Tuesday.

The extent of the financial woes racked up by President Trump's former personal attorney and fixer emerged in just-unsealed filings related to search warrants in special counsel Robert Mueller's investigation.

The documents show that federal prosecutors in Manhattan and the FBI were zeroing in on Cohen's taxi businesses '-- including ''misrepresentations'' and omissions he made ''in connection with a transaction intended to relieve Cohen'' of the $22 million debt.

The investigation, which began in July 2017, found that Cohen lied about income from consulting work in 2017 in order to avoid paying back loans and failed to disclose ''tens of thousands of dollars'' he received in other monthly income.

''By making these misrepresentations and material omissions, Cohen avoided making monthly payments on his loans, and attempted to fraudulently induce the banks to relieve him of certain repayment obligations and personal guarantees that Cohen and his wife had signed,'' the papers said.

It had been previously reported that Cohen was in the hole from borrowing cash from banks and credit unions against the medallions.

The once-rare taxi medallions '-- which at their peak were worth as much as $1.2 million apiece '-- tanked to just an average of $200,000 each after ride-share services like Uber and Lyft exploded in the city.

Cohen has pleaded guilty to tax fraud and campaign finance violations, as well as to lying to Congress.

He'll begin serving a three-year sentence in May.

CDC to send troops to fight deadly Marburg virus in Africa

Sun, 02 Apr 2023 12:49

Cases of Marburg had been reported in Guinea and Tanzania. FOX NewsThe US Centers for Disease Control and Prevention is sending personnel to Africa to help quell a rare, deadly viral outbreak that has killed 12 people since February.

Marburg '-- a viral hemorrhagic fever '-- had never been reported in either Guinea or Tanzania, where cases have been cropping up in the last several weeks, the World Health Organization said.

The CDC warns that Marburg is ''a rare and deadly disease'' that can be spread by contaminated objects and animals, like fruit bats and primates.

Symptoms include fever, chills, headache, muscle pain, rash, sore throat, diarrhea, vomiting, stomach pain, chest pain, and unexplained bleeding or bruising.

''Infection with Marburg virus is often fatal. There are no approved vaccines or treatments for Marburg,'' the agency warns.

The agency is sending its National Center for Emerging and Zoonotic Infectious Diseases to two regions on opposite sides of the country where the disease is spreading.

The CDC also plans to post notices in international airports warning them about the symptoms of the disease.

The rare virus can be spread through fruit bats. FOX NewsThough the CDC hasn't implemented any travel restrictions, the WHO is warning against ''any travel and trade restrictions'' with either Guinea or Tanzania.

Guinea was the first to report the disease on February 7 '-- The Ministry of Health and Social Welfare of Equatorial Guinea revealed that eight people had died in two separate villages all on the same day.

The agency reported 20 probable cases and one additional death as of March 21.

The CDC is sending its National Center for Emerging and Zoonotic Infectious Diseases to help quell the virus spread. FOX NewsSince March 16, Tanzania '-- on the opposite side of Africa '-- has reported eight cases, including five deaths of Marburg.

The first identified case identified in Tanzania had brought the virus to his village after traveling from Goziba Island in Lake Victoria in another area of the country, the WHO said.

It is unclear how Marburg entered either country.

Bud Light makes special can to celebrate Dylan Mulvaney's '365 days of girlhood' | The Post Millennial | thepostmillennial.com

Sun, 02 Apr 2023 12:39

Is this an April Fool's joke? We're not sure, but it appears that trans TikTok star Dylan Mulvaney is the latest spokesperson for Bud Light. Mulvaney released an ad, in the style of the usual TikToks, talking about the beer and March Madness. Mulvaney joked about March Madness, and not know what sport that was about, while wearing an up-do and gown.

Bud Light has printed cans with Mulvaney's likeness in celebration of Mulvaney's 365 Days of Girlhood project. The celebration signifies that Mulvaney, a grown adult male, has been pretending to be a "girl" for an entire year.

Mulvaney's "365 Days of Girlhood" project, during which Mulvaney released TikTok videos documenting the "journey" from presenting as a gay male to presenting as a gay male in women's clothing, was documented fully by Mulvaney on social media.

Mulvaney used the project to become a social media influencer, and the efforts, including facial feminization surgery and publicly taking estrogen, were successful. Mulvaney met with President Biden at the White House and received a letter of

congratulations from Vice President Kamala Harris on having spent a full year documenting the gender change on social media.

Mulvaney has been tapped to sell a host of women's products, including

Kate Spade's women's spring line of dresses, handbags, and shoes, along with Tampax for some reaon, despite Mulvaney not being capable of menstruation. Mulvaney has also

pranced about like a little girl for promotions as well.

Mulvaney has had partnerships with Maybelline, Ulta, and Kitchen Aid, as well.

Despite the glory, Mulvaney has complained that "

no one is in the DMs," and that dating as trans has not been easy, despite being attractive enough, as Mulvaney says, a "husband stealer."

What Is ''Vabbing'' And Does It Really Work? | IFLScience

Sun, 02 Apr 2023 12:38

Some women say they've found a new trick involving their vaginas.There's no evidence to suggest human vaginas produce pheromones. Image credit: Wren Meinberg/Unsplash.com

There's a new pseudoscience craze sweeping the internet, and it involves inserting your fingers into your vagina and then wiping them on your skin '' all in the name of seduction. Known as ''vabbing'', the trend has been touted as a cheaper and more alluring alternative to perfume, but can smelling like a vagina really make you more attractive?

The what, how and who of vabbingVabbing has blown up recently thanks to a now-deleted TikTok video posted by influencer Mandy Lee. Describing the technique, Lee recommends the use of two fingers and a ''relatively clean'' vagina, and says that the best approach is to simply ''get up there'' before transferring the intimate secretions to exposed body parts like the wrist, neck, or behind the ears.

''I swear if you vab, you will attract people, like a date, a one-night stand. Or you'll just get free drinks all night,'' she says, before revealing that she first heard about vabbing on the Secret Keepers Club podcast. Despite the removal of Lee's video, the craze has taken off on TikTok, with numerous other users taking to the platform to promote the sticky practice.

Elsewhere, sex educator and author Shan Boodram has written about the benefits of wearing vaginal fluids, which she says ''can serve as a love potion,'' especially if they are applied around the time of ovulation.

Why vab?According to Boodram, vaginal secretions may contain chemical messengers known as copulins. These volatile fatty acids are known to stimulate sexual arousal in some male primates, so the assumption here is that by smearing oneself in yoni juice, women may have a better chance of attracting a mate.

More generally, the rationale behind vabbing centers around the idea of pheromones, which are chemical signals that some animals secrete in order to affect the behavior of other individuals of the same species. In some cases, pheromones are used to get members of the opposite sex in the mood for love, with arguably the most potent being a compound called bombykol. Secreted by female silk moths, this sexy signal sends males wild with lust for some insect intercourse.

Taking their cue from the animal kingdom, many perfume manufacturers use synthetic pheromones in their products, which they market as being capable of boosting the wearer's attractiveness. Vabbers, however, prefer to use their own brand, which they say is more effective.

What does the science say?While it's well established that many species use pheromones for sex, there is no solid evidence to suggest that humans produce these chemical messengers or are capable of responding to them. That may be because the vast majority of pheromone research has been conducted on animals rather than people, although it's worth noting that a 2012 review of all human studies found that the evidence to support our use of these signals is ''weak''.

Having said that, some research has hinted at the possibility of natural body odors influencing our sexual allure. For example, one study involving more than 500 people found that participants' relationship satisfaction and desire to procreate was influenced by the nature of their partner's major histocompatibility complex (called HLA in humans), which is a genetic component of the immune system.

Because molecules related to the HLA are released in saliva, sweat and other bodily fluids, this finding could be interpreted as evidence that our liquid secretions have the power to get other people's juices flowing.

Other research has shown that some women do produce copulins in their vaginal fluid, and that the concentration of these acids increases during the first half of the menstrual cycle before dropping after ovulation. In one study, men who were exposed to copulins rated both themselves and women as more sexually attractive, which is encouraging news for vabbers.

However, to date, no human pheromone has been definitively identified, so it's a bit of a stretch to claim that vabbing sends men the way of the male silk moth.

Virgin Orbit: What went wrong with Richard Branson's company

Sun, 02 Apr 2023 11:04

Virgin Orbit crew poses at the opening bell ceremony as a 70 foot model rocket with satellites is placed in front of the NASDAQ in Times Square of New York City, United States on January 7, 2022.

Tayfun Coskun | Anadolu Agency | Getty Images

Not too long ago, Virgin Orbit was in rarified air among U.S. rocket builders, and executives were in New York celebrating its public stock debut.

The scene was true to the marketing pizazz that has helped Sir Richard Branson build his Virgin empire of companies, showcasing with a rocket model in the middle of Times Square.

The deal, facilitated by a so-called blank check company, gave Virgin Orbit a valuation of nearly $4 billion. But that moment in December 2021 '' when the craze surrounding public offerings centered on special purpose acquisition companies, or SPACs, was dying out '' previewed the pain to come.

Now, Virgin Orbit is on the brink of bankruptcy. The company on Thursday halted operations and laid off nearly all of its staff. Its stock was trading around 20 cents Friday, leaving it with a market value of about $74 million.

When Virgin Orbit closed its SPAC deal, it raised less than half of the nearly $500 million expected due to high shareholder redemptions, shortening its runway. With the broader markets turning against riskier yet-unprofitable assets like many new space stocks, Virgin Orbit shares began a steady slide, further limiting its ability to raise substantial outside investment.

Branson, Virgin Orbit's largest stakeholder, was unwilling to fund the company further, as CNBC previously reported. Instead, he began hedging against his 75% equity stake through a series of debt rounds. That debt gives the flashy British billionaire first priority of Virgin Orbit assets in the event of the now-impending bankruptcy.

While Virgin Orbit touted a flexible and alternative approach to launch small satellites, the company was unable to reach the rate of launches necessary to generate the revenue it sorely needed.

Sign up here to receive weekly editions of CNBC's Investing in Space newsletter.

Virgin Orbit's technical staff acquitted themselves well over the company's brief existence, but were ultimately undone in by its leaders' financial mismanagement. It's a story too often told in the history of the space industry: Exciting, or even innovative, technologies do not necessarily equal great businesses.

It became one of a few U.S. rocket companies to successfully reach orbit with a privately developed launch vehicle. It launched six missions since 2020 '-- with four successes and two failures '-- through an ambitious and technically difficult process known as "air launch," with a system that uses a modified 747 jet to drop a rocket mid-flight and send small satellites into space.

But Virgin Orbit had dug a nearly $1 billion hole, flying missions just twice a year while its payroll expenses climbed. The company's leadership was aware of the deteriorating situation and lack of progress, and even considered changes last summer to make the business more lean. But no clear or dramatic plan came to fruition '' leading to Thursday's fall.

This story collects insights from CNBC's discussions with company insiders and industry investors over the past several weeks, as well as from regulatory disclosures, to explain where things went wrong for Virgin Orbit. Those people asked to remain anonymous in order to discuss internal or competitive matters.

A Virgin Orbit spokesperson declined to comment for this story.

Lacking executionThe company's 747 jet "Cosmic Girl" releases a LauncherOne rocket in mid-air for the first time during a drop test in July 2019.

Greg Robinson / Virgin Orbit

Virgin Orbit was spun-off from Branson's space tourism company, Virgin Galactic , in 2017, after a team within the latter sister company saw potential in using an aircraft as a platform to launch satellites. While "air launching" satellites was not a novel idea to Virgin Orbit, the company aimed to surpass the air-launched Pegasus rocket '' developed by Orbital Sciences, which is now owned by Northrop Grumman ''for a fraction of the cost per mission.

Headquartered in Long Beach, California, Virgin Orbit flew most of its missions out of the Mojave Air and Space Port. The exception to that was its most recent launch, which took off from Spaceport Cornwall in the United Kingdom. Virgin Orbit had been working with other governments to provide launches by flying out of airports around the world, signing agreements with Japan, Brazil, Australia and the island of Guam.

The advertised flexibility and potential of Virgin Orbit's approach attracted quite a bit of attention from leaders in the U.S. national security community. Following meetings with top Pentagon brass in 2019, Branson proclaimed that Virgin Orbit is "about the only company in the world that could replace [satellites] in 24 hours" during a military conflict.

At the time, the Air Force's acquisition lead, Will Roper, said he was "very excited about small launch" after meeting with Branson. He said the U.S. military had "huge money to invest" in buying rocket launches.

The company had hoped to launch its debut mission as early as 2018, but that goal kept moving every six months or so. Eventually, Virgin Orbit launched its first mission in May 2020, which failed shortly after the rocket was released from the jet. It got to orbit successfully for the first time in January 2021.

Given the company's burn rate near $50 million a quarter, Virgin Orbit was targeting profitability once it got beyond a launch rate, or cadence, of a dozen missions per year. When it went public, Virgin Orbit CEO Dan Hart told CNBC that the company was aiming to launch seven rockets in 2022, to build on that momentum.

At the same time, Virgin Orbit was already in a deep financial hole '' with a total deficit of $821 million at the end of 2021, due to steady losses since its inception. While Virgin Orbit had aimed to launch seven missions last year, that number was steadily guided down quarter after quarter, closing out 2022 with just two completed lunches '' the same as the year before.

Some people within the company who had been critical of Virgin Orbit's execution pointed to several executives' backgrounds at Boeing , which has had its share of space-related snags over the years.

Virgin Orbit CEO Dan Hart had spent 34 years at Boeing, where he was previously the vice president of its government space systems. COO Tony Gingiss joined Virgin Orbit from satellite broadband company OneWeb, but before that had spent 14 years in Boeing's satellite division. And Chief Strategy Officer Jim Simpson had also spent more than eight years in Boeing's satellite division before joining Virgin Orbit.

As one person emphasized, the company launched the same amount of rockets in a year with a staff of 500 as it did with a workforce of over 750 people. Others complained of a lack of cross-department coordination, with projects and spending done in silo of each other '' leading to a disconnect in schedules.

Two people mentioned wastefulness in ordering materials. For example: The company would buy enough expensive items with limited shelf-life to build a dozen or more rockets, but then only build two, meaning it would have to throw away millions of dollars' worth of raw materials away.

When Virgin Orbit announced an employee furlough March 15, people familiar with the situation said the company had about half a dozen rockets in various states of production in its Long Beach factory.

As the lack of a financial lifeline made the situation increasingly more desperate, multiple Virgin Orbit employees voiced frustration with how Hart communicated the company's position '' and even more so with the lack of clarity after the furlough.

The day of the initial pause in operations, people described company leadership running around frantically while many employees stood around waiting for word on what was happening. One person emphasized the tumultuous and sudden furlough happened because executives tried to keep the company alive as long as possible. Several employees expressed disappointment with Hart holding the March 15 all-hands meeting virtually, speaking from his office rather than face-to-face, and not taking any questions after announcing the pause in operations.

That frustration continued after the pause, with employees confused by the lack of specifics about which investors were speaking to Virgin Orbit leadership. Thursday's update that a deal fell through came as little surprise to a workforce that was largely in limbo. Many were already hunting for new jobs.

Deal efforts fall apartThe rocket for the company's second demonstration mission undergoing final assembly at its factory in Long Beach, California.

Virgin Orbit

A pivot in Virgin Orbit's strategy became apparent and necessary shortly after it went public.

Virgin Orbit aimed to raise $483 million through its SPAC process, but significant redemptions meant it raised less than half of that, bringing in $228 million in gross proceeds. The funds it did raise came from the minority of SPAC shareholders who stuck around, as well as private investments from Virgin Group, the Emirati sovereign wealth fund Mubadala, Boeing, and AE Industrial Partners.

Unlike its sister company Virgin Galactic, which built its cash reserves to more than $1 billion through stock and debt sales after going public in October 2019, Virgin Orbit did not build its cash coffers. And that meant leadership should have buckled down and made changes to run the company in a more lean way, one person emphasized, to rebuild momentum.

And then Virgin Orbit's apparent strength in the national security sector began to falter. Despite half of its missions flying Space Force satellites, the company lost out to competitor Firefly Aerospace for a launch contract under the "Tactically Responsive Space" program. Awarded in October, the mission seemed right up Virgin Orbit's alley, especially since the prior mission under that Space Force program flew on the similarly air-launched Pegasus rocket.

As the financial situation worsened, a few bankers who spoke to CNBC wondered why the search for a deal was dragging on. According to one banker, Virgin Orbit could raise anywhere from $10 million to $15 million quickly to stop-gap the situation while it found a larger buyer. Another investor estimated that Virgin Orbit had about $270 million in net tangible assets, further sweetening the potential for a wholesale deal even despite its plunging market value.

A white knight seemed to appear last week in the form of Matthew Brown, who discussed making an 11th-hour deal with Virgin Orbit, to reportedly inject as much as $200 million into the company. However, within days, the talks fell apart. The company continued to discussions with another, unnamed investor this past week.

But in the words of Hart on Thursday, Virgin Orbit was "not been able to secure the funding to provide a clear path for this company."

And while the 675 employees laid off Thursday likely have strong job prospects, Virgin Orbit seems now destined for bankruptcy.

PolitiFact | Madeleine Albright compares Mussolini, Trump on use of 'drain the swamp'

Sun, 02 Apr 2023 04:01

One of Donald Trump's more memorable campaign slogans was his promise to "drain the swamp," a push to end corruption in Washington.

That phrase showed up recently in an unexpected place: a book by Madeleine Albright, who served as secretary of state under President Bill Clinton.

The publication of Albright's Fascism: A Warning during the Trump era is not coincidental. "Why, this far into the twenty-first century, are we once again talking about fascism?" Albright wrote. "One reason, frankly, is Donald Trump. If we think of fascism as a wound from the past that had almost healed, Trump in the White House was like ripping off the bandage and picking at the scab."

Albright went on to describe the rise of Benito Mussolini, Italy's fascist leader in the early 20th century. She wrote that Mussolini used the phrase "drain the swamp" when he made moves to overhaul the country's unpopular government bureaucracy.

"He knew that citizens were fed up with a bureaucracy that seemed to grow bigger and less efficient each year, so he insisted on daily roll calls in ministry offices and berated employees for arriving late to work or taking long lunches.

"He initiated a campaign to 'drenare la palude' ('drain the swamp') by firing more than 35,000 civil servants," Albright wrote.

A PolitiFact reader was struck by this linguistic link and wondered whether the Italian fascist leader had really been the source of Trump's famous phrase. So we asked U.S. and Italian historians about it.

We found that Mussolini's government made a big point of draining literal swamps, as public works projects, and he did conduct mass firings of civil servants. In addition, Mussolini touted the metaphor of purification as a defining principle of his political philosophy.

"We can understand fascism's social, agricultural, and racial policies through the concept of 'reclamation' '-- draining or cleansing something to regenerate or remake it," said Ruth Ben-Ghiat, a professor of history and Italian studies at New York University and author of Fascist Modernities: Italy, 1922-1945.

However, Mussolini does not seem to have used the Italian version of Trump's "drain the swamp" term. Indeed, the phrase's origin appears to be as American as apple pie.

Benito Mussolini salutes a crowd in Rome. (Wikimedia Commons)

Mussolini and the Pontine marshes

The swamps Mussolini sought to drain are known as the Pontine marshes. Located on the outskirts of Rome, the marshes were unhealthy and largely uninhabited for centuries due to malaria.

Several years into his tenure as Italy's leader, Mussolini made a big push to drain the marshes, building new towns with modernist architecture and settling the area.

The government installed "six pumps as huge and noisy as airplanes," as the New York Times put it, in an effort to "pull millions of gallons of water '-- up to 9,500 gallons a second '-- out of the soggy ground, directing it into an elaborate system of cement-lined canals that ultimately dump it into the sea."

The region's infrastructure was damaged during World War II, but it was repaired after the war and became a fertile area for growing fruits, vegetables and livestock. The town of Latina doesn't shrink from its Mussolini heritage; in 2015, Newsweek reported that locals retain affection for the fascist leader and the buildings he constructed.

"Not every aspect of the Pontine marshes was a success, but for the most part the regime, and outsiders, viewed it as such," said Michael R. Ebner, a Syracuse University historian and author of The Politics of Everyday Life in Fascist Italy.

A portion of the Pontine marshes near Rome. (Creative commons)

From literal swamps to metaphorical swamps

So Mussolini literally drained the swamps. But he also liked the metaphor, and he sought to apply it to other areas of Italian life.

"The term the regime used for land reclamation was 'bonifica,'" Ebner said. "In English, it might be translated as 'reclamation,' as in land reclamation, but was also used more generally by the regime for reclaiming the race or the state."

David I. Kertzer, a Brown University professor and author of The Pope and Mussolini, said Albright's comment describes the purging of the bureaucracy accurately early in Mussolini's tenure.

"Mussolini attacked the bloated public payroll and, in line with this, in the first months of his coming to power, he fired 36,000 workers for the state-owned railroad," Kertzer said.

The subsequent land reclamation in the Pontine marshes "gave the regime confidence that it could expand Italian territory and engage in projects of fascist social engineering," Ebner said. "These goals were highly relevant to fascism going forward."

Ultimately, Mussolini followed a philosophy of " 'bonifica umana,' or human reclamation, which had to do with remaking the Italians eugenically and also racial policies to keep Italians pure," Ben-Ghiat said.

At the same time, most of the experts we contacted agreed that Mussolini didn't use the catchphrase drenare la palude, or "drain the swamp," to refer to his metaphorical efforts.

"I don't think this phrase was a big deal for Mussolini or his regime," said Richard Bosworth, a historian affiliated with Oxford University who has written two books about Mussolini and his era.

The written record supports the historians' recollections.

Barry Popik, who has blogged extensively about etymology, scoured a variety of online databases commonly used by etymologists and found essentially no examples of the phrase drenare la palude during Mussolini's time.

So where did the phrase "drain the swamp" originate?

The English phrase "drain the swamp" appeared at least as long ago as 1903, in an Oshkosh, Wis., newspaper. "Socialists are not satisfied with killing a few of the mosquitoes which come from the capitalist swamp; they want to drain the swamp," the newspaper wrote, quoting a Social Democratic Party organizer. Two other prominent members of the socialist or social democratic movements used the term in similar contexts: Victor Berger in 1912 and Mary Harris (Mother) Jones in 1913.

That said, the phrase remained rare until about 1970, Popik found, and it didn't really catch on until President Ronald Reagan used it in 1983 to take a shot at the Washington bureaucracy.

Popik suggests that, rather than referring to the Pontine marshes, "drain the swamp" probably came from a folksy aphorism that posits that "when you're up to your neck in alligators, it's easy to forget that the initial objective was to drain the swamp."

Through her publisher, Albright's communications staff agreed with our finding that "drain the swamp" or its Italian-language equivalent was not a major slogan for Mussolini's government. They said her point was to draw attention to his actions of purging the bureaucracy.

"The reference in Dr. Albright's book is not to a specific statement by Mussolini, but rather to the Italian dictator's policy of purging the bureaucracy," Albright's office said in a statement.

Our ruling

Albright said Mussolini "initiated a campaign to 'drenare la palude' ('drain the swamp') by firing more than 35,000 civil servants."

She's on target about Mussolini's bureaucracy-busting efforts, as well as the importance of draining swamps '-- both literal and figurative '-- within his fascist philosophy.

However, experts said Mussolini did not use the Italian version of Trump's "drain the swamp" term, weakening Albright's rhetorical connection between the leaders.

We rate the statement Half True.

Steve Jobs Has a New 'Memoir', to Be Published More than 11 Years After His Death - Slashdot

Tom Renz on Twitter: "BREAKING NEWS: the lobbyists for the cattleman and pork associations in several states have CONFIRMED they WILL be using mRNA vaccines in pigs and cows THIS MONTH. WE MUST SUPPORT #Missouri #HB1169. It is LITERALLY the ONLY chance we

Sun, 02 Apr 2023 02:18

Tom Renz : BREAKING NEWS: the lobbyists for the cattleman and pork associations in several states have CONFIRMED they WILL be'... https://t.co/fucVB6I85E

Sat Apr 01 18:18:30 +0000 2023

Tony G. Funderburk : @RenzTom @RMConservative Hell no

Sun Apr 02 02:17:27 +0000 2023

WeiŸen Nationalismus : @RenzTom https://t.co/Btp2PxeSaq

Sun Apr 02 02:17:04 +0000 2023

Decentralized D.C.! : @RenzTom What, the Hell, for?

Sun Apr 02 02:16:26 +0000 2023

ThePrayerfulPrepper : @RenzTom What about labeling? Any chance?

Sun Apr 02 02:14:53 +0000 2023

Mary Hodge : @RenzTom https://t.co/XEHq2Z59B2

Sun Apr 02 02:14:09 +0000 2023

How did Mike Lee and Mitt Romney vote on Iraq military authorizations? - Deseret News

Sat, 01 Apr 2023 21:30

On Wednesday, the U.S. Senate voted in favor of legislation that revokes the legal authority of presidents to use force in Iraq, returning the power back to Congress.

The bipartisan bill, which passed 66-30, would repeal the authorization for the use of military force, or AUMF, that Congress passed in 1991, in the lead-up to the Gulf War that same year under President George H.W. Bush, and another that passed in 2002, before the invasion of Iraq in 2003 under President George W. Bush.

''Twenty years after the start of the Iraq War, the Senate finally, finally, finally declares today the time has come to repeal the legal authorities that began that war in the first place,'' Senate Majority Leader Chuck Schumer, D-N.Y., said, ahead of the vote Wednesday, per MSNBC News. ''Democrats and Republicans join to say it has been long enough, the Iraq War has long been over, these authorizations for use of force against Iraq are no longer necessary for our security.''

Reintroduced by Sen. Tim Kaine, D-Va.,, this bill does not repeal a third military force authorization, enacted in 2001 after the 9/11 attack and prior to the invasion of Iraq. According to a research paper from Brown University, this military force authorization resolution has been used to justify counterterrorism activities in 22 countries, including Libya, Pakistan, Cuba and Turkey

Sen. Lee offered an amendment to 'reign in this abuse'Republican Sens. Mike Lee of Utah and Rand Paul of Kentucky offered amendments to the initial bill to include the 2001 AUMF, but the amendment votes failed.

Lee's amendment sought to implement a two-year sunset for future military use authorizations and an expedited process for Congress to review and reevaluate these measures, according to information provided by Lee's office.

When introducing his amendment, the Utah senator said these existing AUMFs have been broadly applied and interpreted, leading to ''endless war.''

''It would be a way for Congress to rein in this abuse without hindering our ability to adequately respond to present-day national security threats,'' Lee said.

''Now some have argued that 'we don't enter into wars to withdraw,' (and) 'when we must fight, we must win' but this argument has it exactly backward,'' he said. ''What could be stronger than a Senate resolution reaffirming our commitment to a given conflict,'' arguing in favor of Congress revisiting military authorizations every two years.

Sen. Chris Murphy, D-Conn., supported Lee's amendment, saying that Congress has ''over the course of the last several decades completely outsourced that responsibility to set the national security of this policy to the executive branch, and a national security apparatus inside the executive branch, that has become bigger than the Founding Fathers' wildest dreams.''

President Joe Biden, who voted in favor of the military force authorizations while serving on the Senate Foreign Relates Committee, said he supports the repeal of the 1991 and 2002 military authorizations.

''Repeal of these authorizations would have no impact on current U.S. military operations and would support this administration's commitment to a strong and comprehensive relationship with our Iraqi partners,'' Biden's office said in a statement.

Romney, other GOP senators oppose repealAs The Hill noted, many of the GOP senators who oppose the repeal of authorizations did so because of concerns about Iran, like Sen. Mitt Romney of Utah and Sen. Dan Sullivan of Alaska, alongside 29 other Republicans.

Romney told reporters that he voted no on the legislation ''largely from a messaging standpoint '-- which is Iran is messing around in Iraq and Syria and other places, and I don't want to give any miscommunication that somehow we are backing off of our commitment to oppose their aggressions.''

Meanwhile, Sullivan, who also voted no, had offered an amendment that addressed the issues with Iran.

He stated that ''one of the biggest harms to American service men and women over the past 20 years has actually been from Shia militia groups supported by Iranian terrorist organizations,'' misunderstood for an Iraqi force.

The Iranian terrorist group, Quds Force, led by Qasem Soleimani, killed more than 600 deployed American soldiers during the Iraq War. When Soleimani was traced to Iraq again in January 2020, the Trump administration ordered a deadly drone strike.

''The legal authorization for that very justified killing was the 2002 AUMF that we are debating right now. OK. That was only three years ago that that happened,'' Sullivan said. ''So it is very relevant to the issue of deterrence and very relevant to the issue of Iran.''

Now, the bill will face the divided U.S. House. Republican Speaker Kevin McCarthy so far has said that he thinks ''it has a good chance of one, getting through the (House Foreign Affairs Committee) and getting to the floor.'' His only condition '-- the 2001 military use authorization, passed post 9/11, stays in place, as Roll Call reported.

Contributing: Suzanne Bates

Atlas of Surveillance

Sat, 01 Apr 2023 19:33

The Atlas of Surveillance is a database of surveillance technologies deployed by law enforcement in communities across the United States.

This includes drones, body-worn cameras, automated license plate readers, facial recognition, and more.

This research was compiled by more than 1,000 students and volunteers, and incorporates datasets from a variety of public and non-profit sources.

Southwoke | We bring woke values to Texas

Sat, 01 Apr 2023 02:34

A MESSAGE FROMOUR CEO

Here at Southwoke, we're fully committedto DEI, ESG, LGTBQ+, BLM,and every other woke acronym you can think of'...

Learn More Slide

Southwoke Airlines:You're now free to move about your gender

Slide

Southwoke Airlines:

We bring woke values

to Texas

Slide

Southwoke Airlines:

We help Texas to become

a second California

Slide

Southwoke Airlines:

Bringing San Francisco's baggage to Texas non-stop

Slide

Southwoke:An airline that's inclusive of everyone except you.

So woke, we're willing to go broke.

See Customer Testimonials Southwoke BlogSouthwoke Hires Fabulous Sam Brinton as Our New Baggage CzarDALLAS '' As part of our restructuring plan to bring San Francisco values to Texas, Southwoke Airlines is pleased to ...

Read MoreSouthwoke Airlines Celebrates Canceled Flights as a Win for Diversity, Equity, and InclusionDALLAS - Southwoke Airlines is proud to announce that the recent spate of canceled flights over the Christmas and New ...

Read MoreSouthwoke Announces $10 Million Investment in Yale's Natural Carbon CaptureDALLAS - In a move that will surely convince our customers that we're not completely indifferent to the fate of ...

Read MoreSouthwoke Goes Drag'... For the Children!Here at Southwoke, one of our favorite ways to demonstrate our commitment to wokeness is by supporting those who are ...

Read MoreSouthwest's ''Breached Hull In Aircraft Discount Program'' Put On HoldBy TheSpoof.com Southwest Airlines --the air travelers's absolute last resort-- whose Scratch-and-Dent / Breached Hull Aircraft Discount Program drew tens ...

Read More

''The Dumb Money Is Gone'': Is the Podcast Boom Going Bust? | Vanity Fair

Fri, 31 Mar 2023 21:05

In early 2015, not long after Serial came out of left field and inaugurated a golden age of podcasting, another breakout audio production caught fire. The show, Invisibilia, a science-y narrative series about ''the invisible forces that control human behavior,'' was incubated inside NPR at a time when the venerated public-radio institution found itself adapting to the rapid rise of on-demand listening. Serial, with its SNL-skit-level cultural penetration, had opened the floodgates on streaming audio just a few months earlier. Now the debut season of Invisibilia was pulling even bigger numbers than Serial had out of the gate: nearly 40 million downloads within three and a half months of its January debut. ''A blockbuster,'' as The New Yorker's podcast columnist put it.

Eight years, eight seasons, and God knows how many million more downloads later, Invisibilia was canceled last Friday along with three other NPR podcasts, victims of a 10% staff culling that NPR undertook to stanch the bleeding of a budget gap in excess of $30 million. Reacting to the news, Vulture's podcast critic Nick Quah observed, ''It's hard to overstate just how big of a deal the show's success was'...symbolizing the possibilities of what NPR could be during the opening innings of what's now known as the podcast boom.''

As a nonprofit news organization that runs on member-station dues, public funding, and corporate underwriting, NPR has its own complex business model that doesn't invite an apples-to-apples comparison with other podcasting titans. Nevertheless, last week's slaughter appeared to be a symptom of the same forces that are bumming out much of the audio world. Or at least, it's fair to say that when a critically acclaimed, big-numbers show like Invisibilia can't survive, that doesn't seem like a very good sign. (If I told you Invisibilia cost NPR well north of $1 million a year to make, according to someone who knows, it's easy to see why the bean counters might have set their sights on it.)

Indeed, the bad omens continue to accumulate. Look no further than Gimlet's rise and fall, a stunning reversal of fortunes for a player once heralded as the medium's best and brightest. Or Spotify's 180 from its high-dollar podcasting push, which the company's chief financial officer recently described to the Financial Times as a ''big drag on our business.'' Or this month's layoffs at SiriusXM, which, according to ''Hot Pod,'' now appears to be doubling down on safe-bet celebrity podcasts like the ones it produces from Conan O'Brien and Kevin Hart. Not to mention all those dour headlines of late: ''2022: The Year That Podcasting Died''; ''This Could Be a Rough Year for the Podcast Industry''; ''The Great Podcasting Market Correction.'' Oof.

That last piece, from Bloomberg's Ashley Carman and Lucas Shaw, sums up the state of play: fewer acquisitions, smaller budgets, less favorable terms for creators, and diminished dealmaking. ''This past year,'' the authors wrote, ''podcasting finally achieved one of the ultimate signifiers of middle age'--an unsettling realization that the best days of its high-spirited youth may now be behind it.''

Anecdotal evidence seems to bear out that metaphor. Remember all those super-ambitious narrative series that seemed like they were being snapped up left and right at, say, $250,000 to $300,000 a pop? Those types of contracts have become fewer and farther between. On the other hand, I hear about people striking deals with tiny budgets and minimal production support in hopes that their series might catch on, leading to a better next deal or maybe even some royalties. As a podcasting pal put it to me the other day, ''It's an absolutely terrible time to sell a podcast.'' One also hears that podcast buyers now want a lot more episodes to make the advertising metrics work. On that note, if your podcast queue is anything like mine, the ads these days tend to sound a bit more, shall we say, mass? (It's enough to make you miss hearing about KIND Snacks and Mailchimp.)

For a gut check on all of this, I consulted a journalist who's currently in the trenches of the podcasting space. ''Things are bad,'' this person said. ''There was this 'Hot Pod' conference a month ago at the Wythe Hotel'' in Brooklyn, ''and it was panel after panel of 'everything's fine!' And that is clearly not the case. There used to be all of these vast deals and I feel like everyone felt like that was gonna go on forever, and it hasn't.''

Or as another veteran of the audio world told me, ''It's sad, but this was a long time coming.''

Here's where things start to get a little counterintuitive. In contrast to media sectors that are managing inexorable decline'--think print, TV news'--the podcast market is growing, both in terms of audience and advertising. The latest digital-media-consumption analysis from Edison Research, published earlier this month, concluded that ''podcasting is 'back,' reaching the highest numbers ever, with 90 million listeners each week,'' or 31% of the US population, up from 7% a decade ago. The Interactive Advertising Bureau, meanwhile, projects that US podcast revenue will surge to $4.2 billion in 2024, up from a projected $3 billion this year and $708 million in 2019. The flip side is that, unlike newspapers, magazines, TV news, or even streaming TV, the number of podcasts in the world'--3,074,906 with a combined 160,881,736 episodes, by one reliable count at the time of this writing'--is practically infinite, resulting in an utterly saturated marketplace for consumers who only have so much time on their hands to read or watch or listen to any one or three things in a given day.

Still, the trend lines are encouraging. ''There's been no recession among listeners,'' said Eric Nuzum, a former NPR and Audible executive (and one of my go-to audio gurus) who cofounded the podcast consultancy and production company Magnificent Noise. ''So it's not really a problem with podcasting as a medium'--it's a problem with the business model we built around it. There's still more room to grow.''

I asked Nuzum to explain what's going on with the industry's course correction. ''All the changes happening in podcasting were already rolling before the contraction of the advertising market.'' (The ad market as a whole, that is.) ''There have been years of people greenlighting and producing six- to 10-part narrative series and realizing that's an incredibly difficult thing to do if you don't have a major show to use as a launching pad. Money had been so easy in the podcasting market for years that a lot of these companies have been slow to make changes, because reality hadn't really forced their hand.'' More bluntly: ''The dumb money is gone, the easy money has slowed down, and the smart money has seen some pullback.''

In addition to the major players'--iHeart, Wondery, Spotify, Sirius, even Vox Media, which one of my sources described as ''the sleeping giant in podcasting'''--a new crop of smaller, boutique players is emerging. To name a few, there's Magnificent Noise, Campside Media, Prologue Projects, and Pushkin Industries, cofounded by Malcolm Gladwell and Jacob Weisberg. ''All these podcast-company acquisitions over the past few years'''--the Gimlets and Wonderys and Stitchers and Ringers of the world'--''have cleared out the space for the next generation of companies, which will grow, get bought, merge,'' said Nuzum.

The latest entrant is a company called Kaleidoscope, which officially lifted off in November with a party inside the British consul general's $16 million seven-bedroom penthouse at 50 United Nations Plaza. Kaleidoscope's cofounders are Oz Woloshyn and Mangesh Hattikudur, whom I've known for a long time. (He and my wife worked together years ago.) Despite the industry's creeping austerity and retreat from a glut of prestige content, Kaleidoscope has all the trappings of a premium enterprise: a six-show deal with iHeart (where Hattikudur was previously an SVP of podcast development and Woloshyn had a production deal); representation from WME; and $3.5 million in seed funding from investors ranging from North Base Media and the Raine Group to Tom Freston and Joanna Coles, both of whom are on Kaleidoscope's board and have been opening up doors left and right.

Kaleidoscope, with its lean staff of six, has a handful of shows so far. The biggest, hosted by Lance Bass, ''tells the story of the last Soviet cosmonaut who is trapped on the world's only space station, as the country he knows and loves collapses beneath him.'' Another, the artificial-intelligence-oriented Sleepwalkers, which Woloshyn and Hattikudur created when they were still at iHeart, led to a commission from a major fashion brand, which hired the duo to conduct an AI seminar for its C-suite. (The fee ended up covering the $150,000 cost of making the show.) Then there's the Amazonian adventure series Wild Chocolate (recently optioned for a TV documentary), for which Kaleidoscope actually created its own brand of chocolate (made from authentic rainforest beans), which has netted the company $100,000 so far.

''A lot of places feel compelled to double down on things that are already working, so you see people buying the reliable chat shows or doubling down on true crime,'' said Hattikudur. ''Our shows are basically international adventure shows. There's a lot of space and a much bigger audience for stories that haven't been told in the US.''

I wanted Hattikudur's thoughts as someone who had just launched a podcast company at the very moment when it's starting to feel like maybe the party's over. ''I think it's bleak right now for a lot of people in podcasting,'' he said, ''and it's really unfortunate that so many people have lost jobs. But at the same time, there was a lot of commissioning of mediocre content, and places have been really reluctant to cut things.'... I do think that, two years from now, the advertising is gonna come in and there are gonna be better ways to target audiences. The companies that can build in these two years will be successful in the end.''

CTA Digital PAD-POTTY iPotty for iPad Gen 2?4 - Walmart.com

Fri, 31 Mar 2023 21:01

Activate and hold the button to confirm that you're human. Thank You!

Try a different method

BREAKING: NYC jury finds Douglass Mackey GUILTY in first-ever meme trial after making memes that disparaged Hillary Clinton in the 2016 election | The Post Millennial | thepostmillennial.com

Fri, 31 Mar 2023 21:00

Douglass Mackey, also known as Ricky Vaughn on Twitter, has been found guilty on charges of election interference by a federal court in the Eastern District of New York.

The charges stem from a meme Mackey posted on Twitter in 2016, jokingly encouraging supporters of Hillary Clinton to vote by text.

The Department of Justice alleged that this constituted election interference, despite being unable to provide evidence that anyone was deceived by the meme. Mackey argued that he was simply trying to

create a viral meme, and that other Clinton supporters had posted similar memes encouraging Trump supporters to vote by text without consequence.

An expert witness for the defense withdrew from the trial after being contacted by a reporter from the SPLC.

Federal prosecutors claimed that

Mackey worked with fellow meme makers to create the Twitter posts and make them as real as possible.

"This wasn't about changing votes. This was about vaporizing votes, making them disappear," said Assistant US Attorney Turner Buford.

"The number was real and set up to receive incoming messages," he explained. "The release of these fake campaign ads was timed to flood the internet before Election Day."

Mackey posted the memes on November 1, a week before the election, and Frisch said that the meme's message was "ludicrous to anyone with a basic knowledge of how presidential elections work," the New York Daily Mail reported.

FBI documents give new view into Las Vegas shooter's mindset | AP News

Fri, 31 Mar 2023 20:10

LAS VEGAS (AP) '-- The high-stakes gambler who carried out the deadliest mass shooting in modern America, killing 60 and injuring hundreds more in Las Vegas, was apparently angry over how the casinos were treating him despite his high-roller status, according to a fellow gambler.

An FBI interview with the gunman's fellow gambler is detailed in hundreds of pages of documents made public this week. The gambler, whose name is redacted in the documents, said he believed the stress could have easily caused gunman Stephen Paddock ''to snap.'' Paddock, 64, was a video poker player who relied on gambling as his main source of income.

The revelation comes years after the FBI in Las Vegas and the local police department concluded their investigations without a definitive motive, although both agencies said Paddock burned through more than $1.5 million, became obsessed with guns, and distanced himself from his girlfriend and family in the months leading up to the massacre.

In a statement Thursday, Las Vegas police defended their inconclusive findings and dismissed the importance of the documents released this week in response to an open-records request from the Wall Street Journal.

''We were unable to determine a motive for the shooter,'' the statement said. ''Speculating on a motive causes more harm to the hundreds of people who were victims that night.''

Still, the cache of documents offer a new view into the gunman's mindset through interviews with neighbors, acquaintances and employees of the Las Vegas casinos he frequented.

Those interviewed by the FBI described Paddock as a ''strange'' introvert who never made eye contact and only wanted to talk about gambling, while the gunman's fellow gambler told the FBI that Paddock was ''very upset'' that the red-carpet treatment for high rollers seemed to be fading.

According to the gambler, casinos had previously treated high rollers like Paddock to free cruises, flights, penthouse suites, rides in ''nice cars'' and wine country tours. But in the years before the Oct. 1, 2017, mass shooting in Las Vegas, the gambler said casinos had begun banning some high rollers ''for playing well and winning large quantities of money.'' Paddock himself had been banned from three Reno casinos, according to the documents.

Kelly McMahill, a former Las Vegas Metropolitan Police Department official who headed the agency's criminal investigation into the shooting, said there was no strong indication that Paddock's actions were driven by resentment toward the casino industry.

''There's no way that LVMPD would have hidden any potential motive from our victims and survivors for five years,'' McMahill said.

The 10-minute massacre unfolded on the final night of the three-day Route 91 Harvest Music Festival across the street from the Mandalay Bay resort, where Paddock was staying on the 32nd floor.

Authorities have said Paddock unleashed a barrage of bullets into the crowd of 22,000 people from his corner suite with a commanding view of the Strip and the concert grounds.

His gambling habits made him a sought-after casino patron. Mandalay Bay employees gave him the $590-per-night suite for free and let him use a private service elevator to take up his multiple suitcases. Hidden inside those suitcases were the guns he'd use for the massacre.

A dozen of Paddock's weapons were modified with rapid-fire ''bump stocks,'' attachments that effectively convert semi-automatic rifles into fully automated weapons. Some had bipod braces and scopes. Authorities said his guns had been legally purchased.

But before setting up his perch in the Mandalay Bay, Paddock also researched other large venues. He booked rooms overlooking Chicago's Lollapalooza festival in August 2017 and the Life is Beautiful festival in downtown Las Vegas near the Strip.

''What we know from (Paddock's internet) search history is that he was looking for a large crowd of people, which, of course, he ended up finding,'' said McMahill, the former Las Vegas police official.

A spokesperson for the FBI in Las Vegas declined to comment. In the agency's final report released in 2019, it said Paddock had sought notoriety in the attack and maybe wanted to follow in his father's criminal footsteps. The report also said his physical and mental health was declining as his wealth diminished.

Paddock acted alone, killed himself as SWAT officers closed in and left no note about his motive for the rampage.

''If we ever discover a motive, whether it's 10 years from now, 20 years from now, I have faith that LVMPD would contact victims first before making something public,'' McMahill said. ''It's the right thing to do.''

Statement from President Joe Biden on Transgender Day of Visibility | The White House

Fri, 31 Mar 2023 19:39

On Transgender Day of Visibility, we celebrate the strength, joy, and absolute courage of some of the bravest people I know. Transgender Americans deserve to be safe and supported in every community '' but today, across our country, MAGA extremists are advancing hundreds of hateful and extreme state laws that target transgender kids and their families. No one should have to be brave just to be themselves.

Let me be clear: These attacks are un-American and must end. The bullying, discrimination, and political attacks that trans kids face have exacerbated our national mental health crisis. More than half of transgender youth say they have seriously considered suicide. Loving parents are terrified for their children's futures. To help, my Administration is providing dedicated emergency mental health resources: If you're a transgender young person who needs help, you can call 988 to reach the nationwide suicide prevention and crisis hotline. Press ''3'' to speak with a counselor specifically trained to support LGBTQI+ youth.

My Administration will never quit fighting to end discrimination, to stand against these unjust state laws, and to guarantee everyone the fundamental right and freedom to be who they are. We'll never stop working to create a world where everyone can live without fear; where parents, teachers, and whole communities come together to support kids, no matter how they identify; and every child is surrounded by compassion and love.

I want every member of the trans community to know that we see you. You're each made in the image of God, and deserve love, dignity, and respect. You make America stronger, and we're with you.

###

Gregario Ivinilititivitch on Twitter: "@SpeakerPelosi @adamcurry" / Twitter

Fri, 31 Mar 2023 18:08

Gregario Ivinilititivitch : @SpeakerPelosi @adamcurry

Fri Mar 31 17:34:55 +0000 2023

Our people - Future of Life Institute

Fri, 31 Mar 2023 14:51

Meet the boardThe people behind the mission and vision of the organisation.

Anthony Aguirre Vice President & Secretary of the Board

Future of Life Institute

Jaan Tallinn Co-founder, Skype

Max Tegmark President

Future of Life Institute

Meia Chita-Tegmark Vice President & Board Treasurer

Future of Life Institute

Victoria Krakovna Research Scientist, DeepMind

Meet our teamOur team represents a diverse range of expertise, having come from governance institutions, industry and academia, as well as a range of disciplines, including the behavioural sciences, medicine, machine learning, engineering, law and design.

Akhil Deo Social Media Manager

Future of Life Institute

Andrea Berman Grants Manager

Future of Life Institute

Anna Hehir Program Manager for Autonomous Weapons Systems

Future of Life Institute

Anna Yelizarova Special Projects Lead

Future of Life Institute

Carlos Ignacio Gutierrez Policy Researcher

Future of Life Institute

Claudia Prettner EU Representative

Future of Life Institute

David E. Nicholson Manager, Future of Life Award

Future of Life Institute

Emilia Javorsky MD, MPH Director of Multistakeholder Engagements

Future of Life Institute

Gus Docker Podcast Host & Director

Future of Life Institute

Mark Brakel Director of Policy

Future of Life Institute

Richard Mallah Technical AI Consultant

Future of Life Institute

Risto Uuk Policy Researcher

Future of Life Institute

Taylor Jones Website Manager

Future of Life Institute

Will Jones Editorial Manager

Future of Life Institute

Meet our external advisorsInput from our advisors helps to ensure that our approach to executing our mission is well-informed, strategic and adaptable.

Alan Alda Actor, Writer, Director & Science Communicator

Alan Guth Professor of Physics, MIT

Christof Koch Chief Scientific Officer, Allen Institute for Brain Science

Elon Musk Founder, SpaceX and Tesla Motors

Erik Brynjolfsson Director, MIT Center for Digital Business, MIT

Francesca Rossi IBM Research and University of Padova

Frank Wilczek Professor of Physics, MIT

George Church Professor of Genetics, Harvard University

Martin Rees Astronomer Royal, Co-founder of the Centre for the Study of Existential Risk

Morgan Freeman Actor, Director, Narrator & Science Communicator

Sandra Faber Professor Emerita of Astronomy and Astrophysics, UC Santa Cruz

Saul Perlmutter Professor of Physics, UC Berkeley

Stuart Russell Professor of Computer Science, UC Berkeley

A special thanks to our supporters

QAnon Shaman Jacob Chansley released from prison 14 months early

Fri, 31 Mar 2023 13:44

The ''QAnon Shaman'' '-- who notoriously stormed the US Capitol shirtless in a horned coyote-fur headdress on Jan. 6, 2021 '-- has been released from prison 14 months early and moved to a halfway house in Phoenix, Ariz., prison officials said Thursday.

Jacob Chansley, 35, who became the poster boy of the Capitol riot, had been sentenced to 3 1/2 years in federal prison but served just over 2 years before he was set free on Tuesday, according to the federal Bureau of Prisons.

''It is appropriate this gentle and intelligent young man be permitted to move forward with the next stage of what undoubtedly will be a law abiding and enriching life,'' Chansley's former lawyer Albert Watkins said in a statement.

''I applaud the decision of the US Bureau of Prison in this regard,'' he said..

He was originally sentenced to more than three years in prison. Getty Images He pleaded guilty to civil disorder and violent entry to the Capitol in September 2021. APChansley, of Phoenix, pleaded guilty to one count of obstructing an official proceeding before Congress in September 2021.

His release comes just weeks after new video evidence emerged showing Capitol cops escorting Chansley down the halls of the building and through the doors of the US Senate, prompting Watkins to demand his onetime client be freed.

The footage drew skepticism about whether ''The Shaman'' was a real threat during his entry of the Capital '-- though it was not clear what led to his early release, and Watkins didn't immediately return The Post's request for comment.

Chansley was released from prison 14 months early and moved to a halfway house, his lawyer said Thursday. APChansley, who suffers from mental health problems, served 11 months in solitary confinement during his prison stint, according to Watkins.

He is now living in a Residential Reentry Center in Phoenix with a release date of May 25, according to a BOP spokesperson.

The last court filing in his case is an order granting a probation petition, signed by Judge Royce Lamberth on Jan. 20.

Jacob Chansley, 35, became the notorious poster boy of the Jan. 6 riot. APAs a condition of his release, Chansley must submit ''to a search'' of his home, car or other property by a parole officer, according to the court document.

''Failure to submit to a search may be grounds for revocation of release,'' it states.

A BOP spokesperson said the bureau does not ''discuss the conditions of confinement for any inmate, including transfers or release plans.''

Jacob Chansley is seen with Capitol police during the Jan. 6 riot. APBut federal inmates sometimes receive shortened sentences due to ''good conduct time,'' the rep said.

Chansley was among the first rioters to enter the Capitol with fellow supporters of former President Donald Trump.

He entered the Senate chamber and sat at the desk of the Senate president then refused to leave when ordered to by enforcement officials, according to prosecutors. ''Mike Pence is a f'--king traitor,'' he snapped at the officers.

Chansley also left a menacing note on Vice President Mike Pence's Senate desk declaring, ''Justice is coming,'' according to prosecutors.

He has since said he no longer supports Trump.

In May 2021, he was ordered by a judge to undergo a psychological evaluation, and has said he believes he's ''directly related to Jesus and Buddha,'' Watkins said at the time.

Chansley is among the most widely recognizable faces of the roughly 1,000 criminal defendants who were charged for their roles in the Capitol attack.

The U.S. Volunteers in Ukraine Who Lie, Waste and Bicker - The New York Times

Fri, 31 Mar 2023 12:34

People who would not be allowed anywhere near the battlefield in a U.S.-led war are active on the Ukrainian front, with ready access to American weapons.

Send any friend a story

As a subscriber, you have 10 gift articles to give each month. Anyone can read what you share.

Volunteers trained Ukrainian soldiers last year as part of the Mozart Group, which two former Marines established to help Ukraine. It disbanded after one founder sued the other, alleging theft and harassment. Credit... Laura Boushnak for The New York Times By Justin Scheck and Thomas Gibbons-Neff

Justin Scheck, an international investigative reporter, and Thomas Gibbons-Neff, the Ukraine correspondent, reported this article from Ukraine and around Europe.

Published March 25, 2023 Updated March 28, 2023

They rushed to Ukraine by the thousands, many of them Americans who promised to bring military experience, money or supplies to the battleground of a righteous war. Hometown newspapers hailed their commitment, and donors backed them with millions of dollars.

Now, after a year of combat, many of these homespun groups of volunteers are fighting with themselves and undermining the war effort. Some have wasted money or stolen valor. Others have cloaked themselves in charity while also trying to profit off the war, records show.

One retired Marine lieutenant colonel from Virginia is the focus of a U.S. federal investigation into the potentially illegal export of military technology. A former Army soldier arrived in Ukraine only to turn traitor and defect to Russia. A Connecticut man who lied about his military service has posted live updates from the battlefield '-- including his exact location '-- and boasted about his easy access to American weapons. A former construction worker is hatching a plan to use fake passports to smuggle in fighters from Pakistan and Iran.

And in one of the more curious entanglements, one of the largest volunteer groups is embroiled in a power struggle involving an Ohio man who falsely claimed to have been both a U.S. Marine and a LongHorn Steakhouse assistant manager. The dispute also involves a years-old incident on Australian reality TV.

Such characters have a place in Ukraine's defense because of the arms-length role the United States has taken: The Biden administration sends weapons and money but not professional troops. That means people who would not be allowed anywhere near the battlefield in a U.S.-led war are active on the Ukrainian front '-- often with unchecked access to weapons and military equipment.

Many of the volunteers who hurried to Ukraine did so selflessly and acted with heroism. Some have lost their lives. Foreigners have rescued civilians, aided the wounded and fought ferociously alongside Ukrainians. Others raised money for crucial supplies.

But in Europe's largest land war since 1945, the do-it-yourself approach does not discriminate between trained volunteers and those who lack the skills or discipline to assist effectively.

Image Members of an experienced unit that included volunteers from the United States, Canada, Britain and Australia in Bakhmut in December. Foreigners have rescued civilians, aided the wounded, raised money and fought alongside Ukrainians. Credit... Tyler Hicks/The New York Times The New York Times reviewed more than 100 pages of documents from inside volunteer groups and interviewed more than 30 volunteers, fighters, fund-raisers, donors and American and Ukrainian officials. Some spoke on the condition of anonymity to discuss sensitive information.

The interviews and research reveal a series of deceptions, mistakes and squabbles that have hindered the volunteer drive that began after Russia's full-scale invasion in February 2022, when President Volodymyr Zelensky of Ukraine called for help. ''Every friend of Ukraine who wants to join Ukraine in defending the country, please come over,'' he said. ''We will give you weapons.''

Thousands answered the call. Some joined military groups like the International Legion, which Ukraine formed for foreign fighters. Others took roles in support or fund-raising. With Kyiv, Ukraine's capital, under attack, there was little time for vetting arrivals. So people with problematic pasts, including checkered or fabricated military records, became entrenched in the Legion and a constellation of other volunteer groups.

Asked about these problems, the Ukrainian military did not address specific issues but did say that it was on guard because Russian agents regularly tried to infiltrate volunteer groups. ''We investigated such cases and handed them over to law enforcement agencies,'' said Andriy Cherniak, a representative for Ukrainian military intelligence.

'A Million Lies'One of the best-known Americans on the battlefield is James Vasquez. Days after the invasion, Mr. Vasquez, a Connecticut home-improvement contractor, announced that he was leaving for Ukraine. His local newspaper told the tale of a former U.S. Army staff sergeant who left behind his job and family and picked up a rifle and a rucksack on the front line.

Since then, he has posted battlefield videos online, at least once broadcasting his unit's precise location to everyone, including the opposing side. He used his story to solicit donations. ''I was in Kuwait during Desert Storm, and I was in Iraq after 9/11,'' Mr. Vasquez said in a fund-raising video. He added, ''This is a whole different animal.''

Mr. Vasquez, in fact, was never deployed to Kuwait, Iraq or anywhere else, a Pentagon spokeswoman said. He specialized in fuel and electrical repairs. And he left the Army Reserve not as a sergeant as he claimed, but as a private first class, one of the Army's lowest ranks.

Image A screen grab of a fund-raising video showing James Vasquez.Still, Mr. Vasquez had easy access to weapons, including American rifles. Where did they come from? ''I'm not exactly sure,'' Mr. Vasquez said in a text message. The rifles, he added, were ''brand-new, out of the box and we have plenty.'' He also tweeted that he should not have to worry about international rules of war while in Ukraine.

He fought alongside Da Vinci's Wolves, a Ukrainian far-right battalion, until this past week, when The Times asked about his false military service claims. He immediately deactivated his Twitter account and said that he might leave Ukraine because the authorities had discovered that he was fighting without a required military contract.

Mr. Vasquez said he had been misrepresenting his military record for decades. He acknowledged being kicked out of the Army but would not talk publicly about why. ''I had to tell a million lies to get ahead,'' Mr. Vasquez said in an interview. ''I didn't realize it was going to come to this.''

Public QuarrelsThe International Legion, hastily formed by the Ukrainian government, spent 10 minutes or less checking each volunteer's background early in the war, one Legion official said. So a Polish fugitive who had been jailed in Ukraine for weapon violations got a position leading troops. Soldiers told The Kyiv Independent that he had misappropriated supplies, harassed women and threatened his soldiers.

Ukrainian officials initially boasted of 20,000 potential Legion volunteers, but far fewer actually enlisted. Currently, there are around 1,500 members in the organization, say people with knowledge of the Legion.

Some are experienced fighters working as part of the Defense Intelligence of Ukraine. But there have been high-profile problems. A former Army private first class, John McIntyre, was ejected from the Legion for bad behavior. Mr. McIntyre defected to Russia and recently appeared on state-run television, which said he had provided military intelligence to Moscow.

Internal documents show that the Legion is struggling. Recruitment has stagnated. The Washington-based Counter Extremism Project wrote in March that the Legion and affiliated groups ''continue to feature individuals widely seen as unfit to perform their duties.''

Malcolm Nance, a former Navy cryptologist and MSNBC commentator, arrived in Ukraine last year and made a plan to bring order and discipline to the Legion. Instead, he became enmeshed in the chaos.

Image Malcolm Nance in the western Ukrainian city of Lviv last year. He is a counterterrorism expert and former MSNBC analyst who joined Ukraine's legion of foreign fighters. Credit... Finbarr O'Reilly for The New York Times Mr. Nance, whose television appearances have made him one of the most visible Americans supporting Ukraine, was an experienced military operator. He drafted a code of honor for the organization and, by all accounts, donated equipment.

What we consider before using anonymous sources. Do the sources know the information? What's their motivation for telling us? Have they proved reliable in the past? Can we corroborate the information? Even with these questions satisfied, The Times uses anonymous sources as a last resort. The reporter and at least one editor know the identity of the source.

Today, Mr. Nance is involved in a messy, distracting power struggle. Often, that plays out on Twitter, where Mr. Nance taunted one former ally as ''fat'' and an associate of ''a verified con artist.''

He accused a pro-Ukraine fund-raising group of fraud, providing no evidence. After arguing with two Legion administrators, Mr. Nance wrote a ''counterintelligence'' report trying to get them fired. Central to that report is an accusation that one Legion official, Emese Abigail Fayk, fraudulently tried to buy a house on an Australian reality TV show with money she didn't have. He labeled her ''a potential Russian spy,'' offering no evidence. Ms. Fayk denied the accusations and remains with the Legion.

Mr. Nance said that as a member of the Legion with an intelligence background, when he developed concerns, he ''felt an obligation to report this to Ukrainian counterintelligence.''

The dispute goes to the heart of who can be trusted to speak for and raise money for the Legion.

Mr. Nance has left Ukraine but continues fund-raising with a new group of allies. One of them, Ben Lackey, is a former Legion member. He told his fellow volunteers that he was once a Marine and wrote on LinkedIn that he had most recently been an assistant manager at LongHorn Steakhouse. In fact, the Pentagon said he had no military experience (and he worked as a server, the steakhouse said).

In an interview, Mr. Lackey said that he had lied about being a U.S. Marine so he could join the Legion.

With Legion growth stalling, Ryan Routh, a former construction worker from Greensboro, N.C., is seeking recruits from among Afghan soldiers who fled the Taliban. Mr. Routh, who spent several months in Ukraine last year, said he planned to move them, in some cases illegally, from Pakistan and Iran to Ukraine. He said dozens had expressed interest.

''We can probably purchase some passports through Pakistan, since it's such a corrupt country,'' he said in an interview from Washington.

It is not clear whether he has succeeded, but one former Afghan soldier said he had been contacted and was interested in fighting if it meant leaving Iran, where he was living illegally.

Misdirected DonationsGrady Williams, a 65-year-old retired engineer with no military experience and a methamphetamine conviction from 2019, was a volunteer tour guide at Ronald Reagan's Santa Barbara ranch when he heard Mr. Zelensky's plea for volunteers.

''I shot rifles since I was 13,'' he said in an interview. ''I had no excuse to say, 'Well, I shouldn't go.'''

He said he had flown to Poland, hitchhiked to Ukraine and taken a train to Kyiv. He bumped into two Americans in military-looking gear. ''They said, 'Dude, come with us,''' he said.

The volunteers brought Mr. Williams to a base near the front and gave him a gun. Days later, he said, he was nearly blown up while fighting alongside Ukrainian soldiers from a trench near Bucha. Within a week, the military realized that he had not registered to fight and sent him back to Kyiv.

From there, he took a circuitous path that ended in raising money for volunteers from the Republic of Georgia. He raised about $16,000, telling donors that their money would buy electric motorcycles for fighters. But the Georgians kicked him out after he got into a conflict with another volunteer. He said he had spent about $6,900 of the contributions on down payments for motorbikes and the rest on his travel and other expenses.

Image Grady Williams in his garage in Santa Barbara, Calif., last month. ''I shot rifles since I was 13,'' he said of his decision to go to Ukraine. ''I had no excuse to say, 'Well, I shouldn't go.''' Credit... David Butow for The New York Times He has since linked up with a new group, which he said had promised him command of a motorcycle unit if he raised enough money. So he moved this month to Odesa, Ukraine, he said, and expects to deliver a single motorbike soon.

Examples of wasted money in the hands of well-intentioned people are common. Mriya Aid, a group led by an active-duty Canadian lieutenant colonel, spent about $100,000 from donors on high-tech U.S.-style night-vision devices. They ended up being less-effective Chinese models, internal documents show.

''We experienced a problem with the night vision,'' said Lubomyr Chabursky, a volunteer on Mriya Aid's leadership team. But he said the purchase represented only 2 percent of the aid the group had provided.

Earlier this year, the Mozart Group, which two former Marines established to help Ukraine, disbanded after one sued the other, alleging theft and harassment.

Absent Paper TrailLast spring, a volunteer group called Ripley's Heroes said it had spent approximately $63,000 on night-vision and thermal optics. Some of the equipment was subject to American export restrictions because, in the wrong hands, it could give enemies a battlefield advantage.

Frontline volunteers said Ripley's delivered the equipment to Ukraine without required documentation listing the actual buyers and recipients. Recently, the federal authorities began investigating the shipments, U.S. officials said.

In his defense, the group's founder, a retired U.S. Marine named Lt. Col. Hunter Ripley Rawlings IV, provided deal documents to The Times. But those records show that, just as the volunteers said, Ripley's was not disclosed to the State Department as the buyer.

Image A photograph of Lt. Col. Hunter Ripley Rawlings IV from his biography on the Marines' official website.Ripley's says it has raised over $1 million, some of it thanks to the former Connecticut contractor, Mr. Vasquez, who claimed to be the group's chief strategy officer and promoted Ripley's to his online audience.

Ripley's spent about $25,000 on remote-control reconnaissance cars last year, but they never arrived, shipping records show. Colonel Rawlings said the Polish authorities had held them up over legal concerns.

Colonel Rawlings has said that his group is awaiting American nonprofit status. But he has not revealed his spending or proof of a nonprofit application to The Times or to donors who have asked. So it is not clear where the money is going. ''I believed these guys,'' said Shaun Stants, who said he had organized a fund-raiser in October in Pittsburgh but was never shown the financial records he asked for. ''And they took me for a fool.''

Corporate records in Poland and the United States show that Colonel Rawlings also started a for-profit company called Iron Forge. In an interview, he said he expected his charity and others to pay Iron Forge for transportation, meaning that donor money would be used to finance his private venture. But he said no conflict of interest existed because Iron Forge would ultimately send money back to the charities. Details are being worked out, he said.

In the days after The Times approached Mr. Vasquez and others, members of the squabbling groups '-- Ripley's, the Legion, the dissident Legion members and more '-- escalated their feud. They accused one another of misappropriating funds and lying about their credentials.

After a former ally turned on Mr. Vasquez, Mr. Nance came to his defense.

''James was NOT fake, he was troubled,'' Mr. Nance said on Twitter. ''He did a lot for Ukraine but has challenges to face.''

Najim Rahim contributed reporting from Berkeley, Calif., and Maria Varenikova and Daria Mitiuk from Kyiv, Ukraine.
ALL VIDEOS

VIDEO - South Africa sends ANC officials to Russia for 'new global order' talks | Latest English News | WION - YouTube

VIDEO - Tornadoes batter states in US South and Midwest | DW News - YouTube

VIDEO - 'Catastrophic' Arkansas tornado, Illinois storms leave several dead ' FRANCE 24 English - YouTube

VIDEO - EN NW GRAB JESS LE MASURIER FROM 21H -VAREILLE Th(C)ophile- ' FRANCE 24 English - YouTube

VIDEO - US Vice President Kamala Harris wraps up week-long tour in Africa - YouTube

VIDEO - Lavrov says 'so many p*ssies' in US presidential campaign - YouTube

VIDEO - FURIOUS C-Span Callers SCORCH Dems Over Trump's Indictment - YouTube

VIDEO - Elon Musk Revives Old Banking Dream in Pursuing $250 Billion Twitter Valuation - WSJ

Sat, 01 Apr 2023 16:18

Lofty goal signals return to the digital-payments playbook of PayPal's early days

Behind Elon Musk's gamble to turn Twitter Inc. into a company worth more than $250 billion is a beloved idea he has hung on to for more than two decades: digital banking.

The billionaire entrepreneur has talked in dribs and drabs about what Twitter 2.0 might ultimately look like under his control. But late last week, he gave employees a taste of how grandiose his plans are, telling them he envisions Twitter being worth more than 10 times its current value of around $20 billion.

Key...

Advertisement - Scroll to Continue

Behind Elon Musk's gamble to turn Twitter Inc. into a company worth more than $250 billion is a beloved idea he has hung on to for more than two decades: digital banking.

The billionaire entrepreneur has talked in dribs and drabs about what Twitter 2.0 might ultimately look like under his control. But late last week, he gave employees a taste of how grandiose his plans are, telling them he envisions Twitter being worth more than 10 times its current value of around $20 billion.

Key to his effort, he has said, is putting the social-media company at the center of users' financial lives. It is a remake that harks back to the early days of his professional career and his first major corporate setback at a startup called X.com, now known as PayPal .The early success of the digital-payments company gave Mr. Musk the fortune he parlayed into Tesla Inc., the car maker, and SpaceX, the rocket company. But his inglorious end as the startup's CEO'--ousted while on a trip with his first wife'--meant he never got to personally bring his full plan to fruition.

Now, the 51-year-old is painting a world where Twitter users can effortlessly send money to each other, earn interest on deposits and much more through an app. That digital ideal closely resembles his original vision for X.com before it merged with another similarly focused firm to eventually become PayPal.

''I think it's possible to become the biggest financial institution in the world,'' Mr. Musk said in March at a Morgan Stanley conference.

Advertisement - Scroll to Continue

There, he talked about his ambitions for diversifying Twitter after revamping its struggling ad business, which has traditionally made up around 90% of its sales. Analysts say it is possible Twitter, as a payment vehicle, could dramatically boost its revenue.

But as with Mr. Musk's past experiences in automotive and aerospace, his aspirations face huge challenges, including entrenched players and regulatory hurdles.

Photos: How Elon Musk Made His FortuneSo far, Twitter has made only nascent moves toward a payments and finance future. In November, the company took one of the first steps toward becoming a payments processor, filing paperwork with the U.S. Treasury. It now has to register for a license in each state where it plans to do business. Twitter hasn't yet registered in California, according to a government database.

Advertisement - Scroll to Continue

And Mr. Musk hasn't talked as much about these plans in his public discussions around his $44 billion deal to acquire Twitter in late October. Rather, he has focused on his view that the platform needed to do more to ensure free speech.

Twitter's revenue fell to $3 billion last year, he has said, from about $5 billion in 2021 amid an advertiser pullback. On top of dramatic cost-cutting and layoffs, Mr. Musk has seen an exodus of workers unhappy with his new approach.

Last week, he tried to signal to remaining workers that they could benefit greatly from their collective success, rolling out an employee stock plan for the private company that valued it at about $20 billion. He also told them that he sees a ''clear, but difficult, path'' to being worth more than $250 billion at some point.

That number compares with financial giants, such as JPMorgan Chase & Co., which has a market value of about $380 billion, and Bank of America Corp.

Advertisement - Scroll to Continue

, worth almost $230 billion. PayPal Holdings Inc., which isn't technically a bank, is valued at around $85 billion.

Mr. Musk didn't give a timeline and he didn't respond to a request for comment.

Motivating workers with the potential of a big payday is a familiar playbook Mr. Musk uses at his other companies. In 2015, for example, he drew some collective eye-rolling from Wall Street when he claimed Tesla, then valued at around $25 billion, would in a decade's time match Apple Inc., then worth about $700 billion.

Tesla surpassed that $700 billion valuation and became the first auto maker to be worth more than $1 trillion in 2021. Since then, its valuation has fallen to around $620 billion.

Advertisement - Scroll to Continue

Like he did at Tesla, Mr. Musk is betting on massive growth at Twitter, drawing a road map for moving the company beyond its core advertising business. This is central to his case for a higher valuation.

It is a plan that aims to take advantage of Twitter's hundreds of million of users and is inspired by the emergence of apps in Asia that blend social media and digital commerce, as well as his earlier experience with X.com.

Founded in 1999, X.com was envisioned as a wide-ranging bank in which Mr. Musk wanted to consolidate users' financial services into one website. But what really attracted attention was the ability to email money between users, a breakthrough for the time, and ultimately what put PayPal on the map.

''I'm going to execute the X.com game plan from 22 years ago with some improvements,'' Mr. Musk said last year at a conference, where he talked about his ambitions for Twitter.

''There's a product plan I wrote'...in July 2000 where I thought it would be possible to make the most valuable financial institution in the world, and we're going to execute that plan'...which amazingly no one has done,'' he said.

With Twitter, he is updating his earlier web-banking vision for the app economy, framed in terms of using the social-media company to jump-start the creation of a so-called super app. Such an app could be a platform that is a mix of content, communication and commerce similar to those offered by the tech giants in China, such as Tencent Holdings Ltd. 's WeChat and Ant Group Co.'s Alipay.

''We don't even have an app that's as good as WeChat in China,'' Mr. Musk said on a podcast last year hosted by a fan club. ''My idea would be, like, How about we just copy WeChat?''

Those companies in China benefited from less-mature banking and digital messaging systems compared with the U.S. and an exploding user base on mobile devices, which for many customers was their only internet access.

''In the Alipay and WeChat model, advertising is not a significant aspect of the model,'' said Jason Wong, an analyst at Gartner Inc. ''The model is based on transactions, is based on engagements.''

It is unclear if Mr. Musk can replicate WeChat's success outside of China. The ecosystems of Apple's iPhone and Alphabet Inc.'s Android hold sway over smartphones in the U.S., where users also are accustomed to an array of banking and messaging apps as tech and financial companies battle to offer myriad digital-payment systems.

Still, some see great potential. Richard Crone, a digital-banking consultant, called payments ''table stakes for all super apps'' and key to increasing the monetization of active users, estimating it could more than double Twitter's revenue before moving on to more finance features.

''He has the ability to define a new social-commerce approach,'' Mr. Crone said.

Whatever that might be, as Mr. Musk has pursued new approaches to space travel and electric cars, he has remained attached to X.com.

In 2017, he repurchased the domain name for X.com from PayPal, saying ''it has great sentimental value to me.''

'--Meghan Bobrowsky contributed to this article.

Write to Tim Higgins at tim.higgins@wsj.com

VIDEO - Trudeau is censoring debate - YouTube

VIDEO - 'A win for climate justice of epic proportions': UN vote could push countries to take climate action | Euronews

Fri, 31 Mar 2023 21:26

United Nations member states have adopted a historic resolution on climate justice.

It aims to hold highly polluting countries legally responsible for failing to address the climate crisis.

More than 130 UN member states voted for the resolution at the General Assembly in New York on Wednesday.

It calls on the world's highest court, the International Court of Justice, to clarify states' obligations to tackle the climate emergency.

'A win for climate justice of epic proportions'The resolution, which has been years in the making, was proposed by Vanuatu, a tiny Pacific island state that is highly vulnerable to extreme weather and sea level rise.

"For some countries, climate threats are a death sentence," UN Secretary-General Ant"nio Guterres said in a speech to the General Assembly. "Indeed, it is the initiative of those countries, joined by so many others - along with the efforts of young people all over the world - that brings us together. And together, you are making history."

A week ago, UN climate experts warned that global warming will increase by one and a half degrees by 2030 to 2035.

The 2015 Paris Agreement - which is legally binding - set the long term goal to keep warming to two degrees at the most by the end of this century.

Nations like Vanuatu are already experiencing the effects.

While hailing the UN resolution ''a win for climate justice of epic proportions,'' Vanuatu'sPrime Minister Ishmael Kalsakau reeled off a string of recent disasters.

These included back-to-back Category 4 cyclones in his own country and record-breaking Cyclone Freddy that devastated southeastern Africa in recent weeks.

''Catastrophic and compound effects like this are growing in number,'' he said.

Guterres said he hoped the opinion, when issued, would encourage nations ''to take the bolder and stronger climate action that our world so desperately needs."

Protecting the planet for future generationsYouth groups bolstered the effort, citing the need to protect the planet for current and future generations.

''I don't want to show a picture to my child one day of my island. I want my child to be able to experience the same environment and the same culture that I grew up in,'' said Cynthia Houniuhi of the Solomon Islands. She is president of Pacific Islands Students Fighting Climate Change, a group involved in getting the resolution to the General Assembly. ''The environment that sustains us is disintegrating before our eyes,'' she added.

The group's Solomon Yeo said ''young people across the world will recall the day when we were able to get the world's highest court, the International Court of Justice, to bring its voice to the climate justice fight."

'An important advance in climate law'A lawyer for ClientEarth, an organisation which works to legally boost the fight against global warming, gave her reaction to the resolution.

''International courts and tribunals are increasingly being asked to clarify and define the law around global efforts to fight the climate crisis - and for good reason," says Lea Main-Klingst.

''International law is an important tool for shaping the fight against climate change - and as yet, we've not seen its full power," she continues.

"Advisory opinions such as this have the potential to clarify the legal obligations of states on one of the most pressing issues of our time - and can guide future climate action. This is an important advance in the climate law scape.''

While the opinion from the International Court of Justice would not be binding, it has other power it can bring to bear, explains Christopher Bartlett, climate diplomacy manager for the government of Vanuatu.

The court can reference other international legal instruments, such as the International Covenant on Civil and Political Rights and United Nations Convention on the Rights of the Child, and those do have the force of law for the countries that have ratified them.

''The International Court of Justice is the only legal authority that has a mandate to look at all of international law. While the advisory opinion itself is not binding, the laws upon which the advisory opinion will be speaking absolutely are legally binding and immediately applicable to states," says Bartlett.

He says that some of the questions the ICJ will ask are: What harm to the climate has been done? Should states be forced to take certain actions? And is financial support a legal consequence of causing harm?

The resolution now goes to the court.

Watch the video above to see the moment the resolution was passed at the United Nations in New York.

VIDEO - NATO Secretary General statement on Finland's ðŸ‡ðŸ‡® membership in NATO, 31 MAR 2023 - YouTube

VIDEO - (1) How Trump will use indictment to rouse support for his 2024 campaign ' FRANCE 24 English - YouTube

VIDEO - (1) UK gov't releases plan for clean energy - YouTube
Clips & Documents
Art
All Clips

ABC ATM - anchor Andrea Fujii - republicans rallying behind trump (1min28sec).mp3

ABC ATM - anchor Andrew Dymburt - plants can cry out for help (36sec).mp3

ABC ATM - anchor Rhiannon Ally - hoover board recall -fires (15sec).mp3

ABC WNT - anchor Aaron Katersky - trump (2) sources say (1min41sec).mp3

ABC WNT - anchor David Muir - fox v. dominion (23sec).mp3

ABC WNT - anchor David Muir - ohio derailment CDC team -symptoms (24sec).mp3

ABC WNT - anchor David Muir - rebarkable a moment boy and his dog (4sec).mp3

ABC WNT - anchor David Muir - trump (1) indicted -intro (36sec).mp3

bbc_15_minute_cities_are_great.mp3

bbc_15_minute_city_conspiracy.mp3

Bill Maher with Lt. Gov. Winsome Earle-Sears (R-VA) - Bad People have guns - yet he is a drug user.mp3

Brennan-Not Guilty until alleged-ISO.mp3

CBS Evening - anchor Margaret Brennan (1) journalist arrested in russia (1min20sec).mp3

CBS Evening - anchor Margaret Brennan (2) chilling effect (17sec).mp3

CBS Evening - anchor Norah ODonnell - another train derailment (27sec).mp3

CBS Mornings - Elizabeth Warren (1) reaction to trump indictment (46sec).mp3

CBS Mornings - Elizabeth Warren (2) why no repulicans support indictment (1min22sec).mp3

CBS Mornings - Elizabeth Warren (3) worried about violence in the streets (43sec).mp3

CBS Mornings - Elizabeth Warren (4) banning tik tok (54sec).mp3

CBS Mornings - Elizabeth Warren (5) not banning tik tok (24sec).mp3

CBS Mornings - Elizabeth Warren (6) gun laws (59sec).mp3

CENK on guns and trans.mp3

CNN This Morning - Don Lemon - michael cohen - the al capone theory.mp3

COVID damage to US economy 1.mp3

COVID Rand Paul USAID 2.mp3

COVID Rand Paul vs Blinken.mp3

COVID VAX CDC corruption new ntd.mp3

COVID WHO news no booster.mp3

Drag show law blocked.mp3

DW with an HONEST explanation of Tornadoes and climate change.mp3

Euronews - UN vote could push countries to take climate action.mp3

F24 Russia now in charge of UN Security council LOL.mp3

F24 with Douchebag Doug on Trump indictment lying about Cohen's sentence.mp3

FBI Intl Woke gun moment.mp3

FBI Intl Woke gun momentFINAL.mp3

FOX - Dr. Janette Nesheiwat (1) [POSSIBLE TRAP] WHO no covid vaccines for children (1min7sec).mp3

FOX - Dr. Janette Nesheiwat (2) will the schools still vaccinate (40sec).mp3

FOX News -The Sean Hannity Show - Lindsey Graham almost burst into tears over trump indictment.mp3

Hong Kong update 2.mp3

Hong Kong update 3.mp3

Hong Kong update 4.mp3

Hong Kong update ntduk.mp3

Image

ISO Did what.mp3

ISO Mouse.mp3

ISO Musolini.mp3

Late Night Hate 1 Kimmel.mp3

Late Night Hate 2 Fallon.mp3

Late Night Hate 3 Colbert.mp3

MSNBC - anchor Joy Reid - desantis tweet says blacks controlled by jews (1min36sec).mp3

MSNBC - The Rachel Maddow Show - draws parallels between spiro agnew & trump.mp3

MSNBC - Way Too Early - Trump victim collage.mp3

MSNBC Morning Joe - anchor Joe Scarbourgh - desantis tweet attacks jews (50sec).mp3

Pierre Poliviere on C-11 and use of wikeness.mp3

Pope Francis still alive.mp3

South Africa sends ANC officials to Russia for 'new global order' talks - BRICS - WION.mp3

Storms 1953 Texas Tornados.mp3

STorms Tornados CLimate Cyhange 1 PBS.mp3

stormy_not_scared- Time Radio.mp3

The 11th Hour with Stephanie Ruhle - Frank Figliuzzi - lone wolves acrtivate [1].mp3

The 11th Hour with Stephanie Ruhle - Frank Figliuzzi - lone wolves acrtivate [2].mp3

The ReidOut with Joy Reid - Michael Cohen - just because the president got his pecker pulled by a porn star.mp3

Tornados and Climate change 2 PBS.mp3

TRMP INDICT ! PBS.mp3

TRMP INDICT 2 PBS.mp3

Trudeau is censoring debate - Pierre Poilievre.mp3

Trump Indict analysis 3 PBS.mp3

Trump Indict analysis 4 BS PBS.mp3

Trump Indict analysis 5 Lopez PBS.mp3

UK gov't releases plan for clean energy including nukes.mp3

US Vice President Kamala Harris wraps up week-long tour in Africa.mp3