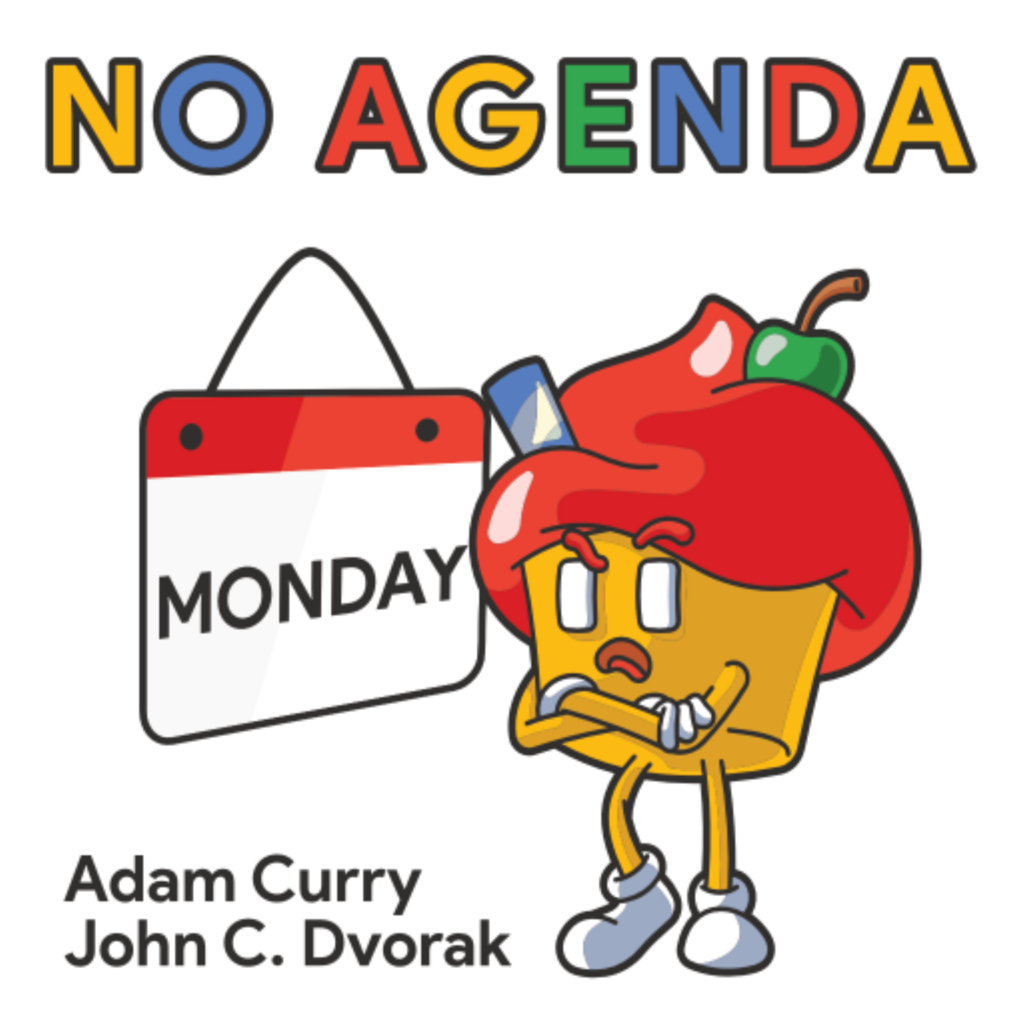 April 6th • 3h 9m
1544: Trusted Flaggers
Transcript
The transcripts of No Agenda are automatically generated and therefore, not fully accurate. Discretion is advised.
Click the text to start playing from that position in the show. Click the timestamp to copy a direct link to that position to your clipboard in order to propagate the formula.
Adam Curry: Pierre expand the salon we're coming. Adam curry
Jhansi Devorah April 6 2023 This is your award winning chemo
nation media assassination episode 1544. This is no agenda
affirming the affected and broadcasting live from the heart
of the Texas hill country here in Cedar region number six in
the morning, everybody. I'm Adam curry,
John C Dvorak: and from Northern Silicon Valley where I'm
wondering why anyone would want my zip code to see if I qualify.
I'm Jhansi Dvorak.
Adam Curry: Do you qualify though, that's the question. Do
you qualify? Do you qualify? I don't know. What was the
qualification for
John C Dvorak: anything? They weren't my zip code. You
haven't? You haven't gotten full over the area. You'll see what
I'm talking about. Well, no,
Adam Curry: I have not however, as of today, I am full on fiber.
John C Dvorak: Oh, you're on it now?
Adam Curry: Yes. In fact, I was even able to up the quality of
our connection on clean feed. Really? Yes five gigabits per
second Yes, five gigabits per second, up and down. I am so
jacked about this. It's I've been waiting, I've all my life,
I've was the
John C Dvorak: same as you little as your little wireless.
Adam Curry: Shut up. Well, of course, it's not just the space.
It's the latency was so great. Which is, you know, they have we
have like, like a five millisecond ping or something.
It's incredibly fast. And that's what enables me to up the quote,
you sound better. Believe me. It's It's subtle, but you sound
better because I can put clean feet instead of speech enhance
or optimize. I'm older. Okay, there's that. But there's one
other thing I noticed. And I always have to remind myself
when this happens I have from the days when I went from a
what? 56? No, actually. Yeah, think when it was we went from
44. What was it 56k modem, right? Because we had was that
the highest you could have a 56k modem.
John C Dvorak: I don't know if he got a 56k on a modem. I
thought it was 19 Two or Oh, no,
Adam Curry: no. Well, I remember I remember going to 56k Frame
Relay, which was remarkably better than any dial up because
you know, of course, it was all this error correction and stuff
that really guides that 56k throughput. And from there, you
know, I went to ISDN, which arguably gave you 128 kilobits.
And then if I remember at the office, the big T one line, one
gigabit per second. Ooh, the whole office was on it. Remember
those days? I don't think it was that fast. The T one one T line.
John C Dvorak: One line was not one gigabit per second.
Adam Curry: That was that's the max that a T one. I'm not sure
if that T one is really the card it's not even the line it's the
card can handle. one megabit per second not gig megabit megabit
John gigabit megabit you say gigabit noise I will I meant to
say if I did I apologize. one megabit per second Yeah, the
whole office would be on that we had point cast member point cast
and everyone's point cast would update at the same time
John C Dvorak: Yeah. more memorable was the guy was
offered a buyout for like 100 million bucks or something and
he now
Adam Curry: they didn't take it. No, no of course the road is
littered with these people.
John C Dvorak: The whole operation Live Journal I think
at the same thing
Adam Curry: so what what Oh, yes, go ahead.
John C Dvorak: I was so I'm I caught a PG or a Pacific
telephone guy ad open up one of those big boxes on the street
and he's looking at it and it was wiring something up I said I
asked him about a T one line I said he says oh yeah the T one
line says he shows all these wires that go from you know
point to point all over this mess of of wires. And he says we
always always got a thicker wire for the T one line. Oh really?
We always use this thick wire for the T one lines funny. He's
the same guy told me about the squirrels
Adam Curry: ah yes scroll the scroll thing is real. Well,
yeah,
John C Dvorak: he did. The story he told me which is another one
of my many stories. He says the squirrels that one of the things
that were their pain in the ass because they eat through the
wire. They liked the rubber outer coating. So they went
through the process of of developing an desoldered this
plastic coating that was just laced with capsicum, the hot
chili pepper stuff. Oh, they must love that piece. says he
says he says it worked for about a month until they got a taste
for it.
Adam Curry: That's, that's like the stuff we spray off for the
deers the deer don't don't eat our trees and they know what I
do kind of like this peppery stuff, it's good. Anyway,
whatever always remind myself is that even with the most subtle
upgrades and of course, you know, my, like the the network
card in or the Wi Fi card in the billing that I have it's 300
megabits so I mean, I had to plug it in to see five five
gigabits per second, but even at a consistent 300 up and down
with that very short ping time you get more done. It's it's
seconds per time you hit a webpage sometimes. So you're
winning minutes an hour, you get more done. I always forget about
that. It's like Oh, wow.
John C Dvorak: And I'm like until you're jacked. I am jacked
up about it. I mean two lightning bolt his whole
Adam Curry: I still have a backup. I'm keeping I'm cutting
the cord spectrum is out of here at the end of the end of this
month spectrums out. Over expensive crap with stuff I
don't watch an OTA is in. I'm cited.
John C Dvorak: The Yeah, well, you'll find out about getting
your zip code. Oh, all right.
Adam Curry: So I have to start off with something cuz some new
stuff has come to light. And I think is pretty important for a
lot of what we'll be discussing in the future. And it really
starts with a mia culpa on my part, I was wrong about Dylan
Mulvaney, well, partially wrong. But in general, I can be seen as
wrong about this Bud Light and Dylan Mulvaney so called
promotion?
John C Dvorak: Well, your let me back up. You were wrong by but
it was your reviewer wrong, because you took it from a
theoretical basis, which I think is something we do on the show a
lot, and I think is valid. And the theoretical basis was the
following. Just to remind everybody, okay, you had worked
for these people. And you knew how they thought, and you could
not see in a million years how they would go along with
something so stupid as this. Well, even
Adam Curry: even worse. But well, let me let me go. Let me
step back just a little bit more, because I even tweeted
that this can that was being shown on social media, with
Dylan Mulvaney 's face on it. I said that that has to be AI,
because to take it one step further than what we discussed
on the show. I mean, okay, in 1996, I have just started my own
company, I'd left MTV and I got a call from Robert McCauley. Bob
McCauley from Anheuser Busch and St. Louis. He says, Hello, I saw
what you did with the Grammy Awards we had done. So we called
it the first cyber cast for the Grammy Awards, which was
basically see you see me camera one frame a second and Casio
sponsored it with their brand new digital camera, which you
had to take the card out and put into your laptop. And it was all
slow, but it was new. I said, I saw what you do. I'd like to
talk to you about a website. So I said, Hold on a second, let me
get sales department put on different hats Hello, sales
department here. And Bob said, I'd like you to come to St.
Louis, I want to talk about a website for Anheuser Busch for
Budweiser. So we go, and, and so they wanted to we wound up
building budweiser.com Bud light.com. And we built they had
it was a great company because they all this content from the
Clydesdales to, to the sports that they that they sponsored,
they had a lot of content. We also learned a lot about beer.
How you know, because they were certainly still bottling still
at the at the plant in St. Louis. In fact, we created the
Born on date that came out of the website we built for them as
we learned that by looking at the barcode on a bottle, or can
you could determine down to the quarter hour when your beer came
off the line. And so we said oh, why don't we make a little thing
on the website, we have the we didn't have QR code scanners and
phones, of course at the time. But if you fill in that number
underneath the barcode, then you will get your beers born on date
and it became very successful. But there were the legacy of
Anheuser Busch Aug. Bush, the third nickname grinder and then
he was going to be succeeded by Auguste Bush the fourth nickname
woody who I always had my doubts about because when we met him he
was in his office looking at Porsche catalog you know picking
out his car like okay, I don't know what you're going to be
doing with the legacy of this company. But grinder The third
was very clear because we want it to have this born on date on
the cam we want we want to have their domain name on the cam and
on the bottles. It was like there's nothing ever going to
come on out no you have to put nothing on our internet on our
beer bottles and cans so now not gonna have that's an accurate
depiction of how he said that. And after about a year and a
half, you know we finally got them to use it in their some of
their commercials and their marketing and some other come
When used I probably Coke or Pepsi started putting it on
cans. So they eventually they eventually said, Okay, we'll put
it on the camps. But it was it was sacred. The Anheuser Busch
logo, the Budweiser, all of this was sacred sacred sacred. So for
them to even make as a joke one a one off can with anyone I
don't care if it's dealing Mulvaney or elephant or
anything, spuds Mackenzie wasn't on the can either the stupid dog
to not only be on the can, but overlapping the name Bud Light
that was unconscionable to me. Now,
John C Dvorak: how many years ago was this 26
Adam Curry: years ago?
John C Dvorak: Times change?
Adam Curry: Well, clearly. Now, here's the part that I was kind
of correct on. So this was dubbed on on Twitter, certainly
social media as dilla Mulvaney is the brand ambassador. Well,
no, the Absolutely not. Because, you know, besides that, there
was no brand ambassador announcement, there was nothing
on their website, nothing on there. Nothing at all about this
on social media. If you look at the hashtags, this is an
influencer campaign. In fact, the contest that 1000s of
influencers, participated in posting the same text about a
$15,000 prize with the hashtags that hashtag Bud Light partner,
and dealer Mulvaney is nothing more or less than an influencer
who participates in this campaign. Now, again, for any
brand manager to send even as a commemorative Hey,
congratulations on your 365 days as being a girl, you know, for
them to send that is is already just unbelievable. But okay,
times change. So it's dealing Mulvaney is not a brand
ambassador, but the damage I feel had already been done. You
see, when you say see Kid Rock, machine gunning cases of Bud
Light, I'd say there's a little bit of brand damage there. And I
think there may be more than they realize, but I also
understand now with the latest that came out yesterday. And
again, it's Nike hires Dylan Mulvaney as brand ambassador.
No, no, again, it's an influencer campaign. And I
understand now what's happening. So many, I don't think Dylan
Mulvaney smart, but CAA represents Dylan Mulvaney,
someone who's very, very smart, and is saying you're
participating in all of these influencer campaigns, which of
course they do get paid for. Because they can't imagine if
they said, Oh, no, no, you can't be one of our influencers. That
would be the real brand suicide for any of these companies. And
some, I think, was a Gooper. Kate, Kate Spade she's dead but
Kate Spade company, they actually may have hired her as a
brand ambassador doesn't matter. So this is going on. And it's,
it's really crazy. To me, I mean, it to me, it feels like
this cannot be good for a brand like Bud Light. It just doesn't.
And it's rude. In general, certainly the Nike campaign
where it's, you know, sports bras, are you kidding me? So,
what this brought me to is what is really going on here and
it's, it's a lot deep. In fact, this is this is just a
distraction. And two things came this morning. And the first one
is I'm very happy I received this I'm also sad about it, but
I'm happy received this email. You know, no agenda has people
across the board they deliver our boots up boots on the ground
reports. We've got people with military law enforcement and
education. In Me, you name it people in big brands, people in
the medical field, someone's in everyone's an expert in one
thing, and they will always tell us and we always share it on the
show. So we also have gay and lesbian and yes, we have trans
people. And then we've always read emails from the official
tranny have no agenda, Ally Jade. And I received an email
this morning that that adage well formerly known as Ali Jade,
want me wants me to share with everybody and then it leads into
what's really happening here. And this is Ali Jade announcing
the official transgender tranny have no agenda retirement. By
I'm reading verbatim, I'm sending this as my resignation
as official training of no agenda after almost 11 years or
so it's time to move on. I am by no way stopping listening to the
best podcast in the universe. But I can no longer provide any
insight to the show for this crazy transgender filled world.
A population that can't and shouldn't be more than a small
speck of a percentage somehow balloons to a larger speck of a
percentage as now and now is in the new cycle to the point of ad
nauseam. I'd hoped As the time passed, there would be a cure to
rid myself of mental issues that had me seek care and then
transition. But alas, it is now seen as normal and doesn't need
to be fixed. It needs to be amped up. And then the drugs
come and changes apparently should happen sooner and sooner.
I do not wish any ill will on the poor souls going through
this when they get older, they will have enough to worry about
and endure. You too are the only one saying it and it's the hard
truth. I am a medical cash cow. I have to get meds until death
and there's a high probability that hormone treatments led to
my multiple sclerosis a study out of Boston I believe. So
1000s of dollars in MRI treatments and doctor's
appointments followed then throwing the eventual medical
issues that will come with age for being on hormone treatment
to my male anatomy. How about not being able to control your
bladder much anymore and always worrying about actions No, I am
not a woman. I play the part of a woman in the world I respect
and do not go into areas where changing is done I do my best to
adapt them blend in as not it's not even appear as male or
transgender. I know I'm a product of inheritance into the
distance from the perfection lost in the Garden of Eden. I do
not blame God for this I ask for his forgiveness and help dealing
with this every day as I know I cannot go this alone. Keep
deconstructing this and keep being honest, you are on the
right path. You and John have never said anything that
shouldn't have been said and I take no ill will from those
statements. This has kind of turned into confession as I have
no one else to say this to I have not strong enough to come
out as an advocate to warn people of the dangers ahead. But
I hope that you too can be that take it from older person
there's a lot they don't tell these kids and will have to do
and I've had to deal with from 24 until death sadly they will
have to deal with from a very early age until death and it's
not going to be easy road. Good luck and Godspeed to those who
do. This kind of blew me away jar.
John C Dvorak: She has MS.
Adam Curry: Yes. Ah, and bladder control issues and all kinds of
stuff.
John C Dvorak: EMS is
Adam Curry: yeah, just horrible. Horrible. So I come across,
there's a couple of things going on. There's a podcast and listen
to the afflicted podcast. And there's also a documentary now
just coming out. And there's been someone sent me this video,
which I think may be part of the documentary doesn't really
matter, Jennifer be like or bilag be like, she's an
investigative reporter. And I have a couple clips from a
longer YouTube video which the I it's in the show notes everyone
should watch. And this really shows that Dylan Mulvaney is
just the distraction in the normalization of something much,
much, much bigger. And it is, in fact transhumanism.
Unknown: It's technology. It's the advancement of technology to
improve, you know, our lives, but we never get a say in any of
that, you know, we don't get to say we don't get to decide we
don't get all the information. This is all elites deciding this
for us. Right. And it's, you know, it rides the bullet train
of the market. You know, everybody is profiteering off of
this now, even if they have no idea what it's about, you know,
transgender modeling agencies, gender fluid makeup
photographers taking picture of transgender children, you know,
it's everywhere. And this same message is being driven into
their grade schools. You know, by second grade, they're
learning about gender identity, taking hormones. And this is all
brought in under anti bullying programs. These programs were
passed by Obama and funded by the Pritzker Family, the one of
the largest one of the most wealthy families in America.
There's many of them. Jennifer Pritzker, was a, an Army Colonel
he purports to be a female, and runs around with, you know,
synthetic sex characteristics of a female. And he drives this
ideology into into the psychiatric departments of major
universities into other medical institutions, gender, hospitals,
the military, etc, etc. And his company to Kewanee foundation is
partnered with squadron capital, which is a medical device
company. So he's following the same tragic story of Arcus
foundation. Right, Stryker medical as a medical supply
Corporation, right? And they're going to be profiting off of
these surgeries not just, you know, so called Gender
surgeries, but human augmentation. When we when we
open the door to these kind of radical changes to our biology,
you know, the way that we're planted in the in the Eco
sphere, you know, once we let that go that together, anything
is up for grabs, you know, they can manipulate your DNA they can
manipulate you any way you want. And that's why these rights are
I mean, from what I can tell these white these rights these
gender rights are being passed. It's not about people that are
allowing their a medical attack on their sex. It's for future
augmented human beings. I follow the money and money trails do
not lie. They tell you the truth.
Adam Curry: So I'm kind of familiar. Remember the bullying
laws that we were tracking? What was going on with that?
John C Dvorak: Yeah. So there's a lot of Yeah, I, it's hard to
make the connection with that. But I think it was just a
coincidence. It just happened to play into it. I think there's, I
think it's one step higher. Oh, yeah. No, well then continue.
Okay, we
Adam Curry: go follow the money.
Unknown: And so I started following the money. And I
looked at all these different NGOs, these non governmental
organizations that were really
Adam Curry: huge, huge, like architects, I forgive her for
doing this,
Unknown: because foundation and Gill Foundation, they're
mammoth. They've each given like, a half a billion dollars
to spread this ideology through, through the cultures, you know,
not just our culture, but you know, Western cultures, because
they've, they, they fund other organizations that do the same
thing. And they create this whole scaffolding, this
political scaffolding to drive it so that you have media
people, you have people that are being trained in politics, to
get them into political institutions, like the victory
Institute, for instance, that's funded very heavily by orcas
Foundation. And like, for instance, Rachel Levine was part
of that organization. You know, they call people from different
schools and different areas that are going to work for them. And
then they train them to be in these positions to drive policy
through the culture.
Adam Curry: High enough yet. We're getting higher. And now
have just like the Hollywood Foundation, the Norman Lear. Oh,
yeah, we've got media culture and something that she coins
appropriately.
Unknown: And so then they have media people as well, like lad,
is the media arm. So glad and consolidation are closely
working together. And glad goes about spreading information
about how people are supposed to talk about this, because it's a
human right, and you don't want to offend anybody. Right. So the
message comes from on high. And what I mean by on high is not
Arcus foundation, I mean, Stryker medical $17.1 billion
Corporation and growing by the day, in 75 different countries,
the medical industrial complex is bigger than the military
industrial complex,
Adam Curry: she this really struck hit home for me, I'm
like, Yeah, that's what these RNA messenger vaccines were
about. This is what all the trans rights is, human rights is
all about all the stuff you're not allowed to talk about. And
then going back to and you may know these guys from, from the
older earlier days of Silicon Valley and, and tech, the it
really is a agenda, which at its heart is to well, transhumanism
to get rid of women, for sure, at least their baby making
capacity capability. And you know,
Unknown: you can see this this tragic story in the, you know,
along late 1990s, early 2000s. There was a big shift in the
culture from, you know, data from the digital age and the
information age. And it's sort of moved into artificial
intelligence, transhumanism, robots, nanotechnology,
biotechnology, etc. So this is kind of where we're going. Now,
this is like the future tragic story of this. But you know,
Silicon Valley has been pushing a transhumanist agenda for, you
know, since the early 2000s, late 1990s. So then Bainbridge
meets up with
Adam Curry: Gino Bainbridge does that name ring a bell? No,
Unknown: another interesting character, Martine Roth flat
Adam Curry: about that guy, Rothblatt, Martine Rothblatt,
maybe
Unknown: who is also a transhumanist and Roth flat is
he's a transsexual, he's a man that's appropriated stimuli
crumbs of women's biology for himself, and he calls himself
you know, transgender or transsexual. He's very well
renowned and very well, you know, appreciated for his
accomplishments. So he's been in the tech sector. He's been in
the, in the medical sector. He's been in all over Hollywood. You
know, he's been on Oprah. And he's been on a million different
shows, you know, with his robot wife, which he created Rothblatt
wrote a book, and it's really like, it's really a blueprint of
what's going on in the culture. Now, this is his ideology,
working off of the work of Bainbridge whereas we're going
to disintegrate the sexes the boundary between the sexes.
there'll be no youth and age there'll be no you know, male
and female. There'll be no Transhumanism is like boundary
lessness you know, you're out there in cyberspace, ultimately,
while you're getting there, it's an upgrade and humanity melding
yourself with machines, you know, transferring reproduction,
human reproduction to the tech sector, in I think it was late
1980 He got together with a whole bunch of other
transvestite lawyers and, and transsexuals and they created a
document, which was the first the very first gender bill,
which brings this embodiment into the law, the sexual
objectification of female biology, you know, into parts
and making a human right out of that. Disembodied, well, where
he's going is full on dis embodiment where everybody lives
in cyberspace, we live in a virtual reality, we don't live
in our bodies anymore, we're gonna be up uploaded into
cyberspace. Well, in order to sell that to the public, you
know, transhumanism and just embodiment as a life. You're
gonna have to groom them and get them there. And the way to do
that is to create this ideology that says that you can choose
your sex. That's disembodiment.
Adam Curry: I know it sounds far fetched. But I saw this whole
thing. And there's a lot in there that makes a lot of sense
as to why this is happening. And why is it happening? Because
these people are insane.
John C Dvorak: Well, that's not what I do. I see it. And I have
two clips. By coincidence.
Adam Curry: There's no coincidence, man.
John C Dvorak: This was these are about something else. But
this was on NTD on NTD business, I believe. And they had Roger
Simon on. And he is a novelist than a guy from Hollywood. This
is one of their guys that comes on any kind of expresses.
perspective. And I think this is this takes us above everything
you've just played, to what is really probably about and play
this Roger Simon on communism.
Unknown: Roger Simon, welcome to our show. Thanks so much for
coming on. Now, Concern is growing among critics of Trump's
indictment that America could be turning into a banana state. But
in recent epic Times article, you say that the indictment is a
move towards something much bigger than a banana state.
Could you elaborate on that?
Well, yeah, to call the United States of banana state is a
little bit harder or Repubblica bygone era in the original. It
is not because it's too big and powerful for that. What is
incipient communist state have a slightly different form than
we're used to, but in very weird and ironic ways similar to the
People's Republic of China.
And you say that the US has been evolving towards this end for
some time pointing to censorship from the media and government as
examples. What have you seen recently, one of
them is where I'm here in Nashville. And as your viewers
know, we've had a real disastrous, awful murder here,
in Nashville of six people in a church, three of whom were nine
year old children. The murder was perpetrated by a woman in
her late 20s, who decided she was transgendered, and was a
male and showed up at the end committed these murders in what
white may call terrorists drag. I mean, she looks sort of like a
classical terrorist for the Middle East with a machine gun.
I mean, that's what she looked like. And, and this was reported
on as transgendered and, and of course, the manifesto that she
wrote has been suppressed by the government and the FBI. But
interestingly enough, the word transgender or transgendered was
suppressed by CBS, a major network of our country, for
reasons they don't want to make clear, but I think are quite
obvious. And that is that the dissolution of the family has
been a major intent of communism since the early days of the most
incredible revolution.
Adam Curry: Go, you know what, I'll give that to you. I'll give
that to you that the agenda above the agenda agenda of the
medical industrial complex is communism. I totally I totally
believe that.
John C Dvorak: It's the dissolution of the family. And
if you remember, the Antifa Yep. The protocol nuclear,
Adam Curry: nuclear family cannot exist. It
John C Dvorak: had to be dissolved. And you've already
pointed out that this this transgender stuff has been
taking over from Black Lives Matter. Now, trans lives matter.
Let's play part two of this.
Unknown: It goes in and out because they realize is very
difficult to do. But if you just if you dissolve the family, then
what does the individual have left but the state So the state
becomes your family and then you're under the control of the
state and you're de facto in a communism,
what do you see as the way forward for breaking out of
this, what you've called brainwashing this
not easy, but in one way is the old fashioned way which is learn
about it knowledge helps you realize what's happening to you.
I mean, I congratulate and TD for doing that APEC times as
others do it. But the other way is to elect people who are awake
to that, you know, Donald Trump for all his pluses and minuses
and, and excessive behavior. Similarly, he is certainly very
aware of this, and is working against it as as another
political candidate less known Vivek Ramaswamy, very aware of
it. Others too are aware of it. So you have a you have to elect
people who are aware of it, you have to make known the feelings
and you have to talk to your friends and relatives about it.
This is maybe the hardest part. It's easy to vote the secret
ballot, but it's harder to talk to people that you've known a
long time who can disappear on you who can alienate you can
ruin your life.
Adam Curry: Wow, this is so smart how they've done this by
abusing children. Because once it's children, if you can't say
anything Oh, no, no, no, no, my child was trans. You can't say
anything about that. You're horrible. You're a horrible
person. If you say there is sorry. I mean, yeah. Ah, man.
And then. Okay, so it does kind of fit together though. Because
if you want to dissolve the family, dissolve the nuclear
family, then you do turn back to technology, and all kinds of
CRISPR gene splicing God knows I don't know what what they're
talking about to do crit to be in charge of that,
John C Dvorak: and also sterilize people. Oh, man, let's
at a young age. That's a good way to dissolve the family.
Listen
Adam Curry: to Kareem Abdul Jabbar, John Pierre Van Damme,
Unknown: does the President have a position on at what age these
kinds of therapies and surgeries are appropriate? That's
something for a child and their parents to decide. It's not
something that we believe, should be decided by, by
legislators.
Adam Curry: We decide everything else when you can go to war,
when you can drink when you can do all kinds of stuff when you
can have sex. Most states, but now no, no, no, no, no, this is
not to be deterred. And I think that
John C Dvorak: if they decide when you can have sex in all
states, not in most
Adam Curry: states, all states. And I think what happens with
with people who, you know, people who sin will often try to
relieve their guilt by getting others to commit the same sin.
So when you've transitioned your child, and you see that it's
maybe not going all that? Well, then of course, you know, the
easiest way is all you or your kid may be trans, you should
talk to my doctor about it. Now, and I read the book,
John C Dvorak: well, they tend to the parents of kids who, who
they've put through this by accident or by peer route, or
pressure or whatever, all tend to be activist. Yes.
Adam Curry: And then when I read the book, that parents give each
other like, Oh, my kid may be trans what to do. It's all about
that. It's all about the political outfall of it fall
out, it's about, you know, what your neighbors and your family,
it's how to handle that not how to handle the child. And we know
families that have done this, and it has not turned out well.
Ma'am, these people are so evil. And anyway, when you have and
this is quite a statement from from the formerly former
official trainee have no agenda to say Hey, me, I was a cash
cow. I am a cash cow. And that is, it's the funny thing about
it is when you get to communism, there's a lot of people making
money.
John C Dvorak: Oh, yeah, of course. Putin is supposed to be
the richest man in the world.
Adam Curry: Yeah. So they say, but it's the other way of
knowing his friends hold it for him. He doesn't hold it himself.
Of course, that'd be crazy. Um, so I do have an idea, though. I
don't know if it'll work. But, you know, I think that I'm not
recommending anyone do this. But when it comes to this, you know,
transgender agenda online and these influencers, you know, I
think that you should just take any company like take Chrysler
and then just, you know, just post fake artificial generated
images of all your your transsexual brand ambassadors
and see if any one of them has the guts to say no, no, that's
not associated with us. Someone's got to break this
spell. Someone's got to break this spell. This is nuts.
Anyway, There you go. So we don't have to talk about that
because everyone's obsessed with it.
John C Dvorak: I was hoping you weren't going to talk about I
thought Dylan. I think Dylan Mulvaney is a phony. Yep. And
that's just don't see what the attention part of it is. I mean,
she, she, he, whatever, is gigs, likes to get attention does a
good job of it. The giveaway to me was always the video that's
going around. It's on YouTube. When Dylan as a boy was on. The
Price Is Right. What was it the prices? Right?
Adam Curry: Yeah, prices, right. Yeah, it was, like a nut job.
John C Dvorak: She runs around like a nut job as a guy. Don't
even guys, fruity guy would
Adam Curry: even say she when it comes to this person. Don't even
say that. That's insane.
John C Dvorak: And it was like, ridiculous. It's the same
person. Exactly. It was obviously some hotkeys. While
they were, I'll use that. I don't like it. Oh, it let's do
that. There you go. So it was wants to be in Hollywood. It
wants to be and is it as a as a person trying to make money as a
screwball, I think
Adam Curry: did very well. And Dilma is no reason for me to
promote it. No, of course not. But also know that it is
represented by CA, the very same people who picked up the high,
they did time's up. Remember, they took the after Harvey
Weinstein. And they did time's up. And they promoted all this.
And I'm sure they promoted Black Lives Matter. These are evil
people. If people don't love you, or your family or your
children or America, it a horrible people. Horrible. So
yes, we don't have talked about anymore. But we do have to
understand that that's the agenda. And I'm with you on the
on the communism part. And I'm with you on that. That could be
above all of it. Absolutely.
John C Dvorak: When people to write this down, and this is
something I think people should be aware of, because you were
talking about CAA. And it they're highly prevalent in this
in these in this documentary that's floating around, which
just came out about a week or two ago. And it's called, and
it's done by the New York Times, and they've done a tremendously
good job of it, even though it's gotten some criticism from I
think it was the Hollywood reporter who said it was a
little discombobulated, even though it's incredibly
important. It's called Sin Eater, to crimes of Anthony
Pelicano. Who's that? He is the fixer in Hollywood, who had
tapped pretty much everybody's phones, and ended up in jail for
17 years. For a bunch of he was Iraq. It was racketeering that
was going on down there. It's a tremendous documentary. It's on
Hulu and YouTube TV, they have it but you want to watch it on
Hulu as you can. It's two parts. And as was done by is produced
by FX and and New York Times is behind it. And it documents the
kind of evils that were going on in Hollywood in the 90s. And
2000s is just a tremendous product. I was riveted to it the
other day. revenant what's it called again? Sin eight are the
crimes of Anthony Pelicano sin eater.
Adam Curry: And any other big names that are fun to talk about
in that documentary
John C Dvorak: for the A's in their Garry Shandling's in
there. Whoa. It's got pretty much it's it's astonishing,
isn't it? It's just I would say it was more disgusted watching
this and anything else? A lot of the big law firms in LA
Adam Curry: know, huh, ovitz
John C Dvorak: Oh, hi. Hi. Up on the thing. Of course. ovis I
think I think that what happened to Pele kind of ruined over his
career that oh, this was a big part of it. And he was I think
CSEA
Adam Curry: Yeah, and he died young.
John C Dvorak: He did. I don't know what this is dead. No,
yeah. overdyed
Adam Curry: maybe 10 years ago.
John C Dvorak: Michael Ovitz. Yeah,
Adam Curry: absolutely. You know, I'll bring it up for you.
But allow me to consult the book of knowledge. Michael Ovitz died
in well, he's not dead. No. I thought he was dead. Am I think
about someone else.
John C Dvorak: I don't know who you're thinking about. From
Warren.
Adam Curry: I thought he was dead. Maybe oh, maybe the
uploaded him.
John C Dvorak: Anyway, he recommended this documentary to
listeners and no agenda. You admire it?
Adam Curry: Yes. Why do you think he was dead? Who was it
that isn't Then well you know he's dead and and I'll just I'll
just mention this let me see if I actually have it here and to
have a clip of this he Yeah, this one here
Unknown: this morning more questions around the stabbing
death of Bob Lee known as a genius in the tech industry, the
founder of cash app and the Chief Product Officer at
cryptocurrency startup mobile coin. The 43 year old was
apparently attacked around 2:30am Tuesday while walking
down a street in San Francisco's were in Caen Hill neighborhood,
an area described as residential and typically quiet. A local
reporter says he viewed nearby surveillance video of the
sidewalk not yet made public. He seems to live to shut
up as he approaches a car that is stopped on the corner with
its flashers on the car then drives away he falls to the
ground. He gets up again and then walks back on Main the way
you came but on the other side of the street and falls down he
collapsed and died a short time later Lee had moved his family
to Miami but was in the Bay Area on business
actually live right where he got killed. I used to walk there all
the time at night and I did started slowly playing Russian
my safe
Elon Musk offer condolences while commenting about crime
tweeting many people I know have been severely assaulted. Violent
crime in San Francisco is horrific. And even if attackers
are caught, they are often released immediately. San
Francisco's homicide rate is of averaging five murders per month
in the last year 58 at all compared to three murders per
month in 2019. But that rate is still far lower than other big
cities. As for Bob Lee, his friends are remembering not just
his love for technology, but his love for his family.
His dedication to his kids was first and foremost. Bob was
Father of the Year.
Adam Curry: So what everyone's talking about is how dangerous
San Francisco is. Scott Adams also posted a story like Oh, bye
bye got mugged at knifepoint on that same corner. I just want to
put out there you know something that I have not heard anyone
even suggest as a possible idea and hearing this clip it can be
even more possible. He started mobile coin which has real legs.
The mobile coin was big. It's integrated in signal. It's a
proof of work base cryptocurrency. I'm not a fan,
but it definitely had rollout. But how about murder? Anyone
think of that? I did. Well, good because to me that sounds like
John C Dvorak: first thing I thought of I thought he would I
thought it sounded like a hit. He was out here from and a guy
who is in tech living in Miami. You know that says to me, you
know that is abnormal? Yep. You don't if you're in tech, you
don't live in Miami. Nope. That's it. That's you know, you
know,
Adam Curry: I think it was a possible hit,
John C Dvorak: I think was a hit. That's what I thought when
I first heard about it. I never heard of this guy by the way.
You know, I guess he's some, but I was not in ever involved in
that part of tech.
Adam Curry: No. No, I mean, either. I just know about mobile
coin, and that he started Cash App, which is huge, of course.
And he was I was part of the square and by coincidence, I'm
not implying anything other than by coincidence. Elon Musk
finally does what I said he would do is he's ruined Twitter.
And he has that stupid dose dog popping up.
John C Dvorak: I gotta kick it a dog. Like you dog by the way.
Adam Curry: It's a shitty dog. No one likes that dog. It's not
a cute dog as an annoying dog. It's true. According
John C Dvorak: to Jay there, she knows what dog that is. She's
the dog expert. It says she used to call the shitty dog she says
that is indeed a shitty dog. Oh do tell the dog actually.
According to her and she knows all these breeds because she was
a dog walker for years. She says the dog nobody likes that kind
of dog. It's a she told me that breed I forgot what it is she
she says it and she says it has the personality of a cat is not
a loving dog. It's not a friendly dog. It doesn't like
other dogs. It's a horrible dog
Adam Curry: I'm glad we have that information. It's good to
know well there you go. That dog is triggering to me. I literally
go on Twitter less because every single time I go there I get a
full screen flash black with the with that dog. Yeah, and I don't
know about you. But since April 1 When you supposedly we all had
to pay for Twitter blue, which I never had wouldn't I don't have
a blue checkmark. You have it didn't have to. He didn't take
it away. That was a lie. Still there but I have sedang which by
the way it was there after I got the threat. Yes, that's what I'm
saying. It's still there was supposed to be gone April 1, but
I have significantly less engaged judgement. On Twitter.
I'm getting much less people sending me stuff or feeding back
or if I tweet something or answer something, I get nothing.
So it's ruined it, you know, and I'm not gonna pay seven. I'm not
gonna pay anything. But I think I kind of predicted he would
ruin it. I don't know if you're seeing that or you don't care,
right? You don't you don't use it except to promote stuff. So
you don't see much else at all. Anyway,
John C Dvorak: trim put a tweet up once I retweet something
occasionally, but they will take it down. Do you?
Adam Curry: Do you feel any less engagement or you haven't
noticed?
John C Dvorak: Any engagement dropped off? Five, six years
ago?
Adam Curry: Okay. All right. Well, that's pre I did
John C Dvorak: a I did testing and it was like, it was dropped
way off when it when I first went, I had like 10,000
followers very early on. I would get engagement, I would ask for
something and I get it right after getting to 100,000. It's
like 1/10 of what it was at 10,000. Interesting. And I find
that was started a long time ago.
Adam Curry: Well, in the backdrop of this, there's a lot
of fear mongering going on. Oh my goodness. Oh, the. We even
had Crowley, the Assistant Secretary of State PR
department, talking about how the cbdc is coming. The dollar
is gonna go away. It's all over. And right on cue. Here's Marco
Rubio intelligence Senate Intelligence Committee, big war
monger, big military industrial complex guy today.
Unknown: Brazil, in our hemisphere, largest country in
the Western Hemisphere south of us cut a trade deal with China.
They're going to from now on do trade in their own currencies
get right around the dollar stop.
John C Dvorak: Wait, you mean Brazil of BRICS? Yes. Brazil,
Russia, Russia, India, China, and South Africa? Yes. So so. So
this bricks, which has been around for what a decade, which
means they've been doing these deals all along. This is new to
him?
Adam Curry: Well, this is the anti China. This is the by the
way, he's not talking about Ukraine,
Unknown: cut a trade deal with China, they're going to from now
on do trade in their own currencies get right around the
dollar. They're creating a secondary economy in the world,
totally independent of the United States, we won't have
about sanctions in five years, because there'll be so many
countries transacting and currencies other than the
dollar, that we won't have the ability to sanction them, as we
are sitting here, you know, focused on some of these
nuttiness that's going on people that are basically dedicating
their lives in this country, to ensuring that it is legal to
mutilate children to do drag shares in schools. They dedicate
their lives to this, and we have a another superpower that
basically wants to become the world's dominant power at our
expense. And these people don't want to focus on it. They're,
you know, we had some person on the view yesterday say that our
criminal justice system is no better than what China is doing
with its genocide of Uighur Muslims. So we better wake up
but we're going a little slower than the one we've been used to.
Adam Curry: Well, I better start watching the view. They said
something smart. Finally, it was crazy.
John C Dvorak: So all over the road.
Adam Curry: I don't know that. I mean, yes, of course, bricks.
We've been talking about bricks for a decade, at least. But but
it is it does. It does apparently seem to be true that
that sort of that we've lost control of Saudi Arabia, and
right at the moment when
John C Dvorak: we thank you, Joe Biden, who went out and condemn
the guy running in a place when he ran for office?
Adam Curry: Well, exactly. And then I fully expect I think, I
think that that we started taking whatever's left in our
strategic petroleum reserve. And and because of that, Saudi
Arabia and perhaps other OPEC countries said, oh, you know
what, we're just gonna, we're gonna stop producing as much
we're going to make sure that the oil price goes higher. And
and now we don't even have much of our strategic reserve left.
And then the funniest thing did you see the Prime Minister of
Japan visiting with Zelinsky? No, I didn't know much. Oh,
everyone, if so that he goes to the season lands, he's got to
know the equivalent of a big check. Oh, look, it goes.
John C Dvorak: He goes to Ukraine. Yeah, he goes to
Adam Curry: the train he meets with the Lansky gives him the
envelope. Yeah, it should have had the big clearing publishers
house. Check. Look at all this I'm giving to you. I love you.
I'm giving this to you. Because while we were gonna buy oil from
Russia,
Unknown: Japan is distancing itself from the United States
and the European Union and it's buying Russian oil above the 60
US dollar per barrel. That's December the European Union, the
United States agreed to set a limit on the price of Russian
oil as $60 per barrel. is backed still in force is part of the
retaliation against Moscow for the Ukrainian conflict, also
agreed by the g7 countries including Japan. Barely four
months after this agreement. The Wall Street Journal reports that
Japan broke this agreement and began to buy Russian oil above
the limit of $60 per barrel. While this is happening at a
time when Russia is redirecting its exports to Asia to
counteract the sanctions imposed. This scenario coincides
with another delicate moment. So several countries have the
Organization of Petroleum Exporting Countries announced
last Sunday unexpected voluntary cuts in their production and
withdraw crude oil from the market.
Adam Curry: So our friends, our buddies, Japan said, yeah, no,
it's okay Joe, but we're gonna go buy Russian oil above the $60
proposed limit. What is going on with these people are morons.
They're really stupid. Well, who listen to by 70s Oh, no, no,
Biden, and Obama, whoever's running all that show. They're
nuts.
John C Dvorak: They're doing a poor job. Let's put it that way.
I got a thing here about bricks. This is interesting. Bricks,
which is the acronym it was originally brick and in South
Africa in 2010. This became this started in 2001. And who coined
the term where did it come from? Kind of stormy day Goldman
Sachs. I'm
Adam Curry: sorry, I thought was stormy Daniels?
John C Dvorak: No, it was Goldman same thing. Goldman
Sachs economist Jim O'Neill
Adam Curry: is there a clip I'm supposed to play here?
John C Dvorak: Yeah, I'm just reading from them. You wiki
page. I was looking when When did bricks show up as in 2001.
Adam Curry: Now it doesn't surprise me. And by the way, we
had I think the EU was also walking away from us. I'm gonna
see I don't know if I have a clip. We had Ursula, Queen
Ursula and McCrone visiting in China.
John C Dvorak: Yeah, yes. I didn't know I was not under the
impression that Ursula went
Adam Curry: Oh, yeah. No, they went together. They went
together. Sure. Yes. Okay. Yeah, definitely. I think they
actually went together let me see I don't have my I don't have
a clip of it. But I mean, I'm so after the after those two
Russian guys hoax to Fifi Lagarde. That's when I knew that
all these people are stupid. They don't know anything.
They're just complete dumb. So there you go. Do I have it here?
Oh, here's the OPEC maybe. See with this
Unknown: oil prices have been rising overnight after a
surprise decision by OPEC to cut production that could mean
higher gas prices are on the way. OPEC plus which includes
Saudi Arabia and Russia is slashing production by more than
a million barrels per day until the end of the year. Saudi
officials say the cut is to stabilize the market. Gas prices
have already been rising at the pump up 13 cents in the last
month. The White House is pushing back on the OPEC cuts
saying we don't think cuts are advisable at this moment given
market uncertainty. Oil prices fell last month during the chaos
in the banking industry. But now after the cuts by OPEC analysts
say we could see $100 A barrel by next year.
Adam Curry: hears from Bloomberg. I don't know if
that's what do you think? Well, that happened? I mean, it could
happen. I guess they
John C Dvorak: always push this idea 100 We've heard a lot it's
always been well, with Biden in office anything's possible.
Adam Curry: French President Emmanuel Macron and European
Commission president Ursula von der Leyen are in China. This is
Bloomberg we need to track quote we need to try to engage with
China strategically and speak with him directly about this
Russian aggression and the consequences for Europe McCrone
said in his speech at the French Embassy a day before meeting
Chinese president Zhi Jing ping, which may be today. So this is
this is the EU meaning with our arch enemy. How does that work?
And what you don't have to
John C Dvorak: do how do we do trading with our arch enemy to
the extent that we're still taking a beating? Well, I don't
know what kind of arch enemy is China when we get most of the
stuff that you buy at the store from China tick
Adam Curry: tock, man tick tock, tick tock. You know what's going
on is tick tock man. They're spying on our children. The
funniest to head would head funniest to headline somebody
asked who was the funniest two headlines? I'm gonna say Do I
have a tick? Thomas, you do have a tick tock clip because there's
so much to talk about. Sales of tick tock owner bytedance up
over 30% in 2022 to reach $80 billion in revenue matching,
matching 10 cents revenue. And, in fact the article it's site.
It says that double digit growth revealed in a recent memo to
investors topped most global internet leaders including meta
platforms and Amazon. Yeah. So hello, this this.
John C Dvorak: The problem I have with just do it this number
is since tick tock is international and China is a
huge market. Yeah. They don't break out to 80 billion. They
have to tell us how much of that 80 billion is American revenue.
That way we can see what is really
Adam Curry: I'm with you, but it does come back to back with this
article from CNBC. As Chief Financial Officer of Google Ruth
Porat, the kicked off multi year employee service cuts we are big
these are big multi year efforts. She said our company
wide okay are on durable savings which okay our mean? What's that
acronym? Mean?
John C Dvorak: I have no idea.
Adam Curry: They are cutting muffins on Monday. There I'm not
kidding. This is in the car. He
John C Dvorak: does say that. Really? You know, they cut him
they've cut muffins, but usually on Monday.
Adam Curry: Well, Mondays they would they were they were making
too many muffins on Monday. We literally says in the article.
We've baked too many muffins on Monday. Which and my favorite is
no more personal staplers.
John C Dvorak: Yes, the state which actually Horowitz and I
talked about this on VHS like and the stapler thing kept
cropping up and we're both what do they use staplers for in a
paperless office? A? And how many staples do they need most?
And why do you have to cut back as they keep buying more and
more staplers? I mean, what is somebody selling him on the
side? What was the deal with these staplers?
Adam Curry: Well, what really needs to happen is issues these
are mostly minor adjustments. But she says now that most of us
are in office three days a week we've noticed our supply demand
ratios are a bit out of sync we bake too many muffins on Monday,
we sit CMBC I can't believe she said this out loud. We've seen
Google buses run with just one passenger and offered yoga
classes on a Friday afternoon when folks are more likely to be
working home as a result we may close cafes on Mondays and
Fridays and shut down some facilities that are
underutilized How bad is it when you have to do this? Well really
it comes down to this this year one this is an email from her
this year one of our important company OKRs shown with that is
it's delivered durable savings through improved velocity and
efficiency all pas and functions were Wait
John C Dvorak: What's velocity
Adam Curry: spending money to fast the way
John C Dvorak: to improve you when you start hearing the I've
got actually some clips with guys like this yak and because
it's their AI clips. These guys are talking through their hats
did just use the word velocity what does it mean?
Adam Curry: Well, I think you're onto something because the in
the same paragraph let me finish it out through improve velocity
and efficiency all pas whatever that is and functions are
working toward this velocity and efficiency Googlers have at
that's an almost sounds like something you take out of your
nose like a booger. Googlers have asked for more detail. So
we're sharing more information below. This work is particularly
vital because of our recent growth. The challenging economic
environment tick tock and our incredible investment
opportunities to drive technology forward particularly
in AI. We improve machine utilization narrowed our real
estate investment tightened our belt on travel and entertainment
budgets, cafes, micro kitchens, and mobile phone usage and
remove the hybrid vehicle subsidy.
John C Dvorak: With mobile phone usage, you're using your flat
fee per month
Adam Curry: now. That means they're taking them away and
you'll have to keep your laptop longer, you don't get a new
laptop as soon we've removed the hybrid vehicle subsidy, burn
gas. Since then, we've continued to rebalance based on data about
how programs and services are being used. We focused on
distributing our compute workloads even more efficiently.
Getting more of our servers and getting more out of our servers
and data centers. We've already made progress with these efforts
and will continue to drive efficiencies. This work adds up
to edge adds up given infrastructure is one of our
largest areas of investment. And here it is, as we apply our
efficient and well tuned infrastructure and software to
machine learning. We're continuing to discover more
scalable and efficient ways to train and serve models. They're
so all in on this AI bullcrap it's bankrupting them, and they
do not have a revenue model for it. No one's going to pay for
this junk. I think they're lost. I think this they're in huge
trouble.
John C Dvorak: Well, I don't know how much trouble they're in
there get revenues that are unbelievable even if they
dropped by half.
Adam Curry: Well, it sounds to me like they're, they say we've
been here before backscene play key we've yes, we've been here
before. I'm quoting back in 2008 our expenses were growing faster
than our revenue. So that's clearly what's happening right
now. Expenses are higher or growing faster as code for
higher faster than our revenue. Because they're all in on this
oh ay ay ay ay Google bar doesn't work. Oh, how are we
gonna? We got to charge people for it. No one's gonna pay
nobody All right, you got let's do some let's do some AI clips.
And before we do that, the Adam curry no agenda Turing test of
this bull crap. Do you remember what it is?
John C Dvorak: No, yeah, you did? Well, well, you know what a
Turing test is which is the ability of a computer to emulate
a human to such an extreme that no one can tell. Right? Right.
And you have made the, the assertion that under all
circumstances where there is written, draw drawed or spoken
that you can always spot it. Yo, you are the Turing test. No.
Adam Curry: Incorrect. Turing test was the first AI AGI by the
way listen, watch. Say it right. AGI is the way all the cool kids
are saying it was AGI artificial generated intelligence. All the
cool cars never
John C Dvorak: heard this. I know you will. I'm not a cool
kid. So there's that.
Adam Curry: Hey, by the way, man, happy birthday.
John C Dvorak: Thank you. Thank you. And thanks. So the people I
got a lot of people that donated the $71 necessary to appease the
constant complaining about our donations. Yeah, that
Adam Curry: that worked out well for you. It did. Yes. So no, my
Turing test for this AGI is can you have any type of AGI machine
create an audio file that that replicates President Trump? And
I said, No one can do it cannot be done. Yeah. And we
John C Dvorak: got it. We got a copy of one from one of our
producers and he won't say where it came from.
Adam Curry: No, listen to this genius one.
Unknown: I hear good things about Adam curry. Nice guy. Good
guy created podcasts. Wonderful thing. He's a funny guy. But his
co host, John C. Dvorak is funnier. No,
Adam Curry: this is not even close. You think this was good?
John C Dvorak: They got to cadence down a little bit at the
beginning, very little bit, but a little bit and the rest, but
it falls apart. At the end. We're just going to sound like
the same guy. The beginning guy doesn't suddenly forget the end.
Adam Curry: But it's also it's not how he sounds. It's what
he's saying. Trump would never say this.
John C Dvorak: Well, there's always going to be the case.
Thank you. I don't know if anybody can find this. But
somebody did send a copy to me, which is Jamie Foxx.
Adam Curry: Yeah, I didn't even want to play that. It was so
bad.
John C Dvorak: Well, I thought it was interesting. I thought it
was good. Really? And I thought what was interesting is he's the
only guy I've heard so far that does both this the quiet Trump
and the yelling Trump. Okay, well, I'd have as he does the
yelling Trump at the end. Even though the the mic it down so
you can barely hear it. But that yelling Trump I think is the
harder Trump to do. She was just too long to play. It's pretty
long.
Adam Curry: Yeah. Yeah,
John C Dvorak: I hear that people go look it up.
Adam Curry: I can just play a little bit of a just so you can
hear and it works for like a little bit. Just but it remember
you have to sustain this. And has to be the type of jokes you
would make. It has to be the cadence you would have. I mean,
nothing is like okay, yeah, right. I mean, people can
impersonate I'm sure lots of stuff sounded great.
Unknown: I know area he's a great person. He couldn't vote
for me at the time. Now they can vote to me once he gets out. I
love Snoop D O double check brake pads. So do you love them?
I love Excuse me, excuse me.
Adam Curry: That's what comedians will use the always an
actor's will use something they can replicate with Excuse me,
excuse me. Almost anybody can do it now but there's no AI This is
Jamie Foxx is not AI. I never said it was a no I know. I'm
just saying that until someone fools me with a Donald Trump
audio bite doesn't have to be video even. It's not there.
John C Dvorak: Yeah, well, we're waiting.
Adam Curry: Are you all in on this? You believe this stuff is?
I mean, I thought we agreed that this is bunk.
John C Dvorak: Expense never said that. It was bunk guys.
We're talking about trying to copy somebody's voice. I think
that I said that overtime. I think it can be accomplished.
You might be right about the content might never be what the
person would do, but that's always going to be The case?
Well, that's the idea. The idea is to duplicate somebody's voice
so perfectly, and the content would be something that would
get started World war three. So that content is still the issue.
Yeah,
Adam Curry: exactly. So that's why I'm saying AI AGI is just
not going to happen. It's not going to world AGI. Okay, you'll
hear it everywhere. Yeah.
John C Dvorak: Well, you don't hear it in this report. And this
is the this is the AI meta one. We start with these clips. And
then there's a lot. There's 12356 clips here, but not all of
them are very long. Let's go with this.
Unknown: Facebook parents company Mehta released a new
artificial intelligence model today. It's called the segment
anything Model or SAM. It can pick out objects and outline
them in images and videos, can also pick out items outside of
its training. Objects can be selected by clicking on them or
writing a text prompt. In one demonstration, writing the word
cat prompted the tool to draw boxes around each of several
cats in a photo chief executives Mark Zuckerberg that
incorporating generative AI is a priority for the company this
year.
Adam Curry: Did he say generative AI? Yeah, that's
John C Dvorak: what he said. Interesting now. Now, okay, this
is the premise of these clips, meta has determined that if you
could draw a box around a cat and call it a cat, it could find
other cats in a picture. All right. Now, I don't know that
this is that new. But they think it's a big deal. So they're
bringing, they're gonna bring a guy on to talk about this. And
this is one of those guys. And I'll use the phrase again, who
talks through his hat, he you know, has all the buzzwords and
he makes it sound like he knows what he's talking about. He
doesn't know what's going on. He doesn't have a clue. But he
can't really you know, indicate that and actually say, I don't
know, it seems like bullshit to me. Can't say that. So let's go
and we'll catch up with him in a second is part two.
Unknown: Joining me now is Jake may Mar VP of innovation, that
glimpse group. Now this new meta AI model, it can identify
objects in an image. What is the significance here?
Well, the biggest value is you can search any image, any video,
any sort of spatial place. And the reason why that's valuable
is just imagine, you know, you're just like, looking at an
image. And of course, you can see cats and you're like, Okay,
well, how is that valuable? Because I do XR, I do. VR and AR
enterprise solutions. The reason why this is so valuable to me
is, if I have a headset, and I'm looking around, it will
automatically know what those objects are. So it will know
that's a phone, it will know that the computer will know
that's a chair, and because it knows that there's all these
sort of rules that were automatically be associated with
it. So if it's a doughnut, I know I can eat it. If it's a
phone, it will actually have data on it. And if it's my
phone, it will actually have my data on it. So there's all these
ways that it's going to be basically creating a very
frictionless experience, where you're going to be interacting
with the virtual world in a very intuitive way.
I see. I wonder if this is just the beginning. I want to develop
into something even further comment on that.
Adam Curry: Oh, yeah, please comment? Oh, absolutely.
Unknown: I think this is just the beginning. I think that this
is the early building blocks of where this language model was
gonna go. Right now they're talking about images. Now.
Really, I think that the real use cases is spatial. And if you
can identify objects in space, both both with AR so when
physical space and then also in virtual space, you can assign
value to those objects.
Adam Curry: All right, may I just explain what's going on
here?
John C Dvorak: Besides the total bull crap, and I wanted to
before you explain, I want to mention something for everyone
out there. When anyone says as the way you pronounce it, when
anyone says because in this exaggerated form, you know, that
is that is a tell for I'm full of shit,
Adam Curry: correct? Correct. So the Glympse group, which is a
publicly listed company, I know exactly what they do. Because a
guy who I know pretty well I would say is almost a friend
Joe, you toy. He has a company that does this. He does it with
people in the Philippines. He gives them an app and all day
long. All they do is look at pictures. And the picture shows
you a car and they do car and then they get a micro payment.
Or the question may be is there a man in this picture and
they'll show an image of a ring cam and there's you know, maybe
there's a dog, no dog and they get a little micro payment and
they do that all day long. Most of this work of course is done
in a India and these companies train the large language model
all day long. That's what this is. And it won't be perfected
until the all these Indians die. They just have to keep doing it
forever this this is the training that they're doing this
is this is the the incredible smart work that this a G AI
which you said which I think is very funny pronounced gay. I
think it's very interesting the G AI that that they're training
and this is Oh, and they can recognize models. Why don't you
just want just give give everybody a Filipino? Connected
connected to your horse? You own it or don't? Or donut? This is
dumb. This is a waste of money. I hope it
John C Dvorak: when he talks about that phone can be his
phone and then he knows it'll have everything on the phone.
How would that you have to do that by hand? i The phone
doesn't automatically because it's identified as your phone
become your phone? No. So let's go to
Adam Curry: clip three we're Luddites. Man, we're nothing but
Luddites.
Unknown: But it's that's the starting point. But then you can
also use like blockchain to actually make those objects have
a specific value and have a specific sort of security.
Adam Curry: Come on, come on. Did you extend that? Come on.
Yeah, I want to hit the boiling again too,
Unknown: and have a specific sort of security associated with
them. So for instance, if I were to pick up my phone, it would
automatically know this is my phone this is specifically my
phone and I would be able to access all the information on my
phone without having to have passwords or any sort of
identification it just automatically knows this is my
phone and I can immediately access the information on
Adam Curry: oh I'm so happy this is going to enrich my life it
will no this is my phone
John C Dvorak: and then you won't need a password for it for
some unknown reason when I have my real phone I haven't need a
password I use my finger I don't need a password on my phony
phone lashing blockchain in what are we talking about here is a
Adam Curry: publicly listed company everybody publicly
listed company and its starting point
Unknown: but then you can also use like blockchain.
Adam Curry: Thank you. That really worked for me.
John C Dvorak: Yeah. Blockchain with a boy always we're always
on where we could I think we're on the four.
Unknown: Yeah. Now is there any concern that comes with this? As
you know, with all new technology, it always has some
worry associated with it.
Oh, absolutely. With with all
Adam Curry: Absolutely. Any new technology by Oh yeah. We got to
be very worried about every new technology. paperclip. That's
right. That's what we're taking away. Googler staplers Oh,
absolutely.
Unknown: With with all new technologies. Yeah, being able
to search an image or a video or a special location. Yeah, that
that definitely. is the cause for worry in some ways because
well now that's information that we didn't have before. It's it's
kind of one of those things it's like privacy you know, privacy
is definitely a concern as this right now it can identify cats
but what if it's a specific cap? Oh no. Okay, identify people but
I don't believe it can identify specific people well when it can
then that's a privacy concern.
Adam Curry: But what happened to the danger I
Unknown: see and can this be combined with other AI models AI
programs like chat GPT or mid journey for example, can all
these things work in tandem?
Absolutely.
Adam Curry: Okay, in the middle of this sequence place I'm
crying please tell me you have more.
John C Dvorak: Yes, I got two more now. One of them wishes and
funny. It this is in the middle of the commentary about can you
get jobs out here? Why
Adam Curry: would we do four? Oh no, that was the for that. Well,
yeah. It
John C Dvorak: was for the commentaries that you can get if
you can get an AI job out here now today. Yeah. And I think JC
who has done work in this area is probably going to end up
doing this. Maybe not. You can get like 500 grand.
Adam Curry: I told you that that's what they're they're
hiring. me this. Yeah, but I'm not your son. By the way. I'm
your partner. No, but
John C Dvorak: JC is the one who's been doing AI stuff and
he's the one who could get a job in AI in Austin. No, here No,
I'm good. Or, or it turns out anywhere. If you listen to this
next clip, which is AI jobs, it's like this thing is so out
of control. The whole notion and you brought it up earlier about
this. It's like it's like a fad that's gone completely off the
rails. Listen to this, I spoke
Unknown: with HR professional Ira wolf first take on available
jobs in the AI industry,
industry such as finance and banking. A lot of the tech
people are moving over to those roles outside of the tech
companies per se, but into banking and insurance.
As you might expect the information sector dominated.
The sector is using AI are quite diverse. Other fields with top
percentages included manufacturing, agriculture,
forestry, fishing and hunting
and pricing one's agriculture fishing.
Adam Curry: Don't tell Joe Rogan he won't be able to elk hunt
with his bow and arrow anymore. Oh no.
Unknown: manufacturing, agriculture, forestry, fishing
and hunting
and some surprising ones agriculture, fishing, and
hunting. About 1.6% of jobs education was one and a half
percent management.
Looking at location, California posted the most AI related jobs
with over 140,000 followed by Texas in New York.
So a lot of the people from tech, although they may be
leaving the, you know, again, the apples, Google's meadows of
the world, certainly have a lot of other opportunities that are
out there.
opportunities that will hopefully increase as AI
technology continues to develop. Okay,
Adam Curry: I want to say something I want you to pass it
on to buzzkill Jr, for me. A friend of mine who I met through
the show, a good friend of mine that means we've had dinner each
other's house and we've had we've broken bread together so a
real friend,
John C Dvorak: right my rule of friends being a friend Yeah,
real friend.
Adam Curry: He used to work at Apple special projects. This is
the group that that actually the Apple Watch came out of this
group and they were working and they continue to work on the
Apple car it's real and he doesn't believe the Apple car
will be he says in our lifetime yes but probably not for another
eight to 10 years at least. He says when when that when Tesla
started a job and Apple decided there was a special projects
group was going to go and and do cars he says we were giving
people a million dollar signing bonus a million dollar a year
salary he said anything it took to get the right people tell
buzzkill Jr to go man, go go go and demand it say look, I really
need a hook I need a $5 million signing bonus and 1,000,005 a
year and and unrestricted sock they would give them
unrestricted stock. So
John C Dvorak: I'm going to clip this and send it to him good
Adam Curry: because I mean that I think we're at that type of
level again.
John C Dvorak: Ya know, when these moments happen, they're
they're short lived because people get a clue. You got to
hurry. Yeah, but yeah, you got to get in and get in and get
out. Okay, now, this is the last clip of this AI series. And this
is the final This is the old brother clip in the
Unknown: future the world may be filled with hostile AI systems.
This is according to a paper by the Center for AI safety. Its
director Dan Hendricks says even if some developers build
altruistic AIS, there will still be those who build less
altruistic AIS, Hendricks says the less altruistic ones will
out compete the altruistic ones. Now, think about this in the
business world. A lot of corporations that put profit
above everything else could use AI wrongfully they could have AI
systems helped make profit in ways that may or may not be
legal. Hendricks believes less moral AI systems will perform
better and may therefore in the future have filled the world.
Worse yet he believes they could even make ce o level decisions
without any oversight. Dan Hendricks has a PhD in AI from
UC Berkeley, he developed a key part of the deep learning model,
and he's been researching AI for the past seven years. So we
asked Hendricks why he thinks this is he told us that the
current AI race is reckless.
The current AI arms race isn't prioritizing safety. They're
largely prioritizing just making the most powerful products as
possible and trying to position themselves to automate as many
jobs as possible. Safety is a secondary consideration. So
without the public raising their voice about these sorts of
concerns, I find it I find it so unlikely that they're going to
stop by their own devices.
Hendricks says companies are locked into survival of the
fittest environment. The ones Yeah, played safe when it comes
to AI will lose the race.
Adam Curry: Okay, so it's actually a good clip because he
talks about the race he talks about all the problems and this
this group center for AI safety it's safe.ai know you found it
Oh yeah, I'm um I don't see any names because why would you ever
put your name on this? But I do see what are some of the
societal scale risks that see A I S is worried about I will
quote, AI is application in warfare can be extremely
harmful. with machine learning, enhanced aerial combat, and AI
powered. This is a sales tool. By the way, we
John C Dvorak: saw this by the way and Robocop but the
Adam Curry: AI powered drug discovery tools potentially
being used for developing chemical weapons, do these
people are selling to the military industrial complex,
this is not considered dangerous, this is considered
considered a sales call. Cis is also concerned about other risks
including increased inequality all due to AI related power
imbalances, the spread of misinformation and power seeking
behavior. Well, everybody wants this. Ah, okay. So let me get
one of these jump folks. One of these, one of these, these AI
fraidy cats, the one of the people who wrote the open letter
from an open letter that Elon
Unknown: signed at open.
Adam Curry: Andrew Yang, this is a lot easier, Shlomo Youdao ski
Realizer he like I think a laser Shlomo Youdao ski, American
writer on decision theory and ethics best known for
popularizing ideas related to friendly artificial
intelligence. He is co founder and research fellow at the
Machine Intelligence Research Institute, a private research
nonprofit based in Berkeley, California right up the road
from you. His work on the prospect of a runaway
intelligence explosion. Influence philosopher Nick
Bostrom 2014 book super intelligence path dangers and
strategies we are dumb first of all, we are dumb You and me are
stupid. I mean, we could be making we could have been doing
this a year ago this would have been the exit strategy of all
exit strategies
John C Dvorak: I to be honest about I don't think so. And I'll
tell you why. Unless we were getting that five that million
dollar bonus but for that kind of thing those books don't sell
nobody cares about this crap you don't need that book probably
sold three copies but and you know, okay, put together some
some phony baloney foundation Institute whatever it is you we
could do that too. Yes, but who wants that? daggone
Adam Curry: Military Industrial Complex wants consultants. This
by the way, love him has rom bloom written all over it. So
now listen to the same, the same Youdao ski character on what
many deemed to be one of the most intelligent podcasts ever
created by MIT? Super smart Professor dude, Lex Friedman.
You've seen this he looks like one of the men in black. He
wears black black black you've seen as usual? Yeah. Very smart
guy. Just talk so smart. And he's interviewing this guy have
a clip. And, and this guy looks like he has a hat. He's got a
gun, which which is you know, just flopping over. He looks
like a who's your comic book friend?
John C Dvorak: A comic book friend.
Adam Curry: Yeah. If you would collect comic books.
John C Dvorak: You're not tempted to succeed the Simpsons
guy
Adam Curry: agnostic but no, no, he does a podcast. He was
hanging Oh, Andy and not co Leonardo there. He looks a bit
like Andy a knocko. Okay, especially with the hat. Now
listen to him. This man, this man is smart. Because he if he
plays his cards, right? He could make $100 million consulting for
people.
Unknown: I had a conversation with Sam Altman. We'll return to
this topic a few times.
Adam Curry: And just a reminder, Sam Altman is the you know, is
that punk who runs open AI chat GPG. Of course, we have jet GPT
for now, which at all? This is the one this is the one that's
going to kill us
Unknown: keep turning the question to me of how open
should open AI be about GPT. Four was you open source the
code he asked me because I provided as criticism saying
that. While I do appreciate transparency, opening, I could
be more open. And he says we struggle with this question.
What would you do?
change their name to closed AI? And, like, sell GPT for to
business back end applications that don't expose it to
consumers and venture capitalists and create a ton of
hype and like pour a bunch of new funding into the area. But I
don't feel like now I think others will do it, eventually,
you shouldn't do it first. Like, if you if you already have giant
nuclear stockpiles don't tell more. If some other country
starts building a larger nuclear stockpile, then sure build, then
you know, even then maybe just have enough nukes, you know,
these things are not quite like nuclear weapons, they spit out
gold until they get large enough and then ignite the atmosphere
and kill everybody. And there are some things to be said for
not destroying the world with your own hands, even if you
can't stop somebody else from doing it. But But open sourcing
and now that that's just sheer catastrophe. The whole notion of
open sourcing, this was always the wrong approach the wrong
ideal. There are there are places in the world where open
source is a noble ideal. And building stuff you don't
understand that is difficult to control that where if you could
align it, it would take time, you'd have to spend a bunch of
time doing it. That is that is not a place for open source,
because then you just have like powerful things that just like
go straight out the gate without anybody having had the time to
have them not kill everyone.
Adam Curry: These people are insane.
John C Dvorak: And boring.
Adam Curry: This is the same. This is climate change. This is
the new climate change hype. We're gonna have a mediation of
committees and of Paris meetings, we have to have the
all the world leaders come together we have to control ay
ay, because it's junk heads. A Pierre Pierre, expand the Cylon,
we're coming. This is insane. I'm sorry. I've seen this. I've
seen this movie before. I've heard all the warnings. I mean,
this is please, John, you've been around long enough tell
everybody this crap,
John C Dvorak: right. Like I said, we got a letter from
somebody I mentioned this on a Horowitz show, which is we got a
letter from someone in one of our women producers. And she's
mentioned this and I assume she says, Ah, I forgot all about
that. If you recall, the first iteration of AI was in the 80s.
And they had the third generation fourth generation
product project gonna happen in Japan, they're gonna have some
machine, it's gonna run the world and, and they were
throwing money after dime after dollar into Stanford and
McCarthy was there and all the real ai ai ai, and it was nuts.
And then it all collapsed, because it wasn't producing
anything of value. And it was it was just a joke. And it
collapsed to the point where in the 90s, and I think this was in
probably the mid to late 90s. And she pointed this out and I
said I remember this. If you were a venture cat, if you were
a new startup or a venture first company, you would need venture
funding. You could not even say a i or you wouldn't get a
nickel.
Adam Curry: Well, it's coming back. And then the canary one
John C Dvorak: two years later, it comes back after the late
90s. When if you said AI you wouldn't get a nickel. Now it's
like it Jyotish everybody's forgotten all the people that
remember any of that. In fact, I had forgotten it until I was
reminded in this note about that little phenomenon that wishes if
you said AI you wouldn't get a nickel. It's now everyone's
forgotten it and so let's try this again people
Adam Curry: so the canary in the coal mine is wet. And thank you,
Elon and you ruined my Twitter because all of a sudden I get
tweet after tweet after tweet from the guy who's all in on it.
Please, people do not poke do not email me pictures of your AI
generated output of how smart it was to answer your your prompt
engineering, puking. Who who could be the canary that what
what Silicon Valley Tech? Influencer, if you can call it
that, who would be the one to show that we are at peak AI
hype?
John C Dvorak: Those under Marc Andreessen, there's a million of
them. Robert Scoble. Oh, SCO WASC Yeah. And so it is global
say,
Adam Curry: Oh, he posts his article. Listen, this building
God, the rise of AI is the new divine. Now, building God 1.0
That was religion. But then we had God 2.0 That was the search
engines saved. That was Google. That was God. 2.0 And God
building God 3.0 is artificial intelligence. Yes. And with
this, we will be able to control God to control God and to build
God in our image. I love this. You can and it's interesting.
It's a big a big picture of the end of stuff. When for some
reason Oh, there you go, that makes nothing but sense. He says
human leaders have created their own religions, often leading to
great human suffering picture Joseph Stalin. So they're going
all in on this. And I think it's is as a good, there's a good
chance it will bankrupt one or two or put one two companies in
severe distress. Remember that Google, they had to run all of a
sudden that, you know, they're retooling for AI, when most of
the AI projects as far as I know, it really run on Azure
from Microsoft. They're probably laughing about it. And then
Google memory, Google came out with barf. And the first thing
he said was an answer something wrong, the stock price dropped
$80 billion, or some crazy amount like that. Yeah. So
remember that. So these are, this is just, it's just, it's
bullcrap. And we've seen this, it literally, you've seen this
AI thing come around. So it'll be fun. It'll be fun to see. And
it'll be fun to see who goes bankrupt first, but this will
not end well. It's too expensive, particularly the chat
GPT for stuff, whatever it is, you know, people have to pay for
it. No one's gonna pay for that their model their advertising,
which an in a soft ad market, you're going to do this. This is
where you need to be, you know, to be tightening inventory,
maybe you're doing something to get your CPMs up, you're not
supposed to be retooling and spending all your money on stuff
that you can't get advertising on. Unless I'm crazy. I'm look,
I'm no business major.
John C Dvorak: Well, I've said this before. They have copyright
issues with this
Adam Curry: with the I have a note about that. The please,
please read this note. Yes, the note? Well, it's from the
homeowner. Second, it is from the copyright, copyright
registration guidance from the this is in the Federal Register.
It's from the US Copyright Office. And this Copyright
Office issued this statement to pop to pop a policy to clarify
its practices for examining and registering works that contain
material generated by the use of artificial intelligence
technology. So it doesn't answer all of what we're talking about.
But it says very clearly, by law by by the air. Once its recent
developers to use of sophisticated artificial
intelligent AI technology is capable of producing expressive
material, these technologies trained on vast quantities of
pre existing human authored works and use in inferences from
training to generate new generate new content. What they
say is only a human being can get a copyright, no machine is
by law allowed to get a to take out a copyright on anything.
That's not exactly exactly answering our question. But they
are saying no, you cannot register a copyright with
anything generated by a machine. It has to be human.
John C Dvorak: Wow, Joe, that I didn't know I was more going
along the lines of the of the liability issues, which I think
and I'm not absolutely sure. But it's either getty images or one
of these other big companies who are Rusi with this coming down
the road because they're not stupid, are already suing people
for stealing their images and then incorporating them into
other images in a way that violates copyright. This is the
legal issues here are profound,
Adam Curry: it's better time to become a lawyer. In the offices
view, it is well established that copyright could protect
only material that is the product of human creativity.
Most fundamentally the term author, which is used in both
the Constitution and the Copyright Act excludes Non
Humans. The offices registration policies and regulations reflect
statutory and judicial guidance on this issue. And then they go
into burrow Giles, lithography company versus ceremony, where a
defendant accused of making unauthorized copies of a
photograph argued the expansion of copyright protection to
photographs. And Congress had no a photograph is made by a
camera. I mean, that's that's how far they go with this. So
no, well, that photograph thing has been reversed. Well, they
don't say so in their, in their, in their brief photographs
John C Dvorak: are copyrighted because they're taken by a
human. Just because the camera was an intermediary doesn't mean
that if you write a novel than us again, I don't think you
can't copyright it because a pen was bald, or a typewriter or a
computer. I
Adam Curry: hear you I don't think either of us are qualified
without reading all of this to understand what
John C Dvorak: I'm talking about qualified enough.
Adam Curry: I think we're both qualified to know enough that
this AI is BS. But it'll be fun to watch people freak out over
because we're all going to die. And with that, I'd like to thank
you for your courage in the morning to you the man who put
three C's in the bricks currency, please say hello to my
friend on the other end. Ladies and gentlemen, Mr. Johnson
John C Dvorak: Well in the morning to you, Mr. Adam curry
also in the morning all ships at sea boots on the ground feet in
the air subs in the water and all the games and nights out
there in the morning
Adam Curry: to the trolls and the troll room. We've had pretty
good attendance recently. Let's
Unknown: see how many of you are hanging out here
Adam Curry: for Thursday 1963. So we're close to our 2000
number that's above our 1800. So I think we're doing better every
single every single time.
John C Dvorak: I thought last Thursday, we had 2000
Adam Curry: No, I think we had way above that on Sunday. I
John C Dvorak: don't know if we had two Nanos Sunday was 24 I'm
not sure I think last Thursday was 2000. And it was because of
the talk about Trump or something.
Adam Curry: Oh, yeah, we got to talk about that too.
John C Dvorak: I forgot Trump.
Adam Curry: This well, not about Trump about the media. That's
the funny thing. We got to deconstruct some of the insanity
that was going on for sure. That is the troll room you can follow
along listen to no agenda stream.com it's global, you can
check it out, control room.io That'll give you right there is
a little chat widget you can log into the troll room, you can
listen to those stream live, or we recommend getting one of
those modern podcast apps at podcast apps.com Drop your
legacy crap, you can import all of your podcast subscriptions
right into it. We suggest the pod verse is a great one because
it's it works really well it'll alert you when the bat signal is
sent you pop it open, we're there right where you get your
no agenda podcast. And you can listen live and and of course we
we have the troll room integrated in that. And also you
can use that for for some of the other features. We have like
transcripts. This is just amazing, really that app apple
and Spotify don't have transcripts. And that's the one
of the first things we put into podcast in 2.0 for you know, the
disabled it's there's it's actually a law that you if you
can you need to put in transcripts. This is right. But
of course you know Apple, they don't care a Spotify, they don't
care knows Amazon or Google, they don't care. I'm late to
disabled but we do. We have we have deaf people, lots of them.
There are there are friends, we have blind people. But we also
have deaf people and they love reading along with the people
who are hard of hearing. And they love reading along with the
transcripts. And that is funny too, because sometimes the
brilliant AI I still cannot train it to say to write down
John C period Dvorak, it comes out as Jay H en si de vorak. So
it's hilarious how it's going to kill us this AI. Along with that
you can always fight Bose. Well, that's not just a typo. That's a
complete missing interpretation. Of course, you can also follow
Adam at no agenda social.com or Mastodon or John C. Dvorak at no
agenda social.com. I'm also on noster if you're looking for me,
and the cool thing about the album art is that if you're
listening live, you can follow along at no agenda, art
generator.com. And you can see what the artists are making in
real time or later, our very own dreads, Dred Scott puts it
together and puts it into our chapter, something else you can
only get on these modern podcast apps. And it's really cool to
look I think on some, some car systems will even even they'll
show you the art on the dashboard as it cycles through
it. And we want to thank the the artists, the artists, actually
who brought us the artwork for episode 1543 We titled that
buffalo feathers. And this was this was a funny piece brought
to us by Taunton, Neil. It was the podcast in the can. What was
the ken part we were talking about? We're talking about
something on the show. It was Dawson. Dawson can yes Dawson
again. And it was a beautiful piece. I mean, had a little Jack
with with a headphone jack and little hole to receive the the
headphone jack and it's at podcast. And I mean, it was well
done.
John C Dvorak: conservatively. It was extremely professional.
Yes. Let's
Adam Curry: go take a look at an origin Art Generator. See what
else we had that we talked about. There wasn't
John C Dvorak: much else there. That was going to work. A lot of
hand cut
Adam Curry: costs for 45. Yeah, a lot of that
John C Dvorak: in that wasn't going to happen. No,
Adam Curry: they weren't really funny or great. I mean, Roger
Brown, he did an admirable job. I mean it professional peace
with 45 and the handcuffs, but I don't know it was like, that's
the one thing that never happened either would never was
gonna happen.
John C Dvorak: No, that wasn't gonna happen. They didn't take a
mug shot.
Adam Curry: No. And it also kind of puts makes us too important.
You know, with all the stuff that you just heard in the past
hour and a half. I'd say there's other things going on in your
world. Besides this
John C Dvorak: media, Trump, Trump, Trump, Trump, Trump,
Trump. That
Adam Curry: was good. I'm gonna have to tag that. There was also
every single person that that was out there at the courthouse.
They all had their phone out. They were all they were all
doing YouTube and tic TOCs and reels and streaming live. And it
was it was a media event. Everybody. I mean, what is this?
This is so sad when you see that happen. There was a fight on
Sixth Street in Austin, a pretty big brawl, and all kinds of
people. Black, white, brown, everyone fighting and pulling
each other's wigs and stuff is not. And what is everyone else
doing there? It's sad that no, we're the people who go and try
and stop these things. They're gone. No people. Oh, I'm gonna
get some likes from this. Oh, I gotta get my phone out. We're
doomed as a society. What else was there? South woke.com. Or
you couldn't do better than South what woke themselves? I
think that was kind of it. It was just it stood out know that
we went Okay, that's it. I mean, drag queen story hour, we're not
going to put that on our album art. We're not going to put drag
queens out there. I don't think it would have to be pretty
interesting and funny for us to be hilarious. Yeah, so I don't
think that's gonna happen. Thank you very much, Tom to Neil. We
highly appreciate the work that you've done that all of the
artists do. It is incredibly appreciated. No agenda art.
generator.com is where you can where you can see all of these
pieces of where people are already creating stuff. So I see
that dog, comic strip blogger, that dog is AI generated and
that dog is never going to go on our album art's not going to
happen. It's all part of our value for value model. And value
from value for value works. Works pretty simply been doing
for 15 years. It's a roller coaster from time to time, but
the way it works is we do the show and you can access listen
to it for free anytime anywhere. Spread it around do whatever you
want. If you get any kind of value from if you live What's it
what's the life worth? You make? You know you go to Joe Rogan's
club you know pay 20 bucks for laugh before we had a drink?
Well worth it though.
John C Dvorak: Except the Shibu II knew that he did with the
with the artificial intelligence obvious is what he does. Yeah,
it there's a dog with no canine teeth. Kind of artificial
intelligence is this
Adam Curry: well, AI has a lot of problems with fingers. And
apparently dogs canines, maybe they'll fix that I'm sure but if
someone sent me Oh look, there's this new thing but But parents
can take their kids skydiving and then you look at all the
kids that go wild with their mouth open you know flying from
the pressure jumping out of a plane with a with a sky jumper
and they have six seven fingers Come on stop insulting.
Unknown: insulting me. The most simple rule
Adam Curry: is like hey, I can't do it for some reason these
rules not there. For some reason they can't get it done. The mid
journey is the
John C Dvorak: him mid journey. Anyway,
Adam Curry: so that's the whole concept you don't have to donate
for every single show you can add it up you can donate later
you could be on and you can if you want or every week or every
month and the beauty of it is you determine what value is you
determine $5 A month could be a lot of money to you are just as
happy with any other donation is as long as you felt that you
were returning the same amount of value God maybe you learned
something and maybe you laughed about this AI nonsense. Maybe
whatever. Maybe you got a great idea to create an entire million
dollar career. Think about us. So we'd like to thank these
people. We'd like to thank all everyone always wants some
reason to donate and and of course we have our executive
producers and our Associate Executive Producers just like
Hollywood. These credits are forever and they're for real. Go
look at IMDb, no agenda executive producer, you'll see
the people serious Hollywood bigwigs even use these credits
and there's a lot of people using it, your resume and we
kick it off by thanking Larry from Pace Florida who comes in
with a cool $1,000 Oh, here's a perfect example. Here's a
perfect example. He says Dear John Adam, I am ashamed to admit
I've been listening to no agenda since the first Joe Rogan
appearance in 2020 Without donating after Joe Rogan
donation after selling my home two weeks ago, which prop I
would presume he made some money. I decided I should use
$1,000 of the proceeds to become an instant Knight. I asked for
the title of Sir up no jingles but I would like a deed Do
Unknown: you spend deed deuced
Adam Curry: Danny Says he would also like a jobs karma to go
with that and he says thank you very much and we thank you this
is exactly what we asked for when what I just talked about
jobs, jobs, jobs and jobs. Let's
John C Dvorak: have nexus dribs Scott who
Adam Curry: is about him grab we're talking about good old rip
John C Dvorak: 9635496354456 I don't know what that means, but
I know because I asked him
Adam Curry: Oh, what is it? That's exactly the amount he
needed to become a Duke. Ah, Archduke I'm sorry,
John C Dvorak: practical man. This donation takes me from Duke
to Archduke Dred Scott of this southern California. megaregion.
Happy birthday, John. Thank you. He goes no Karma Grip, Scott
3368999.
Adam Curry: Yes. Let me tell you what that is. Even though we
don't have the new webpage up, I did tweet out. The Ibex pay QR
code for people to donate with Bitcoin and drabs. God sent us
3,368,999 Satoshis which equals this at the time 963 dot 54. So
there you go. That came in through a Bitcoin payment.
John C Dvorak: Yes. Now we should mention the Bitcoin
payment. We don't have wallets. The Bitcoin payment goes to
these guys that we they give us the cash equivalency
immediately.
Adam Curry: Yes, keep mentioning that. That's absolutely true.
And it's what we agreed on. And I agree that that is a safe way
for us to start.
John C Dvorak: Yeah, so there's no inner we're not holding
Bitcoin.
Adam Curry: Correct, sir. FOD father is in Indianapolis,
Indiana in the morning Gemzar, fod father here with a donation
to help celebrate completing my 75th year on the planet. And
John 71st I'm still older than you you young whippersnapper
Happy Birthday, John. Thanks to both of you. No jingles? No
karma. Thank you for your courage and we thank you, sir.
John C Dvorak: Ashley Slater is next in Elk River, Minnesota
nuts in the morning and this is switcheroo Ashley Slater from
Elk River, Minnesota here. This donation is from our wet meet up
last Friday. The 2023 secret spy balloons symposium I hosted this
with my husband Ben and friend Marina. We were happy to see 17
Comrades brave the springtime blizzard conditions to come to
our meetup. I made a 33 themed leather journal for the event
and those who donated to the show are entered for the chance
to win it we raise 370 for the show. The winner of the book was
Jody. Sir Knight of the East side's wife So Jody gets the
credit for this particular donation. Switcheroo.
Adam Curry: No, no, no, it's not true. It comes after that.
John C Dvorak: She was so happy to receive it. I chose to donate
370 on behalf of the future. Knight Kaladin pedis first name
is pronounced Kaladin.
Adam Curry: So who So who do we give it to kaladan
John C Dvorak: was was the very popular we baby who graced our
presence that night to all of us came and said hello and
everything made it home safely. Thank you. See you next time.
Oh, in a serious question from Marina, do spooks really attend
some meetups? Are they there? There's usually apps I think
probably every meetup just one. So yes, you had one there. You'd
probably knew who it was. As far as I can tell this says Jody.
The winner of the book was Jody
Adam Curry: vs. But I chose to donate the 370 From today on
behalf of future Knight Khaled and pedis. I as far as I'm
concerned that the preacher Rue it which is also highlighted in
black are my in bold as Jay did that. Yeah. So Jay agrees with
me. I would say that this is to kaladan Okay, all right. Good.
And thank you very much Ashley. For my beautiful because I
received my my beautiful leather notebook with the 33 on it. The
one that you we talked about when she donated
John C Dvorak: yes, they can move a week ago.
Adam Curry: Yes. And I decided to use it for my notes for every
single podcast I do. So you know when I write down titles and
other stuff, I thought it would be kind of
John C Dvorak: last a couple of months. It's pretty thick last a
while you do 56789 10 podcasts a day.
Adam Curry: Sven Granholm and Hapeville ga 345 dot o five
okay, happy 71st birthday to John C 45th. To meet 41st To me,
sweet 16 to my daughter Isla the fifth to nice Leona and third to
bestfriend daughter. l all basically on the fifth. This
literally is the whole note. No jingles no karma from Thompson
main. All right, thank you swing. Good note.
John C Dvorak: Yeah, Sam Onan Eden Prairie Minnesota 33371. So
I assume that's my Happy Birthday note. And all he does
the he wins today with the note that says thanks.
Adam Curry: Good one, by the way from the PIO box. So I also got
my area 51 A schwag with my with a little flying saucer and I
also got the Castel Solano did you get the costal Solana?
John C Dvorak: Yes. Well, I forgot what it was but yeah, I
got some it's beard and
Adam Curry: mustache wax but also well yeah
John C Dvorak: so ton of it. Yeah, I forgot a bunch of beard
mustache wax which I handed over to Brennan. Well, you can
Adam Curry: also Who's that? That's Jay's boyfriend. All
right. You can also use it on your skin though after shaving.
So I've tried that and it seems like a fabulous product. Next on
the list. We have Matt pain from Taylor, Wisconsin. Our favorite
333 dot 33. In the morning, gents, Matt here from the Coulee
Valley area of the dairy capital of the world, Wisconsin. About a
month ago I walked into work when I slipped on the ice fell
to the pavement broke my femur. Two surgeries later, I'm mostly
healed but still bedridden for another week until I can
hopefully put weight on it. This is not a great note. Things Oh,
here we go. Things in healthcare. No. Well, it's a
boots on the ground. Who are boots in the bed. Things in
health care up here are in crisis. Believe me, brother,
it's everywhere. This hospital fired approximately 10% of their
staff because they wouldn't accept the vaccine into their
lives in the excuse for every hiccup in patient care or staff
use use is either COVID or lack of staffing. The nurses CNAs
physical therapists and providers have been great, but
there's a sense of a crisis that seems to hang in the air. We've
heard this from people in Arizona for this for people
everywhere. So we'd like to extend some much needed karma to
the hard working staff that are helping patients and medical
centers everywhere. Yes, a lot of them listen to the show as
well. Shout out to Kevin Alpha Charlie seven keto November who
despite changing call signs a lot spoke is a solid dude that
hit me in the mouth circus episode 760 Kevin has a
sustaining donor who is thus definitely not a douchebag Plus
he's an up Arizona where no one slips on anything. I however,
while donating before have received far more value from no
agenda than what I've given to a deducing for moi is definitely
appreciate
Unknown: you spend deed deuced
Adam Curry: and then he says thanks for all you've done Love
and Light jingles. I'll take a goat scream that made it sound
when my femur snapped. Have you seen that juice? And an LG why?
Okay, well we have all of that for you. Oh my gosh. Can you see
that juice? All done for you sir. Thank you very much. 73
years from Matt kilo Bravo nine uniform Juliet echo 73 is kilo
five Alpha Charlie, Charlie.
John C Dvorak: Sure, faith in Heidelberg, Deutschland
Heidelberg thank you for creating this show. You keep
putting out in those outstanding product I'd like to request some
find a relationship karma cheers sir faith pronounced sir fight
sir fight.
Adam Curry: May I will give you that karma may I recommend you
go to a no agenda meetup. That's where you can find it. You've
Unknown: got karma.
Adam Curry: Connections protection. Brother. Eric
hearkens Venus. Vina noise stops the new wieners town. Oh Rick
Harkins. 333 Thank you. Austria I might add. Yes. Do you Adam
and John Happy birthday to you that one happy birthday to you
keep up keep it up you guys rock to this is my first donation,
please deduce me? You've been de deuced and finally number three,
please give jobs karma for my smokin hot girlfriend. Eva.
Thank you for everything you do. And thank you alright. Jobs,
jobs, jobs and jobs. Or jobs. With a go,
John C Dvorak: Johnny Oh, in East Dubuque, Illinois. Hey guys
discovered the podcast when Adam was on Jerry in July 2021
enjoyed Adam on headbangers ball back in the day. This is my
first donation at 333 Sorry it took so long I know he disliked
long notes but I feel like I have some content to add if not
relevant. Leave it at a huge as I can you leave it at a huge
thank you for all you do. I spend most of my adult life
working in the marketing advertising field convincing
people to buy crap they don't need. Adam quit outing all of
your secrets. By the way. I can tell you I can tell you after
long discussions with colleagues about social media advertising
tick tock is taking over and we have no doubt the entire China
threat is just a move to squeeze them out. There you go. It used
to be that you wanted to pay Google to be on the top at the
top when someone did a search that is not the case anymore.
Now that Tik Tok is so popular. Our research shows that 80% of
the under 25 age group goes to tick tock that search. Anyway,
thanks for the great podcast
Adam Curry: and we got that For my sister Willow who wrote that
in her thesis from actual Google infant from Google's own
research in Google Italy, that's how it works. And there's a tip
for everybody. I agree it's great content. Anybody who's in
marketing communications, there you go.
John C Dvorak: Rowling call your tick tock salesperson
immediately.
Adam Curry: Today to get in on some great offers. Rob is in
York South Carolina comes in with 321 dot 23 says donating
and donating an odor an odor of my an odor. Hello in honor of my
smokin hot wife Jade happy happy 30th birthday. Please play the
vocal fry jingle and add her to the birthday list rob from New
York South Carolina Of course.
Unknown: You know obviously, I read I read The New York Times
like all day long mainly on my iPad
John C Dvorak: sir Luke in Walla Walla, Washington, ITM gents
Happy Birthday, John. Here's your favorite gift a donation.
Jingles please. Jill Abramson? What was what you were reading
Adam Curry: two in a row? No. No. Yes. For a vocal fry jingle.
That's that's our vocal fro. Do we have a different vocal fry
jingle? No. So it's two in a row.
John C Dvorak: Yeah, two, which is a good example of random
number because this is ridiculous. Yeah, Jill Abramson.
Abrams son vocal fry, orange at jobs karma at the Pelosi Trump
jaw of Joe variety a big one. Sir Luca of the south east.
Unknown: You know, obviously, I read I read The New York Times
like all day long, mainly on my iPad. All jobs, jobs, jobs,
jobs, jobs, jobs and jobs.
John C Dvorak: Brenda Romano in Petaluma, California. Hello no
agenda this is a shout out to you John and Adam. for
continuing to advocate for free thought and open discussion we
don't advocate one year any we just do it happy what Yeah, we
don't advocate it for anything to be honest about it. Do it.
Happy one year any to my husband, Mike Romano. I needed
de douching and goat scream deuced in his request to read on
Sunday, April 16. We don't do that. Sorry.
Adam Curry: You can ask us. Before that show, de de Becky
and Sarah Mike from Katy, Texas courser Texans come in Associate
Executive partnership with 243 dot 60. You passed over to Reese
de Reese Morris, Hannah. Well, Therese Morris and Hanover
Massachusetts $250 No note couldn't find one. Unless you
have one job. Then we get a double up karma for you. You've
got karma. And I'll do Dame Becky and Sir Mike from Katy,
Texas now to 4360 Please credited to our honorable number
one son Chris Kinney. Italian thin Kiante in celebration of
his 47th trip around the sun on April 6, Chris hit us in the
mouth a couple of years ago, and we are forever grateful. It's
197 dot 64 His birth year and 46 for his birthday April 16. Becky
and great have the great Katy Prairie and Sir Mike have the
great Katy Perry. They don't eat a lot. I love those two. That
sounds so
John C Dvorak: that's a that's a switcheroo
Adam Curry: Good point. Good point, Chris. Kenny. I should
put that in now. And they sound like fun folk.
John C Dvorak: Yeah. DeMasters next on the list our friend. Oh,
she's in Tokyo. $222.71 Happy birthday dear John. You You
remain a chick magnet. Much Love Day master Duchess of Japan and
all the disputed islands of the Japan Sea.
Adam Curry: I would I would have to concur. Yeah, a lot. A lot of
the no agenda ladies at the meetups. They they think you're
a chick magnet.
John C Dvorak: You're not gonna door.
Adam Curry: Justin pol gar Santa Cruz California 222 dot 33.
John, I love that you were born the same year as my dad. It
echoes both both a finely aged authority and a healthy
rebellious rebellious flair in my being. We all know what
you're talking about Justin? Since JCD Oh, good since JCD
read my last note kindly have Mr. Curry read this one in the
morning my water brothers of the Gitmo nation. Adam did you enjoy
your care pack package with a Migdal of shrinking botanical
chocolate from yes cocoa cocoa cacao? Yes, I did very much. I
think I ate it all. And I loved it. It was good. I had someone
Yes, it was it's good stuff. Have I made it a point to send
this pods audio waves directly into the chocolate production
room, thus making it the best chocolate in the universe and
all no agenda slaves get 11% off with the code ITN. And yes,
koco.com Yeah, that's how you do it. I also want to remind all
responsible listeners with human resources age 14 Plus that
serial mouth punching. Danny Katz is hosting her one time
only 10 week live virtual class for pop propaganda. Oh, it's
actually a fun little book she made. I've read it. One of my
favorite books for increasing lumens in mind. Plus, Adam,
you're on the back cover. That's right. I wrote a blurb forget
the war in Ukraine. It's fading out anyway. I do believe it's
the daily war on words that requires our attention. Check
out Danny catch.com For more word weapons don't be a
douchebag jingle request shapeshifting Jews Well, we're
going to presume that you are entitled to request that is
there anything else in the end is there anything else the
jingle Cyclopedia with Gene Wilder he's such a generality
with anything from Gene Wilder actually love it. Love it Love
is love it love it love is lit there is no exit job last Justin
Frank Paul guard Minister of chocolate give me a little karma
as well.
Unknown: You've got karma
John C Dvorak: the non Anonymous is in from Truth or Consequences
New Mexico, which is actually a name of a town in the morning up
to you Jen says choose to remain anonymous mostly to spare you
from breaking your jaws and pronouncing my name. Please
deduce me bad deed de deuced goat karma goat I'm sorry goat
in Yak karma my way my much love to you both into the no agenda
nation.
Unknown: Karma
Adam Curry: and our last Oh no. We have to associate executive
producers left I'll do them sir Eric from Auburn Alabama. $200
says in the morning citizens keep up the great jokes are Eric
with a C and then the last one from teal Busby. Jackson. Is it
Missouri? Ms.
John C Dvorak: Modesto, Mississippi, but what about you
got who she is do because there's Andrus and Sir Eric, you
did both.
Adam Curry: I'm sorry. I missed Andrus. I was so short. Canal
canal. Andrea, Andrea Vargas, Andrea vagas Canal Fulton, Ohio.
208 simply said you guys kick ass and then I'll do the final
one. Thank you very much, Andrew. Thank you, sir Eric. And
then to Busby in the morning. Thank you, John out for the best
podcast. In years I've been freely suckling, from no agendas
content teeth for too long time to step into the community. As I
proclaim in the meet up report. Today I am being de dos de
deuced. Since my move from the coast to Jackson, I haven't put
much effort into making friends in the area. So I want to give a
shout out to surf Foreman and the MS. Metro Meetup group.
Thank you for dragging me out of the house last Saturday. This is
what these meetups are good for no jingles. Just karma for
everybody in Mississippi who was who was hit by the recent
tornadoes. As a resident of the landmass between New Orleans and
Mobile, Alabama during Katrina, I have been there not to not
only lose your home, but in a sense your entire world is a
truly surreal situation that can't be described or imagined.
Unless experienced. No agenda nation knows that, and shouldn't
look solely towards the government at a time like this,
which is what means to turn us on to what we can do. And he
actually asked me to put this link into which I will do next
to his name for a GoFundMe. It's just for Ms. tornado relief. Of
course, we will support that for you so people can help and don't
just look for the government to help you agree 100%. And he says
full disclosure. I'm currently running a political campaign in
the Southern District of Mississippi. But I've been able
to divert 100% of my fundraising efforts from the campaign to
tornado relief. After all, love is lit. Thank you for your
courage. And thank you very much. And we will give that
karma to all of the people who deserve it. Thank you very much.
Unknown: You've got karma.
John C Dvorak: And that will be the conclusion to our Associate
Executive Producer and the fabulous executive producers for
show 1544 If I'm not mistaken as we move along,
Adam Curry: that is exactly the number and again thank you for
these executive and Associate Executive Producers ship
donations, real credits, you can use them anywhere if you want to
become one of these producers go here for.org/and A thank you all
very much for supporting us for episode 1544. Our formula is
this. We go out. We get people in the mouth
I want to play a couple of dumb clips, media clips about the
Trump indictment. Do you have a you don't have anything on that?
I think I have maybe one you got an overcoat overview clip or
something or
John C Dvorak: No, I think I said at least.
Adam Curry: Okay, let's see what to do I have an overview. Yeah,
here we go. Oh, this is good. Because it's Jeff, the gays.
Jeff, the gays always fun to listen to. He could just be
reading the phone book and I'd listen to Jeff engage
Unknown: with the former president's arrival here in New
York. The city is on high alert tonight. Trump Tower, the 58
storey building in the heart of one of the world's most famous
avenues is all but surrounded by security barricades swamped by
police and Secret Service. Police still is there are no
specific or credible threats but they are prepared for violence
are about 35,000 police officers in uniform in the city right now
ready to deploy. If they're problems,
they may be some rabble rousers. Thinking about coming to our
city tomorrow a message?
John C Dvorak: Sorry, I can't listen to this guy without
hearing our guy.
Adam Curry: The mayor, the mayor, there's a there's a bit
at the end where is totally our guy.
Unknown: There may be some rabble rousers. Thinking about
coming to our city tomorrow, a message is clear and simple.
Control yourselves.
Investigators from the FBI, NYPD and Secret Service are combing
through social media for any possible plot similar to the
January 6 attack. They are seeing calls for violence
directed at government officials, including Manhattan
district attorney Alvin Bragg whose security was recently
increased
investigating any threats that may be made to the DEA or any of
his his staff.
New York City Mayor Eric Adams assembled.
Adam Curry: Even Bill Gates is doing it now. New York City
Mayor he even said Mayor like the mayor
Unknown: to the DA or any of his his staff.
New York City Mayor Eric Adams singled out Georgia Republican
Marjorie Taylor Greene who was joining a pro Trump rally near
Manhattan criminal court tomorrow.
People like Marjorie Taylor Greene, who is known to spread
Ms. misinformation and hate speech. Have she stayed as she's
coming to town while you're in town be on your best behavior.
Now that's
Adam Curry: a pretty good overview. And as we said, it was
mainly social media people and and mainstream people. It was
just a dumb circus. Couple things of note. I would say most
of the of the print articles had very little on, on the
indictments, you'll hear a few clips it wasn't really much in
there. But the term that Trump was admonished by the judge to
remain from a rhetoric that could K call could inflame or
cause civil arrest. Every single out of Ed Trump was admonished
were from what I understand. The judge said that to all parties.
But besides that, ABC, when I think this there might be some
legality to this or illegality, when they aired news reports of
Trump speaking at Mar a Lago, he was behind you know, the Trump
are running for president lectern, they blurred out his
text number that you can text for donations or information or
whatever that is, is that not
John C Dvorak: illegal? Can you do it? You blurt out whatever
you want. But if you do it for
Adam Curry: one candidate and not for the other?
John C Dvorak: Well, that's a good question. That may be a
player i But I think those laws are there used to be a law
against doing something like that doing? Yeah, Dad used to be
a fairness doctrine, which is, was repealed in 87. So I think
they can do whatever they want. But I watched that entire Mara
Lago speech, and it was it was most of it was shot. Whoo. It
was a shared feed. And it was you never got to see that. That
thing is that maybe for a split second, they couldn't have
blurted out for long while they blurred it out
Adam Curry: on social media. Or online, whatever. So here's your
skin shed. Yeah, of course. Here's, I have a couple of
clips. These are all basically just with opinions, and we wind
up with an interesting one. We'll start with ABC with
Jonathan Karl.
Unknown: We're also learning more about the dynamic in that
courtroom after the political rhetoric in the weeks before all
of this the former president taking aim. Then the power shift
with the former president now a criminal defendant before the
judge. Let's pray ABC chief Washington correspondent
Jonathan Karl live here in New York for our coverage in John,
our team in that room describing a very different dynamic playing
out in court today.
David Donald Trump is accustomed to being the center of attention
and in control in whatever room he walks into. That was
decidedly not the case. Today inside that courtroom as he
walked in, Trump looked as profoundly unhappy as I have
ever seen him a deep scowl on his face. He was in the
courtroom for 57 minutes, surrounded by his lawyers,
police officers standing behind him. He had to wait for about a
full five minutes before the judge entered the room. And when
the judge walked in, Trump had to do what everybody else had to
do in that room stand. It will be the judge calling the shots.
Donald Trump, our reporter in the room, Olivia Rubin noticed
that Trump spoke so softly that at one point, the judge said I
can't hear you and asked him to repeat what he was saying,
speaking softly. That's not something we see Donald Trump
do, ever, if at all. And I suspect, David that as we go on,
he will not be speaking softly for long,
Adam Curry: riveting report. He had to stand and spoke softly.
John C Dvorak: Yeah, we have to remember that that Carl is the
head of the Washington. Yeah, the press corps, the press corps
that that goes to the White House and tried to shut up that
poor African guy,
Adam Curry: but you know, and I, I didn't see any of this.
Because I was in extras in Austin, I was doing a show with
Marty bent from the CFTC podcast. And so I was only
listening to stuff on the way back. And I figured out pretty
quickly that the no one really had anything that would show
that Trump is the walls are closing in. He's going to jail,
none of that. And even on CNN, John Bolton, who is now a CNN
correspondent. Here's what he said big picture.
Unknown: What do you think of the indictment?
Well, speaking as someone who very strongly does not want
Donald Trump to get the Republican presidential
nomination, I'm extraordinarily distressed by this document. I
think this is even weaker than I feared it would be. And I think
it's it's easily subject to being dismissed or a quick
acquittal for Trump. Just speaking going back to the days
when I represented Jim Buckley and Jean McCarthy and the
constitutional challenge to the underlying federal statute here
passed in 1974. I can say there is no basis in the statutory
language to say that Trump's behavior forms either a
contribution or an expenditure under federal law, the two key
definitions at issue here. If it did, it would mean that every
single expenditure a candidate made could be taken to have
something to do with this campaign. Do I buy a $1 comb to
comb my hair or $10? comb to comb my hair? If you can
construe the statute to cover this behavior, then I think it
violates the First Amendment because you're deeply into
territory that that makes the statute absolutely federal
statute, too vague for enforcement. And as what I
understood the district attorney to say that he thinks there's a
New York election law involved here, all I can say is the
Federal Election Campaign Act absolutely preempts any state or
local law to the contrary, how could it be otherwise? You've
got one law governing corporate finance and a presidential
election at the federal level, you're going to have 50 state
laws interfering with it. So he's just wrong on the
applicability of the New York statute.
Adam Curry: Oh,
John C Dvorak: you know, a lot of people I've watched
everything I saw, what's his name, the DA could do his little
press conference, which was short. And I watched Trump as he
went to the show the full plane flying in the air and landing.
And the DA made a huge point in his press conference to say that
this was about New York law had nothing to do with federal law.
And he almost I think he may have actually said that. And so
all these analysts who bring up federal law about to analyze
this indictment, I don't know what their what they've had any
did they listen to this guy? He made a clear point. This has
nothing to do with any federal law the way he sees it.
Adam Curry: Well, that's what George Washington University law
professor Jonathan Turley said, and he is he speaks for Fox
News, and I did my best to cut out as much of Brett as I could.
Yeah.
John C Dvorak: Wait, wait, before you play the fox news
clip. I will say another thing. I mean, I did a lot of channel
swapping. And it the analysts that were under different than I
have a clip from one of the locals, but the analysts that
were on these different channels, especially CBS versus
Fox couldn't be distance between them as a million miles. It was
unbelievable to hear the The analysts on CBS versus Fox, I
will say that from what I heard from all these different
analysts, Fox was the only one that was somewhat objective.
Adam Curry: When we play the local analysis, is that what I'm
playing here?
John C Dvorak: No, no, you're gonna play the you're gonna play
your clips. My local analysis is I got three parter, and you can
finish. Okay. All right. Let
Unknown: me tell you, I've never seen an indictment quite like
this one. That is the key linchpin. That's how you get
beyond the statute of limitations. I know a lot of
judges that would have been not too pleased to receive an
indictment like this would have said, you know, what the heck is
this mean? What are you alleging, and brag, just sort of
waved it off and said, I don't have to really say, but my
question is, how does the grand jury understand what it was
doing? We'll see a little better with the bill of particulars.
But it really raises concerns as to how well the grand jury
understood these key linchpins because this thing is a feeling
of like illegal Slurpee, it it's instantly satisfying, but has no
nutritional value. There's nothing there. The thing is,
this is basically what we expected. You had people like
Lanny Davis, who represents it, Michael Cohen saying, I'm
warning you there's going to be a lot of new crimes here. And
it's going to there's gonna be a lot of new facts. Well, it
wasn't. I mean, this was the business falsification theory
that we've talked about. The only surprising thing is that
brands seem to have solved the question of his authority
through ambiguity. He just removed any direct references to
what this underlying offense was. And my guess is it's going
to be a federal election claim. I mean, this the the state, the
reference of the state election law was so general ambiguous, I
don't think that that could be the it sustain this type of
actions. It's like a scene in Braveheart when he says, like,
we didn't get dressed up for nothing. I mean, it's, he's
hoping that this judge is going to be very timid, and not throw
this out. But there are substantial threshold legal
questions here. And this case could collapse before it gets to
a trial. And this is not the only judge that will have to
look at this. And I think that has to weigh heavily on him.
Because there's no there there now, whether he could fill in
those gaps we'll have to see. But you would think if you were
going to indict a president, you would, you would rise to that
moment of history and tell people with precision what it is
that you want to convict him on.
Adam Curry: So I think both Charlie and Carl and the
fortunate for what's his name? Bolton, I think they're all
three of them are wrong. And the best analysis did not come from
mainstream it came from Alan Dershowitz, constitutional
lawyer, who we have liked when he was a nutjob democrat and a
nutjob non Democrat. Sorry,
John C Dvorak: as I predicted two newsletters ago Dersch would
show up.
Adam Curry: Oh, yeah, he shows it. Well, he had to show up on
Charlie Kirk's podcast, because he can't can't buy himself a
spot on mainstream because, you know, he's like, he's a
Democrat. So he can't be on Fox. And then he defended Trump, so
he can't be on the on the on any of the left wing media. But I
think he has the proper analysis.
Unknown: I don't think I could get this case dismissed so
easily. I don't think that I don't think that if you had the
best lawyers in the history of the world, Abraham Lincoln and
John Marshall, a New York City judge would dismiss this case,
because that New York City judges life would be over.
Everybody would point to him the way they pointed to me when I
defended Trump, Oh, my. There's the man who helped Trump get
free. So I don't think it's going to be easy. I think he
probably will be convicted by your jury who voted for Bragg
and voted for get Trump, it will be reversed on appeal. It will
never be affirmed all the way up to the Supreme Court, but brags
gonna be popular, he'll be reelected. And and he'll
probably win his case. Unless unless there is a change of
venue.
Adam Curry: I think that's the proper analysis. I agree. 100%
No, you said 100% Now you're doing it 100% 100% About your
local analysis. We do that now.
John C Dvorak: Now I have this I got three clips are they're kind
of interesting. I think they kind of work together. Okay.
First of all, this is a local analysis that took place the day
before the indictment. And so this is the kind of thing and I
got the guy's name. He's a professor the classic local
professor does, you know as a Democrat is a California
professor so he's, you know, liberal progressive, wants to
dissolve the family and turn us all into communists. Oh, we know
the kind Yes, we this guy. So this is a classic to me. What we
were hearing in the Bay Area and just before he was indicted,
before we didn't, we found out that he didn't have a mug shot.
He didn't get can come none of that. So let's go this and I did
cut it. So you give the introduction induction is the
guy that we cut right to one of his comments.
Unknown: Robert ovitz to the nine. He's a political science
professor at San Jose State.
You know, our the history of our country has been for over 200
years presidents have evaded responsibility and
accountability. But here, I think it's starting to creep up
and catch up with President Trump. We know that the attorney
general is actively investigating all the mountains
of evidence that was accumulated in the January 6 investigation
last year. And let's hope that it looks bold to some
accountability for President Trump. And if that's the case,
he's going to be doing more than doing the perp walk that he's
going to do this after
Adam Curry: that. So we didn't even do the perp walk. And
notice this guy doesn't say he's done. He just has mountains and
whoa, Earth.
John C Dvorak: classic, classic local yokels. Now I did
beforehand. My last clip, I want to play this intermediate clip,
which is actually something we don't normally do on the show,
but this is Tucker Carlson reading a tweet. Since I thought
it would be more entertaining. Let's have him read it. And I
think that this is apt Salvadorian prick prexy tweet.
Unknown: Here is Salvadoran president now you boo Kelly on
Twitter today, quote. Think what you want about former President
Trump and the reasons he's being indicted. But Kelly wrote, but
just imagine if this happened in any other country where a
government arrested the main opposition candidate. The United
States is ability to use quote, democracy as foreign policy is
gone.
Adam Curry: Well, Kelly is a big hero man. He's a big hero
amongst the Bitcoiners that's for sure.
John C Dvorak: And last, just as like nobody covered this that
much. And I just thought this is the funny kind of ancillary
commentary about the stormy Daniels clip.
Unknown: Meanwhile, stormy Daniels lost her defamation suit
against Trump. Daniels was ordered to pay Trump's attorneys
more than $120,000 in legal fees. That's on top of more than
$500,000 in court ordered payments to Trump's attorneys
she's already been required to pay. A judge dismissed her
defamation lawsuit in 2018. She later lost and appeal and was
ordered to pay Trump's legal fees for fighting both the civil
litigation is on is officially unrelated to Trump's case in New
York. Some denies ever having an affair with her.
Adam Curry: Man. I want him to hear more stormy Koch clips. I'm
bummed I missed
John C Dvorak: you guys. I think you have the only one.
Adam Curry: There was one, which is a short clip. But, you know,
Robert F. Kennedy Jr. announced he filed his paperwork he
announced his presidency is run for president as a Democrat.
Yep. Now, just to put this into perspective, he is a lawyer
who's taken the second a lot of corporations to court, certainly
Big Pharma. He is by definition, not an anti Vaxxer. He was
actually an environmental lawyer. And he fought against
mercury in water. That's what he did for years and years and
years. And he kept seeing but this is all his own admission.
It kept seeing moms showing up at at his speeches and they
said, Hey, there's mercury in some of these adjuvants in
vaccines, and we think they've caused harm to our children. And
so then he became an advocate for getting mercury out of
vaccines, of course, with his deconstruction, his of COVID,
his deconstruction of the vaccine industry industry, how
it works, his book on Anthony Fauci going back to the Fauci
days of killing gay guys with HIV. I'm just going to say
that's what the book says. So of course, you have to completely
discredit Robert Kennedy, Jr. Robert F. Kennedy, Jr. and let's
hear how the tone is set by Jake Tapper at CNN,
Unknown: this just into CNN, anti vaccine quack, Robert F.
Kennedy Jr. has filed paperwork with the Federal Election
Commission to run for president as a Democrat in launching his
presidential bid Kennedy is the latest in a long line of family
members to enter politics. So far, only Marianne Williamson
who likes once launched her second launch campaign has
entered the Democratic primary against Biden Kennedy is such a
healthcare menace in 2019. Even his cousins wrote an op ed
criticizing his anti science views on life saving vaccines.
Adam Curry: You don't need to know any more than that's what
he's gonna get. And when you call Robert F. Kennedy Jr. A
quack over Marianne Williams, man, they're out to get you. Oh,
they're
John C Dvorak: gonna get him. They're out to get him for sure.
I don't know why they're so afraid of him. I don't think he
has much of a chance. But is there going to play the Trump
game and go after him and make a good call? Besides a lot of
stuff, he may get some attention. Oh, you may be
screwing up. As usual as
Adam Curry: usual, as usual. Hey, I see you have it in your
list. tock tick tock. Always, always interested in what you
have for your tick tock crime your tick tock collection.
John C Dvorak: Yeah, this is my tick tock clip of the week. This
is a round headed kid. It looks like a very disturbed
individual. Could be an actor, but I don't think so. He is
upset. terribly upset at Apple, specifically for having
Adam Curry: box all this you sent me You texted me this,
John C Dvorak: I think for having the meat emojis a vegan.
And he and he's very upset with Apple for having a meat emoji on
its set of emojis. Here we go.
Unknown: Yes. And those emojis honestly should be illegal. I've
been emailing Apple every single day to remove the meat emojis
from the iPhones and they're not doing it. I don't know why
they're not doing it. I've been emailing them every single day
to stop putting the meat emojis in the phones, like it should be
illegal. It's offensive to me. And it's triggering to people
like me who are vegan, it is so triggering. And I don't know why
they don't take them off the iPhone because there's so
triggering. There's a trigger tock, tick tock.
Adam Curry: And people wonder why all the ad money is going to
tick tock, come on. Entertainment. I have a tick
tock related clip from Matt to Eb typically, we haven't done
much about the the Twitter files because it's been a lot of
tweets. It's been, you know, sub stacks, which don't really lend
themselves very well. I mean, we were a clip where a clip driven
show. And I picked up this minute and a half of him
explaining, which I think is good, how the ticker, the so
called tic tac bill, the Restrict act, what it is
actually doing. And in, as it pertains to the information he
has gleaned from the Twitter files, and of course, there's
new information, new shit has come to light,
Unknown: where, you know, we found a whole bunch of
communications just recently about in preparation for a
hubbub, they were all having at the Aspen Institute in 2021,
where they were discussing ideas like the Restrict Act, which is
being proposed for you know, in response to Tiktok, there's, I
guess, the European Digital Services Act, or whatever they
call it. That's that they're thinking about for the EU, all
the ideas, and both of these bills are sort of wish lists
that have been passed around in this community for a long time,
the government's want absolute, full and complete access to all
data that these platforms provide. And then they want a
couple of other things that are really important. They want it
they want to have the authority to come in and moderate, or at
least be part of the process of moderation. And they also want
to for people who are called like trusted flaggers. That's