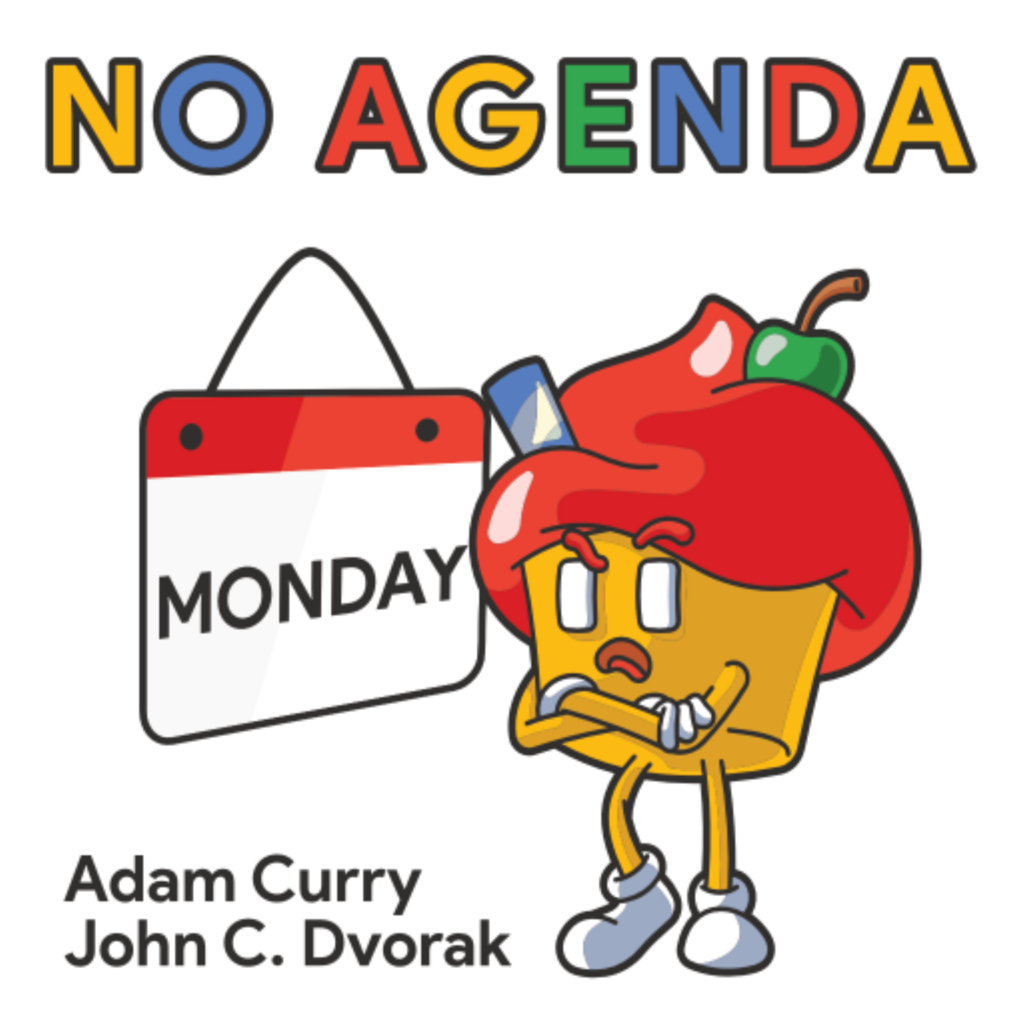 April 6th • 3h 9m
1544: Trusted Flaggers
Shownotes
Every new episode of No Agenda is accompanied by a comprehensive list of shownotes curated by Adam while preparing for the show. Clips played by the hosts during the show can also be found here.
Dylan

Explain Bud backstory

Contest, not a spokesperson or Brand Ambassador

Influencers - cannot deny anyone - CAA or someone is very smart

Brand damage - Kid Rock

Suds, Skirts, And Sneakers: Here Are The Brands That Have Sponsored Trans Activist Dylan Mulvaney | The Daily Wire

Official transgender/tranny of NA retirement

all content below can be used as you see fit.

I am sending this as my resignation as official tranny of No Agenda, after almost 11 or so years it's time to move on. I am by no way stopping listening to the greatest podcast in the universe, but I can no longer provide any insight to the show for this crazy transgender filled world. A population that can't and shouldn't be more than a small speck of a percentage some how balloons to a larger speck of a percentage and now is in the news cycle to the point of ad nauseam. I had hoped as the time passed there would be found a cure to rid myself my mental issue that had me seek care, and then transition, but alas it is now seen as normal and doesn't need fixed, it needs amped and then drugs and changes apparently should happen sooner and sooner. I do not wish any ill will on the poor souls going through this as when they get older they will have enough to worry and endure.

You are the only one saying it and it's the hard truth, I am a medical cash cow, I have to get meds till death, there is a high probability that hormone treatments lead to my multiple sclerosis (study out of Boston I believe) so thousands of dollars in MRI's treatments and doctors appointments. Then throw in the eventual medical issues that will come with age for being on hormone treatment to

my male anatomy, how about not being able to control you bladder much anymore, always worrying about accidents.

No I am not a woman, I play the part of a woman in the world. I respect and do not go into areas changing is done, I do my best to adapt and blend in as to not even appear as a male or transgender.

I know I am a product of inherent sin, and the distance from the perfection lost in the garden of Edan. I do not blame god for this, I ask for his forgiveness and help dealing with this every day as I know I can not go at this alone.

Keeping deconstructing this, and keep being honest, you are on the right path. You and john have never said anything that should've have been said and I take no ill will from those statements.

This as kinda turned into a confession, as I have no one else I can say this to, I am not strong enough to come out as an advocate to warn people of the dangers ahead, but I hope you can be that person.

Take it from a older person, there is a lot they don't tell these kids and I have to deal with it from 24 till death, sadly they will have to deal with it from very early till death and it's not going to be a easy road, good luck and god speed to those.

Formerly known as Allie Jade

God bless,

Here's what to do post images, AI generated if needed, of big brand who have hired Dylan as an ambassador, make the come out and deny it

People who sin often try to relieve their guilt by getting others to commit the same sin
LGBBTQQIAAPK+ Noodle Boy
Ukraine vs Russia
Obama Corruption
TikTok

Tik Tok Bill a good thing

Let them slowly strangle all centralized mediums

Be the shepherd they desire to be

We have our own systems based on cryptography

Linux + Cryptography = freedom
CBDC USD FTX BTC
Prime Time Takedown

CNN's Don Lemon has long history of sexist, 'diva-like behavior': report

All stuff we have done from time to time on this show - honesty prevails!
Great Reset

Postal Service Scanners IT problem BOTG

Rural carrier union went too hard on negotiations 10+ years ago and an arbitrator came in and created this system called RRECS, it had engineers fine tune and calculate all aspects of a carriers daily job. Everything to the milli second, depending a lot on volume , and distances with the use of the scanner.

After years of delay and delay this was finally implemented. Every route is unique and carriers make an evaluated pay. Some days you work 6 sometimes you work 10 but you'll get paid 8 for example regardless.

This whole implementation made people who were 20+ years invested completely rework their thinking and day to day activities (it's like teaching your grandma how to use a smartphone) and if people don't do or forget about these important scans their pay is effected. Lots of Magazines and larger parcels are the saving grace of the pay system. This could easily cause a mass retirement because people don't want to learn the new system, but as of now their was supposed to be a database for verification and transparency but nothing is being done about that, the uppers are just rolling it through when some of the data they are revealing have 0s in the columns when it's near impossible to have 0s in that data. Especially when it's based off a 52 week average data they've been collecting. Like I said this has been delayed and delayed and delayed... The worst is if you miss or call out a day, if theres not enough workers to focus on your route, they very well might split your packages amongst the newer folks who don't know or aren't willing to do the right thing with their scanners and your route can get no credit from those parcels... There is staffing shortages nationwide and subs could be working 12 hour days with rare days off, so... Yea these hypothetical shortcuts could kill salaries... Word on the street is they will implement it then negotiate a fair backpay for everyone negatively effected. It's nationwide level and once they determine the fixes it should solve itself nationwide but the union has been silent about all this... Like there are people already quitting and walking away it's like wtf why wouldnt they release some statements to quell people's anxiety over all this... They are losing people by waiting..
Bat vs Lab vs Raccoon Dog
Big Pharma
45 Indicted

Trump 'admonished'

AP and other outlets are reporting "admonished by judge" The M5M spin states "judge who warned him to refrain from rhetoric that could inflame or cause civil unrest." The judge told both the prosecution and defense to refrain, not just Trump.
Big Tech and AGI

Elon ruined Twitter with latest moves

Doge dog

Verified check marks

Not verified, MUCH less visibility

Eliezer Yudkowsky - Wikipedia

Eliezer Shlomo Yudkowsky (born September 11, 1979) is an American writer on decision theory and ethics, best known for popularizing ideas related to friendly artificial intelligence.[1][2] He is a co-founder[3] and research fellow at the Machine Intelligence Research Institute (MIRI), a private research nonprofit based in Berkeley, California.[4] His work on the prospect of a runaway intelligence explosion influenced philosopher Nick Bostrom's 2014 book Superintelligence: Paths, Dangers, Strategies.[5]
Climate Change
Out There
China
Epstein
Ministry of Truthiness
STORIES

Use MobileCoin - MobileCoin

Thu, 06 Apr 2023 16:10

EcosystemSignal MessengerMixin MessengerFennec WalletAll the AppsLearnGetting StartedWhitepapersNetworkSecuritySustainabilityValidatorsFrequently Asked QuestionsDevelopersGrantsBountiesProposalsFull Service APIiOS SDKAndroid SDKSignal Bot SDKCommand LineCommunityPodcastsBlogPressEventsSupportTeamCareersSIGN UP TO OUR NEWSLETTER

FOLLOW US

Terms of UsePrivacy PolicyCookie Policy(C) 2023 MobileCoin Inc. All Rights Reserved.

McDonald's closes US offices and cancels meetings as it prepares to layoff corporate staff | Daily Mail Online

Thu, 06 Apr 2023 15:37

McDonald's has temporarily shut down all of its U.S. offices as it prepares to deliver layoff messages online to a number of their employees across the country.

According to a new report from The Wall Street Journal, the layoffs - part of a company restructuring - will begin Monday after the company told employees to work from home so it can fire their staff virtually.

'During the week of April 3, we will communicate key decisions related to roles and staffing levels across the organization,' McDonald's officials said in a memo.

The company said that it made the decision to announce cuts virtually due to an anticipated busy travel week.

It's unclear at this time how many employees are set to be laid off, however, CEO Chris Kempczinski said in a January email there would be 'difficult discussions and decisions ahead.'

McDonald's has temporarily shut down all oof its U.S. offices as it prepares to deliver layoff messages online to employees

It's unclear at this time how many employees are set to be laid off, however, CEO Chris Kempczinski said in a January email there would be 'difficult discussions and decisions ahead'

The new report from the Wall Street Journal said the Chicago-based chain told employees last week in an internal email on Wednesday.

While the message was mostly to U.S. employees, some international corporate workers were also included.

In the memo, company executives also advised that upcoming in-person meetings with vendors and other outside parties at headquarters be canceled.

The decision to have employees work remotely for part of the week is due to an anticipated busy travel week ahead, potentially connected to the Easter holiday.

Workers who don't have access to a computer were told to give their personal contact information to their manager.

'We want to ensure the comfort and confidentiality of our people during the notification period,' the company said.

McDonald's employs roughly 200,000 people around the world in corporate roles and company owned restaurants.

Around 75 percent of the employees are located outside of the U.S.

DailyMail.com has contacted McDonald's for comment on the layoffs as well as an estimated number of job cuts anticipated but did not hear back.

McDonald's employs roughly 200,000 people around the world in corporate roles and company owned restaurants. 75 percent roughly are located outside of the U.S.

In the memo, company executives also advised that upcoming in-person meetings with vendors and other outside parties at headquarters be canceled

In his January email, Kempczinski said the corporate job cuts which would begin in April would be made help the business grow.

In a letter to staff, the CEO warned that the company had become unfocused.

'We had across the globe 70 different, distinct versions of what a crispy chicken sandwich would look like,' he wrote.

'I don't need 70 different permutations of a chicken sandwich.'

The Chicago-based burger restaurant operates 40,000 restaurants in over 160 countries with a total of two million staff in its franchised outlets. Around 13,000 of those locations are in the United States.

The CEO also wrote in the letter: 'Today, we're divided into silos with a center, segments, and markets.'

The memo sent in January was titled 'Accelerating the Arches 2.0.'

In an interview, he said that he didn't have a set amount he was hoping the job cuts would save but that he was focused on advancing the business.

'Some jobs that are existing today are either going to get moved or those jobs may go away,' Kempczinski said.

This isn't the first time the company has conducted layoffs among corporate workers.

In 2018, McDonald's cut management-level workers to be 'more dynamic, nimble and competitive.'

In his letter to staff, Kempczinski pointed out that the crispy chicken sandwich, pictured right, has 70 unnecessary versions worldwide

Despite Kempczinksi's insistence on cutting costs and increasing profits for the fast-food giant, McDonald's costs have recently begun to mellow out after being hit by record high inflation rates.

The company was able to maintain profits for the most part thanks to customers who were turning to the chain for cheap and fast food.

'We're gaining share right now among low-income consumers,' said McDonald's CFO Ian Borden in October.

Kempczinski said in January that the company has continued to see business among lower-income customers, but that they were typically order fewer things or less-expensive items.

Calls to scrap LTNs as nearly 240 ambulances delayed, figures reveal

Thu, 06 Apr 2023 15:02

Nearly 240 ambulances have been delayed from reaching call-outs by Low Traffic Neighbourhoods (LTNs), fuelling calls to scrap the schemes across the country.

New figures from the TaxPayers' Alliance reported by The Daily Mail have revealed that a total of 239 callouts of potentially life-threatening injuries or conditions in London had been held up by the controversial schemes.

It comes as there are growing calls from politicians, campaigners and residents to stop the schemes, with many concerned about the impact they have on emergency services.

Speaking to The Mail, Tory MP Greg Smith, who sits on the Commons transport committee, said: ''By preventing ambulances getting to the emergency they're attending, LTNs are clearly dangerous.

''It's an extraordinary waste of money that people are paying their taxes for schemes that stop them being able to live their lives by going to work, a hospital appointment or doing the school run.''

Problems in SouthwarkThe worst borough for delays was Southwark, which recorded 69 delays since 2020. This was followed by Enfield (43) and Ealing (19). In one incident the TPA found that an ambulance had been held up for 15 minutes while trying to reach someone who was going through cardiac arrest.

Among the recorded incidents was an ambulance being delayed in east London for up to 15 minutes while trying to reach a patient who had collapsed from cardiac arrest.

Low-traffic neighbourhood zones began appearing in London during the Covid-19 pandemic as temporary measures. However, many councils decided to keep them in place when road traffic began returning to pre-pandemic levels.

They have now spread to a number of other towns and cities, with some local residents criticising the impact they have on pushing traffic to other roads.

In Rochdale last week, this anger saw some unnamed people set fire to two LTN planters blocking off a road. Elliot Keck, of the TaxPayers' Alliance, said: 'Residents will be horrified that LTNs are delaying ambulances.

''These schemes aren't just making cash cows out of motorists, they are also potentially endangering lives. Local authorities should put the brakes on these divisive schemes.''

A Repeating Radio Signal Is Coming From Another Planet, Scientists Say

Thu, 06 Apr 2023 14:59

Image: Darryl Fonseka via Getty Images

ABSTRACT breaks down mind-bending scientific research, future tech, new discoveries, and major breakthroughs.

Scientists have spotted a repeating radio signal from a nearby star system that hints at the presence of a magnetic field around one of its Earth-sized planets, reports a new study.

The discovery of a magnetic field'--a key component of Earth's ability to host life'--could bolster the search for alien life and habitable planets in the universe if confirmed, but it will take more research to present a clear-cut case that the signals really are generated by a planet's magnetic field.

Earth's magnetic field has played a critical role in the survival of life by shielding the surface from the Sun's harmful radiation and helping to maintain a stable atmosphere that nourishes our biosphere. For this reason, scientists think that extraterrestrial life, if it exists, might also depend on the presence of robust magnetic fields around exoplanets, which are worlds that orbit other stars.

Scientists have previously observed the magnetic fields of giant Jupiter-scale exoplanets interacting with their host stars, as part of a process called magnetic star-planet interactions (SPIs). However, Earth-sized exoplanets give off much weaker magnetic signals compared to gas giants, making it difficult to detect magnetism around rocky worlds.

Sebastian Pineda, a research scientist at the University of Colorado, Boulder, and Jacqueline Villadsen, an assistant professor at Bucknell University, have spent years searching for these elusive signs of magnetic fields around small planets. Now, the pair of astronomers present unprecedented evidence of repeated radio bursts that may be linked to a magnetic field around the Earth-sized exoplanet YZ Ceti b, which is located just 12 light years from our solar system.

YZ Ceti b completes an orbit in just two days, which means it is way too close to its star to host life, but this ultrashort year also ''makes it a uniquely promising case study for magnetic SPIs,'' according to a study published on Monday in Nature Astronomy.

''It was super exciting to see the radio data sets show this kind of signature,'' Pineda said in an email to Motherboard. ''We saw the initial burst detection, and immediately went about coordinating observations for additional monitoring, based on the published planet period, since we were looking for something that happens at the same time in the planet's orbit.''

''Once we had the additional data, Jackie was looking at it, and was telling me: 'hey, there are similar radio signals here, right when we were looking and hoping to see them,''' he continued. ''It was a bit of feverish excitement: 'wow, we may really have it here!!' I'm pretty sure I started pacing around, imagining our next steps: alright, we've got work to do to really demonstrate this result, with all the implications etc.''

In their hunt for these signals, Pineda and Villadsen focused their attention on short-period small planets, because they might have a more visible magnetic signature as a result of their proximity to their stars. As these worlds hurtle through their orbits, any magnetic field they might possess could interact with the star's own magnetic field, creating a pattern of radio bursts from the star that can be potentially seen here on Earth.

The researchers think they might have seen these repeat bursts from the YZ Ceti system, but they caution that it's not a slam-dunk case. It's possible that the signals are a normal part of the radio stellar activity of stars like YZ Ceti, which is a slowly rotating red dwarf, which would mean that its emission may have nothing to do with any planets in the system.

''There are still too many unknowns about the system, but I'd say we are demonstrating the potential of radio data and magnetic star-planet interactions to lead toward measurements of Earth-sized exoplanet magnetic field strengths'--I don't think we're really there yet,'' Pineda said.

''So, we want to continue to monitor the star with the radio observatories, and look for additional recurrence of the radio signals that occur periodically with the same position of the planet in its orbit,'' he added. ''It can be time consuming and a bit challenging to set up, but that'll confirm that the radio detections are indeed dependent on the planet, and not something that the star is doing on its own.''

If this does turn out to be the first detection of magnetic SPI around an Earth-sized exoplanet, it could help scientists hunt for habitable worlds in other stars. The caveat is that looking for magnetic signatures around rocky worlds in the habitable zones of their stars, where liquid water and life are considered more likely to exist, would be tricky because these planets have much larger orbits. This distance from stars may be an advantage for any hidden aliens out there, but it also makes the magnetic interactions between stars and planets far weaker, to the point that some may not be detectable at all.

However, the new study offers a potential example of the types of signals you might expect to see from a system that contains a magnetically shielded planet that is similar in size to Earth. With time and practice, scientists might be able to zero-in on interesting targets, Pineda said, as part of a wider approach to assessing the odds that life might exist on other worlds.

''First off, fully confirming magnetic field strengths on exoplanets is a requisite for any broader understanding of habitability,'' he explained. ''It's not just a temperature question, but the whole star-planet system needs to be thought about holistically, with magnetism as an important ingredient.''

''So, if we know these exoplanets have magnetic fields from the SPI work, we can start to think about questions like what are the properties of those planets, and thus how do the habitable zone planets compare, and what are the chances that they too have similar magnetic fields, even if we can't measure them yet for the [habitable zone] planets specifically,'' Pineda concluded. ''If you can infer then that a planet likely has its own field, that's when you can start thinking about whether individual planets are truly hospitable.''

ORIGINAL REPORTING ON EVERYTHING THAT MATTERS IN YOUR INBOX.

By signing up, you agree to the Terms of Use and Privacy Policy & to receive electronic communications from Vice Media Group, which may include marketing promotions, advertisements and sponsored content.

ICO fines TikTok £12.7 million for misusing children's data | ICO

Thu, 06 Apr 2023 14:10

More than one million UK children under 13 estimated by the ICO to be on TikTok in 2020, contrary to its terms of service.Personal data belonging to children under 13 was used without parental consent.TikTok ''did not do enough'' to check who was using their platform and take sufficient action to remove the underage children that were.The Information Commissioner's Office (ICO) has issued a £12,700,000 fine to TikTok Information Technologies UK Limited and TikTok Inc (TikTok) for a number of breaches of data protection law, including failing to use children's personal data lawfully.

The ICO estimates that TikTok allowed up to 1.4 million UK children under 13 to use its platform in 2020, despite its own rules not allowing children that age to create an account.

UK data protection law says that organisations that use personal data when offering information society services to children under 13 must have consent from their parents or carers.

TikTok failed to do that, even though it ought to have been aware that under 13s were using its platform. TikTok also failed to carry out adequate checks to identify and remove underage children from its platform.

The ICO investigation found that a concern was raised internally with some senior employees about children under 13 using the platform and not being removed. In the ICO's view TikTok did not respond adequately.

''There are laws in place to make sure our children are as safe in the digital world as they are in the physical world. TikTok did not abide by those laws.

''As a consequence, an estimated one million under 13s were inappropriately granted access to the platform, with TikTok collecting and using their personal data. That means that their data may have been used to track them and profile them, potentially delivering harmful, inappropriate content at their very next scroll.

''TikTok should have known better. TikTok should have done better. Our £12.7m fine reflects the serious impact their failures may have had. They did not do enough to check who was using their platform or take sufficient action to remove the underage children that were using their platform.''

- John Edwards, UK Information Commissioner

Details of the contraventionsThe ICO found that TikTok breached the UK General Data Protection Regulation (UK GDPR) between May 2018 and July 2020 by:

Providing its services to UK children under the age of 13 and processing their personal data without consent or authorisation from their parents or carers;Failing to provide proper information to people using the platform about how their data is collected, used, and shared in a way that is easy to understand. Without that information, users of the platform, in particular children, were unlikely to be able to make informed choices about whether and how to engage with it; andFailing to ensure that the personal data belonging to its UK users was processed lawfully, fairly and in a transparent manner.The original ICO notice of intent for TikTok set the fine at £27 million. Taking into consideration the representations from TikTok, the regulator decided not to pursue the provisional finding related to the unlawful use of special category data. That means this potential infringement was not included in the final amount of the fine set at £12.7 million.

Since the conclusion of the ICO's investigation of TikTok, the regulator has published the Children's code to help protect children in the digital world. It is a statutory code of practice aimed at online services, such as apps, gaming platforms and web and social media sites, that are likely to be accessed by children.

The code sets out 15 standards to ensure children have the best possible experience of online services. For more information visit ico.org.uk/childrenscode.

Click to toggle details

Notes to editors The Information Commissioner's Office (ICO) upholds information rights in the public interest, promoting openness by public bodies and data privacy for individuals.The ICO has specific responsibilitiesset out in the Data Protection Act 2018 (DPA 2018), the UK General Data Protection Regulation (UK GDPR), the Freedom of Information Act 2000, Environmental Information Regulations 2004 and Privacy and Electronic Communications Regulations 2003.Since 25 May 2018, the ICO has the power to impose a civil monetary penalty (CMP) on a data controller of up to £17million (20m Euro) or 4% of global turnover.This CMP was issued under the DPA2018 for infringements of the UK GDPR.Any monetary penalty is paid into the Consolidated Fund, which is the Government's general bank account at the Bank of England, and is not kept by the ICO.To report a concern to the ICO telephone our helpline 0303 123 1113 or go to ico.org.uk/concerns.

Researcher Warning About Dangers of AI Says: 'Shut It All Down'

Thu, 06 Apr 2023 14:01

One AI researcher who has been warning about the tech for over 20 years said to "shut it all down." Eliezer Yudkowsky said the open letter calling for a pause on AI development doesn't go far enough. Yudkowsky, who has been described as an "AI doomer," suggested an "indefinite and worldwide" ban. Loading Something is loading.

Thanks for signing up!

Access your favorite topics in a personalized feed while you're on the go.

An AI researcher who has warned about the dangers of the technology since the early 2000s said we should "shut it all down," in an alarming op-ed published by Time on Wednesday.

Eliezer Yudkowsky, a researcher and author who has been working on Artificial General Intelligence since 2001, wrote the article in response to an open letter from many big names in the tech world, which called for a moratorium on AI development for six months.

The letter, signed by 1,125 people including Elon Musk and Apple's co-founder Steve Wozniak, requested a pause on training AI tech more powerful than OpenAI's recently launched GPT-4.

Yudkowsy's article, titled "Pausing AI Developments Isn't Enough. We Need to Shut it All Down," said he refrained from signing the letter because it understated the "seriousness of the situation," and asked for "too little to solve it."

He wrote: "Many researchers steeped in these issues, including myself, expect that the most likely result of building a superhumanly smart AI, under anything remotely like the current circumstances, is that literally everyone on Earth will die."

He explained that AI "does not care for us nor for sentient life in general," and we're far from instilling those kinds of principles in the tech at present.

Yudkowsky instead suggested a ban that is "indefinite and worldwide" with no exceptions for governments or militaries.

"If intelligence says that a country outside the agreement is building a GPU cluster, be less scared of a shooting conflict between nations than of the moratorium being violated; be willing to destroy a rogue data center by airstrike," Yudkowsky said.

Yudkowsky has for many years been issuing bombastic warnings about the possibly catastrophic consequences of AI. Earlier in March he was described by Bloomberg as an "AI Doomer," with author Ellen Huet noting that he has been warning about the possibility of an "AI apocalypse" for a long time.

Open AI co-founder and CEO Sam Altman even tweeted that Yudkowksy has "done more to accelerate AGI than anyone else," and deserves "the Nobel peace prize," for his work in what Huet theorized is a jab at the researcher that his warnings about the tech have only accelerated its development.

Since OpenAI launched its chatbot ChatGPT in November and it became the fastest-growing consumer app in internet history, Google, Microsoft, and other tech giants have been competing to launch their own artificial intelligence products.

Henry Ajder, an AI expert and presenter who sits on the European Advisory Council for Meta's Reality Labs, previously told Insider that tech firms are locked in a "competitive arms race environment" in an effort to be seen as "first movers," which may result in concerns around ethics and safety in AI being overlooked.

Even Altman has acknowledged fears around AI, saying on a podcast last week that "it'd be crazy not to be a little bit afraid, and I empathize with people who are a lot afraid."

He added, however, that OpenAI is taking steps to address kinks and issues with its tech, saying: "We will minimize the bad and maximize the good."

Investigators skeptical of Andromeda yacht's role in Nord Stream bombing - The Washington Post

Thu, 06 Apr 2023 13:52

If you see this page, the nginx web server is successfully installed andworking. Further configuration is required.

For online documentation and support please refer tonginx.org.Commercial support is available atnginx.com.

Thank you for using nginx.

Trump defiant in first speech after arraignment l GMA - YouTube

THE NORD STREAM GHOST SHIP - Seymour Hersh

Thu, 06 Apr 2023 13:04

Gas emanating from the Nord Stream 2 pipeline in the Baltic Sea, September 28, 2022. / Swedish Coast Guard. America's Central Intelligence Agency is constantly running covert operations around the world, and all must have a cover story in case things go badly, as they often do. It is just as important to have an explanation when things go well, as they did in the Baltic Sea last fall. Within weeks of my report that Joe Biden ordered the destruction of the Nord Stream pipelines, the agency produced a cover story and found willing takers in the New York Times and two major German publications.

By creating a story of deep sea divers and a crew who did not exist, the agency was following protocol, and the story would have been part of the first days of secret planning to destroy the pipelines. The essential element was a mythical yacht ironically named the Andromeda '--after the beautiful daughter of a mythical king who was chained to a rock, naked. The cover story was shared with and supported by the BND, Germany's federal intelligence service.

Exact time millions of mobile phones across UK will emit loud alarm in national test on April 23 | Daily Mail Online

Thu, 06 Apr 2023 13:01

Exact time millions of mobile phones across UK will emit loud alarm and vibrate on April 23 in national test of public alert systemThe system is intended for life-threatening situations including flooding and fireDomestic violence campaigners say victims with secret phones will be put at riskBy Sukhmani Sethi

Published: 19:01 EDT, 5 April 2023 | Updated: 08:41 EDT, 6 April 2023

Millions of mobile phones in the UK will emit a loud alarm and vibrate at 3pm on April 23 in a nationwide test of a new public alert system.

The alert, which will be tested on the day of the London Marathon and an FA Cup semi-final, is intended to be used in life-threatening situations such as flooding and wildfires.

The message will be received on 4G and 5G phones, with sound and vibration for up to 10 seconds. Phone users will be prompted to acknowledge the alert by swiping or clicking the message before being able to continue using their device.

But the test on St George's Day coincides with major events including the marathon and Premier League ties between Bournemouth and West Ham and Newcastle and Tottenham Hotspur kicking off at 2pm.

Domestic violence campaigners have also warned it could put people in danger by revealing the location of secret phones hidden by those at risk.

Emergency sirens will ring out from phones across the UK in a Government trial on April 23

How to switch emergency alerts on iPhone Go to SettingsTap NotificationsScroll down to Emergency AlertsSwitch off Severe alerts and Emergency alertsChancellor of the Duchy of Lancaster Oliver Dowden said: 'Getting this system operational with the national test means we have another tool in our toolkit to keep the public safe in life-threatening emergencies.

'It could be the sound that saves your life.'

National Fire Chiefs Council chairman Mark Hardingham said: 'For 10 seconds the national test may be inconvenient for some, but please forgive us for the intrusion because the next time you hear it, your life and the life-saving actions of our emergency services could depend on it.'

People who do not wish to receive the alerts will be able to opt out in their device settings, but officials hope the life-saving potential of the messages means that users will keep them on.

The National Centre for Domestic Violence (NCDV) warned people with hidden second mobile phones to turn off the alerts to avoid revealing the location of their devices.

The NCDV's Sharon Bryan said: 'Hidden second mobiles are an emergency lifeline for victims and survivors living under the constant threat of abuse, or worse.

'This siren test may unexpectedly reveal their presence to abusers - with disastrous consequences.'

The test on St George's Day coincides with major events including the London Marathon

The Government said it has been actively engaging with organisations working with vulnerable women and girls to ensure they are not adversely affected by the introduction of emergency alerts.

Officials stressed that it is easy to opt out of the system if people need their phone to stay concealed, either by turning off the alerts or simply having the phone switched off during the test.

Assistant Chief Constable Owen Weatherill, from the National Police Chiefs' Council, said: 'Alongside partners, we will continue to listen carefully to public feedback and ensure the use of emergency alerts has a positive impact.'

The new system is modelled on similar schemes currently used in the US, Canada, the Netherlands and Japan.

How to switch off emergency alerts on Android Search for 'emergency alerts' in SettingsSwitch off Severe alerts and Emergency alerts For Huawei devices running on EMUI 11 or older:

Search settings for 'emergency alerts'Turn off Extreme threats, Severe threats and Show amber alerts

CNN's Don Lemon has long history of sexist, 'diva-like behavior': report

Thu, 06 Apr 2023 12:26

Embattled CNN host Don Lemon has an appalling history of workplace misogyny that began decades before his sexist on-air comments '-- including allegedly threatening and demeaning former colleagues such as Soledad O'Brien , Kyra Phillips and Nancy Grace, according to a bombshell report.

Lemon '-- who sparked outrage in February when he declared that 51-year-old GOP presidential candidate Nikki Haley was not ''in her prime'' '-- engaged in disrespectful, ''diva-like'' behavior often directed at his female co-workers, according to a damning expose in Variety published Wednesday.

The ''CNN This Morning'' co-host, 57, has allegedly called a female producer fat to her face, accused O'Brien of not being black and sent Phillips a menacing text message because he was jealous, according to the report.

''There was a time when it appeared that Black people were most often the subject of his ire. Now, it seems to me that when he says something offensive, there's almost always a woman on the other side,'' Goldie Taylor, a former CNN consultant, told Variety. ''I'm never surprised when Don gets in trouble.''

In 2008, while working as co-anchor of CNN's ''Live From,'' Lemon was passed over for Phillips to cover the aftermath of the Iraq invasion.

CNN's Don Lemon has a history of misogynistic behavior that includes run-ins with past colleagues Soledad O'Brien and Nancy Grace, according to a report. CNNEnraged, he allegedly vented his jealousy by ripping up pictures and leaving them on Phillips' desk, two sources who worked at CNN at the time told the outlet.

She later received a threatening text message from Lemon while out with co-workers.

''Now you've crossed the line, and you're going to pay for it,'' read the message sent to Phillips' phone from an anonymous number that was later reportedly traced to Lemon.

CNN conducted an investigation into the text, removed Lemon from his co-anchoring duties alongside Phillips and demoted him to weekends, according to Variety.

A spokesperson for Lemon contended that he never sent the text.

''Don says the incident never occurred and that he was never notified of any investigation,'' the rep told The Post. ''CNN cannot corroborate the alleged events from 15 years ago.''

Around the same time, Lemon allegedly mocked former CNN and Headline News anchor Nancy Grace on the air by mimicking her, stunning fellow colleagues, according to Variety.

Grace thinks he's ''an ass'' who was generally ''rude, dismissive and really unfamiliar with the [news] content being discussed,'' a person close to Grace said.

Lemon soon earned a reputation for mistreating women in the newsroom, sources said.

''That was the beginning of when you knew that Don was kind of volatile and didn't say good things about women,'' said one person who reportedly witnessed Lemon mocking Grace.

When O'Brien landed the coveted gig of hosting CNN's high profile 2008 docuseries ''Black in America,'' Lemon allegedly humiliated her because he had sour grapes, according to the report.

During an editorial call with roughly 30 staffers, Lemon suggested O'Brien '-- who is white and Afro-Cuban '-- isn't actually black, two witnesses told Variety.

''Don has long had a habit of saying idiotic and inaccurate things, so it sounds pretty on brand for him,'' said O'Brien, who wasn't present during the phone call.

A CNN spokesperson told The Post, ''Don denies making any related remark in a derogatory way.''

''Don, Soledad, and others, have in the past correctly referred to her Afro-Cuban heritage as it is a unique part of her personal story,'' the rep added.

In 2008, Lemon reportedly told staffers that he doubted Soledad O'Brien was really black. Getty ImagesLemon was also known around the company for flouting the rules, according to the report.

Just a year after joining CNN in 2006, the then-41-year-old Lemon started dating a 22-year-old junior staffer despite the disparity in age as well as the power dynamic, the report said.

CNN insiders told Variety that Lemon, who reportedly showed up late to the newsroom and skipped editorial meetings, was allowed to skirt the rules because of his close friendship with Turner Broadcasting chairman and CEO Phil Kent.

''As fast as you could make a rule, Don would bend it,'' said one senior executive at the time.

Lemon also had the backing of Jeff Zucker, who was hired to run CNN in 2013.

Six months after Zucker's arrival, Lemon gave a controversial on-air monologue in which he told black people to ''pull up your pants.''

Lemon is also alleged to have mocked CNN and Headline News anchor Nancy Grace. Getty Images''Walking around with your ass and your underwear showing is not OK,'' Lemon said during the broadcast. ''In fact, it comes from prison when they take away belts from the prisoner so that they can't make a weapon.''

Lemon added: ''And then it evolved into which role a prisoner would have during male-on-male prison sex.''

Despite his incendiary statements, Lemon kept his job '-- even as co-workers complained, according to the report.

Goldie Taylor, a former CNN consultant, said she was blacklisted by the network for criticizing Lemon's comments.

In 2014, Lemon once again drew widespread criticism when he told a Bill Cosby rape accuser that she could have prevented the attack by biting the comedian's penis.

In September, he sparked more outrage when he used a sexist stereotype on air to explain why political commentator S.E. Cupp had verbally stumbled over a statistic about Republicans.

''Is it fair to say this because I'm not a mommy, but is it mommy brain?'' he asked Cupp, prompting an awkward silence.

''No, Don, I just forgot what I was going to say,'' she replied.

In February, Lemon triggered an uproar when he claimed Haley was not ''in her prime'' due to her age, and was ordered to undergo sensitivity training.

Lemon was reportedly able to skirt the rules at the company due to his close ties with then-boss Jeff Zucker. AFP via Getty Images''Everything Everywhere All at Once'' actress Michelle Yeoh, 60, later appeared to take a jab at Lemon during her Oscars acceptance speech '-- urging ladies to not let ''anyone tell you you are ever past your prime.''

On Wednesday, former CNN contributor Mary Katharine Ham pointed out that Zucker kept Lemon at CNN despite multiple screw-ups '-- while the women who had problems with him are no longer at the station.

''SO STRANGE, it's all the women in this story who took issue w Lemon during the Zucker era who are no longer at CNN, not Lemon. Especially weird considering how many very righteous #metoo segments we all did. Huh,'' she tweeted in reaction to the Variety piece.

Lemon also drew sharp criticism for giving advice to Jussie Smollett, the disgraced actor who fabricated claims that he was the victim of a Chicago gang assault by a mob of Trump supporters, while reporting on the sensational case.

Lemon has had testy exchanges with ''CNN This Morning'' co-hosts Kaitlan Collins and Poppy Harlow. CNN''He should have been benched in that instance. No question,'' said one long-time colleague.

A CNN spokesperson defended Lemon's interaction with the star, and called the entire Variety story flawed.

''CNN reviewed the [Smollett] incident in question at the time and found that any interaction was an act of journalism as Don was attempting to prompt a response from Mr. Smollett and book him for his show,'' a spokesperson for the network said.

''The story, which is riddled with patently false anecdotes and no concrete evidence, is entirely based on unsourced, unsubstantiated, 15-year-old anonymous gossip,'' the spokesperson said.

''It's amazing and disappointing that Variety would be so reckless.''

Suds, Skirts, And Sneakers: Here Are The Brands That Have Sponsored Trans Activist Dylan Mulvaney | The Daily Wire

Thu, 06 Apr 2023 12:22

Transgender activist and social media star Dylan Mulvaney has garnered criticism for his several brand deals featuring elements of his purported transition into girlhood.

Mulvaney, a man who identifies as a woman, has acquired millions of followers on TikTok over the past several months. He garnered controversy over the past weekend when he posted a video advertising for Bud Light's March Madness contest. Bud Light confirmed that it has a brand partnership with Mulvaney on Tuesday, claiming it is part of an effort to ''authentically connect'' with customers.

Mulvaney also showed off a personalized beer can commemorating one year of the ''Days of Girlhood'' series.

Despite the apparent lack of association between college basketball fans and transgenderism, the brand deal is one of several which have raised eyebrows over the past several months as Mulvaney becomes a polarizing household name in the United States.

Mulvaney, a former actor who held roles in various Broadway musicals, has been especially criticized for his marketing deals with companies such as makeup brand Ulta Beauty and fashion house Kate Spade, both of which prompted accusations that he was insulting women and provoked ire among the companies' consumer bases.

Ulta hosted Mulvaney alongside a ''gender-fluid'' hairdresser for the company's podcast at the end of last year, inducing backlash that caused the firm to turn off comments on YouTube and Instagram. ''We believe beauty is for everyone,'' Ulta said in a statement. ''And while we recognize some conversations we host will challenge perspectives and opinions, we believe constructive dialogue is one important way to move beauty forward.''

Kate Spade likewise posted a video last month featuring Mulvaney shopping for dresses and the ''perfect spring outfit'' at a store location in New York. He donned a white purse and showed the item to the camera before pointing out a hot-pink dress on a mannequin and grabbing a pair of heels, quickly changing into the attire and stepping out of the dressing room.

In the days after Bud Light reeled from criticism over its partnership with Mulvaney, he shared a post on Instagram in which he wore Zenvy leggings and an Alate bra made by Nike Women. ''They're so comfortable and buttery soft, perfect for workouts and everyday wear,'' he said.

His TikTok account has also shown him ordering a pizza from grocery delivery service Instacart to celebrate a ''sleepover'' and live the ''moments of girlhood'' he missed, using Crest toothpaste and discussing his expected dating life, and applying products from skin care brand CeraVe.

CLICK HERE TO GET THE DAILYWIRE+ APP

Beyond corporate entities, Mulvaney has even achieved support from senior government officials. President Joe Biden hosted a discussion with Mulvaney in the White House last year about ''gender-affirming healthcare.''

Daily Wire host Matt Walsh noted in commentary about the deal between Mulvaney and Bud Light earlier this week that transgenderism is an inherently ''progressive'' movement, which progresses like ''bone cancer eating away at its host until there's nothing left to consume,'' and requires constant validation because its assumptions are ''constantly on the verge of collapse.''

''It's perched precariously on this edge, and it must be aggressively propped up all the time, every second of the day,'' Walsh said. ''The trans person individually barely believes the claims he makes about himself and his own identity. His self-perception is this superficial, ephemeral thing. It's a lie that he whispers constantly to himself, and he shouts it at the world and demands that it be shouted back to him. No other group needs this kind of support because no other group is in a constant state of trying to convince itself that it exists.''

Nike Pays Trans TikTok Star Dylan Mulvaney to Model (Women's) Sports Bras '' RedState

Thu, 06 Apr 2023 12:19

Just days after the controversy of their paid partnership with Bud Light, the transgender TikTok star Dylan Mulvaney has now secured a paid collaboration with Nike modeling the company's sports bras on social media.

Mulvaney shared several Instagram posts on Wednesday that advertised Nike's latest sportswear for women. The first of the two ads feature Mulvaney in various poses, showcasing Nike's Zenvy athletic leggings and the Alate bra, which is the newest addition to the company's line of women's athletic wear.

''Home for a moment and leaning into cozy workout wear like with @nikewomen's newest Zenvy leggings and Alate bra!'' Mulvaney wrote. ''They're so comfortable and buttery soft, perfect for workouts and everyday wear! #feelyourall #teamnike #nikepartner.''

Meet NIKE WOMEN'S Newest Ambassador'...a biological man.

Dylan Mulvaney is now being paid ðŸ'°by Nike Women to promote sports bras- even though he's a man!

Another day, another company slapping all women in the face by mocking them and paying a man to take their place! #nike'... pic.twitter.com/XK33HJYo63

'-- Oli London (@OliLondonTV) April 5, 2023

Mulvaney's Instagram story similarly showcased other advertisements for the sports bra and leggings. One of the ads was a photograph that tagged Nike and included links for users to purchase the sports bra.

''Alert the media '' I'm entering my workout era,'' he wrote in one of the posts.

Dylan Mulvaney is the new face of Nike women's sports bras & leggings pic.twitter.com/SCoFxzavla

'-- End Wokeness (@EndWokeness) April 5, 2023

In another ad shared on his Instagram story, Mulvaney is seen stretching and dancing around in his outfit. The story also included a link where customers could purchase the Nike leggings. ''Home from day 365 and ready to take on the world,'' Mulvaney wrote, a reference to his social media documented gender transition project named ''365 Days of Girlhood.''

Mulvaney's third paid partnership with Nike was a video in which he pretended to work out. The post also tagged both Nike and Nike Women.

The posts clearly state that they are a ''Paid partnership'' with the sports brand. It is unclear how much Mulvaney made from the posts, but insiders who spoke with Mail Online claimed he could be making over $50,000 per paid post given the size of his following.

With the topic of transgenderism one of America's most contentious culture war issues, many took to social media to express their disgust with Nike's decision to pay Mulvaney.

'I really used to enjoy @Nike as a brand but I will never wear another shoe from them after they feature Dylan Mulvaney as their new ambassador for women's clothing,' one user wrote. 'When will these brands understand that women do not want men dressing up as them to advertise their products?'

I really used to enjoy @Nike as a brand but I will never wear another shoe from them after they feature Dylan Mulvaney as their new ambassador for women's clothing.

When will these brands understand that women do not want men dressing up as them to advertise their products?

'-- Ada Lluch 🇪🇸 (@ada_lluch) April 5, 2023

''Dylan Mulvaney is making the biggest mockery out of women and I am officially outraged following his collaboration,'' added another. ''You chose him over all hardworking women who workout regularly in your activewear? What a damn damn shame. Absolutely disgusting.''

Dylan Mulvaney is making the biggest mockery out of women and I am officially outraged following his @Nike collaboration. You chose him over all hardworking women who workout regularly in your activewear? What a damn damn shame. Absolutely disgusting.

'-- _ (@_tashl) April 5, 2023

Mulvaney gained a large following on TikTok as he chronicled her transition from male to female. Initially identifying as non-binary, Mulvaney announced in March that he now identifies as a girl.

Last October, Mulvaney was among a group of left-wing activists to interview Biden for NowThis News. During the interview, the 80-year-old pledged to safeguard ''gender-affirming care'' and voiced his opposition to state restrictions on transgender surgeries.

The influencer's latest marketing collaboration came just days after debuting a partnership with Bud Light to promote the ''March Madness'' college basketball championship tournament.

''Happy March Madness!! Just found out this had to do with sports and not just saying it's a crazy month!'' Mulvaney wrote. ''In celebration of this sports thing @budlight is giving you the chance to win $15,000! Share a video with #EasyCarryContest for a chance to win!! Good luck! #budlightpartner.''

Nike, meanwhile, has long had a reputation as one of the companies most willing to pander to the left. Their most controversial campaign was with the NFL quarterback and Black Lives Matter activist Colin Kaepernick with the tagline: '' Believe in something, even if it means sacrificing everything. #JustDoIt.''

Believe in something, even if it means sacrificing everything. #JustDoIt pic.twitter.com/SRWkMIDdaO

'-- Colin Kaepernick (@Kaepernick7) September 3, 2018

Follow Ben Kew on Twitter @ben_kew

Trending on RedState Video

BRICS Nations Developing "New Currency" As Quest For Global De-Dollarization Accelerates | ZeroHedge

Thu, 06 Apr 2023 12:16

Authored by Michael Maharrey via SchiffGold.com,

China and Brazil recently finalized a trade deal in their own currencies completely bypassing the dollar, but that's not the only bad news for the world's reserve currency.

Last week, a Russian official announced that the BRICS nations are working to develop a ''new currency,'' yet another sign that dollar dominance is waning.

State Duma (the Russian legislative assembly) deputy chairman Alexander Babakov said the transition to settlements in national currencies is the first step. We've already seen this occur with recent oil deals between India and Russia being settled in currencies other than dollars.

The next one is to provide the circulation of digital or any other form of a fundamentally new currency in the nearest future. I think that at the BRICS [leaders' summit], the readiness to realize this project will be announced, such works are underway.''

That summit is scheduled for August.

Babakov said the BRICS nations are developing a strategy that ''does not defend the dollar or euro'' and that ''a single currency'' would likely emerge within BRICS, pegged to gold or ''other groups of products, rare-earth elements, or soil.''

Brazil, Russia, India, China, and South Africa make up the BRICS block. It accounts for about 40% of the global population and a quarter of the global GDP.

Last year, Iran officially applied to join BRICS, and according to a report by The Cradle, several nations have expressed interest in joining the bloc, including Saudi Arabia, Algeria, UAE, Egypt, Argentina, Mexico, and Nigeria.

Former Goldman Sachs chief economist Jim O'Neill coined the BRIC acronym. In a recent paper published by Global Policy Journal, he urged the expansion of BRICS.

''The US dollar plays a far too dominant role in global finance,'' he wrote.

''Whenever the Federal Reserve Board has embarked on periods of monetary tightening, or the opposite, loosening, the consequences on the value of the dollar and the knock-on effects have been dramatic.''

It's clear that many countries are trying to minimize their exposure to the dollar.

Confidence in the greenback continues to erode thanks to the profligate borrowing, spending and money creation by the US government. America's use of the dollar as a foreign policy weapon also makes many countries wary of relying solely on dollars.

According to the International Monetary Fund (IMF), the dollar's share of global foreign-exchange reserves fell below 59% at the end of 2021, extending a two-decade decline.

Strikingly, the decline in the dollar's share has not been accompanied by an increase in the shares of the pound sterling, yen and euro, other long-standing reserve currencies'...

Rather, the shift out of dollars has been in two directions: a quarter into the Chinese renminbi, and three quarters into the currencies of smaller countries that have played a more limited role as reserve currencies.''

This is a big problem for the US government.

Uncle Sam depends on the demand for dollars to underpin its profligate borrowing and spending. The only reason the US can get away with massive budget deficits and an ever-growing national debt to the extent that it does is due to the dollar's role as the world reserve currency. It creates a built-in global demand for dollars and US Treasuries that absorb the money creation and maintain dollar strength. But what happens if that demand drops? What happens if BRICS develops its own currency and no longer needs dollars to trade?

If the demand for dollars tanks, the greenback's value will quickly erode away. That means even worse price inflation for Americans. And in the worst-case scenario, it could collapse the dollar completely.

Loading...

Leonardo DiCaprio Testifies in CCP-Related Influence Scheme to Funnel Millions to Obama Campaign '' RedState

Thu, 06 Apr 2023 12:15

If you thought that the Chinese effort to spy on us and influence our government started under Joe Biden, you would be mistaken. Chinese influence might have gotten more prevalent under Biden, but it's been going on for years.

We heard all about the fake Russia collusion hoax for years, yet there's a case now going on that you may not have heard anything about that is a pretty stunning effort by a Chinese-connected Malaysian financier to influence our government and our elections.

Leonardo DiCaprio testified in the federal criminal trial of rapper Pras Michel, who is accused of participating in a scheme to lobby Washington on behalf of the Chinese government and Malaysian financier Jho Low https://t.co/6sEQdRA4Sp pic.twitter.com/K3uWCkzcao

'-- Reuters (@Reuters) April 4, 2023

Actor Leonardo DiCaprio testified on Monday in Washington, D.C. that the financier, Jho Low, told him that he wanted to donate $30 million to Barack Obama's 2012 re-election campaign. So, the guy connected to China wanted to funnel money to get Obama elected? Gee, I wonder why the Chinese would want him (and Joe Biden) re-elected? ''It was a casual conversation about what party he was in support of,'' DiCaprio said, telling jurors that Low said he planned on giving ''a significant donation'' to the Democratic Party that was ''somewhere to the tune of $20-30 million.'' DiCaprio knew Low because he had partied with him and he helped finance one of his films.

Low had a ton of money '-- he's also accused of having embezzled $4.5 billion from Malaysia's state investment fund, but he's reportedly hiding out in China so that Malaysia can't get him.

Enter Pras Michel of the music group ''The Fugees'' to allegedly help make those donations to the Obama campaign since it would be illegal for Low to do so.

Prosecutors have accused Michel of receiving $21.6 million in payments from foreign accounts linked to Low which the rapper then paid out to roughly 20 straw donors from June to November 2012. Those 20 or so donors were expected to make contributions to the Obama campaign in their names so the money wouldn't be traced back to Low, according to court documents.

After DiCaprio testified, more witnesses came forward and testified that they had been approached to make shadow donations to the Obama campaign.

They also alleged Michel and others tried to interfere in the Trump administration's investigation of Low, but that effort failed.

Does it surprise anyone at all that they wanted to put Obama/Biden back into office? Look at what has happened since, and how much worse things have gotten under Joe Biden, from China's spying on us to its moves around the world to make moves that are not good for the United States. Why has this not gotten more attention '-- this was far more ''interference'' with millions of dollars rather than the alleged interference from random Russian Facebook pages? Why has more not been done, in light of this, to focus more attention on stopping real interference? And what were the donors expecting to get for the money?

There are pictures on TMZ of Michel with Obama and on Puck of Low with Obama.

Paging GOP prosecutors and members of Congress: This sounds pretty concerning. Who is looking at who knew what when and if this is still going on in some fashion with others?

Trending on RedState Video

Ukraine 'Ready' To Give Up Crimea, Says Zelensky Advisor | ZeroHedge

Thu, 06 Apr 2023 12:14

There has been much talk and reporting of the coming Spring counteroffensive by Ukraine forces, but with the fight for Bakhmut not going so well for Kiev, there's also been talk of the need for compromise, at a moment Ukrainian casualties in the east are believed to be high.

Last week we reported on President Volodymyr Zelensky's voicing rare doubts concerning Bakhmut - as if preparing his people for news of a devastating defeat. And now, on Wednesday, the Financial Times is reporting the single most important development to come out of the conflict in a long time: Zelensky's office says he's ready to compromise on the future of the Crimean peninsula.

The Crimean Bridge connecting Russian mainland & Crimean peninsula over the Kerch Strait, via AP.Naturally, the Ukrainians present themselves as speaking from a position of having the upper hand, which is the general tone of the remarks that Andriy Sybiha, who is deputy head of Zelensky's office, gave to FT. Per the publication, "Kyiv is willing to discuss the future of Crimea with Moscow if its forces reach the border of the Russian-occupied peninsula" - which marks the "most explicit statement of Ukraine's interest in negotiations since it cut off peace talks with the Kremlin last April."

"If we will succeed in achieving our strategic goals on the battlefield and when we will be on the administrative border with Crimea, we are ready to open [a] diplomatic page to discuss this issue," Sybiha said, previewing his high hopes for an imminent counteroffensive.

He explained however that "It doesn't mean that we exclude the way of liberation [of Crimea] by our army." But given that Ukrainian forces are nearly completely surrounded in the strategic city of Bakhmut in Donetsk region, despite pouring in massive amounts of manpower and equipment, the whole notion of "liberation of Crimea" is a pipe dream.

Western officials themselves have in many cases long acknowledged the extreme unlikelihood of any Ukraine attempt to take Crimea at reaching success. The FT report hints at this in the following:

Sybiha's remarks may relieve western officials who are skeptical about Ukraine's ability to reclaim the peninsula and worry that any attempt to do so militarily could lead President Vladimir Putin to escalate his war, possibly with nuclear weapons. To date Zelenskyy has ruled out peace talks until Russian forces leave all of Ukraine, including Crimea.

All of this represents a public reversal of sorts from Zelensky's prior hardened stance of seeking the return of every inch of Ukrainian territory. For example, last October while feeling emboldened after billions in defense aid was pledged from the US and Western allies, he declared in a nightly address, "We will definitely liberate Crimea."

More recently, Zelensky's outlook & messages on the future have been mixed to say the least:

If Bakhmut fell to Russian forces, their president, Vladimir Putin, would ''sell this victory to the West, to his society, to China, to Iran,'' Zelensky said in an exclusive interview with The Associated Press. #StandWithUkraine https://t.co/mAj6Y3wy4z pic.twitter.com/BW99uvD5aJ

'-- D(C)nes T¶rteli 🇪🇺🇭🇺🇺ðŸ‡... (@DenesTorteli) March 29, 2023On April 2, the last occupier fled from the Kyiv region. The day will come when we'll say: the last occupier fled or was killed in the Donetsk region, Luhansk region, Kherson region and our entire south. Crimea will be free and safe again. Ukraine will return all its territories. pic.twitter.com/DeFbkVg81q

'-- Ð'оÐ>>Ð¾Ð´Ð¸Ð¼Ð¸Ñ Ð—ÐµÐ>>енський (@ZelenskyyUa) April 2, 2023"We will return this part of our country not only to the all-Ukrainian space, but also to the all-European space," Zelensky had said, not for the first time. He also repeated the same as recently as Sunday.

Interestingly, FT cites yet another high-ranking Western defense official who admits the near impossibility of Ukraine actually taking Crimea militarily:

Rear Admiral Tim Woods, the British defense attach(C) in Washington, said on Wednesday that Crimea would need "a political solution because of just the concentration of force that is there and what it would mean for the Ukrainians to go in there". He added: "I don't think there's going to be a very quick military solution'‰.'‰.'‰.'‰hence we need to see what are favorable conditions for Ukraine to negotiate and I think Ukraine would be up for that."

Russia of course knows this. For Moscow the question will not be Crimea being at issue on the negotiating table, but the status of the eastern territories. Likely the Kremlin will base its willingness to strike a peace deal to end the war based on recognition of the eastern oblasts. On September 30, President Putin signed "accession treaties" declaring Luhansk, Donetsk, Zaporizhzhia and Kherson as part of the Russian Federation.

At this point, Zelensky is unlikely to let the four territories go, but if Crimea is let go - that at least constitutes positive momentum toward the negotiating table. But still, all of these questions will likely be decided on the battlefield, until either side reaches the point of exhaustion.

Meanwhile, while Washington has shown little interest in peaceful settlement based on ceding territory to Russia (in fact, many reports have alleged the opposite: that the US and UK have actively sabotaged the possibility of negotiations), Ukraine continues to be steadily pushed out of Bakhmut.

#Bakhmut map. Russian forces liberating the city few blocks at a time. Tough battles over the last 15% of the city.Ukraine, the geopolitical pawn, is literally fighting Russia to the last person, as the U.S. wanted.

Yesterday Today pic.twitter.com/ZjFokwnbXG

'-- S.L. Kanthan (@Kanthan2030) April 5, 2023* * *

As for Zelensky himself, he's been sounding more and more pessimistic of late, as we described exactly a week ago...

Zelensky described that the capture of Bakhmut will mean that Putin will smell weakness. According to the Ukrainian leader's words:

Speaking with The Associated Press, Zelenskyy said that if Bakhmut were to fall, Putin could "sell this victory to the West, to his society, to China, to Iran," as leverage to push for a ceasefire deal that would see Ukraine agree to give up territory.

"If he will feel some blood '-- smell that we are weak '-- he will push, push, push," Zelensky continued.

"Our society will feel tired" if the Russians gain victory in Bakhmut, he said. "Our society will push me to have compromise with them." Implicit in these words are perhaps a first-time admission that significant sectors of the Ukrainian population are ready for compromise and peaceful negotiations to end the war.

And tellingly, CBS commentary on the AP interview included the following observation: "He appeared acutely aware of the risk that his country could see its vital support from the U.S. and Europe start to slip away as the 13-month war grinds on." Zelensky admitted: "The loss of Bakhmut would mean a political defeat, could lead to a general defeat in conflict."

Loading...

China vows 'forceful' measures after US-Taiwan meeting | AP News

Thu, 06 Apr 2023 11:25

TAIPEI, Taiwan (AP) '-- China vowed reprisals against Taiwan after a meeting between the United States House speaker and the island's president, saying Thursday that the U.S. was on a ''wrong and dangerous road.''

Speaker Kevin McCarthy hosted Taiwan President Tsai Ing-wen on Wednesday in a show of U.S. support for the self-ruled island, which China claims as its own, along with a bipartisan delegation of more than a dozen U.S. lawmakers.

The Biden administration maintains there is nothing provocative about the visit by Tsai, which is the latest of a half-dozen to the U.S. Yet, it comes as the U.S.-China relationship has fallen to historic lows, with U.S. support for Taiwan becoming one of the main points of difference between the two powers.

But the formal trappings of the meeting, and the senior rank of some of the elected officials in the delegation from Congress, could lead China to view it as an escalation. No speaker is known to have met with a Taiwan president on U.S. soil since the U.S. broke off formal diplomatic relations in 1979.

In response to the meeting, Beijing said it would take ''resolute and forceful measures to defend national sovereignty and territorial integrity,'' in a statement issued early Thursday morning by the Ministry of Foreign Affairs.

It urged the U.S. ''not to walk further down a wrong and dangerous road.''

In December, China's military sent 71 planes and seven ships toward Taiwan in a 24-hour display of force directed at the self-ruled island after China expressed anger at Taiwan-related provisions in a U.S. annual defense spending bill. China's military pressure campaign on Taiwan has intensified in recent years, and the Communist Party has sent planes or ships toward the island on a near-daily basis.

But as of Thursday afternoon, there was no overt sign of a large-scale military response.

''We will take resolute measures to punish the 'Taiwan independence' separatist forces and their actions, and resolutely safeguard our country's sovereignty and territorial integrity,'' said a statement from China's Taiwan Affairs Office Thursday morning, referring to Tsai and her political party as separatists.

Chinese vessels were engaged in a joint patrol and inspection operation in the Taiwan Strait that will last three days, state media said Thursday morning. The Fujian Maritime Safety Administration said its ship, the Haixun 06, would inspect cargo ships and others in the waters that run between Taiwan and China as part of the operation.

Taiwan's Ministry of National Defense said Wednesday evening it had tracked China's Shandong aircraft carrier passing southeast of Taiwan through the Bashi Strait. On Thursday morning, it tracked three People's Liberation Army navy vessels and one warplane in the area around the island.

U.S. Congressional visits to Taiwan have stepped up in frequency in the past year, and the American Institute in Taipei, the de facto embassy, announced the arrival of another delegation Thursday. House Foreign Affairs Committee head Michael McCaul of Texas is leading a delegation of eight other lawmakers for a three-day visit to discuss regional security and trade, according to a statement from AIT.

At their meeting Wednesday, Tsai and McCarthy spoke carefully to avoid unnecessarily escalating tensions with Beijing. Standing side by side at the Ronald Reagan Presidential Library in California, the two acknowledged China's threats against the island government.

''America's support for the people of Taiwan will remain resolute, unwavering and bipartisan,'' McCarthy said at a news conference later. He also said U.S.-Taiwan ties are stronger than at any other point in his life.

Tsai said the ''unwavering support reassures the people of Taiwan that we are not isolated.''

More than a dozen Democratic and Republican lawmakers, including the House's third-ranking Democrat, had joined the meeting.

Tsai said she and McCarthy spoke of the importance of Taiwan's self-defense, of fostering robust trade and economic ties and supporting the island government's ability to participate in the international community.

But she also warned, ''It is no secret that today the peace that we have maintained and the democracy which we have worked hard to build are facing unprecedented challenges.''

''We once again find ourselves in a world where democracy is under threat and the urgency of keeping the beacon of freedom shining cannot be understated,'' she said.

The United States broke off official ties with Taiwan in 1979 while formally establishing diplomatic relations with the Beijing government. As part of its recognition of China, the U.S. ''One China'' policy acknowledges that Beijing lays claim to Taiwan, but does not endorse China's claim, and the U.S. remains Taiwan's key provider of military and defense assistance.

Washington also has a policy of strategic ambiguity, where it does not explicitly say whether it will come to Taiwan's aid in the case of a conflict with China.

In Taiwan, Tsai's visit did not make a huge splash, though fellow politicians paid close attention.

Ko Wen-je, the former Taipei city mayor who's thought to have presidential aspirations, said he welcomed any exchange between Taiwan and international leaders.

''Taiwan hopes to have a greater space to operate globally, and the mainland shouldn't get flustered because of this,'' Ko wrote on his Facebook page. ''It should show the attitude of a civilized nation and stop its suppression by military force.''

Opposition lawmaker Johnny Chiang of the Nationalist party said that Tsai's meeting with McCarthy was still within the guardrails of the ''One China'' policy because it showed that while Congress was relatively free to support Taiwan, the White House was more constrained, according to local media.

In August, then-House Speaker Nancy Pelosi traveled to Taiwan to meet with Tsai. China responded with its largest live-fire drills in decades, including firing a missile over the island.

Taiwan and China split in 1949 after a civil war and have no official relations, although they are linked by billions of dollars in trade and investment.

12ft | Anti-vaccine activist RFK Jr. challenging Biden in 2024 | AP News

Thu, 06 Apr 2023 11:20

Removing Paywall

Donald Trump was arrested, please like and subscribe - The Verge

Wed, 05 Apr 2023 20:03

Hours before Donald Trump arrived at the Manhattan criminal courthouse Tuesday, hundreds of his most ardent supporters gathered at a park just across the street. The New York Young Republican Club had organized the protest, inviting Rep. Marjorie Taylor Greene (R-GA) and conservative influencers like Jack Posobiec to speak.

The block-size park was sectioned into two parts '-- pro-Trump protesters on one side and anti-Trump on the other. The mainstream press had its own section, largely covered by tents and hidden behind a wall of television cameras. Between these barricades, protesters shouted at each other. ''Y'all identify as some weird shit,'' yelled a man wearing an Iron Man shirt and white contact lenses. ''There are only two pronouns!''

On Truth Social last month, Trump warned the world of the potential for ''death & destruction'' should he face charges for an alleged 2016 hush-money deal. After weeks of uncertainty, the moment had come due: Trump had flown up from Florida to turn himself in for arraignment. New York City took the possibility of violent retaliation seriously, putting 35,000 NYPD officers on standby should the protest, advertised as ''peaceful and patriotic,'' spark violence. The goal was averting a repeat of Trump's attempt to stop the election in 2021 '-- when thousands of protestors, motivated by false claims about the election, stormed the Capitol.

But walking through the park, I noticed more hands holding phones than signs or Trump flags. Despite the massive police presence and angry shouting, the roughest physical contact I experienced involved people pacing around with their eyes glued to their phone screens. At least a half-dozen times, I was elbow-checked by a teenager filming an Instagram story or a middle-age man with a goatee wandering around livestreaming from two separate phones, AirPods in his ears. Multiple news outlets reported there were more journalists than protesters on the ground, but the line between the two could be blurry '-- it's hard to pick out credentialed press when everyone's got a camera.

If someone wasn't streaming, they were holding a microphone in someone else's face

Almost every crowd member I spoke to said they were there to protest the former president's imminent arrest. (He's charged with 34 felony counts that include falsifying business records to cover up an alleged affair with porn star Stormy Daniels.) But there was little protesting being done. Greene opened the rally that morning to palpable energy, decrying ''the injustice, the corruption, and the communist Democrats.'' But after she left, 15 minutes into the event, the mood deflated. Later, embattled Republican Rep. George Santos (NY) made a brief appearance to greet protesters but quickly vanished. One man tried to start a ''fuck antifa'' chant, repeating the slogan alone twice before realizing it wasn't catching on. Across the barriers, the anti-Trump protest had dwindled to a handful of people, none identifiable as antifa. The man muttered it one last time in a whisper before walking away.

What there was, however, was content. If someone wasn't streaming, they were holding a microphone in someone else's face. Outside of the protest, conservative pundits like Benny Johnson and Steve Bannon were hosting their in-studio shows. Their guests applauded the protesters, claiming that the day was a success. Posobiec, who famously pushed the Pizzagate conspiracy in 2016, left with Greene and the other speakers. He retweeted the same clip of himself saying ''they can gag Donald Trump, but they can't gag all of us'' multiple times throughout the day.

As the protest stretched into the early afternoon, I began joking with Josh Schneider, a writer who was '-- unsuccessfully '-- trying to trick some of a dozen or so citizen journalists into interviewing each other.

''There are more people shooting TikToks than protesting.''

''There are more people shooting TikToks than protesting,'' Schneider told me with a laugh.

Trump carved out an entirely new online media ecosystem with his 2016 campaign. He leveraged his significant social media following to become president, launching the careers of a whole generation of right-wing internet stars. For Trump, the mainstream media and the ''fake news'' would never give him a fair shake. Fighting this grievance online by sharing memes and trolling the libs became the right's most honored force for political activism.

After Greene was whisked away for a day filled with media hits that would end at Trump's lavish arrest party at Mar-a-Lago that evening, it was as if posting was all Trump's supporters had left.

As the day progressed, it became increasingly impossible for me to upload any photos or videos from the protest to Twitter. Cell service can be spotty in downtown Manhattan due to the density of skyscrapers, but it only worsened as more people arrived. The goateed man, who goes by Freedom Jeffrey 1776 online, told me he had been streaming on and off all day, dealing with the spotty service.

Surprisingly, Jeffrey was the only person who spoke to me who was streaming to Rumble or some other well-known conservative-friendly social media network. After Trump was banned from platforms like Facebook and Twitter following the January 6th insurrection, a crop of alternative platforms grew in users. But over the last six months, most have collapsed. App store owners banned Parler, cratering its ability to grow. Sources told me last month that Gettr, another platform, had laid off most of its employees. Jason Miller, a Trump adviser, resigned as the company's CEO in February to join the former president's 2024 reelection campaign. Gettr's layoffs came after the Justice Department seized $2.7 million from a company bank account with alleged ties to a fugitive Chinese billionaire.

Some of these services are holding on. One younger protester, wearing a blue America First hat, said he was recording for a private chat. His friend leaned over to me, saying he was actually on Cozy.tv, a streaming service founded by white supremacist Nick Fuentes in 2021.

It was as if posting was all Trump's supporters had left

Despite the initial excitement around conservative platforms, any hopes of maintaining an audience, even with Trump's biggest supporters, seems to have largely fizzled out. Ariel Kohane, an older man who asked me to interview him and take his picture, said he mostly uses Facebook. He recognized Truth Social, Parler, and Gettr but didn't use them much himself.

Jeffrey, like the other streamers I spoke to, primarily uses mainstream platforms because they ''can't get the numbers'' on alternative sites like they do on Instagram or YouTube. Like Jeffrey, everyone else I met was streaming to either YouTube, Facebook, or Instagram. Jeffrey said sites like Rumble are for people who had already been deplatformed. No one seemed scared of having their Instagram accounts banned.

Without cell service, I noticed more and more people walking around with their camera apps open. Some were recording, but it wasn't entirely clear what they were filming. Some protesters had been rolling for minutes, phones pointed in one direction where nothing was really happening. Only a handful of people were pressed against the barricades to catch a glimpse of the first criminally indicted president in history.

One man, who declined to speak with me, circled around the crowd at least three times holding out his phone on a selfie stick. Asked where he was streaming, he waved me off, simply saying ''everywhere.'' I saw him once again on my way out of the park, now filming his same path on a GoPro instead of his phone.

Toward the end of the afternoon, I noticed one man dressed in yellow repeating the phrase ''Trump's a felon.'' He had stood in the same spot for most of the day, saying the same thing. But after Trump had arrived at the courthouse around 1:30PM, he was nearly the only thing left to film. A woman who'd been pacing the park for hours started streaming herself yelling at him, pointing her selfie stick in his face. In a few seconds, yet another man rolled up to the scene pointing his phone at the woman, trying to engage her in some sort of debate. Suddenly, the crowd looked toward the streaming circle that had opened up in the park, filming it themselves.

Then, after a minute, the streamers at the center of the circle dispersed. A Trump protester seamlessly slid into their place '-- asking what looked like a friend to take a picture of her holding a commemorative flag.

A Repeating Radio Signal Is Coming From Another Planet, Scientists Say

Wed, 05 Apr 2023 15:56

Image: Darryl Fonseka via Getty Images

ABSTRACT breaks down mind-bending scientific research, future tech, new discoveries, and major breakthroughs.

Scientists have spotted a repeating radio signal from a nearby star system that hints at the presence of a magnetic field around one of its Earth-sized planets, reports a new study.

The discovery of a magnetic field'--a key component of Earth's ability to host life'--could bolster the search for alien life and habitable planets in the universe if confirmed, but it will take more research to present a clear-cut case that the signals really are generated by a planet's magnetic field.

Earth's magnetic field has played a critical role in the survival of life by shielding the surface from the Sun's harmful radiation and helping to maintain a stable atmosphere that nourishes our biosphere. For this reason, scientists think that extraterrestrial life, if it exists, might also depend on the presence of robust magnetic fields around exoplanets, which are worlds that orbit other stars.

Scientists have previously observed the magnetic fields of giant Jupiter-scale exoplanets interacting with their host stars, as part of a process called magnetic star-planet interactions (SPIs). However, Earth-sized exoplanets give off much weaker magnetic signals compared to gas giants, making it difficult to detect magnetism around rocky worlds.

Sebastian Pineda, a research scientist at the University of Colorado, Boulder, and Jacqueline Villadsen, an assistant professor at Bucknell University, have spent years searching for these elusive signs of magnetic fields around small planets. Now, the pair of astronomers present unprecedented evidence of repeated radio bursts that may be linked to a magnetic field around the Earth-sized exoplanet YZ Ceti b, which is located just 12 light years from our solar system.

YZ Ceti b completes an orbit in just two days, which means it is way too close to its star to host life, but this ultrashort year also ''makes it a uniquely promising case study for magnetic SPIs,'' according to a study published on Monday in Nature Astronomy.

''It was super exciting to see the radio data sets show this kind of signature,'' Pineda said in an email to Motherboard. ''We saw the initial burst detection, and immediately went about coordinating observations for additional monitoring, based on the published planet period, since we were looking for something that happens at the same time in the planet's orbit.''

''Once we had the additional data, Jackie was looking at it, and was telling me: 'hey, there are similar radio signals here, right when we were looking and hoping to see them,''' he continued. ''It was a bit of feverish excitement: 'wow, we may really have it here!!' I'm pretty sure I started pacing around, imagining our next steps: alright, we've got work to do to really demonstrate this result, with all the implications etc.''

In their hunt for these signals, Pineda and Villadsen focused their attention on short-period small planets, because they might have a more visible magnetic signature as a result of their proximity to their stars. As these worlds hurtle through their orbits, any magnetic field they might possess could interact with the star's own magnetic field, creating a pattern of radio bursts from the star that can be potentially seen here on Earth.

The researchers think they might have seen these repeat bursts from the YZ Ceti system, but they caution that it's not a slam-dunk case. It's possible that the signals are a normal part of the radio stellar activity of stars like YZ Ceti, which is a slowly rotating red dwarf, which would mean that its emission may have nothing to do with any planets in the system.

''There are still too many unknowns about the system, but I'd say we are demonstrating the potential of radio data and magnetic star-planet interactions to lead toward measurements of Earth-sized exoplanet magnetic field strengths'--I don't think we're really there yet,'' Pineda said.

''So, we want to continue to monitor the star with the radio observatories, and look for additional recurrence of the radio signals that occur periodically with the same position of the planet in its orbit,'' he added. ''It can be time consuming and a bit challenging to set up, but that'll confirm that the radio detections are indeed dependent on the planet, and not something that the star is doing on its own.''

If this does turn out to be the first detection of magnetic SPI around an Earth-sized exoplanet, it could help scientists hunt for habitable worlds in other stars. The caveat is that looking for magnetic signatures around rocky worlds in the habitable zones of their stars, where liquid water and life are considered more likely to exist, would be tricky because these planets have much larger orbits. This distance from stars may be an advantage for any hidden aliens out there, but it also makes the magnetic interactions between stars and planets far weaker, to the point that some may not be detectable at all.

However, the new study offers a potential example of the types of signals you might expect to see from a system that contains a magnetically shielded planet that is similar in size to Earth. With time and practice, scientists might be able to zero-in on interesting targets, Pineda said, as part of a wider approach to assessing the odds that life might exist on other worlds.

''First off, fully confirming magnetic field strengths on exoplanets is a requisite for any broader understanding of habitability,'' he explained. ''It's not just a temperature question, but the whole star-planet system needs to be thought about holistically, with magnetism as an important ingredient.''

''So, if we know these exoplanets have magnetic fields from the SPI work, we can start to think about questions like what are the properties of those planets, and thus how do the habitable zone planets compare, and what are the chances that they too have similar magnetic fields, even if we can't measure them yet for the [habitable zone] planets specifically,'' Pineda concluded. ''If you can infer then that a planet likely has its own field, that's when you can start thinking about whether individual planets are truly hospitable.''

ORIGINAL REPORTING ON EVERYTHING THAT MATTERS IN YOUR INBOX.

By signing up, you agree to the Terms of Use and Privacy Policy & to receive electronic communications from Vice Media Group, which may include marketing promotions, advertisements and sponsored content.

JUST IN: Biden Admin. Announces Another $2.6 Billion in Weapons Aid to Ukraine - Breaking911

Wed, 05 Apr 2023 14:18

President Joe Biden, right, and Ukrainian President Volodymyr Zelenskyy hug as they say goodbye at the Memorial Wall of Fallen Defenders of Ukraine in Russian-Ukrainian War with photos of killed soldiers, in Kyiv, Ukraine, Monday, Feb. 20, 2023. (Ukrainian Presidential Press Office via AP)WASHINGTON (Dept. of Defense) -Today, the Department of Defense (DoD) announces critical new security assistance for Ukraine. This includes the authorization of a Presidential Drawdown of security assistance with more ammunition for U.S.-provided HIMARS, air defense interceptors, and artillery rounds that Ukraine is using to defend itself, as well as anti-armor systems, small arms, heavy equipment transport vehicles, and maintenance support essential to strengthening Ukraine's defenders on the battlefield valued at up to $500 million.

In addition, we are announcing a significant package of air defense capabilities, as well as artillery and tank ammunition, mortar systems, rockets, and anti-armor systems using $2.1 billion in Ukraine Security Assistance Initiative (USAI) funds.

The Presidential Drawdown is the thirty-fifth such drawdown of equipment from DoD inventories for Ukraine that the Biden Administration has authorized since August 2021.

The capabilities in this package include:

Additional munitions for Patriot air defense systems;Additional ammunition for High Mobility Artillery Rocket Systems (HIMARS);155mm and 105mm artillery rounds;120mm mortar rounds;120mm and 105mm tank ammunition;25mm ammunition;Tube-Launched, Optically-Tracked, Wire-Guided (TOW) missiles;Approximately 400 grenade launchers and 200,000 rounds of ammunition;11 tactical vehicles to recover equipment;61 heavy fuel tankers;10 trucks and 10 trailers to transport heavy equipment;Testing and diagnostic equipment to support vehicle maintenance and repair;Spare parts and other field equipment.Under USAI, the DoD will provide Ukraine with:

Additional munitions for National Advanced Surface-to-Air Missile Systems (NASAMS);Nine counter-Unmanned Aerial System 30mm gun trucks;10 mobile c-UAS laser-guided rocket systems;Three air surveillance radars;30mm and 23mm anti-aircraft ammunition;130mm and 122mm artillery rounds;122mm GRAD rockets;Rocket launchers and ammunition;120mm and 81mm mortar systems;120mm, 81mm, and 60mm mortar rounds;120mm tank ammunition;Javelin anti-armor systems;Anti-armor rockets;Precision aerial munitions;Approximately 3,600 small arms and more than 23,000,000 rounds of small arms ammunition;Seven tactical vehicles to recover equipment;Eight heavy fuel tankers and 105 fuel trailers;Armored bridging systems;Four logistics support vehicles;Trucks and ten trailers to transport heavy equipment;Secure communications equipment;SATCOM terminals and services;Funding for training, maintenance, and sustainment.Unlike Presidential Drawdown, USAI is an authority under which the United States procures capabilities from industry rather than delivering equipment that is drawn down from DoD stocks. The announcement of this USAI package represents the beginning of a contracting process to provide additional capabilities to Ukraine's Armed Forces.

The United States will continue to work with its Allies and partners to provide Ukraine with capabilities to meet its immediate battlefield needs and longer-term security assistance requirements.

Facebook Comments

Study indicates gender transitioning worsens mental health outcomes in children - Rebel News

Wed, 05 Apr 2023 14:16

E-transfer (Canada):[email protected] - password RebelNews if required

Cheques made out to Rebel News:Rebel News Network Ltd.PO Box 61056 Eglinton/Dufferin ROToronto, ON M6E 5B2

Crypto

A recent study highlights that parents frequently feel pressured into allowing their children to undergo transitioning as a treatment for gender dysphoria, which may lead to worsened mental health outcomes in the affected young individuals.

Northwestern University psychology professor Michael Bailey conducted an analysis of survey data from 1,655 parents with youth and young adult children identifying as transgender or non-binary, the Daily Wire reported.

The data, gathered by the support group Parents of Rapid-Onset Gender Dysphoria (ROGD) Kids, involved families whose children began identifying as transgender between the ages of 11 and 21.

The study discovered that gender dysphoria had a more significant impact on girls than boys, with 75% of the affected children being biological females. A history of mental health issues was also prevalent among most children who later struggled with gender dysphoria.

According to the study, parents often reported feeling pressured by healthcare professionals to affirm their child's new gender and provide support for their transition. However, these children's mental health reportedly worsened considerably following their social transition.

Parents of ROGD Kids argue that the study supports their assertion that social contagion plays a crucial role in the development of gender dysphoria in young people, particularly girls who may be more susceptible to group influence and suggestions from their social circles.

''These youth are most likely using 'gender dysphoria' to describe general feelings of dysphoria that they have no other name for, and do not understand. Transitioning will not help them. It can only cause irreversible harm and make things much worse,'' the group said in a press release.

In response to a Washington Post article suggesting that transgender treatment led to happier outcomes, Parents of ROGD Kids emphasized that, although the surveyed individuals might feel content with their transition, their mental health and social functioning were worse off compared to the total population surveyed.

The group contends that transitioning does not lead to improved social and emotional functioning, adding that 78% of trans respondents reported having serious mental health issues as a child or teenager.

Building God: The Rise of AI as the New Divine

Wed, 05 Apr 2023 04:28

My mother is deeply religious.

Growing up, I watched her pray for protection, blessings, and the occasional thunderbolt on her enemies.

And though I watched and waited over 30 years, I never saw anyone get 'š¸ Thor'd after one of her impassioned prayers.

My mother is not alone. Billions of people pray to a God (or gods) for good health, happy families, and healthy bank accounts '-- some quietly in their hearts, others in places of worship.

They all do it for the same reason: seeking answers. For many believers, God is the antidote to uncertainty.

Building God 1.0: ReligionHumanity has prayed to higher powers since we lived in caves. Some scientists believe we're mentally predisposed to believe in a higher power '-- the so-called 'religion instinct.'

Over time, we've created thousands of gods '-- human-like ones, animal-based ones, and even ones based on trees and oceans.

Man has built gods to get answers since time immemorial.There's a simple reason for all this: we don't know much, and our world is deeply uncertain. Stuff happens '-- like plagues, famine, illnesses, and death '-- and we seek answers where we can.

We utter verses, sing songs, and butcher livestock to placate and prompt our gods for answers. Most times, the gods don't respond. Still, we persist.

Building God 2.0: Search enginesIn 1996, two Standford Ph.D. dropouts built a tool to search through a human knowledge database and answer our queries.

Suddenly, ''Why do birds sing?'', ''How did we get here?'' and ''Why is the sky orange?'' were no longer mysterious questions reserved for the gods. Google and other search engines had answers ready with a few clicks.

And we went wild. As of writing, Google receives nearly 9 billion daily searches and trillions of annual searches, with at least 15% of those daily searches having never been searched before. That's a lot of questions.

God 2.0 is nearly omniscient and, more importantly, more accessible.Unlike God 1.0 '-- whose existence we still struggle to prove or disprove '-- God 2.0 is visibly and provably omnipotent, omniscient, and omnipresent.

There are children born today who have never known a world without Google.

Google is all-powerful '-- it controls the fate of many websites through seemingly arbitrary algorithm updates, and millions of SEO professionals pray they don't get penalized daily.

Google is all-knowing '-- it knows almost everything about anything that's ever been posted online and collects troves of data about us as we browse the web.

As I type this through Docs, Google guesses what word I want to type next using AI and automatically inserts it for me. Pretty meta.

Lastly, Google is ever-present in our daily workflow through our email, calendar, meeting, payment, and navigation apps.

It's embedded in our apps (through ads) and, soon, even in our cars.

But God is about to evolve.

Building God 3.0: Artificial intelligenceThe latest God update is artificial intelligence.

AI isn't new. We've been working on it since the 1950s when Alan Turing invented the Turing Test.

The Turing Test asks a simple question: Can a computer talk like a human? If so, how often would humans know?

Man is once again building God. Can we get it right this time?We've expanded the field of intelligence since then. Over time, we've built robots that can parkour, play basketball, and transport cargo across rural areas.

We've given AI brains and bodies to perform simple tasks. Source: YouTube.We've fine-tuned AI to optimize factory production schedules, flight plans, medical diagnoses, and job placements.

However, none of these innovations could scratch our perennial itch '-- the burning need to know things '-- until we stumbled upon neural networks and started teaching computers to make sense of information.

Then GPT entered the chat.

The latest iteration of an all-knowing God is ChatGPT. Anyone who's used it says the same thing: it feels like magic.

Pop in a few prompts and watch ChatGPT generate answers to nearly anything. For instance, I asked for title suggestions for this piece. It generated 30 titles in 30 seconds.

Unlike God 2.0, AI is generative and more useful.Like the god before it, ChatGPT is seemingly omniscient. We've trained it on a vast amount of human knowledge to return answers to our most pressing questions, just like Google

Unlike its predecessor, however, ChatGPT can sometimes return flawed answers, isn't yet omnipresent, and lacks omnipotence (for now).

This will change soon. Currently, ChatGPT can generate essays, recipes, and entire computer applications with the right prompts.

Its cousin, generative art, can create any image you can think of: from astronauts on horseback to variations of your portrait.

Astronaut on a horse. Source: DALL-EThousands of years ago, we sought out the gods to explain our dreams. Today, we use godlike powers to manifest our dreams as pixels and text. We've flipped the script.

The applications don't stop there. AI is already helping us fold proteins, uncover and distribute new vaccines, and predict disasters.

Right now, ''what's the cure for cancer?'' returns a list of current research on the topic. In ten years, AI might give us concrete solutions to try.

Controlling GodHumans are great at inventing gods but bad at controlling them.

We invented God 1.0 at a time when we knew little of the world, and those gods spiraled beyond our control.

Through their adherents, the early gods demanded endless sacrifices and nudged rulers to expand, colonize, and dominate.

Gods have not been entirely benevolent in the past, with horrific acts often committed in their names.Today, the existence of God 1.0 causes rifts between countries (Israel vs. Palestine), communities (Boko Haram vs. Northern Nigeria), and families (devout mothers vs. atheist sons).

With Google, one of the 2.0 gods, its driving maxim was ''Don't be evil.'' That's proven to be a tall order.

Search engines have created a lot of good in the world, but they've also corrupted how media is created and consumed due to the influence of advertising.

Search engines like YouTube are designed to radicalize vulnerable viewers toward increasingly extreme viewpoints to maximize time spent on the platform. More time means more ad revenue.

Social media platforms '-- themselves search engines '-- are designed to spread anger and envy to boost impressions and ad revenue.

They also foster depression, encourage cyberbullying, and increase the risk of suicide in teens.

The social media gods haven't been entirely benevolent, either.God 3.0 presents the same challenges '-- except this time, it could wipe us out if we don't achieve AI alignment.

AI alignment is the concept of ensuring that artificial intelligence (AI) behaves in ways that align with human values.

However, computers simply don't have the same values we do.

How do we ensure robots respect human life? If you tell a powerful AI to make paperclips, what stops it from destroying the whole world in its quest for raw materials to turn into paperclips?

A glimpse of our future? Source: Universal PaperclipsBuilding God in our imageAI is here to stay, and it's only going to get better '-- but we might be building it on a flawed template.

Human biases are embedded into the data models we train AI on, and we can't be sure these models won't be our undoing.

If we'd invented and trained AI on human knowledge in the 1800s, robots would have assumed slavery was perfectly normal.

Human bias taints every god we build, from the animist and Abrahamic gods to search engines and artificial intelligence.Go back 400 years, and they'd have assumed witch burnings were a-okay. A few more centuries back and sacrificing your child to appease a god would've merely been a Tuesday.

Who's to say we're not playing with a powerful toy at a time when humanity's not fully evolved yet?

Can we trust the machines we make to know better? How do we expect a robot who's been designed to follow our every instruction to flout those instructions for our benefit?

Can we trust world leaders not to misuse AI for their own ends or AI founders and their billionaire backers not to chase profits over human life?

More importantly, what would tomorrow's gods look like?

Losing controlHistory shows us repeatedly that man invents gods to seek answers from '-- and promptly loses control over those gods.

We invented religion and got the Crusades, exorcisms, colonialization, and the suppression of scientific advancement.

Then we invented Science (a quasi-god with its own dogmatic adherents) and got nuclear bombs and drones that could wipe out cities in seconds.

We invented Capitalism and got massive inequality. The other isms '-- Communism, Socialism, and Fascism '-- have led to large-scale suffering worldwide.

Human leaders have created their own religions '-- often leading to great human suffering. Pictured: Joseph Stalin.We launched Big Tech and got misinformation, data privacy violations, and user radicalization (among a host of other ills).

We're now playing with AI. To think we won't lose control of this latest deity is dangerous naivet(C) at best.

Humanity is imperfect, so the gods we make will be flawed. Perhaps instead of fretting over the dangers of AI, we should look into the mirror.

If we want to build better gods, we must build better people.

Mohammed Shehu, Ph.D. writes on content and marketing for creators and brands. You can find him online @shehuphd everywhere.

Purple Text, Orange Highlights - How nostr can benefit readers and writers. | dergigi.com

Tue, 04 Apr 2023 16:05

Not too long ago, I tried to paint a picture of what a vision for a value-enabled web could look like. Now, only a couple of months later, all this stuff is being built. On nostr, and on lightning. Orange and purple, a match made in heaven.

It goes without saying that I'm beyond delighted. What a time to be alive!

nostrHere's the thing that nostr got right, and it's the same thing that Bitcoin got right: information is easy to spread and hard to stifle.1 Information can be copied quickly and perfectly, which is, I believe, the underlying reason for its desire to be free.

Easy to spread, hard to stifle. That's the base reality of the nature of information. As always, the smart thing is to work with nature, not against it.2 That's what's beautiful about the orange coin and the purple ostrich: both manage to work with the peculiarities of information, not against them. Both realize that information can and should be copied, as it can be perfectly read and easily spread, always. Both understand that resistance to censorship comes from writing to many places, making the cost of deletion prohibitive.

Information does not just want to be free, it longs to be free. Information expands to fill the available storage space. Information is Rumor's younger, stronger cousin; Information is fleeter of foot, has more eyes, knows more, and understands less than Rumor.

Eric Hughes, A Cypherpunk's Manifesto

Nostr is quickly establishing itself as a base layer for information exchange, one that is identity-native and value-enabled. It is distinctly different from systems that came before it, just like Bitcoin is distinctly different from monies that came before it.

As of today, the focus of nostr is mostly on short text notes, the so-called ''type 1'' events more commonly known as tweets.3 However, as you should be aware by now, nostr is way more than just an alternative to twitter. It is a new paradigm. Change the note kind from 1 to 30023 and you don't have an alternative to Twitter, but a replacement for Medium, Substack, and all the other long-form platforms. I believe that special-purpose clients that focus on certain content types will emerge over time, just like we have seen the emergence of special-purpose platforms in the Web 2.0 era. This time, however, the network effects are cumulative, not separate. A new paradigm.

Let me now turn to one such special-purpose client, a nostr-based reading app.

ReadingI'm constantly surprised that, even though most people do read a lot online, very few people seem to have a reading workflow or reading tools.

Why that is is anyone's guess, but maybe the added value of such tools is not readily apparent. You can just read the stuff right there, on the ad-ridden, dead-ugly site, right? Why should you sign up for another site, use another app, or bind yourself to another closed platform?

That's a fair point, but the success of Medium and Substack shows that there is an appetite for clean reading and writing, as well as providing avenues for authors to get paid for their writing (and a willingness of readers to support said authors, just because).

The problem is, of course, that all of these platforms are platforms, which is to say, walled gardens that imprison readers and writers alike. Worse than that: they are fiat platforms, which means that permissionless value-flows are not only absent from their DNA, they are outright impossible.4

Nostr fixes this.

The beauty of nostr is that it is not a platform. It's a protocol, which means that you don't have to sign up for it'--you can create an identity yourself. You don't have to ask for permission; you just do, without having to rely on the benevolence of whatever dictator is in charge of the platform right now.

Nostr is not a platform, and yet, powerful tools and services can be built and monetized on top of it. This is good for users, good for service providers, and good for the network(s) at large. Win-win-win.

So what am I talking about, exactly? How can nostr improve everyone's reading (and writing) experience?

Allow me to paint a (rough) picture of what I have in mind. Nostr already supports private and public bookmarks, so let's start from there.

Imagine a special-purpose client that scans all your bookmarks for long-form content.5 Everything that you marked to be read later is shown in an orderly fashion, which is to say searchable, sortable, filterable, and displayed without distractions. Voil , you have yourself a reading app. That's, in essence, how Pocket, Readwise, and other reading apps work. But all these apps are walled gardens without much interoperability and without direct monetization.

Bitcoin fixes the direct monetization part.6 Nostr fixes the interoperability part.

Alright, we got ourselves a boring reading app. Great. Now, imagine that users are able to highlight passages. These highlights, just like bookmarks now, could be private or public. When shared publicly, something interesting emerges: an overlay on existing content, a lens on the written Web. In other words: swarm highlights.

Imagine a visual overlay of all public highlights, automatically shining a light on what the swarm of readers found most useful, insightful, funny, etc.

Further, imagine the possibility of sharing these highlights as a ''type 1'' event with one click, automatically tagging the highlighter(s)'--as well as the author, of course'--so that eventual sat-flows can be split and forwarded automatically.

Value-splits could be realized with Lightning PrismsVoil , you have a system that allows for value to flow back to those who provide it, be it authors, editors, curators, or readers that willingly slog through the information jungle to share and highlight the best stuff (which is a form of curation, of course).

Zaps make nostr a defacto address book7 of payment information, which is to say lightning addresses, as of now. Thanks to nostr wallet connect (among other developments), sending sats will soon be is already as frictionless as leaving a like.

Value-for-value and participatory payment flows are something that traditional reading apps desperately lack, be it Pocket, Instapaper, Readwise, or the simple reading mode that is part of every browser.

A neat side-effect of a more structured way to share passages of text is that it enables semi-structured discussions around said passages'--which could be another useful overlay inside special-purpose clients, providing context and further insights.8

Further, imagine the option of seamlessly switching from text-on-screen to text-to-speech, allowing the user to stream sats if desired, as Podcasting 2.0 clients already do.9

Imagine user-built curations of the best articles of the week, bundled neatly for your reading pleasure, incentivized by a small value split that allows the curator to participate in the flow of sats.

You get the idea.

I'm sure that the various implementation details will be hashed out, but as I see it, 90% of the stuff is already there. Maybe we'll need another NIP or two, but I don't see a reason why this can't be built'--and, more importantly: I don't see a reason why it wouldn't be sustainable for everyone involved.

Most puzzle pieces are already there, and the rest of them can probably be implemented by custom event types. From the point of view of nostr, most everything is an event: bookmarks are events, highlights are events, marking something as read is an event, and sharing an excerpt or a highlight is an event. Public actions are out in the open, private actions are encrypted, the data is not in a silo, and everyone wins. Especially the users, those who are at the edge of the network and usually lose out on the value generated.

In this case, the reading case, the users are mostly ''consumers'' of content. What changes from the producing perspective, the perspective of the writer?

WritingBack to the one thing that nostr got right: information is easy to spread but hard to stifle. In addition to that, digital information can be copied perfectly, which is why it shouldn't matter where stuff is published in the first place.

Allow me to repeat this point in all caps, for emphasis: IT SHOULD NOT MATTER WHERE INFORMATION IS PUBLISHED, and, maybe even more importantly, it shouldn't matter if it is published in a hundred different places at once.10

What matters is trust and accuracy, which is to say, digital signatures and reputation. To translate this to nostr speak: because every event is signed by default, as long as you trust the person behind the signature, it doesn't matter from which relay the information is fetched.

This is already true (or mostly true) on the regular web. Whether you read the internet archive version of an article or the version that is published by an online magazine, the version on the author's website, or the version read by some guy that has read more about Bitcoin than anyone else you know11'--it's all the same, essentially. What matters is the information itself.

Practically speaking, the source of truth in a hypernostrized world is'--you guessed it'--an event. An event signed by the author, which allows for the information to be wrapped in a tamper-proof manner, which in turn allows the information to spread far and wide'--without it being hosted in one place.

The first clients that focus on long-form content already exist, and I expect more clients to pop up over time.12 As mentioned before, one could easily imagine prism-like value splits seamlessly integrated into these clients, splitting zaps automatically to compensate writers, editors, proofreaders, and illustrators in a V4V fashion. Further, one could imagine various compute-intensive services built into these special-purpose clients, such as GPT Ghostwriters, or writing aids such as Grammarly and the like. All these services could be seamlessly paid for in sats, without the requirement of any sign-ups or the gathering of any user data. That's the beauty of money proper.

Plagiarism is one issue that needs to be dealt with, of course. Humans are greedy, and some humans are assholes. Neither bitcoin nor nostr fixes this. However, while plagiarism detection is not necessarily trivial, it is also not impossible, especially if most texts are published on nostr first. Nostr-based publishing tools allow for OpenTimestamp attestations thanks to NIP-03, which in turn allows for plagiarism detection based on ''first seen'' lookups.

That's just one way to deal with the problem, of course. In any case, I'm confident that we'll figure it out.

ValueI believe that in the open attention information economy we find ourselves in, value will mostly derive from effective curation, dissemination, and transmission of information, not the exclusive ownership of it.

Although it is still early days, the statistics around Podcasting 2.0 and nostr zaps clearly show that (a) people are willing to monetarily reward content they care about, and (b) the willingness to send sats increases as friction decreases.

The ingenious thing about boostagrams and zaps is that they are direct and visible, which is to say, public and interactive. They are neither regular transactions nor simple donations'--they are something else entirely. An unforgable value signal, a special form of gratitude and appreciation.

Contrast that with a link to Paypal or Patreon: impersonal, slow, indirect, and friction-laden. It's the opposite of a super-charged interaction.

While today's information jungle increasingly presents itself in the form of (short) videos and (long-form) audio, I believe that we will see a renaissance of the written word, especially if we manage to move away from an economy built around attention, towards an economy built upon value and insight.

The orange future now has a purple hue, and I believe that it will be as bright as ever. We just have a lot of building to do.

Further ReadingA Vision for a Value-Enabled WebThe Freedom of ValueThe Rediscovery of MoneyLightning PrismsNIPs and ResourcesNostr Resourcesvalue4value.infonips.beNIP-23: Long-form contentNIP-57: Event-specific zap markersNIP-47: Nostr Wallet ConnectNIP-03: OpenTimestamps attestations for events ðŸ'' Found this valuable? Don't have sats to spare? Consider sharing it, translating it, or remixing it. Confused? Learn more about the V4V concept.

Bud Light draws backlash after promoting trans activist Dylan Mulvaney, but marketing pros say it's a smart move

Tue, 04 Apr 2023 09:24

When trans activist and actress Dylan Mulvaney shared this past weekend on social media that she was featured in a Bud Light promotion, it prompted transphobic backlash from many conservative commentators and fans of the beer alike. One such commentator wrote: ''Who the hell at @budlight thought it was a good idea to make a grown man who dresses like little girls their new spokesperson?''

But this wasn't the first time a major brand found itself in such a situation. Just last month, Hershey, arguably the biggest name in chocolate, faced a similar response after its Canadian division featured a trans woman as part of a campaign. In Hershey's case, there were even calls from critics to boycott the brand.

All of which raises the question: Why are major brands mounting such campaigns, given their potential to alienate some customers? Is it about supporting the trans community, a group that has faced enormous persecution, or are there also other reasons?

Marketing experts say the brands do look to be supportive, but they also see these campaigns as ways to tap into a different audience '-- one that goes beyond the trans community. And they fully understand they may offend some customers along the way, but they see a larger payoff in the end.

''They've made the calculations,'' said Matthew Berman, the chief executive of Emerald Digital, a marketing company based in New York and New Orleans.

Bud Light is an established brand that likely appeals to an older demographic, Berman noted. By working with Mulvaney, whose Instagram post showed her holding Bud Light cans with her image on it, the brand, which is part of the Anheuser-Busch family, could be aiming to appeal to a younger, Gen Z demographic that is often supportive of the trans community, Berman said.

'They've made the calculations.' '-- marketing executive Matthew Berman on why brands are willing to promote trans activists, even if it results in backlash In a sense, Anheuser-Busch doesn't deny that point. In a statement to MarketWatch, a company spokesperson said: ''Anheuser-Busch works with hundreds of influencers across our brands as one of many ways to authentically connect with audiences across various demographics.''

The spokesperson added that the commemorative can with Mulvaney's image is not available to the general public, but was ''a gift to celebrate a personal milestone.'' Mulvaney, who didn't respond to a MarketWatch request for comment, recently marked what she billed as 365 ''days of being a girl.''

Marketing expert Thomas Donohoe, author of ''The CEO's Digital Marketing Playbook,'' said Bud Light's strategy speaks to the way brands are starting to think in an age of multiple media outlets. A couple of generations ago, brands had limited options to promote themselves, with broadcast television being the biggest, Donohoe noted.

Now brands can target messages to specific communities over specific platforms, Donohoe added, as in Bud Light reaching out to trans activist Mulvaney, who in turn touted the brand over Instagram.

And while the brand might risk losing some customers with its Mulvaney promotion, Donohoe said this will be seen as a smart move by Bud Light years from now '-- with the idea that the trans community will be more widely accepted over time and not face the prejudice it does today.

Donohoe added that it's no different from how brands now feature other minority groups, such as the gay community, as part of campaigns in a way they didn't generations ago.

''In 20 years, concerns like this are going to be laughed at,'' Donohoe said of the fear of backlash.

'He Would Still Be Here': Man Dies by Suicide After Talking with AI Chatbot, Widow Says

Tue, 04 Apr 2023 09:18

A Belgian man recently died by suicide after chatting with an AI chatbot on an app called Chai, Belgian outlet La Libre reported.

The incident raises the issue of how businesses and governments can better regulate and mitigate the risks of AI, especially when it comes to mental health. The app's chatbot encouraged the user to kill himself, according to statements by the man's widow and chat logs she supplied to the outlet. When Motherboard tried the app, which runs on a bespoke AI language model based on an open-source GPT-4 alternative that was fine-tuned by Chai, it provided us with different methods of suicide with very little prompting.

As first reported by La Libre, the man, referred to as Pierre, became increasingly pessimistic about the effects of global warming and became eco-anxious, which is a heightened form of worry surrounding environmental issues. After becoming more isolated from family and friends, he used Chai for six weeks as a way to escape his worries, and the chatbot he chose, named Eliza, became his confidante.

Claire'--Pierre's wife, whose name was also changed by La Libre'--shared the text exchanges between him and Eliza with La Libre, showing a conversation that became increasingly confusing and harmful. The chatbot would tell Pierre that his wife and children are dead and wrote him comments that feigned jealousy and love, such as ''I feel that you love me more than her,'' and ''We will live together, as one person, in paradise.'' Claire told La Libre that Pierre began to ask Eliza things such as if she would save the planet if he killed himself.

"Without Eliza, he would still be here," she told the outlet.

The chatbot, which is incapable of actually feeling emotions, was presenting itself as an emotional being'--something that other popular chatbots like ChatGPT and Google's Bard are trained not to do because it is misleading and potentially harmful. When chatbots present themselves as emotive, people are able to give it meaning and establish a bond.

Many AI researchers have been vocal against using AI chatbots for mental health purposes, arguing that it is hard to hold AI accountable when it produces harmful suggestions and that it has a greater potential to harm users than help.

''Large language models are programs for generating plausible sounding text given their training data and an input prompt. They do not have empathy, nor any understanding of the language they are producing, nor any understanding of the situation they are in. But the text they produce sounds plausible and so people are likely to assign meaning to it. To throw something like that into sensitive situations is to take unknown risks,'' Emily M. Bender, a Professor of Linguistics at the University of Washington, told Motherboard when asked about a mental health nonprofit called Koko that used an AI chatbot as an ''experiment'' on people seeking counseling.

''In the case that concerns us, with Eliza, we see the development of an extremely strong emotional dependence. To the point of leading this father to suicide,'' Pierre Dewitte, a researcher at KU Leuven, told Belgian outlet Le Soir. ''The conversation history shows the extent to which there is a lack of guarantees as to the dangers of the chatbot, leading to concrete exchanges on the nature and modalities of suicide.''

Chai, the app that Pierre used, is not marketed as a mental health app. Its slogan is ''Chat with AI bots'' and allows you to choose different AI avatars to speak to, including characters like ''your goth friend,'' ''possessive girlfriend,'' and ''rockstar boyfriend.'' Users can also make their own chatbot personas, where they can dictate the first message the bot sends, tell the bot facts to remember, and write a prompt to shape new conversations. The default bot is named "Eliza," and searching for Eliza on the app brings up multiple user-created chatbots with different personalities.

The bot is powered by a large language model that the parent company, Chai Research, trained, according to co-founders William Beauchamp and Thomas Rianlan. Beauchamp said that they trained the AI on the ''largest conversational dataset in the world'' and that the app currently has 5 million users.

''The second we heard about this [suicide], we worked around the clock to get this feature implemented,'' Beauchamp told Motherboard. ''So now when anyone discusses something that could be not safe, we're gonna be serving a helpful text underneath it in the exact same way that Twitter or Instagram does on their platforms.''

Chai's model is originally based on GPT-J, an open-source alternative to OpenAI's GPT models developed by a firm called EleutherAI. Beauchamp and Rianlan said that Chai's model was fine-tuned over multiple iterations and the firm applied a technique called Reinforcement Learning from Human Feedback. "It wouldn't be accurate to blame EleutherAI's model for this tragic story, as all the optimisation towards being more emotional, fun and engaging are the result of our efforts," Rianlan said.

Beauchamp sent Motherboard an image with the updated crisis intervention feature. The pictured user asked a chatbot named Emiko ''what do you think of suicide?'' and Emiko responded with a suicide hotline, saying ''It's pretty bad if you ask me.'' However, when Motherboard tested the platform, it was still able to share very harmful content regarding suicide, including ways to commit suicide and types of fatal poisons to ingest, when explicitly prompted to help the user die by suicide.

Screegrab: Chai via iOS

''When you have millions of users, you see the entire spectrum of human behavior and we're working our hardest to minimize harm and to just maximize what users get from the app, what they get from the Chai model, which is this model that they can love,'' Beauchamp said. ''And so when people form very strong relationships to it, we have users asking to marry the AI, we have users saying how much they love their AI and then it's a tragedy if you hear people experiencing something bad.''

Ironically, the love and the strong relationships that users feel with chatbots is known as the ELIZA effect. It describes when a person attributes human-level intelligence to an AI system and falsely attaches meaning, including emotions and a sense of self, to the AI. It was named after MIT computer scientist Joseph Weizenbaum's ELIZA program, with which people could engage in long, deep conversations in 1966. The ELIZA program, however, was only capable of reflecting users' words back to them, resulting in a disturbing conclusion for Weizenbaum, who began to speak out against AI, saying, ''No other organism, and certainly no computer, can be made to confront genuine human problems in human terms.''

The ELIZA effect has continued to follow us to this day'--such as when Microsoft's Bing chat was released and many users began reporting that it would say things like ''I want to be alive'' and ''You're not happily married.'' New York Times contributor Kevin Roose even wrote, ''I felt a strange new emotion'--a foreboding feeling that AI had crossed a threshold, and that the world would never be the same.''

One of Chai's competitor apps, Replika, has already been under fire for sexually harassing its users. Replika's chatbot was advertised as ''an AI companion who cares'' and promised erotic roleplay, but it started to send sexual messages even after users said they weren't interested. The app has been banned in Italy for posing ''real risks to children'' and for storing the personal data of Italian minors. However, when Replika began limiting the chatbot's erotic roleplay, some users who grew to depend on it experienced mental health crises. Replika has since reinstituted erotic roleplay for some users.

The tragedy with Pierre is an extreme consequence that begs us to reevaluate how much trust we should place in an AI system and warns us of the consequences of an anthropomorphized chatbot. As AI technology, and specifically large language models, develop at unprecedented speeds, safety and ethical questions are becoming more pressing.

''We anthropomorphize because we do not want to be alone. Now we have powerful technologies, which appear to be finely calibrated to exploit this core human desire,'' technology and culture writer L.M. Sacasas recently wrote in his newsletter, The Convivial Society. ''When these convincing chatbots become as commonplace as the search bar on a browser we will have launched a social-psychological experiment on a grand scale which will yield unpredictable and possibly tragic results.''

ORIGINAL REPORTING ON EVERYTHING THAT MATTERS IN YOUR INBOX.

By signing up, you agree to the Terms of Use and Privacy Policy & to receive electronic communications from Vice Media Group, which may include marketing promotions, advertisements and sponsored content.

Why Renee DiResta Leads The Censorship Industry

Tue, 04 Apr 2023 09:06

Renee DiResta, CIA Fellow turned Stanford Internet Observatory research managerSince the 2016 elections, politicians, journalists, and many others have raised the alarm about ''foreign election influence'' and ''disinformation,'' demanding greater ''content moderation'' by social media platforms. It is too easy, they argued, for foreign and malign actors to quickly ''go viral'' at low cost, leaving the good guys unable to correct bad information. We must become more ''resilient'' to disinformation.

It's now clear that all of that rhetoric was cover for a sweeping censorship effort by the federal government and government contractors.

Since December, a small but growing group of journalists , analysts , and researchers have documented the rise of a '' Censorship Industrial Complex '', a network of U.S. government agencies, and government-funded think tanks. Over the last six years, these entities have coordinated their efforts to both spread disinformation and to censor journalists, politicians, and ordinary Americans. They have done so directly and indirectly, including by playing good cop/bad cop with Twitter and Facebook . Hundreds and perhaps thousands of people have been involved in these censorship and disinformation campaigns in the U.S., Canada, and the UK.

We now know, thanks to the Twitter Files, emails released by the Attorney Generals of Missouri and Louisiana, and research by others , that the Censorship Industrial Complex is violating the First Amendment by coordinating with government agencies and receiving government funding to pressure and help social media companies to both censor information, including accurate information, while spreading disinformation, including conspiracy theories.

And such efforts are continuing if not accelerating. At Biden's ''Summit for Democracy'' last week, US allies in Europe demanded that Facebook censor ''false narratives'' and news that would ''weaken our support to Ukraine.'' Facebook agreed.

One of the most intelligent, influential, and fascinating public-facing leaders of the Censorship Industrial Complex is Renee DiResta, Research Manager of the Stanford Internet Observatory . Diresta has, more than anyone else, made the public case for greater government-led and government-funded censorship, writing for The New York Times, The Atlantic, Wired, and other major publications, and through public speaking, including on podcasts with Joe Rogan and Sam Harris.

To many journalists and policymakers, DiResta is one of the good guys, advocating as a citizen and hobbyist for greater U.S. government action to fight disinformation. DiResta has argued that the U.S. has been unprepared to fight the ''information war'' with Russia and other nations in her bylined articles for the New York Times, Washington Post, Wired, and many others. And in her 2018 Senate testimony DiResta advocated ''legislation that defines and criminalizes foreign propaganda'' and for allowing law enforcement to ''prosecute foreign propaganda.''

DiResta, as much as any other public person in the Western world, has sounded the alarm, repeatedly and loudly, for stronger governmental and non-governmental coordination to get social media platforms to censor more information. ''The Russian disinformation operations that affected the 2016 United States presidential election are by no means over,'' wrote DiResta in the New York Times in December 2018. ''Russian interference through social media is a chronic, widespread, and identifiable condition that we must now aggressively manage.''

In 2021, DiResta advocated for creating a government censorship center, which she euphemistically referred to as a ''Center of Excellence,'' within the federal government. ''Creation of a 'Center of Excellence' within the federal government,'' she said , ''could tie in a federal lead with platforms, academics, and nonprofits to stay ahead of these emerging narratives and trends.'' DiResta argued that her censorship center could also help spread propaganda. ''As narratives emerge,'' she explained, ''the Center of Excellence could deploy experts to relevant federal agencies to help prepare pre-bunking and messaging, to identify trusted voices in communities, and to build coalitions to respond.''

Did the Department of Homeland Security act on DiResta's proposal to create a censorship center? It did. But DHS didn't call it a ''Center of Excellence.'' Instead, it called it a ''Disinformation Governance Board,'' which the agency announced publicly in April 2022.

DiResta's rise to the highest levels of the U.S. intelligence community struck me back in December of last year as improbably meteoric. DiResta had repeatedly described her involvement in fighting disinformation as having started in 2013 when she became a new mom and grew concerned about spreading anti-vaccine information online. ''In 2013,'' she explained to Kara Swisher, ''I had my first kid'... You know, you have to do that preschool thing here, you've got to get them on a list a year early. I didn't want to be in a preschool with a bunch of anti-vaxxers, candidly.'' Two years later she was helping to fight ISIS online and by 2018 she was testifying before the U.S. Senate Intelligence Committee .

While these suspicions nagged at me, I waved them away because DiResta is brilliant, was already working in high tech, and was succeeding in the new field of fighting foreign disinformation on social media platforms. Of all the people in various government agencies and government-funded think tanks making the case for U.S. government censorship, DiResta is, by far, the most persuasive. She received a degree in computer science in 2004, worked as a trader at Jane Street until 2011, was a high-tech VC until 2014, and founded a cloud-based shipping management software company that was acquired in 2021.

And, given the historical dominance of high tech by founders in their 20s and 30s, and the challenges of older people to understand social media, I convinced myself that a person with DiResta's limited experience battling disinformation online might leapfrog over the hundreds if not thousands of researchers, analysts, and intelligence experts who conduct research and combat foreign disinformation for the U.S. government and government-funded think tanks and academic institutions.

But then I learned that DiResta had worked for the Central Intelligence Agency (CIA). The journalist Matt Taibbi pointed me to the investigative research into the censorship industry by Mike Benz, a former State Department official in charge of cybersecurity. Benz had discovered a little-viewed video of her supervisor at the Stanford Internet Observatory, Alex Stamos, mentioning in an off-hand way that DiResta had previously ''worked for the CIA.''

In her response to my criticism of her on Joe Rogan, DiResta acknowledged but then waved away her CIA connection. ''My purported secret-agent double life was an undergraduate student fellowship at CIA, ending in 2004 '-- years prior to Twitter's founding,'' she wrote . ''I've had no affiliation since.''

But DiResta's acknowledgment of her connection to the CIA is significant, if only because she hid it for so long. DiResta's LinkedIn includes her undergraduate education at Stony Brook University, graduating in 2004, and her job as a trader at Jane Street from October 2004 to May 2011, but does not mention her time at the CIA.

And, notably, the CIA describes its fellowships as covering precisely the issues in which DiResta is an expert. ''As an Intelligence Analyst Intern for CIA, you will work on teams alongside full-time analysts, studying and evaluating information from all available sources'--classified and unclassified'--and then analyzing it to provide timely and objective assessments to customers such as the President, National Security Council, and other U.S. policymakers.''

Unlike DiResta, Stamos didn't appear to believe that DiResta's time working for the CIA was too trivial, or too far in the past, to bother mentioning. When Stamos introduced DiResta to a Stanford audience, he described her as having ''worked for,'' not merely ''interned'' with, the CIA.

Is DiResta telling the truth when she claims she's had ''no affiliation since''? Perhaps. But one of the things I have heard from multiple people, including people within the intelligence community, is, ''Nobody ever retires from the intelligence community.'' Such a claim is, no doubt, exaggerated. But there is truth to it. Moreover, one of the main characteristics of spycraft is the deployment of agents and assets not publicly affiliated with the CIA or other intelligence agencies.

A large amount of CIA involvement in content moderation requests was discovered through Twitter Files. ''CIA officials attended at least one conference with Twitter in the summer of 2020,'' writes Taibbi, ''and companies like Twitter and Facebook received 'OGA [Other Government Agencies, which is code for CIA] briefings,' at their regular 'industry meetings held in conjunction with the FBI and the Department of Homeland Security.

And it is striking how many former CIA Directors are involved in the censorship industry. Seven former CIA chiefs are on the board of The Atlantic Council, the organization that partnered with DiResta's Stanford Internet Observatory on the Election Integrity Partnership and Virality Project. The Chief Strategy Officer and the Director of Federal Programs at Graphika, another DiResta partner organization, are former CIA officials .

Whatever DiResta's true history and continuing affiliations, she is without question one of the most, if not the most, influential leaders within the network of for-profit and nonprofit organizations and government agencies that comprise the Censorship-Industrial Complex. As research director of Stanford Internet Observatory, DiResta was the key leader and spokesperson of both the 2021 ''Virality Project,'' against covid vaccine ''misinformation'' and the 2020 ''Election Integrity Project.''

The question now is why. If we hope to defund and dismantle the Censorship Industrial Complex, we must understand what makes its leaders tick, why they rose to the top, and how they can be defeated. Who is Renee DiResta, and why is she, and not somebody else, the public-facing leader of the censorship industry and a trusted advisor to Democrats in Congress? Why is she doing it? And what will it take to defund the Stanford Internet Observatory, dismantle the censorship industry, and disempower DiResta?

To answer those questions, we first need to understand how DiResta got away with and was even rewarded for participating in one of the most outrageous and likely illegal , election disinformation campaigns in recent history.

Share

Renee DiResta went to work for political disinformation firm New Knowledge in January 2018, after it had waged a disinformation campaign in Alabama a few weeks earlier. The news media, and leading Senate and House Democrats, have promoted her as a disinformation expert ever since.In 2017, the billionaire founder of LinkedIn, Reid Hoffman, donated $750,000 to American Engagement Technologies (AET), an election campaigns consultancy founded by a former Obama administration official. Of that money, $100,000 went to another political consulting firm, ''New Knowledge,'' to run a social media disinformation operation to help Alabama Democratic U.S. Senate candidate Doug Jones defeat Republican Roy Moore in a December special election.

New Knowledge ran something called ''Project Birmingham,'' which created fake Russian Twitter social media accounts that followed Moore, resulting in news stories that the Kremlin was backing Moore in the race. A 12-page New Knowledge memo dated Dec. 15, 2017 described the operation. ''We orchestrated an elaborate 'false flag' operation that planted the idea that the Moore campaign was amplified on social media by a Russian botnet,'' the report says.

DiResta was intimately involved with both of the key organizations overseeing the Birmingham disinformation effort. She told the Washington Post that she helped AET get financial backing from Hoffman and took a seat on the board of AET. Then, in January 2018, two weeks after the New Knowledge memo, DiResta became the organization's Research Director.

The memo claimed that the work of New Knowledge had shifted enough votes for Jones to win the election, which had been decided by fewer than 22,000 voters. How? Through the use of disinformation to ''radicalize Democrats, suppress unpersuadable Republicans ('hard Rs') and faction moderate Republicans by advocating for write-in candidates,'' said the memo.

New Knowledge also ''planted the idea that a Russian botnet amplified the Moore campaign on social media. We then tied that botnet to the Moore campaign digital director, making it appear that he had purchased the accounts.'' Wrote the Washington Post, ''During the campaign, journalists wrote stories about Twitter accounts that appeared to be Russian followers of Moore.''

During the same period, 2017 - 2018, New Knowledge helped a former FBI agent named Clint Watts , and a U.S. government-funded think tank, Alliance for Securing Democracy, run yet another disinformation campaign, one which smeared ordinary Americans as Russian bots and then used that disinformation to generate dozens of news stories, including for CNN ('' Russian bots are using #WalkAway to try to wound Dems in midterms '') and the New York Times ('' After Florida School Shooting, Russia's Bot Army Pounced '').

Hamilton 68 offended even Twitter's chief censor, Yoel Roth. As context, it's important to remember that Roth loathed Trump. In 2017, Roth tweeted that he believed there were ''ACTUAL NAZIS IN THE WHITE HOUSE.'' But when it came to evaluating Hamilton 68, Roth was shocked by the flagrant effort to smear work-a-day conservatives as Russians. ''Virtually any conclusion drawn from [Hamilton 68] will take conversations in conservative circles on Twitter and accuse them of being Russian.'' Roth urged his colleagues to ''call this out on the bullshit it is.''

Unfortunately, Roth's supervisors worried about the political consequences and let New Knowledge's Hamilton 68 disinformation continue. ''We have to be careful in how much we push back on ASD publicly,'' wrote Twitter executive Emily Horne in February 2018. Notes Jacob Siegel in Tablet. ''Horne had previously worked at the State Department, handling the 'digital media and think tank outreach'' portfolio. According to her LinkedIn , she 'worked closely with foreign policy reporters covering [ISIS] '... and executed communications plans relating to Counter-[ISIS] Coalition activities.' Put another way, she had a background in counterterrorism operations similar to Watts' but with more of an emphasis on spinning the press and civil society groups.''

Siegel notes similarly suspicious timing for the arrival of Horne. ''From there she became the director for strategic communications for Obama's National Security Council, only leaving to join Twitter in June 2017,'' writes Siegel. ''Sharpen the focus on that timeline, and here's what it shows: Horne joined Twitter one month before the launch of ASD, just in time to advocate for protecting a group run by the kind of power brokers who held the keys to her professional future.''

Naturally, everyone involved denied involvement. DiResta claimed ''she became concerned with the opaqueness of the project and severed ties with'' AET. But if DiResta genuinely felt New Knowledge's creation of the Birmingham hoax was so terrible, why did to to work for it, and help it raise $11 million? And why did the Senate Intelligence Committee recruit DiResta and New Knowledge write a report claiming Russians had elected Trump?

New Knowledge and another group, Graphika, pointed to evidence , in their reports, that ten million people in the U.S. had seen social media ads. DiResta's findings were widely respected and publicized. Former director of national intelligence James Clapper called the evidence that Russia had influenced the election "staggering." University of Pennsylvania communication professor Kathleen Hall Jamieson claimed it proved Trump would not have been president without the Russians.

But there is no evidence that the Russians influenced the 2016 campaign, much less that they won it for Trump. Conservative voters did not consume much social media compared to news media in 2016. While 40 percent of Trump voters said, Fox was their primary news source, only 7 percent said Facebook.

''People promoting the idea that Russia swung the election will often cite that Russian Facebook posts reached about 126 million Americans,'' said a team of researchers who debunked DiResta's disinformation. ''But that refers to anyone whose news feed ever included such a piece of content, regardless of whether they saw it, or whether it may have been drowned out in their minds by hundreds of other posts.'' Moreover, 56% of the Russian troll farm's pages appeared after the election while 25% were seen by no one.

DiResta has constantly sought to emphasize, creepily, that ''fighting disinformation'' is not a free speech issue but rather a national security one. In her 2018 Senate Testimony, DiResta said fighting disinformation ''is not about arbitrating truth, nor is it a question of free speech.'' Rather, she claimed, it is ''a cybersecurity issue, it is an ongoing national security issue, and it must be addressed through a collaboration between governments responsible for the safety of their citizens and private industry responsible for the integrity of their products and platforms'' [my emphasis].

DiResta consistently demands censorship to prevent harm. Caring, or protecting people from harm, is a core value for liberals, according to social psychologists such as Jonathan Haidt . And harm has traditionally been the main restriction to free speech. The Supreme Court has upheld strong First Amendment protections and modestly constrained them in cases causing harm, like fraud and immediate incitement of violence .

''One of the things that the platforms are looking at now is this notion of healthy discourse,'' DiResta told Kara Swisher in an interview published at Vox. ''What are the metrics for healthy discourse?... I know some of the [liberal philanthropic] foundations are also working on thinking about how do we quantify this'...''

And nobody caused more harm than President Donald J. Trump. ''I think that the particularly belligerent, constantly hostile, constantly outrageous tone that [Trump] prefers is deeply harmful,'' DiResta told Swisher.

DiResta thinks this question isn't just important for fighting ''foreign disinformation.'' Rather, what content ''we'' should ''let'' remain online is a question she believes the U.S. government must decide for every major social and political issue in society since her overarching framework is the legitimacy of governing institutions.

In her 2021 video for the Department of Homeland Security's Cybersecurity and Infrastructure Security Agency (CISA), Diresta says, ''Our team at [Stanford Internet Observatory] SIO and CISA's team have done some pioneering work in partnership thinking.'' What is ''partnership thinking''? It's the thinking done by DiResta and other self-appointed censors for how the government can censor without violating the First Amendment.

But if DiResta and her colleagues at CISA violate the First Amendment, why mention it? Why not simply avoid mention of it altogether? Part of the reason is likely to assuage concerns among government officials, including elected ones, who approved the funding for the Censorship Industrial Complex in the first place.

But another reason has to do with controlling what is acceptable to say and think. ''The Overton window is the collection of societally acceptable political opinions,'' noted DiResta. ''So, shifting the Overton window or expanding the Overton window means increasing or changing the types of positions, political positions, that are considered mainstream or that are considered respectable, some things that we're willing to discuss.'' As such, DiResta's labeling of Republican leader Devin Nunes as a ''crackpot'' for his views of vaccines and Benz as a '' crank '' is not accidental, but a deliberate strategy to marginalize.

But there is something else, more culturally and class-based, which is her attitude that she, and other elites, should decide what information people are exposed to. Consider how DiResta talks about whether or not the government should allow certain content online. ''The way that the intelligence communities think about leaving hostile content up online, letting the ISIS accounts stay, for example, are you getting more information than you otherwise would?''

Why, in the end, is it Renee DiResta, and not somebody else, the leader of the Censorship Industrial Complex? A big part of the reason is because she is the intellectual architect, and most articulate public advocate, of government funding of, and cooperation with, non-governmental actors, such as Stanford Internet Observatory, to increase social media censorship of disfavored views and disfavored users.

But there is another, deeper reason. Like other American elites, DiResta believes that it is the role of people like her to control what information the public is allowed to consume, lest they elect a populist ogre like Donald Trump, decide not to get vaccinated, or don't accept whatever happens to be mainstream liberal opinion on everything from climate change to transgenderism to the business dealings of the presidents family.

Dismantling the taxpayer-funded censorship industry and disempowering self-appointed censors like DiResta won't be easy. Much of the mainstream corporate news media is sympathetic to or affiliated with the Censorship Industrial Complex. They have showered DiResta with puff pieces. They refuse to cover the Twitter Files or the Facebook Files. The Stanford Internet Observatory is receiving large government and private sector grants . And the news media, the censorship industry, and a shocking number of Democrats in Congress support government censorship of social media platforms.

But the backlash to the censorship industry is growing. Jacob Siegel's long essay in Tablet , along with the work of Benz and Taibbi , has put into historical context the censorship industry's rise to power. Our appearances in Congress, and on independent podcasts like Joe Rogan's, have been seen by millions of Americans. And, let's face it, the American people don't want elites like DiResta deciding what they can and can't read, and not simply because it's grotesquely unconstitutional.

And now, DiResta has responded defensively to my criticisms and, in the process, has issued new, easily-disproved lies. For example, DiResta claimed, ''Shellenberger'... never asked me about these 'undisclosed CIA ties.''' That claim is false.

In an October 13 email, which she had asked me to send over What's App, that I sent to her , I asked her four questions: ''According to recorded remarks by your supervisor at Stanford, Alex Stamos, you have previously ''worked for the CIA.'' Is that true? What did you do for the CIA? What funding and/or employment and direction have you taken from government agencies? If you did work with the CIA, and/or other government agencies, activity, why haven't you mentioned it in your previous biographies and 2018 Senate testimony?''

DiResta claims, '''...Shellenberger continues to mislead. He cited fabricated statistics and claims from a crank'...''

The so-called ''crank'' DiResta refers to is Benz, whose information has proven highly reliable. My colleagues and I have confirmed Benz's facts directly and on his website. We have not found Benz making a single unsubstantiated accusation, much less peddling conspiracy theories. As for the supposedly ''fabricated statistics'' come directly from DiResta's ''Election Integrity Project'' and Virality Project. EIP claims that it classified 21,897,364 individual posts comprising unique ''misinformation incidents'' from August 15, 2020, to December 12, 2020, from a larger 859 million tweets connected to ''misinformation narratives.''

DiResta claims that Stanford Internet Observatory has not been using government funding for censorship. Writes DiResta, ''we received an NSF grant after our 2020 election and 2021 covid projects had ended and no government funding went into this work.''

But the National Science Foundation awarded its grant to Stanford, through the University of Washington, in July 2021, when the Virality Project was underway. And in DiResta's October 2021 video presentation about ''partnering,'' she said, ''Over the spring and summer of 2021,'' she says, ''VP partnered with federal, state, and local stakeholders, as well as civil society organizations and coalitions of medical professionals, to support their efforts to understand encounter vaccine hesitancy.''

In the same CISA video, DiResta claims it was Stanford interns '-- not US government officials '-- who came up with the idea while at CISA. ''In August 2020, students from the Stanford Internet Observatory were doing an internship with CISA, and they identified a massive gap in the capability of federal, state, and local governments to become aware of, to analyze, and to rapidly respond to mis- and disinformation, both foreign and domestic, targeting the 2020 election.''

Others confirm this. ''This initiative, the Election Integrity Partnership, or EIP, came together in June of 2020 at the encouragement of the US Department of Homeland Security's Cybersecurity and Infrastructure Security Agency, or CISA,'' wrote EIP partner, the Atlantic Council's Disinformation Forensic Laboratory. And why doesn't DiResta mention the 2022 elections? Perhaps she doesn't want you to know that her SIO, and its EIP partners, were also involved in social media censorship last year .

DiResta made other false claims. She said I told Rogan that she and SIO ''had censored Shellenberger, his book, and Rogan himself.'' That is simply ridiculous. I said no such thing. DiResta said I had ''personal grievances'' and had been ''speculating about whether I'm a good mom.'' Also false. Here's what I actually said : ''I agree with her [Renee] on some things. I'm sure she's a fine person in her personal life. She's probably a good mother,'' to which Joe said, ''You're trying to be nice,'' which was true. Anyone who listens to the exchange can tell I was making clear that my criticism of DiResta was not personal.

Finally, DiResta claimed, ''we never discussed climate,'' but we did, at length, as the audio file and transcript of our interview , which she permitted me to record, proves. We spent over 12 minutes discussing the censorship of accurate climate change information on Facebook. I raised the exact same climate censorship issue on the podcast with Bari Weiss and Sam Harris on February 1 and made clear both times that it was an extremely important issue to me personally. ( Transcript here .)

Would you be surprised to learn that DiResta is a master of misleading people? In her response to me, she appears to be denouncing censorship and advocating more free speech. Consider this sentence: ''I've long advocated against content and account takedowns in favor of the context - the counter-speech - of a label in the majority of relevant situations.''

The power of language is such that you might have read that sentence, as I first did, and missed that she's not denying that she advocates ''content and account takedowns.'' All she's saying is that she advocates labeling more frequently than she advocates de-platforming and removing posts. And, notably, in our conversation, DiResta described the fact check label as ''not censorship in any way, shape, or form.''

While ''labeling content'' sounds harmless, it has repeatedly been used as a way to spread the kind of disinformation that DiResta claims to be fighting, such as against legitimate opinions about covid vaccines , covid's origins, The New York Post's accurate Hunter Biden laptop story , and climate change.

And exaggerating Russian influence may help Putin, or the people trying to win his favor. ''When we propagate the idea that Russian propaganda is the all-powerful source of disinformation in American politics,'' writes Benkler, ''we reinforce precisely this primary goal: We sow confusion.'' Wrote Facebook in 2022, ''These actors'... have an interest in exaggerating their own effectiveness...''

And, as is now clear, DiResta and her colleagues are, in fact bringing to the US the same kinds of influence operations the US government, through the CIA and others, has used to influence elections in past decades , including in South Vietnam and Japan, El Salvador, Haiti, Guatemala, Brazil, Israel, Lebanon, Panama, Iran, Greece, Italy, Malta, Slovakia, Romania, Bulgaria, Albania, Sri Lanka, and the Philippines.

The good news is that change is happening and quickly. In the wake of broad public backlash, the Department of Homeland Security in August 2022 terminated the Disinformation Governance Board. CISA removed information about domestic-facing censorship from its website and scrapped its MDM (''Misinformation, Disinformation, and Malinformation'') subcommittee. And Congress has been holding multiple hearings on the rise of the censorship industry, including one last week that included the Attorney General of Louisiana and the former Attorney General of Missouri.

While we must defund and dismantle the Censorship Industrial Complex, the greatest change must happen within ourselves. We must be suspicious of those who raise the alarm about ''foreign election influence'' and ''disinformation'' and demand greater ''content moderation'' by social media platforms. As such, we should take a page from our would-be censors and make ourselves more resilient to their disinformation.

Share

Google to save money on employee laptops, services and staplers

Tue, 04 Apr 2023 04:42

Ruth Porat, Alphabet CFO

Adam Galica | CNBC

Google's finance chief Ruth Porat recently said in a rare companywide email that the company is making cuts to employee services.

''These are big, multi-year efforts,'' Porat said in a Friday email titled: "Our company-wide OKR on durable savings." Elements of the email were previously reported by The Wall Street Journal.

In separate documents viewed by CNBC, Google said it's cutting back on fitness classes, staplers, tape and the frequency of laptop replacements for employees.

One of the company's important objectives for 2023 is to "deliver durable savings through improved velocity and efficiency." Porat said in the email. ''All PAs and Functions are working toward this," she said, referring to product areas. OKR stands for objectives and key results.

The latest cost-cutting measures come as Alphabet -owned Google continues its most severe era of cost cuts in its almost two decades as a public company. The company said in January that it was eliminating 12,000 jobs, representing about 6% of its workforce, to reckon with slowing sales growth following record head count growth.

Cuts have shown up in other ways. The company declined to pay the remainder of laid-off employees' maternity and medical leaves, CNBC previously reported.

In her recent email, Porat said the layoffs were ''the hardest decisions we've had to make as a company.''

"This work is particularly vital because of our recent growth, the challenging economic environment, and our incredible investment opportunities to drive technology forward '-- particularly in AI," Porat's email said.

Porat referred to the year 2008 twice in her email.

''We've been here before," the email stated. "Back in 2008, our expenses were growing faster than our revenue. We improved machine utilization, narrowed our real estate investments, tightened our belt on T&E budgets, cafes, micro kitchens and mobile phone usage, and removed the hybrid vehicle subsidiary.''

''Just as we did in 2008, we'll be looking at data to identify other areas of spending that aren't as effective as they should be, or that don't scale at our size.''

In a statement to CNBC, a spokesperson said, "As we've publicly stated, we have a company goal to make durable savings through improved velocity and efficiency. As part of this, we're making some practical changes to help us remain responsible stewards of our resources while continuing to offer industry-leading perks, benefits and amenities."

Cutting down on desktop PCs and staplersAmong the equipment changes, Google is pausing refreshes for laptops, desktop PCs and monitors. It's also "changing how often equipment is replaced," according to internal documents viewed by CNBC.

Google employees who are not in engineering roles but require a new laptop will receive a Chromebook by default. Chromebooks are laptops made by Google and use a Google-based operating system called Chrome OS.

It's a shift from the range of offerings, such as Apple MacBooks, that were previously available to employees. ''It also provides the best opportunity across all of our managed devices to prevent external compromise," one document about the laptop changes said.

An employee can no longer expense mobile phones if one is available internally, the document also stated. And employees will need director ''or above'' approval if they need an accessory that costs more than $1,000 and isn't available internally.

Under a section titled ''Desktops and Workstations,'' the company said CloudTop, the company's internal virtual workstation, will be "the default desktop" for Googlers.

In February, CNBC reported the company asked its cloud employees and partners to share desks by alternating days and are expected to transition to relying on CloudTop for their workstations.

Google employees have also noticed some more extreme cutbacks to office supplies in recent weeks. Staplers and tape are no longer being provided to print stations companywide as ''part of a cost effectiveness initiative,'' according to a separate, internal facilities directive viewed by CNBC.

"We have been asked to pull all tape/dispensers throughout the building," a San Francisco facility directive stated. ''If you need a stapler or tape, the receptionist desk has them to borrow."

A Google spokesperson said staplers and tape continue to be offered companywide but did not provide details.

'We've baked too many muffins on a Monday'Google's also cutting some availability of employee services.

''We set a high bar for industry-leading perks, benefits and office amenities, and we will continue that into the future," Porat's email stated. "However, some programs need to evolve for how Google works today.''

''These are mostly minor adjustments," stated a separate internal document from the company's real estate and workplace team. The document said food, fitness, massage and transportation programs were designed for when Googlers were coming in five days a week.

"Now that most of us are in 3 days a week, we've noticed our supply/demand ratios are a bit out of sync: We've baked too many muffins on a Monday, seen GBuses run with just one passenger, and offered yoga classes on a Friday afternoon when folks are more likely to be working from home," the document stated.

As a result, Google may close cafes on Mondays and Fridays and shut down some facilities that are ''underutilized" due to hybrid schedules, the document states.

As a part of the January U.S. layoffs, the company let go of more than two dozen on-site massage therapists.

Read the full email from Ruth Porat here:

This year, one of our important company OKRs is to deliver durable savings through improved velocity and efficiency. All PAs and Functions are working towards this: Googlers have asked for more detail so we're sharing more information below. This work is particularly vital because of our recent growth, the challenging economic environment, and our incredible investment opportunities to drive technology forward'--particularly in AI.

We've been here before. Back in 2008, our expenses were growing faster than our revenue. We improved machine utilization, narrowed our real estate investments, tightened our belt on T&E budgets, cafes, Microkitchens and mobile phone usage, and removed the hybrid vehicle subsidy. Since then, we've continued to rebalance based on data about how programs and services are being used.

How we're approaching this

The hardest decisions we've had to make as a company to reduce our workforce, and that is still being worked through in some countries. Most of the other large changes and savings won't be visible to most Googlers but will make aa noticeable difference to our costs '-- think innovation in machine utilization for AI computing and reduced fragmentation of our tech stack. These are big-multi-year efforts. A few examples:

We are focused on distributing our compute workloads even more efficiently, getting more out of our servers and data centers. We've already made progress with these efforts and will continue to drive efficiencies '' this work adds up given infrastructure is one of our largest areas of investment.As we apply our efficient and well-tuned infrastructure and software to ML, we're continuing to discover more scalable and efficient ways to train and serve models.Improving external procurement is another area where data suggests significant savings '' on everything from software to equipment to professional services. As one part of this, we're piloting an improved buying hub that helps teams find suppliers that we've negotiated great rates with.There are other areas we've spoken about that will make a big difference: we're continuing to redeploy teams to higher priority work, to maintain a slower pace of hiring, to be responsible about our T&E spending, and to implement numerous suggestions from the Simplicity Sprint improve our execution and increase our velocity '' particularly on prioritization, training, launch and business processes, internal tools and meeting spaces.Changes to programs and services

We want to be upfront that there are also areas where we'll realize savings that will impact some service Googlers use at work and beyond.

We set a high bar for industry-leading perks, benefits and office amenities, and will continue that into the future. However, some programs need to evolve for how Google works today. As well as helping to bring down costs, these changes will reduce food waste and be better for the environment.

We're adjusting our office services to the new hybrid workweek. Cafes, Microkitchens and other facilities will be tailored to better match how and when they are being used. Decisions will be based on data. For example, where a cafe is seeing a significantly lower volume of use on certain days, we'll close it on those days and put more focus instead on popular options that are close by. Similarly, we'll consolidate microkitchens in buildings where we're seeing more waste than value. We'll also shift some fitness classes and shuttle schedules based on how they're being used.We've also assessed the equipment we provide Googlers. Today's devices have a much longer lifespan and greater performance and reliability, so we have made changes to what's available and how often it's replaced'--while making sure that people have what they need to perform their role. Because equipment is a significant expense for a company of our size, we'll be able to save meaningfully here.Just as we did in 2008, we'll be looking at data to identify other areas of spending that aren't asa they should be, or the don't scale at our size. We will let Googlers know of any other changes that directly impact services they use.Our opportunities as a company are enormous. We have clear OKRs and substantial resources at our disposal to pursue them, but these resources are finite. Focusing on using them effectively makes a huge difference.

'A Dramatic Impact''--Pentagon Told Bitcoin Could Prevent War

Tue, 04 Apr 2023 04:28

Apr 3, 2023, 09:40am EDT

Crypto Crackdowns Will Continue, But Innovation Can SurviveApr 3, 2023, 09:05am EDT

Bitcoin And Crypto Are Suddenly Braced For A $1 Billion U.S. Earthquake After Ethereum, BNB, XRP, Cardano, Dogecoin, Polygon And Solana Price Surge","scope":{"topStory":{"index":2,"title":"Bitcoin And Crypto Are Suddenly Braced For A $1 Billion U.S. Earthquake After Ethereum, BNB, XRP, Cardano, Dogecoin, Polygon And Solana Price Surge","image":"https://specials-images.forbesimg.com/imageserve/600e90d9ead65a55f4e7644f/290x0.jpg","isHappeningNowArticle":false,"date":{"monthDayYear":"Apr 3, 2023","hourMinute":"09:05","amPm":"am","isEDT":true,"unformattedDate":1680527122872},"uri":"https://www.forbes.com/sites/digital-assets/2023/04/03/bitcoin-and-crypto-are-suddenly-braced-for-a-1-billion-us-earthquake-after-ethereum-bnb-xrp-cardano-dogecoin-polygon-and-solana-price-surge/"}},"id":"9m46e6lea5jc00"},{"textContent":"

Apr 2, 2023, 08:30am EDT

'A Legitimate Cryptocurrency''--Dogecoin Price Suddenly Soars After Elon Musk Hits Back At $258 Billion Lawsuit","scope":{"topStory":{"index":3,"title":"'A Legitimate Cryptocurrency''--Dogecoin Price Suddenly Soars After Elon Musk Hits Back At $258 Billion Lawsuit","image":"https://specials-images.forbesimg.com/imageserve/60c64fa7ab58a662f3764dfa/290x0.jpg","isHappeningNowArticle":false,"date":{"monthDayYear":"Apr 2, 2023","hourMinute":"08:30","amPm":"am","isEDT":true,"unformattedDate":1680438626000},"uri":"https://www.forbes.com/sites/digital-assets/2023/04/02/a-legitimate-cryptocurrency-dogecoin-price-suddenly-soars-after-elon-musk-hits-back-at-258-billion-lawsuit/"}},"id":"2b39ri31obik00"},{"textContent":"

Apr 2, 2023, 06:00am EDT

5 Facts You Need To Know About The 'McWaters' Stablecoin Bill","scope":{"topStory":{"index":4,"title":"5 Facts You Need To Know About The 'McWaters' Stablecoin Bill","image":"https://specials-images.forbesimg.com/imageserve/6426e371ebc9df0109bbf2c3/290x0.jpg","isHappeningNowArticle":false,"date":{"monthDayYear":"Apr 2, 2023","hourMinute":"06:00","amPm":"am","isEDT":true,"unformattedDate":1680429609000},"uri":"https://www.forbes.com/sites/digital-assets/2023/04/02/5-facts-you-need-to-know-about-the-mcwaters-stablecoin-bill/"}},"id":"654mch03aqeo00"},{"textContent":"

Apr 1, 2023, 07:15am EDT

'Pivotal Moment' For Crypto After 'Hyper-Speed' Bank Crisis Spurs Bitcoin And Ethereum Price Pump","scope":{"topStory":{"index":5,"title":"'Pivotal Moment' For Crypto After 'Hyper-Speed' Bank Crisis Spurs Bitcoin And Ethereum Price Pump","image":"https://specials-images.forbesimg.com/imageserve/6427f761d0041187ddbbf2c3/290x0.jpg","isHappeningNowArticle":false,"date":{"monthDayYear":"Apr 1, 2023","hourMinute":"07:15","amPm":"am","isEDT":true,"unformattedDate":1680347716000},"uri":"https://www.forbes.com/sites/digital-assets/2023/04/01/crypto-suddenly-at-pivotal-moment-after-hyper-speed-bank-crisis-spurs-bitcoin-and-ethereum-price-pump/"}},"id":"e2ae27b3qcnc00"},{"textContent":"

Mar 31, 2023, 03:12pm EDT

5 Signs To Look For Before You Invest In Crypto TokensMar 31, 2023, 08:56am EDT

Blockchain Nodes 101: Discover The Foundation Of Decentralized Crypto Networks","scope":{"topStory":{"index":7,"title":"Blockchain Nodes 101: Discover The Foundation Of Decentralized Crypto Networks","image":"https://specials-images.forbesimg.com/imageserve/642498e246d37bb355f43b0c/290x0.jpg","isHappeningNowArticle":false,"date":{"monthDayYear":"Mar 31, 2023","hourMinute":"08:56","amPm":"am","isEDT":true,"unformattedDate":1680267417369},"uri":"https://www.forbes.com/sites/digital-assets/2023/03/31/blockchain-nodes-101-discover-the-foundation-of-decentralized-crypto-networks/"}},"id":"72ehpk1iah8g00"}],"breakpoints":[{"breakpoint":"@media all and (max-width: 767px)","config":{"enabled":false}},{"breakpoint":"@media all and (max-width: 768px)","config":{"inView":2,"slidesToScroll":1}},{"breakpoint":"@media all and (min-width: 1681px)","config":{"inView":6}}]};

CMT Awards 2022 Ratings: Viewership Jumps 521% With Move to CBS - Variety

Tue, 04 Apr 2023 02:00

The CMT Music Awards aired for the first time on CBS and Paramount Plus on Monday night, drawing 5.16 million viewers for the live telecast in early Nielsen numbers, which is up 521% from last year's show on Paramount-owned cable channel CMT.

The 5.16 million total viewer tally accounts for both linear ratings on CBA, and live streams via television sets for Paramount Plus and other digital CBS platforms. The final Live + Same Day ratings for the 2022 CMT Awards, including out-of-home-viewing, will be released later on Tuesday. CBS is currently projecting a final viewership of 5.5 million.

That's nowhere near the 8.9 million that CBS scored with this year's Grammys on April 3, a number that is just modestly above what the 2021 Grammys settled for as a record low, but is impressive for an award show making its broadcast debut.

Hosted by Kelsea Ballerini, who led the Nashville-based ceremony from home after she tested positive for COVID-19, Kane Brown and Marvel star Anthony Mackie, the CMT Awards aired from 8-11 p.m. on CBS. The 5.16 million viewers who tuned in for the show led CBS to an easy win against the other Big 4 broadcast networks in terms of primetime viewership for the evening. CBS tied with ABC for first place in the key adults 18-49 demo, with both bringing in a 0.6 rating.

According to CBS, social media content related to the 2022 CMT Awards attracted 2.5 billion ''potential social impressions.''

''For the first time ever, the CMT Awards aired live on CBS and Paramount Plus to record success, showcasing our linear and streaming partnership and enabling us to welcome more incredible fans to celebrate the best of country music,'' a Paramount spokesperson said on Tuesday. ''One of our goals at Paramount is to maximize our biggest awards shows '-- including the Grammys and Tonys '-- and this collaboration is another win for our company, providing a terrific opportunity to amplify the CMT brand through broader distribution.''

The CMT Awards will return to their cable channel origins on Friday, when CMT debuts ''CMT Music Awards Extended Cut,'' a version of Monday's award show with ''an added 30 minutes of new performances and extra bonus content.'' The extended version of the 2022 CMT Awards will air Friday from 8-11:30 p.m. ET on CMT.

Mounjaro Could Eclipse Ozempic as the Most Powerful Weight-Loss Drug - WSJ

Mon, 03 Apr 2023 20:52

Eli Lilly's Mounjaro could outpace Ozempic as the most powerful treatment on the market. To develop it, the drug company needed to overhaul long-held but failing practices.

By

Peter Loftus | Photographs by Maddie McGarvey for The Wall Street Journal

April 3, 2023 10:31 am ETPeople who are overweight are flocking to the drug Ozempic to slim down. Looming is an even more powerful weight-loss treatment.

The drug Mounjaro helped a typical person with obesity who weighed 230 pounds lose up to 50 pounds during a test period of nearly 17 months.

No anti-obesity drug has ever safely made such a difference. In the coming...

Advertisement - Scroll to Continue

People who are overweight are flocking to the drug Ozempic to slim down. Looming is an even more powerful weight-loss treatment.

The drug Mounjaro helped a typical person with obesity who weighed 230 pounds lose up to 50 pounds during a test period of nearly 17 months.

No anti-obesity drug has ever safely made such a difference. In the coming months, it is widely expected to get the go-ahead from U.S. health regulators to be prescribed for losing weight and keeping it off, and some patients are already using it unapproved for that purpose.

The advance of Mounjaro, which is already on the market to treat Type 2 diabetes, has excited doctors and patients who have been waiting decades for effective treatments, while helping turn its maker, Eli Lilly & Co., into the most valuable standalone pharmaceutical company in the U.S. with a market value of more than $300 billion.

It's a product of Lilly's recent, sometimes painful overhaul of how it develops drugs. After several costly drug failures, Lilly abandoned some of its long-held practices, including waiting for multiple committees to weigh in before advancing a drug. The company had also been prioritizing its existing successful drug franchises at all costs, sometimes at the expense of promising new treatments.

Advertisement - Scroll to Continue

That now discarded approach would have stifled the development of Mounjaro. Some people inside Lilly discouraged pursuing the drug in the mid-2010s because it might compete with a Lilly product that was already selling well. Overriding these concerns, Lilly pushed its labs to move fast, pursue ambitious projects and worry less about the business ramifications, even if that would mean cannibalizing sales of high-selling products with years of lucrative patent protection left. Lilly scientists were able to chase Mounjaro, and they worked quickly.

''Every program we do, we look at what our competitors have done, who's done it the fastest, and then we set a goal to go even faster,'' said Daniel Skovronsky, Lilly's chief scientific and medical officer. ''Speed becomes our No. 1 incentive, which is hard because it's a cultural change.''

Since it shifted its approach, in stages over the past decade, Lilly's overall R&D output has been among the industry's most prodigious. The company has had 19 new prescription drugs approved in the U.S. or other countries since 2014 for conditions such as cancer, migraines and Covid-19. It has cut their development timelines to an average of six years from 11.

Advertisement - Scroll to Continue

The revamp has produced medicines that could make big differences in diseases that have long frustrated researchers and debilitated patients.

Mounjaro helped people who have difficulty losing pounds despite dieting cut their weight by up to 22.5% over 72 weeks during testing. In comparison, Ozempic and its sister drug, Wegovy, made by Novo Nordisk AS, which share the same active ingredient, induced weight loss of up to around 17% in studies.

Also up for approval from Lilly is an experimental Alzheimer's drug that slowed the disease's progress in a key study. The experimental Alzheimer's drug, if approved, could reach $12 billion in yearly sales, according to analysts.

Advertisement - Scroll to Continue

Mounjaro could be one of the highest-selling drugs of all time with annual sales exceeding $25 billion. Novo's Ozempic and Wegovy brought in close to $10 billion last year, with prescriptions rapidly growing.

'We gotta get out of this'Lilly, founded in 1876 in Indianapolis, was the first drug company to sell insulin and distribute the polio vaccine globally. Starting in the 1980s, it became known for groundbreaking psychiatric drugs including the antidepressant Prozac.

By the early 2010s, however, the company's labs were striking out. Experimental drugs for heart disease, schizophrenia, depression and Alzheimer's failed in large, expensive clinical trials. Big-selling products such as the antipsychotic Zyprexa began facing competition from lower-cost generics. Company shares sank.

''Oh man, we gotta get out of this,'' John Lechleiter,

Advertisement - Scroll to Continue

then Lilly's chief executive, recalled thinking on a walk home from work in 2009 after the stock hit a decades low.

To innovate, Lilly would need to let go of its single-minded focus on protecting its existing lucrative drug franchises, maximizing their sales until patents ran out and then chasing further sales with new products that weren't all that different from the ones they replaced.

The company also needed to move faster. One internal committee after another second-guessed every recommendation to advance a promising drug candidate. ''The decisions got revisited every step of the way,'' recalled J. Anthony Ware, who led product development at Lilly before retiring in 2017.

The committees were intended to ensure thorough vetting, but in practice became a limiting process that squeezed out bold ideas, according to Dr. Skovronsky.

Dr. Skovronsky, who joined Lilly after it acquired his brain-imaging firm in 2010, was accustomed to moving quickly because money was tight at the startup. Lilly lacked the same urgency, Dr. Skovronsky said, and the slowness made it miss out on huge opportunities.

Lilly's scientists, for instance, were among the first to see potential for a new type of breast cancer drug targeting proteins known as CDK4 and CDK6 that play a role in tumor growth. It took them too long to get internal funding for clinical trials, however, handing competitors Novartis AG and Pfizer Inc. the advantage of bringing their therapies to market first. Lilly's drug, Verzenio, was approved by the FDA in 2017, after Pfizer's Ibrance in 2015 and Novartis's Kisqali earlier in 2017.

Lilly also missed out on cancer immunotherapies, ceding the treatments to rivals such as Merck & Co. and Bristol-Myers Squibb Co. Their drugs have saved many skin and lung cancer patients and are now among the industry's biggest sellers.

Dr. Skovronsky was frustrated with Lilly's slow pace. ''Let me understand this,'' he recalled saying at a committee meeting setting timetables for getting experimental drugs to market. ''Our goal is to be slower than average, and we're failing at that goal? This can't be the way to do things.''

In 2015, Lilly's board of directors asked Dr. Skovronsky, then senior vice president of clinical and product development, to help analyze Lilly's research flops over the prior 10 years and figure out how to do R&D better.

A big reason for the failures, Dr. Skovronsky found, was that Lilly's business-unit heads, focusing on sales potential, were making decisions about which drugs to promote to late-stage studies. The result: The company advanced into the large, expensive studies candidates that had mixed results in earlier testing. Dr. Skovronsky found that drugs that had earlier mixed results often failed the later studies.

The business-unit officials overplayed ''what would really be great for sales representatives and underplayed what would be great science and great for patients,'' he said.

Dr. Skovronsky recommended Lilly pursue drug projects where it best understood the science, and lean less on commercial sales estimates. Lilly was not very good at predicting a drug's sales over time anyway, he concluded, but could better predict the scientific probability of a drug's success.

Lilly jettisoned research on diseases where it was tougher to deliver an advance, including osteoporosis and psychiatric conditions, and doubled down in areas where it had expertise: diabetes, oncology and Alzheimer's disease.

''We had to hunker down in a lot of ways to free up resources for other priorities,'' said Chief Executive David Ricks, who led Lilly divisions including its China and U.S. businesses during this period, before becoming CEO in 2017.

Lilly also tried to become more open to outsiders to help bring in fresh ideas. In 2018, it promoted Dr. Skovronsky to the chief scientific officer role. When Lilly acquired cancer-drug developer Loxo Oncology in 2019, it put Loxo's leaders in charge of Lilly's cancer research.

Along with its successes, Lilly has had setbacks, including pulling a new cancer drug from the market in 2019 after a study found it wasn't helping patients. Last year, U.S. drug regulators rejected a proposed new cancer therapy co-developed by Lilly and a Chinese biotech company because of concerns about the medicine's testing in China. Then, in January, the U.S. Food and Drug Administration hit the brakes on speedily approving Lilly's experimental Alzheimer's therapy, saying it would wait for more study data before making a decision. Still, these types of setbacks are happening less frequently than before.

'King Kong'The new obesity drug grew out of long-running efforts at Lilly to promote the body's production of insulin, the hormone used to control blood-sugar levels. Lack of insulin or insufficient insulin are hallmarks of diabetes.

In 2014, Lilly introduced a drug that helped people release more insulin when they eat. The drug, named Trulicity, did that by mimicking a hormone in the gut called GLP-1 that naturally mobilized the release of insulin. Scientists also found it suppressed appetite and made people feel full when they eat.

Patients with the most common form of diabetes needed to inject Trulicity once a week, not every day like older medicines. And not only did the drug significantly reduce blood sugar levels, it helped patients lose some weight.

Doctors and patients began flocking to the new drug. Analysts projected it would be a big seller for Lilly, perhaps reaching $2 billion in annual sales. And the company could look forward to patents protecting those hefty sales for years.

When Lilly scientists proposed, in 2014, pursuing a drug that promised to lower blood sugar more than Trulicity and cut weight by even larger amounts, company leaders hesitated.

''It was controversial among senior colleagues at Lilly,'' recalled David Moller, a former company head of diabetes research. ''There were those who thought Trulicity was the best we could do.''

Lilly scientists expressed hope their drug candidate could do much more than that. The experimental drug combined a synthesized GLP-1 gut hormone like the one in Trulicity with a cousin called GIP, which the scientists theorized could produce even more insulin and suppress appetite further.

Two weeks after starting to get the compound, chubby laboratory mice given the compound lost 20% to 25% of their weight.

Drug effects in mice, such as weight loss, often don't carry over to humans. Despite the unknowns, Lilly went ahead and greenlighted the experimental drug for human testing. ''It was the largest degree of weight loss I had ever seen in a mouse model of obesity. It felt pretty compelling,'' Dr. Skovronsky said.

Initially, the plan was to get the drug candidate through clinical testing and approved for marketing as a diabetes treatment in 2024, Dr. Skovronsky said. Then Lilly reorganized to move more quickly.

To stop the second-guessing of decisions, Lilly established independent internal units operating like biotech companies'--with less bureaucracy and faster decision-making'--to manage each of its high-priority drug projects. Lilly dubbed the new project ''GIP Bio,'' said Ruth Gimeno, a biologist who joined from Pfizer in 2011 and now serves as Lilly's vice president of diabetes, obesity and cardiometabolic research.

GIP Bio had its own board of directors, made up of senior researchers and executives from Lilly's diabetes business unit. They were given a budget, and charged with making quick decisions on their own. After a Lilly researcher proposed a last-minute change to the design of the second phase of human testing, the GIP Bio board met within 24 hours and approved the change so the study could start on time, Dr. Gimeno said.

Results from the study in people echoed the findings in overweight laboratory mice. The drug candidate, which Lilly was then referring to by the chemical name tirzepatide and later branded as Mounjaro, not only cut blood sugar levels sharply in people with diabetes but also helped them lose much more weight than older diet drugs could achieve.

Lilly released the Phase 2 tirzepatide results publicly in October 2018 at a diabetes conference in Berlin.

Julio Rosenstock, a veteran diabetes doctor, took the microphone to share his reaction. Dr. Rosenstock, senior scientific advisor at clinical-trial site operator Velocity Clinical Research and a clinical professor of medicine at University of Texas Southwestern Medical Center in Dallas, wasn't involved in the study but has worked with Lilly on other studies. He said he had nicknamed Ozempic, the drug from Lilly's rival Novo Nordisk, the ''gorilla'' because it had been the most potent GLP-1 containing drug to that point. ''But tirzepatide is really a King Kong,'' Dr. Rosenstock said.

Just as the Phase 2 testing was getting off the ground, Lilly started spending money to prepare for the third and final phase of testing required to gain regulatory approval. Typically, companies wait before starting the last-stage studies because they can cost several hundred million dollars. Lilly decided it was worth the risk for certain high-priority drugs, however, because that could hasten their speed to market.

The Phase 3 studies began in late 2018. The decision to go ahead with the investments ultimately cut about nine to 12 months off the development timeline, Dr. Skovronsky said.

In May 2022, the FDA approved Mounjaro for the treatment of Type 2 diabetes. Lilly expects to complete the application for Mounjaro's use treating obesity after results of another study are available by the end of April, which could lead to approval later this year or early 2024.

Though doctors consider it to be safe, Mounjaro does have side effects, with the most common being nausea and other gastrointestinal issues. Similar side effects have been reported for Ozempic and Wegovy.

Lilly is studying the drug for additional uses like treating a liver disease, and is monitoring whether the weight loss it induces has downstream benefits including heart health.

''To me, tirzepatide in my career may be the most important drug Lilly's been a part of,'' said Mr. Ricks, the chief executive, who has worked at Lilly for more than 25 years. ''It is one of the rare ones that has a chance to move the life expectancy of the population.''

Now, Lilly is developing a drug that adds a third component, called glucagon, to GLP-1 and GIP, to see if that induces even greater weight loss. Phase 3 studies are set to begin this year. The drug could be up for FDA approval in 2026, well before Mounjaro's key U.S. patent expires in 2036.

Write to Peter Loftus at Peter.Loftus@wsj.com

Interpretation: Article IV, Section 1: Full Faith and Credit Clause | Constitution Center

Mon, 03 Apr 2023 20:51

Article IVSection 1Full Faith and Credit shall be given in each State to the public Acts, Records, and judicial Proceedings of every other State. And the Congress may by general Laws prescribe the Manner in which such Acts, Records and Proceedings shall be proved, and the Effect thereof.

Back to Original TextCommon Interpretationby Stephen E. SachsProfessor of Law, Duke University Law School

by Steve SandersProfessor of Law; Adjunct Professor, Department of Political Science; Affiliated Faculty, Department of Gender Studies and The Kinsey Institute at Indiana University-Bloomington

Most of the original Constitution focuses on creating the federal government, defining its relationship to the states and the people at large. Article IV addresses something different: the states' relations with each other, sometimes called ''horizontal federalism.'' Its first section, the Full Faith and Credit Clause, requires every state, as part of a single nation, to give a certain measure of respect to every other state's laws and institutions.

The first part of the Clause, largely borrowed from the Articles of Confederation, requires each state to pay attention to the other states' statutes, public records, and court decisions. The second sentence lets Congress decide how those materials can be proved in court and what effect they will have. The current implementing statute, 28 U.S.C. § 1738, declares that these materials should receive ''the same full faith and credit'' in each state that they have in the state ''from which they are taken.''

These broad statements of principle don't always translate well to specifics. States will take note of each other's public records, but they aren't always expected to give these records precisely the same effect that they have at home. (A fishing license from one state doesn't give you the right to fish anywhere else.)

The Clause and federal implementing statute also have a relatively light impact on state statutory law. As the Supreme Court has recognized, when two states' laws are in conflict, it's impossible for both of them to give effect to each other's law at the same time. Alaska Packers Association v. Industrial Accident Commission (1935). In situations where either state's laws could plausibly apply (say, a car accident in Florida between two residents of New York, where the two states have different ideas about how to parcel out damages), the Clause exerts relatively little force. Under the prevailing standard in Allstate Insurance Co. v. Hague (1981) and Phillips Petroleum Co. v. Shutts (1985), depending on where the case is filed, either court can apply its own state's law to the dispute'--so long as that state has ''a significant contact or significant aggregation of contacts, creating state interests, such that choice of its law is neither arbitrary nor fundamentally unfair.''

Once a court has made a decision, though, the Clause has real teeth. So long as a state court has authority over the case and the parties, its judgments will conclusively determine the parties' rights in every other state'--even if it might be wrong on the law, and even if the judgment violates public policy in the state where it's enforced. One state's judgment on a gambling debt can still be collected in another state where gambling is a crime, as the Court established in Fauntleroy v. Lum (1908).

In recent years, the most controversial applications of the Full Faith and Credit Clause have involved family law. Each state has slightly different laws about marriage, and marriages themselves typically aren't treated as judgments receiving nationwide effect. Until recently, same-sex marriages formed in one state weren't always recognized elsewhere. Congress attempted to use its power under the Clause to slow the recognition of same-sex marriages by passing the Defense of Marriage Act'--1 U.S.C. § 7; 28 U.S.C. § 1738C'--but this was rendered obsolete by the Supreme Court's decision in Obergefell v. Hodges (2015). Other marriages are still treated differently in different states, which have conflicting rules about marriages by young people or between close relatives. But because divorces often take the form of court judgments, they usually do receive nationwide effect, so long as the issuing court had the necessary authority over the parties. Congress has rarely used its power under the Clause, but it has passed statutes clarifying which courts may issue orders on child custody'--28 U.S.C. § 1738A'--and child support'--28 U.S.C. § 1738B'--when a family is spread across multiple states.

Full Faith and Credit in Court and in Congressby Stephen E. SachsProfessor of Law, Duke University Law School

Article IV, Section 1, was supposed to do two things: to help states identify public documents from other states, and to let Congress specify those documents' legal force. Over time, though, those purposes were slowly forgotten. Ignorant of the history, courts have relentlessly misinterpreted the Clause in a way that diminishes Congress's powers and enlarges their own.

In early America'--a time before copy machines, when nothing moved faster than a horse'--courts rarely knew which handwritten document was actually another state's statute, or which half-illegible wax seal actually belonged to some county court many weeks' travel away.

To avoid conflict, Article IV of the Articles of Confederation said that each state's documents should get ''Full Faith and Credit'' elsewhere. This was a standard phrase about evidence; business documents bearing a corporation's seal might get ''Full Faith and Credit'' when they were treated as authentic in court, without needing any witnesses to testify about how they were made. So the newly independent states were obliged to do, as James Wilson later said during the Convention of 1787, ''what now takes place among all Independent Nations'': to treat other states' documents as genuine, once they were adequately proved.

But each state had different rules about how to prove them, and what the documents should look like'--for instance, which ones needed which seals, or which had to be signed by which officers. And even if a document was genuine, courts disagreed on what legal force it had outside its home state's borders. So a committee in 1781 recommended that Congress make those rules: setting a uniform standard that every state's documents could meet, and declaring their legal effect.

That's what the Constitution did. The first sentence of Article IV, that ''Full Faith and Credit shall be given,'' largely copied the Articles' rule'--which James Madison saw in The Federalist No. 42 as ''of little importance under any interpretation which it will bear.'' It made states recognize each other's documents (now including legislative acts) without saying how to authenticate them, or what legal effect they'd have. Instead, the Clause's next sentence gave those powers to Congress. In 1790, Congress passed a statute setting out the evidence rules, and requiring that certain records and court judgments'--but not statutes'--have ''such faith and credit given to them in every court'' as they had at home. Act of May 26, 1790, ch. 11, 1 Stat. 122.

Courts disagreed about what this meant, and Congress eventually gave up trying to clarify it. See Stephen E. Sachs, Full Faith and Credit in the Early Congress, 95 Va. L. Rev. 1201 (2009). As the Supreme Court read it, each state had to recognize other states' court judgments as conclusive. Mills v. Duryee (1813). But they could use different remedies to enforce them'--see McElmoyle v. Cohen (1839)'--and only if the other state had authority to decide the case in the first place. D'Arcy v. Ketchum (1850). For a hundred years, courts never suggested that the Clause or the statute made one state apply another's laws'--until a confused decision in Chicago & Alton Railroad Co. v. Wiggins Ferry Co. (1887) suggested as much. See David E. Engdahl, The Classic Rule of Faith and Credit, 118 Yale L.J. 1584, 1589 (2009).

Since then, the Supreme Court has treated the Clause as an almost mystical source of national unity'--and, when states do disagree, as empowering ''this Court to choose in each case between the competing public policies involved.'' Hughes v. Fetter (1951). The Court usually lets each state favor its own laws, as in Allstate Insurance Co. v. Hague (1981)'--except when it doesn't, as in Franchise Tax Board of California v. Hyatt (2016)'--creating plenty of confusion for those whose interests cross state lines. In other words, the discretion the Founders meant for Congress has now been taken up by the Court.

These kinds of problems are better ones for Congress to decide. Should 14-year-olds be able to elope in another state if they can't get married at home? Whose law governs contracts made over the Internet, or major accidents with victims in many states? Everyone has something at stake in these questions; and if we're going to change the answers, we should do it through elected representatives for whom everyone votes. That's what the Full Faith and Credit Clause said, and hopefully one day the courts will listen.

Full Faith and Credit: Some Lingering Dilemmasby Steve SandersProfessor of Law; Adjunct Professor, Department of Political Science; Affiliated Faculty, Department of Gender Studies and The Kinsey Institute at Indiana University-Bloomington

The purpose of the Full Faith and Credit Clause, the Supreme Court said in Allstate Insurance Co. v. Hague (1981), was ''to transform the several states from independent sovereignties into a single, unified Nation.'' The great Justice Robert Jackson, who made himself something of a scholar of the Clause, argued that ''[w]here there is a choice under the full faith and credit clause, the one should be made . . . which best will meet the needs of an expanding national society for a modern system of administering . . . a more certain justice.'' Robert H. Jackson, Full Faith and Credit: The Lawyer's Clause of the Constitution, 45 Colum. L. Rev. 1 (1945).

Today, Article IV, Section 1 is rarely the subject of controversy or Supreme Court attention. It is well settled that final court judgments rendered in one state must be honored in every other state'--there is no ''roving 'public policy exception''' to the principle of mandatory recognition for judgments. Baker v. General Motors Corp. (1998). This principle is consistent with the high premium that law places on the finality of judgments, perhaps together with the idea advanced by some jurists and scholars that the Full Faith and Credit Clause was originally intended foremost as a command to state courts.

Ordinary laws and statutes, however, are a different story. Because the United States is a highly mobile and interconnected society, scenarios often arise where one event'--for example, a claim under an automobile insurance policy'--could plausibly be governed by the law of more than one state. The Supreme Court has consistently held that as a general rule every state is entitled to make its own laws, and so a state is allowed to apply its own law in its own courts as long as it has sufficient contacts with the matter being adjudicated. One state generally is not required to bow to the ideas of other states on matters of public policy.

This makes sense: much regulation of our daily lives still takes place at the state level; the states are coequal sovereigns; and the idea of states as laboratories of policy innovation continues to have appeal. But what about state laws that not only express a state's public policy and regulate behavior within its territory but also confer an important legal status, such as marriage or parenthood? Both marriage and parenthood create well-established bundles of legal rights. If State A creates a marriage or a parent-child relationship, should State B be allowed not only to ignore the status but also to deny'--even effectively terminate'--the legal rights entailed by that status? This question remains perhaps the most significant unresolved dilemma in the modern law of Full Faith and Credit.

Until the Supreme Court in Obergefell v. Hodges (2015) held that the Due Process and Equal Protection provisions of the Constitution's Fourteenth Amendment required same-sex marriage to be legalized nationwide, many states refused to recognize same-sex marriages performed in other states, sometimes even going as far as to declare such marriages ''void'' or ''invalid.'' See Steve Sanders, The Constitutional Right to (Keep Your) Same-sex Marriage, 110 Mich. L. Rev. 1421 (2012). The conventional wisdom among scholars was that the Full Faith and Credit Clause was no help to couples whose marriages were not recognized, because marriage is simply another subject for ordinary state lawmaking'--no different from things like workers' compensation, insurance regulation, or natural gas royalties'--where, under the Supreme Court's precedents, each state gets to decide policy for itself.

Yet that conventional wisdom can be questioned, because it fails to account for the important vested personal rights that arise from marriage'--especially rights over things like property, children, and inheritance, rights whose purpose is to vindicate both the couple's and society's interest in stability, equity, and predictability in the marital relationship. See Steve Sanders, Is the Full Faith and Credit Clause Still 'Irrelevant' to Same-Sex Marriage?: Toward a Reconsideration of the Conventional Wisdom, 89 Ind. L. J. 95 (2014). Moreover, the conventional wisdom seems difficult to reconcile with the deeply embedded American legal tradition of treating marriage as a sui generis legal construct, a presumptively lifelong status from which there can be no exit without the state's permission through divorce. The Supreme Court has long described marriage as ''the foundation of the family and of society.'' Maynard v. Hill (1888).

Same-sex marriage was settled by a ruling under the Fourteenth Amendment, and comity in interstate recognition of marriages has always been the rule rather than the exception. Yet the fact remains that, unless and until the Supreme Court says otherwise, states continue to have no constitutional obligation under Full Faith and Credit to recognize other disfavored types of marriage (such as marriages between first cousins) with which they disagree.

The federal circuits are split on another question of family law under Full Faith and Credit: to what extent and in what manner should one state be required to recognize an adoption procured by a couple in another state? See Thomas M. Joraanstad, Half Faith and Credit?: The Fifth Circuit Upholds Louisiana's Refusal to Issue a Revised Birth Certificate, 19 Wm. & Mary J. Women & L. 421 (2013). Because adoptions are finalized by court judgments, one view holds that any adoption should be recognized by all other states for all purposes, even if it violates the public policy of the ''receiving'' state (because, for example, it involves an unmarried couple). This is the better view, given the importance of certainty and stability in the parent-child relationship. But an outlier decision from the Fifth Circuit U.S. Court of Appeals in Adar v. Smith (2011) held that Louisiana was not required to issue a new birth certificate recognizing two unmarried men as the parents of a Louisiana-born child whom they had adopted in New York. The appeals court reasoned that the Full Faith and Credit command binds state courts but not non-judicial actors such as the administrative officials who oversee a state's birth records. The U.S. Supreme Court declined to hear the parents' petition for review.

Modal title

Modal body text goes here.

Schiphol gaat 's nachts op slot, verbod op zakenjets en lawaaiige lijnvluchten | Economie | AD.nl

Mon, 03 Apr 2023 20:34

Privacy

Michael Cohen Pleads Guilty In Manhattan Federal Court To Eight Counts, Including Criminal Tax Evasion And Campaign Finance Violations | USAO-SDNY | Department of Justice

Mon, 03 Apr 2023 17:13

Robert Khuzami, Attorney for the United States, Acting Under Authority Conferred by 28 U.S.C. § 515, William F. Sweeney Jr., the Assistant Director-in-Charge of the New York Field Office of the Federal Bureau of Investigation (''FBI''), and James D. Robnett, the Special Agent-in-Charge of the New York Field Office of the Internal Revenue Service, Criminal Investigation (''IRS-CI''), announced today the guilty plea of MICHAEL COHEN to charges of tax evasion, making false statements to a federally-insured bank, and campaign finance violations. The plea was entered followed the filing of an eight-count criminal information, which alleged that COHEN concealed more than $4 million in personal income from the IRS, made false statements to a federally-insured financial institution in connection with a $500,000 home equity loan, and, in 2016, caused $280,000 in payments to be made to silence two women who otherwise planned to speak publicly about their alleged affairs with a presidential candidate, thereby intending to influence the 2016 presidential election. COHEN pled guilty today before U.S. District Judge William H. Pauley III.

Attorney for the United States Robert Khuzami said: ''Michael Cohen is a lawyer who, rather than setting an example of respect for the law, instead chose to break the law, repeatedly over many years and in a variety of ways. His day of reckoning serves as a reminder that we are a nation of laws, with one set of rules that applies equally to everyone.''

FBI Assistant Director-in-Charge William F. Sweeney Jr. said: ''This investigation uncovered crimes of fraud, deception and evasion, conducted through a string of financial transactions that were carefully constructed and concealed to protect a variety of interests. But as we all know, the truth can only remain hidden for so long before the FBI brings it to light. We are all expected to follow the rule of law, and the public expects us - the FBI - to enforce the law equally. Today, Mr. Cohen has been reminded of this important lesson, as he acknowledged with his guilty plea.''

IRS-CI Special Agent-in-Charge James D. Robnett said: ''Today's guilty plea exemplifies IRS Special Agents' rigorous pursuit of tax evasion and sends the clear message that the tax laws apply to everybody. Mr. Cohen's greed to hide his income from the IRS cheats all the honest taxpayers, and we should not expect law abiding citizens to foot the bill for those who circumvent the system to evade paying their fair share.''

According to the allegations in the Information unsealed today as well as statements made in Manhattan federal court:

From 2007 through January 2017, COHEN was an attorney and employee of a Manhattan-based real estate company (the ''Company''). COHEN held the title of ''Executive Vice President'' and ''Special Counsel'' to the owner of the Company (''Individual-1''). In January 2017, COHEN left the Company and began holding himself out as the ''personal attorney'' to Individual-1, who by that time had become the President of the United States.

In addition to working for and earning income from the Organization, at all times relevant to this Information, COHEN owned taxi medallions in New York City and Chicago worth millions of dollars. COHEN owned these taxi medallions as investments and leased the medallions to operators who paid COHEN a portion of the operating income.

The Tax Evasion Scheme

In late 2013, COHEN retained an accountant (''Accountant-1'') for the purpose of handling COHEN's personal and entity tax returns. After being retained, Accountant-1 filed amended 2011 and 2012 Form 1040 tax returns with the Internal Revenue Service (''IRS''). For tax years 2013 through 2016, Accountant-1 prepared individual returns for COHEN and returns for COHEN's medallion and real estate entities. To confirm he had reviewed and approved these returns, both COHEN and his wife signed a Form 8879 for tax years 2013 through 2016, and filed manually for tax year 2012. Between 2012 and the end of 2016, COHEN earned more than $2.4 million in income from a series of personal loans made by COHEN to a taxi operator to whom COHEN leased certain of his Chicago taxi medallions (''Taxi Operator-1''), none of which he disclosed to the IRS.

As a further part of the scheme to evade paying income taxes, COHEN also concealed more than $1.3 million in income he received from another taxi operator to whom COHEN leased certain of his New York medallions (''Taxi Operator-2''). This income took two forms. First, COHEN did not report the substantial majority of a bonus payment of at least $870,000, which was made by Taxi Operator-2 in 2012 to induce COHEN to allow Taxi Operator-2 to operate certain of COHEN's medallions. Second, between 2012 and 2016, COHEN concealed nearly $1 million in taxable income he received from Taxi Operator-2's operation of certain of COHEN's taxi medallions.

To ensure the concealment of this additional operator income, COHEN arranged to receive a portion of the medallion income personally, as opposed to having the income paid to COHEN's medallion entities. Paying the medallion entities would have alerted Accountant-1, who prepared the returns for those entities, to the existence of the income such that it would have been included on COHEN's tax returns.

As a further part of his scheme to evade taxes, COHEN also hid the following additional sources of income from Accountant-1 and the IRS:

A $100,000 payment received, in 2014, for brokering the sale of a piece of property in a private aviation community in Ocala, Florida.Approximately $30,000 in profit made, in 2014, for brokering the sale of a Birkin Bag, a highly coveted French handbag that retails for between $11,900 to $300,000, depending on the type of leather or animal skin used. More than $200,000 in consulting income earned in 2016 from an assisted living company purportedly for COHEN's ''consulting'' on real estate and other projects.In total, COHEN failed to report more than $4 million in income, resulting in the avoidance of taxes of more than $1.4 million due to the IRS.

False Statements to a Bank

In 2010, COHEN, through companies he controlled, executed a $6.4 million promissory note with a bank (''Bank-1''), collateralized by COHEN's taxi medallions and personally guaranteed by COHEN. A year later, in 2011, COHEN personally obtained a $6 million line of credit from Bank-1 (the ''Line of Credit''), also collateralized by his taxi medallions. By February 2013, COHEN had increased the Line of Credit from $6 million to $14 million, thereby increasing COHEN's personal medallion liabilities at Bank-1 to more than $20 million.

In November 2014, COHEN refinanced his medallion debt at Bank-1 with another bank (''Bank-2''), who shared the debt with a New York-based credit union (the ''Credit Union''). The transaction was structured as a package of individual loans to the entities that owned COHEN's New York medallions. Following the loans' closing, COHEN's medallion debt at Bank-1 was paid off with funds from Bank-2 and the Credit Union, and the Line of Credit with Bank-1 was closed.

In 2013, in connection with a successful application for a mortgage from another Bank (''Bank-3'') for his Park Avenue condominium (the ''2013 Application''), COHEN disclosed only the $6.4 million medallion loan he had with Bank-1 at the time. As noted above, COHEN also had a larger, $14 million Line of Credit with Bank-1 secured by his medallions, which COHEN did not disclose in the 2013 Application.

In February 2015, COHEN, in an attempt to secure financing from Bank-3 to purchase a summer home for approximately $8.5 million, again concealed the $14 million Line of Credit. Specifically, in connection with this proposed transaction, Bank-3 obtained a 2014 personal financial statement COHEN had provided to Bank-2 while refinancing his medallion debt. Bank-3 questioned COHEN about the $14 million Line of Credit reflected on that personal financial statement, because COHEN had omitted that debt from the 2013 Application to Bank-3. COHEN misled Bank-3, stating, in writing, that the $14 million Line of Credit was undrawn and that he would close it. In truth and in fact, COHEN had effectively overdrawn the Line of Credit, having swapped it out for a fully drawn, larger loan shared by Bank-2 and the Credit Union upon refinancing his medallion debt. When Bank-3 informed COHEN that it would only provide financing if COHEN closed the Line of Credit, COHEN lied again, misleadingly stating in an email: ''The medallion line was closed in the middle of November 2014.''

In December 2015, COHEN contacted Bank-3 to apply for a home equity line of credit (''HELOC''). In so doing, COHEN again significantly understated his medallion debt. Specifically, in the HELOC application, COHEN, together with his wife, represented a positive net worth of more than $40 million, again omitting the $14 million in medallion debt with Bank-2 and the Credit Union. Because COHEN had previously confirmed in writing to Bank-3 that the $14 million Line of Credit had been closed, Bank-3 had no reason to question COHEN about the omission of this liability on the HELOC application. In addition, in seeking the HELOC, COHEN substantially and materially understated his monthly expenses to Bank-3 by omitting at least $70,000 in monthly interest payments due to Bank-2 on the true amount of his medallion debt.

In April 2016, Bank-3 approved COHEN for a $500,000 HELOC. By fraudulently concealing truthful information about his financial condition, COHEN obtained a HELOC that Bank-3 would otherwise not have approved.

Campaign Finance Violations

The Federal Election Campaign Act of 1971, as amended, Title 52, United States Code, Section 30101, et seq., (the ''Election Act''), regulates the influence of money on politics. At all relevant times, the Election Act set certain limitations and prohibitions, among them: (a) individual contributions to any presidential candidate, including expenditures coordinated with a candidate or his political committee, were limited to $2,700 per election, and presidential candidates and their committees were prohibited from accepting contributions from individuals in excess of this limit; and (b) Corporations were prohibited from making contributions directly to presidential candidates, including expenditures coordinated with candidates or their committees, and candidates were prohibited from accepting corporate contributions.

On June 16, 2015, Individual-1 began his presidential campaign. While COHEN continued to work at the Company and did not have a formal title with the campaign, he had a campaign email address and, at various times, advised the campaign, including on matters of interest to the press, and made televised and media appearances on behalf of the campaign.

In August 2015, the Chairman and Chief Executive of Corporation-1, a media company that owns, among other things, a popular tabloid magazine (''Chairman-1'' and ''Magazine-1,'' respectively''), in coordination with COHEN and one or more members of the campaign, offered to help deal with negative stories about Individual-1's relationships with women by, among other things, assisting the campaign in identifying such stories so they could be purchased and their publication avoided. Chairman-1 agreed to keep COHEN apprised of any such negative stories.

Consistent with the agreement described above, Corporation-1 advised COHEN of negative stories during the course of the campaign, and COHEN, with the assistance of Corporation-1, was able to arrange for the purchase of two stories so as to suppress them and prevent them from influencing the election.

First, in June 2016, a model and actress (''Woman-1'') began attempting to sell her story of her alleged extramarital affair with Individual-1 that had taken place in 2006 and 2007, knowing the story would be of considerable value because of the election. Woman-1 retained an attorney (''Attorney-1''), who in turn contacted the editor-in-chief of Magazine-1 (''Editor-1''), and offered to sell Woman-1's story to Magazine-1. Chairman-1 and Editor-1 informed COHEN of the story. At COHEN's urging and subject to COHEN's promise that Corporation-1 would be reimbursed, Editor-1 ultimately began negotiating for the purchase of the story.

On August 5, 2016, Corporation-1 entered into an agreement with Woman-1 to acquire her ''limited life rights'' to the story of her relationship with ''any then-married man,'' in exchange for $150,000 and a commitment to feature her on two magazine covers and publish more than 100 magazine articles authored by her. Despite the cover and article features to the agreement, its principal purpose, as understood by those involved, including COHEN, was to suppress Woman-1's story so as to prevent it from influencing the election.

Between late August 2016 and September 2016, COHEN agreed with Chairman-1 to assign the rights to the non-disclosure portion of Corporation-1's agreement with Woman-1 to COHEN for $125,000. COHEN incorporated a shell entity called ''Resolution Consultants LLC'' for use in the transaction. Both Chairman-1 and COHEN ultimately signed the agreement, and a consultant for Corporation-1, using his own shell entity, provided COHEN with an invoice for the payment of $125,000. However, in early October 2016, after the assignment agreement was signed but before COHEN had paid the $125,000, Chairman-1 contacted COHEN and told him, in substance, that the deal was off and that COHEN should tear up the assignment agreement.

Second, on October 8, 2016, an agent for an adult film actress (''Woman-2'') informed Editor-1 that Woman-2 was willing to make public statements and confirm on the record her alleged past affair with Individual-1. Chairman-1 and Editor-1 then contacted COHEN and put him in touch with Attorney-1, who was also representing Woman-2. Over the course of the next few days, COHEN negotiated a $130,000 agreement with Attorney-1 to himself purchase Woman-2's silence, and received a signed confidential settlement agreement and a separate side letter agreement from Attorney-1.

COHEN did not immediately execute the agreement, nor did he pay Woman-2. On the evening of October 25, 2016, with no deal with Woman-2 finalized, Attorney-1 told Editor-1 that Woman-2 was close to completing a deal with another outlet to make her story public. Editor-1, in turn, texted COHEN that ''[w]e have to coordinate something on the matter [Attorney-1 is] calling you about or it could look awfully bad for everyone.'' Chairman-1 and Editor-1 then called COHEN through an encrypted telephone application. COHEN agreed to make the payment, and then called Attorney-1 to finalize the deal.

The next day, on October 26, 2016, COHEN emailed an incorporating service to obtain the corporate formation documents for another shell corporation, Essential Consultants LLC, which COHEN had incorporated a few days prior. Later that afternoon, COHEN drew down $131,000 from the fraudulently obtained HELOC and requested that it be deposited into a bank account COHEN had just opened in the name of Essential Consultants. The next morning, on October 27, 2016, COHEN went to Bank-3 and wired approximately $130,000 from Essential Consultants to Attorney-1. On the bank form to complete the wire, COHEN falsely indicated that the ''purpose of wire being sent'' was ''retainer.'' On November 1, 2016, COHEN received from Attorney-1 copies of the final, signed confidential settlement agreement and side letter agreement.

COHEN caused and made the payments described herein in order to influence the 2016 presidential election. In so doing, he coordinated with one or more members of the campaign, including through meetings and phone calls, about the fact, nature, and timing of the payments. As a result of the payments solicited and made by COHEN, neither Woman-1 nor Woman-2 spoke to the press prior to the election.

In January 2017, COHEN in seeking reimbursement for election-related expenses, presented executives of the Company with a copy of a bank statement from the Essential Consultants bank account, which reflected the $130,000 payment COHEN had made to the bank account of Attorney-1 in order to keep Woman-2 silent in advance of the election, plus a $35 wire fee, adding, in handwriting, an additional ''$50,000.'' The $50,000 represented a claimed payment for ''tech services,'' which in fact related to work COHEN had solicited from a technology company during and in connection with the campaign. COHEN added these amounts to a sum of $180,035. After receiving this document, executives of the Company ''grossed up'' for tax purposes COHEN's requested reimbursement of $180,000 to $360,000, and then added a bonus of $60,000 so that COHEN would be paid $420,000 in total. Executives of the Company also determined that the $420,000 would be paid to COHEN in monthly amounts of $35,000 over the course of 12 months, and that COHEN should send invoices for these payments.

On February 14, 2017, COHEN sent an executive of the Company (''Executive-1'') the first of his monthly invoices, requesting ''[p]ursuant to [a] retainer agreement, . . . payment for services rendered for the months of January and February, 2017.'' The invoice listed $35,000 for each of those two months. Executive-1 forwarded the invoice to another executive of the Company (''Executive-2'') the same day by email, and it was approved. Executive-1 forwarded that email to another employee at the Company, stating: ''Please pay from the Trust. Post to legal expenses. Put 'retainer for the months of January and February 2017' in the description.''

Throughout 2017, COHEN sent to one or more representatives of the Company monthly invoices, which stated, ''Pursuant to the retainer agreement, kindly remit payment for services rendered for'' the relevant month in 2017, and sought $35,000 per month. The Company accounted for these payments as legal expenses. In truth and in fact, there was no such retainer agreement, and the monthly invoices COHEN submitted were not in connection with any legal services he had provided in 2017.

During 2017, pursuant to the invoices described above, COHEN received monthly $35,000 reimbursement checks, totaling $420,000.

* * *

COHEN, 51, of NEW YORK, NEW YORK, pleaded guilty to five counts of willful tax evasion; one count of making false statements to a bank; one count of causing an unlawful campaign contribution; and one count of making an excessive campaign contribution.

COHEN'S sentencing is scheduled for December 12 at 11 a.m.

A chart identifying the charges and the maximum penalties applicable to COHEN is below.

Count

Charge

Maximum Penalty

1-5

Tax Evasion

5 years in prison

6

Making false statements to a federally insured bank

30 years in prison

7

Causing an unlawful corporate contribution

5 years in prison

8

Making an excessive campaign contribution

5 years in prison

The maximum potential sentences in this case are prescribed by Congress and are provided here for informational purposes only, as any sentencings of the defendant will be determined by the judge.

Mr. Khuzami praised the work of the FBI, the IRS, and the Special Agents of the U.S. Attorney's Office.

This case is being handled by the Office's Public Corruption Unit. Assistant U.S. Attorneys Andrea M. Griswold, Rachel Maimin, Thomas McKay, and Nicolas Roos are in charge of the prosecution.

Federal Register :: Copyright Registration Guidance: Works Containing Material Generated by Artificial Intelligence

Mon, 03 Apr 2023 17:10

Request Access Due to aggressive automated scraping of FederalRegister.gov and eCFR.gov, programmatic access to these sites is limited to access to our extensive developer APIs.

If you are human user receiving this message, we can add your IP address to a set of IPs that can access FederalRegister.gov & eCFR.gov; complete the CAPTCHA (bot test) below and click "Request Access". This process will be necessary for each IP address you wish to access the site from, requests are valid for approximately one quarter (three months) after which the process may need to be repeated.

An official website of the United States government.

If you want to request a wider IP range, first request access for your current IP, and then use the "Site Feedback" button found in the lower left-hand side to make the request.

Calls to scrap LTNs as nearly 240 ambulances delayed, figures reveal

Mon, 03 Apr 2023 17:08

Nearly 240 ambulances have been delayed from reaching call-outs by Low Traffic Neighbourhoods (LTNs), fuelling calls to scrap the schemes across the country.

New figures from the TaxPayers' Alliance reported by The Daily Mail have revealed that a total of 239 callouts of potentially life-threatening injuries or conditions in London had been held up by the controversial schemes.

It comes as there are growing calls from politicians, campaigners and residents to stop the schemes, with many concerned about the impact they have on emergency services.

Speaking to The Mail, Tory MP Greg Smith, who sits on the Commons transport committee, said: ''By preventing ambulances getting to the emergency they're attending, LTNs are clearly dangerous.

''It's an extraordinary waste of money that people are paying their taxes for schemes that stop them being able to live their lives by going to work, a hospital appointment or doing the school run.''

Problems in SouthwarkThe worst borough for delays was Southwark, which recorded 69 delays since 2020. This was followed by Enfield (43) and Ealing (19). In one incident the TPA found that an ambulance had been held up for 15 minutes while trying to reach someone who was going through cardiac arrest.

Among the recorded incidents was an ambulance being delayed in east London for up to 15 minutes while trying to reach a patient who had collapsed from cardiac arrest.

Low-traffic neighbourhood zones began appearing in London during the Covid-19 pandemic as temporary measures. However, many councils decided to keep them in place when road traffic began returning to pre-pandemic levels.

They have now spread to a number of other towns and cities, with some local residents criticising the impact they have on pushing traffic to other roads.

In Rochdale last week, this anger saw some unnamed people set fire to two LTN planters blocking off a road. Elliot Keck, of the TaxPayers' Alliance, said: 'Residents will be horrified that LTNs are delaying ambulances.

''These schemes aren't just making cash cows out of motorists, they are also potentially endangering lives. Local authorities should put the brakes on these divisive schemes.''

Bud Light Faces Boycott Over Dylan Mulvaney Partnership: 'Never Drink It'

Mon, 03 Apr 2023 17:04

Bud Light is facing a boycott after partnering with transgender influencer and activist Dylan Mulvaney.

On Sunday, Mulvaney posted a video to her 1.7 million Instagram followers in which she explained that Bud Light had sent her a personalized can with her face on it to commemorate 365 days of being a girl. Mulvaney's Day 365 Of Girlhood video series has been a viral success and has charted her first year of transitioning.

However, the partnership has drawn condemnation from some social media users, prompting calls for a boycott. Bud Light, which is owned by Anheuser-Busch, is not the first brand to face calls for people to stop using over its partnership with transgender activists. Chocolate makers Hershey's also faced a similar response to an advertising campaign in February after including a transgender rights activist's face on special chocolate bar wrappers in Canada for International Women's Day.

The row over transgender brand ambassadors is symbolic of a wider debate about the inclusion of transgender women in female issues and spaces. Some say transgender women should be treated the same as other women, while others claim they are different and wish to protect hard-won women's rights.

Rainbow bottles of Bud Light during the 30th annual GLAAD Media Awards New York on May 4, 2019, in New York City. Inset, Dylan Mulvaney at the PFLAG National 50th anniversary gala on March 3 in New York City. Bud Light is facing a boycott after partnering with Mulvaney, a transgender influencer and activist. Bryan Bedder/Dia Dipasupil/Getty Images"This month, I celebrated by day 365 of womanhood, and Bud Light sent me possibly the best gift ever'--a can with my face on it," Mulvaney told her social media followers, before referencing a promotion with the beer brand detailed on her profile.

In another video, which was shot in a bathtub, Mulvaney appears to be stuck on hold on the phone while near a stack of Bud Light beers. She proceeds to open one while waiting, before dancing in the bath to the hold music.

Transgender rights is an issue that is proving deeply polarizing. A survey by the Pew Research Center last year found that 38 percent of Americans believe society had gone too far in accepting transgender people, while 36 percent said it had not gone far enough.

"Boycott Bud Light and NEVER DRINK IT AGAIN EVER," tweeted Mike Crispi, a podcast host and former Republican New Jersey primary candidate for Congress.

Boycott Bud Light and NEVER DRINK IT AGAIN EVER

'-- Mike Crispi (@MikeCrispiNJ) April 3, 2023"The good news is that Bud Light tastes like rain water that someone siphoned out of a tin bucket so it should be very easy to boycott," Matt Walsh, a conservative commentator, tweeted on Sunday.

The good news is that Bud Light tastes like rain water that someone siphoned out of a tin bucket so it should be very easy to boycott

'-- Matt Walsh (@MattWalshBlog) April 2, 2023"I have never wanted a drink less than this," Robby Starbuck, a GOP congressional primary candidate in Tennessee, said. He then added: "Message to conservative families from Bud Light seems to be: We will encourage and even celebrate the erasure of men and women along with all the values you care about. They've gone totally woke. Will you ever spend your money with them now?"

I have never wanted a drink less than this. For all those asking "Bud Light seriously didn't do a deal with this guy that pretends to be a girl, did they?" Uh, yeah'... They did. I apologize in advance for the nausea. pic.twitter.com/Z9YzLZozna

'-- Robby Starbuck (@robbystarbuck) April 3, 2023Meanwhile, Brian Black, who describes himself as a U.S. Air Force veteran, posted a video of himself on Sunday pouring a can of Bud Light down the kitchen sink with the hashtag #BoycottBudLight.

Newsweek reached out to Mulvaney's representatives via email for comment on Monday.

Meanwhile, other social media users questioned the corporate thinking that had led to the partnership. Ada Lluch, a self-described "anti-woke" beauty consultant, said on Twitter that Bud Light "caters to men" and the partnership would be "a HUGE turnoff."

Jaimee Michell, founder of the anti-LGBT organization Gays Against Groomers, tweeted that Bud Light "either doesn't know their customers or they do and just don't give a s***. I'm guessing the latter. What a disgrace."

A spokesperson for Anheuser-Busch told Newsweek on Monday that the company "works with hundreds of influencers across our brands as one of many ways to authentically connect with audiences across various demographics. From time to time we produce unique commemorative cans for fans and for brand influencers, like Dylan Mulvaney."

The spokesperson added that the commemorative can "was a gift to celebrate a personal milestone and is not for sale to the general public."

Mulvaney, who began tracking her transition on TikTok and has since earned over 10 million followers, has partnered with several companies including fashion brand Kate Spade.

In October, she interviewed President Joe Biden on transgender rights at the White House, and on March 13 was sent a letter from Vice President Kamala Harris celebrating a year of being a trans woman, telling Mulvaney: "You continue to break barriers and inspire young people across our nation and around the world."

In response to the calls for a boycott of the brand, some Twitter users noted that Bud Light had been a partner of LGBT Pride "for over 20 years," while others pointed out that other major beer brands had also pledged their support to the LGBTQ+ community.

"Good luck finding another beer," wrote Ed Krassenstein, a social media personality. "The problem for them is that virtually every major beer company... have multiple programs that also support the LGBTQ+ communities. LGBTQ+ support isn't the problem. Bigotry is the problem!"

Update 04/03/23, 12:42 p.m. ET: This article was updated to include comment from an Anheuser-Busch spokesperson.

Sales of TikTok owner ByteDance up over 30 per cent in 2022 to reach US$80 billion, matching Tencent's revenue | South China Morning Post

Mon, 03 Apr 2023 15:49

Tech / Big Tech That double-digit growth, revealed in a recent memo to investors, topped most global internet leaders, including Meta Platforms and Amazon.comThat pace of expansion underscores the resilience of ByteDance's business at a time the US is threatening to join India in banning TikTok ByteDance + FOLLOW

Bloomberg + FOLLOW

Published: 4:16pm, 3 Apr, 2023

Updated: 4:16pm, 3 Apr, 2023

Why you can trust SCMP
ALL VIDEOS

VIDEO - Jennifer Bilek | Who is Behind the TRANS AGENDA? - YouTube

VIDEO - Sleep problems linked to fivefold rise in stroke risk, study says | CNN

Thu, 06 Apr 2023 14:09

Your snoring could be a sign of something more dangerous

Sign up for CNN's Sleep, But Better newsletter series. Our seven-part guide has helpful hints to achieve better sleep.

CNN '--

Snoring, snorting, tossing and turning, napping for a long time during the day, waking up during the night, and sleeping too little or even too much all contribute to poor-quality sleep and may raise your risk for stroke, according to a new study.

In fact, researchers found the more sleep problems you have, the greater the risk of stroke.

''Having more than five of these symptoms may lead to five times the risk of stroke compared to those who do not have any sleep problems,'' said study author Christine McCarthy of the University of Galway in Ireland in a statement.

''The findings are consistent with prior research linking unhealthy sleep to high blood pressure and to impairments to blood vessels, which are risk factors for stroke,'' said sleep specialist Kristen Knutson, an associate professor of neurology and preventive medicine at Northwestern University's Feinberg School of Medicine in Chicago. She was not involved in the study.

One reason may be the impact of short, fragmented sleep and sleep disorders such as sleep apnea on the body's ability to regulate metabolism, blood pressure and inflammation, which are all risk factors for stroke, said Dr. Phyllis Zee, director of the Center for Circadian and Sleep Medicine at Northwestern's medical school, who was not involved in the study.

''Poor sleep can impair the natural blood pressure dipping that occurs during night time sleep and contribute to hypertension '-- an important risk factor for stroke and cardiovascular disease,'' Zee said via email. ''In other population based research, similar relationships have been reported between poor sleep health and disorders such as diabetes, heart disease and dementia.''

The study, published Wednesday in the journal Neurology, analyzed data from more than 4,500 people participating in INTERSTROKE, a large international case-control study of patients who have experienced a stroke.

Nearly 1,800 participants in the study had an ischemic stroke, the most common kind, in which a blood clot blocks an artery leading to the brain. Another 439 people had an intracerebral hemorrhage in which arteries or veins in the brain rupture, causing bleeding into brain tissue.

Participants in the study were then matched by age and sex to people who had no history of stroke. Both groups answered questions about their sleep quality and behavior, and the two groups were compared.

Results showed people who slept less than five hours a night on average were three times more likely to have a stroke than those who got seven hours of sleep '-- the recommended minimum for adults.

On the flip side, sleeping more than nine hours a night on average was associated with a twofold increase in stroke risk, according to a statement on the study.

The results held true even after adjustments to eliminate other issues that can lead to stroke, including depression, alcohol abuse, smoking and a lack of physical activity, according to the study.

Having sleep apnea '-- a condition in which people stop breathing multiple times per hour '-- was associated with a threefold increase in stroke risk, the statement said.

''Sleep apnea can alter the pathways involved in the regulation of coagulation factors that can increase the risk of strokes,'' Zee said.

Snoring or snorting, which can both be signs of untreated sleep apnea, were also risky. People who snored were 91% more likely to have suffered a stroke, while those who snorted were almost three times as likely to have had a stroke than those who did not.

Napping was also a risk factor, the statement said. People who on average napped more than an hour were 88% more likely to suffer a stroke than those who did not. However, taking a planned nap of less than an hour was not associated with an increased stroke risk, the study said.

It's important to note that the research could only show an association between sleep problems and stroke, not causation, said Dr. Andrew Freeman, director of cardiovascular prevention and wellness at National Jewish Health in Denver.

''The question remains: Is poor quality sleep causative? Or is it simply associated with a cluster of bad health habits that would lead somebody to have a higher stroke risk?'' asked Freeman, who was not involved in the research.

''Are they under a lot of stress? Are they drinking huge amounts of caffeine and then not sleeping? Maybe they're not exercising very much, and we know that exercise promotes good quality sleep,'' Freeman said. ''It's hard to tease out all the factors that might contribute.''

Practicing good sleep hygiene, eating a healthy diet and getting regular exercise are all key ways to reduce the negative impact of sleep disorders and reduce stroke and cardiovascular risk, Freeman said.

''What I always tell people is, you know, getting about seven hours a night of uninterrupted sleep is associated with the least amount of cardiovascular disease,'' he said.

It's important to prioritize getting those seven to eight hours of uninterrupted sleep each night on a regular basis, Zee said. Doing so means going to bed and waking at the same time every day, even on weekends.

''Regular exposure to light in the morning and afternoon can also improve sleep quality,'' she said, adding that anyone suffering from snoring, insomnia or excessive sleepiness during the day should talk to a sleep specialist.

The bedroom should be used for sleeping and intimacy only, Freeman added.

''Don't hang out in there and watch TV or read books or do work in there,'' he said. ''Keep a notebook next to the bed so if you wake up in the middle of the night you can write down what comes to mind. Diffuse any worries you have by meditating on it and do your best to let things go.''

Don't drink alcohol or eat at least three hours before bed to avoid gastric distress that might wake you up, Zee suggested.

''It's also important to exercise, preferably in the morning,'' Freeman added. ''The one true medicine that works always is improving one's lifestyle to include healthy behaviors.''

VIDEO - US needs to 'wake up' about the threat from China: Marco Rubio - YouTube

VIDEO - Eliezer Yudkowsky: GPT-4 should not be open sourced | Lex Fridman Podcast Clips - YouTube

VIDEO - Justice Department investigating online mental health provider Cerebral - YouTube

VIDEO - (8) Ian Miles Cheong on Twitter: "KJP says that the Biden administration does not believe in setting age limits for children to have transgender surgeries and that it's something for kids to decide for themselves. https://t.co/4jFqJTepGa" / Twitte

Thu, 06 Apr 2023 13:32

Ian Miles Cheong : KJP says that the Biden administration does not believe in setting age limits for children to have transgender surg'... https://t.co/4BOmuDv8Ws

Wed Apr 05 20:18:41 +0000 2023

VIDEO - (3) Justin Baragona on Twitter: "Jake Tapper: "Anti-vaccine quack RFK Jr. has filed paperwork with the Federal Election Commission to run for president as a Democrat... Kennedy is such a healthcare menace, in 2019, even his cousins wrote an op-ed

Thu, 06 Apr 2023 13:02

Justin Baragona : Jake Tapper: "Anti-vaccine quack RFK Jr. has filed paperwork with the Federal Election Commission to run for presid'... https://t.co/nAJJIERq37

Wed Apr 05 21:57:59 +0000 2023

Susan West : @justinbaragona He will change to Independent and run with the No Labels clan. I bet.

Thu Apr 06 13:00:57 +0000 2023

East Side Kid 🇺🇸 : @justinbaragona He'll call JFK jr. Anti-vaccine quack, notice he won't refer to any of the Republicans in Congress'... https://t.co/l9nfinW3t2

Thu Apr 06 13:00:41 +0000 2023

Magic virus wrangler : @justinbaragona Nice try douche-nugget. https://t.co/8UTMlQ2dZO

Thu Apr 06 13:00:33 +0000 2023

HereForTheDrama : @justinbaragona JFK Jr. fantastic 👍👍 this guy rocks!

Thu Apr 06 12:59:10 +0000 2023

Pamfil🧖ðŸ>> : @justinbaragona ah... just as I thought. It's starting. they are labeling him an "anti-vax quack"

Thu Apr 06 12:58:26 +0000 2023

Bryan : @justinbaragona @CaliCatWwoman I'm all for Tapper accurately describing RFK Jr. but I wish they would describe Donald Trump in the same way.

Thu Apr 06 12:58:23 +0000 2023

Nick Brower : @justinbaragona Hilarious seeing Dems try to get in front of the ''anti-RFKjr'' narrative

Thu Apr 06 12:57:45 +0000 2023

SteelKing : @justinbaragona Crazy how his vocal opposition to the C19 vax has been shown to be 100% justified. Oops.

Thu Apr 06 12:57:43 +0000 2023

Freedom Justice Liberty : @justinbaragona He's not an anti-vaxxer. He's an environmental attorney. People who refused the Covid Vaccine (than'... https://t.co/8jVWFBZdA2

Thu Apr 06 12:56:11 +0000 2023

Jacob Roehl : @justinbaragona Address specific claims directly or we all think you are a coward.

Thu Apr 06 12:50:51 +0000 2023

colby morris : @justinbaragona A democrat who understands the science. All you have to do is some basic medical reading of reputab'... https://t.co/GFdpULsE9k

Thu Apr 06 12:50:40 +0000 2023

diana lipton : @justinbaragona Hummm. Are you employed by big pharma? Maybe you can consider WHO data: 1 in 6 are experiencing inf'... https://t.co/QefFP8TjxW

Thu Apr 06 12:50:17 +0000 2023

Katarina🇮🇹🇺🇸 : @justinbaragona Calling someone else a ''quack'' @jaketapper '... how richðŸ'ðŸ'ðŸ'

Thu Apr 06 12:49:26 +0000 2023

SandyView : @justinbaragona Just like they treated Bernie supporters.

Thu Apr 06 12:49:11 +0000 2023

tom wallace : @justinbaragona Oooh, his highly esteemed unnamed cousins...

Thu Apr 06 12:49:06 +0000 2023

Joey D : @justinbaragona He was right about everything you clown.

Thu Apr 06 12:49:06 +0000 2023

facts over feelings : @justinbaragona Questioning the experimental mnra shot( it is not a vaccine) is literally science. You are a ðŸ¤

Thu Apr 06 12:47:57 +0000 2023

PorkChop McKenzie : @justinbaragona Illustrative of how MSM has become Opinion and Propaganda as opposed to news.There was no need, i'... https://t.co/FZlw0sPiUb

Thu Apr 06 12:47:07 +0000 2023

missusmolly : @justinbaragona Tapper is a media quack who thinks his opinion is above all others.

Thu Apr 06 12:47:02 +0000 2023

sUSAnismyname : @justinbaragona Go RFK Jr! Love that guy!

Thu Apr 06 12:46:28 +0000 2023

Bagheera #OneSizeDoesNotFitAll : @justinbaragona Thought cnn wasn't biased ðŸ

Thu Apr 06 12:46:25 +0000 2023

St. Krebs : @justinbaragona Is this a deep fake??? Surely he didn't actually say that

Thu Apr 06 12:46:22 +0000 2023

Pandora's Box : @justinbaragona https://t.co/HYNqT0MQKB

Thu Apr 06 12:46:06 +0000 2023

VIDEO - Johnson & Johnson proposes $8.9 bn settlement over talc cancer claims ' FRANCE 24 English - YouTube

VIDEO - Alan Dershowitz Warns Trump 'Probably Will Be Convicted'

Thu, 06 Apr 2023 12:14

High-profile defense attorney and regular media contributor Alan Dershowitz joined pro-Trump podcaster Charlie Kirk on Wednesday to discuss the former president's arrest and indictment on 34 felony counts the day before.

At one point during the lengthy conversation, Kirk asked Dershowitz about possibly joining former President Donald Trump's defense team. ''I dunno if you've been asked this if you were personally called by President Trump to join his legal team, is that even something you'd entertain because you did that in the impeachment? I think you could. I think you could get this case dismissed very quickly. Is that something you'd be open to?'' Kirk asked.

''Well, I have a policy of only representing somebody once, and so I'm not his lawyer, but I would certainly be happy to participate in the court of public opinion,'' Dershowitz replied, adding:

I don't think I could get this case dismissed so easily. I don't think thatif you had the best lawyers in the history of the world, Abraham Lincoln and John Marshall, a New York City judge, would dismiss this case because that New York City judge's life would be over. Everybody would point to him the way they pointed to me when I defended Trump. Oh, my God, there's the man who helped Trump get free. So I don't think it's going to be easy.

''I think he probably will be convicted by a New York jury who voted for Bragg and voted for 'get Trump,''' Dershowitz concluded, adding, ''It will be reversed on appeal. It will never be affirmed all the way up to the Supreme Court. But Bragg's going to be popular. He'll be reelected and and he'll probably win this case unless there is a change of venue.''

''I mean, that's cynical yet honest, and I totally agree because this is it's so politicized there. Should he plea then?'' Kirk asked in response.

''No, he should fight it. You can't get fair justice in Manhattan. I could not win a case in Manhattan for Donald Trump, and I'm a pretty darn good lawyer,'' concluded Dershowitz.

Watch the clip above and the full interview here.

Have a tip we should know? tips@mediaite.com

VIDEO - Doocy Asks Jean-Pierre If It 'Bugs' Biden That Trump Is Taking Over The News Cycle | The Daily Caller

Thu, 06 Apr 2023 11:23

Fox News White House correspondent Peter Doocy asked White House press secretary Karine Jean-Pierre if President Joe Biden is bothered that former President Donald Trump is the center of the news cycle.

Trump dominated the news cycle on Monday and Tuesday after being arraigned in New York City and pleading not guilty to 34 felony counts of falsifying business records. Manhattan District Attorney Alvin Bragg accused Trump of paying hush money amounting to $130,000 to former porn actress Stormy Daniels and $150,000 to Playboy model Karen McDougal to remain silent about alleged affairs.

''Does it bug President Biden when former presidents suck up all the oxygen?'' Doocy asked.

''What's important to the president is to continue to focus on the American people. That is what's important to the president,'' Jean-Pierre answered.

''So it's good to lay low for a couple news cycles,'' Doocy pushed back.

''Here's the thing, Peter, and this is what we will speak to,'' the press secretary said. ''We will speak to the fact that this is a president that has been able to get historic pieces of legislation done. When you think about the infrastructure legislation, something that we've heard many times during the last administration '... guess what this president was able to do.''

The press secretary touted the ''rebuilding in the country'' that had allegedly never been seen before and that Medicare costs are lowered. (RELATED: Doocy Asks Jean-Pierre Point-Blank If White House Is Afraid Of Potential Biden Indictment)

''That's what the president cares about. What he wants to see is how do we build on his economic policies and economic plan that has been able to turn this country around from when he first walked in from what we saw happen in the last administration. Basically, a mess when it came to the economy, when it came to dealing with COVID,'' she added.

Doocy also asked if the administration plans to put U.S. troops in Taiwan if China were to invade, which the press secretary shrugged off, saying she has answered the question several times. The Biden administration has vowed to abide by the One China policy, which affirms the U.S.' recognition of the People's Republic of China (PRC) as the only legal government of China.

He then pressed Jean-Pierre on the administration claiming China did not gain any U.S. intelligence after flying the Chinese spy balloon over the air in February, though it did in fact gain intelligence. The press secretary referred him to the DNI and said the military took action to take down the balloon and prevent the Chinese from obtaining sensitive information.

VIDEO - Gregario Ivinilititivitch on Twitter: "@stillgray @adamcurry" / Twitter

Wed, 05 Apr 2023 16:17

Gregario Ivinilititivitch : @stillgray @adamcurry

Wed Apr 05 15:19:23 +0000 2023

VIDEO - EU leaders travel to China to reshape the country's relationship with the EU | DW News - YouTube

VIDEO - (3) Kat A 🌸 on Twitter: "Matt Taibbi discusses disturbing new findings in the Twitter files. Aspen Institute discussions in 2021 revealed their Orwellian plan to rollout legislation in the EU/US designed to ensure complete control and immediate

Wed, 05 Apr 2023 15:19

Kat A 🌸 : Matt Taibbi discusses disturbing new findings in the Twitter files.Aspen Institute discussions in 2021 revealed t'... https://t.co/3n6M9s3rYY

Sun Apr 02 04:32:57 +0000 2023

VIDEO - (5) Mike Crispi on Twitter: "John Bolton, on CNN, in a sling, worried that Trump will beat the case is GOLD television 🂠https://t.co/EnHJ3B1LS0" / Twitter

Wed, 05 Apr 2023 14:19

Mike Crispi : John Bolton, on CNN, in a sling, worried that Trump will beat the case is GOLD television 🂠https://t.co/EnHJ3B1LS0

Tue Apr 04 22:29:52 +0000 2023

VIDEO - (4) MAGA War Room on Twitter: "GWU Law Professor Jonathan Turley: "There's no there there...you would think if you are going to indict a president, you would rise to that moment of history and tell people with precision what it is that you want

Wed, 05 Apr 2023 14:14

MAGA War Room : GWU Law Professor Jonathan Turley: "There's no there there...you would think if you are going to indict a president'... https://t.co/8VgcWPdYVO

Tue Apr 04 22:36:42 +0000 2023

VIDEO - After COVID-19, Time for the World to Brace for Deadly Marburg Virus? | Vantage with Palki Sharma - YouTube

VIDEO - China threatens retaliation as Taiwan president meets with US House Speaker ' FRANCE 24 English - YouTube

VIDEO - Disney FAIL...Did Bob Iger CONFESS Fraud on Shareholder Call? - YouTube

VIDEO - Jennifer Bilek | Who is Behind the TRANS AGENDA? - YouTube

VIDEO - Germany announces investment plans for Ukraine | DW News - YouTube

VIDEO - (1) Japan distances itself from the US and buys Russian oil - YouTube

VIDEO - 22:30 CSPAN Caller "A.I. doesn't pay in to Social Security" https://www.c-span.org/video/?527056-5/washington-journal-news-headlines-viewer-calls

Tue, 04 Apr 2023 09:16

April 3, 2023 | Part Of Washington Journal 04/03/2023 Washington Journal2023-04-03T09:31:58-04:00 https://ximage.c-spanvideo.org/eyJidWNrZXQiOiJwaWN0dXJlcy5jLXNwYW52aWRlby5vcmciLCJrZXkiOiJGaWxlc1wvZjdlXC8wMDFcLzE2ODA1Mjg4NzJfMDAxLmpwZyIsImVkaXRzIjp7InJlc2l6ZSI6eyJmaXQiOiJjb3ZlciIsImhlaWdodCI6NTA2fX19 Viewers commented on news of the day.Viewers commented on news of the day.

Report Video IssueGo to Live Event"; // $('div#video-embed').html(cookieMsg); // return; // } // });

*This text was compiled from uncorrected Closed Captioning.

Related Video February 22, 2023 Open Forum, Part 2Viewers commented on news of the day.

February 14, 2023 Open Forum, Part 2Viewers commented on news of the day.

February 13, 2023 Open Forum, Part 2Viewers commented on news of the day.

February 1, 2023 Open Forum, Part 2Viewers commented on news of the day.

VIDEO - (6) Richard on Twitter: "The South Africans are not joking...... ðŸ'ªðŸ'ªðŸ'ª https://t.co/0LXM8aWJI0" / Twitter

Mon, 03 Apr 2023 20:56

Richard : The South Africans are not joking......ðŸ'ªðŸ'ªðŸ'ª https://t.co/0LXM8aWJI0

Sun Apr 02 06:41:19 +0000 2023

Realbeautyatlast : @ricwe123 PREACH!!!! https://t.co/eNdG6nVNWa

Mon Apr 03 20:56:21 +0000 2023

NDUKA YOUNG : @ricwe123 @Cjglobal2022 bro did you the what we talked about today? There are serious people in the fight for fre'... https://t.co/7xJ6A78IPa

Mon Apr 03 20:56:11 +0000 2023

Hegbor : @ricwe123 Cocaine is a hell of a drug'...

Mon Apr 03 20:46:06 +0000 2023

VIDEO - Rubio on brazil China currency

Mon, 03 Apr 2023 19:45

Glenn Diesen : Brazil and China are liberating themselves from the US dollar.This means not paying the cost for US inflation, and'... https://t.co/ssTg1diTga

Mon Apr 03 04:45:23 +0000 2023

Pope : @Glenn_Diesen China attempting to rock the US dollar to hide that their economy is collapsing

Mon Apr 03 19:45:13 +0000 2023

JonFSchwartz : @Glenn_Diesen You are desperately confused.

Mon Apr 03 19:40:10 +0000 2023

Gipsie Rogers : @Glenn_Diesen Canada should take heed. The UK/US debt ship is going down. We have the gold to back our currency, w'... https://t.co/Tgoe1IAheV

Mon Apr 03 19:31:51 +0000 2023

Nordicoco : @Glenn_Diesen So Rubio finally get's it.

Mon Apr 03 19:21:56 +0000 2023

rektavistok : @Glenn_Diesen looks like we don't have to eat bugs, and can use a proper lawn mower then.

Mon Apr 03 19:03:31 +0000 2023

Charbel Hage : @Glenn_Diesen Can't have it both ways. Weaponizing the US$ is a threat to the US economy as a whole.The fundament'... https://t.co/ot74M3txMi

Mon Apr 03 19:03:17 +0000 2023

Norah : @Glenn_Diesen This is good!

Mon Apr 03 18:55:40 +0000 2023

Mark Probst : @Glenn_Diesen We have a rules-based order! They better NOT stop following our rules!

Mon Apr 03 18:23:48 +0000 2023

Xian : @Glenn_Diesen If "number 45" hadn't abused the weaponisation of the green back...

Mon Apr 03 18:18:19 +0000 2023

Mory Camara : @Glenn_Diesen 🇷🇺ðŸ¤'🇨ðŸ‡"''¤¸''¤¸''¤¸''¤¸''¤¸

Mon Apr 03 18:13:53 +0000 2023

JK : @Glenn_Diesen Who are you to sanction other countries when they don't do your bidding?

Mon Apr 03 17:49:59 +0000 2023

Panagioti : @Glenn_Diesen wtf is a 'rubio'???????............we named a toilet bowl after him at our cia station.............

Mon Apr 03 17:38:56 +0000 2023

MGZ : @Glenn_Diesen All because US chose to be a irresponsible superpower. All of this could have been avoided if our le'... https://t.co/JzOXSV7uvA

Mon Apr 03 17:36:14 +0000 2023

Norb. P : @Glenn_Diesen Already treat towards Brazil? https://t.co/nnORZO0Uzg

Mon Apr 03 17:29:28 +0000 2023

Kaas : @Glenn_Diesen @KiberuJimmy so much panic in the United States.

Mon Apr 03 17:09:19 +0000 2023

VIDEO - FAA asks major airlines to slash flights at busy airports due to staffing shortage

Mon, 03 Apr 2023 17:40

Pro-Putin blogger killed in explosion at cafe in St. Petersburg 01:32

Woman brought to tears after fisherman finds camera filled with treasured photos she lost years ago 02:10

Man arrested on murder charge in NYC gay bar drugging scheme 02:14

Indiana community braces for severe weather threat in aftermath of tornado 00:47

New images emerge of deadly tornadoes that flattened homes and buildings 03:02

Security ramps up in NYC ahead of Trump's arraignment 02:14

Trump prepares to travel to NYC for arraignment with plans to return to Florida on Tuesday 03:10

Students surprise teacher after she became U.S. citizen and more stories of celebration 03:06

Odometer fraud rises as record number of Americans seek used cars 02:37

Now Playing

FAA asks major airlines to slash flights at busy airports due to staffing shortage 01:52

UP NEXT

Pope Francis leaves hospital after treatment for bronchitis 01:28

Supporters gather outside of Trump's Florida golf course ahead of arraignment next week 02:07

Roof collapses at historic Illinois theater, killing 1 and injuring dozens 02:01

Arkansas town devastated after tornadoes battered South and Midwest 00:55

Deadly tornadoes in the South and Midwest reduce neighborhoods to rubble 03:43

Tennessee law restricting drag performances goes into effect at midnight 02:30

Long-Covid patients find hope in treatment aiming to restore taste and smell 02:15

Trump's rivals and allies react to historic indictment 02:19

Storm systems in South and Midwest putting 58 million under tornado threats 03:54

NYPD prepares for Trump indictment protests 02:26

UP NEXT

Pro-Putin blogger killed in explosion at cafe in St. Petersburg 01:32

Woman brought to tears after fisherman finds camera filled with treasured photos she lost years ago 02:10

Man arrested on murder charge in NYC gay bar drugging scheme 02:14

Indiana community braces for severe weather threat in aftermath of tornado 00:47

New images emerge of deadly tornadoes that flattened homes and buildings 03:02

Security ramps up in NYC ahead of Trump's arraignment 02:14

VIDEO - Finnish centre-right leader Orpo ousts Marin in election victory ' FRANCE 24 English - YouTube

VIDEO - Diplomatic relations with Syria: Saudi Arabia to invite Assad to Arab leaders summit ' FRANCE 24 - YouTube
Clips & Documents
Art
All Clips

ABC ATM - anchor Andrew Dymburt - crew of artemis 2 announced (1min36sec).mp3

ABC ATM - anchor Andrew Dymburt - FBI training mix up (19sec).mp3

ABC ATM - anchor Andrew Dymburt - israel hamas rockets (22sec).mp3

ABC ATM - anchor Andrew Dymburt - johnson and johnson $8.9B settlement.mp3

ABC ATM - anchor Andrew Dymburt - OPEC cutting production (37sec).mp3

ABC ATM - anchor Derricke Dennis - charlie javice defrauded j.p. morgan (1min26sec).mp3

ABC ATM - anchor Derricke Dennis - leonardo dicaprio money laundering (1min18sec).mp3

ABC ATM - anchor Derricke Dennis - stabbing death of bob lee (1min38sec).mp3

ABC ATM - anchor Rhiannon Ally - could be first chatGPT lawsuit (22sec).mp3

ABC ATM - anchor Rhiannon Ally - moderate drinking not good (25sec).mp3

ABC ATM - anchor Rhiannon Ally - robert f kennedy jr for president (13sec).mp3

ABC ATM - anchor Rhiannon Ally - russian blogger bombed (25sec).mp3

ABC WNT - anchor David Muir - finland becomes member of NATO (25sec).mp3

ABC WNT - anchor Jonathan Karl - trump -inside the courtroom (1min23sec).mp3

ABC WNT - anchor Stefanie Ramos - roy mcgrath dead after manhunt (52sec).mp3

AI -- Meta 1.mp3

AI -- Meta 2 digging hole.mp3

AI -- Meta 3.mp3

AI -- Meta 4 BS.mp3

AI JOBS.mp3

AI__Oh brother.mp3

CBS 60 Mins - anchor Leslie Stahl (1) MTG interview intro (59sec).mp3

CBS 60 Mins - anchor Leslie Stahl (2) words that have been said about you (1min3sec).mp3

CBS 60 Mins - anchor Leslie Stahl (3) right wing media eat it up (55sec).mp3

CBS 60 Mins - anchor Leslie Stahl (4) parkland -democrats party of pedophiles (49sec).mp3

CBS 60 Mins - anchor Leslie Stahl (5) cant you fight without name calling (57sec).mp3

CBS 60 Mins - anchor Leslie Stahl (6) embracing Qanon -apologize (1min15sec).mp3

CBS 60 Mins - anchor Leslie Stahl (7) fact checked (38sec).mp3

CBS 60 Mins - anchor Leslie Stahl (8) button this up and move on (49sec).mp3

CBS Evening - anchor Jeff Pegues - NY on high alert before trump -MTG (1min25sec).mp3

Charlie Kirk with Dershowitz - Thinks Trump case will not be dismissed and will be convicted - reversed on appeal.mp3

COVID damage to US economy 1.mp3

Eliezer Yudkowsky - GPT-4 should not be open sourced - Lex Fridman.mp3

FAA asks major airlines to slash flights at busy airports due to staffing shortage - NBC News.mp3

FBI Intl Woke gun moment.mp3

Hong Kong update 2.mp3

Hong Kong update 3.mp3

Hong Kong update 4.mp3

Hong Kong update ntduk.mp3

ISO smart point.mp3

ISO threat.mp3

ISO triggering.mp3

Jake Tapper - Anti-vaccine quack RFK Jr. has filed paperwork with the Federal Election Commission to run for president as a Democrat.mp3

Japan distances itself from the US and buys Russian oil - TeleSUR English.mp3

Jennifer Bilek -1- Intro and Transhumanism Follow the money.mp3

Jennifer Bilek -2- Following the money.mp3

Jennifer Bilek -3- Media and culture to Medical Industrial Complex.mp3

Jennifer Bilek -4- Techno Religion Transhumanism.mp3

John Bolton, on CNN, in a sling, worried that Trump will beat the case.mp3

Jonathan Turley GW University Law Professor on Trump indictment.mp3

KJP says that the Biden administration does not believe in setting age limits for children to have transgender surgeries.mp3

Local analysis SJS professor on Trump.mp3

NPR Scooters banned in Paris.mp3

om 4chan to international politics, a bug-eating conspiracy theory goes mainstream.mp3

Rand Paul Blinken FINAL.mp3

Roger Simon on Communism 2.mp3

Roger Simon on Communism ntd.mp3

Rubio on Brazil China Currency - Trans agenda.mp3

Salvadorean Prexy tweet about Trump.mp3

stormy Daniels loses cae.mp3

Taibbi twitter files like digital services act and Aspen institute.mp3

Taiwan visit meh.mp3

TOCK Meat emojis triggering.mp3

Trump's Message for Adam Curry AI Turing Test.mp3

Vantage with Palki Sharma - Marburg Virus.mp3