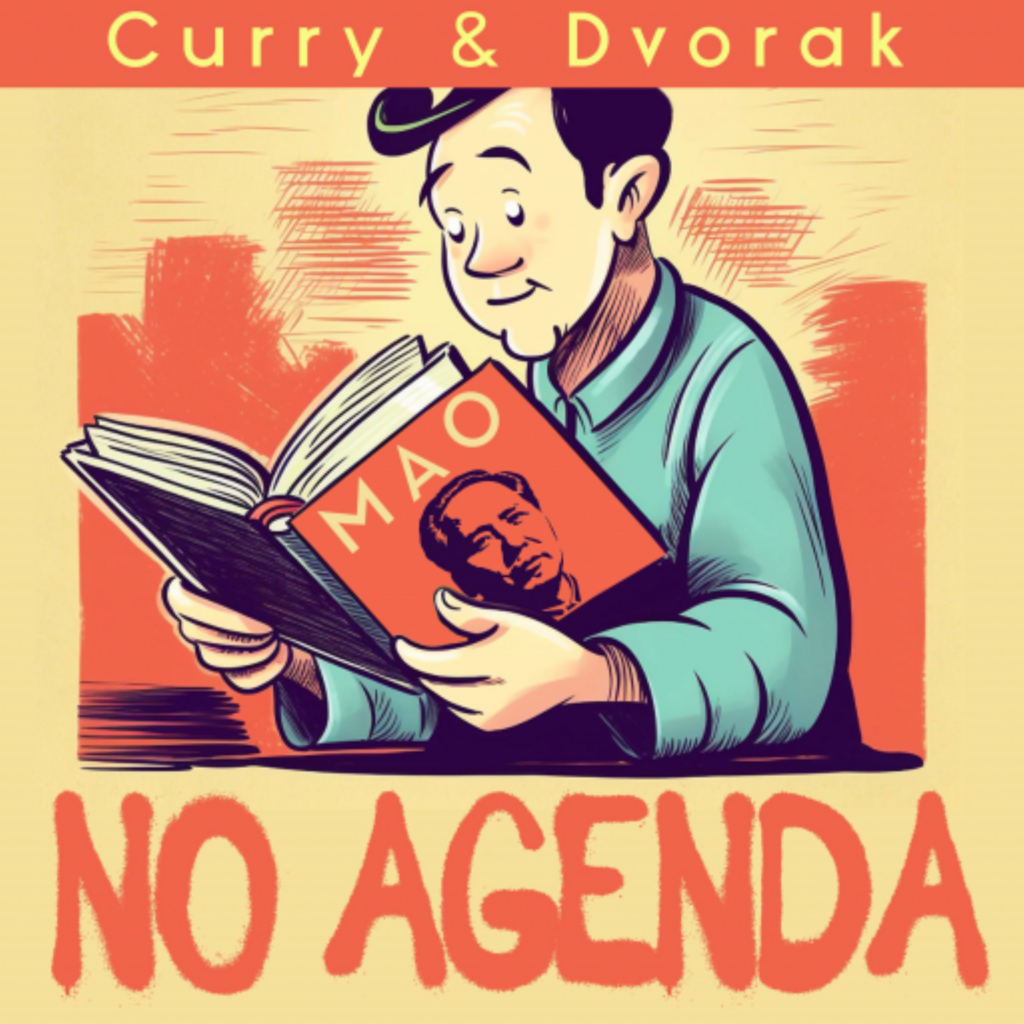 April 13th • 3h 0m
1546: Cat Hole
Transcript
The transcripts of No Agenda are automatically generated and therefore, not fully accurate. Discretion is advised.
Click the text to start playing from that position in the show. Click the timestamp to copy a direct link to that position to your clipboard in order to propagate the formula.
John C Dvorak: He slippery, slippery. He's very, very
Adam Curry: slippery.
Unknown: Adam curry Jhansi Dvorak
Adam Curry: April 13 2023 This Year Award Winning Combination
media assassination episode 1546
Unknown: This is no agenda.
Adam Curry: Miss flopping in Fort Lauderdale and broadcasting
live from the heart of the Texas hill country here in the region
number six in the morning, everybody. I'm Adam curry
John C Dvorak: and from Northern Silicon Valley where he evolved
notice that Jamie Oliver cannot cook those meals in 15 minutes.
He's full of it. I'm just eating borax.
Adam Curry: I agree. I agree. It's a sham man. Look at that
guy only as a total Sham, total Sham. Hey, I had Horowitz I was
texting with Horowitz up until like 11 Last night 1130 He was
free up to he was freaking out. But what Oh, you didn't hear
about the flooding.
John C Dvorak: Oh, yeah. Wow. Yeah. Yeah, I'm surprised he
didn't get flooded.
Adam Curry: So he had there was well it was two more feet to go
at around 1130 before his house would start the flooding. And
the high tide wasn't expected until 3am.
John C Dvorak: To be up all night,
Adam Curry: you of course he was and so have
John C Dvorak: you seen this you see the films This is
unbelievable. Let's
Unknown: get back to South Florida where over 20 inches of
rain fell yesterday into the overnight parts of South South
Florida catastrophic flash flooding as supercells stalled
even spun up multiple tornadic circulations but the water was
everywhere with nowhere to go and it just kept coming. This
person trying to walk through the water with luggage at the
Fort Lauderdale Airport, which was close look at this water
easily up to their knees you can barely make out where the road
where the sidewalk is. And this person even swimming in the
street
Adam Curry: tore Natick circulations. I like that.
John C Dvorak: I was looking at this report last last night
there. They were talking about moments of eight inches of rain
an hour.
Adam Curry: It was insane. And so he wound up six inches short
of flooding.
John C Dvorak: He got lucky.
Adam Curry: Have you ever been to his house? In Fort
Lauderdale? No. So you know he has his is this you know it's
not a big house but he has a small dock and and his boat is
parked right out back? Yeah. So the boat was almost floating
into his backyard, his barbecue, his whole Tiki hut I think I
don't know it was stuff was floating away. And he had just
just six inches before the House would flood. That's crazy.
That's crazy. Well, of course, we know. We know obviously, that
this is climate change. And right on cue ABC this morning.
Unknown: A new study warns sea levels are rising in the south
accelerating rapidly since 2010. Putting 10s of millions in the
path of future floods
we haven't seen anything comparable of over the past
century.
The study's co author says sea levels along the southeast and
Gulf Coast are rising at rates unprecedented in at least one
120 years, rising nearly five inches just since 2010. That's
about double the global rate
not only increasing along the coast there but it extends into
the adjacent North Atlantic Ocean and into the Caribbean Sea
humans in part to blame for the rising sea levels. due to
greenhouse gases and aerosols.
We could attribute approximately 40% of the acceleration to
manmade climate change. But 60% of it is natural climate
variability naturally balanced that always occur.
We say hurricanes have been more severe in recent years due to
higher sea levels and storm surge, including hurricane
Michael in 2018.
It's been very traumatic. I just I can't hardly eat. Sleep is
unthinkable.
Michael hit Florida's panhandle as a category five. And
hurricane in last year claimed the lives of more than 100
people in Florida. I don't have the house, I don't know where to
go. And scientists continue to warn that we need to turn to
clean energy but we also must adapt to the higher sea levels
because they say we may not see the full impact of the changes
we make today for generations. Oh, we'll
Adam Curry: keep this going for generations. Nice. Yeah, nice.
You know, I'm very disappointed though. Not a single report that
had fish flopping in Miami.
John C Dvorak: I you know, I was gonna say the same thing where
the fish in the streets
Adam Curry: are the fish flopping around. But man, the
climate change. They're really coming down now especially in
California. I'm sure you've heard about this. This law that
passed about electricity rates and that you know the well you
have PSE and G and S, D, G and E and all these different
electricity companies have to come up with ways to implement
this law. Did you hear about this law? This probably equity
law. Yeah, listen to those equity lawyer that'll stop
climate change. Oh, no, it won't, but it'll make
Unknown: people poor this change wouldn't go into effect for at
least another year or more essentially, people would be
billed based on their income. So while a lot of customers will
wind up saving money, others could pay more
legislature passed a law last year that requires a real
fundamental change in how electricity is priced in the
state of California that law
says Scott Crider, STG knees Vice President of External
Affairs and Operations Support requires California utility
companies come up with a fixed rate plan as a way to help
stabilize rates make billing more equitable criteria laid
down with me to talk about STG knees joint proposal with pg&e
and SoCal Edison saying it differs greatly from how
customers are billed. Now, currently, you not only pay for
how much electricity your household uses, but other things
such as how that electricity is deliver, both prices vary month
to month. SDG nice plan is to offer residential customers a
fixed delivery rate every month, no matter how much electricity
is used,
by having a fixed price for the delivery portion of
Adam Curry: John, when this gets implemented, I am sending 20
Bitcoin miners to your house. Because we can just use as much
as we want and print Bitcoin for free. Basically, this is crazy
Unknown: that we can actually reduce the remaining electricity
rate by about 42%, which
Adam Curry: oh, we're gonna reduce everyone's gonna win, of
Unknown: course that look like under the current billing system
at 47 cents per kilowatt hour, the average customer pays $188
per month, under the fixed rate proposal, they pay $181. Here's
a breakdown of where you'd fall based on your income pay
attention, households making less than $28,000 a year would
pay a fixed delivery rate of $24 per month 169,000. That fixed
price goes up to $34. Between 69 and $180,000 $73. Households
making over $180,000 will pay $128 a month, everyone's average
kilowatt hour rate drops from 47 cents to 27. Posle is income
base. But some people feel uncomfortable about giving away
their financial information.
We would agree we don't want customers financial information.
Our perspective is the state it will be very, very capable to be
able to do this and really be able to send us the data that's
needed.
Adam Curry: I lived in Los Angeles in 2009. I was not
paying $188 a month for electricity.
John C Dvorak: I'm not paying I mean, I'll take that. I'll take
that though. Everything they said I did. Yeah, but you don't
think that's actually
Adam Curry: true. I mean, how can they do that? I mean,
John C Dvorak: I can do it. I do get this bullcrap.
Adam Curry: Well, what do you mean, it's a law that passed and
there
John C Dvorak: hasn't been implemented and when and they
breached and they pushed these off, so it's not implemented
right away is so the courts can come in and say, Now you can't
do this because it's illegal. He gets kickback and then the
government has tried I tried but the courts I've seen this a
million times is California politics.
Adam Curry: Oh, okay. Well, that makes Well that makes me feel
better for you and sad about my wife. I
John C Dvorak: was gonna get a good deal from the sounds of it.
Yeah.
Adam Curry: Well, I was I was I was saving for the Bitcoin
miners. I'm ready. Let's go go go. Hey, does does Jay have
room? I mean, no white JC in his house there.
John C Dvorak: Everybody's got enough room for a few miners.
Adam Curry: A few miners your way. Wow. But I mean this it's
just wow, what is squeaking? Is that your chair? That is a
squeak sorry. Sure. But I was reading about tech companies.
The Bloomberg a Bloomberg is all in on this. And they had a
Autodesk Autodesk a big company I think Autodesk Oh yeah, huge.
Autodesk This is from Bloomberg is proud of its bonafide as a
clean company. It reports it feeties I like bonafides Yes,
bone a fetus. Okay. It reports the Wendling emissions and
invest millions in technology aimed at improving the
environment. There's one hitch watch this company become an
investable. It's its software is used to design and operate
machinery for the biggest coal mine complex in Europe's in
Europe fully production at the pits owned by German energy
giant go after Microsoft and everywhere in the world.
Exactly. It's being expanded ahead of the 2030 phase out of
the highly polluting energy source climate activist Greta
Thornburg was detained there in January. So yeah, they're going
after them. they did on investable because they are not
green. They're going to get a bad ESG score.
Unknown: Yeah, good.
John C Dvorak: Man, Greta Sternberg.
Adam Curry: So on the heels of all this, you know, they
continue to push fake meat manufactured meat, you know,
just no meat. That's probably that's probably the hardest push
no meat at all. CNN COMM And writing on cube with another
one, these bull crap companies.
Unknown: We've developed modular platforms that can 3d print
meats, real meat, not something that mimics weeds. So it all
starts with a cell that is collected from a real animal in
an ethical way without harming the animal, a real animal.
Afterwards, we differentiate the cells into either muscle cells,
or fat cells, we load the cells into our bioink and load them in
fire our printers we can decide exactly what's the fat
percentage and composition of steak. Definitely 3d print
steak, you take it into an incubation and maturation
process, meaning that the muscle fibers connect one to each
other. As this whole industry will evolve, we will see more
advanced products that will replace the state that we are
used to eat in the
Adam Curry: restaurant. How about the steak, I eat it home,
forget the restaurant. The other strip portion of the process
looks completely undoable. But even in the Netherlands, they're
now saying, you know, too much red meat that people consume the
Dutch the Dutch is really costing seven and a half euros
per kilo in health care costs you see, because you eat the red
meat and you get sick, and then everyone has to pay for your
colon cancer. So they so they want to increase a tax of seven
euros per kilo of meat. And this is how and of course the
Netherlands is the number one country
John C Dvorak: is about $3.50 a pound on top of which you're
already paying.
Adam Curry: correct about that? Yeah. In tax in the Netherlands
is the number one country for food and food texture and taste
products chemicals.
John C Dvorak: Yes, it sounds like this tax is just done for
the purposes of pushing yeah marketing their own businesses
marketing marketing,
Adam Curry: the other company marketing scam. So Texas slim
came by. He stopped over on his one of his many travels. He had
just come back from promoting the beef initiative in
Australia. So I got to kind of a boots on the ground in
Australia. He says and I hate to say it for our producers. He
says Australia is lost. He said it's a food desert. Everyone's
eating colorful packaged chemicals. They literally they
literally are getting you know crap beef from China or whatever
it was, whatever it is, or through China, but it's not a US
not even Australian beef. And he gave me a few
John C Dvorak: I forgot could because God knows there's not
enough space in Australia to have a herd of cattle.
Adam Curry: Well, they take that cattle in the in the Chinese eat
it as caviar. That's not that's the whole joke of it. And so he
brought me back one of those new Australian dollar $5 bills,
John C Dvorak: plastic, plastic, but
Adam Curry: check it out. It's so the so the whole thing is
here. The whole thing is plastic. But Canada too. But the
middle part, probably about an inch in with is clear plastic,
almost like the bill is disintegrating before your eyes.
And this is little hole, which I'm sure it's like some plastic
watermark to prove its authenticity. And that's also
clear to the bill looks like it looks like it's dissolving,
which of course is a beautiful metaphor. And he says
everybody's on electronic electronic money. They don't
even use the plastic money anymore. And all of it's being
tracked and they're getting their carbon credit score on
their credit card bills or their debit card bills. They're lost
the computer going
John C Dvorak: to be completely under control. I feel that with
this began when they took all their guns away. Yeah,
Adam Curry: exactly. That's what he said everyone says. And also
there's some give me up this whole push for Africa that we've
been seeing from, you know, certainly European countries or
Russia, China and pathetic attempts by our A Blinken and
Kamala Harris that apparently is also to raise beef in Africa.
And we might as well do it there so we can have our cell cultured
meat here. No, no, I haven't heard that. Yeah, this is new.
This is new. Yep, it's Africa. That's where they want to win. I
want to I want to know on the on the Download make that the bread
Ask it cheap come as cheap
John C Dvorak: plenty of land as cheap as good
Adam Curry: Oh all right so got that off my chest we're all
gonna die for climate change everybody but don't worry
everything we're doing now will take generations to see the
effects so let's keep going to point the train rollin keep
enrolling people now of course before then we will all die from
AI Artificial Intelligence I was talking to Christina she is
pretty level headed but she even got the programming dad I think
a we're all gonna die he is gonna take over it's thinking
for itself now. Christina
John C Dvorak: speaking for itself Yeah,
Adam Curry: my new line is AI will become real when enough
humans trust it to achieve Idiocracy. That's one of the
yeah then we'll die when we're when we think that Gatorade will
sit will save us
John C Dvorak: electrolytes
Adam Curry: Alexa electrolyte so how do you do this? How do you
start to shepherd this? You and I agree total bull crap in this
this unaffordable bull crap. We have no business model for it.
No one's gonna pay for a chat GPT command line. So the first
thing you do is you you create news anchors which are wholly
unconvincing.
Unknown: Diamond check the Polson Oh Rihanna and we begin
with some TV debuts making us nervous about our job security.
That's
because their new anchors are powered by artificial
intelligence. First there Santa was a green daily news updates
on India Today her boss calls her tireless and ageless.
She started by doing the weather
and you forgot it's really good to have the sun back. I don't
really like the cold or rain. That's the national government.
Joining the ranks of AI anchors is Fetta from Kuwaiti news she's
updating the news on Twitter.
Adam Curry: Okay very convincing. We should be very
afraid of this but yet we got another another little chink
then a little chink in the armor. And then I
John C Dvorak: like to Federer as it does a name because it's
just a pretty cheesy
Adam Curry: Well, unfortunately, they write it f e D h a is I
guess it's some some Arabic name but Fetta works for me too, is
cheese. But now we got to go to France 2014 where they're hyping
it up because Ali Baba is coming.
Unknown: Yeah, in China. We're seeing a lot of movement on this
front. Because a new artificial intelligence model has now been
released by Alibaba, no less. Justice authorities in Beijing
are looking to impose their own rules on this sector. Now
Alibaba has released a generative artificial
intelligence platform designed to rival the Microsoft back chat
GPT Google and Chinese tech giant Baidu are among those who
have already unveiled similar platforms. Now Alibaba says its
version will be integrated into its own apps in the near future.
The chat bot is called tongue week 10 When which means truth
from 1000 questions. It's said to be able to draft letters or
trip itineraries advise shoppers on what cosmetics to buy,
summarize. But it's unlikely to have free rein because China's
cyberspace Security Administration published its own
guidelines for artificial intelligence, saying that a
security assessment will be required before they're allowed
to go live. Chat bots in China will have to quote reflect the
core values of socialism and not subvert state power. Developer
first will also have to ensure the technology doesn't
discriminate based on ethnicity, race or gender, and that it
doesn't generate false information. Now, we don't know
how those draft rules might Elementor but governments and
business leaders around the world are paying close attention
to this fast developing sector. Italy has banned chat GPT
altogether and figures within the tech industry including Elon
Musk have warned that things could spin out of control if the
technology is rolled out too quickly.
Adam Curry: It's gonna spin out of that's gonna spin out of
control completely breathless. Yeah, well she she sees her job
is on the line she sees Fetta coming up and you heard case
might not be as bad but the best report I got and and now this is
so full of holes. Is this from Arizona local television. They
had a whole pack that I'm not even going to play the opening
headline do through through scary scary scary Oh, no AI here
straight into the package.
Unknown: The phone number was unfamiliar. Jennifer Stefano
almost let it go to voicemail. But her 15 year old was out of
town skiing. Maybe there had been an accident.
I pick up the phone and I hear my daughter's voice and it says
mom and she's sobbing as what happened and she's like, Mom, I
messed up and she's sobbing and crying. And then I hear a man's
voice say put your head back lie down. And then like wait, what's
what's going on? And this man gets on the phone And he's like,
listen here. I've got your daughter. This is how it's gonna
go down. He called the police. You call anybody I'm gonna pop
or something so full of drugs. I'm gonna have my way with her
and I drop her off in Mexico. And at that moment I just
started shaking. I'm like, what? In the background? She's going
help me Mom, please help me help me falling. And you have
absolutely
no doubt in your mind that that was her voice.
Oh, what 100% Her voice? Her voice it was never a question of
you know who is is or it was completely her voice. It was her
inflection. It was the way she would have cried never doubted
for one second it was her. That's what the freaky part that
really got me to my core.
There wasn't any of it. It was just a clone. Created by
artificial intelligence, you
can no longer trust your ears. Bringing the
Indian guy he's an expert on potty is a computer science
professor at Arizona State who specializes in AI. He says voice
cloning technology is rapidly improving
meow. There are ways in which you can do this with just three
seconds of your voice. So within three seconds, you can come
extremely close to how exactly you sound. And you don't even
need any special equipments. I chose a free program for a test
and I'm not actually talking.
Adam Curry: So then she she does her own voice which doesn't
sound like her at
John C Dvorak: all. You know this scam that was just
described by this woman who's to fake kidnapping that has been
that's decades old. Also, and they have to have somebody in
the backyard mom help me mother. And it's always my daughter she
don't you imagine is her and meanwhile your your daughter's
at school. This is nothing new
Adam Curry: will notice the kid was on a skiing trip. I'm
thinking they were punking her mom or doing something or you
know, the end the whole story that never come back to it. How
do we know that it wasn't true? How do we don't know any of
this? amp and this Mom, I'm sorry. First she says she
doesn't sound distressed at all about this horrible thing that
happened to her. And she couldn't be 100% My daughter
100% My daughter, huh? But these types of stories you know it
literally this news reporter I think got an instruction do a
story. Okay, I'll find something don't worry.
John C Dvorak: No. That's exactly how it works.
Adam Curry: And we're not always wrong. When we look at stories
that have a different headline today. Just before the show. I
read a rest made in San Francisco killing of Bob Lee.
Remember the guy who got stabbed? Right. Tech execs
alleged killer also worked in tech. It appears he was they
were in the same car. There was some kind of argument and the
guy stabbed him. The guy has been arrested. It was sold to us
as crime in San Francisco. And what did we say? Sounds like a
hit.
John C Dvorak: Yeah, that's what the first thing comes to mind.
The way they describe the situation. Yeah. So we'll see
how I mean the guy's resume told us about the use roaming around
walking around the streets. Not walking around, stabbed. And
then somebody came up to him and they saw the they have video
Yep. guy gets stabs him for no good reason and runs off and
they can't find the guy. Now how does that even work? If he was
already stabbed in a car, and then what was it kicked out of
the car? I mean,
Adam Curry: I know I'm still I'm still waiting for the hit
reporting. Of course, is dubious. All of the news is
dubious.
John C Dvorak: You know, a lot of this AI bot thing. I think a
lot of it might be also a setup minor one. But it's set up for
the idea that the Chinese are running these, these pro Trump
bots.
Adam Curry: Oh, yeah. And of course Elon isn't stopping them
on Twitter.
John C Dvorak: Well, I have a report. My friend, Laura Lopez
from PBS is the woman who claims that the riots in 2020 the
George Floyd riots were a right wing.
Adam Curry: Right wing? Portland. Yeah,
John C Dvorak: she made that assertion has somebody on to
prove it. She gets weird. You know what it is? I think she's
she finds these weird guests. And in this case, you're gonna
have to kind of bear with who's actually in this report. And
then you'll see it's, it's, it's just the it they're no good.
Okay. Let's listen to this as PBS Laura Lopez As I got Rudy,
Rudy and I don't know what that is supposed to mean, Russia and
Rudy and bots won.
Unknown: In the wake of former President Donald Trump's
indictment, there's been an explosion of foreign
interference aimed at dividing the American electorate and
sowing distrust in institutions. Laura Barone, lo
Pelling brings us this exclusive
Adam Curry: selling distrust and insert What did they have a
price tag? What is this? What is this leading, selling distrust
in institutions? That by itself is dubious.
John C Dvorak: But PBS NewsHour has been is dubious
Adam Curry: to say they are selling sewing or selling I
heard selling was it so she said selling oh, maybe she says
Unknown: again dividing the American electorate and sewing
Adam Curry: okay showing Oh, no take sewing. But even then
dividing the
Unknown: American electorate frying distrust in institutions.
Laura Barone Lopez brings us this exclusive data.
New research shared first with news our shows a covert effort
by Russian and Chinese backed actors to interfere with
American news and opinions about Trump's arrest. The analysis
comes from the global security and intelligence firm Soufan
Center and the data science firm limbic. Here's what they learned
as news of the indictment broke and Trump was arraigned, the
volume of online posts about the former president spiked, going
from the typical 26,000 posts every day to more than 448,000.
helping drive that engagement were automated fake accounts
known as bots. These accounts are closely linked to the
Russian and Chinese government's operating with the tacit
approval of the state. They share Russian and Chinese state
media articles across multiple platforms or retweet them and on
Twitter. The Amplified support for Trump during the
arraignment.
Adam Curry: Amplified oh they amplified Okay, the Soufan
center this is this is a new actor.
John C Dvorak: Yeah, first of all, before you start looking
both these guys up, I'll tell you a couple of things. Their
intelligence wannabes. Both of them
Adam Curry: started by former FBI Special Agent Ali Soufan.
John C Dvorak: Yeah he's the one guy's got some connection ran.
But there's a one to be operation you can tell there's
no connection to the limbic is worse. The limbic guy who she
brings on never says that he's the founder never just has like
one of the many employees in fact he's the founder and I look
you couldn't you can't find anything if you go to their
website lamb ik the olympic.com It's, it's it's still voted is
all that's missing is the guy with a pick axe under
construction thing you know that
Adam Curry: way he has, he has one link our product. Our
product is defense operating system. It empowers partners to
prepare for leverage and respond to information threats, Edge
scale at scale.
John C Dvorak: So you have to look at the edge website does
not finished and realize that this company started seven years
ago.
Adam Curry: And TSG. The Soufan Center is one of their partners.
Of course, but stay tuned. Stay tuned for an update to our site
soon.
John C Dvorak: Seven years have gone by. I looked into this guy.
He's he does have a LinkedIn page and it talks about how he
started this operation seven years ago and he can't He's
seven years he can't do a website. I mean, that's almost
as bad as us. Yeah, I don't want to hear it. Almost back to
Unknown: to unpack what this means and what we can do going
forward. I'm joined by two of the experts behind these
findings. Colin Clark of the Soufan center, and Zach's Witzke
of Olympic, Zach and Colin thanks for joining Colin first
to millions. This
Adam Curry: is great. I cannot believe that this got made it
onto PBS
John C Dvorak: or Canada Laura Lopez woman she's this is her
old specialty. She's
Adam Curry: gullible. That's what she's gullible.
John C Dvorak: I think so. Yeah. Oh,
Adam Curry: and by the way, the guy from the Soufan Center p
looks like Agent Smith. He's got the He's got the whole skinny
black tie the whole thing going on neck. Yeah, good luck.
Unknown: Thanks for joining, Colin, first to you millions of
people across the world posts on social media about news every
day all the time. Why should people be alarmed about these
findings?
Well, I think there's a couple of reasons and I'll give you two
in particular. One is the intent behind the actors. These are
Russian and Chinese linked actors that are seeking to
divide the United States. They want to weaken the US and they
do that by driving debate on divisive of topics. Also the
political environment that we're currently in. The current
climate is highly partisan and polarized. And so it's tailor
made for these types of interventions. The second is
that they're pushing their own narratives. They're attempting
to achieve their own objectives, and doing so by spreading false
information that's now then gets picked up by American citizens
and passed along.
And Zach, here's one example of what you guys found. You point
to a Russian back bot at Peter dabit. A gab account that's
posting dozens of times a day.
Adam Curry: Gab accounts
John C Dvorak: gab account
Unknown: Peter dabit a gab account this posting dozens of
times a day, including this post about Trump's quote, dodgy
indictment, explain what's happening here.
Yeah, yeah, I think it's really interesting to look at this
because it's really a symptom of what we're seeing more broadly
that there's an authentic activity. And this is a very
good example, because you see the image that the profile is
uses from American media. There's no biography seeing, you
know, I think 45,000 posts to gab and a lot of what we're
seeing from this account in particular, which is consistent
with a lot of the unauthentic activity is posting or
retweeting from publications like RT and platforms like VK.
Adam Curry: This, oh, my goodness, this is pathetic. It
just is truly all that God has gab. Gab is their main source of
information. I mean, by the way,
John C Dvorak: looked at gab for three, four years I looked at
when it started, and that was about it.
Adam Curry: I mean, I have Soufan let me just see ya. So
they have their 2019 form 990 shows they get they had a
whopping $400,000 in income. No 578.
John C Dvorak: Really? Yeah. Have you looked on their
webpage? They have about 50 people working there? Well make
it 10 grand a year?
Adam Curry: Well, let me see. None of the none of the
directors are making any money. Meredith Stricker, the executive
directors making $105,000. So they must have spent it on
freelancers were also that where else could it have gone?
Actually, I can probably tell you what one was to the next
clip, while I'm taking a look at that.
Unknown: And what was interesting about this situation
is normally what we had seen, in previous news cycles focused on
Trump was it was very positive for the former president in this
case. And in this example, we started to see state backed or
state affiliated accounts like this one, sort of playing both
sides of the former President
of Russian state media, and this has primarily been a Russian
playbook so far this information warfare, or the Chinese getting
in on add a new element here.
They are the rough, you know, this
Adam Curry: is I'm sorry, this this reporter who is who I think
you and I agree, was a diversity hire after Judy keeled over and
had to leave. But this is the Dylan Mulvaney of PBS. This is
hurting PBS. Yes, this is
John C Dvorak: not hurting PBS at the least. People are lapping
this up like there's no tomorrow. She brings in sketchy
people to do interviews with I don't know where what her
Rolodex looks like, but it's terrible. And of course, she had
you pointed out I didn't realize this that both the limbic and
the SU fan operation are interconnected with the through
the back door nurse partners, the partners, and both of them
are losers and phonies.
Adam Curry: So they spent, they spent $346,000 on our other
salaries and compensation. Outside of the right, we have to
actually deduct the 150 and 150 from it. So 200 grand, is just
people who sent a couple of invoices. I don't know, I don't
know if this is just a website, man. There's not much going on
here. Now that was 2019 because they are woefully late on their
990 filings. But who cares? Who cares? Who cares about
2020 2021 2022
John C Dvorak: You gotta remember Lim big group. He
started that seven years ago still hasn't finished the
website. Let's finish this. This is the kind of sources she has
and brings on to PBS so everyone can lap it up.
Unknown: I'm gonna pull the clip back a bit and RT is that
Russian state media and Colin This is primarily been a Russian
playbook so far this information warfare or the Chinese getting
in on it a new element here
they are. The Russians are in the lead and they do this for a
number of reasons. One, it's a great return on investment for
them cost pennies on the dollar compared to kind Have more
kinetic options, attempts to build their own conventional
military. Why?
Adam Curry: don't convince attempts to wait a minute? Let's
hear the end again, hold on
Unknown: compared to kind of more kinetic options, attempts
to build their own conventional military out. They don't have a
John C Dvorak: military I guess. They use this they use bots,
chat bots, instead of building a conventional military. It says
cheaper.
Adam Curry: That always reminds me of that's what he said, Yes,
it's much cheaper because it works. We also upped trumpet get
elected, it worked. This is good stuff. I have hoped that Laura
Lopez has a long career at PBS at all I
John C Dvorak: know it's gonna be it's gonna be fruitful for
us. Yeah, we'll keep us in
Adam Curry: good graces for a long, long time. Very nice.
John C Dvorak: So now he continues to the Chinese are
taking a clue because why should they spend money on the military
when this is cheaper,
Unknown: and China's noticing they're seeing that it's
effective, that it's cheap. And they're not only helping promote
Russian disinformation narratives online, but they're
learning in the process. And so they're honing their own skills
and an attempt to kind of copy the Russian playbook as they
rolled out and use this in tandem with a more aggressive
foreign policy.
And Zack, we saw Russia as I just said, Do this in 2016.
Specifically, Senate Intelligence found that in 26
happened,
Adam Curry: did you get it something? Nope, let me hear.
Unknown: And Zack, we saw Russia, as I just said, Do this
in 2016. It specifically
Adam Curry: was an edit something went wrong there.
Either was hurt. She's sick, or something like
Unknown: we saw Russia, as I just said, Do this in 2016.
Specifically, Senate Intelligence found that in 2016,
that Russia targeted African Americans on social media to
create racial divisions. But
Adam Curry: Oh, hold on hold. I just got to stop this clip here.
That was the joy read a dos a Russian bots, which mo
completely destroyed that whole lie. It was American descendants
of slavery, real people who were tweeting, but we couldn't have
that. So Ben Joy read MSNBC launched the Oh, no, that's,
that's Russian bots. And here it is on your PBS state affiliated
media,
Unknown: Russia targeted African Americans on social media to
create racial divisions. But now some of these accounts appear
harder to attribute directly to Russia. So how has this social
media? Well, again,
John C Dvorak: if there are now how are they doing all this
attribution, if they're harder to attribute? Do they have any
evidence of anything? They're saying? I don't know. I'll play
the clip further. And we'll see
Unknown: fair evolved since 2016. Yeah,
that's a great question. If I can take a step back just for a
second, the work we do at Olympic really, first and
foremost focuses on are there narratives related to a
particular issue like, you know, this Trump indictment or the
election in 2016, that are resonating with different
audiences across the country? And if the answer to that is
yes, then we start asking, What should we do about it? Who
should take that responsibility? Where are these narratives
originating and who's amplifying them? And one of the really
interesting things that we've seen from 2016 to you know, now
in 2023, is, as you mentioned, with that Senate Intelligence
Report, the Senate, you know, was able to attribute 1000s of
artifacts back to Russia. And what we're seeing now is a lot
of the what appears to be Russian activity is actually
originating out of what we call proxy countries, right? Where we
can attribute it to a country like Nigeria, for example, where
it very much looks like a Russian information operation,
but it's difficult to make that direct connection from Nigeria
as the country of origin to Russia, even though on the
surface on the surface, it appears to be very much aligned
with Russia's interests as
John C Dvorak: a proxy country is Nigeria. Yeah, kidding me.
Adam Curry: That's where the hackers hangout. Nigeria is in
dire straits. Their money has completely collapsed. No, but
you know, they like Bitcoin. So maybe that'll come into play.
There wasn't there was a interesting article in New
Scientist. Interesting from the fact that they're so desperate,
they don't know what to say anymore. Here's the the head the
title of the article, we don't have any viable way of
countering conspiracy theories. Now, of course, that would be
because their bullcrap or their true beliefs and conspiracy
theories can damage societies and individuals, but the only
effective ways to counter them are impractical or According to
a review, or she they did at the University College of Cork in
Ireland because Oh yeah. They said that we've tried everything
to quash belief in conspiracy theories. And the pre bunking
didn't work. Pre bunk. Yeah, the pre bunking, you remember that?
We're gonna, we're gonna we're gonna tell you something's not
true before. It's a conspiracy theory. Oh, please. It is it is
intrigued bunking, I
John C Dvorak: forgot all about free money.
Adam Curry: Meanwhile, when it comes to war, an actual war and
conspiracy theories and war mongering. And this is about
China because I don't know why they're bringing in Russia.
That's old news lady. No one cares about Russia. Now it's all
China. This is where all the money is going. The military
industrial complex needs money, money, money. I can't tell you
the whole story because I was asked not to talk about other
than that. There are certain parts that are manufactured in
the United States that go into ICBMs. Bless you. And this
company, one of our producers works there says there has been
an incredible increase in orders for these, this particular part
for ICBMs. And he actually was like, I'm worried about you
know, we're gonna have a nuclear war and like, No, this is the
whole point. Move the money from Russia, Ukraine. Now we got to
spend money on China, much bigger threat China, and who's
leading the charge numero uno, war monger Reno. Lindy Hop,
Lindsey Graham,
Unknown: here's what I think. I think they're setting the stage
possibly for a blockade of Taiwan, that the Communist
Chinese party is going to test us dramatically this year and
next year before the election. So in 1961, the Russians tried
to isolate.
Adam Curry: You see, the Russians are the template that
they're no longer that there's no longer the Russian plate.
Well, it is a Russian playbook, actually, the Russian playbook
now done by the Chinese.
Unknown: So in 1961, the Russians tried to isolate West
Berlin, so I'm fearful.
John C Dvorak: How many years ago is that? 4640 years ago,
he's bringing up you know, back during the Crimean War in the
1800s.
Adam Curry: He's comparing Taiwan calendar he's comparing
Taiwan to a blockade of Berlin. Yeah, Alrighty, then. That's so
comparable eight,
Unknown: West Berlin. So I'm fearful that the Chinese may be
setting a conditions to blockade Taiwan in the coming months, or
weeks. And we need to respond forcefully if they do that. We
need to blockade all shipments coming from the Middle East to
to China
Adam Curry: Hold on a second. Does this sound like a good
idea? We now we need to not only blockade Taiwan from the
blockade, but we have to blockade oil shipments coming in
from the Middle East. You know, the guys who don't give a crap
about us anymore? freely.
John C Dvorak: And they're not going to they're going to run
this through pipelines anyway. So blockade that, but here's the
thing I'm going to ask, does the reporter then ask the question,
why don't we just blockade China from shipping US goods? Just
blocked cages stopped a shipment of Chinese goods into the United
States and will stop paying them for the goods because we're not
getting them. We'll just do that blockade. That seems to be that
would be very effective, wouldn't it Lindsey?
Adam Curry: Well, first of all, it's Fox News. So already
disqualified because they are the war mongering network as
well as others. And second of all, that doesn't help put money
into the military industrial complex,
Unknown: West Berlin, so I'm fearful that the Chinese may be
setting conditions to blockade Taiwan in the coming months or
weeks. And we need to respond forcefully if we need to
blockade all shipments coming from the Mideast to China and
let them know if you blockade Taiwan. We're gonna cut off your
oil. Oh, we need to train more aggressively Taiwanese forces so
they can fight like Ukrainians.
Adam Curry: This is starting to sound like Vietnam. We got to
train more aggressively. Taiwanese forces. Do we then
center their death?
Unknown: We need to put nuclear tipped missiles or nuclear
Adam Curry: justice tip just a tip nuclear.
Unknown: Biden won't do it. The military's asked for nuclear tip
cruise missiles to be put back in submarines like that. rushes
Russians, did we need more forces in the region? I think if
you do those things you could deter a blockade.
It sounds though, like
a ratcheting up of the situation. And if Taiwan is not
fully equipped, trained, armed, ready for this right, right,
right. We don't want to be leading to nobody.
Adam Curry: I believe it is Shannon. Is that the question
you hoped she would ask? No, I got I got to have Lindy Hop.
John C Dvorak: Question. I suspect she would have I know it
was Shannon. Just that's the hard hitting questions she would
ask
Adam Curry: back to Lady G. Bring up the
Unknown: situation. And if Taiwan is not fully equipped,
trained, armed, ready for this? We don't want to be leading to
war worth rate. Well,
nobody wants to world war three. But yes, you do. What kind of
world do you want to live in? Do you want to live in a world
where a an island called Taiwan could be taken by China? 90% of
the high end chips are made in Taiwan, they'd have a monopoly
on the digital economy.
Adam Curry: Oh, and they would run circles around us? Who are
they going to sell to themselves? Look, everybody, we
got AI in every house. Democracy we need to spread democracy.
Unknown: I want that to have a monopoly on the digital economy.
Do you just want to let Putin take whatever he wants in your
wait a minute, I want that to have a monopoly on the digital
economy. Do you just want to let Putin take whatever he wants in
Europe? I don't live in that kind of world. Wait a minute,
John C Dvorak: I don't understand. I'm config whatever
he wants. What is he taken so far?
Adam Curry: I'm confused, though. China's going to going
to have a monopoly on the digital economy, apparently, and
Putin can take whatever he wants come
Unknown: on a 90% of the high end chips are made in Taiwan
that have a monopoly on the digital economy. Do you just
want to let Putin take whatever he wants in Europe? I don't live
in that kind of world. There's no reason for this. Listen, I
believe in a One China policy.
Adam Curry: Well, yeah, we agree. There's no reason for
what you're saying Lindsey wants in Europe,
Unknown: I don't live in that kind of world. There's what a
horrible war
Adam Curry: where China owns the digital economy. And Putin takes
whatever he wants. Come on, man. It's and Shannon's going, Oh,
Unknown: take whatever he wants in Europe. I don't live in that
kind of world. There's no reason for this. Listen, I believe in a
One China policy, but I would be willing,
Adam Curry: wait a minute. Then he says listen, I believe in a
One China policy. Isn't the One China policy that includes
Taiwan. Yep. So how can you say all this and then say, Listen, I
believe in a One China policy is
Unknown: your low economy? Do you just want to let Putin take
whatever he wants in Europe? I don't live in that kind of
world. There's no reason for this. Listen, I believe in a One
China policy, but I would be willing to fight for Taiwan.
Adam Curry: All right, hold on. boots on Lindsey. You first
Okay. Lady G leaves the pack.
Unknown: Listen, I believe in a One China policy, but I would be
willing to fight for Taiwan. Because Taiwan is a democracy.
We stood with him for decades. So Tom wants to explain.
John C Dvorak: Well, you know, when the after the Communist
revolution in China, which had actually kicked out the the
quasi democratic revolution, which is the Republic of China,
the Chinese Communist, drove them out and drove them to the
island of Taiwan, where Chiang Kai Shek, who was the leader of
the mainland, and then he was then became the leader of this
this island where they were they ended up fleeing to we recognize
we never recognize the mainland Chinese. No, of course not. And
so it was always the Republic of China, China was, as far as we,
as a country was concerned, was done was the choice China. So in
the UN, it was the Republic of China that ret was represented
as China. And we kept that going until the Nixon administration.
And when and, and they all of a sudden, we said, Well, wait a
minute. We're gonna recognize the big boys, the People's
Republic of China, they just dropped the ball kicked the
Republic of China, which is Taiwan to the curb. And it was
something that Reagan was bitching and moaning about when
he when he ran for president in 1980. I actually have a clip in
the archives, which will never find no reason to look for it.
Where he kind of explained the whole thing on the Johnny Carson
Show.
Adam Curry: And you're saying we'll never find that? Probably
right.
John C Dvorak: It would be under Reagan.
Adam Curry: Reagan, Reagan Coast Guard, or burning in hell no, I
don't think so. I will continue with Lindsey
Unknown: take whatever he wants in Europe. I don't live in that
kind of world. There's no reason for this. Listen, I believe in a
One China policy, but I would be willing to fight for Taiwan,
because Taiwan Want us to democracy? We stood with him for
decades. So Tom was not the problem Lindsey Graham's not the
problem is Fenton in his sheet. Yeah. So what would I do to
deter a blockade? I'd let the Chinese the fact
Adam Curry: that he even says that means that he's thinking
man, people must think I'm at the problem here. Yes, you are.
You are warmonger, a horrible man, Taiwan.
Unknown: Because Taiwan is a democracy. We stood with him for
decades. So Tom was not the problem Lindsey Graham's not the
problem is Putin in his sheet. So what would I do to deter a
blockade? I'd let the Chinese know if you block a Taiwan,
you're going to have a hard time getting off from the Mideast. I
would increase training and give the F 16. They needed. In
Taiwan, there's a backlog I was back. That's
Adam Curry: why we couldn't send them to Ukraine. We couldn't
send them to Ukraine. Why can't we send them because we need
them for the military industrial complex bull crap in Taiwan,
Unknown: you blockade Taiwan, you're gonna have a hard time
getting off from the Mideast would increase training and give
the F 16 as they needed. In Taiwan, there's a backlog I
would solve that backlog. I would move more forces to South
Korea and Japan. I would put nuclear tipped cruise missiles
and all of our submarines all over the world like the Russians
did when they got out of the nuclear treaty and started using
cruise missiles nuclear tip that's what Reagan did in the
Cold War so I would up our game and if you don't up your game
now you're gonna have a war.
Adam Curry: Vote this guy out whenever you can. This guy
impeach this guy. He's
John C Dvorak: the guy is like stuck in office. Where's he
from? South Carolina doesn't know what to do with him. Bolus
vote him in again.
Adam Curry: Dame Jennifer, you're you're in charge. You're
your protector in South Carolina. I'm looking at you.
You got to do you got to impeach this guy? Just because
John C Dvorak: the other thing is he gets a lot of fund funding
from guess which sector of the economy
Adam Curry: technology sector I'm just guessing. Military
Industrial Complex sector. There you go. Yeah, that would make
sense. Wow. It's just It's unbelievable. And they just and
Shannon. You know, this is where I pray AI becomes real. Take
over Shannon's job, please. Anything but But what she's
doing to no good.
John C Dvorak: People are no good. She's birdie.
Adam Curry: I want to talk about China for a second. In
particular about the icon. I don't know about you. But I had
a lot of feedback on our discussion about the Maoist,
cultural way and people loved the Maoist discussion. They love
it. And someone sent me a clip from the Joe Rogan show from
last year from this guy, James Lindsay. And James Lindsay is
he's an author and he wrote the book issue where it is James
Lindsay, race, Marxism the truth about critical race theory. And
it's just just a short clip. And I think he nails it. He it's in
this in this like minute and a half. He completely tells us
what's going on what the Genesis is. And of course, you know,
we're now being distracted by, you know, men cross dressing as
women. And just to be sure, of course, there's some people who
actually have body dysmorphia or body dysphoria, of course, that
exists, but not to this degree. All right, there's no way it's
to this degree. And while we're all looking at men pretending to
be women, and that is truly what Dylan Mulvaney is doing. It's
80% of the girls, who are trans gendering two boys. That's
what's happening in the background. Now listen to what
he says, and how this started. And I think we were aware of
this, and we called it but we didn't realize how destructive
it truly was, from the
Unknown: Marxist perspective, having studied the history of
Marxism to 20th century, I'm telling you, this guy, George
Lucado, in Hungary laid this plan out because if you get
these kids like, you break down their innocence sexually,
especially what you can do is and you're gonna they're gonna
go home, and they're going to tell their parents that there's
some like lip romantic, you know, demisexual, you know, tree
tree self gender, or some, you know, pronouns tree tree self or
something that some in the parents can be like, what you
know, and they can be like, Mom, you just don't understand, you
know, so the separate the, the younger generation from the
older generations, you get them to break away and think that
they're old fogies, that they're repressive. You don't want me to
be my true self, etc. The goal is actually to destabilize the
kids identity so that they're gurrumul. That's identity
without an essence and queer theory. And then they're
grievable. You groom them into the stuff and then they look at
their parents culture, they look at their parents themselves.
They look at their parents generation, they look at the
parents religion, and they say, that doesn't represent me, we
need something completely different. So it's to set it's
to, just like in Mao's Cultural Revolution, and I mean that much
more literally, than then you might suspect. It's to cut the
tie between the continuity of culture up to that point,
including the family and to start a whole new culture You're
afterwards in Pol Pot called a year zero, I guess Klaus Schwab
calls it a great reset. But the goal is to separate the new
generation from the traditions and views of the old generation
from now it was to destroy the so called for old, old culture,
old habits, old customs and old ways of thinking Sergio and
Mandarin. And these kids would get like hopped up on this crap
became the Red Guard and like would go into temples and like
rip down all the statuary and tear things down and destroy all
the old old, all the old kung fu masters got their asses beat by
mobs to get rid of like old Chinese culture because it's
embarrassing or whatever. You know, there's all in Chinese
medicine, of course, and you can say, well, that's total
bullshit, you probably need it, but doesn't matter who's like
destroy the old culture and they would go home, they eventually
get to where they're beating their parents or beating their
teachers that were considered revolutionaries, or sorry,
reactionaries, instead of being in favor of the Chinese Cultural
Revolution. And Mao had whole programming used in schools, and
I see something so similar to that in our schools now that I'm
freaking out. It's yeah,
Adam Curry: this is exactly what we're seeing. Yeah, I agree. And
starting with pronouns,
John C Dvorak: starts with the pronouns. And it brings me to,
you know, at some point, starts to kind of go over the top, I
have a tick tock clip.
Adam Curry: Oh, shoot, hold on a sec. I was not prepared. When
you have a tick tock clip, we gotta have our jingle. Okay.
Tock, tock, tick tock doesn't need setup, or can we go
straight into it?
John C Dvorak: I don't think it needs to set up. We could talk
about it after you play it. But here is what's really this is
the DS that could be lack of control by the state of what's
going on. As opposed to what happened during the Maoist
counter revolution revolution, I guess Cultural Revolution
results in in this meet the mania, where the true insanity
starts to leak through and you end up with this.
Unknown: Y'all really want to try to say there aren't trans
kids. Let me tell you what there aren't there aren't sis kids,
okay, you telling your child Oh, you're a boy. You're a girl.
This is a child. This is a free spirit that has not learned any
of that bullshit and so you force it on them. So sickness is
the wound sickness is the delusion sickness is the lie
sickness is the place of pain transmis is the healing transit
This is the growth transit This is the truth. Transit this is
what we actually are we are fluid we are 70% water we are
God God is changed. God is trans. You're trans. You are
forcing your kids to be boys and girls. We're saying be whatever
you are baby, be free. Be water be light. Be sky be God because
guess what? That's what we actually are. What we actually
are is trans is change is love. We're not the ones doing the
forcing.
Adam Curry: You God is trans. Oh, that's a new one.
John C Dvorak: Yeah. Oh, that's gonna be you're gonna hear that
more. And
Adam Curry: does this. Oh, yeah. And does this. This man. I
presume it's a man. Does he have children? Of course not. So this
this is exactly the meme that is being propagated by Hollywood.
Here's a clip of Daniel Radcliffe, very successful actor
in a very limited role. He is Harry Potter. He is Harry
Potter. Everyone sees him and he is Harry Potter. And he is doing
I sit down with a group of trans kids, young trans kids. And he
is propagating this. This Bly. I learned
Unknown: from you know, out of the cradle that I am, you know
that I was a boy, I should like blue. I should like sports. I
should be manly. I should like superheroes. Yeah. And I just I
never associate myself with those things. And we are told
that we're not old enough to know to know this yet. Like, I
mean, I'm only 11 years old. How do I know I'm a girl. And I need
more time to think about this.
But there are also people who do have like a slightly
condescending, but well meaning attitude of like, well, deeply
young, and like how do we you know, that is a huge decision.
I'd love to hear from all of you about like, why we can trust
kids to like, tell us who they are. This was it.
John C Dvorak: I know. You gotta go the same thing that this
other guy
Adam Curry: was saying yes to trust because you can trust your
child. They're telling you who they are. Remember, your son
would be an actual transhumanist robot if you trusted him and
allowed him to continue the nonsense or if he hadn't snapped
out of it. And it hadn't been propagated and encouraged by the
parents who just like the mom was revolution template. have
been led to believe that Oh, okay. I am an old fogy. This is
just the new thing. This is of course this is how Oh, how it
works these days, what do I know? There's books, there's
people in lab coats telling me my child doesn't have issues
because of social media. And just because my child is a girl
in middle school and goes through tough times, because
that's
John C Dvorak: what I used to be ridiculed by mean, girls.
Adam Curry: That's right. You know, it's not like that doesn't
have that. No, no, that's all because you are in the wrong
body. And I have received so many messages from teachers, by
the way, most of these teachers now women, and here's how it
goes. A trans kid is put into your class. Now, the last thing
you're going to do is say, what's going on with this? No,
no, no, no, no, you can't do that. Because you will be kicked
out the school system, which you can't leave, because then you
lose your pension. Even if you want to go to do like a charter
school. And then the teacher is asked to report back how the
child's behavior is all the children's behavior. And what
they wind up becoming is a feedback loop for the therapist
and the doctor by saying, well, Johnny, I mean, I'm sorry, Annie
was acting up a bit today. So maybe you need to adjust Annie's
meds. And that's the destructive part. So it's, it's the
antidepressant, it's the math. And then it's the transgender
hormones, which and again, I'm telling you, we're missing the
important part, which is 80%. of transgender children are girls,
but we're all looking at the boys. Oh, in sports, all that?
Yes. While that is also an issue. That's not the people who
are going to kill you. We're going to come home and knife mom
and dad back. Well, the teacher
John C Dvorak: that could hit yes, that's going to be
happening a lot in the future, we have to also understand
something called social and emotional learning which show
Adam Curry: Oh, my goodness, you found the same thing I did.
John C Dvorak: Well, we've talked about this before,
because I've I've been on the mailing list I've been on for a
number of years for castle, the guys behind it.
Adam Curry: Yes. And you know, it's just some some lady who was
English as a Second Language teacher but consultant for the
in 2017. And decided to set up this K S ELC as ACCA SEL, which
is a part of G M. Oh, yeah. It's crazy. All this stuff that comes
into play all these acronyms.
John C Dvorak: And they've come up with this idea that is more
important than they literally say more important, and to teach
social and emotional learning, as they call it, then reading
and writing and arithmetic. Yep. They say this is much more
important, and you'll get better grades and get better scores.
And we have proof now and I've seen no proof whatsoever. And
all I see is news reports about how the American student is
being is being dumbed down. He's dumber than ever. Because they
know it seems you are teaching them emotional and social
learning. This is more important. Social justice is
more important than math. Yes. That's when you get a test score
show that we're just we're creating a bunch of dumb shits,
and this but they claim no, no, no, we're not as crisp making
every school where this has been implemented according to Castle,
the scores have improved.
Adam Curry: So so I've looked into this, I have a lot of links
in the show notes. And I want to because my question, what is
sel? And so I find a website and official website what is SEL
social emotional learning defined and explained. So just
tell me if you understand this definition. To fully understand
social emotional learning, it is useful to begin with a clear
definition. Sel is the vital framework through which people
of all ages acquire skills in working towards their own unique
goals, comprehending and managing their emotions,
nurturing positive relationships, making informed
choices, and feeling and exhibiting empathy. Learning SEL
provides students and young people with the abilities
required to succeed in life, both within their school and
beyond. What does that mean?
John C Dvorak: It means vote Democrat.
Adam Curry: Well, of course, what is happening now and when
you just have to hear this because now you're going to hear
the outrage and the anger from older people, adults, some
teachers have some, some parents who were missing what is really
going on here. And this is the the Kentucky laws that were
passed, which were not safety for children or safety for
parents and teachers being knifed by radicalized children.
No, this is anti trans legislation
Unknown: or the Kentucky General Assembly passing a sweeping anti
trans bill. The WHS COVID-19 was different Waiting for the vote
tonight. The bill bans gender affirming medical care for
minors allows teachers to ignore a student's preferred pronouns
and trans students from using the restroom tied to their
gender identities. WHS lovin nine teams Connor Steph and
photo journalists alive so
Adam Curry: bless you. Let's just pause for a second that
seems like some kind of logical logical legislation doesn't seem
out of the ordinary for minors not to be be put on to
John C Dvorak: almost all the acid suppose in in the media is
responsible for this bull crap. Anti trans legislation typically
involves no you know, trans promotion of little kids. No
brainwashing of little kids no books about In fact, I read some
some of the other day was going on all that Republicans. Yeah,
it was Charles Barkley on his on his MBA and the Republicans are
banning every
Adam Curry: book they can ban. They're burning books. They're
Nazis,
John C Dvorak: which I thought was a pourraient and bigoted of
him. And so no, no pornographic material for second graders. No
trans propaganda in the classroom. And whoa, trans.
Adam Curry: One of our knights John, one of our knights,
contacts me, he says, my 15 year old girl wants to transition to
a boy 15 one of her friends just had top surgery and now she
wants that to 15 and what what has been happening across and by
the way, Europe has stopped this Europe is stopping it they see
that it's bad and dangerous.
John C Dvorak: Every only this is the thing that we have to we
we bring it up but we don't harp on it. Yeah, we got this is only
in the United States. Why?
Adam Curry: Exactly. And when you hear that can Planned
Parenthood as a part of this Planned Parenthood, you can walk
right in and walk right out as a girl with on testosterone to
start medically transitioning.
John C Dvorak: Meanwhile, I can't walk right in and get some
testosterone to give me a little more energy. Really Welcome to
Planned Parenthood and say, Hey, I wasn't every testosterone.
Give us a couple of WHO CARES my testosterone I can use I'm
getting old
Unknown: team was there in Frankfurt for the vote tonight.
The bill bans gender affirming medical care for minors, gender
affirming
Adam Curry: medical care, okay, that is testosterone that is
hormones that are not meant for your body that is the beginning
of a lifelong as we've learned a life long sentence of medication
that's fighting against your own body. Whether you agree with the
trans issues or not that you are going to be on on medicine
forever. And girls, you know, this testosterone is
destructive. It sterilizes them ultimately, it makes their
vaginal wall so thin that it's destroyed. I mean, it's
horrible. Go watch affirmation generation, and which is made by
Democrats, progressive Democrats, that's what they call
themselves. It's right. They say it. They're the ones that are
saying no, no, no, this is wrong and over 80% D transition
percentage, we have to stop this. But when you hear what's
going on here, the same means that we've talked about in
previous episode that is perpetuating this medical, it's
real it should be it needs to be illegal. You can't do this to
children
Unknown: allows teachers to ignore a student's preferred
pronouns
Adam Curry: very important, right that we just heard. That
is key. That is key in the Mao's Cultural Revolution templates
Unknown: and trans students from using the restroom tied to their
gender identities and that's
Adam Curry: what Obama started remember, but black America went
yeah second term Okay, now is Brock's gonna do it for us and
what did they get gender neutral bathrooms? Yeah,
Unknown: good work eslava nine teams Connor Steph and
photojournalist Elijah McKenzie have the emotional reaction.
Despite the desperate cries
and scared
No
impassioned pleas dare you.
You're gonna kill kids. Blood will be on your hands.
Kentucky GOP lawmakers succeed in getting anti trans
legislation to the governor's desk where it's expected to be
vetoed shame on you.
Thank you for your time, man. I am honest to God so embarrassed,
ashamed. And for the first time in my life. I wish I was not a
Kentucky and
it's hard to put into words just how fast moving this bill was
during a surprise Senate Education In committee vote
Republican Senator Max wise and Representative David Mead
blindsided everyone reviving what was thought to be a dead
Senate Bill 150.
John C Dvorak: There's evidence that this is and that's our job
is to protect children. And that's what we're doing here.
Unknown: The new expanded version includes far reaching
measures, it would have school districts create explicit
bathroom policies forcing trans students to abide by their
biological sex. It also bans gender affirming care for anyone
in Kentucky under the age of 18. Good solid, solid, suppose
surgical procedures and non surgical procedures. We
are attacking a group of vulnerable people as we're
calling late meetings, and sneaking bills in this is not
good government.
The director of Planned Parenthood told me this bill is
the farthest reaching anti trans legislation in the entire
country. Supporters say it backs parental rights
watch the committee or were in the committee, you would have
seen the testimony from certain doctors and certain mental
health professionals. So yes, there were some consultants but
opponents believe it will lead young queer Kentuckians to leave
the state or worse,
please
think about a kid that, you know, think about how you would
feel if a kid you couldn't get access to medical care, and they
came home, and you found them
that the General Assembly will have time to override any
vetoes, lawmakers returned for that in two weeks.
Adam Curry: And that's that's the mean, it's like, you know,
it's would you rather have a live daughter or a dead son or
vice versa. And to say, imagine a child can't get medical care,
it's not medical care. These you know, you can spell therapists
two ways therapist or the rapist. And that's what's going
on this, it's and then even we had some friends over there
younger than we are the, you know, the early 40s. They have
three boys in Austin. They go to a Christian school, I think it's
a private school, and what are they learning? Social emotional
learning skills. So if you want to do you want to check that you
want to make sure you know what's going on with that?
Because at that
John C Dvorak: Christian school, their teaching?
Adam Curry: Yeah, yeah. Exactly. In Austin, you know, it
John C Dvorak: doesn't take much you get because the pitches are
so good. There's a sales pitch involved in all this stuff by
using certain words and terms like anti trans legislation.
Yep. When it could have been rewarded as Pro Child
legislation or something like that
Adam Curry: pro not medicating your kid on all kinds of stuff
that's pro not
John C Dvorak: kill. Yeah. I mean, there's different ways to
do and stuff. And so you get one or two of these activists, these
Maoists. And that's the real thing that has to be done, we
have to somehow get back to the to the mentality where we're
investigating this as a, as a cultural revolution that is
being is being promoted on the American public and they're
going to use the children to do it in a mouse a tongue style and
has to be stopped and luckily didn't go well. I'm just saying
Luckily, the top people running the country are not behind it
necessary. I mean, there's maybe they're in there. They're all
over the place these verses but they have to be routed out.
Adam Curry: And that in your this, the Cultural Revolution
was what? 1958?
John C Dvorak: No, no, it was in the 60s, I believe. Okay, so not
that long ago, a little red book, The Little Red Book,
Adam Curry: not that long ago that this happened and children
killed, beat their teachers up beat their parents up. Okay, so
then this, obviously, this is not the way to do it. This is
from MSNBC representative named Webster Barnaby just yesterday,
Unknown: to all the folks that are in the audience that
consider themselves. Gender Dysphoria says, I don't know
what all that means. I really don't know what all that means.
I'm looking at society today. And it's like I'm watching an X
Men movie. It's like we have mutants living among us on
planet Earth. The Lord rebuke you, Satan. All of your demons,
all of your EMPs who come and parade before us? That's right,
I called you demons and EMPs
that's some crazy stuff right there.
Adam Curry: So that's not the way to do this. But even one of
our own no agenda social. You know, the guy who was going off
on us about something you said about you know, don't teach
second graders sexual homosexuality or sexuality,
whatever it was, and, and what I ultimately got on email because
I'm trying to calm the guy down. I was like, hey, you know, chill
out, you know, we will. No agenda nation is filled with all
kinds of people. gay, straight, lesbian, bisexual, trans Sure,
actual trans people who had real real gender dysphoria and some
who bought into it and are sorry that they went down that path.
We read a note two shows ago, we, we I don't think you and I
actually care what people adult people do with their life, their
body, etc. As long as they donate, let's be honest about
it. But this poor guy has gone off the rails and what do I get?
Ever since you became a Christian, you have your mental
acuity has declined. I mean, this is the conversation that's
going funny, you're gonna destroy stuff, this is not the
way to go is not the way to go.
John C Dvorak: So ever since I'm gonna start using that, oh, you
will feel free. Ever since you became a Christian, you've been
a dick.
Adam Curry: As our opening openings, yes, I'm gonna get to
saving that for an ISO. But seriously, this is. I think
you're right. What we need to keep harping on is why is it
that Finland, Sweden, the Netherlands, France, all the UK,
countries who pioneered transitioning for children
pioneered it? Why are they all stopping? And why are you not
hearing about that? And only in America? Does this continue?
This is the threat, not Lindsey Graham's ICBMs. This is the
threat and it's a real threat. You start, I think there should
be in the analysis transition for a second to coin a phrase.
Companies that use pronouns are part of the problem. It's part
of the problem, the pronouns, your your corporation has been
hoodwinked into a Maoist template. That I mean, I didn't
quite put it all together until I heard that that James, James,
Lindsey get Lindsey guy, because what I always saw was, No, Mom,
no, Dad, it's they and you're right. That's what breaks that
bond between it puts the child above the parent and that's the
beginning of it. So the pronouns aren't literally ground zero and
the real problem and that's how you get someone like the VP of
Bud Light, who was so brainwashed, went to Harvard, by
the way got a coveted internship at General Mills. Me I went
through the Fast Track becomes VP of Bud Light. Interesting, by
the way, how I love it when people send me clips that we
literally played on the on the show. Now the whole world is
like a week ago, or like in Jamaica, we completely
deconstructed Fifi llegaron fueler. Hey man, look at this. A
cbdc coming in October. Yeah, thanks. Thanks for listening. By
the way, I understand. It's hard to listen to every single show.
But if you're gonna
John C Dvorak: listen to the whole show, a lot of people
can't do it. That's true. That's true. We're educating the truck
drivers of America.
Adam Curry: So now this is interesting, what's happening.
And there's a lot of interesting analysis popping up about Dylan
Mulvaney been I am pretty sure that and I actually fear for
this young man's life because this was the role of his
lifetime. You know, he had when COVID head he was already kind
of like a bit player couldn't really get acting jobs created
this character. And then it just got picked up. And then before
he knew it, he was in front of the president. That was the
launching pad. Thank you Jen Psaki for falling for that
bullcrap. Or perhaps doing it purposefully. And that and by
the way, I was right, because there is now Budweiser. Anheuser
Busch is saying, Well, you know, this was not approved by anyone
in a senior position. We are reevaluate, reevaluating our
influencer program. This was not a paid spokesmodel ship, which
was an influential program that I could have participated in
well, with the right hash tag, and I could have maybe gotten a
little bit of money. If I sent enough people to the Budweiser
website. It was not a spokesmodel. But that ship has
sailed. And now we have the blowback and what I find the
most interesting is that the headlines are Anheuser Busch
loses $5 billion. Now, that's not true. But that's the
headline. And I will say, when they say that, that's because
the stock price went down a buck and a half. That's not losing
any that's not less that's losing market cap value.
However, when you look at the chart, you'll see that the
Anheuser Busch stock started to spike up on March 15. I mean, it
just starts to spike and it went from I have it here. Excuse me.
It went from where it was it here 59 91 to a high of 6657
first week of April, and then the stock starts to go down. And
we're now currently at 6434. So it lost a couple of dollars. But
it's not like it was a horrible loss of money is flowing out.
But it doesn't matter because the meme is out there and people
are repeating it because they don't know how it works. That's
kind of a good thing. What's interesting is why did this
stock start to spike on the 15th Because on the 15th, Anheuser
Busch InBev won the unprecedented back to back
creative marketer of the Year Award at the lions it's it's
doubly hilarious. This is the big con Awards, where the
advertising industry all jerks each other off. So this was I
presume this was taken as a big win. Oh my God, these guys know
what they're doing. And now this influencer thing blows up in
their face. Now will will this make a difference? Will other
corporations take note? I think definitely they're going to take
a good look at their influencer campaigns. It's entirely
possible that this takes off like crazy and Bud Light becomes
a massive bestseller. I don't know it's
John C Dvorak: already the number one beard can't get any
better. And it's pushing this look at that.
Adam Curry: So now we have the next one on Deck is Jack
Daniels, who created a campaign for Ru Paul's drag race. That
the only way any any one wins with any of this if you if you
want to go after corporations, and I would say go after them
for using pronouns because you know that's ground zero of the
dangerous stuff. Don't buy their products. That's the That's the
real question. Can America leave its shitty products behind the
stuff that you absolutely don't need at all? You don't need to
buy it. You don't need to have it. You don't need to drink it.
You don't need to eat it. Can we do that? I doubt it.
John C Dvorak: I think you can if enough people decide to but
you know I don't know how many people that drink Bud Light are
even aware of Dylan Mulvaney or any of this?
Adam Curry: Well, the doom of anything. I think that that has
legs drown that
John C Dvorak: you may or may not all I know is that people
that drink Bud Light. Most of them don't, but I'd say are
unaware. And if you did, and you were aware, it's not that hard
to switch. I mean, I've gotten into arguments over the decades
about beer flavors, and you will have people say I could spot a
Coors in a pile of Bud you know, I don't know if you can. Yeah,
these beers all have a similar quality Bud Light is I mean
drinking drink Budweiser, you can drink Miller Lite, you can
drink Michelob light you mean whatever. Or have a you know
something a little more substantial, you know, some real
beer and IPA or something from a decent Brewer, small Brewer. But
I you know, Nikes not the best shoe out there. No, or sports
bra for all I know.
Adam Curry: Well, when you if maybe if you wear a Nike sports
bra, you will get some testosterone from from Planned
Parenthood
John C Dvorak: for me? I don't think so. And it was the other
brands that are risking it. I mean, while Daniels is taking a
chance here, it's just dumb.
Adam Curry: Well, so if you look at the AMA, the Association for
national advertisers, they are they are pushing this gem score.
A gem is the first data driven mythology for identifying gender
bias in media. And this is mainly about women. But of
course, what's a woman right? We don't know anymore. And they
claim ads with positive gems score. So this is very much like
an ESG score. It's a gem score, drives purchase intent by 42%
amongst total and all female customers, higher gym scores
equally 56% increase increase in bank brand reputation and
positive ROI tied to high gym scores increased sales by two to
5x.
John C Dvorak: Well give us an example of a high gem score ad
Do they have any in there?
Adam Curry: They do have. Let's see. see her in action. Let's
see. I wish I had that because they don't solicit information.
They don't have they don't seem to have these. Okay? So they say
Citibank and Sheryl Crow are lifting up women in the music
industry. They have all these campaigns but they don't
actually show the pure results. But if you look at and this is
tied to be
John C Dvorak: bold crap, well, it's saying this stuff is true
doesn't mean it's true if you don't have literal examples. I
mean, this reminds me of that I have a clip about musk, you
know, going after the BBC about Yeah, exactly, exactly. I heard
that commentary I we can play later. But well here without
buying their thesis what what publication is this? Well, I
Adam Curry: have the ads. But I don't know what they don't give
you is the actual results. So here's Unilever, Unilever. Let
me see. Is that a good one? Oh, Ford. Let's see Ford built Ford
proud. This is, this is what I'm seeing here. There's always
these butterflies. This is a black woman in a racing car with
a racing helmet. That as soon as I put my foot
Unknown: on the throttle, all of the nervousness just goes away.
A lot of people say listen, drivers are Daredevil. She's
Adam Curry: a stunt driver. De Bryant. i Well, they're showing
a badass woman who cares what color she who cares? It's a
woman. I don't think that's a great example house for doing by
the way. They've not good. Do they have two to 5x sales?
John C Dvorak: Today? I can tell. So,
Adam Curry: but all the women who are mainly women, and this
is trying to this is tied to global citizen.
John C Dvorak: Well, if they're gonna go with women, you know,
you have to assume that if they're going to push the score,
and then women are they'll just trans have to be brought in
eventually. Exactly.
Adam Curry: That's what's going on here. That's what's going on.
And I'm not so sure that they're and they have examples of that.
And by the way, if you look at the be who we are, you know who
we are, who we are, the leadership. They've got the
coach Fiona Carter, Chief Marketing Officer, Goldman
Sachs, Mark Pritchard, Chief Brand Officer, Procter and
Gamble, Patty Kerr, co founder Executive Advisory
John C Dvorak: amid these the people that are pushing the gym
score. Yeah, they're all women pushing to all this average
stuff, more stuff for us. Okay, well, now we know it's just a
fraud and
Adam Curry: every single one of these pictures, glamour shots,
because that's what real women look like. Sure, you got the the
nice fuzzy background, the professional makeup, the good
lighting, these are not selfies. It's not what real women look
like in real life. And that's also just
John C Dvorak: set guard putting you and me putting some sort of
Operation together and then promote podcasting?
Adam Curry: Well, yes. And I think we should consider that
because you know, after this episode, we are totally the
transphobic old dudes. To DS the top.
John C Dvorak: We're not transphobic we're just bringing
it we're anti communist,
Adam Curry: correct anti war anti communist. Now let's let's
add race. Can
John C Dvorak: that be bad?
Adam Curry: Let's add racist to it. I have two clips that are
that should be mentioned because our poor black brothers and
sisters have been pushed to the background. You don't count
anymore. It's all trends. Now. Here's Susan Rice. Speaking at
Al Sharpton National Action Network, listen carefully.
Unknown: In the last 20 years, the US had a GDP shortfall of
$16 trillion due to discrimination against black
Americans. If we closed our racial gaps, we could add
another $5 trillion to GDP over just the next five years. And in
case you're wondering, that's not my math. That's according to
Citibank. Yeah.
Adam Curry: $16 trillion because of racism.
John C Dvorak: Oh, brother, I want to see the Citibank report.
Adam Curry: I didn't look it up. I figured it wasn't worth
looking at.
John C Dvorak: It's probably not but I still like to see it.
Adam Curry: Now. The second short, short short clips. We all
saw the the near insurrection at the Tennessee State House and
the of course complete racist rejection of only the black two
dudes and not the white lady.
John C Dvorak: Although everyone voted to get here out to a set
one person that's the difference.
Adam Curry: Now who was that?
John C Dvorak: While one Republican had said well, since
she didn't do some one thing, he wasn't going to give it the vote
to kick her out. So she got stayed in. But it was It wasn't
like it was a unanimous by any means. But that was a good bit.
If I if I was on the other side of the fence, I'd be playing it
the same way.
Adam Curry: So Justin J. Pearson is one of the two Tennessee
lawmakers who was rejected and thrown right out of of his
position. Here's a video when he was running for that. And he was
only in there for a week. Here's a video of when he was running
for that seat Dustin
Unknown: J. Pearson. And I'm running for president of PSG.
There are a few reasons that we're running this campaign
this, you know, hold
John C Dvorak: on a second. I know where he got this to. He
this is when he was a student in college. Yes. Correct. Running
for the student government. Correct. Not for the position
that he got kicked out.
Adam Curry: I'm sorry, I didn't mean to sound confused and
correct. This is just him a while ago,
John C Dvorak: this is him a lot. Yeah, not too long ago, his
normal self or at least the way he portrayed himself. This is
actually quite, I wish I had made these clips. But
Unknown: with representation, how can we represent all voices
in a conversation? I wanted to do this by partnering with
organizations from the booty Democrats, to the Boone
Republicans, I want to bring together different voices,
dissenting voices, voices that maybe more liberal or more
conservative, in order that we can reach a point of sort of the
radical middle.
Adam Curry: And then at the Tennessee State House, notice
the code switch
Unknown: seemed like the NRA and gun lobbyists might win. But
that was good news for us. I don't know how long this
Saturday in the state of Tennessee might last. But all we
have good news, folks. We've gotten good news that Sunday
always comes.
John C Dvorak: He went through. He's also got to hear a wind
from just a normal looking cut to a big afro with sunglasses.
He looks like you know, he looks like Stokely Carmichael. If
anyone can remember that.
Adam Curry: Whoa, reference shoots over everyone's head.
Nice.
John C Dvorak: Good nice. Not everyone. There's always three
or four guests that I disagree with Adam, I know exactly what
you were talking about when it says
Adam Curry: Michael Of course, of course. Anyway, it's it's sad
is sad to see this happening. And um, and you, you and I know
parents who are convinced that their child is trans and how
radical they are about it. And and I've read the books I've
read the books it's not about your kid the books about how do
you handle society? How do you handle your your Republican
neighbors? How do you handle this? How do you how do you
handle the gays who don't like it? The gays? Yeah, like
John C Dvorak: gays are dual gays, you have to remember we
got to remember this is trans split. And most gay men and gay
women are all cisgendered. And as you recall that little tick
tock clip I played earlier, this guy has declared war on sis. On
sis,
Adam Curry: we're the problem because God is trans. I mean, we
heard it here first.
John C Dvorak: God is trans and trans is God. There's your
sacrilegious issues.
Adam Curry: So just to simplify it. We really need to stop the
pronouns. And that's a hard one because that's so embedded. It's
so embedded and it's it's become like this cultural lien recently
embedded. Yeah, but it is really deeply embedded. It's a core.
It's a quite, I
John C Dvorak: would say Jay, Jay and Brennan here. And we are
all into the pronouns Alina liaises, they stay in them and
Himanshi JC and Jessie don't don't bring it up. If it
happens, it shows up. So I can't say for sure. Jessie. Maybe
maybe not. But it's pretty deeply ingrained. Yeah, but the
closer you are to, to the Z Generation Z to your Zilla
escalas millennial if you're close as a millennial
Adam Curry: oh there you go. Yeah, I wish they had they
talked a little bit of history and that one clip that one clip
by James Lindsay to me says it all good clip Yeah. I should
have gotten clipped the day really
John C Dvorak: wasn't I would have to give it a couple of days
Joe Rogan
Adam Curry: Come on Come on, man. That's not fair. All right.
Let's see. Oh, well
John C Dvorak: they see there's anything else on this topic?
Adam Curry: Oh, you have whoa is there more I'm I'm depleted.
John C Dvorak: Hazel I got that. Laura Lopez.
Adam Curry: I don't think so.
John C Dvorak: Yeah, it doesn't look like you got anything else.
Now.
Adam Curry: I will take a minor when a tiny teeny one. As Elon
Musk has officially changed the corporate Twitter into x. It's
common.
John C Dvorak: And I do have three Elon Musk clips.
Adam Curry: I know I'm gonna let him this is, you don't think I'm
leading you right into it? I don't know. And I'm pretty sure.
And also today Twitter taps eToro to let users trade in
stocks and crypto. So now he's bringing he's bringing the
financial stuff. Yeah. And I already I am pretty sure that
come July, he will most likely be one of the launch partners
for fed now, which makes a lot of sense. Now he does have to be
a bank or have a banking license. But that's not a
problem because he can rent that from from any number of people.
How do
John C Dvorak: I get by little bank, it's no big deal, no
problem at all got the money to buy Bank of America. And he
Adam Curry: and he has registered to be a money changer
to to do conversion. So that would be part of it will be the
crypto and other things. And then I think that, you know,
he's positioning himself as you did a really good job with this.
This BBC thing really, really did a good job. I
John C Dvorak: never know what if you watch the BBC. Oh, do
tell. Well, the BBC cut out they've cut this thing down. 10
ways to do that. Do you have the original? I took some clips from
the original bucks. But a couple of things that I thought were
interesting. There's the best one, of course is the which the
BBC refused to play pretty much is where it goes after the game
on hate speech. A guy says to set the stage tell us what's
going on. Because there's an interview with this guy, James
Clayton, or I can't remember his name, but he's the tech guy from
tech guy. He's the tech guy. And he doesn't know anything about
musk. And the joke as if you read the analysis of a lot of
this is that he had all these canned questions he had on his
little phone that he read off the phone. That's pretty cool.
And then he ran out of questions, and somebody says, he
ran out of questions and having kind of cut it short, even
though we went on for about 15 minutes or more. He says, but
you got the world's richest guy sitting right in front of you.
Have you run out of material that asked him? Are you kidding
me? Ask him for his stock tip. I mean, holy mackerel. How dumb
are you?
Adam Curry: Well, he is the tech reporter because he has a phone.
John C Dvorak: He has a felony. So this is the best. This is the
best part. And this is I missed the beginning of it. But this is
the part where he, him and musk go after each other over? Well,
I understand that Twitter's got a lot more hate speech, I
noticed that. So must push his back on this. And he again, he
beats the guy up. Here we go. I
Unknown: said you've seen more hateful content. But you can't
name a single example not even
one. I'm not sure I've used that feed for the last three or four
weeks. And
how did you see the hateful content content?
Because I've been I've been using, I've been using Twitter
since you've taken over for the last six months, because
then you must have at some point seen that you for your hateful
content. I'm asking for one example. Right? If you can't
give us an all I'm saying I say so that you don't know what
you're talking about, really, because you connect a single
example of hateful content or even one tweet, and yet you're
claimed to the hateful content was high? Well,
that's a false No. When I could just lie it what No, no, what I
claim was there are many organizations that say that that
kind of information is on the rise now whether whether it has
I mean, right? Like the the Strategic Dialogue is this,
you're in the EU in the UK, they will say that. So
people will say all sorts of nonsense. I'm literally asking
you for a single example. And you can name one, right? Yeah,
Adam Curry: I call this a big win for Elon. And wow, what an
easy one. And how dumb is that? I mean, again, these are the
things that go viral these days. You know, so you have been
Anheuser Busch lost, like $6 billion, just fall fill filled
out a thorough that pocket. Wow, that's $6 million. And now, now,
this and how many? How many times? Have you ever been
interviewed by someone who was this dumb? I mean, it happens
all the time, particularly from the military all the time. And
they just have a list of questions. And they don't really
know what they're talking about. And this is the presumptuous
stuff now, and this, by the way, could have easily have been Kara
Swisher she could have easily said, Well, you know, hate
speech is on the rise. And that's why she doesn't get an
interview with it. But I would love to hear her interview with
Elon Musk. Because you're
John C Dvorak: right, because she Yeah, she was a part PBE
killer. So there's just a couple of little things that I thought
were interesting. This was the banning Twitter this little
shorty.
Unknown: Tick tock has also been in the news. There's talk of,
perhaps by the administration wanting to potentially ban it or
or are forced to sail. What's your view of the situation?
I just don't know enough about what's going on there. I can't
say I have a strong opinion on tick tock.
So you'd have an opinion on on whether it should be banned or
not.
You know, I'm generally against banning things. So I probably
not being fair. I mean, it would, it would help Twitter I
suppose if Tik Tok was banned, because then people would spend
more time on Twitter unless I'm on Tik Tok. But even though that
would be that even if we would help Twitter, I would be
generally against banning of things.
Adam Curry: Oh, well, you're you're pro China.
John C Dvorak: Well, I think that he had that was the right
answer. So he did. Okay.
Adam Curry: Let me just let me just say the accusation is, he
is pro China, because China is the big shareholder and Tesla.
Tesla is important. China is important to Tesla. Yeah, yeah.
You can say that. Yeah. I'm just saying that's what people say,
John C Dvorak: Okay, it's right, reasonable. What do they say
about this? And this was, I think, or is this kind of like,
and like to know more about this, the dog CEO?
Unknown: You said that you were going to stand down? Chief
Executive, right. Okay.
I have not the CEO of Twitter, my dog is the CEO. Well, okay.
What
John C Dvorak: was she's already stepped down his dog is the CEO
of Twitter. Do we know this?
Adam Curry: Well, that would make sense. If, if the Twitter
is now x Corp, then the Twitter Corp can can easily have his dog
as CEO. Let me see. You long as
John C Dvorak: you said, you see again. Does the dog have a did
use a paw and checks? The pod error as a signature for a
check? I don't
Adam Curry: know. But I do see this. And I'm saying See,
because I actually see it. I do see this. And I do believe I do
believe and I do see this headline everywhere. Hmm. Well,
I
John C Dvorak: can listen, get more play. I didn't know this
until I listened to this interview. What shows the dog
was the CEO of Twitter?
Adam Curry: I think it's probably true. Because Twitter
has been moved over to x and Twitter is just an empty shell
likely, possibly. And that is them. So that dog is the CEO of
Twitter because it's just a piece of paper. It's not a
corporation anymore, that
John C Dvorak: so there's another little tidbit that's
floating around. It's a local story. Musk wanted to take the W
off of the sign it says Twitter so it says Twitter. Yes.
Adam Curry: Another part of moving into X Corp. He doesn't
care about the brand. Twitter is going
John C Dvorak: back so they wouldn't let him do that because
there's some I don't know why some zoning thing. So he painted
the W out with white paint. So it just says kind of Twitter or
Twitter. And I was listening to the story it we have this late,
the show had KPI X woman this new woman came out from LA named
Sarah Dawn she who's very attractive, but kind of cross
eyed woman who's got to be six foot tall. And she wouldn't say
it she wouldn't say titter is not no, not about tits. Oh, no.
She wouldn't say titter. She just was kind of skirted the
issue as it were. But But Twitter's like you know, hey, it
means giggling.
Adam Curry: Well, if Twitter Inc, no longer exists as of
April 4, then yes, he can say my dog is the CEO of Twitter
because Twitter does not exist. I know if he has a dog. He
probably doesn't.
John C Dvorak: Yeah, now you're talking. He doesn't have a dog.
Why do we assume he has a dog? We've never seen this dog. He
never talked about his dog. Most people have dogs. They post a
picture of the dog once in a while.
Adam Curry: Is that Doge dog? Oh, no. It's not true.
People are so gullible and so stupid anything to fill up the
airwaves. Anything at all? I did want to mention I'm very
disappointed that we had this whole big to do about ending the
COVID Emergency by a vote by a veto proof vote, which forced
President Biden to terminate the national COVID emergency and
what does the TSA do? They come out with an emergency amendment
saying no, you know be a steal can't come into the United
States as a non national non green hold card holder. Not am
citizen without full COVID vaccinations until May 11. What
is that all about? And why aren't arcane now?
John C Dvorak: Now you you have now made it clear that there's
something else going on? Yes. And I only because this is a
this is way over the top.
Adam Curry: And does TSA really have this kind of power
John C Dvorak: over the guest. So this would administrative
status like we have no idea how much power these administrative
units
Adam Curry: well the way that the way they're using? Well they
do I'll answer the question the way they use their power. It's
not like you come to America and customs says show me your COVID
papers. Know what the way they do it. They're the
Transportation Security Administration not Department of
Homeland Security not border. What does it see as CPB Border
Patrol I'm missing something in our customs Customs and Border
Patrol? Thank you know, what they have control over is
transportation. So the way this order works is they say no
airline may allow a passenger to board without providing proof of
COVID vaccination. So it has nothing to do with our with our
border policy. That is a it is an agency run amok.
John C Dvorak: And I would like it's all done at the other end.
Adam Curry: Yes. Before you get you, you. So they won't give you
the airline has to check you which of course, you know, I'm
sure some airlines like you got to COVID thing. Okay, good.
You're good to go. There's no way to check if you had enough,
you know, what is enough how many vaccinations or what is
fully vaccinated. All of that is so subjective at this point. But
the fact that this is just accepted and the same lawmakers
who Oh, whoa, we're going to end this haven't done that is pretty
lame. And yes, no, I think it's suspicious. It is and maybe it's
for this ABC Good Morning America.
Unknown: The CDC is advising health officials in the US to be
on the lookout for cases of an Ebola like disease called merb
Marburg, from siblings to virus
harbors. Listen, I think the last three years of the pandemic
has really taught us how important it is to keep our eye
on what's happening in other parts of the world. This alert
now from the CDC World Health Organization is already talking
about it about
Adam Curry: the world BLESS YOU THE WORLD Hort, the World Health
Organization already talking about it. Who cares.
Unknown: This alert now from the CDC World Health Organization,
is there an additional
Adam Curry: she says from the CDC World Health Organization
like it's one thing now, we're gonna be get why No, but we got
to identify happening
Unknown: in other parts of the world. This alert now from the
CDC World Health Organization is already talking about it about a
virus not new. It was first identified in 1967, but it's
called Marburg virus. It is rare, it's very similar to Ebola
in terms of the fact that it spread through bodily fluids or
blood of an infected and actively sick person symptoms,
fever, headache, fatigue, muscle and joint pain, nausea,
vomiting, diarrhea and internal bleeding in severe cases, and it
has a very high fatality rate averages 50%. That's the average
it could be as high as 80. We have to underscore right now
there are no known cases in the United States, but India and
Equatorial Guinea, the east and western coast of Central Africa
and again, those countries have very active borders. So again,
it's important for us to keep an eye on what's happening in other
parts of the world.
Adam Curry: I am very happy with this development because we have
a lot of jingles.
We got so many Ebola jingles so we can do more.
John C Dvorak: Marburg is slightly different. Well, the
correct I'm sure it was made in the same lab. Let's go. Let's
Adam Curry: go to the master. Let's go to the man who we trust
implicitly because you cannot shoot him down Dr. Peter
McCullough. And this is from his own notes. He does little like
kind of like a it's more like he's recording in his
dictaphone.
John C Dvorak: He could even call it bringing it up to his
mouth and maybe whispering notes. You
Adam Curry: can call it a podcast. Here he is giving a
little intro to Marburg
Unknown: actor Anthony Fauci stated with certainty that there
will be another infectious disease crisis. Inevitably,
there'll be another pandemic, whether it's this next year or
decades from now. Unquote. In this interview with CNN, Jim
Acosta, Fauci also doubled down on public masking is a useful
strategy and his theory that SARS cov two arose from nature
both of which are known to be completely disproven in
published studies in by our own US government agencies. I found
his comments about another crisis worse worth taking up for
the Philo virus Marburg.
Adam Curry: There you go. So he's onto the ball crap and what
Other symptoms.
Unknown: There have been sporadic outbreaks of Marburg
disease in Sub Saharan Africa for 50 years. Here's the CDCs
description of the syndrome quote after incubation, a period
of two to 21 days symptom onset is sudden and marked by fever,
chills, headache and myalgia. Around the fifth day after onset
of symptoms of maculopapular rash, most prominent in the
trunk, chest, back and stomach may occur. nausea vomiting,
chest pain, or sore throat, abdominal pain and diarrhea may
be symptoms may become increasingly severe and can
include jaundice, inflammation of the pancreas, severe weight
loss, delirium, shock, liver failure, massive hemorrhaging,
and multi organ dysfunction.
Adam Curry: All right, sounds groovy sounds sounds like sounds
like a good one to me. And what can we do about it? Well, would
you believe it or
Unknown: not mentioned is hydroxychloroquine which other
papers have proposed has been a useful first empirical agent
against Philo virus and other viruses in this genus species
among the immediately available products in the world to
consider that are known to be safe hydroxychloroquine and
favipiravir a Japanese antiviral for influenza and COVID 19 would
be among the first empirically deploy
John C Dvorak: the one the Japanese one, go back it back.
Unknown: Among the immediately available products in the world
to consider that are known to be safe hydroxychloroquine and
favipiravir ajet
Adam Curry: favipiravir. Yeah, never heard of it. No, but we
want some Japanese antiviral,
Unknown: yes, influenza and COVID-19 would be among the
first empirically deployed countermeasures five
Adam Curry: Vera mir. fav I have a pyramid here. F IV FAVIPIRAV.
Ir. Father, Father, Pierre Amir. Found it you got it?
John C Dvorak: No, I didn't found it.
Adam Curry: Oh, I'll keep looking. We need it. But you
know, there are there are there's competition. There's
competition out there. You know, this is not does not come from
the CDC, the World Health Organization does come from the
world Indian organizational network.
Unknown: So will age three and eight be China's next big
export. After the deadly Wuhan virus. Is this bird flu going to
be Beijing's next gift to the world?
Adam Curry: Eight three and eight. Sounds like oh callsign.
Hotel three Nov. Eight.
John C Dvorak: Great callsign.
Adam Curry: So who knows? Who knows? Who knows how that's all
gonna go down? Who knows? Crazy? Sure, just crazy. All right. I
think we can agree we do want I'd like to do one more sequence
of stories here if you got something good. Well,
John C Dvorak: I do have my Hong Kong update which had been
trying to play for a while you do do you? I do. I do. I do.
Let's do it. Let's start with Hong Kong update and T D UK.
Unknown: This is in D. D,
since Beijing imposed a national security law in Hong Kong.
people's freedoms there have been increasingly eroded. Just
recently, two men were arrested for owning books about sheep
trying to hold back walls, which authorities say are seditious
more than 150,000 Hong Kongers have applied for a special visa
over the last two years to start new lives in the UK. Earlier I
was joined by the director of the UK and EU Public Affairs for
the committee for freedom in Hong Kong Foundation, Mark saba.
Hi, Mark, it's great to speak to you. And people in Hong Kong
have increasingly had their freedoms taken away. Can you
tell me what it's like for Hong Kong is there right now.
So since the introduction of the National Security Law, there's
been a real crackdown on civil society. Media has free media
has collapsed. state run media is the norm and any other media
that's been allowed to stay open is because they're following CCP
guidelines or authority guidelines what they can and
can't say. So essentially, they've lost their their free
status. In terms of civil society, Hong Kong had a very
vibrant sector, which would light candles on Tiananmen
Square memorials in Victoria Park, there was a very healthy
attitude towards peaceful protests and so on. And all of
us been crushed, using the National Security Law as a
pretext calling people subversive or sedition or
whatever else it is. And it's gotten to the point now where
two people arrested this week for owning a book that had been
banned, not distributing it or selling it, but just for owning
a book that they consider the authorities considered to be
subversive. Incidentally, it was a book written by speech
therapists about sheep and wolves, and the authorities took
that as a sleight against the CCP being the wolves. Under
people being the sheep, which is ridiculous, but that's how
sensitive they become to any form of criticism or perceived
criticism. So you can probably go about your daily life. You
know, go to your job, go to the supermarket, go to the beach
without much problem. But it's an entry step outside those
lines, those defined lines that you see very strictly how
everything has changed. No, you
Adam Curry: don't hear anything about this. I mean, anything
zero? There's no we'd
John C Dvorak: like to bless the Chinese or did Lindsey Graham
goes on about one thing or another, but this whole Hong
Kong story has been completely suppressed by the mainstream?
Why? Yeah, I mean, good story.
Adam Curry: Is there any? I mean, is there any commerce
going on with Hong Kong anymore? Can you still go there? And
John C Dvorak: I'm pretty sure it's pretty much the same
except, you know, the Chinese are over looking everything.
They're keeping a watchful eye out his part, too.
Unknown: And a lot of people have now escaped to the UK. Hong
Kong has, I think, more than 150,000 people applied for these
b&o visa schemes to live and work here, but some of them have
faced assault even here in the UK, haven't they?
Yeah, that's right. So there's been about 130 140, who
successfully received their b&o status. There's many 1000s of
others who've applied as asylum seekers. But it hasn't always
been smooth sailing. Just as with anyone who moves to foreign
country, there are difficulties with language, getting used to
society finding health care, education, jobs training,
although most Hong Kong has have have some bilingual capability,
not everyone who comes does and like every other group of people
who move here they need assistance with with that
integration. But the other part is, is the slightly more
sinister part where a lot of Hong Kongers have found that
they have actually come under attack of some sort. Some have
reported being followed. Many when they gather have had
stories of harrassment in bars, restaurants cafes, being
followed as a fairly common one being photographed or videoed.
There was a few who reported that as a small demonstration in
Edinburgh, a group of men in balaclava started filming
everyone and of course, that disperse the crowds in 10
seconds. And there is the odd story of violence and actual
physical assault. There was a young girl in Edinburgh who told
us a story how she was sitting in a cafe with some friends of
hers from Hong Kong, and a group of men walked in and said, Are
you from Hong Kong? And when they said yes, they took all
their coffees and threw them on them. And of course, many of the
girls got scolded and burned. There are some incidents of
people having been actually beaten on the streets. There are
stories even in Chinatown in London with people being shouted
down or followed or Harris as they walk down the road. So
unfortunately, there is a slightly sinister side which the
British government hasn't fully got to grips with.
Adam Curry: Is Hong Kong so unimportant that we don't have
to go and protect it. LINDSEY GRAHAM
John C Dvorak: Well, we get was given up by the British was it
was a crown colony, right. And Margaret Thatcher is the one to
sign the signed off on giving it back to Chinese. Right. Right.
But that's an a protector. I know
Adam Curry: that we had we had finance, finance, finance, and
we just screw up they don't need the finance and screw these
people.
John C Dvorak: They move most of that to Shanghai. Okay, all
right. Good to go. But it this idea of this Chinese they do it
here too. But they set up their own police forces, harassed and
nationals.
Adam Curry: Yeah. Is that still a thing? I
John C Dvorak: remember it'd be I think so. Huh? Just play
update three.
Unknown: In fact, the most obvious sign that they haven't
got to grips with was the beating of Bob chan in
Manchester. You may recall that there was a protest outside the
Consul General at the time of the CCP National Congress when
Xi Jinping became leader for life. And the Consul General
there physically participated in the assault of a Hong Kong who
was protesting he was dragged into the grounds. He had his
hair pulled, he was kicked, he was punched. And it was only
thanks to a policeman who broke protocol by stepping into the
grounds of the concert and pulled him out that he was fine.
But the shocking thing wasn't even the beating. The shocking
thing was the appalling reaction by the British government. They
didn't expel the diplomats even though they were caught on
camera, even though the Consul General went on TV the next day
to admit what he did. And he did it with pride because it was in
the interest of defending China. The government did nothing to to
punish those people. And if you're not punishing diplomats
for massively breaking protocol, they should have been expelled
the next day. What sign are you sending to other authoritarian
regime diplomats? But worse than that, what you're telling Hong
Kong is, is that you've come here to be safe, but you're not.
Adam Curry: Hmm. Well,
John C Dvorak: yeah, we actually saw that that Did played that
video that was played up a little bit in the media?
Adam Curry: And I kind of remember that. But what kind of
mean, how does how can this not be? How can action not be
undertaken? If this is also an if and I think you may be right
this is happening in America with a with a police force. What
is who's on the take here? Who true who's allowing this to
happen?
John C Dvorak: That's a good question. Well, it has to do
with the diplomatic service. So State Department,
Adam Curry: I blame Feinstein. State Department state. Yeah,
well, okay. Well,
John C Dvorak: Lincoln, your buddy,
Adam Curry: careful who you call my buddy.
John C Dvorak: All right, here's the end of it.
Unknown: And so it had a very negative effect on the mentality
of many Hong Kongers who, who suddenly realize that they're on
their own, even though they're here that the government is not
here to protect them. On one hand, they've been given a visa
to get out of Hong Kong. On the other hand, when they're here,
more or less, they're on their own. I spoke to a young Hong
Kong students in Edinburgh who said to me, she had been
followed and harassed and bullied multiple times in
Edinburgh. And she said to me, I left Hong Kong to run away from
China. And now I'm in the UK China's still chasing me. The
implication being that they're always there. It's unrelenting
and it's it's really intimidating. intimidating.
Adam Curry: Wow, man, none of this is good.
John C Dvorak: China. Good. No,
Adam Curry: maybe Lindsey Graham's got a point there. A
nuclear tip
John C Dvorak: the poison the top of his head.
Adam Curry: With that, I'd like to thank you for your courage to
in the morning tea with the man who put two seats in the
electrical equity ladies and gentlemen, please say hello to
my friend on the other end, Mr. John C. Guevara.
John C Dvorak: In the morning, you must read Adam curry also in
the morning all ships seamlessly refuge near such games and
nights out there
Adam Curry: in the morning to all the trolls in the troll room
who had been taken care of everything. I love seeing the
trolls giving me all kinds of info feeding back kicking out
douchebags with 1939 is the troll count for today. But we
are late. We are late with our count because the
John C Dvorak: donation segment I think will be good to
Thursday. So that's not a bad number.
Adam Curry: So it's a one one donation segment show everybody
that should tell you something right there. Of course came up
short. Of course we appreciate the trolls. And they are in
there through troll room.io or many of them have gotten a clue
and if ditch their legacy podcast app, and have gotten a
new one from podcast apps.com we recognize there's a new one that
came on the scene podcast guru now also doing the live shows,
along with POD verse and podcast addict and curio caster. And the
way it works is you import all of your favorite podcast right
into the new app, ditch Apple ditch Spotify, you know, they
don't care if they don't care about you. These developers will
care about you though. They'll fix things, they'll make
improvements for you if you if you ask them to nicely. And then
you can get alert and then oh, that's time it's the bad signal
you tap in there's a live show right where you get the podcast
normally, and you can hear the live stream and you have the
chat all in one. And that is a good way to do it. And also all
of your podcasts will stay nothing will get d platformed.
What a concept. What a concept. You can also follow Adam and
John on podcast index notes no agenda social.com Adam at no
agenda social.com Jhansi Dvorak and no agenda social.com We have
limited spots available but you can follow us from any other
Mastodon and even if you get kicked off you can still spam us
from any other Mastodon that's how it works. It's a good
system. No agenda social.com And of course we love thanking our
artists who are always working very hard during the live show
to create a great piece of art as part of our value for value
model. You can give us time talent treasure, we accept it
all we love it all we need it all. And it was it was hard to
find something that really worked for us on the last show
because we'd like to do kind of a traditional a traditional
piece of art was certain holidays like the Easter holiday
that was episode 1545 which was titled take stapler abuse and
networks came closest with the no agenda chick egg with the no
agenda egg as the as the oh and a miss Budweiser. Although you
know it kind of fit a little bit it wasn't it was bitch that
John C Dvorak: didn't say Miss Bud Light.
Adam Curry: I did. I did networks did that. We appreciate
that networks did it and but we looked at other stuff and just
it really wasn't there. And I can't explain the main beam but
the
John C Dvorak: one we both liked. Yes, was by Scarem venga
go back. But it was so sacrilegious that we decided
that
Adam Curry: was was a bit much we did get a chuckle out of it.
Other stuff that I mean, there was just there was some other
things you actually liked sir Polka tours. Art although it had
dates on it and everything and Listen Live, which was not
exactly what we were looking for. I don't know. Nothing just
hate us what we did look at fluff comet. Why did we choose
the fluff comet?
John C Dvorak: Which one was that? Oh, I
Adam Curry: remember why the flip fluff comment is the Easter
egg. The Easter Bunny, Easter Bunny stealing the Easter egg.
The easter egg had no agenda on it. But the mistake of that art
was carried to vorak was like little teeny letters in the
background on the hill. Not not readable. That's not how it
works. I mean, look at the predecessors, you need to have
our names big in lights or at least legible. So we chose
networks. Art, I mean, it doesn't matter. I by the way
also did like his his little Devorah back also had an egg for
the Oh, with little heart in it. If there was some nice nice
elements to it the Miss Budweiser part. For me, it
should have been Miss Bud Light or even if you didn't use it.
who probably would have been good without that? Maybe. What
do you think?
John C Dvorak: I liked him to ban right? It made no sense. No,
Adam Curry: not really. It didn't. And what was the bra
you'd like to bra?
John C Dvorak: Was it was their bra? No, no, that was when I
found for the newsletter. Oh, right. Right. Right. Okay, curry
Devorah because two boobs literally there you go.
Adam Curry: Thank you so much two networks of course and all
of the artists who diligently tried to become the the artwork
could try to create the artwork that we use for the show. It
does help it does get us gets the show notice. I'm certainly
gets the show notice on social media, people will go Oh, hold
on a second, what is this and click through and they find a
fabulous show or that just reminded that we have such a
great show. There's a lot of things going on in your life,
you need to be reminded sometimes to listen to the show.
There's a lot of podcasts you listen to. So we appreciate it.
We thank you very very much. Now to thank the producers,
executive producers and Associate Executive producers
who brought us the treasure for episode 1546. And we kick it off
with Craig Thurman from Westfield, Indiana with $1,000
which we always love. Longtime Boehner first time donor instant
like me, Baby All right, how about that? I'm gonna wait to go
there. Greg. been listening since episode one. Wow. And I'm
ashamed to say this is my first donation please do do. You spend
deed deuced. Now, something about value for value here. So
we cannot determine the value of the show to you. That's just
been the value can own. We don't like Silicon Valley to say this
song is worth 99 cents, you may think it's worth 99 cents, you
may think it's worth $99 or nothing, but they force you down
that road. We just say whatever it's worth to you. So Craig's or
Craig, who soon will be knighted sir Craig of the Darkmoon. He
assigns about 75 cents to each show. And that may be the max
that he can afford. So he's doing it this late in the game,
which you know, at least he's helping us out now and we
appreciate it. My daughter recently graduated from Purdue
University. Hashtag boiler up. Majoring in professional flight
and is currently a flight instructor building hours to
eventually go to the major airlines your analysis of all
things flight related is always a special interest to me. You're
welcome. Please make me sir Craig of the Dark Moon. I'm from
Westfield, Indiana and hope to attend the meetup this weekend
but could not attend as a douchebag hence the donation
hookers and blow with the round table for me. Thanks. We always
have those throwing some karma of Fauci Wiese and a Sharpton of
your choice. DSP.
Unknown: You've got karma.
John C Dvorak: Rachel Fraser comes in next from St.
clairsville, Ohio. Switcheroo in the Morning John and I'm just
donation on behalf of my incredible incredible and
adoring husband Sean Fraser. This man grew up with
unthinkable traumas and adversity. However, through
God's grace and a few miracles now extremely successful
businessman, wonderful husband and father all right, who were
highschool sweethearts, and had been married for 29 years. I'm
very proud to report that his journey and building our very
successful small business also began with your journey and the
no agenda show. spent many ours on the road building his company
from the ground up beginning in 2008. And you two are both very
with him and every step of the way. Nice. He has listened to
every episode since 2008. Oh, thank you for being educators of
the truth. We appreciate your efforts more than you know.
Please wish Shona Happy birthday is on the list, and a proper D
douching. You've been D deuced. Please accept this donation for
16 in honor of his birthday for 16 Thank you, Rachel is
foreigner. $16
Adam Curry: Nice. Oh, nice. Not a wonderful woman you are.
Congrats Shawn. Cam Warren is in Cordova, Illinois 333 33. We
love that as the executive producer forever titled
donation. Great show guys. My exit strategy starts this
Friday. So I thought I'd get my last payment in from my
knighthood before that. I'd like to be known as Sir cam of
Cordova or Cordova. What do you think it is Cordova. Cordova,
Cordova, mutton and Mead seems like a pretty good combo so I'll
stick with that no jingles but karma is always appreciated.
Keep it up. Here you go cam Thank you.
Unknown: You've got karma.
John C Dvorak: Sir data Ops is next. Edgerton, Wisconsin. Love
is lit and karma please sir data ops of the Wisconsin millennial.
Adam Curry: You've got karma. Patrick McGugan New Salem,
Pennsylvania. 333. Thank you, Patrick. Hi, John and Adam. Love
the show. Please deduce me? You've been de Deus. Can I get a
Trump jobs karma? Why yes, you can. Thank you very much.
Patrick McGugan jobs,
Unknown: jobs jobs
John C Dvorak: you got the next one I blows up my spreadsheet.
It's too long.
Adam Curry: Okay, I may have to shorten it up Matt from
Manassas, Virginia to 33 and 33 cents which is an Associate
Executive Producer ship. It's been a rough year in sales but I
wanted to donate and supportive Adams acceptance of Jesus Christ
as Lord and Savior John's birthday and the excellent
analysis. The inspiration for my donation was Adams heartfelt
reading of the trans story on a recent episode Yes, the no
official Noah the formerly former official no agenda treni
Ali Jade. I'm just going to call who call AJ from now. I'm
donating my treasures specifically a portion of my
Commission's as no agenda accompanies me on nearly every
one of my commutes doing in home design and sales in Northern
Virginia, Maryland and DC, where I sold face to face a home
improvement to one of Adam's least favorite media
personalities. Who could that be?
John C Dvorak: Well, Virginia? Yeah. So a spook central he must
run into some very crazy I'm
Adam Curry: gonna say Jake Tapper would be while No. Well,
that's one of my least favorite media Wolf Blitzer eyes doesn't
come Oh, no, no, it's a she so that must have been Oh, that
must have been Joy read. She was nice enough. But I remember
being all GD at the air of elitism, though. This is good
content. And names I heard dropped while their eyeballs
gotta be her. It's gotta be it's gotta be choice read. I have
also come across to disgraced FBI directors in my sales
experience. Make no mistake, the commie elites love luxury items
and see us as the servant class. Sidenote, $4,000, in quote,
profit sharing was withheld from me last year due to my refusal
to disclose my job status with my employer, who had no problem
sending me into homes all year. I do believe that a nationwide
build back better memo went out to most corporations and they
all jumped in headfirst been listening to the show since
2020. There's nothing else quite like it. Since then. I now often
hear my beautiful wife and homeschool teacher listening to
the show, and have hit at least one other person in the mouth
since keep up the excellent work. Sorry to see Moe facts go
yes, we have nine more episodes and when we close it out at 100
part of this donation is poured out for the dead homies at mo
facts no karma. I have the Holy Spirit. By the way, John, the
best weed whacker is the ego power model, all as well as most
of their other battery powered lawn equipment. Well, there you
go. Mystery solved,
John C Dvorak: necessarily.
Adam Curry: Thank you very much. So
John C Dvorak: what's happening with Moe?
Adam Curry: Well, we decided to end the series at 100. When we
started four years ago, Moe had a very different job. And he
takes you know, he has 40 clips. It's a very, very well prepared,
pre produced show that he could do while he was working. Then of
course he was fired for not accepting the vaccine into his
life. And then he had to become an entrepreneur and he's working
his ass saw and he just he just doesn't have the time for it
right now. So for now, we'll wind it out some throughout this
year with nine more episodes, take it up to 100. And then we
still will talk and we'll still of course we're good friends
now. It may be in the future we can start up again but he has
four children who are also homeschool now because of the
stupidity in Northern Virginia schools etc. And vaccine and
mass requirements. So I see it as a great moment for him to to
be able to regroup you know, it's hard being an entrepreneur
certainly these times and we all love him for what he's done. And
these are evergreen shows, you know, it's not like they're not
worth they're not worthless, they're all really valuable
John C Dvorak: so I would like to dissuade the two of you from
doing this well, I know it's easy for me to say it's very
Adam Curry: easy for you to say I believe me this was not a
decision come to easily believe me,
John C Dvorak: Oregon local 33 is the last on our list here for
the associate and executive producers executive producers
Associate Executive producer in Portland Oregon. $233.33
Switcheroo another one we've had a great meet up at the Dick's so
it is the primal burger Portland guys. This donation all the
previous local 30 threes are credited to millennial Mel and
she is now a dame Oh her name name is millennial Mel of the
younger sorry the younger millennial said she'd be as
millennial
Adam Curry: well we're just going to no we're not going to
give her selenium I know is what she
John C Dvorak: wants. I want raw milk in liver pate at the round
table can you also request the big fat jobs coming for Paul so
he can be a no agenda cup okay can add jobs cover for Paul so
we can be a no agenda couple forever and ever. And that's it
of
Adam Curry: course jobs jobs jobs,
Unknown: jobs. Jobs karma.
Adam Curry: That's about the fattest one I got before we move
on to the rest of the producers we do have a make good for
Jackie Greene. Somehow we missed his $440 donation I do want to
tell you what happens. Oh please do tell me what happened.
John C Dvorak: We have an old all old Pay Pal account. And how
Adam Curry: old is it is so old I forgot to ask. Yes.
John C Dvorak: And every once in a while some old link that's
floating around the ether as somebody clicks on it to donate
it goes into that account it doesn't come up in the regular
spreadsheet goodness but still valid. So he had some commentary
in his in his full note which is that the bottom there
Adam Curry: yes I have it here and he says oops. Scroll past it
hi fellas night Jackie Greene here want to make sure you guys
actually got my donation. Well, I guess we did. Finally I sent
it through PayPal on March 25. I don't care about the node right.
John C Dvorak: The next part
Adam Curry: of it I'm reading what do I that's just a note to
trigger that. But you don't want me to read the whole thing. And
John C Dvorak: it's just a second person with the note was
that came with the original donation.
Adam Curry: Okay, ITM m j m k more jingles more karma?
John C Dvorak: Yeah. said
Adam Curry: thanks for all you guys do and putting the stop in
that obvious ad slash donation last note some of us listen to
the donations and it's against the spirit of V for V if your
product is good, like lavender blossom send some to the show.
Yeah, that's true. If you send something to us to the show,
we'll probably talk about if we like it and then if you want to
follow up with with a donation and mentioning it or people like
to do a code for note for getting donation Yeah. But if we
don't like your product, we probably won't talk about it.
And that's which is what you want. And that's the beauty of
the value for value is when we do talk about a product we mean
it we're not full of crap here you go man. I give you some more
jingles and
Unknown: karma karma.
Adam Curry: All right. John will take us through the rest of the
John C Dvorak: donation. Yeah. Matthew shock is at the top of
this list in Farmington, Minnesota. And is the switcheroo
Happy Birthday to AJ and he wants this credited to her as
well. Okay, we can do that and he's just been done. Don Martin
and that was 100 bucks. Don Martin's next on the list and
already drops the 808 broom. From wash wash. Oogle.
Washington I Nisa de douching. You've been de deuced 70 threes
w one bu s. Sir Kevin McLaughlin is up already. Locust North
Carolina 808. Nice. Robert Hannah graph in Duke vol
Washington. Dough Rogen donation 7415 oyston Burger, boys. Okay,
moist and bearhug close enough in Rotterdam 71 These are the
leftover birthday hellos to me 71 Lisa piles in South Lake
Texas 71 rows and Lincoln's in landisville Pennsylvania 71 Sir
infinitas and Holly Springs North Carolina 71 Kenneth barn
horse barn house in Dallas, Texas also 71 with Rian Johnson
camby Indiana's continuing anonymous in Toronto 71 That is
pretty good. Amy Julene gallinas and bureau in Washington you all
remember that town from if you go to the airport, Concetta
Smith in Mansfield, Ohio 71 Sir Paul 71 Nicholas Hannah in Mount
Vernon, Ohio 71. And last is Yancey summer over summer roar
in Houston, Texas. This followed by Michelle Oliver for 6666 and
Stuart Oliver in 6666. And coincidentally They both live in
Hi hoschton Georgia. I think they're related. I think
Christopher dektor 5678. Sir Luke in London, UK. 25 Timothy
huttner In Navin, Ontario, Canada 5432. Somebody's got a
heart in there somehow and they do that. In the spreadsheet.
Freddie Vieira in San Antonio, Texas. 5413 Timothy was 5432
Joshua cop is in cots. Joven the cat hole in Netherlands
Adam Curry: cat Hall. Oh, that'll stick and he needs a dee
doo dee doo. Oh, man, they'll love you for that.
John C Dvorak: He's in 5252 bucks at home. This is what it
means. That whole Tony Hoval huddle
Adam Curry: unit. No. You know the capital. That's it. That's
right.
John C Dvorak: Bob Butler and coming Georgia 5069 Christine
Heinz and Manchester New Hampshire, New Hampshire. 5033.
Scott Nelson 5001 and Council Bluffs, Iowa and the following
people to Lesson list are all $50 donors name and location
starting with Margarita aid Eden hood, in orange Vale, California
Kevin Sullivan in Wallingford, Connecticut, Jordan Phil in
Bothell, Washington. His donations from the J dogs. Cory
Cunningham in Warrington, Virginia and Gavin McGoldrick in
San Francisco, Tim Delvecchio and bland in Pennsylvania,
Andrew Grasso in Mineola, New York, Gary Mau in Woodland
Hills, California, Michael Wendell in Matawan, New Jersey,
Brandon sub LA and port orchard, Washington best real deals now
in San Antonio, Texas. And last on the list. Wait,
Adam Curry: what does real deals now sell? I don't know. But
there's real
John C Dvorak: good deal. Good deal. And last on the list is
Dean Patricia Worthington. They're in Miami hope she's okay
in the flood zone.
Adam Curry: Now, I think it's only Fort Lauderdale. Miami was
hit
John C Dvorak: to really know what happened in Fort
Lauderdale.
Adam Curry: No, supercells Exactly. Thank you.
John C Dvorak: Let us know if you get just go to Patricia just
go downtown to Miami and grab a few fish. And you should.
Adam Curry: Thank you all very much for supporting the no
agenda show. We really do appreciate it. Especially
everyone who came in under $50. If you want to stay anonymous,
for sure for sure. But also people are on the sustaining
donations and many different options. You can make one up
yourself 1111 3333 and B you name it. It's there. And if
you'd like to learn how go here to vorak.org/and Thanks to our
executive and Associate Executive producers, those are
forever credits. You deserve them.
Unknown: Our formula is this. We go out. We get people in the
mouth
Adam Curry: I recommend you hang around because there's still
plenty of show left to go and here's the birthday list for
today which is something you have to send in the day before
the show. There's no actual list that exists that we Remember,
sir Popey first night of the 42nd celebrates tomorrow Rachael
Fraser wishes her husband Sean Fraser, a very happy birthday.
And nice note earlier he'll be celebrating on the 16th Dan
Martin turned 60 on April 25. Freddie Vieira wishes Samantha
Vieira a very happy birthday saw him with a donation and Matthew
shock wishes AJ a happy birthday we say happy birthday from
everybody here as the best podcast in the universe no title
changes but we do have a dame and three nights and we're happy
to have them here so let's get our our blades your blades or
your blade. Yeah,
John C Dvorak: go sorry.
Adam Curry: Oh nice. All right. All right, ladies and gentlemen,
hop on up. Millennial Mel Craig Thurman, Cam Warren Bill Carter
all four of you have supported the no agenda show one way or
the other in the amount of $1,000 or more and I'm very
proud to bring you up here and pronounce the k d as day
millennial Mel of the younger millennials sir crag of the Dark
Moon Sure. Cam of Cordoba, and Sir bill of the North for you.
We've got hookers and blow rent boys and Chardonnay by request
raw milk and liver pate. We have some other things available in
case you want it like Rubenesque woman rose a gay says a soccer
ball buck in Manila. Burn bong hits and bourbon sparkling cider
and escorts ginger ale and Jerboas breast milk and problem
are of course if you want it we've got the ever effervescent
mutton and Mead head over to no agenda nation knock no agenda
rings.com Sorry I almost forgot Hey puppy you want to go up?
That's where you can not only see these beautiful rings but
also I'm sorry the dog needs to leave the studio and I don't
want it to make a mess your haunt John sing for a second do
something
John C Dvorak: I can do a few things I can practice on the
Adam Curry: dynamite I almost don't want to stop you. So good.