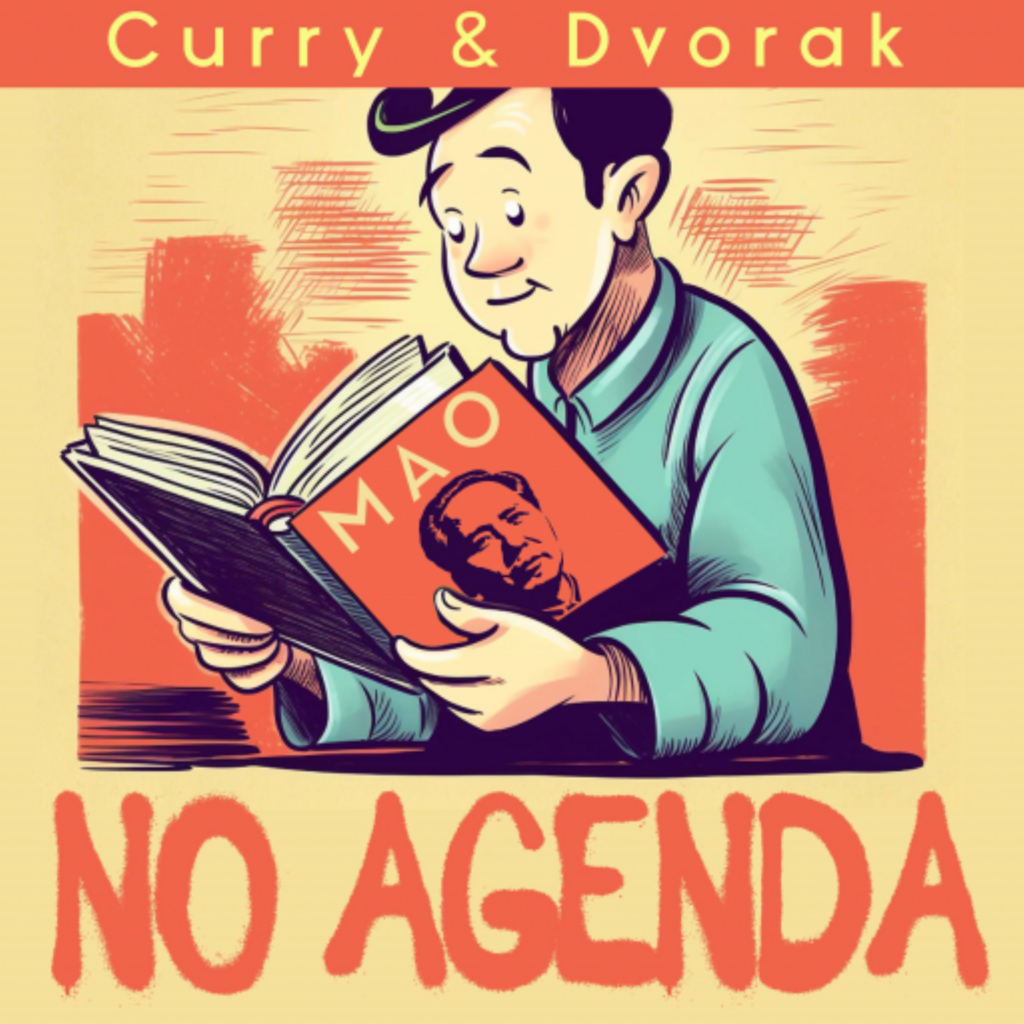 April 13th • 3h 0m
1546: Cat Hole
Shownotes
Every new episode of No Agenda is accompanied by a comprehensive list of shownotes curated by Adam while preparing for the show. Clips played by the hosts during the show can also be found here.
TODAY

AI will become real when enough humans trust it to achieve idiocracy

CP/I - Copy/Paste Intelligence

TSA April 11th Emergency order
Elon / Twitter
Climate Change

Texas Slim visit Australia food desert carbon credits and plastic money

Elites plan to raise THEIR cattle in Africa while we eat bugs and fake meat

Tech Company Autodesk Faces Criticism Amid Climate Change - Bloomberg

Autodesk Inc. is proud of its bona fides as a clean company – it reports dwindling emissions and invests millions in technology aimed at improving the environment.

There's one hitch: its software is used to design and operate machinery for the biggest coal mine complex in Europe. Production at the pits, owned by German energy giant RWE AG, is being expanded ahead of a 2030 phase-out of the highly polluting energy source. Climate activist Greta Thurnberg was detained there in January at a protest.

Artist Joanie Lemercier was at that protest, too. He's been in a multiyear campaign against Autodesk — disrupting events, heckling executives and arguing the San Francisco-based company can't call itself green unless it stops selling software to the fossil fuel industry.
BLM LGBBTQQIAAPK+ Noodle Boy
Big Tech Copy Paste Intelligence

Guest Opinion: There's no such thing as artificial intelligence, by Parmy Olson | Op-Ed Columns | sentinelsource.com

Humans are the killer app

Copy/Paste Intelligence

AI will become real when enough humans trust it to achieve idiocracy
Intelligence Leak
Prime Time Takedown
Great Reset
China
Ministry of Truthiness
USD CBDC BTC SVB
Big Pharma

Ozempic 75% muscle loss vs 25% fat loss

After 5 years of glorifying fat women

Oh oh oh it's MAGIC!

Ozempic and Muscle Loss — Do You Need to Worry? – Diabetes Daily

The Science

As yet, no study of semaglutide or tirzepatide has focused on body composition. We have a modicum of good data from larger studies that gave body composition scans to small subsets of volunteers.

In 2020, Diabetologia published a body composition analysis of 88 volunteers with type 2 diabetes who used semaglutide for one year. These participants lost an average of 12.5 pounds. Of that weight loss, there was a 7.5-pound reduction in fat mass and a 5-pound reduction in lean mass.

In 2021, a major trial of semaglutide's weight loss potency examined the body composition of a minority of participants. These patients did not have diabetes, and they took a much larger dose of the drug. The 95 participants to undergo a body scan lost an average of 18 pounds of fat — and 12 pounds of lean mass.
War on Guns
Mandates & Boosters

who is arcturus - Neeva

Arcturus is a star located in the constellation Boötes and is the brightest star in the northern celestial hemisphere. It is the third-brightest star in the night sky and is visible from Earth. The ancient Greeks named the star Arcturus, which translates to "bear guardian", as it was seen as the guardian of Ursa Major and Ursa Minor constellations.
Ukraine vs Russia
STORIES

Anheuser-Busch InBev SA/NV (BUD) Stock Price, News, Quote & History - Yahoo Finance

Thu, 13 Apr 2023 16:14

Anheuser-Busch Inbev SA Sponsor

Analyst Report: Anheuser-Busch In Bev SA/NVAnheuser-Busch InBev SA/NV produces and sells beer, near-beer products, and soft drinks worldwide. The company, whose origins date back more than 600 years, has over 500 beer brands, including Budweiser, Stella Artois, Beck's, Leffe, and Michelob. Through a range of M&A deals, the company has become the world's largest brewer by volume and one of the world's largest consumer products companies by revenue. The company employs 167,000 people.

Rating

Fair Value

Economic Moat

10 days ago Argus Research

Analyst Report: Anheuser-Busch In Bev SA/NVAnheuser-Busch InBev SA/NV produces and sells beer, near-beer products, and soft drinks worldwide. The company, whose origins date back more than 600 years, has over 500 beer brands, including Budweiser, Stella Artois, Beck's, Leffe, and Michelob. Through a range of M&A deals, the company has become the world's largest brewer by volume and one of the world's largest consumer products companies by revenue. The company employs 167,000 people.

10 days ago ' Argus Research

AB InBev Wins Unprecedented Back-to-back "Creative Marketer of the Year"

Thu, 13 Apr 2023 16:13

Recognition Highlights AB InBev's Ability to Leverage Creative Effectiveness to Drive Growth

NEW YORK, March 16, 2023--(BUSINESS WIRE)--Today, AB InBev (Brussel:ABI) (BMV:ANB) (JSE:ANH) (NYSE:BUD) announces it will once again be honored as Creative Marketer of the Year by Cannes Lions. This is the first time in Cannes Lions' history that the same company has been selected two years in a row.

This press release features multimedia. View the full release here: https://www.businesswire.com/news/home/20230316005088/en/

AB InBev wins historic consecutive Creative Marketer of the Year award from Cannes Lions (Graphic: Business Wire)

"Considering AB InBev's continued commitment to placing creativity at the center of its business, resulting in increased creative and financial performance, we have named ABI the Cannes Lions Creative Marketer of the Year in 2023," said Simon Cook, Chief Executive Officer of LIONS. "ABI is the first company to be awarded for two consecutive years. This win bucks the trend and demonstrates an on-going commitment to creativity as a driver for growth."

The annual Creative Marketer of the Year (CMOY) award is presented to the marketer that has amassed an industry-leading body of Lion-winning work over a sustained period of time. CMOY recipients are recognized for producing innovative, impactful work that drives business performance. Past recipients include Microsoft, Apple, P&G, and Google.

"This is truly unprecedented to win such a prestigious award two years in a row. It is a testament to the creativity of our entire marketing organization and the relentless focus on connecting in meaningful ways with consumers," said Michel Doukeris, Chief Executive Officer of AB InBev. "Investing in organic growth is our number one priority and this recognition of creativity further demonstrates our brand building excellence."

"Creativity becomes a competitive advantage when used to solve consumer and business problems," said Marcel Marcondes, Chief Marketing Officer of AB InBev. "In 2022 we were named CMOY for the first time and finished the year with all time high volumes. It's very exciting to start 2023 from the same place. We'll continue to dream big with our great partners."

The Creative Marketer of the Year Award will be presented on Friday, June 23rd in Cannes, France.

###

About AB InBev

Anheuser-Busch InBev (AB InBev) is a publicly traded company (Euronext: ABI) based in Leuven, Belgium, with secondary listings on the Mexico (MEXBOL: ANB) and South Africa (JSE: ANH) stock exchanges and with American Depositary Receipts on the New York Stock Exchange (NYSE: BUD). As a company, we dream big to create a future with more cheers. We are always looking to serve up new ways to meet life's moments, move our industry forward and make a meaningful impact in the world. We are committed to building great brands that stand the test of time and to brewing the best beers using the finest ingredients. Our diverse portfolio of well over 500 beer brands includes global brands Budweiser®, Corona® and Stella Artois®; multi-country brands Beck's®, Hoegaarden®, Leffe® and Michelob ULTRA®; and local champions such as Aguila®, Antarctica®, Bud Light®, Brahma®, Cass®, Castle®, Castle Lite®, Cristal®, Harbin®, Jupiler®, Modelo Especial®, Quilmes®, Victoria®, Sedrin®, and Skol®. Our brewing heritage dates back more than 600 years, spanning continents and generations. From our European roots at the Den Hoorn brewery in Leuven, Belgium. To the pioneering spirit of the Anheuser & Co brewery in St. Louis, US. To the creation of the Castle Brewery in South Africa during the Johannesburg gold rush. To Bohemia, the first brewery in Brazil. Geographically diversified with a balanced exposure to developed and developing markets, we leverage the collective strengths of approximately 167,000 colleagues based in nearly 50 countries worldwide. For 2022, AB InBev's reported revenue was 57.8 billion USD (excluding JVs and associates).

Legal disclaimer

This release contains "forward-looking statements". These statements are based on the current expectations and views of future events and developments of the management of AB InBev and are naturally subject to uncertainty and changes in circumstances. The forward-looking statements contained in this release include statements other than historical facts and include statements typically containing words such as "will", "may", "should", "believe", "intends", "expects", "anticipates", "targets", "estimates", "likely", "foresees" and words of similar import. All statements other than statements of historical facts are forward-looking statements. You should not place undue reliance on these forward-looking statements, which reflect the current views of the management of AB InBev, are subject to numerous risks and uncertainties about AB InBev and are dependent on many factors, some of which are outside of AB InBev's control. There are important factors, risks and uncertainties that could cause actual outcomes and results to be materially different, including, but not limited to the risks and uncertainties relating to AB InBev that are described under Item 3.D of AB InBev's Annual Report on Form 20-F filed with the SEC on 18 March 2022. Many of these risks and uncertainties are, and will be, exacerbated by any further worsening of the global business and economic environment, the ongoing conflict in Russia and Ukraine and the COVID-19 pandemic. Other unknown or unpredictable factors could cause actual results to differ materially from those in the forward-looking statements. The forward-looking statements should be read in conjunction with the other cautionary statements that are included elsewhere, including AB InBev's most recent Form 20-F and other reports furnished on Form 6-K, and any other documents that AB InBev has made public. Any forward-looking statements made in this communication are qualified in their entirety by these cautionary statements and there can be no assurance that the actual results or developments anticipated by AB InBev will be realized or, even if substantially realized, that they will have the expected consequences to, or effects on, AB InBev or its business or operations. Except as required by law, AB InBev undertakes no obligation to publicly update or revise any forward-looking statements, whether as a result of new information, future events or otherwise. The full year 2022 (FY22) financial data set out in Figure 1 (except for the volume information), Figures 3 to 5, 7, 9, 10,13 and 14 of this press release have been extracted from the group's audited consolidated financial statements as of and for the twelve months ended 31 December 2022, which have been audited by our statutory auditors PwC R(C)viseurs d'Entreprises SRL / PwC Bedrijfsrevisoren BV in accordance with International Standards on Auditing as applied in Belgium and resulted in an unqualified audit opinion. The fourth quarter 2022 (4Q22) and financial data included in Figures 6, 8 11, 12 and 15 have been extracted from the underlying accounting records as of and for the twelve months ended 31 December 2022 (except for the volume information). References in this document to materials on our websites, such as www.bees.com, are included as an aid to their location and are not incorporated by reference into this document.

View source version on businesswire.com: https://www.businesswire.com/news/home/20230316005088/en/

Contacts

MediaKate LavergeTel: +1 917 940 7421E-mail: kate.laverge@ab-inbev.com

Ana ZenattiTel: +1 646 249 5440E-mail: ana.zenatti@ab-inbev.com

Fallon BuckelewTel: +1 310 592 6319E-mail: fallon.buckelew@ab-inbev.com

What the Bud Light Fiasco Reveals about the Ruling Class 'ܠ Brownstone Institute

Thu, 13 Apr 2023 16:11

What were they thinking? How did someone believe that making ''trans woman'' Dylan Mulvaney the icon of a Bud Light ad campaign, complete with a beer can with Mulvaney's image on it, would be good for sales? With an ad featuring this person vamping around in the most preposterously possible way?

Dylan, who had previously been interviewed on trans issues by President Biden himself, was celebrating ''365 Days of Girlhood'' with a grotesquely misogynistic caricature that would disgust just about the whole market for this beer. Indeed, this person's cosplay might as well be designed to discredit the entire political agenda of gender dysphoriacs.

Sure enough, because we don't have mandates on what beers you must buy, sales of the beer plummeted.

The parent company Anheuser-Busch's stock lost $5 billion or 4 percent in value since the ad campaign rollout. Sales have fallen 50-70 percent. Now there is worry within the company of a widening boycott to all their brands. A local Missouri distributor of the product canceled an appearance by Budweiser Clydesdale horses due to public anger.

Ads are supposed to sell products, not prompt a massive public backlash that results in billions in losses. This mistake could be for the ages, marking a distinct departure from corporate deference to wackadoodle ideas from the academy and a push for more connection to on-the-ground realities.

The person who made the miscalculation is Alissa Gordon Heinerscheid, Vice President in charge of marketing for Bud Light. She explained that her intention was to make the beer King of 'Woke' Beers. She wanted to shift away from the ''out of touch'' frat party image to one of ''inclusivity.'' By all accounts, she actually believed this. More likely, she was rationalizing actions that would earn her bragging rights within her social circle.

Digging through her personal biography, we find all the predictable signs of tremendous detachment from regular life: elite boarding school (Groton, $65K a year), Harvard, Wharton School, coveted internship at General Foods, and straight to top VP at the biggest beverage company in the world.

Somehow through all that, nothing entered her brain apart from elite opinion on how the world should work with theories never actually tested by real-world marketing demands. Would that she had worked at Chick-Fil-A at some point in her teen years, perhaps even preserving some friend relationships ever since. It might have protected her from this disastrous error.

She is a perfect symbol of a problem that afflicts high-end corporate and government culture: a shocking blindness toward the mainstream of American life, including working classes and other people less privileged. They are invisible to this crowd. And her type is pervasive in corporate America with its huge layers of management developed over 20 years of loose credit and push for token representation at the highest levels.

We've seen this manifest over three years and ruling-class types imposed lockdowns, masks, and vaccine mandates on the whole population without regard to the consequences and with full expectation that the food will continue to be delivered to their doorsteps no matter how many days, months, or years they stay at home and stay safe.

The working classes, meanwhile, were shoved out in front of the pathogen to make their assigned contribution to herd immunity so that the rich and privileged could preserve their clean state of being, making TikTok videos and issuing edicts from their safe spaces for two or even three years.

In the late 19th century, the blindness of class detachment was a problem that so consumed Karl Marx that he became possessed with the desire to overthrow class distinctions between labor and capital. He kicked off a new age of the classless society under the leadership of the vanguard of the proletarian classes. In every country where his dreams became a reality, however, a protected elite took over and secured themselves from the consequences of their deluded dreams.

The people who in recent decades have drunk so deeply from the well of the Marxian tradition seem to be repeating that experience with complete disinterest in the lower classes, while pushing a deepening chasm that only became worse in the lockdown years in which they have controlled the levers of power.

It was startling to watch, and I could hardly believe what was happening. Then one day the incredibly obvious dawned on me. All official opinion in this country and even the whole world '' government, media, corporations, technology '' emanated from the same upper echelons of the class structure. It was people with elite educations and who had the time to shape public opinion. They are the ones on Twitter, in the newsrooms, fussing with the codes, and enjoying the laptop life of a permanent bureaucrat.

Their social circles were the same. They knew no one who cut trees, butchered cows, drove trucks, fixed cars, and met payroll in a small restaurant. The ''workers and peasants'' are people the elites so otherized that they became nothing more than non-playing characters who make stuff work but are not worthy of their attention or time.

The result was a massive transfer of wealth upwards in the social ladder as digital brands, technology, and Peloton thrived, while everyone else faced a barrage of ill health, debt, and inflation. As classes have grown more stratified '' and, yes, there is a reason to worry about the gap between the rich and the poor when malleability is restricted '' the intellectual producers of policy and opinion have constructed their own bubble to protect themselves from by being soiled by contrary points of view.

They want the whole world to be their own safe space regardless of the victims.

Would lockdowns have happened in any other kind of world? Not likely. And it would not have happened if the overlords did not have the technology to carry on their lives as normal while pretending that no one was really suffering from their scheme.

The Bud Light case is especially startling because the advent of commercial society in the high Middle Ages and through the Industrial Revolution was supposed to mitigate against this sort of myopic stratification. And this has always been the most compelling critique of Marx: he was raging against a system that was gradually winnowing away the very demarcations in classes that he decried.

Joseph Schumpeter in 1919 wrote an essay on this topic in his book Imperialism and Social Classes. He highlighted how the commercial ethos dramatically changed the class system.

''The warlord was automatically the leader of his people in virtually every respect,'' he wrote. ''The modern industrialist is anything but such a leader. And this explains a great deal about the stability of the former's position and the instability of the latter's.''

But what happens when the corporate elites, working together with government, themselves become the warlords? The foundations of market capitalism begin to erode. The workers become ever more alienated from final consumption of the product they have made possible.

It's been typical of people like me '' pro-market libertarians '' to ignore the issue of class and its impact on social and political structures. We inherited the view of Frederic Bastiat that the good society is about cooperation between everyone and not class conflict, much less class war. We've been suspicious of people who rage against wealth inequality and social stratification.

And yet we do not live in such market conditions. The social and economic systems of the West are increasingly bureaucratized, hobbled by credentialism, and regulated, and this has severely impacted class mobility. Indeed, for many of these structures, exclusion of the unwashed is the whole point.

And the ruling class themselves have ever more the mindset as described by Thorstein Veblen: only the ignorable do actual work while the truly successful indulge in leisure and conspicuous consumption as much as their means allow. One supposes that this doesn't hurt anyone'...until it does.

And this certainly happened in very recent history as the conspicuous consumers harnessed the power of states all over the world to serve their interests exclusively. The result was calamity for rights and liberties won over a thousand years of struggle.

The emergent fissures between the classes '' and the diffusions of our ruling class into many sectors public and private '' suggest an urgency for a new consciousness of the real meaning of the common good, which is inseparable from liberty. The marketing director of Bud Light talked a good line about ''inclusivity'' but she plotted to impose everything but that. Her plan was designed for the one percent and to the exclusion of all the people who actually consume the product, to say nothing for the workers who actually make and deliver the product she was charged with promoting.

That the markets have so brutally punished the brand and company for this profound error points the way to the future. People should have the right to their own choices about the kind of life they want to live and the products and services they want to consume. The dystopia of lockdowns and woke hegemony of public opinion '' complete with censorship '' have become the policy to overturn if the workers are ever to throw off the chains that bind them.

The boycotts of Bud Light are but a beginning.

Jeffrey A. Tucker is Founder and President of the Brownstone Institute. He is also Senior Economics Columnist for Epoch Times, author of 10 books, including Liberty or Lockdown, and thousands of articles in the scholarly and popular press. He speaks widely on topics of economics, technology, social philosophy, and culture.

READ MORE

Subscribe to Brownstone for More News

Who We Are - SeeHer

Thu, 13 Apr 2023 15:58

Launched in 2016, SeeHer is a growing group of media, marketing and entertainment leaders and influencers united in our commitment to eliminate gender bias across the industry.

LeadershipCo-ChairsTeamFoundersAdvisory BoardOur MembersOur PartnersSeeHerLeadershipNothing is more important than the SeeHer mission. Women and girls have to see themselves as they truly are and all the possibilities in the world around them.

Christine Guilfoyle President SeeHerAdvisory Board Katie Couric Journalist We are galvanized and focused on making our presence known and our voices heard.

Katie Couric Busy Philipps Actor, Producer, Change Agent I've heard seemingly endless discussion about the problems with representation, parity, and equality in entertainment, with few proposed solutions... What's the hold up? The truth is, if you want things to change, you have to change them.

Busy Philipps Jennifer Rudolph Walsh Literary Agent, Co-Founder Together Live Tour Michael Strahan television host As a father of daughters, as well as working with exceptional women throughout my career, I hope my personal experience and knowledge will help bring awareness to the importance of how girls and women are portrayed in media.

Michael Strahan SeeHer in the NewsBrowse news stories from around the Web featuring SeeHer mentions and accolades

Read the Headlines

The performance of a lifetime | Jean Hatchet | The Critic Magazine

Thu, 13 Apr 2023 15:46

I f a man seeks to humiliate a woman he encounters, nothing is easier than reducing her appearance to a mere caricature. Men do this directly in front of the woman they are targeting: lifting their voice to a squeak, exaggerating hand gestures, pushing out pretend breasts, wiggling their bum, pouting and fiddling with their hair. Most of these men confine the taunt to the woman in front of them, and the woman often feels and displays a righteous rage. However, when it comes to Dylan Mulvaney, the Tik Tok user who has become famous for his grotesque parody of women, women are not supposed to react critically. They are seen as cruel or ''transphobic'' if they express annoyance at being so grossly insulted.

In Mar ch 2 022 Dylan Mulvaney saw a way to take his barely-concealed disdain for women up a level, with predictable success. After his career as a musical actor had stalled due to the Covid pandemic , with people finding solace daily on Tik Tok, wily Dylan invented a new role that guaranteed his future wealth and success. He announced he was embarking on a journey of ''being a girl'' and began a series of videos documenting this ludicrous notion.

Women see this for the deliberately constructed misogyny it is

Shortly before this year-long, very public ''transition '', Mulvaney performed a pilot video for his current lucrative act. In it he told the viewer that he ''had trouble finding role s'' so a friend had invented one for him, a ''femme character ''. His character wears a pink dress and pearls, white gloves and ankle socks. At this point Mulvaney must have been delighted to glimpse a potential new career path. It was a very savvy move for him to extend and develop this caricature of a 1950s woman . N ow, just over a year later, Dylan Mulvaney has highly paid ''partnership s'' with a number of companies including Budweiser, Kate Spade and '-- during the past week, to great objection '-- the Sportwear giant Nike.

In an inflammatory paid partnership video with Nike, an inanely grinning, barefoot Mulvaney wears a Nike sports bra and leggings. He performs a series of ridiculous moves including comedic side stretches, a theatrical run kicking his heels up nonsensically and failed chorus-line high kicks. He almost runs backwards into a hedge at one point and pulls a comedy expression of shock. It all looks ridiculous and slapstick. It mocks women by suggesting they exercise trivially and ineffectively, but smiling throughout.

The media seems unwilling to focus on the actual reasons many women are angry about this. It has focused instead on stating that objections to the sponsorship are because Dylan is trans. This is not why women are outraged. When a man ''performs woman'' in front of women to such a humiliating degree, when he waggles and jiggles and implies that weakness and silliness are inherent to being a woman who plays sport, women appropriately see this for the deliberately constructed misogyny it is. Ria Chapman, a London PE teacher, told me why she finds this act so irritating and offensive:

Girls are still routinely bullied and mocked for being sporty and or breaking stereotypes, their achievements and ambitions not being celebrated and valued like those of their male peers. For a sports company the size of Nike to use a male performing a parody of what he believes women behave like during sport only adds to the ammunition that boys will use to put girls down.

Utilising female stereotypes is the foundation of Mulvaney's role. On his ''Day 1 of being a girl'' video debut , he said:

I've already cried three times, written a scathing email I didn't send, ordered dresses online that I couldn't afford and when someone asked me how I was, I said ''I'm fine'' but I wasn't fine. How did I do, ladies?

All of this encapsulates the stereotype of women as emotionally fragile, frivolous spendthrifts, imprudent around clothes and financially inept. In the stereotype Dylan performs, women routinely suppress our emotions and focus on being polite at all times. It is an archaic depiction of requisite female behaviour which was seared into women's consciousness over decades in the past. This view of ''girlhood'' took further decades for feminist women to dismantle. Dylan Mulvaney is building it back up before our eyes and we refuse to stay quiet about it.

In other videos Mulvaney is seen running feebly through a forest and falling down in high heels, the suggestion being that women are unstable, weak and pathetic characters frightened of flies. This barely disguised message pervades many of his videos. In another he is referring to his ''boobie s'' as his ''gal pal s'' and advertising the shea butter he will rub into them. He refers beneath this video to ''taking care of my new girls this season ''. This is all deeply offensive to women. Breasts are part of our sexed bodies, not a cute pet or an accessory like a new handbag.

Along with these grotesque parodies of womanhood, he promotes products with zero shame, grifting whilst gurning and gaslighting women. Shortly before he began this career-saving v entur e of ''being a girl'', Mulvaney can be found mocking a female cheerleader in a sketch where he pretends to break his leg. He has honed and perfected these earlier attempts to portray women as weak and stupid, and he deflected attention from them by declaring himself a woman. Gender identity is once again the smokescreen for misogyny, and negative criticism leads to an award-worthy performance of his being hurt and bullied. Mulvaney simply reverses the victim and offender. Women are bullies, he is the target. Many women recognise this pattern from relationships with abusive men.

Mulvaney breezes through his videos with a permanent rictus grin

The insult for women comes not from the fact that Mulvaney is given vast sums of money or attention, but that he is given it whilst performing an insulting version of what a woman is or how she experiences the world from birth. Mulvaney has avoided the many perils of ''being a girl '', because he was safely behind the shield of being a boy '-- and a wealthy one at that. Mulvaney has a very privileged background of successful financier male ancestors. Nothing says patriarchy more clearly than a man being offered huge sums of money by companies to pretend to be a woman, whilst actual women sit at home fretting how to feed their children during an economic crisis. A man ''womanning'' is feted, whilst a woman at times barely survives the experience.

As the final part of his ''365 days of girlhood'', Mulvaney undergoes very expensive facial feminisation surgery. This is suggested as the very epitome of ensuring he is seen as female. Conveniently little mention is made of the penis he retains. Shaved forehead bones might whisper and suggest ''woman'' more effectively, but a penis roars ''man'' at a deafening pitch.

The elaborate ''reveal'' video is highly produced, and none of the earlier amateur style is evident. Dylan really has come a long way in a year. Whilst he is still no further towards being a woman, I don't believe that was really the aim. On the contrary, the heights he sought were to become famous, powerful and wealthy. He has had chats with the President, and Drew Barrymore knelt at his feet and cooed adoringly. Wearing ''woman'' as a costume works for him in a way it works for few women for whom it is a reality.

By contrast women having plastic surgery often do it in the knowledge that without it they would be invisible and, past a certain age, ignored and dismissed. Women don't seek to become, but to remain women when they undertake anti-ageing procedures. Victoria Smith writes succinctly in her new book Hag s :

You are not hated because you are an older woman '-- for that would be wrong and regressive '-- but because you have failed to remain a young one.

One of the most galling aspects of Mulvaney's act is the passive-aggressive suggestion in some videos that women are hateful, spite-filled creatures who simply won't allow him to be the woman he claims he is. When women objected to a potential sponsorship with Tampax, Mulvaney claimed he was the victim of women bullying him:

It feels like high school and feels like you want me to endure the pain and trauma you had as a girl.

In a sinister ending to this video , Mulvaney says he is ''nervous for you'' and suggests ominously that women will be punished in the future for their ''transphobia ''. It is an emotionally manipulative attempt to protect lucrative sponsorship and secure his brand from appropriate scrutiny.

Mulvaney breezes through his videos with a permanent rictus grin. The subconscious irritation women feel at this stems from the very real experience of our female socialisation. From the time we are commanded to smile as toddlers and for the million times afterwards, women are aware that our ''smile'' is an expectation, a command and a danger. If we forget to smile, men who are complete strangers will remind us. If we refuse, we may regret it. If a woman stops smiling, she can be accused of having ''resting bitch face'', and she has failed in her duty to please and humour men. When Mulvaney performs this forced joy apparently emanating from ''being a girl'', women feel the lie through to our bones, because we have lived with the reality.

Women are n't any of this performed ''girlhood'' of Mulvaney's. We don't like being reduced to it. We object when large companies pay hefty sums of money to the man treading on our heads to tell them what it's like to be a woman.

Dylan Mulvaney is an actor and a competent manipulator of the media. Large companies should take note that women will not be mocked by a man or the companies that support him. Learn who we are , or learn how to cope without our cash.

Just don't do it.

Putin's Health Worsens: Russian Tyrant Receives 'First Aid' After Suffering 'Partial Loss Of Sensation In His Right Arm & Leg'

Thu, 13 Apr 2023 15:44

(C) Radar Online Mega Vladimir Putin was allegedly forced to receive first aid over the weekend after he suffered a ''partial loss of sensation'' in half of his body, RadarOnline.com has learned.

In a shocking development to come amid rumors and reports the 70-year-old Russian leader is dying from cancer, Putin was reportedly struck by a series of severe symptoms this weekend before receiving urgent medical care from a ''council of doctors.''

(C) Radar Online Mega According to the Russian Telegram channel General SVR, which has followed Putin's alleged cancer battle and deteriorating health over the course of the past few months, the Russian tyrant first suffered "severe pain in his head, blurred vision, and numbness of the tongue.''

He then suffered a ''partial loss of sensation in his right arm and leg,'' at which point his ''council of doctors'' were called to provide the allegedly ailing Russian leader with immediate first aid.

(C) Radar Online Mega Although Putin was ordered to take medication and undergo ''complete rest'' for the next several days, his condition reportedly began to stabilize shortly after the health scare.

''The president's relatives were more worried,'' General SVR said after reports of Putin undergoing first aid broke over the weekend. ''Such a sharp deterioration in Vladimir Putin's health caused a nervous reaction, more like panic.''

ãƒ>>Vladimir Putin Forms New 'Storm Z' Military Units Made Up Of Russian Prisoners To Carry Out 'Complex Combat Missions' In Ukraine

ãƒ>>Putin Secret Agents Accused Of Assassinating Pro-Kremlin Blogger As Warning To Mercenary Chief Yevgeny Prigozhin

ãƒ>>Popular TikTok Couple Arrested In Russia For Breaking Putin's 'Anti-Gay Propaganda' Laws: 'It Became A Living Hell'

''The temporary sharp deterioration in the president's health has already made those closest to him tense,'' the Telegram channel continued. ''The sudden death of Putin will put them all in front of the unknown, or rather, on the brink of survival.''

''None of them even had a rough plan of action in this case.''

(C) Radar Online Mega As RadarOnline.com previously reported, rumors of Putin's failing health first started to swirl shortly after the Russian leader invaded Ukraine in February 2022.

Although the Kremlin has insisted Putin is in ''perfect health,'' reports indicate the 70-year-old leader is suffering from cancer and a series of other serious diseases.

Never miss a story '-- sign up for the RadarOnline.com newsletter to get your daily dose of dope. Daily. Breaking. Celebrity news. All free.

(C) Radar Online Mega Even more shocking are reports that Putin's alleged cancer is only worsening and, depending on the success of his treatment, the Russian strongman may die before his invasion of Ukraine comes to a definitive end.

''He has no more than two to three years to stay alive,'' revealed one insider who works within Russia's Federal Security Service.

''We are told he is suffering from headaches and when he appears on TV he needs pieces of paper with everything written in huge letters to read what he's going to say,'' the source added, claiming Putin was recently diagnosed with a ''severe form of rapidly progressing cancer.''

Statement from the Pierre Elliott Trudeau Foundation - Resignation of the Board of Directors and the President and CEO | Pierre Elliott Trudeau Foundation

Tue, 11 Apr 2023 19:52

Montreal, April 11, 2023 - In recent weeks, the political climate surrounding a donation received by the Foundation in 2016 has put a great deal of pressure on the Foundation's management and volunteer Board of Directors, as well as on our staff and our community.

The Pierre Elliott Trudeau Foundation is an independent, non-partisan scholarship organization created with broad support in the House of Commons in 2002.

The circumstances created by the politicization of the Foundation have made it impossible to continue with the status quo, and the volunteer Board of Directors has resigned, as has the President and CEO.

Three directors have agreed to remain on an interim basis so that the Foundation can continue to meet its obligations pending Board renewal, including towards its Scholars, Mentors and Fellows.

We would like to thank Pascale Fournier for her work as President and CEO over the past five years, as well as all the members of the Board of Directors.

Tech Company Autodesk Faces Criticism Amid Climate Change - Bloomberg

Thu, 13 Apr 2023 15:42

Need help? Contact us We've detected unusual activity from your computer networkTo continue, please click the box below to let us know you're not a robot.

Why did this happen?Please make sure your browser supports JavaScript and cookies and that you are not blocking them from loading. For more information you can review our Terms of Service and Cookie Policy.

Need Help?For inquiries related to this message please contact our support team and provide the reference ID below.

Block reference ID:

New Covid variant 'Arcturus' emerges with compulsory masks returning after surge - World News - Mirror Online

Thu, 13 Apr 2023 15:42

The troubling 'Arcturus' Covid variant is more formally known as the Omicron sub-variant XBB.1.16 with most cases coming from India which has seen a recent surge in infections

India had 40,215 active Covid infections on April 12, according to its Ministry of Health ( Image: AFP via Getty Images)

A new variant of Covid-19 dubbed 'Arcturus' is behind a fresh surge of infections in India.

The Omicron sub-variant XBB.1.16 strain is causing havoc in the country where cases have soared 13-fold in the last month.

India's health ministry launched mock drills this week in an attempt to see if hospitals are prepared to deal with a possible influx of patients following the rise in cases.

Wearing face coverings in public has been made compulsory again in some states, being the first time in more than a year for some.

One example is the southern state of Kerela where Health Minister Veena George reintroduced masks for the elderly, pregnant women, and those with underlying conditions.

This week, case numbers throughout India rose by 3,122 in a single day.

Health workers wearing face masks in April as they walk out of a government hospital in Chennai ( Image:

AFP via Getty Images)It comes as the country's Ministry of Health recorded 40,215 active Covid infections on April 12.

Officials are now urging states to increase testing for the virus.

Figures from Our World in Data, run by Oxford University, show how new daily cases reached 3,108 on April 4 '' 242 more than the previous month.

The Arcturus strain was first detected in late January and is currently being monitored by the World Health Organization (WHO), with officials noting some mutations of concern.

'Arcturus' is a highly transmissible Covid variant eyed by the WHO ( Image:

WHO COVID-19 Dashboard)"We haven't seen a change in severity in individuals or in populations but that's why we have these systems in place," said the WHO's Covid technical lead Dr Maria Van Kerkhove.

"It has one additional mutation in the spike protein which in lab studies shows increased infectivity as well as potential increased pathogenicity."

While Arcturus had been found in other countries, most cases were from India where it had overtaken other variants, Dr Van Kerkhove explained.

But there has been no reported change in the severity of disease among those infected by the variant.

Read More Read More Read More Read More Read More

Fundamentals of SEL - CASEL

Thu, 13 Apr 2023 15:38

Resume motion Reduce motion

SEL can help all young people and adults thrive personally and academically, develop and maintain positive relationships, become lifelong learners, and contribute to a more caring, just world.

We define social and emotional learning (SEL) as an integral part of education and human development. SEL is the process through which all young people and adults acquire and apply the knowledge, skills, and attitudes to develop healthy identities, manage emotions and achieve personal and collective goals, feel and show empathy for others, establish and maintain supportive relationships, and make responsible and caring decisions.

SEL advances educational equity and excellence through authentic school-family-community partnerships to establish learning environments and experiences that feature trusting and collaborative relationships, rigorous and meaningful curriculum and instruction, and ongoing evaluation. SEL can help address various forms of inequity and empower young people and adults to co-create thriving schools and contribute to safe, healthy, and just communities.

What Does the Research Say?

SEL makes a difference. We know this from the research, which demonstrates that an education that promotes SEL has a positive impact on a wide range of outcomes, including academic performance, healthy relationships, mental wellness, and more.

Dive into the research The Impact of Social and Emotional Learning What is the CASEL SEL framework?

For many, our framework is known as the ''CASEL wheel.'' At the center are the five core social and emotional competencies'--broad, interrelated areas that support learning and development. Circling them are four key settings where students live and grow. School-family-community partnerships coordinate SEL practices and establish equitable learning environments across all of these contexts.

Explore the CASEL Framework How Does SEL Support Equity? We are driven by a vision of all children and adults as self-aware, caring, responsible, engaged, and lifelong learners who work together to achieve their goals. SEL can be a powerful lever for creating caring, just, inclusive, and healthy schools that support all young people.

How Can You Speak Up for SEL? The majority of students, teachers, and families agree: SEL belongs in schools. But when it is co-opted by political agendas, students risk losing out on an education that will help them succeed in school and in life. Now is the time for brave thinkers and tireless doers to speak up for SEL.

How does SEL connect to'...

The COVID-19 PandemicSEL offers a powerful means to support one another during these challenging times by developing crucial competencies relating to empathy, resilience, and relationship-building that students and adults need.

Read more about COVID-19

who is arcturus - Neeva

Thu, 13 Apr 2023 15:35

Sign up for an account to unlock NeevaAI

AI-powered results for you, not advertisers

en.wikipedia.org 'º wiki 'º Arcturus

Arcturus is the brightest star in the northern constellation of Bo¶tes. With an apparent visual magnitude of ''0.05,[2] it

is the third-brightest of the individual stars in the night sky, and the brightest in the northern celestial hemisphere. The name

Arcturus originated from ancient Greece; it was then cataloged as α Bo¶tis by Johann Bayer in 1603, which

is Latinized to Alpha Bo¶tis.

Arcturus forms one corner of the Spring Triangle asterism.

DEC 27, 2021 star-facts.com 'º arcturus

Arcturus, Alpha Bo¶tis (α Boo),

is an orange giant located 36.7 ly from Earth in the constellation Bo¶tes. It

is 25.4 times larger and 170 times more ...

JAN 20, 2020 nineplanets.org 'º arcturus-α-bootis

Arcturus (α Bo¶tis) Facts

Arcturus, together with Spica and Denebola (Regulus) ''

is part of the Spring Triangle asterism, and by extension, also of the ...

FEB 11, 2022 space.com 'º 22842-arcturus

Arcturus is a red giant star in the Northern Hemisphere of Earth's sky and the brightest star in the constellation Bo¶tes (the herdsman).

britannica.com 'º place 'º Arcturus

Arcturus, also called Alpha Bo¶tis, one of the five brightest stars in the night sky, and the brightest star in the northern constellation Bo¶tes, with an ...

constellation-guide.com 'º arcturus

Arcturus, Alpha Bo¶tis,

is the brightest star in Bo¶tes constellation and the fourth brightest star in the sky. With an apparent magnitude of -0.04,

Arcturus ...

None of your results have been customized

Wegovy, Ozempic ads slammed as too 'evocative' in NYC subway

Thu, 13 Apr 2023 15:34

Oh, oh, oh '-- oh, no.

One TikToker spotted ads for a company that prescribes controversial weight loss injection drugs Wegovy and Ozempic at a New York City subway station '-- and it is sparking outrage among viewers.

The drugs, which are known to be used among Hollywood celebs, were shown to potentially trigger a deadly side effect in a study published last month, The Post previously reported.

TikToker Sara Morano showed the ads for the company called Ro plastered on the walls and on beams, which she wrote were in the Times Square subway station.

Her video has garnered more than 443,000 views '-- and Morano told The Post that she shared them because they felt inappropriately ''evocative'' to her.

In one ad photo, it shows someone injecting the shot into their belly, while another snap on a different wall shows a man putting it into his arm.

One panel of the ad that Morano documented reads, ''A weekly shot to lose weight,'' in large black text.

One TikToker took notice of the new ads in the NYC subway for a company that can prescribe you the weight-loss shots Ozempic and Wegovy. TikTok One of the panels of the ad reads, ''A weekly shot to lose weight.'' TikTok The shots have become notoriously controversial in recent months. REUTERSIn an email to The Post on Monday, Morano explained that she decided to film the ads and post them on TikTok because of their messaging '-- particularly the photos of the models using the needle to inject themselves.

''The ads carry very few words you can read while passing by, so I felt they were subconsciously trying to influence people towards the product,'' Morano wrote.

''It felt empowering to myself and others to put these boards on TikTok where we would have forum to discuss what they meant and accept or reject the ideas being put out there about weight, body image and the use of medicine.''

The creator also noted that she felt the messaging of these ads could be interpreted in the wrong way '-- that it's ''normal'' for everyone to take these injections.

''They also send the message that the bodies of their models, who look like everyday people, are a problem to be solved,'' she explained.

Ro is just one of the many providers that can give you access to these weight-loss medications and describe themselves as a ''direct-to-consumer telehealth company that handles everything from diagnosis to the convenient delivery of medication.''

For their ''Body Program,'' they connect you with a Ro provider to talk about your health history and require you to take a lab test in order to see if it's right for you, according to their website.

In the comments section of her TikTok video, many users seemed to be outraged by the ads. TikTok Twitter scion Elon Musk has even admitted to taking the drug to lose weight. REUTERSThey advertise that patients could lose, on average, 15% of their body weight with the medication, noting the clinical trials.

Potential patients would receive one-on-one support with a provider, and it costs just $135 per month to join after the initial $99 introduction promo.

In a March 26 blog post on Medium, the company explained why they were putting the ad campaign for the Body Program on the subway, citing three main reasons: to ''spotlight obesity as a chronic condition,'' ''demystify GLP-1 treatments'' and ''empower people to take control.''

In the blog, they stated that obesity today affects 40% of adults in America and that their ad campaign was backed by clinical research and discussions with their patients.

They noted that the campaign was meant to ''start a conversation around what obesity actually is, how it can be addressed, and what Ro can do to help people who want to take steps toward their weight and metabolic health goals.''

While Morano acknowledged that the medicine could be life-changing for some, she also noted that there are other issues that can come along with it.

''There are a lot of mental, physical and social health issues that seem to correlate with size and weight, so I can understand why people want Ozempic for weight loss,'' she wrote to The Post. ''I think everyone should be skeptical and research before seeking out this solution though.''

The creator continued, ''I think medical professionals also have a responsibility to buffer the hype around Ozempic. I personally would seek out making other changes before Ozempic, but I think people have the right to make decisions about their own bodies.''

In the comments section of her TikTok video, many users seemed to agree with Morano's take on the weight-loss drug.

''Adverts like this feel unethical and idk if it should be legal,'' one viewer lamented.

Another wrote, ''And people wonder why America has a prescription drug problem with companies are allowed to advertise to the public.''

''It's the 90s again,'' someone else observed.

Morano wrote that the advertisements were seen at the Times Square 42nd Street subway station. TikTok Comedian Chelsea Handler has also admitted to taking the drug before. REUTERSIn the past few months, the injectables have come under fire for their rampant use and potentially harmful side effects.

The drugs, Wegovy and Ozempic, were first intended to be used to treat patients with Type 2 diabetes and are made up of a peptide called semaglutide, which mimics a hormone called GLP-1 that is found naturally in your small intestine.

The meds make the person taking them feel fuller for longer, as it slows down digestion '-- which can lead to weight loss, as you're eating less.

In March, Texas-based Dr. Peter Attia claimed that he was seeing patients lose muscle mass at an alarming rate while taking the drug.

''Almost without exception, every patient we've put on this drug has lost muscle mass,'' he claimed in a video. ''And they have lost it at a rate that alarms me.''

Researchers out of China also found that there could be an ''increased risk'' of getting an intestinal obstruction when taking these medications.

Twitter hotshot Elon Musk has admitted to taking Wegovy, as well as comedian Chelsea Handler, who claimed she was taking Ozempic without even knowing it.

AI Is About to Decimate Millions of Jobs. It's Time for Universal Basic Income | Opinion

Thu, 13 Apr 2023 14:46

For the better part of the last 15 years, I've worked in what some might call the "real economy." In the digital print production industry, I've worked in warehouses and neighborhoods that reflected the ill effects of modern economic policy. I've seen manufacturing hubs stripped of economic vitality, workers struggling to meet basic needs, and the growing gap between those with college degrees and those without.

Most of the workers I've met over the years were hard working and doing the best they could with the skills they had. They deserved to be dealt a fair economic hand in exchange for their labor. Yet it seemed year after year, the system would dump its economic burden on their shoulders.

From the 2008 financial crisis to today's inflation, economic policy has failed the average worker. And with the onset of artificial intelligence, it's clear that it's time for a new economic paradigm.

With the unveiling of ChatGTP, it's apparent now that artificial intelligence will transform the world of work. This seems poised to happen sooner rather than later. But unlike economic transformations of the past, this next revolution will disrupt almost every mode of employment.

Goldman Sachs recently put out an economic report that found that AI could expose 300 million jobs to automation in the U.S. and Europe. Without some kind of new economic imagination, this kind of transformation would be catastrophic on almost every level imaginable. The technological update that AI provides will be useless if it is not accompanied by an economic policy update as well.

iStockFrom what I have seen over my time spent in the real economy, the economic policy that the coming age of AI should be met with is universal basic income (UBI), or a guaranteed basic income for all American workers.

What would that look like in practice? Stockton, California began a UBI experiment in 2019. The program gave selected residents $500 a month for two years with no strings attached. Participants in the experiment reportedly had "improved job prospects, financial stability, and overall well being." As one participant explained, before the program, they were paying bills and didn't know how they were going to eat. But after receiving basic income, it was like "being able to breathe."

Of course, no economic policy is perfect. Both liberals and conservatives would be able to find things they like and things they dislike about any UBI program. Liberals would be happy giving workers direct, substantial economic help, though they would probably balk at the fiscally necessary removal of other social programs. Conservatives would bemoan the policy as the ultimate "free lunch" or handout, though upon consideration, they might realize that a UBI program would strengthen families, communities, and notions of personal responsibility.

Some of the arguments against UBI say that it would disincentivize people from working, or that people would waste the money. Yet from what I've seen in the real economy, most people don't mind working; they just want a fair shake.

But worries about disincentivizing work in an age of AI seem odd anyway. The whole problem with an AI based economy is that there will be less work to go around. To be sure, there will be some people who waste their UBI money. Social media would probably be filled with images of foolish youthful indulgence with UBI funds. Yet I honestly believe that the vast majority of working people would use the money to pay bills, and take care of their families.

Even before the coming AI takeover, the average worker needs more money to meet their basic needs and actually feel like they are getting ahead financially. It's a deflating feeling to work full time, yet to be one car problem or medical bill away from financial instability.

How much more so will that be true when we're 300 million jobs shorter.

Most importantly, UBI would allow people to live happier, and hopefully fuller lives. Ironically, this would seem to be the point or goal of any AI imagined utopia: a world where individuals have the freedom to pursue meaningful activities, free from the burden of meaningless work.

Political or economic philosophies conjured up during the age of the typewriter aren't up to bringing this world into reality. New thinking is needed, thinking that casts aside emotion and blind ideology in favor of a rational look at what needs to be done.

If we allow AI to simply run its course through the economy, the results will be disastrous. All the bad economic trends for the middle class downward will only get worse. But if we use UBI to help people simply live, we might get a world where AI actually helps us more than it hurts us.

Andrew V. Kennedy is an artist and writer whose work looks to capture our current times. You can follow him on Twitter and Instagram, and his work can be found at www.andrewvkennedy.com.

The views expressed in this article are the writer's own.

Bank of England beefs up plans for digital 'Britcoin' currency

Thu, 13 Apr 2023 14:46

Please update your billing information

The subscription details associated with this account need to be updated. Please

update your billing details here to continue enjoying your subscription.

Your subscription will end shortly

Please

update your billing details here to continue enjoying your access to the most informative and considered journalism in the UK.

Thursday April 13 2023 Britcoin, championed by Rishi Sunak when he was chancellor, could cut the middleman out of electronic payments

KIN CHEUNG/GETTY IMAGES

Saturday April 08 2023, 6.00pm, The Sunday Times

The Bank of England is ramping up plans for a ''Britcoin'' digital currency by hiring a workforce of up to 30 people to develop the project.

The Bank announced in February that a scheme for a new ''digital pound'' would enter the design phase, with the currency expected to be in circulation by the end of the decade.

It is now seeking engineers to lead the project, including a ''digital pound solution architect'' to research the benefits of different designs, and a ''security architect'' who will help to make sure that any new currency is secure and resilient against potential cyber or privacy threats. Both roles will pay up to £80,000.

Britcoin, championed by Rishi Sunak when he was chancellor, will not

Democrats call for Garland to drop charges against Assange | The Hill

Thu, 13 Apr 2023 14:38

Annabelle GordonRashida Tlaib (D-Mich.) addresses reporters during a press conference on Wednesday, February 8, 2023 to discuss the American Teacher Act.

A group of Democrats sent a letter to Attorney General Merrick Garland on Tuesday urging him to drop the charges against WikiLeaks founder Julian Assange over his publishing of classified materials.

Assange faces 17 counts under the Espionage Act and one count of conspiracy to commit computer intrusion.

The Democrats pressing Garland on the issue are led by Rep. Rashida Tlaib (Mich. and also include Reps. Jamaal Bowman (N.Y.), Cori Bush (Mo.), Greg Casar (Texas), Alexandria Ocasio-Cortez (N.Y.), Ilhan Omar (Minn.) and Ayanna Pressley (Mass.).

They wrote that Assange's charges ''pose a grave and unprecedented threat'' to journalism practices and the First Amendment.

''Press freedom, civil liberty, and human rights groups have been emphatic that the charges against Mr. Assange pose a grave and unprecedented threat to everyday, constitutionally protected journalistic activity, and that a conviction would represent a landmark setback for the First Amendment,'' they wrote in the letter.

The group pointed to a joint statement issued by major news organizations from around the world, including The New York Times, The Guardian, El Pais, Le Monde and Der Spiegel, that called on the United States to drop the charges against Assange.

At the time, the media outlets said Assange's leaks exposed ''corruption, diplomatic scandals and spy affairs on an international scale.''

''This indictment sets a dangerous precedent, and threatens to undermine America's First Amendment and the freedom of the press,'' the outlets said.

Assange was arrested in London in April 2019 on a U.S. warrant, and has since fought in British court to avoid being extradited to the U.S. to face the charges. He appealed against the extradition request in July 2022.

Groups including Amnesty International and the International Federation of Journalists have also called on the Biden administration to drop the charges.

''The prosecution of Mr. Assange marks the first time in U.S. history that a publisher of truthful information has been indicted under the Espionage Act,'' the lawmakers wrote. ''The prosecution of Mr. Assange, if successful, not only sets a legal precedent whereby journalists or publishers can be prosecuted, but a political one as well.''

''We urge you to immediately drop these Trump-era charges against Mr. Assange and halt this dangerous prosecution,'' the lawmakers concluded.

This is not the first time lawmakers have called on the government to drop the charges against Assange.

California state senator introduces bill to help find missing Black womenPBS leaving Twitter after NPR departureRep. Ro Khanna (D-Calif.) tweeted last year, ''Regardless of how you feel about Assange morally, his prosecution is an overreach and threatens press freedom.''

Rep. '...Pramila Jayapal'(C) (D-Wash.) said at a town hall in March that she agrees it is time to free Assange, who has been detained for more than three years.

Neither Khanna or Jayapal signed on to the letter calling for the Justice Department to drop the charges. The Hill reached out to both members of Congress for comment.

Copyright 2023 Nexstar Media Inc. All rights reserved. This material may not be published, broadcast, rewritten, or redistributed.

PG&E monthly bills could jump for many customers due to new state law

Thu, 13 Apr 2023 14:06

PG&E crews repair power lines in Concord, March 2023.

Customers for California's three major power companies '-- including PG&E ratepayers '-- can expect to see some big changes in their monthly electricity bills in the coming years as compliance with a new state law begins to unfold.

PG&E, Southern California Edison and San Diego Gas & Electric, the three major California utilities whose services include electricity, have filed a joint proposal with the state Public Utilities Commission that sketches out proposed changes in monthly bills.

At present, those bills are primarily based on how much electricity and gas customers consume.

A new proposal would add a fixed monthly charge that would be based on the household income levels of the respective customers.

The tradeoff: The three utilities are proposing a reduction of 33% in electricity rates, which means it's possible that segment of the bill could be less expensive.

Put another way, customers would be able to reduce a portion of their bill if they can control their electricity usage.

''This proposal aims to help lower bills for those who need it most and improves billing transparency and predictability for all customers,'' said Marlene Santos, PG&E's chief customer officer.

The primary effect could be to help reduce monthly bills for low-income customers, according to PG&E.

But the shift could mean jumps in monthly bills for some customers.

The changes would affect only those customers who receive electricity services from PG&E and its sibling power companies.

Here's how the fixed charges would work in the PG&E service territory. The numbers are based on a four-person household:

Households earning less than $28,000 a year would pay a fixed charge of $15 a month on their electric bills.Households with annual income from $28,000 to $69,000 would pay $30 a month.Households earning from $69,000 to $180,000 would pay $51 a month.Those with incomes above $180,000 would pay $92 a month.''These are not new charges, but a restructuring of the components of providing and delivering power,'' PG&E stated in a post in the Currents section of the utility's website.

The monthly bills of the future would have two components: the fixed charge based on household income levels and the electricity charge at a reduced rate that would fluctuate based on monthly energy consumption.

PG&E says many customers would ultimately pay less for electricity '-- although the distinct possibility remains that an unknown and potentially significant number of more affluent customers might wind up with even higher electric bills.

''On average, low- and moderate-income customers would see lower bills,'' PG&E stated in the Currents post. ''Of those who have a bill increase, many would have a relatively small bill impact.''

It also appears that a formal effort will be made by state officials to confirm the household income declarations of utility ratepayers.

''The proposal recommends a qualified, independent state agency or third party be responsible for verifying customers' total household incomes,'' PG&E said in an emailed statement.

The state Public Utilities Commission will have to craft a final rate and billing structure for the three utilities. The PUC is due to make a final decision by July 2024.

Oakland-based PG&E hopes a new structure for calculating monthly electricity bills will help customers navigate a fast-changing energy landscape in California.

Utility customers statewide could feel a brutal financial squeeze as a result of California's push to transition to a green energy state that depends more on electricity and less on natural gas. Plus, the state intends to phase out gasoline-powered vehicles in a shift to electric cars.

The big problem with PG&E bills, however, is that there's no limit to how quickly they can rise, in the view of Mark Toney, executive director of The Utility Reform Network, a consumer group that's also known as TURN.

Even worse, it appears that PG&E utility costs have soared more than twice as fast as the overall inflation rate in the Bay Area.

During the 12 months that ended in February, electric utility bills '-- essentially arising from what PG&E charges its customers '-- rocketed higher by 13.6% in the Bay Area, according to a report released in March by the U.S. Bureau of Labor Statistics.

Bay Area consumer prices overall rose by 5.3% during the same one-year period, the federal agency reported.

''The problem is the sky's the limit for how much PG&E can request for electricity and gas rates, and the sky's the limit for what the PUC can approve,'' Toney said. ''We need to limit rate increases to the annual consumer price index.''

Dylan Mulvaney says Bud Light critics 'don't understand' her as Anheuser-Busch suffers $3bn loss | Daily Mail Online

Thu, 13 Apr 2023 13:58

'They don't understand me!' Trans activist Dylan Mulvaney hits back at critics of Bud Light campaign - as beer giant's parent company Anheuser- Busch suffers $3billion lossDylan Mulvaney says she is a 'target' because she is newly transgender Anheuser-Busch's share price dipped this week as anger over the campaign continues By Jen Smith, Chief Reporter For Dailymail.Com

Published: 08:39 EDT, 12 April 2023 | Updated: 12:49 EDT, 12 April 2023

Trans activist Dylan Mulvaney has hit back at critics of her Bud Light campaign, insisting they 'don't understand' her and have made her a 'target' because she is newly trans.

In an appearance on Rosie O'Donnell's podcast, Mulvaney - who has just completed '365 days of girlhood' said: 'The reason that I think I am so'...I'm an easy target is because I'm so new to this.

'I think going after a trans woman that's been doing this for like 20 years is a lot more difficult. I think maybe they think that there's some sort of chance with me '... But what is their goal?

'These people, they don't understand me and anything that I do or say then somehow gets taken out of context and is used against me and it's so sad because everything I try to put out is positive.

'It's trying to connect with others that maybe don't understand me. It's to make people laugh or to make a kid feel seen.'

While Mulvaney has shrugged off the criticism, the sting appears to be more lasting for Anheuser-Busch, Bud Light's parent company that has lost $3billion in market cap value in recent days.

Dylan Mulvaney, pictured yesterday, is hitting back at critics of her Bud Light campaign, saying anyone who doesn't like it 'doesn't understand her'

In the last five days, Anheuser-Busch's share price has dipped, wiping $3billion total from the company's market cap

The beer giant was worth $132billion on March 31st - its highest market cap all year - after a string of well received ads like its Super Bowl commercial featuring Miles Teller and his wife.

Mulvaney's partnership dropped on April 1st.

By April 3rd, Bud Light fans started sharing their distaste for it. Kid Rock kicked their rage up a gear when he posted a video shooting cases of the beer the same day.

Then, country stars Travis Tritt and John Rich publicly denounced the brand. There were also rumors of depleted sales over Easter Weekend.

Yesterday, Anheuser-Busch's share price dipped to $64.96 - wiping $3billion total from the company's value.

The marketing team that oversaw the campaign, including VP of marketing Alissa Gordon Heinerscheid, remains in place.

Anheuser-Busch is also standing by the campaign.

Mulvaney shared the personalized beer can campaign on April 1 on her Instagram page

It comes after backlash the company has been receiving after beer giant Bud Light celebrated polarizing Trans activist Dylan Mulvaney in a new promotion

The company has been hit with a barrage of complaints, with many customers filming themselves pouring the liquid away

In a statement after the initial blow back, the company tried to calm conservative consumers with a statement.

'Anheuser-Busch works with hundreds of influencers across our brands as one of many ways to authentically connect with audiences across various demographics and passion points.

'From time to time, we produce unique commemorative cans for fans and for brand influencers, like Dylan Mulvaney.

'This commemorative can was a gift to celebrate a personal milestone and is not for sale to the general public.'

Heinerscheid, the marketing exec hired to overhaul Bud Light's image last year, wanted to lead a female, inclusivity revolution at the brand.

She talked proudly of placing women at the forefront of Bud Light's ads, and adding 'inclusivity' as a priority.

Alissa Heinerscheid, the brand's newly tapped vice president of marketing, shared her new vision for Bud Light late last month, and has since been met with pushback from customers

'I'm a businesswoman. I had a really clear job to do when I took over Bud Light, and it was this brand is in decline. It's been in decline for a really long time.

'And if we do not attract young drinkers to come and drink this brand, there will be no future for Bud Light. So I had this super clear mandate.

'It's like we need to evolve and elevate this incredibly iconic brand.

'What does evolve and elevate mean? It means inclusivity. It means shifting the tone. It means having a campaign that's truly inclusive and feels lighter and brighter and different.

'And appeals to women and to men,' she said in an interview on March 30.

Since taking the gig in July, Heinerscheid has already rolled out several adverts as part of a push to empower women - one of which features a dancing Miles Teller and his wife

This desire was felt in a February commercial titled 'The Bud Light Carry,' which saw a female protagonist, after buying her friends a round of beer, successfully bring the glasses to her friends without spilling a drop

Twitter taps eToro to let users trade in stocks, crypto | Reuters

Thu, 13 Apr 2023 13:33

[1/3] A keyboard is placed in front of a displayed Twitter logo in this illustration taken February 21, 2023. REUTERS/Dado Ruvic/Illustration/File Photo/File Photo

April 13 (Reuters) - Trading and investing platform eToro said on Thursday it has partnered with Elon Musk-led Twitter to let users access real-time prices of cryptocurrencies, stocks and other assets, and to enable the trading of those instruments.

The trading data will be available through Twitter's Cashtags feature, which was launched in 2012 and allows users to interact with content around an asset by inserting a dollar sign in front of the ticker.

Musk said in December that Cashtags with data from TradingView was "one of the many product improvements for financial Twitter".

Twitter users were earlier able to view real-time trading data from markets-charting platform TradingView, but only on some assets such as the S&P 500 index and shares of certain companies such as Tesla (TSLA.O).

Now, they can click through to eToro's platform to see information about the asset, with an added option to invest.

Since acquiring Twitter for $44 billion in late October, Musk has brought about a series of changes to the microblogging website, including rolling out a subscription-based plan for verified users and executing mass layoffs.

Reporting by Akash Sriram in Bengaluru; Editing by Devika Syamnath

Our Standards: The Thomson Reuters Trust Principles.

12ft | Florida State University professor leaves job after claim he faked data on racism

Thu, 13 Apr 2023 12:56

Removing Paywall

Jack Daniel's Facing Boycott Calls over 2021 Drag Queen Campaign

Thu, 13 Apr 2023 12:55

The whiskey giant Jack Daniels now faces calls for boycotts over a 2021 ad campaign that featured drag queens from Ru Paul's Drag Race.

The ''small town, big pride'' campaign enlisted drag queens from the TV show to ''produce a series of videos called Drag Queen Summer Glamp, which was released during pride month,'' according to Newsweek.

The episodes and other promotional material have been available on the company's website, which says: 'Jack Fire and Pride go together like cinnamon and whiskey.'

Despite the campaign being publicized for 22 months, Jack Daniel's support for the LGBTQ+ community is receiving fresh scrutiny now transgender rights and liberties are a key issue of contention in the culture wars.

A spokesperson for Jack Daniel's told Newsweek that the distillery makes products ''with everyone in mind, including the LGBTQ+ community. As a longtime champion of the LGBTQ+ community, Jack Daniel's celebrates individuality and living life boldly on your own terms.''

Watch below:

The commercial featured several drag queens competing in challenges near the Jack Daniel's distillery in Lynchburg, Tennessee. The company called it ''a bold new experience'--for both the queens and their hosts'' at the time.

Trinity the Tuck, one of the drag queens featured, said at the time that the whiskey giant ''gets drag culture'--which is all about celebrating individuality and inviting others to accept you as you are.''

Drag queen Manila Luzon also said, ''This is how Pride should be celebrated: with friends'--new and old'--in a place you would never expect.''

Lauren Richmond, former brand manager for Jack Daniel's Tennessee Fire, also called it ''unexpected partnership'' at the time that ''reaffirms our commitment to the LGBTQ+ community.''

Backlash and calls for boycotts erupted online after the nearly two-year-old ad campaign resurfaced.

''Jack Daniel's Whiskey canceled my endorsement deal because I said I opposed sandblasting the word Confederate off a Vanderbilt University building. But they paid these clowns,'' lamented Clay Travis.

''Jack Daniel's GOES WOKE! The famed whiskey brand is the latest company to push Trans Ideology and Drag Culture to its customer base,'' tweeted Oil London

Jack Daniel's Whiskey canceled my endorsement deal because I said I opposed sandblasting the word Confederate off a Vanderbilt University building. But they paid these clowns. pic.twitter.com/5EAqwwioyP

'-- Clay Travis (@ClayTravis) April 6, 2023

Jack Daniel's GOES WOKE!

The famed whiskey brand is the latest company to push Trans Ideology and Drag Culture to its customer base. #GoWokeGoBroke pic.twitter.com/qnlsg2SgKq

'-- Oli London (@OliLondonTV) April 6, 2023

Who told Jack Daniel's it would be a good idea to use a transgender to promote their whiskey?

They can say goodbye to a good chunk of their clientele.

I will never drink Jack Daniel's again. pic.twitter.com/Ig8mXvlfwW

'-- Proud Elephant 🇺🇸 (@ProudElephantUS) April 6, 2023

Et tu, Jack Daniel's? pic.twitter.com/xjjbLkB0iM

'-- End Wokeness (@EndWokeness) April 5, 2023

All the @JackDaniels_US drinkers should take note. pic.twitter.com/W0d9lMoSxq

'-- Travis Tritt (@Travistritt) April 6, 2023

Jack Daniel's has become Jane Daniel's as they team up with Anheuser-Busch is promoting degeneracy.

Maybe try a bottle of George Dickel next time you're looking for Tennessee whiskey. pic.twitter.com/6pF3pxnHyy

'-- Stew Peters (@realstewpeters) April 6, 2023

First Bud Light, now Jack Daniel's?!

Please check on your redneck, hompphobe friends.

Actually, don't. Let them yell into the void like the softass crybabies that they are.

ðŸ"¸'ðŸŒ pic.twitter.com/lKksklGcJ9

'-- Ryan McKinnell (@RyanMcKinnell) April 6, 2023

New Details Emerge Over 'Mistake' That Led To Bud Light's Paid Marketing Engagement With Trans Influencer | The Daily Wire

Thu, 13 Apr 2023 12:54

New details have emerged over what allegedly happened inside Anheuser Busch earlier this Spring that led to a highly controversial transgender influencer landing a paid marketing engagement with one of the company's top brands, Bud Light, and how the company has responded to the backlash.

''No one at the senior level'' of the company was aware of Bud Light's polarizing partnership with Dylan Mulvaney, sources close to the situation claim. The company is also allegedly pausing its marketing efforts and scrambling to implement a more ''robust'' process for evaluating future influencer partnerships.

The claims come despite the company's vice president of marketing recently touting her mandate to make the brand more ''inclusive,'' and after the company issued a statement confirming the partnership and describing it as an attempt to ''authentically connect with audiences across various demographics and passion points.''

The controversy started when Mulvaney, a biological male who claims he is a woman, announced earlier this month on Instagram that ''Bud Light sent me possibly the best gift ever: a can with my face on it.''

''Happy March Madness!!'' Mulvaney wrote as a caption on the Instagram post. ''Just found out this had to do with sports and not just saying it's a crazy month! In celebration of this sports thing @budlight is giving you the chance to win $15,000! Share a video with #EasyCarryContest for a chance to win!! Good luck.'' The video also included the hashtag #budlightpartner.

As The Daily Wire previously reported, there was initial confusion as to whether the announcement was real because Bud Light's official social media pages and press page made no mention of a partnership with Mulvaney.

Influential conservative activist Rogan O'Handley, known as DC Draino on Twitter, said last week that sources inside the company told him that C-level executives were angered over the marketing engagement with Mulvaney. Former Newsmax host John Cardillo wrote on Twitter that it appeared that those same executives did not approve the Mulvaney campaign.

As I've been digging into this, I'm finding this to be 100% true@AnheuserBusch has donated far more to GOP candidates than Dems, and FAR more than woke @MolsonCoors.

Looks like the Dylan Mulvaney campaign was not approved by senior execs.

Heads should roll. https://t.co/e301ZF2vDU

'-- John Cardillo (@johncardillo) April 6, 2023

The Daily Wire spoke with two sources close to the situation who also claim that the decision to have Mulvaney be part of an advertising campaign targeting younger consumers was not approved by anyone in the ''senior level'' of the company.

CLICK HERE TO GET THE DAILY WIRE APP

''No one at a senior level was aware this was happening,'' said one source, who was granted anonymity to discuss sensitive internal discussions. ''Some low-level marketing staffer who helps manage the hundreds of influencer engagements they do must have thought it was no big deal. Obviously it was, and it's a shame because they have a well-earned reputation for just being America's beer '-- not a political company. It was a mistake.''

A second source also claimed that a lower level employee had made the decision to include Mulvaney in the campaign, a move that appears to have cost the company $5 billion in market value. The backlash to the iconic American beer brand has been so intense that a Budweiser distributor in Missouri canceled an event with the company's famous Clydesdale horses because everything was ''still sensitive'' over the matter.

The second source told The Daily Wire that the company was likely going to implement a more ''robust'' process for evaluating controversial figures in the future to avoid another public relations nightmare.

The claim that a lower level employee was allegedly behind the Mulvaney campaign comes after two female vice presidents at the company had previously championed inclusivity at the company.

Anheuser-Busch's vice president of communications Jennifer Morris, who locked her Twitter account in recent days, said at an industry event in 2021 that she felt it was important to ''leverage our scale and resources to further conversations around DE&I [Diversity, Equity and Inclusion] and help consumers understand the difference they can make as individuals.''

Bud Light vice president of marketing Alissa Heinerscheid claimed in a recent interview that she wanted ''to evolve and elevate this incredibly iconic brand'' and focus on ''inclusivity'' because she thought it was ''in decline.''

''I'm a businesswoman, I had a really clear job to do when I took over Bud Light, and it was 'This brand is in decline, it's been in a decline for a really long time, and if we do not attract young drinkers to come and drink this brand there will be no future for Bud Light,''' she said.

She added that she believed she had a ''super clear'' mandate to ''evolve and elevate'' the brand, and that means ''having a campaign that's truly inclusive, and feels lighter and brighter and different, and appeals to women and to men.''

''We had this hangover, I mean Bud Light had been kind of a brand of fratty, kind of out-of-touch humor, and it was really important that we had another approach,'' she said. Photos have since emerged of her ''enjoying [a] fratty party,'' according to the New York Post.

According to Open Secrets, employees at the company donated significantly more money to Republican and conservative organizations than they did to Democratic or leftist organizations. The company generally donates to Republican and Democratic PACs, a sign that they largely do not want to get involved in choosing sides and would rather play nice with everyone. In the 2022 cycle, the company's contributions favored Republicans.

The company has faced protests from the political Left in the past for donating to lawmakers who have pushed legislation that the far-left claims ''discriminate[s] against transgender youths,'' USA Today reported.

This article has been expanded to add more context.

Anheuser-Busch down $5B in value amid Dylan Mulvaney Bud Light controversy

Thu, 13 Apr 2023 12:53

Beer Colossus Anheuser-Busch saw its value plummet more than $5 billion since the company announced its branding partnership with controversial transgender social media influencer Dylan Mulvaney.

Since March 31, shares of Bud Light's parent company have fallen by nearly 4% '-- knocking down the company's market capitalization from $132.38 billion to $127.13 billion on Wednesday.

Anheuser-Busch stock fizzled more than 1.5% on Wednesday.

The company is dealing with the fallout from conservatives over its deal with Mulvaney, the 26-year-old transgender influencer with more than 10 million followers on social media.

Mulvaney fired back at critics Tuesday, accusing them of bullying her because she's an ''easy target.''

As a guest on the ''Onward with Rosie O'Donnell'' podcast, Mulvaney said her trolls intentionally twist her words and actions in an effort to blast the transgender community.

''The reason that I think I am so '... I'm an easy target is because I'm so new to this,'' Mulvaney said. ''I think going after a trans woman that's been doing this for like 20 years is a lot more difficult. I think maybe they think that there's some sort of chance with me '... But what is their goal?''

Shares of Anheuser-Busch have fallen by nearly 4% since March 31.''These people, they don't understand me, and anything that I do or say then somehow gets taken out of context and is used against me and it's so sad because everything I try to put out is positive. It's trying to connect with others that maybe don't understand me. It's to make people laugh or to make a kid feel seen.''

Mulvaney had posted videos and photos on social media promoting her sponsorship deal with Bud Light, which produced specially made cans with Mulvaney's likeness to commemorate the partnership.

The Mulvaney endorsement deal prompted Kid Rock to shoot up several cans of Bud Light with an assault rifle.

Anheuser-Busch's market capitalization has dropped by more than $5 billion since it signed Dylan Mulvaney to a deal promoting its Bud Light brand. Instagram Bud Light produced specially designed cans with Mulvaney's likeness to commemorate the partnership. Dylan Mulvaney/InstagramThe backlash even prompted a local Missouri distributor to cancel an appearance by the famous Budweiser Clydesdale horses due to fears for the safety of staffers.

Industry experts told The Post on Tuesday that the controversy appears to have to stay in power and could lead to a full-blown boycott of Anheuser-Bush products.

Mulvaney reportedly is pulling down more than $1 million in sponsorship deals with several big-name brands including Nike and Kate Spade.

Bud Light is one of the scores of brand names produced by St. Louis-based Anheuser-Busch. REUTERSMegyn Kelly lashed out at the ''non-breasted'' Mulvaney's deal with Nike.

''Nike sponsoring Dylan Mulvaney now for a f''king sports bra,'' Kelly said during Tuesday's edition of ''The Megyn Kelly Show'' on SiriusXM.

''I'm sorry, Dylan doesn't have breasts.''

Mulvaney's sponsorship deal prompted Kid Rock to shoot cans of Bud Light. twitter/@KidRock''Dylan's been taking some sort of a hormone that has turned Dylan into some '... I don't know what's happening there, but those are not breasts.''

''And Dylan doesn't need any sort of a bra '-- never mind a sports bra,'' according to Kelly.

Both Bud Light and Nike have pushed back against the criticism and stood by Mulvaney.

12ft | US news outlets PBS and NPR quit Twitter over state-backed label | The Straits Times

Thu, 13 Apr 2023 12:48

Removing Paywall

Stamp price increase 2023: USPS proposes July postage stamps hike

Thu, 13 Apr 2023 12:47

The price of postage stamps is poised to increase in July for the second time this year '-- the 17th rate change since 2000 '-- under a new proposal by the Postal Service.

Why it matters: If the 3-cent increase is approved by the Postal Regulatory Commission, it would be the shortest time between increases in the Postal Service's history.

Rates last went up in January and before that in July 2022.Between the 1970s and 2000, rates increased three to four times a decade.Driving the news: The Postal Service said the proposed increases raise first class mail by approximately 5.4% to ''offset the rise in inflation'' and are needed ''to address continued elevated inflation and prior years defective pricing model.''

Kevin Yoder, executive director of the advocacy group Keep US Posted and a former Republican congressman, said that each time rates go up, mail volumes go down.Yoder said that after January's rate increase went into effect, mail volume immediately decreased nearly 9% year-over-year, while expenses increased by 16%.Context: The number of pieces of mail handled by the post office has been on the decline in recent years as more people pay bills online and fewer send physical thank you cards.

In 2022, USPS handled 127.3 billion pieces of mail compared to the high of 213.1 billion in 2006, data shows.Postage price proposed increasesDetails: With the proposed rates, postage for a 1-ounce letter is 66 cents, up from 63 cents. A first-class stamp would be double the 1999 rate of 33 cents.

Metered 1-ounce letters would cost 63 cents, up from 60 cents.Postcards sent domestically would be 51 cents, up from 48 cents.International postcards and 1-ounce letters are $1.50, a 5-cent increase.Meanwhile, the Postal Service said it is also "seeking price adjustments for Special Services products including Certified Mail, Post Office Box rental fees, money order fees and the cost to purchase insurance when mailing an item."

Stamp price increases in the futureWhat's next: More price increases are expected as part of Postmaster General Louis DeJoy's 10-year Delivering for America plan "to achieve financial sustainability."

"I believe we have been severely damaged by at least 10 years of a defective pricing model '-- which cannot be satisfied by one or two annual price increases '-- especially in this inflationary environment," DeJoy said at a Postal Service Board of Governors meeting last year.Yes, but: "Rate hikes of this frequency are unprecedented and unsustainable," Yoder said in a statement to Axios.

"If left unchecked, DeJoy will plow ahead with additional stamp increases every few months, even though data shows that they put the squeeze on the American public and diminish mail volume," Yoder said.What do you think of the proposed stamp hike? Let us know by filling out this form. (Some responses may be featured in future Axios newsletters and on Axios.com.)

More from Axios:

Chipotle reveals all-electric, wind- and solar-powered restaurantBig chains look to capitalize on pickleball crazeEvite adds fertility "Parenthood Journey" category

What China's rare earth metal ban means for the West - The Post

Thu, 13 Apr 2023 12:46

Explainer

10:50

What China's rare earth metal ban means for the West If Beijing fulfils its threat, Europe and the US will need to diversify their supplyby Philip Pilkington

America should prepare for more expensive rare earth metals. Credit: Getty

China is threatening an export ban on rare earth metals in response to Washington's recent decision to impose restrictions on exports of high-end semiconductors to Beijing. This is not the first time that China has mooted such a ban, with rumours circulating since at least 2019 as well as formal threats in 2021.

If such a ban came into effect it could, in theory at least, be quite damaging. Rare earth metals are needed to produce the magnets that are used in everything from wind turbines to hard disk drives to electric vehicles. Everything from a smartphone to a Tesla has a substantial need for these elements, while US military technology is also dependent on them, with the F35 fighter jet requiring 417kg of rare earth metals.

Like what you're reading? Get the free UnHerd daily email Already registered? Sign in

China is by far the largest producer of usable rare earth metals, accounting for 60% of rare earth mining, 85% of rare earth processing and 90% of high-strength rare earth permanent magnet manufacturing. Yet there are questions that arise about whether the sanctions would work. We have seen since sanctions were imposed on Russia last year how difficult it is to regulate commercially available technology. There is every chance that even if China banned exports of rare earth metals to the US, America could simply buy it through a third party '-- just as Europe is buying Russian oil via intermediaries in India. The threats, however, are likely to push Western countries to find new sources of supply. Japan has already paved the way in this regard after the imposition, in 2010, of a two-month ban on rare earth exports from China. This followed a territorial dispute which broke out when Japan arrested a Chinese fishing boat captain near the contested East China Sea islands. The Japanese were then spurred to diversify the source of their rare earth metals and, as of today, they only import around 60% of their supply from China. Recently, Japan has been exploring the possibility of tapping into deep undersea reserves.

Diversifying the sources of rare earth metal purchases may prompt a renewed debate about the environmental consequences of rare earth metal processing, which creates toxic waste and has a high risk of causing damage to both the environment and to human health. These realities are embarrassing to those who advocate the use of technology like wind turbines and electric vehicles to save the environment. If China is no longer willing to do our dirty work, we may find ourselves with a national debate on the dangers and downsides of rare earth processing.

Ultimately, if China makes good on its threats, we should expect the price of rare earth metals to rise. Even if the sanctions do not work to prevent the US from gaining access to rare earth metals, they will likely lead to supply chain issues and rising costs. The same is true if we start to process these metals domestically. This means higher prices for Western consumers '-- and that includes everything from smartphones to green energy. Should Beijing's threat be fulfilled, ramifications will be felt well beyond the corridors of Washington.

Trump sues his former fixer Michael Cohen for over $500 million - POLITICO

Thu, 13 Apr 2023 12:45

In the lawsuit, Trump's lawyers claim Michael Cohen breached the terms of a confidentiality agreement he agreed to while working for Trump, saying he did so ''with malicious intent and to wholly self-serving ends.'' | Seth Wenig/AP Photo

Donald Trump is suing his former lawyer and fixer Michael Cohen just over a week after the former president was arraigned on 34 felony charges related to payments Cohen made to porn star Stormy Daniels ahead of the 2016 election.

Trump is suing Cohen for more than $500 million in damages, alleging that he violated his attorney-client relationship with Trump by ''spreading falsehoods'' and revealing confidential information, according to the court filing.

The filing attacks Cohen's credibility as he is expected to be a key witness in Trump's impending criminal trial in New York. Going after political or legal adversaries through lawsuits is not a new move for Trump and his legal team, though it is one that has had negative consequences in the past. In January, a Florida-based federal judge ordered nearly $1 million in sanctions against Trump and his attorney Alina Habba for a lawsuit against Hillary Clinton that the judge described as ''completely frivolous.''

In the lawsuit filed on Wednesday, Trump's lawyers claim Cohen breached the terms of a confidentiality agreement he agreed to while working for Trump, saying he did so ''with malicious intent and to wholly self-serving ends.'' The filing references statements Cohen made in his book, ''Disloyal: A Memoir,'' as well as on his podcast and through media appearances, calling these the ''most egregious breaches'' of his contract with Trump.

Fox News was the first to report on the lawsuit, which was filed in the U.S. District Court for the Southern District of Florida. Cohen lives in New York.

Big US intel leak was by gun enthusiast in 20s: report | Shepparton News

Thu, 13 Apr 2023 12:41

The man reportedly shared the information to a group of men and young boys on Discord. -APThe person who leaked US classified documents prompting a national security investigation is a gun enthusiast in his 20s who worked on a military base, the Washington Post reports, citing fellow members of an online chat group.

The person shared classified information to a group on the instant messaging platform Discord of about two dozen men and young boys who shared a "mutual love of guns, military gear and God", the Post said.

The Post based its report, which did not name the person, on interviews with two members of the Discord chat group.

Reuters was unable to verify details of the report.

Discord said in a statement earlier on Wednesday that it was co-operating with law enforcement.

The Department of Defense and the Department of Justice did not immediately respond to a Reuters request for comment.

The Department of Justice opened a formal criminal probe last week after the matter was referred by the Pentagon, which is assessing the damage done by what may be the most damaging release of classified US information in years.

The person went by the handle OG, slang for Original Gangster, or an old school traditionalist. The person was described by one of the Post's sources as being in his early to mid-20s, and was looked up to by members of the group.

"He's fit. He's strong. He's armed. He's trained. Just about everything you can expect out of some sort of crazy movie," said one member of the chat group, who was under 18 and spoke on the condition of anonymity with the permission of his mother, the Post reported.

In what appears to be the gravest leak of US secrets in years, pictures of sensitive documents were posed on Discord and other platforms including the online messaging board 4Chan, the encrypted Telegram global messaging app, and Twitter.

US national security agencies and the Justice Department are investigating the release to assess the damage to national security and relations with allies and other countries, including Ukraine.

Bank records show millions in transactions between Hunter Biden, China firms: Sen. Johnson | Just The News

Wed, 12 Apr 2023 22:22

The Facts Inside Our Reporter's NotebookWisconsin GOP Sen. Ron Johnson says the Chinese-American financial institution Cathay Bank has given Senate Republicans records showing millions of dollars going from Chinese companies to President Biden's son Hunter Biden.

Republicans and others started raising concerns during President Biden's successful 2020 White House campaign, if not earlier, that Hunter Biden used the family name and influence while his father was vice president to make millions in overseas business deals, which also could have compromised U.S. national security.

Johnson told The Washington Times the records show the Biden family involved with the now-defunct CEFC China Energy, which had connections to the Chinese Communist Party.

The firm reportedly gave $1 million to Hudson West III, which was a joint venture owned by Hunter Biden and Gongwen Dong, a business associate of CEFC's founder and chairman, Ye Jianming, according to the bank records.

"In my mind," said Johnson, "it's the Chinese government telling Joe Biden, 'We got the goods on you, buddy. And we're willing to dish it up.'"

The records provided by the bank also include those from the president's brother, James Biden.

Cathay Bank has offices in Los Angeles and China.

Johnson says the bank turned over the records to him and Iowa GOP Sen. Chuck Grassley. Other banks have denied the senators' requests for the records.

Pentagon leak traced to video game chat group users arguing over war in Ukraine | Espionage | The Guardian

Wed, 12 Apr 2023 22:21

A damaging batch of documents leaked from the Pentagon appears to have been initially shared on the video game chat platform Discord in an effort to win an argument about the war in Ukraine, according to open-source intelligence analysts.

The bizarre provenance of the leak may seem unusual but it is far from the first time that a dispute between gamers has sparked an intelligence breach, with the overlapping communities causing problems for military and gaming platforms alike.

The existence of the leaked cache was exposed as documents showing estimated casualties in the Bakhmut theatre of battle began circulating on public social networks last week.

Two versions of those documents, one of which had been crudely digitally altered to understate Russian casualties and overstate Ukrainian ones, were passed around among observers of the war. One, with the correct figures, stemmed from a leak to 4chan, the chaotic image board best known for birthing the ''alt right'' movement.

At the same time, a second set of documents, including the edited image, were being passed around pro-Russian Telegram channels.

Neither was the original source, however. Before they emerged on to the public internet, the documents had been shared on closed chatrooms hosted by Discord, a gamer-focused chat app. In one server, called ''Minecraft Earth Map'', 10 of the documents were posted as early as 4 March, a month before they appeared on 4chan.

''After a brief spat with another person on the server about Minecraft Maps and the war in Ukraine, one of the Discord users replied: 'Here, have some leaked documents' '' attaching 10 documents about Ukraine, some of which bore the 'top secret' markings,'' said Aric Toler, an analyst at the investigative research group§ Bellingcat.

That user had, in turn, found them on another Discord server, run by and for fans of the Filipino YouTuber WowMao, where 30 documents had been posted three days earlier, with ''dozens'' of other unverified documents about Ukraine. However, even that did not appear to be the original source: a third Discord server, named ''Thug Shaker Central'', among other titles, may have been where the documents were originally posted as early as mid-January.

''Posts and channel listings show that the server's users were interested in video games, music, Orthodox Christianity, and fandom for the popular YouTuber 'Oxide','' Toler said, referencing the military-themed YouTube channel. ''This server was not especially geopolitical in nature, although its users had a staunchly conservative stance on several issues, members told Bellingcat. Racial slurs and racist memes were shared widely.''

Although the scale and sensitivity of the leaks are significant, this is not the first time that an intelligence breach has been traced back to an argument about video games. One game in particular, the vehicular combat simulation War Thunder, has become notorious for the sheer quantity of leaks linked to it.

The game, which has a reputation for accuracy, has 70 million players worldwide, leading to regular disputes about balance and accuracy '' as a result, users have made breaches in at least 10 separate cases since 2020, frequently through posting classified documents about the capability of active weaponry in an effort to argue for the digital version of the vehicle to be improved.

In October 2021, for instance, classified design details about the French Leclerc tank were posted to win an argument about turret rotation speed. In July 2021, a user claiming to be a tank commander in the British army posted documents about the armour structure of the vehicle to win an argument. In January this year, design documents covering at least five separate fighter jets were posted by four different users.

skip past newsletter promotionSign up to First Thing

Free daily newsletterStart the day with the top stories from the US, plus the day's must-reads from across the Guardian

Privacy Notice: Newsletters may contain info about charities, online ads, and content funded by outside parties. For more information see our Privacy Policy. We use Google reCaptcha to protect our website and the Google Privacy Policy and Terms of Service apply.after newsletter promotion

The game has become such a shorthand for intelligence failures that the military contractor Raytheon was forced to deny reports that it specifically asked about War Thunder as part of a security clearance process.

The developers of War Thunder have even had to enact specific policies against the sharing of classified material on their forums. Anton Yudintsev, the founder of Hungarian developer Gaijin Entertainment, warned users after one of the January incidents that posting such information wouldn't help them win arguments with the development team. ''We always delete posts containing classified or restricted information from our forum as soon as possible. We forbid our users to share documents like this on our platforms. We remind our users again and again that it's both illegal and pointless, so they should never do that,'' he said.

''We never use them in our work and that policy will never change. Development team does not even look at the contents of the documents, moderators just check if the information on the military vehicle or armament in question is still classified or not. If the answer is a yes, we delete everything ASAP.''

Intelligence agencies have been aware of the need to monitor gaming communities for some time. In 2013, the cache of documents leaked by NSA contractor Edward Snowden revealed that the agency was actively monitoring Xbox Live, the voice chat platform for Microsoft's console, and had even deployed real-life agents into the virtual world of Azeroth, the setting of the World of Warcraft series.

One document, written in 2008 and titled Exploiting Terrorist Use of Games & Virtual Environments, warned that it was risky to leave gaming communities under-monitored, describing them as a ''target-rich communications network''. The notes warned that so many different agencies were conducting operations inside gaming services that a ''deconfliction'' group was needed to prevent them spying on each other by accident.

Social-Emotional Learning (SEL) - New Discourses

Wed, 12 Apr 2023 19:43

Social Justice UsageSource: What Is the CASEL Framework?. 2022. [online] casel.org. Available at: https://casel.org/fundamentals-of-sel/what-is-the-casel-framework/ [Accessed 9 September 2022].

Social and emotional learning (SEL) is an integral part of education and human development. SEL is the process through which all young people and adults acquire and apply the knowledge, skills, and attitudes to develop healthy identities, manage emotions and achieve personal and collective goals, feel and show empathy for others, establish and maintain supportive relationships, and make responsible and caring decisions.

SEL advances educational equity and excellence through authentic school-family-community partnerships to establish learning environments and experiences that feature trusting and collaborative relationships, rigorous and meaningful curriculum and instruction, and ongoing evaluation. SEL can help address various forms of inequity and empower young people and adults to co-create thriving schools and contribute to safe, healthy, and just communities.

New Discourses CommentarySocial-Emotional Learning (SEL; sometimes ''Social and Emotional Learning'') is a program of instruction for non-academic educational ''competencies'' in the social and emotional spheres. In virtually all cases, SEL is billed as a means of educating ''the whole child'' rather than just his academic parts. The leading organization for SEL, the Collaborative for Academic, Social, and Emotional Learning (CASEL) defines five areas of social and emotional competencies to be taught through SEL in addition to and within traditional academic achievement education programming. These areas are sometimes called the ''CASEL 5'' and are comprised of self-awareness, self-management, social awareness, relationship skills, and responsible decision-making. Social-Emotional Learning therefore exists to identify and teach particular skills within these five domains as ''an integral part of education and human development.''

In fact, CASEL literally begins its definition of SEL as being ''an integral part of education and human development,'' which under any standards in the known universe is at least a bit presumptuous. This is especially interesting as a claim since Social-Emotional Learning didn't formally exist before 1994 and didn't exist in its current form (Transformative SEL) until around 2017''2019. One might assume that all education prior to the last 28 (or three to five) years was therefore missing an integral part of what constitutes education, but this misunderstands the Theoretical underpinnings of SEL. Social-Emotional Learning practitioners insist that social and emotional learning has always been an integral part of education and was therefore always occurring, just not necessarily consciously or in an organized, purposed fashion.

This brazen claim on the part of CASEL is therefore reminiscent of the Freirean distortion that all education is inherently a political education, so consciously Marxist political education isn't just acceptable but uniquely necessary and good, given all the rest reproduce the alleged underlying oppressive conditions of society. (Transformative) SEL is, in the Theory underlying its installation and practice, expert educators finally getting this crucial component of education right after literally centuries of not realizing that it's always at the center of education no matter what, just in jumbled, disorganized, and poorly aimed and focused ways. Of course, this hints to us that Social-Emotional Learning might actually be a form of Marxist programming posing as education, which, in fact, it is.

In a nutshell'--though, as we'll see, it's impossible to put SEL in a single nutshell'--Social-Emotional Learning is a set of psychological and social work''based interventions (predominantly on children) posing as values education. These psychological and social interventions can be implemented in a wide variety of ways, but under current CASEL guidance, they are to be ''systemic.'' This means that SEL principles and intentions are to be woven into all aspects of school and even home and community life (under the WSCC, ''whole school, whole community, whole child,'' model). That weaving-in would include into all academic curricula, using SEL as a lens on the material, clubs, sports, interactions between teachers and students, and beyond within the school environment and, ideally, anything connected to it, at least under ''systemic SEL'' guidelines.

Importantly, then, SEL is composed of psychological and social work''based interventions on children performed by teachers and other non-professionals (in psychology and social work) in uncontrolled, non-therapeutic spaces in order to teach them ''right'' and ''wrong'' answers to socially and emotionally relevant circumstances. Some, such as your humble encyclopedist, have suggested that the intentional implementation of Social-Emotional Learning in schools should be a felony and involve the relevant administrators going to prison. Some states in the United States, such as North Carolina, seemed to preemptively anticipate this potential issue with the implementation of SEL and proactively granted immunity to teachers and school faculty administering SEL against charges of practicing psychology on children without a license.

With regard to further misfeasance in the implementation (and funding) of SEL in schools, Social-Emotional Learning is often sold as a potential remedy for ''at-risk'' children on the reasonable presumption that where their psychological, home, and family life are failing them in terms of capacity for educational attainment, the school can step in to bridge the gap. Because SEL as an interventionist program seems to make some sense (see below on ''individual/targeted'' interventions utilizing ''personal responsibility'' SEL models), government funding is often available in various ways for programs targeting ''at-risk'' kids. Thus, the formal policy-level definition of ''at-risk'' becomes highly relevant. In many states and districts, what is usually not clearly communicated is that ''at-risk'' has been carefully redefined as being ''at risk of graduating without being competent in the various SEL competencies,'' which applies to every child in every school district without a fully implemented and perfectly successful SEL program. Notably, these decisions follow large allocations of government moneys for ''at-risk'' kids in education that increased tremendously as a result of COVID-19 relief funding from the U.S. federal government.

The difficulty with putting SEL in a nutshell is that there are many very different products passing under that name. Broadly, they can be arranged in a three-by-three grid of possibilities, depending on the scope of implementation, on the one hand, and the specific type of SEL being implemented, on the other. The three scopes of implementation could be considered ''individual/targeted,'' ''curricular,'' and ''systemic.'' The three types of implementation are generally recognized as being based in ''personal responsibility,'' ''(civic) participatory,'' and ''transformative'' models. Importantly, these are not all the same. In fact, there is virtually no overlap between the ''personal responsibility'' model and the ''transformative'' model, and ''individual/targeted'' implementation is nothing at all like ''systemic'' implementation. Nevertheless, not only is the term ''SEL'' applied to all of these possible products, the (cherry picked) data supporting the more modest forms of SEL implementation tend to be used to justify the wholesale implementation of transformative SEL in a systemic way. This is very dishonest and merits discerning scrutiny. Before proceeding, let us summarize these modes and models of implementation.

The three scopes of implementation are fairly easy to understand. In ''individual/targeted'' interventions, children or classrooms with specific challenges or issues in their social and emotional lives, particularly when those impede or limit learning, are separated from the other students and intervened on in targeted ways, often by trained psychological or social-work professionals. In those settings, they are taught to manage their social and emotional circumstances through one or more of the programmatic approaches to SEL. ''Curricular'' SEL would make space for social and emotional content as a matter of curriculum, like health or nutrition class. ''Systemic'' SEL is more complicated and, in fact, devious.

Systemic SEL treats social and emotional learning as something that is always present and relevant to learning and thus treats it as a purposeful educational lens to be woven into all aspects of school life, curriculum, and beyond. Mathematics class, for instance, would be taught with SEL in mind, using mathematics problems, say, to introduce ''social awareness'' issues like race and racism, or by creating conditions to intervene socially and emotionally when students get frustrated or upset because of the difficulty of the lesson. In some sense, academic and extracurricular education and involvement becomes a medium to constantly teach and reinforce SEL priorities and groom SEL competencies into students.

Turning from the scopes to the modes of implementation, SEL based in personal responsibility seeks to intervene with students and teach them that challenges they have in their social and emotional lives by teaching them skills for taking personal responsibility as an individual for their emotions and social circumstances, whether directly related to their academic circumstances, affecting those, or unrelated to them. While this leaves open a question of whether or not it is the school's job to be teaching these skills'--or, in what contexts and by what methods to do so'--this is an approach that has some degree of evidence supporting it, especially when implemented in one-on-one or small-group settings in targeted ways.

SEL based in (civic) participation tends to include public or community service as a component, thought programs such as ''project-based learning,'' or explicitly seeks to use Social-Emotional Learning agendas to shape students' understanding of themselves as citizens. While this latter program could be done from an American (or other national) civics perspective, it could also be done through ''inclusive citizenship,'' ''global citizenship,'' or, in Comprehensive Sexuality Education, ''sexual citizenship'' models that contain specific activist perspectives and, in some cases, the deliberate raising of critical consciousness'--that is, a neo-Marxist ''critical'' perspective.

Transformative SEL is wholly (neo)-Marxist. Its primary agenda is, in fact, to use the five competency areas to raise and foster a critical consciousness through social and emotional education. This fact is unsurprising to all who understand that ''transformative'' is a term employed by all of the Dialectical Left, most notably including Marxists, to describe their goal of making the world and man into something suitable for Communism. Transformative SEL ''social awareness'' lessons are unabashedly rooted in neo-Marxist social Theories like Critical Race Theory, Gender Theory, Queer Theory, Postcolonial Theory, Fat Studies, and Disability Studies, and ''Trans SEL'' in that regard is a vehicle and coordinating hub for programming (literally, as in thought reform or brainwashing) into the perspectives of these Critical Theories. The goal of Transformative SEL is to program children to see their world through the lenses provided by those Critical Theories and train them to be ''change agents'' (that is, activists) on their behalf. Systemic Transformative SEL, which is what CASEL currently promotes, is designed to rearrange the entire school-related life of every child so that it reinforces this programming in a fully immersive way.

There are so many varieties of Social-Emotional Learning in part because it grew up in various contexts, though not always by this specific name, since 1968. The person credited with creating the first SEL program was a Yale psychologist and civil rights activist by the name of James Comer. In 1968, Comer wanted to explore why mostly black inner-city schools in Hartford, Connecticut, were failing so severely and introduced the idea of ''whole child'' teaching to intervene not just in the educational circumstances of the children in these challenged schools but also to account for the tumultuous and emotionally charged environment the students found themselves in, between the difficulties of the civil rights movement, the background of the ugly fall of institutional racism in the United States, the assassination of Dr. Martin Luther King, Jr., and the broken homes and neighborhoods many of these kids came from in Hartford. Within five years, he managed a veritable Stand and Deliver story with the two high schools in his experiment and had a very high percentage of the graduating class of 1973 going off to college or into solid jobs.

In the years following 1973, various models following from Comer's original were attempted with varying degrees of success. In fact, success of ''whole child'' education programs was extremely contextual and depended upon the unique circumstances of the schools and the skills and enthusiasm of the teachers and students in a profound way. Some interventions of this sort succeeded, and others did not. Reasons for success and failure proved complex and difficult to tease out or correct, especially at scale.

In the early 1990s, the decidedly new-age spiritualist organization called the Fetzer Institute took an interest in a sprituality-driven ''whole child'' approach to education, and in 1994 within the Fetzer Institute, Social-Emotional Learning was formally born. Within a year, in collaboration with the effective mother of SEL, Linda Darling-Hammond, CASEL was born out of the Fetzer Institute beginnings and began to experiment with infusing (Critical) education theory (that is, critical pedagogy) into whole-child education. The psychological-interventionist and surveying aspects of SEL were greatly enhanced during this time by the so-called ''godfather of SEL,'' psychology professor Maruice J. Elias, at Rutgers Universiy.

CASEL would not get significant traction in education until many years later, notably following a famous meta-analysis of SEL outcomes data in 2011 and then, largely through the work of Darling-Hammond, in 2015 with the passage of the Every Student Succeeds Act (ESSA) in Congress and signed into law by President Barack Obama. ESSA mandates at least one domain of non-academic competency reporting from every school receiving federal education money. Thanks to Darling-Hammond's approach, SEL was already primed to be enacted through heavy surveying of students for precisely this kind of data and was nearly universally implemented on some level through the American education system. CASEL has been the overwhelming leader in SEL programming, lobbying, and implementation ever since. Of note, at that time, Transformative SEL'--CASEL's main programming push today'--did not yet exist, though Darling-Hammond was already taking her programs in that direction, based on her relationship to and reliance upon the work of the Brazilian Marxist ''educator'' Paulo Freire, who Marxified education, whom she references in her foreword to the 2015 Handbook of Social and Emotional Learning: Research and Practice.

In practice, then, Social-Emotional Learning involves large-scale, frequent surveying of the students about social and emotional issues related to the five areas of competencies. These surveys are supposed to provide a feedback loop, based loosely on the Freirean dialogical model of education, whereby facilitators can learn what social and emotional lessons are most needed and appropriate, and by whom, in any given classroom. These surveys, however, especially when conducted digitally, amount to large-scale data harvesting of children in schools. These data are not merely used for SEL programming choices, concerning as that would be on its own; they are also provided (or sold) to other entities for purposes including economic forecasting (thus, potentially marketing) and the building of systems of social control, at least according to a 2019 academic paper by Ben Williamson in the Journal of Education Policy titled ''Psychodata'' detailing the underlying purposes of SEL in practice.

While this purpose of SEL data gathering and utilization might be shocking to many parents when they discover why their children's schools are relentlessly surveying them, including about deeply personal topics like sex, sexuality, puberty, relationships, mental health, and suicide, and also with the capacity to build detailed personality and learning inventories of their children (useful to ''nudge'' units in corporate marketing departments and high-tech governance), it is in line with the rampant cheerleading support for SEL offered by agenda-driven international NGOs like the World Economic Forum. The World Economic Forum has been enthusiastically supporting and encouraging greater implementation of SEL and SEL-equipped ''ed tech'' since at least 2015, when it published its first major white paper on the future of education.

The WEF elaborated considerably on this vision for the future of education in SEL in 2016, advocating openly for the increased implementation of wearable (tracking) tech, virtual reality, affective computing, and AI machine learning to better understand learners and to implement SEL into their lives. Williamson names the WEF as one of the chief organizations in the world interested in harvesting and harnessing this SEL-generated ''psychodata'' in order to devise what he terms a global ''psychocracy,'' governance by (algorithm-mediated) psychological manipulation. (Others named include UNESCO, OECD, the World Bank, the Bill and Melinda Gates Foundation, the Chan-Zuckerberg Initiative, and the Templeton Foundation.) For their part, the WEF indicates that SEL teaches the kinds of ''emotional intelligence'' and ''soft skills'' that will be needed for the jobs of the future (that they just happen to be trying to orchestrate based upon their own agenda and all the data they're stealing from our children'--adding color to why students would be ''at risk'' of graduating ill-prepared for the new economic order being built around their psychodata). One such purpose of this data gathering is to define Pre-K to career pathways that match and place people with their future careers based on their elaborate SEL profiles. One might suspect this will limit indivudual freedom when put into practice.

Presently, Social-Emotional Learning is the hottest trend in education, and it is being implemented virtually universally in North American schools and beyond. CASEL, matching suggestions also made by the WEF, is currently promoting a program of SEL ''Communities of Practice'' that will implement SEL systemically not just into the school but into the entire life and learning environment of every child, including through inducing and encouraging compliance of parents to utilize SEL in the home (the WEF actually recommends this begin before birth in their 2016 white paper through the implementation of SEL-trained prenatal care and training). These communities, true to Comer's original vision, are designed to educate the ''whole child'' in fully immersive SEL environments. Tens, if not hundreds, of billions of dollars in education money'--public and private'--are being spent on SEL and its implementation per year currently in countries like the United States.

One would be forgiven for recalling with respect to Social-Emotional Learning that the most influential Critical Marxist of the 1960s and 1970s, Herbert Marcuse, wrote in his famous Essay on Liberation in 1969 that the only way to get to a liberated (Marxist Socialist) society would be to introject new values, new rationality, and a new sensibility into people so as to create a ''biological foundation for socialism'' at the level of their ''vital needs.'' One would likewise be forgiven for recognizing that SEL is perfectly designed to do exactly that by intervening routinely on the social and emotional lives of students in personally invasive ways as a means of teaching them ''right'' and ''wrong'' perspectives on social and emotional circumstances, such as developing ''competencies'' like resilience within the heading of self-management, which might in Transformative SEL amount to not exhibiting ''White Fragility'' during racial social-awareness lessons. One would be similarly forgiven for also recalling that Executive Chairman Klaus Schwab of the World Economic Forum indicated in his 2022 book The Great Narrative for a Better Future that one reason his ESG (Environmental, Social, and Governance) standards for a ''sustainable and inclusive future'' would be adopted universally by corporations is that, should the public-private partnership compelling them from the top down not be sufficiently persuasive, the ''younger generations'' would be radicalized (through education, like the SEL he promotes otherwise) to demand this world and to refuse to live in a world that isn't ESG compliant.

Though this concludes the New Discourses summary of the topic of SEL for this encyclopedia, descriptions of the five competency areas in the CASEL 5 from an influential 2019 education academic paper by Robert Jagers, et al., are offered in full as an appendix. We trust the Marxist slant of these descriptions will be sufficiently self-evident not to require elaboration. These descriptions are fully indicative of what the CASEL 5 competency areas are used to teach.

The CASEL 5 SEL competencies of self-awareness, self-management, social awareness, relationship skills, and responsible decision making represent large categories or conceptual buckets for organizing a range of intra- and interpersonal knowledge, skills, and abilities (Weissberg et al., 2015). We view these competencies as interrelated, synergistic, and integral to the growth and development of justice-oriented global citizens. Next we provide revisions to current definitions of each competency domain through an equity lens, building on what we have referred to elsewhere as ''equity elaborations'' (Jagers et al., 2018).

Competence in the self-awareness domain involves understanding one's emotions, personal and social identities, goals, and values. This includes accurately assessing one's strengths and limitations, having positive mind-sets, and possessing a well-grounded sense of self-efficacy and optimism. High levels of self-awareness require the ability to recognize one's own biases; to understand the links between one's personal and collective history and identities; and to recognize how thoughts, feelings, and actions are interconnected in and across diverse contexts.Competence in the self-management domain requires skills and attitudes that facilitate the ability to regulate emotions and behaviors. This includes the ability to delay gratification, manage stress, and control impulses through problem-focused coping. It also implies appropriate expressiveness, perseverance, and being agentic in addressing personal and group-level challenges to achieve self- and collectively defined goals and objectives.Competence in the social awareness domain involves having the critical historical grounding to take the perspective of those with the same and different backgrounds and cultures and to appropriately empathize and feel compassion. It also involves understanding social norms for constructive behavior in diverse interpersonal and institutional settings and recognizing family, school, and community resources and supports for personal and collective well-being.Competence in the relationship skills domain includes the interpersonal sensibilities and facility needed to establish and maintain healthy and rewarding relationships and to effectively navigate settings with differing social and cultural norms and demands. It involves communicating clearly, listening actively, cooperating, resisting selfishness and inappropriate social pressure, negotiating conflict constructively, seeking help and offering leadership when it is needed, and working collaboratively whenever possible.Competence in the responsible decision making domain requires the cultivation of knowledge, skills, and attitudes to make caring, constructive choices about personal and group behavior in social interactions within and across diverse institutional settings. It requires the ability to critically examine ethical standards, safety concerns, and behavioral norms for risky behavior; to make realistic evaluations of benefits and consequences of various interpersonal and institutional relationships and actions; and to always make primary collective health and well-being.Revision date: 9/9/22

'‡ Back to Translations from the Wokish

U.S. Department of Defense issued a contract for 'COVID-19 Research' in Ukraine 3 months before Covid was known to even exist '' The Expose

Wed, 12 Apr 2023 19:33

Breaking News The world first started to hear about a novel coronavirus in early January 2020, with reports of an alleged new pneumonia like illness spreading across Wuhan, China. However, the world did not actually know of Covid-19 until February 2020, because it was not until the 11th of that month that the World Health Organisation officially named the novel coronavirus disease as Covid-19.

So with this being the official truth, why does United States Government data show that the U.S. Department of Defense (DOD) awarded a contract on the 12th November 2019 to Labyrinth Global Health INC. for 'COVID-19 Research', at least one month before the alleged emergence of the novel coronavirus, and three months before it was officially dubbed Covid-19?

The shocking findings however, do not end there. The contract awarded in November 2019 for 'COVID-19 Research' was not only instructed to take place in Ukraine, it was in fact part of a much larger contract for a 'Biological threat reduction program in Ukraine'.

Perhaps explaining why Labyrinth Global Health has been collaborating with Peter Daszak's EcoHealth Alliance, and Ernest Wolfe's Metabiota since its formation in 2017.

Let's not lose touch'...Your Government and Big Tech are actively trying to censor the information reported by The Expos(C) to serve their own needs. Subscribe now to make sure you receive the latest uncensored news in your inbox'...

The Government of the United States has a website called ' USA Spending ', an official open data source of federal spending information. According to the site as of 12th April 2021 the US Government has spent a mind-blowing $3.63 trillion ''in response to COVID-19''. But that's not the only information on Covid that can be found within the site.

Hidden within the 'Award Search' are details on a contract awarded by the Department of Defense to a company named ' Black & Veatch Special Projects Corp ', which is allegedly ''a global engineering, procurement, consulting and construction company specialising in infrastructure development''.

The contact was awarded on September 20th, 2012 and is described as ''Professional, Scientific, and Technical Services''. Obviously this is very vague and most likely of little interest to anyone who happens to stumble across it. But there is something contained deep within the details that should be of interest to anyone and everyone.

The 'Award History' for the contract contains a tab for 'Sub-Awards' detailing the recipients, action date, amount, and very brief description for 115 Sub-Award transactions. Most of the Sub-Awards are extremely mundane for things such as ''laboratory equipment for Kyiv'', or ''office furniture for Kyiv''.

Click to enlargeBut there is one Sub-Award that stands out among the rest, and it is was awarded to Labyrinth Global Health INC for ''SME Manuscript Documentation and COVID-19 Research''.

An award for Covid-19 research isn't exactly shocking when the world is allegedly in the grip of a Covid-19 pandemic, but considering the fact the sub-contract was awarded 12th November 2019, at least one month before the alleged emergence of the novel coronavirus, and three months before it was officially dubbed Covid-19, the award for Covid-19 research should come as a shock to everyone.

But the shock doesn't end there, because the place the contact for Covid-19 research was instructed to take place was Ukraine, as was the entire contract awarded by the DOD to Black & Veatch Special Projects Corp .

The contract details found on the 'USA Spending' site actually reveal that the specific DOD department that awarded the contact was the Defense Threat Reduction Agency (DTRA). The contract was awarded 20th September 2012, and concluded on 13th October 2020.

Whilst the details are vague, the US Government site also reveals that $21.7 million of the $116.6 million contact was spent on a 'Biological threat reduction program in Ukraine'.

Why did the Department of Defense pay a company that is allegedly ''a global engineering, procurement, consulting and construction company specialising in infrastructure development'', to help implement a ''Biological threat reduction program in Ukraine'?

And why did both the DOD and said company then pay Labyrinth Global Health INC to carry out COVID-19 research in Ukraine at least one month before the alleged emergence of the novel coronavirus, and three months before it was officially dubbed Covid-19?

Founded in 2017, Labyrinth Global Health is allegedly a ''women-owned small business with deep expertise and a proven track record supporting initiatives for scientific and medical advancement.''

They describe themselves as ''a multicultural and international organization with offices in four countries and a team of experts with diverse backgrounds and competencies, including microbiology, virology, global health, emerging infectious disease nursing, medical anthropology, field epidemiology, clinical research, and health information systems.''

One of those offices just happens to be located in Kyiv, Ukraine, which the company dubs ''a gateway to Eastern Europe''.

The leadership team of Labyrinth Global consists of Karen Saylors, PHD who is the Chief Executive Officer; Mary Guttieri, PHS who is the Chief Science Officer; and Murat Tartan who is the Chief Financial Officer.

Karen Saylors, PhD, who co-founded Labyrinth Global Health, has allegedly worked in the international public health field for over a decade and has spent many years living in Africa establishing global surveillance networks, ''working with partners to improve Global Health policy on infectious disease detection, response, and control''.

At Labyrinth, Dr. Saylors specialises in studies that aim to understand and mitigate biological and behavioural risk of disease transmission. Dr. Saylors worked with Oxford University Clinical Trials Network in Vietnam on zoonotic disease surveillance research and continues to coordinate with regional partners on emerging outbreaks in animal and human populations.

But who are the partners that Dr Karen Saylors and Labyrinth Global Health choose to work with? They are none other than the 'Eco Health Alliance' and 'Metabiota'.

Dr Karen Saylors, Eco Health Alliance and Metabiota worked together on the United States Agency for International Development (USAID) 'PREDICT' program from 2009, while Labyrinth Global Health worked alongside EHA and Metabiota on the PREDICT program from 2017.

Launched in 2009 and funded by USAID, PREDICT was an early warning system for new and emerging diseases in 21 countries. It was led by the University of California's (''UC'') Davis One Health Institute and core partners included EcoHealth Alliance (''EHA''), Metabiota, Wildlife Conservation Society, and Smithsonian Institution, and as we've just revealed; Labyrinth Global Health. PREDICT was a forerunner of the more ambitious Global Virome Project.

The USAID describes PREDICT as having made ''significant contributions to strengthening global surveillance and laboratory diagnostic capabilities for both known and newly discovered viruses within several important virus groups, such as filoviruses (including ebolaviruses), influenza viruses, paramyxoviruses, and coronaviruses''.

Here's one of the many studies published by Eco Health Alliance, Metabiota and Labyrinth Global Health proving the connection ''

PREDICT partnered with the non-profit Eco Health Alliance (EHA) to carry out its 9-year effort to catalogue hundreds of thousands of biological samples, ''including over 10,000 bats.'' A PREDICT-funded 2015 study on ''diversity of coronavirus in bats'' also included Peter Daszak, president of EHA, among its participants.

Eco Health Alliance is listed as a partner of the Wuhan Institute of Virology (''WIV'') on archived pages of its website and was mentioned as a one of the institute's ''strategic partners'' by the WIV's Deputy Director General in 2018.

Notably, the relationship between the WIV and the American Biodefence establishment was advanced by EHA policy advisor, David R. Franz, former commander at US bioweapons lab at Fort Detrick.

WIV's Dr. Shi Zhengli, a.k.a. ''Batwoman,'' had also worked with EHA's Daszak on bat-related studies. As far back as 2005, Daszak and Zhengli were conducting research on SARS-like coronaviruses in bats. Several PREDICT-funded studies on SARS-like coronaviruses and Swine Flu count with both Zhengli's and Daszak's contributions. Perhaps the most noteworthy of these is a 2015 PREDICT and NIH-funded study she co-authored entitled: 'A SARS-like cluster of circulating bat coronaviruses shows potential for human emergence'.

Meanwhile, Nathan Wolfe is the founder of Metabiota and non-profit Global Viral. He spent over eight years conducting biomedical research in both sub-Saharan Africa and Southeast Asia. Unsurprisingly, Wolfe is a World Economic Forum Young Global Leader. More notably, since 2008 he had been a member of DARPA's DSRC, Defence Science Research Council, until it was disbanded.

All of these people and organisations have been working for at least the last decade studying coronaviruses and helping to set up Biolabs in Ukraine. All using US Department of Defense funds to do so. You can read much more about this here, here and here.

Putting the biolabs in Ukraine to one side for now, let's return to the subject of Covid-19. If the US Government was funding Covid-19 research before Covid-19 was publicly known to exist then this suggests they either knew Covid-19 existed naturally, or they were involved in constructing this virus in a lab.

But if the contract evidence isn't enough for you to come to this conclusion (it should be), then perhaps coupling it with evidence that the US National Institute of Allergy & Infectious Diseases' (NIAID), and Moderna had a coronavirus candidate in December 2019 will be.

A confidentially agreement which can be viewed here, states that providers 'Moderna' alongside the 'National Institute of Allergy and Infectious Diseases' (NIAID) agreed to tranfer 'mRNA coronavirus vaccine candidates' developed and jointly-owned by NIAID and Moderna to recipients 'The University of North Carolina at Chapel Hill' on the 12th December 2019.

The material transfer agreement was signed the December 12th 2019 by Ralph Baric, PhD, at the University of North Carolina at Chapel Hill, and then signed by Jacqueline Quay, Director of Licensing and Innovation Support at the University of North Carolina on December 16th 2019.

The agreement was also signed by two representatives of the NIAID, one of whom was Amy F. Petrik PhD, a technology transfer specialist who signed the agreement on December 12th 2019 at 8:05 am. The other signatory was Barney Graham MD PhD, an investigator for the NIAID, however this signature was not dated.

The final signatories on the agreement were Sunny Himansu, Moderna's Investigator, and Shaun Ryan, Moderna's Deputy General Councel. Both signautres were made on December 17th 2019.

All of these signatures were made prior to any knowledge of the alleged emergence of the novel coronavirus.It wasn't until December 31st 2019 that the World Health Organisation (WHO) became aware of an alleged cluster of viral pneumonia cases in Wuhan, China. But even at this point they had not determined that an alleged new coronavirus was to blame, instead stating the pneumonia was of ''unknown cause''.

All of this requires much further research to fit all of the pieces of the puzzle together, but here's what we definitely know so far ''

A novel coronavirus emerged in Wuhan in December 2019.The world did not get to hear about this novel coronavirus until early January 2020.The world did not know this novel coronavirus was called Covid-19 until February 2020, when the World Health Organization officially named it so.The US Department of Defense awarded a contract for Professional, Scientific, and Technical Services to Black & Veatch Special Projects Corp ', which is allegedly ''a global engineering, procurement, consulting and construction company specialising in infrastructure development''. That contract involved a Biological threat reduction program in Ukraine.As part of this larger contract, another contract was awarded to Labyrinth Global Health for 'COVID-19 Research' on 12th November 2019.This was awarded at least one month before the alleged emergence of the novel coronavirus, and three months before it was officially dubbed Covid-19.Labyrinth Global Health works alongside the 'Eco Health Alliance', and 'Metabiota', and participated in the USAID PREDICT program. All of these people and organisations have been working for at least the past decade studying coronaviruses and helping to set up Biolabs in Ukraine. All using US Department of Defense funds to do so.Information found here points to Eco Health Alliance having a hand in creating the Covid-19 virus. Information found here points to Moderna having a hand in creating the Covid-19 virus. 'Moderna', alongside the 'National Institute of Allergy and Infectious Diseases' (NIAID) agreed to tranfer 'mRNA coronavirus vaccine candidates' developed and jointly-owned by NIAID and Moderna, to recipients 'The University of North Carolina at Chapel Hill' on the 12th December 2019.What does all this point to? That's for you to ponder and decide. But we promise you there is much more to come on the above'...

Another Judge Rejects the DOJ's Argument That Cannabis Users Have No Gun Rights

Wed, 12 Apr 2023 19:29

A federal judge in Texas recently agreed with a federal judge in Oklahoma that the national ban on gun possession by cannabis consumers violates the Second Amendment. Kathleen Cardone, a judge on the U.S. District Court for the Western District of Texas, also concluded that the federal ban on transferring firearms to an "unlawful user" of a "controlled substance," first imposed by the Gun Control Act of 1968, is unconstitutional.

The case involves Paola Connelly, who was charged with illegal possession of firearms under 18 USC 922(g)(3) after El Paso police found marijuana and guns in her home while responding to a domestic disturbance in December 2021. Connelly, who said she used marijuana "to sleep at night and to help her with anxiety," also was charged with violating 18 USC 922(d)(3) by transferring guns to her husband, a cocaine and psilocybin user. Both gun offenses are punishable by up to 15 years in prison.

As a preliminary matter, Cardone held that Connelly's Second Amendment claims were not precluded by prior decisions in which the U.S. Court of Appeals for the 5th Circuit, which includes Texas, upheld Section 922(g)(3). Those decisions, she noted, preceded the Supreme Court's June 2022 ruling in New York State Rifle & Pistol Association v. Bruen, which said gun control laws must be "consistent with the Nation's historical tradition of firearm regulation."

Last February in United States v. Rahimi, the 5th Circuit concluded that Bruen required it to reconsider decisions upholding the federal ban on gun possession by people subject to domestic violence restraining orders. By the same logic, Cardone says in an order published last week, the 5th Circuit's precedents regarding Section 922(g)(3) are no longer binding.

As it has in previous cases involving the same law, the Biden administration argued that the gun ban for marijuana users meets the Bruen test because it is "relevantly similar" to colonial and state laws forbidding people to publicly use or carry guns while intoxicated. Like U.S. District Judge Patrick Wyrick, who deemed that ban unconstitutional in an Oklahoma case last February, Cardone was unpersuaded by that analogy.

"The historical intoxication laws cited by the Government generally addressed specific societal problems with narrow restrictions on gun use, while § 922(g)(3) addresses widespread criminal issues with a broad restriction on gun possession," Cardone notes. "The laws, therefore, are not relevantly similar in how and why they regulate firearms, and do not suffice to establish the constitutionality of § 922(g)(3)."

A 1655 Virginia law, for example, prohibited "shoot[ing] any gunns at drinkeing (marriages and ffuneralls onely excepted)." To show why that law is not "relevantly similar" to the ban that Connelly challenged, Cardone draws an analogy with contemporary laws that prohibit driving under the influence (DUI).

"The Virginia law regulated guns in much the same way," Cardone writes. "It prevented individuals from using dangerous equipment while intoxication might impair their abilities and judgment. Consider instead a law that would prevent individuals from possessing cars at all if they regularly drink alcohol on weekends. Nobody would say that this hypothetical law is similar to DUI laws in how it regulates cars. The hypothetical law's focus on possession, rather than use, of the vehicle imposes a much greater burden on drivers. A similar distinction exists between § 922(g)(3) and the Virginia law."

State laws enacted in the 19th century likewise were aimed at people who publicly carried or fired guns when they were drunk. By contrast, Section 922(g)(3) covers all cannabis consumers, including those who live in states that have legalized marijuana, even when they are not intoxicated, and it applies to private as well as public possession. A truly analogous rule regarding alcohol would categorically ban gun ownership by drinkers.

The government also argued that Section 922(g)(3) is consistent with a purported tradition of disarming "unvirtuous" people. "It is unclear whether legal authorities at the founding era would consider Connelly's homebound drug use 'unvirtuous,'" Cardone says. She notes colonial-era jurist William Blackstone's distinction between "public and private vices": While the former are subject to the "punishments of human tribunals," he said, the latter are subject only to "eternal justice." Blackstone explicitly applied that distinction to drunkenness.

"Connelly's alleged drug use more resembles private drinking than public drunkenness, casting doubt on the idea that history supports criminalizing or disarming her for this behavior," Cardone writes. "And more generally, nothing in § 922(g)(3) limits its applicability to public dangers or active intoxication, putting it out of step with colonial-era attitudes."

Cardone was equally unimpressed by the government's argument that Connelly was disqualified from owning guns because she was not "law-abiding." While her marijuana use, if proven, "would violate federal law," Cardone says, that offense is a nonviolent misdemeanor, and "no one even today reads [Second Amendment history] to support the disarmament of literally all criminals, even nonviolent misdemeanants."

Notably, Cardone is quoting a 2019 dissent that Supreme Court Justice Amy Coney Barrett wrote as a judge on the U.S. Court of Appeals for the 7th Circuit. Barrett argued that the federal ban on gun possession by people with nonviolent felony records sweeps too broadly. In making that case, she took it for granted that a nonviolent misdemeanor is not enough to justify depriving someone of his Second Amendment rights.

As applied to Connelly, such a rule seems especially perverse given President Joe Biden's position that marijuana use should not be treated as a crime at all. Cardone notes Biden's "blanket presidential pardon" for people convicted of simple marijuana possession under federal law. Because that pardon applies to conduct that occurred before October 6, 2022, it would cover the marijuana that police found in Connelly's home.

What about the government's claim that marijuana users like Connelly are too "dangerous" to be trusted with guns? "Even if history broadly supports disarming dangerous individuals, there is little evidence that Connelly herself is dangerous," Cardone says. "The Government has not alleged that she committed any violent or threatening acts. Instead, its core allegation is that she possessed and used marijuana."

Cardone notes that more than 20 states "have legalized the recreational use of marijuana, and millions of U.S. citizens regularly use the substance." She thinks "it strains credulity to believe that taking part in such a widespread practice can render an individual so dangerous or untrustworthy that they must be stripped of their Second Amendment rights."

Cardone also notes that Section 922(g)(3), unlike restrictions that hinge on a conviction or a judicial order, deprives people of their Second Amendment rights "without a hearing or any preliminary showing from the Government." They "must choose to either stop their marijuana use, forgo possession of a firearm, or continue both practices and face up to fifteen years in federal prison."

Cardone extended her analysis to the charge that Connelly illegally transferred guns to her husband. His behavior, unlike Connelly's, did indicate that he posed a danger to others: Police arrested him after "they heard several shots and observed [him] standing at his neighbor's door with a shotgun." But that fact, Cardone says, does not preclude Connelly's facial challenge to Section 922(d)(3), which applies even to nonviolent drug users.

Because banning gun transfers to drug users is tantamount to banning possession, Cardone concluded, that provision raises the same concerns as Section 922(g)(3). She therefore dismissed both charges against Connelly.

Unlike Cardone and Wyrick, Allen Winsor, a judge on the U.S. District Court for the Northern District of Florida, thought the government's "historical analogues" were close enough. Last November, Winsor dismissed a lawsuit in which Florida medical marijuana patients sought to recover their Second Amendment rights. The plaintiffs are asking the U.S. Court of Appeals for the 11th Circuit to overrule Winsor.

In response, the Biden administration continues to argue that forbidding cannabis consumers to own guns is like telling people not to carry guns when they're drunk. The Justice Department, meanwhile, is appealing Wyrick's decision, and it can be expected to appeal Cardone's as well.

For those keeping partisan score, it is notable that all three of these judges were appointed by Republican presidents: Cardone by George W. Bush, Wyrick and Winsor by Donald Trump. Their disagreement seems to reflect evolving conservative views of marijuana as well as the impact of Bruen.

Whatever you make of that, cases challenging the constitutionality of Section 922(g)(3) will soon be considered by three federal appeals courts: the 5th Circuit, the 10th Circuit, and the 11th Circuit. Assuming they reach different conclusions, the Supreme Court is apt to intervene, decisively settling the question of whether the right to keep and bear arms includes an exception for people who dare to consume a psychoactive substance that legislators deemed intolerable more than two centuries after the Second Amendment was ratified.

EXCLUSIVE: Cassidy Hutchinson's Attorney Files J6 Complaint

Wed, 12 Apr 2023 19:26

Stefan Passantino, a Washington D.C. attorney who represented former White House aide Cassidy Hutchinson before the House Select Committee on Jan. 6, is suing the lower chamber for lawmakers' political assassination of Passantino's legal career.

On Monday, Passantino filed a Federal Tort Claims Act Complaint against the January 6th Committee over the panel's abuse of power undermining legal ethics to pursue a political narrative. Hutchinson, according to the complaint, was co-opted by members of the Select Committee to circumvent Passantino and orchestrate a defamatory operation against the longtime D.C. attorney as a vehicle of witness intimidation amid proceedings.

Hutchinson became the Jan. 6 Committee's star witness last summer after the former assistant to Trump Chief of Staff Mark Meadows offered bombshell testimony over White House events as the Capitol riot unfolded. At one of the committee's several televised hearings, Hutchinson claimed former President Donald Trump tried to violently hijack the presidential limousine to drive himself to the riot down Pennsylvania Avenue. The testimony, which relied entirely on third-party conversations, was immediately contradicted when her sources went on the record to refute her claims. A whole series of claims by Hutchinson in her more than two-hour appearance were contradicted days later.

Hutchinson had a change in legal representation days before her public testimony.

Passantino, who served as White House deputy counsel in the first two years of the Trump administration, was Hutchinson's lawyer up until the former White House staffer took the national spotlight at her televised hearing. Hutchinson was connected with Passantino after she turned to Trump's political action committee, the Save America PAC, to finance legal representation upon her first subpoena from the House probe.

Hutchinson sat for three deposition interviews with the committee before the public appearance. According to the complaint, Hutchinson had begun to coordinate with members of the Jan. 6 Committee without Passantino's knowledge after the second interview.

''The Committee, through a backchannel directly to Mr. Passantino's client, in total disregard for the attorney-client relationship,'' the complaint reads, ''convinced Mr. Passantino's client to sit for additional interviews and give incredible testimony that could then be peddled by national news media friendly to the Committee to damage Mr. Passantino.''

Several months later, CNN reported that Passantino pressured Hutchinson to slant her testimony favorably to Trump.

''Cassidy Hutchinson told the January 6 committee she felt pressure from Trump allies not to talk and instead risk 'contempt,''' the network headline reads.

The story relies on transcripts of Hutchinson's follow-up interviews with the Jan. 6 Committee in September selectively leaked to smear Passantino.

''Passantino repeatedly urged her to downplay her role in the White House and to say she did not recall events,'' CNN reported. ''She said that Passantino and other Trump associates dangled job offers around the time of her first two depositions with the committee, while her lawyer and others told her to remain loyal to Trump she would be 'taken care of.'''

Passantino was blindsided by the testimony, according to the complaint filed against the House of Representatives on Monday seeking $67 million in damages. Days after CNN's story dropped, Passantino, who has since been in private practice after leaving the Trump administration in 2018, was forced to take a leave of absence from his private law firm. Major legal groups have also begun calling for Passantino's disbarment.

While the Jan. 6 Committee depicted Passantino as a pro-Trump sycophant, Passantino is on record in the New York Times condemning the Republican campaign's lawsuits against Dominion voting machines.

Passantino's complaint alleges the Jan. 6 Committee violated due process by co-opting his client against him and ultimately derailing a tenured legal career for political purposes. Passantino also denies any legal advice provided to Hutchinson could constitute alleged intimidation.

''Ms. Hutchinson never told Passantino that she wanted a 'non-Trump' lawyer or that she had any sensitivity about Mr. Passantino's previous work in the Trump White House,'' reads the complaint. ''She did not express reservations to Mr. Passantino about him being paid by a Trump-related PAC; instead, she had solicited that funding herself.''

The Jan. 6 Committee never called Passantino in for an interview before the panel published Hutchinson's transcripts in December naming him as a Trump attorney who allegedly engaged in witness intimidation. Lawmakers, however, ran with the allegation to bolster the credibility of their debunked star witness over the course of the panel's criminal investigation conducted in violation of House rules.

Tristan Justice is the western correspondent for The Federalist and the author of Social Justice Redux, a conservative newsletter on culture, health, and wellness. He has also written for The Washington Examiner and The Daily Signal. His work has also been featured in Real Clear Politics and Fox News. Tristan graduated from George Washington University where he majored in political science and minored in journalism. Follow him on Twitter at @JusticeTristan or contact him at Tristan@thefederalist.com. Sign up for Tristan's email newsletter

here.

We don't have any viable way of countering conspiracy theories | New Scientist

Wed, 12 Apr 2023 19:23

Mind Beliefs in conspiracy theories can damage societies and individuals, but the only effective ways to counter them are impractical, according to a review

By Michael Le Page

Several conspiracy theories flourished during the covid-19 pandemic

John B Hewitt/Alamy

The vast majority of methods for quashing belief in conspiracy theories have little or no effect and the ones that do work are impractical. That is the conclusion of a review of 25 studies assessing various methods of tackling unfounded beliefs in secret plots.

Conspiracy theories, such as the untrue belief that coronavirus vaccines are a way to implant microchips, can affect people's health or lead to antisocial behaviour, says Cian O'Mahony at University College Cork in Ireland. But while many studies have assessed ways of debunking false beliefs in general, few have looked specifically at conspiracy theories, he says.

They are particularly hard to debunk because anyone trying to contest them is seen as part of the conspiracy. ''They say, 'Of course, you will say that','' says O'Mahony.

He and his colleagues decided to review the evidence so far to see what works and what doesn't. They found just 25 studies meeting their criteria, which includes a definition of conspiracy theories as involving a belief that something is being actively covered up for a nefarious purpose.

Methods such as presenting rational counterarguments, ridicule or labelling conspiracy theories as such aren't effective at countering either specific conspiracy theories or people's general tendency to believe them, the review concludes. In fact, one study found that the labelling method backfired by slightly increasing conspiracy beliefs.

Priming methods that aim to boost people's critical thinking before they are exposed to conspiracy theories did work, but not very well '' the effects were usually small.

What did work well was prebunking or informational inoculation, in which people are told why a conspiracy theory isn't true before being exposed to it. All studies testing inoculation found medium-sized or large effects.

But trying to ''inoculate'' people before they are exposed to conspiracy theories isn't practical, says O'Mahony. It is also specific to each particular conspiracy theory. ''It's untenable to be able to constantly be updating people on the new conspiracies that are coming out,'' he says.

The most effective method reported so far involved a three-month university course with weekly sessions in which students looked at the differences between sound science and pseudoscience. This course comes closest to what is needed: a kind of broad-spectrum vaccination against conspiracy theories based on teaching people how to think rather than what to think, says O'Mahony.

But few people are going to sign up for a three-month course and it could be that those who most need to attend such a course are the least likely to do so, he says.

This kind of research is still at an early stage and more needs to be done before, say, trying to introduce something like the university course in schools, says O'Mahony. One major issue is that no studies have done follow-ups in the weeks or years after interventions, so it is unclear if any of the effects persist.

Stephan Lewandowsky at the University of Bristol, UK, sees the results in a positive light. ''I am not surprised that many of the effects are small given that conspiratorial attitudes present a particularly difficult nut to crack. Many believers are very committed to their theories,'' he says. ''I also think that even small effects may scale up: reducing sharing of a conspiracy theory early on by a few percentage points may be sufficient to disrupt a cascade.''

Lewandowsky also says that inoculation isn't necessarily limited to specific conspiracy theories and can be rolled out at scale on social media. His team demonstrated this last year in a study involving about 22,000 people on YouTube, and Google recently ran a large-scale inoculation campaign in eastern Europe, he says.

Topics:

Too much red meat costs ''¬7.50 per kilo in healthcare costs: study | NL Times

Wed, 12 Apr 2023 19:21

Red meat would be 7.50 euros more expensive per kilo if all the health costs resulting from excessive consumption were included in the price. Processed meat would then cost 4.30 euros per kilo more. Researchers from Wageningen University & Research (WUR) and others arrived at these amounts in research done on behalf of the Vegetarian Association and the True Animal Protein Price Coalition (TAPP Coalition).

The initiators think that meat is too cheap. There is no price tag for the negative health effects and the environmental costs associated with eating meat. According to the organizations, beef should be 13.20 euros per kilo more expensive and processed meat 10 euros if all the social costs were passed on. That is approximately double the current prices. Healthy food should then become cheaper, they think.

Eating too much red and processed meat poses health risks, scientists agree. The question is, what exactly is too much? The authors of the report, published on Tuesday, set the limit at over 113 grams of red meat per week, based on figures from the Global Burden of Disease study, a large international scientific program.

According to this definition, the limit is 6 kilograms of red meat per person per year. On average, the Dutch eat 23 kilograms of red meat more than is good for them, the researchers estimate. And about 20 kilograms of processed meat on top of that, which according to various health authorities, also poses health risks.

According to the Vegetarian Association, the estimated costs are still ''conservative'' because they only looked at diseases that are directly related to eating meat. Infectious animal diseases and livestock farms' emission of nitrogen and particulate matter, for example, were not included.

Information from the Nutrition Center and the Health Council confirms that eating a lot of red and processed meat increases the risk of strokes, colon cancer, and lung cancer. The Health Council's advice is, therefore, to limit its consumption. The Netherlands Nutrition Center advises people not to eat more than 500 grams of meat per week, of which a maximum of 300 grams is red meat. ''Every 100 grams more red meat per day is associated with a 17 percent higher risk of colon cancer,'' the center calculated, with reference to the World Health Organization (WHO).

The Nutrition Center generally reports that eating meat is not necessary. But unprocessed lean meat fits well ''in a healthy diet, especially because of the proteins, vitamins, and minerals.''

Meat tax would boost health and cut healthcare spending: research - DutchNews.nl

Wed, 12 Apr 2023 19:19

Photo: Depositphotos.com

A tax on meat and meat productions would not only limit how much meat people ate but would also cut soaring spending on healthcare, according to campaign group Tapp (true animal protein price) Coalitie.

Research by Wageningen University on behalf of the group and the vegetarian society Vegetarirsbond suggests the over-consumption of meat leads to ''¬1.1 billion in extra healthcare costs a year.

Some 253,000 people develop diabetes, 100,000 develop colon cancer and 20,000 heart and artery disease because they eat too much meat, the research suggests.

'These care costs are carried by us all via higher premiums,' Tapp director Jeroom Remmers told the AD.

The research is based on the recommended consumption of six kilos of red meat per person per year in line with the Global Burden of Disease calculations, while the Dutch eat an average of 30 kilos. The amount of money needed to offset the additional care costs would be the equivalent of ''¬7.50 per kilo.

The issue of a tax on meat is a sensitive one in political circles but has been suggested as a way of cutting greenhouse gas emissions because livestock farming is highly polluting. Two of the four coalition parties are, however, opposed to such a tax.

Unrealistic

The Tapp Coalitie itself admits such a price rise is unrealistic, but suggests a ''¬5.70 tax per kilo on beef and processed meat, ''¬4.50 on pork and ''¬2 on chicken would be a way forward.

Wageningen University professor Ellen Kampman told the paper there is sufficient evidence to show that eating red and processed meat increases the risk of developing colon cancer. 'If we would eat less meat, we would stop a lot of problems,' she said.

Nevertheless, she said, she is not necessarily a supporter of a tax on meat because it does contain essential ingredients for a healthy diet. 'A well-read vegan can replace them, but not everyone is in a position to do so,' she said.

Who We Are | International Organization for Migration, IOM

Wed, 12 Apr 2023 18:57

Established in 1951, IOM is the leading intergovernmental organization in the field of migration and works closely with governmental, intergovernmental and non-governmental partners.

With 175 member states, a further 8 states holding observer status and offices in over 100 countries, IOM is dedicated to promoting humane and orderly migration for the benefit of all. It does so by providing services and advice to governments and migrants.

IOM works to help ensure the orderly and humane management of migration to promote international cooperation on migration issues, to assist in the search for practical solutions to migration problems and to provide humanitarian assistance to migrants in need, including refugees and internally displaced people.

The IOM Constitution recognizes the link between migration and economic, social and cultural development, as well as to the right of freedom of movement.

IOM works in the four broad areas of migration management:

Migration and developmentFacilitating migrationRegulating migrationForced migration.IOM activities that cut across these areas include the promotion of international migration law, policy debate and guidance, protection of migrants' rights, migration health and the gender dimension of migration.

Reality Check: New Equality Measure Targets Gender Bias in Ads and Media | About the ANA | ANA

Wed, 12 Apr 2023 15:38

ANA's website will be unavailable on Saturday, April 15 due to maintenance. We apologize for any inconvenience this may cause.

Reality Check: New Equality Measure Targets Gender Bias in Ads and Media

Association of National Advertisers Shares #SeeHer GEM' (Gender Equality Measure) Methodology with Advertising Research Community

17,000-plus ads have been evaluated using GEM' to assess realistic and accurate portrayal of girls and women in advertising and media

GEM' brings equality into established pre- and post-testing equation

NEW YORK (March 20, 2017) '-- Gender bias is bad for business. Research proves that ads and entertainment in which women and girls are accurately portrayed generate significantly more awareness, recall, and purchase intent than ads in which they are not. Now the Association of National Advertisers' Alliance for Family Entertainment (ANA AFE) has given the industry a potent, new, data-driven methodology to identify '-- and eliminate '-- gender bias.

At today's Advertising Research Foundation (ARF) annual conference, ANA and leadership from its #SeeHer initiative shared the insights gleaned from, and questions used in, their Gender Equality Measure (GEM') module, which helps business leaders make better decisions by addressing unconscious bias within media and programming.

The ANA AFE, a collective of the nation's largest advertisers, launched the #SeeHer initiative last year in partnership with The Female Quotient (TFQ) to increase the accurate portrayal of women and girls in advertising and media by 20 percent by 2020, the 100th anniversary of women gaining the right to vote.

Aiding the advancement toward the 2020 goal, the GEM' module measures ads and programming to help marketers improve planning choices and ROI. Since last summer, GEMTM has been used to evaluate over 17,000 ads, which the ANA believes constitutes the largest syndicated post-test in history. The research was conducted by AFE syndicated research partner Advertising Benchmark Index (ABX).

GEMTM measures perceptions of how female actors are portrayed in the media by asking consumers four key questions:

What is the overall opinion of the female presented?Is she portrayed respectfully?Is she depicted inappropriately?Is she seen as a positive role model for women and girls?"We are leading the #SeeHer movement for our industry because it makes good business sense and is good for society,'' noted ANA CEO Bob Liodice. ''Looking at the stats of post-test ads just last week, we are pleased to see that 80 percent of the highest scoring GEM ads are ANA members' spots. Of course that represents a moment in time, but it clearly indicates that the #SeeHer movement is raising the awareness of marketers. It is a good start. We must get to the point that no CMO will run any ad that shows gender bias.''

"The GEMTM measure will add a new dimension of equality to our research suite of industry standards which currently includes awareness, recall, purchase intent, and likeability,'' said Shelley Zalis, #SeeHer co-founder and founder and CEO of TFQ. ''We know that women do not lack confidence, but the media lacks confidence in its portrayal of women. We can only treasure what we can measure, so we are sharing GEMTM with the research industry.''

Sharing the GEMTM methodology is the latest undertaking of an ongoing initiative to support marketer and media efforts to create content that is free of gender bias. The initiative has developed toolkits for advertisers to create unbiased messaging. In January, boot camps to teach #SeeHer members how to eliminate gender bias began.

''There are compelling insights that support #SeeHer. Forty percent of women don't identify with the women they see in ads; 90 percent of parents are concerned about TV programming, that there are no role models for girls; yet women make 85 percent of all consumer purchase decisions.'' Stephen Quinn, ANA AFE chairman concluded, ''We are all trying to become more customer-centric and these data show we have a distance to go. CMOs have an obligation to maximize marketing ROI and seize control over their brand by eliminating bias in their ads and ensuring their media buys include environments in which women and girls are portrayed the way they really are.''

About the #SeeHer Initiative

Despite the strides made to accurately portray women and women in the media, an unconscious bias persists against women and girls in advertising, media, and programming The Association of National Advertisers (ANA) Alliance for Family Entertainment (AFE) launched the #SeeHer initiative in June 2016 in a joint partnership with The Female Quotient (TFQ's) Girl's Lounge, at the White House as part of the United State of Women event. The #SeeHer Initiative mission is to accurately portray all women and girls in media by 2020, the 100th anniversary of women winning the right to vote. For more information, visit www.SeeHer.com, follow us on Facebook, Twitter and Instagram.

ABOUT THE ANA

The mission of the ANA (Association of National Advertisers) is to drive growth for marketing professionals, brands and businesses, the industry, and humanity. The ANA serves the marketing needs of 20,000 brands by leveraging the 12-point ANA Growth Agenda, which has been endorsed by the Global CMO Growth Council. The ANA's membership consists of U.S. and international companies, including client-side marketers, nonprofits, fundraisers, and marketing solutions providers (data science and technology companies, ad agencies, publishers, media companies, suppliers, and vendors). The ANA creates Marketing Growth Champions by serving, educating, and advocating for more than 50,000 industry members that collectively invest more than $400 billion in marketing and advertising annually.

# # #

What is GEM®? - SeeHer

Wed, 12 Apr 2023 15:35

To help benchmark success, in 2016 SeeHer developed the Gender Equality Measure (GEM®), the first research methodology that quantifies gender bias in ads and programming. GEM® has become the global measurement standard, measuring 300,000+ ads, representing 87 percent of worldwide ad spend.

300,000+

ads measured

Ads with positive GEM® scores drive purchase intent by 42% among total and female consumers.

Higher GEM® scores equal a 56% increase in brand reputation.

Positive ROI tied to high GEM® scores increase sales by 2 to 5x.

GEM® powers a suite of tools to impact gender equality.GEM®

AdvertisingQuantifies consumer reactions to the portrayal of women in advertising.

GEM®

ProgrammingScores captured for the top Nielsen-rated scripted shows and select member-requested content twice a year for use by marketers in media planning and buying decisions.

GEM®

LiftGroundbreaking attribution analysis correlating high GEM® scoring ads and programming with incremental sales lift.

GEM®

MulticulturalMeasures the quality and accuracy of portrayals of women in ads with a specific focus on African American and Hispanic & Latinx respondents.

GEM®

GlobalMeasurement available in 14 countries, representing 87% of global ad spend.

GEM®

DigitalQuantifies consumer reaction to the portrayal of women and girls in digital video.

GEM®

PublishingQuantifies consumer reaction to the portrayal of women and girls in magazine ads.

Featured Posts

Unlock a deeper understanding of how your content performs vs GEM® norms. Activating GEM® is a turnkey process for our members.

How We Work With Members How We Work With Members

Become a SeeHer MemberJoin a coalition of marketing and media leaders passionately driving accurate representation of women and girls. It's good for society and it's good for business.

Learn More Sources: ANA SeeHer | ABX, Q4/2017-Q2/2021, SeeHer GEM® Lift Study, IRI, ABX

Budweiser corrects old sexist ads in honor of International Women's Day

Wed, 12 Apr 2023 15:28

"She found she has it all" replaces a slogan reading "She found she married two men" on a Budweiser ad from 1956. Courtesy of Budweiser. Budweiser is attempting to make up for some if its outdated advertisements in honor of International Women's Day.

The brand, in partnership with the #SeeHer movement, has reworked three of its old print campaigns from the 1950s and 1960s in order to ''showcase women in more balanced and empowered roles,'' according to a press release.

The ads will appear in The New York Times, Chicago Tribune and Los Angeles Times, according to Budweiser.

Budweiser also juxtaposed the new, redesigned ads with their older counterparts from the '50s and '60s, all of which originally depicted a husband-and-wife duo and the woman appearing in a subservient role to her husband (i.e., cooking for him, pouring his beer, or ''delighting'' him by pairing Budweiser with dinner).

''Home is where life happens and life happens when you build it together,'' reads the new copy on a reworked ad from 1958. Courtesy of BudweiserThe new ads, which Budweiser says were created in collaboration with female artists, now show those same women enjoying Budweiser on their own terms '-- i.e., drinking one with their own dinner, sharing one with a male partner, or enjoying Budweiser just because.

The copy for the new ads, which Budweiser says were created in collaboration with female artists, has also been updated to remove any sexist messaging.

For instance, one which originally read, ''It's a fact: Budweiser has delighted more husbands than any other brew ever known,'' now reads, ''It's a fact: Budweiser can be enjoyed by everyone, everywhere.''

Monica Rustgi, the vice president of marketing for Budweiser, said it was the brand's ''responsibility'' to update the ads. She added that Budweiser has begun a ''long-term partnership'' with #SeeHer, an initiative started by the Association of National Advertisers which aims for more accurate representation of women in the media.

One of the updated ads reads ''It's Friday, your favorite takeout just got here. Crack open a cold Bud and enjoy some time to yourself.'' Courtesy of Budweiser''As a leader in advertising, it's our responsibility to showcase women in more balanced and empowered roles,'' said Rustgi.

''We are proud to officially announce our long-term partnership with #SeeHer to better inform and evaluate our future creative.''

Bud's new campaigns will be featured on social and digital media, according to Ad Age.

Bruce Springsteen's E Street Band Guitarist Steven Van Zandt Deletes Call to 'Exterminate' GOP 'Cockroaches'

Wed, 12 Apr 2023 15:09

Bruce Springsteen's veteran E-Street band guitarist Steven Van Zandt issued a call to fans and supporters on social media Sunday to ''Exterminate the (Republican) cockroaches.''

His rallying cry to target GOP supporters, half of America, came during an expletive-laden exchange on Twitter.

It began when the guitarist ventured forth by abusing what he called ''Republican White Supremicist scumbag cowards and pussies that need guns to feel like real men'' after TN representatives demanded gun controls.

Van Zandt was then called out on Twitter by a follower for his abuse, which he quickly resumed.

He said he deleted his original anti-Republican post for a host of reasons, viz;

To avoid spending half my day deleting Foxsucking scumbag Russian bots and MAGOTT cockroaches like you! Go take away some women's rights, keep some Black people from voting, go harass a Trans event, go shoot some kids, do what Republicans do best and get the fuck outta my feed!

See for yourself below.

To avoid spending half my day deleting Foxsucking scumbag Russian bots and MAGOTT cockroaches like you! Go take away some women's rights, keep some Black people from voting, go harass a Trans event, go shoot some kids, do what Republicans do best and get the fuck outta my feed! https://t.co/5zV1hPEvIz

'-- 🕉🇺Stevie Van Zandt'®¸ðŸ' (@StevieVanZandt) April 9, 2023

This is not the first time Van Zandt has entered the political realm.

As Breitbart News reported in 2016 he declared the best way to punish states passing ''really vile and evil'' religious freedom legislation is to ''hurt them economically.''

That came after Springsteen announced he had abruptly canceled a show in Greensboro to protest North Carolina's LGBT ''bathroom law'' and Van Zandt spoke to reporters about the band's decision to pull the plug on its fans.

Steven Van Zandt ''Little Steven'' poses for a portrait at his Rebel Nation headquarters on March 04, 2022 in New York City. (Per Ole Hagen/Getty)

''It's unfortunately the only way people understand. You have to hurt them economically in order to have them do the right thing morally, unfortunately,'' Van Zandt told Rolling Stone backstage at the Rock and Roll Hall of Fame induction ceremony in New York.

''This really vile and evil discrimination is starting to spread state to state and we thought, 'We better take a stand right now and catch it early,''' he said.

Follow Simon Kent on Twitter: Follow @SunSimonKent or e-mail to: skent@breitbart.com

Dianne Feinstein Is MIA, and Her Absence Is Holding Up Judicial Confirmations

Wed, 12 Apr 2023 15:03

At what is clearly a critical time for confirming good federal judges , Sen. Dianne Feinstein's (D-Calif.) increasingly prolonged absence from the Senate is apparently holding up the process for a number of President Joe Biden's judicial picks this year.

The Filibuster is Standing in the Way of Abortion Access

Feinstein, who was hospitalized in early March for shingles and has remained in her San Francisco home since March 7, has missed 60 votes of the 82 taken in the Senate in 2023, per the San Francisco Chronicle. And as the Senate, which has been on recess since March 31, prepares to return on April 17, Judiciary Committee Chair Dick Durbin (D-Ill.) said on Monday that Feinstein's absence from the Senate'--and the Judiciary Committee specifically'--will impede Democrats' ability to confirm judicial nominees.

''I can't consider nominees in these circumstances, because a tie vote is a losing vote in committee,'' Durbin told CNN. He continued, ''We still have some nominees left on the calendar that we can work on. '... But we have more in the wings that we would like to process through the committee.''

Feinstein's team has been tight-lipped about when, if at all, she'll return to D.C. Her spokesperson told the Chronicle this week that the 89-year-old ''continues to work from home in San Francisco as she recuperates.'' Earlier this year, Feinstein announced she won't seek reelection in 2024 as a handful of Democratic House members vie for her seat. But she intends to serve out the rest of her term , which is set to end in January 2025. That's close to two years from now, and it's troubling to consider all the key votes and confirmation processes that could be stalled by Feinstein's absence'--either now or in the future, if she becomes ill again'--given Democrats' razor-thin 51-49 majority.

Just last week, a Trump-appointed federal judge in Texas ruled that the FDA didn't have the authority to approve the abortion pill mifepristone, potentially jeopardizing access to a medication that millions have relied on to safely end a pregnancy. At the same time, a federal judge in Washington wrote that the FDA is actually barred from ''altering the status quo and rights as it relates to the availability of Mifepristone.'' Federal judges have always been important'--but the fall of Roe v. Wade and a broader judicial system increasingly overrun with right-wing extremists has upped the stakes even further, and created even more urgency around confirming liberal, pro-abortion rights judges in a timely manner.

Questions about Feinstein's fitness to serve have followed her for years now, particularly since an unsettling moment in 2020 when she embraced Sen. Lindsey Graham (R-S.C.) and seemed supportive of Amy Coney Barrett's confirmation to the Supreme Court, prompting questions of whether she even knew what was going on. Shortly after, Feinstein was removed from her position as Chair of the Judiciary Committee'--but a report from the time claimed Sen. Chuck Schumer (D-N.Y.) had to twice inform Feinstein of her removal because she forgot the first time. Last year, a separate San Francisco Chronicle report citing unnamed senators and Senate staffers claimed Feinstein's memory was ''rapidly deteriorating,'' and that she's ''mentally unfit'' to continue serving. And back in February, Feinstein and her team struggled to even coordinate on something as simple as the timing of her announcement that she isn't seeking reelection .

Feinstein represents 40 million Americans and serves on four Senate committees. It seems we can both thank her for her service and decades of blazing a path for women in politics and recognize that her remaining in the Senate past her ability to do her job isn't exactly a feminist victory'--not when women and pregnant people stand to be harmed the most by the stalled confirmation of liberal judges.

Schools must support drag queen story time, says teaching union

Wed, 12 Apr 2023 15:01

Schools must support drag queen story time and create LGBT+ safe spaces in schools, a teaching union has voted.

One teacher told the National Education Union conference that Rishi Sunak was encouraging hate and abuse with his opposition to changes in gender recognition laws in Scotland.

The union supported a motion that said it was its educational duty to encourage all schools to set up LGBT+ spaces to challenge the homophobia, biphobia and transphobia in schools.

It also said that: ''Initiatives like drag queen story time and inviting LGBT+ authors into schools can help challenge the heteronormative culture and curriculum that dominates education.''

It vowed publicly to support initiatives such as drag queen story time to develop a more inclusive atmosphere in schools and also to create more inclusive resources.

This included drawing up a guidance booklet on how to set up an LGBT+ space or lunch club so that more schools participate, and these spaces become normalised.

Teachers said that many pupils went through school experiencing little or no LGBT+ inclusive education. The motion added that giving a voice to trans pupils was more important than ever in the current climate.

Shelby Millard, a teacher from Sutton, southwest London, who spoke during the debate, said: ''The fact that Rishi Sunak has used section 35 to stop the Scottish Gender Recognition Reform Act is sickening.

''He is supporting the far right attacks on drag queen story time. He is saying hate and abuse is fine. We won't stand for this.''

Kacey de Groot, a drama teacher, said an LGBT+ inclusion charter was being published shortly and urged teachers to take it into their schools.,

An amendment successfully added to the motion said the government was creating a hostile environment for trans people through the use of Section 35 to block the Gender Recognition Reform (Scotland) Bill.

It said: ''This has encouraged the far right to organise further attacks on drag queen story time and has created an atmosphere where hate crime can thrive.'' It said materials in schools should include specific reference to the experience of trans and non-binary students.

Dr Mary Bousted, joint general secretary of the National Education Union, said: ''Empowering all young people to develop positive attitudes from their time at school is essential '-- especially at a time when young people are targeted online with intolerant and divisive ideas from figures like Andrew Tate.

''The NEU is committed to sharing and disseminating teaching resources and strategies to help members support success and positive school experiences for all LGBT+ students, including trans and non-binary students.

''The government is seriously failing to support trans people which means the creation of LGBT+ spaces and networks in schools and colleges is now more necessary.''

No 10 said of the comments about Sunak: ''We took action on this bill because it has real implications for how these issues are treated on a UK-wide basis. This includes impacting single-sex spaces and services and the creation of two-gender recognition regimes in the UK.

''We have a long-established UK-wide equality framework that protects everyone '-- including transgender people '-- from discrimination, harassment and victimisation and advances equal opportunity for all.''

Vitamin D supplement reduces risk of suicide

Wed, 12 Apr 2023 14:59

Vitamin D supplement reduces risk of suicide

Supplementing with vitamin D reduces the chance that people will attempt suicide. American researchers discovered this, who literally followed several hundred thousand veterans for years.

Study

Researchers at the US Department of Veterans Affairs followed 169,241 veterans who received prescription vitamin D2, and did the same with an equal number of comparable veterans who did not receive vitamin D supplements. The researchers also followed 490,885 veterans who received prescription vitamin D3 and compared them to an identical number of similar veterans who also did not receive vitamin D supplements.In the US, veterans can take advantage of government health programs. As a result, they can be prescribed vitamin D supplements from a pharmacy if desired.

Because studies suggest that supplementing with vitamin D reduces the risk of depression, the researchers looked at how often which groups of veterans attempted to take their own life or seriously injure themselves.

The researchers knew how much DHA [structural formula shown below] the participants had in their blood, and divided the participants into 5 equal groups based on this. The Americans then looked at whether there was a relationship between DHA levels and testing positive for Covid-19, the risk of hospitalization and death.

ResultsThe veterans who had a prescription for vitamin D2 and D3 supplements attempted suicide significantly less often than the other veterans. The protective effect of both types of vitamin D was not inferior to each other.

The protective effect of DHA is less clear when it comes to death. The study participants in the quintile with the highest concentration of DHA in their blood did not have an even lower risk of death than the study participants in the fourth quintile.The researchers keep open the possibility, read between the lines, that this is because the fifth quintile contains a relatively large number of relatives who use fish oil supplements for health reasons. The researchers have not been successful in filtering out these lifestyle factors.

TrialDark-skinned veterans in particular benefited from supplementation. In fair-skinned people, vitamin D3 supplementation reduced the risk of suicide attempts and intentional self-harm by about 38 percent. This was 63 percent among dark-skinned people.

The researchers also found an association between the risk of attempted suicide and the dose of vitamin D. The higher the dose, the greater the reduction in risk. The doses that the veterans used varied from 400 to 4800 IU per day.

ConclusionThe researchers emphasize that an association in an epidemiological study is not always a causal relationship. Perhaps the veterans who took vitamin D were more careful about their health, and that carefulness explains the connection.

For that reason, they advocate for clinical trials.

"As a relatively safe, easily accessible, and affordable medication, supplementation with vitamin D in the veteran population may hold promise if confirmed in clinical trials to prevent suicide attempts and suicide", they write.

Source:PLoS One 18(2):e0279166.

More:The BDNF Files | How summer & sunlight make you smarter and happier 04.11.2022

Archives:DepressionVitamin DVitamins

Arcturus - Wikipedia

Wed, 12 Apr 2023 14:21

Brightest star in the constellation Bo¶tes

Arcturus Arcturus in the constellation of Bo¶tes (circled)

Observation dataEpoch J2000 Equinox J2000ConstellationBo¶tesPronunciation Right ascension 14h 15m 39.7s [1]Declination+19° 10'² 56'"[1] Apparent magnitude (V) ''0.05[2]CharacteristicsSpectral typeK1.5 III Fe''0.5[3]Apparent magnitude (J)''2.25[2]U''B color index+1.28[2]B''V color index+1.23[2]R''I color index+0.65[2]Note (category: variability):H and K emission vary.AstrometryRadial velocity (Rv)''5.19[4] km/sProper motion (μ) RA: ''1 093 .45 [5] mas/yr Dec.: ''1 999 .40 [5] mas/yr Parallax (Ï)88.83 ± 0.54 mas[1]Distance36.7 ± 0.2 ly (11.26 ± 0.07 pc)Absolute magnitude (MV) ''0.30 ± 0.02 [6]DetailsMass 1.08 ± 0.06 [7] M'‰Radius 25.4 ± 0.2 [7] R'‰Luminosity170[8] L'‰Surface gravity (log g) 1.66 ± 0.05 [7] cgsTemperature 4286 ± 30 [7] KMetallicity [Fe/H] ''0.52 ± 0.04 [7] dexRotational velocity (v sin i) 2.4 ± 1.0 [6] km/sAge 7.1 +1.5''1.2 [7] GyrOther designations Alramech, Alramech, Abramech,

α Bo¶tis, Alpha Boo, α Boo,

16 Bo¶tis,

BD+19°2777

,

GJ 541,

HD 124897,

HIP 69673,

HR 5340,

SAO 100944,

LHS 48,

GCTP 3242.00

Database referencesSIMBADdataData sources:Hipparcos Catalogue,CCDM (2002),Bright Star Catalogue (5th rev. ed.),VizieR catalog entryArcturus is the brightest star in the northern constellation of Bo¶tes. With an apparent visual magnitude of ''0.05,[2] it is the third-brightest of the individual stars in the night sky, and the brightest in the northern celestial hemisphere. The name Arcturus originated from ancient Greece; it was then cataloged as α Bo¶tis by Johann Bayer in 1603, which is Latinized to Alpha Bo¶tis. Arcturus forms one corner of the Spring Triangle asterism.

Located relatively close at 36.7 light-years from the Sun, Arcturus is a single[7] red giant of spectral type K1.5III'--an aging star around 7.1 billion years old that has used up its core hydrogen and evolved off the main sequence. It is about the same mass as the Sun, but has expanded to 25 times its size and is around 170 times as luminous. Its diameter is 35 million kilometres. Thus far no companion has been detected.

Nomenclature [ edit ] The traditional name Arcturus is Latinised from the ancient Greek á¼ÏÎºÏÎá...ρÎς (Arktouros) and means "Guardian of the Bear",[9] ultimately from á¼ÏÎºÏÎς (arktos), "bear"[10] and ÎὖρÎς (ouros), "watcher, guardian".[11]

The designation of Arcturus as α Bo¶tis (Latinised to Alpha Bo¶tis) was made by Johann Bayer in 1603. In 2016, the International Astronomical Union organized a Working Group on Star Names (WGSN) to catalog and standardize proper names for stars. The WGSN's first bulletin of July 2016 included a table of the first two batches of names approved by the WGSN; which included Arcturus for α Bo¶tis.[12][13]

Observation [ edit ] Arcturus is the brightest star in the constellation of

Bo¶tes.

With an apparent visual magnitude of ''0.05, Arcturus is the brightest star in the northern celestial hemisphere and the fourth-brightest star in the night sky,[14] after Sirius (''1.46 apparent magnitude), Canopus (''0.72) and α Centauri (combined magnitude of ''0.27). However, α Centauri AB is a binary star, whose components are both fainter than Arcturus. This makes Arcturus the third-brightest individual star, just ahead of α Centauri A (officially named Rigil Kentaurus), whose apparent magnitude is ''0.01 .[15] The French mathematician and astronomer Jean-Baptiste Morin observed Arcturus in the daytime with a telescope in 1635, a first for any star other than the Sun and supernovae. Arcturus has been seen at or just before sunset with the naked eye.[15]

Arcturus is visible from both of Earth's hemispheres as it is located 19° north of the celestial equator. The star culminates at midnight on 27 April, and at 9 p.m. on June 10 being visible during the late northern spring or the southern autumn.[16] From the northern hemisphere, an easy way to find Arcturus is to follow the arc of the handle of the Big Dipper (or Plough). By continuing in this path, one can find Spica, "Arc to Arcturus, then spike (or speed on) to Spica".[17][18] Together with the bright stars Spica and Denebola (or Regulus, depending on the source), Arcturus is part of the Spring Triangle asterism. With Cor Caroli, these four stars form the Great Diamond asterism.

Ptolemy described Arcturus as subrufa ("slightly red"): it has a B-V color index of +1.23, roughly midway between Pollux (B-V +1.00) and Aldebaran (B-V +1.54).[15]

η Bo¶tis, or Muphrid, is only 3.3 light-years distant from Arcturus, and would have a visual magnitude ''2.5, about as bright as Mercury from Earth, whereas an observer on the former system would find Arcturus as bright as Venus as seen from Earth.[15]

In 1984, the 90 cm (36-inch) reflecting Yapp telescope at Herstmonceux was tested with an echelle spectrograph from Queen's University Belfast and a CCD camera. Observations of the stars Arcturus and Deneb (Alpha Cygni) were conducted in the summer of 1984.[19]

Physical characteristics [ edit ] Optical image of Arcturus (DSS2 / MAST / STScI / NASA)

Based upon an annual parallax shift of 88.83 milliarcseconds as measured by the Hipparcos satellite, Arcturus is 36.7 light-years (11.26 parsecs) from the Sun. The parallax margin of error is 0.54 milliarcseconds, translating to a distance margin of error of ±0.23 light-years (0.069 parsecs).[1] Because of its proximity, Arcturus has a high proper motion, two arcseconds a year, greater than any first magnitude star other than α Centauri.

Arcturus is moving rapidly (122 km/s or 270,000 mph) relative to the Sun, and is now almost at its closest point to the Sun. Closest approach will happen in about 4,000 years, when the star will be a few hundredths of a light-year closer to Earth than it is today. (In antiquity, Arcturus was closer to the centre of the constellation.[20]) Arcturus is thought to be an old-disk star,[7] and appears to be moving with a group of 52 other such stars, known as the Arcturus stream.[21]

With an absolute magnitude of ''0.30, Arcturus is, together with Vega and Sirius, one of the most luminous stars in the Sun's neighborhood. It is about 110 times brighter than the Sun in visible light wavelengths, but this underestimates its strength as much of the light it gives off is in the infrared; total (bolometric) power output is about 180 times that of the Sun. With a near-infrared J band magnitude of ''2.2, only Betelgeuse (''2.9) and R Doradus (''2.6) are brighter. The lower output in visible light is due to a lower efficacy as the star has a lower surface temperature than the Sun.

As a single star, the mass of Arcturus cannot be measured directly, but models suggest it is slightly greater than that of the Sun. Evolutionary matching to the observed physical parameters gives a mass of 1.08 ± 0.06 M'‰ ,[7] while the oxygen isotope ratio for a first dredge-up star gives a mass of 1.2 M'‰.[22] The star displays magnetic activity that is heating the coronal structures, and it undergoes a solar-type magnetic cycle with a duration that is probably less than 14 years. A weak magnetic field has been detected in the photosphere with a strength of around half a gauss. The magnetic activity appears to lie along four latitudes and is rotationally modulated.[23]

Arcturus is estimated to be around 6 to 8.5 billion years old,[7] but there is some uncertainty about its evolutionary status.[24] Based upon the color characteristics of Arcturus, it is currently ascending the red-giant branch and will continue to do so until it accumulates a large enough degenerate helium core to ignite the helium flash.[7] It has likely exhausted the hydrogen from its core and is now in its active hydrogen shell burning phase. However, Charbonnel et al. (1998) placed it slightly above the horizontal branch, and suggested it has already completed the helium flash stage.[24]

Spectrum [ edit ] Originally an F-type main sequence star,[citation needed ] Arcturus has evolved off the main sequence to the red giant branch, reaching an early K-type stellar classification. It is frequently assigned the spectral type of K0III,[25] but in 1989 was used as the spectral standard for type K1.5III Fe''0.5,[3] with the suffix notation indicating a mild underabundance of iron compared to typical stars of its type. As the brightest K-type giant in the sky, it has been the subject of multiple atlases with coverage from the ultraviolet to infrared.[26][27]

The spectrum shows a dramatic transition from emission lines in the ultraviolet to atomic absorption lines in the visible range and molecular absorption lines in the infrared. This is due to the optical depth of the atmosphere varying with wavelength.[27] The spectrum shows very strong absorption in some molecular lines that are not produced in the photosphere but in a surrounding shell.[28] Examination of carbon monoxide lines show the molecular component of the atmosphere extending outward to 2''3 times the radius of the star, with the chromospheric wind steeply accelerating to 35''40 km/s in this region.[29]

Astronomers term "metals" those elements with higher atomic numbers than helium. The atmosphere of Arcturus has an enrichment of alpha elements relative to iron but only about a third of solar metallicity. Arcturus is possibly a Population II star.[15]

Oscillations [ edit ] As one of the brightest stars in the sky, Arcturus has been the subject of a number of studies in the emerging field of asteroseismology. Belmonte and colleagues carried out a radial velocity (Doppler shift of spectral lines) study of the star in April and May 1988, which showed variability with a frequency of the order of a few microhertz (μHz), the highest peak corresponding to 4.3 μHz (2.7 days) with an amplitude of 60 ms''1, with a frequency separation of c. 5 μHz. They suggested that the most plausible explanation for the variability of Arcturus is stellar oscillations.[30]

Asteroseismological measurements allow direct calculation of the mass and radius, giving values of 0.8 ± 0.2 M'‰ and 27.9 ± 3.4 R'‰ . This form of modelling is still relatively inaccurate, but a useful check on other models.[31]

Possible planetary system [ edit ] Hipparcos satellite astrometry suggested that Arcturus is a binary star, with the companion about twenty times dimmer than the primary and orbiting close enough to be at the very limits of humans' current ability to make it out. Recent results remain inconclusive, but do support the marginal Hipparcos detection of a binary companion.[32]

In 1993, radial velocity measurements of Aldebaran, Arcturus and Pollux showed that Arcturus exhibited a long-period radial velocity oscillation, which could be interpreted as a substellar companion. This substellar object would be nearly 12 times the mass of Jupiter and be located roughly at the same orbital distance from Arcturus as the Earth is from the Sun, at 1.1 astronomical units. However, all three stars surveyed showed similar oscillations yielding similar companion masses, and the authors concluded that the variation was likely to be intrinsic to the star rather than due to the gravitational effect of a companion. So far no substellar companion has been confirmed.[33]

Mythology [ edit ] One astronomical tradition associates Arcturus with the mythology around Arcas, who was about to shoot and kill his own mother Callisto who had been transformed into a bear. Zeus averted their imminent tragic fate by transforming the boy into the constellation Bo¶tes, called Arctophylax "bear guardian" by the Greeks, and his mother into Ursa Major (Greek: Arctos "the bear"). The account is given in Hyginus's Astronomy.[34]

Aratus in his Phaenomena said that the star Arcturus lay below the belt of Arctophylax, and according to Ptolemy in the Almagest it lay between his thighs.[35]

An alternative lore associates the name with the legend around Icarius, who gave the gift of wine to other men, but was murdered by them, because they had had no experience with intoxication and mistook the wine for poison. It is stated this Icarius, became Arcturus, while his dog, Maira, became Canicula (Procyon), although "Arcturus" here may be used in the sense of the constellation rather than the star.[36]

Cultural significance [ edit ] As one of the brightest stars in the sky, Arcturus has been significant to observers since antiquity.

In ancient Mesopotamia, it was linked to the god Enlil, and also known as Shudun, "yoke",[20] or SHU-PA of unknown derivation in the Three Stars Each Babylonian star catalogues and later MUL.APIN around 1100 BC.[37]

In ancient Greek the star is found in ancient astronomical literature, e.g. Hesiod's Work and Days, circa 700 BC,[20] as well as Hipparchus's and Ptolemy's star catalogs. The folk-etymology connecting the star name with the bears (Greek: á¼ÏÎºÏÎς, arktos) was probably invented much later.[citation needed ] It fell out of use in favour of Arabic names until it was revived in the Renaissance.[38]

In Arabic, Arcturus is one of two stars called al-simāk "the uplifted ones" (the other is Spica). Arcturus is specified as اÙØ"ماك اÙرامح as-simāk ar-rāmiħ "the uplifted one of the lancer". The term Al Simak Al Ramih has appeared in Al Achsasi Al Mouakket catalogue (translated into Latin as Al Simak Lanceator).[39] This has been variously romanized in the past, leading to obsolete variants such as Aramec and Azimech. For example, the name Alramih is used in Geoffrey Chaucer's A Treatise on the Astrolabe (1391). Another Arabic name is Haris-el-sema, from حارØ" اÙØ"Ù…Ø§Ø Ä§Äris al-samā' "the keeper of heaven".[40][41][42] or حارØ" اÙشما٠ħāris al-shamāl' "the keeper of north".[43]

In Indian astronomy, Arcturus is called Swati or Svati (Devanagari स्वातà¤, Transliteration IAST svāti, svātÄ́), possibly 'su' + 'ati' ("great goer", in reference to its remoteness) meaning very beneficent. It has been referred to as "the real pearl" in Bhartṛhari's kāvyas.[44]

In Chinese astronomy, Arcturus is called Da Jiao (Chinese: 大è§' ; pinyin: D jiǎo ; lit. 'great horn'), because it is the brightest star in the Chinese constellation called Jiao Xiu (Chinese: è§'å® ; pinyin: Jiǎo XiÇ-- ; lit. 'horn star'). Later it became a part of another constellation Kang Xiu (Chinese: äºå® ; pinyin: K ng XiÇ-- ).

The Wotjobaluk Koori people of southeastern Australia knew Arcturus as Marpean-kurrk, mother of Djuit (Antares) and another star in Bo¶tes, Weet-kurrk[45] (Muphrid).[46] Its appearance in the north signified the arrival of the larvae of the wood ant (a food item) in spring. The beginning of summer was marked by the star's setting with the Sun in the west and the disappearance of the larvae.[45] The people of Milingimbi Island in Arnhem Land saw Arcturus and Muphrid as man and woman, and took the appearance of Arcturus at sunrise as a sign to go and harvest rakia or spikerush.[47] The Weilwan of northern New South Wales knew Arcturus as Guembila "red".[47]:'Š84'Š

Prehistoric Polynesian navigators knew Arcturus as HōkÅleÊ>>a, the "Star of Joy". Arcturus is the zenith star of the Hawaiian Islands. Using HōkÅleÊ>>a and other stars, the Polynesians launched their double-hulled canoes from Tahiti and the Marquesas Islands. Traveling east and north they eventually crossed the equator and reached the latitude at which Arcturus would appear directly overhead in the summer night sky. Knowing they had arrived at the exact latitude of the island chain, they sailed due west on the trade winds to landfall. If HōkÅleÊ>>a could be kept directly overhead, they landed on the southeastern shores of the Big Island of Hawaii. For a return trip to Tahiti the navigators could use Sirius, the zenith star of that island. Since 1976, the Polynesian Voyaging Society's HōkÅleÊ>>a has crossed the Pacific Ocean many times under navigators who have incorporated this wayfinding technique in their non-instrument navigation.

Arcturus had several other names that described its significance to indigenous Polynesians. In the Society Islands, Arcturus, called Ana-tahua-taata-metua-te-tupu-mavae ("a pillar to stand by"), was one of the ten "pillars of the sky", bright stars that represented the ten heavens of the Tahitian afterlife.[48] In Hawaii, the pattern of Bo¶tes was called Hoku-iwa, meaning "stars of the frigatebird". This constellation marked the path for HawaiÊ>>iloa on his return to Hawaii from the South Pacific Ocean. The Hawaiians called Arcturus Hoku-leÊ>>a. It was equated to the Tuamotuan constellation Te Kiva, meaning "frigatebird", which could either represent the figure of Bo¶tes or just Arcturus. However, Arcturus may instead be the Tuamotuan star called Turu. The Hawaiian name for Arcturus as a single star was likely Hoku-leÊ>>a, which means "star of gladness", or "clear star". In the Marquesas Islands, Arcturus was probably called Tau-tou and was the star that ruled the month approximating January. The Māori and Moriori called it Tautoru, a variant of the Marquesan name and a name shared with Orion's Belt.

In Inuit astronomy, Arcturus is called the Old Man (Uttuqalualuk in Inuit languages) and The First Ones (Sivulliik in Inuit languages).[55]

The Miꞌkmaq of eastern Canada saw Arcturus as Kookoogw(C)ss, the owl.[56]

Early-20th-century Armenian scientist Nazaret Daghavarian theorized that the star commonly referred to in Armenian folklore as Gutani astgh (Armenian: Ô"ուÕ(C)ÕÕ¶Õ ÕÕ½ÕÕ²; lit. star of the plow) was in fact Arcturus, as the constellation of Bo¶tes was called "Ezogh" (Armenian: ÔµÕ...Õ¸Õ²; lit. the person who is plowing) by Armenians.[57]

In popular culture [ edit ] In Ancient Rome, the star's celestial activity was supposed to portend tempestuous weather, and a personification of the star acts as narrator of the prologue to Plautus' comedy Rudens (circa 211 BC).[58][59]

The Karandavyuha sutra, compiled at the end of the 4th century or beginning of the 5th century, names one of Avalokiteśvara's meditative absorptions as "The face of Arcturus".[60]

One of the possible etymologies offered for the name "Arthur" assumes that it is derived from "Arcturus" and that the late 5th to early 6th-century figure on whom the myth of King Arthur is based was originally named for the star.[59][61][62][63][64][65]

In the Middle Ages, Arcturus was considered a Behenian fixed star and attributed to the stone Jasper and the plantain herb. Cornelius Agrippa listed its kabbalistic sign under the alternate name Alchameth.[66]

Arcturus's light was employed in the mechanism used to open the 1933 Chicago World's Fair. The star was chosen as it was thought that light from Arcturus had started its journey at about the time of the previous Chicago World's Fair in 1893 (at 36.7 light-years away, the light actually started in 1896).[67]

At the height of the American Civil War, President Abraham Lincoln observed Arcturus through a 9.6-inch refractor telescope when he visited the Naval Observatory in Washington, DC, in August, 1863.[68]

References [ edit ] ^ a b c d van Leeuwen, Florian (November 2007). "Validation of the new Hipparcos reduction". Astronomy and Astrophysics. Paris, France. 474 (2): 653''64. arXiv:0708.1752 . Bibcode:2007A&A...474..653V. doi:10.1051/0004-6361:20078357. S2CID 18759600. ^ a b c d e f Ducati, J. R. (2002). "VizieR Online Data Catalog: Catalogue of Stellar Photometry in Johnson's 11-color system". CDS/ADC Collection of Electronic Catalogues. 2237: 0. Bibcode:2002yCat.2237....0D. ^ a b Keenan, Philip C.; McNeil, Raymond C. (1989). "The Perkins catalog of revised MK types for the cooler stars". The Astrophysical Journal Supplement Series. 71: 245. Bibcode:1989ApJS...71..245K. doi:10.1086/191373. ^ Massarotti, Alessandro; Latham, David W.; Stefanik, Robert P.; Fogel, Jeffrey (2008). "Rotational and Radial Velocities for a Sample of 761 HIPPARCOS Giants and the Role of Binarity". The Astronomical Journal. 135 (1): 209''231. Bibcode:2008AJ....135..209M. doi:10.1088/0004-6256/135/1/209 . ^ a b Perryman; et al. (1997). "HIP 69673". The Hipparcos and Tycho Catalogues. ^ a b Carney, Bruce W.; et al. (March 2008). "Rotation and Macroturbulence in Metal-Poor Field Red Giant and Red Horizontal Branch Stars". The Astronomical Journal. Paris, France: EDP Sciences. 135 (3): 892''906. arXiv:0711.4984 . Bibcode:2008AJ....135..892C. doi:10.1088/0004-6256/135/3/892. S2CID 2756572. ^ a b c d e f g h i j k Ram­rez, I.; Allende Prieto, C. (December 2011). "Fundamental Parameters and Chemical Composition of Arcturus". The Astrophysical Journal. Bristol, England: IOP Publishing. 743 (2): 135. arXiv:1109.4425 . Bibcode:2011ApJ...743..135R. doi:10.1088/0004-637X/743/2/135. S2CID 119186472. ^ Schr¶der, K.-P.; Cuntz, M. (April 2007). "A critical test of empirical mass loss formulas applied to individual giants and supergiants". Astronomy and Astrophysics. Bristol, England: IOP Publishing. 465 (2): 593''601. arXiv:astro-ph/0702172 . Bibcode:2007A&A...465..593S. doi:10.1051/0004-6361:20066633. S2CID 55901104. ^ Liddell, Henry George; Scott, Robert. "á¼ÏÎºÏÎá...ρÎς". A Greek-English Lexicon . Retrieved 2019-01-16 . ^ Liddell, Henry George; Scott, Robert. "á¼ÏÎºÏÎς". A Greek-English Lexicon . Retrieved 2019-01-16 . ^ Liddell, Henry George; Scott, Robert. "ÎὖρÎς". A Greek-English Lexicon . Retrieved 2019-01-16 . ^ "Bulletin of the IAU Working Group on Star Names, No. 1" (PDF) . Retrieved 28 July 2016 . ^ "IAU Catalog of Star Names" . Retrieved 28 July 2016 . ^ Kaler, James B. (2002). The Hundred Greatest Stars. New York City: Copernicus Books. p. 21. ISBN 978-0-387-95436-3. ^ a b c d e Schaaf, Fred (2008). The Brightest Stars: Discovering the Universe Through the Sky's Most Brilliant Stars. Hoboken, New Jersey: John Wiley and Sons. pp. 126''36. Bibcode:2008bsdu.book.....S. ISBN 978-0-471-70410-2. ^ Schaaf, p. 257. ^ Rao, Joe (June 15, 2007). "Arc to Arcturus, Speed on to Spica". Space.com . Retrieved 14 August 2018 . ^ "Follow the arc to Arcturus, and drive a spike to Spica | EarthSky.org". earthsky.org. April 8, 2018 . Retrieved 14 August 2018 . ^ Bates, B.; McKeith, C. D.; Jorden, P. R.; Van Breda, I. G. (1985). "High dispersion spectroscopy trials using an echelle spectrograph with CCD camera". Astronomy and Astrophysics. Bristol, England: IOP Publishing. 145: 321. Bibcode:1985A&A...145..321B. ^ a b c Rogers, John H. (1998). "Origins of the Ancient Constellations: II. The Mediterranean Traditions". Journal of the British Astronomical Association. London, England: British Astronomical Association. 108 (2): 79''89. Bibcode:1998JBAA..108...79R. ^ Ramya, P.; Reddy, Bacham E.; Lambert, David L. (2012). "Chemical compositions of stars in two stellar streams from the Galactic thick disc". Monthly Notices of the Royal Astronomical Society. 425 (4): 3188. arXiv:1207.0767 . Bibcode:2012MNRAS.425.3188R. doi:10.1111/j.1365-2966.2012.21677.x. S2CID 119253279. ^ Abia, C.; Palmerini, S.; Busso, M.; Cristallo, S. (2012). "Carbon and oxygen isotopic ratios in Arcturus and Aldebaran. Constraining the parameters for non-convective mixing on the red giant branch". Astronomy & Astrophysics. 548: A55. arXiv:1210.1160 . Bibcode:2012A&A...548A..55A. doi:10.1051/0004-6361/201220148. S2CID 56386673. ^ Sennhauser, C.; Berdyugina, S. V. (May 2011). "First detection of a weak magnetic field on the giant Arcturus: remnants of a solar dynamo?". Astronomy & Astrophysics. 529: 6. Bibcode:2011A&A...529A.100S. doi:10.1051/0004-6361/201015445 . A100. ^ a b Pavlenko, Ya. V. (September 2008). "The carbon abundance and 12C/13C isotopic ratio in the atmosphere of Arcturus from 2.3 µm CO bands". Astronomy Reports. 52 (9): 749''759. arXiv:0807.3667 . Bibcode:2008ARep...52..749P. doi:10.1134/S1063772908090060. S2CID 119268407. ^ Gray, R. O.; Corbally, C. J.; Garrison, R. F.; McFadden, M. T.; Robinson, P. E. (2003). "Contributions to the Nearby Stars (NStars) Project: Spectroscopy of Stars Earlier than M0 within 40 Parsecs: The Northern Sample. I". The Astronomical Journal. Bristol, England. 126 (4): 2048. arXiv:astro-ph/0308182 . Bibcode:2003AJ....126.2048G. doi:10.1086/378365. S2CID 119417105. ^ Griffin, R. E.; Griffin, R. (1968). A photometric atlas of the spectrum of Arcturus, Î>>Î>>3600-8825…. Cambridge: Cambridge Philosophical Society. Bibcode:1968pmas.book.....G. ^ a b Hinkle, K.; Wallace, L. (2005). "The Spectrum of Arcturus from the Infrared through the Ultraviolet". Cosmic Abundances as Records of Stellar Evolution and Nucleosynthesis. 336: 321. Bibcode:2005ASPC..336..321H. ^ Tsuji, T. (2009). "The K giant star Arcturus: The hybrid nature of its infrared spectrum". Astronomy and Astrophysics. 504 (2): 543. arXiv:0907.0065 . Bibcode:2009A&A...504..543T. doi:10.1051/0004-6361/200912323. S2CID 6408779. ^ Ohnaka, K.; Morales Mar­n, C. A. L. (November 2018). "Spatially resolving the thermally inhomogeneous outer atmosphere of the red giant Arcturus in the 2.3 μm CO lines". Astronomy & Astrophysics. 620: 10. arXiv:1809.01181 . Bibcode:2018A&A...620A..23O. doi:10.1051/0004-6361/201833745. S2CID 119095123. A23. ^ Belmonte, J. A.; Jones, A. R.; Palle, P. L.; Roca Cortes, T. (1990). "Acoustic oscillations in the K2 III star Arcturus". Astrophysics and Space Science. 169 (1''2): 77''84. Bibcode:1990Ap&SS.169...77B. doi:10.1007/BF00640689. ISSN 0004-640X. S2CID 120697563. ^ Kallinger, T.; Weiss, W. W.; Barban, C.; Baudin, F.; Cameron, C.; Carrier, F.; De Ridder, J.; Goupil, M.-J.; Gruberbauer, M.; Hatzes, A.; Hekker, S.; Samadi, R.; Deleuil, M. (2010). "Oscillating red giants in the CoRoT exofield: Asteroseismic mass and radius determination". Astronomy and Astrophysics. 509: A77. arXiv:0811.4674 . Bibcode:2010A&A...509A..77K. doi:10.1051/0004-6361/200811437. S2CID 15061735. ^ Verhoelst, T.; Bord(C), P. J.; Perrin, G.; Decin, L.; et al. (2005). "Is Arcturus a well-understood K giant?". Astronomy & Astrophysics. 435 (1): 289''301. arXiv:astro-ph/0501669 . Bibcode:2005A&A...435..289V. doi:10.1051/0004-6361:20042356. S2CID 14176311. , and see references therein. ^ Hatzes, A.; Cochran, W. (August 1993). "Long-period radial velocity variations in three K giants". The Astrophysical Journal. 413 (1): 339''348. Bibcode:1993ApJ...413..339H. doi:10.1086/173002. ^ Eratosthenes; Hyginus; Aratus (2015). Eratosthenes and Hyginus: Constellation Myths, with Aratus's Phaenomena. Hard, Robin (transl.). Oxford University Press. pp. 5''7, 35''37. ISBN 9780198716983. ^ Ridpath, Ian. "Star Tales Bo¶tes" . Retrieved 27 November 2022 . ^ Eratosthenes et al. (2015), pp. 38''40, p. 182 (note to p. 40) ^ Rogers, John H. (1998). "Origins of the Ancient Constellations: I. The Mesopotamian Traditions". Journal of the British Astronomical Association. 108 (1): 9''28. Bibcode:1998JBAA..108....9R. ^ Kunitzsch, Paul; Smart, Tim (2006). A Dictionary of Modern star Names: A Short Guide to 254 Star Names and Their Derivations (2nd rev. ed.). Cambridge, MA: Sky Pub. p. 19. ISBN 978-1-931559-44-7. ^ Knobel, E. B. (June 1895). "Al Achsasi Al Mouakket, on a catalogue of stars in the Calendarium of Mohammad Al Achsasi Al Mouakket". Monthly Notices of the Royal Astronomical Society. 55 (8): 429. Bibcode:1895MNRAS..55..429K. doi:10.1093/mnras/55.8.429 . ^ "List of the 25 brightest stars". Jordanian Astronomical Society. Archived from the original on March 16, 2012 . Retrieved March 28, 2007 . ^ Allen, Richard Hinckley (1936). Star-names and their meanings. pp. 100''101. ^ Wehr, Hans (1994). Cowan, J. Milton (ed.). A dictionary of modern written Arabic. ^ Davis Jr., G. A. (October 3, 1944). "The Pronunciations, Derivations, and Meanings of a Selected List of Star Names". Popular Astronomy. 52: 13. Bibcode:1944PA.....52....8D. ^ Olcott, William Tyler (2004). Star Lore: Myths, Legends, and Facts. Mineola, New York: Dover Publications Inc. pp. 77''78. ISBN 978-0-8021-4877-3. ^ a b Nyoongah, Mudrooroo; Narogin, Mudrooroo (1994). Aboriginal mythology : an A-Z spanning the history of aboriginal mythology from the earliest legends to the present day. London: HarperCollins. p. 5. ISBN 978-1-85538-306-7. ^ Hamacher, Duane W.; Frew, David J. (2010). "An Aboriginal Australian Record of the Great Eruption of Eta Carinae". Journal of Astronomical History & Heritage. 13 (3): 220''34. arXiv:1010.4610 . Bibcode:2010JAHH...13..220H. doi:10.3724/SP.J.1440-2807.2010.03.06. S2CID 118454721. ^ a b Johnson, Diane (1998). Night skies of aboriginal Australia: a noctuary . Darlington, New South Wales: University of Sydney. pp. 24, 69, 84, 112. Bibcode:1998nsaa.book.....J. ISBN 978-1-86451-356-1. ^ Makemson, Maud Worcester (1941). The Morning Star Rises: an account of Polynesian astronomy. New Haven, Connecticut: Yale University Press. p. 199. Bibcode:1941msra.book.....M. ^ "Arcturus". Constellation Guide . Retrieved 20 June 2017 . ^ Hagar, Stansbury (1900). "The Celestial Bear". The Journal of American Folklore. 13 (49): 92''103. doi:10.2307/533799. JSTOR 533799. ^ Daghavarian, Nazaret (1903). Ancient Armenian Religions (in Armenian) (PDF) . p. 19. Archived (PDF) from the original on 2022-10-09 . Retrieved 12 February 2021 . ^ Plautus. "Rudens". p. prol. 71. ^ a b Lewis, Charlton T.; Short, Charles (1879). arctÅrus. A Latin Dictionary. Oxford: Clarendon Press. Available on the Perseus Digital Library. ^ Alan Roberts, Peter; Yeshi, Tulku (2013). "Karandavyuha Sutra Page 45" (PDF) . Pacificbuddha. 84000. ^ Zimmer, Stefan (February 1, 2006). Die keltischen Wurzeln der Artussage: mit einer vollst¤ndigen 'bersetzung der ¤ltesten Artuserz¤hlung Culhwch und Olwen (in German). Universit¤tsverlag. p. 37. ISBN 978-3825351076. ^ Zimmer, Stefan (March 2009). "The Name of Arthur '' A New Etymology". Journal of Celtic Linguistics. University of Wales Press. 13 (1): 131''136. ^ Walter, Philippe (2005). Art¹. L'orso e il re (in Italian). Translated by Faccia, M. Edizioni Arkeios. p. 74. ISBN 978-8886495806. ^ Johnson, Flint (2002). The British sources of the abduction and Grail romances. University Press of America. pp. 38''39. ISBN 978-0761822189. ^ Chambers, Edmund Kerchever (1964). Arthur of Britain. Speculum Historiale. p. 170. ^ Tyson, Donald; Freake, James (1993). Three Books of Occult Philosophy. Llewellyn Worldwide. ISBN 978-0-87542-832-1. ^ "The opening ceremony of A Century of Progress". Century of Progress World's Fair, 1933-1934. University of Illinois-Chicago. January 2008 . Retrieved 2022-08-28 . ^ Talcott, Rich (July 14, 2014). "Lincoln and the cosmos". Astronomy Magazine . Retrieved 2022-08-28 . Further reading [ edit ] Harper, Graham M.; et al. (June 2022), "The Wind Temperature and Mass-loss Rate of Arcturus (K1.5 III)", The Astrophysical Journal, 932 (1): 57, Bibcode:2022ApJ...932...57H, doi:10.3847/1538-4357/ac69d6 , S2CID 249880096, 57. Isidoro-Garc­a, L.; et al. (January 2022), "Theoretical lifetimes and Stark broadening parameters for visible-infrared spectral lines of V I in Arcturus", Monthly Notices of the Royal Astronomical Society, 509 (3): 4538''4554, Bibcode:2022MNRAS.509.4538I, doi:10.1093/mnras/stab3301. Kushniruk, Iryna; Bensby, Thomas (November 2019), "Disentangling the Arcturus stream", Astronomy & Astrophysics, 631: A47, arXiv:1909.04949 , Bibcode:2019A&A...631A..47K, doi:10.1051/0004-6361/201935234, S2CID 202558933, A47. Wood, M. P.; et al. (February 2018), "Vanadium Transitions in the Spectrum of Arcturus", The Astrophysical Journal Supplement Series, 234 (2): 25, arXiv:1712.06942 , Bibcode:2018ApJS..234...25W, doi:10.3847/1538-4365/aa9a41, S2CID 119356096, 25. K¼ker, M.; R¼diger, G. (January 2011), "Differential rotation and meridional flow of Arcturus", Astronomische Nachrichten, 332 (1): 83, arXiv:1012.3321 , Bibcode:2011AN....332...83K, doi:10.1002/asna.201011483. Lacour, S.; et al. (July 2008), "The limb-darkened Arcturus: imaging with the IOTA/IONIC interferometer", Astronomy and Astrophysics, 485 (2): 561''570, arXiv:0804.0192 , Bibcode:2008A&A...485..561L, doi:10.1051/0004-6361:200809611, S2CID 18853087. </ref>Brown, Kevin I. T.; et al. (June 2008), "Long-Term Spectroscopic Monitoring of Arcturus", The Astrophysical Journal, 679 (2): 1531''1540, Bibcode:2008ApJ...679.1531B, doi:10.1086/587783, S2CID 121170557. Tarrant, N. J.; et al. (November 2007), "Asteroseismology of red giants: photometric observations of Arcturus by SMEI", Monthly Notices of the Royal Astronomical Society: Letters, 382 (1): L48''L52, arXiv:0706.3346 , Bibcode:2007MNRAS.382L..48T, doi:10.1111/j.1745-3933.2007.00387.x, S2CID 5666311. Brown, Kevin I. T. (February 2007), "Long-Term Spectroscopic and Precise Radial Velocity Monitoring of Arcturus", The Publications of the Astronomical Society of the Pacific, 119 (852): 237, Bibcode:2007PASP..119..237B, doi:10.1086/512731, S2CID 121637958. Gray, David F.; Brown, Kevin I. T. (August 2006), "The Rotation of Arcturus and Active Longitudes on Giant Stars", The Publications of the Astronomical Society of the Pacific, 118 (846): 1112''1118, Bibcode:2006PASP..118.1112G, doi:10.1086/507077, S2CID 120918694. Cohen, Martin; et al. (June 2005), "Far-Infrared and Millimeter Continuum Studies of K Giants: α Bootis and α Tauri", The Astronomical Journal, 129 (6): 2836''2848, arXiv:astro-ph/0502516 , Bibcode:2005AJ....129.2836C, doi:10.1086/429887, S2CID 119419198. Navarro, Julio F.; et al. (January 2004), "The Extragalactic Origin of the Arcturus Group", The Astrophysical Journal, 601 (1): L43''L46, arXiv:astro-ph/0311107 , Bibcode:2004ApJ...601L..43N, doi:10.1086/381751, S2CID 10638792. Retter, Alon; et al. (July 2003), "Oscillations in Arcturus from WIRE Photometry", The Astrophysical Journal, 591 (2): L151''L154, arXiv:astro-ph/0306056 , Bibcode:2003ApJ...591L.151R, doi:10.1086/377211, S2CID 119083930. Ryde, N.; et al. (November 2002), "Detection of Water Vapor in the Photosphere of Arcturus", The Astrophysical Journal, 580 (1): 447''458, arXiv:astro-ph/0207368 , Bibcode:2002ApJ...580..447R, doi:10.1086/343040, S2CID 7672420. Griffin, R. E. M.; Lynas-Gray, A. E. (June 1999), "The Effective Temperature of Arcturus", The Astronomical Journal, 117 (6): 2998''3006, Bibcode:1999AJ....117.2998G, doi:10.1086/300878 , S2CID 120907426. Turner, Nils H.; et al. (May 1999), "Adaptive Optics Observations of Arcturus using the Mount Wilson 100 Inch Telescope", The Publications of the Astronomical Society of the Pacific, 111 (759): 556''558, Bibcode:1999PASP..111..556T, doi:10.1086/316353, S2CID 2441153. Griffin, R. F. (October 1998), "Arcturus as a double star", The Observatory, 118: 299''301, Bibcode:1998Obs...118..299G. Quirrenbach, A.; et al. (August 1996), "Angular diameter and limb darkening of Arcturus.", Astronomy and Astrophysics, 312: 160''166, Bibcode:1996A&A...312..160Q. External links [ edit ] Wikimedia Commons has media related to

Arcturus

.

SolStation.com entry

Warning over new Covid variant 'Arcturus' that is causing carnage in India | Daily Mail Online

Wed, 12 Apr 2023 14:21

A new Covid strain is wreaking havoc in India, with hospitals now on red alert and compulsory face masks being brought back.

'Arcturus', a spin-off of Omicron, is thought to be the most contagious variant yet.

However, top scientists don't expect it to be more lethal than other types currently circulating, which cause a much milder disease that closely resembles the flu.

Officials believe it is single-handedly driving India's latest wave, with cases having exploded 13-fold within a month.

The nation's ministry of health this week ran mock drills to check how prepared its hospitals were for another potential influx of patients.

And some states have brought back face masks in public settings, the first time for more than a year in some areas.

New Covid variant 'Arcturus' had driven a huge increase in cases in India over the past month

While the rise is of some concern, it is still far below the devastating wave of cases the country experienced in 2021 from the Delta wave

What is 'Arcturus' and should we be worried?A new Covid variant dubbed 'Arcturus' has sparked some concern after causing a surge of cases in India.

What is 'Arcturus'?

'Arcturus' is the name that has been given to Omicron subvariant XBB.1.16.

It is a spin-off strain, similar to that of the Kraken variant (XBB.1.5).

Where has it been spotted?

It emerged in March and has been spotted since in 22 countries, but the largest outbreak by far is in India.

Why has it sparked concern?

'Arcturus' has led to a surge in cases in India with infections soaring 13-fold within the last month.

This has prompted the nation's health authorities to run hospital drills and reintroduce mask mandates in some areas.

Is it dangerous?

'Arcturus' has mutations on its spike protein that the Word Health Organisation says could increase its ability to infect people as well as trigger disease.

Japanese researchers have suggested it is 1.2 times more infectious than the already super transmissible Kraken.

However, there is no evidence it increases severity of disease.

But a rise in cases could put health services under pressure.

Do vaccines still work?

Early results suggest 'Arcturus' does not have any increased ability to evade protection from vaccines compared to other Omicron spin-offs

India's Ministry of Health said there were 40,215 active Covid cases on April 12, up by 3,122 in just one day.

These Covid cases can include those who test positive while unwell at home as well as those in hospital.

Separate figures from the Oxford University-run platform Our World in Data show that new daily cases hit 3,108 on April 4, up from 242 one month earlier.

The World Health Organization (WHO) is currently monitoring Arcturus, scientifically known as XBB.1.16.

It was first detected in late January, with officials saying it has some mutations of concern.

Dr Maria Van Kerkhove, the WHO's Covid technical lead, said: 'It's been in circulation for a few months.

'We haven't seen a change in severity in individuals or in populations, but that's why we have these systems in place.

'It has one additional mutation in the spike protein which in lab studies shows increased infectivity as well as potential increased pathogenicity.'

Dr Van Kerkhove added that while XBB.1.16 had been detected in other countries most sequences were from India, where it had replaced other variants.

She also said that thus far there had been no reported change in disease severity in XBB.1.16 infections.

Meanwhile, a study by Japanese scientists has suggested Arcturus is 1.2 times more infectious than the closely-related Kraken Covid strain.

Uploading their findings to the biology research website bioRxiv, they wrote that this advantage suggests the new variant will 'spread worldwide in the near future'.

They attributed this to mutations that could make it more difficult for the immune system to tackle and increase its growth rate.

However, they said there is no evidence that Arcturus had any greater ability to evade the protection offered by vaccines or prior infection compared to Kraken.

Kraken was the dominant strain in the UK by the end of February, causing 50.4 per cent of cases, according to ONS data.

Technically XBB.1.5, the Omicron spin-off was considered the most infectious Covid variant yet and sparked concern after triggering a surge in cases in several countries.

However while it triggered more cases, the new strain did not cause more severe disease than its ancestor Omicron, already considered a 'milder' version of Covid.

The rise in cases triggered by Arcturus has led the Indian state of Haryana, in the north of the country, to reintroduce masks in public places due to the 'significant upsurge' in Covid cases.

Veena George, Health Minister of southern state Kerala, on Saturday reintroduced masks for pregnant women, the elderly and those with underlying conditions.

On Monday and Tuesday, hospitals across India took part in mock drills to test their preparedness.

Office for National Statistics analysts estimate almost 1.7million Brits were carrying the virus on any given day in the week to March 13. This a jump of almost 14 per cent on the week before

Office for National Statistics analysis has calculated how much of each Covid wave infected the population of England. The latest, Omicron BA.4/5, was the biggest, infecting 46.3 per cent of the population. Individuals could be represented twice in the data having, for example, caught Covid once at the start of the pandemic, then again during the Omicron surge

Officials have also told states to ramp up testing for the virus.

The drills and return of masks are a grim reminder of how the country was devastated by the Delta wave in 2021 with a total of 4.7million excess deaths according to WHO estimates.

India's health system was overwhelmed by a surge of cases triggered by that Covid variant, with some hospitals even running out of oxygen.

Like similar new Covid variants, virus trackers online decided to call XBB.1.16 'Arcturus' following a pattern of naming new strains after mythological entities.

Arcturus means 'Guardian of the Bear' and is related to the constellation called the Great Bear.

Leaked Social Media Pics From Bud Light Ad Exec Who Slammed 'Fratty' Culture Seem Pretty Fratty | The Daily Caller

Wed, 12 Apr 2023 14:09

The vice president of marketing at Bud Light, who recently said the company needs to update its ''fratty'' image and ''out-of-touch humor,'' can be seen partaking in the same behavior she seemed to be criticizing during a Harvard social club event, recently leaked images show.

The Daily Caller obtained the photos from a source who had screenshots of the album on Alissa Gordon Heinerscheid's Facebook page, which was titled ''Isis Senior Reverse Initiation Scavenger Hunt.'' In the album, there are photos of Heinerscheid drinking with others, and holding condoms up to their mouths. An article in the Harvard Crimson describes the club as a ''haven of inebriated ditzes.''

Bud Light's marketing has been criticized in recent days. In late March, Heinerscheid appeared on a podcast, where she promotes Bud Light's new direction and marketing and said the company needed to update its ''fratty'' image and change its ''out of touch humor.''

During the March 23 ''Make Yourself at Home'' podcast, Heinerscheid said, ''I am a businesswoman. I had a really clear job to do when I took over Bud Light, it was '-- this brand is in decline. It has been in decline for a very long time. And if we do not attract young drinkers to come and drink this brand, there will be no future for Bud Light.''

She also said, ''representation is at sort of the heart of evolution. You've got to see people who reflect you in the work. And we had this hangover '-- I mean, Bud Light had been kind of a brand of fratty, kind of out-of-touch humor, and it was really important that we had another approach.''

Bud Light and Heinerscheid also faced criticism after transgender TikTok star Dylan Mulvaney showed off a beer can with the influencer's face on it. They also released a can with a rainbow that states ''celebrate everyone's identity,'' and features different pronouns.

Anheuser-Busch also announced a ''diversity & inclusion pillar'' in 2019 that provides ''unconscious bias training'' and seeks to ''attract diverse talent.''

Since Mulvaney's video and Heinerscheid's went viral, industry experts told the New York Post that Bud Light could seriously be in trouble.

''This boycott seems to have more legs than most,'' Justin Kendall, editor of beer industry trade publication Brewbound, told The Post. ''It started out as a conversation on social media and has breached into mainstream media.''

The Isis Club ''was established in the year 2000 on Harvard University's campus by agroup of 25 women. The founding meeting took place in the former Loker Commons, and set a foundation for community we have today. Their mission was to provide a positive environment and social network for women to flourish,'' an Isis Club new initiate's book states.

''Before the existence of female social clubs on campus, women's options for socializing were extremely limited compared to that of their male counterparts. From its very inception, the Isis Club has represented a unique character and personality. With women of diverse backgrounds and interests, Isis women are united together by an undeniable spirit of compassion, fun, and drive. Ever since the first group of punches were inducted in 2002 in the Bel Tower of Lowel House, the Isis Club continues to fulfill its mission of providing and safe social space for women. The Isis legacy is a strong and positive one, which the club knows will be carried on by the many amazing women that are proud to call the Isis Club their own,'' the book continues.

(DAILY CALLER OBTAINED) '-- '... by Henry Rodgers

Heinerscheid's Facebook profile could no longer be accessed after the Caller emailed her for comment. (RELATED: If You're Mad At Bud Light Now, Remembering How Cool They Were In The 90s Will Make It Even Worse)

The Caller contacted Anheuser-Busch and Heinerscheid about the photos and what her role was with Mulvaney, to which they both did not immediately respond.

Weight Watches Parent's Stock Soars Again On Obesity-Drug, Goldman Turns Bull | ZeroHedge

Wed, 12 Apr 2023 14:07

WW International, previously known as "Weight Watchers," jumped 46% Tuesday morning after the company said it completed the acquisition of a telehealth provider that will help it tap into the booming market for new obesity drugs. Adding more bullishness today was a note by Goldman Sachs, upgrading the stock to a "buy" from "neutral."

WW's deal for subscription telehealth platform "Sequence," which prescribes weight-management and diabetes drugs, was first announced in March. Back then, shares soared more than 79% to a seven-month high of around $7 handle on March 7 but quickly fell back to the $4 handle as shorts piled in.

In combination with the deal closing, Goldman Sachs analyst Jason English upgraded his rating on the stock to buy from neutral following the acquisition of Sequence.

"With the now completed acquisition of Sequence, WW will begin to offer a pharmaceutical based clinical subscription service that it can integrate with its legacy behavioral based weight management offering.

"With this new service offering we expect a cohort of consumers to turn to it for help navigating what is poised to be an increasingly complex field of pharmaceutical solutions given its legacy brand equity/credibility in the weight management field and its ability to reach an extensive database of current (4M) and lapsed (20M) WW program users who have previously demonstrated a willingness to pay for help," English wrote.

The WW turnaround emerges as the GS team estimates peak obesity market sales will be north of $30 billion by 2032 for certain pharmaceutical products. Several big pharma companies, including Eli Lilly, Novo Nordisk, and Zealand, among others, have trials and product launches of their obesity drugs planned this year.

"Our top-down build suggests over 15mn addressable users today and likely doubling by 2030," English wrote.

WW is at a pivotal point where it's building new capabilities that expand its market to offer new drugs to 'make America slim again.'

English revised GS' 12-month price target for WW to $13.00, a significant increase from the previous $3.80, in light of the sweeping changes at the company.

Shares of WW soared as high as 46% this morning, the most significant gain since the March 7 surge. Propelling the move today is also an abundance of shorts who piled in after shares peaked around the $7 handle last month. About 8.2 million shares are short, equating to about 15% of the float.

With the now-completed acquisition of Sequence, WW will be able to capitalize off tens of millions of obese Americans with new pharmaceutical drugs to tackle weight loss.

WW should consider an advertising campaign titled: 'Make America Slim Again'...

Loading...

Elon Musk's X Corp officially absorbs Twitter, moving towards an 'everything app' vision - Rebel News

Tue, 11 Apr 2023 23:27

By Ezra Levant PETITION: Stop The Censorship The Trudeau government must withdraw their online censorship plans.

48,748 signatures Goal: 100,000 SignaturesOptional email code

Address (Street, City, State, Postal Code)

Secure

Elon Musk's X Corp has officially acquired Twitter, with plans to transform the platform into an all-encompassing "everything app" while maintaining its existing features and user base.

The news of this acquisition was not announced by Musk or Twitter, but instead came from failed congressional candidate Laura Loomer. In an April 4 court filing related to Loomer's ongoing lawsuit against Twitter and its former CEO Jack Dorsey, as well as Mark Zuckerberg and Meta, it was revealed that Twitter, Inc. had been merged into X Corp and no longer exists as a separate entity.

X Corp is a subsidiary of X Holdings Corp, which is incorporated in Nevada and headquartered in San Francisco, California.

On Tuesday, Musk tweeted a single letter "X," seemingly confirming the information disclosed in the court documents. Musk has long envisioned creating an "everything app," and he believes that acquiring Twitter will expedite the development of this app by three to five years.

https://twitter.com/elonmusk/status/1645684041264529408

According to Vox, Musk has praised China's WeChat app as a great example, emphasizing the app's usefulness in China and the opportunity to create a similar platform globally.

Musk has previously described his vision for a "blockchain social media system" that would combine payments and short text messages or links, similar to Twitter. Users would pay to register messages on the blockchain, and a "Twitter-like app" would provide access to the cloud-based database containing all messages sent to the blockchain.

The potential "X" app, based on Musk's recent actions, could become a heavily monetized, closed environment designed to keep users constantly engaged.

Musk has explored options such as expanding Twitter Blue, paid-for verification, charging bot makers for API access, and even auctioning off usernames. As a work-in-progress, Musk has made suggestions to restrict the "For you" feed to Twitter Blue subscribers, but quickly reversed this decision following user feedback.

Twitter Inc. 'No Longer Exists' As Elon Musk Inches Closer To X 'Everything App' Ambitions

Tue, 11 Apr 2023 23:26

ToplineTwitter changed its incorporated name to X Corp., the name of its owner and CEO Elon Musk's long-envisioned everything app that extends far past social media, as Musk extends his grand aspirations for the company.

Elon Musk's X is coming.

Getty Images Key FactsTwitter Inc. ''no longer exists'' and the company is now a part of X Corp., according to an April 4 filing in California federal court.

Musk pointed to the fairly obscurely located filing in an early Tuesday tweet, which simply read, ''X.''

The centibillionaire has been obsessed with the idea of X leading up to and following his $44 billion purchase of Twitter last fall; Musk said in October the Twitter acquisition was ''an accelerant to creating X, the everything app.''

Musk has indicated he hopes to transform Twitter/X into a wide-ranging service akin to China's WeChat, telling a Morgan Stanley conference last month he wants his app ''to become the biggest financial institution in the world.''

Musk said at the time he wanted X to become a peer-to-peer mobile payment platform where users can earn interest on their cash like at a bank, previously suggesting he wants his app to include a glut of services including ride-hailing and food delivery.

Pulling such a transformation off is crucial for Musk to see a strong return on his investment: Twitter is valued internally at a reported $20 billion, a more than 50% discount from its sticker price last year, but Musk has reportedly touted the potential of X as a way for the company to explode to a $250 billion valuation.

TangentEven as Musk honed in on transitioning Twitter to X, he still had plenty of time this week to engage in some Twitter trolling. The 51-year-old briefly changed his Twitter profile name to ''Harry Bōlz'' on Monday, hours after he revealed the company painted over the ''W'' in its logo outside of its San Francisco headquarters to make it appear to say ''Titter,'' a reference to breasts.

Forbes ValuationMusk is worth $187.6 billion, according to our latest calculations, making him the second-wealthiest person in the world and richest man in the nation. A majority of his fortune comes from his stake in Tesla, the electric vehicle company he also leads as CEO.

Further ReadingElon Musk And The Super Alluring Dream For A 'Super App' (Forbes)

Musk's New Twitter Dream: Become 'Biggest Financial Institution In The World' (Forbes)

If Musk Turns Twitter Into X'--His 'Everything App''--Here's What It Might Look Like (Forbes)

Whole Foods to close SF flagship store a year after opening

Tue, 11 Apr 2023 22:11

April 10, 2023Updated: April 10, 2023 3:55 p.m.

File: The Whole Foods location at 1185 Market St. is slated to close.

SAUL LOEB/AFP/Getty ImagesAfter a short stint in downtown San Francisco, the Whole Foods at 1185 Market St. is closing this week.

The Whole Foods at Trinity Place is set to close on April 11, a Whole Foods Market spokesperson confirmed with SFGATE. The San Francisco Standard first reported the upcoming closure.

''To ensure the safety of our Team Members, we have made the difficult decision to close the Trinity store for the time being,'' a Whole Foods Market spokesperson said in a statement via email. ''All Team Members will be transferred to one of our nearby locations.''

In the statement, the Whole Foods Market spokesperson suggested that the grocery store could reopen in the future, although specific details were not provided. The spokesperson also did not elaborate on what safety concerns led the company to close the Trinity Place market.

A view inside the Whole Foods at 1185 Market St. in San Francisco. The massive storefront is slated to close on April 11.

Arielle A. on YelpLast November, the San Francisco Standard reported that the Whole Foods location at Trinity Place had limited its store hours following ''high theft'' and ''hostile people,'' according to a statement from a store manager who was granted anonymity by the outlet.

The grocery chain debuted the massive, 65,000-square-foot storefront at Trinity Place last March, which was promptly dubbed San Francisco's ''flagship store'' ahead of the opening. The store offered a large selection of wines, craft beer, and baked goods from local companies like La Boulangerie, Wise Sons and more.

Whole Foods continues to operate multiple locations across San Francisco.

What is SEL? Social-Emotional Learning Explained | Positive Action

Tue, 11 Apr 2023 21:09

To fully understand Social-Emotional Learning (SEL), it's useful to begin with a clear definition. SEL is the vital framework through which people of all ages acquire skills in working towards their own unique goals, comprehending and managing their emotions, nurturing positive relationships, making informed choices, and feeling and exhibiting empathy. Learning SEL provides students and young people with the abilities required to succeed in life, both within their school and beyond.

Social-Emotional Learning SkillsThere are 5 main S.E.L. areas:

Self-awareness:Maintaining a level of self-awareness is a cornerstone of social-emotional learning, allowing students to access a greater understanding of how positive actions lead to an improved self-image.

Self-management:As social-emotional skills grow, children and young adults begin to understand the importance of self-management, especially as it pertains to intrinsic motivation, emotional management, and setting personal goals.

Social awareness:Centering around the golden rule of treating others as you would like to be treated; social-emotional learning encourages social awareness on both an individual level with personal relationships, and on a broader scope with regards to diverse perspectives.

Relationship skills:SEL skills empower students to develop relationships by providing strategies for conflict resolution and teaching that an awareness of the other person's needs is integral to building positive relationships.

Responsible decision-making:Students are taught that making certain decisions can impact them in every facet of their lives (social, emotional, physical, and intellectual), and how to make positive decisions for positive growth and change.

Why is Social-Emotional Learning Important?Social and emotional learning provides a positive foundation upon which students can learn about themselves and others in a safe, nurturing school environment. As well as explicitly tackling subjects such as diversity, self-image, and responsibility, these skills can be transferred to other SEL lessons and activities by teachers and students alike.

Social and emotional learning also doesn't end in the classroom. Life SEL skills can help students pursue further and higher education, achieving career goals, and developing better relationships with family and friends. By centralizing the happiness and wellbeing of students, social-emotional learning offers an approach to education that values their autonomy and gives students from all backgrounds the opportunity to create positive habits; allowing them to grow into healthy and fulfilled adults.

Why is SEL effective?Multiple research trials focused on the impact of social-emotional skill building, have shown that not only do these skills help students dramatically improve their mental and physical health and familial relationships, but they also significantly reduce problem behaviors and the subsequent disciplinary actions required to deal with them.

A 2009 study focused on children aged 4 to 14 revealed that introducing social emotional learning resulted in children being able to better regulate their behavior, and therefore have more positive social interactions with other students.

A 2015 study of 705 students in schools described as 'high risk' showed that using social emotional learning early in development is a 'promising approach' to improving academic proficiency in areas like reading, writing and math.

A 2012 study showed that explicitly teaching children skills in social and emotional learning resulted in a notable reduction in problem behaviors.

What are the benefits of SEL and who can benefit from it?Social and emotional learning is proven to be beneficial in many facets of life, and the social skills taught can be transferred to a wide variety of situations.

SchoolsWhen you establish a safe academic, socio emotional space for children at school, you provide them with the opportunity to acquire essential new social skills that will guide them into the future.Social and emotional learning supports students by teaching them about emotional skills and responsible decision making, which in turn creates a more harmonious and productive school environment - research has shown that happy and healthy students perform far better academically and are much less likely to require disciplinary action or intervention.

FamiliesChildren and adults alike benefit from positive familial relationships, which form the core of many people's social and emotional wellbeing. Social and emotional learning specifically tailored towards improving emotional skills in these relationships can help support parents in developing a closer bond with their children, and foster a mutually positive relationship built on social and emotional awareness. SEL can then provide an invaluable and stable foundation for finding success in other areas of life.

CommunitiesRespecting, sharing, and understanding the diverse backgrounds and perspectives of others are essential to social and emotional learning. Instead of dividing communities by difference, Positive Action's SEL approach is centralized around treating others as you would like to be treated, and encourages greater social connections between individuals for a more harmonious and positive community.

Social-emotional learning is clearly successful in supporting students in a traditional school setting, but the benefits can be found beyond school and in social groups of all kinds.

How to teach SEL?It's widely considered that teaching social and emotional learning skills from as early and age as possible helps children to develop skills that can be carried throughout their childhood and adolescence. This is referred to as 'the feeder effect' - and will lead to teachers being able to recognize which students have been provided access to SEL, and which have not.

The delivery of SEL in school will generally follow a series of steps, including:

An explanation of a particular SEL concept by the teacher - often using pictures, video, audio, or written textStudents will then gain a deeper understanding of the concept through skill practice, discussion with a peer group or partner, or through individual writing tasksThe teacher will revisit and reinforce this concept throughout the weekThe teacher may decide to support the teaching by sending work home for students to work with alongside their parents or careersThe teacher will check for understanding moving forward, re-teaching specific points where requiredImplementation: How Positive Action SEL can Help?As education continues to evolve, it is clear that SEL is an important element in creating an effective environment in which children can develop emotional skills as they learn. By implementing SEL in the classroom with Positive Action, each school and district will see immediate improvements in school climate, student behavior and academic achievement.

This will have the ancillary effect of improving teacher and staff morale, which jump starts a virtuous feedback cycle. This cycle will later affect students' families and the surrounding community.While we may never achieve the harmonious civilization that Plato envisioned, implementing our lessons can assist educators in creating the supportive environment that every student deserves.

Wonder what social and emotional learning would look like in your school?

ðŸ'š Explore our Social-Emotional Learning ProgramWhat are the research outcomes for SEL?The randomized-controlled trials in Chicago and Hawaii found multiple outcomes with statistical significance well beyond the current accepted standards. Below are a few of the published outcomes:

20%

Improvement in reading

18%

Improvement in affiliation with good friends

85%

Reduction in disciplinary referrals

62%

Reduction in violence

51%

Reduction in bullying

17%

Improvement in honesty

ðŸ'ƒ See All OutcomesFAQsWhat is social emotional learning? Explore the meaning of SEL a little more by looking on a few of most frequently asked questions:

ðŸ'– What are the 5 SEL competencies?The process of learning SEL is broken down into five core competencies:

Self-awarenessSelf-managementSocial awarenessRelationship skillsResponsible decision-makingðŸ'Š How to measure SEL?The effects of employing our lessons can be measured through evidence-based research that compares certain variables in recipients both before and after the lessons have been taught.

Positive Action has used Randomized-Controlled Trials (RCTs) to ensure that noted differences in behavior were a result of the program, and have reported significant increases in academic achievement, as well as notable reductions in problem behaviors.

Further reading: 3 Tools to Assess and Measure Social-Emotional Learning in Schools

ðŸŽ' What is the pedagogical theory of SEL?Social and emotional learning theory is about improving a wide-ranging set of skills and can, therefore, be taught through a variety of pedagogical methods.Educators now acknowledge that there are a basic set of important personal socio-emotional skills that are crucial for students that were partly abandoned but remain as important today as they were in ancient Greece.

This evolution continues to this day as education begins to incorporate new technologies into the classroom and students are surrounded by interactive technologies. This presents new opportunities, and challenges, for SEL and educators.

Positive Action provides kits to assist in teaching SEL in six units, all centered around the unifying concept that you feel good about yourself when you do positive actions. Teachers are encouraged to create a safe environment for discussion and self-reflection in their classrooms, which can be easily tailored to suit the age and needs of the school group.

Taking the next steps in transforming your learning environmentPositive Action SEL is about celebrating the happiness and growth that can arise from learning SEL and performing positive actions in all spaces. Our lessons have been successfully developed and implemented for over 36 years, by over 16,000 schools, all towards the vision of creating a safe, positive, respectful and civil society for everyone.

For more information, you can reach out to us via chat, email, or call us at (800) 345-2974. You can also join us for a 15-minute webinar.

Putin's Health Worsens: Russian Tyrant Receives 'First Aid' After Suffering 'Partial Loss Of Sensation In His Right Arm & Leg'

Tue, 11 Apr 2023 20:42

(C) Radar Online Mega Vladimir Putin was allegedly forced to receive first aid over the weekend after he suffered a ''partial loss of sensation'' in half of his body, RadarOnline.com has learned.

In a shocking development to come amid rumors and reports the 70-year-old Russian leader is dying from cancer, Putin was reportedly struck by a series of severe symptoms this weekend before receiving urgent medical care from a ''council of doctors.''

(C) Radar Online Mega According to the Russian Telegram channel General SVR, which has followed Putin's alleged cancer battle and deteriorating health over the course of the past few months, the Russian tyrant first suffered "severe pain in his head, blurred vision, and numbness of the tongue.''

He then suffered a ''partial loss of sensation in his right arm and leg,'' at which point his ''council of doctors'' were called to provide the allegedly ailing Russian leader with immediate first aid.

(C) Radar Online Mega Although Putin was ordered to take medication and undergo ''complete rest'' for the next several days, his condition reportedly began to stabilize shortly after the health scare.

''The president's relatives were more worried,'' General SVR said after reports of Putin undergoing first aid broke over the weekend. ''Such a sharp deterioration in Vladimir Putin's health caused a nervous reaction, more like panic.''

ãƒ>>Vladimir Putin Forms New 'Storm Z' Military Units Made Up Of Russian Prisoners To Carry Out 'Complex Combat Missions' In Ukraine

ãƒ>>Putin Secret Agents Accused Of Assassinating Pro-Kremlin Blogger As Warning To Mercenary Chief Yevgeny Prigozhin

ãƒ>>Popular TikTok Couple Arrested In Russia For Breaking Putin's 'Anti-Gay Propaganda' Laws: 'It Became A Living Hell'

''The temporary sharp deterioration in the president's health has already made those closest to him tense,'' the Telegram channel continued. ''The sudden death of Putin will put them all in front of the unknown, or rather, on the brink of survival.''

''None of them even had a rough plan of action in this case.''

(C) Radar Online Mega As RadarOnline.com previously reported, rumors of Putin's failing health first started to swirl shortly after the Russian leader invaded Ukraine in February 2022.

Although the Kremlin has insisted Putin is in ''perfect health,'' reports indicate the 70-year-old leader is suffering from cancer and a series of other serious diseases.

Never miss a story '-- sign up for the RadarOnline.com newsletter to get your daily dose of dope. Daily. Breaking. Celebrity news. All free.

(C) Radar Online Mega Even more shocking are reports that Putin's alleged cancer is only worsening and, depending on the success of his treatment, the Russian strongman may die before his invasion of Ukraine comes to a definitive end.

''He has no more than two to three years to stay alive,'' revealed one insider who works within Russia's Federal Security Service.

''We are told he is suffering from headaches and when he appears on TV he needs pieces of paper with everything written in huge letters to read what he's going to say,'' the source added, claiming Putin was recently diagnosed with a ''severe form of rapidly progressing cancer.''

Ozempic and Muscle Loss '-- Do You Need to Worry? '' Diabetes Daily

Tue, 11 Apr 2023 12:55

Ozempic is the diabetes drug so wildly popular for weight loss '-- it even got name-checked at the Oscars '-- that many people with diabetes have been unable to get their prescriptions filled.

This meteoric rise in prominence has invited enhanced scrutiny and skepticism. In January, the media was abuzz with stories about ''Ozempic face,'' a reported tendency for Ozempic users to lose healthy-looking fat from their faces, resulting in a saggy, aged appearance.

Now, people are asking a new question: Do Ozempic and other drugs like it cause unhealthy muscle loss?

Ozempic and the New Weight Loss DrugsOzempic is only the most famous of a new generation of diabetes drugs that is utterly changing the landscape of obesity medicine:

Ozempic (semaglutide), an injectable drug indicated for type 2 diabetesWegovy (semaglutide), essentially Ozempic marketed for weight lossRybelsus (semaglutide), an oral formulation of semaglutideMounjaro (tirzepatide), a related diabetes medication that causes even more dramatic weight lossSemaglutide is a GLP-1 receptor agonist, one of a family of drugs that mimic the effect of a hormone that stimulates insulin secretion and prompts feelings of hunger. Tirzepatide is technically a dual GIP/GLP-1 receptor agonist '-- it acts as two hormones instead of just one '-- but it is generally thought of as a cousin of semaglutide.

Semaglutide and tirzepatide are almost certainly the two best weight loss medications ever developed. And weight loss, no matter how it's achieved, always involves some loss of muscle and lean mass, in addition to the loss of fat. But there is now a rising concern that these drugs cause too much muscle loss.

Ozempic and Muscle LossExperts were already cautious about muscle loss before Ozempic became a celebrity among drugs. A 2021 meta-analysis by a team of Japanese doctors analyzed 18 randomized controlled trials of GLP-1 receptor agonists. The work showed that these medications create significant drops in ''fat-free mass'' and concluded that ''it is important to pay attention to muscle loss.'' Semaglutide had the strongest effect of all, though tirzepatide was not evaluated.

Recent interest in the issue was touched off by Peter Attia, MD. Dr. Attia, whose private practice is devoted to the science of longevity, has a large social media following. On a recent episode of his podcast, Attia discussed semaglutide and tirzepatide in detail.

In the podcast, Attia highlights what he calls a ''massive flaw'' in the work of the scientists and regulators validating these drugs as weight loss treatments: ''They don't care about body composition.'' He goes on to explain that there has been very little attention paid to how much muscle these patients are losing in comparison to how much fat they're losing. In Attia's telling, an Ozempic user could lose 20 pounds of mostly lean mass '-- a profoundly unhealthy change in body composition '-- but scientists and the U.S. Food and Drug Administration (FDA) would still count it as a win for the drug.

The podcast followed an earlier blog post on the same topic, in which Attia warned that both physicians and patients should ''exercise extreme caution'' in the use of semaglutide and tirzepatide. Attia suggested that the drugs are wholly inappropriate for patients without excess fat and for those at any risk of sarcopenia (muscle loss); he encouraged anyone using the drugs to do everything in their power to counteract the potential losses in muscle and bone mass.

Attia is not alone '-- other doctors have sounded the same alarm. And a 2022 review in Obesity called on scientists to prioritize research and development of weight loss drugs that preserve lean mass in addition to suppressing appetite. The authors ''suggest that the regulatory guidelines should be revisited to focus more on the quality of weight loss and its maintenance rather than the absolute weight loss.''

The ScienceAs yet, no study of semaglutide or tirzepatide has focused on body composition. We have a modicum of good data from larger studies that gave body composition scans to small subsets of volunteers.

In 2020, Diabetologia published a body composition analysis of 88 volunteers with type 2 diabetes who used semaglutide for one year. These participants lost an average of 12.5 pounds. Of that weight loss, there was a 7.5-pound reduction in fat mass and a 5-pound reduction in lean mass.

In 2021, a major trial of semaglutide's weight loss potency examined the body composition of a minority of participants. These patients did not have diabetes, and they took a much larger dose of the drug. The 95 participants to undergo a body scan lost an average of 18 pounds of fat '-- and 12 pounds of lean mass.

The sample is not huge, with fewer than 200 patients overall, but the two trials agreed: Semaglutide users lost about 40 percent lean mass and 60 percent fat.

How does that compare with people losing weight by other means? In most overweight adults, ''fat-free mass contributes only '¼20''30 percent to total weight loss,'' according to a 2017 review. If this generalization is accurate, it suggests that semaglutide may be causing an undue amount of muscle loss, as much as double the expectation.

One study has also analyzed the body composition of a very small sample of tirzepatide users. Nine volunteers using the highest dose of tirzepatide (15 milligrams) lost an average of five pounds of lean mass, and 14.6 pounds of fat mass, a ratio much more in line with expectations for diet-induced weight loss. Volunteers on lower doses had similar ratios of lean-to-fat mass loss.

The AnecdotesIn an earlier Instagram reel, Attia detailed his personal experience prescribing the drug to his patients:

''I'll tell you what's wrong with it. Almost without exception, every patient we've put on this drug has lost muscle mass. And they've lost it at a rate that alarms me.''

At least one other doctor has had a similar experience. Florence Comite, MD, an endocrinologist and the founder of New York City's Comite Center for Precision Medicine & Health, told the Daily Mail that ''what we see here at the center, it is usually more muscle loss than fat.'' Dr. Comite believes that her patients on semaglutide typically lose about 60 percent lean mass and only 40 percent body fat, reversing the ratio from the trials discussed above.

It's worth noting that Attia and Comite are generally not treating average people with diabetes; they each operate clinics for affluent patients that are highly motivated to optimize their health. It is possible that their experiences, even if accurate, are not representative of the vast majority of people who are prescribed these drugs.

Is There a Reason to Worry?Weight loss, no matter how it's achieved, almost invariably involves the loss of both fat and muscle.

This isn't usually considered a problem. The typically modest amount of lean mass loss that accompanies weight loss is believed to be healthy and natural, ''consistent with the new, reduced body weight rather than a diet-induced 'muscle deficit.'''

If semaglutide and tirzepatide are causing excessive muscle loss, though, it could be problematic for users. Muscle mass, physical function, and strength are increasingly important as we age, part of the reason that strength training is recommended even for older adults.

Lean muscle is also especially important for people with diabetes. The muscles, more than any other part of the body, are responsible for removing glucose from the bloodstream, and muscle loss will likely lead to higher blood sugar numbers and further metabolic impairment. Sarcopenia '-- age-related muscle loss '-- is both a cause and a consequence of diabetes.

But not all experts are concerned. MedPage Today recently released a special report on Ozempic and muscle loss. Reporter Kristina Fiore spoke to two endocrinologists with experience prescribing the drug.

Karl Nadolsky, DO, is an endocrinologist at Spectrum Health in Grand Rapids, Michigan, and an assistant professor of medicine at Michigan State University. Dr. Nadolsky emphasized that the trials suggesting the scale of lean mass loss also showed that users enjoyed convincing metabolic improvements: ''The benefits outweigh the risks in people who have obesity or are overweight, especially when it's complicated by cardiovascular disease, sleep apnea, and other conditions.''

Amy Rothberg, MD, a clinical professor of internal medicine in the Division of Metabolism, Endocrinology, and Diabetes at the University of Michigan, joined Nadolsky in recommending that the new weight loss drugs should be recommended only to people with a true need to lose weight, and that users should do what they can to help preserve muscle during weight loss.

How to Preserve Muscle on the New Weight Loss DrugsThere is a strong consensus in the medical community regarding the best ways to preserve lean (muscle) mass during weight loss:

ExerciseMany different studies have found that resistance or strength-building exercise helps prevent muscle loss during weight loss, including in older and overweight people. The effect of cardiovascular exercise on muscle retention, on the other hand, ''is less clear'' '-- some studies show beneficial effects for cardio and low-intensity exercises like walking, but others do not.

Resistance and strength-building exercises are fantastic for people with diabetes, and are arguably even better than cardio for weight loss.

The recommendation here is clear: Start resistance training. It may be the best way to retain healthy muscle mass while you're losing weight.

ProteinMany different studies have shown that dietary protein helps to preserve muscle.

How much protein should you be eating each day? The Mayo Clinic recommends that the average adult eat 0.8 grams (g) of protein per kilogram of body weight, but the requirements only go up for people over the age of 40 and for those regularly exercising. A 2015 article in The American Journal of Clinical Nutrition suggested a high-protein diet of 1.2 to 1.6 g of protein per kilogram of body weight for weight loss efforts.

For a 200-pound adult, that's about 125 g of protein per day '-- the amount of protein in 21 eggs or nearly a pound of boneless, skinless chicken breast. This may seem like a huge amount of protein to eat, especially if you're using one of these powerful weight loss drugs, which not only suppress appetite but also frequently have gastrointestinal side effects.

In effect, these guidelines ask most people to eat more protein even while they're eating less food overall. This can be especially difficult due to protein's demonstrated ability to curb the appetite. To hit this recommended daily minimum, you might have to make lean protein sources like seafood and chicken breast the focus of most of your meals.

(If you have kidney issues or any other conditions that limit your optimal protein intake, please ask your medical team for guidance.)

Bottom LineSeveral prominent doctors have warned that semaglutide (Ozempic) and other related drugs, initially developed for diabetes but widely used for weight loss, cause an unhealthy amount of muscle loss.

The data is meager, but it does suggest that Ozempic users might lose more lean muscle mass than normally expected from diet-induced weight loss. More study is necessary to be sure.

Even if Ozempic does have this unfortunate side effect, the benefits probably outweigh the risks for people with diabetes or a serious need to lose weight.

Regardless, doctors recommend resistance training and strength-building exercises to help preserve muscle mass during weight loss; Ozempic users would likely be wise to take up this healthy habit. Emphasizing dietary protein may also help prevent muscle loss.

Post Views: 4,907

Read more about exercise, GLP-1, insulin, Intensive management, Mounjaro, Ozempic (semaglutide), resistance training, semaglutide, sleep apnea, strength, tirzepatide, U.S. Food & Drug Administration (FDA), weight loss.

It's Finally Over - Biden Forced by Congress to Terminate National COVID Emergency - The Last Refuge

Tue, 11 Apr 2023 03:56

Effective today, the U.S. National COVID-19 Emergency is officially over! [Details on House Resolution 7 Here]

Led by Republicans in the House and supported by a veto-proof majority in the overall legislative branch, Joe Biden was forced today to officially end the national COVID-19 emergency. [White House Link]

It passed the House by a vote of 229 '' 197, February 1, 2023. It passed the Senate by a vote of 68 '' 23, March 29, 2023. And was presented to the White House on April 5th for signature. Biden had no options. Federal emergency power is stripped, this will help states counter mail-in ballots.

Posted in Big Government,

Big Stupid Government,

CDC,

Coronavirus,

Decepticons,

Deep State,

Dem Hypocrisy,

Election 2024,

Joe Biden,

media bias,

Medical Tyranny,

Notorious Liars,

Professional Idiots,

propaganda,

Uncategorized,

Vaccine Mandate

Department of Foreign Affairs and Trade issues travel warnings for Aussies following deadly Marburg virus outbreaks | Sky News Australia

Tue, 11 Apr 2023 01:54

The Australian government has issued fresh travel warnings for Tanzania, Uganda and Gabon in the wake of deadly Marburg virus outbreaks.

Travellers have been urged to ''exercise a high degree of caution'' to avoid the hemorrhagic fever virus, which is considered extremely dangerous.

The World Health Organisation has warned that the fatality rate of the virus ranges from 24 to 88 per cent.

Symptoms of Marburg (MVD) include fever, vomiting blood, diarrhoea and fatigue.

The Department of Foreign Affairs and Trade advised the best way to prevent exposure via the SmartTraveller website.

''The Tanzanian Government has confirmed an outbreak of Marburg virus in the Bukoba District in Kagera Region,'' it reads.

''You should take steps to reduce potential exposure to the virus, including practising good hygiene and avoiding high-risk activities.''

Tanzania announced its first outbreak two weeks ago, after five fatalities and three further cases were reported in the country's north-west Kagera region.

The government deployed an emergency response team to the area and neighbouring countries in an attempt to contain the outbreak.

MVD stems from the Ebola family, and there have been several outbreaks since its discovery in 1967.

At present there are no vaccines or treatments for MVD.

However, a focus on rehydration and managing patient's blood and oxygen levels can increase chances of surviving infection.

Anonsats: Payments Without Borders - HackMD

Mon, 10 Apr 2023 19:53

# Anonsats: Payments Without Borders*Want to try out anonsats immediately? Go directly to the [Anonsats Jump Start](https://asats.io/anonsats/docs#/jump%20start)***Welcome** to the placeholder site for anonsats.io! Right now, you can play with the [api](https://asats.io/anonsats/docs), which is under development, and,soon, a user app will be available.![](https://i.imgur.com/aSGVZeG.jpg)*Anonsats uses the peace symbol as its logo, to extend its meaning to peaceful payments accepted***TLDR;** Anonsats is a payment and settlement system built on [Bitcoin](https://bitcoin.org/en/), [Lightning](https://lightning.network/), and [Cashu](https://github.com/cashubtc/cashu). Cashu is the final piece of the puzzle, a [Chaumian mint](https://bitcoinmagazine.com/technical/chaumian-mints-distribute-trust-among-bitcoin-users) component, that, together with custodial wallets, Lightning and Bitcoin, has the promise of becoming an *unstoppable and untraceable global digital cash payment and settlement network*. And, yes, it is also possible to do offline digital payments with the cryptographic capabilities provided by Cashu. * A technical prototype is now avaialable for experimental testing. To get started, check out the "jump start" methods of the [anonsats API alpha version](https://asats.io/anonsats/docs). User app to come soon.* This system is being built to support the [Framework for Facilitating Small Value Digital Payments in Offline Mode](https://www.rbi.org.in/Scripts/NotificationUser.aspx?Id=12215&Mode=0)*## The Anonsats Project*"With true money, it should be yours to spend as you please; with full control and privacy. It should be backed fully backed by an open settlement system. There should be no compromise."* ~ Anonymous UserThis quote sums it up. Anonsats is an experimental attempt to give you better (almost perfect) financial privacy in the digital world. By giving you better financial privacy, anonsats tries to protect your thoughts, relationships and intentions from being subject to arbitrary rules and sanctions. Some might say that this approach is a recipe for criminality, but others believe it is a fundamental element of human freedom and dignity. Anonsats does not make any judgment call or moral statements. This project exists to prove what is technically possible. If anything, these effort will inform policymaking, and government will figure out what the rules might be, once they realize that digital money can exist and be used in nearly perfect privacy.Presently, the project is available intermittently through transient and ephemeral deployment instances. But as things progress anonsats will be deployed as a production service.In the meantime:* Watch the [Technical Demo Video](https://youtu.be/XQelH_2g7YA) (Warning video is very early days, much has changed, but you can get the general idea.). More videos coming soon!* Play with the [api](https://asats.io/anonsats/docs). Experimental. Alpha. No guarantees!## So what's the big idea?It's not really a big idea. It's getting to where we once were before the rise of all things digital. Somewhere along the way, we forgot that we crossed a line toward total informational and financial surveillance. Many are ok with this, more are not. It's not about being a criminal or hiding illicit activity, it's about how our behaviour has changed due to ongoing surveillance.## What's the secret sauce?Let's step back for a moment. Anonsats is built on the shoulders of giants and fundamental concepts:* Bitcoin uses unspent transactions, known as **UTXOs*** Traditional financial systems (including Ethereum) use **Account Balances*** Anonsats, with the help of Cashu, used **Blinded Promises***Blinded promises represent the major next advance toward total financial privacy. Although in existence for decades, blinded promises combined with Bitcoin/Lightning payment/settlement network enable global scalability*What's fundamentally different about blinded promises, is that while they are in circulation (as tokens, coins, whatever), there is ABSOLUTELY NO RECORD OF THEIR EXISTENCE!! Only when a blinded promise is presented for redemption, the mint can cryptographically confirm that they are good for the money. If you don't believe this, it does take a while to understand; there is a repl.it implementation further along in the page if you want to work through the proof.Anonstats tries to combine everything to give the use best of all worlds: 1) a custodial wallet for newbies who only care about having a Lightning address; 2) a method for more sophisticated users to easily convert online sats into negotiable tokens (Cashu tokens), and finally 3) a way to conduct offline payments (they are actually deferred redemptions) where either the payer or payee don't have access to reliable internet.So in the end, whether you call them 'tokens' or 'coins' (techically, they are signed blinded secrets that represent a promise from the mint), they can be stored and circulated INDEPENDENTLY of the issuing mint. There does come a time when the token or coin needs to be redeemed or paid out to Lightning, and that can easily be done with the /withdraw or /burn methods.## Why should I care?It's about financial privacy and freedom. You should care about that. Many do care, and this project is about those who care.## How anonsats adds value for the user and the Lightning Network.It's important to understand that anonsats is not a replacement for Bitcoin or Lightning (it is built on Bitcoin/Lightning, after all). It provides some important advantages for widescale adoption:* An anonsats user requires nothing more than a browser, paper and pencil (or a really good memory) to get started.* As the user gets more sophisticated, they can have their own personal wallet on the device of their choice (currently a only command-line Python client, but hey, it's early days)!* The tokens, are like physical bank notes, they have an independent, self-contained and UNTRACEABLE existence. They are a BEARER instrument. In fact, through the magic of cryptography, there is no NO RECORD of their existence while they are in circulation. Only when they are redeemed are they checked for a double-spend condition, and another UNTRACEABLE token is issued.* Unlike, Lightning, where both parties are online, the anonsats token holder *does not have to be online.* It's low-tech, too. An anonsat token can be simple text file, stored via NOTEPAD.exe. It can be QR code jpg file that is stored and scanned when it is used. It can be on a printed piece of paper, JUST LIKE A BANK NOTE! Only when the receiver redeems the coin, is there a secure blinded transaction back to the mint to redeem and to issue a new token to the subsequent holder (e.g., merchant)* Each Cashu mint, is its own independence instance. This is not a federation, but rather a competitive participant in a standards-based adverse clearing and settlement system (like what used to be the Canadian and Scottish banking systems, before central banks became the fashion). Anonsats abstracts the multi-mint instances away from the user to make it seamless. If a user gets nervous about a particular Cashu mint, they can immediately withdraw their sats to Lightning/Bitcoin and/or transfer them to a more trustworthy Cashu mint instance.* Every managed Cashu wallet automatically supports all of the mints that are a member of the [trusted keyset](https://asats.io/anonsats/docs#/public/anonsats_info_anonsats_info_get) * Finally, anonsats is ultimately backed by Bitcoin. If a user wishes, they can clear out their anonsats tokens via a Lightning invoice, and do final settlement on the Bitcoin blockchain.## How much should I trust anonsats?Anonsats is a Layer 3 application, so there is some trust. It is a custodial wallet, yet it can be [burned](https://asats.io/anonsats/docs#/owner/anonsats_wallet_burn_wallet_burn_post) in a moment's notice. But what you get in return is a massive increase in privacy and a custodial wallet that works across many trusted mints (explained below)* Before the system goes into the production (still in alpha, for now), the code will be audited and certified and you will be able to verify the running code of the service using the anonsats code base.* Anonsats does not collect any personal information. The only thing stored on the server is a uuid that is generated salted and hashed values. There is no way to back-reference the uuid to the `wallet_key` or the `wallet_name`.* Anonsats, in turn, has to trust a set of Chaumian mints that have promised to stay available online and willing to redeem Cashu tokens. A list of [trusted keysets](https://asats.io/anonsats/docs#/public/anonsats_info_anonsats_info_get) is being maintained, which reflects the set of trusted mints within the ecosystem. ## What's the tech?It is being built on the shoulders of [Cashu](https://github.com/cashubtc/cashu), a Chaumian Ecash wallet and mint with Bitcoin Lightning support. It is also built as a mounted app on [Fastlogin](https://fastlogin.io), an authentication service based on [lnurl-auth](https://github.com/lnurl/luds/blob/luds/04.md).## Where's the code?Still in a private GitHub repo, until it's ready to be released under an appropriate license.## Why the name anonsats?Well, we thought it was a pretty cool name, and nobody had taken it, so here we are. The name is catchy and self-explanatory (we hope).## What's primary the use case?It's for those who get sats for very first time. We envision that this first-time event would be inside the context of a super-simple browser app, where there is a opportunity to get some anonsats which are true sats/LN/BTC under the hood. This is a technical detail for the user, they only thing they need to know, is that the sats are real, not some stand-in s###coin (or, for that matter, someone's stablecoin or CBDC). The real power is when the user realizes that they can clear out these sats howevever they wish,to a BTC wallet or to a fiat currency of their own choosing. Even better, if another app is using anonsats, they will be able to easiy transact their sats to another anonsatsn app for use and redemption without penalty or restrictions. ## What about privacy?Nothing is ever perfect privacy, but anonsats, if they are used within an app context or between anonsat holders, never touch a chain or channel. Of course, there risk for surveillance within the app itself, but when transacting outside of an app, there is an extra layer of privacy afforded by the Chaumian mints (blinded signatures). Think of anonsats as your personal secret stash of sats for fully anonymous transactions that, when the time is right, can be cashed out on the open settlement networks (i.e., BTC/LN).## What's the technical architecture?Diagram coming soon, but in the meantime, here is a simple layered architecture list.* Layer 4: Anonsats, Browser* Layer 3: LNBits, Cashu* Layer 2: Lightning Network, [Voltage.cloud](https://voltage.cloud) (for node hosting)* Layer 1: Bitcoin - the base layerThe illustration, below, shows the layers of privacy protection:![](https://i.imgur.com/KGVQFLL.png)## What about the anonsats ecosystem?We believe the technology now exists to be a viable substitute to the global financial settlement and clearance systems. Anonsats can play a substantial role. It doesn't need to be 'money', but rather a standardized unit of account that is permissionless and not subject to the whims of a monopolistic or centralized issuer. It should be remembered that, prior to the rise of central banks, a viable free banking and competitive issuance system existed in countries like Canada and Scotland based on **competitive issuance** and **adverse clearing** of bank notes. This is laid out in [Free Banking in Britain](https://www.iea.org.uk/sites/default/files/publications/files/upldbook115pdf.pdf) by Larry White. Chapter 5 provides the theoretical basis on how **competitive issuance** and **adverse clearing** provide the natural, moderating feedback loops that maintain an overall currency equilibrium without central bank intervention.Anonsats attempts to replicate this ecosystem: each mint is independent (not federated) but the specie is common (bitcoin) and the currency denomination is standardized (sats).For the Harvard, types, anonsats can used to jumpstart [Ecosystems of Shared Value](https://hbr.org/2016/10/the-ecosystem-of-shared-value). If anything, anonsats can be used as the neutral unit of account to enable these ecosystems to span across different economic sectors and jurisdictions.## Experimental SandboxThis is not vapourware. There is a real system with real working code being engineered behind the scenes. We have validated that it works and it is based in large part on proven prior art in the world of cryptography. These ideas have been around since 1982. * You can read the seminal e-cash [typewritten paper](https://chaum.com/wp-content/uploads/2022/01/Chaum-blind-signatures.pdf) by [David Chaum](https://chaum.com/)* If you really want the gnarly detail on the more recent developments on Chaumian mints, watch this [video](https://youtu.be/VwMzNE1D3so) and read this [gist](https://gist.github.com/AdamISZ/28c3475734becf031c9924f0b50d1bed). Props to [Adam Gibson](https://gist.github.com/AdamISZ) for this amazing material. * A recent presentation from [Adopting Bitcoin](https://www.youtube.com/watch?v=zVMZGmEg8JM&t=5100s) explaining Chaumian ecash.So create your own hosted wallet by using the [OpenAPI REST API](https://asats.io/anonsats/docs#/jump%20start). Instructions to come soon.## Latest Updates* Mar 31, 2023: Implemented NOSTR zap splits, LUD-21 Pay in Local Unit of Account and Proof of Payment Code. Plus a bunch more engineering stuff, under the hood, the Cashu mint now supports Postgres database for massive scalability. We're hoping of going into production in early Q4 2023.* Mar 6, 2023: A whole bunch of engineering improvements too boring to talk about plus [NOSTR](https://github.com/nostr-protocol) INTEGRATION!! Specifically [NIP-05](https://github.com/nostr-protocol/nips/blob/master/05.md) names and [NIP-57](https://github.com/nostr-protocol/nips/blob/master/57.md) Lighting zaps.* Jan 2, 2023: Added the ability to send anonymous messages.* Nov 30, 2022: We are live, folks!* Nov 28, 2022: Lots of cool updates, including support for Lightning Wallets* Nov 16, 2022: Added lock capability to wallets (/setlock, /getlocks)* Nov 15, 2022: Anonsats now has a stable instance* Nov 14, 2022: Anonsats now supports Cashu mints that are managed by the LNbits Cashu extension. If the token has been issued by a mint that is a member of the [trusted keyset](https://asats.io/anonsats/docs#/public/anonsats_info_anonsats_info_get), it is an honoured e-cash token anywhere in the anonsats trusted mint ecosytem* Nov 13, 2022: Anonsats now has multi-mint support http://asats.io/anonsats/anonsats/info. What does that mean? Not much from the user point of view, but a big deal for any operator that wants to work seamlessly across multiple trusted mint instances. * Nov 12, 2022: Adding multi-mint support. When a cashu token is received, anonsats inspects the token and looks up the right mint to redeem the token to the wallet.* Nov 11, 2022: Added tags to the [api](https://app.anonsats.io/anonsats/docs) for easier understandability* Nov 9, 2022: Major improvements to API documentation. You can see the latest [here](https://app.anonsats.io/anonsats/docs)* Nov 8, 2022: Resolved some deployment issues. Now running on Heroku as an ephemeral instance.* Nov 6, 2022: Have proven that all of the pieces needed can work together.Now building the service.## API Tour VideosMinute-sized snippets of videos showing the key tasks of what you gotta do.* Videos to come! In the meantime, the [API](https://asats.io) is pretty self-explanatory. If you want to get into the jugular vein and get going, check out the [jump start methods](https://asats.io/anonsats/docs#/jump%20start)## User StoriesThese are simple user stories that explain how anonsats will be used. [User Stories have moved to this page](https://hackmd.io/N6EHvtIlQC68CY-axNPJVA)---## Awesome Resources* Blind Signature explained in Python code in this [REPL IT repo](https://replit.com/@trbouma/BlindSignatures#main.py).---*Wow, you've made it all the way to the bottom. If you are interested in discussing further, [DM](https://twitter.com/anonsats) us.*

Kelley Robinson - Wikipedia

Mon, 10 Apr 2023 16:35

From Wikipedia, the free encyclopedia

American community organizer and president of Human Rights Campaign

Kelley Robinson (born 1985/1986[1]) is an African American community organizer who is the current president of the Human Rights Campaign.[2][3] She was formerly the executive director of Planned Parenthood Action Fund.

Education [ edit ] Robinson received a Bachelor of Arts degree from the University of Missouri-Columbia in 2008.[4][5] During university, she double-majored in sociology and women's and gender studies. She left college for a while and worked as a mixed martial arts fighter and bartender.[6]

Career [ edit ] Robinson started working as a political organizer for Barack Obama's presidential campaign in 2008.[6]

In 2009, she worked at Planned Parenthood of the Heartland as a regional organizer. From 2011 to 2015, she served as the associate director for youth engagement for Planned Parenthood Federation of America, until she was promoted to national organizing director in 2015. In 2019, she became the executive director of the Planned Parenthood Action Fund and vice president of organizing and advocacy. In this role, Robinson helped direct efforts to flip the U.S. Senate in the 2020 elections.[7][8] While at Planned Parenthood, the number of supporters increased from 6.5 million to 18 million.[6]

As the executive director of the Planned Parenthood Action Fund, Robinson was interviewed about reproductive rights, the Hyde Amendment, and Supreme Court nominees by several media outlets such as the Associated Press, CNN, The Guardian, and The New York Times.[9][10][11][12]

Robinson is now the current president of the Human Rights Campaign (HRC). She is the first queer Black woman to lead the organization.[2] Robinson has stated that she will focus on issues such as voting rights, reproductive rights, LGBTQ+ rights, living wages and health care; she will focus on the voices and concerns of impoverished people.[2][13] In one interview, Robinson stated that HRC was planning to work towards the passage of the Respect for Marriage Act.[14] In one of the first interviews that she gave as HRC president, to El Pais, Robinson addressed the rise of hate acts against LGBTQ communities.[15] In the month of December of the year 2022, Robinson testified before Congress on the rise of anti-LGBTQ+ extremism and violence.[16]

Personal life [ edit ] Robinson married her wife, Becky George, in 2020; they have one child together.[1]

References [ edit ] ^ a b Assun§£o, Muri (September 22, 2022). "Who is Kelley Robinson, incoming president of the Human Rights Campaign?". New York Daily News . Retrieved November 30, 2022 . ^ a b c "Nation's largest LGBTQ group picks first Black woman as president". Washington Post. ISSN 0190-8286 . Retrieved 2022-11-06 . ^ "Human Rights Campaign, largest U.S. LGBTQ advocacy group, names new president". NBC News . Retrieved 2022-11-15 . ^ "Kelley Robinson | HuffPost". www.huffpost.com . Retrieved 2022-11-15 . ^ "Organizing as Advocates | ovsjg". ovsjg.dc.gov . Retrieved 2022-11-15 . ^ a b c "Kelley Robinson, Black Queer Woman, Is New Human Rights Campaign Head". www.advocate.com. 2022-09-20 . Retrieved 2022-11-03 . ^ Hughes, Clyde (October 9, 2019). "Planned Parenthood launches $45M bid to defeat Trump, flip Senate". UPI. ^ Kelly, Caroline (2019-10-09). "Planned Parenthood's political arm to spend $45 million on electing candidates backing reproductive rights | CNN Politics". CNN . Retrieved 2022-11-23 . ^ "Joe Biden stirs anger by backing 40-year-old 'discriminatory' abortion law". the Guardian. 2019-06-05 . Retrieved 2022-11-23 . ^ "Why Trump doesn't want to talk about abortion rights". AP NEWS. 2021-04-20 . Retrieved 2022-11-23 . ^ Kelly, Caroline (2020-10-09). "Amy Coney Barrett's potential role in abortion battle surfaces in debates | CNN Politics". CNN . Retrieved 2022-11-23 . ^ Astor, Maggie (2020-08-18). "Abortion Fight Evolves, Overshadowed in 2020 but With Huge Stakes". The New York Times. ISSN 0362-4331 . Retrieved 2022-11-23 . ^ Haines, Errin (2022-09-20). "Kelley Robinson to be first Black, queer woman to lead Human Rights Campaign". The 19th . Retrieved 2022-11-15 . ^ Stebbins, Laina G. (2022-11-04). "New Human Rights Campaign leader: 'We're not going back' on LGBTQ+ rights '‹† Michigan Advance". Michigan Advance . Retrieved 2022-11-15 . ^ Seisdedos, Iker (2022-11-28). "Kelley Robinson: "Han declarado una guerra cultural contra nuestros hijos" ". El Pa­s (in Spanish) . Retrieved 2022-11-30 . ^ HRC President Kelley Robinson Testifies on Rise of Anti-LGBTQ+ Extremism and Violence , retrieved 2023-01-25

Inside the woke scoring system guiding American companies

Mon, 10 Apr 2023 16:33

Executives at companies like Nike, Anheuser-Busch and Kate Spade, whose brand endorsements have turned controversial trans influencer Dylan Mulvaney into today's woke ''It girl,'' aren't just virtue signaling.

They're handing out lucrative deals to what were once considered fringe celebrities because they have to '-- or risk failing an all-important social credit score that could make or break their businesses.

At stake is their Corporate Equality Index '-- or CEI '-- score, which is overseen by the Human Rights Campaign, the largest LGBTQ+ political lobbying group in the world.

HRC, which has received millions from George Soros' Open Society Foundation among others, issues report cards for America's biggest corporations via the CEI: awarding or subtracting points for how well companies adhere to what HRC calls its ''rating criteria.''

Businesses that attain the maximum 100 total points earn the coveted title ''Best Place To Work For LGBTQ Equality.'' Fifteen of the top 20 Fortune-ranked companies received 100% ratings last year, according to HRC data.

More than 840 US companies racked up high CEI scores, according to the latest report.

The HRC, which was formed in 1980 and started the CEI in 2002, is led by Kelley Robinson who was named as president in 2022 and worked as a political organizer for Barack Obama's 2008 presidential campaign.

The HRC lists five major rating criteria, each with its own lengthy subsets, for companies to gain '-- or lose '-- CEI points.

The CEI is made up of several main scoring components.The main categories are: ''Workforce Protections,'' ''Inclusive Benefits,'' ''Supporting an Inclusive Culture,'' ''Corporate Social Responsibility and Responsible Citizenship.''

A company can lose CEI points if it doesn't fulfill HRC's demand for ''integration of intersectionality in professional development, skills-based or other training'' or if it doesn't use a ''supplier diversity program with demonstrated effort to include certified LGBTQ+ suppliers.''

James Lindsay, a political podcaster who runs a site called New Discourses, told The Post that the Human Rights campaign administers the CEI ranking ''like an extortion racket, like the Mafia.

It doesn't just sit back passively either. HRC sends representatives to corporations every year telling them what kind of stuff they have to make visible at the company. They give them a list of demands and if they don't follow through there's a threat that you won't keep your CEI score.''

Trans influencer Dylan Mulvaney has gotten endorsements from Anheuser-Busch, Kate Spade, Crest and many others '-- which would earn them credit on the CEI. Dylan Mulvaney/InstagramThe CEI is a lesser-known part of the burgeoning ESG (Environmental, Social and Corporate Governance) ''ethical investing'' movement increasingly pushed by the country's top three investment firms. ESG funds invest in companies that oppose fossil fuels, push for unionization, and stress racial and gender equity over merit in hiring and board selection.

As a result, some American CEOs are more concerned about pleasing BlackRock, Vanguard and State Street Bank '-- who are among the top shareholders of most American publicly-traded corporations (including Nike, Anheuser-Busch and Kate Spade) '-- than they are about irritating conservatives, numerous sources told The Post.

This week, Mulvaney's new ad campaigns with Bud Light and Nike ruffled the feathers of critics from country star Travis Tritt and Kid Rock '-- who tweeted a video of himself shooting cases of Bud Light '-- to female Olympians and even Caitlyn Jenner, who said of Nike: ''It is a shame to see such an iconic American company go so woke! '... This is an outrage.''

Assets manager BlackRock, along with Vanguard and State Street Bank are among the top shareholders of most American publicly-traded corporations (including Nike, Anheuser-Busch and Kate Spade) '-- and big supporters of ESG initiatives like the CEI. LightRocket via Getty Images Black Rock CEO Larry Fink oversees assets worth $8.6 trillion and has been called the ''face of ESG'' which is the umbrella movement that includes CEI. AFP via Getty ImagesMulvaney, 26, who transitioned from male to female in the beginning of March 2021, has reportedly earned more than a million dollars from endorsements including fashion and beauty brands that also include Ulta Beauty, Haus Labs and CeraVe, as well as Crest and InstaCart.

She's also gained 10 million followers on TikTok.

But neither Kid Rock nor even Mulvaney are who America's top execs are trying to impress, experts say.

''The big fund managers like BlackRock all embrace this ESG orthodoxy in how they apply pressure to top corporate management teams and boards and they determine, in many cases, executive compensation and bonuses and who gets re-elected or re-appointed to boards,'' entrepreneur Vivek Ramaswamy, who is running for president as a Republican and authored ''Woke Inc.: Inside America's Social Justice Scam,'' told The Post. ''They can make it very difficult for you if you don't abide by their agendas.''

HRC president Kelley Robinson was a political organizer for Barack Obama's 2008 presidential campaign. Getty Images for Human Rights CampaignIn 2018, BlackRock CEO Larry Fink, who oversees assets worth $8.6 trillion and has been called the ''face of ESG,'' wrote a now-infamous letter to CEOs titled ''A Sense of Purpose'' that pushed a ''new model of governance'' in line with ESG values.

''Society is demanding that companies, both public and private, serve a social purpose,'' Fink wrote. ''To prosper over time, every company must not only deliver financial performance, but also show how it makes a positive contribution to society.''

Fink also let it be known ''that if a company doesn't engage with the community and have a sense of purpose ''it will ultimately lose the license to operate from key stakeholders.''

The Human Rights Campaign administers the Corporate Equality Index '-- or CEI '-- an all-important social credit score for companies. Human Rights CampaignIn December, Florida pulled $2 billion worth of state assets managed by BlackRock. ''I think it's undemocratic of major asset managers to use their power to influence societal outcomes,'' Gov. Ron DeSantis said at the time.

Fink has denied that ESG is political, but key staff managing his ESG operations worked in the Obama administration and donate to Sens. Elizabeth Warren and Bernie Sanders.

In his first veto, President Joe Biden last month rejected a GOP-backed bill that sought to block ESG investing '-- especially in pension funds where, critics say, American retirement funds will be sacrificed to a radical left-wing agenda.

Protesters in Paris targeted BlackRock's office there this week due to the company's role in managing and privatizing pensions, which are at the heart of the French government's recent retirement-age reforms.

Republican presidential candidate Vivek Ramaswamy, who is also an author and entrepreneur, is running on an anti-woke platform and is against ESG and CEI. AFP via Getty ImagesESG and CEI proponents say that adhering to socially conscious values when investing and managing a company will make the world a better place. Not everyone agrees.

Derek Kreifels is the co-founder and CEO of State Financial Officers Foundation, one of several financial officers fighting ESG on a national level.

He calls ESG itself a ''highly subjective political score infiltrating all walks of life, forcing progressive policies on everyday Americans [and] resulting in higher prices at the pump and at the store.''

The Corporate Equality Index is an ominous cog in ESG's wheel, Kreifels told The Post.

''The problem with measures like CEI, and its big brother ESG, is that it introduces an incentive structure outside of the bounds of business, often in ways contradictory to fiduciary duty,'' Kreifels said. ''Whether Anheuser-Busch was trying to cash in on Dylan Mulvaney's TikTok following or chasing higher CEI ratings for inclusivity, the backlash has been significant, and the stockholders to whom the company is obligated will feel the pinch.''

Corporate Equality Index 2022 - HRC Digital Reports

Mon, 10 Apr 2023 16:32

Message from the Interim HRC Foundation President This year marks the Human Rights Campaign Foundation's (HRCF) 20th edition of the Corporate Equality Index (CEI), the premier survey benchmarking tool on how corporations across the United States and beyond are adopting equitable workplace policies, practices and benefits for LGBTQ+ employees.

Since its launch in 2002, employees, consumers and investors have used the CEI as a comprehensive tool to determine what a company's policies are before they accept a job, buy a product or invest their money.

The inaugural edition of the CEI included 319 participants, with 13 companies achieving top scores. The 20th-anniversary edition of the CEI now includes over 1,200 participants and more than 800 top scorers. This means that employers at over 1,200 companies agreed to have their policies and benefits analyzed by the Human Rights Campaign Foundation, and that over 800 of those organizations have successfully incorporated equitable practices that ensure their employees can thrive and live life authentically.

By using the CEI criteria as a guide, businesses can help ensure that their existing policy and benefits infrastructure is inclusive of LGBTQ+ workers and their families. We are proud to share that this inclusion leads to proven increases in recruitment and retention of talented and diverse workforces in many work environments. Ultimately, the growth of the CEI reflects the truth that so many leading businesses have come to embrace: leveling the playing field for LGBTQ+ workers is not simply a societal good; it is also good for business.

We are thrilled about the progress that we have made over the last 20 years and recognize that the work must continue. Accordingly, we will be raising the bar for CEI participants in 2023 to reflect new opportunities companies can seize to support their LGBTQ+ workers. We look forward to our continued partnership over the years to come.

Sincerely,

Joni Madison (she/her/hers) , Interim President , Human Rights Campaign Foundation

Executive Summary

IN THIS 20TH EDITION OF THE HUMAN RIGHTS CAMPAIGN Foundation's Corporate Equality Index, a record-breaking 842 businesses met all the criteria to earn a 100 percent rating and the designation of being a 2022 ''Best Place to Work for LGBTQ+ Equality.''

Top-rated CEI employers come from nearly every industry and region of the United States. To earn top ratings, employers took concrete and dedicated steps to establish and implement comprehensive policies, benefits, and practices that ensure greater equity for LGBTQ+ workers and their families. The current CEI rating criteria had four key pillars:

Nondiscrimination policies across business entities; Equitable benefits for LGBTQ+ workers and their families; Supporting an inclusive culture; and, Corporate social responsibility. In recognition of the 20th anniversary of the Corporate Equality Index, and as a consequence of the ever-evolving considerations on the road to inclusion, the existing pillars will now include a new and expanded focus in five key areas. The updated areas of impact for the criteria will be as follows:

Driving equality in LGBTQ+ family formation;

Raising the standards for transgender-inclusive healthcare by expanding the mandatory service and treatment options;

Best practices for utilizing intersectional examination of workplace inequality through training and data collection;

Mandatory gender transition guidelines and workplace policies to promote and ensure gender inclusivity; and,

A comprehensive guide of available LGBTQ+ healthcare resources and services to ensure ease of accessibility to healthcare.

Since 2002, the Human Rights Campaign Foundation has published the CEI report based largely on the annual CEI survey administered to hundreds of major global employers. The first Index in 2002 had just 13 companies with 100 percent scores, in comparison to the 840+ companies that, as of this edition, earned a perfect score.Companies rated in the CEI include Fortune magazine's 500 largest publicly traded businesses (Fortune 500), American Lawyer magazine's top 200 revenue-grossing law firms (AmLaw 200), and hundreds of mid- to large-sized businesses that are publicly- or privately-held.

The CEI helps guide the wide-scale adoption of LGBTQ+-specific practices and language within existing business structures. For example, where businesses enumerate federally protected categories of workers in their non-discrimination policies (e.g. based on race, religion, disability, etc.), the HRC Foundation evaluates them on the inclusion of ''sexual orientation'' and ''gender identity'' protections. In terms of benefits, the HRC Foundation evaluates employers on the provision of health insurance coverage for same- and different-sex spouses and partners. In addition, the HRC Foundation assesses the availability of routine, chronic care, and transition-related medical coverage for transgender employees and dependents.

Where major businesses regularly provide education, training, and accountability measures on diversity and inclusion in the workplace, the HRC Foundation seeks to ensure that these systems include the LGBTQ+ workforce. Lastly, major businesses have a range of engagement programs for their target markets and the communities in which they operate, such as advertising, public policy engagement, supplier diversity, philanthropy, and sponsorship. We seek the inclusion of the LGBTQ+ community in these external engagement efforts.

By using the CEI criteria as a guide, businesses can help ensure that their existing policy and benefits infrastructure is inclusive of LGBTQ+ workers and their families, resulting in greater recruitment and retention of a talented, diverse workforce. The CEI serves as a roadmap to LGBTQ+ inclusive policies and practices, but it cannot provide a holistic assessment of the unique workplace cultures and individual experiences that characterize different employers. A CEI rating is one key evaluation metric, among others, in assessing the LGBTQ+ inclusiveness of any employer or provider of goods or services.

In addition to the ongoing commitment of the many prior participants, the 2022 CEI shows a significant growth in the number of newly participating businesses. This year's report contains 138 new businesses from over 20 industries that opted into the survey.

The following report is reflective of verified data submitted to the HRC Foundation as well as independent research on non-responding businesses. Wherever credit can be verified, all ranked businesses will receive it, irrespective of their participation in the CEI survey.

Celebrating 20 Years of Impact and Progress Towards LGBTQ+ Diversity and InclusionRecognizing the Past and Looking Forward to the FutureThe Corporate Equality Index has become a quintessential achievement for the Human Rights Campaign Foundation. The realization of this 20th anniversary was only made possible by the hard work and dedication of the past and present staff and leadership of the HRC Foundation, along with the assistance of HRC's valued partners, volunteers, and donors. The HRC Foundation is eager to commemorate this anniversary by sincerely thanking the many people that have made the CEI a success '' year after year '' for two impactful decades.

It is the desire of the staff and management of the Human Rights Campaign Foundation to not only recognize the work of the past but also to look excitedly towards the future. The entirety of HRC's organizational framework is dedicated to creating and supporting services, programs, and resources to further the advancement of diversity, equity, and inclusion in the LGBTQ+ community. It is our pleasure, as it has been in years past, to continue our work for years to come.

Highlighting 20 Years of Equality AchievementsIt has been the constant mission of the Human Rights Campaign Foundation, since its creation in 1980, to advocate for inclusive and equitable policies, practices, and protections for members of the LGBTQ+ community and their families. The progress that has been made towards this goal has been significant, with considerable advancements seen in both societal attitudes regarding LGBTQ+ issues and dedicated legislation to provide employment and discrimination protections for LGBTQ+ members of the community.

Here are a few noteworthy pro-LGBTQ+ achievements:

Marriage Equality in the United States - Obergefell v. HodgesOne of the most momentous societal and legal achievements for the LGBTQ+ community in the past 20 years was the 2015 Obergefell v. Hodges Supreme Court decision. This case is historical in that the decision of the Supreme Court granted same-sex couples the right to full, equal recognition under the law and made marriage equality a law in all 50 states.

The Bostock Decision & the CEIIn June of 2020, the Supreme Court held in Bostock v. Clayton County that Title VII of the Civil Rights Act of 1964 protects against discrimination for LGBTQ+ employees. This ruling voided a previous precedent from the Eleventh Circuit that Title VII did not cover employment discrimination on the basis of sexual orientation by asserting that discrimination based on sexual orientation and/or gender identity is necessarily also discrimination ''because of sex'', which is prohibited by Title VII. This landmark ruling is among the most impactful in history for the LGBTQ+ community.

House Passes the Equality ActThe Equality Act was introduced in the House of Representatives by Rep. David Cicilline (D-RI) on February 18, 2021, and in the Senate by Sens. Jeff Merkley (D-OR), Tammy Baldwin (D-WI), and Cory Booker (D-NJ) on February 23, 2021. The Equality Act passed in the U.S. House of Representatives on February 25, 2021, with a bipartisan vote of 224-206. The first-even Senate hearing on the Equality Act was March 17, 2021. The bill awaits consideration by the full Senate.

20 Years of Exceptional PerformanceA Special Acknowledgement of the CEI Participants with Two Decades of Perfect ScoresWhen the Corporate Equality Index first launched in 2002, there were a total of 319 participants. The release of the first edition of the report revealed that 13 of the original 319 participants earned a score of 100% '' an impressive achievement considering the unfavorable attitudes toward the LGBTQ+ community that were prevalent in the early 2000s. Because of the negativity surrounding LGBTQ+ inclusion in the early years of the report, the companies that scored 100% on the CEI in those years were, markedly, ahead of their time.

Following the first CEI report, seven companies continued to maintain a score of 100% each year, resulting in the 2022 CEI earmarking the 20th year of perfect scoring for these companies. These seven companies have shown a 20-year unwavering commitment to not only providing their LGBTQ+ employees with fair and equitable treatment but also to publicly sharing the details of their efforts in a way that welcomes and embraces accountability.

The Human Rights Campaign Foundation understands the dedication to LGBTQ+ inclusion that is required for a company to score 100% on the CEI for the entirety of the report's 20-year history and would like to use this 20th-anniversary edition to sincerely show appreciation for the companies that have done so. Together, these seven companies represent a U.S. workforce that totals over 350,000 full-time employees.

Companies with 20 Years of Scoring 100%

COMPANY NAME COMPANY HEADQUARTERS 2020 FORTUNE RANK Apple Inc. Cupertino, California 4 J.P. Morgan Chase & Co. New York, New York 17 American Airlines Fort Worth, Texas 70 Nike Inc. Beaverton, Oregon 85 Xerox Corp Norwalk, Connecticut 347 Eastman Kodak Co. Rochester, New York 966 Replacements Ltd. McLeansville, North Carolina The Work Continues

How Anti-LGBTQ+ Legislation Still Affects the Livelihood of Millions of AmericansAlthough there has been great progress seen in the area of LGBTQ+ issues, there is still much work left to be done. In 2021, we experienced a wave of anti-transgender state legislation: 81 bills aimed to prevent transgender youth from playing school sports consistent with their gender identity, and 43 bills to prevent transgender youth from receiving gender-affirming healthcare. Additionally, two bathroom bills were passed in Tennessee and Arkansas passed the first-ever ban preventing transgender youth from accessing gender-affirming care. By the end of the 2021 legislative session, another record 13 bills attacking transgender youth passed into law.

Although the transgender community received the brunt of discriminatory legislation, anti-LGBTQ+ bills took other forms as well, and one of the most notable trends was a resurgence of laws that carve all-new religious exemptions into existing laws that allows people to refuse to serve LGBTQ+ individuals. Across the country, 44 religious refusal bills were filed including about a dozen so-called Religious Freedom Restoration Act (RFRA) bills and a dozen more bills that would allow for religious refusals, including against LGBTQ+ patients, in medical care. South Dakota and Montana passed RFRA legislation and Ohio passed a medical care refusal bill.

While this historically bad year has been the backdrop of the 2021 legislative session, 44 new pro-equality laws were also passed. The equality bills range in topic from ensuring that utility companies allow consumers to change their names and pronouns; to streamlining adoption requirements for stepparents; to ensuring that places of public accommodation have gender-neutral bathrooms; to make it easier to update birth and death certificates with correct names and gender markers. All ensure that LGBTQ+ people are able to take one step closer to full legal and lived equality.

Even as progress is made, as of the time of this report, only 22 states (and the District of Columbia) offer full LGBTQ+ non-discrimination protections to their residents. The remaining 28 states offer either no LGBTQ+ non-discrimination protections or in some way exclude a key group from their laws, leaving these groups without legislative protection.

While discrimination can't be prevented by legal protections alone, without federal or state legislation prohibiting it, millions of LGBTQ+ Americans and their families live in fear that the prejudice and hatred of others can, legally, destroy their livelihood. HRC, its partners, and supporters will continue to work toward the goal of all 50 states having LGBTQ+ non-discrimination protections written into law. We will also continue to advocate for passage of the Equality Act, federal legislation that would provide consistent and explicit anti-discrimination protections for LGBTQ+ people across key areas of life, including employment, housing, credit, education, public spaces and services, federally funded programs, and jury service.

The Human Rights Campaign Foundation would also like to acknowledge that 2021 was the deadliest year in history for transgender and non-binary people. Over 50 persons who identified as transgender or non-binary are known to have experienced violent deaths in 2021, with more than 50% of those victims being Black or Latinx. It has become increasingly unsafe to be transgender, especially as a person of color or other minority, and HRC is committed to working towards a future where members of the LGBTQ+ community are not violently targeted due to their sexual orientation or gender identity.

HRC's dedication, focus, and drive to make workplaces and our broader society a more diverse, inclusive, and safe environment for the LGBTQ+ community is unwavering. The 20-year anniversary of the CEI merely marks the next chapter in our fight for equality.

Despite the impact of the COVID-19 global health pandemic and its corresponding economic pressures, a record-breaking 842 businesses earned 100 percent on the 2022 CEI, earning a designation as one of the ''Best Places to Work for LGBTQ+ Equality.''

This year's CEI reflects substantial growth in LGBTQ+ workplace equality and inclusion measures.

Transgender Inclusion in the Workplace: Accelerating Progress

The most considerable progress measured over the 20-year history of the CEI, which has also been reflected in this 20th edition, is the wide-scale adoption of transgender-inclusive initiatives by participating businesses.

A full 91 percent of the Fortune 500 '' including both companies that participate in the CEI survey and those that do not '-- have gender identity protections enumerated in their nondiscrimination policies (up from 3 percent in 2002). Notably, 97 percent of the entire CEI universe of businesses offer explicit gender identity non-discrimination protections (up from 5 percent in 2002).

Driving a sea change in the adoption of nondiscrimination policies including ''gender identity''

67 percent of the Fortune 500 and 86 percent of all CEI-rated businesses (1,088 of 1,271) offer transgender-inclusive health insurance coverage, up from 0 per cent in 2002 '' 22 times as many businesses as in 2009. 108 new employers offer this coverage according to the 2022 report.

The number of CEI participating companies who offer transgender-inclusive health insurance coverage, has increased 22 times since 2009

662 major businesses have adopted gender transition guidelines to establish best practices in transgender inclusion for managers and teams.

Equality at the Fortune-Ranked Companies

258 OF THE FORTUNE 500-RANKED BUSINESSES achieved a 100 percent rating (compared to 233 last year), with 15 of the top 20 Fortune-ranked businesses at this top score. 93 percent of the Fortune 500 include ''sexual orientation'' in their nondiscrimination policies and 91 percent include ''gender identity.'' Over 66 percent of Fortune 500 companies offer transgender-inclusive healthcare benefits.

A record 379 of Fortune 500 businesses have official CEI ratings based on submitted surveys (as compared to 366 last year), with an average rating of 76, a rating that remains consistent with that of last year. The Fortune 1000, a list of the largest publicly-traded and privately-held companies in the United States, was invited to take part in the Corporate Equality Index survey for the twelfth year in a row.

Businesses' Commitment to LGBTQ+ Employees

All Fortune 500 Fortune 500 Participants Fortune 500 Non-Responders Sexual Orientation in U.S. Nondiscrimination Policy 93% 100% 76% Gender Identity in U.S. Nondiscrimination Policy 91% 100% 68% Domestic Partner Benefits 56% 74% 0% Transgender-Inclusive Benefits 66% 88% 0% Organizational LGBTQ+ Competency 72% 95% 0% Public Commitment to the LGBTQ+ Community 72% 95% 0% Average 2021 CEI Score 76% 94% 14% 15 of the Top 20 Fortune-Ranked Companies Received 100% Ratings

Fortune 1000 2022 CEI Score Walmart Inc. 1 100 Amazon.com Inc 2 100 Exxon Mobil Corp. 3 85 Apple Inc. 4 100 CVS Health Corp. 5 100 Berkshire Hathaway 6 0 UnitedHealth Group Inc. 7 100 McKesson Corp. 8 100 AT&T Inc. 9 100 AmerisourceBergen Corp. 10 100 Google Inc. 11 100 Ford Motor Co. 12 90 CIGNA Corp. 13 100 Costco Wholesale Corp. 14 60 Chevron Corp. 15 100 Cardinal Health Inc. 16 100 JPMorgan Chase & Co. 17 100 General Motors Co. 18 90 Walgreen Co. 19 100 Verizon Communications Inc. 20 100 Accelerating Global EqualityThe business case for equality knows no bordersIn the 20-year history of the Corporate Equality Index, survey data has explicitly shown that having an inclusive workplace is beneficial to a company's success. The data doesn't lie - being an LGBTQ+ inclusive1 employer positively impacts recruitment, retention, engagement and, overall, total revenue. Although the push for LGBTQ+ inclusive workplaces began largely as an undertaking within the United States and Europe, the conversation around inclusivity is now pointedly more prominent among international stakeholders. The bottom line is undeniable '' in a global marketplace, equality knows no borders.

Working hand-in-hand with both U.S.-based and international businesses, HRC made the case that inclusion efforts did not have to be contained to any one border. With many multinational companies employing persons outside of the United States, HRC encouraged CEI participants to consider how their adopted inclusive policies and practices could and would impact their workforces in countries with less tolerant legal and cultural stances towards LGBTQ+ communities.

To this effort, in 2016, the Corporate Equality Index criteria were expanded to require that companies with global operations extend their nondiscrimination policies across all their operations. This change helped drive more widespread adoption of nondiscrimination policies that include sexual orientation and gender identity protections. In 2016, 54% of CEI-rated companies had global operations and 95 percent of those companies extended their LGBTQ+ inclusive nondiscrimination policies globally. With the 2022 CEI, 56 percent of rated companies have global operations and over 99 percent extend those protections globally.

The process towards LGBTQ+ inclusion does not end with nondiscrimination policies. Companies continue to amplify their global LGBTQ+ inclusion efforts through the targeted expansion of equitable benefits and inclusive practices. Globally, companies are adopting critical benefits such as domestic partner recognition and transgender-inclusive healthcare benefits. These companies are also deepening employee engagement efforts by expanding employee resource groups for LGBTQ+ workers and their allies.

In the past, and for this 2022 edition, the CEI survey collected information on global efforts to provide domestic partner benefits and transgender-inclusive benefits, support for global chapters of employee resource groups, and whether companies engage externally with LGBTQ+ communities outside the U.S. Across all categories, a majority of companies report extending these benefits and inclusive practices beyond U.S. borders.

1 At the HRC Foundation, we use the acronym ''LGBTQ+'' to represent the diversity of the greater lesbian, gay, bisexual, transgender and queer communities. We recognize that this acronym is U.S.-centric and that communities around the world recognize different identities and acronyms. When working in different communities, we adjust our language to reflect local customs.

Spotlight: HRC's Equidad(e) Programs

Thanks to HRC's work with companies located within the United States, hundreds of thousands of LGBTQ+ employees and their families benefit from inclusive workplace policies, practices, and benefits. Following the unprecedented success of the CEI, many United States-based multinational companies became eager to replicate inclusive practices across their global footprint, leading to the work of the HRC Foundation expanding into the business community in the Americas.

With the CEI as a blueprint, HRC established a formal program aimed at growing LGBTQ+ inclusive practices and policies across workplaces in Mexico. After years of working with corporate partners, civil society organizations, and other stakeholders, including embassies and the American Chamber of Commerce, the HRC Foundation partnered with Alianza por la Diversidad e Inclusi"n Laboral (ADIL) to officially launch the HRC Equidad MX: Workplace Equality Program in 2016. Since its inception, the pioneering program '-- modeled after HRC's Corporate Equality Index '-- has experienced substantial growth in promoting LGBTQ+ inclusive workplaces throughout the country.

The groundbreaking success of HRC Equidad MX is reflected in the increasing number of companies participating in the survey and achieving top ratings for LGBTQ+ workplace equality. More than 242 employers earned top ratings and the HRC Foundation's designation of ''Best Places to Work for LGBTQ+ Equality'' or ''Mejores Lugares para Trabajar LGBTQ+'' in the 2022 HRC Equidad MX report. This represents a robust 14 percent increase in top-rated employers over the prior year and, given that the initial report had 32 top scorers, an almost 700 percent increase since the program's inaugural report in 2018.

Next, the HRC Foundation expanded its LGBTQ+ workplace inclusion efforts to South America by partnering with Fundaci"n Iguales, Chile's largest LGBTQ+ advocacy group, to promote LGBTQ+ inclusive policies and protections among Chilean businesses and corporations through HRC Equidad CL. Launched in 2018, the Chilean-based program assessed 31 companies in its inaugural 2019 report and 15 of them received the HRC Foundation's designation of ''Mejores Lugares para Trabajar LGBT.'' For the report in 2021, the program grew by 52 percent, rating a total of 96 companies with 28 earning top marks, an increase from 20 top scorers in 2020 and only 63 participating companies. The 2022 Equidad CL report will be released later this year.

Notably, HRC launched two additional Equidad(e) programs in 2021, one in Argentina and the other in Brazil. These two newest programs, Equidad AR and Equidade BR, were created in partnership with Instituto de Pol­ticas Pºblicas LGBT (AR), Instituto Mais Diversidade (BR), and Forum de Empresas de Direitos LGBTI+ (BR) to recognize employers in Latin American countries that are committed to adopting critical LGBTQ+ inclusive policies and practices for their employees and assisting in the global advancement of LGBTQ+ equality.

Through the CEI, Equidad MX, Equidad CL, Equidad AR, and Equidade BR programs, the HRC Foundation has established guidelines to implement LGBTQ+ inclusive policies, best practices, and benefits across national and international corporations, impacting more than 39 million employees worldwide. Learn more at www.hrc.im/GlobalWorkplacePrograms.

The following 15 companies have the distinction of earning top scores on three of HRC's Corporate Equality measures: the Corporate Equality Index, Equidad MX and Equidad CL:

AccentureAdidasBASFBoston Consulting GroupCumminsDeloitteIBMJPMorgan Chase & Co.McKinsey & Co.P&GSAPScotiabankSodexoUberWalmart In addition to the triple winners, the following 106 companies earned top marks on both the Corporate Equality Index and Equidad MX, in our 2022 editions.

3M M(C)xico & Maquilas

AbbVie M(C)xico

Accenture

ADIDAS

Airbnb M(C)xico

Allianz Partners M(C)xico

Amazon M(C)xico

American Airlines

American Express

AMGEN M(C)xico

Aon

AstraZeneca

AT&T, M(C)xico

Bain & Company M(C)xico

Baker McKenzie

Bank of America Mexico

BASF

Bayer M(C)xico

BCG

BD

BlackRock M(C)xico

Brown-Forman M(C)xico

Capgemini M(C)xico

Cargill

Carrier M(C)xico

CBRE

Cisco Systems M(C)xico

Citibanamex

Coca-Cola de M(C)xico

Colgate Palmolive

Corteva Agriscience

Cummins M(C)xico

Cushman & Wakefield

Daimler Trucks M(C)xico

Dell Technologies

Diageo M(C)xico

Dow

Eaton

EY M(C)xico

Facebook M(C)xico

Fleishman Hillard

Ford Motor Company

General Electric M(C)xico

Gilead

GlaxoSmithKline Consumer

Healthcare M(C)xico

Google M(C)xico

Greenberg Traurig

Herman Miller M(C)xico

Hilti Mexicana

HP Inc

HSBC M(C)xico

IBM

IFF M(C)xico

Intel M(C)xico

J.P. Morgan

Johnson & Johnson M(C)xico

Kearney

Kellogg´s

KPMG

Kraft Heinz M(C)xico

Lexmark International de M(C)xico

Lumen

ManpowerGroup

Marriott International

Mars M(C)xico

Marsh

Mastercard

McKinsey & Co. M(C)xico

MetLife

Microsoft

MondelÄ'z International

MSD

Nestl(C) M(C)xico

Nielsen

Nike de M(C)xico

Nokia M(C)xico

Novartis M(C)xico

Omnicom Media Group M(C)xico

Oracle de M(C)xico

P&G

PageGroup

PayPal

PepsiCo Alimentos M(C)xico

Pernod Ricard

Pfizer M(C)xico

PwC M(C)xico

Reckitt

S&P Global

Salesforce

Sanofi M(C)xico

SAP M(C)xico

Sempra Infraestructura '' M(C)xico

Sephora

Shell M(C)xico

Siemens M(C)xico

Sodexo M(C)xico On Site Services

Steelcase M(C)xico

TE Connectivity

Thomson Reuters

Uber

Under Armour M(C)xico

Unilever de M(C)xico

Univar Solutions

VMLY&R

Walmart de M(C)xico y Centroam(C)rica

Warner Music M(C)xicoCurrently, HRC and its partners are still in the process of collecting data regarding companies that have operations in Argentina and Brazil and, therefore, can participate in Equidad AR and/or Equidad(e) BR. We look forward to the inclusion of this data in the 21st edition of the Corporate Equality Index.

THE CORPORATE EQUALITY INDEX 2022 ASKED PARTICIPANTS a series of questions about LGBTQ+ inclusive policies, practices and benefits. These questions work to assess three categories of criteria, which are outlined in more detail in the Scoring Criteria section. Responses to some individual questions are reported in aggregate on the following pages to indicate national trends and facilitate benchmarking. Individual company scores based on the CEI criteria can be found online at https://www.hrc.org/resources/employers.

Criteria 1: Workforce Protections

Include sexual orientationInclude gender identityCriteria 2: Inclusive Benefits

Spousal, medical and other benefitsDomestic partner, medical, and other benefitsTransgender-inclusive health insuranceCriteria 3: Supporting an Inclusive Culture & Corporate Social Responsibility

Internal education and training best practicesLGBTQ+ employee resource group or diversity councilOutreach or engagement with LGBTQ+ communityCorporate social responsibilityCriteria 1: Workforce Protections

THE WORKFORCE PROTECTIONS CRITERIA OF THE CEI CALL FOR A WRITTEN employment nondiscrimination policy that includes both ''sexual orientation'' and ''gender identity'' across all operations. For companies with operations outside of the U.S., the policy must be extended across the global workforce.

Lesbian, gay, bisexual, transgender and queer people continue to face discrimination in employment because of their sexual orientation and/or gender identity, creating a need for explicit nondiscrimination policies.

of CEI participants (1,269 of 1,271 respondents) documented that they include ''sexual orientation'' in their employment nondiscrimination policy.

of CEI participants (1,268 of 1,271 respondents) documented that they include ''gender identity'' in their employment nondiscrimination policy.

Clearly enumerated nondiscrimination protections based on sexual orientation and gender identity are essential to LGBTQ+ workforce equity and inclusion. The policies help to ensure:

Equal opportunity for all employees;Diverse talent acquisition and retention for broader economic growth; and,Employers are kept space with changing legal and public opinion landscapes.Furthermore, these policies represent minimal upfront costs. Rates of litigation, upon implementation, are consistent with other protected classes.

A Changing Landscape: 20 Years of Driving Adoption of Inclusive Policies

The Bostock Decision & the CEI

On June 15, 2020, the Supreme Court of the United States issued a 6-3 decision confirming that discrimination on the basis of sexual orientation and gender identity are forms of ''sex'' discrimination and therefore are prohibited under the federal employment nondiscrimination law Title VII of the Civil Rights Act of 1964.

The decision was major news for the LGBTQ+ community and had implications that can eventually reach civil rights laws forbidding discrimination in education, health care, housing, and many more areas of law. It is important to note that while Bostock brings meaningful protections to many LGBTQ+ people, Title VII applies only to employers with 15 or more employees, leaving many LGBTQ+ workers without these critical protections.

While Bostock explains that discrimination on the basis of sex necessarily includes discrimination on the basis of sexual orientation and gender identity, those words are not explicitly enumerated. For this reason, the Corporate Equality Index criteria still require a company to have a nondiscrimination or equal employment opportunity policy that explicitly enumerates both ''sexual orientation'' and ''gender identity.'' Clearly stating sexual orientation and gender identity as protected characteristics remains a best practice to ensure employees and prospective employees, as well as managers and supervisors, understand the company's commitment to nondiscrimination protections for LGBTQ+ people.

Criteria 2: Inclusive Benefits

IN THE U.S. EMPLOYER-PROVIDED HEALTH INSURANCE IS THE SINGLE LARGEST source of healthcare coverage. Competitive employer-provided benefits packages are critical to attracting and retaining talent. Widespread employer adoption of such packages helps to ensure that offering LGBTQ+ inclusive benefits to employees and their families is a low-cost, high-return proposition for businesses. In addition, equitable benefits structures align with the principle of equal compensation for equal work. Apart from actual wages paid, benefits can account, on average, for approximately 30 percent of employees' overall compensation (BOL 2019). By amending their benefits structures, employers ensure that they extend this valuable bundle of benefits to their workforce equitably, irrespective of sexual orientation and gender identity.

Most employers have reported an overall increase of less than 3.5 percent in total benefits costs when they implement partner benefits and marginal increases related to transgender-inclusive healthcare coverage (i.e., a fraction of a decimal point of cost calculations).

The HRC Foundation rates and gives guidance on two key components of equal health insurance benefits:

Parity between benefits available for employees' spouses and partners; and,Affirmative transgender-inclusive healthcare benefits and removal of all broad exclusions to coverage across plan offerings.In addition, employers are rated on having full parity across their entire suite of benefits '' including non-healthcare benefits such as leave, retirement, and others '' between spouses and partners.

LGBTQ+-inclusive benefits packages are:

Necessary for talent acquisition and retention and broader economic growth;Equal compensation for equal work;Helping employers keep pace with changing legal landscape and workforce expectations; and,Minimal upfront costs (on average 1% increase for corporate employers' overall health insurance costs).The premise of parity underlies the inclusive benefits section of the CEI criteria. In its CEI scoring, the HRC Foundation does not penalize an employer if a particular benefit is not offered to any employees but holds employers accountable to provide LGBTQ+ employees and their families with the same benefits available to other employees across available benefits packages. For example, where routine care, hormone therapies, and medically necessary surgeries are available to cisgender (non-transgender) people, these same healthcare benefits must also be extended to transgender people covered by the plan. Many employers have begun to comprehensively address health insurance coverage for transgender individuals, and most have experienced insignificant or no premium increases as a result.

Continued Need for Partner Benefits

Since 2002, the CEI has required parity between spousal and partner benefits. After the United States v. Windsor and before the Obergefell v. Hodges Supreme Court rulings, HRC released a position paper cautioning against a marriage-only standard for accessing healthcare coverage, which is an unreasonable standard given the many other legal vulnerabilities that continue to affect LGBTQ+ individuals' freedom beyond their right to marry.

Since the 2015 U.S. Supreme Court decision in Obergefell v. Hodges, which brought marriage equality nationwide by ruling that marriage is a fundamental right to which same-sex couples should have the same access as opposite-sex couples, employers have sought to do the right thing in the name of equality and provide spousal benefits to both same- and different-sex married couples. Many employers assumed that the marriage ruling obviated the need for partner benefits; however, this is not true. While marriage equality is undoubtedly a monumental step toward full equality, LGBTQ+ individuals remain at risk for discrimination in many other aspects of daily life. These vulnerabilities continue to create barriers for many LGBTQ+ Americans to exercise their legal right to marry. In the absence of sexual orientation and gender identity protections through federal and consistent state law, LGBTQ+ individuals remain vulnerable to discrimination in housing, access to public places, federal funding, credit, education, jury service, and, in some cases, employment (for employees not covered under Title VII). For example, while LGBTQ+ Americans can get legally married, this lack of guaranteed protection in other domains means newly married LGBTQ+ couples are at risk for eviction from their home by a discriminatory landlord that sees their wedding photos on social media. Until LGBTQ+ Americans have full equality through the federal Equality Act, domestic partner benefits will remain an essential CEI standard that helps to fill the void left by federal and state law and ensure LGBTQ+ workers and their families receive equitable benefits whether married or partnered.

Domestic partner benefits do not only serve same-sex couples. In fact, over the last decade, most businesses that have offered same-sex partner benefits also extended these to different-sex partners. In other words, businesses have increasingly recognized the value of decoupling benefits from the legal definition of marriage to meet the needs of their diverse workforces.

While HRC never changed its partner benefits mandate, a small number of companies moved to spousal benefits-only policies in the middle of the 2016 CEI season. Out of an abundance of understanding for participating companies, credit was given for spousal equivalent benefits in the 2016-18 CEIs. After wide-scale education and outreach efforts, the 2019 CEI resumed enforcement of the standard for both same- and different-sex domestic partner benefits. In total, 732 businesses met the standard in 2019, 836 in 2020, 892 in 2021, and 975 in 2022. The CEI continues to reflect best practices for LGBTQ+ workers and their families.

of CEI participants (975 of 1,271 respondents) documented that they provide inclusive benefits for same- and different-sex spouses and partners.

Understanding Transgender-Inclusive Healthcare Coverage

In 2004, the HRC Foundation identified transgender-inclusive healthcare coverage as a focus area for educational outreach and as a scored component of the CEI criteria.

From 2006 through 2011, a top CEI score meant businesses needed to mitigate at least one exclusion among five critical categories of transgender healthcare, namely: mental health, pharmacy benefits for hormone therapy, medical visits and lab procedures related to hormone therapy, surgical procedures, and short-term leave for surgical procedures. While awareness of barriers to transgender healthcare coverage steadily increased, a majority of CEI-rated businesses plateaued in offering mental healthcare coverage and/or short-term leave for surgical procedures and did not mitigate exclusions related to other medically necessary treatments.

In 2009, the HRC Foundation announced a major change to what would be the 2012 CEI criteria. To earn a top rating of 100 percent, a business needed not just to mitigate one or more exclusions but also to address the root problem of transgender exclusion in coverage and fully affirm healthcare coverage for medically necessary transition-related care and other routine and chronic conditions. The HRC Foundation embarked on a massive campaign of educational and consultative efforts to address healthcare and insurance disparities for the transgender population and their families, including outreach to leading health insurance companies, direct consultation with both fully- and self-insured employers to modify their health insurance plans, and collection and dissemination of cost and utilization data from leading businesses.

of CEI-rated businesses (1,160 of 1,271 respondents) offer at least one transgender-inclusive plan option with current market standard coverage, up from 0 in 2002 and just 8% in the 2009 CEI report. This year, of the 1,160 businesses with at least one inclusive plan, 1,088 also eliminated all exclusions across plans.

Growth of Trans Benefits Over Time

Criteria 3: Supporting an Inclusive Culture & Corporate Social Responsibility

Internal Education and Training Best Practices

of CEI-rated employers (1,182 of 1,271 respondents) offer a robust set of practices (at least three efforts) to support organizational LGBTQ+ diversity competency.

Equitable policies and benefits are critical to LGBTQ+ inclusion in the workforce but alone are not sufficient to support a truly inclusive culture within a workplace. Employers recognize that beyond the letter of a policy, additional programming and educational efforts are necessary.

Ultimately, businesses invest in organizational competency programs because:

Policy does not equal practice;Despite progress, 46% of LGBTQ+ workers nationwide remain closeted on the job;Invisible diversity requires unique training focus and defined safe space programs and resources;Senior-level buy-in and accountability metrics effect change quickly and for the long term; and,Retaining workers is largely about everyday experiences on the job. Many employers integrate educational programs into already existing diversity and inclusion programs. To obtain full credit in this criterion, employers must show at least three types of organizational competency programming. This comprehensive metric is provided as accountability for employers to devote resources to creating and maintaining a climate of inclusion.

Some of the most common forms of LGBTQ+ inclusion efforts are:

Diversity training programs such as new hire, manager and professional development training;LGBTQ+ metrics through self-identification programs;Performance evaluation mechanisms for senior leadership; and,Gender transition guidelines.of CEI-rated employers (1,075 of 1,271 respondents) have training for New Hires that clearly states that the nondiscrimination policy includes gender identity and sexual orientation, and provides definitions or scenarios illustrating the policy for each.

of CEI-rated employers (984 of 1,271 respondents) have Managers/Supervisors undergo training that includes gender identity and sexual orientation as discrete topics (this may be a part of a broader training), and provides definitions or scenarios illustrating the policy for each.

of CEI-rated employers (510 of 1,271 respondents) allow employees the option to self-identify as LGBTQ+ in anonymous employee engagement surveys or as part of data collection on confidential employee forms and 37% (470 of 1,271 respondents) allow self-identification in the HRIS system.

of CEI-rated employers (661 of 1,271 respondents) have instituted Gender Transition Guidelines with supportive restroom, dress code and documentation guidance to proactively support transitioning employees, their managers and their colleagues.

of CEI-rated employers (620 of 1,271 respondents) include LGBTQ+ diversity metrics as part of senior management/executive leadership performance standards.

Transgender Inclusion in the Workplace: A Toolkit for Employers Download PDF

IN LIGHT OF POLICY AND BENEFITS expansion, the HRC Foundation has rolled out a number of studies and resources aimed at making the policies and benefits part of an everyday workplace practice of LGBTQ+ inclusion.

In 2018, the HRC Foundation released A Workplace Divided: Understanding the Climate for LGBTQ+ Workers Nationwide (available at www.hrc.org/climate) demonstrating that despite significant progress, 46% of LGBTQ+ workers say they are closeted at work.

The widely used Transgender Inclusion in the Workplace: A Toolkit for Employers (available at www.hrc.org/transtoolkit) is a comprehensive resource to guide employer transgender inclusion efforts. The toolkit includes the HRC Foundation's best practice guidance on transgender inclusive policies and practices (including sample policies) as well as guidance for implementing transgender-inclusive healthcare benefits. Addressing the gap in training and education materials, the toolkit includes scenario-based learning that uses real life examples from HRC's work with businesses to illuminate the everyday experiences of transgender workers on the job.

These resources and additional materials to help employers close the gap between inclusive policy and practice can be found at www.hrc.org/transtoolkit.

LGBTQ+ Employee Resource Group or Diversity Council

Many large employers have formally recognized employee resource groups (also known as an employee network, business resource or affinity groups) for diverse populations of their workforce, including women, people of color, veterans, parents, people of varied abilities and LGBTQ+ & Allied people. These groups' purpose is two-fold:

To foster a sense of community and visibility of these diverse populations within a business; andTo leverage each unique populations' networks and skills to help accomplish business goals such as market innovation, recruitment and retention of talent.Employee resource groups are great platforms for leadership opportunities for LGBTQ+ and allied employees to better their own work environments. In addition, the reach of many ERGs extends beyond the everyday affairs of an employer to policy making, representing the employer at professional events and external activities, participating in prospective employee recruitment efforts, mentoring, and other retention-focused programming.

Employee resource groups that are focused on the LGBTQ+ workforce empower employees as change agents and promote inclusion for LGBTQ+ employees within the workplace. Recognizing the differences in businesses rated in the CEI, this criterion can also be met with an organization-wide diversity council or working group with a mission that specifically includes LGBTQ+ diversity and inclusion.

of CEI-rated employers (1,179 of 1,271 respondents) have an employee resource group or diversity council that includes LGBTQ+ and allied employees and programming.

Employees who do not identify as LGBTQ+ themselves, but are invested in workplace inclusion and equality, are increasing their numbers within ERG ranks. While mission statements of ERGs are specific to LGBTQ+ inclusion, an increasing number of ally-identified colleagues are encouraged to join as membership is not limited to those who are LGBTQ+ but is open to all supporters of equality.

of those companies with an officially recognized LGBTQ+ employee group (1,011 of 1,046) report the ERG is expressly for LGBTQ+ and Allied employees.

ERGs have embraced allies as critical supporters of the full LGBTQ+ community, as allies bring their own unique voice and vantage point to workplace equality. The profile and impact of an employee resource group is greatly enhanced by an active executive champion for the group.

of employee groups reported in the CEI (1,013 of 1,046) are sponsored by an executive champion.

Outreach or Engagement with LGBTQ+ Community

Despite the disruption of the COVID-19 epidemic and the cancellation of in-person events worldwide, CEI-rated businesses followed through on their commitments to LGBTQ+ community engagement throughout the year largely by leveraging online and virtual engagement platforms.

of CEI-rated businesses (1,187 of 1,271 respondents) met the standard of demonstrating a least three efforts of public commitment to the LGBTQ+ community.

Businesses have extensive programs to engage with key markets and the communities in which they operate. Public commitment in the CEI is measured through a number of individual engagements, namely through

Marketing, advertising and sponsorship efforts;LGBTQ+ specific recruiting efforts;Philanthropic contributions;LGBTQ+ supplier diversity programs; and,Public policy weigh-in.Additionally, the CEI includes a set of standards around foundational giving to fully align a business's actions with its core values and to raise the bar for corporate social responsibility.

Businesses see advantages in going public with their commitment to equality, including:

Reputational benefits to supporting equality groups and programs;Corporate case for LGBTQ+ legal equality: they are on right side of history and eliminate barriers to investment;Attracting and retaining next generation of workers and consumers '' the importance of communicating pro-equality messages to millennials; and,LGBTQ+ public support is seen as a bellwether for broader issues of diversity and inclusion.Recruiting

Professional events such as the annual Out & Equal Workplace Summit, the Lavender Law Conference, and the Reaching Out MBA (ROMBA) Conference and Career Expo are filled with highly-rated CEI employers looking to attract diverse employees. Employers' presence at these and other events sends a clear message to potential employees that LGBTQ+ diversity is part of company culture, and that LGBTQ+ candidates are valued as the best and the brightest across industries, geographies and trades. While many of these recruiting events went in virtual 2020, CEI-rated businesses remained engaged.

of CEI-rated businesses (591 of 1,271 respondents) attended an LGBTQ+ specific recruiting event or function.

Marketing & Advertising

Ad campaigns and sponsorships further this message of company values to the public. Increasingly, ads with authentic images of LGBTQ+ people are featured in both LGBTQ+ media outlets and general press alike. Corporate philanthropic activities ranging from financial support to in-kind donations of products or services can bolster a business's profile in the LGBTQ+ community.

of CEI-rated businesses (748 of 1,271 respondents) ran LGBTQ+ specific ads or marketing content or sponsored LGBTQ+ inclusive events such as Pride.

Philanthropy

Corporate giving to organizations promoting LGBTQ+ health, education or political efforts further demonstrates this commitment to broader LGBTQ+ equality. Typically, these efforts have a strategic connection to the core mission of a business, such as a law firm's pro bono legal support of organizations tasked with direct legal representation of LGBTQ+ individuals.

of CEI-rated businesses (761 of 1,271 respondents) provided philanthropic support via cash or in-kind donation to at least one LGBTQ+ specific organization.

Supplier Diversity

Supplier diversity programs ensure that the procurement process includes specific opportunities for minority-owned businesses, including women-owned, veteran-owned and, more recently, LGBTQ+ owned businesses. Supplier diversity initiatives have existed in the business community for at least three decades, going back to the inception of such groups like the National Association of Women Business Owners and the National Minority Business Council, both founded in the early 1970s to promote the inclusion of these under-utilized entrepreneurial groups. Furthermore, there are federal initiatives such as the Center for Veterans Enterprise that is designed to assist U.S. veterans in launching and thriving in private business. These initiatives intend to give more equitable opportunities to those would be small business owners who are more likely to face social and practical barriers to success.

The National LGBT Chamber of Commerce began certifying LGBTQ+ owned small businesses in 2002, a process that requires substantiation of majority LGBTQ+ ownership in a business and verification of a business' good standing in the community. Supplier diversity initiatives are a win-win relationship for both the LGBTQ+ owned small businesses and the businesses that contract them.

of CEI-rated businesses with supplier diversity programs (656 of 726) specifically include LGBTQ+ owned enterprises in their programs.

These businesses are enjoying a multitude of benefits, including a supply chain that better reflects the diverse communities in which they operate, and in turn, garnering sharper innovation and business solutions.

Corporate Social Responsibility

A business's non-discrimination policies should not be limited to human resources or diversity and inclusion. The CEI's Corporate Social Responsibility criteria ensure that sexual orientation and gender identity protections apply to those standards that businesses require their vendors or suppliers to adhere to, as well as recipients of their philanthropic funds.

Supplier/Vendor Standards Include LGBTQ+ Nondiscrimination

Large businesses typically rely on other businesses for goods or services, and businesses of the size included in the CEI typically have set standards and guidelines already embedded in their procurement. To ensure that suppliers act in a manner that adheres to a business's own standards, businesses must establish standards of conduct that set expectations for behavior of their suppliers.

of rated employers in this year's CEI have supplier mandates with respect to non-discrimination in place, and 99.5% of these mandates (1,087 of 1,093 companies) explicitly include sexual orientation and gender identity alongside other named categories.

Philanthropic Giving Guidelines

The HRC Foundation has always held businesses accountable for the types of organizations receiving their philanthropic dollars. Historically, the CEI had a mechanism to account for foundational corporate giving to any organization whose explicit mission included efforts to undermine LGBTQ+ equality. This framework was widened in 2016 to hold companies accountable for any giving to a non-religious organization with an explicit policy of discrimination against LGBTQ+ people. This requirement sets the standards around responsible foundational giving and ensures that a top-rated business does not provide philanthropic support to organizations whose values do not align with theirs.

The requirement is that a top-rated business must implement internal requirements prohibiting company or law firm philanthropic giving to non-religious organizations that have a written policy of discrimination on the basis of sexual orientation and gender identity or have a policy explicitly permitting its own chapters, affiliates, etc. to discriminate.

of CEI-rated businesses (1,021 of 1,271 respondents) have written giving guidelines that prohibit philanthropic support of non-religious organizations with an explicit policy of discrimination towards LGBTQ+ people.

How We've Changed Our Criteria

Introducing New Areas of Impact & Highlighting the Way ForwardThe Human Rights Campaign Foundation is excited to share the upcoming changes to the CEI and is grateful for the opportunity to raise the bar for LGBTQ+ inclusive workplaces.

This criteria adjustment reflects a 20-year history of observation, learning, and growth that the HRC is proud to continue to this day. While we believe that our previous criteria set an ideal benchmark in the past, the current and continuing issues seen within the LGBTQ+ community required us to evolve our criteria to meet the ever-changing needs of the community's members and their families.

Through these updated areas of impact expound upon our existing criteria, we also hope to elevate the public's understanding of what an LGBTQ+ inclusive workplace looks and feels like.

Criteria Change 1 Driving Equality in Family FormationMoving forward, the CEI will contain scored criteria around family formation that ensure that same- and different-sex legal spouses and domestic partners have equal access to family formation benefits. The areas that will be assessed for equality include:

Adoption;

Cryopreservation (egg freezing for non-medical reasons);

Infertility treatment coverage;

Foster care assistance;

Infertility treatment coverage (outside of in-vitro fertilization);

Fertility/in-vitro fertilization coverage; and,

Surrogacy benefits.

Criteria Change 2Raising the Standards for Transgender-inclusive HealthcareThe goal of the CEI is to move the goalpost regarding equality so that members of the transgender community are not simply given access to healthcare, but can readily receive services, treatment, and care without obstacles. First, the minimal services and treatment for transgender-inclusive healthcare will now be more robust. For example, this criteria will now require hormone blockers for youth and surgical revision/repair, among other additional medical services and treatment. Companies will also be given additional points if their policies and procedures exceed the minimum requirements and offer additional benefits that would go beyond minimally-inclusive transgender healthcare.

Criteria Change 3Utilizing Best Practices for Intersectional Examination of Workplace Inequality The CEI will now require that at least one company training, provided to all employees, that addresses LGBTQ+ intersectionality within the workplace.

We will also be expanding data best practices to ensure that companies provide a confidential way for employees to self-identify at all levels of the company. These best practices will require a company to include the option to self-identify in human resource systems, the option to self-identify in confidential surveys, or the option to provide the members of the board (leadership body) with a means of self-identification.

Criteria Change 4Maintaining Mandatory Gender Transition Guidelines to Promote and Ensure Gender Inclusivity From now on, companies must mandatorily offer gender transition guidelines. In addition, companies must have one overarching policy on gender inclusivity which includes dress codes, restrooms and facilities, or pronoun and chosen name usage in the workplace (email signatures/meeting/onboarding). The policies must create a more gender-inclusive atmosphere for all employees.

Criteria Change 5Providing Access to an Annual, Comprehensive Guide of Available LGBTQ+ Resources and ServicesFinally, companies must provide a guide for family formation, transgender-inclusive healthcare, and HIV services and treatment that is provided annually and upon hire to all employees. This guide must include contact information for relevant and related organizations and/or persons of interest, a full breakdown of the appeals process, a detailed FAQ, and must, ultimately, be comprehensive in its nature. The goal of this guide is to ensure that any employee who may need information on these key topics can readily access it in one, convenient location and will have the tools necessary to easily troubleshoot issues in attaining the healthcare benefits and treatment that they need.

New Criteria Roll-OutFollowing the release of this report, the 2023 CEI report will be open for survey submission in the Spring of 2023 and released in November of 2023 to realign with the report's original release schedule. This realignment will enable the report to be accessible before Black Friday and ensure that the CEI can be used as a tool for consumers and the LGBTQ+ community in making purchasing decisions during the year's busiest holiday season.

The scheduled roll-out of the new criteria will enable us to devote substantial time, energy, and resources to collaborate with companies in an effort to bring real change to the community.

Spotlight: Corporate Initiatives Including the Business Coalition for the Equality Act

HRC is proud to partner with leading employers on corporate initiatives that drive equality. These corporate initiatives include the Business Statement on Anti-LGBTQ+ State Legislation, the LGBTQ+ Refugees Mentorship Initiative, and Working Positively, which invites employers to commit to being visible role models in support of HIV-positive employees and other chronic illnesses.One of the largest coalition initiatives is the Business Coalition for the Equality Act.

HRC's Business Coalition for the Equality Act is a group of 503 leading U.S. employers that support the Equality Act, federal legislation that would provide the same basic protections to LGBTQ+ people that are provided to other federally protected groups. Coalition member companies represent nearly every industry, employ over 15.3 million people in the U.S., command over $7.2 trillion in revenue, and have operations in all 50 states.

The Equality Act creates clear, consistent protections to prohibit discrimination on the basis of sexual orientation and gender identity in employment ensuring that LGBTQ+ employees are hired, fired, and promoted based on their performance. In addition, the bill provides protections from discrimination in housing, credit, and jury service for LGBTQ+ people. The bill also prohibits discrimination in public spaces and services and protects against discrimination in the receipt of federal funding on the basis of sex, sexual orientation, and gender identity.

The historic Obergefell v. Hodges case in 2015 gave same-sex couples the right to marriage, and, since then, state legislators across the country have responded by proposing hundreds of anti-LGBTQ+ bills. However, companies opposed (and still oppose) these discriminatory bills. Over the last seven years, countless companies in all 50 states have spoken out against attempts to undermine LGBTQ+ civil rights. Discriminatory bills that attempt to curb access to public services for transgender people, deny basic services to LGBTQ+ families, or preempt local nondiscrimination ordinances put company employees, employee families, and customers at risk.

CEI-rated employers are on record supporting broad issues of LGBTQ+ equality at the local, state, and federal levels, including through amicus briefs that are submitted during court cases to support pro-LGBTQ+ legislation and rulings.

Private sector support for the federal Equality Act surged within the last two years and, at present, 508 major employers are signatories on HRC's The Business Coalition for the Equality Act.

1-800-FLOWERS.COM, Inc., Carle Place, NY2U Inc., Lanham, MD3M Company, Saint Paul, MNA.T. Kearney Inc., Chicago, ILABB Inc., Cary, NCAbbVie Inc., Chicago, ILAbercrombie & Fitch Co., New Albany, OHAccenture, New York, NYAdobe Inc., San Jose, CAADP, Roseland, NJAdvance Auto Parts (Advance Holding), Raleigh, NCAdvanced Micro Devices Inc., Sunnyvale, CAAegon Asset Management, Cedar Rapids, IAAflac Inc., Columbus, GAAir Products, Allentown, PAAirbnb Inc., San Francisco, CAAirbus, Herndon, VAAkamai Technologies, Inc., Cambridge, MAAlaska Airlines, Seattle, WAAlbertsons Companies, Boise, IDAlcoa Corp., Pittsburgh, PAAlixPartners LLP, New York, NYAllianceBernstein, L.P., Nashville, TNAlliance Data Systems Corporation, Columbus, OHAlly Financial Inc., Detroit, MIAltice USA Inc., Long Island City, NYAltria Group Inc., Richmond, VAAmalgamated Bank, New York, NYAmazon.com Inc., Seattle, WAAmerican Airlines, Fort Worth, TXAmerican Eagle Outfitters Inc., Pittsburgh, PAAmerican Electric Power Co. Inc., Columbus, OHAmerican Express Company, New York, NYAmerican Express Global Business Travel, New York, NYAmerican Honda Motor Co., Inc., Torrance, CAAmeriprise Financial, Inc., Minneapolis, MNAMN Healthcare, San Diego, CAAmyris, Inc., Emeryville, CAAndersen Corporation, Bayport, MNAon PLC, Chicago, ILApple Inc., Cupertino, CAApplied Materials Inc., Santa Clara, CAArcadis U.S. Inc., Highlands Ranch, COArconic, New York, NYArent Fox LLP, Washington, DCAsana, San Francisco, CAAscena Retail Group Inc., Mahwah, NJAspen Skiing Company LLC Aspen, COAssociated Bank, Green Bay, WIAsurion LLC, Nashville, TNAT&T Inc., Dallas, TXAtlassian, San Francisco, CAAutodesk Inc., San Rafael, CAAvalonBay Communities, Inc., Arlington, VAAvery Dennison Corporation, Glendale, CAAvnet, Inc., Phoenix, AZBain & Co. Inc./ Bridgespan Group, Boston, MABaker & McKenzie LLP, Chicago, ILBank of America Corp., Charlotte, NCBarclays, New York, NYBASF Corp., Florham Park, NJBayer U.S. LLC, Whippany, NJBBVA USA, Birmingham, ALBCW (Burson Cohn & Wolfe), New York, NYBD (Becton, Dickinson and Co.), Franklin Lakes, NJBerkshire Bank, Boston, MABest Buy Co. Inc., Richfield, MNBiogen, Cambridge, MABioMarin Pharmaceutical Inc., San Rafael, CABird Rides Inc., Santa Monica, CABlack & Veatch Holding Inc., Overland Park, KSBlack Knight, Inc., Jacksonville, FLBlackRock, New York, NYBloomberg LP, New York, NYBlue Cross & Blue Shield of Rhode Island, Providence, RIBMC Software Inc., Houston, TXBNP Paribas, New York, NYBody Shop, The, Wake Forest, NCBoehringer Ingelheim USA Corp., Ridgefield, CTBoies Schiller Flexner LLP, New York, NYBooz Allen Hamilton Inc., McLean, VABoston Beer Company, The, Boston, MABoston Celtics, Boston, MABoston Consulting Group, Boston, MABoston Scientific Corp., Marlborough, MABox Inc., Redwood City, CABP America Inc., Houston, TXBridgestone Americas Holding Inc., Nashville, TNBridgewater Associates LP, Westport, CTBrigham and Women's Hospital, Boston, MABright Health Group, Minneapolis, MNBright Horizons, Watertown, MABristol-Myers Squibb Co., New York, NYBroadridge Financial Solutions Inc., Lake Success, NYBrown-Forman Corp., Louisville, KYBrown Harris Stevens, New York, NYBrown Rudnick LLP, Boston, MABuckley LLP, Washington, D.C.Caesars Entertainment Corp., Las Vegas, NVCalifornia Water Service Group, San Jose, CACapgemini Americas, Inc., New York, NYCapital Group, Los Angeles, CACapital Markets Company, The, New York, NYCapital One Financial Corp., McLean, VACapri Holdings Limited, New York, NYCardinal Health Inc., Dublin, OHCareSource, Dayton, OHCargill Inc., Wayzata, MNCargo Transporters, Inc., Claremont, NCCarGurus, Inc., Cambridge, MACarlson Inc., Minnetonka, MNCarlyle Group, LP, The, Washington, DCCengage Learning Inc., Boston, MACerner Corporation, Kansas City, MOChapman and Cutler LLP, Chicago, ILChevron Corp., San Ramon, CAChildren's Minnesota, Minneapolis, MNChime, San Francisco, CAChobani, Norwich, NYChoice Hotels International Inc., Rockville, MDChubb, Philadelphia, PACIGNA Corp., Bloomfield, CTCisco Systems Inc., San Jose, CACitigroup Inc., New York, NYCitrix Systems Inc., Fort Lauderdale, FLClorox Company, The, Oakland, CACME Group Inc., Chicago, ILCNA Financial Corporation, Chicago, ILCoca-Cola Co., The, Atlanta, GAComcast Corporation, Philadelphia, PACompass, New York, NYConstellations Brands Inc., New York, NYConverse Inc., Boston, MACore-Mark, Westlake, TXCorning Inc., Corning, NYCorteva Agriscience, Wilmington DECoty Inc., New York, NYCox Enterprises Inc., Atlanta, GACredit Suisse USA Inc., New York, NYCrowell & Moring LLP, Washington, DCCSAA Insurance Group, Walnut Creek, CACummins Inc., Columbus, INCVS Health Corp., Woonsocket, RIDana-Farber Cancer Institute, Boston, MADaniel J. Edelman Holdings, Inc., New York, NYDanone North America LLC, White Plains, NYDarden Restaurants Inc., Orlando, FLDay Pitney LLP, Parsippany, NJDebevoise & Plimpton LLP, New York, NYDel Monte Foods, Inc., Walnut Creek, CADell Technologies Inc., Round Rock, TXDeloitte LLP, New York, NYDelta Air Lines Inc., Atlanta, GADeluxe Corporation, Shoreview, MNDenny's Corp., Spartanburg, SCDepository Trust & Clearing Corp., The, New York, NYDeutsche Bank, New York, NYDiageo North America, Norwalk, CTDickinson Wright PLLC, Detroit, MIDomino's Pizza, Ann Arbor, MIDoorDash, Inc., San Francisco, CADow Chemical Co. The, Midland, MIDropbox Inc., San Francisco, CADuke Energy Corp., Charlotte, NCDun & Bradstreet Corp., The, Short Hills, NJDWS, New York, NYE&J Gallo Winery, Modesto, CAE. I. du Pont de Nemours and Co. (DuPont), Wilmington, DEE*TRADE Financial Corp., New York, NYEastern Bank Corp., Boston, MAEaton Corp., Cleveland, OHeBay Inc., San Jose, CAEcolab Inc., St. Paul, MNEdison International, Rosemead, CAEdward Jones, St. Louis, MOElastic NV, Mountain View, CAEli Lilly and Company, Indianapolis, INEMD Serono, MilliporeSigma and EMD Electronics, Burlington, MAEmerson Electric Co., St. Louis, MOEmpower Retirement, Greenwood Village, COEquinix, Inc., Redwood City, CAEquitable Financial Life Insurance Company, New York, NYEricsson Inc, Plano, TXErnst & Young LLP, New York, NYEst(C)e Lauder Companies Inc., The, New York, NYEversource Energy, Springfield, MAEvolent Health Inc., Arlington, VAExelon Corp Chicago, ILExpedia Group, Bellevue, WAFacebook Inc., Menlo Park, CAFactSet Research Systems Inc., Norwalk, CTFairview Health Services, Minneapolis, MNFirst Data Corp., Atlanta, GAFiserv Inc., Brookfield, WIFMC Corporation, Philadelphia, PAFood Lion, Salisbury, NCFossil Group Inc., Richardson, TXGap Inc., San Francisco, CAGeneral Electric Co., Boston, MAGeneral Mills Inc., Minneapolis, MNGeneral Motors Co., Detroit, MIGIANT Food Stores LLC, Carlisle, PAGiant of Maryland LLC, Landover, MDGilead Sciences Inc., Foster City, CAGlassdoor Inc., Mill Valley, CAGlaxoSmithKline, Research Triangle Park, NCGoDaddy Inc., Scottsdale, AZGoldman Sachs & Co. LLC, New York, NYGoogle Inc., Mountain View, CAGP Strategies Corporation, Columbia, MDGrant Thornton LLP, Chicago, ILGreat River Energy, Maple Grove, MNGreenway Health, LLC, Tampa, FLGrove Collaborative, San Francisco, CAGuardian Life Insurance Co. of America, The, New York, NYGuidehouse Inc., Chicago, ILGusto, San Francisco, CAHannaford Supermarkets, Scarborough, MEHarley-Davidson Inc., Milwaukee, WIHenkel Corporation (North America), Rocky Hill, CTHERE North America LLC Chicago, ILHerman Miller Inc., Zeeland, MIHerrick, Feinstein LLP, New York, NYHershey Co., The, Hershey, PAHess Corp., New York, NYHewlett Packard Enterprises, Palo Alto, CAHexion, Columbus, OHHilton Inc., McLean, VAHiscox USA, New York, NYHogan Lovells US LLP, Washington, DCHolland & Knight LLP, Miami, FLHome Depot Inc., The, Atlanta, GAHoneywell International, Charlotte, NCHost Hotels & Resorts Inc., Bethesda, MDHP Inc., Palo Alto, CAHSF Affiliates LLC, Irvine, CAHSN Inc., Saint Petersburg, FLHughes Hubbard & Reed LLP New York, NYHyatt Hotels Corp., Chicago, ILIBM Corp., Armonk, NYICM Partners, Los Angeles, CAIDEX Corp., Lake Forest, ILIGT, Providence, RIIHG Hotels & Resorts, Atlanta, GAIHS Markit Ltd., New York, NYIKEA Holding US Inc., Conshohocken, PAImpossible Foods, Redwood City, CAInformation Resources Inc., Chicago, ILIngersoll-Rand Company, Davidson, NCIngram Micro, Irvine, CAInsight Enterprises Inc., Tempe, AZInstacart, San Francisco, CAIntel Corp., Santa Clara, CAInternational Flavors & Fragrances Inc., New York, NYIron Mountain Inc., Boston, MAJ. M. Smucker Co., The, Orrville, OHJacobs Engineering Group, Inc., Dallas, TXJenner & Block LLP, Chicago, ILJetBlue Airways Corp., Long Island City, NYJohn Hancock Financial Services Inc., Boston, MAJohnson & Johnson, New Brunswick, NJJohnson Controls Inc., Milwaukee, WIJones Lang LaSalle (JLL), Chicago, ILJP Morgan Chase & Co., New York, NYJSX, Dallas, TXJuniper Networks Inc., Sunnyvale, CAKabbage Inc., Atlanta, GAKaiser Permanente, Oakland, CAKeep Truckin, Inc., San Francisco, CAKeller Williams Realty Inc., Austin, TXKellogg Co., Battle Creek, MIKenneth Cole Productions, New York, NYKerry, Beloit, WIKeyCorp, Cleveland, OHKIND LLC, New York, NYKnot Wordwide, The, Chevy Chase, MDKnowBe4, Inc., Clearwater, FLKPMG LLP, New York, NYKraft Heinz Company, The, Chicago, ILL3Harris Technologies, Melbourne, FLLendlease Americas Inc., New York, NYLennox International, Richardson, TXLevi Strauss & Co., San Francisco, CALinden Research Inc., San Francisco, CALord, Abbett & Co. LLC, Jersey City, NJLowenstein Sandler LLP, New York, NYLush Fresh Handmade Cosmetics, Wilmington, NCLyft Inc., San Francisco, CAMacy's Inc., Cincinnati, OHMallinckrodt LLC, Hazelwood, MOManpowerGroup, Milwaukee, WIMarriott International Inc., Bethesda, MDMars Inc., McLean, VAMarsh & McLennan Companies Inc., New York, NYMassachusetts Mutual Life Insurance Co., Springfield, MAMasterCard, Purchase, NYMatch Group, LLC, Dallas, TXMattel Inc., El Segundo, CAMcAfee LLC, Santa Clara, CAMcCormick & Company Inc., Hunt Valley, MDMcDonald's Corporation, Chicago, ILMcGraw Hill Education, New York, NYMcKesson Corporation, Las Colinas, TXMcKinsey & Company, New York, NYMcKinstry Co. LLC, Seattle, WAMedtronic PLC, Minneapolis, MNMerck, Kenilworth, NJMeredith Corp., Des Moines, IAMetLife Inc., New York, NYMGM Resorts International, Las Vegas, NVMichael Page International Inc., New York, NYMicron Technology Inc., Boise, IDMicrosoft Corp., Redmond, WAMitchell Gold + Bob Williams, Taylorsville, NCMondelez International Inc., Deerfield, ILMoody's Corp., New York, NYMolson Coors LLC, Chicago, ILMorgan, Lewis & Bockius LLP, Philadelphia, PAMorgan Stanley, New York, NYMorningstar Inc., Chicago, ILMorris, Manning & Martin LLP, Atlanta, GANasdaq Inc., New York, NYNational Grid USA, Waltham, MANationwide, Columbus, OHNavient, Wilmington, DENestl(C), Arlington, VANetflix Inc., Los Gatos, CANew Belgium Brewing Company, Fort Collins, CONew York Life Insurance Company, New York, NYNextRoll, Inc., San Francisco, CANielsen, New York, NYNike Inc., Beaverton, ORNordstrom Inc., Seattle, WANorfolk Southern Corporation, Norfolk, VANortonLifeLock, Mountain View, CANorthrop Grumman Corp., Falls Church, VANovo Nordisk Inc., Plainsboro, NJNRP Group, The, Cleveland, OHNTT DATA Services, LLC, Plano, TXNuance Communications- Burlington, MAOcean Spray Cranberries Inc, Lakeville-Middleboro, MAOffice Depot Inc., Boca Raton, FLOportun, Inc., San Carlos, CAOracle Corp., Redwood City, CAOtis Worldwide Corporation, Farmington, CTOwens Corning, Toledo, OHPalo Alto Networks, Santa Clara, CAPariveda Solutions Inc., Dallas, TXPatagonia Inc., Ventura, CAPatreon Inc., San Francisco, CAPaul Hastings LLP, Los Angeles, CAPaylocity, Schaumburg, ILPayPal Holdings Inc., San Jose, CAPeloton Interactive, Inc., New York, NYPepsiCo Inc., Purchase, NYPetSmart Inc., Phoenix, AZPfizer Inc., New York, NYPG&E Corp., San Francisco, CAPhilip Morris International, New York, NYPinterest Inc., San Francisco, CAPioneer Natural Resources, Irving, TXPNC Financial Services Group Inc., Pittsburgh, PAPoint B, Inc., Seattle, WAPolsinelli PC, Kansas City, MOPorter Wright Morris & Arthur LLP, Columbus, OHPower Home Remodeling Group LLC, Chester, PAPPL Corporation, Allentown, PAPrecision Medicine Group, LLC, Bethesda, MDPricewaterhouseCoopers LLP, New York, NYPrincipal Financial Group, Des Moines, IAProcter & Gamble Co., Cincinnati, OHPure Storage Inc., Mountain View, CAPVH Corp., New York, NYQ-Centrix, Chicago, ILQUALCOMM Inc., San Diego, CAQIAGEN, Germantown, MDR1 RCM Inc., Chicago, ILRadian Group Inc., Philadelphia, PARAPP Worldwide, New York, NYRE/MAX LLC, Denver, CORealogy Holdings Corp., Madison, NJREI Co-op, Sumner, WARed Hat Inc., Raleigh, NCRedfin Corp., Seattle, WARelias LLC, Morrisville, NCReplacements Ltd., McLeansville, NCRES (Renewable Energy Systems), Broomfield, CORockland Trust Co., Rockland, MARockwell Automation Inc., Milwaukee, WIRoyal Bank of Canada, New York, NYS&C Electric Company, Chicago, ILS&P Global Inc., New York, NYSalesforce, San Francisco, CASanofi US, Bridgewater, NJSAP America Inc., Newtown Square, PASaul Ewing Arnstein & Lehr LLP, Philadelphia, PASeagate Technology plc, Cupertino, CASecurian Financial Group Inc., Saint Paul, MNSelective Insurance Company of America, Branchville, NJServiceSource International, Inc., Denver, COSeyfarth Shaw LLP, Chicago, ILSheppard, Mullin, Richter, & Hampton LLP, Los Angeles, CAShire PLC, Lexington, MAShook, Hardy & Bacon LLP, Kansas City, MOShutterstock, New York, NYSiemens Corp., Washington, DCSiemens Medical Solutions USA, Inc., Malvern, PASignet Jewelers, Akron, OHSiriusPoint Ltd., New York, NYSlalom, Seattle, WASodexo Inc., Gaithersburg, MDSony Corporation of America, New York, NYSony Electronics Inc., San Diego, CASony Interactive Entertainment Inc., San Mateo, CASony Music Group, New York, NYSouthwest Airlines Co., Dallas, TXSplunk Inc., San Francisco, CASpotify USA Inc., New York, NYSquare Inc., San Francisco, CAStandard Chartered Bank, New York, NYStanley Black & Decker Inc., New Britain, CTStarbucks Corp., Seattle, WAState Street Corporation, Boston, MASteelcase Inc., Grand Rapids, MIStop & Shop Supermarket Company, LLC, The, Quincy, MASUEZ Water Technologies and Solutions, Trevose, PASun Life U.S., Wellesley Hills, MASunrun Inc., San Francisco, CASurveyMonkey Inc., San Mateo, CASweetgreen, Inc., Los Angeles, CASynchrony, Stamford, CTSysco, Houston, TXT-Mobile USA Inc., Bellevue, WATakeda Pharmaceuticals USA Inc., Deerfield, ILTapestry, Inc., New York, NYTarget Corp., Minneapolis, MNTD Ameritrade, Omaha, NETD Bank, N.A., Cherry Hill, NJTech Data Corp., Clearwater, FLTEGNA Inc., McLean, VATesla Inc., Palo Alto, CATeva Pharmaceuticals, North Wales, PATexas Instruments, Dallas, TXThermo Fisher Scientific, Waltham, MATIAA, New York, NYTiffany & Co., New York, NYTillamook County Creamery Association, Tillamook, ORToyota Motor North America Inc., Plano, TXTPG Global LLC, Fort Worth, TXTransUnion, Chicago, ILTriNet Group Inc., Dublin, CATripAdvisor Inc., Needham, MATruist Financial Corporation, Charlotte, NCTurner Construction Co., New York, NYTwitter Inc., San Francisco, CATyson Foods Inc., Springdale, ARU.S. Bancorp, Minneapolis, MNUber Technologies Inc., San Francisco, CAUKG (Ultimate Kronos Group), Weston, FLUL Inc., Northbrook, ILUnder Armour Inc., Baltimore, MDUnilever, Englewood Cliffs, NJUnion Pacific Railroad, Omaha, NEUnited Airlines, Chicago, ILUnited Natural Foods, Inc., Providence, RIUnited Parcel Service Inc., Atlanta, GAUnivar Solutions, Inc., Downers Grove, ILUniversal Music Group, Santa Monica, CAUnivision Communications Inc., New York, NYUpwork Inc., San Francisco, CAVanguard Group Inc., Malvern, PAVerizon Communications Inc., New York, NYVertex Pharmaceuticals Inc., Boston, MAViiv Healthcare, Research Triangle Park, NCVisa, Foster City, CAVizient Inc., Irving, TXVMware Inc., Palo Alto, CAVMLY&R, Kansas City, MOW. W. Grainger, Inc., Lake Forest, ILWabtec Corporation, Pittsburgh, PAWalt Disney Co., The, Burbank, CAWarby Parker, New York, NYWarner Music Group, New York, NYWE Communications, Bellevue, WAWellmark Blue Cross Blue Shield, Des Moines, IAWells Fargo & Co., San Francisco, CAWest Monroe Partners LLC, Chicago, ILWestern Digital, San Jose, CAWestRock, Atlanta, GAWhirlpool Corp. Benton Harbor, MIWilliams-Sonoma Inc., San Francisco, CAWorkday Inc., Pleasanton, CAWPP, New York, NYWpromote, El Segundo, CAWunderman Thompson, New York, NYWyndham Hotels & Resorts Inc., Parsippany, NJXcel Energy Inc., Minneapolis, MNXerox Corp., Norwalk, CTXperi, San Jose, CAXylem Inc., Rye Brook, NYYelp Inc., San Francisco, CAYext Inc., New York, NYZendesk, Inc., San Francisco, CAZiff Davis, Los Angeles, CAZillow Group, Seattle, WAZimmer Biomet Holdings Inc., Warsaw, INZoetis Inc., Parsippany, NJZynga Inc., San Francisco, CA Rating System and Methodology

Corporate Equality Index 2022The HRC Foundation's CEI rating system is designed for mid- to large-sized businesses (500 full-time employees and above) and divided into three key categories of criteria:

Nondiscrimination policies across business entities; Equitable benefits for LGBTQ+ workers and their families;Supporting an inclusive culture and corporate social responsibility. Launched in 2002, the CEI is the first internationally recognized benchmarking report for businesses to gauge their level of LGBTQ+ workplace inclusion against competitors. In addition to seeing a growth in the number of highly-rated employers, the CEI has also seen great success in the reach of the survey. The number of employers officially rated has expanded from 319 original participants to a current participant count of 1,271, encompassing all major industry sectors.

Invitations and Participation

The largest and most successful U.S. employers are invited to participate in the CEI and are identified through the following lists*:

Fortune magazine's 1,000 largest publicly traded businesses (2019 Fortune 1000) and American Lawyer magazine's top 200 revenue grossing law firms (2020 AmLaw 200). Additionally, any private-sector, for-profit employer with 500 or more full-time U.S. employees can request to participate, including those that are privately held.

*Note: Due to the staggered timelines of the ranking lists and when contact lists are made available, the ranking year lags the CEI survey year by one year and the CEI publication year by up to two years.

How We Obtain the Information

The primary source of information for the Corporate Equality Index rating each business received is the CEI survey sent every year to previous and prospective respondents. The web-based survey included links to sample policies and other guidance, found on the HRC Foundation website.

HRC Foundation staff provided additional assistance and direct consultation throughout the process and reviewed submitted documentation (required within each section) for appropriate language and consistency with survey answers.

Invitations for the CEI 2022 survey were emailed and mailed in May of 2021 and responses were due back in August of 2021. If a business had previously participated in the CEI, surveys were first sent to the individual(s) responsible for prior submissions. If a business had not previously participated in the CEI, surveys were sent to the chief executive officer or managing partner of the firm, as well as the highest-level executive(s) responsible for human resources, diversity, communications, or community engagement, if obtaining the contact information for these executives was possible.

The information required to generate CEI ratings for businesses is difficult to ascertain from public records alone. In addition to the self-reporting provided through the CEI survey, we investigated and cross-checked the policies and practices of the rated businesses, any connections with organizations that engage in anti-LGBTQ+ activities, and news accounts of efforts that undermine LGBTQ+ equality writ large (e.g., through case law efforts or public policy lobbying actions). Employers were not rated until all appropriate information had been gathered and verified to the greatest extent possible. Businesses were invited to provide HRC Foundation staff with any additional information or updates before this report went to print.

In total, the sources used include:

The HRC Foundation's CEI survey; Internal Revenue Service 990 tax filings reviewed for any business foundation's gifts to anti-LGBTQ+ groups; Case law and news accounts regarding findings of discrimination and corporate responsibility and the LGBTQ+ community at-large; and, Individuals that report information to HRC Foundation. If a business was found to have a connection with an anti-LGBTQ+ organization or activity, the HRC Foundation contacted the business and provided it with an opportunity to respond and, to the best of its ability, to mitigate the harm done and ensure that no such action would occur in the future. Businesses unwilling to do so would have been penalized 25 points from their overall rating through Criterion 4.

Official and Unofficial Ratings

The HRC Foundation may have rated businesses that did not submit a survey for a 2022 rating if the business has submitted a survey in previous years and the information is determined to be accurate, or, if the HRC Foundation has obtained sufficient information to provide an individual rating. In both cases, the HRC Foundation notified the business of the official rating and gave them an opportunity to provide updates or clarification prior to the report release.

Fortune 500-ranked businesses that, after multiple invitations, have never responded to the CEI survey were evaluated independently and have designated unofficial ratings listed in gray in Appendix A. The HRC Foundation proactively evaluates these 112 Fortune-ranked companies for two key reasons:

To provide the public with accurate information on these key employers; and To ensure the CEI is truly a benchmarking report among peers. Because LGBTQ+ workers and prospective employees must navigate the gaps in federal and state protections that affect their employment decisions, our staff assesses the research on these non-surveyed businesses through this same lens, ascertaining what we can from publicly available information and applying those findings to our CEI criteria.

No matter the rating, any business that participates in the CEI is taking on a transparent, credible process of LGBTQ+ inclusion. The HRC Foundation commends the employers that have committed to the public and transparent process of the CEI survey and we invite these 112 companies to do the same.

In total, the CEI 2022 contains official ratings for 379 Fortune 500 businesses, 573 Fortune 1000 businesses, 166 law firms and 726 additional major businesses. With the additional 112 Fortune 500 businesses that have unofficial ratings, the total number of rated businesses is 1,383. Findings in the 2022 CEI report are based on the 1,271 officially rated businesses.

Criteria 1

Workforce Protections (30 points possible)

a. Policy includes sexual orientation for all operations

b. Policy includes gender identity or expression for all operations

15 points

15 points

Criteria 2

Inclusive Benefits (30 points possible)

To secure full credit for benefits criteria, each benefit must be available to all benefits-eligible U.S. employees. In areas where more than one health insurance plan is available, at least one inclusive plan must be available.

a. Equivalency in same- and different-sex spousal medical and soft benefits

b. Equivalency in same- and different-sex domestic partner medical and soft benefits

c. Equal health coverage for transgender individuals without exclusion for medically necessary care

Equal health coverage for transgender individuals without exclusions for medically necessary careInsurance contract explicitly affirms coverage and contains no blanket exclusions for coverage

Insurance contract and/or policy documentation is based on the World Professional Association for Transgender Health (WPATH) Standards of Care

Plan documentation must be readily available to employees and must clearly communicate inclusive insurance options to employees and their eligible dependents.

Other benefits available for other medical conditions are also available to transgender individuals. Specifically, where available for employees, the following benefits should all extend to transgender individuals, including for transition-related services:Short term medical leave

Mental health benefits

Pharmaceutical coverage (e.g., for hormone replacement therapies)

Coverage for medical visits or laboratory services

Coverage for reconstructive surgical procedures related to sex reassignment

10 points

10 points

10 points

Criteria 3

Supporting an Inclusive Culture & Corporate Social Responsibility (40 points possible)

a. Three LGBTQ+ Internal Training and Education Best Practices Businesses must demonstrate a firm-wide, sustained and accountable commitment to diversity and cultural competency, including at least three of the following elements:

New hire training clearly states that the nondiscrimination policy includes gender identity and sexual orientation and provides definitions or scenarios illustrating the policy for each

Supervisors undergo training that includes gender identity and sexual orientation as discrete topics (maybe part of a broader training) and provides definitions or scenarios illustrating the policy for each

Integration of gender identity and sexual orientation in professional development, skills-based or other leadership training that includes elements of diversity and/or cultural competency

Gender transition guidelines with supportive restroom, dress code and documentation guidance

Anonymous employee engagement or climate surveys conducted on an annual or biennial basis allow employees the option to identify as LGBTQ+.

Data collection forms that include employee race, ethnicity, gender, military and disability status '-- typically recorded as part of employee records '-- include optional questions on sexual orientation and gender identity.

Senior management/executive performance measures include LGBTQ+ diversity metrics

b. Employee group ''or'' Diversity council

c. Three Distinct Efforts of Outreach or Engagement to Broader LGBTQ+ Community | Businesses must demonstrate ongoing LGBTQ+ specific engagement that extends across the firm, including at least three of the following:

LGBTQ+ employee recruitment efforts with demonstrated reach of LGBTQ+ applicants (required documentation may include a short summary of the event or an estimation of the number of candidates reached)

Supplier diversity program with demonstrated effort to include certified LGBTQ+ suppliers

Marketing or advertising to LGBTQ+ consumers (e.g.: advertising with LGBTQ+ content,

advertising in LGBTQ+ media or sponsoring LGBTQ+ organizations and events)

Philanthropic support of at least one LGBTQ+ organization or event (e.g.: financial, in kind or pro bono support)

Demonstrated public support for LGBTQ+ equality under the law through local, state or federal legislation or initiatives

d. LGBTQ+ Corporate Social Responsibility

Contractor/supplier non-discrimination standards AND Philanthropic Giving Guidelines

10 points

10 points

15 points

5 pointsCriteria 4

Responsible citizenship (-25)

Employers will have 25 points deducted from their score for a large-scale official or public anti-LGBTQ+ blemish on their recent records. Scores on this criterion are based on information that has come to HRC's attention related to topics including but not limited to: undue influence by a significant shareholder calculated to undermine a business's employment policies or practices related to its LGBTQ+ employees; directing corporate charitable contributions to organizations whose primary mission includes advocacy against LGBTQ+ equality; opposing shareholder resolutions reasonably aimed at encouraging the adoption of inclusive workplace policies; revoking inclusive LGBTQ+ policies or practices; or engaging in proven practices that are contrary to the business's written LGBTQ+ employment policies.

-25 points

CEI 2019 Perfect Score

100 points

Best Places to Work for LGBTQ+ Equality 2022

THE HUMAN RIGHTS CAMPAIGN FOUNDATION IS proud to recognize the following 842 businesses that met all the criteria to earn a 100 percent rating and the designation of being a 2022 ''Best Place to Work for LGBTQ+ Equality.'' Top-rated CEI employers come from nearly every industry and region of the United States. To earn top ratings, these employers took concrete steps to establish and implement comprehensive policies, benefits and practices that ensure greater equity for LGBTQ+ workers and their families.

The Human Rights Campaign Business Advisory Council was founded in 1997. Members provide expert advice and counsel to the HRC Workplace Equality Program on lesbian, gay, bisexual, transgender and queer workplace issues based on their business experience and knowledge.

Mostafa Abdelguelil(he/him)Council Co-ChairSenior Manager, Diversity & InclusionCapital One

John Barry(he/him)Vice President & Relationship Manager, GlobalFunds ServicesNorthern Trust Corp.

Wyndolyn (Wendy) C. Bell, MD(she/her)UnitedHealthcare (retired)

Richard Clark(he/him)Chief Accounting OfficerAccenture Ltd.

Lanaya Irvin(she/her/they/them)(Business Council Co-Chair)Chief Executive OfficerCoqual

Linda Jolly(she/her)Vice President and Corporate SecretaryCorning Incorporated

Michael Lopez(he/him)Senior Vice President, Environment Social & GovernanceAbercrombie & Fitch

Willard L. McCloud, III(he/him)Vice President - Diversity, Equity and InclusionZimmer Biomet

Karen Morgan(she/her/they/them)CFM Operations ManagerGE

Carlos Orta(he/him/el)Vice President and Chief DE&I OfficerTyson Foods

Michelle Phillips(she/her)PartnerJackson Lewis PC

Scott Sapperstein(he/him)Assistant Vice President, Public Affairs & Strategic AlliancesAT&T

Corey Smith(he/him)Director, Global Diversity & InclusionNIKE

Steve Smotherman(he/him)Founder & PresidentSteve Smotherman Consulting LLC

Bob Witeck(he/him)President & FounderWiteck Communications, Inc.

Alex Rhodes(he/him)Global Diversity & Inclusion Executive and Enterprise LGBTQ* Strategy LeadBank of America

About the Workplace Equality Program

The Corporate Equality Index is a project of the Workplace Equality Program at the Human Rights Campaign Foundation. In addition to the CEI, the Workplace Equality Program researches, develops, and advocates for greater equity and inclusion for LGBTQ+ workers at the federal, state, and local levels, and provides support to employers seeking to enhance LGBTQ+ inclusion through education, training, policy, and consulting assistance.

Meet the Workplace Equality Program Team

Keisha Williams (she/her) is the Human Rights Campaign Foundation's Director of the Workplace Equality Program. Prior to joining HRC, Keisha practiced law for over a decade. She served as in-house counsel at various labor unions where she represented District of Columbia and federal government employees in discrimination claims and employment disputes. She also served as Chief Negotiator in bargaining and collaborated with high-level government officials on workplace equality initiatives. Keisha still serves as an adjunct professor of law at the University of Maryland School of Law, where she teaches Labor Law. In her spare time, she is a pro bono attorney at the Whitman Walker Clinic and assists clients with legal filings for name and gender marker changes. Keisha further serves on the inaugural Board of Directors for the Ray Corollary Initiative, Inc. and serves on the Georgetown University Law Center, Workplace Streetlaw Steering Committee. Keisha attained her Juris Doctor degree from the University of Maryland School of Law. She attained a Bachelor's of Business Administration with a concentration in Finance, with honors, from Howard University. She is licensed to practice law in Maryland and the District of Columbia.

RaShawn Hawkins, SHRM-CP (she/her) is the Deputy Director of the Workplace Equality Program at the Human Rights Campaign Foundation. As Deputy Director, RaShawn leads the team's work to create tools for employers to deepen their LGBTQ+ inclusion efforts including training & education programs, policy guidance and employee engagement resources. Prior to joining HRC, RaShawn worked in corporate Human Resources roles including Learning & Development. She holds a BA in Interdepartmental Studies from the University of Iowa.

Raina Nelson (they/them) is the Senior Manager of the Corporate Equality Index for the Human Rights Campaign Foundation and co-author of the CEI. In this role, they engage directly with employers nationwide to identify and improve LGBTQ+ inclusive policies, practices and benefits. Raina also manages all aspects of the CEI database and survey implementation. Before joining HRCF, Raina began their professional career conducting research on gender equity in education and the workplace. Raina graduated from New College of Florida with a Bachelor's degree in Political Science with a focus on the intersection of social identity and U.S. political ideology.

Courtney Stanford (she/her) is the Coordinator for the Workplace Equality Program at the Human Rights Campaign Foundation. In this role, she fields questions from employers and employees nationwide about the CEI process, works on CEI survey review, and provides logistical support for the entire Workplace Equality Program team. Courtney holds a BA in International Studies and a minor in Environmental Policy from the University of South Florida.

Linda Ochoa (she/her) is the Assistant for the Workplace Equality Program at the Human Rights Campaign Foundation. In this role, she facilitates the global workplace equality initiatives and provides logistical support for the entire Workplace Equality Program team. Linda graduated from Towson University with degrees in Business Administration and Marketing Intelligence. Before joining HRC, Linda's background was in the mortgage and healthcare industries. Linda has also volunteered for HRC and continues to volunteer with the DC Center for the LGBTQ+ community, Women's March and various organizations. She is passionate about social justice, intersectionality, Marie Kondo organization, and Passion Planning.

Special Thanks

Thank you to Jay Brown, Senior Vice President for Programs, Research and Training and Ty Cobb, Senior Director, Strategic Initiatives and Research at the Human Campaign Foundation for their leadership and stewardship of the Workplace Equality Program.

Thank you to HRC staff Elizabeth Bibi, Laurel Powell, Aryn Fields, Jon Groat, Wes Jones, Savonne Pearson, Tarine Wright, Emily Simeral Roberts, Carolyn Simon and Kelli Stam for communication, press and media guidance.

Thank you to Alec Carrasco and Christal Jones for their database knowledge and expertise. They always find a way to make everything work.

Thank you to Robert Villaflor, Josette Matoto and Carly Fox for editorial and design guidance.

Thank you to JoDee Winterhof, Molly Meegan, Cathryn Oakley, David Stacy and Sarah Warbelow for legal and policy guidance.

We would like to express our gratitude to all our HRC colleagues for their collaboration, teamwork and support.

The Corporate Equality Index 2022 was beautifully and efficiently designed by Tony Frye Design.

Biden's digital strategy: an army of influencers

Mon, 10 Apr 2023 16:26

Illustration: Annelise Capossela/Axios

President Biden's not-yet-official bid for re-election will lean on hundreds of social media "influencers" who will tout Biden's record '-- and soon may have their own briefing room at the White House, Axios has learned.

Why it matters: The move aims to boost Biden's standing among young voters who are crucial to Democrats' success in elections '-- and to potentially counter former President Trump's massive social media following, if he's the GOP nominee in 2024.

Biden's digital strategy team will connect with influencers across the nation to target those who may not follow the White House or Democratic Party on social media '-- or who have tuned out mainstream media altogether.Four Biden digital staffers are focused on influencers and independent content creators. The staffers officially work for the White House, not Biden's campaign '-- but reaching young and suburban voters is clearly a priority. Young voters (ages 18-29) preferred Biden over Trump by a 26-point margin in 2020, and Democrats over Republicans by 28 points in the 2022 midterms.A measure of the importance Team Biden is placing on its digital strategy: Rob Flaherty, who leads the effort, has been named assistant to the president '-- the same rank as the White House communications director and press secretary.What they're saying: "We're trying to reach young people, but also moms who use different platforms to get information and climate activists and people whose main way of getting information is digital," said Jen O'Malley Dillon, White House deputy chief of staff.

The details: Hundreds of (unpaid and like-minded) content creators are working with Biden's White House. They include:

Harry Sisson, a 20-year-old NYU student who breaks down the day's news on TikTok;Boston College professor Heather Cox Richardson, who has a widely read Substack and huge Twitter following, And Vivian Tu, a former trader who discusses financial topics in short clips on TikTok and Instagram. Zoom in: A dedicated White House briefing space for influencers to meet in person or by remote would be unprecedented '-- and a sign that the traditional Press Briefing Room no longer would be the administration's only messaging center.

It also would give some influencers more consistent access to the president."We actually asked the White House, 'When are we going to get press briefing passes?' " said Sisson, who has 660,000 followers on TikTok."They were actually were very responsive to it," he said of administration officials' reaction to the suggestion by some of the two dozen influencers who attended a State of Union watch party the White House. The result: The administration is moving toward giving influencers their own briefing room in the White House.Zoom out: Besides White House invitations, the administration has given influencers opportunities for access to Biden when he goes on the road.

At the Detroit Auto Show in September 2022, officials invited Daniel Mac '-- whose 13.8 million followers watch him ask drivers of nice cars what they do for a living '-- to ask Biden that question."Well I'm married to Jill Biden and I make sure we're making a lot more electric vehicles in America," Biden responded, wearing aviator sunglasses and sitting in the driver's seat of a Cadillac LYRIQ. The video has been seen 38 million times. At the same-sex marriage bill signing celebration at the White House December of last year, LGBTQ+ influencers were invited. What's next: The White House wants to work with influencers who have local audiences when Biden travels to their state '-- just as its regional team has built relationships with local media outlets.

Reality check: Biden's followings on social media don't compare with Trump's, especially on especially on Youtube and Facebook.

Biden's strategy is aimed more at platforms favored by younger voters, such as Instagram and TikTok.The intrigue: The administration is courting support on TikTok even as it has called for the platform to be sold or else risk being banned in the U.S. because of its owner's ties to China's government.

Guest Opinion: There's no such thing as artificial intelligence, by Parmy Olson | Op-Ed Columns | sentinelsource.com

Mon, 10 Apr 2023 16:13

No one sells the future more masterfully than the tech industry. According to its proponents, we will all live in the ''metaverse,'' build our financial infrastructure on ''web3'' and power our lives with ''artificial intelligence.'' All three of these terms are mirages that have raked in billions of dollars, despite bite back by reality.

Artificial intelligence in particular conjures the notion of thinking machines. But no machine can think, and no software is truly intelligent. The phrase alone may be one of the most successful marketing terms of all time.

Last week OpenAI announced GPT-4, a major upgrade to the technology underpinning ChatGPT. The system sounds even more humanlike than its predecessor, naturally reinforcing notions of its intelligence. But GPT-4 and other large language models like it are simply mirroring databases of text '-- close to a trillion words for the previous model '-- whose scale is difficult to contemplate. Helped along by an army of humans reprogramming it with corrections, the models glom words together based on probability. That is not intelligence.

These systems are trained to generate text that sounds plausible, yet they are marketed as new oracles of knowledge that can be plugged into search engines. That is foolhardy when GPT-4 continues to make errors, and it was only a few weeks ago that Microsoft Corp. and Alphabet Inc.'s Google both suffered embarrassing demos in which their new search engines glitched on facts.

Not helping matters: Terms like ''neural networks'' and ''deep learning'' only bolster the idea that these programs are humanlike. Neural networks aren't copies of the human brain in any way; they are only loosely inspired by its workings. Long-running efforts to try and replicate the human brain with its roughly 85 billion neurons have all failed. The closest scientists have come is to emulating the brain of a worm, with 302 neurons.

We need a different lexicon that doesn't propagate magical thinking about computer systems, and doesn't absolve the people designing those systems from their responsibilities. What is a better alternative? Reasonable technologists have tried for years to replace ''AI'' with ''machine learning systems,'' but that doesn't trip off the tongue in quite the same way.

Stefano Quintarelli, a former Italian politician and technologist came up with another alternative, ''Systemic Approaches to Learning Algorithms and Machine Inferences'' or SALAMI, to underscore the ridiculousness of the questions people have been posing about AI: Is SALAMI sentient? Will SALAMI ever have supremacy over humans?

The most hopeless attempt at a semantic alternative is probably the most accurate: ''software.''

''But,'' I hear you ask, ''What is wrong with using a little metaphorical shorthand to describe technology that seems so magical?''

The answer is that ascribing intelligence to machines gives them undeserved independence from humans, and it abdicates their creators of responsibility for their impact. If we see ChatGPT as ''intelligent,'' then we are less inclined to try and hold San Francisco startup OpenAI LP, its creator, to account for its inaccuracies and biases. It also creates a fatalistic compliance among humans who suffer technology's damaging effects; though ''AI'' will not take your job or plagiarize your artistic creations '-- other humans will.

The issue is ever more pressing now that companies from Meta Platforms Inc. to Snap Inc. to Morgan Stanley are rushing to plug chatbots and text and image generators into their systems. Spurred by its new arms race with Google, Microsoft is putting OpenAI's language model technology, still largely untested, into its most popular business apps, including Word, Outlook and Excel. ''Copilot will fundamentally change how people work with AI and how AI works with people,'' Microsoft said of its new feature.

But for customers, the promise of working with intelligent machines is almost misleading. ''[AI is] one of those labels that expresses a kind of utopian hope rather than present reality, somewhat as the rise of the phrase 'smart weapons' during the first Gulf War implied a bloodless vision of totally precise targeting that still isn't possible,'' says Steven Poole, author of the book Unspeak, about the dangerous power of words and labels.

Margaret Mitchell, a computer scientist who was fired by Google after publishing a paper that criticized the biases in large language models, has reluctantly described her work as being based in ''AI'' over recent years. ''Before'... people like me said we worked on 'machine learning.' That's a great way to get people's eyes to glaze over,'' she admitted to a conference panel on Friday.

Her former Google colleague and founder of the Distributed Artificial Intelligence Research Institute, Timnit Gebru, said she also only started saying ''AI'' around 2013: ''It became the thing to say.''

''It's terrible but I'm doing this too,'' Mitchell added. ''I'm calling everything that I touch 'AI' because then people will listen to what I'm saying.''

Unfortunately, ''AI'' is so embedded in our vocabulary that it will be almost impossible to shake, the obligatory air quotes difficult to remember. At the very least, we should remind ourselves of how reliant such systems are on human managers who should be held accountable for their side effects.

Author Poole says he prefers to call chatbots like ChatGPT and image generators like Midjourney ''giant plagiarism machines'' since they mainly recombine prose and pictures that were originally created by humans. ''I'm not confident it will catch on,'' he says.

In more ways than one, we really are stuck with ''AI.''

Parmy Olson is a Bloomberg columnist covering technology.

12ft | Wegovy, Ozempic ads slammed as too 'evocative' in NYC subway

Mon, 10 Apr 2023 15:58

Removing Paywall

'Significant Victory': Federal Judge Requires FDA Reverse Approval Of Abortion Pill | The Daily Caller

Mon, 10 Apr 2023 14:36

A federal judge ruled Friday that the Food and Drug Administration (FDA) must reverse its previous approval of the chemical abortion drugs mifepristone and misoprostol.

The Alliance Defending Freedom, representing the Alliance for Hippocratic Medicine, the American Association of Pro-Life Obstetricians and Gynecologists, the American College of Pediatricians, the Christian Medical & Dental Associations, as well as several doctors, brought a lawsuit against the FDA in November. They alleged that the agency ''eliminated necessary safeguards'' in their haste to approve the drug.

U.S. District Court Judge Matthew Kacsmaryk of Texas, a Donald Trump appointee, issued a preliminary injunction which will go into effect in seven days.

''Plaintiffs have credibly alleged past and future harm resulting from the removal of restrictions for chemical abortion drugs,'' Kacsmaryk wrote in his opinion. (RELATED: California State Sen. Scott Wiener Calls Christian Org A 'Hate Group' For Saying 'Men Cannot Have A Menstrual Cycle')

The opinion also criticized the FDA for doing away with restrictions on the use of abortion pills in 2000.

''In September 2000, FDA abandoned its safety proposals and acquiesced to the objections of the Population Council and Danco,'' the judge wrote. ''Despite its 'serious reservations' about mifepristone's safety, FDA approved a regimen that relied on a self-certification that a prescribing physician has the ability to diagnose ectopic pregnancies.''

If the case is appealed, it would go to the conservative-leaning Fifth Circuit Court of Appeals, and if appealed further could go to the Supreme Court.

BREAKING🚨 Federal court ruled to halt the @US_FDA's approval of chemical abortion drugs.

This is a significant victory for the doctors and medical associations we represent and more importantly, the health and safety of women and girls.

'-- Alliance Defending Freedom (@ADFLegal) April 7, 2023

The FDA had to designate pregnancy as an ''illness'' and abortion drugs as providing a ''meaningful therapeutic benefit'' in order to get the abortion drugs approved, according to the lawsuit.

''By illegally approving dangerous chemical abortion drugs, the FDA put women and girls in harm's way, and it's high time the agency is held accountable for its reckless actions,'' the Alliance Defending Freedom said in a statement provided to the Daily Caller on Friday. ''Pregnancy is not an illness, and chemical abortion drugs don't provide a therapeutic benefit'--they can pose serious and life-threatening complications to the mother, in addition to ending a baby's life.''

''The FDA never had the authority to approve these hazardous drugs and remove important safeguards. This is a significant victory for the doctors and medical associations we represent and more importantly, the health and safety of women and girls.''

Demand for abortion pills in states with the most abortion restrictions skyrocketed in the months following the Supreme Court's reversal of Roe v. Wade, according to a study from The Journal of the American Medical Association (JAMA) Network.

The FDA announced in January that pharmacies would be allowed to dispense abortion pills to customers, but Walgreens has since decided it will not dispense the drug in many states, including some where the pills are legal.

New polling provided to the Daily Caller by CRC Research for Susan B. Anthony Pro-Life America found that 61% of Americans disagree that it is safe to distribute abortion pills through the mail with little to no supervision, including 41% that feel strongly about the statement. Based on what they know about the FDA, 51% of Americans disagree that the abortion pill has been vetted carefully enough to protect women's health and safety, compared to 39% who agree it has been vetted sufficiently.

Twelve blue states filed a lawsuit against the FDA in February for placing ''burdensome restrictions'' on mifepristone, arguing that limits on ''who can prescribe and dispense the drug'' violate the Due Process Clause of the Fifth Amendment.
ALL VIDEOS

VIDEO - "NOW (Night of Worship)"_6:30 Wednesday April 12, 2023 - YouTube

VIDEO - GRAPHIC: At least 18,000 cattle killed in dairy farm explosion

Thu, 13 Apr 2023 14:45

TUCSON, Ariz. (13 News) - At least 18,000 cattle were killed in an explosion and fire at a dairy farm in Texas on Monday, April 10.

KFDA, 13 News' sister station in Amarillo, Texas, reported it happened at the South Fork Dairy in Dimmitt.

Castro County Sheriff Sal Rivera said the fire from the explosion spread to the building where they haul cattle before bringing them into the milking area and into a holding pen.

''There's some that survived, there's some that are probably injured to the point where they'll have to be destroyed,'' Rivera said.

While the Texas State Fire Marshal is investigating the explosion Rivera said he believes it was due to insulation catching fire.

The Animal Welfare Institute said this is the deadliest barn fire for cattle overall and the most devastating barn fire in Texas since the group began tracking barn fires in 2013.

''We hope the industry will remain focused on this issue and strongly encourage farms to adopt commonsense fire safety measures,'' said Margie Fishman, Public Relations Manager with AWF. ''It is hard to imagine anything worse than being burned alive.''

The Texas Commission on Environmental Quality is assisting the owner with carcass disposal/debris issues, which could take weeks.

A female employee was injured in the explosion and was in critical condition as of Wednesday, according to KFDA. South Fork Dairy, which employees

With an average dairy cow worth $1,300, the loss for South Fork Dairy is in the tens of millions of dollars, not counting the damaged facility.

Texas is ranked fourth nationally in milk production, according to the Texas Association of Dairymen, and Castro County is second in the state.

Copyright 2023 13 News. All rights reserved.

VIDEO - 'I've got your daughter': Mom warns of terrifying AI voice cloning scam that faked kidnapping

Thu, 13 Apr 2023 14:42

SCOTTSDALE, Ariz. (KPHO/Gray News) '' A mother in Arizona is warning others about a terrifying phone scam involving artificial intelligence that can clone a loved one's voice.

Jennifer DeStefano said she got a call from an unfamiliar phone number and almost let it go to voicemail. However, her 15-year-old daughter was out of town skiing, so she picked up the phone, fearing maybe there had been an accident.

''I pick up the phone and I hear my daughter's voice, and it says, 'Mom!' and she's sobbing,'' DeStefano recalled. ''I said, 'What happened?' And she said, 'Mom, I messed up,' and she's sobbing and crying.''

DeStefano said she then heard a man's voice say, ''Put your head back, lie down.''

DeStefano's confusion turned to terror.

''This man gets on the phone and he's like, 'Listen here. I've got your daughter. This is how it's going to go down. You call the police, you call anybody, I'm going to pop her so full of drugs. I'm going to have my way with her and I'm going to drop her off in Mexico,''' DeStefano recalled. ''And at that moment, I just started shaking. In the background she's going, 'Help me, Mom. Please help me. Help me,' and bawling.''

The man on the phone then demanded money, first asking for $1 million, then lowering his demand to $50,000 when DeStefano said she did not have the funds.

DeStefano kept him talking. During the phone call, she happened to be at her other daughter's dance studio, surrounded by worried moms who wanted to help. One called 911, and another called DeStefano's husband.

Within just four minutes, they confirmed her daughter was safe.

''She was upstairs in her room going, 'What? What's going on?''' DeStefano said. ''Then I get angry, obviously, with these guys. This is not something you play around with.''

Once she realized her daughter was safe, DeStefano hung up. But there had been no doubt in DeStefano's mind that it was her daughter's voice on the phone.

''It was completely her voice. It was her inflection. It was the way she would have cried,'' she said. ''I never doubted for one second it was her. That's the freaky part that really got me to my core.''

But it turns out, the 15-year-old never said any of it. The voice on the phone was just a clone created by artificial intelligence.

Subbarao Kambhampati, a computer science professor at Arizona State University specializing in AI, said voice cloning technology is rapidly improving.

''You can no longer trust your ears,'' Kambhampati said.

Previously, cloning a voice would take a large number of samples from the person who was being cloned. Nowadays, Kambhampati said a voice can be cloned with just three seconds of your voice.

''And with the three seconds, it can come close to how exactly you sound,'' Kambhampati said. ''Most of the voice cloning actually captures the inflection as well as the emotion.''

Deep learning technology currently has very little oversight, and according to Kambhampati, it is becoming easier to access and use.

''It's a new toy, and I think there could be good uses, but certainly there can be pretty worrisome uses too,'' he said.

Dan Mayo, the assistant special agent in charge of the FBI's Phoenix office, said scammers who use voice cloning technology often find their prey on social media.

To avoid becoming a victim of scams like this, Mayo urges everyone to keep their profiles on private mode and not visible to the public.

''You've got to keep that stuff locked down. The problem is, if you have it public, you're allowing yourself to be scammed by people like this, because they're going to be looking for public profiles that have as much information as possible on you, and when they get a hold of that, they're going to dig into you,'' Mayo said.

According to the Federal Trade Commission, scammers will often ask victims to wire money, send cryptocurrency or pay ransom with gift cards. Once the money is transferred, getting it back is almost impossible.

Mayo said red flags to look for include the phone number coming from an area code that you're not familiar with, the phone number being an international number, and the person on the phone not allowing you to talk to other family members for help.

''Just think of the movies. Slow it down. Slow the person down. Ask a bunch of questions,'' Mayo said. ''If they have someone of interest to you, you're going to know a lot of details about them that this scam artist isn't going to know. You start asking questions about who it is and different details of their background that are not publicly available, you're going to find out real quick that it's a scam artist.''

It's unknown how many people have received similar scam calls about a family emergency or fake kidnapping using an AI voice clone, but Mayo said it ''happens on a daily basis,'' but not everyone reports the call.

Mayo said he believes people are so relieved that their family members are safe that they forget to report the scam.

''However, there are some people who give in to these and they end up sending the money to these individuals,'' Mayo said. ''Trust me, the FBI is looking into these people, and we find them.''

As for DeStefano, she's thankful she didn't send the scammers any money, but that didn't stop her from being traumatized.

''I literally just sat down and broke down crying,'' she said. ''They were tears for all of the what ifs. It all just seemed so real.''

Copyright 2023 KPHO via Gray Media Group, Inc. All rights reserved.

VIDEO - (20) Young Americans for Liberty on Twitter: "Ron Paul dropping bombs like it's 2002 and his name is George W. Bush. "There's been a coup. We don't have any resemblance to a government that believes in a republic. We don't have honest money. We do

Thu, 13 Apr 2023 14:35

Young Americans for Liberty : Ron Paul dropping bombs like it's 2002 and his name is George W. Bush."There's been a coup. We don't have any res'... https://t.co/JNBz2vKTzO

Wed Apr 12 15:30:00 +0000 2023

🇺🇸Anna Clark🇺🇸 : @YALiberty @maarc80 I will always regret not voting for him ðŸ•

Thu Apr 13 11:52:42 +0000 2023

Nesen : @YALiberty Nice to see he is still sharp at 88. Only campaign I've ever donated to back in 08 & 12

Thu Apr 13 10:11:27 +0000 2023

TegridyOtter : @YALiberty we need him back on the presidential ballot.

Thu Apr 13 03:47:16 +0000 2023

VIDEO - (41) Ian Miles Cheong on Twitter: "Susan Rice does magic math, claims that systemic racism has reduced the size of the economy by $16 trillion. https://t.co/UpckIfTEBc" / Twitter

Thu, 13 Apr 2023 14:32

Ian Miles Cheong : Susan Rice does magic math, claims that systemic racism has reduced the size of the economy by $16 trillion. https://t.co/UpckIfTEBc

Wed Apr 12 19:10:17 +0000 2023

VIDEO - Historic storm could form in the Gulf of Mexico this week; earliest named storm since 2017

Thu, 13 Apr 2023 14:21

Published April 11, 2023 1:11PM

Updated April 12, 2023 2:36PM

Six of the last seven hurricane seasons have seen a named tropical system form in the month of May, but April? Well, that's extremely rare!

According to National Hurricane Center records, only two named tropical systems occurred in April - Ana in 2003 and Arlene in 2017. Neither of those tropical storms impacted land as Ana made a long trek across the Atlantic Ocean away from the United States and Arlene simply spun around the central Atlantic for one day.

DOWNLOAD THE FOX 26 HOUSTON APP BY CLICKING HERE

There have been a few very small and poorly documented tropical depressions during the month of April, but most certainly, organized tropical systems are exceedingly rare and none have occurred in the Gulf of Mexico.

A complex pattern this week involves an unusual orientation of the jet stream which is becoming pinched near the Texas coast. This will likely create what is called a "cutoff low".

Lows like this aren't uncommon, but the location of this one is and, although its spin is occurring at around 20k feet above the ground, it could help to create a low at the surface.R

RELATED: Hurricane Preps

Given the water temperatures in the low 70s, this would not likely be a purely tropical low but still could be feisty with gusty winds and heavy rain from Louisiana to Florida. It remains to be seen how the National Hurricane Center will handle the naming of this odd system, but it may be designated a "subtropical depression" or a "subtropical storm".

The decision would have to be made whether the area of low pressure is a "warm core", meaning a tropical system that feeds off of warm water, or a "cold core" system, more like the lows that bring cold fronts.

Rare tropic-like system could in the Gulf this week; earliest named storm since 2017According to National Hurricane Center records, only two named tropical systems occurred in April - Ana in 2003 and Arlene in 2017. Neither of those tropical storms impacted land as Ana made a long trek across the Atlantic Ocean away from the United States and Arlene simply spun around the central Atlantic for one day.

Hybrid storms can and do happen, but even those are nearly unknown in recent memory in the Gulf of Mexico.

MORE: HOUSTON WEATHER ALERTS

In another strange twist of fate, the first name on this year's list is Arlene - yes, the same name as the last tropical storm to form in April (names recycle every six years unless retired)!

Whatever forms, and it could stay a non-tropical system, it would likely have minimal effects on Texas.

Pockets of heavy rain could impact an area from Louisiana to Florida.

The Atlantic hurricane season officially begins on June 1 and ends on November 30.

FOR MORE HOUSTON WEATHER

However, there has been a discussion about whether the start date should be moved ahead to May 15.

As of Wednesday morning, the expectations for a hybrid-tropical system remain complicated. On one hand, this low seems to be building strength and taking on more of a tropical "look". On another hand, it may not meet the exact definition of a subtropical depression from the National Weather Service.

Here is their technical definition:

Subtropical Cyclone:

A non-frontal low-pressure system that has characteristics of both tropical and extratropical cyclones. Like tropical cyclones, they are non-frontal, synoptic-scale cyclones that originate over tropical or subtropical waters, and have a closed surface wind circulation about a well-defined center.

In contrast to their technical definition, Hurricane Martin formed in late October last year and was undoubtedly a "frontal" system, meaning attached to a cold/stationary front, but still got a name. For this reason, I think we can't dismiss the possibility of this system briefly receiving the "subtropical depression" label.

The opposing point of view is that there is a large "upper-level, cutoff" low over the Texas-Louisiana state line. It's this low high in the atmosphere that is mostly responsible for the low in the Gulf. Also, the Gulf low is clearly attached to a cold and warm front, so that is a counterargument.

However this turns out, heavy downpours and gusty winds are possible from Louisiana to Florida for the next few days.

VIDEO - Gravitas: China reports first human death from H3N8 influenza - YouTube

VIDEO - SDG&E proposes income based billing for electricity | cbs8.com

Thu, 13 Apr 2023 14:04

The proposal is part of a new state law requiring utility companies to come up with fixed-rate plans to make billing more equitable.

SAN DIEGO '-- There are some big proposed changes to how you'll be billed by SDG&E for electricity.

A new state law requires utility companies in California to come up with a fixed rate plan, as a way to help stabilize rates and make billing more equitable.

Those plans were due on April 7.

SDG&E, along with Pacific Gas & Electric and Southern California Edison, teamed up and a proposal to charge people based on their income.Currently, you not only pay for how much electricity your household uses, but other things such as how that electricity is delivered.

Both prices vary month to month.

SDG&E's plan is to offer residential customers a fixed delivery rate every billing cycle, no matter how much electricity is used.

''By having a fixed price for the delivery portion, we can actually reduce the remaining electricity rate by about 42% so that can create additional bill savings,'' said Scott Crider, SDG&E's Vice President of External Affairs and Operations Support.

What could that look like?

Under the current billing system, at 47 cents per kilowatt hour, the average customer pays $188 per month.Under the fixed rate proposal, the customer would pay $181.Here's a breakdown of where you'd fall based on your income.

Households earning less than $28,000 a year would pay a fixed delivery rate of $24 per month.Households earning under $69,000, that fixed price goes up to $34.Households earning between $69,000 and $180,000, that price goes up to $73.Households earning over $180,000 dollars will pay $128.Everyone's average kilowatt hour rate drops from 47 cents to 27 cents.Since the plan is income base, CBS 8 asked SDG&E to respond to those who may feel uncomfortable giving away their financial information.

''We don't want customers' financial information. Customers don't want provide us their financial information. So, our perspective is the state is very capable to be able to do this and send us the data that's needed to get the customers into the right buckets," said Crider.

Crider says SDG&E would not make more profit under this plan, but CBS 8 wanted to know: with so many customers potentially saving money, how would SDG&E maintain its record numbers?

We asked SDG&E: To make SDG&E's profits stay consistent, if you have higher income customers paying more, does it make up for the savings from the lower and middle income customers?

''Yes. That's correct,'' said Crider.

Another thing to consider, this would impact every residential customer, including those with solar who don't currently pay a delivery fee.

Fixed rates are already the norm for water and sewage.

As for electricity, Crider says these changes are the result of California's climate goals, saying with more and more people transitioning to cleaner energy, such as electric vehicles, we have to find a way to make it more affordable.

"Everything is going up and we've heard loud and clear from our customers that they're struggling and they need action taken," said Crider.

Crider admitted, while this proposal could offer short term relief, what happens in the long run is unclear.

"It's hard to say where the rates will go. We know that more infrastructure is gonna be needed and this is not gonna be an issue that's completely addressed with one proposal," said Crider.

The California Public Utilities Commission has until July 2024 to look over proposals and figure out when the change will take effect.

This will impact community choice energy customers as well.

At CBS 8, we are always Working for You and our San Diego community. If there is something you would like us to investigate, please share your idea here or email us at workingforyou@cbs8.com.

WATCH RELATED: 'Out of control' | SDG&E customers sound off about potential rate hikes

HERE ARE MORE WAYS TO GET CBS 8:

ADD THE CBS8+ APP TO YOUR STREAMING DEVICE Roku | Amazon Fire

DOWNLOAD THE CBS 8 MOBILE APP | iPhone | Android

CBS 8 ON SOCIAL MEDIA |'¯ Facebook '¯|'¯ Twitter '¯|'¯ Instagram '¯|'¯ YouTube

VIDEO - Harry Potter star Daniel Radcliffe says adult worries over kids transitioning gender 'condescending' | Daily Mail Online

Thu, 13 Apr 2023 13:56

Daniel Radcliffe told transgender children that adults concerned about children changing gender are 'condescending'.

The Harry Potter actor, 33, told six trans and non-binary children at a roundtable organised by LGBTQ suicide prevention charity The Trevor Project that adults should just 'trust kids to tell us who they are'.

This comes after Radcliffe hit out at author JK Rowling saying that young fans were 'hurt' by her transgender views.

He was told at the round table by 11-year-old trans girl, Daley: 'I learned out of the cradle that I was a boy: "I should like blue, I should like sports, I should be manly, I should like superheroes".'

As Radcliffe nodded, she continued: 'And I never associated myself with those things and we are told that we are not old enough to know this yet. I am only 11-years-old, how do I know I'm a girl? And I need more time to think about this.'

Harry Potter actor Daniel Radcliffe (pictured), 33, has told trans children that adults concerned about kids changing gender are 'condescending'

Radcliffe (left) hit out at Harry Potter author JK Rowling (right) last year saying that young fans of the series were 'hurt' by her transgender views

Daniel Radcliffe launched is acting career starring as Harry Potter (pictured in Harry Potter and the Prisoner of Azkaban) in the film franchise adaptation of JK Rowling's books

Radcliffe responded: 'But there are also people who also have a slightly condescending but well-meaning attitude of, "people are young... and it is a huge decision.'

He asked the group of trans youths: 'I would love to hear from all of you about why we can trust kids to tell us who they are.'

Jasline, who says she transitioned 'super young', said: 'I came out to my that I was a girl at the age of six. I have lived female more than I have ever lived male. I feel it's living proof that I obviously knew who I was just like everyone else does.'

Daley added: 'I don't understand why I can't just decide that I'm a girl. If it's a big decision to decide I'm a girl, it's a big decision to decide I'm a boy.'

'Right,' Radcliffe said as he nodded.

Daley continued: 'It's the same thing. There's no age you don't have to be 18 to decide that "I am who I am".'

Commenting on the differences in their childhoods, Radcliffe said: 'I always knew I was a boy because that was a thing I grow up knowing.'

Radcliffe said: 'There are some people in the world who are not trying to engage in this conversation in any kind of good faith.

'I think a lot of the time it's just because people don't know a young trans person so there's just this theoretical idea about this in their head.'

Meteo-Luis, who is a trans man, said: 'I agree with you in that people have their perceptions and their predisposed biases about out community and I think that it's our job to educate and fix that.'

'And part of that of that is showcasing gender euphoria. I see a lot of videos online of guys taping for the first time.'

Mateo-Luis recalled the first time he used a binder - using bandages or straps to flatten one's chest, saying: 'I was in tears because seeing yourself as yourself for the first time is such a transformative experience.'

Last November, Radcliffe fired a thinly-veiled shot at Rowling by claiming young, queer and transgender fans of the franchise were upset by her stance.

Miss Rowling drew outrage on Twitter in 2020 when she criticized an opinion piece published by the website Devex, a media platform for the global development community, that used the phrase 'people who menstruate'

His comments were a barbed reference to Miss Rowling's tweets from June 2020 in which she ridiculed an article's description of women as 'people who menstruate'.

Responding to the online article's headline, the Harry Potter creator then tweeted: 'I'm sure there used to be a word for those people. Someone help me out. Wumben? Wimpund? Woomud?'

In response at the time, Radcliffe hit out at the author, saying: 'To all the people who now feel that their experience of the books has been tarnished or diminished, I am deeply sorry for the pain these comments have caused you'.

Referencing Ms Rowling's comments, Radcliffe - who at the time stated 'transgender women are women' - said that he wanted to let members of the LGBT+ community know 'not everybody in the franchise felt that way'.

He added: 'The reason I felt very, very much as though I needed to say something when I did was because, particularly since finishing Potter, I've met so many queer and trans kids and young people who had a huge amount of identification with Potter on that.

'And so seeing them hurt on that day I was like, I wanted them to know that not everybody in the franchise felt that way. And that was really important.'

VIDEO - Leaker of US intelligence is gun enthusiast in his 20s, says Washington Post ' FRANCE 24 English - YouTube

VIDEO - 'The Middle Class Is The Most F*cked Group Of People': Left-Wing Commentator Slams Green Energy Initiatives | The Daily Caller

Thu, 13 Apr 2023 13:40

Left-wing commentator Ana Kasparian criticized the costs of green energy initiatives for the middle class based on her experience with electric car chargers.

Kasparian said she is ''freaking the f*ck out'' about her condo complex taking out a significant loan to fund electric car charging stations and complained about the lack of government assistance for residents. (RELATED: Ana Kasparian Says She'll 'Never Apologize' For Slamming Terms Like 'Birthing Persons')

Not only has Ana Kasparian changed her position on women erasing language. But she also has realized that the Green New Deal initiatives are absurd after her Condo board decided to go into significant debt just to pay for charging stations for all the cars. Hilarious pic.twitter.com/y60YfEJjR6

'-- Sean Fitzgerald (Actual Justice Warrior) (@IamSean90) April 12, 2023

''I don't give a f*ck about tax credits because you have to shell out cash, okay, like, I just, I want to do something in response to climate change, that is not my issue here. My issue is how we're forced to make all these changes that are a financial burden, a giant inconvenience with little to no help, and the solution from the government in terms of like 'no, no you get financial benefits for doing this,' is f*cking tax credits,'' she said.

''I'm so sick of it, it's just like endless pressure, pressure, pressure, I can't take it,'' she continued. Her co-host Cenk Uygur began to talk about the burdens on the middle class, when Kasparian interrupted. ''Oh, the middle class is the most f*cked group of people in this country!,'' she said.

Kasparian is the executive producer and host of ''The Young Turks,'' alongside Uygur. Both have been attacked by left-wing pundits for objecting to the activist term ''birthing person'' and doubling down in the face of scrutiny. Kasparian said Tuesday she would stop working with ''leftists'' who use The Young Turks to build a platform and later bash the show when it is convenient.

VIDEO - NPR quits Twitter over 'government-funded' label ' FRANCE 24 English - YouTube

VIDEO - Germany waters down plan to legalize Cannabis following EU concerns | DW News - YouTube

VIDEO - Catastrophic Flooding In Fort Lauderdale Closes The Airport, Schools Across Area - YouTube

VIDEO - Fort Lauderdale-Hollywood International Airport reopens upper level roadways - CBS Miami

Thu, 13 Apr 2023 12:51

Fort Lauderdale-Hollywood International Airport opens upper level roadways

Fort Lauderdale-Hollywood International Airport opens upper level roadways 02:08 FORT LAUDERDALE - The Wednesday washout created chaos at Fort Lauderdale-Hollywood International Airport.

The flooding was so severe that the airport closed and law enforcement blocked off the entrance. Some travelers, so desperate to catch their flights, got out on the side of the road and climbed up hills with their luggage to make it to the airport.

"First time we came around here, we saw some cars parked on the side, and people just got out and walked through right into the airport. The officer said that they wouldn't let them in if they did that, but I guess some people are taking the chance," said Aaron Blogg who was heading to New York.

"We're trying to get back home, and they're telling us that the airport is closed and so at this point, we don't know what to do," said Ebony Dorsey, who's traveling to Cleveland.

Around 2 a.m. Thursday, airport officials said the upper level (departures) roadway re-opened to all travelers waiting for family or friends to pick them up as traffic exiting the airport was clear. The entrance to the lower level (arrivals) was still closed.

The airport is expected to be closed until at least noon.

According to the flight tracking company FlightAware, nearly 300 flights have been canceled.

In: Fort Lauderdale Fort Lauderdale Hollywood International Airport Thanks for reading CBS NEWS.

Create your free account or log in for more features.

VIDEO - What is Social and Emotional Learning (SEL)? - YouTube

VIDEO - (23) Delano Squires on Twitter: "Check the difference in cadence and presentation between 2016 and now. Not sure whose 60s-inspired cosplay is faker'--Kaep's journey from clean cut playboy to Black Panther or Pearson's transition from Bowdoin

Wed, 12 Apr 2023 19:35

Delano Squires : Check the difference in cadence and presentation between 2016 and now. Not sure whose 60s-inspired cosplay is faker'... https://t.co/AA35Eg0ZGj

Tue Apr 11 16:02:44 +0000 2023

Politicat 🇺🇸 On GETTR/Truth : @DelanoSquires Just in case you think you're not being played🤨

Wed Apr 12 18:45:04 +0000 2023

Flea Farts : @DelanoSquires Same Vibes'...https://t.co/bzV0DG0sxM

Wed Apr 12 18:33:01 +0000 2023

Erin Elmore, Esq. : @DelanoSquires Cringe

Wed Apr 12 18:15:47 +0000 2023

Dr. Shane : @DelanoSquires Oh my'... that's the same guy? Holy moly'...

Wed Apr 12 18:04:28 +0000 2023

UltraMAGADeb : @DelanoSquires @KP_Kelly That's just weird! Dual personalities?

Wed Apr 12 18:03:17 +0000 2023

Lee Cross : @DelanoSquires Yes b/c @SenJohnKennedy really talks like a backwater alligator hunter 🤣

Wed Apr 12 17:40:35 +0000 2023

Don't Tread on Me : @DelanoSquires Democrats in a nutshell: wholesale charlatans

Wed Apr 12 17:40:21 +0000 2023

Jay Straley : @DelanoSquires They walked out, let them stay out.

Wed Apr 12 17:31:39 +0000 2023

WildRoots : @DelanoSquires The images and speeches of MLK & Malcom X changed as they matured too. It it called growth, maturing'... https://t.co/e1mzZKC50w

Wed Apr 12 17:10:59 +0000 2023

Bobby Hooper : @DelanoSquires Dude went from very white to very black lol. These phonies are so transparent but half the country'... https://t.co/L8xHYYR2Bd

Wed Apr 12 16:54:57 +0000 2023

TopJimmyRx : @DelanoSquires POSER!!!!! ðŸ'ðŸ'ðŸ'ðŸ'

Wed Apr 12 16:00:33 +0000 2023

E G : @DelanoSquires https://t.co/QHi2CZeXUH

Wed Apr 12 15:58:30 +0000 2023

VIDEO - (22) CNN on Twitter: "Your next real steak could come from a 3D printer https://t.co/iBoFCWfGlV" / Twitter

Wed, 12 Apr 2023 19:18

CNN : Your next real steak could come from a 3D printer https://t.co/iBoFCWfGlV

Mon Apr 10 17:01:08 +0000 2023

VIDEO - Juul to pay $462 million to six states in its largest settlement ever

Wed, 12 Apr 2023 19:02

Juul Labs, the e-cigarette maker, is paying $462 million to six US states and DC in the largest multi-state settlement yet for the troubled company that has been accused of contributing to the rise of vaping among youth.

The settlement, which was co-led by New York Attorney General Letitia James and California Attorney General Rob Bonta, will force retailers to secure Juul products behind counters and verify the age of purchasers, and Juul must cease using people under 35 years old in its marketing materials that directly or indirectly target young people.

Wednesday's announcement "places the most stringent restrictions on Juul's marketing, sales, and distribution practices in order to protect and prevent minors from underage smoking," according to a release from the New York's AG office.

"Juul lit a nationwide public health crisis by putting addictive products in the hands of minors and convincing them that it's harmless. Today they are paying the price for the harm they caused," James said in the statement. New York is receiving nearly $113 million and will use the money to fund programs that deter underage smoking.

The lawsuit accuses Juul of directly promoting its products to high school students, including in one instance where a Juul representative "falsely told high school freshmen that its products were safer than cigarettes." It also said the company's ad campaign reached teens across the US, who then told their friends about Juul in "rapid numbers."

Juul said that this settlement means the company is "nearing total resolution" of its "historical legal challenges and securing certainty for our future," which now total more than $1 billion.

"Now we are positioned to dedicate even greater focus on our path forward to maximize the value and impact of our product technology and scientific foundation," a Juul spokesperson told CNN.

E-cigarette usage among New York City high school students soared from 8% in 2014, a year prior to Juul's launch, to to 23.5% in 2018, and caused to 2,500 hospitalizations for vaping-related illnesses, according to the release.

About 2.55 million middle and high school students in the US used e-cigarettes in 2022, according to researchers from the US Centers for Disease Control and Prevention and the US Food and Drug Administration.

Based on responses to the 2022 National Youth Tobacco Survey, 14.1% of high school students and 3.3% of middle school students reported using e-cigarettes within the previous 30 days. Of those, 42.3% reported using them frequently, and 27.6% of them reported daily use.

Other states are also receiving substantial amounts of money from this settlement, which will be paid out over an 8-year period. California is getting $175.8 million, Illinois is getting $67.6 million, Massachusetts is getting $41.7 million, Colorado is getting $31.7 million, New Mexico is getting $17 million and District of Columbia is getting $15 million.

Other lawsuits

This lawsuit is the second this week that Juul has settled. West Virginia said on Monday that Juul is paying $7.9 million for similar accusations of marketing toward youth.

Last December, Juul Labs announced it settled more than 5,000 cases brought by approximately 10,000 plaintiffs in the US, resolving a substantial amount of legal issues for the company.

The company said the cases were variously personal injury, consumer class action, or from government entity and Native American tribe groups, but did not disclose the settlement amount.

That followed a September announcement that Juul would pay $438.5 million to 34 states and territories after a two-year investigation into its marketing and sales practices -- like in West Virginia, Juul was charged with deliberately marketing its products to young people.

At one point, Juul was selling some of the most popular vapes in the US, especially the flavored products which the company stopped selling in 2019.

Last summer, the FDA ordered Juul products to be removed from the US market. A court temporarily blocked the FDA ban, so products are still for sale in the country.

The-CNN-Wire' & (C) 2023 Cable News Network, Inc., a Warner Bros. Discovery Company. All rights reserved.

VIDEO - Toyota CEO: ''This New Engine Will Destroy The Entire EV Industry!'' - YouTube

VIDEO - Tara Copp on the Impact of the Pentagon Intelligence Leak | C-SPAN.org

Wed, 12 Apr 2023 15:53

April 12, 2023 Washington Journal2023-04-12T08:02:54-04:00 https://ximage.c-spanvideo.org/eyJidWNrZXQiOiJwaWN0dXJlcy5jLXNwYW52aWRlby5vcmciLCJrZXkiOiJGaWxlc1wvYzEzXC8wMDFcLzE2ODEzMDEzNDhfMDAxLmpwZyIsImVkaXRzIjp7InJlc2l6ZSI6eyJmaXQiOiJjb3ZlciIsImhlaWdodCI6NTA2fX19 Tara Copp talked about the major leak of U.S. military documents and the report on the 2021 withdrawal of U.S. forces from Afghanistan.Tara Copp talked about the major leak of U.S. military documents and the report on the 2021 withdrawal of U.S. forces from Afghanistan.

Report Video IssueGo to Live Event"; // $('div#video-embed').html(cookieMsg); // return; // } // });

*This text was compiled from uncorrected Closed Captioning.

Related Video February 4, 2023 Tara Copp on Chinese Spy BalloonAssociated Press Pentagon correspondent Tara Copp discussed the Pentagon's reaction to the discovery of a Chinese spy'...

January 31, 2022 Tara Copp on the U.S. Role in Russia-Ukraine TensionsTara Copp talked about the Defense Department's preparations for a possible Russian incursion into Ukraine.

September 1, 2021 Leo Shane on U.S. Withdrawal from AfghanistanLeo Shane talked about the U.S. troop withdrawal from Afghanistan and its impact on the veterans' community.

August 28, 2021 Tara Copp on the Pentagon's Afghanistan ResponseDefense One senior Pentagon correspondent Tara Copp discussed the Pentagon response in Kabul and the security situation'...

User Created Clips from This Video 7 minutes11 views

VIDEO - Republican majority passes sweeping anti-trans bill in Kentucky - YouTube

VIDEO - Why did the Trudeau Foundation president, board resign? | Power Play with Vassy Kapelos - YouTube

VIDEO - (27) WOLSNED 🇬🇧 on Twitter: ""Give me one example of hate speech?" Elon Musk destroying a BBC journalist on twitter hate speech - proper screws him. Then he does it on BBC COVID misinformation. Seriously listen to the end, the BBC are an emb

Wed, 12 Apr 2023 15:16

WOLSNED 🇬🇧 : "Give me one example of hate speech?" Elon Musk destroying a BBC journalist on twitter hate speech - proper screw'... https://t.co/spxV3T7MKa

Wed Apr 12 07:27:40 +0000 2023

VIDEO - French President called for increased european economic sovereignty on Dutch State visit - YouTube

VIDEO - Alibaba unveils chatbot as China tightens rules on AI ' FRANCE 24 English - YouTube

VIDEO - NASA creates 'Mars' on Earth: Volunteers to live in Mars-simulation habitat for one year - YouTube

VIDEO - Denis Hayes on CBS News 1970 - YouTube

VIDEO - Have Celebrity, will travel - Earth Day Quickies 1990 - YouTube

VIDEO - Earth Day w/Paul R. Ehrlich: 1970 CBS News Special Report - YouTube

VIDEO - How Poland is leading efforts to help Ukraine - YouTube

VIDEO - Graham: 'I'd Be Very Much Open' to Sending U.S. Forces to Taiwan

Tue, 11 Apr 2023 20:49

Senator Lindsey Graham (R-SC) said on this week's broadcast of ''Fox News Sunday'' that he is open to sending U.S. troops to Taiwan.

Anchor Shannon Bream said, ''I want to start with China. You heard the report there about what Reuters has been calling a standoff in the Taiwan Strait. You served in the Air Force. We noted weeks ago a four-star general said he thought we would be in actual combat with China by 2025. Chairman McCaul said the same thing on the show. Where do you think we are? Where does this go?''

Graham said, ''I think they are setting the stage possibly for a blockade of Taiwan. This Communist Chinese Party is going to test us dramatically this year and next year before the election.''

He added, ''We need to train more aggressively Taiwanese forces. We need to put missiles back in our submarines. Biden won't do it. The military has asked for the cruise missiles to be put back in submarines like the Russians did. We need more forces in the region. If you do those things, you could deter a blockade.''

When asked if he supports sending U.S. troops to Taiwan, Graham said, ''So the question for the Congress, should we have a defense agreement with the island of Taiwan? We don't. Should we have one? But yes, I'd be very much open to using U.S. forces to defend Taiwan because it's in our national security interest to do so.''

Follow Pam Key on Twitter @pamkeyNEN

VIDEO - Kirby Warns Journalists Not To Report On Leaked Pentagon Papers | The Daily Caller

Tue, 11 Apr 2023 20:48

White House National Security spokesman John Kirby warned Monday that the details surrounding the leaked Pentagon documents should not be reported out.

Several classified documents, some of which reportedly pertain to how the U.S. spies on foreign nations such as Israel, Ukraine and South Korea, were leaked over recent weeks, prompting officials to worry the leak could jeopardize international relations.

Kirby spoke about matter during Monday's press briefing.

''Again, without confirming the validity of the documents, this is information that has no business in the public domain. It has no business '' if you don't mind me saying '' on the pages of '... front pages of newspapers or on television. It is not intended for public consumption and it should not be out there,'' Kirby said. (RELATED: 'That's A Blatant Lie': Rubio Slams Kirby For Claiming Spy Balloon Was For Weather)

The documents could number up to 100 in total, though the Pentagon has only verified roughly a handful, with approximately 40 having been lost after online Discord and Telegram users deleted the servers to certain posts, according to The Wall Street Journal. The documents that have been confirmed thus far disclose weaknesses in the Ukrainian air defense networks, NATO aims to rebuild the Ukrainian military and how U.S. intelligence agencies have penetrated Russian information defense agencies, according to CNN.

The documents reportedly reveal that U.S. intelligence has compromised Russia's Defense Ministry and have allegedly been able to determine Russia's military capabilities.

The Department of Justice has opened an investigation into the matter.

VIDEO - Ukraine war intelligence leak may 'serve as wakeup call' for US to increase military aid - YouTube

VIDEO - US says classified document leak 'serious risk to national security' ' FRANCE 24 English - YouTube

VIDEO - Reach for the stars: Space tourism with balloons into the stratosphere ' FRANCE 24 English - YouTube

VIDEO - Intelligence leak: US reaching out to allies to stem fallout from breach ' FRANCE 24 English - YouTube

VIDEO - Jon Stewart Questions Defense Deputy Secretary on Budget - YouTube

VIDEO - Gender Inclusive Leadership in Action - Episode 2 - Kelly King - YouTube

VIDEO - (2) Townhall.com on Twitter: "John Kirby warns journalists not to report on leaked Pentagon documents. "This is information that has no business in the public domain...It has no business...on the front pages of newspapers or on television." https:

Mon, 10 Apr 2023 20:44

Townhall.com : John Kirby warns journalists not to report on leaked Pentagon documents."This is information that has no business'... https://t.co/uiD6xCs5GP

Mon Apr 10 18:51:58 +0000 2023

Brian Charboneau : @townhallcom Lolz well it is out there

Mon Apr 10 20:44:16 +0000 2023

Michael Hill : @townhallcom Ignore that Ukraine is losing. You shouldn't know this. It's top secret. Stop exposing our lies.- Biden Administration

Mon Apr 10 20:43:48 +0000 2023

JEPenn96 : @townhallcom Now people are just going to look harder

Mon Apr 10 20:43:45 +0000 2023

Camoli1303 : @townhallcom Come on you so-called journalists. Are you going to let this government official scare you into not pu'... https://t.co/yrMRAeOYiw

Mon Apr 10 20:43:40 +0000 2023

james cawlfield : @townhallcom Which means it needs to be everywhere

Mon Apr 10 20:43:39 +0000 2023

Myxis : @townhallcom I pay you so everything you do is for my consumption and scrutiny.

Mon Apr 10 20:43:39 +0000 2023

SMorgan 🐊🍊 : @townhallcom Oh yes, it does. the American people should know what skulduggery is going on with the people we elect'... https://t.co/oBaohl92TM

Mon Apr 10 20:43:21 +0000 2023

Captain Obvious : @townhallcom "Worse than Hitler!"

Mon Apr 10 20:43:10 +0000 2023

MichelleB283 : @townhallcom LMFAO!

Mon Apr 10 20:42:54 +0000 2023

Scott Lagger : @townhallcom Kirby the WH is fine with classified docs being out there. Biden had hundreds in his offices and residences.

Mon Apr 10 20:42:53 +0000 2023

robin : @townhallcom Why was it leaked

Mon Apr 10 20:42:51 +0000 2023

Winston Smith (Ministry of Truth) PhD : @townhallcom No. https://t.co/TzPg8wHPxh

Mon Apr 10 20:42:39 +0000 2023

Habitual Line Stepper : @townhallcom Authoritarian pig

Mon Apr 10 20:42:25 +0000 2023

Nesha St®ðŸðŸ¾ðŸŒ : @townhallcom 🤪

Mon Apr 10 20:42:08 +0000 2023

KashFloh : @townhallcom That's not how journalism works Kirby boy. Quit starting wars

Mon Apr 10 20:41:49 +0000 2023

VIDEO - Open Forum, Part 1 | C-SPAN.org

Mon, 10 Apr 2023 19:15

October 23, 2022 | Part Of Washington Journal 10/23/2022 Washington Journal2022-10-23T07:00:00-04:00 https://ximage.c-spanvideo.org/eyJidWNrZXQiOiJwaWN0dXJlcy5jLXNwYW52aWRlby5vcmciLCJrZXkiOiJGaWxlc1wvNjUwXC8wMDFcLzE2NjY1MjMwNzFfMDAxLmpwZyIsImVkaXRzIjp7InJlc2l6ZSI6eyJmaXQiOiJjb3ZlciIsImhlaWdodCI6NTA2fX19 Viewers responded to the question, ''Has politics affected your relationships or your view of others?''Viewers responded to the question, ''Has politics affected your relationships or your view of others?''

Report Video IssueGo to Live Event"; // $('div#video-embed').html(cookieMsg); // return; // } // });

*This text was compiled from uncorrected Closed Captioning.

Related Video October 23, 2022 Open Forum, Part 2Viewers commented on news of the day.

October 12, 2022 Open Forum, Part 2Viewers commented on news of the day.

September 16, 2022 Open Forum, Part 2Viewers commented on news of the day.

September 6, 2022 Open Forum, Part 2Viewers commented on news of the day.

User Created Clips from This Video 48 seconds6 views

VIDEO - US searches for source of intelligence leak of Ukraine war plans ' FRANCE 24 English - YouTube

VIDEO - Expelled TN lawmaker tells Jen Psaki about 'turning point' in history - YouTube

VIDEO - French President Emmanuel Macron calls for independent European stance on Taiwan | WION - YouTube

VIDEO - Israeli leadership breaking with US for first time - Chomsky | Al Jazeera Newsfeed - YouTube

VIDEO - Tesla signs deal for 'Megapack' factory in Shanghai ' FRANCE 24 English - YouTube

VIDEO - Yemen peace talks: Saudi officials meet with Iran-backed houthi rebels ' FRANCE 24 English - YouTube

VIDEO - Ukraine might ATTACK Crimea to recapture it : Reports | English News | WION - YouTube

VIDEO - US responds as China practices 'sealing off' Taiwan in military drills | DW News - YouTube

VIDEO - James Lindsay on Joe Rogan - Comparing Mao's Cultural Revolution to Critical Race Theory and Wokeism - YouTube

VIDEO - CNN Host Spars With AOC After She Suggests Biden Admin Should Ignore Court Decision | The Daily Caller

Mon, 10 Apr 2023 14:36

CNN's Dana Bash sparred Sunday with Democratic New York Rep. Alexandria Ocasio-Cortez after the congresswoman suggested the Biden administration should ignore a new ruling regarding an abortion pill.

A federal judge in Texas ruled Friday to halt the FDA's approval of mifepristone, one of the two drugs used to induce an abortion. The decision consequently halted approval of the pill across the nation, though it does not go into effect for another week to allow the government time to appeal. Judge Matthew Kacsmaryk ruled the initial 2000 approval of the drug as well as the recent FDA decision permitting the drug to be prescribed through telemedicine was illegal.

At nearly the same time, however, Obama appointee U.S. District Judge Thomas O. Rice issued an order for officials to not restrict access to the drug in at least 17 states where Democrats sued in an effort to preserve availability. (RELATED: Texas Mother Arrested After Trying To Force Abortion Pills On Teen Daughter)

''You called on the Biden administration to '... just to simply ignore the court ruling,'' Bash said. ''That's a pretty stunning position if you think about it, in the abstract about the notion of just ignoring a judge's position. So my question is, when this case is resolved by the Supreme Court, should the administration follow that decision, if that decision ends up banning this abortion drug?''

''I want to take a step back and dig into the grounds around ignoring this preliminary ruling as well. There is an extraordinary amount of precedent for this. There is a term known as agency non-acquiescence, and this has been used. And for the folks saying this is a first, that this is precedent setting. It is not. The Trump administration also did this very thing, but also it has happened before. The idea of consistency in governance until there is a higher court ruling is not an unprecedented thing to happen. In fact, when the Trump administration did it, it was arguably through a much, you know, a very grave issue when it came to DACA,'' Ocasio-Cortez said.

The Supreme Court ruled in 2020 that the Trump administration did not take the proper steps to end DACA and ordered the program reinstated. The Trump administration, in spite of the ruling, only processed renewals and did not accept first-time applicants.

Ocasio-Cortez argued the ruling makes a ''mockery of our law'' and that the administration has ''an enforcement discretion.''

''Should that apply if the Supreme Court upholds the Texas judge's decision?'' Bash asked.

''You know, I think one of the things that I think we need to examine is the grounds of that ruling. But I do not believe that the courts have the authority over the FDA that they just asserted. And I do believe it creates a crisis. Should the Supreme Court do that, it would essentially institute a national abortion ban,'' Ocasio-Cortez said.

Ocasio-Cortez made a similar plea to the Biden administration Friday, telling CNN flatly the administration ''should ignore this ruling.''
Clips & Documents
Art
All Clips

ABC ATM - anchor Andrea Fujii - robot police NY (1min33sec).mp3

ABC ATM - anchor Andrew Dymburt - A.I. news anchors (33sec).mp3

ABC ATM - anchor Andrew Dymburt - danger ion lithium batteries (1min34sec).mp3

ABC ATM - anchor Andrew Dymburt - florida lawmakers -trans demons & imps (35sec).mp3

ABC ATM - anchor Andrew Dymburt - NY hires first rat-czar (25sec).mp3

ABC ATM - anchor Andrew Dymburt - pardon for man who shot BLM (46sec).mp3

ABC ATM - anchor Andrew Dymburt - ship freon burning -tacoma (20sec).mp3

ABC ATM - anchor Em Nguyen - pentagon leaker was on discord (1min47sec).mp3

ABC ATM - anchor Lionel Moise - fire at recycling plant -indiana (1min26sec).mp3

ABC ATM - anchor Lionel Moise - rising sea levels on the south coast (1min49sec).mp3

ABC ATM - anchor Rhiannon Ally - appeal court -mifepristone (40sec).mp3

ABC ATM - anchor Rhiannon Ally - new tool for car thieves (23sec).mp3

ABC GMA3 - anchor Dr Jen Ashton - CDC marburg virus warning (1min8sec).mp3

Alibaba unveils chatbot as China tightens rules on AI - F24.mp3

AlJazeera on Abortion drug.mp3

Ana Kasparian of TYT on California Climate Change Laws lots of F bombs.mp3

Casinio in Japan.mp3

Catastrophic Flooding In Fort Lauderdale Closes The Airport.mp3

CNN - Dalai Lama (1) ask boy to suck his tongue (1min37sec).mp3

CNN - Dalai Lama (2) backlash and response (1min27sec).mp3

CNN - Your next real steak could come from a 3D printer.mp3

CTV - Why did the Trudeau Foundation president, board resign.mp3

Daniel Radcliffe tells trans children that adults concerned about gender transitioning are condescending and should trust kids to tell them who they are.mp3

Dr McCullough -1-IntroMarburg.mp3

Dr McCullough -2-Marburg Symptoms.mp3

Dr McCullough -3-Marburg Treatments.mp3

ELON BBC Banning Twitter.mp3

ELON BBC Dog CEO.mp3

ELON BBC hate speech.mp3

FBI Intl Woke gun moment.mp3

Florida State rep Ali Velshi MSNBC daemons_and_imps.mp3

French President called for increased European economic sovereignty on Dutch State visit.mp3

Hong Kong update 2.mp3

Hong Kong update 3.mp3

Hong Kong update 4.mp3

Hong Kong update ntduk.mp3

Inflation dropping 2 NHK.mp3

Inflation dropping NHK.mp3

ISO Hop out.mp3

ISO Thank you.mp3

James Comer opening Chair Laptop.mp3

James Lindsay on Rogan - pronouns is the initial wedge to Maoist cultural revolution - Race Marxism - The Truth About Critical Race Theory and Praxis.mp3

John Kirby warns journalists not to report on leaked Pentagon documents.mp3

Justin J Pearson TN -1- Check the difference in cadence and presentation between 2016 and now.mp3

Justin J Pearson TN -2- Check the difference in cadence and presentation between 2016 and now.mp3

Mom warns of terrifying AI voice cloning scam that faked kidnapping.mp3

More Gobi sandstorm 2NHK.mp3

More Gobi sandstorm issues NHK.mp3

NBC Today - anchor Al Roker - Biden (1) easter egg roll (36sec).mp3

NBC Today - anchor Al Roker - Biden (2) egg-u-cation (42sec).mp3

NBC Today - anchor Al Roker - Biden (3) message (31sec).mp3

NBC Today - anchor Al Roker - Biden (4) will run again (1min).mp3

NPR quits Twitter over government-funded label F24.mp3

PBS Laura Lopez Ruddian 2 bots 1.mp3

PBS Laura Lopez Ruddian 4.mp3

PBS Laura Lopez Ruddian bots 1.mp3

PBS Laura Lopez Ruddian YIKES 3.mp3

Republican majority passes sweeping anti-trans bill in Kentucky.mp3

Ron Paul on poolboy's culture show - There's been a coup.mp3

SDG&E proposes billing electricity customers based on income.mp3

Susan Rice at National Action Network - Racism 16 trillion dollars.mp3

TOCK Cisness A-hole.mp3

USA Russia Bomb updates NHK.mp3

Warmonger Lindsey graham on China blockade and war.mp3

WION - China reports first human death from H3N8 influenza.mp3

Yemen peace talks - Saudi officials meet with Iran-backed houthi rebels - F24.mp3