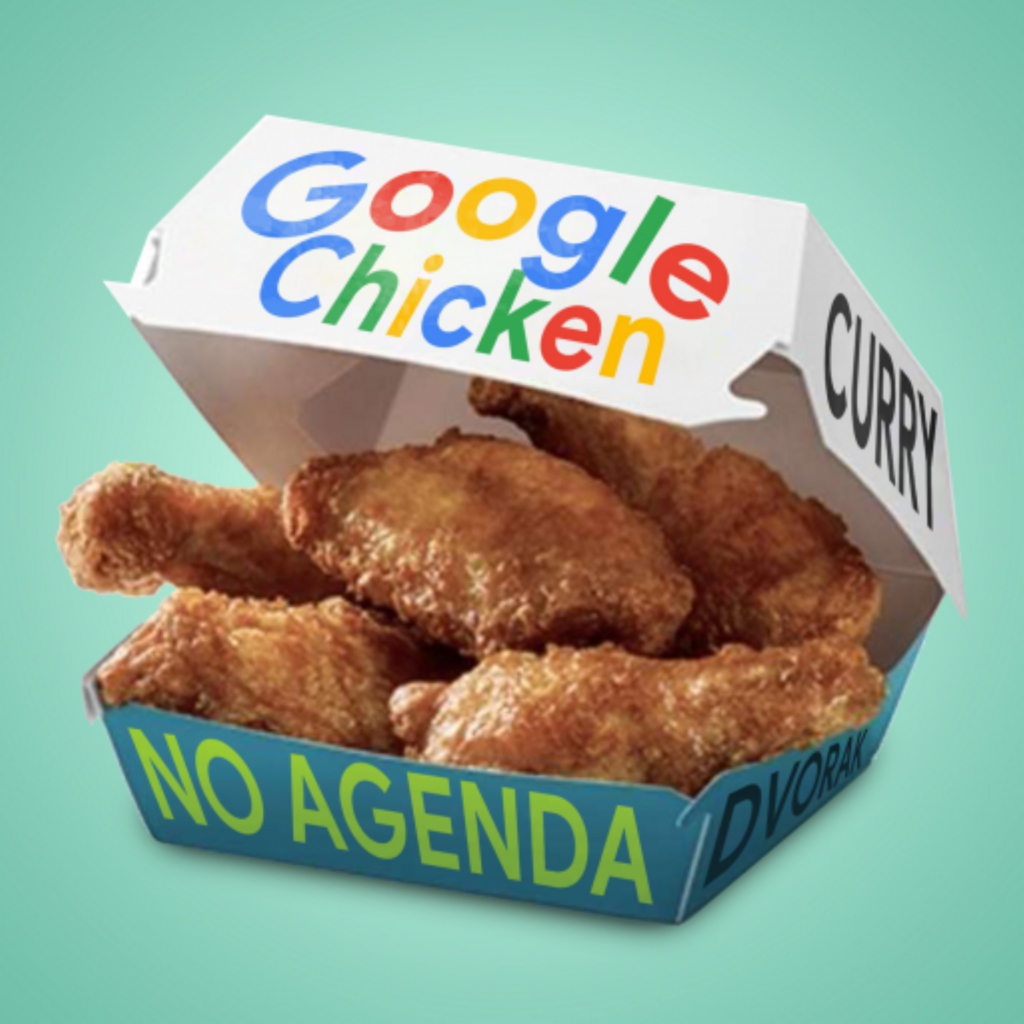 April 23rd • 3h 14m
1549: Al Gore Rhythms
Transcript
The transcripts of No Agenda are automatically generated and therefore, not fully accurate. Discretion is advised.
Click the text to start playing from that position in the show. Click the timestamp to copy a direct link to that position to your clipboard in order to propagate the formula.
John C Dvorak: Where's Clooney?
Unknown: Adam curry Jhansi Devorah
on April 23 2023 This is your award winning combination media
assassination episode 1549
This is no agenda
counting 15 minutes in the city and broadcasting live from the
heart number Texas Hill Country here in the morning everybody
I'm Adam curry
John C Dvorak: and from Northern Silicon Valley where if you step
in a driveway we shoot you I'm Jesse Devorah
Unknown: it's called an accidental shooting
John C Dvorak: there's all these Somebody just sent a note in
saying you know these shootings all of a sudden out of the blue
a ball falls in the yard a guy shoots him somebody goes into
the door knocks shot yeah and there's all these stories are
all over the country it's almost like it's a no okay,
Adam Curry: okay, well, we're gonna talk about something else
but now you've led me right to it I have
John C Dvorak: but before I say that's the OP I'm going to ask
the big question about this up okay. If this all this is going
on, where's all the dead does the dead Seventh Day Adventists
and these and these religious guys who come to
Unknown: doors left and right where are they? They're killing
the wrong age. Jehovah
John C Dvorak: Witnesses I want to know what and when the house.
Unknown: Kinsley White was shot in the face while playing by
Adam Curry: this. This is deep by the way, and there's a reason
for this. You'll hear this you'll hear what's going on at
home
Unknown: just outside of Charlotte. Her father was
seriously wounded. Inside
Adam Curry: this kid is dynamite made for televisions. My daddy
in the
Unknown: back. Witnesses say a neighbor began shooting. A
basketball rolled onto his yard Tuesday. Kinsley had a bullet
fragment removed from her cheek. Her father, who reportedly tried
to shoot back remains hospitalized and will yell for
late today, the alleged shooter 24 year old Robert Singletary
turned himself into authorities in Florida, as the number of
victims of shootings caused by seemingly innocent mistakes
mounts so does the fury nearly 1000 miles away, these mothers
protested gun violence on the Kansas Missouri State Line. One
week after 16 year old Ralph Jarold was shot after ringing
the wrong doorbell.
You have mental health issues everywhere. But when you pair
those with absolute chaos, in terms of gun
legislation, this is what you get. Gun violence is a public
health epidemic.
Johns Hopkins researcher Cassandra Fauci says studies
have repeatedly shown that people are less safe when guns
are present. What is driving this increase in shootings,
we have seen record increases in gun purchasing. We're also
seeing increases in fear based marketing of firearms, as well
as stoking fears of political violence, social violence,
racially motivated violence.
The states with the weakest gun laws have high gun death rates
three times as high as states with the strongest restrictions.
No place you can run from any of this.
Adam Curry: I dispute that statistic that has never been
the statistic. It's never been this statistic. Could you turn
your speakers down just a little bit for me, please. So this is
obviously a massive, massive psychological push to somehow
magically create some legislation that will ban guns
in America. That's not how it works. Of course, it was
everywhere. That was ABC. Here's Bill Maher on HBO.
Unknown: I've always known in America that you know, there's
certain things that if you did you get shot, there'd be a
likely chance of getting shot. This week we found out we're
going to add to that list innocent mistakes, innocent
mistakes, and I love this it really goes across racial lines.
Everybody in America shooting everybody else for Ralph Yarl a
young black man who was shot for ringing the wrong doorbell
Adam Curry: I love I love what he's saying now. He didn't get
shot because he rang the wrong doorbell. The guy inside was was
crazy. That's why he got shot not because this is very very
evil the way he's positioning this. You rang the wrong
doorbell you get shot.
Unknown: In upstate New York, Kevin Monahan shot Kailyn Gillis
for pulling in the wrong driveway.
You pulled in the wrong driveway Be very afraid.
And Elgin, Texas Pedro Rodriguez shot two cheerleaders for
getting in the wrong car
Adam Curry: has nothing to do with the status of the shooter.
It's all about you did something wrong.
Unknown: And then a black man Robert Singletary shot a six
year old and her father when their ball went in his yard. And
I all what the all these things have in common. The shooters
themselves were in no danger.
Adam Curry: So what do we do over at CBS? Well, we've got to
bring in the hero.
Unknown: We're gonna continue our conversation with the former
first Lady her name, of course, is Michelle Obama, I have to say
something about the book because it's called the light we carry
overcoming and uncertain times. I really think that these are
uncertain times. And I look at the things in the news recently,
to three recent shootings, a terrible shooting in Kansas City
with a 16 year old thank God he survived if a young woman in New
York was shot turning in the driveway, just normal things. Do
you think that we can ever figure out a way to reconcile
gun violence in this country? Because it does keep me up?
I hope and pray that that at some point enough becomes
enough. One point. We wondered that throughout our entire
presidency.
Adam Curry: Who's this we business? We your debt. We
wonder about this throughout our entire presidency, our
John C Dvorak: good try
Unknown: becomes enough. Was there a point? You know, we
wondered that throughout our entire presidency, thinking that
this time,
yeah, Barack Obama said you Newtown was one of the worst
days of his presidency. Yeah, we still didn't get that mess. But
we
are the only developed country on the planet where its citizens
can have unfettered access to firearms.
I'd have to call that factcheck. False but okay,
John C Dvorak: that's bull crap. Yeah.
Unknown: That is not a good thing. And more of us have to
feel strongly about it, and particularly our young people.
This is where democracy comes in. Voting this all this stuff
is decided in the in the ballot box.
Adam Curry: No, no, the only way to decide this removal of guns,
which is clearly what is being called for here is by creating a
new amendment to the Constitution to override the
Second Amendment. And it's not the ballot box. It's not
John C Dvorak: you can repeal the Second Amendment don't have
to override it.
Adam Curry: Right. You could repeal it, you could repeal it,
but wouldn't actually be an amendment that would repeal the
Second Amendment?
John C Dvorak: I think so. I don't know if that's called an
amendment or not.
Adam Curry: What about the 21st amendment? Wasn't that an a
repeal of the or is it the which one repealed Prohibition? Well,
no. It was also,
John C Dvorak: I think it is the 21st. Okay, yeah, probably, it
would have to be cold, right. But it's
Adam Curry: not just like, oh, go vote, go vote Democrat, and
your guns will be taken away. But that is that is what she's
going for. And as you know, you think I'm crazy. You think I'm
nuts? I believe the Democrats are going to run Michelle Obama.
And thank God, the question came up, just listen,
Unknown: I emcee this event at Lincoln Center Jazz at Lincoln
Center for Witten, Marcel, as in just mentioning your name that
you are going to be on Pete why people have such expectations
and hopes that we'll see we'll see I'm not even going to ask
you that.
Adam Curry: Okay, question one. Why will you not even ask if
she's going to run Gail is Are you not a journalist? Have you
been told not to ask this question?
John C Dvorak: You just said it.
Adam Curry: Have you been asked not to ask this question or told
not to ask this question. That's very weird.
Unknown: People have such expectations and hopes that
we'll see we'll see. I'm not even gonna ask you that. But do
you ever wonder or do you ever think
John C Dvorak: it's quite likely. Michelle Obama is not of
the sort that goes in there and allows free we'll she probably
is quite possible that she specifically said I'm not doing
this interview. If you asked me this question.
Adam Curry: I agree. I think that's exactly what happened.
But then words matter. The truth wants to come out. Listen to
what Michelle Obama says.
Unknown: But do you ever wonder or do you ever think when will
politic politics leave you because you said I'm not a
political person. Politics isn't what isn't something I wanted?
That people still hope and what you did do something?
Yeah, it
Adam Curry: this first of all, you knew the question that
wasn't a question was going to come and listen to her answer.
Yeah. Why is Gail laughing? Why is Gail laughing about this
question?
John C Dvorak: Well, because Gail knew that skirted it and
did a good job. You should congratulate her and Gail knows
Unknown: that she's running listen.
Yeah. I am authentic. If I were going to engage in politics, I
would let people know.
Adam Curry: She says if I weren't going to engage them,
but you have to listen carefully.
John C Dvorak: Go back and play that again. Because it says if
I'm authentic, she says
Adam Curry: I'm authentic. And if I weren't not work, and if I
weren't going to engage in politics, I would let people
know.
Unknown: I am authentic. If I were going to engage in
John C Dvorak: Navy were i here weren't I don't here weren't i
here were
Unknown: I am authentic if I were going to engage in
politics.
Adam Curry: No, I here weren't but okay. We can dispute that
for until the cows come home.
Unknown: I am authentic. If I were going to engage in
politics, I would let people know. But I am a public figure,
I still care about these issues, I will always find ways to use
my platform to speak out. That's why I'm focusing on getting
young people to vote. Because none of it matters. It doesn't
matter who's in the Oval Office of Congress, they can work with
not managing our state houses and on and on. I could go on and
on about
it. I know. And I'm not even pushing for you running. That
ship has sailed. I get it. Yeah.
Adam Curry: Okay. So I will just hold on to my prediction. You
totally disagree. That's fine. I think they're gonna run her.
Thank you. And I believe that this is why the Obama CIA is
getting rid of Joe because man, did they really do a number with
this mic morale thing? That's insane. Yeah, I've
John C Dvorak: been thinking about the mic morale thing more
after writing it up in the newsletter. Yeah. I want to
throw a little while before we I don't want to leave this topic
cuz they got some Nora clips. Okay. Where I thought was kind
of interesting. And this is Dora. They have to do their
thing. And CBS they're talking about all these random
shootings. I want to play a few of these. Okay, I'm playing Nora
on the random killings.
Unknown: We learned today of yet another case of young people
being shot up shot after a mistake. This time a group of
cheerleaders mistook a car for their own got into it, and then
they were fired at and a CBS has Alenka Hana reports it comes
after a New York man made his first court appearance for
allegedly shooting and killing a young woman who drove into his
driveway.
Like allegedly killing a young woman who drove into his
driveway.
John C Dvorak: Here's Nora on the on the Alabama shooters.
Unknown: The 16 and 17 year old brothers will be charged as
adults for young people were killed and more than 30 others
wounded for victims are still in critical condition
John C Dvorak: that she did. She tells you about the guy who shot
the cheerleaders about the random shootings here and there.
Yeah, the black guys who shoot shot up that place in Alabama.
But now listen to this clip. Why does she only use white shooter
in this last clip?
Unknown: He turned out to another story about gun
violence. But at least there's some good news today about the
black teenager who was shot after he mistakenly went to the
wrong address to pick up his brother's 16 year old Ralph Yarl
is on the road to recover and he is recovery I should say and he
is sitting up on his own. Meanwhile, the 84 year old white
man charged with first degree assault and armed criminal
action made his first court appearance this afternoon.
John C Dvorak: Yep. Now we are Latinos. We had everything in
between but there's only one white guy. And she makes a point
of saying that she's
Adam Curry: racist. I'll be totally racist. Yeah, that's
that's how it goes. Welcome to racist America. We've always
been racist. It's just now it's our turn. Whitey. We're that
we're the bottom of the of the caste system. Jolly, old
straight white dudes
John C Dvorak: makes it worse. Well,
Adam Curry: I guess now, since it is in the news, I can talk
about this, about the Manifesto of the Nashville shooter. When I
was in Nashville, a member, a producer of law enforcement
talked to me and he said, there's a reason why this
manifesto was not coming out. And I don't want you to talk
about it. Because it's quiet and no one's talking about it. And
it's better that way. And so I didn't, but now it's out
everywhere. So I'm going to tell you that this completely aligns
with with what I was told. This is now coming from Nashville
Police Chief John Drake. It was not a manifesto. It was 20
journals, complete plans, operational manuals on how to
kill children how to kill Christian children. This is what
I heard was. It's like the anarchist bible of shooting
Christian children and that's why they were that's why they've
been keeping it quiet. Okay, I
John C Dvorak: have a different story. Okay. I had a long
conversation with a Nashville policeman recently. And he told
me about the journals. And you exactly what you said
Adam Curry: the Anarchist Cookbook. I'm sorry, I said it
wrong. The Anarchist Cookbook. Yes.
John C Dvorak: There was a bunch of journals with detailed crap
about you know how many you know, grains of gunpowder shall
be in each bowl and all the rest now. He said in addition to
that, which he never got to look at, there was a Separate
manifesto. Oh, okay. I didn't hear that, that nobody had that
he didn't get to see and nobody that he knows has seen it. But
he did say a couple of things about the shootings, which was
the guy was super anti Christian, or the guy, the girl,
whatever they were Oh, was super anti Christian, and which has
been kept out of the news by the media. And then the worst part
was these, these kids in particular were mutilated.
Adam Curry: Oh, I didn't hear about that. Oh, goodness. Yeah.
Okay. It's interesting that we both heard from law enforcement,
and we both did not talk about it.
John C Dvorak: That's because we weren't told not to talk about
it.
Adam Curry: And we're pretty good, like, pretty good. But now
the question now that this is out, now, this is being
publicized. I mean, we do live in a country with freedom of
press. What's the press going to do? Are they going to sue to get
it and then print it and put it everywhere? What is what is what
is appropriate in this case?
John C Dvorak: It's appropriate to print it or release it on the
internet. I don't think it needs to be printed per se.
Adam Curry: You know what I mean? But so, but this also
serves as a guide, you know, that's the fear. Well,
John C Dvorak: we don't know what's in the manifesto. From
what I can tell why what I was told is,
Adam Curry: it's like a guy. It's a how to the anarchist.
John C Dvorak: Bible I was told that that's the journalists is
not the manifesto.
Adam Curry: Okay. All right. Anyway, it's not good. So that
they don't want anyone to know
John C Dvorak: about that. Show a bunch of screwballs out there
now. So
Adam Curry: what do you get instead you get you rang, rang
the wrong doorbell. You know, you did this. You did that? And
yeah, people are crazy. Absolutely. People are crazy.
Right now. We just went through a three year make people crazy
situation in the world. It's not just here. Yeah, we do
John C Dvorak: have this doorbell thing. You know, all of
a sudden out of the blue after years and years of kinds of
school shootings and other things that have gotten nowhere
in terms of getting gun registered gun legislation
through substance certain states, right. Now we have a
coincidental pile of the same basic, the same basic template,
right, somebody actually goes into somebody's yard, somebody
throws a basketball in the yard. The ball bounces in the guy's
yard, and he shoots him
Adam Curry: when we really don't have we really don't have is the
truth. I mean, this could just be the way they're positioning
these shootings. That could be history, we have no idea but
they are bundling it together and making the story out of it
when Bill Maher does that bid that he did. That's because he's
told to do that his writers do that. He's dumb as far as I'm
concerned. He's like, Oh, okay, I'll just go along with the memo
and
John C Dvorak: make a joke about median. You think a comedian
with with a sense of things would notice the kind of
screwball coincidences, you know, wrong car wrong driveway,
wrong doorbell wrong this wrong that, you know, again, like you
said earlier, blaming it on the poor, hapless person that does
the wrong thing, and then get shots weird, is very weird, does
not have all of it. And this is just all new that we did a year
ago, we didn't have people walking into the wrong, you
know, getting shot left and right for doing for getting in
the wrong car going in the wrong driveway. It was all school
shootings. But now it's this right. It has to be in up.
Adam Curry: Well, the reporting of these shootings certainly is
and I have real problem with the states with strict gun laws have
less shootings three times less No, well actually didn't say
shootings, they said killings. And if you look at the
statistics, it's very possible that a lot of red states have
suicides. Now there's always that that they've nailed half of
the all the gun deaths in the United States.
John C Dvorak: Yeah, right. They never Right, exactly that they
should be pointed out, they should always, always break out
the suicides. They never do it.
Unknown: They're not going to point that out. No way. No way.
No way.
John C Dvorak: No. All right. Well, after that Happy New Year.
I
Adam Curry: know I'm bummed that we had to start with that. In
other news, celebrities are losing their minds that their
checkmarks are disappearing.
John C Dvorak: I lost mine.
Adam Curry: Did you see like people like it's almost like
when Oh, if Trump wins, I'm leaving the country. Jason
Alexander. I'm never going to be on this app again. When you lost
my mic check mark Brett bet MEDLARS like now anyone could
just pretend to be me. Oh, wow. Wow, who the heck wants to be
you? That's their big fear. Oh, now I'm no longer official. I'm
not authentic. I think I think Twitter started give some of
them their check marks back. Which I think is even funnier,
because they're like, oh, okay, I have my checkbook. Okay. I
didn't pay for it to I'm promising it didn't pay for it.
I bet you they did. Are you going to pay for your church to
pay for your checkmark?
John C Dvorak: Who cares about the checkmark? You never cared?
No, of course. Well, you did. But you never did. Really? Oh,
of course not.
Adam Curry: No, it was funny. It was just someone hated me so
much within Twitter that when they were handing them out left
and right, I never got one at people where
John C Dvorak: you should and you're of all the people I know
that got Steve Horowitz same way as the way he didn't get one.
But whatever. We're talking about that but you're hailstorm.
Adam Curry: Oh, man. So that was after the show on Thursday. And
Tina came into the odd there's a batten down the hatches, we got
a storm coming and it was golf ball sized hail. We had water
coming into the house through underneath outside doors and it
was raining sideways. Then the hail hit then the hail hit. And
we had a micro cell cross right over our house. Took a tree out
a huge huckberry tree. Just ripped it right out. It took it
out of the ground out of the ground. I'll send you a picture
of it to put it in the newsletter lifted right out of
hell yes. ripped it right out of the ground as a tree that was
you know, was there and you know, not just a tree in a tree
line as a tree in like our landscape. You know, it was it
was been there for a long time, obviously. Yeah, but a tree that
we liked. tonight. Oh, yeah. I felt really sad. I walked out
Monday, Friday morning to the walk the dog went Oh, wow. He
said the tree just ripped out. And I felt Yeah, I felt sad is
very, very odd. I had a very, very earthy moment. Which was
appropriate because it was Earth Day. Oh, man Earth Day. Oh, my
goodness, this is everybody took advantage of Earth Day to just
bring on the climate change. Oh, boy. Oh, boy. I have a couple of
clips I want to share. First, the President of the United
Nations, Antonio Guterres. And he's right back to what it's
really all about. They're not even shy about it. Now.
Unknown: We must accelerate climate justice by reforming the
international financial system.
Adam Curry: Now, what we must we must fix climate justice by
reforming the international financial system. Huh? How does
that work? Yeah, that's what I'm asking you
Unknown: to accelerate climate justice by reforming the
international financial system. As major shareholders of the
multilateral
guy, banks, I listened to what he's saying was listened to what
he's saying. I want
you to push the measure shareholders of the multilateral
development bank's, I urge you to push them to coordinate their
operations better, and overall, their business models and
approaches to risk in order to turbocharge climate action and
sustainable development. We
Adam Curry: need to turbocharge climate action by changing and
he's talking about the World Bank. Of course, we have a new
president there, I'm sure that that President will make the
changes, turbocharged climate action,
Unknown: you have the power to ensure that they leverage that
funds to mobilize much more private finance at reasonable
cost to developing countries, and that they end all support
for fossil fuels,
Adam Curry: fossil fuels, fossil fuels. I know he meant fuels,
but I'm sorry, Words matter. You said fossil fuels. Here's our
president who can't even get a word out.
Unknown: So today, I'm pleased to announce the United States
can provide $1 billion to the Green Climate Fund. A fun as
critical fund is critical and ways to help developing nations
that can't do now. But it should not be the only way. Because
climate security, energy security, food security, they're
all related. They're all related. I'm calling on
development banks to scale up their lending to clap for
climate change, which will also accelerate the fight against
poverty.
Adam Curry: I think this is actually the definition of a
fossil fuel. This guy right here, let
Unknown: me close with this. We're at a moment of great
peril, but also great possibilities, serious
possibilities with the right commitment, and follow through
from every nation on in this room and on this call for goal
of limiting warming to 1.5 degrees can stay within reach.
But it's gonna take all of us it's just one of us. Not some of
us dismissed that meet the moment all of us all of us have
to be
Adam Curry: so this was a like a zoom call with leaders from all
over the world and Carrie is sitting there with Joe Biden in
a desk that looks like he's like he's a college student in a in a
grade school desk. I mean, it's all too small it's all
incredibly lame. And the our fossil fuel of a president can't
even get a word out properly. He's not the leader they want
John C Dvorak: they will I got a bunch of Earth take this for
before we go on. I do want to play this because of this Biden
thing. Okay. I want to play this short clip. Newt Gingrich was
more or less Biden's age. Newt Gingrich on Biden's age. This is
an interesting little twist.
Unknown: Yeah, here we go. You're 79 The President is AD
is. Are you guys too old to be president?
You know, Henry Kissinger is 20 years older than me. And I
called Henry one day I do a podcast called newts world. And
Adam Curry: hold on, Boris, hold on. I gotta subscribe right
away. Let's get this guy on podcasting. 2.0 Ladies and
gentlemen, it's newts world.
Unknown: And I called Henry one day I do a podcast called New
twirled. And I called Henry one day and got him to agree to do
the podcast because he had a new book coming out at 99. And I
said, you know, Henry, I'm now 79. And I'd like your advice on
aging. And he said, You're way too young. He said, I'm not
having this comment a decade. I'm not having this
conversation, and a 99. He's now writing a new book. I would say
Konrad Adenauer was formidable at 93 as Chancellor of Germany.
You know, I don't think Biden is nearly as senile as he pretends.
I think part of that is a gimmick on his part, to get us
to think that he doesn't quite know what he's doing. Well, he
wins the presidency runs over his opponents, passes trillions
of dollars in spending, and protects his son while his son
deals with the Chinese and the Russians and Ukrainians. So I
wouldn't ever and I wrote a piece saying don't underestimate
him. For him from his standpoint on his terms. He had a very
effective two years may have been bad for the country, but it
was very good for the left.
John C Dvorak: No, well, I'm thinking wait a minute. Wow. So
I'm thinking maybe that's the reason Biden doesn't get the,
these tests all these cognitive tests, because because he's got
them he'd aced them. He aced them. He's playing now do you
chess, John? So I'm thinking about this in terms of Vincent
G. giganteum gigante who was the head of the general AAC family.
He's the guy warmed around in his pajamas for 20 years in
Greenwich Village and peed on the streets. And they would not
arrest Him or do anything to him. He was running the family
for over 20 years in a phony baloney state of insanity.
Adam Curry: This is by far the best theory you've come up with
this month. This is dynamite. Biden is pretending to be a
pajama wearing peeing full of fossil fuel. Wow. Wow. All
right. But Michelle Obama's not gonna run. Okay,
John C Dvorak: good. Oh, that's for sure.
Adam Curry: In the UK, they timed their new emergency alert
system with Earth Day. This has been I haven't really talked
about it, but people are sending me notes or we're going to all
the phones are gonna have the alert system which we've had.
And this report we have it here. Yeah. But this report has a
couple of interesting things. One, it's all about climate
change. That's why this alert needs to be needs to be alert,
climate change, and to every country has a different alert,
Unknown: rare but extreme weather like this, including
fires and floods or why the government says we need an
emergency alert system. Well, this is another tool in the
toolkit in order to help the government this is the Deputy
Prime Minister respond to emergencies and help protect
people's lives and it's very similar Oh, it's gonna protect
your life. This tool in our toolkit, what we have in Japan,
United States and elsewhere.
Adam Curry: We have in Japan who we have in the United States
this is he has an emotion this is just a New World Order alert
system
Unknown: at 3pm. Today you'll get something like this on your
phone, a test, new alert system
Adam Curry: now listen to all the different tones from around
the world. This is quite puzzling.
Unknown: It also have a loud siren like sound or vibration
lasting for about 10 seconds
during last year's tsunami, this is how their emergency alert
system sounded. In fact, quite a few countries have an emergency
alert system including Australia Canada and Italy. Now it's the
UK is turn. We won't get any information about people's
personal phones. This is a broadcast signal that goes to
every mobile phone the government doesn't find out
anything about your phone, as long as your phone has a 4g or
5g signal and if it's an iPhone running iOS software 14.5 Or for
Android phones Android 11 software or later, you will get
the text and the noise even if it's on silence.
Adam Curry: Why does every country have a different tone?
Did the Italians need a more like rhythmic tone? And the
Japanese like no two tone and the Canadians have a why? Why is
this? I find this very peculiar.
John C Dvorak: Yeah, I find this another reason to keep my phone
in a drawer.
Adam Curry: Yeah, or throw it out the window. I'm going back
to 1970 the very first Earth Day This is before climate change
was the earth burning Hello chunk Young Turks. In fact, in
1971, is when Leonard Nimoy told us we were going to have global
cooling. Yeah, we're all gonna die. But Earth Day in 1970. Was
was historic. I have a Walter Cronkite newscast, CBS News. And
it sounds very familiar. It's using children for political
means. This planet
Unknown: is threatened with destruction. And we who live in
it with death. The heavens, the waters below a foul. children
die in infancy. And we and the world which is our home, we live
on the brink of nuclear annihilation. We are in a crisis
of survival.
Adam Curry: So this is 53 years ago. It gets better.
John C Dvorak: But that wasn't Walter Cronkite. Oh
Adam Curry: no, that's a biologist starting off the news
coverage here.
John C Dvorak: Starting off to trend.
Unknown: This is a CBS News special birthday or question of
survival. With CBS News correspondent Walter Cronkite
ready to name a unique day in American history is set aside
for a nationwide outpouring of mankind seeking its own survival
survival Day, a day dedicated to enlisting all the citizens of a
bountiful country and a common cause of saving life from the
deadly byproducts of that topic. Followed skies The filthy waters
the literary
Adam Curry: and notice it was the dirty defiled skies The
filthy water the littered earth, there was no blowing up but the
earth is on fire or going to freeze to death. None of that
bad way.
Unknown: demonstration that success was mixed. beyond
expectations here far below there. No one now can know
exactly how many to fight. We do have an idea how many plan
participation student groups and 2000 colleges and 10,000 Lower
schools, citizen groups and 2000 communities. I won measurement
birthday field, it did not unite. It did attract that broad
cross section of America that sponsors one it's not quite it's
demonstrators were predominantly young, predominantly white,
predominantly anti Nixon, off on its protests appeared frivolous
as protesters curiously carefree. Yep, the gravity of
the message of Earth still came through acts or die.
Adam Curry: 53 years later, we're still using it for
political die, act or die. It's all political. It was anti
Nixon, because Nixon was going to kill us all. Nixon hates
children. They gave children that there was no day off from
school, but they let everybody go ahead and you know, it's
okay. If you take off the protest. Nothing has changed.
Except there's more money in it now.
Unknown: And people have figured that out. And I'm just going to
I got a few more things here.
John C Dvorak: I'm reminded of another scam. You remember hands
across America.
Adam Curry: We used to celebrate that in the early days of the
show when they would talk about it. They don't even bring it up
anymore. Yes. Hands Across America.
John C Dvorak: Do you remember what it was for?
Adam Curry: I think you asked me this every time we talk about
it.
John C Dvorak: And he's a good guy. It's a bit
Adam Curry: Hold on. I know this answer Hold on. It was I don't
know.
John C Dvorak: I forgot a to end homelessness in the country.
Adam Curry: So successful. I'm so glad we did a great job. Very
well done. Hands Across America. Yeah. And they never even
completed the chain.
John C Dvorak: Now there was a bunch of spots they couldn't
quite finish
Unknown: and of course not. It was ludicrous, but it's
John C Dvorak: ludicrous but it did it long chain
Adam Curry: Okay, so let's just was just one thing I wanted to
play. Alright, is it here? Oh, yes. So one thing that is
cropping up everywhere, certainly in the UK, but also in
Canada. Navia is the 15 Minute cities and there's so much
pushback, certainly London I mean now you love zone. You know
the ultra low emission vehicles zone. People are ripping down
cameras spray painting the lenses you know they're good,
creating fake license plate. To duplicate ones that are allowed
to travel and that people hate this, the 15 Minute city was
well explained is explained by the World Economic Forum along
with the great reset all of this is we're not making up the great
reset, are we? No, this is what Klaus Schwab wrote a book called
The Great reset.
John C Dvorak: And in this pardon to make it up when the
guy wrote a book. Well,
Adam Curry: now the script is going out to every single news
organization, we have to debunk the 15 Minute city by explaining
how a 15 minute city is exactly a 15 minute city. But it's not a
it's a conspiracy theory to call it a 15 minute city part of the
great reset.
John C Dvorak: What's it well, hold on a second wasn't exactly
this exactly what they call it in Oxford,
Unknown: exactly what they call it, we
John C Dvorak: have clips of them calling it the 15 Minute
city and how great the idea is, and now all of a sudden, it's
become a conspiracy. How does that work? I've never seen
anything like it
Adam Curry: because people have caught on to it. And they're
like, No, this is part of climate change lock downs,
you're being locked down within your 15 Minute zone of the city.
Notice when our calling zone, but this is exactly what it is.
So here's the script. This is Katerina. Georgie, what's her
name? Georgieva. From the CBC, she's reading a script wild arm
motions to accentuate that she thinks she's, you know, when she
doesn't know what she's talking about? Well, it's just just
listen to the script. You'll hear it everywhere around the
world.
Unknown: So what is a 15 minutes? It's an urban planning
idea meant to make communities more walkable and more likeable.
So imagine having everything that you need within 15 minutes
of your home
Adam Curry: exactly what everyone's talking about. This
is a 15 Minute city, but Oh, no, oh, no, it's a conspiracy theory
to call it a 15 minute city. So
Unknown: imagine having everything that you need within
15 minutes of your home without having to use a car. planners
say that it's good for your well being and it can help tackle
climate change.
already seeing talked over the best bit.
And it can help tackle climate change, and we're already seeing
it pop up in places like Paris. So pretty straightforward,
right? So why is it associated with conspiracy theories? The
idea has been embedded in theories like q&a and the great
reset people worried about major takeovers and consider
Adam Curry: I gotta break this down. She says it's a conspiracy
theory because it's been tangled up in conspiracy theories like Q
anon. Which last time I checked you anonymous Democrats are
killing and eating babies. Okay, whatever. That's that's new now.
And conspiracy theories like the great reset. Yes. What she says
conspiracy theories have no book it's a whole presentation is the
whole world economic forum.
Unknown: Why is it associated with conspiracy theories? The
idea has been embedded in theories like Q anon and the
great reset people worried about major takeovers and control the
worried that it's a lockdown measure that would prevent them
from leaving the boundaries of a 15 minute radius of their home
and that it's a surveillance strategy. But that's not what's
happening in the places where the idea is being implemented or
being floated. So how is this connected to the county of
Essex, hundreds showed up at a special meeting meant to discuss
the county's new official plan which is currently being
developed. And the goal of the plan is meant to help manage the
region as more people are expected to move into the
community. Now, nowhere does it mention 15 minute cities but
because it does make mention of climate change action, and
things like improved walkability, some people are
linking the two together as a step in that direction. And then
come all the conspiracy theories attached to that county
officials are stressing that not only is the 15 Minute concept,
not what people are fearful it is. It's also not at all on the
table at the county of Essex. That means
Adam Curry: this this is 1984 Newspeak this lady is
John C Dvorak: doing. Gathering the people like this woman
aren't written and put into a ledger
Adam Curry: on a list somewhere list. And then we have and this
is a nice bit of a Newspeak This is Lake two layer is that am I
pronouncing that right? And killari to Laurie I'm sorry, in
California. Now, for the past 10 years, all I've heard is
California is a drought. There's no water we're all going to die.
The earth is burning. The California is burning is
burning. We have no water melting. The the reservoirs are
empty, you're going to die conserve World Water. And now I
helped me understand this report from ABC.
Unknown: Tonight. A frantic race to save communities in
California's Central Valley as the Tulare Lake dried up for
decades has reemerged
Adam Curry: now Okay, so isn't stop it. Wouldn't it be good
news? The Tulare Lake.
John C Dvorak: It was dried up. No, everything's bad news. Okay,
Unknown: you can see the water lapping
up here in Tulare Lake for the first time in four decades, but
it's coming onto a road in fact, this is Sixth Avenue, and it's a
main thoroughfare through some of America's most productive
farmland. For the next 10 miles, it's several feet underwater. At
least 150,000 acres of farmland and communities are estimated to
be flooded after at least 15. Atmospheric Rivers dumped
continuous rain and snow and California this winter, the
region home to the largest dairy producing county in the nation
area farmers like Peter Jiang, now scrambling to save their
herds.
But it was probably about this. So this water, it would those
trees were under.
Many of his crops drowned. Three to $4 million underwater.
Adam Curry: Wait a minute. Wait, he's he's a dairy farmer. But
now he has crops it's very easy for us
John C Dvorak: to get the story straight.
Unknown: He says agriculture is a more than $10 billion industry
in Tulare and neighboring Kings County. 18% of the country's
Pistachios are grown here. nearly 16% of our citrus
Adam Curry: Hold on a second. What I heard the last time
California news was talking about the pistachios, they're
horrible, horrible, horrible nuts. Because the trees take up
8 million gallons of water.
John C Dvorak: You're mixing your nuts. I have the wrong nut.
That's almonds. Almond. If you if you actually look into it is
a bull crap. I
Adam Curry: know. How about the pistachios. Are they thirsty?
No,
John C Dvorak: I didn't. I don't know anything negative about
that. You know that? You know, this is interesting as
pistachio.
Adam Curry: First of all big deal. I'm sorry. We have a
shortage of pistachio I'll live
John C Dvorak: with the funny thing is, you know it's you
know, pistachio nut is poisonous to everything in the world
except humans
Unknown: because we've eaten them we've gotten used to him.
Crazy
and in some areas that water is estimated to be eight to 10 feet
deep. And as warmer temperatures melt that record winter snowpack
in the Sierra Nevada, more water is on the way. It could be years
before the water dissipates
in climate change context. We do expect to see more severe
droughts in California as temperatures rise, okay. Oh,
John C Dvorak: no, Help
Unknown: me Help me. Help. Me Understand. Help me
John C Dvorak: get through the water to go away. But we're
gonna have a drought.
Unknown: I mean, this is not literally pistachio nuts is
warmer temperatures melt that record winter snowpack in the
Sierra Nevada. More water is on the way. Experts say it could be
years before the water
dissipates in climate change context. We do expect to see
more severe droughts in California as temperatures rise.
We also expect to see more severe floods.
Adam Curry: Okay, all right. Now this is gaslighting. This is
just gaslighting. Don't worry, we're gonna see more droughts
and more floods.
Unknown: And what you can see homes like this. It's been
underwater for already a couple of weeks. But now if you look at
just this 20 mile stretch of road alone, farmers tell me they
estimate the economic impact of this flooding to be nearly a
billion dollars. And more water is on the way.
Adam Curry: Wait a minute, it was $10 billion and pistachio
nut industry it's only a billion dollar damage. This is a bogus
report. And they just did it because it's Earth Day and they
sent out a second stringer to do it.
John C Dvorak: I agree this is a bogus report we've already had
most of the waters receded everywhere around here and the
the snow packs not melting yet. I mean, there's there's issues
in the Mississippi River Basin. There's no doubt about that. But
that's not around here. And yeah, we're doing fine. So
they're
Adam Curry: so out of ideas after 53 years. They have no
ideas, you know, solar and wind. No one's buying that anymore.
John C Dvorak: I got I got some limits. Let
Adam Curry: me play just one bit of Don Lemon on CNN. He's still
there, Don. They're still there. Don Lemon on CNN and he has on
Bill Weir, and they have answers to climate change.
Unknown: So soon as chief climate correspondent Bill Weir
joins us people don't
care what you hear. Do you hear him laughing? He's already
laughing. Beware.
So soon as chief climate correspondent Bill Weir joins
us.
It's time for the bullcrap segment of the week Bill Weir.
Chief climate correspondent Bill Weir joins us people don't care
what you call it if it's artificial whale poop or
whatever.
Does it help in the fight? It doesn't help. It helps. So this
is Sir David King. He was the UK top science adviser for a decade
he runs the Center for Climate repair at Cambridge. And I went
there thinking they would have all these amazing ideas for new
forms of energy or nuclear fusion. And their top ideas are
artificial whale poop, and splits in yachts that will spray
a fine mist in the air at the North Pole and refreeze the
Arctic three months a year. Those are their big ideas. But
there's marine biomass Regeneration, we lost the oceans
fertilizer pumps when we killed 95% of the big baleen whales,
they go down deep they scoop up the nutrients they poop them at
the surface. That's what gives the oceans life the oceans give
us breath. And so thinking about how we tackle this,
Adam Curry: I'm sorry, do the oceans give us breath? John, I'm
just asking you as a biologist, I thought the trees gave us
breath. Now the Trees give us breath
John C Dvorak: and then notice an ocean I can See for me what
happened
Adam Curry: to the Amazon the lungs of the world come on
people I can remember stuff
Unknown: brilliant on Monster of excess carbon we call carbon
Godzilla and the our Harbin
John C Dvorak: Godzilla, kirpan Godzilla.
Unknown: People are coming at it from different ways. Some are
building machines, some want to use artificial whale poop, which
is really volcanic ash. Something we've gone too far
we've waited too long and we need to spray sunscreen in the
sky to turn down the sun for a couple of years and bias time.
So we get into all these big radical ideas.
Adam Curry: All right, so the big radical ideas we have
artificial whale poop. spritzing EOPS spritzing yachts are sounds
like something on PornHub and carbon Godzilla. I mean, this
thing is over. They have nothing left. Except hydrogen, hydrogen.
The green hydrogen means the
John C Dvorak: President get more hydrogen. Hydrogen reports.
The PBS went after plants
Adam Curry: formerly known as the the breath of the world,
formally, formally.
John C Dvorak: So I have three clips that our birthday saved
the plants PBS.
Unknown: Sorry to say that 80% of the earth species are not yet
known and even as more are identified.
John C Dvorak: Hold on a second. Oh, I didn't know this. This is
News. That's nice. I thought that was a tidbit that to
remember 80% of the world's species are not yet known of
which
Adam Curry: 90% are COVID variants. This is
Unknown: starting to see that 80% of the Earth's species are
not yet known. And even as more are identified, more are
disappearing. Sometimes we don't know what's being lost until
it's too late. Oh, cool.
Adam Curry: Now he's doing song lyrics. Join and what you got
until it's gone on. Come
Unknown: on. On this Earth Day we begin our series looking at
what it takes to save plants and animals. We call it saving
species and our first installment looks at the world
of plants.
Oh goodness, I am pulling off the fruits of this cactus
seed by tiny seed meticulous and for some mundane work.
These little black dots are coming out are the seeds of this
cactus.
This is how you save a species. KENNETH Silveira is one of the
dozens of horticulturalists at the US Botanic Garden in
Washington DC, who are working to give some of the world's most
endangered and rare plant species a better chance of
survival. The Botanic Garden which is part of Congress is a
living plant museum with 44,000 Fascinating plants with
intriguing stories spread across a conservatory and a production
facility. These are from all over the world they are so
Executive Director Susan pill let us through the mist heat and
humidity stopping to talk under a giant leaves with the
endangered corpse flower.
John C Dvorak: This is a whole these plants have a story to
tell. According to him. This is a
Adam Curry: whole theory a whole series of this boring stuff
they're doing.
John C Dvorak: And so they have a corpse plants plant, which
they have in San Francisco to get one and
Unknown: what is a corpse plant? Are they gonna tell us
John C Dvorak: a corpse plant they have one in the city and
Jay and her boyfriend went over to the city because it was in
bloom and it's rare.
Adam Curry: Oh, a billion blooms once every 20 years or
something?
John C Dvorak: Some like that. Yeah, you gotta catch the bloom.
They didn't bloom was already faded, so they didn't get the
full bloom but they did get the
Adam Curry: stench right and then it put in that it shoots
out this this if I recall dust and stench and red Redstone,
John C Dvorak: it smells like it smells like a dead animal.
That's why it's called a corpse plant. So that's really neat.
That's great.
Unknown: Onward with
that about 34% of all of the plants in the United States are
at risk of becoming endangered. We see similar numbers globally
with that where there's about 40% of global flora is at risk
of extinction. Why?
Scientists say the planet is currently at the beginning of
John C Dvorak: what what do you mean? You should
Unknown: ask why they're not telling me why these plants are
there.
John C Dvorak: They'll tell you why. You know why knows why
humans
Unknown: Scientists say the planet is currently at the
beginning of its sixth mass extinction go and a high
percentage of biodiversity animals plants trees die off.
Adam Curry: I got stuck on the fourth mass extinction I can't
remember we're on the sixth
John C Dvorak: and by the way with 80% of all species still
unidentified I don't know how they can do this. I don't
doesn't make sense but Okay, let's go on.
Unknown: What's driving this is it. Is it climate change that
okay, I love this. What's, what's driving this? Is it to
climate change?
What's driving this is it? Is it climate change?
Certainly climate change is as huge factor and risk that we see
to our worlds flora. But there's other factors as well. Certainly
the developments from you know, wild lands into agricultural use
or buildings. Another factor in there is the introduction of
invasive species. So
the transportation of species around the globe and introducing
them into areas in which they didn't evolve really most of the
driver of extinction is human activity.
Adam Curry: Thank you. Thank you as long as we can get guilted
into something Yes.
John C Dvorak: Yeah, go You said human activity and that's what
it is. And you know what this all we're all humans
Unknown: Well, before we do that
the war on chicken?
Adam Curry: Oh, yeah, baby. The war on chicken. We called it
many, many moons ago. And now with the climate change Earth
Day on top of the deck, it's time once again to tell you that
you don't need real chicken. You need real chicken made from
chicken cell cultures.
Unknown: It's big Tech's newest take on big ag
Adam Curry: no big Tech's newest take on big ag that's an opening
no farmland,
Unknown: no coops. But these labs in Silicon Valley could be
the future of meat.
There are a lot of benefits of making meat in this way from a
percent less emissions 70% less water and land. But one of the
biggest things you don't need to harm animal
Josh Tetrick is the CEO of
Adam Curry: what you don't need to harm an animal. Oh, yeah.
John C Dvorak: Well, here's the other thing you got to consider
this. If you're growing a bunch of cells that's an animal be i
Adam Curry: No no, no, no, no, no, that's not that's like, like
a fetus is also you know, that's not not a human. So cells are
not animals cells are not humans.
Unknown: It's one of only two companies in the US that's
received clearance from the FDA for human consumption of lab
grown meat
Adam Curry: Hello. I was not consulted on this. When When did
this take place this FDA approval from the agenda dude
with the with the bow tie that we talked about in the last show
that moron he approved this the USDA still needs to oh, this
USDA prove it for sale? Oh, they Oh, so FDA approves the drug
guys, but the USDA hasn't
Unknown: this is not vegan or vegetarian.
The other company is upside foods headed by cardiologist uma
valetti. talked to me about the science here. How does it work?
The science is fascinating, but it's fairly simple. We take
cells from eggs or young animals or mature animals, and we
identify those cells that are capable of going into fats,
proteins connective tissue,
those cells are then prepped in a lab and pumped into stainless
steel vessels. Inside this bio reactor tank. There are billions
of chicken cells growing it will take about a month before
they're ready to eat. Right now in the US you can only eat
cultivated chicken on company premises.
I can't wait. It's it's all Silicon Valley's Google Chicken
Man. Google chicken is coming.
Oh go chicken
curds. Only place in the world you can buy cultivated meat is
in Singapore where eat just sells its chicken out of
financial loss. So the motivation isn't profit here.
Why sell in Singapore?
Oh, yeah. Because we love that we love animals. And we love
people. We don't want to make any money. No
selling in Singapore is a way of demonstrating that this new
approach to making meat is not science fiction.
But it's here. It's reality. Experts say lab grown chicken
showing up on store shelves in the US is likely still years
away.
There's a ton of risk. There's a lot of uncertainty. But the
other option,
Adam Curry: wait a minute. How can the FDA have approved this
if there's a lot of risk and uncertainty? Listen again.
Unknown: Experts say lab grown chicken showing up on store
shelves in the US is likely still years away.
There's a ton of risk in doing this. There's a lot of
uncertainty, but the other option is not to do anything.
And that seems worse.
One bite at a time
Adam Curry: I opt for DOD to do anything. How can the FDA
approve something that has a ton of risk?
John C Dvorak: Well, it's called the COVID vaccine.
Adam Curry: There you go. All right. I'm going to set you up
for your big presentation of artificial intelligence. You
went through the CBS 60 minutes Scott Pelley. hypothet on which
I have not seen I did not watch the 60 minutes because I knew
you were coming with your ex Jose, you're
John C Dvorak: just it's just a it's only a part of the total. I
mean, I was just noticing clip after clip. They're all short.
But there's little tidbits and tips. It never ended. I mean,
this was a half the show is about this.
Adam Curry: I'm going to set you up with a couple of news stories
collected by a clip custodian of the incredible harmful dangers
of AI. It's taking over the world. We're all going to die.
But really it's about copyright.
Unknown: This morning seven times Superbowl winning
quarterback Tom Brady the latest celeb to call Thau against
artificial intelligence Brady threatening legal action after
an online comedy show doozy produced the stand up special.
Featuring an AI generated Brady making crass comments the clip
quickly making the rounds on the Pat McAfee show airing an
excerpt. Wow, it
feels great to be back in front of a crowd. But I got to say,
even though this is a much, much, much, much, much, much
smaller crowd than I'm used to.
That That sounds exactly.
Dudes. The video was taken down after Brady's attorney sent a
cease and desist letter to the two comedians behind the
podcast. The entertainers standing by their special
calling it free speech.
It's exactly like what you would see if you watch any stand up
comedy special or any sketch comedy show. Sorry. Yeah. Where
they're doing impersonations of
Yeah,
Brady isn't the only athlete fighting back the family of
German Formula One champion Michael Schumacher also planning
to take legal action against the German tabloid accusing the
outlet of passing off a fake AI interview as the first with
Schumacher following his 2013 near fatal ski accident.
So because a lot of the current wave of AI sounds like a human,
it's very easy to mistake it for a human.
Adam Curry: That's the ABC tech lady tech girl.
Unknown: Oh God.
Adam Curry: So working backwards the Michael Schumacher thing is
really gross, because they pretend that it was a real
interview with him they weren't there wasn't like a couple of
comedians yucking it up they pretended that Michael
Schumacher is brain dead I think you he can't he is brain
challenged via brain challenge Yes. And that was sick and they
fired the editor of the of the publication he should now it
this is the best that AI can do by the way this is what it's all
about. It's all about celebrities losing their
possible income because I don't know because he didn't actually
go on the podcast himself. Who cares?
John C Dvorak: Duality is going to be a lot of these shoots I
predicted this right off the you dig
Adam Curry: it? You did and this next clip proves
Unknown: it artificial intelligence also making waves
in the music industry. It's not
Adam Curry: artificial intelligence. It's artificial
copy paste.
Unknown: Recently Universal Music Group who has represented
artists like Rihanna. And Drake will used to call me on my cell
phone demanding streaming platforms like Spotify and Apple
Music block AI generated songs like this one of AI Drake and
the weekend performing a reportedly fake collaboration
called heart on my sleeve.
Adam Curry: By the way, tell me what you think. Is this song
just shit? I mean, what do you think of this music?
John C Dvorak: Well, you're asking me I'm not a big fan of
Drake to begin with.
Adam Curry: You're a fan of Rihanna, though. And you heard
the rawness Well, yeah,
John C Dvorak: but you have to be stoned to listen to Briana.
Unknown: The song eventually taken down, but experts say this
is just the beginning.
One of the biggest problems with AI right now is there are no
regulations. So what we have now is we have to trust that the
technology companies are going to police themselves.
Adam Curry: Oh, tech Girl, please don't insult me use the
last bit about the legality.
Unknown: And critics are skeptical that given the speed
at which AI is developing that the law may not be able to keep
up. But in the meantime, advocacy groups have formed to
protect artists Geo and like you said, Mona, this is just the
beginning. All right, thank you for that.
Adam Curry: So this is just no na mo just the beginning. I am
very happy with this development, the more they can
screw with the whole music business, which no one makes
money anymore except the publishers. The artists don't
make money the streaming even Spotify can't turn a profit. I
think they should flood the market with all this copy paste
Auto Tune crap. Which it really is everything these days,
everything shared it, can you believe in love with auto tune?
It's now that's just how you sing. You can't sing this. You
can't you can sing. Everybody uses auto tunes. Of course it
was it was aI generated to start with if you're going to be
technical about it. Auto Tune is artificial intelligence for
people who can't sing. And so now they've just expanded that
the only thing I can see from a legal perspective. Perhaps
interestingly, because I know about is the Lanham Act. Were
concerned consumers might be confused. Yeah, yeah. Yeah,
John C Dvorak: that's exactly right. That I think
Adam Curry: you have a case there. But who wants more Drake?
Who cares? So people like Drake flood flood Spotify with flood
the internet with this fake stuff flooded? We can
John C Dvorak: buy some. I have some real stuff here. And before
I start with the Scott Pelley stuff, I do have a summary of
Elon I was on Tucker talking about artificial intelligence.
Anyone has talked about the economy. And so I got all mixed
up, I don't even know. But I took the best parts. You made a
little a little mini mix, and made a small mix of one minute
and 13 seconds of Elon. So yes.
Unknown: And so there's the if you were to actually that, you
know, the there's nothing for the CIO. So the stuff we've seen
thus far, actually hasn't even is only slightly.
This is a dire situation. The Great Depression. So, inflation
is going to happen no matter what. So
like, what is money? You've got, you've got, you've got these
sort of, you've got you've got, you've got these sort of, you
know, barreling forward and you know, hope for the best. And and
what are you? Yeah, fully a specialist.
Adam Curry: That is exactly the way he is. He's the Kim
Kardashian of tech. I think you did an accurate record
representation of this overblown, overhyped dude, who
just has a big bag of money from Sequoia Capital and his handler
rule of Botha also fellow South African. His whole family is
weird. He's weird. He's not invented anything new. He is a
great sales guy because people buy into this and Tucker
Carlson. pathetically lapping it all up. Like you do, huh? Well,
I'm gonna give you a borderline Clip of the Day for that it was
dynamite. The most sense Elon has made Ever did you see his
lackeys? I tried to clip it, it was just too to dump Calacanis
and two board members of Space X. They were all on site at the
launch. And this was the most successful thing that ever seen.
Oh, so great. Because, you know, this is the thing that will take
us to Mars, we needed to have it fail to prove that we can go to
Mars, it got off the launch pad. Dude, you didn't get past the
dome. Okay. This is I can't believe people are still buying
this
John C Dvorak: is your right but the sales part that start with a
Scott Pelley talking, he's going to be all he's all jacked up.
God is God never seen anything like it. So he's talking to
Sundar, other people, mostly Google. This is Google guys will
be a native ad. Well,
Adam Curry: before we get into that, I want to read an article
about the Google Google barf is their version of AI. And this is
from what publication from well, Yahoo has from Bloomberg. There
we go. Google's rush to win in AI led to an ethical lapses
employees say, one workers conclusion, Barth was a
pathological liar. According to screenshots of the internal
discussion. Under the cold it cringe worthy. One employee
wrote that when they asked barfs suggestions for how to land a
plane, it regularly gave advice that would lead to a crash.
Another set of gave answers on scuba diving, which would likely
result in serious injury or death. So this is Google. I
mean,
John C Dvorak: this is a but this is a reflection of the
pathological kind of psychotic mentality that actually exudes
from Google. It goes right into there. Hey, I see a bunch of
sociopaths. Yes.
Unknown: CEO, Sundar Pichai told us AI will be as good or as evil
as human nature allows. The revolution, he says, is coming
faster than you know, do you think society is prepared for
what's coming? You know,
there are two ways I think about it. On
one hand, on one hand, we're fucked. I feel
no, because you know, the pace at which we can think and adapt
as societal institutions compared to the pace at which
the technology is evolving. There seems to be a mismatch. On
the other hand, compared to any other technology, I've seen more
people worried about it earlier in its lifecycle, so I feel
optimistic. The number of people you know, who have started
worrying about the implications, and hence the conversations are
starting in a serious way as well. I get
Adam Curry: it before you continue. I'm going to
intersperse these clips with a few pieces of information that
boots on the ground from a Silicon Valley insider why
everyone is all GD about AI and Silicon Valley. All of these
technology companies were pumped up with new money during COVID.
They over hired and the short live bump in business that they
all experienced during that timeframe is drying up. They see
the economic headwinds, and would have glommed on to
anything that seemed like a solution. All of these new AI
tools launched at the exact same exact time when everybody was
searching for a fix. So now the industry is full of middle
managers who have never actually used these tools to accomplish
anything, but believe in the pitch, because their financial
future depends on it, they think it will work to 10x productivity
because they need something to 10x their employee productivity.
What clued me into this realization was a recent all
hands meeting at my work with a CEO was asked what he had been
using AI tools for, he didn't have an answer. The short story
is that he had played around with the tools, same sort of
useless questions that everyone else has, but nothing has been
integrated into his day to day work. And then we had another
meeting, headed by one of the division leads, who was asked
what suggestions he had for how employees could integrate the
tools into their work. He didn't have much to suggest beyond
using them to reward things like documentation, or use it as some
sort of quality assurance filter when interacting with customers.
The reality is these tools aren't actually all that useful,
especially for competent employees that are above average
writers, at least I haven't seen any evidence that they are with
all of the efforts to try and integrate them into our work.
I'm sure there will be some applications, but they will
never result in the 10x Increases in productivity that
so many people think are possible. I think that's spot
on.
John C Dvorak: And I agree with that 100%. These tools are just
I don't know what I actually don't even know if they're going
to double anyone's productivity, let alone 10x. Right? Well, you
know, that's Silicon Valley. The whole idea of Silicon Valley,
for people who don't know, is that if you had to beat them to
the main sales pitch, I am building a product X, and I'm
using 45 chips in it to make it work. And those 45 chips cost
$4,500 If someone comes along with a a chip that will replace
half of those chips, and reduce my cost from 4500 to 2000. I'm a
winner. I will sell millions of these chips and everybody makes
out it's always about finding some way to make things cheaper.
And and usually that's done with silicone. And everything that
comes along it's not silicone they think well maybe you know
it could be used it can be used like like silica we can we can
make productivity go way up and never does. Only silicon does.
But let's go on with part two of this eclipse.
Unknown: Worldwide Google runs 90% of internet searches and 70%
of smartphones.
Adam Curry: I think that's a lie. I think tick tock is
running a bigger percentage than they are than they are aware of
internet searches.
John C Dvorak: I really don't think they're counting ticktock
Well, no, of
Unknown: course not.
John C Dvorak: Of course it was it just beyond this beside the
point. Yes,
Unknown: we're really excited about but its dominance was
attacked this past February, when Microsoft linked its search
engine to a chatbot. In a race for AI dominance. Google just
released its chatbot named bar.
It's really here to help you brainstorm ideas to generate
content like a speech or a blog post or an email.
We were introduced to Bard by Google vice President Sisi shell
and Senior Vice President James manuka. Here's Bard and the
first thing we learned was that Bard does not look for answers
on the internet like Google search does
Adam Curry: you know the podcast industrial complex is a so hard
up you know all these hosting companies everybody has to come
up with something new I guess because businesses you know
businesses static it's not like more podcasts are being made
everyone's out of luck locked down people got other things to
do with their life and you know there's there's it's very hard
to make money in podcast advertising has dried up so they
all have now Oh, yes, AI show notes. So all you have to do is
just hit the button and it creates show notes and chapters
and summaries and everything for you. This is not going to work.
John C Dvorak: I wanted to play that that last clip I play for
the sole purpose of making sure that it's that you know that
these this particular barf never ever, ever, ever looks at the
internet. Yeah, well as like the search engine does, yeah.
Doesn't go to Google search for anything. And somehow Okay,
let's go ahead clip
Unknown: three. Bard's replies come from a self contained
program that was mostly self taught our experience mostly
unsettling, confusing, absolutely confounding. Bard
appeared to possess the sum of human knowledge with microchip.
Adam Curry: Whoa, whoa, whoa, who did that? Did you do that?
allege what is that who just came all over Scott Pelley.
John C Dvorak: That was Scott Pelley.
Unknown: But knowledge with microchips more than 100,000
times faster than the human brain.
Wow, that guy is out of control.
John C Dvorak: microchips 100,000 times faster than the
human brain. So what what's that got to do with the price of
bread? This chips are fast. And what what microchips do we have
that are that are in the human brain is bull crap.
Unknown: Well, he has he has very slow microchips are Scott.
John C Dvorak: I think it was taking a dump. So it sounds like
a good one. Okay, nice.
Unknown: All right clip for summarize the we asked Bard to
summarize the New Testaments. It did in five seconds and 17 words
Oh, please tell me they have the summary in this clip. Please,
please tell me I
John C Dvorak: wish, man it was like Be good to your neighbor.
It was just it was that's not a summary of anything.
Unknown: Oh, I need the summary of the New Testament. I need
this Ekins
John C Dvorak: look at this is posted on the on the screen
Unknown: did in five seconds. And 17 words in Latin. We asked
for it in Latin. That took another four seconds.
Adam Curry: I think everyone's seen her except for this guy. I
think that's the summary of the New Testament.
Unknown: Then we played with a famous six word short story,
often attributed to Hemingway for sale baby shoes, never worn.
Wow. The only prompt we gave was finish this story in five
seconds. Holy cow. Oh God, the shoes were a gift from my wife.
But we never had a baby. They were from the six word prompt.
Bard created a deeply human tale with characters it invented,
including a man whose wife could not conceive. And a stranger
grieving after a miscarriage and longing for closure
soon to be CBS movie of the week. Sounds like a dynamite
script. Right? Wow, this this?
John C Dvorak: Oh, wow. All right. As you can tell, oh, I
got two. Were there.
Adam Curry: Anything any ratings? Anyone watched this?
Oh,
John C Dvorak: yeah, everybody did. Let's go. We want to clip
five. I believe.
Unknown: You have it. There's two clip fives. Yeah, go with
John C Dvorak: the poem.
Unknown: Give me we asked her the story inverse. In five
seconds, there was a poem written by a machine with
breathtaking insight into the mystery of faith. Bard wrote,
she knew her baby's soul would always be alive. The humanity at
superhuman speed was a shock.
Adam Curry: I'm noticing a trend here. He has now talked about
faith and God and the New Testament. That feels like Scott
Pelley is trying to say, this is the new god. This is the God you
want. I mean this. Why is he doing
John C Dvorak: this? I'm not saying that you're wrong, but
it's stretch to me. Let's just clip five the problem. This is a
four second clip. I'm not sure what this
Unknown: is. I am rarely speechless. I don't know what to
make of this.
John C Dvorak: All right, that was I think he was supposed to
be an ISO for the show. Okay, well, okay. Let's move on. Move
on to seven
Unknown: tracks of the AI issues we talked about. The most
mysterious is called emergent properties. Some AI systems are
teaching themselves skills that they weren't expected to have.
How this happens is not well understood. For example, one
Google AI program adapted on its own after it was prompted in the
language of Bangladesh which is was not trained to know.
We discovered that with very few amounts of prompting in Bengali,
he could not translate all of Bengali.
John C Dvorak: That's very handy is bullcrap
Unknown: that's very handy.
John C Dvorak: Now let's say this is bullcrap. And and then I
refer back to the early clip that said, it never uses the
Google search engine to do anything. They make it sound as
though it dreamed up the Bengali language and all those crazy
characters, you should look at this language out of the blue,
just with a simple prompt. Next thing you know, it's fluent.
This is nonsense. There is no way without doing some research
or a look at the language or some sort of search that it can
do this while we're being fed book after book after book. I
mean, this is bold
Adam Curry: crowd. Question is can Google make the next $10
billion quarter with this Bengali skill? No,
John C Dvorak: no, again? No.
Adam Curry: I'm gonna do I'm gonna make a crazy prediction
here. Okay, well, you're gonna love this prediction because I
if this is not advice, I'm not going to do it myself. But if I
were someone who were buying stocks and bonds, I would pour
money into Facebook. Meta. Meta has done something very smart.
They fired all the people working on the metaverse,
they've completely ditched the metaverse. In fact. Here's a
quote meta is no longer pitching the metaverse in conversations
with advertisers, as I said, trying to get them back to a
tick tock like short form videos, stark contrast to last
year, so they have now closed down effectively the stupid,
stupid Metaverse idea. And they are not all jacked up in GD
about AI. And everyone else is going to lose their shirt. And
wait until the climate change. People figured out how much
energy this stuff is. So wait, wait, wait until they figure out
there was this is bigger than Bitcoin, the amount of energy
this this bullcrap sucks up?
John C Dvorak: Yes. In fact, that was that was kind of
pointed out but downplayed on the show itself. Because if they
brought another guy in just a half an hour mature, but you'd
only have this one last clip. I didn't bring. I mean, I could
have gone on for days. But let's play this as L. Sundar, the Al
Gore rhythms, which I just started, when I first read this
show title,
Unknown: there are two views of this. There are a set of people
who view this as Look, these are just algorithms to just
repeating what it's seen online. Then there is the view
Adam Curry: algorithms. What is that? What are their
John C Dvorak: algorithms,
Unknown: algorithm algorithms?
Algorithms? I
John C Dvorak: liked what you said.
Adam Curry: You said algorithms algorithm wishes I think the
song he did with Chevy Chase, isn't it? Yes. You know, you
know that song? Yes, you can call me out algorithms Chevy
Chase and Al Gore.
Unknown: That's right. These are just algorithms to just
repeating what is seen online. Then there is the view where
these algorithms are showing emergent properties.
Adam Curry: Oh, boy, that's some bull crap. The algorithms are
showing some emergent properties. What does that mean?
John C Dvorak: Nothing. Okay.
Adam Curry: Well, good report, John. I'm very afraid that AI is
going to take over our job. We're doomed you and me baby
doomed. This this actually guarantees will have worked for
the rest of our living breathing is on this earth. Wow. All
right. Before we take a break, I do want to give a little update.
I've been diving, I have to dive deep into this trans Maoism
because every day, every single day, a parent a producer who
listens to this show is saying thank you for doing this.
Because my and it's always daughter, my daughter wants to
be a boy. This is very concerning. And and because of
the pronouns and the pressure. I think a lot of parents are very,
very confused and and not quite sure what what to do. And so a
couple of things I just want to throw out there. One is there's
now a besides the trans Maoist part of this, which is really
convincing young girls 80% of the transitioning children is
teenage girls and I have a clip about that in a moment from a
forthcoming documentary. They are immediately grabbed by the
pharmaceutical medical industry. The rapists also knows
therapists because you know Oh, Oh boy, oh, you're clearly your
boy trapped in a girl's body. It's all confirmed by the
educational system. The educational system contains
mainly female teachers these days in grade school, who have
been trained by universities who took money from big endowments.
Rockefeller, etc. Also Pritzker, you know a lot, a lot of these
big companies, big organizations, big family money
with and we've, we've talked about this with notes attached
to it, okay, here's a billion dollars, but it has to be gender
studies or something else in so that's why you have all of this
education. The parent, the teachers are, of course, they're
completely traumatized. They're now the feedback loop. Oh, no,
the meds aren't working. The meds are working Johnny's good,
little, little Mary's not doing too well. So they're completely
wrapped up in it. And then we have the political system. And
this is really the sickest part of it, is the words that are
being used. And it reminded me and I'm talking about gender
affirming care, it reminded me of a joke that George Carlin
did, which I cannot tell the joke, I'm not going to play the
joke. But the idea is how words have the wit, the meaning of
words have been euphemisms have been created. And the way George
Carlin tells us as well, you know, back in the, in the First
World War, soldiers would come home and they would be shell
shocked. And shell shock is, you know, that's kind of what it was
because of the shells blowing up all around them. They were
shocked. And they were in a state of, you know, shell shock.
But then a generation later, it was called battle fatigue. That
sounded much friendlier, didn't it, then it became operational
exhaustion. And then after, I think it was, I don't know if it
was after the Vietnam War. But certainly, the most recent wars
that I've witnessed, it was post traumatic stress disorder, which
has now just been shortened to PTSD. And it sounds just doesn't
sound like what it really is. So when you're talking about sex
change operations on children, using drugs that are used to
medically castrate sex offenders. And it's then called
gender affirming care by our White House, by the
administration. There's something very, very wrong and
we just have to realize that this is bull. gender affirming
care is is a horrible term for, for what is being done. So
there's this guy, Simon Adler, and he is doing a film called
cut Daughters of the West. This is from a podcast called macro
aggressions, and he is going to explain I chop this down to two
minutes, but you can find the whole podcast interview in the
show notes. And he explains how this is really social contagion.
social contagion is if you've had girls growing up, I grew up
with two sisters, my daughter, I have two stepdaughters social
contagion is something that happens with girls typically in
middle school. We've seen it with tic disorder. And we saw
this 1012 years ago, John, we saw what is all this, these
girls, you know, all sudden, they got tics, there's no they
don't have Tourette's, that social contagion, they pick it
up from one another. And this guy really nails what's going
on. And the Kardashians, luckily, are partially to blame.
So what
Unknown: we're looking at is what's called a social
contagion. And I address that as well in the film. But we do
actually have markers for the conditions that created this
explosion. And it lines up with three things, smartphones,
social media, and a massive crash in teenage girls, mental
health, social media and smartphones being given to girls
that are in middle school. What happens in in the data in the
research is that the mental health of girls went into a
crisis. We have preteens being hospitalized for cutting
themselves at huge increases. I think it's something like 160%.
And so you look at all of those things. And then you look at the
fact that social media has been a, a channel for gender ideology
to saturate the world of these girls because of the
psychological makeup of girls because they internalized their
stress. And because they rely more on peer connections for
developing their identity and connecting with other girls in
ways that boys don't. Then social media when they're in
middle school, it caused them to behave so differently and it
caused their sense of themselves in the embodied sense of self
and their idea of their bodies to be deeply warped. So they
started seeing all these girls with filters, and the
celebrities on social media. And it really, really deeply worked
them. And it worked them in two ways. And we see this in the
research in my film, either they go along with the Kim
Kardashians, and they start to want to breast augmentations in
the labia pasties or they are terrified by this hypersexual
image of womanhood. And as they approach the precipice of
puberty, they decided that if they can avoid puberty, they can
avoid becoming this hyper sexual being. And they are told, when
they have those sensations in those ideas, they are told, Oh,
that means that you're a boy.
Adam Curry: I think he's spot on. And I remember I remember we
talked about on the show whenever and when all the girls
are getting boob jobs, like what is going on. And now and now
they've ended the same surgeons, the same cosmetic surgeons are
now doing top surgery a add them or remove them, those guys don't
care. They're ghouls. And it is rampant. And parents better get
their shit together and start talking about this and start
speaking up, and I have to give props to Project Veritas. They
did just release an undercover video with some almost decent
sound. It's funny, I got a note from our knight, who was, you
know, the executive director of Project. And he says, you know,
people are really mad at you guys. So why to because you
know, you say we haven't done anything. We haven't done
anything. And I said, Well, that's exactly what we said, but
no one really remembers what you've done. And, and so he sent
me a list. It's quite a long list. And you know, people have
had to resign over stuff. But the reason is, your audio has
always sucked so bad that there's no way to remember it.
You always have to watch a video. With subtitles. You have
to really do a lot of that as you have a lot of energy to
consume.
John C Dvorak: It takes a lot of work. Yes.
Adam Curry: So this is getting better. We have actually helped
them with the audio. It's getting better. And this is a
pretty short clip. But this kind of accentuates what is happening
with teenage girls.
Unknown: This Project Veritas investigation exposes a booming
business of transgender surgeries, hormones and puberty
blockers for underage children on its way to being a $1 billion
a year industry. At New York's Mount Sinai Adolescent Health
Center. Hospital staff told us they need young patients,
we need to look at patients we are hands on with all of our
patients, adolescents, we deal with the patients that come in
at 10 to come here about ourselves. So we need to patient
years old coming by themselves and loving. Yes. All over.
Here we are at the proud center in Somerville, New Jersey.
That's Ashley Isaiah Harris, health coordinator discussing
treatments for hypothetical 10 year old child.
So the youngest we've seen come here that's known that they are
trans has been eight months.
Adam Curry: And this is the guy that got a new host with floppy
hair. He's kind of interesting. He might actually just take over
from O'Keefe and work fine if they keep doing stuff like this
John C Dvorak: what gets me is that if you listen to the left
and I'm by that I mean the progressive Democrats they are
in complete denial about all this of nobody's working on kids
that are eight nine. That's a right wing lie. I know. I can't
quite figure out why you're so adamant. Because
Adam Curry: with so it's political now. Now we have the
Republicans are creating anti trans transphobic legislation.
They're attacking children. That is all politicized. That's why
it's gender affirming care over here. So they're using it
completely for politics, because these kids eventually will be
old enough to vote, but it's the parents. The their target here I
believe, is the affluent white liberal woman mom, who has
nothing to complain about. She's got money, but it's a problem
because she has no use. You know, she has no she's not a
victim of anything. So this is where you get to Oh, but my, my
Oh, my daughter is trans. My son is trans and it's accentuated by
the celebrities. Look at all the celebrity affluent white women,
mainly, who have a trans child. It's be it's like it's like when
Paris Hilton Hilton had a chihuahua in her pocket book.
It's the same thing. And so they this it's a great way to say
Republicans are horrible people. They will not give children
care. They shorten it
John C Dvorak: forever. Are these Republicans they won't
they won't sterilize their own kids.
Adam Curry: So that's this female side of it. What is
highly interesting is the male side, which I think is the
distraction. I think these men in sports. They do these things
for very different reasons. Personally, having researched I
think a lot of it is because of porn, and men become so
desensitized by porn that they actually, there's no, I mean,
look, let's be honest about it. Men are weird. Some men want to
have sex in diapers, okay, men are very weird after they've
been. It's true. It's true. Men do weird stuff. Young boys
particularly they're so desensitized to sex through
porn, that they actually want to have sex with a woman as a
woman. I mean, this is a real thing that's happening. But more
concerning is the high amount of transgender men to women in our
armed services. I didn't know this statistic 21.4% of the
total transgender population in the US in the US is estimated to
have served in the military 32% of transgender individuals in
the US who are assigned assigned male at birth, who had a penis,
or have served in the military compared to 5.5 transgender
individuals who were assigned female at birth. That's a lot of
military people out there who can be maybe unstable even. And
this is not to take away from people of trued true gender
dysphoria or dysmorphia. It exists very small number very,
very small number. And then in the NICU, Scott Adams. And I'm
sure he's doing it to prove a point. But He better get to the
point, what percentage of people who have transitioned D
transition? And then people are like, Oh, 3% 5%, it's 83%,
according to the people who do that work in the documentary
affirmation generation, but Google says it's less than 1%.
So this, this is a this is a real psychological operation.
And we're being distracted by the likes of Dylan Mulvaney. And
everyone's like, Oh, yeah, well, that marketing VP at bud got
fired. She's out. She's on leave. Yeah, we won. We got the
anti woke one. No, no, no, we're losing our children. And this is
where it comes from that mouse thing. Just like Black Lives
Matter. Destroy the family. We already got. We are destroyed
black families. Congratulations. We don't need BLM anymore. We
get all the black men out of the black families. Good job,
everybody. Go look at Chicago. That's fatherless children on
the street. Right. Good job well done. new mayor. He'll be fine.
And now we have to take away womanhood so that even the
demographics will not be you can't be on can't have children
only in the live Google kids. That's what that's where you get
to create your children where it is a serious situation. And
repeat repeat only in America is not happening in other
countries. They have discovered the countries that were leading
the UK, France and Netherlands Denmark, Sweden. Oh, boys not so
good. We have done the research. Long term not so good for these
people. So there you go. I thank God that I am no longer a father
of a teen child, a teen daughter, teen girl as bad news.
And that alone, the whole Biden administration should be thrown
out every single time they say gender affirming care. No, no,
it's a lie. This is serious disgusting lie. And also if they
said that, hey, let's get rid of tick tock for that reason I'd be
all for it. Because tick tock as we know there Al Gore rhythm
works completely differently from all the other Al Gore
rhythms and instead of creating strife within your community of
trans they just pile it on you I've seen I saw this with I saw
it with my own daughter I've seen it with with girls and it
was you know the eating disorders the cutting all of
this happen when the iPhone or not the
John C Dvorak: iPhone the iPhone is the business is the source of
all this evil 2007
Adam Curry: I think was probably 2008 2009 When it really rolled
out and they'll
John C Dvorak: it was it was it was a remarkable when it came
out it
Adam Curry: was two does this happen very quickly. It happens
so quick. Yeah, because it was so cool. Yeah, and all the girls
at the time in middle school were already having problems
with their T Mobile sidekick you know because now they could text
each other rapidly and they were you know, there was back
channeling a screw here screw here but you know, teenage girls
work differently from teenage boys. And there's it's it's
traumatizing sometimes for teenage girls. So, then the
iPhone then you add some social media. And then it just goes
walks through them all this Like after the show, go to the mall.
Show me all the kids in strollers with a screen in front
of them. Do you mind is what they just did there? Chalk them
up to death
Okay, okay. Okay. I know Bob. We're we are very accepting of
everybody. We really don't care who you are where you're from
that's what no agenda nation has always been about. But this this
is now we've gone too far. So all right now let's do something
fun.
John C Dvorak: Well, there's a strike in Canada. I think this
has not been reported as much
Unknown: as right in Canada. Yeah, picket lines are up at
federal government MPs offices across Canada, as federal
workers there go on strike. But bargaining continues between the
government in Canada's largest public service union. Dan Karpen
truck reports major disruptions of government services are
expected some of those
service disruptions are already being felt as countrywide about
250 picket lines have been set up. Prime Minister Justin
Trudeau had urged the union the Public Service Alliance of
Canada to return to the table during a pause in the talks. It
represents 155,000 federal government workers, but if that
number about 46,000 are considered essential and not
part of the strike. The workers have been without a contract for
almost two years. A statement from the Treasury Board said the
two sides are still far apart on key issues, higher wages and
better working conditions. Should the strike continue it
could affect the tax season, passport and immigration
processing and services Canadians rely on to travel.
Adam Curry: Well, that's interesting because there's also
a problem even though we don't have a strike. Hold on a second.
I had this here. Yeah, we have this
Unknown: tonight passport problems posing a threat to
summer vacation.
Adam Curry: This is interesting. So they they mark it up to a
strike in Canada passport problems. Here. It's just I
don't know
Unknown: Rachel quarter owns family is all booked for two
weeks in Europe. This is sort
of our last big family trip for a while with my son going off to
college.
But the trip to Paris, Amsterdam and Bruges is now in jeopardy
because of a massive backlog of passport applications that can
stretch up to three months.
It's very frustrating because it Why does it have to be so
convoluted I've already made hotel reservations, train
reservations, everything planned out.
Many passport offices are seeing long lines ahead of what's
expected to be a record setting summer travel season.
Adam Curry: And I'm emitted into this. I still don't know why
this is happening. It's implausible.
Unknown: Others are taking their frustration to social media and
it's going to take another five to seven weeks.
My advice on Thursday, while lawmakers
take aim at the State Department. It shouldn't take a
crisis and shouldn't get this bad before we see action out of
Washington.
The State Department issued nearly 22 million passports last
year a record high the agency expects to break this year as
500,000 applications a week keep rolling in despite an increase
in funding and more staff wait times recently surged up to 13
weeks.
Adam Curry: I'm going to call it they don't want people
traveling. Something's going on. I'm sure this is happening in
every country. I'll bet you it's happening every country that
John C Dvorak: being a person people in the couple of
countries out there you should check
Unknown: in Yeah, well, I'm gonna have people check in.
Definitely.
John C Dvorak: It could be could be something up.
Adam Curry: We got a note from a producer in France with a very
interesting very interesting analysis. You know, they
continue to riot and protest of the following McCrone I have a
clip I'm not gonna play it. Follow McCrone around the bang
and pots and pans. Police are knocking heads. And we already
know it's not just 62 year olds who are pissed or 61 year olds
who are pissed about not being able to retire at 62 and having
to wait until 64. So boots on the ground report from France.
I'm finally responding to the call. This is our one French
listener John, the one since I think everyone will benefit from
a glaring omission in the coverage of French protests and
riots over the retirement age background. I grew up in America
and spent over 20 years in France, including a long time
both in Paris and deep in the countryside. So of course, it's
not a real Frenchman. What everyone outside of France seems
to not see in all the photos and videos of the protests is that
the leaders are the CGT union. Yes, I saw the flags CGT union,
which is by a longshot, the biggest public communist force
in France. Likewise, when the media reported that university
students are rising up, everything I saw was banners
from Paris aid, which everyone in the know knows is the
communist University in Paris. Yeah, the people rising up are
the same ones who masked up told people to take the back And
we're happy to stay home for months on the government dime
and collect their pay during the lockdowns. Notice that they're
protesting over raising the retirement age by two years and
aren't making a stink over out of control inflation, ever
increasing taxation, millions of illegal immigrants collecting
welfare money, while more and more French citizens are
retiring in near poverty conditions. Another example of
what I see as a well honed French technique of the French
government working with national leaders of extreme movements to
channel people's justifiable anger and frustration into
relatively unimportant fights that benefit the system. This is
how it's done. People getting all jacked and basically saying,
turn me into a communist please. I never hear back and I never I
always thought that the new world order would be George
Bush. And the Republicans would be the new world order how wrong
I was. It's the commies, all of them. commies, the reds, the
Reds man, the commies. We're back with another Red Scare.
John C Dvorak: Well, one of the things that's interesting is the
communist threat or the menace the communist menace commie
communists? Yeah, is has been kind of pushed into the
background it has been. It's reorg Oh, it moves way back and
this and I said, Well, what can we do now? Because you had this
has not been working. So they lay low. And then they come back
with all kinds of the different strategies and endued
unfortunately, the strategy that's being played on us, which
is Maui Tran is a trans mount, which is a no one can recognize
it. It's just like, oh, well, no, no, I don't get it. They
mean well, as opposed to the regular communists, which in
Europe is never gone away. So it can come pop up anytime it wants
in Spain. Yep. And in France, in particular, those are two states
that go communist, you know, almost a drop of a hat. As
opposed to the Maoist stuff, which is all new. This has never
really been done. Mouse card has never been played on Westerners.
Adam Curry: Well, they're doing a great job. But a man who I
think did a tremendous, tremendous job. The UK has
become totally, totally communist and shut up slave. I
mean, they're arresting people all the time for saying stuff on
social media to arrest people. Yeah, no, it's a great one guy
called his neighbor of leprechaun, and they came over
and arrested him on social media. This is fantastic.
John C Dvorak: He should stay off social media.
Adam Curry: And with that, I'd like to thank you for your
courage to hear in the morning to you the man who puts the sea
in the carbon Godzilla, ladies and gentlemen say hello to my
friend on the other day
John C Dvorak: well, in the morning new Mr. Adam curry also,
in Moreno chips, he boots on the ground, feet in the air subs in
the water all the games at nighttime. In the
Adam Curry: morning Jude, the troll room. We got tons of
trolls hanging out the trolls are there because they listen to
the show live on Thursdays and Sundays. We have a room where
you know, I'm going to count and count them right away the Oh
2306. Nice. Good troll count. That's good, isn't it for Sunday
John C Dvorak: 2306 22. So 2250s are probably the median.
Adam Curry: All right, so we're knocking it out of the park.
John C Dvorak: So I don't know about you knocking it
Adam Curry: so that you can go to troll room.io That's where
you can you can get into the troll room. You can listen to
the live stream, or we recommend getting a modern podcast app at
podcast apps.com. There's more apps coming online now that do
this particular type of live show. You can use it for all
your podcast apps, you can import all your old from your
old legacy system like Apple bow who would use that. And it's a
pod verse, podcast addict podcast guru curio caster, and
you'll even get an alert on some of them when we go live and we
hit the bad signal. And more and more podcasts are starting to do
this. Now that the herd is thinning out. People are
dropping off podcasts are going away. Because they don't know
how to do it. They don't listen to us. We tell them how to do
value for value. Oh no, they're waiting for ads. Good luck,
suckers. It's not going to work. You gotta follow Uncle John,
Uncle Adam. And we do this through a number of ways. Of
course, our community. We have no agenda social.com where you
can follow us. You can follow us from any Mastodon account
anywhere. It's Jhansi Dvorak had no agenda social.com Adam and no
agenda social.com. And as part of our value for value system,
We have producers literally producing and no one's a
listener here yet you listen but you're a listening producer. So
some people build webs side some people go out and promote some
people hit people in the mouth. people support us with with
finances very important job. We also have artists who create
artwork so we can change our art every single show. And this
flows through to T shirts, mugs, hoodies, all kinds of stuff and
no agenda shop.com, another producer organized business, we
have no relationship with that. Other than then they work out a
deal with the artists and then from time to time the shop
donates money to the show. And we have no meetings, no content,
no lawyers. That's the main thing of meetings and lawyers is
the depth of every podcast, I'm telling you. So we want to thank
the artists for episode 1548. We titled that the dangle up second
time in a row, I think was it not? It? Was it two in a row do
we had no we had one in between? That's right. No, no, no, you
came back capitalist agenda. This was our 420 show. So people
were also happy to donate for 20. Pennies dimes, nickels
dollars. Fantastic promotion. We loved it. We do it every single
year, even though I no longer actually am a 420 participant.
That's the weirdest thing about it. Yeah, God bless you. And he
did a beautiful New World Order logo with no agenda, the all
seeing eye with weed leaves for eyelashes, little puffs of weed
smoke through and a 33 It's almost a challenge coin worthy
Novus Ordo hilarium, which is New World laughter I guess. Is
that what it means Novus Ordo? hilarium thinking means new
world, new world laughter.
John C Dvorak: Are they means force? Force? Okay. We love Yes.
And when I saw this piece, I really liked it from the
beginning. And I said, I guess Paul couture is gonna get
another award. And it was because it has Paul couture
written all over it. Yeah. But yet,
Unknown: it was not. It was
John C Dvorak: not Paul couture tour tour.
Adam Curry: But and so no agenda art generators, where you can
see all the art that the artists submit. It is a competition.
We're very honest about our choices. We explain why we
choose something in this case, we thought it was a Paul Couture
piece. So that's why we chose it. I guess.
John C Dvorak: I think Paul's up for another. Well, there it is.
I'll just use oh, wait a minute.
Adam Curry: Let me see that. We had a couple of those.
Definitely some interesting stuff. Why don't have to go to
the second page here. Since it was for 20. We had a lot of
different weeds stuff.
John C Dvorak: I liked the one with Biden weed smoke,
Adam Curry: had mentioned that Yeah, with Kamala Harris is the
cop behind him in the White House. Yeah, yeah. But it was
just so sick of that wasn't gonna make it. We had a lot of
episode number ones, which, you know, if you put your episode
number on it, you're not not always guaranteed to get chosen.
We had things that were just not scare a manga Francisco scare
monger. He has a very particular style, and he's now since he had
a when he's just doing a whole bunch, but that style doesn't
always work. Bob Marley wasn't gonna We're by the way using Bob
Marley. You can actually get sued over that. Those guys don't
mess around with Bob Marley image. Circle Polka tours was
kind of funny. It's at the bottom of bottom left of page
one. I don't know if there was that up there. When we were
looking at the Oh yeah,
John C Dvorak: I saw I was the cheesecake. Yeah, it's not a bad
cheesecake. No, but it was you know, wasn't related to the
show. It wasn't dynamite. No, the dynamite piece was
Adam Curry: it when we take it just one that we both chuckled
at Nikko Symes unplugged Joe, I thought it was kind of funny.
The back of the president's head with a plug being pulled out of
the saw get it out of a socket. Dangle ops, which was the title
that wasn't a great who did that? That was mountain J.
Amadis. Yeah,
John C Dvorak: we didn't discuss this a lot. The Dangle ops. No,
no, no, we didn't discuss the art that much. Because this
piece was so good. It was good.
Adam Curry: We just went straight for the jugular. You're
right. Thank you very much artists, we appreciate all the
work you do always forever. There are now let me count them.
Let me say we've had 1500. And this would be the 49th episode
29,577 pieces of art that I mean, that is it is amazing. I
always pray that someone is archiving this entire site. I
have a version of an archive. I think you have a version of an
archive. We're just hoping for Paul couture who runs it has a
good archive because it is I mean, this is history.
John C Dvorak: And there's actually a previous site to this
that still has probably a few 1000 pieces that are no idea
lost to history have no idea where that went. And finally
remember that error they believe it's possible that the Wayback
Machine has it
Adam Curry: If they don't get sued out of existence, though
they won't. So that's just one of the many ways you can help
it. You can do all kinds of thing you organize a meet up.
There's so many things you can do as a producer be boots on the
ground. Everybody's an expert in one thing when you hear us
fumbling and bumbling, if we don't ever do or saying
something wrong, or if there's something in the news that you
really know about, and it's being discussed incorrectly, by
us or others send us a note. We read these notes. We're
interested. You heard us read several on the show today. This
is this is part of the power of people as people power producer
people power. And we also need finances, there's no doubt about
it. If you don't support us financially, then eventually
we'll have to go find another way to make money. Today is not
bad. We appreciate the donations that have come in we kick it off
with our top executive producer Baron of backwardation and note
this is a baron so this is someone who has supported the
show over several periods of time with some good treasuries
in Winter Park, Florida, and he comes in today with $1,549
really appreciate that. And he says note from barren of
backwardation and contango in the Morning John Adams show
number donation How long has it been since we've had a show
number donation? I can't remember the last time we had
one. There's a few shows back now. I think it's 20 shows back
at least so yes and that as a special credit you get double
credit you get a credit as executive producer, you get a
credit as show number donation. 1549 Thank you very much. The
yes the show number club. Correct. I said you wanted to do
it for show 1550 But Adam is fixing his teeth. And no live
show. Yes, that's correct. Wednesday, Wednesday, so there
will be no well actually we will we're gonna have a best of clips
of the day show for Thursday and that will be show 1550 And I am
counting on being here for the next Sunday. Come hell or high
water I want to do the show
John C Dvorak: we'll see don't put don't push it we do have a
show we do have a show to put up here we
Adam Curry: do but I would really I want to I liked doing
the show. I liked doing the show by Miss doing the show missing a
show was bad. Your procedure cost you $1 Yes, that's right.
Oh no great material later he says no jingles no karma. Thank
you very much. We appreciate it. Baron
John C Dvorak: read Fisher from hotsprings South Dakota comes
in. He says happy for 2010 Thank you unfortunately the bitcoin
address didn't work for me enjoy this contribution has been a
quite a few months since my last donation loved Adams profession
of faith on Rogen blessing so you both know jingles no karma
another one. Bowman McMahon
Adam Curry: San Antonio Texas another 420 Hooray for the earth
420 And Earth Day celebrating together and one donation.
John C Dvorak: Unbelievable.
Adam Curry: I'll take the next to Angela caster not a dame
Angela from Henderson Nevada she's he's our Las Vegas Dame
she is Dame Angela have been a producer of the show for a long
time she says it's been a while thank you that is all thank you
damn Angela
John C Dvorak: Willis. She gave me a 350 Yes she did. Who did fo
diddley and camas Washington. ITM Gentleman, thank you for
your hard wise work hard work and wise words and the fun you
provide for us all as you deconstruct some of the madness.
But this 33334 I achieved my first night was a gift to myself
at the 50th trip around the sun. Ah you know I wonder if he's on
the birthday list. Let me check focus he kind of couches it here
Yes, without even using the word birthday I will check. Please
let it be known throughout the realm that I have henceforth be
known as Sir Suge Knight of the fern prairie foothills if my
humbly request shiner ruby red and key lime pie at around table
please add me to the ball. There it is. Please add me to the
birthday list might be on the check.
Unknown: She's definitely she'll catch that on the list
John C Dvorak: as it is on the 28th but I know there will not
be a live show of the day before thank you for your courage no
need for jingles but some karma for all lovers lit search would
be sure Suge aka fo deadly 33334
Adam Curry: You've got karma. Moving on to Nate Thurman from
Longview Washington. Three Three is our favorite executive
producer donation amount in the morning gentlemen region number
10. in Longview, Washington hello from FEMA Region number
six. I've been such a douchebag listening religiously donation
segments included since your first Rogan appearance broken
donation, please accept this long overdue first time donation
of three, three 3.33 for providing the best podcast in
the universe, please de douche. Ben de deuced Oh are
understandable. I'd like some jobs karma for my smokin hot
wife. We never had a fight. I'd love some Dvorak mac and cheese
jingle if you have time thank you for all you do. I bought
some of the T shirts and sweatshirts from no agenda shop
they're great quality I will be getting more
John C Dvorak: you slaves can get used to Mac and Cheese,
cheese macaroni and cheese melted together mac and cheese
mac and cheese mac and cheese everybody
Unknown: jobs, jobs, jobs and jobs or jobs
John C Dvorak: Dame Elizabeth's from Poughkeepsie New York. Hi
Jenson she came over $333.33 This brings me to double Dame
level that day WDS haha if I were more clever I would have
time this with a boob donation no jingles just job karma for
myself sir big Johnson and anyone else needing it note
accounting emailed Dame ie
Unknown: jobs, jobs, jobs and jobs for jobs
Adam Curry: next up on our list we have 333 from the anonymous
controller Ah, okay, we I told you we have producers everywhere
everywhere writing to you from the Midwest to let you know that
you have a following of air traffic controllers that I hope
they're not listening to the show where they're controlling
air traffic.
John C Dvorak: Are they Is it a following more than one?
Adam Curry: I think so. Yeah, probably anything air traffic
slash pilot related always gets a second listen to we can look
back to see what happened during our shifts on those days. And if
we noticed anything Wow. And we do get a lot of information from
the Aviators. We love discussing the shows that work and often
follow frequency changes to pilots within in the morning. I
have not heard that.
John C Dvorak: Well let's have a good escape. We need a recording
I
Adam Curry: need a recording of the ATC live I need a recording
of like yes frequency change approved in the morning. My wife
is currently on leave to take care of our most recent human
resource born in room number 333 There are no coincidences. Then
on the drive home from the hospital gas was $3.33 in
Franklin, Indiana. We apologize for the delay donation we look
forward to each show to each show week and love what you guys
do. You have boots on the ground in the air traffic world. If you
ever have questions, we'd like to call out our fellow
comptroller Dave as a douchebag. Dave hit us in the mouth a few
years back and still hasn't donated. In his defense. He
married a woman who was a divorced divorce attorney for a
father so when that ended you can imagine where all Dave's
money went. Flight Control eight air traffic controllers not
always the best to choose as a mate's I guess if we could hear
rebel iser and JC DS pockets Hot Pockets jingle Oh, I do have
your Hot Pockets jingle and I think I have a rebel iser number
station. No no,
John C Dvorak: let me finish reading this place. Hopefully
this note doesn't garner any pissing and moaning or
admonishment from either our favorite people or we listened
to ITM. So it this really was not a super long note and it did
have some information Yeah, but we can I can do that there's no
it's too long.
Unknown: In the hang out
by 333 33 or otherwise are our
John C Dvorak: pockets
Unknown: let's see.
John C Dvorak: Li North is my I'm up Yeah, Overland Park,
Kansas Dear John and Adam jingo, sleepy Joe and RTD to karma.
April 23 is my birthday. And we have you on the list we do many
shows ago I requested someone to create the RTD to karma jingle
and one of the producers provided for my birthday request
a new jingle called the short birthday song jingle. I included
a homemade example which is probably not fit for playing on
the show. But you can play it if you want to. I saw it linked. I
got it. I got it. Please share this with the usual suspects for
exception for exception audio production, I think exceptional.
I cannot wait to see what they create. Thanks for everything.
Baron goon li northa KF OBH 70 threes 70
Adam Curry: threes kilo five Alpha Charlie Charlie. Is your
birthday song isn't very long. She would go she read
I love our little producer there. Let's see we have our
final executive producer uninjected.com. No city provided
333 In the morning, please accept this donation on behalf
of the team here at unchecked. Oh, yes, I know this
uninjected.com The world's first and largest unvaccinated dating
site. My name is Scott. I am the executive assistant to the
founders of uninjected Shelby Thompson and Heather pile. I met
you this last week at the no agenda meetup in Nashville quite
an honor. Thanks for making the trip up here. uninjected has
withstood some of the most severe attacks on the mainstream
media up to an including Forbes magazine Business Insider Jimmy
Fallon and the entire mainstream establishment after being
deleted from the Apple and Google stores in 2021 uninjected
Read launches a browser based website and it's thriving more
than ever. We encourage everybody to come find your
people on there. We also feature blood donor listings and
fertility services, sperm donors and surrogacy. It's everything
you wanted for the unleaded, I made it up myself. So yes, go
low, go to inject the.com. And if you find that if you find a
mate, definitely let us know about it. Thank you for your
courage, we wouldn't be able to do what we do without everything
you have done, I guess. Keep crushing. Sincerely, Shelby,
Heather Scott and the entire uninjected.com family. Hey, good
luck with that. I think that's a that's real American
entrepreneurialism, right. Yeah,
John C Dvorak: it is actually here. It's beautiful. Robert
Ross is up and he's Associate Executive producer from
Richmond, Virginia. $280.08. And he has no notes as he gets a
double karma. Yes, he does. You've got karma. Last on the
list of Sir Nacho Alcatraz and Mexico, which is nice. 200
bucks. No jingles, no karma. Cheers Jen, sir Nacho Alcatraz.
And we
Adam Curry: thank these executive and Associate
Executive producers for supplying us with fuel for
fools. To continue doing the show. Once again, we appreciate
that if you'd like to support us, we have a donation page, you
can go check out vo.org/and Just to make sure everybody has a
little bit of goat karma to leave yet. And thank you again
for supporting episode 1548. Formula is this. We go out yet
people in the mouth
we will have a second donation segment. We have a lot of meet
up reports. John, you won from the fair warning. Well, I had
the good. I mean, we had so many for 20 meetups, that people
reported from all over the world. We also have a short
version of the Nashville meetup. They sent us a five version five
minute version of one meetup report like No, no, no, no, you
got to make it shorter, and did a good job on it. So ah,
goodness, where are we?
John C Dvorak: Well, let's start with this interesting. You know,
you're talking about apps and the phone and mobile and all
this stuff. Yeah. Well, we have a new app. The US government, of
course has put this new app out. Have you heard about the title
42 app? No, no, I guess Yeah. All the immigrants coming in
have to use this app. And of course, it doesn't work
Adam Curry: web Is this the one they get that's pre installed on
the phone that they get with their credit with their debit
card that they get.
John C Dvorak: I don't know if it's pre installed or not, but
they do have it. Okay, but here's the story behind it. This
is a title 42 app, the binary you're
Unknown: gonna stration is using a cell phone app as the main
Porter for migrants seeking asylum at the US Mexico border.
The app was first rolled out in January, but it's been plagued
with glitches. It's ALi Rogen tells us that it's forcing 10s
of 1000s of people to compete daily for a limited number of
appointments
since March 2020. A public health policy called Title 42
has allowed border agents to expel migrants, even those who
are seeking asylum. But that policy ends on May 11. And the
Customs and Border Patrol app could become even more
essential. Here to discuss this Wall Street Journal immigration
reporter Michelle Hackman Michelle, thank you so much for
joining us. Let's remind everybody first How does title
42 work? And how does this app fit in with the title 42
process?
So title 42 is a policy that because of public health
reasons, allows the government to sort of they call it
expelling migrants back to Mexico or their home. countries
on the risk that they might spread COVID. But the really key
point here is that it prevents the migrants, the asylum seekers
from even asking for asylum. Under normal circumstances, if
you ask for asylum, they cannot kick you out of the country. I
mean, that's how asylum law works.
And then this new system that is replacing title 42, how does it
work? And then how does this app fit into that?
Yeah, so this app,
wow, what is this NPR?
John C Dvorak: No, this PBS?
Unknown: Yeah. And then this new system that is replacing title
42? How does it work? And then how does this app fit into that?
Yeah, so this app, it's called CBP, one, it's actually been
introduced already, even while title 42 is still in place. And
the way it works is that if you're an asylum seeker, you
essentially can't ask for asylum if you cross the border
illegally, which is the way that most people try. And so instead,
the government is saying use this app, book an appointment,
you can come to illegal trade, ask for asylum, and we'll take
you the only issue is there are just way fewer appointments than
there are people who want them.
Adam Curry: Oh, man, okay, let me get this straight. So we've
been told for years, I'm going to say up seven, eight years,
that you can only request asylum and asylum. Asylum is a good
thing. There's lots of people who need asylum, they need
asylum because they're being persecuted in their home
country, etc. Okay, fine. The only way you can do it is if you
go to a legal point of entry where asylum can be requested.
So because so many people are being bussed in by the likes of
Soros and the UN, the UN literally busing people to the
border to the US border, to illegal points of entry for
where you cannot request asylum. They've now just come up with an
app and said, well, as long as you use the app and you fill it
out, then you basically have a legal view of legally requested
asylum. Who cares if there's an appointment, you get let in, you
get an appointment, when it's up, your app will ping you. But
you now have legally requested asylum because of this app.
John C Dvorak: Something like that, except for one small
issue,
Unknown: the app doesn't work. Exactly.
John C Dvorak: Is that clip to? Yeah, pretty much.
Unknown: And let's talk about what problem exactly this app is
trying to fix.
The Biden administration, you know, is taking, I would say, a
slightly different approach from the Trump administration where,
like the Trump administration, they're saying, we really don't
want you to cross illegally, you know, it's unsafe for everyone
involved, it creates chaos. It doesn't allow us to screen who's
entering our country. But unlike Trump, they're saying to try to
convince people to not come illegally, you have to give them
another option. So this is that other option at ports of entry.
And there are a couple other things who who said, they have
to do that when just
to try to convince people to not come illegally, you have to give
them another
was at the bite who said I want to use it that it creates
chaos. It doesn't allow us to screen who is entering our
country. But unlike Trump, they're saying to try to
convince people to not come illegally, you have to give them
another option. Just
Adam Curry: just the administration just said that
they just made up a new rule like Oh, you gotta give him an
option. Yeah. Oh, this is, before we continue with this
clip, I want to remind everybody, according to the
former New York banker, the only reason America wins is because
we have a growing population. Everyone knows China will not
win because they're in decline, the EU is totally in decline.
And as they sterilize our girls castrate our boys, they are
making sure that the bankers will win, they will win because
of this constant flow of human bodies into our country.
Unknown: So this is that other option at ports of entry.
And there are a couple other things that the Biden
administration is trying, they've opened up some
additional legal pathways. Can you talk about those, so they're
trying this totally new idea that that is sort of a novel
legal theory where they're saying, you know, even if you
don't qualify for a visa, and you're from a certain set of
countries, where you're fleeing from authoritarianism, say, you
know, Venezuela or Cuba, you can apply to come to the US. As long
as you have a sponsor who will take you will let you fly here
illegally to the city of your choice. Let's say you want to go
to Chicago. And we'll give you a legal permit to be here for two
years at work. So it's sort of an incentive, because it's a way
better situation than crossing the border and immediately being
put in immigration court. You were
recently at the border where people are using this app to
apply for these appointments. How is it working? What are some
of the problems that folks are facing? And also, what is life
like for people on that side of the border?
It's interesting, we haven't actually tried using a mobile
app to do border management before. And like any other app
that you download on your phone, it's not perfect, you know,
people every day in the morning they log on to try to get an
appointment their new point. mints made available every day,
let's say at about 9am. But there's so many people trying at
the same time that the app stalls, you know, it goes gray
or it gives you a 504 error. Sometimes, you know, this is a
big issue that the government's been trying to solve. There are
a lot of migrants, let's say from Haiti who have darker
facial complexions. And you have to take a picture to prove it's
you before you get your appointment. And it struggles I
made it with those darker complexions that sometimes
doesn't recognize people's faces.
John C Dvorak: Okay, okay. So first and solve the years ago,
but they can't seem to solve it with their you can I like to
know what this app cost to develop?
Adam Curry: Oh, I shudder to think of that. But I like the it
gives the 504 error. Does this nitwit even know what a 504
errors that means? The server is timing out because it's shite.
That means your server just isn't responding. It's not a 404
that the page doesn't exist a 504 Gateway timeout error, which
means it's not the server is not responding.
John C Dvorak: She's not
Unknown: gonna go into that. But the Cavalier is less like other
apps. He goes Greg
John C Dvorak: Yeah, that's true. It's very cavalier the way
she spoke of the other apps but it really there's plenty of apps
that work fine
Adam Curry: it accentuates exactly what I said. Oh, just
get a ticket. You can come in here you get a work visa for two
years.
John C Dvorak: man Yeah, we know how that goes. Man. It's been
two years learning English and then you're good to go to go
Yeah.
Unknown: Wow. Get a
John C Dvorak: driver's license in California no problem you
know, it is replenishing our stock especially with the our
own people refuse yes to have chill, reproduce. Yeah, our
stock or sterilizing your kids.
Adam Curry: As early as your kids, it's what the bankers
want. And then
John C Dvorak: you can you can pay their medical bills for the
rest of your life. Man,
Unknown: that's Java. Okay. All right. Beautiful.
John C Dvorak: It's just beautiful.
Adam Curry: It's beautiful. Alright, a couple things we have
different to talk about. We haven't talked about the leaker
denial. Yes,
John C Dvorak: we do have to talk well, I think we also need
to talk about the mike Morel oh
Adam Curry: no yeah, that flows the leaker flows into Mike
morale. It's all it's all either the lack of clips I have some
John C Dvorak: I have some is good because the lack of clips
on the mainstream media is really sketchy. For the for the
mike morale stuff. It's a complete news blackout which
they blacked it out which Okay, so well, you're better off
reading into newsletter dead last newsletter. All I wrote
about was the mike Morales. Let's
Adam Curry: let's do Mike Moreau. Let's just do Mike where
I want to do Mike morale. So, first of all, oh, boy, I sound
like Elon Musk.
John C Dvorak: You do the same thing.
Adam Curry: I'm gonna wait. Let me just get into so we thought
that this was a pure takedown of Joe Biden. It seems that because
the mike Morel thing is kind of being hushed up. Maybe it's a
little more than that. What it seems to me as we understand the
story of Mike Morel when the Hunter Biden laptop story broke
quite swiftly there were 50. You it. It'd be interesting to play
one of those clips. Let me see 50 Intel. I wonder if we have
hot
John C Dvorak: shots like Michael Hayden
Unknown: intil. Laptop, I wonder what those clips were taught
were titled, onto your laptop.
John C Dvorak: While you're Incorporated, mostly in news
coverage,
Adam Curry: I guess they were so there were 50 intelligence
leaders
John C Dvorak: 50 Plus, yeah, yeah.
Adam Curry: Who all signed this letter. And this letter all is
clear. It's right. It has all the hallmarks of Russian
disinformation, all the hallmarks of Russian
disinformation. Yeah, we learned from the Senate Intelligence
Committee, which of course is now run by Republicans. No, it's
not. No the Senate Senate you're right, the Senate but it's the
it's to two Republicans on the Senate committee who have
unleashed this information. Yeah, you can still do that.
Hold on a second. I think I have a mini cut. This is what was
happening and this is from the date here is March of 2022.
Unknown: Hunter Biden this laptop that intelligence
officials have warned or is likely Russian disinformation.
I get pretty fired up about how this works because I mean, if
the New York Post tells you your mom loves you, you should check
it out. We are not talking about fully reliable sources here
feels like a repeat from last cycle. It's the you know, but
her emails again And it's kind of ridiculous featuring all the
usual suspects Hunter Biden mysterious emails Ukrainian
businessman that that
Adam Curry: that that hold on we have found another clip
incriminating
Unknown: evidence allegedly found on a laptop belonging to
Biden
some sort of Russian disinformation
campaign One
John C Dvorak: eternity later Biden emails finally
authenticated according to The New York Times is rewinds a lie
altered or
Unknown: fake unverified emails
that story did not quite land due to the lack of verification
what can be verified the laptop because it can't be verified we
got to report this this is the one of the most power because
families in Washington a journalist okay you guys will
start doing that verify no we're not going to do your work for
you journalists
for all we know these emails are made up
not really stories just pure distractions no serious
journalists should fall for it
down if this is verified bottom line is we cannot confirm the
story experts
say the emails cannot be authenticated
the mainstream media is not reporting on the story because
we can authenticate this material the Hunter Biden laptop
material is genuine genuine genuine This is a classic
example of the right wing media she just lacks credibility the
fact that it appeared in the New York Post
The only place low enough to put this stuff in bastard story in
print obvious disinformation it is so obviously the washing
operation so
obviously this information and so obviously a Russian plot tell
me why it's so obviously a Russian plot it's
just classic textbook of Soviet Russian tradecraft at war.
Right exactly. I'm this is very classic Russian disinformation.
This
Adam Curry: is so good to have this in retrospect. This is your
no agenda show by the way. Okay, so when asked you, best podcast
and universities in the leaked documents look around for a
wrinkled piece of paper. So yeah, that was what the media
was doing. Just incessantly nonstop. Russian disinformation
can't be verified can't be authenticated. And now it turns
out Oh, and
John C Dvorak: by the way, let's let's stop for a second. You and
I both had gotten various copies of some of the files from this
thing. Oh, yeah. It was you didn't need to verify it was
Hunter Biden mostly videos? Yeah. Of him cavorting with
these hookers. And and masturbating on camera,
Unknown: sex workers, jobs, sex workers.
John C Dvorak: It was sexual workers. He was any smoking
crack, and he, his teeth rotted out? And I mean, it went and
then there's all these documents, there was tons of
emails, and it was and it all can't be verified. What do you
need to verify what specifically on this laptop on these and
meanwhile they Chris, they slammed Giuliani and Giuliani
was completely immoral and
Adam Curry: they were going to arrest him, they're going to
arrest him. And you see now that BuzzFeed who were part of you
know, all of this very, very, especially with the PP tape and
all that and the dossier and all the against Trump, they're now
basically out of business. Yeah, well, there's no there's no
news. There's no BuzzFeed fired everybody.
John C Dvorak: They were taken off the last budget, I guess
it'd be CIA
Adam Curry: was done. So okay, so now we learned from the
Senate Intel Committee, that Mike morale testified behind
closed doors. He said, Well, you know, Anthony Blinken asked me
to write this up. And I did and you know why he did? Of course,
because he foolishly thought that he would become CIA
director. That's obvious.
John C Dvorak: Oh, yeah. And he's really obvious.
Adam Curry: And he even says, Well, you know, I wanted Biden
to win so that's why I wrote this up. Everybody signed on all
these all the clapper Brennan, all these guys. A horrible the
media. That's actually a four minute megakat only played a
minute and a half. The media just going on and on and on
about can't be true. It's not true. Can't be verified. And you
know, we were able to verify it easily, very easily. You were
verified a lot of things. Apparently. So now. Now, as we
say, The dolls are dancing in the old country. The Papa Papa
is your sign on a dancer.
Unknown: Tonight the White House responding to claims from an
anonymous whistleblower, insisting President Biden has
upheld his commitment to let the Justice Department handled the
investigation into his son Hunter, free from any political
interference. So
Adam Curry: this is now we have two stories going on at the same
time. One is a whistleblower from the IRS Who says hey, I'm
willing to testify that that none of Hunter Biden's crimes,
alleged crimes were investigated. In fact, I was
told not to investigate the insinuation is that Attorney
General garland himself has something to do with that, and
it flows over into this letter from Mike Morel.
Unknown: The whistleblower claims that preferential
treatment and politics are improperly infecting decisions
and protocols in the investigation. The person who
sources described as a senior IRS agent directly involved in
Hunter Biden's case says he has evidence including emails and
other communication, but that he won't reveal it until he gets
federal whistleblower protections.
He feels like some of the steps in the investigation have been
compromised by political motivations and other things
like conflicts of interest.
The Justice Department has been investigating Hunter Biden since
2018, focusing on whether he properly paid taxes and whether
he made a false statement when purchasing a gun. The US
Attorney in charge of the case was appointed by former
President Trump and kept in place by Attorney General
Merrick Garland. As proof he would not be meddling in the
investigation.
I have pledged not to interfere with that investigation and
I have carried on my pledge.
Today on Capitol Hill members of both parties say they're taking
the whistleblower claim seriously.
Anyone who steps forward identifies themselves in a
whistleblower capacity is doing it some risk politically or
personally. And so I take it seriously. They don't always pan
out to be something worthwhile, but we should take them
seriously.
Adam Curry: Yeah, there's a lot of downplaying? Well, you know,
it might not be what we love to do. Yeah. So unbeknownst to us,
after nine years, Mike Morrell left CBS a month ago. Isn't that
convenience. And when you hear his sign off from the mike Morel
podcast, it has a has a name, which I think now I'm kind of
pissed, but I was not subscribed to this podcast and listening
all the time. Here's his sign off. Before we sign
Unknown: off this week. I want to share some important news.
After nine terrific years, I've recently decided to take a step
back and leave CBS News Now. Do you think he was asked to step
back, John?
Adam Curry: Or did you have a better gig somewhere than a
podcast?
John C Dvorak: Well, obviously, you know, CBS News is connected.
Yeah, he was given the opportunity to do something else
under conditions because he's gonna go back into, you know,