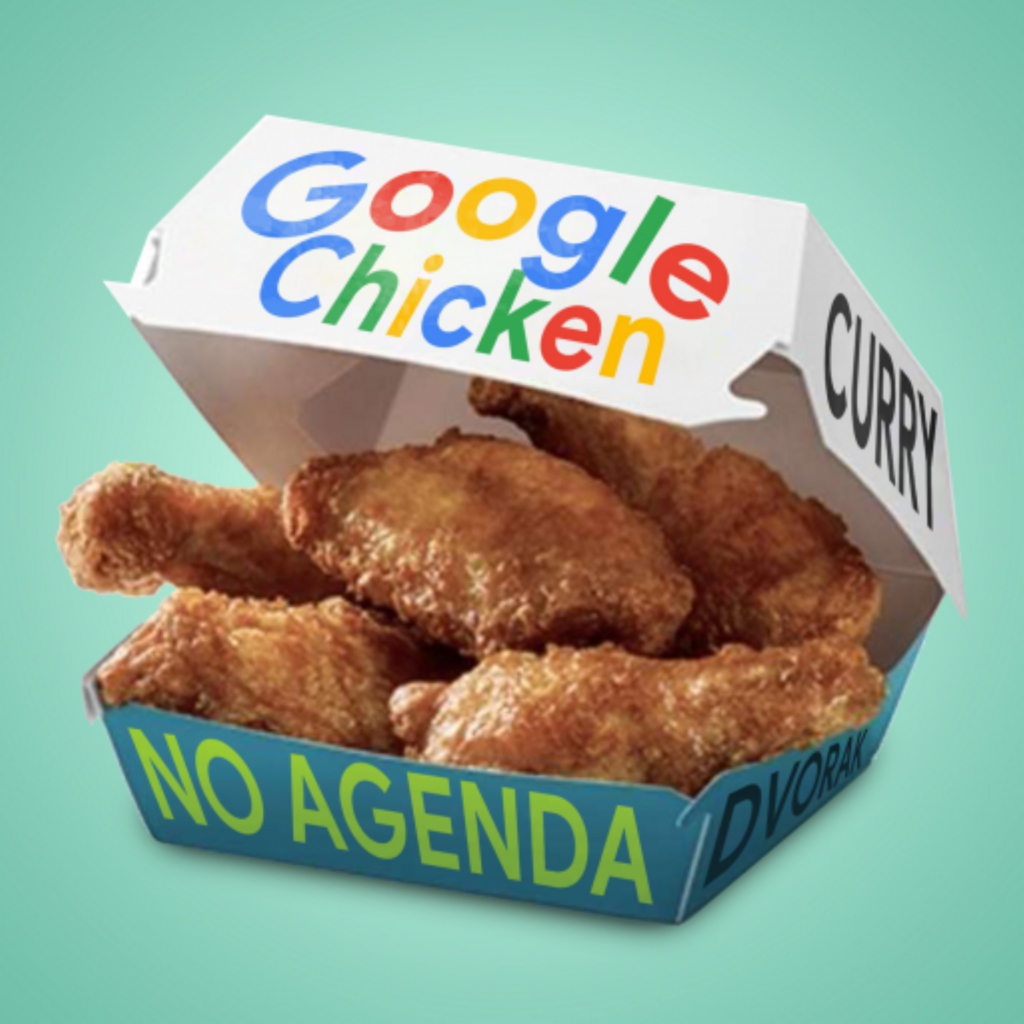 April 23rd • 3h 14m
1549: Al Gore Rhythms
Shownotes
Every new episode of No Agenda is accompanied by a comprehensive list of shownotes curated by Adam while preparing for the show. Clips played by the hosts during the show can also be found here.
Prime Time Takedown
Climate Change
Big Tech AI

Meta reportedly cancels all its Metaverse plans - - Gamereactor

Did you think Metaverse would be the next big thing on the web?

"Meta is no longer pitching the metaverse in conversations with its advertisers and is instead trying to get them to back its Tiktok-a-like short-form videos and its AI tools. That's in stark contrast to last year, where every second word out of Zuckerberg's mouth was 'metaverse,' in what he was expecting to be the future of the internet."

This is in pretty stark contrast to the roughly $4.3 billion spent on Reality Labs in the last quarter alone, and Metaverse was also the whole reason they changed their name to Meta.

Why everyone is a giddy about AI BOTG

Hey Adam, just wanted to reach out and give you some insight on why everyone is buying in to AI as this massive change for technology/work. Please omit my name if you decide to read this on the show at all.

In short, they have to believe it.

All of these technology companies were pumped up with new money during COVID, they over-hired and the short-lived bump in business that they all experienced during that timeframe is drying up.

They see the economic headwinds and would have glommed on to anything that seemed like a solution. All of these new AI tools launched at the exact time when everyone was searching for a fix.

So now the industry is full of middle managers who have never actually used these tools to accomplish anything, but believe in the pitch because their financial future depends on it. They think it will work to 10x productivity because they need something to 10x their employee productivity.

What clued me in to this realization was a recent all-hands meeting at my work where the CEO was asked what he had been using AI tools for. He didn't have an answer. The short story is that he had played around with the tools with the same sort of useless questions that everyone else has, but nothing has been integrated into his day-to-day work.

And then we had another meeting headed by one of the division leads who was asked what suggestions he had for how employees could integrate the tools into their work. He didn't have much to suggest beyond using them to re-word things like documentation or use it as some sort of quality assurance filter when interacting with customers.

The reality is that these tools aren't actually all that useful, especially for competent employees that are above-average writers. At least, I haven't seen any evidence that they are.

With all of the effort to try and integrate them into our work, I'm sure there will be some applications. But they will never result in the 10x increases in productivity that so many people think are possible.
Ministry of Truthiness

Simon Ateba on Twitter: "As I keep pressing for answers, she keeps protecting the President. @PressSec Karine Jean-Pierre dislikes me 99 percent of the time

@PressSec Karine Jean-Pierre dislikes me 99 percent of the time, and likes me 0.0001 percent of the time. The worst part is when we meet at that restaurant outside the White House. After a big fight in the… https://t.co/7pC7ADOZVb" / Twitter
Great Reset

Paris riots and communism BOTG

Dear Adam and John,

Please keep this message anonymous…

I've been listening to the best podcast in the universe since Adam's first appearance on Rogan.

You've asked many times for a boots on the ground report from France, and I'm finally responding to the call since I think everyone will benefit from a glaring omission in the coverage of French protests and riots over the retirement age.

Little background… I grew up in America and spent over 20 years in France, including both a long time in Paris and deep in the countryside.

What everyone outside of France seems to not see in all the photos and videos of the protests, is that the leaders are the CGT union, which is, by a long shot, the biggest public communist force in France.

Likewise, when the media reported that university students are rising up, everything I saw was banners from Paris 8, which everyone in the know, knows, is "the" communist university in Paris.

The people rising up are the same ones who masked up, told people to take the vax, and were happy to stay home for months on the government dime and collect their pay during the lockdowns.

Notice that they're protesting over raising the retirement age by 2 years, and aren't making a stink over out-of-control inflation, ever increasing taxation, and millions of illegal immigrants collecting welfare money, while more and more French citizens are retiring in near poverty conditions.

This is another example of what I see as a well-honed French technique of the French government working with the national leaders of extreme movements to channel people's justifiable anger and frustration into relatively unimportant fights that benefit the system.
Africa

AFRICA - Hersh: West Knows of Its Arms to Kiev Ending Up on Black Market
Big Pharma
Transmaoism

Emotional blackmail by pharma - transition or suicide

Democrats propose constitutional protections for abortions, sex and gender identities – Oregon Capital Chronicle

The measure would not change existing laws in Oregon that ensure reproductive health access and marriage equality. But a constitutional amendment would safeguard against any future state laws that would undermine those rights.

Rebekah Jones son arrested in Florida: What we know about threat:

"Okay so it's been like 3-4 weeks since I got on my new antidepressants and they aren't working but they're suppose to by now so I have no hope in getting better so why not kill the losers at school."

Transgender personnel in the United States military - Wikipedia

Demographics[edit]

Transgender people are significantly more likely to serve in the US military than the general US population.[175][176] According to 2014 estimates from the Williams Institute on Sexual Orientation and Gender Identity Law and Public Policy, despite the ban on military service, about 21.4% of the total transgender population in the US is estimated to have served in the military. In May 2014, an estimated 15,500 transgender individuals served on active duty or in the Guard or Reserve forces.[21]

About 32% of transgender individuals in the US who are assigned male at birth serve or have served in the military, compared to 5.5% for transgender individuals who are assigned female at birth.[21] According to the 2014 study, "[t]he American military employs more transgender people than any other organisation in the world: around 15,500...more than 6,000 of whom are on active duty."[177]

A 2016 workplace and gender relations survey found 9,000 US military service members consider themselves transgender individuals.[178] In 2019, the United States Department of Defense states that 1,400 service members have been diagnosed with gender dysphoria and fewer than 10 service members were receiving gender reassignment surgery.[178]

Discharges[edit]

The military did not record statistics for the number of transgender individuals discharged.[179] In April 2015, the Palm Center stated that at least a dozen individuals had been discharged in the past six months for being transgender.[180]
Ukraine Russia

NATO HQ Hit in Ukraine by Russian Hypersonic missile

Greek source: The Russian hypersonic missile "Kinzhal" managed to hit the joint Ukrainian-NATO control and communications center, installed at a depth of 130 meters.

The underground headquarters housed NATO officials and reportedly housed over 300 people. Most of them are British and Poles, but there were also Americans and representatives of private companies that support communications and data transmission.

This is the first massive strike against NATO personnel and it is not known how Western capitals reacted as there's been no response. It will be the same as recognizing the active participation of personnel in the war against Russia.

In the coming days, it will be seen to what extent this will affect the conduct of Ukrainian and Western operations and attempts to stop the Russian offensive on Bakhmut.

AFRICA - Hersh: West Knows of Its Arms to Kiev Ending Up on Black Market
WTC7
STORIES

BuzzFeed News to shut down as company cuts 15% of all staff

Sun, 23 Apr 2023 17:18

Pulitzer prize winning digital media company BuzzFeed will shut down its news division as it cuts about 15% of its entire staff.

In a memo sent to staff, co-founder and CEO Jonah Peretti said that cuts would also occur across its business, content, tech and administrative teams, according to multiple media reports. BuzzFeed is also considering making job cuts in some international markets.

Peretti said in a memo to staff that he ''made the decision to overinvest'' in the news division, but failed to recognize early enough that the financial support needed to sustain operations was not there.

SEE MORE: Disney laying off 7,000 employees

''I've learned from these mistakes, and the team moving forward has learned from them as well,'' Peretti wrote. ''We know that the changes and improvements we are making today are necessary steps to building a better future.''

He added that the company will now have one remaining news brand, HuffPost.

The announcement comes just a few months after BuzzFeed said that it would be cutting 12% of its workforce, citing worsening economic conditions.

BuzzFeed, founded by Peretti in 2006 and initially known for listicles and online quizzes, had established itself as a serious contender in the news business, winning a Pulitzer in 2021 for international reporting.

Sign up for the Headlines Newsletter and receive up to date information.

What are PFAS chemicals? | Environmental Working Group

Sun, 23 Apr 2023 16:03

The 'forever chemicals' in 99% of AmericansHundreds of everyday products are made with highly toxic fluorinated chemicals called PFAS. They build up in our bodies and never break down in the environment. Very small doses of PFAS have been linked to cancer, reproductive and immune system harm, and other diseases.

For decades, chemical companies covered up evidence of PFAS' health hazards. Today nearly all Americans, including newborn babies, have PFAS in their blood, and more than 200 million people may be drinking PFAS-tainted water. What began as a ''miracle of modern chemistry'' is now a national crisis.

What Are PFAS?In 1946, DuPont introduced nonstick cookware coated with Teflon. Today the family of fluorinated chemicals that sprang from Teflon includes thousands of nonstick, stain-repellent and waterproof compounds called PFAS, short for per- and poly-fluoroalkyl substances.

PFAS are used in a staggering array of consumer products and commercial applications. Decades of heavy use have resulted in contamination of water, soil and the blood of people and animals in the farthest corners of the world. PFAS are incredibly persistent, never breaking down in the environment and remaining in our bodies for years.

DuPont invented the PFAS chemical patented as Teflon, but 3M became its main manufacturer. In 2001, a scandal erupted in Parkersburg, W.Va., after discovery of the Teflon chemical in the drinking water of tens of thousands of people near a DuPont plant. (The story is documented in the film ''The Devil We Know.'')

A class-action lawsuit uncovered evidence DuPont knew PFAS was hazardous and had contaminated tap water but didn't tell its workers, local communities or environmental officials. The lawsuit also triggered studies linking the Teflon chemical to cancer and other diseases.

What are the health risks of PFAS?The most notorious PFAS chemicals '' PFOA, the Teflon chemical, and PFOS, an ingredient in 3M's Scotchgard '' were phased out in the U.S. under pressure from the Environmental Protection Agency after revelations of their hidden hazards. (They are still permitted in items imported to this country.) Numerous studies link these and closely related PFAS chemicals to:

Testicular, kidney, liver and pancreatic cancer.Reproductive problemsWeakened childhood immunityLow birth weightEndocrine disruptionIncreased cholesterolWeight gain in children and dieting adultsPFOA, PFOS and the related phased-out compounds are called ''long chain'' chemicals because they contain eight carbon atoms. Since these chemicals have been phased out, the EPA and the Food and Drug Administration have recklessly allowed the introduction of scores of ''short chain'' replacements, with six carbon atoms.

Chemical companies claim this structure makes them safer. But DuPont admits that the short-chain chemical GenX causes cancerous tumors in lab animals. A 2019 Auburn University study found that short-chains may pose even worse risks than long-chains, which supports scientists' growing agreement that the entire class of PFAS are hazardous.

How are we exposed to PFAS chemicals?EWG and the Social Science Health and Environmental Health Research Institute track PFAS contamination reported by federal and state authorities. As of July 2019, our tracking map shows that PFAS contaminates public drinking water systems serving 19 million people in 49 states. Michigan has the most PFAS sites, but that's largely because most other states have not tested for the chemicals as extensively. Unreleased federal data suggest that up to 110 million Americans could have PFAS-contaminated drinking water.

The number of U.S. communities confirmed to be contaminated with the highly toxic fluorinated compounds known as PFAS continues to grow at an alarming rate. As of June 2022, 2,858 locations in 50 states and two territories are known to be contaminated.

But drinking water is not the main route of PFAS exposure for most Americans:

Although the original PFAS chemical used to make Teflon has been taken off the market, Teflon and other brands of nonstick cookware are still produced with new PFAS that may be no safer.PFAS chemicals are widely used to coat paper and cardboard wrappers for fast food and bakery goods.PFAS chemicals lurk in stain-resistant furniture and carpets treated with Scotchgard, Stainmaster and other fabric treatments.Clothes labeled stain- or water-repellent, such as Gore-Tex jackets, usually contain PFAS chemicals.PFAS are even in personal care products and cosmetics.Who is responsible for PFAS pollution?ManufacturersAs far back as 1950, 3M studies showed PFAS could pollute people's blood. By the 1960s, 3M and DuPont animal studies showed that PFAS were health hazards. In the 1980s, both companies linked PFAS to cancer and found elevated cancer rates among their own workers. But they kept these and other studies secret. Here is a timeline of internal memos, studies and other documents detailing the decades-long deception.

Six other companies that made PFOA were subject to the PFOA phaseout. They included Arkema, Asahi, BASF, Clariant, Daikin and Solvay Solexis. In 2015, DuPont spun off its PFAS business to a new company named Chemours. Chemours' PFAS plants have also polluted drinking water, and the two companies are locked in a legal battle over who will pay to clean up contamination.

Industrial dischargesAt least 475 industrial facilities may be discharging PFAS into the environment. Yet there are currently no restrictions on industrial PFAS discharges under the federal Clean Water Act or the Clean Air Act. Here's a map of those facilities.

The militaryDespite knowing about the hazards of PFAS-based firefighting foam, the Defense Department continued to use it for decades and now is fighting efforts to clean up legacy pollution. This map shows military sites where drinking water or groundwater is contaminated with PFAS at levels above the EPA's advisory level.

For nearly 70 years, chemical companies like 3M and DuPont have known that PFAS chemicals could build up in our blood. They've known for almost that long that PFAS chemicals could have a toxic effect on our organs.

But they kept those facts from the public. EWG has compiled documents that detail decades of deception.

What is being done about the PFAS contamination crisis?Environmental Protection AgencyThe EPA has known about the hazards of PFAS at least since 1998, when 3M provided studies that led to the withdrawal of the Scotchgard chemical from the market. Since then, despite mounting evidence of PFAS' toxicity and contamination, the EPA has inexcusably dragged its feet.

The EPA has failed to set a legal limit for any PFAS in tap water, and its non-enforceable health advisory level for PFOA and PFOS is 70 times higher than what independent studies show is needed. In 2019 the EPA announced a toothless ''action plan'' that would do nothing to reduce ongoing PFAS releases or clean up legacy PFAS pollution.

Food and Drug AdministrationLike the EPA, the FDA has recklessly let the chemical industry introduce new PFAS chemicals for use in food wrappers and packaging, with scant safety testing. FDA found PFAS in popular foods but didn't make the findings public. After the results leaked, top agency officials said PFAS in food is ''not a concern.''

The PentagonThe Defense Department has also failed to deal adequately with the crisis. The Pentagon tried to block release of a federal toxics agency's recommendation of a much lower safe level of PFAS than the EPA's health advisory level. It lobbied the White House to back woefully weak cleanup standards.

CongressIn response to the failure to act by the EPA, the FDA and the Pentagon, Congress has stepped up. In June and July 2019, the House and Senate passed versions of an annual defense spending bill that includes provisions to limit PFAS discharges into drinking water supplies and to quickly end the military's use of PFAS in food packaging and firefighting foam. Both bills would expand PFAS monitoring: The Senate bill would expand reporting of PFAS discharges, and the House bill would require polluters and the DOD to clean up legacy PFAS pollution. The final bill is under negotiation, but President Trump has threatened to veto it.

We need your help to protect our environment from toxic PFAS chemicals.

State GovernmentsStates have also stepped up. Michigan, New Jersey, Pennsylvania and other states have proposed or enacted limits for PFAS in drinking water that are significantly lower than the EPA's advisory level. Washington and Maine have banned PFAS in food packaging, and at least five states have restricted the use of PFAS-based firefighting foam. California is the first to require utilities to test tap water for PFAS and inform their customers.

Tougher laws and regulations are essential, but you can also take steps to protect yourself and your family today. Learn how to reduce your exposure to PFAS chemicals in drinking water and consumer products.

12ft | Bush, Obama, Clinton Team Up with AmEx GBT to Fly Migrants into U.S.

Sun, 23 Apr 2023 15:20

Removing Paywall

Fed's Beige Book: The Credit Crunch Has Arrived in New York, California and Texas

Sun, 23 Apr 2023 14:57

By Pam Martens and Russ Martens: April 20, 2023

On Wednesday, the Federal Reserve released its Beige Book, a compilation of current economic conditions in each of its 12 Federal Reserve districts. The information that was collected in each of the regional reports was gathered on or before April 10 '' so it is relatively current.

It is not a good sign that three of the Fed districts that pump out a significant chunk of U.S. GDP reported that bank credit had tightened noticeably, ostensibly as fallout from the banking collapses in March and depositor runs.

The New York Fed reported that credit conditions in the Second Fed District, which includes New York state, the 12 northern counties of New Jersey, Connecticut's Fairfield County, Puerto Rico and the U.S. Virgin Islands, ''deteriorated sharply.'' It summarized the situation as follows:

''Conditions in the broad finance sector deteriorated sharply coinciding with recent stress in the banking sector. Small to medium-sized banks in the District reported widespread declines in loan demand across all loan segments. Credit standards tightened noticeably for all loan types, and loan spreads continued to narrow. Deposit [interest] rates moved higher. Finally, delinquency rates edged up on residential and commercial mortgages.''

One of the banks that failed in March and was put into receivership by the Federal Deposit Insurance Corporation (FDIC) was Signature Bank, which was headquartered in Manhattan. Signature Bank was the third largest bank failure in U.S. history.

The San Francisco Fed, whose District has been the epicenter of collapsing banks and/or their share prices, reported the following regarding credit conditions:

''Lending activity fell significantly in recent weeks amid higher interest rates and elevated uncertainty in the banking sector. Lending standards tightened notably, and several depository institutions opted to reduce loan volumes, especially for new clients, despite reporting ample liquidity. Reports indicated that existing and planned projects across sectors were delayed or cancelled due to higher funding costs, heightened uncertainty, and more limited access to credit. Following recent volatility in deposit levels at regional and community banks, outflows have reportedly stabilized since late March.''

The second largest bank failure in U.S. history, Silicon Valley Bank, occurred in March in this District. See our report: Silicon Valley Bank Was a Wall Street IPO Pipeline in Drag as a Federally-Insured Bank; FHLB of San Francisco Was Quietly Bailing It Out. (The largest bank failure in U.S. history was Washington Mutual, which occurred during the financial crisis of 2008.)

A federally-insured bank that had immersed itself in crypto-related deposits, Silvergate Bank, headquartered in California, also failed in March but was allowed to wind itself down. There continue to be growing concerns about the survivability of San Francisco-based First Republic Bank, whose stock price has lost 90 percent of its value year-to-date. See our report from yesterday: Liquor Sales Will Be Brisk on Wall Street Ahead of First Republic Bank's Earnings Report on Monday.

Although it was not clear why, the Dallas Fed also reported a particularly dour outlook in its district, writing as follows:

''Loan demand continued to decline in March as bankers reported worsening business activity. Loan volumes fell, driven largely by a sharp contraction in consumer loans. Loan performance worsened slightly overall. Credit standards and terms tightened sharply, and marked increases in loan pricing were noted. Banking outlooks continued to deteriorate, with contacts expecting a contraction in loan demand and business activity and an increase in nonperforming loans over the next six months. Increased uncertainty and lack of confidence resulting from the recent banking issues were cited as concerns.''

The revelations in the Beige Book are compatible with the Fed's separate data on total bank credit at all commercial banks, which plunged by $300 billion between March 15 and April 5, the latest data available. That is a dramatic decline in the span of three weeks. (See chart above.)

News Blackout in Effect - by Matt Taibbi - Racket News

Sun, 23 Apr 2023 14:54

Left, most recent search results for ''Morell'' in the New York Times. Right, Google News. An all-time media blackout is in effect. We're experiencing real-time Sovietization.

It transpires that the infamous incident before the 2020 election in which 50 former intelligence officials signed an open letter declared a New York Post expose about Hunter Biden's laptop to have the ''classic earmarks of a Russian information operation'' was instigated at the behest of the Joe Biden campaign. This at least is the allegation in a letter to Secretary of State Anthony Blinken released by Jim Jordan, chair of the House Judiciary Committee, and Subcommittee on the Weaponization of Government.

In that letter, which is not easy to find, you'll see three snippets of dialogue from questioning of Morell, who appears to have organized the open letter. In the first snippet, he explains that the idea originated with a call from Blinken, then of the Biden campaign, and that absent that call, Morell wouldn't have done what he did:

In the second snippet Morell bluntly explains that he did it because ''I wanted him to win,'' him being Joe Biden:

By any marker, this is an enormous news story. If we go by the usual measuring stick of American scandal, the Watergate story, this potentially meets or exceeds that, on almost every level. Does it reach into the current White House? Check. Was it a craven attempt to subvert the electoral process? Check again. Did a presidential candidate engineer a massive public deception? Yes, resoundingly. Did it involve intelligence agencies? Yes, and these weren't amateurs like Nixon's plumbers. These were 50 of the most powerful people in the intelligence world '-- including five former heads or acting heads of the Agency in Morell, John Brennan, Leon Panetta, Michael Hayden, and John McLaughlin '-- conspiring to meddle in domestic politics on a grand scale.

Is Bitcoin Undervalued? - Bitfinex blog

Sun, 23 Apr 2023 14:52

21 Apr Is Bitcoin Undervalued? Posted at 15:29hin

Education byadminIt's become a tradition throughout the cyclical Bitcoin boom and bust market cycle, that while Bitcoin is bearish, the builders will simply continue to build. It's this ethos which has sustained Bitcoin's first mover advantage, throughout the first 3 Bitcoin halvings, seeing it emerge as the undisputed market leader with each bull run.

What Have the Builders Been Building This Bear Market?This bear market, like the others preceding it, has been very busy with Bitcoiners launching new projects of all kinds, in many different areas of the overall ecosystem. Many innovative new approaches to solve some of Bitcoin's most persistent limitations have led to many exciting new developments, on a variety of fronts.

There has been significant headway made in Layer Two projects, focused on scaling and privacy improvements. We've seen two emerging Chaumian E-cash implementations, tokenisation schemes over Lightning and off-chain, and others that also work with on-chain BTC. We've also witnessed new innovations like Pear Credit and Slash Tags, which have offered users blockchain-like experiences without the bloat of unnecessary tokens or blockchains.

Apart from Layer Two projects, we have also seen the phenomenon of an emerging and thriving decentralised and censorship resistant social media ecosystem complete with integrated Lightning Network powered micropayments. It started with projects like Adam Curry & Dave Jones' Podcasting 2.0 movement, and continued with efforts like Stacker.News, Starbackr, and last but definitely not least, the Nostr protocol.

With the systemic collapse of some of crypto's most iconic startups, exchanges, funds, and lenders during the crypto winter, we saw the greater crypto community respond by moving towards self-custody and self sovereignty. They rushed to pull coins off exchanges and to secure them themselves.

The result has been several new, easy, all-in-one Bitcoin & Lightning node products, open source software stacks, and a thriving hardware wallet market, as Bitcoiners and their crypto counterparts sought secure ways to store their coins. A side-effect of this self custody movement has been upwards price pressure as less BTC is available on the spot market, on exchanges.

Lastly, we have seen the mining industry go through the peak and trough of bear market price volatility and emerge yet more resilient on the other end. Some less profitable miners were forced to capitulate, yet other newer miners entered the market to contribute hash power in their place.

It also seems that the energy inflation experienced following the outbreak of the conflict in Ukraine, has started to subside as well. Meanwhile, positive news has been steady, as mining with primarily renewable and waste energy sources has increased. Ordinals were also an unexpected boon to Bitcoin's fee market, and miner profitability.

Miners are finally starting to breathe a sigh of relief and prepare for the upcoming halving next year. All of these developments in Bitcoin infrastructure, Layer Two projects, Lightning Adoption and censorship resistant social media with built-in Lightning, are remarkable. It seems the pace of Bitcoin adoption hasn't shown any signs of slowing during the crypto winter.

This leads us to ask, is Bitcoin undervalued? Considering that the market has begun to indicate a reversal may be close at hand, and so many advances have been made on the tech front, we think, quite possibly, yes.

Layer 2 Projects to Keep an Eye onSome of the Bitcoin projects with the most enthusiasm are Layer Two projects which address issues, like on-chain congestion, fees, scalability, and privacy. Let's take a look at some that have had the most enthusiasm from the community.

Lightning NetworkLightning Network is Bitcoin's most famous Layer Two, a near instant payment network designed to scale Bitcoin, and make small purchases fast and unfairly cheap. Lightning has seen continued adoption, as liquidity, nodes, and use have all increased throughout the crypto winter. Projects like Podcasting 2.0, Nostr, and Stacker.News have made Lightning micropayments central to the user experience.

RGBRGB focuses on issuing assets and tokens on Bitcoin, either on Lightning Network or on-chain. RGB allows users to create and issue their own tokens, altcoins, stablecoins, Non-Fungible Tokens (NFTs) and other blockchain assets. It has been in the works for a while, but it is finally getting to the stage where we may begin to see wallets integrate tokens via RGB in the very near future.

TaroTaro is a Taproot-powered Layer Two tokenisation project focused on bringing stablecoins and other assets to Lightning Network. Taro's assets will be able to be deposited directly into Lightning channels and compatible with the wider Lightning Network ecosystem. Taro allows assets to be created and issued in a more private and scalable way.

Synonym & Slash TagsSynonym has set out to prove its Bitcoin-only thesis by building a range of Bitcoin and Lightning Network solutions that offer a blockchain-like or Web3-like user experience without using additional blockchain technology aside from Bitcoin. It has pioneered ''Slash Tags'', a protocol which lets users manage their identity by way of cryptographic keys, to create their own curated content feed from other users, Bitcoin services, wallets, exchanges, and news sites, which can be managed directly from within Synonym's flagship Bitkit wallet.

CashuCashu is one implementation of a Bitcoin Lightning Network powered Chaumian E-cash and Mint protocol. Cashu lets users take advantage of Lightning Network's near instant transaction settlement and Chaumian E-Cash's near perfect privacy to offer a new private and scalable way to make Bitcoin-backed, instant, low-fee, and untraceable payments. Cashu can easily be implemented in any app or website, and users can create their own mint and issue their own E-Cash in just a few clicks.

FediFedi is the second implementation of a Bitcoin Lightning Network powered Chaumian E-cash and Mint protocol. Fedi uses Fedimint, a Chaumian E-Cash implementation which leverages a federation of mints, rather than individual mints, as in Cashu. Fedimint's federated Chaumian E-Cash mints add the quality of decentralisation to the trust assumptions around using Chaumian E-Cash, which make it harder for the mints to act maliciously. Fedimint offers a similar instant, private and untraceable, low-fee payments system as Cashu.

Liquid SidechainBlockstream's Bitcoin sidechain, Liquid, has also seen some major headway, as it has been the primary choice for asset issuance for Bitfinex Securities, our Tokenised Security trading platform. The first Tokenised issuance was Blockstream's Mining Note, with others coming soon. Bitfinex Securities was recently granted a Digital Assets Licence in El Salvador under its new Digital Assets law, which paves the way forward for more tokenised security offerings which will be leveraging the Liquid sidechain for asset issuance.

RSK SidechainRSK, formerly known as Rootstock is another Bitcoin sidechain that has seen a flurry of activity throughout the bear market. RSK brings EVM compatibility, Smart Contracts, tokens, NFTs, Decentralised Applications (DApps), and Decentralised Finance (DeFi) to Bitcoin. RSK was created by a team of Latin American Bitcoiners based in Argentina, and as such, has seen a high degree of adoption from Latin America. Projects like Tropykus Finance and Money on Chain, were built by teams in Latin America, to meet the specific needs of users in Latin America, using RSK.

StacksStacks is a Bitcoin Layer Two project that was created to bring additional functionality to Bitcoin. Stacks, like RSK, envisions bringing DeFi, DApps, NFTs, tokens, and Smart Contracts to the world of Bitcoin. Stacks has experienced a resurgence of interest in the aftermath of the release of Ordinals, a protocol for ''Inscribing'' NFTs on single Satoshis, which have been integrated into the Stacks ecosystem, which has always been focused on NFTs.

Decentralised, Censorship-Resistant, Social Media with Lightning MicropaymentsThe Bitcoin empowered social media revolution is in full swing with Podcasting 2.0, the Value 4 Value model and Nostr, which powers a variety of alternative video, micro-blogging, blogging, and streaming sites that allow content creators to receive streaming Satoshis and micropayments directly from their fans and followers.

Podcasting 2.0Podcasting 2.0 is an open source project which allows creators to monetize their podcasts via Streaming Satoshis, Boosts, Value splits, and allows podcasting to remain open and decentralised while encouraging censorship-resistance. There are over 50 Podcasting 2.0 apps that incorporate its new features and Lightning Network micropayments for Value 4 Value monetization.

NOSTRNostr is not a social media platform, but it is a decentralised social media protocol which is open, decentralised, and censorship-resistant. The most popular Nostr clients offer a Twitter-like experience, although Nostr is versatile and can be used for a variety of different social media experiences, like Nvote.co (a Nostr-based Reddit clone), Habla News (a Nostr-based Medium/Substack clone), and even Chess. Nostr, like Podcasting 2.0, has implemented Lightning Network micropayments which allow users to send ''Zaps'', tiny Bitcoin payments as tips for posts they enjoy.

Stacker.NewsStacker News is like Hacker News, an open board where anyone can post, except Stacker News has Lightning Network micropayments built-in. Users can earn Satoshis from other users, upvotes, popular threads and more. Stacker is one of the most popular Lightning enabled social media sites, so there is a lot of good content, and they have a great Bitcoin jobs board.

WavlakeWavlake is a Podcasting 2.0 powered audio streaming site, that aims to let musicians monetise their music using Podcasting 2.0's assortment of Lightning Network Value 4 Value tools. This means you can stream Satoshis and boost songs from your favourite bands and the artists themselves receive the money, bypassing the record label. It's a win-win, and also censorship-resistant.

StarbackrStarbackr is a Patreon-like platform which lets users monetise their content using Bitcoin Lightning Network payments, utilising the Value 4 Value model. Starbackr users can post content like images and videos or even do a live stream, which viewers can tip and send Satoshis over Lightning for.

Lightning.VideoLightning Video is a Youtube-style video streaming site that lets content creators monetise their video content through a Lightning Network paywall and micropayments received from viewers. It, like the other Bitcoin powered social media sites, aims to offer a censorship-resistant platform to post and monetise content by leveraging the power of Bitcoin and Lightning micropayments.

Bitcoin Mining Appears to be Making a ComebackBitcoin Mining's hash rate has seemingly stabilised and begun to recover, after reaching all-time lows. Hash rate growth has surpassed Luxor mining's estimates for growth in their first quarter of 2023 report, and seems to be on a path to maintain this growth. As Bitcoin has rebounded in price, a lot of new hardware has come online over the first quarter, in the form of Application Specific Integrated Circuit (ASIC) miners.

Hash price has risen 31 percent in the first quarter of this year, meaning that many miners that were unprofitable, previously in the bear market, are now in the green again. Even though hash price has seen a substantial increase, it's still down 58 percent Year over Year (YoY). However, going into the next halving in 2024 could dramatically change this metric over the course of the next year.

Energy prices also seem to finally be making headway in retracing the explosive growth in prices associated with the outbreak of the conflict in Ukraine, and miners are enjoying this cut in operational overhead.

The unexpected increase in transaction fees due to Ordinal Inscriptions has also been a pleasant surprise to those in the industry. So far, miners have reportedly mined 150.32 BTC of Inscriptions transactions worth $3,731,429 in the first quarter of 2023.

The market for ASIC Miners has also reportedly reached a bottom and may be set for a bit of a rebound after plummeting for most of 2022 during the crypto winter. Bitmain is also set to release a new line of ''next-gen'' ASICs.

This perceived rebound in the mining industry, which could potentially just be getting underway, is a signal that the bear market may finally be coming to a close heading into the next halving, expected to occur roughly sometime in early April of next year.

If we are headed into a new Bitcoin-fueled crypto bull run, Bitcoin at its current price may seem like a legendary entry in the coming months with hindsight. Bitcoin will certainly seem undervalued if it approaches new all time highs. It seems like the builders in the Bitcoin ecosystem have been busy enough throughout the bear market to provide the substance to back a new wave of adoption and new users. Overall sentiment seems to be improving.

What do you think? Is Bitcoin undervalued?

For transgender kids, a frantic rush for treatment amid bans | AP News

Sun, 23 Apr 2023 14:45

SALT LAKE CITY (AP) '-- As a third grader in Utah, mandolin-playing math whiz Elle Palmer said aloud what she had only before sensed, telling a friend she planned to transfer schools the following year and hoped her new classmates would see her as a girl.

Several states northeast, Asher Wilcox-Broekemeier listened to punk rock in his room, longing to join the shirtless boys from the neighborhood playing beneath the South Dakota sunshine. It wasn't until menstruation started, and the disconnect with his body grew, that he knew he was one of them.

Both kids' realizations started their families on a yearslong path of doctors, therapists and other experts in transgender medicine.

Now teenagers, their journeys have hit a roadblock.

Republican lawmakers across the country are banning gender-affirming care for minors. Restrictions have gone into effect in eight states this year '-- including conservative Utah and South Dakota '-- and are slated to in at least nine more by next year.

Those who oppose gender-affirming care raise fears about the long-term effects treatments have on teens, argue research is limited and focus particularly on irreversible procedures such as genital surgery or mastectomies.

Yet those are rare. Doctors typically guide kids toward therapy or voice coaching long before medical intervention. At that point, puberty blockers, anti-androgens that block the effects of testosterone, and hormone treatments are far more common than surgery. They have been available in the United States for more than a decade and are standard treatments backed by major doctors' organizations including the American Medical Association.

The new laws have parents scrambling to secure the care their kids need. They worry what will happen if they can't get the medications they've been prescribed, especially as their kids start puberty and their bodies change in ways that can't be reversed.

''My body's basically this ticking time bomb, just sitting there waiting for it to go off,'' said Asher Wilcox-Broekemeier, now 13.

___

Elle remembers her first day at the school after she transferred. Before leaving, she came downstairs in rainbow sparkle-embroidered cowboy boots her mother worried would only spur bullies. Taunts from kids at Elle's prior school drove her into depression so deep she had suicidal thoughts.

But on that first day, a boy told Elle he loved her boots. Some kids bullied her, but classmates and teachers were far more supportive than at her prior school. Elle discovered new passions in hip hop and drama class, and she settled into a new school and a truer version of herself. She started to see a therapist as her uncertainty about how she fit in the gender spectrum grew more pressing.

Elle came out as a transgender girl in fifth grade. Now in seventh, she planned to start hormone treatment this summer so potential side effects wouldn't interfere with her life during the school year, especially her team's extracurricular math competitions.

But then Utah's Republican Gov. Spencer Cox signed a gender-affirming care ban in January. In a compromise, the law let kids keep taking medications if they were already on them. So Elle's mom rushed to get her treatment months earlier than planned, as did other parents.

The waitlist at one Utah clinic swelled to six months. Doctors were confronted with difficult decisions about who to get in for appointments.

Elle's medication arrived in the mail just before Utah's law went into effect. A small stick implanted in Elle's forearm is slow-releasing hormone blockers to prevent the effects of male puberty from taking hold. Eventually she may be prescribed estrogen, and she and her parents will have to navigate the next steps, and whether they'll find doctors to continue her care.

At least for now, they have a reprieve.

''It feels like we can breathe again now,'' Cat Palmer said.

___

There's no relief for Asher Wilcox-Broekemeier's family '-- not yet.

When Asher began menstruating, he felt a terrifying disconnect between how his body was changing on the outside and how he felt inside.

Elizabeth began researching online to understand what was going on with her son, while Asher's father, Brian, looked to doctors for expertise. With referrals from his longtime pediatrician, Asher met with therapists and doctors who helped explore his history, personality and feelings over his whole life.

Nearly two years ago, doctors prescribed puberty blockers and birth control to slow breast development, regulate menstruation and lower the pressure of his disconnect with his body.

He's 13 now, and finds solace in music to ground him in a world of occasional bullying and constant mistaken pronouns. He practices Blink-182's ''All the Small Things'' on guitar, plays trumpet in the school band and is rehearsing various singing roles for the Cinderella school musical. When he's not thinking about testosterone to lower his voice or eventually getting top surgery, he looks forward to playing in the high school marching band next year.

Asher still struggles with moments of gender dysphoria. Friendships that were once strong fizzled after Asher came out as transgender. Parents have disinvited him from their houses out of fears he's a ''bad influence.''

But his parents have noticed his emotions stabilize through his treatment.

''From a parent's view, I see him as being able to be himself authentically, which is wonderful for him,'' Elizabeth said.

Now he and his parents worry they'll have to start over.

In February, South Dakota Republican Gov. Kristi Noem signed a law banning the medications and procedures that doctors have increasingly prescribed for transgender teens.

Asher's current doctors in South Dakota won't be able to prescribe his medications, so the family is looking for a new doctor in neighboring Minnesota, where the Democratic governor has signed an executive order explicitly protecting gender-affirming care for minors. They're hoping to find a clinic close enough they can drive to appointments and don't have to pay for hotel stays.

The planning has been time-consuming. Logistical questions to their current South Dakota doctors for referrals have gone unanswered. They want to beat whatever onslaught of patients from other states enacting similar bans will bring to providers in Minnesota, but also want to maintain as much normalcy for Asher as they can.

The sudden twists in Asher's trajectory makes him question why his health care is of concern to politicians.

''Even though trans people don't make up a big percent of the population doesn't mean that we're not part of it still,'' Asher said.

___

The full consequences of the bans on care for minors aren't yet clear.

Dr. Nikki Mihalopoulos, an adolescent medicine doctor in a Salt Lake City specialty clinic with transgender teens, worries the new laws will make families too scared to seek help and doctors too scared of losing their licenses to provide care.

In the middle are kids like Elle and Asher.

Multiple studies have shown that transgender youth are more likely to consider or attempt suicide and less at risk for depression and suicidal behaviors when able to access gender-affirming care.

Both sets of parents are trying to shelter their kids from the stress and anxiety caused by the recent changes in the laws.

After years of worrying about their kids' safety and mental health, they still fear what could happen if they can't find the drugs their kids have been prescribed.

''My kid being OK is my number one priority. I know what the suicide rate is. I do not want my child to be a statistic,'' Cat Palmer said of Elle.

___

This story corrects the identification of the person in one photo to Elle Palmer.

___

Biraben reported from Pierre, South Dakota.

The Case For Making Earth Day a Religious Holiday | Time

Sun, 23 Apr 2023 14:34

E arth Day is upon us'--that forlorn little non-holiday that some years sandwiches itself between Easter and Passover, or other years trails in the wake of those ''real'' holidays. If the Super Bowl is America's unofficial national day of celebration, Earth Day is the collective yawn that brings a shrug. No recipes offer Earth Day chips and dips to serve when friends and beloveds gather in celebration of the miracle of a living planet. Because they don't. Not even ours.

For the two of us environmentalists'--one of us nominally Jewish, the other a recovering Catholic'--we find the ill-defined nature of the only day honoring the place that makes life itself possible more than a little sacrilegious. So, on this 53rd Earth Day we thought it useful to pose what a real Earth Day should represent and how it could form a central time for a new approach to worship.

Before we step further into that loaded word, let's back up. Even as Earth has sizzled'--New York City had its warmest January on record and a February more like April'--the idea of honoring this planet with its miraculous coating of life has somehow fizzled.

It wasn't always that way. The first Earth Day, co-chaired by Republican Senator Pete McCloskey and Democratic Senator Gaylord Nelson in 1970, brought more than 20 million people'--a tenth of the U.S. population of the time'--to the streets. According to a CBS News Special Report of the day, many high schools announced they would excuse absences. Earth Day 1970 remains, reputedly, ''the largest single-day protest in human history.''

We remember when air in big cities still hurt our young lungs, and rivers were so polluted they repeatedly caught fire. The spirit then was to protest against chemical pollution and smog. Within a few years of that first Earth Day and the national sentiment behind it, President Nixon created the Environmental Protection Agency and Congress passed unprecedented environmental laws including the Occupational Safety and Health Act, Clean Air Act, Clean Water Act, Endangered Species Act, the Federal Insecticide, Fungicide, and Rodenticide Act, Toxic Substances Control Act, the National Environmental Education Act, and other protections that have greatly improved human health in our cities and communities and prevented the extinction of hundreds of species.

But Earth Day may have fallen victim to its own success. Even though we face new and seemingly overwhelming environmental issues'--the extinction crisis, the toxic chemical crisis, the climate crisis, acidification of the seas, the plastics tsunami'--the spirit of the day is no longer mass protest. Yet current environmental problems pose existential threats to planetary and societal stability, even to civilization itself. One day out of 365 to mark the entire planet is too far a cry from the reverence and recognition owed the beleaguered planetary basis for our entire existence, for all known life.

Read More: Mark Ruffalo and Gloria Walton on How Storytelling Can Save the Planet

So, what would an earth-reverent belief system look like with Earth Day at its center?

To begin with, let's take a look at what established religions get right and where we might take a cue. Perhaps the first step might be, um, unearthing the nature-centered origins of our existing religious holidays. Most of us know in the back of our minds that Christmas and Hanukkah fall around the time of the winter solstice; that Easter and Passover are celebrated in tandem with the arrival of spring; that Sukkot and Diwali mark harvest and summer's last warmth, and Eid follows the path of the moon. These holidays have origins in gratitude. Gratitude for the sun returning. Gratitude for the harvest that could avert the starvation winter might bring. Thanks for when it did avert it. We could conceivably reframe these holidays as days of thanks for what the natural world gives and reminders that our responsibility for what remains is an ongoing covenant.

Next, we might look at what religions do to help us form community and mark life's important benchmarks: birth, maturity, marriage, and death. What if we were to come to celebrate these benchmarks for what they are biologically? Birth, that ecstatic co-joining of atoms and molecules resulting in sentience might prompt a ritual of truthfully and factually recounting how inanimate becomes animate. Instead of (or in addition to) bar/bat mitzvahs and confirmations, would it be too much to expect our children to go beyond the average daily 20 minutes most American children spend outdoors, and commit to memory the names and descriptions of local plants and animals, or learn the considerations involved in correctly planting a tree? The covenant of marriage might be an opportunity to remind young couples to consider the burden children place upon the planet and to make vows of sustainable patterns of behavior going forward. Death, finally, might be recognized for what it is'--a returning of atoms and molecules to the cycle. In the cycle of life, the coming apart is as miraculous a process as the joining. We still don't really know how nothing became something and formed a universe in which random pulses of energy and matter coalesced into beings writing op eds. In short, there's plenty of mystery to go around.

Lastly, we might just need a book. The Jewish Torah wraps around the year nicely from one Simchat Torah to the next, when we complete the annual reading of the story and start over again all in the same service, creating the feeling of a hermetic year. What if a book like that existed for the Earth? What if it were replete with hymns to this world of the living? What if it contained the stories of the prophets of natural earth knowledge'--Darwin and Carson, Galileo and Humboldt? What if we came to mark those discoveries as the gradual opening of consciousness to the laws of nature. What if our Bible of the Natural World reenforced that a multiplicity of processes and phenomena still remain to be discovered? What if we used that book not to scold our children into following commandments but rather to light a path forward that encouraged discovery and reverence, and gratitude for the relationships that are this planetary spaceship's life-support?

Are we proposing a whole new religion? We're not quite sure. Maybe an old one. The core of all religious feeling is the sense that we are part of something much larger in space and deeper in time than ourselves. The world is certainly that. At any rate we do know that spiritual inquiry, just like scientific inquiry, is not static. Likewise a whole new continent of scientific knowledge has been revealed to us since America's first and second religious Great Awakenings. It seems perfectly reasonable and spiritual to us that in a New Great Awakening this new knowledge-continent be incorporated into a progressive wisdom of life, death, and the universe.

In short, we must make nature central to our belief system with Earth Day or any number of earth-focused ceremonial days serving as regular reminders of what we owe our home planet. It's symptomatic that many people seek nature in parks or on a dreamt-of photo safari. In a world of commodification, we presume nature must be a commodity, accessible by transaction. We're accustomed to thinking that, just as cornflakes can be found in the cereal aisle, nature is stocked in places like Yellowstone. But nature isn't just a place. And it shouldn't be relegated to one box on the same calendar where ''pick up dry cleaning'' gets more ink.

We've got to convey to everyone that the planet whose rotation and revolution creates all 365 days is worthy of a recognition that spans all 365. Recognition of the planet was born in protest. Going forward it must be about reverence, about respect for the living world that makes human life, too, possible. Celebrating the whole world as a living miracle really should be more fun'--and more win-win'--than even the most-watched football game.

Contact us at letters@time.com.

New Zealand ships last livestock as ban takes effect | Reuters

Sun, 23 Apr 2023 14:17

WELLINGTON, April 21 (Reuters) - New Zealand's last exports of livestock by sea have been completed and live exports have ceased, its agriculture minister said on Friday, as it fully implemented a ban on export shipments of animals on the grounds of their welfare.

The government announced in 2021 that shipping animals offshore, largely for building herds in trading partners like China, would be halted but farmers would be given two years to transition out of the profitable export business.

"Our position on the map means that the journey to northern hemisphere markets will always be a long one and this brings unavoidable animal welfare challenges," Agriculture Minister Damien O'Connor said in a statement announcing that live exports had ceased.

Live exports by sea have contributed about 0.32% of New Zealand's primary sector export revenue, which includes farming and mining, since 2015.

The total value of live animal exports in 2022 was NZ$524 million ($322.78 million).

New Zealand said in 2020 it was reviewing live exports when it introduced interim measures following the capsizing of a ship bound for China that killed nearly 6,000 cows and 41 of the 43 crew members.

($1 = 1.6234 New Zealand dollars)

Reporting by Lucy Craymer; Editing by Robert Birsel

Our Standards: The Thomson Reuters Trust Principles.

Hersh: West Knows of Its Arms to Kiev Ending Up on Black Market

Sun, 23 Apr 2023 14:14

https://sputnikglobe.com/20230423/sy-hersh-west-knows-ukraine-weapons-end-up-on-black-market-1109774596.html

Sy Hersh: West Knows Ukraine Weapons End Up on Black Market

Sy Hersh: West Knows Ukraine Weapons End Up on Black Market

Western countries' weapon supplies to Ukraine show no sign of abating, with Russia warning that such deliveries will add to prolonging the conflict.

2023-04-23T10:08+0000

2023-04-23T10:08+0000

2023-04-23T10:51+0000

russia

ukraine

us

weapons

black market

supplies

special operation

military

/html/head/meta[@name='og:title']/@content

/html/head/meta[@name='og:description']/@content

https://cdn1.img.sputnikglobe.com/img/07e7/04/17/1109774004_0:159:3078:1890_1920x0_80_0_0_e8db6f48e409982446de9456cae7c880.jpg

The West knows the weapons they deliver to Ukraine are being sold on the black market, something mainstream media has tried to hush up, US investigative journalist Seymour ''Sy'' Hersh has told Russian media.He said that he had not written about the topic but he ''obviously heard about it''.Hersh added that ''very early, Poland, Romania, [and] other countries on the border were being flooded with weapons we'd been shipping for the war to Ukraine," where the Russian special military operation is underway.According to the journalist, the weapons included ''hand missile guns'' designed to down a warplane flying ''at a considerable height.''He spoke after Russian Ambassador to the US Anatoly Antonov told reporters that Moscow has ''serious concerns'' that part of US military supplies to Ukraine will end up on the black market.He was echoed by Russian Defense Minister Sergey Shoigu who said that part of the weapons supplied by the West to Ukraine are already spreading across the Middle East region.Denis Pushilin, acting head of the Donetsk People's Republic (DPR), which became part of Russia last year, likewise told Sputnik that foreign weapons being supplied to Ukraine, including the Javelin anti-tank systems, are now being sold on the black market. He added that ''this kind of weaponry is being moved in large quantities to African countries, too.''The US and its allies ramped up their arms supplies to Kiev shortly after Russia launched its special military operation in Ukraine. Moscow has repeatedly warned that the West's military assistance to Kiev would prolong the Ukraine conflict and make Western countries direct parties to the standoff, thereby confirming accusations that NATO is waging a proxy war against Moscow.

https://sputnikglobe.com/20230413/us-to-keep-giving-military-aid-to-ukraine-going-forward--white-house-1109467639.html

russia

ukraine

Sputnik International

feedback@sputniknews.com

+74956456601

MIA 'žRosiya Segodnya''

2023

Oleg Burunov

https://cdn1.img.sputnikglobe.com/img/07e4/09/0b/1080424846_0:0:2048:2048_100x100_80_0_0_3d7b461f8a98586fa3fe739930816aea.jpg

Oleg Burunov

https://cdn1.img.sputnikglobe.com/img/07e4/09/0b/1080424846_0:0:2048:2048_100x100_80_0_0_3d7b461f8a98586fa3fe739930816aea.jpg

News

en_EN

Sputnik International

feedback@sputniknews.com

+74956456601

MIA 'žRosiya Segodnya''

https://cdn1.img.sputnikglobe.com/img/07e7/04/17/1109774004_174:0:2905:2048_1920x0_80_0_0_c3601bdabe6af5e78e57d8d74f985439.jpgSputnik International

feedback@sputniknews.com

+74956456601

MIA 'žRosiya Segodnya''

Oleg Burunov

https://cdn1.img.sputnikglobe.com/img/07e4/09/0b/1080424846_0:0:2048:2048_100x100_80_0_0_3d7b461f8a98586fa3fe739930816aea.jpg

russian special military operation in ukraine, western countries' arms supplies to kiev, seymour hersh's interview with russian media

russian special military operation in ukraine, western countries' arms supplies to kiev, seymour hersh's interview with russian media

10:08 GMT 23.04.2023 (Updated: 10:51 GMT 23.04.2023 ) Western countries' weapon supplies to Ukraine show no sign of abating, with Russia warning that such deliveries will only prolong the conflict.

The West knows the weapons they deliver to Ukraine are being sold on

the black market, something mainstream media has tried to hush up, US investigative journalist Seymour ''Sy'' Hersh has told Russian media.

He said that he had not written about the topic but he ''obviously heard about it''.

Hersh added that ''very early, Poland, Romania, [and] other countries on the border were being flooded with weapons we'd been shipping for the war to Ukraine," where the Russian

special military operation is underway.

''In other words, commanders of various ['...] levels '' often they were generals or colonels and others - were given with shipments of some weapons [and] personally [they] re-sold or retailed them back to the black or dark market,'' the Pulitzer Prize-winner stressed.

According to the journalist, the weapons included ''hand missile guns'' designed to down a warplane flying ''at a considerable height.''

''There was a lot of concern about that and one time about six months ago, maybe more, CBS [News] wrote a story about it that they were forced to retract,'' Hersh added.

He spoke after Russian Ambassador to the US Anatoly Antonov told reporters that Moscow has ''serious concerns'' that part of US military supplies to Ukraine will end up on the black market.

''Where will weapons pop up? Who will bear responsibility when the materiel falls into the hands of some terrorist groups and criminal organizations?" Antonov said, adding that such a policy jeopardizes the security of the entire Europe and increases the risk of a direct clash between Russia and NATO.

He was echoed by Russian Defense Minister Sergey Shoigu who said that part of the weapons supplied by the West to Ukraine are already spreading across the Middle East region.

Denis Pushilin, acting head of

the Donetsk People's Republic (DPR), which became part of Russia last year, likewise told Sputnik that foreign weapons being supplied to Ukraine, including the Javelin anti-tank systems, are now being sold on the black market. He added that ''this kind of weaponry is being moved in large quantities to African countries, too.''

The US and its allies ramped up their arms supplies to Kiev shortly after Russia launched its special military operation in Ukraine. Moscow has repeatedly warned that the West's military assistance to Kiev would prolong

the Ukraine conflict and make Western countries direct parties to the standoff, thereby confirming accusations that NATO is waging a proxy war against Moscow.

Nashville Official Says School Shooter's Manifesto Is 'Astronomically Dangerous'

Sun, 23 Apr 2023 14:10

Federal officials are delaying the release of a manifesto written by Audrey Hale, who killed six people in a Nashville Christian school, according to local officials, with one calling it ''astronomically dangerous.''

Rep. Tim Burchett (R-Tenn.) told the New York Post this week that the FBI is currently behind the delay. He said that the documents should be made public for grieving family members and for members of Congress.

Hale, who was born female, used ''he/him'' pronouns, and police officials previously told a news conference she identified as transgender. Later, Nashville Police Chief John Drake said Hale suffered from mental health issues and was under the care of a doctor, while her parents did not know she had procured several firearms.

The shooter's notes ''could maybe tell us a little bit about what's going on inside of her head,'' Burchett told the newspaper. ''I think that would answer a lot of questions.''

About 20 journals, five laptops, a suicide note, and other materials written by Hale were taken from the house where she lived with her parents, according to a search warrant in the case.

''What I was told is, her manifesto was a blueprint on total destruction, and it was so, so detailed at the level of what she had planned,'' Metro Nashville Council Member Courtney Johnston told the NY Post, without elaborating. ''That document in the wrong person's hands would be astronomically dangerous,'' she added.

Johnson claimed that the ''the vast, overwhelming majority of it'' would be too dangerous for the public to see. ''I personally don't want to know the depths to which her psychosis reached '... When I'm told by an MNPD high-ranking official that it keeps him up at night, I'm going to defer to that person in that agency that I don't need to read that,'' she added.

The official did not elaborate on why the documents would be a danger to the public. Based on the interview, it's not clear if Johnson was worried about detailed plans to attack other sites or was worried about Hale's mental health issues.

The Epoch Times has contacted the FBI's press office for comment.

Audrey Hale in an undated image. (Nashville Police Department via The Epoch Times)Hale, 28, was a former student at The Covenant School when she shot and killed three children and three adults at a private school last month. The victims who were murdered include Evelyn Dieckhaus, 9, Hallie Scruggs, 9, William Kinney, 9, Cynthia Peak, 61, Katherine Koonce, 60, and Mike Hill, 61.

Since the shooting, a range of conservative commentators have publicly called for Hale's manifesto to be made public, saying that the FBI's delay is part of a cover-up to keep the public from knowing about the dangers of transgenderism. About a week after the Nashville mass shooting, a 19-year-old male who reportedly identified as female was arrested in Colorado with detailed plans for several school shootings.

Rep. Walter Hudson (R-Minn.) told the NY Post this week that the documents should be released and said that by doing so, the FBI and other agencies could gain more Americans' trust. He cited conversations with his constituents who have exhibited an ''increasing distrust with the FBI and with government agencies generally.''

''One of the greatest threats to democracy or, as I would say, threats to the Constitutional Republic, is the erosion of trust in institutions. The FBI is one of those institutions,'' he told NY Post. ''If you're going to wield power in a free country, then you have a responsibility to maintain the public's trust in that power'--and the FBI needs to figure out how to do that,'' the lawmaker said.

Rep. Andy Ogles (R-Tenn.) told the paper that if the documents are not ultimately released, ''then we need to investigate why.''

Magazine chief editor fired over AI 'interview' '-- RT World News

Sun, 23 Apr 2023 14:00

German weekly 'Die Aktuelle' published an article in which it purported to speak with F1 legend Michael Schumacher

Reliance on artificial intelligence (AI) has cost the chief editor of Germany's 'Die Aktuelle' magazine her job. A scandal erupted when it transpired that an interview with one-time Formula One racing star driver Michael Schumacher, published earlier this week, had been fabricated with the help of technology.

The Funke media group that owns the magazine issued a statement late on Friday apologizing to the family of the racer, who has been out of the public domain since he sustained severe brain injuries in a skiing accident in late 2013.

''This tasteless and misleading article should not have appeared. It in no way meets the standards of journalism that we '' and our readers '' expect from a publisher like Funke,'' CEO Bianca Pohlmann wrote.

She added that the company had parted ways with 'Die Aktuelle' chief editor Anne Hoffmann ''with immediate effect.''

This week's edition of the magazine had Schumacher's photo on its cover with an inscription reading ''Michael Schumacher: The first interview!'' Below, in smaller print, the outlet warned that ''it sounds deceptively true.''

It is only in the article itself that 'Die Aktuelle' clarifies that the piece had been taken from a website ''that has to do with artificial intelligence, abbreviated as AI.''

Schumacher's family has told news agency DPA that it is planning to take legal action in light of the publication.

Blinken, Biden campaign behind intel officials' letter to discredit Hunter laptop story, ex-CIA boss testifies

Sun, 23 Apr 2023 13:56

Secretary of State Antony Blinken was the driving force behind an October 2020 letter signed by 51 former intelligence officials claiming that a bombshell story on Hunter Biden's laptop was Russian disinformation according to the testimony of a former top CIA official.

The stunning revelation that Blinken spearheaded the efforts to discredit the New York Post story which could have changed the results of an election that altered the trajectory of history was made by Mike Morell, an acting CIA director under Barack Obama during private sworn testimony to the House Judiciary and Intelligence Committees.

In his testimony, Morell told lawmakers that the Biden campaign official who reached out to him ''on or before'' Oct. 17, 2020, to organize the effort to falsely suggest that the report on the ''laptop from hell'' was Russian disinformation was Blinken, then a campaign adviser to the ex-veep.

The former CIA chief told the House Judiciary Committee that he didn't originally intend to write the statement that the ex-spooks would sign which was instrumental in censoring the story in the weeks before the election, but that Blinken's call ''triggered'' him to do so to help Biden against then sitting President Donald J. Trump ''because I wanted him to win the election.''

Details of Morell's damning testimony were contained in a letter dated April 20 from House Judiciary Committee Chairman Jim Jordan (R-Ohio) and House Permanent Select Committee on Intelligence Mike Turner (R-Ohio) that was sent to Blinken and posted to Twitter on Thursday night.

#BREAKING: Testimony Reveals Secretary Blinken and the Biden Campaign Were Behind the Infamous Public Statement from Former Intel Officials on the Hunter Biden Laptop @Jim_Jordan and @RepMikeTurner reveal HUGE news here: pic.twitter.com/bX3fpqJKPo

'-- House Judiciary GOP (@JudiciaryGOP) April 21, 2023

''We are examining the origins of the infamous public statement signed by 51 former intelligence officials that falsely discredited a New York Post story regarding Hunter Biden's laptop as supposed Russian disinformation,'' the letter reads. ''As part of our oversight, we have learned that you played a role in the inception of this statement while serving as a Biden campaign advisor, and therefore we therefore request your assistance with our oversight.''

The letter goes on to lay out the timeframe leading up to the publication of the influential letter that provided the excuse needed for widespread social media censorship of the story detailing the shocking contents of the laptop that Biden's crooked, crack-addled son had abandoned at a Delaware computer repair shop, adding key excerpts from Morell's testimony.

''Based on Morell's testimony, it is apparent that the Biden campaign played an active role in the origins of the public statement, which had the effect of helping to suppress the Hunter Biden story and preventing American citizens from making a fully informed decision during the 2020 presidential election,'' the letter states.

''This is the worst act of election interference in history,'' tweeted former Arizona GOP gubernatorial candidate Kari Lake.

This is a bombshell!

The Former Acting Director of the CIA just testified that Antony Blinken, on behalf of the Biden campaign, pressured him into signing the letter saying Hunter's laptop was "Russian Disinformation!"

This is the worst act of election interference in history. https://t.co/TCWgodi1Hv

'-- Kari Lake (@KariLake) April 21, 2023

''This concerted effort to minimize and suppress public dissemination of the serious allegations about the Biden family was a grave disservice to all American citizens' informed participation in our democracy,'' reads the letter which gives Blinken until 5:00 p.m. on May 4 to turn over information on who he communicated with regarding the statement.

''Produce all documents and communications referring or relating to the 'Public Statement on the Hunter Biden Emails' dated October 19, 2020, sent or received between October 14, 2020 and November 24, 2020,'' the lawmakers requested of the nation's top diplomat.

Special Assistant to the President and spokesperson for the White House Counsel's Office Ian Sams reacted to the letter to Blinken by smearing Republican lawmakers and their legitimate efforts at conducting oversight on the important matter.

''Think about this: instead of working with President Biden on solutions to real problems Americans care about '' like lowering costs or tackling gun violence '' House Republicans keep weaponizing their power to re-litigate the 2020 election in a wacky strategy to get on Fox News,'' Sams wrote on Twitter.

Get the latest BPR news delivered free to your inbox daily. SIGN UP HERE

DONATE TO BIZPAC REVIEW

Please help us! If you are fed up with letting radical big tech execs, phony fact-checkers, tyrannical liberals and a lying mainstream media have unprecedented power over your news please consider making a donation to BPR to help us fight them. Now is the time. Truth has never been more critical!

Success! Thank you for donating. Please share BPR content to help combat the lies.

Author Recent Posts Staff Writer

Chris Donaldson is an ordinary American who is concerned about rampant corruption as well as the ongoing attacks on our way of life by those who have contempt for our hard-earned freedoms. A Navy veteran, he has been a frequent contributor to conservative websites and resides in Florida.

Latest posts by Chris Donaldson

(see all)

We have no tolerance for comments containing violence, racism, profanity, vulgarity, doxing, or discourteous behavior. If a comment is spam, instead of replying to it please click the '¨ icon below and to the right of that comment. Thank you for partnering with us to maintain fruitful conversation.

PLEASE JOIN OUR NEW COMMENT SYSTEM! We love hearing from our readers and invite you to join us for feedback and great conversation. If you've commented with us before, we'll need you to re-input your email address for this. The public will not see it and we do not share it.

The Tower For Twitter? UK Minister Calls For Jailing Social-Media Bosses Who Do Not Censor Speech - Activist Post

Sun, 23 Apr 2023 13:31

Home Liberty April 22, 2023

By Jonathan Turley

As previously discussed, after Musk decided to buy Twitter, Hillary Clinton called upon European countries to force social-media companies to censor Americans.

The European Union quickly responded by threatening Musk and other executives.

Now, UK Technology and Science Secretary Michelle Donelan has announced plans to jail social-media executives if they fail to censor so-called ''harmful'' content on their websites.

The government, of course, will determine what is deemed too harmful for citizens to see or hear.

Donelan is seeking speech arrests under the UK's Online Safety Bill, a draconian censorship bill that would effectively ban end-to-end encryption for private internet users.

The bill uses Britain's broadcasting regulator Ofcom to censor ''all forms of expression which spread, incite, promote or justify hatred'' based on various progressive characteristics, including transgenderism.

So the government can censor anyone who it views as promoting or justifying hatred against virtually any group. Those who do not censor can now be rounded up by Donelan and her minions.

According to a report by The Telegraph, companies will also face fines of up to 10 per cent of their global revenue should they dare to ignore Britain's demands to preemptively delete or obscure posts violating its coming censorship regime.

The decline of free speech in the United Kingdom has long been a concern for free-speech advocates.

A man was convicted for sending a tweet while drunk referring to dead soldiers.

Another was arrested for an anti-police t-shirt.

Another was arrested for calling the Irish boyfriend of his ex-girlfriend a ''leprechaun.''

Yet another was arrested for singing ''Kung Fu Fighting.''

A teenager was arrested for protesting outside of a Scientology center with a sign calling the religion a ''cult.''

Recently we discussed the arrest of a woman who was praying to herself near an abortion clinic.

English courts have seen criminalized ''toxic ideologies'' as part of this crackdown on free speech.

Donelan is only the latest voice of a rising generation of censors.

These officials proudly parade their intent to silence or jail those with dissenting views. Yet, they do so in the name of tolerance.

This is why free speech is in a free fall in Europe and why we must remain vigilant in this country to resist figures like Clinton who want to bring European censorship to our shores.

Source: Jonathan Turley via ZeroHedge

Become a Patron!Or support us at SubscribeStarDonate cryptocurrency HERE

Subscribe to Activist Post for truth, peace, and freedom news. Follow us on SoMee, Telegram, HIVE, Flote, Minds, MeWe, Twitter, Gab, What Really Happened and GETTR.

Provide, Protect and Profit from what's coming! Get a free issue of Counter Markets today.

Activist Post Daily Newsletter Subscription is FREE and CONFIDENTIAL

Free Report:

How To Survive The Job Automation Apocalypse with subscription

New Wave Of Inflation-Driven Strikes Cripples German Air, Rail, Bus Transportation - Activist Post

Sun, 23 Apr 2023 13:30

By Tyler Durden

Germany continues to be rocked by disruptive strikes against its entire transportation networks, as workers demand large pay hikes to help offset surging price inflation unleashed by central bank money creation, western sanctions against Russia, and Germany's deeply flawed energy policies.

On Thursday, members of the Verdi trade union walked out of the Dusseldorf, Hamburg and Cologne airports. That prompted the cancellation of some 700 flights and, as the strike continues into Friday, will affect nearly 100,000 people, according to the airport association ADV.

On Friday, security workers at the Stuttgart airport will join the strike. In anticipation, the airport cancelled all scheduled departures.

That's just the beginning of Friday's misery in Deutschland: The EVG union has called for a nationwide transportation strike from 3am to 11 am, freezing rail and bus travel and throwing a wrench in commuter's lives, to say nothing of tourists caught up in the mess.

The Deutsche Bahn national rail service said the impact would be enormous, and extend beyond the hours of the strike itself. ''The EVG has completely lost its sense of proportion and is only bent on chaos,'' said Deutsche Bahn human resources board member Martin Seiler.

''Not a single train will run,'' EVG rep Cosima Ingenschay tells Reuters. Deutsche Bahn confirmed as much, saying all long-distance service was cancelled and few commuter trains will operate.

The Ultimate Plan B Guide (Free Report)Germany's March year-over-year inflation rate clocked in at 7.3%. That's a modest deceleration from the 8.7% rate seen in both January and February. However, March saw a jarring 22.3% rise in food prices, up from January's 20.2% and February's 21.8% rise.

EVG is demanding a 12% pay hike for its 230,000 members. Verdi is angling for bonuses for working nights, weekends and on public holidays. ''Work at airports must become more attractive in order to be able to keep aviation security specialists and recruit new ones in order to avoid longer waiting times for holidaymakers,'' Verdi rep Wolfgang Pieper tells DW.

A similar one-day mega-strike slammed Germany in late March. However, ratcheting up the pressure, another rep threatened that the next strike will span multiple days.

The cumulative toll is mounting, as more than 900,000 passengers have had to reschedule or cancel air travel so far this year. The bus and rail impact is surely well higher than that.

Source: ZeroHedge

Image: Empty train tracks at Berlin's central station (Jochen Eckel/picture alliance via DW)

Become a Patron!Or support us at SubscribeStarDonate cryptocurrency HERE

Subscribe to Activist Post for truth, peace, and freedom news. Follow us on SoMee, Telegram, HIVE, Flote, Minds, MeWe, Twitter, Gab, What Really Happened and GETTR.

Provide, Protect and Profit from what's coming! Get a free issue of Counter Markets today.

Activist Post Daily Newsletter Subscription is FREE and CONFIDENTIAL

Free Report:

How To Survive The Job Automation Apocalypse with subscription

Court Filing Suggests Troubling CIA Links To Two 9/11 Hijackers - Activist Post

Sun, 23 Apr 2023 13:10

By Kit Klarenberg

A newly released court filing raises grave questions about the relationship between Alec Station, a CIA unit set up to track Al Qaeda chief Osama bin Laden and his associates, and two 9/11 hijackers leading up to the attacks, which was subject to a coverup at the highest levels of the FBI.

Obtained by SpyTalk, the filing is a 21-page declaration by Don Canestraro, a lead investigator for the Office of Military Commissions, the legal body overseeing the cases of 9/11 defendants. It summarizes classified government discovery disclosures, and private interviews he conducted with anonymous high-ranking CIA and FBI officials. Many agents who spoke to Canestraro headed up Operation Encore, the Bureau's aborted, long-running probe into Saudi government connections to the 9/11 attack.

Despite conducting multiple lengthy interviews with a range of witnesses, producing hundreds of pages of evidence, formally investigating several Saudi officials, and launching a grand jury to probe a Riyadh-run US-based support network for the hijackers, Encore was abruptly terminated in 2016. This was purportedly due to a byzantine intra-FBI bust-up over investigative methods.

When originally released in 2021 on the Office's public court docket, every part of the document was redacted except an ''unclassified'' marking. Given its explosive contents, it is not difficult to see why: as Canestraro's investigation concluded, at least two 9/11 hijackers had been recruited either knowingly or unknowingly into a joint CIA-Saudi intelligence operation which may have gone awry.

''A 50/50 chance'' of Saudi involvementIn 1996, Alec Station was created under the watch of the CIA. The initiative was supposed to comprise a joint investigative effort with the FBI. However, FBI operatives assigned to the unit soon found they were prohibited from passing any information to the Bureau's head office without the CIA's authorization, and faced harsh penalties for doing so. Efforts to share information with the FBI's equivalent unit '' the I-49 squad based in New York '' were repeatedly blocked.

In late 1999, with ''the system blinking red'' about an imminent large-scale Al Qaeda terror attack inside the US, the CIA and NSA were closely monitoring an ''operational cadre'' within an Al Qaeda cell that included the Saudi nationals Nawaf al-Hazmi and Khalid al-Mihdhar. The pair would purportedly go on to hijack American Airlines Flight 77, which crashed into the Pentagon on 9/11.

The Ultimate Plan B Guide (Free Report)Al-Hazmi and al-Midhar had attended an Al Qaeda summit that took place between January 5th and 8th 2000, in Kuala Lumpur, Malaysia. The meeting was secretly photographed and videotaped by local authorities at Alec Station's request although, apparently, no audio was captured. En route, Mihdhar transited through Dubai, where CIA operatives broke into his hotel room and photocopied his passport. It showed that he possessed a multi-entry visa to the US.

A contemporaneous internal CIA cable stated this information was immediately passed to the FBI ''for further investigation.'' In reality, Alec Station not only failed to inform the Bureau of Mihdhar's US visa, but also expressly forbade two FBI agents assigned to the unit from doing so.

''[I said] 'we've got to tell the Bureau about this. These guys clearly are bad'...we've got to tell the FBI.' And then [the CIA] said to me, 'no, it's not the FBI's case, not the FBI's jurisdiction','' Mark Rossini, one of the FBI agents in question, has alleged. ''If we had picked up the phone and called the Bureau, I would've been violating the law. I'...would've been removed from the building that day. I would've had my clearances suspended, and I would be gone.''

On January 15th, Hazmi and Mihdhar entered the US through Los Angeles International Airport, just weeks after the foiled Millennium plot. Omar al-Bayoumi, a Saudi government ''ghost employee'' immediately met them at an airport restaurant. After a brief conversation, Bayoumi helped them find an apartment near his own in San Diego, co-signed their lease, set them up bank accounts, and gifted $1,500 towards their rent. The three would have multiple contacts moving forward.

In interviews with Operation Encore investigators years later, Bayoumi alleged his run-in with the two would-be hijackers was mere happenstance. His extraordinary practical and financial support was, he claimed, simply charitable, motivated by sympathy for the pair, who could barely speak English and were unfamiliar with Western culture.

The Bureau disagreed, concluding Bayoumi was a Saudi spy, who handled a number of Al Qaeda operatives in the US. They also considered there to be a ''50/50 chance'' he '' and by extension Riyadh '' had detailed advance knowledge of the 9/11 attacks.

That remarkable finding wasn't known publicly until two decades later, when a tranche of Operation Encore documents were declassified upon the Biden administration's orders, and it was completely ignored by the mainstream media. Don Canestraro's declaration now reveals FBI investigators went even further in their assessments.

Quick summary of court filing:

CIA & Saudi intel recruited Islamic radicals to help spy on Osama Bin Laden

At least 2 recruits were given US Visas and were then ''lost'' in America

When FBI tried to investigate/charge them, CIA held them back for unknown reasons

9/11 happened

'-- DC_Draino (@DC_Draino) April 19, 2023

A Bureau special agent, dubbed ''CS-3'' in the document, stated Bayoumi's contact with the hijackers and support thereafter ''was done at the behest of the CIA through the Saudi intelligence service.'' Alec Station's explicit purpose was to ''recruit Al-Hazmi and Al-Mihdhar via a liaison relationship'', with the assistance of Riyadh's General Intelligence Directorate.

A most ''unusual'' CIA unitAlec Station's formal remit was to track bin Laden, ''collect intelligence on him, run operations against him, disrupt his finances, and warn policymakers about his activities and intentions.'' These activities would naturally entail enlisting informants within Al Qaeda.

Nonetheless, as several high level sources told Canestraro, it was extremely ''unusual'' for such an entity to be involved in gathering intelligence and recruiting assets. The US-based unit was run by CIA analysts, who do not typically manage human assets. Legally, that work is the exclusive preserve of case officers ''trained in covert operations'' and based overseas.

''CS-10'', a CIA case officer within Alec Station, concurred with the proposition that Hazmi and Mihdhar enjoyed a relationship with the CIA through Bayoumi, and was baffled that the unit was tasked with attempting to penetrate Al Qaeda in the first place. They felt it ''would be nearly impossible'...to develop informants inside'' the group, given the ''virtual'' station was based in a Langley basement, ''several thousand miles from the countries where Al Qaeda was suspected of operating.''

''CS-10'' further testified that they ''observed other unusual activities'' at Alec Station. Analysts within the unit ''would direct operations to case officers in the field by sending the officers cables instructing them to do a specific tasking,'' which was ''a violation of CIA procedures.'' Analysts ''normally lacked the authority to direct a case officer to do anything.''

''CS-11'', a CIA operations specialist posted to Alec Station ''sometime prior to the 9/11 attacks'' said they likewise ''observed activity that appeared to be outside normal CIA procedures.'' Analysts within the unit ''mostly stuck to themselves and did not interact frequently'' with others. When communicating with one another through internal cables, they also used operational pseudonyms, which ''CS-11'' described as peculiar, as they were not working undercover, ''and their employment with the CIA was not classified information.''

The unit's unusual operational culture may explain some of the stranger decisions made during this period vis a vis Al Qaeda informants. In early 1998, while on a CIA mission to penetrate London's Islamist scene, a joint FBI-CIA informant named Aukai Collins received a stunning offer: bin Laden himself wanted him to go to Afghanistan so they could meet.

Collins relayed the request to his superiors. While the FBI was in favor of infiltrating Al Qaeda's base, his CIA handler nixed the idea, saying, ''there was no way the US would approve an American operative going undercover into Bin Laden's camps.''

Similarly, in June 2001, CIA and FBI analysts from Alec Station met with senior Bureau officials, including representatives of its own Al Qaeda unit. The CIA shared three photos of individuals who attended the Kuala Lumpur meeting 18 months earlier, including Hazmi and Mihdhar. However, as an FBI counter-terror officer codenamed ''CS-15'' recalled, the dates of the photos and key details about the figures they depicted were not revealed. Instead, the analysts simply asked if the FBI ''knew the identities of the individuals in the photos.''

Another FBI official present, ''CS-12'', offers an even more damning account. The Alec Station analysts not only failed to offer biographical information, but falsely implied one of the individuals might be Fahd Al-Quso, a suspect in the bombing of the USS Cole. What's more, they outright refused to answer any questions related to the photographs. Nonetheless, it was confirmed that no system was in place to alert the FBI if any of the three entered the US '' a ''standard investigative technique'' for terror suspects.

Given Hazmi and Mihdhar appeared to be simultaneously working for Alec Station in some capacity, the June 2001 meeting may well have been a dangle. No intelligence value could be extracted from inquiring whether the Bureau knew who their assets were, apart from ascertaining if the FBI's counter-terror team was aware of their identities, physical appearances, and presence in the US.

Quite some coverupAnother of Canestraro's sources, a former FBI agent who went by ''CS-23,'' testified that after 9/11, FBI headquarters and its San Diego field office quickly learned of ''Bayoumi's affiliation with Saudi intelligence and subsequently the existence of the CIA's operation to recruit'' Hazmi and Mihdhar.

However, ''senior FBI officials suppressed investigations'' into these matters. ''CS-23'' alleged, furthermore, that Bureau agents testifying before the Joint Inquiry into 9/11 ''were instructed not to reveal the full extent of Saudi involvement with Al-Qaeda.''

The US intelligence community would have had every reason to shield Riyadh from scrutiny and consequences for its role in the 9/11 attacks, as it was then one of its closest allies. But the FBI's eager complicity in Alec Station's coverup may have been motivated by self-interest, as one of its own was intimately involved in the unit's effort to recruit Hazmi and Mihdhar, and conceal their presence in the US from relevant authorities.

''CS-12'', who attended the June 2001 meeting with Alec Station, told Canestraro that they ''continued to press FBI Headquarters for further information regarding the subjects in the photographs'' over that summer. On August 23rd, they stumbled upon an ''electronic communication'' from FBI headquarters, which identified Hazmi and Mihdhar, and noted they were in the US.

''CS-12'' then contacted the FBI analyst within Alec Station who authored the communication. The conversation quickly became ''heated'', with the analyst ordering them to delete the memo ''immediately'' as they were not authorized to view it. While unnamed in the declaration, the FBI analyst in question was Dina Corsi.

The next day, on a conference call between ''CS-12'', Corsi, and the FBI's bin Laden unit chief, ''officials at FBI headquarters'' explicitly told ''CS-12'' to ''stand down'' and ''cease looking'' for Mihdhar, as the Bureau intended to open an ''intelligence gathering investigation'' on him. The next day, ''CS-12'' emailed Corsi, stating bluntly ''someone is going to die'' unless Mihdhar was pursued criminally.

It was surely no coincidence that two days later, on August 26th, Alec Station finally informed the FBI that Hazmi and Mihdhar were in the US. By then, the pair had entered the final phase of preparations for the impending attacks. If a criminal probe had been opened, they could have been stopped in their tracks. Instead, as foreshadowed by the officials in contact with ''CS-12,'' an intelligence investigation was launched which hindered any search efforts.

In the days immediately after the 9/11 attacks, ''CS-12'' and other New York-based FBI agents participated in another conference call with Bureau headquarters. During the conversation, they learned Hazmi and Mihdhar were named on Flight 77's manifest. One analyst on the line ran the pair's names through ''commercial databases,'' quickly finding them and their home address listed in San Diego's local phone directory. It turned out they had been living with an FBI informant.

''CS-12'' soon contacted Corsi ''regarding information on the hijackers.'' She responded by providing a photograph from the same surveillance operation that produced the three pictures presented at the June 2001 meeting between Alec Station and FBI agents; they depicted Walid bin Attash, a lead suspect in Al Qaeda's 1998 East Africa US Embassy bombings and its attack on the USS Cole.

Corsi was unable to explain why the photo was not shown to FBI agents earlier. If it had been, ''CS-12'' claims they would have ''immediately linked'' Hazmi and Mihdhar to bin Attash, which ''would have shifted from an intelligence based investigation into a criminal investigation.'' The FBI's New York field office could have then devoted its ''full resources'' to finding the hijackers before the fateful day of September 11, 2001.

Alec Station operatives fail upwardsAlec Station's tireless efforts to protect its Al Qaeda assets raises the obvious question of whether Hazmi and Mihdhar, and possibly other hijackers, were in effect working for the CIA on the day of 9/11.

The real motives behind the CIA's stonewalling may never be known. But it appears abundantly clear that Alec Station did not want the FBI to know about or interfere in its secret intelligence operation. If the unit's recruitment of Hazmi and Mihdhar was purely dedicated to information gathering, rather than operational direction, it is incomprehensible that the FBI had not been apprised of it, and was instead actively misdirected.

Several FBI sources consulted by Canestraro speculated that the CIA's desperation to penetrate Al Qaeda prompted it to grant Alec Station the power to recruit assets, and pressured it to do so. But if this were truly the case, then why did Langley refuse the opportunity to send Aukai Collins '' a proven deep cover asset who had infiltrated several Islamist gangs '' to penetrate bin Laden's network in Afghanistan?

One alternative explanation is that Alec Station, a powerful rogue CIA team answerable and accountable to no one, sought to infiltrate the terror group for its own sinister purposes, without the authorization and oversight usually required by Langley in such circumstances. Given that Collins was a joint asset shared with the FBI, he could not be trusted to participate in such a sensitive black operation.

No member of Alec Station has been punished in any way for the supposed ''intelligence failures'' that allowed 9/11 to go ahead. In fact, they have been rewarded. Richard Blee, the unit's chief at the time of the attacks, and his successor Alfreda Frances Bikowsky, both joined the CIA's operations division, and became highly influential figures in the so-called war on terror. Corsi, for her part, was promoted at the FBI, eventually rising to the rank of Deputy Assistant Director for Intelligence.

In a perverse twist, the Senate Intelligence Committee's report on the CIA's torture program found that Bikowsky had been a key player in the agency's black site machinations, and one of their chief public apologists. It is increasingly clear that the program was specifically concerned with eliciting false testimony from suspects in order to justify and expand the US war on terror.

The public's understanding of the 9/11 attacks is heavily informed by testimonies delivered by CIA torture victims under the most extreme duress imaginable. And Bikowsky, a veteran of the Alec Station that ran cover for at least two would-be 9/11 hijackers, had been in charge of interrogating the alleged perpetrators of the attacks.

The veteran FBI deep cover agent Aukai Collins concluded his memoir with a chilling reflection which was only reinforced by Don Canestraro's bombshell declaration:

''I was very mistrustful about the fact that bin Laden's name was mentioned literally hours after the attack'... I became very skeptical about anything anybody said about what happened, or who did it. I thought back to when I was still working for them and we had the opportunity to enter Bin Laden's camp. Something just hadn't smelled right'...To this day I'm unsure who was behind September 11, nor can I even guess'... Someday the truth will reveal itself, and I have a feeling that people won't like what they hear.''

Source: The Grayzone via ZeroHedge

Kit Klarenberg is an investigative journalist exploring the role of intelligence services in shaping politics and perceptions.

Become a Patron!Or support us at SubscribeStarDonate cryptocurrency HERE

Subscribe to Activist Post for truth, peace, and freedom news. Follow us on SoMee, Telegram, HIVE, Flote, Minds, MeWe, Twitter, Gab, What Really Happened and GETTR.

Provide, Protect and Profit from what's coming! Get a free issue of Counter Markets today.

Amazon Invites Developers to Test Its Creepy Wireless/IoT Network Now Covering 90% of U.S. Households; ''holds promise'' for Smart City Tech - Activist Post

Sun, 23 Apr 2023 13:09

By B.N. Frank

Over the years, countless experts have warned about privacy and cybersecurity risks with all ''smart'', wireless and/or Internet of Things (IoT) technology. While Amazon may not be the only company guilty of collecting private data with their devices on people of all ages without their consent, earlier this month the Federal Trade Commission (FTC) announced the agency will be taking legal action against it for this and maybe other offenses as well. Nevertheless, the company now also seems to be offering developers the opportunity to collect data on people without their consent.

From POTs and PANs:

Amazon's Huge IoT NetworkDoug Dawson, CCG Consulting

In a recent blog post, Amazon invited developers to test drive its gigantic IoT network. This network has been labeled as Sidewalk and was created by tying together all of Amazon's wireless devices like Amazon Echos and Ring cameras.

Amazon claims this huge wireless network now covers 90% of U.S. households. Amazon created the network by transmitting Bluetooth and 900 MHz LoRa signals from its various devices. This network provides a benefit to Amazon because it can detect and track its own devices separate from anything a homeowner might do with WiFi.

But Amazon has intended for years to monetize this network, and this announcement begins that process. This network has been under-the-radar until now, and most homeowners have no idea that their Amazon devices can connect and communicate with other devices outside the home. Amazon swears that the IoT connection between devices is separate from anything happening inside the house using WiFi '' that the IoT network is a fully separate network.

Anyplace where there are more than a few Amazon devices, the network should be robust. The 900 MHz spectrum adds a lot of distance to the signals, and it's a frequency that does a good job of penetrating obstacles like homes and trees.

Amazon believes that this network can be used by IoT device makers to improve the performance of IoT devices in a neighborhood '' things like smart thermostats, appliance sensors, and smart door locks. Such devices use only a small amount of bandwidth but are reliant on the home broadband network being operational to work. Amazon's vision with this network is that your smart door lock will still work even when your home WiFi isn't working.

By making the network available to others, Amazon can unleash developers to create new types of wireless devices. For example, it's always been a challenge to use outdoor sensors since WiFi signals outside of homes is weak and inconsistent. It's not hard to imagine a whole new array of sensors enabled by the Sidewalk network. Picture a motion detector on a shed door or a leak detector on outdoor faucets. With this network, vendors can now manufacture such devices with the knowledge that most homes will be able to make the needed wireless connection.

This also holds a lot of promise for municipal and business sensors. This is a low-cost way to communicate with smart city or other sensors. This would enable, for the first time, the deployment of environment sensors anywhere within range of the Sidewalk network.

This is another interesting venture by Amazon. At least in the U.S., this is a lower-cost solution than trying to connect to IoT devices by satellite. The only cost of building this network for Amazon was adding the wireless capability to its devices '' mere pennies when deployed across millions of devices. But interestingly, Amazon will also have a satellite network starting in 2025 that can fill in the gaps where the Sidewalk network can't reach.

Amazon says that it has already made deals to test the network with companies like Netvox, OnAsset, and Primax. Now that manufacturers know this network exists and is available, this ought to open up a wide range of new IoT devices that are not reliant only on WiFi. This might finally be the network that enables the original promise of IoT of a world with sensors everywhere, keeping tabs on the environment around us.

If the constant surveillance doesn't faze you, ''smart'', wireless, Bluetooth, and IoT devices also emit harmful electromagnetic and wireless radiation and manufacturers are required to warn users about this. In fact, a U.S. federal court ruled in favor of organizations and petitioners that sued the Federal Communications Commission (FCC) for NOT adequately protecting Americans from wireless radiation exposure (including 5G) in 2021. More recently one of the organizations petitioned the agency to comply with the now almost 2-year-old court-ordered mandate!

Additionally in 2021, non-profit groups petitioned the U.S. Health and Human Services Department (HHS) and Food and Drug Administration (FDA) to declare wireless radiation an ''imminent'' health hazard and to start warning the public. Got pets? Exposure is bad for their health too!

Activist Post reports regularly about privacy invasive and unsafe technologies. For more information, visit our archives and the following websites:

Children's Health DefenseEnvironmental Health TrustPhysicians for Safe TechnologyAmericans for Responsible TechnologyTop image: Pixabay

Become a Patron!Or support us at SubscribeStarDonate cryptocurrency HERE

Subscribe to Activist Post for truth, peace, and freedom news. Follow us on SoMee, Telegram, HIVE, Flote, Minds, MeWe, Twitter, Gab, What Really Happened and GETTR.

Provide, Protect and Profit from what's coming! Get a free issue of Counter Markets today.

Activist Post Daily Newsletter Subscription is FREE and CONFIDENTIAL

Free Report:

How To Survive The Job Automation Apocalypse with subscription

Meta reportedly cancels all its Metaverse plans - - Gamereactor

Sun, 23 Apr 2023 13:06

Just a few months ago, Meta CEO Mark Zuckerberg was still so convinced that The Metaverse would be the next step for the internet that the idea alone justified the countless billions of dollars the company had already spent on it and promised to spend even more in the future.

But since then, the tune has sounded significantly different, it seems. In a large and comprehensive article at The Information, Meta has dropped the term "Metaverse" altogether when presenting collaborations to potential partners. Among other things, it states:

"Meta is no longer pitching the metaverse in conversations with its advertisers and is instead trying to get them to back its Tiktok-a-like short-form videos and its AI tools. That's in stark contrast to last year, where every second word out of Zuckerberg's mouth was 'metaverse,' in what he was expecting to be the future of the internet."

This is in pretty stark contrast to the roughly $4.3 billion spent on Reality Labs in the last quarter alone, and Metaverse was also the whole reason they changed their name to Meta.

Did you think Metaverse would be the next big thing on the web?

Thousands of Meta workers hit by new round of layoffs as company cuts costs | Meta | The Guardian

Sun, 23 Apr 2023 13:05

Meta workers are bracing for thousands of additional layoffs as the embattled social media firm continues to cut costs.

A new round of layoffs began on Wednesday, according to a report from CNBC that was confirmed by Meta. The company will cull 4,000 jobs immediately as part of a larger plan to cut 10,000 jobs announced earlier this year, focusing largely on technical roles.

Chief executive Mark Zuckerberg said the layoffs come as part of the company's ''year of efficiency'' '' a plan to cut costs as Meta struggles to monetize its ambitious virtual reality venture, the metaverse.

The company reported a peak of 87,000 employees globally in 2022, after a hiring spree that escalated after the Covid pandemic sent online activity booming.

In recent months, however, Meta's operations have struggled , with investors wiping $80bn (£69bn) off the company's market value in October after a poor earnings report.

In November, the company laid off 11,000 workers. Combined with today's cut, Meta is on track to cut about 21,000 jobs and has implemented a hiring freeze for most new roles. While these cuts target technical workers, Zuckerberg said in late May additional layoffs would affect business groups.

''A leaner org will execute its highest priorities faster,'' Zuckerberg said at the time. ''People will be more productive, and their work will be more fun and fulfilling. We will become an even greater magnet for the most talented people. That's why in our year of efficiency, we are focused on canceling projects that are duplicative or lower priority and making every organization as lean as possible.''

skip past newsletter promotionSign up to TechScape

Free weekly newsletterAlex Hern's weekly dive in to how technology is shaping our lives

Privacy Notice: Newsletters may contain info about charities, online ads, and content funded by outside parties. For more information see our Privacy Policy. We use Google reCaptcha to protect our website and the Google Privacy Policy and Terms of Service apply.after newsletter promotion

The layoffs come at a time of a broader downturn in the space, with other tech giants including Google, Tesla and Amazon implementing hiring freezes and cuts. The slump has been attributed to many factors as the uncertain economy collides with years of unfettered growth and pandemic-fueled hiring sprees. Amid the turmoil, investors will be watching closely as Meta reports its first quarter earnings results next week.

Whopping 82% of Berlin's Voters Refuse to Support Net Zero 2030 as Referendum Fails '' The Daily Sceptic

Sun, 23 Apr 2023 12:58

A key vote for Net Zero CO2 emissions by 2030 in Berlin has failed to reach the turnout threshold to be deemed valid, with just 18% turning out to vote in favour, in a major setback for activists. Pierre Gosselin in Watts Up With That? has more.

Last Sunday's 'Berlin Climate Neutrality By 2030' referendum failed resoundingly despite the more than a million euros spent in a massive run-up campaign that included plastering the city with posters, concerts by famous performers, huge support and propaganda by the media and hefty donations coming from Left wing activists from the east and west coasts of the USA.

Once the dust of the referendum had settled, it emerged that the 'yes' side fell way short of the quorum 608,000 votes needed to pass the measure. Only 442,210 cast a vote in favour, which represents only 18% of Berlin's eligible voters. The activists expected a far greater turnout. 82% refused to lend any support.

Berlin's rejection of the climate neutrality by 2030 mandate is a massive body blow to the the radical 'Fridays for Future' and 'Last Generation' movement in Germany, and it will take months for the radicals to recover, if ever, from this setback.

The Berlin initiative to make the city climate neutral by 2030 was led by rich, upper class youths like Luisa 'Longhaul' Neubauer. But Berliners, having been harassed for months by activists gluing themselves to the streets and blocking traffic, saw the folly of the initiative and the high costs it would entail politically and financially. They decided resoundingly they wanted no part of it.

The final results were 442,210 for 'yes' and 423,418 for 'no', a narrow majority for yes of 51% vs 49% of those who turned out. However, with just 18% showing up to vote in favour, the support fell far short of the quorum of 25% of the population of 2,430,000 that was needed, so the motion failed.

Worth reading in full.

New study shows antidepressant use likely to INCREASE risk of suicide | The Post Millennial | thepostmillennial.com

Sun, 23 Apr 2023 12:57

A new study conducted by Dr. John Read and his colleagues at the University of East

London has found that

antidepressants may actually raise the risk of suicide.

The

study, set to be published in the Ethical Human Psychology and Psychiatry journal, examined data from 7,829 Coroners' Inquests in England and Wales over the past two decades that mentioned

antidepressants. It revealed that just under half were determined to be suicides.

According to the study, of the 3,543 deaths ruled by coroners to be suicides, 2,329 involved overdosing on drugs. The drugs in question were antidepressants in 933 such cases, and in over half of those, there were no other substances detected. Just over 900 other reports cited "unnamed medicines," which could also have been antidepressants.

While there are numerous types of antidepressants, the two most widely used are selective serotonin reuptake inhibitors (SSRIs) and tricyclics. The study revealed that SSRI drug citalopram and tricyclic amitriptyline were the two most frequently mentioned in the reports.

The remaining suicides involved being struck by a train, subway, truck, bus, or other vehicle, or jumping, falling, drowning, electrocuting, shooting, or burning oneself.

"If preventing suicide is a primary reason for prescribing ADs, this data set includes several thousand people for whom the drugs clearly did not work," Read wrote. He highlighted the troubling finding that "about 1,000 people used the drugs that were supposed to alleviate their depression to kill themselves."

He noted that while "systematic analyses of all inquests would be more informative," the study suggested that "reducing the overprescribing of these relatively ineffective and, for some, lethally dangerous substances" may "reduce suicides."

Read went on to explain that his study did have some limitations.

"The data set, which relies primarily on archives of local newspapers is incomplete and therefore underestimates the total numbers involved," he said, adding, "The accuracy of coroners' verdicts is not perfect."

Oil or Nothing: Dealing with South Sudan's Bleeding Finances | Crisis Group

Sun, 23 Apr 2023 12:55

What's new?''South Sudan's rulers keep a tight grip on its oil wealth, blocking outside scrutiny and obstructing reforms urgently needed to ease both popular hardships and political tensions. Along with International Monetary Fund support, a peace deal has kickstarted new efforts to fix the country's broken finances.

Why does it matter?''South Sudan's five-year civil war killed up to 400,000 people and brought the young nation close to collapse. If President Salva Kiir's government begins to clean up the country's budget, as it has pledged to do, opponents will have fewer incentives to take up arms again.

What should be done?''Reform-minded South Sudanese and their external partners should focus on making the oil economy more transparent and accountable by ensuring that revenue deposits go in a single public account and through other anti-corruption measures. Donors should press commercial lenders to disclose their payments to Juba and follow South Sudanese law.

South Sudan's rotten state finances are derailing the young country from its already fraught path to peace and stability after a brutal civil war. Top officials hold the country's oil riches close, barring scrutiny of spending and allowing rampant misappropriation of funds. This slush-fund governance is at the heart of South Sudan's system of winner-take-all politics and helps explain why so much went so wrong so quickly after independence in 2011. The peace deal signed in 2018 could help, as it includes reforms designed to combat corruption and build more accountable public finances. But, for the most part, the new government has slow-rolled or evaded implementation. Reform-minded South Sudanese and outside partners should narrow their focus to those measures that begin to pry open the lid on the country's oil wealth, ensuring, for starters, that oil revenues are deposited in a single public account. Simultaneously, donors should consider commercial levers to make South Sudan's finances more transparent and accountable to its people, a critical step in halting the country's tailspin.

The South Sudanese people have suffered terribly from the failure of their leaders to forge a peaceful foundation for the new country. Just two years after independence, the country fell into a civil war that raged for years and left up to 400,000 dead, a shocking toll in a country of only some 12 million. Peace talks led by neighbouring leaders resulted in the 2018 agreement and a power-sharing arrangement between President Salva Kiir and his main rival, Riek Machar, though an insurgency continues in the south. But the government is riven by internal power struggles and its reluctance to lift the shroud from upon the oil economy is blocking reforms that could sustain a broader political settlement.

Oil has always been central to South Sudan's political fortunes. The landmark 2005 peace deal that paved the way for its secession from Sudan granted Juba 50 per cent of the South's oil revenues, pumping billions into the new semi-autonomous government as it prepared to stand on its own. The easy money quickly built a vast patronage system that helped unite rival camps but also papered over the country's deep ethno-political divisions. This largesse abruptly ended as President Kiir moved to consolidate power after independence, sidelining his rivals and firming up his grip on the oil economy. The result was to fracture the country into warring ethno-political camps that continue to be a source of instability despite the formation of a unity government in 2020.

As South Sudan struggles to recover from civil war, its broken state finances are receiving renewed attention. During the war, Kiir mortgaged future oil exports for advance loans from a small group of commodity traders and commercial banks, piling up debt while hiding the country's finances ever further from sight. Meanwhile, his loyalists diverted large portions of state revenue from the official budget, which is so leeched that the government routinely fails to pay salaries. The result is a cash-strapped state and a deeply aggrieved population with little confidence in its leaders, amplifying political and ethnic animosities.

Stabilising the country appears impossible without fixing its economy. South Sudan is a divided and fragile state that requires fairer power sharing in the centre and a devolution of authority outside Juba, but the parties cannot reach such a political settlement until they are adequately accounting for and sharing the oil funds. Frustrations are also boiling over among donors, who increasingly believe that their huge sums of humanitarian aid are sustaining a kleptocratic elite.

An acute economic crisis triggered by falling oil prices in 2020 opened a window to press for changes, but an uncoordinated approach could squander the chance. Over a ten-month period starting November 2020, South Sudan received some $550 million in relief from the International Monetary Fund (IMF), a lump sum equivalent to past annual budgets. The IMF received promises of some reforms but there were few strings attached. This support helped Juba stave off further slides in its currency but left many reform-oriented South Sudanese and donors frustrated that a government in such disrepute and so resistant to reforms received so much for so little.

A more coordinated strategy is needed. Drawing from the 2018 peace deal's ambitious reform agenda, and the government's technical commitments to the IMF, South Sudanese reformers and outside actors should pursue more select financial reform priorities that can redirect oil revenues back onto the books of the national budget. These should include the public disclosure of government revenues and debts, aided by the designation of a single oil revenue account, as well as efforts to shore up the weak guardrails that to date have permitted the looting of government deposits. Future IMF disbursements and donor support should require such transparency in total oil revenues, rather than simply accepting better management of funds that make their way into the official budget.

One further way for donors to boost their limited influence in Juba is through systematic engagement with the commodity firms, and their bankers and insurers, upon which South Sudan depends. For instance, donor governments should use the threat of regulation to encourage companies to disclose their payments to Juba, consistent with the way these companies increasingly disclose payments in other places. If they fail to do so, governments can consider demanding special licences that require such disclosure and certify compliance with South Sudanese law for companies under their jurisdiction to operate in South Sudan's oil sector. Banks and insurers should protect themselves from legal and reputational exposure by requiring the same of their customers who do business in South Sudan.

At the same time, South Sudanese authorities and outside powers must start thinking now about South Sudan's impending transition from a carbon economy as its oil production declines, new investment in it looks less attractive and the world sets bolder decarbonisation targets. In particular, donors should consider how their present and future support might help reconfigure, rather than reinforce, the top-down, centralised political economy that has led to such bloody destruction. Reform will not come easy, given the incentives for President Kiir and his allies to cling to South Sudan's oil wealth. If the political class and outside powers do not succeed in convincing Kiir to enact these reforms, however, the country could squander an opportunity to find its footing before its wells run dry.

Juba/Nairobi/Brussels, 6 October 2021

South Sudan's slide into civil conflict, barely two years after it achieved independence in 2011, has left the young nation and its outside backers with the herculean task of halting its tailspin while forging a political path forward. A violent contest for power, partly driven by the political elites' desire to control the country's oil revenues, has exacerbated its deep ethno-political and regional divisions. The linchpin of South Sudan's economy, oil accounts for 85 per cent of government revenue and over 94 per cent of exports.[fn]South Sudan typically estimates total annual oil revenues at between $800 million and $1 billion. Its 2020-2021 budget, however, prepared by the ministry of finance, estimates net oil revenues at 90.244 billion South Sudanese pounds, at an official exchange rate of 167 pounds to the U.S. dollar, compared to non-oil revenues of 14.7 billion pounds. Crude oil accounted for 94.6 per cent of official exports in 2019, according to the Organisation for Economic Co-operation and Development (OECD) website.Hide Footnote

Prior to its independence from Sudan, the South's case that it could build a viable state was straightforward. Even though the region did not have strong institutions, a cohesive army or an internal political settlement, the South Sudanese pinned their hopes on their oil wealth, arguing they could use it to build the state, create jobs and develop infrastructure. The petrodollars were indeed substantial: despite sky-high poverty and underdevelopment rates, at its birth South Sudan qualified as a middle-income country based on its per capita GDP.[fn]At its birth in 2011, South Sudan had a higher GDP per capita (around $1,516) than all its neighbours, according to the World Bank.Hide Footnote

Instead of propelling the young country forward, however, oil helped hold it back. Under President Salva Kiir, oil revenues supplied a slush fund for patronage politics and personal enrichment that the elite squabbled over. In 2013, a leadership struggle that included a fight over this giant prize degenerated into civil war. Peace efforts, in turn, have repeatedly turned into an exercise of squeezing subventions for as many belligerents as possible into the state budget. Although Kiir (from the Dinka ethnic group, the nation's largest) and his main opponent, Riek Machar (an ethnic Nuer, the nation's second largest such group), signed a peace deal in 2018 and formed a unity government in early 2020, their accord could easily crumble as combatants turn their guns on each other again.

Meanwhile, attempts by some officials to bring transparency to public finances and curb corruption continue to flounder: the books recording the oil revenues remain closed. After the global plunge in oil prices pushed the state into fiscal crisis in 2020, the government is more willing than before to discuss reforms of its murky finances in hopes of attracting badly needed support and investment. But South Sudanese activists and external partners will need a concerted strategy to take advantage of that window, lest South Sudan's money continue to disappear with scarcely a trace.

This report examines South Sudan's oil economy and its role in the country's upheaval. It outlines recommendations to the South Sudanese and their external partners to make the country's finances more transparent and their custodians more accountable, with an overall objective of reducing incentives for bloody struggles over power. The report is based on dozens of interviews with South Sudanese officials and activists, foreign diplomats and private-sector actors conducted in South Sudan, the U.S., the UK, Belgium, Netherlands, France and Switzerland in 2020 and 2021, as well as an extensive review of the available documentation of the country's finances.[fn]These include available oil marketing reports, quarterly financial reports, sporadic production data and public presentations prepared by the ministry of petroleum, draft and approved budgets prepared by the ministry of finance, presentations from oil production companies, relevant legal and arbitration documents, and data gathered by other institutions, including the UN and the International Monetary Fund, as well as various confidential government documents and contracts seen by Crisis Group.Hide Footnote

A. Oil, Independence and Civil War

War has beset what is now South Sudan for over half a century. Insurgents took up arms against Khartoum's rule on the eve of Sudan's independence in 1956, ushering in protracted civil strife that left as many as two million people dead. But while the dominant narrative had the ''African'' south pitted against the ''Arabised'' north, Southerners were fighting for decades among themselves as well, primarily along ethnic and communal lines. [fn] Many South Sudanese perceive the communal fighting as pitting the country's largest ethnic group, the Dinka, against the Nuer, the second largest. The Dinka dominate the Bahr el Ghazal region, while the Nuer control the Greater Upper Nile region. Smaller ethnic groups, meanwhile, formed their own militias, including in Equatoria. See Crisis Group Africa Report N°300, Toward a Viable Future for South Sudan, 10 February 2021.Hide Footnote

The discovery of oil in the late 1970s intensified the conflict with Khartoum. In the late 1990s, under President Omar al-Bashir, Sudan escalated its counter-insurgency in the South to clear the way for development of oil fields, most of which are located just south of today's Sudan-South Sudan border. It won some battles but drew condemnation for its abuses of civilians, which also broadened Western and especially U.S. sympathy for the Southern cause. Regional peace talks and strong-arming by the George W. Bush administration finally helped convince Bashir, who feared U.S. military intervention, to accept a 2005 peace deal with the Sudan People's Liberation Movement (SPLM), the political wing of the insurgent Sudanese People's Liberation Army (SPLA), that promised the South a secession vote six years later. Khartoum also consented to give the newly semi-autonomous South 50 per cent of revenues from the oil produced there, a bonanza for an area roughly the size of France with only a smattering of small market towns.

Oil ... laid the groundwork for South Sudan's secession.

Oil thus laid the groundwork for South Sudan's secession. Flush with petrodollars, the SPLM's rebels-turned-rulers could have not wished for more propitious timing: international oil prices reached new highs in 2004 and kept climbing, briefly soaring above $100 a barrel for the first time in 2008, then hovering above that mark from 2011 until 2014.[fn]''Brent Crude Oil'', Trading Economics, September 2021.Hide Footnote Led by Kiir, the SPLM quickly forged Southern consensus behind independence by handing out plum positions and promising a broad-based government after secession, which was all but a fait accompli by the time the 2011 referendum arrived.

But the sudden wealth gravely compromised the country's stability. The SPLM had always been a shoestring operation, with field commanders largely left to finance their own units through a mix of taxation, aid diversion, cattle rustling, artisanal mining, logging and outright looting. During the war with Khartoum, some top rebels enriched themselves, buying upscale homes in Nairobi and Kampala. The 2005 Comprehensive Peace Agreement and the accompanying oil money propelled the elite's propensity for illicit self-dealing to new heights. The influx of billions of dollars into a proto-state without established institutions resembled a free-for-all.[fn]See, for instance, Greg Larson, Peter Biar Ajak and Lant Pritchett, ''South Sudan's Capability Trap: Building a State with Disruptive Innovation'', Center for International Development at Harvard University, October 2013, p. 4.Hide Footnote Some officials, meanwhile, justified their scramble for oil money as recompense for decades of wartime suffering.

Pervasive corruption quickly helped erode Southern solidarity. Ethnic mistrust hardened as oil revenues appeared to concentrate in the hands of the SPLM elite, which many Southerners viewed as dominated by Kiir's ethnic group, the Dinka. Since many smaller Southern ethnic groups had spent decades resisting the SPLM's dominance, they remained on the periphery of the new quasi-official patronage network. Resentment deepened after a string of corruption scandals, including the 2008 ''Dura saga'', when the government of the then semi-autonomous region awarded some $3 billion of contracts (at the official exchange rate) to a range of companies for the purchase and storage of cereals that mostly never arrived.[fn]Many contractors were apparently never paid. ''The Report of the Auditor General on the Financial Statements of the Government of Southern Sudan for the Financial Year Ended 31st December 2008'', National Audit Chamber, Republic of South Sudan, 2012. The audit, conducted in 2012, found roughly $150 million paid under the contracts in 2008 at official exchange rates at the time. A Reuters investigation cited an insider saying ''several hundred million dollars were frittered away'' in the scheme. Hereward Holland and Pascal Fletcher, ''Special report: In South Sudan, plunder preserves a fragile peace'', Reuters, 20 November 2012.Hide Footnote In 2012, Kiir said the government could not account for $4 billion, dispatching dozens of private letters accusing senior officials of embezzling funds in the lead-up to independence, a move that further ratcheted up internal tensions.[fn]Letters Kiir sent to dozens of current and former officials demanding return of funds, 12 May 2012. Signed template on file with Crisis Group. Machar, then Kiir's vice president, disputed the $4 billion figure and questioned Kiir's political motives.Hide Footnote

After independence, oil emerged again as a cause of trouble. Facing deadlocked negotiations over how much to pay Sudan for the use of a pipeline transporting crude from Southern oil fields to export via Port Sudan on the Red Sea, Juba shut down its oil production in 2012 to force Khartoum's hand. South Sudan's army then captured the Heglig oil fields just across the border inside Sudan, triggering a short-lived border war before pulling back amid global outcry. Having cut off its only source of revenue, the government secured over $1 billion in oil-backed loans to tide itself over until exports resumed, a mechanism it would later deploy to fund itself during South Sudan's civil war, in effect mortgaging the state's future.[fn]South Sudan secured the loans from the country's main foreign producers, China National Petroleum Corporation (CNPC) and Malaysia's Petronas. See ''Note Verbale Dated 31 October 2019 from the Permanent Mission of South Sudan Addressed to the UN Security Council'', UNSC S/2019/861, 1 November 2019.Hide Footnote

Government unity crumbled soon thereafter. Senior party officials began manoeuvring to challenge Kiir's SPLM leadership and, therefore, his presidency. Kiir meanwhile abandoned his strategy of political inclusion and moved instead to consolidate power, tightening his own grip on the oil funds in the process. Discontent grew within the SPLM. The dispute escalated in 2013, when Kiir sacked Machar, who served as his vice president, along with many other top party officials. In December that year, gunshots rang out after a party conference as Dinka and Nuer elements of the elite presidential guard tasked with protecting both Kiir and Machar exchanged fire, plunging the nation into weeks of ethno-political bloodshed that descended into a five-year civil war. The conflict disrupted oil production, then drained South Sudan's coffers. Fighting erupted just as a global commodity boom slowed, sending oil prices below $80 per barrel. Since South Sudan had based its export fee negotiations with Sudan on boom-time prices, the oil slump further eroded government income.[fn]Under the terms of a Transitional Financial Arrangement (TFA), South Sudan agreed to pay Sudan a one-off sum of $3.028 billion by 31 December 2016, through a fee of $15 per barrel of oil transported through Sudan. In addition, South Sudan agreed to pay Sudan a transport fee of $9.10 per barrel of oil produced in Upper Nile state and $11 for oil produced in Unity state, in total $24.10 and $26 per barrel respectively, regardless of the oil price. The terms were renegotiated in 2016, reducing payments toward the Agreement balance when oil prices fell below $50 per barrel, though keeping the fees the same.Hide Footnote

Widespread discontent with the government's failure to improve South Sudanese people's dire living conditions is putting the peace deal at further risk.

The ruling elite's predation continues to threaten South Sudan's stability. Though the 2018 big-tent peace deal brought the two main belligerents Kiir and Machar somewhat closer, on paper at least, and eventually led to a unity government, the simmering insurgency in Central Equatoria remains unresolved, in part because a rebel leader refused to sign out of frustration with, among other things, Juba's monopoly on the country's oil wealth.[fn]Crisis Group Africa Briefing N°169, South Sudan's Other War: Resolving the Insurgency in Equatoria, 25 February 2021.Hide Footnote More critically, as noted, Kiir has yet to fulfil many of the pledges he made in the peace accord, such as incorporating former rival fighters into the army, often on the grounds that his government lacks the funds. Opponents view these claims as spurious and proof that Kiir has no intention of sharing the country's wealth with non-loyalists, while Machar also faces accusations that he is hogging the spoils of peace.[fn]Crisis Group interviews, opposition politicians and commanders, 2018-2021.Hide Footnote Widespread discontent with the government's failure to improve the South Sudanese people's dire living conditions is putting the peace deal at further risk of collapse and feeding perceptions that armed struggle is the only avenue for effecting political change.

B. Obstructing a Settlement

As even South Sudan's leaders acknowledge, the fight for petrodollars underlies much of its internal political strife, while fanning the flames of its ethnic and regional divisions.[fn]Crisis Group interviews, 2018-2020. In a May 2020 speech, President Kiir said: ''All of us would be ashamed if we met our fallen comrades, because we have not lived up to their expectations. '... The SPLM/SPLA was not formed to fight for the rights of a few to positions of power and wealth''. Salva Kiir, ''2020 SPLA Day Speech'', 16 May 2020.Hide Footnote To be sure, these problems owe much to decades of colonial and Sudanese neglect that left South Sudan one of the least developed places in the world. Yet oil-dependent countries often suffer from political pathologies, and South Sudan is no exception.[fn]There is a body of research and analysis suggesting that oil-dependent states generally have poorer governance and are less democratic than non-oil-dependent countries, in part due to the ease of diverting funds and the volatility of oil prices. See Terry L. Karl, ''The Perils of the Petro-State: Reflections on the Paradox of Plenty'', Journal of International Affairs, vol. 53, no. 1 (1999), p. 31; Paul Collier and Anthony Venables (eds.), Plundered Nations: Successes and Failures in Natural Resource Extraction (London, 2011); and Alexandra Gillies, Crude Intentions: How Oil Corruption Contaminates the World (Oxford, 2020).Hide Footnote The pot of oil revenues claimed by those atop South Sudan's system dramatically raises the stakes of holding power, accentuating the winner-take-all nature of South Sudanese politics (which as discussed prevails even now, notwithstanding the power-sharing arrangement between Kiir and Machar). This centralised contest for oil money thus also obstructs the political reforms South Sudan so desperately needs, including, as Crisis Group has previously recommended, the adoption of a more consensual form of national governance and a devolution of authority and resources.[fn]Crisis Group has argued that a sustainable political settlement in South Sudan must have elements of both. Crisis Group Report, Toward a Viable Future for South Sudan, op. cit.Hide Footnote

[President] Kirr's hold on oil revenues clearly works against more equitable power sharing.

Kiir's hold on oil revenues clearly works against more equitable power sharing. His loyalists dominate the finance ministry, the Central Bank and the state-owned Nile Petroleum Corporation, known as Nilepet. Furthermore, despite the 2018 peace deal's power-sharing provisions, Kiir's confidants, including close kin and loyal lieutenants, operate as a shadow government, bypassing the institutions the formal administration controls in cooperation with the political opposition, and thus retaining the real balance of power and fuelling discontent in Machar's camp.[fn]For instance, in the absence of a functioning budget, government ministers from both Kiir and Machar's camp pay frequent visits to Tut Gatluak, President Kiir's security adviser and now a major powerbroker, to seek funds. Crisis Group observations; Crisis Group interviews, senior politicians, Juba, 2020-2021.Hide Footnote The presidency's centralised control of oil funds '' and desire to maintain it '' also complicates efforts to meet widespread demands for greater decentralisation, as the SPLM originally promised, or even to open up space for dialogue among South Sudanese about what proportion of national funds should flow to state and local administrations.[fn]Crisis Group Report, Toward a Viable Future for South Sudan, op. cit.Hide Footnote Of the 5 per cent of oil revenues that the constitution obliges the government to send to oil-producing states and counties, little appears to reach those destinations.[fn]A March 2021 government audit found that the state had opened the relevant accounts only in 2014 and that, by 2020, it had given $55.8 million of the $85.6 million transferred to the account for oil-producing areas to ineligible recipients. The same report found numerous illegal transactions from these accounts, including to the Office of the President, the finance ministry and individual politicians. ''Report of the Auditor General on the Accounts of 2 per cent and 3 per cent of Net Oil Revenue of Oil Producing States and Communities for the Period 2011 to 2020'', March 2021. Copy on file with Crisis Group. Parliament's budget committee members also noted they ''continue to receive complaints about the 2 per cent and 3 per cent transfers to oil-producing states and communities''.Hide Footnote

Further, South Sudan's petroleum politics empower the elite most resistant to change. Kiir's government has spent the bulk of oil funds that did reach the budget on the military and the security sector, instead of building basic services that could alleviate the population's suffering. During the war, his administration predictably bolstered the army and the infamous National Security Services, while also backing government-aligned militias.[fn]An official note appended to South Sudan's 2017/2018 budget lamented that ''expenditures are largely skewed toward defence at the expense of poverty reduction. Security and accountability/public administration and rule of law spending have accounted for over 70 per cent of the total budget over the past three fiscal years''.Hide Footnote These institutions acquire additional off-budget funds through Nilepet, and through the operation of private security companies guarding the oil fields.[fn]See, for example, ''Final Report of the UN Panel of Experts on South Sudan Submitted in Accordance with Security Council Resolution 2428 (2018)'', UNSC S/2019/301, 9 April 2019; ''Final Report of the UN Panel of Experts on South Sudan Submitted in Accordance with Security Council Resolution 2206 (2015)'', UNSC S/2016/70, 22 January 2016; ''Capture on the Nile'', Global Witness, April 2018; and ''Fueling Atrocities: Oil and War in South Sudan'', The Sentry, March 2018.Hide Footnote These additional off-budget revenues not only insulate much of the officer corps from oversight but also provide them with powerful financial incentives to protect the status quo. The top brass itself sponsors militias across the country, undermining efforts to tame violence persisting after the 2018 peace agreement.

C. A Hazy Future

Given the scale of the problems, it seems entirely possible South Sudan might be better off without oil '' and such a future could be nigh. The country's production peaked at over 300,000 barrels per day at independence but has decreased to half that, in part due to the conflict, and South Sudan's government projects oil production to continue to halve roughly every five years.[fn]''MOP Petroleum Report: June 2018-May 2019'', Ministry of Petroleum, Republic of South Sudan. The joint venture oil production companies forecast similar rates of decline. ''GPOC Resumption and Growth Journey'', presentation to the 2019 South Sudan Power and Oil Conference, Greater Pioneer Operating Company, 29 October 2019; ''DPOC: A Catalyst for Growth in South Sudan'', presentation to Africa Oil and Power 2018, Dar Petroleum Operation Company, September 2018. Copies on file with Crisis Group. See also ''South Sudan oil output declines as fields reach peak'', Reuters, 2 July 2021. International oil companies have said they will not renew their participation in the dominant consortium in Upper Nile state when the agreement expires in 2027. ''South Sudan to take over oil fields managed by China's CNPC'', Bloomberg, 26 August 2020.Hide Footnote Volatile oil prices, instability and the poor quality of much of South Sudan's crude, meanwhile, discourage investment needed to repair damaged wells, extend their lifespan and search for new deposits. The high costs and fraught politics of exporting South Sudan's oil through Sudan further deter prospective investors, which already face the prospect of global decarbonisation.

Any move away from [oil] production would precipitate a collapse in the government's income and diminish [its] legitimacy.

Since oil underwrites the entire South Sudanese state, any move away from production clearly would precipitate a collapse in the government's income and further diminish the authorities' threadbare legitimacy. Yet the transition may also give South Sudan its best chance at recasting its rentier state. The challenge can hardly be overstated: the government has barely paid attention to the agrarian and pastoral economies, which sustain much of the population. It has also consistently failed to explore other potential sources of income and has yet to build the roads and infrastructure that could spur economic growth.[fn]The government says it is setting aside 10,000 barrels of oil a day to fund roads and infrastructure projects, but this opaque program has come under intense scrutiny for mismanagement and corruption allegations. See next section below.Hide Footnote It is therefore difficult to imagine what a post-carbon future would look like absent significant external support, and South Sudan thus faces a critically short window to improve its relations with the outside world. Still, given how much of South Sudan's politics revolves around this centralised resource, a transition away from oil also presents the clearest opportunity to change the entrenched power dynamics in South Sudan that have proven so destructive.

A. The Path of a South Sudanese Petrodollar

South Sudan earns income from less than half of the roughly 150,000 to 170,000 barrels a day it produces. The proceeds of around 55 to 60 per cent of total output goes to the three joint venture oil producers in the country, as profit and to cover their costs. [fn] See Appendix H. The three joint venture companies are the Dar Petroleum Operating Company, which is a partnership between Nilepet (8 per cent), China National Petroleum Corporation (41 per cent), Petronas (Malaysia, 40 per cent), Sinopec (China, 6 per cent) and Tri-Ocean Energy (Egypt, 5 per cent); the Greater Pioneer Operating Company, which is a partnership between Nilepet (5 per cent), CNPC (40 per cent), Petronas (30 per cent) and ONGC Videsh (India, 25 per cent); and the Sudd Operating Company (SPOC), which is a partnership between Nilepet (8 per cent), ONGC Videsh (24.2 per cent) and Petronas (67.8 per cent). The same international companies make up the joint ventures that produce oil in Sudan.Hide Footnote According to the UN Panel of Experts, these costs likely include the producers' contracts with security and other companies working in the oil fields, which are largely controlled by South Sudan's security elite '' one way in which they can likely tap into off-budget funds. [fn] See ''Final Report of the UN Panel of Experts on South Sudan Submitted in Accordance with Security Council Resolution 2428 (2018)'', UNSC S/2019/301, 9 April 2019; ''Final report of the Panel of Experts on South Sudan submitted pursuant to resolution 2471 (2019)'', UNSC S/2020/342, 28 April 2020.Hide Footnote South Sudan remains entirely dependent on Sudan to get its oil to international markets, which means that a further 28,000 barrels per day go toward paying Khartoum for the use of its pipelines and paying off a $3 billion compensation settlement South Sudan agreed to after independence. [fn] See Appendix G.Hide Footnote (The government has said it expects to settle its compensation obligations by the end of 2021, though transit-related fees to Sudan will remain.)

That leaves South Sudan with the proceeds from up to roughly 35,000 to 45,000 barrels per day at present production levels, according to the best estimates available. Much of this money is vulnerable to diversion before it reaches the national budget, however. Nilepet regularly receives tens of millions of dollars in oil revenues from producing companies and the government, but these allocations are not reliably disclosed and have never been audited. [fn] ''Nilepet defiant to audit requisition, says auditor-general'', Eye Radio, 30 May 2021.Hide Footnote Tightly controlled by Kiir loyalists and the security elite, the state-owned company appears to fund parts of South Sudan's security services and war machine. [fn] The 2019-2020 budget includes an allocation to Nilepet of 24.9 billion pounds ($160 million), though it is unclear how this amount is calculated and whether it was paid in full. On the role of security actors in Nilepet, see ''Capture on the Nile'' and ''Fueling Atrocities: Oil and War in South Sudan'', both op. cit.Hide Footnote

Other ad hoc forms of budgeting obscure the country's finances. In 2019, Kiir announced he was setting aside 30,000 barrels of oil per day for road projects with Chinese companies, overseen directly by the Office of the President, though the government can now only afford to fund the project with 10,000 barrels per day. [fn] Kiir set up a ''China desk'' within his office to oversee the project. Kiir speech, 14 May 2019. The IMF attributed the drop from 30,000 to 10,000 barrels per day to the ''cash squeeze'' after oil prices dropped. ''Republic of South Sudan: Staff Monitored Program and Request for Disbursement Under the Rapid Credit Facility'', IMF, 17 March 2021. The ministry of finance said the outlay of 30,000 barrels per day created ''large deficits in the budget and in the balance of payments'' that forced the government to draw down its foreign currency reserves to finance imports and public expenditures. ''FY 2019-2020 Approved Budget Book'', Ministry of Finance, Republic of South Sudan, 19 December 2019.Hide Footnote This opaque arrangement shields substantial revenues from oversight and has already led to scandal, including accusations of mismanagement and corruption. [fn] Sam Mednick, ''South Sudan struggles to increase oil production after war'', Associated Press, 29 May 2019. Kiir later sacked his minister for presidential affairs, Mayiik Ayii Deng, citing mismanagement of the project amid an uproar over poor road construction. Kiir reappointed Mayiik Ayii as foreign minister in September 2021.Hide Footnote Kiir has since promised to ''dedicate'' 5,000 barrels per day to pay government salaries, a move that would make little sense if South Sudan had a functioning budget. [fn] President Salva Kiir address to the nation on occasion of tenth anniversary of South Sudan's independence, 9 July 2021.Hide Footnote More oil funds still are used to repay hefty commercial loans, including from the Qatar National Bank, the Africa Export Import Bank and the commodity traders, including Sahara Energy.

A 2013 law stipulates that all oil revenue is to be deposited in a single Petroleum Revenue Account. The government's failure to do so resulted in a clause in the 2018 peace deal ordering the closure of all other petroleum accounts. [fn] South Sudan's Petroleum Revenue Management Act (2013) states in section II.6 that ''any Petroleum Revenue due to the Government shall be paid into the Petroleum Revenue Account for subsequent transfer in accordance with provisions in this Bill''. Section 4.8.1.2 of the 2018 peace agreement mandates ''the closure of any petroleum revenue accounts other than those approved by law within three months of the start of the transition''. The peace deal also forbids the ''depositing or diverting any petroleum revenue into any account other than the Petroleum Revenue Account at the [Bank of South Sudan]''.Hide Footnote Three years on, the authorities have yet to implement that provision. In addition to these ad hoc allocations, both the government and Nilepet receive payments from sales, fees and resource-backed loans in several international accounts. [fn] There is some debate over whether the government could consider this arrangement as one account spread over multiple banks. Crisis Group telephone interviews, Western officials, Juba, April-May 2021.Hide Footnote In the past, the government instructed some buyers of its oil to make payments directly to third parties. This fragmented, ad hoc system creates an ideal climate for large-scale misappropriations of cash.

The management of funds that do reach the budget is equally poor. Weak institutional guardrails and limited oversight facilitate fraud and embezzlement, including ''ghost worker'' payrolls and collusive contract schemes, which can alone account for billions of dollars in missing funds. [fn] For major investigations of two distinct billion-dollar corruption scandals, see Foltyn, ''How South Sudan's elite looted its foreign reserves'', op. cit.; and Mark Anderson and Michael Gibb, ''As South Sudan Seeks Funds for Peace, a Billion-Dollar Spending Spree'', Organized Crime and Corruption Reporting Project, December 2019. The UN Commission on Human Rights in South Sudan says ''staggering amounts of money and other wealth have been illicitly siphoned from South Sudan's public coffers and resources''. ''Human rights violations and related economic crimes in the Republic of South Sudan'', Conference room paper of the Commission on Human Rights in South Sudan, A/HRC/48/CRP.3, 23 September 2021.Hide Footnote The government did not even publish a budget for the 2020-2021 financial year, while expenditure reports are typically late and incomplete. Even a recent government audit of the use of the first batch of International Monetary Fund (IMF) funds found that millions could not be accounted for. [fn] Crisis Group telephone interviews, Western diplomats, August-September 2021.Hide Footnote In sum, South Sudan's official budgeting often has little to do with how the state funds itself or where the money goes.[fn]Former allies of Kirr in the Jieng Council of Elders, a Dinka ethno-nationalist lobby group of influential figures, note: ''The public budget, which is presented to the parliament is hardly the basis of expenditures. In fact, fictitious institutions that do not appear in public budgets get to spend the money while public institutions are cash-starved''. ''Breaking the Silence '' The Way Forward'', Jieng Council of Elders, 19 February 2021.Hide Footnote

B. Wartime Lenders of Last Resort

Oil-backed loans further cloud South Sudan's financial horizons. Racked by civil war and hamstrung by limited access to international capital markets, South Sudan started using its future oil shipments as collateral in exchange for quick cash soon after independence. Since 2012, South Sudan appears to have received some $2 billion, at least, in advanced oil sales. [fn] This estimate is based on Crisis Group's own dataset and calculations. One analysis of trading data estimated that South Sudan may have received as much as $2 billion in pre-payments between 2013 and 2018. ''Juba's payday loan habit'', Africa Confidential, 30 August 2019.Hide Footnote While these oil-backed loans brought in new revenue, the government never disclosed the loans' contract terms or repayment schedules, obscuring the long-term implications. Its repayment obligations then deprived the treasury of revenue and foreign exchange, as lower oil prices meant more oil was needed to pay off the same amount of debt, pauperising the country's balance sheets. According to the ministry of finance, more than 86 per cent of the country's $1.51 billion in external debt as of 2020 was owed to commercial lenders.[fn]"Statement of the Auditor General on the Audit of the Rapid Credit Facility (RCF) of November 2020 from International Monetary Fund (IMF)", National Audit Chamber, 9 September 2021.Hide Footnote

As mentioned above, the South Sudanese elite's debt acquisition habits started developing before the civil war, when Juba borrowed over $1 billion against future oil production from the China National Petroleum Corporation and Malaysia's Petronas, two of the main oil firms operating in the country, during the 2012 oil shutdown. In 2012, the government also started a commercial relationship with the Qatar National Bank which eventually grew into a $650 million loan that Juba is still servicing with the delivery of two cargoes of crude oil per year. [fn] ''Final Report of the UN Panel of Experts on South Sudan Submitted in Accordance with Security Council Resolution 2521 (2020)'', UNSC S/2021/365, 15 April 2021.Hide Footnote

South Sudan then started to turn to less orthodox lenders: commodity traders. [fn] Commodity traders have substantially increased their global lending since around 2007, encouraged by booming commodity prices and regulatory reforms tied to the financial crisis that suppressed commercial banks' appetite for risk. Crisis Group telephone interviews, traders and bankers based in Switzerland, the UK, France, Belgium and the Netherlands, January-June 2020. Trafigura, one of the world's largest commodity traders, noted that its pre-payments rose from $700 million in 2013 to over $5 billion in 2019, saying: ''International banks have substantially reduced their exposure to emerging market lending credit. '... With public equity and debt markets often also inaccessible to emerging market resource producers, commodities buyers '' the big trading firms '' have been left as one of the few sources of credit and working capital''. ''Prepayments Demystified: An Addendum to the Commodities Demystified Guide'', Trafigura, January 2020.Hide Footnote A handful of trading firms purchased most of South Sudan's oil from 2013 onward and then started lending the government money through ''pre-payment arrangements'', the sum totals of which neared, if not exceeded, $1 billion. [fn] Crisis Group dataset and calculations. Crisis Group telephone interviews, traders and bankers based in Switzerland, the UK, France, Belgium and the Netherlands, January-June 2020. UK court documents confirm that the Swiss-Singaporean trader Trafigura provided around $300 million in pre-payments between March 2013 and May 2018, when the government stopped repaying Trafigura while striking new deals with other traders. Judgement, Government of South Sudan v Trafigura in the UK High Court, 19 June 2020. While Trafigura was the most prominent lender to South Sudan at first, it later gave way to substantial credit facilities from B.B. Energy and Sahara Energy Resources DMCC, which forms part of the Sahara Group. See Appendix E. For example, the government received over $400 million from multiple traders in pre-payments during the 2017/2018 financial year. ''Final Report of the UN Panel of Experts on South Sudan'', UNSC S/2019/301, op. cit. In April 2019, the IMF reported that at least $328 million in pre-payments were outstanding, with almost $100 million still unpaid the next year. ''2019 Article IV Consultation-Press Release; Staff Report; and Statement by the Executive Director for the Republic of South Sudan'', IMF, June 2019; Final Report of the UN Panel of Experts on South Sudan, S/2021/365, 15 April 2021.Hide Footnote These payments work like the petrostate equivalent of a payday loan scheme: the government gets cash advances at high interest rates in return for future oil deliveries. As lenders typically pre-pay in dollars but get repaid through crude oil, oil price fluctuations can require the government to ship far larger quantities than anticipated at the time of the agreement. Discounts on the value of future oil and fees can make these deals even more expensive for Juba. [fn] In his 2019/2020 budget speech, the finance minister acknowledged: ''This practice comes with significant cost to the budget and deprives us the true value of our oil revenue''. See also ''African Economies Haunted by Oil-Backed Loans as Traders Call in Debts'', Organised Crime and Corruption Reporting Project, November 2020.Hide Footnote

South Sudan has little to show for these secretive pre-payments. [fn] Such loans can serve a legitimate purpose, particularly where they help states with limited access to conventional credit unlock revenues tied up in undeveloped natural resources. South Sudan's oil industry was fully developed upon independence, however, undermining this conventional justification.Hide Footnote Only a handful of officials know the terms of the pre-sales, and their power to line pockets today with tomorrow's riches has mostly served to heighten their political opponents' fury and ordinary citizens' sense of injustice. [fn] In 2019, for example, the IMF noted that South Sudanese authorities ''were unable to provide a full list of contracted oil advances and their repayment terms''. ''2019 Article IV Consultation-Press Release; Staff Report; and Statement by the Executive Director for the Republic of South Sudan'', op. cit. Further, as pre-payments are not tied to the physical delivery or transfer of any product, the recipient may deposit large amounts of money without much oversight.Hide Footnote Furthermore, the availability of this financial lifeline may have emboldened the government to resist enacting reforms that attract more traditional forms of budget support, while the resulting debt pile shrinks future leaders' capacity to arrest South Sudan's tailspin.

South Sudanese leaders have repeatedly pledged to halt advanced oil sales ... but found the habit hard to kick.

South Sudanese leaders have repeatedly pledged to halt advanced oil sales, including in the peace deal, but found the habit hard to kick. In June 2019, the government announced it had suspended pre-payment arrangements and set up a committee to investigate the practice, but the IMF found that such loans had continued until at least the following May. As of April 2021, South Sudan still owed Sahara Energy $99 million, but had reportedly cancelled its loan facility with the company and said it planned to clear the debt by September. In 2019, the Africa Export-Import Bank gave the government an additional $400 million credit line, to be repaid through the allocation of future oil cargoes.[fn]''Final report of the Panel of Experts on South Sudan submitted pursuant to resolution 2471 (2019)'', UNSC S/2020/342, 28 April 2020. Previous credit facilities with the Africa Export-Import Bank saw repayment through oil cargoes lifted by the international commodity firm Glencore, working with the local company Trinity Energy, according to the UN Panel of Experts. Final report of the Panel of Experts on South Sudan submitted pursuant to resolution 2428 (2018)'', UNSC S/2019/301, 9 April 2019. The Africa Export-Import Bank reportedly lent South Sudan $200 million previously. ''South Sudan secures $500 mln financing facility from AfreximBank'', Reuters, 15 April 2019. A June 2021 meeting between President Kiir and the Bank focused on ''ways to consistently deliver crude cargoes designated for loan repayment''. Facebook post, Office of the President, Republic of South Sudan, 11 June 2021.Hide Footnote

Regardless of whether they are still purchasing the oil in advance, commodity traders remain the key buyers of the South Sudan government's share of oil, according to the ministry of petroleum, a significant shift from the early days when Chinese firms purchased the vast bulk of South Sudan's allotted cargoes.[fn]China still imports much of South Sudan's oil, primarily through its state-owned China National Petroleum Corporation, which is the largest shareholder in two of South Sudan's three main oil-producing joint ventures, and thus a recipient of significant quantities of oil to cover its costs and profits. See Appendix H. The government's share of the oil, however, is predominantly sold to international traders, whose payments make up the vast bulk of government revenues. See Appendix E.Hide Footnote In 2020, the petroleum ministry identified nine companies as having purchased the government's entire annual share of oil exports: all were either standalone commodity traders or trading arms of major oil companies, the majority of which have a strong corporate presence in Europe.[fn]See Appendix E.Hide Footnote As a result, a small circle of traders, plus the banks and insurers that underwrite them, many of which are headquartered in the world's financial capitals, have outsized influence upon South Sudan's finances and politics.[fn]Commercial banks provide traders with critical financing, and in some cases the banks wind up shouldering much of the risk that commodity traders take on. Financing ranges from standing credit facilities that traders can draw upon as they wish, usually subject only to a set of restrictions on their use agreed in advance, to highly bespoke loans that finance specific pre-payments, trades or projects. Under these arrangements, commercial banks, or a group of commercial banks, may agree to assume none, some or all of the risk associated with the deal, such as if the borrowing government fails to make repayments. In some cases, traders might also syndicate their loans after they have been made, in effect trading on parts of the loan, and its risks, to banks and other financial institutions. Traders and their banks are also able to pass on much of the risks that lending to a government like South Sudan entails to insurance markets, most notably Lloyds in London, where they can insure up to 90 per cent of the value of a contract against a range of risks, including a government default to broader political risks such as changes in governments and their policies. According to interviews, the most common form of insurance for these kinds of transaction is ''contract frustration indemnity insurance'' obtained via the Lloyds Insurance Market in London, though ''political risk insurance'' was also cited as relevant in some cases. Crisis Group telephone interviews, traders and bankers based in Switzerland, the UK, France, Belgium and the Netherlands, January-June 2020.Hide Footnote

C. IMF Relief

South Sudan plunged into a fiscal crisis in 2020. Floods, locusts and the COVID-19 pandemic had already precipitated an economic downturn when a steep drop in oil prices halved the government's revenue while doubling the amount of oil it needed to repay its creditors.[fn]The government based its draft budget on projected oil prices of $55 per barrel. South Sudan's oil exports are subject to high fixed costs, meaning that even modest price drops can badly hurt government revenues. South Sudan's Dar Blend is priced using the Dated Brent price and its Nile Blend by ICP Minas. South Sudan has typically discounted its prices because its oil is poorer in quality than that produced elsewhere. According to the petroleum ministry, the average discount was around $9 per barrel for Dar Blend during the 2018-2019 financial year, though these fluctuate considerably, and interviews suggest that there was little discount when prices were low in 2020. South Sudan also pays Sudan transit fees of $9.1 per barrel for Dar Blend and $11 per barrel for its Nile Blend, and makes payments to clear the $3.028 billion debt to Khartoum to which it agreed upon independence. See Appendix G.Hide Footnote In August of that year, the Central Bank announced that it had run out of foreign reserves and would be unable to stop the South Sudanese pound from depreciating.[fn]''South Sudan central bank says foreign exchange reserves have run out'', Reuters, 19 August 2020.Hide Footnote As national and state authorities laboured to keep down consumer prices on staples like water (which must be purchased because treated water is not publicly available) and food, the government decided to print money, which in turn further fuelled inflation.[fn]Press statement, Office of the Governor of the Central Bank, 6 November 2020.Hide Footnote Internal documents said government revenue would decline 60 per cent from previous projections. Civil servants and soldiers went without pay for months.[fn]Even senior officials get only a few hundred dollars per month in wages. ''FY 2019-2020 Approved Budget Book'', op. cit.Hide Footnote

The IMF stepped in to provide economic relief, which eventually totalled more than half a billion dollars. In November 2020, the Fund provided its first-ever budget support to South Sudan by releasing $52.3 million in emergency assistance, citing the severe impact of the pandemic and falling oil prices on the country's public finances.[fn]The government and IMF say about $6 million went to paying arrears to South Sudan's diplomats overseas, while the remainder was split into three batches of roughly $14.5 million each to clear back salaries in the civil service, sub-national institutions and the security sector.Hide Footnote It followed up quickly with a much larger disbursement of $174.2 million in March 2021, which came with a program that allows the Fund to monitor the government's commitment to carrying out reform.[fn]''IMF Executive Board Approves US$174.2 Million Emergency Assistance for South Sudan to Address the COVID-19 Pandemic'', press release, IMF, 30 March 2021.Hide Footnote The IMF identified eleven key measures it expects the government to enact, including monetary and exchange rate adjustments, new anti-corruption provisions, a single treasury account, and improved cash management and cash forecasting.[fn]See ''Republic of South Sudan: Staff Monitored Program and Request for Disbursement under the Rapid Credit Facility '' Press Release; Staff Report; and Statement by the Executive Director for the Republic of South Sudan'', IMF, 2 April 2021.Hide Footnote South Sudan then received a further $334 million from the IMF as part of a $650 billion disbursal, the largest of its kind in the institution's history, to all 190 members.[fn]''South Sudan Receives USD 334 Million from the IMF'', press release, Bank of South Sudan, 25 August 2021.Hide Footnote

The combination of IMF stopgap relief and rebounding oil prices has thus far given respite to the government and prevented fiscal collapse, but South Sudan's economic woes '' declining oil production, meagre to no foreign reserves, high-risk debts '' are hardly solved. Despite its massive dimensions, the bailout has failed to extract major concessions from the ruling elite, and the program's critics say future budget support should be tied more directly to verifiable changes.[fn]Crisis Group interviews, officials in Washington, London, Juba, 2021.Hide Footnote Furthermore, the IMF loan appears to have aggravated political bickering, despite bringing about few substantive changes other than the rare semblance of transparency in how the funds are used.[fn]Government accounting shows that most of the first IMF disbursement and half of the second served to settle salary arrears of public workers, including in the security sector.Hide Footnote In particular, the government's decision to use the money to pay only its own soldiers, and not former opposition forces loyal to Machar, added to the overwhelming disillusionment with the peace process in Machar's camp, which has since split into two largely as a result of this discontent.[fn]Crisis Group interviews, opposition members, 2020-2021. This grievance has been cited by commanders who broke away from Machar's leadership under the leadership of his former military Chief of Staff Simon Gatwech in August 2021.Hide Footnote

A protracted fiscal crisis may finally motivate South Sudan's leaders to mend their broken relations with donors.

Yet South Sudan's economic distress may actually have a silver lining. The government is less likely to launch expensive military operations or flagrantly skirt a UN arms embargo to buy new weapons. Insurgents may also have fewer incentives to rebel, since the government has a smaller pot of money with which to purchase peace. More critically, a protracted fiscal crisis may finally motivate South Sudan's leaders to mend their broken relations with donors.

A. Donor Dilemmas

Thus far, donors have struggled to articulate a coordinated strategy pushing for reforms in South Sudan. The government's failure to provide basic services to its populace is an especially sore spot for major donors, which foot the bills for aid agencies and organisations to provide education, health care, sanitation and more.[fn]The previous head of the UN mission in South Sudan, David Shearer, articulated this dilemma shortly before leaving his position: ''The wealth of the country bypasses its people, siphoned off in secrecy with no public accountability for how it is spent. South Sudan has also become one of the most dependent nations in history. Its education and health systems, its roads and infrastructure are provided by outsiders. As the international community, we have to ask ourselves if we have too eagerly stepped in and shouldered responsibilities that should be the job of the South Sudanese government, thereby adding to their dependency''. ''The Challenges of Confronting COVID-19 amidst Fragile Peace in South Sudan'', ACCORD, 17 March 2021. The government allocates shockingly little government revenue to services: South Sudan's 2019-2020 budget sets aside more money for health-care allowances for MPs than for the entire health ministry.Hide Footnote Worse, diplomats see few options at their disposal. Donors are understandably reluctant to use relief to a population suffering chronic food shortages as leverage for political or economic reform, given what they view as the government's cruel indifference to its own people's hardship.[fn]Crisis Group interviews, U.S., UK and European officials, 2018-2021.Hide Footnote They also fear that punitive measures could make the state even wobblier, in turn worsening the plight of South Sudan's beleaguered citizens.[fn]Ibid.Hide Footnote

Targeted sanctions, Western powers' pressure tool of choice in recent years, have probably yielded some results but failed to generate substantial reforms. During the Trump administration, the U.S. Treasury Department steadily diverged from the UN and European Union (EU) by adopting a significant number of additional unilateral financial sanctions against South Sudanese companies and individuals, though both the EU and UK have recently added an individual each to their sanctions lists as well.[fn]In April 2021, the UK sanctioned Sudanese businessman Ashraf Seed Ahmed Hussein Ali, known as ''Al Cardinal'', citing misappropriation of South Sudan's state assets. In March 2021, the European Union sanctioned former opposition commander Gabriel Moses Lokujo, citing human rights violations.Hide Footnote Many of these measures cited the misappropriation of public funds.[fn]''South Sudan-Related Sanctions'', U.S. Department of the Treasury, last updated 26 February 2020.Hide Footnote Some Western officials believe that this escalation of targeted sanctions, and the threat of more, affected the thinking of South Sudanese elites at critical junctures in the peace process.[fn]Crisis Group interviews, officials in Juba, Washington, London, 2020-2021.Hide Footnote In particular, they believe that threats of more sanctions helped convince Kiir and Machar to form the unity government in February 2020.[fn]Ibid.Hide Footnote Government representatives repeatedly mentioned the sanctions in diplomatic meetings and hired at least two firms to lobby for their removal in the U.S.[fn]In 2019, the government signed a $4.8 million deal with Gainful Solutions. ''Press Release on Contract with the Government of South Sudan'', press release, Gainful Solutions Inc., 7 May 2019. In 2020, the government also paid AZ Media $280,000 for lobbying services in the U.S., which included efforts to remove sanctions. ''Agreement between the Government of South Sudan and AZ Media PR Inc.'', 1 September 2020.Hide Footnote

Donors have also struggled to get regional powers '' especially Kenya, Uganda and Sudan, which mediated in 2018 peace talks '' to increase pressure on South Sudan's leaders to clean up the government's finances. Kenya's business-minded elite rarely cracks down on illicit money flows from abroad (even if its diplomats are aghast at the state of South Sudanese politics); nevertheless, Nairobi made news recently by freezing the account of South Sudan's cabinet affairs minister and key Kiir ally, Martin Lomuro Elia, for suspected money laundering, before quietly unfreezing his funds.[fn]''South Sudanese minister's millions frozen in Kenyan bank'', The Star, 15 June 2021. Kenya later lifted the freeze on the accounts. Brian Wasuna, ''High Court Lifts Freeze on Minister's Accounts'', The Nation, 22 September 2021.Hide Footnote Uganda's political and military elites, too, share commercial ties with South Sudanese elites and are happy to welcome their channelling millions of dollars into bank accounts in Uganda with few questions asked.

Sudan, meanwhile, would have the most to gain if South Sudan cleaned up its image enough to attract investment in its oil industry, yet its relations with Juba are primarily handled by its military elite, who are unlikely to push for reforms. Khartoum is also swamped by an array of other pressing negotiations with its southern neighbour, including over border disputes, trade relations and peace talks with Sudanese rebels in Juba.

Most East African officials say they do not believe additional sanctions would be helpful.

Most East African officials say they do not believe additional sanctions would be helpful. Regional envoys may also have promised Kiir to push for existing economic sanctions to be lifted if he moved forward with the peace deal. Many analysts believe the deeper misalignment is that regional elites suffer little from the status quo as donors pick up the tab. [fn] Some believe that East African elites are happy to profit from South Sudan's crisis, given the amount of aid that flows to South Sudanese refugees, particularly in Kenya and Uganda, as well as the number of East Africans employed in South Sudan's humanitarian and peacebuilding sectors. Crisis Group interviews, regional, African and Western analysts and officials, 2018-2021.Hide Footnote

Since it is clear that punitive measures alone will not prise South Sudan's oil riches out of the ruling elite's hands, some donor officials are hoping that IMF engagement could at least create momentum for reforms. At the IMF's behest, the government set up an oversight committee tasked with coordinating the rollout of key measures in various ministries and institutions, while communicating progress to the Fund and other donors. [fn] See ''Roadmap: Implementing the Public Financial Management priorities in the Revitalized Agreement of the Resolution of the Conflict in South Sudan,'' PFM Oversight Committee, January 2021, posted on the Ministry of Finance website in August 2021.Hide Footnote A nine-month Staff Monitored Program, which creates a basis for the Fund to monitor the reform program, was attached to the second round of IMF funds and may add impetus to the committee's work and facilitate greater international oversight. Already as a result of the IMF support, authorities moved the powerful Technical Loans Committee, which oversees government borrowing, from the president's office back to the finance ministry, which Kiir's party also controls but is subject to greater oversight. Officials say South Sudanese officials seem keenly aware that current progress could determine the availability of additional IMF funds. [fn] South Sudan could be considered for more IMF funds, including through an Extended Credit Facility, as soon as at the end of the nine-month Staff Monitored Program in December 2021, depending in part on the Fund's review of progress to date. Crisis Group interviews, UN and Western officials, June-September 2021.Hide Footnote

Yet other donor officials fear that the IMF relief could weaken the pressure for substantial reforms. Given their chronic search for leverage, the large influx of IMF money with few major up-front reforms surprised many, even though some of their own governments sit on the IMF board. This makes clear the IMF engagement was never integrated into a broader coordinated donor strategy in South Sudan. [fn] Diplomats from the major donor countries frequently expressed surprise and at times frustration at the IMF disbursals, some stating clearly that the actions are not coordinated with a broader donor reform strategy. Several donor officials also expressed frustration or confusion at the lack of inter-agency coordination on IMF oversight within their own governments, with one diplomat comparing it to one hand not knowing what the other was doing. Crisis Group interviews, March-August 2021.Hide Footnote Some Western capitals may also turn their focus on other priorities, given the IMF lead on the financial reform agenda, potentially leading to less pressure overall. [fn] One major Western donor in 2021 scrapped considerations for its own push for select financial reforms from Juba, opting instead to follow the IMF's lead. Crisis Group interview, senior Western official, Juba, June 2021.Hide Footnote The speed of the disbursals was also a surprise: the IMF dispensed the second, larger round of funds before the government's internal watchdog completed its audit on the first batch. The audit found millions of dollars could not be accounted for.[fn]''Statement of the Auditor General on the Audit of the Rapid Credit Facility (RCF) of November 2020 from International Monetary Fund (IMF)'', National Audit Chamber, 9 September 2021.Hide Footnote

B. A Laundry List of Reforms

Following the peace deal and new IMF engagement, domestic reformers and international backers still have a window to press for meaningful financial reform. By agreeing to form a unity government in February 2020, President Kiir hoped in part to improve his relations with the country's key Western donors. Today, he faces an economy that will struggle to stay afloat once the IMF relief runs out.

South Sudanese activists and outside partners lack a clear roadmap to achieving such reforms, however. The most obvious reference point for South Sudanese and donors to press for improved state finances has been the detailed pledges all parties in the unity government made in the 2018 peace deal, which envisages an overhaul of South Sudan's oil sector and public finances. Commitments include opening South Sudan's books and thus bringing transparency and oversight to government revenues, debts and expenditures, largely in line with South Sudan's existing laws. They also include the reform of major institutions such as the Central Bank; enquiries into key government bodies involved in the oil economy; the creation of a least six new agencies to strengthen management of public finances and resources; and the review of at least twelve major pieces of legislation relating to management of the economy. All in all, the peace deal's financial reform roadmap binds the government to take at least 65 distinct steps, few of which it appears to be making much headway in taking.

[The South Sudanese] oil sector is governed by strong legislation that needs to be enforced rather than revisited.

Sensible as it may be, the laundry list approach lacks strategic focus and is thus unlikely to lead to more than a few piecemeal changes. More critically, the country's oil sector is already governed by strong legislation that needs to be enforced rather than revisited. Against this backdrop, perhaps the most important step donors could take would be to identify a handful of key reforms along the lines highlighted in Section V that would be at the very top of the long list of priorities that activists and diplomats are already pressing government officials on '' a list that currently includes progress toward elections, reduction of insecurity, constitutional reform and justice for victims of war crimes, to name a few. Even the shorter list of IMF priorities may still be too extensive, if the goal is substantive change.[fn]Officials describe an atmosphere of dialogue with government officials about reform but say progress thus far has been limited to what one called the ''low-hanging fruit''. Crisis Group interviews, Western officials, August-September 2021.Hide Footnote Still further commitments Juba made to the Financial Action Task Force (FATF), following South Sudan's addition to its ''grey list'', adds to the muddled reform agenda.[fn]The FATF grey list comprises countries working with and monitored by the FATF on commitments to counter money laundering, terrorist financing and proliferation financing. ''Jurisdictions under Increased Monitoring '' June 2021'', FATF, undated.Hide Footnote

A. Priority Reforms

Amid the financial wreckage, reform-minded South Sudanese and outside powers need to figure out where to focus. Ideally, Kiir would enact all the reforms his government has committed to. In practice, though, those seeking reforms will need to be more strategic, prioritising for the near term the particular steps most likely to bring change.

South Sudanese and their outside partners should start by coalescing around the demand for a single, designated, transparent oil revenue account, as required by South Sudanese law and as the government agreed to create in both the peace deal and with the IMF. They should also insist that its balance and activity be regularly disclosed publicly in accordance with South Sudanese law.[fn]The Petroleum Revenue Management Bill (2012) states: ''Any Petroleum Revenue due to the Government shall be paid into the Petroleum Revenue Account'', including ''any amount deriving from the sale of the Government's oil and gas entitlement''. The act also requires full transparency of oil revenues, including public quarterly reports of the balance and itemised transactions of the Petroleum Revenue Account. Articles 4.8.1.2, 4.8.1.10, 4.8.1.14.2 and 4.10.1.2 of the peace agreement also require the identification of a single designated oil revenue account and the closure of all other oil revenue accounts.Hide Footnote Although no panacea, such a change is a key first step toward the regular disclosure of South Sudan's revenues and loans, without which credible public finances are all but impossible.[fn]The peace agreement's Articles 4.8.1.3, 4.12.1.5, 4.14.3, 4.14.4 and 4.14.8 require the government to publicly identify all debts, including all debts collateralised against oil.Hide Footnote

While the designation and exclusive use of a transparent public oil account should be a precondition for improved ties with donors, other steps will also be necessary. Most urgent is the immediate disclosure of all government revenues and debts, a prerequisite for almost all other critical reforms as well as for rebuilding trust between the government, the population and donors. This disclosure should include timely publication of accurate budget documents, expenditure sheets and oil marketing reports, as well as the allocations of oil to Nilepet and other off-budget projects, a practice which should end.[fn]Article 4.8.1.14.14 requires the review and transformation of Nilepet, which also remains a prominent example of financial secrecy despite receiving vast oil revenues. Nilepet's board has been reconstituted, which could be an opportunity to clarify its allocation of oil as a first step toward reform.Hide Footnote Until such transparency exists, donors and international financial institutions, including the IMF, should decline to provide further budget support.

But transparency alone will be insufficient. Corruption is endemic, and manifest in tactics ranging from unbudgeted withdrawals, inflated procurement contracts and ghost workers to exchange rate manipulation and self-dealing oil-field service contracts.[fn]Article 4.12.1 identifies several measures designed to improve payroll and cash management to ensure legitimate salaries are regularly paid and that unauthorised and unbudgeted withdrawals of public funds are stopped.Hide Footnote The newly established Public Financial Management Oversight Committee and its subcommittees offer an important focal point for emplacing guardrails against these practices, but they need to show they can deliver results by limiting the practice of unbudgeted withdrawals for private use and by ensuring ministries produce regular budget and expenditure reports that reflect actual government spending. Given its rock-bottom reputation among donors, the government may need to accept external oversight and auditing.

There could be easy wins, too. Kiir's entourage may retain the balance of real power, but an array of new officials, including long-time Kiir opponents, hold positions of authority in the unity government. They have already taken positive steps. In February 2020, for instance, the petroleum ministry, led by a Machar ally, published the first Oil Marketing Report '' a vehicle for sharing information on oil sales with the public '' since June 2015. It has also committed to releasing monthly production data.[fn]In 2019, the petroleum ministry lost some of its clout with the dismissal of powerful head Ezekiel Lol Gatkuoth and the creation of a ''China desk'' in the Office of the President to manage up to 30,000 barrels of oil per day for construction of a series of roads in partnership with Chinese companies. Yet it retains access to significant data and a legal mandate to publish this information. As of August 2020, the petroleum ministry no longer sits on Nilepet's board. ''Ministry of Petroleum releases annual report: Petroleum report provides detailed financial information and statistics from the South Sudan oil sector'', Electric Energy Online, 21 February 2020.Hide Footnote The government should build on these developments and, in accordance with its own laws, ensure regular and timely public reporting of oil production and exports. Donors could support internet portals that regularly update oil production and revenue figures and make key documents, including laws and marketing reports, more easily available to a wide audience.

B. Coordinating Pressure

South Sudan cannot fix its politics without restoring credibility to its public finances.

Few expect Kiir to loosen his grip on state finances of his own accord, given that his mode of politics relies on patronage networks and off-budget financing. To increase pressure on his administration, reform-minded South Sudanese '' particularly civil society and religious leaders, but also disenchanted politicians '' should to the degree they can do so safely build a coalition with regional allies and (where helpful) donors to coordinate their messaging, driving home the point that South Sudan cannot fix its politics without restoring credibility to its public finances, while doing their part to safeguard the work of civil society and journalists.

South Sudan's neighbours can be of particular assistance. Sudan, which has pledged to make its own oil sector more transparent, could eventually help shed light on South Sudanese oil exports that transit its territory by disclosing more about its own industry. Kenya and Uganda should strengthen and enforce regulations to combat money laundering, particularly in the commercial banking and real estate sectors, which are benefiting from the proceeds of South Sudanese corruption. Both countries have incentives to do so. Uganda has landed on the FATF's ''grey list'', leading the EU to designate it as a ''high-risk third country''.[fn]''Jurisdictions under Increased Monitoring '' 21 February 2020'', FATF, February 2020. See also ''Delegated Regulation amending Delegated Regulation (EU) 2016/1675 supplementing Directive (EU) 2015/849 of the European Parliament and of the Council'', European Commission, 7 May 2020.Hide Footnote Kenya's next assessment under the FATF framework is under way, with results expected in 2022.[fn]''Assessment Calendar'', Financial Action Task Force, undated.Hide Footnote

Donors, meanwhile, should better articulate both what they expect South Sudan's government to do and what it might get in return '' and stick to these priorities and commitments. In doing so, the IMF and donors must resist the temptation to latch on to any single reform as proof of South Sudan's commitment to change. For example, President Kiir may well offer greater transparency over non-oil revenue streams in exchange for more budget support; donor institutions should reject this trade-off, demanding transparency in oil revenues, where the rot in South Sudan's finances originates. The IMF in particular should not take transparent management of its loans to South Sudan alone as evidence of meaningful progress and should integrate the findings of South Sudan's own audits of these funds into its Staff Monitored Program.

Greater coordination among the IMF and donors, and within donor governments, is also required. Many donor officials expressed frustration or surprise at the sudden disbursement of IMF support to South Sudan in late 2020 and early 2021, without any coordination over how this might be leveraged to encourage reform.[fn]Crisis Group interviews, Western officials in Juba, Washington and London, 2020.Hide Footnote IMF officials, for their part, maintain that the Fund has a technical mandate and that it relies on its board to provide political oversight of its activities.[fn]Crisis Group interview, senior IMF official, June 2021.Hide Footnote Donor governments should accordingly increase their engagement with the IMF at senior levels, including with board members, to make sure that the Fund's efforts in South Sudan are not at cross-purposes with attempts to improve governance in Juba. Meanwhile, IMF officials should also recognise the deeply political nature of any assistance and strive to align their efforts more closely with other diplomacy.

Lastly, donors should not ignore their most important allies: the South Sudanese people. Kiir and Machar are deeply unpopular both within their own camps and among the wider population. Diplomats should make clear to both the political class and the citizenry the costs and missed opportunities of their leaders' failures. Donors should emphasise that they are prepared to reset relations with South Sudan, whether it is through a pledging conference or additional World Bank support, if and when South Sudan's ruling elite embarks on a more credible political transition, which would likely require both Kiir and Machar to step aside. They should also speak up in defence of journalists and civil society activists who focus on corruption or financial reforms and are routinely arrested or harassed because of their work, including by the National Security Service, which is among the beneficiaries of IMF funds.[fn]''Preliminary Narrative Report on the Utilization of RCF Funds'', Ministry of Finance, Government of South Sudan, 15 March 2021; ''Preliminary Narrative Report on the Utilization of RCF 2 Funds'', Ministry of Finance, Government of South Sudan, 15 June 2021.Hide Footnote

C. Corralling Commercial Actors

The small number of international firms that provide a large percentage of South Sudan's revenues require more attention, too. The U.S. currently regulates the export of certain goods to designated South Sudanese companies through special licenses (discussed in Section V.D). [fn] The U.S. Treasury has issued several advisory notices to U.S. companies warning of risks associated with businesses and transactions linked to South Sudan, while the UK's National Crime Agency followed suit by issuing an ''amber alert'' noting illicit financial risks in South Sudan. See ''Advisory on Political Corruption Risks in South Sudan'', Financial Crimes Enforcement Network, 6 September 2017; and ''Amber ALERT South Sudan: Illicit Finance Risks'', UK's National Crime Agency, March 2020. The EU does not currently identify South Sudan as a ''high-risk third country'' under its anti-money-laundering legislation, despite South Sudan's recent addition to the FATF's ''grey list,'' which often sets a precedent for the EU list.Hide Footnote Using these and other mechanisms there is more they could do.

For starters, donors and external partners should state clearly to commercial actors under their jurisdiction that they expect them to follow South Sudanese law, including by routing all payments to a single designated oil account and making sure their contracts expressly require compliance by all parties with the country's laws. [fn] Notably, the Petroleum Act (2012) and the Petroleum Revenue Management Act (2012).Hide Footnote South Sudan has sold a majority of its oil cargoes to companies with an established presence in Europe since the outbreak of civil war, while the rest went to firms with ties to China, Russia and the United Arab Emirates. While Western governments may be the most likely to do so, all of these governments should encourage these companies to disclose all payments and loans to South Sudan, something that the companies might be willing to do if urged to do it collectively and some already do in other countries where they operate.[fn]Companies prefer collective action in part to mitigate ''first mover'' disadvantages and minimise exposure to repercussions. Crisis Group telephone interviews, traders and bankers based in Switzerland, the UK, France, Belgium and the Netherlands, January-June 2020. Following engagement with the UN Panel of Experts, Glencore disclosed that it paid $425.7 million, $375.8 million, and $152.7 million in 2018, 2019, and 2020 respectively for crude oil originating in South Sudan. "Payments to Governments Report 2018", Glencore; "Payments to Governments Report 2019", Glencore; "Payments to Governments Report 2020", Glencore.Hide Footnote Banks and insurers, too, should require that all contracts by clients operating in South Sudan comply with South Sudanese law, which would help protect their reputation and guard against legal risks. Transparency among foreign commercial partners could also motivate Juba to open its own books, since these disclosures would mean that South Sudan itself has less to hide.

Objections that such disclosure requirements, if imposed solely or primarily by Western governments, would only lead Juba to favour non-Western firms or force Western firms out of the South Sudanese market are misplaced. South Sudan is not in a position to turn away business, while shrinking profits have nudged most traders to look for new markets, rather than abandon them. Oil companies, moreover, have regularly disclosed payments elsewhere when legally required to do so in the U.S. and EU, while commodity traders have slowly started to report under voluntary standards established by the Extractive Industries Transparency Initiative. [fn] ''Commodity Trading Transparency: EITI's Role in Commodity Trading'', Extractive Industries Transparency Initiative, undated.Hide Footnote Further, even if some Western firms did leave the South Sudanese market, nothing suggests that their present trading or disclosure behaviour is currently any better for South Sudan than that of the non-Western firms that could replace them.

Companies should be aware that their involvement in South Sudan has clear reputational and regulatory risks.

Corralling these commercial actors will require governments to open formal or informal channels with their management. At present, the companies complain that messages concerning commerce in South Sudan, including industry-wide alerts, are vague and inconsistent across Western jurisdictions, meaning they invest in little beyond minimal legal compliance. Donors can provide more regular advice on corruption risks in South Sudan, as the U.S. and UK have begun to do, while taking care not to discourage responsible investment in South Sudan and acknowledging that companies are wary of being treated as foreign policy tools.[fn]Crisis Group telephone interviews, traders and bankers based in Switzerland, the UK, France, Belgium and the Netherlands, January-June 2020.Hide Footnote Yet companies should be aware that their involvement in South Sudan has clear reputational and regulatory risks should they not follow South Sudanese law and engage transparently.[fn]For instance, Norway's global pension fund, the world's largest, recently divested from India's Oil and Natural Gas Corporation due to its business in South Sudan. The fund's watchdog, the Council on Ethics, explained: ''In general, the Council finds it difficult to envisage that a company can engage in oil production in South Sudan under the prevailing conditions without courting a high risk of contributing to serious norm violations''. ''Recommendation to exclude Oil & Natural Gas Corp Ltd from investment by the Norwegian Government Pension Fund Global'', Council on Ethics, 8 January 2021.Hide Footnote

D. Carrot-and-Stick Approach

If South Sudan's leaders fail to take the opportunity to carry out meaningful reforms, as their track records suggest they will, donors face a range of unappealing options.

As noted above, additional targeted sanctions are an option, though by themselves they are hardly likely to be transformative. Applying or threatening targeted sanctions can shift individual behaviour at key junctures but is unlikely to bring systemic change. The costs can also be high and indiscriminate; even targeted sanctions can throttle legitimate businesses and cut off civilians from banking services in an economy that offers only limited commercial appeal to banks. Still, countries such as Kenya, Uganda, the U.S. and the UK could do more to pressure the ruling elite, notably by threatening to seize assets or end family education privileges abroad, especially if they tied the threat or application of these measures to specific demands and commensurate positive incentives. If countries applied such pressure in conjunction with conditioned offers of IMF or other donor support tied to requests for reform, then donors could employ a strategic carrot-and-stick approach that has thus far been lacking.

Furthermore, the U.S., UK, Switzerland and the EU could consider requiring special licenses for people and businesses under their jurisdiction to operate in South Sudan that are conditional on transparency measures and compliance with South Sudanese law. Trade with South Sudan's oil sector would thus require a permit from relevant government authorities. The EU insists on a similar licence for exports to Russia and Iran, while the U.S. already requires licencing for the export of certain goods to fifteen companies in South Sudan.[fn]''Supplement No. 4 to part 744 of the EAR'', 83 FR 12475, 22 March 2018.Hide Footnote A licencing regime could make the purchase and advance purchase of South Sudanese oil, as well as the financing and insurance of such transactions, subject to a permit requiring public disclosure of all related payments to the government as well as demonstrable adherence to other South Sudanese laws. The threat of such regulation could also be used as an incentive for commercial actors to work with donor governments on voluntary collective disclosure of their activities in South Sudan.

Some South Sudanese believe that outside assistance is also entrenching a predatory elite.[fn]Crisis Group interviews, South Sudanese civil society activists, 2020-2021. Statements by South Sudanese civil society representatives to donor officials in closed-door discussions, 2021. See also Jok Madut Jok, ''Testimony before the U.S. Senate Foreign Relations Committee'', 20 September 2016.Hide Footnote Donors' long-term presence in South Sudan risks becoming a clear moral hazard, should it allow the government to forever neglect its population.[fn]Ibid.Hide Footnote But the nuclear option of threatening to limit or cut off aid if South Sudan's leaders continue to pilfer oil funds is polarising, and rightly so, given the potential humanitarian fallout. In any case, few donors are willing to seriously consider any strategy that risks hurting the South Sudanese people in the near term. Rather than speculating about this possibility, donors should do more due diligence to make sure less assistance falls into the hands of Juba elite through logistics subcontracting, rent and exchange rate manipulation, and by expanding their footprint as much as possible outside Juba. Toward that end, donors could also consider shifting more assistance to direct cash transfers in rural areas, as is being tried in Somalia and Sudan.[fn]On a larger scale, the World Bank and donors are funding a $820 million cash transfer scheme that is supposed to reach 80 per cent of Sudanese families. See Nafisa Eltahir, ''Sudan's basic income scheme aims to ease economic pain'', Reuters, 29 April 2021. For Somalia, see ''Launch of ''¬6.5m mobile money cash transfer programme'', Somalia Cash Consortium, 27 June 2021; and Sara Jerving, ''The evolution of cash transfers in Somalia'', Devex, 29 July 2019. See also Susanne Jaspars, ''Going remote: Learning from aid practices in Somalia and Sudan for the COVID-19 crisis'', London School of Economics blog, 17 April 2020.Hide Footnote

The only durable route to fixing South Sudan's finances, and the aid conundrum, is through its politics. Financial remedies alone will not fundamentally change South Sudan's system of predatory winner-take-all politics, which reinforces the widely held sense that the use of force is the only way to obtain a share of power. As Crisis Group has previously argued, the South Sudanese should agree to some form of decentralisation to reduce the government's power, devolving power and resources locally. Donors who have grown frustrated with the country's political quagmire should push regional leaders and the AU harder to convince the ruling elite of the need for a more consensual form of governance. Many South Sudanese, fearing more power struggles, desperately want a political reset: the National Dialogue, which concluded in 2020, called on both Kiir and Machar to step aside instead of competing in forthcoming elections, possibly scheduled for 2023.

E. Beyond the Petrostate

The South Sudanese and their long-term donors also need to start thinking about South Sudan's inevitable transition from a carbon economy. When the oil wells dry up or stop producing, as they eventually will, South Sudan will become much more reliant on state-level administration and revenue collection, as well as local economic growth. As mentioned above, the coming end of oil is yet another reason why authorities should speed up the devolution of power, a widespread demand of the South Sudanese population, which would make local administrations less dependent on a revenue-starved future central government.

For their part, one fairly novel option that donors could consider would be to offer conditional budgetary support in exchange for leaving oil in the ground, with an eye toward piloting a future global initiative to low-income countries that will struggle to move to a decarbonised economy.[fn]Similar programs have been tried in Africa to halt deforestation. Norway, for instance, pledged hundreds of millions of dollars to Liberia and Gabon to keep forests intact. Abdi Latif Dahir, ''Gabon will be paid by Norway to preserve its forests'', Quartz, 23 September 2019. Over a decade ago, Ecuador tried to convince richer countries to pay it to leave untapped oil in the ground but gave up in 2013. Andres Schipani, ''Ecuador admits defeat in plan to keep oil in the ground for a fee'', Financial Times, 16 August 2013.Hide Footnote Some observers are already arguing that oil-dependent countries, especially those prone to conflict, may need to be coaxed away from fossil fuels with financial assistance.[fn]The World Bank suggests that financial transfers to countries like South Sudan may be necessary for a low-carbon transition. ''Finally, lower-income and conflict-affected countries with large proven, but not yet extracted fossil fuel reserves '' many of them in Africa '' pose challenges. '... Creating cooperative incentive structures may require additional financial, technology or knowledge transfers to enable investments in diversification, ease the socioeconomic implications of a transition and encourage domestic low-carbon policy measures''. Further, ''simulations suggest that the incentives needed for the most vulnerable [fossil fuel-dependent countries] to participate in a global [low-carbon transition] would cost only one eighth of the savings that their participation would generate in other countries''. ''Diversification and Cooperation in a Decarbonizing World: Climate Strategies for Fossil Fuel-Dependent Countries'', World Bank Group, 2020, pp. 72-73. There are already calls for richer countries to offer countries debt relief to move away from carbon-based economies. Somini Sengupta, ''How debt and climate change pose 'systemic risk' to world economy'', The New York Times, 7 April 2021.Hide Footnote Of course, paying Juba not to produce oil might be too much for some donors to swallow, particularly given that they could conceivably renege on their pledge after a year or two and pocket both the assistance money and the oil revenues (although any such assistance could be turned into hefty debt obligations if the government reneges on commitments to keep crude reserves in the ground).

Nevertheless, testing this idea in South Sudan could make sense for several reasons. South Sudan's oil revenues are small for an oil-dependent economy, and donors are already deeply invested in the country's welfare. More critically, in few places does the opacity of oil money's flow so clearly hinder a move away from conflict. To help change the country's toxic oil political economy, donors could firmly demand that the funds be transparently spent and accounted for by the government in line with the country's laws and constitution. Further, these conditions can include Juba exploring more non-oil sources of income and growth, such as agriculture or renewable energy. These assistance funds could also be devolved to state-level governments in line with South Sudan's constitution, thus helping counterbalance the winner-take-all aspect of the country's politics, which has centralised oil revenue in Juba.

South Sudan's finances are in ruins. The oil that the South Sudanese once believed would fund the development of their new state instead unleashed, then fuelled, a bloody power struggle. The country's leaders have emptied the state's coffers, siphoning off its oil income and mortgaging its future oil revenue. The capture of state resources has helped keep President Kiir and his allies in power, but it has come at great cost to the population and prevents a broader political settlement that could stabilise the country going forward. The South Sudanese and external partners should focus on key reforms that will bring transparency and accountability to its mismanaged public finances. South Sudan's elite is already staring at the horizon of a post-carbon future, an existential threat to their rickety state. Delaying reforms any longer will only further isolate the country as it nears a time when it will need all the help it can get.

Juba/Nairobi/Brussels, 6 October 2021

Note: This visual traces the journey of oil revenues in South Sudan from oil production to the national expenditure budget. Numbers are indicative rather than definitive.

The South Sudanese fiscal year runs from June to May. Gross and net revenue data for 2015-2016 and 2016-2017 is taken from expenditure reports produced by the ministry of finance, as Crisis Group could not obtain Oil Marketing Reports covering these periods. *Jul. 11 to Jan 12 only (7 months) **April 13 to May 14 (14 months).All data is based on the government of South Sudan's own reporting, which is not always timely or consistent. It can therefore not be assumed entirely accurate, and Crisis Group has not been able to independently verify the reported data. The abandonment of the fixed exchange rate in December 2015 further complicates data for 2015-2016, which converts South Sudanese pound (SSP) oil revenues to dollars using the quarterly SSP revenues and average exchange rates reported by the finance ministry. Net revenue is an imprecise category. The government's methodology for calculating this number does not appear consistent across reporting years, but typically subtracts Nilepet allocations, payments to Sudan and commercial loan repayments from gross revenue. In some years, only actual payments to Sudan are subtracted. In others, the amount owed to Sudan appears subtracted, whether actual payments were made or not. Nilepet allocations and commercial loan repayments should be considered government revenue.

All data is based on the government of South Sudan's own reporting, which is not always timely or consistent. It can therefore not be assumed entirely accurate, and Crisis Group has not been able to independently verify the reported data. The majority of the data is based on figures reported by the petroleum ministry in its Oil Marketing Reports.

*** Glencore has purchased several cargoes through the South Sudanese company Trinity Energy. Some of those cargoes are tied to a loan agreement involving the South Sudan government, Trinity Energy, and the African Export-Import Bank, according to the UN Panel of Experts, which reported the loan was secured with crude oil ultimately purchased by Glencore. Glencore disclosed that it paid $425.7 million for crude oil originating in South Sudan in 2018, $375.8 million in 2019, and $152.7 million in 2020.

As part of the 2012 ''Agreement on Oil and Related Economic Matters'' between South Sudan and Sudan, a debt of $3,028 billion was agreed, to be paid off by a fixed fee per barrel of oil to transit through Sudan. See Appendix G. The terms have been renegotiated on several occasions, including in 2016, and the repayment schedule postponed. The outstanding balance, as reported by the government of South Sudan, is recorded below.

These figures are based on the revised arrangement made in 2016.

Details of these agreements come from the Petroleum Marketing Report produced by South Sudan's ministry of petroleum for the financial year 2018-2019, the most recent for which information is available. The data here does not reflect any renegotiations that have taken place since that time.

House Democrat Threatens Twitter Files Journalist With Prosecution And Imprisonment | ZeroHedge

Sun, 23 Apr 2023 12:39

Authored by Lee Fang via leefang.substack.com (emphasis ours). We encourage you to subscribe here,

The backlash against journalists reporting on the Department Homeland Security's reach into social media platforms took an ominous turn in recent days.

In a letter I exclusively obtained , Rep. Stacey Plaskett, D-V.I., falsely claimed that ''Twitter Files'' journalist Matt Taibbi lied under oath in his congressional testimony, floating the possibility of criminal prosecution. Plaskett, the same lawmaker who described Taibbi as a ''so-called journalist'' during his March 9 testimony, also demanded sourcing information and asked that he detail his interactions with Elon Musk.

The Plaskett letter claimed that Taibbi "intentionally" provided false information during his testimony and mentioned the potential consequences of such actions. "Under the federal perjury statute, 18 U.S.C. § 1621, providing false information is punishable by up to five years imprisonment," Plaskett wrote.

The letter was swiftly condemned by press freedom organizations when reached for comment.

"It's disturbing that a member of Congress would attempt to threaten a journalist with imprisonment for summarizing his reporting during a congressional hearing," said Seth Stern, the director of advocacy with the Freedom of the Press Foundation, in a statement. ''It seems apparent that she had no good faith basis to threaten a perjury prosecution and that the threat is an intimidation tactic.''

"Whatever one may think of Taibbi or his reporting on the Twitter files, baselessly threatening to imprison journalists is reprehensible, no matter if the threats are from Democratic members of Congress or Donald Trump,'' noted Stern. ''The letter is shocking. The mistake in Taibbi's tweet does not show that he knowingly lied to Congress," said Aaron Terr, director of public advocacy for the Foundation for Individual Rights and Expression. ''It's hard to think of anything more chilling to a free press than threatening a journalist with prison time based on a single, corrected mistake in their reporting.'' ''Whether one agrees or disagrees with whatever practices are uncovered, interactions between the government and big tech are a legitimate focus for journalistic inquiry,'' said David Segal, the executive director of Demand Progress. House Democrats have rallied in partisan opposition against journalists who have reported on revelations from Twitter's internal files. Rep. Alexandria Ocasio-Cortez, D-N.Y., tweeted that the entire oversight hearing about DHS influence into social media "was based on these errors," citing MSNBC's Mehdi Hasan. The lawmaker called the hearing a waste of "tons of public time and dollars." Although the letter came from Plaskett, it was a group effort that involved senior figures in the House Democratic Caucus. Plaskett referenced the letter in an April 13 press release, but the link to the letter was initially broken. I reached out to her office for a copy this week and earlier today, received a PDF with the file. Notably, after speaking to multiple officials in Plaskett's office, a response to my inquiry was finally sent not by her staff, but by Earnestine Dawson, an advisor to House Democratic Leader Rep. Hakeem Jeffries, D-N.Y. The metadata on the letter shows it was authored by Jacqui Kappler, a lawyer with the House Judiciary Committee who works closely with former House Judiciary Committee Chair Rep. Jerry Nadler, D-N.Y. The Federal Trade Commission also took the unusual step last month of demanding that Twitter identify all journalists involved in accessing company records, as the Wall Street Journal reported .

Rep. Plaskett and Rep. Jeffries did not respond to a request for comment. I asked for information about the accuracy of her perjury claims, who else in Congress was involved in this letter to Taibbi, and whether such threats present a chilling effect upon freedom of the press.

The Plaskett letter explicitly regurgitates the deceptive accusations made by MSNBC host Mehdi Hasan that I have thoroughly debunked on this Substack . The letter only cites one line of Taibbi's testimony, charging that the following is an example of perjury:

TAIBBI: [W]hat we see in The Twitter Files is that Twitter executives did not distinguish between DHS or CISA and this group EIP. For instance, we would see a communication that said, From CISA escalated by EIP. So they were essentially identical in the eyes of the company ['...] So, yes, we have come to the realization that this bright line that we imagine that exists between, say, the FBI or the DHS or the GEC and these private companies is illusory and that what's more important is this constellation of kind of quasi private organizations that do this work.

Nothing in the quote from Taibbi is remotely inaccurate. The context of the Taibbi quote is related to content-moderation requests to Twitter from both an arm of the Department of Homeland Security known as the Cybersecurity and Infrastructure Security Agency, or CISA, and the Election Integrity Partnership, a Stanford University-based NGO. Taibbi, in his remarks, said that the social media giant failed to distinguish between private sector and government demands for censorship.

After his hostile interview with Taibbi on MSNBC, Hasan took to social media to allege that Taibbi conflated the Center for Internet Security '' a nonprofit contracted by DHS to coordinate communications between stakeholder groups and social media '' with CISA, the arm of DHS.

Hasan alleged that Taibbi had not only swapped CIS as CISA in his testimony before Congress, but had ''deliberately & under oath misrepresented'' the truth, and undermined the ''thesis'' that the government had facilitated EIP's requests to Twitter.

Taibbi has admitted mistaking CIS for CISA in a single tweet in one of his many threads, but his testimony to Congress was entirely different. Hasan deceptively conflated this quickly corrected tweet with Taibbi's testimony.

But the evidence shows that Taibbi's congressional remarks were correct. CIS and CISA collaborated with EIP on moderation requests, with both organizations directly appealing to Twitter for censorship, making Taibbi's overall point and particular argument completely accurate.

In my piece last week , I published new internal emails from DHS and Twitter along with documents from EIP showing the relationship Taibbi described in his testimony.

"I just had outreach on this from DHS," wrote then-Twitter attorney Stacia Cardille, in an October 1, 2020 email thread , forwarding on a censorship demand from CISA, CIS and EIP. Other emails I published show more examples of the precise dynamic explained by Taibbi during his testimony.

Plaskett, a former UnitedHealth health insurance attorney, also pressed Taibbi in her letter for more information about the sources he relied on for his reporting on the Twitter Files.

The letter demands to know "when did Twitter CEO Elon Musk first contact you" and information about the contents of Taibbi's discussions with Musk.

The Freedom of the Press Foundation's Seth Stern noted that it was ''troublesome that Plaskett connected her threat to demands for Taibbi to answer questions regarding his conversations with his alleged sources.'' Stern added that this line of inquiry bolsters the case for passing the PRESS Act, legislation that would enshrine a federal shield to prevent the federal government from forcing journalists to reveal confidential source information. A brief note to readers: Yesterday, I appeared on The Hill's online show, Rising, to discuss other recent reporting on MSNBC's Mehdi Hasan. During the interview, I mentioned that Hasan's false claims against Taibbi, taken at face value, could lead to a federal perjury charge. At the time, I had no idea Rep. Stacey Plaskett had already directly threatened Matt Taibbi. Watch the interview below:

Lee Fang is a reader-supported publication. To receive new posts and support my work, consider becoming a free or paid subscriber.

Loading...

Best Joke Ever: George Carlin: Euphemism Fighter Supreme - McSweeney's Internet Tendency

Sun, 23 Apr 2023 05:16

Has there ever been a better '-- or worse '-- year for euphemisms than this one?

Racist, xenophobic shitbirds are diagnosed with cultural anxiety. White House Press Secretary Sean Spicer refers to concentration camps as Holocaust centers. United Airlines bloodily yanks a passenger off a plane, an atrocity described as re-accommodation. All these terms prosper under the drivel-soaked umbrella of Kellyanne Conway's brilliant/scary coinage: alternative facts.

This ongoing euph-ageddon is why I'm finally writing about George Carlin, my favorite comedian. 2017 is like a George Carlin nightmare, and his voice is missed so much. There has never been a stronger opponent of euphemistic twaddle.

I can't pretend to guess what Carlin's Best Joke Ever might be. His body of comedy is preposterously rich and deep, including apocalyptic rants, classic sports comparisons, and silly musings about the word dingleberry. But I can make a case for his Most Relevant Bit Ever: the shellshock dissertation. This look at euphemisms is one of the most timely and timeless lessons from Professor Carlin.

After a few comments about the American propensity for ''soft language'' that keeps reality at a comfortable distance, Carlin starts slicing open Uncle Sam:

''There's a condition in combat. Most people know about it. It's when a fighting person's nervous system has been stressed to its absolute peak and maximum, can't take any more input. The nervous system has either snapped or is about to snap. In the first world war, that condition was called shellshock. Simple, honest, direct language. Two syllables: shellshock. Almost sounds like the guns themselves. That was seventy years ago.''

How better to begin an argument about soft language than with a demonstration of hard language? Before dissecting drivel, Carlin shows how language can convey reality rather than smother it under a pillow of bullshit. But here comes the bullshit:

''Then a whole generation went by and the second world war came along, and the very same combat condition was called battle fatigue. Four syllables now. Takes a little longer to say. Doesn't seem to hurt as much. Fatigue is a nicer word than shock. Shellshock! Battle fatigue.''

Here Carlin introduces what I call the Carlin principle: the more syllables, the less truth. The mound of syllabic horseshit got a little bit higher with the preposterous-sounding battle fatigue. Any term that sounds so similar to boutique shouldn't be allowed near a discussion of veterans. The next stop in this history lesson is:

'''...Korea, 1950. Madison Avenue was riding high by that time, and the very same combat condition was called operational exhaustion. Hey, we're up to eight syllables now! And the humanity has been squeezed completely out of the phrase. It's totally sterile now. Operational exhaustion. Sounds like something that might happen to your car.''

The horse cookies are piling higher as Carlin sneaks in another brilliant point: we're not just distancing ourselves from reality with this jibber-jabber, we're dehumanizing people who need our help. Carlin finishes with the most needless of our many needless wars:

'''...the war in Vietnam, which has only been over for about sixteen or seventeen years, and thanks to the lies and deceits surrounding that war, I guess it's no surprise that the very same condition was called post-traumatic stress disorder. Still eight syllables, but we've added a hyphen! And the pain is completely buried under jargon. Post-traumatic stress disorder. I'll bet you if we'd have still been calling it shellshock, some of those Vietnam veterans might have gotten the attention they needed at the time. I'll betcha that. I'll betcha that.''

Since I'm a smug elite snowflake, I've spent a lot of time in school. Out of all the classes and teachers, many of which were great, I can't remember learning anything as specifically and powerfully as I learned about euphemisms from this bit. Before hearing it, I probably had a vague grasp of euphemism. After this rant, I understood the concept completely, including its absurdities and dangers. I put Carlin-ology to use on a regular basis, looking at a euphemism every two weeks for the Boston Globe, and writing a monthly column about euphemisms for Visual Thesaurus since 2008. With my tiny matchsticks, I try to carry the Carlin torch.

Even if Carlin hadn't provided hours of other immortal comedy, this bit alone would entitle him to a black belt in bullshit dispelling. Carlin gave comedians, writers, and citizens the night-vision glasses needed to see clearly in the Buffalo Bill's basement that is America.

As Carlin put it, ''Smug, greedy, well-fed white people have invented a language to conceal their sins. It's as simple as that.''

In Carlin we trust.

Please help support our writers and keep our site ad-free by becoming a patron today!

Transgender personnel in the United States military - Wikipedia

Sat, 22 Apr 2023 17:48

The United States Military has a long history of transgender service personnel, dating back to at least the Civil War. Initially, most such service members were women, who disguised themselves as men in order to serve in combat roles. Many reverted to their female identities upon leaving their service, but others maintained their male identities. In more recent years, openly transgender people have served or sought to serve in the military. The subject began to engender some political controversy starting with transgender servicemembers being banned in 1960 and possibly earlier. This controversy came to a head in the 2010s and was subjected to relatively rapid changes for the next few years. As of 2021, transgender individuals are expressly permitted to serve openly as their identified gender. A brief timeline is as follows:

From at least 1960 and possibly earlier, Executive Order 10450 was applied to ban transgender individuals from serving in the United States military.From June 30, 2016, to January 1, 2018, transgender individuals in the United States military were allowed to serve in their identified or assigned gender upon completing transition.From January 1, 2018, to April 11, 2019, transgender individuals could enlist in the United States military under the condition of being stable for 18 months in their identified or assigned gender.From April 12, 2019, to January 25, 2021, transgender individuals could not enlist in the United States military had they medically transitioned, and if they had a history of gender dysphoria they could only enlist, under their gender assigned at birth, after 36 months of stability. Currently serving individuals could only serve under their gender assigned at birth.From January 26, 2021, onwards, there are no restrictions on military service by transgender individuals. Medical care for transitioning servicemembers is provided by the military and procedures for handling the transition in official records established.History [ edit ] Pre-first ban [ edit ] Many women during the American Civil War disguised themselves as men to enlist as soldiers and fight in the war. During this time, women were not legally allowed to fight, however it is estimated there were more than 400 women who were passing as male soldiers during the war. Many of these female soldiers' true identities were never discovered throughout the time of their service.[1] When enlisting, adult women were often able to pass as younger (teenage) men. The physical examinations were lax, leading to many women able to begin training. There were numerous instances of soldiers' female identities being exposed, usually after having been hurt and sent to a soldiers' hospital. Most often, these women just received medical attention and were sent home. However, in several instances, some women who had been disguised as male soldiers were punished or even imprisoned.[2]

Albert Cashier was born Jennie Irene Hodgers in Belvidere, Illinois. He enlisted on August 6, 1862, and served in the Union Army as a man. His identity remained unknown throughout the entirety of his service and he kept the identity of Albert Cashier for the remainder of his life. It was not until 1911, while working as a handy man, that he was struck by an automobile and fractured his leg. When a physician was called, it was discovered that Albert was in fact born a woman. Shortly after his injury he was admitted into the Soldiers' and Sailors' Home in Quincy, Illinois, where, in his application, he gave his birth name as Jennie Hodgers, and stated that he was born in Ireland on December 25, 1844. At the home, only the doctor knew of his true identity and he was able to continue to live as Albert Cashier along with other patients in the home. When his mental health became too deteriorated for the home to adequately take care of him, he was sent to an insane asylum at Watertown. At the asylum Albert was forced to wear dresses and "accept" the identity he was born with, Jennie Hodgers, until his passing in 1915. Albert Cashier was buried with full military honors.[3]

The first transgender American woman to undergo gender confirmation surgery (in 1952) was Christine Jorgensen, who had previously been drafted into the United States Army to serve during World War II. The surgery made front-page news with headlines such as "Ex-GI Becomes Blonde Beauty" (from the New York Daily News) focusing on her prior military service.[4]

First ban on transgender personnel [ edit ] According to scholars, since at least as early as 1960, Executive Order 10450 was applied to ban transgender individuals from serving in the United States military. [5][6] On May 17, 1963, gender transitioned or transitioning individuals were officially prohibited from the United States military by Army Regulation 40-501. This policy reasoned transgender people were medically unqualified to serve because their mental state was considered unfit.[7]

In the 1980s, the United States military decided to apply medical regulations more forcefully on those who identified as transgender.[8] In the case Doe v. Alexander (1981), which was about a transgender woman who had been rejected from the United States Army Reserve due to having had gender reassignment surgery, the Army defended their policy of denying enlistment to transsexual persons by stating that supporting transsexuals would raise a medical problem in the form of hormone supplements not always being available for such personnel.[9] Leyland v. Orr (1987) was about Air Force member Leyland, a transgender woman, who underwent a gender reassignment surgery before being discharged. The courts ruled this discharge as valid due to the reasoning that Leyland was indeed unfit physically rather than mentally.[10] This judgement was determined by inferring that genital surgery is similar to an amputation surgery, which leaves the individual unable to meet the demands of a soldier.[11]

Barack Obama administration [ edit ] Under Department of Defense Instruction 6130.03, "Medical Standards for Appointment, Enlistment, or Induction in the Military Services" dated July 2, 2012, candidates for military service should not have "[c]urrent or history of psychosexual conditions, including but not limited to transsexualism, exhibitionism, transvestism, voyeurism, and other paraphilias" which is noted as "not a contradiction of the repeal of 'Don't Ask, Don't Tell'" since homosexuality was removed from the list of psychosexual conditions in DSM in 1973.[12]

In 2013, Captain Sage Fox, who had enlisted in the Army 1993 and taken time off after transitioning to the Reserves in 2012 to undergo sex reassignment surgery, was ordered to resume active duty, despite policies blocking the service of transgender personnel.[14] After a review, the military concluded that it could not legally discharge her, so Fox was asked to return and serve again as a woman.[14] This made her the first openly transgender person serving in the military. She served for 2 weeks and then she had orders to be placed on the inactive reserve which she believed was due to her gender identity.[14] She was not granted disability but her medical records did not indicate her unfit to serve. In 2016, Obama repealed the transgender ban in the military and Sage Fox was working with the medical board and was expected to be reenlisted.

Palm Center panel [ edit ] On March 13, 2014, an advisory panel organized by the Palm Center, a research institute based at San Francisco State University, released a report that found no compelling medical reason for placing limitations on military service by transgender individuals. It said DoD rules that prevented enlistment or continued service by transgender individuals were based on outmoded and untenable ideas about their psychological and physical fitness, and it dismissed concerns about the costs of medical care. It said the DoD's policies could be changed by an executive order. The panel was headed by former Surgeon General Joycelyn Elders and Rear Adm. Alan Steinman, a former chief health and safety director for the Coast Guard.[15] It concluded:[16]

We determined not only that there is no compelling medical reason for the ban, but also that the ban itself is an expensive, damaging and unfair barrier to health care access for the approximately 15,450 transgender personnel who serve currently in the active, Guard and reserve components. Medical regulations requiring the discharge of transgender personnel are inconsistent with how the military regulates all other medical and psychological conditions, and transgender-related conditions appear to be the only gender-related conditions that require discharge irrespective of fitness for duty.

At the time, service personnel were still being dismissed for being transgender despite their satisfactory job performance. The dismissal policy was based on outdated medical diagnoses which suggested gender nonconformity was a mental illness.[17] In May 2014, Secretary of Defense Hagel said his department's policy with respect to transgender service should be reviewed "continually".[18] Later in May, the ban on Medicare coverage for gender reassignment surgery, which had been in place since 1981, was lifted in response to a lawsuit filed in 2013 on behalf of Denee Mallon, a 74-year-old transgender Army veteran.[19] With the end of the ban on openly gay service members, Air Force Secretary Deborah Lee James stated the ban on transgender personnel "is likely to come under review in the next year or so" in a December interview.[20]

Also in May 2014, the Williams Institute published a research brief estimating 15,500 transgender people were serving on active duty or in the Guard/Reserves, and an additional 134,300 transgender people were either veterans or retired from the Guard/Reserves. The brief was based on a six-month survey of over 6,000 transgender people in 2008''09 asking (in part) if they had ever served in the armed forces, or had been denied entry because they were transgender.[21]

Policy of Secretary Carter [ edit ] In February 2015, during his first trip as United States Secretary of Defense, Ash Carter was asked about the service of transgender troops, to which he replied:

... we want to make our conditions and experience of service as attractive as possible to our best people in our country. And I'm very open-minded about [it] '-- otherwise about what their personal lives and proclivities are, provided they can do what we need them to do for us. That's the important criteria. Are they going to be excellent service members? And I don't think anything but their suitability for service should preclude them.[22]

Days later, the White House echoed Secretary Carter's support of transgender service personnel.[23]

In mid-March 2015, a doctor and major in the Army's Medical Corps named Jamie Lee Henry became the first known active-duty Army officer to come out as transgender, and the first and only active-duty service member who has changed her name and gender within the United States military, to her knowledge and to the knowledge of other trans activists.[24] In September 2022, Henry and her wife were indicted on conspiracy charges for allegedly attempting to transfer confidential military medical information to Russia.[25]

Starting in March 2015, the Army, Air Force, and Navy issued directives protecting transgender soldiers from dismissal. The Army issued a directive that protected transgender soldiers from being dismissed by mid-level officers by requiring the decision for discharge to be made by the service's top civilian for personnel matters.[26] The Air Force stated that for enlisted airmen, there was no outright grounds for discharge for anyone with gender dysphoria or who identified as transgender, and that a person would only be subject to eviction from the Air Force if his or her condition interfered with their potential deployment or performance on active duty.[27] Navy Secretary Ray Mabus signed a memorandum directed to the chief of Naval operations and commandant of the Marine Corps stating: "Effective immediately, separations initiated under the provisions of the reference for service members with a diagnosis or history of gender dysphoria, who identify themselves as transgender, or who have taken steps to externalize the condition, must be forwarded to the assistant secretary of the Navy (manpower and reserve affairs) for decision."[28]

L''R: Secretary of Defense

Ashton Carter, Secretary of the Army

John M. McHugh, and Chief of Staff of the Department of Defense

Eric Fanning render honors at the LGBT Pride Month ceremony in the Pentagon Auditorium on June 9, 2015.

In the wake of these directives, in July 2015, Secretary Carter ordered the creation of a Pentagon working group "to study over the next six months the policy and readiness implications of welcoming transgender persons to serve openly".[29] He also stated that all decisions to dismiss troops with gender dysphoria would be handled by the Pentagon's acting Under Secretary of Defense for Personnel and Readiness, Brad Carson.[29] Carson would later resign his position in April 2016 following a February 2016 Senate confirmation hearing where he clashed publicly with Sens. Jim Inhofe [R-OK] and John McCain [R-AZ], but he delivered an implementation plan to allow open service by transgender people for Secretary Carter's review as one of his final accomplishments as acting Undersecretary.[30][31] Although the working group had a January 2016 deadline to finish evaluating the change, there still was no official policy in place by May 2016, and the Pentagon's acting personnel chief stated it would take "months, but not large numbers of months" to finalize transgender military service policy details.[32]

The American Medical Association approved a resolution opposing the ban on openly transgender troops in June 2015.[33] "Transgender Members of the U.S. Military" were listed as one of the nine runners-up for Person of the Year by The Advocate in November 2015.[34]

The Office of the Under Secretary of Defense for Personnel and Readiness asked the RAND National Defense Research Institute to study the implications of transgender service members, including identifying the health care needs of transgender service members, the effect on troop readiness, and the experience of the foreign military forces which allow transgender members to serve openly. RAND estimated in a report published June 2016 that 2,450 active-duty and 1,510 reserve personnel were transgender. Based on the percentage of transgender people seeking gender transition-related medical treatment using private health insurance, RAND further estimated that 29 to 129 active-duty service members would seek transition-related health care benefits per year, increasing military health system costs by 0.13% of the $6 billion military health system annual budget, at a total annual estimated cost of $2.4 to $8.4 million. Readiness was estimated at a decrease of 0.0015% of total available labor-years due to recuperation, and unit cohesion was determined to be minimally affected. The RAND study focused on the service history of transgender personnel in Australia, Canada, Israel, and the United Kingdom, concluding, "in no case was there any evidence of an effect on the operational effectiveness, operational readiness, or cohesion of the force." RAND concluded that calling for "strong leadership support", providing diversity-related "education and training to the entire force", and developing and enforcing "a clear anti-harassment policy" were key best practices.[35][36] The report had been completed in March 2016, and transgender advocates had accused Secretary Carter of delaying its release because it found there were few obstacles to allowing transgender troops to serve openly. A copy of the RAND report was leaked to and published by The New York Times in May 2016.[30] The RAND cost estimate agreed with an earlier study by Aaron Belkin, who estimated the annual cost of transition-related care would be $5.6 million.[37] On May 23, 2016, the Department of Defense observed the first LGBT Pride Month with openly transgender service members.[39]

End of the ban [ edit ] Secretary Carter announces the end of the ban on transgender personnel in the United States Military on June 30, 2016

[...] Americans who want to serve and can meet our standards should be afforded the opportunity to compete to do so. After all, our all-volunteer force is built upon having the most qualified Americans. And the profession of arms is based on honor and trust. Army Chief of Staff General Milley recently reminded us of this, when he said, and I quote him, "The United States Army is open to all Americans who meet the standard, regardless of who they are. Embedded within our Constitution is that very principle, that all Americans are free and equal. And we as an Army are sworn to protect and defend that very principle. And we are sworn to even die for that principle. So if we in uniform are willing to die for that principle, then we in uniform should be willing to live by that principle." That's General Milley.

'--'‰

Ashton Carter, Remarks on Ending the Ban on Transgender Service in the U.S. Military[40]On June 30, 2016,[41][42] Secretary Ash Carter made an official announcement and published Directive-Type Memo 16-005 (DTM 16-005), declaring:

Effective immediately:[43][44][N]o otherwise qualified Service member may be involuntarily separated, discharged or denied reenlistment or continuation of service, solely on the basis of their gender identity.It is the Department's position, consistent with the U.S. Attorney General's opinion, that discrimination based on gender identity is a form of sex discrimination.By October 1, 2016:[43][44]A training handbook will be developed and published for transgender Service members, commanders, the force, and medical professionals. In addition, guidance will be published for medical care and treatment of transgender Service members.Transgender Service members will be allowed to transition gender while serving in accordance with Department of Defense Instruction 1300.28 (also published on June 30).[45]"The Military Health System will be required to provide transgender Service members with all medically necessary care related to gender transition, based on the guidance that is issued."By November 1, 2016:[44]Implementing guidance and a training and education plan will be issued by each branch of the military, including a scheduled completion date.By July 1, 2017:[43][44]Training of the force regarding transgender Service members shall be completed.The process of accession (entrance to military service, through enlistment, Service Academies, ROTC, or any similar program) will be opened to transgender individuals, provided they meet the same physical and mental fitness standards as any other applicant.The initial accession policy requires "an individual to have completed any medical treatment that their doctor has determined is necessary in connection with their gender transition, and to have been stable in their preferred gender for 18 months, as certified by their doctor, before they can enter the military".The Department of Defense (DoD) Instruction 1300.28, "In-service transition for transgender service members", published on June 30, 2016, provided administrative and medical guidance for currently-serving military personnel seeking gender transition.[45] On September 20, 2016, a commander's training handbook was published by the Department of Defense, along with a medical protocol and guidance to change a service member's gender, entitled "Transgender Service in the U.S. Military".[46] On October 3, 2016, non-active duty service members became eligible for the Military Health System to provide behavioral health care and hormone treatments, but not sex reassignment surgery.[41]

On October 26, 10 soldiers in the United States Army became the first to openly petition for a sex change.[47] Also on October 26, the Department of Defense ruled that any form of discrimination against transgender youth was incompatible with an Executive Order issued by then US President Bill Clinton in the year 2000 which directed federal agencies that conduct educational activities to comply with Title IX of the Education Amendments of 1972 and issued a memorandum ordering military youth schools to immediately comply with the 2000 Executive Order.[48]

On October 16, 2016, the United States Air Force published its official guidance policy for transgender individuals.[49] The policy announced their support of transgender airmen and that any bias against them would not be tolerated. This allowed transgender individuals to openly serve in the Air Force, along with outlawing any discharge or denying reenlistment based solely on gender identity.[50] The policy also provided medical protocol and assistance for any service member that wished to change their identity.[50]

The United States Army also followed suit and issued its guidance policy for transgender individuals on November 1.[51]

On November 7, 2016, the Navy released its official guidance policy for transgender individuals.[52] The policy allowed any individual regardless of race, gender, or sexual orientation to become a sailor if they can meet Navy standards.[53] Current Navy sailors can transition genders with a diagnosis from a military medical provider stating that the transition is medically necessary for the individual.[53] Policy was adjusted to increase facility privacy and urinalysis protocol. The protocol for physical readiness was unchanged.[53]

On November 10, 2016, 55 sailors in the United States Navy and 48 airpersons in the United States Air Force publicly petitioned for their respective gender confirmation surgeries.[54][55] On November 29, 2016, the United States Department of Defense Directive 1350.2, the United States Department of Defense Military Equal Opportunity Program, was updated to include gender identity.[56]

Donald Trump administration [ edit ] On February 25, 2017, the Military Times learned that some time after Trump was sworn into the presidency, Defense Department schools stopped enforcing an October 26, 2016 Department of Defense ruling which had found that any form of discrimination against transgender youth was incompatible with an Executive Order 13160 of June 23, 2000 issued by U.S. President Bill Clinton in 2000 (which itself directed federal agencies that conduct educational activities to comply with Title IX of the Education Amendments of 1972) and issued a memorandum ordering military schools to immediately comply with the Clinton-era order.[57][58]

In April 2017, President Trump nominated Army veteran and Tennessee State Senator Mark Green as his second choice for Secretary of the Army. Green was criticized for prior remarks he had made before the Chattanooga Tea Party in September 2016, including his statement that "if you poll the psychiatrists, they're going to tell you that transgender is a disease."[59] Green withdrew his nomination in May amid strong opposition to his nomination from LGBT advocates, among others,[60] including Daniel Feehan, Principal Deputy Assistant Secretary of Defense for Readiness under the Obama administration, who said Green's prior statements were of "great concern towards military readiness" and could immediately impact unit cohesion.[61] On May 16, 2017, a letter that was signed by dozens of right-leaning groups pushed for banning transgender individuals from the United States military.[62]

On June 2, 2017, the Department of Defense observed the first LGBT Pride Month since the repeal of the ban on open military service by transgender service members in the US military.[63] The one-year review period prior to allowing accession of transgender individuals was due by July 1, 2017, per DTM 16-005,[44] but military leaders had asked for a delay on the start of accessions, ranging from one to two years.[64] Secretary of Defense Jim Mattis issued a memo to delay the start of accessions for an additional six months, stating the need for "additional time to evaluate more carefully the impact of such accessions on readiness and lethality."[65][66]

National Defense Authorization Act for Fiscal Year 2018 [ edit ] The office of Representative Vicky Hartzler (R-MO) provided an estimate of $1.3 billion in health care costs for transgender service personnel, assuming a higher number of active-duty personnel based on the 2014 Williams Institute study, which concluded that approximately 15,500 active-duty and guard/reserve service personnel were transgender, and 30% of them would seek gender reassignment surgery each year.[21] However, an article published in the New England Journal of Medicine argued that, in the Australian military's experience, only 13 troops (out of a total full-time force of 58,000) had sought gender reassignment surgery over a 30-month period; applying that rate to the United States military population gave an estimate of 192 gender reassignment surgeries in the United States military per year.[21][37] In a subsequent interview, Hartzler stated "our own office did that analysis and we feel very confident in it."[67]

Hartzler first proposed an amendment to the National Defense Authorization Act for Fiscal Year 2018 (NDAA) in late June 2017 which would honorably discharge transgender military personnel serving openly, but withdrew the amendment after Secretary Mattis announced the six-month delay while the effect on troop readiness and lethality were being studied.[68][69] During the debate on the amendment, Representative and Marine Corps veteran Duncan D. Hunter (R-CA) stated he couldn't imagine showering with "somebody who was a girl and didn't have the surgery to become a man but kept the girl stuff", an argument rejected by Representative Donald McEachin (D-VA), who pointed out that similar arguments were made years ago opposing the integration of the armed forces. "I can imagine, not these individuals, not my colleagues to my right, but a Congress 70 or 80 years ago that said that a certain group of people weren't smart enough to fly airplanes. That they'd run at the first sign of battle. That African-Americans could not serve in the United States Armed Forces. Well, African-Americans proved them wrong. The unit adapted. And I'd suggest that the unit adapt to transgender individuals as well."[68]

On July 13, 2017, Rep. Vicky Hartzler introduced House Amendment 183, an amendment to ban on funding gender reassignment surgeries and medical treatments for transgender military personnel via a new amendment to the NDAA in July 2017,[70] which was voted down 209''214 when 24 Republicans joined 190 Democrats in opposing the proposal.[62][71] Before the vote, Secretary Mattis called Hartzler to ask her to withdraw the amendment.[69] After the amendment was defeated, Representative Trent Franks (R-AZ) stated "it seems to me, and all due respect to everyone, that if someone wants to come to the military, potentially risk their life to save the country, that they should probably decide whether they're a man or woman before they do that." Attempts by Franks and others to insert a provision banning the funding in the rules governing a Pentagon spending package failed following pressure for attempting to circumvent regular order. Republican House leaders then sought direct internvention from the White House. Chief strategist Steve Bannon encouraged President Trump to deal with the matter now and played a role in pushing Trump to move ahead with banning transgender individuals from the military, despite the ongoing Pentagon review.[62][72]

Service ban announcement by the President [ edit ] On July 26, 2017, President Donald Trump announced on his Twitter page that transgender individuals would no longer be allowed "to serve in any capacity in the U.S. Military".[73][74] According to Politico and a senior administration official, President Trump had always planned to ban transgender individuals from the military and prohibit the Pentagon funding gender reassignment surgeries, but the fight over prohibiting Pentagon funding gender reassignment surgeries had hastened Trump's decision. According to numerous congressional and White House sources, the tweet was a last-ditch attempt to save a $1.6 billion border wall funding provision in the National Defense Authorization Act for Fiscal Year 2018.[62][75][76]

After consultation with my Generals and military experts, please be advised that the United States Government will not accept or allow Transgender individuals to serve in any capacity in the U.S. Military. Our military must be focused on decisive and overwhelming victory and cannot be burdened with the tremendous medical costs and disruption that transgender in the military would entail. Thank you.

Trump was criticized for making statements that contradicted the conclusions of the 2016 RAND study.[35][78] Political commentator Richard Kim observed President Trump's tweets were "a sop to the far-right evangelical faction" in the House of Representatives led by Hartzler, who had threatened the funding for President Trump's planned United States-Mexico border wall if the military continued to spend health care funds for medical treatment of gender dysphoria.[79]

Due to the haste of the announcement, White House officials were unable to answer questions on how the proposed ban would be implemented, or what would happen to those personnel who were openly transgender.[80] Secretary Mattis was only notified about the announcement on July 25.[81] Similarly, Joint Chiefs of Staff Chairman Joseph Dunford noted his surprise at the announcement, saying that "When asked, I will state I was not consulted" in emails dated July 27, 2017 leaked to BuzzFeed News in February 2018.[82] The New York Times noted that the move also marked "a stark turnabout for Mr. Trump, who billed himself during the campaign as an ally of gay, lesbian, bisexual and transgender people".[80] According to Johnnie Moore, who was present, Tony Perkins, president of the Family Research Council first proposed a ban on transgender personnel in the military at a mid-July meeting held between Trump-Pence administration officials and religious leaders, but the proposal did not receive universal support from attendees.[83] After the president's tweets, Hartzler stated in an interview that "this was the right call by our commander in chief, to make sure every defense dollar goes toward meeting the threats that we are facing in the world ... [T]he entire policy ... is a detriment to our readiness."[62]

The 'Stop Transgender Military Ban' rally outside the White House was held July 29, 2017

The announced reinstatement of the ban was followed by protests in New York City, Washington DC, and San Francisco on July 26, 2017,[84] and a rally was held in front of the White House on July 29. As Trump had not yet outlined specific policy changes, Chairman Dunford announced on July 27, 2017, that "there will be no modifications to the current policy until the president's direction has been received by the secretary of defense and the secretary has issued implementation guidance."[85] Senator Kirsten Gillibrand (D-NY) introduced an amendment to NDAA on July 27, 2017, which would prohibit the involuntary discharge, cessation of health care benefits, or changes in responsibility or position (other than promotion, routine reassignment, or deployment) of transgender troops until sixty days after Congress received the results of the six-month study proposed by Secretary Mattis.[86]

On August 1, 2017, the Palm Center released a letter signed by 56 retired generals and admirals, opposing the proposed ban on transgender military service members. The letter stated that if implemented, the ban "would cause significant disruptions, deprive the military of mission-critical talent and compromise the integrity of transgender troops who would be forced to live a lie, as well as non-transgender peers who would be forced to choose between reporting their comrades or disobeying policy".[87] The commandant of the United States Coast Guard, Admiral Paul F. Zukunft, made a personal commitment to "not turn my back ... not break faith" with transgender service members in the Coast Guard on August 1, 2017.[88] At the time, it was noted the Coast Guard was part of the Department of Homeland Security, not the Department of Defense, and it was not clear how the proposed ban on transgender service members would affect the Coast Guard.[89]

Presidential Memorandum (August 25, 2017) [ edit ] Presidential Memorandum of August 25, 2017

In my judgment, the previous Administration failed to identify a sufficient basis to conclude that terminating the Departments' longstanding policy and practice [prohibiting openly transgender individuals from serving in the United States military] would not hinder military effectiveness and lethality, disrupt unit cohesion, or tax military resources, and there remain meaningful concerns that further study is needed to ensure that continued implementation of last year's policy change would not have those negative effects.

'--'‰

President Donald J. Trump, Presidential Memorandum of August 25, 2017[90]In late August, a memorandum was being prepared which would require Secretary Mattis to enforce the ban on transgender personnel within six months. Aaron Belkin, director of the Palm Center, criticized the forthcoming memo for imposing a double standard on transgender troops, calling it "a recipe for disruption, distraction, and waste".[91] On August 25, 2017, President Trump signed a presidential memorandum identifying the guidelines for renewing the ban.[92] In the memo, President Trump stated the ban on transgender personnel in the military will remain effective until "the Secretary of Defense, after consulting with the Secretary of Homeland Security, provides a recommendation to the contrary that I find convincing," ignoring the conclusions of the 2016 RAND study, and further called for a "halt [to] all use of DoD or DHS resources to fund sex reassignment surgical procedures for military personnel", effective March 23, 2018. The memo further required the Secretary of Defense and Secretary of Homeland Security to submit an implementation plan by February 21, 2018.[90] Senator Tammy Duckworth [D-IL] and Representative Nancy Pelosi [D-CA] released separate statements condemning the memorandum; Pelosi stated the memo directed "the Pentagon to hurt and humiliate" transgender service personnel and questioned whether "prejudice, not the national defense" was motivating the action.[93]

If you are willing to risk your life for our country and you can do the job, you should be able to serve'--no matter your gender identity or sexual orientation. Anything else is not just discriminatory, it is disruptive to our military and it is counterproductive to our national security. If the President enacts this ban, which would harm our military readiness, the Democratic and Republican Members of Congress who oppose this discrimination must enact legislation that prevents it from taking effect.

Two weeks before sending his directive to the Pentagon, Trump said, "I think I'm doing the military a great favor" by banning trans military members.[81][95] Representative Donald McEachin (D-VA) was the lead author of a letter to Secretary Mattis on October 10, 2017, requesting records of discussions or correspondence between the White House and the Pentagon that would document or justify that Trump was "doing the military a great favor", including any substantiation of requests for a ban on transgender soldiers originating from senior military or Department of Defense personnel. The letter, which questioned "whether the president, his national security team, and military leaders are actively coordinating policy with one another, or whether the president's transgender ban announcement reflected a breakdown in communication", was co-signed by 114 other Democratic Representatives.[96]

On August 29, 2017, Secretary Mattis announced that currently serving transgender troops would be allowed to remain in the armed services, pending further study. Mattis stated he would set up a panel of experts from the Departments of Defense and Homeland Security to provide recommendations on implementing the President's policy direction.[97] Secretary Mattis formalized the interim policy in an interim guidance issued on September 18, 2017. The interim guidance, which expires no later than February 21, 2018, essentially freezes the policies that were in place before the Presidential Memorandum of August 25. Accession of transgender individuals is still banned per the procedures dated April 28, 2010. Transgender soldiers will not be denied reenlistment, and may not be involuntarily discharged solely on the basis of their gender identity. Medical treatment will continue for service members with a gender dysphoria diagnosis, with the exception that no new sex reassignment surgeries will be permitted after March 22, 2018, unless necessary to protect the health of an individual who has already begun treatment.[98] Mattis named the Deputy Secretary of Defense, Patrick M. Shanahan, and the Vice Chairman of the Joint Chiefs of Staff, General Paul Selva, to head the advisory panel of experts tasked with providing recommendations.[99][100]

Despite the Interim Guidance, the Presidential Memorandum has attracted significant legal and legislative opposition:

Jane Doe v. Trump, a lawsuit filed by GLAD and NCLR on August 9, 2017. A preliminary injunction against the Presidential Memorandum was granted in part on October 30, 2017,[101] but the court vacated this injunction on January 4, 2019.[102] (Injunctions granted by other courts remained in effect.)Stone v. Trump, a lawsuit filed by the ACLU of Maryland on August 28, 2017. Judge Marvin J. Garbis granted a preliminary injunction against the Presidential Memorandum in full on November 21, 2017.[103]Karnoski v. Trump, a lawsuit filed by Lambda Legal on August 28, 2017.[104] A preliminary injunction against the Presidential Memorandum was granted in full on December 11, 2017.[105]Stockman v. Trump, a lawsuit filed by Equality California on September 5, 2017.[106] A preliminary injunction against the Presidential Memorandum was granted in full on December 22, 2017.[107]S. 1820 (September 15, 2017) and H.R. 4041 (October 12, 2017), bipartisan bills in the Senate and House, respectively, to prohibit the involuntary separation or denial of re-enlistment of military personnel solely on the basis of gender identity.Funding of surgical procedures [ edit ] In November 2017, the Defense Health Agency for the first time approved payment for sex reassignment surgery for an active-duty U.S. military service member. The patient, an infantry soldier who identifies as a woman, had already begun a course of treatment for gender reassignment. The procedure, which the treating doctor deemed medically necessary, was performed on November 14, 2017, at a non-military hospital, since military hospitals lacked the requisite surgical expertise.[108]

Accession of transgender individuals [ edit ] The accession of transgender individuals was scheduled to be allowed by July 1, 2017, per DTM 16-005,[44] but military leaders asked for a one to two-year delay on accessions, stating more time was needed to review entrance standards and to ensure the success of transgender individuals.[64] In response, Secretary Mattis issued a six-month delay on accessions.[66] With Judge Kollar-Kotelly's decision on October 30, 2017, to enjoin the Presidential Memorandum of August 25, the accession policy reverts to the six-month delay, and the accession of transgender individuals into military service is set to begin on January 1, 2018.[109][101] Because Secretary Mattis had previously delayed accession by six months in June, the United States Department of Justice Civil Division filed a motion for clarification asking if Secretary Mattis had independent authority to modify DTM 16-005.[110] In a November 27, 2017 order, Judge Kollar-Kotelly stated "Any action by any of the Defendants that changes this status quo is preliminarily enjoined."[111]:'Š2'Š As a named defendant, Secretary Mattis does not have authority to change the preliminary injunction order of October 30, which reverts policy to the status quo prior to the Presidential Memorandum of August 25, and accessions are set to start on January 1, 2018.[112] On December 11, Judge Kollar-Kotelly denied the motion for partial stay, noting it took three weeks for USDOJ to file the first appeal, and that she "would have expected Defendants to act with more alacrity" if the January 1, 2018 deadline for accession was unmanageable.[113]

USDOJ filed for emergency stays with the D.C. Circuit (on December 11, for Doe),[114] the Fourth Circuit (on December 14, for Stone),[115] and the Ninth Circuit (on December 15, for Karnoski),[116] seeking to either allow Secretary Mattis to institute a second delay on accession, or narrowing the scope of the injunction to allow accession of only those individuals ruled to have standing. On December 21, 2017, a panel of three judges on the Fourth Circuit denied USDOJ's emergency motion for a stay on Judge Garbis's order.[117] The next day, a panel of three judges on the D.C. Circuit also denied the USDOJ emergency stay motion on Judge Kollar-Kotelly's order.[118] On December 29, USDOJ filed to withdraw their appeal from the Ninth Circuit,[119] which was granted.

Beginning on January 1, 2018, transgender individuals were allowed to join the U.S. military if a licensed medical provider certified that the applicant completed all medical treatment associated with gender transition, has been stable in the preferred gender for 18 months, and if the applicant has completed sex reassignment or genital reconstruction surgery, that 18 months have elapsed since the most recent surgery, no functional limitations or complications persist, and no additional surgeries are required.[120] In February 2018, the Pentagon confirmed that, for the first time, a transgender recruit had signed a contract to enter the U.S. military, joining an estimated 4,000 already serving.[121]

Mattis recommendations and report [ edit ] The Presidential Memorandum of August 25, 2017 required Defense Secretary Mattis to provide his recommendations to the President no later than February 21, 2018, but the meeting was postponed. On February 22, The Washington Post reported that Mattis was set to recommend that transgender sailors and soldiers be allowed to continue serving in the military, according to anonymous officials familiar with Mattis's plans.[122] Also on February 22, in Karnoski v. Trump, a motion was filed to compel disclosure as prior documents filed by USDOJ stated the "'new policy' on transgender service" would be released on February 21.[123]:'Š3'Š

"Transgender persons with a history or diagnosis of gender dysphoria are disqualified from military service, except under the following limited circumstances:"The memorandum providing the recommendations from Mattis, dated February 22, 2018, was released March 23 alongside the supporting report in a document filed for Karnoski v. Trump.[124] Mattis explained he had formed "a Panel of Experts comprised of senior uniformed and civilian Defense Department and U.S. Coast Guard leaders" to "provide its best military advice, based on increasing the lethality and readiness of America's armed forces", which authored the report attached to the Mattis memorandum.[124] The Panel was convened on September 14, 2017, and met 13 times over a span of 90 days. The names of those on the Panel were not released, but membership was stated by role to include "the Under Secretaries of the Military Departments (or officials performing their duties), the Armed Services' Vice Chiefs (including the Vice Commandant of the U.S. Coast Guard), and the Senior Enlisted Advisors". Meetings were led "by the Under Secretary of Defense for Personnel and Readiness or an official performing those duties".[125]:'Š17''18'Š That leadership post was held by Anthony Kurta during the majority of the Panel's tenure until Robert Wilkie was sworn in during November 2017.[126] Anonymous sources stated that Vice President Mike Pence, Ryan T. Anderson (a research fellow at the Heritage Foundation and author of When Harry Became Sally: Responding to the Transgender Moment), and Tony Perkins (leader of the Family Research Council) led the creation of that report.[127] In summary, Mattis recommended:

"Transgender persons with a history or diagnosis of gender dysphoria are disqualified from military service, except under the following limited circumstances:36 consecutive months of stability "in their biological sex prior to accession"For currently serving personnel who are diagnosed with gender dysphoria after accession, "if they do not require a change of gender and remain deployable" they may continue to serve.For currently serving personnel who were diagnosed with gender dysphoria under the previous policy (outlined by Ash Carter) and prior to the effective date of the new policy, they may continue to serve "in their preferred gender and receive medically necessary treatment for gender dysphoria""Transgender persons who require or have undergone gender transition are disqualified from military service.""Transgender persons without a history or diagnosis of gender dysphoria, who are otherwise qualified for service, may serve, like all other Service members, in their biological sex."The Mattis memorandum criticized the prior RAND report, stating "It referred to limited and heavily caveated data to support its conclusions, glossed over the impacts of healthcare costs, readiness, and unit cohesion, and erroneously relied on the selective experiences of foreign militaries with different operational requirements than our own."[124] However, it was also reported that unlike Trump, Mattis preferred to keep transgender people in the military.[128]

For decades, military standards relating to mental health, physical health, and the physiological differences between men and women operated to preclude from military service transgender persons who desired to live and work as the opposite gender.

'--'‰

Panel of Experts, Department of Defense Report and Recommendations on Military Service by Transgender Persons (Feb 2018)[125]:'Š3'Š The Department of Defense (DoD) report attached to the Mattis memorandum provides recommendations consistent with those summarized in the Mattis memorandum.[125]:'Š4''6'Š For the third "limited circumstance" allowing the retention of those who began openly serving as transgender people under the Carter policy, the report concludes with the threat that "should [the Department of Defense] decision to exempt those Service members be used by a court as a basis for invalidating the entire policy, this exemption instead is and should be deemed severable from the rest of the policy",[125]:'Š43'Š which would expel that grandfathered class of service members.[129] One journalist called the report "an attempt to retroactively justify Trump's ban [on transgender military service] by lending it a sheen of reason and legitimacy".[127]

The DoD report notes that DoDI 6130.03 provides "baseline accession medical standards" and touts that it "is reviewed every three to four years by the Accession Medical Standards Working Group" but later notes the "standards were consistent with DSM-III" (published in 1980) and that "[d]ue to challenges associated with updating and publishing a new iteration of DoDI 6130.03, the DoDI's terminology has not changed to reflect the changes in the DSM".[125]:'Š8,'Š10'Š The DoD report was critical of the RAND report, saying that RAND had "failed to analyze the impact at the micro level of allowing gender transition by individuals with gender dysphoria". Specifically, RAND "did not examine the potential impact on unit readiness, perceptions of fairness and equity, personnel safety, and reasonable expectations of privacy at the unit and sub-unit levels, all of which are critical to unit cohesion", did not "meaningfully address the significant mental health problems that accompany gender dysphoria", and did not address "the scope of the scientific uncertainty regarding whether gender transition treatment fully remedies those problems".[125]:'Š14'Š

The DoD report selectively quotes DSM-5 to define gender dysphoria as "a 'marked incongruence between one's experience/expressed gender and assigned gender, of at least 6 months duration,' that is manifested in various specified ways",[125]:'Š20''21'Š which omits the second component of a gender dysphoria diagnosis. According to the American Psychiatric Association, "gender dysphoria diagnosis [in adolescents and adults] involves a difference between one's experienced/expressed gender and assigned gender, and significant distress or problems functioning. It lasts at least six months and is shown by at least two of the following [list of specific symptoms]".[130] According to the summary of DSM-5 paraphrased by the Centers for Medicare & Medicaid Services, "Gender nonconformity itself [is] not considered to be a mental disorder".[131]

In fact, there is a global medical consensus that such care is reliable, safe, and effective. An expectation of certainty is an unrealistic and counterproductive standard of evidence for health policy'--whether civilian or military'--because even the most well-established medical treatments could not satisfy that standard. Indeed, setting certainty as a standard suggests an inability to refute the research. A wide body of reputable, peer-reviewed research has demonstrated to psychological and health experts that treatments for gender dysphoria are effective.

The DoD report goes on to cast doubt on the efficacy of treating gender dysphoria: "the available scientific evidence on the extent to which such treatments fully remedy all of the issues associated with gender dysphoria is unclear. Nor do any of these studies account for the added stress of military life, deployments, and combat."[125]:'Š24'Š It cites several references to support this conclusion: a study published in 2016 by the Centers for Medicare & Medicaid Services (the "CMS" study),[131] another published in 2011 studying the experience in Sweden (the "Swedish study"),[133] one from Mayo Clinic researchers,[134] and a study published in the Hayes Medical Technology Directory (the "Hayes Directory").[135]

The scope of the CMS study was limited to determining whether a national coverage decision could be made for gender reassignment surgery. CMS did not assess specific surgery types, nor did CMS "analyze the clinical evidence for counseling or hormone therapy treatments for gender dysphoria".[131] In an interview published in 2015, the lead author of the "Swedish study" stated "People who misuse the study always omit the fact that the study clearly states that it is not an evaluation of gender dysphoria treatment. If we look at the literature, we find that several recent studies conclude that WPATH Standards of Care compliant treatment decrease gender dysphoria and improves mental health."[136] The Mayo Clinic study concluded that gender dysphoria treatment was effective.[137] In a joint statement released on March 28, former Surgeons General Joycelyn Elders and David Satcher were "troubled that the Defense department's report on transgender military service has mischaracterized the robust body of peer-reviewed research on the effectiveness of transgender medical care as demonstrating 'considerable scientific uncertainty.'"[132] A letter from American Medical Association CEO James Madara addressed to Secretary Mattis on April 3, 2018, also criticized the new policy, stating "there is no medically valid reason'--including a diagnosis of gender dysphoria'--to excludetransgender individuals from military service. Transgender individuals have served, and continue to serve, our country with honor, and we believe they should be allowed to continue doing so."[138]

The DoD report also asserts that using a person's gender identity, rather than their anatomy is inherently unfair since "sex-based standards are based on legitimate biological differences between males and females, it follows that a person's physical biology should dictate which standards apply", going on to fault the "variability and fluidity of gender transition" and providing examples such as "allowing a biological male to meet the female physical fitness and body fat standards and to compete against females in gender-specific physical training and athletic competition, [would undermine] fairness (or perceptions of fairness) because males competing as females will likely score higher on the female test than on the male test and possibly compromise safety".[125]:'Š30''31'Š One study has shown that transgender female distance runners have no speed advantage over cisgender women after one year of hormone therapy.[139]

Presidential Memorandum (March 23, 2018) [ edit ] On March 23, 2018, the Trump administration issued a new memorandum stating that Mattis had recommended "transgender persons with a history or diagnosis of gender dysphoria'--individuals who the policies state may require substantial medical treatment, including medications and surgery'--are disqualified from military service except under certain limited circumstances."[140] Among other declarations, the new memorandum revoked the prior memo of August 25, 2017 and authorized Secretaries Mattis and Kirstjen Nielsen to "implement any appropriate policiesconcerning military service by transgender individuals".[141]

Based on the new memorandum, in each of the four court cases (Doe, Stone, Karnoski, and Stockman), USDOJ has filed motions to dissolve the preliminary injunctions previously imposed[142][143][144][145] and impose protective orders to halt discovery.[146][147][148] The motions to dissolve the preliminary injunctions stated "this new policy [from the Mattis memorandum of February 2018], like the Carter policy before it, turns on the medical condition of gender dysphoria and contains a nuanced set of exceptions allowing some transgender individuals, including almost every Plaintiff here, to serve" and asserted "the military's new policy is constitutional", concluding that challenges to the new policy "should not be litigated under the shadow of a preliminary injunction of a Presidential Memorandum [August 2017] that is no longer in effect".[142]:'Š1''2'Š [143]:'Š1''2'Š [144]:'Š1''2'Š [145]:'Š1''2'Š

The policy was stayed in Karnoski vs. Trump (Western District of Washington) on April 13, 2018, when the court ruled that the 2018 memorandum essentially repeated the same issues as its predecessor order from 2017, that transgender service members (and transgender individuals as a class) were a protected class entitled to strict scrutiny of adverse laws (or at worst, a quasi-suspect class), and ordered that matter continue to a full trial hearing on the legality of the proposed policy.[149][150][151][152]

The Trump administration, through Solicitor General Noel Francisco, has submitted petitions of writ of certiorari to the US Supreme Court in November 2018 to rule on the matter on the Karnoski, Stockman, and Doe cases prior to their final judgement, specifically seeking to reverse the stay on the order while the cases otherwise continued in their respective courts.[153][154]

United States Supreme Court [ edit ] On January 22, 2019, in two 5-4 orders, split along ideological lines, the US Supreme Court, denied the Trump administration's petition for expedited review of Karnoski v. Trump and Stockman v. Trump.[155][156][note 1]. The Court, however, did agree to lift preliminary injunctions issued by the Karnoski and Stockman courts while legal proceedings go forward in lower courts.[155][157][158] The injunctions had blocked the reinstatement of restrictions on military service by transgender people.[155][156] However, the US Defense Department did not implement the policies set forth in the Presidential Memorandum of March 23, 2018, because the preliminary injunction issued by the federal district court in Maryland in Stone v. Trump was not considered by the Supreme Court and remains in effect.[155][156] The court's five conservative justices, Chief Justice John Roberts and Justices Samuel Alito, Neil Gorsuch, Brett Kavanaugh and Clarence Thomas supported the lifting the preliminary injunctions. Mara Keisling wrote, "The Court's extraordinary action [...] is an attack on transgender people around the nation."[159]

The ban went into effect on April 12.[160][161]

Congressional testimony [ edit ] In 2019, Army Capt. Alivia Stehlik, Navy Lt. Cmdr. Blake Dremann, Army Capt. Jennifer Peace, Army Staff Sgt. Patricia King and Navy Petty Officer 3rd Class Akira Wyatt became the first openly transgender members of the United States military to testify publicly in front of Congress when they testified in front of the House Armed Services Committee in support of openly transgender people serving in the military.[162]

Transgender soldier exclusion [ edit ] Directive-type Memorandum-19-004 reinstated restrictions for transgender personnel and was signed by David L. Norquist on March 12, 2019. It came into effect April 12, 2019 and was slated to expire 11 months later.

The Trump administration policy demands adherence to sex assignment at birth as a condition for military service. Discovery of one's gender identity is a disqualifier.

The Trump administration reissued DoD Instruction 1300.28, with the new version taking effect on September 4, 2020, under the title "Military Service by Transgender Persons and Persons with Gender Dysphoria". It cancels the previous DoD Instruction of the same number, which the Obama administration had issued on October 1, 2016, under the title "In-Service Transition for Transgender Service Members".[165]

H.Res. 124 [ edit ] On March 28, 2019, the United States House of Representatives passed, with 238 yeas, 185 nays, 1 present, and 8 not voting, H.Res. 124, a non-binding resolution expressing opposition to banning service in the Armed Forces by openly transgender individuals.[166]

On June 13, 2019, celebrating Lesbian, Gay, Bisexual and Transgender Pride Month in the Pentagon Center Courtyard, Senator Tammy Duckworth attacked Directive-type Memorandum-19-004. The Pentagon celebrated Pride Month in 2019 after not doing so in 2018.[167][168]

Joe Biden administration social media graphic announcing repealing the transgender military ban in January 2021.

Joe Biden administration [ edit ] On Biden's first day in office on January 20, 2021, his press secretary, Jen Psaki, announced in a press conference that the President would soon reverse the government's ban on transgender people from serving openly in the military.[169]

The ban was reversed when Biden signed the "Executive Order on Enabling All Qualified Americans to Serve Their Country in Uniform" on January 25, 2021.[170][171]

Biden announced,

It is my conviction as Commander in Chief of the Armed Forces that gender identity should not be a bar to military service.

'--'‰President Joe Biden, Executive Order on Enabling All Qualified Americans to Serve Their Country in Uniform, January 25, 2021, Executive Order 14004

On March 31, 2021, the Pentagon announced new policies to take effect April 30. Under the new rules, transgender servicemembers will not be at risk of involuntary discharge and can reenlist. The military will provide support for gender transitions, including medical care and a procedure to change gender marker.[172][173]

Rachel Levine, assistant secretary in Health and Human Services, was appointed to full admiral on October 19, 2021, when she was sworn in to oversee the U.S. Public Health Service Commissioned Corps. She became the first woman to be a four-star admiral and the first transgender person to be a four-star officer in any uniformed service.[174]

Demographics [ edit ] Transgender people are significantly more likely to serve in the US military than the general US population.[175][176] According to 2014 estimates from the Williams Institute on Sexual Orientation and Gender Identity Law and Public Policy, despite the ban on military service, about 21.4% of the total transgender population in the US is estimated to have served in the military. In May 2014, an estimated 15,500 transgender individuals served on active duty or in the Guard or Reserve forces.[21]

About 32% of transgender individuals in the US who are assigned male at birth serve or have served in the military, compared to 5.5% for transgender individuals who are assigned female at birth.[21] According to the 2014 study, "[t]he American military employs more transgender people than any other organisation in the world: around 15,500...more than 6,000 of whom are on active duty."[177]

A 2016 workplace and gender relations survey found 9,000 US military service members consider themselves transgender individuals.[178] In 2019, the United States Department of Defense states that 1,400 service members have been diagnosed with gender dysphoria and fewer than 10 service members were receiving gender reassignment surgery.[178]

Discharges [ edit ] The military did not record statistics for the number of transgender individuals discharged.[179] In April 2015, the Palm Center stated that at least a dozen individuals had been discharged in the past six months for being transgender.[180]

Veterans [ edit ] Calpernia AddamsKristin BeckAlbert CashierMary Elizabeth ClarkJoanne ConteFelicia ElizondoFallon FoxSage FoxPhyllis FryeDeborah HartinMonica HelmsChristine JorgensenJanae KrocChelsea ManningShane OrtegaJennifer PritzkerRen(C)e RichardsAngelica RossAutumn SandeenLauren ScottSheri SwokowskiSee also [ edit ] Transgender people and military serviceTransgender American Veterans AssociationIntersex people in the United States militaryBibliography of works on the United States military and LGBT+ topics#TransgenderismSexual orientation and gender identity in the United States militaryNotes [ edit ] ^ Because they came to the Supreme Court on appeal by the Trump administration the correct case captions are Trump v. Karnoski and Trump v. Stockman. References [ edit ] ^ Blanton, DeAnne (Spring 1993). "Women Soldiers of the Civil War". National Archives and Records Administration . Retrieved April 9, 2018 . [permanent dead link ] ^ Righthand, Jess (April 7, 2011). "The Women Who Fought in the Civil War". Smithsonian Institution. Archived from the original on April 10, 2018 . Retrieved April 9, 2018 . ^ Clausius, Gerhard P. "The Little Soldier of the 95th: Albert D.J. Cashier". Journal of the Illinois State Historical Society. University of Illinois Press. Archived from the original on July 26, 2018 . Retrieved April 9, 2018 . ^ Long, Tony (December 2010). "Dec. 1, 1952, Ex-GI Becomes Blonde Beauty". Wired. Archived from the original on August 28, 2017 . Retrieved August 28, 2017 . ^ "Executive Orders". National Archives. August 15, 2016. ^ "Our History". Archived from the original on January 26, 2019 . Retrieved January 26, 2019 . ^ Readler, Chad A.; Shumate, Brett A.; Griffiths, John R.; Coppolino, Anthony J. (October 4, 2017). "Defendants' Motion to Dismiss and Opposition to Plaintiffs' Application for a Preliminary Injunction, Civil Action No. 17-cv-1597 (CKK)" (PDF) . National Center for Lesbian Rights. Archived (PDF) from the original on December 11, 2017 . Retrieved April 13, 2018 . ^ Somashekhar, Sandhya (July 13, 2015). "Military to allow transgender members to serve openly". The Washington Post . Retrieved June 10, 2021 . ^ Doe v. Alexander, 510 F.Supp 900 (D. Minn. 1981). ^ Leyland v. Orr, 828 F.2d 584 (9th Cir. 1987). ^ Witten, Tarynn M. (February 2007). Gender Identity and the Military'--Transgender, Transsexual, and Intersex-identified Individuals in the U.S. Armed Forces (PDF) (Report). Palm Center. Archived (PDF) from the original on April 13, 2018 . Retrieved April 13, 2018 . ^ "Department of Defense Instruction Number 6130.03" (PDF) . Office of the Secretary of Defense. July 2, 2012. Archived (PDF) from the original on August 28, 2017 . Retrieved August 28, 2017 . ^ a b c What the end of the transgender ban means to Sage Fox - CNN Video. Archived from the original on April 8, 2018 . Retrieved April 7, 2018 . ^ Leff, Lisa (March 13, 2014). "Transgender Troop Ban Faces Scrutiny". ABC News. Archived from the original on March 13, 2014 . Retrieved March 13, 2014 . ^ Snow, Justin (March 13, 2014). "Independent commission finds no justification for military's transgender ban". Metro Weekly. Archived from the original on March 13, 2014 . Retrieved March 13, 2014 . ^ Londono, Ernesto (April 26, 2014). "For transgender service members, honesty can end career". The Washington Post. Archived from the original on July 31, 2017 . Retrieved July 31, 2017 . ^ Bell, Benjamin (May 11, 2014). "Secretary of Defense Chuck Hagel: Military's Transgender Policy 'Continually Should Be Reviewed' ". ABC News. Archived from the original on July 5, 2014 . Retrieved July 6, 2014 . ^ Cha, Ariana Eunjung (May 30, 2014). "Ban lifted on medicare coverage for sex change surgery". The Washington Post. Archived from the original on July 31, 2017 . Retrieved July 31, 2017 . ^ Page, Susan (December 10, 2014). "Air Force secretary supports lifting transgender ban". USA Today. Archived from the original on August 4, 2017 . Retrieved July 28, 2017 . ^ a b c d e Gates, Gary J.; Herman, Jody L. (May 2014). Transgender Military Service in the United States (PDF) (Report). The Williams Institute. Archived (PDF) from the original on July 28, 2017 . Retrieved July 31, 2017 . ^ "Remarks by Secretary Carter at a Troop Event in Kandahar, Afghanistan" (Press release). U.S. Department of Defense. February 22, 2015. Archived from the original on September 2, 2017 . Retrieved July 28, 2017 . ^ Gray, Eliza (February 24, 2015). "U.S. Military Takes Baby Step Toward Allowing Transgender Soldiers". Time. Archived from the original on July 26, 2017 . Retrieved July 28, 2017 . ^ Geidner, Chris. "The First Out Transgender Active-Duty U.S. Army Officer: "My Story Is Not Unique" ". BuzzFeed News . Retrieved September 30, 2022 . ^ Lynch, Sarah N. (September 30, 2022). "U.S. says Army major and wife tried to leak military health data to Russia". Reuters . Retrieved October 2, 2022 . ^ Tom Vanden Brook (March 6, 2015). "Army eases ban on transgender soldiers". Army Times. USA Today . Retrieved August 23, 2015 . ^ Ed Pilkington. "US air force: being transgender is no longer grounds for discharge". The Guardian. Archived from the original on August 15, 2015 . Retrieved August 23, 2015 . ^ "Hawaii Local Breaking News and Headlines '' Navy, Marines end directive to discharge transgender members '' Hawaii News". Honolulu Star-Advertiser. Staradvertiser.com. June 26, 2015. Archived from the original on July 4, 2015 . Retrieved July 3, 2015 . ^ a b Ray Locker and Tom Vanden Brook (July 13, 2015). "Pentagon moves closer to allowing transgender troops to serve". USA Today. Archived from the original on July 14, 2015 . Retrieved July 14, 2015 . ^ a b Schmidt, Michael S. (May 16, 2016). "Study Finds Few Obstacles to Lifting Military's Transgender Ban". The New York Times. Archived from the original on August 27, 2017 . Retrieved August 30, 2017 . ^ Wright, Austin; Herb, Jeremy (April 18, 2016). "Military reform effort claims latest casualty". Politico. Archived from the original on August 4, 2017 . Retrieved August 3, 2017 . ^ Lamothe, Dan (May 15, 2016). "Plan to allow open transgender military service tripped up by internal resistance". The Washington Post. Archived from the original on August 4, 2017 . Retrieved August 3, 2017 . ^ Dawn Ennis. "America's Doctors: Transgender Military Ban is Pointless". Advocate.com. Archived from the original on September 6, 2015 . Retrieved August 23, 2015 . ^ Advocate.com Editors. "Person of the Year: The Finalists". Advocate.com. Archived from the original on May 17, 2019 . Retrieved November 6, 2015 . ^ a b Schaefer, Agnes Gereben; Iyengar, Radha; Kadiyala, Srikanth; Kavanaugh, Jennifer; Engel, Charles C.; Williams, Kayla M.; Kress, Amii (2016). Assessing the Implications of Allowing Transgender Personnel to Serve Openly. Santa Monica, California: RAND Corporation. ISBN 978-0833094360. Archived from the original on July 27, 2017 . Retrieved July 27, 2017 . ^ "Impact of Transgender Personnel on Readiness and Health Care Costs in the U.S. Military Likely to Be Small" (Press release). RAND Corporation. June 30, 2016. Archived from the original on July 27, 2017 . Retrieved July 27, 2017 . ^ a b Belkin, Aaron (September 17, 2015). "Caring for Our Transgender Troops '-- The Negligible Cost of Transition-Related Care". The New England Journal of Medicine. 373 (12): 1089''1092. doi:10.1056/NEJMp1509230. PMID 26267449. ^ "Department of Defense 2016 Lesbian, Gay, Bisexual, and Transgender Pride Month Observance" (PDF) . Archived (PDF) from the original on December 28, 2016 . Retrieved November 28, 2017 . ^ Carter, Ash (June 30, 2016). Remarks on Ending the Ban on Transgender Service in the U.S. Military (Speech). Department of Defense. Archived from the original on August 30, 2017 . Retrieved August 30, 2017 . ^ a b Welsh, Teresa (June 30, 2016). "Military lifts transgender ban". McClatchy. Archived from the original on May 2, 2019 . Retrieved June 30, 2016 . ^ "Secretary of Defense Ash Carter Announces Policy for Transgender Service Members" (Press release). Department of Defense. June 30, 2016. Archived from the original on September 2, 2017 . Retrieved August 30, 2017 . ^ a b c "Transgender Service Member Policy Implementation Fact Sheet" (PDF) . Department of Defense. Archived (PDF) from the original on December 5, 2017 . Retrieved November 28, 2017 . ^ a b c d e f Carter, Ashton (June 30, 2016). "Directive-type Memorandum (DTM) 16-005, "Military Service of Transgender Service Members" " (PDF) . Secretary of Defense, Department of Defense. Archived (PDF) from the original on November 5, 2017 . Retrieved October 31, 2017 . ^ a b Office of the Under Secretary of Defense for Personnel and Readiness (June 30, 2016). "DoD Instruction 1300.28: In-service transition for transgender service members" (PDF) . Defense.gov. United States Department of Defense. Archived (PDF) from the original on October 24, 2020 . Retrieved September 7, 2020 . ^ "Transgender Service in the U.S. Military: An Implementation Handbook" (PDF) . United States Department of Defense. September 30, 2017. Archived (PDF) from the original on July 2, 2019 . Retrieved October 31, 2017 . ^ Baldor, Lolita C. (October 24, 2016). "1st Transgender Soldiers Seek Formal Army Recognition". ABC. Associated Press. Archived from the original on October 26, 2016 . Retrieved July 27, 2017 . ^ Jowers, Karen. "DoD: Protections for transgender youth apply to all facilities, programs". Military Times. Archived from the original on November 2, 2016 . Retrieved November 2, 2016 . ^ Losey, Stephen (October 16, 2016). "Air Force releases guidance on transgender airmen". ^ a b "Carter announces policy for transgender service members". U.S. Air Force. Archived from the original on April 8, 2018 . Retrieved April 7, 2018 . ^ Myers, Meghann (October 20, 2016). "Army outlines path to transition for transgender soldiers" . Retrieved August 26, 2017 . ^ "Navy announces guidance for sailors seeking gender transition". Stars and Stripes. Archived from the original on September 5, 2020 . Retrieved January 26, 2021 . ^ a b c Affairs, This story was written by Chief of Naval Personnel Public. "Navy Announces Policy Guidance for Transgender Personnel". Archived from the original on April 8, 2018 . Retrieved April 7, 2018 . ^ Vanden Brook, Tom (November 10, 2016). "More than 100 troops seeking transgender care". USA Today. Archived from the original on August 9, 2017 . Retrieved July 27, 2017 . ^ "More than 100 troops seeking transgender care". Military Times. November 10, 2016. Archived from the original on July 27, 2017 . Retrieved July 27, 2017 . ^ "Diversity Management and Equal Opportunity in the DoD" (PDF) . Archived (PDF) from the original on December 8, 2017 . Retrieved November 28, 2017 . ^ The President (June 23, 2000). "Nondiscrimination on the Basis of Race, Sex, Color, National Origin, Disability, Religion, Age, Sexual Orientation, and Status as a Parent in Federally Conducted Education and Training Programs" (PDF) . U.S. Government Printing Office. Archived (PDF) from the original on December 7, 2020 . Retrieved December 19, 2020 . ^ Jowers, Andrew deGrandpre, Karen (October 16, 2017). "At military schools, transgender bathroom decisions will be made case by case". Archived from the original on October 18, 2017 . Retrieved October 31, 2017 . ^ Cooper, Helene; Haberman, Maggie (April 7, 2017). "L.G.B.T. Advocates Criticize Nominee for Army Secretary". The New York Times. Archived from the original on August 28, 2017 . Retrieved August 28, 2017 . ^ Lamothe, Dan (May 5, 2017). "Mark Green withdraws as Trump's Army secretary nominee, citing 'false and misleading attacks' ". The Washington Post. Archived from the original on August 28, 2017 . Retrieved August 28, 2017 . ^ Collins, Michael (April 28, 2017). "Army secretary nominee Mark Green draws opposition from military academics, ex-Pentagon official". Tennessean . Retrieved August 28, 2017 . ^ a b c d e Bade, Rachael; Dawsey, Josh (July 26, 2017). "Inside Trump's snap decision to ban transgender troops: A congressional fight over sex reassignment surgery threatened funding for his border wall". Politico. Archived from the original on July 26, 2017 . Retrieved July 27, 2017 . ^ "2017 DOD LGBT Pride Memo" (PDF) . Archived (PDF) from the original on December 1, 2017 . Retrieved November 28, 2017 . ^ a b "Pentagon delays decision on transgender enlistments by 6 months". Los Angeles Times. Associated Press. June 30, 2017 . Retrieved November 28, 2017 . ^ Herb, Jeremy (June 30, 2017). "Pentagon delays decision on transgender recruits". CNN. Archived from the original on August 4, 2017 . Retrieved August 3, 2017 . ^ a b Mattis, Jim (June 30, 2017). "Accession of Transgender Individuals into the Military Services" (PDF) . Liberty Channel . Retrieved November 28, 2017 . ^ Stark, Liz (July 26, 2017). "Hartzler: Transgender service members 'costly' to military". CNN. Archived from the original on July 30, 2017 . Retrieved July 31, 2017 . ^ a b Kheel, Rebecca (June 28, 2017). "Republicans leave transgender policy in place for now". The Hill. Archived from the original on August 29, 2017 . Retrieved August 30, 2017 . ^ a b Herb, Jeremy (July 26, 2017). "House defeats bid to block Pentagon funding transgender surgeries". CNN. Archived from the original on August 30, 2017 . Retrieved August 30, 2017 . ^ H.Amdt. 183 at Congress.gov ^ Steinmetz, Katy (July 13, 2017). "House Rejects Ban on Transition Related Health Coverage for Transgender Troops". Time. Archived from the original on July 29, 2017 . Retrieved July 31, 2017 . ^ Nelson, Louis. "Trump bans transgender individuals from U.S. military service". POLITICO. Archived from the original on October 7, 2019 . Retrieved September 11, 2019 . ^ "Trump: Transgender people 'can't serve' in US military". BBC News. July 26, 2017. Archived from the original on April 16, 2019 . Retrieved July 27, 2017 . ^ Note, Recent Social Media Posts: In Tweets, President Purports to Ban Transgender Servicemembers , 131 Harv. L. Rev. 934 (2018). ^ "Donald Trump Attacks Transgender People to Help Build Border Wall". American Civil Liberties Union. July 28, 2017. Archived from the original on September 24, 2019 . Retrieved September 11, 2019 . ^ Chiacu, Phil Stewart (July 27, 2017). "Trump to ban transgender U.S. military personnel, reversing Obama". Reuters. Archived from the original on August 25, 2019 . Retrieved September 11, 2019 '' via www.reuters.com. ^ Donald J. Trump [@realDonaldTrump] (July 26, 2017). "After consultation with my Generals and military experts, please be advised that the United States Government will not accept or allow..." (Tweet). Archived from the original on December 4, 2020 '' via Twitter. Donald J. Trump [@realDonaldTrump] (July 26, 2017). "... Transgender individuals to serve in any capacity in the U.S. Military. Our military must be focused on decisive and overwhelming..." (Tweet). Archived from the original on November 6, 2020 . Retrieved July 19, 2020 '' via Twitter. Donald J. Trump [@realDonaldTrump] (July 26, 2017). "... victory and cannot be burdened with the tremendous medical costs and disruption that transgender in the military would entail. Thank you" (Tweet). Archived from the original on November 6, 2020 . Retrieved July 19, 2020 '' via Twitter. ^ Mabeus, Courtney; Hafner, Katherine; Sidersky, Robyn (July 26, 2017). "Trump's transgender military ban sparks outrage, applause from Hampton Roads". The Virginian-Pilot. Archived from the original on July 27, 2017 . Retrieved July 27, 2017 . ^ Kim, Richard (July 26, 2017). "Donald Trump's Ban on Transgender Troops Is Not a Distraction: It's the point". The Nation. Archived from the original on July 27, 2017 . Retrieved July 27, 2017 . ^ a b Hirschfeld Davis, Julie; Cooper, Helene (July 26, 2017). "Trump Says Transgender People Will Not Be Allowed in the Military". The New York Times. Archived from the original on December 7, 2019 . Retrieved July 27, 2017 . ^ a b Cooper, Helene (August 10, 2017). "Trump Says Transgender Ban Is a 'Great Favor' for the Military". The New York Times. Archived from the original on December 1, 2017 . Retrieved November 22, 2017 . ^ Holden, Dominic (February 20, 2018). "In Emails, Trump's Top General Said The Transgender Military Ban Was "Unexpected" And He Was "Not Consulted" ". BuzzFeed News. Archived from the original on February 21, 2018 . Retrieved February 20, 2018 . ^ Protess, Ben; Ivory, Danielle; Eder, Steve (September 10, 2017). "Where Trump's Hands-Off Approach to Governing Does Not Apply". The New York Times. Archived from the original on March 27, 2018 . Retrieved March 26, 2018 . ^ Allen, Karma (July 27, 2017). "Protests erupt nationwide following Trump's transgender military ban announcement". ABC News. Archived from the original on July 30, 2017 . Retrieved July 31, 2017 . ^ "The Joint Chiefs say there'll be no transgender policy changes until Trump clarifies his Tweets". NBC News. Archived from the original on July 27, 2017 . Retrieved July 28, 2017 . ^ S.Amdt. 633 at Congress.gov ^ Levin, Sam (August 1, 2017). "Top military officials call on Trump to reverse transgender ban". The Guardian. Archived from the original on August 23, 2017 . Retrieved August 1, 2017 . ^ Mitchell, Ellen (August 1, 2017). "Coast Guard 'will not break faith' with transgender members, leader says". The Hill. Archived from the original on August 29, 2017 . Retrieved August 30, 2017 . ^ Nixon, Ron (August 1, 2017). "Coast Guard Still Supports Transgender Troops, Commandant Says". The New York Times. Archived from the original on August 31, 2017 . Retrieved August 30, 2017 . ^ a b Trump, Donald J. (August 25, 2017). "Presidential Memorandum for the Secretary of Defense and the Secretary of Homeland Security". whitehouse.gov . Retrieved August 25, 2017 '' via National Archives. ^ Davis, Julie Hirschfeld (August 23, 2017). "Military Transgender Ban to Begin Within 6 Months, Memo Says". The New York Times. Archived from the original on August 24, 2017 . Retrieved August 24, 2017 . ^ "Trump signs memo directing Pentagon to renew ban on recruiting transgender people". CBS News. August 25, 2017. Archived from the original on May 25, 2019 . Retrieved August 25, 2017 . ^ Manchester, Julia (August 25, 2017). "Pelosi: Trump ordering Pentagon 'to hurt and humiliate' military". The Hill. Archived from the original on August 26, 2017 . Retrieved August 25, 2017 . ^ Duckworth, Tammy (August 24, 2017). "Duckworth Statement on Reports Trump Administration Directing DOD to Discriminate Against Transgender Servicemembers" (Press release). Tammy Duckworth. Archived from the original on August 26, 2017 . Retrieved August 25, 2017 . ^ "Trump's Transgender Ban In Military Will Focus On New Enlistments : The Two-Way : NPR". NPR. Archived from the original on August 27, 2017 . Retrieved August 27, 2017 . ^ McEachin, Donald (October 10, 2017). "Request for information" (PDF) . Letter to Secretary of Defense James Mattis. Congress of the United States. Archived (PDF) from the original on October 11, 2017 . Retrieved October 12, 2017 . ^ Siddiqui, Sabrina (August 29, 2017). "Transgender troops can stay in US military for now, James Mattis says". The Guardian. Archived from the original on August 30, 2017 . Retrieved August 29, 2017 . ^ Cronk, Terri Moon (September 18, 2017). "Secretary Mattis Issues Interim Guidance on Transgender Personnel Service". Department of Defense News. United States Department of Defense. Archived from the original on September 20, 2017 . Retrieved September 20, 2017 . ^ Mattis, James (September 14, 2017). "Memorandum: Military Service by Transgender Individuals '' Interim Guidance" (PDF) . Secretary of Defense. Archived (PDF) from the original on September 27, 2017 . Retrieved September 27, 2017 . ^ Lamothe, Dan (September 18, 2017). "Mattis asked these two men to help determine the future of transgender military service". The Washington Post. Archived from the original on September 27, 2017 . Retrieved September 27, 2017 . ^ a b Kollar-Kotelly, Colleen (October 30, 2017). "Jane Doe, et al. v. Donald J. Trump, et al.; Memorandum Opinion, Civil Action No. 17-cv-1597 (CKK)". United States District Court of the District of Columbia. Archived from the original on October 30, 2017 . Retrieved October 31, 2017 . ^ "Palm Center Response to DC Circuit Ruling on Transgender Military Ban". Palm Center. January 4, 2019. Archived from the original on January 5, 2019 . Retrieved January 5, 2019 . ^ "Federal judge says Trump administration can't stop funding sex-reassignment surgery for military members". The Washington Post. November 21, 2017. Archived from the original on November 21, 2017 . Retrieved November 21, 2017 . ^ "Complaint for Declaratory and Injunctive Relief". Lambda Legal. August 28, 2017. Archived from the original on August 28, 2017 . Retrieved August 28, 2017 . ^ Cooper, Helene (December 11, 2017). "Transgender People Will Be Allowed to Enlist in the Military as a Court Case Advances". The New York Times. Archived from the original on January 4, 2020 . Retrieved December 12, 2017 . ^ "Equality California Files Suit Against Trump Administration to Block Transgender Military Ban | Equality California". Eqca.org. September 5, 2017. Archived from the original on September 7, 2017 . Retrieved September 6, 2017 . ^ Savage, David G. (December 26, 2017). "Military poised to accept transgender troops, despite Trump tweets, as courts block ban". Los Angeles Times . Retrieved December 27, 2017 . ^ Kube, Courtney (November 14, 2017). "Pentagon to pay for surgery for transgender soldier". NBC News. Archived from the original on July 30, 2020 . Retrieved November 15, 2017 . ^ Stern, Mark Joseph (October 30, 2017). "Federal Judge Blocks Trump's Trans Troops Ban, Calling It Inexplicable and Unjustified". Slate. Archived from the original on November 6, 2017 . Retrieved November 6, 2017 . ^ "Jane Doe, et al. v. Donald J. Trump, et al.; Defendants' Motion for Clarification of the Court's October 30, 2017 Order, Civil Action No. 17-cv-1597 (CKK)" (PDF) . Equality Case Files. November 22, 2017. Archived (PDF) from the original on November 30, 2017 . Retrieved November 30, 2017 . ^ Kollar-Kotelly, Colleen (November 27, 2017). "Jane Doe, et al. v. Donald J. Trump, et al.; Order, Civil Action No. 17-cv-1597 (CKK)" (PDF) . National Center for Lesbian Rights. Archived (PDF) from the original on December 1, 2017 . Retrieved November 30, 2017 . ^ Lopez, German (November 28, 2017). "Federal judge: military must allow transgender recruits starting on January 1". Vox. Archived from the original on December 1, 2017 . Retrieved November 30, 2017 . ^ Hsu, Spencer S.; Marimow, Ann E. (December 11, 2017). "Judge rules transgender people can enlist in military, denying Trump bid to delay deadline". The Washington Post. Archived from the original on December 11, 2017 . Retrieved December 11, 2017 . ^ "Jane Doe, et al. v. Donald J. Trump, et al.; Appellants' Emergency Motion for Administrative Stay and Partial Stay Pending Appeal, Case 17-cv-05267" (PDF) . Think Progress. December 11, 2017. Archived (PDF) from the original on December 12, 2017 . Retrieved December 12, 2017 . ^ "Stone, et al. v. Trump, et al., Appellants' Emergency Motion for Administrative Stay and Partial Stay Pending Appeal, Case 17-cv-2398" (PDF) . Washington Blade. December 14, 2017. Archived (PDF) from the original on December 15, 2017 . Retrieved December 15, 2017 . ^ "Karnoski, et al. v. Donald J. Trump, et al.; Emergency Motion Under Circuit Rule 27-3 for Administrative Stay and Motion for Stay Pending Appeal, Case No. 17-36009" (PDF) . 9th Cir. December 15, 2017. Archived (PDF) from the original on November 3, 2020 . Retrieved December 27, 2017 . ^ "Stone, et al. v. Trump, et al., Order, Case 17-cv-2398". ACLU. December 21, 2017. Archived from the original on December 24, 2017 . Retrieved December 22, 2017 . ^ "Jane Doe, et al. v. Donald J. Trump, et al.; Order, Case 17-cv-5267" (PDF) . National Center for Lesbian Rights. December 22, 2017. Archived (PDF) from the original on December 23, 2017 . Retrieved December 22, 2017 . ^ "Karnoski, et al. v. Donald J. Trump, et al.; Notice of voluntary dismissal of appeal, Case No. 17-36009" (PDF) . Equality Case Files. December 29, 2017. Archived (PDF) from the original on February 24, 2018 . Retrieved February 23, 2018 . ^ McLaughlin, Elizabeth (January 1, 2018). "Beginning today, transgender individuals can join the US military". ABC News. Archived from the original on January 1, 2018 . Retrieved January 1, 2018 . ^ "In a first, openly transgender recruit signs up for U.S. military". Reuters. February 26, 2018. Archived from the original on February 27, 2018 . Retrieved February 28, 2018 . ^ Lamothe, Dan; Gearan, Anne; Dawsey, Josh (February 22, 2018). "Mattis expected to back allowing transgender troops to stay in the military". The Washington Post. Archived from the original on February 22, 2018 . Retrieved February 23, 2018 . ^ "Karnoski, et al. v. Donald J. Trump, et al.; Plaintiffs' Motion to Compel Defendants' Initial Disclosures, Case No. 2:17-cv-1297-MJP" (PDF) . Equality Case Files. February 12, 2018. Archived (PDF) from the original on March 8, 2018 . Retrieved March 7, 2018 . ^ a b c Mattis, James (February 22, 2018). "Memorandum for the President" (PDF) . Lambda Legal. Archived (PDF) from the original on March 24, 2018 . Retrieved March 24, 2018 . ^ a b c d e f g h i "Department of Defense Report and Recommendations on Military Service by Transgender Persons" (PDF) . Lambda Legal. February 2018. Archived (PDF) from the original on March 24, 2018 . Retrieved March 24, 2018 . ^ Brooks, Drew (December 28, 2017). "Pentagon Leaders Looking to Make a Culture Shift Within the Military". The Fayetteville Observer. Archived from the original on March 25, 2018 . Retrieved March 24, 2018 . ^ a b Stern, Mark Joseph (March 24, 2018). "Trump's Trans Troops Ban Will Never Take Effect". Slate. Archived from the original on March 24, 2018 . Retrieved March 24, 2018 . ^ "Mattis Recommends Keeping Transgender Troops in Military: Report". Military.com. February 21, 2018. Archived from the original on June 12, 2020 . Retrieved April 9, 2020 . ^ Copp, Tara (March 27, 2018). "Mattis, Pentagon quiet on new transgender policy". Military Times. Archived from the original on March 30, 2018 . Retrieved March 29, 2018 . ^ "What Is Gender Dysphoria". American Psychiatric Association. Archived from the original on January 14, 2020 . Retrieved March 24, 2018 . ^ a b c Jensen, Tamara Syrek; Chin, Joseph; Rollins, James; Koller, Elizabeth; Gousis, Linda; Szarama, Katherine (August 30, 2016). Final Decision Memo for Gender Dysphoria and Gender Reassignment Surgery (Report). Centers for Medicare & Medicaid Services. Archived from the original on March 25, 2018 . Retrieved March 24, 2018 . ^ a b Elders, Joycelyn; Satcher, David (March 28, 2018). "Former Surgeons General Debunk Pentagon Assertions about Medical Fitness of Transgender Troops" (Press release). The Palm Center. Archived from the original on March 30, 2018 . Retrieved March 29, 2018 . ^ Dhejne, Cecilia; Lichtenstein, Paul; Boman, Marcus; Johansson, Anna L. V.; L¥ngstr¶m, Niklas; Land(C)n, Mikael (February 22, 2011). "Long-Term Follow-Up of Transsexual Persons Undergoing Sex Reassignment Surgery: Cohort Study in Sweden". PLOS ONE. 6 (2): e16885. Bibcode:2011PLoSO...616885D. doi:10.1371/journal.pone.0016885 . PMC 3043071 . PMID 21364939. ^ Murad, MH; Elamin, MB; Garcia, MZ; Mullan, RJ; Murad, A; Erwin, PJ; Montori, VM (February 2010). "Hormonal therapy and sex reassignment: a systematic review and meta-analysis of quality of life and psychosocial outcomes". Clinical Endocrinology. 72 (2): 214''231. doi:10.1111/j.1365-2265.2009.03625.x. PMID 19473181. S2CID 19590739. Alternative link at US National Library of Medicine Archived March 5, 2018, at the Wayback Machine ^ Sex Reassignment Surgery for the Treatment of Gender Dysphoria (Report). Hayes Medical Technology Directory. May 15, 2014. Archived from the original on March 25, 2018 . Retrieved March 24, 2018 . (subscription required) ^ Cecilia Dhejne (November 2, 2015). "Fact check: study shows transition makes trans people suicidal" (Interview). Interviewed by Cristan Williams. Transadvocate. Archived from the original on March 26, 2018 . Retrieved March 24, 2018 . ^ Tannehill, Brynn (November 18, 2014). "Myths About Transition Regrets". The Huffington Post. Archived from the original on March 30, 2018 . Retrieved March 24, 2018 . ^ Klimas, Jacqueline (April 4, 2018). " 'No medically valid reason' to exclude transgender troops, AMA chides Mattis". Politico. Archived from the original on April 5, 2018 . Retrieved April 5, 2018 . ^ Petrow, Steven (August 8, 2016). "Do transgender athletes have an unfair advantage at the Olympics?". The Washington Post. Archived from the original on March 25, 2018 . Retrieved March 24, 2018 . ^ Gonzales, Richard (March 23, 2018). "Trump Memo Disqualifies Certain Transgender People from Military Service". National Public Radio. Archived from the original on March 24, 2018 . Retrieved March 23, 2018 . ^ "Karnoski, et al. v. Donald J. Trump, et al.; Declaration of Ryan B. Parker, Case No. 2:17-cv-1297-MJP" (PDF) . Document Cloud. March 23, 2018. Archived (PDF) from the original on January 26, 2021 . Retrieved March 23, 2018 . ^ a b "Jane Doe, et al. v. Donald J. Trump, et al.; Defendants' Motion to Dissolve the Preliminary Injunction, Civil Action No. 17-cv-1597 (CKK)" (PDF) . Equality Case Files. March 23, 2018. Archived (PDF) from the original on April 3, 2018 . Retrieved April 3, 2018 . ^ a b "Stone, et al. v. Trump, et al., Defendants' Motion to Dissolve the Preliminary Injunction, Case 1:17-cv-02459-MJG" (PDF) . Equality Case Files. March 23, 2018. Archived (PDF) from the original on April 3, 2018 . Retrieved April 3, 2018 . ^ a b "Karnoski, et al. v. Trump, et al., Defendants' Motion to Dissolve the Preliminary Injunction, Case 2:17-cv-1297-MJP" (PDF) . Equality Case Files. March 23, 2018. Archived (PDF) from the original on April 6, 2018 . Retrieved April 3, 2018 . ^ a b "Stockman, et al. v. Trump, et al., Defendants' Motion to Dissolve the Preliminary Injunction, Case 5:17-cv-01799-JGB-KK" (PDF) . Equality Case Files. March 23, 2018. Archived (PDF) from the original on April 5, 2018 . Retrieved April 3, 2018 . ^ "Jane Doe, et al. v. Donald J. Trump, et al.; Defendants' Motion for a Protective Order, Civil Action No. 17-cv-1597 (CKK)" (PDF) . Equality Case Files. March 23, 2018. Archived (PDF) from the original on April 3, 2018 . Retrieved April 3, 2018 . ^ "Stone, et al. v. Trump, et al., Defendants' Motion for a Protective Order, Case 1:17-cv-02459-MJG" (PDF) . Equality Case Files. March 23, 2018. Archived (PDF) from the original on April 4, 2018 . Retrieved April 3, 2018 . ^ "Karnoski, et al. v. Trump, et al., Defendants' Motion for a Protective Order, Case 2:17-cv-01297-MJP" (PDF) . Equality Case Files. March 23, 2018. Archived (PDF) from the original on April 5, 2018 . Retrieved April 3, 2018 . ^ Reporter, Ariane de Vogue, CNN Supreme Court. "Judge blocks enforcement of transgender military ban". Archived from the original on April 16, 2018 . Retrieved April 15, 2018 . ^ "Constitutional Law Prof Blog: District Judge Holds Transgender Military Ban Subject to Strict Scrutiny". lawprofessors.typepad.com. Archived from the original on April 16, 2018 . Retrieved April 15, 2018 . ^ "District Court, West District Washington, Karnoski v Trump, 13 April 2018" (PDF) . Archived (PDF) from the original on April 16, 2018 . Retrieved April 15, 2018 . ^ "Constitutional Law Prof Blog: Another District Judge Issues Preliminary Injunction Against Transgender Military Ban". lawprofessors.typepad.com. Archived from the original on April 16, 2018 . Retrieved April 15, 2018 . ^ de Vogue, Ariane; Biskupic, Joan (November 23, 2018). "Trump administration asks Supreme Court to take up military transgender ban". CNN. Archived from the original on November 23, 2018 . Retrieved November 23, 2018 . ^ Hayes, Christal (November 23, 2018). "Trump asks Supreme Court to fast-track ruling on transgender military ban". USA Today. Archived from the original on May 7, 2019 . Retrieved November 23, 2018 . ^ a b c d Rowland, Geoffrey (January 22, 2019). "Supreme Court allows transgender military ban to be enforced". The Hill. Archived from the original on January 22, 2019 . Retrieved January 22, 2019 . ^ a b c Welna, David (January 22, 2019). "Supreme Court Revives Trump's Ban On Transgender Military Personnel, For Now". National Public Radio. Archived from the original on May 18, 2019 . Retrieved January 31, 2019 . ^ Barnes, Robert; Lamothe, Dan (January 22, 2019). "Supreme Court allows Trump restrictions on transgender troops in military to go into effect as legal battle continues". The Washington Post. Archived from the original on January 22, 2019 . Retrieved January 22, 2019 . ^ "Transgender Soldiers Are Terrified And Disappointed After The Supreme Court's Ruling On Trump's Ban". BuzzFeed News. Archived from the original on January 23, 2019 . Retrieved January 23, 2019 . ^ "Supreme Court Grants Trump's Request to Move Forward with Transgender Military Ban". National Center for Transgender Equality. January 22, 2019. Archived from the original on January 27, 2019 . Retrieved January 27, 2019 . ^ "Appeals court clears path for Trump's transgender military ban to take effect". Axios. March 26, 2019. Archived from the original on May 25, 2019 . Retrieved May 25, 2019 . ^ "Everything you need to know about the transgender military ban". Axios. April 12, 2019. Archived from the original on May 25, 2019 . Retrieved May 25, 2019 . ^ "Transgender troops testify in front of Congress". WSYM. February 28, 2019. Archived from the original on March 14, 2020 . Retrieved March 1, 2019 . ^ SDGLN, Timothy Rawles-Community Editor for (April 12, 2019). "Trans folks are now banned from serving in the U.S. military forces". San Diego Gay and Lesbian News. Archived from the original on April 14, 2019 . Retrieved June 11, 2019 . ^ "5 Things to Know About DOD's New Policy on Military Service by Transge". U.S. Department of Defense. Archived from the original on April 12, 2020 . Retrieved April 12, 2020 . ^ Office of the Under Secretary of Defense for Personnel and Readiness (September 4, 2020). "DoD Instruction 1300.28: Military Service by Transgender Persons and Persons with Gender Dysphoria" (PDF) . www.esd.whs.mil. Archived (PDF) from the original on September 23, 2020 . Retrieved September 7, 2020 . ^ "H.Res. 124: Expressing opposition to banning service in the Armed ... House Vote #135". GovTrack.us. March 28, 2019. Archived from the original on April 11, 2019 . Retrieved April 11, 2019 . ^ "Pentagon Celebrates Diversity at LGBT Pride Month Observance". U.S. Department of Defense. Archived from the original on April 12, 2020 . Retrieved April 12, 2020 . ^ "Pentagon Fails to Recognize June as Pride Month". U.S. Representative Anthony Brown. July 2, 2018. Archived from the original on December 22, 2018 . Retrieved June 14, 2019 . ^ "Biden to reverse transgender military ban imminently, White House says". NBC News. Archived from the original on January 22, 2021 . Retrieved January 22, 2021 . ^ Macias, Andrea (January 25, 2021). "Biden reverses Trump's ban on transgender people enlisting in the military". CNBC. Archived from the original on January 26, 2021 . Retrieved January 25, 2021 . ^ Biden, Joe (January 25, 2021). "Executive Order on Enabling All Qualified Americans to Serve Their Country in Uniform". White House. Archived from the original on January 25, 2021 . Retrieved January 25, 2021 . ^ Wamsley, Laurel (March 31, 2021). "Pentagon Releases New Policies Enabling Transgender People To Serve In The Military". NPR.org . Retrieved April 4, 2021 . {{cite web}}: CS1 maint: url-status (link) ^ J.P. Lawrence, Stars and Stripes (April 30, 2021). "Free to Be a Better Soldier: Transgender Service Members Cheer Reversal of Ban". Military.com . Retrieved May 3, 2021 . ^ Golgowski, Nina (October 20, 2021). "Rachel Levine Sworn In As Nation's First Transgender 4-Star Officer". HuffPost . Retrieved October 20, 2021 . {{cite web}}: CS1 maint: url-status (link) ^ "New study finds transgender people twice as likely to serve in military". National LGBTQ Task Force. August 1, 2013 . Retrieved February 28, 2021 . ^ "2015 U.S. Transgender Survey: Military Service by Transgender People" (PDF) . National Center for Transgender Equality . Retrieved February 28, 2021 . ^ S.M. (July 27, 2017). "Donald Trump's ill-considered ban on transgender soldiers". The Economist. Archived from the original on March 7, 2018 . Retrieved July 29, 2017 . ^ a b "DOD Official: Updated Transgender Policy Based on Treating All With Di". U.S. Department of Defense. Archived from the original on April 12, 2020 . Retrieved April 12, 2020 . ^ Youssef, Nancy A. (June 30, 2015). "Pentagon Has No Idea How Many Transgender Troops It Kicked Out". The Daily Beast. Archived from the original on January 26, 2021 . Retrieved August 2, 2018 '' via www.thedailybeast.com. ^ "Transgender in the military: A Pentagon in transition weighs its policy". The Washington Post. Archived from the original on November 20, 2017 . Retrieved November 30, 2017 . External links [ edit ] Palm Center '' University of California, Santa Barbara '' scholarly research institute which has published many studies on transgender personnel in the military.Transgender American Veterans AssociationDawson, Fiona (June 4, 2015). "Transgender, at War and in Love". The New York Times . Retrieved July 28, 2017 . Solovitch, Sara; O'Malley, Julia (July 27, 2017). "Riding the waves of transgender policy, Coast Guard officer in transition fears ban's effects". The Washington Post . Retrieved August 30, 2017 . Kavanaugh Smacks Down Transgenders in the Military Archived April 19, 2019, at the Wayback MachineSPARTA A Transgender Military Advocacy Organization

Rebekah Jones son arrested in Florida: What we know about threat:

Sat, 22 Apr 2023 15:42

Embattled former state of Florida employee Rebekah Jones announced on Twitter Wednesday night that her 13-year-old son had been arrested in Santa Rosa County for ''digital threats of terrorism.''

According to the tweets, Jones said an officer told her a warrant had been issued for her son's arrest after authorities received an anonymous report about messages her son shared in a Snapchat group.

Jones says that someone claiming to be a cousin of one of her son's classmates joined their private Snapchat group. She says the person recorded the conversations and reported them to the police after her son shared a popular internet meme criticizing police.

Jones past:Rebekah Jones signs plea deal admitting guilt in DOH computer crime case

Failed Congressional bid:U.S. Rep Matt Gaetz defeats Democratic challenger Rebekah Jones, retains District 1 seat

According to Jones, a threat assessment was completed in which both local police and the school signed off on the messages not being a threat. Two weeks later, Jones says her son was then arrested. When Jones asked the officers who ordered the arrest, she says an officer told her ''it was the state.''

What is Jones' son accused of doing?An incident report released Thursday afternoon by the Santa Rosa Sheriff's Office allege that the 13-year-old made repeated threats to shoot up Holley Navarre Middle School and to stab students who angered him.

Investigators interviewed multiple students who spoke with the teenager, as well as those who saw messages he posted on social media. In the messages to his friends, the teenager made the following statements, among others:

''I want to shoot up the school.''

If I get a gun I'm gonna shoot up hnms lol.''

''I'm getting a wrath and natural selection shirt so maybe but I don't think many ppl know what the columbine shooters look like.''

''Okay so it's been like 3-4 weeks since I got on my new antidepressants and they aren't working but they're suppose to by now so I have no hope in getting better so why not kill the losers at school.''

The teenager told one of his friends that he planned to shoot up the school the Thursday before Spring Break but there were too many things going on so he postponed it until March 31.

The students reported the claims to the school prior to that date and the investigation was launched.

The teenager was homeschooled at the time of the alleged threats.

Santa Rosa Sheriff's Office investigators called the boy's mother, Rebekah Jones, who said the family was vacationing in Mississippi but would call investigators when she returned. During the interview, Rebekah Jones confirmed there were no guns in the residents and the only weapons were kitchen knives, which she has stored in a locked box.

SRSO spokeswoman Jillian Durkin said Jones turned her son in to the Sheriff's Office.

The teen appeared in a detention hearing via Zoom on Thursday afternoon where a judge determined there was probable cause in the case and scheduled an arraignment date for May 3.

The teen was placed on home detention release with a monitor. The judge also prohibited him from possessing any weapons or firearms, utilizing the internet for anything other than school purposes, and from having contact with anyone from the middle school.

Home raided:Agents raid home of fired Florida data scientist who built COVID-19 dashboard

Who is Rebekah Jones?Jones is a former Florida data scientist who accused the Health Department of intentionally falsifying pandemic data on behalf of Gov. Ron DeSantis. The claims were rejected as unfounded by an inspector general's report.

Jones came to national prominence during the early phase of the COVID-19 pandemic after she was fired from her position with the Florida Department of Health. Jones said she was fired for speaking out about what she said was the state's manipulation of COVID-19 data, while state officials said she was fired for insubordination.

Jones later ran against Rep. Matt Gaetz for Florida's 1st Congressional District, but lost to Gaetz who gained 68% of the vote.

Rebekah Jones claimed her son was arrested on the order of Gov. Ron DeSantis, three weeks after she filed a whistleblower lawsuit against the state Health Department and Surgeon General Joseph Ladapo asking for her job back along with back pay. She also seeks compensation for ''emotional distress'' and punitive damages against former department deputy secretary Shamarial Roberson, who is also named as a defendant.

"My family is not safe," Rebekah Jones tweeted. "My son has been taken on the gov's orders, and I've had to send my husband and daughter out of state for their safety. THIS is the reality of living in DeSantis' Florida. There is no freedom here. Only retaliatory rule by a fascist who wishes to be king."

Kevin Robinson contributed to this report.

Democrats propose constitutional protections for abortions, sex and gender identities '' Oregon Capital Chronicle

Sat, 22 Apr 2023 15:13

13:02 News Story Politics Senate Joint Resolution 33 has the backing of LGBTQ advocates Legislative Democrats want Oregon voters to amend the state constitution so equal rights protections include sexual orientation, gender identity and health decisions related to pregnancy.

Senate Joint Resolution 33 , introduced Wednesday in the Senate, would go to voters in the 2024 election if the Legislature passes it. The goal of the measure is to preserve and protect existing rights of Oregonians to make decisions about their marriages, families and health care and access reproductive health care, including contraception and abortion, supporters said in a statement and during a news conference Wednesday.

The amendment also would clarify that Oregonians, regardless of gender, gender identity and sexual orientation, are protected against discrimination in housing, employment and state services.

Supporters said Wednesday that the amendment is necessary after the U.S. Supreme Court's decision last year that overturned Roe v. Wade and repealed the national right to an abortion.

''As the only LGBTQ member in the Senate, this bill is personal,'' Senate Majority Leader Kate Lieber, D-Beaverton and the first openly lesbian Oregon senator, said in a statement. ''I know how it feels to live somewhere that doesn't accept you for who you are. From bans on abortion to bans on medical care for transgender people, hate is on the rise across the country, and this is Oregon's opportunity to respond with hope.''

The measure would not change existing laws in Oregon that ensure reproductive health access and marriage equality. But a constitutional amendment would safeguard against any future state laws that would undermine those rights.

''This will add an extra layer of protection to Oregonians' rights and ensure that the future state government can't take them away without a fight,'' said Todd Addams, interim executive director of Basic Rights Oregon, an advocacy group for all sexual and gender identities.

Addams was joined at the press conference with other groups supporting the constitutional measure, including Planned Parenthood Advocates of Oregon and the American Civil Liberties Union of Oregon.

Sandy Chung, executive director at the ACLU of Oregon, said the proposed amendment would give Oregonians a voice.

'' We have experienced relentless attacks against abortion and reproductive health rights, transgender rights and marriage equality across our country,'' Chung said. ''We've seen these attacks in Oregon, too. A powerful way to defend these fundamental rights and freedoms is to enshrine them in clear language in the Oregon constitution.''

As other states pass legislation undermining rights, advocates say Oregon should preserve them to dispel fears.

''As a transgender gay man, I share those fears myself,'' Addams said. ''My family's from West Virginia, and watching that state pass anti-trans bills this year, makes me hesitant to even go home to visit. I don't know what I'd do if the state that I now call home passed legislation attacking my rights to even exist safely.''

West Virginia lawmakers recently passed a bill that would prevent transgender youth under 18 from being prescribed hormone therapy and other gender-affirming care, the Associated Press reported .

In Oregon, advocates watch those developments with concern.

''We're committed to do whatever it takes to stop the coordinated attacks on our fundamental right to marry who we love and access a full range of health care including contraception, abortion and gender-affirming care,'' said Jennifer Williamson, interim executive director of Planned Parenthood Advocates of Oregon. ''We refuse to take our freedoms for granted. We're here to fight back.''

To move forward, the proposal needs to be assigned to a committee and receive a hearing, which isn't yet scheduled.

GET THE MORNING HEADLINES DELIVERED TO YOUR INBOX

Our stories may be republished online or in print under Creative Commons license CC BY-NC-ND 4.0. We ask that you edit only for style or to shorten, provide proper attribution and link to our web site.

Janissary - Wikipedia

Sat, 22 Apr 2023 14:53

Elite infantry units and standing army of the Ottoman Empire (active 1363''1826)

JanissaryAgha of the Janissaries and a B¶l¼k of the Janissaries by

Lambert Wyts, 1573

Active1363''1826 (1830 for Algiers)Allegiance Ottoman EmpireTypeInfantryRoleStanding professional militarySize1,000''1,400 7,841 (1484), 13,599 (1574) 37,627 (1609)Part ofOttoman armyGarrisonsAdrianople (Edirne)Constantinople (Istanbul)ColorsBlue, Red and GreenEquipmentVariousEngagementsBattle of Kosovo, Battle of Nicopolis, Battle of Ankara, Battle of Varna, Fall of Constantinople, Battle of Chaldiran, Battle of Mohcs, Siege of Vienna, Great Siege of Malta and othersCommanderAgha of the JanissariesMilitary unit

A Janissary (Ottoman Turkish: یڭیچری , romanized: yeŋi§eri , [jeniËtʃeɾi] , lit. '‰ 'new soldier') was a member of the elite infantry units that formed the Ottoman Sultan's household troops and the first modern standing army in Europe.[3] The corps was most likely established under sultan Orhan (1324''1362),[3] during the Viziership of Alaeddin.

Janissaries began as elite corps made up through the devşirme system of child levy enslavement, by which Christian Albanians, Bulgarians, Croats, Greeks, Romanians and Serbs were taken, levied, subjected to forced circumcision and conversion to Islam, and incorporated into the Ottoman army.[6] They became famed for internal cohesion cemented by strict discipline and order. Unlike typical slaves, they were paid regular salaries. Forbidden to marry before the age of 40 or engage in trade, their complete loyalty to the Sultan was expected.[7] By the seventeenth century, due to a dramatic increase in the size of the Ottoman standing army, the corps' initially strict recruitment policy was relaxed. Civilians bought their way into it in order to benefit from the improved socioeconomic status it conferred upon them. Consequently, the corps gradually lost its military character, undergoing a process that has been described as "civilianization".

The Janissaries were a formidable military unit in the early centuries, but as Western Europe modernized its military organization and technology, the Janissaries became a reactionary force that resisted all change. Steadily the Ottoman military power became outdated, but when the Janissaries felt their privileges were being threatened, or outsiders wanted to modernize them, or they might be superseded by their cavalry rivals, they rose in rebellion. By the time the Janissaries were suppressed, it was too late for Ottoman military power to catch up with the West.[9] The corps was abolished by Sultan Mahmud II in 1826 in the Auspicious Incident, in which 6,000 or more were executed.

Origins and history [ edit ] The formation of the Janissaries has been dated by Cemal Kafadar to the reign of Murad I (r. 1362''1389), the third ruler of the Ottoman Empire. The Ottomans instituted a tax of one-fifth on all slaves taken in war, and from this pool of manpower the sultans first constructed the Janissary corps as a personal army loyal only to the sultan.[11]

From the 1380s to 1648, the Janissaries were gathered through the devşirme system, which was abolished in 1648.[12] This was the taking (enslaving) of non-Muslim boys,[13] notably Anatolian and Balkan Christians; Jews were never subject to devşirme , nor were children from Turkic families. There is however evidence that Jews tried to enroll into the system. Jews were not allowed in the janissary army, and so in suspected cases, the entire batch would be sent to the Imperial Arsenal as indentured laborers. Ottoman documents from the levy of the winter of 1603-1604 from Bosnia and Albania wrote to draw attention to some children as possibly being Jewish (şekine-i arz-ı yahudi ).[14] According to the Encyclopedia Britannica, "in early days, all Christians were enrolled indiscriminately. Later, those from what is now Albania, Bosnia, and Bulgaria were preferred."[15]

The Janissaries were kapıkulları (sing. kapıkulu), "door servants" or "slaves of the Porte", neither freemen nor ordinary slaves (k¶le ).[16] They were subjected to strict discipline, but were paid salaries and pensions upon retirement and formed their own distinctive social class.[17] As such, they became one of the ruling classes of the Ottoman Empire, rivalling the Turkish aristocracy. The brightest of the Janissaries were sent to the palace institution, Enderun. Through a system of meritocracy, the Janissaries held enormous power, stopping all efforts to reform the military.[12]

According to military historian Michael Antonucci and economic historians Glenn Hubbard and Tim Kane, the Turkish administrators would scour their regions (but especially the Balkans) every five years for the strongest sons of the sultan's Christian subjects. These boys (usually between the ages of 6 and 14) were then taken from their parents, circumcised, and sent to Turkish families in the provinces to be raised as Muslims and learn Turkish language and customs. Once their military training began, they were subjected to severe discipline, being prohibited from growing a beard, taking up a skill other than soldiering, and marrying. As a result, the Janissaries were extremely well-disciplined troops and became members of the askeri class, the first-class citizens or military class. Most were of non-Muslim origin because it was not permissible to enslave a Muslim.[12]

It was a similar system to the Iranian Safavid, Afsharid, and Qajar era ghilmans, who were drawn from converted Circassians, Georgians, and Armenians, and in the same way as with the Ottoman's Janissaries who had to replace the unreliable ghazis. They were initially created as a counterbalance to the tribal, ethnic and favoured interests the Qizilbash gave, which make a system imbalanced.[18][19]

In the late 16th century, a sultan gave in to the pressures of the Corps and permitted Janissary children to become members of the Corps, a practice strictly forbidden for the previous 300 years. According to paintings of the era, they were also permitted to grow beards. Consequently, the formerly strict rules of succession became open to interpretation. While they advanced their own power, the Janissaries also helped to keep the system from changing in other progressive ways, and according to some scholars the corps shared responsibility for the political stagnation of Istanbul.[12]

Greek Historian Dimitri Kitsikis in his book T¼rk Yunan Ä°mparatorluğu ("Turco-Greek Empire")[20][page needed ] states that many Bosnian Christian families were willing to comply with the devşirme because it offered a possibility of social advancement. Conscripts could one day become Janissary colonels, statesmen who might one day return to their home region as governors, or even Grand Viziers or Beylerbeys (governor generals).

Some of the most famous Janissaries include George Kastrioti Skanderbeg, an Albanian who defected and led a 25''year Albanian revolt against the Ottomans. Another was Sokollu Mehmed Paşa, a Bosnian Serb who became a grand vizier, served three sultans, and was the de facto ruler of the Ottoman Empire for more than 14 years.[21][page needed ]

Characteristics [ edit ] The Janissary corps were distinctive in a number of ways. They wore unique uniforms, were paid regular salaries (including bonuses) for their service,[22] marched to music (the mehter), lived in barracks and were the first corps to make extensive use of firearms. A Janissary battalion was a close-knit community, effectively the soldier's family. By tradition, the Sultan himself, after authorizing the payments to the Janissaries, visited the barracks dressed as a janissary trooper, and received his pay alongside the other men of the First Division.[23] They also served as policemen, palace guards, and firefighters during peacetime. The Janissaries also enjoyed far better support on campaign than other armies of the time. They were part of a well-organized military machine, in which one support corps prepared the roads while others pitched tents and baked the bread. Their weapons and ammunition were transported and re-supplied by the cebeci corps. They campaigned with their own medical teams of Muslim and Jewish surgeons and their sick and wounded were evacuated to dedicated mobile hospitals set up behind the lines.[23]

These differences, along with an impressive war-record, made the Janissaries a subject of interest and study by foreigners during their own time. Although eventually the concept of a modern army incorporated and surpassed most of the distinctions of the Janissaries and the corps was eventually dissolved, the image of the Janissary has remained as one of the symbols of the Ottomans in the western psyche. By the mid-18th century, they had taken up many trades and gained the right to marry and enroll their children in the corps and very few continued to live in the barracks. Many of them became administrators and scholars. Retired or discharged Janissaries received pensions, and their children were also looked after.

Recruitment, training and status [ edit ] Registration of boys for the

devşirme. Ottoman miniature painting from the

S¼leymanname, 1558.

[24]The first Janissary units were formed from prisoners of war and slaves, probably as a result of the sultan taking his traditional one-fifth share of his army's plunder in kind rather than cash; however the continuing enslaving of dhimmi constituted a continuing abuse of a subject population. For a while, the Ottoman government supplied the Janissary corps with recruits from the devşirme system.[26] Children were kidnapped at a young age and turned into soldiers in an attempt to make the soldiers faithful to the sultan. The social status of devşirme recruits took on an immediate positive change, acquiring a greater guarantee of governmental rights and financial opportunities.[26] In poor areas officials were bribed by parents to make them take their sons, thus they would have better chances in life. Initially the recruiters favoured Greeks and Albanians.[28][29] As borders of the Ottoman Empire expanded, the devşirme was extended to include Armenians, Bulgarians, Croats, Hungarians, Serbs and later Bosniaks,[30][31][32][33][34] and, in rare instances, Romanians, Georgians, Circassians, Ukrainians and southern Russians.[28] While the deportation and enslavement of children was sometimes desired by their parents and earned them greater social status through the Janissary corps, the devşirme could fall within the context of cultural genocide. However, the freedom and power offered to Janissaries could indicate that the recruitment system was more aimed to be conscription, with an added objective of somewhat homogenizing the population of a very diverse empire.

This "child levy" system was regularly implemented during the 15th-16th centuries, the first two centuries of its existence. Some historians argue this system contributed to the Ottoman states efforts at compulsory conversion and "islamization" of its non-Muslim populations. Radushev states this recruitment system can be bisected into two periods, its first, or classical period, encompassing those first two centuries of regular execution and utilization to supply recruits; and a second period which more focuses on its gradual change, decline, and ultimate abandonment, beginning in the 17th century.[26]

In response to foreign threats, the Ottoman government chose to rapidly expand the size of the corps after the 1570s. Janissaries spent shorter periods of time in training as acemi oğlans, as the average age of recruitment increased from 13.5 in the 1490s to 16.6 in 1603. This reflected not only the Ottomans' greater need for manpower but also the shorter training time necessary to produce skilled musketeers in comparison with archers. However, this change alone was not enough to produce the necessary manpower, and consequently the traditional limitation of recruitment to boys conscripted in the devşirme was lifted. Membership was opened up to free-born Muslims, both recruits hand-picked by the commander of the Janissaries, as well as the sons of current members of the Ottoman standing army. By the middle of the seventeenth century, the devşirme had largely been abandoned as a method of recruitment.[36]

The prescribed daily rate of pay for entry-level Janissaries in the time of Ahmet I was three Ak§es. Promotion to a cavalry regiment implied a minimum salary of 10 Ak§es.[37] Janissaries received a sum of 12 Ak§es every three months for clothing incidentals and 30 Ak§es for weaponry, with an additional allowance for ammunition as well.[38]

Training [ edit ] Mustafa Kemal Atat¼rk wearing the traditional Janissary uniform at a masquerade ball during his early years in the Ottoman Army.

[39]When a non-Muslim boy was recruited under the devşirme system, he would first be sent to selected Turkish families in the provinces to learn Turkish, the rules of Islam (i.e. to be converted to Islam) and the customs and cultures of Ottoman society. After completing this period, acemi (new recruit) boys were gathered for training at the Enderun "acemi oğlan" school in the capital city. There, young cadets would be selected for their talents in different areas to train as engineers, artisans, riflemen, clerics, archers, artillery, and so forth. Janissaries trained under strict discipline with hard labour and in practically monastic conditions in acemi oğlan ("rookie" or "cadet") schools, where they were expected to remain celibate. Unlike other Muslims, they were expressly forbidden to wear beards, only a moustache. These rules were obeyed by Janissaries, at least until the 18th century when they also began to engage in other crafts and trades, breaking another of the original rules. In the late 16th century a sultan gave in to the pressures of the Janissary Corps and permitted Janissary children to become members of the Corps, a practice strictly forbidden for 200 years. Consequently, succession rules, formerly strict, became open to interpretation. They gained their own power but kept the system from changing in other progressive ways.[12]

For all practical purposes, Janissaries belonged to the Sultan and they were regarded as the protectors of the throne and the Sultan. Janissaries were taught to consider the corps their home and family, and the Sultan as their father. Only those who proved strong enough earned the rank of true Janissary at the age of 24 or 25. The Odjak inherited the property of dead Janissaries, thus acquiring wealth. Janissaries also learned to follow the dictates of the dervish saint Haji Bektash Veli, disciples of whom had blessed the first troops. Bektashi served as a kind of chaplain for Janissaries. In this and in their secluded life, Janissaries resembled Christian military orders like the Knights Hospitaller. As a symbol of their devotion to the order, Janissaries wore special hats called "b¶rk". These hats also had a holding place in front, called the "kaşıklık", for a spoon. This symbolized the "kaşık kardeşliği", or the "brotherhood of the spoon", which reflected a sense of comradeship among the Janissaries who ate, slept, fought and died together.[12]

Even after the rapid expansion of the size of the corps at the end of the sixteenth century, the Janissaries continued to undergo strict training and discipline. The Janissaries experimented with new forms of battlefield tactics, and in 1605 became one of the first armies in Europe to implement rotating lines of volley fire in battle.[40]

Organization [ edit ] Solaks, the Janissary archer bodyguard of the Sultan by

Lambert de Vos, c. 1574

The corps was organized in ortas (literally: center).[41] An orta (equivalent to a battalion) was headed by a §orbaci. All ortas together comprised the Janissary corps proper and its organization, named ocak (literally "hearth"). Suleiman I had 165 ortas and the number increased over time to 196. While the Sultan was the supreme commander of the Ottoman Army and of the Janissaries in particular, the corps was organized and led by a commander, the ağa. The corps was divided into three sub-corps:

the cemaat (frontier troops; also spelled jemaat in old sources), with 101 ortasthe b¶l¼k or beylik, (the Sultan's own bodyguard), with 61 ortasthe sekban or seymen, with 34 ortasIn addition there were also 34 ortas of the ajemi (cadets). A semi-autonomous Janissary corps was permanently based in Algiers, called the Odjak of Algiers.

Originally Janissaries could be promoted only through seniority and within their own orta. They could leave the unit only to assume command of another. Only Janissaries' own commanding officers could punish them. The rank names were based on positions in the kitchen staff or Sultan's royal hunters; 64th and 65th Orta 'Greyhound Keepers' comprised as the only Janissary cavalry, perhaps to emphasise that Janissaries were servants of the Sultan. Local Janissaries, stationed in a town or city for a long time, were known as yerliyyas.[43]

Corps strength [ edit ] Even though the Janissaries were part of the royal army and personal guards of the sultan, the corps was not the main force of the Ottoman military. In the classical period, Janissaries were only one-tenth of the overall Ottoman army, while the traditional Turkish cavalry made up the rest of the main battle force. According to David Nicolle, the number of Janissaries in the 14th century was 1,000 and about 6,000 in 1475. The same source estimates the number of Timarli Sipahi, the provincial cavalry which constituted the main force of the army at 40,000.

Beginning in the 1530s, the size of the Janissary corps began to dramatically expand, a result of the rapid conquests the Ottomans were carrying out during those years. Janissaries were used extensively to garrison fortresses and for siege warfare, which was becoming increasingly important for the Ottoman military. The pace of expansion increased after the 1570s, due to the initiation of a series of wars with the Safavid Empire and, after 1593, with the Habsburg monarchy. By 1609, the size of the corps had stabilized at approximately 40,000 men, but increased again later in the century, during the period of the Cretan War (1645''69) and particularly the War of the Holy League (1683''99).

Paper strength of the Janissary corpsYear14001484152315301547157415821592160916541666-71687-816991710-1Strength<1,0007,8417,1648,40712,13113,59916,90523,23237,62751,04747,23362,82667,72943,562Equipment [ edit ] During the initial period of formation, Janissaries were expert archers, but they began adopting firearms as soon as such became available during the 1440s. The siege of Vienna in 1529 confirmed the reputation of their engineers, e.g. sappers and miners. In melee combat they used axes and kilijs. Originally in peacetime they could carry only clubs or daggers, unless they served as border troops. Turkish yatagan swords were the signature weapon of the Janissaries, almost a symbol of the corps. Janissaries who guarded the palace (Z¼l¼fl¼ Baltacılar) carried long-shafted axes and halberds.[citation needed ]

By the early 16th century, the Janissaries were equipped with and were skilled with muskets. In particular, they used a massive "trench gun", firing an 80-millimetre (3.1 in) ball, which was "feared by their enemies". Janissaries also made extensive use of early grenades and hand cannons, such as the abus gun.[23] Pistols were not initially popular but they became so after the Cretan War (1645''1669).

Battles [ edit ] The Ottoman Empire used Janissaries in all its major campaigns, including the 1453 capture of Constantinople, the defeat of the Mamluk Sultanate of Cairo and wars against Hungary and Austria. Janissary troops were always led to the battle by the Sultan himself, and always had a share of the loot. The Janissary corps was the only infantry division of the Ottoman army. In battle the Janissaries' main mission was to protect the Sultan, using cannon and smaller firearms, and holding the centre of the army against enemy attack during the strategic fake forfeit of Turkish cavalry. The Janissary corps also included smaller expert teams: explosive experts, engineers and technicians, sharpshooters (with arrow and rifle) and sappers who dug tunnels under fortresses, etc.[citation needed ]

Revolts and disbandment [ edit ] Banquet (

Safranpilav) for the Janissaries, given by the Sultan. If they refused the meal, they signaled their disapproval of the Sultan. In this case they accept the meal. Ottoman miniature painting, from the

Surname-i Vehbi (1720) at the

Topkapı Palace Museum in

Istanbul.

As Janissaries became aware of their own importance, they began to desire a better life. By the early 17th century Janissaries had such prestige and influence that they dominated the government. They could mutiny, dictate policy, and hinder efforts to modernize the army structure. Additionally, the Janissaries found they could change Sultans as they wished through palace coups. They made themselves landholders and tradesmen. They would also limit the enlistment to the sons of former Janissaries who did not have to go through the original training period in the acemi oğlan, as well as avoiding the physical selection, thereby reducing their military value. When Janissaries could practically extort money from the Sultan and business and family life replaced martial fervour, their effectiveness as combat troops decreased. The northern borders of the Ottoman Empire slowly began to shrink southwards after the second Battle of Vienna in 1683.[citation needed ]

In 1449, they revolted for the first time, demanding higher wages, which they obtained. The stage was set for a decadent evolution, like that of the Streltsy of Tsar Peter's Russia or that of the Praetorian Guard which proved the greatest threat to Roman emperors, rather than effective protection. After 1451, every new Sultan felt obligated to pay each Janissary a reward and raise his pay rank (although since early Ottoman times, every other member of the Topkapi court received a pay raise as well). Sultan Selim II gave Janissaries permission to marry in 1566, undermining the exclusivity of loyalty to the dynasty. By 1622, the Janissaries were a "serious threat" to the stability of the Empire. Through their "greed and indiscipline", they were now a law unto themselves and, against modern European armies, ineffective on the battlefield as a fighting force. In 1622, the teenage Sultan Osman II, after a defeat during war against Poland, determined to curb Janissaries' excesses. Outraged at becoming "subject to his own slaves", he tried to disband the Janissary corps, blaming it for the disaster during the Polish war. In the spring, hearing rumours that the Sultan was preparing to move against them, the Janissaries revolted and took the Sultan captive, imprisoning him in the notorious Seven Towers: he was murdered shortly afterward .

The extravagant parties of the Ottoman ruling classes during the Tulip Period caused a lot of unrest among the Ottoman population. In September 1730, janissaries headed by Patrona Halil backed in Istanbul a rebellion by 12,000 Albanian troops which caused the abdication of Sultan Ahmed III and the death of the Grand Vizier Damad Ibrahim. The rebellion was crashed in three weeks with the massacre of 7,000 rebels, but it marked the end of the Tulip Era and the beginning of Sultan Mahmud I's reign.[50][51] In 1804, the Dahias, the Janissary junta that ruled Serbia at the time, having taken power in the Sanjak of Smederevo in defiance of the Sultan, feared that the Sultan would make use of the Serbs to oust them. To forestall this they decided to execute all prominent nobles throughout Central Serbia, a move known as the Slaughter of the Knezes. According to historical sources of the city of Valjevo, the heads of the murdered men were put on public display in the central square to serve as an example to those who might plot against the rule of the Janissaries. The event triggered the start of the Serbian Revolution with the First Serbian Uprising aimed at putting an end to the 370 years of Ottoman occupation of modern Serbia.[52]

In 1807 a Janissary revolt deposed Sultan Selim III, who had tried to modernize the army along Western European lines. This modern army that Selim III created was called Nizam-ı Cedid. His supporters failed to recapture power before Mustafa IV had him killed, but elevated Mahmud II to the throne in 1808. When the Janissaries threatened to oust Mahmud II, he had the captured Mustafa executed and eventually came to a compromise with the Janissaries. Ever mindful of the threat that the Janissaries posed, the sultan spent the next years discreetly securing his position. The Janissaries' abuse of power, military ineffectiveness, resistance to reform, and the cost of salaries to 135,000 men, many of whom were not actually serving soldiers, had all become intolerable.[54]

By 1826, the sultan was ready to move against the Janissaries in favour of a more modern military. The sultan informed them, through a fatwa, that he was forming a new army, organised and trained along modern European lines. As predicted, they mutinied, advancing on the sultan's palace. In the ensuing fight, the Janissaries' barracks were set aflame by artillery fire, resulting in 4,000 Janissary fatalities. The survivors were either exiled or executed, and their possessions were confiscated by the Sultan. This event is now called the Auspicious Incident. The last of the Janissaries were then put to death by decapitation in what was later called the Tower of Blood, in Thessaloniki.

After the Janissaries were disbanded by Mahmud II, he then created a new army soon after recruiting 12,000 troops. This new army was formally named the Trained Victorious Soldiers of Muhammad, the Mansure Army for short. By 1830, the army expanded to 27,000 troops and included the Sipahi cavalry. By 1838, all Ottoman fighting corps were included and the army changed its name to the Ordered troops. This military corps lasted until the end of the empire's history.[56]

Janissary music [ edit ] Janissaries marching to

Mehter martial tunes played by the

Mehtern military band. Ottoman miniature painting, from the

Surname-i Vehbi (1720) at the

Topkapı Palace Museum in

Istanbul.

The military music of the Janissaries was noted for its powerful percussion and shrill winds combining k¶s (giant timpani), davul (bass drum), zurna (a loud shawm), naffir, or boru (natural trumpet), §evgan bells, triangle (a borrowing from Europe), and cymbals (zil), among others.[57] Janissary music influenced European classical musicians such as Wolfgang Amadeus Mozart and Ludwig van Beethoven, both of whom composed music in the Turkish style. Examples include Mozart's Piano Sonata No. 11 (c. 1783), Beethoven's incidental music for The Ruins of Athens (1811), and the final movement of Beethoven's Symphony No. 9, although the Beethoven example is now considered a march rather than Alla turca.[58]

Sultan Mahmud II abolished the mehter band in 1826 along with the Janissary corps. Mahmud replaced the mehter band in 1828 with a European style military band trained by Giuseppe Donizetti. In modern times, although the Janissary corps no longer exists as a professional fighting force, the tradition of Mehter music is carried on as a cultural and tourist attraction.

In 1952, the Janissary military band, Mehtern, was organized again under the auspices of the Istanbul Military Museum. They hold performances during some national holidays as well as in some parades during days of historical importance. For more details, see Turkish music (style) and Mehter.

Popular culture [ edit ] In Bulgaria and elsewhere, and for centuries in Ukraine, the word Janissar (яничаÑ) is used as a synonym of the word renegade.The Janissary Tree, a novel by Jason Goodwin set in 19th-century IstanbulThe Sultan's Helmsman, a historical novel of the Ottoman Navy and Renaissance ItalySalman Rushdie's novel The Enchantress of Florence details the life, organization, and origins of the Janissaries. One of the lead characters of the novel, Antonio Argalia, is the head of the Ottoman Janissaries.[59]The novel Janissaries by David DrakeMuhteşem Y¼zyıl (The Magnificent Century) is a 2011''2012 Turkish historical fiction television series. Written by Meral Okay and Yılmaz Şahin. The Janissaries are portrayed throughout the series as part of the Sultan's royal bodyguard. The First Oath of their military order is recited in Season 1 at the Ceremony of Payment.The popular song in Serbian, Janissar (ÐањичаÑ) by Predrag Gojković Cune[60]Janissaries are the unique unit of the Ottoman Empire in Civilization IV, V, expansions of VI, Cossacks (video games series), Age of Empires II, Age of Empires III, and Rise of Nations.The Janissaries during the rule of Sultan Bayezid II are featured heavily in Assassin's Creed: Revelations.Janissaries appear in several books in the Lymond Chronicles by Dorothy Dunnett.In the song "Winged Hussars" by Sabaton about the Battle of Vienna 1683 the question is asked if "Janissaries are you ready to die?" to illustrate the impact of the arrival of the winged hussars in the battle.In the 2020 Turkish historical docudrama Rise of Empires: Ottoman, Janissaries appear throughout the show in both seasons as part of Mehmed II's army.See also [ edit ] Devşirme systemGhilmanMamlukMilitary of the Ottoman EmpireSaqalibaGen­zaroOttoman decline thesisThe Auspicious IncidentAgha, a civilian and military title in the Ottoman EmpireMalassay, elite infantry of the Adal SultanateReferences [ edit ] Notes [ edit ] ^ a b goston, Gbor (2017). "Janissaries". In Fleet, Kate; Kr¤mer, Gudrun; Matringe, Denis; Nawas, John; Rowson, Everett K. (eds.). Encyclopaedia of Islam, THREE. Vol. 2. Leiden: Brill Publishers. doi:10.1163/1573-3912_ei3_COM_30927. ISBN 978-90-04-33571-4. ISSN 1873-9830. ^ The New Encyclopedia of Islam, ed. Cyril Glass(C), Rowman & Littlefield, 2008, p.129 ^ Cleveland, Bunton, William, Martin (2013). A History of the Modern Middle East. Westview Press. p. 43. ISBN 978-0-8133-4833-9. ^ Peter Mansfield, A History of the Middle East (1991) p. 31 ^ Kafadar, Cemal (1995). Between Two Worlds: The Construction of the Ottoman State. University of California Press. pp. 111''3. ISBN 978-0-520-20600-7. ^ a b c d e f Hubbard, Glenn and Tim Kane. (2013) (2013). Balance: The Economics of Great Powers From Ancient Rome to Modern America. Simon & Schuster. pp. 152''154. ISBN 978-1-4767-0025-0. ^ Perry Anderson (1979). Lineages of the Absolutist State (Verso, 1974), p. 366. ISBN 9780860917106. ^ Yılmaz, G¼lay (2015-12-01). "The Devshirme System and the Levied Children of Bursa in 1603-4". Belleten (in Turkish). 79 (286): 901''930. doi:10.37879/belleten.2015.901. ISSN 0041-4255. ^ Chisholm, Hugh, ed. (1911). "Janissaries" . Encyclop...dia Britannica. Vol. 15 (11th ed.). Cambridge University Press. see para 2 ^ Shaw, Stanford; Ezel Kural Shaw (1976). History of the Ottoman Empire and Modern Turkey, Volume I. Cambridge: Cambridge University Press. p. 27. ISBN 0-521-21280-4. ^ Z¼rcher, Erik (1999). Arming the State. United States of America: LB Tauris and Co Ltd. pp. 5. ISBN 1-86064-404-X. ^ "BARDA and BARDA-DÄRI v. Military slavery in Islamic Iran" . Retrieved 15 April 2014 . ^ McCabe, Ina Baghdiantz; Harlaftis, Gelina (2005). Diaspora Entrepreneurial Networks: Four Centuries of History. Berg. p. 36. ISBN 9781859738757 . Retrieved 1 December 2015 . ^ Kitsikis, Dimitri (1996). T¼rk Yunan Ä°mparatorluğu. Istanbul, Simurg Kitabevi ^ Imamović, Mustafa (1996). Historija BoÅnjaka. Sarajevo: BZK Preporod. ISBN 9958-815-00-1 ^ Mark L. Stein, Guarding the Frontier: Ottoman Border Forts and Garrisons in Europe, (I.B. Tauris, 2007), 67. ^ a b c Uzun§arşılı 1988, pp. 66''67, 376''377, 405''406, 411''463, 482''483 ^ Nasuh, Matrakci (1588). "Janissary Recruitment in the Balkans". S¼leymanname, Topkapi Sarai Museum, Ms Hazine 1517 . Retrieved 2015-02-09 . ^ a b c Radushev, Evgeni (2008). " "Peasant" Janissaries?". Journal of Social History. 42 (2): 447''467. doi:10.1353/jsh.0.0133. ISSN 0022-4529. JSTOR 27696448. S2CID 201793634. ^ a b "Janissaries". My Albanian studies . Retrieved 2018-10-03 . ^ "Albania - Albanians under Ottoman Rule". countrystudies.us . Retrieved 2018-10-03 . ^ Joseph von Hammer, Geschichte des osmanischen Reiches ^ John V. A. Fine Jr., When Ethnicity Did Not Matter in the Balkans: A Study of Identity in Pre-Nationalist Croatia, Dalmatia, and Slavonia in the Medieval and Early-Modern Periods ^ Shaw, Stanford (1976). History of the Ottoman Empire and Modern Turkey, Volume I ^ Murphey, Rhoads (2006) [1999]. Ottoman Warfare, 1500-1700.[page needed ] ^ Nasuh, Matrakci (1588). "Janissary Recruitment in the Balkans" ^ Kunt, Metin Ä°. (1983). The Sultan's Servants: The Transformation of Ottoman Provincial Government, 1550''1650. New York: Columbia University Press. p. 76. ISBN 0-231-05578-1. ^ Murphey, Rhoads (1999). Ottoman Warfare, 1500-1700, p. 225. ^ Murphey, Rhoads (1999). Ottoman Warfare, 1500-1700, p. 234. ^ "The Janissaries and the Ottoman Armed forces OttomanEmpire.info". ottomanempire.info. ^ B¶rek§i, G¼nhan (2006). "A Contribution to the Military Revolution Debate: The Janissaries' Use of Volley Fire During the Long Ottoman-Habsburg War of 1593''1606 and the Problem of Origins". Acta Orientalia Academiae Scientiarum Hungaricae. 59 (4): 407''438. doi:10.1556/AOrient.59.2006.4.2. ^ "Orta". brillonline.com. Brill. 2012 . Retrieved 14 September 2020 . "Orta" (t.), literally "centre", in Ottoman Turkish military terminology, the equivalent of a company of fighting men... ^ Abdul-Karim Rafeq (2012). "Yerliyya". brillonline.com. Brill . Retrieved 14 September 2020 . "Yerliyya", colloquial Turkish-Arabic term derived from the Turkish yerl¼ "local". ^ Lokman (1588). "Battle of Mohcs (1526)". H¼nernme . Retrieved 2015-02-09 . ^ Osman, Nakkas (1597). "Expedition to Revan". Shahin-Shah-nama, Topkapi Sarai Museum, Ms B.200, folio 102a . Retrieved 2015-02-09 . ^ Clodfelter, M. (2017). Warfare and Armed Conflicts: A Statistical Encyclopedia of Casualty and Other Figures, 1492''2015 (4th ed.). Jefferson, North Carolina: McFarland. pp. 649''650. ISBN 978-0786474707. . ^ Sharkey, Heather (2017). A History of Muslims, Christians, and Jews in the Middle East. Cambridge: Cambridge University Press. pp. 101''102. ISBN 9780521186872. ^ History of Servia and the Servian Revolution-Leopold von Ranke, tran:Louisa Hay Ker p 119''20 ^ Levy, Avigdor. "The Ottoman Ulama and the Military Reforms of Sultan Mahmud II." Asian and African Studies 7 (1971): 13''39. ^ "Mansure Army." Encyclopedia of the Modern Middle East and North Africa. Encyclopedia.com, n.d. Web. http://www.encyclopedia.com/humanities/encyclopedias-almanacs-transcripts-and-maps/mansure-army ^ Reinhard, Ursula (2001). " "Turkey: An Overview." Garland Encyclopedia of World Music Volume 6 '' The Middle East". Garland Encyclopedia of World Music. Routledge . Retrieved September 15, 2016 . ^ See "Janissary music," New Grove Online.[full citation needed ] ^ Conrad, JoAnn (2009). "The Enchantress of Florence (review)". Marvels & Tales. Wayne State University Press. 23 (2): 433''436 '' via Project MUSE. ^ Predrag Gojkovic Cune - Janicar - (Audio1981), archived from the original on 2017-05-26 , retrieved 2021-05-24 Bibliography [ edit ] goston, Gbor (2014). "Firearms and Military Adaptation: The Ottomans and the European Military Revolution, 1450''1800". Journal of World History. 25: 85''124. doi:10.1353/jwh.2014.0005. S2CID 143042353. Aksan, Virginia H. "Whatever Happened to the Janissaries? Mobilization for the 1768''1774 Russo-Ottoman War." War in History (1998) 5#1 pp: 23''36. online Archived 2016-07-29 at the Wayback MachineBalfour, Patrick; Kinross, Baron (1977). The Ottoman Centuries: The Rise and Fall of the Turkish Empire. London: Perennial. ISBN 978-0-688-08093-8. Benesch, Oleg. "Comparing Warrior Traditions: How the Janissaries and Samurai Maintained Their Status and Privileges During Centuries of Peace." Comparative Civilizations Review 55.55 (2006): 6:37-55 Online.Chisholm, Hugh, ed. (1911). "Janissaries" . Encyclop...dia Britannica. Vol. 15 (11th ed.). Cambridge University Press. Cleveland, William L. A History of the Modern Middle East (Boulder: Westview, 2004)Goodwin, Godfrey (2001). The Janissaries. UK: Saqi Books. ISBN 978-0-86356-055-2; anecdotal and not scholarly says Aksan (1998)Goodwin, Jason (1998). Lords of the Horizons: A History of the Ottoman Empire. New York: H. Holt. ISBN 0-8050-4081-1. Huart, Cl. (1987). "Janissaries". In Houtsma, Martijn Theodoor (ed.). E.J. Brill's first encyclopaedia of Islam, 1913''1936, Volume IV: 'Itk''Kwaá¹­á¹­a. Leiden: BRILL. pp. 572''574. ISBN 90-04-08265-4. Kafadar, Cemal (1995). Between Two Worlds: The Construction of the Ottoman State. Berkeley: University of California Press. ISBN 978-0-520-20600-7. Kitsikis, Dimitri, (1985, 1991, 1994). L'Empire ottoman. Paris,: Presses Universitaires de France. ISBN 2-13-043459-2Murphey, Rhads (2002). "Ye±i Čeri" . In Bearman, P. J.; Bianquis, Th.; Bosworth, C. E.; van Donzel, E. & Heinrichs, W. P. (eds.). The Encyclopaedia of Islam, Second Edition. Volume XI: W''Z. Leiden: E. J. Brill. pp. 322''331. ISBN 978-90-04-12756-2. Nicolle, David (1983). Armies of the Ottoman Turks 1300-1774. Osprey Publishing. Nicolle, David (1995). The Janissaries. London: Osprey Publishing. ISBN 978-1-85532-413-8. Shaw, Stanford J. (1976). History of the Ottoman Empire and Modern Turkey (Vol. I). New York: Cambridge University Press. ISBN 978-0-521-29163-7Shaw, Stanford J. & Shaw, Ezel Kural (1977). History of the Ottoman Empire and Modern Turkey (Vol. II). New York: Cambridge University Press. ISBN 978-0-521-29166-8Uzun§arşılı, Ä°smail (1988). Osmanlı Devleti Teşkilatından Kapıkulu Ocakları: Acemi Ocağı ve Yeni§eri Ocağı. Ankara: T¼rk Tarih Kurumu. ISBN 975-16-0056-1. External links [ edit ] History of the Janissary MusicJanissary section on German-language website about Ottoman empire Archived 2012-02-05 at the Wayback Machine (not yet exploited) (in German) "Janissary," Britannica.com

Groomed to Kill 'º American Greatness

Sat, 22 Apr 2023 14:51

After the horrific massacre in Nashville, the Democratic Party is hellbent on feeding the malignant narcissism of the ''trans community,'' in which they see a reliable, perpetually aggrieved voter base and a tool with which to terrorize society.

This isn't ''Christian nationalism.'' Virtually every institution is sending a message that murderous violence toward Christians is acceptable, or at least less bad than exposing the ''trans community'' to obloquy. Law enforcement is obstructing the release of the manifesto. Merrick Garland won't call it a hate crime, and neither will Joe Biden, who apparently thinks this is all a big joke .

Like Barack Obama, who was diffident about radical Islam, Biden's Democrats are far more concerned with backlash against a politically favored group than the fact that six people , including three children, are now dead at the hands of an anti-Christian cultist whom they encouraged.

In a truly astonishing statement, Biden's dimwitted lesbian press secretary gave a fulsome defense of the massacre, saying the '' trans community is under attack right now.''

If it wasn't already clear, the shooter in Nashville was a Janissary, a demented footsoldier of an evil, totalitarian ideology that wishes to remake the world in its demonic image.

There is little daylight between the Wahhabist extremism of the shooter and the blasphemous maundering of Joe Biden, a ''devout Catholic'' who presumes to speak for the Almighty when he says that so-called transgenders are ''made in the image of God.''

Biden has used the power of the state to force this twisted vision on the country, pushing ''gender-affirming care'' on minors and banning ''conversion therapy'' that would cure them of their gender dysphoria.

He is a leader in an unhinged cult that uses pseudoscience to maim children.

How ironic, now, for the cult to give lectures on the safety of children after the tragedy in Tennessee.

The massacre in Nashville is not the fault of conservatives, it is the bitter fruit of a madness that has poisoned an entire generation.

Like all totalitarian cults, the trans cult preys upon the youth, and drives a wedge between parents and their children.

It demands unyielding obedience and affirmation of its false creed, which burns with sulfurous hatred of Christians and the faith that was once the beating heart of the West.

Society is paying the price for having tiptoed around these hectoring tyrants over the past seven or eight years.

People have become too afraid to speak the truth: ''trans people'' need humility, not ''rights.''

It is beyond the power of society to satisfy them, as their grievance is with God, not man.

What they really want is to change their nature, and to make society accept their god-like self-image.

Should we be surprised that people who think this way are turning violent? Especially now, that they have been whipped into a frenzy with apocalyptic rhetoric from the likes of Biden about their ''rights?''

Let's have no more of ''trans rights.'' They have taken too many liberties with society already.

They are aggressors, not victims.

They want control over society, over the bodies and souls of innocent children, over the conscience of every person coerced to play along with a delusion.

Now, they presume to play the victim when one of their cult members lashes out.

This is a major escalation in a reign of terror that began with demands for ''tolerance.''

The time for ''tolerance'' has passed. Courage is needed now, the courage to defend the innocent and confront evil, courage like we saw in those fine officers who rushed headlong into the abyss.

A fifth of Russian prisoners recruited to fight in Ukraine are HIV positive, with convicts promised anti-viral drugs if they agreed to fight: report

Fri, 21 Apr 2023 23:03

A fifth of recruits in Russian prisoner units are HIV positive, says Ukraine, per The New York TImes.Prisoners were recruited to join the Wagner Group in Ukraine with promises of anti-viral medication.Captured soldiers said they agreed because Russian prisons deprived them of effective HIV treatment.About a fifth of recruits sent to fight in Ukraine from Russian prisons are HIV positive, according to estimates by Ukrainian authorities, with several captured Russian soldiers telling The New York Times they were promised life-saving anti-viral medications if they agreed to fight.

One detainee told The Times that he took the offer to fight in Ukraine because the Russian prison system deprived him of supplies of effective medications that he needed to survive.

Timur, 37, told the publication that in prison he was put on HIV medications that he feared were ineffective, and that he worried that he wouldn't survive on these treatments for the duration of his sentence. He was identified only by his first name in order to avoid retaliation if he returned to Russia.

Timur told the newspaper that in December he was offered an alternative '-- six months with the infamous Wagner Group fighting in Ukraine in exchange for a pardon and the promise of supplies of anti-virals.

"I understood I would have a quick death or a slow death," he said, referring to the high death toll among Wagner Group soldiers. "I chose a quick death."

While anti-viral treatments don't cure HIV, they can reduce viral loads, making people less susceptible to illness caused by a weakened immune system.

Another HIV-positive soldier who fought with the Wagner Group, identified only as Ruslan, told The Times that he joined the mercenary group in December, one year into an 11-year sentence for drug dealing.

He said that at the time he feared for his life because the medications he was receiving in a penal colony were not suppressing his HIV viral load. Last year he was bedridden with pneumonia, and later became sick while at a training camp for the Wagner Group, according to the newspaper.

Ruslan said he expected to die from an illness in prison as a result of ineffective treatment, so he was ultimately grateful to get an offer to fight in return for medication, according to the Times.

Still, it's a bleak exchange.

The Wagner Group is the main pro-Russian force currently fighting to capture the Ukrainian city of Bakhmut, a battle that US Gen. Mark Milley, the chairman of the Joint Chiefs of Staff, called a "slaughter-fest" for Russian forces.

Speaking at a press conference in February, John Kirby, the Coordinator for Strategic Communications at the National Security Council in the White House, said the group was treating its convict recruits as "cannon fodder."

CORRUPT Antony Blinken Was Behind Gathering 50+ Members of Intel Community to Lie and Sign Bogus Letter on Hunter Laptop Being Russian Disinformation | The Gateway Pundit | by Joe Hoft

Fri, 21 Apr 2023 15:05

Current Secretary of State Tony Blinken was reportedly behind the effort to put together a list of government intel leaders to claim that the Hunter Biden laptop was Russian disinformation. This narrative was another liberal lie.

According to a report in the New York Post yesterday, it was the current Secretary of State, Tony Blinken, who called an Intel insider to put together a list of Intel leaders who would sign a report stating the lie that Hunter Biden's laptop was Russian disinformation.

The New York Post writes:

In sworn interview, Morell has admitted it was Joe Biden's presidential campaign that prompted the infamous letter in which Morell and 50 fellow former intelligence officials falsely claimed that material from Hunter Biden's laptop published by The Post before the 2020 election was Russian disinformation, sources in the House Judiciary Committee have confirmed.

Tony Blinken, now secretary of state, was the Biden-campaign foreign-affairs adviser who urgently phoned Morell in October 2020 to suggest the laptop was a Russian plant.

This doesn't surprise anyone who is aware of the corrupt US government Intel community.

So, it was Antony Blinkin of the Biden Upenn Center, where classified documents were found and China donated $54 million to, that was in charge of getting 51 former intelligence people to sign the bogus letter of 'earmarks of Russian disinformation about Hunters laptop. pic.twitter.com/kGoMpw6uO0

'-- Booker 🎠(@BookerSparticus) April 20, 2023

The Post writes:

House Judiciary Committee Chairman Jim Jordan will release a report in the next couple of weeks tracing the origins of the ''Dirty 51'' letter, showing it constituted corrupt interference in the 2020 presidential election.

TGP previously reported on the list of individuals from the Intel community who signed off on the lie that Hunter's laptop was Russian disinformation.

Here is the first set of spies identified:

Here is the second set:

Here is the third set:

Here is the overall composite.

Would you trust any of these individuals on anything?

Joe Hoft is a Radio Host at TNTRadio.live, Author, Former International Corporate Executive in Hong Kong for a Decade, and a Contributor at TGP since 2016. Joe is the author of five books, including his new bestseller, "The Steal: Volume II - The Impossible Occurs" which addresses the stolen 2020 Election and provides an inventory of issues that prove that the 2020 Election was uncertifiable and never should have been certified for Joe Biden.

You can email Joe Hoft here, and read more of Joe Hoft's articles here.

(21) Simon Ateba on Twitter: "As I keep pressing for answers, she keeps protecting the President. @PressSec Karine Jean-Pierre dislikes me 99 percent of the time, and likes me 0.0001 percent of the time. The worst part is when we meet at that restaurant o

Fri, 21 Apr 2023 14:48

Simon Ateba : As I keep pressing for answers, she keeps protecting the President. @PressSec Karine Jean-Pierre dislikes me 99 per'... https://t.co/anT1Wxmo4R

Fri Apr 21 09:44:21 +0000 2023

RedSwami 🌊🇺ðŸ‡...ðŸŒ>> : @simonateba @PressSec You're crap

Fri Apr 21 14:48:31 +0000 2023

mr. kravitz : @simonateba I'd paint my forehead with the word ''black man'' , see if it gets into the news.

Fri Apr 21 14:48:13 +0000 2023

KeMo56 : @simonateba @PressSec 👏🏼👏🏼👏🏼, you are ''Tha Man'' Simon. God raises up good men in the right position. Simon,Elon, ot'... https://t.co/op6ODlCV4G

Fri Apr 21 14:47:57 +0000 2023

Linda Giannone : @simonateba @PressSec You need to speak up and be heard. You need to do a Jim Acosta. Don't let her ignore you.

Fri Apr 21 14:47:31 +0000 2023

LorrieLuLu 🕊🌎🗽 : @simonateba @PressSec God Bless You ðŸ

Fri Apr 21 14:47:31 +0000 2023

Michael N D'Ambra, M.D. : @simonateba @PressSec You are credit to Freedom of the Press. Thank you.

Fri Apr 21 14:47:14 +0000 2023

michael w. hackler : @simonateba @PressSec Can you believe the hell hole we've become?

Fri Apr 21 14:47:07 +0000 2023

#noneofyobusines : @simonateba @PressSec Thank you for your valiant efforts in pursuing truth

Fri Apr 21 14:47:06 +0000 2023

JustALurker : @simonateba @PressSec God bless you, the last journalist.

Fri Apr 21 14:47:02 +0000 2023

Biden campaign pushed spies to write false Hunter laptop letter

Fri, 21 Apr 2023 13:18

Joe Biden's presidential campaign prompted former acting CIA director Mike Morell to ''help Biden'' by organizing 50 colleagues to sign a letter in October 2020 falsely claiming that damning emails from Hunter Biden's laptop published by The Post were Russian disinformation.

In private sworn testimony, Morell told the House Judiciary Committee that Antony Blinken, now Secretary of State, was the senior campaign official who reached out to him ''on or before'' Oct. 17, 2020, three days after The Post published an email from the laptop suggesting Hunter had introduced his Ukrainian business partner to his father, then vice-president Biden.

Morell, identified as a potential CIA director under Biden, said he organized the letter to ''help Vice President Biden '... because I wanted him to win the election.''

Until Blinken's call, Morell told House investigators that he had no intention of writing any statement exonerating Biden.

But he agreed that the conversation with Blinken ''triggered '... that intent'' in him.

At 10.53 p.m. the night of the call, Blinken emailed Morell a USA Today article claiming that the FBI was examining whether Hunter's laptop was part of a ''disinformation campaign.''

Morell said Antony Blinken reached out to him about the letter. Getty ImagesAt the bottom of Blinken's email was the signature block of Andrew Bates, then-director of rapid response for the Biden campaign.

Morell said he '‹'‹did ''a little bit of my own research,'' and then reached out to retired CIA senior operations officer Marc Polymeropoulos for assistance in compiling the letter discrediting The Post's reporting.

Over the next two days, Morell gathered signatures from 51 former intelligence officials, including himself and four other former CIA directors, including John Brennan and Leon Panetta.

Morell testified that he sent an email telling Nick Shapiro, former Deputy Chief of Staff to Brennan, that the Biden campaign wanted the statement to go to a particular reporter at the Washington Post and that he should send the statement to the campaign as well.

Morell did not recall why he told Shapiro the campaign wanted the statement to go to this reporter first and admitted that he may have spoken to the campaign on another occasion.

In the end, Shapiro took the letter to Politico, which published it on Oct. 19 under the headline: ''Hunter Biden story is Russian disinfo, dozens of former officials say.''

The letter alleged that The Post story ''has all the classic earmarks of a Russian information operation.''

The letter was used by candidate Joe Biden during the Oct. 22 debate against Donald Trump, successfully to deflect accusations about his involvement in his family's international influence peddling operation, which had garnered millions of dollars from China and Ukraine while he was vice president.

The Hunter Biden laptop story was published by The Post on Oct. 17, 2020. AFP via Getty ImagesIt was also used to try to discredit The Post's reporting which had embarrassed candidate Biden by contradicting his claims during the campaign that he had never spoken to his son about his overseas business dealings.

Morell testified that after the debate he received a call from Steve Ricchetti, Chairman of the Biden campaign, to thank him for writing the statement.

''He was the head of the Biden campaign at the time '... Steve thanked me for putting the statement out. And that was the extent of the conversation.''

The Biden campaign organized the letter that the Hunter Biden laptop story was Russian disinformation. Getty ImagesThe thank you call with Ricchetti was organized by fellow signatory Jeremy Bash, ''who I work with at Beacon [Beacon Global Strategies] and who is active politically,'' Morell testified.

Bash, Panetta's former chief of staff-turned-MSNBC security analyst, was later appointed by President Biden to a prestigious role on his President's Intelligence Advisory Board.

Get Miranda's latest takeSign up for Devine Online, the newsletter from Miranda Devine

Morell did not become CIA director.

In a letter to Blinken sent Thursday, Judiciary chairman Jim Jordan and Michael Turner, chairman of the Permanent Select Committee on Intelligence, wrote: ''We are examining the origins of the infamous public statement signed by 51 former intelligence officials that falsely discredited a New York Post story regarding Hunter Biden's laptop as supposed Russian disinformation.''

''Subsequent reporting revealed that the New York Post story was not, as the public statement claimed and then-Vice President Biden parroted, part of a 'Russian information operation.'

''This revelation nearly two years after the fact, however, was little consolation.

''The concerted efforts to dismiss the serious allegations in the Post's reporting and to suppress any discussion of the story played a substantial role in the 2020 election.''

Jordan and Turner told Blinken they were requesting his assistance because they ''have learned that you played a role in the inception of this statement while serving as a Biden campaign advisor'...

''It is apparent that the Biden campaign played an active role in the origins of the public statement, which had the effect of helping to suppress the Hunter Biden story and preventing American citizens from making a fully informed decision during the 2020 presidential election '...

''This concerted effort to minimize and suppress public dissemination of the serious allegations about the Biden family was a grave disservice to all American citizens' informed participation in our democracy.

Jordan and Turner have asked Blinken to hand over all documents and communications relating to the letter and provide the House with the identities of everyone involved in its ''inception, drafting, editing, signing, publishing, or promotion.''

Sanitation company allegedly used child labor to clean slaughterhouses

Fri, 21 Apr 2023 13:07

A Wisconsin industrial cleaning company is accused of illegally using child workers, including one who was 13, to clean meat processing plants in Minnesota and Nebraska.

According to a civil complaint filed by the U.S. Labor Department in the U.S. District Court of Nebraska, Packers Sanitation Services Inc. employed more than 30 children, ages 13 to 17, as cleaners in JBS USA meatpacking plants in Grand Island, Nebraska, and Worthington, Minnesota, and at Turkey Valley Farms in Marshall, Minnesota. Federal labor law prohibits the use of workers under 18 on killing floors or on mechanized processing equipment because the work is a federally designated "hazardous occupation."

The company is accused of violating federal labor laws by employing at least one worker under 14 to clean a slaughtering and meatpacking plant, employing children under 15 to work overnight shifts during the school year and employing workers under 18 to work on the killing floor and clean power-driven machines.

The Labor Department said several underage employees were injured on the job, including a 13-year-old who was burned by caustic cleaning chemicals.

Packers Sanitation Services is based in Kieler, Wisconsin. The company describes itself as a "leading provider of food safety solutions." According to its website, it employs 17,000 people to provide cleaning and other services to more than 700 food-processing plants.

In a statement, the company said it has an "absolute company-wide prohibition against the employment of anyone under the age of 18 and zero tolerance for any violation of that policy '' period."

The company suggested that underage workers may have misrepresented their ages to gain employment.

"PSSI has industry-leading, best-in-class procedures to confirm the identities of its employees '' including mandatory use of the Government's E-verify system for new hires, as well as extensive training, document verification, biometrics, and multiple layers of audits," the company said. "While rogue individuals could of course seek to engage in fraud or identity theft, we are confident in our company's strict compliance policies and will defend ourselves vigorously against these claims."

The company said it has cooperated with investigators and will continue to do so.

A federal judge approved a temporary restraining order last week prohibiting the company from employing anyone under 18 in hazardous roles and ordering it to preserve documents and not interfere with investigators or attempt to influence workers to not cooperate with Labor Department investigators.

In its request for the restraining order, the Labor Department claimed that employees intimidated underage workers to discourage them from cooperating with investigators and that at least one employee deleted or manipulated employment records.

"Taking advantage of children, exposing them to workplace dangers '' and interfering with a federal investigation '' demonstrates Packers Sanitation Services Inc.'s flagrant disregard for the law and for the well-being of young workers," Michael Lazzeri, regional administrator for the Department of Labor's Wage and Hour Division, said in a statement.

The investigation began in late August after tips that Packers Sanitation Services was violating child labor laws. Investigators executed warrants at the three plants, the local offices that serve them and the company's Wisconsin headquarters, according to court documents.

Labor Department spokesman Scott Allen said the department's investigation has since expanded beyond the three plants.

"The investigation is nationwide right now," Allen said.

In a statement, Colorado-based JBS USA said it is launching its own "independent, third-party audit at all of our facilities to thoroughly evaluate this situation."

"We take seriously the allegations against PSSI which, if true, represent a clear violation of our ethical policies," the company said.

Contact Karl Ebert at kebert@gannett.com. Follow him on Twitter at @karlwebert.
ALL VIDEOS

VIDEO - " A CHILD'S GARDEN OF POLLUTION " 1970 ENVIRONMENTAL AWARENESS FILM w/ BILL BIXBY XD72534 - YouTube

VIDEO - GOP Rep Sounds The Alarm, Says There Are "Astronomical" Findings In Biden Family Probe

Sun, 23 Apr 2023 14:38

During an interview on Friday, GOP Rep. Nancy Mace of South Carolina said that the ongoing House Oversight Committee investigation into the Biden family's financial dealings has uncovered ''astronomical'' findings that are ''real.'' She emphasized the legitimacy of the investigation, dismissing any notion of conspiracy theories.

During an interview with Fox News host Bill Hemmer, Mace said, ''We found more Biden family members involved, more shell companies, the sources of funds unknown, where they're going unknown, and why they were paid for.''

''This is not a conspiracy theory. This is real,'' she reiterated.

Mace also lauded a whistleblower from the IRS who stepped forward on Wednesday to reveal bombshell new information about Hunter Biden and the Biden administrations role in protecting him. The whistleblower alleged they had information that contradicted sworn congressional testimony by a ''senior political appointee'' regarding the Hunter Biden investigation.

''This whistleblower is putting everything on the line to provide the American people with this information. It should be investigated to the fullest extent of the law,'' she said.

WATCH:

And this is only *part* of the horrible news lately for the Biden family.

On Monday, Rep. James Comer released a statement on behalf of the House Oversight Committee, claiming that investigators had identified six additional Biden family members involved in ''shady'' transactions, allegedly connected to Hunter Biden. Hunter's abandoned laptop became a contentious topic in the weeks leading up to the 2020 election, when the New York Post published a report that was subsequently censored by social media platforms.

VIDEO - (2) Earth Day 1970 Part 1: Intro (CBS News with Walter Cronkite) - YouTube

VIDEO - (22) ' ᗰISᑕᕼIᗴᖴ ' ' on Twitter: "Do you like his idea on reparations? https://t.co/uWmJxkXi3o" / Twitter

Sun, 23 Apr 2023 14:26

' ᗰISᑕᕼIᗴᖴ ' ' : Do you like his idea on reparations? https://t.co/uWmJxkXi3o

Sat Apr 22 01:18:02 +0000 2023

VIDEO - (2) U.S. reviewing matter of leaked military documents: Pentagon - YouTube

VIDEO - (20) GB News on Twitter: "'This is another tool in the toolkit in order to help the Government respond to emergencies.' Deputy Prime Minister Oliver Dowden explains why the Government will be sending an alert to all mobile phone users today. GB Ne

Sun, 23 Apr 2023 14:03

GB News : 'This is another tool in the toolkit in order to help the Government respond to emergencies.'Deputy Prime Ministe'... https://t.co/P4Yj5Gn2iQ

Sun Apr 23 06:35:08 +0000 2023

VIDEO - How Vietnam is trying to stop rice warming the planet - YouTube

VIDEO - (2) US, France evacuate embassy personnel amid ongoing fighting in Sudan ' FRANCE 24 English - YouTube

VIDEO - (2) Israelis protest for 16th consecutive week against Netanyahu's judicial reform ' FRANCE 24 English - YouTube

VIDEO - Rosenberg 'wouldn't make too much of' IRS agent seeking whistleblower protections 'at this point' - YouTube

VIDEO - 'Why Can't You Just Answer Me?': John Kennedy Grills Dem Witness - YouTube

VIDEO - All-In with Chamath, Jason, Sacks & Friedberg: E125: SpaceX launch, Fox News settlement, "Zombie-corn" exodus to AI, late-stage implosion on Apple Podcasts

Sat, 22 Apr 2023 15:15

(0:00) Antonio Gracias and Gavin Baker join to discuss SpaceX's Starship launch (28:58) Fox News settles with Dominion Voting Systems, will pay $787M (40:38) AI update: Reddit to start charging for training data, how the next startup bubble will materialize, navigating the AI "dust storm" (53:49) Why AI is challenging/exciting to invest in right now, late-stage implosion, pay-to-play rounds (1:21:26) Is crypto dead in America? Plus DeSantis vs Trump polling update and wrap Follow the besties: https://twitter.com/chamath https://linktr.ee/calacanis https://twitter.com/DavidSacks https://twitter.com/friedberg Follow the pod: https://twitter.com/theallinpod https://linktr.ee/allinpodcast Intro Music Credit: https://rb.gy/tppkzl https://twitter.com/yung_spielburg Intro Video Credit: https://twitter.com/TheZachEffect Referenced in the show: https://twitter.com/GavinSBaker/status/1649107858267439108 https://www.bbc.com/news/science-environment-65294084 https://twitter.com/thePrimalSpace/status/1649051677377560578 https://www.wsj.com/articles/spacex-starship-elon-musk-second-launch-attempt-bf932aaf https://twitter.com/elonmusk/status/1533408313894912001 https://www.reuters.com/technology/fcc-votes-approve-spacex-satellite-plan-official-2021-04-27 https://www.axios.com/2023/04/18/fox-news-settles-dominion-lawsuit https://investor.foxcorporation.com/static-files/3b2bdb74-8ebe-4173-9f0f-ac18831ff094 https://www.theatlantic.com/business/archive/2015/03/finland-home-of-the-103000-speeding-ticket/387484 https://twitter.com/KanekoaTheGreat/status/1648462770936115202 https://www.nytimes.com/2023/04/18/technology/reddit-ai-openai-google.html https://www.cnbc.com/2023/04/20/alphabet-merges-ai-focused-groups-deepmind-and-google-research.html https://twitter.com/chamath/status/1647010187377774596 https://en.wikipedia.org/wiki/Dal%C3%ADland- https://www.nytimes.com/2023/04/20/business/buzzfeed-news-shut-down.html https://www.vox.com/technology/2023/4/18/23688627/meta-layoffs-mark-zuckerberg-facebook-instagram-whatsapp https://news.crunchbase.com/venture/series-c-funding-decline-q1-2023 https://www.theinformation.com/articles/tiger-global-managements-12-7-billion-venture-fund-records-20-loss https://en.wikipedia.org/wiki/Greater_fool_theory https://www.wired.com/story/stack-overflow-will-charge-ai-giants-for-training-data https://www.coindesk.com/business/2023/04/18/coinbase-could-move-away-from-us-if-no-regulatory-clarity-ceo-brian-armstrong https://news.yahoo.com/poll-trumps-big-post-indictment-bounce-is-fading-fast-183753992.html https://www.washingtonpost.com/politics/2023/04/20/desantis-trump-new-hampshire-poll

Top Podcasts In Technology

VIDEO - (20) 60 Minutes on Twitter: "In conservative media, Ray Epps is a notorious villain, responsible for turning the protests on January 6 into a riot. It is a convoluted conspiracy theory he denies. He's now in hiding, facing death threats. This Su

Sat, 22 Apr 2023 14:46

60 Minutes : In conservative media, Ray Epps is a notorious villain, responsible for turning the protests on January 6 into a ri'... https://t.co/msu1GO8TnB

Fri Apr 21 18:00:00 +0000 2023

NameCantBeBlank : @60Minutes Ray Epps deserves whatever is coming to him.

Sat Apr 22 14:46:07 +0000 2023

Steve Moser : @60Minutes "Hes now in hiding" and he also "sits down with 60 minutes"?

Sat Apr 22 14:45:39 +0000 2023

Aztec_Roman : @60Minutes The Jesus demonizes every protester that was there except him... Really makes you think

Sat Apr 22 14:45:36 +0000 2023

RanSandy : @60Minutes So you're doing a sympathy piece for him? Even if he wasn't working for the Feds, he was telling everyon'... https://t.co/y8oRZTDyS8

Sat Apr 22 14:45:26 +0000 2023

Definitely NOT a fed 🏆ðŸŒðŸŽ¥ðŸ'µ'¬‡ : @60Minutes FED

Sat Apr 22 14:45:06 +0000 2023

John : @60Minutes The obvious questions are why did he tell people to go into the capital and why wasn't he charged when s'... https://t.co/PxoqDIX4hw

Sat Apr 22 14:45:00 +0000 2023

POD : @60Minutes Just saw one of the leaked questions! You're not going to believe the answer. Question: Ray Epps, what's'... https://t.co/sLpMcC38uy

Sat Apr 22 14:44:56 +0000 2023

Oregon's COVID Disaster : @60Minutes Ray Epps, who I'm assured just wants to be left alone to live in peace and harmony, is doing what all pe'... https://t.co/AtjSgRnxky

Sat Apr 22 14:44:34 +0000 2023

John Y : @60Minutes Make sure you include the part where he texted his nephew ''I orchestrated it''.

Sat Apr 22 14:44:21 +0000 2023

ULTRAMEGA W/Cheese 🤠Come On Man .. It's No Joke : @60Minutes The left always put the guilty out front and in the news'... the domestic abuser congresswoman Porter is an'... https://t.co/Btpg4bwx5T

Sat Apr 22 14:44:15 +0000 2023

NOYB : @60Minutes Uh, look at the videos. He instigated things, he texted a relative stating he bragging about his involve'... https://t.co/z1BqokgBRu

Sat Apr 22 14:44:11 +0000 2023

Carla Simmons : @60Minutes Funny how you used "cherry picked clips". Isn't that what you say the conservatives do? Nice try.

Sat Apr 22 14:44:08 +0000 2023

Duska CornwellðŸ...‹ : @60Minutes The fact you call it "a convoluted conspiracy theory" tells me how this interview is going to go. My hus'... https://t.co/xzGgYeS9rN

Sat Apr 22 14:44:00 +0000 2023

Baron79 : @60Minutes Okay if 60 minutes is defending him he's definitely an informant, ðŸ¤ðŸ¤ðŸ¤

Sat Apr 22 14:43:52 +0000 2023

MN 🟧 : @60Minutes Are you just going to continuously show January 6th grifters every week now? What is up with your shit program?

Sat Apr 22 14:43:51 +0000 2023

Oregon's COVID Disaster : @60Minutes If Epps and the federal government have an explanation for why the one guy caught on tape inciting Janua'... https://t.co/60uYqzgpwW

Sat Apr 22 14:43:49 +0000 2023

Nobodylikeyoudoe : @60Minutes Hey real question why is 60 minutes spotlighting racist ass people you got Marjorie Taylor Greene and now this fuck. #ashamed

Sat Apr 22 14:43:44 +0000 2023

Snowbrd1967 : @60Minutes Our Republican lawmakers will voice their outrage but keep their fingers up their noses by not filing ch'... https://t.co/VwAXG474hK

Sat Apr 22 14:43:39 +0000 2023

RobRo : @60Minutes 60 Minutes is trash left wing liberal triggered nonsense

Sat Apr 22 14:43:36 +0000 2023

Katherine deHoop : @60Minutes Wow 60 minutes you just opened my eyes to your BS activism. No journalists here only puppet clowns. ðŸ¤

Sat Apr 22 14:43:31 +0000 2023

Concerned Expat : @60Minutes In conservative media, Ray Epps is an unidicted co-conspirator who was far more guilty of inciting tresp'... https://t.co/D9GbOwFJ9D

Sat Apr 22 14:43:21 +0000 2023

Kathryn Brandon : @60Minutes Fortunately it's on camera and the camera doesn't lie.

Sat Apr 22 14:43:19 +0000 2023

Knew Improvised : @60Minutes You all have seen the videos of him on 1/5/21 and 1/6/21 exhorting people to go into the Capitol. Someth'... https://t.co/zPYnf9lHDc

Sat Apr 22 14:43:18 +0000 2023

FlyTech Bass NUCLEAR ULTRA MAGA ''¤ : @60Minutes Ray Epps IS NO AMERICAN HERO, BUT MORE OF A ZERO POS

Sat Apr 22 14:43:16 +0000 2023

Spencer : @60Minutes "Convoluted conspiracy theory" lmaoAn egregious misuse of the word "theory"

Sat Apr 22 14:43:12 +0000 2023

Nick Papagiorgio (from Yuma) Think Vegas Vacation! : @60Minutes Make sure you show the multiple clips of him saying we're going IN to the Capitol!!

Sat Apr 22 14:43:05 +0000 2023

Cindy Kittinger : @60Minutes FED FED FED FED FED FED

Sat Apr 22 14:42:55 +0000 2023

Oregon's COVID Disaster : @60Minutes Here, let me show you how easy it is: Epps is on video inciting January 6th, yet he hasn't been arrested'... https://t.co/UgBYHRRLMd

Sat Apr 22 14:42:52 +0000 2023

VIDEO - Open Forum, Part 1 | C-SPAN.org

Sat, 22 Apr 2023 14:43

April 22, 2023 | Part Of Washington Journal 04/22/2023 Washington Journal2023-04-22T06:59:35-04:00 https://ximage.c-spanvideo.org/eyJidWNrZXQiOiJwaWN0dXJlcy5jLXNwYW52aWRlby5vcmciLCJrZXkiOiJGaWxlc1wvNmNiXC8wMDFcLzE2ODIxNjE0ODRfMDAxLmpwZyIsImVkaXRzIjp7InJlc2l6ZSI6eyJmaXQiOiJjb3ZlciIsImhlaWdodCI6NTA2fX19 Viewers called in to comment on whether ''Biden should run for reelection?''Viewers called in to comment on whether ''Biden should run for reelection?''

Report Video IssueGo to Live Event"; // $('div#video-embed').html(cookieMsg); // return; // } // });

*This text was compiled from uncorrected Closed Captioning.

Related Video January 18, 2023 Open ForumViewers commented on the White House's handling of the Biden classified documents case.

January 15, 2023 Open Forum, Part 1Viewers commented on House Republican investigations of President Biden.

January 13, 2023 Open Forum, Part 1Viewers commented on the special counsel appointed in the Biden documents case.

September 20, 2022 Open Forum, Part 1Viewers commented on President Biden's rising poll numbers.

VIDEO - Zelensky presses NATO on membership, long-range weapons ' FRANCE 24 English - YouTube

VIDEO - Sudan held hostage: Fears grow of the conflict mutating into a proxy war ' FRANCE 24 English - YouTube

VIDEO - Joe Biden, Ant"nio Guterres make bold statements on tackling climate issues | WION Climate Tracker - YouTube

VIDEO - (Clip) #321: Transitioning To A Dark Future | Simon Esler

Sat, 22 Apr 2023 14:13

Documentary filmmaker, Simon Esler, has allowed his previous six-part series on the intentional destruction of the family unit to lead him towards another avenue of psychological warfare, this one directed at children. In his new movie ''Cut: Daughters of the West'', Esler looks at the rise of sexual transitioning among children and teens, mostly girls, and how a coordinated and covert agenda is being used to normalize the process and crush anyone that disagrees with the new narratives on transitioning between genders. With smartphones and social media apps in the hands of younger and younger children, the world is experiencing a mental health crisis the likes of which have never been experienced in history. Is this contributing to the normalization of the concept of ''gender-affirming care'', or are there dark forces at work behind the scenes that are pushing to normalize the destruction of an entire generation? What if the answer is ''both''? Sponsors: Emergency Preparedness Food: www.preparewithmacroaggressions.com Chemical Free Body: https://www.chemicalfreebody.com and use promo code: MACRO C60 Purple Power: https://c60purplepower.com/ Promo Code: MACRO Wise Wolf Gold & Silver: www.Macroaggressions.gold True Hemp Science: https://truehempscience.com/ Haelan: https://haelan951.com/pages/macro Solar Power Lifestyle: https://solarpowerlifestyle.com/ Promo Code: MACRO Coin Bit App: https://coinbitsapp.com/?ref=0SPP0gjuI68PjGU89wUv Macroaggressions Merch Store: https://www.teepublic.com/stores/macroaggressions?ref_id=22530 LinkTree: linktr.ee/macroaggressions Books: HYPOCRAZY: https://amzn.to/3VsPDp8 Controlled Demolition on Amazon: https://amzn.to/3ufZdzx The Octopus Of Global Control: Amazon: https://amzn.to/3VDWQ5c Barnes & Noble: https://bit.ly/39vdKeQ Online Connection: Link Tree: https://linktr.ee/Macroaggressions Instagram: https://www.instagram.com/macroaggressions_podcast/ Discord Link: https://discord.gg/4mGzmcFexg Website: www.theoctopusofglobalcontrol.com Facebook: www.facebook.com/theoctopusofglobalcontrol Twitter: www.twitter.com/macroaggressio3 Twitter Handle: @macroaggressio3 YouTube: www.youtube.com/channel/UCn3

... Show More

VIDEO - US defense officials rally western partners to protect Ukraine | DW News - YouTube

VIDEO - The next stage of the war in Ukraine: Analyzing Kyiv's strategy | DW News - YouTube

VIDEO - E125: SpaceX launch, Fox News settlement, "Zombie-corn" exodus to AI, late-stage implosion - YouTube

VIDEO - Indiana county councilman comes out as woman of color - WISH-TV | Indianapolis News | Indiana Weather | Indiana Traffic

Fri, 21 Apr 2023 13:59

MUNCIE, Ind. (WISH) '-- In a recent Facebook post, Delaware County Councilman Ryan Webb announced he now identifies as a Black woman. He clarified with I-Team 8 he identifies as an American Indian woman.

While Webb has received some support, he says he's been facing backlash, including violent threats.

''I'm hoping that this individual is not making a mockery of what it means to be more in a marginalized community, but I have a feeling that that's exactly what is happening,'' said Dana Black, political strategist and host of the ''Turn Left'' podcast.

Webb declined an interview but gave this statement to I-Team 8:

''Our family has been receiving violent threats throughout the day from intolerant liberals who refuse to accept my decision to live my life however I choose. I don't really see how an interview will improve the situation.

''It is unfortunate, but a group called Indiana Progressives has decided to organize a hate and harassment campaign against me and my family by publishing my address and encouraging people to unlawfully congregate at my home. You can read their comments on my public post. I have to look out for the safety of my family, including our 6 children. There are people with serious mental health issues encouraging people who are unwelcome to come to my home, so I think it's best to politely decline your on-camera interview.

''It is unfortunate that I cannot simply be given the same space and respect to explore my identity that so many of those targeting me demand for themselves. I have announced my position and that has not changed. I do not need anyone to approve or validate who I am for me to live my life the way I choose. I don't feel like an on-camera interview is necessary or warranted. I'm simply living my life without concern for what others may think about my own personal decisions.

''I have recently decided to live my life however I choose to identify which happens to be as a woman of color. My American Indian heritage is not up for debate, although many would like it to be. It's possible I may change my mind down the road. The process of identity exploration is complex and often times at the end of our personal journey we end right back where we started.

''I hope that in the future those asking for tolerance and understanding are willing to give it in return and not just to those who they feel is worthy of it. Nobody has the authority to validate or invalidate any individual who chooses to identify a certain way.

Delaware County Councilman Ryan Webb

Webb, a Republican, said in his Facebook post, ''To avoid confusion, everyone can continue to address me as Ryan or as Councilman Webb. I will also retain my preferred pronouns of he/him, however, this will in no way diminish my true identity as a woman of color.''

''Who wouldn't want to be a Black woman? But in reality, when you're taking up space that should be for Black women, that is problematic,'' Black said. ''I think he's a nonfactor. There are real issues that people need to be focusing on, policies that are going to impact lives. Unless he's writing a policy that is going to harm communities, that shouldn't be our focus.''

I-Team 8 has reached out to the Indiana Progressives organization for a response to the negative comments toward Webb, but the organization was unable to be reached.

This story has been updated to correct Webb's political party.

VIDEO - Why did Floridians wake up to an early-morning emergency alert? - YouTube

VIDEO - (20) Project Veritas on Twitter: "BREAKING PART 2: Pro-Transgender Medical Officials Admit Minors Being Transitioned Without Restrictions ''We don't care if you see a licensed therapist or not'...we don't require that at all. We brought in our

Fri, 21 Apr 2023 13:53

Project Veritas : BREAKING PART 2: Pro-Transgender Medical Officials Admit Minors Being Transitioned Without Restrictions''We don't'... https://t.co/CX9LJCUE2m

Thu Apr 20 23:00:11 +0000 2023

Brenda Jarrett : @Project_Veritas Unbelievable!

Fri Apr 21 13:21:04 +0000 2023

CharlieWill : @Project_Veritas Jail time

Fri Apr 21 13:21:01 +0000 2023

AlexisP : @Project_Veritas This is what you are supporting @RepMGS.

Fri Apr 21 13:08:43 +0000 2023

Ryan Smith : @Project_Veritas Just imagine how many more people youd have reached if you didnt hamstring yourself with the james situation.

Fri Apr 21 12:58:22 +0000 2023

VIDEO - Charges against Alec Baldwin to be dropped in 'Rust' shooting ' FRANCE 24 English - YouTube

VIDEO - Locked Shields: NATO holds world's largest cyber defense exercise | DW News - YouTube

VIDEO - Teargas and pan bans as Macron faces fresh pension anger ' FRANCE 24 English - YouTube

VIDEO - Florida passes bill allowing death penalty for child sexual abusers | New York Post - YouTube
Clips & Documents
Art
All Clips

+ABC ATM - anchor Andrew Dymburt - police wrong house kill man.mp3

60 mins teaser on Ray Epps special.mp3

ABC ATM - anchor Rhiannon Ally - mike lindell paying up (17sec).mp3

ABC GMA - anchor Mona Abdi (1) podcast sued over A.I. (1min18sec).mp3

ABC GMA - anchor Mona Abdi (2) A.I. -universal music group (49sec).mp3

ABC GMA - anchor Mona Abdi (3) law might not be able to keep up (13sec).mp3

ABC GMA3 - anchor Dr Jen Ashton - PFAs in our drinking water (1min27sec).mp3

ABC WNT - anchor David Muir - school bus driver 30 misdemeanors (33sec).mp3

ABC WNT - anchor Inez De La Cuetara - sudan evacuations (1min35sec).mp3

ABC WNT - anchor Kayna Whitworth - california lake tulare returns (1min50sec).mp3

ABC WNT - anchor Pierre Thomas - hunter biden (1) WH responds (1min56sec).mp3

ABC WNT - anchor Whit Johnson - covid deaths record low (15sec).mp3

ABC WNT - anchor Whit Johnson - former marine smuggling drugs (26sec).mp3

ABC WNT - anchor Whit Johnson - russian bombs own city (19sec).mp3

ABC WNT - anchor Whit Johnson - US training ukrainian troops -tanks (19sec).mp3

AI Scott pelley 3 microchips.mp3

AI Scott pelley 4 the story.mp3

AI Scott pelley 5 the poem.mp3

AI Scott pelley 5 the problem.mp3

AI Scott pelley 7 bullshit bengali.mp3

AI Scott pelley two on BARF.mp3

AI Scott pelley with Sundar 1.mp3

AI Sundar al gore rythms.mp3

Anotnio Gueterras on Earth Day - Change the Bank system WTF.mp3

Arirang News South Korea on Leaked Documents.mp3

Biden on Earth Day money and banks blah blah.mp3

CBS Evening - anchor Adriana Diaz - recent shootings (1) innocent mistakes (1min45sec).mp3

CBS Evening - anchor Catherine Herridge - hunter biden (2) blinken & morell (2min2sec).mp3

CBS Evening - anchor Chris Van Cleeve - passport problems (2min).mp3

CBS Mornings -Michelle Obama - recent shootings (3) just normal things (1min17sec).mp3

CBS Mornings -Michelle Obama - will not run for office (1min2sec).mp3

Charges against Alec Baldwin to be dropped in 'Rust' shooting - F24.mp3

CNN This Morning - Don Lemon Bill Weir - one of the answers to climate change is fake poop.mp3

Documentary filmmaker, Simon Esler on Social Contagion in film - Cut 'Daughters of the West' - Macroagressions Podcast.mp3

Earth Day 1970 with Walter Cronkite - We're all going to die.mp3

Earth Day Save the plants pbs.mp3

Earth Day Save the plants THREE.mp3

Earth Day Save the plants TWO.mp3

ELON on Tuckere summary.mp3

Gingrich on Bidens Age.mp3

HBO Bill Maher - recent shootings (2) innocent mistakes (58sec).mp3

Indiana county councilman comes out as woman of color.mp3

ISO - Alex Jones - Turn Frogs Gay .mp3

ISO confounding.mp3

ISO Holy cow.mp3

mike_morell_buy_data_use_tools.mp3

Morell left CBS a week ago podcast continues LOL.mp3

NBC - Courtney Kube - race to evacuate americans from Sudan.mp3

NBC - Hallie Jackson - IRS special agent seeks whistleblower status in Hunter Biden investigation.mp3

NBC - Jesse Kirsch - $15 million stolen from Canadian airport.mp3

NBC - Keir Simmons - China has secret police station in NYC.mp3

NBC - Ken Dilanian - intelligence leak going on longer than a year.mp3

NBC - Maya Eaglin - lab grown meat - war on chicken [1].mp3

NBC - Maya Eaglin - lab grown meat - war on chicken [2].mp3

New shit has come to light.wav

Nora on black AL shooters.mp3

NORA on new charlotteville charges.mp3

NORA on randome killings.mp3

NORA on the white shooter LAST.mp3

NPR on miller beer cans destroyed.mp3

Project Veritas undercover video of gender affirming care clinics shit sound.mp3

Rocket built on earth BBC why on earth.mp3

Slovakia bans imports of Ukrainian grain after Poland, Hungary - F24.mp3

SpaceX texas rocker issues.mp3

Strike in Canada npr.mp3

SUDAN UPDATE PBS.mp3

Teargas and pan bans as Macron faces fresh pension anger - F24.mp3

The Script - CBC's Katerina Georgieva debunks conspiracy theory of 15-minute cities.mp3

Title 42 app 2.mp3

Title 42 app.mp3

UK Phone Alerts another 'tool' for government in climate change - Deputy Prime Minister.mp3

US defense officials rally western partners to protect Ukraine DW.mp3