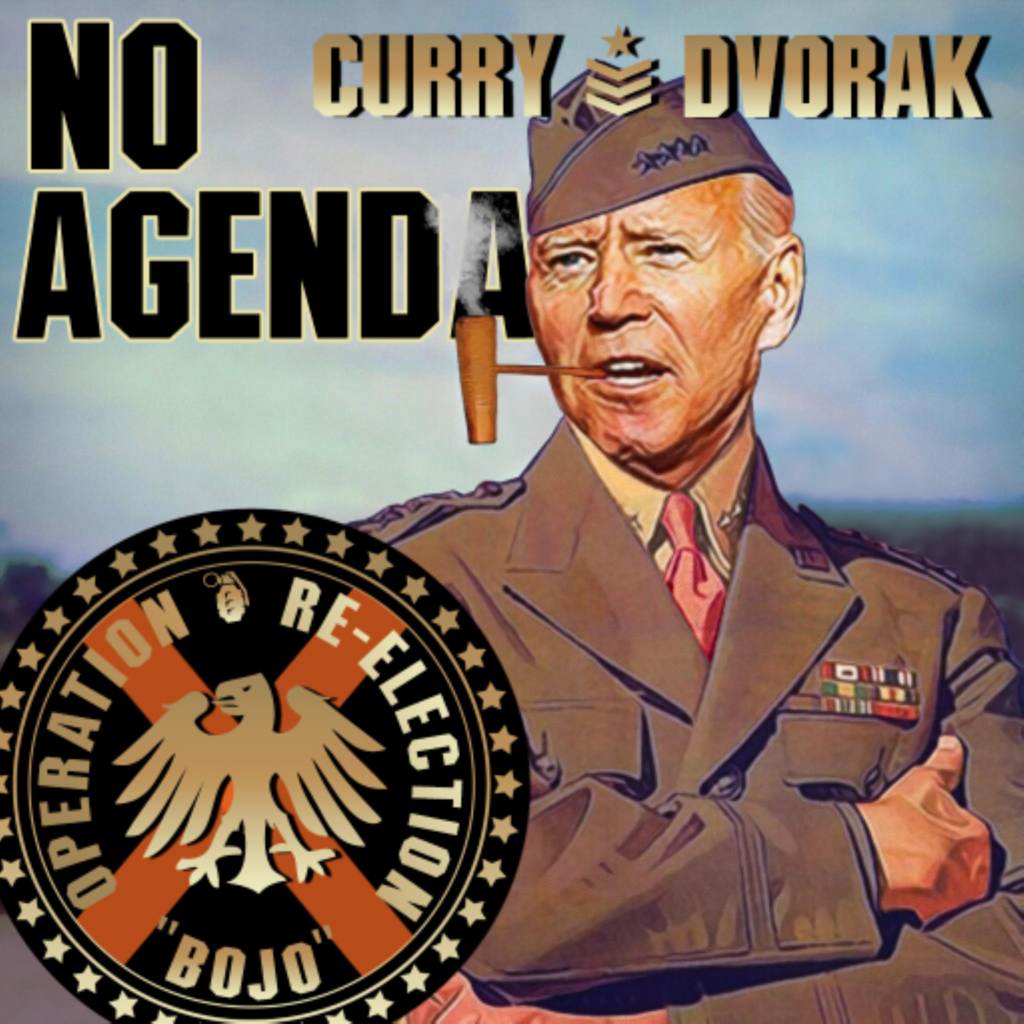 May 7th • 3h 3m
1553: Ample Bosom
Transcript
The transcripts of No Agenda are automatically generated and therefore, not fully accurate. Discretion is advised.
Click the text to start playing from that position in the show. Click the timestamp to copy a direct link to that position to your clipboard in order to propagate the formula.
John C Dvorak: boots on the ground baby.
Adam Curry: Adam curry Jhansi Devorah Davis 2023 This is your
award winning keep on Aisha media assassination episode 1553
This is no agenda back on the OTG train and broadcasting live
from the heart of the Texas hill country here in FEMA Region
number six in the morning everybody I'm Adam curry
John C Dvorak: in from Northern Silicon Valley, where we're all
congratulating Adam on his six Tony nominations. I'm John C.
Dvorak.
Adam Curry: What is this? What what Tony nomina you know, what
are you talking about? Well, ever
John C Dvorak: since you retired the MO facts show that the
Broadway play ain't no mo has gotten six Tony nominations
Adam Curry: and the show was not retired yet. We have nine more
episodes.
John C Dvorak: Oh eight no mo is something else. I knew you
didn't know this guy Jordan eight Cooper it seems unlikely
Adam Curry: you actually know what the Tony nominations are
the Chinese the Chinese Chinese the Chinese the Chinese I do. Is
any any spectacular nominations except the ain't no mo anything
else? Okay. No mo I think musics
John C Dvorak: the big one I guess there's Some Like It Hot
is going to be the take away a lot of awards. Have
Adam Curry: you seen any of these? Any of them? I haven't
John C Dvorak: been in New York to did last season, so I didn't
see any of them. i Who wants to go to New York by got me
standing in the subway tracks.
Adam Curry: Tina's going to New York to visit with her daughter
from Mother's Day.
John C Dvorak: Oh, that should be rich.
Unknown: That's supposed to me.
Adam Curry: I don't really wanna know. I don't know. But to be
honest, she's a little you know, she's a little a little anxious
about it. By the way as an adult so the most for life in Chicago.
Because what do you what do you see about New York? Nothing but
exactly what you said crap. That's true. People. You know,
John C Dvorak: Chicago, I become minuses. You must be joining the
two cities sister cities. Yeah. Yeah. Now this is not like a
problem. It's you know, you just go there and you just put up
with it.
Unknown: I know. I
John C Dvorak: we think it's like the
Adam Curry: old days. We got knights everywhere, looking out
for Meigs, all these all the all the gangsters of New York are
looking out for wishes while Dominican gangsters everybody.
No agenda. No agenda. Nation is badass. got great people. I had
a wedding yesterday. So unfortunately, I couldn't see we
got married again. I know. A friend of ours daughter got
married. And so unfortunately, I couldn't watch all of the
fabulous Proceedings of the coronation. Which I know it was
a lifetime event. There was nothing to record but I do have
some comments. Oh, I
John C Dvorak: have some clips actually. Okay, we use our
clips. All my comment is basically they had all these
marching soldiers and the guys who did read costumes and the
big hairy hats and regular soldiers. The Harrier were all
out of step and out of line and you're expected to be that I saw
some of the things was unbelievably bad. I mean, I was
like I flipped over from, you know, China TV where they're
just lockstep perfect to these guys wandering around. It was
just pathetic.
Adam Curry: I don't know if it was that bad. I did notice a
couple of guys out pretty bad. I have a highlight supercut
Unknown: God of compassion and whose son was sent not to be
served but to serve.
God save the King
William, Prince of Wales, pledged my loyalty to you, and
faith and truth I will bear on to you as your lead man of life
and limb. So help me God
received this ring, a symbol of royal dignity and a sign of the
covenant Swan this day.
Drunks to die may be a blessing to all the children of every
faith and belief that together we may discover the ways of
gentleness and be led into the paths of peace.
Adam Curry: So people kept sending me this this one
particular clip and I don't know if it's fake or or if we're just
hearing it wrong. Listen to this. This is when their work
walking into Westminster Abbey into the into the church Shut
up What do you hear them singing?
John C Dvorak: I can understand a word of it.
Adam Curry: Well I mean, it seems it seems that it must be
singing. I like vagina Camilla it that can't be right. But if
you if you
John C Dvorak: think it can't be right,
Adam Curry: but now that you've heard it, you can't unhear it.
That's the point.
John C Dvorak: Okay, play it again.
Adam Curry: I'm playing it directly from a YouTube because
I forgot the clip and just remembered. I liked the preamble
was great though. The dynamite band. Here we go
someone's got to set a straight on what the room
John C Dvorak: looks like silence Regina. I don't hear the
V.
Adam Curry: Well, when the words are on the screen, your brain
goes Oh, yeah,
John C Dvorak: well, yeah, the words are on the screen.
Adam Curry: By us vagina, I don't know. I'd like to know is
I'm sure it's Latin or something that we that just our ears
aren't attuned
John C Dvorak: to this cute tote. To catch. So
Adam Curry: you know, of course, the M five M was out in droves.
They ended up did ABC free trip? Well, I don't know if all of
them were actually out there at all. You have to turn your
speakers down just a little because people are complaining
about it now. Because hey, people stop complaining.
Unknown: The coronation concert takes place in Windsor. It's
going to be right outside the castle. There's going to be a
Union Jack shaped stage and some big stars performing. No doubt
about it. Lionel Richie will be dancing this weekend. A longtime
friend of King Charles and Chairman for the global.
Adam Curry: Lionel Richie. Anybody can get him for your
birthday. Yeah, I think he charges 200 grand. But you know,
there's lots of people get Lionel Richie. Get him. I
John C Dvorak: can't afford that.
Adam Curry: I know. But it's not like oh, this is so special.
Lionel Richie is performing at the at the coronation, who he
never performs. No, he's everywhere. Every weekend. The
guy just rakes it in. Right? He doesn't like 45 minutes. Now he
does dancing on the ceiling and the pillow and then you know
he's good to go. And then his dancing on the ceiling again.
And there was dancing in the aisles. It's beautiful. And
Chairman
Unknown: for the milk it Yes. Oh good on
ambassadors of the Prince's Trust is set to perform center
stage on
Adam Curry: when Lionel Richie was cheating on his wife and she
found out she walked in on him and then she beat him naked all
the way down the street.
John C Dvorak: And when that story I forgot about I
Adam Curry: just wanted to give everyone that visual for a
moment someday. This is history. We've known each other for a
very long time. Richie is also
Unknown: part of the exclusive guestlist to the coronation at
Westminster Abbey.
I plan on showing I'm just going to walk down and every once in a
while they'll tell me Mr. Richie just get out of the aisle. The
King has. I mean, this is just a moment. The parents have
announced a few later editions. Get out of the aisle Richie
Cruz, Nicole Scherzinger. Oh Tom Cruise wrote a few later
editions with Tom Cruise.
John C Dvorak: Tom Cruise in his busy busy schedule. He can go
welcome Joe Biden can't go no, I
Adam Curry: have an answer for that
Unknown: later editions with Tom Cruise. Nicole Scherzinger we've
got Winnie the Pooh joining zone slash China Beijing ping. We've
got Winnie the Pooh joining for his own skates is almost
reminiscent of some of those magic moments we saw during the
Platinum Jubilee. I think Charles is hoping that it'll
bring some magic to his moment too.
Adam Curry: Dead man walk I gave him two years ago this was this
was just a dress rehearsal for for William and Kate. And, you
know,
John C Dvorak: I have the same sense of this. Yeah,
Adam Curry: it feels like this is just a preamble to the real
great reset. And I don't want to be morbid about it. But I can't
help but think that it's like, you know, this guy aids. They
just gave it to him because he waited so long. And we needed to
practice because when Will and Kate when they take the throne.
It's going to be it's not going to be not my king. People will
love that. We'll have a new new lady die era in a way. Anyway,
why did Joe Biden our president now Joe Biden was there she
showed up by blood that
John C Dvorak: means the President was there. A good one.
Unknown: Questions about why President Biden is not in
attendance himself. He was asked overnight by our Stephanie rule,
here's what he had to say.
You did not go to England this weekend for the coronation?
No, I didn't. But I did speak to the king. We're going to be
going to a NATO conference in Europe. And I told him I'd stop
you there on the way over there on the way back,
John C Dvorak: how stop in
Adam Curry: how rude is that? I can't come to your party of the
century. And by the way, I heard Lionel Richie is performing. But
I wish I could. But I had him at my birthday party. So
John C Dvorak: I stopped by another trip.
Adam Curry: I'm maybe on the way back, you know, I hit you on the
rebound, Chuck. That is so insulting really is if I was
just listened to us as humans Say that again. I mean, what
happened to our special relationship? Now, are we
supposed to have a special relationship with the UK? Yeah,
it's over.
Unknown: But I did speak to the king, we're gonna be going to
NATO conference in Europe. And I told him I'd stop you there on
the way there and the way back
Adam Curry: depends on my timing, you know, I got stuff to
do very important things to do this customer
Unknown: he really is passionate about
the environment. So there you have President Biden explaining
why he's not there. And Savannah, all eyes will be on
that meeting that visit that we expect the President to have.
And one of the key themes and passions that they share is
their passion for the environment in Savannah.
Adam Curry: Oh, yes, Joe Biden's passion for the environment.
Lady and then of course we had the royal rift you know what's
gonna happen with that? Would Harry show up he do. Songs may
go home. And you know, of course they all came out on the balcony
and who's gonna stand where and all these important things.
Unknown: A lot of news that we were falling but we again this
happened Good News New whose lot of news that we were falling but
we do begin this half hour with a closer look at the Royal rift
coronation day Prince very attending his father ceremony
but relegated to the spectator role. ABCs Lama Hassan has more
more Lama
this morning all eyes on these two brothers supporting their
father, the newly unofficially minted King William and Harry
reuniting publicly for the first time since the late Queen's
funeral during the ceremony playing very different roles.
William now the first in line to the throne playing a big part,
presenting the king with the royal robes and paying homage to
him a flying visit for the prince who came on his own. His
wife Megan stayed at home to be with their kids, Harry attending
the coronation service before choosing not to have rocks and
bottles thrown out or their kids Harry attending the coronation
service before jetting off back to California to be with his own
family, making it in time for his son Archie's fourth
birthday.
The fact that she's not coming to the coronation, I think it's
probably a bit of a relief to some of the other members of the
family. They won't say that but I'm sure it will be such
Adam Curry: as the marbles in the mouth. Of course not
everybody was happy then if you weren't happy you got arrested
Unknown: 1000s of people lining the streets of London to try to
catch a glimpse of King Charles and Queen Camilla on their
coronation day. But not everybody was happy about the
event. There were anti monarchy demonstrations in some British
cities. In London several 100 protesters in Trafalgar Square
booed repeatedly during the coronation service as it relates
to crowds.
Professors also chanted slogans including not my king.
Adam Curry: No justice, no peace.
Unknown: No video footage showed several protesters dressed in T
shirts emblazoned with those words, not my king being
detained by police officers.
Adam Curry: Now this was kind of interesting. The these were
professional, professionally printed T shirts, yellow, and
professionally printed signs made to look like they were hand
drawn. I did a little examination. And they were all
paid for by labor by the Labour Party
John C Dvorak: or the Labour Party's got the upper hand I do
have a clip of the results of the local elections which is
hurting labor.
Adam Curry: And there were some problems with that too. There
were people couldn't vote. There were irregularities. Let's put
it
John C Dvorak: away anytime that the labor side of things takes
over there.
Adam Curry: irregularities happen. All right, here's, oh,
it's one of our favorites. This is in D
Unknown: the British Prime Minister Rishi Sunak
Conservative Party is facing a bleak set of local election
results today. Voters turn away from his party amid surging
inflation and stagnant economic growth.
But what I am going to carry on doing is delivering on the
people's priorities. Having inflation growing the economy
reducing debt cutting waiting list and stopping the boats.
That's what people want us to do. That's what I'm going to
keep doing
Adam Curry: Making the vote either that or stopping the boat
what sounded like stopping the vote
Unknown: is delivering on the people's priorities. Having
inflation growing the economy reducing debt cutting waiting
list and stopping the boats. That's what people want us to
do. That's stopping the
Adam Curry: boats, stopping the boats, the boats with the
immigrants stopping the boats. That's what people want. They
don't want to stop the boat and
Unknown: the boats. That's what people want us to do. That's
what I'm gonna keep hard to
do. And make no mistake. We are on course for a labour majority
at the next general election.
The results show the conservative net loss of about
460 seats Wow. The main opposition Labour Party added
about 260 seats and the Liberal Democrats gained about 140
seats. Sunak said local elections results so far showed
that people wanted his ruling party to deliver on their
priorities. opposition Labour Party leaders cure Sturmer says
the Labour Party is on course for a majority at the next
general election. He describes tonight's party as the problem,
not the solution.
John C Dvorak: Yeah, they're out.
Adam Curry: So there were a couple of interesting people at
the stunner of of the coronation was Penny MorDaunt MorDaunt
Penny MorDaunt. I'm not quite sure how to pronounce it. She
now she was Liz trust as leader of the House of Commons. And I'm
not quite sure what her position is now but she got to carry I
guess she's the president of the Privy Council. The Privy Council
John C Dvorak: which we've talked about the Privy Council
before Privy Council again this eventually is a drinking club
now Can't you guys into was the EVO meeting everyone's
underwhelming? Well,
Adam Curry: she got the she got to carry the sword King Charles
is priceless sword made for George the fourth 1821
coronation, but it was what she was wearing.
John C Dvorak: I think he's got the world's biggest diamond in
it.
Adam Curry: Is that in the shorter I know that?
John C Dvorak: I think it's in his TED tip of the sword. I
watch one hold KQED special and all the jewels.
Adam Curry: Yeah, I know Africa wants their diamond back.
Something someone in
John C Dvorak: Africa that everybody wants stuff back.
Yeah.
Adam Curry: Anyway, so she she's wearing this blue outfit, which
was I mean, it really showcase her ample bosom. I'm just
reading was one way of putting it and reading what the British
press is saying but
John C Dvorak: we got to start using that term.
Adam Curry: So Shocking. Shocking. I tell you, there was
a couple of observations want that? I'm sure I'm sure that
it's that these colors are are meant to be. But did you notice
that the floor of Westminster that yellow and blue which
whether it's intended or not is subliminal for Ukraine? was kind
of odd. I don't know why the yellow and blue I didn't look
into it. But I couldn't help another day
John C Dvorak: clean the thing recently to an extreme to get
all the colors back up.
Adam Curry: But are those are those two carpets there? I mean,
is that is that the color carpet for the day? Have
John C Dvorak: you thought it was the tiles?
Adam Curry: I thought it was carpet will be yellow and it
must be it must signify something the blue of the ample
bosom lady had the blue your coronation carpet rose resembles
Ukrainian flag this is from the telegraph. Some of oh I'm not
alone. Oh, this was the theme some of the guests including us
first lady Joe Biden also wore yellow and blue as they arrived.
John C Dvorak: Ah, it's a setup. It sure sounds
Adam Curry: like it stinks. I don't know if that was if that's
That's very odd. I don't see any any other reason for it. That is
head yellow and blue carpets and everyone's remarking
John C Dvorak: they're celebrating Sweden.
Adam Curry: Doubtful. And then and one of the others several
people pointed out to me is the ghoulish figure
John C Dvorak: Oh, it couldn't be the rug is from IKEA. Yeah.
Unknown: Yes, sorry. Yeah, that
Adam Curry: was like that. That's three sided thing they
had to put together from Ikea as well. You know, the that hides
the chair or whatever. Are the secret stuff that Charles is
doing behind it. Did you see the hooded ghoul? No, I did
John C Dvorak: not see the hooded ghoul. You've gotta look
it up. Was it so Zelinsky was there.
Adam Curry: So all of a sudden you see behind the arch as
people have already come through the arch you see? Almost like
what's the guy with the with the with the death?
John C Dvorak: The Grim Reaper,
Adam Curry: Grim Reaper thank you that guy. He's a hooded
ghoul, just like the Grim Reaper with a long cane. Like in front
of him and just like walks from one side of the arch to the
other. It was very odd. I mean, I maybe it was a janitorial
service, but it was was it was it was injured? You should look
that up, but I put it in the in the show notes. It's very
interesting to see the hooded ghoul hooded ghoul. Yeah. So I
think that's kind of kind of all that we had to say. I think we
covered it. Yeah, pretty much I'm, I'm happy for for King
Charles, you know, but it's still it's so the whole thing is
so odd. It's really, really strange justice
John C Dvorak: to the interesting tweets. I've made
this observation. They had they spent a lot of time on these
different overnight channels that were playing this thing
live. And they had a lot of trying to humanize him. And they
went out of their way to humanize him. He was a comedian
and he did a bunch of jokes when he was young, high school, he
was in a play when he could have been an actor. Sure. And you go
on and on with all his humanization and I'm thinking
when did they ever start? Isn't the idea of a monarch and that
whole kind of thing is something that's that's Supra Cumin is not
above human yes above, above human, it's not you're not
supposed to humanize them and bring him down to the level of
the of the of the people.
Adam Curry: Yes, I think you're right. He also becomes the the
head of the Church of England, which I think is supposed to
supersede the pope somehow. Your net blood
John C Dvorak: in England. Yeah, in England,
Adam Curry: exactly. In England.
John C Dvorak: So I find that peculiar, because it seems that
you don't you want to make him rise above not, Brett drag him
down and they were doing everything they could. And it
seemed as though is that PR woman? That PR woman who is
trying to get to you know, he's a man of the people. He
understands the poor lab, bla bla bla boss bullcrap. And when
I think that if you're going to be in a monarchy system, you
don't want to degrade your monarch. No, but once you push
him in the other direction, I don't get it.
Adam Curry: Well, you're supposed to go the other way.
You're supposed to be awesome, like the queen. And then and
then then you put on your wellies and you go out in the
flood. And then you are
John C Dvorak: dead baffles me. Why would you want that? I don't
want my king in the flood. That's that's the British thing.
He just got washed away. What was he doing there? What an
idiot.
Adam Curry: You know, there are I'm sure we have some listeners
who actually like this stuff. You know,
John C Dvorak: there are more anarchist type people. And I
would like them to explain to me my complaint, which is why are
they trying to drag the king down to the level of the of the
impoverished? He's a king. He's moody and he should be above it
all. It should be seen as, you know, a Supra. The good word
human.
Adam Curry: Yeah, I'm with you. I don't know. I mean, usually
they do that after a while, you know, but again, I'm sorry. I
just don't feel like this is gonna last very long. I just
don't feel like it's gonna last long for Charles. VO William and
Kate. They be even I would watch William and Kate's coronation
you have that'll be that'd be fun. Then you're gonna have all
of Hollywood coming. You know it. That'll be a super party.
Lionel Richie gets back seat for that, you know, we bring out the
hot people, the new ones, the big stars.
John C Dvorak: The big stars like Lizzo.
Adam Curry: Boy, you're on a roll today. And I want to talk
about Ukraine and Russia because there's a lot going on there.
And we have an ongoing discussion over the future of
the war. I am of the opinion that the war is ending. We need
to stop this as soon as possible and focus all of our purchasing
and sales, mainly sales, although Military Industrial
Complex likes to sell to us to the people so we buy it. But
also to Taiwan. They just recently had a big sale there. A
was a pre sale, a trunk sale, when we sold them some f6 teens
the biggest sale so far of the year, and that's where that's
where all the big money is. And you believe with some merit, I
will say not completely baseless that Joe Biden will do anything
he can to get boots on the ground to secure his presidency,
which he has now announced or he's running for. For President
again. He's announced it announced.
John C Dvorak: Oh, yeah, he knows he knows and that was a
video that crappy video that was he couldn't even get through it.
Now. They cut it and cut it in Kaduna. When they said it was
like 100 cuts. Death by 100. Cuts.
Adam Curry: Yeah. Do you have a clip of that? No, we
John C Dvorak: played it already on the show. No. Okay.
Adam Curry: Let's go to CBS Nora O'Donnell.
Unknown: Russian authorities today are blaming the United
States for an alleged assassination attempt on
Vladimir Putin. The Biden administration calls Russia's
nuclear What
Adam Curry: does she say?
Unknown: That right the beginning Russian authorities
blaming the United States for an alleged assassination attempt on
Vladimir Putin. The Biden administration calls Russia's
nuclear In Ludicrous mode and National Security Council,
Adam Curry: did you hear the infamous nor the emphasis nor
put on that? ludicrous.
John C Dvorak: This is your promise she's gonna get fired
because she can't seem to keep herself out of the reporting.
It's odd. If I was being executive mode, polar polar
aside, I'd say, a blurry aside say, Hey, knock that off and
smile more. The Biden ministers are very good, charming smile. I
don't know why she doesn't use it more she does at the end of
the show. Yeah, here we go.
Unknown: Russian authorities today are blaming the United
States for an alleged assassination attempt on
Vladimir Putin. The Biden administration calls Russia's
new claim ludicrous. National Security Council Spokesman John
Kirby says the Kremlin is lying. There are questions from the
United States on if there even was an attack with Russia's
president as the target. Ukraine says Russia staged the whole
thing. Overnight, several Ukrainian cities were attacked
by drones.
Adam Curry: I love this. I love that just throw away Oh, several
Ukrainian cities were attacked by drones. What kind of drones
Reaper drones are we talking to all these little little bitty
ones with a bomb attached cardboard drones, which turns
out most of those are made in Australia, the cardboard ones.
And as far as I can tell, the only the Ukrainians have the
little the little remote control plane drones. I don't think
Russia uses those. So when she says several Ukrainian cities
were no information.
John C Dvorak: There's enough information to hold that bid
report.
Adam Curry: Information hole. Let's try ABC
Unknown: Russia tonight hurling new threats aimed at the US, the
Deputy Foreign Minister wanting their quote on the verge of an
open armed conflict with the United States.
Adam Curry: What are we on the verge of an open art? Whatever
that means is our reporting.
John C Dvorak: Yes, our reporting because we are on the
verge of sending troops. Now I'm going to refute this later,
Unknown: Russia tonight hurling news at the US. The deputy
foreign minister wanting their quote on the verge of an open
armed conflict with the United States again claiming Ukraine
carried out a drone attack on the Kremlin Wednesday,
attempting to assassinate Russian President Vladimir Putin
at the direction of the US White House Spokesman John Kirby
firmly denying the allegations that the US was involved as
quote, a blatant lie still Russia warning of possible
retaliation, saying it will respond when and wherever it
sees fit on the battlefield. nightmarish new video reportedly
showing Russian incendiary bombs burning in a Ukrainian held
pocket of Bach moot and the potentially major development on
that battlefield today. The head of Moscow's Wagner mercenary
group says he's pulling his troops out of the eastern
Ukrainian city because they're not being supplied with enough
ammunition. In a video statement, you have guinea pig
goes in calling his Russian leadership coward and saying his
troops will leave Baku next week on May 10. Western officials say
half of the 20,000 Russian troops killed in Ukraine since
December. We're Wagner fighters and Buck moves.
John C Dvorak: Okay, that's not the I think they really miss
reported that story. Okay. He said he would. He didn't say he
will. He was very vague. Here's how I got to one clip from MTD.
The Wagner group guy is irked.
Unknown: Yeah, Turning now to the Ukraine war. The leader of
Russia's Wagner group mercenary force said today that his forces
would leave the Ukrainian city of BOC mode. Russia has been
trying to capture the city since last summer.
Must beside you to note that we were put on what's known as
artificial ammunition deficit, ammunition hunger. The
ammunition is freely available in the depot's we were receiving
only 30% of what we needed. For that reason, our losses were
significantly higher than they should have been.
Prigogine said they would pull back on May 10. Yes defense
chiefs to insert regular army troops in their place. Wagner
has been spearheading Russia's long and costly attempt to
capture Buck mode. Provision said three weeks ago that his
men controlled more than 80% of the city, but Ukrainian
defenders have held out and perversion has vented increasing
anger and what he describes as a lack of support from the Russian
defense establishment. Back mode has taken on huge symbolic
importance for both sides because of the sheer intensity
and duration of the fighting there.
Adam Curry: You know, we really haven't gotten a good background
on the Bogner group and why they're there. This
John C Dvorak: is good point.
Adam Curry: I mean, also Joe Wagner group Wagner group as
kind of like academy or Blackwater, formerly known as
Blackwater. Is that Is that what I'm supposed to think of the
Wagner group and the Wagner group that day? They just
they're like a fair weather friend. Oh, you don't give us
bullets? We go somewhere else. I'm angry. And who cares? I
mean, is that all the brush? It just sounds like that's all that
Russia has. Is the Wagner group.
John C Dvorak: Yeah, I don't think fishy about this Wagner.
Wagner to evade Wagner Wagner Wagner budgets.
Adam Curry: And all of that just seems moot compared to this next
story covered by both ABC and NPR. Now, the Patriot missiles,
which several European countries have given their Patriot
missiles, we've given our Patriot missile banks. What do
we know about the Patriot missiles? Are they Great? Are
they effective?
John C Dvorak: They're considered lousy and they don't
work.
Adam Curry: Well. Listen to this story.
Unknown: New images capturing the battle for Ukraine unfolding
in the skies over key. Countries Air Force tonight with a
spectacular claim that for the first time, they've shot down a
Russian hypersonic missile which Vladimir Putin once called
invincible with an American made Patriot missile system. The
Russian hypersonic known as the Kinzel can travel at more than
five times the speed of sound and has a range of over 1000
miles. Ukraine only recently deployed the Patriot the most
technologically advanced and costly air defense system in the
world, each Patriot missile almost $3 million. But the
Patriots ability to shoot down a hypersonic missile has never
been publicly demonstrated.
Adam Curry: I have my doubts about
John C Dvorak: boy, do you because I do I have my doubts
about the pace sounds like full crab hybrid missile to Tory's
notorious dog at 3 million bucks a pop costly is the word he
used.
Adam Curry: We also don't know if this Russian missile is
actually high restaurant so who knows what that was? Is it
possible I'm just gonna throw this out? Somebody's going
John C Dvorak: five over 5000 miles an hour or 44,000 to 5000
miles an hour?
Adam Curry: I don't think so. Not not not at that altitude.
Oh, it would burn I wish I could. Is it possible this is
all just a wag the dog
John C Dvorak: media war I think I think this this last thing
wasn't a wag the dog thing it was let's sell some more
patriots to some other
Adam Curry: suckers. Well, let's listen to NPR. Is it on the sale
Unknown: overseas? Ukraine says it used a newly acquired us
Patriot missile battery to shut down a Russian hybrid.
Adam Curry: I gotta read something from the troll room.
All right, wasn't it Ice Cube. If the hypersonic missiles not
very maneuverable than the patriot has a chance with a
software upgrade, please. I think it'd be a firmware
upgrade, not a software upgrade. Now we could get your hypersonic
missile just let me upgrade the firmware. Ya know
Unknown: overseas Ukraine says it used a newly acquired us
Patriot missile battery to shoot down a Russian hypersonic weapon
over the capital of Kiva last week. Newman has more
attacks on Ukraine in recent months, Russia has increasingly
employed one of its latest high tech missiles, the Kensal or
dagger, traveling it up to 10 times the speed of sound. The
missile had proved nearly impossible to intercept but
Ukraine's Air Force
John C Dvorak: when would they when was it tested against
interception? I don't know they've been firing these things
off left and right and they've been impossible to intercept I
don't know sounds like I by the way have the sales pitch that
they didn't use the guy with this thought with the software
upgrade the new Patriot missile beat got the hypersonic missile
using AI
Adam Curry: ah yes what are we thinking people crew Devora
consulting group to the rescue once again. Yes, we have this is
your soul right? These guys are behind the times Military
Industrial Complex hire us. We will help you this is exactly
right. The new Patriot Yeah, so we go now to general DeVore. AK
was going to explain how how was possible for this. For this
Patriot missile, often known as the dog of war, to actually
intercept the hatchet whatever it was called the
John C Dvorak: the harrow comes down Yeah, well, the AI which is
stands for artificial intelligence can tell you can
adjust the sighting and targeting so far in advance that
before the missile is actually launched by the Russians, it
will know where it's going to go.
Adam Curry: So the dagger the dagger, I'm sorry, the dagger?
Yeah, we shoot the dagger. We're not afraid of your dagger,
Russia, we've got Patriot AI,
Unknown: traveling it up to 10 times the speed of sound. The
missile had proved nearly impossible to intercept. But
Ukraine's Air Force armed with us supplied Patriot missiles
that arrived last month says it destroyed a Kensal during a
Russian strike on Kyiv earlier this week, it's thought to be
the first time Ukraine has managed to intercept a Russian
hypersonic missile. In October the US agreed to supply patriots
to Ukraine to aid in defending its skies against the Kremlin's
air and missile attacks.
Adam Curry: Yet there's a drone late yet there's drones
attacking multiple cities in in Ukraine and they can't stop
John C Dvorak: you can't stop dos Santos you know, and that
might understand the most of the missiles that were hitting
Ukraine overtime or cruise missiles, not this crazy
hypersonic thing? Well, well, I mean, was there any evidence
that they were being pounded by these things in the past? I
don't know this, but we
Adam Curry: know why this is a story. Because we need to
develop hypersonic missiles. That's the whole
John C Dvorak: money there. Yeah, you're
Adam Curry: right. You know, so we need
John C Dvorak: but then again, if the, if the Patriot can bring
him down, you know, maybe we're gonna do hyper hypersonic.
Adam Curry: And we were talking about the just war. Now they
call the this in Ukraine, the you know, it's not a just war.
This comes from its military ethics, just war theory. There's
a whole Wikipedia page on it. Which has been studied by
military leaders, theologians, ethicist and policymakers,
consultants. It's doctrine to ensure that a war is morally
justifiable through a series of criteria, all of which must be
met for war to be considered considered just juice ad bellum.
The right to go war? And of course, this comes from ancient
Egypt and then route the I mean, he hard was a joke. Used to blow
I agree. I agree. They heard from our constitutional law
professor JJ, he says the war of aggression in international law,
which I'm like, show me their international law book. We sent
me stuff but it was not an it'll not it's not a book that says
this is international law, because that just doesn't exist.
The Supreme crimes, supreme crime is a war of aggression.
That means an unprovoked attack, such as the primary charge
against heads of Germany and Japan after World War Two.
John C Dvorak: You mean, all those provoked attacks?
Adam Curry: Yeah. Well, well, Jeff. But I mean, that that just
defining it. But of course, it's, you know, there was a lot
of
John C Dvorak: a lot of problem the attack on Pearl Harbor was
provoked.
Adam Curry: Of course. It was, in fact provoked. Yeah, it was
tell people.
John C Dvorak: It doesn't mean that wasn't chickenshit tell us
how it was provoked. What was provoked because we did cut off
all kinds of weak trade we had to we got into a trade war for
all practical purposes with Japan. Exactly. And we
specifically we provoked them. Yeah. And I would say the word
cutting them off here and there cutting them off at the knees
here and there, what you're trying to do to China, and it
provoked him. And so they, you know, joined forces with the,
with the Nazis and got us into the war by bombing Pearl Harbor,
which we some people believe was, I think, was some
justification that we knew it was coming
Adam Curry: so that we could get into the war
John C Dvorak: sounds and that's why we moved all our big
carriers. We left all the junky boats behind, move the big
carriers off the road by just coincidence. Luckily, our big
carriers weren't anywhere near the place. That's a lucky
coincidence.
Adam Curry: That part of the story is not told in the Pacific
War Museum here in Fredericksburg. And it's in
John C Dvorak: the red that the carriers are moved out of the
way No, no is not
Adam Curry: told, not told. It's, by the way, that's a
dynamite Museum. If you ever want to see it's just a credit
Museum, the Pacific War Museum in Fredericksburg because of
course, Admiral Nimitz, grew up in Fredericksburg. And the
Nimitz was a huge aircraft carrier that won the war for our
boys so
John C Dvorak: Nimitz would name is home was like I say won the
Pacific War by himself on
Adam Curry: just him him and his, his pipe, his buddy and his
buddies. So an apple bomb and do you have anything on Ukraine any
other stuff before I go on? And blow you out of the water?
John C Dvorak: Yeah, it's funny when you ask knowing you have to
listen you see nothing
Adam Curry: I do. I rarely look at your list. I mean, I don't
really care. Sweetie, you know I mean, I'm not supposed to I'm
not spying
John C Dvorak: I guess the wagon or group guy thought I had some
Ukraine clips. I think I have some leftover of Nope, I use
them all. No, we're good to go.
Adam Curry: So Anne Applebaum. Is she's kind of a media darling
of of this war.
John C Dvorak: Yeah, we have to revisit who she is because every
time I look her up every so often and every time I hear her
name, as she's spoke of some sort or she's an Asian
provocateur, she's I don't know what she is. And every night
then I forget about her completely and then you bring
her up again and I have to be reminded who she is
Adam Curry: because she keeps popping up everywhere as the
expert now of course she writes for The Atlantic currently but
ah, no attic she is Polish American. So you know she's so
she's been very involved in this because, you know, she's
actually no young I'm in Poland and her aid isn't her husband or
her boyfriend. He was the guy that when, when they when we
blew up the Nord Stream he he said thanks America or some I'm
paraphrasing thanks America Good job everybody. Reading from her
Wikipedia page. She has written extensively about the history of
communism so that she would be a trans Maoist, she would be part
of the system trying to drive us into communism. She's worked at
the economist, a spectator, a member of the editorial board of
the Washington Post, she won the pure the coveted pure surprise
for general nonfiction for gulag, a history published in
2004, staff writer for Atlantic senior fellow at the Agora
Institute, Johns Hopkins, a Johns Hopkins University School
of Advanced International Studies. Yeah, I'd say spook,
oh, Sidwell and friends.
John C Dvorak: She think Wait, I got another one as well. Yeah.
She spent the summer in Leningrad. Yes, she did. But
what she has written.
Adam Curry: Sidwell Friends School is where all the spook
children go to including my cousin's. Oh, okay. So that's a
giveaway and she's Phi Beta Kappa
John C Dvorak: is not a dummy, which is spooks love Phi Beta
Kappa, and
Adam Curry: in 1989, just by coincidence, she drove from
Warsaw to Berlin to report on the collapse of the Berlin Wall.
Anyway, yeah, this girl is connected. And she has been
writing a lot about Russia. I think she'd St. Anthony's
John C Dvorak: College, Oxford to me, she's probably a Rhodes
dealer soon. Who knows.
Adam Curry: She has been writing about Russia since the early
1990s and 2000. She described the links between the den new
new President of Russia Vladimir Putin, with former Soviet leader
Yuri on drop off and rip off the former can drop off and drop and
drop them off. In 2000, he began speaking about Putin ism as an
anti democratic NISM Okay, write that down if we ever use that as
a title. Nope. ism.
John C Dvorak: Don't care for it. So she she like ample bosom
is better.
Adam Curry: How do you spell it spell bosom?
John C Dvorak: Pos O M
Adam Curry: ample bosom? Okay. So she's she's, she's an
activist. She's not
John C Dvorak: whether or not she's writing all this materials
and other question because we know that the agencies plural,
plenty of writers and crank listen, I feel bad for these
guys who write for somebody else and then their name is narrowed
Manchester's
Adam Curry: member of Congress ghost writer, member of Council
on Foreign Relations. I am on the board of the National
Endowment for Democracy, which is a huge NGO funding out
outfit. Yeah, we should get money from them. Good luck,
member of the Institute for war and peace reportings,
international board of directors. Is that Amy's outfit?
I don't think so. But she's just the War and Peace Report. Senior
adjunct Fellow at the Center for European Policy Analysis spook
outfit led a major initiative aimed at countering Russian
disinformation in Central and Eastern Europe. Okay, you get
the idea.
John C Dvorak: Yeah, she's so she's like, holy moly.
Adam Curry: Yeah. So she's tied in, she's clued in she knows
what's going on. And as usual,
John C Dvorak: and her spouse is this guy, who is Rattus law
Sikorski, a Polish politician and journalist is a member of
the European Parliament, Parliament. And here's some some
other things he's Polish he's real polish, and she's got a new
book out of course she doesn't crank those books out we're not
doing any work
Adam Curry: the twilight of democracy explains with
electrifying clarity why some of her contemporaries have
abandoned liberal democratic ideas in favor of strong man
cults nationalist movements, or one party states
John C Dvorak: surely this named people that have gone for that
Adam Curry: I'm not gonna I'm just reading from her blurb
blurb that she to help man Stalin's war on Ukraine she she
knows it all. She she knows it all. Okay, so we've established
what she is and who she is what she does,
John C Dvorak: and every we have to do this over and over again,
she's she's the perfect and an apple bombs or name. Okay?
Adam Curry: What Sure. Oh,
John C Dvorak: well, you know, the CIA read names everybody, is
something you're saying if you're gonna start renaming
people with some phony baloney names, I think an apple bomb is
pretty good choice.
Adam Curry: Let's see. Oh, and her most recent article in The
Atlantic. Is was May 1. The Case for Tow to liberation of
Ukraine, Russia must be expelled from all of Ukraine's territory,
including Crimea. So this is what she may be writing and
saying, you know, for all of her Washington, DC hoity toity
people but as we know, if you put any of these, any of these
intellectuals, anybody really reporter, he put them on a
podcast what happens? They talk or they speak out of turn. They
say too much. They say way too much. And wouldn't you know it?
She was on the pivot podcast, which is the award winning
technology podcast that doesn't really talk about technology
with your favorite of mine, Kara Swisher, and the Professor G.
Scott Galloway. And they asked her specifically about ending
the war in Ukraine,
Unknown: as I said, I think that they're the counter offensive is
might not look like what we think it would look like. I
mean, it may not be kind of brigade.
John C Dvorak: What they've been talking about this counter
offensive, and so she's been a spokesperson for who knows who.
And she says, hey, you know, it's not gonna look like we
think, which means is not either not going to happen, or it's a
huge dud or some something's wrong,
Unknown: it's better look like what we think it would look
like. I mean, it may not be kind of brigades of tanks, you know,
streaming across the countryside. It may come in fits
and starts. So there may be, as I said, I think the Ukrainian
Adam Curry: you can be Go ahead.
John C Dvorak: How does she know any of this?
Adam Curry: She's boots on the ground.
John C Dvorak: Defense Department. She is EIA, what's
the deal? She's
Adam Curry: everything she knows what's going on. This is this is
what's so beautiful about the podcast. Below she think, Oh,
I'm just gonna chat with with Kara and Scott the way we do it
at the club, head, the lip Joe club, we're just going to talk a
little bit and because you know, this is how they talk, when
they're on the phone. She's forgetting that people listen to
the podcast, she's very different when she's on MSNBC,
or CNN or even one of the weather networks. She's an
official, she's that she is a spokes hole for what's going on.
She's written the book,
Unknown: it may come in fits and starts, she's a patriot. So
there may be, as I said, I think the Ukrainians are going to be
probing up and down the line. They're going to be looking for
political opportunities, as well as military opportunities.
They're, they're what part of their goal is to kind of
destabilize the Kremlin, as we've already discussed, and,
and create a sense in Russia that just that the war is a
waste of time. And
Adam Curry: this is very important, because this is what
she's part of, is these groups that go in and do subversive
stuff in a country to chant, you know, coup, basically color
revolution. And they have had in their mind for the longest time,
if only we can get Vladimir Putin to be thrown out by his
own people. This is what they really want. But you know, Putin
throughout all the NGOs funded by USA ID he saw it come and he
saw it. And what was that in 2015? Or something he
John C Dvorak: saw was a while ago, they can't touch him. Yeah.
So
Adam Curry: but you know, so anyway, this is what the
Ukrainians are now going to do.
Unknown: And if destabilize the Kremlin, as we've already
discussed, and, and create a sense in Russia that, you know,
just that the war is a waste of time and a waste of energy. And
it's an it's an it should be stopped.
Adam Curry: But that sounds like a plan. Yeah, let's convince to
Putin isn't that it's a waste of time. Should you just
Unknown: remember, they don't need to occupy Moscow or conquer
Moscow or take Russian territory, they have no
ambitions like that. All they have to do is convince the
Russians, you know, to go home. And really the moment the moment
when the Russians withdraw their troops, the war's over, you
know, since it can, so there's no complicated, you know,
territorial negotiation. There's nothing complex that needs to be
done. They just need to leave and then it's over. But they're
not going to leave. Right. They're not willing. I mean,
Adam Curry: they have left such a probing question, Kara,
Swisher? Well, well,
Unknown: Plex that needs to be done. They just need to leave
and then it's over. But they're not going to leave. Right.
They're not willing.
I mean, they have left, they left Pearson, they left arkiv.
And they left, you know, the northern part of Ukraine that
they conquered the beginning of the war. So there's some
precedent for thinking they could leave.
Adam Curry: So what if they just left back moot? Then they could,
Oh, it's over. They left. Maybe that's why all this focus is on
that right now. Maybe this is the Wagner group's job, because
they're fairweather friends, by all we give up. We have no
support. There's not that we're leaving. And then then they
could clear victory. I mean, we still have to prosecute Vladimir
Putin at the International Criminal Court. But that would
be one area. She's definitely backpedaling on the war aspect
of it. Oh, I don't want to have to convince the people of the
Russia to tell Vladimir Putin it's a waste of time. He just
needs to pull out and then it's over the war's over done. That's
what I heard from Anne Applebaum. Did you hear that?
John C Dvorak: I heard that. The Ukrainians have got nothing.
That's why there's not going to be a counter offensive, which
they've been putting off. It seems to me an awful long time.
But your thesis because of the it's possible that his Wagner
group guy who's out and notorious for being a blowhard,
according to other reports, may you might be right, he may be
setting it up for this withdrawal. And in the Russians.
For one thing, they're leaving a mess.
Adam Curry: Yeah, for sure.
John C Dvorak: I mean, it's the areas that the Russians are
dicking around and are, are messed up. And they've killed a
lot of people. Yes, a
Adam Curry: very bad day for Ukrainians. They're
John C Dvorak: so bad day. And so well, let me give you some
you know what they could do? I
Adam Curry: mean, let me let me give you a little more, because
this was a long interview.
John C Dvorak: I'm all ears here.
Adam Curry: So now listen to this, about the US is support in
all of this, what do we really want to have happen
Unknown: to how would you assess the West?
Adam Curry: Well, I'm Bob Scott.
Unknown: Bomer, Professor of Marketing. I'm a professor of
marketing at NYU, and I'm going to talk more now with you.
How would you assess the West's support for Ukraine? And
Adam Curry: what what are your views on on? Do you have a
message for for the West? Do you have a message? Can you give us
the CIA's message and Ukraine and what what are your views on
Do you have a message for for the West,
Unknown: so it's really impressive what we've done so
far, and it's a lot more than anybody had ever expected. And
it's that's also a reflection of the fact that Ukrainians just
impressed people, you know, Solinsky was good at
communicating. But it wasn't just him. It was the, you know,
the, you know, the Ukrainians fought back, you know, and
Marielle. Paul, for example, the very good, you know, early part
of the war and kids. And because of that, the nice is rub
John C Dvorak: alized.
Adam Curry: We continue, oh, Paul,
Unknown: for example, let's
Adam Curry: go back to it on that one indicating, but
Unknown: it wasn't just him. It was the, you know, the
Ukrainians fought back, you know, at Marielle pole, for
example, at the very early part of the war. And he is, and
because I
Adam Curry: did you hear what I just heard, I didn't hear this
before. Did you hear what I just heard? She said, Kyiv? She said
Kyiv? Maybe she's a double agent.
John C Dvorak: You know, I, I wonder about when you talk to
people from the area, they say you can pronounce it either way.
It's no big deal. But we've been known as a key reason and the
only inundated by saying Kyiv it could be a part of the milieu
she's
Adam Curry: in. Yeah, Russian KGB, I think she's a
John C Dvorak: CIA may be calling it killer. Oh,
Adam Curry: good. One,
Unknown: Ukrainians fought back, you know, in Marielle. Paul, for
example, at the very early part of the war, and he is, and
because of that you've had this galvanizing effect on Europe on
America, you know, and our willingness to give them weapons
and help them is extraordinary. I would say one thing, which is
that we always seem to be kind of three or four beats behind
the situation. You know, eventually we will give them you
know, we said we wouldn't give them high marzi, these long
range missiles, long range artillery, you know, and then we
did, you know, we've said we wouldn't give them airplanes,
and now actually, they're beginning to get some airplanes
from, from European countries. And we may eventually do that,
too. And it would help if we would give them more
immediately, because then we could maybe end the war more
quickly. I mean, the danger of this war, obviously, is that it
drags on, which is not good for them, not good for us not good
for anybody, and having a decisive plan to end it, you
know, soon isn't something super decisive plan to end it, you
know, soon isn't something I'm feeling from Washington. I mean,
Washington remains in Washington meeting in the White House
dependent on lots of different people remains nervous about the
idea that the Ukrainians could win in other words, could push
the Russians out of at least their territory since February
22. Taken since February 2022. But in more than that February
in territory taken since 2014. And there seems to be there's
there's still a lot of nervousness and I think that
that's that's been a kind of drag on the war. And there's a
danger that that nervousness could extend the war. So they
don't want them to win too much. They just want them to take they
seem to not they nobody says it quite like that. Nobody will
ever say that. on the record, you know, even off the record,
they don't really say that
Adam Curry: except on our podcast your dog's Stupid woman
Unknown: to take. They seem to not that nobody says it quite
like that. Nobody will ever say that on the record, you know,
even off the record, they don't really say that. But yeah, it's
pretty clear that they are there. They're nervous about
what that would mean. And I think that's wrong because again
for now, I think I said this to another time it's a it's a
political struggle as well as a military one and the Russians
have to be convinced that they can't win and that there's no
opportunity for them to win.
Adam Curry: That's you said a lot there. And I think go either
my way or your way what I heard her say was, they want them to
win but let's not drag this out and try and get Crimea back.
That's what I hear. What did you hear?
John C Dvorak: boots on the ground baby? Gum and that's
possible.
Adam Curry: It's possible. It's possible I think it could go
either way. But I just like how podcasts are beautiful, please.
And I love hearing this on the number one award winning tech
podcast that's what I love so much about it. It's just
John C Dvorak: there ever been any tech discussed on this award
winning tech podcast
Adam Curry: all the time? It's mainly a cara and Scott get
Professor G's hatred of Elon Musk that is the extent of tech
that they discuss. That's really it. That's all they do.
John C Dvorak: Well, as long as they win awards,
Adam Curry: and abroad, they're very very, very happy about
their award. They think they're great.
John C Dvorak: Who they get an award from.
Adam Curry: Oh, it's like a it was a big award like the
webisodes are one of those
John C Dvorak: Oh, webby.
Adam Curry: Yeah. webby. Have you ever won a Webby?
John C Dvorak: No, only really, we had a woman who started the
web. He's on the old silicon spin show. She was actually part
of, I think she worked at Tech TV for a while. And very nice,
nice, nice girl who was kind of a pretty blonde that was kind of
like over over made up or quite attractive. And in a funny kind
of a high schoolish way then one of the girls that was also a
staffer knew her in high school. And she was one of those good
looking Mean Girls, where we had, and she was she hated her.
And I said, well, she's nice, and she was good on the show.
She's very charming, charming, sharp, and inventive, and can
manage to make these webs work. I was very impressed by her. Let
me say number name.
Adam Curry: It's, I know the guy who produces that friend of mine
actually produces the award show itself and he's not cheap. He
does very, very expensive stuff. I'm trying to find this award
that they want I can't seem to find it.
John C Dvorak: The their partner award, we should win the
Peabody.
Adam Curry: You've said this several Hey, I'm still waiting
for my for my production of war sound award.
John C Dvorak: Don't worry, you're gonna get it. From A to B
from the audio engineers are one of those guys
Adam Curry: that they never even televised those. Well, you're
not gonna get
John C Dvorak: televised.
Adam Curry: But you don't even get an
John C Dvorak: audio guy ever gets on television.
Adam Curry: I want Ricky Gervais to accept for me. I accept the
on behalf of curry. Meanwhile, the American public is not
foolish. Now they know exactly what's going on C span is where
they they air their grievances because hey, it's television.
Unknown: Good morning. Thanks for taking my call. 62
Adam Curry: Thanks for taking my call.
Unknown: I've never seen our country in such turmoil. You
know, Donald Trump, as much as people hate that man. He's given
us a peek behind the curtains, how things work. For example,
your last segment regarding the war. It's funny how the media,
they don't quite live. They just give you one side of the story.
The media is in bed with the politicians, the National
Security Agency spying on a president changing elections. We
have a war in Ukraine. That was started by us. We blew up the
Nord Stream pipeline. We're letting millions of immigrants
flow across our border.
How do we how do we blow up the Nord Stream pipeline?
Well, again, if the media would do their job, The New York Times
journalist as wrote about this in detail wrote about it and how
this was done. Joe Biden even set it on television not quite
said we're gonna do it. But he was asked how you're going to
stop the pipeline. He said, We got ways to do it. Now the media
would get on board. You guys are supposed to be. You're in the
Constitution you you're protecting the people. But
you're all in cahoots with the politicians, the establishment,
the very powerful people the Bilderberg people, right?
Billionaires global world order. They want us eaten by a
Democratic women women or men, every institution upside down.
Nobody trusts anybody anymore.
Let's stop right there. Let's go to Sandra who's calling from
Tennessee. All the independent life.
John C Dvorak: Alright, well, today for that guy.
Unknown: That's very, very good.
John C Dvorak: That was the that's the black Democrat Host.
Yeah, the big bugs I call these really hates Trump. Oh, well,
Adam Curry: let's play this one for him. Then a just in the I
don't know how this gets out video of Trump's deposition in
the accusation. This is great. This is only a little piece and
there's no it's on YouTube. So they had to censor out the word
rape for some reason. I guess YouTube kicks it off if you have
rape in there. But it's the President being deposed about E.
J. Carroll. We when she first came out with this accusation a
couple years ago, we played several clips was so
embarrassing that even Anderson Cooper would just like take this
woman off the air when she was like yeah, rapists sexy This is
that she's a nut job frightening. And people are
sending me these clips like it's new. Hey, look at Anderson
Cooper did Yeah, four years ago whenever it was. But here's a
little piece of the deposition.
Unknown: Okay, then you go on to say in the statements. And while
I am not supposed to say it, I will.
Why were you not supposed to say
it? Because it's not politically correct to say, read the next go
ahead. That she's not my type. Because it's not politically
correct to say it, and I know that but I'll say it anyway.
She's accusing me of a woman that I have no idea who she is
the worst thing you can do the worst charge. And, and you know,
it's you know, it's not true to your political operative. Also
your disk. You're a disgrace. But she's accusing me and so you
have, and it never took place. And I will tell you, I made that
statement. I said, Well, it's politically incorrect. She's not
my type. And that's 100%. True. She's not my type.
You are referring to her physical looks correct. Just the
overall not
my I look at her. I see her I hear what she says. Whatever.
You wouldn't be a choice of mine either. To be honest with you, I
hope you're not insulted. I would not, under any
circumstances have any interest in you. Be honest, when I say
it, the only difference between me and other people as I'm
honest.
John C Dvorak: I love I was watching some of the analysis of
this. And there are guys I know are Trump haters on certain
networks. Yeah. And they just thought it was the funniest
thing that because you have to admire a guy who goes in a
deposition and he's calling out the lawyer on the other side for
being
Adam Curry: not not as tight homely. Just for people refresh
people's memory that was 2019 June 27 is when we have the clip
of E Jean Carroll talking to Anderson Cooper, about about
this rape and what she thinks of rape. You don't feel
Unknown: like a victim. I was not thrown on the ground and
ravish which the word rape carries so many sexual
connotations. This was not this was not sexual. It just It hurt.
It just was it just you know, I think
John C Dvorak: most people think of rape as I mean it is a
violent assault. It is not I think
Unknown: most people think of rape as being sexy. Go to
commercial fantasies. We've just got to take a quick break. If
you can stick around we'll talk more fascinating to talk to you.
John C Dvorak: Oh wow, I forgot about that.
Adam Curry: That's horrible for that woman say that that's
horrible. Horrible.
John C Dvorak: And by the you know in a dressing room Have you
ever been I've been in a number of these do you have much
anymore, but in these department stores had the dressing rooms
get through somebody on the floors, no room in those things.
Not like a lounge
Adam Curry: you haven't been into the women's dressing rooms.
They got definitely got lounges in there as well. There's party
to get champagne bars and got all kinds of stuff going in the
wrong store. At meanwhile, Oh, it looks like MSNBC is
definitely trying to take down President Biden, you know, as
you said, the word is out. It's take down Biden time,
Unknown: in less than four weeks, the government's going to
run out of money. And so many of these economic winds could fall
by the wayside as president, what are you going to do to help
us avoid default?
Look, look, look, not as long ago solitary Congress has ever
reneged on a debt. The debt is not a debt that I accumulated,
the debt is not a debt that occurred over the last several
years. It's 200 years, the debt 200 years. And the idea that we
wouldn't pay our debt is bizarre.
Adam Curry: You know, I've always noticed this. I remember
Dave Winer would write about it, you know, Dave and I, we
invented podcasting together. But when it comes to the debt
ceiling, he's like, this is where America is our full faith
and credit. I mean, of course, we have to we have to print more
money, we have to borrow more money. And I've never understood
that, that that it's like it's embedded in people's brains. We
all know, what are you talking about? That's just crazy talk.
We've we've always done that. 200 years. You heard the
President say it, and believe it or not a economist of the of the
country, Nobel Peace Prize, Nobel economic Prize winning
economist Paul Krugman, on May 3, says, again, minting a $1
trillion coin to prevent a debt ceiling crisis is possible would
not be inflationary. How I mean, is this. Am I crazy? I mean,
we've just we've heard this for so many years. Though a trillion
dollar it could it be? It has to be platinum. Best to be
platinum. It wouldn't wait before
John C Dvorak: you go off and off on this. You didn't have the
Trump are you talking about Trump and the rape?
Adam Curry: Oh, well, I have I have another Biden thing from
Stephanie. Rule two, I have trumping the rape, which I would
trump in the rape. Is that a show? Is that a show titled
Trump in the rape? No.
John C Dvorak: Rape would be nice in the title. All right. I
just want to play these two clips. One is just Trump. He
wants to change the venue for the rape trial, or DOJ This is
no this isn't the Wright brothers. The other trial bus,
you know, it's just a harassment trial. This is the one for him
and his election fraud.
Unknown: And other news The Trump legal team is reportedly
trying to move the former president's criminal case from
New York City to a federal court and if successful, they could
mean a more favorable outcome for Trump. Shifting to federal
court could give Trump an advantage because it would
expand the possible jury pool outside of Manhattan where more
voters favored President Biden and Democrats. A federal judge
would have to approve their request. The 45th President
entered a not guilty plea to 34 felony counts of falsifying
business records. It's in connection to payments that his
campaign made during the 2016 election to silence allegations
about an affair. Trump has denied having an affair and also
denied any wrongdoing in the case.
Adam Curry: It's quite a stretch. The way they explain
what that trial is about it's
John C Dvorak: quite as Yeah, it is kind of a stretch but but it
brought me to this old supercut supercar this is this pretty
much the same kind of thing that happened to John it may what
happened on air was it was right to John Edwards case where he
actually not only had an affair with a woman that he brought
bought off with campaign funds. But she had a kid she had a
child by him and it was like, a little more, more sleazy. I
think Trump went through But Leslie but the mainstream media
meanwhile, doesn't have this didn't have the same kind of
fire. We got Trump now he's going to jail. Jails again.
Let's listen to how they treated the John Edwards the same
mainstream media people with the exception of a few got axed. In
the meantime, there are back in the day
Unknown: growing questions tonight over whether the
government overreached and its indictment of former
presidential candidate John Edwards Edwards is accused of
using campaign funds to hide an extramarital affair.
There are growing questions over the indictment a former
presidential candidate John Edwards for allegedly using
campaign funds to hide an affair. Did the government
overreach
This looks like one of those things you read about in third
world countries or India somewhere in Pakistan? When they
get somebody's been out of office a couple of years get
them while they're down hit it with some incredible charge with
campaign funding that nobody's ever heard of before and put
them away for a while. It just looks like revenge.
Adam Curry: Should we remind everybody John Edwards was a
Democrat I think this you kind of missed Oh, yes. John
John C Dvorak: Edwards was a Democrat. Hello. Right. Right in
the setup there that is the main thing to note that's the main
difference
Unknown: credible charge with campaign funding that nobody's
ever heard of before and put them away for a while. It just
looks like revenge against the party. against somebody lost an
election,
even if most of the facts prove true, there already is
controversy over whether it all amounts to a federal crime
critics
blast the government's case against the former presidential
candidate. Why they say what he did may not have been against
the law today.
So I guess the question is, is is CAD or criminal? I
mean, there are people who are saying that this indictment is
very questionable. A Washington Post editorial said it is
troubling that the Justice Department would choose to
devote its scarce resources to pursuing this questionable case.
Even some of those with no love for AdWords are scratching their
heads over the charges.
Even some who find Edwards behavior despicable question,
the strength of this case, leave him alone.
I mean, why waste our effort on that? What
are your what's your political view? Do you think it's politics
and as prosecute? Was it just a Republican US Attorney going
after this guy sticking around to do the dirty work for the
Adam Curry: arts? Yeah, yeah. Well, the difference is clear.
It was a Democrat versus a
John C Dvorak: Republican. But of course, it was just to be
noted, It should be noted,
Adam Curry: I want to go back to the trillion dollar coin for a
second because this is all part of what is supposed to take down
Joe Biden. And Krugman who says and he tweeted this, so you
know, is he's serious, quote, the Fed would surely sterilize
any impact on the monetary base by selling off some of its huge
portfolio of US debt, suggesting the Fed would likely sell $1
trillion worth of government bonds. In fact, he says, it's
more likely that the Federal Reserve, the government would
issue premium bonds to avoid default, then mint the $1
trillion coin, but he says the trillion dollar coin would not
be inflated, it would not be inflationary. And and he says
that the Fed Chairman probably wouldn't accept it. I mean,
would you have some dude came up and said, Hey, I got a trillion
dollar platinum could be wanted. I don't think I'd accepted
either.
John C Dvorak: Somebody gave me a trillion dollars worth of
platinum. No. Yeah, right. I think is it 1200 bucks. I'm not
sure what it is announced. But 900 at 1200. That means,
Adam Curry: meanwhile, we just have bank after bank going out
of business. This is kind of fun. Now that works. Alright,
back to taking the take down of President Joe Biden was
Stephanie rule, who is also a finance Insider. The boys at the
trading floor loved her.
Unknown: He was officially announced you're running for
reelection. And in your first video, you feature vice
president Harris 10 times when Obama was in that position? He
didn't mention you, sir. What are you trying to tell us?
Adam Curry: Wow, what's the what would the SIR business Stephanie
was pretty rude? Or what is she trying to be? As this like I
John C Dvorak: was, I thought that was a very rude way of
asking that question. In fact,
Adam Curry: I have a feeling that these questions were
inserted later. You know how they do an over the shoulder,
but
John C Dvorak: I don't believe it. Now. They can't you you
think that's that's chicken shit. Stephanie rule
Unknown: when Obama was in that position? He didn't mention you,
sir. Sir. What are you trying to tell us? Well,
Adam Curry: did you just laugh at him? She laughed in his face.
Unknown: What are you trying to tell us? Well,
Adam Curry: whether that was edited or not, that's a lot. Now
that she laughed at him.
Unknown: What are you trying to?
Well, the President did well, and I became very good friends.
I we just have a slightly different style of how we do
things, as you recall. So every major initiative President Obama
had, I was the last guy in the room, deciding that with him
giving him any advice on what we should do. And he's committed to
help in any way can this time out? Whoa. But look, I just
think the Vice President Harris hasn't gotten the credit she
deserves. She's an attorney in the state of California. She has
been a United States Senator, she is really very, very good.
And with everything going on, she hasn't gotten the attention
she deserves.
Adam Curry: Well, she's getting it now. Because she's in charge
of the AI. Danger, danger, danger AI is going to take over
the world it's going to steal your job. But luckily, Kamala
Harris, Vice President to the rescue,
Unknown: the White House is now signaling its support for some
rules and regulations surrounding the launch, if you
will of artificial intelligence as the new technology begins to
disrupt a number of industries with some experts warning can
end up wreaking havoc on society, if not properly
constrained, by administration hosted a meeting today with a
number of big tech executives to discuss the risks posed by AI
while also discussing potential safeguards. And a statement the
vice president Kamala Harris, who took part in the meeting
warned that AI has the quote, potential to dramatically
increase threats to safety and security, infringe on civil
rights and privacy and erode public trust and faith.
democracy civil rights Exactly. uplifting. Wait, wait,
Adam Curry: wait. Let's see. Let's see those dangers again,
write them down. We want to make sure that this doesn't happen
John C Dvorak: is like bull crap. I mean, how how does it
have to do with any of this? So I know I know what's going on
here. Hold
Unknown: on the statement, the Vice President Kamala Harris,
who took part in the meeting warned that AI has the glory
attention.
Adam Curry: Did she take part in she lead the meeting, and I
think that that's a slam right there from NBC. She led the
meeting Chuck
Unknown: statement, the Vice President Kamala Harris, who
took part in the meeting warned that AI has the potential to
dramatically increase threats to safety and security and fringe
on civil rights and privacy and erode public trust and faith in
democracy. Faith exactly uplifting faith in democracy.
Today's meeting comes days after the so called godfather of AI
says he left Google to more freely speak out about the
dangers that technology can pose.
Adam Curry: Alright, so a couple things. This is the oldest trick
in the book. This is now remember, our general thesis is
the ad market has gone incredibly soft. The big tech
companies had staffed up during COVID they tick tock caveman
started to threaten everybody's business certainly met us
business and even Google's we know fact that Google from
Google's own internal research one out of two people search for
things on Tik Tok before they search on Google Tik Tok has
entered the search ad market place. And what do you do when
your notice who wasn't at the table? Tik Tok wasn't at the
table bytedance wasn't at the table that I'm aware of. You
know, all you do is you go you go to the you go to the
government you say look, we got a new thing here. This is the
new new thing. It's the hot thing everybody wants it. AI is
what can we can call ai ai is is the new blockchain. Yeah, that's
it. AI is the new blockchain blockchain blockchain. Do we
remember blockchain horror
John C Dvorak: horror was an I used to come at during the
heyday of blockchain. Now, these these moribund companies would
come up and all of a sudden introduced we're gonna have
blockchain they just say the word and the stock would go up
five point riot was famous. Now it's the same thing with AI, the
stock goes right up.
Adam Curry: Yep. So what do you what do you want to do is you
want to make sure that and this is why we had this letter signed
the open letter by Elon Musk, who as you notice has no AI
play, he doesn't have a play. So that was all ordered, slow down,
but slow down by six, six months, at least. So by can
catch up with my AI play. So it's the new blockchain and then
the getting ahead of the game this time. This is we need a new
or expanded section 230 Something that new entrants into
the AI space cannot compete with because they won't have the
money. This is the old that's why it's communist job. We all
know what the idea is here. They're all there in DC, not for
this dumb meeting, that they're at every one every senator and
Congressman's door. I'm talking about, you know, what kind of
legislation can we put in place of no other people can get into
our coveted AI space? By gotta go do the stupid meeting with
the Vice President for a minute photo op. That's all they of
course, they want regulation. They love it. They want the
regulation so they can own the space. And that just does.
John C Dvorak: Yeah, absolutely. This is the general no agenda
thesis how you
Adam Curry: do it. Now you heard in that report. And we discussed
this on the last show that the godfather of AI that he had left
Google so he could speak freely about it. Because I don't know
if Google like some kind of Gulag where you can't talk. Like
when you work there. It's like, oh, you can't discuss anything.
What
John C Dvorak: we should mention. If all this is true,
they would have had him sign an NDA upon his resignation for a
pot of money. And he wouldn't be talking at all. So he's out
there talking because he's allowed to talk or they move on
him to talk or something
Adam Curry: on tables or talk may be the right one. And the
big get was for PBS. PBS News Hour, completely independent.
They have the get and we know the guy's name now. He has three
names, like any criminal, Jeff Bennett, Jeffrey Hilton Hinton,
Jeff Bennett. No, it can't be it. Geoffrey Hinton I don't even
know the guy's name. Let's listen to him.
Unknown: This has been a week where concerns over the rapidly
expanding use of artificial intelligence and I think
Adam Curry: the general Jeff Bennett is the PBS guy Geoffrey
Hinton, Geoffrey Hinton, this AI guy, I've misread my own titles
Unknown: resonated loudly in Washington and around the world
Adam Curry: row resonated loudly. It was it was the was
the the resignation heard around the world,
Unknown: Vice President Carter the guy.
Adam Curry: Let's do that, again,
Unknown: resonated loudly in Washington and around the world.
Vice President Kamala Harris met yesterday with top executives
from companies leading in AI development my Microsoft Google
Open AI and anthropic the anthropic, as President
discussed some of the growing risks and told the companies
they had a, quote, moral obligation to develop AI safely.
That meeting came just days after one of the leading voices
in the field of AI. Dr. Geoffrey Hinton, announced he was
quitting Google over his worries about the future of AI, and what
it could eventually lead to unchecked. We're going to hear
about some of those concerns now with Dr. Geoffrey Hinton, who
joins me from London.
Adam Curry: See us escape to London doing in London is with
the coronation, of course, time to party down
Unknown: what are those risks? As you see it,
there are quite a few different risks. There's the risk of
producing a lot of fake news so nobody knows what's true
anymore.
Adam Curry: And we need AI for that. We need
John C Dvorak: AI for that Macedonia did the job just fine.
Yeah. How
Adam Curry: about the troll farms? They were great. We don't
know farm need AI? May be cheaper, but okay.
John C Dvorak: Is it even cheaper
Unknown: to have encouraging polarization? By getting people
to click on things that make them indignant?
John C Dvorak: What do you mean? What you mean, clickbait me
like, Hey, I can't do clickbait we do clickbait the American
creative types do clickbait and we do
Adam Curry: it great. We do we do. We do great clickbait,
Unknown: there's the risk of putting people out of work, that
it should be that when we make things more productive, when we
greatly increase productivity, it helps everybody. But there's
let me
Adam Curry: stop that for a second. i It is my belief that
no matter and I do not think AI is any risk or any opportunity,
honestly, I mean, there's some writing opportunities, okay.
It's a large language model. So it can do writing stuff very
good. With as with every new technology, stuff has to go
away. And then there's and jobs go away. And then there's new
jobs for that new opportunities. Isn't that what it always is?
It's not like us the way tech works, the tea the PC revolution
did not lead everybody job was created millions of jobs. Be
even the one that the automobile all the buggy drivers. Oh, they
were going after that, what do we get? We get cab drivers. And
then Uber came along, and then everybody was a cab driver, it
only gets better, right? This is patently not true. But there's
Unknown: the worry that it might just help the rich. And then
there's the risk that I like to
John C Dvorak: help the rich help the rich, brother,
communist.
Unknown: But there's the worry that it might just help the
rich. And then there's the risk that I want to talk about.
John C Dvorak: We interrupt these fictitious clips in much.
Yeah, it's my worry. Yes. That this will help the rich. Yeah.
Why is he worried about it helping the rich he did to do? I
would have originally to help and Jugaad let's don't let them
get helped by AI is helping the rich somehow you call that he's
sanity? He's a
Adam Curry: commie? You called it? He if you left Google as the
godfather of AI, do you not have any stock? Any options? Are you
not rich, but hope he was maybe that's why he left
John C Dvorak: or maybe the whole thing is a scam these guys
work there. It should
Unknown: be that when we make things more productive, when we
greatly increase productivity, it helps everybody. But there's
the worry that it might just help the rich. And then there's
the risk that I want to talk about many other people talking
about those other risks, including risks of bias and
discrimination. So I want to talk about a different risk,
which is the risk of super intelligent AI, taking over
control from people.
Adam Curry: Okay, last clip, let's hear about this.
Unknown: Is there any turning back when you say that there
will come a time when AI is more intelligent than us? Is there
any coming back from that?
I don't know. We're entering a time of great uncertainty where
we're dealing with kinds of things we've never dealt with
before. It's as if aliens have landed. But we didn't really
take it in because they speak good English.
How should we think differently than about artificial
intelligence,
we should realize that we're probably going to get things
more intelligent than us quite soon. And they will be
wonderful. There'll be able to do all sorts of things very
easily that we find very difficult. So there's huge
positive potential in these things. But of course, there's
also huge negative possibilities. And I think we
should put more or less equal resources into developing AI to
make it much more powerful, and into figuring out how to keep it
under control and how to minimize bad side effects of it.
Adam Curry: Congratulations on that great get PBS news hour.
John C Dvorak: Do you understand what he told me? Absolutely. No,
of
Adam Curry: course is nothing because the guy is a dope. And
what was his biggest invention? How do you How can you be the
godfather of AI? What did you do? I know what I did for
podcasting. Why In fact, I'm called the godfather of
podcasting. I saw RSS said, hey, put an attachment in there and I
said no and I can say it in one in one paragraph. Yeah, you
John C Dvorak: can't because you're the guy that did it.
Right. So
Adam Curry: what this guy do and by the well, you know
John C Dvorak: what? You know, what do I have to ask you, you
know what you're supposed to work.
Adam Curry: Try it again.
John C Dvorak: Hey, guess what? Let's look him up in the
Wikipedia and see exactly what he did was named Jack Kirby.
Adam Curry: Jeffery Kirby Jeffrey with a GE o Freo de GGO.
Geoffrey Hinton Hinton Hinton Here we go. Jeffers,
John C Dvorak: look him up. Hinton okay. This is the way we
do it on this show because you were gas bags as it is. That's
right. Okay. 76. He's a British and
Adam Curry: British Canadian, British Canadian.
John C Dvorak: He worked on neural nets, which is not AI.
Okay is beside the point.
Adam Curry: Google Brain. Google Brain was Google
John C Dvorak: Brain. And
Adam Curry: that was that was their AI that was that was
Sergey Brin. That was what Musk said Sergey Brin stole everybody
to work on Google Brain. Google Brain didn't win any chess match
that was deep blue.
John C Dvorak: So hidden, received the 2018 Turing Award,
which is a big deal, who is the ASHA Bengio and Yan Laocoon. for
their work on deep learning, they are sometimes referred to
as the godfathers of AI in 2018. Ai beams told trend began in the
80s. Do he but he popularized the back propagation algorithm,
or training multi layer neural nets, which again, that's
question
Adam Curry: that's PageRank, isn't it?
John C Dvorak: what back propagation is back propagation
Adam Curry: is part of an algorithm that is
John C Dvorak: a widely used algorithm for training feed
forward artificial neural nets or other parameterised networks
with differentiate the nodes. That's an official hold on we
read the whole thing.
Adam Curry: And open it he's a mathematician he is dad was a
mathematician. He's a math guy and a math guy math dude. All
right. Okay, well, impressive. What is on it? He has a
homepage, which is homepage of Oh my god. It always missing
he's old
John C Dvorak: enough to be the father of something. Yeah.
Adam Curry: His homepage. It looks like it should have Blink
tags. What are those? I generated it with Emacs. That's
in fact, when we take a look at he better he built this with
Emacs.
John C Dvorak: Is this his website in Toronto? Eds? Yes.
Oh, that's probably the ad they'll give Toronto probably
put this together. Looks like this college website.
Adam Curry: Looks like something he would have done himself with
Emacs. Terrible. Yes. With list. Alright, let's get off of that
trigger. ike.org/na.
John C Dvorak: There you go. So Lisp,
Adam Curry: I have one more candidates who's running for
president. And after we play this clip, it will be guaranteed
he will never ever be president I fear for his life. In fact,
John C Dvorak: you Kennedy Yeah. Yeah, he did. But they won't get
close enough that they have to do anything about it.
Adam Curry: Well, he opened up about a bio weaponry and this is
from his book, but I've never heard it told this concisely.
It's important to think the American people, maybe the
people of the world need to hear this. So you understand exactly
where COVID came from. So
Unknown: we went to war, we pass the Patriot Act, and immediately
started giving $2 billion a year to bio weapons development. The
Pentagon didn't want to do it because it was nervous about the
legality, because it was a death penalty to violate the Geneva
Convention. Oh, you would have been committing a you know, a
war crime. Even if somebody told you it was okay. It wasn't. And
so they funneled it through Teatre and DARPA, They funneled
all of that money.
Adam Curry: Did you ask something? No.
Unknown: Hang on. And so they funneled it through Teatre and
DARPA, They funneled all that money. And I age to Nia ID which
became the primary spear tip of bio weapons development. So Tony
Fauci became the bio weapons are in 2001. Is budget went up by
$2.2 billion. He was personally given a 68% raise from the
military. That's why he was the highest paid individual in the
federal government. Because he was getting this 68% Bonus every
year from the military. But it meant that he could not stop.
And the thing the military wanted was getting a function
studies where they could take wild viruses and turn them into
bio weapons. And bio weapons development always includes
vaccine development. Because unlike chemical weapons, with
bio weapons, there's always blowback is called the boomerang
effect. If you give your enemy bubonic plague, your guy's gonna
get it first two are gonna get it quickly. So the only way you
can deploy a bio weapons if you have already developed a
vaccine, so the race is to develop a vaccine simultaneously
via weapons, and then you can deploy the bio weapons and your
enemy will take a couple of years to develop the vaccine.
And you can inoculate all of your team. So in 2014, three of
Tony Fauci these bugs escaped from federal labs. And they
their escapes were public. And it caused a huge brouhaha. There
were Senate hearings, and people were immensely upset. And, and
300, scientists, wrote letter wrote a petition to President
Obama saying you have to shut down Tony Fauci. He's gonna
cause a global pandemic. When Obama declared a moratorium and
to hold Fauci or to Fauci to shut down the ATM studies he was
doing. As I show in my book, he didn't do it. He instead took
that science. And he moved it offshore to the Wuhan lab and to
the Ukraine. And when he did that, he was not the only one
who did it. Tony Fauci spent about $29 million on gain of
function science in Wuhan. But the CIA spent over $100 million.
And the military spend about that much to about 64 million.
And they, the CIA funneled the money, most of it through USA
ID. But they also the CIA, as we now know, was also running this
organization called the Eco Health Alliance. Which Fauci was
funneling his money through, it was like a laundromat where they
funneled federal monies so that it was so that their
fingerprints would not be would not be visible on them.
Adam Curry: Yeah, he's not going to be precedent. Wow.
John C Dvorak: So yeah, believable. I do have a I think
this is from 2008.
Adam Curry: I don't know when there's not room. I have no
idea.
John C Dvorak: No, not not. No. I've seen it. I think I have oh,
you're what I had.
Adam Curry: Okay. Hello, hello. Who's calling?
John C Dvorak: You know who? I listen to Mark Levin the other
day, he's always going Hello. May does that
Adam Curry: what this you know, you're one of the few people who
still has an am radio. I do. I've been in your
John C Dvorak: car. I do have an FM radio in the car too, you
know. But here what's interesting is, I have this clip
coming up as dynamite. But the am radio quality and the newer
cars, comparatives, I have an old Lexus, and it's just
deteriorated on purpose. Now, as I take my Lexus into have it
fixed, and I get a loaner. I get a brand new one. Yeah, and drive
around and turn on the am radio. It sounds like short wave from
the 20s.
Adam Curry: Well, the here's the problem. Am radio is no longer
being put into cars, because half the cars that people will
be buying will be electric. And there's so much gear now in
these in these cars that you can't get away from the
interference. Yeah. Just here that you you cannot use and no
one wants to good effect can only be done with these
temporary teeth, interestingly.
John C Dvorak: Alright, well, anyway, so here's Fauci. I think
this is in 2008. Yes, I see where he's slyly working on his
scheme that was just outlined by Kennedy, his scheme to get
around as gain of function thing. This may have been later
or earlier, but this was at some point where he had to, he knew
the gain of function was yet was under pressure. And this is and
he was slyly working, working out his scheme. And here he is.
Unknown: Anyway, so let me just go on about NIH lifts, funding
pause on gain of function research. So let me explain this
a little. Because whenever this comes out, there's always the
pushing back and forth from the press. So like NIH now is going
to do dangerous research. No extra matter of fact is is
exactly the opposite. So a framework has been now
established to guide funding decisions on proposed research
that might be anticipated to create, transfer or use enhanced
potential pandemic pathogens. The program, everybody has to
have a neat little name to it. This is called p3 SEO. So if you
hear about p3 SEO, its potential pandemic preparedness, care and
oversight. Now, why is this different from everything else
we've been doing? It's different because remember the trouble we
used to get in when someone would do an experiment, they
would submit it to a journal. And just as it's getting ready
to go out, everybody would start scrambling around. Should we be
publishing should it not? So we decided to go upstream from that
and talk about decisions that are made by government funded
remember, we have no control over things that are not funded
by the government, but in government funded activities to
guide the funding decision before you actually do the
experiment. I don't think this is going to be foolproof things
are gonna slip through that I think this is a much better
approach than we've had before.
Adam Curry: That's the goal in Westminster. There was Tony
Fauci with his cane and his hooded, ghoulish outfit.
John C Dvorak: It's unbelievable. And it's been
going on forever. It's just Kennedy points out. Sorry, been
going on forever, as Kennedy points out. And we can't seem to
put a stop to it in fact, and if it was if it's punishable by
death, hey, let's find some people up who's the who's behind
all this where's the punishable by death? Take places like, you
know, kind of saber rattling about this sort of thing and
we're just doing it openly.
Adam Curry: Yeah, well,
John C Dvorak: who's gonna you know, foul punishable by who's
who's gonna punish anybody by death?
Adam Curry: Yeah, yeah. Collins is, you know, there are probably
buying homes in Argentina. And you're telling me that that
Lexus gives you a loaner car? Yeah. When you bring that when
you bring that Junker in, they say, Oh, hi, Mr. Dvorak. Boy,
nice to see this 20 year old vehicle again, here's a loaner
vehicle. Really? Yeah.
John C Dvorak: You just You just when you call in to get your
appointment, you say I need a loaner. And they
Adam Curry: give you a new Lexus. Yeah. Wow, well, that's
good service.
John C Dvorak: Lexus per Lexus is the best I mean, that way,
you know, and my third
Adam Curry: Well, since we're talking about Big Pharma in a
way and obviously the Wuhan whatever this this if it was
real at all, whatever this this, this COVID was they didn't have
the vaccine ready that's for sure. That whole thing is that
what a huge scam let's not let's not let that happen to us again.
John C Dvorak: This is the latest out of the knows what
they're developing.
Adam Curry: Here's the latest out of Big Pharma land crushing
entire industries.
Unknown: After 40 years of helping people to shed pounds
Jenny Craig is shutting its entire workforce and going out
of business. It's closing all of its nearly 500 Weight Loss
centers in the US and Canada and canceling all subscriptions,
coaching sessions, food orders and sales. Weight Loss services
like Jenny Craig have been struggling to keep up with
competition from prescription drugs like ozempic
John C Dvorak: buy em There you go to play for ozempic Yeah, but
Adam Curry: I believe it and remember Oprah's weightwatchers
also known as WW because now they rebranded they bought the
tele health company to telemedicine company that can
prescribe this stuff right on the app right over the phone.
John C Dvorak: Yes, gusting
Adam Curry: yeah well. Wait until that new and the Eli Lilly
one gets on the market and people start using it. You're
gonna see people just withering away right before your eyes
don't look great as their hair falls flat Olympic face this is
not an outstanding product people please do not use this. I
mean I can't give medical advice but I don't think it's an
outstanding product seems like something very oh don't even be
even singing it is like just bad bad bad bad bad. All right, now
one more thing we only have one break today because your your
excellent Cinco Demayo on Cinco de acepto
John C Dvorak: No, that wasn't it at all. There was bad things
a miss.
Adam Curry: Have you sent the newsletter out 20 times. Okay,
twice. What happened?
John C Dvorak: The newsletter seemed that I think there's a
MailChimp they did something wrong. I got an I did a second
sin because First and didn't trigger a posting on Twitter,
which is supposed to do.
Adam Curry: Oh, they the algo got got algo the API API API
access because they don't want
John C Dvorak: to pay happened. Yeah, they got down, right. So
down ranked. And so I looked at the number of the number of
opens, it was way off at about 730. So something's amiss. So I
sent a newsletter out a second time. And I got some feedback.
Hey, and
Adam Curry: was that the feedback? One drunk guy at one
John C Dvorak: get posted either. So you know, either male
chimps gotta get its act together. And if they can, they
can afford it. I mean, it's not as though it's a company at
starving to death.
Adam Curry: Well, you don't know. I mean, the all these
companies did you get substack it's so desperate, they're
crowdfunding their next investment round. I mean, this
is bad stuff is bad. And I thought that I for sure, I
thought substack was wildly profitable. They're just not how
could How can you get people paying left and right, it must
be I'm telling you right now. It must be because they have to
shell out at least 150 grand and this is 2008 prices. It was 100
or 150 grand a month to get whitelisted by Google and
outlook and a couple other you know there's there's trusted
companies that this is one of the biggest scams in Silicon
Valley is emails to be trusted to get through and I bet you
they just can't they just can't afford it anymore. And I do not
think that MailChimp has that kind of money either it's bad
out there email is I have to sadly say email is broken for
Good is broken for good. We should just give it up to me Why
don't you should just
John C Dvorak: make calling everybody personally send me a
phone number you can
Adam Curry: seriously it's broken but even that I spoke to
the CEO start nine he familiar start nine now start nine as a
company and they are building it's like Umbro only they're
taking it very, very seriously. Self hosting at home. And they
they've got their selling hardware, you can you can
download there, they built an operating system. So not a bunch
of Dockers connected to each other, but an actual operating
system that you could even get it on purism hardware, which is
you know, the open source hardware that was built, you
know, supposedly with no spy things in there, which is also
quite popular amongst the the OTG crowd and they're they're
replicating all these services you know, next cloud for your
for your Google stuff, you know, you can host your own blog with
ghosts, they have clear net so it'll be you know, actually on
your available on an IP address, you know, with with SSL, so it'd
be you can really, the idea is to supplant big tech and do it
all at home, the one thing they just gave up on was email, we
can never make it work because even if we can set it all up,
and you can still use a separate SMTP provider, but we still
can't guarantee your email will arrive because big tech has just
completely screwed up in Google in particular. I've screwed that
up I've just made sure No forget about it. We control that we own
it. And they do. Because most people are so stupid. They all
fell for the Gmail thing. Oh, it's free look Gmail is great.
So email is broken forever. It's too bad. It was kind of a cool
protocol. But I think you should go back and publish it on RSS
John the newsletter yeah
John C Dvorak: yeah. Yeah, so yeah, he
Adam Curry: said I might as well do my review right now of of the
light phone.
John C Dvorak: Oh, yes. You finally got your your light to
phone I did. OTG going routine. Everybody. I've always once
again, kind of guy OTG going Oh no. Dng guy the guy. Yeah.
Adam Curry: OTG off the grid haven't been that way for a
while decided to give it another try. Now that pretty much
everything I use in my life is available on a computer and I
find myself checking my phone too much even though I have a
graphene OS. So I suppose not too much spyware, and I splurt
it in a drawer. Well, you know, but for when I'm driving, I
don't want to take it with me. When I go out to dinner with my
wife I don't want to take it would be for a number of
reasons. One is I don't want to be looking at my Phone. And I
only want someone to be able to reach me. Like if you need to
reach me, you can send me a text message or call me. And that's
pretty much all I need. But the light phone.
John C Dvorak: Why do you need to be reached?
Adam Curry: While I'm an important person? I mean, what
if the podcast index.org goes down? Yeah, hmm. What if what if
you need to say the website has been updated to sell? You know,
one of those
John C Dvorak: comic strip blogger? Okay, but yeah, I
Adam Curry: do get those emails from you. Right?
John C Dvorak: Yeah, but it doesn't mean you have to act
instantly. Well, it's not a surgeon on call.
Adam Curry: Well, maybe, maybe have other hobbies that you
don't know about? I need to be on call. But okay. Do you want
me to do the segment? I just want to be a dick. I mean, you
tell me I doubt a guy would like both. Okay, let me do the
segment and be a dick with little little increments not
like let me get started at least. You want to clip five
gold? Clip $599 The light phone.com
John C Dvorak: Isn't that a little steep?
Adam Curry: Um, I think it's kind of on par with a with a if
you bought a an older model of Android phone on Amazon. New in
the box to that. It's okay. It is in fact a very light version
of Android I believe that runs it. The thing John, you will you
actually I may have to send this for as a Christmas gift for you.
You will love this phone. Because it is the size is it's
smaller than a cigarette box in dimension of course, much
thinner, obviously. So it's all remember the old there was a
Nokia phone but a smallest phone in the world way back in the
day, but fit right in the palm of your hand. You remember that?
I
John C Dvorak: thought it was Motorola but yes moto small
phones that we had been manufactured in the past very
small. So it's
Adam Curry: kind of like that. And it has a an E Ink screen. So
it doesn't have you know, it's like a Kindle basically. And the
only thing that you can do on it which is more than I expected to
be honest. Is a phone and imported my contacts perfectly
as a calendar imported and syncs with with my my current calendar
system. It'll work with anything, including next cloud.
It has an alarm, which you can set alarms, that's the BBB. for
that. It has notes. I like to notes because notes you can
write them or you can record them. I always like doing that
like a dictaphone. I have not tried it yourself. Yes, exactly.
I have not tried it yet, but it has directions of the called
directions in it. So it does have some kind of now, no, no go
of navigation. Which is amazing. It has a podcast player, which
is surprisingly easy. I know you can't update anything on the
phone. You have to do it on the on the website on their
dashboard to add podcast. But it works it will do Bluetooth with
your headset. It has a calculator not unimportant. And
finally it has a hotspot. So you could bring your laptop if you
really needed access and you didn't have it you could turn
into a hotspot. It is a wonderful, I mean a wonderful
little thing. And it has a QWERTY keyboard if you want if
you need to reply back to a text, you can also I don't know
what service is providing this we can also do voice to text. It
doesn't sound very OTG to me. But I have to say John I am this
is I've only had it for a day it arrived yesterday. I'm loving
going out with the dog. There's nothing very lightest I almost
feel it in my pocket. I can listen to my favorite podcast,
which is d h unplugged. Of course. It also has a music
player, but I don't listen to music on anything on my phone. I
don't care too much about it. And that's it. And that's that's
all that it does. It doesn't do images, it doesn't have a
camera. If someone sends you text messages with an emoji the
emojis will show up. You cannot send any text back with emojis.
And that's it. And I think this is perfect. I think this is this
is what All kids should have. And that's mainly why I reviewed
it. This is what your kid should have. Your kid can do some stuff
that's educational and good and nothing else. And when they come
home, they can do stuff on the computer. I'm very impressed by
this device. I don't know about the battery life yet. We'll see.
I mean that's a mistake. I've had it I unplugged it today and
it's at 98% but haven't done anything with it. The Lightroom
I think you I think you'll enjoy it.
John C Dvorak: I'm gonna say you like it so much. You're gonna
send it to me. No, I'm
Adam Curry: gonna I'm gonna buy a new one for you.
John C Dvorak: I'll tell you right now, not to bother now.
too much money.
Adam Curry: What do you mean? It's too much? What would the
price point be? That's perfect for you?
John C Dvorak: $99 I think it'd be okay. Okay 40 Now it'd be
better
Adam Curry: so you'd rather have your take your your your clunky
distracting android phone with you when you leave the house.
John C Dvorak: I don't take the phone with me when I leave the
house. Oh, well, I'm going to Chicago on my take a phone
Adam Curry: when you drive around. You don't take a phone
in case something. Oh,
John C Dvorak: I do not. I know how to get around.
Adam Curry: Emergency what if? What if you would like help?
I've fallen I can't get up.
John C Dvorak: Yeah, well, then that hasn't happened. Okay,
Adam Curry: all right. You're special. Everybody's special.
John C Dvorak: I'm like, this is the way the world used to be.
Nobody went around in the 60s and 70s with a phone worried to
death. I mean, some people carried around a pager because
it was they felt so important that they had to get BBB BBB Oh,
my wife got home I now I know my wife got who cares?
Adam Curry: Yeah, I know. But your wife lives in a different
state so yeah, you don't care
John C Dvorak: even so I'm just saying I'm just saying there's
no right don't need a phone with me 24/7 Is not I'm not a surgeon
on call.
Adam Curry: Do you not have a little black book for your for
your babes? No, okay. Did you use to at one point did you have
a little black book? Tell us
John C Dvorak: a little I would be a red book.
Adam Curry: And this is why he's the Buzzkill. Ladies and
gentlemen. And with that I'd like to thank you for your
currency in the morning to you the man who put the sea in the
great clickbait ladies and gentlemen say hello to my friend
on the other end who never takes the phone anywhere Mr. Jones
John C Dvorak: morning to you Mr. Adam curry and we're gonna
succeed boots on the ground. Feet near subs in the water. And
all the names and nights out
Adam Curry: in the morning to the trolls and the Troll. Troll
room who do have Now we're talking 2884 and even two hours
into the show that's not too bad for a troll room count. Hello
trolls. The trolls hang out in the troll room for one reason
one reason only to be counted and then to leave when the best
stuff comes. That's the donation segments where we'd had the
interviews we get clips of the day. We also thank people we
talk about people maybe probably talking about you when you leave
your trolls may say that means how many how many left right
away? Oh, only Oh, interesting. Threatening only only 10 left.
Afraid. Oh yeah, so you get bad karma. And that's where I forgot
to mention that part. The trolls are in the troll room, you can
participate in their joyous antics by going to troll room.io
where you can listen to the stream live, you can log into
the chat room. You have to register if you want to if you
want to troll but that's pretty simple. But then you know the
real recommendation if you don't have a light phone, if you have
like a grownup phone is go to podcast apps.com Get and man
there's more apps comm and get an app that does the live stream
pod verse curio caster, podcast addict podcast group and a big
one coming on board pretty soon that'll do this live stuff where
you can import all your existing podcasts into it and then when
we go live or any podcast goes live you get the bad signal to
remind you oh yeah, the boys are live. You tap on it. Boom you
get the live stream and you get your your troll room and
everything all in one go was perfect thing. Well, if you're
just on your computer at the office, you can check in on no
agenda social.com and follow me Adam at nogen the social.com
Jhansi Dvorak at no agenda social.com And you know that's
our social network without algos people seem to like it you can
follow from anywhere on on the Fetty verse. If your Mastodon
instance has not blocked us I think you can pretty much always
subscribe to so you may not get stuff in your in your Fetty feed
but who cares you just want to follow us where your guides and
all of this
John C Dvorak: Yeah, we're freeze peach.
Adam Curry: Yes freeze peach indeed.
John C Dvorak: It's a device that you mentioned it I do have
a clip I want to drop in Oh, you're talking about podcasts
podcasts apps podcast is by another what's wrong with these
podcasters Whoa. Okay your buddy here this is a house ad on a I
Heart Radio produce podcast. And the next thing you know there's
a plug for I Heart Radio. That is a that is kind of a house had
a you know I don't know why at the beginning somebody's
podcasts. I was listening to somebody. Some of these podcasts
don't get started for five or six minutes. What is it? What
are they started with ads? Yeah, they do the latest thing in
these these bad No no in these networks is to run two or three
or four ads before the podcast. And then the guys introduction
takes forever. Your six minutes in don't you just fast forward
like everybody else. Now I want to hear these ads. Especially
this one from your old buddy, my old buddy who? Bob Pitman's.
Adam Curry: Yeah, Bob pit knows Never mind. He was on his way
out. In fact, I met Bob Pittman once the weekend I got to New
York. And, and I got a call. Yeah, Bob Pittman, who was the
president of MTV Networks. Just before he left and Tom Freston
came in. Yeah, Bob wants to invite you to go to John Cougar
Mellencamp. So we went in Pitman's limo to see John Cougar
Mellencamp um, that was the only encounter I had with Bob Pittman
John C Dvorak: was in a limo. But remember those Pinkie
Adam Curry: remember the stretch limos? Yeah. I'm Bob Pittman,
Chairman and CEO of iHeartMedia. Looking for a master's guide to
the marketing world. from decades of experience starting
with building MTV, I found it comes down to two things, math
and magic. You'll hear unlikely visionaries from the frontiers
of marketing share how they use data, the math and creativity,
the magic to launch their biggest, most impossible
sounding ideas. Listen to the new season of math and magic
stories from the frontiers of marketing on our very own
iHeartRadio app, Apple podcast, or wherever you get your podcast
by Bob Pittman. I should be on his show. I'm a math and magic
guy. Did I launch a grand idea?
John C Dvorak: Yeah, sure. Gonna show i Sounds boring to me. But
you there's nothing worse than a marketing guy.
Adam Curry: Hey, he created MTV.
John C Dvorak: You heard here he said.
Adam Curry: Well, well, he has six minutes of ads and opening.
We don't do that we get right to the show with our with our witty
banter. But you know, we have a little opening and we're right
into your shed with drop you're right in, which is quite jarring
for most people. And we don't have ads. We don't want we don't
want to have Bob Pittman advertised that would be
horrible. If you had to listen to Bob. I mean, ball respect
wasn't a bob Pitman before we started or whatever, whatever
how sad it would be. Why are they running house ads? Are they
not making any money over there? Hello. Hello, I heard radio.
Should you be out of business? No, we run value for value. That
means time, talent, treasure, whatever you want to give back
to us for the impeccable and voluminous value we provide. We
gladly accept it. We do need the treasure part. Little short
today. I'll be honest about it. But before we do that, let's go
to our art credit. And thank the artists for episode 1552 aptly
titled old trout. I don't think we have to explain to everybody
why we titled it that. And would you believe it? It's comic strip
blogger came in with a winning art piece. And and check this
out. It wasn't even AI.
John C Dvorak: Is that what he said?
Adam Curry: That's what he said. He said he was he was surprised
that this one he was just messing around with some ideas.
He took no AI critic but we when we saw this art and let's this
is a a che an angry salt shaker. Very cute piece. We both looked
at this and went. That's AI that's against our rules and
regs. Well, I suppose
John C Dvorak: it's your rule, not mine.
Adam Curry: True. And we said no. We can't do that. And then
you said Come on. Let's do it. Come on. Let's do it. You
John C Dvorak: were like I said, Come on. Let's do I said we
violate our own rule over time.
Adam Curry: And we also thought it would be fun for commerce or
Blogger to be able to drag on a very good piece. But we thought
it would be fun for him to say I got your AI and know that
John C Dvorak: the irony is not AI. That's funny.
Adam Curry: Let's see now there were a lot of submissions for
which we're always very appreciative. You can follow
along at no agenda art generator.com or get one of
those handy dandy new podcast apps at podcast apps.com
John C Dvorak: A bunch of funny old trout gags including the one
of the the old trout walking by Josh but can hold or whatever
his name I can't pronounce his last name kono. He did go on.
Oh, yeah. With a walker. It was.
Adam Curry: It was a little it was okay. I've been you thought
I liked a lot. You liked it. I liked the one where Camilla's
face was literally a trout face.
John C Dvorak: I thought that was gross. Yeah, I
Adam Curry: know. I know. You did a lot of trial. A lot of
trout jokes. And there were a lot of shaker jokes too. A lot
of shaker jokes, but jokes are work I should say. We both
looked at the no agenda Gardner's bomb. That was a nice
piece by Nico sign but it was a little small Nico, little small
the curry Dvorak was too small. That's the main problem our name
has to be pretty big. This and that and then you you
particularly like the writer strike again, which was done in
the theme of Star Wars.
John C Dvorak: Yes, the Empire Strikes Back it was
Adam Curry: all off for me. I mean, the logo was great.
John C Dvorak: Well you hate Star Wars Star Trek, all that
stuff. I
Adam Curry: don't hate out. I gotta tell you something. So but
does not Star Wars but my buddy Dave over at podcast index.org
He's a big Trekkie fan. And so he goes to the Star Trek
convention as it came to Birmingham, Alabama, and he had
signed up for for a selfie with William Shatner. And, and some
of the crew members from I don't know which Deep Space Nine I
don't know which one. It is because he's really excited to
be here. And he was some of the hobbies gotta get a selfie was
Shatner, I think he had to pay like 120 bucks for it or
something. So you know, really? Yeah. You know what he got? So
So basically, there's a stage
John C Dvorak: got to stand next to a shattered noni No, no, no.
Adam Curry: Shatner sitting in like on a box or a chair on
stage. And then there's Dave, on the other side of a clear
plexiglass divider.
John C Dvorak: Why want to see that picture.
Unknown: It's really sad.
Adam Curry: 20 bucks and shattered just sitting there.
And the Plexiglas dividers open. You have none of the sort of the
Trekkies get any cooties on him. That as I've like, I've lost
respect for Shatner now. That's just a money grab me with you.
You want to take a picture of the pod father free, make a
slobber all over me. I'm no douche. We go to your Meetup.
John C Dvorak: It's pretty bad.
Adam Curry: It's very bad. It's just very disappointing. So we
looked at that
John C Dvorak: moment to see that picture.
Adam Curry: I'll send it to you. It's pretty messed up. What else
do we have? Now? The too many of the egg. I thought the egg was
cool. You didn't like the egg?
John C Dvorak: No, I did like the egg. But I didn't think it
was going to was show worthy. It's just cute is cute, a cute
egg
Adam Curry: with kind of my teeth. So my teeth look like now
John C Dvorak: it looks to me like Brian Stelter to me. While
Adam Curry: you didn't mention that, when we were looking at
it,
John C Dvorak: they'll nod and see it again.
Adam Curry: Yeah, so I think that was that was it. We really
appreciate the work that all the artists do over at no agenda,
art generator.com They're doing this live where they listen to
us live. And so really phenomenal. How well they can do
that. of all of them. It's very appreciated. And you can meet
all of the artists at no agenda social.com They hang out there
to discuss it. They congratulate themselves and each other. And
yeah, and
John C Dvorak: then they just then they excoriated two of us
for not being done not liking the right art. Yeah, the
Adam Curry: wrong you did it all wrong, you horrible people. No
agenda art generator.com. And of course, we want to thank the
people who bring us the treasure, our executive and
Associate Executive producers for episode 1553. And we kick it
off with Mark capenhurst. I would say St. Petersburg,
Florida with a whopping very nice did save the day, I would
say $1,033. That's an instant donation then says in the
morning, Adam and John, I'd like to thank you both for the
amygdala assist over the last three years. Your deconstruction
helped me stand firm against my previous company's mandates with
clear and concise reasoning. Congratulations, man. That's a
tough one to do. It's not it was not easy for a lot of people.
Not everybody could do that. Please help me Sir Mark see of
the beach swamp? Can I get a mangoes and ribeye at the round
table? I think we can do that for you. No problem. And then he
says can I get a you're gonna need a Bitcoin and a yak karma
for everybody and see y'all on noster also, for anyone who was
realized our healthcare system has failed, and you're
interested in a sovereign alternative that actually cares
about you, please check out join crowd health.com Tina actually
uses that. What is it? It's it's a collective so you pay I think
it's like $250 a month. And, and that goes into a general fund.
And then when you need to get some help to help or some
anything over $500 you contact them. The first thing they do is
they negotiate with your doctor, as we know, doctors, hospitals
that all take 30 cents on the dollar because that gives them
the same amount of money they get from the insurance companies
without all the paperwork and hassle. And then that payment
comes out of the out of the pool and they If it's extraordinarily
expensive, they may ask you for an additional 50 bucks to help
that tell the story to help somebody out. And with that, you
get some kind of reputation points. And of course, when it's
your turn, if you have something big happen, then people will
help you. It's a very popular format, they have it. There's
many different companies that are doing this now.
John C Dvorak: Isn't this what health insurance used to be?
Adam Curry: Kind of? Yeah, I mean, except for the Wii, she
has not been asked to pay anything. I think actually, you
the money stays in your account. I think it stays in your name.
And these guys actually put some of it into Bitcoin, which I
think is it was interesting. So part of your money grows as you
grow. At least that's the concept. This idea of Christian
health ministries they do this and you know, you can only get
invited through your pastor or something like that. But yeah,
now this it, people are walking away from from the week we had
to, we were like 2500 bucks a month for the two of us, you
know, because we're older. And we're not old enough to get all
the government goodies. You signed word? Yeah, you sound you
sound flummoxed and flabbergasted. That all hell is
gonna break loose and you're gonna need a Bitcoin
Unknown: you've got karma
John C Dvorak: Baronet 1% of the GTF Oh, in Dixie Washington
34567. He like it says your cash Manning money shot long version
and goat karma IgM. This latest 1% contribution of my treasure
in the amount of 34567 has no special numerological meaning is
just for the hell of it. In addition to slowly working my
way up to the ranks of the roundtable and every 1% ways
have recently secured me citizenship in the nascent
nascent county known as liberal land as a diehard freedom lover.
It's something I deceased in Washington, okay. The home of
Inslee it's something I decided to take a flyer which is the
reason he's governors because they know how to rig elections
up there with all mail in voting 24/7 and 1% risk is not bad
anyway, it goes on. I think it's like contributing I think it's a
lot like contributing and no agenda the immediate cost need
not be great, but over time it can add up to something
significant potential upside for information entertainment and
make village shrinkage one contributions enable can be
invaluable. Thanks again for all you do to and provide faithfully
suppressing your exit strategy 1% of the time. Baronet 1% of
the GTFO aka Paul Zimmerman.
Unknown: I know a lot of people want to send blankets or water
just send
John C Dvorak: your cash Yes, I showed up money shop. Jesus.
That's a money shot kid. Money shot
Unknown: you've got karma.
Adam Curry: Love that number 34567 And our favorite 33333 We
received from Scott Lamont or Lemond or Lamar Lamar, Lemond
Somerset, Massachusetts, he says 1/3 downpayment on the helmet
than the night helmet. The next two thirds to cover the suit and
sword to follow eventually. Thank you Scott. We appreciate
that.
John C Dvorak: Bobby brindle horse in Mount Laurel New
Jersey. Three Three ITM boys. Thank you Mimi for explaining
the vinegar book premise. I've been waiting remember when 10 or
so years ago, they would play commercials about pharma causing
boys to have breasts. WT C seven won't go away. Bobby brindle
horse
Unknown: Jen
Adam Curry: Wimberly is a general Wimberly. Do you think
GM normal sound looks like it should be good to say Jen No,
Jen, Jen with a G 282 dot 28822 A two backwards and forwards.
Please accept this row of ducks plus small boobs donation to two
to 22 plus 60.06. In honor of my smokin hot boyfriend, Kyle TOEIC
Oh, Kyle, who would never who would never hit me in the mouth
but did give me a gentle pimp slap. Happy birthday from Jen
also with a G and please do you do Schmidt?
Unknown: You've been de deuced
John C Dvorak: Andrew Helenius in iron River, Wisconsin. In the
morning and thank you for your courage. I have been wronged. I
donated a row of ducks for 1518 and John commented the following
If committed the following offenses Oh, one that was not
credited for my dough. nation except in the show notes.
Adam Curry: I don't know how that happened
John C Dvorak: we got Adam here is monitoring every word I say
yeah just caught me. One of the men mentioned in my note for
hitting me in the mouth aka Joe flock of Joe aka flower town.
flavor. Flavor town was referred to as flav written you almost
did it wrong again. Yeah, but if I didn't read it in the first
place how could I do it wrong twice? Good point.
Adam Curry: What is that all about? Hey, just because that
was a scam
John C Dvorak: to me I wasn't credited but yet I mispronounced
this guy's name. That doesn't make sense. Well, maybe
Adam Curry: because you mispronounce his name. He says
he wasn't credited this seems like a little live
John C Dvorak: rendition of I've got answer was subpar. Wow, what
a complainer we didn't do any live rendition
Adam Curry: I don't think so either.
John C Dvorak: Then Adam to get switch topics. Oh, then Adam had
the audacity to misgendered me oh no I referring to me as a
she. What part of Andy with a why makes you think I'm a woman?
Adam Curry: Maybe it was your tone
John C Dvorak: anywho I'm a fellow follower in Christ. So I
will turn the other cheek and forgive you. Oh, yeah. Thank
you. It's a very forgiving note. Please accept this row of decks
are being your best podcast in the universe. And please give
the second best podcast in the universe our big dumb mouth or
OBD M A shout out. I have no affiliation with them just feel
they need more listeners. They deserve it. No jingles no karma.
And let's John wants to give it another try. I didn't do it in
the first place. I got ants by Andy helenus Salinas. Halle Lena
Linus
Adam Curry: Linus Helenius Helene you as
John C Dvorak: li ne us Helenius B where we iron river
Adam Curry: karma good karma karma Andy with a ye
John C Dvorak: Andy with why
Adam Curry: royal docks to tu tu tu tu tu from dude named Ben
dude named Ben here. Here again with a yearly row of ducks
towards knighthood which according to my bookkeeping is
finally here, though I did use double credits on show 1500 and
hit the knighthood mark then it got lost in the mess I don't
blame you guys. I figured a real credit was worth waiting for
please Knight me. Oh, this is not this is not in the in Oh,
interesting. This is interesting. How'd this happen?
This rare mistake from our new back office please Knight me
server of the Ohio and crest I got to write all this down. Can
you read this note for a sec? I gotta know after I write all
this
John C Dvorak: again. I'm nearly Rolodex towards night who was
according to my book give me to finally get by blah blah. I
don't blame you guys. I figured a real credit was worth waiting
for please snipe me as server of the Ohio, Ohio and crest and I'd
love some goulash and sliver of slivovitz was I think is that
fish isn't it? Sounds goulash doesn't sound good. Now, at the
roundtable I'm wrapping up my penultimate semester in college
and the show has been working overtime to keep me sane and
informed Nice. Despite the forces of woke ism at hand I
even hit a couple of people in the mouth here. And that's
saying something on campus keep up the fantastic work lads. I
look forward to the roundtable and all his family onwards to
barony is no jingles but looking for some graduation karma.
Adam Curry: You got that for you.
Unknown: Thank you. You've got karma and
Adam Curry: we've got the roundtable lined up for you got
that sneaky fish you want it?
John C Dvorak: I've got the note from anonymous that came in all
right, rocket. So anonymous comes in from Parts Unknown.
$222 And he writes by my glasses, Adam and John. I have
been listening since hearing Adam on Megyn Kelly show
Adam Curry: oh there it is the Megan Kelly dono a donor
John C Dvorak: here we go back in 2021. That's right. This is
truly the best podcast not Megan's but ours. And I
apologize for taking so long to donate. Keep up the good work
anonymous.
Adam Curry: Well, I'm about to reappear. Although, put it in
your calendar, May 31. Someone's getting fired. Whenever I'm
booked on the Kelly she Megyn Kelly show. It was fired last
time while Sharon Osbourne she got fired when I was booked and
they bumped me for four hours to have me on. And then it was
Tucker. Who by the way, Kellyanne? What's her name? Not
Kellyanne Conway. No, no way. No, no. Who's the who's the
you'd like her? The No, not Kellyanne Conway.
John C Dvorak: Yeah, I know the other one. Kaylee. Kayleigh.
McEnaney Kaylee McEnany. And then and she'll be
Adam Curry: she'll be in Tucker's time slot this week.
Yeah, well, you knew that.
John C Dvorak: Yeah. Or you knew that it was a big deal. I think
it's not going to work no of course with anybody in that
spot. She's She's too nice to be you know, he's you know, even
though he's got a big smile and he's always all you always got
that look, look a lot and he's he is a mean guy. I mean, he's
there's a meanness to him that that needs to be on that show.
You can't be a lightweight I mean, when Oh, Riley had to show
is a mean prick. So this guy is you know, he's kind of a mean
guy to is funny mean, but she doesn't have a bone of meanness
in her. She
Adam Curry: really doesn't. She really doesn't. Yeah, but I
mean, isn't it just for a week? I don't think it's I don't think
it's
John C Dvorak: uh, but he made it sound like she's gonna take
the spot. I did I make it sound like that. I didn't know they
didn't do the trades. Oh, okay.
Adam Curry: The trades. You go $200 from James Lawler who's an
Oklahoma City, Oklahoma sir Jimmy James here. And a whole
bunch of hashtags. shows have been amazing as of late the best
podcast in the universe. Oh, and our next UI who we meet up as a
Saturday and I hear Adam may make it J K. God bless. Thank
you for your courage. JK indeed. No, I'm going to the goat I'm
going to finally go to the Austin meetup again. In docs
backyard on Saturday rare parents rare appearance
everybody join us there Doc's back.
John C Dvorak: If you're going to give any donations to the
show, put them in an envelope with
Adam Curry: a note with yes with a note with a note with a note
please. And the final Associate Executive Producer to under
dollars is Roderick prince from Scottsdale Arizona, no notes so
he gets a coveted double up donation karma. Karma. I'll
prepare the roundtable John will take us through the 50s
John C Dvorak: and on we go with Paul Lawrence and Dayton, Texas.
160 16 as some sort of boom man thing, not sure what it means
anonymous 9608 And then right away. I'm sorry, I jumped ahead.
Bruce Schwalm of the sron the farm in Harrisburg,
Pennsylvania, when 3388 and then Diane tshwane back in John's
Burg Illinois $150 And she's got a birthday caught to her to
David. Brian to Lekki in Lincoln, Nebraska 111 11 Victor
Vandenberg and hares John Dom, which is here's Jan's dam, here,
you're here. Yawns
Adam Curry: dumb.
John C Dvorak: Here, Young's dumb in Holland. Yes. $100.
Anthony Caruso in Orlando, Florida is $100 He needs a D
douching.
Unknown: You've been D deuced.
John C Dvorak: Kerry Jackson Watertown, Tennessee 100.
Sebastian corage Mon koi mom. Boy mon Sebastian koi mon in
Amsterdam. 9608. Sir Kevin McLaughlin in Lucas, North
Carolina 808. He's continuing to trend along without glue gun
suelen in Missouri City, Texas 808 Alexis row bliss Robles
Robles, Robles Robles in Chula Vista, California. 77777. And
she needs a de douching. You've been de deuced and her brother,
you Julio or Julio Julio? Call it needs a call out as a
douchebag.
Adam Curry: Close call.
John C Dvorak: Daniel Rodriguez in Doral, Florida 7175. Michael
de la rosiere in Maryville tech Tennessee 5555 with a birdie
call out. William Alston if at 523 Andrew K Hill in Batavia,
Ohio, 55 One d3. Now these are all the fabulous 85 two this is
our this is the fabulous cinco Maione
Adam Curry: Andrew needs to do Do
Unknown: you been D deuced?
John C Dvorak: Cat Morton in Charlotte, North Carolina 5523
Rita Harrington 5520 Sir, hold on a second. Oh, Divide 23 Colin
petitive 523 This these came my way I got six of them. That's
not to Bandy Meyer and Merritt. Washington is a killer 3523
Dwayne Shalit in parts of no 5523 Okay, that's the end of
them. Matthew Davenport in Hyde, Cheshire, UK 55 George Sousa in
Hill mark, California. Please if it is 333 Please call out David
and Jim as douchebags. Michael gates 50 to 82 Jose Hosea are
Josiah Thomason, and Kenny Iowa 51. And the following people
finally are the $50 donors. shortlist elects Alex Zavala and
Cal Texas Villareal Villareal Michael Lebar, in Williamston,
Michigan, Philip, Kouzmanoff ski in Austin, Texas, Ryan Tiernan
in North Providence, Rhode Island, Jonathan Ferris and
liberal Kansas Matthew Smith and Colchester UK Robertson home
Robertson home in Flint, Michigan, Edward Mazurek in
Memphis, Tennessee Jonathan Meyer in Xenia, Ohio and last on
the list into hatchapee. California comes Justin Cruz,
one of the thank these folks are making show the defy 5351 553 a
winner
Adam Curry: and thank you again to our executive and Associate
Executive producers, who we read at the top of this segment and
all you who came in under $50. Either for anonymity we will not
read anything under that, or you're on one of the many, many
subscriptions which are recurring donations, really
sustaining donations, how we like to look at them. And we
really appreciate you signing up for that please go to our
donation page to learn more about them
Unknown: to vote.org/and A for forget,
Adam Curry: I wanted to thank Secret Agent Paul, we were
talking about the Clip of the Day jingle. And that was indeed
Secret Agent Paul, who created the Clip of the Day jingle and
the borderline Clip of the Day jingle. And he said it was in
fact a him and not Madonna seeing the borderline in the
borderline Clip of the Day. And maybe I should mention, just
people request jingles. But I want to just tell you some of
the jingles the guy's done. F cancer pet peeve of the day.
Open up Mr. Dvorak words do matter Putin on the rich the
magical shave ship shapeshifting Jews and one of my favorites
this one
I mean, that guy's got chops. I mean that's
John C Dvorak: and then yeah, but yeah, we need more stuff
from him.
Adam Curry: And I don't and I thought that he had done this
next one which I will pull out of the closet because we talked
about her but he did not I don't know who does this one
John C Dvorak: such a good one. What is that, Kaylee? Yeah, yes,
the Kaylee jingle? Yeah, it's the Kaylee jingle goes on
forever. She's got to show now so
Adam Curry: they can use this as the opening as the show tomb?
Yeah, just a thought. Thank you all very much this morning
episode number 1553. Have no agenda. Our formula
Unknown: is this. We go out. We hit people in the mouth.
Adam Curry: We do have a list sir. Dancing. Mike turns 55 On
Monday we congratulate him in advance. General Wimberly, which
is her smokin hot boyfriend. Kyle Twohig. Happy birthday. And
Diane Swanton Beck wishes David Swan, Jr. Happy birthday we say
happy birthday to everybody here from the back office and the
tube producers and CO hosts of the best podcast in the
universe. And as we just found out we have to Oh, May 10 Am I
mistaken? Doesn't matter. We have not one but we have two