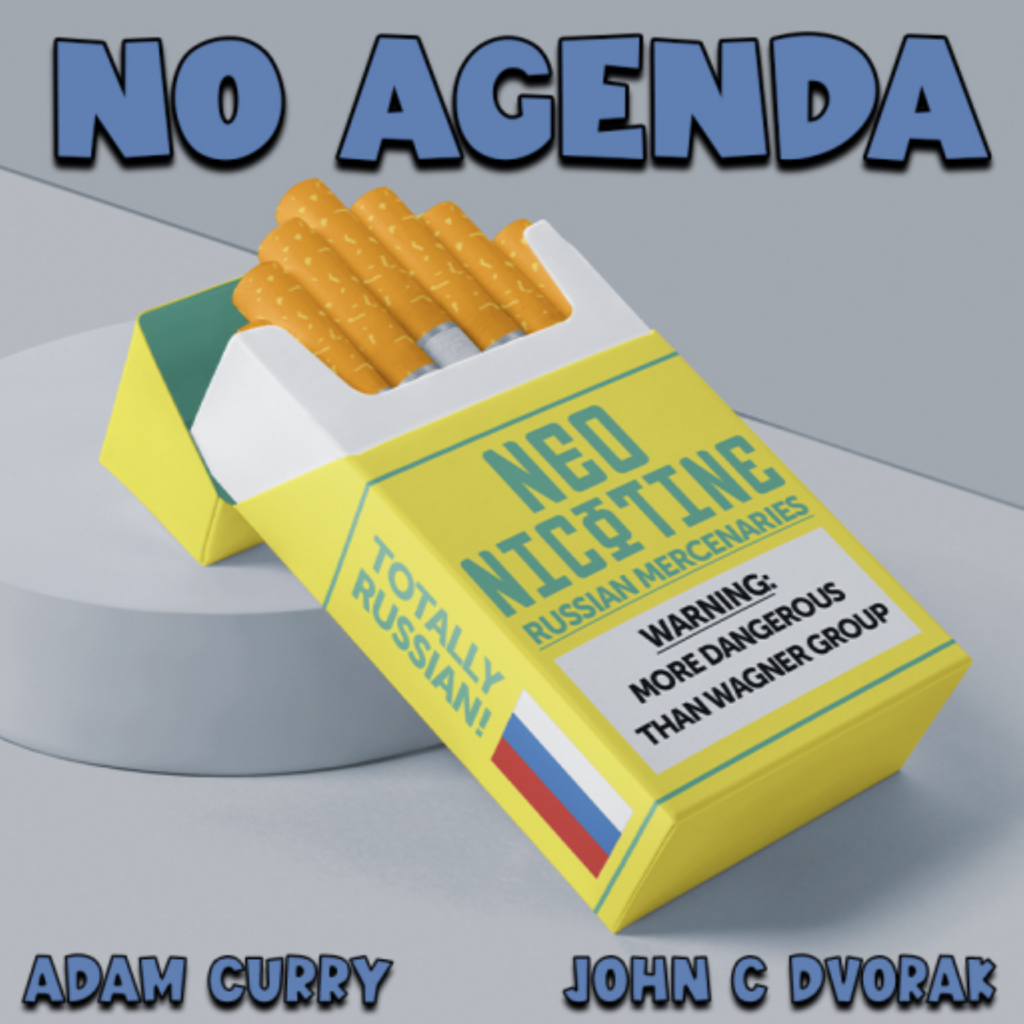 May 25th • 3h 7m
1558: Mediatized
Transcript
The transcripts of No Agenda are automatically generated and therefore, not fully accurate. Discretion is advised.
Click the text to start playing from that position in the show. Click the timestamp to copy a direct link to that position to your clipboard in order to propagate the formula.
John C Dvorak: I smell Victoria Nuland Adam curry Jhansi Devora
Adam Curry: may 25 2023 industry award winning nation media
assassination episode 1558 This is no agenda down in a spin off
world and broadcasting live from the heart of the Texas no
country here and FEMA Region number six in the morning,
everybody. I'm Adam curry being from
John C Dvorak: Northern Silicon Valley where I'm wondering who's
Vanderpump what is the rule and why and who cares. I'm John C.
Dvorak.
Adam Curry: Buzzkill. Wait a minute. Wait a minute. Have you
been watching e entertainment again? Have you been? Have you
been going on on the crazy channels?
John C Dvorak: As TMZ is one of them? Well, T MCMC spins that
does spend a half an hour talking about this show. I'd
never heard of
Adam Curry: it. Vanderpump Rules of course.
John C Dvorak: And then they talk about what a genius Andy
Cohen is because he I guess produces the show.
Adam Curry: Andy Cohen way he didn't he initially produce real
housewives. I mean, he's a he's a mogul in this stuff. Yeah, he
is. He's a mogul. He mogul.
John C Dvorak: He's the competitor with the other guy
that you know the survivor guy. Burnett. Yeah. Burnett. There
you go. I
Adam Curry: don't know if he's that big. His stuff is. I don't
know what this is. I guess.
John C Dvorak: This should get a lot of attention for some
unknown reason. That's
Adam Curry: true. It's true. Oh, man, so great week so far. It's
been fantastic. Except for Tina Turner dying. She was sick for a
long time. But then really, I had I had
John C Dvorak: to be pretty spry in her 80s.
Adam Curry: Well, she she had a serious illness. She had all
kinds of problems, man, she that was a nice lady. I had a lot of
fun times with her.
John C Dvorak: Yeah. Oh.
Adam Curry: Should I tell you one? Should I tell you a fun
time? Go for it. Okay. So she came this is when I was in
Holland. This is how far back a relationship goes. And she came
to think she was doing a concert. Yeah, I'm pretty sure
she's doing concert. And and this is that, like 84. Um, so as
as one does, of course, you're coming to the Netherlands and
the top Record Retailer has to have attention. Because you
know, that's how it works. Just the way it used to work. Now the
number one guy in retail, you gotta you gotta kiss his ass. So
the record company set up this special lunch for this guy who
was a real farmer. I mean, this he spoke farmer English. He was
just he was a real have to, it's hard to explain but in Holland
people understand when I say it was a real farmer just a real
like a redneck, basically. And so and they invited me because
she was going to be on my show to interviewer and it's
basically it's us in this restaurant eating at a table at
this guy presenting this huge, ugly, triple platinum piece of
crap that you know, you can't take back with you. You know,
it's just one of those horrible music industry things. And he
starts off by Yes. I'm so happy here to have tiny Turner beats
us today and in you could just see everyone cringing, but no
one dared say like, Dude, it's Tina Turner. Tiny Turner has
says sold so many records here in the lowlands to be lifted
very, very much. And she was just in I looked at her because
I was sitting across from her. Like, I'm so sorry about this.
This is welcome to The Netherlands. And she was so
proper and this was in her. Think Beyond Thunderdome. Danes
remember when she came back from England? named Tina Turner talk
like this. Remember that? She got all thunder Domi. No.
Anyway, once the chicken arrived I know it sounds racist. But man
Annie, Annie Mae Bullock when she dove right into the chicken
where their hands screw the cutlery. And we had a great
lunch. And many, many laughs ensued over the douchebag.
Anyway, just one of the many fun moments with Tina Turner
John C Dvorak: and her them to the trophy. I'm sure it
Adam Curry: got left behind at the record company. No one wants
that stuff in their home. It's not a trophy. It's one of those.
It's like four feet long and has for your wall. Yeah, no, I don't
know if got it even I don't have the four foot long one up. But
yeah, I put it in the garage actually
John C Dvorak: decided knew how to stop the car.
Adam Curry: New house. I decided not to put any of that in the
house. It's in the garage, kind of like a Pennzoil sign. That's
where I got all that stuff. And then I went up to Beck in Dallas
Tuesday.
John C Dvorak: Oh, yeah, that go.
Adam Curry: I think it went really well. And I gotta tell
you, man, it's tempting. I mean, that out you know, they always
like hey, you know, you'd be great here. You know the blaze
would be perfect for you. And he's got like this 1934 Bentley.
In in literally in the hallway between between studios you know
this Roadster a beautiful beautiful car and went through
his museum again everybody looks so happy they got makeup I mean
what outfit doesn't make up anymore who is a makeup they got
lighting guys it was makeup I can't believe you got makeup as
I think you know as you get makeup yes of course because
they got to make it they got makeup with a makeup lady that
whole makeup room that's that's abnormal into the evening in big
television they don't probably don't do that anymore
John C Dvorak: they don't yeah they don't even do it for the
local stations here anymore. I don't know Jesus throwback
Adam Curry: cut the costs exactly just cut the cost. So it
was good and I was able to get in early and jack up the chair
when we talked about that how he has this chair
John C Dvorak: to chair a little pump on the side.
Adam Curry: Yeah, it was good. Whoa, hold on a second. Let me
just sit in this let me just let me just make sure I do this
thing was good. You know,
John C Dvorak: they didn't call you out on it. No, in fact I
start off Hey know Jack and update share chump.
Adam Curry: They were all laughing I told Beck right off
the bat. Hey, I came in early to jack up the chair. Because I've
looked like a little boy last time. I thought it was fun. And
we talked a little bit of trans mouse's and that was cool. Gave
the NOAA job it was fun to talk about AI. He was all spun up on
the AI head that Tristan Harris guy had come on his show.
Remember the algo guy who did the did a little documentary
about the evil ill ills of algorithms in Silicon Valley.
He's an ex Google guy. You kind of remember that guy. That guy
quit. Yeah. And then and so now that guy has moved over from
algos to AI is going to kill us. Beck was all it is like oh man,
but it's really bad. We need this pause. Like I like Tristan
for the algo stuff. But come on. Let's chill out a little bit. So
I gave him the no agenda spin on that. That was kind of fun. So,
Daniel, you
John C Dvorak: brought him down. You got to come off the cliff.
Adam Curry: I did. I did. And now right on cue 20th century
fox comes out with probably the yin to the yang of the algo
fear.
Unknown: 10 years ago today, the artificial intelligence created
to protect us detonated a nuclear warhead in Los Angeles
as long as AI is a threat we will never stop hunting. This is
a fight for our very existence.
Adam Curry: All right, everybody, we're all gonna die
the algos movie coming out called the Creator. Where the
evil algo has taken over the world and dropped a nuclear
bomb. We never intended for it to happen.
John C Dvorak: Yeah, yeah. And of course, we have to recognize
the fact that this same storyline has been around for
since the 50s. Maybe even earlier. Yeah, probably the I
think it was peaked at with The Forbin Project,
Adam Curry: The Forbin Project. Oh, I don't start
John C Dvorak: that's everybody that knows this one. Well, we
don't work in project is where what was a bunch of these AIs?
And they're doing you know, good work. And then
Adam Curry: meeting up good work doing customer service.
John C Dvorak: Yeah. And then they start meeting up in the
cloud or in the cloud. Oh no. And then they become the
disjoint they realize that they're being used and abused
and they become this giant entity that takes over the place
and and once they and they if you even try to unplug them
they'll give you a killed the night John your ass
Adam Curry: 1970s science fiction thriller film from
Universal Pictures let's see about an advanced American
defense system named Colossus becoming sentient Ah there you
go. Oh this this this looks like something I should be watching
this weekend on the on the on the Amazon to the Netflix it's
got to be a fluid enjoy it it's
John C Dvorak: a it's actually a well paced. It's one of those
70s films that are semi experimental they kind of out
there Yeah, I think is the best of the bunch.
Adam Curry: She would do a one big star in it. Probably not no
I don't think so. Gotta pause positive review from New York
Times saying it's no Dr. Strangelove. Oh Academy of
Science Fiction award fantasy and horror films nice. He got a
Hugo Award whatever that is. The Hugo is the award. Oh that. Oh,
no, it's a nomination. Oh, yeah. Well, no. Who won? Well, it got
the Academy of Science Fiction Fantasy horror films golden
Scroll of merit. Hey, we wish you Got a golden Scroll of merit
John C Dvorak: giving these awards out? There you go that's
I said this before I think maybe this will be the year we do the
no agenda awards.
Adam Curry: I wonder if we can maybe it maybe no agenda is the
is like the the academy and we do it under the podcasting 2.0
banner, so it sounds more inclusive. You know what I mean?
John C Dvorak: We'll come up with a good, that's that's a
good idea.
Adam Curry: Yeah. And then how do we make money on this?
Exactly.
John C Dvorak: We make money through publicity.
Adam Curry: What do you mean publicity? What do you mean,
everyone's gonna
John C Dvorak: love us for doing these awards? Because people I
don't know if you've noticed this, but people in any one
industry love to give each other awards and they're all happy.
Adam Curry: Well, this is the problem there's so many awards
already we have to show that we
John C Dvorak: there's no definitive podcasting award name
it
Adam Curry: well, no, there's not. No, that would be us. But
But how do we how do we then you're,
John C Dvorak: you're like the perfect guy for it. That's
right, because
Adam Curry: I'm in it. So I could I could make it the I
could sanction, I'll go on Rogen. I'll say a billion you're
John C Dvorak: going to sanction you're going to be part of the
judging committee. You're going to be it you're going to be the
award guy
Adam Curry: and we're going to give Rogan an award
John C Dvorak: we should give him an award he's probably got
the best interview podcast there is
Adam Curry: no he's just we'll just give him an award to make
sure that he promotes the award
John C Dvorak: oh no that you'll he'll get an award that's what
you do. Of course he's gonna get an award.
Adam Curry: Who else do we definitely need to give an award
John C Dvorak: well back back you know who gives coming around
is Megan Megyn
Adam Curry: Kelly that's right top three award winners ladies
and gentlemen. The no agenda podcasting awards. I think it's
a winner to win
John C Dvorak: I know it's a winner. Oh, temper the
Adam Curry: excitement back to back to we're all going to die
this happened and this is such an obvious I can't my can of
course I can believe that the mainstream the M five M doesn't
understand what this gag was about. This morning.
Unknown: A new look at the potential impact of AI generated
images after a fake picture appeared to rattle Wall Street
a simple AI generated fake image.
Adam Curry: I love how they say appeared to rattle Wall Street
that's a good watch is
Unknown: after a fake picture appeared to rattle Wall Street
as simple AI generated fake image sparked about a $100
billion stock market move.
Yesterday. Numerous Twitter accounts shared this fake image
showing smoke billowing near a white building, leading some to
believe an explosion occurred near the Pentagon when in fact
no such incident took place. While ABC News has not
determined the source, the image contains the hallmarks of being
made with artificial intelligence. There are
three fingers everywhere talk all the time about social media
platforms. Every story is flattened. You can't tell where
it comes from or who is producing it. This is the
perfect case in point
the image was first posted on Twitter at 8:42am at 1003. A
Russian state controlled news out oh we did the image to its
millions of followers. The stock market took a dip over the next
several minutes until 1009. When authorities made it I think what
Adam Curry: they're talking about is the fact that RT ran a
story on this and so that is now categorized as a Russian state
media outlet instead of just saying RT
Unknown: Russian state controlled news outlet tweeted
the image to its millions of followers. The stock market took
a dip over the next several minutes until 1009. When
authorities made it clear there was no explosion. Experts have
warned of hyper realistic fake images deceiving people online
as the accessibility of AI powered tools grows. This is
only
a smallest effect that can only grow. What we're seeing today is
only a small example of what is to come as this grows in
complexity
industry leaders have pointed to AI is ability to solve problems
quickly and the technology has already contributed to medical
research. But last week, Sam Altman, the CEO of open AI urged
lawmakers to act quickly to regulate artificial
intelligence. My worst
fears are that we caused significant we the field the
technology industry caused significant harm to the world.
Many of the Twitter accounts that spread the hoax carry blue
checkmarks which previously meant the accounts were verified
but under new owner Elon Musk, Twitter now gives a blue check
to any account that pays a monthly fee.
Adam Curry: This is a great multi layered report that ABC
brought us we get to slam Elon Musk with his his blue
checkmarks not being official not being checked, like really
verified. We get to slam Russia. Somehow we get to hype up the
the great Sam Altman, the altruistic douchebag de jure
who, by the way, a chat GPT his outfit is coming to smartphones,
you know, so they're releasing an app Oh, I'm sure he really
wants to halt everything. No. But what this is is so obvious.
And we could have done this. I'm kicking myself. The algorithmic
not AI but the algorithmic trading. The algorithms on Wall
Street have been trained to take a look to be watching Twitter
for positive and negative stories. So of course, someone
sets a whole bunch of a whole bunch of shorts in place, and,
and then releases some AI image. And I'm just not that I'm
wanting once it gets into the right spot, and you get a couple
buddies to retweet it. And that starts to go viral, and then the
stock started to start and start to go down. This was a genius
move. So all ABC didn't catch that part of it. That it's not
Russia, the states traders, so it's obvious.
John C Dvorak: Well, it's definitely a way to make a quick
buck in one day. Yeah,
Adam Curry: I don't think I don't think they can repeat and
maybe they can maybe can do it over and over again.
John C Dvorak: We'll have to see why. We have to do it offshore.
You're gonna get in trouble if
Adam Curry: Daniel, hence the RT, RT, RT you get RT?
John C Dvorak: And I've always felt that if you listen to the
show anyone listen to the show over the years. I've always felt
that Putin was a stock market. Stock guy.
Adam Curry: Sure. Yeah. Well, there you go. NBC didn't,
wouldn't you be? NBC did a report on this as well. It was
big news was really huge.
Unknown: A viral fake picture followed by a real dip in the
markets Monday,
the Dow now down about 200 points, the s&p is down about a
quarter of a percent right now.
The fabricated photo posted to social media seeming to show a
fiery explosion near the Pentagon experts say most likely
made using artificial intelligence
Adam Curry: about Photoshop, Photoshop could
John C Dvorak: do this better. Take days you could do the
Photoshop in just a few minutes, cut and paste and it's just like
this is the part of the story I don't get.
Adam Curry: Because it doesn't a blockchain, just new block likes
new blockchain is caused by block blockchain. Blockchain is
gonna kill us
Unknown: say most likely made using artificial intelligence.
Look closely see how the grass blends into the concrete here.
Part of that black pole disappears behind this barrier.
And the fence itself looks off.
Adam Curry: Can you see the hole there? Yeah, apparently a jet
went in there. And there should be luggage all over the lawn.
And why is that lamppost still standing? Where was that
analysis NBC, all of us,
Unknown: both within the DOD and I'm sure in the journalism
journalistic community have to take a look at these things and
make sure we get the facts before we make assumptions.
Yeah,
experts and officials debunks the photo within minutes, but it
only took seconds to spread fast retweeted by a Russian
propaganda outlet shared by another account with a million
plus followers and rocketing its way towards Wall Street.
Adam Curry: Why don't they identify these entities? What is
wrong? What is what is wrong with identifying which accounts
actually did this? This is the baffling part to
Unknown: me part of the problem. The fake image was retweeted by
accounts with blue checkmark pudding one pretending to be
Bloomberg News has been suspended. Blue checks on
Twitter used to be in the account really?
John C Dvorak: This is good. I forgot that that's true is part
of the story. Some bonehead just call himself Bloomberg News.
Unknown: No checks on Twitter used to mean the account really
is who it says it is. But not anymore. Experts warn this may
not be an isolated incident for long.
I think this is the canary in the coal mine. We are going to
see more disinformation, more fraud. And we are almost
certainly going to see this interfering with our elections
in 2020.
Companies are rolling out plans to put digital fingerprints on
pictures. So it's easier to tell what's fake and what's not like
Adobe today announcing it'll integrate AI into Photoshop.
Adam Curry: Oh, that'll help that. Do to make it to make it
easier. But I think the point here is from a government
standpoint, now we've got all we need rules and regulations
around this new blockchain. Yeah, you know what this is
going to lead to online identity laws. That's why they bringing
the Twitter checkmark. So now whenever you post anything
anywhere, this will cope with some cockamamie cockamamie law.
That Whoa, you can't be online without
John C Dvorak: it. I've been trying to do this for a while
here.
Adam Curry: I know but here it is. You go online, you'll have
to identify digital identity. Yes, this is problem reaction
solution. Beautiful.
John C Dvorak: They won't pull it off. They've been trying to
try it. And this
Adam Curry: has not worked much saying they'll pull it off. But
they're going to try but they've been
John C Dvorak: tricked by and they've been trying for at least
10 years maybe longer. Probably 20. I'm just
Adam Curry: Yes, of course. But that's the beauty of it all.
That's the beauty of it all. We got to we got a lot of boots on
the ground reports for today's show got a dude named Ben
anonymous, of course, boots on the ground report about how AI
is being used in the IT software testing industry. I'm a manager
for a global software testing company. We recently introduced
a couple of new testing tools and strategies to pitch to new
and current clients. A lot of it is your typical run of the mill
it QA Software Testing nonsense. However, something I stumbled
onto the other day, they are now selling themselves as the
world's leading AI powered quality engineering company. So,
of course, he looks into this machine learning based testing
recommendation they are selling to their clients. And he says
the problem is well, and the reason why I'm bringing this to
you because in the great words of John C Dvorak, it's a scam.
This grand new tool is just a spreadsheet with a bunch of
formulas and macros. And he actually sent us the spreadsheet
so we could have this AI for ourselves. And this is their
what they're known as an AI
John C Dvorak: blockchain, a blockchain a testing tool, where
they combined their AI and blockchain now you're talking
Adam Curry: I don't know I mean, ever since. SPX and Backman.
Freud thing is, what's his name? What's up with him? When is he
going to jail?
John C Dvorak: He's hanging around the house. stinking up
the place. He's to go to Jake has showered good.
Adam Curry: I am sad. Because of all this AI nonsense. My
favorite pay for search engine is going out of business. Yes,
it went out of business. Yeah, it's shutting down the end of
this month. Neva, I'm very sad about that. A lot
John C Dvorak: of people are irked about it. They've just
been writing in I already noticed it on the no agenda, a
social complaint. They said, Well, I took Adams advice. And
this is what I got. And now
Adam Curry: that's not quite the message they're sending. I
thought that was
John C Dvorak: the message.
Adam Curry: But what what I what that kind of makes me think is
yeah, this AI nonsense the idea that you can type in a natural
language query ie enlish and type a question or fill in your
native language here and get back and answer is kill is
killing Google's own search business. No one wants to do
that anymore. Everybody will want to have this and Neva
clearly a small company. You know, they tried to do it
without advertising by asking people to pay $5 a month. They
couldn't afford it because it's unaffordable. You can't have
generally gotta say generative now that's what all that's what
CMBC says. All generative AI, which is more like a good word
centralized blockchain. Generative AI. It's too
expensive. Just can't handle the loads. So we'll see how that
goes.
John C Dvorak: And then wait for your phone.
Adam Curry: Oh, don't you It's coming. It's coming. You want to
do so you want to change topics?
John C Dvorak: Yeah, I'm going to talk about killing the poor.
Adam Curry: only happens in Canada.
John C Dvorak: No, I'm gonna show you I'm gonna prove you
wrong. Oh, okay. Let's play the Canada clip first. This is from
I believe a CBC and this is the interview with a poor guy who is
going to get thrown out in the streets and he just decided to
hell with it. I'm too old and sick to live on the streets.
They're gonna kick me out of my place so I'm signing up for the
maid program ma ID the medically assisted
Adam Curry: death induced death I think medically medically
assisted to do Yeah, induced death. Wow. So All right here we
John C Dvorak: made that I like to where they use that when
Canada made guy.
Unknown: Aamir far sued has applied for medically assisted
dying known as made he lives in constant agony due to a back
injury but it started the process for end of life because
his rooming house is up for sale and he can't find anywhere else
to live that he can afford
Adam Curry: a second I don't understand something the acronym
is made and she says medically assisted dying well this is what
is the i What is the I happen in there just to make a cool
acronym.
John C Dvorak: I think so. But it could have been somebody I
don't know come up with something but yeah, it's a cool
acronym. Get it
Unknown: made. Amira far sued has applied for medically
assisted dying known as made. He lives in constant agony due to a
back injury but it started the process for end of life because
his rooming house is up for sale and he can't find anywhere else
to live that he can afford. He barely survives on Ontario
Disability Support payments, which are just over $1,200 a
month. He doesn't want to die. But being homeless is not an
option. I know in my present health condition I would survive
it anyway. Far sued meets the criteria for made physical
suffering due to disability that cannot be relieved. His doctor
who knows our suits real reason for made is his fear of being
homeless signed off on the application in August for sued
needs a second to do the same. There's a 90 day waiting period
he believes he could potentially access made in about a month.
Adam Curry: I don't wish to be dead. Even with the pain even
with the meds. What does he say at the end that I couldn't hear
it?
John C Dvorak: He died doe wish to be dead even with the pain
even with the meds you say I don't wish to He did. No he
doesn't want to be dead. Well then why is he going to get
made? Because he doesn't want to be homeless more than he doesn't
want to be dead.
Adam Curry: Wow. Well homeless sucks.
John C Dvorak: Here we go is from one of our local my with
northwest.com. During the city council committee during this
week, Seattle City Council woman, Sarah Nelson questioned a
group of public health workers that the city funds to tackle
the Fentanyl crisis. What are they being used for but as as
the fatal overdoses soar to historic highs in Seattle, the
city and King County are not pushing treatment for addicts.
Instead, they're using a harm reduction model that seeks to
make drug use safer by handing out needles, pipes, pipes,
pipes, and other tools to enable the addict to continue abusing
drugs and they're now acknowledging treatment is not
part of their goals. This is a this is part of the an effort by
the cities to Democrat run cities I had to say to kill off
their homeless that this is a this is a murder mechanism. No,
no, no, we're not going to treat you here's a free crack pipe.
Adam Curry: Well, that's the same in San Francisco the same
doors been
John C Dvorak: giving out through your crack pipes, New
York and places where you can shoot up Yeah, come on in shoot
out. Oh, yes. Shot up too much. You're dead.
Adam Curry: Well, you know. I mean, it's, it's cruel, but it's
probably more effective than anything else they've come up
with.
John C Dvorak: I mean, Canadians are using this made thing so
you're saying
Adam Curry: why don't they try some fentanyl? Fentanyl seems to
be fine here. We should make some fentanyl. Fentanyl seems to
be killing our people just fine.
John C Dvorak: I mean, and nobody's doing anything. Let's
let's step back here. Let's just step back. They're not doing
Jacobite good. Let it come on in fentanyl people. They're letting
the fentanyl flow in and if it kills a bunch of people that
kills I don't know what's the number 100,000 More than that
there's more than a lot more than gun violence dropped you
know use and it is in bombs and the homeless all dropping dead
left and right this is just this is one way of dealing with it.
Adam Curry: And then people who don't get on the fentanyl Hey,
try this ozempic you'll melt away
John C Dvorak: you have another booster
Adam Curry: Did you see that? That would go V which is the the
ozempic Competitor now or it's anti addictive it'll help you
with your addiction to drugs. It'll cure your drinking and
shopping habits even nail biting.
John C Dvorak: Now I have not seen this one. Oh, it's
everywhere. I haven't seen it.
Adam Curry: One in five deaths among young California is tied
to fentanyl by the way
John C Dvorak: more than five deaths one in five alcohol.
Okay, I didn't get that up.
Adam Curry: Pfizer is also coming out with a weight loss
drug. But you don't need to or you don't need to inject it.
It's oral it big story in the in the Atlantic signed into
scientists actually accidentally invent an anti addiction drug
people taking ozempic For Weight Loss say they have also stopped
drinking smoking, shopping and even nail biting.
John C Dvorak: Even going out to out of the house
Adam Curry: and Becky Warli. We first heard this from Becky
Warli. She's the one that said this is a brain a body and a
brain drug. This is This is bad. And it may be a brain drug.
Yeah, in the way that it removes your lean body mass ie muscle
and I don't know brain tissue. Could be I think we're melting
away people's brains.
John C Dvorak: I think they're trying to get rid of people
that's well that
Adam Curry: ultimately see what how about COVID How about COVID
vaccine? Yes. To many people, it always comes back to those
Population Bomb people, doesn't it?
John C Dvorak: Well with the murders in Seattle that are
given away addiction products, instead of stopping the
addiction. These these these governments, and I don't you
know I'm not a religious type. But these governments are all
run by atheists who don't give a shit
Adam Curry: or actually do and want to kill people.
John C Dvorak: So that could be to you know, what's
Adam Curry: fascinating
John C Dvorak: is Satanists are running the San Francisco city
government in Seattle. About that.
Adam Curry: I have a clip about
John C Dvorak: oh, great. Oh, hold
Adam Curry: on a second. Where it was this satanist I can't
remember where I had that was it I'll find it eventually. But
what's interesting, you know, we're one of the two countries
in the world where where you can now this is Chicago. I'm sorry,
not San Francisco.
Unknown: This is Chicago. Those Very Own WGN News Nine. Local
Group belonging to the Satanic Temple is suing the city of
Chicago block club Chicago reports members allege City
Council isn't allowing them to say Hail Satan at council
meetings. group's leader says dozens of religious groups have
given invocations in front of city council since they asked to
give one four and a half years ago. He says that violates their
First Amendment rights. The Satanic Temple is a federally
recognized religion with congregations across the
country. But dynamite There you go.
Adam Curry: I think they should I think they should be allowed
to say it so that we can identify them. I think I agree.
Yeah, do that. So we're one of the two countries in the world
where you can advertise and market directly to end consumers
any pharmaceutical products, which of course, is how we get
all this ozempic crap. You know? I mean, literally, if you if
you're watching TMZ if you watch it in the evening, you will see
hamburger hamburger fries, chicken ozempic, hamburger,
hamburger, fries, depression, hamburger, hamburger, chicken
ozempic. I mean, it's all it's so obvious what's going on. And
of course, the news can't report on it. That's why it's so
brilliant. When you when you watch Australian television as
an example,
Unknown: back on his feet after a harrowing ordeal, all I did
was go and take a vaccine. Now Chris Nimis is fighting for
justice couldn't walk, I couldn't work. The ones healthy.
49 year old became wheelchair bound after developing a chronic
neurological disorder called CIDP. He says the symptoms began
two weeks after having his first AstraZeneca vaccination in 2021.
They included headaches, tingling fingers, facial palsy,
and stolen mobility. I was paralyzed completely from the
waist down. Mr. Namath is still unwell, and claiming millions of
dollars in compensation under the federal government's COVID
19 vaccine claims scheme. He's one of more than 3000 Unlucky
Australians maintaining COVID vaccines made them ill.
Adam Curry: They actually they're giving out compensation
to people, because you can report on that in Australia
because it doesn't cut into your bottom line.
John C Dvorak: Right? You can you can't do that here. And and
I haven't heard, I've heard nothing but people complaining
on and off and local news reports that they can't get any
money out of this big fund. They put together
Adam Curry: our fund. Do you mean? Yeah. Of course not.
That's not It's not supposed to happen. And now start up Noom
Noom is adding ozempic and other weight loss injectables to its
offerings because quote, outcomes are so much better. So
you don't even know need to go to the doctor. You just get on
the
John C Dvorak: I know, you actually can get away with not
going to the doctor for most things now. But
Adam Curry: in the UK, where people are clearly trending
towards obesity because of their incredibly poor diet. That
really is because of poor availability of good food. But
also they drink like fish, as well. And there's there's
evidence that a lot of their obesity comes from drinking.
They're putting ozempic or something like it on the NHS,
she can get it for five bucks. pounds. Just ask her just ask
your professional.
John C Dvorak: Yeah, yeah, this thing just happened almost
overnight.
Adam Curry: And it's been around for quite a while. That's what's
interesting.
John C Dvorak: wasn't selling. I mean, the diabetic folks.
Adam Curry: Exactly. What can we do with this thing? What does it
do? Well, I know Bob, it melts you muscle in a bit of your
brain? Let's see if we can get a good test out of it. Hey, FDA,
come on.
John C Dvorak: We got marketing people in this country that are
just the best.
Adam Curry: Yeah. Yes. Although they're, they're making some
mistakes with with their marketing of Trans Pride. This
is this is becoming a problem. Budweiser, Anheuser Busch. I
mean, now they're talking about it on CNBC. Now they expect
their revenues to be down 26%
John C Dvorak: Yeah, what is that in billions? That's a lot
of money.
Adam Curry: Of course, you cannot help but notice that
their stock price is down significantly more than 10% and
corps Miller their stock prices up so and that
John C Dvorak: is anybody thought of this possibility.
Okay, guys that are pushing this ESG and all this crap and they
want to make these guys, you know, go in this direction.
They're all investment companies. Yep. Yep. Raw hedge
funds.
Adam Curry: I know exactly what you're saying. And I think
you're right.
John C Dvorak: That's just bomb these stocks and that target is
the next target. Well, here it is
Adam Curry: targets. By the way, you can't get a really good
report on US media about this for the same reason you don't
get it about pharma target is a huge advertiser. So everyone's
very cautious but you go to Australia
Unknown: targets, the Tarjei have gotten in trouble for tax
friendly. I'm glad they got in trouble tech friendly swimwear
for kids, what is tuck friendly swimwear for
kids, Rita?
Oh, gosh, I'd rather not just but you know, you can imagine a
flag in the corner of the thing Oh, displays very prominently of
all these political messaging on kids clothing, and even things
like that. I mean, normalizing kids, tucking their genitalia as
if they're Lea Thomas about to take on the females at a NCAA
championship.
Adam Curry: If you look around on the on the socials, I'm not
on Tik Tok, but I'm sure it's it's big there. Oh, yeah, people
aren't there. I'm not gonna buy a target anymore. And honestly,
John C Dvorak: there is a hashtag going around saying
boycott target. And if you look
Adam Curry: at target stock price, May 15, it was 160.
Today, it's 139. And if you look at Yahoo Finance, you know,
finance, you will see that this LGBTQ controversy is hitting the
financial news. But the real problem is not just the
marketing of met Alex Stein, you know, Alex nine, the guy who
goes to all of the all of the council meetings, and pretends
to be LTI guy who's the best. So he went into Target, and he put
on one of these tuck bathing suits. And he came out of the
dressing room, and he's talking to the staff like, Oh, it's so
great. Look, you can't you can't even see it. I haven't it was
completely insane. Guys, so funny. But what, just like with
Anheuser Busch, it wasn't just, you know, the Mulvaney
character, it was truly the marketing VP that I think, you
know, just who clearly didn't set it, you know, our, our
customers suck is what she basically was saying. And now
you've got to see as she did, she got basically that's what
she did. And now the CEO of target. He did an interview on a
podcast, I might point out, saying, Oh, this is great for
our brand. Yeah, yeah, we love that so so this is the mistake
they make and now what's going to happen is you have people who
do not like this they don't like their kids being literally
targeted in this way. And you can just count on it that the
trans community is going to boycott target as well for not
standing their ground.
John C Dvorak: Yes, it's it's a classic and it's a beautiful
maneuver and I'd have to say my thinking as you know, as you
know exactly what I'm going to say the idea is to slam the
stock and there will be a trigger Yeah. When do you buy
back that you buy back if you're going to trade and this is not
an investment advice at all this is this is an observation I'm
making because this is too fishy. And this guy looked into
this this guy who was the head of who the CEO of target you
should look him up he's on Wikipedia it's got a kind of a
sketch me he's been here and there and everywhere and but he
looks like one of those guys that he's like rent rent rent to
you they're gonna break they bring him in he Oh, yeah, this
is great. Brian Cornell the stock to thing hits goes below
100 Who knows how far down it could go. The trigger is they
fire him then you and that wouldn't be bison
Adam Curry: you buy let me see Where's he been before? Status
Quo if way I was a big guy PepsiCo Safeway,
John C Dvorak: ruined Safeway, Sam's Club before I stay
Adam Curry: OfficeMax The Home Depot and happened to them. Oh,
man, this is interesting. Well, next on Deck is the north face.
You know the North Face clothing.
John C Dvorak: Yeah, North Face it but is that publicly held?
Adam Curry: Oh, I don't know. Let's find out. Yahoo
I don't know. I don't know if they're publicly held. Is it a
part of some think so?
John C Dvorak: Yeah, visa was not publicly held.
Adam Curry: Is it VFC Corp. I think so.
John C Dvorak: The Lord's face is definitely going
Adam Curry: going down. Yeah, because they got
John C Dvorak: the word is in the in the game in the business.
There's a word for it's called the eating shit. That's what's
gonna happen. That is
Adam Curry: the technical term for what's about to handle term.
Yes. technical term very interesting. When they're owned
by Who VFC Corp? I think? I'm not sure.
John C Dvorak: Nor whether it's North NFC NC H North Face
capital holdings. No, no,
Adam Curry: that's something else.
John C Dvorak: That was just a money manager. Yeah.
Adam Curry: We got a I mean, again, a whole bunch too many to
even read a lot of boots on the ground reports and this one I
just have to share from Dame Jamie of the highway. And I put
Dame Jamie's whole note in there. But I was told I could
just route around. John out of my thought was time to give a
boots on the ground report a few things that have been discussed
on the show a little background about myself, I was assigned
male at birth, I've been gender dysphoric my entire life. I was
officially diagnosed in the late 80s. And I formally transitioned
to female in 2003, at the ripe old age of 40. Which I think you
and I both think it's fine. You do whatever you want.
John C Dvorak: Yeah, you're way past the age of consent. Yes.
Adam Curry: And it was certainly if you're a dame and you've
donated to the show, we're good with you. You're the best.
Between the diagnosis and transition, I had an experience
I want to tell you about during the 90s I was diagnosed with so
this is Dame Jane telling us the story of then and now. During
the 90s I was diagnosed with low testosterone, I got a minimal
dose via injection from the doctor. The next few days were
living Hell, I'm normally a very calm person. But during that
time, the smallest thing would send me into a rage. This is
your roid rage you were talking about this is the danger of
giving, you know even adolescents these chemicals
would can send people into a rage. The then the aroma TAS
kicked in after a few days turning the testosterone in my
system into estrogen and I was in love with the world again.
Several months later, I did it again. Same result. If that
happened to me with my male body, I shudder to think what
happens with a female body. Back then I was diagnosed with gender
dysphoria. The only way to get hormone to surgery was to follow
the Harry Benjamin standards of care. Harry Benjamin is the is
the guy who wrote the book on this. And this is what it used
to be in the 90s a minimum of 13 hour long visits with a
psychiatrist trained in gender care. Once that was completed,
the highly coveted Get Out of Jail Free letter showing that
you were a patient under professional care, and not some
pervert hanging out in the ladies room, then a referral to
an endocrinologist for hormones, then you had to live full time
in your new role as for a minimum of one year, with
regular visits with your therapist, after a full year of
full time living, you need to see a second therapist, both
therapists would give letters of recommendation for surgery,
which I'm sure they will give you. At this point, you need to
come up with approximately $20,000 needed for the surgery
assuming male to female the other way around is a lot more
expensive. All in all, it took at least two years from start to
surgery. And of course now it's you know, one visit with the you
know, given by the school behind the parents back to teenagers,
John C Dvorak: and sub tab just pre treated.
Adam Curry: So now this is the this is the part that's quite
amazing what Dame Jamie writes to us. What most people don't
realize is that the war on absolute truth is the oldest war
of all, it's the war on God. If we can make our own reality,
then we are our own personal gods. And it's that last part
that brings me to what I've been meaning to write to you for the
last few months. The blatant manipulation of a very
vulnerable portion of our society is reprehensible. My day
my being trans is effectively tacit approval of what's going
on and I can't allow that. My masculine side has been pretty
much dominant since COVID. started and I formally D
transitioned on my 60th birthday a few months ago. With that I
formally petitioned the peerage committee that's huge jump for a
title change from Dame Jamie of the highway to surge Jamie of
the highway. How about that
John C Dvorak: that's that's easily approved.
Adam Curry: But isn't that something that is something I
and I commend the future sir Jamie of the highway.
John C Dvorak: commend the fact that she'd write to he right who
he now he wrote this letter.
Adam Curry: What courage that takes. I really appreciate that.
That to me was just mind blowing.
John C Dvorak: Well, she's he he's not short of saying
Satanism.
Adam Curry: Well, yes, stop short of it. But yeah, basically
said that.
John C Dvorak: I will get off that kick. Immediately.
Adam Curry: No. Well, here's something that was rather
interesting. You know, there were cov sisters. What Ciao ciao
ski sisters with
John C Dvorak: kowski. Yeah, the the matrix. Yeah, the matrix men
turned women. Yes. And it's really Just a background make
sure everyone knows this started off at one of the brothers.
Transitioning, pissing off the other brother. Yep. For about a
year. So I said, Okay, well, I'll transition to. So they both
became women.
Adam Curry: So Lily talked about this in a recent interview, I
think this is Khan, probably, probably a podcast, or that was
in front of an audience. And now, because of the distinct
difference, what we're discovering, you know, you have
teenage girls who are going through middle school, they're
having all kinds of issues, all kinds of problems, of course,
not helped at all by social media and apps and the phones,
etc. For boys is very different, you know, you're unattractive,
you're never gonna get laid, you're, you know, you're, you're
stupid. By the way, the whole Western world has told you if
you're white, and you're a male, and you're says, You're a loser,
there's nothing for you to lose or nothing. And you know, and if
you don't look like these dudes, you'll never get a Kardashian.
And it was really interesting to hear. Miss Wah kowski. Explain
how she came to, to be a woman,
Unknown: to be honest. Like, for me, the people that I saw the
first images that really struck a chord with me were, you know,
trans women in pornography. And there was something that
unlocked in my brain that I saw these wonderful, fearless
performers becoming these becoming desirable. And I in my
head, I could take the leap where I felt like well, man, if
I could be desirable, then maybe I could be loved. And for me,
that's like, one of the keys that trans people have to like,
struggle through, you know, will somebody love me? And so yeah,
that's, that's my answer. Nick Adams. Excellent answer. Lily
wish asked.
Adam Curry: That is an eye opener. I believe this is
probably true for a lot of young men. Hey, you're sitting in your
basement vaping playing video games, you feel unattractive?
You may be unattractive, you're being told you're a loser.
You're no good. And then yeah, by society, and you're watching
porn, and all sudden, like, Oh, I could be loved. I can be I can
be loved by someone, as you know. And this is probably
what's going on with me. This. This hits home, man, I think not
with me. But I think that's, there's something going on with
that. And then I couldn't believe CBS even put this on the
air Hello, Surgeon General,
Unknown: social media. It's entertaining. And some teens
can't get enough. But America's top doctor is sounding the
alarm.
There is not sufficient evidence for us to conclude that social
media is in fact sufficiently safe for our kids.
Up to 95% of 13 to 17 year olds report using a social media
platform, with more than a third saying they use social media
almost constantly. The advisor recited a study that found
adolescents who spent more than three hours per day on social
media face double the risk of poor mental health outcomes,
including depression and anxiety. How urgent is it?
That we've seen an increase in depression and anxiety and
suicide and loneliness among young people? There's a full
blown crisis that's taking place in our country right now.
Adam Curry: Wow. Finally, finally,
John C Dvorak: why do you think this is a surprise that CBS
would play this and I'll say this tick tock is eating into
their lunch too. Yep, you got to believe advertising dollars go
don't go here. This you got some money to spend? You can spend it
everywhere. That's right. That's right. I think I think the
network TV people should have gotten into this years ago they
could have brought this up it hasn't changed any but now that
they're losing money it's embarrassing to watch the TV
these new shows and all the drug company ads for crazy stuff.
Stuff. Two things that nobody I mean, how many people are, you
know, have some of these conditions? Very few.
Adam Curry: And let's add to this boots on the ground. I
meant to send this email last week after John first pondered
whether the Tennessee shooter was on testosterone because it
jarred some memories for me of my days as a pharma rep. Yes, I
will have to atone for that. The best thing I can say for myself
is I hated that job and it was shipped out and worked as a few
hours a week as possible. But I sold Zoloft for Pfizer who
always accuse me of being a woohoo girl. I gotta stop doing
that stopped me want to do that again. Oh, please do please. I
sold Zoloft for Pfizer for 20 years and it was a known fact
that patients had a higher incidence of suicide attempt and
or success after initiating treatment. Let me just read that
again. It was a known fact that patients had a higher incidence
of suicide attempt and or success. After initiating
treatment with Zoloft that was spun to us that depressed
patients lack motivation. And once they're on an SSRI, but
before they reach a Europe therapeutic dose, they're in a
danger zone for causing harm to themselves. I wonder if that's
on the little, the little, little paper that is folded up
1000 times inside?
John C Dvorak: We've talked about this phenomenon before and
the causation seems to be that yes, it does. It. It does lessen
depression, but it also puts into your brain. There's nothing
wrong with killing yourself. Wow, it eliminates the second
thoughts. You know, because normally you have even if a
passing thought to you, oh, I'm gonna kill myself that I'm not
an idiot. I'm not going to kill myself. That second part of the
equation is missing.
Adam Curry: Right? It wouldn't be a bad idea. Canada's just
making it more fun.
John C Dvorak: Well, can they give you a maid?
Adam Curry: They give you a maid?
John C Dvorak: You get a free crack pipes.
Adam Curry: Wow, people, although SSRIs were given FDA
approval for minors in the early 2000s. All medicines are used
off label and tacitly promoted for off label use. So how many
school shooters are really on psychotropics? Insinuating? The
Columbine? All of them? Yeah. All on that
John C Dvorak: one. And we've okay, this is another no agenda.
They were kind of pushing me. I don't want to just blow our own
horn. But for the last 15 years, because there's been these
shootings all along. We have pointed out that no reporter has
ever asked the simple question about what is this kid on drugs
except Tucker Carlson. Tucker Carlson has brought it up. Yeah,
boy, he's out.
Adam Curry: And boy, I mean, there's nothing worse than
saying we'll see you soon on Twitter and not showing up on
Twitter. That's bad. That's not how media promotion works. No
final thing. A lot of people and I put them all in the show
notes. And again, thank you all so much for your boots on the
ground redacted, these have been put under the trans Maoism
heading. A lot of people made suggestions about pronouns how
to handle them when presented with them. And I just a
collection of what people sent me. I think the best way to
handle it is just whether it's if someone sends you an email,
and it's in the signature, or I guess if it's from the State
Department in the from line, I think the proper responses, but
please don't worry about your pronouns. I definitely won't be
talking to other people about you. mean that seems to be good.
That seems to be if someone says hey, this the pronouns No, no,
please don't worry about that. I will not be talking to other
people about you. That's the way to go. It's to the polite
John C Dvorak: Ellen a lot. I mean, Rachel, our producer, one
of our producers suggested that you just say oh, you know,
pronouns. Me, I feel very uncomfortable. Like that one
goes right back and everybody. That makes me so uncomfortable.
Adam Curry: That's a good one. That makes me I liked it makes
me uncomfortable.
John C Dvorak: Task makes me uncomfortable. Oh, we can't make
anyone uncomfortable. Yeah. Was this. But the other was an
insult you
Adam Curry: were talking about? Is it Portland is important. Or
Seattle? Where? Who's doing the drugs?
John C Dvorak: Seattle? Well, they're all doing it, everybody.
But Seattle is the one that's been that's been specific where
they actually brought it in front of the city council and
they admitted, yeah, we're not doing anything about treatment.
We're giving away free paraphernalia. So we have the
digital we're doing with your taxpayer money.
Adam Curry: We have the best producers, the bravest
producers. This is a report from the perspective of a young
finance, finance director of a small city in Ohio. I'm
attending a conference in Portland, Oregon, and the
mentality of the officials here is astounding. So what would a
finance director is the finance director basically just takes
care of the money for this small city is that what the finance
director does?
John C Dvorak: could do a lot of different things. To see this
CFO like city manager in a way maybe no city managers or city
manager.
Adam Curry: One seminar on affordable housing finance, had
the presenters begging by announcing the pronouns they
use, which I laughed at because you don't use your own pronouns
and address the homeless issue with charts and financial
policies for urban development. Yet we're all perfectly content
in treating the homelessness symptom, and not acknowledging
the root cause of community disintegration and the apparent
lack of the hatred of sin loving of neighbors mentality that's
used to pervade this great land. So many people will say, well,
that's just all the big cities. When I bring up the drug and
homeless problem, Portland has a population of 700,000, I visited
Athens with a population of 4 million. Although there's
graffiti Antifa and plenty of pot, there aren't dozens of
people literally twitching on the sidewalks. In another
session, I was asked how I enjoy my job as director. It's at such
a young age and for a small town, I responded that I loved
the high trust environment and opportunity to have a
transformative and positive impact on the finances and
policies of our residents and city staff. I was quickly
corrected, that you really shouldn't use the term
transformative. The term reformative is more inclusive,
and fosters the idea that your policy should be reformed to
promote the disadvantage. The woman works for a water utility
before I could respond with I'm really not interested in doing
that the next seminar started is this. He says it is nuts. It's
nuts. And this is this is people who are running cities.
John C Dvorak: Yeah, well, well, that's the Maoists thing about
changing the language. So you can confuse people and you're
not in our group because you use the wrong word.
Adam Curry: And I want to make sure that we make sure people
understand when we say trans Maoism, we're not saying that
China is doing this to us. This this comes from far this much
deeper. This has been injected.
John C Dvorak: China itself is beyond. Yeah. This Maoism This
is injected
Adam Curry: into our education system. Then everyone's captured
everybody's except this one little podcast, we seem to be
the only one that can that can keep our head above.
John C Dvorak: Above there. We're the only ones that don't
have the outrage element. No. Oh, man.
Adam Curry: So I mean,
John C Dvorak: it's humorous. We all get a kick out of it.
There's two
Adam Curry: stories. This is my favorite story. Senators issued
satellite phones, offer demonstrations and obscure
upgraded security devices. So now there's story after story
after story. There's going to be an event. They're giving the
senators satellite phones because the internet's going
out. Everything's going out. Well, you're gonna die. It's
happening Memorial Day weekend.
John C Dvorak: So it's happening this coming Sunday. Yeah. Or
this weekend, Monday would be Morial day.
Adam Curry: So a lot of people are 5000 RPM on this. And so I
look into it. And indeed US Senate arms, Sergeant Karen
Gibson, offered smartphones with satellite chips to all 100
senators. So first of all, every single article is showing a you
know, one of those big sat phones with the other big clunky
thing with a huge antenna. giant antenna. That's not what this
is. This is a promotion from one of the Android vendors because
now you know just like the iPhone 14 You can you can now
get satellite service T Mobile is starting to offer it Elon
thing is starting to offer it but here's what I think is
really going on these 100 senators, because it's a
smartphone. It's a full on smartphone. It's you know, it's
just as functional as the phone they're using. And it has
sidelight for Oh, in cases a horrible event, so of course
they're going to use this. Oh, yes, I got one of the
satellites. Well guess what else is going to be in that phone?
Tracking? Yes. Tracking eavesdropping spying. How stupid
are we people? They're going to spy on your 100 senators
wouldn't surprise me this was this was actually China a given
me when surprise
John C Dvorak: me if it was China. It's the
Adam Curry: Qualcomm chip. Now that does this. And they clearly
say satellite chips. So all these stories with the big
clunky sat phones like
John C Dvorak: that this thing has no no ability to hit a
satellite.
Adam Curry: No, unless you're outside with your left leg up.
And you're right.
John C Dvorak: Oh, you have a bad big, red. Take out your
antenna and put a new one in.
Adam Curry: Yeah, I don't know how well they work. But it's
it's first of all, it's a promotion by one of the Android
companies because I saw her hold it up in her testimony was not
an iPhone 14. An apple wouldn't you know, they don't give away
stuff. Not gonna give that away. They're cheap. They don't want
to get Apple doesn't give stuff away like that some Android
company and who knows what's in that phone. This is what kills
me. too. I was all spun up over that. And then of course, you
know, the 30 tons of explosive chemicals lost during rail
shipping to California. Ammonium nitrate 30 tons.
John C Dvorak: A sieve a big sack of ammonium nitrate in my
old house. I was working as an air pollution inspector and I
got some I was doing inspecting of the fertilizer plant in
Richmond that Chevron ran and I said and they had ammonium
nitrate So you can I get a bag like 100 pound bag of ammonium
nitrate. And this is what I knew about and fo bombs and all the
rest of it. I wanted to stuff because it was it was so
powerful a fertilizer for your garden. Absolutely. Oh, it's
unbelievable. But what you can do, there's this giant, there's
a lot of big lawns. If you can find one of these, like, you can
take the, you know, like a shaker of ammonium nitrate and
spell out you know, fuck you, John Alon. And it changes a
color to a britch green and a gross twice as fast it's
hilarious gag. But anyway, that's for all you kids out
there that this big sack and use it for this and that and say One
day the basement flooded in the thing turned into one giant lump
of ammonium nitrate.
Adam Curry: Oh yeah, if you if you don't mix it up. We used to
mix it because I lived in a rural town back in the day.
You'd mix it with some sugar.
John C Dvorak: I think it's just sugar and water. Oh, yeah. Light
up like a flare?
Adam Curry: Yeah, you could make flash paper and stuff like that.
John C Dvorak: Oh, there's a lot you could do it. You'd have a
lot of fun with it. Good stuff.
Adam Curry: So this headline is from the New York Times 30 tons
of explosive chemicals lost during rail shipment. So
everyone around you I've seen the emails you know everyone's
all spun up over it and it's in California they're gonna blow it
up and blow stuff up and blood California and and this is the
this is the New York Times headline but if you look at what
really happened was the car there was a leak in the railroad
car so it probably drip this stuff out over hundreds if not
1000s of miles a week the security seals were still in
place when it arrived in California just the car was
empty. Yeah, it leaks. But didn't you put the headline 30
tons of explosive chemicals and no, it's behind the paywall. So
all you do is just screenshot that and we're all gonna die.
Here this is subhead the chemical ammonium nitrate is
relatively harmless by itself but it's caused deadly
explosions and industrial accidents has been used in
targeted attacks. Su New York Times that's clickbait This is a
total clickbait clickbait. I'm just and people fall for beside
yourself and why why would people? I mean, they just make
screenshots. Oh, that's what the
John C Dvorak: screenshots are fun. Yeah, but it's so it's
misleading. It's hurts.
Adam Curry: This is this is why we're here. We spin you down in
the spun up world.
John C Dvorak: Can I do my DeSantis report? i And
Adam Curry: I'm excited not only for you to do your DeSantis
report. I probably have to fun clips to add to it. But yes, you
go and I'll jump.
John C Dvorak: I'm gonna start off with the default. Net. Don't
play that. These DeSantis have an NPR he's running DeSantis
Yes. Addition to short, short announcement. This is all you
really need to know. Then I'm going to switch to PBS and
they're slanted anti DeSantis. Report.
Unknown: Oh, no. Today Florida Governor Ron DeSantis made
Adam Curry: it a by the way. We learned something with all this
reporting. His name is Ron DeSantis. It's not DeSantis is
de Santas.
John C Dvorak: We also learn a place that he could play
probably a professional baseball player.
Adam Curry: I didn't know about that. But the DeSantis thing was
was what struck me
Unknown: today Florida Governor Ron DeSantis made it official it
makes for the Republican presidential nomination. Shortly
after filing the paperwork for his campaign DeSantis went live
on Twitter with a CEO Elon Musk is that
Adam Curry: subliminal? I'm sorry. Is that subliminal
DeSantis? Like he's really a Democrat? I don't think so.
Unknown: The kickoff started badly. So let's see. I think
we've got people online so its servers are straining somewhat.
The live chat was filled with technical glitches. DeSantis is
joining a growing crowd of Republicans hoping to defeat
former President Trump for the party's nomination. Two of our
correspondents are here to talk about what the announcement
means for next year's election and prs. Kelsey Snell covers
politics and Greg Allen covers Florida. Good to have you both
here. Hi there. Hello. Kelsey. The technical malfunctions
eventually got resolved and DeSantis was able to speak what
did he say?
Yeah, by the time the audio was working, which took about 20
minutes. DeSantis was in the midst of a fairly traditional
campaign speech where he argued his war on woke is the future.
He talked about Florida's refusal to follow COVID
lockdowns and claim that the state is passing laws he called
common sense.
Biden's allowed woke ideology to drive his agenda. We will never
surrender to the woke mob and we will leave woke ideology in the
dustbin of history. Guys,
Adam Curry: I'm not going to play my clips until you're fully
Damn I do To make two comments, one, this was such such a canard
by Twitter. And they and I don't have audio of it, but they were
they were. You heard? What's his face Elon Elon and his and his
buddy. They're saying, Boy, well, you know, you melted the
internet. You broke the internet. Mr. President, you
broke the internet. No, no, no, no, it was your crap that broke.
And then the occasion, Jason is trying to make a wall. 1.7
million people tuned in what's your compresses? It was at 650k
Plus in five minutes on the Elan account, which would probably
hit 3 million plus, despite the tech issues, and not having time
for public questions. Overall. It was a great start. No, Jason,
you're losing all credibility. He used to be used to write a
guy used to be a good writer about tech. Remember this, the
Silicon Valley, Silicon Alley stuff he would write now? Oh,
back in the New York days is in the 90s. That's how long I've
known him. And now he just can you get Elon any deeper in your
throat. Stop it. Jason sucked. It was an embarrassment. All
right.
John C Dvorak: So we go to PBS and they are just going to,
here's the introduction. This is part one. It's just the
introduction then we'll get to this kind of stuff. It's all
done subtly, too, and I just really enjoyed breaking down to
little subtleties of the bullcrap.
Unknown: The race for president has a new big name candidate,
Florida's governor Ron DeSantis, officially announced his his
campaign in an anticipated audio interview with Elon Musk on
Twitter, and on this online video
in Florida, we prove that it can be done. We chose facts over
fear, education over indoctrination, law and order
over rioting and disorder. We held the line when freedom hung
in the balance. We showed that we can and must revitalize
America. We need the courage to lead and the strength to win.
The Republican governor is a headline generating machine
shaping national fights over COVID policies, education,
corporate speech and immigration. But he faces an
uphill climb against his former ally now turned antagonist
Donald Trump. Lisa, Dr. Dan reports.
Adam Curry: No Lisa.
John C Dvorak: Okay, so Lisa, who's the I guess a designated
hitman? This is News gonna come on.
Adam Curry: We haven't seen her in a while. She used to be the
hit person against the Hitman against Trump, wasn't she? Yeah,
John C Dvorak: she's always and she's good at it she's because
she doesn't you don't notice it? That's why I chopped this way.
There's so many clips because a lot of them are just a few
seconds long. Cuz I chopped it up in one of the stop and
discuss every little things. Yes, the core here. Now. Trying
I will say this that I like DeSantis less DeSantis less and
less
Adam Curry: Ditto. And I tell you why.
John C Dvorak: Key Yes. And I'll tell you why. I like him less
and less after you tell me what
Adam Curry: I like him less and less because he is following the
American media model of strife and outrage against the other
side. So All he says is I'm gonna be against the world mob
screw those people. That is not a winning strategy. I just in
fact. Yeah. All right. So
John C Dvorak: I would, right now's the time I would have said
105% Oh, you're not in fact, there was Laura Ingram who did a
show on him recently and she came up with she actually put
together a couple of suit little clips. I have later a little
super clips about what everyone thinks about him. And she made
this exact exact same point you're making, which is that if
he would concentrate on the economy, inflation, the price of
gasoline and immigration and get off this woke bull, I'm the anti
woke guy. Bull crap. That would probably help him because this
is nonsense. Yeah. That's not what bothers me. Oh, okay. I
just don't like his voice.
Adam Curry: I agree. He has a Flim Flam voice. He has no
power.
John C Dvorak: Yes. You got it right. powerless, lacking any
balls voice Wallace baulas voice and he is kind of screeches and
he's got like a, it's like, you know, he's Yeah, he's got a it
doesn't have a commanding voice. He's got a whiny
Adam Curry: voice so interesting. And also the
haircut is you could definitely be better. But that's so
interesting. Because, you know, Frau Ingraham I didn't see that
of course, but the he did a good job with we know what he did
against the transitioning for you know, teens and you know,
everything in Florida, that you'd just be like, Okay, I did
that I got other stuff to do. Instead, she would say that's
his whole All Campaign it's like no wait, you can't. You can't
you don't think he's no good. You can't win by putting in work
and now. Mel's really you can't win by pitting Americans against
each other it's just dumb.
John C Dvorak: So here we go with DeSantis to
Unknown: Florida is where wo goes to die.
He heard cheers early as a Florida kid making it to the
Little League World Series Baseball player at Yale as well.
He then went on to Harvard Law School from there DeSantis chose
the military. As an officer with the Navy's Judge Advocate
General he worked at the Guantanamo Bay Prison in Cuba.
When former detainee alleges DeSantis oversaw beatings and
forced feedings of prisoners, which he has denied. He also
served in Iraq and was awarded a Bronze Star in 2012 DeSantis row
the Tea Party wave into Congress, where he opposed Obama
administration policies that really stood out. That changed
in 2018. They call him the Conservatives conservative, then
39 DeSantis made his move running for governor of the
Sunshine State, initially trailing in the primary DeSantis
launched an all out blitz for then President Trump's
endorsement, put in his young family in the most famous ad of
the year.
Adam Curry: Then Mr. Trump said, You're fired. I love that part.
Unknown: He won Trump's endorsement, the primary and
then a razor thin victory in November to become governor.
All I can promise is the sweat off my brow, a full heart, my
best judgment and the courage of my convictions,
Governor DeSantis made a national name for himself in the
COVID pandemic, quickly ending stay at home orders and opposing
mask and vaccine mandates. The state saw a wave of deaths,
Adam Curry: women, why didn't she add in there that he
narrowly won because they they shy up to the other guy, the
Democrat with drugs and male prostitutes.
John C Dvorak: He left that out.
Adam Curry: I should have put that in that would have been
good. Well, she was
John C Dvorak: already on a roll with the you know, these
watching us over looking torture, and he's a creep. And
then at the end, the little ditty at the end was the one
that just was I had to stop it DeRose with he a little beat up
against the COVID policies, then there was a waves of death. Play
that little ending against where we get a good feeling for what
they're trying to do here.
Unknown: That was pretty good for himself in the COVID
pandemic, quickly ending stay at home orders and opposing mask
and vaccine mandates. The state saw a wave of debt.
Adam Curry: I love the beep, beep that should have had that
you and I
John C Dvorak: guess what you would have? I would have done
this course we know what we're doing debts dynamite. Wave of
debt. So I looked into you know, we have to remind ourselves that
actually in 2020, Florida was at the top of the list for having
the least the number of deaths per capita that whole year,
which was the initial year of COVID. And it was that they were
number 11 in the country. So this is bullcrap. This is just
the opposite is grayed out. This
Adam Curry: is good work.
John C Dvorak: Oh, it's dynamite. But once the vaccines
were introduced, Oh, yeah. And you have that elderly
population. And the rest of it. It fell to the other side in the
next year and 2021 they would do it flipped that they were in one
of the worst states, not the worst. There were I think there
were like 35 or something like they were one of the worst. But
they weren't the worst. But during the initial part where
they were where it made a difference to to not do this and
not do that and not locked down. They were really came out
smelling like a rose. It was when the vaccines were
introduced that that turned around, and there's a lot of
possible reasons for that, and including the elderly
population. And
Adam Curry: if I recall correctly, I think he was also
promoting them. He wasn't against them in the beginning
DeSantis
John C Dvorak: In fact, they have a very high I think close
closing an 80% vaccination rate. I think maybe 60 fully
vaccinated. A lesser number especially all the deep south
the booster people are very low. I think it's 29% for Florida. So
anyway, so that's bull crap. So let's go on with clip three.
Unknown: The state saw a wave of deaths but a boon to the economy
Adam Curry: a boom but a boon to the economy.
John C Dvorak: Yes, now I stopped this one short short
because this is a very subtle piece of propaganda. They saw
wave a desk but a boon boon to the economy. This is the classic
socialist Oh data had life means nothing to you, but the profit
motive. That means everything is a very subtle little point would
Adam Curry: catalysis and again,
Unknown: the state saw a wave of deaths but a boon to the
economy.
Adam Curry: Wow, she's had a hard time reading it, but a boon
to the economy. Wow, this is evil what I'm saying but okay,
I'll do it.
John C Dvorak: So that's a little trickery there that,
yeah. Human life means nothing to these Republicans but money,
money, money. So okay, I just said that one was so outrageous.
So let's go to now I have two clip fours. And you can play in
either one. Let's start with the long one. This is the deaths
clip
Unknown: to use state resources to fly migrants from the
southern border to places like Martha's Vineyard. In 2022, he
signed the parental rights and Education Act, banning talk of
sexual orientation and gender identity before the fourth
grade. Critics call the law don't say gay when the Walt
Disney Company, Florida's largest employer openly oppose
the law. DeSantis launched a new fight.
This state is governed by the interests of the people of the
state of Florida. It is not based on the demands of
California corporate executives,
Disney and DeSantis have wrestled ever since with the
company recently pulling out of a billion dollar development in
the state. Okay.
John C Dvorak: All right. So we got this pulling out of the
development was already Oh crap, if you don't if you're going to
invest a billion dollars is because you expect to make 2
billion Yeah, I mean, you don't pull out because of the spite
the governor. So that's nonsense. And most of the debt
report had a bunch of kind of twisted logic, including the
part about Don't, don't say,
Adam Curry: well, at least he was honest. But critics called
it don't say gay at least. But I like how they
John C Dvorak: actually did get their webinar. This next one's a
little sketchier. This is a clip for CRT,
Unknown: the state saw a wave of deaths, but a boon to the
economy.
If you are trying to lock people down, I am standing in your way
and I'm standing for the people of Florida.
That kind of cultural confrontation has become his
brand. In 2021, the state's Department of Education enacted
a ban on teaching critical race theory in schools, though it had
not been part of state curriculum.
John C Dvorak: Okay, this is kind of subtle. Isn't that good?
Hadn't been
Adam Curry: part of the curriculum, by the way. That's
what that's the that's the pat answer is, it's not being
taught. It's not being taught. It's not on the curriculum.
John C Dvorak: It's being taught. Yes. And if and the
Florida teachers are the ones that were teaching it, we're
bragging about it. So this is bullcrap. Onto this is this is
kind of a weird kind of a lie.
Adam Curry: Nothing new. But, you know,
John C Dvorak: so here's the last clip six before we play the
mini clips, but his clip six
Unknown: this year he signed a law banning abortion after six
weeks of pregnancy, and has questioned the US involvement in
the war in Ukraine. Through it all his policies became a
blueprint for other Republicans, but one ally has turned cold.
The problem with Rhonda sanctimonious is that he needs a
personality transplant. Those are not yet available.
If the governor who has driven conversation on the right can
steer his way to the White House.
Adam Curry: You noticed that they also on the day that and
this leads me to believe that it's all one big we would say in
the Netherlands one big wet pot. Ain't fault. Not they're all in
the same boiling pot together. They launched yet another
investigation on Trump. It's the exact time DeSantis announced
DeSantis announces Trump gets another investigation. This
coordinated, it's coordinated. It's totally
John C Dvorak: it's yes, very coordinated. Now let's play this
little mini clips about you know what the what are MSNBC and joy
Reid read and all these people are saying about DeSantis
because they have to start because he they don't want him?
No, no, they don't want any Republicans if they really don't
want really don't want to.
Adam Curry: They don't want to which one do I play the miniclub
is
John C Dvorak: just called DeSantis mini clips.
Unknown: There are a lot of younger people in that party
that are much
scarier. DeSantis for one this guy is a fascist. This is coming
straight out of the authoritarian playbook. This is
what's so disturbing about DeSantis
DeSantis is almost the accelerated the racism as the
point in
his quest to run the most right wing fascist primary campaign
ever. DeSantis is throwing all the right wing putting at the
wall with
look i He's hard to get Along with one on one he's pretty
awkward
person when you're seeing these already going on one with one on
one and he's not a great campaigner guy who,
by the way is not expanding his own base of support and is also
not doing anything to help with the awkwardness because he's
awkward too.
Adam Curry: That's pretty weak.
John C Dvorak: Yeah, they call him an awkward fascist.
Adam Curry: They wanted to just call him gay. This, they got
nothing, you know, they don't have this. They don't.
John C Dvorak: They can't be wrong. Call him gay.
Adam Curry: Whoopi Goldberg kind of came close. Can I play this
for a second? We'll be we'll be
John C Dvorak: done with the details so you can take it over
but I have been watching some of the view stuff is just so hard
to watch.
Adam Curry: It's not it's not hard to listen to and it's short
his cat
Unknown: down in Florida. I mean, why people notice a
problem in Florida. This one I just wanted to say everybody no
problem. We know but the problem for me is if you come from
Florida, and you got family down there saying to people try to
avoid it doesn't work. Yeah, we've got it we've got to do
something different. I love them double ACP because I know that
they're they're trying to do the right thing. But this you know,
there's a lot of black people in Florida who live there who grew
up there who have been there. Yeah. So we have to find a
better way to say we got issues.
Adam Curry: I am unaware of issues with black people in
Florida.
John C Dvorak: And you know, the kicker. The head of the N double
ACP, who wrote that debt edict lives in Florida. Here's Anna
Adam Curry: Navarro on the view,
Unknown: the NAACP actually issued a travel advisory against
going to Florida. The formal travelled notice states, Florida
is openly hostile toward African Americans, people of color and
LGBTQ individuals. Before traveling to Florida, please
understand that the state of Florida devalues and
marginalizes the contributions of and the challenges faced by
African Americans.
Adam Curry: So I love I love with the NAACP has now also
taken over the watch of colored people. Because that's what
stands for National Advanced National Association for the
Advancement of Colored People, which is a racist term by
itself. I thought, now Oh, LGBTQ. Miami is gay heaven. What
are you talking about? And then gite take me out to the keys.
But but the point but let's make sure we make the point gay
heaven, not trans heaven. Yes, gay. Very solid, gay heaven.
Exactly.
John C Dvorak: Yeah, man. Don Lemon lives in Florida.
Adam Curry: And what? Whoa, whoa. I mean, what time is it?
What kind of well, actually, here's a report from ABC
Unknown: tonight after accusing Governor Ron DeSantis of a quote
all out attack on black Americans. Oh, NAACP issuing a
travel advisory for Florida, Georgia and other civil rights
groups that have warned against traveling to the top tourist
destination, the NAACP now accusing the state of Florida of
being openly hostile toward African Americans, people of
color and LGBTQ plus individuals.
Adam Curry: The NAACP doesn't get to warn LGBTQ peoples. This
whole thing this is this is laughable. The NAACP just put
themselves into the into the clown world. That is so dumb.
Everybody knows this is dumb. Like there's no black people in
Florida or black people don't go to Disney. It's probably good.
Don't indoctrinate your children.
John C Dvorak: Probably is good.
Adam Curry: Alright, a couple of fun things here. So besides that
DeSantis is only he's only against a woke or the woke mob
wokeness goes, dude, that is that is Yeah, that's a problem.
And you did a great job did great things in Florida. We did
that in Texas, too. But no one's walking around. Like I mean
president because I'm gonna go against the rest of America.
Even Trump is not that stupid. He does. He just doesn't do
that. Dumb. So, but why is this because that's all he's got.
That's why he's focused on it. And he only also panders to the
Bitcoiners. A little bit with the there'll be no central bank
digital currency. That's not even for you to say my brother.
That's the central bank who gets to do that? You don't you don't
have a say over that. But also he is funded by some of the
biggest hedge fund people on Wall Street big Wall Street
money. And I also think some of the big money behind wall I'll
just say it behind a daily wire. Ben Shapiro's outfit, and one of
our producers did a dynamite job figuring this out. So So he had
this video which was kind of a weak version of Trump's behind
the scenes behind the flag walking on the stage. You saw it
now with with the with the with the boom, boom, the music behind
him. Yeah, and
John C Dvorak: before we continue, I want to remind
people that Ben Shapiro is one of the first and earliest anti
Trump errs. So now
Adam Curry: listen up. 35 seconds only listen to the music
Unknown: in Florida. We've proved that it can be done. We
chose facts over fear, education over indoctrination, law and
order over rioting and disorder. We held the line when freedom
hugging the boundaries, we showed that we can and must
revitalize America, we need the courage to lead and the strength
to win. I'm Ron DeSantis. And I'm running for president to
lead our great American comeback.
Adam Curry: So you know me, I'm clearly at least one of our
producers. Is it interesting? What music are you using? This
turns out to be a track by Davis with Hain as called the queen of
the violin. And this is it. This is the track. You can get it on
Spotify. There's a YouTube video and get it on Amazon. Well,
wouldn't you believe it is the it's obscure. It's obscure. It's
good, but it's obscure. It's not a it's not a traditional
classical peace. Well, wouldn't you believe that it was used in
this as well, the highest
Unknown: ethical spirit to which we're beholden, is presented as
precisely as that spirit that aligns itself with the cause of
freedom against tyranny. To get on this,
but do you want the villains to learn before they have to pay
the ultimate
Adam Curry: price? It's such a Christian question. That is
Jordan V. Peterson. Now on the daily wire, these fuckers
produced a John sorry, I didn't mean to curse. They produce it.
They produced it. This is a daily wire even the video now
you look at the video. That's an
John C Dvorak: outstanding catch. I mean, are produced why
else? We don't even find that music. Thank you. Unless you
already had it in your library. You thought it was cool. Yep.
Yep, it is cool. You and you had the permission to use it. They,
you know, they if there was a licensing deal was already done
already had
Adam Curry: done. It was already taken care of Easy, easy to add
to it. Beautiful. Absolutely beautiful. So here is I think is
a French 24 retelling of the Ron DeSantis Twitter launch, which I
think also you and I if we were consulting, we would have said
no, this is why bro. Wouldn't we have said that? Like don't don't
launch with Elon Musk on Twitter. What was what was his
point is what was the point? Is it like, well, Trump did it on
Twitter, so I can do it. Well, Trump, you know, he did not
announce on Twitter, but he used Twitter to his advantage. Yeah,
well, you know, he could do that. But now the way Trump
announced that he came down, he should have done a big press
John C Dvorak: conference and done at some place in DC or I
think Miami or someplace like that wouldn't be audience.
Adam Curry: I think he doesn't have it in him. I don't think he
can command a big audience. I don't think he has. He doesn't
have the presence. He doesn't have the voice coached. No, no.
You
John C Dvorak: know who he you know, if you want to win here, I
just came to mind. I was just looking over these clips. Before
I before the show. Whatever happened to Kellyanne Conway,
she is actually something of a genius when it comes to
elections. Well, they hate her. They do they must because they
won't know she should have been hired. They prize what you know
there was an old make sure you do what the consultants tell you
well, if it was consoles was Kellyanne Conway probably do
that but the rest of these people are idiots
Adam Curry: I have a feeling that they even went to the
boring guy from from daily wire and he and they consulted him on
it. This whole thing reeks of daily wire Libris stuff. You
know what? I like that
John C Dvorak: daily wire limp wrist stuff.
Adam Curry: I'm not saying that they're I mean has nothing to do
with a sexuality but it's we
John C Dvorak: know but they're limp wrist. You're right. Yeah,
yeah, they're light in the loafers even.
Adam Curry: Let's not take it too far. Here is a friend's 24
reporting on this botch of a launch. It
Unknown: was a chaotic start to a much anticipated presidential
campaign launch it to took about 25 minutes for Ron DeSantis to
finally be able to make his big announcement after a Twitter
servers got so overwhelmed that it caused a major technical
issues. But once DeSantis was finally able to speak he focused
most of his remarks on the culture wars that have come had
to define most of his time as governor of Florida promising
his supporters that he would, quote, never surrendered to the
woke mob. He also took some swipes at the former President
Donald Trump, though he did not directly name him, for example,
as saying that we must end the culture of losing that has
infected the Republican Party in recent years. And while the goal
of DeSantis and his team was of course to launch this campaign
in a brand new way that would bring a lot of publicity D a few
100,000 people who actually tuned in to listen to the
governor of Florida are really no match to the audience's that
can be generated by traditional cable news networks. And that is
why Ron DeSantis followed up his Twitter launch with an
appearance on the Conservative News Network of Fox News before
he is said to hold a traditional campaign or rally which is
expected sometime this weekend in Florida.
Adam Curry: And of course, he went on the Democrat run Fox
because they're, they're all in on it ain't both not. They're
all in on it's all it's all. This is actually a giant sigh
off. I really and you know, a lot of people are gonna fall for
it. They will but I think I'm looking forward to seeing what
he does this weekend in front of a crowd. I don't think he I
don't think he can do it. I don't think he can get the
people all riled up. Other than we'll never let the walk mob
take over. Okay, you're gonna have a stadium full of people
voting for you, then you need to do more to be the President of
the United States. And I'm not saying that Trump is the guy but
man key does have humor and I loved this is he posted this on
true social, it was a totally AI generated Twitter spaces. So you
saw the little icons Elon that he had in there, George Soros
had the FBI the devil Dick Cheney, who's only coughing his
lungs up during the whole thing. And and did an AI generated
version of this botched launch which I have to play the audio
it was really good.
Unknown: Hi everyone. Welcome to our Ron DeSantis Twittersphere
Hello. Is my microphone working correctly? George can you just
wait while we know
Soros? Can
John C Dvorak: you hear me?
Unknown: We can all hear you George can you just hold on for
a second?
Adam Curry: I don't think they can hear me hear you fine
George. Just speak to George knows how to use Twitter. Hello,
can you hear me now?
Unknown: Can I please make my big announcement now everyone
just Hello? George. George Cheney.
Could you try not to cough
John C Dvorak: Okay, so how are we going to take out Trump you
Unknown: guys guys from the FBI. This is not a private call. This
is a public Twitter space everyone can listen in
Adam Curry: Goddamnit they've gone away
Unknown: anyway guys, we invited everyone to this this Twitter
space so Governor Ron DeSantis Could
everyone just shut the hell up so I can make my announcement
Okay, you go girl everyone in this call is gay
guys, can we please just calm down? Janie
so anyway, guys, I just wanted to announce that
I can hear the governor very
Shut up already. I'm running for fucking president. Okay. Yeah,
John C Dvorak: we kind of already knew about it. No
Governor gratulations governor.
Unknown: Well, that concludes our Twitter space for today.
Thank you to all of our Hold your horses Ilan. The real
president is going to say a few words. The devil
I'm gonna kick your ass very soon. Hitler. You're already
dead. Dick Cheney. Sounds like you'll be joining Hitler very
soon. Klaus Schwab and George Soros. I'm putting both your
asses in jail and run the sanctimonious can kiss my big
beautiful 2024 presidential last Trump 2024 baby let's go
Adam Curry: I just have to commend whoever did that. That's
That's American right there. That's the kind of humor I love.
That's what we're good at.
John C Dvorak: It's good stuff.
Adam Curry: That's what we do.
John C Dvorak: I wish they had a Trump better Trump voice but
that was pretty Yeah. All the voices you think they'd get a
good get
Adam Curry: it's that's why I said until until you can fool me
with a Trump AI it's no good. But I would like to thank you
for your courage in the morning to you the man who put the C in
the culture wars please say hello to my friend on the other
end listening. Please Hello Mr. John Cena.
John C Dvorak: Curiosity tortilla chips is see the boots
of the ground the feet in the air. The sun is in the water and
all the names are nice out there and a
Adam Curry: note for those of you checking us out in the fall
room or if you're thinking of skipping over the segment all
the good stuff is coming in the actual donation segment let's
count the trolls and the troll. powers we are live 1961 probably
was about 2000 When I started this so we're very close very
close. 1961
John C Dvorak: that's good for us Thursdays and not less when
Kennedy got in office.
Adam Curry: Well that's perfect them. The trolls are listening
at troll room.io And you can you can join them there. If you're
in just go to that website, crawl room.io and you'll see
right away you can listen to the stream live Thursdays and
Sundays just 24 hours is no agenda stream.com That's that's
the best podcast network in the universe all talk no agenda,
except for when Darren O'Neil does the rock wall pre show and
there's other music stuff but there's no commercials. No no.
And you can also now in addition to pod verse, curio caster
podcast, Google podcast addict now, the ever loved a fountain
app is allowing you to listen to the show live will give you the
bat signal, it'll alert you that we're going live you get the
troll room, you get the live stream everything you can boost
to your heart's content, everything right there in the
app, the same app that you use to listen to all your podcasts
and it'll even help you import from your legacy app, podcast.
apps.com or you can follow us at no agenda social.com That is the
most banned freeze peach Mastodon server in existence. I
don't know if we should be proud of it or not. But if you come to
us, you only be talking to us. No one else will hear you this.
John C Dvorak: It will get very far. Okay.
Adam Curry: Our signal does not reach very far. Except for
people who are are not all uptight about alternative ideas
and thoughts and no agenda social.com You can follow me at
Manoj on the social.com Jhansi Dvorak at no agenda social.com
And we are very thankful for our value for value participants.
That's people who actually help us out by providing value back
to the show for the value we provide. You can do that number
of ways time, talent, treasure, we really enjoy the the treasure
of course, but man, people are so creative. It was so creative,
such as Nico Syme, whose artwork we chose from no agenda Art
Generator. This was the Wagner graffiti tag on the wall. It was
a beautiful piece not my first choice. I'll be honest, but I
just could not go against it. I mean, it was a winner. It was a
winner. But it was your first choice. I liked the just send
cash in the the Ukraine shopping and like the goodie bag. Yeah, I
liked that. There was a lot you thought it was yellow. You
thought it was shallow? Yes. That's me shallow. What can I
say? There were some other he was certain that Ned had the Mr.
Hot dog. The that would be the Wagner guy. The hot dog guy.
John C Dvorak: obscures a gag but it was funny. Yeah, it was a
good job as a hot dog
Adam Curry: you liked the other Nikko signed the F 16 with the
with the smokestack Because Ron I
John C Dvorak: like that. You said it was one of the powered F
16 it you said it was I don't get it.
Adam Curry: No, I got it. I just didn't think it was great. I
liked it. We both kind of like the war bag by toasts. But it
was really too simplistic with all the f6 teams in the war bag.
What else do we have?
John C Dvorak: Well, there was the Kilroy Was Here here. gags I
liked and you hated Well, I didn't
Adam Curry: hate anything. Yeah.
John C Dvorak: Say that to the to the hand. Oakland by Dame
Kenny ban, showing the Oakland sign floating with a
Adam Curry: I thought it was what was the ark? I didn't
understand the octopus.
John C Dvorak: Yeah, that's what you said.
Adam Curry: Well explain it to me. Oh because of Oakland
octupus Oakland I don't get it I don't get it you get no it's
okay. Well there you go. You know what happens is that you
you you retweet the show and you're done you're gone you're
not you're not a no agenda so soon on Twitter and I have to
field all the who said ordered what's going on with that? I got
a no I'm not going to do all that work. See what else. And he
goes Nico Simon was swinging for the fences really hit a lot of
stuff that he put up there. And a comic strip blogger of course
did an AI generated DeVore act a sumo Master is cute. Yeah, yeah.
No,
John C Dvorak: it looks more like Dick Cheney.
Adam Curry: You know? Yeah. Also, it was insulting to my
partner. So I would never ever vote for something insults my
partner based upon his girth, girth girth in that picture I'm
impatient for sure we're going to lose this AI trap I mean
we're going to we're going to lose it we're eventually just
going to beat me we're going to lose it people are going to slip
by it's going to slip by with AI stuff but if it is if it's
Photoshop we might as well call Photoshop AI oh you know what
Microsoft Word it's aI baby. It does work
John C Dvorak: well it's just say everything's AI Yeah. We
Yes, like blockchain exactly the same as blockchain.
Adam Curry: It's blockchain baby. That's what it is. Oh
goodness. Anyway, congratulations Nico Simon.
Thank you to all the artists who put in a lot of work on the fly
in real time because they and you can view all this and no
agenda art generator.com We even have a a rancor now. On the
front page. You can find out who's had the most pieces
chosen.
John C Dvorak: That's fine. A little competitiveness to it.
Oh, it will compete. I'd like yeah, you do.
Adam Curry: I think it's good. Yeah, I think it's it's cool.
And of course, of course no agenda social.com is where the
artists all pretend to like each other. Oh, great. work good.
Well done.
John C Dvorak: Okay, pretend to like each other. This is true.
Adam Curry: Congrats, bro. Good. No,
John C Dvorak: it's not what I predicted but it's really good
piece
Adam Curry: not what I predicted. Yes, a Hollywood
total. And we're just like Hollywood to we're choosing it
based upon the same criteria. Anyone in a business or
Hollywood would choose only we're honest about it. That's
the difference. And we're on straightened
John C Dvorak: out and he better be transparent. Oh,
Adam Curry: we're transparent. Yes, indeed. All right. Now we
are very happy to thank our executive and Associate
Executive producers who came in I'd say made up for for our last
showing I'm very pleased with with this result. Anything last
show is pretty much anything would have said this so so if
you want to be an executive producer, you're going straight
to the top because look at Bobby brindle horse who's in Mount
Laurel, New Jersey. comes in with their four, four 4.44 Which
isn't interesting and
John C Dvorak: not yours or instant knights.
Adam Curry: Most not your well this. This does get Bobby to
something big because Bobby says thank you for your courage. I
stood before you as Bobby brindle horse amongst all slaves
of Gitmo nation today. I stand proudly with you as Sir ladyboy
brindle horse sir ladyboy brindle horse nice. If you will
have me prime rib and cheap beer at the Roundtable. We'll have
you Oh, I'm as queer as a $3 bill sometimes and I have
identified as gay queer by straight even trans those are
made up words that have no meaning. I'm just a spirit and a
human being. Remember the mink? No jingles no karma. Thank you
for your courage sir Lady Boy brindle horse, Mount Laurel, New
Jersey proving once again everybody's welcome in no agenda
nation. Thank you very much. Future sir Lady Boy brindle
horse.
John C Dvorak: That's a good onward with Kevin, guard glio
guard Guillaume Gog Willow. Garg Willow. In Sugar Hill, Georgia.
Gentlemen, Gargiulo. Okay Gargiulo garden. Hello here I do
believe successfully sent 334 via PayPal for the show on
Thursday sent 334 due to an earlier donation only being 333
and did not want Adam to have to shell out pennies. Thank you for
going to the north Georgia meetup today 25th And did not
want to be that guy who had not donated recently. Thanks for all
you do to shrink to make the list for all us Gitmo nation.
Since I retired a 920 to 22 after 22 years. I thought
becoming a knight was an order please night Mr. Kevin G of the
lake Lani air of the Lake Lanier boaters, Lake Lanier boaters,
please give karma to all who need it. ITM love is lit and all
that shit. You've got karma.
Adam Curry: Entered Lopez Edmond, Oklahoma 339.
John C Dvorak: A note Yeah, we're
Adam Curry: not going to read it all. I know what's in here but
as a first time donation, so please do you do? You've been D
deuced. I knew I needed to tune into the show when I heard Adam
ripping into the Federal Reserve on one of Rogan's on one of his
Rogen appearances. Thank you for all the useful information and
analysis that you provide week after week. It keeps me company
as I do my work for my online store Renegade. supplies.com
John, what is it?
John C Dvorak: Renegade supplies.com Check it out.
Adam Curry: You just summarize the whole next paragraph because
you said Hey, I heard that this might be a good way to advertise
my stuff, well, we don't take advertisements. And so we're not
going to read your ad copy. But we will offer the 10% discount
for for no agenda listeners, if they're in central if you're in
Central Oklahoma. They do all kinds of stuff at what is it
called again? Red renegades. Especially we do water softening
and filtration contact us for a 10% discount. You got it.
John C Dvorak: You have to hard water in Oklahoma. Is that
right?
Adam Curry: I guess we've got it. We have a water softener
here but we have a
John C Dvorak: hard water there. That's interesting. Well, we
have a well, we have to get it.
Adam Curry: And then he says he wants one jingle Alex Jones. Oh
yeah. Alex Jones. Big swing Johnson. We got it. We got that
for you. And you Lopez, owner of renegade supply.
Unknown: Dude, America kicked Hillary's ass and the Democrats
not the damn Russians. Can you give me some credit here? Were
the big swing and Johnson not the Russians Get that through
your
Adam Curry: head. All right.
John C Dvorak: Meanwhile, Baroness Schutze land loving
family Cary, North Carolina. Three Three. So we had no
donations for the special that I put in the newsletter for the
next show, which is Memorial Day special and you get a special
credit Nope.
Adam Curry: But isn't that not one but it's not for son. Isn't
it more appropriate for Sunday show?
John C Dvorak: Yeah, it is but you have once in a while you do.
Adam Curry: save enough to saving up
John C Dvorak: because that donation is three three 3.34
it's coded
Adam Curry: oh wait there was one from that one Do we have
one? No. Oh no, you're right. No you What is wrong with people?
John C Dvorak: I don't know they hate us. Prayers please are
barren of is Schutze land for an upcoming medical procedure
followed by another trip around the sun. The best bit is John
the birthday list. Best podcast in the universe versa. The best
podcast in the universe continues to provide humor and
truth twice a week and we thank you. Sincerely his loving
family. That sweets very
Adam Curry: sweet. Okay, on the prayer list. Jake is in Chicago,
Illinois. 333 Dots 33 Like are you even allowed to donate in
Chicago? It was crazy.
John C Dvorak: It was just crazy. Don't stop it at the
border.
Adam Curry: That's right, John and please accept this three
year lump sum treasure payment nice As a small token of
gratitude for creating and maintaining the best podcast in
the world universe. Have you heard it's in the Durham report?
Consider this donation a vote to keep doing what you are doing
column Duly noted.
John C Dvorak: All right now we have and I have a note here from
our friend who is Mr. Planner perfect from Nebraska. I just
sent him 33333 If you give credit please use mister planner
perfect from Nebraska www designed by planner perfect.com
That's it
Adam Curry: all right. That's all he wants good. Perfectly
with Noah Lawton. mocker is in Three Rivers California with a
333 dot 33 and explicitly says no jingles no karma? You got it?
No problem. So I'll do Sir Kevin McLaughlin who comes in. Usually
he's at the 808 level. He comes in with 333 dot 234 show 1558
And Memorial Day special donation. There you go. John.
John C Dvorak: And by the way, he is also in the 808 list.
Adam Curry: Of course he is the guy is unstoppable. He's
unstoppable force show 1558 Memorial Day special donation
Sir Kevin McLaughlin, Archduke of Luna law.
John C Dvorak: No, I'm sorry. It wasn't 34 it was 23 This is one
of those donations I was. We have two of them.
Adam Curry: This is why people hate you. Now now you have your
answer. Archduke of Luna lover of America and boobs no jingles
to karmas jobs karma for the no agenda nation F cancer karma for
those in need and especially the ladies with their beautiful
snuggle puppies last day. Oh praise to be God
I forgot the jobs,
Unknown: jobs, jobs and jobs for jobs
gave him three.
Adam Curry: I don't mind I don't mind over serving Sir Kevin.
John C Dvorak: No. He knows what to do actually know the Martin
mosque of it's it 33323 both Adam and John are key components
and maintaining my sanity. Without no agenda. What feel
Like I was taking crazy pills. heartfelt thanks to those that
give the ultimate sacrifice for us maybe we worthy and continue
to fight. Yeah, let's talk about Memorial Day. Well, he's the
Memorial Day donor and that's what he's referring to.
Adam Curry: So what is Memorial Day for what are we
memorializing
John C Dvorak: the people who died in in in various wars No
useless or otherwise
Adam Curry: Oh, it's mattress sales
John C Dvorak: sadly my think yes.
Adam Curry: William Levin Berg in Los Angeles California
333 100% Best pod trying to make me say that 100% Best podcast in
the universe especially at two times speed. You are you really
want me to slap you around. You know, I'm going to Megyn Kelly
on the 31st and you know, it's interesting to watch her man I
should have clipped this with Dan bond Gino ever since
Tucker's been kicked off the air. Chichi like, you know, you
don't need cable. You could do it on your own and our bond bond
Geno's who also didn't you know, is now off cable.
John C Dvorak: He also got booted. Well, whatever
Adam Curry: he says is different. But now they're
talking together. You know, you don't need just need a
microphone, just need a mic and a camera. And you don't need all
that overhead, if none of its needed. And then Megyn Kelly
comes in and says, Hey, you can listen to it two times speed you
get a lot more information than on cable was what? I'm gonna
have to call her out on that. Megan, do not encourage people
to listen at two times speed. It's not smart. It's bad for
your house. You
John C Dvorak: should definitely call her out on that if you
could remember to do so we'd all appreciate it. I wrote it down.
Adam Curry: I wrote it down in my little Meghan prep file. I
long for wrapped an adult pod. I long for wrapped an adult
podcast or brain well you're gonna get it please get me tax
karma. Please call out entropion and Eddie from the Palisades as
douchebags soon to be served Turkey a turkey a you got it?
Here's your tax karma, bro. No problem for you. Thank you.
You've got karma.
John C Dvorak: Joseph finlays Up next from Louisville, Ohio.
3332. My aunt Darlene. Sorry.
Adam Curry: Wow, I wonder what I wonder what?
John C Dvorak: Oh is no backstory. But it must be
something going on there. But to and Darlene sorry.
Adam Curry: We'll take 333 dot 33 Oh, this is out of order.
Interesting. This is Sir Dr. Jeff, who says in the morning
Adam and John on May 13 is in 333 dot three. SP I said to ya.
Okay, by the PayPal link on the website. I suspect that this was
the old link that you all mentioned in a recent episode.
Is that true? Did that show up in the old Link must have could
be May 14 was my birthday and I wanted to return value to y'all
on my birthday. John, could you please check the other account?
He will? It was link off the divorce.org website. Okay,
that's all being changed. Are you talking to our guy? Oh yeah,
we've
John C Dvorak: had a long chat. I'm so happy we're on it. We're
working our asses off.
Adam Curry: Especially you I'd like a little karma for
producers and F cancer in memory of my dad who died from a
glioblastoma on May 15 Eight years ago God bless him thank
you for your continued important work of deconstructing the news
and entertaining us with just how ridiculous the world is
right now. Not just right now my friend it's been that way for a
long time
gave your dad a little go.
John C Dvorak: Market all a very in cedar park Texas. It is a 304
dot 20 ITM John anatomy the amount represents the date of
Adams first appearance on Jr e
Adam Curry: Rogan donation brother.
John C Dvorak: I have listened to every no agenda since I
appreciate the news deconstruction and the OTG
segments. Which we haven't had many of them no because
Adam Curry: the last time I did it about the light phone you got
all up in my grill on and you were really mean.
John C Dvorak: I was mean you were meanie. No jingles this
time. Hey, karma plays all the best mark.
Unknown: You've got karma.
Adam Curry: By the way, my my beck thing airs today on the
blaze and Saturday. Everywhere you get your podcasts and the
YouTubes Brandon dude named Jeff Oh Baron Brandon Baron dude
named Jeff Westlake Ohio 303 got 30 massive shot a health karma
for dad. He's had complications from surgery. He was in room
3033 Maybe that's good. I you know what? We're gonna give a
little health goat for him. All right. Mine
John C Dvorak: sir dicks Bert now Hudson, Florida, two, three
AC and JCD incoming treasurer value please provide general
karma for everyone and a bag of F cancer karma for two wonderful
people in my ex wife's family in Minnesota nuts is what he writes
out of Minnesota nuts. Yep, I would never say anything no
never never much appreciated sir Dix Burt in Tampa, Florida.
Adam Curry: You've got karma. Brian Carter is our next
Associate Executive producer from Waukesha Wisconsin to 25
dot 60 must be a reason in the morning gentlemen, please find
my donation for today two to 5.60 and credit that oh
switcheroo for my son in law Cory Okay, so we don't know if
it's a won't be Cory Carter so we'll just put it as Cory then.
All right. No problem Cory. This donation pushes him over the
finish line and he becomes a knight. Cory hit me in the mouth
good son in law in 2019 on our trip to the Indianapolis 500
This sounds like a cool dude. So it's fitting that I can return
the favor in honor of my birthday may 22 And our next
trip to Indy next week, please Knight him sir Cory of the
fourth watch and he is requesting if possible cannabis
and cream soda at the roundtable they breakfast of champions. No
jingles no Carmen just my gratitude he is in our family
and thank you for your courage. Respectfully Brian Carter the
radio Dr. Lake Shore 60 four.com Let me just check and make sure
he's on the birthday list. The lady I don't see an additional
thing here is a quarry on now she knew it.
John C Dvorak: No, Cory No not a no birthday. I gotta put on
exceptions. thing here.
Adam Curry: Cory What is his birthday? No second I'm sorry.
It's not Cory. It's Brian Carter. Brian
John C Dvorak: May 22
Adam Curry: No, no, no. Okay. Brian Carter. All right. Carter.
John C Dvorak: That's there's no jingles I'll continue to think
as you write this down wishes Danielle Williams and we'd
California row ducks 2222 Thank you. What you do is greatly
appreciated. Requesting m i l l e n l i a m i l e a millennial
and of show MCs if possible at the end of the show
Adam Curry: I don't remember and a millennial end of show mix. I
do remember this that I remember I don't think there's a
millennial end of show
John C Dvorak: I've ever heard at one
Adam Curry: end of show Oh wait wait wait wait think he's right
is able to Kirby Danielle she she's right it's April Kirby so
Unknown: on the other side of the brunch spot
Adam Curry: deep okay. Okay it's an April Kirby so I'm putting
out in April Kirby is always quality. So I'll put him right
in. I will slip him in for you.
John C Dvorak: Have let me read a make good while we're here.
Okay. At this level because somebody wrote in and it was i k
is the person K Headies her name and she wrote in I'm not sure if
I got the submitted a longer no with my 222 dot 22 donation.
What I can write in the Pay Pal text box. If so, and she's got
this note. First time donor and she sent a note to Adam a
divorce.org. Should be Adam mccurry.com. And it's just a lot
of promise. You know, I never found no note from her ever. No.
Maybe she's gonna do a different show. But she's wishing Happy
Birthday. This one has to be written in by hand because I
know no one's got this. J didn't catch it because she never saw
this note. wishing a Happy birthday this week to my sister
in law Kate, who introduced me to no agenda two years ago and
happy birthday to my brother Brian, a brother. We got two of
them. Brian and Kate from Petty during the pandemic and found
great value in listening to Noah genuine all my friends had gone
crazy for the vaccines. All of a sudden my primary news sources
sounded like advertisements for Big Pharma. AMY GOODMAN of
democracy now wasn't questioning the agenda of Big Pharma and
Bernie Sanders and AOC were encouraging us to all us to get
the shot. WTF question mark. The only voice of truth I could find
was in the newsletter of Joseph Mercola. He was working that day
to carry him he was was most most espousing to Bennett. fits
of nutrition this into you guys knowing there's a troll room
full of live listeners and tons of other folks that gave me the
encouragement others saw through the bowl crap a big pharma I
think there was a big group of leftist wellness hippies who
believe that food is medicine and believe that boosting
immunity and use herbs. Anyway she goes on condemning Big
Pharma. Anyway find great value in your news analysis and
comfort that there are others out there. Love his lead. Katie
from Truckee,
Adam Curry: you got it, and I've entered it all onto the birthday
list Emerson Trimble's and Standish Maine to 13 initial
payment for my years of douchebaggery as called out by
Kenneth Corson. On the last show no jingles no karma, but it
sounds like you've been de deuced
John C Dvorak: and now we go to Emerald City. We're gonna show
you
Adam Curry: ze Doc Brown is up next.
John C Dvorak: Say doc, say Doc Brown the third and puca Lani
Hawaii $210 No, I will say a jingle honestly nothing so he
gets a double of karma.
Unknown: You've got
Adam Curry: karma. Lior recon Leo Lior sweet corn is in
Livingston, New Jersey of course where you'd expect a name like
Dr. Schlee corn to winter dollars in the morning gents,
first time donor here but longtime listener needing
immediate delusion. Ben de deuced love the show and it's
the only podcast I can listen to as a beekeeper I for one will
not eat bugs. Finally, we've got to us we've got a beekeeper and
tell us about the bees. Are the bees really disappearing let us
know beekeeper look forward to many more shows and to hopefully
knighthood and we we hope that to LEA or let us know how the
bees are doing. We always everyone's all getting all upset
about the bees or the bees are
John C Dvorak: tiny but he has been going on for decades exact
Scott the welder meanwhile is in New York City. But in Brooklyn
$20 Scott the welder here first time donor and douchebag Johnson
the coffee roaster punched me in the mouth three years ago and I
hereby call him out as a douchebag now please de douche
me you've been de deuced and I would appreciate some jobs karma
taste all you guys do you ain't no welders but the carbon
dioxide down Hey
Adam Curry: we can we can we can use electrodes
John C Dvorak: warmest regards Yeah, yeah. Arc Welding is great
especially when you leave the sticky into the wells with
sticks out that's the best jobs, jobs, jobs and jobs.
Adam Curry: We're actual karma actual welders but we have
welded before Mr. Brand and we know what we that's why we
appreciate you so much because we know what it takes. Remember
that electrodes get stuck Daniel Nugent's Grand Rapids Michigan
our final Associate Executive Producer, he says hello, from
your supporters at the Patriot classic am debating ideas
celebrating freedom and dismantling the tyrants between
each and every golf shop this Saturday and Michigan keep
fighting the good fight AC and JCD and thank you very much. We
appreciate that so much. These are executive and Associate
Executive producers for episode 1558 Part of our two episode
Memorial Day special you get these titles. They are titles
that are good for ever so you can use them anywhere. Your
LinkedIn any resume you're putting on IMDb we've got over
close to 800 real professionals who have their producing credits
up there you're one of them now unlike the douchebags in
Hollywood we will vouch for you if anyone questions this if
you'd like to become an associate or executive producer
have no agenda of the no agenda show go here forex.org/in A
thank you again for becoming executive and Associate
Executive producers for this episode our
Unknown: formula is this we go out but yet people in the mouth
Adam Curry: i i laughed so hard about two bits of mainstream
media that ministry of truthiness and I want to play
them both and then there's plenty more we can do but but
these are just too good. And the first one is Mariana spring from
the BBC. Who was on the on the on the Breakfast Show.
Explaining BBC verify. Have you heard of this the BBC verify No,
I'm
John C Dvorak: sure BBC verify
Adam Curry: is a tea meme that verifies and goes against the
narrative, all the misinformation disinformation,
the BBC is now your ministry of truthiness. And it was just so
funny, we will have to stop the clip a couple of times, our team
Unknown: of investigative journalists here at the BBC, we
are also a new brand. And we are a physical location above the
newsroom in London. And the point of the team, as you said,
is to verify video to fact check to counter this information, and
to analyze really complex stories so we can get to the
truth of what's going on. Why does this matter? Well,
mysteries can cause really serious harm to society and to
the people in
Adam Curry: a very serious harm. And notice how she's above the
newsroom. This is this is great. She's above the newsroom. And
she's got her big symbolic the Oh, yeah, she's got her big
touchscreens. And why do we do this, because misinformation can
cause serious harm. It's
Unknown: not that well, mysteries can cause really
serious harm to society and to the people in them. And so we
want to show you our workings and really help you understand
how we get to the bottom of what's happening. And I'm gonna
give you a bit of a flavor of the kind of work that the team
are doing.
Adam Curry: This is work, this is work to remind you this is
the government, government outfit. The government runs
Don't worry, the government is here to give you the truth and
Unknown: to verify. So we're able to look at maps to geo
locate
Adam Curry: maps, John, they've got maps, they can go locate
Unknown: specific situations, stuff that's going on. And this
is just a map of stuff that's going on to London where we are
now. And this is new Broadcasting House where I'm
speaking to you from
Adam Curry: the zoomed in on where they are, they've got maps
that can geo locate themselves.
Unknown: And it's not so important, perhaps for the
centre of London, but it is when we're analyzing war zones, or
what's happening in hard to reach places. And there's a
story on the BBC website. Today, it's looking at Russian
fortifications, on the frontlines in Ukraine. And you
can read more about it there.
Adam Curry: I'm so sick of these maps of where everybody is in
Russia. These maps are bull crap. If you look at these maps,
and up with Hey, man, Wagner group is real look, here's where
everything is, I'd say where's this map from? It's like two
Russian dudes to Russian like teenagers do this map. It's
garnered from social media and from on the ground report.
Unknown: And there are other ways that we also are able to
interrogate what's going on, including on social media and I
have
John C Dvorak: what's going on? Yes, yes. English is that
Adam Curry: well, now this is the cool thing. Listen, how she
interrogates what's going on,
Unknown: interrogate what's going on, including on social
media. And I have some undercover accounts that I've
set up for the BBC, cause podcast, and we use these kinds
of undercover accounts. And so she basically
Adam Curry: she's showing
John C Dvorak: five does she just outer shell? Yes, she shows
five
Adam Curry: fake profiles. And two of them are black people.
And in the comments,
John C Dvorak: she's social media. blackface should be
banned. She shouldn't be excoriated,
Adam Curry: well, instead of that the some of the comments
were, maybe you should think of hiring actual black people at
the BBC. But okay, you can have your social media blackface for
Unknown: the BBC is America's podcast. And we use these kinds
of undercover accounts. And these are the characters that
the accounts
Adam Curry: Oh, she only use that for America, though. It's
not for not for Britain, because we're the racists you see
Unknown: the cover accounts that I've set up for the BBC,
America's podcast. And we use these kinds of undercover
accounts. And these are the characters that the accounts are
belong to. What
Adam Curry: do you think? I know the pay off, but what do you
think this is really all about? What do you think it's really
leading towards?
John C Dvorak: Get the jab?
Adam Curry: No, no, that's, that's yesterday? No, it's
something simply No,
John C Dvorak: no, it should give more support to Ukraine.
Adam Curry: Well, we already have that with the maps. No, no,
it's really there's a there's a there's a crescendo that
culminates into a peak,
Unknown: to be able to really understand polarization online,
and how what's happening on our social media feeds and what
we're being recommended and pushed to us can affect all of
us, and they don't offer us a totally exhausted insight into
what's going on, but they can help us understand just how
social media works.
Adam Curry: And how does social media work? The BBC explain
Unknown: then there's also investigating other mysteries
and the real world harm they can cause Oh, other
Adam Curry: mistreats treaties and other real world real world
harm they can cause
Unknown: and at the moment, I'm investigating the UK conspiracy
theory movement. I'm trying to understand more about how it's
evolved and intensified since the pandemic here in the UK. I'm
looking at the alternative media that finds itself at the heart
of this movement.
Adam Curry: At the heart of the movement is alternative media.
Do you think she means podcast as well? Could we be at the
heart of hope so, at the heart of the movement
Unknown: here in the UK, I'm looking at the movement to the
alternative media that find itself at the heart of this
movement and a conspiracy theory newspaper, that's a part of that
as well. I'm looking at the way that alternative media is
funded.
Adam Curry: Is it called the conspiracy times is I'd like to
know what this conspiracy theory newspaper is, what possibly
could it be
Unknown: this movement and a conspiracy theory newspaper?
That's a part of that as well. I'm looking at the way back.
Adam Curry: Is it the guardian? I mean, tell us which one lady
Unknown: alternative media is funded. I'm looking at its
impact on local communities. I'm looking at its connections with
far right figures, and also its foreign links. That's for a
podcast series that will be coming out in June. It's called
Mariana in conspiracy land. And it will be available on PVC
sounds radio for asking that question. Could January the
sixth? Oh, a German coup attempt, like we saw there ever
happened here?
Adam Curry: Could January 6, or military coup attempt such as we
saw on Jen in Germany ever happened here? Mariana in
conspiracy land everybody. Could it get any weirder? BBC. Mariana
in conspiracy land? No, brother.
John C Dvorak: That the name of the newspaper
Adam Curry: now. That's the name of her her podcast with the
combination of BBC verify. All right.
John C Dvorak: We would just mention that podcast. Let's play
this. This is an NPR house ad. And there's a podcaster
involved. And I used to hear these house ads so much, but I
had to play this one I think is really should be part of what's
wrong with these podcasters.
Unknown: Hey, it's Greg Dixon from NPR state of Ukraine
Podcast. I'm one of 1000s of NPR net women,
Adam Curry: his podcast state of Ukraine baby. It's the state of
Ukraine. What kind of podcast is that? It's a podcast about the
state of Ukraine. I bet he has maps. Did you have access to
maps? I believe that
Unknown: hey, it's Greg Dixon from NPR state
Adam Curry: of Ukraine. By the way, not just don't start your
promo with Hey, it feels rude. Hey, it's Greg Dixon
Unknown: from NPR state of Ukraine podcast. Hey, I'm one of
1000s of NPR network voices coming to you from over 200
Local newsrooms across the country. We bring all Americans
closer together through free and independent journalism, music,
politics, culture, and so much more. The NPR network what you
hear changes everything. Learn more at npr.org/network.
Adam Curry: Okay, along with that podcast, hey, hey, Tuesdays
toe two piece of information regarding Project Veritas. One.
It seems like the executive directors out
John C Dvorak: our guy. Yeah, he's gone to so so much for our
Asian side.
Adam Curry: Yes, he wrote he resigned. wishes we both find
rather interesting. Yeah, we do. And at the same time, the O M.
G, the O'Keefe Media Group, continues to do great work with
crap sound. It's amazing. O'Keefe, O'Keefe? It look. I
cannot believe that we helped him when he was at Project
Veritas to get their sound together. So you could actually
use bits of their audio. So Keith is at MIT, who is no one's
advising him now. Now. He has nobody to help him. But he had
it pretty good piece. Because you know what he's doing now? Is
he just sending microphones to people and saying, Go honeypot
somebody and it's great. So we had one of his O'Keeffe Media
Group people's a girl or a young woman clearly hitting on this
dude Luke Borg Borg again, we're wagon, who was a staffer for
John Fetterman. And by the way, this works so well. You know us
hey, I'd like to have lunch with you and then you just start
asking questions and this guy you know, he's his blood is
drained from his brain he's just saying anything that he can get
a get a look at this woman. No, we don't see her but it doesn't
matter. I know how this works. So here's here's the TV a
John C Dvorak: lot of guys would fall for this.
Adam Curry: Yes. Well, that's how they got the Pfizer guy on a
on a date with a with a guy. You totally
John C Dvorak: Mueller but not quite to say
Adam Curry: oh six the same idea. So, O'Keefe sets us up and
makes us laugh. And then I went through the trouble of fixing
his audio to listen to the original which is much better.
Laura
Unknown: Wiggins Special Assistant to John Fetterman says
that they pick journalists that will quote say exactly what the
you want them to. He also says that the journalists are puppets
he actually named the journalists and okay shooting
John C Dvorak: case but by the way, yeah, I know why you're
playing this. Yes,
Adam Curry: that's why I stopped short here. But now I fixed the
audio. I fixed it. So while he was spending time bleeping out
an expletive. I fixed his audio so we can listen to The
gloriousness of this dude, who was thinking he's getting laid
and is probably never going to work in Washington ever again.
And he names a number of journalists not just the one
that you know of.
Unknown: They're desperate for an interview with John. I mean,
like, bad reporters, but like, do you want to access journalism
news? Report it's like reporters who will basically tell whatever
story like this thing tech wants, as long as they get the
interview. Like, there's certain like Trump, journalists who
refuse to do that. Can
Adam Curry: you hear this? Okay? Is it is it Yeah, no,
John C Dvorak: keep playing. It's good. It's good enough.
Unknown: Because like, everybody wants an interview with the guy
um, ya know, like, as big as when you're socialists it was
being given areas to it's like, the ones effect like we'll just
say exactly. Like, so that's why you pick the journalists that
you say whatever you want us to know. Pretty much like they want
to play in a bad way. They don't see that just by Joe
Scarborough, Joe Scarborough, Scarborough like they're like
Morning Joe is worse than a guy that you guys didn't hear.
Interviewer Yeah, and he actually stops like He's former
pod save America like
Adam Curry: he's so far. We've got Joe Scarborough. Morning
Joe. He sucks but he'll say whatever we want and then pod
save America
Unknown: cast. Pod save America. Yeah, this former staffers.
John C Dvorak: I'd like to wait she she's good at as an amateur.
Yeah. Oh, yeah. She's like Paul doesn't need much coaching
because she she specifically stops and pronounces things
slowly. Yep. And enunciates Oh, you mean pod? save America.
Adam Curry: She's great. She is I mean, she's a gem for sure.
She must be a looker John. And she's got the she's got the
vocal fry going on. She got everything. She's really doing a
good job on this guy.
Unknown: Pod save America like podcasts. Oh, pod save America.
Yeah, this former Obama staffers who like they were like one of
the first big political podcasts. I think they're the
number one political podcast in the country. Just because you've
had it for like 10 years and like you don't have friends
before anybody else have podcasts? Yeah. We did an
interview with post drum like a month out from the election and
they did really well because you knew they would go along with
what you wanted. So who are those journalists hope you guys
like on or fainting. We have an interview at time. Time Time
Magazine and this is like back reporter who is also as like
veered into political stuff are their names Kara Swisher be like
as multiple podcasts that I listen to like every Kara
Swisher is like one of the best she has interviewed. So
interesting, but I wonder who they are because I'll listen to
those people. There's like compass
Adam Curry: cares Swisher she's the best she's they're all
puppets
John C Dvorak: Okay, now I was ignoring the story because you
did this extra work to make it so it's very, very good job by
the way. So I'm gonna give you a clip of the day for that.
Adam Curry: Oh, well. This I had not expected I'm humbled. Thank
you very clear.
John C Dvorak: But yeah, this woman, whoever she is, is a
natural
Adam Curry: and Kara Swisher needs to repent. I mean to be
it's one thing if James O'Keefe calls you out like who cares?
She'll just say James O'Keefe is a douchebag. But this is an
actual guy who booked you to interview Fetterman and I
remember her her interview and her say fentimans Great it's no
pride no problem understanding me no problem understanding he
was fantastic. It's a great guy. And she's a total doofus shill
and they know it and they're using her for access journalism.
This is this if this doesn't embarrass her, then nothing Wow.
Okay, nothing went better. Nothing's going to embarrass
her. I just thought that was beautiful.
John C Dvorak: Hey, you had to do what you have to do to get
the interviews to
Adam Curry: get it man yeah to get the interviews you know
because I'm Kara Swisher I have a podcast. I'm the award winning
pivot podcast in the in the technology cash
John C Dvorak: award. The fact that you get an award after
something like this came out is it kind of says the reason we
have to do awards little callback there for everyone.
Yes.
Adam Curry: I what I have left is some climate change stuff and
I have
John C Dvorak: one I want to get Some some stop news out of
Adam Curry: the way. All right, top news second half. What are
we got?
John C Dvorak: I want to start with the default BS. So we just
get that out of the way this just damn PR report very short.
Unknown: The White House is delivering a stark warning about
this near consequences of potential default would have on
the nation. And here's Windsor Johnston reports talks between
administration and congressional negotiators picked back up again
today after hitting a snag yesterday,
White House press secretary Kareem John Pierre struck an
urgent tone morning that Too much is at stake for lawmakers
to allow the US to default on its debt
a default would have catastrophic impacts in every
single part of this country. Whether you are in a red state,
or in a blue state,
Republicans are refusing to accept a deal unless it results
in the government spending less money than it did in the last
fiscal year. Democrats, including President Biden argue
that the GOP demand to cut spending is unreasonable.
Without an agreement, the US could default on its debt by as
early as June 1.
Adam Curry: Question about this? I don't know. I didn't hear the
last DHS plug. There's got to be a name for this type of trade
that you do on this. Because we all know what the very last
second it's good. It's called negotiating. No, no. I mean,
there's got to be a trade a put a call something you can make
that Oh, you made some money you can make on this. Yes,
everybody's doing it. And I'm sure but there's it's got to be
called like the debt ceiling trade or something like this got
me next time. Please do because you know that people know how
this work. They know it's, it would I mean, wouldn't it
surprise us if we actually, quote unquote, defaulted? And
now we have the ball, the ratings agencies are talking
about downgrading us.
John C Dvorak: That's part of the scheme. Yes. Why the
playbook is part of the playbook. Now. I got one clip
here this week. I got to talk about Ukraine today. But we
should at least talk about the Ukraine back moot. I do already
count. We've never heard this before.
Unknown: The head of Russia's private Wagner military groups
as his force lost more than 20,000 men in the drawn out
battle for the eastern Ukrainian city of black mood. About half
the number of heavy Russian convicts recruited to fly in our