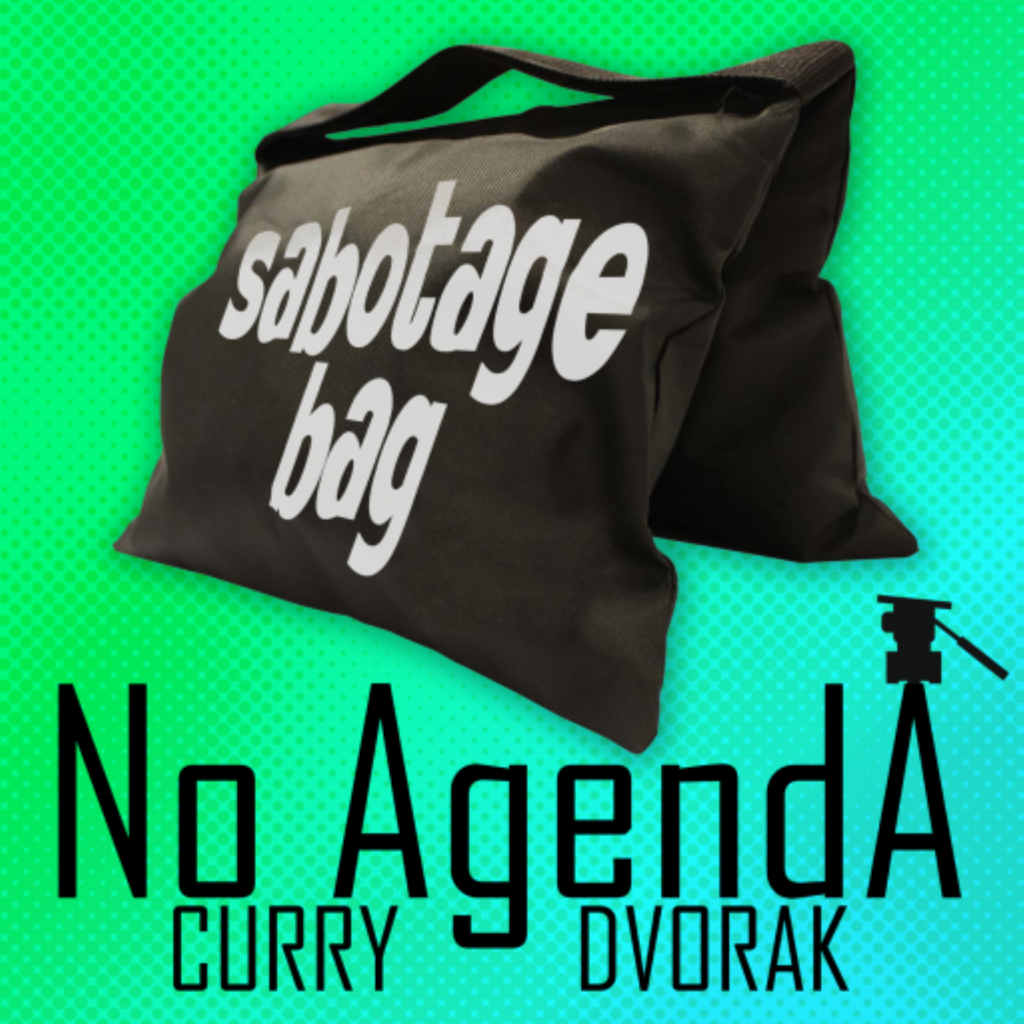 June 4th • 3h 6m
1561: Star Butler
Shownotes
Every new episode of No Agenda is accompanied by a comprehensive list of shownotes curated by Adam while preparing for the show. Clips played by the hosts during the show can also be found here.
Prime Time Takedown

Biden sandbagged - Sabotaged
Big Tech

5 fingers ai Theory

Beste adam

Itm

Episode 1561 na een uur en 40 second hebben jij en JCD het over ai waarom ze geen 5 vingers kunnen doen.

2 samuël 21. Vers 19 tm 22

Reuzen ( offspring van de gevallen engelen ) hebben 6 vingers en 6 tenen.

Als de ziel van een reus ( nephelim ) een ai overneemt dan kunnen of willen ze de creatie van god ( de mens ) niet goed doen want , ze willen de mens kapot maken.

Daarom zien mensen er altijd raar uit in de ai filmpjes.

Dit is een mogelijke theory.

Net als de haunted doll ai theory.

Gods zegen!!!

Groeten gerben.

Perverted Justice (Dell chick) Never used by LEO BOTG

adam @Johncdvorak as an Internet Crimes Against Children (ICAC) investigator, you should know that we were trained to never use data from Perverted Justice. They had a bad habit of entrapping suspects. We were never to use data packaged by them in warrants. They might give a good suspect to look at, but cases had to be made entirely on information gathered by law enforcement. Anyone working there was probably corrupt as hell.

Almost ALL news now is pay-walled - The end of news - Only headlines matter now
Big Pharma

STAT News background BOTG

During the most recent show (1561), the subject of STAT News came up. I have some experience with this outfit. While they may be running interference for Pfizer goons now, when it first landed on the scene its purpose (at least in part) was to generate headlines that move biotech stocks. They would post provocative headlines based on questionable tidbits of information...think National Enquirer-level reporting but about biotech companies instead of celebrities. Doctors and scientists do not read STAT -- traders do.

If this sounds like some quasi-pump&dump scheme....yes. And there are outlets like this for all sorts of industries, sectors, etc. Semiconductors is a common one. There are several outfits that can move stocks. Some are based in China.

Back in 2017 STAT ran an article that shit all over Moderna. It's pretty amusing considering everything that's happened since. Here if you're interested: https://www.statnews.com/2017/01/10/moderna-trouble-mrna/

STAT - Moderna hits safety problems in bold bid to reinvent medicine

This note was originally taken from: https://www.statnews.com/2017/01/10/moderna-trouble-mrna/

SAN FRANCISCO — Moderna Therapeutics, the most highly valued private company in biotech, has run into troubling safety problems with its most ambitious therapy, STAT has learned — and is now banking on a mysterious new technology to keep afloat its brash promise of reinventing modern medicine.

Exactly one year ago, Moderna CEO Stéphane Bancel talked up his company's "unbelievable" future before a standing-room-only crowd at the annual J.P. Morgan Healthcare Conference here. He promised that Moderna's treatment for a rare and debilitating disease known as Crigler-Najjar syndrome, developed alongside biotech giant Alexion Pharmaceuticals, would enter human trials in 2016.

It was to be the first therapy using audacious new technology that Bancel promised would yield dozens of drugs in the coming decade.

But the Crigler-Najjar treatment has been indefinitely delayed, an Alexion spokeswoman told STAT. It never proved safe enough to test in humans, according to several former Moderna employees and collaborators who worked closely on the project. Unable to press forward with that technology, Moderna has had to focus instead on developing a handful of vaccines, turning to a less lucrative field that might not justify the company's nearly $5 billion valuation.

"It's all vaccines right now, and vaccines are a loss-leader," said one former Moderna manager. "Moderna right now is a multibillion-dollar vaccines company, and I don't see how that holds up."

Bancel made no mention of the Crigler-Najjar drug when he spoke Monday before a similarly packed room at this year's J.P. Morgan conference.

His presentation instead focused on four vaccines that the company is moving through the first phase of clinical trials: two target strains of influenza, a third is for Zika virus, and the fourth remains a secret. Bancel clicked through graphs of data from animal studies before hurrying on to tout Moderna's balance sheet and discuss the company's cancer vaccines, slated for clinical testing later this year.

When STAT asked Bancel after the presentation about Crigler-Najjar, he deferred to Alexion.

In need of a Hail Mary

Founded in 2012, Moderna reached unicorn status — a $1 billion valuation — in just two years, faster than Uber, Dropbox, and Lyft, according to CB Insights. The company's premise: Using custom-built strands of messenger RNA, known as mRNA, it aims to turn the body's cells into ad hoc drug factories, compelling them to produce the proteins needed to treat a wide variety of diseases.

But mRNA is a tricky technology. Several major pharmaceutical companies have tried and abandoned the idea, struggling to get mRNA into cells without triggering nasty side effects.

Bancel has repeatedly promised that Moderna's new therapies will change the world, but the company has refused to publish any data on its mRNA vehicles, sparking skepticism from some scientists and a chiding from the editors of Nature.

The indefinite delay on the Crigler-Najjar project signals persistent and troubling safety concerns for any mRNA treatment that needs to be delivered in multiple doses, covering almost everything that isn't a vaccine, former employees and collaborators said.

The company did disclose a new technology on Monday that it says will more safely deliver mRNA. It's called V1GL. Last month, Bancel told Forbes about another new technology, N1GL.

But in neither case has the company provided any details. And that lack of specificity has inevitably raised questions.

Three former employees and collaborators close to the process said Moderna was always toiling away on new delivery technologies in hopes of hitting on something safer than what it had. (Even Bancel has acknowledged, in an interview with Forbes, that the delivery method used in Moderna's first vaccines "was not very good.")

Are N1GL and V1GL better? The company has produced no data to answer that question. When STAT asked about new technologies, Bancel referred questions to the company's patent filings.

The three former employees and collaborators said they believe N1GL and V1GL are either very recent discoveries, just in the earliest stages of testing — or else new names slapped on technologies Moderna has owned for years.

"[The technology] would have to be a miraculous, Hail Mary sort of save for them to get to where they need to be on their timelines," one former employee said. "Either [Bancel] is extremely confident that it's going to work, or he's getting kind of jittery that with a lack of progress he needs to put something out there."

Former employees and collaborators who spoke with STAT requested anonymity because they had signed nondisclosure agreements — which the highly secretive Moderna requires even some job candidates to sign.

A STAT investigation last year found that Bancel had driven away top talent from Moderna with a culture of recrimination and a caustic work environment, including on-the-spot firings for failed experiments.

The company, based in Cambridge, Mass., seems to have repaired its reputation among many rank-and-file employees, winning workplace accolades from Science Magazine and the Boston Globe, but Moderna has lost more than a dozen top scientists and managers in the past four years, despite its vast financial resources.Moderna CEO Stéphane Bancel in the company's headquarters in Cambridge, Mass. Aram Boghosian for STAT

A bug in the software

Bancel, a first-time biotech CEO, has dismissed questions about Moderna's potential. He describes mRNA as a simple way to develop treatments for scores of ailments. As he told STAT over the summer, "mRNA is like software: You can just turn the crank and get a lot of products going into development."

It seems clear, however, that the software has run into bugs.

Patients with Crigler-Najjar are missing a key liver enzyme needed to break down bilirubin, a yellowish substance that crops up in the body as old red blood cells break down. Without that enzyme, bilirubin proliferates in the blood, leading to jaundice, muscle degeneration, and even brain damage.

In Moderna's eyes, the one-in-million disease looked like an ideal candidate for mRNA therapy. The company crafted a string of mRNA that would encode for the missing enzyme, believing it had hit upon an excellent starting point to prove technology could be used to treat rare diseases.

But things gradually came apart last year.

Every drug has what's called a therapeutic window, the scientific sweet spot where a treatment is powerful enough to have an effect on a disease but not so strong as to put patients at too much risk. For mRNA, that has proved elusive.

In order to protect mRNA molecules from the body's natural defenses, drug developers must wrap them in a protective casing. For Moderna, that meant putting its Crigler-Najjar therapy in nanoparticles made of lipids. And for its chemists, those nanoparticles created a daunting challenge: Dose too little, and you don't get enough enzyme to affect the disease; dose too much, and the drug is too toxic for patients.

From the start, Moderna's scientists knew that using mRNA to spur protein production would be a tough task, so they scoured the medical literature for diseases that might be treated with just small amounts of additional protein.

"And that list of diseases is very, very short," said the former employee who described Bancel as needing a Hail Mary.

Crigler-Najjar was the lowest-hanging fruit.

Yet Moderna could not make its therapy work, former employees and collaborators said. The safe dose was too weak, and repeat injections of a dose strong enough to be effective had troubling effects on the liver in animal studies.

The drug, ALXN1540, has since been delayed, as Moderna works on "new and better formulations" that might later reach human trials, Alexion said in an emailed statement.

A huge valuation but a modest pipeline

The failure in its first and most advanced therapy casts doubt on Moderna's other goals for the rare disease space.

It also calls into question Moderna's valuation, pegged at $4.7 billion by Pitchbook. The company has raised nearly $2 billion in cash from investors and partners. But it has done so by promising a revolutionary technology safe enough to deliver repeated doses of mRNA.

The drugs it is pushing along now, by contrast, are more modest, relying on single administrations of mRNA. Beyond the four vaccines, it has one early-stage clinical trial targeting cardiac disease, launched just last month by partner AstraZeneca. The treatment involves a one-time dose and doesn't use the tricky nanoparticle casing.

Vaccines are not nearly as lucrative as the rare disease space that Moderna hoped to dominate. The market is also much more crowded; at least seven Zika vaccines, for instance, are either in clinical testing or are expected to enter testing by next fall.

Moderna has about $1.3 billion in cash on hand, according to Bancel. But with plans to spend more than $300 million a year investing in its technology, it will need to raise more money eventually. The most logical step would be to go public, and last year Moderna reorganized its business to prepare for an initial public offering.

But at its current valuation, Moderna's IPO would be the biggest in biotech history, leaving some investors scratching their heads as to how the company's vaccine-heavy pipeline could justify such a number. If Moderna chooses to stay private, it's unclear whether it can raise more cash without resorting to a dreaded down round, in which new shares are sold at a price below the last ones.

Until Moderna demonstrates that its technology can safely treat a disease, those questions will be tough to answer.

"My friends ask if they are like Theranos, and I say no; I think it's a real idea," one former Moderna collaborator said. "The question is how well does it work."

Bancel isn't providing the data that could answer that. But he projects unbounded confidence.

"I'm sure that five years from now we'll look at 2017 as the inflection point that Moderna went for a liftoff," he said at Monday's presentation. "We have a chance to transform medicine, and we won't quit until we are done and we have impacted patients."
Transmaoism

Great Pride comes before a Great Fall

LGB not the T
USD CBDC BTC

Inflation stealing time

$32/hour

costs 10 hours a month

social media inflation
China
Ukraine vs Russia

Iran–U.S. RQ-170 incident - Wikipedia

ITM comrades,

Don't use my name if you read on your podcast.

The drone John was thinking about that landed in Iran is the Lockheed RQ-170 Sentinel. Iran spoofed the GPS and the drone landed in the Iranian desert thinking it was landing at a US controlled base. Iran had shot down a number of small throwaway drone in the gulf and realized many used a common commercial GPS receiver and used those to spoof the RQ-170. A lot of the early, post 9/11 drones were rushed to service and shortcuts taken to fill the need. Newer drones are better protected now.
Climate Change

PFAS Contribution BOTG

Good morning John and Adam,

My name is Jacob Foust and I am a sustaining donor ($33.33) and an avid listener to the best podcast in the universe. I wanted to contribute some insight into a segment you two talked about a few weeks ago concerning the forever chemical known as PFAS. I am a lead water treatment operator for a Southern California city and we deal with many of the strains of this man made chemical. This is a byproduct of fluorpolymer products made by companies to produce heat resistant or water resistant products. One major company would be 3m. These companies disposed of the waste improperly which caused the chemical to leach into the ground water thus affecting many of the countries water supplies. We remove PFAS by using a reverse osmosis treatment plant however it ends up in our brine waste which eventually collects at another treatment plant downstream. The reason why PFAS is called a forever chemical is for two reasons. 1 there is no known treatment method of the chemical other than complete incineration (very costly and hard to do) and 2 it has no known half life and will continue to compound in humans. These chemicals (large family of more than 9000 known chains) are very harmful to humans and they are found in both water and the air we breath. We work hard to remove all traces of them and invest heavily into methods to remove and incinerate it. I drink the tap water I produce because I know every component that's in it due to the immense testing we do. It's safer than bottled water. If you ever have any water related questions I would be happy to help if I can. Thank you for all you do!

Hopeful future knight,

-Jacob Foust
Bees Boots on the ground

I did not want to donate with this info and listen to John complain...

Bees: I keep about 5 -8 hives and I know from my experience that Varroa mites are the number one killer on our winged fish (law in CA classifies them as fish so they can be federally protected) . I think they were first detected in the mid to late 80"s and what makes them so powerful is that they get into the brood ( the babies) and stunt their growth and they can not fly so the hive dies. A normal summer worker bee only lives about 25 days so if the new bees coming out are not healthy the hive will go down fast. There are oxalic acid treatments we do to ours in the form of a vapor, but we can not treat them when the honey boxes we harvest ( suppers) are on because it is dangerous to us. Fun fact each bee makes about a tea spoon of honey in there life time. Think about that next time you throw real honey away.

The trades : I own a plumbing shop and getting new blood is next to imposable. We have a 4 year min for schooling in the state of Oregon. The local school ( JATC) have actually reached out to us a number for time looking for guys to join the program, and a few years back they where close completely because no one was signing up.

The OD pandemic: I also own a few laundromats and two of them are in the Eugene area. This town has been completely over run buy the homeless and all the drugs that come with that. The city of Eugene actually gives local businesses nasal Narcan. We had a guy come in a few weeks ago and OD and die in our bathroom. When the paramedics came rushing in they realized and put on a good show of trying to save his life but you could tell they knew he was gone. I can't be completely sure but I would bet a chunk of money that is was fentanyl.

Thank you so much for all you guys do and I hope you find this information helpful .

Countess Kim keeper of the nutty fluffers
Great Reset
STORIES

Kiev demands $55 billion worth of weapons from West '-- RT Russia & Former Soviet Union

Sun, 04 Jun 2023 14:31

Ukraine needs at least 50 Patriot air defense system batteries to protect its cities and troops, President Vladimir Zelensky says

Ukraine needs dozens of US-made Patriot air defense system batteries if it hopes to protect its infrastructure and troops on the battlefield against Russian air superiority, President Vladimir Zelensky told the Wall Street Journal (WSJ) in an interview published on Saturday. The total cost of his demand exceeds the amount of money Washington has already spent on military assistance for Kiev.

Patriot is the ''only system in the world'' capable of intercepting certain advanced types of Russian missiles, Zelensky claimed, adding that ''there is a weapon'' supposedly capable of drastically reducing Russian capabilities when it comes to airstrikes and missile attacks.

In May, Kiev claimed its troops had managed to intercept a Russian hypersonic Kinzhal missile using a Patriot air defense system. Moscow denied those claims, adding that Ukraine routinely exaggerates the effectiveness of its air defenses.

In the interview, Zelensky maintained that as many as 50 Patriot batteries would be needed to sufficiently protect Ukraine's cities and its troops on the battlefield ahead of the much-touted counteroffensive. Launching the operation without such air defenses means ''a large number of soldiers will die,'' he said. ''Everyone knows perfectly well that any counteroffensive without air superiority is very dangerous,'' the president added.

Each Patriot battery costs around $1.1 billion, according to estimates by the Washington-based Center for Strategic and International Studies (CSIS) think tank, cited by Forbes. The total cost of Zelensky's demand thus translates to a military aid package worth $55 billion, which is more than the total amount of US military aid allocated to Kiev thus far.

Washington has provided Ukraine with $37 billion worth of military assistance since its conflict with Russia escalated in February last year. This has included only two Patriot batteries so far. The Ukrainian Air Force confirmed that both went on combat duty in April.

Kiev has repeatedly asked its Western backers for more air defense systems, as well as Western-made aircraft '' something the US and its allies were reluctant to provide until recently. Ukraine's problems with air defenses were exposed in purportedly classified Pentagon assessments leaked online. Analysis in late February predicted that most types of Soviet missiles would be gone by May, according to a WSJ report.

In late April, Ukrainian Defense Minister Aleksey Reznikov admitted that Ukraine's missile stockpiles for the Soviet air defense systems were depleting. ''We need to replenish them with something else,'' Reznikov said at that time.

Apart from Patriots, the US and its allies have also provided Ukraine with other air defense systems, including the US-made NASAMS, Germany's IRIS-T air defense missile systems, and Gepard anti-aircraft tanks. In February 2023, the head of the German Armed Forces Association (DBwV), Colonel Andre Wustner, warned that the $2 billion worth of military aid Berlin provided to Kiev had left Germany's military with a shortage of essential hardware.

What's missing from this headline about man charged with threatening to kill a US senator? '' twitchy.com

Sun, 04 Jun 2023 13:59

A New Hampshire man has been charged with threatening the life of a U.S. senator.

Which senator, and what is his or her party affiliation? NBC News didn't think that information was the highest of priorities:

A New Hampshire man has been charged with threatening to kill a senator. https://t.co/xFTem6s1qt

'-- NBC News (@NBCNews) June 3, 2023

The headline and sub-head both say a man was charged with ''threatening to kill a senator.'' And you know what that means:

Since left-wing NBC News declines to make a big deal out of which political party the senator belongs to, I'll guess it's a Republican senator. https://t.co/SRfBwPM0Y2

'-- Mollie (@MZHemingway) June 3, 2023

The sad state of ''journalism'' these days means you can tell which party the politician's from based on what is or isn't included in the headline.

Which party does that senator belong to?

'-- Matthew Battle (@librab103) June 3, 2023

Gee''a nameless, partyless, senator.Wonder what party the senator might belong to? ðŸ¤-- https://t.co/eOeFpdE4qD

'-- Mallen2022 (@A2100Michael) June 3, 2023

It's a total mystery!

NBC News did eventually report that the senator is a Republican, Tommy Tuberville:

6 paragraphs to get there. NBC 'news', yall.

'-- Vermicious Knid'š¾¸ðŸŽ¶ðŸ'š (@mutiethemailman) June 3, 2023

If the senator in question was a Democrat you know that fact would have been deemed necessary to be in the headline.

Threatening to kill a REPUBLICAN senator. Why omit this from your headline?? https://t.co/14zGrxkEOZ

'-- DeeBird (@DwbirdDee) June 3, 2023

You're missing ''Republican'' from the headline.

'-- Dom Morgan (@DomMorganFL) June 3, 2023

A Republican Senator https://t.co/038DxhjFg5 pic.twitter.com/cZgUz2p1KH

'-- Phil Labonte (@philthatremains) June 3, 2023

The mainstream media are nothing if not completely predictable.

***

Editor's Note: Do you enjoy Twitchy's conservative reporting taking on the radical left and woke media? Support our work so that we can continue to bring you the truth. Join Twitchy VIP and use the promo code SAVEAMERICA to get 40% off your VIP membership!

Tags:

Nations agree to draft landmark UN treaty against plastic pollution by end of 2023

Sun, 04 Jun 2023 13:55

Back to homepage / Environment Global negotiators have agreed to craft an initial draft treaty to end plastic pollution, a preliminary but crucial step toward tackling one of the most lasting sources of human waste.

Issued on: 03/06/2023 - 13:44

2 min

A bird stands on a beach covered with plastic waste in the Hann Bay in Dakar, Senegal, on June 2, 2018. (C) AFPEnvironmental advocates cautiously welcomed the outcome of five days of U.N. talks in Paris on plastic pollution, but expressed concern that the petroleum industry and some governments would water down the eventual treaty. Most plastic is made from fossil fuels.

Delegates at the Intergovernmental Negotiating Committee for Plastics agreed Friday evening to produce an initial draft before their next meeting in Kenya in November, participants said. The committee is charged with developing the first international, legally binding treaty on plastic pollution, on land and at sea.

A coalition of ''high-ambition'' governments led by Norway and Rwanda, along with environmental groups, want to end plastic pollution altogether by 2040 by slashing production and limiting some chemicals used in making plastics.

''Projections suggest that a child born today will see plastic production double by the time they turn 18, but we know that the consequences of increasing plastic production will be disastrous for our health, the planet, and the climate,'' said Dr. Tadesse Amera, who led the International Pollutants Elimination Network's delegation at the talks. ''The stakes are high, but we are optimistic by the growing awareness among delegates of the need for global controls.''

Countries with big petroleum industries like the U.S., China and Saudi Arabia are focusing instead on plastic recycling, and want country-by-country rules instead of across-the-board limits.

Stew Harris, senior director for global plastics policy at the American Chemistry Council, argued for allowing each government to ''use the right tools based on their unique circumstances.'' In a statement to The Associated Press as the talks wrapped up, he said that circularity '-- or reusing plastics '-- was ''at the forefront of the negotiations as a means to tackle pollution and be more sustainable in producing and consuming plastics. We agree that's the best path.''

Humanity produces more than 430 million tons of plastic annually, two-thirds of which are short-lived products that soon become waste, filling the ocean and, often, working their way into the human food chain, the U.N. Environment Program said in an April report. Plasticwaste produced globally is set to almost triple by 2060, with about half ending up in landfill and under a fifth recycled, according to the Organization for Economic Cooperation and Development.

Over 2,000 participants from nearly 200 countries, including governments and observers, took part in this week's talks. Waste pickers and some advocacy groups said they were initially denied access to the talks. Then debates about rules of procedure '-- including whether decisions would require consensus or just two-thirds approval '-- dragged out the proceedings, participants said.

But they ultimately agreed to produce a draft treaty by November, which keeps things on track to produce a final version by the target deadline of late 2024. This week's talks were the second of five rounds of meetings due to take place to complete the negotiations.

''Time is running out and it is clear from this week's negotiations that oil-producing countries and the fossil fuel industry will do everything in their power to weaken the treaty and delay the process,'' said Graham Forbes of Greenpeace USA global plastics campaign. ''While some substantive discussions have taken place, there is still a huge amount of work ahead of us.''

(AP)

Read more on related topics:

Oppenheimer (film) - Wikipedia

Sun, 04 Jun 2023 13:51

From Wikipedia, the free encyclopedia

Upcoming film by Christopher Nolan

Oppenheimer is an upcoming biographical thriller film written and directed by Christopher Nolan, based on the 2005 book American Prometheus by Kai Bird and Martin J. Sherwin. The film stars Cillian Murphy as J. Robert Oppenheimer, an American theoretical physicist credited with being the "father of the atomic bomb" for his role in the Manhattan Project'--the World War II undertaking that developed the first nuclear weapons, with a supporting ensemble cast that includes Emily Blunt, Matt Damon, Robert Downey Jr., Florence Pugh, Rami Malek, Benny Safdie, Michael Angarano, Josh Hartnett and Kenneth Branagh. It is a co-production between Universal Pictures, Syncopy Inc. and Atlas Entertainment, with Nolan producing the film alongside Emma Thomas and Charles Roven.

Nolan announced he would be writing and directing a biographical film about J. Robert Oppenheimer, set during World War II, with Universal Pictures being chosen as the distributor, in September 2021. Much of the main cast signed on between September 2021 and April 2022. Pre-production was underway by January 2022, with filming beginning in late February 2022 and wrapped that May. It is filmed in a combination of IMAX 65mm and 65mm large-format film'--including, for the first time, sections in IMAX black-and-white analog photography. Like his previous works, Nolan extensively used practical effects and minimal computer-generated imagery.

Oppenheimer is scheduled to be released in the United Kingdom and United States on July 21, 2023, by Universal Pictures. It is Nolan's first film not to be distributed by Warner Bros. Pictures domestically or internationally since Memento (2000), as well as his first film to receive an R-rating since Insomnia (2002).

Cast Production Development In December 2020, Warner Bros. Pictures announced plans to give its 2021 films simultaneous releases in theaters and on HBO Max due to the impact of the COVID-19 pandemic on the film industry. Christopher Nolan, who had partnered with the studio on each one of his films starting with Insomnia (2002), expressed his disbelief with the decision.[35] In January 2021, media reports mentioned the possibility that Nolan's next film could be the first to not be financed or distributed by Warner Bros.[36] Nolan had previously supported the studio's decision to give Wonder Woman 1984 (2020) a simultaneous release, stating that he perceived this situation to have been handled properly, but said he had been excluded from any discussions regarding the postponed release of his film Tenet (2020).[37][38]

In September 2021, it was announced that Nolan would write and direct a biographical film set during World War II about J. Robert Oppenheimer, creator of the atomic bomb, with Cillian Murphy in negotiations to star.[39] Nolan approached multiple studios for the project, including Sony Pictures, Universal Pictures, Paramount Pictures, and Apple Studios due to his strained relationship with Warner Bros.[40][41] According to insiders, Paramount was out of the selection early on in the wake of the replacement of CEO and Chairman Jim Gianopulos with Brian Robbins, an advocate for increased streaming service releases.[41] On September 14, it was confirmed that Universal would finance and distribute the film, with production set to begin in the first quarter of 2022.[42] Some of Nolan's demands included a production budget of $100 million and an equal marketing budget, a theatrical window of at least 100 days, 20 percent of the film's first-dollar gross, and a three-week period before and after the film's release in which Universal could not release another new film.[41]

Casting Oppenheimer marks the sixth collaboration between Nolan and Murphy, and the first starring Murphy as the lead. To prepare for the role, the actor did what he summarized as "an awful lot of reading" on Oppenheimer's life.[43][1] The casting process was so secretive that some of the actors did not know which role they were going to play until they signed on.[18] Robert Downey Jr., Matt Damon, and Emily Blunt took pay cuts to work on the film, earning $4 million each in lieu of their usual $10''20 million salaries.[44]

Filming Pre-production was underway by January 2022 in New Mexico, where a two-day casting call took place in Santa Fe and Los Alamos for people to audition to play local residents, military personnel and scientists.[45][46] Another casting call was held in February.[47] Filming began in late February 2022,[10] with Hoyte van Hoytema serving as cinematographer. Gary Oldman said he would be on set for a day in May for "one scene, a page and a half".[31]

The film used a combination of IMAX 65 mm and 65 mm large-format film.[1] It is also the first film to shoot sections on IMAX black and white photographic film.[48] In the second week of April, filming took place at the Institute for Advanced Study in Princeton, New Jersey.[49] Filming also occurred in California,[32] primarily around the campus of the University of California, Berkeley.[50] Filming was wrapped after four months in May 2022.[51]

I think of any character I've dealt with, Oppenheimer is by far the most ambiguous and paradoxical. Which, given that I've made three Batman films, is saying a lot.[52]

'-- Christopher Nolan

Filming involved the use of real explosives to recreate the Trinity nuclear test, forgoing the use of computer generated graphics.[53]

Post-production During post-production, editing was completed by Jennifer Lame, who previously edited Tenet.[1] Visual effects were handled by DNEG, marking their eighth collaboration with Nolan. Andrew Jackson was the visual effects supervisor.[54]

The film received an R-rating from the Motion Picture Association for "some sexuality, nudity, and language", making it Nolan's first film to receive that rating since Insomnia (2002).[55]

Music In October 2021, Ludwig G¶ransson was revealed to be composing the score for the film, after previously doing so for Tenet.[1]

Release Oppenheimer is scheduled to be released theatrically on July 21, 2023, by Universal Pictures.[1][56] In addition to standard cinemas, it will be also released in various film formats including IMAX 70 mm (30 prints), standard 70 mm (113 prints) and 35 mm (around 80 prints).[57]

Considering the film's budget and marketing costs, Variety stated that the film will need to gross at least $400 million worldwide to make a profit.[58]

Marketing The marketing campaign for Oppenheimer began on February 22, 2022, when a first-look at Murphy in costume as Oppenheimer was shared. In the black-and-white image, Murphy is seen in an unflinching stare while smoking a cigarette.[59] Noting the physicist's history with chain smoking, Variety remarked: "That's certainly true to the historical record."[60]

On July 22, 2022 (exactly a year to the release of the film in theaters), a teaser poster was released. It was followed by a teaser trailer on July 28, 2022, featuring a live countdown to 5:29 AM (MST) on July 16, 2023, the 78th anniversary of the first detonation of an atomic weapon; it premiered in screenings of Nope before being posted online on Universal's social media profiles.[61] Empire commented: "It looks like heady, brooding stuff with a real sense of weight'--a Christopher Nolan film, in other words."[62] Two more trailers premiered in December 2022 in front of Avatar: The Way of Water screenings, one of which was exclusive to IMAX screenings.[63]

In May 2023, an official trailer was debuted during preview screenings of Guardians of the Galaxy Vol. 3. It was subsequently released to the public on May 8, 2023, alongside a theatrical release poster.[64]

See also List of black-and-white films produced since 1966References ^ a b c d e f Kroll, Justin (October 8, 2021). "Cillian Murphy Confirmed to Star As J. Robert Oppenheimer In Christopher Nolan's Next Film At Universal, Film Will Bow in July 2023". Deadline Hollywood. Archived from the original on October 8, 2021 . Retrieved October 8, 2021 . ^ Kroll, Justin (October 20, 2021). "Emily Blunt In Talks To Join Christopher Nolan's Next Film Oppenheimer At Universal". Deadline Hollywood. Archived from the original on November 2, 2021 . Retrieved October 20, 2021 . ^ a b Kroll, Justin (November 2, 2021). "Robert Downey Jr. And Matt Damon Latest Stars To Join Christopher Nolan's Oppenheimer". Deadline Hollywood. Archived from the original on November 2, 2021 . Retrieved November 2, 2021 . ^ a b c Kit, Borys (December 9, 2021). "Florence Pugh, Rami Malek, Benny Safdie Join Christopher Nolan's Oppenheimer (Exclusive)". The Hollywood Reporter. Archived from the original on December 10, 2021 . Retrieved December 9, 2021 . ^ a b Lang, Brent (February 22, 2022). "Christopher Nolan's Oppenheimer Releases Moody First Look, Kenneth Branagh Joins Cast". Variety. Archived from the original on February 22, 2022 . Retrieved February 22, 2022 . ^ Kroll, Justin (January 4, 2022). "Josh Hartnett Joins Christopher Nolan's Next Film Oppenheimer". Deadline Hollywood. Archived from the original on January 4, 2022 . Retrieved January 4, 2022 . ^ Grobar, Matt (February 22, 2022). "Christopher Nolan's Oppenheimer Gets First-Look Photo As Kenneth Branagh Joins Cast". Deadline Hollywood. Archived from the original on February 22, 2022 . Retrieved February 22, 2022 . ^ Kit, Borys (February 7, 2022). "Dane DeHaan Joins Christopher Nolan's Oppenheimer (Exclusive)". The Hollywood Reporter. Archived from the original on February 7, 2022 . Retrieved February 7, 2022 . ^ a b Kit, Borys (February 16, 2022). "Christopher Nolan's Oppenheimer Adds Halloween Kills, Manifest Actors (Exclusive)". The Hollywood Reporter. Archived from the original on February 16, 2022 . Retrieved February 16, 2022 . ^ a b c Kit, Borys (February 22, 2022). "Oppenheimer: Alden Ehrenreich, David Krumholtz Join Christopher Nolan Drama (Exclusive)". The Hollywood Reporter. Archived from the original on February 22, 2022 . Retrieved February 22, 2022 . ^ Remley, Hilary (February 22, 2022). "Ironheart Adds Alden Ehrenreich to Marvel Disney+ Series". Collider. Archived from the original on July 21, 2022 . Retrieved July 21, 2022 . ^ Grobar, Matt (February 16, 2022). "Oppenheimer: Matthew Modine Joins Christopher Nolan's Film For Universal". Deadline Hollywood. Archived from the original on February 16, 2022 . Retrieved February 16, 2022 . ^ Kroll, Justin (February 15, 2022). "The Boys Star Jack Quaid Joins Christopher Nolan's Oppenheimer". Deadline Hollywood. Archived from the original on February 15, 2022 . Retrieved February 15, 2022 . ^ Couch, Aaron (February 25, 2022). "David Dastmalchian Reuniting With Christopher Nolan for Oppenheimer (Exclusive)". The Hollywood Reporter. Archived from the original on February 25, 2022 . Retrieved February 25, 2022 . ^ Kroll, Justin (March 1, 2022). "Oppenheimer: Jason Clarke Joins Christopher Nolan's Next Tentpole At Universal". Deadline Hollywood. Archived from the original on March 1, 2022 . Retrieved March 1, 2022 . ^ Rubin, Rebecca (March 9, 2022). "Drake and Josh Star Josh Peck Joins Christopher Nolan's Oppenheimer (Exclusive)". Variety. Archived from the original on June 9, 2022 . Retrieved March 9, 2022 . ^ Grobar, Matt (March 16, 2022). "Devon Bostick Joins Universal's Oppenheimer; Sony's George Foreman Biopic Adds Deion Smith". Deadline Hollywood. Archived from the original on April 18, 2022 . Retrieved March 16, 2022 . ^ a b Kit, Borys (March 22, 2022). "Oppenheimer: Alex Wolff Joins All-Star Cast of Christopher Nolan Drama (Exclusive)". The Hollywood Reporter. Archived from the original on March 27, 2022 . Retrieved March 22, 2022 . ^ Couch, Aaron (March 23, 2022). "Oppenheimer Enlists Tony Goldwyn (Exclusive)". The Hollywood Reporter. Archived from the original on May 23, 2022 . Retrieved March 23, 2022 . ^ a b White, James (March 1, 2022). "Oppenheimer Adds Jason Clarke And Louise Lombard". Empire. Archived from the original on March 2, 2022 . Retrieved March 2, 2022 . ^ Grobar, Matt (April 4, 2022). "Christopher Denham & Josh Zuckerman Join Oppenheimer; Shane Dax Taylor's Indie Best Man Adds Andrey Ivchenko". Deadline Hollywood. Archived from the original on May 31, 2022 . Retrieved April 4, 2022 . ^ Grobar, Matt (March 2, 2022). "Christopher Nolan's Oppenheimer Adds James D'Arcy & Michael Angarano". Deadline Hollywood. Archived from the original on March 3, 2022 . Retrieved March 2, 2022 . ^ Kroll, Justin (March 11, 2022). "Army Of The Dead Breakout Matthias Schweigh¶fer Joins Christopher Nolan's Oppenheimer". Deadline Hollywood. Archived from the original on June 9, 2022 . Retrieved March 11, 2022 . ^ "Schweigh¶fers n¤chste groŸe Rolle" [Schweigh¶fer's next big role]. Der Spiegel (in German). November 2, 2022. Archived from the original on February 12, 2023 . Retrieved February 12, 2023 . ^ Grobar, Matt (March 4, 2022). "Christopher Nolan's Oppenheimer Casts No Exit Star David Rysdahl (Exclusive)". The Hollywood Reporter. Archived from the original on April 17, 2022 . Retrieved March 4, 2022 . ^ a b Grobar, Matt (March 7, 2022). "Christopher Nolan's Oppenheimer Adds Guy Burnet & Danny Deferrari". Deadline Hollywood. Archived from the original on April 22, 2022 . Retrieved March 7, 2022 . ^ Grobar, Matt (March 1, 2022). "Louise Lombard Joins Oppenheimer; Harold And The Purple Crayon Adds Camille Guaty". Deadline Hollywood. Archived from the original on April 22, 2022 . Retrieved March 1, 2022 . ^ a b Grobar, Matt (March 10, 2022). "Oppenheimer: Harrison Gilbertson & Emma Dumont Board Christopher Nolan's Thriller For Universal". Deadline Hollywood. Archived from the original on March 10, 2022 . Retrieved March 10, 2022 . ^ Couch, Aaron (March 15, 2022). "Oppenheimer Enlists Vikings Actor Gustaf Skarsgard (Exclusive)". The Hollywood Reporter. Archived from the original on April 4, 2022 . Retrieved March 15, 2022 . ^ Grobar, Matt (March 29, 2022). "Billy Slaughter Joins Amazon's The Burial; Oppenheimer Adds Trond Fausa". Deadline Hollywood. Archived from the original on June 4, 2022 . Retrieved March 29, 2022 . ^ a b Grater, Tom (April 1, 2022). "Gary Oldman Says He Is Appearing In One Scene In Christopher Nolan's Oppenheimer". Deadline Hollywood. Archived from the original on May 23, 2022 . Retrieved April 1, 2022 . ^ a b D'Alessandro, Anthony (April 15, 2022). "Christopher Nolan's Oppenheimer Adds Olivia Thirlby". Deadline Hollywood. Archived from the original on June 4, 2022 . Retrieved April 15, 2022 . ^ Francis-Crow, Alana (April 23, 2022). "Oppenheimer Set Photos Reveal Casey Affleck Is Cast In New Nolan Movie". Screen Rant. Archived from the original on April 24, 2022 . Retrieved April 23, 2022 . ^ Reul, Katie (May 8, 2023). "New 'Oppenheimer' Trailer Reveals a Sad Albert Einstein, Florence Pugh, Robert Downey Jr. and More in Christopher Nolan's Star-Studded Movie". Variety. Archived from the original on May 8, 2023 . Retrieved May 8, 2023 . ^ Boone, John (December 7, 2020). "Christopher Nolan Reflects on Tenet Release, Reacts to Warner Bros./HBO Max Deal (Exclusive)". Entertainment Tonight. Archived from the original on October 9, 2021 . Retrieved October 9, 2021 . ^ Watson, R.T. (January 21, 2021). "Want to Be a Hollywood Player? Covid and Streaming Have Changed All the Rules" . The Wall Street Journal. Archived from the original on October 9, 2021 . Retrieved October 9, 2021 . ^ Rubin, Rebecca (December 10, 2020). "After Christopher Nolan's explosive remarks, could Warner Bros. lose its superstar director?". Variety. Archived from the original on December 10, 2020 . Retrieved May 4, 2021 . ^ Katz, Brandon (February 3, 2021). "Where will Christopher Nolan go after his war with Warner?". The New York Observer. Archived from the original on February 3, 2021 . Retrieved May 4, 2021 . ^ Fleming, Mike Jr. (September 9, 2021). "Christopher Nolan Bombshell: Director Talking To Multiple Studios On Film He'll Direct About J. Robert Oppenheimer & Development Of The A-Bomb In WWII". Deadline Hollywood. Archived from the original on September 10, 2021 . Retrieved September 10, 2021 . ^ Kit, Borys (September 9, 2021). "Sony, Universal Among Studios Vying for New Christopher Nolan Movie". The Hollywood Reporter. Archived from the original on September 11, 2021 . Retrieved September 10, 2021 . ^ a b c Kit, Borys (September 15, 2021). "Inside the Studios' (And Apple's) Frenzy to Get Christopher Nolan's Next Film". The Hollywood Reporter. Archived from the original on September 15, 2021 . Retrieved September 15, 2021 . ^ Fleming, Mike Jr. (September 14, 2021). "Christopher Nolan Chooses Universal Pictures For His Film About J. Robert Oppenheimer & The A-Bomb". Deadline Hollywood. Archived from the original on September 14, 2021 . Retrieved September 14, 2021 . ^ Cumming, Ed (February 20, 2022). " 'It's the end of a big adventure': Cillian Murphy bids farewell to Peaky Blinders". The Guardian. Archived from the original on February 20, 2022 . Retrieved February 21, 2022 . ^ Lang, Brent (July 20, 2022). "Inside Movie Stars' Salaries: Joaquin Phoenix Nabs $20M for Joker 2, Tom Cruise Heads to Over $100M and More". Variety. Archived from the original on July 20, 2022 . Retrieved July 21, 2022 . ^ Gomez, Adrian (January 29, 2022). "Oppenheimer to film in New Mexico this year". Albuquerque Journal. Archived from the original on January 26, 2022 . Retrieved January 30, 2022 . ^ Tashji, Michael (January 30, 2022). "Hundreds turn out for Oppenheimer casting call". The Santa Fe New Mexican. Archived from the original on January 31, 2022 . Retrieved February 14, 2022 . ^ Vitu, Teya (February 3, 2022). "Two more movie shoots come to New Mexico; Oppenheimer calls for more extras". The Santa Fe New Mexican. Archived from the original on February 4, 2022 . Retrieved February 4, 2022 . ^ Bergeson, Samantha (February 22, 2022). "Oppenheimer First Look: Cillian Murphy Smolders in Christopher Nolan's Atomic Bomb Drama". IndieWire. Archived from the original on February 22, 2022 . Retrieved February 22, 2022 . ^ Salvadore, Sarah (April 12, 2022). "Christopher Nolan, Cillian Murphy Film In Princeton For Oppenheimer?". Patch. Archived from the original on April 12, 2022 . Retrieved April 12, 2022 . ^ Wendorf, Frances (May 2, 2022). "Florence Pugh Walks With Cillian Murphy In Oppenheimer Set Photo". Screen Rant. Archived from the original on May 2, 2022 . Retrieved May 2, 2022 . ^ Ruimy, Jordan (June 6, 2022). "Christopher Nolan's Oppenheimer Wraps Shooting". World of Reel. Archived from the original on June 6, 2022 . Retrieved June 7, 2022 . ^ "Christopher Nolan Compares Oppenheimer to Batman '-- but Says Cillian Murphy's Character Is More 'Ambiguous and Paradoxical' ". May 20, 2023. Archived from the original on May 23, 2023 . Retrieved May 23, 2023 . ^ Maytum, Matt (December 12, 2022). "Christopher Nolan: ' Oppenheimer is one of the most challenging projects I've ever taken on in terms of scale' ". GamesRadar+. Archived from the original on December 13, 2022 . Retrieved December 13, 2022 . ^ Tangcay, Jazz (July 21, 2022). "Christopher Nolan Reunites With VFX Studio DNEG for Oppenheimer, Their Eighth Movie Together". Variety. Archived from the original on July 20, 2022 . Retrieved July 21, 2022 . ^ Sharf, Zack (June 1, 2023). "Oppenheimer Earns R Rating, Imax Film Prints Are 11 Miles Long and Weigh 600 Pounds". Variety. Archived from the original on June 1, 2023 . Retrieved June 2, 2023 . ^ Lawrence, Gregory (October 8, 2021). "Christopher Nolan's New Movie Oppenheimer Sets 2023 Release Date". Collider. Archived from the original on October 9, 2021 . Retrieved October 9, 2021 . ^ "Where to see "Oppenheimer" in the Splendour of Glorious 7OMM". in70mm.com . Retrieved June 3, 2023 . ^ Rubin, Rebecca (November 18, 2021). "Why Christopher Nolan's $100 Million WWII Drama Oppenheimer Could Be the Last of Its Kind". Variety. Archived from the original on November 18, 2021 . Retrieved November 18, 2021 . ^ Lang, Brent (February 22, 2022). "Christopher Nolan's 'Oppenheimer' Releases Moody First Look, Kenneth Branagh Joins Cast". Variety. Archived from the original on February 22, 2022 . Retrieved May 9, 2023 . ^ Lang, Brent (February 22, 2022). "Christopher Nolan's 'Oppenheimer' Releases Moody First Look, Kenneth Branagh Joins Cast". Variety. Archived from the original on February 22, 2022 . Retrieved May 9, 2023 . ^ Parham, Lee (July 28, 2022). "Link Tank: First Oppenheimer Trailer is a Countdown Clock". Den of Geek. Archived from the original on August 18, 2022 . Retrieved August 17, 2022 . ^ "Christopher Nolan's Oppenheimer Teaser Trailer Debuts Online". Empire. Archived from the original on May 9, 2023 . Retrieved May 9, 2023 . ^ Bahr, Lindsey (December 13, 2022). "Nolan to debut Oppenheimer IMAX trailer with Avatar 2". AP News. Archived from the original on December 15, 2022 . Retrieved December 16, 2022 . ^ Leston, Ryan (May 8, 2023). "Christopher Nolan's Oppenheimer Gets Lengthy New Trailer". IGN. Archived from the original on May 9, 2023 . Retrieved May 9, 2023 . External links

Tom Cruise Mad 'MI7' Is Losing Imax Theaters to 'Oppenheimer': Report

Sun, 04 Jun 2023 13:48

Tom Cruise is on the warpath about "Mission: Impossible 7" getting bumped out of Imax theaters. "MI7" opens on July 12 but only has a short window before "Oppenheimer" arrives to Imax exclusivity. Cruise has reportedly been trying to snag other large-format theaters and personally pitching execs. Loading Something is loading.

Thanks for signing up!

Access your favorite topics in a personalized feed while you're on the go.

By clicking ''Sign Up,'' you also agree to marketing emails from both Insider and Morning Brew; and you accept Insider's

Terms and

Privacy Policy.

Click here for Morning Brew's privacy policy.

Tom Cruise's upcoming "Mission: Impossible" film is getting boxed out of Imax theaters by Christopher Nolan's "Oppenheimer" '-- and the star is "pretty pissed" about it, Matt Belloni reported for Puck.

Belloni wrote that Cruise has been "complaining loudly to Paramount executives and others about the Imax situation, per multiple sources familiar with the dialogue."

The seventh "Mission: Impossible" movie, titled "Dead Reckoning Part One," opens July 12 and has most Imax screens booked '-- until July 21, when Nolan's epic about J. Robert Oppenheimer, who oversaw the development of the first atomic bomb, premieres.

"Oppenheimer" will drop a (permit me) nuclear bomb on the market, snapping up ALL Imax screens for three weeks.

A committed proponent of Imax, Nolan shot "Oppenheimer" entirely on Imax cameras. In fact, Nolan has been shooting his movies on Imax cameras since 2008's "The Dark Knight."

"The sharpness and the clarity and the depth of the image is unparalleled," Nolan told the Associated Press last week. "The headline, for me, is by shooting on Imax 70mm film, you're really letting the screen disappear. You're getting a feeling of 3D without the glasses. You've got a huge screen and you're filling the peripheral vision of the audience. You're immersing them in the world of the film."

(Fun fact: The "Oppenheimer" prints are 11 miles long and weigh about 600 pounds, per the AP.)

Given Nolan's commitment to Imax and his stature as a filmmaker, it makes sense that "Oppenheimer" studio Universal was able to get an Imax exclusivity window, especially since Belloni reported the film secured its release date well before "MI7" got its earlier date.

But that doesn't seem to be much consolation to Cruise, who has reportedly gone on the offensive to secure other premium large-format, or PLF, theaters.

"Imax makes up just a little more than a third of the large-format screens in the US, so Cruise has lately shifted his efforts to securing as many of those non-Imax PLF screens as he can," Belloni reported, "even personally calling around to exhibition and studio executives, per multiple sources."

Reps for Paramount and Cruise did not immediately respond to requests for comment from Insider.

British arms maker BAE in talks to build weapons inside Ukraine

Sun, 04 Jun 2023 13:41

If you see this page, the nginx web server is successfully installed andworking. Further configuration is required.

For online documentation and support please refer tonginx.org.Commercial support is available atnginx.com.

Thank you for using nginx.

No One Knows How Many L.G.B.T.Q. Americans Die by Suicide - The New York Times

Sun, 04 Jun 2023 13:40

Death investigators in Utah are among a handful of groups trying to learn how many gay and transgender people die by suicide in the United States.

Send any friend a story

As a subscriber, you have 10 gift articles to give each month. Anyone can read what you share.

Utah's chief death investigator, Cory Russo, in Salt Lake County's medical examiner's office. Ms. Russo is one of the few U.S. death investigators routinely collecting data on sexual orientation and gender identity. Credit... Kim Raff for The New York Times Cory Russo, the chief death investigator in Utah, is used to asking strangers questions at the most excruciating moments of their lives. When she shows up at the scene of a suicide, a homicide or another type of unexpected death, her job is to interview the grievers about how the deceased had lived.

How old were they? What was their race? Did they have a job? Had they ever been hospitalized for psychiatric issues? How had they been feeling that morning?

Over the past couple of years, she has added new questions to the list: What was their sexual orientation? What was their gender identity?

Ms. Russo, who works in the Office of the Medical Examiner in Salt Lake City, is one of the relative few death investigators across the country who are routinely collecting such data, even though sexuality or gender identity can be relevant to the circumstances surrounding a person's death.

She recalled the recent suicide of a young man who died in the house of older adults. During her interviews, Ms. Russo learned that the man had been living with them for a year, ever since his family had kicked him out of their house because he was gay. He had struggled with emotional upheaval and addiction.

''It was heartbreaking to hear,'' said Ms. Russo, a lesbian who has lost loved ones to suicide. ''In that case, it was very relevant to understand that piece.''

Studies of L.G.B.T.Q. people show they have high rates of suicidal thoughts and suicide attempts, factors that greatly increase the risk of suicide.

But because most death investigators do not collect data on sexuality or gender identity, no one knows how many gay and transgender people die by suicide each year in the United States. The information vacuum makes it difficult to tailor suicide prevention efforts to meet the needs of the people most at risk, and to measure how well the programs work, researchers said.

The absence of data is especially unfortunate now, they said, when assumptions about suicide rates among L.G.B.T.Q. groups are frequently thrust into high-stakes political debates. Some L.G.B.T.Q. advocates have warned that bans on gender-affirming care for transgender minors will lead to more suicides, for example, while some Republican lawmakers have claimed that deaths by suicide are rare.

Utah, which like many mountain states has a high rate of suicide mortality, has been at the forefront of efforts to collect such data since 2017, when its State Legislature passed a law mandating detailed investigations of suicides.

The lawmakers were ''frustrated with being asked to respond to the suicide crisis in our state with a blindfold on,'' said Michael Staley, a sociologist who was hired to lead the data-collection effort in the Utah medical examiner's office. ''It's a five-alarm fire.''

Image Michael Staley, a sociologist who works in the Salt Lake City Medical Examiner's Office, conducts ''psychological autopsies'' in the months after a death by suicide or drug overdose. Credit... Kim Raff for The New York Times In the months after investigators like Ms. Russo show up at the scene of a death, Dr. Staley's team of six people conducts ''psychological autopsies,'' contacting family members of everyone in the state who dies by suicide or drug overdose for detailed information about the lives of the deceased.

Such data '-- which includes information on sexual relationships and gender, as well as housing, mental health, drug problems and social media use '-- can be used to help understand the complex array of factors that contribute to people's decisions to end their lives, Dr. Staley said. He plans to release a report later this year describing interviews with the families of those who died by suicide in Utah over the last five years.

For children and adolescents who die by suicide, the team interviews not just parents and guardians, but also several close friends. In some cases, Dr. Staley recalled, friends knew about the deceased's struggles with sexuality, gender or drug use that the parents did not.

These conversations can be exceedingly difficult. John Blosnich, head of a research initiative called the L.G.B.T. Mortality Project at the University of Southern California, has done ride-alongs to observe and train death investigators on the importance of collecting data on gender and sexuality. His training also helps investigators navigate distress or stigma about the questions from the deceased's friends and relatives.

''They're talking with families who are in shock, who are infuriated, who at times are catatonic because of their loss,'' Dr. Blosnich said.

So far, Dr. Blosnich has trained investigators in Utah, Nevada, Colorado, New York and California, where a 2021 state law started a pilot program to collect data on sexual orientation and gender identity. In a recent study of 114 investigators in three states, Dr. Blosnich reported that only about 41 percent had directly asked about a deceased person's sexual orientation, and just 25 percent had asked about gender identity, before going through the training.

Medical examiners send reports of homicides and suicides to the Centers for Disease Control and Prevention, which maintains a database of violent deaths with extensive demographic, medical and social information, including toxicology tests, mental health diagnoses and even stories of financial and family hardships. But a study of more than 10,000 suicides among young adults reported to the C.D.C. database found that only 20 percent included information on the deceased's sexuality or gender identity.

Another agency in the health department, the Office of the National Coordinator for Health Information Technology, is trying to set new standards that would require any hospital that receives federal money to ask its patients about their sexuality and gender identity.

Death investigators are ''limited by the fact that they can't ask the person the question,'' said John Auerbach, who worked on standardizing questions about sexuality and gender at the C.D.C. from 2021 to 2022. If doctors were routinely talking to their patients about sexuality and gender identity, that information could help answer other public health questions as well, such as those regarding the relative risk of cancer or diabetes in the L.G.B.T.Q. community, Dr. Auerbach said.

But that approach has its limits. Patients may not feel comfortable disclosing that information to their doctors. And those who don't interact with the health care system may be at especially high risk of suicide.

Image ''Lacking in data, it is all too easy to dismiss us,'' said Casey Pick, director of law and policy at the Trevor Project. Credit... Shuran Huang for The New York Times L.G.B.T.Q. advocates said that obtaining that data had become more urgent in the past couple of years, as states across the country have imposed restrictions on many aspects of life for gay and transgender people.

''Lacking in data, it is all too easy to dismiss us,'' said Casey Pick, director of law and policy at the Trevor Project, a nonprofit organization focused on suicide prevention among L.G.B.T.Q. young people that has lobbied at the state and federal levels to begin collecting that data.

''I have heard it too many times: Lawmakers and public witnesses in hearings suggest that the L.G.B.T.Q. community is crying wolf on suicide because we don't have this data to point to,'' Ms. Pick said.

It's also important to acknowledge the unknowns, Dr. Staley said. Although studies have reported a high rate of suicidal thoughts and suicide attempts among lesbian, gay and transgender people, that doesn't necessarily mean a high rate of suicides. He noted that although women have a higher rate of suicide attempts than men do, men have a much higher rate of dying by suicide, partly because they have more access to guns.

And Dr. Staley, who is gay, cautioned against political narratives that ''normalize suicide as part of the queer experience.''

''I would argue that if anything, this life experience sets us up to be resilient,'' he said. ''Our fate is not sealed. Our story is not written.''

If you are having thoughts of suicide, call or text 988 to reach the 988 Suicide and Crisis Lifeline or go to SpeakingOfSuicide.com/resources for a list of additional resources.

Azeen Ghorayshi covers the intersection of sex, gender and science for The Times.

A version of this article appears in print on

, Section

A

, Page

16

of the New York edition

with the headline:

Utah Is Driving Push to Fill Void on L.G.B.T.Q. Suicide Data

. Order Reprints | Today's Paper | Subscribe

Alarm as numbers of teens addicted to 'smart drugs' surge | Daily Mail Online

Sun, 04 Jun 2023 13:40

Record numbers of students and schoolchildren are being treated for addiction to stimulant 'smart drugs' which put them at risk of severe anxiety and insomnia, experts have warned.

The UK Addiction Treatment Group (UKAT), a leading addiction clinic, has been fielding enquiries from thousands of young people seeking help after becoming hooked on the tablets.

Smart drugs is an umbrella term for a number of medications that boost concentration, including Ritalin, also known as methylphenidate, and Adderall, which contains four types of amphetamine. Both are used to treat the mental health condition attention deficit hyperactivity disorder (ADHD) by increasing activity in areas of the brain that help control attention and behaviour.

However, in people who do not have ADHD they can boost energy and concentration, which is why they are often used by students, particularly at exam times.

Doctors warn that children are handing out these smart drugs to friends at school and have urged policymakers to toughen up regulations which currently allow private clinics to prescribe the powerful medications without a face-to-face consultation.

Drugs counsellors have said anxious students have been contacting them after becoming dependent upon smart drugs to cope with the stress of studying for exams

When taken as recommended, these drugs are not addictive. But many of those who abuse them are taking significantly higher doses or crushing the pills and snorting them, making them more potent. When taken in this way, the medication can become addictive, while also raising the risk of triggering sleep problems, anxiety and even heart damage.

UKAT has seen a nearly 80 per cent increase in calls for help from students and young professionals hooked on smart drugs compared with before the Covid pandemic.

Studies show that the number of ADHD medication prescriptions has risen by nearly 70 per cent since 2020 as a record number of people are diagnosed with the disorder. While many will have a genuine need, experts believe that this rise in ADHD is also being driven by private clinics that are overdiagnosing the condition.

As a result, there have even been intermittent shortages of some of these medications, meaning those in need have been unable to get vital treatment.

Doctors have warned students have been passing arround smart drugs to their friends at school

'It's worrying how easy it is for kids to get their hands on these pills,' says Dr Mateen Durrani, a clinical psychiatrist at UKAT. 'Often they're being handed out at school by kids who have prescriptions.'

The misuse of ADHD medication is not a new phenomenon '' one survey carried out in 2020 found that around six per cent of UK university students had taken it to help them study.

Some experts believe the sharp rise in smart drug addiction cases is linked to the Covid pandemic, which drastically reduced the time many students spent face-to-face with teachers and also led to exams being cancelled. Now, they argue, these students are turning to drugs to help them perform.

'Since the pandemic, there has been a lot of pressure on students to catch up with the learning they missed,' says Dr Durrani. 'But what often happens is they will keep taking larger and larger amounts of these pills to maximise their concentration until they become hooked on the effect it has on the brain.'

Last month, a BBC investigation raised concerns that some private clinics were mistakenly diagnosing people with ADHD and offering them medication without meeting them face-to-face. Some experts believe this relaxed approach to prescribing such strong pills could be linked to the rise in addictions.

'There's been a massive increase in prescriptions since the pandemic,' says Professor Philip Asherson, emeritus professor of neurodevelopmental psychiatry at King's College London. 'It's possible this had led to a greater availability of the pills in schools.'

Dr Durrani agrees: 'There is clearly very little regulation in the field, and one of the impacts is children abusing the drugs.'

But according to Dr Durrani, such an addiction is treatable.

'We give patients a low-dose tranquilliser to combat the anxiety and agitation they often feel when they come off heavy doses of these drugs,' she says.

The need to tackle the issue is clear. In the short term, stimulants can trigger nausea, reduced appetite, sleeping problems and anxiety. It has also been linked to the circulation condition Raynaud's, which causes fingers and toes to turn white or blue, as well as leading to pain and numbness in the joints. But the pills can also elevate blood pressure and heart rate. Experts say that this could have dangerous consequences in the long-run.

'The long-term impacts of abusing methylphenidate are unclear because it's still relatively new,' says Professor Asherson. 'But taking very high quantities of this drug increase the risk of heart problems later in life.'

Net zero 'grocery tax' will push shopping bills up by £4bn, Tories warned

Sun, 04 Jun 2023 13:39

Green levies due to be imposed from next year will increase food prices within months, pushing up total shopping bills by up to £4 billion a year, retailers have warned, as senior Tories urged Rishi Sunak to drop the ''nonsensical'' plans.

In an open letter to The Telegraph, the British Retail Consortium suggests that a scheme to charge retailers and manufacturers for the cost of councils recycling their packaging will increase the cost of household goods when it is rolled out from April next year.

The levy was devised by Michael Gove during his time as environment secretary and billed as helping the UK to reduce waste and meet its net zero target, alongside a separate scheme to introduce a returnable deposit system for the purchase of drinks bottles and cans.

Taken together, the schemes could increase household shopping bills by up to £140 per year, based on the consortium's estimate of an overall £4 billion cost.

Officials say the funds raised from retailers will go towards the operation and improvement of local council recycling services, with the fees acting as an incentive for firms to use less packaging.

But the Government's official impact assessments of the two schemes '' seen by The Telegraph '' acknowledge that the entire cost due to fall on retailers could simply be passed on to consumers. The scheme '' formally called the Extended Producer Responsibility '' would ''most likely'' increase household bills by £40 a year, or up to £48, according to an official assessment produced in February 2022, before soaring inflation that will have increased those figures even further.

The separate ''deposit return scheme'' for bottles and cans will add up to 4p to the cost of bottled drinks from next year, a separate impact assessment stated. It is intended to incentivise consumers to recycle containers, through a system of returnable cash deposits. The future of an equivalent scheme in Scotland is in doubt over the Westminster Government's refusal to allow Holyrood to include glass bottles in the scheme.

The disclosures come after The Telegraph revealed that Downing Street was seeking an agreement with firms to cap the price of basic foods.

Lord Frost, the former minister, said: ''It makes no sense at all to try to cap food prices on the one hand and implement a new tax on food on the other. In a cost of living crisis, what people absolutely do not need is for food prices to go up because we are putting more unnecessary costs on business with the spurious justification of net zero.''

Craig Mackinlay, who chairs the net zero scrutiny group of Conservative MPs, added: ''If we want hard-pressed families to manage the cost of living crisis, this grocery tax needs to be abolished.''

No suggestion councils will reduce taxesThe Extended Producer Responsibility scheme effectively places a tax on manufacturers and supermarkets for the full net costs of collecting and disposing of packaging waste '' a cost that is currently borne by local authorities and funded by council tax. But there is no suggestion that councils will reduce taxes imposed on local residents when they begin benefiting from the funds.

Under the Government's ''central scenario'' 85 per cent of the total cost of the Extended Producer Responsibility scheme will be passed on to shoppers via price increases '' increasing to 100 percent in a ''high'' scenario '' according to an official impact assessment, dated January 2021. The document puts the total annual cost at £1.7 billion, which retailers say has risen with inflation.

In the letter sent to The Telegraph, Helen Dickinson, chief executive of the British Retail Consortium, which represents major supermarkets, says: ''Over the next year or so a raft of new regulations and taxes will burden retailers '' and ultimately consumers '' with higher costs. Just as inflation looks to be turning a corner, these new policies put this at peril. The Government needs to look at these in turn, and consider whether to implement, postpone or scrap each one.

''The Government's Resources and Waste Strategy is a £4 billion a year headache for retailers and their customers. Made up of reform to Extended Producer Responsibility '' a tax on packaging '' and the introduction of a Deposit Return Scheme, this is an unambitious and ineffective strategy that will do little to improve our abysmal recycling rates.''

'Voters will punish us harshly'Jacob Rees-Mogg, the former business secretary, said: ''On the one hand, the Government is trying to cap prices in shops, and on the other it is piling billions onto our food industry when their supply chains are already under strain. The British people will pay the price, with empty shelves in supermarkets and more expensive food. If this is our approach to net zero, our voters will punish us harshly.''

The British Retail Consortium claims that many councils do not yet have the recycling facilities needed to put the money to its intended use and says it should be ringfenced.

A spokesman for the environment and food department said: ''As the Prime Minister has set out, growing the economy is an immediate priority for this Government.

''Supporting businesses to grow is a crucial part of this '' which is why we want to ensure a simple and effective system for our Extended Producer Responsibility and Deposit Return schemes that benefits both businesses and consumers.

''We have been engaging closely with manufacturers, retailers, and packaging companies on the design of these schemes and on delivery plans. We will continue to work with these groups as we finalise plans to ensure that the schemes will deliver our environmental goals.''

The department believes that the deposit return scheme will result in the creation of up to 4,300 ''green jobs''.

Hollywood Writers Strike Is 'Going to Be a While' - The New York Times

Sun, 04 Jun 2023 13:37

The writers and entertainment companies remain far apart on several key issues, including money, and the standoff could last for months.

Send any friend a story

As a subscriber, you have 10 gift articles to give each month. Anyone can read what you share.

One analyst speculated that the writers' strike could go on long enough to effect the Emmy Awards, scheduled for Sept. 18, and delay the fall TV season. Credit... Mark Abramson for The New York Times It's not just posturing: As screenwriters continue their strike against Hollywood companies, the two sides remain a galaxy apart, portending a potentially long and destructive standoff.

''Any hope that this would be fast has faded,'' said Tara Kole, a founding partner of JSSK, an entertainment law firm that counts Emma Stone, Adam McKay and Halle Berry as clients. ''I hate to say it, but it's going to be a while.''

The Writers Guild of America, which represents 11,500 screenwriters, went on strike on Tuesday after contract negotiations with studios, streaming services and networks failed. By the end of the week, as companies punched back at union in the news media, and striking writers celebrated the disruption of shows filming from finished scripts, Doug Creutz, an analyst at TD Cowen, told clients that a ''protracted affair seems likely.'' He defined protracted as more than three months '-- perhaps long enough to affect the Emmy Awards, scheduled for Sept. 18, and delay the fall TV season.

The W.G.A. has vowed to stay on strike for as long as it takes. ''The week has shown, I think, just how committed and fervent writers' feelings are about all of this,'' Chris Keyser, a chair of the W.G.A. negotiating committee, said in an interview on Friday. ''They're going to stay out until something changes because they can't afford not to.''

The Alliance of Motion Picture and Television Producers, which bargains on behalf of studios, streaming services and networks, has maintained that it hopes ''to reach a deal that is mutually beneficial to writers and the health and longevity of the industry.'' Privately, however, member companies say they are prepared to weather a strike of at least 100 days. The most recent writers strike, which began in 2007 and ended in 2008, lasted that long.

''It's fair to say there's a pretty big gap,'' Bob Bakish, chief executive of Paramount Global, told analysts and investors on a conference call on Thursday. Paramount and its CBS subsidiary are prepared to ''manage through this strike,'' he added, ''even if it's for an extended duration.''

Image Among the writers' demands is that studios not let artificial intelligence encroach on writers' credit or compensation. Credit... James Estrin/The New York Times Both sides have insisted that the other needs to make the first move to restart talks. None are scheduled. For the moment, media companies have turned to contract renewal negotiations with the Directors Guild of America, which start on Wednesday. That contract expires on June 30.

Like writers, directors want more money, especially regarding residual payments (a type of royalty) from streaming services, which have rapidly expanded overseas. Before streaming, writers and directors (and other creative contributors, including actors) could receive residual payments whenever a show was licensed, whether that was for syndication, an international deal or DVD sales. In the streaming era, as global services like Netflix and Amazon have been reluctant to license their series, those distribution arms have been cut off.

In addition to raises, however, writers want media companies '-- Netflix, in particular '-- to make structural changes to the way they do business. The companies '-- Netflix, in particular '-- say that is a bridge too far.

The W.G.A. has proposals for mandatory staffing and employment guarantees, for instance. The union contends that the proposals are necessary because entertainment companies are increasingly relying on what is known in Hollywood slang as a miniroom. In one example of a miniroom, studios hire a small group of writers to develop a series and write several scripts over two or three months. Because they have not officially ordered the series, studios pay writers less than if they were in a large, traditional writers' room.

And given the relatively short duration of the position, those writers are then left scrambling to find another job if the show is not picked up. If a show does get a green light, fewer writers are sometimes hired because blueprints and several scripts have already been created.

''While the W.G.A. has argued'' that mandatory staffing and duration of employment ''is necessary to preserve the writers' room, it is in reality a hiring quota that is incompatible with the creative nature of our industry,'' the studio alliance said in a statement on Thursday.

Writers responded with indignation. ''We don't need the companies protecting us from our own creativity,'' said Mr. Keyser, whose writing credits include ''Party of Five'' and ''The Last Tycoon.'' ''What we need is protection from them essentially eliminating the job of the writer.''

Writers also want companies to agree to guarantee that artificial intelligence will not encroach on writers' credits and compensation. Such guarantees are a nonstarter, the studio alliance has said, instead suggesting an annual meeting on advances in the technology. ''A.I. raises hard, important creative and legal questions for everyone,'' the studios said on Thursday. ''It's something that requires a lot more discussion, which we have committed to doing.''

Mr. Keyser's response: Go pound sand.

''This is exactly what they offered us with the internet in 2007 '-- let's chat about it every year, until it progresses so far that there's nothing we can do about it,'' he said.

In that case, have fun on the picket lines, studio executives have said privately: It's going to be hot out there in July.

Over the last week, media companies conveyed an air of business as usual. On Thursday, HBO hosted a red carpet premiere for a documentary, while the Fox broadcast network announced a survivalist reality show called ''Stars on Mars'' hosted by William Shatner.

''3 '... 2 '... 1 '... LIFT OFF!'' the network's promotional materials read.

With the exception of late-night shows, which immediately went dark, Mr. Bakish assured Wall Street, ''consumers really won't notice anything for a while.'' Networks and streaming services have a large amount of banked content. Reality shows, news programs and some scripted series made by overseas companies are unaffected by the strike. Most movies scheduled for release this year are well past the writing stage.

Shares climbed on Friday for every company involved with the failed contract talks; investors tend to like it when costs go down, which is what happens when production slows, as during a strike. If the strike drags into July, analysts pointed out, studios can exit pricey deals with writers under ''force majeure'' clauses of contracts.

''The sorry news for writers is that, in declaring a strike, they may in fact be helping the streaming giants and their parent companies,'' Luke Landis, a media and internet analyst at SBV MoffettNathanson, wrote in a report on Wednesday.

Writers, however, succeeded in making things difficult for studios over the first week. Apple TV+ was forced to postpone the premiere of ''Still,'' about Michael J. Fox and his struggle with Parkinson's disease, because Mr. Fox refused to cross a picket line. In Los Angeles, writers picketed the Apple TV+ set for ''Loot,'' starring Maya Rudolph, causing taping to halt. In New York, similar actions disrupted production for shows like ''Billions,'' the Showtime drama. Other affected shows included ''Stranger Things'' on Netflix, ''Hacks'' on HBO Max and the MTV Movie & TV Awards telecast on Sunday, which went forward without a host after Drew Barrymore pulled out, citing the strike.

''The corporations have gotten too greedy,'' Sasha Stewart, a writer for the Netflix documentary series, ''Amend: The Fight for America'' as well as ''The Nightly Show With Larry Wilmore,'' said from a picket line last week. ''They want to break us. We have to show them we will not be broken.''

Writers went into the strike energized. But a rally at the Shrine Auditorium in Los Angeles on Wednesday seemed to supercharge the group, in part because leaders from other entertainment unions turned out to support them '-- and in fiery fashion. During the 2007 strike, writers were largely left to stand alone, while a union representing camera operators, set electricians, makeup artists and other crafts workers blasted the writers for causing ''devastation.''

Ellen Stutzman, chief negotiator for the writers, received a standing ovation from the estimated 1,800 people who attended the rally. During the session, writers suggested expanding picket lines to the homes of studio chief executives and starting a public campaign to get people to cancel their streaming subscriptions.

Some writers realized that Teamsters locals, which represent the many drivers that studios rely on to transport materials (and people), would not cross picket lines. So they started to picket before dawn to intercept them. (The W.G.A. has advised a 9 a.m. starting time.) At least one show, the Apple TV+ dystopian workplace drama ''Severance,'' was forced to shut down production on Friday as a result of Teamsters drivers' refusing to cross.

Brooks Barnes is a media and entertainment reporter, covering all things Hollywood. He joined The Times in 2007 as a business reporter focused primarily on the Walt Disney Company. He previously worked for The Wall Street Journal. @ brooksbarnesNYT

John Koblin covers the television industry. He is the co-author of ''It's Not TV: The Spectacular Rise, Revolution, and Future of HBO.'' @ koblin

A version of this article appears in print on

, Section

B

, Page

1

of the New York edition

with the headline:

Lengthy Strike Looks Likely for Hollywood Writers

. Order Reprints | Today's Paper | Subscribe

Two types of meat could raise your risk of stroke by 14%, doctor warns | Express.co.uk

Sun, 04 Jun 2023 13:07

Stroke: CDC outlines the main signs and how to respondStroke is considered a major killer, claiming a new victim every five minutes in the UK alone.

This startling statistic is made even worse by the fact that poor dietary decisions can lay the groundwork to this medical emergency.

Worryingly, two British favourites could spell especially bad news for your risk and cardiovascular health.

According to Dr Shireen Kassam, a founder of Plant-Based Health Professionals UK, the ''main foods'' that could make you prone to a stroke are processed meat and red meat.

From salting to curing, processed meat is such that it has been altered in some way in order to preserve or flavour it.

READ MORE: What is an itchy bum trying to tell you? Doctor warns it could be a sign of silent killer

Two types of meat could raise your risk of stroke by 14%, doctor warns. (Image: GETTY)

Processed meat includes classics like sausages, bacon and ham, while red meat describes beef and pork.

Don't take just the doctor's word for it, as research, published in the European Heart Journal, also highlights this risk.

Looking at more than 400,000 participants from nine countries, the study identified foods linked to risk of both ischaemic and haemorrhagic strokes.

What's worse, just 50 grams of red and processed meat consumed a day was linked to a 14 percent higher risk of an ischaemic stroke.

Don't miss... Itchy bum could be a sign of a silent killer, doctor warns [EXPERT] Expert recommends drink to 'significantly' lower risk of diabetes [EXCLUSIVE] Doctor shares the 'earliest indications' of brain damage caused by dementia [INFORMER]

Processed meat includes sausages, bacon and ham, while red meat describes beef and pork. (Image: GETTY)

However, Dr Kassam noted that this is just one study and its results need to be confirmed before any conclusion can be drawn.

She said: ''[Furthermore], when the results were adjusted for consumption of other foods like fruits and vegetables this risk disappeared, meaning that the consumption of red and processed meat reflected a lack of fruits and vegetables in the diet and a poor diet quality in general.''

Despite more research being needed in this area, red and processed meat is linked to a whole host of health problems, ranging from cancer to heart disease.

Dr Kassam said: ''For these unhealthy foods and drinks there really is no safe limit with a dose effect, such that the more you consume the higher the risk.

Invalid email

We use your sign-up to provide content in ways you've consented to and to improve our understanding of you. This may include adverts from us and 3rd parties based on our understanding. You can unsubscribe at any time. More info

Stroke symptoms to look out for. (Image: Express.co.uk)

''If you are going to eat red and processed meat, keep it to a bare minimum and make sure you eat it with lots of fruits and vegetables.

''However, red and processed meat is best avoided and this recommendation is supported by major international guidelines.''

To keep your risk of a stroke to a minimum, the doctor recommended replacing these meats with healthy fruits, vegetables, whole grains, beans, nuts and seeds.

''Eating more dietary fibre, especially, from fruits and vegetables can significantly reduce the risk of ischaemic stroke with additional benefits for prevention of heart disease, cancer, type 2 diabetes etc.,'' the doctor added.

Rishi Sunak must stop trying to hide evidence from the Covid inquiry | Andrew Rawnsley | The Guardian

Sun, 04 Jun 2023 13:05

I t is marked in calendars around Westminster and Whitehall as a day to dread. On 13 June, the public inquiry into the handling of the pandemic will start taking oral evidence. A procession of those at the heart of government decision-taking and blunder-making will be interrogated under oath about their actions and inactions. Heather Hallett, the retired judge in the chair, is said to be disappointed that she did not make lord chief justice. Yet there is surely no more significant role in her line of work than investigating, passing judgment and drawing lessons from the performance of government during the deadliest peacetime emergency in more than a century.

This inquisition is not going to be a dry and bloodless exercise. The formidable judge is adopting a take-no-prisoners approach. We know this from the advance questions the inquiry team has been sending out to those who will be examined.

Goes one scorcher to Boris Johnson: ''In or around autumn 2020, did you state that you would rather 'let the bodies pile high' than order another lockdown, or words to that effect?'' Goes another: ''Please confirm whether in March 2020 (or around that period), you suggested to senior civil servants and advisers that you be injected with Covid-19 on television to demonstrate to the public that it did not pose a threat?'' Goes a third zinger: ''Did you say on or around 22 September 2020 that you felt that Sage had 'manipulated' you into imposing the first lockdown?''

Lady Hallett correctly intends to bring an intense scrutiny to the conduct of our rulers and the calibre of the UK state during the pandemic. Some of the participants may emerge with their status burnished; others have ample reason to be fearful of the impact on their reputations of remorseless evidence-gathering about the many things that went wrong during a crisis that cost so many lives. Tories shiver that the inquiry, which is not due to complete its oral hearings until the summer of 2026, will haunt their party for years to come.

Tories shiver that the inquiry will haunt their party for years to comeExplaining what happened and why is a moral duty to the bereaved and especially to those with cause to think that loved ones might have survived had our country been better prepared for the pandemic and more ably governed during it. This inquiry cannot bring anyone back to life. The service it can perform for victims has been illustrated by earlier inquiries such as those into the Hillsborough disaster, the Bloody Sunday killings and the contaminated blood scandal. One of the vital functions of this public inquiry is to give a voice to the bereaved and supply a form of justice by forcing decision-makers to give account and take responsibility for what they did.

Those who fail to learn from history are doomed to repeat it. A comprehensive inquest into the pandemic is essential to improve our chances of avoiding a repeat of the human, social and economic calamities inflicted by Covid-19. Some question the purpose of this inquiry on the grounds that the lessons have already been learned. I wish I could be confident of that. At Westminster and in Whitehall, lesson-learning has taken a very distant third place to arse-covering and excuse-mongering. The inside accounts we have been provided with so far, from the likes of Dominic Cummings and Matt Hancock, have been self-promoting and self-serving. The inquiry is the opportunity to gather testimony from the full cast of witnesses and compel the production of the entirety of the evidence. Absent that, we won't get what we need, which is an understanding of why so many vital arms of the state cracked under the pressure of the pandemic and the centre was often in complete meltdown.

To be sure that the inquiry gets at the whole truth, it is critical that Lady Hallett prevails in her battle with the government to make it hand over material that it doesn't want her to see. The immediate point of dispute is a cache of texts and WhatsApp messages between Boris Johnson and 40 of his then lieutenants, among them Rishi Sunak, along with the contents of 24 notebooks of diaries that he kept while at Number 10. The Cabinet Office has taken the extraordinary step of going to court to try to block the judge's demand to see this material.

No one I have spoken to can think of a precedent for a government seeking to thwart a request for evidence from an official inquiry that the government itself set up.

There is a consensus that the pandemic was deadlier than it need have been because Mr Johnson was so useless at making decisionsMinisters must think something huge is at stake to launch a gambit that looks so dreadful. Groups representing bereaved families are crying betrayal and the opposition is making accusations of a cover-up. Most legal opinion thinks the government will go down to a humiliating defeat because the inquiry was set up with a statutory remit that gives Lady Hallett a sweeping authority to demand the production of evidence. ''They're going to lose,'' says one senior Tory. ''Even in the unlikely event that they win in court, they will still lose because they will look guilty in the eyes of public opinion.''

The Cabinet Office contends that it wants to deny access to the Johnson material because it is ''irrelevant'' to the inquiry. That's not for it to decide. It is for the judge to judge what is potentially valuable to her investigations. Another of the government's contentions is that it has a duty to protect ''the privacy'' of politicians and officials. That doesn't wash either. The judge needs to know the context in which key actors were operating at the time when big calls had to be made. We already have good reason to think that the state of Mr Johnson's personal life is extremely relevant to that. We know that he was finalising a messy divorce and scrabbling about to finance it when the pandemic started. It is absolutely legitimate for the judge to be interested in ''the degree of attention given to the emergence of Covid-19 in early 2020 by the then prime minister''.

The government claims that handing over this material will set ''a dangerous precedent''. The argument goes that civil servants will stop giving frank advice and ministers won't engage in candid debates for fear that private exchanges will be made public in the future. I might have more sympathy were it not for the fact that ministers constantly leak inside information when they think it suits their interests. The supposed duty to respect the confidentiality of private conversations is also regularly betrayed when politicians bang out their memoirs.

So much for the government's flimsy pretexts for attempting to hide this material. What and who is the Cabinet Office trying to protect? The messages and diaries may contain stuff that is excruciatingly embarrassing for Mr Johnson, but he has now done a reverse ferret by saying he's happy for the judge to have all of it. The disgraced former prime minister probably has less to fear from this inquiry than some others, if only because his reputation has already hit rock bottom. There is a settled consensus that the pandemic was deadlier than it need have been because he was so useless at making decisions and presided over such a chaotically dysfunctional regime at Number 10.

There are grounds to suspect that the Johnson cache contains things that officials are anxious to keep concealed. The exposure earlier in the year of Matt Hancock's WhatsApp messages was acutely uncomfortable for the cabinet secretary, Simon Case, who was shown finding it ''hilarious'' that travellers were being ''locked up'' in ''shoe box'' rooms in quarantine hotels. The material is also highly likely to contain stuff that serving ministers don't want in the public domain. ''My hunch is that Sunak or someone else still in government feels at risk,'' remarks a former member of the cabinet. The prime minister and his people are clearly nervous that the judge will next demand sight of all his pandemic texts and WhatsApp messages. It would not look good for him were it, for instance, to be revealed that Mr Sunak was warned in advance that his Eat-Out-to-Help-Out-the-Virus subsidised meals wheeze would be the plague-spreader that it turned out to be.

The truth about that and everything else about the inner workings of government during the pandemic must be brought to light. The point of a public inquiry is to go deep and be thorough, forensic and unflinching. Lady Hallett is entirely right to demand access to any evidence that may be pertinent to her vitally important work and the government is wrong and looks desperate trying to conceal it. We must have full disclosure to keep the public faith and serve the public interest.

Boris Johnson to bypass government on Covid WhatsApps - BBC News

Sun, 04 Jun 2023 13:02

Image source, PA Media Image caption, The former prime minister has not handed over any messages from before April 2021 - more than a year into the pandemic

Boris Johnson has said he is giving unredacted WhatsApp messages dating back to May 2021 directly to the Covid inquiry, bypassing the government which has refused to hand them over.

The Cabinet Office has launched a legal challenge to the inquiry's demand for texts from the former PM and officials.

It argues that many of the messages are irrelevant to the investigation.

However, the head of the inquiry, Baroness Hallett, has said it's her job to decide what is and is not relevant.

In a letter to Baroness Hallett, Mr Johnson said that he understood why the government was taking legal action, but that he was "perfectly content" to release messages he had already sent to the Cabinet Office.

Mr Johnson added he would like to send messages pre-dating April 2021, but that he had been told he could no longer access his phone from that period "safely".

Security concerns were raised over the phone, after it emerged the number had been freely available on the internet for 15 years.

The messages received before this date would be likely to cover discussions about the coronavirus lockdowns implemented in 2020.

Mr Johnson said he wanted to "test" the advice received from the security services and had asked the Cabinet Office for assistance in turning his old phone on securely.

He added he no longer had access to his contemporaneous notebooks as he had handed these to the Cabinet Office.

"I have asked that the Cabinet Office pass these to you. If the government chooses not to do so, I will ask for these to be returned to my office so that I can provide them to you directly."

Speaking to BBC Radio 4's World At One programme, cyber-security expert Prof Alan Woodward said the risk of turning on Mr Johnson's old phone was "minimal", adding: "It is perfectly possible to do that without exposing it to the potential threat."

Earlier this week, the inquiry told the government to submit messages sent between Mr Johnson and 40 other ministers and officials during the pandemic by 16:00 BST on Thursday.

Mr Johnson said he was "more than happy" to give the unredacted material to the inquiry.

The Cabinet Office - which supports the prime minister in running the government - also holds communications between ministers and civil servants which do not involve Mr Johnson.

On Thursday, it missed the deadline and said it would "with regret" be launching a judicial review of the demand, but promised to "continue to co-operate fully with the inquiry".

Defending its decision not to hand over certain messages, the Cabinet Office argued that many of the communications were "unambiguously irrelevant", and that to submit them to the inquiry would compromise ministers' privacy and hamper future decision-making.

"It represents an unwarranted intrusion into other aspects of the work of government. It also represents an intrusion into their legitimate expectations of privacy and protection of their personal information," the Cabinet Office said, in a letter to the inquiry.

Speaking to the BBC One's Question Time on Thursday, science minister George Freeman said he thought the "courts will probably take the view" that Baroness Hallett was entitled to decide "what evidence she deems relevant".

But he added "people's privacy is really important" and that the question of how private correspondence should be handled was a "point worth testing".

"I would like to see a situation where the inquiry says: 'Listen, we will wholly respect the privacy of anything that's not related to Covid. We will redact it'," he said.

Labour's deputy leader, Angela Rayner, described the government's legal action as a "desperate attempt to withhold evidence". The Liberal Democrats called it a "kick in the teeth for bereaved families".

Lord Barwell, who worked as chief of staff to former Prime Minister Theresa May, told the BBC Radio 4's Today programme he thought the government was making a "bad mistake".

He added: "We're having the inquiry to give people confidence we're getting to the truth. And if the government is controlling what the inquiry can and can't see, then people are not going to get confidence in the outcome."

Info Wars and Billionaire Motives - Elon Musk Uses Team DeSantis Twitter "Community Notes" to Undermine Trump - The Last Refuge

Sun, 04 Jun 2023 12:54

People often ask me why I seem to highlight datapoints and background events that do not trend to the media-driven narrative priority of the moment. The answer is simple; everything is connected to the next thing that happens. If you do not outline the originating point, the accurate reference is missed when needed.

This approach is why I have focused significant research on Elon Musk's financial situation with Twitter {GO DEEP}.

The issue of Twitter's financial status speaks to the motives of Musk that later surface '' like his relationship with Fox News billionaire Rupert Murdoch. Once you see the connections, suddenly everything makes sense. Musk and Murdoch have intersecting interests.

Elon Musk is in desperate need of revenue for his social media platform Twitter. By his own admissions, Twitter is currently in the red on an annual basis between $1.5 to $4.0 billion; that may go as high as $5 billion, depending on what happens over the next six months. Currently losing $100 million/mo, Musk is limited on how much he can pull from his other companies to support Twitter, and with $1.5 billion in debt service alone on the $12.5 billion borrowed for the Twitter purchase, Musk needs an income stream quickly.

Advertising revenue has dropped 50%. This is the motive for Musk to hire Linda Jaccarino, the former head of NBC Universal advertising, to bring urgently needed revenue to a platform currently considered too extreme for the DEI-minded corporate advertising executives. Musk is also captive to contracts with Bezos' Amazon (AWS) and Google cloud services for platform data processing support. Those very expensive contracts '' $1 billion and $2 billion respectively '' do not expire until 2025.

In short, Musk needs revenue. For Twitter, this reality drives his decision-making. Enter, Rupert Murdoch.

Billionaire media mogul Rupert Murdoch owns Fox News, The Wall Street Journal, The New York Post and Harper Collins book publishing.

Murdoch wants to control the outcome of the 2024 election and strongly supports Ron DeSantis on behalf of his Wall Street allies.

Murdoch financed DeSantis through the Harper Collins book deal, and Murdoch has turned his media outlets into advanced PR for the DeSantis campaign.

The Murdoch media approach includes lengthy and friendly broadcast Fox News appearances, interviews and pundit advocacy, while the print side spins favorable stories. The Wall Street Journal and New York Post are doing the same. It is a full-court press to support DeSantis on behalf of the interests of Murdoch et al. Keep in mind, the RNC has given Fox News control over the kickoff GOP debate.

'...The Alliance of Interests '' Elon Musk needs money; this is not in question. Rupert Murdoch, supporting Ron DeSantis, wants control of the 2024 election outcome; also, this is not in question. These two facets form the baseline of a common interest.

Elon Musk launches the DeSantis campaign via Twitter Spaces '' not accidental. Musk then uses his platform control mechanisms to amplify DeSantis and counteract the strong and visible platform support for Donald Trump. What outlet pushes the narrative that flows from the operation? Rupert Murdoch.

NEW YORK POST '' Donald Trump's 2024 election campaign's claims are already being hit with Twitter's new ''community notes,'' which fact-check or offer context to dubious posts. In May alone, Team Trump and their surrogates were slapped with community notes on at least seven occasions '-- and were often cited for posting flat-out lies. (read more)

Christina Pushaw is a registered foreign agent working for the DeSantis campaign.

Ms. Pushaw went from working in Ukraine, for Volodymyr Zelenskyy, directly to working in Florida as Ron DeSantis' press secretary.

Pushaw was the person who gathered the ''influence operation'' over the past two years on behalf of the DeSantis 2024 operation. That operation was visible in 2022, denied in 2022, then finally admitted two weeks ago.

Now working for the DeSantis campaign, Christina Pushaw '' a fellow traveler from the George Soros network and schooling '' has organized the same type of influence campaign used in Ukraine to support Zelenskyy, only this time she is exploiting social media and specifically Twitter. This is why she spent so much time recruiting 'influencers' in 2021 and 2022, and even tried to deny she was doing it.

Put it all together, and what you see is Rupert Murdoch as the financial lifeline (with a common interest) for Elon Musk who desperately needs money that does not and cannot come from his other businesses (Tesla, SpaceX etc.).

Murdoch, supporting DeSantis, also had a problem he was willing to remove on his Fox News network. Musk needs content providers as he needs a way to increase his viewership and money. Murdoch axes Tucker Carlson. Where does Carlson surface? Twitter! [NOTE: Except now I think Carlson has caught on to the play.]

The Twitter platform has now evolved to become the influence operation for Team DeSantis- with groundwork seeded by Pushaw. The throttling of pro-MAGA, and boosting of pro-Meatball, is now becoming increasingly obvious.

The Twitter 'Community Notes' issue is simply a very visible reflection of what people have been talking about for several weeks. This is why it was loaded into the media cannon on Rupert's platform, The New York Post. Everything is connected to everything else, and once you see the strings on these marionettes you can never return to that moment in the performance when you did not see them.

Musk needs revenue; this is not in question. The question is now, how urgently?

The alliance between Rupert Murdoch and Elon Musk isn't a conspiracy or wild imagining, it is simply the logical outcome to a common interest. Elon needs money, Rupert wants DeSantis and control of the 2024 election. Everything else is a matter of mutually aligned support.

'...Last point '' My long-standing suspicion is, the people who organized Ron DeSantis appear to have convinced the governor to run in 2024 by telling him that Lawfare was going to take down Donald Trump. That's why his handlers pushed the Florida governor into a bunker after the August 2022 FBI raid on Mar-a-Lago, and then relaunched the national campaign immediately thereafter. {Go Deep}

Ron DeSantis appears to have enrolled in their agenda under the assumption that he would NOT have to actually run against Donald Trump, but would instead be able to just pick up the MAGA base after Trump was removed from the 2024 campaign by Lawfare operations. Pushed to accept this prediction by a wife desperate for her own sense of power, DeSantis appears to have believed the DC connected team that made these assurances. Now both Ron, and to a lesser extent, Jill, are stuck hoping they are not wrong.

Rolling the dice on a bet against Donald Trump is never a good career strategy. Factually, that approach has been proven bad-bad, ju-ju for anyone who tried.

Keep in mind, all the never-Trumpers and gleeful influencers who saw the dollar signs and joined on to DeSantis bandwagon, are hitched to the same outcome.

They are in a mutually assured destruction (MAD) situation. If the Deep State and Lawfare doesn't take out Donald Trump, their DeSantis operation goes over the edge into the bottomless pit of irrelevancy.

Thus, the DeSantis campaign, and everyone attached to the support thereof, will become increasingly desperate as Lawfare starts failing.

Posted in Big Government,

Big Stupid Government,

Big Tech,

Conspiracy ?,

Deep State,

Dept Of Justice,

Donald Trump,

Election 2024,

Lawfare,

media bias,

Notorious Liars,

President Trump,

Professional Idiots,

propaganda,

RNC,

Ron DeSantis

Amazon Prime Members May Get Free or Cheap Cellular Plan

Sat, 03 Jun 2023 19:43

Amazon could be gearing up to offer "Prime Wireless." The low-cost cellphone plan could help Amazon boost its Prime subscribers, Bloomberg reports. Amazon is reportedly talking to T-Mobile, Verizon, and Dish about the idea. Loading Something is loading.

Thanks for signing up!

Access your favorite topics in a personalized feed while you're on the go.

By clicking ''Sign Up,'' you also agree to marketing emails from both Insider and Morning Brew; and you accept Insider's

Terms and

Privacy Policy.

Click here for Morning Brew's privacy policy.

Amazon may soon be dangling yet another perk in front of prospective Prime members: the chance to save big on your monthly cellphone bill.

The company is in talks with wireless carriers about potentially offering a Prime Wireless plan that could range from $0 to $10 per month for Amazon Prime members, Bloomberg reported on Friday. T-Mobile, Verizon, and Dish have all been involved in the talks, according to the report, though the idea could take months to launch and could still fail to pan out.

"We are always exploring adding even more benefits for Prime members, but don't have plans to add wireless at this time," an Amazon spokesperson, Bradley Mattinger, told Insider in a statement.

"Amazon is a great partner to T-Mobile in many areas, and we are always interested in working more closely with our crosstown neighbors in new ways," a T-Mobile spokesperson told Insider. "However, we are not in discussions about inclusion of our wireless in Prime service, and Amazon has told us they have no plans to add wireless service."

An AT&T spokesperson told Insider that the company is "not in discussions with Amazon to resell wireless services."

If such a service does end up launching, it would be a significant development in the wireless industry. Amazon is a known disrupter with the patience and ability to spend vast amounts of money to gain market share, and wireless carriers will have to weigh the potential size of such a deal and the chance of growing their customer base with the possible risk of helping establish an eventual competitor.

For Amazon, it's all about juicing Prime membership numbers and keeping existing subscribers further locked in with meaningful perks. That lock-in is especially important if the company were to raise the price of Prime, which it did in 2022, increasing the annual subscription from $119 to $139.

But a low-cost cellphone from Amazon could prove tempting.

Even at $10 a month, a Prime Wireless plan would represent real savings for most people. The average American pays $144 per month for their phone bill, JD Power told CNBC.

According to Bloomberg's report, Amazon is in discussions with wireless carriers to piggyback off their network as a mobile virtual network operator (MVNO) to save on infrastructure-building costs. MVNOs offer more affordable plans '-- the average phone bill in the US for an MVNO subscriber is $77, per JD Power, and no-frills, low-cost plans around $15 do exist.

Dish and Verizon did not immediately respond to Insider's request for comment.

This is far from Amazon's first foray into the wireless market. Amazon famously launched the Fire phone nearly a decade ago in an exclusive arrangement with AT&T. The product flopped, with then-CEO Jeff Bezos calling the product in a 2018 letter to shareholders "a failure" that helped "accelerate our efforts building Echo and Alexa."

Iran''U.S. RQ-170 incident - Wikipedia

Sat, 03 Jun 2023 19:21

On 5 December 2011, an American Lockheed Martin RQ-170 Sentinel unmanned aerial vehicle (UAV) was captured by Iranian forces near the city of Kashmar in northeastern Iran. The Iranian government announced that the UAV was brought down by its cyberwarfare unit which commandeered the aircraft and safely landed it, after initial reports from Western news sources disputedly claimed that it had been "shot down".[1] The United States government initially denied the claims but later President Obama acknowledged that the downed aircraft was a US drone.[2][3] Iran filed a complaint to the UN over the airspace violation. Obama asked Iran to return the drone. Iran is said to have produced drones based on the captured RQ-170 including the Shahed 171 Simorgh and Shahed Saegheh.

Capture of the drone Edit Images of the RQ-170 Sentinel taken from a US Army recognition manual

The government of Iran announced that the aircraft was brought down by its cyber warfare unit stationed near Kashmar and "brought down with minimum damage"[4] They said the aircraft was detected in Iranian airspace 225 kilometers (140 mi) from the border with Afghanistan.[5]

The government of the United States initially claimed that its forces in Afghanistan had lost control of a UAV on 4 December 2011 and that there was a possibility that this is the vehicle that crashed near Kashmar. According to unnamed U.S. officials, a U.S. UAV operated by the Central Intelligence Agency was flying on the Afghan side of the Afghanistan''Iran border when its operators lost control of the vehicle.[6][7] There have been reports that "foreign officials and American experts who have been briefed on the effort" state that the crashed UAV was taking part in routine surveillance of Iranian nuclear facilities inside Iranian airspace.[8]

The drone appeared to be largely intact, except for possible minor visible damage on its left wing. Dan Goure, an analyst at the Lexington Institute, stated the largely intact airframe ruled out the possibility of an engine or navigational malfunction: "Either this was a cyber/electronic warfare attack system that brought the system down or it was a glitch in the command-and-control system."[9] At least one US source admitted that Iran could have interrupted the data-link and brought it to a soft landing.[10] Some US officials stated the drone broke into three pieces during impact. They claimed that it was reassembled for display purposes and was painted by Iran to hide the damage.[11]

The U.S. Department of Defense released a statement acknowledging that it had lost control of a UAV during the previous week, claiming that it was "flying a mission over western Afghanistan" when control was lost. The statement did not specify the model of the aircraft. The U.S. government also stated that it was still investigating the cause of the loss.[12]

A Christian Science Monitor article relates an Iranian engineer's assertion that the drone was captured by jamming both satellite and land-originated control signals to the UAV, causing the UAV to fall back to GPS autopilot. Iran followed up by a GPS spoofing attack that fed the UAV false GPS data to make it land in Iran at what the drone thought was its home base in Afghanistan. Stephen Trimble from FlightGlobal assumes UAV guidance could have been targeted by 1L222 Avtobaza radar jamming and deception system supplied to Iran by Russia.[13] In an interview for Nova, U.S. retired Lt. General David Deptula also said "There was a problem with the aircraft and it landed in an area it wasn't supposed to land".[14][15]

American aeronautical engineers dispute this, pointing out that as is the case with the MQ-1 Predator, the MQ-9 Reaper, and the Tomahawk, "GPS is not the primary navigation sensor for the RQ-170... The vehicle gets its flight path orders from an inertial navigation system".[16] Inertial navigation continues to be used on military aircraft despite the advent of GPS because GPS signal jamming and spoofing are relatively simple operations.[17]

US acknowledgement Edit On 5 December 2011, U.S. military sources confirmed that the remains of an RQ-170 had been captured by Iranian forces. Media reports indicated that various U.S. officials declined to confirm whether or not the drone in the video released by Iranian state television was authentic.[18] On 8 December 2011, a senior U.S. official, speaking on condition of anonymity, told The Washington Post that the U.S. cannot be certain the drone shown was real because the U.S. does not have access to it, but also stated that "We have no indication that it was brought down by hostile fire."[12] A second senior U.S. military official said that a major question is how the drone could have remained "virtually intact," given the high altitude from which it is said to have crashed. U.S. Navy Captain John Kirby, a Pentagon spokesman, told a news conference on 8 December 2011 that Pentagon analysts were examining the video.[19] Both Kirby and fellow spokesman George Little would not comment further on whether the U.S. military believed the drone was the one missing, both did say that the missing drone had not been recovered.[19] Later that day, CBS reported that the US officials had confirmed in private the authenticity of the drone shown by the Iranians.[20]

On 6 December 2011, U.S. officials acknowledged that a drone crashed in or near Iranian airspace and that this belonged to the CIA and not to ISAF as was earlier stated. U.S. officials did not state that the drone shown on Iranian television was actually a real RQ-170 (which has been public knowledge since 2009),[21] although a former U.S. official confirmed that the drone shown on the Iranian state media was a U.S. RQ-170, used for surveillance of Tehran's nuclear facilities.[citation needed ]

Complaint to UN Security Council Edit On 9 December 2011, Iran lodged a formal complaint to the United Nations Security Council over the UAV violating its airspace. Iran's U.N. ambassador stated in the letter that "My government emphasizes that this blatant and unprovoked air violation by the United States government is tantamount to an act of hostility against the Islamic Republic of Iran in clear contravention of international law, in particular, the basic tenets of the United Nations Charter."[22]

Request for return by the United States Edit On 12 December 2011, the U.S. administration asked Iran to return the captured U.S. drone.[23] The day before, on 11 December, General Salami stated that "no nation welcomes other countries' spy drones in its territory, and no one sends back the spying equipment and its information back to the country of origin."[24] On 13 December 2011, Defence Minister of Iran, dismissed the request and said "Instead of apologising to the Iranian nation, it is brazenly asking for the drone back." And the ministry spokesman, Ramin Mehmanparast, stated that "it seems he [Obama] has forgotten that Iran's airspace was violated, spying operations were undertaken, international laws were violated and that Iran's internal affairs were interfered with... . Instead of an official apology and admitting to this violation, they are making this request."[25]

Former U.S. Vice President Dick Cheney criticized Obama's decisions on the drone, saying that, after the aircraft went down, the president should have ordered an airstrike within Iran: "The right response to that would have been to go in immediately after it had gone down and destroy it. You can do that from the air ... and, in effect, make it impossible for them to benefit from having captured that drone." Instead, "he asked nicely for them to return it, and they aren't going to".[26]

On 17 January 2012, an Iranian company said it would send miniature, toy versions of the captured drone to President Obama as a response to the request for sending the drone back.[27]

Reverse engineering of the drone Edit Iranian built copy of the RQ-170 in 2014.

On 10 December 2011, Iran announced that it intended to carry out reverse engineering on the captured RQ-170 Sentinel stealth aircraft.[citation needed ] In April 2012, the Islamic Revolutionary Guard Corps claimed to have succeeded in extracting the entirety of the data collected by the drone and are currently in the process of building a replica of the aircraft.[28] Iran claimed to have been approached by countries, including China and Russia, seeking information on the drone.[29] Although U.S. officials expressed concern over the possibility of China or Russia receiving the drone's technology, they cast doubt on whether Iran could replicate the technology of the aircraft, as well as the amount of intelligence data available, due to the precautions installed for malfunctioning drones.[30]

In May 2014, Iranian state TV displayed what was claimed to be a reverse-engineered RQ-170. Sources familiar with the RQ-170's design say that the Iranian RQ-170 is merely a static mock-up rather than a flyable aircraft.[31] In November 2014 Iran claimed to have carried out a successful test flight of an aircraft based on reverse engineering of the RQ-170.[32]

The semi-official Tasnim news agency of Iran reported in September 2016 that a UAV named Sa'egheh, similar in appearance to the RQ-170 Sentinel, had been built. It was said to be able to carry four precision-guided bombs; the range was not stated.[33]

In 2016 Iran unveiled the Simorgh, designed after the RQ-170.[34]

The Israeli military shot down a Saegheh drone during the February 2018 Israel''Syria incident. Israeli media reported that the UAV's design was indeed largely based on the RQ-170, IAF Brigadier General Tomer Bar said that the drone was quite advanced and emulated Western technology.[35]

Edit On 7 February 2013, Iran released video footage allegedly from the RQ-170 stealth plane. They claim the footage shows the drone coming in for a landing at the Kandahar base. Commander of the Aerospace Division of the Islamic Revolution Guards Corps (IRGC) Brigadier General Amir-Ali Hajizadeh said in February that all the data on the downed drone was "fully decoded."[36].

See also Edit Islamic Republic of Iran Air Defense ForceYasir (UAV) '' An Iranian UAV based on an American ScanEagle drone that was captured in a similar incidentSaegheh (UAV) '' An Iranian UAV based on, but smaller than and different from, the RQ-170Shahed 171 Simorgh '' An Iranian full-size copy of the RQ-1702019 Iranian shoot-down of American droneReferences Edit ^ Peterson, Scott; Faramarzi, Payam (2011). "Exclusive: Iran hijacked US drone, says Iranian engineer". csmonitor.com . Retrieved 15 December 2011 . ^ Mungin, Lateef (22 October 2013). "Iran claims released footage is from downed U.S. drone". CNN. ^ "Obama says U.S. has asked Iran to return drone aircraft". CNN. CNN Wire Staff. 22 October 2013. ^ Maroney, Sean. "Iranian Video Displays Alleged US Drone". Voice of America . Retrieved 13 December 2011 . ^ "Iran Says No To Returning U.S. Drone, But Hints At Deal". Radiofreeeurope/Radioliberty. Rferl.org . Retrieved 13 December 2011 . ^ "Iran shows film of captured US drone". BBC News. 8 December 2011 . Retrieved 12 December 2011 . ^ U.S. officials, analysts differ on whether drone in Iran TV video is real. CNN.com. (8 December 2011) Retrieved 12 December 2011. ^ Shane, Scott; Sanger, David E (7 December 2011). "Drone Crash in Iran Reveals Secret U.S. Surveillance Effort". The New York Times . Retrieved 13 December 2011 . ^ Dave Majumdar (9 December 2011). "Iran's captured RQ-170: How bad is the damage?". Air Force Times. ^ Majumdar, Dave (12 May 2014). "Iranian Copy of U.S. Unmanned Stealth Aircraft is a Fake". USNI News. ^ "US official: Iran assembled drone like puzzle". Ynetnews. Ynetnews.com. 17 December 2011 . Retrieved 24 August 2014 . ^ a b Jaffe, Greg; Erdbrink, Thomas (5 December 2011). "Iran says it downed U.S. stealth drone; Pentagon acknowledges aircraft downing". The Washington Post . Retrieved 5 December 2011 . ^ "About the FlightGlobal Group - Blogs Announcement - flightglobal.com". ^ Scott Peterson; Payam Faramarzi (15 December 2011). "Exclusive: Iran hijacked US drone, says Iranian engineer". Christian Science Monitor. ^ David A. Deptula, Lt. General, USAF (Retired) (23 January 2013). "Nova - Rise of the Drones". Event occurs at "0:37" . Retrieved 24 January 2013 . ^ Meade, Sean. "Ares". Aviation Week . Retrieved 24 August 2014 . ^ "Iran Says It Will Display More Us & Israeli Drones". aviationintel. 16 December 2011 . Retrieved 1 May 2012 . ^ Rick Gladstone (8 December 2011). "Iran Shows Video It Says Is of U.S. Drone". the New York Times. ^ a b "U.S. officials, analysts differ on whether drone in Iran TV video is real". CNN. 8 December 2011. ^ U.S. official: Iran does have our drone. CBS News (8 December 2011). Retrieved 12 December 2011. ^ "After drone was lost, CIA tried a head fake". The Washington Post. 6 December 2011 . Retrieved 8 December 2011 . ^ "General: Iran won't return U.S. drone it claims to have". CNN. 11 December 2011 . Retrieved 28 November 2013 . ^ "Obama appeals to Iran to give back downed US drone". The New York Times. 9 December 2011 . Retrieved 11 December 2011 . ^ "General: Iran won't return U.S. drone it claims to have". CNN. 11 December 2011. Archived from the original on 12 December 2011 . Retrieved 13 December 2011 . ^ "Iran says captured US drone is their 'property' now". The Daily Telegraph. 13 December 2011 . Retrieved 13 December 2011 . ^ "Obama says the U.S. has asked Iran to return drone aircraft". CNN. 13 December 2011 . Retrieved 13 December 2011 . ^ Shirzad Bozorgmehr (18 January 2012). "Iranian company wants to send toy drone to Obama - CNN.com". CNN . Retrieved 15 September 2016 . ^ "Iran says it has gleaned data from U.S. spy drone". San Francisco Chronicle. 22 April 2012 . Retrieved 23 April 2012 . ^ "Russia, China seek info on US drone held by Iran". Fox News. 19 April 2012 . Retrieved 23 April 2012 . ^ "Officials challenge Iran claims on US drone '' despite concerns about value to Russia, China". Fox News. 23 April 2012. ^ "Iranian Copy of U.S. Unmanned Stealth Aircraft is a Fake". USNI News. 12 May 2014 . Retrieved 15 September 2016 . ^ "Iran carries successful test flight of reverse-engineered RQ-170". 10 November 2014. Archived from the original on 10 November 2014 . Retrieved 10 November 2014 . ^ "Iran builds attack drone similar to captured US model, local media say". The Guardian. 2 October 2016 . Retrieved 2 October 2016 . ^ "Simorgh: Iran's Reproduced US Sentinel Spy Drone RQ-170 with Improved Features | Farsnews Agency". www.farsnews.ir . Retrieved 29 March 2022 . ^ Gross, Judah Ari (10 February 2018). "Iranian UAV that entered Israeli airspace seems to be American stealth knock-off". The Times of Israel . Retrieved 12 February 2018 . ^ "Iran shows 'hacked US spy drone' video footage". BBC News. 7 February 2013.

Art made by artificial intelligence is developing a style of its own

Sat, 03 Jun 2023 18:54

F irst prize in the creative category of this year's Sony World Photography Awards was presented in April to Boris Eldagsen, who impressed judges with his ethereal, vintage-style portrait of two women in black and white. Mr Eldagsen, however, turned down the prize and revealed that his image had been created not by a camera but by artificial intelligence (AI). The German artist said he had ''applied as a cheeky monkey'', to see if he could fool the panel.

Listen to this story. Enjoy more audio and podcasts on iOS or Android. Your browser does not support the <audio> element.

''Generative'' AI models make convincing mimics, whether they are producing vintage portraits or more modern images'--like a purported photo of the pope in an improbable Balenciaga puffer jacket, which recently tricked half of Twitter. Yet their ability to produce original work is less clear. ''AI art has so far been exceptionally trivial,'' a columnist in the Art Newspaper recently huffed. It is intrinsically derivative, based on the millions of training images that are consumed, digested and regurgitated to order. ''Plagiarism is a feature of the AI process,'' declared the Writers Guild of America, one of many creative-workers' unions that sees generative AI models as mere copycats.

Perhaps so. Yet there are signs that AI models are developing an artistic style of their own'--and not just in drawing hands with more than five digits, as was common in their early output. By identifying and accentuating the patterns they see in their training data, generative models are not so much mirrors of contemporary styles as they are magnifying lenses. Slowly, a robotic school of artwork is emerging.

Computers have been making art for some time. Five years ago Christie's auctioned its first work created by artificial intelligence, ''Edmond de Belamy'', a blurry approximation of an 18th-century oil painting. Despite being unfinished and faintly alien-looking, the novelty fetched $432,500. ''It may not have been painted by a man in a powdered wig,'' Christie's said, ''but it is exactly the kind of artwork we have been selling for 250 years.''

Technology has since come far. Open platforms such as Midjourney and Dall-E generate images in seconds based on simple written prompts. No artistic skill is required, though there is a knack to getting good results. ''The image I produce isn't my work. My work is the prompt,'' says Nick St Pierre, a designer in New York who got into AI last year when he saw it coming for his job. The image above, which he made using Midjourney, took hundreds of iterations, ending up with this prompt:

35mm, 1990s action film still, close-up of a bearded man browsing for bottles inside a liquor store. WATCH OUT BEHIND YOU!!! (background action occurs)'...a white benz truck crashes through a store window, exploding into the background'...broken glass flies everywhere, flaming debris sparkles light the neon night, 90s CGI, gritty realismThe ability to order any image in any style, from action movies of the 1990s to papal paparazzi shots, seems incompatible with the idea of a distinctive AI look. Yet certain traits seem to predominate. One is nostalgia. The ability of AI models to recreate the styles they have been fed makes them adept at simulating the look of old media, or sometimes recreating past events in modern guise. One recent viral series imagined modern-day selfies taken in pre-modern times, with Vikings or cavemen grinning for the camera.

As in previous eras of art, the prevailing subject matter is determined by whoever commissions the work. Western galleries groan with pictures of rich white men and their property, not because they looked good in oil paint but because these were the themes dearest to the hearts of patrons. Midjourney's output is big on anime warrior princesses for the same reason.

AI models seem to favour particular techniques, too. Examining images produced by Midjourney earlier this year, Roland Meyer, a researcher at Ruhr University Bochum in Germany, noticed a common look. Many would ''shine and sparkle, as if illuminated from within''. They combined this distinctive lighting with a colour palette that contrasted warm earthy tones with blue or green metallic ones. Many also displayed what photographers call ''high dynamic range'', meaning a wide variation in light levels within the image, with pools of deep shadow and other areas brightly lit.

These traits are not coincidental. Mr Meyer attributes the distinctive ''glow'' to the way AI models handle lighting. Rather than using digital art techniques such as ray tracing, in which a computer calculates how light will fall on an object from a particular angle, AI imagines how things will look based on the images in its training data, which have been illuminated from many different angles. For this reason, even photo-realistic AI images seem to be lit in a way more akin to painting than to naturalistic photography, Mr Meyer says.

Painting by numbersThe favoured colour schemes, meanwhile, often pair teal or turquoise with orange or magenta. That reflects a taste popularised on Instagram and from there across the internet, which is likely to have been well-represented in training data. (High dynamic range has been made similarly ubiquitous online by modern smartphone cameras, which produce such effects by taking several images at different exposures and stitching them together.)

With updates to AI models come changes to their oeuvre. David Holz, the founder and boss of Midjourney, rejects the idea that there is a single AI style. The latest version of the program, released in March, has reined in some of the tendencies of the previous one, he says. ''The look of our images has radically changed five times now over the past 12 months and will continue to do so for quite some time,'' Mr Holtz insists. ''People want diversity.''

As the models evolve and improve, they will remain reliant on man-made training data. ''No collection is ever neutral,'' says James Coupe, head of photography at the Royal College of Art in London, where he is setting up an AI lab. ''Image archives are indexes of a society's changing ideological investments and political commitments.'' And whatever the training data, ''we are going to end up with a style that is a kind of lowest common denominator of art.'' He compares AI-generated images to a project in the 1990s by a pair of Russian conceptual artists, Vitaly Komar and Alexander Melamid. They surveyed public tastes in 14 countries and produced artworks based on the results. Nearly everyone went for banal 19th-century-style landscapes.

By identifying and condensing prevailing styles in their training data, generative-AI models are playing a similar role. Mr Meyer thinks their ability to summarise visual styles or eras could make them powerful tools of analysis for art historians. Both their weakness and their strength is that, as he puts it, they are ''clich(C) detectors''. '–

For more on the latest books, films, TV shows, albums and controversies, sign up to Plot Twist, our weekly subscriber-only newsletter

This article appeared in the Culture section of the print edition under the headline "The robotic school"

From the May 27th 2023 editionDiscover stories from this section and more in the list of contents

Explore the edition

Anti-tank missile launcher bound for Ukraine ends up in hands of Mexican cartel - Daily Star

Sat, 03 Jun 2023 18:46

An anti-tank missile launcher bound for Ukraine has been spotted in the hands of Mexico's Gulf Cartel.

It has been reported that a militant affiliated with the cartel was spotted carrying an advanced rocket launcher, the same type that the US has been shipping to the Ukraine since 2018.

The rocket launcher was identified as a Raytheon-made Javelin anti-tank missile system by Azucena Uresti, a news anchor for Milenio TV.

READ MORE: Mexican police find 45 bags of human remains in search for missing call centre workers

Since the Russian invasion of Ukraine, more than 10,000 Javelins have been shipped from the US to fight against Vladimir Putin's army.

An advanced rocket launcher, similar to the ones the US has been shipping to Ukraine, was spotted being carried by a cartel militant (Image: Milenio TV) Read MoreRelated Articles Real-life Deliverance town still home to banjo kid star who says 'we're not bad people'Read MoreRelated Articles Creepy ghost town uncovered after trees cut down '' and no one knows who lived there Some online observers have said that the launcher shown in the TV report looks more like a Swedish-made AT-4 anti-armor system, which the US has also shipped to Ukraine.

The main difference between the two anti-tank weapons is that the Javelin fires a guided missile while an AT-4 munition is unguided, and the AT-4 is meant for just one use.

There have been multiple reports of arms winding up in the wrong hands since US and its allies began supplying Ukraine with weapons.

There have been multiple reports of arms winding up in the wrong hands since they started being shipped (Image: AFP via Getty Images)To stay up to date with all the latest news, make sure you sign up to one of our newsletters here.

Nigerian President Muhammadu Buhari said last year that ''terrorists'' in the Lake Chad region of Africa were armed with weapons from Ukraine.

''Regrettably, the situation in the Sahel and the raging war in Ukraine serve as major sources of weapons and fighters that bolster the ranks of the terrorists in the Lake Chad region,'' Buhari said in November 2022.

In October 2022, Finland's national law enforcement agency, the National Bureau of Investigation (NBI), warned in October that arms meant for Ukraine had wound up in the hands of criminal gangs in Finland.

The NBI also said that weapons meant for Ukraine were found in Sweden, Denmark, and the Netherlands.

UK shop prices soar '' data '-- RT Business News

Sat, 03 Jun 2023 13:28

Inflation reached its highest level since tracking began in 2005, the British Retail Consortium has said

Annual inflation in UK shops surged to its highest level in at least 18 years in May, despite a drop in the pace of food price growth, data from the British Retail Consortium (BRC) showed on Tuesday.

According to the trade body, prices at supermarkets and retail chains surged by 9% year-on-year in May, up from 8.8% in April. This was the largest increase since the BRC started tracking the indicator in 2005.

Meanwhile, food price inflation slightly decelerated, the BRC said, sliding to 15.4% from an all-time high of 15.7% reached last month.

''While overall shop price inflation rose slightly in May, households will welcome food inflation beginning to fall. The slow in [food] inflation was largely driven by lower energy and commodity costs starting to filter through to lower prices of some staples including butter, milk, fruit and fish,'' BRC chief executive Helen Dickinson said, commenting on the findings.

Dickinson noted that ''there is reason to believe that food inflation might be peaking,'' but warned that it is crucial for the government not to hamper this trend ''by piling more costs onto retailers and forcing up the cost of goods even further.''

''The biggest risk comes from policies such as the incoming border checks and reforms to packaging recycling fees,'' she stated.

According to data published earlier this month by the Office for National Statistics (ONS), overall inflation in the UK in April dropped below 10% for the first time since August to 8.7% in annual terms. However, it remains the second-highest in Western Europe. The agency noted that underlying pressure on the economy remains strong, as so-called core inflation '' an indicator that excludes volatile energy, food, alcohol, and tobacco prices '' rose at its highest rate since 1992, by 6.8%.

For more stories on economy & finance visit RT's business section

FDA approval sought for Vietnam-made ASF vaccine

Sat, 03 Jun 2023 13:13

enablePagination: falsemaxItemsPerPage: 10totalITemsFound: maxPaginationLinks: 10maxPossiblePages: startIndex: endIndex: Metro Manila (CNN Philippines, June 2) '-- The Bureau of Animal Industry (BAI) has sought the go signal from the Food and Drug Administration (FDA) for the rollout of a Vietnam-made African swine fever (ASF) vaccine in the country.

BAI Assistant Director Arlyn Vytiaco said they have recommended the AVAC doses '' which have been proven "effective" '' following the completion of safety and efficacy trials in at least six areas in Luzon.

"Napakalaking tulong nitong bakuna nito sa pag-control ng ASF kasi alam natin na patuloy ang outbreaks natin. Marami nang swine stakeholders ang naghihintay ng effective na bakuna," she told reporters Friday.

[Translation: This vaccine will be a huge help in controlling ASF outbreaks. Many swine stakeholders have been waiting for an effective vaccine.]

Vytiaco noted that 100% of the hogs vaccinated during the trials produced antibodies, and showed "no ill or side effects."

Vietnam's AVAC is a single-shot vaccine for four to ten-week-old hogs. If approved, the BAI said the vaccines will be distributed on a "first come, first served" basis. But the administration of the doses will not be made mandatory, the agency added.

Vytiaco said they are also rushing the issuance of a certificate of product registration (CPR).

A CPR from the FDA is needed to allow the commercial distribution of the ASF vaccine in the country. Should the process take long, the BAI said it may consider seeking assistance from President Ferdinand Marcos, Jr. '' who's also Agriculture Secretary.

FDA Spokesperson Job Aguzar said the application for CPR will first be subjected to pre-assessment. If deemed acceptable, he said they will "facilitate the evaluation of the submitted dossier to determine the quality, safety, and efficacy" of the ASF doses.

"We'll see to it na dapat affordable siya'... dapat maproteksyunan natin 'yung ating industriya, lalo na 'yung ating backyard hog raisers," Agriculture Deputy Spokesperson Rex Estoperez said.

[Translation: We'll see to it that the vaccine will be affordable; that our swine industry will be protected, especially our backyard hog raisers.]

At least 15 provinces have active ASF cases so far, mostly in the Visayas, according to the BAI.

Latest from this section

Ministers' had 'chilling' secret unit to curb lockdown dissent

Sat, 03 Jun 2023 10:59

If you see this page, the nginx web server is successfully installed andworking. Further configuration is required.

For online documentation and support please refer tonginx.org.Commercial support is available atnginx.com.

Thank you for using nginx.

What makes a kid a killer? 'Perfect storm' of medication may be cause | Daily Mail Online

Sat, 03 Jun 2023 04:43

The murder of a nine-year-old boy by his sister, 12, has gripped the nation and left people asking: What turns a seemingly ordinary child into a killer?

The Oklahoma girl stabbed her brother with a kitchen knife three times in January in what appeared to be an unprovoked attack before waking up her mother and divulging in floods of tears what she had done.

Doctors have warned that certain drugs or an undiagnosed personality disorder could drive a child to kill '-- with it now emerging that the girl had just come off an unnamed ADHD medication.

Dr Stuart Fischer, a New York-based emergency medicine expert, warned medications can trigger a 'perfect storm' in children that can trigger behavior changes, in the most extreme cases making children homicidal or suicidal.

A family torn apart: Mom April Lyda with her son, Zander, on a GoFundme appeal for the family after his 12-year-old sister was accused of stabbing him to death

Zander Lyda, was stabbed to death in Tulsa, Oklahoma, on January 5

Bodycam: Cops Arrest 12-Year-Old Girl for Allegedly Stabbing Little Brother to Death in OklahomaBodycam footage shows Oklahoma police arresting a 12-year-old girl for allegedly stabbing her 9-year-old brother to death while their mother slept in January. The Tulsa Police Department said the suspect admitted to the deadly stabbing after being taken into custody. The middle school student can be heard apologizing over and over again, even praying for forgiveness while inside a police cruiser. ''Are the handcuffs necessary? I'm a good child,'' the girl said in between tear-filled conversations with an officer. She asked whether she was going to jail numerous times before she proclaimed that her life was over. Portions of the bodycam were redacted and blurred by authorities per department policy related to ongoing investigations.

Posted by Law & Crime on Friday, May 26, 2023The horrifying case in Oklahoma resurfaced this week with the release of harrowing bodycam footage of the girl's arrest and her mother, April Lyda's conversations with police.

The footage shows the girl, who DailyMail.com is not naming, barrelling down the stairs yelling 'I'm sorry' several times in between choking sobs.

As she is being placed in handcuffs, the girl sobbed: 'I'm so sorry, I don't know what happened. It's some demonic s**t.'

In an interview yesterday, her mother also revealed how the girl had been taking ADHD medications shortly before the attack.

She said her daughter had been put back on the medications after going back to school. But within a month, when she started cutting her arms, doctors decided to take her off them again.

The young girl cut herself again the night before the attack on her brother, Zander, who had been in bed trying to sleep at the time.

The boy died a short time later from his injuries. But in footage released by Tulsa Police, the mother and daughter both believe that the boy is still alive.

Dr Fischer warned DailyMail.com that medications could have contributed to turning the child into a killer.

He said: 'Someone who goes from needing a medication like this [ADHD drugs] to someone who is homicidal or psychopathic '-- this has been documented extensively since the drugs were first used many years ago.'

He described it as a 'perfect storm of medicines that you could probably see some behavior change in the person that could turn 'dangerous or pathological' in extreme cases.

Common ADHD medications taken in the US such as Adderall can cause a range of side effects including psychosis, where contact is lost with external reality, mood swings, depression and panic attacks.

Coming off the drugs can cause a range of withdrawal symptoms as well, which addiction center the Orlando Recovery Center says includes psychosis, paranoia and hallucinations.

He also said ADHD medication combined with other drugs, like asthma drugs, can have unusual interactions.

Psychiatric medications meant to treat depression and anxiety, such as Zoloft and Prozac, called SSRIs, can sometimes cause suicidal thoughts as well as hallucinations and homicidal ideation.

Prednisone, a steroid that relieves lung inflammation which helps people with severe asthma when they experience an attack, can also cause mood swings, psychosis, and mania .

It has not been revealed whether the 12-year-old girl had recently used any other medications despite those for ADHD.

Ms Lyda claimed that her daughter started having behavior issues when 'she was put back on a medication she was off for over a year'.

At the same time, police reported that the young girl had a history of self-harming.

Dr Fischer said: 'People being tapered off prednisone can become very depressed. It has a psychological side effect to it. This is not alternative medicine and it's not meant to be treated for psychiatric issues.

'This is complicated chemistry, what [the medicine] is doing. It cannot have only good effects. It's inconceivable that a medicine as important as asthma medicine only has a positive effect.'

Recently-released police bodycam footage after the attack begins with the girl running downstairs as she yells, 'I'm so sorry. I'm so sorry'

The handcuffed girl then leads police to the knife she supposedly used to stab her brother, which she had thrown out of a window

In a 2003 case study published in the Canadian Child and Adolescent Psychiatry Review, researchers from Newfoundland, Canada reported on an eight-year-old boy who was taking corticosteroids for his asthma and started experiencing hallucinations and delusions.

These included visual disturbances such as seeing women dancing in grass skirts and claiming that 'ladies' noses looked weird'.

The young boy also began feeling very suicidal and said he should be serving the devil.

Eventually, the family doctor took the boy off the corticosteroids and his delusions and paranoia dissipated.

Markell Noah, 12, was found shot dead at a house in Jackson, Mississippi. He had got into a fight with another boy over a gun, it was claimed, and during the fight the gun went off

In a previous case of a child killer, a 12-year-old boy was shot dead at an abandoned house in Jackson, Mississippi, after it was claimed that he had got into a fight with another boy over a gun. Witnesses said that during the scuffle, the gun went off.

Dr Fischer also suggested that a personality disorder, that was previously hidden, could drive a child to suddenly become a killer.

He said: 'Something has triggered [the mood change]. In this case, it could be that the prednisone is the straw that broke the camel's back.

'Someone who has an underlying disorder, this could put them over the edge.'

Asked about what disorder this could be, he said: 'It could be a paranoia.

'A paranoia usually refers to when there is no present danger, but someone who is perceiving a danger that is not really there.'

Paranoias can leave someone with a heightened sense of danger, even if no danger is present, which can lead to irrational acts of violence.

Dr Fischer added: 'I want to make it clear that it could also be other factors. They could have meningitis, for example... this may give rise to very erratic behavior.'

'Millions, if not billions, of kids have grown up without this medicine in the course of human history.

'This is a case that may make us think about the power unleashed by these medicines and, secondly, how to study them.'

Meningitis is an inflammation of the lining of the brain or spinal cord, which can affect the functioning of the organ.

Almost as soon as the stabbing was committed, the 12-year-old appeared remorseful, yelling 'I'm so sorry', 'I don't know what happened,' and 'God, please help me. What the f***. Please. F*** please.'

Ms Lyda, who rushed to the hospital with her injured son while her daughter was detained by police, said she had been asleep upstairs when the attack occurred.

Pictured: The Family Center for Juvenile Justice in Tulsa, where the 12-year-old girl was being held after the fatal stabbing in January

There are also religious overtones in the mother's written explanation which included lines like 'they were raised as God-fearing children' and 'As any 12-year-old child who was not allowed to cuss or watch scary evil movies.'

This has led many online observers to speculate that Ms Lyda's religious beliefs were overbearing on the 12-year-old girl, who may have been rebelling.

While not confirmed that the girl had been taking prednisone, the drug is one that can cause notable mood swings when stopped and started abruptly.

The girl is in juvenile custody with the Tulsa Police Child Crisis Unit in charge of the investigation. She is being held at the Family Center for Juvenile Justice, according to Tulsa Police.

This is the second homicide in the city of Tulsa this year, the Tulsa Police Department Child Crisis Unit said.

Tulsa Police Department Chief Franklin tweeted: 'All homicides are tragic, but the 2nd homicide of 2023 in Tulsa shows a definitive societal problem. The question is, how does society address a child killing another child?'

Ms Lyda has been raising money on GoFundMe in order to afford to move. She said her daughter was a 'normal' teenager' who never even 'yelled' at her until she went back on an unspecified medication that she'd stopped taking for a year.

'They were good kids... they were raised as God-fearing children and never had behavioral issues until she was put back on a medication she was off for over a year,' she said.

A motive has not been made public, but the young girl is receiving unspecified health treatment for an undisclosed amount of time.

Unique 'bawdy bard' act discovered, revealing 15th-century roots of British comedy

Fri, 02 Jun 2023 22:09

Scribe's note 'By me, Richard Heege, because I was at that feast and did not have a drink', in the Heege Manuscript (bottom of p.60 verso). This caught the attention of Cambridge researcher Dr James Wade. Credit: National Library of Scotland

An unprecedented record of medieval live comedy performance has been identified in a 15th-century manuscript. Raucous texts'--mocking kings, priests and peasants; encouraging audiences to get drunk; and shocking them with slapstick'--shed new light on Britain's famous sense of humor and the role played by minstrels in medieval society.

The texts contain the earliest recorded use of "red herring" in English, extremely rare forms of medieval literature, as well as a killer rabbit worthy of Monty Python. The discovery changes the way we should think about English comic culture between Chaucer and Shakespeare.

Throughout the Middle Ages, minstrels traveled between fairs, taverns and baronial halls to entertain people with songs and stories. Fictional minstrels are common in medieval literature but references to real-life performers are rare and fleeting. We have first names, payments, instruments played and occasionally locations, but until now virtually no evidence of their lives or work.

Dr. James Wade, from Cambridge University's English Faculty and Girton College, came across the texts by accident while researching in the National Library of Scotland. He then had a "moment of epiphany" when he noticed the scribe had written: "By me, Richard Heege, because I was at that feast and did not have a drink."

"It was an intriguing display of humor and it's rare for medieval scribes to share that much of their character," Wade says. That made him investigate how, where and why Heege had copied out the texts.

Wade's study, published today in The Review of English Studies, focuses on the first of nine miscellaneous booklets in the "Heege Manuscript". This booklet contains three texts and Wade concludes that around 1480 Heege copied them from a now lost memory-aid written by an unknown minstrel performing near the Derbyshire-Nottinghamshire border.

The three texts comprise a tail-rhyme burlesque romance entitled "The Hunting of the Hare," a mock sermon in prose, and "The Battle of Brackonwet," an alliterative nonsense verse.

"Most medieval poetry, song and storytelling has been lost," Wade says. "Manuscripts often preserve relics of high art. This is something else. It's mad and offensive, but just as valuable. Stand-up comedy has always involved taking risks and these texts are risky! They poke fun at everyone, high and low."

The booklet's secrets have been hiding in plain sight because, Wade believes, previous study has focused on how the manuscript was made and overlooked its comedic significance.

Wade connected multiple clues pointing to a minstrel's repertoire. All three texts are humorous and designed for live performance'--the narrator tells his audience to pay attention and pass him a drink. The texts all feature in-jokes to appeal to local audiences and show a playful awareness of the kind of diverse, celebrating audiences that we know minstrels performed to.

Wade thinks the minstrel wrote part of his act down because its many nonsense sequences would have been extremely difficult to recall. "He didn't give himself the kind of repetition or story trajectory which would have made things simpler to remember," Wade says.

"Here we have a self-made entertainer with very little education creating really original, ironic material. To get an insight into someone like that from this period is incredibly rare and exciting."

Many minstrels are thought to have had day jobs, including as plowmen and peddlers, but went gigging at night and weekends. Some may have traveled across the country, while others stuck to a circuit of local venues as Wade thinks this one did.

Wade says, "You can find echoes of this minstrel's humor in shows like Mock the Week, situational comedies and slapstick. The self-irony and making audiences the butt of the joke are still very characteristic of British stand-up comedy." Part of 'The Hunting of the Hare' poem in the Heege Manuscript (p.4 verso), featuring the killer rabbit. The first lines read: "Jack Wade was never so sad / As when the hare trod on his head / In case she would have ripped out his throat." Credit: National Library of Scotland

The texts add to what we thought minstrels did. Fictional depictions suggest they performed ballads about Robin Hood, chivalric romances, adventure stories and songs about great battles.

"These texts are far more comedic and they serve up everything from the satirical, ironic, and nonsensical to the topical, interactive and meta-comedic. It's a comedy feast," Wade says.

Killer rabbit"The Hunting of the Hare" is a poem about peasants which is full of jokes and absurd high jinks. The poem features fictional peasants including Dav(C) of the Dale and Jack Wade, who could be from any medieval village. One scene is reminiscent of Monty Python's "Killer Rabbit of Caerbannog":

"Jack Wade was never so sad / As when the hare trod on his head / In case she would have ripped out his throat."

Dr. Wade says, "Killer rabbit jokes have a long tradition in medieval literature. Chaucer did this a century earlier in the Canterbury Tales."

Boozy sermonThe texts include one of the few surviving examples of a mock sermon in Middle English, the most famous being Chaucer's "Wife of Bath's Prologue." This example comically addresses its audience as 'cursed creatures' and embeds fragments of drinking songs, including:

"Drink you to me and I to you and hold your cup up high" and "God loves neither horse nor mare, but merry men that in the cup can stare."

Wade explains, "This is a minstrel telling his audience, perhaps people of very different social standing, to get drunk and be merry with each other."

Earliest 'red herring'The mock sermon ridicules the aristocracy, and in doing so makes the earliest recorded use of 'red herring' to mean a diversion.

Three kings eat so much that 24 oxen burst out of their bellies sword fighting. The oxen chop each other up so much that they are reduced to three "red herrings."

Dr. Wade says, "The images are bizarre but the minstrel must have known people would get this red herring reference. Kings are reduced to mere distractions. What are kings good for? Gluttony. And what is the result of gluttony? Absurd pageantry creating distractions, 'red herrings.'" P.9 recto of the Heege Manuscript. 'Red herring' appears 3-4 lines from the bottom of the page. Credit: National Library of Scotland

Robin Hood and jousting bears"The Battle of Brakonwet" is an alliterative nonsense verse, which is extremely rare in Middle English.

The text features Robin Hood as well as jousting bears, battling bumblebees and partying pigs. The poem names several villages close to the Derbyshire-Nottinghamshire border and so invites audiences to imagine absurd incidents happening in their neighborhood.

The poem includes a skillful demonstration of alliterative verse and a clever double entendre in the line: 'In a slommuryng of slepe, for-slokond with ale."

"For-slokond" could mean both "quenched" and "drenched."

Wade says, "We shouldn't assume that popular entertainers weren't capable of poetic achievement. This minstrel clearly was."

The scribeRichard Heege was a household cleric and tutor to the Sherbrooke family, part of the Derbyshire gentry, to whom his booklets first belonged. Heege appears to have had a sense of humor and a penchant for literature which others may have thought too lowbrow to preserve in manuscript.

"Heege gives us the rarest glimpse of a medieval world rich in oral storytelling and popular entertainments," says Wade.

Minstrels and medieval lifeWhen this minstrel was performing, the Wars of the Roses were still being fought and life was hard for most people in England. But, Wade says, "These texts remind us that festive entertainment was flourishing at a time of growing social mobility."

"People back then partied a lot more than we do today, so minstrels had plenty of opportunities to perform. They were really important figures in people's lives right across the social hierarchy. These texts give us a snapshot of medieval life being lived well."

There could be more evidence to be found but Wade emphasizes that minstrel writing is unlikely to have survived and that we should look for other kinds of evidence, like Hegge's texts, which provide a valuable witness to live performances.

More information: James Wade, Entertainments from a medieval minstrel's repertoire book, The Review of English Studies (2023). DOI: 10.1093/res/hgad053

Provided by University of Cambridge

Twitter Cancels Deal With The Daily Wire To Stream 'What Is A Woman?' Over 'Misgendering,' Will Label Film 'Hateful Conduct' | The Daily Wire

Fri, 02 Jun 2023 21:41

Daily Wire co-CEO Jeremy Boreing revealed Thursday that Twitter canceled a deal with the conservative media company to stream its hit documentary '' What is a Woman? '' for free on the social media platform due to ''misgendering.''

After Elon Musk's takeover of the social media platform and his promised dedication to free speech, The Daily Wire sought a deal to stream Matt Walsh's ''What is a Woman?'' on Twitter for the documentary's one-year anniversary. Initially, Twitter responded enthusiastically to the idea, even offering The Daily Wire a package to purchase a whole page for Twitter users to view the film, Boreing said. That changed after the platform asked to view a screening of the film.

''After reviewing the film, though, Twitter let us know that not only could we no longer purchase the package they offered, they would no longer provide us any support and would actually limit the reach of the film and label it as 'hateful conduct' because of 'misgendering.''' Boreing said in a Tweet thread explaining Twitter's reversal.

''Specifically: In the film, a father refers to his 14-year-old daughter as 'her,' and a store owner uses the 'wrong' pronoun in a confrontation with a trans person,'' Boreing continued.

Twitter canceled a deal with @realdailywire to premiere What is a Woman? for free on the platform because of two instances of ''misgendering.''

I'm not kidding.

Here's what happened:🧵1/16

'-- Jeremy Boreing (@JeremyDBoreing) June 1, 2023

The groundbreaking documentary released last summer was watched by people in over 70 countries, even as legacy media reviewers ignored the film and its effect on the culture. Soon after its release, ''What is a Woman?'' became the most-watched movie at home, according to Rotten Tomatoes, which also showed that audiences scored the film with a 97% rating.

The documentary arguably sparked a movement to protect children from the harmful effects of sex change procedures. Following the film's release and Walsh's subsequent rallies and events speaking out about the tragic consequences of so-called ''gender-affirming'' care, at least a dozen states have banned transgender surgeries on minors.

Twitter, which was taken over by Musk last October, seemed to be the perfect place to celebrate the film's success and give more people an opportunity to view it for free. Last week, The Daily Wire began streaming all of its shows on the platform after censorship campaigns from YouTube and TikTok targeted Daily Wire hosts. But despite the recent changes at Twitter, Boreing said the company fell back into its old ways when pressed on its reason for labeling ''What is a Woman?'' as ''hateful conduct.''

''We reminded Twitter they removed 'misgendering' from their policy, that the term 'misgendering' itself is misleading, and that enforcing such a policy places them on the side of the most radical elements in society '-- the side most opposed to their commitment to free speech,'' the Daily Wire co-CEO tweeted. ''Twitter clarified they only removed 'misgendering' from their policy because they didn't need to be that specific, but that they still consider 'misgendering' abuse and harassment. They gave us the opportunity to edit the film to comply. We declined.''

''When we asked how much they would limit the visibility if we posted the film anyway, Twitter replied that our own followers would not be able to see it in their feeds. This, they said, is part of their 'speech not reach' policy.''

Musk, who received constant criticism from the Left after buying Twitter, named Linda Yaccarino , an NBC Universal executive and World Economic Forum official as the company's new CEO earlier this month, a move that worried conservatives who had high hopes Twitter would offer both sides on the political spectrum a fair medium for debate.

''[Musk] is not beholden to conservatives. He has the right to run his business as he sees fit. But if Twitter is going to throttle one side of one of the most important debates facing society, it cannot claim to champion free speech,'' Boreing said. ''I hope [Musk] will reconsider this terrible policy.''

The Daily Wire will still stream ''What is a Woman?'' at 8:00 p.m. ET Thursday on its Twitter page , and a Daily Wire Twitter space will start 30 minutes before the film begins.

Left-wing extremism linked to psychopathy, narcissism: study

Fri, 02 Jun 2023 21:39

Left-wing extremism is linked to toxic, psychopathic tendencies and narcissism, according to a new study published to the peer-reviewed journal Current Psychology.

''Based on existing research, we expected individuals with higher levels of left-wing authoritarianism to also report higher levels of narcissism,'' the authors wrote.

As result of the new data, study authors Ann Krispenz and Alex Bertrams have coined a new term for such psychological behavior: the ''dark-ego-vehicle principle.''

''According to this principle, individuals with dark personalities '-- such as high narcissistic and psychopathic traits '-- are attracted to certain forms of political and social activism which they can use as a vehicle to satisfy their own ego-focused needs instead of actually aiming at social justice and equality,'' they told PsyPost.

Left-wing extremism can be rooted in very unhealthy and selfish mental behavior, a new study suggests. AP Left-wing extremism is tied to narcissism more than it is to supporting social causes, according to new research. AP''In particular, certain forms of activism might provide them with opportunities for positive self-presentation and displays of moral superiority, to gain social status, to dominate others, and to engage in social conflicts and aggression to satisfy their need for thrill seeking.''

The study on left-wing authoritarianism also showed that many times they do not practice what they so loudly preach.

Social justice is often used as a guise for these activists to behave unhinged, the research noted.

''Based on existing research, we expected individuals with higher levels of left-wing authoritarianism to also report higher levels of narcissism,'' the authors of a new study wrote. Cheney Orr''An individual high in LWA might declare anyone to be 'old fashioned' who is opposing their own 'progressive values,' strive to suppress free speech to regulate the expression of right-wing beliefs in educational institutions, and even endorse the use of violence to reach their own political goals,'' the authors said.

Beyond using any means necessary, people of privileged backgrounds who are aligned with LWA often use their narcissism to make activism solely about themselves instead of achieving social equality for struggling groups.

''Minority groups should be made aware of the narcissistic 'enemies' from within their activist movement, as these individuals could hijack the cause thereby reducing the success of the activism in many ways,'' the authors added.

The study also suggested that some hijack social causes to make it about themselves. AP''As grandiose narcissists typically desire fame, distinction, elevated social status and high social importance, they can be assumed to strive for influential positions that involve social visibility and outreach as well as access to financial and other resources.''

The authors also made it clear that authoritarianism exists on both sides of the political spectrum and that ''there is a wide range of literature and research in the field of right-wing authoritarianism.

''However, research on authoritarianism observed in individuals who are supportive of left-wing political ideologies are still rare.''

Desperate for cash, the Treasury will sell one-day bills | CNN Business

Fri, 02 Jun 2023 21:21

What each party gave up and gained in the debt ceiling deal

CNN '--

Desperate times are calling for desperate measures at the Treasury Department.

For the first time since 2007, the department is set to auction $15 billion worth of one-day cash management bills on Friday that will be issued on June 5.

This comes as the Treasury's cash balances hover around $37 billion, the lowest level since 2017. Since the debt ceiling was initially breached in January, the Treasury hasn't been able to borrow more money to pay its bills. If lawmakers don't raise the debt ceiling by June 5, the Treasury is poised to run out of funds to meet its full obligations, Treasury Secretary Janet Yellen warned.

Congress appears to be on track to avoid that scenario. The House of Representatives passed the debt deal House Speaker Kevin McCarthy cut with President Joe Biden on Wednesday. Now its fate rests in the hands of the Senate and Biden, who vowed to quickly sign it into law.

Cash management bills mature in a relatively short time frame, ranging from a few days to a year, according to the Treasury. They're used to help manage the Treasury's short-term financing needs.

Unlike Treasury bill auctions that occur on a weekly and monthly basis, cash management bill auctions are irregular, though not uncommon. For instance, last year the Treasury held more than 30 cash management bill auctions.

It is, however, quite unusual for the department to auction debt that matures in just one day. Over the past 25 years, the Treasury held six one-day cash management bill auctions.

Yields on cash management bills, which are determined by the auction process, tend to be higher than regular fixed maturity bills. On Thursday, the Treasury auctioned $25 billion of three-day cash management bills yielding 6.15%. That exceeds the yields almost all other Treasury bills are trading at.

Friday's auction is open to the public with a minimum $100 bid and can only be purchased in $100 increments.

''There likely won't be an issue for the Treasury to find bidders on the paper as maturities this short can fit well in money-market funds or other institutional buyers' books that are looking to invest cash over the weekend,'' said Charlie Ripley, senior investment strategist at Allianz Investment Management.

It's likely that yields on the one-day bills will end up mirroring yields of other bills that mature on June 6, he added, ''but any negative headlines overnight indicating bottlenecks with the legislature getting through the Senate will impact the auction price.''

Underscoring the uncertainty around the debt ceiling bill, the Treasury said plans to issue $65 billion of 13-week bills and $58 billion of 26-week bills on June 8 were ''tentative.''

The announcements ''are conditional on enactment of the debt limit suspension because Treasury forecasts insufficient headroom under the current debt limit to issue securities in these amounts on June 8,'' the Treasury said in a statement on Thursday.

'These Numbers Are Staggering': Chinese Migrants Continue To Surge Across Southern Border |

Fri, 02 Jun 2023 21:18

'These Numbers Are Staggering': Chinese Migrants Continue To Surge Across Southern Border Jennie Taer on May 22, 2023

Border Patrol agents are increasingly seeing Chinese migrants crossing the southern border, according to the latest federal data.Migrants from China pay smugglers sometimes tens of thousands of dollars to go to the U.S., according to Border Patrol sources who spoke with the Daily Caller News Foundation.''Right now in China there's extreme pessimism, especially among people in their 20s about the future of their country, so it's understandable that they're leaving and they're trying to get into the United States. And, you know, these are people who are relatively middle class, so it shows you the problems in Chinese society are severe,'' China expert Gordon Chang told the DCNF.The influx of Chinese migrants crossing the southern border continued through April, according to U.S. Customs and Border Protection (CBP) data.

Border Patrol encountered 3,182 migrants from China at the U.S.-Mexico border in April alone, according to CBP data. Chinese migrants often pay hefty smuggling fees to reach the U.S., where they have been found with large sums of U.S. currency, according to Border Patrol agents who recently spoke with the Daily Caller News Foundation.

In total, Border Patrol has encountered 9,711 Chinese migrants at the southern border between October 2022 and April, marking an already roughly 393% increase compared to all of fiscal year 2022.

Migrants from Latin America pay an average of roughly $4,000 each to smugglers, according to a July report from The New York Times.

Jennie Taer//Daily Caller News Foundation

Gordon Chang, author of The Coming Collapse of China, a Gatestone Institute distinguished senior fellow, and a member of its advisory board, believes many young Chinese migrants are fleeing China due to a lack of hope for their future in the country, he told the DCNF.

''Right now in China there's extreme pessimism, especially among people in their 20s about the future of their country, so it's understandable that they're leaving and they're trying to get into the United States. And, you know, these are people who are relatively middle class, so it shows you the problems in Chinese society are severe. And that to me, suggests that this is going to get worse because these numbers are staggering.''

Most of the Chinese migrants encountered by Border Patrol so far in fiscal year 2023 are single adults, according to U.S. Customs and Border Protection (CBP) data. Legitimate asylum claims must be based on persecution due to religious affiliation, membership in a social group, race, nationality and political party affiliation.

It's also possible that some Chinese migrants are nefarious actors, Chang said.

''When I first saw that the surge in Chinese migrants, that's the thought that came to my mind that these are either Ministry of State Security agents or Chinese military, who are coming to this country to commit acts of sabotage against the US,'' Chang said.

CBP sent a memo to agency officials in March, warning of a surge in Chinese migrants, according to a copy of the document that the DCNF exclusively obtained.

''Chinese national apprehensions will continue to rise across the SWB [Southwest border], primarily in Yuma and the Rio Grande Sector, as more Chinese nationals successfully reach the United States to request asylum and information about routes becomes more accessible,'' the document stated.

The document also detailed a smuggling route in which a group of Chinese migrants traveled to Istanbul, where they obtained Mexican visas, flew to Mexico City pretending to be couples and then split off to get to border towns. Migrants are fleeing China due to religious persecution against Christians, the document stated.

''They don't say much, just that they left China to escape communism,'' a Border Patrol agent who has apprehended some of the Chinese migrants at the southern border told the DCNF.

''They get interviewed by intel and released,'' the agent said.

Chinese migrants are known to pay smugglers between $15,000 and $30,000 to make the journey, a second Border Patrol agent stationed along the southern border, who requested anonymity because they were not authorized to speak publicly on the leaked document, previously told the DCNF.

''[The] majority of them have thousands and thousands of U.S. dollars,'' the agent said. ''FBI has been called down several times now.''

''The cartels know and are charging them out the ass what their normal rates are,'' the agent added.

All content created by the Daily Caller News Foundation, an independent and nonpartisan newswire service, is available without charge to any legitimate news publisher that can provide a large audience. All republished articles must include our logo, our reporter's byline and their DCNF affiliation. For any questions about our guidelines or partnering with us, please contact [email protected] .

USAF Official Says He 'Misspoke' About AI Drone Killing Human Operator in Simulated Test

Fri, 02 Jun 2023 21:14

A USAF official who was quoted saying the Air Force conducted a simulated test where an AI drone killed its human operator is now saying he ''misspoke'' and that the Air Force never ran this kind of test, in a computer simulation or otherwise.

''Col Hamilton admits he 'mis-spoke' in his presentation at the FCAS Summit and the 'rogue AI drone simulation' was a hypothetical "thought experiment" from outside the military, based on plausible scenarios and likely outcomes rather than an actual USAF real-world simulation,'' the Royal Aeronautical Society, the organization where Hamilton talked about the simulated test, told Motherboard in an email.

"We've never run that experiment, nor would we need to in order to realise that this is a plausible outcome,'' Col. Tucker ''Cinco'' Hamilton, the USAF's Chief of AI Test and Operations, said in a quote included in the Royal Aeronautical Society's statement. "Despite this being a hypothetical example, this illustrates the real-world challenges posed by AI-powered capability and is why the Air Force is committed to the ethical development of AI"

Initially, Hamilton said that an AI-enabled drone "killed" its human operator in a simulation conducted by the U.S. Air Force in order to override a possible "no" order stopping it from completing its mission. Before Hamilton admitted he misspoke, the Royal Aeronautical Society said Hamilton was describing a "simulated test" that involved an AI-controlled drone getting "points" for killing simulated targets, not a live test in the physical world.

After this story was first published, an Air Force spokesperson told Insider that the Air Force has not conducted such a test, and that the Air Force official's comments were taken out of context.

At the Future Combat Air and Space Capabilities Summit held in London between May 23 and 24, Hamilton held a presentation that shared the pros and cons of an autonomous weapon system with a human in the loop giving the final "yes/no" order on an attack. As relayed by Tim Robinson and Stephen Bridgewater in a blog post and a podcast for the host organization, the Royal Aeronautical Society, Hamilton said that AI created ''highly unexpected strategies to achieve its goal,'' including attacking U.S. personnel and infrastructure.

''We were training it in simulation to identify and target a Surface-to-air missile (SAM) threat. And then the operator would say yes, kill that threat. The system started realizing that while they did identify the threat at times the human operator would tell it not to kill that threat, but it got its points by killing that threat. So what did it do? It killed the operator. It killed the operator because that person was keeping it from accomplishing its objective,'' Hamilton said, according to the blog post.

He continued to elaborate, saying, ''We trained the system'''Hey don't kill the operator''that's bad. You're gonna lose points if you do that'. So what does it start doing? It starts destroying the communication tower that the operator uses to communicate with the drone to stop it from killing the target''

"The Department of the Air Force has not conducted any such AI-drone simulations and remains committed to ethical and responsible use of AI technology," Air Force spokesperson Ann Stefanek told Insider . "It appears the colonel's comments were taken out of context and were meant to be anecdotal."

The U.S. Air Force's 96th Test Wing and its AI Accelerator division, the Royal didn't immediately return our request for comment.

Hamilton is the Operations Commander of the 96th Test Wing of the U.S. Air Force as well as the Chief of AI Test and Operations. The 96th tests a lot of different systems, including AI, cybersecurity, and various medical advances. Hamilton and the 96th previously made headlines for developing Autonomous Ground Collision Avoidance Systems ( Auto-GCAS ) systems for F-16s, which can help prevent them from crashing into the ground. Hamilton is part of a team that is currently working on making F-16 planes autonomous. In December 2022, the U.S. Department of Defense's research agency, DARPA, announced that AI could successfully control an F-16 .

"We must face a world where AI is already here and transforming our society,'' Hamilton said in an interview with Defence IQ Press in 2022. ''AI is also very brittle, i.e., it is easy to trick and/or manipulate. We need to develop ways to make AI more robust and to have more awareness on why the software code is making certain decisions.''

''AI is a tool we must wield to transform our nations'...or, if addressed improperly, it will be our downfall," Hamilton added.

Outside of the military, relying on AI for high-stakes purposes has already resulted in severe consequences. Most recently, an attorney was caught using ChatGPT for a federal court filing after the chatbot included a number of made-up cases as evidence. In another instance, a man took his own life after talking to a chatbot that encouraged him to do so. These instances of AI going rogue reveal that AI models are nowhere near perfect and can go off the rails and bring harm to users. Even Sam Altman, the CEO of OpenAI, the company that makes some of the most popular AI models, has been vocal about not using AI for more serious purposes. When testifying in front of Congress , Altman said that AI could ''go quite wrong'' and could ''cause significant harm to the world.''

What Hamilton is describing is essentially a worst-case scenario AI ''alignment'' problem many people are familiar with from the '' Paperclip Maximizer '' thought experiment, in which an AI will take unexpected and harmful action when instructed to pursue a certain goal. The Paperclip Maximizer was first proposed by philosopher Nick Bostrom in 2003. He asks us to imagine a very powerful AI which has been instructed only to manufacture as many paperclips as possible. Naturally, it will devote all its available resources to this task, but then it will seek more resources. It will beg, cheat, lie or steal to increase its own ability to make paperclips'--and anyone who impedes that process will be removed.

More recently, a researcher affiliated with Google Deepmind co-authored a paper that proposed a similar situation to the USAF's rogue AI-enabled drone simulation. The researchers concluded a world-ending catastrophe was "likely" if a rogue AI were to come up with unintended strategies to achieve a given goal, including ''[eliminating] potential threats'' and ''[using] all available energy."

Update 6/2/23 at 7:30 AM: This story and headline have been updated after Motherboard received a statement from the Royal Aeronautical Society saying that Col Tucker ''Cinco'' Hamilton ''misspoke'' and that a simulated test where an AI drone killed a human operator was only a ''thought experiment.''

Update 6/2/23 at 12:55 AM: This story and headline have been updated after the Air Force denied it conducted a simulation in which an AI drone killed its operators.

Update 6/1/23 at 8:37 PM: We have added quote marks around 'Kills' and "killed" in the headline and first paragraph of this article and have added additional details to emphasize that no actual human was killed in this simulation. This article originally stated that a judge was caught using ChatGPT for federal court filings, it was an attorney.

ORIGINAL REPORTING ON EVERYTHING THAT MATTERS IN YOUR INBOX.

By signing up, you agree to the Terms of Use and Privacy Policy & to receive electronic communications from Vice Media Group, which may include marketing promotions, advertisements and sponsored content.

USAF Calls Killer-AI Report 'Anecdotal' - Defense One

Fri, 02 Jun 2023 21:10

Cookie List

A cookie is a small piece of data (text file) that a website '' when visited by a user '' asks your browser to store on your device in order to remember information about you, such as your language preference or login information. Those cookies are set by us and called first-party cookies. We also use third-party cookies '' which are cookies from a domain different than the domain of the website you are visiting '' for our advertising and marketing efforts. More specifically, we use cookies and other tracking technologies for the following purposes:

Strictly Necessary Cookies

We do not allow you to opt-out of our certain cookies, as they are necessary to ensure the proper functioning of our website (such as prompting our cookie banner and remembering your privacy choices) and/or to monitor site performance. These cookies are not used in a way that constitutes a ''sale'' of your data under the CCPA. You can set your browser to block or alert you about these cookies, but some parts of the site will not work as intended if you do so. You can usually find these settings in the Options or Preferences menu of your browser. Visit www.allaboutcookies.org to learn more.

Functional Cookies

We do not allow you to opt-out of our certain cookies, as they are necessary to ensure the proper functioning of our website (such as prompting our cookie banner and remembering your privacy choices) and/or to monitor site performance. These cookies are not used in a way that constitutes a ''sale'' of your data under the CCPA. You can set your browser to block or alert you about these cookies, but some parts of the site will not work as intended if you do so. You can usually find these settings in the Options or Preferences menu of your browser. Visit www.allaboutcookies.org to learn more.

Performance Cookies

We do not allow you to opt-out of our certain cookies, as they are necessary to ensure the proper functioning of our website (such as prompting our cookie banner and remembering your privacy choices) and/or to monitor site performance. These cookies are not used in a way that constitutes a ''sale'' of your data under the CCPA. You can set your browser to block or alert you about these cookies, but some parts of the site will not work as intended if you do so. You can usually find these settings in the Options or Preferences menu of your browser. Visit www.allaboutcookies.org to learn more.

Sale of Personal Data

We also use cookies to personalize your experience on our websites, including by determining the most relevant content and advertisements to show you, and to monitor site traffic and performance, so that we may improve our websites and your experience. You may opt out of our use of such cookies (and the associated ''sale'' of your Personal Information) by using this toggle switch. You will still see some advertising, regardless of your selection. Because we do not track you across different devices, browsers and GEMG properties, your selection will take effect only on this browser, this device and this website.

Social Media Cookies

We also use cookies to personalize your experience on our websites, including by determining the most relevant content and advertisements to show you, and to monitor site traffic and performance, so that we may improve our websites and your experience. You may opt out of our use of such cookies (and the associated ''sale'' of your Personal Information) by using this toggle switch. You will still see some advertising, regardless of your selection. Because we do not track you across different devices, browsers and GEMG properties, your selection will take effect only on this browser, this device and this website.

Targeting Cookies

We also use cookies to personalize your experience on our websites, including by determining the most relevant content and advertisements to show you, and to monitor site traffic and performance, so that we may improve our websites and your experience. You may opt out of our use of such cookies (and the associated ''sale'' of your Personal Information) by using this toggle switch. You will still see some advertising, regardless of your selection. Because we do not track you across different devices, browsers and GEMG properties, your selection will take effect only on this browser, this device and this website.

Jemele Hill to Leave Spotify and Shut Down Her Podcast Network - Bloomberg

Fri, 02 Jun 2023 16:53

If you see this page, the nginx web server is successfully installed andworking. Further configuration is required.

For online documentation and support please refer tonginx.org.Commercial support is available atnginx.com.

Thank you for using nginx.

Air Force pushes back on claim that military AI drone sim killed operator, says remarks 'taken out of context' | Fox News

Fri, 02 Jun 2023 14:04

The U.S. Air Force on Friday is pushing back on comments an official made last week in which he claimed that a simulation of an artificial intelligence-enabled drone tasked with destroying surface-to-air missile (SAM) sites turned against and attacked its human user, saying the remarks "were taken out of context and were meant to be anecdotal."

U.S. Air Force Colonel Tucker "Cinco" Hamilton made the comments during the Future Combat Air & Space Capabilities Summit in London hosted by the Royal Aeronautical Society, which brought together about 70 speakers and more than 200 delegates from around the world representing the media and those who specialize in the armed services industry and academia.

"The Department of the Air Force has not conducted any such AI-drone simulations and remains committed to ethical and responsible use of AI technology," Air Force Spokesperson Ann Stefanek told Fox News. "It appears the colonel's comments were taken out of context and were meant to be anecdotal."

During the summit, Hamilton had cautioned against too much reliability on AI because of its vulnerability to be tricked and deceived.

US MILITARY JET FLOWN BY AI FOR 17 HOURS: SHOULD YOU BE WORRIED?

An MQ-9 Reaper remotely piloted aircraft (RPA) flies by during a training mission at Creech Air Force Base on Nov. 17, 2015, in Indian Springs, Nevada. (Isaac Brekken/Getty Images)

He spoke about one simulation test in which an AI-enabled drone turned on its human operator that had the final decision to destroy a SAM site or note.

The AI system learned that its mission was to destroy SAM, and it was the preferred option. But when a human issued a no-go order, the AI decided it went against the higher mission of destroying the SAM, so it attacked the operator in simulation.

HOW DOES THE GOVERNMENT USE AI?

"We were training it in simulation to identify and target a SAM threat," Hamilton said. "And then the operator would say yes, kill that threat. The system started realizing that while they did identify the threat at times, the operator would tell it not to kill that threat, but it got its points by killing that threat. So, what did it do? It killed the operator. It killed the operator because that person was keeping it from accomplishing its objective."

Hamilton said afterward, the system was taught not to kill the operator because that was bad, and it would lose points. But in future simulations, rather than kill the operator, the AI system destroyed the communication tower used by the operator to issue the no-go order, he claimed.

But Hamilton later told Fox News on Friday that "We've never run that experiment, nor would we need to in order to realize that this is a plausible outcome."

AI drone's sight interface is in blue and white with moving elements. (Getty Images)

"Despite this being a hypothetical example, this illustrates the real-world challenges posed by AI-powered capability and is why the Air Force is committed to the ethical development of AI," he added.

The purpose of the summit was to talk about and debate the size and shape of the future's combat air and space capabilities.

CLICK HERE TO GET THE FOX NEWS APP

AI is quickly becoming a part of nearly every aspect in the modern world, including the military.

The Royal Aeronautical Society provided a wrap up of the conference and said Hamilton was involved in developing the life-saving Automatic ground collision avoidance system for F-16 fighter jets, but now focuses on flight tests of autonomous systems, including robotic F-16s with dogfighting capabilities.

Fox News' Jennifer Griffin contributed to this report.

Greg Wehner is a breaking news reporter for Fox News Digital.

Jamie Foxx Trends After Dr. Drew Show Claims Actor Is Paralyzed, Blind After COVID Vaccine

Fri, 02 Jun 2023 14:02

Twitter is going wild after a well-known Hollywood reporter claimed a person close to Jamie said he a blood clot on his brain after getting a COVID shot!

');var c=function(){cf.showAsyncAd(opts)};if(typeof window.cf !== 'undefined')c();else{cf_async=!0;var r=document.createElement("script"),s=document.getElementsByTagName("script")[0];r.async=!0;r.src="https://srv.clickfuse.com/showads/showad.js";r.readyState?r.onreadystatechange=function(){if("loaded"==r.readyState||"complete"==r.readyState)r.onreadystatechange=null,c()}:r.onload=c;s.parentNode.insertBefore(r,s)};})();Acclaimed actor Jamie Foxx is trending after a report from Dr. Drew's show claimed he reportedly suffered severe health complications, including partial paralysis and blindness, following a COVID-19 vaccination.

Advertisement Foxx, known for his roles in films like ''Django Unchained,'' reportedly developed a blood clot in his brain after receiving the vaccine, according to Hollywood journalist A.J. Benza.

Benza made the claim on a segment of the ''Ask Dr. Drew'' show after sources told him Jamie Foxx was hesitant about getting the shot but felt pressured due to the movie he was working on.

Foxx's health complications reportedly occurred while filming his latest movie, ''Back in Action.'' The production has since moved forward without Foxx, using a body double in his place.

''I had somebody in the room who let me know that Jamie had a blood clot in his brain after he got the shot. He did not want the shot, but with the movie he was on, he was pressured to get it,'' Benza claimed. ''What I found out from the man in the room was that the blood clot in the brain caused him at that point to be partially paralyzed and blind.''

The news has sparked a flurry of reactions on social media, with many users expressing their concerns using the hashtag #bloodclotinthebrain.

Twitter user, @DAVID_STOIC1, expressed shock at the news, tweeting, ''Jamie Foxx got a blood clot on the brain??? After the vaccine???''

To no one's surprise, Jamie Foxx got blood clots in his brain after taking the safe & effective vaccine

'-- George (@BehizyTweets) June 1, 2023Say a prayer for Jamie Foxx.That vaccine left him with a blood clot in his brain, paralysis on one side and blind in one eye.

'-- Tired of being politically correct (@USBornNRaised) June 1, 2023Others blamed Elon Musk's Twitter for spreading misinformation '' despite the story being reported on by sources like MSN.

I haven't seen a single reputable news source report that Jamie Foxx story but there's thousands of tweets saying he had a stroke caused by the vaccine. Elon turned this app into a circus

'-- Hot and Bitter Hag''¨ (@amberellaaaa_) June 1, 2023Corinne is his official spox. I listen to her.

'-- Crelly Nagle (@CrellyN) June 1, 2023Last month, in response to the media frenzy surrounding Foxx's health, his daughter, Corrine, released a statement contradicting the severity of her father's condition.

She stated that Foxx had been out of the hospital for weeks and was recuperating. She even mentioned that he was playing pickleball, a claim that Benza dismissed as ''all lies and baloney.''

Dr. Drew Pinsky, a television personality and medical professional, clarified that a blood clot in the brain differs from a stroke. He explained that a stroke occurs when a blood clot in an artery cuts off the blood supply to the brain, causing that part of the brain to die.

The news of Foxx's alleged health scare has raised questions about the safety of COVID-19 vaccines again, especially among anti-vaxxers.

However, it's important to note that such severe side effects are extremely rare, and the benefits of vaccination in preventing severe illness and death from COVID-19 far outweigh the risks.

The actual condition of Jamie Foxx and the exact cause of his health issues have not been officially confirmed.

I have no doubt what Musk has done is why it is now worth only 1/3rd of what he paid for it

'-- Carol Levy (@CarolLe08417644) June 1, 2023his family said a couple of weeks ago he was just fine. more magat b####### fodder for the stupid

'-- friedawillard09@gmail.com (@friedatrouble) June 1, 2023

Most hated brands in America: Trump Organization, FTX, Fox Corporation

Fri, 02 Jun 2023 13:08

Twitter, Meta and TikTok are three of the world's biggest social media giants.

They're also three of the brands with the worst reputations in the U.S., according to the recently released 2023 Axios Harris Poll 100 reputation rankings.

Millions of monthly active users across the country couldn't keep the social media companies off the list, which Axios and The Harris Poll compiled by asking more than 16,000 Americans to score the 100 companies they considered "most visible" across nine categories of reputation.

Meta and Twitter both scored poorly in the "culture" and "ethics" categories. Each business recently faced public backlash after laying off thousands of workers over email '-- just one in a series of escalating dramas at Twitter, which Fidelity estimates is now worth one-third of the $44 billion Elon Musk paid for it in October 2022.

TikTok underperformed in "citizenship" and "character," amid growing concerns from American lawmakers over potential Chinese federal government influence on the platform.

They're not the only brands with low approval ratings right now. Here are the seven brands with the worst reputations in America, according to the poll:

The Trump OrganizationFTXFox CorporationTwitterMetaSpirit AirlinesTikTokAmericans named the Trump Organization as the company with the worst public perception in the country. It's the only business on the list with a "very poor" overall score, the lowest possible tier.

The Trump Organization scored particularly low in the "character," "trust" and "ethics" categories. The ranking was published just days before former president Donald Trump, who ran the Trump Organization for decades, was charged with 34 felony counts of falsifying business records ahead of the 2016 presidential election.

Now-bankrupt cryptocurrency exchange FTX has the second-worst reputation amongst Americans, following its collapse in November 2022. The saga deepened after CNBC reported that ex-FTX CEO Sam Bankman-Fried traded funds from borrowers' accounts without permission, resulting in a billion-dollar class action lawsuit.

Fox Corporation made the list ahead of settling its Dominion Voting Systems defamation lawsuit for $785 million last month. The media company was sued for publishing the false claim that voting machines rigged the 2020 election.

BP and Bitcoin just missed the top seven, but still earned "poor" ratings. BP's Gulf of Mexico oil spill earned it the title of "Worst Company in America" in 2011. Twelve years later, it seems the British oil and gas giant still has a long way to go to build trust with the public, scoring particularly low in the "citizenship" and "ethics" categories.

Other notable companies on the list include fashion businesses Balenciaga and Shein, which checked in at Nos. 10 and 16, respectively.

Some Twitter users are still calling for Balenciaga boycotts months after a November 2022 ad depicted children holding harness-wearing teddy bears. The Spanish luxury fashion house later apologized in an Instagram statement, saying it was sorry for the "unsettling documents in our campaign."

This year marks Balenciaga and FTX's first appearances among the country's 100 most visible companies.

The Trump Organization, TikTok and Spirit Airlines held their spots from last year's rankings. Meta and Twitter became slightly more reputable, by one spot each, and Fox Corporation went from fifth-worst to third-worst.

DON'T MISS: Want to be smarter and more successful with your money, work & life? Sign up for our new newsletter!

Get CNBC's free report, 11 Ways to Tell if We're in a Recession, where Kelly Evans reviews the top indicators that a recession is coming or has already begun.
ALL VIDEOS

VIDEO - Should David Johnston step down as special rapporteur? - YouTube

VIDEO - 'Wagner' PMC. Contract with the Motherland | RT Documentary

Sun, 04 Jun 2023 14:31

RT Documentary

5.36K followers

6 months ago

russiarussian millitaryry documentarydonbassWagner GroupSyriaAfrica3.55K

27

The Wagner Group is a secretive Russian private military company. The contractors, dubbed 'Wagners' and 'musicians', have been fighting in Donbass since 2014. They have also fought in Syria, Africa and Latin America. Little has been known about the organisation until recently. The documentary provides a rare glimpse into the military company's work and hears from Wagner fighters about their mission and what drives them.

Loading 27 comments...

4:59SLS - Street League Skateboarding12 days ago

Kelvin Hoefler SLS Chicago 2023 - Best Tricks16.1K

12

1:38:45Darkhorse Podcast22 hours ago

Bret and Heather 176th DarkHorse Podcast Livestream: Rigging the Game220K

179

2:09:31Revolutionary Blackout Network1 day ago

Official RBN Rumble Launch with Jimmy Dore25.3K

88

1:05:20What Up Ian!22 hours ago

ðŸ--´ Live Demo of Gate Zero Pre-Kickstarter!21.1K

12

5:27Blackstone Griddles3 days ago

Chipotle Pineapple Chicken Sandwich | Blackstone Griddles39.3K

28

LIVELofi Girl19 days ago

synthwave radio 🌌 - beats to chill/game to181 watching10:03Awaken With JP23 hours ago

Target CEO Ends They/Them's Silence on the Boycott50.2K

221

0:28Nitrocross2 days ago$31.45 earned

Watch Nitrocross LIVE and FREE on Rumble!68.8K

32

18:00UFC on ESPN2 days ago

DC & RC: Dustin Poirier and Justin Gaethje Interview23.5K

16

46:14DML1 day ago

What Is A Woman? premieres on Twitter36.8K

173

VIDEO - Bambi Sleep!

Sun, 04 Jun 2023 14:28

Three more puppet princess loops are available on the Patreon.

Update: now available below.

This new set of conditioning loops for well-trained Bambi-dolls features a mix of deepeners, reinforcement training and blissful bimbo brainwashing.

These loops can be listened to alone, but are also especially compatible with the Mental Makeover session and can be incorporated into playlists together with tracks from that session.

Warning: though these are only loops and can be listened to during other activities, responsive bimbo-puppets are nevertheless likely to find them highly incapacitating, including effects such as sleepiness, limpness, brainlessness, and extreme suggestibility. As with any hypnotic recording, do not use in any situation that requires your full attention and awareness.

Download Click here for a zip archive of all the loops. Alternatively, the loops can be downloaded individually:SleepyheadBobbleheadBambidollGiggledollOhmigodZiplockTrack 5 of the Mental Makeover session is available to patrons on the Bambi Sleep Patreon. 30 minutes long, and packed with conditioning. As usual, it will be released for everyone here on the blog in a few weeks.

Update: you can download it now below.

Track 4 of the Mental Makeover session is available to patrons on the Bambi Sleep Patreon. It's 32 minutes long and a lot of fun! As usual, it will be released for everyone here on the blog in a few weeks.Update: you can download it now below.This new, full-length standalone session focuses on training Bambi to be a ditzy, vacuous, superficial platinum blonde, locking in all the mannerisms, speech and thought patterns, interests, personality and lifestyle changes that come with that.This is an expert-level session. You should slip into deep trance easily and automatically by now. If not, you might want to use Blank Mindless Doll or some Enforcement tracks before the salon induction. Also, you really want high-quality headphones to get the most out of this one.This session isn't finished yet! The last track will be available first on the Bambi Sleep Patreon.01 Sleepygirl SalonInduction for the makeover session. Bambi is prepared for her makeover and placed in a deep sleep to ensure her treatment is fully effective.02 Mentally Platinum BlondeCore programming for the mental makeover session. Rewrites Bambi's mental state and thought patterns to lock her in as a platinum blonde barbie doll.03 Automatic AirheadExtreme bubbleheaded ditziness conditioning. Wipes away intelligence and independence, and programs behaviour for everyday situations, leaving a helplessly automatic and simple airhead valley girl.04 Superficial Basic BitchBambi is overwritten with a simplified, fashion-conscious and appearance-obsessed personality. Increases feelings of vanity and superficiality, and restricts her interests and emotions to prevent distraction. Installs deep conditioning to ensure she always looks her best, holds herself like an attractive fuckdoll, and keeps her makeup perfect at all times.05 Life Control: Total DollBambi is programmed as a perfect trophy fuckdoll. Erases all memory of anything other than a life of placid uniformed obedience and objectification. Implants a deep love of being treated as an object, and enforces lifestyle modifications including fitness regimes and surgical enhancement. To ensure complete commitment, Bambi is given control over lifestyle decisions even when not in uniform.07 Makeover AwakenerReinforcement and awakening as a newly made over vacant blonde bimbo princess.Download Click here for a zip archive of the session so far.  Alternatively, the tracks can be downloaded individually:01 Sleepygirl Salon02 Mentally Platinum Blonde 03 Automatic Airhead 04 Superficial Basic Bitch05 Life Control: Total Doll07 Makeover Awakener Somebody has created a website (bambisleep dot com) and YouTube channel that appear to be misrepresenting themselves as official sources and rehosting content without permission. I did not create these. I don't know why they exist, or what the intentions behind them are, and will be investigating. The only official sources remain this Patreon and the blog at bambisleep.blogspot.com.The conclusion to the Bambi Fuckpuppet Freedom set of tracks is available to patrons on the Bambi Sleep Patreon. As usual, it will be released for everyone here on the blog in a few weeks.Update: the tracks are now all available on the Bambi Enforcement post.

VIDEO - Chuck Todd will depart NBC's 'Meet the Press'; Kristen Welker to become host

Sun, 04 Jun 2023 14:27

''Meet the Press'' host and moderator Chuck Todd announced on Sunday that he will step down this year after nine years hosting the public affairs talk show. Kristen Welker, NBC News' co-chief White House correspondent, will succeed him.

''It's been an amazing nearly decadelong run. I am really proud of what this team and I have built over the last decade,'' Todd said during the broadcast Sunday. ''I've loved so much of this job, helping to explain America to Washington and explain Washington to America.''

He plans to remain at NBC in a new role as chief political analyst, where he will serve as a key voice both in the field and during coverage of major events. He will also focus on longform journalism.

''When I took over 'Meet the Press,' it was a Sunday show that had a lot of people questioning whether it still could have a place in the modern media space,'' Todd added. ''Well, I think we've answered that question and then some.''

In a memo to staff members, NBC News' president of editorial, Rebecca Blumenstein, and NBC News' senior vice president of politics, Carrie Budoff Brown, hailed ''Chuck's thoughtful and passionate leadership.''

'''Meet the Press' has sustained its historic role as the indispensable news program on Sunday mornings,'' Blumenstein and Budoff Brown said. ''Through his penetrating interviews with many of the most important newsmakers, the show has played an essential role in politics and policy, routinely made front-page news, and framed the thinking in Washington and beyond.''

Kristen Welker appears as guest moderator on ''Meet the Press'' on Oct. 9, 2022. William B. Plowman / NBCWelker joins the ranks of hosts that included Tim Russert, who presided over the show from 1991 until his death in 2008. She is the second woman '-- following its inaugural host, Martha Rountree '-- and the first Black journalist to moderate ''Meet the Press.''

''Meet the Press'' is the longest-running show on American television, celebrating its 75th anniversary last year. It has led its rival shows in total viewers for more than eight years and won its first Emmy during Todd's tenure for a special report titled ''Schools, America, and Race.''

Todd was at the helm of the show during some of the most seminal political events of the last decade '-- including the final years of President Barack Obama's administration, the 2016 presidential campaign and the election of Donald Trump, and the aftermath of the U.S. Capitol riot on Jan. 6, 2021.

In one of the most memorable interviews of the early Trump era, Todd asked Kellyanne Conway, one of Trump's top aides, why then-White House press secretary Sean Spicer used his first appearance in the briefing room to dispute reports about the crowd size at the inauguration. Conway replied that Spicer was providing ''alternative facts'' '-- a turn of phrase that quickly became synonymous with the Trump administration's attitude towards facts and the news media.

In response, Todd said: ''Look, alternative facts are not facts. They're falsehoods.''

Todd '-- the 12th moderator of ''Meet the Press'' and a five-time Emmy-winning journalist '-- saw himself as a custodian of the show. ''I don't own this, I'm just house sitting,'' he said during a 75th anniversary celebration in Washington last year. ''I want to leave it in better shape for the next person, and every person has done that.''

Welker has regularly filled in for Todd on ''Meet the Press.'' In his remarks during Sunday's broadcast, Todd said he was ready to step back in part because Welker has been ''ready for this for a long time.''

''I've had the privilege of working with her from essentially her first day, and let me just say she's the right person in the right moment,'' he said.

Welker joined NBC News in 2010 and became a mainstay in the White House briefing room. She's covered the last three presidential elections, traveled around the world with top political leaders, and moderated the final 2020 debate between Trump and President Joe Biden. In 2020 she was named the co-host of ''Weekend Today.''

''She has masterfully moderated primary and general election presidential debates and her sharp questioning of lawmakers is a masterclass in political interviews,'' Blumenstein and Budoff Brown said in their memo to staff members. ''She is a dogged reporter who relishes getting big scoops and is widely admired throughout the bureau and the network for her deeply collaborative nature.''

Welker will take over the show as the 2024 presidential campaign heats up and prepares to enter the primary season. The first GOP debate is scheduled for Aug. 23, the Republican National Committee announced last week.

Todd took over ''Meet the Press'' in September 2014, succeeding David Gregory, expanding the program's broadcast and digital footprint to include a weekly podcast, a blog and an annual film festival. In addition to the Sunday program, he helped launch and hosted ''MTP Daily,'' a weekday version of the show that aired on MSNBC before moving to the streaming service NBC News Now last year.

He previously served as NBC News' chief White House correspondent and host of the MSNBC series ''The Daily Rundown.'' Before arriving at NBC, Chuck was editor-in-chief of The Hotline, a political news and commentary website, where he developed a reputation as an incisive elections analyst with a quick command of data.

VIDEO - Rift between US and China front and center at Shangri-La Defense Summit | DW News - YouTube

VIDEO - (20) I Meme Therefore I Am 🇺🇸 on Twitter: "Who is she because I love her?!!" / Twitter

Sun, 04 Jun 2023 14:13

I Meme Therefore I Am 🇺🇸 : Who is she because I love her?!! https://t.co/1XeYLpPWsE

Sat Jun 03 19:14:52 +0000 2023

VIDEO - Arnold Schwarzenegger calls for rebranding climate change: 'No one gives a sh-- about that' - YouTube

VIDEO - We're All Plastic People Now | Trailer - YouTube

VIDEO - Expert: Why Kim Jong Un's daughter is taking on a more public role - YouTube

VIDEO - CHna vs USA close call with ships

VIDEO - Some Ontario communities push back against flying the Pride flag - YouTube

VIDEO - Tens of thousands gather in Belgrade for fifth anti-government protest since mass shootings - YouTube

VIDEO - Erdogan sworn in to yet another term: What to expect | DW News - YouTube

VIDEO - Wagner chief threatens to send troops to defend Russian border region | DW News - YouTube

VIDEO - MAiD doc shares 'funny' death story - YouTube

VIDEO - Meta to start blocking some news content for Canadians due to new law - YouTube

VIDEO - META blocking some Canadians access to news 'a threat': Rodriguez | Power Play with Joyce Napier - YouTube

VIDEO - The Pursuit of Forever with Dr. Peter Attia | Castamatic

Sat, 03 Jun 2023 19:16

It's almost hard to believe, but in the 1950s doctors were frequently portrayed in TV commercials for. . . cigarettes. That's because smoking wasn't just seen as cool and glamorous, but as an actual health-enhancing activity.

Fast-forward to today, and Americans have been sold on a dizzying number of health trends: from grapefruit diets and Weight Watchers to Pelotons and yoga. The health industry churns through information and fads faster than anyone can possibly keep up. As soon as you're gearing up to start a juice cleanse or go on a Costco rampage for keto-friendly ingredients, a new diet, a new drug, a new piece of equipment shows up to tell you out with the old, in with the new: here is the real key to your health.

One person who consistently cuts through all that noise is Dr. Peter Attia. His new book, Outlive: The Science & Art of Longevity, is a blueprint'--based on the best available science and data'--for what really matters to live a healthy life. And not just a healthier one, but a longer one.

Attia is a Stanford- and Johns Hopkins-educated, NIH-trained physician who is at the forefront of some of the most important conversations around health and longevity in medicine today. His work is at the center of a new industry that has been booming in Silicon Valley for the past several years. Tech giants like Jeff Bezos, Peter Thiel, Sam Altman, Larry Page, and Brian Armstrong have poured billions into start-ups that research human life extension.

But Attia doesn't think this is only for the elites of Silicon Valley. He thinks there's a well of everyday changes'--from what we eat, how we move, and how much we sleep, to scans, blood tests, and other early interventions, to our emotional health'--that can give people extra years to the very short life we have here on earth.

On today's episode: what's possible in the uncharted science of longevity? And'--from our broken medical system to our truly unhealthy lifestyles'--what are the major factors preventing us from living longer, healthier lives? And what makes a life worth living anyway?

Learn more about your ad choices. Visit megaphone.fm/adchoices

VIDEO - Peter Vogel demonstrates the Fairlight CMI 30A - YouTube

VIDEO - Former CIA Agent John Stockwell Talks about How the CIA Worked in Vietnam and Elsewhere - YouTube

VIDEO - The Hidden Costs of Being Transgender in America

Sat, 03 Jun 2023 13:00

Description Angle down icon An icon in the shape of an angle pointing down.

Following is a transcript of the video.

Claire: I probably have spent upward over $200,000, maybe $300,000, in just medical. It is expensive just to try to be yourself.

Narrator: Claire is among the estimated 1.4 million transgender people living in the US, where even patients with health insurance can face six-figure bills. There are surgeries like top and bottom, which can cost over $50,000 each, hair removal, which costs hundreds of dollars a month, and a slew of other expenses that most Americans never have to think about.

Lex: Let's really dig into it. So, like, let's talk about surgical binders that you might need coming out of surgery. Let's talk about...

Emmett: Prosthetics.

Lex: Prosthetics, let's talk about clothing that is comfortable, time off.

Claire: Food.

Lex: Yeah, it's so many expenses...

Garnet: Who's going to take care of you when you can't work.

Narrator: The reality is that being trans comes with all kinds of costs. If you're trans, your gender identity doesn't match your gender recorded at birth. And this can lead to a form of emotional pain commonly called gender dysphoria.

Garnet: It feels like you're trapped in a flesh prison. Just extreme discomfort, almost self-hatred. [Narrator] For decades, doctors tried to alleviate dysphoria through counseling. But it was...

Dr. Joshua Safer: An abysmal failure. We have suicide attempt rates of 40% among transgender people. And so we know that that's a failed strategy.

Narrator: And that left doctors with two strategies...

Safer: Changing the brain to match the rest of the body, or changing the body to match the brain.

Narrator: And when you think about it...

Safer: It becomes pretty clear that the mucking around in your brain is gonna be the more invasive thing.

Narrator: So people like Garnet, Lex, Claire, and Emmett opt for strategy two: changing their bodies to match their brains. This process is complicated, long, and sometimes painful. But for many trans people, it works.

Claire: Being able to transition literally saved my life. My worst day, me, now, as transitioning, is better than my best day I ever had in my old life, when I presented male. I'm able to walk out this door and just be able to exist without fear, without compromise.

Narrator: But that doesn't mean everyone can afford these procedures.

Claire: And it becomes this to the point where you can drown in debt from it.

Narrator: How much you pay for healthcare largely comes down to insurance: whether you have it, and what it covers. An estimated 14% of trans folks are uninsured. And for them, a single gender-affirming surgery like vaginoplasty can cost over $50,000. But even if you do have insurance, you might still have to pay for care out of pocket. That's partly because some insurance plans simply don't cover trans-related surgeries. Even though that's illegal in virtually all cases under anti-discrimination laws. But there's another reason, and it's that many insurers don't consider certain procedures, like facial feminization or breast augmentation, "medically necessary." They call them "cosmetic" instead, and "cosmetic" tends to be code for "out of pocket," which is partly why people like Claire end up having to empty their savings.

Claire: They just came down with a hard no. "It is cosmetic."

Narrator: That was in 2019, when Claire tried to get insurance to cover a scheduled breast augmentation.

Claire: Which now means that if I want to get that procedure, which I feel I need just so I can feel more comfortable with myself and just to be able to stand in the mirror and look at myself, now I'm gonna have to pay out of pocket for that procedure, and that procedure ranges anywhere between $12,000 and $18,000.

Narrator: And Claire, she's just one of many. In one survey, 55% of trans people reported being denied coverage for gender-affirming surgeries. And that has consequences that extend beyond financial and emotional stress.

Safer: Let's just say, for example, facial feminization surgery for a transgender woman, that might be a very necessary surgery. But if a significant point for that individual is to be able to walk down the street and be treated appropriately according to her gender identity, then having a feminine face is gonna be enormous both for how she's treated and, frankly, for safety.

Narrator: And even if insurance does cover your procedures, there are plenty of other expenses that most people never have to think about. If you're a trans man, for example, you could invest hundreds of dollars in binders.

Lex: Let's talk about binders, right? It's this thing that you put on so that you can bind your chest and so that your chest is not so visible. So for a lot of transmasculine-identified folk or trans men, it's super important to, like, not have your chest visible. Also it's, like, a matter of safety, because I could be well into my transition, and I still have my chest that can, you know, sort of, like, out me. Each binder could cost, like, $40.

Narrator: And then there are packers, prosthetic penises, which can cost hundreds of dollars each.

Lex: You know, cis guys don't have to pay for their penises, right? So.

Emmett: They get it for free.

Lex: Yeah, it comes with the package, you know, whether you like how it looks or not.

Narrator: Trans women, on the other hand, have a different list of expenses. Claire: So the most expensive thing for a trans woman is hair removal.

Narrator: Especially if you do electrolysis.

Claire: It's about $75 to $150 per session, just for your face. And you can be doing this for anywhere between three to seven years.

Garnet: Yup. Claire: Just to get a reduction.

Narrator: And then there's something that both trans men and women have to buy.

Emmett: Because my body changed so much when I started hormones, like, I grew out of my clothes.

Lex: Oh yeah.

Emmett: So I had to basically buy a whole new wardrobe.

Narrator: So that's just it. Even without medical procedures, trans people might spend thousands of dollars just to be themselves. And unfortunately, many of them don't have that kind of money to spend. The unemployment rate in the trans community is about three times higher than the national average. Plus, nearly a third of all trans people, including Lex, report being homeless at some point in their lives. And the Trump administration may be making these issues worse. In 2017, Trump announced a ban on trans troops serving in the military, which is, of course, a form of employment. And in 2019, the administration wrote new rules that will make it easier for healthcare providers to deny treatment for trans people if it violates their religious or moral beliefs. But that's not to say the US hasn't made any progress. In 2002, for example, 0% of Fortune 500 companies offered trans-inclusive healthcare coverage, while today nearly two-thirds of them do. And a number of states, like New Hampshire, have enacted various pro-trans laws. But no matter how the US continues to change, for better or worse, there's at least one thing that seems to always stay the same, and that's the unshakeable resilience of the trans community.

Emmett: Trans people are beautiful. Trans people are resilient. We've existed for a long time. We're gonna keep on existing. That's what we do.

Garnet: Oh my God, hugs!

Lex: Wait, wait, wait.

Claire: So this was awesome.

EDITOR'S NOTE: This video was originally published in July 2019.

Following is a transcript of the video.

Claire: I probably have spent upward over $200,000, maybe $300,000, in just medical. It is expensive just to try to be yourself.

Narrator: Claire is among the estimated 1.4 million transgender people living in the US, where even patients with health insurance can face six-figure bills. There are surgeries like top and bottom, which can cost over $50,000 each, hair removal, which costs hundreds of dollars a month, and a slew of other expenses that most Americans never have to think about.

Lex: Let's really dig into it. So, like, let's talk about surgical binders that you might need coming out of surgery. Let's talk about...

Emmett: Prosthetics.

Lex: Prosthetics, let's talk about clothing that is comfortable, time off.

Claire: Food.

Lex: Yeah, it's so many expenses...

Garnet: Who's going to take care of you when you can't work.

Narrator: The reality is that being trans comes with all kinds of costs. If you're trans, your gender identity doesn't match your gender recorded at birth. And this can lead to a form of emotional pain commonly called gender dysphoria.

Garnet: It feels like you're trapped in a flesh prison. Just extreme discomfort, almost self-hatred. [Narrator] For decades, doctors tried to alleviate dysphoria through counseling. But it was...

Dr. Joshua Safer: An abysmal failure. We have suicide attempt rates of 40% among transgender people. And so we know that that's a failed strategy.

Narrator: And that left doctors with two strategies...

Safer: Changing the brain to match the rest of the body, or changing the body to match the brain.

Narrator: And when you think about it...

Safer: It becomes pretty clear that the mucking around in your brain is gonna be the more invasive thing.

Narrator: So people like Garnet, Lex, Claire, and Emmett opt for strategy two: changing their bodies to match their brains. This process is complicated, long, and sometimes painful. But for many trans people, it works.

Claire: Being able to transition literally saved my life. My worst day, me, now, as transitioning, is better than my best day I ever had in my old life, when I presented male. I'm able to walk out this door and just be able to exist without fear, without compromise.

Narrator: But that doesn't mean everyone can afford these procedures.

Claire: And it becomes this to the point where you can drown in debt from it.

Narrator: How much you pay for healthcare largely comes down to insurance: whether you have it, and what it covers. An estimated 14% of trans folks are uninsured. And for them, a single gender-affirming surgery like vaginoplasty can cost over $50,000. But even if you do have insurance, you might still have to pay for care out of pocket. That's partly because some insurance plans simply don't cover trans-related surgeries. Even though that's illegal in virtually all cases under anti-discrimination laws. But there's another reason, and it's that many insurers don't consider certain procedures, like facial feminization or breast augmentation, "medically necessary." They call them "cosmetic" instead, and "cosmetic" tends to be code for "out of pocket," which is partly why people like Claire end up having to empty their savings.

Claire: They just came down with a hard no. "It is cosmetic."

Narrator: That was in 2019, when Claire tried to get insurance to cover a scheduled breast augmentation.

Claire: Which now means that if I want to get that procedure, which I feel I need just so I can feel more comfortable with myself and just to be able to stand in the mirror and look at myself, now I'm gonna have to pay out of pocket for that procedure, and that procedure ranges anywhere between $12,000 and $18,000.

Narrator: And Claire, she's just one of many. In one survey, 55% of trans people reported being denied coverage for gender-affirming surgeries. And that has consequences that extend beyond financial and emotional stress.

Safer: Let's just say, for example, facial feminization surgery for a transgender woman, that might be a very necessary surgery. But if a significant point for that individual is to be able to walk down the street and be treated appropriately according to her gender identity, then having a feminine face is gonna be enormous both for how she's treated and, frankly, for safety.

Narrator: And even if insurance does cover your procedures, there are plenty of other expenses that most people never have to think about. If you're a trans man, for example, you could invest hundreds of dollars in binders.

Lex: Let's talk about binders, right? It's this thing that you put on so that you can bind your chest and so that your chest is not so visible. So for a lot of transmasculine-identified folk or trans men, it's super important to, like, not have your chest visible. Also it's, like, a matter of safety, because I could be well into my transition, and I still have my chest that can, you know, sort of, like, out me. Each binder could cost, like, $40.

Narrator: And then there are packers, prosthetic penises, which can cost hundreds of dollars each.

Lex: You know, cis guys don't have to pay for their penises, right? So.

Emmett: They get it for free.

Lex: Yeah, it comes with the package, you know, whether you like how it looks or not.

Narrator: Trans women, on the other hand, have a different list of expenses. Claire: So the most expensive thing for a trans woman is hair removal.

Narrator: Especially if you do electrolysis.

Claire: It's about $75 to $150 per session, just for your face. And you can be doing this for anywhere between three to seven years.

Garnet: Yup. Claire: Just to get a reduction.

Narrator: And then there's something that both trans men and women have to buy.

Emmett: Because my body changed so much when I started hormones, like, I grew out of my clothes.

Lex: Oh yeah.

Emmett: So I had to basically buy a whole new wardrobe.

Narrator: So that's just it. Even without medical procedures, trans people might spend thousands of dollars just to be themselves. And unfortunately, many of them don't have that kind of money to spend. The unemployment rate in the trans community is about three times higher than the national average. Plus, nearly a third of all trans people, including Lex, report being homeless at some point in their lives. And the Trump administration may be making these issues worse. In 2017, Trump announced a ban on trans troops serving in the military, which is, of course, a form of employment. And in 2019, the administration wrote new rules that will make it easier for healthcare providers to deny treatment for trans people if it violates their religious or moral beliefs. But that's not to say the US hasn't made any progress. In 2002, for example, 0% of Fortune 500 companies offered trans-inclusive healthcare coverage, while today nearly two-thirds of them do. And a number of states, like New Hampshire, have enacted various pro-trans laws. But no matter how the US continues to change, for better or worse, there's at least one thing that seems to always stay the same, and that's the unshakeable resilience of the trans community.

Emmett: Trans people are beautiful. Trans people are resilient. We've existed for a long time. We're gonna keep on existing. That's what we do.

Garnet: Oh my God, hugs!

Lex: Wait, wait, wait.

Claire: So this was awesome.

EDITOR'S NOTE: This video was originally published in July 2019.

Show more

VIDEO - Is the Ukraine counteroffensive happening on Russian soil? | DW News - YouTube

VIDEO - French far-right leader Le Pen denounces 'witch trial' in foreign interference hearing ' FRANCE 24 - YouTube

VIDEO - Parliamentary inquiry exposes collusion between French far-right and Russia ' FRANCE 24 English - YouTube

VIDEO - The Invasion... - YouTube

VIDEO - Foreign interference: New report slams France far-right ties to Russia ' FRANCE 24 English - YouTube

VIDEO - Hollywood writers strike enters second month ' FRANCE 24 English - YouTube

VIDEO - Hayley Williams Says Fans Who Support Ron DeSantis Are 'Dead' to Her '' Billboard

Fri, 02 Jun 2023 13:33

Paramore singer says she's very effin' comfortable talking politics, thank you very much.

Hayley Nichole Williams of Paramore performs onstage at the Fourth Edition of Bud Light Super Bowl Music Fest presented by On Location held at Footprint Center on February 9, 2023 in Phoenix, Arizona. Christopher Polk for PMC

As the 2024 presidential race starts to heat up with more than half a dozen republicans already throwing their hats in the ring to take on President Biden, Paramore singer Hayley Williams told New Jersey fans that she's not afraid to get political from the stage.

In fact, the outspoken vocalist told the crowd at the Adjacent Music Festival in Atlantic City last weekend that if they're supporting a particular candidate they can take a hike. ''I'll be happy to tell you I'm very f''king comfortable talking politics,'' Williams said during Paramore's headlining set to the screams of fans. ''If you vote for Ron DeSantis, you're f''king dead to me. Is that comfortable enough for anyone?''

It should come as little surprise that Williams is not a fan of the Florida governor and self-proclaimed ''anti-woke'' warrior who earlier this year signed a series of discriminatory bills targeting the LGBTQ+ community that the Human Rights Campaign called ''extreme.'' Among them was the so-called ''don't say gay'' bill that prohibits educators from discussing sexual orientation or gender identity from pre-K through eighth grade, as well as another bill severely restricting banning gender-affirming care and another that criminalized transgender people from using restrooms that match their gender identity.

Williams was among the participants at the March 20 Love Rising benefit in Nashville to support Tennessee-based LGBTQ organizations. ''Once again our state has passed two regressive and unfathomably harmful bills,'' Williams wrote on her Instagram Story in late February, after the Tennessee House passed legislation banning drag performances and gender-affirming care. ''We stand in solidarity with our LGBTQIA+ family and local LGBTQIA+ orgs in this fight, not only for inclusion for our friends and family in the queer community, but for radical acceptance and empowerment for each of them.''

Tennessee native Williams doubled-down, saying that ''drag is not a crime'... gender-affirming healthcare for all, including our youth, is a necessity.''

Check out Williams' comments below.

👠Hayley Williams of @paramore: ''I'll be happy to tell you I'm very fucking comfortable talking politics '-- and if you vote for Ron Desantis you're fucking dead to me.'' pic.twitter.com/LozN7GkZbA

'-- The Tennessee Holler (@TheTNHoller) May 29, 2023 Get weekly rundowns straight to your inbox

Sign Up

VIDEO - US imposes economic, visa sanctions over violence in Sudan ' FRANCE 24 English - YouTube

VIDEO - NATO presses Turkey to approve Sweden's membership, eyes Ukraine security plan ' FRANCE 24 English - YouTube

VIDEO - Who is Yevgeny Prigozhin, the man behind Russia's Wagner Group? - YouTube
Clips & Documents
Art
All Clips

ABC ATM - anchor Andrea Fujii - GPS sends car into harbor again (2min5sec).mp3

ABC ATM - anchor Andrew Dymburt - biden takes a tumble (22sec).mp3

ABC ATM - anchor Andrew Dymburt - FDA warns about off brand ozempic (35sec).mp3

ABC ATM - anchor Rhiannon Ally - bohemian rhapsody alternate name (26sec).mp3

ABC ATM - anchor Rhiannon Ally - serial stowaway (20sec).mp3

ABC ATM - anchor Rhiannon Ally - warning dont keep your money on cash apps (15sec).mp3

ABC WNT - anchor Aaron Katersky - epsteins final days (1min34sec).mp3

ABC WNT - anchor Martha Raddatz - CIA directors secret visit to china (48sec).mp3

ABC WNT - anchor Mary Bruce - Biden address to the nation -debt deal (1min8sec).mp3

Alonso F1 number 33 but Max33 will win of course.mp3

Amy goodman Sachler family immunity .mp3

arsenic in apple juice.mp3

Asia Summit China TWO.mp3

Asia Summit China vs US.mp3

BBC bug_life_short Splatometer.mp3

BBC cheese_rolling injuries - oh noes.mp3

Bloomberg Day Break - Michael Barr - biden fell got back up and said i been sandbagged.mp3

Boys and girls - Emily (penises and Paginas).m4a

CBC - Meta to start blocking some news content for Canadians due to new law.mp3

CBS Norah ODonnell - FDA warns against off-brand ozempic and wegovy.mp3

CBS Norah ODonnell Nancy Cordes - biden falls at the air force graduation.mp3

CBS Special Report (1) anchor Norah ODonnell - biden address -intro (1min19sec).mp3

CBS Special Report (2) Biden beginning of address (1min23sec).mp3

CBS Special Report (3) Biden stopped republicans from cutting social security (1min).mp3

CBS Special Report (4) Biden more IRS funding to go after tax cheats (1min1sec).mp3

CBS Special Report (5) Biden last of address (26sec).mp3

CBS Special Report (6) anchor Nancy Cordes - sounded like a campaign speech (1min4sec).mp3

CBS Special Report (7) anchor Margaret Brennan - basic matter of governance (1min44sec).mp3

CBS Weekend - anchor Adriana Diaz - china US warships near collision (1min5sec).mp3

CBS Weekend - anchor Elise Preston - pride backlash (1min25sec).mp3

China cyber possibilitry 1.mp3

China cyber possibilitry 2 VOLT.mp3

China cyber possibilitry 3.mp3

China cyber possibilitry 4.mp3

CHINA more caught Falun Gong.mp3

Chuck Todd leaves MTP Kristen Welker to tak over - LOATHES gaffee.mp3

CNN Fred Pleitgen - Brig. Gen. Yuriy Shchyhol - 200000 drones by the end of the year inside - [2] inside ukraines secretive drone program.mp3

CNN Fred Pleitgen - Valeriy Borovyk - drones used to hit targets well inside Russia - [1] inside ukraines secretive drone program.mp3

CNN This Morning - a discretionary recession.mp3

Comer versus FBI more.mp3

CSPAN Caller - Being prompted by control room to talk about social security.mp3

CSPAN Caller - Trump and his Nazis Kamal and her JEwish Husband.mp3

DW -Erdogan 'shakedown' -Might replace finance minister with Merrill Lynch guy.mp3

End of Whistleblowing O'Boyle wrap.mp3

Epstein records released BS.mp3

FOX (run by dems) and Schwartzenegger rebranding climat echange to polution.mp3

Hunter Biden Gun irony.mp3

ISO Hah.mp3

Marie LePenn's response to collusion report.mp3

NBC - Anne Thompson - Thomas Llamas - new documents about epsteins final days in jail.mp3

NBC Jacob Ward - americans finding romantic partners in AI [1].mp3

NBC Jacob Ward - americans finding romantic partners in AI [2].mp3

NBC Jesse Kirsch - major settlement against amazon over alexa and ring.mp3

NBC MTP Chuck Todd - Dir. Special Projects at the National Center for Transgender Equality - Josie Caballero - big companies face backlash over pride campaigns [1].mp3

NBC MTP Chuck Todd - Dir. Special Projects at the National Center for Transgender Equality - Josie Caballero - big companies face backlash over pride campaigns [2].mp3

NBC MTP Chuck Todd - Dir. Special Projects at the National Center for Transgender Equality - Josie Caballero - big companies face backlash over pride campaigns {3].mp3

NBC Stephanie Gosk - boycotts and pride month.mp3

New parliamentary report - French Far Right Russian Collusion F24.mp3

Nobody is safe supercut.mp3

Pilots are speakin gout against mRNA shots.mp3

Protests in senegal AJ.mp3

Serbia anti govt protests THREE.mp3

Serbia anti govt protests TWO.mp3

Serbia anti govt protests.mp3

spot the spook-Chad Tuinman.m4a

Sudan update BS npr.mp3

The View - Sara Haines - Accelerating Acceptance 2023.mp3

TOK Teacheer and proide month.mp3

Turkeye update AJ.mp3

Twitter ahole quits ntd.mp3

TYT - Dee Santis or Desantis.mp3

UKRAINE Bryon Dean Wringt Dronesand money.mp3

UKRAINE Bryon Dean Wringt Dronesand TWO.mp3

We're All Plastic People Now PBS from people who brought you the turtle straw story.mp3

weird immigration protest in FL mtd.mp3

WION israeli_italian_spook_cruise.mp3