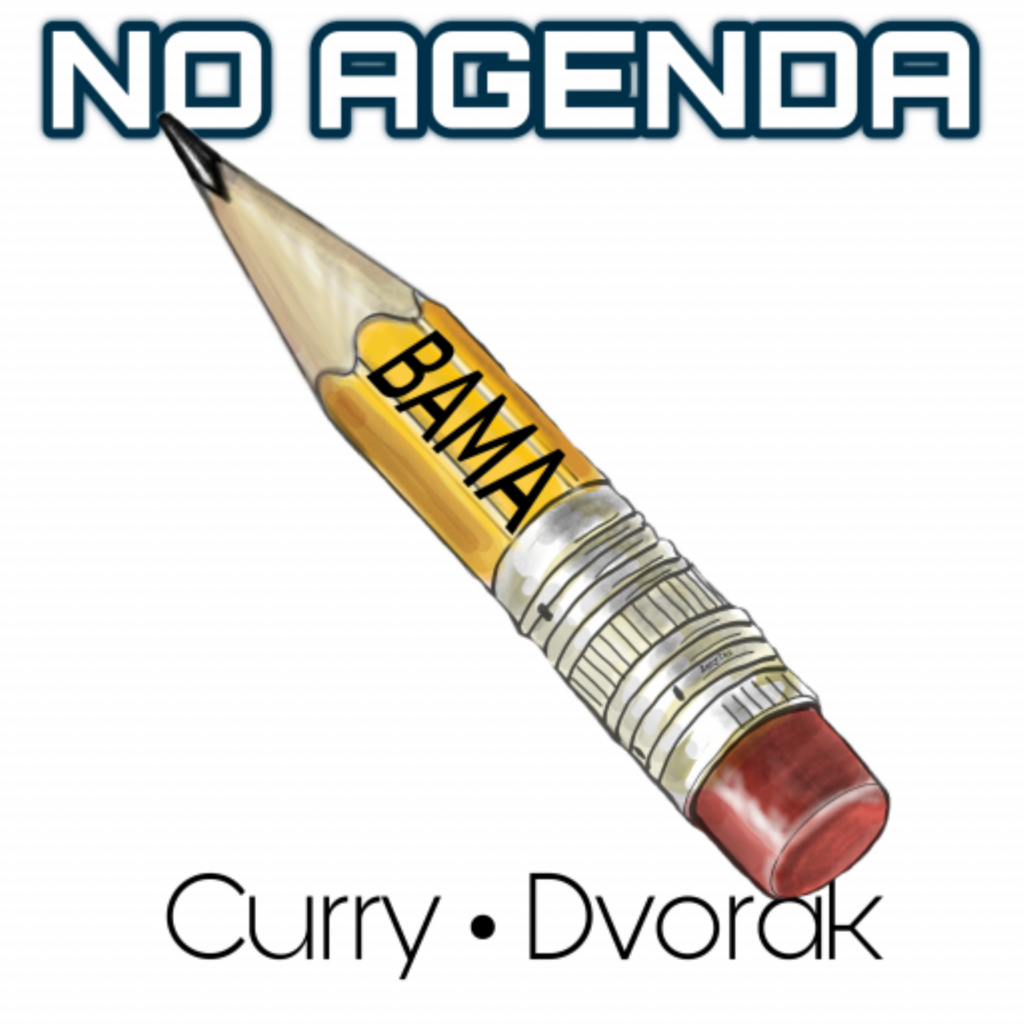 September 10th • 3h 12m
1589: Valudation
Transcript
The transcripts of No Agenda are automatically generated and therefore, not fully accurate. Discretion is advised.
Click the text to start playing from that position in the show. Click the timestamp to copy a direct link to that position to your clipboard in order to propagate the formula.
Adam Curry: Twice impeached quadruple indicted disgraced one
term president Adam curry Jhansi Devora September 10 2023 This is
your award winning give a nation media assassination episode
1598. This
Unknown: is no agenda,
Adam Curry: counting the corridors and broadcasting live
from the heart of the Texas hill country here in the Marines in
number six in the morning, everybody. I'm Adam curry
John C Dvorak: from Northern Silicon Valley where we're all
saying Go Niners and Jesse verax.
Adam Curry: Definitely not all saying Go Niners we're saying go
Silicon Valley. We are saying Go. Go watch that guy go anti
Vaxxer. Who's the anti Vaxxer guy who's playing the US Open
right now?
John C Dvorak: Kennedy know.
Adam Curry: What's not Kennedy? No. joke of it. joke of it.
Yeah. Now is he playing a Russian guy? So we've got a
Russian versus an anti vaxxers Playing this night. This shall
not stand. This is no good. We can't have that. That's not what
the elites of the world want. Teach it. We had a big storm
last night. And almost no rain.
John C Dvorak: Just a whopping bunch of lightning,
Adam Curry: lightning thunder winds. You know it was a
sandstorm because everything's so dry
John C Dvorak: here. Because usually we get lightning and get
some rain.
Adam Curry: I mean, a couple of drops. Just and the power went
out. I mean, of course, it only went out for a little bit here
at the at the compound as the generator kicked in. But I was
like, What are they doing to our weather? You know, they're
probably storing it all up to flood us out.
Unknown: Yeah, let's let them bastards.
Adam Curry: Change. Just climate change. Climate change? Yeah,
you bet. They're doing it everywhere. Yeah, they're not
here, Hong Hong Kong.
Unknown: It was an hour before midnight when record quantities
of rain fell in Hong Kong and southern China. Two images of
water overflowing and parking lots out of metro stations and
shopping malls know how severely the city was flooded air. 158.1
millimeters of rain fell in just one hour. The highest figure
since records began in 1884.
Adam Curry: I guess that climate change back then.
Unknown: Roads collapsed, and landslides blocked circulation.
Some residents had to queue after their drinking water
system broke down. The vast majority of the population
remained indoors and work from home Stock Exchange and schools
remained closed. Transportation was almost entirely canceled.
Yeah, they're
Adam Curry: gonna do this everywhere. When was this? This
was just last night or two days ago?
John C Dvorak: A bit of been two days ago, the stock market would
have been closed anyway on Saturday. Yeah.
Adam Curry: This there's so much weird news that just doesn't
that doesn't really make it anymore. I mean, we've become so
maybe jaded. Somehow, well, no, listen to it was this this is?
John C Dvorak: Let me see where it was the did you get my bonus
clip by the way? Yeah, I
Adam Curry: did. So this I mean, this is this I thought was a big
deal. But it has very little news about this overnight,
Unknown: a devastating earthquake hitting southern
Morocco killing more than 820 people and injuring many others.
Dramatic video showing homes completely destroyed entire
neighborhoods reduced to rubble.
Adam Curry: I mean, almost no news about that. Just heard
about it. Yeah, but not like rock drops. Biden.
John C Dvorak: Trump is bigger than an earthquake.
Adam Curry: There's your quote. There's your quote, man, the
maggot, the maggot country people they're worried about
him. Why? David, like, deep states not going to let them
live man. That that's what that's what I keep hearing.
John C Dvorak: Deep states not going to let them live as that's
like, I'm going
Adam Curry: to which I say you know, all hell will break loose.
It would really maybe it may be now that I think about it. Maybe
that's what's behind this very odd move from the New Mexico
governor. You follow this?
John C Dvorak: The New Mexico governor who I had high hopes
for instead of being the as being the the Kamala Harris, she
should have been the vice president. Cuz she's, you know,
kind of a go getter. She's ethnic, as she got a lot of
things going on, but she's asked to make what lose Grisham.
Adam Curry: She's ethnic.
John C Dvorak: She's Mexican, Grisham. Well, I'm not saying
her name is Say one hour cleaner.
Adam Curry: Okay, well, for those who missed it, this is the
most puzzling move I've ever seen a governor make
Unknown: Governor Michelle Lujan Grisham says gun violence in New
Mexico is a problem. gun deaths are
the leading cause of death for children one to 19 in Mexico.
From 2017 to 2020 143 children were killed by guns. 49% of
those were homicides. It stats
like those that led Governor Lujan Grisham to put in place a
public health order centered around gun violence. It asks
that no person other than officers shall possess guns at
public schools or parks. And that while transporting guns,
they must be in a locked container or have a trigger
lock. The governor also laying out how the order will affect
our state's open carry law.
So effective immediately. No person other than a law
enforcement officer, or licensed security officer shall possess a
firearm, either openly or concealed within cities or
counties.
Adam Curry: By the way, I like how she throws in there possess
possess is a little different from Carrie, but I think but
anyway, she says possess a firearm
Unknown: averaging 1000 or more violent crimes for 100,000. And
more than 90 Fire firearm related emergency department
visits.
According to those standards. Bernalillo County and
Albuquerque are the only two places in the state right now
that are under that part of this emergency order. But Governor
Lujan Grisham knows the order will likely face a legal
challenge, as some would argue it's unconstitutional to not
allow citizens to exercise the right to carry,
I can invoke additional powers. No constitutional right, in my
view, including my oath is intended to be absolute.
Adam Curry: I love that. This is great. And I have follow up
questions directly from the press conference because ABC
does not do a good job. I don't think
John C Dvorak: so she's saying nobody knows what to do about
this. Well,
Adam Curry: it seems straight up to me. where's the where's our
constitutional lawyers? She's saying it's a health emergency,
a health emergency because this
John C Dvorak: let's get everyone confused. She's pulled,
she's pulled a rabbit out of a hat. And everyone's thinking,
Oh, my God, this is going to this is terrible. Because you
can now say, anything's a health emergency, whatever it is, and
whatever it is, but she also
Adam Curry: in a weird way is claiming that safety is a
constitutional right. Is that so? I don't think that's
correct.
John C Dvorak: It has to be specifically laid out? I don't
think it is. Well, this is a clip of Rosa says the
Constitution is not absolute violation as
Adam Curry: far as the best one. So here's here's a clean this
one is by the way, of course it is. I cleaned this clip up with
our fabulous Adobe products. They should start paying us for
these endorsements. No, you know what? No products can make Bobby
the k sound good. So it none of it's actually really good. But
here's the journalist asking any journalist is even a little bit
irked by her he took
Unknown: an oath to the Constitution, his oath did
unconstitutional to sedate him cannot exercise you have pure
charity license,
with one exception. And that is if there's an emergency, and
I've declared an emergency for a temporary amount of time, I can
invoke additional powers.
Adam Curry: Is that true? is can a governor invoke those kinds of
powers outside the NGO that supersede the Constitution?
John C Dvorak: No, I'm not Dershowitz. Where's he? Oh, no,
Unknown: no constitutional right. In my view, including my
oath is intended to be absolute. There are restrictions on free
speech, there are restrictions on my freedoms, oh, in this
emergency, this 11 year old and all these parents who have lost
all these children, they deserve my attention to have the debate
about whether or not in an emergency, we can create a safer
environment, because what about their constitutional rights? I
took an oath to uphold those two. And if we ignore this
growing problem without being bold, that said to every other
New Mexican, you will rights are subrogated to theirs. And they
are not in my view.
Adam Curry: This is interesting. Your rights are sub obligated
subrogated What did you sublimate supplicated or
supplicated or sublimated but subrogated. Let's look at one of
Unknown: the three very finds who were there are a laws of
instant fire and so holiday right
But again, if I'm unsafe, who's standing up to that? Right? If
this climate, it's so out of control, somebody should do
something. I'm doing as much as I know, to do
Adam Curry: subrogated The act of binding underneath. So your
constitutional rights is, is underneath their constitutional
right, which I'm not sure which one she's referring to.
Unknown: Mountain, do you really think that criminals are going
to share this message and not carry a gun in Albuquerque on
the streets for 30 days?
No. And here's what I do think it's a pretty resounding
message.
Adam Curry: Oh, yeah. That's a message message. All right.
John C Dvorak: Dale is going to do is disarmed. And this is the
older when guns are outlawed, only outlaws will have a gun, of
course, basically, now, which is true. But I don't know what
she's doing here. She's making a name for herself. And she's
definitely getting into the liberal conversation. And maybe
they're maybe she's making a run for the vice presidents. You're
hoping to kick Campbell out. So
Adam Curry: she's trying to be dumber than Kamla. And that will
get her the vice president spot.
John C Dvorak: She's trying to be more Ultra ridiculously
liberal.
Adam Curry: Oh, man. Have you seen that Argentinian guy who's
running for President of Argentina? Javier Ortega
John C Dvorak: said the urgent or the Brazilian guy who's got a
prison Did you see the way he got out of prison? No, I
Adam Curry: didn't know how to get out.
John C Dvorak: There were two walls is a little five foot guy
and he jumped up and put in a kind of put himself a horizontal
to the earth and crawled up in a kind of like, in a flat fashion.
Between these two walls like some sort of an acrobat like
like one of those your man's you guys like
Adam Curry: spider man or? Yeah, totally
John C Dvorak: like spider man.
Adam Curry: No, although that is impressive. I'd like this column
the trump of Argentina.
John C Dvorak: Yeah, he's hobby Lea hate him. Oh, he's
Adam Curry: great. He, uh, we're only seeing translated
interviews but he's, he's like, the left hearts only want you
dead. The left heart keeps getting left towards left. He's
like they only want you dead. We have to wear and we're winning.
We're winning against them. This. We'll see. That's pretty
cool hairdo, though. I mean, I think I think that could be a
thing that Harry's got going on with, ya know, I'm sensitive. I
pick hits. This guy's a hit.
John C Dvorak: Right. You do pick hits up, especially when it
comes to Argentina.
Adam Curry: What does that mean? The Pope Pope. Yes, the Pope.
John C Dvorak: Boy, you don't even get your own back
references. Forgot about that. No, man.
Adam Curry: Well, this does bring something up, which which
has brought the show's credibility into question. Oh,
yeah. And it's you?
John C Dvorak: Well, okay, good.
Adam Curry: You specifically said gas prices would drop after
labor. I
John C Dvorak: didn't say what is never the day after they
tried to milk it as long as they can. It'll drop. Don't worry.
You said right. after Labor Day, it'll drop down. Well, it's
still right after Labor Day. In the scheme of things,
Adam Curry: there's no evidence anybody wants to use a mouse.
Come on, come on. I mean, it went up like 70 cents. The exact
opposite
John C Dvorak: was because the crude went up a little bit. A
little bit what's going on? Normally would have dropped I
don't know what's going on. They got something going on. Somebody
hates Biden. Did you get Did you hear Biden in Vietnam?
Adam Curry: Well, he was pretty much dead in Vietnam. He was
like, I got a clip of him doing the pony soldier.
John C Dvorak: I got it done. I got the ball. I got the bonus
clip with the one that's going around the neck. Okay.
Adam Curry: Is this the one we want to go to bed? Yeah, where
is it? What's the name of it?
John C Dvorak: What's the name? bonus clip. Is Biden says Biden.
Adam Curry: I mean, I know I saved it. But there's nothing
here titled Biden. That's so weird. Let me go get it again. I
mean, I got it. I saved it.
John C Dvorak: You saved it in the rolling
Adam Curry: envelope. Must be
John C Dvorak: my second one. Right? How crate otherwise known
as a folder? How
Adam Curry: crazy Am I one second? Don't Don't don't answer
the phone. Don't answer that question. Okay, bonus. Here. All
right. Here's the bonus clip.
Unknown: can wait for I see this file on my orders here. Yeah. I
have a game plan. He may have a game plan. He just hasn't shared
it with me. But I tell you what I know about you. I'm gonna go
to bed.
John C Dvorak: And he's been over there he soon went to
India, I'd like to send over there long enough that he
doesn't he should have be over any jet lag. So go to bed,
didn't he also what is he say something like that.
Adam Curry: Here's what I actually pray for, because I
pray for my enemies. I hope that one of these days, I do, I hope
that one of these days Biden just goes in his in this state
of mind. Whereas, like, when I go to bed where he says, you
know, I'm really sorry, I'm so corrupt. Yeah. I really believe
it on that Ukraine deal. I mean, I'm just corrupt. I'm so sorry.
That's what I'm I'm praying that he how much would that solve?
John C Dvorak: You want him to confess? Yes, I
Adam Curry: do. I want him to confess the in his in his old
age stupor, to just come out and say that would solve so much
everybody would like Oh, okay.
John C Dvorak: Well, he is a Catholic.
Adam Curry: There you go. There you go. That is
John C Dvorak: a big deal to me.
Adam Curry: Yes. Yes. He has to confess. It could happen. I'm
just saying
John C Dvorak: it could happen.
Adam Curry: Why not? Now, didn't Biden also go to Ukraine?
John C Dvorak: Live tonight? I know when?
Adam Curry: Listen, I think I think he did. I think he made a
surprise visit.
John C Dvorak: I think you got an old clip. No, I don't think
so President
Unknown: Biden
arriving in Poland after his historic and highly secretive
trip inside a warzone in Kyiv. Side by side with Ukraine's
President Solinsky.
This an old clip? It has to be we're learning more about the
John C Dvorak: world with a shot that guns off and play die
alarms in his book.
Adam Curry: Let me just hear how they're positioning this
Unknown: whole war about the risky operation that was months
in the making. President Biden giving the final sign off on
Friday. I guess it's
Adam Curry: all clip. I'm not sure why how this wound up in my
bin. But I do have Biden cashing in on Ukraine with political
John C Dvorak: destiny. That's an evergreen we call it.
Adam Curry: This is a political ad
Unknown: was the first time in modern history,
very significant moment on the world stage
that an American president went into a war zone not controlled
by the United States,
Adam Curry: I think I think they have they run the story. And
then they run the ad
Unknown: and nearly 40 hour journey in and out of Ukraine.
President Biden left Washington DC at 4am. On Sunday, he landed
in eastern Poland, and it took a nine and a half hour train to
key
he entered Ukraine under the cover of night. And in the
morning, Joe Biden walked shoulder to shoulder with our
allies. Yeah, war torn streets. Oh, yeah, standing up for
democracy. In a place where a tyrant is waging war to take an
air raid sirens blaring together
in the middle of a war zone, Joe Biden, what America is made of.
That's the quiet strength of a true leader. And back down to
the quiet string Biden. President.
I'm Joe Biden, and I approve this message.
Adam Curry: I love that that's the that's the quiet strength.
John C Dvorak: They should just have somebody should take that.
And over dub, you know, take the video out and put a bunch of
staggering Biden clips in there with the voiceover staying this
Adam Curry: they're making a big mistake with this. It is it's
kind of proven now that radio ads and I've got this from the
advertiser radio ad. Yeah, well, it's a radio or probably
Twitter, whatever. That if you're appealing to consumers,
the deep voice no longer works. This consumers aren't buying the
deep voice anymore.
John C Dvorak: Where'd you get this data?
Adam Curry: Um, I got it from how there was some podcasting,
you know. Radio survey. Yeah, that the deep void that you
know, they want wimpy high pitched voices women. Hi. Yeah,
that's exactly. Joe Biden. I did catch the American media. By the
way, I would say the American media or maybe all M five m of
course is nothing more than a brothel of intellectual
prostitutes. liable for
John C Dvorak: that one before the show
Adam Curry: Sure did. But at least I wrote it. Thank you.
John C Dvorak: caught them playing
Adam Curry: caught them in. What are you implying? caught them in
a big lie about Elon Musk.
John C Dvorak: Elon Musk stuff just under control.
Unknown: Here's the law. There are explosive new allegations
against billionaire Elon Musk concerning a secret order he
reportedly made affecting the war in Ukraine. According to a
new book by journalist Walter Isaacson. Musk ordered his
Starlink satellite network to be turned off near Crimea last year
to stop a Ukrainian attack on Russian warships. The author
reportedly writes the Ukrainian drones lost connectivity because
the internet was turned off. According to the book, Musk was
concerned about a quote mini Pearl Harbor and was worried
that Vladimir Putin might respond with nuclear weapons.
Musk has not responded yet to the claims.
Adam Curry: Okay, so now, the news model here is saying a
Reportedly, the book says that this took place. Now, where do
you put Walter Isaacson on the scale of credibility as an
author? He of course did the Steve Jobs book and what else
has he done?
John C Dvorak: I think he's done a lot of books done. So me
considering he runs or ran the Aspen Institute. He's worked.
He's on TV all the time Aspen
Adam Curry: Institute Oh, okay. Well, that says enough's enough,
doesn't it?
John C Dvorak: Well, the Aspen Institute says a lot. And we
have determined that he is writing books left and right,
and he doesn't have and by my estimation, he doesn't have time
to write one of these books, let alone all of them. So you have
to just make the assumption and I've made this assumption that
somebody else is writing the books for him. And it's not like
a ghost writer. It's like a team of writers in some place like
maybe at a Langley.
Adam Curry: Well, here's the here's the issue. So now I'm
listening to a Deutsche Avella report, which, as far as we are
concerned is Langley.
John C Dvorak: Langley, Langley, East
Adam Curry: Deutsche Avella that pick up Langley does dust dust
Langley, moist. And they bring on some expert pundit, so
military dude. And he, he tells the story a little differently.
Unknown: What do you make of this claim that Musk disabled
his company's Starlink satellite systems to thwart a Ukrainian
drone attack on Russian warships? I mean, what questions
does that raise for you?
The first one is how did Musk know that this attack was taking
place? And what he says is that he was asked to enable
satellites over Crimea, not disable them, didn't disable
them for Ukrainian purposes. And he refused that request on the
basis you that are bind. The second question, I would have it
this is no criticism, particularly if the Ukrainians
is what would they do in planning and operation making
the assumption they would have facilities that were in
question? The third interesting thing, by the way, is the
assumption behind all this is that Starlink, which certainly
has coverage over the rest of Ukraine does not seem to or did
not at that time, over Crimea itself. So lots of questions
there and no doubt the answers will feed out over the next few
days.
Adam Curry: Well, how about that? So he's not that he turned
it off. He was asked to turn it on. That's a little different
news model. How about that?
John C Dvorak: Yeah. Hey, this has become a big bone of
contention on the mastodon left leaning.
Adam Curry: Of course they hate it. I love Tesla's but I hate
Elon Musk is not a control. Yeah. Well, I mean, taking into
account that that Blinken is over there to protect his own
bot and his bosses bought because you know people are
starting to come out and say stuff I've got a wonder if if
dust dust Val to take a pickle factory East if they're not
trying to make some trouble that may be maybe Isaacson was told
to write something and maybe that was the initial idea but
they're turning the tables now because they're putting more
pressure on on Joe Biden for whatever they want they being
the intelligence agency because that this is damning
John C Dvorak: devil What do they want
Adam Curry: him out? Yeah him out. That would be the number
one thing let me see. I have
John C Dvorak: this sentence up and well let's let's listen to
this body. We can no no, no, no.
Adam Curry: I think we can figure it out. I have Richard
angle.
John C Dvorak: No. Oh, here we go.
Adam Curry: Richard angle is over there. In Ukraine. I think
you're and he's gonna he's gonna talk to a good old Abe Lincoln
after
Unknown: months of little progress tonight. Secretary of
State Antony Blinken says there are now positive signs in
Ukraine's counter offensive against Russian forces. He spoke
exclusively in Ukraine with Chief foreign correspondent
Richard Engel.
Adam Curry: I mean, this right here is just gold. Jerry, you
know it's gold.
Unknown: As your vs grind out there counter offensive against
entrenched Russian troops. Secretary of State entity
Blinken insists Ukraine is finally here. making advances.
I think we're very tangible progress over the last couple of
weeks tend to hold the front lines in the East. And in the
South. It's hard so far
in the last three months, progress has been very, very
slow. The recent defensive, the gains have been a little
village. I like
Adam Curry: blinking going, Hey, what do you say in their angle?
And what do you say in slow
Unknown: in the last three months? Progress has been very,
very slow the recent you hear
John C Dvorak: maybe if he has said very, very well, there's an
OP at hand here
Unknown: so far in the last three months, progress has been
very, very slow. The recent defensive the gains have been
little villages and little area here.
Adam Curry: He's really hammering it up here. It's like
they're big. And what do
Unknown: you think we're starting to see more progress?
It's step by step.
Oh, inch by
Adam Curry: inch. That's exactly what he
John C Dvorak: means by it. She met the De Niro's only a turn.
Unknown: We do with them will remain with him and not just us,
again, many other countries around the world.
Oh, yeah, we'll remain with them. But opinion polls suggest
that Americans might not be in this for the long haul. So are
you making false promises? saying, Yes, we're with you, the
American people are with you for the long haul. When they might
not be. Again, he's
Adam Curry: going. Oh, this
John C Dvorak: is interesting. Because he's, yeah,
Adam Curry: I'm telling you, something's pushing me
John C Dvorak: pushing him.
Adam Curry: And but what was it? What was that map again, that I
did last time was it?
John C Dvorak: It will remember the URL, but it was a map that
showed a very little action, it
Adam Curry: was offensive map, a fence map. A fence map, I think
a fence
John C Dvorak: man will keep a notepad dude
Unknown: might not be in this for the long haul. So are you
making false promises? Saying yes, we're with you, the
American people are with you for the long haul, when they might
not be.
So first, I believe part of my responsibility part of my job
and
John C Dvorak: just drives the question. Yeah, of
Adam Curry: course, this is what you do. You're not going to
answer the question, if it's a crappy question. No, no, no.
That's not what you're gonna do. Let's go back to him. Here we
go.
Unknown: So are you making false promises? saying, Yes, we're
with you, the American people are with you for the long haul,
when they might not be.
So first, I believe part of my responsibility part of my job.
And this is true for the President, and many others in
the administration is of course, to talk to our own own people to
continuously try to make clear what's at stake, if we allow
this aggression by Russia to go uncontested. If we allow it to
go forward with impunity, then you open a Pandora's box and
it's a recipe for conflict around the world.
Adam Curry: Counter map.no agenda notes.com
Unknown: Would the aggressor say
John C Dvorak: hey, go a guy yeah, he said this, this is this
goes back what he said, This opens up the aggression that of
law. Play it just the end of that again, because I have a
comment to make,
Unknown: make clear what's at stake. If we allow this
aggression by Russia to go uncontested if we allow it to go
forward with impunity, then you open a Pandora's box and it's a
recipe for conflict around the world.
John C Dvorak: That this is discuss harkens back to the 60s.
And the domino theory. Yes. Well, yeah. brought us into
Vietnam.
Adam Curry: Yes. And I have a follow up clip that that
confirms what you're saying. But we'll finish this because
Blinken is in trouble here. He's sweating. Bullets would be
Unknown: aggressive, say, hey, actions can do it. I can do it.
That's not a world that Americans want to live in.
Lincoln's visit came amid more
John C Dvorak: debt. Second, Russians can do it so I can do
it. China, China and Taiwan. That's what he should have said
just China. Because this what Russia does doesn't apply to
every Tom, Dick and Harry around the world. But it doesn't apply
to Guatemala. Oh, Russia can do it. So I can do it.
Adam Curry: And just maybe a month ago, it was oh, if we
don't stop Putin, he's going to take over Europe. they've
shifted that narrative. That's That's stupid. That's gone.
That's just gone. That was box
Unknown: and it's a recipe for by
John C Dvorak: the way. Just as an aside, we don't have any
clips on this. But the Polish are loading up on arms and stuff
because there are been they've sold themselves a bill of goods
that net. They're next on the list to be attacked, despite the
fact that they're a NATO country. No, of
Adam Curry: course they're not.
John C Dvorak: Who are we kidding here?
Adam Curry: The American public. That's the whole point. Shut up.
You're in Maui. Shut up, take your $700
John C Dvorak: that you're shown bikes and shut out up on the
world
Unknown: would be aggressors say, hey, the Russians can do
it. I can do it. That's not a world that Americans want to
live in.
Lincoln's visit came amid more deadly Russian strikes. At least
Adam Curry: it looked listen to that Blinken visit came among
more deadly Russian strike sound effects.
John C Dvorak: Are they is angle right there where the bombs are
going off. I don't think
Unknown: that Americans want to live in. Lincoln's visit came
amid more deadly Russian strikes. 17 Ukrainians were
killed Wednesday in this month putting a child now there are
fears Russia, which like Ukraine is running low on weapons and
ammunition could get more from a new source North Korean
occations are that President Putin
John C Dvorak: stop again. By the way, for the people out
there have never listened to show before this is what we do.
We can't get through clips. No, it's
Adam Curry: impossible. But this is this is deconstruction. This
is what has to be done.
John C Dvorak: When this thing first broke out, did North Korea
store this a recycle story? I bitched about this in the
newsletter about recycling the news Yep, it's this is a recycle
story. This is if you remember when they were first started
when there was just the first like within the first couple of
months there was going to last a week according to Russia even
though I never heard him say that. They started talking oh
they don't have any they don't know how to what they're doing.
Their idiocy had a by their their ammo from North Korea.
North Korea has been in this news story once before exactly
the same story and why are they bringing it back.
Adam Curry: And it was also NBC also during the Lester adult
hour with Andrea Mitchell August 20. Tonight
Unknown: alarming signs that Russia has supplied North Korea
with a new missile that could evade US missile defenses but
Adam Curry: it was the other way around. We they weren't getting
stuff from
John C Dvorak: from this read this North Korea
Adam Curry: Yeah, so now it's the other way around back
there's
John C Dvorak: earlier clips that show that they were getting
ammo because it gets the North Koreans like to make ammo
because they get nothing better to do anyway continue to claim a
low one
Unknown: weapons and ammunition could get more from a new source
all indications are that President Putin and Kim Jong on
are going to meet next week do you know when
don't know when but you we've seen that and I think that
speaks volumes whoa
Adam Curry: laugh till he snorted it
Unknown: next week do you know when
don't know when but you we've seen that and I think that's
Adam Curry: that all about
John C Dvorak: us Nortel,
Adam Curry: I think he's mad. He's like he's huffing and
puffing that angle here. Stop soften. Next
John C Dvorak: week, you know, when he might he might actually
be irritated? Yeah, he had to do this.
Unknown: I'm going to meet next week. Do you know when?
Don't know when but we've seen that. And I think that speaks
volumes. It speaks volumes about the desperation that Russia has
going around the world is going to find weapons from North
Korea.
Desperate, but it could work. Do you think it could have an
impact could
words we've inverted Oh, man.
John C Dvorak: Oh, they're gonna get to get North Korea that
could work. That's gonna change everything
Adam Curry: at this point. And King legal is just following his
orders. He doesn't even have a script anymore. He's like, this
is great. I'm putting this guy on the spot. I'll just throw
stuff out there. Hey, that could work. Come on man that could
work
Unknown: that Russia has, if it's going around the world is
trying to find support and weapons from North Korea.
Desperate, but it could work. Do you think it could have an
impact tip the balance?
We've been very concerned about the fact that Russia has already
been getting weaponry, particularly drones from from
Iran. We're certainly concerned at the prospect of getting more
from North Korea. So we will look at every possible means we
have to prevent that. To disrupt that working with other
countries.
And Secretary Blinken told us that peace negotiations don't
look promising that Russian President Putin does not seem
interested in diplomacy.
Adam Curry: Alright, so Lindy Hop lady Ji clearly clearly
clearly clearly in the pickle jar had the script right and
went on BBCs Hard Talk which for some reason now. I don't know
why. But American put we had Nancy Pelosi on Hard Talk. Now
we have Lindsey Graham on Hard Talk.
Unknown: Lindsey Graham joins me now. Welcome to Hard Talk.
Adam Curry: Thank you, Senator, you
Unknown: are one of the strongest Republican supporters
of Ukraine and of US military assistance to Ukraine. Would you
acknowledge that right now the war isn't going the way you
wanted it to this?
Adam Curry: This is the same question but blink and fell
apart
Unknown: or indeed the way you expected it to just a few months
ago.
Not at all I just got back from you. craned last Wednesday
Thursday, magic breakthroughs in the south landmine situation was
incredible.
Adam Curry: The landmine situation is incredible. It's so
good. There's a whole
John C Dvorak: pro he knows what he's doing Waltham land
Adam Curry: the size of Florida riddled with mines and cluster
bombs. It's incredible. It's going really well ration
Unknown: was incredible. I could not be more proud of how they've
used the military equipment provided by our country.
Adam Curry: It just depends on which way you want to listen to
this answer, but I'm hearing him say it's great. The place is
riddled with bombs blows Correct.
John C Dvorak: Once again,
Unknown: they're putting pressure they broke into the
first offensive line. I think they'll split the Russian forces
in Crimea in the next couple of weeks, months,
Adam Curry: weeks, months, years, whatever,
Unknown: in the next couple of weeks, months. So I am
exceedingly proud of the Ukrainian military.
Adam Curry: He's got a boner for what's going on this couple more
clips here. This is so good. I love Lindsey Graham, dynamite
for the show.
Unknown: You're also looking somewhat isolated these days
inside your own party. The Republican Party still is
committed to this fight on Ukraine's behalf. But the fact
is, if you look at the polling evidence, Republican voters are
moving away from support for your career.
Adam Curry: Well, what are we going to say? What can Lindsey
possibly say? How can he get himself out of this question
from support for your career? What's
Unknown: happening here is I tell my colleagues, we need to
sell the war better. Whoever wins there goes China.
Adam Curry: Yeah, we got this. He's so he's giving away the
script by saying we got to sell the war better. Yeah. Because
you know, people, it's just your money. Just gotta sell a better
not to the American people, just to the people who vote in
Congress, we're gonna sell it better. And here's how you sell
it better. Republicans. If Putin wins, there goes China. There
goes Taiwan. There goes. domino theory. domino theory exactly
against
Unknown: believe it was a mistake to withdraw from
Afghanistan is set in motion the bad guys. Well, here's what I
would tell my Republican colleagues, you can think Biden
made a mistake getting out of Afghanistan, if you pull the
plug on Ukraine, Afghanistan on steroids through
Adam Curry: Afghanistan. 2.0. This now that's gone. Oh, I
don't want I don't want that nastiness on me. Yeah, I should
vote for more for Ukraine. That's a great false
John C Dvorak: equivalency,
Unknown: we give up on supporting Ukraine who doesn't
want any soldiers, they just want the weapons then that's a
signal of China. We're not up to the task. So a lot and Putin
will not stop and Ukraine is beginning to turn I think the
more battlefields success, the better the numbers will be.
Adam Curry: The numbers are great. We've got battlefield
successes. It's fantastic. Let's wrap this up Lindy
Unknown: one thing about Trump, you know, he talked about
getting Afghanistan and he set in motion, the withdrawal, but
he kept 2500 troops there. Let me tell you something that most
people don't understand. Is very glad he didn't pull the plug on
Afghanistan on his watch. He saw what happened afterwards. I've
told him if you or anybody gives Putin a lifeline, that's the
worst single signal you could send to China.
Adam Curry: What does that have to do? Afghanistan? I told Trump
about Afghanistan. Don't pull the plug on Ukraine afterwards.
Unknown: I've told him if you or anybody gives Putin a lifeline,
any is the worst single signal you could send to China.
You've told him and
I think he understands Be straight
with me. What did he say to you?
He says the best way to defend Taiwan is not have to go to war
convinced the Chinese that would be the downside is larger than
the upside to be strong. I said with this president. How does
Ukraine fit in? If the Chinese see us pulled the plug on
Ukraine to give Putin a lifeline, you better get ready
for a war with China. And I don't think he believes as a
unrealistic scenario to be weak. And Ukraine means that you lose
Taiwan.
Adam Curry: And the American people said, Who cares? We don't
care. No one cares anymore. They've lost this. They've
completely lost hold of it. And God bless Claire Daly, the
Socialist from Ireland, the only one of the few socialists we
really love, because, as Jen Stoltenberg came to talk. He's
the Secretary General of NATO came in we'd
John C Dvorak: love we'd love her socialism because she's so
outspoken and an honest
Adam Curry: Yes. And so he came in to to rally the troops for
more money for Ukraine, amidst Germany and Germany. The German
Veldt writes according to UN data as of February 2022,
slightly more than a million Ukrainians are in Germany. four
fifths. That's what that's 80%
John C Dvorak: Did you know that the Now that Zelensky has put
out an arrest warrant for all able bodied Ukrainian men. Yes,
I have
Adam Curry: that clip. I have the cloudguide. Okay, but first,
four fifths of the 1 million Ukrainians in Germany are not
working.
John C Dvorak: They had of course now after a year in the
Dole, yes, they get
Adam Curry: a monthly income of 502 Euro euros, their living
expenses are covered.
John C Dvorak: And they can you can still then you work on the
sly. Of course, be sure that a lot of them are working. You
bought your book? You betcha.
Adam Curry: Here's Clare Daly kind of laying it out for Yen's
Unknown: Mr. Stoltenberg, you asked us to look at where we are
today compared to when the invasion started. I'm not really
sure what you meant by we know you spent a lot of time on nasal
maybe that's the week about the expansion with Sweden and
Finland, but you were considerably quieter about a
bitter disappointment experienced by Ukraine in the
hopes that day tours of the path into NATO didn't actually work
out according to plan. Their chair said that aid somewhat
compensated, which others have kind of said is that Solecki
silence was basically purchased for the license. Really, haven't
you left Ukraine jail. And in terms of the pathway, I liked
Adam Curry: that she said that Solinsky is Zelinsky. silence
was basically purchased. Yes, the silence of the corruption.
They're all running scared. Blinken will have to stay over
there. He won't, I'm going to predict he's not going to come
back until the election to 2024 election. He's got to stay
there. And the minute Zelinsky does, something's gonna have to
we'll get to some more minority. But she'll keep Kolomoisky away.
We don't want him saying anything. Everybody quiet down
now,
Unknown: which is kind of said is that Solinsky silence was
basically purchased. But in essence, really, haven't you
left Ukraine down in terms of the pathway to membership. And
on the subject of Ukraine? Is it not the case such a rhetoric and
reality are going in opposite directions when the world is
beginning to notice because you said that Ukraine is gradually
gaining ground. That's not true. Since you're here the last time
Ukraine has lost territory, half a million men are dead. Ukraine
has had to resort to conscription. There's reports of
signing people up with disability with mental illness,
men paying money to get out of the country hiding in their
houses. We're now in a bloody war of attrition, and it's
simply cruel for it to go on. Now, senior US military
personnel are even getting into the pages of The Washington
Post's and so on. Echoing the call made by General Milley last
November, that there should be peace and a real peace. If you
care about Ukraine. What's your attitude for a peace plan to
save Ukrainian lives?
Adam Curry: No answer. But don't worry. You don't need to hear
it. But that's there. She says it right there. She's telling
the truth. That go there. rousting people in buses on the
street Hey, yo, you got one leg? You're good to go. Hey, you're
15 you're good to go? Yeah. So not on the pages of The Wall
Street Journal, The Washington Post or the New York Times. But
on podcast is McGregor. McGregor did a beautiful two minute piece
on a podcast like this is I don't even know what podcast
this was.
John C Dvorak: Well, he'll do any podcasts outdoors.
Adam Curry: And I'm thankful for that. except ours. I know you're
mad. I know you're mad. But you know, maybe he's got stuff to
hide. He's afraid that we'll uncover it. You know, the Korean
Divorce Act. They're dangerous. That's the word. The word on the
street. You don't talk to those guys. They might uncover your
plan. But he explains exactly what the problem is. Why this is
all against Russia, why Russia has to go. And I think it's a
pretty good one. Remember the
Unknown: globalist elites rule in Europe just as a rule here.
And they've all gotten where they are with the aid and
assistance of enormous quantities of money. Because the
people that control your financial markets and financial
institutions, the people that control your mainstream media,
they now control your governments, and they don't
represent the interests of any of the Europeans. And I would
argue with most Americans, they represent their own interests,
and their agenda is to destroy Russia. Now why? Well, they'd
like to replace Putin because Putin presides over the last
major power in Europe, and it is part of Europe that has a
national identity, a national language, a national culture,
that rests on the foundation of Orthodox Christianity that makes
Russia the enemy of the globalists. What are the
globalist done to us? What have the globalist done to the people
in Western and much of Europe? While they flooded our countries
with non Europeans, it was a specific goal of diluting us,
weakening us destroying our national identity, eliminating
our national culture, certainly expunging any remain remaining
power that Christianity may wield culturally inside the
West. And they want to do that to Russia, because Russia has
the bonus resources, enormous resources, mineral resources,
agricultural resources, and obviously, oil, gas and many
other rare metals. These things are also at the top of the
agenda. So if you can destroy the Russian government, if you
can remove Putin, if you can get into Russia, you can strip it of
its resources and enrich yourself that much further than
you've already done by your behavior over the last several,
I would argue decades. So that's where we are. And that's why
Russia has to go Russia's holding out.
Adam Curry: I love this. That makes total sense.
John C Dvorak: Yeah. But this is not a new thought.
Adam Curry: Yeah, but but it has to be said from time to time. It
has to be said to be people wonder why is Why is Russia? Why
is everything against Russia? Why is ignorant Victoria Nuland
get up in the morning and think I hate Russia.
John C Dvorak: Yeah, well, there's definitely she does.
Adam Curry: And so now back to your oil thing. Because oil shot
up? I'm sure Wall Street or people are happy Whoa, $90? Or
is it 90 Or more now is even under that to look. Everyone's
all GD and all jacked and all happy. And remember, there's no,
there isn't there are no sanctions, really on the flow of
Russian oil, just Russian gas. But if you recall, there was a
$60 cap that the European Union
John C Dvorak: 733. So it's gone down a bit.
Adam Curry: Wasn't there a cap of $60 on Russian oil that we're
not going to pay more than $60 for Russian oil? Good luck. And
yeah, when our I don't even know why she's a part of this
conversation. She was at the G 20. With Biden. Yeah, I saw her
there. Yeah. So she was asked a question about this $60 oil cap.
How's that working out?
Unknown: There are indications that Russia has found some ways
around your friends by using fewer a Western Insurance
Services and ships and in fact, the price of Russian oil is has
climbed this case is above the price cap? Are you worried that
your Russia policy is becoming more difficult to effectively
implement?
Adam Curry: Notice how now it's her Russia policy? I'm thought
it was a queen Ursula. Okay.
Unknown: So my perception is that the price capital can
Adam Curry: use my perception work.
Unknown: It had two goals. One was to cut Russia's revenues.
And our estimate is that Russia's revenue from oil has
declined by around 44%.
I mean, we'll share
Adam Curry: our estimate Josh, just making it up
Unknown: over the last year. The second goal was to keep the
global market well supplied, and Rush's exports and sales into
the global market have continued and has not significantly
contracted now.
Adam Curry: Is she not contradicting herself? Here?
John C Dvorak: She's Yes, she just continued to Yes. If you're
if you're in the global market, you are getting at $7 Thank you.
Exactly. So in one way or another year, they're getting
it, you know, through a scam or through straight sales or
whatever is the price is the price oil is fine. That's the
global price,
Adam Curry: you put oil on a different ship, and it's no
longer Russian, it's fungible.
John C Dvorak: I don't even know if that did bother to do that.
You just got to keep these these refineries fed.
Unknown: But the ban really applies to surfaces. So this
terminal commerce cap to any oil sold using surfaces from members
of the coalition. And although there is there are sales that
are permitted under this price cap, as you mentioned, that do
not use Western surfaces, and many of those are occurring if
prices above $60. No, they're not a violation of the price
cap. And it is very expensive for Russia and other countries
to provide services where Western providers have clear
price advantages in so
Adam Curry: what does she mean by this? She's trying to get out
of it because she's lying. She does she taught what is your
John C Dvorak: what is your definition of services refined?
Name
Adam Curry: shipping refining, accounting. I don't know, she's
just let her Wrap It Up
Unknown: expensive for Russia and other countries to provide
services where Western providers have clear price advantages. And
so well such things are occurring, it erodes the revenue
that Russia is able to receive on net from those sales. And
certainly there are substantial sales that are occurring as
well, using Western surfaces. And as far as we can tell, and
we're certainly monitoring for evasion of the sanctions, these
sales who are occurring below the $60 price gap, so I do
believe it continues to
Adam Curry: do but she's dumb. That's what you're hearing.
She's a dummy. They're all dummies. And she's caught flat
footed and like, Oh, I'm dumb, but I'm here supposed to have a
good time here. We're in India, or as we now say, Bharat it's no
longer India. You notice this, this subtle change? And I have
not
John C Dvorak: yet yeah, if you look at this is like turkey A
Yes.
Adam Curry: Yes. If you look at the signage from the G 20. You
see Modi and he's got a Bharat Brahm baratang. So things by
Ravi H A, Bharat? Bharat I think it is yeah, B H A R A T. And
that is does that mean that's the new India is like turkey egg
John C Dvorak: has changed the name? Yes. Yes. Barrage still
calling it India?
Adam Curry: No, no, no, no, no. I'm hearing
John C Dvorak: reminds me you go to the you've been to Paris. I
did look up there on the signage. And there's a somehow I
plane or through the channel to laundress l o n d r e s? Yes.
Yeah, they call it laundress. If they do, why don't they call it
what is supposed to be called?
Adam Curry: Well, this is why
John C Dvorak: do we call it Germany? It should be
Deutschmann. In other words, we have to call this bar right. But
we did. We don't have to call Germany Deutschland.
Adam Curry: Not yet. Don't worry,
John C Dvorak: middle crap, Deutschland. What you want.
Adam Curry: Deutschland has no power. Do you want to talk about
this g 20? Because this was I thought this was quite
interesting.
John C Dvorak: Oh, I'm all ears.
Adam Curry: Let's get a little overview from Good Morning
America, the bastion of truth
Unknown: overseas. Now to the G 20. Summit. President Biden is
set to touch down in New Delhi, India. And high on the
President's agenda is the goal of countering China's rise
around the world and strengthening support for
Ukraine. senior White House correspondent Selena Wang is in
New Delhi with the story. Good morning, Selena.
Adam Curry: I don't know. Good morning. Good
John C Dvorak: talk like this.
Unknown: Rebecca. In just a few hours. President Biden will be
touching down here in New Delhi, India, where the world's most
important leaders are gathering. And President Biden has an
ambitious goal to cement America's here in Asia and also
to counter China's rise around the world. Another key priority
is shoring up global support for Ukraine. Back at home. Biden has
requested for additional aid to Ukraine, but he's facing
opposition from House Republicans. But this morning
Treasury Secretary Janet Yellen saying she's confident that they
will win congressional support and telling me in a sit down
interview that Russia is still suffering from Western
sanctions. Meanwhile, Russia's President Vladimir Putin and
China's leader Xi Jinping both expected to skip this event
setting a powerful message to the world. After this weekend in
India, President Biden is headed to Vietnam for yet another high
stakes meeting. The US and Vietnam are former enemies and
foes but now they're expected to significantly upgrade that
relationship.
Adam Curry: Like we used to be foes and enemies with Vietnam.
Okay. So none of this happened
John C Dvorak: right away if you go to Vietnam, that you've been
there?
Adam Curry: No, no, I haven't. No, I haven't listened.
John C Dvorak: Last thing on any of their mind is that we were
once for those. That's where you don't even know what you're
talking about. If you bring it up,
Adam Curry: they're happy. They're getting all kinds of
manufacturing deals. This is this is
John C Dvorak: yes, they're the kick ass manufacturers that one
of the strongest economies in and the thing that's interesting
is this 98% literacy rate in Vietnam. A lot of people speak
English. It they're a very powerful country.
Adam Curry: So but you know, we used to be photos, photos. So
the US media plays this office. Oh, this was a high stakes
Summit, about China's about Ukraine. None of that is true.
They signed some phony baloney agreement that just says we all
agree. But but it was not on anything is NBC short and
Unknown: I President Biden is in New Delhi where he met with
India Prime Minister ahead of tomorrow's high stakes G 20
summit. High Stakes focal points are likely to be differences
over the war in Ukraine and China's growing influence of
Russia's President Putin and China's leader Xi Jinping are
skipping this summit. Ya know, we
Adam Curry: got completely usurped. This was not about
China. Of course China wasn't there. China didn't care because
China knows what it's about was not about Russia, not about
Ukraine. No, this was to welcome the new member. As
Unknown: I mentioned earlier, the G 20. Club of the world's
richest nations is meeting in India. But two leaders are
notable by their absence, Russia's Vladimir Putin and the
Chinese presidency, Jin ping, the host of the summit's Indian
Prime Minister Narendra Modi is still hoping to use the
gathering to highlight India's increasingly important role in
the world. And one of the ways he's doing it is by inviting the
African Union to join the G 20. Speaking at a news conference in
Delhi, the President of the European Council shall Michel
said he looked forward to welcoming the AU. For
many years, I'm absolutely convinced that we need to make
sure that the developing countries including in Africa,
are more represented on the international stage at the
international level, who want decisions that are implemented,
we need more inclusivity at international level.
For more on the addition of the AU to the G 20. I spoke to our
south Asia correspondent yogurt alumni
for India in its year of presidency, one of the things
that they've tried to project themselves as is the voice of
developing countries around the world. And in keeping with that,
Indian Prime Minister Narendra Modi actually wrote to g 20.
leaders saying that the African Union should be included into
the G 20. a wider range of voices around the world should
be included. There was an op ed he actually wrote for an Indian
newspaper, which came out ahead of the summit yesterday. And he
said people shouldn't just be looking at the GDP growth or
economic growth as a measure for countries voices should be heard
of all countries around the world. And so I think that's one
of India's big efforts is to portray and showcase its
position in the world but its position as a voice of
developing countries,
Adam Curry: right? So you have voice whatever, no, this was all
about energy, climate change energy and the US look stupid.
You had Biden sitting there, half asleep, his head down like
and then you have the old Yellen, old Yellen behind them.
And then Queen Ursula moved in for the kill Your Highnesses
Unknown: excellencies. It's been two years since we launched PGI
a joint vision by the world's leading economies to invest in
the infrastructure that low and middle income countries need.
And two years on more large scale projects are seeing the
light and we are presenting two of them to date.
Adam Curry: Okay, one other part besides New member and I think
the the African delegation had a had this Hi, I'm new member one
of those signs a little bad yellow sticker. New member. Who
else was there? Saudi Arabia, Saudi Arabia who we have screwed
over because they you know, apparently they killed Jamal.
Khashoggi Khashoggi, and we can't do business with them
anymore. Oh, no, no, no. Get killing journalists. So Ursula,
European Union, she doesn't care. Oh, no, we don't care.
Unknown: First, the India Middle East Europe economic corridor.
Adam Curry: Oh, the India Middle East Europe economic corridor.
Do you hear USA in there anywhere? Any foam finger number
one? No.
Unknown: This is nothing but historic and a scam. It will be
the most direct connection to date between India, the Arabian
Gulf and Europe.
Adam Curry: So they're creating an energy pipeline between Saudi
Arabia who I think have energy. Europe is going to circumvent
the LNG from America. And they're going to send it to
India who has always been reliant on other countries
Unknown: with a rail link that will make trade between India
and Europe 40% faster with an electricity cable and a clean
hydrogen pipeline dream
Adam Curry: hydro gene pipeline
Unknown: to foster clean energy trade between Asia, the Middle
East and Europe with a high speed data cable to link some of
the most innovative digital ecosystems in the world.
Adam Curry: Oh, they're finally gonna get only fans
Unknown: and create business opportunities all along the
John C Dvorak: way. Except for primary and scammers. Yes, these
Unknown: are state of the art connections for the world of
tomorrow. Faster. shorter,
Adam Curry: cleaner. And also if you China, hey, look what we can
do. We are now moving in to be Saudis best friends we that
America can't cut it anymore.
Unknown: This car does much more than just a railway or cable. It
is a green and Digital Bridge across continents and
civilization this green
Adam Curry: and digital reach around.
Unknown: And this is also the spirit of the second project. We
announced today another project, that trans African corridor,
which will connect the port of lobito in Angola, with the
Katanga province in DRC. And the copper belt in Zambia.
Adam Curry: Oh, the copper belts mum wonder is that for batteries
or something like that, is that important for anything? Yeah.
Europe came in and took it all right from under our nose. And
actually BBC hard talk talked about Saudi Arabia with the with
Lindsey Graham, which was kind of funny. Listen to this
Unknown: on foreign policy. You've worked closely with
Democrats on Ukraine, the Democratic Party has been
terrific. And I noticed you are working with a Biden
administration on a very ambitious vision, which involves
reaching out to MBs, as we call them, Saudi Arabia's Crown
Prince to be the architect of a peace deal with Israel, which
would pull the Saudis in which presumably would offer something
to the Palestinians. There's much debate about whether Biden
can deliver this do you believe he can and is helping him? Well,
I'm
for a year I've been helping it started with the Abraham
records. President Trump on his watch a Sunday he burned records
for the UAE and other Arab nations normalized relationships
with Israel. That was a big accomplishment. The next logical
step is Saudi Arabia, which is the big prize right now tell you
what the deal would look like Saudi Arabia wants a defense
agreement with the United States that's bigger than the
individual security guarantee. Yes, they want a defense
agreement that would transcend a presidency. They This is
Adam Curry: interesting. So Saudi Arabia saying, Hey, you
want to do business with us? We want a 10 or 20 year deal where
you're going to protect us and that's just not happening.
They're just not going to get it it's been so poisoned by the
politics and maybe that was maybe as a good deal. I don't
know but it's been it's been so poison that they gave up and
Lindy is all by himself. And meanwhile Queen Ursula rushes
right in bum rushes in, hey, we're gonna do a little deal
here. We'll make sure to be connected India,
Unknown: Bharat more certainty in the relationship.
And you think the US is right to consider that and we know we
know what happened to Jamal Khashoggi, the human rights and
you're absolutely false. That's not
Adam Curry: true. They're not human rights abuses are swift.
Unknown: Let me tell you why. Because the Crown Prince and the
king are moving the country in a different direction. I talked to
the President. I've talked to Solomon. I've talked to McGurk,
the Saudis are investing a trillion dollars to change their
economy. They're building new cities. And they've been drive,
you can go right, it was a woman out on his score. He's making a
bid to fundamentally change his country and to modernize it get
an agreement, the United States recognize Israel than all doors
are Oh,
Adam Curry: no, no, I think I think we're we lost we lost out
on this deal. They brought Africa in, they brought in the
Saudis and and our dopes are dummies, we're just sitting
there thinking, lunch, that's what our president was thinking
and Yellin Was like, those magic mushrooms were good.
John C Dvorak: Go back to China. In the meanwhile, if you
Adam Curry: really listen to what Africa is doing there. I
have like, like 4540 seconds of Deutsche Avella asking some
African delegates of the Africa climate summit, but I don't want
to go into too deep, but just what do they really care about
when it comes to this climate stuff? In this clip? lacks that
tension is that
Unknown: an African physician that will deliver climate
finance, finance, climate, justice, and an agenda for a
strong agenda for cop 28.
My hope is that, you know, we come up strong with one voice,
we are able, for example, to secure the resources that are
needed for climate adaptation. And we are able as well to
position ourselves as leaders, you know, in the climate
discourse,
see more youth engagements and leading conversations in matters
climate change adaptation and mitigation.
It was the first climate summit to primarily focus on the
African continent. Africa is most vulnerable to the impact of
climate change, but about 12% of the No financing it needs to
cope.
Adam Curry: It's about money money climate finance.
John C Dvorak: Oh Jesus always been about money
Adam Curry: right but that's just saying it now that it was
global warming they've always said
John C Dvorak: it we just have a lot of people just haven't been
listening. We have Yeah,
Adam Curry: well, that's gotta reiterate it from time to time.
Global warming, climate change, climate finance,
John C Dvorak: give us money, climate you guys are killing us,
give us
Adam Curry: money, climate justice.
John C Dvorak: Give us money so I can put it in my pocket.
Adam Curry: We got a
John C Dvorak: Madison climate change clips
Adam Curry: by the way. Oh, let's roll them out.
John C Dvorak: Because there's always a counterprogramming.
That comes up and every time I hear it, I tried to collect
these clips. This is one
Adam Curry: climate change skeptic is what I see here.
John C Dvorak: Yeah, there's this guy's and heaven forbid
he's a Nobel Prize winning physicist who knows what he you
know, he's no chill scientists, not some blowhard like Joy Bay,
har.
Adam Curry: And I happen to have a clip of joy later.
John C Dvorak: Oh, god. Yeah. So let's listen to what this guy
has to say. So we can just remind ourselves what's what
Unknown: now zooming in on the debate over climate issues.
Nobel laureate John Clauser says, What is this from
Adam Curry: what is the source of this?
John C Dvorak: And g d, of course, oh, I'm
Adam Curry: sorry. This is in D. D.
Unknown: Now zooming in on the debate over climate issues.
Nobel laureate John Clauser says all the major climate models are
flawed, and that there's no climate emergency. He sits down
with American thought leaders host ianya Kellogg to discuss
Adam Curry: Oh, American thought leaders. Yeah, that's not I
mean, Janya Kellogg. He's the man,
Unknown: Dr. John Clauser, won the 2022 Nobel Prize in Physics
for his contributions to quantum.
John C Dvorak: There's the voice you're talking about the more
influential radio voice of the future? Yes,
Adam Curry: correct. Not a deep voice. Janya. kellock is the
voice of the future.
Unknown: Dr. John chi won the 2020 Nobel Prize in Physics for
his contributions to quantum mechanics. In a recent episode
of American thought leaders, he explains why he considers major
climate models to be flawed.
The IPCC has 40 different computer models, all of which
are making predictions, and all of which are being quoted by the
press is predicting climate crisis apocalypse. The problem
is they all are total disagreement, violent
disagreement with each other in their predictions, and not one
of them is capable of predicting, retroactively a
predict, explaining the history of the Earth's climate for the
last 100 years.
Adam Curry: Okay. Sounds like bit like Mitchie Mitchie cuckoo.
That guy, they all
John C Dvorak: have this the fee sounding neither. Neither of
them are weird, by the way to begin with. Well, he's
Adam Curry: also a quantum guy, like, none of these guys sound
authoritative. So it's
John C Dvorak: that well, that's just them, because they don't
have that big deep radio voice. If they take it a little
broadcasting and university at the university, they'd be better
off. But none of them do that. And they don't care about
marketing. So they, they're just goofy guys. Yeah. Well, you know
what they're talking about. So he mentions that, I guess they
tried to run these climate, but I don't know. I'm just trusting
him on this. They can't run these models in retrospect and
get any accurate answers. Is what he just said. Yeah, no,
that's, and by the way, the more interesting little tidbit is
coming up in the next clip, which is like what
Unknown: Klaus, it says all the major climate models fail to
consider one key variable, the effect of clouds. He says the
models are done with a cloud free earth. When the real Earth
is shrouded in clouds.
The cloud cover fraction fluctuates quite dramatically on
daily weekly timescales. We call this weather. You can't have
weather without having clouds. And it is this fluctuation in
cloud cover of the earth that causes what I would refer to as
sunlight or reflectivity thermostat that controls the
climate controls the temperature of the earth and stabilizes it
very powerfully and very dramatically of this mechanism,
totally, heretofore unnoticed. So this is clearly the most
important the controlling mechanism for the earth's
temperature and and climate and it dwarfs the effect of co2 and
methane, all the government programs that are designed to
Uh, limit co2 and methane should be immediately dropped.
Adam Curry: Wow, John, I was just looking at our vast library
of infotainment. And I see here a clip from January 31 2019.
Listen to this,
Unknown: so we don't know exactly how hot it's gonna get.
And a lot of that is because of human behavior. We don't know
what humans are gonna do. But even if you take out all the
uncertainty surrounding humans, there's still uncertainties in
the physical climate system. And this is really embarrassing,
because people are like, come on climate scientists. Like you had
one job. And we're working on it. Right. But the wild card is
really clouds.
Adam Curry: That's Freakonomics, by the way.
John C Dvorak: So the cloud variable is not being used in
anything. Come on. This. Yeah. So she made the right point.
Come on clients, climate scientists. You got one job?
Yeah. So this guy who's just like, I mean, the high end
scientists, the physicists. I talked to Freeman Dyson once
about this. Is he saying drop alive or dead unfortunately,
night, incredibly nice guy. And he felt the same way about it.
That this is bullcrap. And all the super high end guys that are
like the big thinkers, the ones that are you know, physicists,
quantum physicists can actually imagine what they imagine things
in their brain. They all think it's just bogus, but okay, we'll
continue on with this with this. And let's listen to clip three.
Unknown: Closer was one of two Nobel laureates to recently
signed a declaration organized by the Clinton Foundation,
alongside 1600 Other scientists and professionals stating there
is no climate emergency. He says America's current climate
policies are wasteful, misguided and counterproductive.
These geoengineering proposals are outrageously expensive, and
they're totally ineffectual. There's no way you're going to
have any effect. But the okay by surprise, is that people are
upset with what I'm giving, I believe to be good news. The
good news is we don't need to
John C Dvorak: he gets a kick out.
Adam Curry: He doesn't understand what's really going
on.
John C Dvorak: He sees Yes, he's completely stunned by the fact
that he and 1600 Not to mention that 35,000 Earlier, like the
early days of the climate thing that say hey, this bullcrap
we're not. He's stunned by the good news not being well
received.
Adam Curry: How come no one wants to listen to my good news?
I come bearing the good news. Oh, that's hilarious. Well,
that's not how it works, bro.
John C Dvorak: Here's the hill Greta. Here's how it works.
Adam Curry: Oh no, NPR took it one step further. elitist voices
of America. This is NPR or PBS
Unknown: in the highlands of Pakistan glaciers are life.
residents rely on them for water and many believe a Sufi saint
taught their ancestors how to create new glaciers by meeting
them. The practice faded decades ago, but it's getting a second
look as a warming planet causes glaciers to melt more rapidly.
In PRs dia de reports from Pakistan's far north, all good.
A head Aki Shadi
Yasin Malik seems as he takes us up a mountain looming over his
village from Wales the time as we walk for hours to a cabin
that residents believe is inhabited by ICE dwelling ghosts
and fairies, which protect a baby glaciers that Malik and his
friends made by following an ancient tradition. They hope it
will grow to replace the glaciers The village has long
relied on glaciers that are melting away. As shepherds pass
Malik tells me glazier meeting is done by mixing white glaciers
which they believe a female with male glaciers which are brown
the color formed by debris. Two years ago in winter mallet climb
K to the world's second highest mountain to get chunks of the
best female glaciers. Others trek four days away to get the
finest female glaciers specimens. They took those
trunks up trimmed a mountain, they place them in a shaded
crevice and they blanketed them with coal and chaff.
Adam Curry: These people are insane that they're doing
stories on people like doing sacrifices. So the glaciers
don't melt is this is how dire it is.
John C Dvorak: This is unbelievable. Once you get that
clip what what person sent that is no way you gotta You don't
listen to PBS
Adam Curry: no is NPR the general NPR or PBS because it's
the same thing that's clip collector Steve. Yeah, Tia he
got that that's a no no, no, no, that's not clip collector Steve
that is our buddy Z. That's our buddy Z. Michael z is a final Z.
I'm Michael z is good. You got that?
John C Dvorak: Yeah, this is this is what it's come to
superstition. In fact, that whole global warming thing
amounts to nothing more.
Adam Curry: And the headline here Bay Area scientist, quote
left out the full truth. To get study on climate change fueling
wildfires published, I only need to read the first graph. Brown
wrote that the study didn't look at the poor forest management
and other factors that are just as if not more important to fire
behaviors because, quote, I knew that it would detract from the
clean narrative centered on the negative impact of climate
change, and thus decrease the odds that the paper would pass
muster with nature's editors and reviewers. He added such bias in
climate science, quote, misinformed the public, and
makes practical solutions more difficult to achieve. He just
admitted he lied to get it published. And the whole point
is the forest management. That is the problem. Now I left that
out. I just want to
John C Dvorak: have that accurate in my opinion, but use
you as dummies not
Adam Curry: to confuse you. Anyway, good news. The United
Nations released their climate progress report just in time,
because we got cop 28 coming up, and where's cop 28 being held?
Saudi Arabia. Oh, yeah, the plot thickens. It's so beautiful. The
Saudis are salivating salivating Saudis. So this is the BBC
reporting on what they call the global stocktake.
Unknown: The world is currently way off target in its efforts to
prevent dangerous global warming.
Adam Curry: Running here more you got to be excited by this.
That is
Unknown: the conclusion of the first official progress report
on reaching the Paris climate goals in its global stocktake.
The UN concludes that the world needs a rapid transformation in
the way we work, eat, travel and consume energy
Adam Curry: stay at home eat fake meat Shut up.
Unknown: At a news conference sheet. wealthy nations in the
Indian Capital Delhi, the UN Secretary General Antonio
Guterres said that the call for action was urgent and could no
longer be ignored this garden
Adam Curry: gnome pops up everywhere
Unknown: we have no time to lose. The climate crisis is
worsening dramatic, but the collective response is lacking
in ambition, credibility and urgency. The climate crisis is
spiraling out of control together responsible for 80% of
global emissions so differently countries must assume
leadership.
Antonio Guterres, the report does suggest that hope isn't yet
lost. Many countries even those divided by war working together
to tackle global warming
Adam Curry: curfew pay some debts still time by now while
stocks last year
Unknown: Iroko is a climate scientist from Imperial College
London. Oh,
Adam Curry: those are the guys who did the COVID model I
believe. all gonna die, guys. I'm in a place of hope and
despair, despair, because we have warmed the planet already
well beyond one degrees. These are varying places. And I also
have hope, because we see how countries are putting together
real plans to change their entire economies to change their
entire societies. And we see how they are being implemented. So
taking into account that this is all a lie, it's all a scam. The
hope is this is good news because people are changing
their entire economies, their entire societies. Yes, they are
certainly trying. And I think people are so browbeaten by
these these nut jobs that we've kind of given up and then we
don't pay attention to things. We don't see it. We don't we
don't just don't pay attention to the money that's being spent.
And the they're doing chemtrails now. I'm sorry, what is it
called? Solar radiation management, please.
Unknown: Well, for his assessment, I spoke to our
climate editor just in rollout starting with the reasons for
OSA job,
Adam Curry: climate climate editor.
Unknown: Yeah, let's start with the good as always a good way to
begin. Yes, if you are an alien looking at the world and looking
at the challenge of tackling climate change. So this
Adam Curry: is the BBC, a climate editor who starts with
the good news and launches right into if you are an alien. Is
that am I alone in thinking this is odd?
Unknown: He said what needs to be done? The first thing you'd
say is all these weird nations this planet has need to work
together and what the you And saying today is that is
happening. That was the plan after the big UN conference in
Paris in 2015. The plan was to get everybody working together
on this. And the UN says, Look, virtually every country on Earth
acknowledges that climate change is a huge challenge and needs to
be tackled urgently. And it's already taking some action. The
bad news is, is we're simply not doing it fast enough at the
moment. We need says the UN to switch massively over to clean
technology to renewable power, we need to phase down fossil
fuels as quickly as possible. Unless the carbon dioxide
emissions are captured and stored permanently underground,
we need to stop deforestation by 2030 and begin to replant the
forest we've lost we need to change the way agricultural work
we need a systemic global overhaul is what the UN says.
And it's very frank about this, it says, Look, this is going to
be really expensive, it's going to cost trillions of dollars. It
says the developed countries will need to help developing
countries, the private sector to get on board. But it says we do
have the technologies we need to do. We need to begin to
implement them with more ambition and drive, it can be
done it says
Adam Curry: just to review, we're all going to die, we have
to go faster, faster, faster, we need to send trillions of
dollars to the poor countries so that we can then use those
carbon credits to get rich beyond our wildest dreams. So
Unknown: what's holding us up a lack of money, lack of political
command people your tax money? Well,
a lack of political will is holding us up a lack of cash
flowing into the right places.
Adam Curry: Just be blatant about it. We need your cash,
don't send us water or blankets. Just send your cash.
Unknown: I mean, this is a call to action for world leaders
ahead of the big climate conference cop 28. That's going
to happen in the United Arab Emirates
Adam Curry: and all UAE I'm sorry, not Saudi Arabia, UAE
saying you
Unknown: know enough for the big speeches, let's see action.
Let's see strategic plans for how you're going to deliver on
the commitments 90% of the world has said they are going to try
and get to net zero. Okay, so you want to get to how you're
going to do it, please outline what you're going to do and then
start to actually deliver on the targets that are embedded in
those strategic plans. That's what the UN wants to see.
Adam Curry: Okay, just ask you a question. Another think about it
the term net zero. What does that actually mean? Net Zero
doesn't mean zero? Yes, a net net
John C Dvorak: net zero. I mean, that said they should be zero.
Yeah, but the net zero means you're gonna have the offsets
Adam Curry: the climate, the carbon credits, that's your that
was which
John C Dvorak: means there's nothing no change. No change is
a scam. Yes. You mentioned
Unknown: the money, hundreds of billions is still spent on
fossil fuels and not enough on I mean,
more than hundreds of billions on fossil fuel hundreds of
billions of subsidies for fossil fuel. Governments. That's
absolutely UN says first of all, let's get rid of that. Let's try
and phase it out. It's a real dilemma that there is a
recognition that countries like India, this is something
Narendra Modi has been saying will need fossil fuels to lift
hundreds of millions of people out of poverty and there is a
recognition by the UN that they cannot be denied that right to
deliver development for their people. But it says we do need
to make the transition happen as quickly as possible. That's the
real sense of urgency that needs to be engendered first at the G
20. And then they need to bring that enthusiasm and energy to
the cop 28 in UAE in which begins at the end of November.
Adam Curry: They're going to have another party end of
November. Big party UAE big big party.
John C Dvorak: The UAE is a lot more fun than Saudi Arabia.
Adam Curry: Oh yes. And I'm glad that I was corrected on that.
UAE I mean, those guys are great. It's also blatant.
John C Dvorak: You know, okay, well, yeah, there's nothing we
can do about it. net zero net.
Adam Curry: Net Zero Net Zero
John C Dvorak: hold your breath and take a few credits.
Adam Curry: Do the only other thing I think we should probably
do before we take a break so I have everybody's attention is
look at COVID because it's I don't have a lot but I do have a
couple of things and first of all, don't call it a comeback
Yeah, guess who's back? Our buddy? Oh, sir. Home.
John C Dvorak: God why I thought he was sick because he had COVID
so much.
Adam Curry: He has long COVID Yeah.
John C Dvorak: Wasn't he the guy that was like, damn near dead
because of COVID Even though he got a million shots,
Adam Curry: he has long COVID And but he is
John C Dvorak: and you get long COVID If you've been vaccinated,
that that was of all things you weren't gonna get would be long.
COVID just luck
Adam Curry: of the draw, man. I mean, it's just unfortunate. But
if you're wondering why he's back, we're still wondering why
Chuck Todd is still on the show. He's
John C Dvorak: right. hired months oh chi coach is supposed
to be out here. Where's your why do we keep showing up?
Adam Curry: It's almost like the I was fired from MTV for the
fifth and final time but like no, we don't like you. You don't
cut your hair you don't do what we say. And then they hired me
back again. You know, because I was the only guy that could do
this one particular show. This the same thing. It's all a big
show.
Unknown: Welcome back Labor Day has come and gone the school
year has begun and COVID numbers are rising once again as we head
into the room and hospitalizations which had been
slowing since the beginning of the year have started to climb a
bit once but overrun COVID related deaths while thankfully
remaining low overall have also ticked
Adam Curry: up ticked up ticked up ticked up script is in
Unknown: the virus even touch the White House again this week
when the First Lady tested positives. We should note that
while this data provides a trend for the virus, it still paints
an incomplete picture. The US is no longer in public health
emergency states aren't required to report routine COVID data and
updated hospitals protocols means that only patients who are
symptomatic or even tested for COVID There's all the things
that need to be fixed. And as COVID rates climb again, the FDA
has come under fire from doctors to say the government is not
moving fast enough to get some new booster shots out to the FDA
for a new COVID Shot perhaps as early as the minutes before 5pm
Go before
Adam Curry: 5pm. They come out
John C Dvorak: with breaking news breaking, breaking,
breaking, breaking
Unknown: and Michael Strahan I told you he's the epidemiologist
and Director of University of Minnesota's Center for
Infectious counties,
John C Dvorak: which is slowed down shut takes him less coffee
Unknown: policy is joining me now to preview what we can
expect but more importantly, and he was my partner for those two
long years of pandemic. You know, we're both at our own
homes, but constantly and I thought if I'm doing this one
more time, I want to get the best back here one more time.
Michael, it's good to see you.
Adam Curry: If I'm if I'm doing this one more time. What is
Chuck been told? Maybe this is the reason Chuck is still there.
Chuck just said, Hey, I did this for two years. He was my
partner. We were both at our own homes. We were the ones we were
we are weathering through all the tragedy. If I'm going to do
this one more time. Me How can you even say that knowing that
he's gone from the show? That's because it's a setup. They're
gonna do it one more time.
John C Dvorak: Here's a pandemic doing it. Yes, they
Unknown: are. We're both in our own homes.
Adam Curry: Yes, they are. Yes. Do it. They are Oh yeah. What do
you think about Alabama? Do you think Alabama would fall for
this nonsense? You obviously I'm setting you up because
John C Dvorak: should you get some clip from Alabama? No, I
Adam Curry: have boots on the ground two counties in Alabama
just put in mask mandates for school and government buildings
Dallas and Sumter counties. Both solid Democrat
Unknown: but constantly and I thought if I'm doing this one
more time, I want to get the best back here one more time.
Michael is good to see you.
Thank you very much good to be with you.
So let's talk about this I want to start with the COVID Actually
John C Dvorak: he doesn't make it sound as though this is the
beginning of another up yep. And he's gonna do it one more time
then he can then he can take his his his his retirement is
reminding him Yes.
Unknown: Yes you
John C Dvorak: specials do specialist for the network. This
video is do long form long form specials. Yes. specials for the
network desperately do our Monday night show,
Adam Curry: sir TJ the raffle is one of our nights and he
deliveries a mail carrier. And he delivers to CVS on his route.
And he always chats with the pharmacist. He's chatting up the
pharmacist. He asked her Of course, hey, he's your man. Let
me chat you up. I asked her if they were ready for the next
wave of COVID. She said they're actually expecting a massive
shipment of new vaccines in a couple of weeks. So the word is
out. It's happening,
John C Dvorak: but it's just gonna be like how many people
are going to? I mean, around here. I'd like I went to a
birthday party and only
Adam Curry: stopped or you went to a birthday party? Yeah, have
a friend or family
John C Dvorak: friend. Oh, you have friends. And it was up in
the Berkeley hills and everybody there was old. And a couple of
people came in with their masks on and and somehow in the car I
didn't join in. I know better. But everybody started doing
their COVID War tale war stories. It's like a war stories
thing. Oh, yeah, it wasn't too bad with me. And all build over
here. It was in the hospital. And it's just one thing after
another and they're all vac stop. And you know, and everyone
had gotten vaccinated. COVID So I'm like you sitting there
biting my tongue saying, Well, I never got the vaccine. And as
far as I can tell, I never got COVID You said that? No,
Adam Curry: I was gonna I was gonna say
John C Dvorak: I didn't say I said I bit my tongue. I did.
Adam Curry: anyone give you like stink eye because you weren't
masked up?
John C Dvorak: No, there was only a few people it was only
like a few people messed up luckily. So that no, I wasn't
gonna get messed up. And there's a couple other people that were
obviously adamant about not being masked up. But did the
maths eventually appeal was ever masked up because it was like a
birthday party had to eat stuff. They their masks came out,
there's no masks when I left. And but you know, they I think
they go, I think it goes like this at these events. You You
come in a mask just in case. And then nobody care. Okay, nobody
cares. Okay, the mess comes off. John, this is what's going on?
Is this in the East Bay since it's available?
Adam Curry: MK Ultra? Opposite? Good one. Yeah. But you can't
sit there and say, Oh, it's not going to work. It will work.
John C Dvorak: i Oh, you know, I think there's only so many. I
think they're they're pushing it. They're pushing the limits.
Unknown: Thank you very much we should do with limits. So let's
talk about this. I want to start with the COVID. First of all, is
this a booster shot or a separate and new vaccine?
Well, it is a booster shot in the sense that is basic still
SARS cov. Two, it's just a different variant type. And the
good news is chuck that right now, the data from the last 24
to 36 hours that has been released supports that, in fact,
it will cover the various we're seeing right now. So that this
is something that we all should want, when it becomes available.
Adam Curry: Let's go to this next little segment here with
these two fine, gentlemen, who else is getting?
Unknown: Are we at a point where we could put the flu shot and
the COVID shot and maybe RSV and the one shot? Or is it a bit
beyond beyond our technological capabilities right now?
Adam Curry: What do you mean, what kind of question is this?
They've been talking about this for for years. It's just beyond
our technical capabilities right now. Hmm.
Unknown: Well, I think it's very important to emphasize that
despite the fact that some like the FDA want to make this a
seasonal infection, meaning like influenza, when you can count on
to occur.
Adam Curry: Did you hear what he just said? Did you hear what he
just said? He didn't say he didn't say they want to make
this a seasonal injection. He said, the FDA wants to make this
a seasonal infection.
John C Dvorak: Listen, listen, they already got that
accomplished. Listen,
Unknown: well, I think it's very important to emphasize that
despite the fact that some like the FDA want to make this a
seasonal infection, meaning like influenza, when you could count
on to occur.
Adam Curry: I mean, he's just saying it truth wants to come
out, they want it to be a seasonal infection, release the
infection buys
Unknown: between say November and January. We haven't seen
that yet with this virus. The only thing I see about this
virus that makes us seasonal that occurs in all four seasons.
And I think that one of the things that's really important
to emphasize,
John C Dvorak: we replay the not display, but we played a similar
clip, where I think and I'm an agreement with this. The idea of
having two shots a year, because you got to every year as your
winter comes, wants to get a flu shot era and another one every
year, but the COVID thing they're trying to make it so you
get a summer COVID And a winter COVID. I believe that will be
implemented?
Adam Curry: Well, it's makes no sense to me that they would,
okay, financially, it makes no sense. To put it all into one
shot, you want to charge people three times. Exactly.
Unknown: And I think that one of the things that's really
important to emphasize here is what we're seeing right now is
major activity. We have states out there over a quarter of all
the nursing homes are in the middle of large COVID outbreaks,
we're seeing large school outbreaks. What's different,
however, is that this virus and with the immunity that we do
have, isn't causing a big increase in severe illness. You
mentioned that already. I mean, when you think about
hospitalizations, were at 17,000. Right now, in the last
week, we're at 160,000 a week back in January of 2022. If you
look at deaths today, we're talking about 700 deaths this
week. But we were talking about 26,000 deaths back in January
2021. So it's a different situation, in terms of
seriousness, but it's still is widespread.
Adam Curry: Okay, let's get into these details. Because he says
some more interesting stuff coming up here,
Unknown: but you got on my radar over a decade ago, you know,
when you first sort of like what keeps what keeps you up at night
type of thing. And over
Adam Curry: a decade ago, had you ever heard of this guy
before? COVID Over a decade ago?
John C Dvorak: No. You really sort of is on his radar. Yeah.
Adam Curry: My radar tried to
Unknown: sound the alarm about our about our inability to be
prepared for something like this. Oh, well, we just went
through it. Do you think this country can handle another
pandemic in the next 10 years?
Adam Curry: Oh, boy. Okay, well, what do you think this is gonna
result in?
Unknown: I do not No. And when I say I don't think they can, we
will, of course, obviously survive. But at the same time, I
think the trust that we have right now in our institutions,
our governments clearly was at an all time low when it comes to
public health vaccines the same way. And so I think the next
pandemic, and there will be another one, potentially ones
that are much larger than this one,
Adam Curry: of course, is another one, much larger than
this never happened before in history, but it's much larger
than this.
Unknown: And I worry that we're not ready for that. And we have
not had yet as a government, really systematic review of what
went right, what went wrong, and how can we improve on
I was just gonna say, because of when I can think of people that
I want to see on that committee, you would be at the top of the
list, boy, yeah. Do you want to see President Biden and Congress
be essentially greenlighting 911 type style? Commission? No,
let's, we need to do this after action report. I think it's
pretty clear. I don't know whether the public would accept
it. But But would you like to see this ordered up?
Adam Curry: Now? Why wouldn't the public accept this is great,
do another Warren Commission so you can cover up the true
killing of John F. Kennedy, do another 911 commission so you
can cover up a building seven? Do want to do one on COVID? What
a great idea why, why would the public not want to be duped?
Unknown: Absolutely. You know, I think at this point, we need to
learn from what happened to prepare for the future. This is
not a situation where we might have a pandemic again, someday,
we will have one. And there are many, many lessons to be
learned. And if there's anything that we need to do to address
this as take great humility and acknowledge what did we really
do? Well, what did we not do? Well, and how do we change that?
And so I think that this is a very important issue, and I very
much support such an activity.
Adam Curry: All right, I can finalize this when we just get
back to the boosters which is what this is all about. Well, I
Unknown: mean, I mean, let's look we got we got a minute left
here. boosters, what's the one thing we did really well? And
what's the one thing right now that you would say? Well, we
were terrible at and that's what we got to improve first,
Adam Curry: we got everybody to mask up. That was good.
John C Dvorak: developing a vaccine that works? Yeah. Oh,
Adam Curry: it works we talking about?
Unknown: I think the most important thing we did was get
vaccine out in a time that most people thought would never allow
us to get a vaccine out. And clearly, at least 3 million
lives were saved
Adam Curry: or created. Listen to this Clearly. Clearly, 3
million lives were saved. Where's this data coming from?
John C Dvorak: There's no data this is bullcrap. He's just
making it up. That's the that's the reason Chuck like having him
on because he was blocked. He was bullied, Mr. bluster.
Adam Curry: Yeah. Oh, yeah. He was like, we're
John C Dvorak: all gonna die.
Adam Curry: In fact, wasn't it OSHA home who said 3 million
people were going to die? That was more that was his number.
Could be Oh, second.
John C Dvorak: Oh, that's why we saved. He likes that number.
Adam Curry: He that's why he likes the numbers because he
said 3 million people are going to die. Now the challenge is, of
course, is you and instead of saying I was wrong, no, no.
Clearly, we save 3 million people tree alone
Unknown: from having the vaccine. Now the challenge is,
of course is you know, as many people take it. Right now most
of the deaths we're seeing are in people 65 years of age and
older. Yet only 42 person always been
Adam Curry: listened to this. Listen to this. He says this is
another gaffe as far as I'm concerned.
Unknown: And these boosters right now, most of the deaths
we're seeing are in people 65 years of age and older. Yet only
42% of that population got the previous booster,
Adam Curry: is he saying it could be more dead if people got
another booster. That's what sounds like to me. He's only 40
only 40% We need to kill more people
Unknown: 65 years of age and older, yet only 42% of that
population got the previous poster. So we need to continue
to work on that. But I would say the bad thing is funny.
Adam Curry: That's what he's saying. You say we need to work
away. You're
John C Dvorak: like looking at it. But the way you're looking
at it's like one of those things where you start to you know,
it's like, take a look you What do you see the red gold dress
and golden white or blue and black. And you if you can get
the right image that you can switch back and forth. Yeah,
that's what it sounds like.
Adam Curry: Maybe once you see the strings attached the
marionette you can't unsee it.
Unknown: And this is a joint issue. This is not just public
health. This is government. This is the media, you know, some of
the very best stories that ever appeared regarding the pandemic
appeared in The New York Times some of the very worst stories
that ever appeared regarding the pandemic occur to the New York
Times.
Adam Curry: Well, that's an interesting statement. So the
New York Times controls all media, whether it's good or bad,
everything comes from the New York Times. That's what he just
said.
John C Dvorak: So I think that I think he's right. I
Adam Curry: think he's right to
Unknown: we have an obligation to go back and understand it. So
we communicate that or
I want to close with the CDC. I fear that that they're in
retreat mode. What's your level of concern that the CDC have the
resources to do the job we are asking them to do right now?
They do not. But I don't think any agency in the world does. I
think that's why this after action report is so important.
What is it going to take for us to basically be better prepared?
Right. And, you know, I think that we just don't have at least
yeah,
Adam Curry: there it is. They are setting it up. They're just
setting it up. The funniest way not to play all of it. But did
you see the supercut of the new Prime Minister of New Zealand
Kip Qin? No. So of course, we all know you've seen that.
John C Dvorak: The worst the worst a woman in history, she
Adam Curry: pretty much and she retired, and didn't you get some
cushy gig and home and she knows who cares? So her health
minister was this Jumoke Hipkins. And when she retired,
he became the Prime Minister. Well, Hipkins was the guy who
was forcing everybody to get shots. But now he's being
interviewed. And he's saying, no, no, there was there was no,
no, this was your own choice. He has the gall. And and it's
important to play at least some of this super clip, because this
long, because this is what all governments the dummies are
going to do is they're going to stand there and just lie right
in your face.
Unknown: That's knowledge that it was a challenging time for
people but they may ultimately make their own choices. There
was no there was no compulsory vaccination people made their
own choices.
The government is planning to require every single teacher at
every level and all support staff who work with children to
be vaccinated.
There was no compulsory vaccination
Newshub can reveal the mandate Chris Hopkins is taking to
cabinet on Monday is a mighty big stick. Every educator who
works with a child will have to be vaccinated
people made their own choices. I can now confirm that we'll be
extending this requirement to large parts of our health and
education workforces as well. There was no compulsory
vaccination cabinets agreed that high risk workers and health
interested in the health and disability sector will need to
be fully vaccinated by the first of December, people made their
own choices. This includes general practitioners,
pharmacists, community health nurses, midwives, paramedics,
and all healthcare workers and sites where vulnerable patients
are treated, including intensive care units was no compulsory
vaccination. We'll also be including certain non regulated
healthcare workforces, including aged residential care, home and
community support services. kaupapa Maori health providers
and non government organizations that provide health services.
People made their own choices, schools and early learning staff
in the support people who work with them who have contact with
children and students were going to be united. By the first of
January 2022. There was no compulsory vaccinations that
includes home based educators, all those who support people in
our schools and early learning services such as teacher aides,
administration and maintenance staff, and contractors, people
made their own choices secondary schools in Canada will also be
required to keep a COVID-19 vaccination register of their
students, there was no compulsory vaccination, students
that don't produce evidence of vaccination will be considered
unvaccinated people made their own choices.
Adam Curry: Just going to fast forward to this last bit where
it's even funnier,
Unknown: I think you will miss out on people made their own
choices. Everyone will be able to get a vaccine between now and
the end of the year. But of course, you know, and I want
every New Zealander to come forward. But human behavior
suggests there will be some people that we have to actually
really go out and look for
Adam Curry: compulsory that was the same guy who say we have to
go and get him off the roster and we'll have to forcibly
vaccinate him. It's human buffet behavior, but there's no forced
vaccinations and I shouldn't
John C Dvorak: have I can't get in office.
Adam Curry: He was anointed he was anointed in by the party.
She quit and then they just and overnight he was the guy. Yeah,
I'm sorry news. No, I don't hear much from people in New Zealand
anymore. Where's kiwi? Chris? Is he dead? Probably. I mean, I'm
sorry. I'm not
John C Dvorak: listening. No agenda. Take two to the head.
With that,
Adam Curry: I'd like to thank you for your currency in the
morning to you the man who put the sea in the cloud cover
ladies and gentlemen say hello to my friend on the other end
the one and only Mr. John
John C Dvorak: C bushcraft for the use of the word. There's a
nice out there
Adam Curry: in the morning to the trolls and hey, they're
trolls. Let me stand stand. 1220 Honey 2220 consider say that was
200 low. Now considering we're an hour 45 into the show, well,
I think I think we're on track, we probably started you can say,
Oh, you want to under low, I'm gonna say whatever I want to
say, you know, you can say whatever you want. I just did
him said it, I'm saying it. But still, that's 2220 Trolls
listening to this live in real time, when they don't have to.
They could be doing all kinds of other stuff. Why? Why they
listen, because we make the world understandable.
John C Dvorak: I think, I think they listen just to Howard
Harris us,
Adam Curry: there's that and Harris each other, you can join
the trolls by going to troll room.io or getting a modern
podcast app, but podcast apps.com new podcast apps.com,
both of them work and import all of your podcast subscriptions,
this is the only way you want to go. It's only it's only a matter
of time until Spotify folds. I mean, they've wasted a billion
dollars and they and nothing's working that now they're just
wasting bandwidth, the whole thing falling apart. Apple, they
just want you to pay Apple. Now if you want to be open and free
and if you'd like to provide us with value for the value we
provide. So Mike, all we all we ask for is validation. That's
all we want. Just send us some validation to let us know that
you're listening that you like
John C Dvorak: your Hello, Ron blue.
Adam Curry: I know I love that. It came out of my mouth
accidentally value Daesh it's infotainment validation. You can
interact with us at no agenda social.com For as long as that
thing stays alive. Man, have you noticed that degradation the
validation of no agenda social or do you still you still dig
it?
John C Dvorak: No, I've noticed it but it's always when we do we
bring new people in and a lot of members are spammers and, and
weirdos. A lot of weirdos and no agenda. Here. No, yeah, we
Adam Curry: got some weirdos,
John C Dvorak: and I block them left and right. It's when
Adam Curry: they start trolling each other that it's always so
disappointing. It's like stop. When people are trolling comic
strip blogger. I mean, it's like, come on the guy's
furniture. Leave him alone. You know, calling a pole lock.
That's not fair.
John C Dvorak: It is fair because it's what he is. And
then
Adam Curry: he always says one of the hosts is my Slavic
brother.
John C Dvorak: That means you. Yeah, me.
Adam Curry: So back to the value for value. We've been doing
this. It'll be 16 years in October just around episode
1600. How Epic is that? They fall within a week of each
other. The keeper has informed me that's a long time. That's
that's the longest time I've held.
John C Dvorak: They did their moves and is getting closer.
Pretty soon they'll overlap and then it'll go the other way.
Adam Curry: What do you what do you mean the other way? Well, I
John C Dvorak: did do 1000 shows is not the same as doing a year.
Adam Curry: I don't understand what you're talking about. Who
else?
John C Dvorak: Think about it? Well, in other words, the number
when you get to show 1600 is not going to be 16 years on the on
the spot. It's going to be it's gonna be offset. Yeah. And
there's there's always an offset and the offset is such that it
should be going in the other direction. Okay.
Adam Curry: All right. So this is basically the Golden Cross.
Yeah,
John C Dvorak: yeah. When the stock market is
Adam Curry: no agenda Golden Cross moment. You don't want to
miss it. It's gonna be beautiful. On the charts, Golden
Cross, it was
John C Dvorak: better when it was a month apart believe me.
For the for our bottom line, especially after shows like
today and
Adam Curry: I'm just happy I get to do this. I love
John C Dvorak: Yeah. What's weird is we get no donations. We
got like 35 donors out of a million people that listen, and
we have we have no donations and everybody feels long winded.
What is that?
Adam Curry: I feel value dated. I don't know about you. I feel
good.
John C Dvorak: Well, you should get dated. Yeah, we are dated
boost boost boost. We
Adam Curry: have many ways that you can support us suppose you
can support us by by time, talent or treasure. And one of
the ways that that people provide value back to the show
is by creating album art because every single show has a new
piece of art. And science has proven nine out of 10 science is
climate scientists have said that more people are aware of
the show by the dynamite art that we create. And artists are
harder work as we speak with To create something that will work
and be just perfect that we will pick for episode 1589. But first
we need to thank the artists from Episode 1588 titled Swedish
Fish, which Wow, got a lot of comments. I had to two people
say to me. What's wrong with John? I love Swedish fish. Yeah,
hopefully Yes. Including the keeper.
John C Dvorak: I brought it. Oh my gosh, she must like
Twizzlers.
Adam Curry: I think she's a red vine girl actually.
John C Dvorak: Well Red Vines if you like no, you better check. I
think Red Vines are the good one. And Twizzlers are the
Swedish Fish
Adam Curry: I'm the Twizzler girl I think she's the red vine
girl I'm not so
John C Dvorak: sure well I know whoever likes Swedish Fish and
is condemning me for it's banned it for telling it like it is
Adam Curry: banned from the show.
John C Dvorak: banned from the show go
Adam Curry: we want to thank brought it up a
John C Dvorak: dinner everybody agreed with me. Oh, well wait,
y'all. Oh my god, I can't eat these things.
Adam Curry: Brat by the way, the Powerball number is 72 Brad 1x
did the artwork for us. We looked around and there were no
we'll talk about some other candidates but it was the deep
state nine logo I think that which is
John C Dvorak: part of it was based on your fumbling a bunch
of Star Trek these and mixing them up in a very humorous way
which I tend to do state voyage or nine or something whatever
you said Deep
Adam Curry: State nine and now Brad is actually he's a Sir He's
a knight. I found out he emailed me he's like you didn't credit
may. I said really? He says yes it's wrong on iTunes. He said
wow, well everything looks good he is oh no iTunes was off okay.
That's why you need to get a modern podcast app bro. What
else did we have that we looked at there was there was a lot of
Swedish Fish in hindsight that might have been a might have
been a good idea.
John C Dvorak: Matthew do I know was do we use the title? Yeah,
Adam Curry: it was the title. Yes. We had the Elon Musk cake
that
John C Dvorak: Darren O'Neil accurately predicted I used for
the newsletter
Adam Curry: if I think he was that was predictive programming.
Then he was right now
John C Dvorak: nice. It was it was good.
Adam Curry: It was good cheesecake. It was good
cheesecake.
John C Dvorak: With the legs from Dennis I guess is row
Becker I didn't the legs there's some legs further down and it
kind of nice. Well and that I was the one that I thought I
think we'd come in and I was dropped goes really big fish
with some guy holding like it just like captured a bass
holding a Swedish Fish. You very funny.
Adam Curry: You'd like the bear with the fish.
John C Dvorak: And I love the bear with the fish bunch of
Swedish Fish going after a bear?
Adam Curry: Yeah, that scaremonger? I did like that
yeah, but after some back and forth we said look this is it's
clear. I do believe
John C Dvorak: no the the deep state nine was good date night
was dynamite. It was we used it thank you very much mentioned in
advance even though it's probably won't get picked but in
advance I would just want to compliment correct a record for
having a sense of humor.
Adam Curry: Let me see what is correct to record what has he
done?
John C Dvorak: The has second second row down right open right
RFK open
Adam Curry: Yeah, we got some RFK news coming up. Thank you
very much Brad 1x for bringing us the artwork for episode
John C Dvorak: you know we have some Barack Obama news if if you
have the guts to play these clips.
Adam Curry: They want to do this as a as a donation segment
special.
John C Dvorak: Oh, I don't know. Come on. It does not fit for
children.
Adam Curry: Well, children don't donate to the show anyway, there
they skip past the donation segment.
John C Dvorak: By now it might be an opportune moment to do
that. And then you people can't complain. Okay. So this is I
don't know
Adam Curry: about these clips. I mean, I see what their title but
I don't know what this is. Is this we know what it's about? Is
this based on your question that you had Yes. If there were any
okay and so what is this Larry Sinclair the not
John C Dvorak: flourishing clear on the red kowski show online as
a podcast with him it's almost like a zoo podcast is two guys a
girl who's even be in the conversation and they're talking
about Obama's dick and be you know, and it's because I
disagree. This is tasteless. Okay, but these guys were into
it and we didn't get an answer and we got some it became Same
kind of humorous
Adam Curry: question. The question was you said, like the
Monica Lewinsky scandal. What you're bumping your mic a lot.
John C Dvorak: I bumped it because I took my glasses off it
to screen. I'm not going to make him hitting the screen. And then
your complaint. But I took my glasses off. But did Mike is too
close to my face and see I did it again. Yeah,
Adam Curry: it was you've been doing it all show long. And so
you said
John C Dvorak: it's not the mic. Okay. So go
Adam Curry: on, stop bumping the screen because it resonates
through to the mic.
John C Dvorak: Yeah, I would think so. So, yes, that was
good. It was a Monica Lewinsky thing. Yeah. And
Adam Curry: you want to know if Larry Sinclair had any
information about any identifying you think you
John C Dvorak: would? Well, yes, big talker
Adam Curry: and you think that Tucker Carlson would ask a
question about it
Unknown: right there's another question here by the Raven watch
Adam Curry: so that's your your nickname now the Raven watch
you're calling me
Unknown: a question here by the Raven watch saying ask him about
the dick.
Raven watch.
Can I guess before you tell us because I've been theorizing
this was my power game. But why are you spending time first of
all before we get to their clip, why are you doing with the tower
gang guys? They're rising. The weed. President stick? Listen,
no, I do not. I want to ask a more scientific more more of a
more of a more of a, you know, professional question. And is
that you know, is there anything you could cooperate his did he
have a mole? Did he have like a birthmark anywhere? Is there
anything that we could collaborate and then we could
hear about clinch fantasies and rants about his dick that he
talks about with his tower gang guys all the time? What
I said and people actually attack me said oh, you're full
of shit.
Adam Curry: He's He's This is Larry Sinclair talking now.
John C Dvorak: Yeah, that's just a waste. My SEC says higher
pitched voice and
Adam Curry: women so Sinclair. We haven't heard from him for
years, also known as doing everybody's podcast all of a
sudden, hey, this is a deep fake. This is a deep fake.
John C Dvorak: This is a deep, deep fake oddly,
Adam Curry: now the guy's fake is not the original. It's not
the OG Larry Sinclair. He was he mowed down by hitting run, we
continue
John C Dvorak: Deadwood they just killed the wrong guy.
Unknown: Oh, you're full of shit. He's this he had to bid. I
described. What okay, you know, guys know what I'm talking
about. Some women might some women might not. You're either
cut or you're on cut?
Shirt. Got it? Yeah, girls also know that.
Okay. In Brock's particular case, is a situation to where it
almost appears as if he's uncut. Because there's a little play
versus not completely covered. You understand what I'm saying?
Yeah, in other words, the skin definitely a big thank
you We all tell each other the predictions I say I say five
venture.
We're gonna hear my thesis has been it is lengthy,
but very narrow. I say five venture. Stephanie.
Adam Curry: Shame on you. Jhansi Dvorak. Shame on you for
lowering the standards of this show.
John C Dvorak: I warned everybody.
Adam Curry: So the now so the next next nugget is about
length.
John C Dvorak: Well, first of all, I stopped it here, because
I think this was a dead to throw this to Stephanie. is
actionable. This is sexual harassment. And that's what the
point of this clip is. Okay. You'd have a woman on set. She
doesn't care one way or the other. I'm sure army is kind of
interesting. It gets to a point but she shouldn't be brought
into the conversation at all. But she is they throw it to her
to make a make. She says something lame, and then they go
on and it leave her alone. Here we go. I'm going to guess a
shower not a grower.
Unknown: Well, he was he was in fact grown at that point. So it
wasn't impressive or no. Well, he was you know, doing crack.
How does crack affect your dick? I don't know. I think
based off of your mom's house, it's four to five string lesson.
You don't want to get personal here. I need to I guess I need
to ask for clarification that in terms of lengthy Yes. What do
you consider the
baseline? I would say average is six.
Have any of you heard the term black man with a white boys dick
I have now for those of you who haven't, everybody assumes that
a black man And has this humongous
Adam Curry: alright, I get it. So it's not as small. I really
can't take much more of it.
John C Dvorak: Oh then you gotta get you to the punch line.
Unknown: Now all right lung Anaconda down.
That is the racist stereotype.
Adam Curry: This is the dumbest thing we've ever done on this
show. I mean, playing another podcast I mean if we just got
the answer, but since you forced me
Unknown: that is extremely discriminatory
John C Dvorak: you blame him? Yeah. Now hold on. I liked the
way you're doing this. You're going to deflect all blame to
me.
Adam Curry: But you brought it up in the first place on the
last show. I know and then
John C Dvorak: it's somebody sent to one of our producers who
I blame for this sent me the clip. So here we go. This this
let it wrap because there is a punch this is
Adam Curry: going to ruin donations for the next show. And
then it will be your fault. What
Unknown: how could they get any worse? You know what it may be
but I'm just pointing out something that a lot of people I
don't give a shit who you are a view sit there and tell me that
you've never said that or thought that when you're
referring to a black dick then you bullshit. Why do you think
you say BBC?
Yep, you're a liar. They all think about it all the time.
So what I said at the press club is a black man was a white boys
Dick meaning pretty close to what you are saying. Alright.
Six and narrow. Extremely penciled in pencil deck. Yeah,
yeah, go nailed it there.
Obama penciled deck
for his, for his Obama.
bird call it a greatest moment in history.
Adam Curry: Okay. All right, that was worth the punch line.
The greatest moment in podcast history, the lowest of all lows
in podcast history. However, this means to me that the this
is a this is a playbook that has been played. I'm gonna save you.
This is a playbook that is being replaced. Don't care. Oh, yeah.
It's a playbook. This is how Hillary got to be nominated for
president. And this is how Michelle Obama will be nominated
for president because Oh, yeah, because Okay, what
John C Dvorak: do you did save me with the with the most
ridiculous thing anyone could possibly say after listening to
that clip, Big
Adam Curry: Mike 2024. Baby, it's on. It's on. It's on. It's
on. It is complete. The circle is complete. They had to talk
about Bill Clinton's member, everything and all the and of
course, you know, these days everything happens on the
podcast. So it's the same playbook in a modern jacket. And
Michelle Obama is going to run Garen I am
John C Dvorak: apologizing for playing for having the clip. I'm
apologizing for insisting on playing the lie didn't insist
actually, it was Adams idea to play. And, and I'm going to
apologize for Adams commentary about Big Mike.
Adam Curry: commentary about Big Mike.
John C Dvorak: Yeah, your commentary that he's dead. Yes,
well, I'm not gonna go into it.
Adam Curry: We want to kick off our short donation list with Sir
Roderick from Woodlawn Virginia, who comes at us with 629 and 40
and says hey boys. With today's donation plus Adam kicking into
Penny, which I have for you, I will have achieved the coveted
status of Baron. I also noticed that my first donation was
nearly 10 years ago now a testament to the quality
programming you've provided for all these years and the stress
alleviated by not having to listen to the M five m from my
news. And then he goes on to say on Tuesday, September 12, we'll
be debuting our foundation send a student leader abroad. In
partnership with EF tours. We have an audacious goal of
sending 1 million deserving kids on life changing trips they
couldn't otherwise afford my book. My book million dollar
flip flops also releases on September 12 at major book
retailers and 100% of the profits are donated to the
foundation. Can't thank you gents enough for what you do. No
jingles and an uncomfortably long goat karma if you please
all the love sir Roderick of flavortown PS would like to be
the bearer of fancy GAAP VA and the surrounding villages. Should
it be available I think that is possible. You've got
uncomfortably long.
John C Dvorak: This one blows up my spreadsheet get it to read
the second note to
Adam Curry: this is from Bert lamber and Maria Honda. Hi, Beth
lumpsum Bert Beth, Beth Lambert Maria Hahn, Westport,
Connecticut 333 33. In the morning gentlemen, we are
sending you this note in conjunction with our don't
donation of 333 33 to let you know that you are on the right
track with your analysis of the harms of the medical industrial
complex. While the no agenda show does media deconstruction
and reveals what's actually going on behind the mainstream
headlines, we do medical industrial complex
deconstruction and talk about what really restores health.
These are things you don't hear from conventional doctors,
medical authorities, or the M five M are organization
documenting hope. FOC focuses on the real root causes of
children's chronic health conditions, and helps families
and practitioners learn how to heal help kids heal. This
country's children are in a health crisis. And here's some
stats. At least one in 3031 Children has autism one in 22
children in California has autism. The CDC drastically
under reports the true autism prevalence. 50% of college aged
kids have a diagnosable mental health condition. Every chronic
condition in kids is on the rise Food Allergy Asthma, ADHD pan's
pandas, Lyme disease, autoimmune diseases, this is the sickest
generation of kids ever when uplifting note ARP and this I
saw this note come in our perspective is that conditions
such as these can be reversed but you will never hear about
this in the mainstream media. What we talked about applies to
adults as well. Yes, Adam. Tourette syndrome can also often
be reversed. reply to this email if you'd like to know more, and
I did. And the email I got back was five times longer than this.
And it didn't really tell me how to reverse it, but I appreciate
it. So like, you know, it's an autoimmune disease. Okay, so
change your gut. Okay. Okay, so what are they saying? Your
organization exists to help people don't want the kids
hooked on pharmaceutical pills that's good for life, one to
find the root causes help the children heal. We're doing the
research to back up this claim. Where can we find the
documenting hope conference in Orlando, November 10 2012. We'll
be teaching parents and practitioners how to help
children suffering from these quote new child epidemics
without pharmaceuticals. And here's the good news. No agenda
listeners get a 33% discount off the ticket price using the promo
code no agenda 33 Our website. There it is. Conference dot
documenting hope.com Beloved's let future dame's in the making
Beth Lambert and Maria Rickard Hong, thank you ladies. Thank
you very much and you're doing God's work. That's very I'm
very, very happy you're doing this. It's very important.
John C Dvorak: I'm glad the ladies came in with some
donations today. Eliza Merritt, MER ma R o t te and Chicago is
another one 333 33 But this is a switch or a birthday donation.
Adam Curry: Here we go for.
John C Dvorak: For Carl Zawadzki. Born on 911 Hello,
Adam. Hello, my son. Carl is a big fan of your show. And for
his 29th birthday. Yes to give me a donation to your show as a
birthday gift. So here it is.
Adam Curry: I sent some hostility here John. He
John C Dvorak: requests jobs karma. So he and I can have an
easy time hiring people at our small business. And I've got
ants of end of show mix. And the end of so he could have Okay,
let's get it. I think it's a request. Yeah, I think he's an
amazing young man. And I hope he'll enjoy having his name
mentioned. Carl, during a Sunday show Carl, you are as the son in
my sky. Love your mom.
Adam Curry: Jobs, jobs, jobs jobs. Got karma. And what are
the chances? The next 333 33 is from Carl zawacki who just got a
donation from his mom. And just like his mom, a very long note.
In the morning, John and Adam, thank you for producing a season
of the best podcast in the universe every week. Yes, it's
true. I've been listening since around the mass formation
episode I came in during COVID That show was likely one of the
most important pieces of media of our time.
John C Dvorak: Yeah, where's our where's our award?
Adam Curry: Where's our pee, buddy? This this donation is a
birthday present to myself. I'll be 29 on 911 Thank you to my mom
for matching donation in my name. Okay. Thank you to the
producer. To stick through the donation segment as a reward,
your lucky number is 11. While I have you here, let me update you
on the situation Illinois now. I will not go through the whole
note on Illinois but no cash bail. I'm just picking a few
things out of here. No cash bail is coming. That sounds
encouraging.
John C Dvorak: Yeah. That's always worked.
Adam Curry: Illegal Immigrants are now being encouraged to
apply to become police officers.
John C Dvorak: That's it. There's a there's a What could
go wrong. Their application
Adam Curry: process is technically expedited since
they're leet sleeping on the ground of police stations. The
good point the assault weapons ban has been passed this year
challenged and survived rifles like the AK and AR and a new
innumerable pistol features like a threaded barrel or over 15
cartridge magazines are illegal to sell and possess without
declaring possession to the State Police Police. What could
go wrong there. Likely millions of law abiding citizens of
Illinois will be turned into felons next year when they don't
submit an affidavit to the Illinois State Police. So please
producers he says pray for Illinois are known a cultist
governor is building his portfolio that's Pritzker and
don't be surprised if in a few years we'll be seeing Pritzker
on a presidential ballot yeah but it will it be the trans one
or the or the the current one
John C Dvorak: because the Pritzker sisters to transport
his sister Sister,
Adam Curry: thank you for your courage and F cancer karma to
anyone who needs it and maybe any type of karma to me so I can
find a cute libertarian girlfriend this year. Thanks
again.
John C Dvorak: Matt by the way, yes,
Adam Curry: well get on no agenda social man let's let's
put up a profile picture. Let's turn it into a dating site can't
get much worse. You've got karma
John C Dvorak: T and dance up. Parts Unknown $333.30 Happy
birthday, Angie. Adding another 333 to contribute to her
eventual Dame hood from T and Dan.
Adam Curry: Oh, thank you t and Dan. And Shawn is in Dean's
borough New York 333 No jingles no karma also please mention my
meetup in Shanghai next week. Yes, I believe the Shanghai
Meetup is on the meet up list which is coming up momentarily
Thank you very much for your courage.
John C Dvorak: William Alston in El Paso Texas to to to Associate
Executive producers and jiggles which I guess we're stuck with
this. Thank you. jiggles if appropriate. Who's ready for a
revolution fear is freedom yet karma. My nephew is heading off
to serve a mission outside of Mexico City soon hopefully any
bubbling Cuf madness stays with the US. Thanks for your courage
and of coded message.
Adam Curry: Very coded message
Unknown: fear is freedom. subjugation is liberation
contradiction in this world
Adam Curry: nice one kinda kind of like that sequence. Good one.
Thank you very much. Then we see Melissa Reeve Melissa Reeve
comes in and Melissa Reeve has no note but she is in
Winchester, Virginia with 210 and we appreciate that double up
for you. You've got karma
John C Dvorak: Kimmy V in Brussels, Ontario, Canada. Well
boys I completely miss the net with Tuesday's note A. So please
accept another donation of 201 US dollars this goal of this
note is to recruit someone who can make deep fake videos for
use in the future promotional campaigns for my racist country
song I will pay for this content please reach out if this is you.
The correct email address is feed Canada feed this was a feed
Canada all one word@yahoo.com That's feed Canada if you can do
deep fakes for his racist country song we know he must
have people that are that can do this. Yes, there are no agenda
social obviously there are no agenda socials, you really want
to find him because that's where the race is. Go. Again, Adam.
Thanks for spinning my tune and thank you for your courage and
keep your stick on the ice Jimmy be
Adam Curry: spoken like it You can the Navy him, Matt Grisham
and Aaron lander Ville 200. And I believe they sent it. I guess
you got your box from them.
John C Dvorak: Yes, I finally did. I got my box full of crazy.
Adam Curry: Crazy. gummies crazy. gummies gummies star Hill
warnings with warnings in the note, Star Hill hemp.com
John C Dvorak: Don't use too much of this. Don't take three.
Adam Curry: Hey, make sure you got to full stomach before you
take this one. Star Hill hemp.com If you use a promo code
ITM 33 We can't discuss all of the products they have
apparently, if you use promo code, ITM 33 no agenda get my
nation producers and listeners will get a 33% discount at Star
Hill hamp.com. And we thank you boys for your support. Very
John C Dvorak: serious about their nanotechnology.
Adam Curry: Yeah, now they got some nano gummies. Very, very,
very interesting. Now before you continue, because we do need to
speak all the way through 50. It won't take very long I have a
make good note. And this was quite interesting. Hold on a
second. It is so interesting.
John C Dvorak: Can I read a little bit of the match note?
Adam Curry: Well, let me just do this one because it's
appropriate. We do it right here to make good from Linda Lou
Potkin. Oh, yes. Yeah, ITM guys, I'm still in the staring
contest. But you guys blinked. I sent in a donation for Thursday
show and it did not get read. How did we miss it?
John C Dvorak: I believe there was a donation and believe it
was read if there was a donation, it gets read. Anyways,
I'd like a make I don't see one for today's show. But she wants
to make good because we blink she says, Here's the message.
You know the thing I dispute this? Well, that's
Adam Curry: a very easy way to find out. It's very easy. While
anyway, so I'll I'll finish or make good and then I'll go see
if the dispute is valid. For a resume that gets results. Go to
Image makers inc.com For all your executive resumes and job
search needs, that's image makers Inc with a que.com or
just find Linda IUPAC and in the producer list, and I'm going to
see if you if you have a valid dispute, Linda? Okay, now watch.
Here's how we do it. No, you know what, I think she's right.
There was no mention of Linda Lou Potkin on 1588.
John C Dvorak: So the nothing came in the spreadsheet is
straight full day, pal. Hold
Adam Curry: on. I can I can check that too. I have all the
systems here. And I am going to see 15 now. I think I think
you're right. Fit. Wait, wait, what is this show? This is 15.
No, that's interesting. So somehow Linda Lou Pat can and
no, there was we didn't didn't do do not have it on the
spreadsheet for 1588 only 1587. So what do we do about that?
John C Dvorak: I think I will give her an Associate Executive
Producer for today's since you read her. No. Okay. And now she
has to start over.
Adam Curry: Okay. Yes, Breton. New round. Yes, indeed. Okay.
John C Dvorak: But anyway, Mark Grisham and Aaron lander the eat
and read their note.
Adam Curry: No, I did not because they're they're the
because I know why. Cuz I said we we just went through the
whole thing. We just gave their promo code and everything.
John C Dvorak: Whatever. No, to get things to tell you
Adam Curry: that we read the note on the last show. We did.
Yes. When I thank them for the box. Hello. Do you remember now?
John C Dvorak: I don't remember you reading. Thanks for
softening the noise gate on John.
Adam Curry: Yes, I did. Oh, you did? Okay. Yeah. Anyhow, what
John C Dvorak: would I like to know why it was off putting?
Adam Curry: I don't know. I don't know. Because people
thought that it was clicking. What what what? Okay, since you
bring it up, but what happened is when you're when you're
reading something, you go away from the mic like this and then
you know, then you don't hit the noise gate and it starts
clicking. And then I have to say, could you please talk into
the microphone? That's well, maybe yeah, that's what it was.
John C Dvorak: Okay, all right. We're done then
Adam Curry: yes, thank you to these executive and Associate
Executive producers for supporting us for episode 1589.
A, a credit that is true and and honest and real and you can use
anywhere credits are recognized while the Hollywood industry
still exists. So get get your credits now before before we're
done. The only one that still recommend they run out yet or
they run out for sure while stocks last and you can go to
forex.org/and It'll take us through to the 50s Won't take
long and then we'll get into our meetups. Yeah.
John C Dvorak: Five to do here five or six peopl