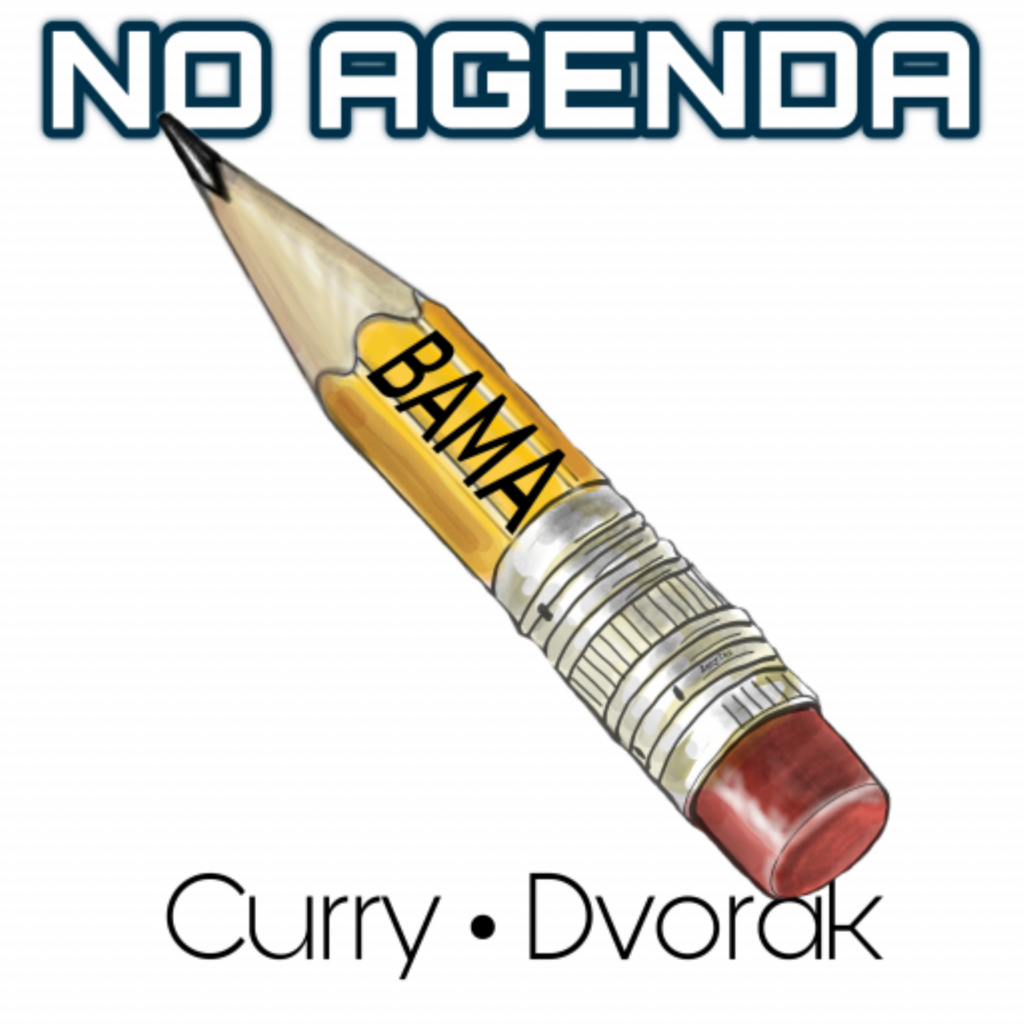 September 10th • 3h 12m
1589: Valudation
Shownotes
Every new episode of No Agenda is accompanied by a comprehensive list of shownotes curated by Adam while preparing for the show. Clips played by the hosts during the show can also be found here.
Opening Scripts

It's Sunday September 10th 2023, this is YOUR Award Winning Gitmo nation media assassination, episode Fifteen Eighty Nine!

Counting the Corridors and Broadcasting live from The Heart of Texas Hill Country, FEMA Region VI .... In the Morning Everybody, I'm Adam Curry

OLD

HotBoxing another hotel room...and coming to you just a stone's throw away from the Dutch Government of Gitmo Nation Lowlands, In the Hague, in the Netherlands, In The Morning Everybody, I'm Adam Curry

We're live now at http://noagendastream.com/ with No Agenda episode 1589 #@pocketnoagenda

FIRE UP LIT!

We're live now at http://noagendastream.com/ with the No Agenda Pre-Stream #@pocketnoagenda
TODAY

Big Storm yesterday almost NO RAIN

The "M5M" is nothing more than a brother of Intellectual Prostitutes

Gas prices after Labor Day

podfather,

John made a very predictable prediction that gas prices would go down after Labor Day.

I live in an extremely tourist area, and gas prices went up 30 cents yesterday and 40 cents today.

God help us all

loyal member of git mo Nation, Craig the jester

Javier Milei rants about the left

Javier Gerardo Milei (Spanish pronunciation: [xaˈβjeɾ miˈlej] i; born 22 October 1970) is an Argentine economist and politician. He has authored several books on politics and economics, and hosted the radio programs Demoliendo mitos and Cátedra libre. He achieved notoriety and public exposure through his debates and statements on the television programs of various channels in Argentina, which led him to pursue a political career in 2021.[1] Since December 2021, Milei has held the position of national deputy (a member of the Argentine Chamber of Deputies) in Buenos Aires, representing La Libertad Avanza, which he leads.[2]

Valudation
Big Tech
Climate Change

India is now - Bharat

Bay Area scientist 'left out the full truth' to get study on climate change fueling wildfires published

Brown wrote that the study didn't look at poor forest management and other factors that are just as if not more important to fire behavior because "I knew that it would detract from the clean narrative centered on the negative impact of climate change and thus decrease the odds that the paper would pass muster with Nature's editors and reviewers." He added such bias in climate science "misinforms the public" and "makes practical solutions more difficult to achieve."
Great Reset
Transmaoism
Big Pharma

Hospitalist, Show Sun, Sep 3 1587

Hi Adam,

We've emailed in the past, and you've verified my identiy - I'm an Internal Medicine physician whom also carries the title of "Hospitalist".

For a brief moment on your show, my role was elevated and my salary tripled...

A hospitalist is merely a physician whom specializes in "acute" care i.e. hospital care - you can find us in the ER, wards, ICU, and all things hospital-related. This is changing, and we are becoming outnumbered by Nurse Practitioners. They cost administration less and follow orders better; lacking a fundamental bed of knowledge. Unfortunately, nobody follows our orders as everything is becoming more subject to protocols, and we have become cogs in a large medical-insurance-pharmaceutical complex. However, now I'm not telling you much you don't already know.

TYFYC,

Anonymous, MD
Covid Comeback

Masking in Alabama started

Two counties in Alabama just put in mask mandates for school and government buildings. Dallas and Sumter counties. Both solid Democrat.

The Template: TP shortages must start now

USPS and CVS BOTG

I deliver to a CVS on my mail route and I always chat with the pharmacist. I asked her if they were ready for the next "Wave" of COVID. She told me that they are actually expecting a massive shipment of new vaccines in a couple weeks. I told her my job didn't give a crap about any of the, "rules & guidelines" for over a year into the "pandemic", infact the whole office was mandated to work their day off, and that is still going on 3 years later, except it's worse cuz they've managed to not pay a lot of us overtime for it(I've told you about the pay cuts before). She perked up even more and said, "oh yeah none of us were given time off to "stay safe" either and we were all fine nobody got any crazy sickness". We chatted for a bit and another thing she told me I thought was interesting from the pharmacist was pretty much whatever the "experts" say shes going to do the opposite.

As far as post office pay cuts go, We filed disputes and grievances which They delayed and delayed and eventually sent all of us a letter saying no action will be taken. now they just say wait till the new pay update cuz the system is going to recalculate our income every 6 months based on the volume of mail/packages, scans and algorithms in your scanner. Which is BS cuz how do you budget a normal life on a income changing every 6 months. What we are all doing is trying to figure out how to beat the algorithm and make it calculate our pay higher. I should know in around a month if we figured out how to work their new f'd up system.

. I've looked into this and this whole system is something that post office has been working on for over 10 years and they hired outside people to mediate the deal because the union and post office couldn't agree and whoever was in charge finally just pushed it through even though there is still massive problems. Union and post office is massively corrupt(What else is new..)and it's really sad for us regular working people who just want to be compensated fairly and have a decent quality of life.

I'll also mention a few months ago the PO had us sign a piece of paper saying essentially that the COVID pandemic is officially over and no longer an emergency and we understand that it's over blah blah blah. This was likely done so that people couldn't get extra leave for COVID approved. I probably should have played that system up while I could have haha. So i wonder how they will handle it if they make another hard push for masks and vax which is likely. Like you said though it's all about dividing us It's all political.

Sorry for the long boots on the ground. feel free to use any of this information if you find it useful.

Sir TJ the Wrathful
Obama

Big Mike 2024

Since many ppl are talking about Michelle Obama running for president…

Remember how everyone only rallied behind Hillary in the wake of the revelations about Bill and Monica?

Now it's Barack being gay… it's literally the same playbook.
Biden Crime Family

All it would take is for Biden to admit his corruption publicly. I pray for that
Bobby the Op
Trump

Trump description:

Twice Impeached

Quadruple Indicted

Desgraced

One term President
Ukraine vs Russia

Germany : Eighty percent of Ukrainian refugees will not work

▪️The German "Welt" writes that, according to UN data, as of February 2022, slightly more than a million Ukrainians have arrived in that country, and that four fifths are still not working even after a year and a half.

▪️"Welt" blames the generous social assistance that Germany provides to Ukrainians for this - they receive an indefinite monthly income of 502 euros, and their living expenses are also covered. For this reason, they have no motivation to look for a job.

▪️However, in neighboring Poland and the Czech Republic, which also received a large number of refugees, about two-thirds of Ukrainians are employed.

http://countermap.noagendanotes.com/
VAERS
M5M - Ministry of Truthiness
Africa

USAFRICOM ATAP 24-02 Assignment Opportunities

I don't really understand why people hate talking about Africa. But AFRICOM is actively trying to recruit Army Officers. See below.

************************************************

USAFRICOM ATAP 24-02 ASSIGNMENT OPPORTUNITIES (ACTIVE DUTY OFFICERS AND RESERVE TOURS AVAILABLE). United States Africa Command is now hiring Active Duty and Reserve Officers for summer 2024! Incredible opportunities available to serve in joint and nominative assignments, working directly with our international, interagency, and multilateral partners! Please contact the J1 Army team below if interested in joining our team! Click on image to learn more.
Maui Fire

FEMA to extend $6K for C-19 Funerals to 09/30/2025

FEMA has said they will keep on providing 'assistance' and keep paying $6K per funeral of someone whose death is linked to Covid-19 until September 2025. They've spent $3B on this so far.

Vs $700 per house in Maui

"The COVID-19 incident period ended on May 11, 2023. FEMA will continue to provide funeral assistance until Sept. 30, 2025, to those who have lost loved ones due to this pandemic."

quote

"As of July 2023, FEMA has paid over $3 BILLION DOLLARS in reimbursements to families for covid-related funeral expenses. The average payout is $6000, and reimbursements will continue for TWO MORE YEARS. Why are tax dollars subsidizing deaths caused by an endemic virus? Absurd."

"And to qualify, the death certificate only needs to show that the death *may* have been caused by covid. Extremely low bar to receive thousands of dollars. 90% of applications are approved."
STORIES

Wealthy Suburb City in Illinois Slammed for 'Poverty Simulation'

Sun, 10 Sep 2023 14:20

The city of Highland Park in Illinois has been criticized for announcing a "poverty simulation." It was supposed to be held at a repurposed country club and show residents what it's like to live poor. A description of the now-canceled event said it would simulate a "month" of poverty in under three hours. Loading Something is loading.

Thanks for signing up!

Access your favorite topics in a personalized feed while you're on the go.

Officials of a suburban city in Illinois came under fire on Tuesday for announcing a "poverty simulation" for its residents.

The 2 ½-hour free event, planned for September 9, has since been canceled amid widespread backlash on social media.

Meant to "increase residents' understanding and awareness" of life in poverty, the simulation was to be held at the Highland Park Country Club, a government-owned facility.

"Participants in this immersive experience will begin to experience what a 'month' in poverty feels like," a Tuesday announcement for the simulation said.

The simulation would place people in scenarios where they "do not have enough resources" and "are forced to make difficult choices that can negatively impact them and their families," said the event description.

"The outcome is increased awareness of the need for resources to support those living in poverty to create a more resilient health, human, and education sector in our local area," the announcement added.

But people online criticized the event as tone-deaf.

"What an absolute embarrassment for HP. What is the intended goal of this?" One commenter wrote. "Nothing about spending a few hours at a country club simulates living in poverty. This is a total swing and miss."

Despite its name, the Highland Park Country Club isn't a private country club or golf course but a facility purchased by the local government in the 1990s that has been repurposed as a center for older people, city park, and private event venue, The Chicago Tribune reported, citing city officials.

It was chosen for the simulation because it was the only government-owned space large enough for the event, which was expected to receive about 100 participants, the Highland Park communications manager, Amanda Bennett, told The Tribune.

On Wednesday at 1:53 p.m., the Highland Park government's Facebook account announced that plans for the simulation were canceled.

Highland Park, a city of about 30,000 people that's about 25 miles from Chicago, is a relatively wealthy community, according to statistics from the US Census Bureau.

The city's median household income recorded from 2017 to 2021 was $153,226, more than double the median household income in Illinois, which was $72,563 in the same time period.

Representatives for Highland Park did not immediately respond to a request for comment sent outside regular business hours.

Laxatives are becoming increasingly hard to find | Fortune Well

Sun, 10 Sep 2023 14:05

In 2020, consumers couldn't find toilet paper on store shelves. This year, they're having problems with an entirely different product.

Laxatives are in short supply as demand has steadily increased for polyethylene glycol 3350, the generic name for laxatives like MiraLAX, according to the Wall Street Journal. That's because not only is the aging population in the U.S. using those sorts of products more frequently, but an increasing number of 18- to 42-year-olds are also seeking them out.

Part of the reason for that is social media misinformation. #GutTok is trending on TikTok, with wrong information about what's healthy in the bathroom.

The Journal, quoting analytics company Pattern, says searches for laxatives have more than tripled in the past year on Amazon, while manufacturers of fiber supplements say they've seen sales increase by double-digits.

Eating disorders are also partially to blame, as some people see laxatives as a low-cost way to shed pounds, though that perception is inaccurate. (Overuse of laxatives will lead to dehydration but does not reduce fat.)

Of course, eating habits are also responsible. During the pandemic, many people's diets changed, with more junk food and processed food items, which can lead to irregularity. Laxatives are safe to use occasionally, but the growing overuse is concerning professionals.

Instead, doctors suggest, those who want to have more regular bowel movements should eat more fruit, vegetables, and whole grains. It's not a quick fix, but it also won't result in potential issues (and you'll be consuming more vitamins at the same time).

Subscribe to Well Adjusted, our newsletter full of simple strategies to work smarter and live better, from the Fortune Well team.

Sign up today.

Mads Mikkelsen Fires Back At Reporter Who Confronts 'The Promised Land' Star & Director Nikolaj Arcel With ''Lack Of Diversity'' Questions '' Deadline

Sun, 10 Sep 2023 14:04

Mads Mikkelsen and The Promised Land director Nikolaj Arcel were confronted by a reporter about the ''lack of diversity'' on screen and how it could affect their possibilities of getting nominated for Best Picture at the Oscars.

During a Q&A session at the Venice Film Festival, a reporter brought up the subject of films needing to meet certain criteria in order to be considered for the top award of the night at the Academy Awards.

''This is a cast and Danish production that's entirely Nordic, and, therefore, has some lack of diversity, you would say,'' the reporter asked. ''There's also new rules implied in Hollywood'...''

Mikkelsen interjected by asking, ''What are you on to? From the get-go?''

The new inclusion standards are set to go into effect starting with the upcoming 96th Oscars in 2024. The initiative centers around on-screen representation as well as creative leadership. Two of the four standards would have to be met in order for a film to be considered for the Best Picture category.

''From the get-go. There are some rules of diversity across the Atlantic for competing in the Best Picture [category], the equivalent of this competition. As I see, you don't live up to these standards with this cast,'' the reporter continued. ''I'm just curious: It's not because of artistic reasons, it's because of a lack of diversity, that this can't compete in that competition. Are you worried about it?''

Mikkelsen fired back at the reporter, ''Are you? I'm serious and honest, because you're putting us on the spot, so you answer the question.''

The director stepped in and noted that the film does feature a character of color adding, ''Well, first of all, the film takes place in Denmark in the 1750s. We do have a big plotline about a girl of color who is being subjected to racism, which was very rare, any people of color in Denmark'... almost nobody. She was probably at the time the only one in the entire country of Denmark.''

''I think it would be a little weird,'' he added. ''It's just historical '-- how it was in the 1750s.''

The Promised Land could still qualify for the Best Picture category at the Oscars by fulfilling two of the other three standards. If the team behind the film had people from underrepresented groups in leadership positions, they would meet Standard B. Standard C centers on industry access and opportunities and Standard D on audience development which can be achieved if the studio and/or film company has multiple in-house senior executives from underrepresented groups.

AVE Mizar - Wikipedia

Sun, 10 Sep 2023 13:59

From Wikipedia, the free encyclopedia

Flying car by Advanced Vehicle Engineers

The AVE Mizar (named after the star Mizar) was a roadable aircraft built between 1971 and 1973 by Advanced Vehicle Engineers (AVE) of Van Nuys, Los Angeles, California. The company was started by Henry Smolinski and Harold Blake, both graduates of Northrop Institute of Technology's aeronautical engineering school.[1]

Development [ edit ] Prototypes [ edit ] The prototypes of the Mizar were made by mating the rear portion of a Cessna Skymaster to a Ford Pinto.[2] The pod-and-twin-boom configuration of the Skymaster was a convenient starting point for a hybrid automobile/airplane. The passenger space and front engine of the Skymaster were removed, leaving an airframe ready to attach to a small car. AVE planned to have its own airframe purpose-built by a subcontractor for production models, rather than depending on Cessna for airframes.[3]

By mid-1973, two prototypes had been built and three more were under construction. One prototype was slated for static display at a Van Nuys Ford dealership, owned by AVE partner Bert Boeckmann. The other prototype, fitted with a Teledyne Continental Motors 210 horsepower (160 kW) engine, was unveiled to the press on May 8, 1973. Both vehicles were photographed by Petersen Publishing photographer Mike Brenner for Hot Rod magazine in late April. It then began a series of taxi tests at Van Nuys Airport. AVE made special arrangements to do flight testing at the U.S. Navy's test facilities at Naval Air Station Point Mugu, California. AVE stated that Federal Aviation Administration certification flights were underway in mid-1973.[4][page needed ][5]

The Mizar was intended to use both the aircraft engine and the car engine for takeoff. This would considerably shorten the takeoff roll. Once in the air, the car engine would be turned off. Upon landing, the four-wheel braking would stop the craft in 525 ft (160 m) or less. On the ground, telescoping wing supports would be extended and the airframe would be tied down like any other aircraft. The Pinto could be quickly unbolted from the airframe and driven away.[5]

Production was scheduled to begin in 1974. AVE had stated that prices would range from US$18,300 to $29,000.[5]

Test flights [ edit ] On a test flight from Camarillo Airport in California on August 26, 1973, according to test pilot Charles "Red" Janisse, the right wing strut base mounting attachment failed soon after takeoff. Because turning the aircraft would put too much stress on the unsupported wing, Janisse put the aircraft down in a bean field. After the roadway was closed to traffic, Janisse drove the otherwise undamaged aircraft back to the airport.

On September 11, 1973, during a test flight at Camarillo, the right wing strut again detached from the Pinto. With Janisse not available for this test flight, Mizar creator Smolinski was at the controls. Although some reports say the Pinto separated from the airframe, air traffic controller Reed Weske, who was watching through binoculars, said the aircraft disintegrated after taking off and making a right turn.[6] According to Janisse, the wing folded because the pilot tried to turn the aircraft when the wing strut support failed. Smolinski and the Vice President of AVE, Harold Blake, were killed in the resulting crash.[6][7]

Analysis [ edit ] Even though the Pinto was a light car, the total aircraft without passengers or fuel was already slightly over the certified gross weight of a Skymaster. However, in addition to poor aircraft design and loose parts, the National Transportation Safety Board reported that bad welds were partly responsible for the crash, with the right wing strut attachment failing at a body panel of the Pinto.[8][9]

Specifications [ edit ] Data from Special Use Vehicles: An Illustrated History of Unconventional Cars and Trucks Worldwide and Peterson's Complete Ford Book

General characteristics

Crew: one, pilotCapacity: three passengersLength: 28 ft 0 in (8.5 m)Wingspan: 38 ft 0 in (11.58 m)Height: 8 ft 6 in (2.59 m)Wing area: 201 sq ft (18.7 m2)Powerplant: 1 — Continental IO-360-C , 210 hp (157 kW) Performance

Service ceiling: 12,000 ft (3,657.6 m)See also [ edit ] List of inventors killed by their own inventionsRelated development

Cessna SkymasterFord PintoAircraft of comparable role, configuration, and era

AerocarAerauto PL.5CReferences [ edit ] ^ Brian Campbell (1973-09-11). "The History Of... AVE Mizar Flying Pinto". Cookieboystoys.com. Archived from the original on 2011-10-03 . Retrieved 2013-06-07 . ^ "Flying Pinto Sprouts Wings". Popular Mechanics. September 1973. ^ George W. Green (2003). Special Use Vehicles: An Illustrated History of Unconventional Cars and Trucks Worldwide. McFarland. p. 185. ISBN 978-0-7864-2911-0. ^ Petersen, Petersen's Complete Ford Book 3rd Edition (1973) ^ a b c "Car That Can Fly Away Developed in Van Nuys". The Van Nuys News. May 15, 1973. ^ a b "Flying Automobile Crashes, Burns in Oxnard; 2 Killed". The Los Angeles Times. September 12, 1973. p. 3. Archived from the original on August 5, 2021 . Retrieved August 5, 2021 '' via Newspapers.com. ^ Soniak, Matt (July 30, 2012). "The Flying Pinto That Killed Its Inventor". Mental Floss . Retrieved August 5, 2021 . ^ Accident report '' NTSB Identification: LAX74FUQ18, National Transportation Safety Board ^ Garrison, Peter (August 1993). "Can We Ever Make A Car Airworthy?". Flying . Retrieved 2012-11-20 . External links [ edit ] A Pinto for IcarusPhotos of the flight test (high quality)Promotional VideoThe unflyable Pinto used for the promotional video today

Appeals Court Rules White House Overstepped 1st Amendment on Social Media - The New York Times

Sun, 10 Sep 2023 13:44

A Fifth Circuit panel partly upheld restrictions on the Biden administration's communications with online platforms about their content.

A three-judge panel of the U.S. Court of Appeals for the Fifth Circuit narrowed a lower court's restrictions on the federal government's contact with social media companies, but they still apply to the White House. Credit... Kent Nishimura for The New York Times A federal appeals court ruled on Friday that the Biden administration most likely overstepped the First Amendment by urging the major social media platforms to remove misleading or false content about the Covid-19 pandemic, partly upholding a lower court's preliminary injunction in a victory for conservatives.

The ruling, by a three-judge panel of the U.S. Court of Appeals for the Fifth Circuit in New Orleans, was another twist in a First Amendment case that has challenged the government's ability to combat false and misleading narratives about the pandemic, voting rights and other issues that spread on social media.

The judges wrote that the White House and the Office of the Surgeon General had ''coerced the platforms to make their moderation decisions by way of intimidating messages and threats of adverse consequences'' and ''significantly encouraged the platforms' decisions by commandeering their decision-making processes.''

The appellate court also found that the Federal Bureau of Investigation had used coercion in its interactions with the companies, which took down 50 percent of the material online that the bureau's agents flagged as troublesome.

''Given the record before us, we cannot say that the F.B.I.'s messages were plainly threatening in tone or manner,'' the judges wrote. Nevertheless, ''we do find the F.B.I.'s requests came with the backing of clear authority over the platforms.''

The court limited the scope of a preliminary injunction, which prohibited officials from numerous agencies from having practically any contact with the social media companies. Instead, the court narrowed the impact to the White House, the Surgeon General's Office, the F.B.I., and the Centers for Disease Control and Prevention.

The White House defended its interactions with social media companies and said the Department of Justice was reviewing the ruling and would consider options for responding.

''This administration has promoted responsible actions to protect public health, safety and security when confronted by challenges like a deadly pandemic and foreign attacks on our elections,'' the White House said in a statement. ''Our consistent view remains that social media platforms have a critical responsibility to take account of the effects their platforms are having on the American people but make independent choices about the information they present.''

Jenin Younes, a lawyer with the New Civil Liberties Alliance, an organization representing individual plaintiffs in the case, called the decision on Friday ''a major and unprecedented victory.''

''This might be the most significant First Amendment case in the internet age and is a crucial outcome for flourishing of free speech in an era when social media has become the modern public square,'' she said.

The attorneys general of Missouri and Louisiana, both Republicans, argued in a lawsuit filed last year that government agencies and officials '-- including some working in the administration of President Donald J. Trump '-- had abused their authority by coercing companies like Facebook, Twitter (now called X) and YouTube to silence critics.

Judge Terry A. Doughty of U.S. District Court for the Western District of Louisiana agreed, ordering a preliminary injunction against the government. In a ruling issued on July 4, he said the accusations in the lawsuit arguably involved ''the most massive attack against free speech in United States' history.''

On the question of First Amendment protections, the three-judge panel of the appellate court, which last month temporarily froze Judge Doughty's injunction, largely agreed.

The debate over how far companies can go to limit content online '-- known as moderation '-- has become increasingly vehement and polarizing. On one side, government officials have argued that they have a duty to protect public health and national security from false or misleading information. Republicans and others, however, have accused the social media giants of colluding with government officials in violation of First Amendment protections of free speech.

They have focused their anger at the Biden administration even though previous administrations regularly had contacts with social media companies and some of the instances cited in the lawsuit occurred during the Trump administration.

Yoel Roth, the former head of trust and safety at Twitter, noted recently that Mr. Trump's White House had asked the company in 2019 to remove a tweet in which the model Chrissy Teigen called the president several expletives. (The company did not, after what Mr. Roth called Kafkaesque internal deliberations.)

Government officials have long argued that they do not have the authority to order posts or entire accounts removed from the platforms, which private companies control. They have worked with the tech giants, however, to take action against illegal or harmful material, especially in cases involving child sexual abuse, human trafficking and other criminal activity.

That has also included regular meetings to share information on the Islamic State and other terrorist groups. Many of the cases cited in the legal challenge involved the Covid pandemic, when government officials feared that misinformation and disinformation about vaccines and other treatments hampered efforts to control the spread of the coronavirus, which has killed more than 1.1 million Americans.

Although Republicans have led the charge, the argument that the government has overstepped its constitutional authority to police content online has raised concerns across the political spectrum. It has drawn support from others who complain about the role of social media giants in moderating content on their platforms, including hate speech and misinformation and disinformation.

Robert F. Kennedy Jr., the challenger for the Democratic presidential nomination and promoter of a number of conspiracy theories, filed a similar lawsuit, which was consolidated into the Missouri case. He argued that government officials had forced platforms to remove accounts, including his.

''Never in the history of this country have federal officials worked so blatantly in collusion with industry to silence the voices that question government agendas,'' Mr. Kennedy, who leads the Children's Health Defense, an anti-vaccine organization, said in a statement ahead of the appellate hearing in New Orleans.

Other groups weighed in on the side of the government, arguing that the lower court's injunction would interfere with the free speech of researchers or others who called the attention of the government and the companies to harmful material on their platforms.

The Lawyers' Committee for Civil Rights Under the Law, an advocacy group, argued in an amicus brief to the appellate court that the judge's injunction was so broadly and vaguely written that it would ''chill critical information sharing'' among researchers, companies and government officials before the 2024 presidential election.

''In the United States, malicious actors have repeatedly deployed election falsehoods to confuse and deter voters,'' the group argued. ''This threat persists as a new presidential election approaches.''

Steven Lee Myers covers misinformation for The Times. He has worked in Washington, Moscow, Baghdad and Beijing, where he contributed to the articles that won the Pulitzer Prize for public service in 2021. He is also the author of ''The New Tsar: The Rise and Reign of Vladimir Putin.'' More about Steven Lee Myers

A version of this article appears in print on

, Section

B

, Page

4

of the New York edition

with the headline:

Appeals Court Rules the White House Overstepped the First Amendment

. Order Reprints | Today's Paper | Subscribe

J.F.K. Assassination Witness Breaks His Silence and Raises New Questions - The New York Times

Sat, 09 Sep 2023 20:55

He still remembers the first gunshot. For an instant, standing on the running board of the motorcade car, he entertained the vain hope that maybe it was just a firecracker or a blown tire. But he knew guns and he knew better. Then came another shot. And another. And the president slumped down.

For so many nights afterward, he relived that grisly moment in his dreams. Now, 60 years later, Paul Landis, one of the Secret Service agents just feet away from President John F. Kennedy on that fateful day in Dallas, is telling his story in full for the first time. And in at least one key respect, his account differs from the official version in a way that may change the understanding of what happened in Dealey Plaza.

Mr. Landis has spent most of the intervening years fleeing history, trying to forget that unforgettable moment etched in the consciousness of a grieving nation. The memory of the explosion of violence and the desperate race to the hospital and the devastating flight home and the wrenching funeral with John Jr. saluting his fallen father '-- it was all too much, too torturous, so much so that Mr. Landis left the service and Washington behind.

Until finally, after the nightmares had passed at last, he could think about it again. And he could read about it. And he realized that what he read was not quite right, not as he remembered it. As it turns out, if his recollections are correct, the much-discussed ''magic bullet'' may not have been so magic after all.

His memory challenges the theory advanced by the Warren Commission that has been the subject of so much speculation and debate over the years '-- that one of the bullets fired at the president's limousine hit not only Kennedy but Gov. John B. Connally Jr. of Texas, who was riding with him, in multiple places.

Mr. Landis's account, included in a forthcoming memoir, would rewrite the narrative of one of modern American history's most earth-shattering days in an important way. It may not mean any more than that. But it could also encourage those who have long suspected that there was more than one gunman in Dallas on Nov. 22, 1963, adding new grist to one of the nation's enduring mysteries.

As with all things related to the assassination, of course, his account raises questions of its own. Mr. Landis remained silent for 60 years, which has fueled doubts even for his former Secret Service partner, and memories are tricky even for those sincerely certain of their recollections. A couple elements of his account contradict the official statements he filed with authorities immediately after the shooting, and some of the implications of his version cannot be easily reconciled to the existing record.

But he was there, a firsthand witness, and it is rare for new testimony to emerge six decades after the fact. He has never subscribed to the conspiracy theories and stresses that he is not promoting one now. At age 88, he said, all he wants is to tell what he saw and what he did. He will leave it to everyone else to draw conclusions.

''There's no goal at this point,'' he said in an interview last month in Cleveland, the first time he has talked about this with a reporter in advance of his book, ''The Final Witness,'' which will be published by Chicago Review Press on Oct. 10. ''I just think it had been long enough that I needed to tell my story.''

Image President John F. Kennedy with supporters during his visit to Fort Worth, Texas, hours before he was assassinated in Dallas. Credit... Houston Chronicle, via Associated Press Image Seen through the limousine's windshield, Kennedy appeared to raise his hand toward his head after being shot in Dallas. Paul Landis is the agent on the rear right running board turning around to look over his right shoulder. Credit... James W. Altgens/Associated Press What it comes down to is a copper-jacketed 6.5-millimeter projectile. The Warren Commission decided that one of the bullets fired that day struck the president from behind, exited from the front of his throat and continued on to hit Mr. Connally, somehow managing to injure his back, chest, wrist and thigh. It seemed incredible that a single bullet could do all that, so skeptics called it the magic bullet theory.

Investigators came to that conclusion partly because the bullet was found on a stretcher believed to have held Mr. Connally at Parkland Memorial Hospital, so they assumed it had exited his body during efforts to save his life. But Mr. Landis, who was never interviewed by the Warren Commission, said that is not what happened.

In fact, he said, he was the one who found the bullet '-- and he found it not in the hospital near Mr. Connally but in the presidential limousine lodged in the back of the seat behind where Kennedy was sitting.

When he spotted the bullet after the motorcade arrived at the hospital, he said he grabbed it to thwart souvenir hunters. Then, for reasons that still seem fuzzy even to him, he said he entered the hospital and placed it next to Kennedy on the president's stretcher, assuming it could somehow help doctors figure out what happened. At some point, he now guesses, the stretchers must have been pushed together and the bullet was shaken from one to another.

''There was nobody there to secure the scene, and that was a big, big bother to me,'' Mr. Landis said. ''All the agents that were there were focused on the president.'' A crowd was gathering. ''This was all going on so quickly. And I was just afraid that '-- it was a piece of evidence, that I realized right away. Very important. And I didn't want it to disappear or get lost. So it was, 'Paul, you've got to make a decision,' and I grabbed it.'''

Mr. Landis theorizes that the bullet struck Kennedy in the back but for some reason was undercharged and did not penetrate deeply, therefore popping back out before the president's body was removed from the limousine.

Mr. Landis has been reluctant to speculate on the larger implications. He always believed that Lee Harvey Oswald was the lone gunman.

But now? ''At this point, I'm beginning to doubt myself,'' he said. ''Now I begin to wonder.'' That is as far as he is willing to go.

A native of Ohio and son of a college sports coach, Mr. Landis does not come across as a swaggering security agent. He had to stretch to meet the 5-foot-8 height requirement when he joined the service, and could no longer do so. ''I'm too little now,'' he said, to make it in today's agency. He is quiet and unassuming, dressed in a coat and tie for an interview, his gray hair neatly trimmed. He has a little trouble hearing and speaks softly, but his mind is clear and his recollections steady.

In recent years, he confided his story with several key figures, including Lewis C. Merletti, a former director of the Secret Service. James Robenalt, a Cleveland lawyer and author of several books of history, has deeply researched the assassination and helped Mr. Landis process his memories.

Image The limousine carrying Kennedy raced toward the hospital seconds after he was shot, with a secret service agent, Clint Hill, riding on the back of the car. Credit... Justin Newman/Associated Press Image Investigators determined that the bullets were fired by one gun, a C2766 Mannlicher-Carcano rifle found in the sixth floor of the Texas School Book Depository. Credit... Associated Press ''If what he says is true, which I tend to believe, it is likely to reopen the question of a second shooter, if not even more,'' Mr. Robenalt said. ''If the bullet we know as the magic or pristine bullet stopped in President Kennedy's back, it means that the central thesis of the Warren Report, the single-bullet theory, is wrong.'' And if Mr. Connally was hit by a separate bullet, he added, then it seemed possible it was not from Oswald, who he argued could not have reloaded that fast.

Mr. Merletti, who has been friendly with Mr. Landis for a decade, was not sure what to think about his account. ''I don't know if that story's true or not, but I do know that the agents that were there that day, they were tormented for years by what happened,'' he said in an interview.

Mr. Merletti referred Mr. Landis to Ken Gormley, the president of Duquesne University and a prominent presidential historian, who helped him find an agent for his book. In an interview, Mr. Gormley said he was not surprised that a traumatized agent would come forward all these years later, comparing it to a dying declaration in legal cases.

''It's very common as people get to the end of their lives,'' Mr. Gormley said. ''They want to make peace with things. They want to get on the table things they've been holding back, especially if it's a piece of history and they want the record corrected. This does not look like a play by someone trying to get attention for himself or money. I don't read it that way at all. I think he firmly believes this. Whether it fits together, I don't know. But people can eventually figure that out.''

Mr. Landis's account varies in a couple of respects from two written statements he filed in the week after the shooting. Aside from not mentioning finding the bullet, he reported hearing only two shots. ''I do not recall hearing a third shot,'' he wrote. Likewise, he did not mention going into the trauma room where Kennedy was taken, writing that he ''remained outside by the door'' when the first lady went in.

Gerald Posner, author of ''Case Closed,'' a 1993 book that concluded that Oswald indeed killed Kennedy on his own, said he was dubious. While he did not question Mr. Landis's sincerity, Mr. Posner said the story did not add up.

''People's memories generally do not improve over time, and it is a flashing warning sign to me, about skepticism I have over his story, that on some very important details of the assassination, including the number of shots, his memory has gotten better instead of worse,'' he said.

''Even assuming that he is accurately describing what happened with the bullet,'' Mr. Posner added, ''it might mean nothing more than we now know that the bullet that came out of Governor Connally did so in the limousine, not on a stretcher in Parkland where it was found.''

Mr. Landis said the reports he filed after the assassination included mistakes; he was in shock and had barely slept for five days as he focused on helping the first lady through the ordeal, he said, and not paying enough attention to what he submitted. He did not think to mention the bullet, he said.

It was not until 2014 that he realized that the official account of the bullet differed from his memory, he said, but he did not come forward then out of a feeling that he had made a mistake in putting it on the stretcher without telling anyone in that pre-C.S.I., secure-the-crime-scene era.

''I didn't want to talk about it,'' Mr. Landis said. ''I was afraid. I started to think, did I do something wrong? There was a fear that I might have done something wrong and I shouldn't talk about it.''

Indeed, his partner, Clint Hill, the legendary Secret Service agent who clambered onto the back of the speeding limousine in a futile effort to save Kennedy, discouraged Mr. Landis from speaking out. ''Many ramifications,'' Mr. Hill warned in a 2014 email that Mr. Landis saved and shared last month.

Mr. Hill, who has set out his own account of what happened in multiple books and interviews, cast doubt on Mr. Landis's version on Friday. ''I believe it raises concerns when the story he is telling now, 60 years after the fact, is different than the statements he wrote in the days following the tragedy'' and told in subsequent years, Mr. Hill said in an email. ''In my mind, there are serious inconsistencies in his various statements/stories.''

Mr. Landis's rendezvous with history began in the small town of Worthington, Ohio, north of Columbus. After college and a stint in the Ohio Air National Guard, he was working in a clothing store when a family friend described his job in the Secret Service. Intrigued, Mr. Landis joined in 1959 in the Cincinnati office, where he chased thieves who swiped Social Security checks out of mailboxes.

A year later, he was sent to Washington where he joined the protective detail for President Dwight D. Eisenhower's grandchildren. After Kennedy was elected, Mr. Landis, code named Debut because of his youth, was assigned to guard the new president's children and later the first lady, Jacqueline Kennedy, alongside Mr. Hill. Because the first lady accompanied her husband to Dallas that fall day in 1963, Mr. Landis, then 28, was part of the motorcade, riding the rear of the right running board on the black Cadillac convertible, code named Halfback, just feet behind the presidential limousine.

Image Mr. Landis identifying himself in a photo from the day of Kennedy's funeral. Credit... Amir Hamja/The New York Times Image Mr. Landis left the Secret Service six months after the assassination. Credit... Amir Hamja/The New York Times At the first shot, Mr. Landis turned to look over his right shoulder in the direction of the sound but spotted nothing. Then he turned to the limousine and saw Kennedy raising his arms, evidently hit. Suddenly, Mr. Landis noticed that Mr. Hill had leapt off their follow-up car and was sprinting toward the limousine. Mr. Landis thought about doing the same but did not have an angle.

He said he heard a second shot that sounded louder and finally the fatal third shot that hit Kennedy in the head. Mr. Landis had to duck to avoid being splattered by flesh and brain matter. He knew instantly that the president was dead. Mr. Hill, now on the back of the limousine, turned back and confirmed it with a thumbs down.

Once they reached the hospital, Mr. Hill and Mr. Landis coaxed the distraught first lady to let go of her husband so he could be taken inside. After they exited the car, Mr. Landis noticed two bullet fragments in a pool of bright red blood. He fingered one of them but put it back.

That's when he said he noticed the intact bullet in the seam of the tufted dark leather cushioning. He said he slipped it into his coat pocket and headed into the hospital, where he planned to give it to a supervisor, but in the confusion instinctively put it on Kennedy's stretcher instead.

The hospital's senior engineer later found it when he was moving Mr. Connally's stretcher, by then empty, and bumped it against another stretcher in the hall, resulting in the bullet falling out.

The Warren Commission report said that it ''eliminated President Kennedy's stretcher as a source of the bullet'' because the president remained on his stretcher while doctors tried to save his life and was not removed until his body was placed in a coffin.

Investigators determined that the bullet, designated Commission Exhibit 399, was fired by the same C2766 Mannlicher-Carcano rifle found in the sixth floor of the Texas School Book Depository. They concluded that the bullet passed through Kennedy, then entered Mr. Connally's right shoulder, struck his rib, exited under his right nipple, continued through his right wrist and into his left thigh.

Image Mr. Landis said he found the intact bullet in the seam of the tufted leather cushioning of the presidential limousine. Credit... Corbis, via Getty Images Image Kennedy's coffin lying in state in the East Room of the White House. Credit... Associated Press Image Three-year-old John F. Kennedy Jr. saluted his father's casket in Washington on the day of the funeral. Credit... Associated Press Doctors concurred that the single bullet could have caused all the damage. But the bullet was described as nearly pristine and had lost only one or two grains of its original 160 or 161 grains in weight, causing skeptics to doubt that it could have done all that the commission said it had. Still, ballistic experts using modern forensic techniques concluded at the 50th anniversary of the assassination that the single-bullet theory was perfectly plausible.

Mr. Landis said he was surprised that the Warren Commission never interviewed him, but assumed that his supervisors were protecting the agents, who had been out late the night before socializing (Mr. Landis until 5 a.m., although he insisted they were not drunk). ''Nobody really asked me,'' he said.

Many pictures of those days of mourning show Mr. Landis at Jacqueline Kennedy's side as she endured the rituals of a presidential farewell. Night after night, those seconds of violence in Dallas kept replaying in his head, his own personal Zapruder film on an endless loop. ''The president's head exploding '-- I could not shake that vision,'' he said. ''Whatever I was doing, that's all I was thinking about.''

With Mr. Landis and Mr. Hill still protecting her, the former first lady was in constant motion in the months afterward. ''She'd be in the back seat sobbing and you'd want to say something but it wasn't really our place to say anything,'' Mr. Landis recalled.

After six months, he could not take it anymore and left the Secret Service. Haunted, he moved to Cape Cod in Massachusetts, then New York, then Ohio near Cleveland. For decades, he made a living in real estate and machine products and house painting, anything as long as it had nothing to do with protecting presidents.

He was generally aware of the conspiracy theories, yet never read a book about them, or the Warren Commission report for that matter. ''I just paid no attention to that,'' he said. ''I just removed myself. I just felt I had been there. I had seen it, and I knew what I saw and what I did. And that's all.''

He did a few interviews in 2010 and thereafter, but never mentioned finding the bullet. Then, in 2014, a local police chief he knew gave him a copy of ''Six Seconds in Dallas,'' a 1967 book by Josiah Thompson arguing that there were multiple shooters. Mr. Landis read it and believed the official account of the bullet was wrong.

That led to conversations with Mr. Merletti and Mr. Gormley and eventually, after many years, to his book.

It was not easy. As he finished the manuscript, he stared at the computer screen, broke down and cried uncontrollably. ''I didn't realize that I had so many suppressed emotions and feelings,'' he said. ''I just couldn't stop. And that was just a huge emotional relief.''

Peter Baker is the chief White House correspondent and has covered the last five presidents for The Times and The Washington Post. He is the author of seven books, most recently ''The Divider: Trump in the White House, 2017-2021,'' with Susan Glasser. More about Peter Baker

Biden Officials Likely Violated First Amendment On Social Media: 5th Circuit Court | ZeroHedge

Sat, 09 Sep 2023 20:21

Here's how it started...

Here's how it's going...

The 5th Circuit Court of Appeals ruled on Friday that several Biden administration officials had likely breached the First Amendment by pressuring social media companies to moderate or take down content they deemed problematic.

And here is Exhibit A of that First Amendment-crushing coercion and collusion... which obviously began in the Trump-era under Anthony Fauci. ZeroHedge was banned from Twitter one day after this email.

In an unsigned 75-page opinion, three 5th Circuit judges agreed with the plaintiffs that the administration ''ran afoul of the First Amendment'' by at times threatening social media platforms with antitrust action or changes to law protecting them from liability.

However, as The Epoch Times' Aldgra Fredly reports, the three-judge panel of the New Orleans-based 5th U.S. Circuit Court of Appeals narrowed much of an injunction issued by a Louisiana judge that restricted Democratic President Joe Biden's administration from communicating with social media companies.

The court said that the White House, Surgeon General, Centers for Disease Control and Prevention (CDC), and the FBI "likely coerced or significantly encouraged social media platforms to moderate content" in violation of the First Amendment.

"It is true that the officials have an interest in engaging with social media companies, including on issues such as misinformation and election interference," the three-judge panel said in a 74-page ruling (pdf) on Sept. 8.

"But the government is not permitted to advance these interests to the extent that it engages in viewpoint suppression," they added.

The court found that the officials made "express threats" and "inflammatory accusations" by saying that the platforms were "poisoning the public" and "killing people." The platforms were told they needed to take "greater responsibility and action."

"Then, they followed their statements with threats of 'fundamental reforms' like regulatory changes and increased enforcement actions that would ensure the platforms were 'held accountable'. But, beyond express threats, there was always an unspoken 'or else,'" it added.

The court also said the officials encouraged social media platforms to moderate content by "exercising active, meaningful control over those decisions," particularly concerning the platforms' moderation policies.

According to the ruling, the FBI "regularly met with the platforms, shared 'strategic information,' frequently alerted the social media companies to misinformation spreading on their platforms, and monitored their content moderation policies."

"But, the FBI went beyond that'--they urged the platforms to take down content. Turning to the Second Circuit's four-factor test, we find that those requests were coercive," it added.

The judges emphasized that the government cannot supervise a platform's content moderation decisions and cannot impose "legal, regulatory, or economic consequences" if they refuse to comply with a given request.

"Social media platforms' content-moderation decisions must be theirs and theirs alone," the court asserted.

The attorneys general of Louisiana and Missouri, along with several social media users, had sued last year, saying Facebook, YouTube, and Twitter engaged in censorship as a result of repeated urging by government officials and threats of heightened regulatory enforcement.

The lawsuit said the censored views included content questioning anti-COVID-19 measures such as masks and vaccine mandates and allegations of election fraud.

But the court excised much of U.S. District Judge Terry Doughty's broad July 4 ruling, saying mere encouragement to take down content doesn't always cross a constitutional line.

"As an initial matter, it is axiomatic that an injunction is overbroad if it enjoins a defendant from engaging in legal conduct. Nine of the preliminary injunction's ten prohibitions risk doing just that. Moreover, many of the provisions are duplicative of each other and thus unnecessary," the ruling said.

The ruling also removed some agencies from the order, namely the National Institute of Allergy and Infectious Diseases, the Cybersecurity and Infrastructure Agency, and the State Department.

Missouri Attorney General Andrew Bailey said they filed the lawsuit against dozens of officials in the federal government "to halt the biggest violation of the First Amendment in our nation's history."

"The first brick was laid in the wall of separation between tech and state on July 4. Today's ruling is yet another brick," he said in a statement.

''Missouri will continue to lead the way in the fight to defend our most fundamental freedoms.''

In a posting on X, Louisiana Attorney General Jeff Landry called Friday's ruling ''a major win against censorship.''

Loading...

'One Chip Challenge' company Paqui PULLS product off shelves following the death of Harris Wolobah, 14, after eating spiciest chip in the world | Daily Mail Online

Sat, 09 Sep 2023 18:41

The company responsible for the viral 'One Chip Challenge' is pulling the product off the shelves, following the death of Michigan teen Harris Wolobah hours after eating it.

Paqui, which makes the extremely spicy snack, put up a statement at the top of its website making clear that the 'challenge' is 'for adults only.'

The warning emphasizes the 'clear and prominent labeling' that specifies 'the chip is not for children or anyone sensitive to spicy foods.'

Paqui is even offering refunds to those who have already purchased the chip challenge.

Paqui is currently working with retailers to get the chips off store shelves.

According to NBC Boston, Harris Wolobah died on the same day he participated in the 'One Chip Challenge.' He reported a stomach ache at school after eating the chip, and later on collapsed and was found unresponsive at his home.

The 2023 edition of the 'One Chip Challenge' features a tortilla chip flavored with two of the spiciest peppers possible, the California Reaper Pepper and the Naga Viper Pepper. The California Reaper is ranked as the world's spiciest pepper

Harris Wolobah, 14, died hours after eating a spicy tortilla chip as part of the 'One Chip Challenge,' a social media trend that has gained billions of views on TikTok. The Massachusetts teen was a talented athlete described by family as 'a light that lit up the room'

On September 1, the boy's mother was called to his school when Harris complained of a stomach ache. He'd eaten the spicy chip after it was given to him by a classmate.

The young teen felt better after going home but he passed out at 4.30pm when he was about to leave for basketball tryouts.

Speaking with the Worcester Telegram, police Lt. Sean Murtha said the boy was unresponsive and not breathing. He was taken to the hospital and pronounced dead. Wolobah's official cause of death is still pending.

The Worcester District Attorney's Office issued a warning Wednesday about the challenge:

'While the investigation into the cause of the teenager's death in Worcester continues, the Worcester County District Attorney's Office would like to remind parents to research and discuss with your children about the one-chip challenge,' District Attorney Joseph Early Jr. wrote in a post on X, (formerly Twitter).

'Medical professionals have said the tortilla chip, which is made from two of the spiciest chili peppers in the world, can cause very serious and dangerous side effects. We urge parents to discuss this with their children and advise them not to partake in this activity,' he added.

In a statement made to the TODAY show from Paqui, a representative said they take 'safety very seriously and have worked hard to ensure our products are properly and clearly labeled with allergen and safety information.

'It is our intent that consumers take on this challenge with a full understanding of what it is and if it is appropriate for them.'

It is unclear what Paqui is planning for the future of the product, which it claims adheres to food safety standards.

An uptick in minors participating in the challenge was clocked by the company, despite the warning label on the package. However, there is no rule or regulation preventing an underage individual from picking up the challenge at a local store.

The warning label on the back of the coffin-shaped chip box

Paqui, the chip's manufacturer, encourages people to test their physical limits. Those who can sustain the burning pain for up to an hour without food or drink earn the title of 'Apex Predator'

While Harris's death marks the first reported fatality after eating the chip, many other children have needed medical attention after eating them.

In October 2022, a school district in Lafayette, Louisiana, banned the chips from all campuses after multiple students needed medical attention.

Less than one month later, paramedics were called to a high school in Dunwood, Georgia, prompting police to issue a warning about the snack.

The 'One Chip Challenge' is a marketing campaign surrounding a single tortilla chip that is advertised as the spiciest in the world.

The challenge has drawn a following across social media, with the '#onechipchallenge' tag boasting over two billion views on TikTok.

Manufactured by Paqui since 2016, the chip is the product of Texas-based Amplify Snack Brands which was acquired by The Hershey Company in 2017.

A new flavor of the hot, hot chip is released every year, and the 2023 edition became available on Amazon starting August 9. While under ten ingredients are listed, two that stand out the most are the California Reaper Pepper and Naga Viper Pepper.

The California Reaper Pepper was officially named the world's hottest pepper, measuring up to 2.2 Million Scoville Heat Units (SHUs) on the Scoville Scale. The Naga Viper Pepper came in just below it at 1,382,118 SHUs.

The scale measures the strength of various peppers relative to capsaicin, the compound that gives chili peppers their heat. Pure capsaicin measures 16 million Scoville units.

The single chip comes in a coffin-shaped box emblazoned with a red skull.

A warning label on the promotional site reads: 'Keep out of reach of children. Intended for adult consumption.'

The page encourages people to seek medical attention if they experience complications like difficulty breathing, fainting or 'extended nausea'.

Paqui has run an ad campaign challenging people to test if they can take the pain.

A graphic on the site reads 'How long can you last before you spiral out?' and features an image of a grim reaper gripping a snake.

Those who can go one hour without eating or drinking anything to counter the heat are deemed an 'Apex Predator'.

Liberty Safe Gives Feds Backdoor Access To Customer's Gun Safe

Sat, 09 Sep 2023 18:10

Liberty Safe willfully granted the FBI backdoor access to one of its customers' gun safes because the federal law enforcement agency demanded it.

''The feds called the manufacturer of his Liberty Gun Safe and got the passcode to get into it too. All for protesting at the Capitol over 2 1/2 years ago,'' conservative YouTubers the Hodge Twins alleged in a post on X on Monday.

🚨 Last week, a friend of ours was raided by the feds over J6, his name is Nathan Hughes and he's from Fayetteville, Arkansas. Nate was raided by the FBI and arrested at gun point. His girlfriend (who just had a miscarriage) was held at gun point and put in handcuffs. The FBI'... pic.twitter.com/LOpMQ28eUJ

'-- Hodgetwins (@hodgetwins) September 5, 2023Nathan Hughes, the 34-year-old owner of the compromised Liberty gun safe, was arrested at gunpoint and charged last week with one felony and three misdemeanors related to his presence in the U.S. Capitol building on Jan. 6, 2021. During the raid on his home, the FBI ransacked his house and attempted to confiscate the firearms from his safe.

Liberty confirmed on Tuesday that it gave the disgraced federal law enforcement agency a combination to break into Hughes' gun safe simply because the FBI produced a warrant to search Hughes' home.

Safe companies like Liberty are not necessarily required to comply with law enforcement requests for combos to break into one of their purchased products unless a court orders them to do so. Liberty, however, claimed it is their ''company protocol'' to give law enforcement entry and access to its products as long as those agencies possess a warrant.

The manufacturer's confession that its products' security is compromised due to the existence of a master code and its willingness to work with law enforcement even without a court order did not go over well with several loyal Liberty customers who threatened on social media to cancel their orders and switch safe companies.

Others criticized Liberty for its double standard on safe security. If a customer loses his safe keys or forgets his safe combination, Liberty requires him to ''hire a certified locksmith'' to regain entry. If the FBI wants to get into a Liberty customer's safe, all agents have to do is dial up the company and show them a warrant with the customer's name on it.

Liberty tried to reassure customers that it is still ''devoted to protecting the personal property and 2nd Amendment rights of our customers'' and ''has repeatedly denied requests for access codes without a warrant in the past.''

''We regularly update our policies to ensure both compliance with federal and state law and reasonable customer privacy protections within the law,'' the social media statement reads. ''First and foremost, Liberty Safe is committed to preserving our customers' rights, and we will remain unwavering in those values.''

The company did not, however, immediately reply to the Federalist's questions about whether it plans to beef up its code-sharing policy in an effort to follow through on its pledge to ''preserve[] customers' rights.''

Not all gun-safe companies readily hand over access to their customers' products, even if law enforcement demands it.

A spokesman at Ft. Knox, a national gun safe and vault company, told The Federalist his company would only divulge safe combinations to law enforcement if a court specifically ordered it or a search warrant specifically named his company. He reiterated flatly that his company would never do what Liberty did without a court order.

Browning Safes, Champion Safe Co., and American Security (AMSEC) did not immediately respond to The Federalist's request for comment. Their websites also did not explicitly state their policy on granting federal officials entry into their customers' safes.

Jordan Boyd is a staff writer at The Federalist and co-producer of The Federalist Radio Hour. Her work has also been featured in The Daily Wire, Fox News, and RealClearPolitics. Jordan graduated from Baylor University where she majored in political science and minored in journalism. Follow her on Twitter @jordanboydtx.

Alpha-Gal Syndrome May Be Linked to Vaccine Anaphylaxis

Sat, 09 Sep 2023 17:55

A new tick-borne meat allergy known as alpha-gal syndrome (AGS) is making headlines as nearly half a million Americans have reportedly become affected by the potentially life-threatening condition. According to the Centers for Disease Control and Prevention (CDC), cases of AGS are rising and have increased by about 15,000 cases each year between 2017 and 2022.

The recently discovered condition has also been reported in those receiving vaccines containing hydrolyzed gelatin and other byproducts from affected animals, which could explain why some may experience anaphylaxis or meat allergies after vaccination.

Anaphylaxis is an acute, life-threatening hypersensitivity disorder characterized by a generalized, rapidly evolving, multi-systemic allergic reaction.

Alpha-gal (galactose-α-1,3-galactose) is a sugar molecule found in the meat of mammalian tissue, including pork, beef, lamb, deer, goat, and red meat products derived from those mammals, such as dairy products and gelatin, and some pharmaceutical products that use animal ingredients. It is not found in fish, poultry, eggs, reptiles, or people.

Evidence suggests that AGS is primarily associated with a lone star tick bite that causes a person to become infected. The bite transfers the alpha-gal sugar molecule into the body, triggering a reaction from the immune system. Symptoms can also develop after consuming things that contain alpha-gal.

Alpha-Gal Syndrome ReactionsDepending on a person's sensitivity, AGS reactions range from mild to life-threatening and include:

Hives or an itchy rash.Nausea or vomiting.Diarrhea.Heartburn or indigestion.Cough, shortness of breath, or breathing difficulty.A drop in blood pressure.Dizziness or faintness.Swelling of the lips, throat, tongue, or eyelids.Severe stomach pain.Unlike normal allergic reactions, symptoms commonly appear within two to six hours after eating meat or dairy products or after exposure to products containing alpha-gal, including medications and vaccines.

According to the CDC, ingredients in vaccines that may contain alpha-gal include, but are not limited to, gelatin, glycerin, magnesium stearate, and bovine serum.

Alpha-Gal Syndrome and Vaccine IngredientsThere is often hesitancy to administer (pdf) gelatin-containing vaccines due to a concern that allergic reactions could occur, although some argue the risk of not receiving a particular vaccine may outweigh the possible risk of an allergic reaction.

Because AGS is a relatively recent phenomenon, research is lacking when it comes to understanding how this condition may be contributing to reports of anaphylaxis received after vaccination and the effects of administering multiple vaccines containing byproducts from mammals with alpha-gal at one time to someone with AGS.

Recent case reports suggest there is a connection between severe anaphylaxis in patients suffering from AGS and vaccines containing hydrolyzed gelatin (pdf) and bovine serum, including the measles, mumps, and rubella (MMR) vaccine, some influenza vaccines, varicella, MMR and varicella ProQuad vaccine, diphtheria, tetanus, pertussis, and inactivated polio combination vaccine (DTaP/IPV), yellow fever, zoster vaccine, and the tetanus, diphtheria, and acellular pertussis (TDaP) vaccine commonly given to pregnant women.

In a 2021 study published in the International Archives of Allergy and Immunology, researchers used a basophil activation test with different dilutions of gelatin-containing MMR live vaccine, an attenuated varicella vaccine, an attenuated V-zoster vaccine, and a non-gelatin MMR vaccine with two patients positive for AGS, two patients ''highly suspicious'' for AGS, and two healthy individuals with no known allergies.

The findings showed all patients exhibited strongly positive results for gelatin-containing vaccines but were negative for the non-gelatin MMR vaccine. The two healthy controls showed no basophil activation.

Researchers concluded gelatin-containing vaccines should be administered with caution or avoided entirely for patients with AGS because of their ''high potential'' to activate basophils, indicating a risk for anaphylaxis.

5-Year-Old Developed Anaphylaxis After VaccinationA 2018 paper published in the Journal of Allergy and Clinical Immunology describes a 5-year-old male with a history of AGS who developed anaphylaxis immediately after his routine 5-year vaccinations with MMR, varicella, and DTaP/IPV vaccines. Five minutes after receiving his vaccines, he experienced shortness of breath, wheezing, itchy skin welts, and swelling of the face and throat, which required emergency medical care.

Eight months prior to experiencing anaphylaxis, he was diagnosed with AGS following a tick bite. At the time of his vaccinations, he was avoiding mammalian meat and had no history of adverse events to previous childhood vaccines. Scientists reviewed the ingredients of vaccines he had received and found the MMR and varicella vaccines contain a large amount of gelatin per dose compared to other vaccines'--and he had received numerous vaccines containing gelatin and bovine calf serum at one visit. Further testing confirmed the child's anaphylaxis reaction to his vaccines occurred because he had AGS.

After reviewing data from the Vaccine Adverse Event Reporting System for severe adverse events reported on the day of administration of MMR or varicella vaccines using keywords for meat associated with AGS or ''alpha-gal,'' researchers identified 10 adverse events consistent with an allergy to either MMR or varicella vaccines in patients with preexisting beef, pork, alpha-gal, or gelatin allergy.

COVID-19 VaccinesAlthough COVID-19 vaccines do not list animal ingredients on their product labels, Pfizer uses a component of cow's milk in the early manufacturing and production process. It has not been made clear what this component is, according to Dr. Scott Commins, an associate professor of medicine and associate chief for allergy and immunology at the University of North Carolina. To date, most allergic reactions to COVID-19 vaccines have been attributed to polyethylene glycol or polysorbate.

In the face of climate change and food insecurity, New Zealand considers lab-grown fruit | New Zealand | The Guardian

Sat, 09 Sep 2023 17:47

In the face of growing food security concerns due to climate change, scientists in New Zealand are attempting to grow fruit tissue in labs.

While work on lab-grown meat has made headlines in recent years, similar work on fruit is less common. Scientists at Plant & Food Research in the southern city of Christchurch are aiming to change that by growing fruit tissue from plant cells that they hope will one day taste, smell and feel like real fruit. Researchers hope that the program will help safeguard the country's food security.

''Here in New Zealand, we're good at growing conventional horticultural crops,'' said Dr Ben Schon, the lead scientist for the Food by Design program at the government-backed Plant & Food Research, ''but looking into the future, there's a lot of change coming in the world with population growth, increasing urbanisation and climate change.''

The program aims to grow fruit tissue without the parts that are usually discarded like the core of the apple or the rind of an orange. Providing consumers with only the tissue of fruit will help reduce food waste, said Schon.

Lab-grown foods could play a pivotal role in sustainable agriculture but are still in very early stages of development, according to Dr Ali Rashidinejad, a senior food scientist at Massey University in Palmerston North who is not involved in the program.

Since lab-grown food is a completely new concept, once it is developed, it will then have to prove its safety to regulatory bodies likely through expensive and long clinical trials. ''Overcoming such hurdles can take years if not decades,'' Rashidinejad said.

Consumers will also need to accept the practice; older generations might prove to be hesitant but research shows that younger generations are willing to try new foods if those foods offer health benefits while limiting environmental impact, said Rashidinejad.

The Plant & Food Research program, which started 18 months ago, focuses on cells from blueberries, apples, cherries, feijoas, peaches, nectarines and grapes, but they warn that the end goal of harvesting something that is nutritional and enjoyable to eat is some years away and might not be attainable at all.

The technology would probably be suitable for growing fruit tissue within cities, said Dr Sam Baldwin, a strategy leader at Plant & Food Research, in the hope that it would reduce the cost and carbon emissions created when transporting food into urban centres.

However, it's unclear how the carbon footprint of such lab-grown fruit would compare to those grown using traditional methods, which may have to be transported long distances if imported.

The technology could also offset the food lost in weather events. Earlier this year, Cyclone Gabrielle, decimated parts of Hawkes Bay, an area known as New Zealand's fruit bowl. The cyclone came as many kiwifruit growers were preparing to harvest their crops.

''I'm not sure we realise that we are going to need to produce more food for a bigger population but with less areas to grow and under increasing pressure from a non-conducive climate,'' said Baldwin.

''Business as usual might not be able to address that need.''

Outrageous! Border Patrol Agent Reveals Biden Regime Gives $2,200 of Taxpayer Money Per Illegal Immigrant Family, Plus a Plane Ticket, Housing, Food, Free Medical Services (VIDEO) | The Gateway Pundit | by Jim Hᴏft

Sat, 09 Sep 2023 17:22

Screenshot: Todd Bensman/XIn a shocking revelation, Todd Bensman, the Center's Texas-based Senior National Security Fellow, has reported that the Biden regime is allocating a staggering $2,200 ''per month'' to illegal immigrant families ( 1 parent & 1 child ) through phony asylum for the cost of living expenses. This comes at a time when the average American on Social Security receives just $1,400 per month and Maui survivors with only $700.

Bensman said that it appears these illegal immigrants may not be subjected to asylum interviews anymore. They are being released to the United States.

According to a video interview with an anonymous Border Patrol Agent, illegal immigrants are ''double dipping'' the system. One parent and one child receive $2,200 per month, and then a separate parent and child'--often from the same family'--receive another $2,200 per month. This amounts to a whopping $4,400 per month for some immigrant families, a figure that exceeds what many working Americans earn.

This information supports the claims made by the legal immigration group 'ALIPAC.'

''The Biden-Harris administration is giving more money to illegal immigrant invaders, than to our own U.S. citizens'' William Gheen, president of ALIPAC told KTRH, ''Once a person understands that, then that person will always be on our side of the illegal immigration debate, which is very simple. Keep them all out, send them all home.''

The information provided seems to match the statements made by the Department of State, although the agency claimed it is only one-time payment:

The sponsoring resettlement agency is responsible for placing refugees with one of its local affiliates and for providing initial 30 to 90 day services after arrival. The Department of State's standard cooperative agreement with each of the resettlement agencies specifies the services the agency must provide. The Department of State provides a one-time payment of $2,375 per individual refugee to the local resettlement affiliates, of which $1,275 is available for agencies to use to fund the critical direct assistance needs of refugees, such as rent, food, clothing, and furnishings.

The remainder of the per capita funds is used to fund the delivery of services by resettlement staff, such as locating and preparing housing, cultural orientation, enrollment of youth in school, assistance with access to employment, medical and legal services, and case management during refugees' first three months in their new communities.

It doesn't stop at checks. These illegal immigrants are also given housing, food, free medical services, and even a ticket to a destination of their choice within the United States, according to the Border Patrol Agent.

He continued, ''They used to do the monitors on the ankles, and those were being cut off. So now they give them phones.''

The Gateway Pundit has extensively reported the amount of criminal activities and corruption going on in the US today is unimaginable. The Biden government, aided by a corrupt DOJ, is flying planeloads of illegal immigrants from the Southern border to states across the country daily and no one is saying 'boo'.

Source: Jenn Pellegrino/XSource: Jenn Pellegrino/X#BidenBorderCrisis: Approx 40% of the airport traffic this morning at Texas' McAllen International appear to be migrants headed within the US.

They are carrying boarding passes & paperwork that indicates they do not speak English. pic.twitter.com/7bT7UwYhUS

'-- Jenn Pellegrino 🇺🇸 (@JennPellegrino) March 27, 2021

🚨 🚨🚨Gov't contractor talking about the secret midnight flights from southern border into Westchester (NY) Airport:

''If it gets out'... the government is betraying the American people.''

Stop lying to us.Secure the border.Uphold rule of law.https://t.co/Gd7UmTz7Ct pic.twitter.com/vAyGO1GvkQ

'-- Rob Astorino (@RobAstorino) January 27, 2022

Below is a copy of a typical boarding pass. It's marked with a ''STIPC Bond Release'' exclusively obtained by The Gateway Pundit in 2022.

The Border Patrol Agent further added that cartels play a significant role in prepping the illegal immigrants before they cross the border.

''Cartel tells them everything. Word of mouth. These guys know everything that we do. It's just the way it is,'' the agent revealed.

This information suggests that illegal immigrants are incredibly well-informed about U.S. immigration procedures, including what to say when seeking asylum.

Not only are these individuals being coached on what to say to claim asylum, but they're also arriving with all necessary documents, like birth certificates pre-printed by their home governments, according to Bensman.

Under the Biden regime, homeless veterans and Americans were left on the street. Senior citizens only received $1,400/month in Social Security payments, and Maui survivors only got $700. This should piss every American off.

WATCH via Todd Bensman:

Is Sex Assigned at Birth? - What Would You Say

Sat, 09 Sep 2023 17:14

Is Sex Assigned at Birth?What Would You Say?You're in a conversation and someone says, ''People can decide if they're a boy, girl, or nonbinary because sex is just something assigned at birth.''

What Would You Say?

When confronted with this comment, remember that neither science nor logic support the idea that sex is assigned at birth and here are three reasons why:

1. A person's sex is acknowledged, not assigned. 2. Sex is determined by our reproductive system.

3. D isorders of sexual development do not create new categories of sex.

TranscriptMore ResourcesWatch More You're in a conversation and someone says, ''People can decide if they're a boy, girl, or nonbinary because sex is just something assigned at birth.'' What Would You Say? First: A person's sex is acknowledged, not assigned. There are many things that doctors learn about a baby when it's born, like height, weight, and blood type. Those things aren't assigned. They're acknowledged. Other things are assigned at birth, like a name. Babies are assigned names exclusively on the preferences of their parents. Changing a name before, during, or even after birth has no real impact on the person because it's not a biological part of their identity. So, if some things are acknowledged and other things are assigned, which category does a baby's sex fall into? Is it more like being given a name by parents, or is it more like learning the blood type from the doctor? This leads us to the second point. Second: Sex is determined by our reproductive system. In most cases, humans are born with two sex chromosomes, either x/x or x/y. Those chromosomes lead to the creation of reproductive organs, which create sex hormones, which in turn create genitalia and secondary sex characteristics like body hair, bone structure, or an Adam's apple. Within our species, there are only two reproductive systems, male and female. As Professor Abigail Favale writes in her book The Genesis of Gender, a female is ''the kind of human being whose body is organized around the potential to gestate new life.'' A male, on the other hand, has a different reproductive system, consisting of different chromosomes than females, reproductive organs, sex hormones, and genitalia. For human reproduction to happen, contributions from both kinds of reproductive systems are required. The differences between males and females go beyond our reproductive systems. Men and women differ in how their brains operate, how they solve problems, what diseases they are susceptible to, and so much more. Third: Disorders of sexual development don't create new categories of sex. The disorder that occurs when a person's reproductive system doesn't develop neatly along a male or female path is called ''intersex.'' If a person is intersex that does not mean that he or she is not male or female. Nor does it mean that there are additional categories of sex than male and female. Some people are born without limbs. Others are born blind. Disorders of sexual development are not evidence of a new category of sex any more than disorders of the cardiac or respiratory systems are evidence of new kinds of hearts or lungs. In fact, as Favale points out, ''In 99.98% of these cases, sex is readily recognizable as unambiguously male or female.'' Also, sexual development disorders do not create a new chromosome, a new sex hormone, or a new type of genitalia. They do not replace the need for male or female, nor do they reveal a different way to reproduce. Sexual development disorders are simply evidence that sometimes our bodies don't develop or function as designed. So, the next time someone tells you ''Sex is assigned at birth,'' remember that neither science nor logic support the idea that sex is assigned at birth and here are three reasons why: First, a person's sex is acknowledged, not assigned. It's not like a name, it's more like a blood type. Second, sex is determined by our reproductive system, the potential to gestate. And third, disorders of sexual development do not create new categories of sex.

Bill Gates buys $902 million stake in Heineken | Fortune

Sat, 09 Sep 2023 16:38

Bill Gates has acquired a minority stake in Heineken Holding NV, the controlling shareholder of the world's second-largest brewer, for about $902 million.

The Microsoft founder and philanthropist last week picked up 3.8% of Heineken Holding, according to a filing by the Dutch regulator AFM. He bought 6.65 million shares in Heineken Holding, in his individual capacity, and another 4.18 million shares through the Bill & Melinda Gates Foundation Trust.

The shares are valued at ''¬848.2 million ($902 million), according to Bloomberg calculations at closing share price value of February 17.

Gates acquired the stake on the same day that Fomento Economico Mexicano SAB launched a ''¬3.7 billion stock and equity-linked sale for part of its holdings in Heineken. Femsa, as the Mexican Coca-Cola bottler and convenience store operator is known, had last week announced plans to offload its stake in Heineken after a strategic review.

Femsa said its accelerated bookbuild offering of ''¬1.9 billion in shares in Heineken NV priced at ''¬91 apiece, and ''¬1.3 billion in shares in Heineken Holding sold at ''¬75 each. Heineken Holding controls 50% of Heineken NV, maker of the namesake beer as well as Amstel, Moretti, and Sol among others.

The Bill & Melinda Gates Foundation Trust foundation has also invested in Dutch online grocer Picnic BV and holds a 1.34% stake in Dutch fertilizer producer OCI NV.

The foundation has long been a powerhouse in the nonprofit world, employing almost 1,800 people and spending nearly $80 billion since 2000. Heineken and the Bill & Melinda Gates Foundation didn't immediately respond to a request for comment.

Learn how to navigate and strengthen trust in your business with The Trust Factor, a weekly newsletter examining what leaders need to succeed.

Sign up here.

Bay Area scientist 'left out the full truth' to get study on climate change fueling wildfires published

Sat, 09 Sep 2023 16:30

A new study by a team of mostly Bay Area scientists that found human-caused climate warming has increased the frequency of extremely fast-spreading California wildfires has come into question from the unlikeliest of critics '-- its own lead author.

Patrick T. Brown, climate team co-director at the nonprofit Breakthrough Institute in Berkeley and a visiting research professor at San Jose State University, said his Aug. 30 paper in the prestigious British journal Nature is scientifically sound and ''advances our understanding of climate change's role in day-to-day wildfire behavior.''

But Brown this week dropped a bomb on the journal '-- as well as his study's co-authors who are staunchly defending the team's work. In an online article, blog post and social media posts, Brown said he ''left out the full truth to get my climate change paper published,'' causing almost as much of a stir as the alarming findings themselves.

Brown wrote that the study didn't look at poor forest management and other factors that are just as if not more important to fire behavior because ''I knew that it would detract from the clean narrative centered on the negative impact of climate change and thus decrease the odds that the paper would pass muster with Nature's editors and reviewers.'' He added such bias in climate science ''misinforms the public'' and ''makes practical solutions more difficult to achieve.''

On Thursday, Nature shot back. ''When it comes to science, Nature does not have a preferred narrative,'' Editor in Chief Magdalena Skipper wrote in a statement to the Bay Area News Group.

She offered some recent examples of Nature articles including one noting various factors that drive wildfire destruction of towns that she argued ''do not follow the purported editorial biases alleged by Brown,'' who was the lead author in two other studies published by Nature and a third in its affiliated climate change journal.

''We are now carefully considering the implications of his stated actions,'' Skipper said of Brown. ''Certainly, they reflect poor research practices and are not in line with the standards we set for our journal.'' Nature said post-publication review can lead to clarifications or an editorial statement of concern about a paper's integrity.

Skipper added that peer reviewers had raised questions about variables other than climate change missing from Brown's study, but the authors argued against including it, a claim Brown has disputed in social media responses.

Brown said all decisions about shaping the research to appeal to Nature's editors were his, not his co-authors, at least some of whom he said he gave a heads-up to before publishing his journal critique. The other co-authors are affiliated with San Jose State's Wildfire Interdisciplinary Research Center, UC Berkeley, UC Irvine and Pacific Gas & Electric Co.

Co-author Steven J. Davis, a UC Irvine Earth science professor, said he ''wasn't involved in strategic decisions to exclude factors from the study,'' and that Brown's comments ''took me by surprise.'' He said ''we don't know whether a different paper would have been rejected.''

''I don't think he has much evidence to support his strong claims that editors and reviewers are biased,'' Davis said. ''Keeping the focus narrow is often important to making a project or scientific analysis tractable, which is what I thought we did. I wouldn't call that 'leaving out truth' unless it was intended to mislead '-- certainly not my goal.''

Co-author Craig Clements, director of San Jose State's wildfire research center, said, ''The scientific work done in this paper is robust, utilizing cutting-edge techniques and tools '-- most notably artificial intelligence models '-- and it is an important study that provides crucial data and advances our understanding of wildfire behavior.''

''I recognize journals such as Nature, one of the most respected science publications in the world, have rigorous editorial processes and appreciate the fact that they saw the value of the important science that this study advances,'' Clements said.

San Jose State said in a statement that ''the study's lead author expressed his opinion about the peer review process, which has no impact on the validity of the work.''

In the study, the researchers used artificial intelligence to learn the relationship between temperature and wildfires to gain a fresh understanding of how heat influences fire activity. They focused on daily fire growth of 10,000 acres or more in a day, enough to capture extreme fires that expanded quickly, but were frequent enough to study. They looked at 380 extreme-growth fires from 2003 to 2020 and estimated human-caused warming increased frequency of extremely fast-spreading California wildfires by 25%, and that extreme wildfire days would increase by the end of the century even with stringent reduction of emissions.

The paper acknowledged in its findings that ''temperature is only one of the dozens of important variables that influences wildfire behavior,'' but said it is ''most directly related to increasing greenhouse gas concentrations.''

Brown said he's turned down interview requests this week from media outlets he felt were eager to cast climate change as a hoax '-- ''that's not an argument I want to make at all.''

He said he left his faculty job at San Jose State in the spring of 2022 for Breakthrough, co-founded by East Bay author Michael Shellenberger, who has criticized the environmental movement's leeriness of nuclear energy and ran twice for governor as a Democrat and independent.

The career change, Brown said, gave him freedom to critique the academic system and its publish-or-perish incentives that he says undermine sound science. He said he's now doing research that considers the impact of climate change in conjunction with proposed reforms to forest management practices over the next several decades.

''I've gotten mostly positive feedback'' on the critique of academia, Brown said, ''but blowback as well.''

Accepting COVID Dictates Has Consequences - New Mexico Democrat Governor Now Uses Same "Public Health Emergency" To Ban Firearms - The Last Refuge

Sat, 09 Sep 2023 16:14

This, THIS RIGHT THE F**K HERE, is exactly what you, me, and everyone with a logical brain was talking about back in 2020 and 2021 when the various state governors were using ''Public Health Emergency'' declarations to rule by unilateral fiat and remove constitutional and legislatively enacted rights.

THIS STORY, happening right now in Alburquerque, is a direct and specific outcome of NOT PUSHING BACK in '20/'21 and allowing governors to take control without legislative approvals. The governor has just declared gun possession unlawful, under the auspices of a Public Health Emergency.''

Folks, they are testing the waters, and there needs to be an immediate lawsuit and injunction.

(Via AP) '' ALBUQUERQUE, N.M. (AP) '-- New Mexico Gov. Michelle Lujan Grisham on Friday issued an emergency public health order that suspends the open and permitted concealed carry of firearms in Albuquerque for 30 days in the midst of a spate of gun violence.

The Democratic governor said she is expecting legal challenges but felt compelled to act in response to gun deaths, including the fatal shooting of an 11-year-old boy outside a minor league baseball stadium this week.

The firearms suspension is tied to a threshold for violent crime rates that only the Albuquerque area currently meets. Police are exempt from the temporary ban on carrying firearms.

Lujan Grisham said the restrictions ''are going to pose incredible challenges for me as a governor and as a state.''

''I welcome the debate and fight about how to make New Mexicans safer,'' she said at a news conference, flanked by leading law enforcement officials, including the district attorney for the Albuquerque area.

Lujan Grisham referenced several recent shootings in Albuquerque. Among them was a road rage shooting Wednesday outside a minor league baseball stadium that killed 11-year-old Froyland Villegas and critically wounded a woman as their vehicle was peppered with bullets while crowds departed an evening game. (read more)

Do not be naive enough to think this is not being coordinated with the people in control of the White House. There is ZERO chance this is an independent decision by the New Mexico governor, ZERO CHANCE.

Now'.... Connect the dots. YESTERDAYWhite House '' ['...] ''The actions of persons who commit, threaten to commit, or support terrorism continue to pose an unusual and extraordinary threat to the national security, foreign policy, and economy of the United States. For this reason, the national emergency declared in Executive Order 13224 of September 23, 2001, as amended, and the measures adopted to deal with that emergency, must continue in effect beyond September 23, 2023. Therefore, in accordance with section 202(d) of the National Emergencies Act (50 U.S.C. 1622(d)), I am continuing for 1 year the national emergency with respect to persons who commit, threaten to commit, or support terrorism declared in Executive Order 13224, as amended.''

This notice shall be published in the Federal Register and transmitted to the Congress.

JOSEPH R. BIDEN JR.

Posted in 2nd Amendment,

Big Government,

Big Stupid Government,

Communist,

Conspiracy ?,

Decepticons,

Deep State,

Dept Of Justice,

DHS,

Domestic Terrorism,

Election 2024,

Fabian Socialists - Modern Progressives,

Joe Biden,

Lawfare,

Legislation,

media bias,

Notorious Liars,

Patriotism,

Professional Idiots,

propaganda,

Typical Prog Behavior,

Uncategorized,

USA

Courtside Group, Inc. Common Stock (PODC) Stock Price, News, Quote & History - Yahoo Finance

Fri, 08 Sep 2023 17:23

GlobeNewswire

LiveOne Subsidiary PodcastOne (Courtside Group) Raises Proforma Revenue Guidance to $47 - $51 Million with Operating Adjusted EBITDA* of $4 - $5 Million- PodcastOne to Begin Trading Today on Nasdaq under Stock Ticker ''PODC'' at a Minimum of $8 Per Share - After Spin-Out, LiveOne Will Own Approximately 80% of PodcastOne and Continue to Consolidate PodcastOne LOS ANGELES, CA, Sept. 08, 2023 (GLOBE NEWSWIRE) -- via NewMediaWire - Live One (Nasdaq: LVO), an award-winning, creator-first music, entertainment, and technology platform, provided proforma guidance today for its subsidiary, PodcastOne (Courtside Group) (Nasdaq: PODC), for its fiscal year e

BBC's disinformation correspondent and chief fact-checker Marianna Spring is accused of lying on her CV by falsely claiming to have worked with a Beeb journalist when applying for a job in Moscow | Daily Mail Online

Fri, 08 Sep 2023 14:29

BBC disinformation correspondent Marianna Spring alleged to have lied on CV She reportedly claimed to have said she worked with BBC's Sarah Rainsford By Paul Revoir Media Editor For The Daily Mail

Published: 17:09 EDT, 7 September 2023 | Updated: 03:27 EDT, 8 September 2023

The BBC's disinformation correspondent is facing claims that she lied about her experience on her CV.

Marianna Spring, 27, shot to prominence with her reporting on the way social media has been used to peddle false information.

But she is now facing the embarrassing allegation that she gave misleading information herself - one claim of working with a respected BBC correspondent - to try to secure work.

According to a report, about five years ago Ms Spring was trying to get work as a freelancer in Moscow for US-based news site Coda Story.

An article in The New European said when she applied to the website's editor-in-chief Natalia Antelava in 2018, she said she had worked alongside BBC correspondent Sarah Rainsford on covering the 'perception of Russia' during the 2018 football World Cup.

Her CV reportedly bragged: 'June 2018: Reported on International News during the World Cup, specifically the perception of Russia, with BBC correspondent Sarah Rainsford.'

Questions: BBC News disinformation correspondent Marianna Spring

Marianna Spring , who has shot to prominence with her reporting on the way social media has been used to peddle false information , is facing the embarrassing allegation that she gave misleading information to try to secure work

According to The New European, Ms Antelava, a former BBC journalist herself, is said to have rebuked Ms Spring after checking out the claim.

Ms Spring is said to have sent an email apologising for her 'awful misjudgment'.

She is said to have written: 'I've only bumped into Sarah whilst she's working and chatted to her at various points, but nothing more. Everything else on my CV is entirely true.'

The young journalist added that she was a 'brilliant reporter' and in their emails also admitted there was 'no excuse'.

She said her only explanation was her 'desperation to report out in Moscow' and thinking it would 'wouldn't be a big deal', which she admitted was 'na¯ve and stupid'.

In the email exchange published by The New European, Ms Antelava told her: 'Telling me you are a brilliant reporter who exercises integrity and honesty when you have literally demonstrated the opposite was a terrible idea.'

The Coda Story boss, who is understood to have not proceeded with the job application, is said to have added: 'I am sure if you use this as a lesson, things will work out.'

Ms Spring, who was promoted to her disinformation and social media correspondent title in August last year, has worked for Panorama and has her own BBC podcast called Marianna In Conspiracyland.

She is part of the BBC Verify team tasked with fact-checking, countering disinformation and 'explaining complex stories in the pursuit of truth'.

The BBC declined to comment this evening.

An article in The New European said that when she applied to the website's editor-in-chief Natalia Antelava in 2018, Ms Spring claimed she had worked alongside BBC correspondent Sarah Rainsford (pictured) on covering the 'perception of Russia' during the 2018 football World Cup

Obama Alias Used For Cover At Chicago Gay Bath House? | The Obama Hustle

Fri, 08 Sep 2023 14:17

By AL HENDERSHOT '' The Obama Hustle 10/30/2012

I am going to start this article by describing the context for which it, the article will be written. There is a subculture with in the African-American community that is seldom discussed and that is the activities of Black men who engage in homosexual activities while still in heterosexual relationships, ie.. living in the down low.

Down-low is an African American slang term[ that refers to a subculture of men who usually identify themselves as heterosexual, but who have sex with men; some avoid sharing this information even if they have female sexual partner(s). The term is also used to refer to a related sexual identity. (Source Wikipedia)

Firstly, I want to make clear that this article is in no way making any disparaging comments towards the LGBT community. This article is simply going to discuss the closeted activities of a man who is probably denying who he really is for political purposes.

The rumors about Obama's predilection for one-sided homosexual contact or even full sexual contact has been discussed for many years ever since his connection to several known Gay individuals and even others who might also be on the down low themselves such as Reverend Jeremiah Wright and current Chicago Mayor, Rahm Emanuel.

Some so-called straight people love to have their homosexual fantasies explored in many ways and places. Now obviously most MGM's (Married Gay Men) cannot host his/their sexual encounters so he has to find alternatives. One of Obama's alternatives for his Gay sexual encounters has been known to be a Bath House known as ''Man's Country''.

Now as Bath Houses go Man's Country appears to be the Trolliest (new word I invented). Mostly older men frequent this establishment which is as past reported seems to be the kind of men Obama likes to play with. It has been noted that Obama enjoys/has enjoyed having oral sex with older men where he is the recipient of the oral copulation. Now whether he, Obama and Emanuel have ever played together that's a different story all together, but that would be interesting. Who would be more dominant, Obama or Emauel.

So we can have a better understating of what the bath house that Obama and Emanuel used to hang out at was/is like here is a review from one of its members, ''John B''.

3/16/2008

''Oh lord, am I really writing a review of Man's Country. Have I really fallen so far?In a word: yes.To start, Man's Country is a gay bathhouse. Men go there to have sex. End of story. There's no Better Midler to-be entertaining men in towels. Oh, there are strip shows on weekends, but those are merely entertainments that precede or follow men having sex. Or sometimes happen simultaneously.I live around the corner from Man's Country, but have not been there since I've lived here. Which doesn't mean I've never been there. I was never a regular, but I have my (lifetime) membership. But I hadn't been there for eons. Until recently.A few months ago, after a long night of drinking, I found myself outside Man's Country. I had just bundled my friend into a taxi after closing The Eagle, which is next door. And I wasn't done making poor decisions for the night.You enter Man's Country through an airlock designed to separate the tawdriness within from the naive world without. Or vice versa. Behind the (bulletproof?) glass are orange jumpsuited attendants who check you in. Is the similarity to prison coincidental? You be the judge. Man's Country is a private club, which I guess provides protection from a slew of indecency laws, so you need to be a member to enter. Membership is 10 bucks, and has been since I first ''joined'' about 20 years ago. Membership lasts a lifetime, which, if you visit regularly, may be perilously brief. The entrance fee varies, depending on whether you're renting a locker, a small room, a large room, or a ''fantasy'' room. This ain't The Sybaris '-- ''fantasy'' relates to a variety of S&M accoutrements. You receive a key (to your room or locker) on an elastic strap, a well-worn towel, and if you have rented a room, shreds of cotton that pass for a sheet and pillowcase. Are you in the mood yet? You are also offered the opportunity to check your valuables. Check your valuables. I am not saying that ''Man's Country'' is a synonym for ''Den of Thieves.'' But check your valuables.Then you go to your room or locker, strip down, stow your stuff, wrap the towel around your waist and elastic band around your wrist, and you're off to the races.There are three levels to Man's Country. That's right '-- this is a superstore. The main level has the locker room, some private rooms, and a video room. Upstairs is a maze of more private rooms, another small video room, and the large showroom, where the strippers live. When there is not a show, the TV screens show porn (as they do in the video rooms, of course), and men have sex. On the floor, on the stage, on the seating area. The private rooms are fitted with lights on dimmers, so the occupant can show you as much or little as they like. Don't expect the lights to be up '-- these guys aren't beauty queens. The men are generally lying on their backs or stomachs, depending on what they expect you to do to them. You do the math.What struck me on my recent visit was the number of guys wandering around mostly or fully dressed. This says one of two things to me: 1) hustler, or 2) thief. Because after I steal your stuff, I don't want to take time to get dressed before I book. The other thing was what a horrible state of disrepair everything was in. There's nothing wrong with Man's Country that a good fire couldn't solve. Short of that, they need to hose the place down from top to bottom, soak it in bleach, and maybe bring in an exorcist or two. Man's Country is open 364 days a year, and it shows.The lower level is the ''wet'' area, featuring a steam room and tub. I expect there are bacteria in the tub big enough to knock you down and take your wallet. As for the steam room'... Old men + dirty men + sexual activity + steam = ? You fill in the blank.My last time at Man's Country was probably my last time at Man's Country. There's nothing there for me, unless you count gonorrhea.''

This tells me that Obama and Emanuel like seedy joints out of the way so they can have their play-time in secret and go home to the wife and kids.

Now this leads to the Obama alias of Harrison J Bounel which was linked to Obama as of 2009. What better alias than one that is hard to trace and that can be used for what ever needs available. Especially having to have a fake name for fun times at Man's Country.

Could the Obama alias be the one that he was using to hide his membership to Man's Country? Interesting thought.

How Tesla and Bitcoin Alike Will Benefit from New Crypto Accounting Rules | Barron's

Fri, 08 Sep 2023 12:06

This copy is for your personal, non-commercial use only. To order presentation-ready copies for distribution to your colleagues, clients or customers visit http://www.djreprints.com.

https://www.barrons.com/articles/tesla-crypto-bitcoin-accounting-rule-54d328be

Sept. 7, 2023 7:57 am ET Order Reprints Print Article Companies that hold cryptocurrency were delivered a long-awaited win on Wednesday after the U.S. Financial Accounting Standards Board voted through a key change to how digital assets are valued that has the potential to accelerate inst...

Cloward''Piven strategy - Wikipedia

Fri, 08 Sep 2023 04:34

The Cloward''Piven strategy is a political strategy outlined in 1966 by American sociologists and political activists Richard Cloward and Frances Fox Piven.

History Edit Cloward and Piven were both professors at the Columbia University School of Social Work. The strategy was outlined in a May 1966 article in the liberal magazine The Nation titled "The Weight of the Poor: A Strategy to End Poverty".[1]

The two stated that many Americans who were eligible for welfare were not receiving benefits, and that a welfare enrollment drive would strain local budgets, precipitating a crisis at the state and local levels that would be a wake-up call for the federal government, particularly the Democratic Party. There would also be side consequences of this strategy, according to Cloward and Piven. These would include: easing the plight of the poor in the short-term (through their participation in the welfare system); shoring up support for the national Democratic Party-then splintered by pluralistic interests (through its cultivation of poor and minority constituencies by implementing a national "solution" to poverty); and relieving local governments of the financially and politically onerous burdens of public welfare (through a national "solution" to poverty).[1]

Strategy Edit Cloward and Piven's article is focused on forcing the Democratic Party, which in 1966 controlled the presidency and both houses of the United States Congress, to take federal action to help the poor. They stated that full enrollment of those eligible for welfare "would produce bureaucratic disruption in welfare agencies and fiscal disruption in local and state governments" that would: "...deepen existing divisions among elements in the big-city Democratic coalition: the remaining white middle class, the working-class ethnic groups and the growing minority poor. To avoid a further weakening of that historic coalition, a national Democratic administration would be constrained to advance a federal solution to poverty that would override local welfare failures, local class and racial conflicts and local revenue dilemmas."[2]

They further wrote:

The ultimate objective of this strategy'--to wipe out poverty by establishing a guaranteed annual income'--will be questioned by some. Because the ideal of individual social and economic mobility has deep roots, even activists seem reluctant to call for national programs to eliminate poverty by the outright redistribution of income.[2]

Michael Reisch and Janice Andrews wrote that Cloward and Piven "proposed to create a crisis in the current welfare system '' by exploiting the gap between welfare law and practice '' that would ultimately bring about its collapse and replace it with a system of guaranteed annual income. They hoped to accomplish this end by informing the poor of their rights to welfare assistance, encouraging them to apply for benefits and, in effect, overloading an already overburdened bureaucracy."[3]

Focus on Democrats Edit The authors pinned their hopes on creating disruption within the Democratic Party:

"Conservative Republicans are always ready to declaim the evils of public welfare, and they would probably be the first to raise a hue and cry. But deeper and politically more telling conflicts would take place within the Democratic coalition...Whites '' both working class ethnic groups and many in the middle class '' would be aroused against the ghetto poor, while liberal groups, which until recently have been comforted by the notion that the poor are few... would probably support the movement. Group conflict, spelling political crisis for the local party apparatus, would thus become acute as welfare rolls mounted and the strains on local budgets became more severe.''[4]

Reception and criticism Edit Michael Tomasky, writing about the strategy in the 1990s and again in 2011, called it "wrongheaded and self-defeating", writing: "It apparently didn't occur to [Cloward and Piven] that the system would just regard rabble-rousing black people as a phenomenon to be ignored or quashed."[5]

Impact of the strategy Edit In papers published in 1971 and 1977,[6] Cloward and Piven argued that mass unrest in the United States, especially between 1964 and 1969, did lead to a massive expansion of welfare rolls, though not to the guaranteed-income program that they had hoped for.[7] Political scientist Robert Albritton disagreed, writing in 1979 that the data did not support this thesis; he offered an alternative explanation for the rise in welfare caseloads.

In his 2006 book Winning the Race, political commentator John McWhorter attributed the rise in the welfare state after the 1960s to the Cloward''Piven strategy, but wrote about it negatively, stating that the strategy "created generations of black people for whom working for a living is an abstraction".[8]

According to historian Robert E. Weir in 2007: "Although the strategy helped to boost recipient numbers between 1966 and 1975, the revolution its proponents envisioned never transpired."[9]

See also Edit Guaranteed minimum incomeReferences Edit ^ a b Cloward, Richard; Piven, Frances (May 2, 1966). "The Weight of the Poor: A Strategy to End Poverty". (Originally published in The Nation). Archived from the original on November 24, 2011 . Retrieved April 11, 2010 . ^ a b Cloward and Piven, p. 510 ^ Reisch, Michael; Janice Andrews (2001). The Road Not Taken. Brunner Routledge. pp. 144''146. ISBN 1-58391-025-5. ^ Cloward and Piven, p. 516 ^ Glenn Beck and Fran Piven, Michael Tomasky, Michael Tomasky's Blog, The Guardian, January 24, 2011 ^ Cloward, Richard; Piven, Frances, "Poor People's Movements: Why They Succeed, How They Fail", Vintage Books, 1978. ^ Albritton, Robert (December 1979). "Social Amelioration through Mass Insurgency? A Reexamination of the Piven and Cloward Thesis". American Political Science Review. 73 (4): 1003''1011. doi:10.2307/1953984. JSTOR 1953984. ^ McWhorter, John, "John McWhorter: How Welfare Went Wrong", NPR, August 9, 2006. ^ Weir, Robert (2007). Class in America. Greenwood Press. p. 616. ISBN 978-0-313-33719-2.

Jimmy Fallon Apologizes To 'The Tonight Show' Staff After Bombshell Report '' Deadline

Fri, 08 Sep 2023 03:22

Jimmy Fallon has offered a mea culpa to his staff after a report highlighted a ''pretty glum atmosphere'' at The Tonight Show over the years.

Deadline understands that Fallon spoke to staff this afternoon after Rolling Stone published an article that called the NBC show a ''toxic workplace''.

''I'm sorry if I embarrassed you. I never set out to create that type of atmosphere at the show. I think sometimes I'm working with the best of the best, you guys are the top of the game,'' he told staff according to someone on the call.

He admitted to have done ''embarrassing'' things in the past. ''I want this show to be fun, it should be inclusive for everybody, it should be funny, it should be the best show, the best people. I just wanted to'... say I miss you guys.''

The article called Fallon ''erratic'' at work and suggested that he was ''inebriated'' and hungover during working hours, with seven former employees saying that their mental health was impacted by working on The Tonight Show.

The claims, which Rolling Stone spoke to 50 former and current employees for, highlighted the number of showrunners that The Tonight Show went through including Josh Lieb, Jim Bell, Gavin Purcell and Jamie Granet-Bederman.

Sources close to The Tonight Show told Deadline that new showrunner Chris Miller has improved the culture of the show and most of these claims are years old.

Miller is understood to have sent an email to staff earlier today. He said that he was ''lucky'' and ''proud'' to work with this staff. ''I don't believe what is written is reflective of the overall culture of our extraordinary team,'' he wrote. ''The place described in the article is not the place I know. It does not capture the positive and inclusive environment that I believe we have created together.''

NBC also reacted in a statement earlier today. ''We are incredibly proud of The Tonight Show, and providing a respectful working environment is a top priority,'' a network spokesperson said in a statement. ''As in any workplace, we have had employees raise issues; those have been investigated and action has been taken where appropriate. As is always the case, we encourage employees who feel they have experienced or observed behavior inconsistent with our policies to report their concerns so that we may address them accordingly.''
ALL VIDEOS

VIDEO - The REAL Reason Trans Is Exploding - YouTube

VIDEO - BBC World Service - HARDtalk, Lindsey Graham: Does Trump's comeback spell trouble for America?

Sun, 10 Sep 2023 13:51

Stephen Sackur speaks to US Republican Senator Lindsey Graham, a loyal backer of Donald Trump as he bids to win back the White House. Does his comeback spell trouble for America?

Download

Choose your file Higher quality (128kbps) Lower quality (64kbps) Available now

23 minutes

VIDEO - Africa Climate Summit: How to achieve a climate-friendly future? | DW News Africa - YouTube

VIDEO - Global leaders converge in Delhi for G20 summit - YouTube

VIDEO - Speech by President von der Leyen at the G20 Heads of State & Government Summit in New Delhi, India - YouTube

VIDEO - G20 leaders paper over serious divisions on Ukraine and climate change ' FRANCE 24 English - YouTube

VIDEO - DARPA's Game-Changing Laser Energy: The Future of Military Power Supply? ðŸ'¥ðŸ--Œ - YouTube

VIDEO - When in War, Create - Bill Johnson (Full Sermon) | Bethel Church - YouTube

VIDEO - 'Here's Just Some Of The Agenda I'll Be Immediately Implementing': Trump Speaks In South Dakota - YouTube

VIDEO - Kremlin: US responsible for consequences of giving Ukraine depleted uranium shells - YouTube

VIDEO - How essential is Starlink to Ukraine's odds on the battlefield? | DW News - YouTube

VIDEO - Severe flooding in Greece leaves at least 6 dead and 6 missing, villages cut off ' FRANCE 24 - YouTube

VIDEO - Hong Kong flooded by heaviest rainfall in 140 years ' FRANCE 24 English - YouTube

VIDEO - Gov. Lujan Grisham issues order to suspend open, concealed carry of guns in Bernalillo County | KRQE News 13

Sat, 09 Sep 2023 17:03

ALBUQUERQUE, N.M. (KRQE) '' Governor Michelle Lujan Grisham said she will enact a temporary ban on carrying firearms in any public space across Bernalillo County. The governor made the announcement during a news conference Friday.

Read: Executive OrderRead: Public Health Emergency Order Imposing Temporary Firearm Restrictions, Drug Monitoring and Other Public Safety MeasuresSitting alongside the Albuquerque Police Chief and Bernalillo County Sheriff. The governor says part of this new order is a 30-day suspension on open and concealed carry on public property for anyone other than law enforcement or licensed security. ''I've warned everyone that we expect a direct challenge, probably as you're writing this we're getting a challenge, and that's the way it should work. But I have to take a tough direct stand, or basically I'm just ignoring the fact that we lost an 11-year-old, another child,'' said Gov. Lujan Grisham.

Watch full news conference below

The order is effective as of Friday, September 8, 2023, and only applies to Bernalillo County. The governor is basing the order on the county averaging more than 1,000 violent crimes per 100,000 people, and a lot of emergency room visits for gun injuries.

As for enforcement, she admits it will be ''complicated'' but they're working with New Mexico State Police and district attorneys on how it will work. The governor says anyone caught breaking the order will fall under a ''civil violation'' connected to her public health order.

The governor says she doesn't expect criminals to follow the order. But she hopes it is ''a resounding message,'' to everyone else in the community to report gun crime. ''The point here is, is that, if everyone did it, and I wasn't legally challenged, you would have fewer risks on the street, and I could safely say, to every New Mexican, particularly those folks living in Albuquerque and Bernalillo County, I believe that you're safer for the next 30 days, we have to wait and see,'' said Lujan Grisham.

Alongside the order, the governor is appointing former NMSP chief Pete Kassetas to head up a task force on gun violence. There's also a $750,000 appropriation to help pay for the order.

The state will now start checking with gun shops monthly to ensure compliance with gun sales laws in the state. The state's Health Department will also have 20 days to compile a list of gunshot victims in the state going to hospitals and collect data of their cases.

As for youthful offenders in the state, the order states that the New Mexico Children, Youth, and Families Department must suspend its juvenile detention alternative program and evaluate juvenile probation protocols.

The governor also said law enforcement who sat with her at Friday's press conference may not agree with the first step in her public health order.

The Albuquerque Mayor's Office sent this statement Friday night:

''We welcome meaningful solutions and additional resources to fight crime in Albuquerque. APD is not responsible for enforcing the governor's ban, our officers will continue to enforce all criminal laws, combat gun violence, and push for needed justice in our city.''

Mayor Tim Keller's officeIn response to the governor's order state Senate Republicans released this statement:

''A child is murdered, the perpetrator is still on the loose, and what does the governor do? She throws the mayor of Albuquerque under the bus and then targets law-abiding citizens with an unconstitutional gun order. Tragically, this is what we have come to expect from an administration that refuses to take responsibility for the crime epidemic gripping our state. It is time for the governor to stop pointing fingers and admit that her soft-on-crime approach has failed and put the safety of all New Mexicans in great jeopardy.''

Senate Republican Leader Sen. Greg Baca (R-Belen)

VIDEO - Thread by @MikeBenzCyber on Thread Reader App '' Thread Reader App

Sat, 09 Sep 2023 16:56

Did Thread Reader help you today?Support us! We are indie developers!

This site is made by just two indie developers on a laptop doing marketing, support and development! Read more about the story.

Become a Premium Member ($3/month or $30/year) and get exclusive features!

Become Premium

Don't want to be a Premium member but still want to support us?Make a small donation by buying us coffee ($5) or help with server cost ($10)

Donate via PaypalOr Donate anonymously using crypto!

Ethereum

0xfe58350B80634f60Fa6Dc149a72b4DFbc17D341Ecopy

Bitcoin

3ATGMxNzCUFzxpMCHL5sWSt4DVtS8UqXpicopy

Thank you for your support!

VIDEO - Ben Doerfel | What A Friend | Podcastindex.org

Sat, 09 Sep 2023 16:53

This website requires JavaScript to be enabled for full functionality.

Let's preserve podcasting as a platform for free speechWe do this by enabling developers to have access to an open, categorized index that will always be available for free, for any use.

Listen to the first episode of "Podcasting 2.0", where we discuss the project, and its goals. Podcasting 2.0 RSS Feed

PromiseThe core, categorized index will always be available for free, for any use.

OperationsPodcast Index LLC is a software developer focused partnership that provides tools and data to anyone who aspires to create new and exciting Podcast experiences without the heavy lifting of indexing, aggregation and data management.

FinancingThe core Podcast Index is financed by its founders and stakeholders: Podcasters, Developers and Listeners.

Corporate interests and advertising are antithetical to our business.

Podcast Index LLC strives to grow by providing enhanced API services of value to developers and organizations.

Mission and GoalPreserve podcasting as a platform for free speech.

Re-tool podcasting to a platform of value exchange that includes developers with podcasters and listeners.

Developer? Join the fun!Sign up for an account and get API keys at: https://api.podcastindex.org

API Documentation is here.

We build in the open. Get active in the Github repos.

We have a Mastodon server for collaboration. Join it here: Podcastindex.social.

Follow us on Twitter or Mastodon.

Shoot us an email at: info@podcastindex.org

Help us out...None of this is free. If you get any value from this project, or if you just believe in it and want to help us out with hosting fees and paying the bills, a donation of any amount would be great.

VIDEO - 1994 Social Media Cartoon Explains "THE CLOUD" Which AT&T Would Own. Didn't Happen - YouTube

VIDEO - (2)#Listen 2 #AngelaStantonKing #Story #One #Person #CAN #MakeADFFERENCE ... | Role Model | TikTok

Sat, 09 Sep 2023 16:42

original sound - Sunny🎠& SunflowersðŸŒ>>ðŸŒ>>ðŸŒ>>

VIDEO - The View - Illegal immigration is due to Global warming and Climate Change : r/climateskeptics

Sat, 09 Sep 2023 16:36

Scan this QR code to download the app now

Or check it out in the app stores

VIDEO - African Union admitted as permanent G20 member - YouTube

VIDEO - Open Forum, Part 3 | September 9, 2023 | C-SPAN.org

Sat, 09 Sep 2023 16:21

September 9, 2023 | Part Of Washington Journal 09/09/2023 Washington Journal2023-09-09T08:53:05-04:00 https://ximage.c-spanvideo.org/eyJidWNrZXQiOiJwaWN0dXJlcy5jLXNwYW52aWRlby5vcmciLCJrZXkiOiJGaWxlc1wvMmE2XC8wMDFcLzE2OTQyNjQ0NzFfMDAxLmpwZyIsImVkaXRzIjp7InJlc2l6ZSI6eyJmaXQiOiJjb3ZlciIsImhlaWdodCI6NTA2fX19 Viewers commented on the news of the day.Viewers commented on the news of the day.

Report Video IssueGo to Live Event"; // $('div#video-embed').html(cookieMsg); // return; // } // });

*This text was compiled from uncorrected Closed Captioning.

Related Video December 30, 2022 Open Forum, Part 1Viewers called in to answer ''How was your 2022?''

December 30, 2022 Open Forum, Part 2Viewers called in about the news of the day.

June 26, 2022 Open Phones, Part 2Viewers commented on news of the day.

June 26, 2022 Open Phones, Part 3Viewers commented on news of the day.

VIDEO - Vaccinations were compulsory! - YouTube

VIDEO - Robert F. Kennedy Jr. Blasts DNC's 'Rigged Process,' Slams Biden In New Forbes Interview - YouTube

VIDEO - A good argument

Fri, 08 Sep 2023 14:15

00:00 / 00:00

Speed

ac_guy4christ William75 · 1d ago original sound - William75

515 comments

Log in to comment

You may like

VIDEO - (2)''The Worst Weather Events Have All Been In The Past'' #hottestyear #wor... | Heat Waves | TikTok

Fri, 08 Sep 2023 14:09

00:00 / 00:00

Speed

l1berteee l1ber.teee · 7h ago original sound - l1ber.teee

587 comments

Log in to comment

You may like
Clips & Documents
Art
All Clips

AB 957 Scott Wilks.mp3

ABC ATM - Rhiannon Ally - Elon Musk turned off starlink during attack (36min).mp3

ABC GMA - Britt Clennett - more arms to Ukraine (59sec).mp3

ABC GMA - Elizabeth Shulze - UAW strike (1min10sec).mp3

ABC GMA - Lama Hasan - 6.8 earthquake hits Morroco [17.11 UTC] (1min24sec).mp3

ABC GMA - Pierre Thomas - Peter Navarro guilty of contempt (53sec).mp3

ABC GMA - Selena Wang - G-20 (1min13sec).mp3

ABC KOAT 7 [Albuquerque local] - New Mexico gun violence health order (1min45sec).mp3

ABC WNT - David Muir - north korea says its latest submarine can launch nuclear weapons.mp3

Activision AI Gaming monitor 1.mp3

Activision AI Gaming monitor 2.mp3

BBC - Nick Marsh - first UN global stocktake climate progress report since 2015 paris agreement [1].mp3

BBC - Nick Marsh - first UN global stocktake climate progress report since 2015 paris agreement [2].mp3

BBC - Nick Marsh - first UN global stocktake climate progress report since 2015 paris agreement [3].mp3

BBC - Nick Marsh - G20 adds african union as a member.mp3

BBC - Nick Marsh - pakistani premier claims US military equipment left behind in afghanistan is now in militant hands.mp3

BBC hard_talk_graham_saudi.mp3

BBC hard_talk_graham_ukraine_1.mp3

BBC hard_talk_graham_ukraine_2.mp3

BBC hard_talk_graham_ukraine_3.mp3

BIDEN IN VIETNAM.mp3

Biden Political Ad - cashing in on ukraine.mp3

Boby the K on Forbes hinting at third party.mp3

Booster Shots sheep Jingle.mp3

Burning man escapee girl.mp3

Burning man escapee next day.mp3

CAL taxing guns 1.mp3

CAL taxing guns 2.mp3

CBS EV - Norah ODonnell Nicole Sganga - inside secret drug vault for seized fentanyl.mp3

CBS EV - Norah ODonnell Omar Villafranca - mayor adams says migrant crisis will destroy new york city.mp3

CBS Evening - Nikole Killion - Lindsey Graham was on Georgia indictment list (1min58sec).mp3

CBS Evening - Norah ODonnell - Phillips $479M CPAP settlement (22sec).mp3

CLimate change skeptic 1.mp3

CLimate change skeptic 2.mp3

CLimate change skeptic 3.mp3

CUBAN being trafficed 2 kicker.mp3

CUBAN being trafficed for Ukraine war 1.mp3

DARPA's Game-Changing Laser Energy.mp3

Don't call it a comeback - LLCoolJ iso.mp3

DW Africa Climate Summit shills - Climate Justice - Climate Finance - Climate Adaptation - Climate Discourse - Climate Mitigation.mp3

DW expert on Musk ENABLING request of starlink, not disabling.mp3

ERIC ADAMS FAKE ABOUT MIGRANTS.mp3

F24 - Hong Kong flooded by heaviest rainfall in 140 years.mp3

FLA Sugeon General against booster shot NEW vaccine.mp3

G20 Biden and Modi.mp3

Irish MEP Clare Daly takes on NATO Secretary-General Jens Stoltenbe.mp3

ISO Huh.mp3

ISO nailed it.mp3

Lindsey G almost indicted.mp3

McGregor explains in a nutshell why Russia has to go - Kalergi plan.mp3

MSNBC - Katie Phang - Colorado 14th amendment & Trump (26sec).mp3

NBC - Jose Diaz-Balart - Josh Lederman - biden prepares to head to vietnam after high-stakes summit in India.mp3

NBC - Jose Diaz-Balart - Josh Lederman - biden prepares to head to vietnam after high-stakes summit in India.mp3

NBC - Kristen Welker - biden makes surprise visit to ukraine only kremlin knew hours in advance.mp3

NBC - Lester Holt Richard Engel - secretary of state one-on-one in ukraine.mp3

NBC KRCA 3 [Sacremento local] - 5.0 earthquake hits Shasta County [17.24 UTC] (32sec).mp3

NBC MTP NOW - Chuck Todd - questions with michael osterholm [1] - is this a booster or a seperate new vaccine.mp3

NBC MTP NOW - Chuck Todd - questions with michael osterholm [2] - can flu covid vaccines be taken together.mp3

NBC MTP NOW - Chuck Todd - questions with michael osterholm [3] - is US ready for next pandimics.mp3

NBC MTP NOW - Chuck Todd - questions with michael osterholm [4] - what did we do right what did we do wrong.mp3

NBC NN - Lester Holt - biden in india for high stakes summit.mp3

NBC NN - Lester Holt Garrett Haake - peter navarro guilty of contempt of congress.mp3

NBC NN - Lester Holt Garrett Haake - trump special grand jury report released.mp3

NBC NN - Lester Holt Rehema Ellis - migrant student influx at US schools.mp3

NBC Today - Ron Allen - around 20000 children from migrant families enter NYC's schools.mp3

New Mexico Gov. Michelle Grisham on her constitutional duty to ban guns.wav

Newsome not running nted.mp3

NPR - goat sacrifices to save glaciers in Pakistan.mp3

NZ prime minister Hipkins [former health minister during covid] says vaccines were not compulsory SUPERCUT.mp3

Obamas dick 1.mp3

Obamas dick 2.mp3

pelosi.mp3

Political ads on X 3.mp3

Political ads on X ntd.mp3

Political ads on X TWO.mp3

Queen Ursula at G20 on anti-american energy 'corridors'.mp3

Texas Bar Execs Back Erasing DEI From Committee Name - Law360.pdf

The Four Corrupt Families Of California - Newsom, Brown, Pelosi & Feinstein.mp3

The Hills Rising - Amber Athe Michael LaRosa - nancy pelosi reelection bid older than joe biden.mp3

The View - Illegal immigration is due to Global warming and Climate Change.mp3

This is NPR PBS jingle.mp3

tiktok clunk.mp3

Yellen on russian oil $60 price cap.mp3